Friday, 25 May 2018

WWW.DOVERFORUM.COM/SEA-NEWS
Doverforum.com: Featuring all the ships that come and go and work at the Port of Dover with further coverage of the surrounding towns both sides of the Channel. Email: dover7@msn.com to send SEA NEWS pix or info....
or click ADD YOUR COMMENT below to post direct, no membership needed.
PORT OF DOVER: Konecranes for new Cargo Terminal 4916.
PORT OF DOVER: £21 Million DWDR 'paving plus' contract awarded 4895.
PORT of DOVER - three cruise ships, one day 4885.
DFDS Charters New Ship see 4866.
New Marina Pier ... Latest...see 4861.
P&O FERRIES presents big cash to RNLI Dover...see 4829.
PORT of DOVER: Chief Executive TIM WAGGOTT Resigns...see 4778.
P&O FERRIES recruiting...4745.
PORT of DOVER awards Cargo Refrigeration Contract see 4740.
PORT OF DOVER: Community Benefit 4688
TRADING GROWTH FOR DFDS DESPITE BREXIT see 4642
PORT OF DOVER RECORD FREIGHT see 4551.
PORT OF DOVER: GEEST LINE arrival see 4597.
SECOND FEMALE CAPTAIN FOR P&O see 4608.
Sea News Dover :
Use our SEARCH ENGINE below to find all sorts on the SEA NEWS pages..more than 240 now with more than 4750 nautical posts. Posts welcome. Max of 5 pictures preferred per post.
Type CRUISE VISITS in our SEARCH ENGINE below for news of the latest arrivals.
Sea News Editor Paul Boland - dover7@msn.com .
Post 732
PaulB, Sea News, Dover.
Book Your Spring and Summer Travel to France With DFDS Seaways for a Great Deal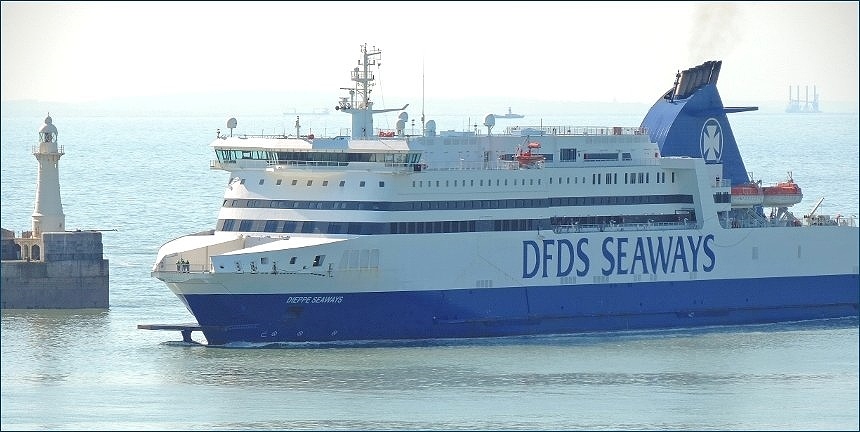 You can SAVE £10 with DFDS on return economy fares or £5 off single fares from Dover-France
Award winning ferry operator, DFDS Seaways, has launched its latest offer on the Dover-Dunkirk and Dover-Calais crossings. Book your crossings before 2nd June, for travel by 18th July to save £5 each way on your ferry crossings, with fares starting at just £24 each way for a car and up to four passengers.
What's more, we're so certain that you will like our prices, that if you can find a cheaper fare* with any of our competitors then you could be in with a chance to win £500! Just fill in our form on our website at ...
www.dfdsseaways.co.uk/ferry-offers-and-deals/ferry-to-france-offers/tell-us/
Whether you're looking to travel to Northern Europe by car with your family or friends or hit the open roads on your motorcycle, crossing the Channel with DFDS Seaways is the perfect way to start your journey.
Max Foster, passenger director at DFDS Seaways, comments: "Our latest offer means that now is a great time to book your travel to France with DFDS Seaways. And with our comfortable and frequent sailings from Dover to Dunkirk and Calais, you not only have a fantastic choice of sailing times to France, but can also relax onboard with a fresh cup of coffee or a delicious hot meal, ensuring your holiday starts as soon as you board the ferry."
DFDS Seaways operates up to 44 sailings per day between Dover and France, offering passengers a choice of departure times and flexibility. Passengers can relax onboard during the short crossing and grab a bite to eat at one of the restaurants or cafes, pick up last minute travel essentials from the onboard shop, let the kids play in the dedicated children's areas or explore the ship's deck and take in the sea air.
To take advantage of this offer visit www.dfds.co.uk or telephone 0871 574 7235 to book, using code ETELLUS.
* * *
Celebration picture of the Dieppe Seaways above.. taken just a few days ago. Back in regular and sleek action.
Always good to hear of special cross channel deals...many thanks to DFDS for keeping us informed. We all get the travelling urge once Spring arrives and many will be taking advantage.
Nice set of interesting pictures there below John from right in the thick of the fray. Jet Skis to the fore...!

Yes a pity about the cuts, the RIB is sadly missed. I have a few pix of it too somewhere in the system.
PS: the little Delphin was in yesterday but got no picture - defeated in the end by the weather.
EXTRA JUST IN...the Funchal, another little ship of old charm...and the mighty Costa Luminosa all 93,000 tons of her. massive ship. Will have pictures later, better get back to the snapping...you've got to tip your hat to the Port of Dover for bringing in ships like this. Fab !
Thursday, 22 May 2014 - 06:48
Post 731
John Mavin, Dover
Interesting to see that the Director is now used by the DHB Police. This is her in her former role.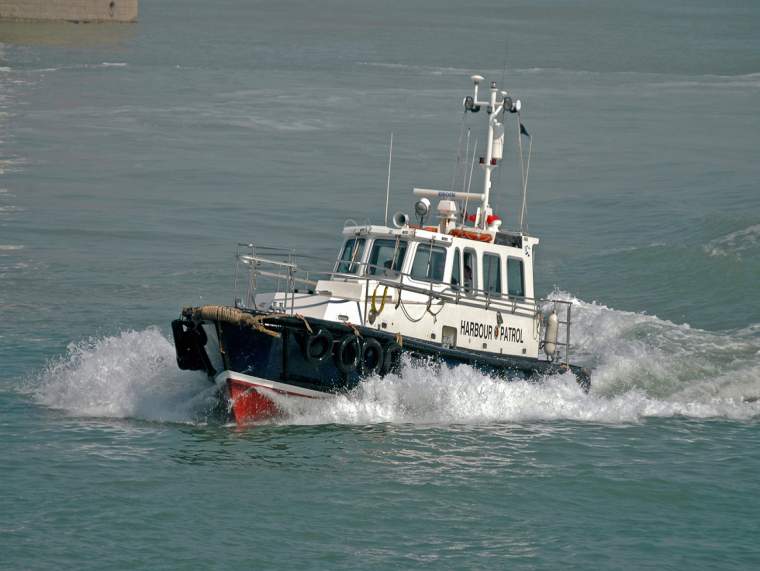 ..and a couple with her successor, Dovorian.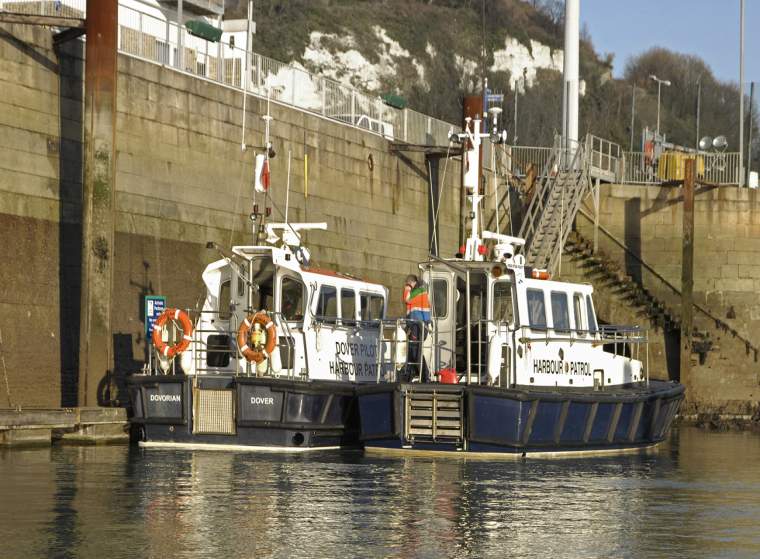 This is the one that tickles me - Kent Police on operations in the harbour in 2007 ....... and they've got a Jetski! (nice work if you can get it .... in summer that is!).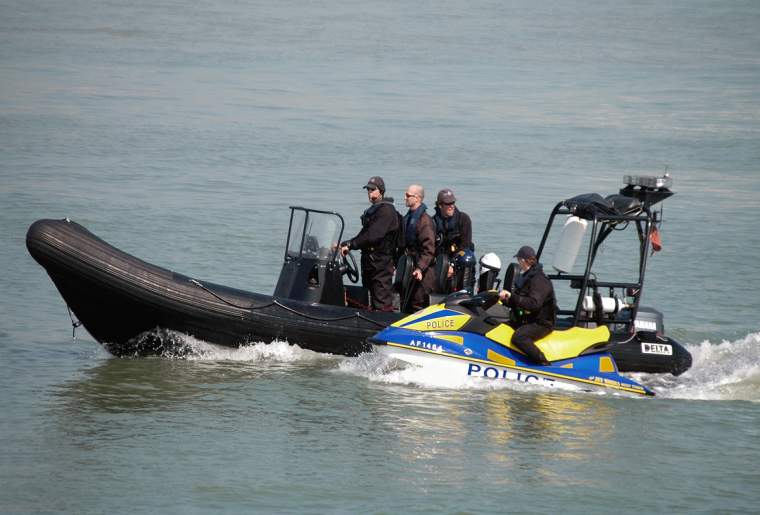 Wednesday, 21 May 2014 - 11:19
Post 730
PaulB, Sea News, Dover.
Press Release Port of Dover issued Tuesday 20th May 2014
_______________________________________________
Community Director
Dover Harbour Board today announces it will commence a process to appoint its first Community Director.
George Jenkins OBE, Chairman of Dover Harbour Board, said: "We intend to engage with Community leaders and elected representatives to establish an open and transparent, arms length process for the appointment of that Director.
Our aim is for the recruitment process to commence in the summer demonstrating a further commitment to move forward following the recent Ministerial announcement."

Wednesday, 21 May 2014 - 06:28
Post 729
PaulB, Dover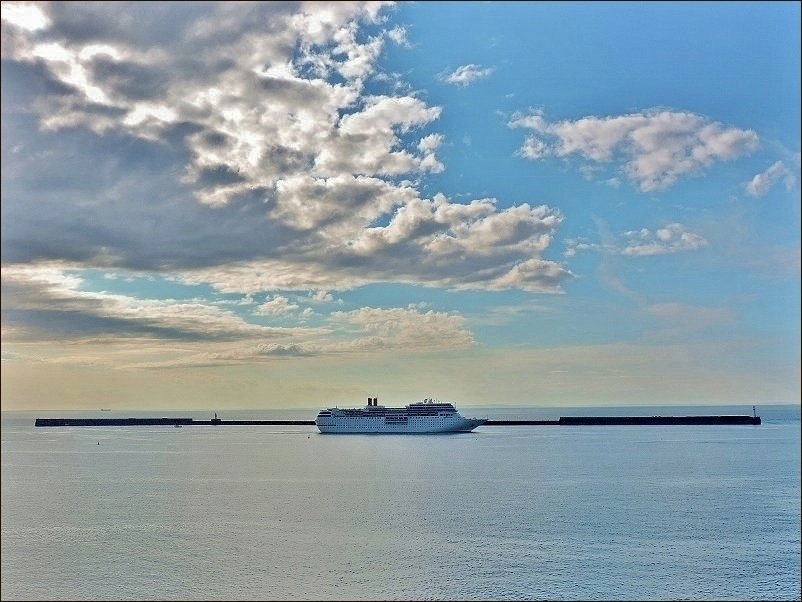 We give the Costa Romantica ( or Costa neoRomantica) the full ermmm Dover romantic treatment here with warm sunshine and wide blue sky as she arrives in fine style early on Tuesday morning. Unusual ship in some ways but all the Costa ships are so attractive in their distinctive way, and very Mediterranean.
We love those famed yellow funnels.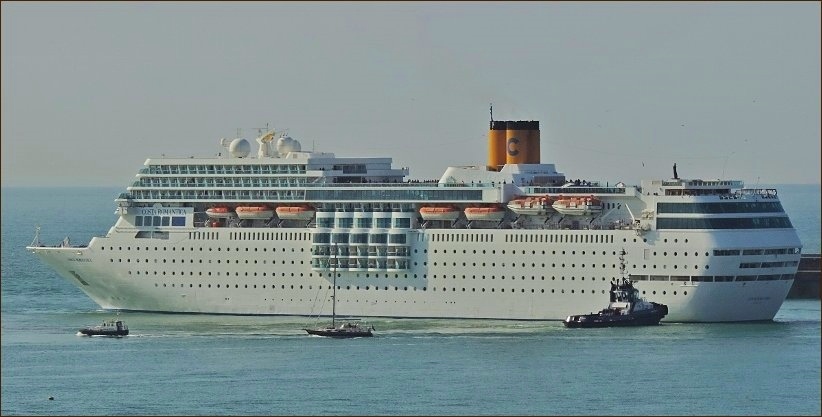 Very interesting item there below Mike. That dock fetches up many interesting vessels indeed, the range surprises me sometimes for sure. interesting to see the conversions. Yes sadly the financial cuts have affected some of the services.
Wednesday, 21 May 2014 - 06:23
Post 728
Mike J., Dover
PaulB -
The MAXIMUS is not the only former lifeboat conversion to have visited Dover.
In 2006 the protoype 'Tamar' class lifeboat was sold to the Kent Police & expensively converted, keeping her RNLI name PRINCESS ALEXANDRA 3
She was in Dover in October 2010 but has since become a victim of cuts in the Police budget & has been disposed of.
A similar fate met DHB Police's RIB 'DELTA 99' for similar reasons.
At least one of the Harbour Patrol launches has acquired Police chequer stripes & becomes an instant Police Launch when the sign 'POLICE' is placed over the sign 'HARBOUR' & this can be seen in the photos of the recent Marina Open Day.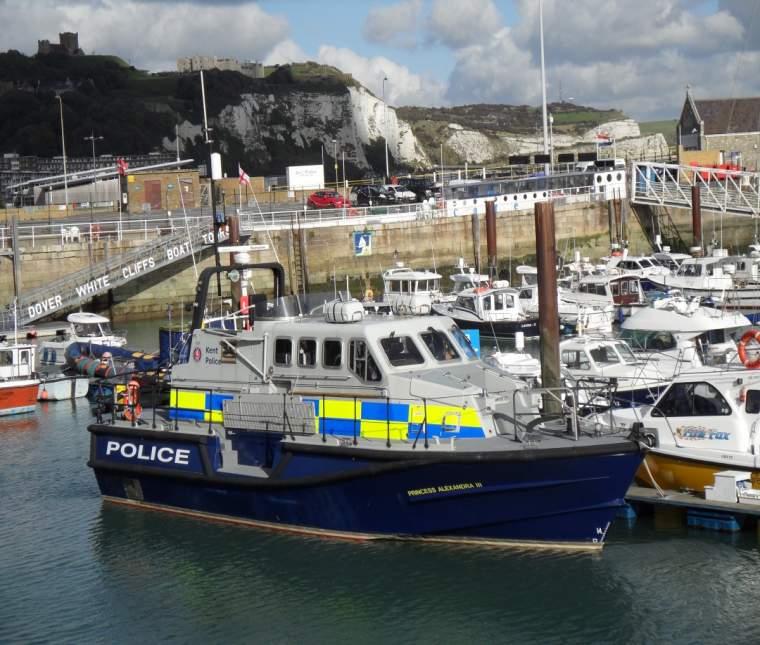 Tuesday, 20 May 2014 - 16:30
Post 727
PaulB, Sea News, Dover.
IT'S MOTHERS DAY IN FRANCE very soon....
So Celebrate Mother's Day the French way with MyFerryLink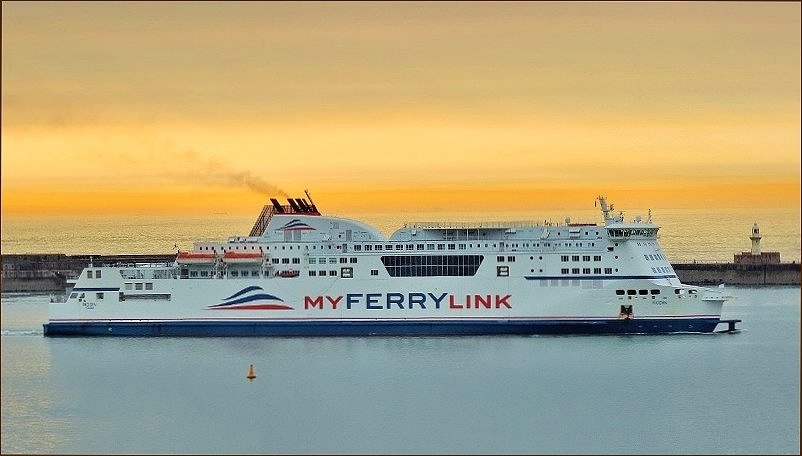 Treat mum to her favourite fragrance and receive a free bottle of sparkling wine too !
It's Mother's Day in France on 25 May and to celebrate, MyFerryLink is offering customers who purchase perfume from the onboard boutique a free bottle of pink bubbly. Why not hop across the Channel and celebrate Fête des Mères for as little as £29 return for a car and up to nine people with Dover-Calais ferry operator MyFerryLink?
Treat mum to a Mother's Day weekend continental style, without having to go much further than the Nord-Pas de Calais area - a mere 75 minutes from Dover! With miles of beautiful coastlines for beach lovers, boutique shops for fashionistas and restaurants serving delicious, authentic cuisine for gourmet lovers, there is something for everyone. What's more, when you purchase a bottle of mum's favourite perfume from MyFerryLink, you will receive a bottle of Blanc de Blanc sparkling wine or a box of chocolates – what a great way to start mum's perfect Mother's Day!
This offer is valid from 23 to 26 May 2014. For details on how to book and more offers, visit www.myferrylink.com. MyFerryLink operates up to 16 daily crossings on the Dover-Calais route. Fares for a car and up to nine passengers start from £29 return for a day trip, with other special fares available online.
To find the best fares, visit www.myferrylink.com or call 0844 2482 100


* *
Great idea above, time to spoil Mum again.
Wow! That's an interesting one below there Mike,
Have never before seen a Lifeboat recycled as it were...
ADDED EXTRA at 08.30: The exotic Costa NeoRomantica arriving.
Tuesday, 20 May 2014 - 06:31
Post 726
Mike J., Dover
A former lifeboat was in Granville Dock today, Monday.
The MAXIMUS is the 1980-built 'Arun' class SIR MAX AITKEN & was sold into private hands by the RNLI in 2003.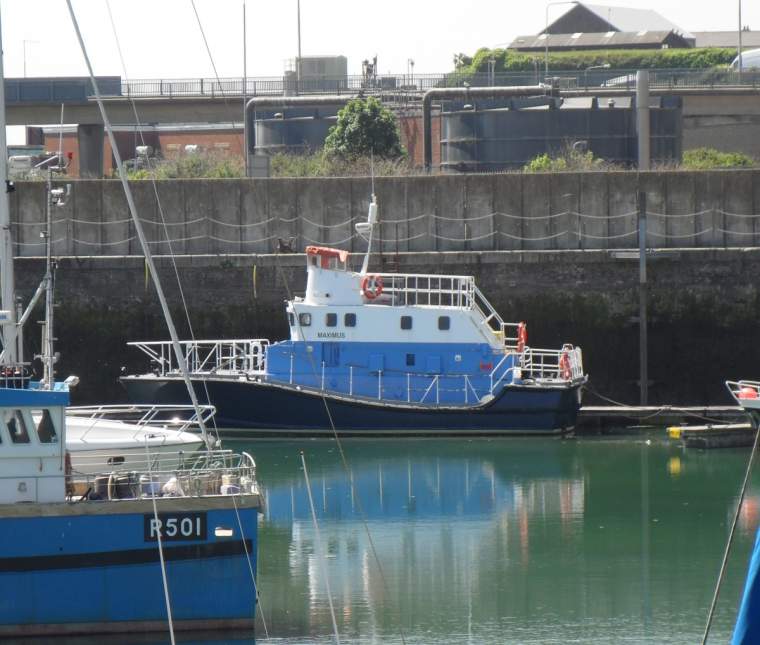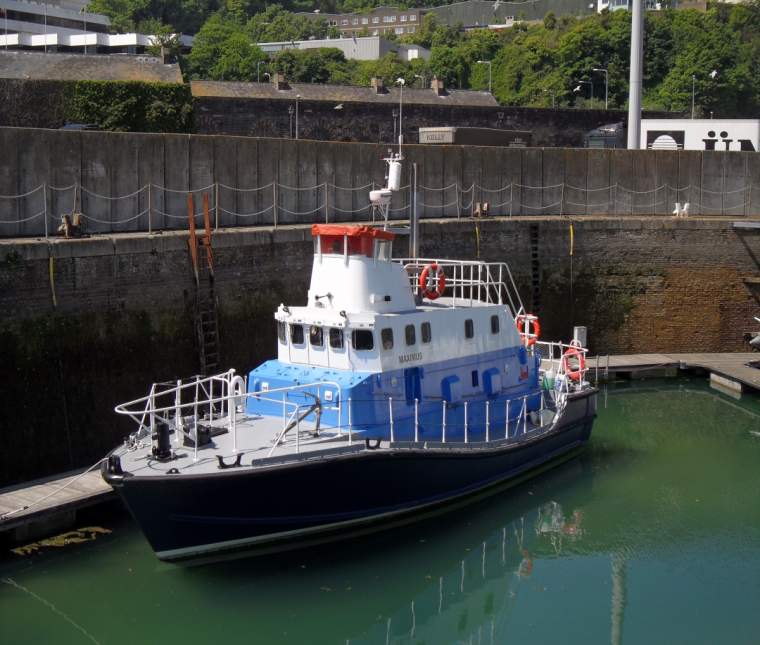 Monday, 19 May 2014 - 21:43
Post 725
PaulB, Dover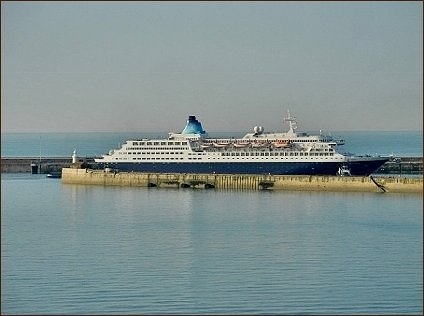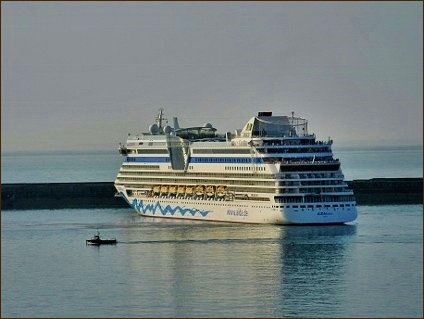 As mentioned in the previous posts below, here are a couple of quick small ones of this mornings arrivals..Saga Sapphire and AIDA Luna. Both pictured many times previously but here they are this morning.See earlier posts re Saga particulary 720.
Also check out pictures below page re Marina Open Day.
Monday, 19 May 2014 - 08:48
Post 724
JanT, Dover
Another beautiful sunny morning and yet again we have two ships gracing our seafront today.
And as mentioned below Saturdays Marina Open Day was also lucky with the weather, and hopefully it is an event that will grow.
It was good to also catch up and chat with Adrian,Wayne,and of course Trevor.


Some good pictures below also showing how busy our harbour is every day of the week.
Monday, 19 May 2014 - 07:47
Post 723
PaulB, Dover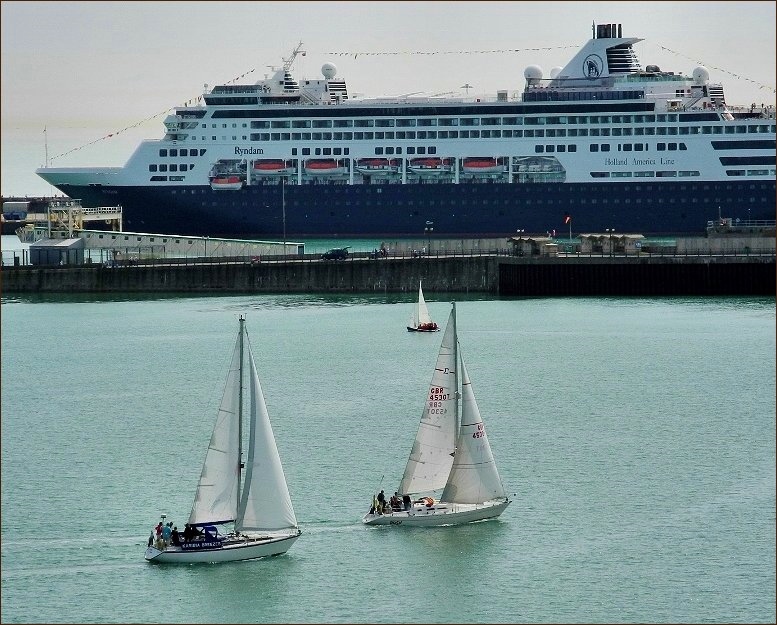 Just to mention that the Marina Open day was a joint venture, with DHB and RCPYC being the main participants...and to mark the input from the Royal Cinque Ports Yacht Club, here they are in fine style on the day itself Saturday..fleeting across the warm harbour with nonchalant ease. The Ryndam on hand as a masterly backdrop. More pictures from the Event in Post 719.
Bernard Sealy, Commodore, Royal Cinque Ports Yacht Club, said: "The return of this event and the growing partnership with the Port of Dover demonstrates the great work going on to promote Dover as a destination – somewhere to savour a rich maritime heritage and somewhere to experience and enjoy the delights of the sea."
* *
Thanks for that ace list again Colette, have marked it at the top of page. Comes in very handy. According to your list both AIDA Luna and Saga Sapphire are scheduled for today...and here they come as we write.. The Saga Sapphire unusually approaching from the west.
Great items there Ed on the Saga Sapphire and the William and Kate Johnston..keep them coming as and when you can. The Saga Sapphire following those aforementioned concerns has turned up. Not in harbour yet and light too blue for long distance pictures. Good to see the old bird again especially after that news. See Post 720 below...
Well done Mike with that one, out in the midst of the action again. Memory and battery power always a niggling problem isn't it.
Monday, 19 May 2014 - 06:33
Post 722
ColetteB, Dover
Good photos there MrB of yesterday's open Dover Marina Day & the weather was just perfect too, a very enjoyable day, loved it

And now for the rest of May's cruise schedule.
Tomorrow, all things being well after the electrical switchboard fire on the Saga Sapphire she will cruise into Dover at CT1, TR. Joining her will be the AIDALuna, once again at CT2, PoC.
Tuesday 20th May, the first Costa of the season arrives in the shape of the Costa NeoRomantica at CT1, PoC. She was last here in August 2013.
The next day, Wednesday, the MS Delphin cruises into Dover at CT1, PoC, last seen here in September 2013.
Then Thursday 22nd May, the second Costa of the season arrives, Costa Luminosa at CT2, PoC, last here in May 2013.
On the same day, Thursday 22nd, we have a real treat in store with the arrival of the very elegant MV Funchal (formerly the Portuguese Presidential Yacht) at CT1. This of course is the second of Dover's Newcomer Portuscale Cruises, the MV Azores being the other which was the first cruise in Dover this season, 30/3/14. Cameras at the ready Guys & Gals

We end the week on Friday 23rd May with the return of the AIDALuna at CT2, PoC.
No cruises then until Thursday 29th May when the Sleek & Sassy third Costa of the season arrives here, the Costa Mediterranea at CT2, PoC. Not sure if she was here before, think not, but I'm sure the Sea News Gurus will let us know.
Then the Ryndam arrives back on Saturday 31st May at CT1, TR.
Sunday, 18 May 2014 - 12:27
Post 721
Mike J., Dover
After PaulB's super photo of the RYNDAM's arrival in that strange yellowy light Saturday morning [there was a line of denser yellow muck on the horizon as well] here's a view of her sailing for Copenhagen via the Eastern Entrance at about 1700.
If I'd not run out of memory at the crucial moment the photo here would not have had a ship sticking out of the RYNDAM's funnel !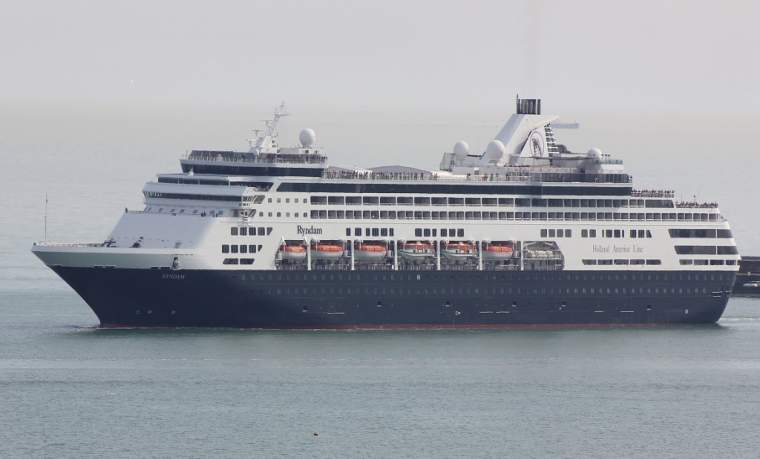 Sunday, 18 May 2014 - 10:45
Post 720
Ed Connell, Dover
One of our regular visitors, Saga Sapphire, has had an electrical switchboard fire. Item below from the BBC News website:
A cruise liner with 1,008 passengers and crew on board is stranded off the Isle of Mull after an electrical fire. An emergency was declared on the Saga Sapphire when the fire broke out at about 10:00 on Friday, knocking out the ship's power supply. Coastguard crews provided support while the ship's own crew dealt with the problem. The liner was expected to resume its voyage on Saturday following repairs. There were no reports of injuries. Saga Holidays UK tweeted: "The ship is currently anchored, in fine weather, off the Isle of Mull whilst the damaged electrical panel is repaired and tested. "Our priority is always to make sure our passengers and crew are safe and well."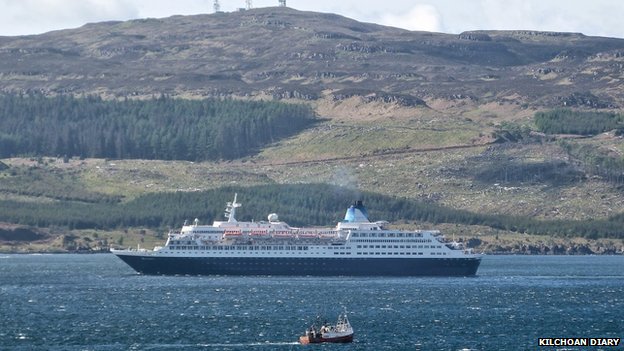 Further to Paul's photo of the old lifeboat "William & Kate Johnston" below. She was one of the Little Ships of Dunkirk and is seen here in the Dunkerque approach channel during the Operation Dynamo commemorations a few years ago.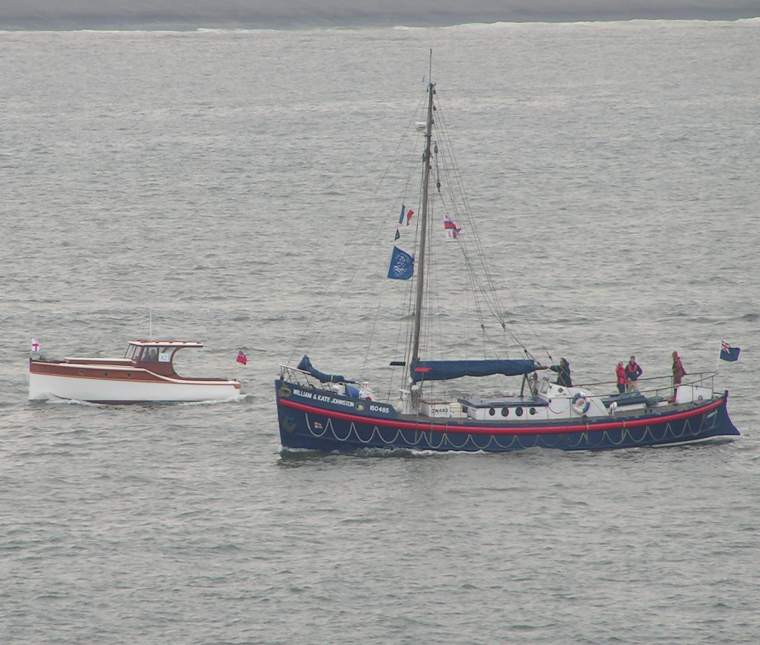 Sunday, 18 May 2014 - 10:32
Post 719
PaulB, Sea News, Dover.
DOVER MARINA OPEN DAY .. pictures..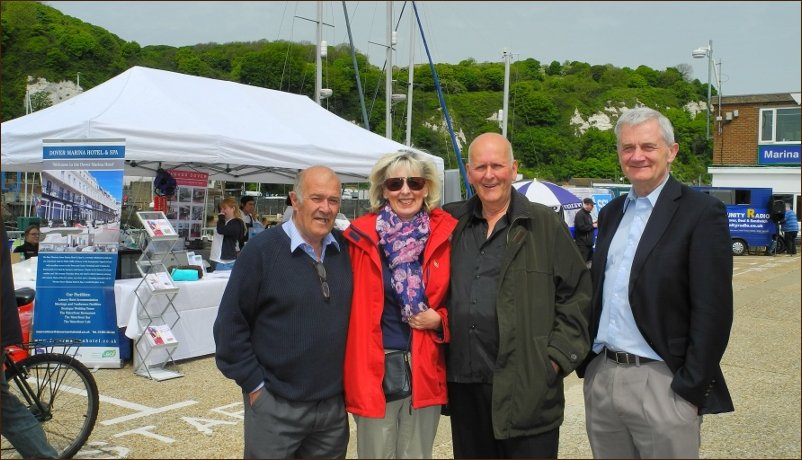 This is a nice event with room to grow in the future should demand be there. On hand to support it yesterday Saturday were District Councillors both past and present and all enjoying the atmosphere and the blinding sunlight.. left to right...Wayne Elliot, Jan Tranter former Mayor of Dover, Adrian Friend, Trevor Bond. Trevor Bond was also there in his capacity as General Manager of the Dover Marina Hotel...which had delicious food aplenty...as did the Hythe Bay Restaurant also on the dock. Maybe some tables and chairs next year might be good..so yours truly can sit down and tuck in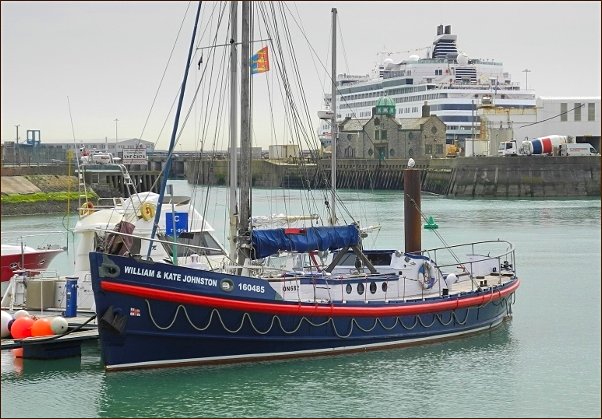 This is a pic of the rather special old lifeboat dating from 1923, the William and Kate Johnston, which had moved around the dock to join in. In the background you can see the cruise liner Ryndam. The local hotels were doing great business the previous night with many passengers waiting to join their ship...all good news for the town's economy.
Further info re the William and Kate Johnston...
"THE WILLIAM & KATE JOHNSTON.
William & Kate Johnston, which is listed on the United Kingdom's National Register of Historic Vessels, was launched in 1923. She was designed as a prototype lifeboat by James R. Barnett, Consulting Naval Architect to the Royal National Lifeboat Institution. She was built, with double diagonal teak hull, by J. Samuel White and Co. at Cowes. At the time of her launch she was the largest lifeboat in the world. Length: 60 ft; Bre. 15 ft; Displacement 44.5 tons; cruising speed 9 knots; cruising radius 200 nautical miles."
As we understand it she is currently being restored to full potential. Looks great !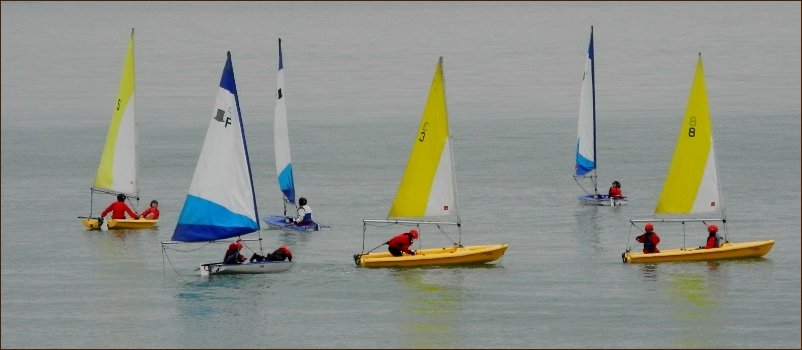 Always good to see the kids enjoying their sailing here in Dover. They were a tad becalmed yesterday but nevertheless all were enjoying it immensely.
'Twas excellent weather overall for a great day out, whether for sailing or strolling.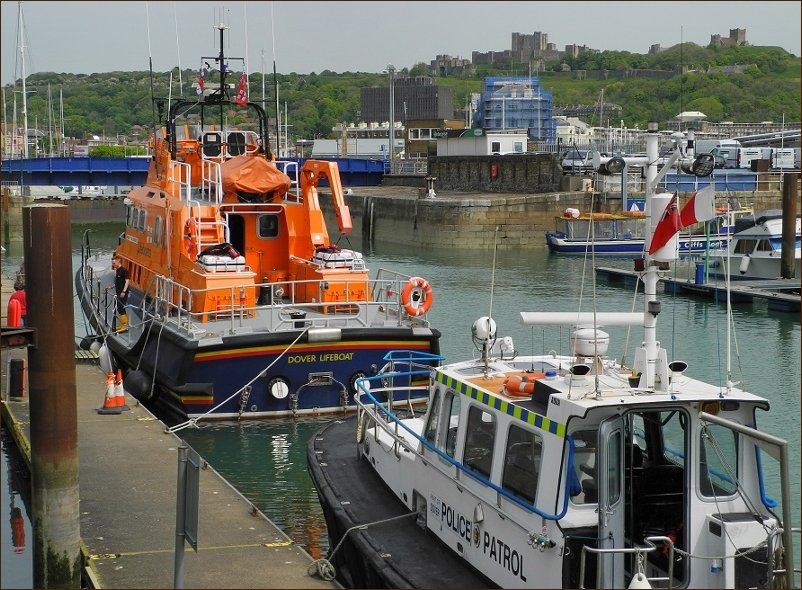 Some hard working vessels here, always a pleasure picturing these guys, sometimes in the teeth of the action and sometimes just laying up at rest as shown above. Dover Castle adding to the backdrop here, that's her atop the hill in the distance. The Lifeboat was open to visitors.
Sunday, 18 May 2014 - 07:16
Post 718
PaulB, Dover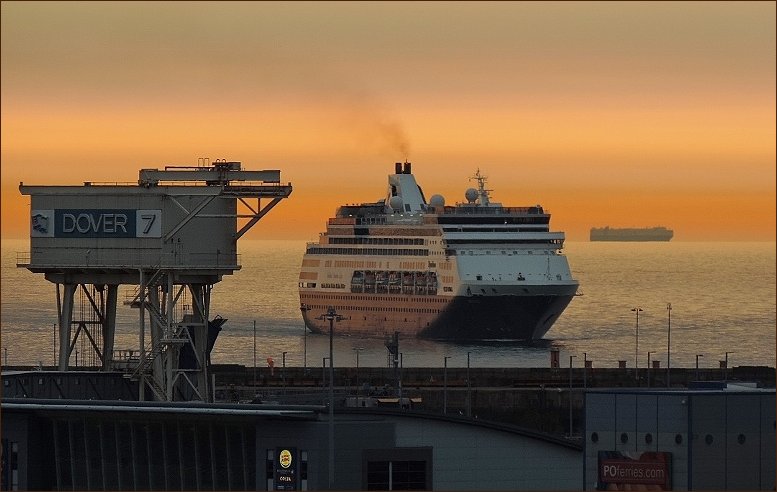 This picture is from about 30 minutes ago as I write...it shows the Ryndam approaching the harbour for yet another exciting visit. Always good to see our regular familiar visitors here in Dover, this time we see her outside the harbour approaching against a dramatically colourful early morning background.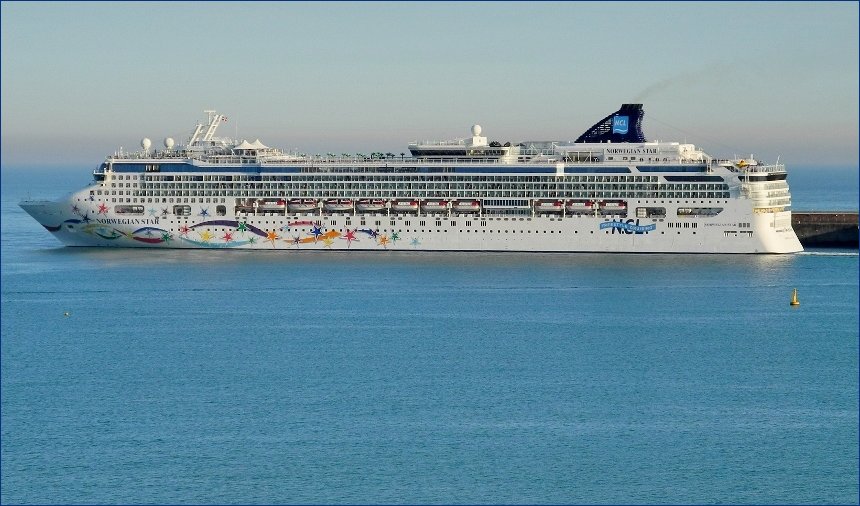 Last night the fabulous Norwegian Star began drifting off about 7pm. She had a very successful visit, depositing many passengers in and around the town, always great to see that and very welcome they are. Quite a striking ship, she looked magnificent moving off last evening...heading to Helsingborg in Sweden.
Ahhh..so many exotic locations...so little time...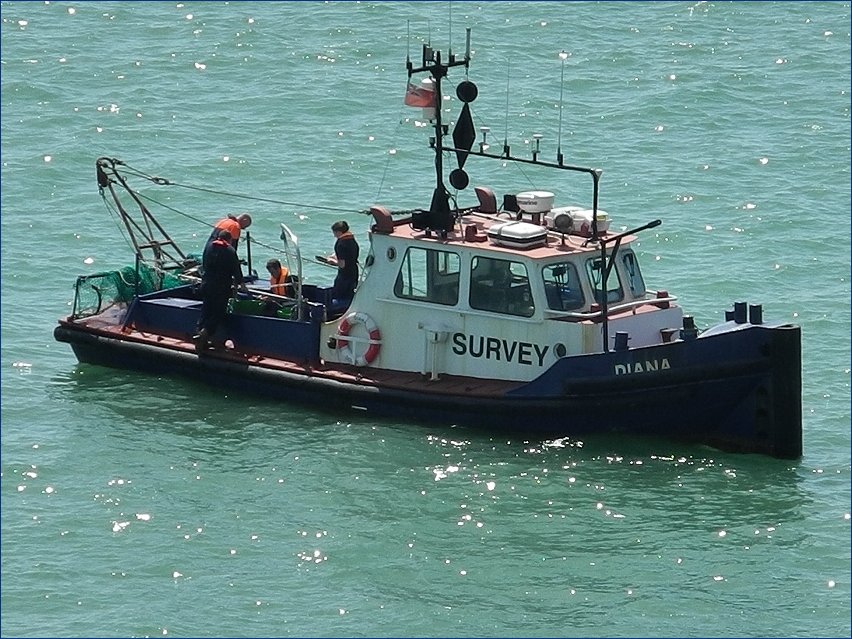 Back down to earth with our regular workboat Diana. The survey vessel was back in action yesterday going hither and tither up and down and across the harbour. Photograph taken at the moment the crew seemed to find something out of the ordinary...lets hope in wasn't too unpalatable...not something from...the deep..
not a prehistoric but vitriolic shark, no of course not !

Saturday, 17 May 2014 - 06:51
Post 717
howard mcsweeney, dover
Congratulations to Jamie and Jason who will contribute to the future of the port.

I think these apprenticeship schemes are the way forward and contradict the mantra of today's youth wanting to lie in bed until noon.

Friday, 16 May 2014 - 21:33
Post 716
Ed Connell, Dover
Yes indeed, as Mike says the Type 23 frigate was HMS Richmond. The aforementioned HMS Northumberland is about to depart from Plymouth quote:

"HMS NORTHUMBERLAND has completed final preparations and is now ready to deploy on a seven-month voyage policing crucial international maritime trade routes. The Type 23 frigate leaves Plymouth on Monday morning (19th May) to relieve her sister ship HMS SOMERSET after her six-months patrol helping to keep the sea lanes open and clamping down on illegal activity in the region. The ship has conducted visits round the UK, including to her affiliated county of Northumberland and carried out trials and the normal operational sea training programme under Flag Officer Sea Training.

HMS NORTHUMBERLAND is now to deploy as part of the Royal Navy's standing commitment in the Middle East, providing reassurance to the UK's allies in the region, policing busy shipping lanes and carrying out maritime security and counter-piracy patrols."


Friday, 16 May 2014 - 14:50
Post 715
PaulB, Sea News, Dover.
Commitment to community and training sees Port of Dover shortlisted...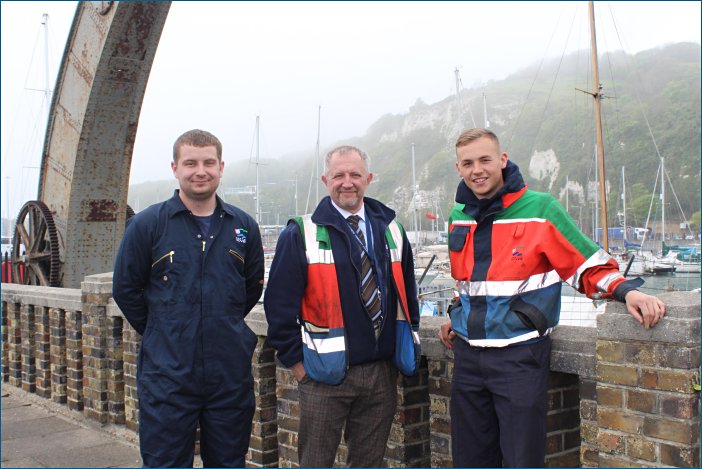 An ongoing commitment to the local community and the development of a skilled local workforce has seen the Port of Dover shortlisted as finalist in two categories in the county's leading business awards.
The Port of Dover has been shortlisted in the Business Commitment to the Community Award category in this year's Kent Excellence in Business Awards (KEiBAs) for its efforts to protect and promote the town's maritime heritage, culture and tourism economy.
The Making Port Heritage Work project has seen the Port of Dover and Port & Community Forum work with local heritage and amenity organisations, including the district council, Dover Society and local visitor attractions. The aim is to help bring the Port and the town's history closer to the community and visitors.
Tim Waggott, Chief Executive of the Port of Dover, said: "This recognition is the result of the hard work put in by every one of our 300 employees, and our shared goal to be the best port in the world for our customers and community.
"We have reached out to the local community, to its schools, colleges and businesses, and together developed key events for the town, including the Port of Dover Community Regatta, and the proposed Heritage Trail.
"Through our work with the Port & Community Forum, the revival of the Western Docks and ongoing investment across the Port, we will be able to play an even bigger role in the long term future of Dover."
The judges also identified work undertaken to support the career prospects of local young people, through a bursary scheme that helps local young people study at University in a port-related discipline, and its Apprenticeship scheme.
Apprentices Jason Scorer, 22, and Jamie Ward, 20, both from Dover district, have made it through to the KEiBA Apprenticeship of the Year category.
Jason Scorer became an engineering and mechanical apprentice at the Port and while working there has been studying for an HNC in electrical and electronic engineering at Canterbury College. He has also achieved a number of other NVQ and BTEC qualifications in pursuit of his ambition to be a multi-skilled electrical mechanic.
Following a year at Canterbury College studying a BTEC level 3 National Diploma in engineering, Jamie Ward knew he wanted a career in the industry and successfully applied to become a mechanical and technical apprentice at the Port of Dover.
Jamie is currently studying for a foundation degree in mechanical engineering at the University of Greenwich, funded by the Port of Dover.
He has also passed an NVQ level 2 in multi-skill maintenance mechanical/electrical and a level 3 BTEC diploma in engineering maintenance.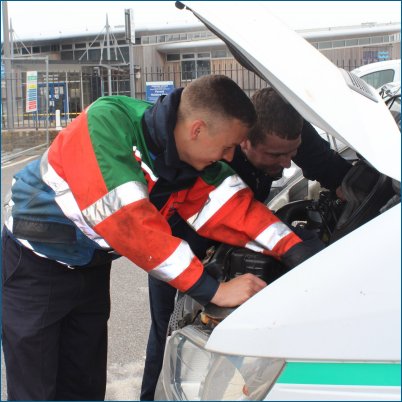 Tim Waggott said: "The ability to safely handle a vessel every 10 minutes of every day at the Port requires a highly trained, skilled and motivated workforce.
"We are absolutely committed to our apprenticeship scheme and the opportunities it gives to local young people. We are therefore absolutely delighted that the achievements of Jason and Jamie, nurtured by the Port, have been recognised and that they will be flying the flag for the Port at the KEiBAs."
The Port runs a full programme of apprenticeships across the business, ranging from electrical, mechanical, plumbing and construction through to ICT, customer service, marketing and business and administration apprenticeships. There are 12 apprentices working at the Port.
For further information on the Port of Dover's youth engagement and community activities, refer to the Port's Corporate Social Responsibility Report www.doverport.co.uk/_assets/client/images/collateral/CSR%20Report%202013a.pdf
Top Image – (left to right) Jamie Ward, Sean Foord & Jason Scorer
Second Image – (left to right) Jamie Ward and Jason Scorer
* *
The striking and large Norwegian Star came in very early today. No picture for the moment. Definitely worth a look.
Thanks for that info once again Mike.
Friday, 16 May 2014 - 07:19
Post 714
Mike J., Dover
F239 ? That'll be HMS RICHMOND then.

Thursday, 15 May 2014 - 22:35
Post 713
PaulB, Dover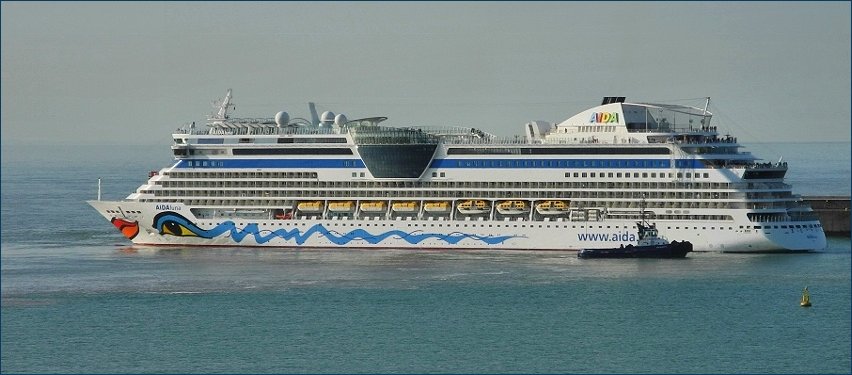 The AIDA LUNA arriving this morning in fine sunshine and in fine style. As you can see many passengers on the decks enjoying the glorious the White Cliffs and the harbour as they arrive....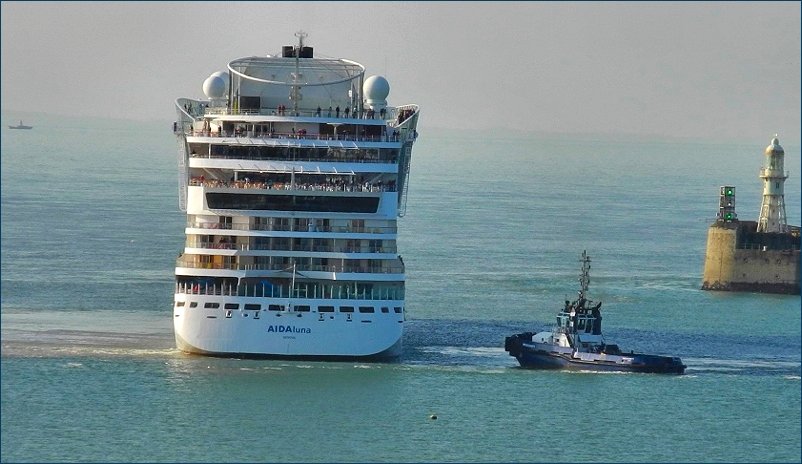 Mike - good info there. Have now checked the number on the side of the frigate and its actually...F239.
Thursday, 15 May 2014 - 15:51