Thursday, 20 June 2019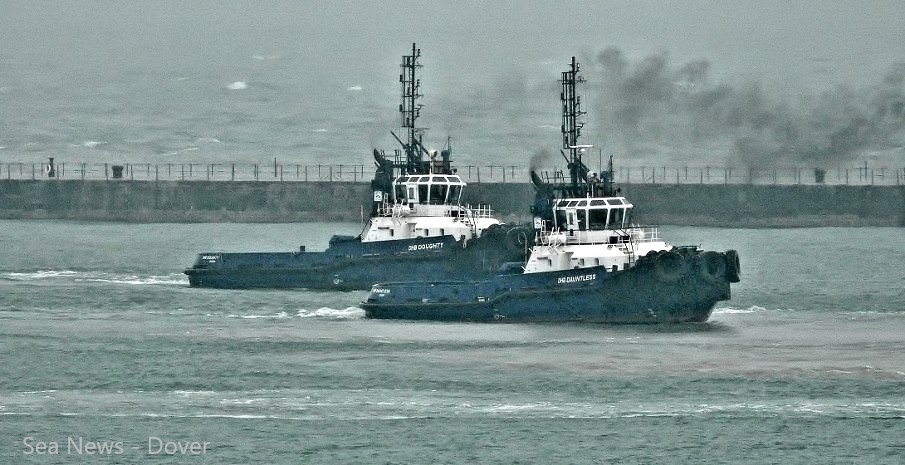 Just having sent Pacific Reefer on her way, the tugs turn back into the Summer (!!) gloom....

WWW.DOVERFORUM.COM/SEA-NEWS
Featuring all the ships that come and go and work at the Port of Dover ..
... with further coverage of the surrounding ports.
Sea News Dover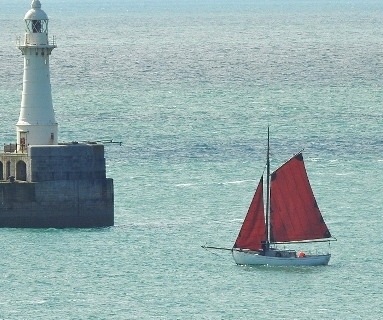 DFDS NEW SHIP for Channel see 6303
DFDS Europe's award winning Ferry Operator 6332
Port of Dover : Virgin Voyages 6289
Port of Dover: Brexit Resilience 6123

P&O Ferries: Alternative Euro Breaks 6298
P&O Ferries: Record Fundraising for Lifeboats see 6253
Port of Dover: Reducing Carbon Footprint 6332
Port of Dover: New Cargo Manager see 6205

Thames Estuary Forts 6250
SS Richard Montgomery at rest (WW II Supply Ship ) 6329
DFDS: ORCA 6179
Premier Inn completes see 6149 plus

Scroll down to see the Boudicca D-Day pictures in several posts.
Use our SEARCH ENGINE below to find all sorts on the SEA NEWS pages....
type in the topic and away you go, or if you have the post number as shown above, just type it in the box, more than - 6300 - nautical posts now.
Posts are welcome. just click 'Add Your Comment' below. Max of 5 pictures preferred although we can stretch that for special stories..
Sea News Editor Paul Boland - send info or pix to dover7@msn.com. Always welcome.
CRUISE CALLS:
https://www.doverport.co.uk/cruise/find-a-cruise/
UPDATE:
To show your pictures at their best..it could be worthwhile resizing before posting to
850
pixels wide.
All pictures on these pages are the copyright of the owners and must not be reproduced without permission.
Post 438
PaulB, Dover
Hello Antony in London.
There is passenger traffic coming and going only from the Eastern Docks these times. But these Eastern Docks are very big and very busy...carrying more passengers and freight than ever. The western docks have not been used for the general passenger since the demise of the hovercrafts and seacats etc. Although over on the far western arm of the harbour is where you will find the two cruise terminals. As I understand it these are clearly marked when approaching by car.

Monday, 27 January 2014 - 15:14
Post 437
antony, london, england
We are a private taxi company and we are looking for brief instructions on the pickup and drop off procedures at Dover.

Am I correct in assuming passengers both arrive and depart from the eastern and western docks? Also is there a third cruise terminal?

Thanks in advance for any help and information.

Monday, 27 January 2014 - 14:18
Post 436
JanT, Dover
Have also watched the video very sad to see its end that way, and seeing the picture below of her last working day, it must in its working life have carried so many across the channel to many destinations.


Monday, 27 January 2014 - 14:11
Post 435
brian., dover
re pride of calais,it was a nice piece of parking too, a sad end really.

Monday, 27 January 2014 - 13:58
Post 434
PaulB, Dover
Colette that's a good finale to the story about the lost wallet, a wallet which seemed to have considerable content, so I bet the person herself was glad to get it back untouched as it were. It was extraordinary to see it lying there mid carpark. But all win as you say, and even the Pilgrims Hospice wins too...excellent.

Further to the videos about the beaching of the Pride of Calais. Here is another chance to see her on her last working day. We have used the picture before..and indeed we have other similar ones too, but here she is again on 20 October 2012 on her final working arrival into harbour complete with two trucks on her nose.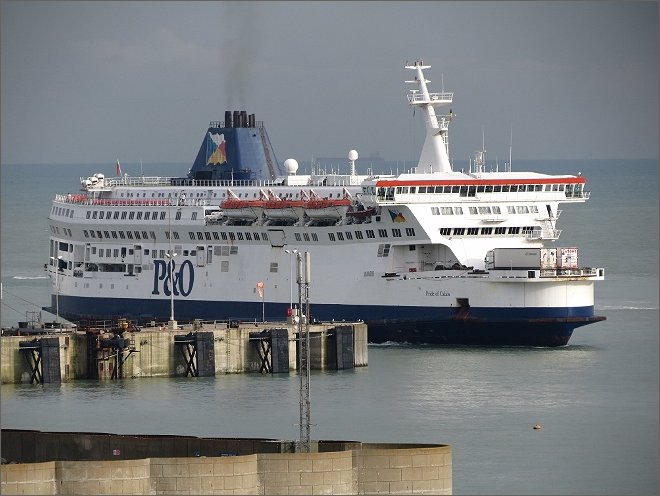 Of course P&O have arguably the most modern fleet and below we see one of her steady working replacements in fine action. yes its the Spirit of France photographed last week after her return from refit.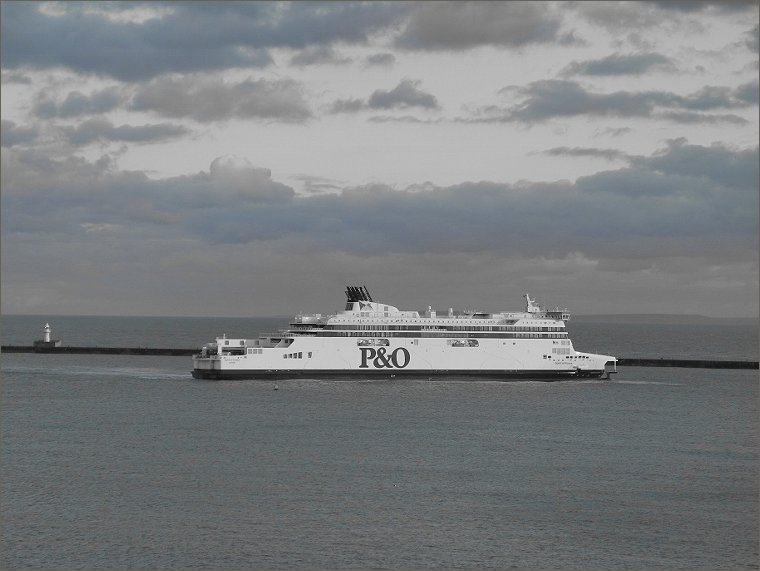 Monday, 27 January 2014 - 07:29
Post 433
ColetteB, Dover
Just watched the video that Brian posted on the Pride of Calais, very sad indeed but I guess inevitable, she was such a popular ferry in her day.
Pity we didn't bump into you on Friday Howard, fancy that, you & PaulB taking a snap of the Survey Vessel, Sea Vigil, on the same day. Indeed a good photo but lucky he took it before he sampled the delights of Cullins ie the wine cellar

Just thought I would mention that we found a wallet outside De Bradelei on the day which I handed in to the store. The owner phoned me later & she made a donation on my behalf to a charity of my choice to say thank you, so a win win for her, me & the Pilgrims Hospice at Ashford

Sunday, 26 January 2014 - 15:54
Post 432
PaulB, Dover
Well there you are Howard. You know what they say...great minds think alike !

Always meant to photograph the Sea Vigil but never got round to it but when I saw your mention the other day I put it on my to-do list.
Karlos yes Mike mentioned that beaching a few days ago and I see there is now a film of the beaching on the main forum under the heading...
Pride of Calais. Spectacular stuff ! Not able to do films on this page.
Good story there Mark. Like it. Quite a few years ago they used to do the Dance to France thing. It wasn't long after I moved here to Dover and I used to notice loads of girls all dressed to kill heading towards the ferries on Saturday nights. Wasn't sure what was going on, twas a headscratcher for sure...but in due course I twigged. It was disco fever!

Sunday, 26 January 2014 - 08:01
Post 431
howard mcsweeney, dover
stone me paul i took exactly the same photos as you from the de bradelei boardwalk yesterday, didn't come out as well though.

Saturday, 25 January 2014 - 19:26
Post 430
Mark Rushton, Northants
The chat about dancing your way across the channel reminded me of a couple of times in the 1970s when I was dragged along by my parents to staff disco's for BR Sealink employees and hangers-on (my mum worked for the Government statistics unit that still conduct passenger interviews on the boats today). These were held on the car deck of one of their ferries laid up for the winter in Wellington Dock. Clearly I was too young to consume alcohol - certainly in such close proximity to my parents - so for me the events held limited appeal - but the grown ups seemed to have fun !

Saturday, 25 January 2014 - 12:30
Post 429
Karlos, Dover
Re the Pride of Calais at the scrap yard - never seen anything like that before.


Saturday, 25 January 2014 - 11:06
Post 428
PaulB, Dover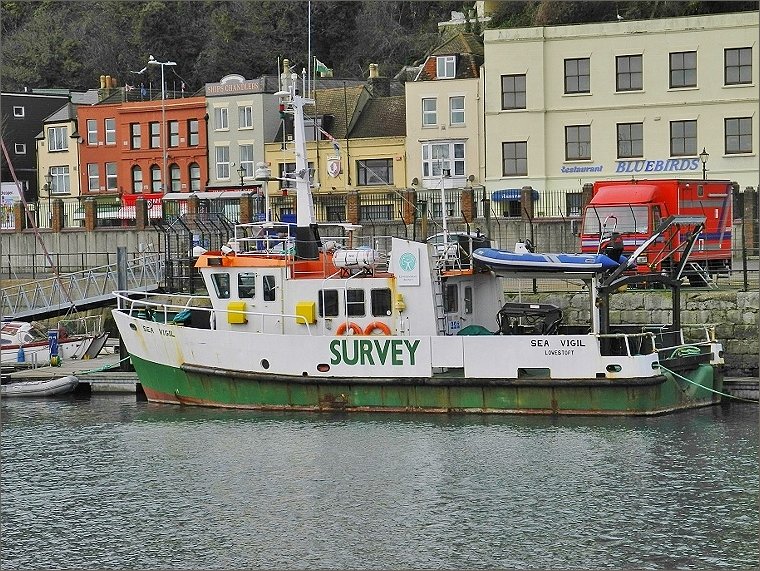 Howard mentioned the survey vessel currently residing in the marina the other day, and there she is above, picture taken yesterday from Cullins Yard..where one was sampling the local delights...It was a cold oul day but one bravely ventured forth with camera onto the dockside to get the pic..

I believe the vessel, called the Sea Vigil, is for sale at 125,000...
"David Abels built survey vessel dating from 1991, one of a series manufactured for the Environment Agency installed with equipment specifically used for survey purposes. Fitted with twin economical Perkins Sabre engines, this craft has good range of around 1000NM and excellent working areas both undercover and deck areas. Complimentary equipment is positioned on the working deck for ease of access and management. "
The wider view of the marina below looking into the late afternoon sun. Still plenty of yachts and so on to be seen.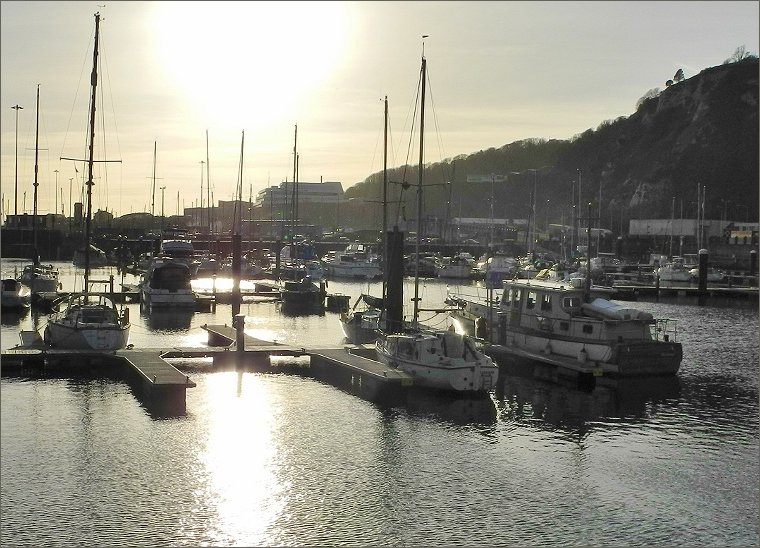 Saturday, 25 January 2014 - 08:24
Post 427
PaulB, Dover
Thanks Jan - glad you like the pic. That was nature as it was this morning, directly from the camera. Not touched up in any way.
I wrote that romantic vision stuff earlier but it didn't last...look at this..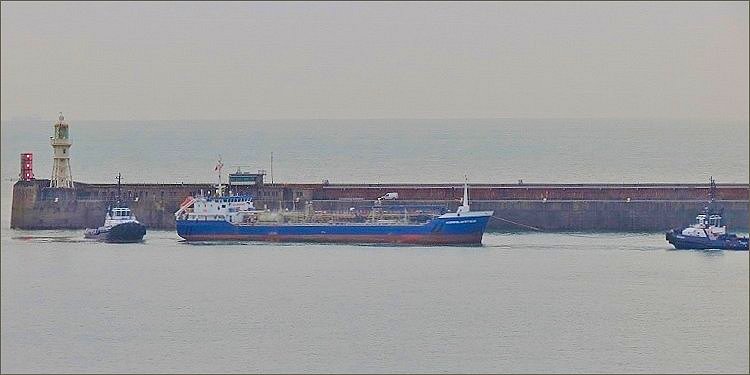 Yes its the Coral Water as mentioned in the picture earlier, well it broke down an hour or two later. It went out into the open sea and before long the two tugs were called to tow it back in...looking a tad..ermm knackered to use the technical term. Reality alas in slate grey.
You can just see the tow rope there above.
Friday, 24 January 2014 - 17:58
Post 426
Jan Higgins, Dover
Wow!!!!!!!!!!!!
That is an absolutely stunning picture Paul.

Friday, 24 January 2014 - 11:03
Post 425
PaulB, Dover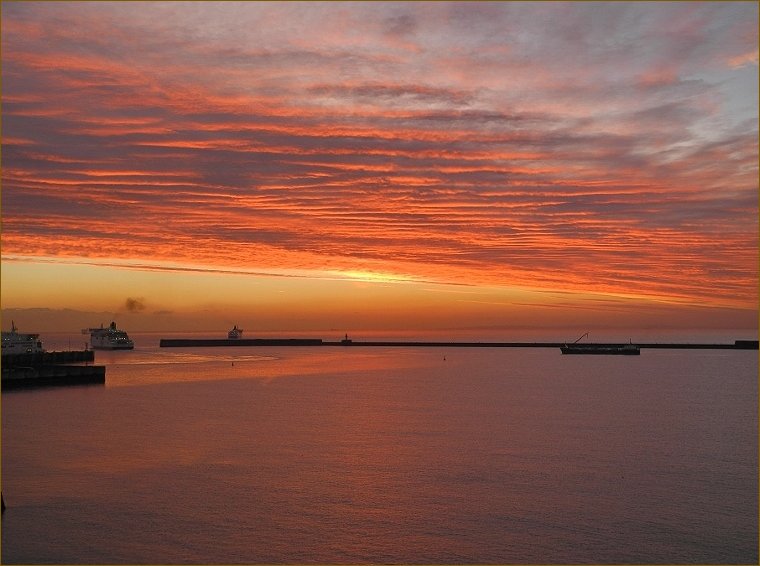 This is the scene at harbour entrance no more than a few minutes ago as I write. Great colours see the P&O Spirit of France off on her journey while the same sky greets the Coral Water to another long day as she moves slowly across the harbour.
Have more general information coming through shortly. At the moment getting to grips, or trying to, with a new computer and software. Mindboggling..

While transferring old pictures I noticed some old ones from 7 or 8 years back that might be of the Pride of Calais...will check. Might be worth a look. Will try and find that video on YouTube Mike.
Vic...funny story that. I can just imagine boxers trying to pursue their craft in rough weather...balance would go all to hell for sure..indeed it would turn the contest into something of a dance so probably best to stick to the Dancing on the high seas as mentioned by Andrew below.

Friday, 24 January 2014 - 08:18
Post 424
Mike J., Dover
For video footage, filmed from ashore, of the spectacular beaching of the PRIDE OF CALAIS/OSTEND SPIRIT at the Turkish scrapyard go YouTube & do a search on -

'M/F OstendSpirit - SelimSan - Beeching / Aliaga'

There are also several clips on YouTube that will probably pop up, filmed from aboard the CALAIS.

A sad but inevitable end to a popular ferry.



Thursday, 23 January 2014 - 15:24
Post 423
Vic Matcham, River Dover
Talking about the times that they held danceing to and from France,well also we held boxing matchs as well the boxing was held on the car deck when we got to France,but one time the boxing was running late and the ship left port when the last bout was on ,it was fun to see the boxers trying to get their footing right with the ships movements it was hard to stay on their feet,in the end we had to stop the fight and call it a draw.


Thursday, 23 January 2014 - 08:12
Post 422
PaulB, Dover
NOW WITH THE LATEST NEWS ON THE NEW PORT ELECTED REPRESENTATIVES... (see the other appointments further below )
NEW INDEPENDENT CHAIRMAN AND VICE CHAIRMAN ELECTED FOR PORT USERS GROUP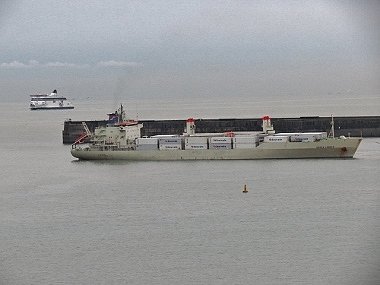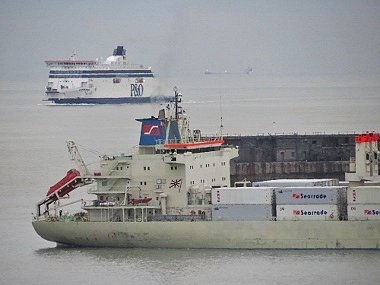 The newly formed Port Users Group (PUG) has elected its first Independent Chairman and Vice-Chairman as the Port's determination to transform the way in which it listens and consults with its key customers and Port users takes a further step.
James Ryeland, Managing Director of Dover Cargo Terminal operator George Hammond PLC, is the new Chairman and he will be supported by Robert Hardy, General Manager of MOTIS Freight Services Agency. Port users from the Eastern and Western Docks, James and Robert represent two key businesses within the Port and therefore a strong voice for all users.
The PUG provides a valuable platform for port users to debate issues of mutual interest. The new roles will support Port users in establishing a meaningful and independent engagement with the Port on what really matters to them as customers.
James Ryeland said: "I am delighted to undertake this important new role on behalf of all Port users. Together with Robert, I fully intend for the PUG to become a forum that is greatly valued by all participants in strengthening and nurturing positive relationships with the Port."
Reflecting the breadth of Port interests as well as the Port's desire for inclusive discussion, the PUG consists of ferry operators, cruise lines, the cargo terminal operator, sister ports, tenants, other local port users, cleaning and security contractors, freight agents, emergency services, trade associations and relevant government agencies.
Robert Hardy added: "I look forward to supporting James in establishing the PUG as a vital tool in working towards a collective voice for Port users and a partnership for mutual success."
Tim Waggott, Chief Executive, Port of Dover, added: "The election of James and Robert is a clear sign of our commitment to open, trusting and meaningful dialogue with all of our Port users as we work together in becoming the best port in the world."
* *
PORT AND COMMUNITY FORUM ELECTS POPULAR INDEPENDENT CHAIRMAN
*************************************************************
The Port and Community Forum (PCF), the group that is seeking renewed, positive and vibrant community engagement with the Port, has elected Derek Leach as its first ever independent Chairman following an anonymous ballot.
Mr Leach, Chairman of The Dover Society and a well respected member of the local community, will be supported by a new independent Vice Chairman, Dick Fuller, one of the two recently elected local representative members of the public. Together, they will lead the direction of the PCF as it works to deliver transformational projects for the benefit of Dover together with the Port.
Reacting to his appointment, Mr Leach said: "This is a golden opportunity that Dick and I intend to embrace enthusiastically. Over the last few months there has been an immense change for the better at the Port in how it has committed to its community. Now it is time for the community to build on that momentum to deliver the partnership for Dover that all members of the PCF and the Port wish to see. This is a role that I take incredibly seriously as we keep Dover's interests at the heart of all we set out to do."
The PCF is already developing a heritage strategy for Dover with practical projects that will deliver positive change. This is part of the group's commitment to pursuing a future for Dover that is exciting and transformational for Dover as a whole.
Dick Fuller said: "As an independent local community representative, my role is to bring the views and ideas from the local community to the PCF. I look forward to supporting Derek in making things happen for Dover together with the people of Dover for whom we wish to make a difference."
Tim Waggott, Chief Executive, Port of Dover, added: "I am delighted for Derek and Dick and believe that their experience will be invaluable in taking the PCF forward independently but with the full cooperation and positive input of the Port. This is a critical group for us as we look to build on the vision that, together with our community, we are all working towards."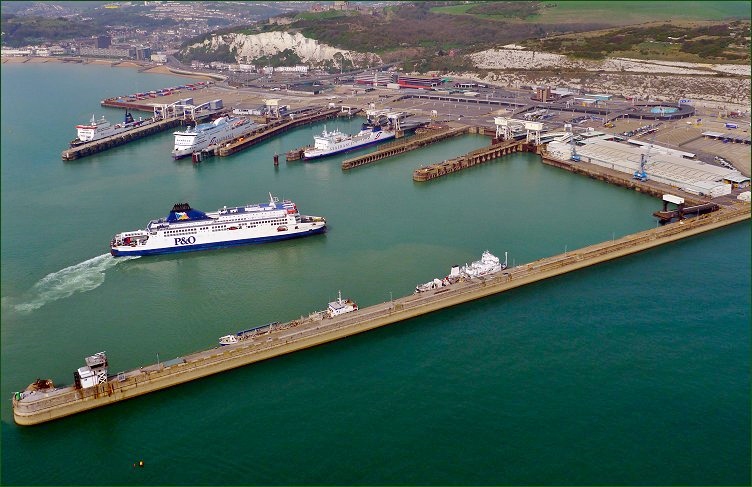 Interesting one on the DANCE TO FRANCE Andrew. Good luck with that.
Top pictures show the Hansa Lubeck arriving a day or two ago...the buoyant cargo turnaround continues..
Thursday, 23 January 2014 - 06:23
Post 421
Andrew MacLean, Canterbury (jazzandy@btinternet.com)

Dance to France – Sat. 29th. March on MV Spirit of France

Remember those good old days when folks would head for the ferries at the weekend to take part in the 'Dance to France' craze during the seventies and eighties on the 'Lion and 'Tiger' and latterly until 2006 on the Sealink boats.? Those starry evenings crossing the pond dancing to the sounds of the bands and discotheques belting out the latest pops while the ferries plied their way between the twinkling lights of the British and French coasts?

Well those days are coming back! The Lifeboat supporters and the Dover Steamship group have got together to re-instigate the popular event with a charity discotheque on board P&O's latest superferry, MV 'Spirit of Britain'.

Saturday the 29th. of March is the date and the departure is on the 1835 sailing to Calais returning into Dover by 2215.

All the on board facilities, the food court, Langan's Brasserie, and of course the low tax shops will also be open to the revellers who will probably be able to recoup the cost of their tickets from their purchases.

The discotheque will be situated in the forward bar area and will only be open to ticket holders. "We've combined the non-landing car park shopper deal with the disco," said Dave Carey, local fundraiser for the RNLI, "So our ticket holders will benefit from the on-board entertainment as well as the massive savings available in the Spirit of Britain's shops."

Tickets costing £12.50p per passenger are available by calling 01227 732414 or 01304 210572 and are based on a car and two passengers or a car and four passengers. "Book early," Dave advised, "Our numbers are strictly limited owing to the size of the lounge on board."

Further information from Andy MacLean at 01227 732414.


Wednesday, 22 January 2014 - 11:04
Post 420
PaulB, Dover
ENJOY DUNKERQUE CARNIVAL WITH DFDS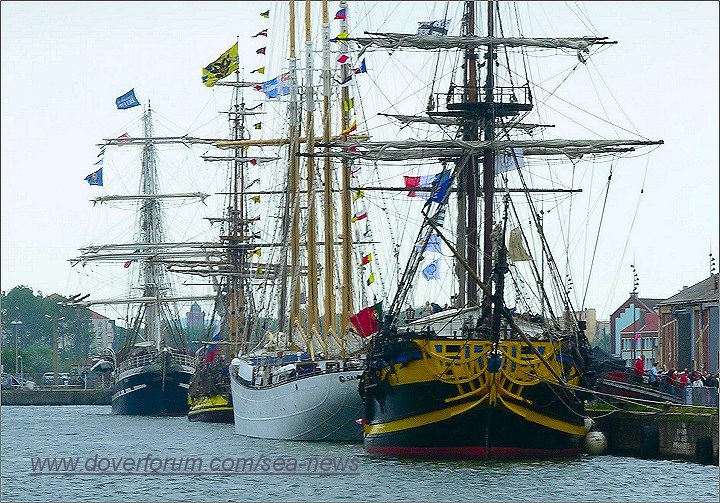 Join the Carnival in Dunkirk with a Ferry Good Offer from DFDS Seaways

· Save 20% on the price of return ferry crossings from Dover to Dunkirk
· Dunkirk carnival is one of largest and oldest in Europe
*************************************************************
DFDS Seaways, the award-winning ferry operator, is offering customers the chance to travel to the unique and colourful Dunkirk carnival from as little as £24 each way for a car and up to four people. The carnival is one of the oldest and biggest of its kind on the Continent and runs from mid January until late March.
Visitors to the carnival are encouraged to join in the fun of over 40 street parades with marching bands, 60 balls, competitions, music, traditional food and drink, plus a lot of dressing up! Renowned for its friendly atmosphere, the carnival welcomes visitors from the UK, with many homes operating an 'open house' policy to help them get involved. These Chapelles, as they are known, host live music and other festival activities.
The street parades are called Bandes and the music, marching and celebrations run from 3:00pm until around 8:00pm. The carnival balls are a highlight of the carnival and tickets can be purchased in advance, with all profits going to charity. Here, attendees garb themselves in colourful fancy dress and dance the night away, whilst dining, drinking and making new friends. All these balls begin at 10:00pm and the fun doesn't end until around 6:00am.
__
DFDS Seaways has 24 sailings a day between Dover and Dunkirk, offering passengers excellent flexible sailing times, as well as high quality onboard facilities. And with the crossing taking just two hours, you can relax and enjoy the journey as the perfect start to your trip. Dunkirk is 30 miles north of Calais and is close to France's excellent motorway network, so it's a convenient gateway to Europe and its wide range of cuisine, culture and adventure.
If you want to take advantage of the special discount, which is 20% off the normal fare, you need to book before 29th January and travel by March 31st, using code ECARNIVAL. To book your travel, or for more information on DFDS Seaways' Dover-Dunkirk route, visit www.dfds.co.uk
You can book package deals, including hotel accommodation, meals, costume hire and entrance to some of the key balls on the Dunkirk Tourist Board website www.shortbreaks.fr/
You can also book accommodation in Dunkirk or surrounding areas with our hotel partner booking.com.
* *
Picture shows some of the gathered Tall Ships at Dunkerque in Spring last year. The town is full of pleasant surprises.
We have used several of those tall ship pix before and this is yet another one.
Beautiful ships for sure.
Wednesday, 22 January 2014 - 07:10
Post 419
PaulB, Dover
ACTION MEN of the RNLI !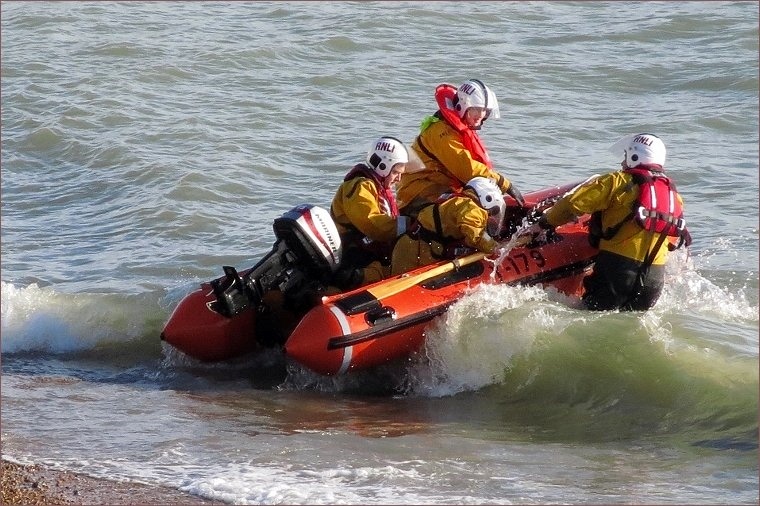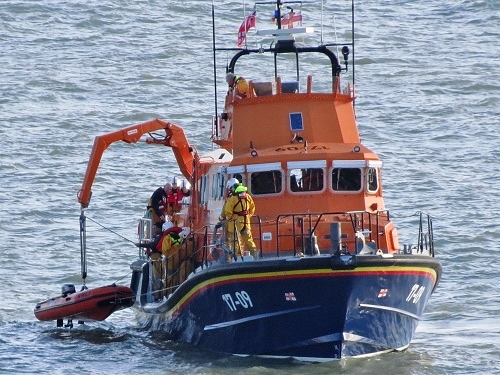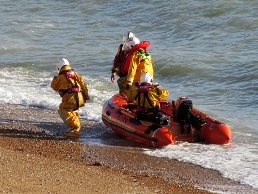 The guys from the Lifeboat were in training action on sunday morning. It seems to be a regular thing and in this episode shown here a RIB was lowered and the guys beached it as part of the exercise and then re-launched. The waves weren't too troublesome although the odd one gave them a bit of a splashing as you can see in the top shot. But of course the Lifeboat crews get used to these hardships and take it in their stride. After the training session was over they returned to the 'mothership' where the RIB was lifted out of the water and the guys probably had a flask of hot Bovril to hand.
Yes indeed Howard great coverage below there from Mike ..
and yes that Pacific Osprey is a bit special, glad I was able to get a picture.
NOTE TO ALL: Don't miss the SIX BOTTLES of FREE WINE if you are popping over. A great P&O Deal that....I've had that deal before myself and the wine tastes all the better for being FREE..especially in these grim times of economic austerity.
Tuesday, 21 January 2014 - 07:29