Tuesday, 16 July 2019

WWW.DOVERFORUM.COM/SEA-NEWS
Featuring all the ships that come and go and work at the Port of Dover ..
... with further coverage of the surrounding ports.
Sea News Dover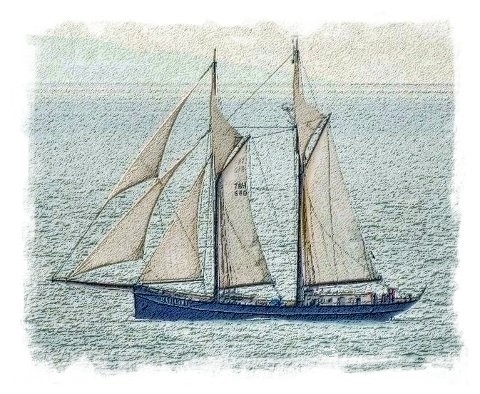 Port of Dover: Chief Exec EU statement 6373
DFDS New Ship for Channel see 6303
DFDS Europe's award winning Ferry Operator 6332
Port of Dover : Virgin Voyages 6289
Port of Dover: Brexit Resilience 6123

P&O Ferries: Alternative Euro Breaks 6298
P&O Ferries: Record Fundraising for Lifeboats see 6253
Port of Dover: Reducing Carbon Footprint 6332
Port of Dover: New Cargo Manager see 6205
DOVER MARINA Open Day 6358

Thames Estuary Forts 6250
SS Richard Montgomery at rest (WW II Supply Ship ) 6329
Premier Inn completes see 6149 plus

Scroll down and over to see the Boudicca D-Day pictures in several posts...
….and now also too the Spirit of Discovery
Use our SEARCH ENGINE below to find all sorts on the SEA NEWS pages....type in the topic and away you go, or if you have the post number as shown above, just type it in the box, more than - 6300 - nautical posts now.
Posts are welcome. just click 'Add Your Comment' below. Max of 5 pictures preferred although we can stretch that for special stories..
Sea News Editor Paul Boland - send info or pix to dover7@msn.com. Always welcome.
CRUISE CALLS:
https://www.doverport.co.uk/cruise/find-a-cruise/
UPDATE:
To show your pictures at their best..it could be worthwhile resizing before posting to
850
pixels wide.
All pictures on these pages are the copyright of the owners and must not be reproduced without permission.
Post 287
howard mcsweeney, dover
not heard the term fallstreak holes before but this is what they look like, all taken by phil smith at samphire hoe 2 days ago.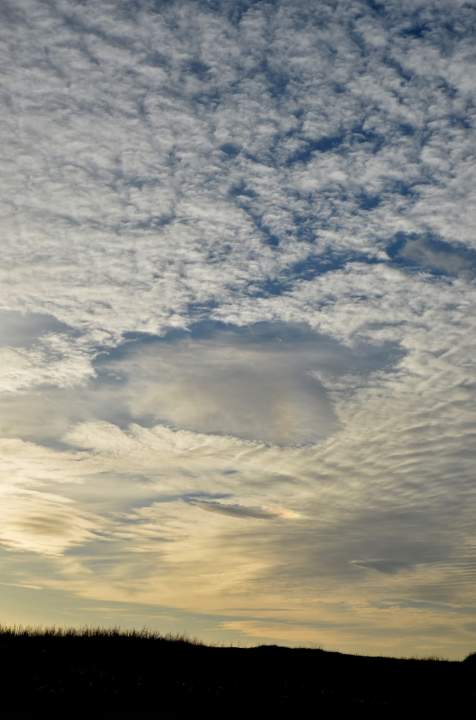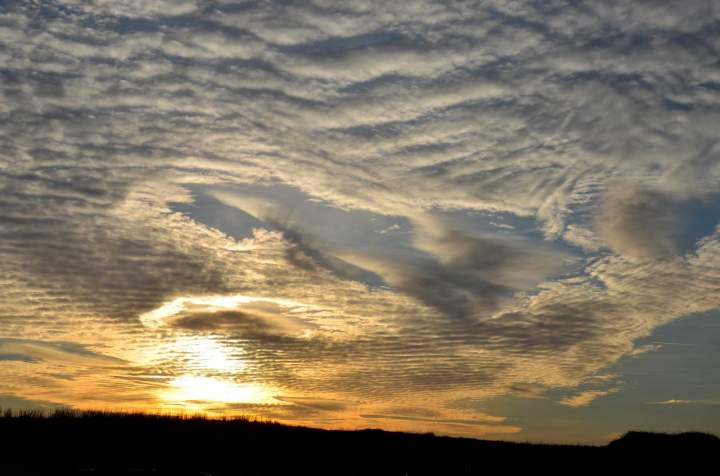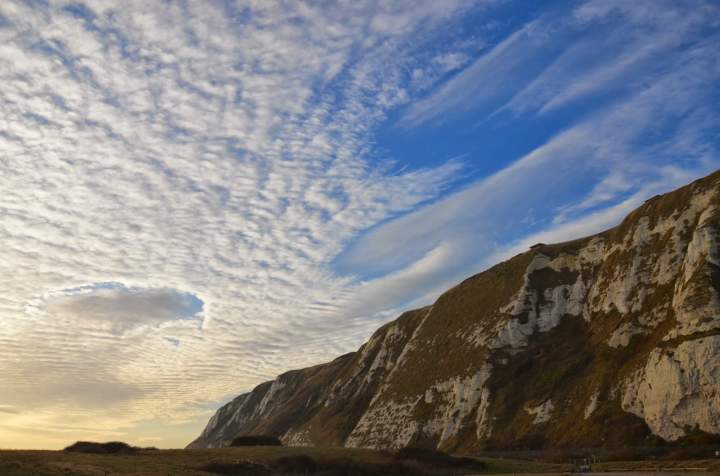 Friday, 29 November 2013 - 12:18
Post 286
PaulB, Dover
Yes indeed Jan some good deals on offer there in Calais with MyFerryLink (see thursdays post 08.09 below). We will try and bring offers from all sides when they are available if we can.. so that readers can enjoy their trip across to maximum effect.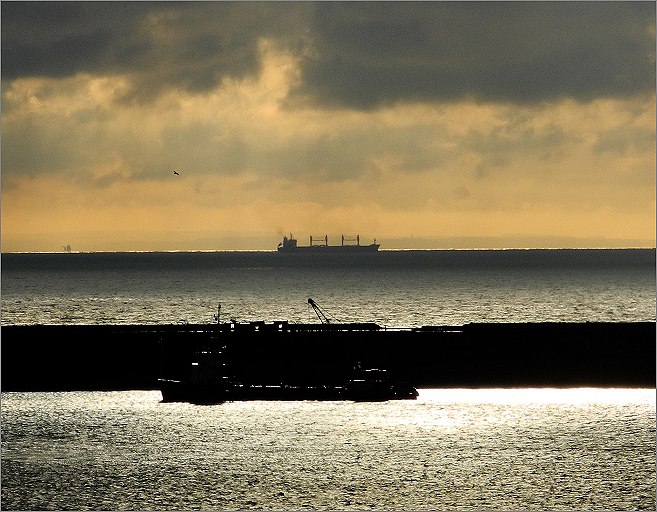 The picture above shows the ever busy dredger David Church working away by the breakwater which it does with regular efficiency. Doing a lot of heavy 'shovelling' this past week. Took the pic above a few days ago. In the background you can see cargo ship Aloe on course for Hopewell in the USA...a long way to go for that one, all the way across the wide Atlantic.
Friday, 29 November 2013 - 08:48
Post 285
JanT, Dover
Wow what a great offer from MyFerryLink, just goes to show what can be done when people work together, have frequently visited some of the places mentioned so I hope many will take up the offer.


And some great pictures below of Calais nothing quite like hopping on the Ferry and enjoying a leisurely lunch and a chilled glass of wine, while sitting in one of the pavement cafe's watching the world go by.
Somehow we don't quite manage it here in the same way


What can I say memories of lovely summer days


Thursday, 28 November 2013 - 09:33
Post 284
PaulB, Dover
Fantastic Festive offers in France... from MyFerryLink


____________________________________________________________________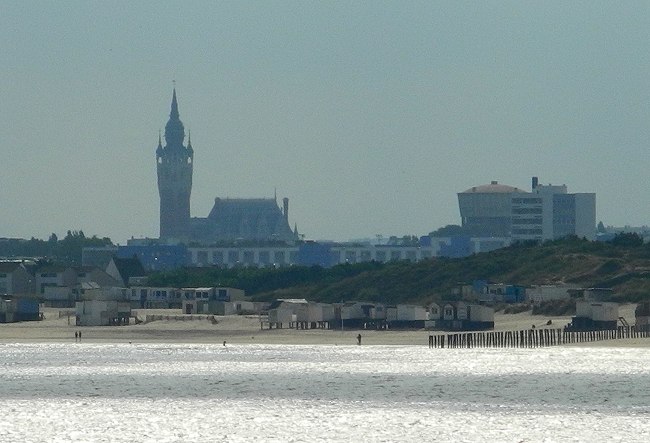 10% off in nearly 70 shops and restaurants, plus great accommodation deals
______________________________________________________________
MyFerryLink has joined forces with nearly 70 shops, restaurants, brasseries and hotels in Calais and the surrounding area to give shoppers travelling to France a huge array of festive offers. People sailing to France between now and 15 January 2014 with MyFerryLink can get a 10% discount in nearly 70 stores and restaurants such as La Maison des Vins et du Fromage delicatessen, La Fontaine des Fées gift shop and the popular Le Channel and La Sole Meunière restaurants.
There are also exclusive offers at Calais Vins and Franglais Vins wine warehouses and at two hotels; the stylish Hotel Meurice in Calais and, further afield, the luxurious four star Grand Hotel in Le Touquet for any customers wishing to extend their shopping trip into a short break.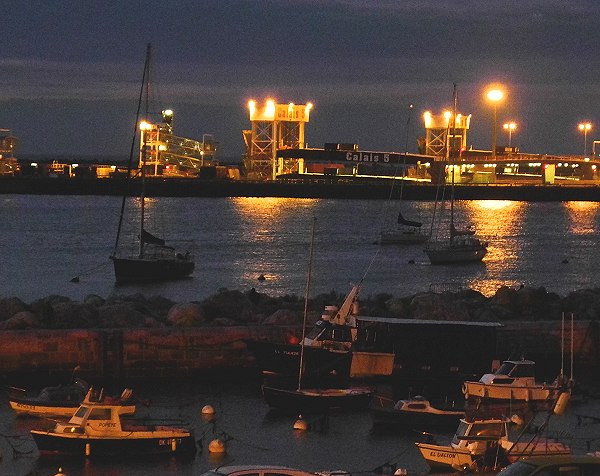 Hotel Meurice is offering a double room & breakfast for €72 (£61) per night and Le Grand Hotel in Le Touquet is offering a two-night stay for two people sharing a double room, plus breakfast and three course dinner for just €185 (£155) per person (a saving of 20%). What's more, travellers spending over £70 in the MyFerryLink onboard boutique will be given a gift of a bottle of sparkling wine or a box of French chocolates.
For full details of all the offers, visit the 'My Ferry Offers' page on the MyFerryLink website.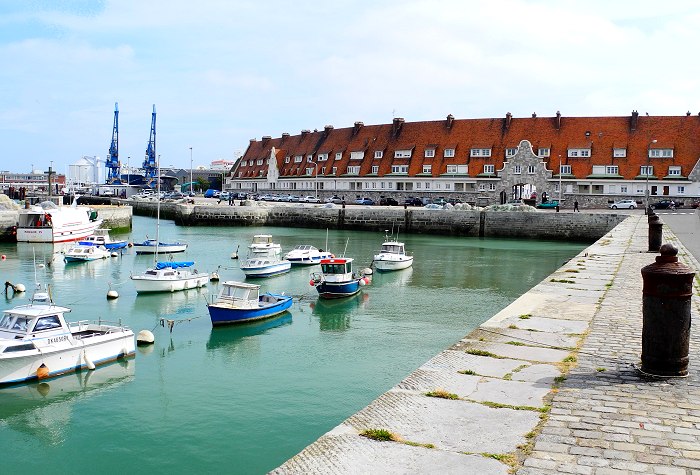 MyFerryLink operates 16 daily crossings on the Dover-Calais route. Fares for a car and up to nine passengers start from £29 for a day return (24 hours) and from £38 for a three day return (72 hours). Other fare offers are available.
>For information on all of these offers or to book, visit www.myferrylink.com or call 0844 2482 100<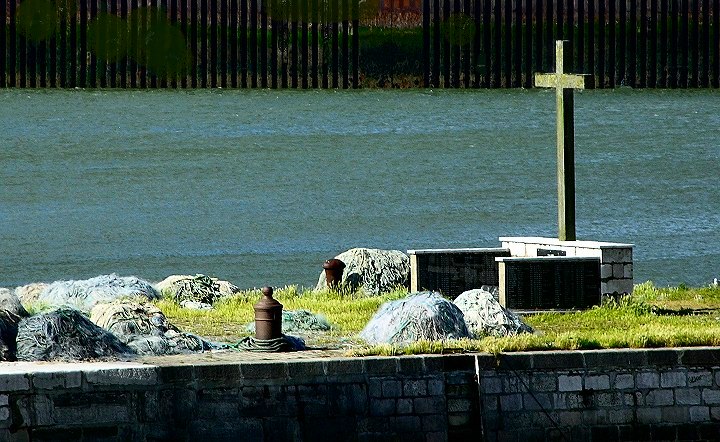 * *
Thanks to MYFERRYLINK for the information above. We have added our own pictures to the mix which focus on the harbour area, although we also have pictures in the archives of the wider town. I am a great fan of Calais myself, a town sometimes overlooked in the gallop south, and I will make use of some of those deals mentioned above. Le Touquet is also a great place to spend time. Yours truly is familiar with the establishments mentioned above. PB

Pictures : top shot shows Calais from the decks of the MyFerryLink Rodin with the fabulous architecture of the Hotel de Ville in the far distance.
Second one shows the harbour by night
Third one a slightly different view of the harbour this time by colourful day
..and the fourth one shows the memorial to those sailors sadly lost at sea.
Yes indeed guys an interesting itinerary from Fred.Olsen below there. Exciting stuff!
Thursday, 28 November 2013 - 08:09
Post 283
howard mcsweeney, dover
fantastic photo below, i don't know much about kiel but suspect it is not normally very easy on the eye.

the beautiful ships and massed ranks of people looking on show it in a great light.

Wednesday, 27 November 2013 - 20:46
Post 282
ColetteB, Dover
Now I know what I want for Christmas........... Cruising the Baltic on the Fabulous Fred Olsen Braemar......... well I can dream can't I

Awesome pic below of the Tall Ships Parade at Kiel

Tuesday, 26 November 2013 - 19:45
Post 281
PaulB, Dover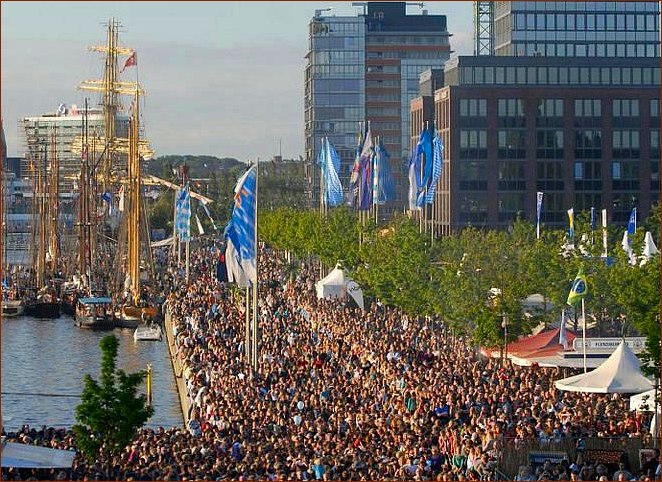 Just to show this particular spectacular cruise idea sailing out of Dover
..what a fascinating schedule and topping it all off with St Petersburg!

___________________________________________________________
Fred. Olsen Cruise Lines is offering guests a chance to experience some of the best musical festivals in the Baltic on a 'Scandinavia & St. Petersburg' cruise in Summer 2014, on board its stylish 929-guest ship, Braemar. This 14-night sailing, M1418, departs from Dover on 26th June 2014, and will take in the internationally-renowned 'Kieler Woche Festival' in Kiel, Germany, the 'Song and Dance Festival' in Tallinn, Estonia and the 'Copenhagen Jazz Festival' in Denmark.
Nathan Philpot, Sales and Marketing Director for Fred. Olsen Cruise Lines, said:
"At Fred. Olsen, we always look to give our guests so much more than just a conventional holiday experience; this itinerary offers them a chance to really immerse themselves in the rich culture and traditions of the Baltic cities that they will be visiting, and these world-famous festivals will be a real feast for the musical senses!"
The first port of call is Kiel (Germany), where the lively 'Kieler Woche Festival' will be in full swing, from 21st to 29th June 2014. Guests will be able to watch the majestic 'Tall Ships Parade', enjoy live music, which will be played all over the city, and indulge in some shopping at the vast number of local stalls and eateries that will line the waterfront.
Next stop is Travemünde (Germany), where guests can discover the wonderful gabled houses, stunning churches, gilded steeples and the unique old town, Altstadt. They can also take a tour to nearby Lübeck, one of the major ports of Germany. Situated on the river Trave, this stunning city is listed by UNESCO as a 'World Heritage Site'.
Braemar then sets sail for Stockholm (Sweden), where guests can take a relaxing stroll around Skansen, the world's first-ever open-air museum, visit the beautiful 18th Century Seglora wooden church or discover The Royal National Park, which is more than six miles long, stretching around and through the city.
The cruise then moves on to the opulent city of St. Petersburg (Russia), for an overnight stay. There is an abundance of fascinating and historical buildings to explore, including the Hermitage and St. Catherine's Palace. An evening at one of the world-class ballet performances is highly recommended.
In Tallinn (Estonia), guests can experience the 140-year-old tradition of the city's 'Song and Dance Festival', which will take place from 4th to 6th July 2014. Featuring 8,000 dancers and 18,000 singers who will perform all at once, this enormous open-air choir concert is held at the Tallinn Song Festival Grounds, and is a fantastic spectacle that will never be forgotten. The city itself offers an abundance of beautiful churches and cobbled streets and the Town Hall is one of the best-preserved medieval buildings in Northern Europe.
Copenhagen (Denmark) is the final port of call on this Baltic cruise. Here, guests can attend one of the largest music events in Europe – the 'Copenhagen Jazz Festival', held from 4th to 13th July 2014. Every summer, since 1979, this festival – one of Europe's most important international music events – has been taking over Denmark's capital, offering guests the opportunity to enjoy live jazz on the streets, and in clubs, cafés and concert halls throughout the city.
Prices for this cruise start from £1,299, based on two adults sharing an inside, twin cabin, and include accommodation, all meals and entertainment on board, and port taxes.Guests can also take advantage of Fred. Olsen's great-value 'all-inclusive' drinks upgrade package from just £10 per person, per night, and enjoy their holiday in style without any budget worries.
Fred. Olsen will be visiting 246 destinations in 85 countries in 2014/15, from ten convenient, regional UK departure ports – Southampton, Dover, Harwich, Tilbury, Liverpool, Avonmouth, Newcastle, Greenock (Glasgow), Rosyth (Edinburgh) and Belfast.
Fred. Olsen was delighted to be voted 'Best Affordable Cruise Line' and runner-up 'Best Cruise Line' in the 'Cruise International Awards 2013', and 'Best Value for Money' in the Cruise Critic 'Editors' Picks UK Awards 2013'.
For further information on Fred. Olsen Cruise Lines, visit the website at www.fredolsencruises.com Book online, call Reservations on 0800 0355 242 (Monday to Friday, 8am to 8pm; Saturday, 9am to 5pm; Sunday, 10am to 4pm), or visit an ABTA travel agent.
* * *
Many thanks to Fred.Olsen for the picture and info above. A dream cruise for sure with many fascinating destinations and of particular note to us here on Sea News is the Tall Ships Parade at Kiel pictured above. Fabulous.

Tuesday, 26 November 2013 - 08:07
Post 280
JanT, Dover
Good to see the kids enjoying themselves on the water. As the pictures below show its all part of what takes place in the harbour even in this chilly autumn weather.

Sea News keeping us up to date with all that goes on in and around the harbour


Monday, 25 November 2013 - 15:25
Post 279
PaulB, Dover
SUNDAY SAILING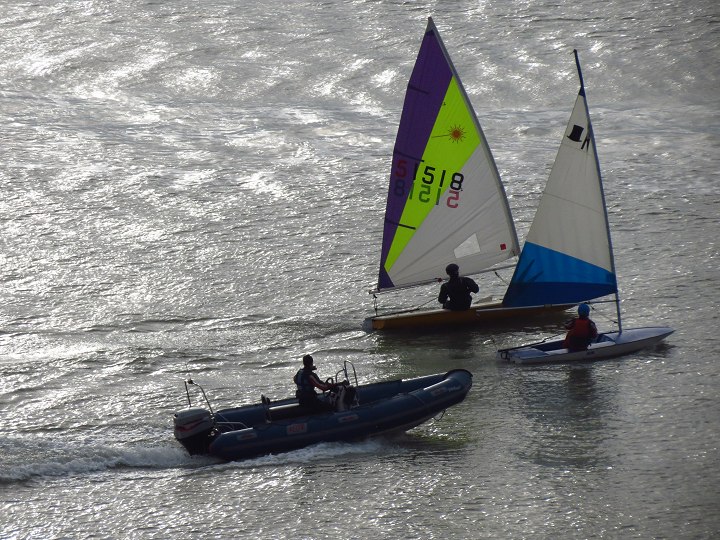 It was great to see that the kids are still out sailing away...even in late November. It was fairly blisteringly cold over the water yesterday sunday but still the jolly young sailors were out there enjoying themselves greatly. Weaving this way and that. It looks like such fun indeed. All the while they were looked after extremely well by instructors who hover alongside in RIBs..making sure all okay. Any difficulties and those instructors are right in there to help.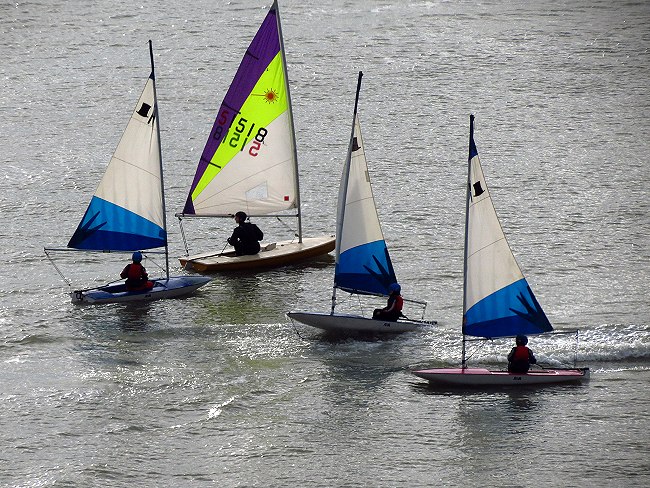 Both pictures above were taken yesterday and the following ones below were taken two or so weeks back.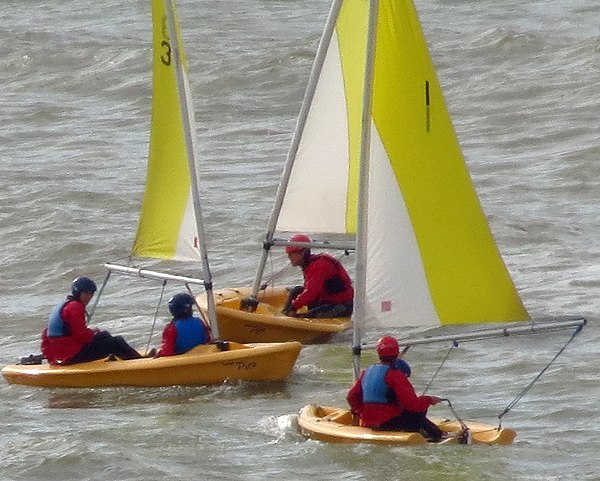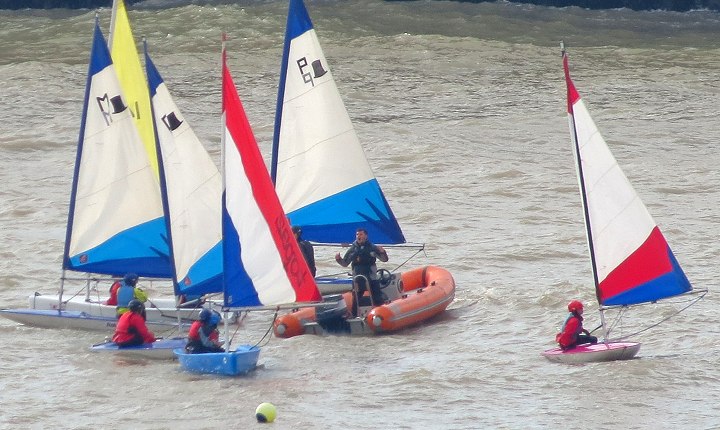 A jolly time was had by all, even if it was a tad cold.
Will these kids end up as members of the Royal Cinque Port Yacht Club in time? ...they may do indeed.
See the post about the Yacht Club further down the page.
Monday, 25 November 2013 - 07:30
Post 278
PaulB, Dover
Our old friend the Black Watch is in today, so if anyone wants to pop down for a sunday stroll and catch one of the last of the cruise ships this year.. well now is the time. Weather is calm for a change (as I write !! ) which is good as the dear oul Black Watch has been through some troubles in recent times and we dont want to see her in any difficulties. We want "a calm sea and a prosperous voyage" for all. Hopefully the recent voyage was all a-okay.
As I mentioned previously.. because its late in the year and the days are short it is inevitably dark when the ships arrive and dark when they leave. So here we are with a picture from a previous early morn arrival...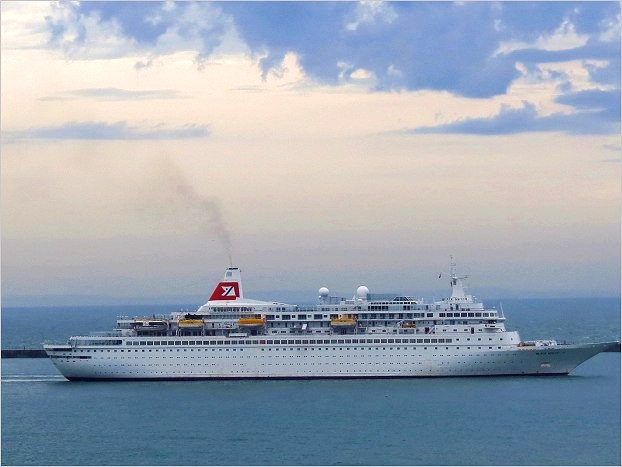 The Black Watch.
AS we see from some of the posts further down the page Fred.Olsen are enthusiastic supporters of Dover, long may it continue..
We will have a bit more on this shortly.

Sunday, 24 November 2013 - 07:54
Post 277
PaulB, Dover
LATEST : THE PORT OF DOVER JOINS ROYAL CINQUE PORTS YACHT CLUB IN FUNDING BID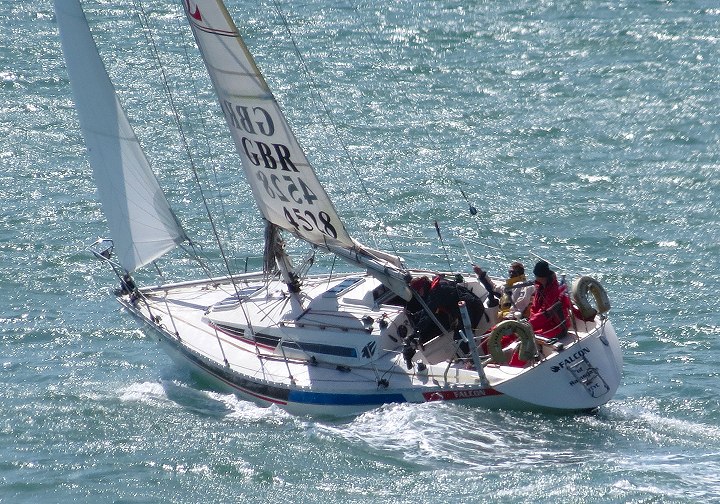 The Port of Dover is proud to announce its support for the Royal Cinque Ports Yacht Club (RCPYC) in promoting a funding bid to Sport England to improve their historic seafront facilities. RCPYC is one of the oldest yacht clubs in England and is situated on the seafront in a prime position, overlooking the busy port.
Together with the Property & Estates team at the Port, RCPYC will work up a bid to continue a successful programme of refurbishment of the premises which provide accommodation for club members and allied sailing/nautical groups funded from their own resources and largely undertaken by club members.
Despite the success of the RCPYC to date, there is a large part of their basement area which requires attention and funding in order to provide additional and improved facilities for the membership and the many visitors to Dover who use the venue each year.
In order to approach Sport England with an effective bid, RCPYC required security of tenure and a 15 year extension of their lease for their waterfront premises, which the Port of Dover has now confirmed it is happy to provide having reviewed the plans.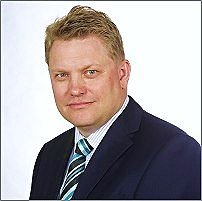 Tim Waggott, Port of Dover Chief Executive said: "We are delighted to support our many friends at the Royal Cinque Ports Yacht Club in this bid. I have seen first hand the improvements made by the Committee and members over recent years, and we are keen that future generations of leisure and community users benefit from this fantastic location."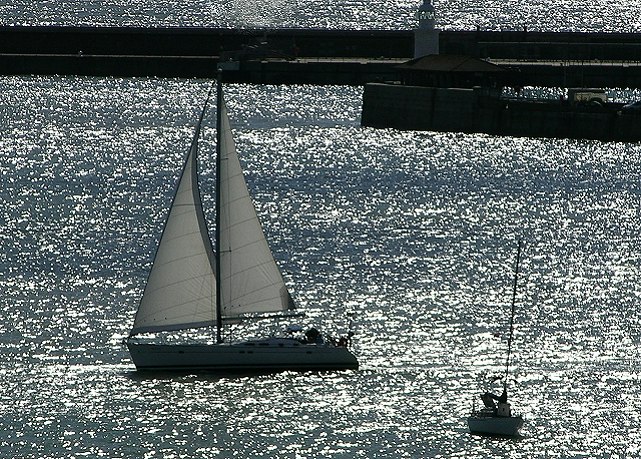 Welcoming the announcement, Bernard Sealy, Commodore of Royal Cinque Ports Yacht Club said: "We are very pleased that our excellent and continuing relationship with the Dover Harbour Board is taking a further step forward. It is clear that both our organisations recognise the opportunity for port, town and community to work together for mutual benefit."
Ends

Pictures show some of the fantastic yachting inside Dover Harbour.
Saturday, 23 November 2013 - 18:57
Post 276
Jan Higgins, Dover
What a depressingly dull and dark picture that is on Sea News.

Friday, 22 November 2013 - 18:16
Post 275
PaulB, Dover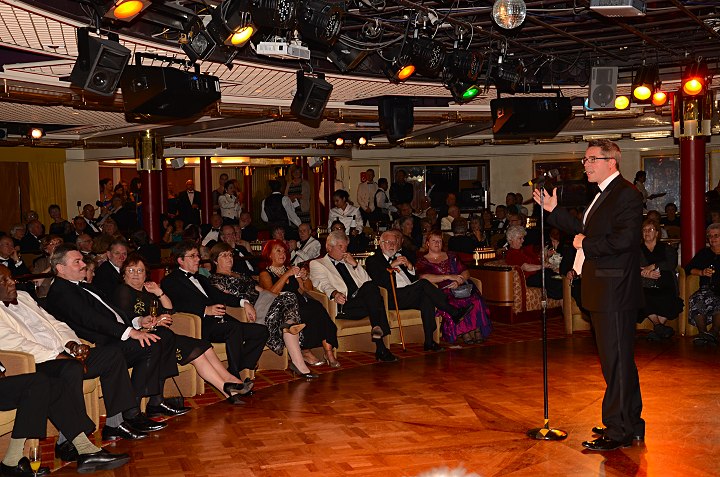 PARTY TIME ON THE BRAEMAR
_________________________
Fred. Olsen Cruise Lines was delighted to host its first-ever 'Gala Dinner' on board 929-guest Braemar on 18th November 2013, as the ship stayed overnight in the Port of Dover.
Before departing on a 10-night cruise to Tenerife and Casablanca, Fred. Olsen invited a selection of over 500 of its most loyal and valued guests, potential new customers, travel agents and media partners from all over the country to view Braemar's facilities and enjoy the fine dining and entertainment on board.
Whilst on this unique 'cruise to nowhere' in Dover, guests were treated to a 'Welcome Cocktail Party', sumptuous five-course Black Tie 'Gala Dinner' and entertainment from popular vocalists Irie J and Idreiss and comedy acts from Micky Zany and Bob Webb.
Nathan Philpot ( pictured above ) Sales and Marketing Director for Fred. Olsen Cruise Lines, said:
"Our first 'Gala Dinner' evening was a great success, with some excellent feedback from previous guests who may not have cruised with us for some time. It was an opportunity to remind guests just what makes Fred. Olsen different – which can't easily be articulated, but is so apparent when anyone experiences our unique boutique-style cruising.
"I'm delighted that so many guests have already rebooked and we hope that many more will do so over the coming weeks."
Barbara Buczek, Head of Business Development & Corporate Affairs at Dover Harbour Board, pictured said: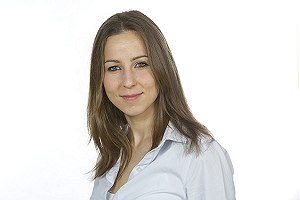 "The Port of Dover was delighted to yet again welcome Fred. Olsen Cruise Lines and MV Braemar to its shores. The evening gave us the perfect opportunity to promote Dover as a destination and showcase the port facilities to Fred. Olsen's loyal cruise passengers. The cruise business is of huge importance to the Port, Dover town as well as the Kent Region as a whole.
"The Port continues to raise awareness of Dover's position as the UK's second busiest cruise port, especially amongst Kent residents who Fred. Olsen Cruise Lines are keen to see on-board their vessels that depart from Dover."
Fred. Olsen will be departing on a total of 12 voyages from Dover for the 2014/15 cruise season, on a variety of exciting itineraries, from an eight-night 'Paris, Antwerp & Amsterdam' cruise on board Braemar to an 11-night 'Highlands, Islands & Ireland' sailing.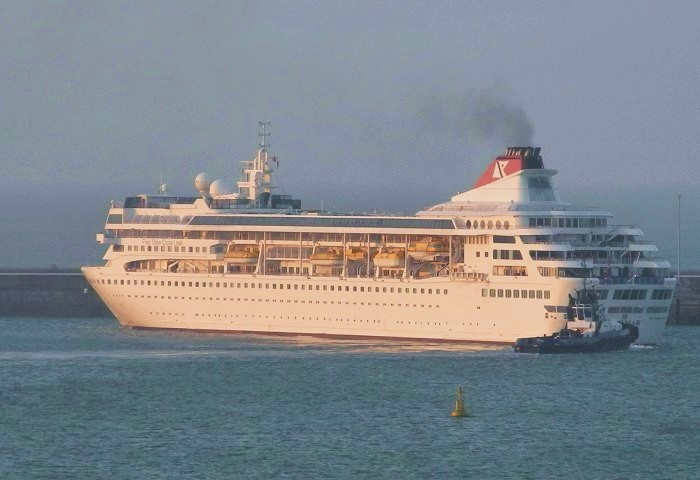 The Braemar herself.
Friday, 22 November 2013 - 07:28
Post 274
PaulB, Dover
Well done with those Phil..you are one of the team now for sure.
The size of those..wow! Monsters of the ocean blue. Cracking pictures from long range.

Thursday, 21 November 2013 - 10:53
Post 273
howard mcsweeney, dover
a couple here courtesy of phil smith taken this morning at samphire hoe.
the cma cgm andromeda.

the cosco france.

Wednesday, 20 November 2013 - 20:03
Post 272
PaulB, Dover
Yes you are right re the Sea King picture Howard. Never used before. Great excuse to use it this time as it shows the Braemar as backdrop. Couldnt get a pic of the Braemar at the time the other day.. so up pops the Sea King idea. The Braemar left last night about 4.45pm heading south to Lisbon. Twas a cold dark night when....
Great info there Ed. I think I saw the Galatea in the distance yesterday..so its great to get those pictures and the AIS chart is fascinating with Dover Seaways centred there. Yes the Joline is a frequent 'lurker' these days sadly.
* *
You will remember there was a Port Exercise a week or so ago when the emergency services kicked into action. More on that below now. This immediate picture is excellent and captures the atmosphere of such an exercise. Picture from DHB.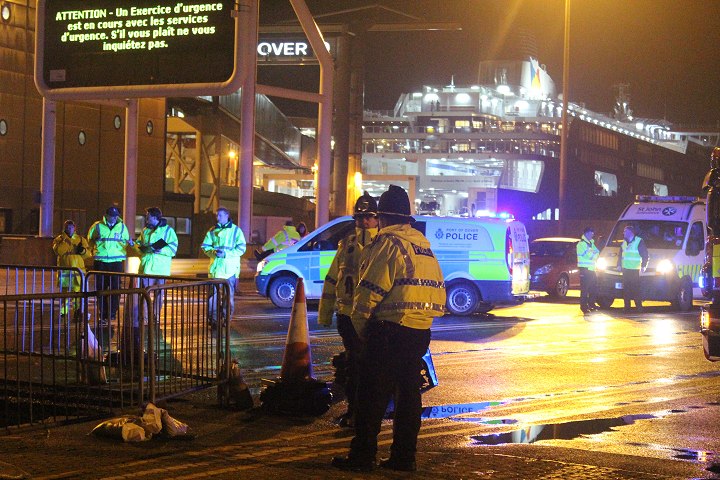 The Port of Dover, together with emergency services and key agencies from across Kent have been put through their paces in a major emergency exercise at Europe's busiest ferry port.
Designed to test the response to a major fire on board a cross-Channel ferry, staff, volunteers and specialist equipment were all in action last Saturday, as the scenario played out during the night. The Port of Dover remained open to customers throughout the exercise.
P&O Ferries' Spirit of Britain volunteered as the afflicted ferry with the fire breaking out mid Channel as the ship headed for the Port of Dover. Once at the Port, agencies came together to deal with the casualties, providing treatment and care including through the establishment of a Survivor Reception Centre.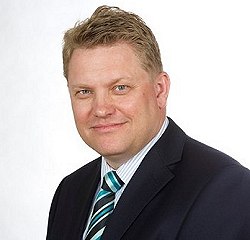 Tim Waggott, Chief Executive, Port of Dover, said: "I personally observed how important it is to work as a team with our partner agencies in dealing with potential incidents that would affect our customers."
The Services taking part were :
Kent Police
Kent Fire and Rescue Service
South East Coast Ambulance Service
Maritime Coastguard Agency
Kent County Council
Dover District Council
Environment Agency
Border Force
G4S
MOTO Services
Red Cross
P&O Ferries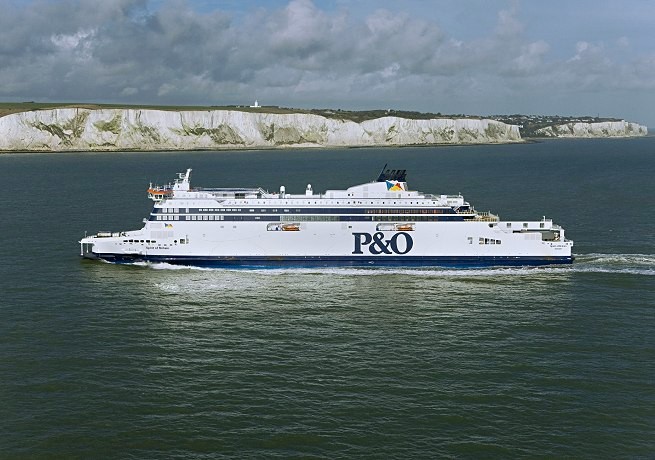 The P & O ferry Spirit of Britain which took part in the exercise..
It all helps to keep us safe.

Wednesday, 20 November 2013 - 08:05
Post 271
howard mcsweeney, Dover
one presumes it would be politically incorrect to torpedo the said vessel ed.

Tuesday, 19 November 2013 - 18:18
Post 269
Ed Connell, Dover
The Joline was skulking around off St Margarets last night, this picture taken at 1719 when it was much darker than the camera shows. Presumably waiting to nip into Dover and pick up the latest cargo of unfortunate animals.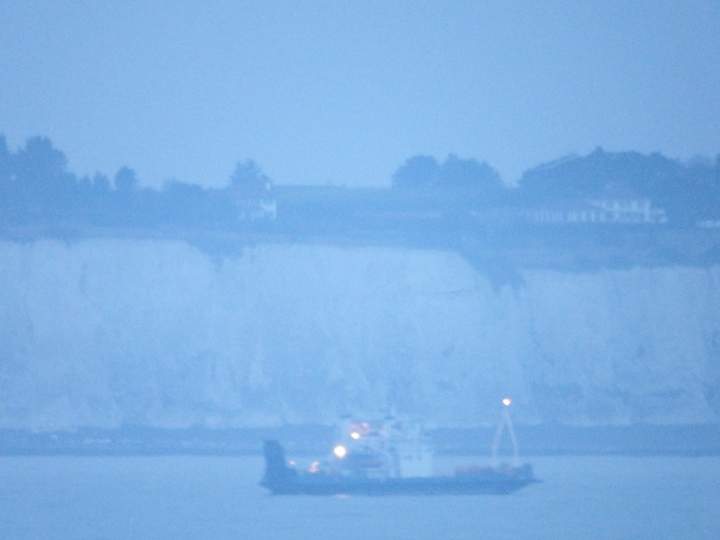 The AIS chart shows her at the same time, at the top of the chart. The photo was taken from the Dover Seaways, seen in the centre of the chart.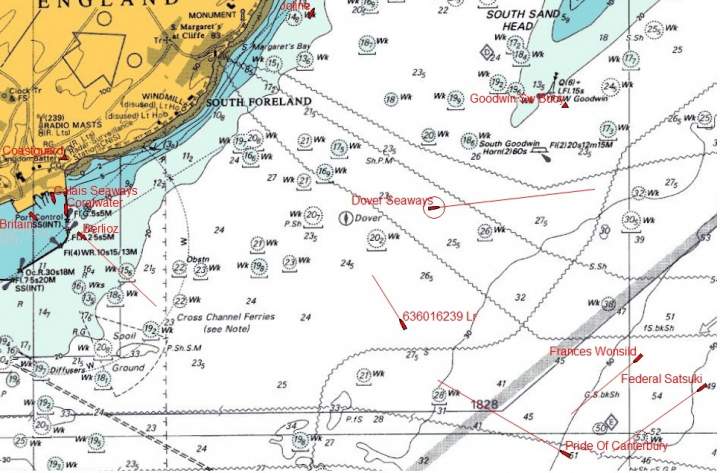 Tuesday, 19 November 2013 - 15:31
Post 268
Ed Connell, Dover
The Trinity House vessel Galatea is working in the vicinity of Dover. Seen here yesterday attending to the SW Goodwin buoy.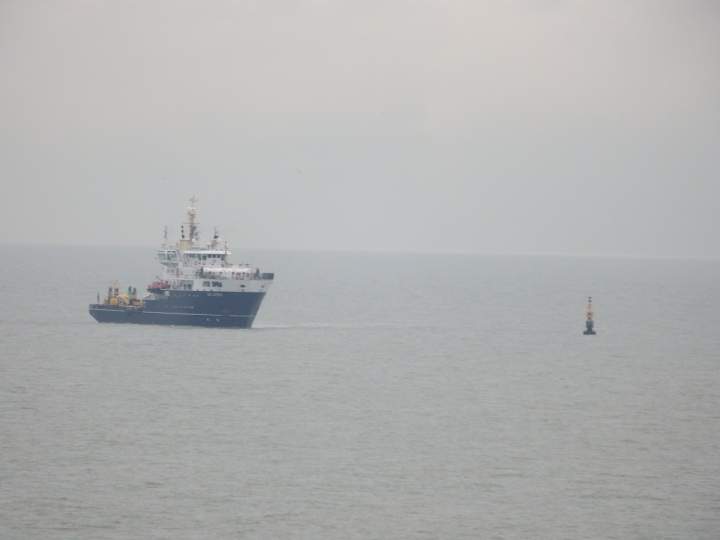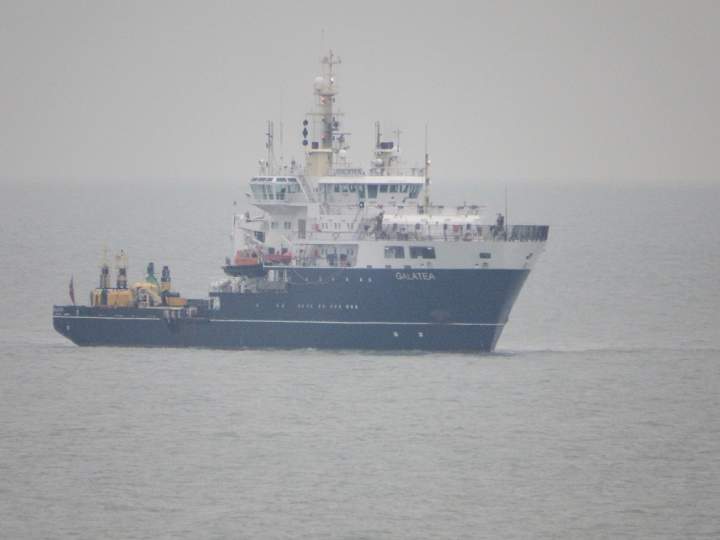 Tuesday, 19 November 2013 - 15:19
Post 267
howard mcsweeney, dover
great one of the sea king helicopter in front of the cruise ship, don't remember it being on here before.

Tuesday, 19 November 2013 - 12:09