Tuesday, 16 July 2019

WWW.DOVERFORUM.COM/SEA-NEWS
Featuring all the ships that come and go and work at the Port of Dover ..
... with further coverage of the surrounding ports.
Sea News Dover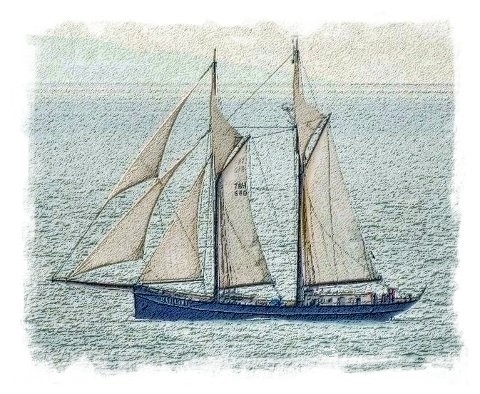 Port of Dover: Chief Exec EU statement 6373
DFDS New Ship for Channel see 6303
DFDS Europe's award winning Ferry Operator 6332
Port of Dover : Virgin Voyages 6289
Port of Dover: Brexit Resilience 6123

P&O Ferries: Alternative Euro Breaks 6298
P&O Ferries: Record Fundraising for Lifeboats see 6253
Port of Dover: Reducing Carbon Footprint 6332
Port of Dover: New Cargo Manager see 6205
DOVER MARINA Open Day 6358

Thames Estuary Forts 6250
SS Richard Montgomery at rest (WW II Supply Ship ) 6329
Premier Inn completes see 6149 plus

Scroll down and over to see the Boudicca D-Day pictures in several posts...
….and now also too the Spirit of Discovery
Use our SEARCH ENGINE below to find all sorts on the SEA NEWS pages....type in the topic and away you go, or if you have the post number as shown above, just type it in the box, more than - 6300 - nautical posts now.
Posts are welcome. just click 'Add Your Comment' below. Max of 5 pictures preferred although we can stretch that for special stories..
Sea News Editor Paul Boland - send info or pix to dover7@msn.com. Always welcome.
CRUISE CALLS:
https://www.doverport.co.uk/cruise/find-a-cruise/
UPDATE:
To show your pictures at their best..it could be worthwhile resizing before posting to
850
pixels wide.
All pictures on these pages are the copyright of the owners and must not be reproduced without permission.
Post 266
PaulB, Dover
The Braemar stayed on and was a terrific blaze of colour all through the night.
Here she is a few minutes ago with the ever expanding 'pyramid' to the right.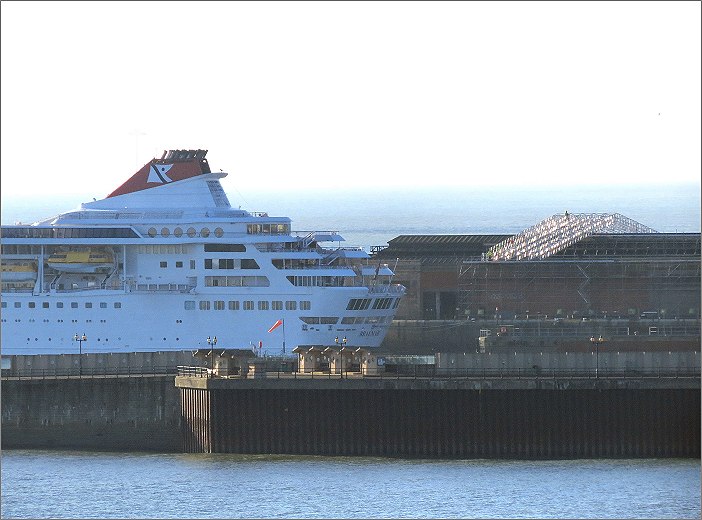 She will leave later today tuesday for the last time this year. For more on the 'pyramid' (see how its getting ever bigger above) scroll further down the page..where we refer to the £10million pound restructure to Terminal One. And now to the Terminal Two position below for another pic of the Braemar.. taken a short while back on a previous visit under another one of our big big skies.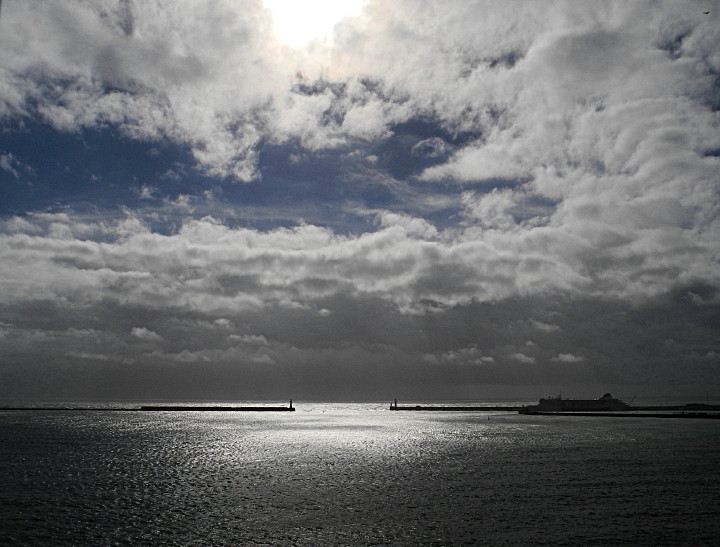 Tuesday, 19 November 2013 - 10:07
Post 265
PaulB, Dover
Still the cruise liners battle on. Its a gloomy morning for sure and through the pitch darkness of 6.30am the Braemar arrived back from its fairly long cruise in a blaze of cheery electric light. No pictures of course at that time of day, but here is one from quite a few years back. The Braemar has indeed been coming here a very long time...it makes a splendid backdrop in the picture shown for the every bit as splendid Sea King helicopter from Air Sea Rescue.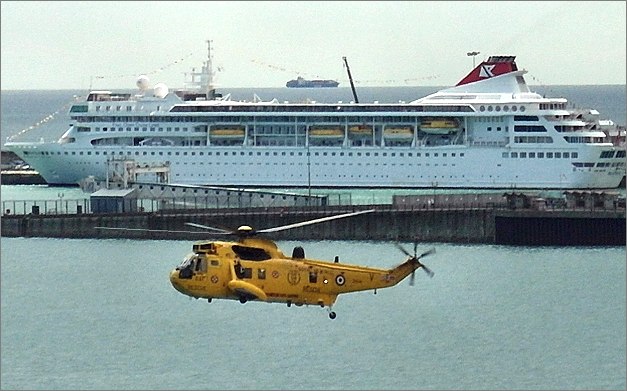 Not sure of the date the picture was taken as the originals were lost but it must be 6/7 years ago at least.
Monday, 18 November 2013 - 08:22
Post 264
PaulB, Dover
Thanks for that Kevin - you're a star. Ah yes..now I'm sure I had info through a while back on that but my oul grey cells have gone the way of Hercule's...

Will be fascinating to see how it all progresses with the roof. I managed to get a reasonable pic of the Black Watch next to it later yesterday with the improvement in light, they come in the dark and go out in the dark these days, and here she is...note also our 'pyramid' on the right of pic. Shows how much zooming we did to get that close up below...(see further down the page).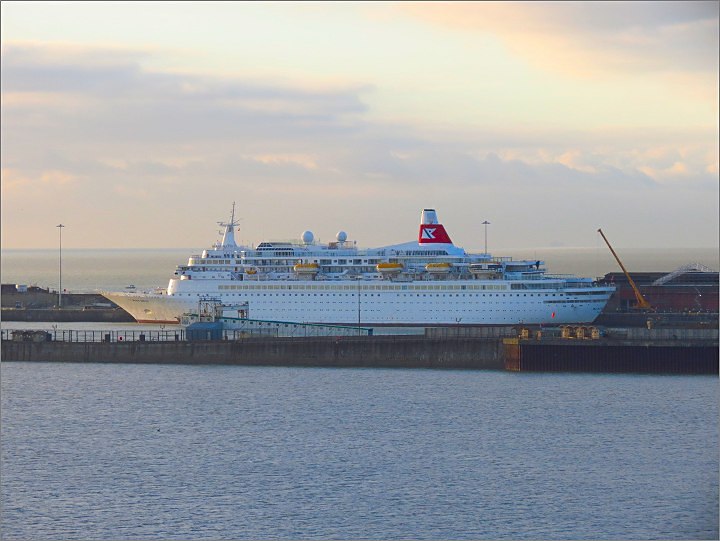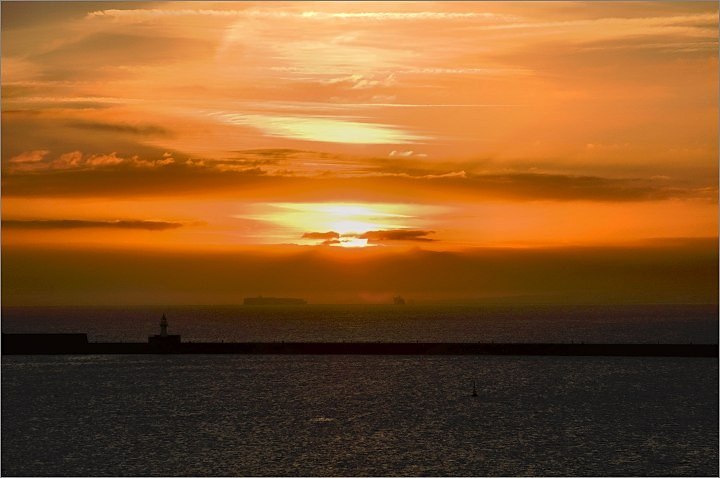 The dramatic skies continue...the situation yesterday morning shows the early ferry trying to negotiate its way around a massive container ship.
Sunday, 17 November 2013 - 07:27
Post 263
Kevin Charles, Dover
DHB are investing heavily in Cruise Terminal 1 renovating the glass roof of the Victorian building in a £10 million project. One of the port's heritage assets, the restored building will have great appeal to the cruise lines.

Saturday, 16 November 2013 - 18:06
Post 262
PaulB, Dover
Never a dull moment here in Dover harbour..something new manifests itself all the time..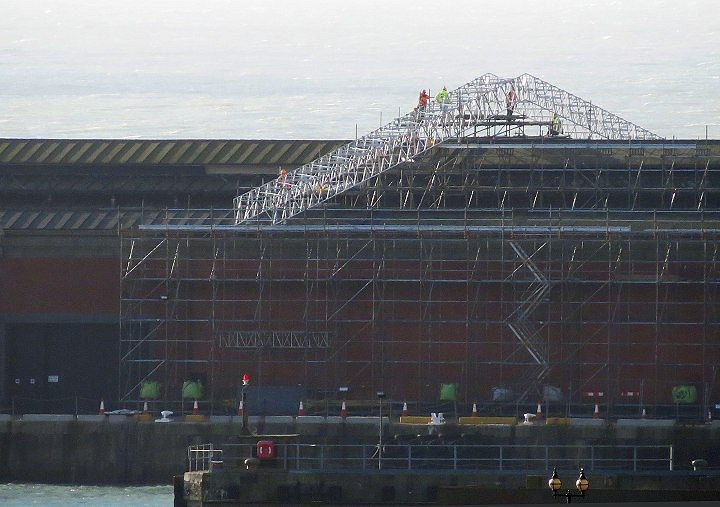 Was gazing across the harbour yesterday when something sparkly caught my eye. To dimmish eyesight in the high bright sun it looked like the glass pyramid outside the Louvre in Paris. Wow ! sez I to myself. We have reached the crescendo of the avant garde..yes right here in Dover! Binoculars soon put me right though. It was nothing more than all new scaffolding across the roof of the main cruise terminal. But.. perhaps a work of art in its own right.
The zoom lens produced the picture above.
The picture below was in a former mailing from DHB and shows the same roof from the air. I may have had some info previously re the roof but my little grey cells cant remember for the moment. Looks like fairly major re-structuring is afoot.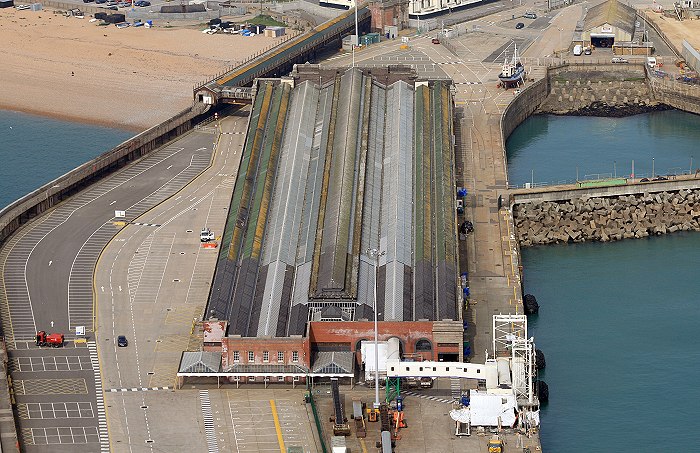 Thanks for the port call tips below Colette. Yes indeed the Black Watch is in today..now situated right next to the terminal and gangway shown above. Came in while very dark..so no pictures from today but in the oft-spoke words of those many many TV chefs, here's one I made earlier...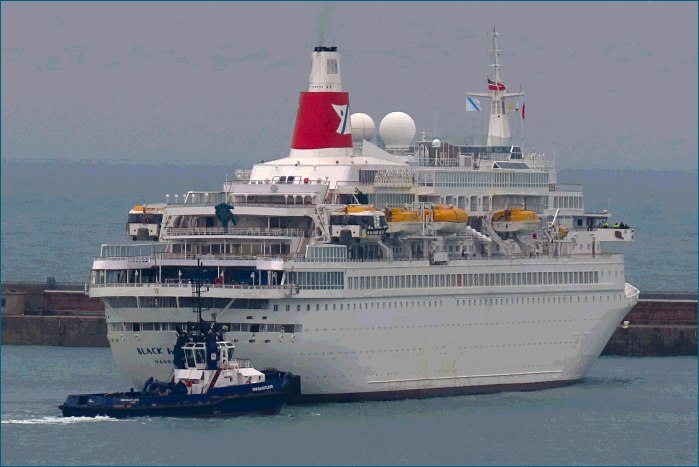 Interesting picture from Phil there below. Dont see too many birds down here other than the obvious ones...but yesterday funnily enough I saw a flock of small birds, wouldnt know the type, and they were dashing hither and tither in spectacular style. I grabbed the camera but they wouldnt stay still for love nor money..

...so got zero pictures.
Soon after a low flying Chinook rattled the foundations around here..I tried to get a picture of that one too but failed again. You only get seconds and I was all fingers and thumbs and whoosh it went right over. Great sight though again but no pictures..
PS: Just a reminder. If you want to grab the My Ferry Link bargain you have to book by tomorrow night.
Saturday, 16 November 2013 - 07:55
Post 261
howard mcsweeney, Dover
wasn't sure whether to put this one from phil smith on the wildlife thread or here, but it is a flock of brent geese flying over the harbour earlier in the week.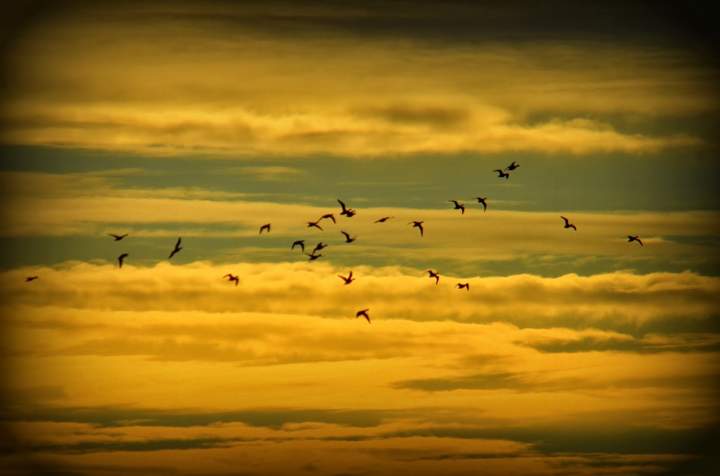 Friday, 15 November 2013 - 16:26
Post 260
ColetteB, Dover
Just to remind everyone, tomorrow Saturday 16th, the Black Watch returns to CT1, T/R.
Then on Monday 18th, the Braemar returns to CT1, debark only & embarks on Tuesday 19th for the last time this year.
A break then until Sunday 24th November when the Black Watch returns to CT2, T/R.
Love that interesting image of the Russian Sailing Ships at Dunkerque above

Yes, happy retirement to Robin Dodridge early next year, that photo of him & Watty at the inaugural sailing of LD Lines to Boulogne aboard the Cote d'Albatre ( see below ) is certainly a blast from the past, how long ago was that I wonder? True it didn't last too long to Boulogne but we sure made good use of it before it all ended. Interesting to hear that the Cote d'Albatre was later used out of Dieppe.
Friday, 15 November 2013 - 12:34
Post 259
PaulB, Dover
GREAT OFFER - BUT YOU NEED TO BOOK FAST !!
Book now for Christmas travel and receive a free magnum of wine from MyFerryLink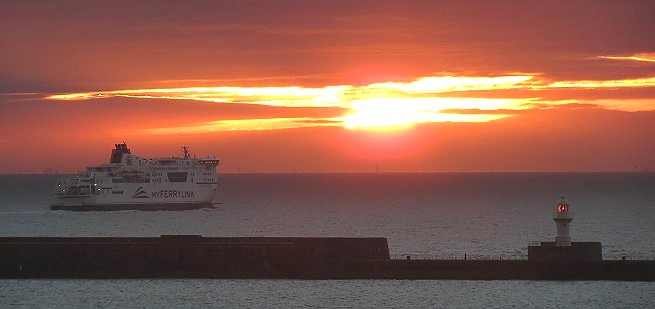 With Christmas just around the corner, Dover-Calais ferry operator MyFerryLink is giving its customers an early present of a magnum of red wine with all long stay bookings made by 17 November.
With any duration fares starting from just £29 each way for a car and up to nine passengers over Christmas, travelling by ferry is a great option for those planning to spend the festive season with friends and family on the continent.
As well as low fares over the Christmas period, all MyFerryLink bookings for stays of five days or more will receive a free magnum of Petites Folies wine as a gift. This offer is available for all bookings made by 17 November 2013, for travel between 1 December 2013 and 15 January 2014.
To BOOK, visit www.myferrylink.com and quote 'GVIN' or call 0844 2482 100
Dont let the sun go down on this one..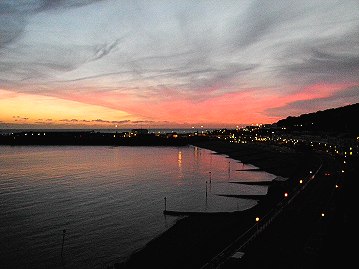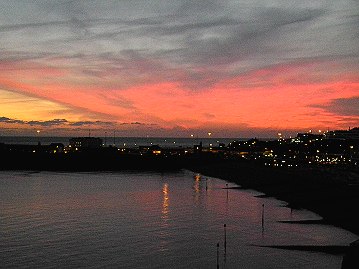 * *
Yes indeed its sad to see the ould Pride of Calais ending up beached there, but I suppose it comes to us all...the knackers yard awaits !
But as John said below there, its good to remember her in full swing.
The following pictures are from her last ever working trip. After she unloaded she moved sadly over to the western pier to await her grim fate...never to work again.
Here she is arriving into Dover from Calais for the very last time on 20 Oct 2012.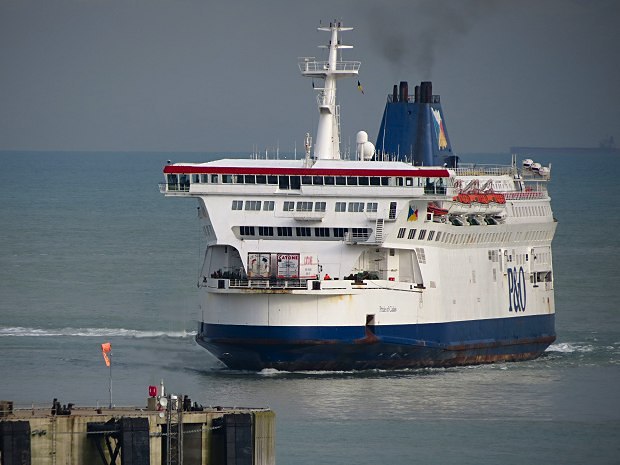 and another one below, showing a close up of her load on the bow, pic taken at the same time. She clearly had a full quota onboard for her final trip. You dont see so much of this front loading any more....not with the newer ships anyway.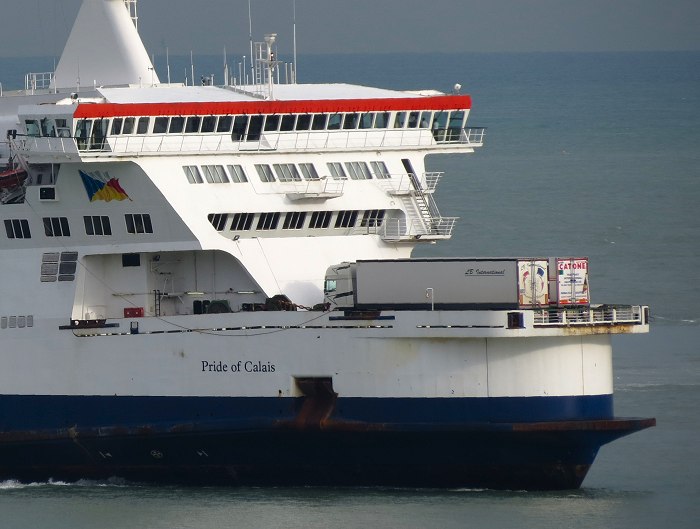 I think I did travel on her but only the once.
PS: it looks like the Rimini has left us after her visit of several days.
Friday, 15 November 2013 - 08:05
Post 258
howard mcsweeney, Dover
Thanks john and jacqui, the "rimini" shows up on the "channel traffic" now.

very sad to see the photo of the "pride of calais" in it's turkish graveyard, the only consolation is that it will provide jobs for people there.

i must admit i enjoyed travelling on the "pride" vessels more than the new "spirits".

Thursday, 14 November 2013 - 19:51
Post 257
John Mavin, Dover
It'a always sad to see a ship you are familiar with ending up on the scrapping beaches. I clearly remember a trip I made on the Pride of Calais during the first week of her service back in 1987. This included a bridge visit and it's strange to think that some of the hi-tech navigational features we gawped in amazement at back then are now available on our computer desktops!
Although I was not overly fond of the big P&O ships I'm sure this is how we prefer to remember her.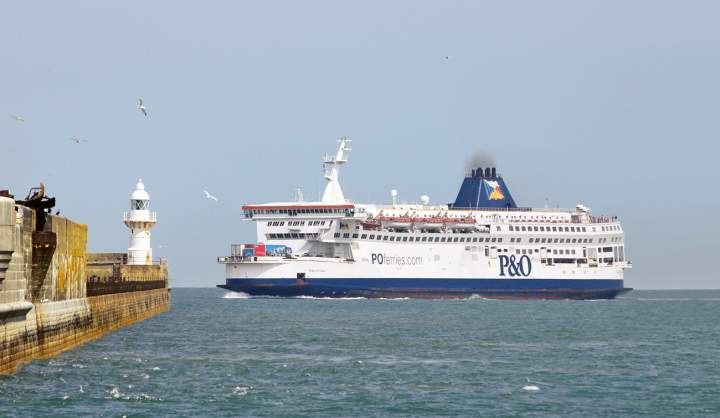 To get an idea of the scale of the scrapping business, try going to Google Earth and entering Alang, Gugarat (or Aliaga, Turkey). ..... run the cursor up the beaches and you can see what a massive trade it is.
Thursday, 14 November 2013 - 14:05
Post 256
Ed Connell, Dover
The old Pride of Calais has arrived on the beach at Aliaga for scrapping. This photo has been posted on Facebook but is copyright of the celebrated Aliaga photographer Selim Sam.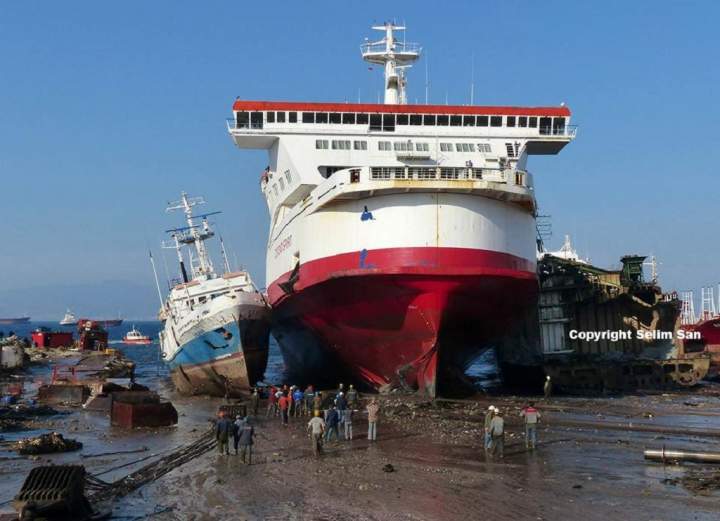 Thursday, 14 November 2013 - 00:31
Post 255
Ed Connell, Dover
Our quartermaster Ben tells me that there was a little cargoship broken down outside the Eastern Entrance yesterday morning so possibly that may have been the Rimini.
We carried an artic on the Dover Seaways yesterday which is adorned with a picture of the ship. Some of our engineers were transferring a main engine cylinder head ashore so I photographed them beside the truck.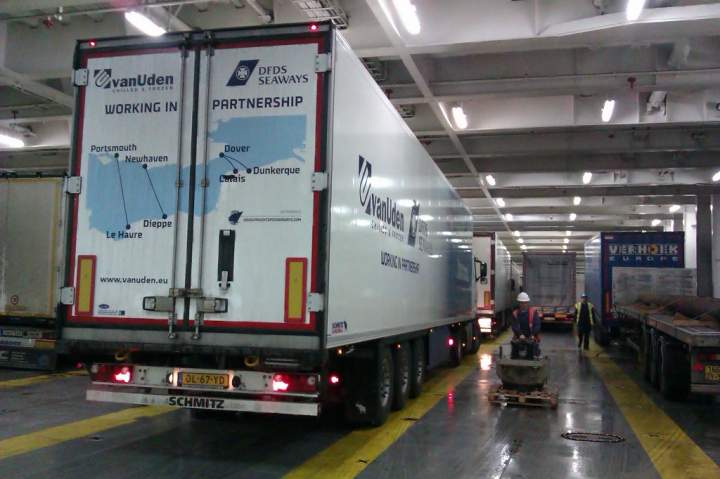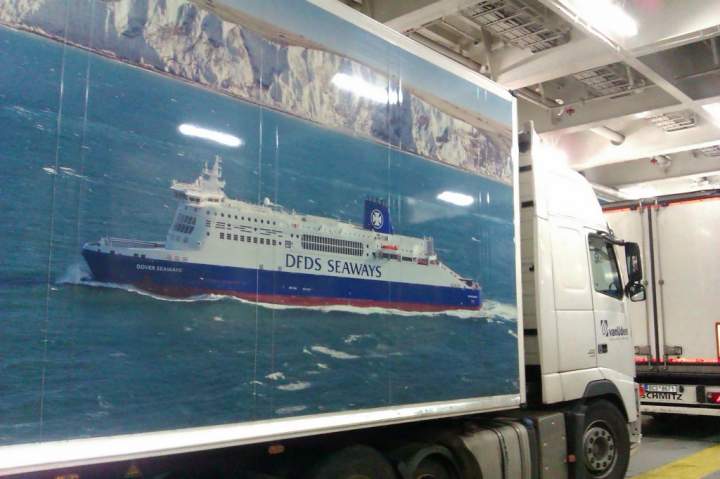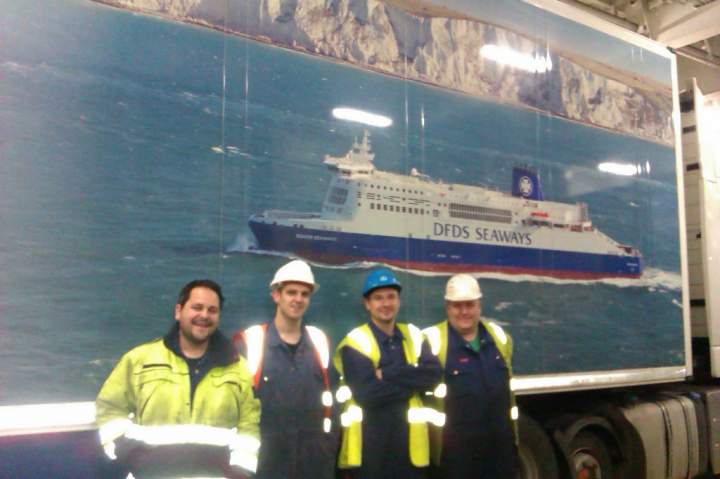 Wednesday, 13 November 2013 - 23:27
Post 254
Jacqui, Dover
Sorry John, I didn't see your answer - silly me! Hope you're well x

Wednesday, 13 November 2013 - 21:27
Post 253
Jacqui, Dover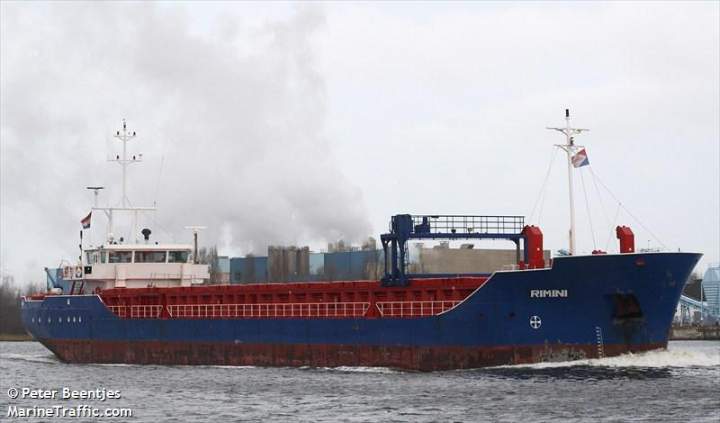 There ya go Howard!

Wednesday, 13 November 2013 - 21:23
Post 252
John Mavin, Dover
Howard, that's a grain carrier called the Rimini. During the cruise closed season a lot of grain boats use the Admiralty Pier. There's easy access, a convenient weighbridge and minimal risk of the inevitable dust affecting the ferry trade.

Wednesday, 13 November 2013 - 18:23
Post 251
howard mcsweeney, Dover
you were quick of the mark paul digging out those photos, brought back memories.
all the best to mr dodridge for his retirement.
now a mundane one, saw this earlier and cannot work out what this vessel is for.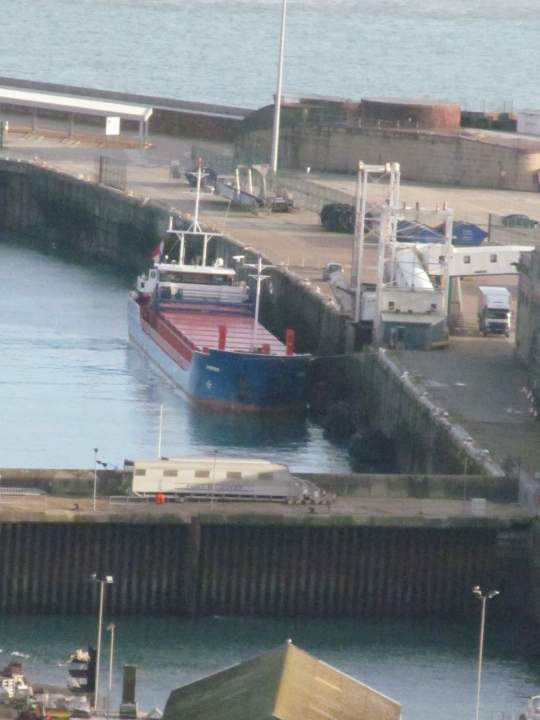 Wednesday, 13 November 2013 - 16:01
Post 250
PaulB, Dover
ROBIN DODRIDGE to RETIRE March 2014
______________________________
After a career at Europe's premier ferry port spanning more than thirty years, the Port of Dover today announces that Director of Corporate Assurance, Robin Dodridge, will retire in March 2014.
In paying tribute to Mr Dodridge, Tim Waggott, Port of Dover Chief Executive, said "I will personally miss Robin's great sense of humour and good judgment, and I would like to place on record my admiration for his many achievements in a long and successful career with the Port of Dover. I am sure our staff and many stakeholders will join me in wishing Robin a long and happy retirement."
Reflecting on his career, Robin said, "It has been a privilege to work with truly professional colleagues designing, building and operating the World's busiest ferry port. I am certain that going forward, Tim Waggott and the team will lead the Port from strength to strength for the benefit of both its customers and community".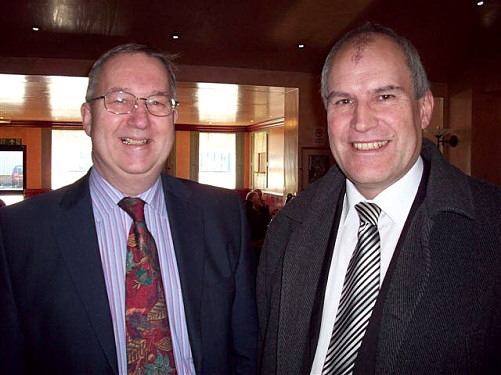 The pictures above and below are from our own collection and the one above shows the Leader of Dover District Council Paul Watkins with Robin Dodridge onboard the inaugural sailing to Boulogne with LD Lines. The pictures were taken by ColetteB...I wasnt there myself but if I am remembering the situation correctly this is the ship pictured below that took them over that very day. Pictured prior to departure.
Sadly the LD route to Boulogne didnt last as we know.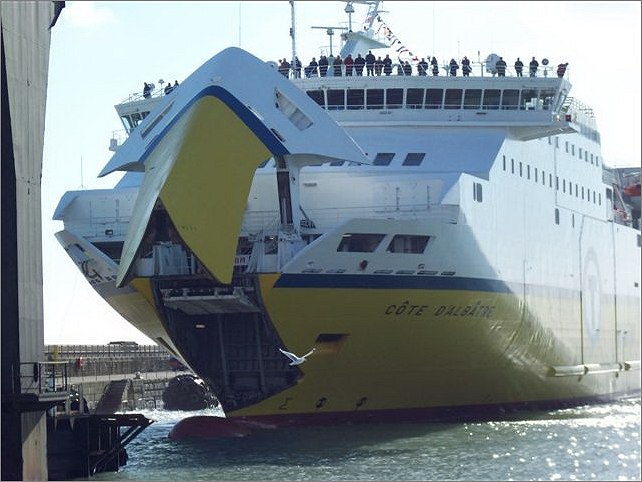 Note the seagull getting in on the shot in the foreground and the anticipating passengers waiting to depart, mostly media I believe. The ship of course is the Cote d'Albatre which I later saw used as a ferry out of Dieppe.
Wednesday, 13 November 2013 - 10:25
Post 249
JanT, Dover
The cameras have been busy with lots of great pictures below, showing us the busy channel with all the cargo ships that pass through, and also our choppy seas, those guys sure needed some sea legs.

Tuesday, 12 November 2013 - 13:49
Post 248
Mike J., Dover
Good pix of one of the Range Safety Craft losing interest rapidly on her way down to Hythe Ranges.

They usually head off down there in the morning when the ranges are 'active'

John M put up pix & details of them on 21/9.


Tuesday, 12 November 2013 - 07:53
Post 247
PaulB, Dover
Fascinating pictures and info below lads..well done with all those. great stuff!
Look at these ones from yesterday too. Cripes!..as we used to say in olde Galway..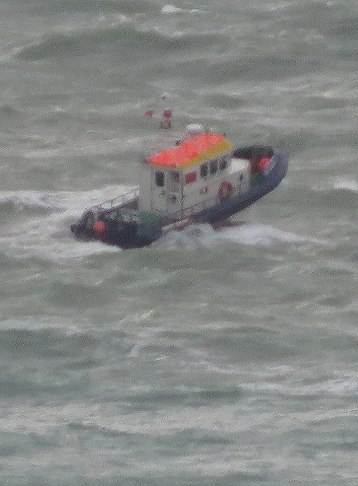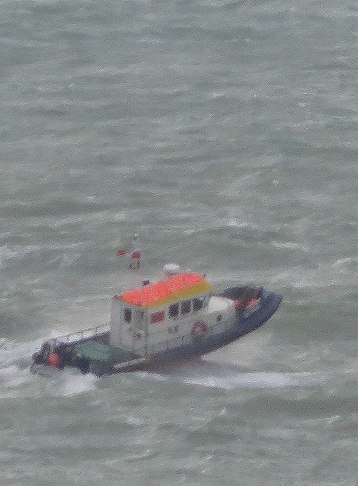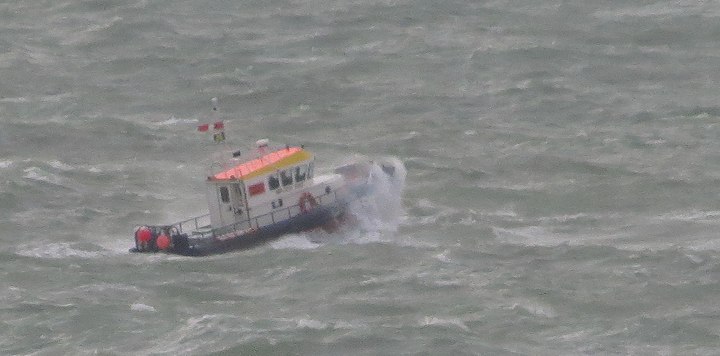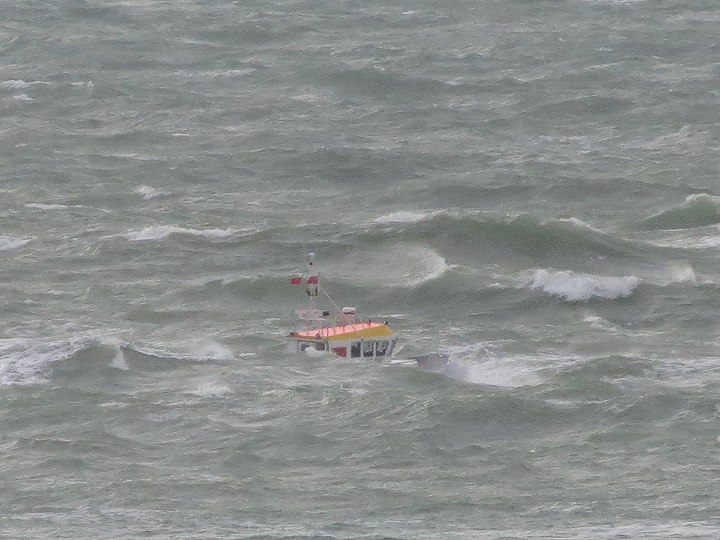 I was waiting to be picked up yesterday morning and was gazing blankly out on a rough ould sea, when two small near-identical motor boats came rushing out from the inner harbour and headed at speed to the open sea. As soon as they hit open water they were both tossed into the air. To the landlubber, yours truly, it looked foolhardy. I reached for the camera and took the pictures above. It was very rough out there at the time. Could hardly hold the window open or keep the camera steady.
The two boats were heading west into the teeth of it, heading towards Folkestone etc, but within minutes, say three to four minutes, they had returned back to harbour... Gave it up as a bad job I guess.
Tuesday, 12 November 2013 - 07:15