Friday, 22 September 2017

doverforum.com/sea-news
Featuring all the ships that come and go and work at the Port of Dover with further coverage of Ramsgate, Calais, Dunkerque. Email: dover7@msn.com to send SEA NEWS pix or info.... or click ADD YOUR COMMENT below to post direct, no membership needed.

Commercial News: P&O Ferries with the Kids 4258.

Use our SEARCH ENGINE below to find all sorts on the SEA NEWS pages..more than 200 now with more than 4000 nautical posts. Posts welcome. Max of 5 pictures preferred per post. Sea News Editor Paul Boland.
Type Cruise Visits (or indeed anything) in our Search Engine below for the latest cruise ship arrivals..
Post 4220
Colette B, Dover
CRUISE VISITS
_____________
Great Photo MrB of one of our hard working tugs, the DHB Doughty bringing in the Malo Seaways in rough seas, Awesome!!

Tomorrow Tuesday September 12th we welcome back our third Costa of the month, the Costa Favolosa. She was last here in September 2016. Arriving at CT2, 08.00 on her 13 night 'Warnemunde-Rostock to Barcelona' cruise. She visits here from Copenhagen and Amsterdam, her next ports of call are Le Havre, Vigo, Lisbon, Gibraltar, Marseille, Savona before arriving in Barcelona. She leaves us at 19.00 hours, PoC

On Wednesday September 13th Pullmantur Monarch arrives at CT2, 08.00 towards the end of her 7 night 'Warnemunde-Rostock to Bilbao' cruise. She last visited us in May this year, her next port of call is Cherbourg before finally docking in Bilbao. She departs from our shores at 20.00 hours, PoC.
Then on Saturday September 16th we say hello to the Artania, arriving at CT1, 08.00 on her 8 night 'Bremerhaven to Hamburg' cruise. She was last here in May, she calls at the Isle of Portland, Falmouth, Le Havre, Zeebrugge, Ijmuiden and Hamburg. She leaves us at 20.00 hours, PoC.
There will be a short break now until Monday September 25th when Oceania Cruises 'Marina' visits us, last seen in September 2015

Monday, 11 September 2017 - 17:52
Post 4219
Jeremy Ward, Whitfield, Dover
The magestic Costa Pacifica and Pacific Princess this afternoon.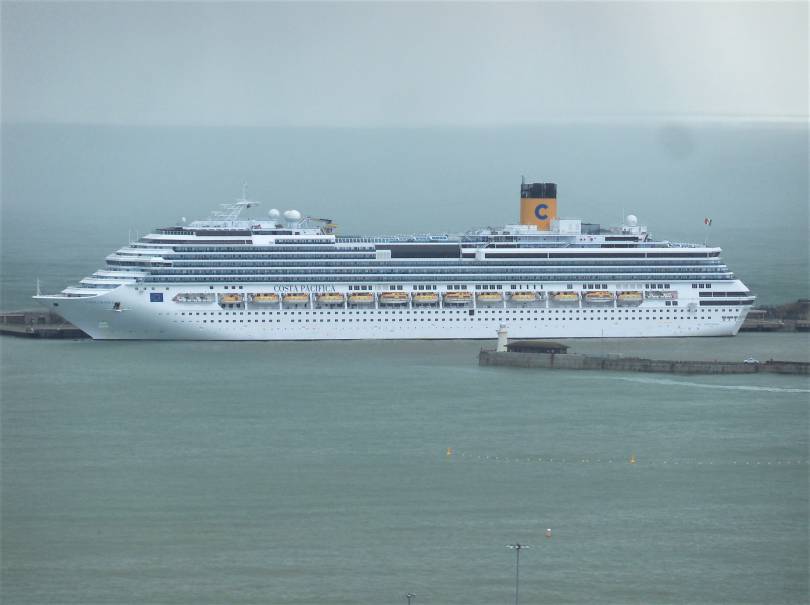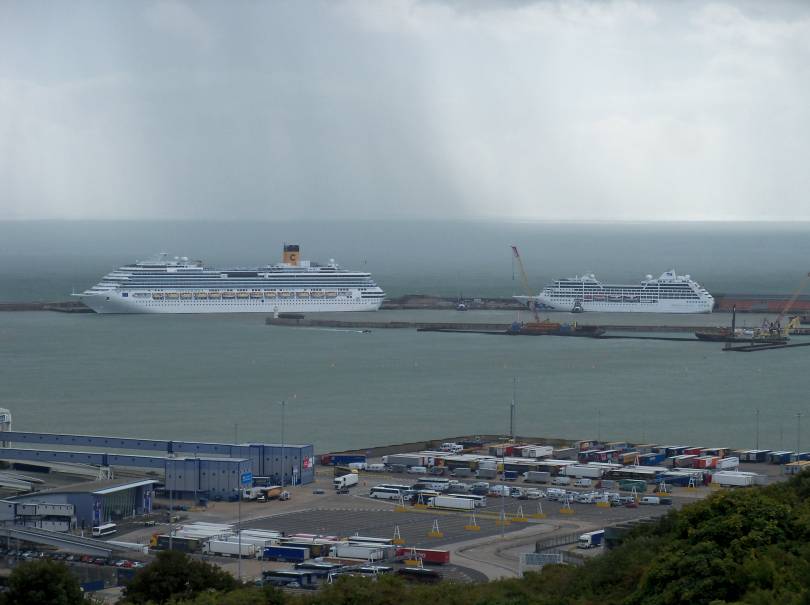 Monday, 11 September 2017 - 16:30
Post 4218
Sea News, Dover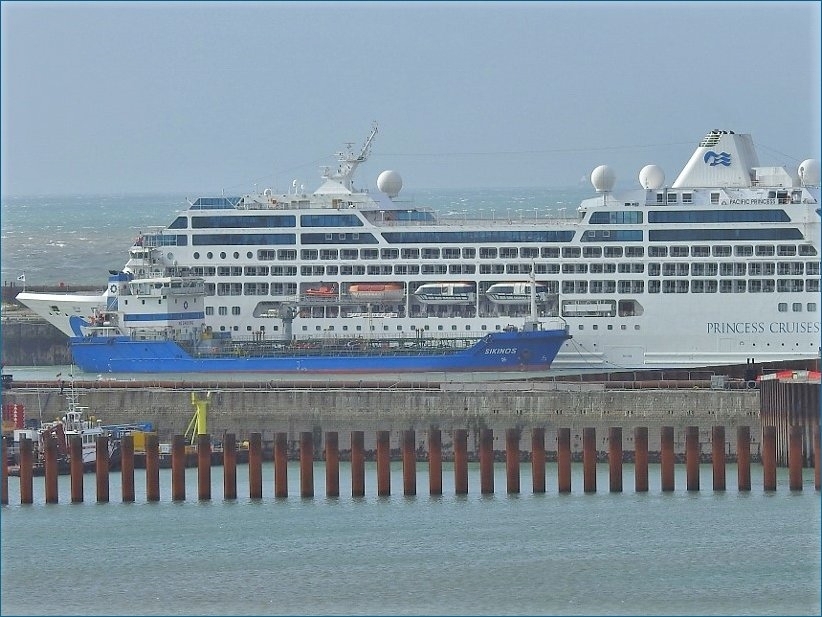 That's Sikinos above there supplying bunker services to the Pacific Princess this morning. A very strong gale was whipping through and tugs or tug was pinning the Pacific to the terminal for much of the time....in fact gazing out ..the tug is still there. But Sikinos got to do its job and has now moved away..
Bear with...will have pictures of the super magnificent 115,000 tonner Costa Pacifica in the morning. Will catch up...
Ah many thanks Jeremy for the info below there ...Malo Seaways now Stena Nordica..forgot all about that.

Thanks Vic once again

Monday, 11 September 2017 - 16:03
Post 4217
Jeremy Ward, Whitfield, Dover
Hello Paul, The Malo Seaways is now called the Stena Nordica operating on the Irish Sea routes.

Monday, 11 September 2017 - 09:37
Post 4216
vic matcham , Dover
Thank you for showing that,there is still years of life in the tugs we have because they are well cared for,but are they still Ok with the amount of work they have to do in Dover I do expect that soon they will have to be replaced with bigger ones.

Monday, 11 September 2017 - 08:17
Post 4215
Sea News, Dover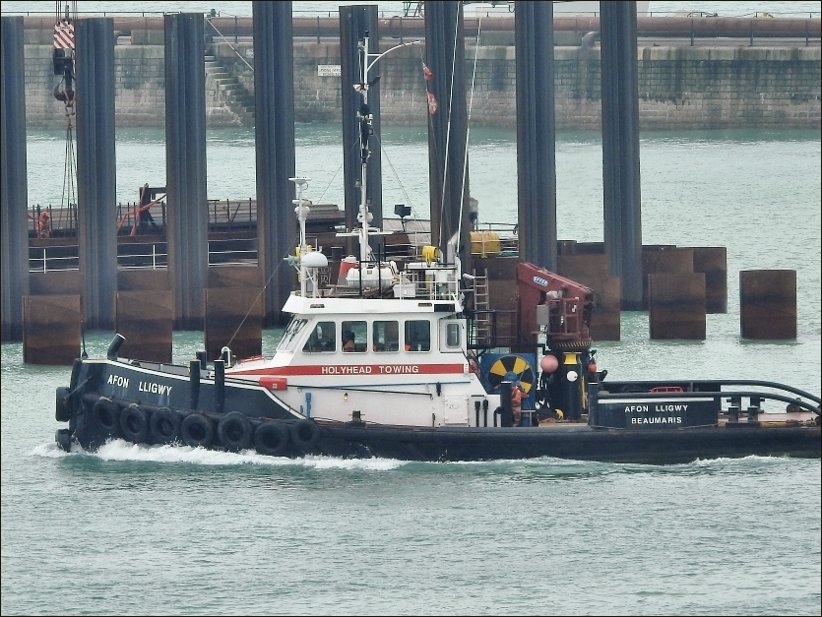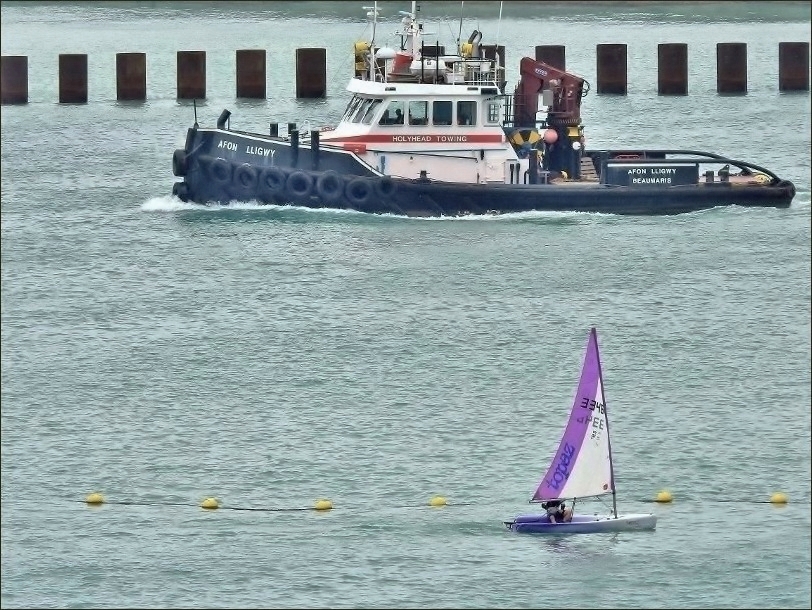 Some pictures above there of the hard working DWDR tug Afon Lligwy in splendid industrious action last week amidst the piling...while in the foreground of picture two a gentle sail boat idles by just this side of the Exclusion Zone...work and leisure at the same time and all in the one place, almost.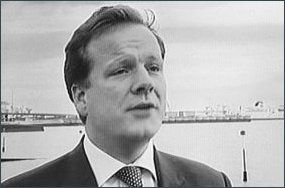 Duty free return would boost Dover and Deal says our MP Charlie Elphicke
___________________________________________________________
The return of duty free sales on travel to and from the European Union would deliver a real boost for Dover and Deal. It would benefit the ferry industry, as duty free goods will attract more people to travel. And it will boost visits to our cruise port at the Western Docks. By having one non-EU stopover on a cruise, the entire journey becomes duty and tax free for passengers. The return of duty free would mean towns and regions home to ports or small airports across the whole nation would be better off.
We need to plan ahead for Brexit now – that includes reviving duty free which helps ports like our and regional airports too. This is why I organised a letter to the Chancellor, signed by 40 MPs, calling for duty free to be reinstated for trips to Europe.
Duty free sales between Britain and the EU were axed in 1999. Since then duty free has only applied on trips outside Europe. We need to bring these duty free sales back – to boost regional economies like Dover and Deal. It's also important that when duty free returns, people should also be able to continue to bring in personal imports from the EU like they can now.
We only need to make minor tweaks to current laws. Yet these changes need to be made in good time in order to give operators time to be ready on day one of Brexit. Preparations could take up to nine months for our ferry firms.
It is vital that we prepare now for every eventuality of Brexit – particularly at the Dover and Deal frontline. That's why I've been working with industry experts and business leaders on the action we can take. And the Government has recently published papers on how we can tackle the Brexit customs challenge. Forward-thinking politicians like Xavier Bertrand, who heads up the Calais region, have welcomed our work so far.
Yet it's clear from the behaviour of Brussels that no deal is a real possibility. The clock is ticking and the EU need to start negotiating seriously. That may not happen in time – which is why we need to be ready on day one, deal or no deal.
Ironically, the EU will be the big loser from no deal. For tariffs would hit Europe's exports to us twice as hard as they would hit our exports to them. No free-trade deal would mean Europe's exports to us would be hit for £13.2billion of tariffs. Meanwhile, tariffs on our exports to Europe would be just £6.5billion. Hopefully the economic realities will begin to focus minds in the EU and more progress can be made.
Yet we must be prepared for no deal. That means taking action now to be ready on day one. Getting ready for the return of duty free is part of that. And ensuring we are prepared for the customs challenges ahead at the Dover frontline.
Ends
Interesting one from Charlie above there. So many figures being tossed into mid air these days. A new report today says that British Business will be hit to the tune of £4bn a year if we leave the EU Customs Union...one cant help but think that this talk of a few duty free benefits is little more than...excuse the pun...small beer!
____
Vic speaks of the DHB tugs below there... I had a couple of very good unused tug pictures to add the next time we featured the tugs in topic...but do you think I can find them...No sireeee Bob! Grrrrr...
But here is an unusual one from a few years back, who remembers the Malo Seaways, had forgotten all about her. Where is she now....
Tug Doughty in rough action.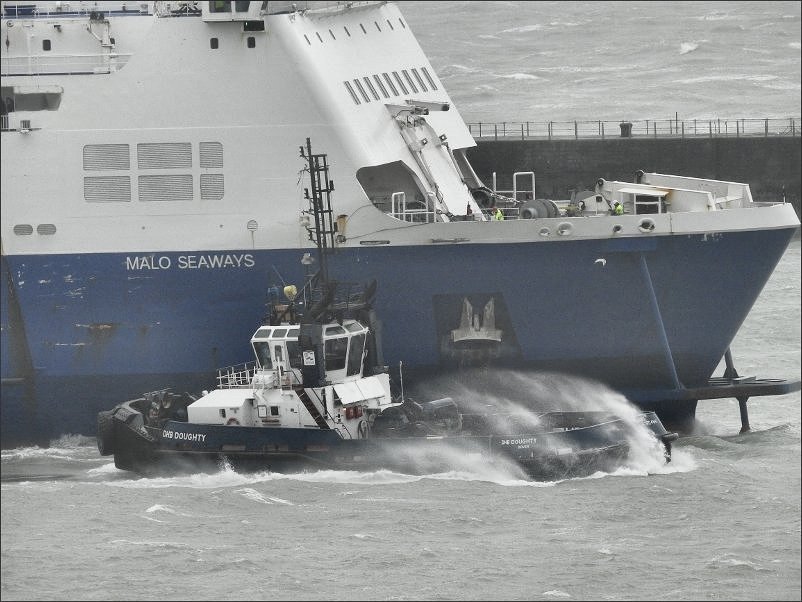 The Pacific Princess is in today...I can see her over there across the bay. She must have had a rough oul trip in.
The huge fabulous Costa Pacifica approaching as I write....
you've gotta hand it to the Port of Dover bringing these ships in, they are absolutely stunning.
PaulB
Monday, 11 September 2017 - 06:39
Post 4214
vic matcham , Dover
The Dover Tugs are getting old now and the ships they pull about are getting bigger might soon have to get two new ones ones with even more pulling power,but lets hope when that day comes the two tugs that Dover have now find a new home and not cut up.

Sunday, 10 September 2017 - 15:41
Post 4213
Sea News, Dover
The magical Costa Magica once again...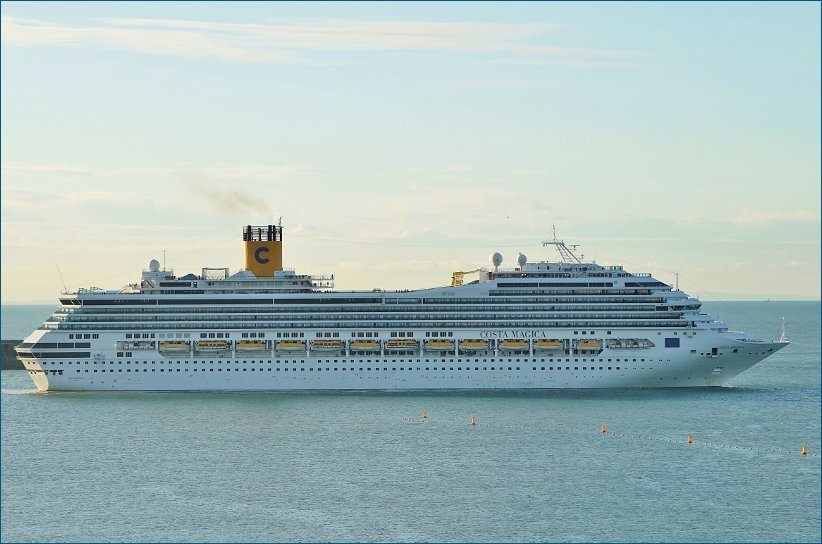 Ah sure...who could resist putting another picture of the great Costa Magica up on display. Once again its a pic of her arrival yesterday morning as she glided gently passed our 'observation tower' ...
More pix below of course.
Yes indeed Vic the tugs are always skillfully busy and they tackle all sorts of tasks from cruise liners to cargo ships, and its their busiest and toughest part of the year coming up now.
PB.
Sunday, 10 September 2017 - 15:29
Post 4212
vic matcham , Dover
The Dover tugs always working and with big ships and they must have good crews.

Sunday, 10 September 2017 - 09:06
Post 4211
Sea News, Dover
The Magnificent Costa Magica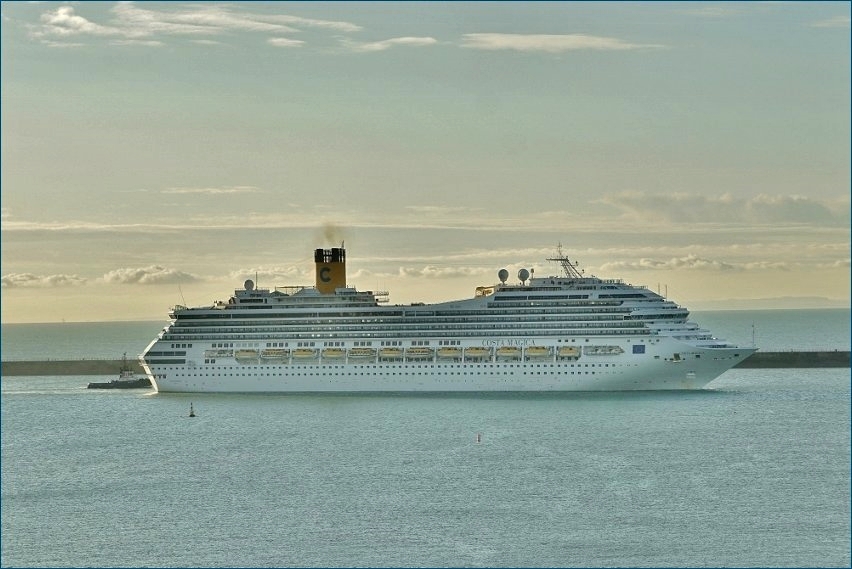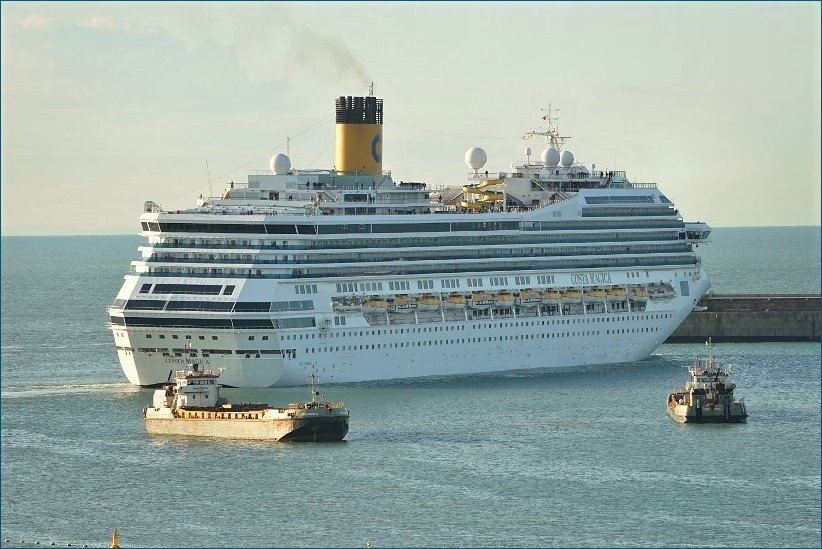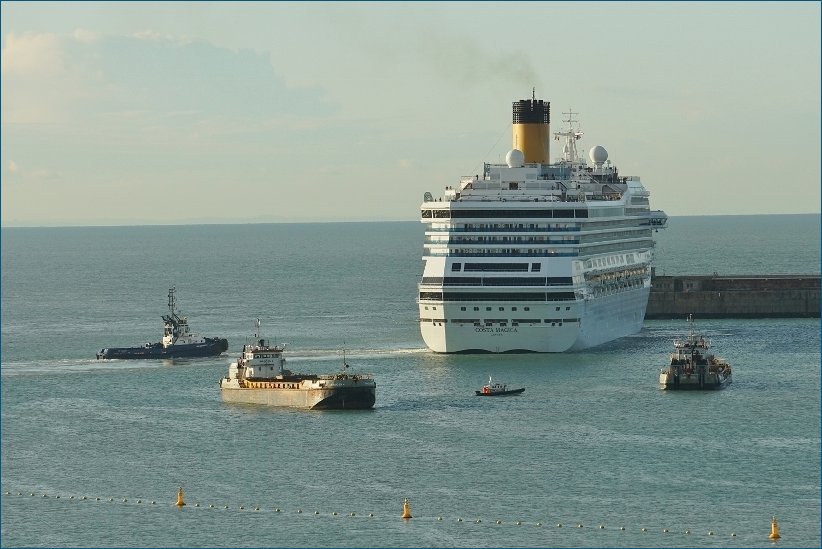 The pictures above show the fabulous Costa Magica arriving with us here at the Port of Dover yesterday morning saturday at 07.15. She had just come from Amsterdam on a glorious morning. She was a breath-taking sight on arrival and no mistake....and large, weighing in at more than 102,000 tons.
Yours truly has hoping to get pictures of her departure but she didn't leave until 8pm or 20.00 hours and it was just too dark. But we have the arrival pictures and there we are above. She left at 8pm as we said.. in a blaze of dazzling light .. heading for first stop Le Havre and then on eventually to the French Riviera.
PaulB

Sunday, 10 September 2017 - 07:08
Post 4210
Sea News, Dover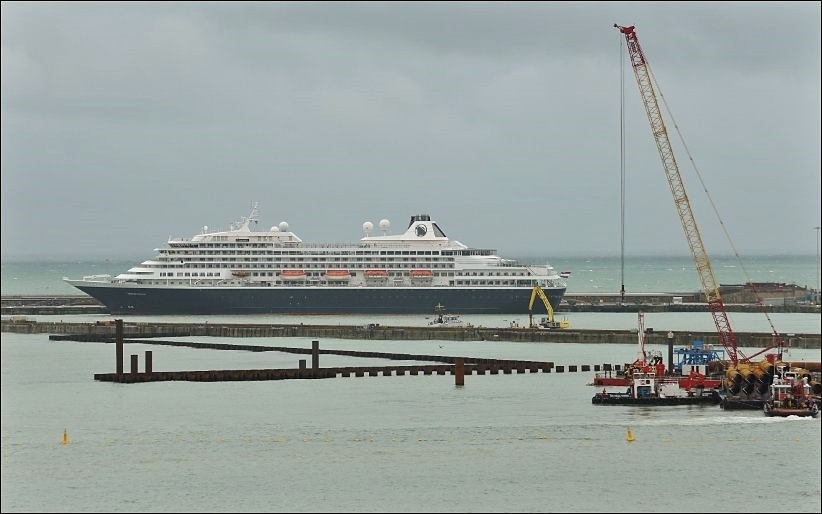 Prinsendam...high tide. Bit of a murky oul picture above there of the Holland America ship yesterday. It was an awful day.
It was a double whammy day too what with Saga Pearl being in at the same time.
..... More.... I was interrupted mid-post there by the arrival of the super monster cruise ship... Costa Magica. A great and glamourous beast for sure and just arriving at the Port of Dover as we speak, and very welcome she is too.
Good to see that picture below Sarah. very interesting indeed.

And much thanks as ever Andrew for the info below there re Patricks pictures further below.

PaulB
Saturday, 9 September 2017 - 07:21
Post 4209
Andrew, Broadstairs
Thanks Sarah for pictures of MAERSK CONNECTOR and DEEP HELDER working off Ramsgate.
Patrick the PEAK BREMEN discharged piles at Cruise Terminal 2. Another coaster to look out for is HAGLAND BOSS which is apparently bring 'rock armour' from Boulogne for reinforcing the piling with another 30+ shipments to come, she will be a regular sight.

Friday, 8 September 2017 - 20:46
Post 4208
Sarah, Ramsgate
Maersk Connector & Deep Helder spotted hard at work today, photo taken from the top of the tower at The Grange (Pugin's home).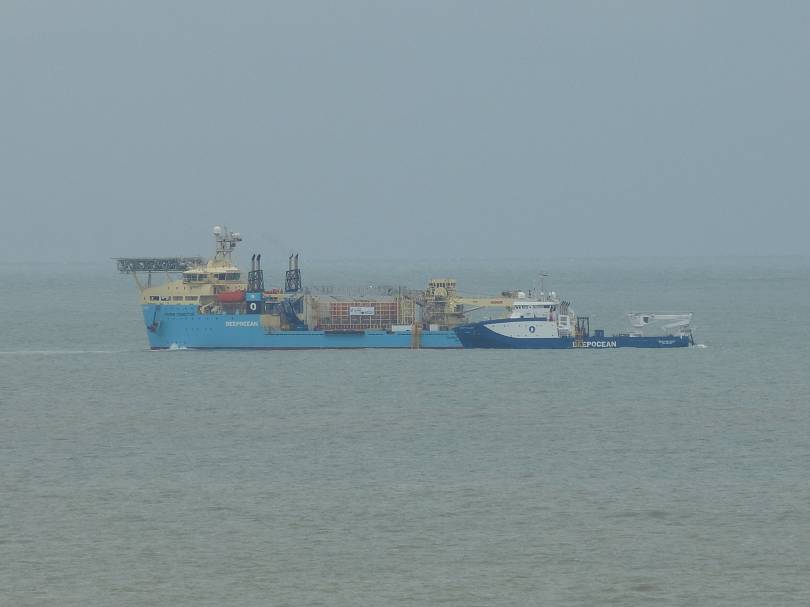 Friday, 8 September 2017 - 18:40
Post 4207
Patrick, Marine Parade
Dutch Registered general cargo boat 'Peak Bremen' arrived at the Western Docks two days ago and left for the Thames Anchorage last evening. This shot was from her arrival. Have not discovered if she was carrying cargo in or out or just a caller.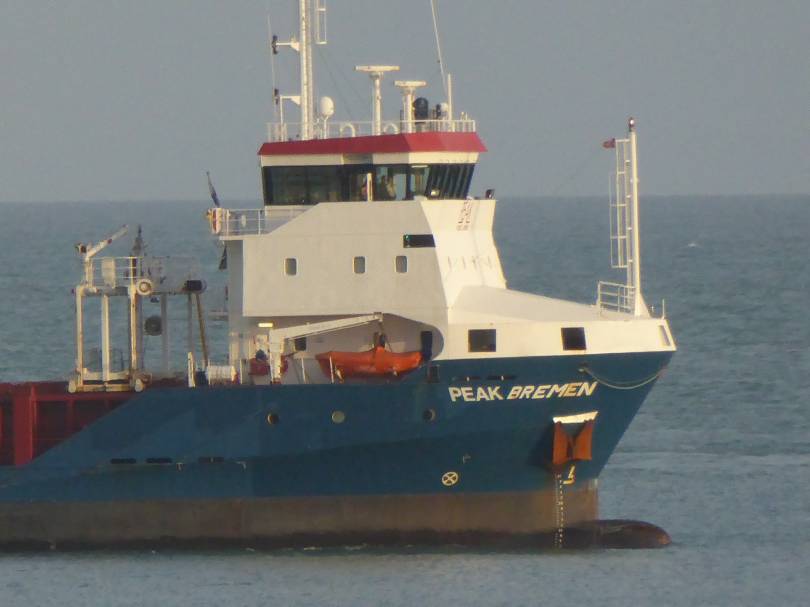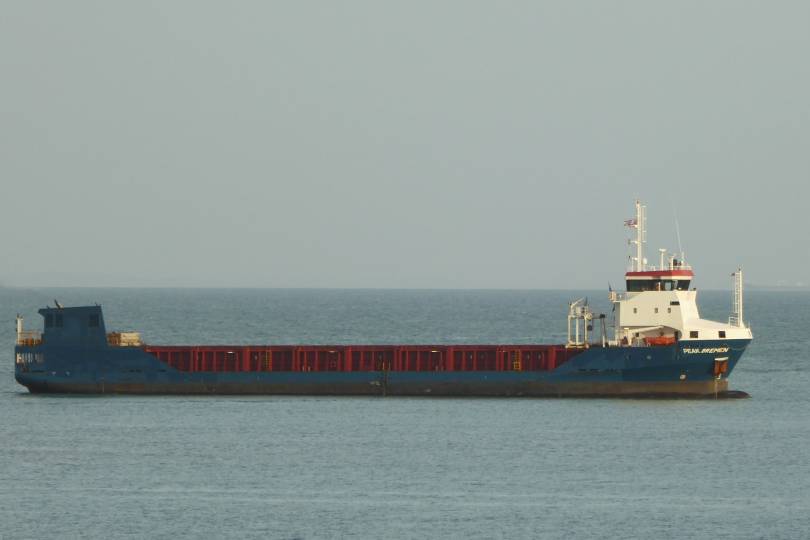 Friday, 8 September 2017 - 10:36
Post 4206
Sea News, Dover
The busy reefer visits go on... this time its the Southern Bay...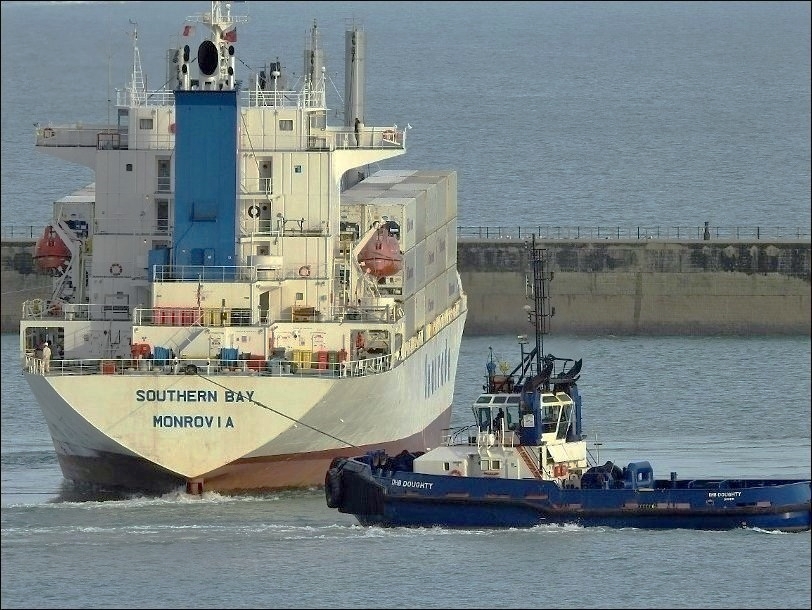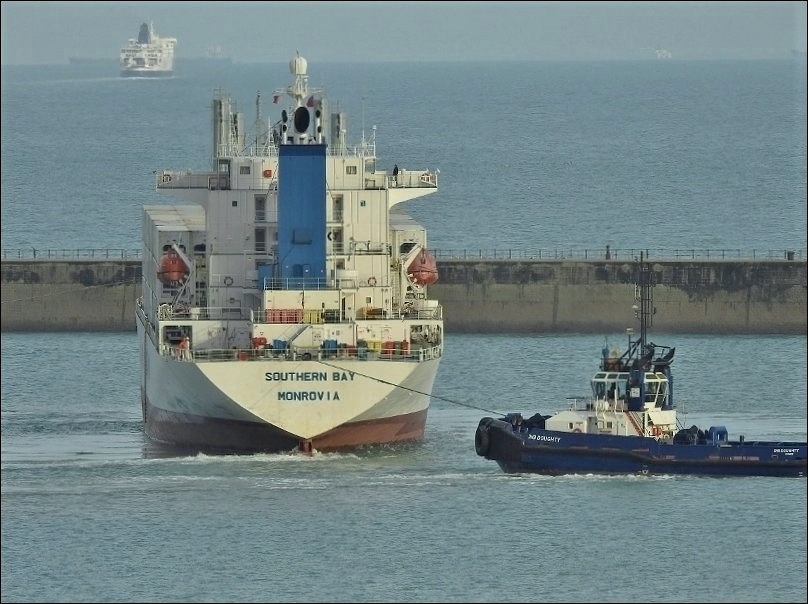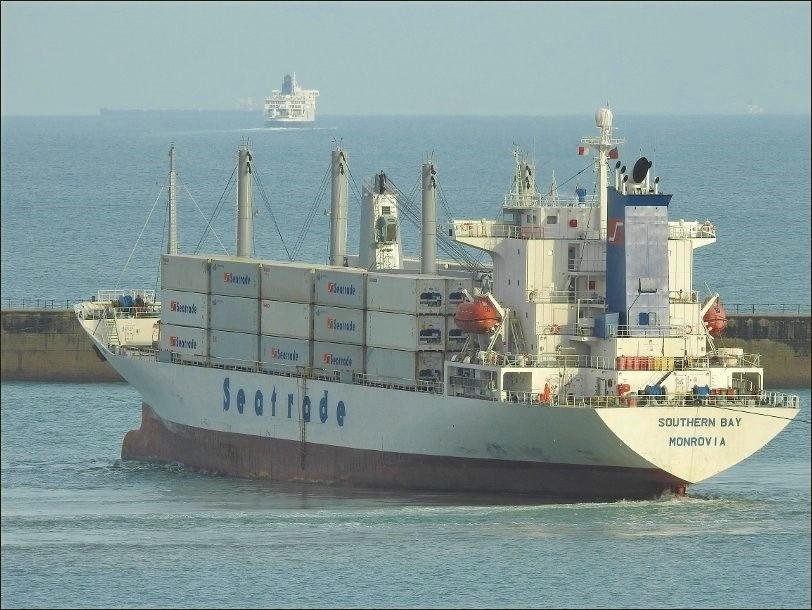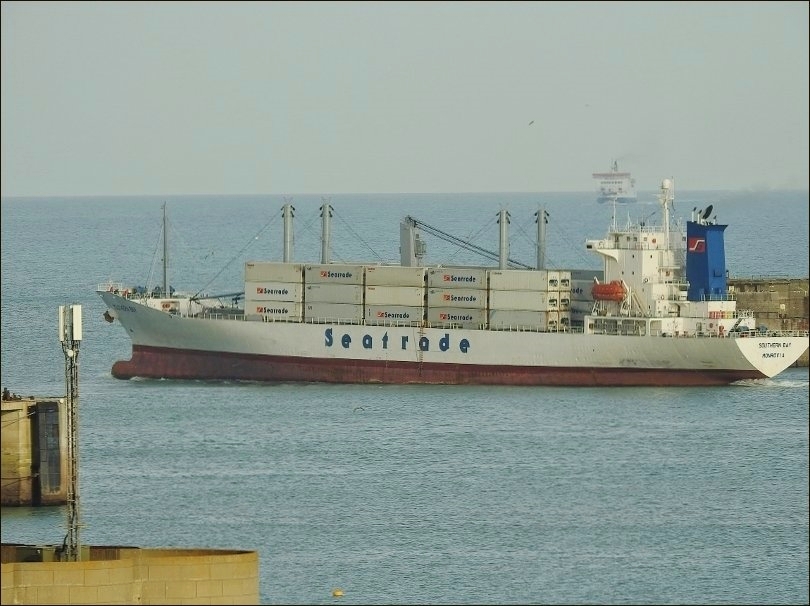 Yes that's the Southern Bay leaving us on Wednesday evening around 6pm. She was heading off to Rotterdam with the help of the tugs as ever..
Cracking pictures below Sarah of P22. You were right on the spot for the arrival to Ramsgate Harbour. Just realised while I was gazing at the pix that this is the very one I photographed in Sandwich in post 4046 a short while back. You had it previously too...great stuff indeed!
Keep snapping Sarah...


To search for all vessels don't forget to use the Search Engine, where you can easily find anything and everything...
Friday, 8 September 2017 - 06:09
Post 4205
Sarah, Ramsgate
A warm welcome back to USN P22 for the Heritage weekend.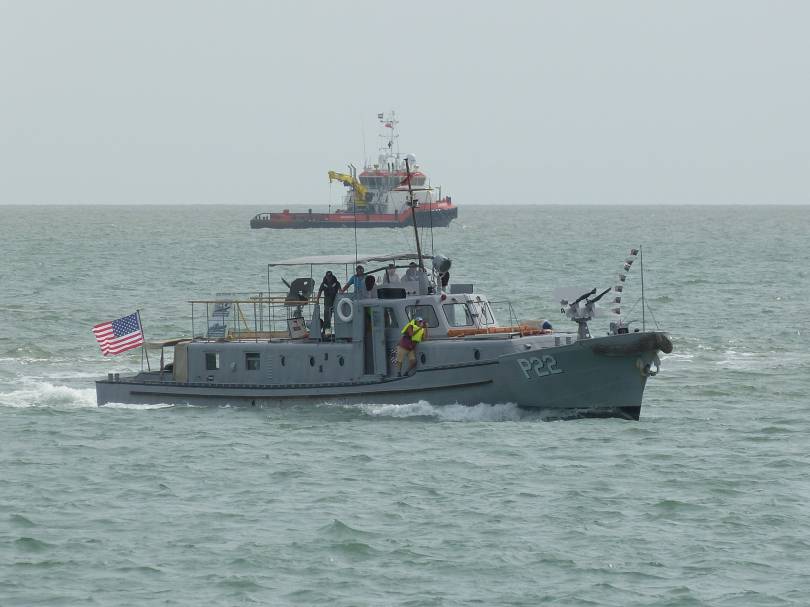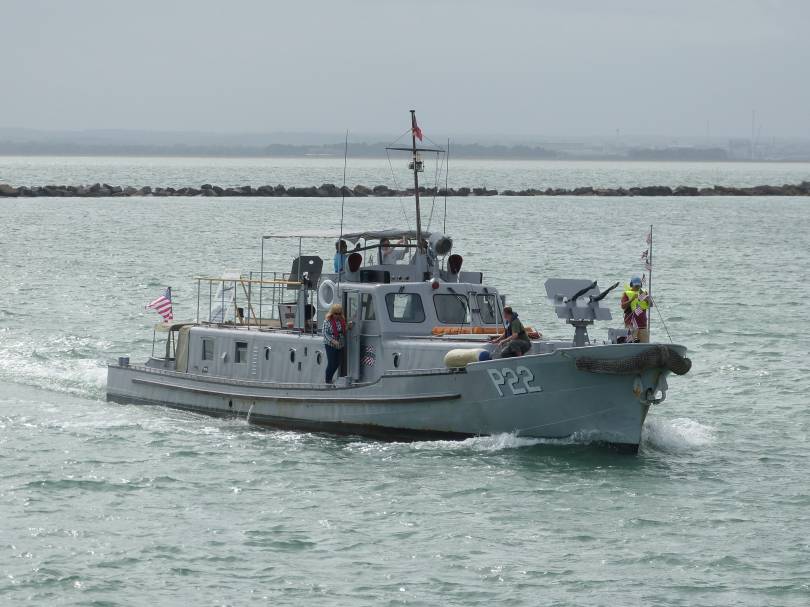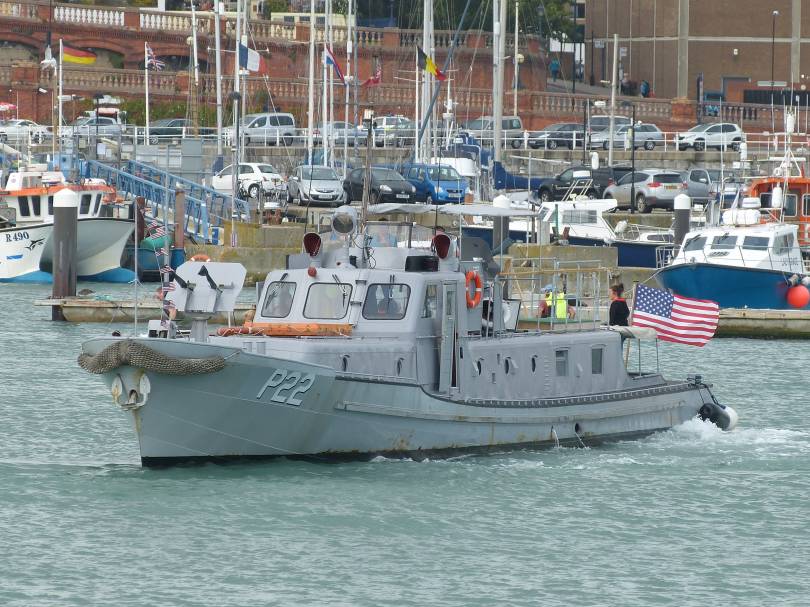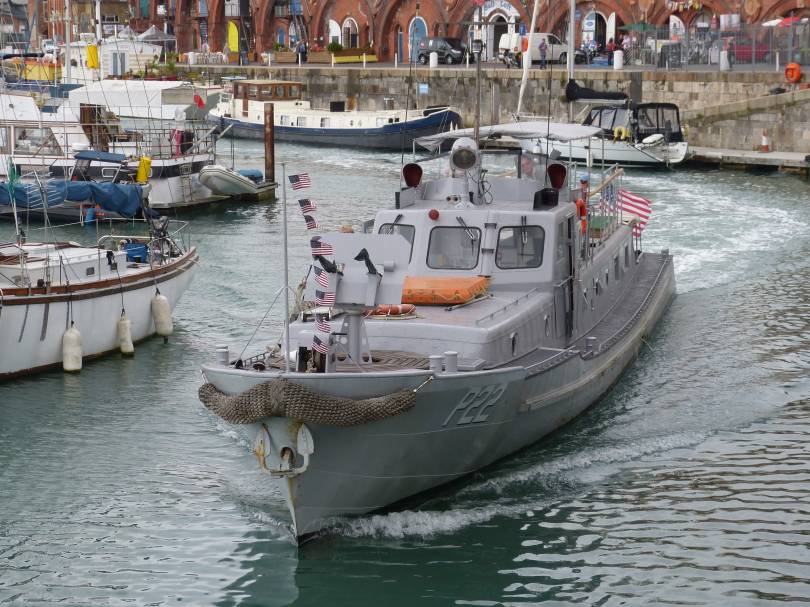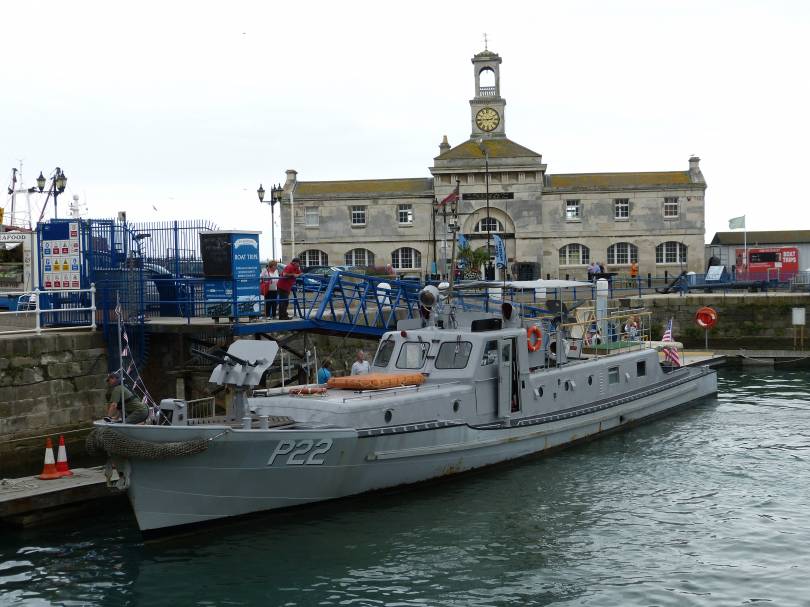 Thursday, 7 September 2017 - 16:57
Post 4204
Sea News, Dover
Following along from Andrew's picture of Deep Helder in post 4197...here we are with a couple of extra pictures as she approached the harbour on Tuesday ( more info in 4197 from Andrew)... in the background is a tall ship called Pegoria. To tell the truth I didn't even see the tall ship when taking the pictures as it was way out there... almost hidden by mist...But I spotted it later on computer. Wonder if it had been also in Ramsgate ..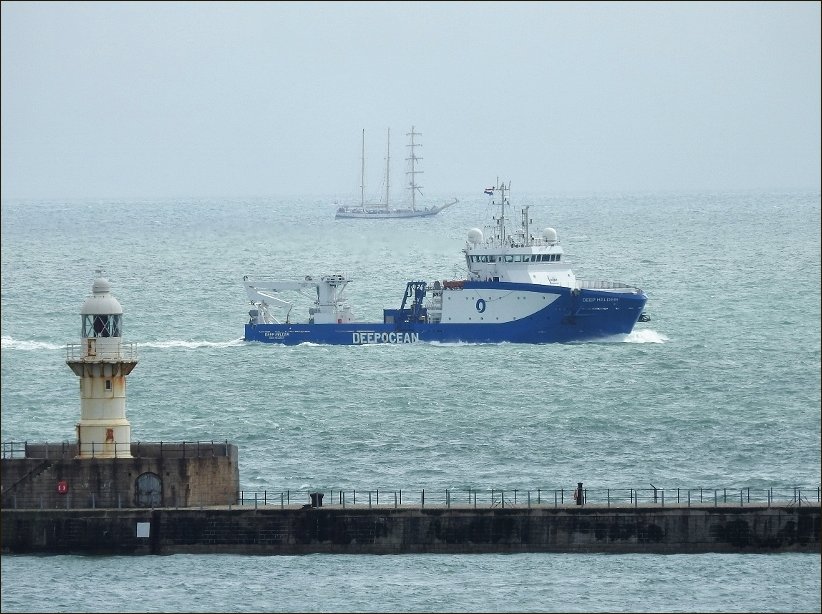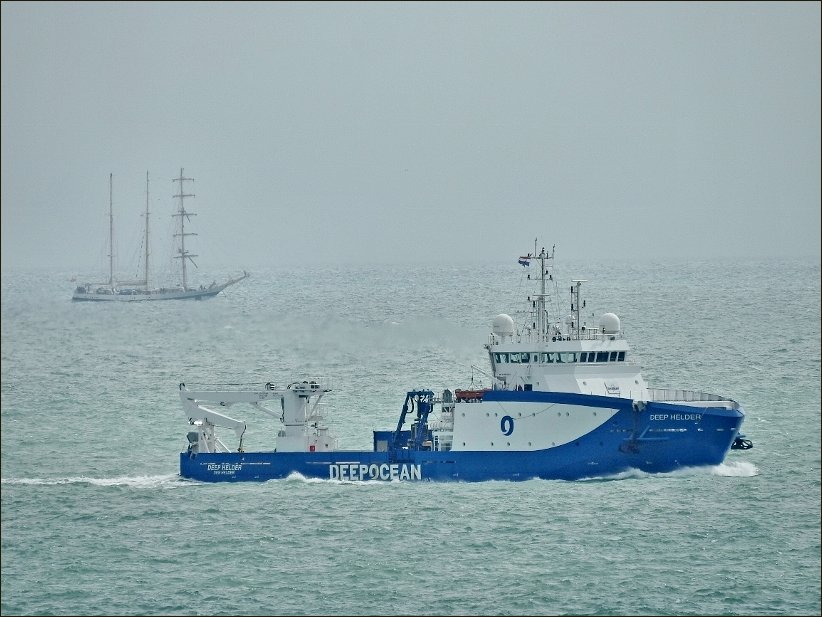 Oh I will add this one as well. Was going to leave it at just the two but what the heck....lets go mad...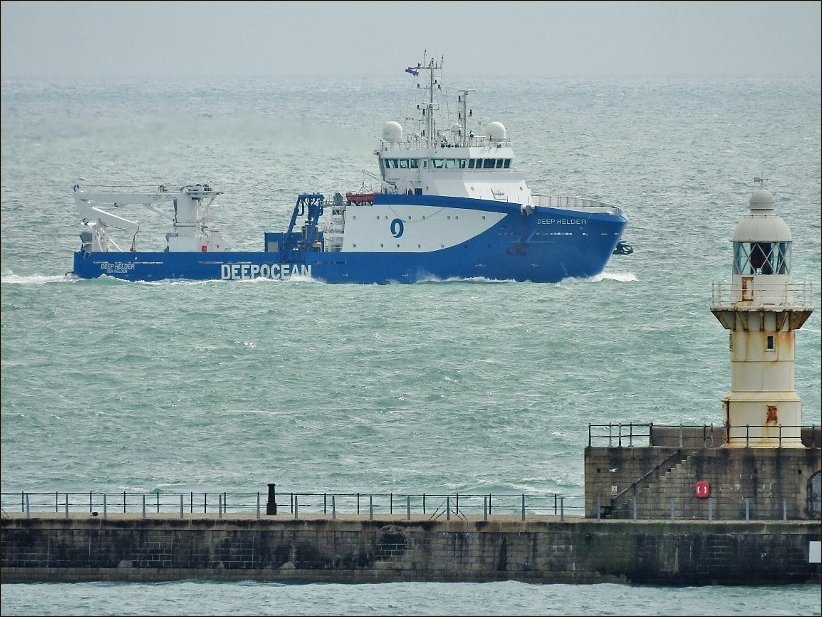 Thanks once again for the Cruise info below Colette.... Superduper.

Gosh they are stunners of the tall ships from Sarah over there in Ramsgate. Wow! All really good but that no 4 is majestic....'twould make another great wall picture of 6ft x 4ft...

Brilliant ones from Patrick too of the sailing yachts on Saturday. Real hands on shots...

Ah now I know what Kraken Eggs are Brian

PaulB.
Thursday, 7 September 2017 - 15:28
Post 4203
Colette B, Dover
CRUISE VISITS
_____________
Wonderful photos of the two 'Tall Ships' in Ramsgate and the sail boats in the harbour

Tomorrow Friday September 8th we have a Double Whammy, we welcome back Holland America's 'Prinsendam' arriving at CT2 at 07.00 hours. She hasn't graced our shores for quite a while, nicknamed the 'Elegant Explorer' she is on a round trip from Amsterdam on her 14 night 'Kiel & Great Britain'cruise. Her next ports of call are Newcastle, Edinburgh, Invergordon, Lerwick in the Shetlands then across the North Sea to Oslo, Copenhagen, Frederica (Denmark), Kiel and Hamburg before returning to Amsterdam. She departs at 17.00 hours, PoC

On the same day Saga Pearl II arrives at CT1, 07.00 returning from her Spanish Sojourn, this will be her last visit this season as she will be based in Southampton for the rest of the season. We look forward to welcoming her back to Dover in May 2018, she leaves us at 12.00, Debark only.
The following day Saturday September 9th we welcome another long lost visitor, the Costa Magica last here in August 2012, arriving at CT2, 08.00 from Amsterdam on her 13 night cruise to Marseille on the French Riviera. She calls at Le Havre, La Coruna, Porto, Lisbon, Gibraltar, Malaga, Civitavecchia (Rome), Savona then finally Marseille. She departs at 19.00 hours, PoC

On Monday September 11th we have another Double Header. Firstly, Pacific Princess arrives at CT1, 06.00 on her 14 night Round trip ' Scandinavia & Russian Collection' cruise. She calls at Copenhagen, Riga, Tallinn, St Petersburg, Helsinki, Stockholm, Kiel and Amsterdam. She leaves at 17.00 hours, T/R.
Then we welcome back Costa Pacifica arriving from Kiel at CT2, 06.30 on her 12 night 'Kiel to Barcelona' cruise, she was last here in September 2016. Her next ports of call are Cherborg, Vigo, Lisbon, Gibraltar, Cartagena, Civitavecchia before arriving at Savona, Italy. She leaves us at 19.00 hours, PoC.
I'll be back with more September cruise calls real soon folks

Thursday, 7 September 2017 - 14:53
Post 4202
Sarah, Ramsgate
We had two Tall Ships in Ramsgate yesterday.
Alva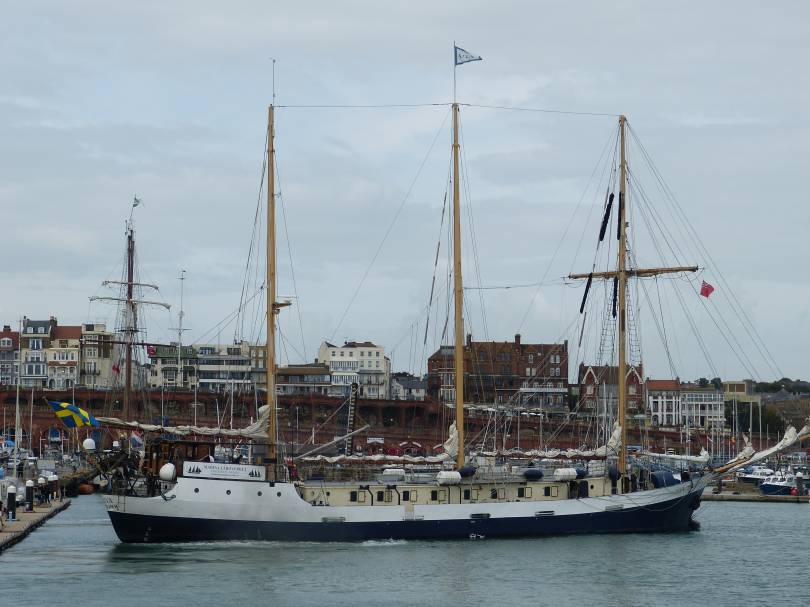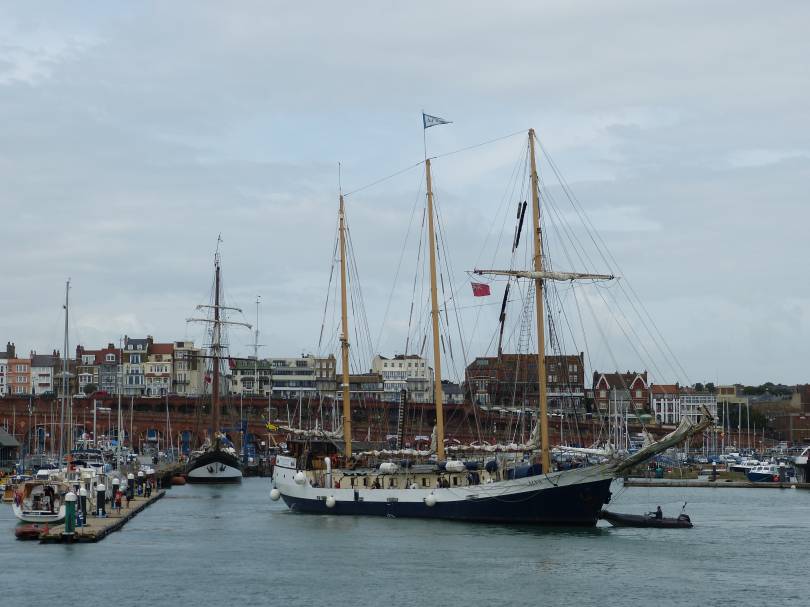 Oosterschielde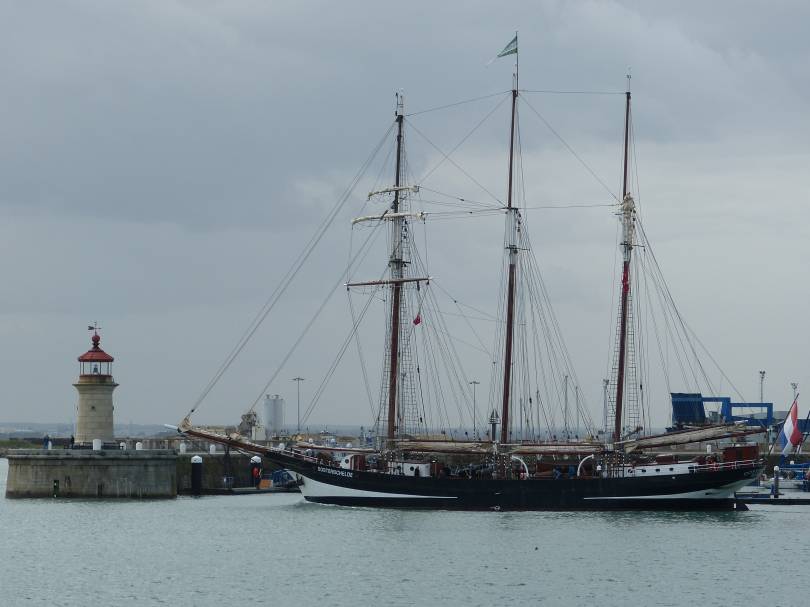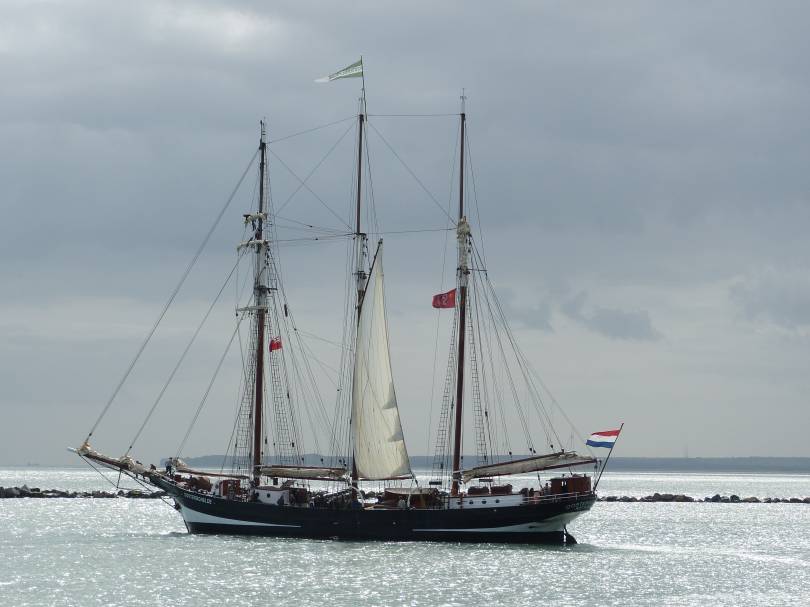 with Estuary Elan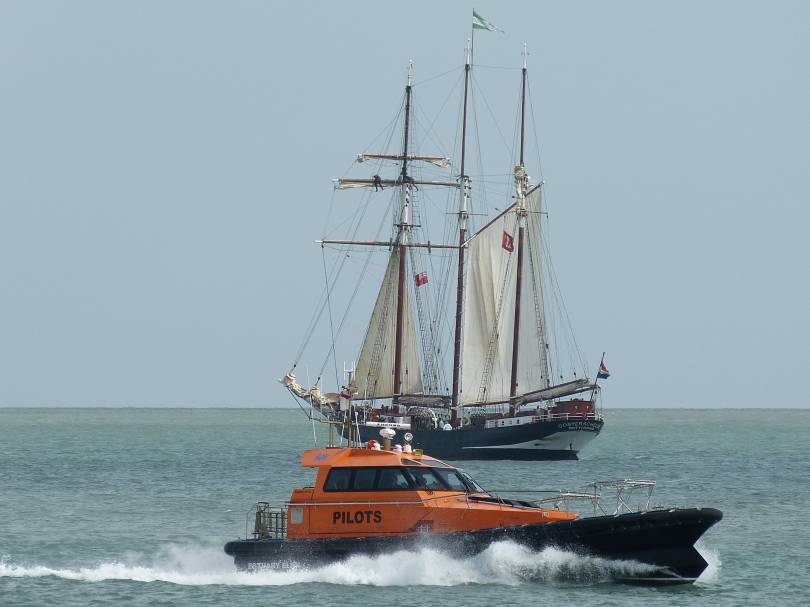 Thursday, 7 September 2017 - 09:56
Post 4201
Patrick, Marine Parade
More gentle in harbour sailing at the weekend with 'Rush' and 'Figaro'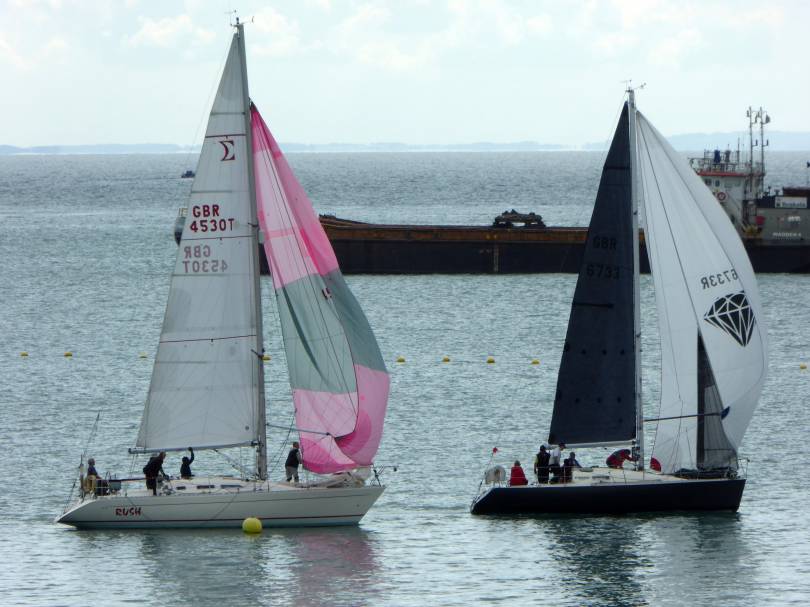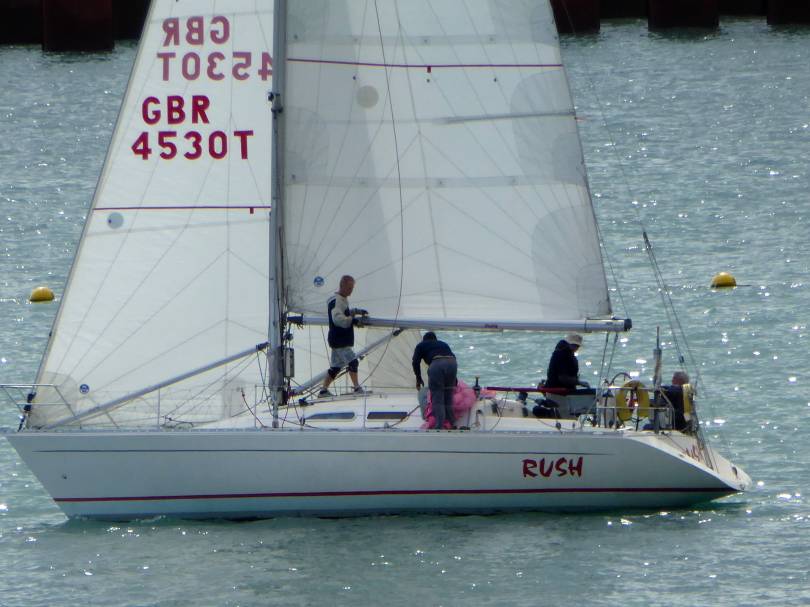 Wednesday, 6 September 2017 - 22:10