Friday, 25 May 2018

WWW.DOVERFORUM.COM/SEA-NEWS
Doverforum.com: Featuring all the ships that come and go and work at the Port of Dover with further coverage of the surrounding towns both sides of the Channel. Email: dover7@msn.com to send SEA NEWS pix or info....
or click ADD YOUR COMMENT below to post direct, no membership needed.
PORT OF DOVER: Konecranes for new Cargo Terminal 4916.
PORT OF DOVER: £21 Million DWDR 'paving plus' contract awarded 4895.
PORT of DOVER - three cruise ships, one day 4885.
DFDS Charters New Ship see 4866.
New Marina Pier ... Latest...see 4861.
P&O FERRIES presents big cash to RNLI Dover...see 4829.
PORT of DOVER: Chief Executive TIM WAGGOTT Resigns...see 4778.
P&O FERRIES recruiting...4745.
PORT of DOVER awards Cargo Refrigeration Contract see 4740.
PORT OF DOVER: Community Benefit 4688
TRADING GROWTH FOR DFDS DESPITE BREXIT see 4642
PORT OF DOVER RECORD FREIGHT see 4551.
PORT OF DOVER: GEEST LINE arrival see 4597.
SECOND FEMALE CAPTAIN FOR P&O see 4608.
Sea News Dover :
Use our SEARCH ENGINE below to find all sorts on the SEA NEWS pages..more than 240 now with more than 4750 nautical posts. Posts welcome. Max of 5 pictures preferred per post.
Type CRUISE VISITS in our SEARCH ENGINE below for news of the latest arrivals.
Sea News Editor Paul Boland - dover7@msn.com .
Post 4892
Sea News, Dover
Some pictures now of the Saga Sapphire departing on Thursday evening...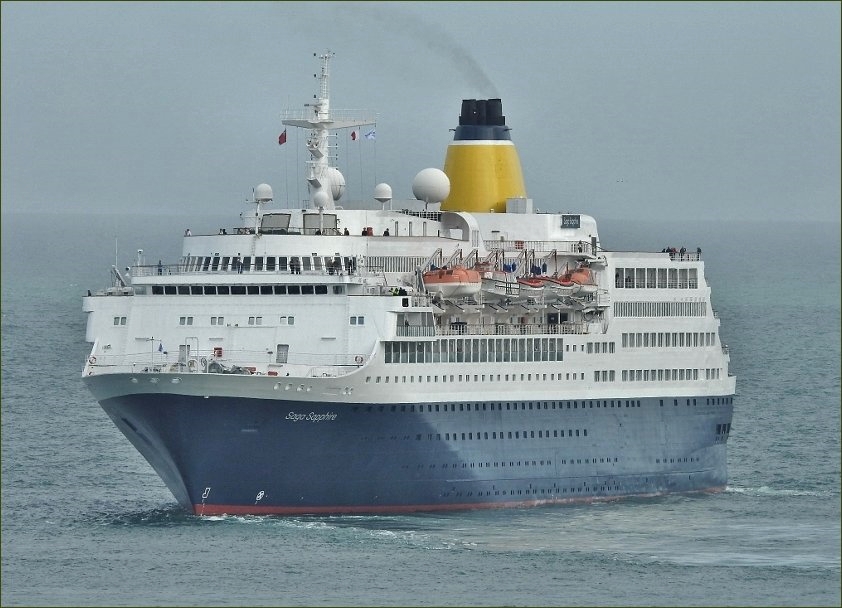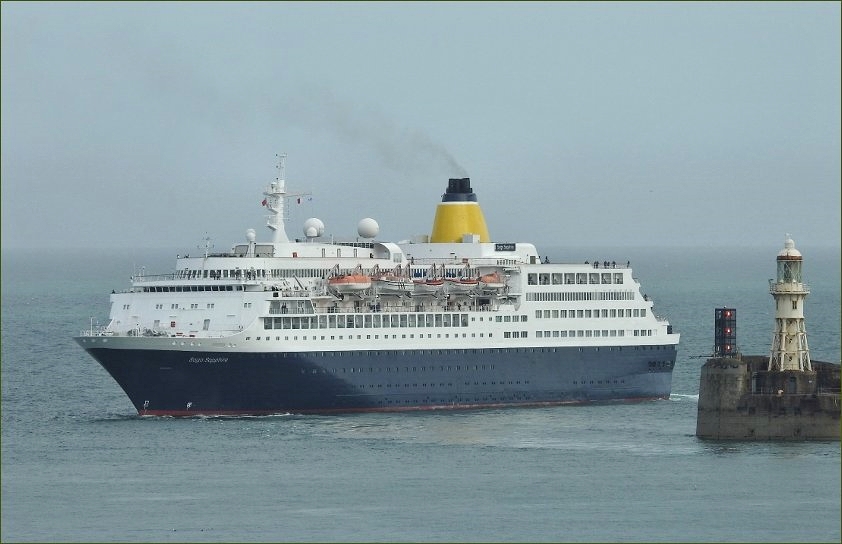 Yes off to Oslo she was...you can see her reversing out of Port above there. A very elegant procedure for sure...below we have a close-up as the pilot boat moves alongside in a hugely skillful manner. A casual observer might think that yours truly is obsessing with the pilot lately

....you can see the tiny 'priesthole' about 10 metres in front of the pilot boat there...that's how the pilot gets on/off.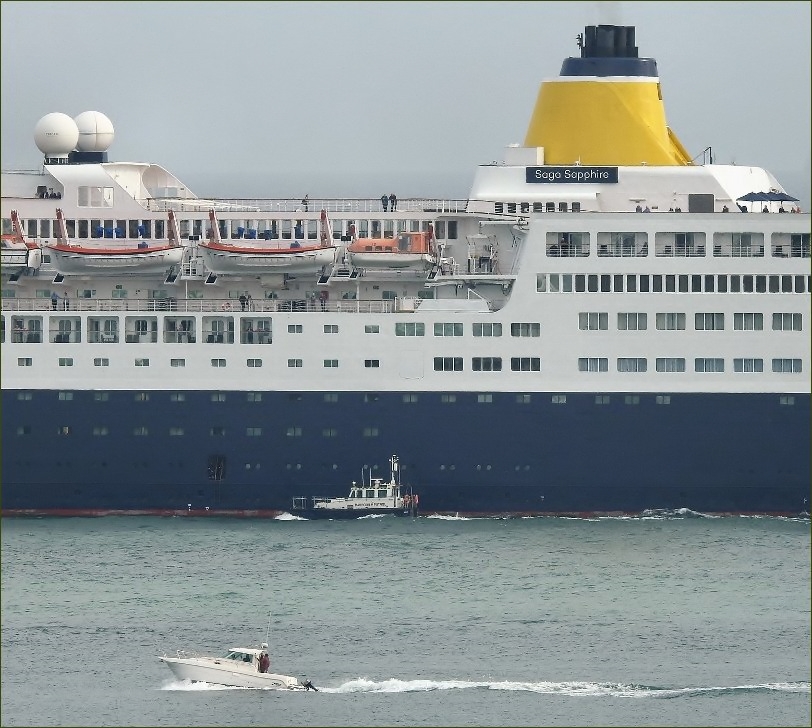 Aficionados will have noticed the different colour scheme this year...this is how she used to look below.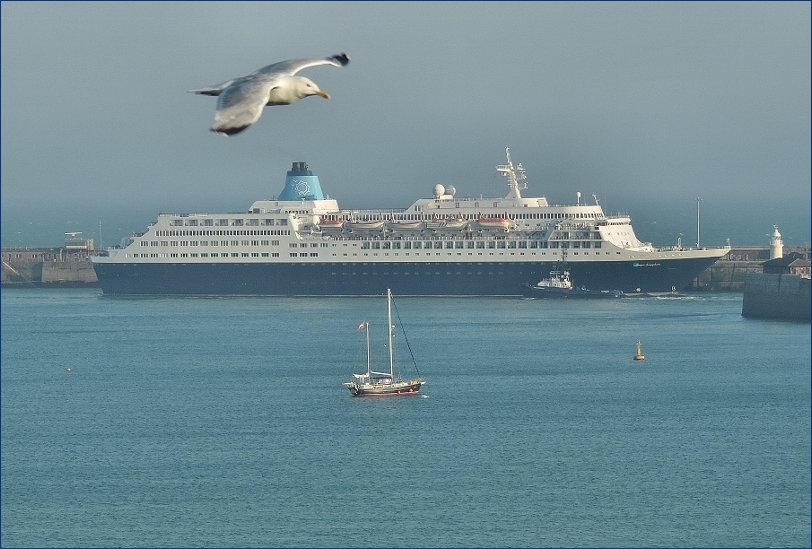 Great action pictures and news info below there from Mike. Cracking stuff indeed.

DONT MISS THOSE.
Ahh sorry you had some difficulties further below there Patrick. Cant see any particular problem as have had a look behind the scenes...will check further though. Pity that.

(Update: only thing I notice that's unusual Patrick is they are double digit image numbers. Mine today for example number Image 1 to Image 4 as they do every time. The system doesn't like a lot of pictures uploaded at once and may have assumed there were many more...hard to be sure.. )
PaulB
Saturday, 12 May 2018 - 06:23
Post 4891
Mike J., Dover
There was a rescue operation on the cliffs up above Eastern Docks today, you may have seen media reports.
Fortunately no injuries or worse.
A foolish youth had tried climbing one of the less steep cliff faces & got stuck.
The 'incident' was above the broad ledge & almost below the National Trust cafe [you'll know what I mean if you know the cliffs].
The MCA cliff rescue team & the police were on scene & the SAR helicopter from Lydd was called for.
The helicopter hovered at a considerable height presumably to reduce the downdraft which might have blown the fellow off the cliff face & the winchman was lowered – an impressive sight & a much higher 'descent' than usual.
A good job that there was little wind. but impressive flying nonetheless.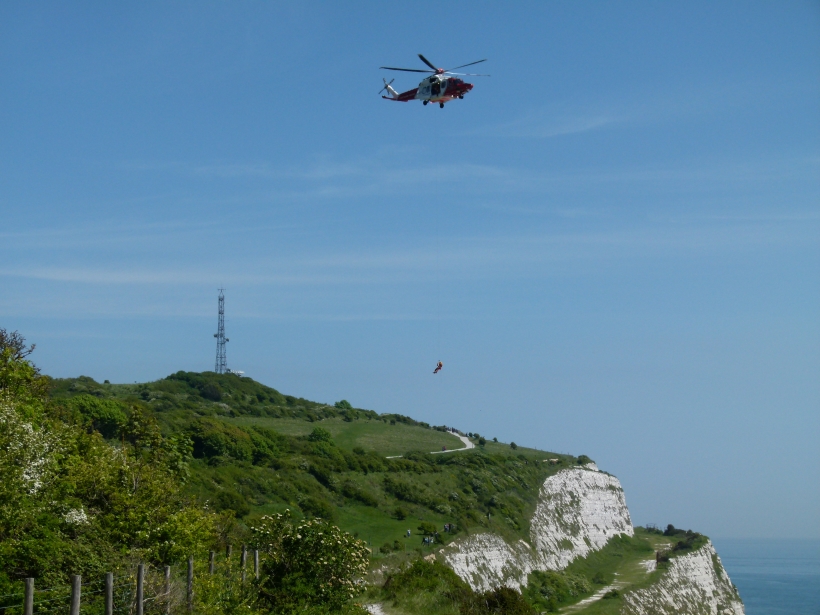 From my location I wasn't able to see the 'casualty' or the actual rescue but the youth must have been helped down the cliff to the ledge by the winchman as the helicopter moved away & landed on the sloping clifftop & keeping it's rotors spinning.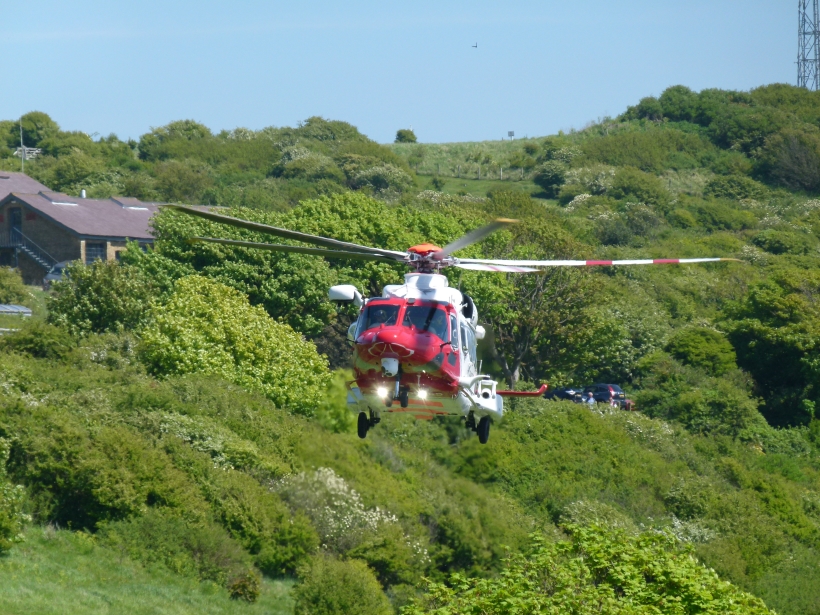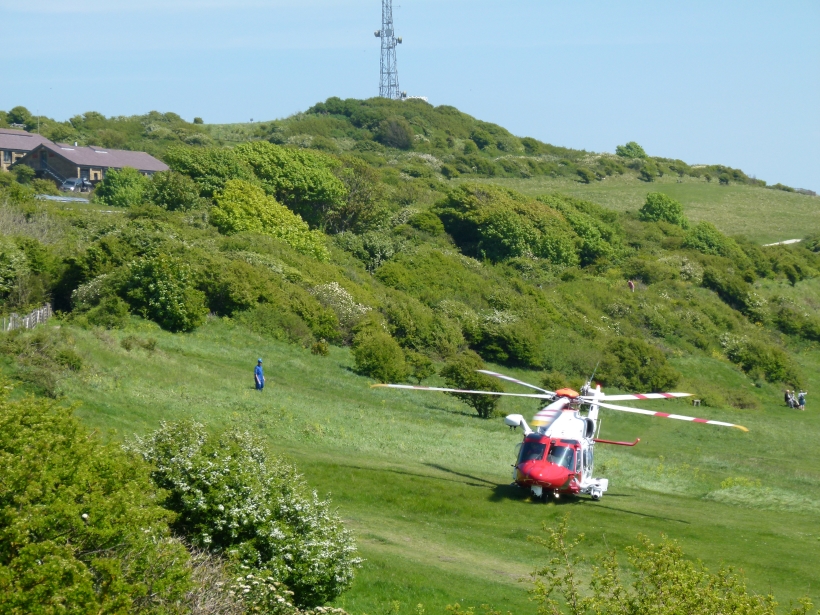 The winchman, the youth & his mate walked with the rescue team back to the narrow path that connects the ledge to the clifftop where the winchman rejoined the helicopter which returned to base & hopefully the youths had a good telling-off.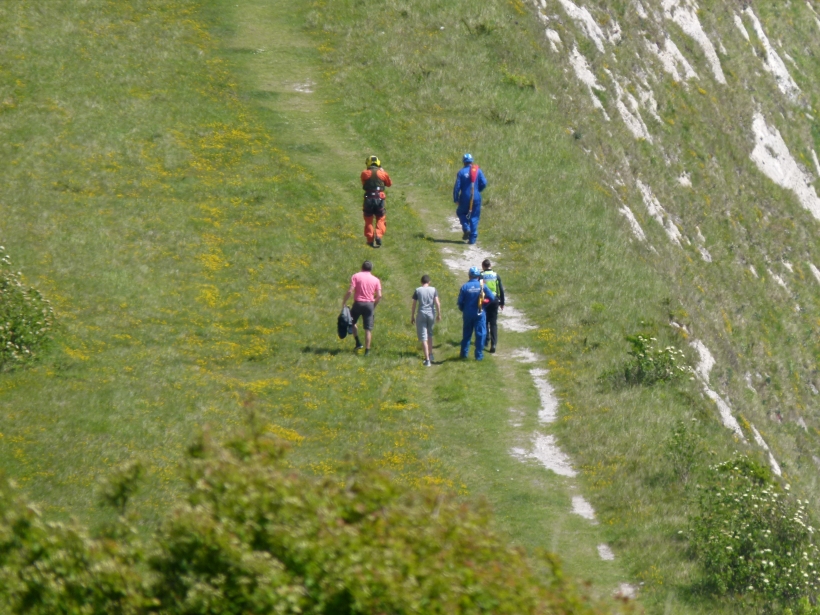 A lot of DHB staff in the docks were watching & would have had a grandstand view.
Taking off to return to Lydd.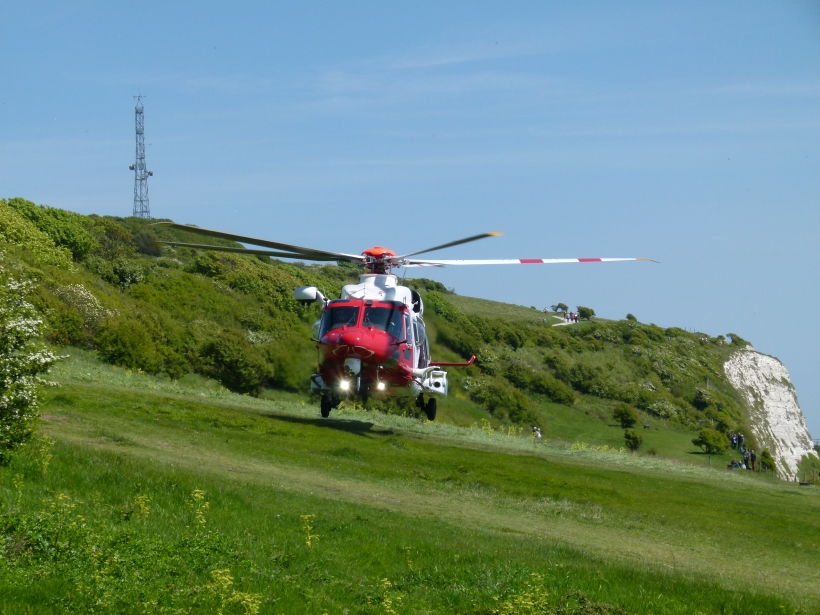 [IMAGE-10]
An impressive operation with a lot of folk having to put themselves at risk for an idiot.
Saturday, 12 May 2018 - 00:16
Post 4890
Patrick, Marine Parade
Oops! something amiss there in my last post.

Friday, 11 May 2018 - 22:23
Post 4889
Patrick, Marine Parade
Yesterday we had the return of the Saga Sapphire, complete with yellow funnel
[IMAGE-11]

and today's double arrival - the smaller 'Deutschland' and the 'Aida Sol'
[IMAGE-12]
[IMAGE-13]



Friday, 11 May 2018 - 22:17
Post 4888
Sea News, Dover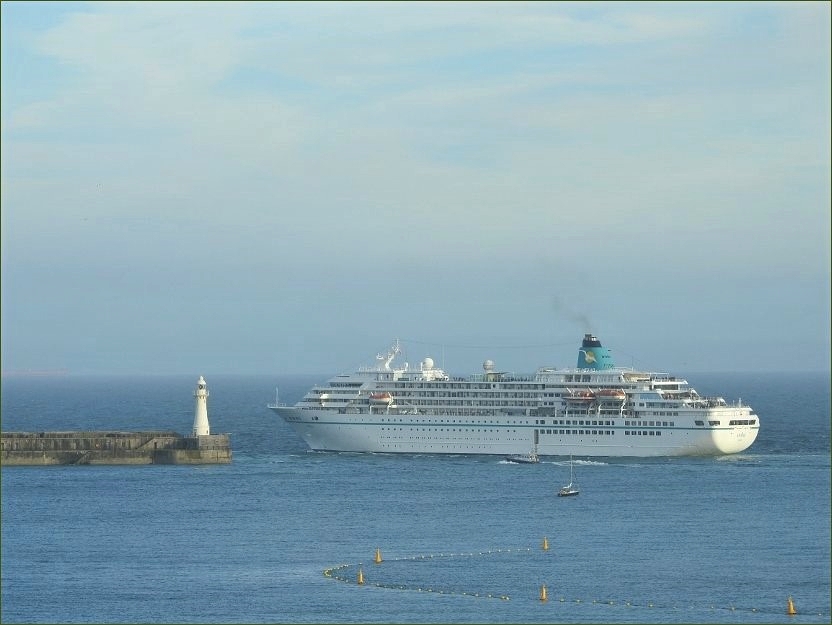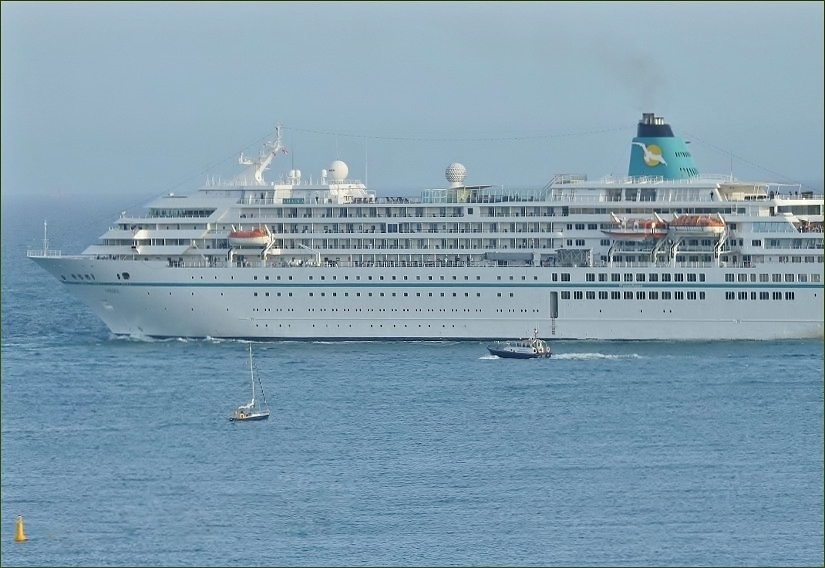 Some pictures now of Amadea as she moves away on Wednesday evening. The top two shots are a tad out of sequence but thought it better to put the wider view on top. She was heading for Ijmuiden in the Netherlands... her first port. One of the Saga ships Saga Sapphire was in yesterday and we will have pictures of that one too in due course...when we catch up with everything. There is another cruise ship in today too ( Deutchland), with AIDasol also due in, so this is one heck of a purple patch for cruise liners here at the Port of Dover. Great stuff!
The two pictures below also show Amadea on Wednesday evening, this time long range. The pictures show the departing and returning pilot as you can see. 'Twas a bit misty out there ..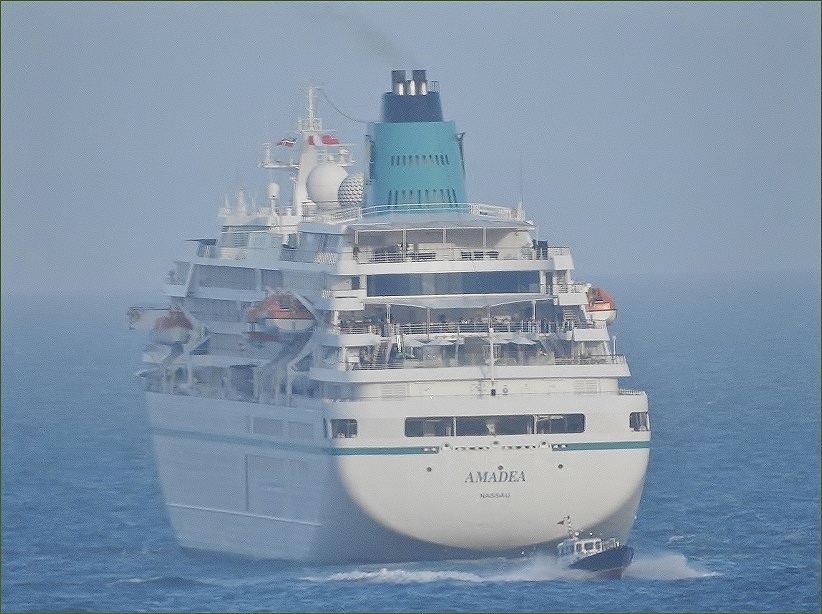 Well done all round below Patrick - liking those recent wide views

Interesting inshore collection below there Mike - nice work.

PaulB
Friday, 11 May 2018 - 06:24
Post 4887
Mike J., Dover
Shellfish dredger RENOWN IV in the Tidal Basin on Wednesday.
She was built in 1966 at Queenborough, on the Isle of Sheppey.
I noticed the Christian 'fish' symbol painted by her name & internet photos show a cross painted on the bow itself.
I'm sure that this indicates a devout Christian owner.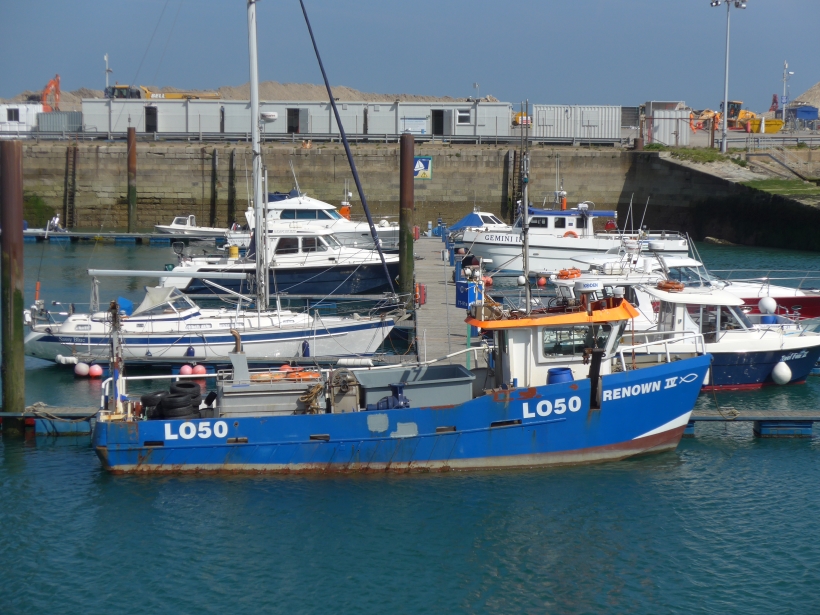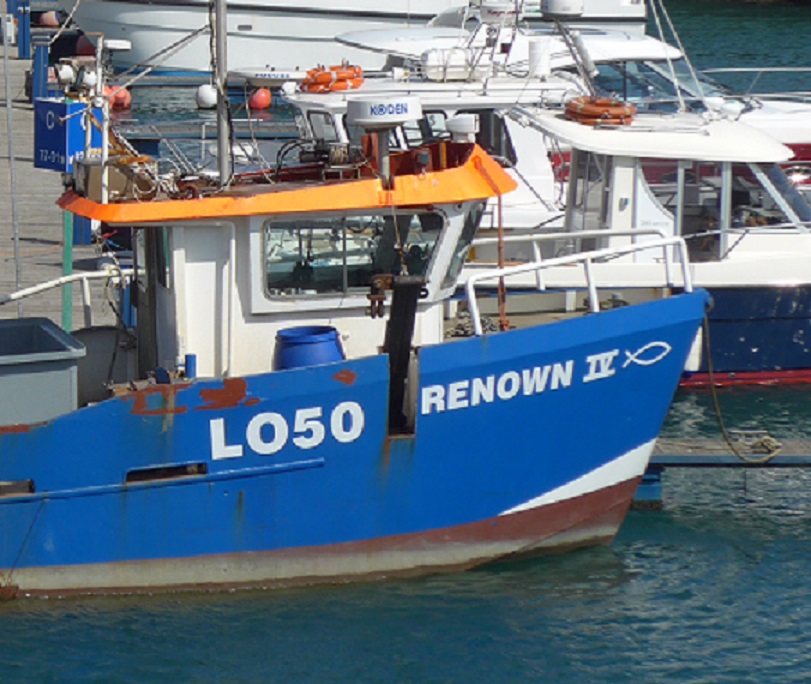 The AFON CEFNI is back in Dover, arriving Tuesday evening from Fecamp, a small port between Dieppe & Le Havre, to join her fleetmates AFON LLIGWY & LLANDWYN ISLAND.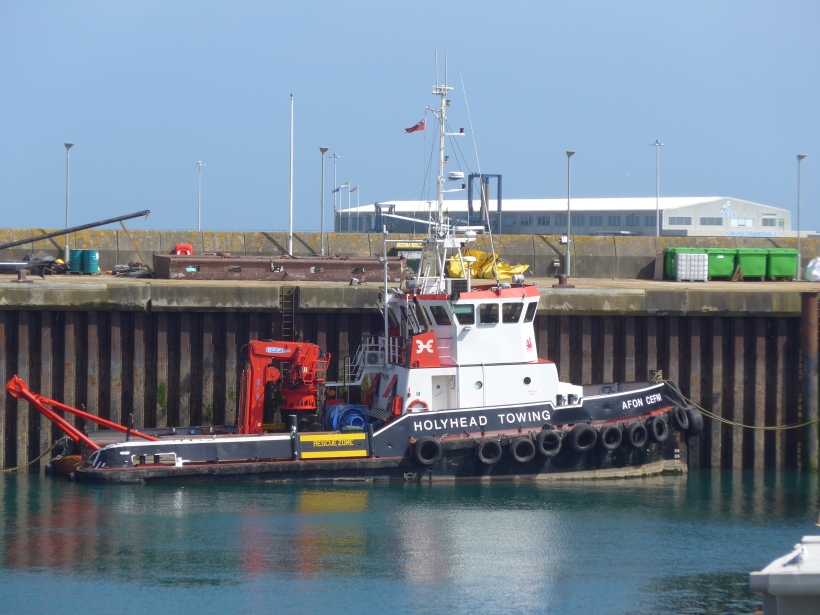 The SMIT YOUNG has vanished from lay-up in Granville Dock, last AIS reports showed her there on Saturday, but wherever she is now she's not transmitting at the moment.
Finally, over in Eastern Docks, some contrasting funnels.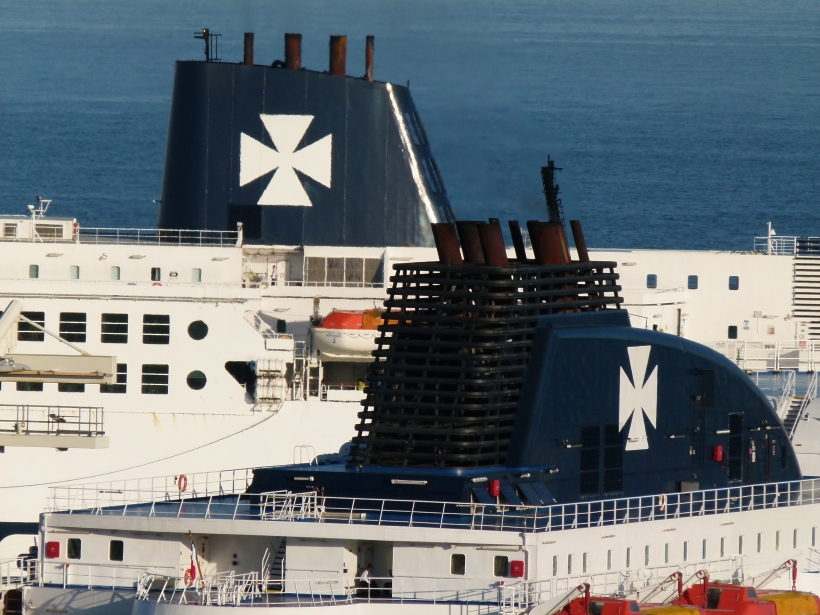 Thursday, 10 May 2018 - 20:18
Post 4886
Patrick, Marine Parade
Just caught the tug sprays on the Aida Sol last Monday. The ones on the Dover Marina site though are great as Mike J has said in #4883. Well worth a look.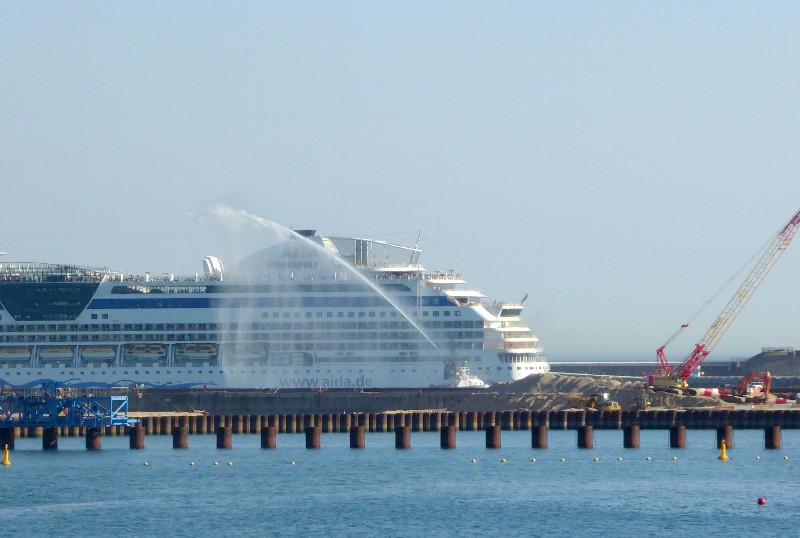 The view from the seafront of the three liners in port.
Interesting to see the shots of these cruise ships from the different vantage point of Western Heights, highlighted in Paul's earlier post 4885, where the angle at which CT1 is set gives a much better idea of how the Cruise Terminals are laid out.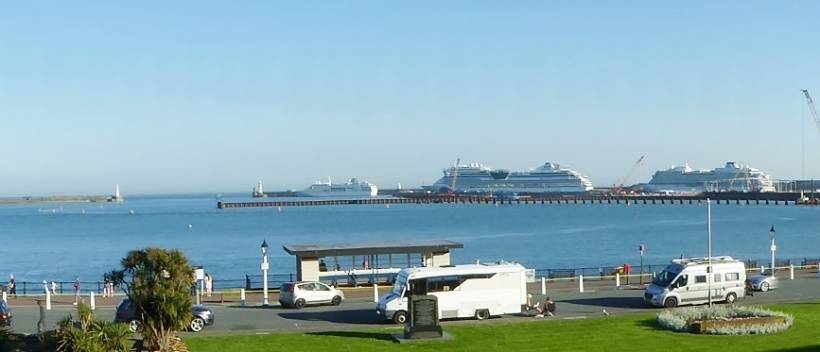 Great photos Paul all round.
Thursday, 10 May 2018 - 10:20
Post 4885
Sea News, Dover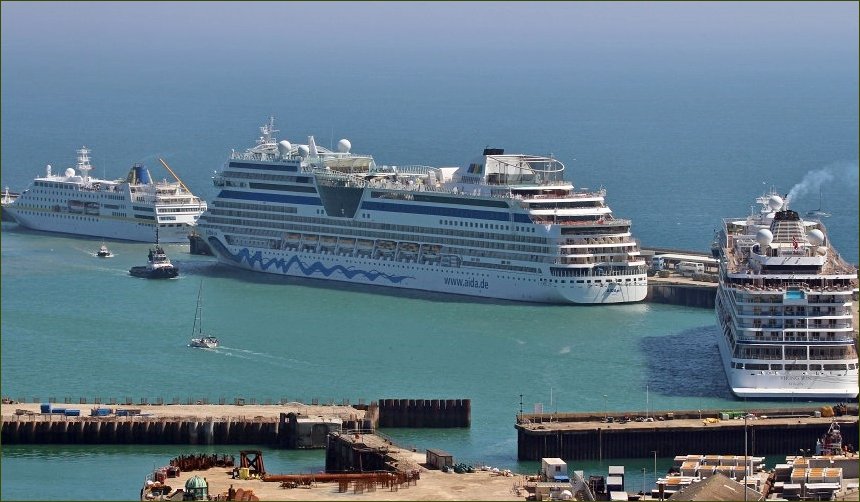 I saw three ships come sailing in ......
_________________________________
From the team at the Port....
Dover Cruise hosts three cruise vessels.
The sun was shining this May Bank Holiday Monday as three impressive cruise ships called at one of the UK's busiest cruise ports at Dover's historic Western Docks - the first time Dover Cruise has been at full capacity since 2016.
Plantours 'MV Hamburg' and Aida's 'AIDASol' both made a welcome return and the inaugural call from Viking's 'Viking Sun' was greeted by a water salute from Dover's Tugs, marking what is hoped will be a long standing partnership with Dover Cruise.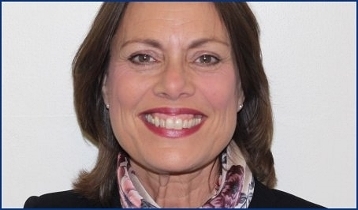 Sonia Limbrick
Port of Dover Head of Cruise, Sonia Limbrick said: "Dover, one of the busiest cruise ports in the U.K, is the port of choice for 22 cruise lines and will host 124 cruise calls, including 6 inaugural.
It was wonderful to see Dover Cruise at full capacity again and to host the inaugural call from Viking Cruises here at Dover's modern and progressive port.
Through our dedicated promotion of all that is on offer here, more and more cruise lines are choosing Destination Dover each year providing a valuable boost to both local and national tourism and economies.
My thanks go to Viking Cruises for chosing Dover Cruise as a new destination and Plantours & Partner and Aida for their continued support. I wish them all enjoyable journeys and look forward to greeting them here again soon."
ENDS

The aforementioned three ships departing now... first one below, the Viking Sun leaves us for Dublin early evening.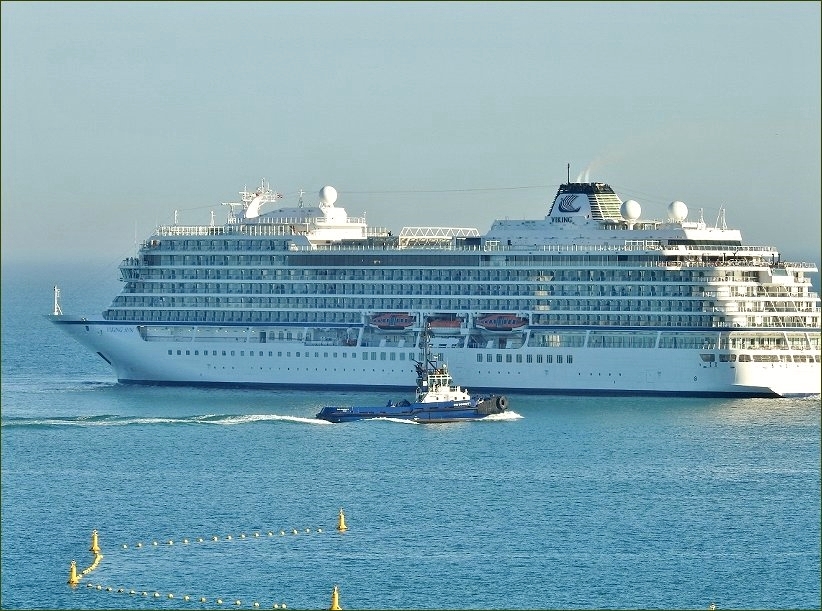 Next one departs below as night draws in...the MV Hamburg bound for ..you guessed it.. Hamburg.
Afon Lligwy in the foreground..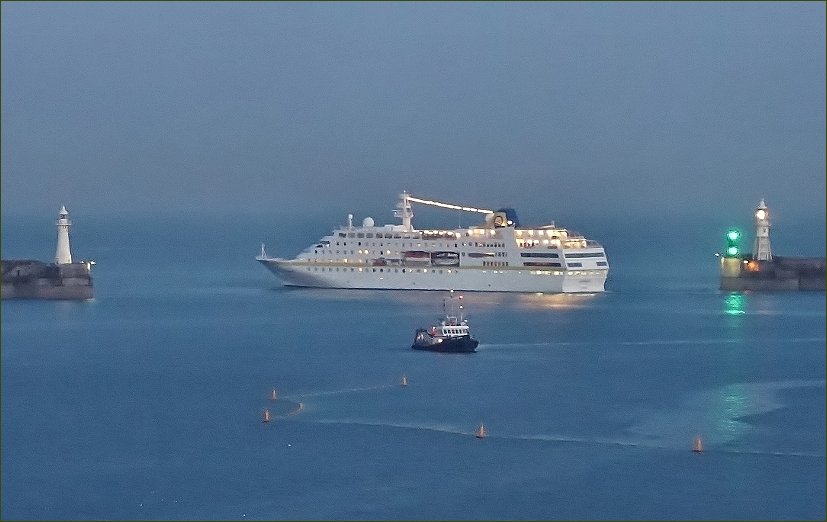 Night well and truly here now, and we have .. in a dazzling blaze of light, AIDAsol departing for.. yes indeed Hamburg.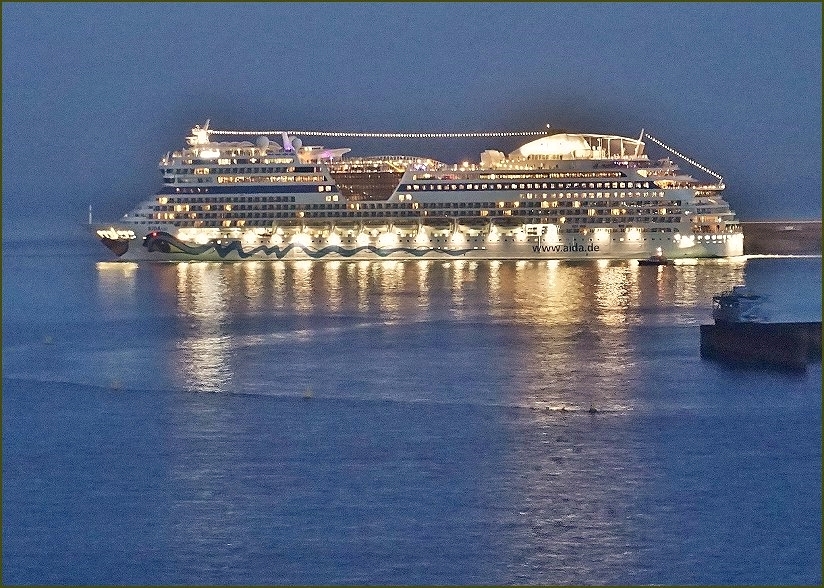 Thanks to Colette, Mike, and Vic for the comments and info below.
Yes Vic those tugs work hard, its non stop.
Also
Amadea was here with us yesterday...we will have some pix of that one following along in due course.
PaulB
Thursday, 10 May 2018 - 05:12
Post 4884
Colette B, Dover
Aah! Thank you for your lovely comments Patrick, always happy to help

And many thanks for all your great photos

Wednesday, 9 May 2018 - 22:48
Post 4883
Mike J., Dover

It doesn't look as though anyone 'caught' the squirting on Sunday as the VIKING SUN sailed.

For some excellent photos, see DOVER MARINA.COM Facebook page.

Well worth a look.


Wednesday, 9 May 2018 - 20:59
Post 4882
vic matcham, DOVOR
Our two Tugs have their work cut out trying to keep up with their work load 24/7, and thank you again for the great photos of our port.

Wednesday, 9 May 2018 - 16:51
Post 4881
Sea News, Dover
We're all off to Hamburg ...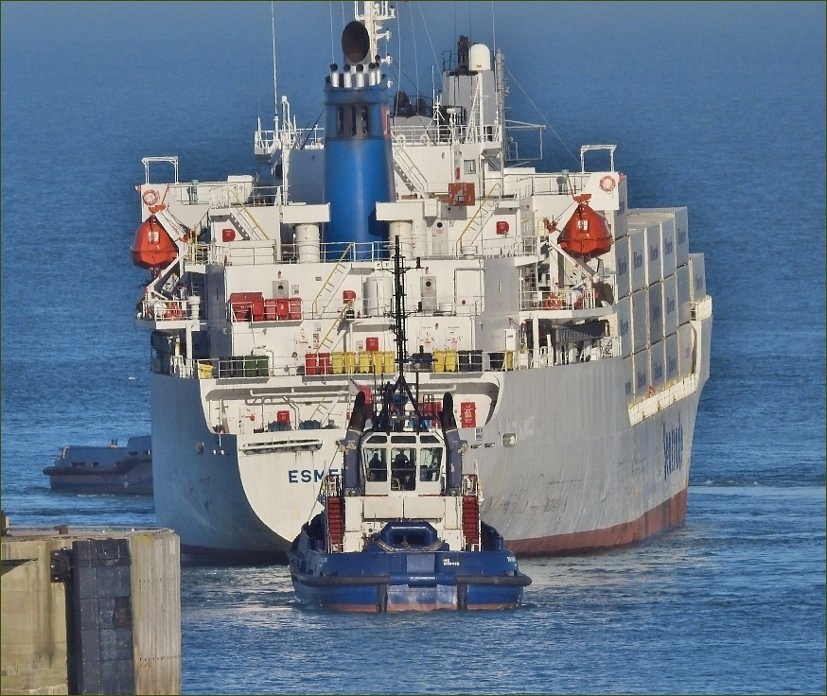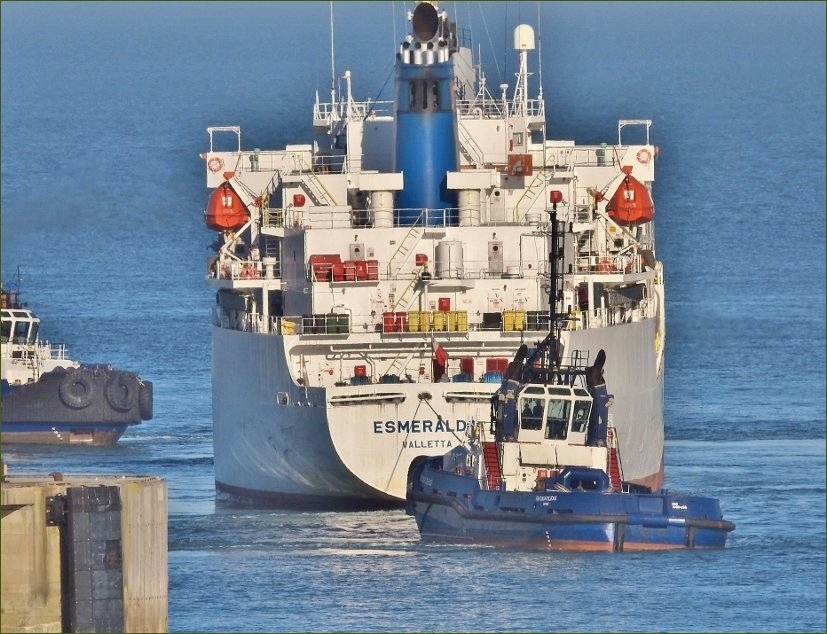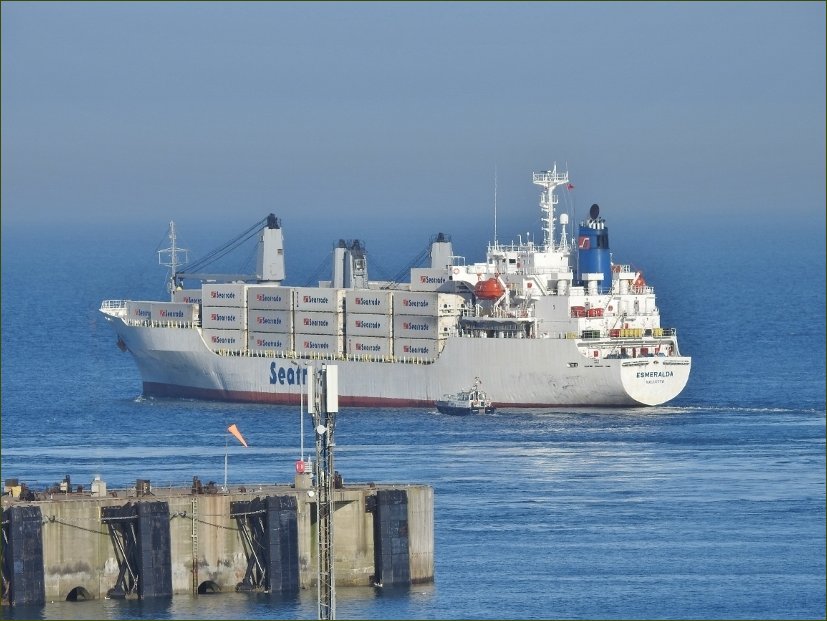 Pictures above show Esmeralda on Monday evening beginning her journey to Hamburg. She slipped out of Port without coming across the harbour at all, so yours truly was just able to capture the tail end of proceedings. It all happened in super harsh late contrasty sun but we just managed to hold it together. No I wont do that old joke, I said I wouldn't. oh well .. alright then....
"The Bells The Bells "

!!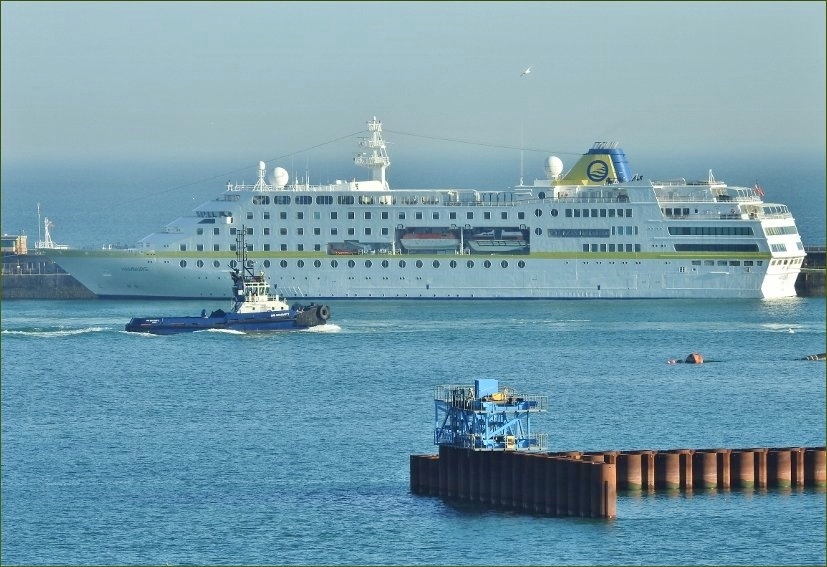 Above there we have another one of MV Hamburg following along from Patrick. Yes MV Hamburg also left for Hamburg as did the AIDAsol. I tried to get some night departure pix of AIDAsol...boy was she glowing. If any good will get at least one up in due course. Haven't got around to sorting those ones yet.
Well done Patrick below. Super good enjoyable collection there. Keep snappin'..


Don't miss those.
Also yes indeed a great cruise listing from ColetteB below. To use football parlance..'the girl dun good!'


PaulB
Wednesday, 9 May 2018 - 06:45
Post 4880
Patrick, Marine Parade
Thanks Colette as always for the best cruise info in Dover.
The triple whammy on Monday saw the arrivals and departures of Sun Viking, Aida Sol and Hamburg liners in gloriously warm (even hot) weather.
The cruise liner 'Hamburg' arrived in the afternoon, berthing on CT3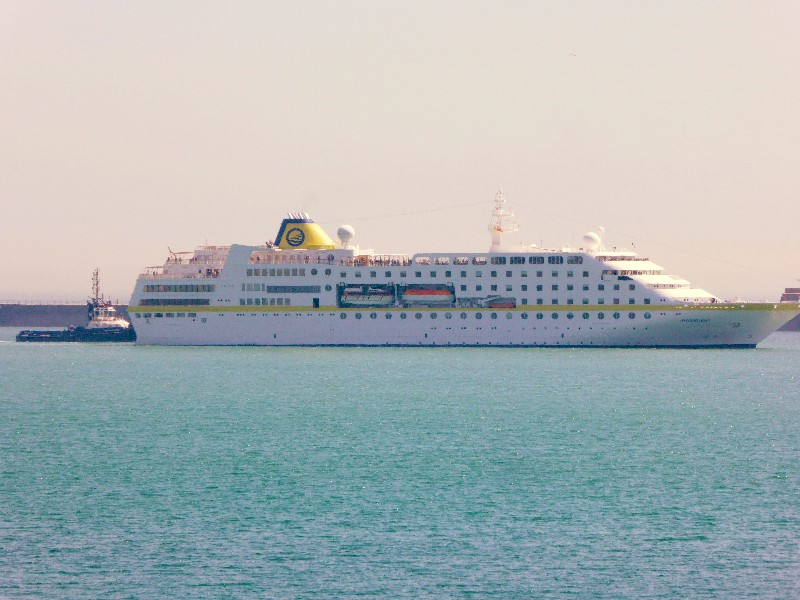 Here later in the early evening the departure of the 'Viking Sun', passing the Aida Sol, on her way out to Dublin, the west coast and Norway.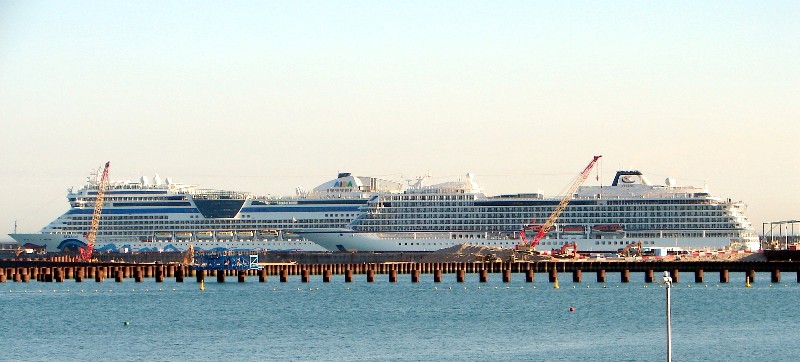 and just a minute or so later, sliding gracefully past the 'Hamburg'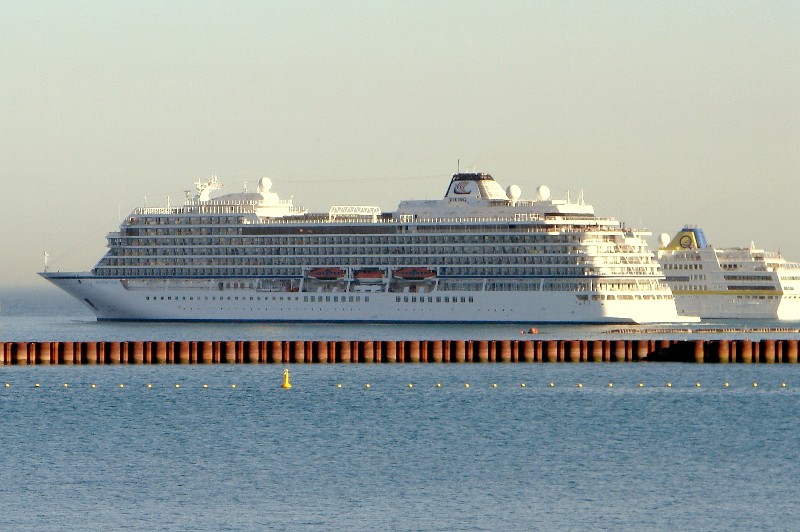 Meanwhile landlubbers take the long wide view whilst enjoying the well maintained Marine Parade Gardens, a leisurely perambulation along the seafront or just a bask in the sunshine on the beach. Wonderful!!

Tuesday, 8 May 2018 - 23:17
Post 4879
Colette B, Dover
CRUISE VISITS
_____________
Great May Day Bank Holiday photo of the sunbathers sizzling on Dover beach and on a three ship day too!

Our New visitor Viking Sun looked amazing as she docked at CT1. An interesting variety of photos over the past week, the hustle & bustle of a busy port constantly changing with our magnificent castle overlooking all

Firstly, on Wednesday 9th May we will see V Ships Amadea, (last seen here in September 2016) cruising into CT1 at 08.00 hours. She is coming to the end of her 14 night Villefranche-sur-Mer to Bremerhaven cruise, having called at Portoferraio (Elba), Civitavecchia (Rome), Alghero (Sardinia), Port Mahon (Menorca), Ibiza, Almeria, Malaga, Portimao, Porto, Jersey. Her next port of call is Ijmuiden in the Netherlands before dropping anchor at Bremerhaven. She leaves us at 18.00 hours, PoC.
Then on Thursday 10th May, our old friend Saga Sapphire comes back to our shores at CT1, 08.00 hours. Last here in August 2017 she is on her way to us from Southampton on a 6 night Scandinavian Cities cruise calling at Le Havre, Zeebrugge, Ijmuiden and Tilbury docks. She will be based here using Dover as her home port until late September. She departs at 16.00 hours, T/R.
On Friday 11th May it's another 'Double Whammy'!

First we have MS Deutschland (last seen here April 2013), she drops anchor at CT1, 08.00 hours. She is calling in whilst on her 22 night Western Europe, Azores & Canary Island Round trip to Bremerhaven. Her next port of call is Amsterdam then back to her home port of Bremerhaven on Sunday. She is leaving us at 16.00 hours, PoC.
Then an hour and a half later AIDAsol gives us a wink, as she arrives at CT2, 09.30 hours. Once more she calls in to say Hello on her 4 night Hamburg round trip. She leaves us at 21.30 hours, PoC.
On Sunday 13th May at CT2, 08.00 hours, we are greeted with another beaming smile from AIDAvita on her 14 night Great Britain & Ireland cruise. Her ports of call are Portland then Cork & Dublin in the Emerald Isle (one of my favourites

), Greenock, Belfast, Liverpool, Fishguard, Le Havre then her home port of Hamburg. She departs at 20.00 hours, PoC.
Back soon with more Month of May cruise calls

* *
EDIT: see also the latest travel suggestion from DFDS below.
Tuesday, 8 May 2018 - 12:10
Post 4878
Sea News, Dover
DFDS OFFERS TRAVELLERS THE BEST OF BOTH THIS SUMMER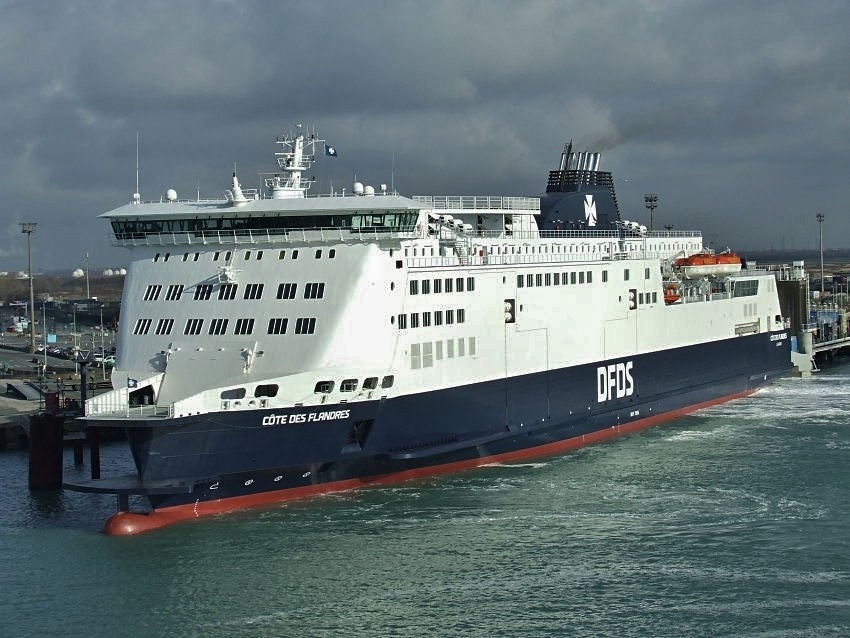 Picture by George Holland
Discounted multi-route booking option open for peak holiday season.
DFDS is offering customers a 'Ferry Flex and Save' option when booking during the peak summer season, giving travellers the chance to sail to Europe on one DFDS route and return on a different route. This means they can explore more of the continent's rich heritage while saving on crossings.
Holidaymakers can travel on the ferry operator's Newcastle-Amsterdam route and return home via its Calais/Dunkirk-Dover route – or vice versa. Those departing from the UK via the Newcastle-Amsterdam route can also take advantage of a 30% discount on selected travel dates in July 2018*.
The flexibility of this multi-route option gives travellers the opportunity to have the best of both worlds – a solution to peak season pricing with the flexibility to extend their holiday by creating a fun and personalised road trip.
Bookings can be made until 29 June 2018 and are subject to availability.
Outbound travel on the Newcastle-Amsterdam route must be made between 4th-5th July and 7th-18th July with no date restrictions on the return route via Calais or Dunkirk. Departures made from Dover to Calais/Dunkirk can be made any time, providing the return journey from Amsterdam-Newcastle is made between 13-15, 19-22 and 26-29 June, 3-5 July and 24-30 Aug 2018.
DFDS operates daily sailings between Newcastle-Amsterdam, while crossings between Dover and France operate 54 times per day.
For more information and to book tickets please call 0871 522 9955.*
-Ends-
*Applicable when booking offline only.
* No telephone booking fees apply. Calls cost 13p per minute plus your telephone company's access charge.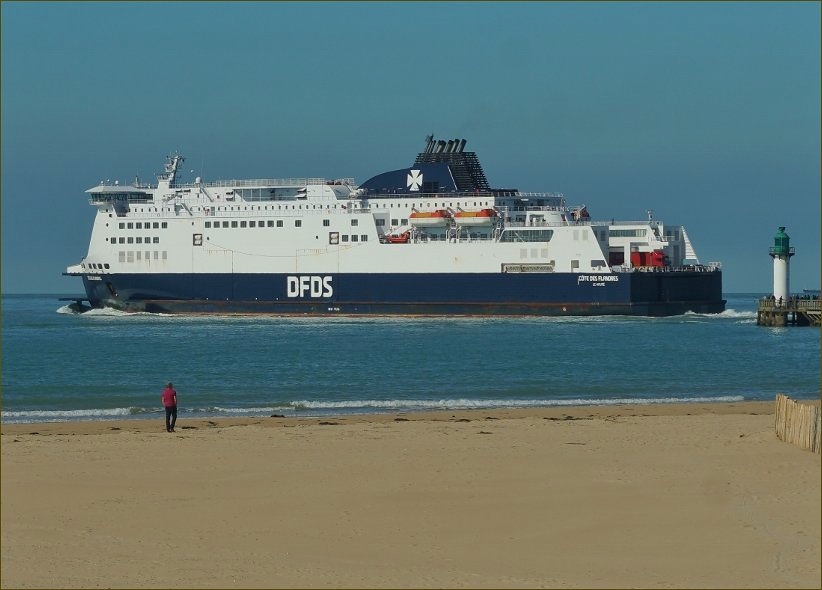 * *
It was a hugely busy day at the Port of Dover yesterday...not least because we had ColetteB's forecasted triple whammy of Cruise Ships...plus plus plus...we will get round to all the pix in due course.
You might remember we featured a distant shot of the Viking Sun heading to Greenwich a few days ago...well here she is arriving with us yesterday. Huge excitement! It was misty at the time as you can see but at least its a warm mist cheering us all up...welcome Viking Sun.. her first visit.
She left for Dublin in the Emerald Isle last night, will have more pictures in due course. Also starring yesterday were AIDAsol and MV Hamburg...and they both left for Hamburg last night as did the cargo ship Esmeralda. Its all happening in Hamburg.
Viking Sun ..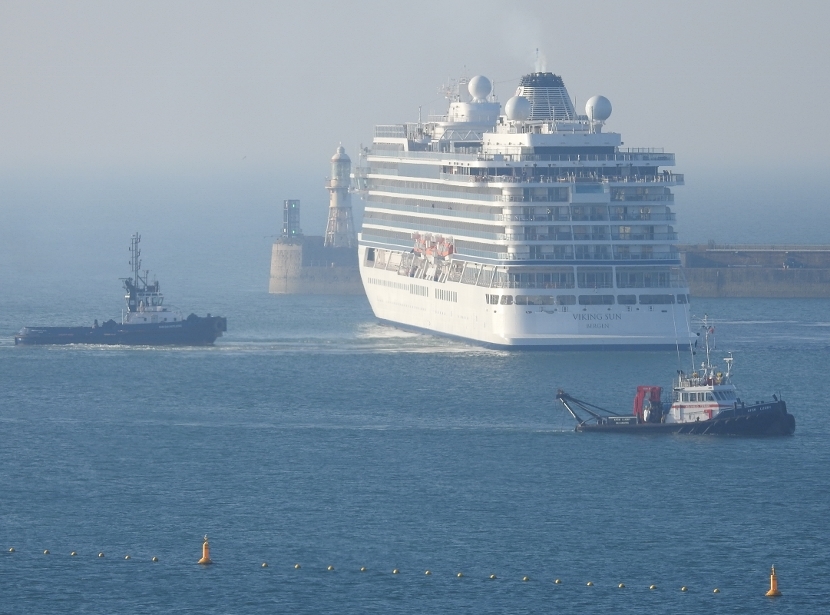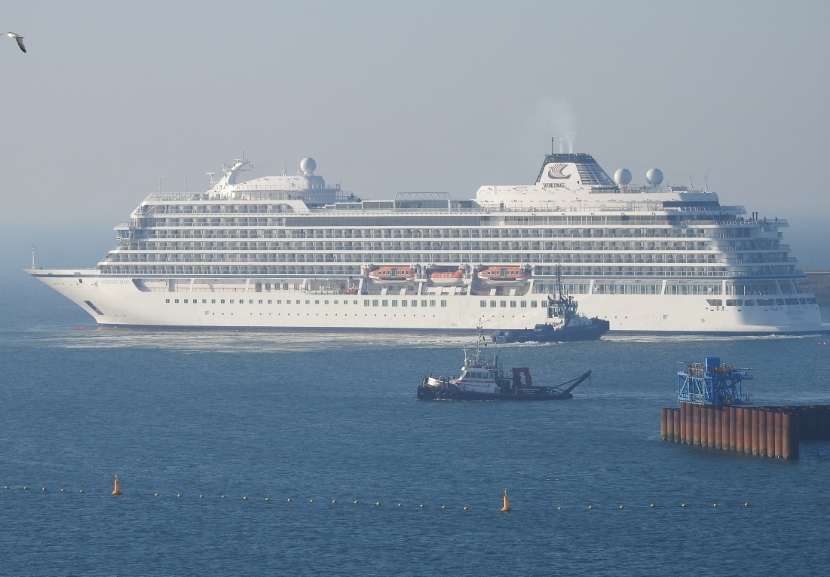 Well done with that cracking collection below Mike. Nice shots there

Many thanks to the team at DFDS for the info above. PB.
Tuesday, 8 May 2018 - 06:16
Post 4877
Mike J., Dover
About ten days ago ago I caught the survey launch SHAMROCK on the move, making a cautious departure from the Tidal Basin.
Since her arrival towards the end of March she hadn't been very active, but is now in regular use now & AIS shows her out working on Monday morning as I type this.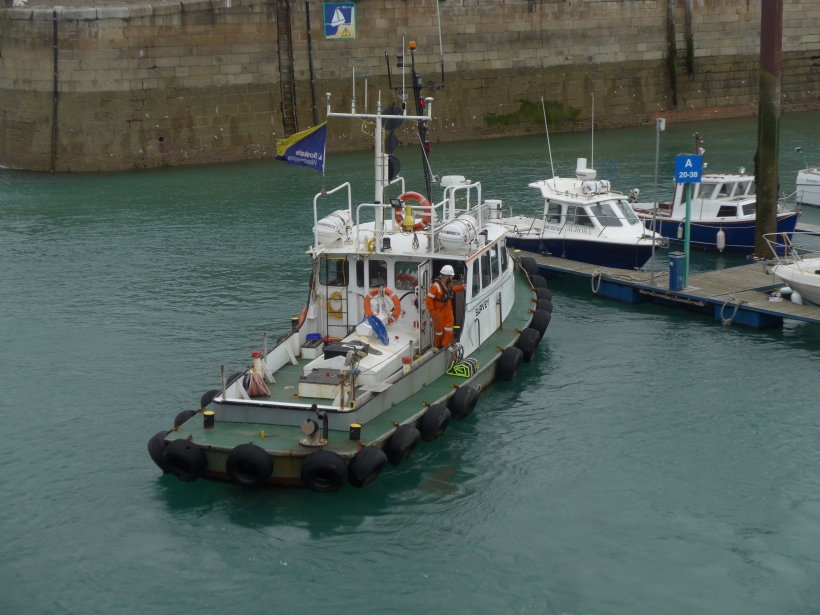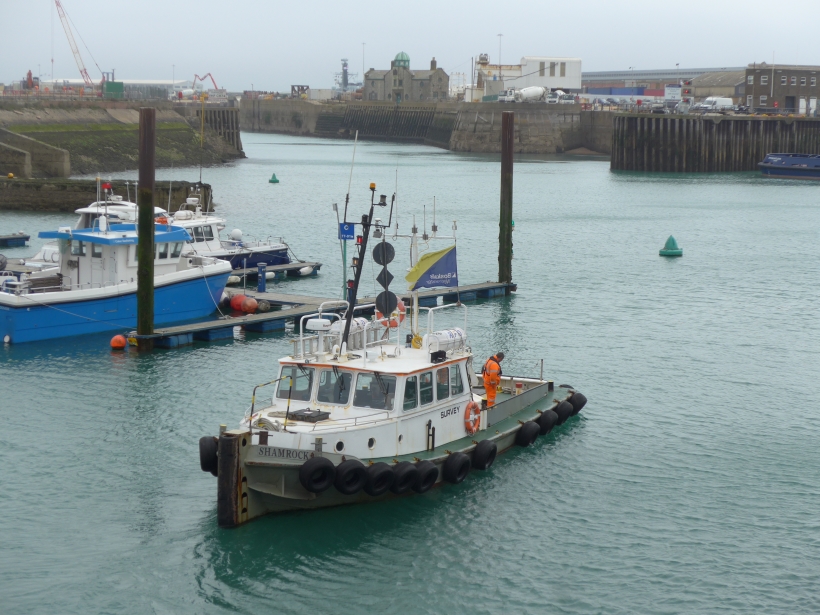 Some recent visiting Sunseekers in varying designs & weather conditions.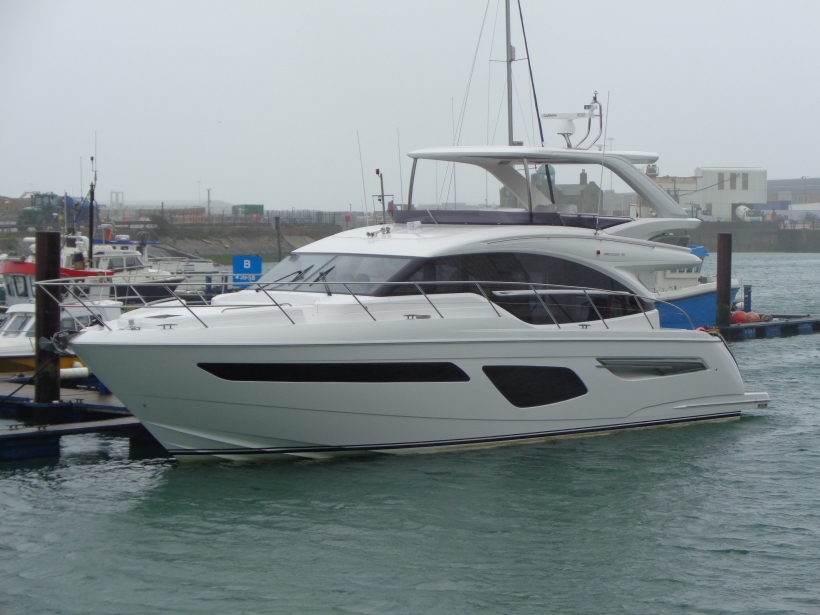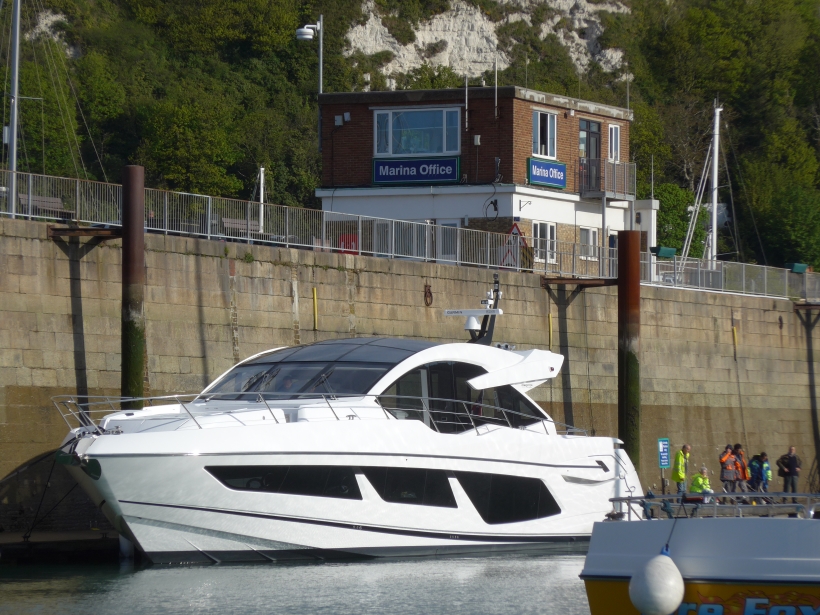 on Sunday evening I came across the rather nice motor yacht CARONIA, built as a fishing vessel in 1927 & named presumably after the famous Cunarder.
She still carries her St.Ives fishing registration number & is a Dunkirk 'Little Ship' with a most interesting history.
For more details Google 'ASSOCIATION OF DUNKIRK LITTLE SHIPS' & then look for CARONIA in the 'Little Ships' section.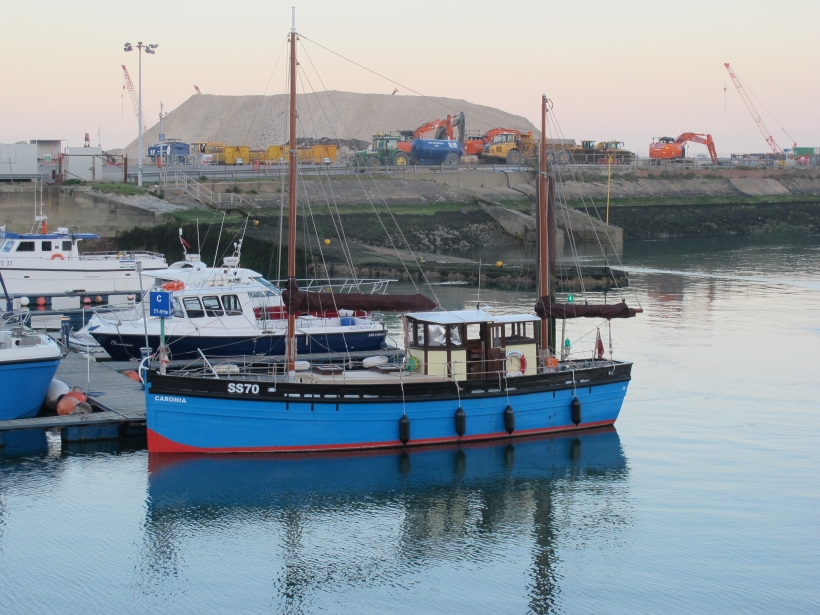 Monday, 7 May 2018 - 11:10
Post 4876
Sea News, Dover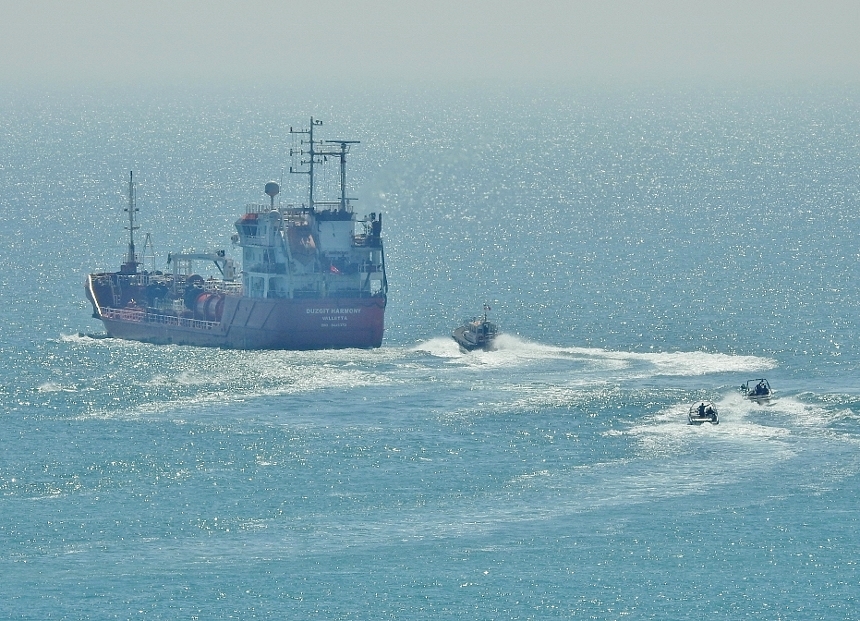 Duzgit Harmony came back to the Port of Dover on Saturday to service our familiar friend Boudicca...I think Whitstar did the servicing last time if I remember correctly. But we hadn't seen Duzgit Harmony here in the Port for a while... just caught her above there as she made her way back to Rotterdam, with a flotilla of small boats chasing along behind. First of those boats is the pilot and the other two presumably leisure craft out for a jolly jaunt.
While uploading just now found these two of Duzgit Harmony from a previous time. Go Duzgit... wild geese ahead..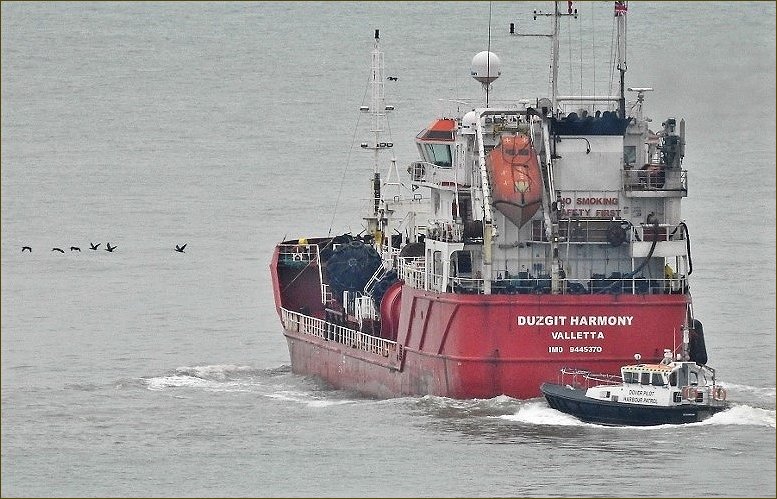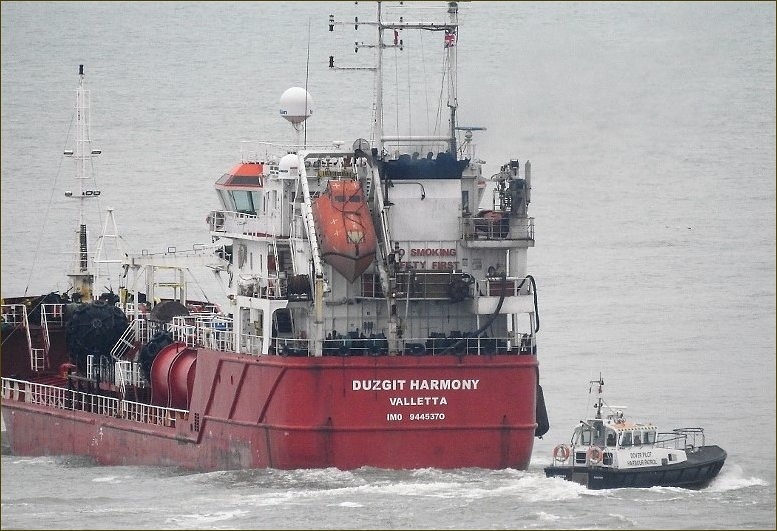 Later of course Boudicca was off...this time scheduled for Cadiz in Spain. Yours truly knows a few people all suddenly going to Cadiz in Spain. Is it the new 'hotspot' for travels ?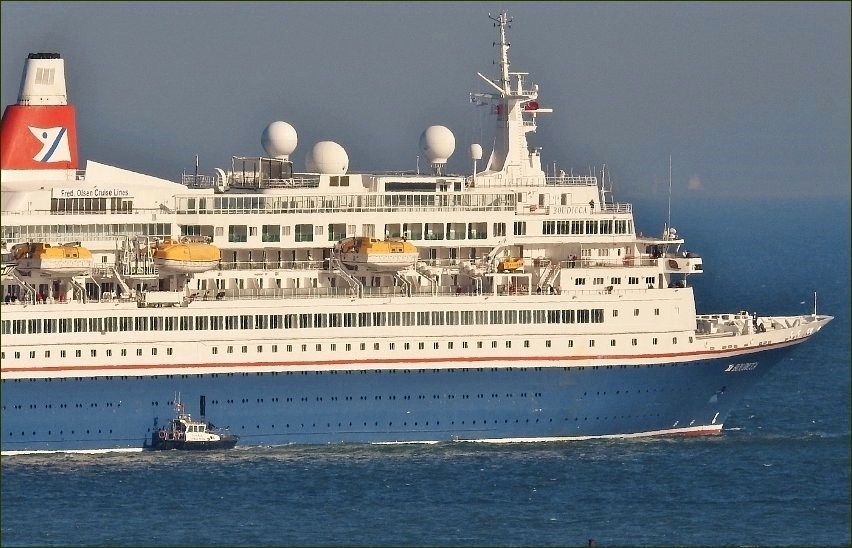 You can just about make out the pilot there leaving the ship. I have cropped the picture below for a closer look. Obviously long range zooming here.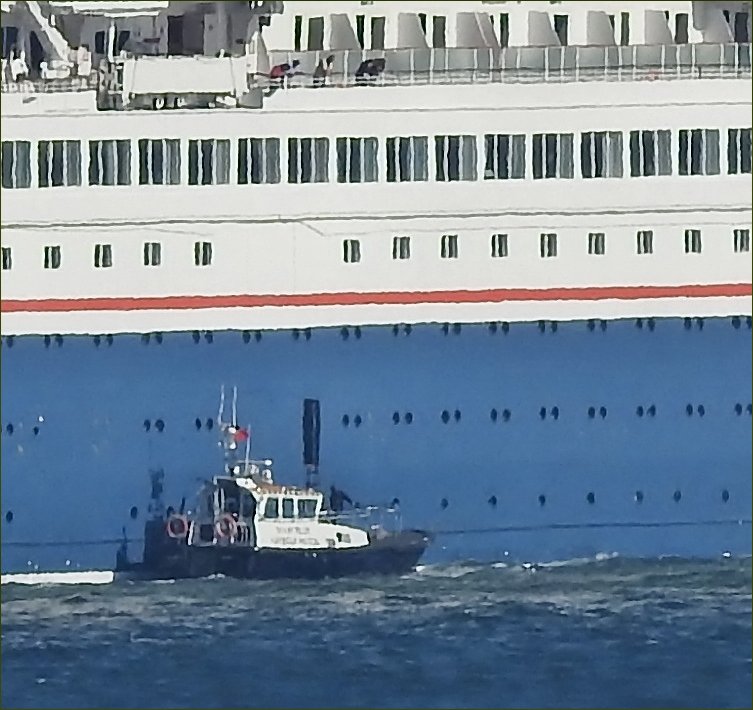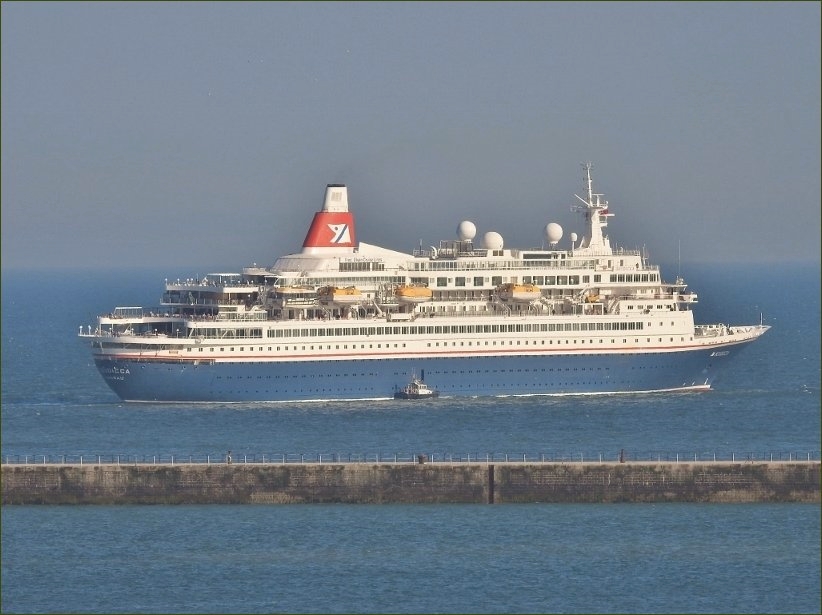 And she's off!
Thanks for that info below Patrick.

We've lost our Sospan!


Brian its true June often busts out all over - often don't know where to look..


PaulB
Monday, 7 May 2018 - 06:11
Post 4875
Patrick, Marine Parade
It would appear that the hopper dredger 'Sospan Dau' that has been working in the Outer Harbour has left us again. Last seen heading for Sunderland.

Sunday, 6 May 2018 - 15:13
Post 4874
brian, dover
yeah her name is june, shes bursting out all over,. lol

Sunday, 6 May 2018 - 14:25
Post 4873
Sea News, Dover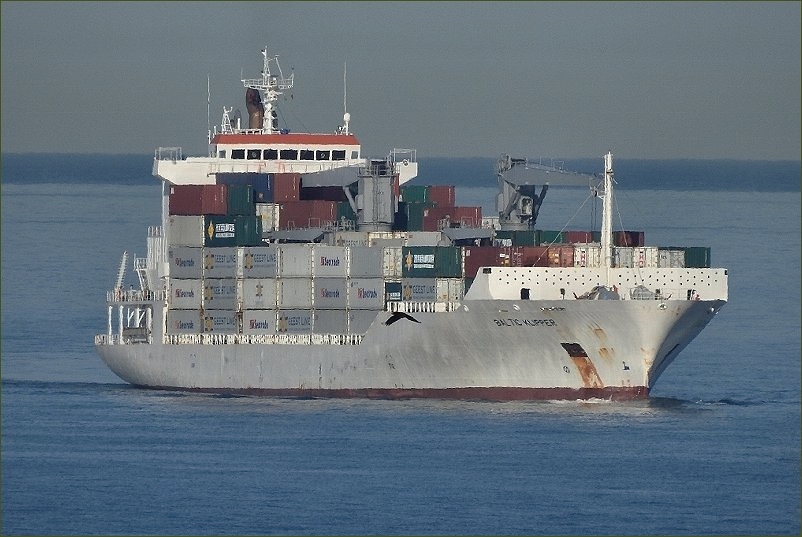 Top shot there shows Baltic Klipper approaching the Port on Friday evening at 6.30PM. Good load of containers onboard there. Its a long range pic looking east across the top of the Port...bit of shimmer involved there in the picture, it happens with all this sunkissed weather. Yes we are having a warm one for sure. Greatly welcome.
Saturday morning early below sees the arrival of our regular friend Boudicca...gently crossing the harbour in the early sun and ably supported by one of the tugs.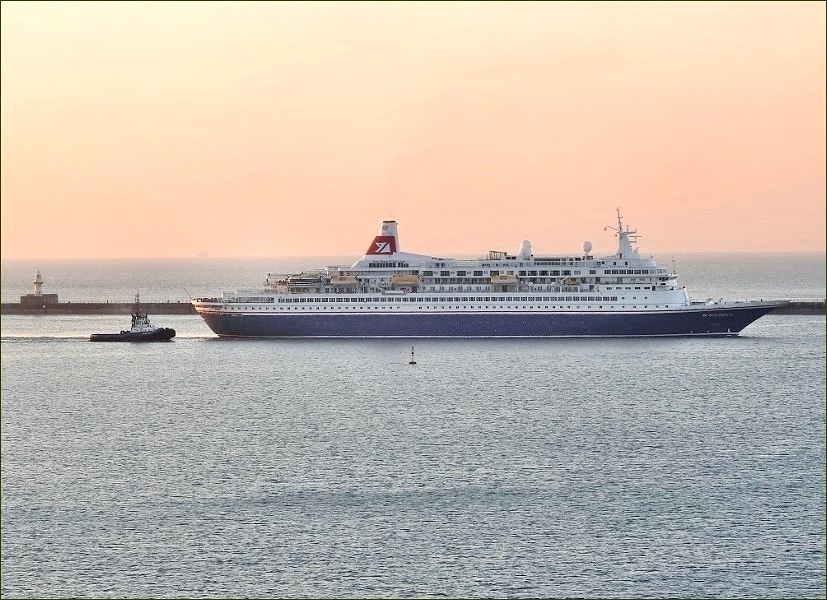 Yes indeed Del the White Cliffs look great from out there - gorgeous on a summery warm evening....especially when you have a glass of fine vintage in yer hand.


Just adding this extra pic below...its of DOVER CASTLE. We showed a picture of the Castle a couple of weeks ago where everything was still all brown and grim-ish, ( it wont be in our Search Engine as it was shown at the top of page ) but look at it now. With all the rain followed by hot sun the 'mountain greenery' has burst forth..
Burstin' forth...Yikes!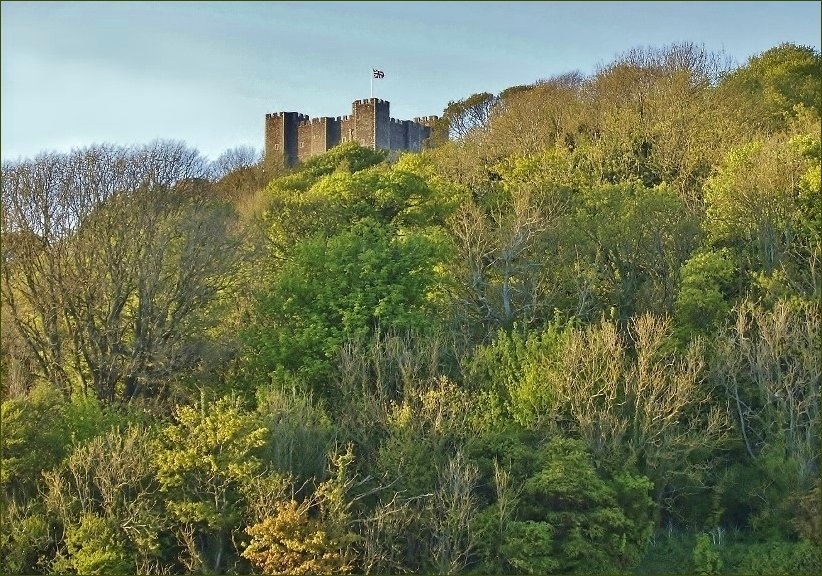 We gave the olde Olympus a run out again there..

PaulB
Sunday, 6 May 2018 - 06:13