Post 239
PaulB, Dover
Well done Phil and Howard with that one. Cracking view from up there. Terrific wide sweep.

Friday, 8 November 2013 - 14:54
Post 238
howard mcsweeney, Dover
one from our wildlife photographer phil smith taken last week.

Friday, 8 November 2013 - 10:53
Post 237
PaulB, Dover

You dont need to go to these lengths to get your Christmas drinks in anymore... no sir..
( I hope someone managed to retrieve that barrel ! )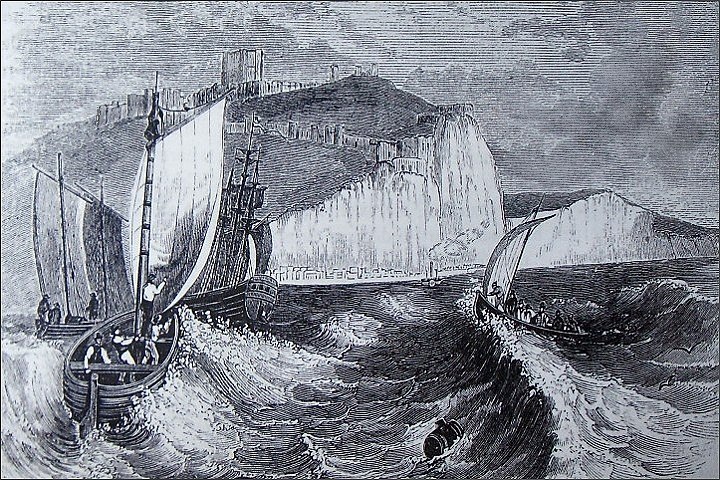 A brief note from HMRC yesterday confirmed the following..
If you are thinking of going across the Channel or North Sea to replenish beers, wines, spirits or tobacco products, there are no limits on the amounts of duty and tax paid goods you can bring back personally from another EU country, as long as they are for your own use. You may, however, be asked questions at the UK border if you have more than:
· 110 litres of beer,
· 90 litres of wine,
· 10 litres of spirits
· 20 litres of fortified wines,
· 800 cigarettes,
· 200 cigars,
· 400 cigarillos or
· 1kg of tobacco
You have to establish these quantities are genuinely for your own use.
If from outside the EU a different criteria applies.
Generous allowances indeed..90 litres of wine! That would be one heck of a Christmas !! But would you remember it afterwards!!?

Friday, 8 November 2013 - 07:22
Post 236
howard mcsweeney, Dover
interesting mix of photos there, well done to the harbour board people for making such an effort with the shell shocked passengers.

the choir was great stuff with a thread on the main forum.

Thursday, 7 November 2013 - 20:18
Post 235
PaulB, Dover
SAIL SHOP AND SAVE WITH DFDS SEAWAYS THIS DECEMBER !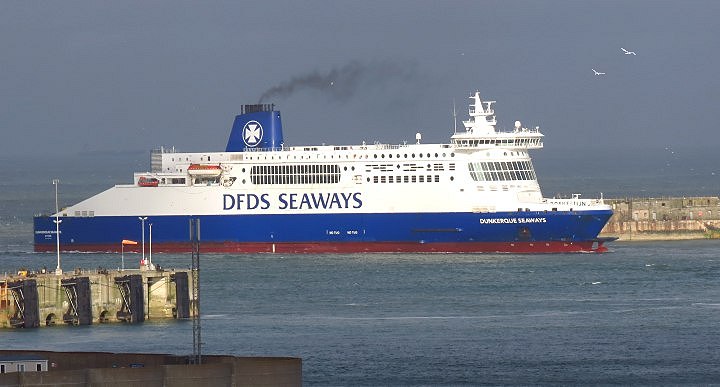 DFDS Seaways, the award-winning ferry operator, is helping passengers get into the festive spirit this December by offering a fantastic free €10 voucher to spent at Auchan hypermarket in Dunkirk. With only 2,000 vouchers available passengers need to book quickly to make sure they don't miss out. To take advantage of this fantastic offer, travel needs to be booked by 6 November. The offer is valid for travel to Dunkirk between 1 and 18 December, but passengers can return to the UK any time before 2 January 2014.
Summing up....
• Free €10 voucher to spend at Auchan hypermarket in Dunkirk
• Special offer code - ESTOCK
• Only 2,000 vouchers available so book early to avoid disappointment
Passengers can book a return crossing for a car and up to four passengers on a return sailing between Dover and Dunkirk for just £29 each way.
France is renowned for its amazing food and drink and at Auchan passengers will be spoiled for choice. They can find a huge array of regional produce and famous French brands. And what's more, many products are significantly cheaper than in UK supermarkets, especially champagne brands like Bollinger, quality French cheese and Cognac.
So make Christmas extra special this year and spend less too!
DFDS Seaways operates 24 sailings a day between Dover and Dunkirk. The ferries offer excellent onboard facilities and with the crossing taking just two hours, passengers can relax and enjoy the journey. Dunkirk is 30 miles north of Calais and is close to France's excellent motorway network, which makes it a convenient gateway to Europe.
For more information on DFDS Seaways' routes to France and to view the latest offer, visit ..
http://www.dfdsseaways.co.uk/ferry-offers-and-deals/ferry-to-france-offers/sail-shop-and-save-in-december/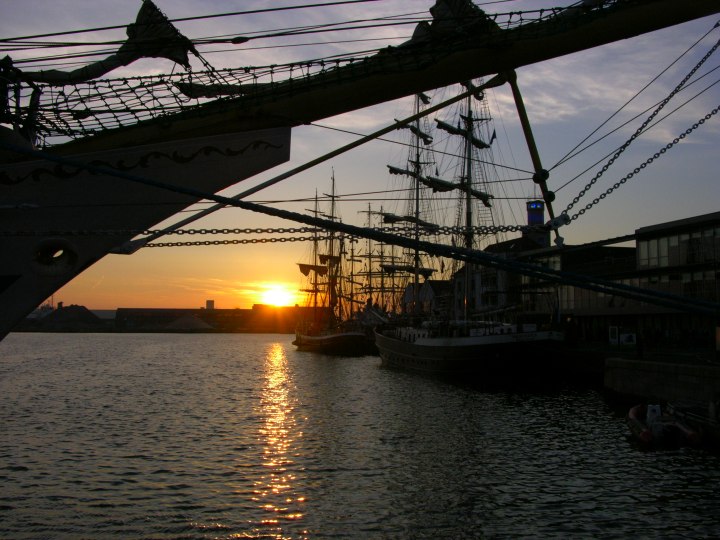 PICTURES: top shot shows the Dunkerque Seaways ferry arriving in Dover Harbour after one of its many crossings. Bottom shot is of the tall sailing ships in one of Dunkerque's many harbours..pictured at the end of the day a few months back. Fascinating town and we will have more on Dunkerque ( Dunkirk ) in future days.
* *
Thanks for that info Ed. Looks like that is indeed the explanation re the smoke/steam as we have heard nothing further regarding any problems.
Glad to see yourself and Colette enjoyed the Choir as did everyone else who watched. Marvellous for the town to be seen in such a light. A feelgood programme for sure.
Colette I bet it was a bit extreme weatherwise down at CT1 for the past few days. Rough oul weather and no mistake. The Port seem determined to look after the owners of those damaged cars which is great to see..and of course so do Fred Olsen themselves.
Thursday, 7 November 2013 - 06:21
Post 234
ColetteB, Dover
Although it was a very long day yesterday at CT1, the Port of Dover & Fred Olsen Cruise Lines did a terrific job looking after the cruise passengers whose cars were affected by the storm. The occupants of each car had a dedicated member of staff looking after their needs from arranging accommodation to hired cars etc. Both debark & embark were delayed somewhat due to all manner of circumstances but the staff did a brilliant job making everyone as comfortable as possible & all went very well indeed.

Loved the choir programme on Monday night, it was great to see the P&O staff all getting together & singing their hearts out under the direction of Gareth Malone. It certainly was a real plus for Dover, if I didn't already live here I would be wanting to visit , it was a great piece of marketing for us, a real feel good factor for sure!!!

Wednesday, 6 November 2013 - 14:49
Post 233
Ed Connell, Dover
At a guess, I think it might be steam being vented off by the bunker barge Syros. The heavy fuel oil (HFO) being supplied has to be kept at a very hot temperature. Maybe there was a problem with one of the huge boilers performing this function.

What a brilliant series The Choir is. It amazes me how people can be coaxed to produce such beautiful harmonies in such a short time, and how brave they all are. The programme with the P&O choir was fascinating and was a wonderful advert for Dover. Super photo from Paul as usual showing them on the seafront, our man on the spot.

Wednesday, 6 November 2013 - 10:20
Post 232
PaulB, Dover
The Fred Olsen Braemar battled back to harbour yesterday...running late in the eternal rough seas which are a never ending feature of seafaring life at the moment. The passengers of course will have faced the added misery of seeing their vehicles wrecked when they got back here to Dover ( see down the page for the DHB pictures and report ).
Yesterday about 1.30 in the afternoon, and several seafront people drew my attention to it with their consternation, large quantities of smoke started billowing from the direction of the Braemar while it was being attended to by Syros the oil tanker support vessel.
I thought.. oh no, not more bad luck for the Fred Olsen line.
Unsure as I write as to what caused it, but have never seen this happen before so here we are with the pictures anyway.
Not great quality as only had my tiny camera at the ready...but take a look and you can make your own mind up as to what the problem might have been.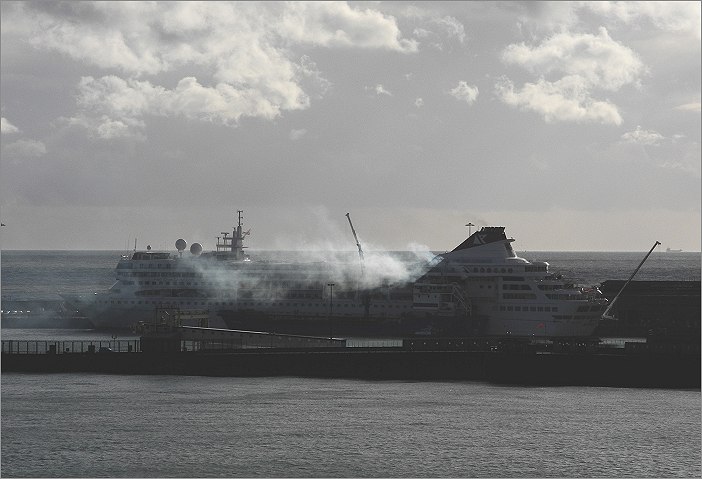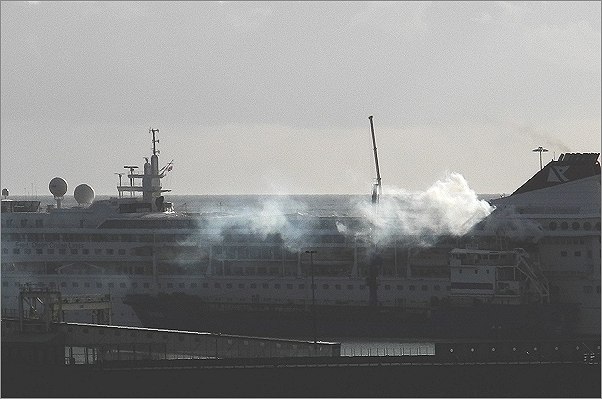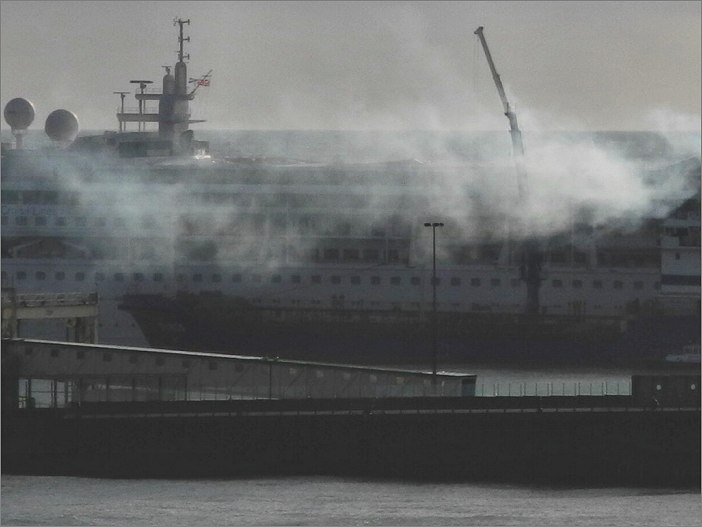 As I said not great quality but there we are anyway..shooting into the midday sun. Was there a fire onboard? You know what they say..there's no smoke without.... but I dont know. The ship left harbour last night at 7.25pm heading south. Several of my neighbours were onboard, one expressing concern earlier in the day about the notorious Bay of Biscay in the current conditions...oh dear! and the weather forecast is none too good for today either.
Jan and Kevin..
The Choir was certainly hugely enjoyable. Great PR programme for Dover and P&O. Great stuff!
Wednesday, 6 November 2013 - 07:30
Post 231
Kevin Charles, Dover
Really enjoyed the P&O choir with Gareth Malone. The programme was also great PR for Dover.

Tuesday, 5 November 2013 - 21:35
Post 230
JanT , Dover
Totally agree the Choir was a really good watch,not often you can say that about televison these days.
It also showed some great shoots of Dover and even a glimpse of Calais

So good luck to the P&O Choir, you could see through the program that they were enjoying it, looking forward to seeing how they progress


Tuesday, 5 November 2013 - 16:31
Post 229
PaulB, Dover
Well The Choir aired last night at 9pm on BBC2 and it was truly truly an excellent fully-rounded feelgood programme..and it's not often you can say that nowadays. It was warm, funny, and very musical. It showed all the best things about the Dover area in fine colour, in fine style, and in glorious sunshine too. All the best of the town featured strongly, the white cliffs, the seafront, the sea itself, the port, the ferries and even Calais got in on the act. But mostly it featured a brilliant and happy looking P&O staff who sang their hearts out for Dover and beyond.
Understated TV personality Gareth Malone, choirmaster extraordinaire, brought the best out of the singers in such an enjoyable way and they will now go forward in the competition. It was a true delight to see the area shown in such a splendid and happy way. If anyone missed the programme then it is recommended that you catch up with one of the latest facilities for doing so. A definite thumbsup for this one...

EARLIER in the day they previewed the programme on BBCTV Newsroom Southeast. Ian Palmer did a cracking and jolly report about The Choir which more than encouraged all to watch....and...they presented yours truly with something of a minor scoop when I got the picture below, because as I gazed vacantly out to sea pondering life and the universe.. I suddenly heard harmonious singing emanating from just below my seafront position. It was none other than a section of the choir itself doing its bit for BBC Southest. And here they are...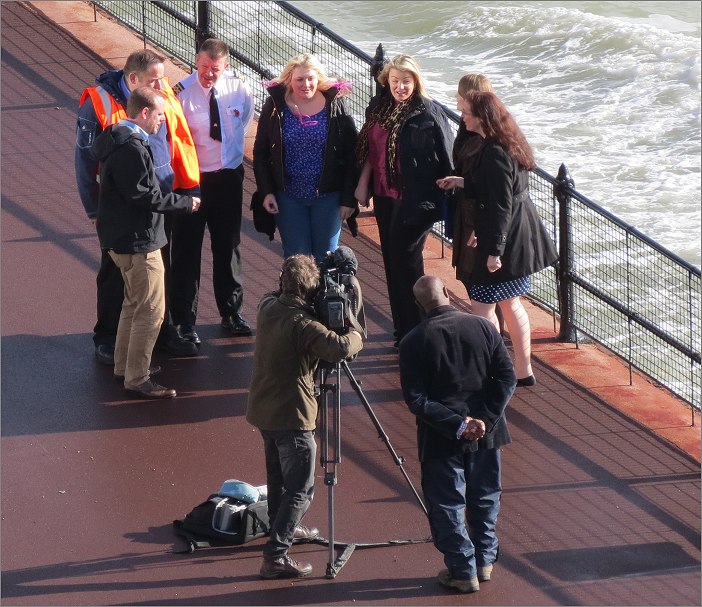 That's Ian Palmer and cameraman in the foreground of picture capturing the moment for BBCTV.
And now a quick burst of the Charles Trenet classic. Cough cough...just clearing the vocal chords first and away we go..
"somewhere beyond the sea
somewhere waiting for me
my lover stands on golden sands..."
Tuesday, 5 November 2013 - 06:43
Post 228
PaulB, Dover
P&O Joins in the fray...this programme is showing tonight ( MONDAY) Nov 4 and a very popular programme it is too.
Loving the Entente Cordiale (see below for detail)
* *
The Choir: Sing While You Work Returns to BBC Two Monday 9pm

Choirmaster Gareth Malone OBE is returning to BBC Two for a second series of The Choir: Sing While You Work. The eight part show will see five British organisations put through their choral paces in an effort to be named the best workplace choir. And this year, the contest gets tougher with new musical challenges and a brand new line-up of world class judges.
In series two, we welcome Birmingham City Council, P&O Ferries, Sainsbury's, Citi the bank and Cheshire Fire and Rescue Service to the stage to showcase their vocal abilities.
Birmingham City Council boasts an array of talent; from singing traffic wardens and social workers to park rangers and leisure centre managers. But, in a climate of large-scale redundancies and unprecedented cuts, can a choir bring some joy to the workforce?
P&O Ferries' choir features ships officers, chefs, stewards, warehouse & HQ staff from both sides of the channel, Gareth is on a mission to unite the business through song. In a first for the series, he challenges the choir to perform in both French and English - a musical entente cordiale!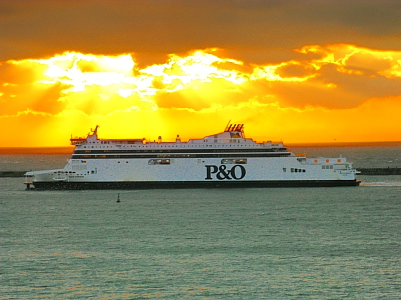 The Spirit of Britain and the Spirit of France.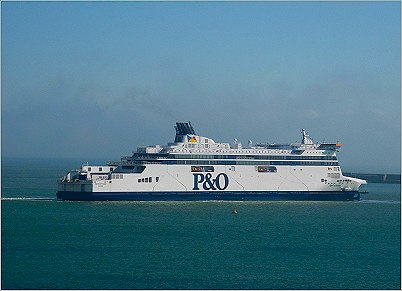 Sainsbury's' choir includes a store manager, lorry driver, lawyer, shelf stackers, cheese and wine buyers and loyalty card manager! We also meet Alex, from head office, who performs for the first time since a house fire damaged her vocal chords. Gareth's goal is to bring harmony between the high flyers and the shop floor.
Citi, a leading global bank, provides Gareth's biggest challenge to date. The banking industry has been vilified for the economic crisis, would Gareth face corporate barriers ? In a bid to achieve his goal, the choirmaster sets to work on creating the series' most diverse choir consisting of 11 nationalities: private wealth bankers, a cleaner, a trader, security and a senior banker from the iconic Canary Wharf tower.
At Cheshire Fire and Rescue Service, Gareth finds himself scaling training towers and battling smoke filled rooms to meet the firefighters and support staff behind the operation. Although the service is well-versed in life or death scenarios, can they all be heroes when faced with their first vocal performance?
In the first five episodes we follow the choirs through their auditions and rehearsals to their first judged performance in front of hundreds of their work colleagues and bosses. The last three episodes will comprise the quarter-final where the choirs sing classical for the first time, the semi-final, where gospel and soul provide a new challenge for the remaining four choirs' and the grand final, where the last three choirs will sing for the trophy.
Judging the choirs this year will be the oft time composer to the royal family, Paul Mealor, world class soprano Sarah Fox and awarding winning gospel conductor Ken Burton.
Gareth Malone OBE comments: ''It's been amazing to return to Britain's workplaces for a second series of The Choir: Sing While You Work. I've pushed the choirs even harder this year and the musical standard has been even higher, with some truly outstanding performances.''
Emma Willis, Acting Head of Documentaries adds: "Gareth Malone has proven time and time again that he is the nation's favourite choir-master. We're delighted that he's returning to BBC2 to whip Britain's business choirs into shape."
* *
Some heavy waves during the night Howard but the latest bout of tough weather seems to have passed through with just minimal delays. Yes indeed re the tugboats, they were in action again.

Sunday, 3 November 2013 - 07:36
Post 227
howard mcsweeney, Dover
i can honestly say that i do not envy the tug boat crews, whatever they are paid can never be enough.

hopefully the threatened gales will not materialise,

Saturday, 2 November 2013 - 20:00
Post 226
PaulB, Dover
As you can imagine things have been very tough for those keeping the harbour running and for those working on the ferries. Even the spell of tranquility mentioned in yesterday's posts didnt last jig time..the sea became very rough again soon after, making conditions very difficult once again...with I believe more to come at the weekend ( See WEATHER WARNING at top of page for Sat Nov 2 ..UPDATE : Now removed. Gales all passed by without too much further upheaval ).
In the latest DHB Press Release now further down the page...the Port thanked the staff and gave a particular mention to the guys manning the tug boats. These guys get the ferries in and out in these woeful conditions, and also do the necessary with the cargo ships and so on. Here are a couple of pictures for and of the tugboat guys...these were taken in the past couple of days.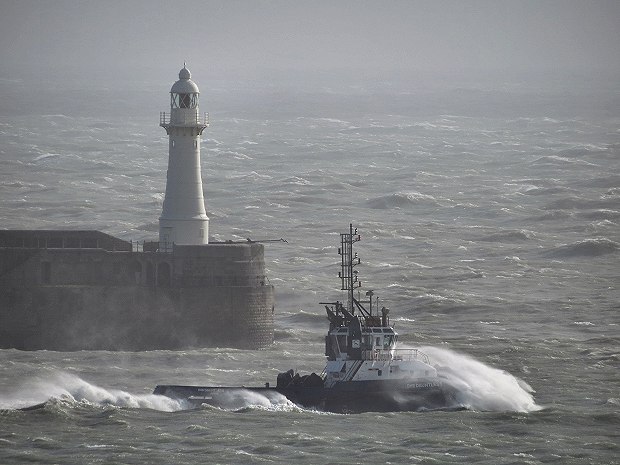 also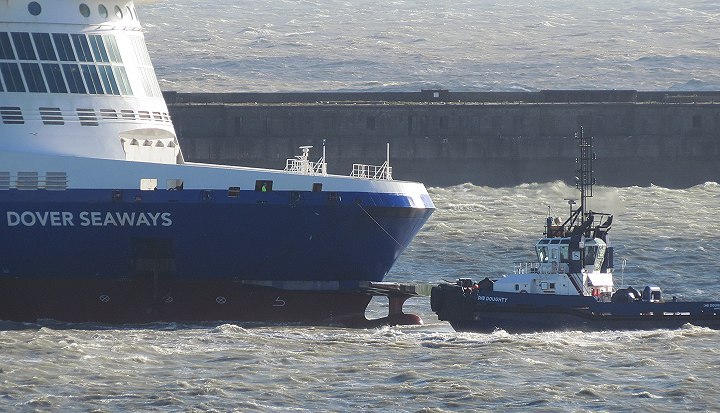 Tugboats Dauntless and Doughty in the thick of the action. How Dauntless hasnt submerged in the top shot I'll never know. But of course they are tough vessels and ready for everything. Doughty in the second shot guiding the Dover Seaways into position in the fierce wind and the turbulent seas.
Friday, 1 November 2013 - 07:22
Post 225
ColetteB, Dover
Delightful Indeed!!!!! great photos too. Just popping down to the Seafront now, hopefully I will see the lovely Thor Heyerdahl before she departs

Thursday, 31 October 2013 - 15:04
Post 224
PaulB, Dover

Well done with those pictures lads. Yes all is tranquil-ish for the moment but with some collateral damage as we have seen below in the pictures.
The delightful German sailing ship Thor Heyerdahl, which arrived here yesterday, is still in harbour as we speak. It moved into the inner harbour for a time yesterday but moved back out again a relatively short time later for some reason. She is still here and very visible if anyone wants to see it.
A couple of pictures to add to the collection.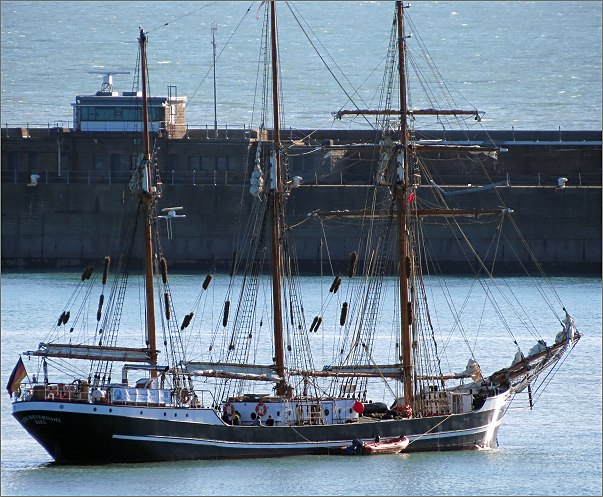 The picture above was taken earlier in the day.
The one below is from the afternoon with the changing light. Look at the one below and see the sailors in various locations on the masts. Particularly note the guys top right. A head for heights required, and sturdy sea legs too of course.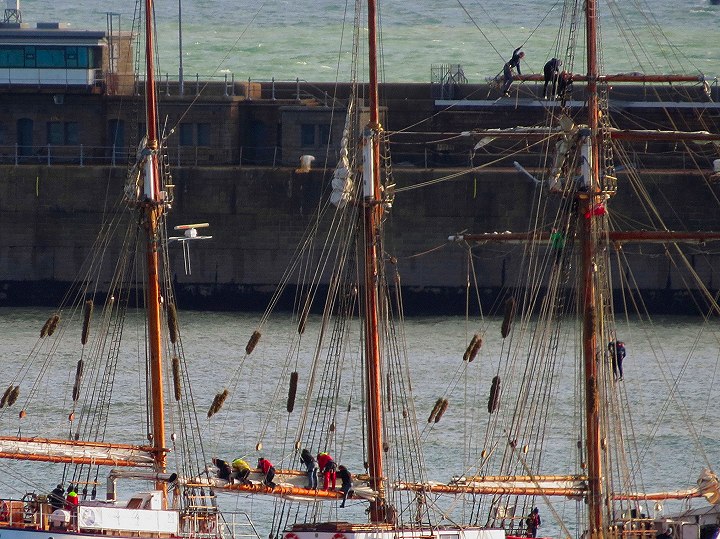 I wont give you another rendition of...no I wont..oh well
"
Twenty men on a dead mans chest
yo ho ho.... "

Thursday, 31 October 2013 - 06:45
Post 223
John Mavin, Dover
The weather certainly has settled - for the meanwhile at least. Here the Spirit of Britain heads out into the Channel, which looks remarkably serene for the time of year.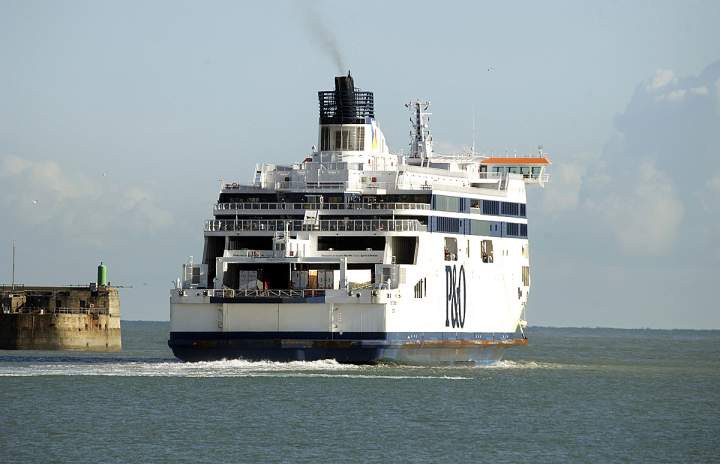 However, along the seafront signs of Monday's fun are evident. I'm sure these trees were upright a few days ago.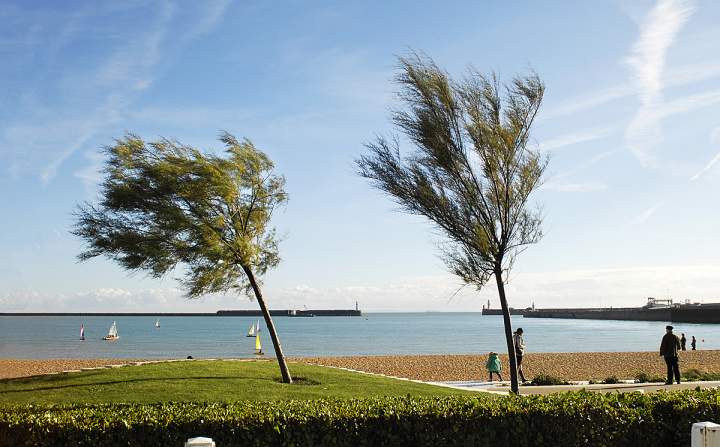 Wednesday, 30 October 2013 - 20:44
Post 222
howard mcsweeney, dover
a much loved visitor to dover, taken from the castle earlier.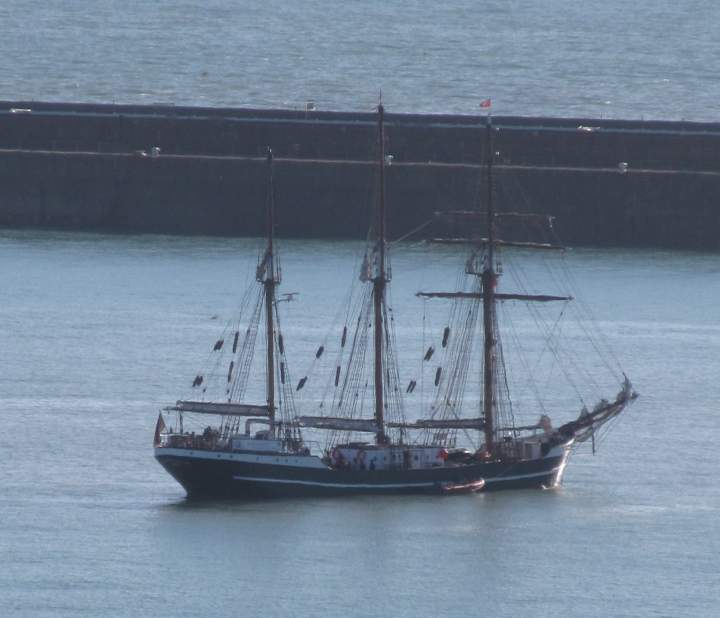 Wednesday, 30 October 2013 - 18:25
Post 221
howard mcsweeney, dover
following on from jan's post and the d.h.b. press release it looked this afternoon like the storm never happened.
Wednesday, 30 October 2013 - 18:23
Post 220
JanT, Dover
Looking at how calm it is today its hard to believe the weather could be so destructive, pictures below certainly show how dramatically it can all change.

I certainly would not put away them brooms just yet DHB.

Wednesday, 30 October 2013 - 14:38