Post 6876
Mike Waight, Wiltshire
Ref Post #6862

The MFV Joshua Boy is towing a West Cardinal Buoy.

Monday, 16 March 2020 - 16:28
Post 6875
Dave, Sandwich
Saga cruise ship inbound for Tilbury Lock to lay up along with the Saga Sapphire, Viking Star and the Astoria.



Monday, 16 March 2020 - 14:39
Post 6874
Sea News, Dover
P&O FERRIES PRESENTS RECORD-BREAKING CHEQUE TO THE ROYAL NATIONAL LIFEBOAT INSTITUTION
____________________________________________________________________________________________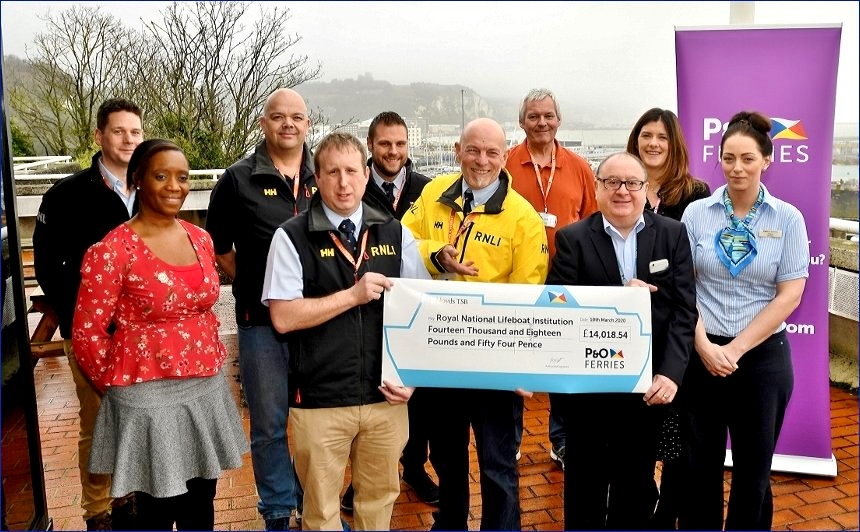 P&O Ferries has presented volunteers and officials from the Royal National Lifeboat Institution (RNLI) with a cheque for £14,018.54 at its Dover HQ, beating its previous year's donation by £495.95. The amount raised by the ferry operator's employees and customers represents its largest ever donation to the charity.
P&O Ferries has a long-standing association with the RNLI, which is one of its two official charities. Raised through collection boxes placed on all six of its ships serving the English Channel throughout 2019, allowing donations of any currency, P&O Ferries' own crew and shore staff also added to the total through various fundraising activities.
The latest contribution puts the total amount raised for the RNLI's Dover branch by P&O Ferries since 2010 at over £111,000.
In attendance at the presentation and the lunch that followed was a range of figures from the RLNI's Dover branch along with representatives from P&O Ferries. The donation will go towards the vital, first-class training of RNLI's crew members â€" which has an annual cost of £1,600 per individual â€" who work tirelessly to save lives at sea.
James Clapham, Coxswain at RNLI's Dover branch, said, "We are enormously grateful to P&O Ferries for their continued support and latest contribution. Its valuable donations go a long way in ensuring our crew have everything they need to continue their life-saving work."
Joe Ciantar, Head of Security, Gaming and Financial Services at P&O Ferries, said, "It's a great pleasure to present the RNLI with a cheque for over £14,000. Given its strong seafaring tradition, P&O Ferries has supported the fantastic work of the RNLI for many years, and it's thanks to the generosity of our passengers and employees that we have had yet another record-breaking year of fundraising."
For more information on the RNLI, visit www.rnli.org. For more information on P&O Ferries, visit www.poferries.com.
-ENDS-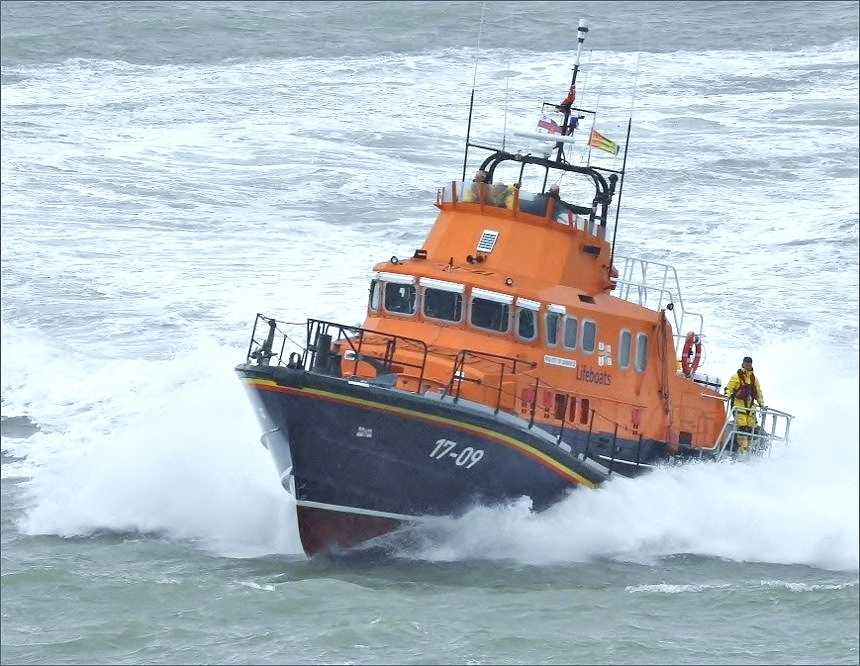 Dover Lifeboat in recent blistering action....
Many thanks to P&O Ferries for the latest information above there..
a terrific cause for sure and an absolutely brilliant amount raised....

* *
Following along from Mike's pix of Skaw Provider...here we are with a few more.
Showing her arriving on Friday to supply bunker services for HMS Kent...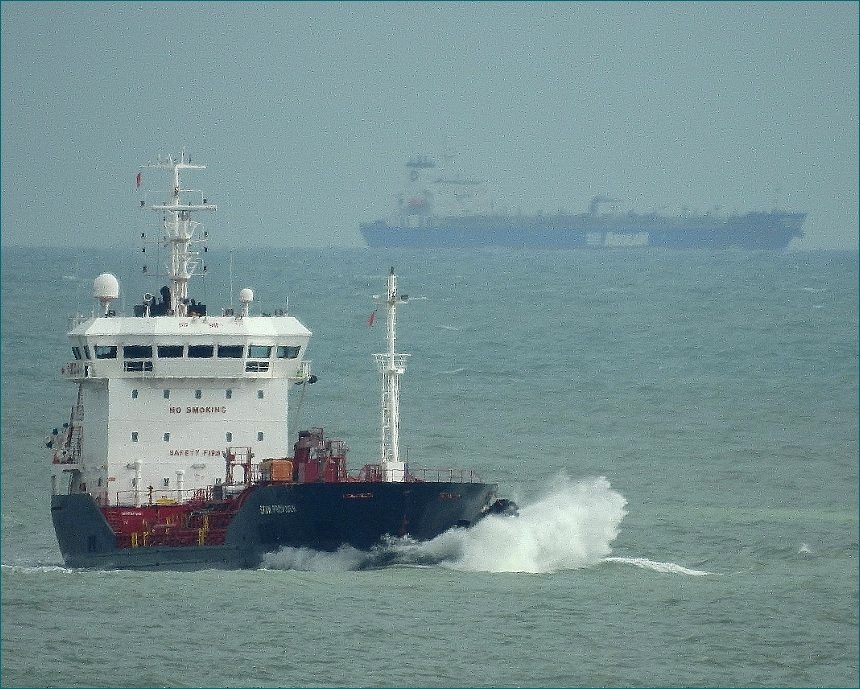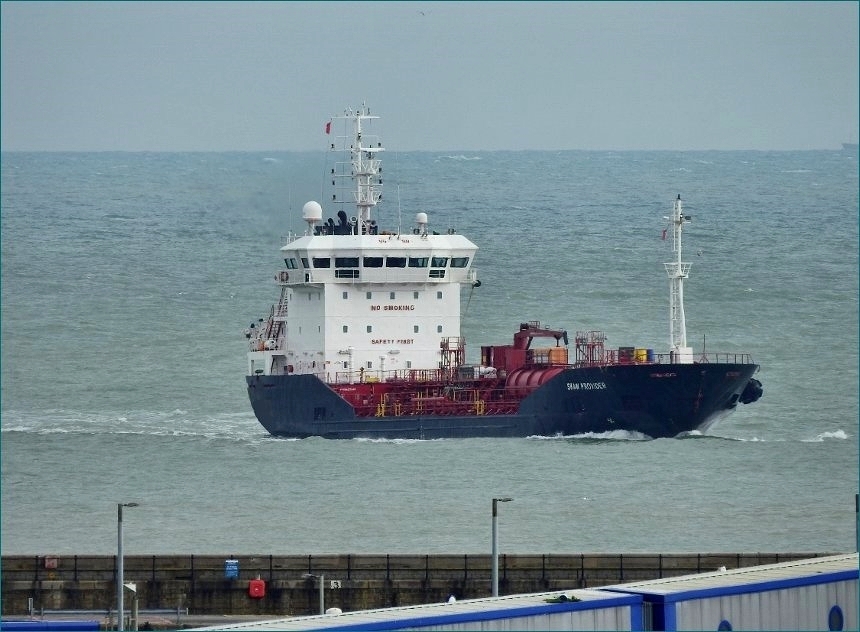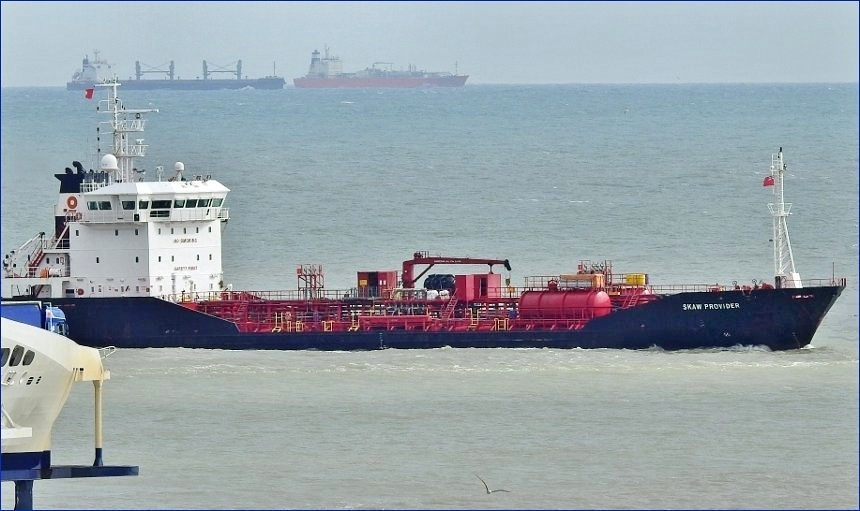 Thanks Del - all natural moon pix there...had to have a double blink when I saw that first thing in the morning, it looks unreal. The houses are very well presented over there...not sure but I think its Tower Hamlets.
PaulB

Monday, 16 March 2020 - 07:05
Post 6873
Del Styan, Norwich
Cracking moon shots there. Looks like you could touch it. Excellent work.

Sunday, 15 March 2020 - 23:18
Post 6872
Sea News, Dover
HMS KENT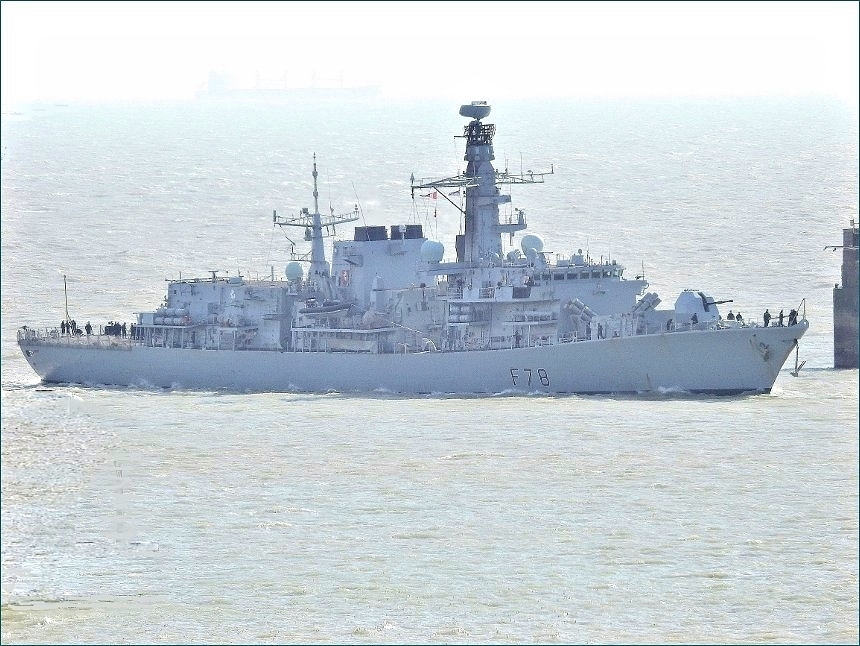 As promised there we are with the other picture of HMS Kent arriving ( see also 6870 ) on a very bright Friday morning...picture taken just before she moved across the harbour and into very difficult lighting territory for yours truly's camera. Always exciting to see the ever popular HMS Kent. She is still in Port.
...and here she is below on a former visit...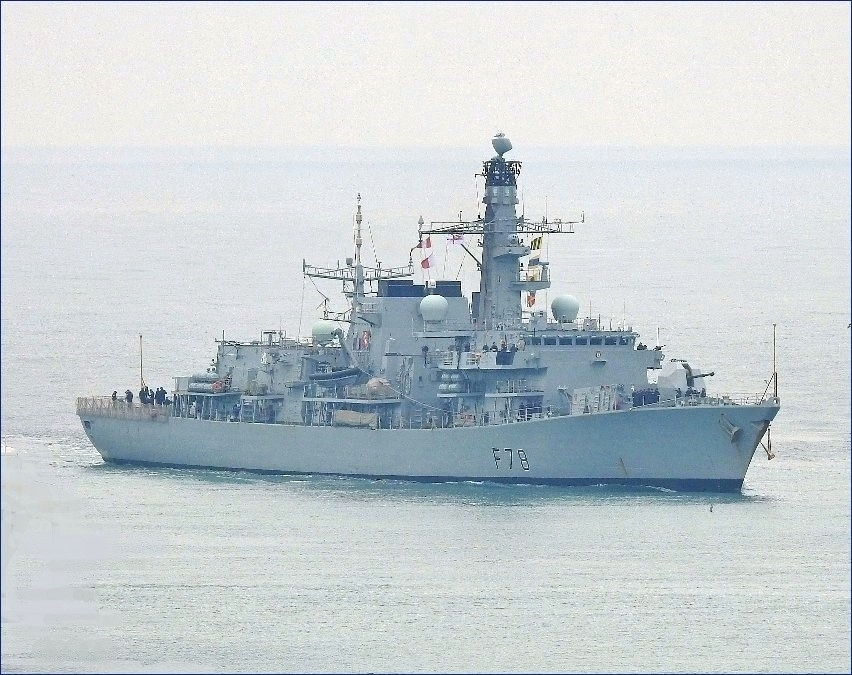 HMS Kent
Man with a Drone: just before HMS Kent arrived on Friday, two chaps with hi vis Pilot jackets sent this drone down over the Port, over the eastern docks in fact. An official from the Port came at one point so it looks to have been well...official...as I understand drone flying is now forbidden, if I'm remembering that correctly. This looks to have been okay.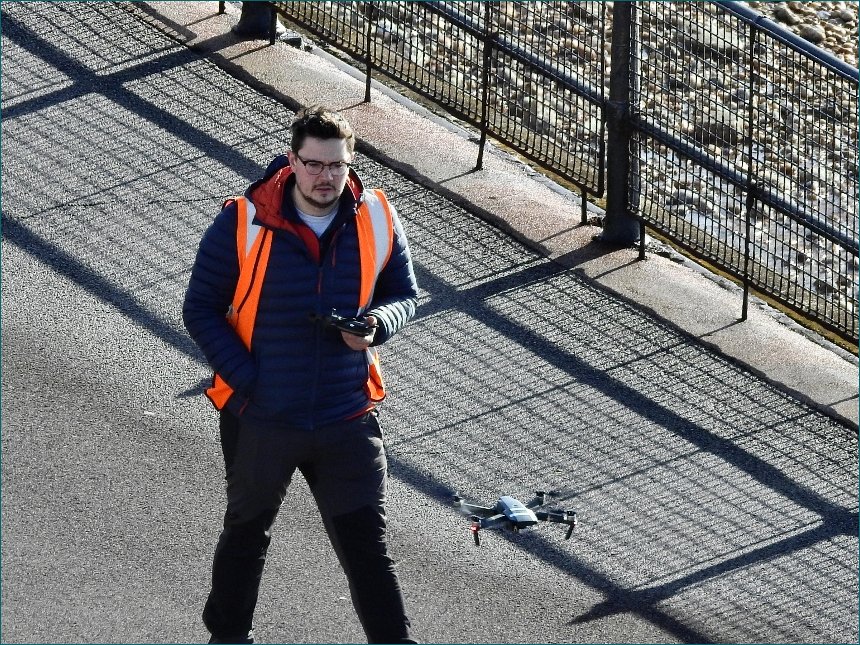 Drone Man.
La Luna : our Lunar Lunacy goes on below.
Moon over Dover. The great orb sinking early morning over the hills behind Dover.
That's Dover Grammar School for Boys to the left in first shot.
She was sinking fast, both pictures taken in the same minute...06.27 on March 9. Took me a while to get them up alas...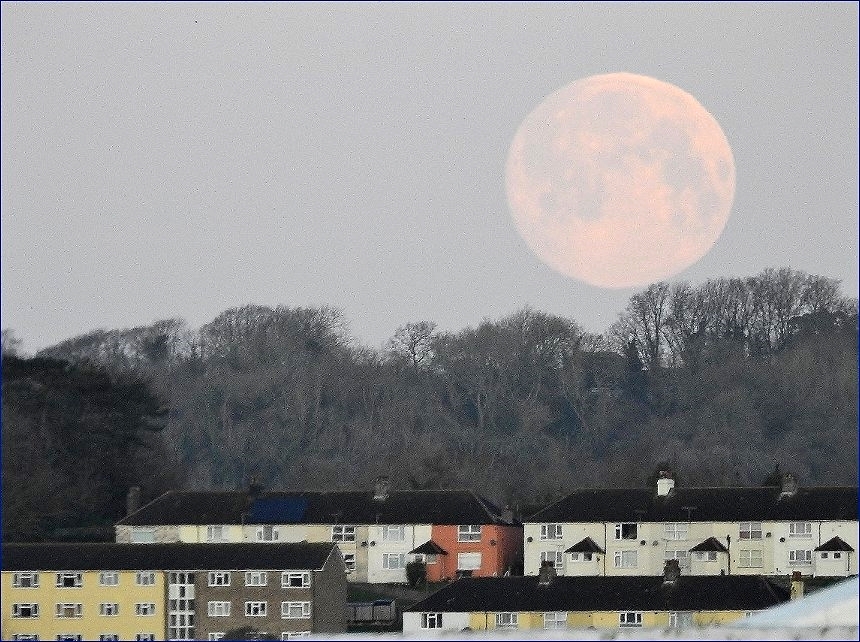 Don't go barking now....
Enjoyable info and pictures below from Mike

PaulB
Sunday, 15 March 2020 - 07:04
Post 6871
Mike J., dOVER
Friday morning arrival of Maltese bunker tanker SKAW PROVIDER to bunker HMS KENT.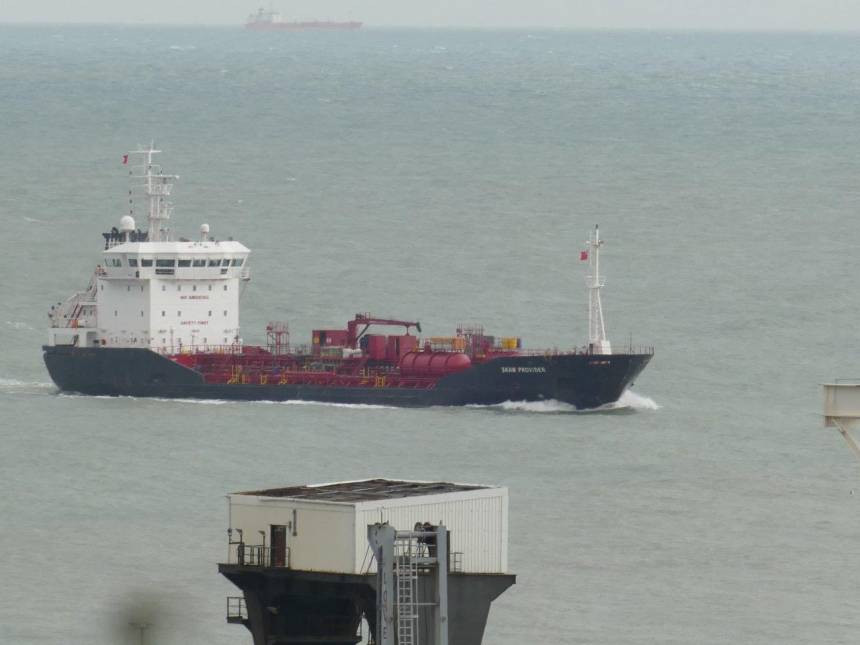 I missed the arrival of HMS KENT having quite forgotten that she was coming to Dover for the weekend & never spotted her approach on AIS 'cos she had turned off her AIS.
She is expected to sail on Monday & has now turned on her AIS..
SKAW PROVIDER manoeuvers to come alongside HMS KENT.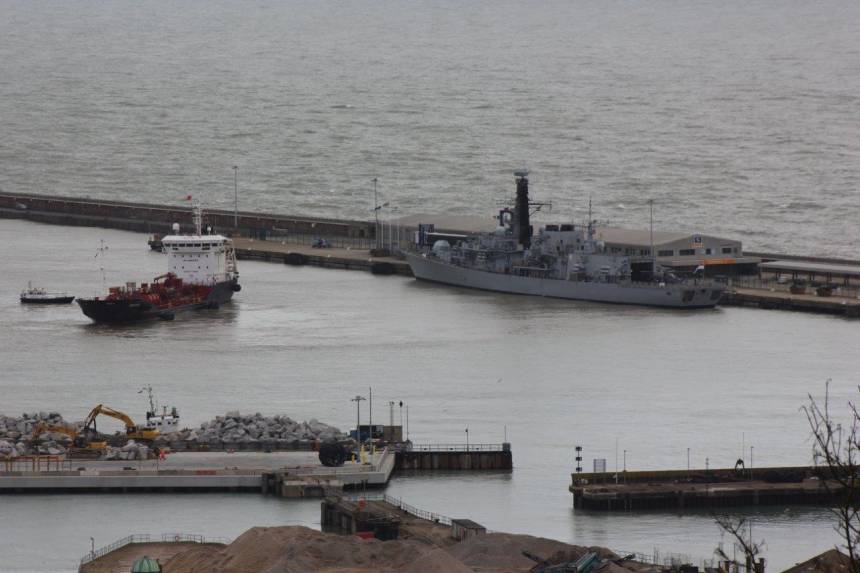 WULF 7 has her towline on CORAL MILLEPORA as DOUGHTY returns from a job in Eastern Docks.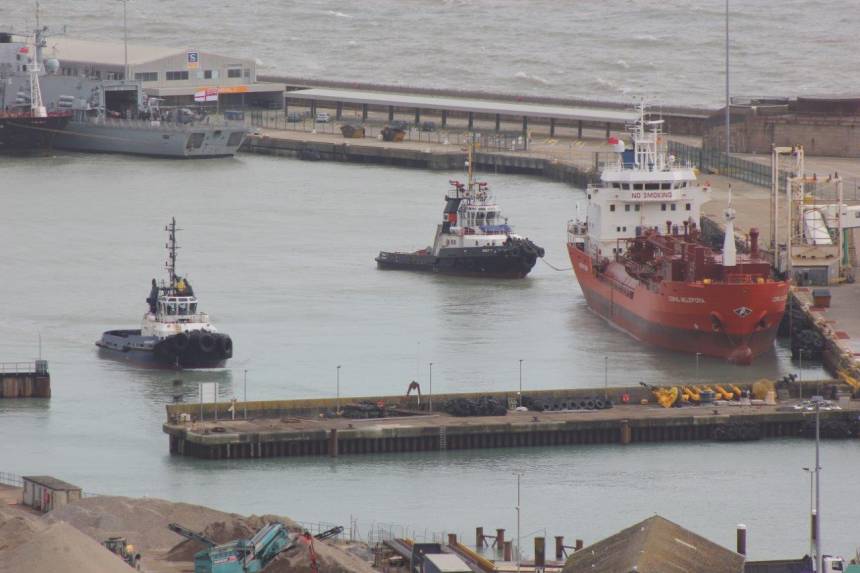 The CORAL MILLEPORA eventually sailed, mid-afternoon Friday with the assistance of WULF 7 & is now bound for Lavera, near Marseille.
She is a gas tanker [LPG] & when she swung on departure I saw that she was flying a Dutch flag & registered in Rotterdam, so she's not Maltese-registered as shows on Marine Traffic AIS.
Her brief call was to carry out a crewchange & to take freshwater.
In this view you can see part of the VENTURE with her barge SELINA being unloaded with the rocks being stockpiled until taken by road down to Jury's Gap.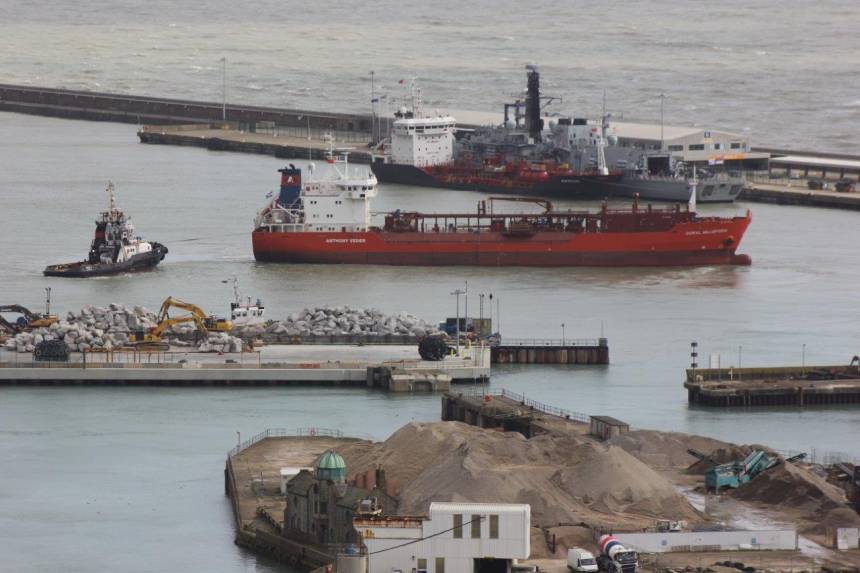 There was some sort of incident in the boatyard on Friday afternoon with the Kent Police helicopter landing in the yard & as I drove past I noticed Kent Police, DHB Police & Border Force [& dogs] but all looked relaxed so I guess the 'incident' was over.
There are videos of the helicopter's take-off & the arrival of HMS KENT on the 'Dover Straits Shipping' Facebook page.
As Paul has reminded us, the new DFDS logo continues to spread, with the CALAIS SEAWAYS continuing to display the Maltese Cross on her funnel, for the moment anyway.
I'll rather miss that funnel, but corporate image is everything . . . .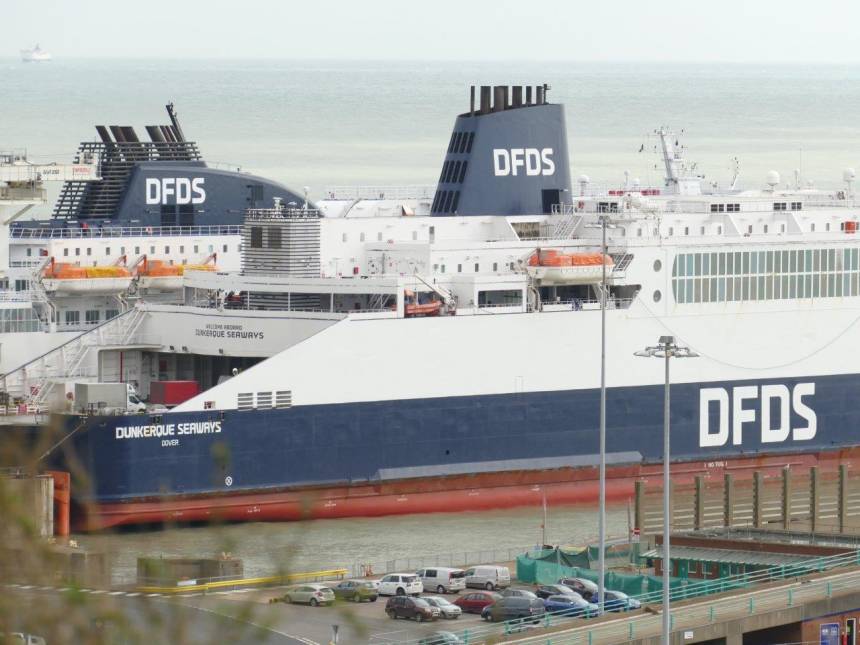 Saturday morning saw the shift of the rock barge from WD5 to the Eastern Arm to permit the reefer LADY ROSEBUD to use the refeer berth.
At 1230 the reefer was a few miles off the port, arriving from Paita, Peru.
Saturday, 14 March 2020 - 13:15
Post 6870
Sea News, Dover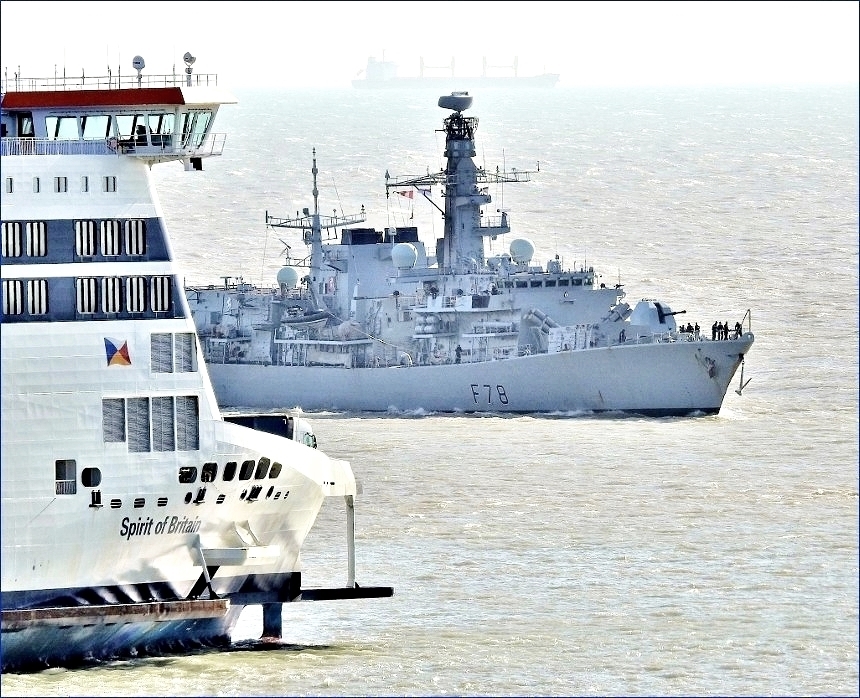 Yes HMS Kent arrived at the Port yesterday morning just before 10am and there she is above popping into view just behind the Spirit of Britain...very appropriate! Unfortunately .. yours truly was shooting into the blinding light yesterday so the picture is a bit washed out. As she came across the port she became a silhouette. However will have one other pic shortly...needs a bit of anti-light work!
She is open to the public.... but have no details here...Google might have more..
Skipping back to Thursday... and there was a very rough spell indeed. Here we see old favourite, the Calais Seaways, battling the elements manfully as she nears Port..... Time of pictures: 11.36 Thursday morning.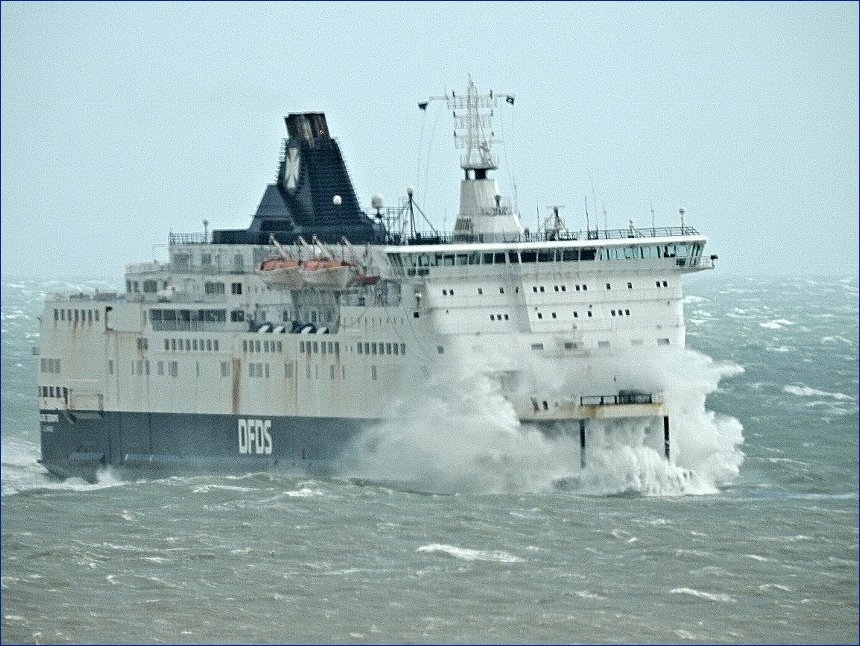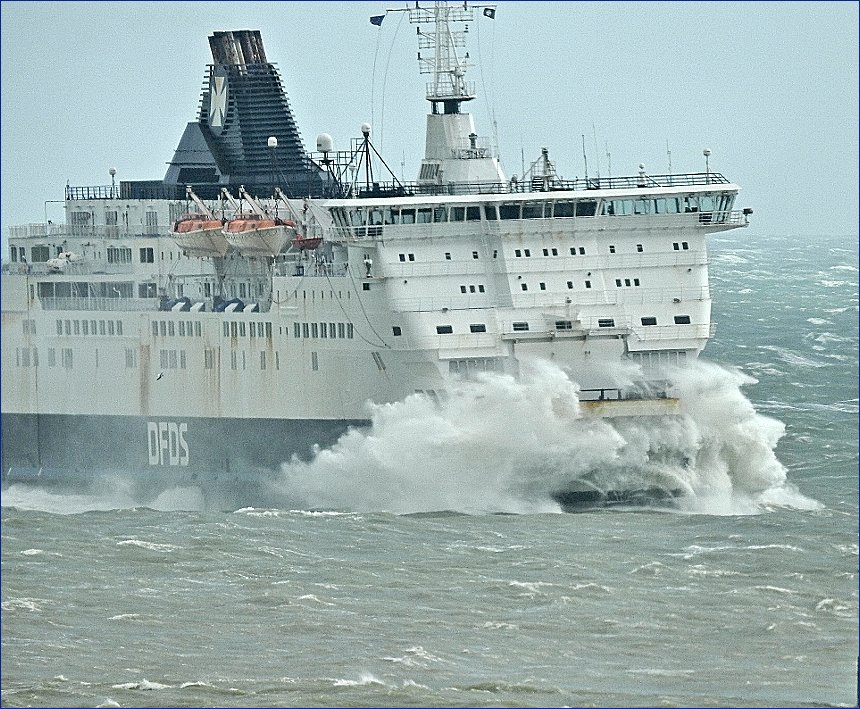 Calais Seaways
I think she is the last of the DFDS ships with the Maltese Cross still on the funnel..
Just at the exact same time the patrol/pilot boat came powering back into the Port in a cloud of spray through the eastern entrance...just got a pic as the spray subsided a tad... whoosh..!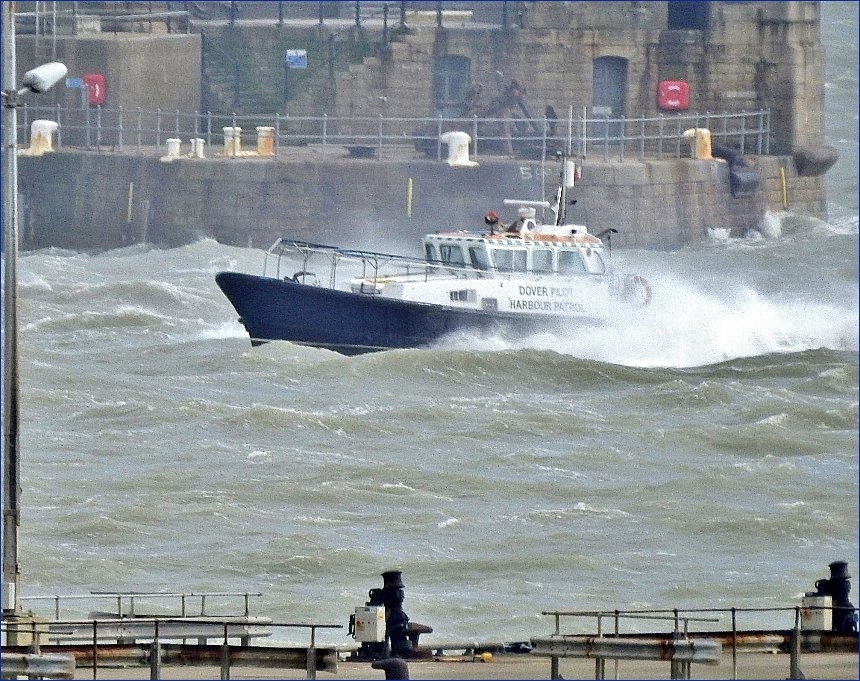 A couple of fascinating posts below from Mike...don't miss those. Great stuff Mike!

PaulB
Saturday, 14 March 2020 - 06:57
Post 6869
Mike J., Dover
One image went missing from my last post, that of the CORAL MILLEPORA who unexpectedly arrived on Thursday night.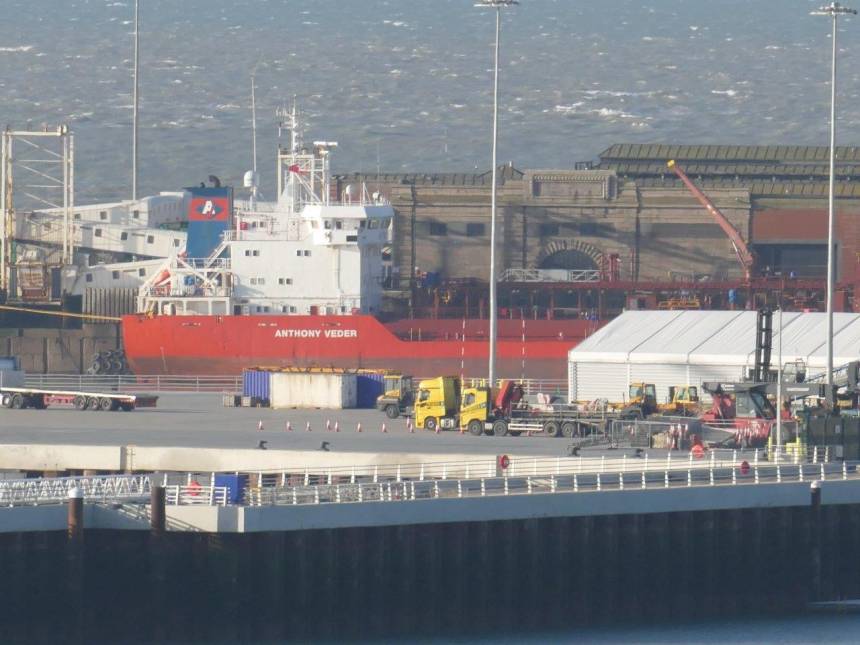 She sailed mid-afternoon Friday for the Mediterranean, departure pix shortly.
It has been confirmed that HMS KENT will be open to the public on Sunday afternoon, but I gather that all tickets for the visit have already been sold.
I never saw any local advertising for this rare event.
Friday, 13 March 2020 - 21:52
Post 6868
Mike J., Dover
Catch up time. A few pix of the arrival of the Latvian coaster BON VIVANT on a very high tide on Wednesday at Rye Harbour with a cargo of aggregate from Llandulas Quarry, near Llandudno.
The sun, of course, disappeared at the crucial moment, I was unable to get to the riverbank as the saltings below the seawall were flooded.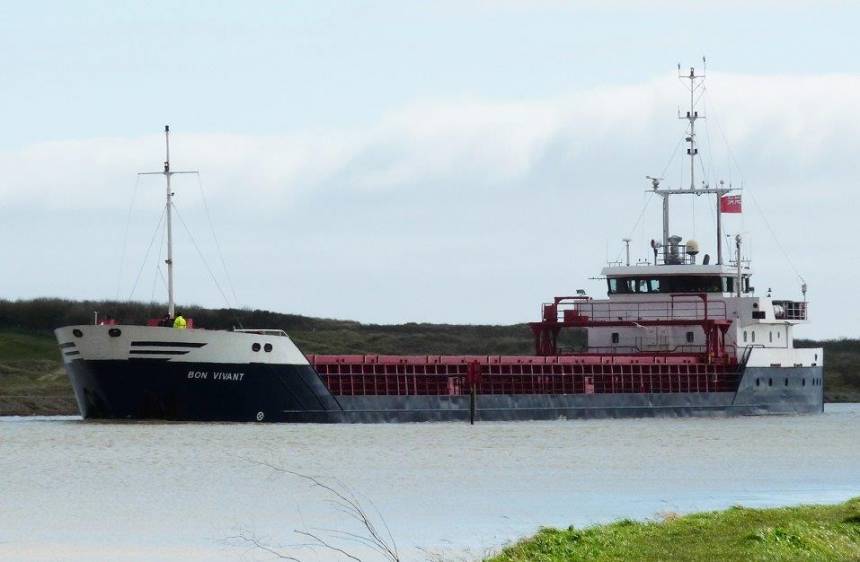 The sun was returning as she passed by.

Berthing with the ROTHER 4 in attendance.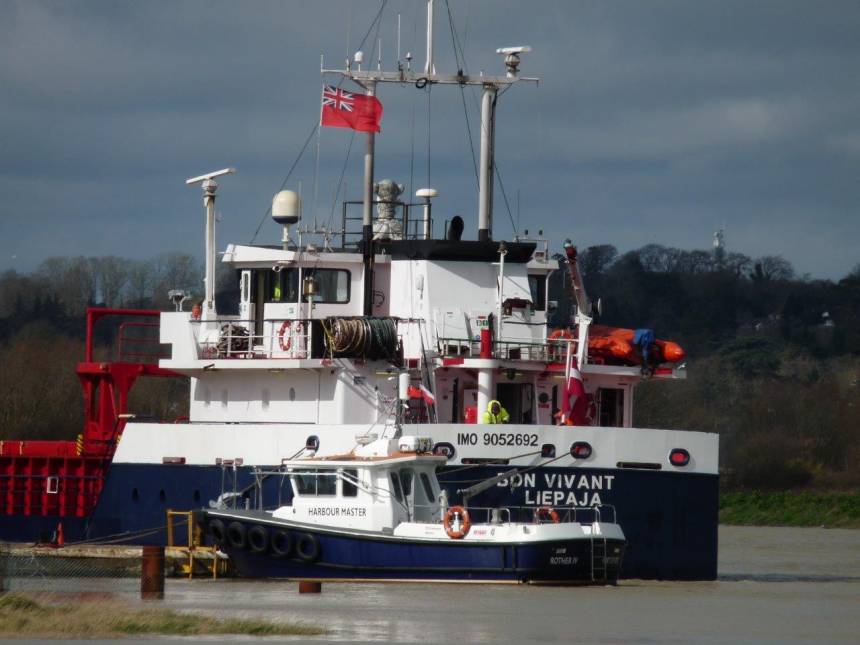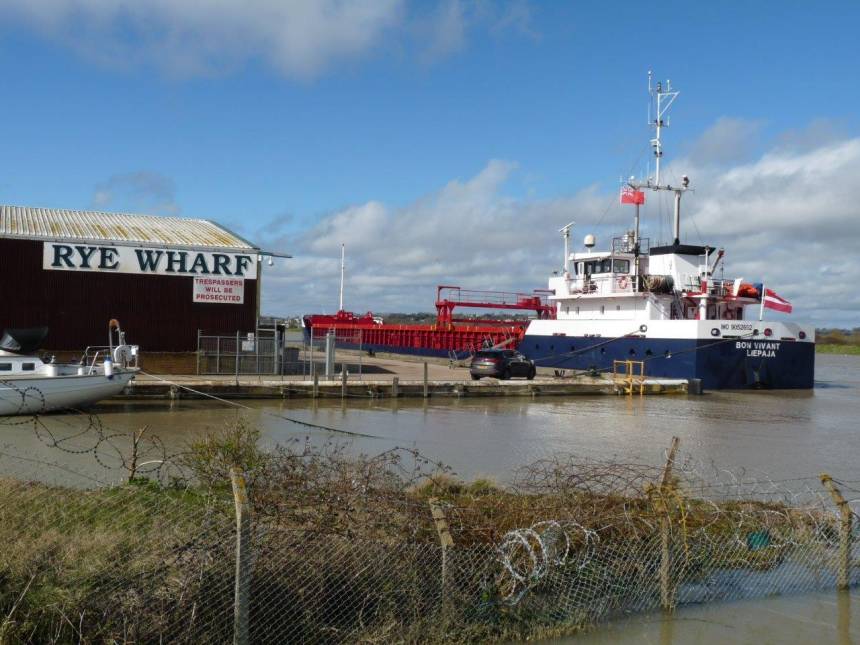 'Dover Straits Shipping' were also in attendance & we decided to cover both sides of the river & they had a closer-upper view of the caster as she passed.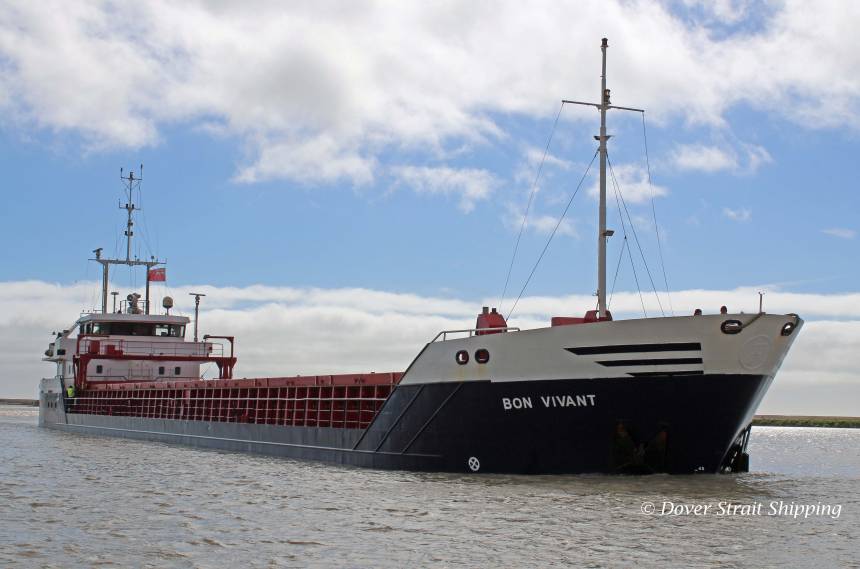 They also had a little adventure after the BON VIVANT had passed.
The already high tide was half a metre higher than expected & they were marooned on the pontoon & needed rescuing.
Nigel has put up a little video on the DSS Facebook page - it'll take a while for them to live it down . . . .
Good pix from Paul of the VENTURE & her Cornish pebbles.
After preparations [laying a timber 'mat' on the quay] unloading will soon be starting & the rocks will be taken to Jury's Gap, just to the southeast of Camber for sea defence works. This info courtesy of 'Dover Straits Shipping'
Jury's Gap was the location of the grounding of the coaster MAANAV STAR in September 2004 shortly after sailing from Rye Harbour.
Googling MAANAV STAR will find details of the interesting 'incident'
Meself & a few pals were there on a very windy day when she was high & dry at low water but as the tide rose she moved slowly down the beach, demolishing timber groynes as she went.
An unexpected arrival late last night, from Moerdijk in Holland & now tied up on Cruise-1, was the Maltese tanker CORAL MILLEPORA.
No idea [yet] what she's here for. I knew from AIS that she was coming but thought it was just another off-port call.
Friday, 13 March 2020 - 11:33
Post 6867
Sea News, Dover
P&O FERRIES LAUNCHES SECOND RAIL LINE TO DOUBLE TRAIN CAPACITY AT ITS EUROPOORT HUB
________________________________________________________________________________________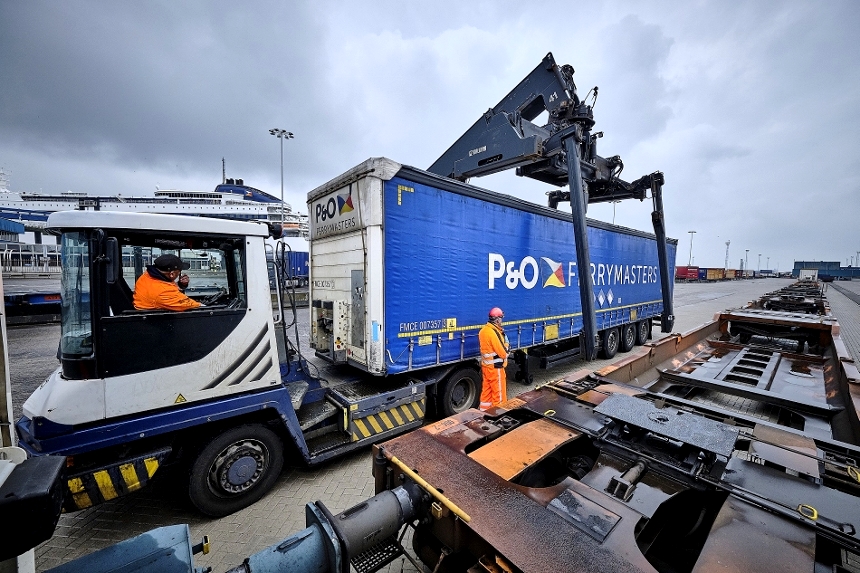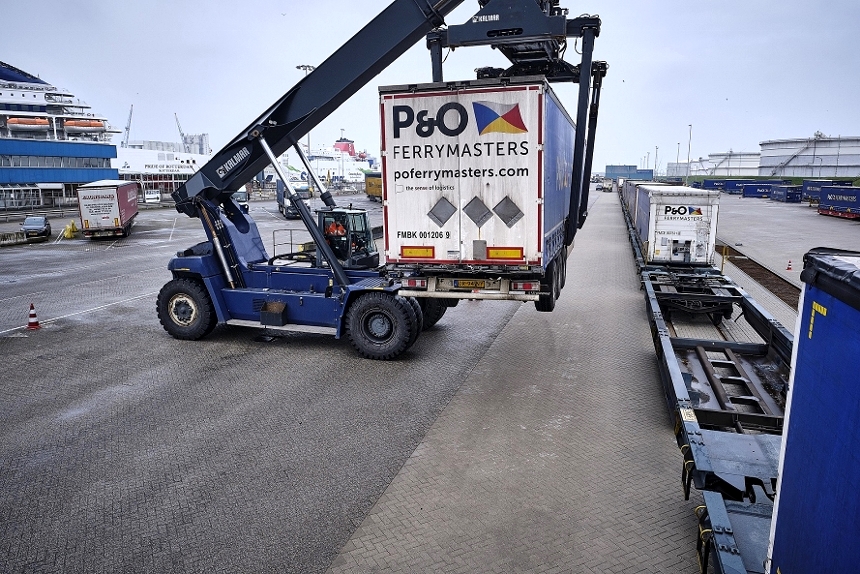 P&O FERRIES today announces the doubling of its rail capacity at Europoort with the launch of a second line into its terminal at the continental hub.
The 650-metre long track will complement P&O's existing rail line and means that the integrated ferry and logistics company can handle up to four trains of either 36 trailers or 42 x 45 foot containers a day, comprising eight services to and from locations across Europe.
Janette Bell, Chief Executive of P&O Ferries, said: "This new rail capacity will help even more of our customers solve their supply chain challenges and make trade flow by utilizing the unrivalled combined assets of P&O Ferries and P&O Ferrymasters."
"Customers will be able to move goods between Britain and Europe using P&O Ferrymasters rail services and take advantage of our integrated planning, scheduling and transport management systems which solve some of the most pressing challenges in logistics, especially transparency."
"To connect with the UK market, we provide three sailings a week to Teesport and seven sailings a week to Hull, with a commitment to providing customers with the most reliable and cost efficient service possible. This initiative underlines our commitment to growth and going to places where our customers want us to go."
As well as existing routes P&O Ferries and P&O Ferrymasters also plans to expand its rail network into new geographies. The second rail line at Europoort is expected to handle fast moving consumer goods from across Europe as well as automotive parts and products en route to the North East of England.
P&O Ferries is a leading pan-European ferry and logistics company, sailing 27,000 times a year on eight major routes between Britain, France, Northern Ireland, the Republic of Ireland, Holland and Belgium. It operates more than 20 vessels which carry 8.4 million passengers and 2.3 million freight units every year.
Together with its logistics business, P&O Ferrymasters, the company also operates integrated road and rail links to countries across the continent including Italy, Poland, Germany, Spain and Romania, and facilitates the onward movement of goods to Britain from Asian countries via the Silk Road. P&O Ferries is part of DP World, the leading enabler of global trade and an integral part of the supply chain.
ENDS
* *
Big thanks to the team at P&O for the interesting information above..

Great pictures above: Roel Dijkstra Fotografie Rotterdam : Foto : Fred Libochant

Just to show now a couple of extra shots of the hard working 'rock towing' tugs...these pix following along from yesterdays post. Will have an extra shot ...currently destined for top of page...showing it all at the 'grain pier' WD4.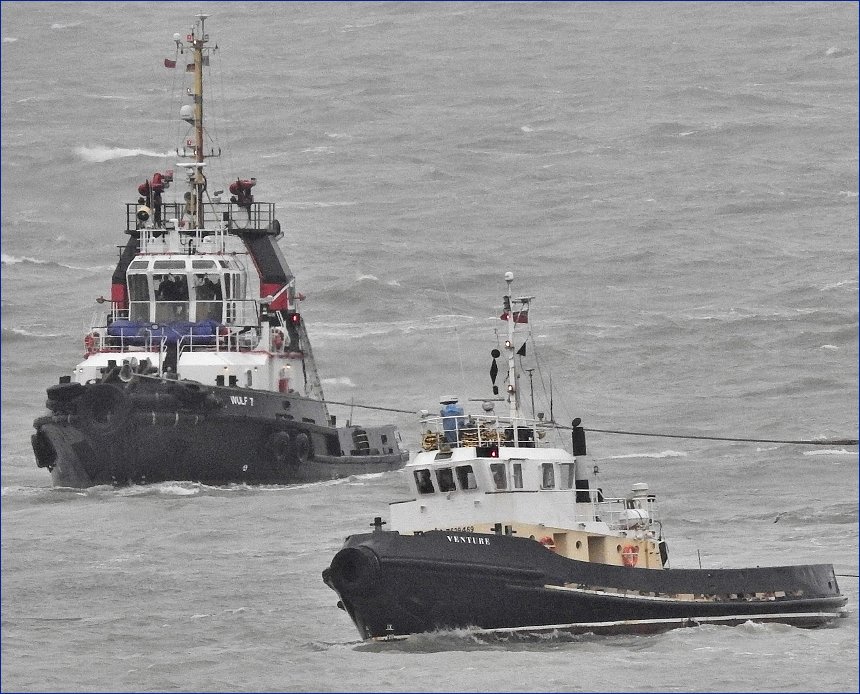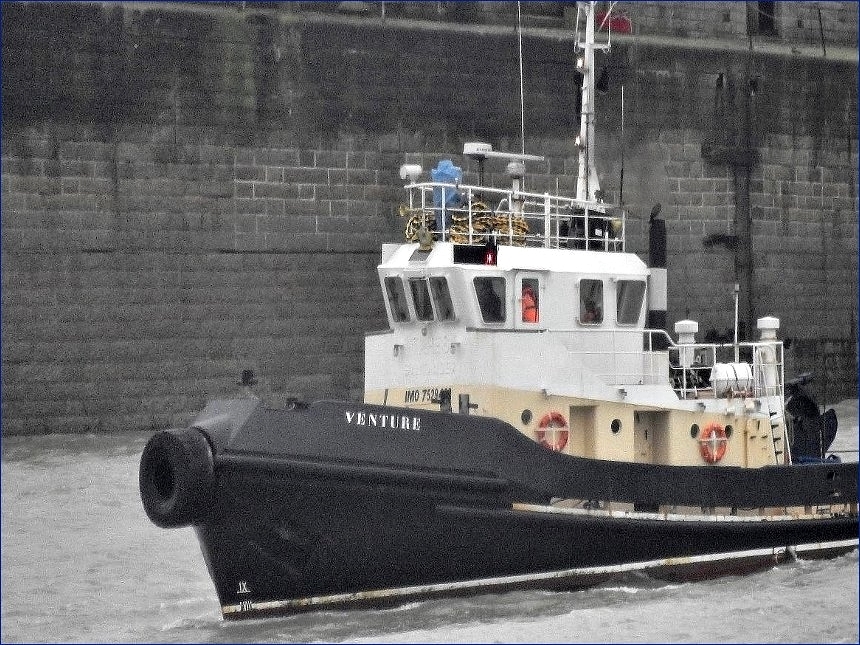 Rock Towing Tugs Venture and Wulf 7.
PaulB

Thursday, 12 March 2020 - 06:22
Post 6866
Sea News, Dover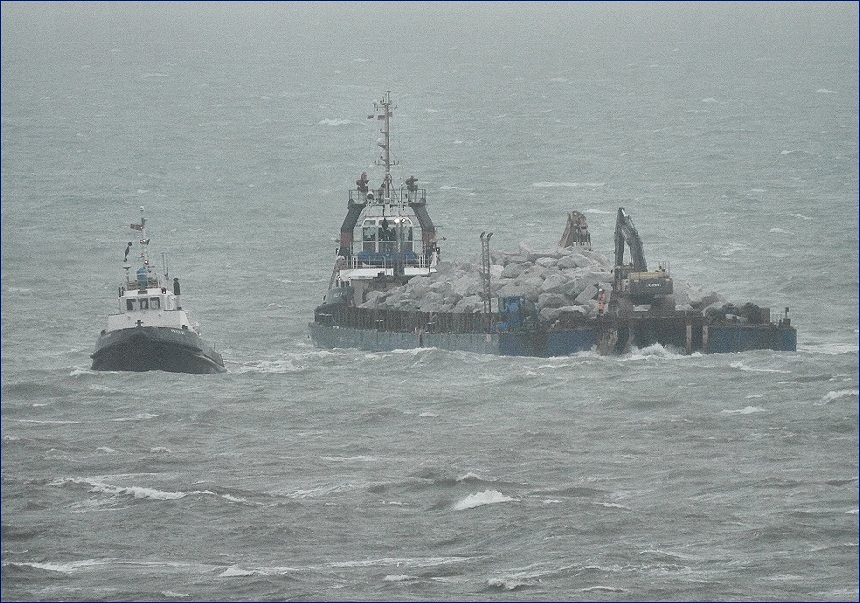 Some more pictures now of tugs Venture and Wulf 7 towing a fairly substantial rock laden barge into the Port of Dover on monday. The top shot above there shows them a fair way out... it is not the clearest of pix .. but wanted to show the difficult conditions, towing such a heavy and large barge through that rough stuff cant be easy.
The pictures below show the 'convoy' arriving in Port having weathered the rough oul ..ermmm..weather...
Time of first shot below..16:16..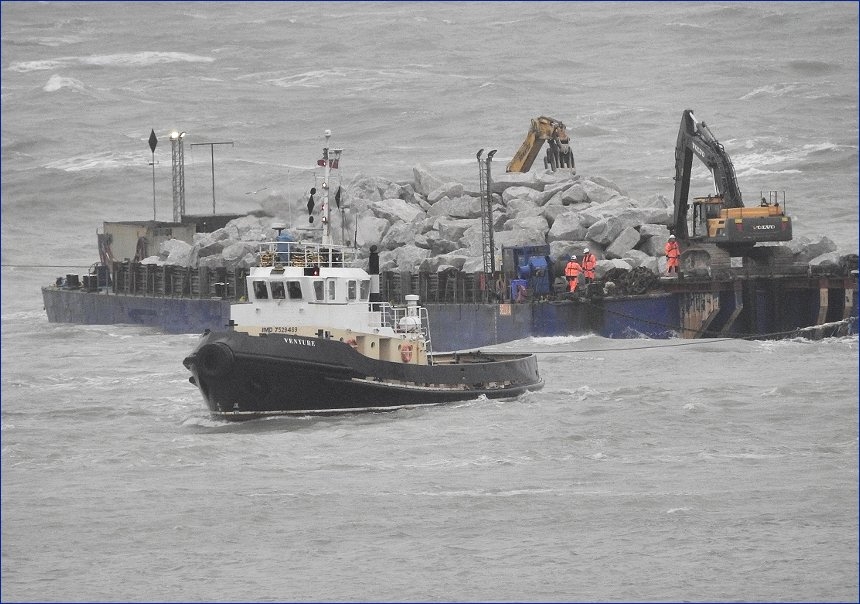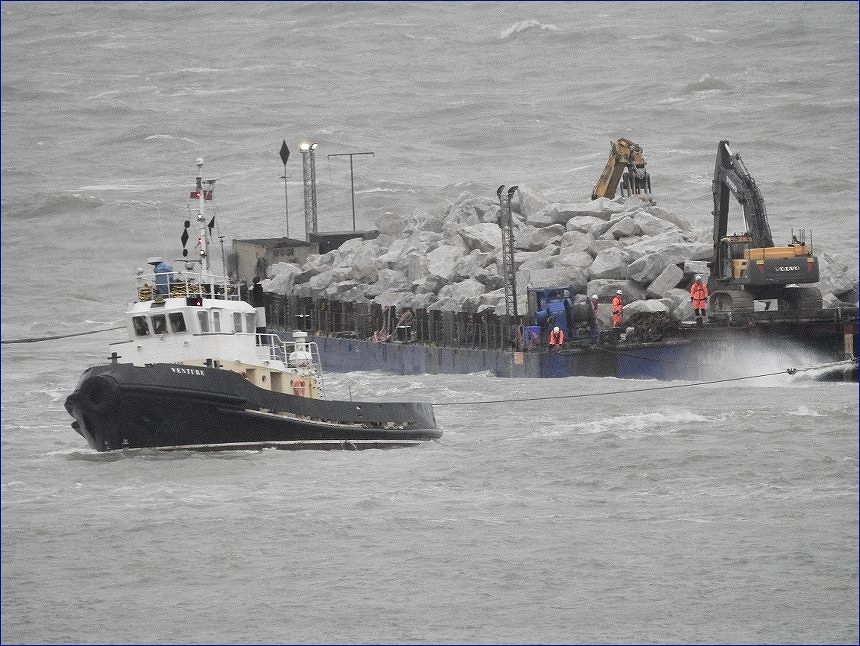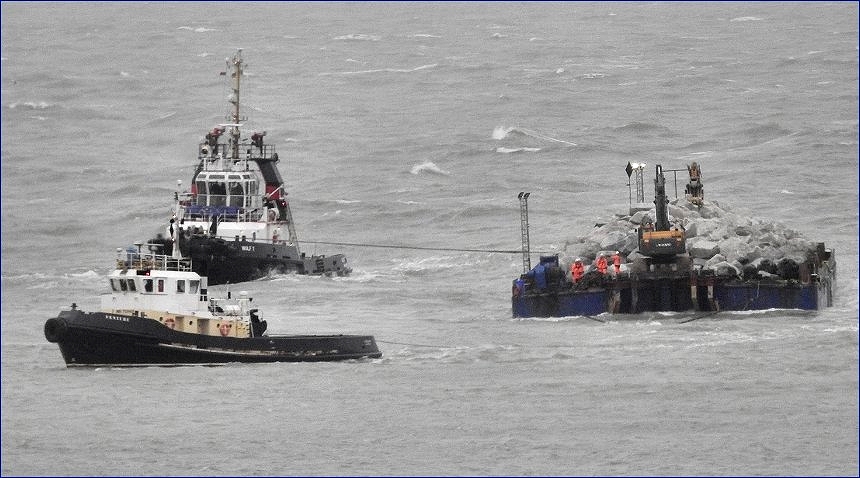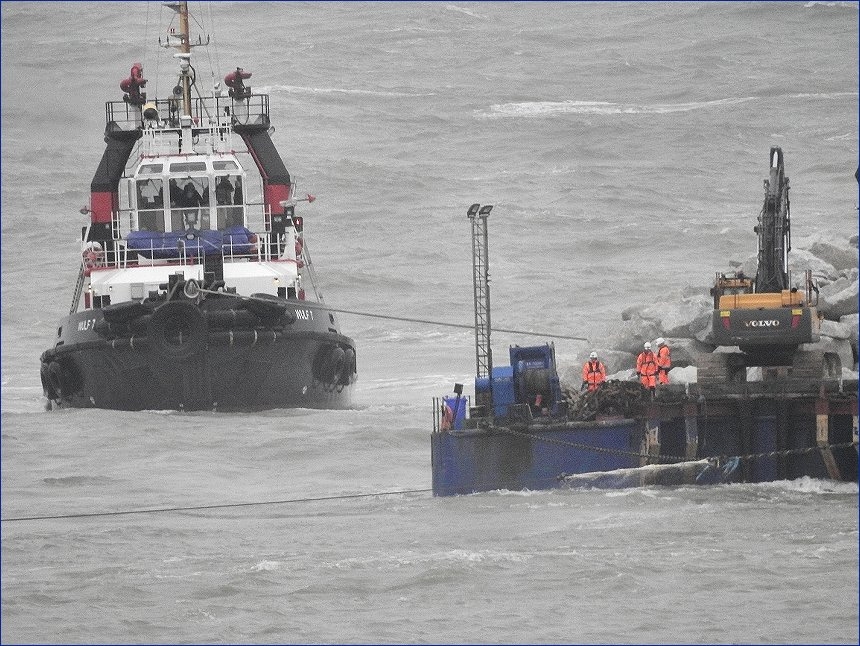 The leading tug is Venture.... and the one bringing up the stern...Wulf 7.
The barge and tugs eventually made it to the 'grain pier' WD4...
then later in the early evening moved over to the cargo terminal WD5 although I cant physically see it...
See Patrick's shots below...

PaulB
Wednesday, 11 March 2020 - 06:30
Post 6865
Patrick, Marine Parade
On a rather murky day Tug 'Venture' assisted by DHB relief tug Wolf 7 making v. slow progress with rock barge 'Selina' into WD4 yesterday.
The rocks - cornish granite - are apparently destined for urgent flood defence work at Lydd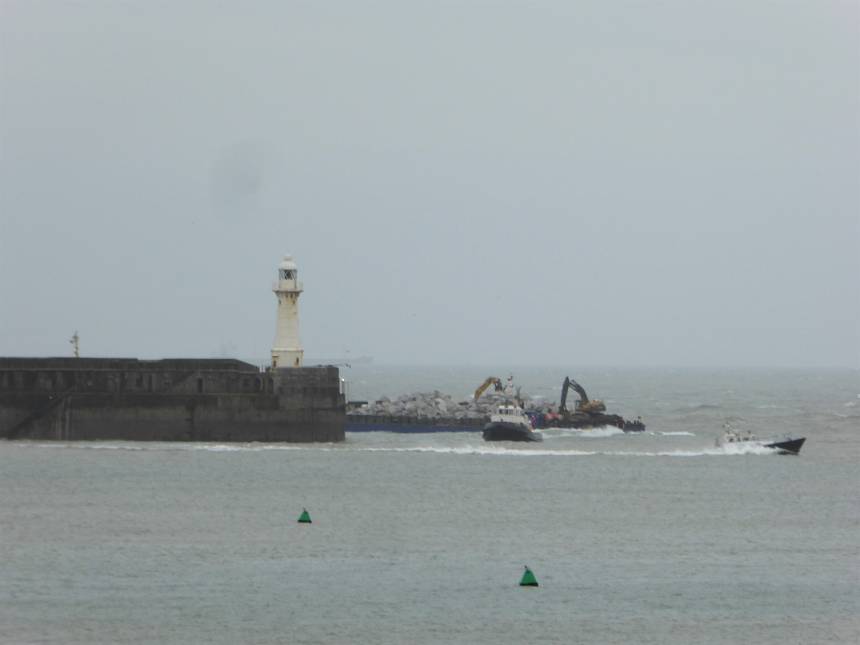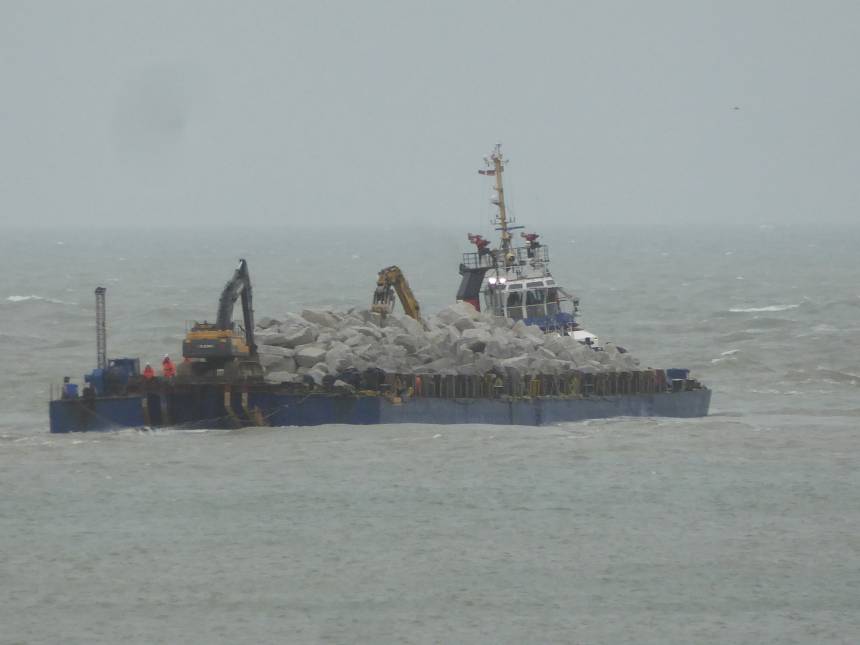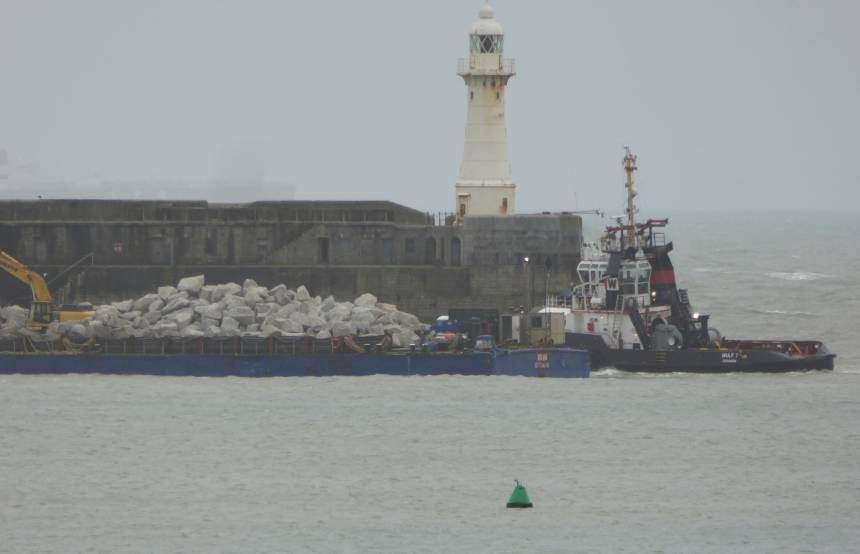 Tuesday, 10 March 2020 - 15:43
Post 6864
Sea News, Dover
Thanks for that Dave - excellent..

PaulB
Tuesday, 10 March 2020 - 08:25
Post 6863
Dave, Sandwich
Re post 6862:
The MFV Boy Joshua is towing the West Quern buoy, which has been missing from station off Ramsgate Harbour for several weeks now (Notice to Mariners 12/2020). I'm not sure how the buoy arrived in Dover though.

Tuesday, 10 March 2020 - 08:20
Post 6862
Sea News, Dover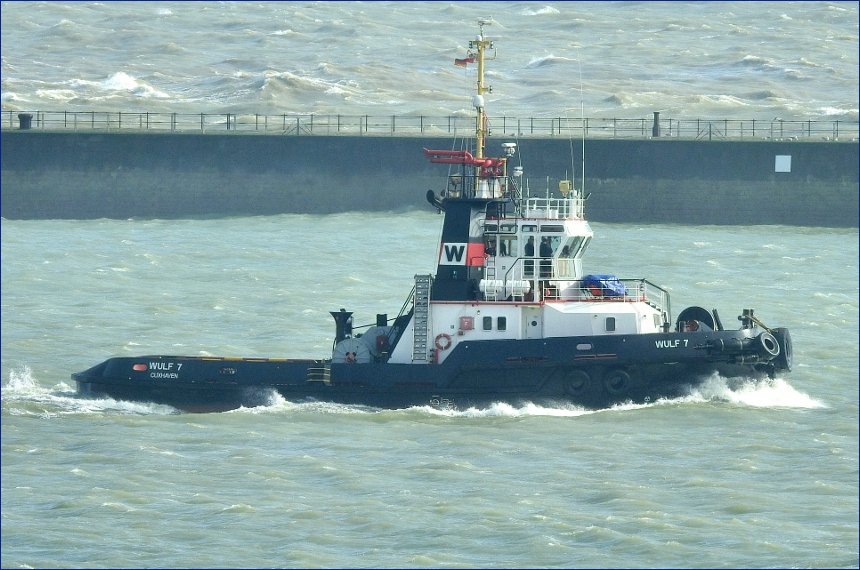 A nice picture above there of replacement tug Wulf 7...we have of course seen her before in the past. Pictured above there two days ago. Currently replacing Dauntless I believe.
Yesterday Wulf 7 and another tug.. Venture, towed a rock laden barge into port...twas a bit gloomy but got some pictures and will sort. Over the longer range the pictures are more susceptible to gloomy misty conditions but will aim to have a selection up soon....they need a bit of work.
Just caught this fishing boat below at the weekend leaving through the eastern exit. As you can see she is towing a...well Im not sure what it is...I thought initially it was a buoy but now...?? Its quite big isn't it.
Name of Boat: MFV Boy Joshua R480...that's what it says here !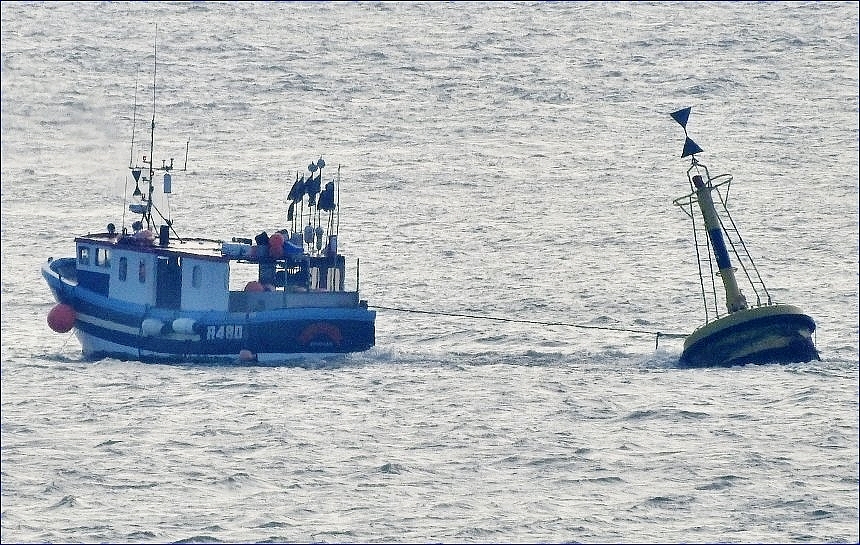 And then finally for the moment a pic of Whitdawn just returning to Port to service the Saga Sapphire the other day.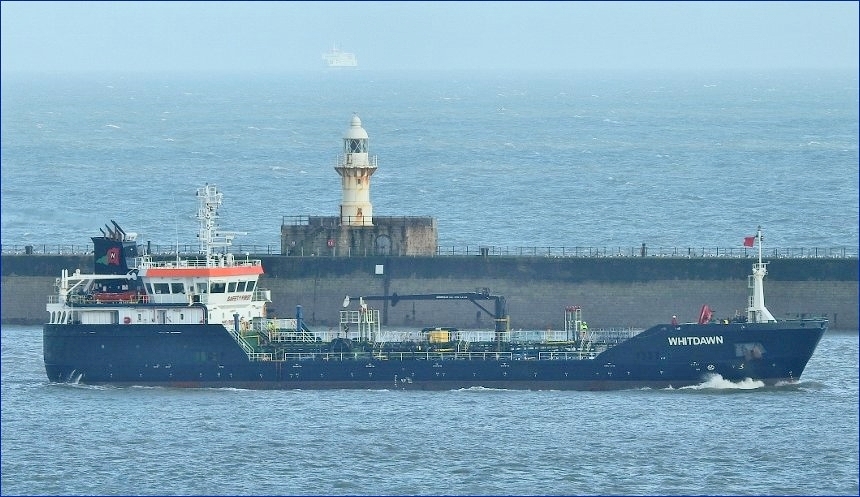 Yes a nice ship for sure Vic with all the right green credentials for the modern age.
Glad you are still enjoying all the pictures.
Should be an exciting spring/summer.
PaulB
Tuesday, 10 March 2020 - 06:20
Post 6861
matcham, dover
Thats a great ship lets hope soon all ships will be built like that one, thank you once again for the great photos of our world class port.

Monday, 9 March 2020 - 16:12
Post 6860
Sea News, Dover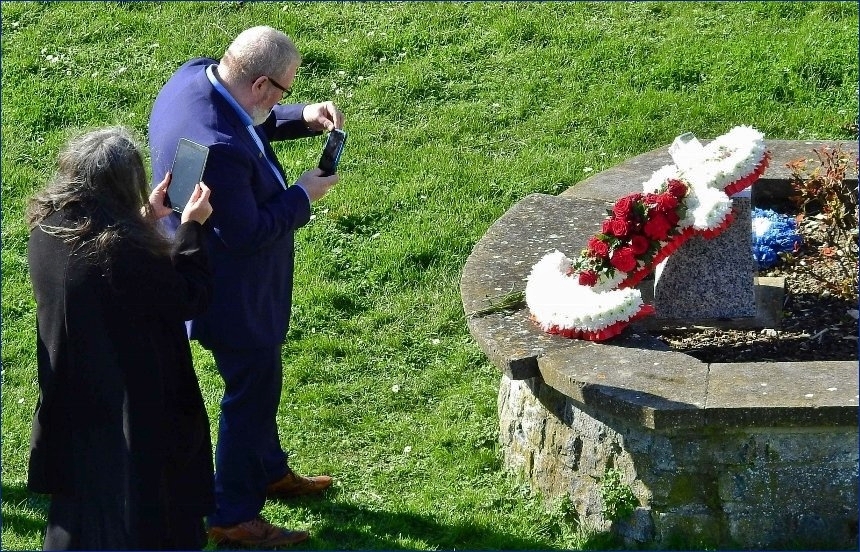 Some remembrance visitors photographing the beautiful wreaths in the little Herald of Free Enterprise memorial garden on the Dover Seafront last Friday. That anchor wreath is magnificent there...
See also post 6856.
As mentioned Saga Sapphire came and went yesterday. Yours truly missed it coming in and she left last night in the dark at 9.30pm so the pic below is from a former visit. She was off to the Emerald Isle, making a few UK calls first, then Dublin and Cork. No doubt they will be trying the Guinness over there...pundits say its different, must be the water or the soil or something...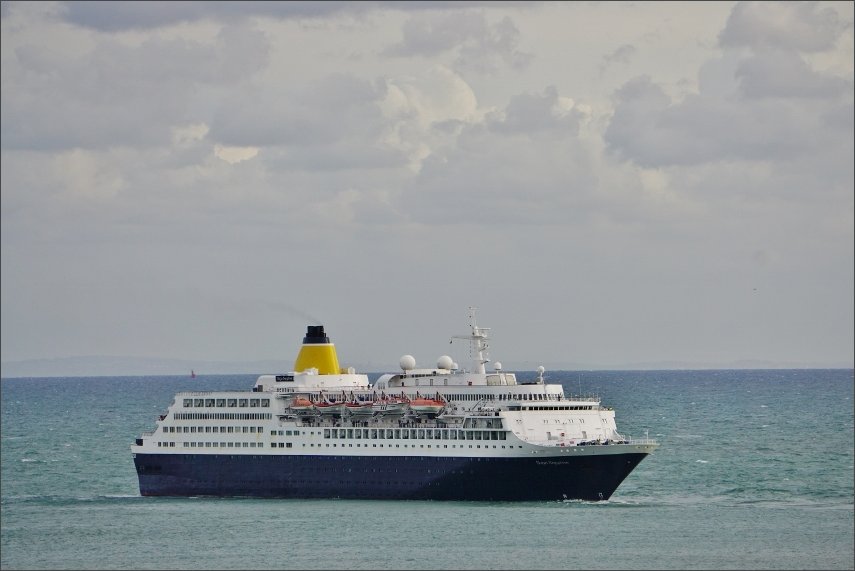 PaulB
Monday, 9 March 2020 - 05:06
Post 6859
Sea News, Dover
The Fridtjof Nansen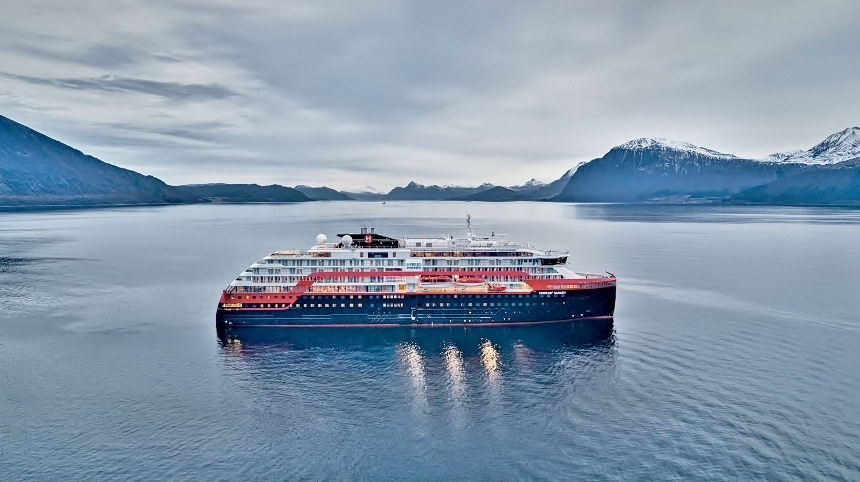 More on the Hurtigruten Green Image ...
"
The introduction of the world's first hybrid powered cruise ships is the latest in a number of Hurtigruten green initiatives. Hurtigruten celebrated its 125th anniversary by banning all single-use-plastics. In another industry first, Hurtigruten is completely rebuilding existing ships to run on a combination of large battery packs, liquefied natural gas (LNG) and biogas (LBG) â€" produced from organic waste such as dead fish.
"
Dead fish! well I never...Fascinating stuff indeed..
See more in the press release below post 6857.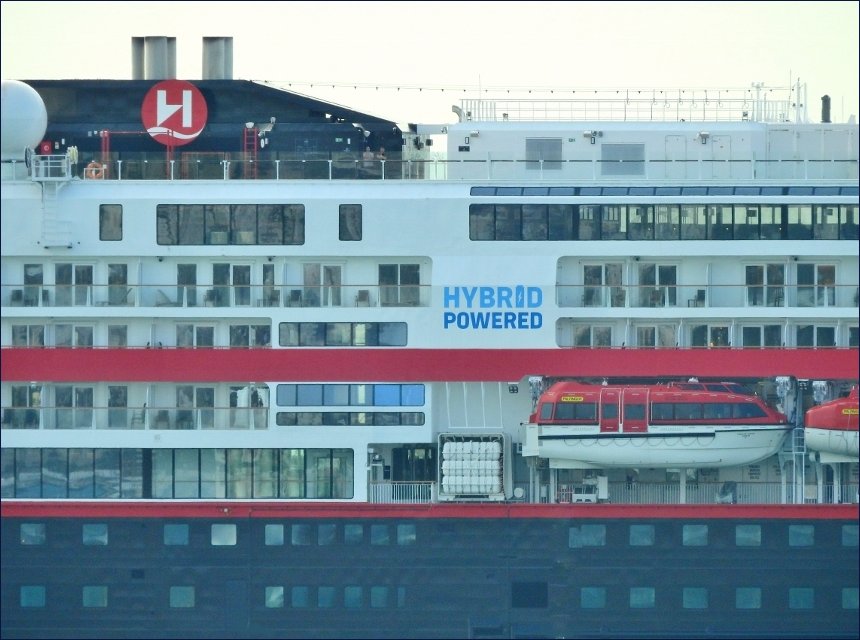 The Hybrid Powered Fridtjof Nansen...more pictures below...
Thanks for that fascinating info below Mark. Enjoyable read.

Hope you enjoy your trip with them ...let us know how you get on...exciting times..
PaulB
ps: while doing this post, cruise ship Saga Sapphire arrived just behind me here ..completely missed it !!

Sunday, 8 March 2020 - 06:51
Post 6858
Mark Rushton, Northants
Interesting press release from DHB there. Hurtigruten's day job is running the Norway coastal ferry service, but it's all been re-tendered and from Jan 2021 they've lost 4 of the 11 route slots to a newcomer called Havila. So Hurty are moving those affected 4 ferries to cruise operations because Havila will be bringing their own new ships. Clearly Trollfjord is one of the vessels affected. Sting in the tail is that two of Havila's new builds wont be ready in time because the shipyard cancelled the contract due to money problems, but Hurty are pressing on with their new plan regardless. It's the kind of madness that you associate with the UK's transport scene but hey, Dover won't be complaining !

Saturday, 7 March 2020 - 10:12
Post 6857
Sea News, Dover
Some more pictures now of Fridtjof Nansen...see also Mike's shots in the post below...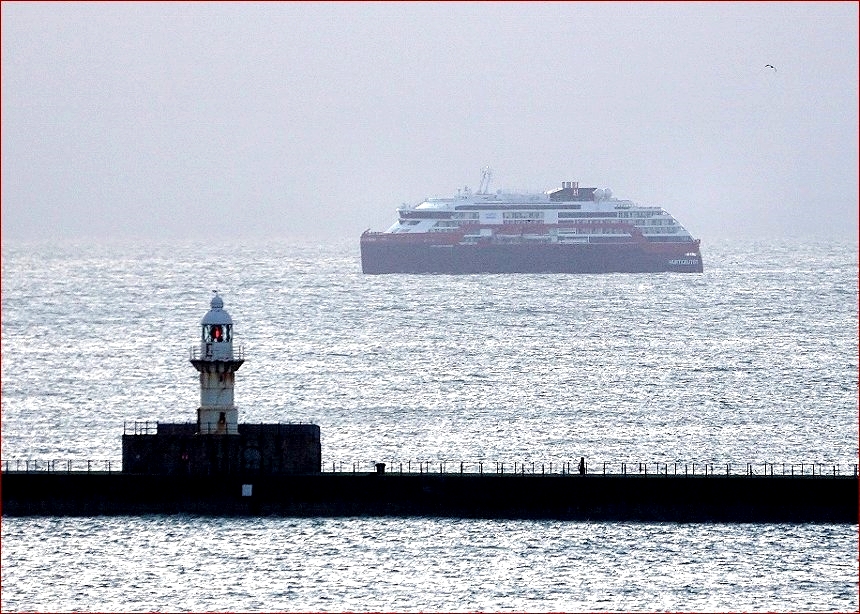 The ship was approaching through the gloom as you can see above but as soon as she got closer to port a blinding low level sun burst through and made it nearly impossible to get pictures, had to wait until she came across the port...and here she is...
Hurtigruten's Fridtjof Nansen..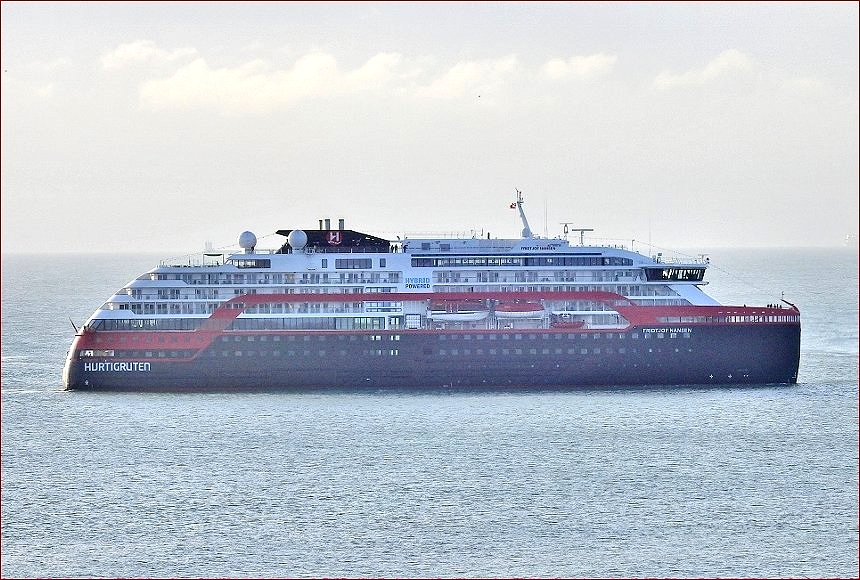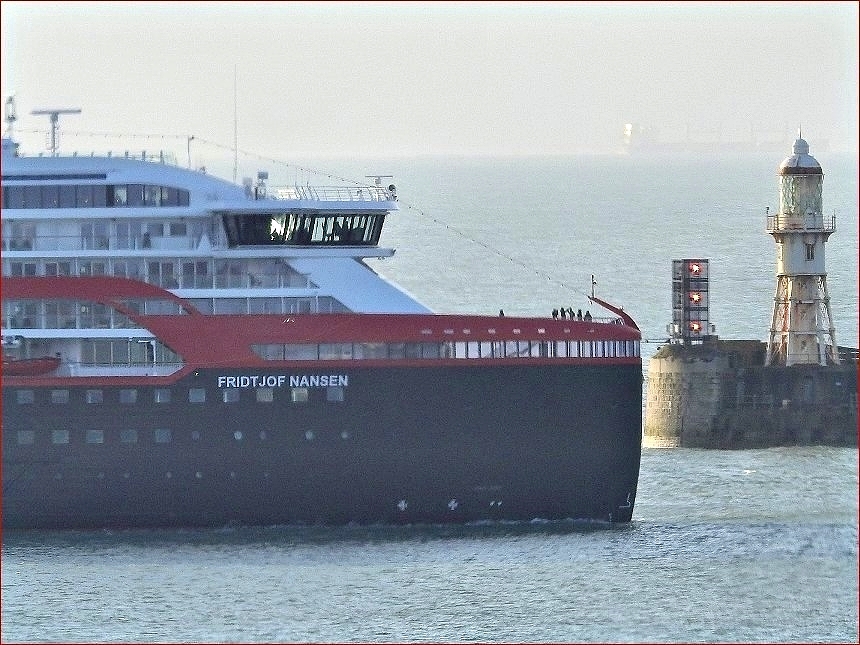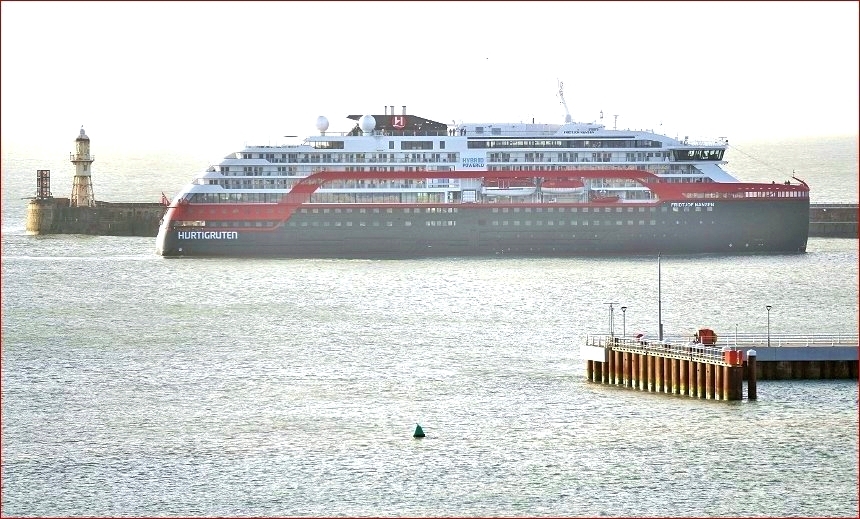 Hurtigruten's MS Fridtjof Nansen makes showcase call in Dover
__________________________________________________________
The Port of Dover welcomed Hurtigruten's brand new hybrid battery powered expedition cruise ship MS Fridtjof Nansen into the Port for the first time yesterday morning for a special showcase call ahead of her inaugural voyages.
MS Fridtjof Nansen is packed with green technology and large battery packs and is, alongside her sister ship MS Roald Amundsen, the world's first battery-hybrid powered cruise ship.
Her call comes ahead of next year's official launch of the Port's brand new venture with Hurtigruten. For the first time in their 127-year history, Hurtigruten will offer winter sailings from Dover, with the Port becoming the UK homeport of the MS Trollfjord for her 2021/2022 Norway Expedition programme.
Sonia Limbrick, Head of Cruise at the Port of Dover said:
"We are thrilled to welcome Hurtigruten here today and host such an extraordinary cruise ship ahead of her inaugural voyage. With their environmentally friendly and sustainable approach, Hurtigruten represent everything that Port of Dover Cruise champions.
I'm really excited that we have had a glimpse of what is to come, as we prepare to launch our new adventure with Hurtigruten next year, welcoming MS Trollfjord for 13 turnaround calls over the 2021/2022 season. Her visits will mark the first ever official winter season here."
Anthony Daniels, UK General Manager for Hurtigruten said:
"We are delighted to have been able to include the Port of Dover in our UK Showcase Sailings for the MS Fridtjof Nansen. Sustainability is at the core of our operation and with the introduction of our second hybrid ship we hope to continue to set the benchmark in the cruise industry as leaders in sustainable cruising."
From cliffs to fjords - Hurtigruten's Norway Expeditions from Dover will commence in October 2021 and be available through to March 2022.
ENDS
Many thanks to the team at the Port for the info above

Great pictures and info below from Mike - don't miss those pix - Great stuff!

Acknowledging the Herald of Free Enterprise tragedy...see below.
PB

Saturday, 7 March 2020 - 05:13