Post 6896
Matt, Southampton
Oceana will return to Dover shortly, she sailed towards Rotterdam to empty her tanks of grey waste water.

Tuesday, 24 March 2020 - 10:42
Post 6895
Sea News, Dover
In the post below Mike mentions that the rock barge Selina is now over at the Eastern Arm of the port...these pictures show her being moved a few days ago ( Friday 20th). The barge looks empty at this point. This was her second trip to the Eastern Arm...the first to make way at the dock for visiting reefers. Three tugs in operation here below...Wulf7, Doughty, and Venture...you can see them all here below. The Wulf in lead position...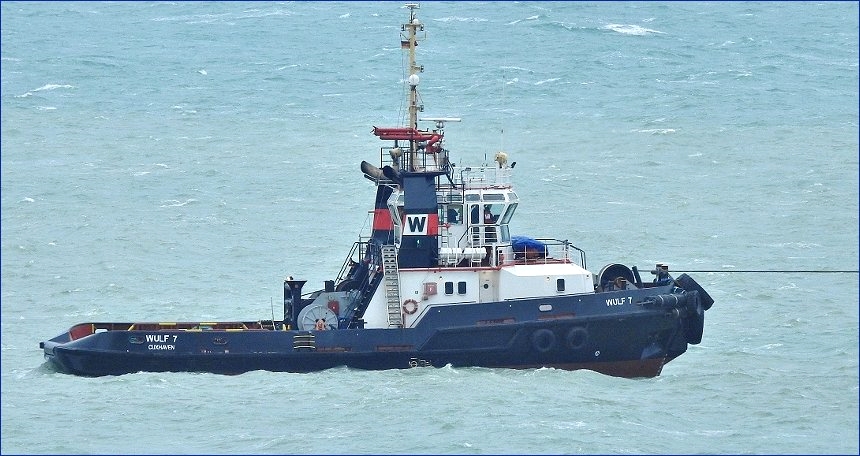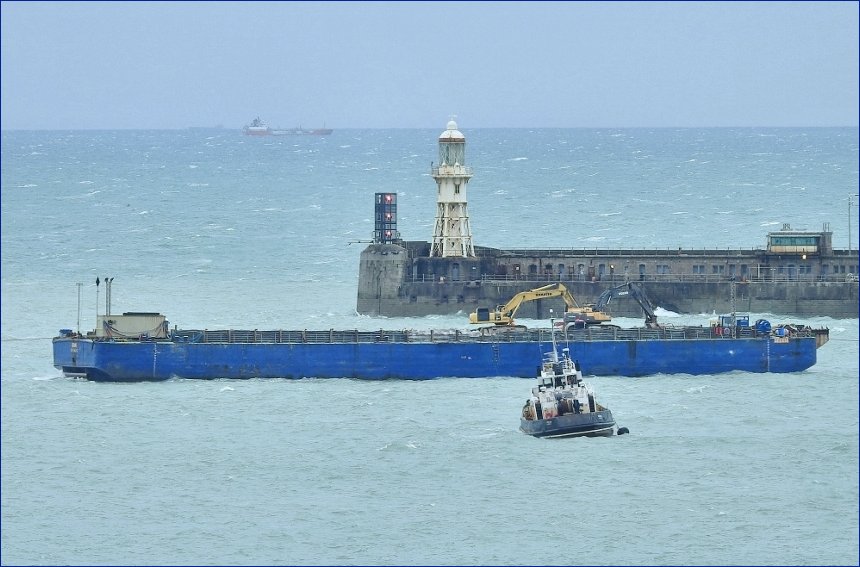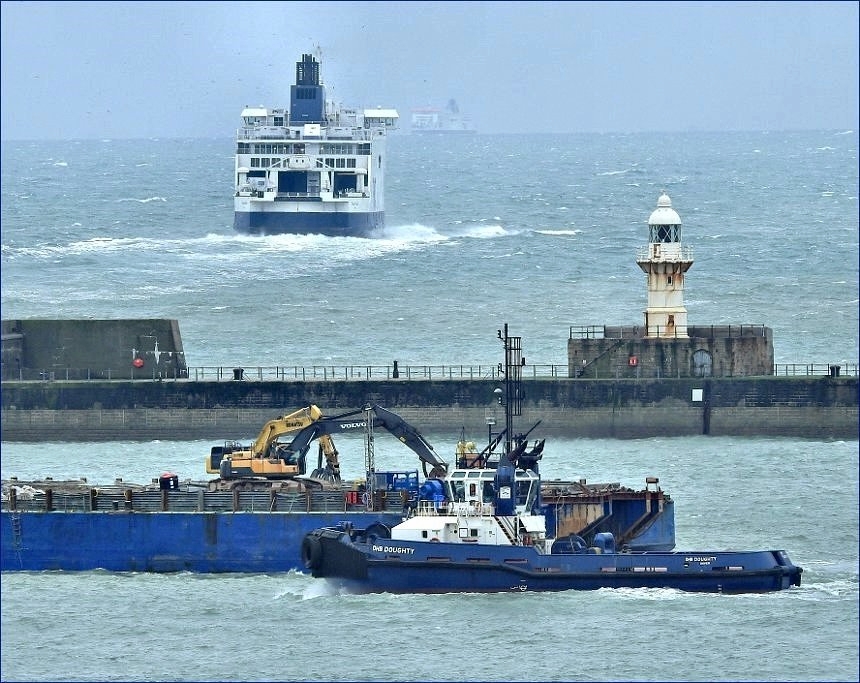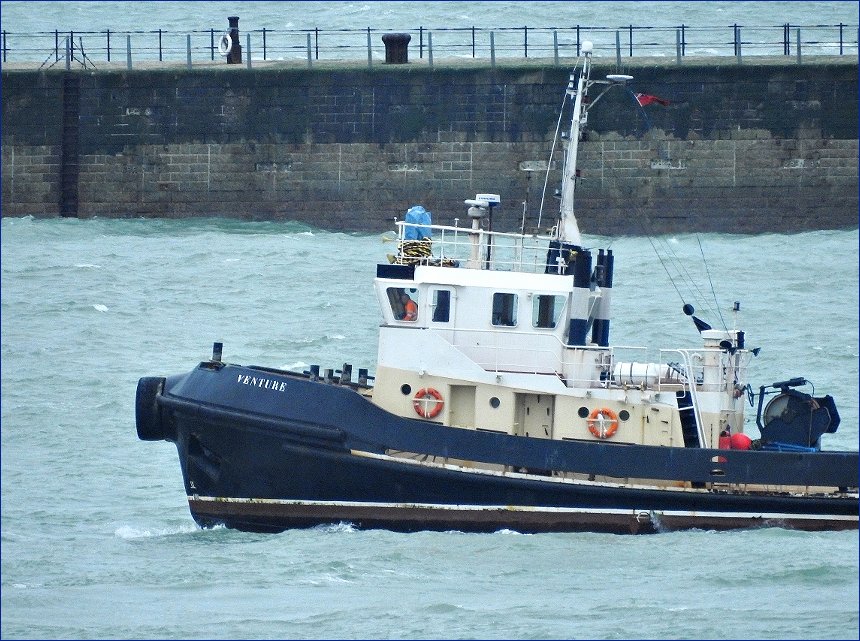 Thanks for all the info below Mike. Yes Oceana left last night just before 8.30pm taking everyone by surprise including yours truly...it was too dark, a bit of a black night, for any picture ..
PaulB
Tuesday, 24 March 2020 - 06:35
Post 6894
Mike J., Dover

Dover Monday movements.

At about 2030 the laid-up OCEANA sailed via the Western Entrance & crossed over to join the northeast lane.
Her AIS shows her returning Dover at 1230 on Tuesday.
The reason for this unexpected 'movement' is [currently] unknown.

Mid-afternoon the Maltese bunker tanker DUZGIT HARMONY arrived from Dunkirk & berthed on the Eastern Arm.
During Monday evening she was joined by the larger Dutch tanker SCOT MUNCHEN from Rotterdam & she is now now alongside the HARMONY, presumably transferring bunker fuel.

After completion of her stone discharge the LIAMARE returned to Rotterdam.
The tug VENTURE will remain in port with the the barge which will act as floating storage for further cargoes of rock armour for the New Romney & Jury's Gap sea defence works
Tug & barge are currently in Eastern Docks on the DCT.

An unusual visitor, anchoring late Monday afternoon close by WD4, is the yacht FRB CHRISTINA E who identifies herself on AIS as a 'Rescue Vessel' & has has apparently come up from Rio Grande to Sul, in southern Brazil.
A long haul indeed.


Tuesday, 24 March 2020 - 01:49
Post 6893
Sea News, Dover

Update on DFDS routes from the UK to France
____________________________________


UK-France ferry route schedules remain unchanged and essential travellers now offered a free meal
Following the significant measures taken by European governments to inhibit the spread of Coronavirus (COVID-19), DFDS is maintaining its regular sailing schedule for those undertaking essential travel or trying to return home via its Dover to Calais, Dover to Dunkirk or Newhaven to Dieppe routes.
The company will continue to offer its full sailing schedule on those routes to support those who need to make essential journeys. Earlier this week, DFDS reduced passenger capacity on those routes to make it easier for travellers to follow government advice on social distancing while on board.
In addition to providing a complimentary meal for all drivers, DFDS will now extend this to include all passengers until further notice. Due to the limited number of passengers onboard each crossing, DFDS has plenty of space to ensure guidance on social distancing can be supported. Outside decks are also open for use.
Kasper Moos, vice-president and head of short routes and passenger at DFDS, said: "We are committed to the safety and welfare of our passengers, drivers and crew whilst travelling with us and we will continue to do so during this difficult period.
"We have taken every precaution advised by the World Health Organisation to protect the health of our crews and those who have essential journeys to complete.
"Our routes between the UK and France are an important trade link and we are maintaining our current sailing schedules to ensure that essential everyday goods can continue to reach shops and businesses."
DFDS has put measures in place to prevent the spread of Coronavirus (COVID-19), including:
¢ Hand sanitiser dispensers are installed everywhere on the ship for use.
¢ Ongoing extra touchpoint cleaning
¢ Ships crew is subject to strict measures and hygiene requirements.
¢ Ships carry a stock of masks to limit the spread of infection, if needed
The company is also offering flexibility for passengers who have booked to travel on its services but wish to change their travel plans. Passengers can rebook for a date later in the year, or cancel and receive a credit for use against a future ferry booking. This applies to bookings for travel up to and including 30 April 2020.
For more information visit https://www.dfds.com/en/passenger-ferries/corona-virus/updates.
ENDs
Another picture of the newly designed DFDS Funnels below...
DFDS ferries at the Port of Dover.
* *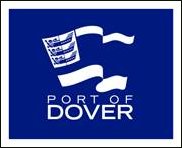 Port pleased to help with lay-by provision
_____________________________________
The Port of Dover is supporting its cruise customers by offering lay-by provision for their vessels to help them bring their cruises back home to the UK.
Currently we are hosting two P&O Cruises vessels - Aurora and Oceana. Everyone on board is fit and healthy and the crew are remaining on-board to protect the local community as well as themselves. Food and supplies are being provided by their normal specialist suppliers so there will be no impact on the availability of food and other supplies in local supermarkets.
COVID-19 is having a significant economic impact on all of us in the cruise industry, so it's important that we work together and support each other as we navigate through some difficult times.
The Port of Dover is pleased to assist P&O Cruises as part of its wider response to the current situation.
ENDs
* *
Bunker ship Andros was in Port servicing Boudicca, we see her here below just leaving the port on Thursday evening. You can see her below in a small sequence retrieving a fender with the hoist as she sets off...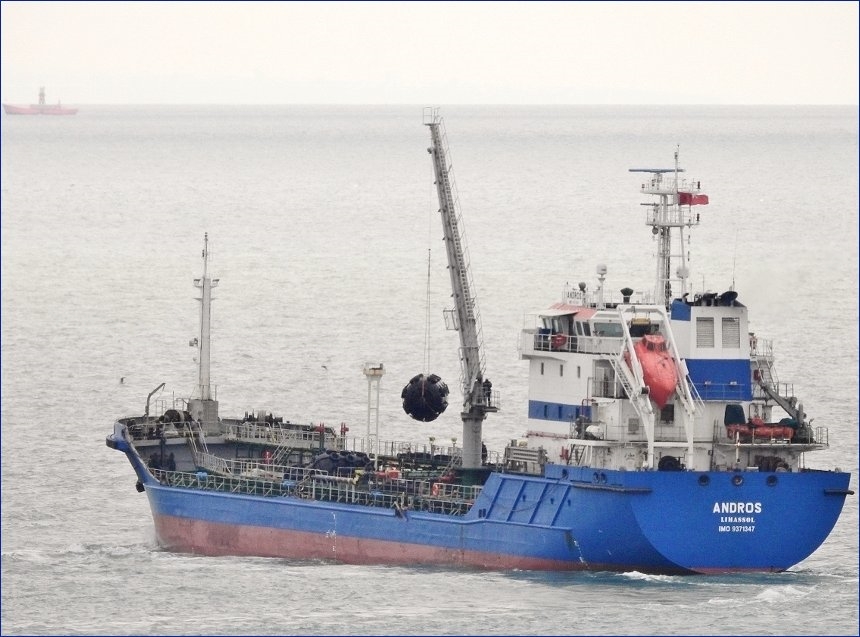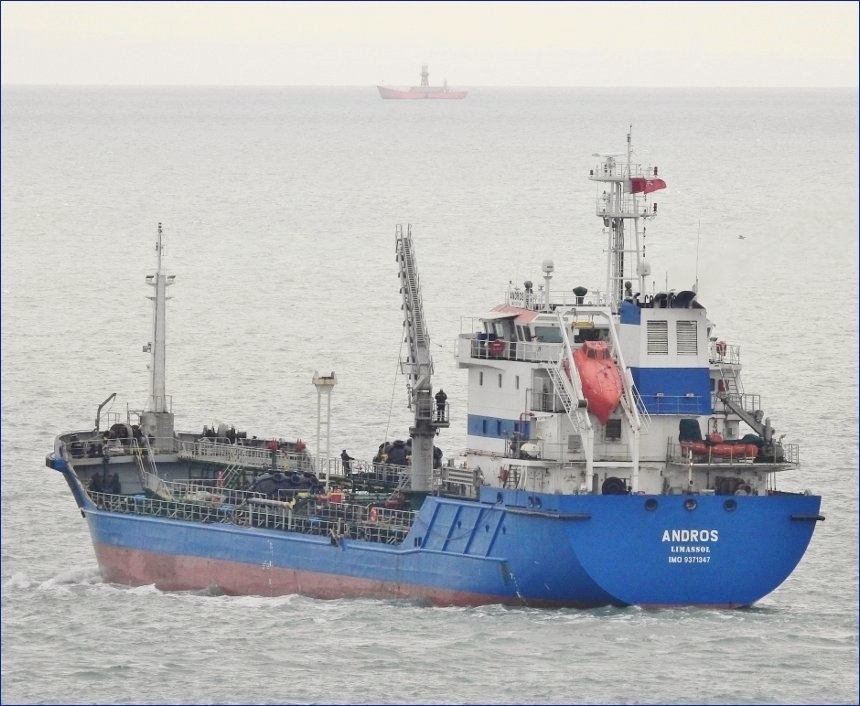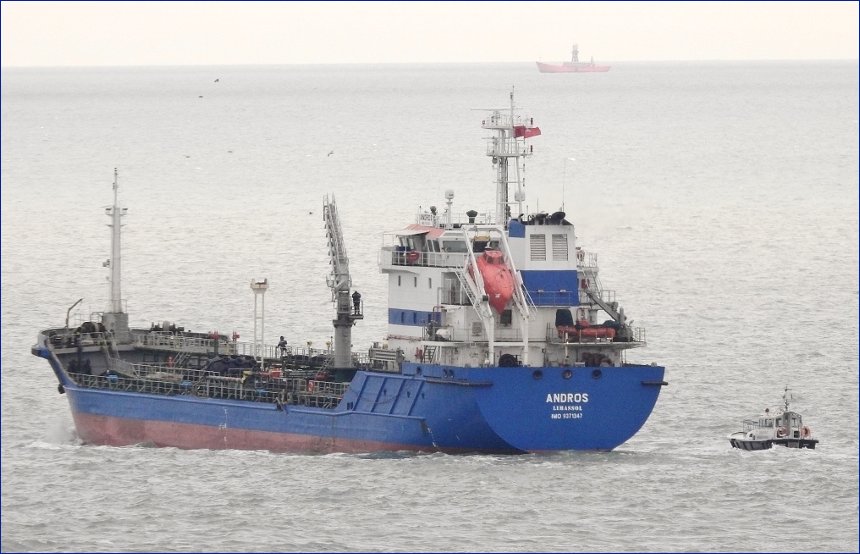 Andros has been here in Dover before but not very often....if I'm remembering that correctly...
Many thanks to DFDS and the Port of Dover for the info above...

PaulB

Monday, 23 March 2020 - 06:46
Post 6892
Sea News, Dover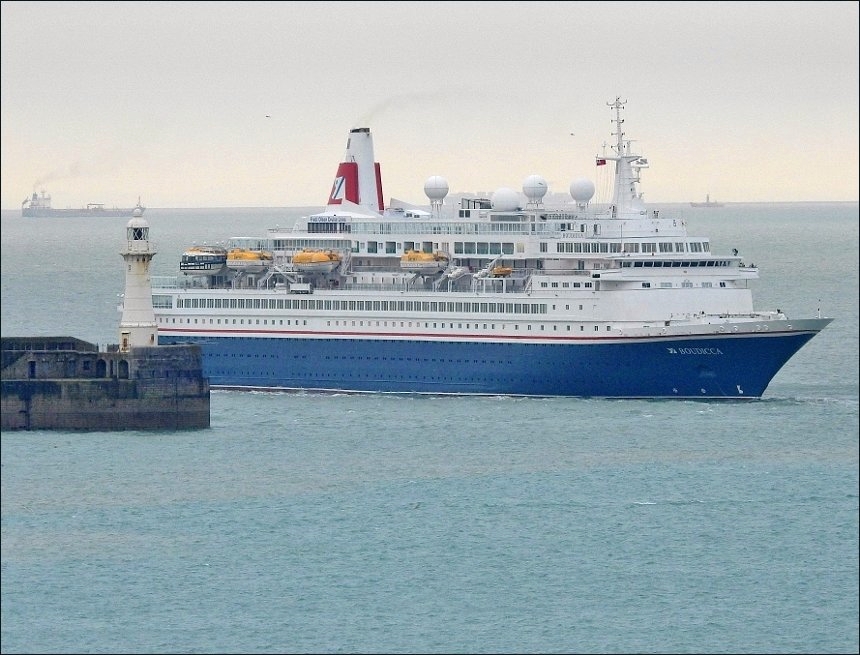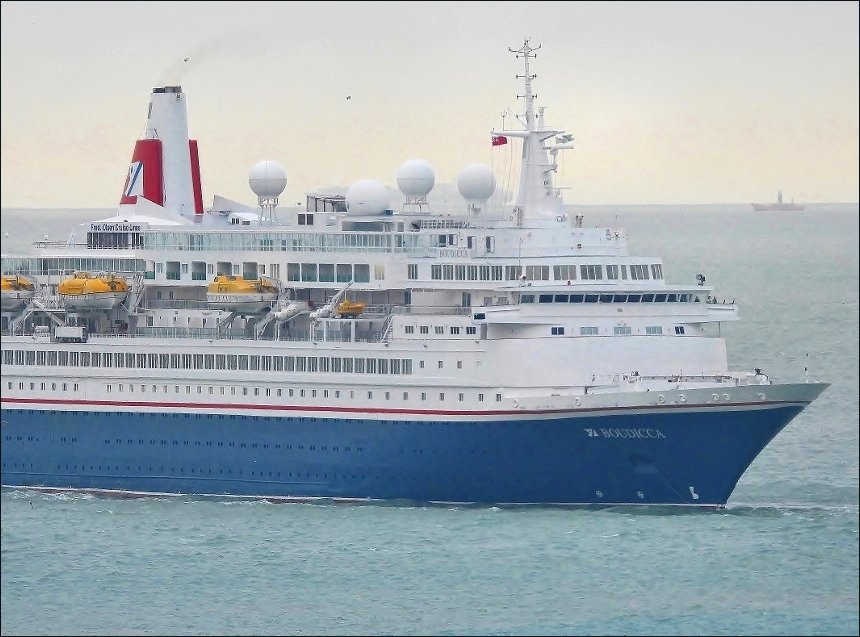 Boudicca moving away stern first on ..ermmm...let me see.. Thursday evening. Time of first pic 16:56...there was still some colour in proceedings for top two shots whereas below all colour gone and rather grey. Not sure if it was the camera or the atmospherics. The seabirds went wild for Boudicca below, they were the only sign of normal life - no passengers...she was off for lay-up due to the ongoing misery.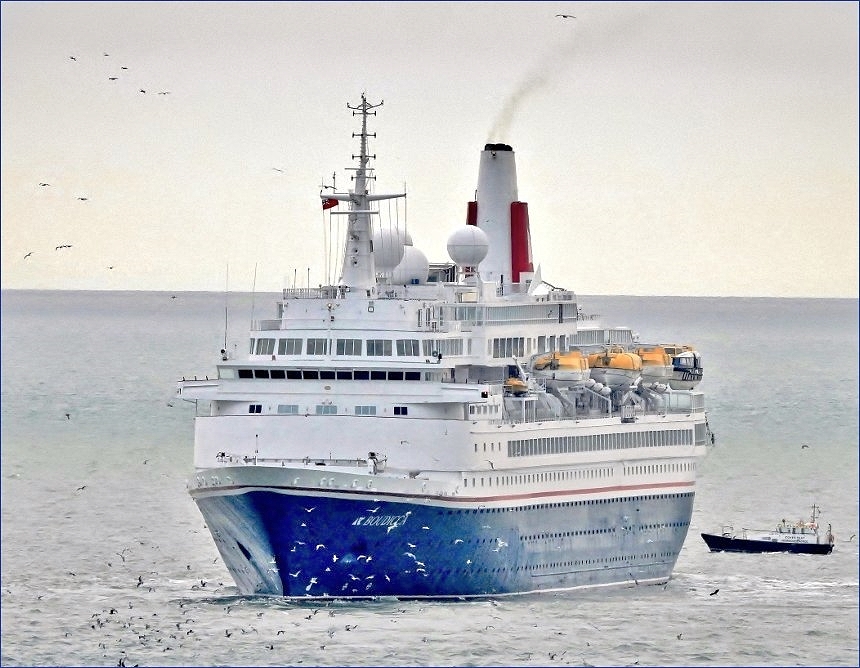 It was a strange seafront in Dover last night. Bleak...no sign of moving life. Not a soul shuffling about in the bitter east wind.
All restaurants/bars in shutdown.
Marine Court at the Premier Inn shut
Marco Pierre White's Chophouse at the Marina Hotel shut and dark.
Wheelers shut.
Hythe Bay Seafront restaurant shut, dark.
Cullins Yard shut....
Interesting post below from Mike. Great info.. and good to see those pix

Great picture from long ago Ted. Nice to see that one below..

PaulB
Sunday, 22 March 2020 - 07:18
Post 6891
Mike J., Dover (helcion@hotmail.co.uk)
Interesting 1980s photo from Ted - there's been some changes made !
Also Interesting were Paul's skilfully'tweaked' pix of the arrival of OCEANA.
Interesting to see two 'P&O' vessels in the same photo, each with different owners.
P&O Ferries are owned by Dubai Ports World & the OCEANA by P&O Cruises, one of the cruse lines operated by Carnival Shipping of Miami.
I once sailed in five bulkers owned by a little-known subsidiary of Carnival - NOSIRA SHIPPING.
Carnival was formed by Ted Arison & is still a private company & three of the ships were named NOSIRA followed by the name of a lady member of the Arison family,NOSIRA SHARON, NOSIRA MADELEINE etc.
Why NOSIRA ? - Easy, NOSIRA is ARISON spelt backwards.!
Back to local shipping, the EUROPEAN SEAWAY, anchored off Folkestone on Friday night is is now laid-up in Tilbury Docks facing an an uncertain future., where Saga are reported to have the offered SPIRIT OF DISCOVREY & SAGA SAPPHIR as hospital ships during the Coronavirus pandemic.
Carnival are also making a similar offer over in the USA offering vessels from he Carnival Cruise Lines fleet..
Dutch Coaster LIAMARE arrived Dover Friday evening wth a rock armour cargo from Rekefjord in Norway.
She has now joined the VENTURE & her rock barge on the DCT.
Not her first visit to Dover, she was involved with the same cargo in 2016 during the railway sea wall repair works [posts 2741 etc].
The rocks bought in by VENTURE & LIAMARE are to go by road to sea defence works at New Romney & Jury's Gap, near Camber.
A few more pix of OCEANA & AURORA from Langdon Cliffs, St.Martin's Battery & Citadel Road.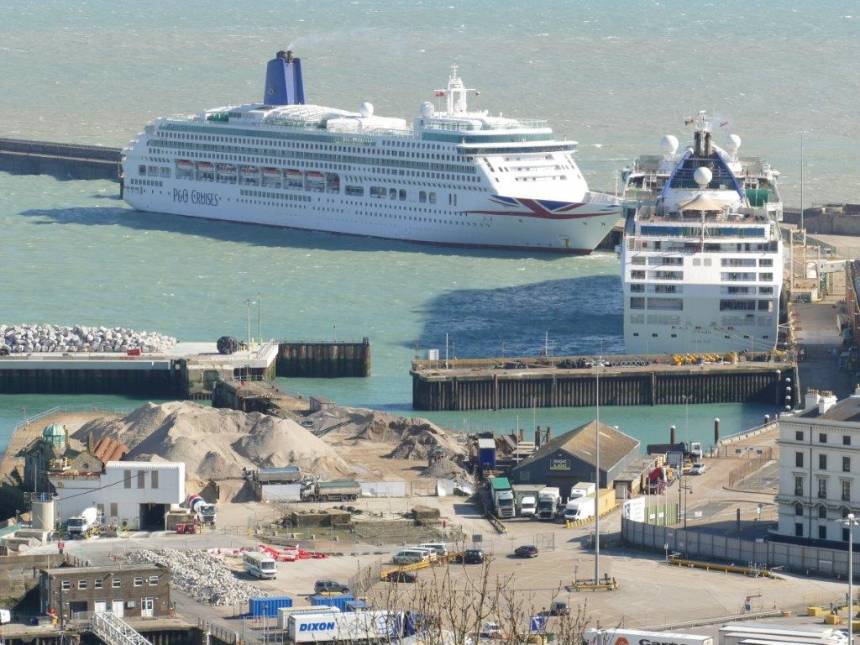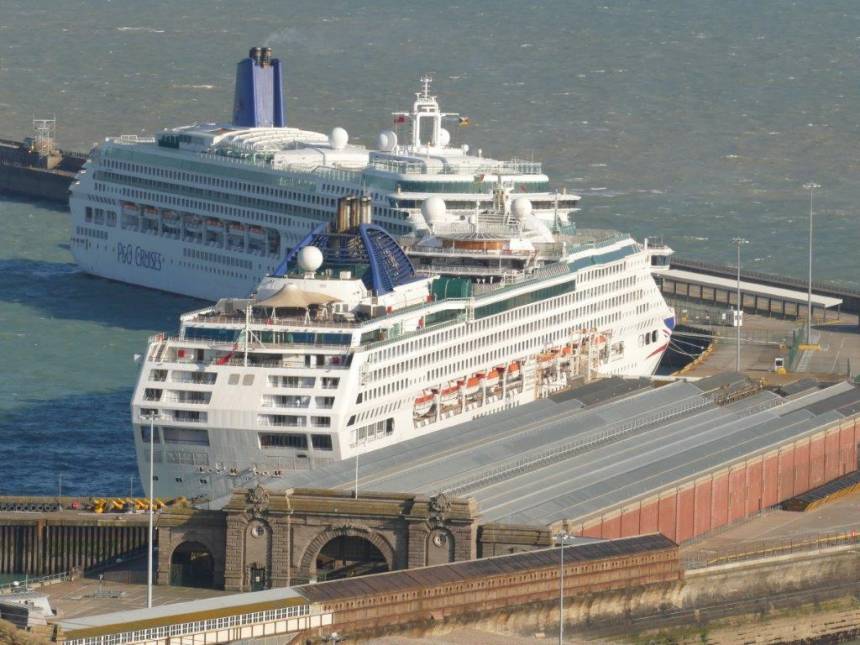 They are expected to be in Dover for at least 30 days, possibly longer.
Sunday, 22 March 2020 - 02:22
Post 6890
Ted Ingham, Canterbury
A blast from the past..
A view of the Eastern Docks in the 1980's.
Photographed by myself from a RAF SAR Wessex helicopter based at Manston.
Saturday, 21 March 2020 - 11:44
Post 6889
Sea News, Dover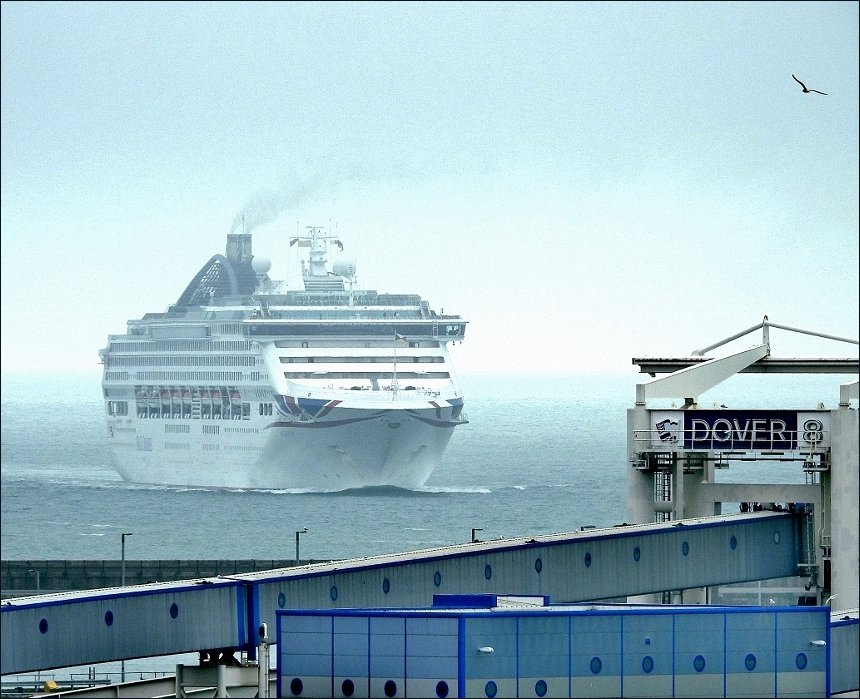 Oceana:
Some more pictures now of an approaching and arriving Oceana. The magnificent P&O cruise ship cut a striking image coming out of the gloom here in Dover on... let me see...yes Thursday 19th. Time of first shot above 09:02. Have brightened the images up a tad over reality. Would be nice if these P&O ships came here on a regular basis...
Both P&O...Ferry and Cruise in first shot below etc...
Oceana and the Spirit of Britain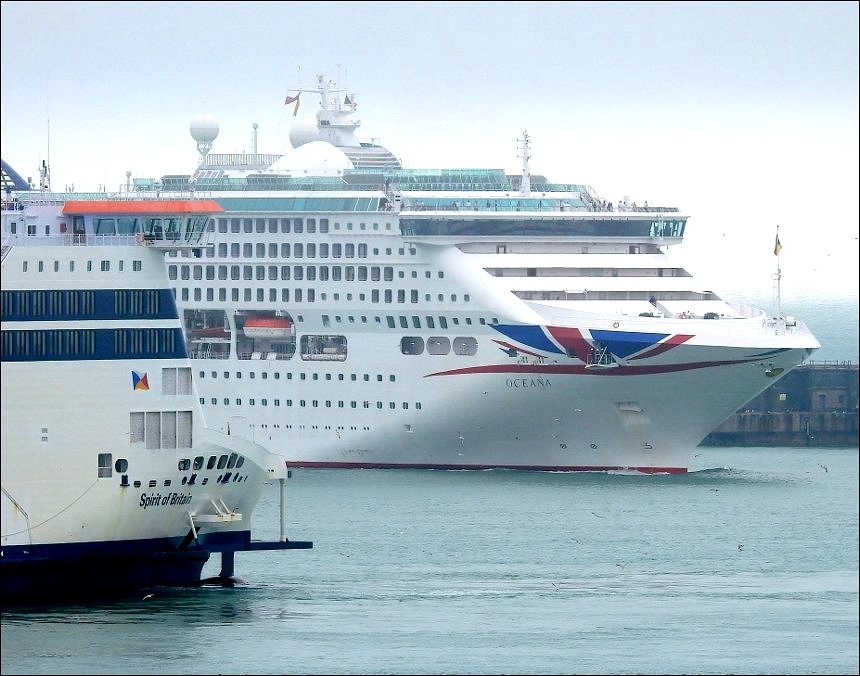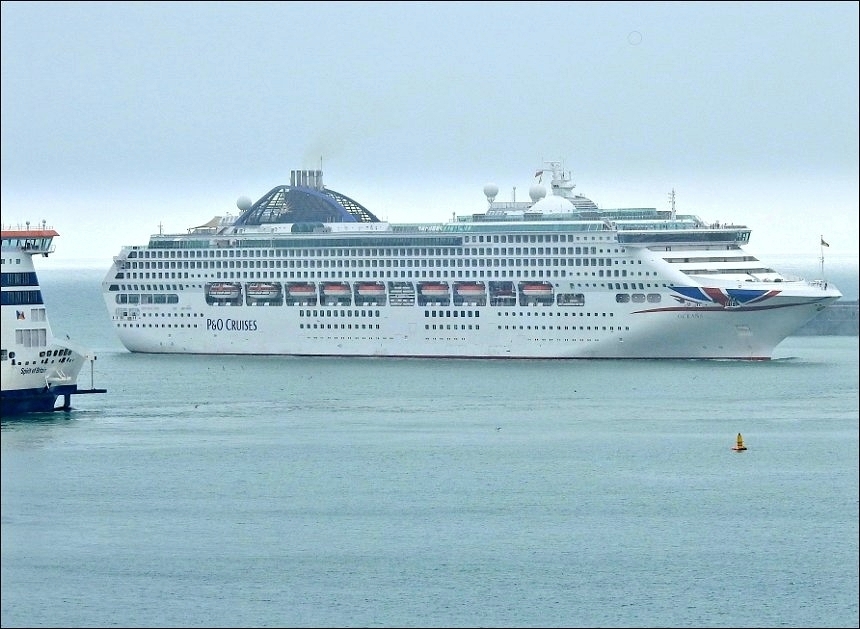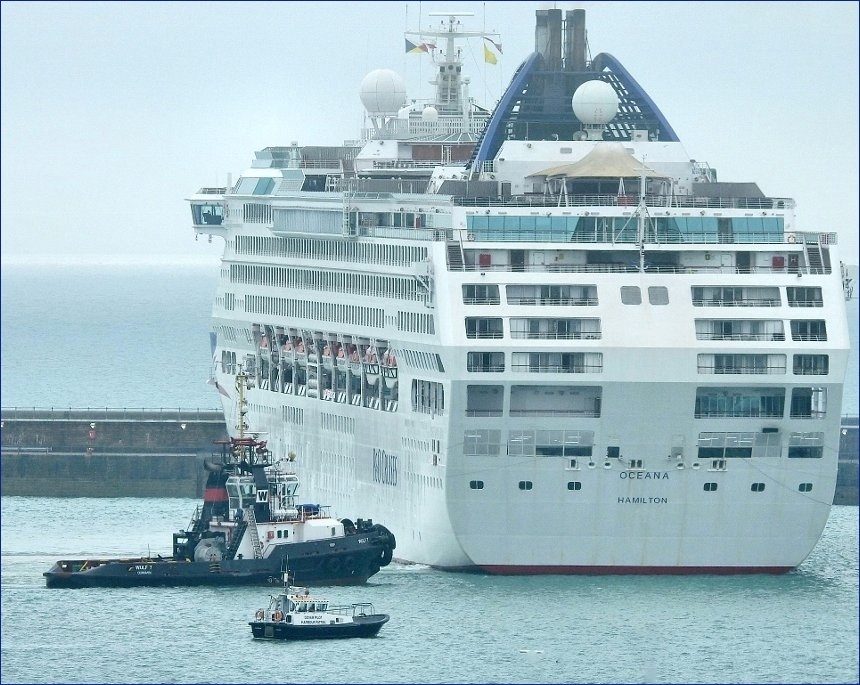 Oceana .. with Wulf 7 and Pilot boat..
The same night but of course pitch dark, the P&O Aurora came in too...being pitch dark no arrival pictures, but here we are below..a standard image taken yesterday looking across at Cruise Terminal 2.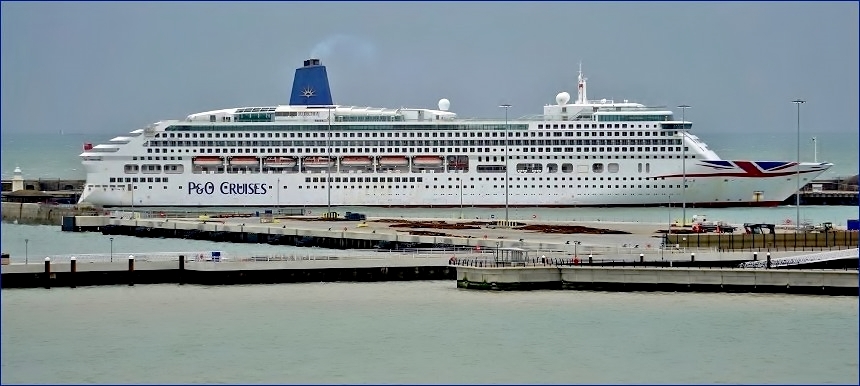 See also Mike's pictures below...taken from on high.. well done Mike. Delightfully gloomy..good info too..

Thanks again Mark...thanks for all the info...Yes ferries still plodding on...

PaulB
Have lots more to come in due course...backlogged..

Saturday, 21 March 2020 - 05:56
Post 6888
Mike J., Dover

Mark - certainly looked like sisters when all I could see was the lights !
Too lazy to research !




Saturday, 21 March 2020 - 01:53
Post 6887
Mark Rushton, Northants
Eerie photos of Oceana there, Mike. Oceana and Aurora are P&O stablemates of the same era but not quite sisters. Given that Aurora's closest cousin, Oriana, was flogged off to China last year, one wonders in the current climate whether Aurora has sailed her last cruise for P&O. It would be a shame because, as will be evident tomorrow I'm sure when photos appear here hopefully, she's a lovely sleek looking vessel compared with today's ugly monsters. Oh, and let's hear it for the ferries. The world's cruise ships might be retiring to the nearest available bolt holes for now, but the Dover ferries keep plodding on - the wheels of commerce keep on turning....

Friday, 20 March 2020 - 21:22
Post 6886
Mike J., Dover
Out of Thursday morning's swirling mist & fogbanks, like a ghost ship, came P&O's 77,000 ton OCEANA on her first visit to Dover.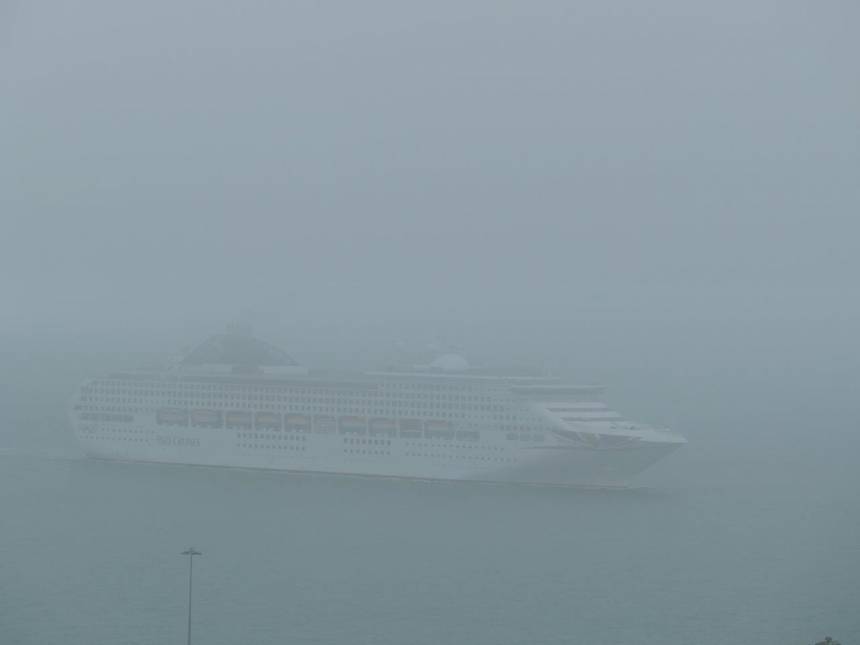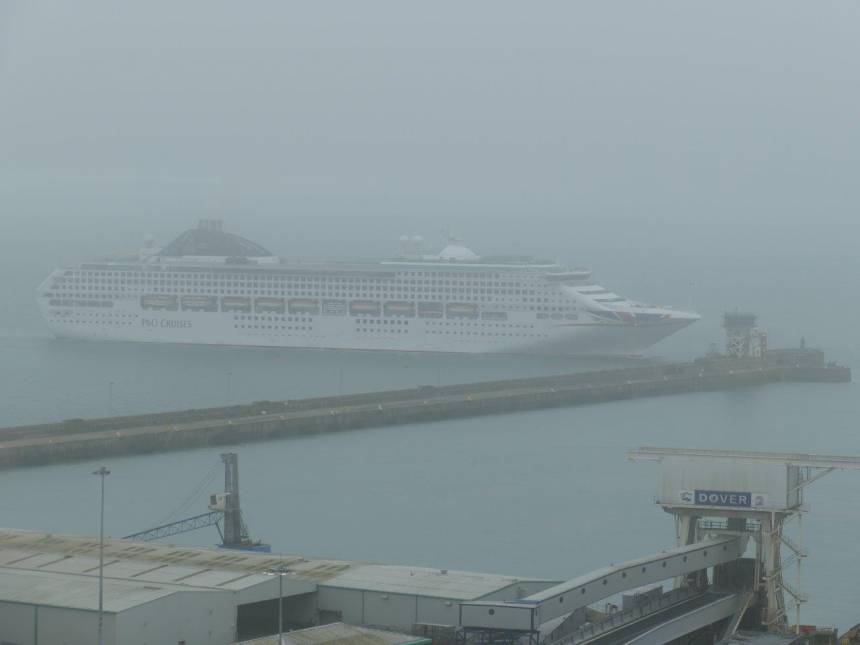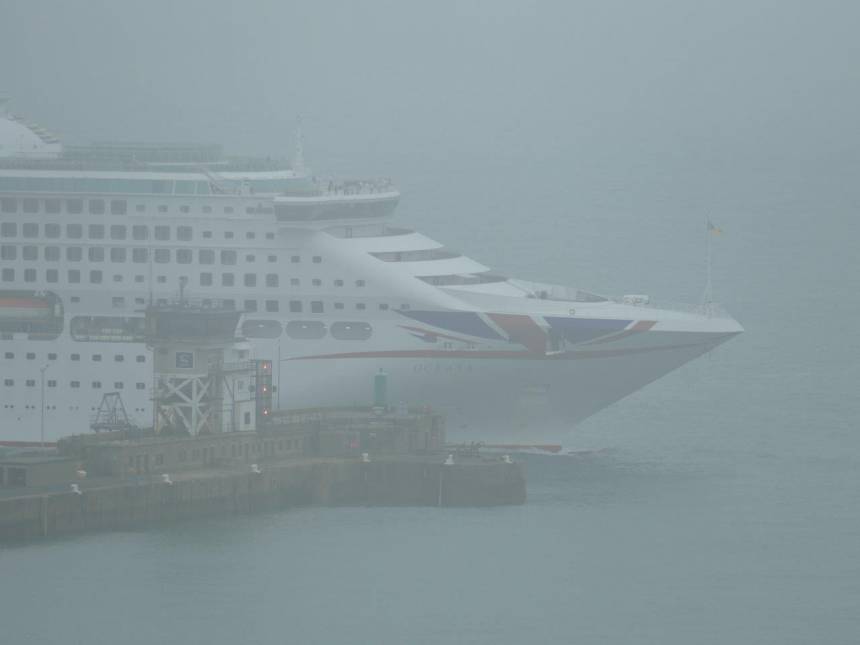 A most unexpected visitor with no prior announcement of her arrival although she showed on Marine Traffic's 'Dover Expected Arrivals' page on Wednesday night.
She has come to Dover to lay-up on the Admiralty Pier for an unknown period due to cruise cancellations caused by the Coronavirus pandemic.
Visibility had improved by the time she crossed the bay & swung & she was quite capable of berthing herself on CT1 without tug assistance & WULF 7 is returning down the Wick to the Tug Haven, passing the listed Customs Watch House.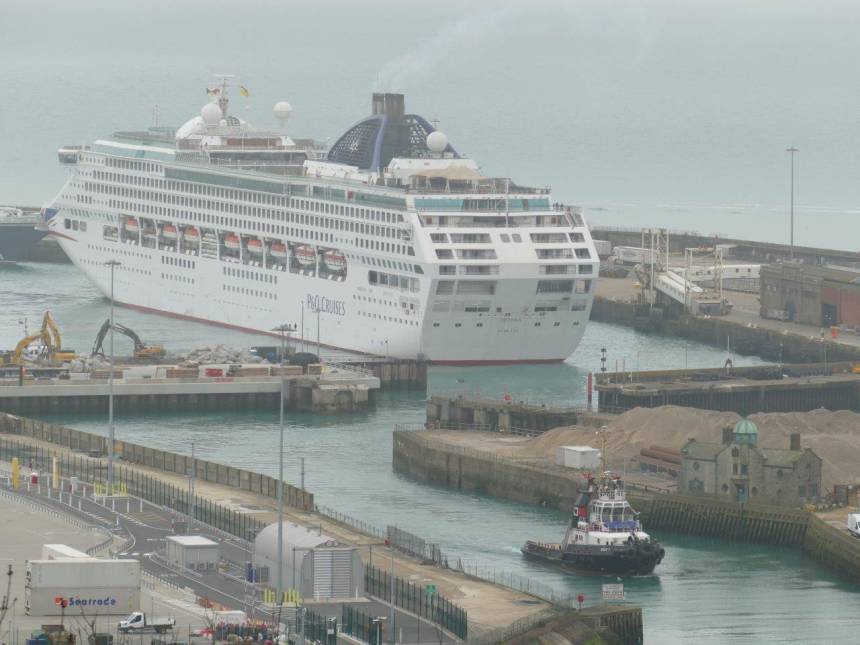 OCEANA was joined Thursday evening by P&O's AURORA who is now docked on CT2.
I think that they're sister ships, both had come up from Southampton.
Earlier, in the pre-morning darkness the BOUDICCA came in at the end of her round-the-world cruise & after de-storing has now left for lay-up in Leith.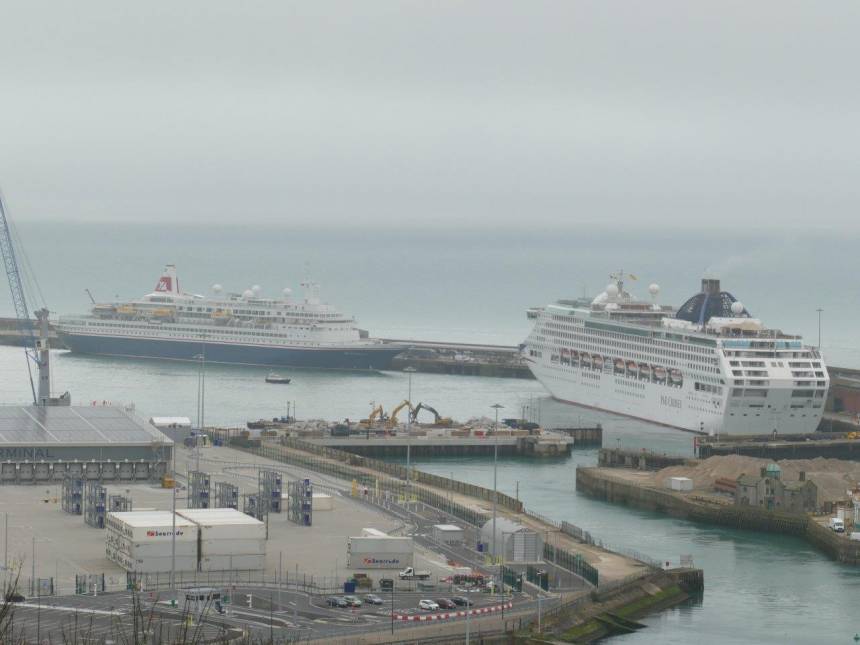 From Megger's carpark above the A20 & across the former Dover Marine station building, now Cruise-1.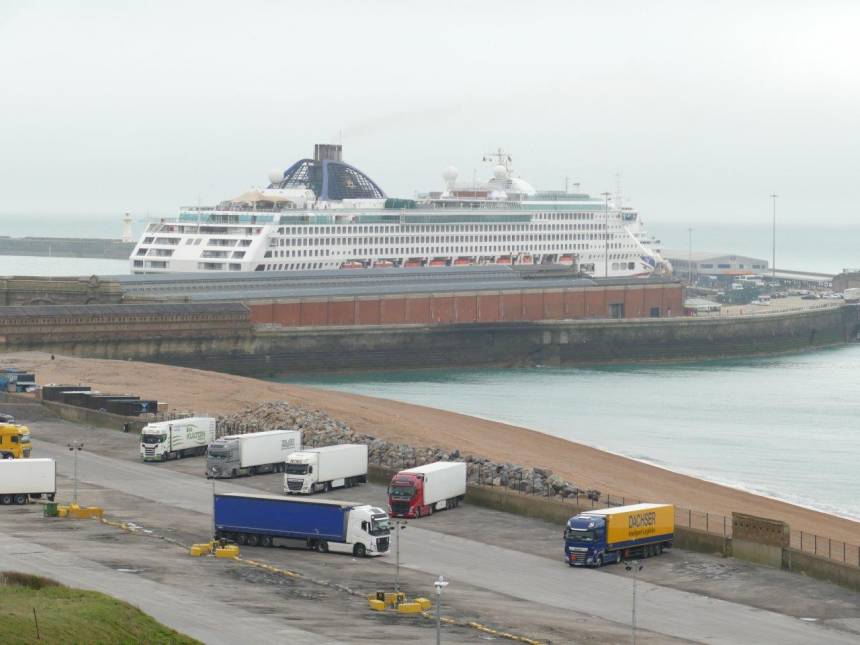 The lorry park used to be the marshalling yards for the original train ferry dock [now filled in with gravel behind the Customs Watch House] as well as Dover locoshed, all now long gone.
With the SPIRIT OF DISCOVERY - SAGA SAPPHIRE - VIKING STAR laid-up in Tilbury Docks & the MAGELLAN on Tilbury Landing stage for the last five days the cruise industry is going thru a hard time, as are the unfortunate crews aboard.
Early Friday morning the EUROPEAN SEAWAY could be seen, apparently anchored, off Folkestone,.
Her AIS track shows her leaving Dunkirk & calling at Calais before heading on down to Folkestone.
. . . .On the rare occasions when ferries anchor off Dover they usually anchor much closer to Dover,
but perhaps the fishing is better off Folkestone . . . . .
Friday, 20 March 2020 - 02:25
Post 6885
Sea News, Dover

Newcastle-Amsterdam ferry route temporarily suspended
_____________________________________________


…Due to the Covid-19 situation, the Amsterdam-Newcastle ferry route will be temporarily suspended
...Last sailing before the suspension will be on 21 March from Amsterdam and 22 March from Newcastle
...Operator DFDS is in consultation with crews on board and staff ashore about the temporary effects on employment
Following the introduction of new national measures intended to delay the spread of Covid-19 (Coronavirus), DFDS is temporarily suspending sailings on its Newcastle to Amsterdam (IJmuiden) ferry route.
The last sailings on the route before the temporary suspension will be from Amsterdam on Saturday 21 March and from Newcastle on Sunday 22 March.
"Customers with a booking are being informed individually about this, and we have decided to continue sailing for a few days more to give travellers a chance to get home," says Kasper Moos, Head of DFDS short routes and passenger business.
"We had hoped to be able to continue the route on the basis of a reduced operation. However, the situation has developed fast, and the recent national measures to slow down the spread of the virus, including travel restrictions, give us no alternative but to suspend sailings until 13 April 2020 as a minimum.
"Unfortunately, this also means that we will need to send crews and staff in Newcastle and IJmuiden home until the route can be re-opened. Crew members will be on board for some days to get the ships ready to be laid up in IJmuiden. We have informed everyone working at the route about the situation and are currently in talks with union representatives and national authorities in the Netherlands, the UK, Denmark and Germany about this and possible schemes to mitigate the consequences on staff. We will be able to share more information next week.
"That we have been able to sail and service our customers until now is only due to the fantastic efforts of our colleagues on board and ashore. They continued working to provide a service to our customers under extremely difficult conditions, and we owe every one of them our thanks and gratitude. I look forward to welcoming colleagues and customers back on the route, as soon as the Covid-19 crisis is under control."
-Ends-
From the Road Haulage Association …..






Drivers Hours regs relaxation .. good news for consumers says RHA
____________________________________________________________
The RHA is pleased that the Department for Transport has acknowledged the vital contribution that UK hauliers play in keeping the economy moving during the coronavirus pandemic by relaxing the Drivers Hours regulations..
Commenting, RHA chief executive Richard Burnett said: "As far as the logistics industry is concerned, we are working as efficiently and as quickly as the current situation allows.
"Despite the public perception, shortages are not the problem the problem lies with supplying the current unprecedented demand for goods. As a result, the usual efficient and cost-effective delivery schedules have gone out of the window.
"The relaxation in Drivers Hours regulations currently applies to those responsible for the movement of essential items including- food, non-food, personal care and household paper and cleaning products and over the counter medicines. We need an relaxation on a wider basis to cover allparts of the supply chain. But there needs to be guidance as to when and how this will be applied.
"We are living and working in very uncertain times but the nation will always need to be fed. We represent the operators of commercial vehicles who in turn, are responsible for moving the entire UK economy. We will keep working closely with the relevant government departments to ensure that continues to be the case."
ENDS

Well done Mike and Andrew re the pictures below...good to see those.

. Gosh Mark very sorry to hear you have lost your trip on the Fridtjof Nansen...that's tough indeed... hopefully you can re-schedule..thanks also for the info too.

Yes Vic an exciting new exercise area on the seafront...we've gone very LA. Will aim to get a picture in due course. Thanks re all the info too. Always good to hear from you Vic.

Thanks Matt from Southampton for the info...very welcome info there.
PaulB
Thursday, 19 March 2020 - 06:36
Post 6884
Mike J., Dover
Further to Dave's excellent pix of the SPIRIT OF DISCOVERY taking the NE Spit pilot [post 6878] Andrew Hunphreys was at Tilbury for her arrival.
Passing construction site for the new Tilbury RoRo berth.
Bow tug is RT AMBITION.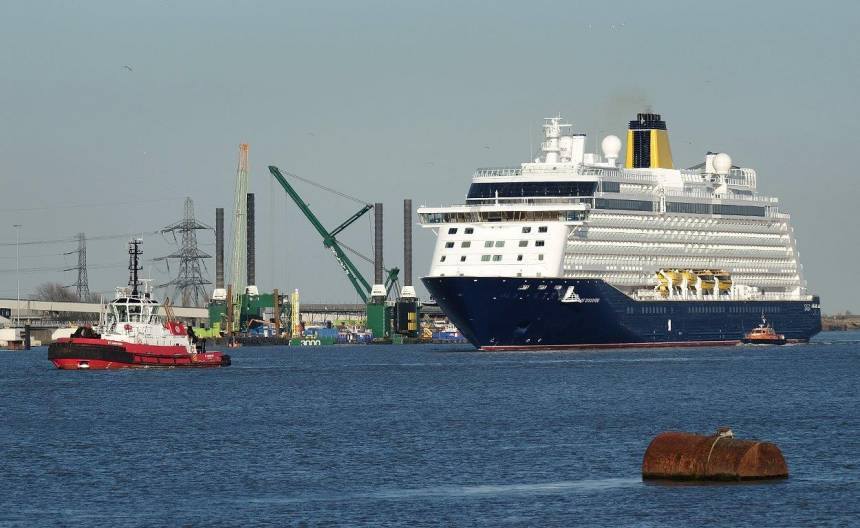 Evening 'glint' & swinging to enter Tilbury entrance lock for lay-up & an uncertain future.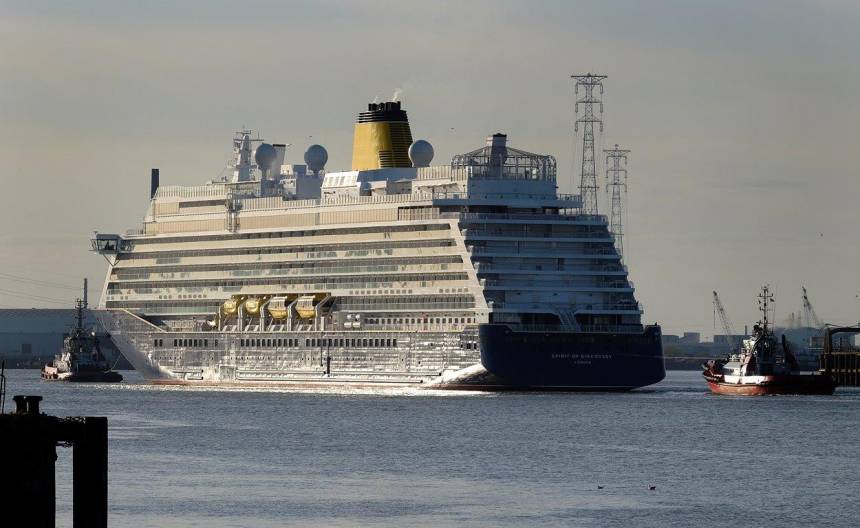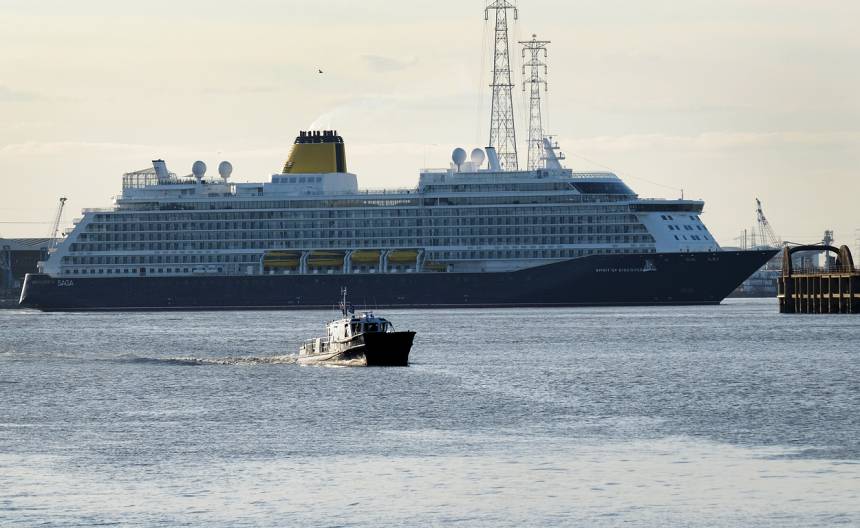 Thanks, Andrew !
Wednesday, 18 March 2020 - 23:36
Post 6883
matcham, dover
Well done to the D.H.B.
MANY MOONS AGO I was a cllr and asked the D.H.B. to put an out side GYM AND THE GEAR and AT LAST THAT HAS HAPPENED SO it is for all ages so please use it it has take a very long time to get one. Also they worked with me to get the R.B.L. Back in the Town and it has now over 100 members at time to get it up and running they give me £2000 to .at a late date the DTC also gave £1000, it is run by some very good ex army lads I am a member but that is all now.
Any way thank you all for the hard work being put in join it is open to all not just ex army, or RAF AND ROYAL NAVY BUT to all members of the public.


Wednesday, 18 March 2020 - 18:43
Post 6882
Mark Rushton, Northants
Hard times indeed. Further afield a fair number of ferry links have been shut down like Kiel/Oslo, Oslo/Copenhagen, Oslo/Frederkishavn, Stockholm to Tallin and Riga. Many ferries operating freight only, and truck drivers heading back from Spain on Cap Finistere are restricted to their cabins. And my little trip on Fridtjof Nansen is off - she'll pass Dover tonight heading straight back to Norway having abandoned her last two mini cruises. Boo Hoo !

Wednesday, 18 March 2020 - 18:03
Post 6881
Matt W, Southampton (mrwexpress@hotmail.co.uk)
Two P&O (carnival UK) cruise ships to layup during the coronavirus outbreak for a minimum of 30 days.Oceana to arrive tomorrow morning, followed by the Aurora

Wednesday, 18 March 2020 - 16:15
Post 6880
Sea News, Dover

DFDS announces changes to UK ferry services
_________________________________________
DFDS temporarily suspends all mini cruises on the Newcastle-Amsterdam route ..
....and reduces passenger capacity on their sailings to France
• The Newcastle Amsterdam service will continue to operate for those travelling on a transport booking with their vehicles or as foot passengers and bookings will remain available.
• Passenger capacity will be reduced to 50% on DFDS sailings from Dover to Calais and Dunkirk and Newhaven to Dieppe.
As a result of this DFDS will temporarily suspend all mini cruise packages on the Newcastle-Amsterdam route with immediate effect up to April 6th.
Mini cruise bookings up to and including this date will be automatically cancelled with immediate effect and a travel credit will be issued to use on a future sailing. The Newcastle Amsterdam service will continue to sail for those travelling on a transport booking with their vehicles or as foot passengers and bookings will remain available.
It has also taken the separate decision to reduce passenger capacity by 50% on all vessels on the Western Channel and Eastern Channel routes effective immediately also up to April 6th. There will not be a reduction in sailings, the schedules will remain the same.
Onboard all vessels, DFDS have already taken significant measures to prevent the spread of Coronavirus / COVID-19 including:
• Hand sanitizer dispensers installed everywhere on the ship for passengers to use.
• Ongoing extra touchpoint cleaning.
• On the Newcastle-Amsterdam ships, King Seaways and Princess Seaways, buffet food will now be served to passengers by staff and no more than 100 people will be allowed in onboard venues at one time
• The ships' crew is subject to strict measures and hygiene requirements.
• The ships carry a stock of masks to limit the spread of infection, if the need should arise.
DFDS has taken every precaution advised by the World Health Organisation to minimise the spread of Coronavirus / COVID-19 to protect the health of those travelling.
Coronavirus/COVID-19: Read our latest travel updates here: https://www.dfds.com/en/passenger-ferries/corona-virus/updates
Read our latest FAQ's here:
https://www.dfds.com/en/passenger-ferries/corona-virus?utm_source=optimise&utm_medium=corona_button_int&utm_campaign=corona_info_button
ENDS
Many thanks to DFDS for sending the info through...greatly appreciated.

You will need to copy and paste those links to see further or expanded updates.
Difficult times indeed.
* *
A couple of pictures now of a departing HMS Kent on Monday morning...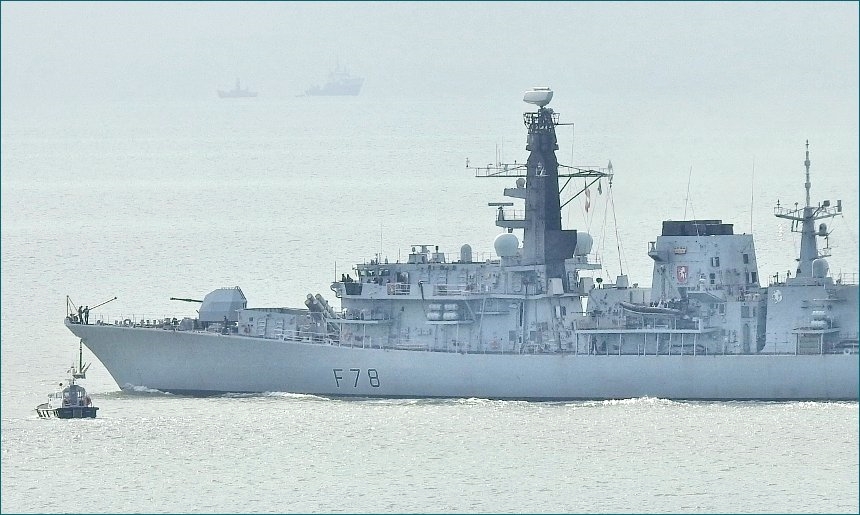 That's Galatea in the distance there I believe, in close attendance at the Varne Lightship, as HMS Kent exits the Port of Dover Monday morning. Time of first shot 09.13.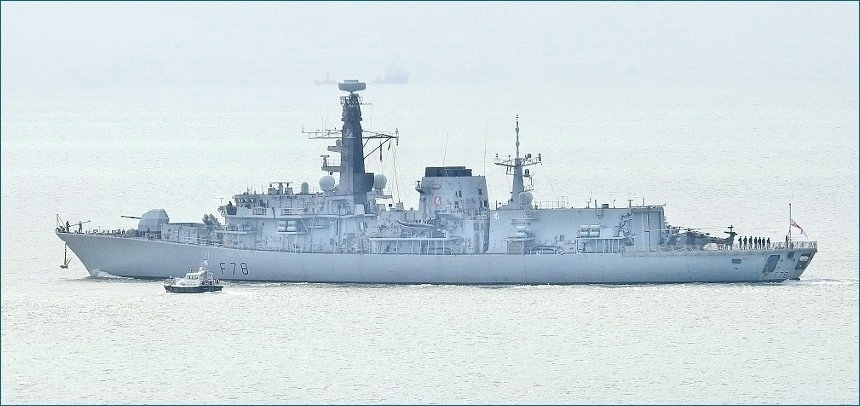 A final shot of the empty Saga Sapphire...long range pic this time, as she momentarily appears to head South West.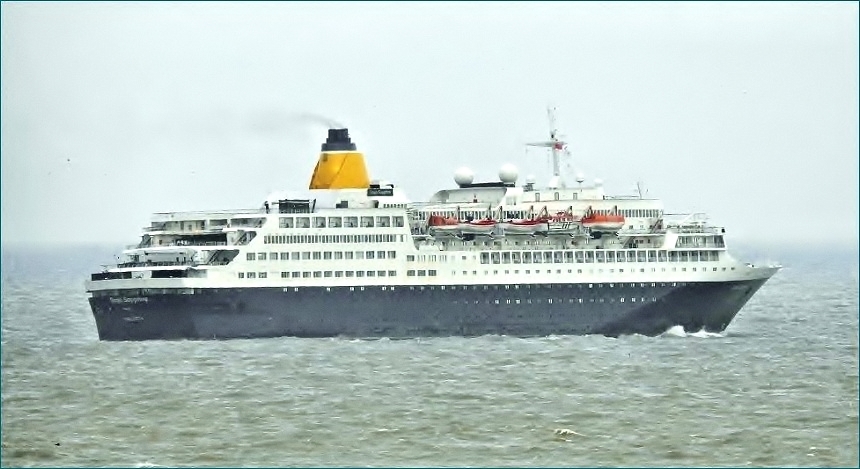 Saga Sapphire.
Great pictures below there Dave, very enjoyable - glad you persisted...yes always best with Dell. I use Dell myself


Thanks for that information below Ian - very welcome. Many thanks..

PaulB

Wednesday, 18 March 2020 - 06:11
Post 6879
Ian Busby, thurrock (ianbusby1@live.co.uk)
5 Cruise ships on lay up at Tilbury

Magellan/Astoria/Saga Sapphire/Viking Star/Spirit of Discovery

Ian

Tuesday, 17 March 2020 - 20:07
Post 6878
Dave, Sandwich
Second attempt upload.... Saga's 'Spirit of Discovery' taking the pilot(s) at the NE Spit pilot station en-route to Tilbury for lay-up.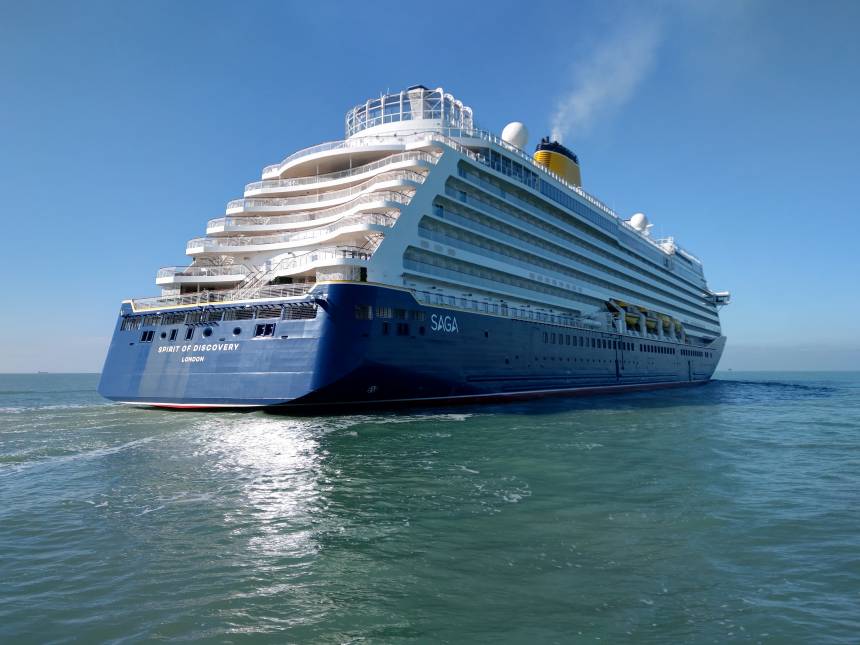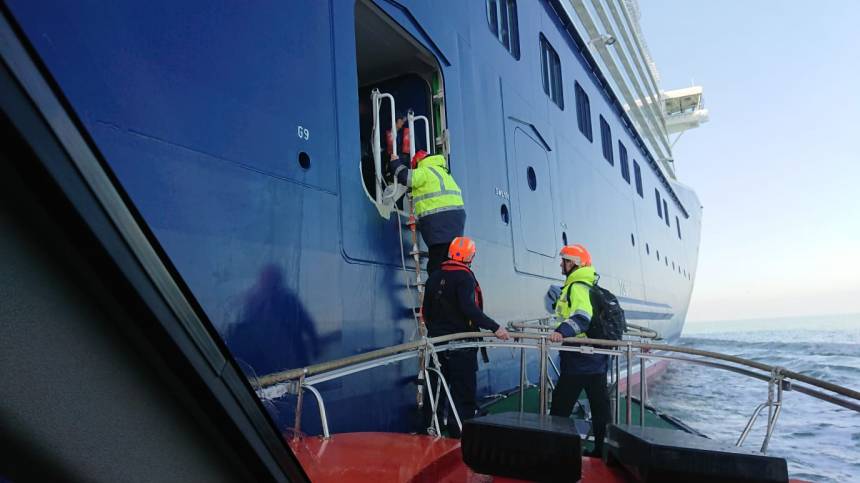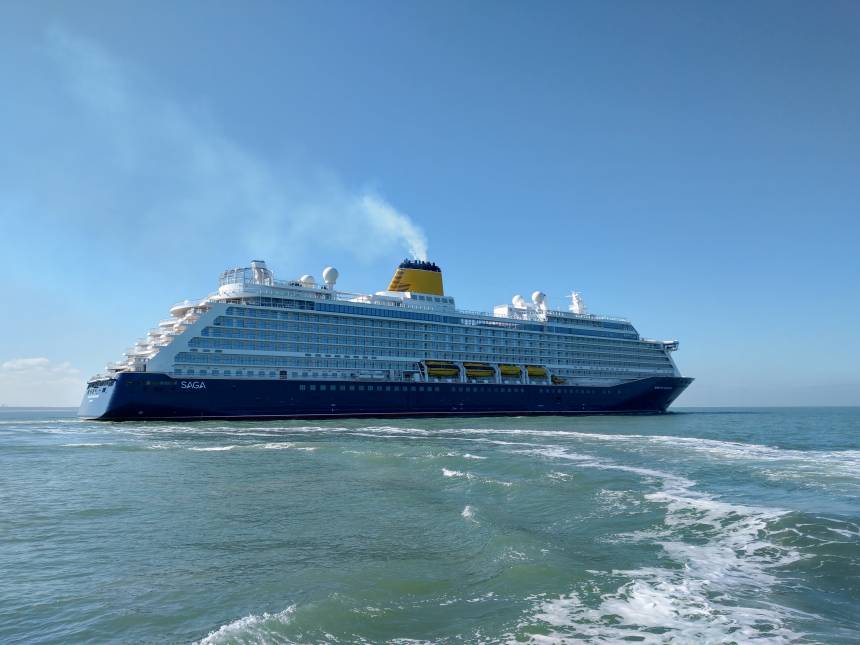 Note to self, use my reliable Dell PC to upload instead of iPad

Tuesday, 17 March 2020 - 09:15
Post 6877
Sea News, Dover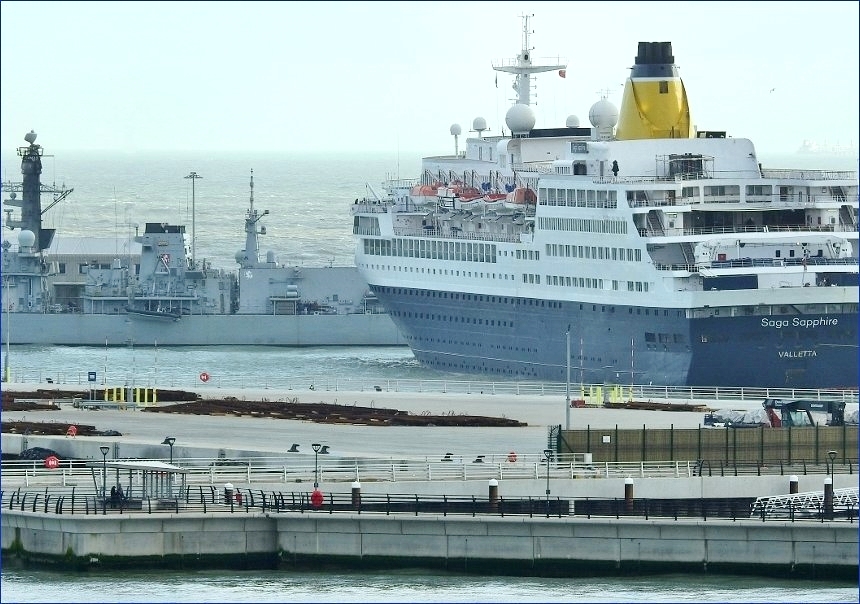 Empty Cruise Ship:
A couple of pictures above there showing how depressingly empty/deserted Saga Sapphire is, as she departs for lay up on Sunday evening. Sad to see...but alas the C word has struck the cruise business in a horrible way as we know only too well, as seen in all those news bulletins on TV. The dreaded Coronavirus goes on...
Here she is below exiting the Port and things look almost normal....almost...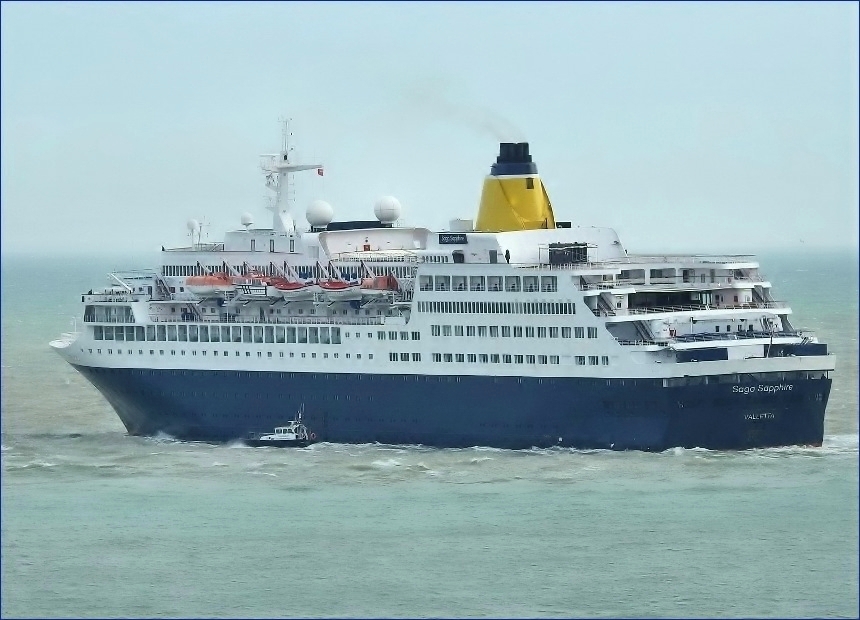 The picture below shows another rose...this time Lady Rosebud loading at the new cargo terminal. Only took this pic a couple of days ago...she has left us since and then Lady Rose came in... and now she has left us too. Very fast turnarounds at the new terminal...will have a pic of Lady Rose on her way in due course.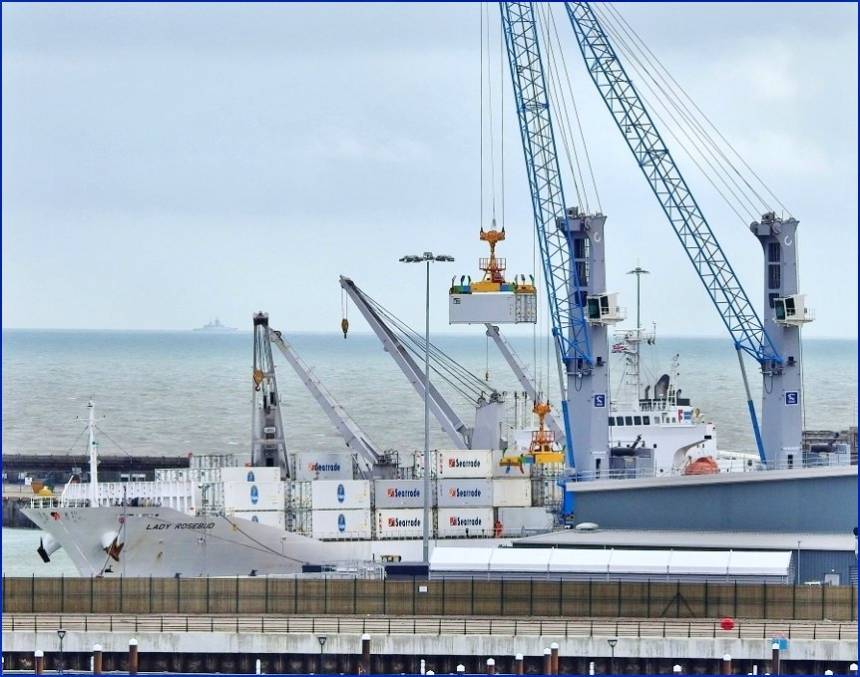 Lady Rosebud loading up...
Many thanks Mike W.. always good to hear from you..

Sorry your post didn't come through right Dave...at first glance it looks as though too many pictures were loaded on...I see IMAGE 10 there...which is probably the cause.. Max 5 best. Thanks Dave always welcome..

PaulB
HMS Kent left us yesterday...will have another pic or two...
Tuesday, 17 March 2020 - 07:06