Post 6936
Del Styan, Norwich
Love Bill Bryson's books. I agree completely with the previous comments. I re-read them and still laugh. Must be my age.

Tuesday, 14 April 2020 - 23:25
Post 6935
Mike J., Dover
Sandwich or bust !
A biomass lorry heads-up Jubilee Way en route for the mini-power station at Pfizer's old site.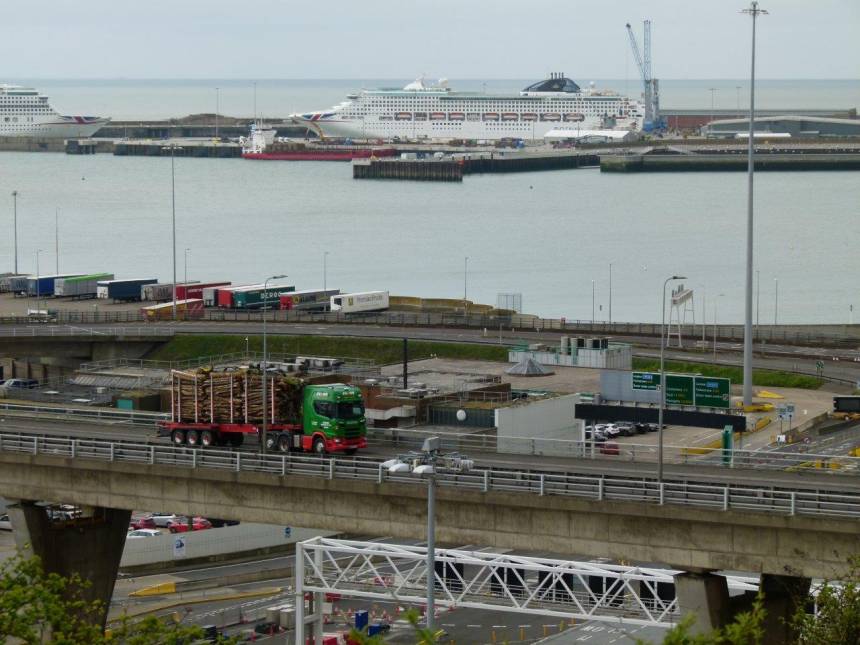 The MERITA started discharging on WD4 Tuesday morning after spending most of Easter anchored off Margate & by mid-morning unloading was well underway with most of her deck cargo either on lorries or being stockpiled on the quay.
OCEANA in the background.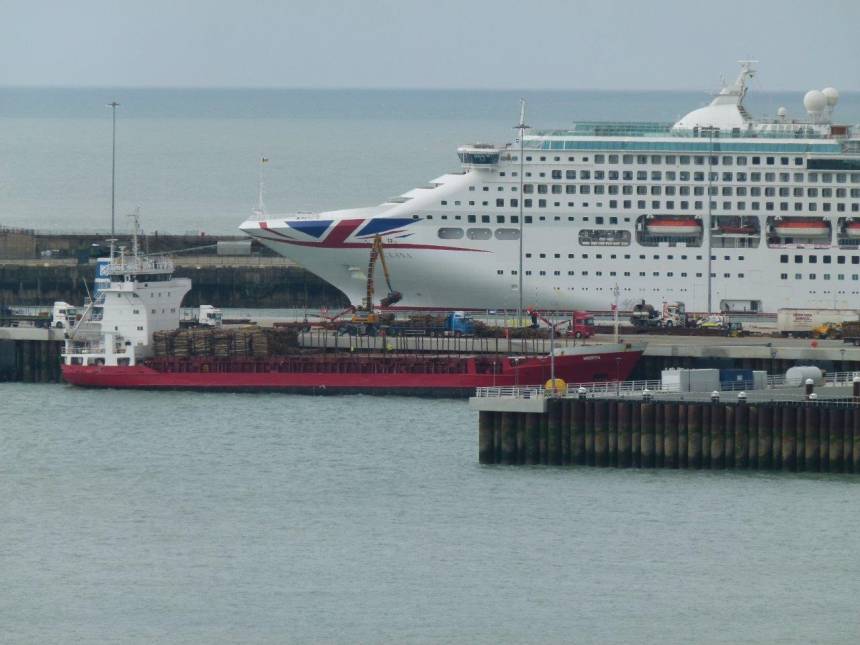 Looking forward to Paul's MERITA pix from his lookout post.
ARCADIA left Southampton Tuesday evening & is giving her ETA as 0715 & will be going on the Eastern Arm.
Mark - I like Bill Bryson as well - about the only author who can make me laugh out loud even when re-reading & knowing when the jokes are coming up !
Remember Mrs.Smeg the Dover landlady ?
Not just comedy - writes interesting stuff between the jokes.
Tuesday, 14 April 2020 - 23:03
Post 6934
Mark Rushton, Northants
Greetings from my house arrest in the Midlands. Your reposted photo of the empty seafront reminds me that I'm half way through re-reading Bill Bryson's "Notes from a small island". The first chapter describes his first arrival in the UK on a night ferry from Calais back in the 1970s and dossing down in one of the seafront shelters with a pair of boxer shorts on his head for warmth. Hilarious and compulsory reading for anyone who remembers the Dover of old. I'll close with a stirring chorus of "We'll meet again"....

Tuesday, 14 April 2020 - 10:43
Post 6933
matcham, DOVOR
Yes to that one, never home always in some port or on a ship but must say D.H.B have /always working keeping the port one of the best in the world working 24/7 best port I have ever work in , and it had to be done right first time or you was for it.


Tuesday, 14 April 2020 - 10:15
Post 6932
Sea News, Dover
A couple of further pictures of small tug or workboat New Ross 1 taken in the past few days. Following along from the earlier pix in post 6925...it doesn't look quite so red here as shooting into the light this time rather than with it, but see the other pictures also. The tug is making her way 'homeward' after a long day...or in other words returning to the inner harbour western end...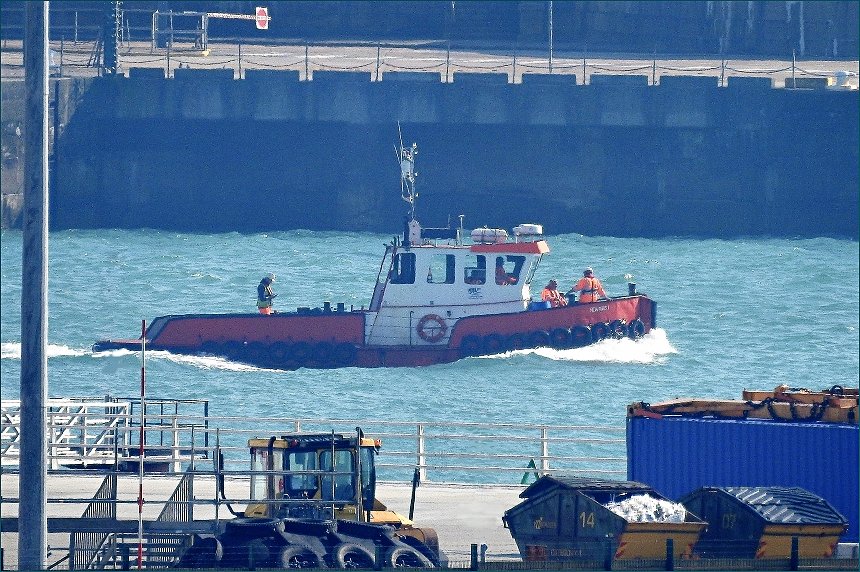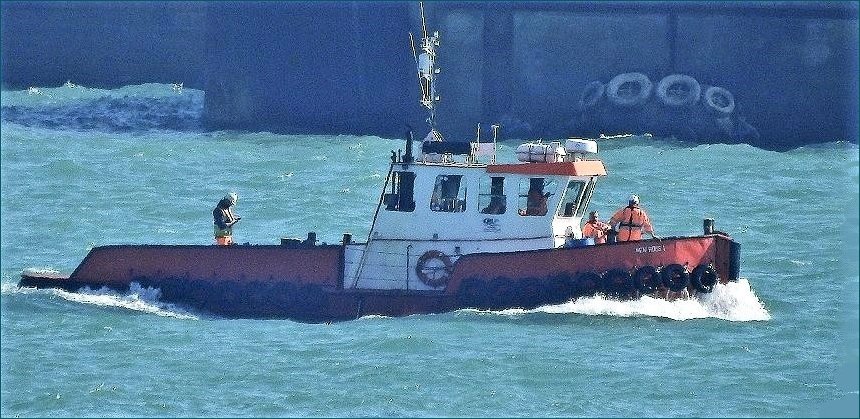 Showing her passing all the dock paraphernalia above there ..the second picture taken a tad earlier. Looks like tha chap at the rear is checking his messages...looking at his options for the evening perhaps...although .. these days...sigh..!.
Just showing the picture below again, putting it up for record purposes as the originals were lost in our recent problems.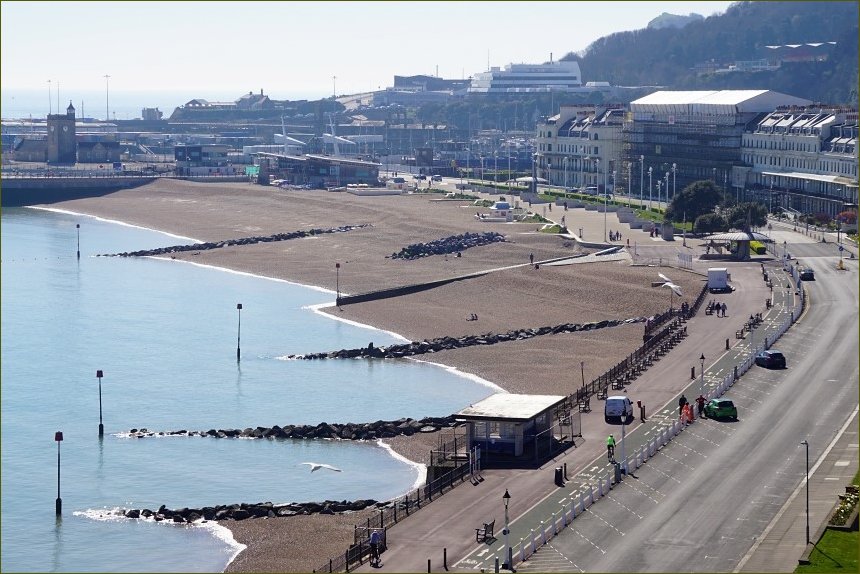 Dover Beach ..hot day but in lockdown. Would normally be packed...
Hi Vic yes there seems to be plenty of work at the moment.. twas good to see those pictures from Sandwich (post 6929). Looking back...I bet you always kept busy though...

PaulB
ps: there is a town in Ireland called New Ross, I wonder if the tug above has any connection...seems quite a co-incidence..
Sez he pondering wistfully while gazing into the distance at an approaching Oceana...

Also we will have more pictures of the great container ship as seen at top of page...MSC Regulus.
Tuesday, 14 April 2020 - 06:41
Post 6931
matcham, Dovor
MYkind of work going on at Sandwich, and our port, yet when I was working none of that was going on and HAD to go 200 miles or so to work and living away most of the time


Monday, 13 April 2020 - 09:12
Post 6930
Sea News, Dover
The Twilight Zone; Nature couldn't quite make up its mind whether it was night or day (and neither could the camera!) as Oceana began to move away from 'grain pier' WD4 on Saturday around 19.40. Off on another channel cruise, we guess re the aforementioned grey water situation, in the fading but colourful light...and here she goes..stern first initially and then coming round to exit the Port... no tugs in attendance..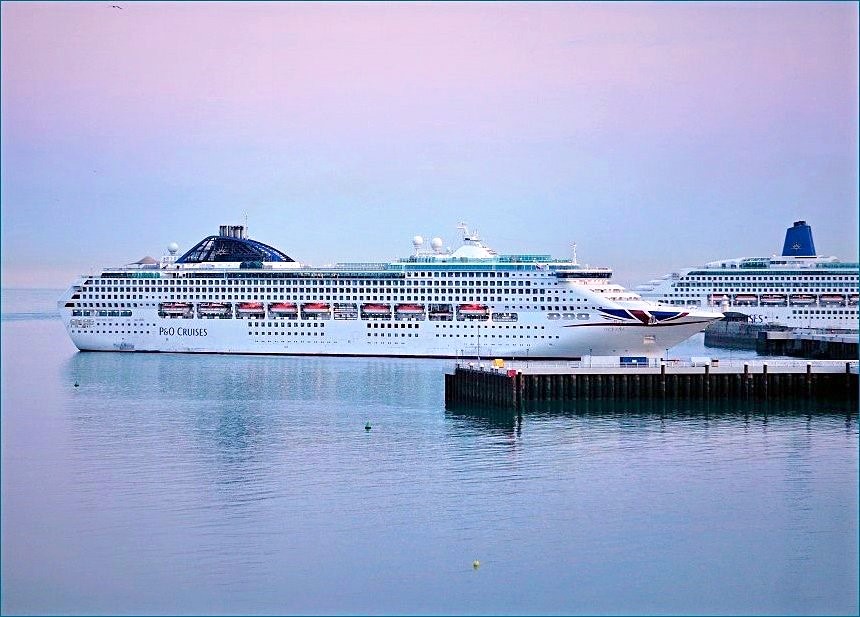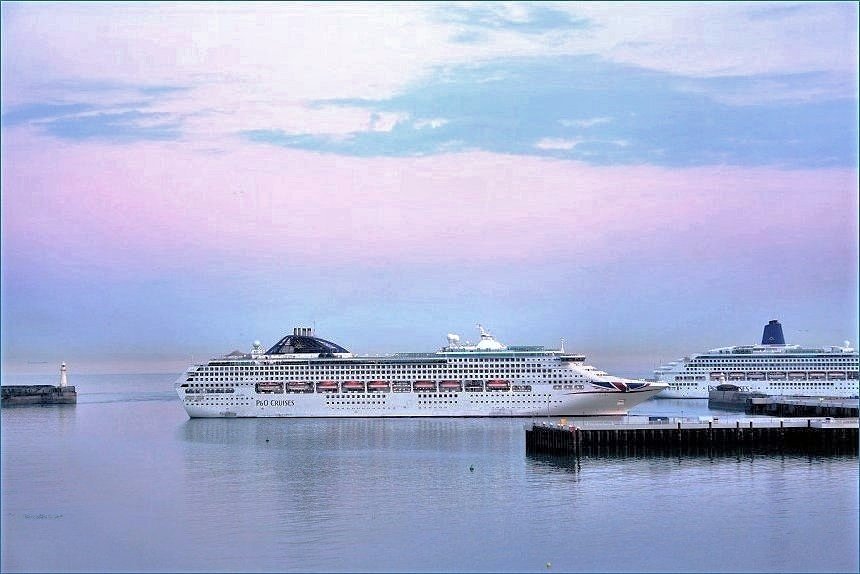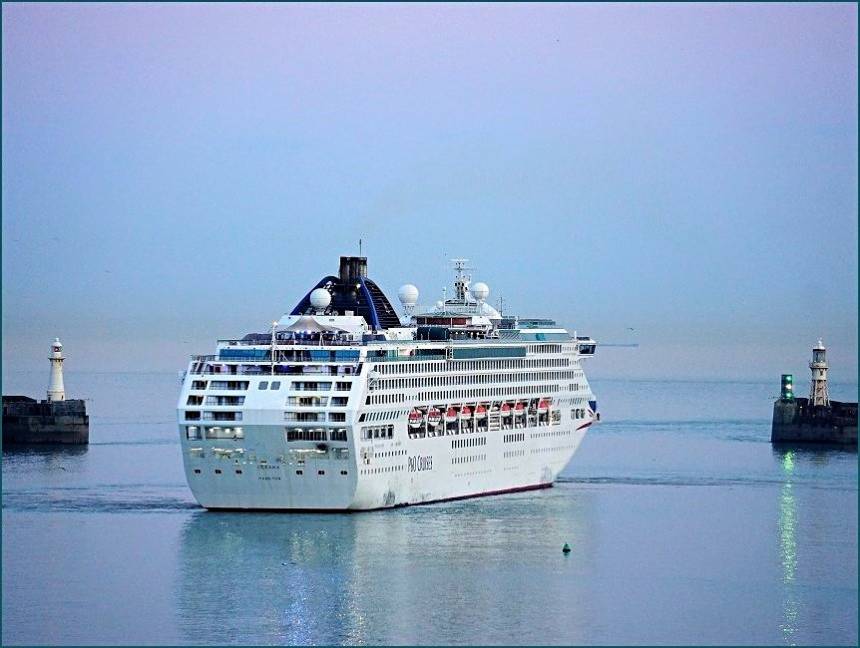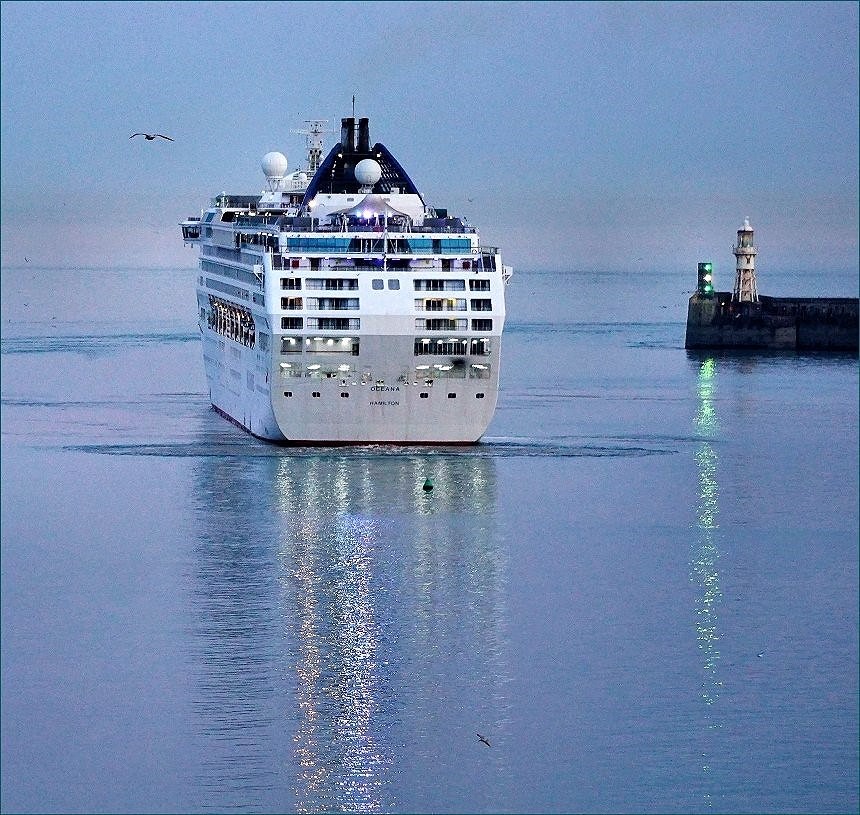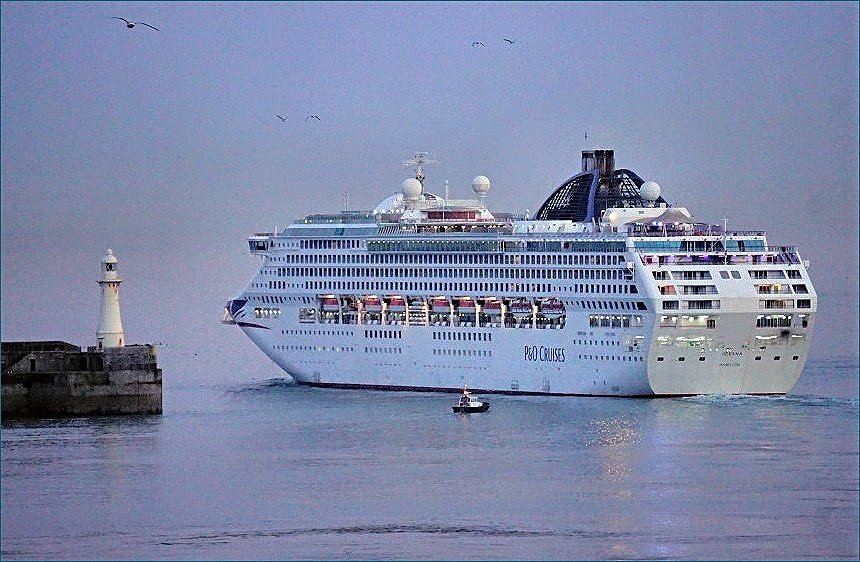 Oceana

Very interesting post below from Mike so don't miss that one...very unusual to see a large platform all the way up in central Sandwich ...fascinating stuff....yes good one from Mike there ... Don't Miss it!
The sunny and warm spell seems to be over...for now...we are under grey clouds this morning with the shipping forecast suggesting some gale force winds...its blustery here in the 'observation tower' for sure, me timbers are a-rattlin'
PaulB
Monday, 13 April 2020 - 06:19
Post 6929
Mike J., Dover
As was often said on Monty Python '& now for something completely different' which I hope qualifies for 'Sea News' but at least the HAVEN SEAJACK 4 does [occasionally] float !
For some time major work has been going on in Sandwich to reduce flood risks in the area & I only became aware of the work it when I crossed the former tollbridge in early March & saw the most unexpected sight of a jack-up barge upriver of the bridge.
Part of the work involves stabilising a failing quayside & the barge has been used for pile- driving & the work continues
Looking upstream from the tollbridge 3/3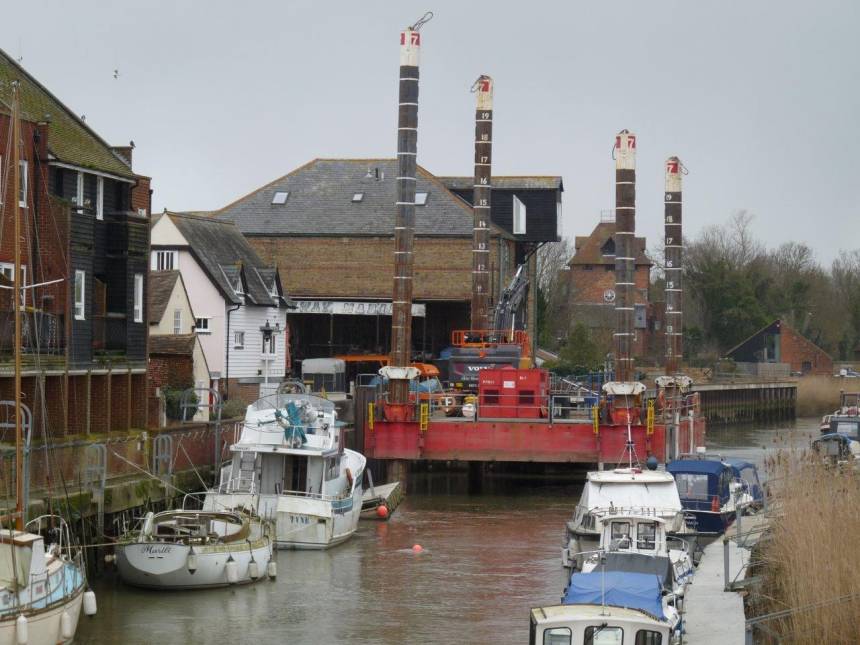 Looking downstream, tollbridge in the background on the same day.
The big building is the former Watney's Brewery - coasters, probably sailing barges, would unload grain & hops & beer would often leave down the river.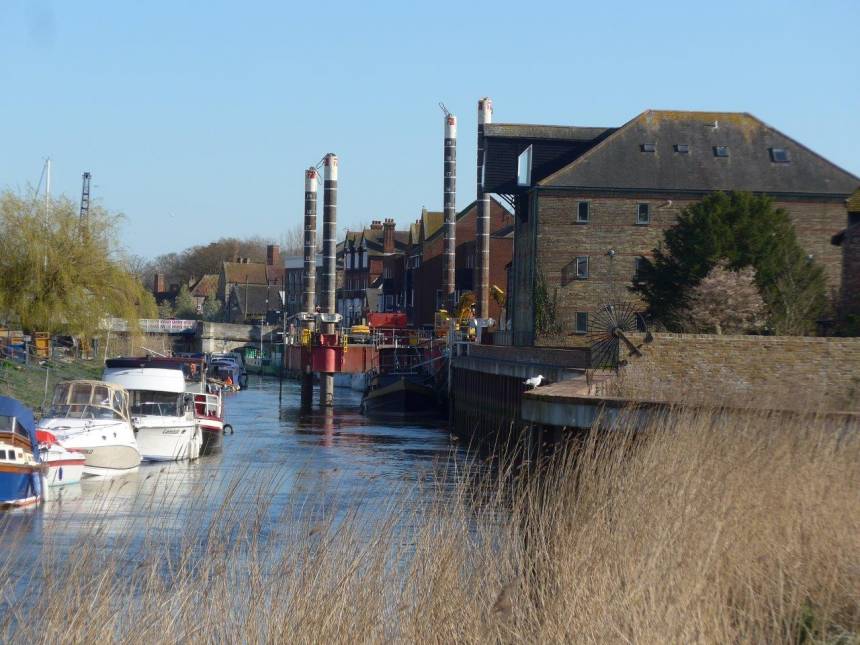 The three-section barge was brought in by road & assembled with the aid of a massive mobile crane based in the plant yard across the river in the middle of Highway Marine's boatyard opposite the current work site.
The four long 'spuds' that the barge climbs up were also brought in by road in sections.
When I first noticed the work the barge had climbed up the spuds & was working clear of the water but on 17/3 at the top of high water he barge had been floated & moved across the river so that further piles could be loaded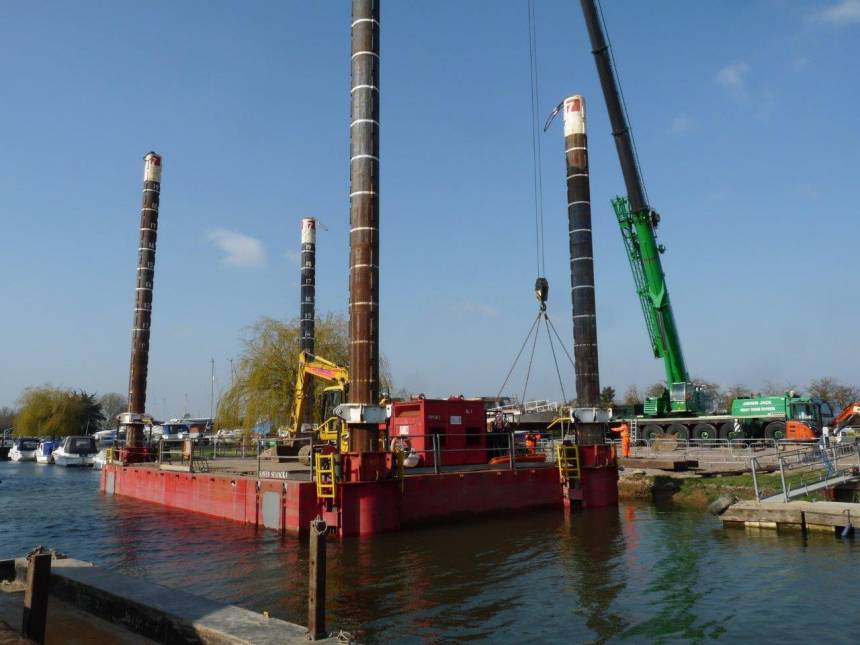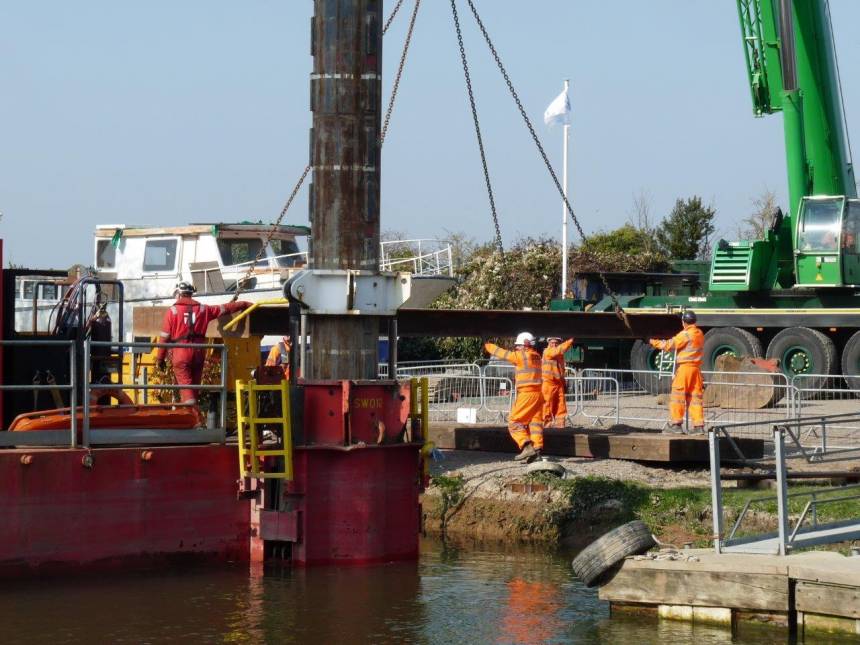 The project, running a little late, is described in this weatherbeaten notice & I found myself reading the first sentence as though the object of the work was to make the flood risk worse.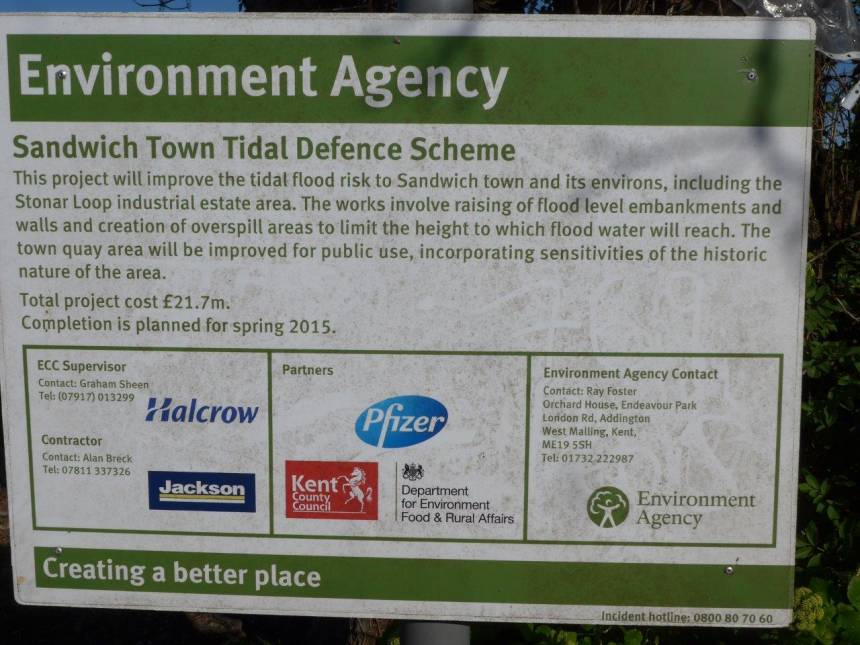 Whoever wrote the notice knew what they meant, but it might cause some confusion . . . . .
Monday, 13 April 2020 - 00:36
Post 6928
Sea News, Dover
Mike mentioned that Oceana went out for a further run last night and yes indeed she did and we will have a pic or two following along shortly, as there was just enough light left for a few worthy shots... but just harking back now a couple of days and we see below Bunker ship Whitdawn in the blazingly bright conditions in Port servicing Oceana ...with Aurora in the background...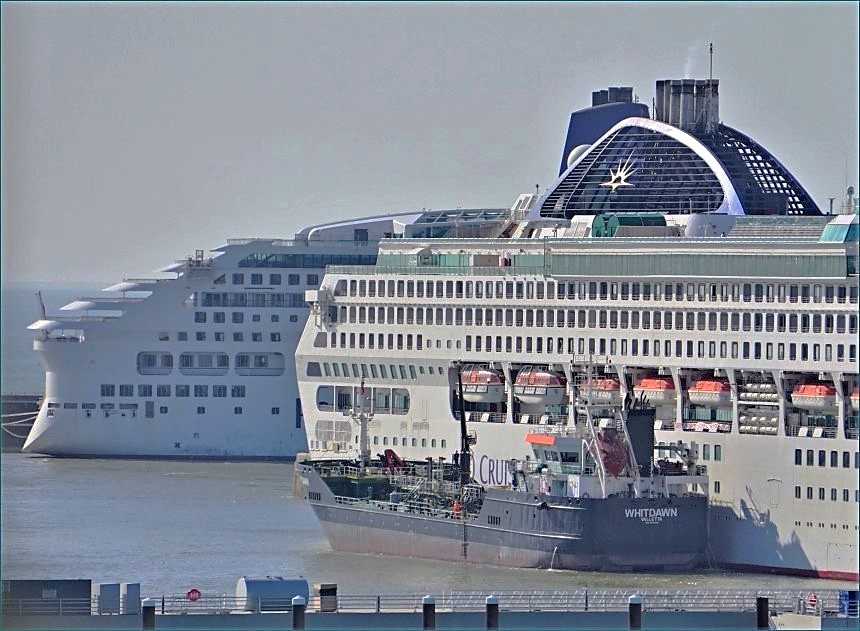 Going back a further few days...still catching up...and we see workboat/tug Sarah Grey towing in a long barge...the pictures were murky, taken before the onslaught, or should that be onset, of all this good weather. The convoy was heading to the Eastern Arm...Mike got further pictures, just type Sarah Grey in the Search Engine above.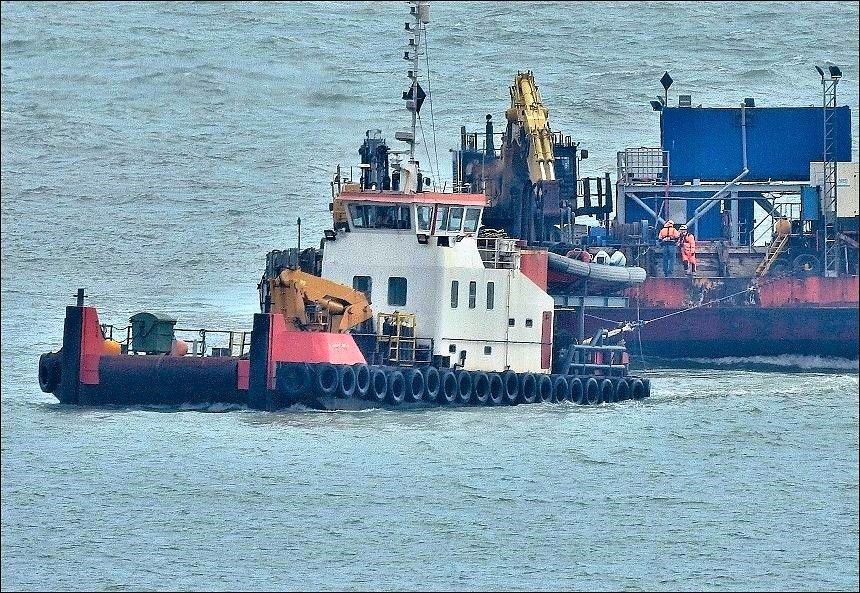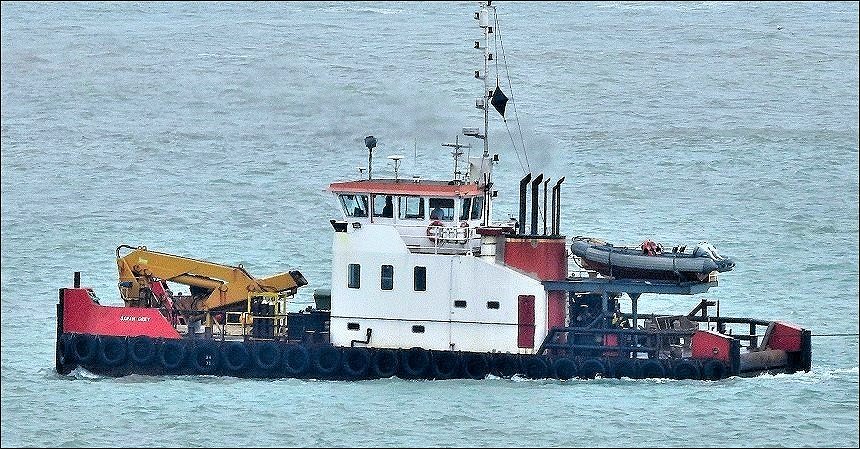 Wot!! no beach!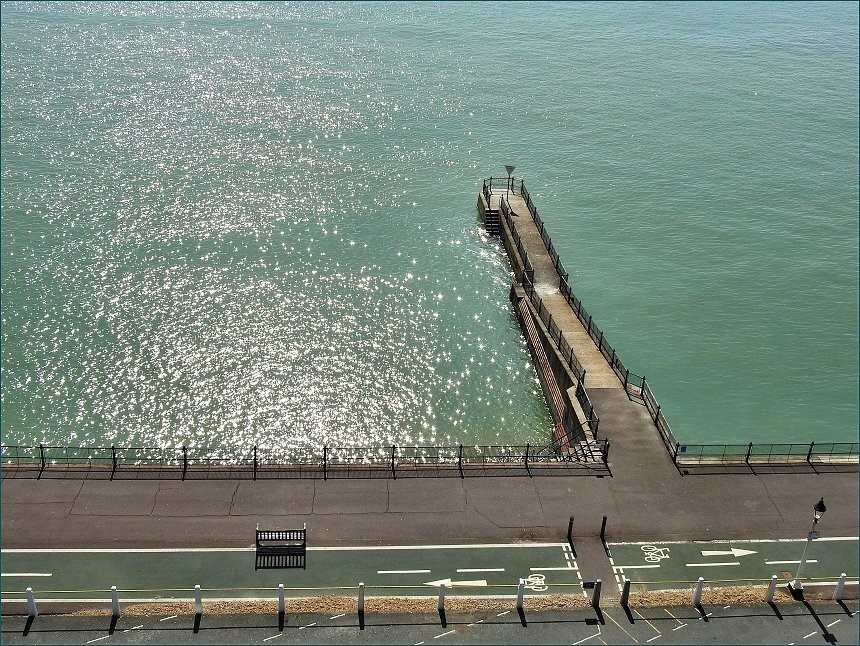 With Supermoon at its recent fullest and indeed glowing pink...the tide levels were both huge and very low. There is a beach above there normally. And although we are not allowed to sunbathe at the moment...if you did and dozed off...you wouldn't want to do it on this beach...no sirreee bob...


The other side of the coin...low tide.... very low tide...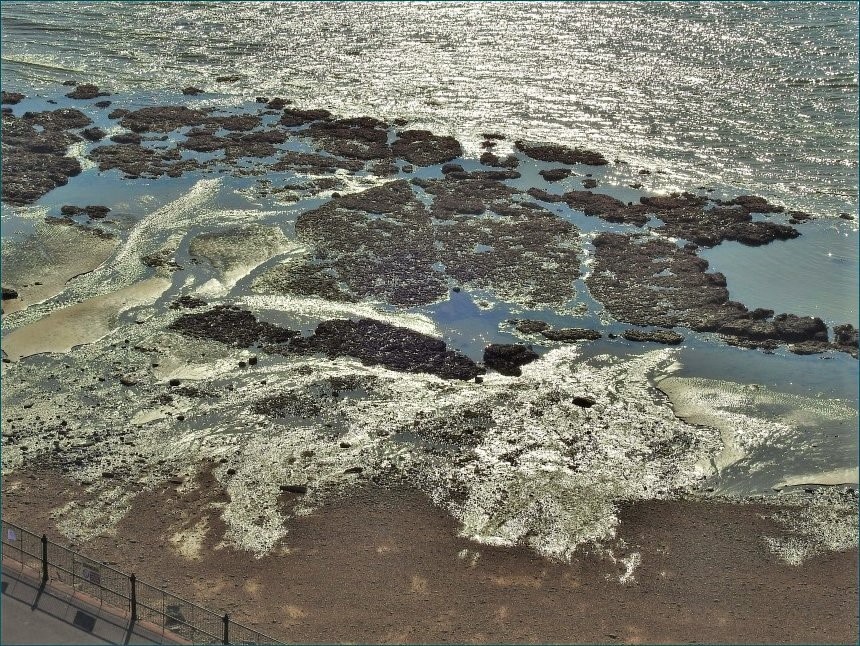 Good stuff below Mike..very enjoyable pictures and info there..

You have a colourful rear end there Patrick!


PB
Sunday, 12 April 2020 - 05:26
Post 6927
Mike J., Dover
Nice glint on Patrick's stern view of the COTE DES DUNES with the light showing up well the bumps & rumples caused by ferry service - not for nothing do all the ferries have 'belting' along their sides to absorb impacts !
The OCEANA on WD4 on Friday afternoon.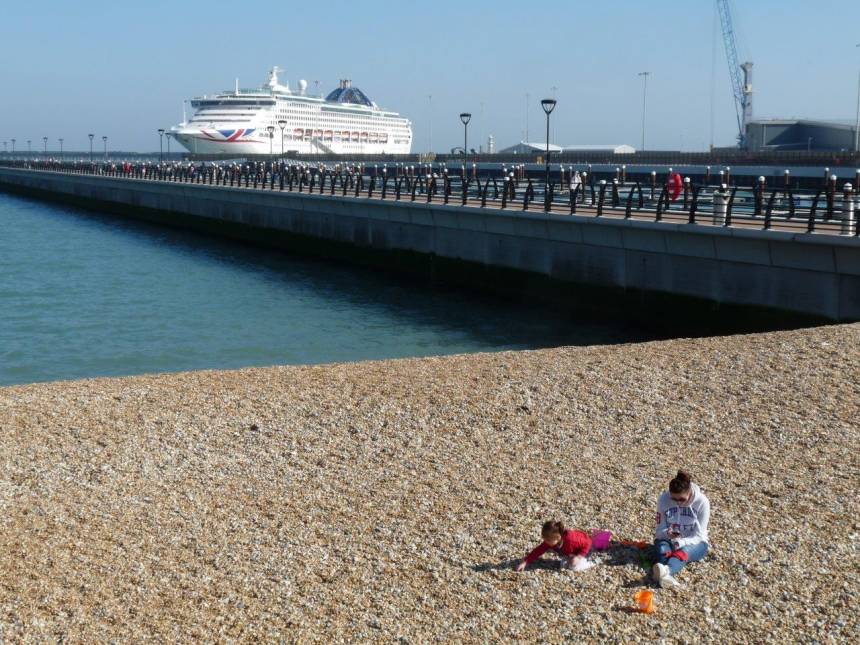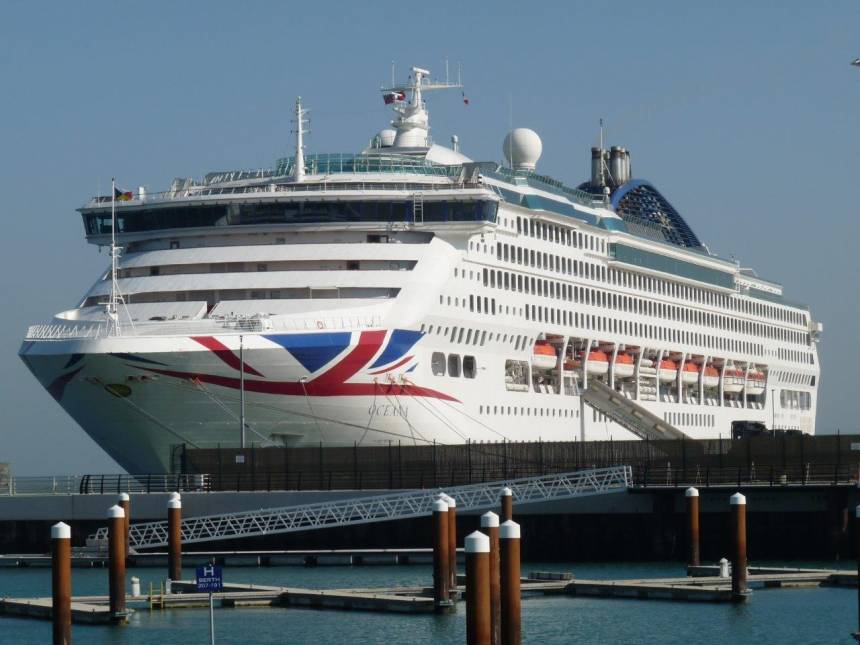 She sailed Saturday evening, exchanging whistles with the AURORA before heading downchannel.
She is expected to be back about 0700 on Tuesday & is likely to go to Cruise-1 as WD4 may be needed for a cargo ship.
P&O's ARCADIA is due in Southampton today, Sunday, after returning from Durban after abandoning her cruise due to the pandemic.
Disembarkation of her passengers was refused in Durban where she called briefly to take fuel & supplies for the run back to the UK.
After Southampton there is a rumour that she may be coming to Dover, in which case, if WD4 is needed for cargo ships , she will need to go on the Eastern Arm as the only available berth, or perhaps the DCT ]the old reffer berth] if she would fit there.
Shades of the 'Old Days' when cruise ships regularly used the DCT & Eastern Arm before the Western Docks cruise terminals came into service.
Sunday, 12 April 2020 - 02:32
Post 6926
Patrick, Marine Parade
If we can't see the back end of the coronavirus just yet we can have at least a little cheery golden 'glow' from the rear end of the DFDS ferry 'Cote des Dune' yesterday as she exited the Eastern Entrance in the evening sunlight.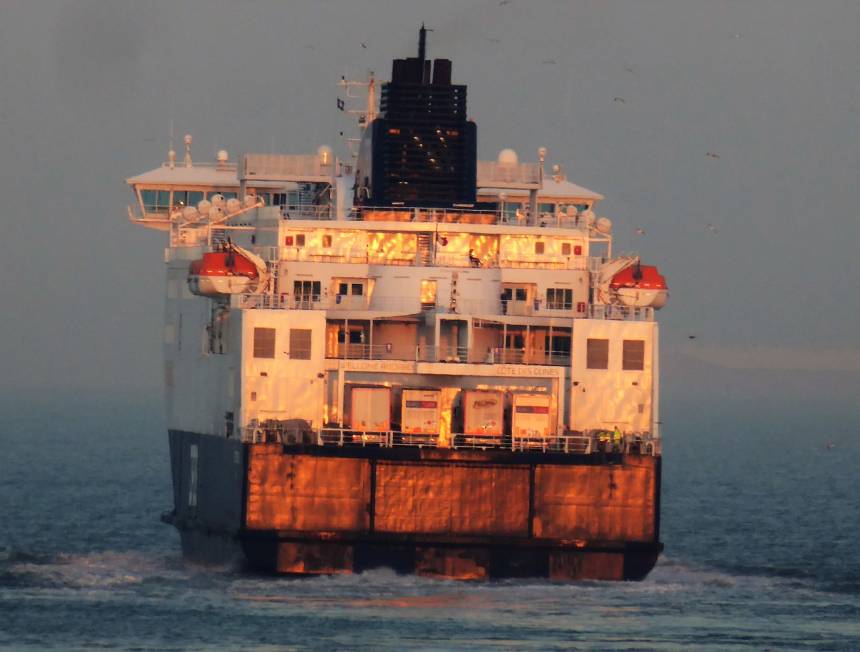 Saturday, 11 April 2020 - 12:21
Post 6925
Sea News, Dover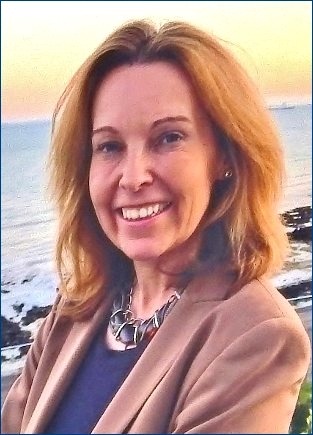 Stay safe this Easter...says Natalie Elphicke MP
______________________________________

I want to wish everyone a Happy Easter this weekend. It will probably feel like the strangest one we have ever celebrated, but it is actually a good time to reflect on its key message of hope and faith in the future.
Because day after day, time and again, I am struck by how the Coronavirus Crisis brings out the very best in our community - Corona Champions helping to get homeless people into safe accommodation, neighbours and friends shopping for each other, strangers calling strangers to have a chat, to reach out against the loneliness of isolation and disruption to our usual lives.
From Government Ministers, to Members of Parliament, to county, district and parish councils, charities and voluntary organisations, all of us, finding new ways to work and communicate, and ensure we are doing all we can at this challenging time.
I would like to take a moment to thank my small team, and especially Charlie, who has worked tirelessly with me seven days a week, all hours of the day and night, dealing with thousands of individual concerns and issues, many of which have been extremely urgent and serious.
Yet, as was ever the case, aside from the people working hard and doing their best, there are also those who use the situation to steal and cheat â€" plenty of Corona Champions, but also plenty of Corona Crooks. We must be vigilant of such people, especially those using online and remote scams.
Over the last week, there has been a flurry of scam behaviour, of the type that we should be familiar with. Text messages claiming to be from Kent Police about social distancing fines, from the Department of Education about changes to free school meals, from the Department of Work and Pensions on new benefit claims, from paypal, banks, and utility companies. So in these times it is as important as ever, indeed more so, to make sure that we all do the checks and balances that we would usually do. Don't click on a link from an unknown email or text. Do look at official websites, mine included, for contact and helpline numbers of Government and other official services.
There have been reports of isolated criminal behaviour. There is no door-to-door virus checking service that you need to pay for. Don't give your cash to anyone you don't trust. If you need help, do contact the Super Neighbours scheme. The organising leaders for Super Neighbours are already established community leaders and work alongside council and parish hubs, as well as mental health and other support organisations, as needed.
If you are subject to criminal activity, then report it in the usual way. Neighbourhood Watch schemes are a quick way for the police to alert communities to anything suspicious or of concern in an area. So do consider joining up to one if you haven't already.
So my message for this week is a warning to any would be Corona Crooks: we are watching out for you. And a huge thank you to all of the Community Corona Champions. Together we are making the difference together locally, and we will get through this.
Natalie Elphicke MP for Dover and Deal

* * *

Many thanks to Natalie Elphicke for the above. Stay Safe

Just catching up now below with a picture of the departing Atlantic Reefer from a few days ago with pilot boat in attendance. We are catching up with 'various' at the moment. There she goes...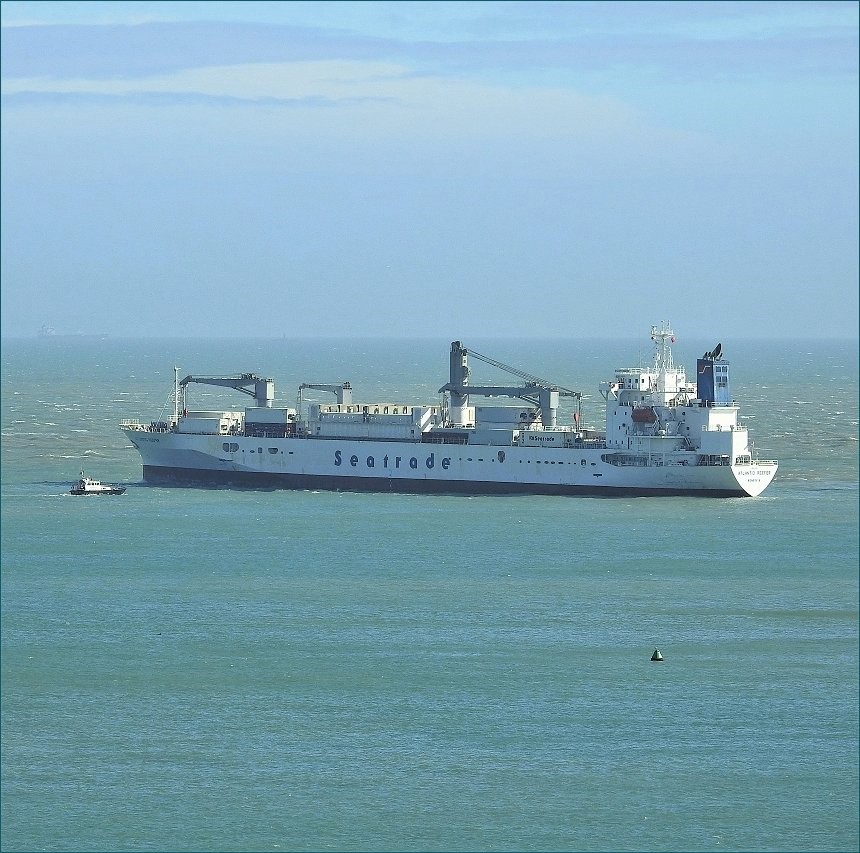 Atlantic Reefer - on her way to Vlissingen.
A couple of pictures now which we had intended to put up a few days back but here we are...you know what they say...'better late than never'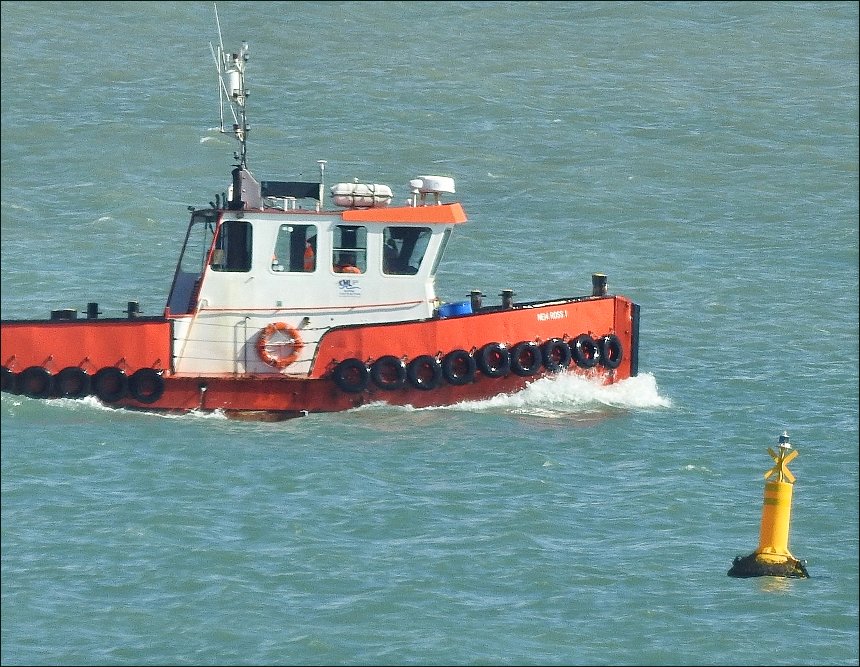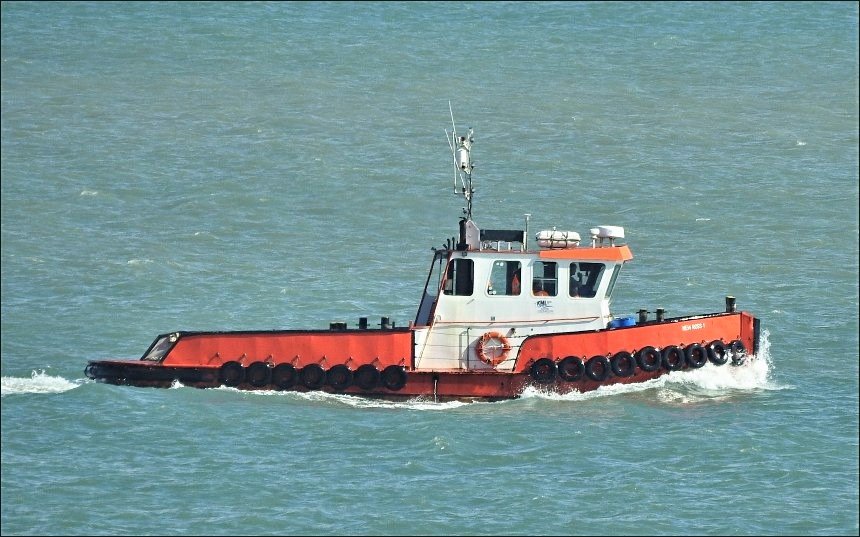 The pictures above show small tug New Ross 1 which has been moving back and forth between the two arms in the Port..she was working recently guiding the barges into Port and across Port. There she is above catching the evening sun.
Good to see Mike's post below again...very enjoyable post with comprehensive coverage, it was one of the posts lost during our enforced breakdown.

PaulB
Saturday, 11 April 2020 - 06:30
Post 6924
Mike J, Dover
RAMSGATE ROUND-UP [re-posted]
The 53â€"year old tug EMS DEFENDER, operated by Eastern Msrine Services of Lowestoft on the slipway at Ramsgate on 17/3 after some weeks on the Commercial Quay after arriving late February.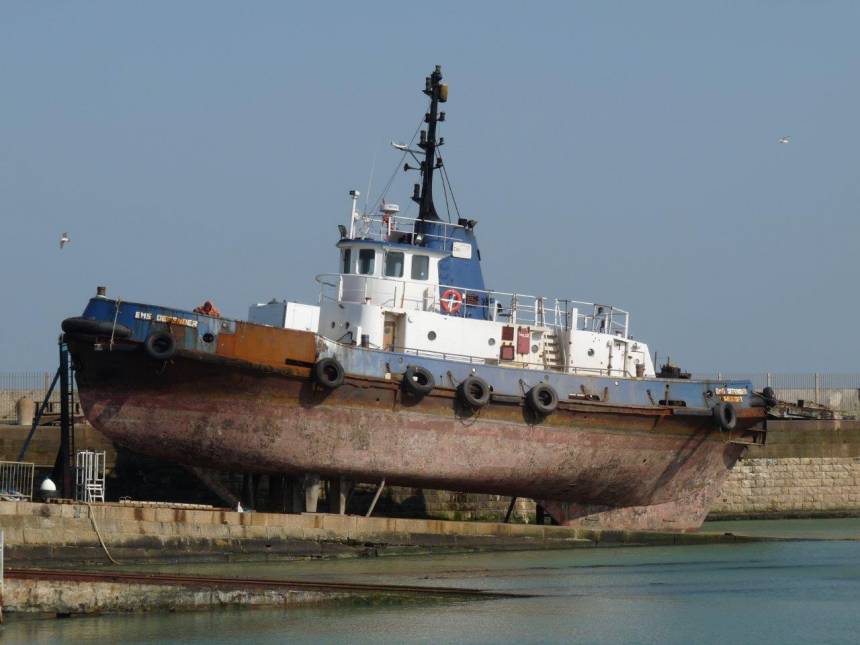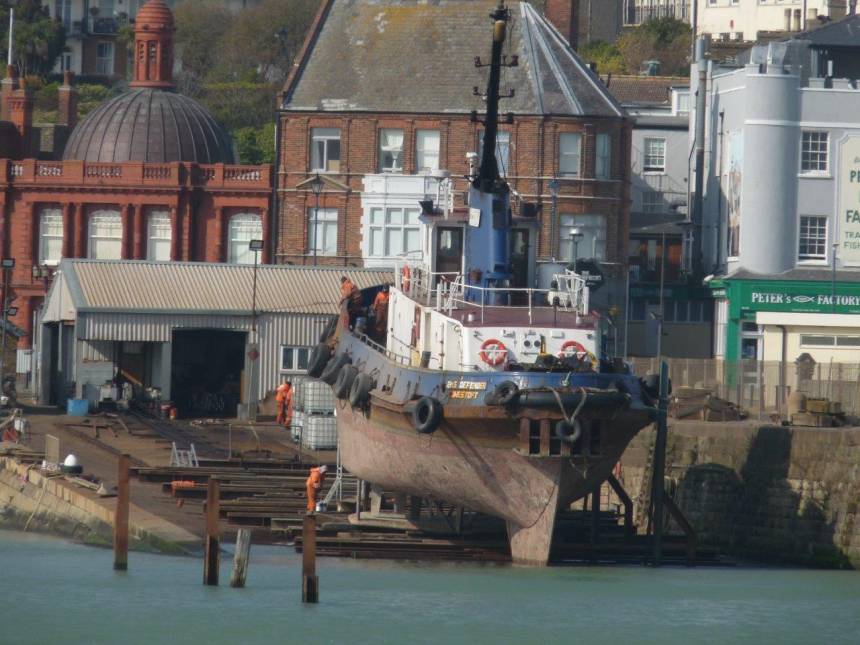 It'll be noticed that the vessel has no propeller or rudder.
She is fitted with a 'Voith Schneider propeller' which is composed of vertical rotating blades whose pitch angle can be varied to provide thrust in any direction [& I'm not going any 'deeper' than that 'cos I'm not a marine engineer - plenty of info on the 'net !].
Most modern harbour tugs use a variety of these & other systems which produce the same effect of improved manoeverability & much else & these types of unconventional systems can be be found on many other types of vessels.
We even had one on the FANTASIA but that's another story . . . .
The current DHB tugs, for example, have a system called 'Azimuth Stern Drive' quite different from the Voith Schneider system but with same effect & advantages over conventional propellofs & rudders.
The vertical blades of the DEFENDER's system can be seen behind the propellor guard.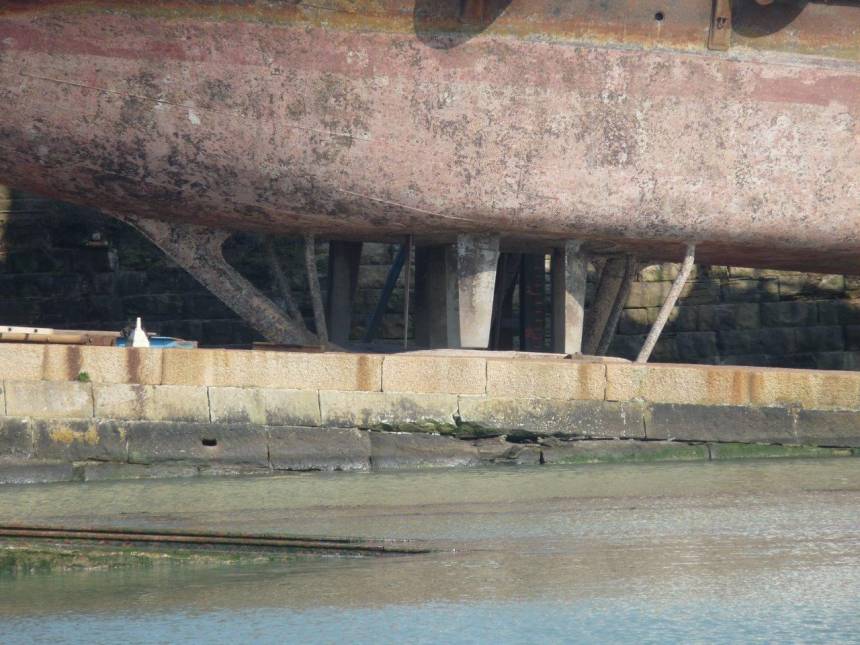 The BORR, an unusual low-profikle dredger was in Ramsgate on 27/3 after coming down from Harwich, operated by Van Oord, one the leading Dutch dredger companies.
She is a 'water injection dredger' who disturbs sediment on the seabed with a powerful pump which is then carried away by the current.
A similar vessel, the much larger JETSED has worked in Ramsgate in the past [posts 5963/6006].
The BORR is unusual in that she splits in two for lorry transportation the & 'join' can be clearly seen.
Remember the TOPLIFT [post 6043] who was similarly designed for lorry haulage & one or two of the DWDR contractor's jack-up barges were designed similarly.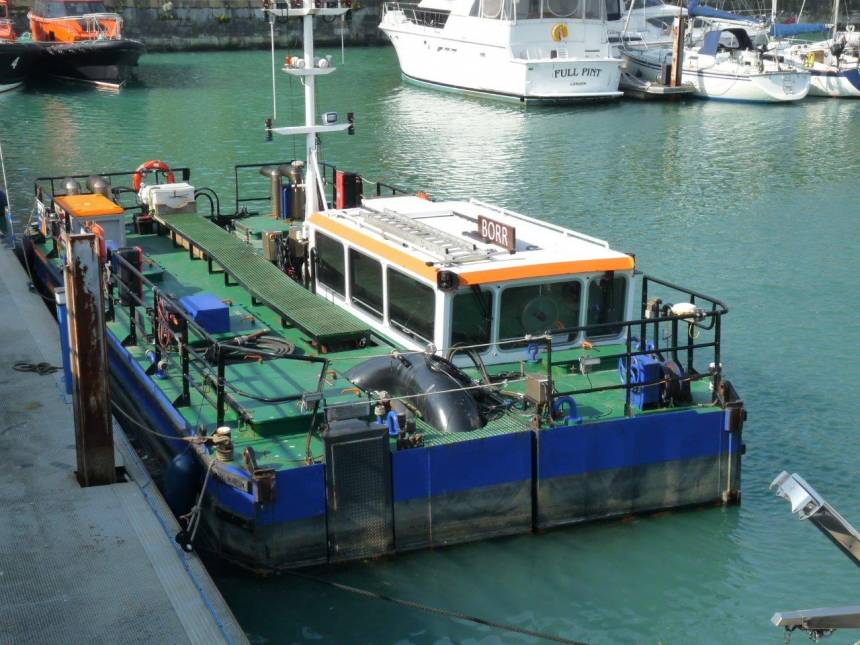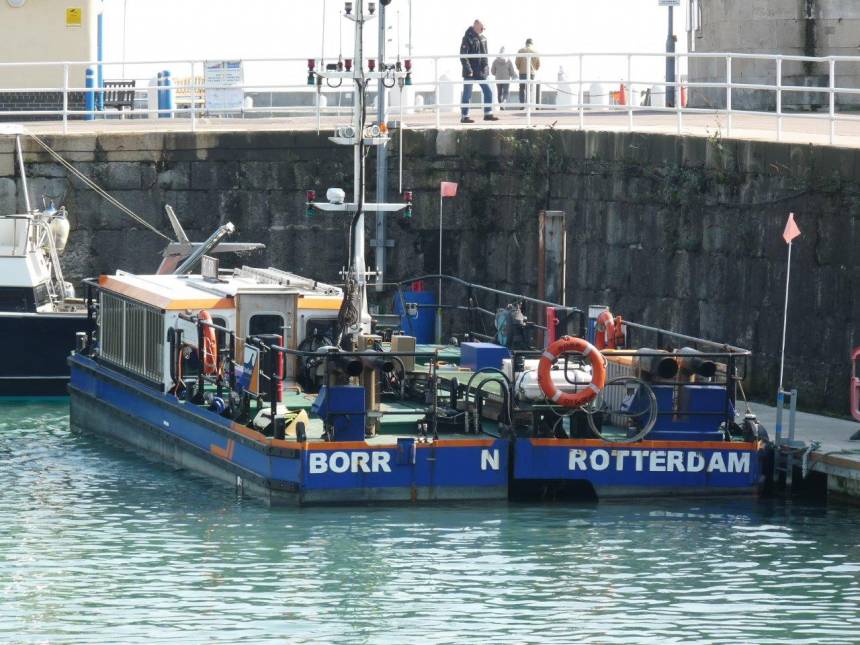 If you google Van Oord's website & look for 'water injection dredgers' there's a nice little video explaining how the system works & many Ramsgate views of the JETSED in action, sometimes with the poor old OSTEND SPIRIT in the background.
Finally the much more conventional & nice-looking 'training vessedl' SMIT SPEY in Ramsgate on 27/3, one of a class of general purpose workvessels that are often used for target towing & working with the aeronautical authorities.
One of her sister ships, the SMIT DEE, was basking in the sun in the Tidal Basin on Sunday.
Pix to follow.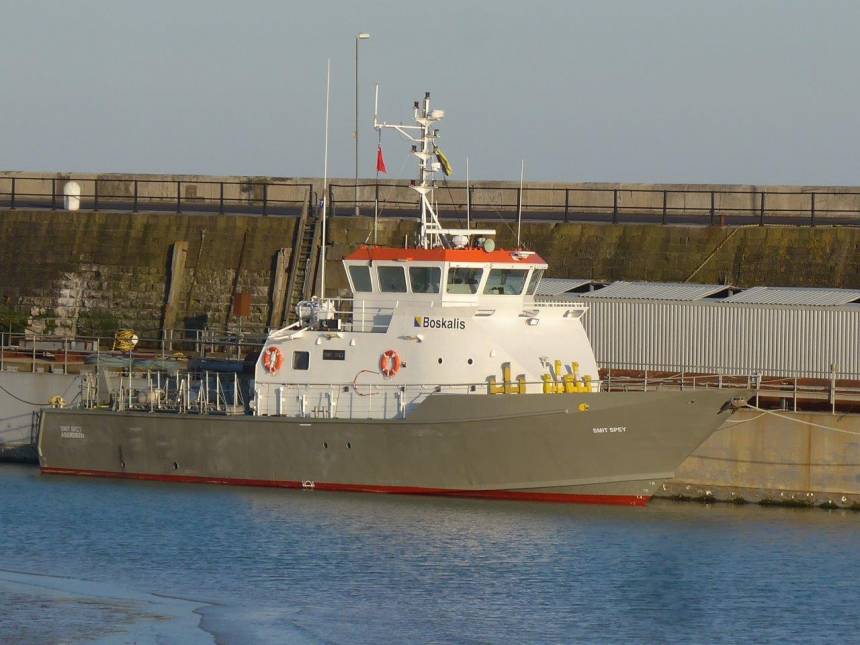 Saturday, 11 April 2020 - 00:45
Post 6923
Sea News, Dover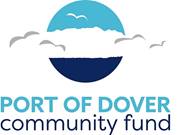 Port of Dover donates £40,000 to the Coronavirus Emergency Fund

____________________________________________________________
The Port of Dover has allocated £40,000 to support local charities in Dover that are caring for those in need during the COVID-19 outbreak. The funds are available to apply for now via the Coronavirus Emergency Fund, part of the Kent Community Foundation.
Doug Bannister, Chief Executive of the Port of Dover said:
"As we navigate through these unprecedented and challenging times, it is vital that we work together as one community and continue to provide support to those in need.
The Port of Dover has therefore immediately released £40,000 from our Community Fund into the Coronavirus Emergency Fund for the Dover area. These funds will provide local charities with additional financial support as they work tirelessly to care for our community."
The Port encourages all local organisations in Dover that are supporting those affected by Coronavirus to apply for a grant through the Fund. This could include charities looking after vulnerable people, plus those providing important social support to members of the community. Funding will be released soon after a successful application.
Josephine McCartney, Chief Executive, Kent Community Foundation said:
"Kent Community Foundation is overwhelmed by the response from our Fund holders and supporters to the new KCF Coronavirus Emergency Fund. The Port of Dover has very generously donated £40,000, specifically for organisations within the Dover area supporting the elderly and vulnerable. If you would like to apply or to make a donation to the Fund please visit
www.kentcf.org.uk
ENDS
"Good to be Back!" Following the loss of a few days postings after our 'breakdown'...I am re-doing the one above so that we have it on file. it was one of the posts gone into the forever ether... but certainly worth re-recording...anything that helps us through the current crises is warmly welcomed.
Just getting re-connected again and checking everything is working this end with the picture below. It shows a couple on the new pier getting close-up to the giant cruise liners Oceana and Aurora here in Dover.

Last night at 8pm the seafront erupted in applause once again for the magnificent people keeping the nations essential health services running...and indeed for all the people keeping everything running, including those in the Food Supply chain. The cruise ships did their bit...loudly hooting in super support at 8pm. Well done all.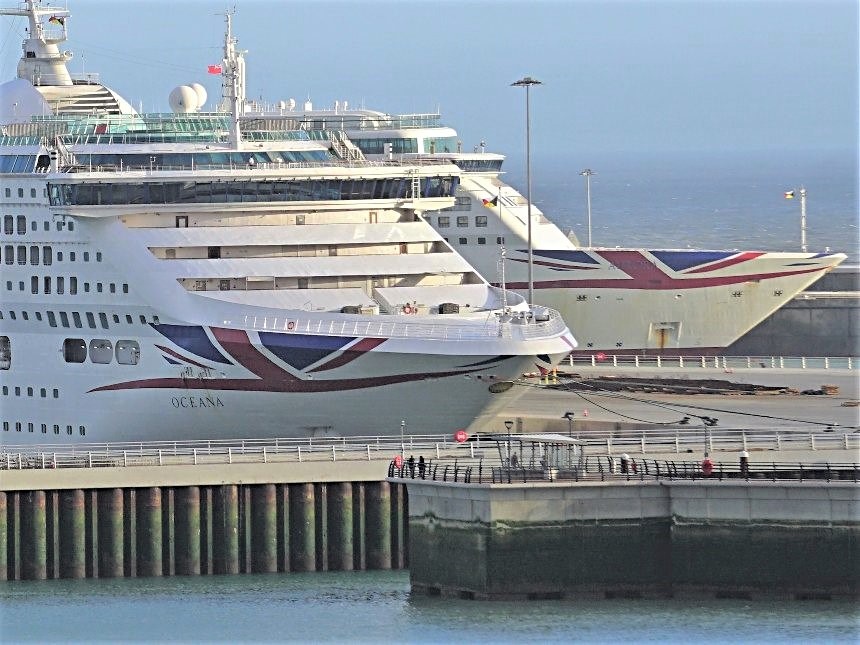 Excellent post below Mike...back on and on top form, don't miss that one

Have another go George when ready...no worries...I'd like to see that picture

Del

Brian

A big thankyou to our 'ace man' Chris Tutthill who did the necessary repair/rebuild work and re-launch and it was difficult this time...
We have lost a few days posts but we can recover from that....But yes once again...
"Well Done Chris T"

PaulB
Friday, 10 April 2020 - 06:09
Post 6922
Mike J., Dover
I echo Brian & Del's remarks & its good to see DSN back 'on the air' with thanks due to the expert[s] involved in bringing it back to life.
Both Del & I had posts go missing durine the 'outage' so here is the second of two Ramsgate posts.
I now have to try to remember what was in the first post !
Nice view of the DOVER GRAFTER from an unusual angle by 'Roving Reporter' & a fascinating AIS plot from Patrick of the cruise ships off Miami, including of course Virgin's SCARLET LADY who has yet to set off on her maiden cruise down to the Caribbean.
27 March found the large 1991-built workboat CAMERON whose usual duties are working as a buoy tender & laying & recovering moorings, aided by the lifting 'horns' on the bows.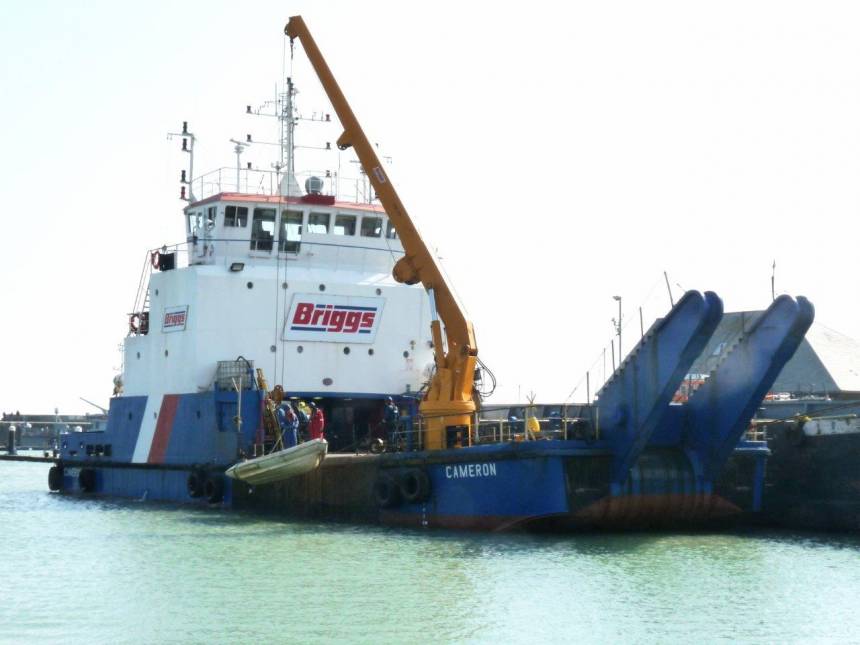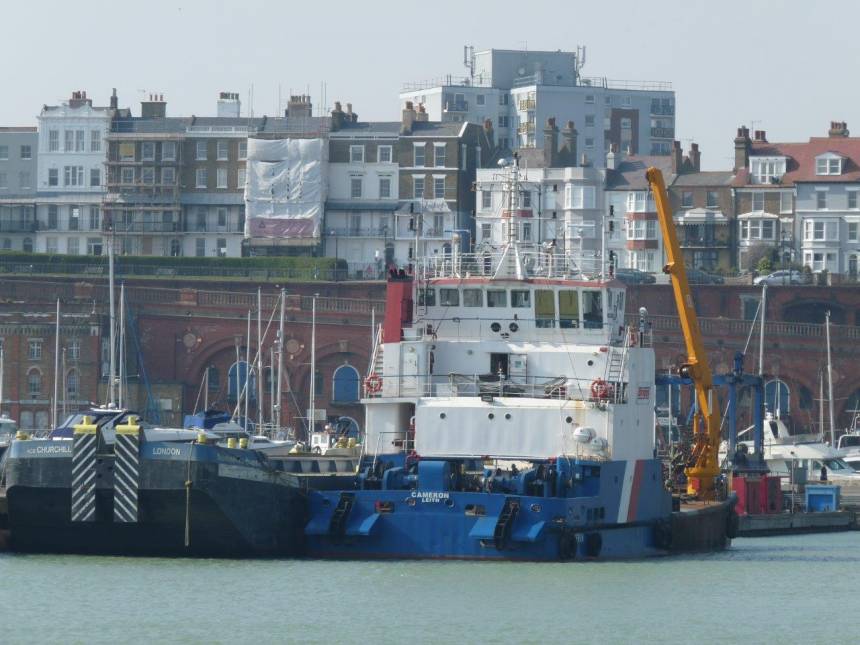 In the second photo she is tied up alongside the Bennett barge CHURCHILL,which is itself tied up to the Commercial Quay, home of the Ramsgate lifeboat house.
The CAMERON is operated by the Scots marine contracting company Briggs Marine who have a large fleet of many types of workboats, including survey vessels that have occasionally visited Dover [post 3782] as well as operating the Woolwich Ferry service which has a Dover connection [post 6546].Their website is well worth a look to see their wide range of activities & vessels.
Three vessels from the ever-changing fleet of workboats & windcats.
WorKboat WIND ENERGY & windcats WEM 1 & TMS BITTERN.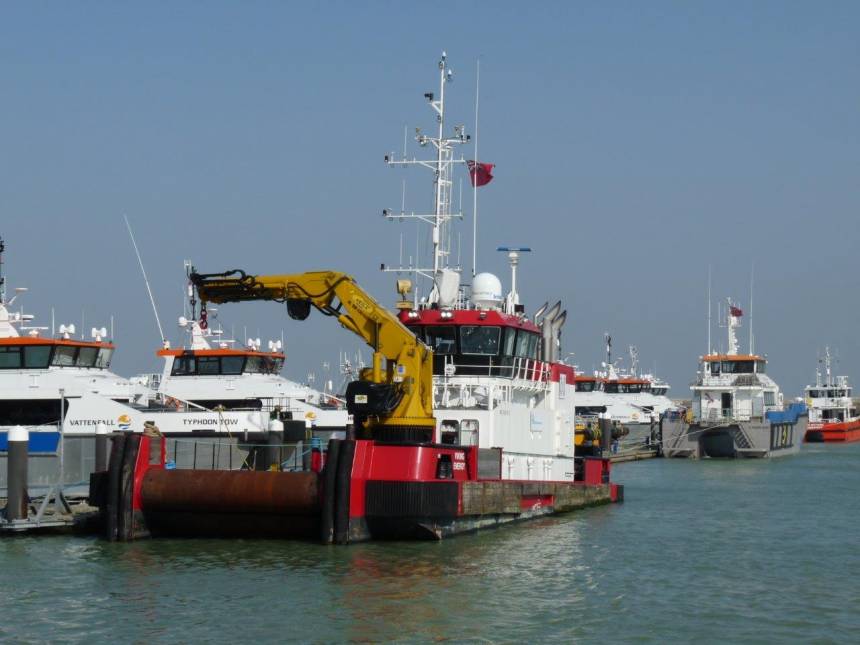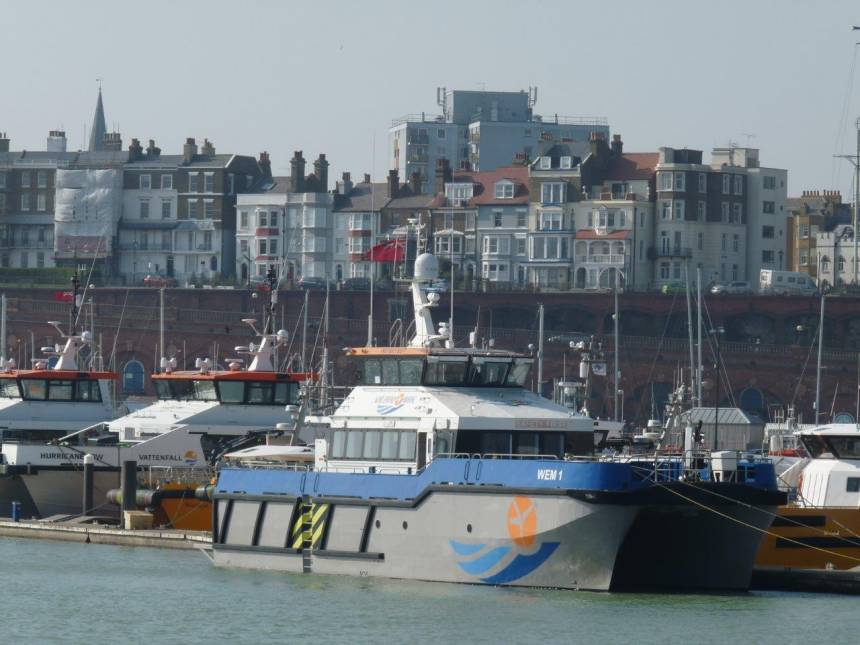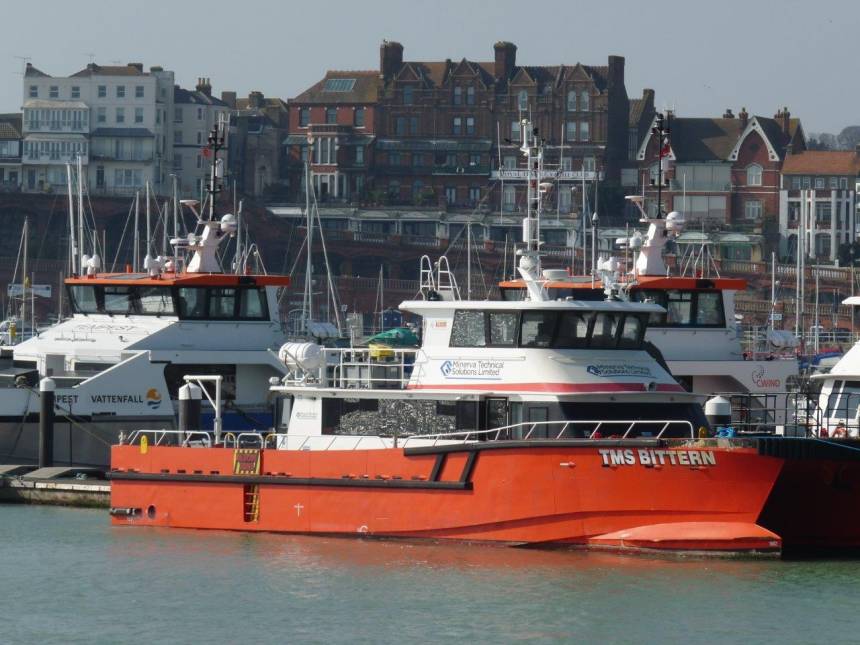 As usual there were many more windcats both in the outer harbour with a number
laid-up in the inner harbour.
Friday, 10 April 2020 - 03:31
Post 6921
George, Dover
Calais Seaways arriving in Dover Harbour still wearing the traditional DFDS Maltese cross emblem on her funnel. It would appear she has yet to receive a repaint this year.
Thursday, 9 April 2020 - 23:15
Post 6920
Del Styan, Norwich
and welcome back from me!

Thursday, 9 April 2020 - 23:01
Post 6919
brian dixon, dover (brian-dixon2@outlook.com)
wellcome back.

Thursday, 9 April 2020 - 19:09
Post 6918
Roving Reporter, Dover
Here's a picture of Riley Marine LTDs newest vessel to the fleet "Dover Grafter" pictured last week heading west after a day at work carrying out essential works in the Eastern Docks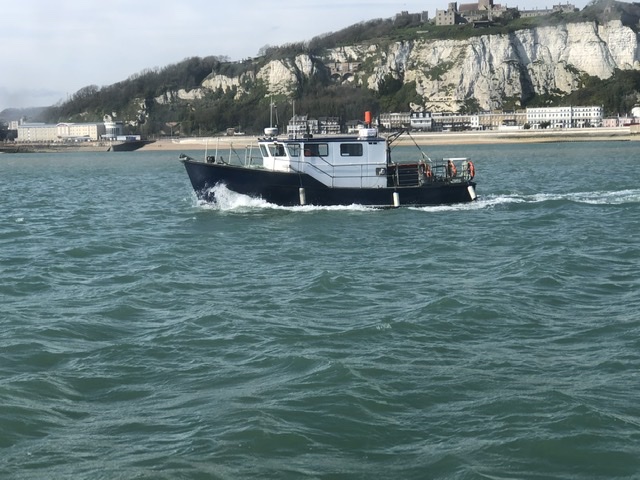 Sunday, 5 April 2020 - 17:50
Post 6917
Patrick, Marine Parade
Another misty morning shot before the'AURORA' appeared once again through the haze on Cruise 2. It took until after midday yesterday for the sun to finally succeeded in breaking through. Then it was a glorious afternoon. Good to see everyone that was out and about complying with social distancing rules.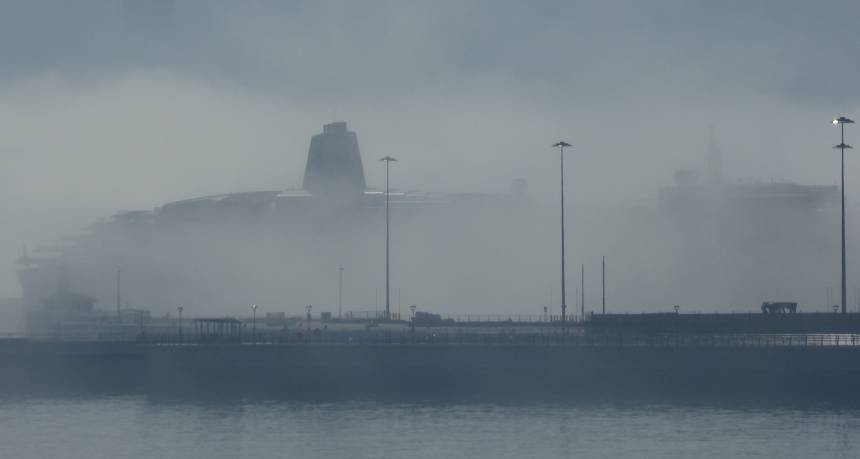 Of our two P&O temporary lay up cruise liners the OCEANA sailed yesterday followed by the AURORA today. AIS shows both heading down the channel and due to return tomorrow (Monday) - beginning of a new financial year!!
As I post the OCEANA is heading south off Weymouth and the AURORA is in the southbound channel off Eastbourne. Nice day for a cruise. Pity they are not able to have their usual custom due to the enforced COVID-19 lay ups around the world.
Speaking of which this AIS image shows the extent of some of those large cruise liners sitting with nothing to do off the coast of Miami. I counted at least 40, probably more in the area of Miami and the Bahamas. Our old (sorry new) friend Virgin's 'SCARLET LADY' is sitting right in the middle here.
Saw a child's take on coronavirus in the news the other day.
'Mummy - what did you do when you had COVID 1 to 18?" Delightful - cheered me up no end.
Sunday, 5 April 2020 - 14:39