Post 6976
Mike J., Dover

The PRIDE OF CANTERBURY has followed the PRIDE OF BURGUNDY into lay-up, leaving Dover at dawn on Thursday.
At 2230 Thursday she was passing Scarborough.

AIS shows the the BURGUNDY ianchored close by the Fred Olsen vessels.

There are strong rumours that the PRIDE OF KENT will shortly join the lay-ups as well.

Then there were two . . . . .


Friday, 1 May 2020 - 22:49
Post 6975
Sea News, Dover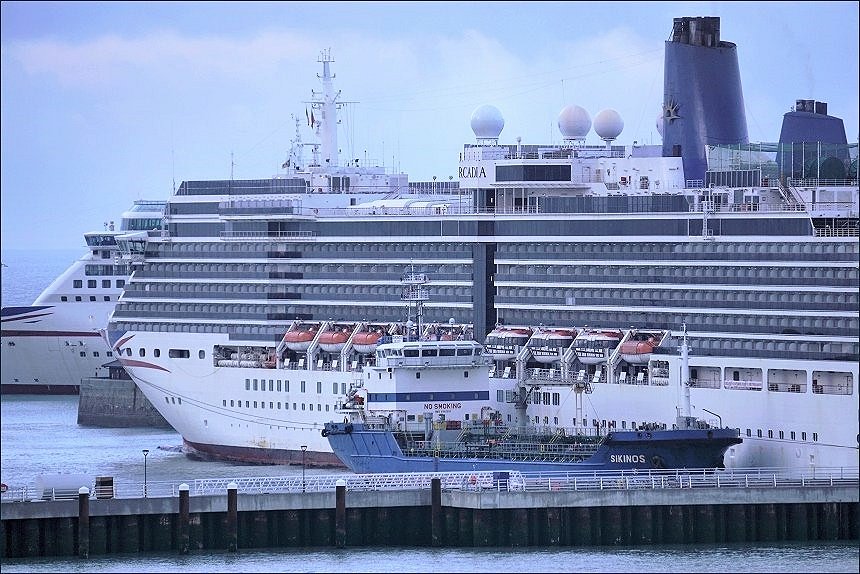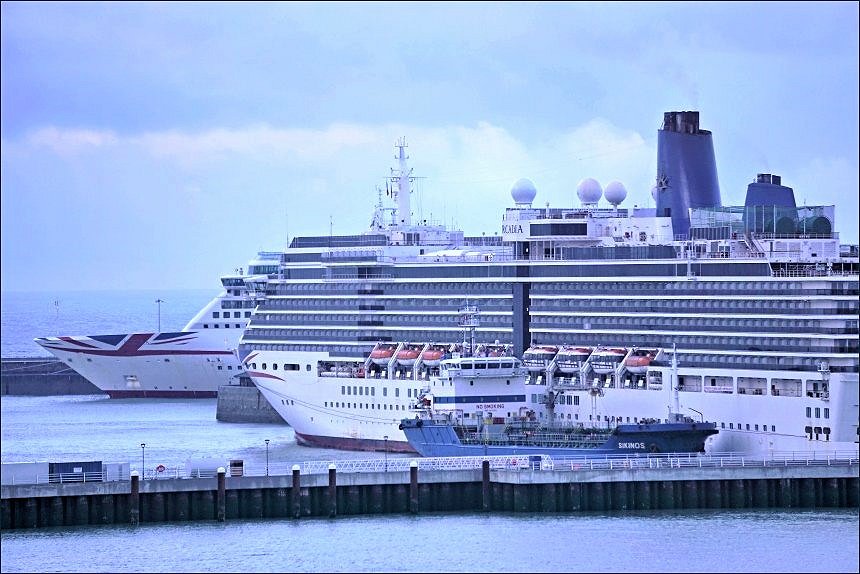 Bunker ship Sikinos came into Port early on Wednesday and there she is in the two shots above servicing Arcadia...the pictures, looking a little soft this time, are taken on the smaller camera as main camera seems to be forever re-charging lately. In the background of the pictures above there you can see Aurora. Very early pictures..time 06.26.
Since then all three ships Oceana, Aurora and Arcadia have gone from the western end of Port. Oceana and Aurora left port for further channel trips...The Arcadia ...following yesterdays incident where she appeared to come adrift from pier WD4 in the strong crosswind... is now at the eastern arm. See Mike's report/pictures below.
Here's is a better shot of Sikinos from recent times...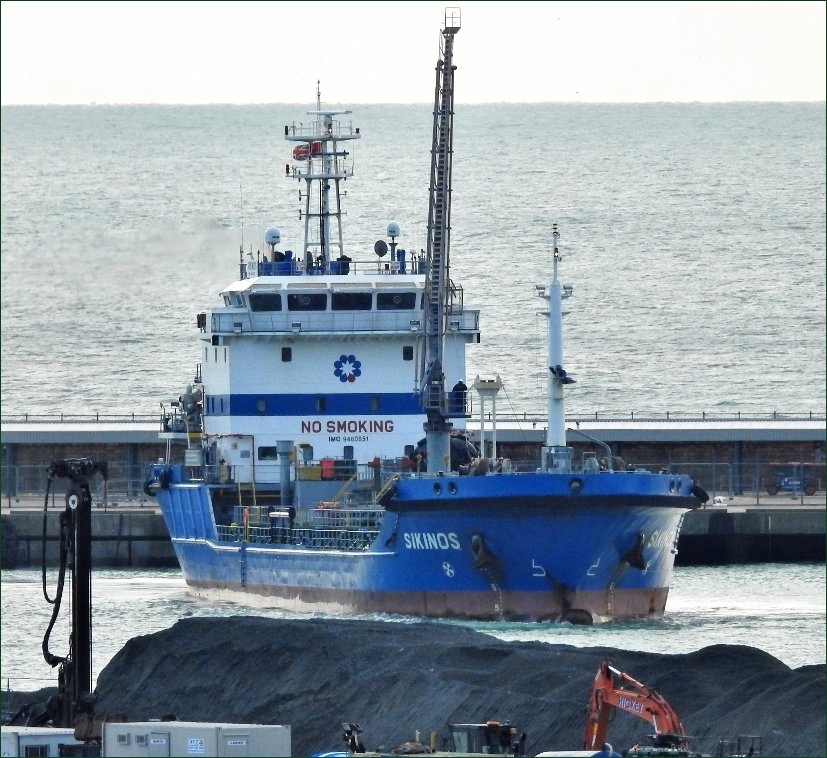 Media...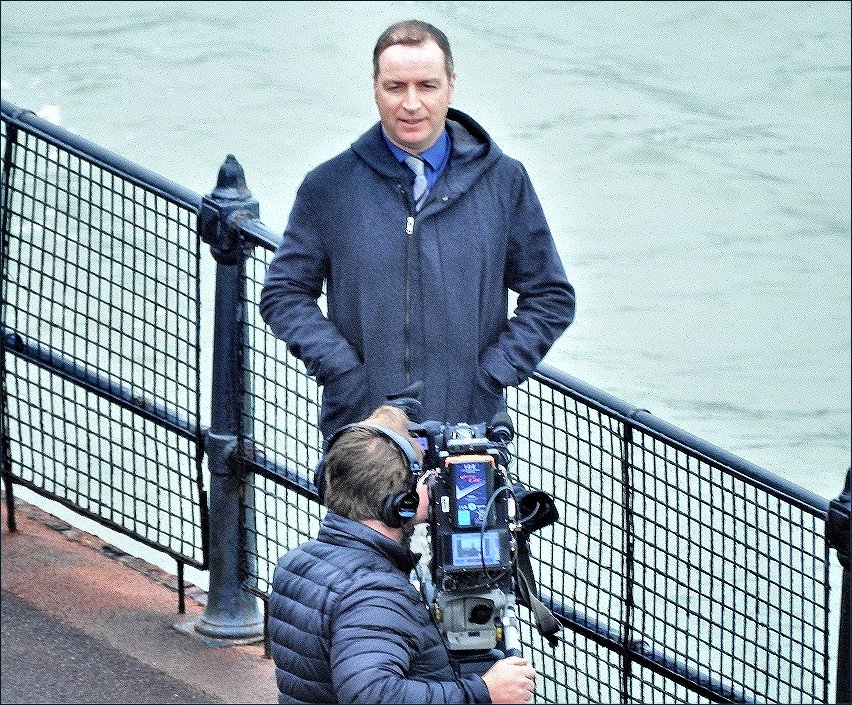 A picture above there of Simon Jones of the BBC. He was doing an early evening report live from the waters edge. Yours truly didn't see the report itself but it can only be about one of two things currently if its from Dover...
1. The Migrant Crises
2. The Port and/or P&O who.. it appears, currently wonder where the HMG support is... much talk, no delivery. So it seems....
Many thanks Mike. Nice collection of pix below and excellent info too..

Will have some pictures following along too of the Arcadia incident.
PaulB
The Thursday night 8PM clapping for the nations carers went off very well once again along the seafront here in Dover...several rockets were fired into the air in thunderous style and the people clapped and banged their saucepans. The three cruise ships weren't on hand to blow their hooters this time and were missed.
Well done the NHS.

Friday, 1 May 2020 - 07:35
Post 6974
Mike J., Dover
Excellent views from Paul of the SEVERN SEA.
Her ice-breaking bow shows up well & the elegant 'counter stern' gives away her 73 years.
She is currently berthed in the Tug Haven as an accommodation vessel for sea defence workers & will remain in Dover until the contract is completed.
The windy weather today prevented the stone barge from going down to Jury's Gap & the rocks were going down by lorry.
A low-level view of the SMIT DEE & a stern view of the two Range Safety boats [post 6970].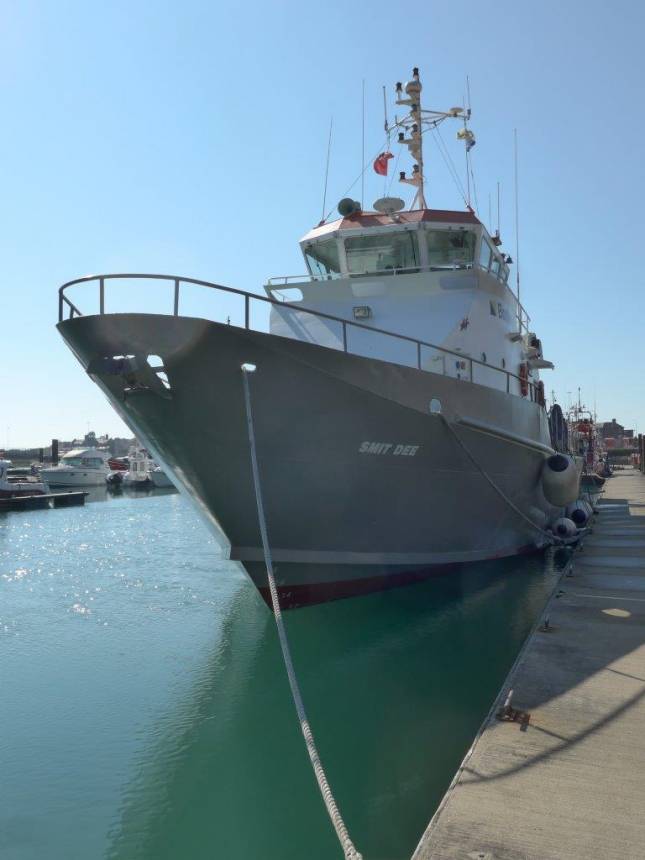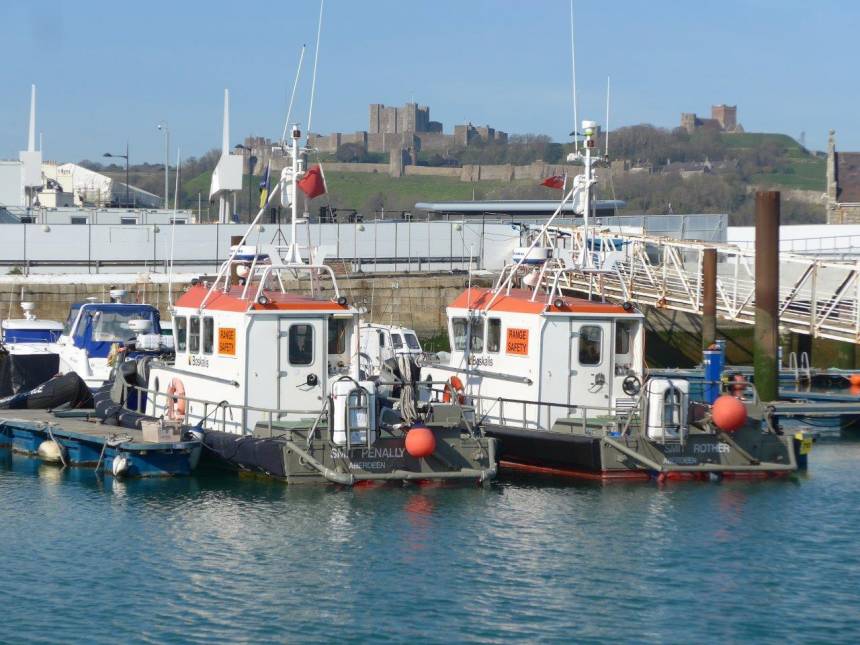 Thursday started nice & sunny but deteriorated late morning with rain & wind.
During the afternoon the one remaining cruise ship, the ARCADIA on WD4, started parting mooring ropes in the brisk squally southwesterlies & shifted to CT2 with the aid of both tugs who remained with her, holding her up against the Admiralty Pier.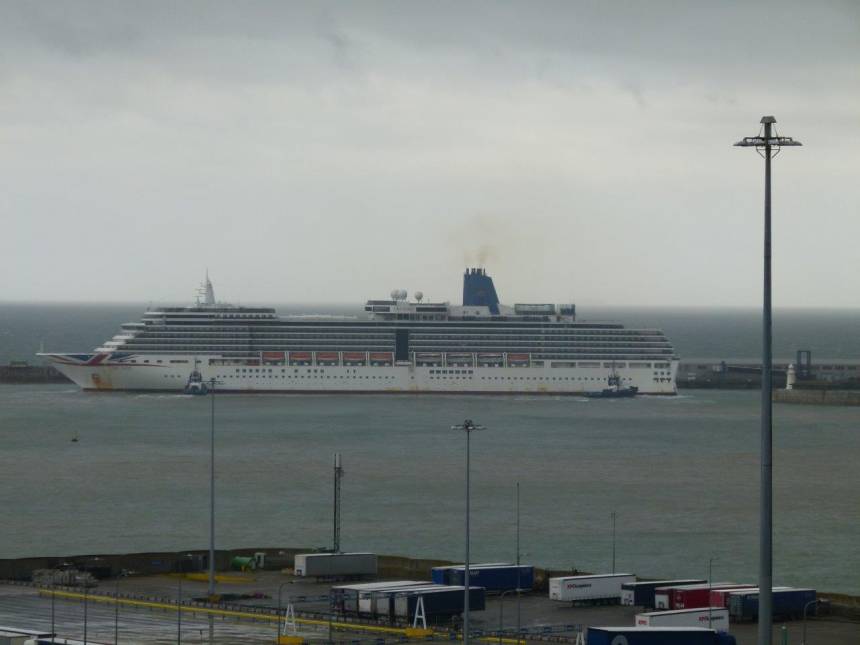 After a couple of hours she came stern-first across the bay & berthed on the Eastern Arm in the last gasps of evening sunlight.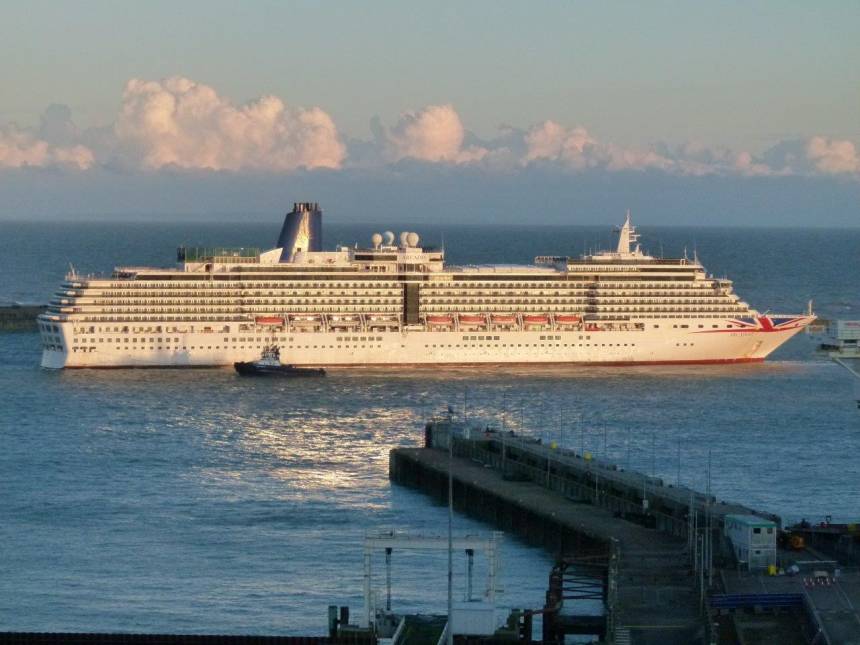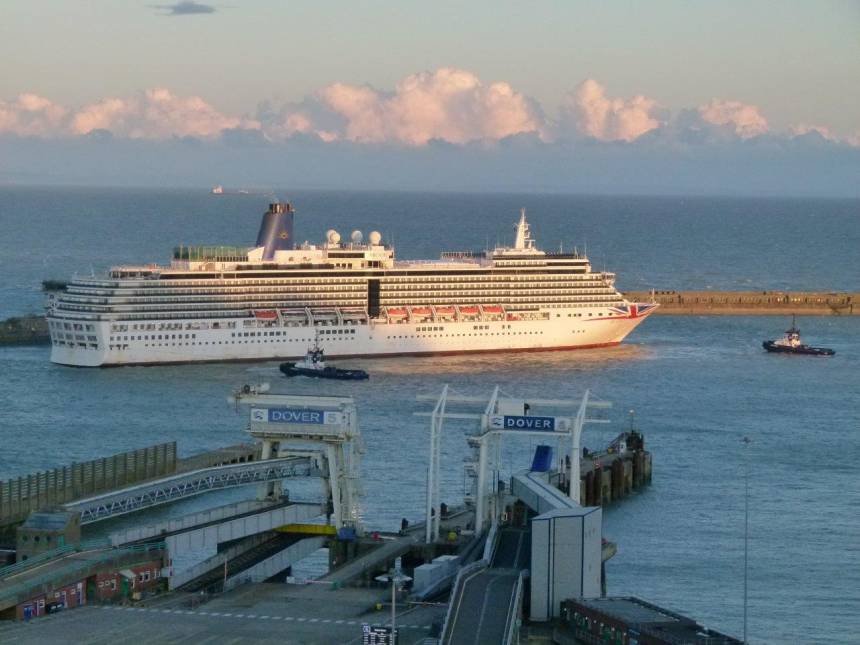 Bye, Bye PRIDE OF BURGUNDY â€" after about a week on No.8 berth she sailed Thursday morning for Bonnie Scautland.
The first of the 'regular' Dover ships to lay-up [the EUROPEAN SEAWAY has been in Tilbury for some time].
At 0200 Friday the 'BURG' was soon to pass the mouth of the Tees & is due in Leith at noon.
Anchored on the south side of the Firth of Forth, not far from Leith is the sad sight of the Olsens fleet -
BOUDICCA - BLACK WATCH - BRAEMAR - BALMORAL.
Leith is the home of the former Royal Yacht BRITANNIA.
Friday, 1 May 2020 - 02:52
Post 6973
Sea News, Dover
Severn Sea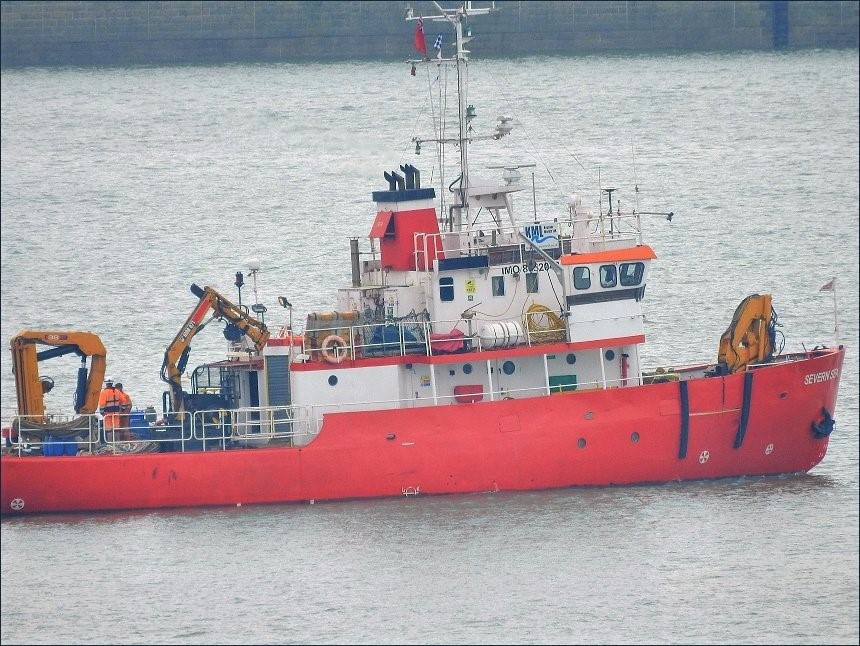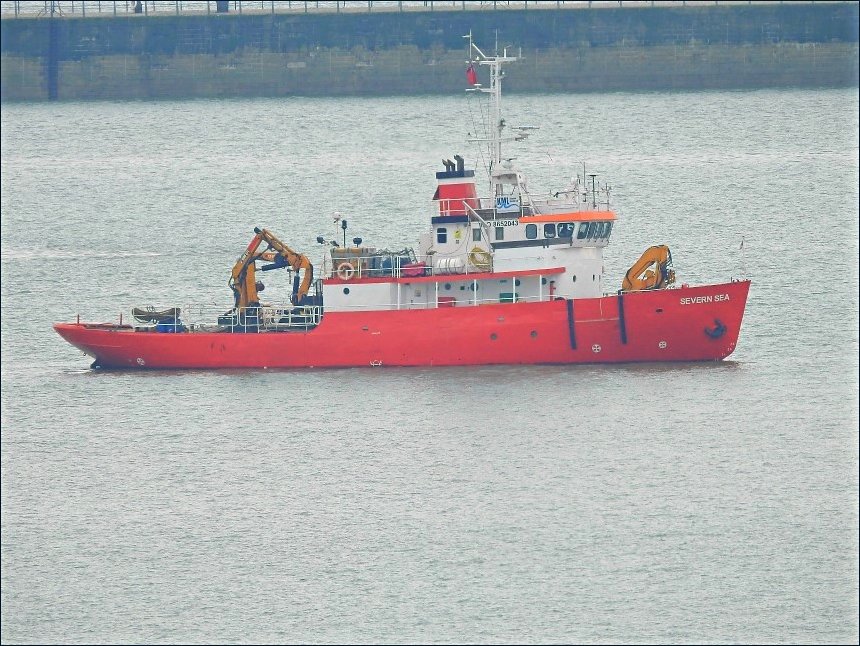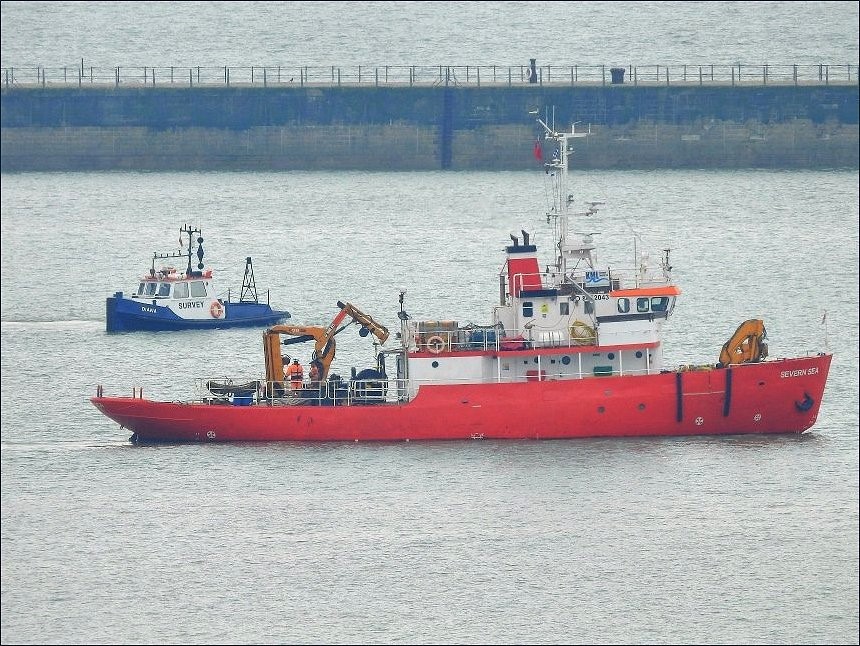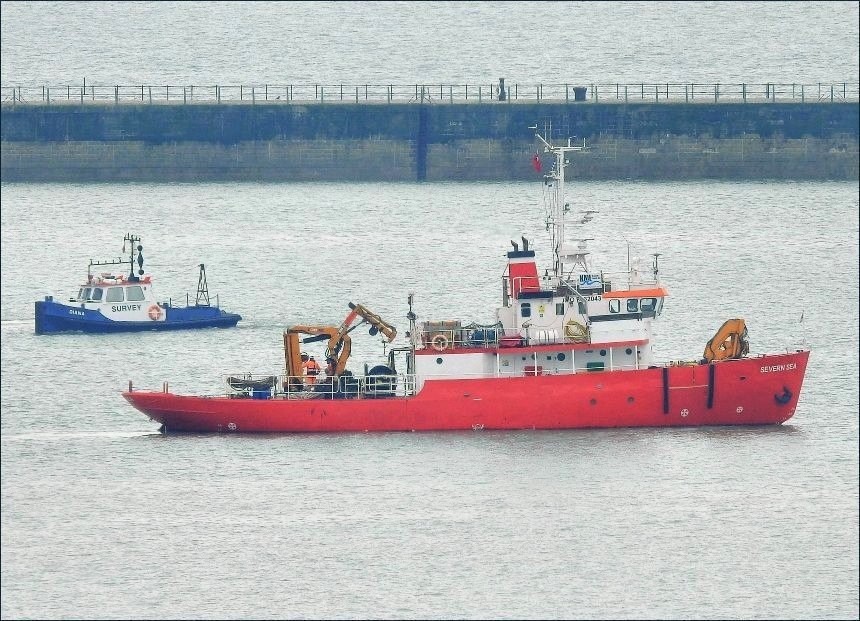 Severn Sea: Mike had some good pictures recently of Severn Sea (see 6961 and 6913 for more pix and info ) and there she is again above...looking magnificent. I hadn't expected to see her in the flesh as it were, as had assumed she had departed for elsewhere..... but to yours truly's surprise there she was outside the Observation Tower on Monday around midday...
…..and almost posing for photographs...

After a few shots the camera started to lose power so went to put it on the charger and well I never...there she was...gone again when I returned. Mysterious magical....
Also in the photographs above there...survey boat Diana....nicely adding an extra touch.
Also on Monday yours truly didn't spot Emerald departing until she was mid-channel or almost...so took a longer range shot there looking into the mist and blinding light. Have added the second one below from a former time to show a better view. She was on her way to Vlissingen...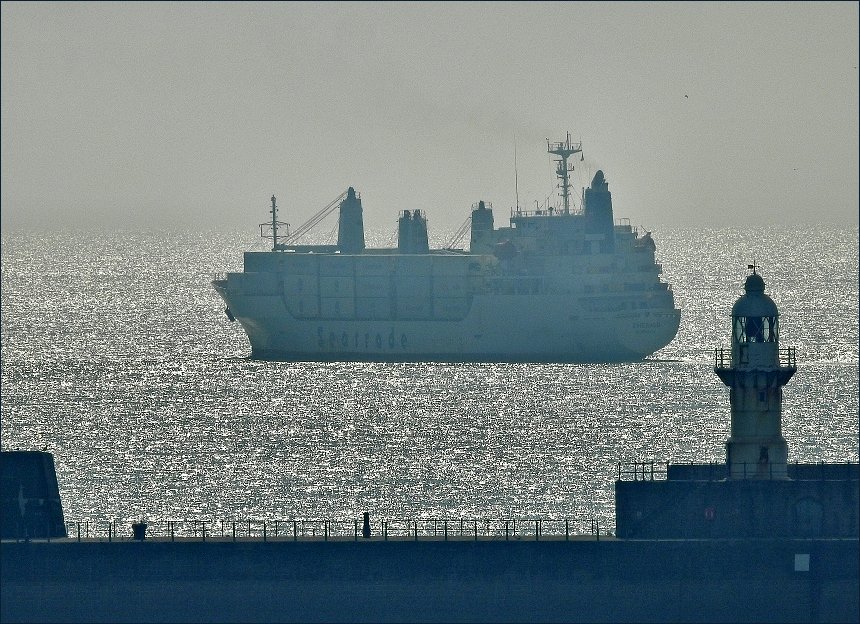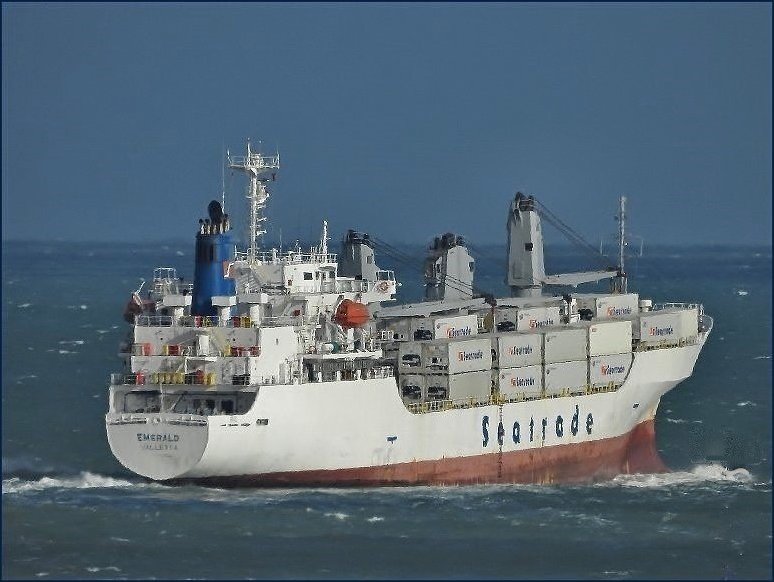 Emerald.
PaulB
Thursday, 30 April 2020 - 06:31
Post 6972
Sea News, Dover
Some final pictures now of the superyacht Sherpa as she leaves Dover behind....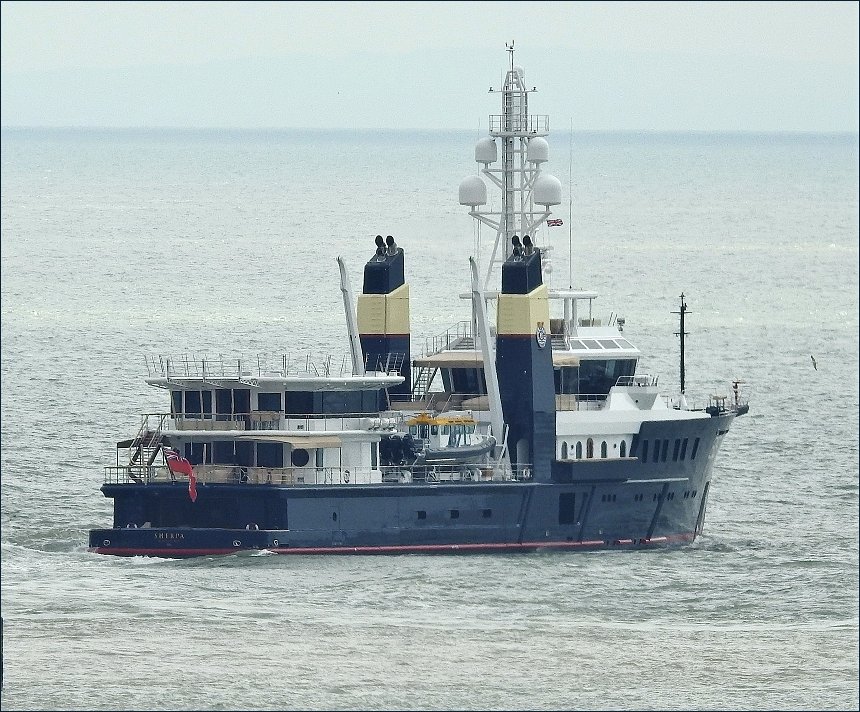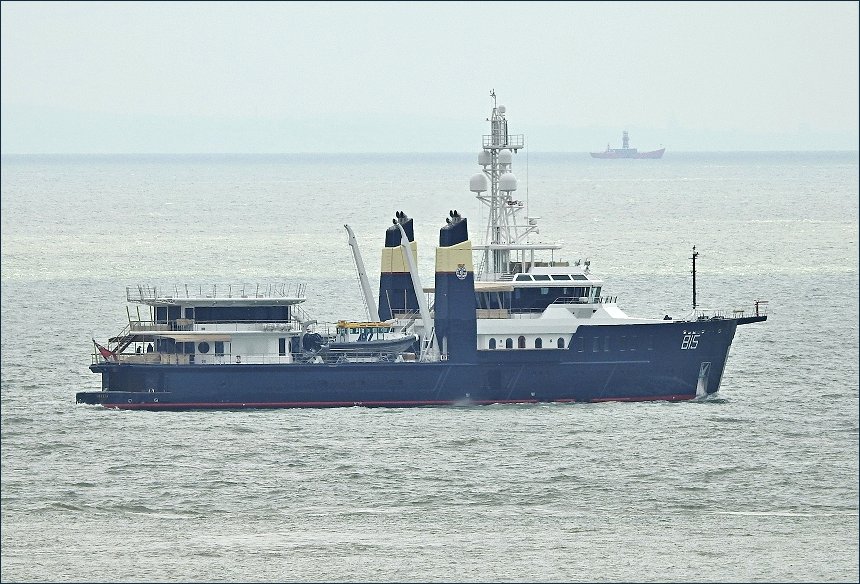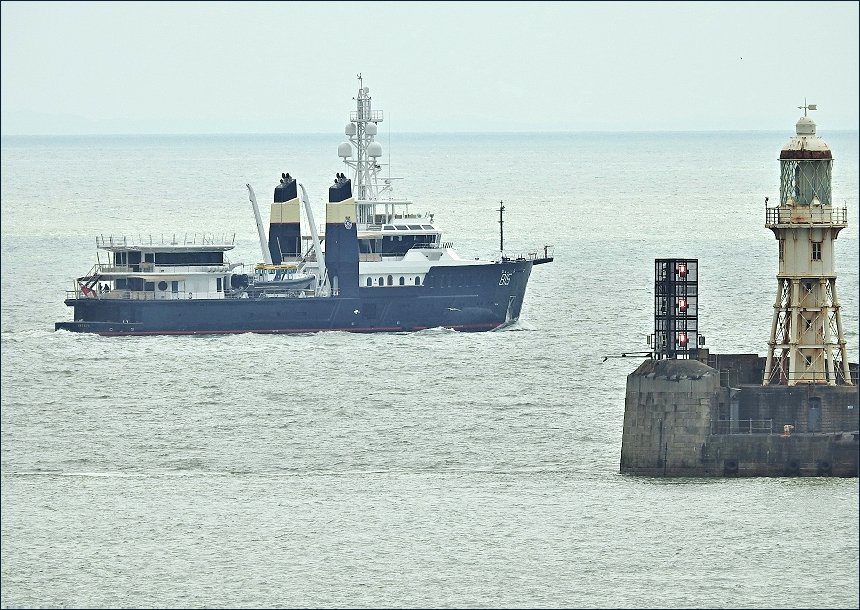 The pictures were taken on Saturday. Time of first shot above there …. 13:00 exactly. And away she goes to sunnier climes....
Gibralter in the Mediterranean the next scheduled stop we understand.
More pictures below page.
PB
Wednesday, 29 April 2020 - 06:49
Post 6971
Sea News, Dover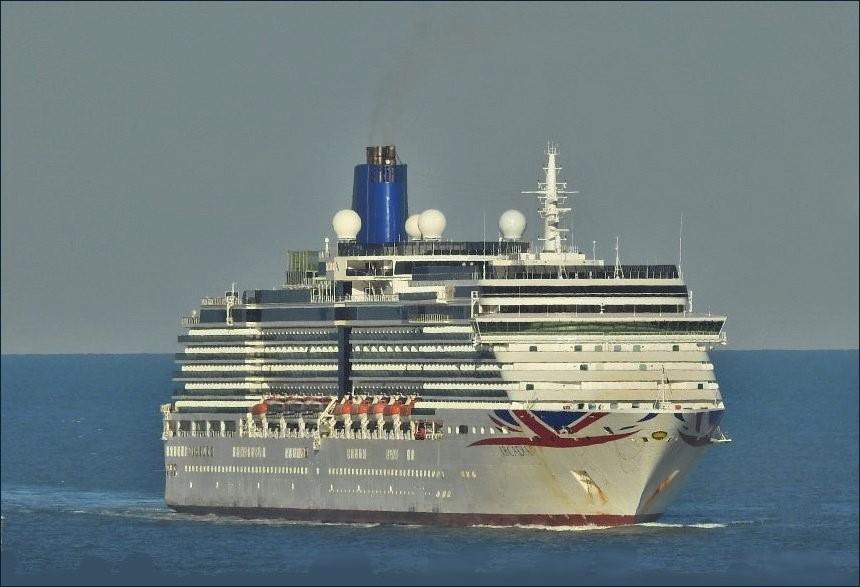 Just a couple of pictures this time of Arcadia as she returns from yet another P&O Cruises sea jaunt...this time on Saturday evening. Took plenty of pictures but they were very late-in-the-day contrasty so best just to use these two only...time of first shot 18.16 as Arcadia approaches the Port....then below entering.... with the Spirit of Britain at Dover 9.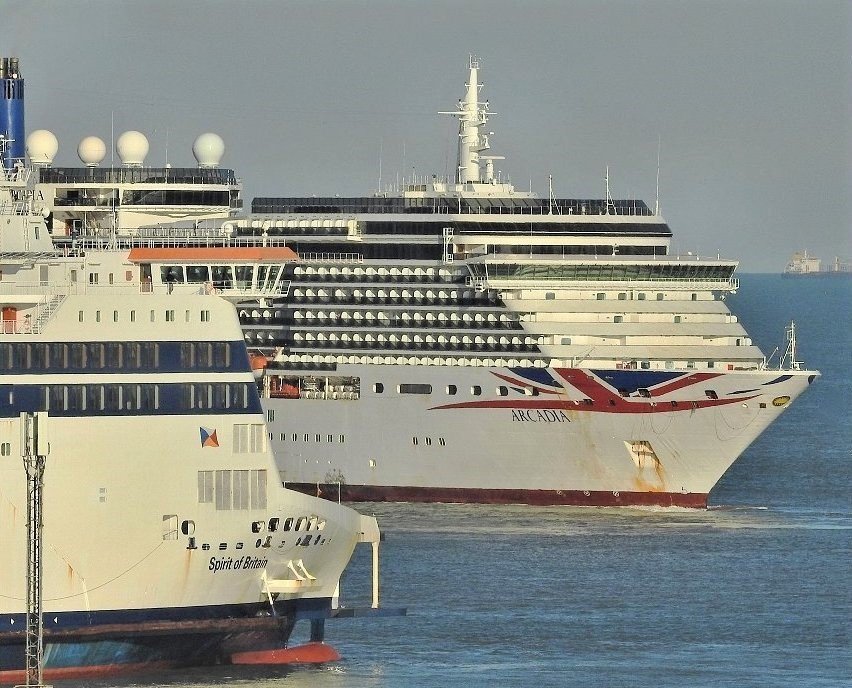 from the Road Haulage Association.....
Logistics needs Government support to survive, says RHA
__________________________________________________
The RHA implores the Government to do more to save thousands of logistics firms who face ruin as a result of the COVID-19 crisis.
RHA chief executive, Richard Burnett warned that with no further government action a predicted widescale business collapse could reduce logistics capacity by as much as 50 percent.
He said this would likely make it impossible for the sector to meet demand to fuel the economy's recovery effort.
In an industry-backed letter to prime minister he set out a series of measures to help firms get through the pandemic and into the recovery phase including: grant funding, a fuel duty rebate and improvements to furlough rules.
"At this time of national emergency our sector is doing everything it can to ensure critical supplies get to where they need to be," said Mr Burnett.
"We recognise that we need to play the fullest role possible in the UK's recovery and these measures would ensure we can do just that."
A recent RHA survey found that 46 percent of the UK's truck fleet is not operating and 25 percent of drivers are furloughed.
-ENDS-
Yes we have some pictures of mega-rich Sherpa leaving the port...
here we are with leaving shot one...
will have two or three more in due course...bear with...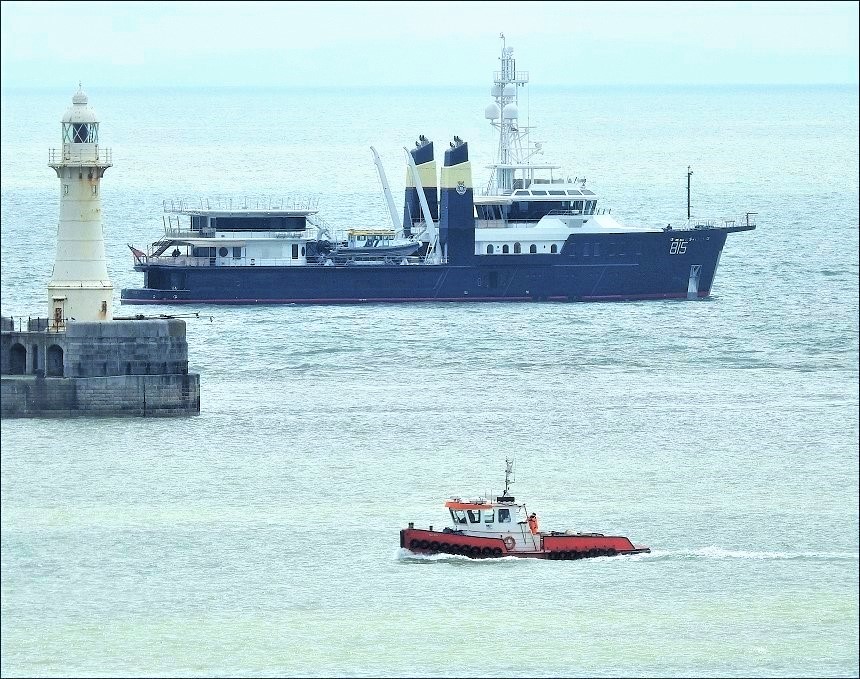 That's the now familiar friend New Ross 1 in the foreground there.
Nice 'inshore' collection below there from our 'inshore correspondent'...don't miss those..well done Mike..

Del yes I noted that line myself...much promise of help but where is it..!!?


PaulB
Tuesday, 28 April 2020 - 07:05
Post 6970
Mike J., Dover
SMIT DEE in the Tidal Basin 16/4 [see Paul's post 6943 for departure]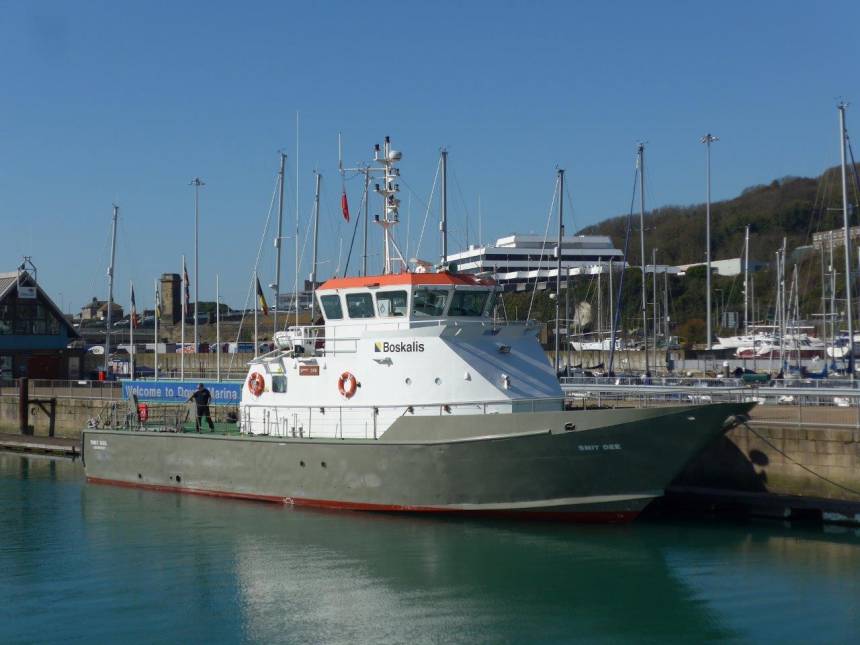 10/4 & the unusual sight of two Range Safety boats SMIT ROTHER & fairly recent arrival SMIT PENALLY on the Tidal Basin pontoons.
They normally live in the Tug Haven, .
Also in the Tidal Basin on 3/4 was the NEW ROSS 1 who usually overnghts there.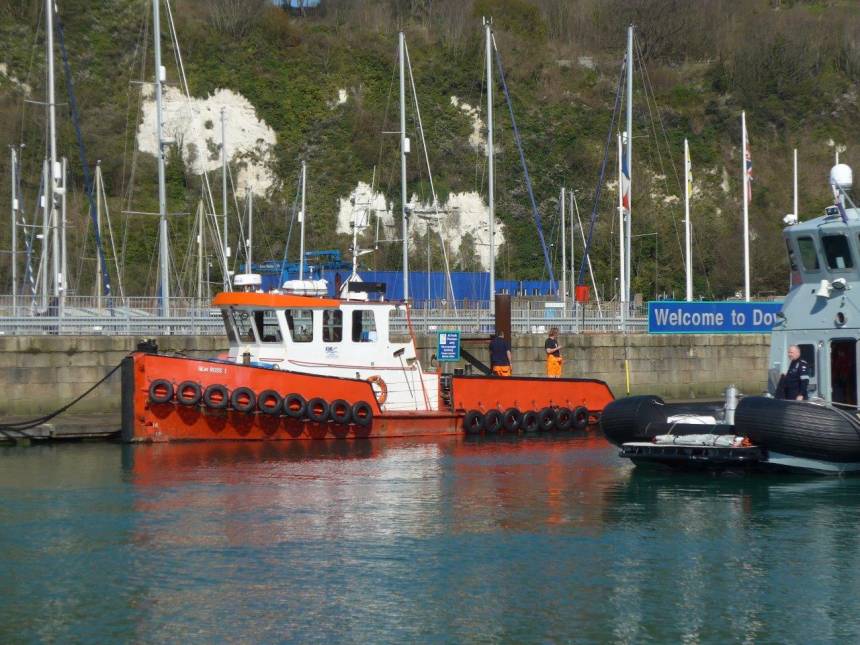 Another angle on the anchored SHERPA on Saturday.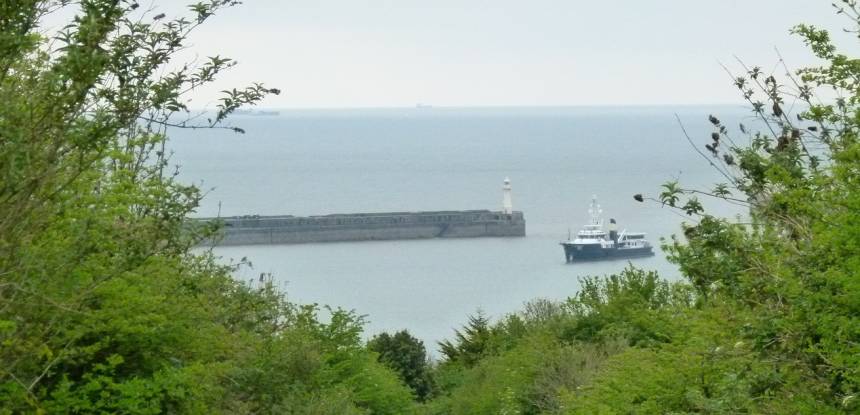 Unusual sight of SPIRIT OF FRANCE discharging on No.6 berth on Monday afternoon.
The strange pattern at the bottom of the picture are solar panels on top of the former multi-storey carpark.
The SPIRITs usually berth on 8 & 9 berths, but No.8 has been occupied by the BURGUNDY for at least a week.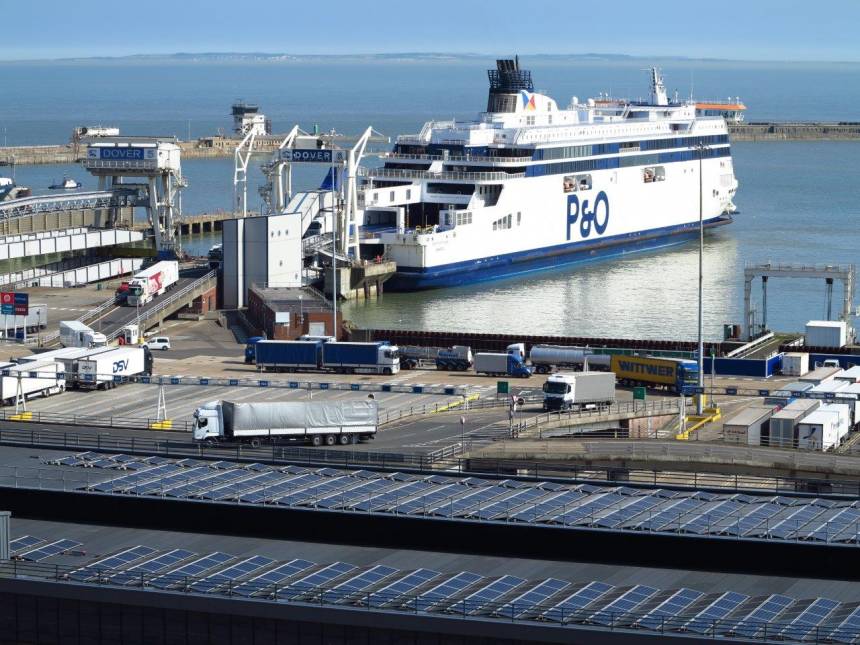 Tuesday, 28 April 2020 - 02:05
Post 6969
Del Styan, Norwich
Very welcome news from Dover Port Chief Exec. I think the main point was ..."we still await further information on the detail of the support on offer. To date we have been unable to access any of the announced government programmes for our freight ferry business whilst keeping our facilities open and operational."
I just hope they are able to get access soon! Can't have Dover closing - just think ( although I don't want to ), Brexit is supposed to be only

a few months away.
Monday, 27 April 2020 - 23:13
Post 6968
Sea News, Dover
Some further photos now of super-rich Jim Ratcliffe's superyacht Sherpa.
Pictures show her arriving at the Port of Dover on Saturday...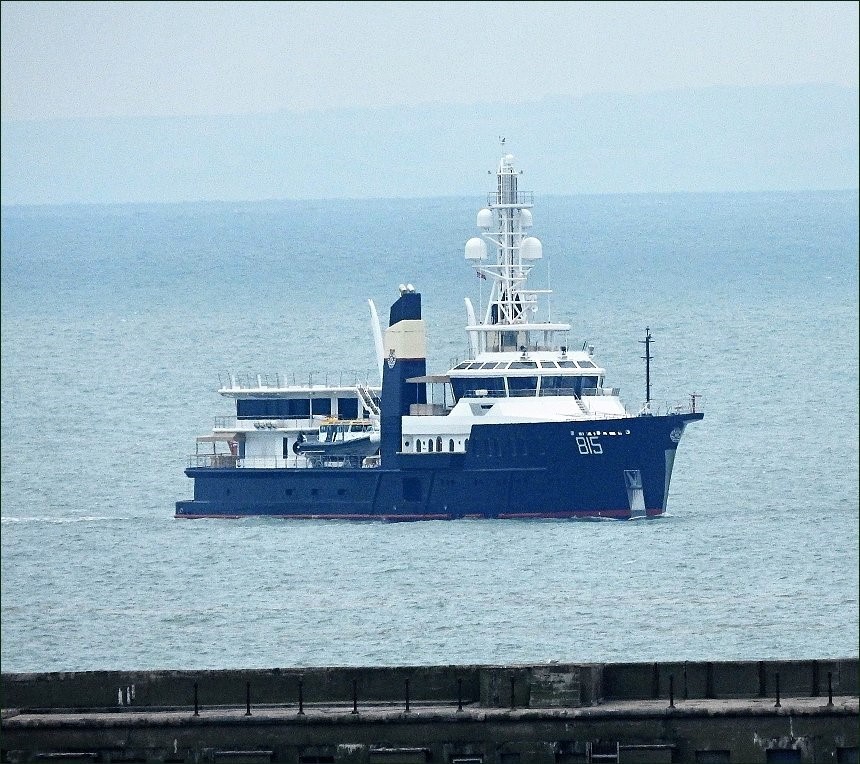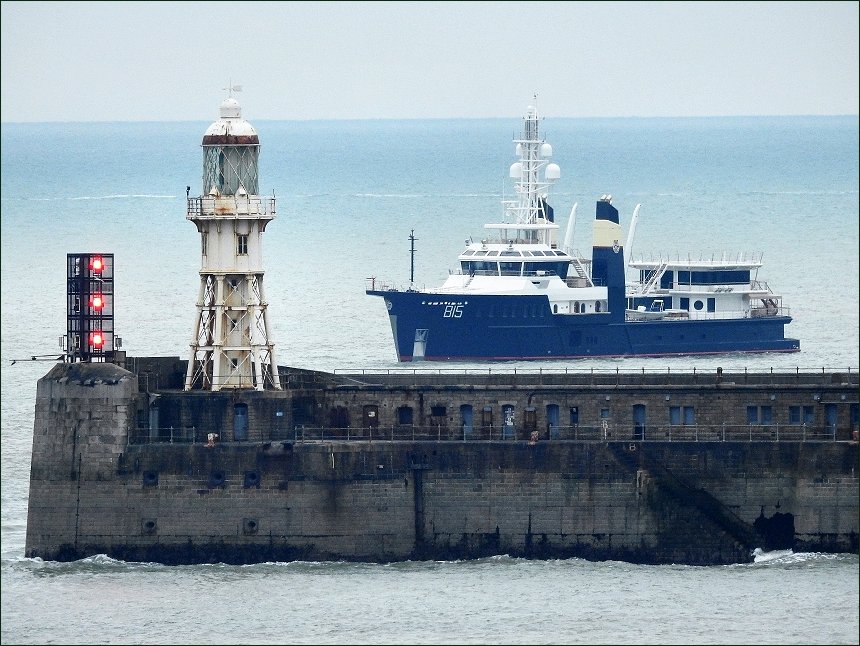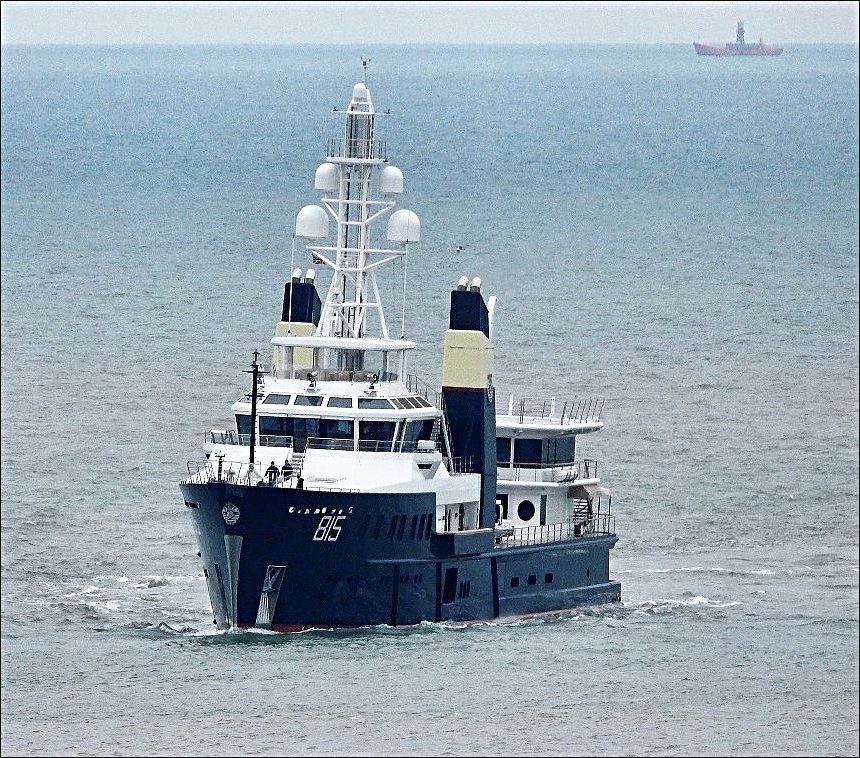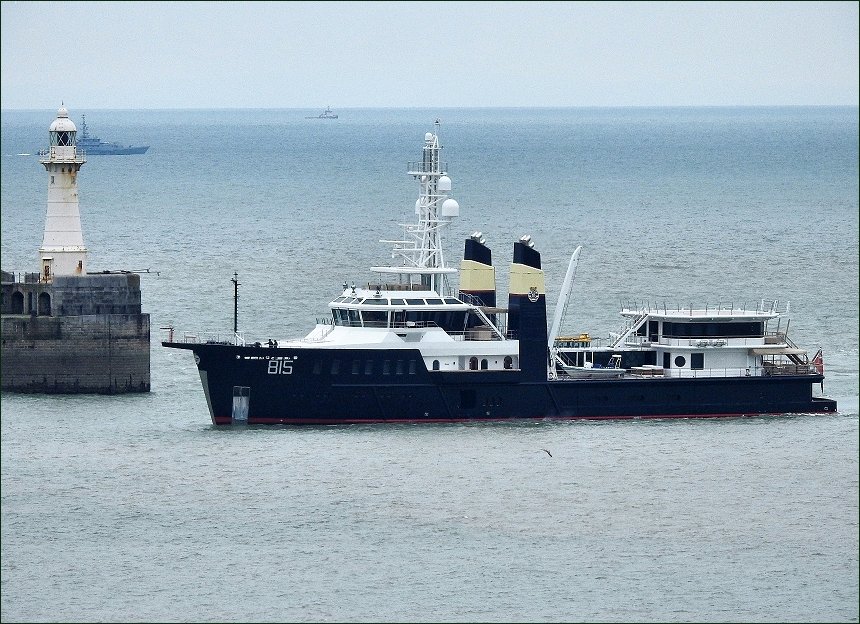 Sherpa
See also the pictures further below page.
We will have more pictures of Sherpa to follow along soon...pictures showing her leaving the Port after just a short stay...
* *
PORT WELCOMES CRITICAL COVID-19 SUPPLY CHAIN PACKAGE
___________________________________________________

The Government has recognised the vital work of Dover's port and ferry operators in keeping essential supplies flowing across Great Britain during the COVID-19 crisis with a support package to maintain core ferry freight flows. Read the Port of Dover's open letter from Chief Executive Doug Bannister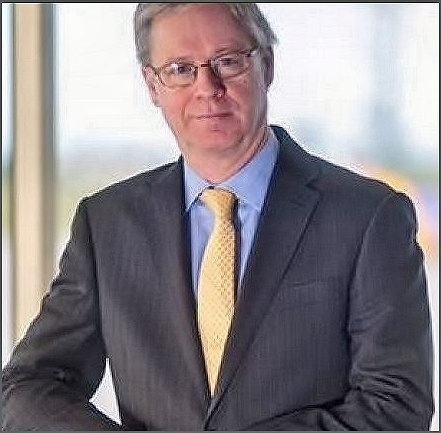 OPEN LETTER FROM THE CHIEF EXECUTIVE:
Since we entered this national emergency, the Port of Dover and the ferry operators have worked round the clock to keep the essential goods flowing into the UK to support critical services like our NHS, to keep supermarkets stocked and to ensure businesses have the components they need.
We have continued to maintain 24/7 ferry operations for our supply chains, which comes at considerable cost during these times of severely reduced overall business volumes. The port, largely a fixed cost business, must maintain full operational capacity whether we process 5 lorries, or 5,000 in a day. As long as our ferries keep running 24/7, so we must to keep the goods flowing.
This is because we know people up and down the country are still counting on us for those essential goods, their food, their medicines, the resources they need to get through this pandemic and we are determined to carry on.
We are channelling all of our efforts and resource into this whilst we have seen our ferry tourist business virtually disappear and our cruise business go on lay-by for the foreseeable future. When faced with such a downturn in business, a rational commercial enterprise would reduce operations to cut costs. However, this would be contrary to our mission of maintaining the UK's primary supply chain â€" and it comes at a significant cost.
The announcement today by the Secretary of State for Transport, The Rt. Hon. Grant Shapps MP, is very welcome indeed, although of course we still await further information on the detail of the support on offer. To date we have been unable to access any of the announced government programmes for our freight ferry business whilst keeping our facilities open and operational. Recognising the national importance of our ferry services via Dover by implementing such a support package should give the nation high confidence that we will endure, and emerge, from this crisis.
The dedication and professionalism of everyone in the Port of Dover community means we will keep our supply chains open and fully operational for as long as possible, and with this support package our ferry operators will be able to continue to provide capacity with confidence. Of course for the Port this is welcome, however we have continuing challenges in our other business sectors and critical infrastructure investment funding requirements that will also need to be addressed.
In the meantime, for the primary supply chain between the UK and Europe, for the people up and down the nation, we will use this government support to good effect to keep the supply chains flowing via Port of Dover.
Doug Bannister
CEO
Port of Dover.
* * *
The Port of Dover still working away strongly...keeping those vital supplies flowing. Well done Port of Dover

Thanks Brian below

PaulB

Monday, 27 April 2020 - 06:33
Post 6967
brian dixon, dover
sars helicopter in a dash towards folkestone along with blues and two's on the ground.

Sunday, 26 April 2020 - 13:51
Post 6966
Sea News, Dover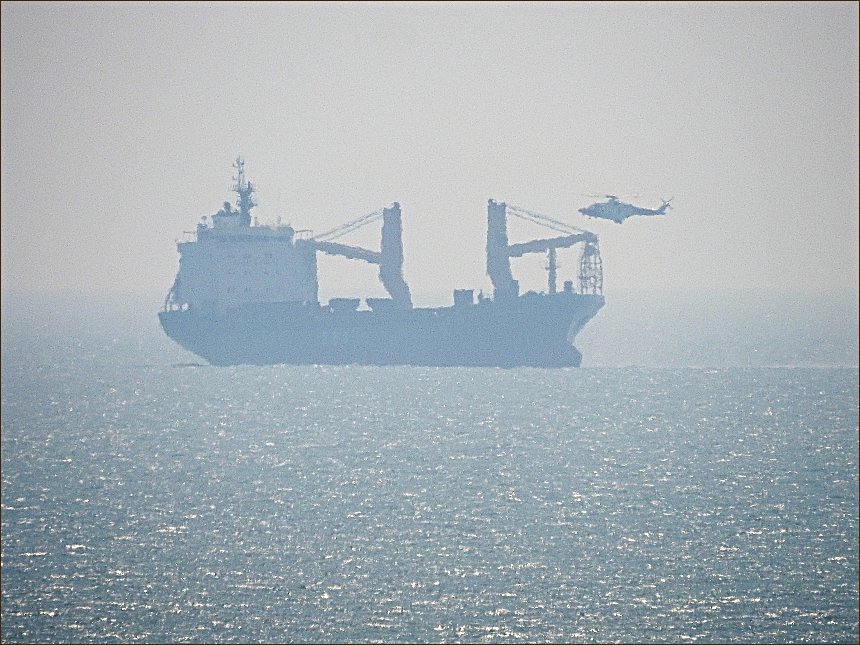 A couple of pictures now from Thursday/Friday...showing the general goings-on. Top shot captures the HM Coastguard helicopter through the fog. She was hovering over and close to a general cargo ship called BBC Campana for a considerable time...tried several shots .. but well.. the fog... time of this pic Friday just after midday (12.15). Havent seen any news item relating to it so not quite sure what was going on....
The evening before and we see several police cars with blue lights a-flashing ..they had charged to the area between the cruise ships...quite unusual to see them down there.. time of picture 8pm approx.
Whether it was migrant crisis related I don't know ?....as we have had another busy period of cross channel incursions...
Ah...there is a suggestion it may have been NHS clap related... well I never...
that's Aurora in the background there...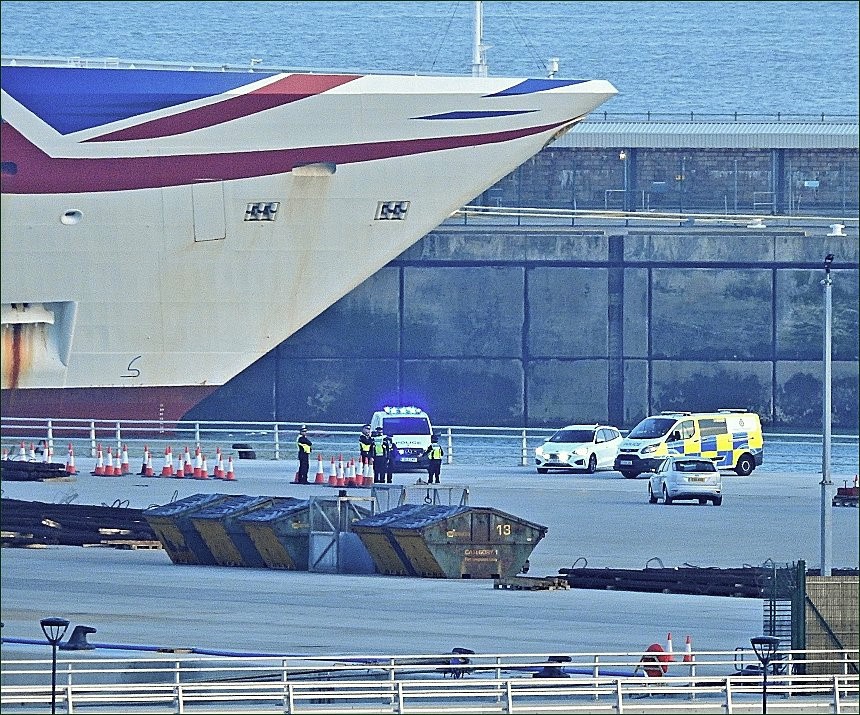 On to Saturday now...
Sherpa: Yes this one is owned by Jim Ratcliffe...the UK's richest man I believe. Not the traditional superyacht design as often seen in Monte Carlo and other hi-flung places but I guess its a 'homegrown' take on it all...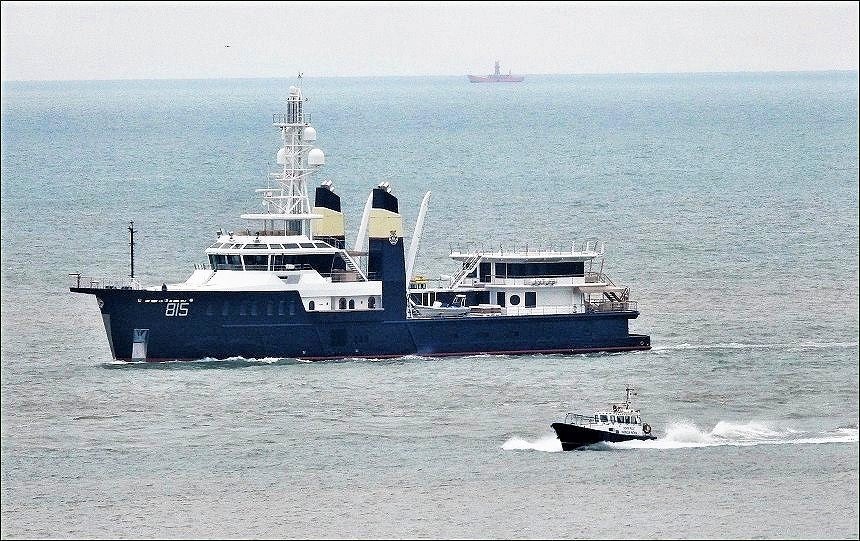 Sherpa and pilot...
Will have more pictures of this one following along in due course...
see also Mike's pictures below...
Interesting post below from Mike so dont miss that one.

Mike yes just stick to the allotted 5/6 images, it goes unstable if you play with it beyond that...and we just get blank listings where pictures oughta be..
Thanks Brian yes a very familiar memorial..services sometimes held alongside...

PaulB
Sunday, 26 April 2020 - 06:50
Post 6965
brian dixon, dover
they are for those chinese persons found dead in the back of a lorry a few years back mike.

Sunday, 26 April 2020 - 05:12
Post 6964
Mike J., Dover
Here's the missing LIAMARE.
i was chopping & changes images in draft mode & obviously the system doesn't like image numbers beyond 9.
Sorry 'bout that.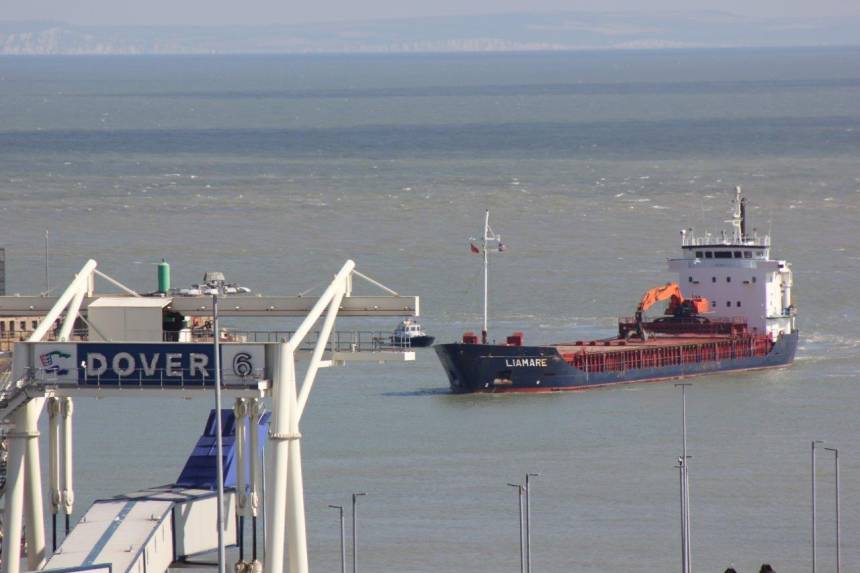 Sunday, 26 April 2020 - 02:41
Post 6963
Mike J., Dover
Arrival of SHERPA, high & low level, a little late in very dull weather, arriving from Amsterdam.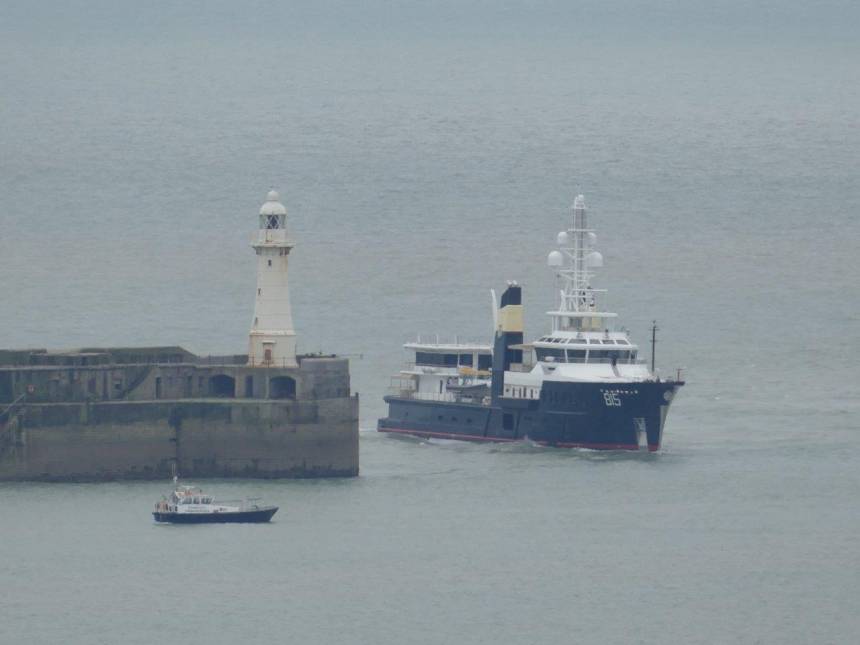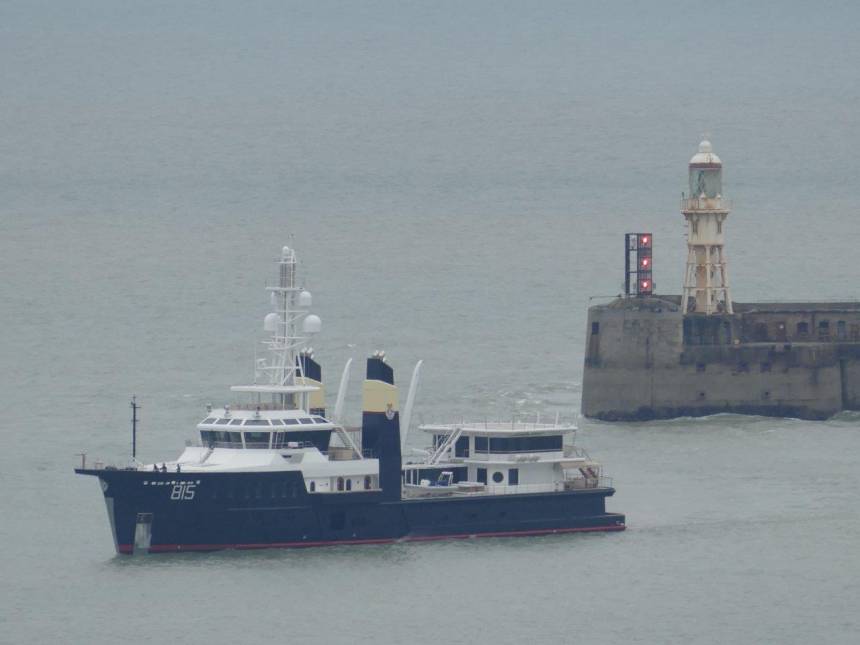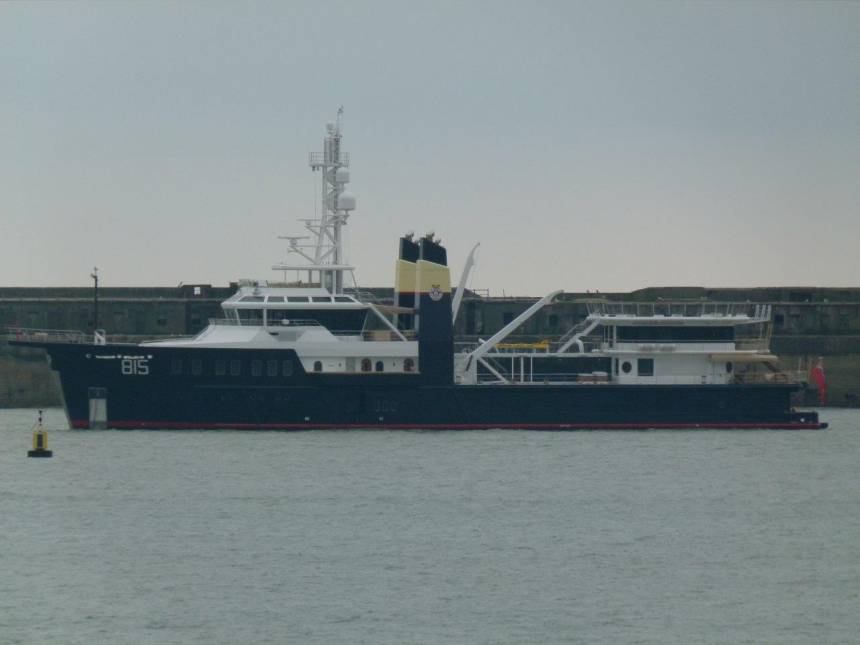 An impressive vessel & this interesting info is copied, with thanks, from the 'Dover Strait Shipping' Facebook page -
. . . . Meet Jim Ratcliffe's radically designed superyacht support ship Sherpa. So-named, due to the considerable amount of space she features for all those must have toys and supplies for extended exploration cruising and also, to provision other yachts if required.
Jim Ratcliffe founded the UK-based chemical company Ineos in 1998, the company has done quite well since then, as is somewhat apparent, looking at this 74 metre long Feadship creation delivered two years ago. Interestingly, she still features her build name of Project 815. Mr Ratcliffe returned to Feadship, having previously owned their work and it doesn't look like he was disappointed...
Earlier this month, due to the Coronavirus situation, the company commissioned new manufacturing centres to produce sanitising handwash from substances already used by the company. Since then, the sanitiser has been provided free of charge to hospitals, as the fight against the pandemic continues.
The circa 100 million pound Sherpa is at anchor in the Port of Dover's Outer Harbour until approximately 1700 this afternoon . . . . ..
I'm sure that PB will have more coverage & hopefully caught her early sailing [for Gibraltar at 1400, catching me out] by which time the sun had come out & pix would have been much better.
While walking along the prom, right to the Eastern Docks end, for the first time for many years, I came across these sad memorial stones, quite unknown to me.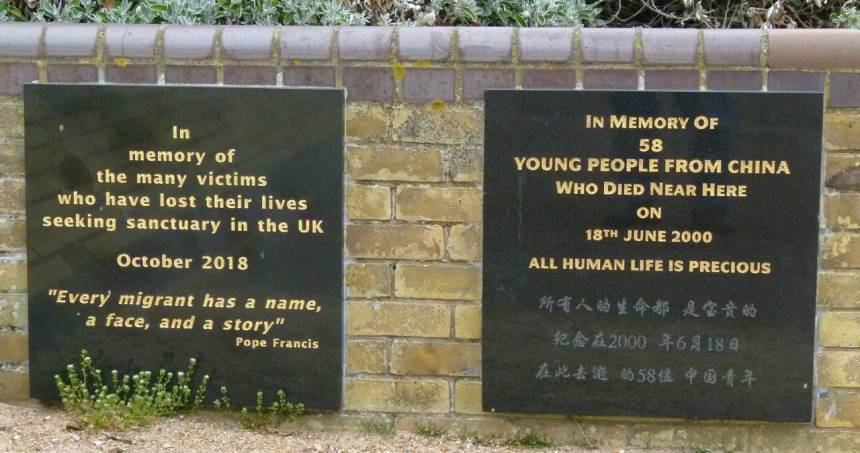 I've just noticed, south of Portland, the monster ALLURE OF THE SEAS underway heading southwest.
As her AIS shows her bound Southampton from Southampton I guess she is doing a 'grey water cruise' as Dover's P&Os do.
The ARCADIA returned from one about 1700 today, looking good in the low sun & PB probably has her in the bag as well.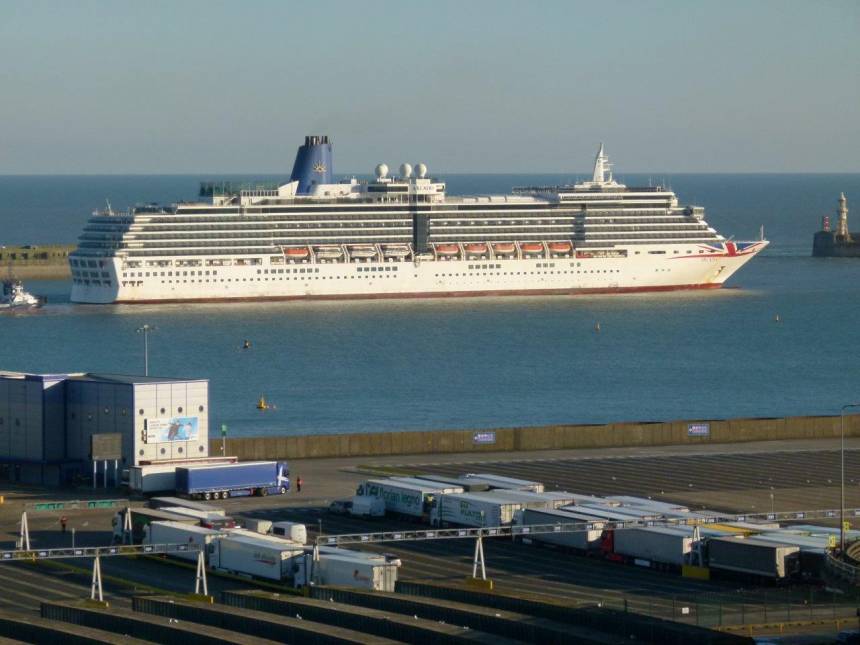 Also arriving for the DCT was the LIAMARE with another stone cargo.
[IMAGE-10]
Sunday, 26 April 2020 - 02:33
Post 6962
Sea News, Dover
Arcadia...Away All Boats!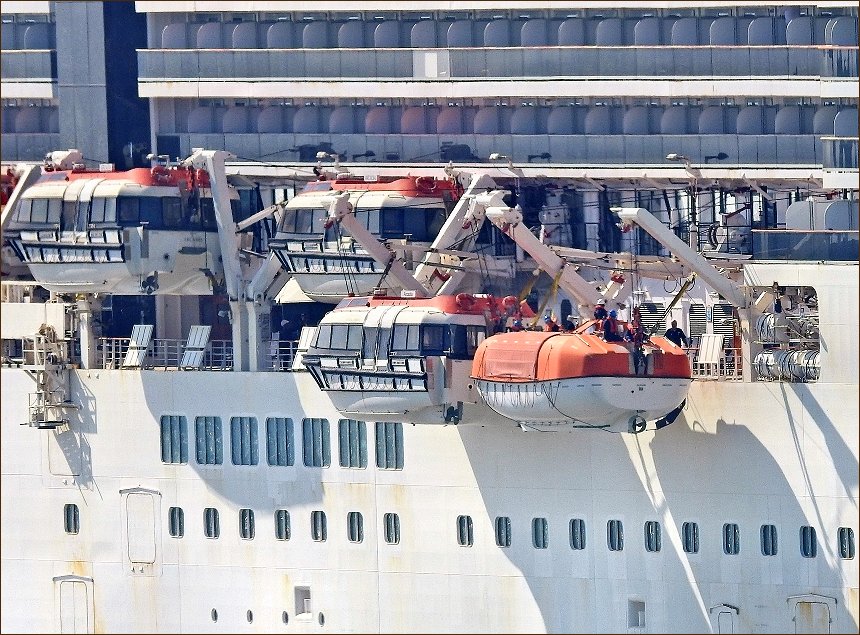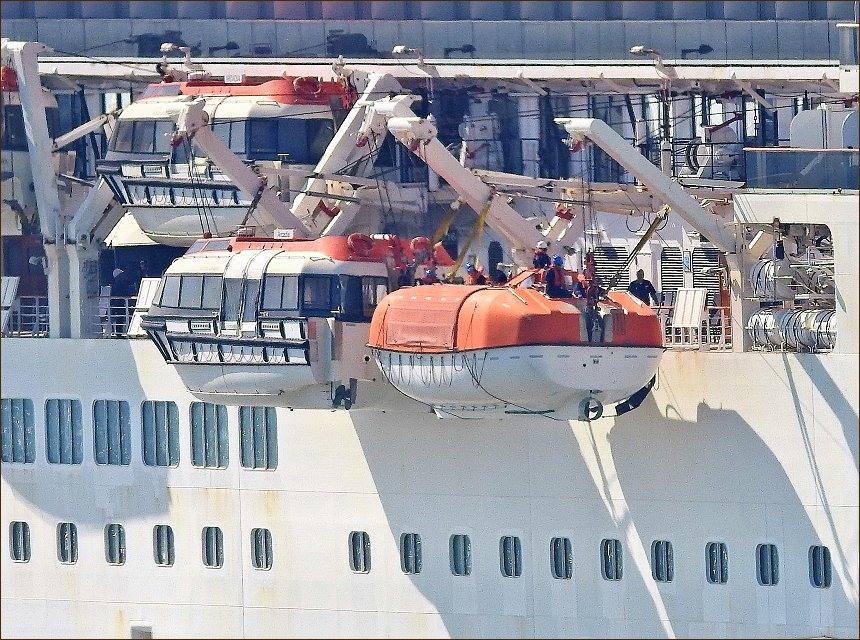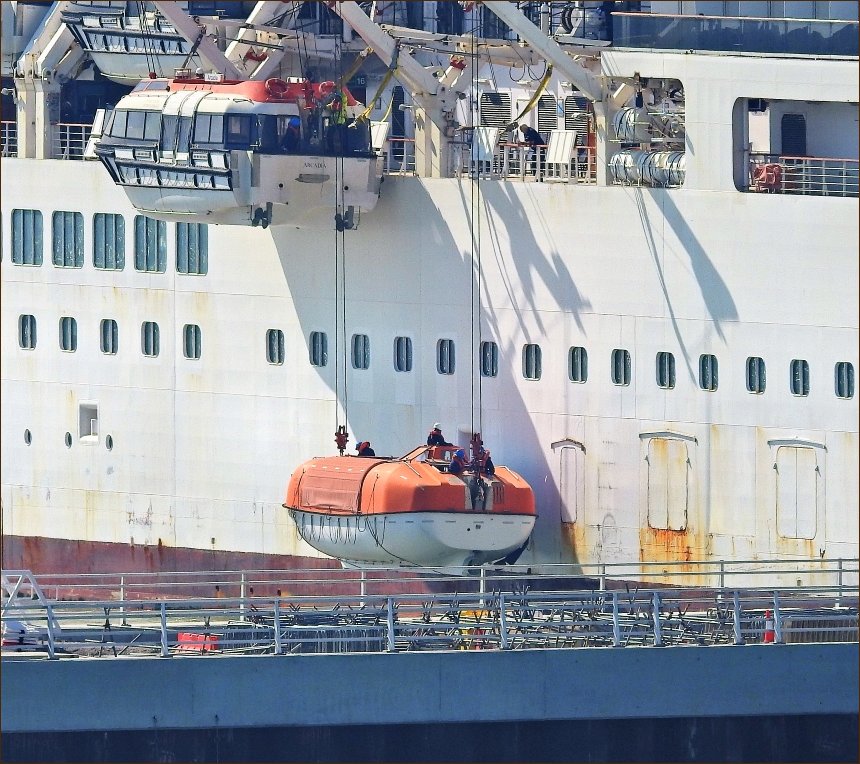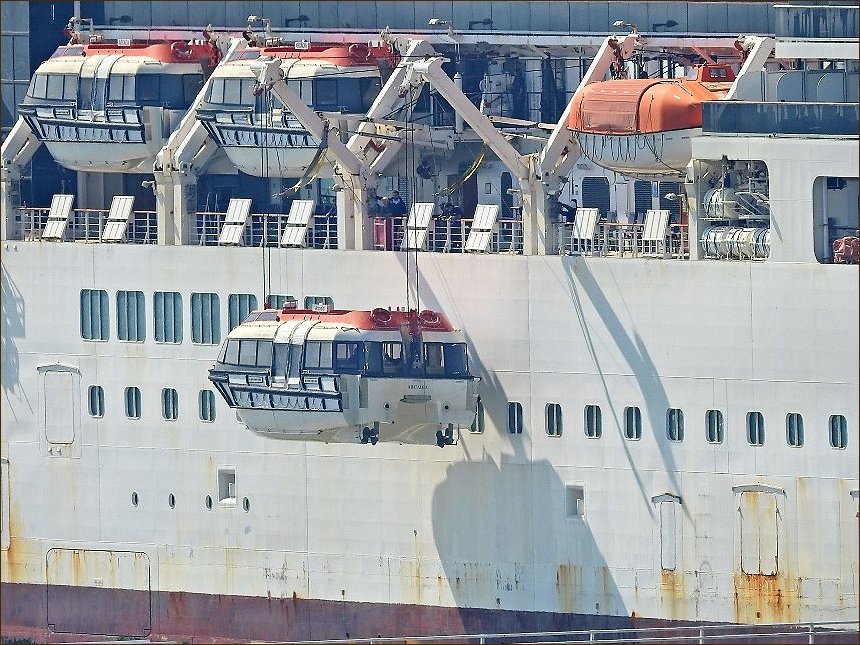 Some pictures from Thursday above there as Arcadia went into a period of Lifeboat practice. The top two pix shown are actually the same shot but one zoomed in a wee bit to hopefully show more detail. The other two show the different Lifeboats featured. No pictures to hand showing them on the water as they were obscured a tad because of the low tide situation.
Arcadia went out on a run earlier this morning and as I write Aurora is returning...we were down to just one cruise ship ( Oceana ) for a short while there.

Well done with that post below there Mike. very interesting coverage there from our 'inshore correspondent'...so don't miss those pictures plus lots of info.

Very interesting post below there Mark...yes re the security sign and very interesting to hear about your memories of the Leisure Centre/Swimming Pool. Indeed it will be missed by many...but the good news is that there is a new ultra modern Leisure Centre a couple of miles away...in the 'new town' at the top of the hill where all the superstores are..LIDL B&Q Tesco etc etc etc
Wonder what they will be putting in the current location...someone mentioned McDonalds....

Thanks once again Del...glad you enjoyed all that..
PaulB
Saturday, 25 April 2020 - 06:25
Post 6961
Mike J., Dover
73 year old research vessel SEVERN SEA arrived Dover 28 March [post 6905] & was moored in the old Jetfoil terminal & remained there until a few days ago.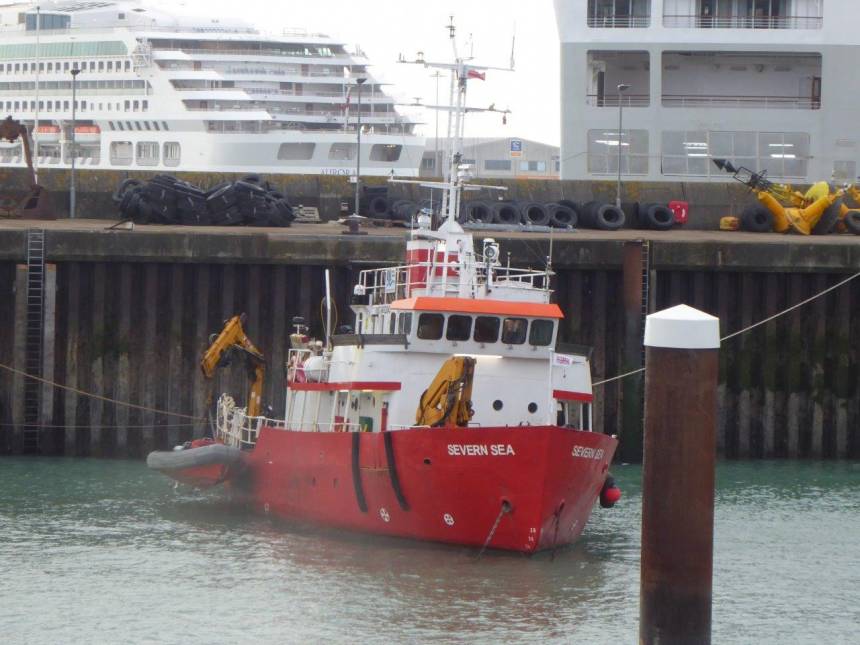 But she was not in Dover to assist with survey work with the sea defence works at New Romney & Jury's Gap as was expected when she first arrived.
The 'stone fleet' of tiugs & barges started to assemble in Dover in March with the expectation of some of the work force being accommodated in Dover hotels & B&Bs - however these were closed by the COVID-19 restrictions.
The SEVERN SEA had been sent from Bideford to Dover as she had accommodation that was usually used by scientists & technicians & so acted as a floating B&B until today, Friday.
On Wednesday or Thursday she shifted over to Eastern Docks to the DCT [old reefer berth] & on Friday morning sailed via Western showing Falmouth as her AIS destination.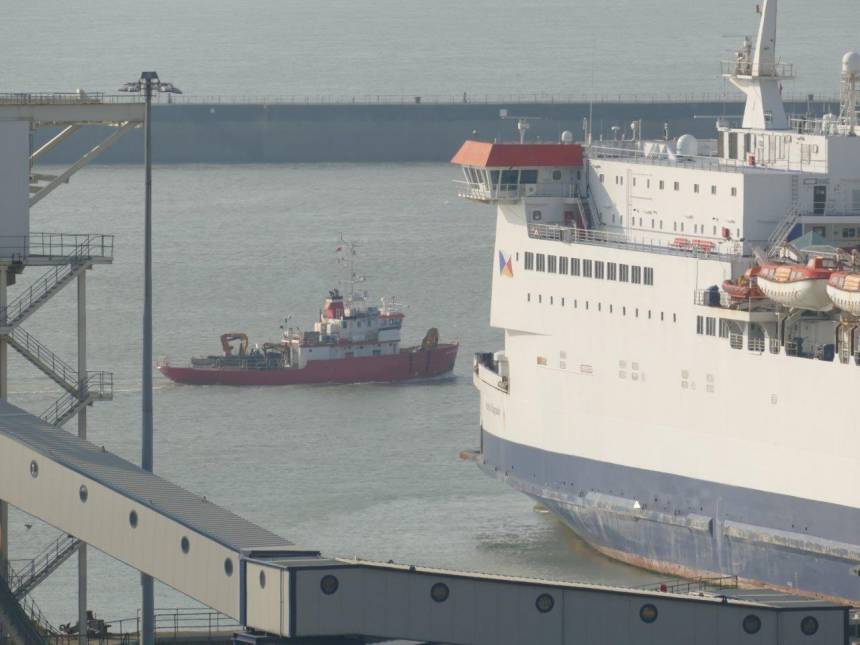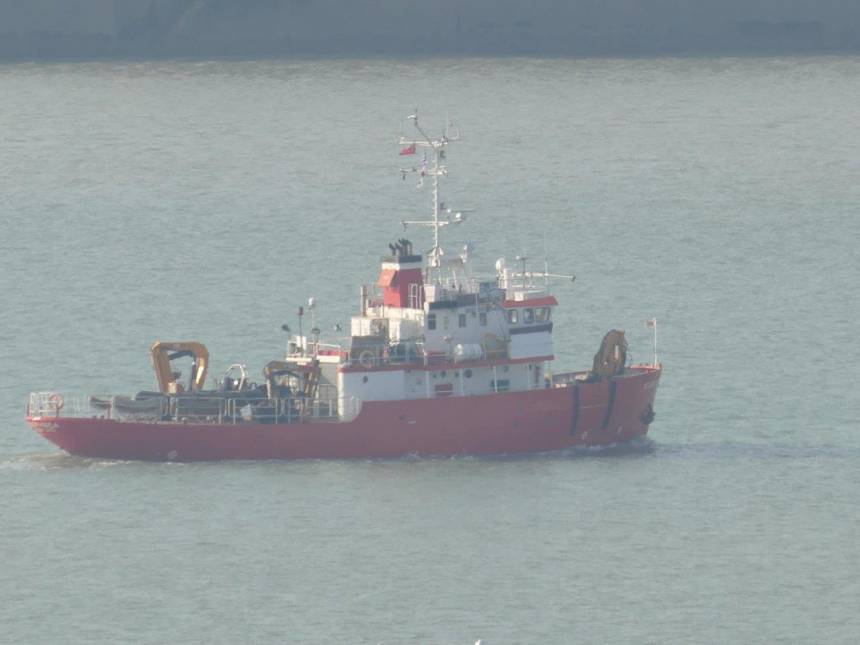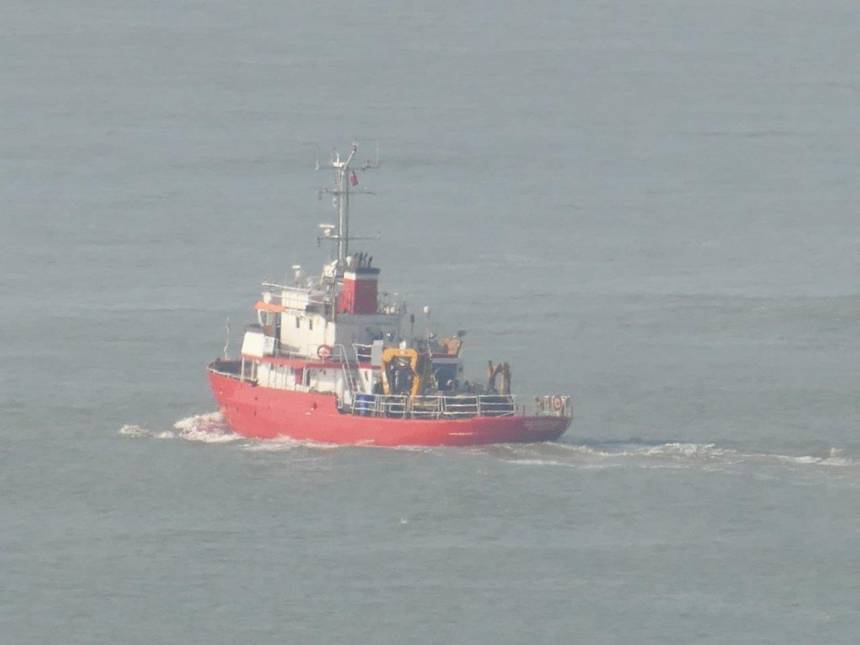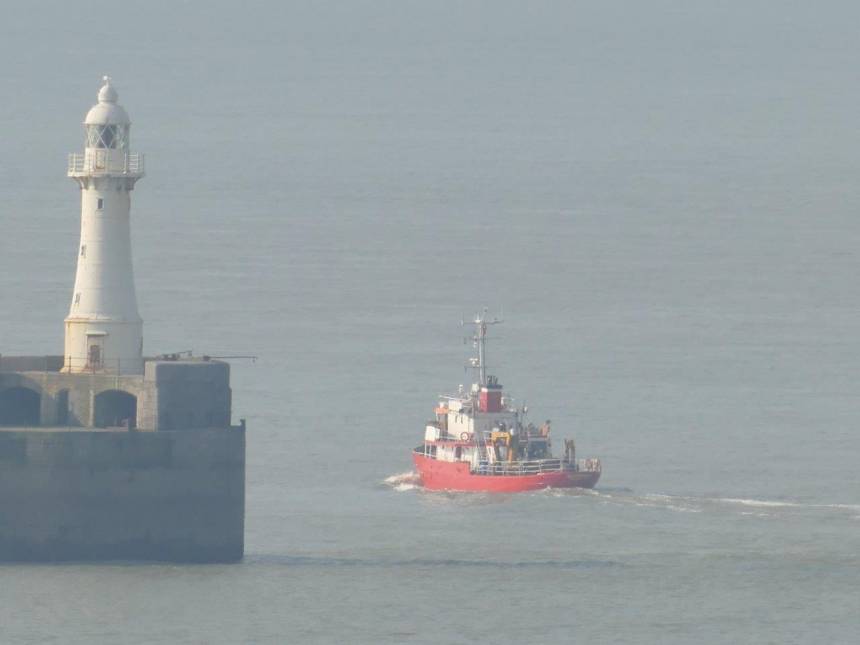 But it all went peculiar soon afterwards when she stopped off Hythe & drifted around for a while before heading east back in the Dover direction.
Her AIS destination changed to Folkestone & she anchored off Copt Point just across from the harbour where a Border Force cutter [VIGILANT ?] was already lying.
At about 1400 she went alongside Folkestone harbour arm, for just a few minutes, before sailing downchannel & I thought that was the end of her time in the area.
However at about 2130, wondering how she was getting on, I looked on AIS & found her back in Dover in the Jetfoil terminal again !
Her AIS track showed that she had got to the Hythe/Sandgate area again before going up to Deal before returning to Dover.
All a little unusual & I wonder why.
For me, at least, one of the more interesting vessels to call at Dover for quite a while.
Saturday the 71 metre 'superyacht' SHERPA, recently built with an unusual 'commercial shipping' appearance rather than the traditional sleek 'look at me' design of modern superyachts, is expected to be anchored in the bay from 0700 to 1700.
According to a DHB Notice to Mariners her size is sufficiently large to prevent ferries from using the Western Entrance whilst she's at anchor.
Should be worth a look . . . .
For more details google 'superyacht times sherpa'
Saturday, 25 April 2020 - 02:57
Post 6960
Del Styan, Norwich
Thanks Mike J - I had a look at the meteor shower photo on facebook. And thanks for the sun pic PB - very cheering.

Thanks to you both.

Friday, 24 April 2020 - 23:08
Post 6959
Mark Rushton, Northants
Interesting photo of the security warning on Oceana there. Perhaps they could, in the style of the supermarkets, add that if you don't know how long 50 metres is, it's about the length of four lifeboats rather than shopping trolleys ! And the demolition of the leisure centre and pool represents another lost link with my childhood - I went swimming there often on the 1970s when it was new. I actually learned to swim in the freezing water of the outdoor pool in Broadstairs behind the old Grand Hotel (now gone) and, as a posh kid at Chatham house Grammar School in Ramsgate we went to the lido outdoor pool below East Cliff Promenade for our school swimming - that's now a car park. Different times....

Friday, 24 April 2020 - 09:45
Post 6958
Sea News, Dover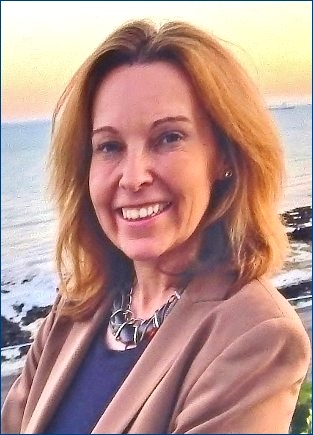 Stay positive - because together we will beat the virus
_________________________________________________
It's now a month since the lockdown was announced by Prime Minister Boris Johnson.
We may be locked down, but we won't be stopped. It's incredible how our community has rallied round the most vulnerable among us and those in need of help.
Since I set up the Super Neighbours scheme with Dover District Council Leader Cllr Trevor Bartlett, we have been inundated with volunteers wanting to help. And those volunteers have made such a difference, helping people with the weekly shop, delivering prescriptions, a friendly chat - even mowing the lawn!
Meanwhile parishes, Together4Dover and many other groups are working hard to help too. And as well as the Super Neighbours, we also have some Super Businesses. The Dover Marina hotel has been providing free hot meals, Buckland Press have printed free leaflets and posters. It's amazing what people will do to be there for each other when it counts.
We have found ways of connecting differently too. It is amazing how quickly we have adapted and collectively kept our spirits up as a nation. We've found new ways of working, from communicating by Skype, Zoom, Facetime and video conference to turning shops, restaurants and even B&Q into delivery businesses and takeaways. But make no mistake, it's going be a tough few months for businesses and workers alike.
Up and down the land, parents have had the chance to spend more time with their children â€" and be reminded how dedicated our teachers are. Many others have been learning new skills, from baking bread to learning a new language to writing scripts and videos to getting on with long delayed house improvements.
We now know that there will be an extended period where our lives will feel very different. Yet we should not look forward with dismay. Already there are pilot projects being run all over the country to see how recycling tips and shops can safely be re-opened. I remain hopeful that Kent County Council will get some of our local recycling centres up and running. Garden centres may follow soon, which would be a much-needed boost for both gardeners and garden centre owners.
We have adapted to plan and queue for our groceries, to follow one-way arrows and distancing stickers. We can â€" and I am sure will â€" meet the challenge of re-opening in a measured and sustainable way.
Already in four short weeks, we have kept connected, innovated, supported each other, and thrived. So we should seek the positive and continue to learn and adapt. To improve our skills, find new ways to conduct business and work to keep the economy going.
There are going to be further changes ahead. Let's use this time now to prepare and be prepared for change that is needed. Most of all we should keep positive and cheerful, knowing that together we will beat the virus.
Natalie Elphicke
MP for DOVER and DEAL
Good rallying email from Natalie there...
yes indeed we have pulled together in many instances....
but perhaps I wouldn't say we have thrived..possibly an inappropriate term there...but we see the good points. Last night once again neighbourhoods burst forth with sustained clapping for our carers... bells were rung and saucepans bashed here in Dover, the three lay-over cruise ships here giving us a musical blast of horns to add to the uplifting mix..
Well done all....

Well done the NHS

We were speaking about the Leisure Centre demolition...an early pic in the process below...the building shown is now rubble. I had hoped to get more pictures but at ground level there isn't that much to see...and you can only dangle out the window so far !!...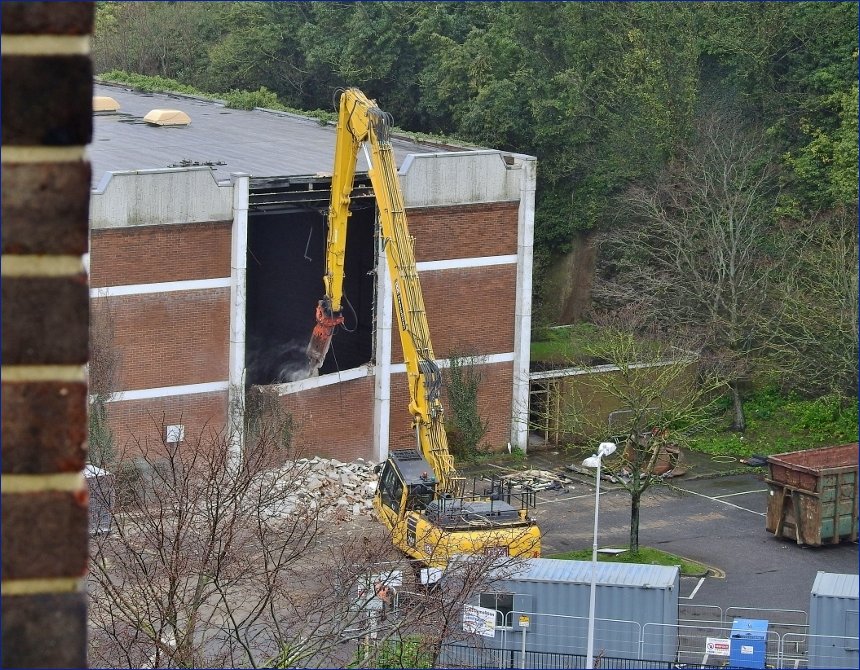 Oceana went out for another run last night leaving about quarter to ten ( 9.45pm) and now a short while ago this morning early ...returned...
Yours truly spotted this banner on Oceana yesterday thursday. Thought it worth a shot. Keep Clear !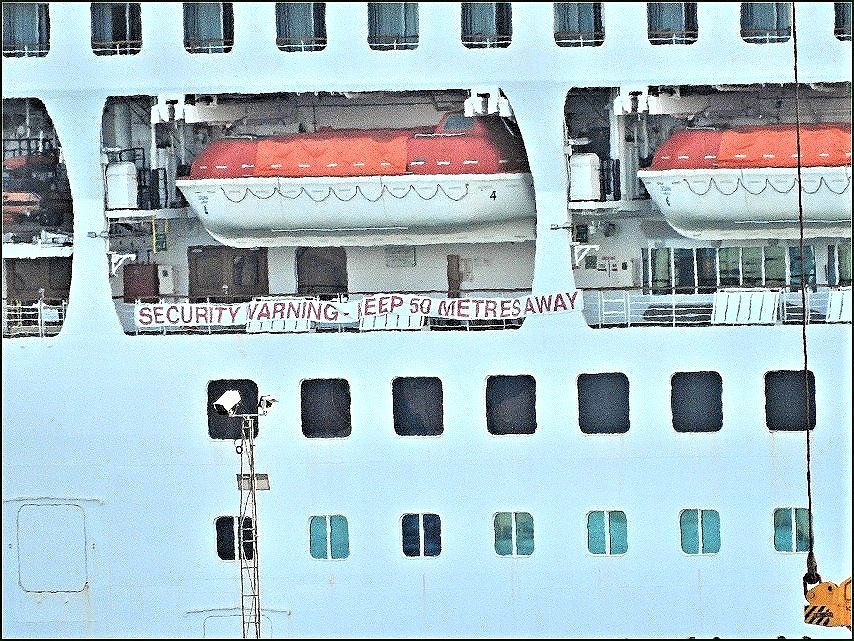 Del....Currently transferring pictures over from an earlier computer...this is one of our sunsets...from the files...
the Sun Rising over Dover 8.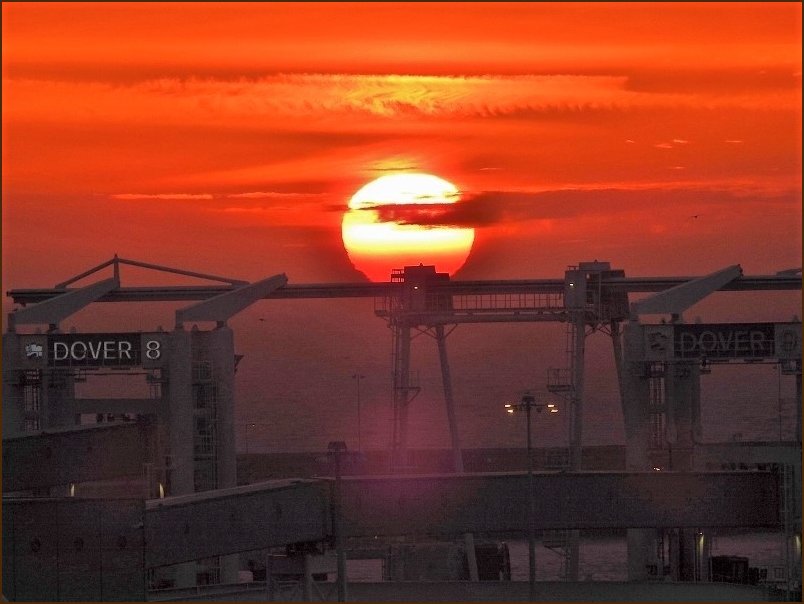 Del and Mike

PaulB
ps: Will have some pictures of Arcadia lowering the lifeboats yesterday...coming next..

Friday, 24 April 2020 - 06:34
Post 6957
Mike J., Dover

Del - for meteor shower pix see 'Dover Strait Shipping' Facebook page & scroll down.

Friday, 24 April 2020 - 02:09