Post 6996
Sea News, Dover
Found this further shot in the files re the Arcadia damage as mentioned yesterday...similar shot to Patrick's here..was focusing on the pilot boat not noticing the damage to Arcadia rear left, just above the pilot...but you can see it once again now..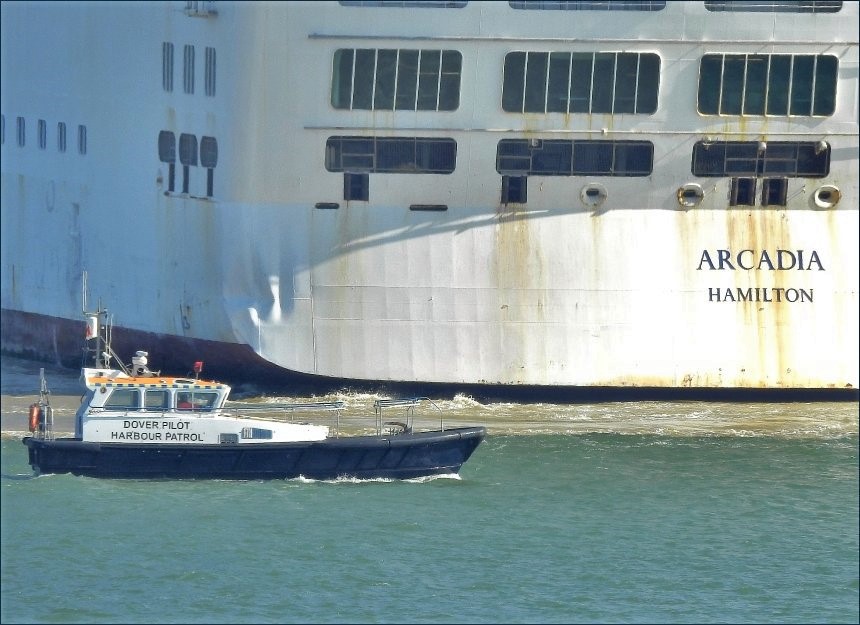 Just to say in advance , the pictures below of 'dive boat' Eagle at pier WD4 (retrieving sunken gangway) are not the best quality. Yours truly tried to reduce the haze via computer, they were very hazy pictures, but instead of making it all better...well...
but anyway, here we are......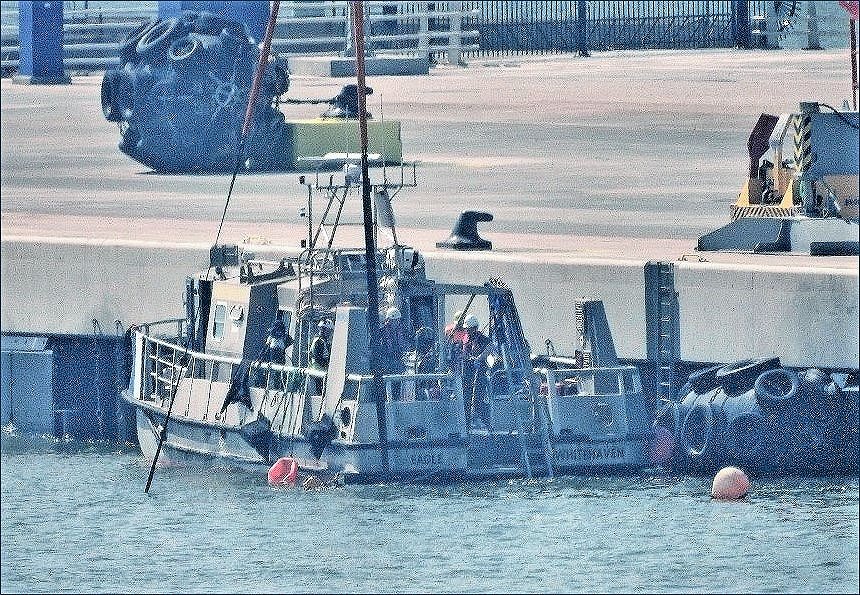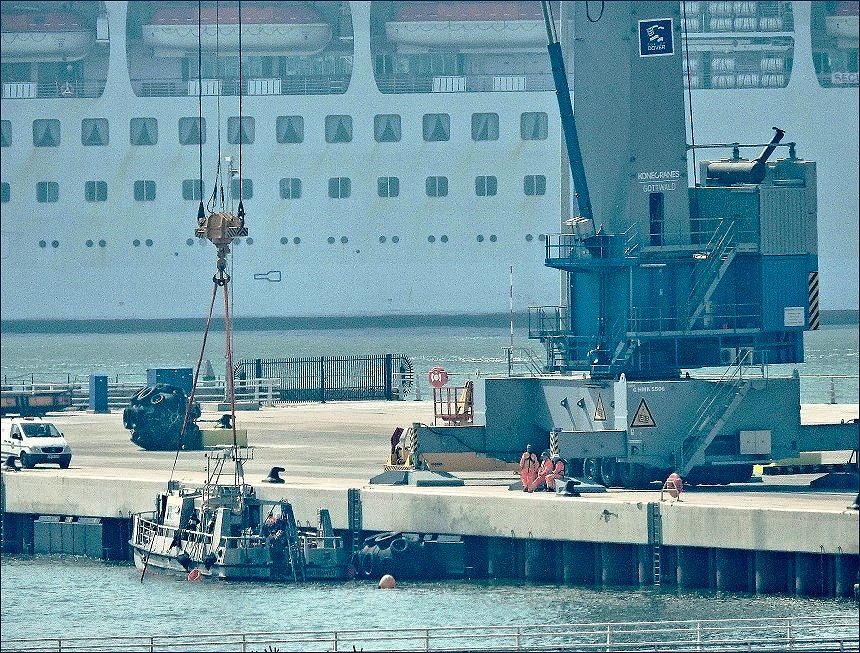 One of the huge cranes had come across from pier WD5. See also 6992 below for more detail...

Thanks for that info below Brian...
PaulB
Saturday, 9 May 2020 - 05:56
Post 6995
brian dixon, dover
oceana departed at 1220 heading westward

Friday, 8 May 2020 - 14:00
Post 6994
Sea News, Dover
Arcadia didn't stay long on the Eastern Arm this time and within a few hours she was off again to the ocean waves at around 4.30pm ...
( 16.30 Wednesday)...and here she goes...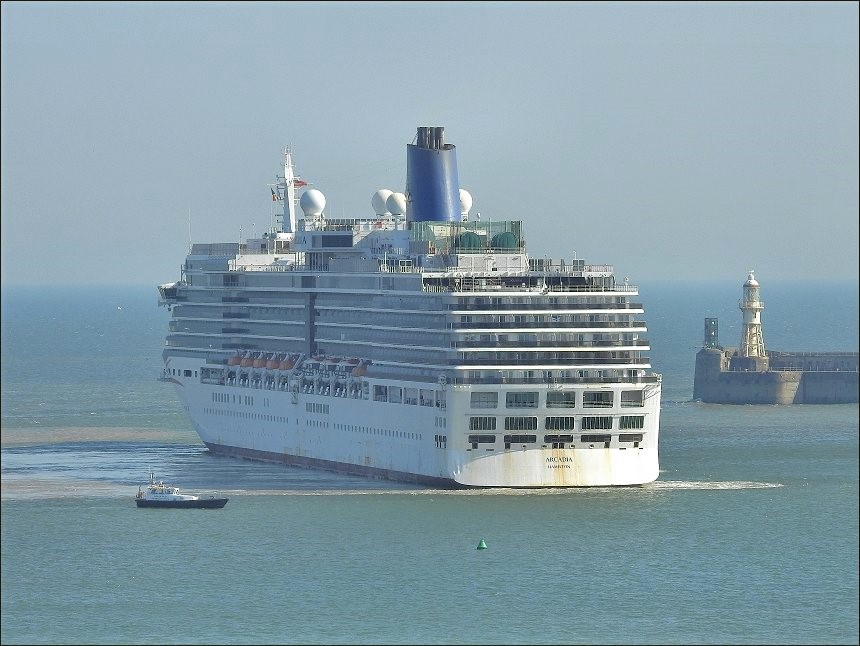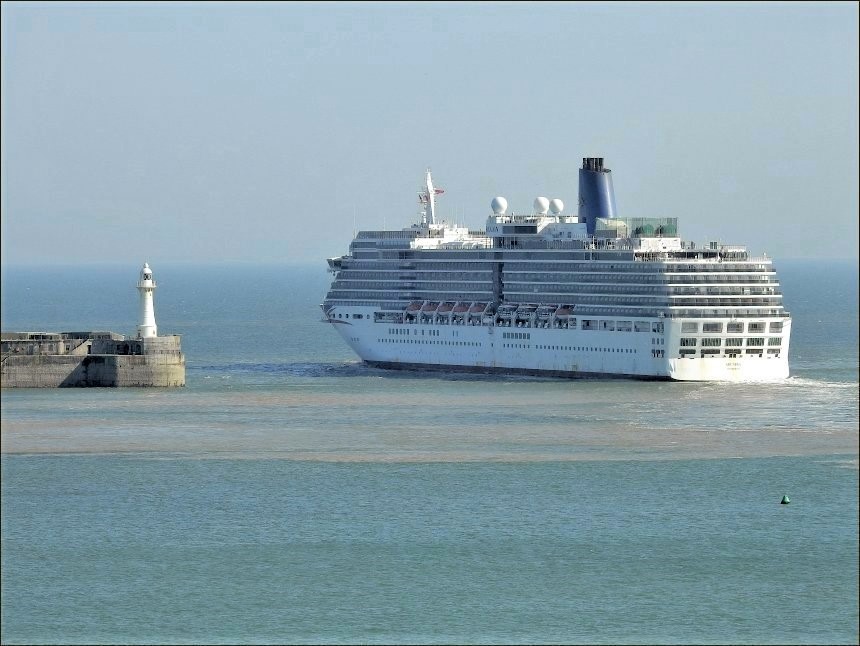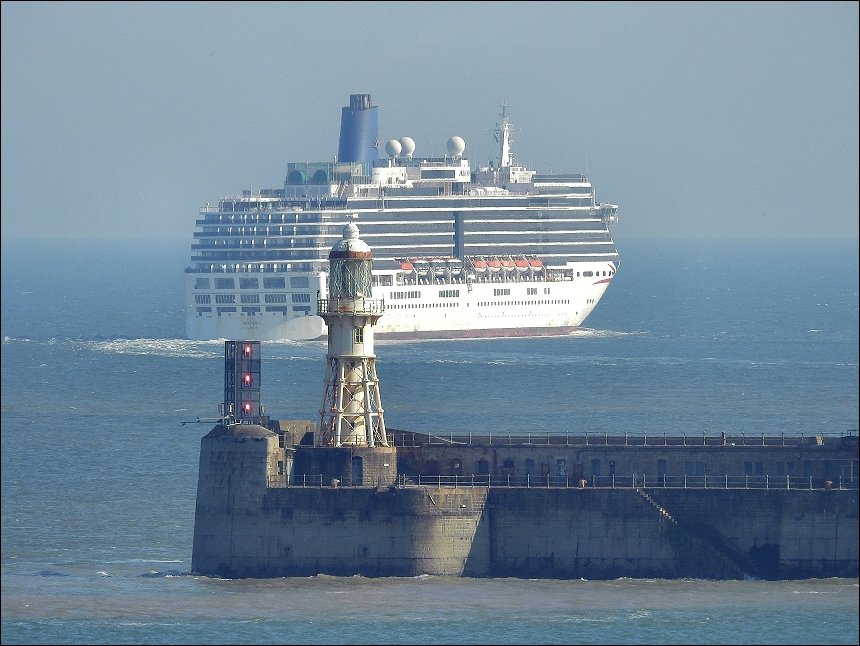 Patrick spotted the damage to the rear left of ship....see his post below...
will have a better look myself as have a few extra pictures in the system...
We mentioned yesterday about the emptiness of the Port at times...yours truly took the picture below of Oceana approaching in the blinding early light...but in a way the more interesting aspect is the foreground...no ships no vehicles. Although...be not alarmed, the trucks are still coming through and going out in good style...but all leisure traffic is gone and at times the Port looks.. well...empty ….you can see some parked truck-trailers in the foreground there but that's it.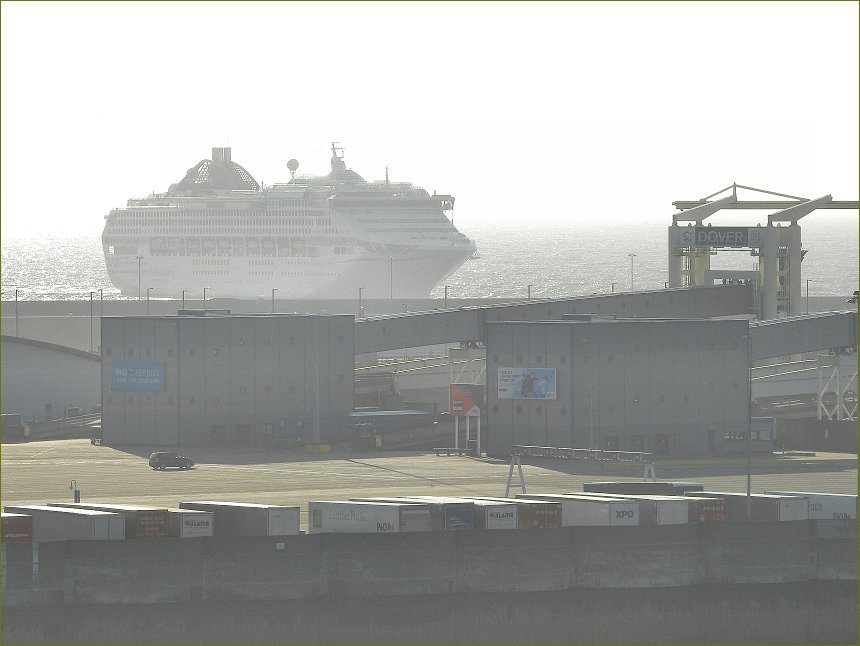 Great post below from 'inshore correspondent' Mike...enjoyable pictures and lots of great info there...don't miss that ..6993.
Fab sun pictures Mike...

Great post too from Patrick just below that 6992...a great spot there Patrick re the damage to Arcadia...never twigged myself. I have some extra pix in the files will have a further look. Nice planes too. Great stuff Patrick!
Terrific clapping and bell ringing last evening on the seafront here once again, and indeed throughout the nation for the NHS and for Carers everywhere. Pots were banged, bells were rung, hands were raw with clip clap clapping...brilliant...
Oceana gave us lots of whistle blasts and rockets were fired from Western Heights overlooking the Port.
Well done too..to all those keeping the whole system working.

VE Day

PaulB
Friday, 8 May 2020 - 06:40
Post 6993
Mike J., Dover
Interesting post & photos from Patrick re the ARCADIA & her 'incident' the other day.
Patrick's photos confirm that there was minor damage which looks to have been painted over - obviously nothing too serious otherwise she would not have been permitted to sail.
She is currently anchored off Portland.
The photos of the 'lift' look to confirm the rumour that her gangway fell into the dock after her bows swung off the berth when her headlines parted.
The 'lift' looks like a slightly rumpled enclosed gangway.
These things happen - a good job that both tugs were available & not busy with ferries.
I don't expect we'll see a cruise-ship on WD4 again, too exposed.
The SEVERN SEA followed the SARAH GREY & VENTURE's departure on Wednesday with their barges, sailing on Thursday afternoon for Falmouth.
A most interesting ship, with some excellent pix by Paul.
There are expected to be further sea defence works at Deal in the fairly near future, with stone brought in by the faithful LIAMARE.
A few more pix from Wednesday late afternoon, very low water for views of the HUNTER & Whitstable-based shellfish dredger WASH PILGRIM, thought to be part of the Cardium Shellfish fleet which have visited Dover in the past for work in the boatyard.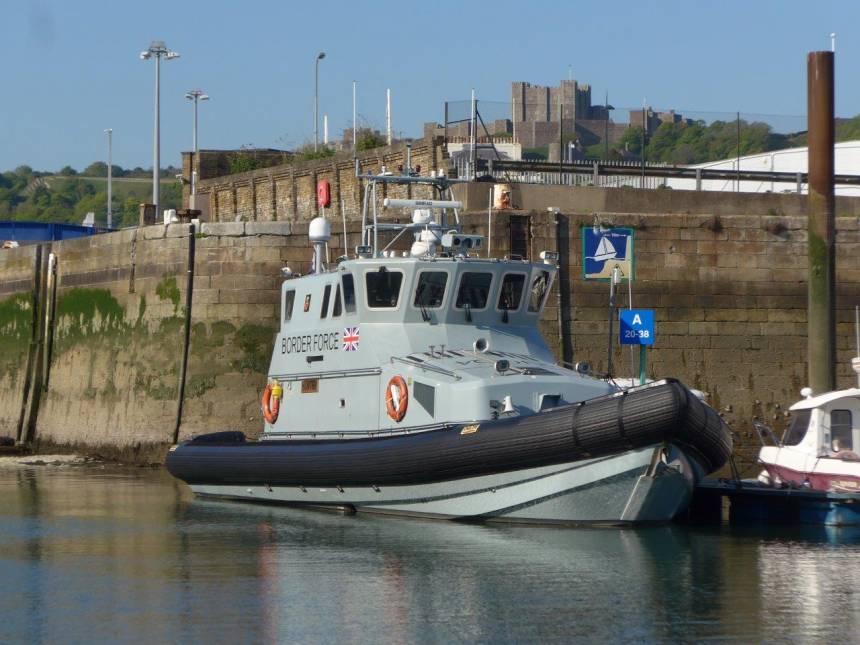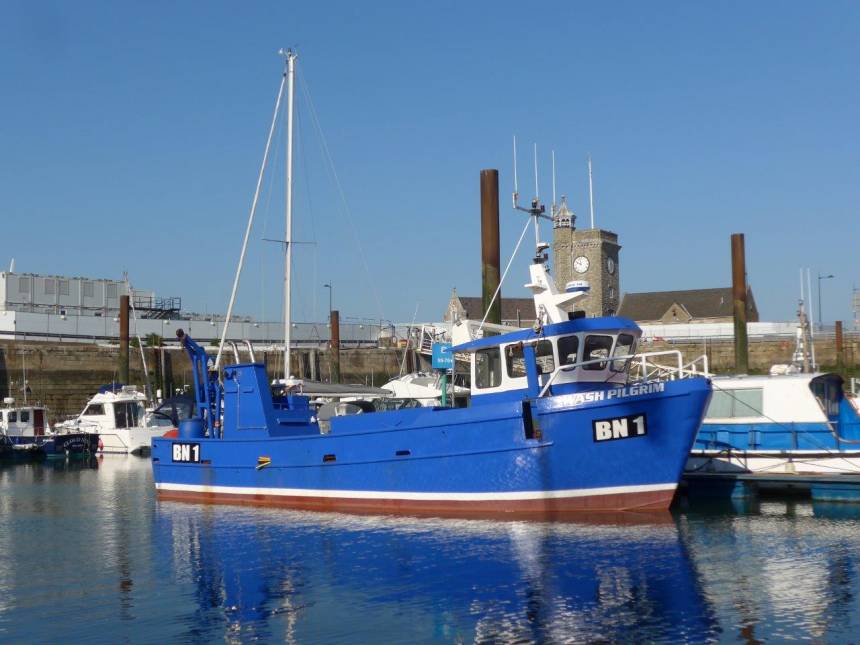 Wellington Dock gate with the swingbridge in the background.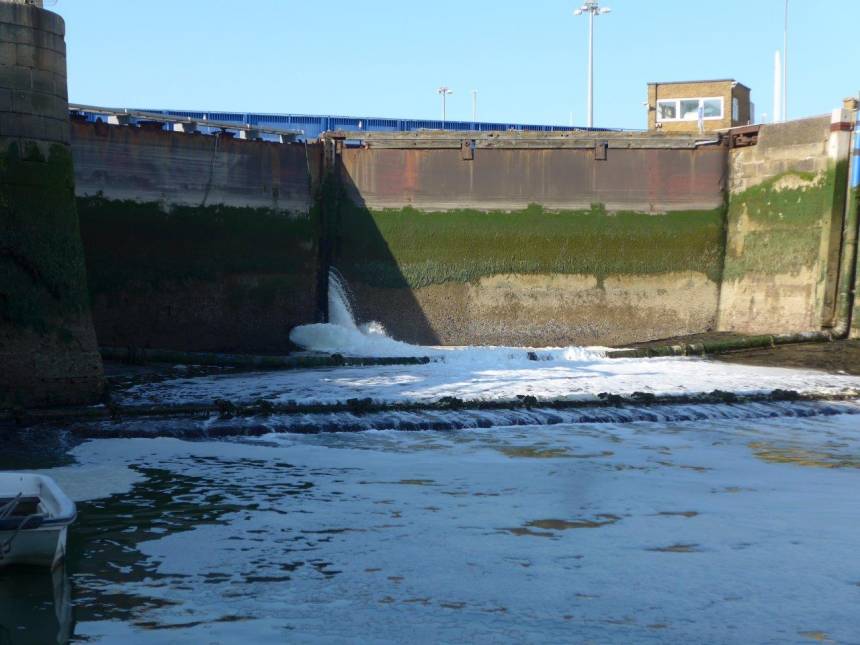 An unusual phenomenon on Thursday could be seen above Dover & in the local area.
A halo around the sun caused by refraction of light thru ice crystals high in the atmosphere.
Individual patches of refracted light thru ice crystals are often called 'Sun Dogs' but a little unusual to see a full halo.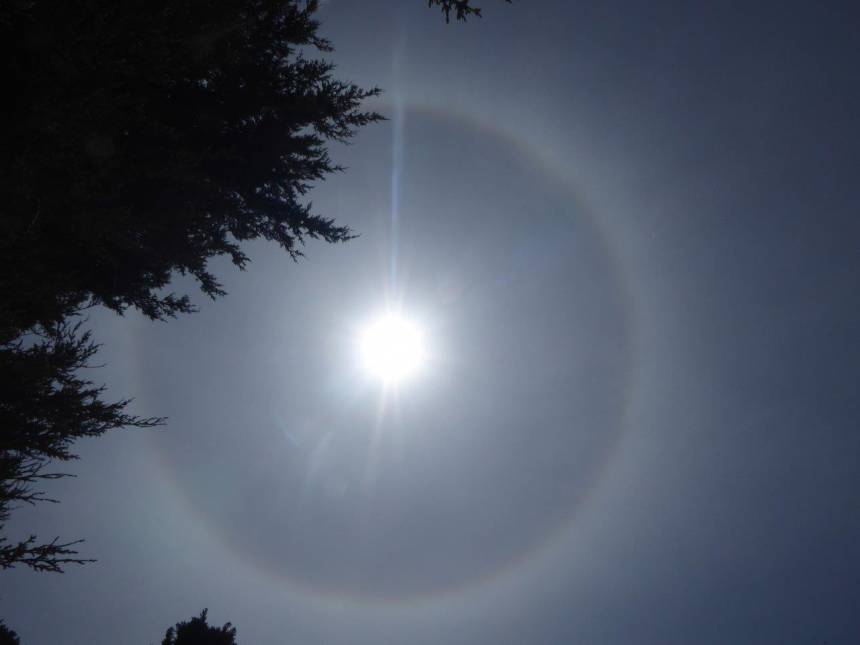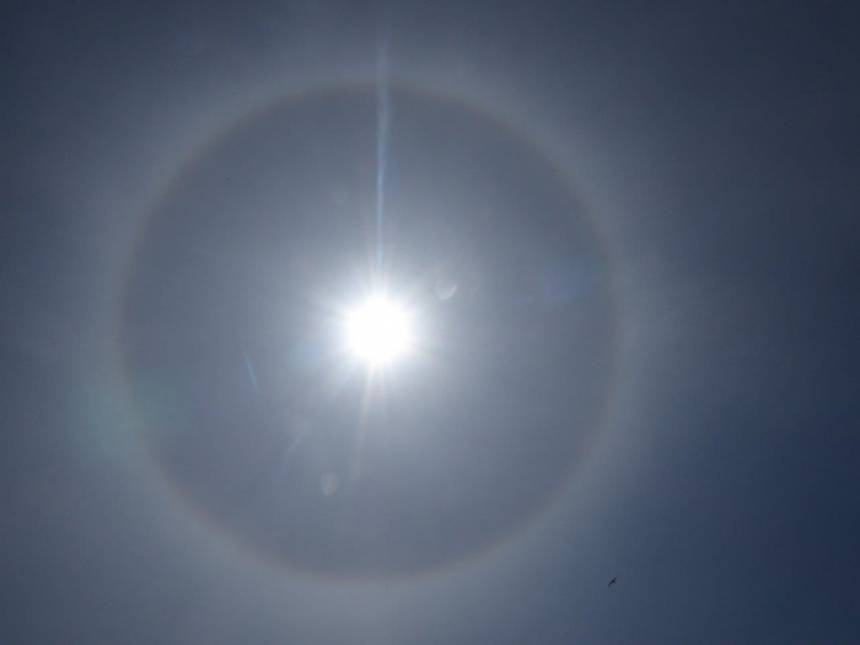 Friday, 8 May 2020 - 01:36
Post 6992
Patrick, Marine
Following on from Paul's #6978 and Mike J's #6974 posts regarding the 'Arcadia' incident on WD4 - when it involuntarily parted company with it's berth (possibly with its gang plank still in place). Having then left on one of those regular P&O Cruise Liner 'trips' to Portland Lay-Up, it made a very brief trip back onto Dover's Eastern Arm before departing again the same day, again destined for Weymouth (Portland) with what appears to be slight damage on the aft port quarter just above the water line.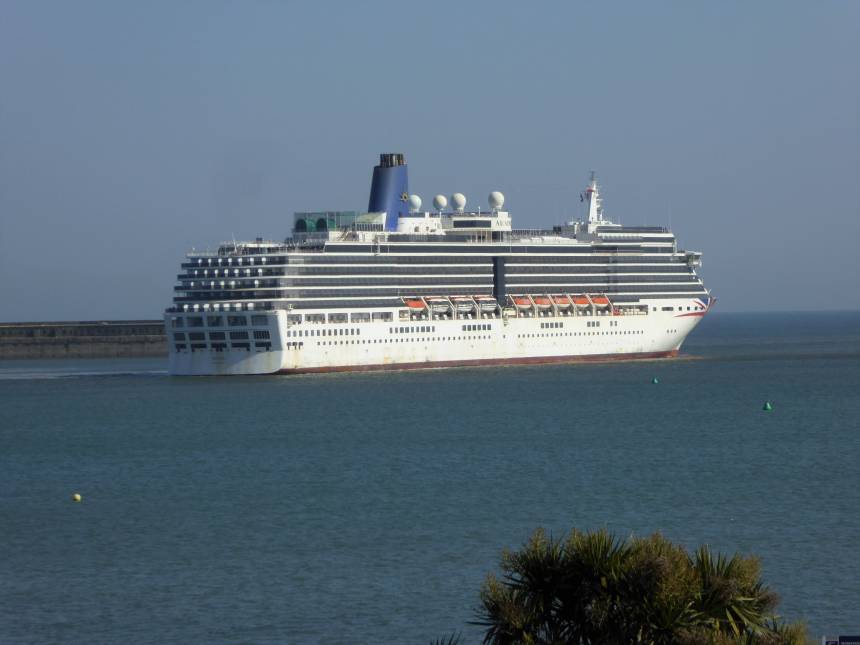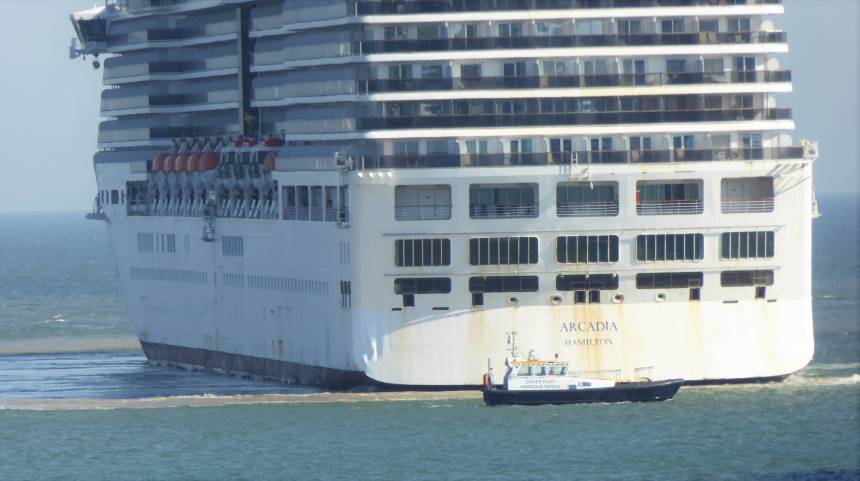 There were diving operations notified relating to WD4 shortly thereafter and today's rather hazy weather photos show one of the cargo terminal cranes involved in a 'lift' at the berth.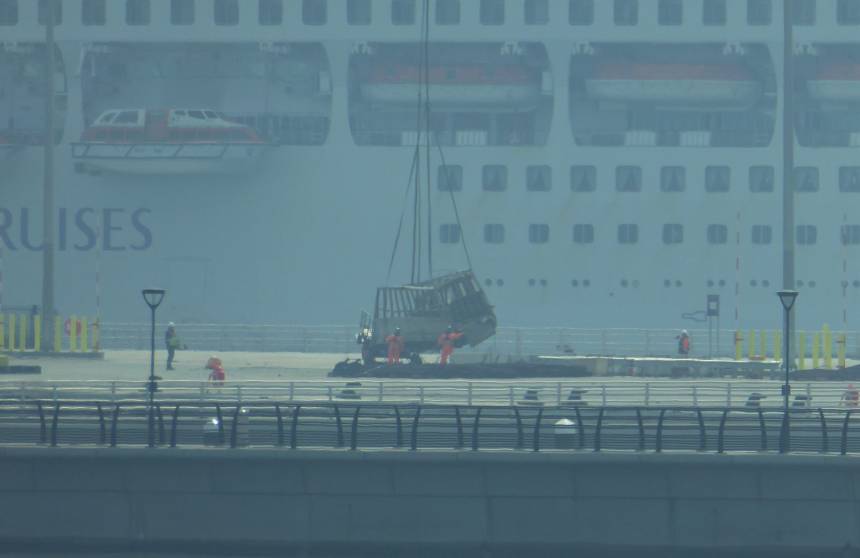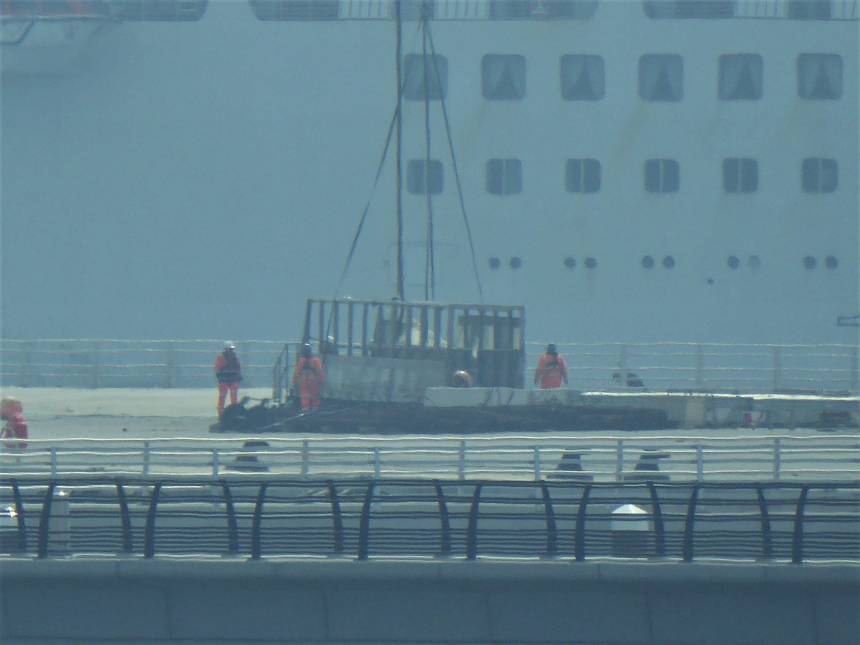 On a more cheerful note there was an aerial display yesterday over the channel and harbour. Was this a rehearsal for VE day?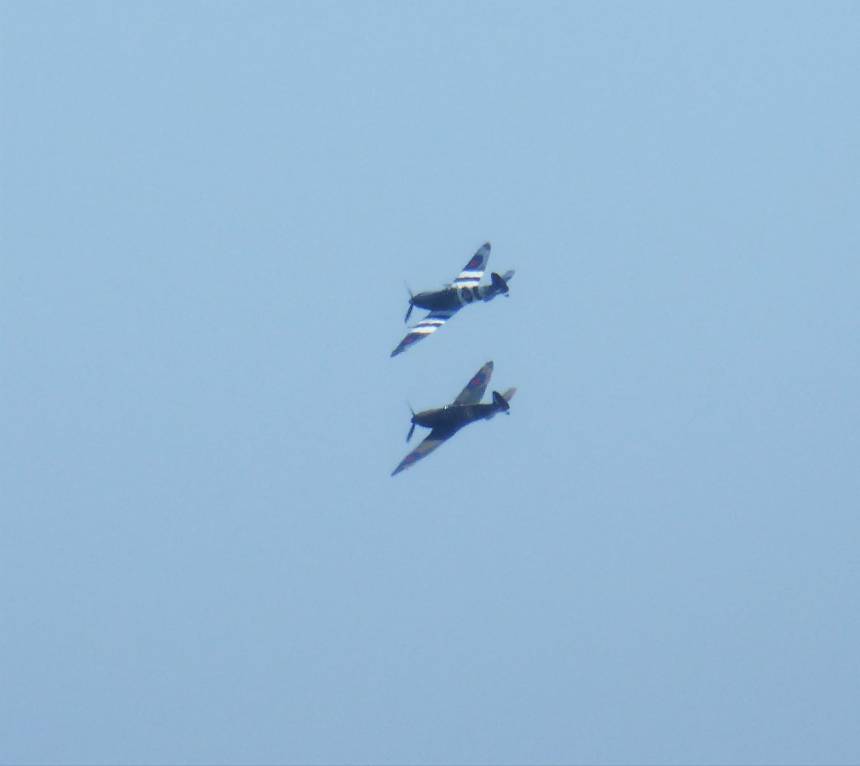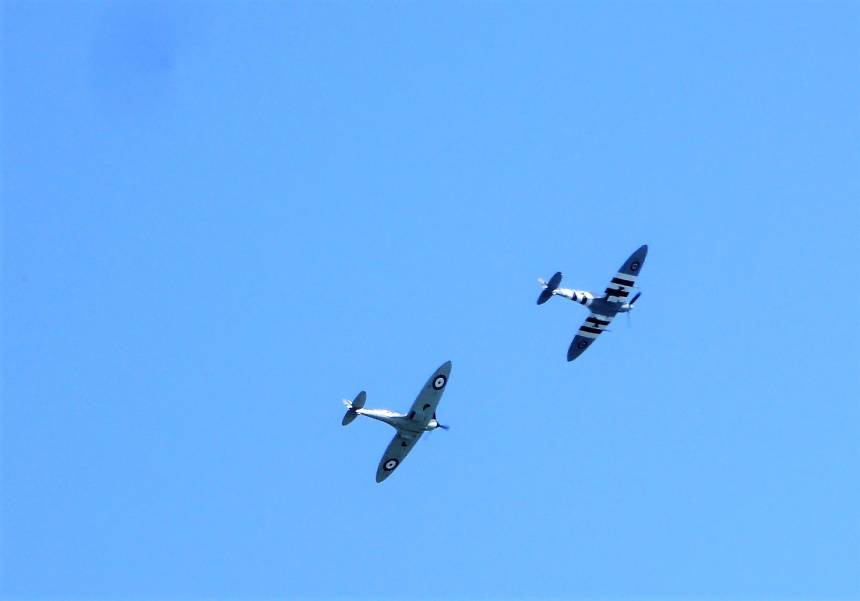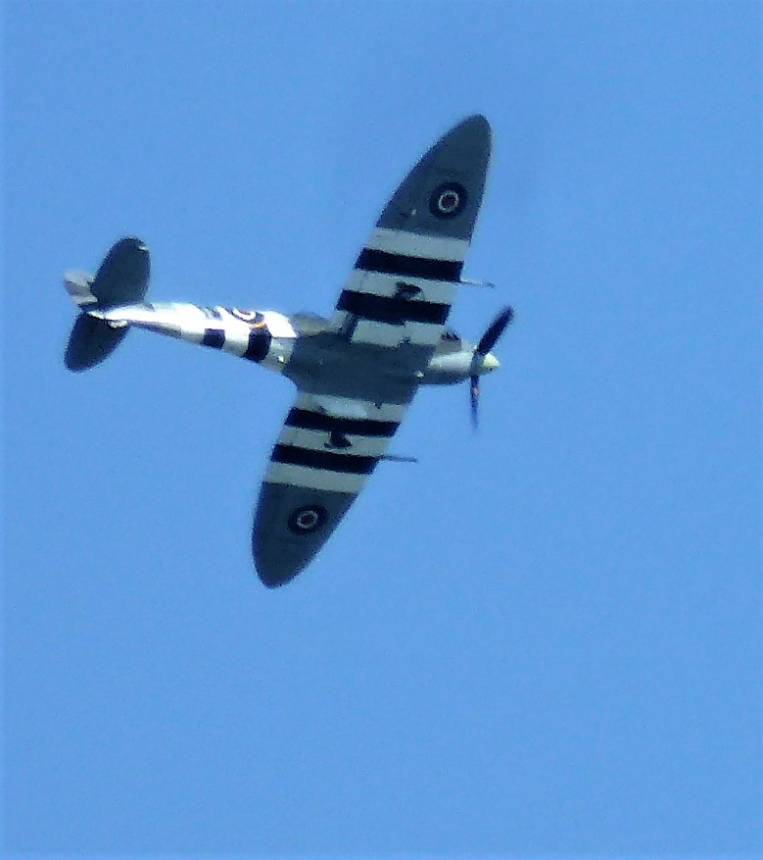 Thursday, 7 May 2020 - 17:58
Post 6991
Sea News, Dover
HMS Severn of the Royal Navy was just off the Port here yesterday morning...conditions were very hazy but we managed to get a few pictures. She was hereabouts just as the P&O Cruise ship Oceana was returning and you can see the combination of the two below. Also returning at the same time...a traffic jam of cruise ships...was Arcadia...no real pictures of her this time but will have some more new shots later...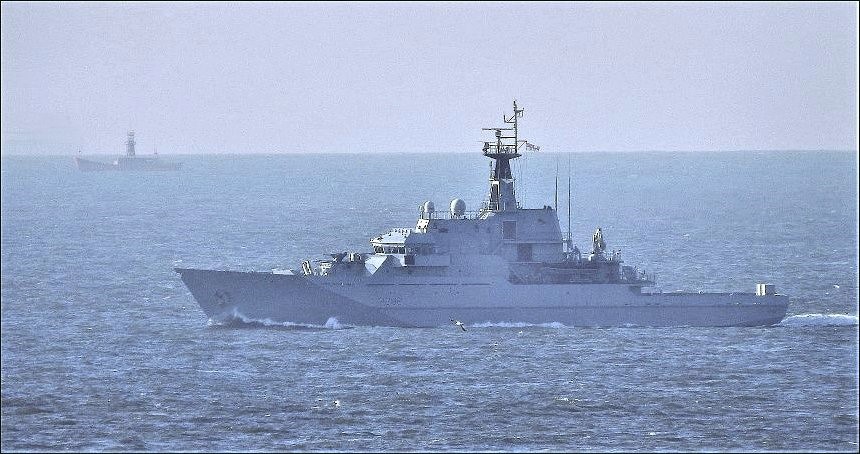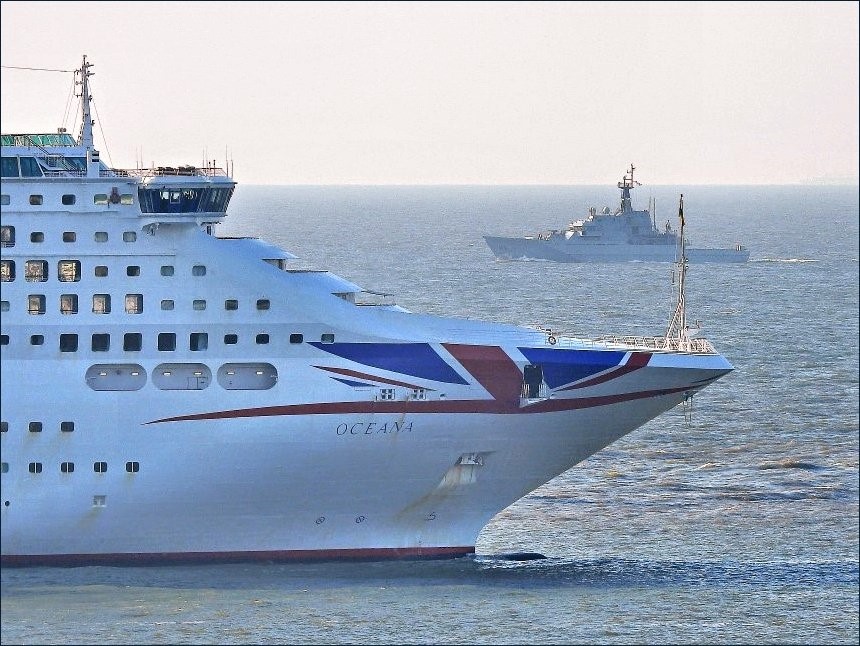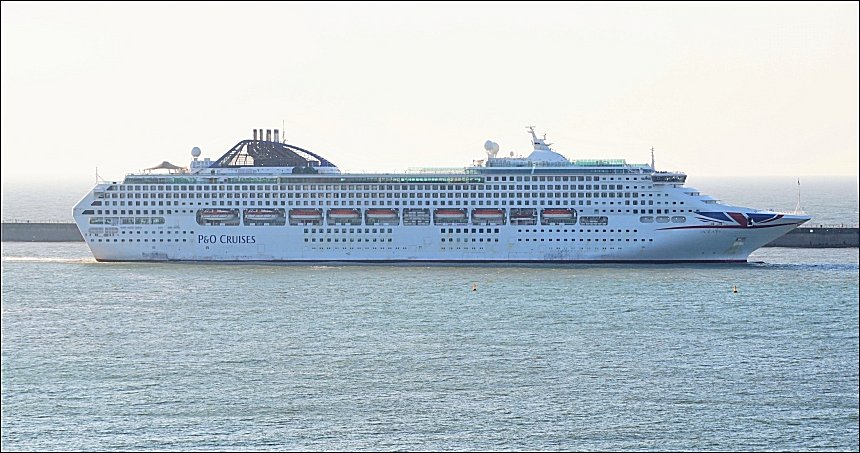 This one of HMS Severn below was taken a wee bit later.. looking east..Arcadia was back on the Eastern Arm by then and as mentioned before, yours truly just has that tiny window there to get a picture..as Arcadia blocks out the light from the East...!!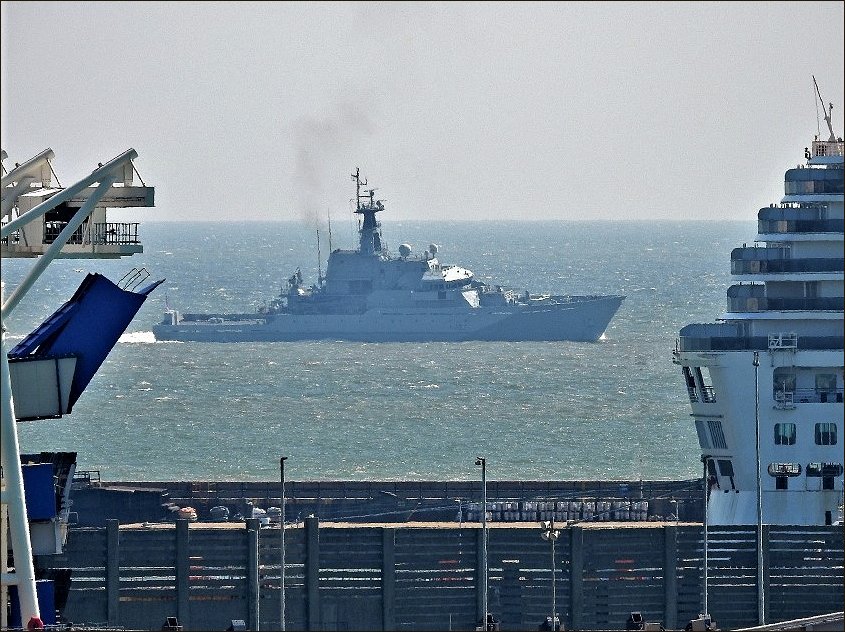 More media...another TV crew in the same spot as Simon Jones a couple of days ago...picture further below page...alas I don't know this particular chap this time... Obviously the Port is the story of the moment, will have a pic tomorrow, all being well, showing just how empty it is....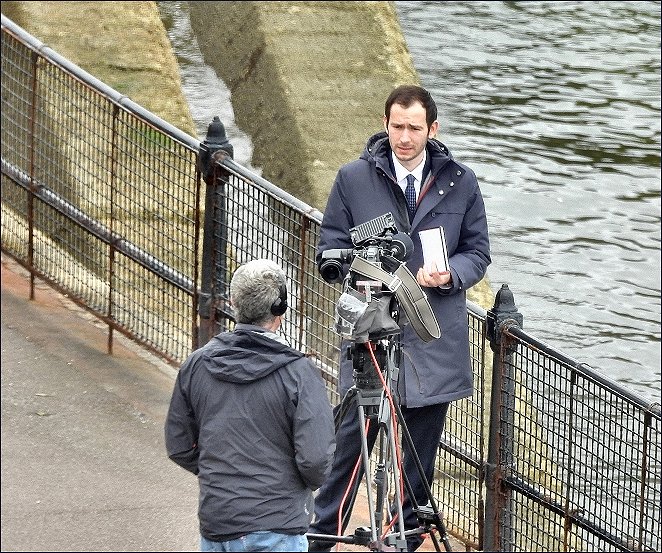 Great info and collection below from Mike...so don't miss all that...great stuff Mike!

Thanks again Vic...interesting info there about the Folkestone sign.

PaulB
Thursday, 7 May 2020 - 06:37
Post 6990
matcham, dovor
that sign on the wall of Folkestone is the one myself and mate welded on years ago still there so my welding must have been OK

and again great photos on this page as they will not put me back on the forum this the only one I can put anything on.
Thursday, 7 May 2020 - 06:22
Post 6989
Mike J., Dover
OCEANA & ARCADIA returned to Dover on Wednesday morning & AURORA who was Portland anchorage in the company of QUEEN MARY 2 & fleetmate VENTURA but is expected to return to Dover due course.
Oddly enough at 0200 Thursday morning both the QM2 & VENTURA were at sea, passing each other SW of the Isle of Wight - more 'grey water cruises' ?
ARCADIA didn't stay long in Dover & sailed for Portland at about 1600 leaving an empty-looking Eastern Docks.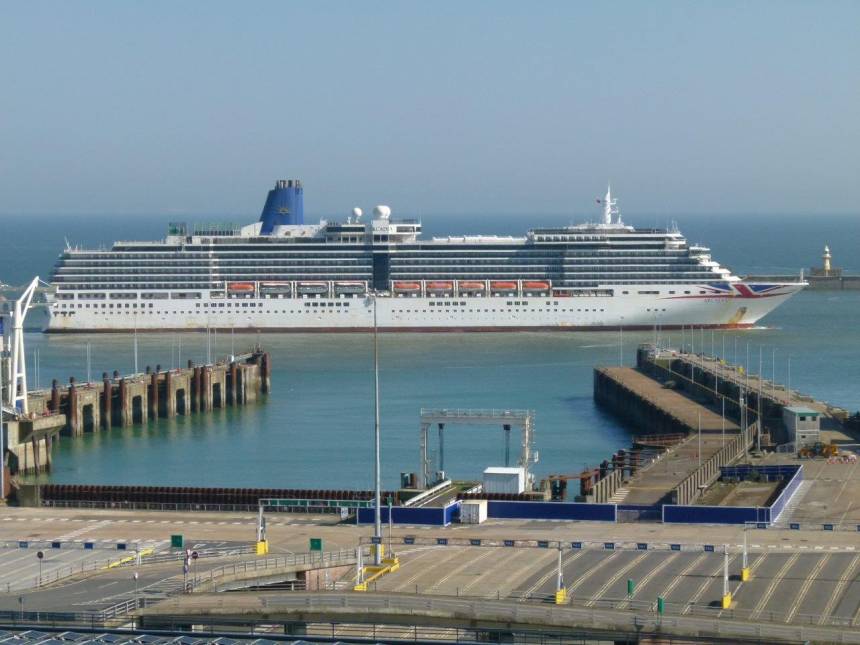 KLAIPEDA is back on WD5 loading grain & PANDA is anchored off Rye awaiting a Dover berth
SARAH GREY & VENTURE [& presumably their barges] seem to have left Dover after a final rock dump at Jury's Gap & at midnight Wednesday were south of Eastbourne showing no AID destination.
No sign of NEW ROSS 1,
Just off Eastbourne is old friend SOSPAN DAU, the DWDR dredger - post 5457.
PRIDE OF CANTERURY has now docked in Leith but PRIDE OF KENT remains 'on the run' although she roosts overnight in Calais.
SEVERN SEAS's trip out sea on 25/4 [post 6961] was to recover a data buoy & her very brief call to Folkestone was presumably to drop off the buoy.
Here she is anchored off Copt Point & sailing from Folkestone with VIGILANT in the background.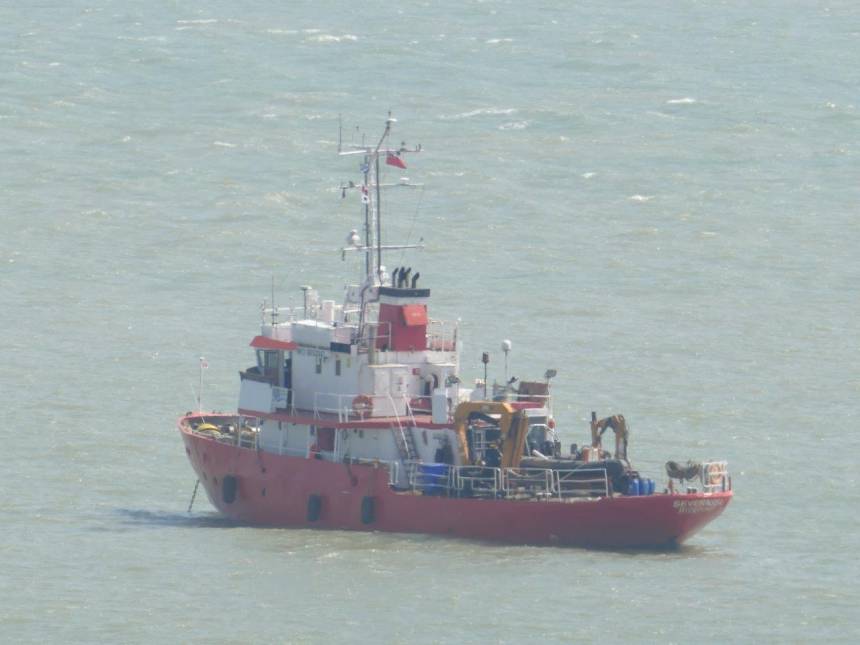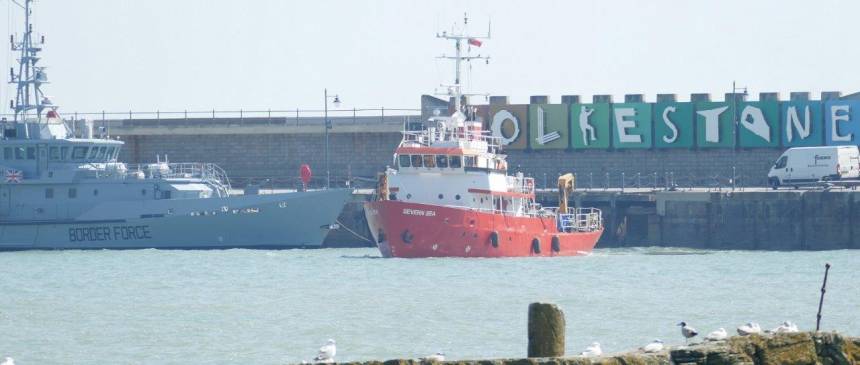 She is now in the Tug Haven on DAVID CHURCH's berth, the dredger being away in Hull for refit.
NEW ROSS 1 used to berth alongside her overnight.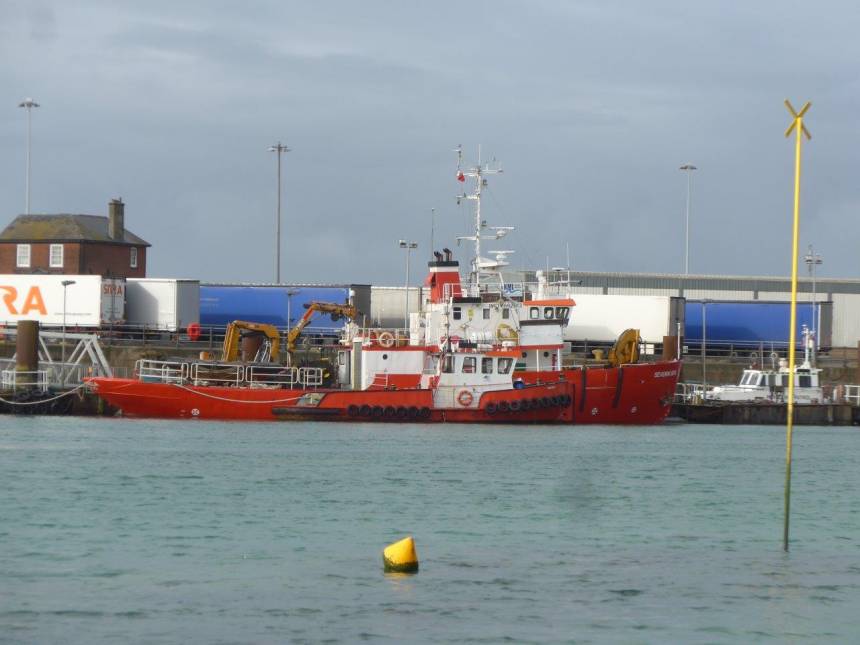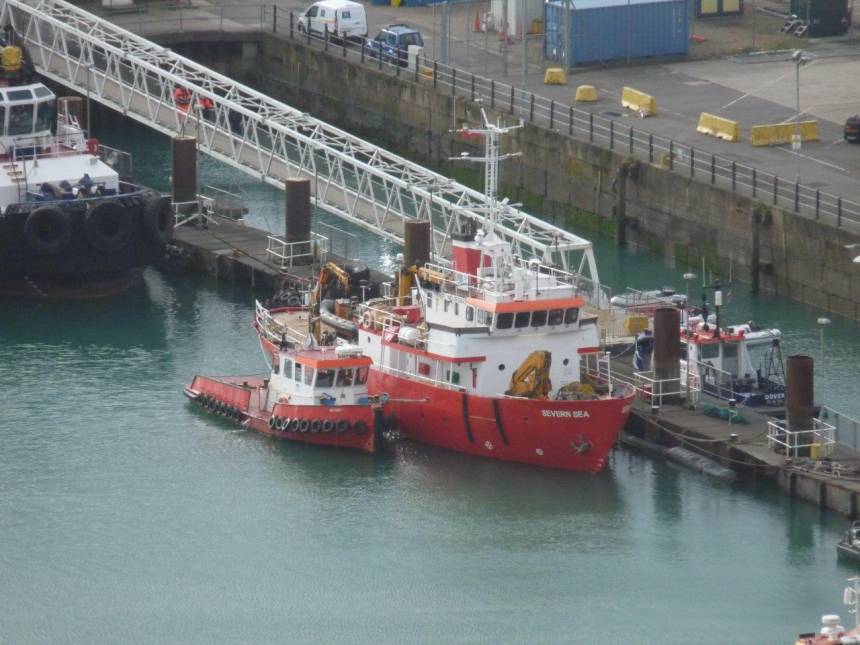 Now that the stone job seems to be over I guess we'll soon be saying farewell to this old veteran.
SPIRIT OF DISCOVERY, laid up in Tilbury has been a very effective 'billboard' for COVID-19 with at least three messages having been displayed -
STAY HOME
HAPPY 100TH CAPT TOM
CLAP FOR CARERS
For a good video of Tilbury's Thursday NHS clapping with whistle blowing & a glimpse of the SPIRITOF DISCOVERY & one of her messages, cut & paste -
https:/vimeo.com/403675946/89adb17d46
or put 'http' in front of â€"
s://vimeo.com/403675946/89adb17d46
Thursday, 7 May 2020 - 02:38
Post 6988
Sea News, Dover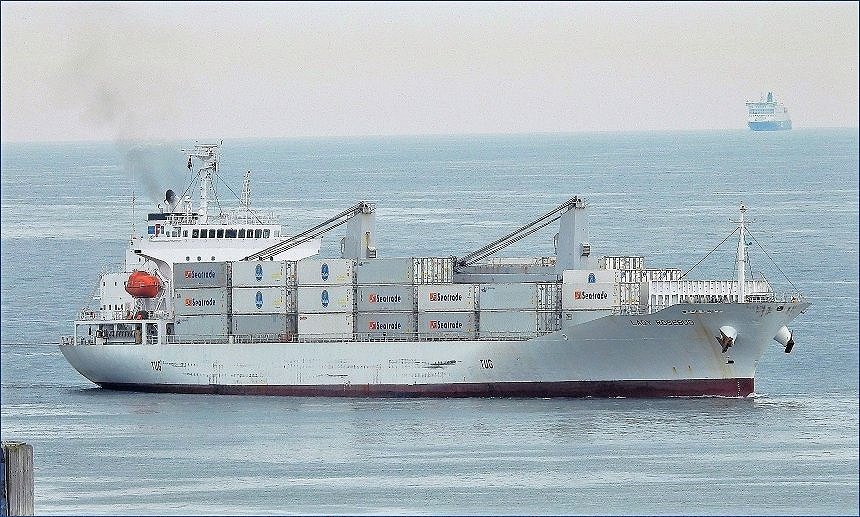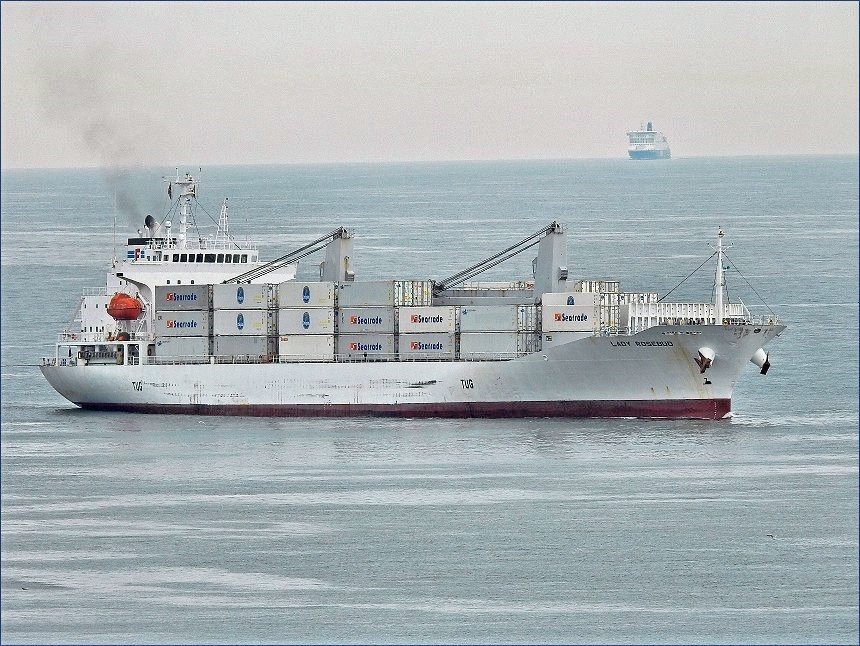 Going back a few days now and above we see the arrival of Lady Rosebud...you can just see her there as she enters Port through the Eastern Entrance...a couple of shots rattled off in quick succession. She had a fast turnaround at the new cargo terminal and was gone again in a blink...they are fast over there... pictures from Sunday.
Getting Down to Business in the District to Tackle Coronavirus
_______________________________________________________
Some of the districts biggest businesses are playing a key role in the nations effort to tackle coronavirus.
Pfizer at Discovery Park is playing its part in the global search for a vaccine against Covid-19. A team of Pfizer scientists in Sandwich are working on a compound first discovered during the SARS crisis in 2003.
Pfizer employs 700 scientists, technicians, regulatory professionals and business experts at Discovery Park in Sandwich with a number of functions critical to the delivery of the company's mid to late stage portfolio located at Discovery Park.
Meanwhile Dover-based, Priority Freight, who recently received a coveted Queens Award for Enterprise for International Trade, is currently one of the companies working hard to distribute personal protection equipment (PPE) in Britain and right across Europe from around the world.
Food packaging manufacturer, Sharpak, has responded to the national emergency by shifting one of its production lines to manufacture full face visors for the NHS, turning out up to 50,000 a day at its Aylesham factory for distribution to hospitals and care facilities across the country. Sharpak serve the UKs leading food manufacturers and supermarkets with bespoke packaging.
While the roads leading to Dover may be far quieter than usual, the Port of Dover and the ferry operators, DFDS and P&O Ferries have been working around the clock to keep trade flowing at this critical time.
Around 17% of the nations trade passes through Dover so its a vital piece of national infrastructure that supports the supply of food, medicines and other essential items to the UK and Ireland.
Cllr Trevor Bartlett, Leader of Dover District Council, said: "The coronavirus national emergency is again demonstrating how the district plays a critical role in the nations economic health. From keeping the nation supplied with food, medicines and essential items through the Port of Dover, to the global search for potential new treatments by Pfizer at Discovery Park.
"Together with the many small businesses who have adapted to carry on providing essential services to local residents, I'd like to thank the business community for its magnificent response."
ENDS
Thanks to Dover District Council for the above...

Now....An extra shot of the exciting pipe layer featured yesterday...
yes Its Solitaire again in a slightly experimental picture.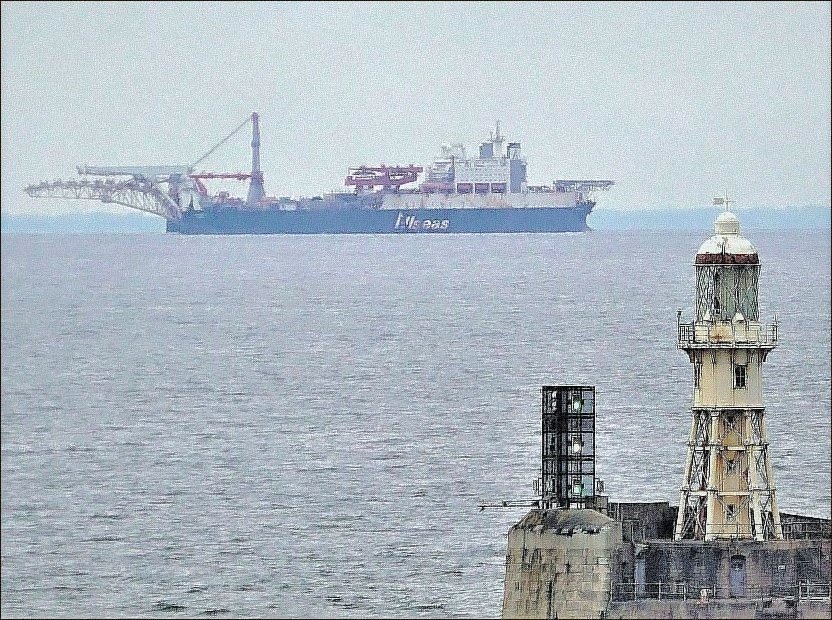 Elvis has left the Building: its very strange to be without all three mighty P&O Cruise Liners...
….one feels bare and naked ...one does!

Yes they have all vacated the Port...perhaps on more 'grey water' expeditions...
PaulB
UPDATE:two of the Cruise Ships are approaching/returning...Oceana and Arcadia
Wednesday, 6 May 2020 - 06:39
Post 6987
Sea News, Dover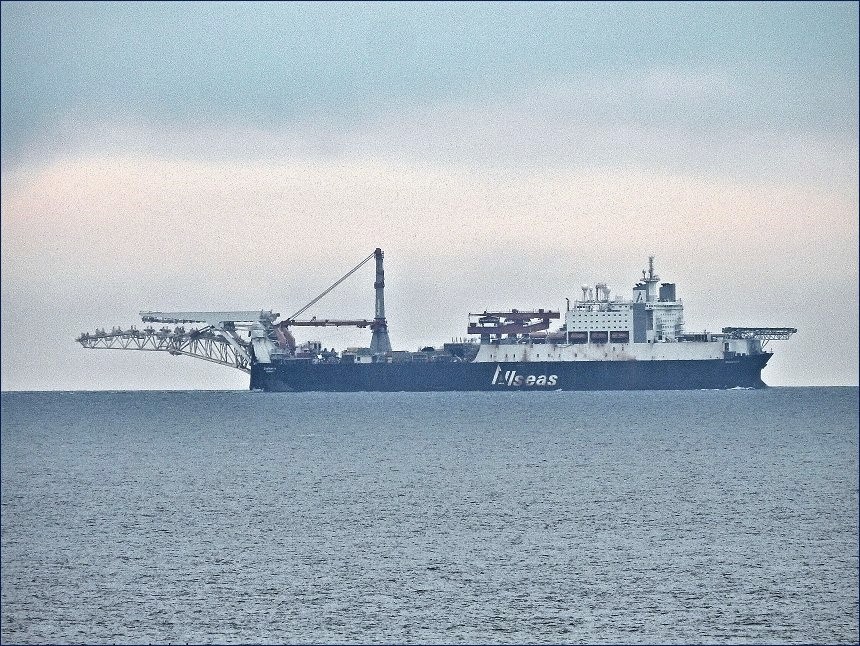 This huge ship called Solitaire, which I understand to be a pipe laying vessel and indeed one of the worlds biggest ships in this field...is pictured here going down the Channel on Sunday...more info in a moment... yes here we are... grateful to Wikipedia...
From Wikipedia:
Solitaire is a large self propelled deep sea pipe laying ship. It was at the time of construction the world's largest pipe-laying ship at 300 metres (984 ft) long (excluding pipe-laying apparatus) and 96,000 tonnes (94,000 long tons; 106,000 short tons). When fully operational she has a crew of 420, a pipe carrying capacity of 22,000 tonnes and a pipe lay speed of more than 9 km a day.
It was built in 1972 as a bulk carrier and launched under the name Trentwood by Mitsubishi Heavy Industries at their shipyard in Hiroshima, Japan, and later converted to a pipe-laying vessel between 1996 and 1998 at Swan Hunter Shipyard on Tyneside in England. The ship is owned by the Allseas Group, a Dutch pipelaying and marine construction firm with their headquarters in Switzerland.
Ends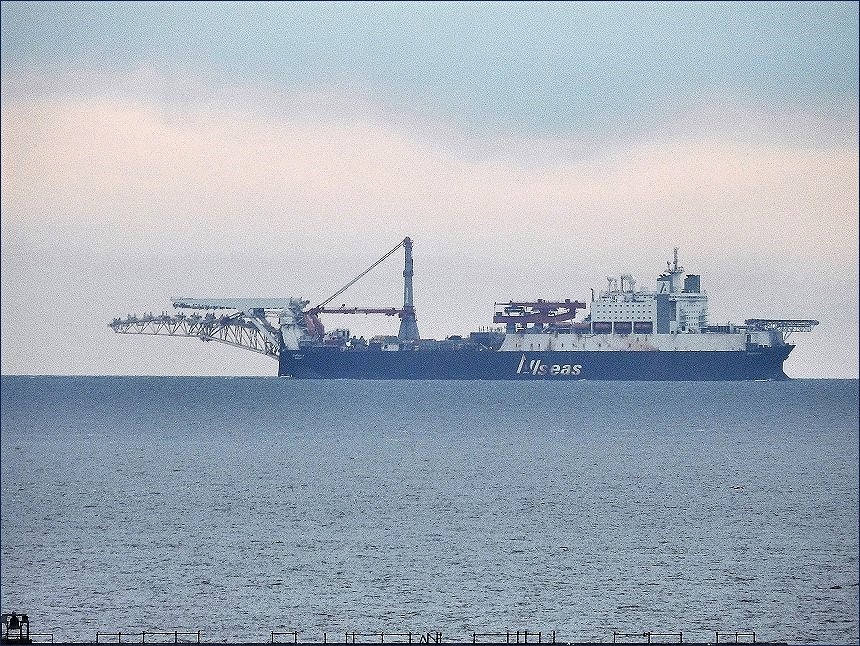 Ask not for whom the bell (bottom left) tolls … it tolls for thee...
The main camera conked out yet again at this point, so using the little camera below once more......at the same time, as Solitaire passed, Sarah Grey and New Ross 1 were off with a new set of rocks for the sea defences further down the coast.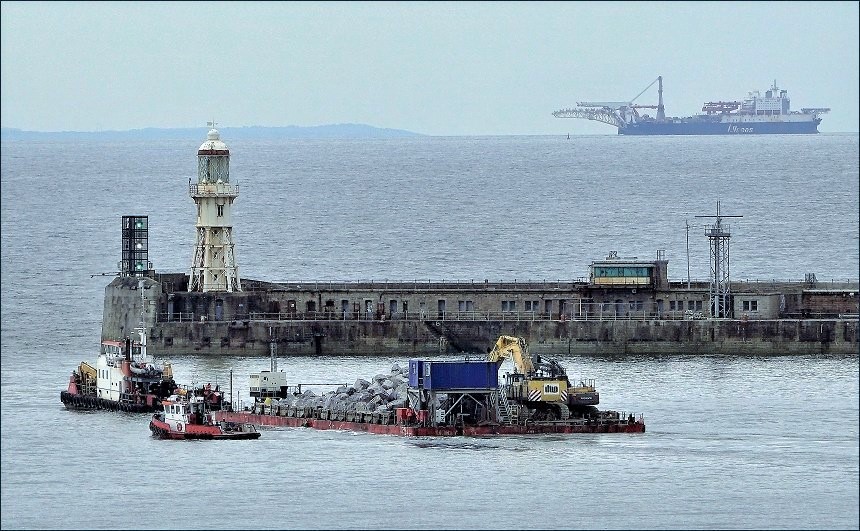 And a couple more from earlier in the procedure...taken just as the convoy moved away from 'grain pier' WD4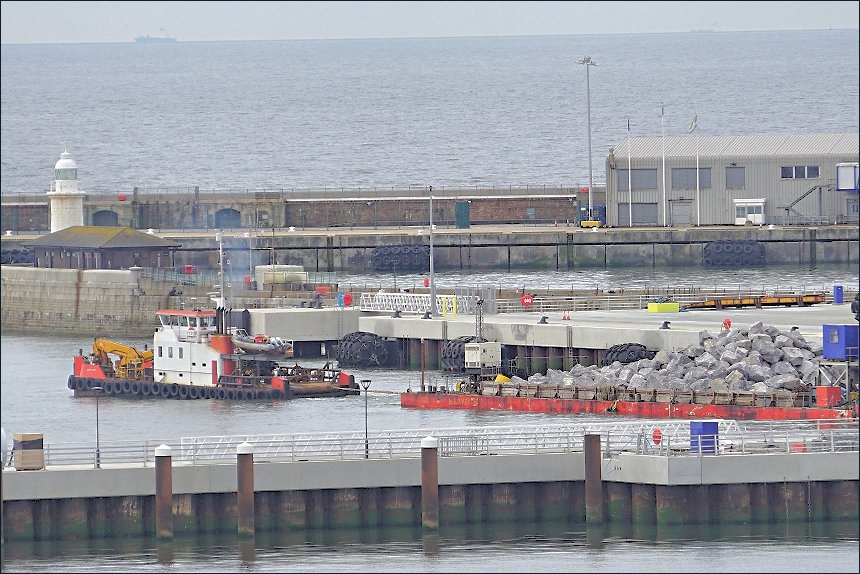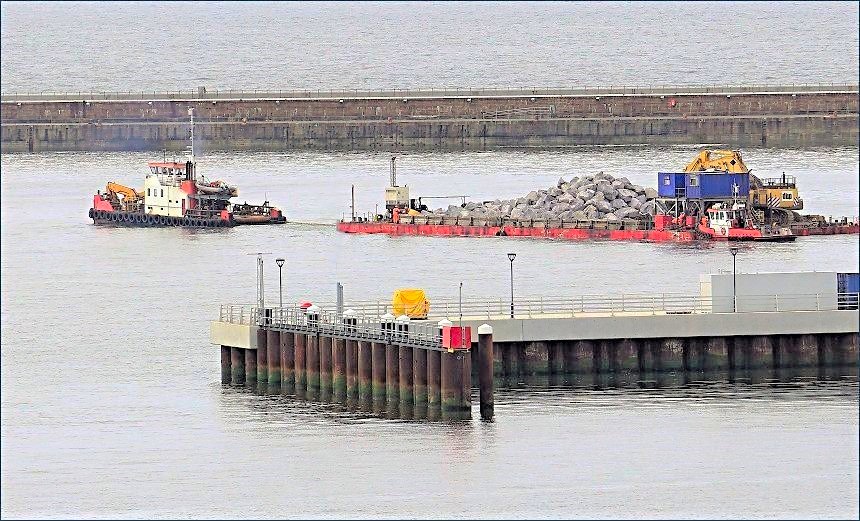 Ah yes Jeremy I remember you well...hope you are enjoying life up there in Lincolnshire. Glad you are still looking in and enjoying all the comings and goings here in Dover. Thanks for that info about Arcadia.
PaulB
Tuesday, 5 May 2020 - 06:06
Post 6986
Jeremy Ward, Holton-Le-Clay, Lincolnshire(formerly of Dove
I noticed today on AIS that Arcadia is heading to Portland for your info. Still enjoy reading posts on here even though I don't live in Dover anymore.

Monday, 4 May 2020 - 09:47
Post 6985
Sea News, Dover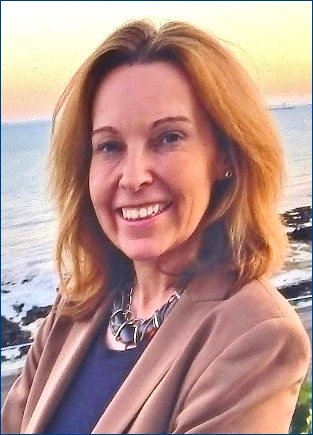 Let's look forward with hope
___________________________
Dear Mr Boland,
The lockdown looks set to start to ease a little over the coming weeks but we must remain vigilant â€" as the risk from the virus remains very real.
Each of us will have the things we are looking forward to doing again. Catching up with neighbours and friends over a cup of tea instead of a chance meeting two metres away on the country walk may be a little while off. But with many taking the opportunity of being at home to catch up on some spring cleaning, painting, gardening or doing up the kitchen, the store openings of the likes of B&Q and garden centres will be welcome. I am looking forward to our churches and local businesses being re-opened as soon as it is safe to do so.
A consequence of being at home more is increased rubbish. For some households it is really building up. I have been calling on Kent County Council to reopen the main recycling centres as soon as possible.
In our area we are good at using recycling facilities to avoid landfill. I want us to carry on being a beacon of recycling â€" which will be such an important part of meeting the climate challenge. I have also asked the County Council to consider re-use facilities at waste sites, allowing people to look at and take away cabinets and similar goods that are in good condition but simply unloved furniture now.
Schools have started again, using remote learning. Parliament also returned this week in a 'hybrid' chamber, with remote working including some MPs taking part on large screens using meeting conference facility 'Zoom', meaning a rich array of floral curtains, abstract paintings and bookshelves to complement Parliament's historic architecture.
While Parliament itself has terms like schools for the passing of legislation and debates, the work of an MP is throughout the year. This last week has been somewhat dominated by the fight for the Port and ferry companies. With passenger and cruise businesses completely closed and freight activities reduced, it is very tough indeed for the port industry on which thousands of local jobs rely. That's why I have been holding talks with unions and P&O, as well as making the case to transport ministers and the Chancellor for support for these vital industries. The short sea route between France and Dover is a critical one, responsible for around one sixth of the entire trade of the nation.
Me and my team are still working from dawn to dusk, receiving unprecedented levels of requests for help. I am pleased to report many successes helping local businesses and organisations access government grants and other support, and helping get people home from overseas and supporting people to access to furlough and benefit schemes.
This is an incredibly difficult time, but together we will get through it. If you think me and my team can help you, please do get in touch.
Natalie Elphicke MP for DOVER and DEAL
_____________________________________
Ends
Many thanks to Natalie for the above ...some interesting sections on the Port/P&O there...
Some pictures now of a returning Oceana a couple of days ago. She was out on one of her famed 'grey water' runs in the Channel and we caught her returning. The first shot shows how difficult it is to get the approach shot now from the 'observation tower'...as we now have the giant Arcadia blocking our vision to the east, except for one tiny slot...we found that tiny slot for the first shot....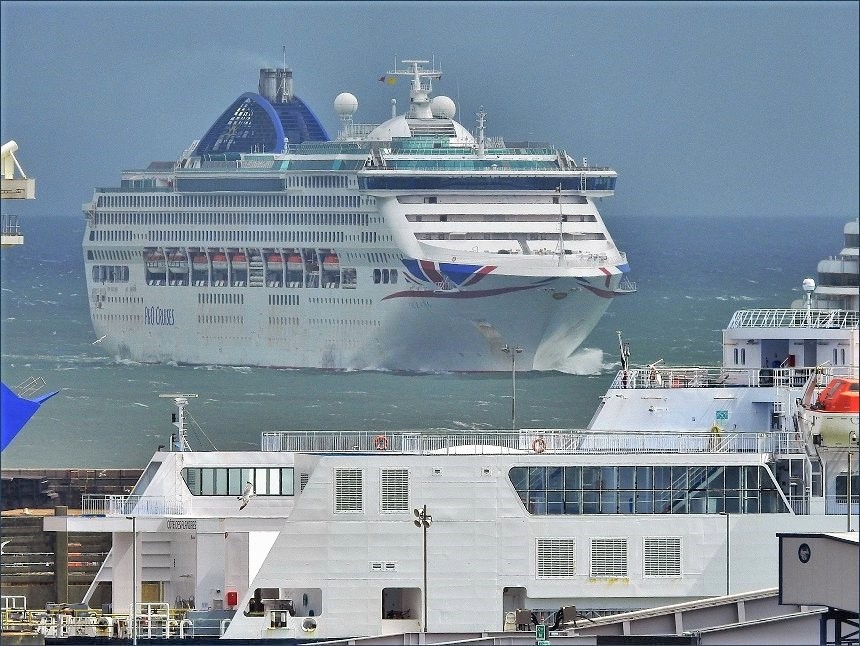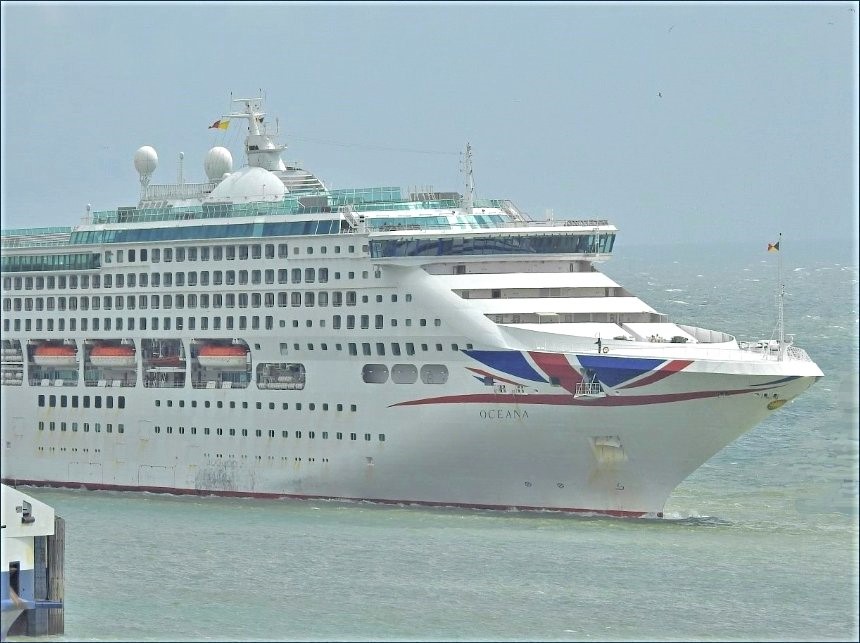 and with the two tugs...Dauntless and Doughty...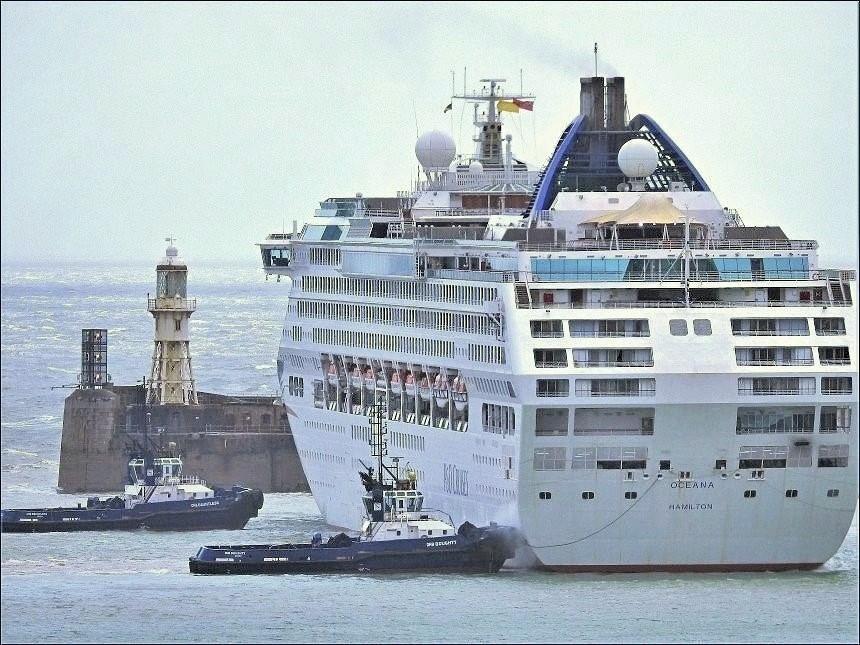 Update: Arcadia now gone from the Eastern Arm..vanished overnight!


Thanks Del glad you enjoyed the stunning rainbows...some of the best ever here in Dover..

Yes Brian dem Leprechauns beat me to it...grrrrr thwarted once again. Will keep my shovel at the ready though just in case there's further opportunity...

Lol!! Patrick that made me laugh out loud... as Del said ..stunning pictures there, well done with those. Cracking stuff...!!
PaulB

Monday, 4 May 2020 - 06:11
Post 6984
Del Styan, Norwich
Rainbow pics - stunning!

Sunday, 3 May 2020 - 23:12
Post 6983
Patrick, Marine Parade
Squall and rattling rafters one day; thunder and lightning the next. The 'Observation Tower' certainly sees it all up there.
Here is one that Paul could not take - right on the button. We'll send the bucket round for the 'gold'.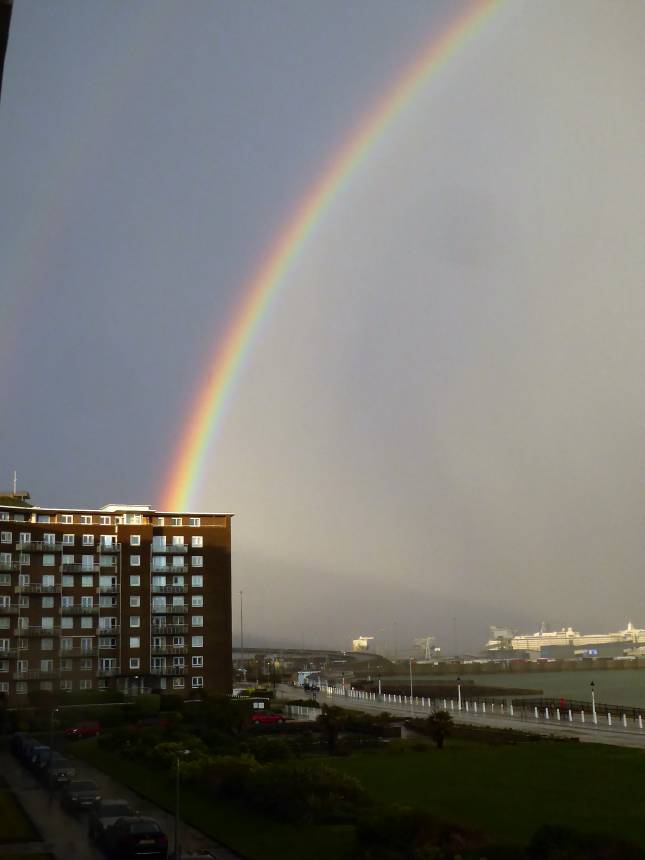 This one completely blanked out the Western Docks Traffic Lights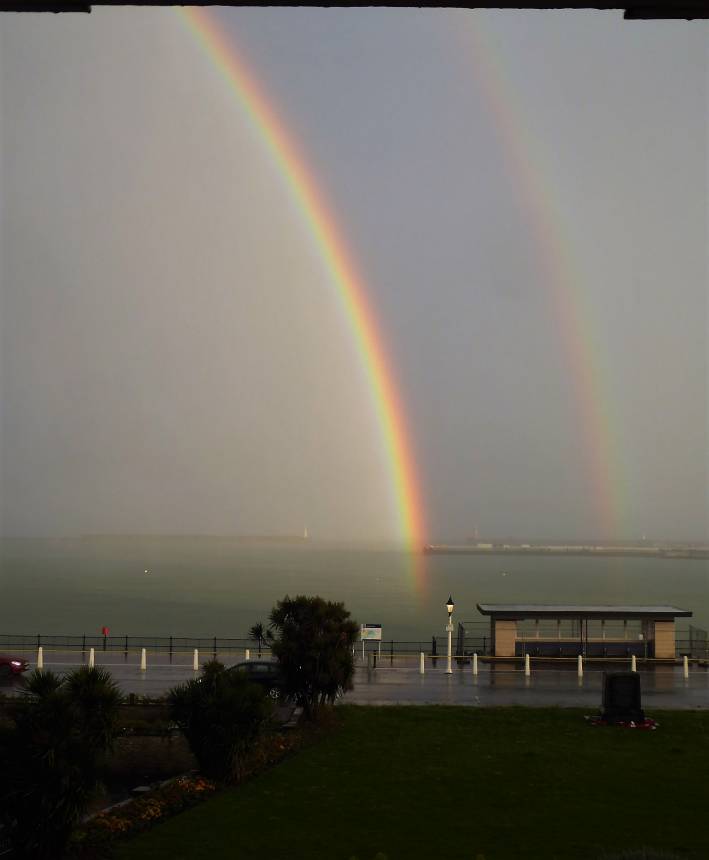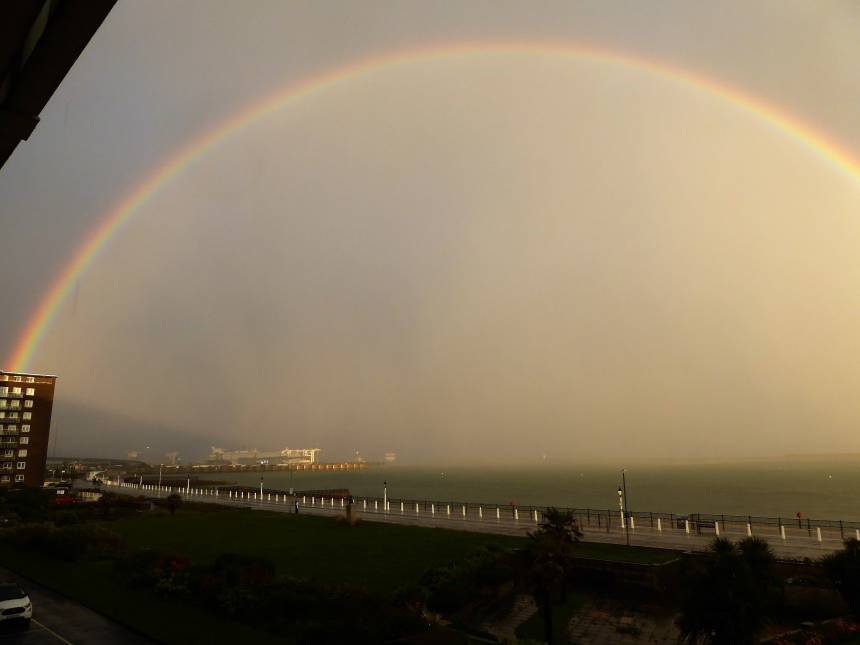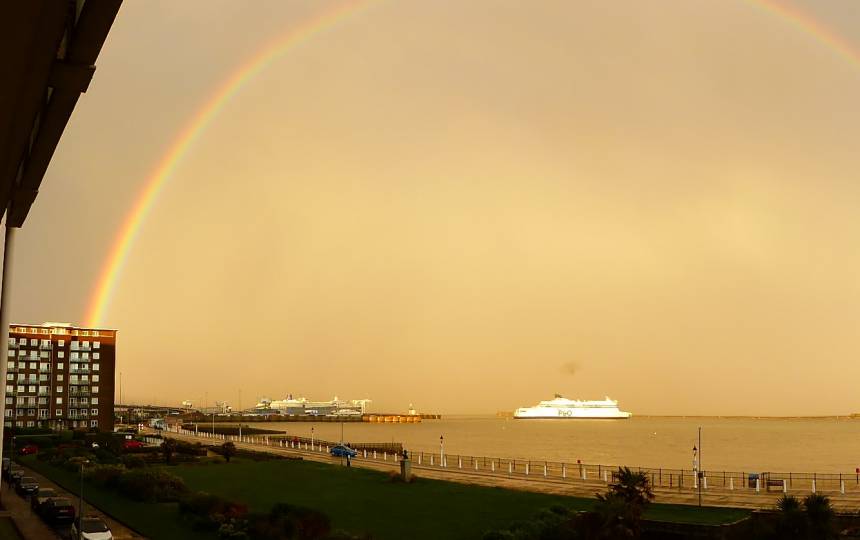 Sunday, 3 May 2020 - 17:16
Post 6982
brian dixon, dover (brian-dixon2@outlook.com)
it looks like that those pesky little red haired little men got there first paul. lol

Sunday, 3 May 2020 - 12:59
Post 6981
Sea News, Dover
Mayday Mayday...some fierce squalls one minute, the next minute the most spectacular rainbows yours truly has ever seen over the Port of Dover...the camera cant/wont do them justice but we've given it a go. The weather was bonkers but spectacular that day. Pictures taken May 1st at 19.45 and on for a few minutes after...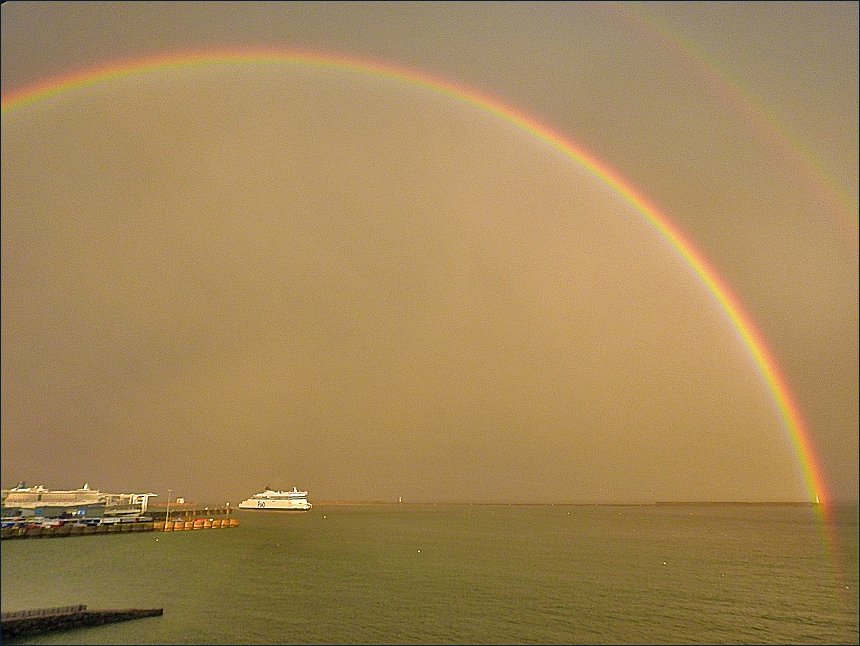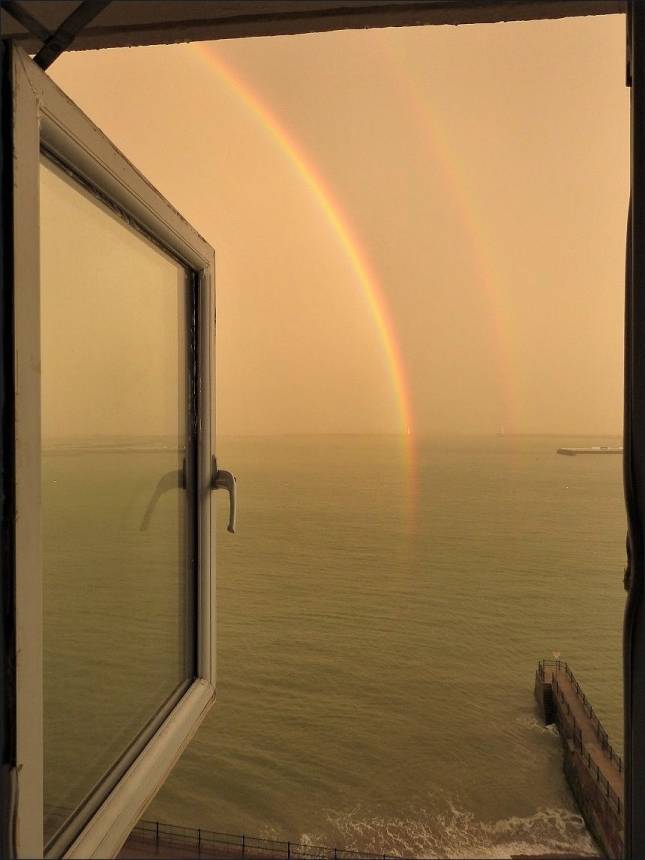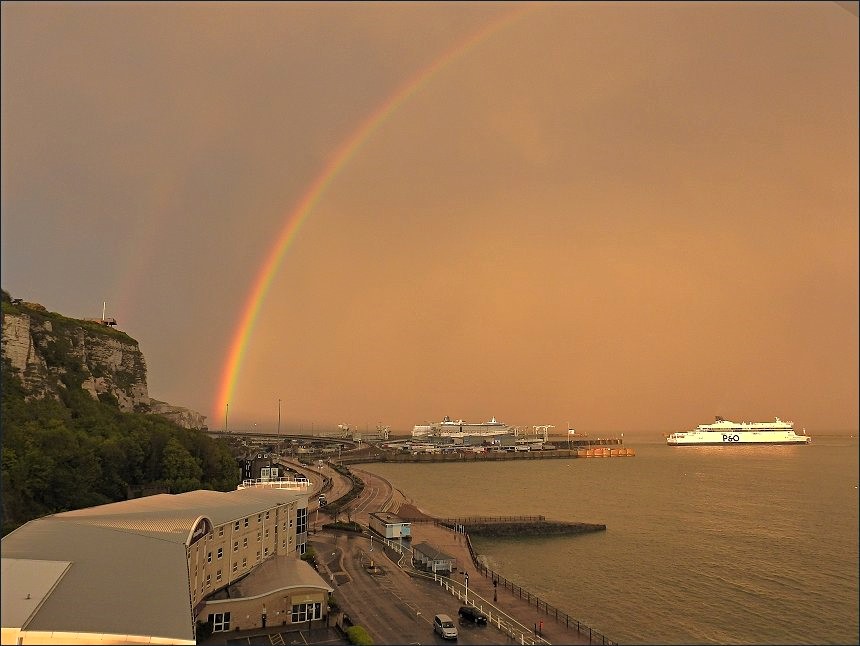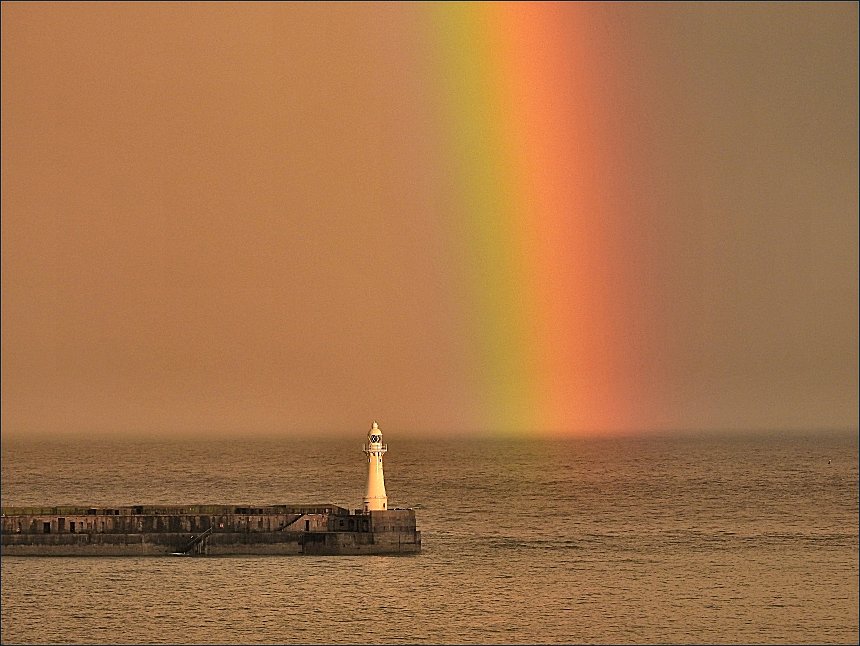 Following picture two...where the rainbow base hit right on the little beach, right here in front of the 'Observation Tower'.., yours truly set out with shovel and was digging for hours looking for the buried treasure... never found anything... cant understand it...must have missed it...


During the Arcadia incident or soon after...I noticed one of our old friends going down the channel. Its the Lombok Strait. She used to be a regular here until Geest moved back to Portsmouth...she was heading for Portsmouth.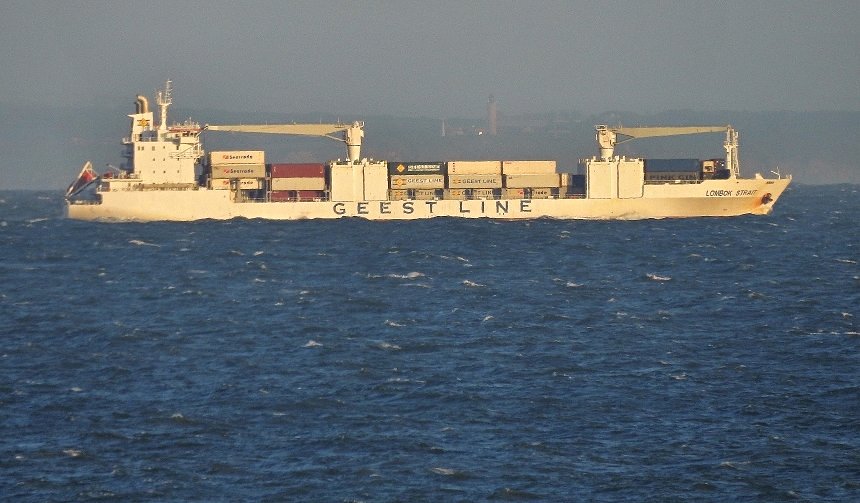 Terrific all-round info in the post below there from Mike so don't miss all that...

Del yes indeed.

PaulB
Rainbows for the NHS.
Sunday, 3 May 2020 - 06:36
Post 6980
Mike J., Dover

Nice sequence from Paul of ARCADIA's little problem after some of her forward mooring ropes parted in in a squall & her bows swung out from the quay.

Fortunately both tugs were available & were soon on the scene getting her under control & easing her across to CT2 & holding her there before she made her way, under her own power, sternfirst to the Eastern Arm in totally different weather.

Looking closely at Paul's pix I was surprised not to see any signs of ARCADIA using her bow thrust, but perhaps it takes some time to get it operational [or maybe I just couldn't see it].

Paul referred to the 'Police Launch' which is the DIRECTOR, the predecessor of the DOVORIAN.

Both look superficially similar at a distance, but the DOVORIAN has two lines of text & her wheeLhouse front window 'leans forward' whilst the DIRECTOR has a single line of text which now reads POLICE PATROL & the windows 'lean backward'

Posts 786 & 789 show both patrol vessels as well as a less-than-succesful former RNLI lifeboat converted for the Kent Police who also had their own jet-ski !

At one time DHB Police had their own RIB, DELTA 99 [post 162] but I've not seen it for a few years, possibly sunk by budget cuts.

As to Del's comment in post 6977 about the use of the Firth of Forth for laying up ships I'm sure that Paul is right when he mentions good shelter & holding ground - many disused oil rigs are moored on the Scots east coast due to superior shelter [& handy for the North Sea fields of course], particularly in Cromarty Firth [Invergordon] & off Aberdeen [look at AIS & Google Earth] & there is at least one rig,the OCEAN GREAT WHITE on the northern side of the Firth of Forth.

The CANTERBURY is now anchored near the Olsen fleet.
The Olsens will of course have a minimum crew aboard so that the ships can be moved if necessary, known as a 'hot' lay-up.

However I hear a rumour that the BURGUNDY & CANTERBURY will be in 'cold' lay-up, with effectively everything shut down which means that they will need to be in port.
They may take shore power if available.
.
The BURGUNDY is already moored in Leith, just by the entrance lock, & I'm sure that the CANTERBURY will come into the port soon.
Maybe there will be a very small skeleton crew of 'watchmen' keeping an eye on both ships & doing routine maintenance.

The choice of Leith may be because there are no other berths available, there are, for example, six cruise ships already at Tilbury, plus of course the EUROPEAN SEAWAY.

The KENT was in service on Saturday with the SPIRITs, but seems to be spending Saturday night in Calais, the usual Saturday freight rush being over.



Sunday, 3 May 2020 - 03:15
Post 6979
Del Styan, Norwich
Blimey - tough times for the Arcadia, you must be having a gusty time down there.

Saturday, 2 May 2020 - 23:25
Post 6978
Sea News, Dover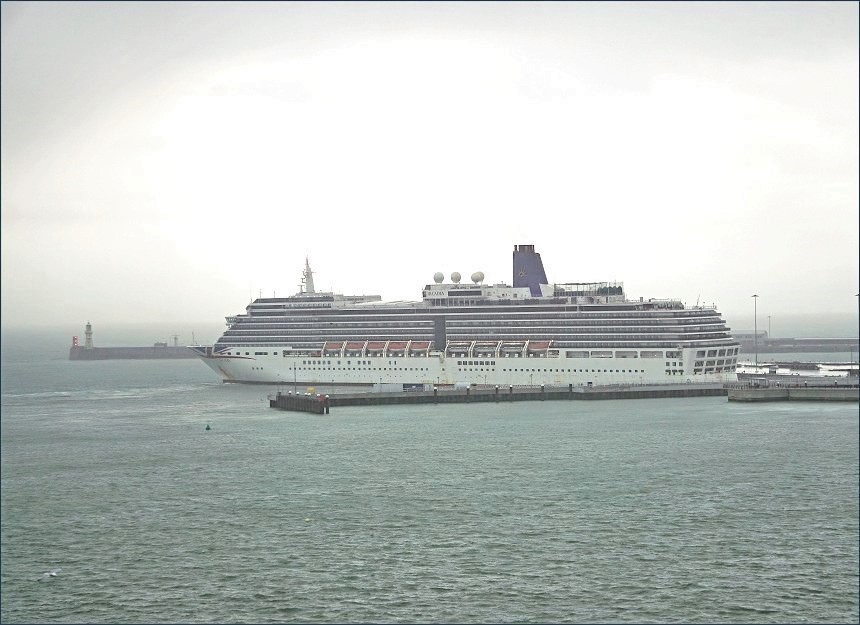 That's the moment above there when the giant Arcadia broke away from the pier WD4 and drifted. The conditions were appalling at the time. A very fierce squall was powering through. It rattled the rafters in the observation tower and bashed the beams...but with resilience extraordinaire

yours truly managed to get a window open for the first picture above...after that the weather relaxed a bit.
First on the scene was...of all things...the Police launch. Soon after... the tugs arrived, you can see one tug on the scene in the pic below and another one approaching over the way. The rain and wind had eased by then...the rest of the pictures are self-explanatory...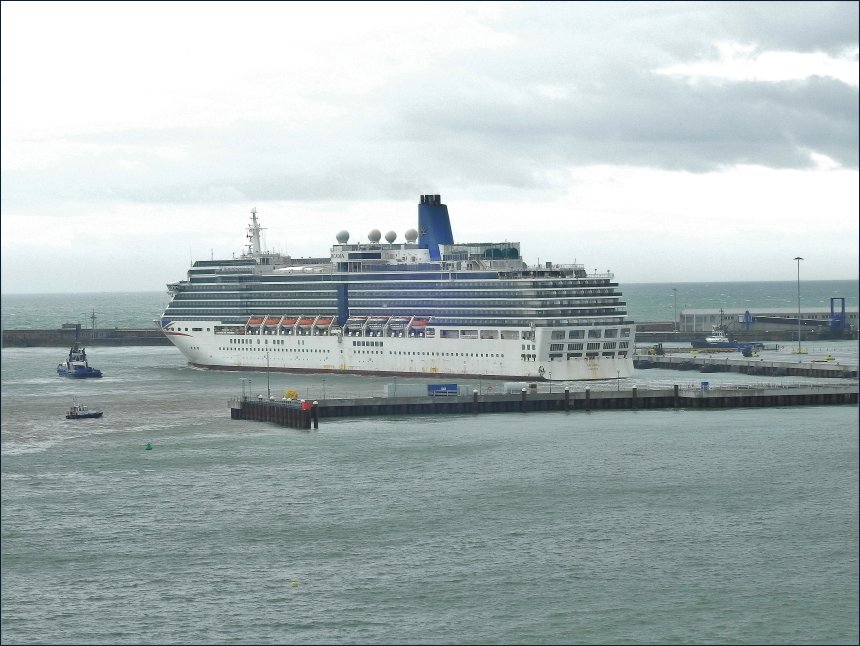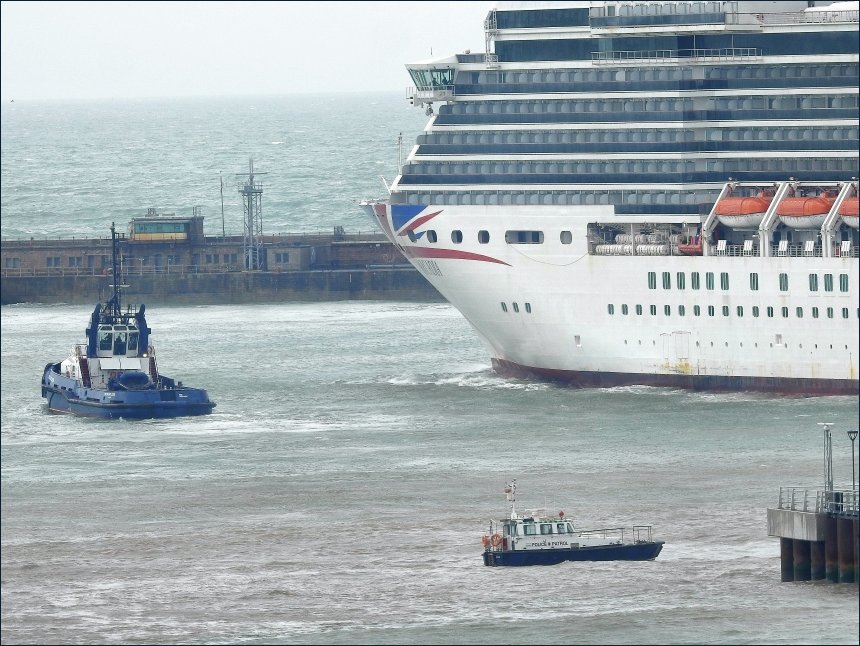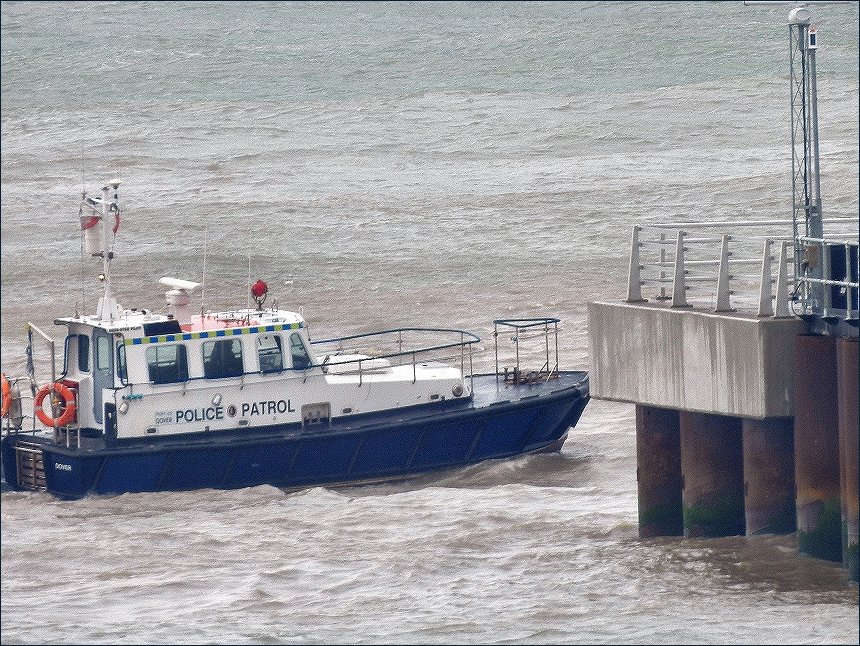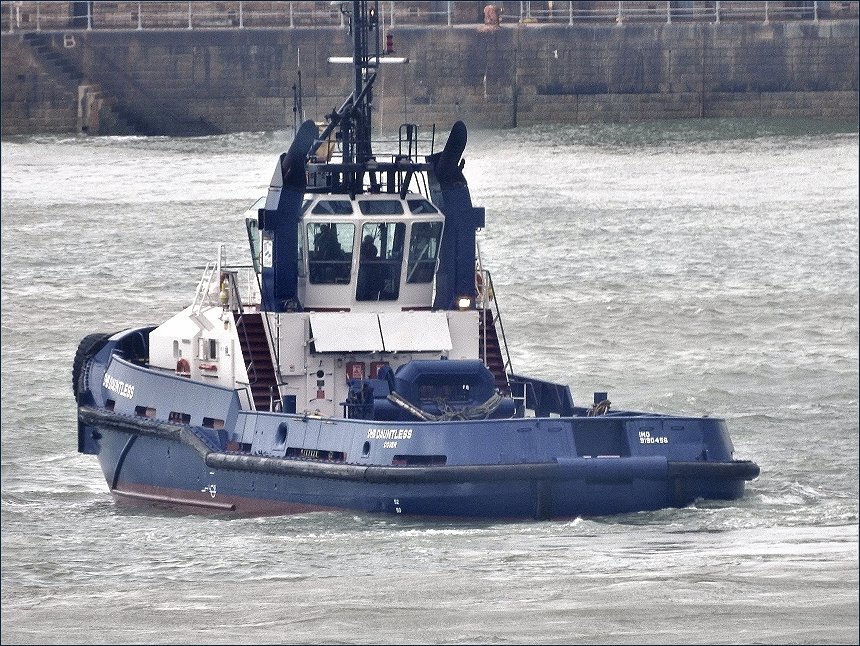 Eventually the tugs got hold of the situation in pic below and forced the ship against the wind and over to Cruise Terminal Two where they pinned it there for a considerable time.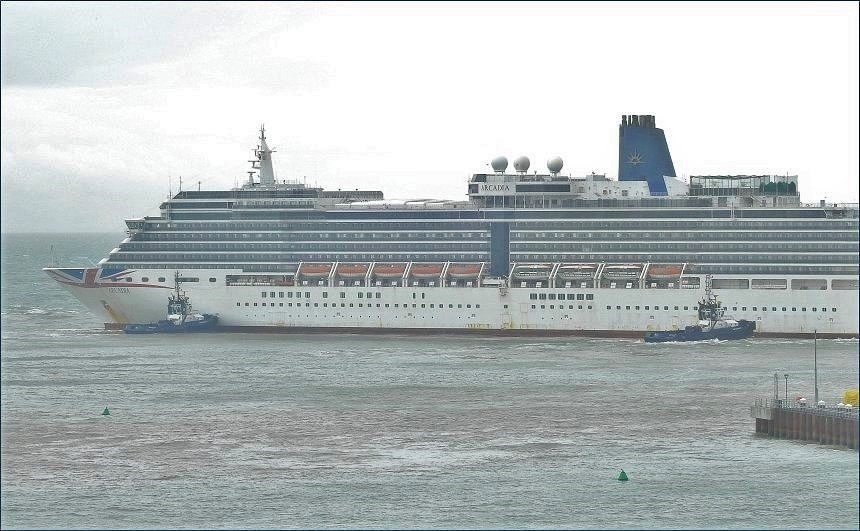 You can see Mike's pictures below ( 6974 ) where they eventually moved Arcadia over to the Eastern Arm for relative safety...
...being there of course blocks yours truly's camera view of approaching ships ( the size of it!! )...but I suppose on the grand scale of things I will let them away with that one,,,


Del not sure why Leith....Mike will know more. Presumably it has natural protection and relatively low cost in these hard times..

Thanks for that info Mike..Extraordinary times to see the P&O ferries pulling away from service...extraordinary..
PaulB
Saturday, 2 May 2020 - 06:08
Post 6977
Del Styan, Norwich
Forgive my ignorance, but why do the ferries who are resting lay up in Leith? I went there just a few days before the current situation, but can't think of any reason why the ferries should go there. Do they have special facilities of some sort?

Friday, 1 May 2020 - 23:12