Post 7036
Del Styan, Norwich (delsandra@btinternet.com)
Thanks for those pictures of a fully laden DFDS ferry, good to know goods are flowing freely. I did wonder how things were going. I heard there are fewer sailings these days.

Sunday, 31 May 2020 - 23:03
Post 7035
Sea News, Dover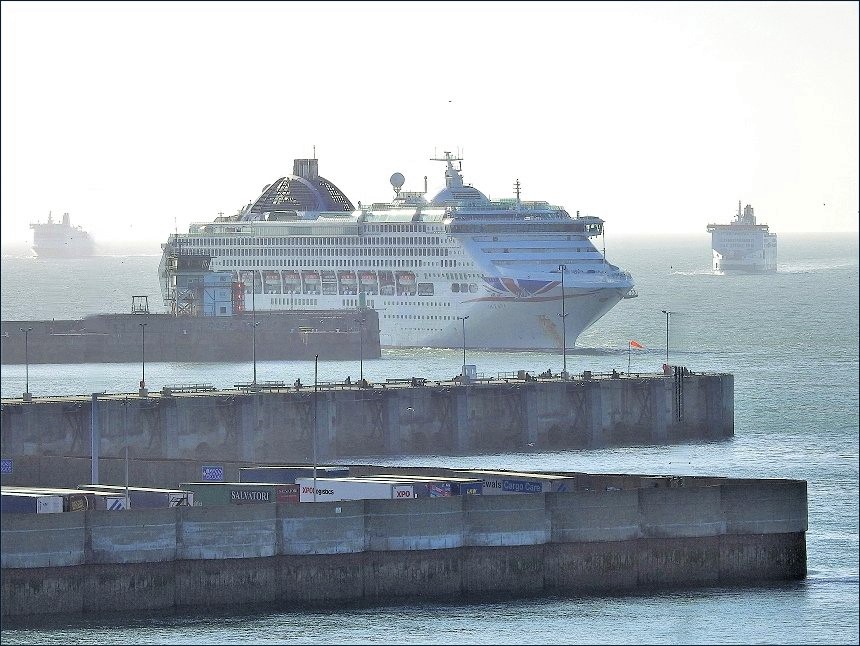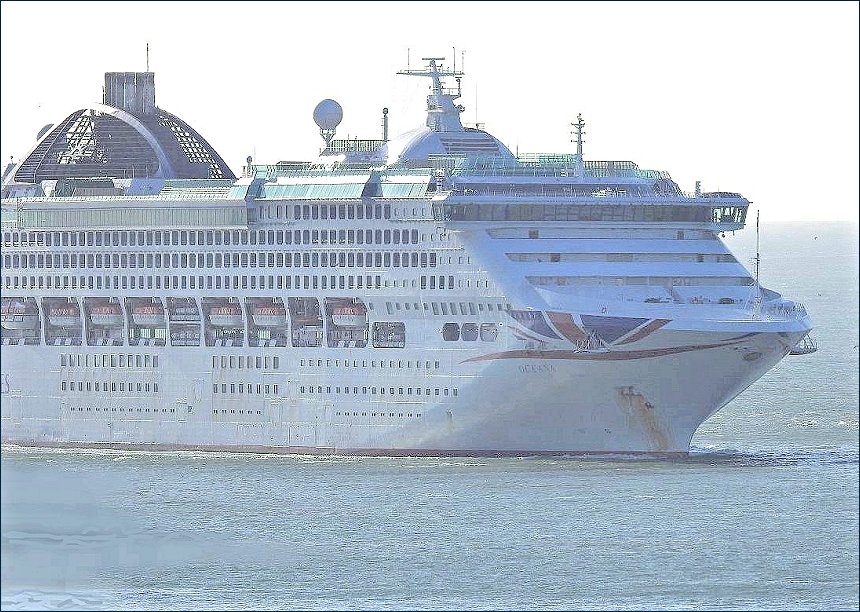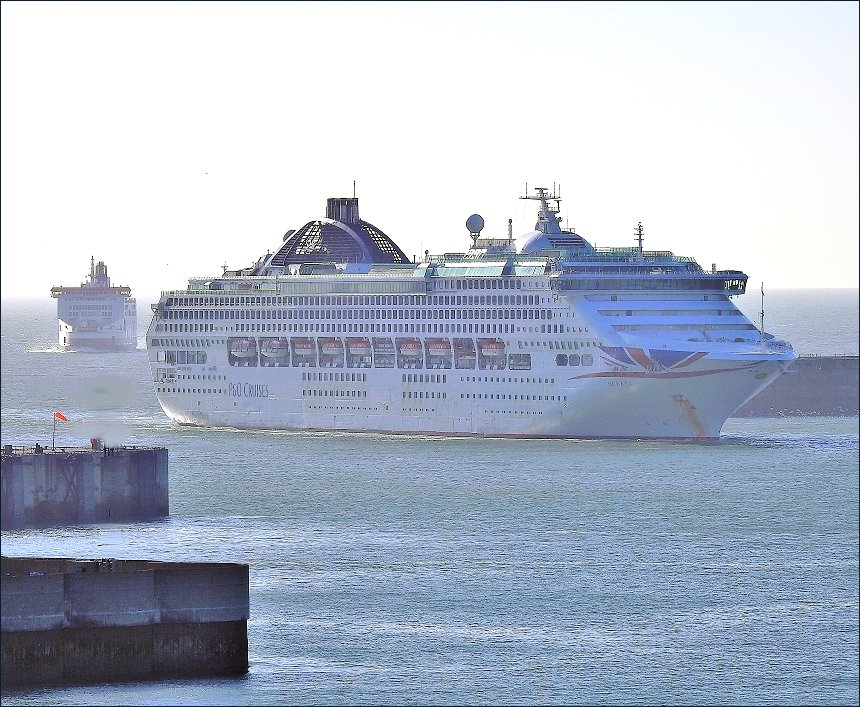 Three shots above there of Oceana arriving at the Port a few days ago. The pictures murderously looking into the blinding early misty light...with added ferries. Have used the third shot there previously but added it again there to make a bit of a sequence for future ref...quiet days...Oceana left the Port later the same day (Thursday).
PB
Sunday, 31 May 2020 - 06:55
Post 7034
Sea News, Dover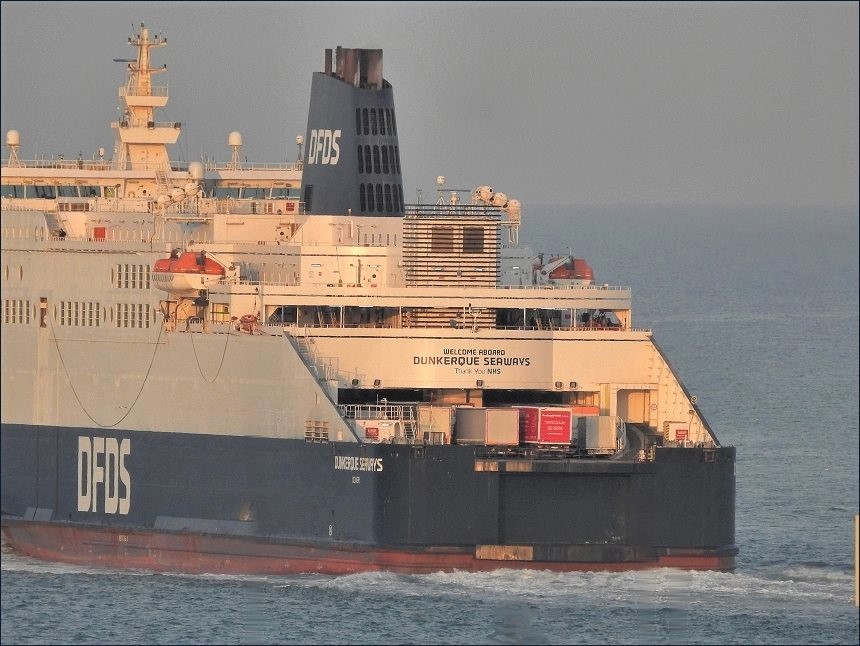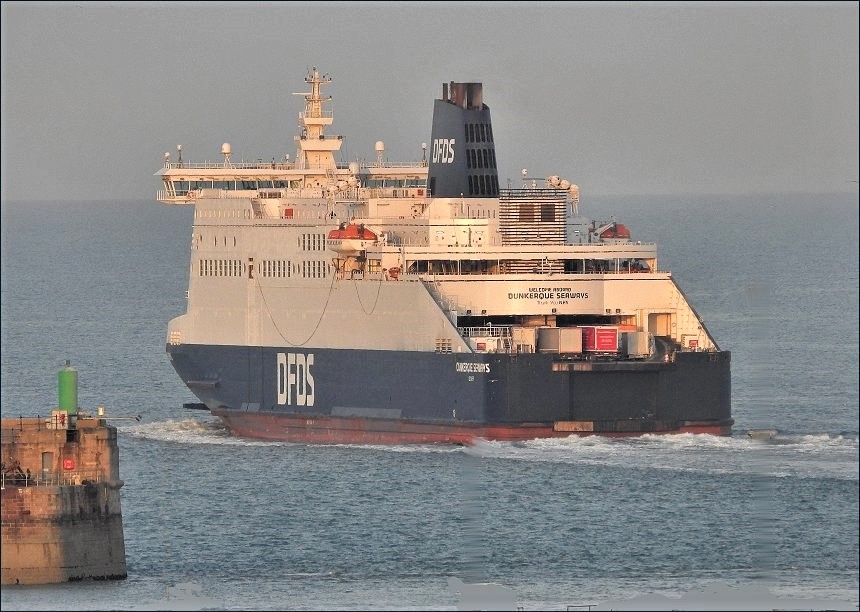 Its Thursday evening above there and the late-in-the-day weak warm sun catches the Dunkerque Seaways leaving the Port here in Dover...she was on her way to...wait for it...yes that's right...Dunkerque ( someone is awake this morning

) We just wanted to show her full load...great to see the ferries are still coming back and forth packed with trucks in this difficult time, all the while keeping our essential supplies topped up.
A thumbsup for the crews/drivers on the ferries and in the trucks...

PB
Saturday, 30 May 2020 - 06:39
Post 7033
Sea News, Dover
A late evening shot below from Wednesday now and we just catch Arcadia moving off into the distance for another channel run... in the foreground there is Disney Magic. Arcadia hitting the full light and the port side Disney Magic in shade...tricky, but there we are...hopefully all can see okay..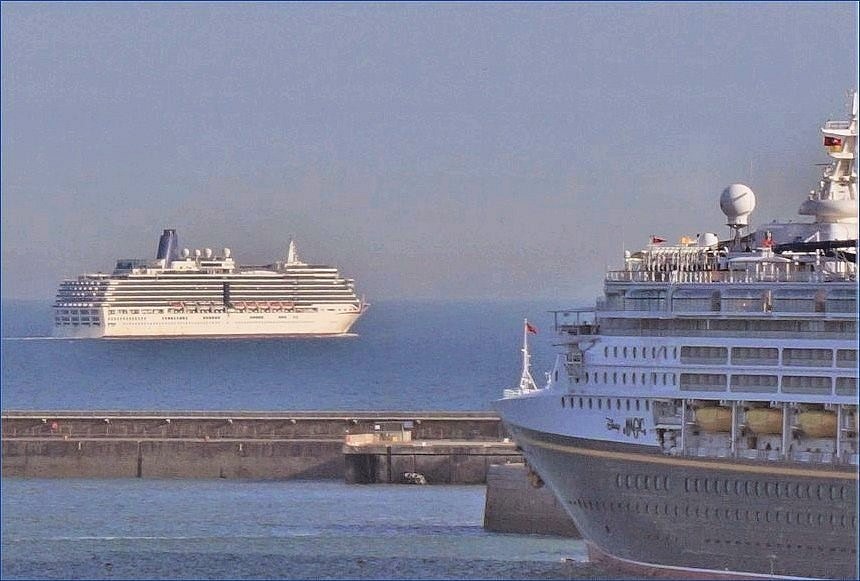 Another picture into the light as we see Oceana arrive early yesterday morning...the steady stream of comings and goings continue. She left late last evening just as night was falling...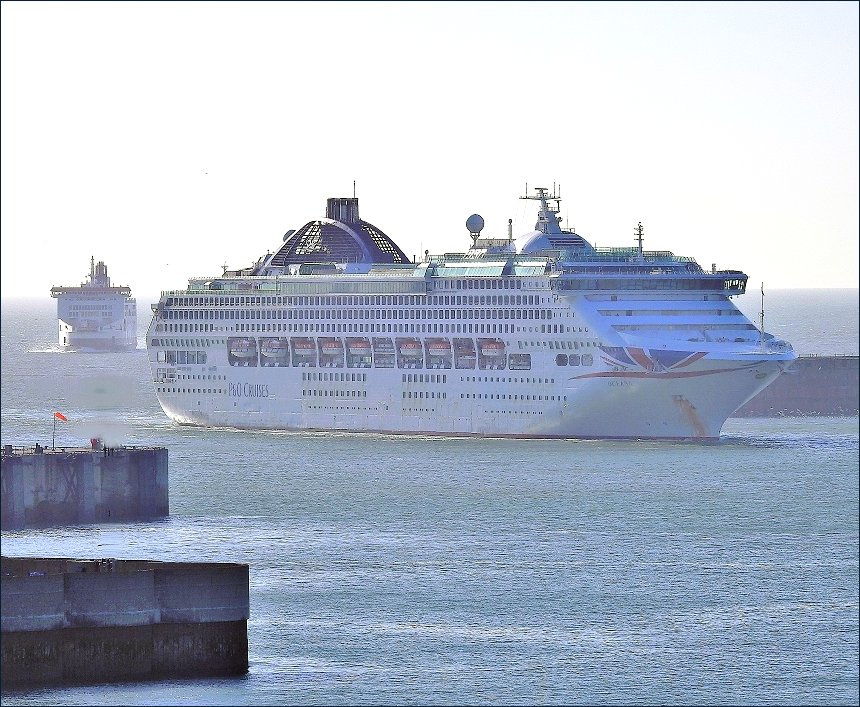 An extra one now of reefer Autumn Stream from a few days ago...more pictures of Autumn Stream below page (7031)...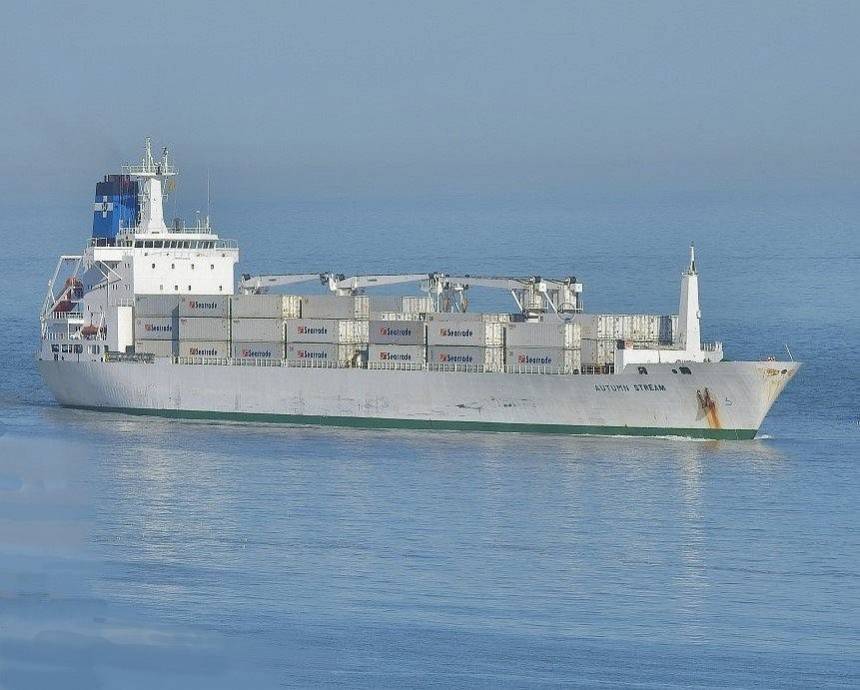 The Clap for our NHS stars went on again last night. A great effort along the seafront here in Dover. Thunderous applause...pot banging, bell ringing... excellent. There were 2 cruise liners in port, Oceana and Disney Magic...but neither blew a horn in support...
…ah well..
they say that was the last official Clap anyway.
I guess time to stop while its still a hit, and before it all fades.

PaulB
Friday, 29 May 2020 - 06:38
Post 7032
Sea News, Dover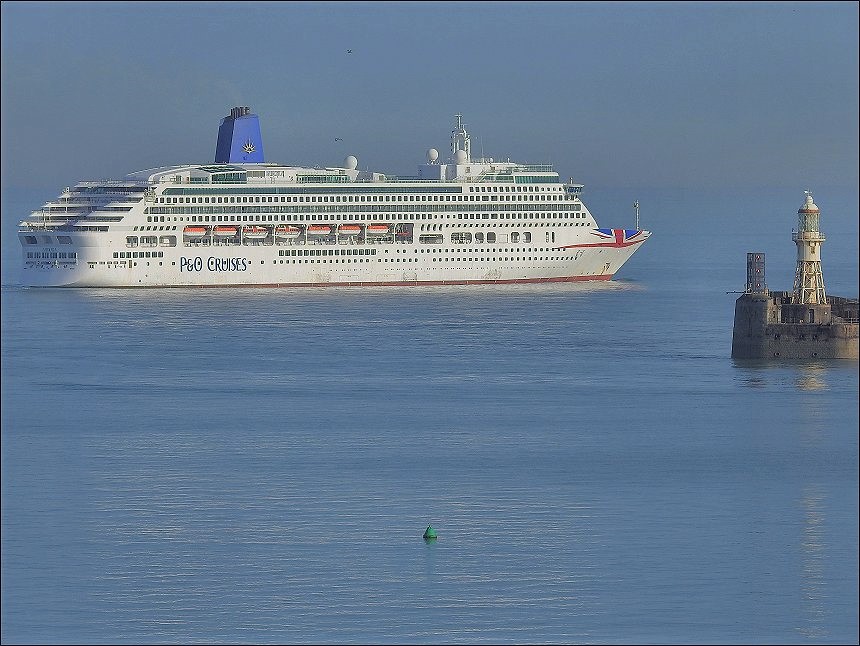 Just catching up with Aurora leaving on Tuesday evening above there..
….a slightly misty shot there as she heads south on beautiful evening...
Another couple of pictures below of the exciting Queen Victoria...which alas failed to make it into the Port here...tried a closer up view on the second one to try and show detail, but unfortunately inhibited by a bit too much shimmer... although with eagle eyes and a strong pair of glasses you can see the legendary name Cunard and maybe even Queen Victoria at a stretch...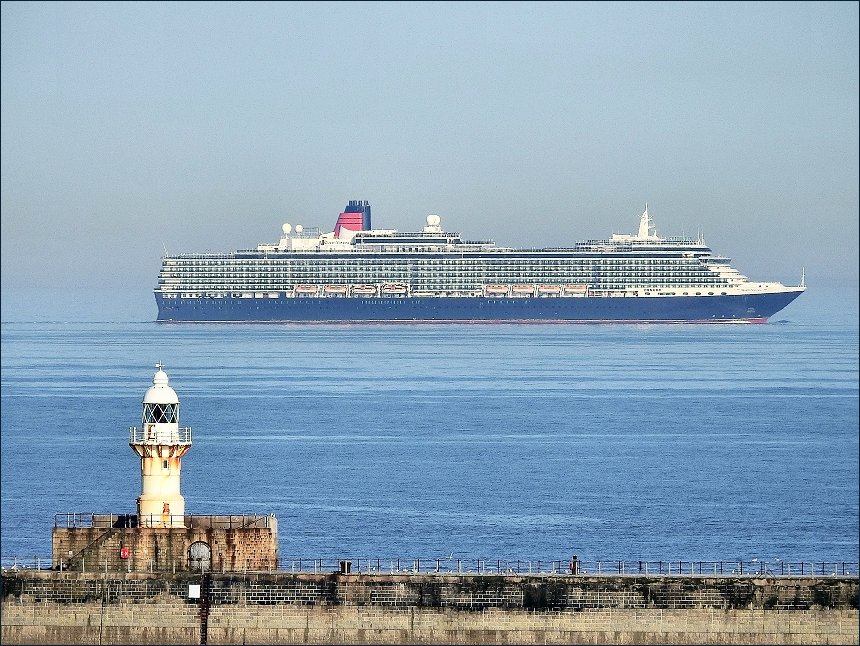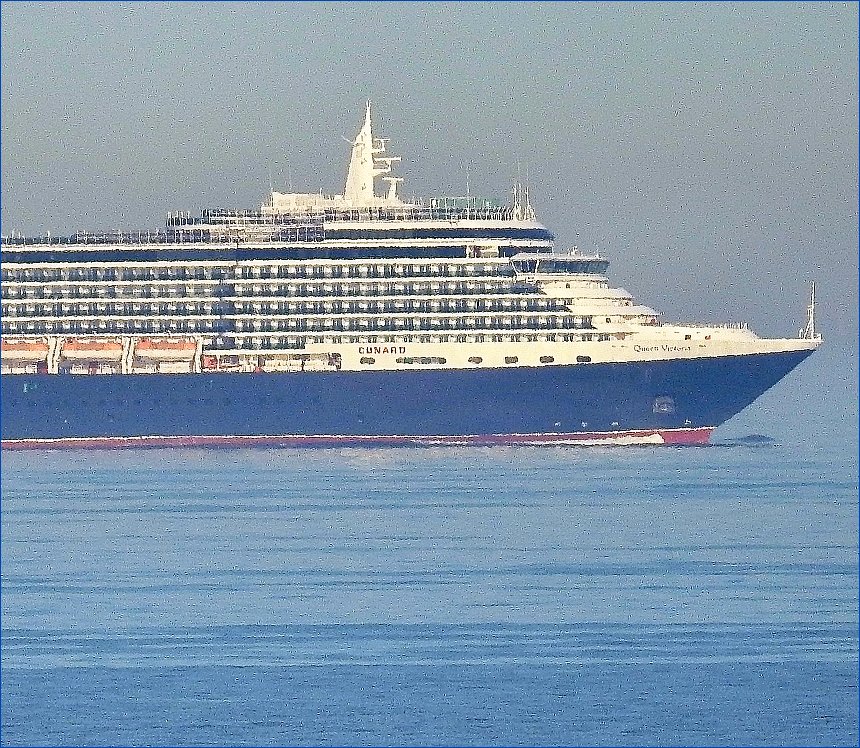 PaulB
Thursday, 28 May 2020 - 06:14
Post 7031
Sea News, Dover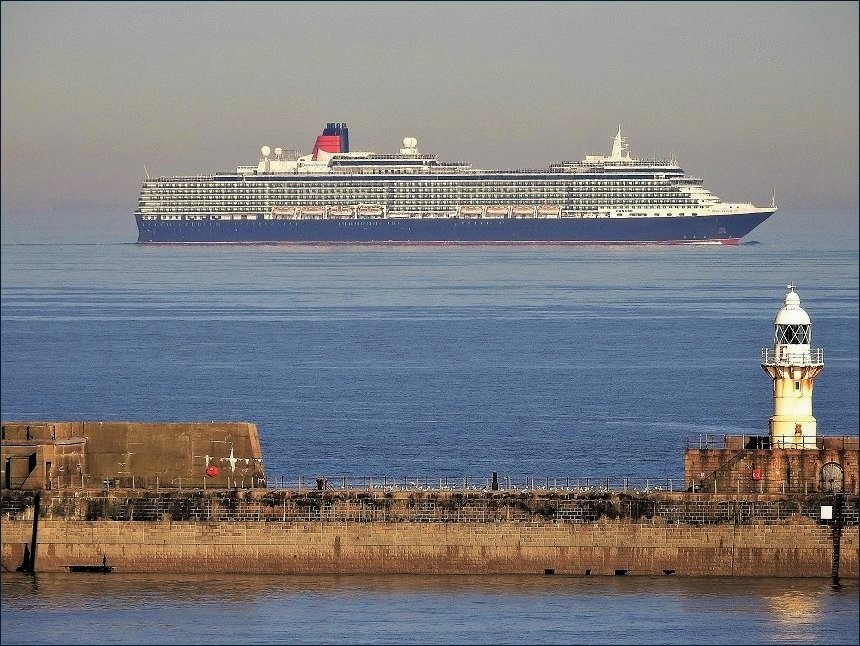 According to schedule the Queen Victoria above was due in here in Dover late yesterday, would have been quite exciting for sure, but at the last minute or the eleventh hour...she opted to head to Portland instead, leaving us all gaping in bewilderment. As you can see from the picture above she was almost here...very close...
Thanks once again to our 'inshore correspondent' Mike for the info behind the scenes..
Early yesterday Aurora came back here to Port...you can see her below gently passing the Disney Magic... as she heads for Cruise Terminal 2..
she didn't stay long..left last evening again.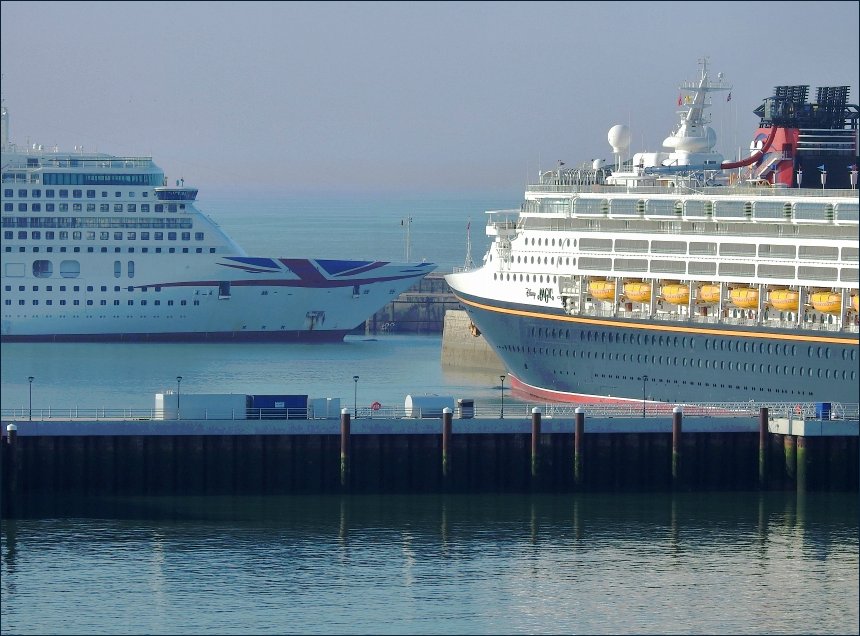 Some pictures below of an approaching and arriving Autumn Stream on Monday..
off the top of head this might be a first as its a new name on me...
a rapid turnaround once again and she was gone again in double quick time... no chance alas of further pictures...was hoping for some departure shots..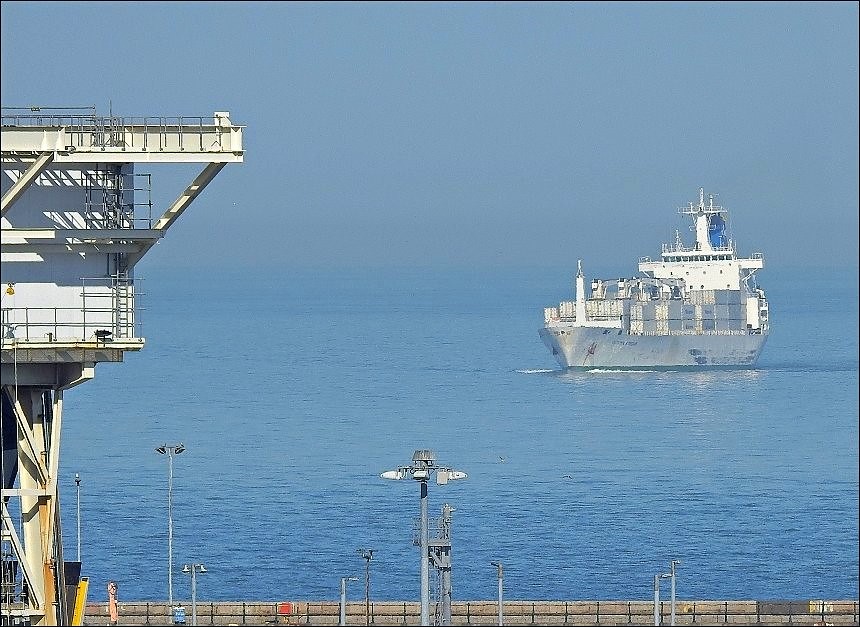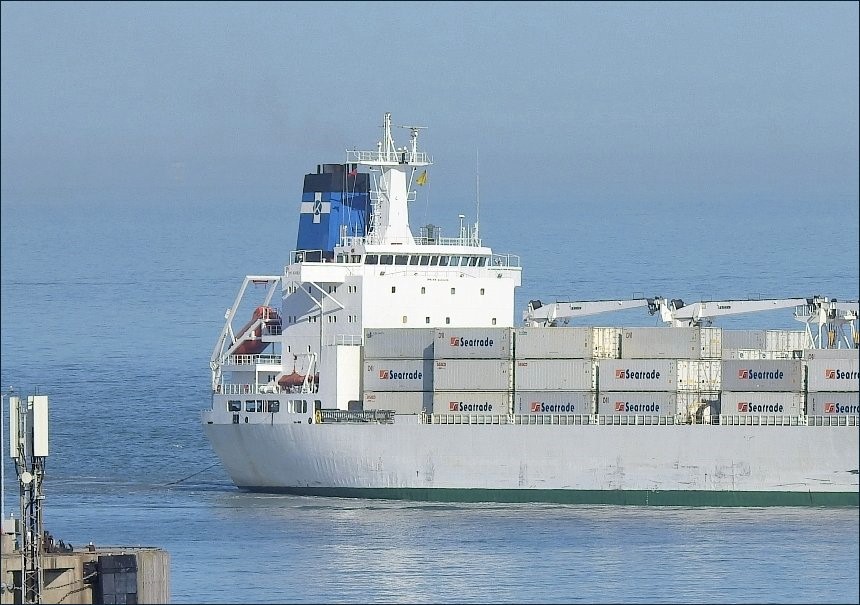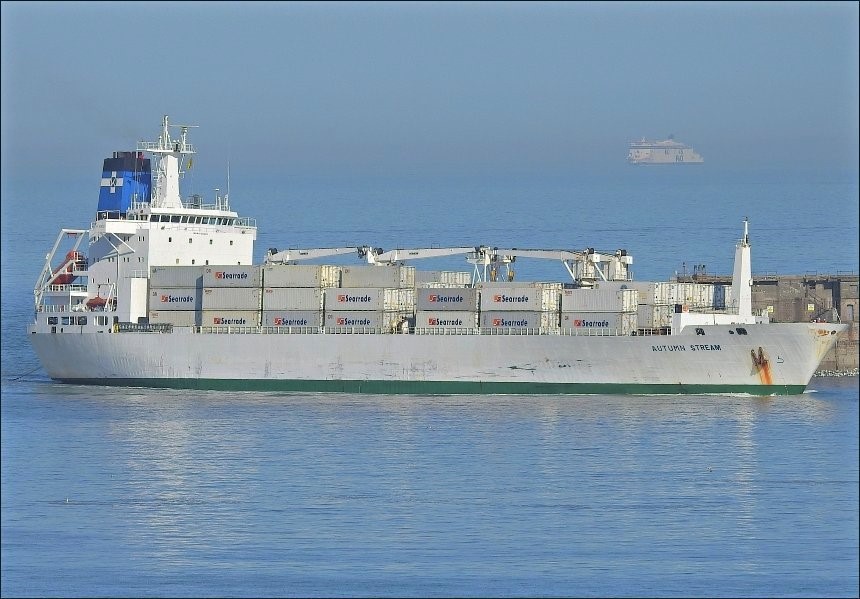 PaulB
Wednesday, 27 May 2020 - 07:13
Post 7030
Sea News, Dover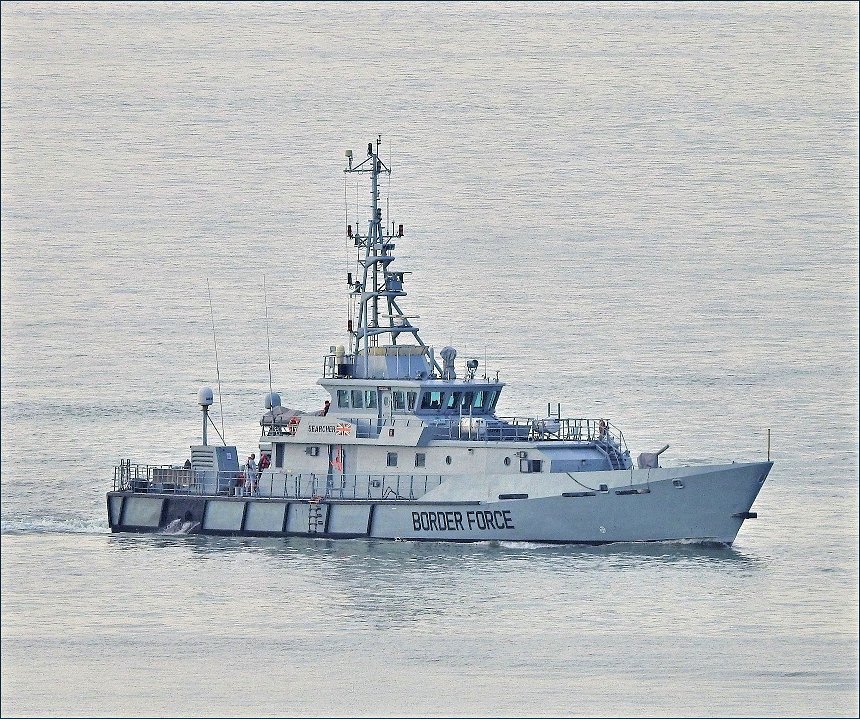 A couple of pictures above there of Border Force Searcher taken a couple of days ago as she returned to the Port of Dover after a busy time of it out there in the channel. The migrant incursion level has increased dramatically with the pleasant weather, so of course its very busy and of course very controversial...
The view from local MP Natalie Elphicke....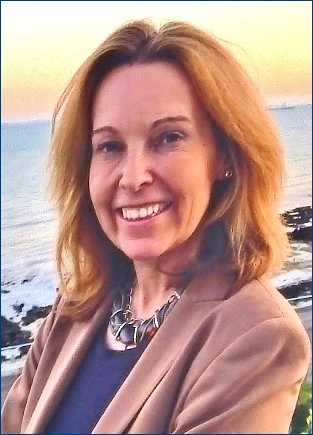 Time for a new immigration system that works for Britain
__________________________________________________
The Coronavirus pandemic is without doubt the most serious crisis of our lifetimes. Yet we cannot allow life to stand still while we battle the virus especially as it is now starting to come under control. It is important to ensure we continue to plan for the future. It is therefore right we start to focus again on our long term relationship with the EU after the end this year. Part of that is to put in place an immigration system that works for Britain.
So I welcome that this week the House of Commons moved forward with the Immigration Bill that will bring in a points based immigration system. A system that will ensure immigration is controlled and that we attract the skilled workforce we need not just from the EU but from around the world. A system that will encourage employers to invest in their employees while enabling people who have grown up in the UK to realise their full potential.
Yet with the right immigration policy, it is vital to have the right border security policy too. In our area we can look across the English Channel and see the twinkling lights of Calais. France is less than 21 miles away three times closer than London. People traffickers and organised criminal gangs in Calais are active in seeking illegally to smuggle people across the English Channel and into Britain. These trafficking gangs squash migrants into dangerously overcrowded small boats for treacherous night-time crossings of the Channel.
I was pleased to accompany the Minister in December when we inspected the Dover Border Force operations at Dover Docks. I want to thank the men and women of our Dover Border Force together with the volunteers at Her Majesty's Coastguard and the RNLI for the sterling work they do, day in and day out. Putting themselves in harms way and saving lives.
It is now time to bring these small boat journeys to an end. Because the Dover Straits is one of the busiest shipping lanes in the world, the weather in the Channel can be dangerous, and lives can be and have already been lost through this illegal activity.
That's why I have been campaigning for increased action to stop these illegal journeys. For illegal entrants to be returned to France â€" and to be quarantined pending their return.
I welcome the action being taken by the Home Secretary in working with France to stop boats leaving French shores, for quarantining and to seek to return of any illegal entrants back to France.
Because everyone knows that best way to stop these crossings is for all illegal entrants to be returned. For only when migrants and traffickers alike know they will not succeed will they stop trying.
Natalie Elphicke MP
* *
Thanks to Natalie for the above...

A safe outcome for all would be ideal...we don't want any lives lost.
And talking about the very same topic...yours truly switched on his TV a couple of days ago (Adam Boulton programme Sky News) and saw this chap reporting LIVE on the controversial topic just below the 'observation tower' ..so one rushed to the window camera in hand..
….and here we are...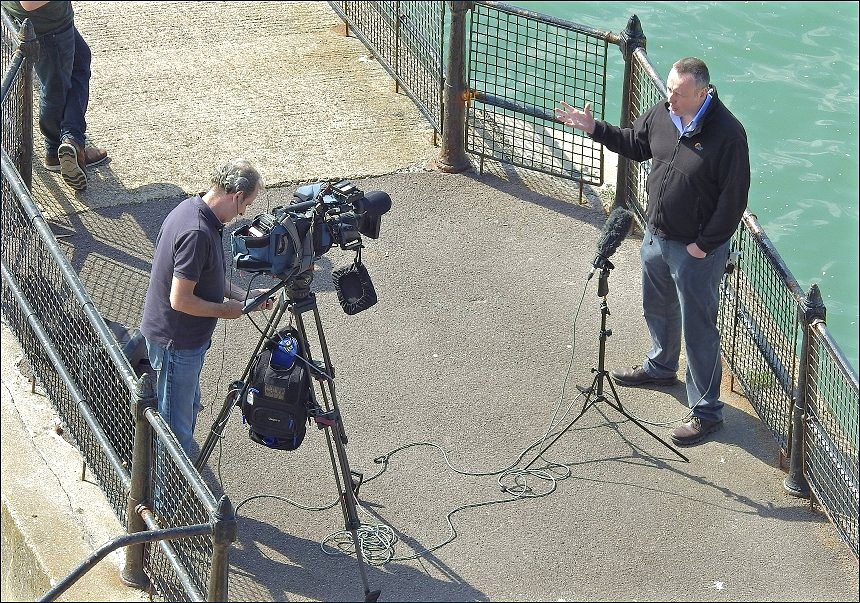 Unfortunately I don't know the reporters name...
PaulB

Tuesday, 26 May 2020 - 06:45
Post 7029
Sea News, Dover
Its a wee bit quiet at the moment, not a lot happening, so it gives us a chance to include some more general seafront pictures...with added wild flowers, a novelty at this time of year. The pictures at the top of the page will eventually be disappearing as per usual, so its good to have these on the system. And here we are...
Dover Seafront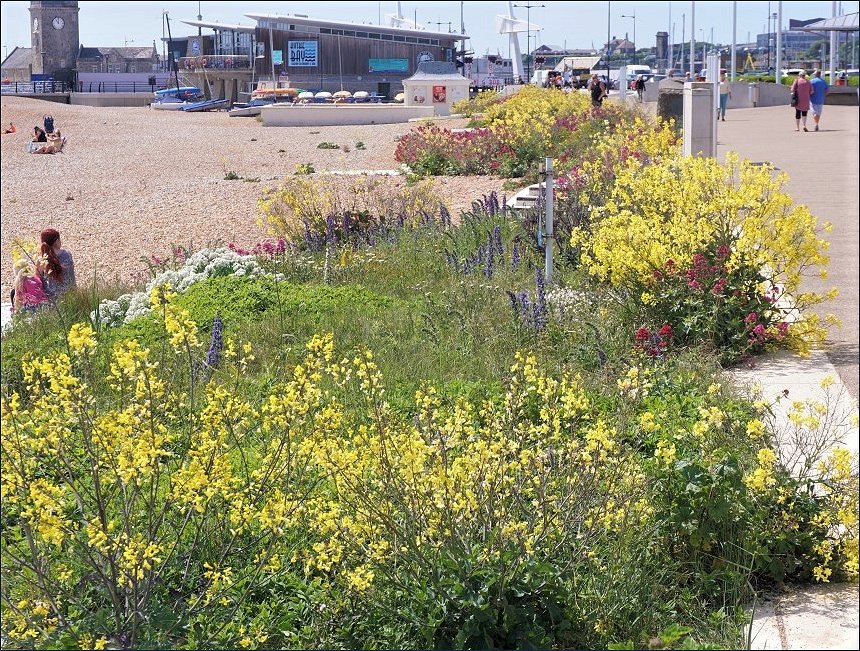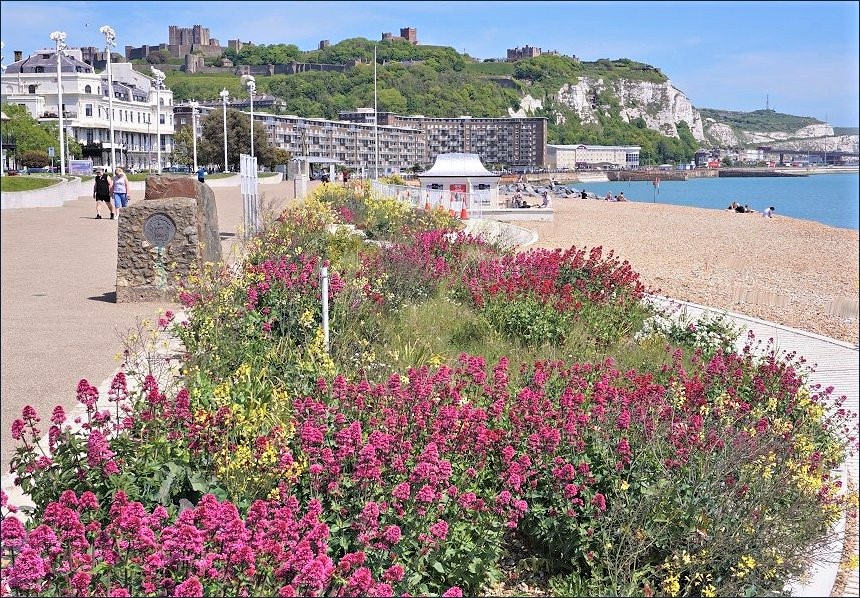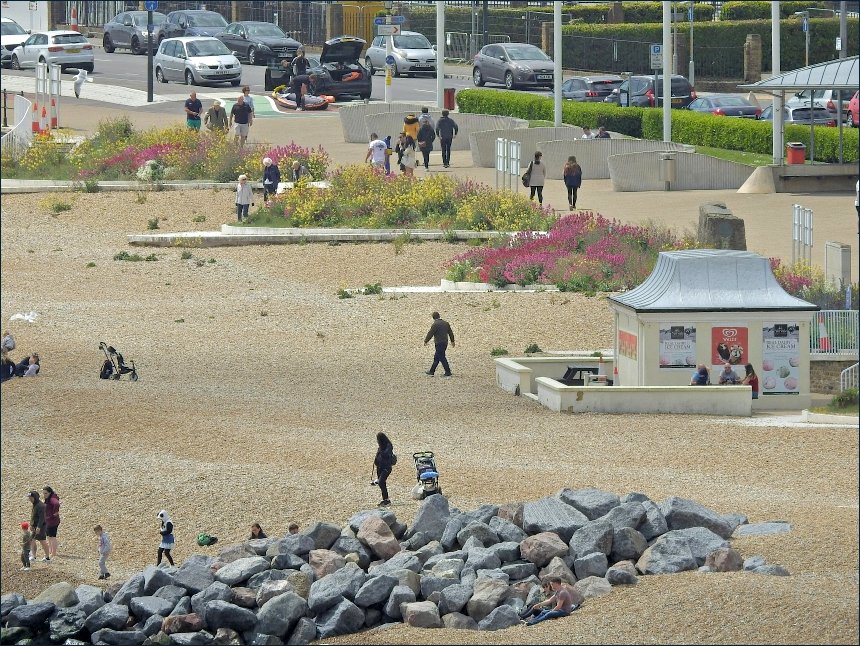 Dover Seafront
Out there in the gloom yesterday was a tall ship called Tres Hombres ( even with my ultra rudimentary Spanish... that's got to be...Three Men ). I think she was doing a round trip from Amsterdam but yours truly couldn't get a clear picture...its not that she was that far away, but the gloom did for us...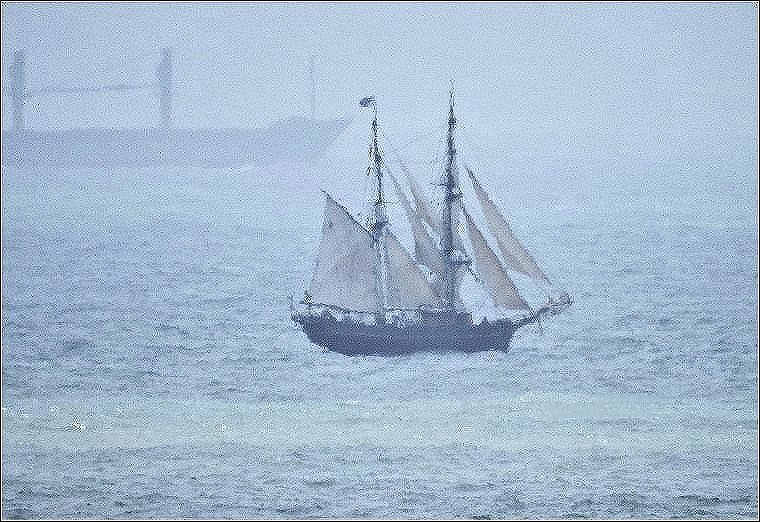 Tres Hombres - poor quality alas....
PaulB
Monday, 25 May 2020 - 05:57
Post 7028
Sea News, Dover
Disney Magic and the Lifeboats.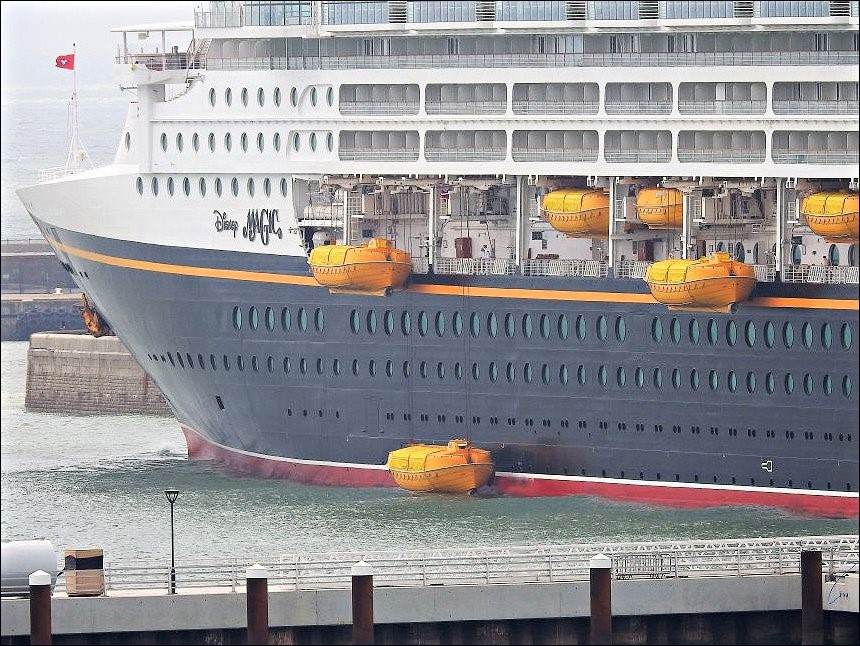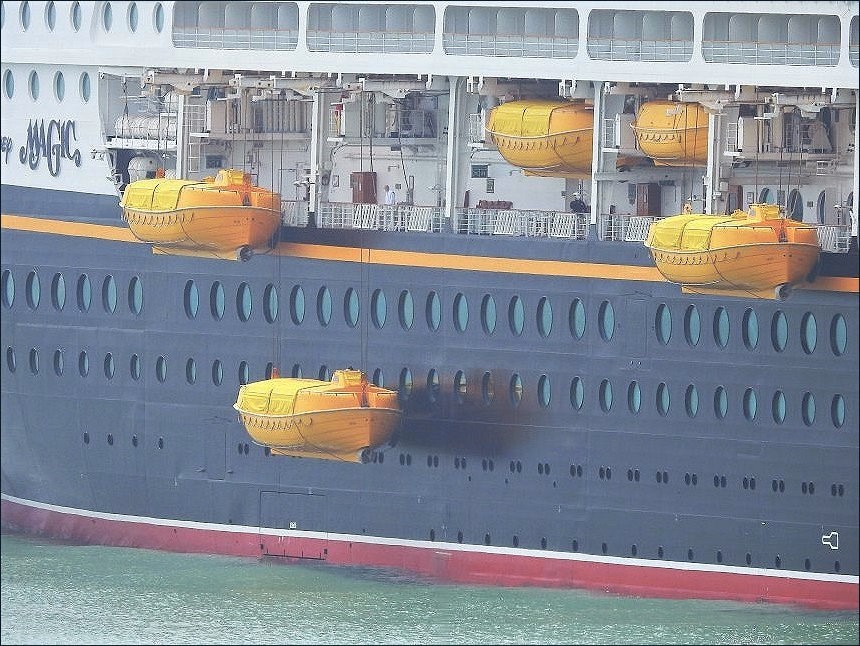 Wider shot....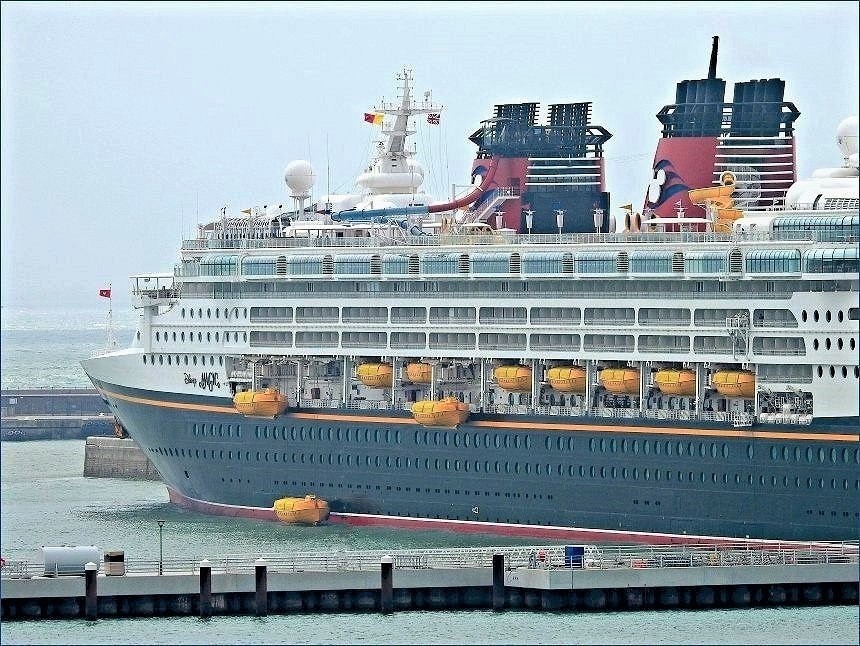 These pictures above from Friday morning around 11.30. As you can see the Disney Magic is still at pier WD4 and is obviously carrying out a drill above there... lowering the lifeboats etc...yours truly was lucky enough to spot a moment easily missed. All appeared to go well and it all went back to normal afore long...
the ship is still at Wd4 and weathered the rough weather there yesterday....all appears well...
Whoops!

This chap was nearly caught out with the swiftly incoming tide a few evenings ago. I grabbed the camera in haste as spotted a car unattended in the water. Give that car...thought I....another few minutes and it wont be going anywhere. Yours truly was ready with the camera for a scoop. But just in time the chap came charging back and happily pulled out of what could have been an awkward situation..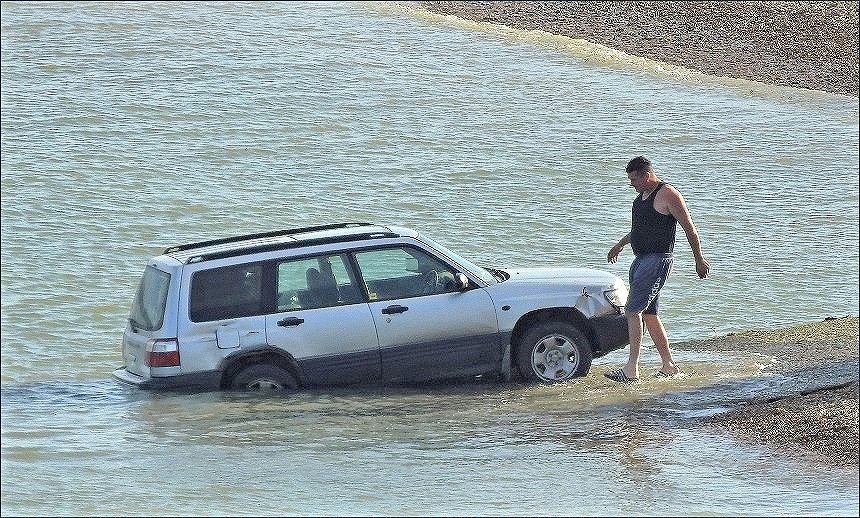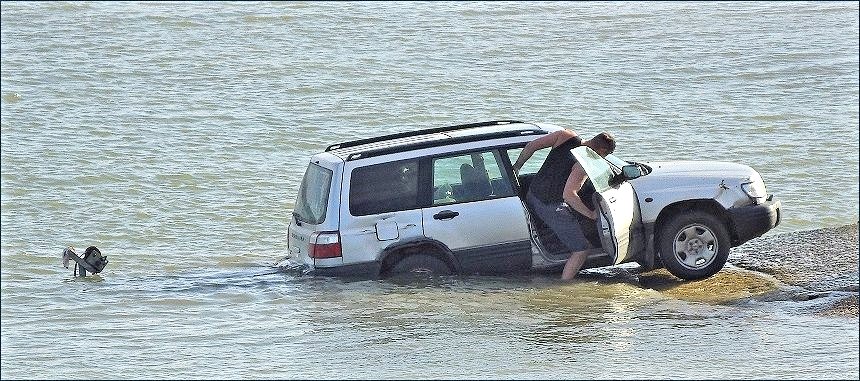 All's well that ends well....


PB
Sunday, 24 May 2020 - 07:12
Post 7027
Sea News, Dover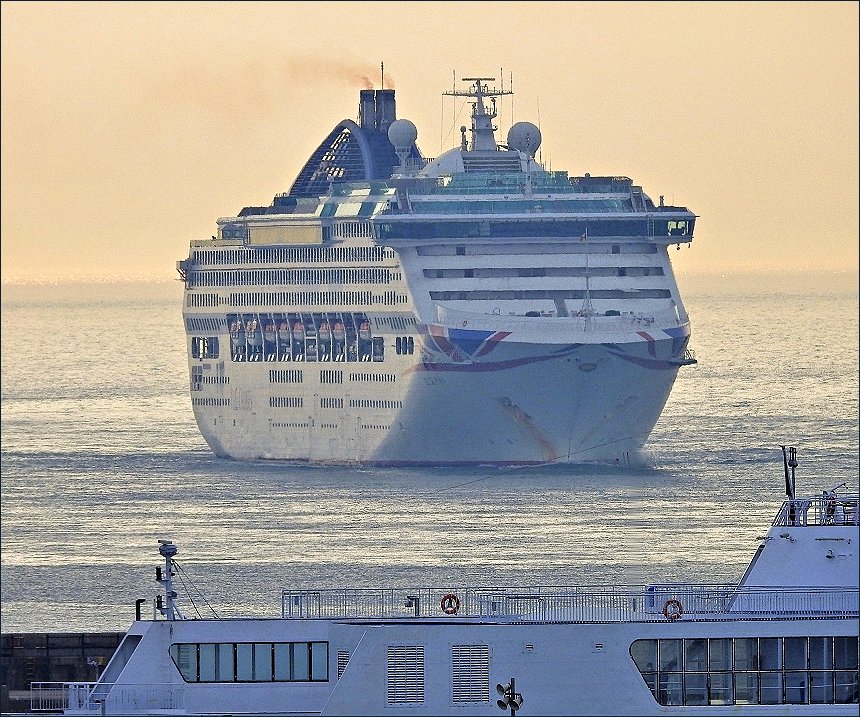 Another shot above there of Oceana approaching the Port on Thursday this week...this shot follows along from yesterdays similar pic (post 7026) but obviously is a closer picture... Oceana has since left us again, off on one of her channel excursions...dizzying...
Slightly experimental picture...
I thought Disney Magic was about to do the same in the first picture along but no....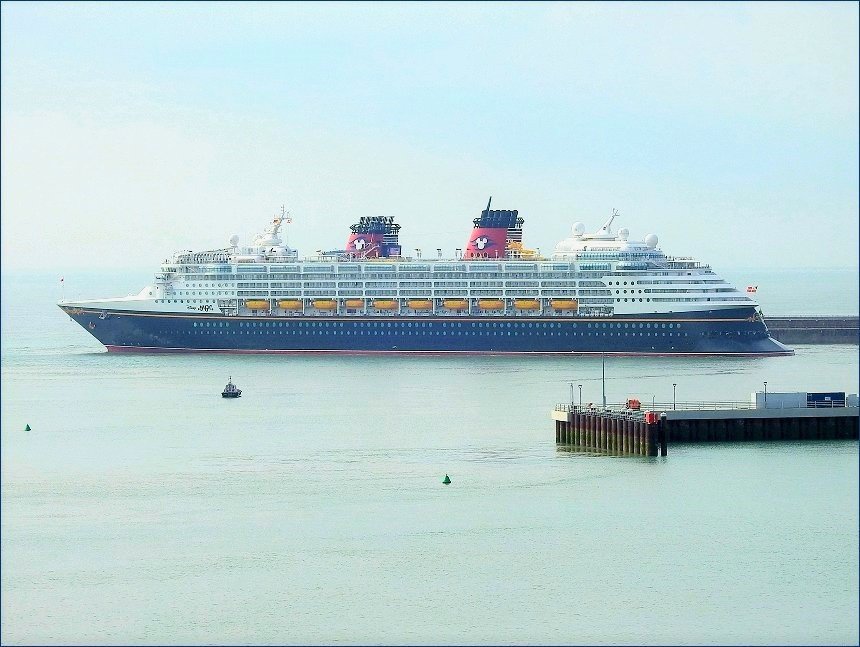 She was oh so gently and slowly moving stern first onto pier WD4. Gently was the word, This ship is immaculate...we don't want any possibility of damage... No mishaps...Nosirree Bob!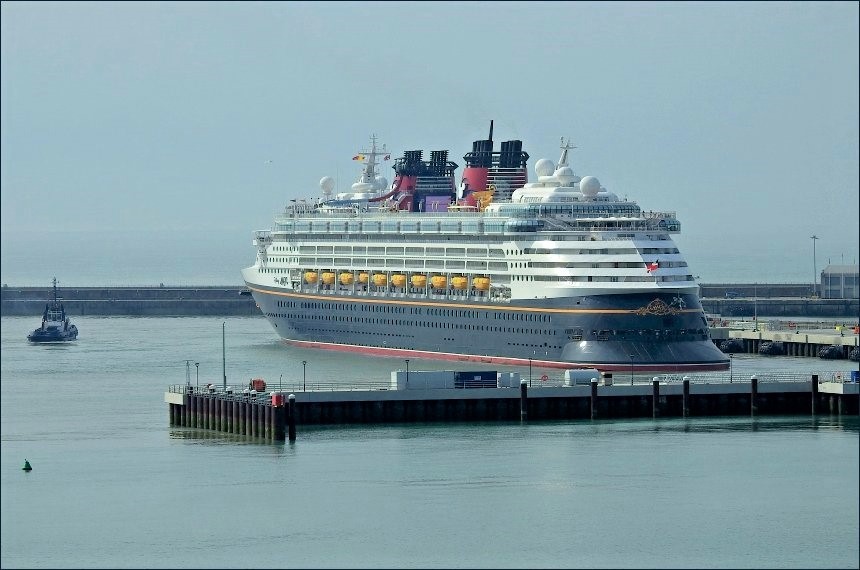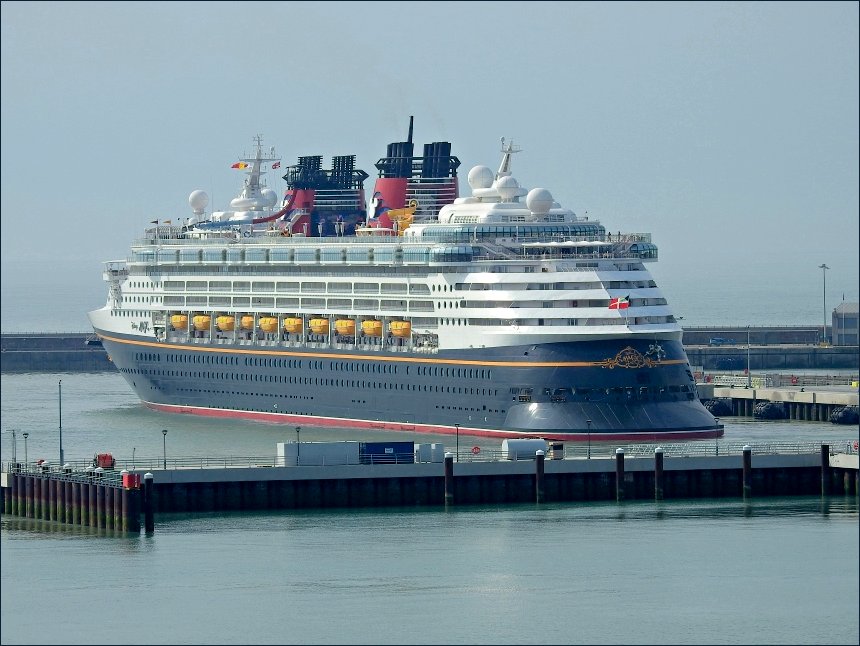 Yours truly has no idea why she moved from Cruise Terminal 2.
PB
ps: have some pix of her lowering her lifeboats yesterday...will get those up tomorrow.
Saturday, 23 May 2020 - 06:28
Post 7026
Sea News, Dover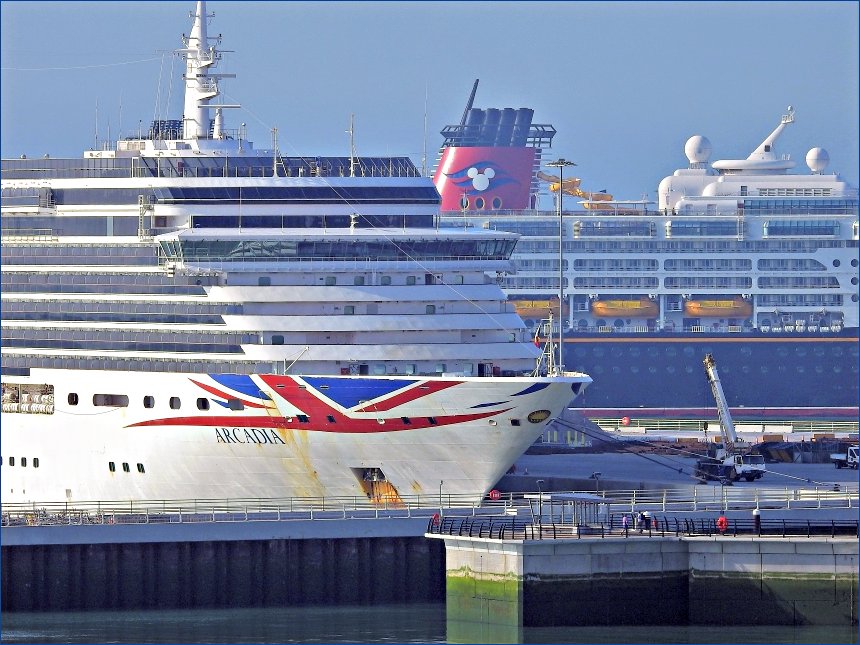 Another shot of Arcadia there at pier WD4 to run in harmony with the pic currently at the top of page..the bow of ship hugely dominating the pedestrian shelter at the end of the new pedestrian pier. In the background we see the Disney Magic...as Mike said she has since moved over ever so gently to WD4 as Arcadia left the Port again..these lay-over cruise ships are truly zipping in and out...
Below we see Oceana approaching on...let me see... oh yesterday.. the 21st early morning.. she left us again last night. Busy Busy....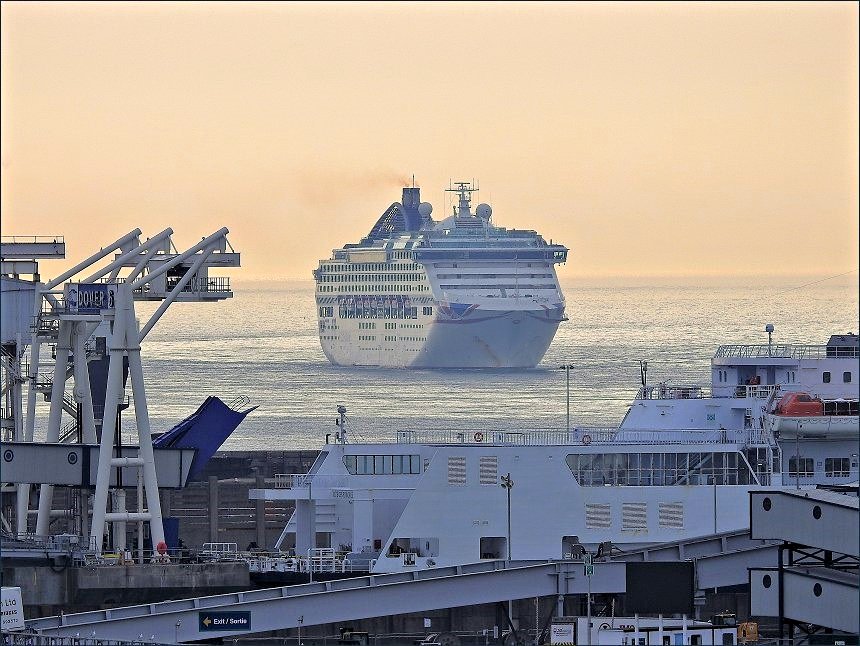 And another early dreamy pic of the ever popular Disney Magic.
Yes she is now at WD4. Will have a further pic or two showing her moving over. Bear with...so much stuff, so little time...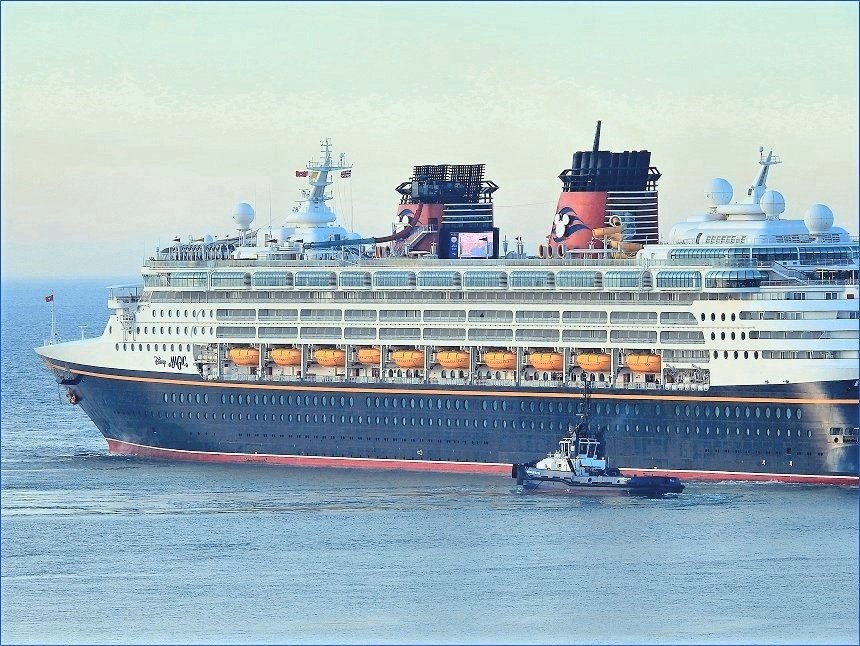 The ships joined in once again for the Clap for the NHS and Carers everywhere last night at 8PM. A great response along the seafront all round...

...ring dem bells, bash those pots...
NHS

Nice collection and info below Mike... Love the ponies...

PaulB
Friday, 22 May 2020 - 06:20
Post 7025
Mike J., Dover
A few more pix from the arrival of the DISNEY MAGIC & ARCADIA on Tuesday,
Langdon Hole. as DISNEY MAGIC approaches.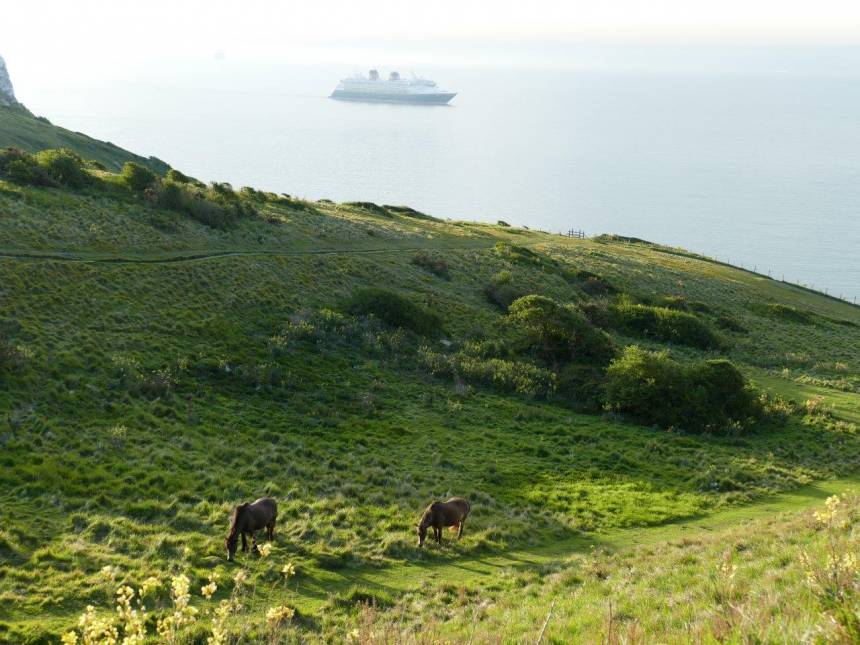 I remember the Exmoor ponies back putting in an appearance on 7/15 for the MAGIC's first arrival [post 2173].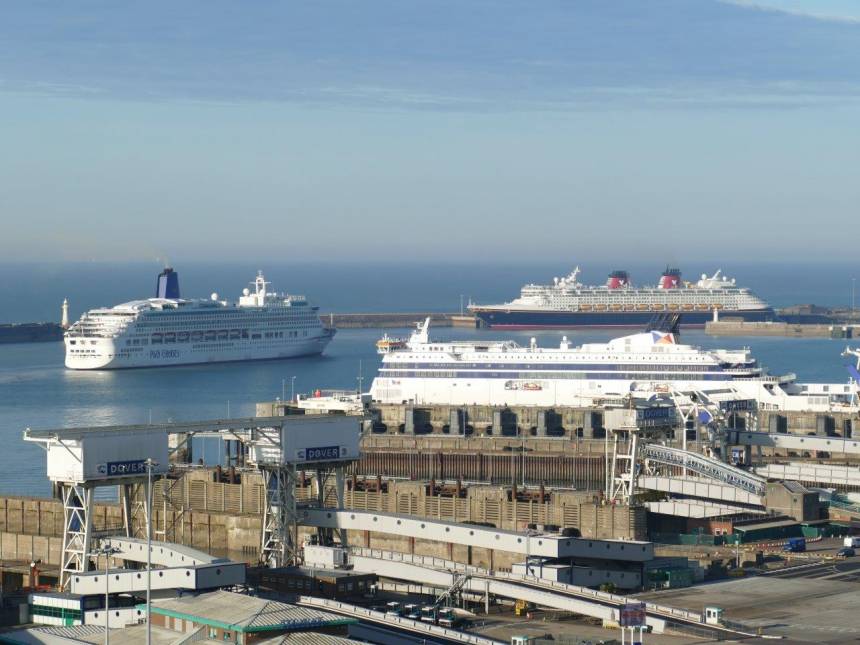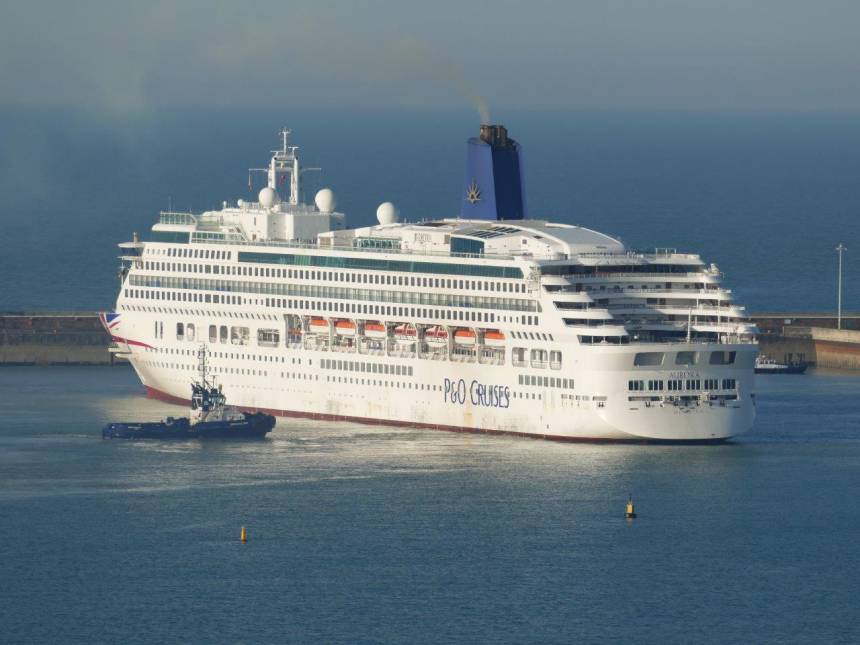 The DISNEY MAGIC shifted to WD4 during Thursday afternoon.
OCEANA paid Dover another brief visit on Thursday & is currently heading back down-Channel to Weymouth again.
Border Force & Dover lifeboat were busy during the morning after what seemed like a swarm of migrant RIBs coming across overnight in perfect migrant-smuggling weather & media reports 157 migrants landed today.
Dovorians & visitors will be pleased to know the National Trust's carpark on Langdon Cliffs reopened on Thursday will be open daily 0900-1800 which seems a llttle mean as I'm sure many & people would like to park up there in the evening to watch the sun go down.
The Cafe & Visitor Centre will NOT be re-opening for the present.
Friday, 22 May 2020 - 02:56
Post 7024
Sea News, Dover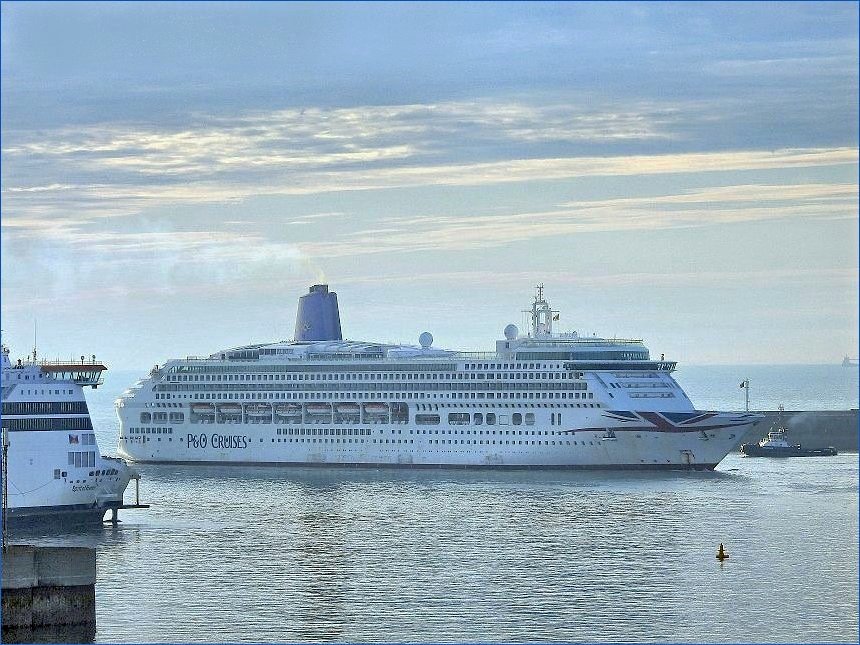 Above we have Aurora arriving back at the port a couple of days ago..catching the dazzling early morning light...the constant stream of cruise ships a-comin' and goin' is giving yours truly a touch of the 'deja vu'...but yes just double checked...picture above is from Tuesday..
Then below we have Wednesday morning and the giant Arcadia moves slowly across to berth at the 'grain pier' WD4...well I used to call it the 'grain pier' but not sure now as the plans seem to have changed. She came in bow first this time...perhaps as an antidote to the recent mishap when she got her rear dented..

The Disney Magic as magical backdrop...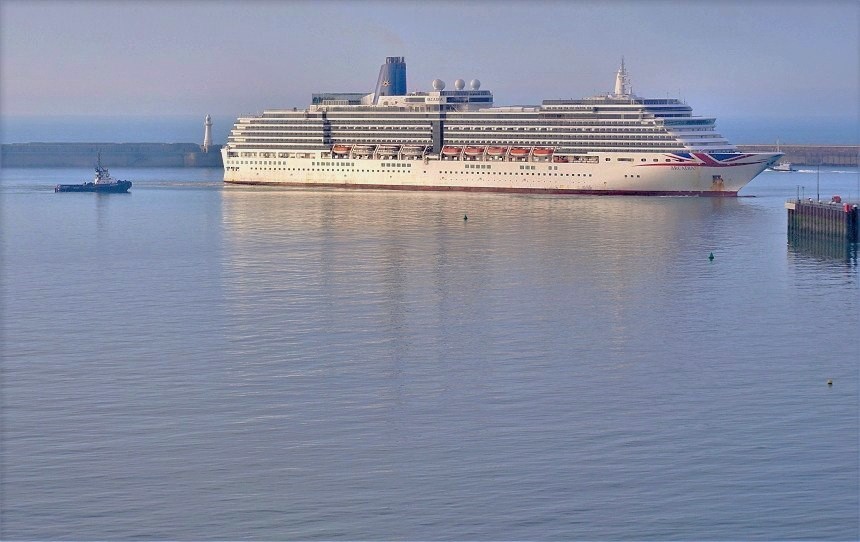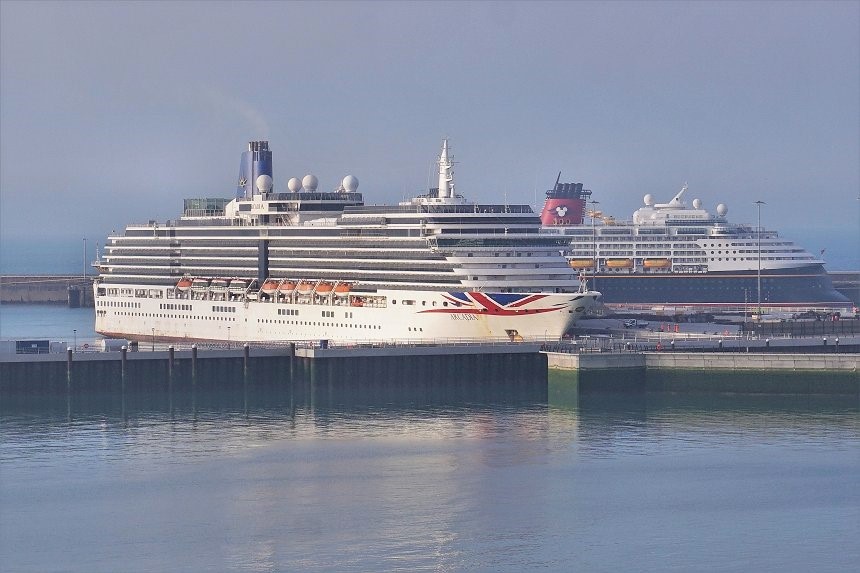 Arcadia left us again last evening at about 5.30pm with a thunderous rasp of her horns.
That one made me laugh out loud Del...


PaulB
Thursday, 21 May 2020 - 06:26
Post 7023
Del Styan, Norwich
Nice to see Syd the seagull again. Shame the shot was spoiled by that boat behind him.

Wednesday, 20 May 2020 - 23:08
Post 7022
Sea News, Dover
Some more Magic...yes Disney Magic...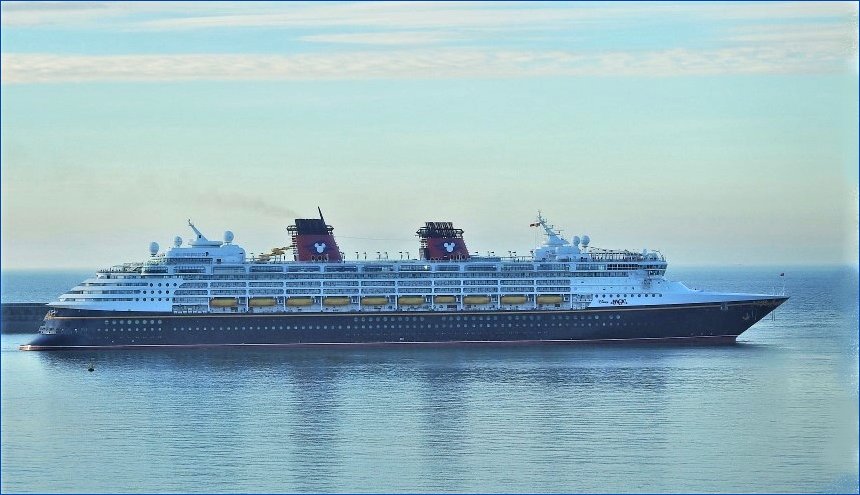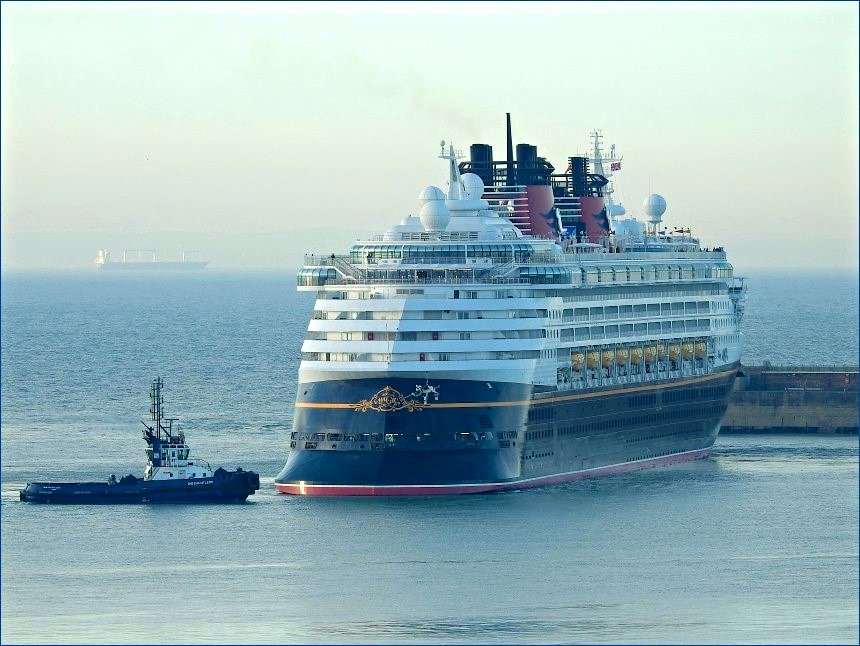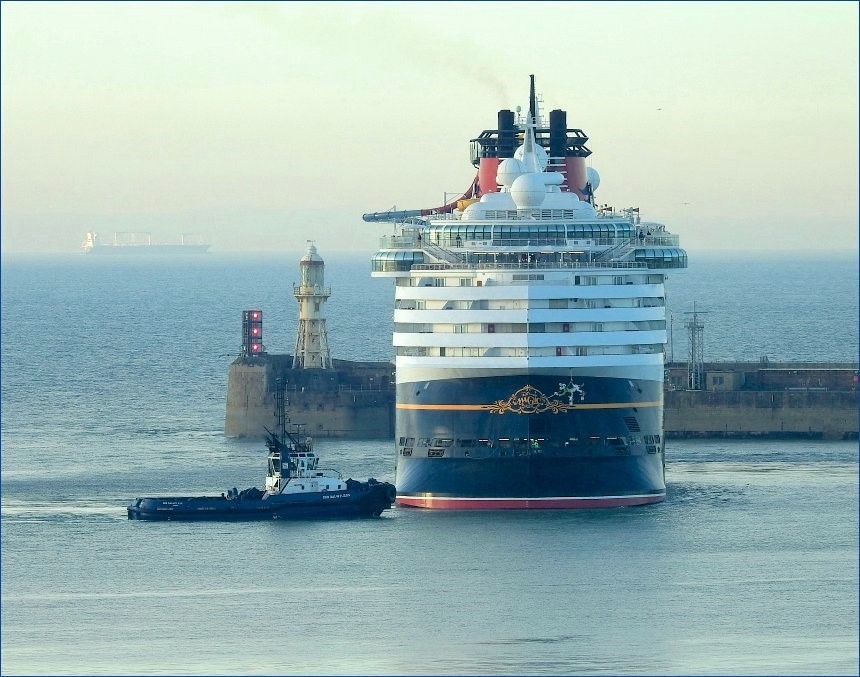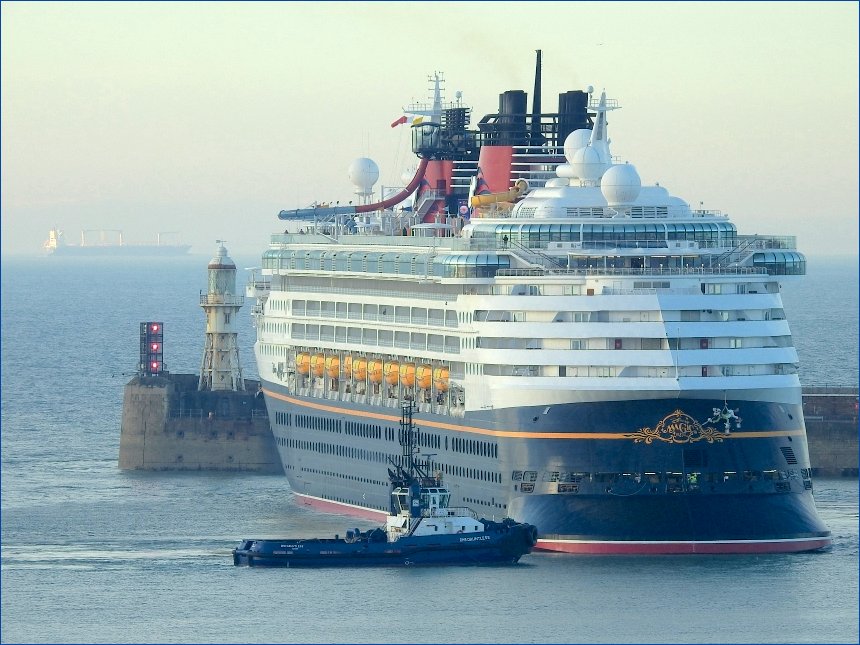 A sequence there of the arriving Disney Magic yesterday morning tuesday, and a very welcome sight she is too. The ship looks immaculate as ever. We haven't heard the.."when you wish upon a star" jingle yet but give it time, it possibly only happens when the ship is full of passengers and ready for the off.. if that's the case then we may be waiting....
Also arriving this morning as we speak...Arcadia
Will just nip away from this for a moment to get a few shots!
Yes there we are... in the bag!


A nice collection below from Mike, Disney Magic and Aurora...don't miss those..

Thanks Mike W for the information there...very welcome. Nice bit of Gaelic as well there. I have some info from the port on this arrangement, follows along nicely from your info below...will add it in a moment.. bear with...
Yes here we are...ADDED EXTRA
Port of Dover Cargo welcomes new customer Aggregate Industries
__________________________________________________________
Port of Dover Cargo Ltd processed 30,000 tonnes of bulk aggregate through its new Terminal for the first time this week as the team welcomed Aggregate Industries (AI) for its debut visit to Dover.
The Yeoman Bank vessel transported 30,000 tonnes of Glensanda Type 1 cargo into Dover on 12th May ready for distribution across the East Kent region.
Nik Scott-Gray, General Manager at Port of Dover Cargo said:
"The team is delighted to be handling yet another new commodity and to be working with AI, a leading construction supplier. We are going from strength to strength since the new Terminal became operational at the end of last year, and that's testament to our excellent Business Development team. My thanks go to Nick Dixon, our Business Development Manager for working hard to form these important new relationships."
Simon Turk, Logistics Director at Aggregate Industries added:
"Aggregate Industries are extremely pleased to have been able to "fast track" the opportunity with the Port of Dover for the importation of the inaugural cargo of Glensanda aggregates for supply into the East Kent region, in cooperation with JH Haulage Limited.
The vessel discharge operations were conducted efficiently by Dover Cargo Limited assisted by Rail Freight Services Limited, offloading the cargo within 13.5 hours from arrival of the Yeoman Bank. We are excited by this new market opportunity and the developing relationship with the Port of Dover."
ENDS
PaulB
Wednesday, 20 May 2020 - 06:26
Post 7021
Mike J., Dover
Arrival Tuesday morning of the DISNEY MAGIC followed by the AURORA who didn't stay long, sailing back to Weymouth at 1800.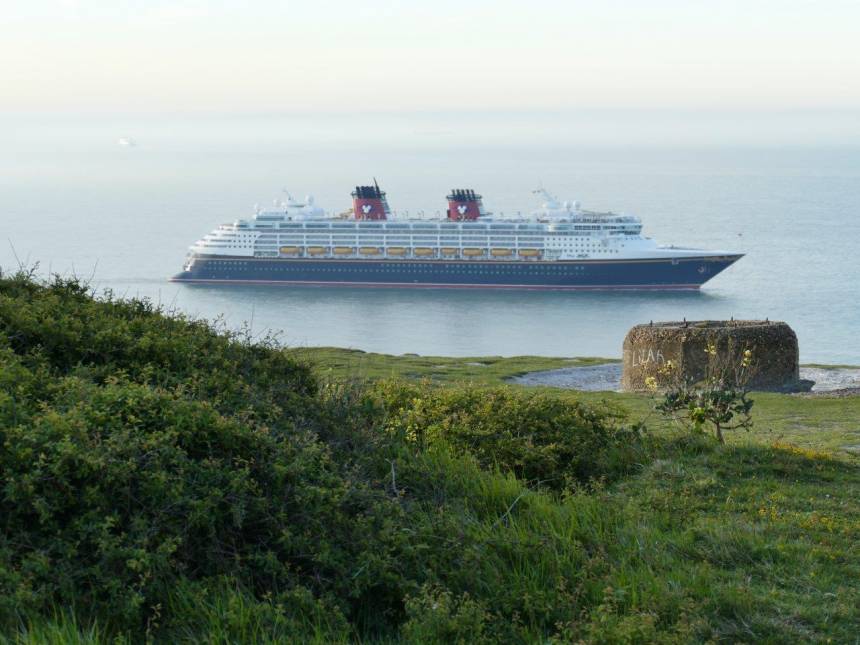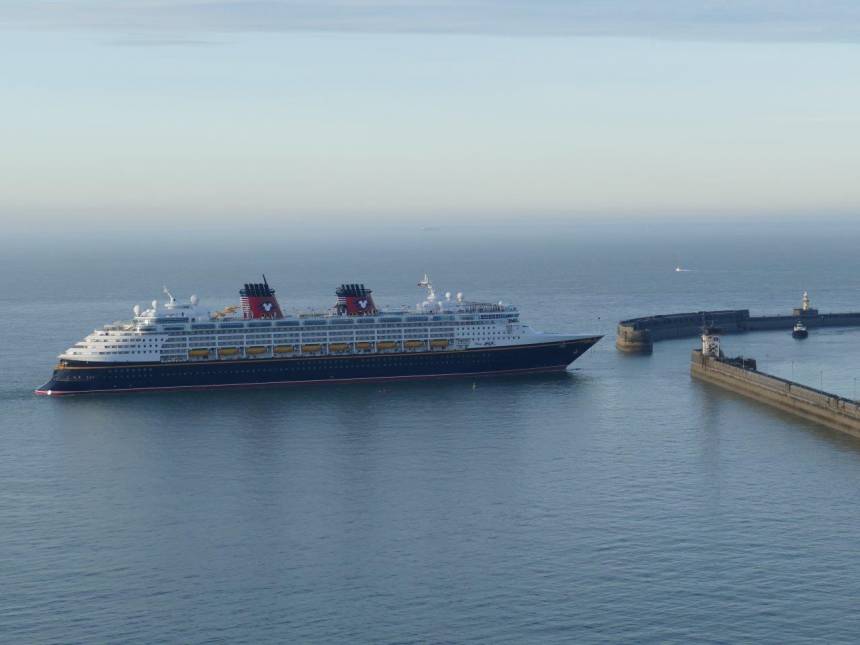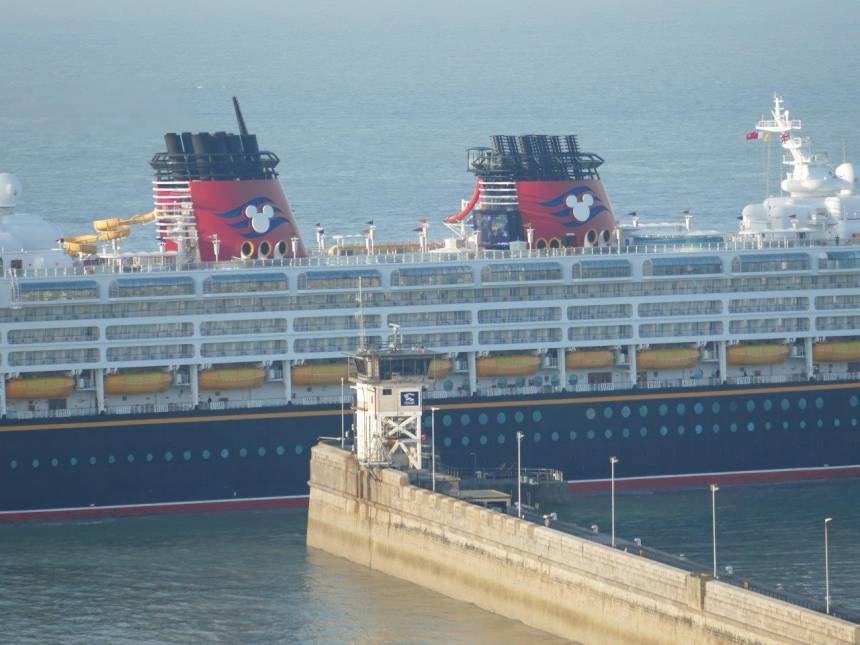 The P&O Dover/Weymouth shuttle service continues on Wednesday with the ARCADIA on a smilarly brief visit, with the OCEANA following on Thursday.i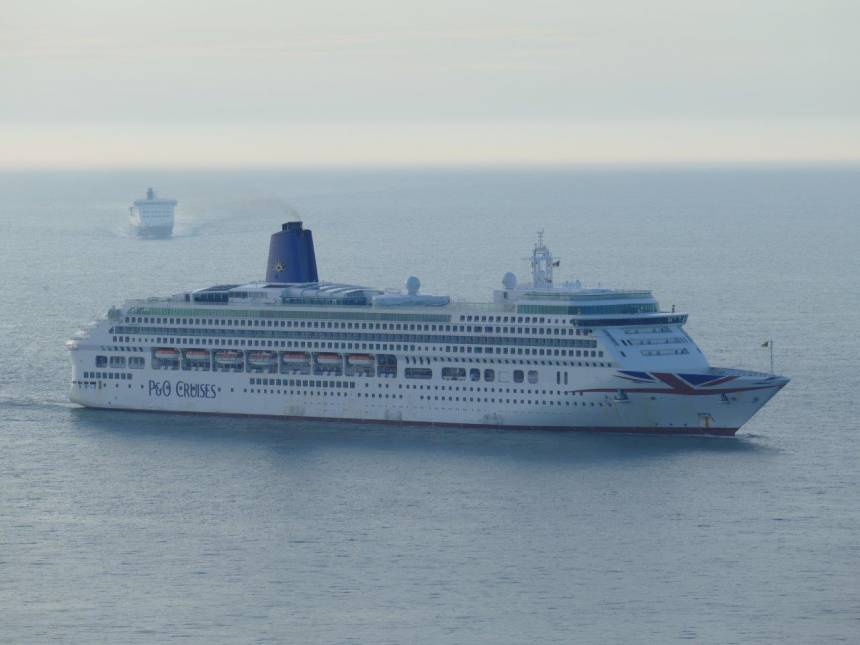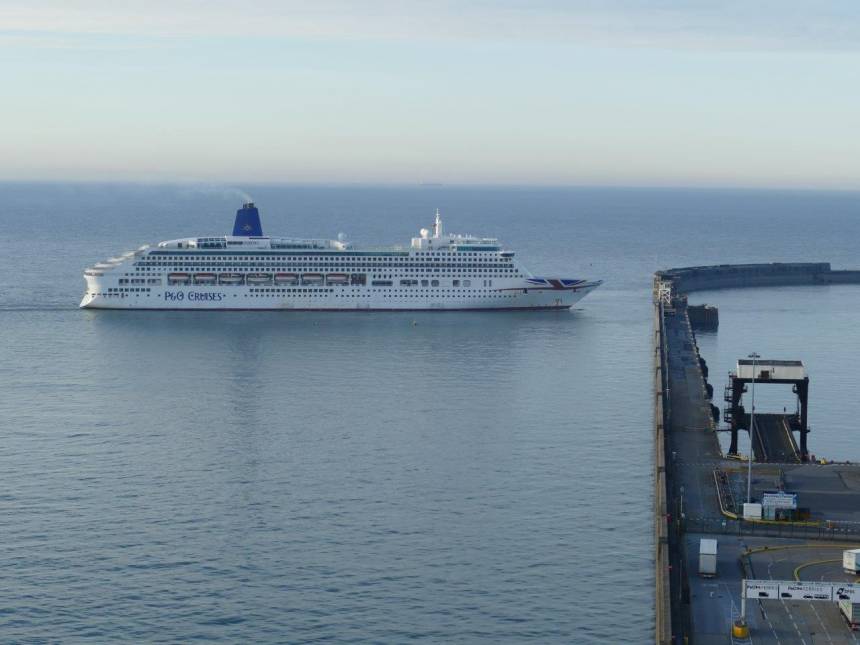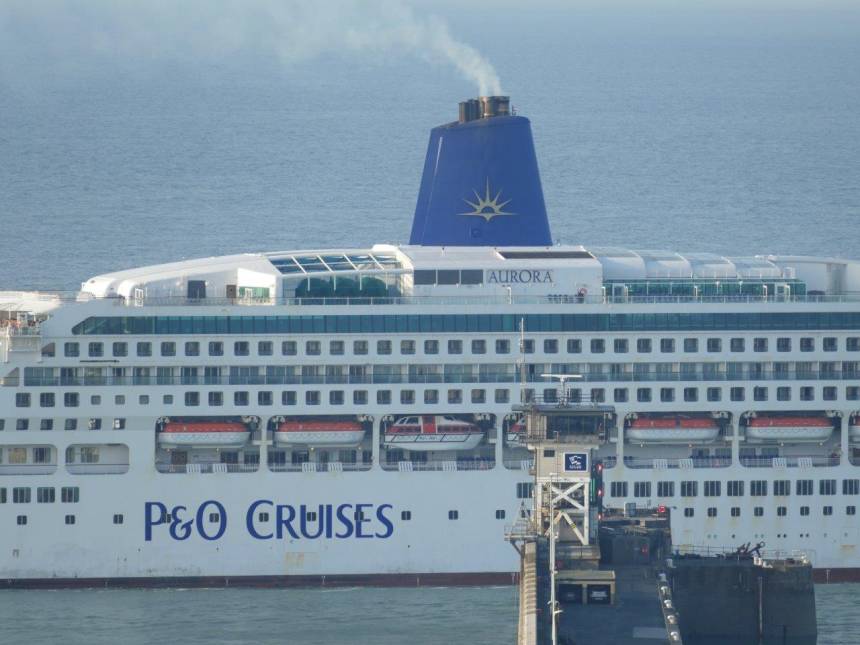 Fitful sun until the AURORA entered, looking forward to Paul's pix of the entries & manoeuverings in the bay.
The DISNEY MAGIC is expected to remain in port for about a week before heading down to the Med with her first cruise scheduled to start from Barcelona.
Just heard that Capt.Tom will soon be Capt.Sir Tom.
Excellent news !
Wednesday, 20 May 2020 - 01:19
Post 7020
Mike Waight, Wiltshire
Re Post #7012: the "Yeoman Bank" spends most of its life running between Glen Sanda (Loch Linnhe, not far from the Isle of Mull) and NW European ports; in the past almost exclusively the Thames, carrying pulverised rock, crushed rock, etc., which is dug out of "Meall na Easaiche" a granite mountain. Occasionally it makes voyages to other destinations and this time it was Dover with what appears to be very finely crushed rock.

The ship is owned by Foster-Yeoman and is a self-discharging bulk carrier.

Tuesday, 19 May 2020 - 14:55
Post 7019
Sea News, Dover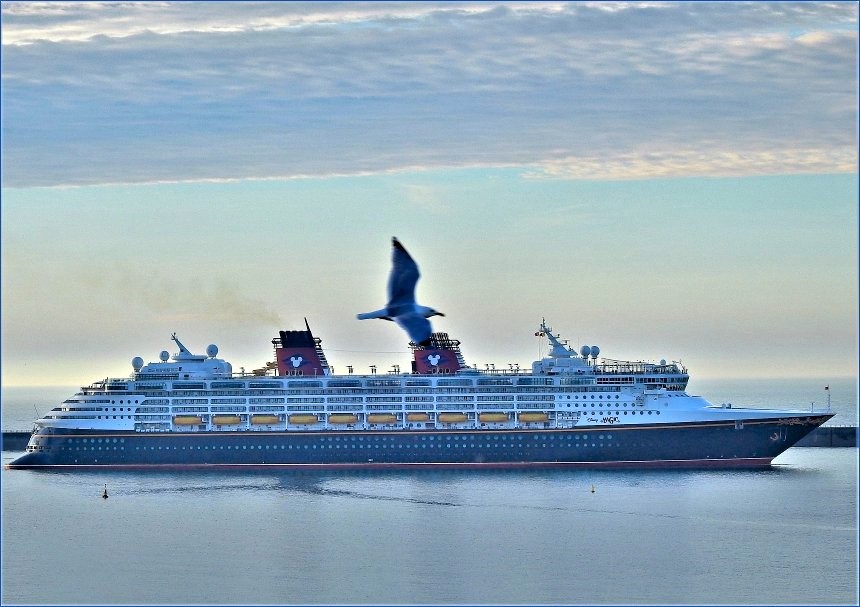 The hottest news this morning is of course the arrival of the exciting Disney Magic...and there she is above, picture taken some minutes ago...tis a soft mornin'.. time of picture 06.19. Syd the Seagull didn't want to miss out on the arrival..he's a big Disney fan you know...
Aurora followed along into Port just minutes behind, we will have more of that one later...we're all agog and dazzled with Cruise Ships once again here in Dover.. More Disney later...
And of course more Disney Magic from previous visits in our 'Search Engine' above...
The scheduled pictures below...
We focus on Border Force Searcher passing by on the hi-visibility evening a short while ago (15th). In the first shot here you can see the suction dredger Arco Avon following along behind... Boulogne even creeps into one of these pix again...the Border Force is immensely busy these days as you will know.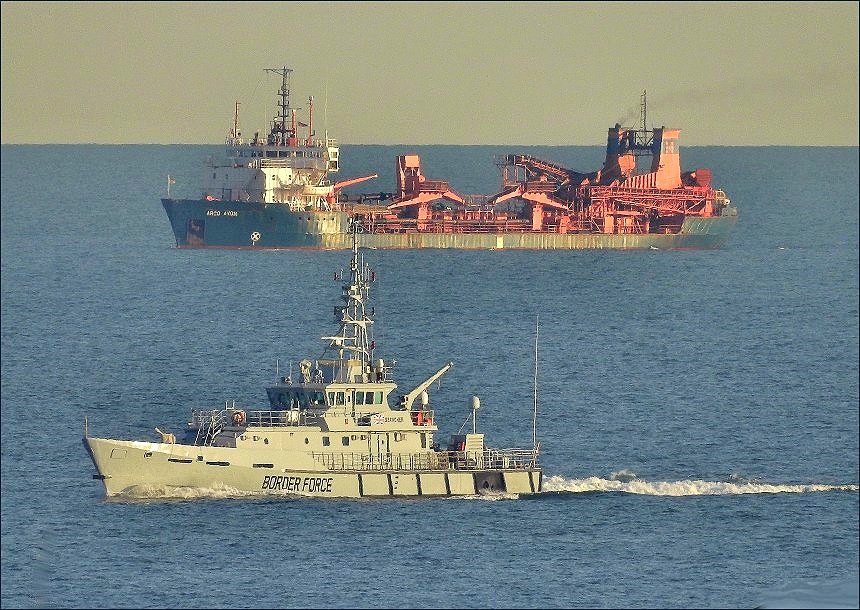 Quadruple whammy!

Just grabbed this arrival picture of the Atlantic Reefer ...looking across the Port..do-able once Arcadia isn't blocking out the light.!.

pictured just after midday Sunday...
And then Sky Princess below on an earlier gorgeous evening...heading to the Mediterranean ( Limassol ) we understand. Shouldn't think it was carrying passengers but lockdown is unlocking down in some of the southern warmer countries, so there may be a cruise passenger or two to be had sooner down there...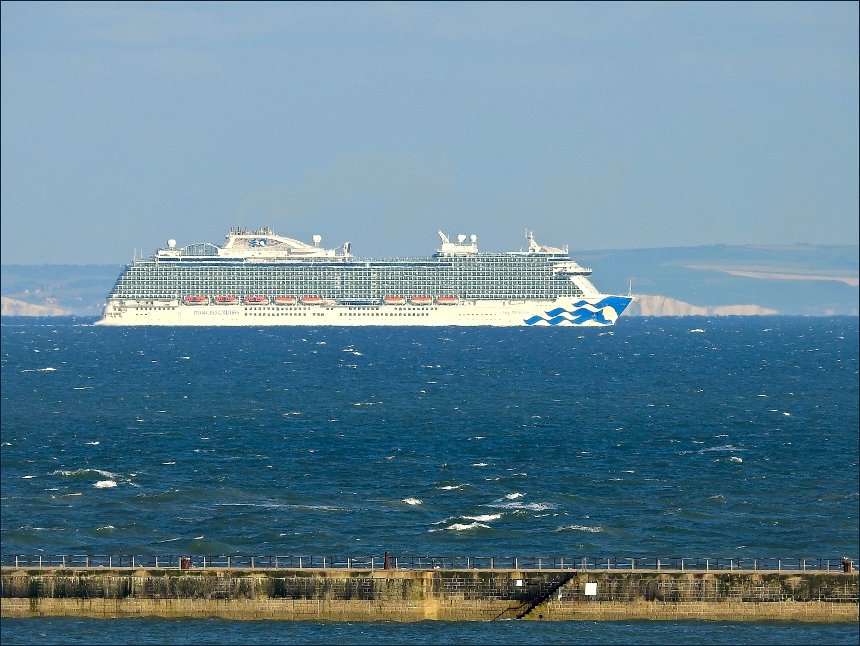 PaulB
Tuesday, 19 May 2020 - 07:28
Post 7018
Sea News, Dover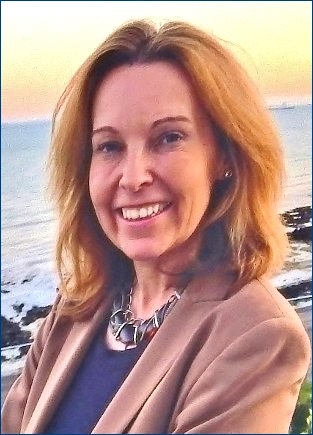 Fighting to save local jobs
________________________
The coronavirus outbreak is having a profound impact. Not just on our health and the economy, but also on how we communicate and how we work. It will do so for some time to come.
When all of this is said and done, nothing will quite be the same. The world has changed. But change is not always for the worse.
There has been such a fast adjustment to different ways of working. I have been so impressed by pace at which so many people have adapted to and embraced these changes, learning new computing and other skills, working on different jobs from their usual one.
Nowhere is change more apparent that in Parliament. Five hundred years of history has been overturned at a stroke. MPs can ask questions, even of the Prime Minister, from their computers and iphones. From this week MPs can now vote over the web for the first time, ever. Changes which would never be possible in 'peacetime' became necessary and Parliament has had to adapt, and will continue to change with the times.
As have schools, offices and even GPs, with telephone and online appointments with doctors now commonplace. Businesses and working practices have changed overnight too. Remote working, once considered a poor substitute for the office, now looks set to be permanent.
But not every business can change in the same way. Right here and now in our area some of the sectors that have been particularly hard-hit are the cross-Channel ferry services, retail and the hospitality industry. That includes the many, many small businesses in our area who will be crucial to our recovery. Many such businesses and workers are benefitting from the grants and loans, tax holidays, direct payment of wages, increases and rule changes for welfare that Government has provided to support them in the short term.
Over the longer term though, we will need to work hard at recovery. For me, that means supporting the many local businesses who are reliant on tourism and the port, as well as ensuring the education and skills training for our area supports the new opportunities that undoubtedly the next phase will bring.
I have been making a strong case to safeguard and support jobs at the port, in the ferry industry and our wider local economy. P&O's financial problems have threatened hundreds of local jobs so I have held talks with company bosses, trade union leaders and Government Ministers. For companies who have used Government support schemes, I have been clear that with taxpayer support must come a commitment to British jobs and our local workforce.
It is undoubtedly going to be tough in the weeks and months ahead. But be in no doubt that I am standing up for our community and our livelihoods.
Natalie Elphicke MP
We want to say a big 'Good Luck' to Natalie in her effort to save the P&O jobs here in Dover and beyond.
* *
Harking back a few days and we see the evening departure of Oceana on another one of her channel runs...however because the visibility was so good...we were tempted to mostly feature Boulogne here. The super alert will notice I have used the same shot as shown a few days ago...of Boulogne and the Varne lightship...this so they are all together for future reference purposes.
Here we go...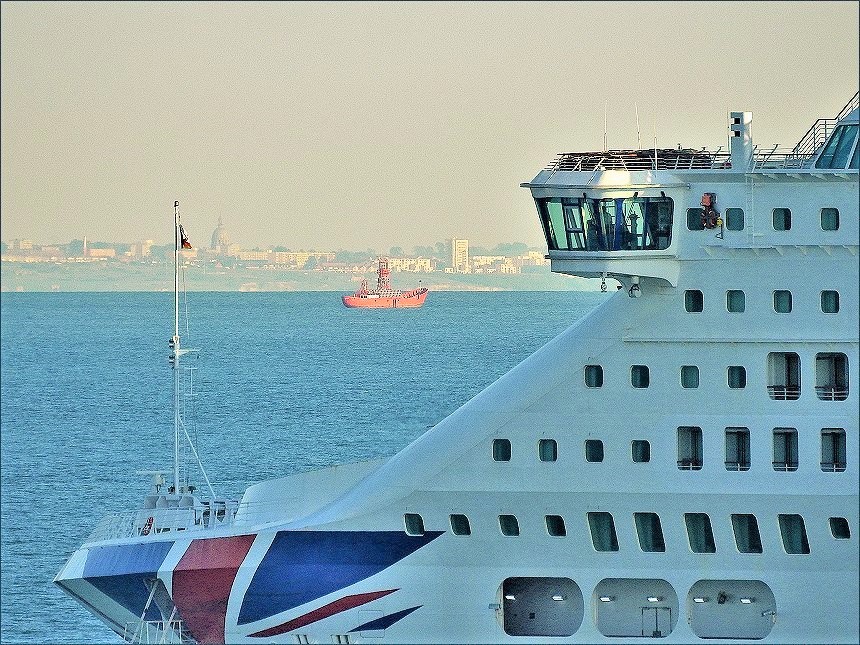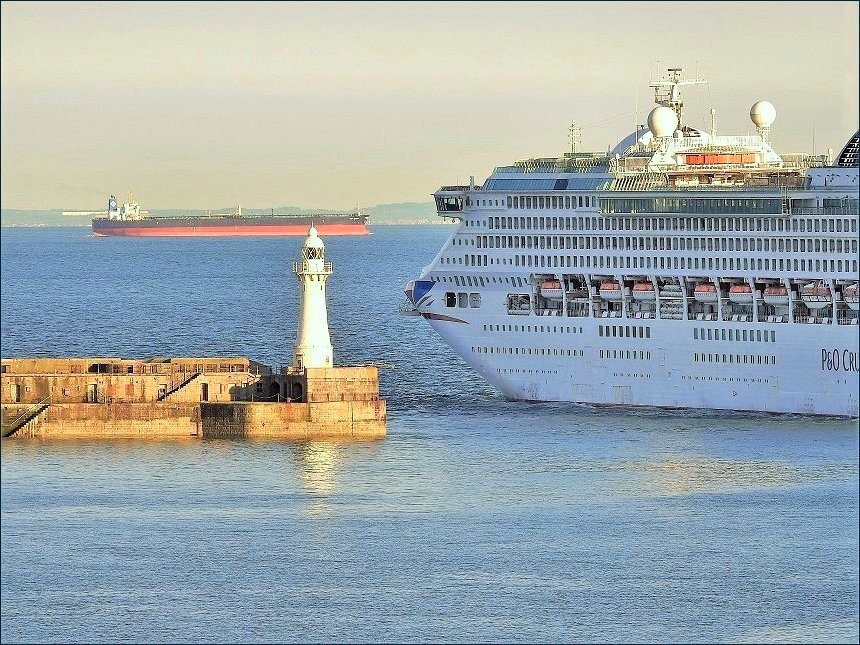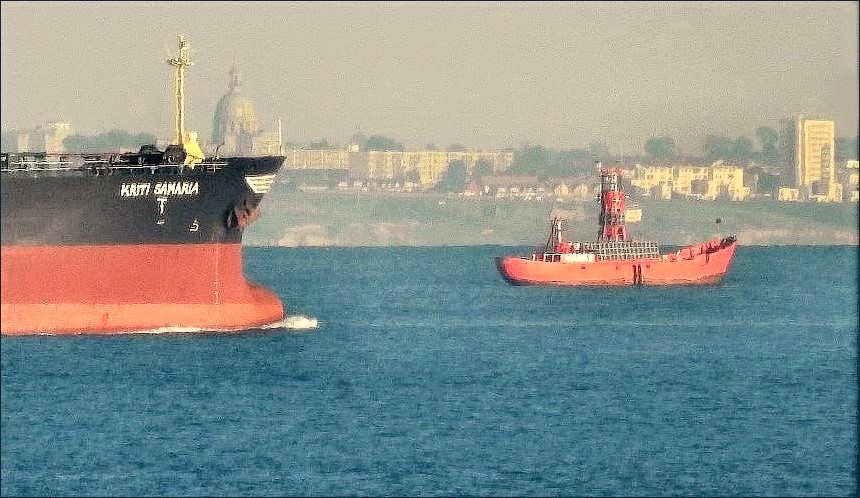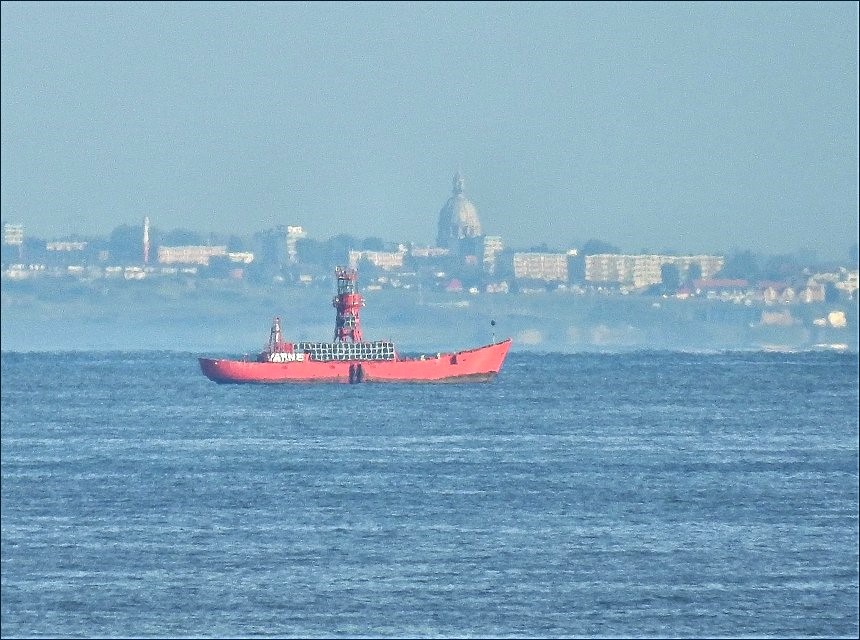 Mike informs me that TTMS Viking ( see posts below 7015, 7014 ).... is now back in Tilbury.
PaulB
Great collections from Mike below...Don't Miss Those... plus the info

Thanks to Nigel too...

Thanks Brian - will have some general Border Force shots tomorrow..


Monday, 18 May 2020 - 06:03
Post 7017
Mike J., Dover
A couple of items that I forgot to mention in my re-posted post.
Paul mentioned that berths 8/9 ere back in use - the missing anchor is no problem in normal weather but if the weather deteriorates with strong southwesterlies & the ferries start to be needing to use their anchors again P&O will probably shift back to using pier Echo & 6./ berths.
So the search continues . . . . . .
AIS shows the DISNEY MAGIC due in at 0445 on Tuesday, on what is probably a positioning voyage from Florida in the hopethat cruising in European water will restart soon.
The odd thing is why she is coming to Dover when her first cruise of her 'European Season' is supposed to start from Barcelona on 7 June.
Perhaps Disney prefer Dover to Barcelona ? Quite right too !
Finally a couple of pix courtesy of Dover Strait Shipping, taken from angles that are no longer available to the public since access to the Admiralty Pier was closed after damage to the new temporary walkway in November gales with no signs of any start to repairs.
A privilege much missed.
The UNION GARNET on WD5 with an unusual cargo of citrous fruit from South Africa instead of the usual bananas on Saturday.
Rather rather a nice hull colour I thought [if a little rusty] previously used in the past by P&O's General Cargo Division after they amalgamated their cargo ship companies & also used by P&O's Orient Line cruise ships.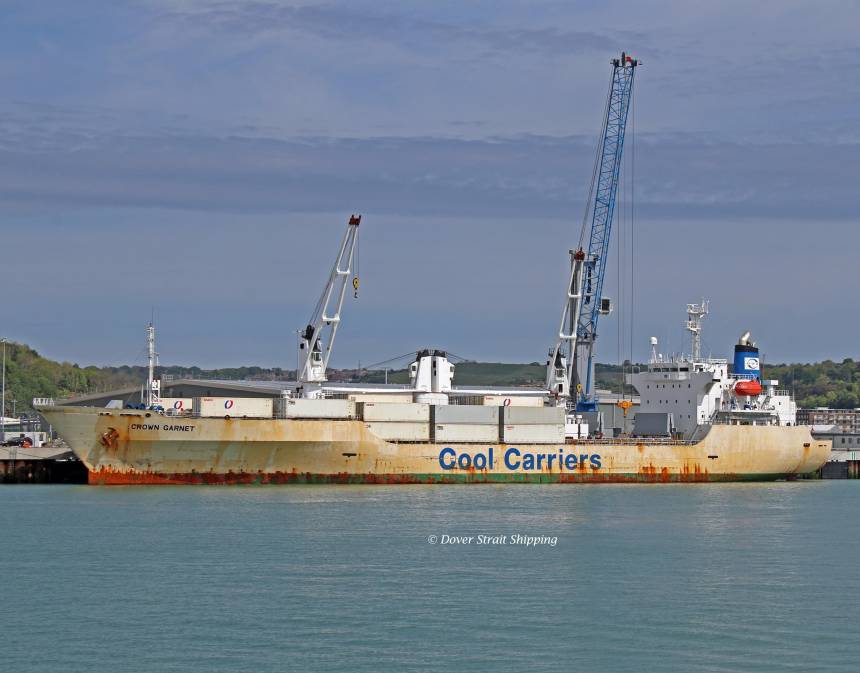 Sunday afternoon saw the arrival of the ATLANTIC REEFER who was preparing to sail for Vlissingen at 0230 Monday.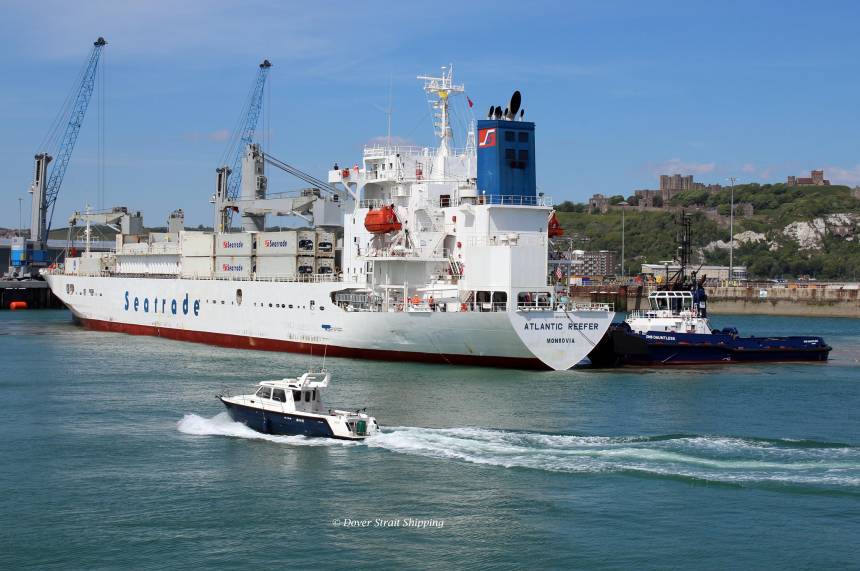 Monday, 18 May 2020 - 02:43