Saturday, 22 February 2020

WWW.DOVERFORUM.COM/SEA-NEWS
Sea Pictures from DOVER: Featuring all the ships that come and go and work at the Port of Dover ..
... with some further coverage of the surrounding ports.
Sea News Dover
Use our SEARCH ENGINE below to find all sorts on the SEA NEWS pages....type in the topic and away you go, or if you have the post number, just type it in the box, more than
- 6750 -
nautical posts now. Posts are welcome. just click 'Add Your Comment' below. Max of 5 pictures preferred although we can stretch that for special stories..
Sea News Editor Paul Boland - send info or pix to dover7@msn.com. Always welcome.
See

SCARLET LADY

pix below... scroll down page..
Port of Dover, DFDS, P&O say...Travel with Confidence from Dover.. see 6786 below.
DFDS Refit Investment...luxury lounges 6821.
P&O FERRIES - POST BREXIT travel info below 6780.
P&O NEW FERRIES Images below 6775...
P&O Ferries - new Catering Apprentices see 6790...
Book with P&O - Free Fuel see 6760
Visit us here in White Cliffs Country see 6772
Natalie Elphicke MP - thoughts post Brexit 6784
Just type the post number in the Search Box below.
SCARLET LADY:

Night to Dawn pictures by ANDREW WOOD - a video on YOUTUBE.
Click link.....
https://www.youtube.com/watch?v=amTK24BZPtc
-
NEW UPDATE:
To show your pictures at their best..it could be worthwhile resizing before posting to
860
pixels wide. Our new standard size.
All pictures on these pages are the copyright of the owners and must not be reproduced without permission.
Post 376
Tempie Williams, Crawley, West Sussex (albert_tempie@yahoo.co.uk)
Dear Members of the Dover Forum,

I am posting my ancestry request for information below upon the kind response suggestion of Mr. David Hannent FRICS FBEng MCIArb ,

" Hi Seasons Greetings.

I find your quest very interesting but I really am not into this kind of research. I have my own family tree which is sadly neglected due to me having to work all hours. I am sure those you have contacted will help or perhaps try doverforum.com and post a request - there are many there that have time and knowledge.
I wish you well

David "

Firstly, my name is Tempie Williams. I am American- born with deceased American- born parents. My husband is British -born with Dominican parents and we live in Crawley, England. I accidently just came across the 'Dover Historian' website and with great interest! I sent my request to the publisher and several others in England, US and Dominica , as I am coming to you here, asking if anyone could assist me in finding out more information or point me in the right direction regarding:

A slave according to the 'Slave Registers of Former British Colonial Dependencies, 1812- 1834 and Dominica General Registry of Slaves … stating his:

Estimated birth year: is abt 1800, Age: 17, Nationality: Creole, Gender: Male, Parish: St. Joseph, Colonial Dependency: Dominica , Name of owner or Plantation: Dover Estate.

Secondly, I believe according to all my research that he could be the father to my 3rd great grandmother born in North Carlina according to , USA on my mother ( born in Alabama, USA) ancestry lineage. I am finding fascinating discoveries in both my mom and dad's ancestry lineage. I have a ancestry wiki page that I tried to post here and was not able to but coulf provide if needed to give better detail to my story.

Again, If you have any information or can point me in the right direction, I would be most appreciative. I can be reached at: albert_tempie@yahoo.co.uk

(P.S. I also sent an email to: Mr, Paul Boland : dover7@msn.com, regarding my posting of this request.)

Kind Regards,

Tempie Williams (of Mr. and Mrs. Albert and Tempie Williams )



Sunday, 5 January 2014 - 06:30
Post 375
vic matcham, Dover
I hope they are not I fixed them there but that years ago.

Saturday, 4 January 2014 - 14:06
Post 374
Ray H, Dover
Those steps look familiar, i suspect they have broken away from the beach access opposite the Gateway Flats!

Saturday, 4 January 2014 - 10:28
Post 373
PaulB, Dover
Just come back on to add this picture to the ones in the post below..as just noticed what has surprisingly washed up.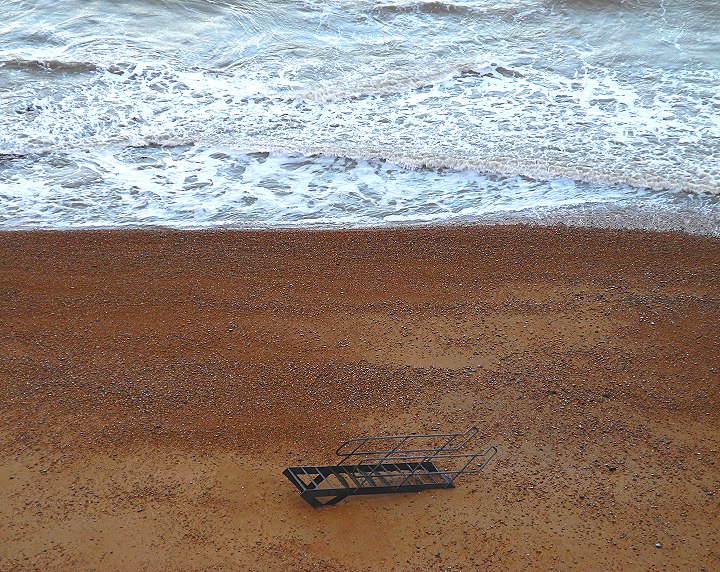 ...Yes indeed its a gangway or walkway of large dimension and the stormy weather clearly took it from elsewhere and deposited it right here on the beach. If anyone is searching for a missing stairway then here she is... I'm still waiting nay hoping for a pot of gold to turn up one morning! What are the chances??

See also the pictures below just added earlier.
Saturday, 4 January 2014 - 08:22
Post 372
PaulB, Dover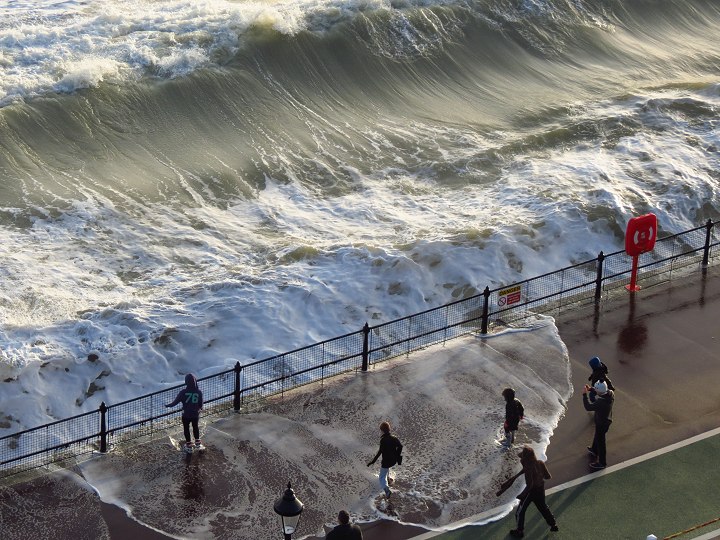 WATCH OUT GUYS ! THERE'S ANOTHER ONE COMING...
These youngsters had much fun yesterday dodging the seafront waves. The relentless spray and pounding had them hugely entertained for ages. Much better than video games!!? And fairly safe to do in Dover but not safe everywhere as we hear on the news. But of course nobody should take any chances.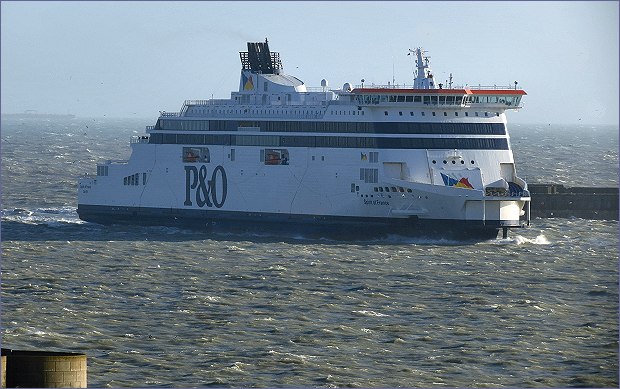 The Spirit of France was back in full service yesterday after its refit, see also post further below. Here she is arriving back into harbour in the choppy afternoon conditions. The hazardous weather goes on...the ferries had to cope with a Severe Gale 9 out in the Channel again yesterday.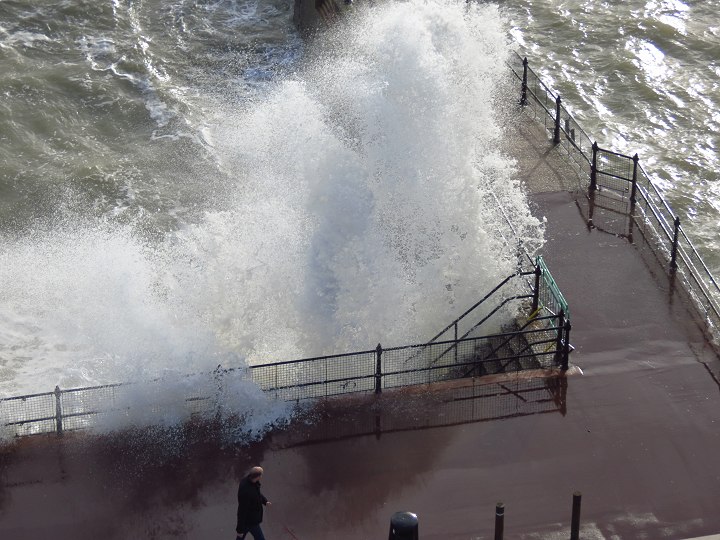 This chap at bottom of picture was caught by surprise by the leaping wave as he strolled along yesterday. Whoooosh!
Saturday, 4 January 2014 - 07:26
Post 371
JanT, Dover
As seen in some of the pictures below our weather sure has been relentless, and certainly would not have wanted to be crossing the channel in that, one minute wind and rain the next sun.

And like many others have suffered from the storms losing tiles and guttering, pretty scary indeed.

Friday, 3 January 2014 - 12:34
Post 370
PaulB, Dover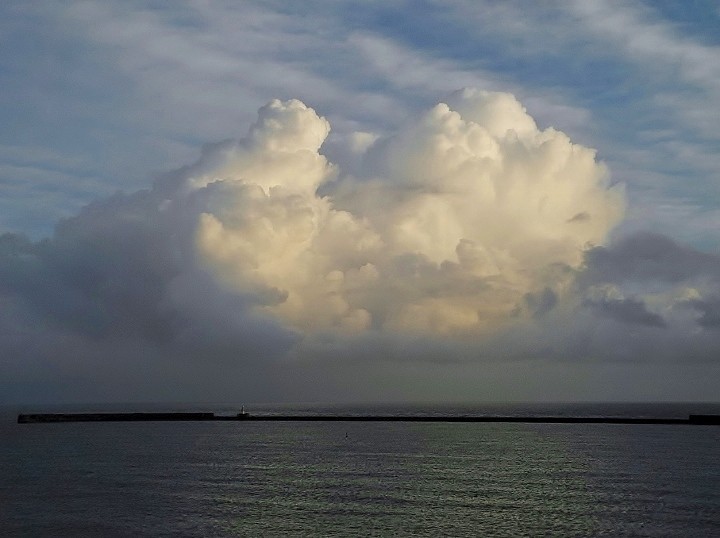 The sky yesterday over the channel at about 3.30pm. Hard to say whether it was the calm before the storm or the calm after the storm as there are so many storms now that ones head is in a spin from the buffeting. But it made for an interesting cloud formation anyhow.
P&O's superferry the Spirit of France is just back from a refit which was carried out in fine style and on time despite the awful weather. Came back into service last night but conditions being what they are we have no picture of the ship as yet...but here is one I made earlier ! Incidently the Spirit of Britain leaves for a refit today.
The Spirit of France...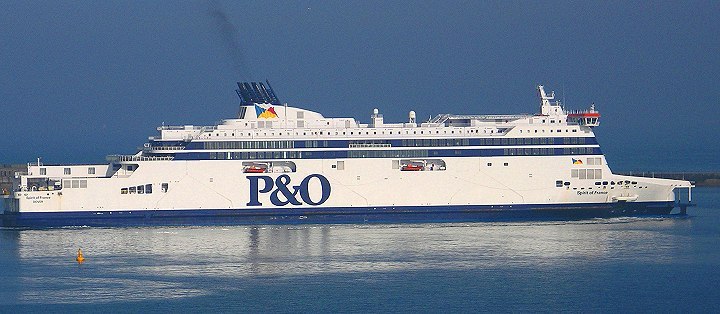 Oh dear! sorry to hear you had tiles off your roof Colette. A number of people are reporting the same, very difficult times for guttering, tiles, and everything else. More high winds on Sunday too I believe. Batten down the hatches!
Yes lovely picture from Samphire. Is it au naturelle or is there some Photoshop happening? Lovely soft tones. I heard on the quiz Pointless recently that Samphire is actually a wild seaside asparagus...there you are, not a lot of people know that.

ADDED: the Prince of Wales pier is open to the public again. Some of the safety fencing was destroyed by the high winds and it was closed for safety reasons. Some of the guys that fish down there did so on the beach instead. They will be glad to see it open again. However as the weather is horribly unpredictable these days its probably best not to go down there in high winds.
Friday, 3 January 2014 - 08:15
Post 369
Barry W-S, Dover
That's a great haunting photo of wccp at Samphire Hoe taken by Stephen, it brings to mind shades of David Lean's 'Great Expectations' no less

Thursday, 2 January 2014 - 20:50
Post 368
howard mcsweeney, dover
sorry to hear that colette i have been lucky so far - touch wood.
not actually the sea here but a lot of it is in the photo taken by stephen walker of wccp at samphire hoe on the 27th december.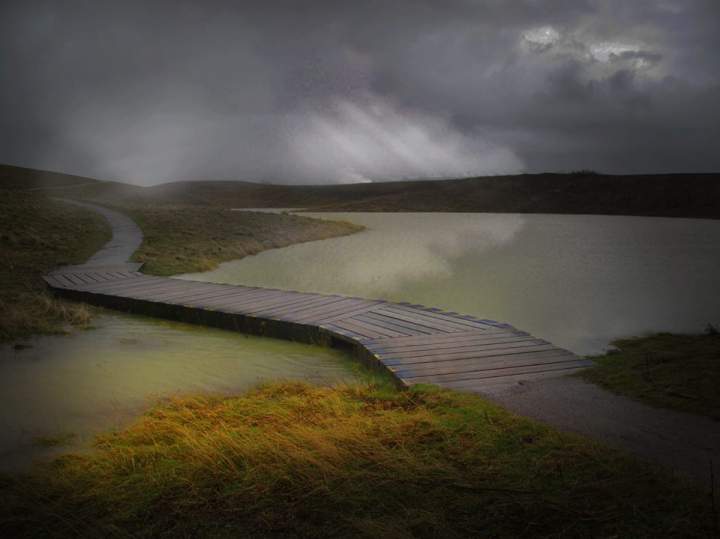 Thursday, 2 January 2014 - 19:36
Post 367
Colette Boland, Dover
Some Fab photos on Sea News depicting the ever changing weather conditions we are experiencing these days. We have suffered some tiles off roof with leaks in the house. Today gives us a chance to rectify some of the damage before the next onslaught tomorrow & over the weekend.
Hope your telly is back to normal today PaulB

Thursday, 2 January 2014 - 11:52
Post 366
PaulB, Dover
We are enjoying a brief lull today after some atrocious gales and conditions yesterday.... during this stormy period right across the area there have been reports of trees down and some structural damage.. many houses have suffered slate loss etc etc and on a more minor scale even yours truly's TV picture went for a Burton yesterday, breaking into coloured boxes and then failure. Havent seen that kind of thing since pre-digital. The weather seems to be dominating everything at the moment as we stagger from one storm to the next. This is the day to get out and about as we understand there are more Atlantic lows trundling our way for Friday and again on Sunday.
The picture below shows the channel this morning...approximately 8am. The sun is promising to break through.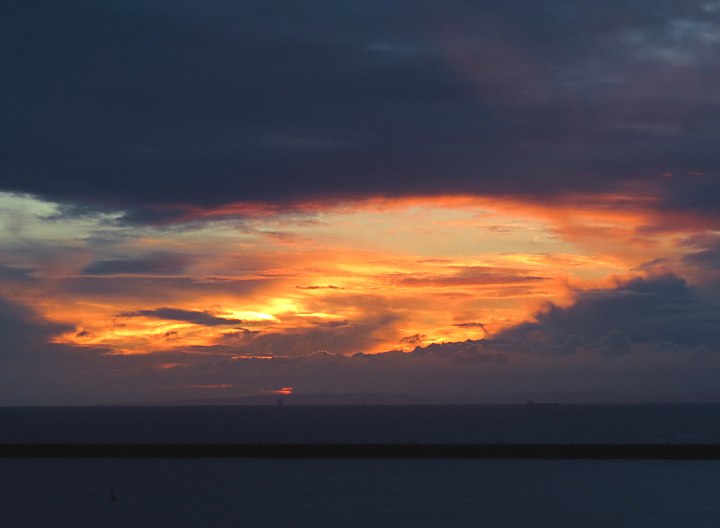 The Calm after the Storm. All operating normally at the Port.
Thursday, 2 January 2014 - 08:29
Post 365
PaulB, Dover
You dont need me to tell you that conditions have been awful. Here are another couple of pictures this time taken yesterday. The storms go on....and heavens with more to come by all accounts.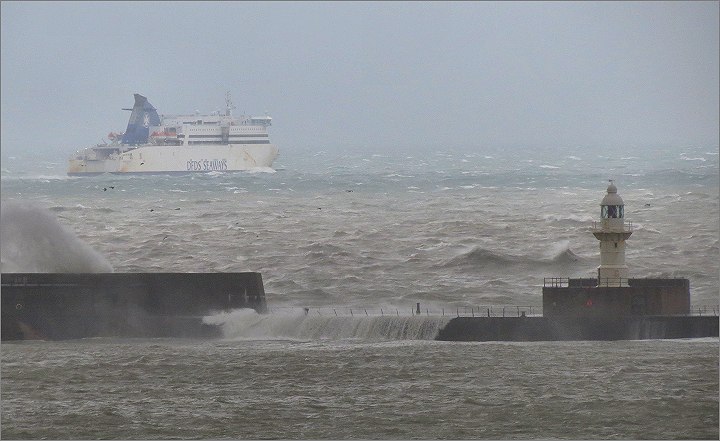 The picture above shows the Dieppe Seaways yesterday battling its way to Calais. I watched the ship leave and it is looking more than a tad weatherbeaten at the moment. But I guess no surprise there...normally a very sleek looking ship and generally immaculate, but the weather takes its toll.
Below we have a durability test about to take place on one of the new seafront lights. Whoosh it got a pasting and a pounding. Nice pale light they emit...all are working well save for one central one...I mention that again in case the guys from the Port are looking in.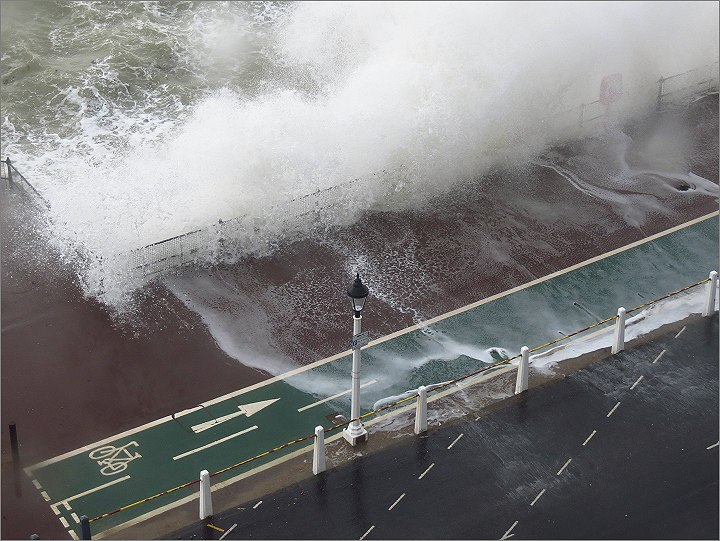 Nice picture below there Howard from Robert Bradford...always like to see the ones from the heights. Very welcome.
Wednesday, 1 January 2014 - 08:26
Post 364
howard mcsweeney, Dover
dramatic photos there paul, the previous day the wccp team were up st martin's battery and it was all very different.
photo courtesy of robert bradford - wccp.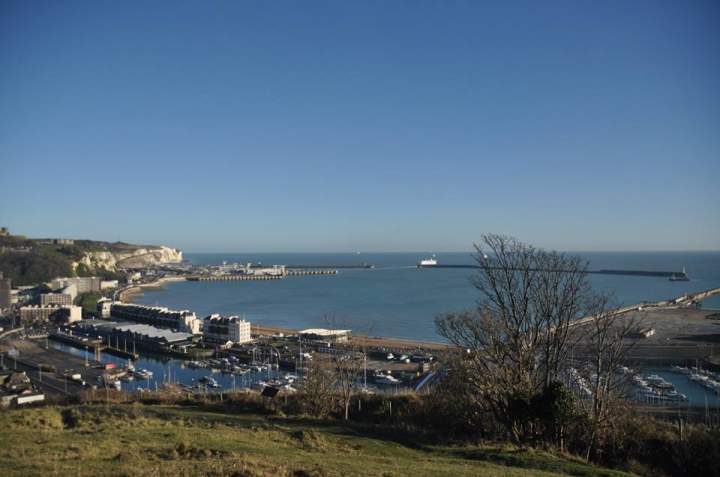 Tuesday, 31 December 2013 - 13:16
Post 363
PaulB, Dover
Once again we got a fierce battering this morning here in Dover. A severe FORCE 9 Gale shivered the timbers all about and made conditions horrendous in the harbour and out on the Channel in particular. Sailings continued but it was treacherous out there...here we are with the exclusive pictures...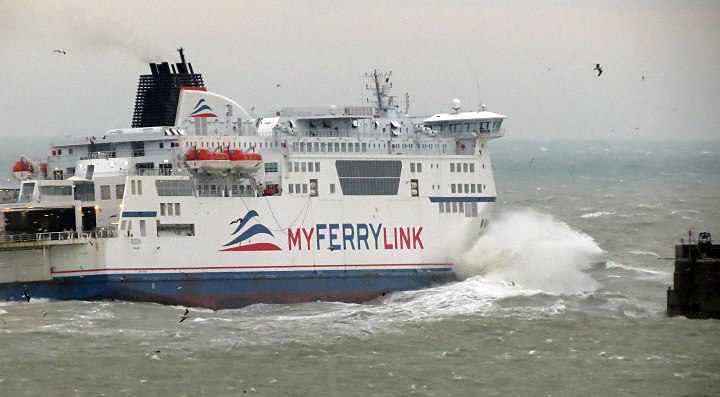 The picture above shows the Rodin. As soon as it stuck its nose out into the open sea..well it came in for an immediate hammering. This is literally a few metres outside harbour. Let the onslaught begin.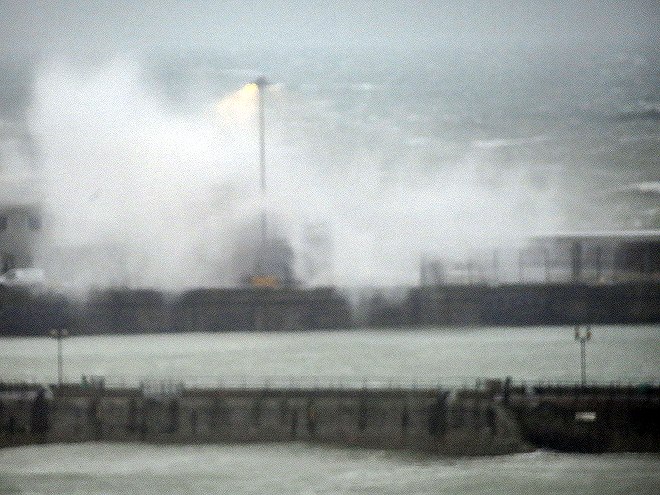 The pic above is not sharp but I thought it still worth showing for the nigh impossibility of the conditions. Underneath that mighty wave is the Cruise Terminal swamped and dwarfed. The white van to the mid left shows the scale.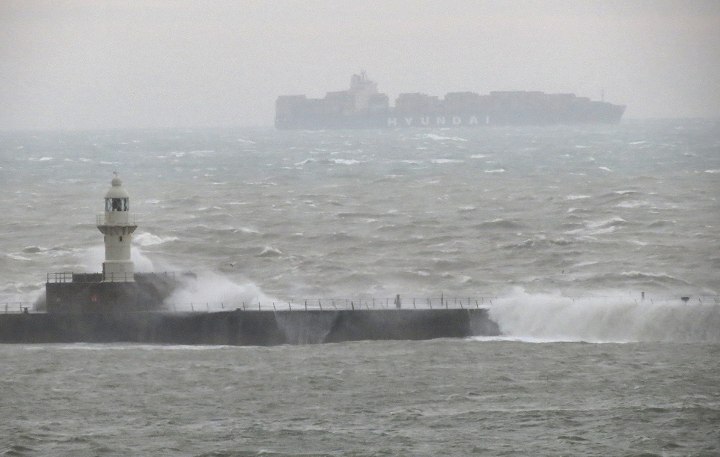 The waves powered over the outer protective wall too. Even the long distant container ships struggle.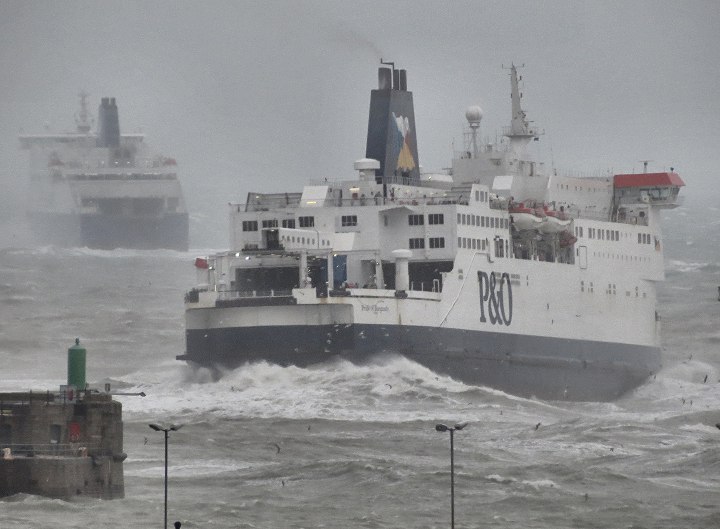 The Pride of Burgundy takes a mighty roll..its nose sinking down just outside harbour and its stern pushed round. The DFDS vessel ahead powers towards Dunkerque. These two final pictures above and below were taken a tad later..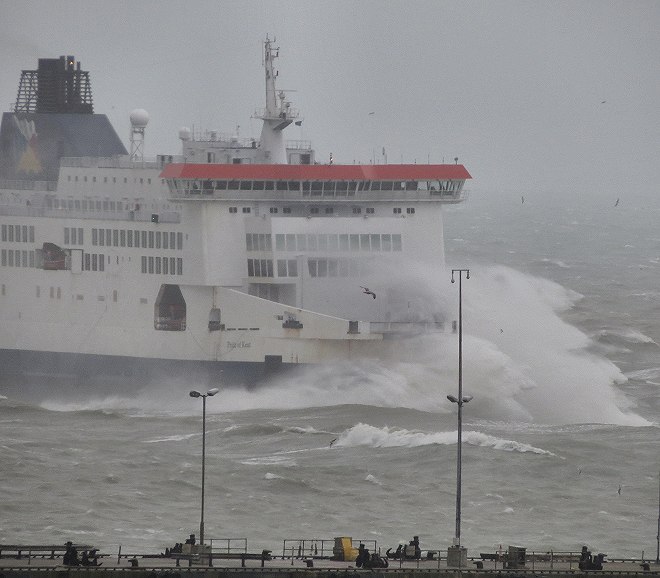 The Pride of Kent returning home...with huge difficulty. Anyone onboard will be feeling it by now, having come across the Channel like that.
Bit of a shocking change in the conditions compared to the tranquil pix in the post below.
Monday, 30 December 2013 - 15:31
Post 362
PaulB, Dover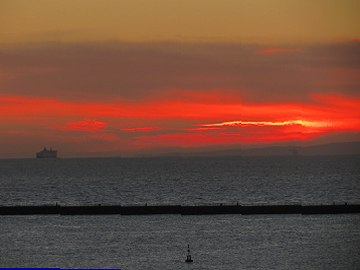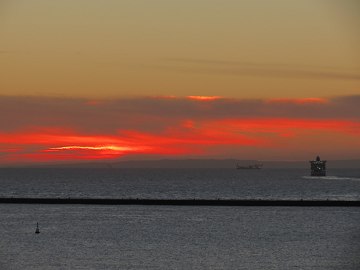 The pictures show the channel early yesterday morning when a calm sea and a prosperous voyage was the order of the day. Two ferries are making a pincer movement towards Calais and into a blazing sky where the sun has yet to appear. Yesterday was a gorgeous Sunday and brought lots of strollers out in force along the prom... all enjoying the easy facilities. Alas nothing at all like it is today. As I write the howling gale and driving rain has made travel conditions very tough once again for all ferries and the teams that keep them moving, both on and off ship. But they keep right on going. The trucks rolling through here and the container ships here and further afield are still keeping the nation's shops fully stocked.

ADDED EXTRA: some horrendous conditions in Dover once again. Will have pictures following later.
Monday, 30 December 2013 - 07:13
Post 361
PaulB, Dover
FERRY FIRE: There has been a fire on a DFDS ferry in the North Sea. Fortunately nobody has died although initial reports suggest up to 7 people were taken to hospital by two Air Sea Rescue helicopters. They were airlifted off the ship while on the high seas, always a tricky operation in any situation, but this time they were fortunate in that the weather in the notorious North Sea was calm. Initially when news breaks about anything ferry related, the name of Dover usually pops into the equation...but this time it was the King Seaways operating between Newcastle and Amsterdam.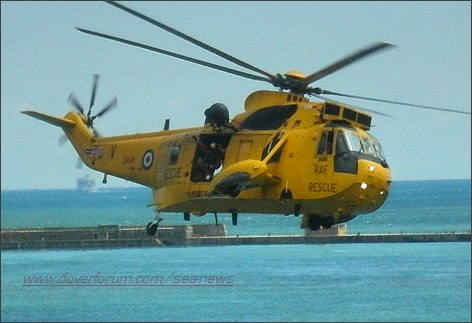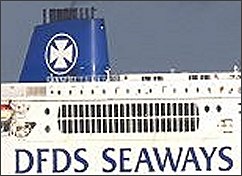 The Ferry had approximately 950 passengers and 130 crew onboard.
I dont have a copyright free picture of the King Seaways but of course it is in similar colours to our ships here in Dover.
Sunday, 29 December 2013 - 07:24
Post 360
howard mcsweeney, Dover
looks a total mess but usually the harbour board staff are very quick to sort things out after a storm - wasn't aware of new lanterns on the promenade.

Saturday, 28 December 2013 - 13:01
Post 359
PaulB, Dover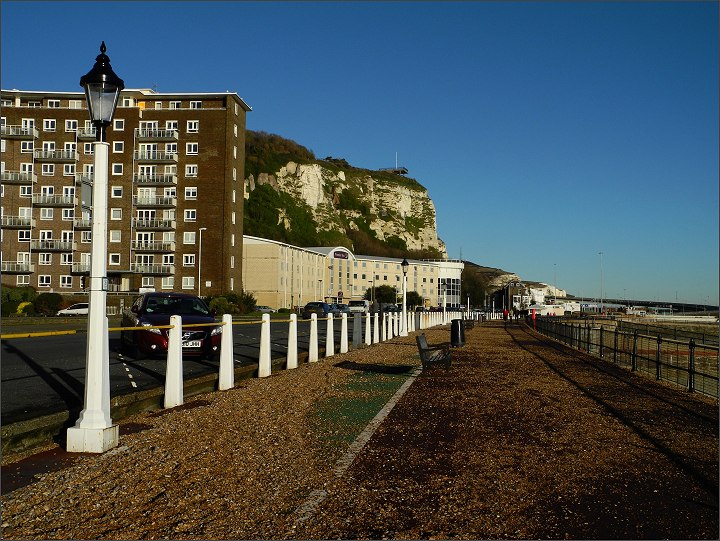 You can see how much of the beach came up on the promenade in this picture above. They do try earnestly to get it back to its rightful location and off the walking area as it can get difficult for some people to negotiate, like those in wheelchairs for example, but just as soon as the way is clear.. up comes the next and regular storm and with thundering spray the beach is back on the prom again (and those waves dont half thunder against the seafront wall I can tell you !). At the moment it seems a never ending task..with even more stormy conditions forecast for next week.
SEAFRONT LIGHTS: Also in the picture above you will notice the new seafront lights and very welcome they are too. All along the seafront from The Premier Inn to the Yacht Club all the lanterns are new. And all working fine, save for one chappie in the very middle of the aforementioned line. But that is nothing more than a teething problem I'm sure.
They emit a white light now rather than the orange glow we were used to...but environmentalists say that that's a better option with regard to light pollution. But whatever colour the light, its very good to have the seafront properly lit again so that allcomers can see where they are going.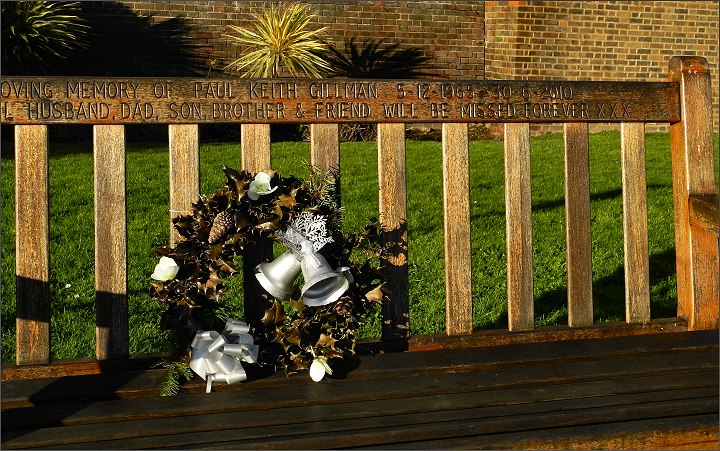 The picture at the top was taken on Boxing Day, as was the sad one with the wreath immediately above. As you can see someone is clearly being sadly missed through the Christmas period. The lonely wreath is a poignant reminder to us all of the transient nature of things in general and life in particular.
* *
Yes Howard

..twas a bit chilly round the dangly bits even though the weather was relatively mild. As we stood there and the Lifeguards hollered out with gusto " 4 minutes to go" it seemed to get chillier and chillier, but that might have been in anticipation of the sudden splurge to come.
That water looked....cold!
Needless to say yours truly remained well wrapped up while holding on to the camera for dear life, pressing the shutter button at intermittent intervals and hoping for the best !

Saturday, 28 December 2013 - 06:49
Post 358
howard mcsweeney, Dover
great photos paul, despite the unseasonably mild temperature i bet those chaps wearing what our australian friends refer to as "budgie smugglers" were feeling the pinch.

saw ronnie philpott in town earlier trying to extricate her dog's molars from the leg of a member of the public, thinking back she must have been on her way to the seafront.

Thursday, 26 December 2013 - 20:44
Post 357
PaulB, Dover
The Annual Boxing Day dip took place at 12 noon today. A big turnout of watchers and dippers enjoyed the springlike sunshine here in Dover.
I took a few pix with my little pocket camera and here they are.
The first one shows 100% pure Dovorian Beef waiting for the whistle...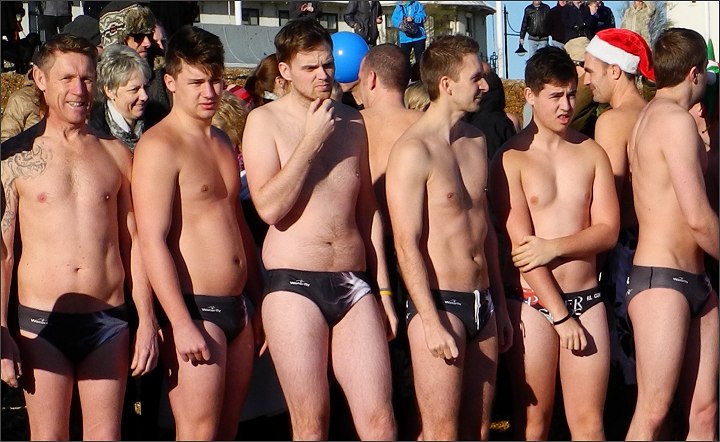 Whoosh and they were off at breakneck pace. They came thundering right by me like a herd of wild unfettered untamed horses and plunged into the surf.
As soon as it all calmed down a tad I ventured forth to take the few shots.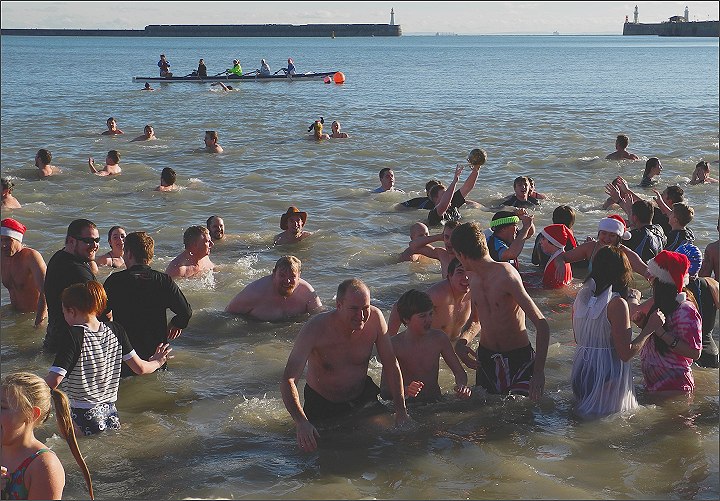 In the words of Bobby Darin..."they were a splishing and a splashing"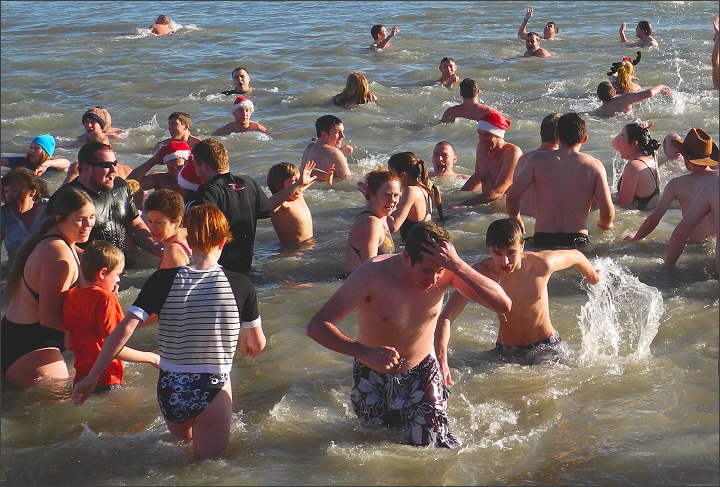 And here are some very colourful ones doing it in fine style. Love those cutesey pink bows !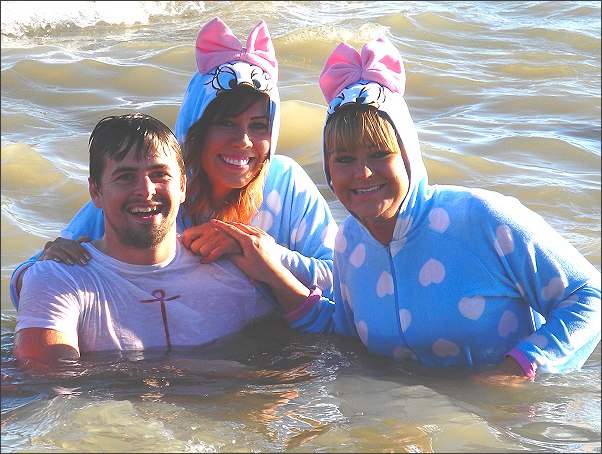 Didnt see many of the old familiar faces there...but bumped into our old friend Vic Matcham who was among the spectators. Vic has been one of the most colourful dippers in recent years, that was until health problems put him out of the fray. He still hopes to do it again one day. But Vic tells us his wife Lesley isnt too well....so here especially for them is a picture from the heat of the Boxing Day action in 2010. Vic on the left and Lesley supporting him on the right as ever. Get well soon Lesley.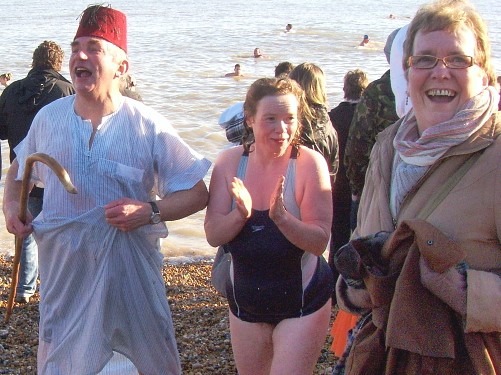 Thursday, 26 December 2013 - 17:15