Thursday, 23 January 2020
Sea Pictures from Dover....

WWW.DOVERFORUM.COM/SEA-NEWS
Featuring all the ships that come and go and work at the Port of Dover ..
... with further coverage of the surrounding ports.
Sea News Dover
Use our SEARCH ENGINE below to find all sorts on the SEA NEWS pages....type in the topic and away you go, or if you have the post number, just type it in the box, more than
- 6750 -
nautical posts now. Posts are welcome. just click 'Add Your Comment' below. Max of 5 pictures preferred although we can stretch that for special stories.. Sea News Editor Paul Boland - send info or pix to dover7@msn.com. Always welcome.
Book with P&O - Free Fuel see 6760
NEW UPDATE ..just in:
To show your pictures at their best..it could be worthwhile resizing before posting to
860
pixels wide. Our new standard size.
All pictures on these pages are the copyright of the owners and must not be reproduced without permission.
Post 6746
Sea News, Dover
Maritime Skills Academy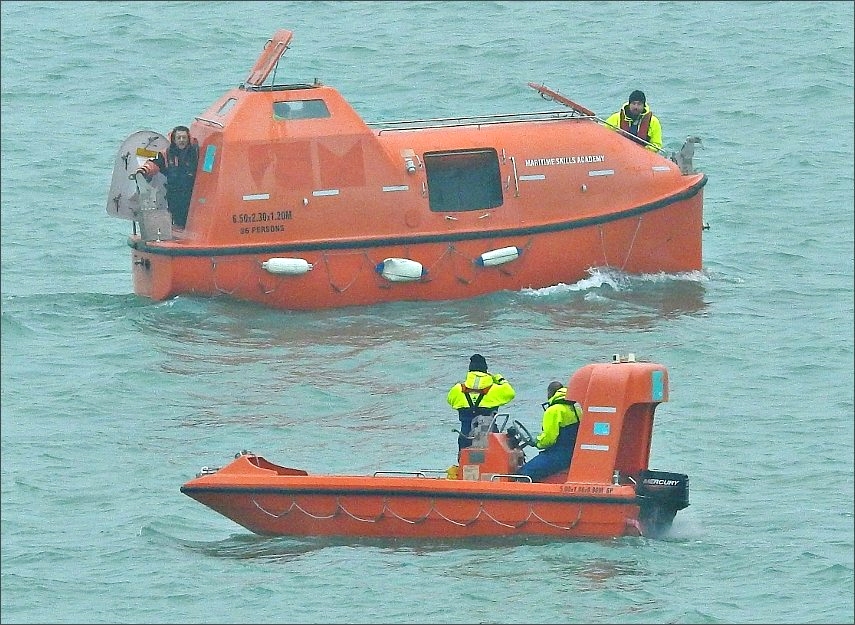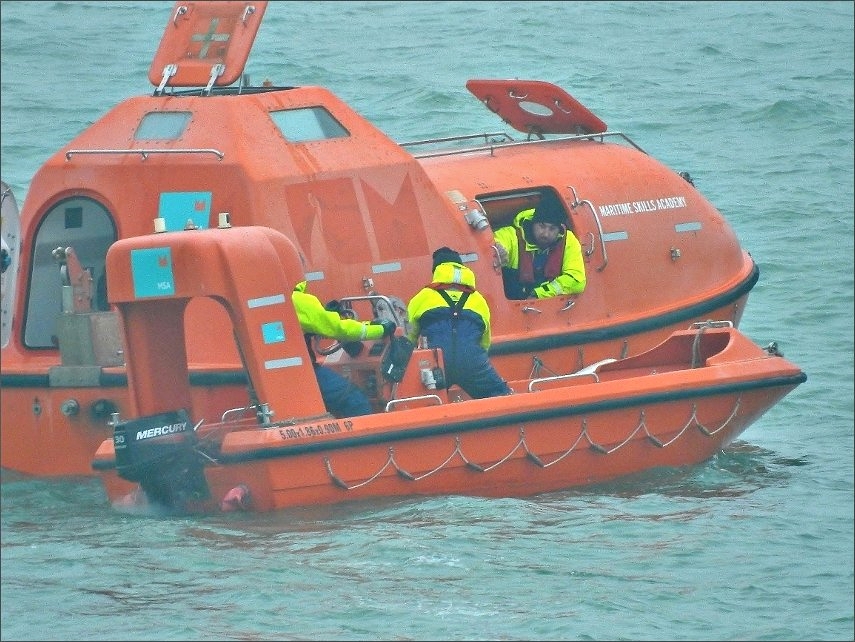 Some pictures above of the Maritime Skills Academy out there in the bay ( Dover Harbour) doing some training exercises on Wednesday this week. It was very misty/foggy at the time but when they came in closer to shore we managed to get some images and there we are above. They always make for colourful interesting pictures.
The picture below is from their previous sojourn in December, had the image but in the rush at the time, forgot to add it to the other pix used...doh!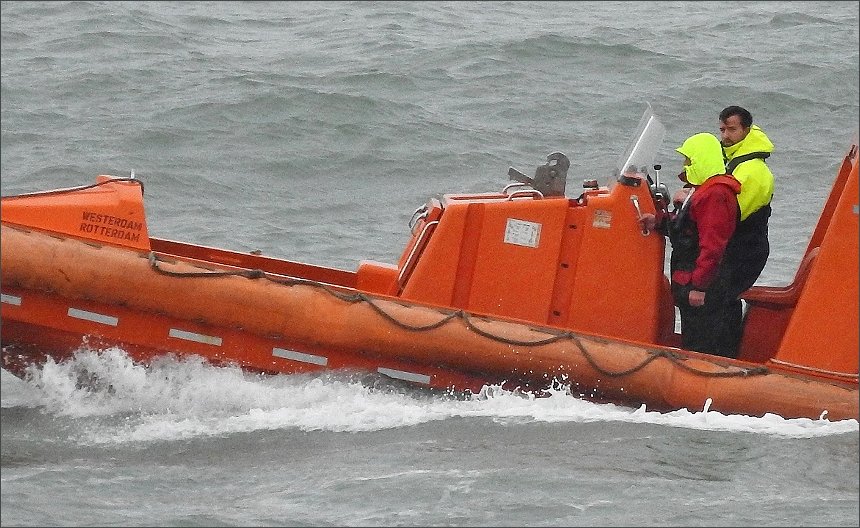 Anyway ...made up for it now.
Thanks Mike for the pictures and the info there on Erskine Childers...know him only too well from my schoolbooks..

Brian very amusingly clever...lol!


Brilliant analysis of the scene Mark...really enjoyable..was the oddest sky but most interesting to read your contribution.

PaulB
Friday, 10 January 2020 - 07:49
Post 6745
Mike J., Dover
Under cover of heavy rain the very smart 43mtr superyacht ASGARD came into Dover Thursday morning from Ymuiden & berthed alongside the DAVID CHURCH.
Built in Germany in 1993 as the HEITAROS she is now British-flagged & had a major refit in 2014.
More info on her on the 'net.
It was not until mid-afternoon that the rain eased to a drizzle & some unsatisfactory photos were obtained, almost invisible up against the CHURCH.
She is expected to sail Friday morning.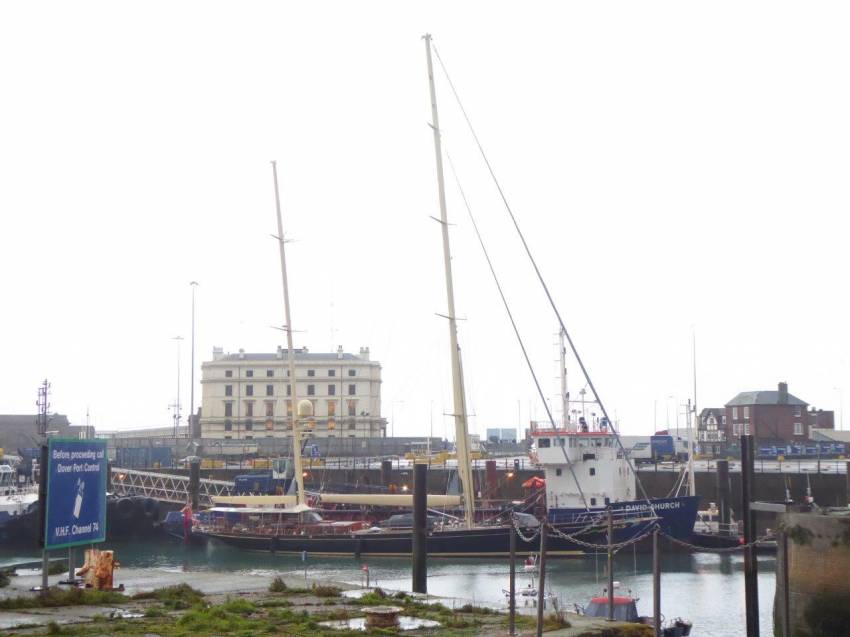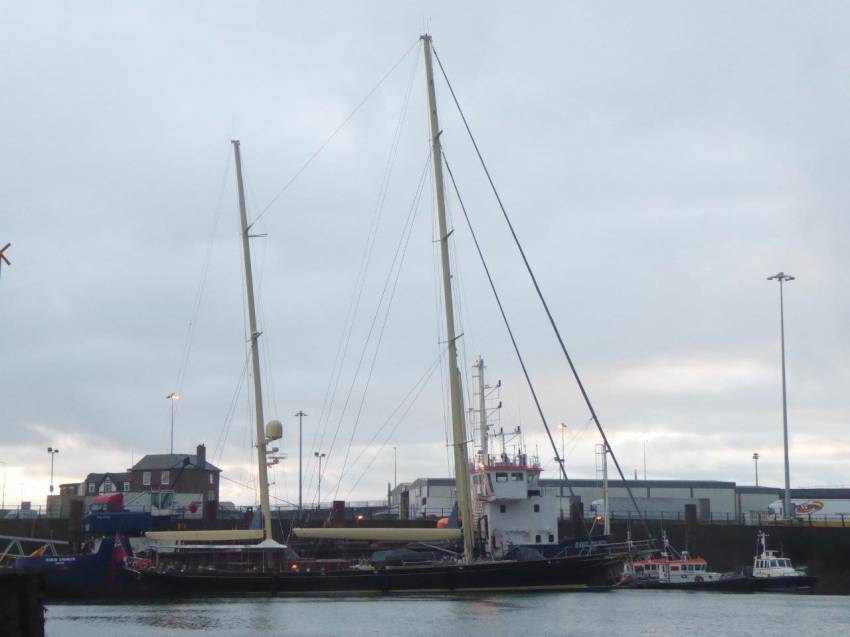 Her name is interesting, being the same as a yacht that was involved in 1914 in gun-running from Hamburg to Howth [near Dublin] when owned by Erskine Childers who supported the Republicans during the Irish Civil War despite a long career with the British Army.
The original ASGARD is preserved in Dublin.
He is also remembered as the author of the novel 'Riddle of the Sands' written in 1903 which had a major influence on British Naval policies before WW1.
Thursday, 9 January 2020 - 23:26
Post 6744
brian dixon, dover
yes paul it do, but that's the score to bach to the future

Thursday, 9 January 2020 - 14:50
Post 6743
Mark Rushton, Northants
Well you've done it again ! Another fascinating skyscape. The horizontal lines do look like jet con-trails, it has to be said, but from what ? Looking at the Flightradar payback from dawn on the 4th Jan shows no obvious candidates over the channel, but there is a very busy corridor running NE-SW broadly aligned with Antwerp - Paris that could correspond with what we're looking at here. Yes, it's about 70 miles from the camera, but given the altitude of the planes it's not inconceivable - what's unusual is the high persistence of the trails.

Thursday, 9 January 2020 - 11:18
Post 6742
Sea News, Dover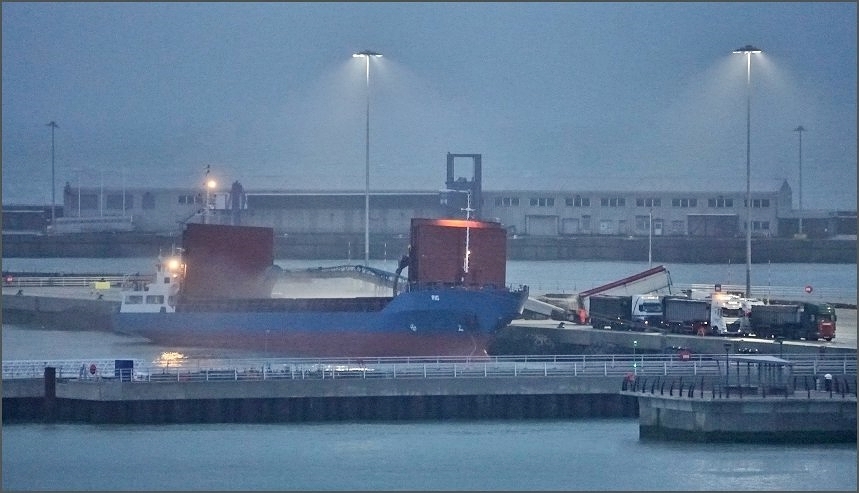 We have another ship in at the 'grain terminal' WD4...this time its general cargo ship RIG. The picture above shows her yesterday morning. The picture itself looks like it was taken at night but no it was actually taken yesterday morning at 07.44...through the rain gloom mist etc etc...it was that kind of day...the wailing fog bell wailed in the foggy conditions. We did hear that they were removing said bell but...
Another pic below of the Pacific Reefer approaching on Monday morning, to follow along from yesterdays shots.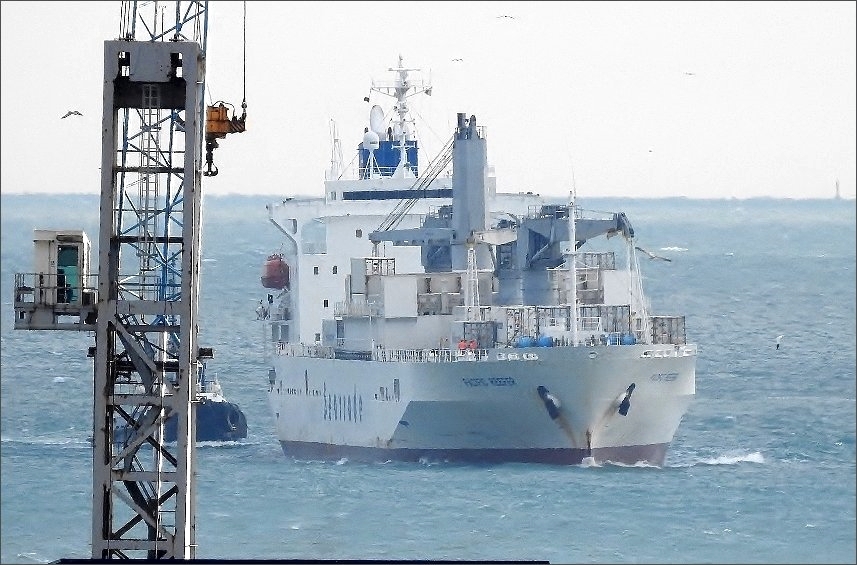 The two pictures below were taken just after dawn on the 4th January....look at that odd sky, its like someone is writing a musical score in the sky. The horizontal lines, the musical notes dashed downwards...
is Mozart trying to communicate?


Natural pictures but how...? re those horizontal lines. jets cause the downward dashes but the horizontals??…
Fascinating.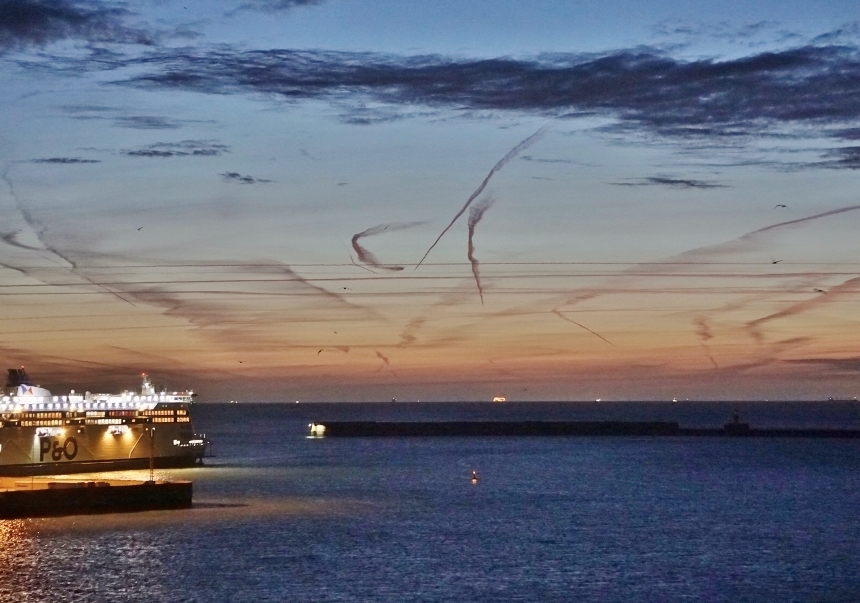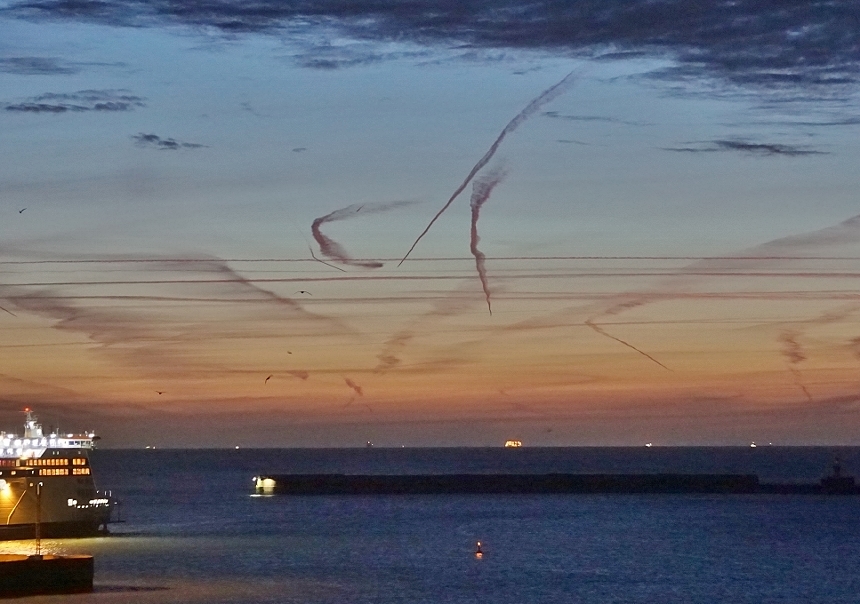 PaulB
Thursday, 9 January 2020 - 06:28
Post 6741
Sea News, Dover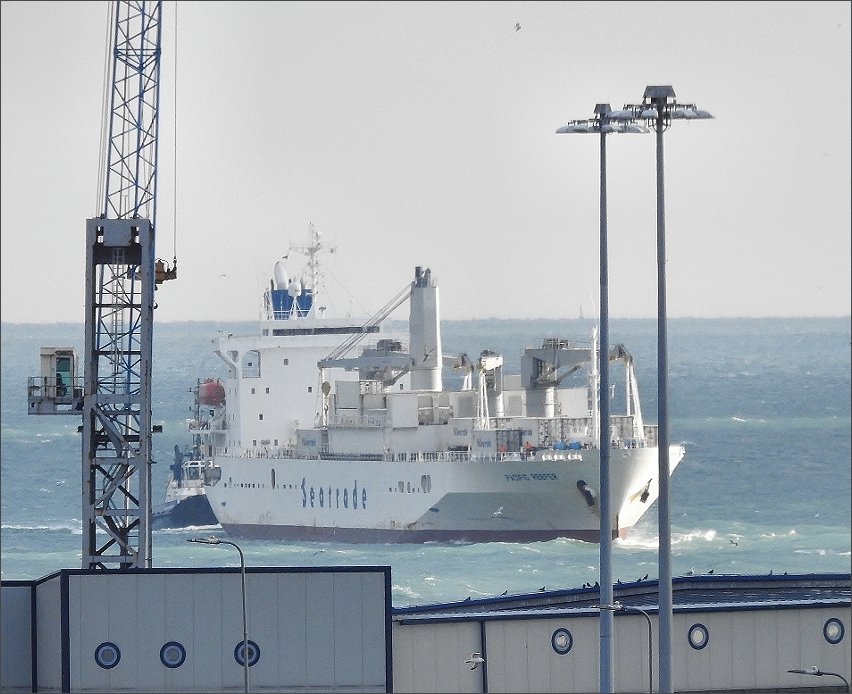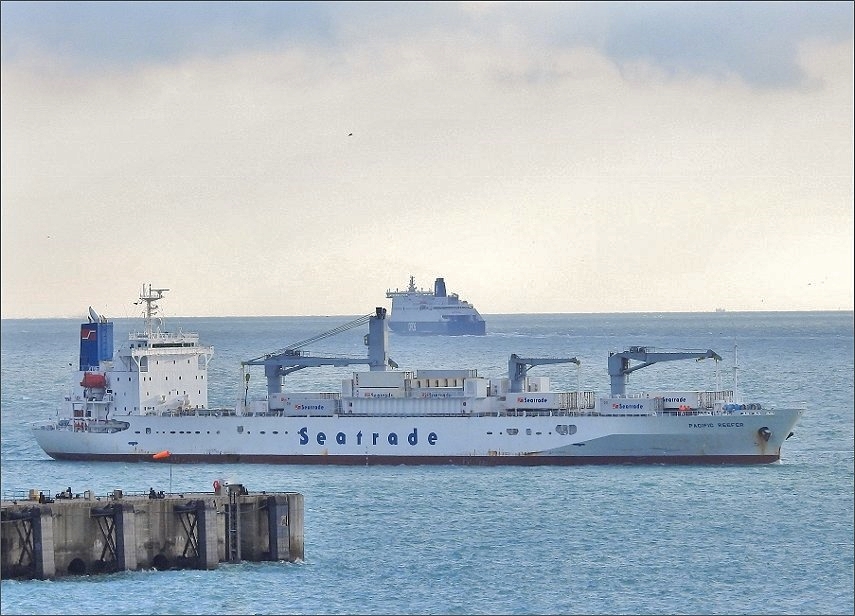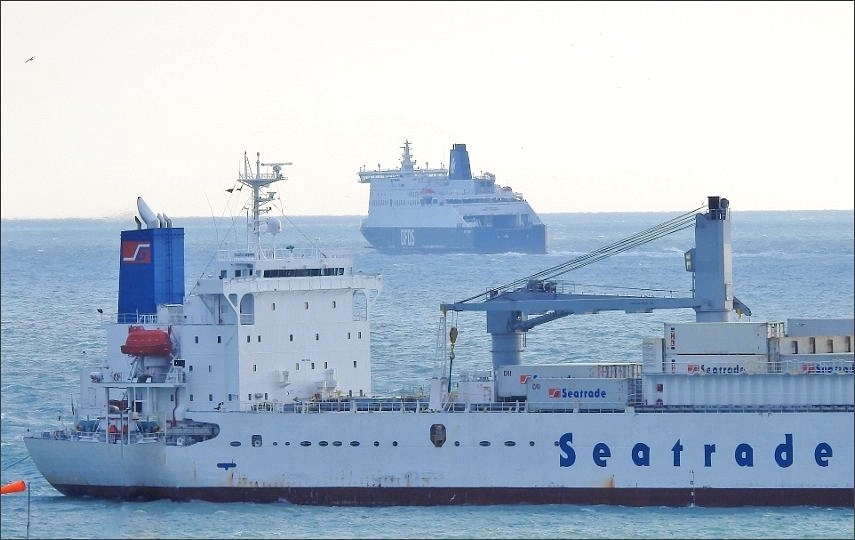 Pacific Reefer:
Some pictures above there of Pacific Reefer approaching and arriving at the Port here earlier in the week....on Monday morning in fact. Time of first shot 10:10. Pictured below a short time later manoeuvring into the new Cargo Terminal in the Western Docks with the help of the tugs... you can see tug Dauntless in the picture.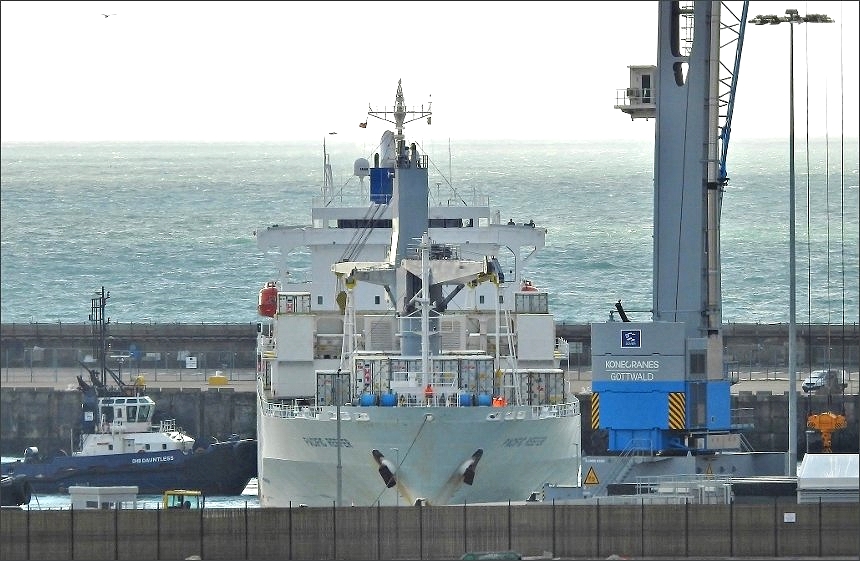 Pacific Reefer left late last night for Vlissingen, 'twas a dark and rainy night...guessing... it was around 11pm. Another fast turnaround for sure.
PaulB
Wednesday, 8 January 2020 - 07:32
Post 6740
Sea News, Dover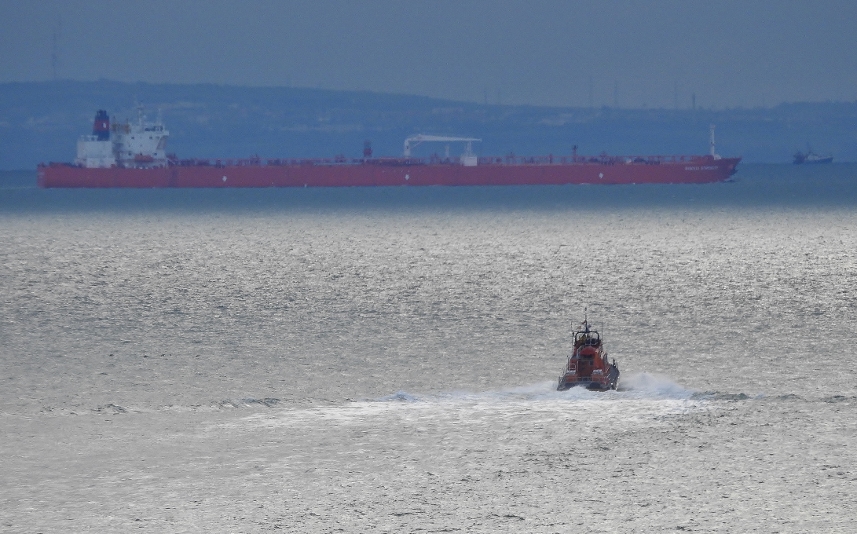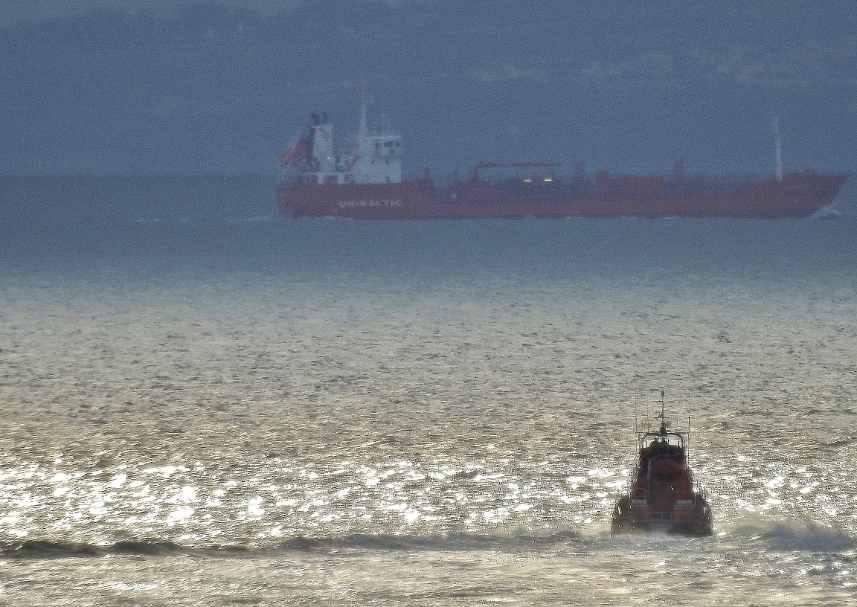 Some long range pictures of the Dover Lifeboat above there as she powers into the distance out there in the channel. It's Sunday morning early. We feature two different red ships in the further distance there as the Lifeboat makes her way further and further out.
Yours truly hadn't actually spotted the Lifeboat but was taken the wider sky picture below...the clouds were dramatic looking and menacing, but the day itself was relatively benign, but then that shaft of sunlight above picked out the Lifeboat. If you look below you can just see a dot centre stage...that's the Lifeboat. Something of a microdot in the wide view....so was glad that the shaft of sunlight picked them out.
A short time afterwards the Border Force joined the scene... that's Vigilant in the picture below ... also powering along at speed...presumably both were engaged in a further migrant situation.
Thanks Del...its always very colourful early morning..ermm 'cept when its grey!!


makes the pictures that bit easier..
PaulB
ps: Pacific Reefer came and went yesterday...very fast turn around at the new Cargo Terminal West. These reefer ships don't turn about in the bay anymore which is depressing news for the camera

!!
Will have some pix though.
Tuesday, 7 January 2020 - 07:07
Post 6739
Del Styan, Norwich
You early risers put me to shame, but great pics, well done for cheering me up.

Monday, 6 January 2020 - 23:12
Post 6738
Sea News, Dover
Dover Sunrise - We await the arrival of the Sun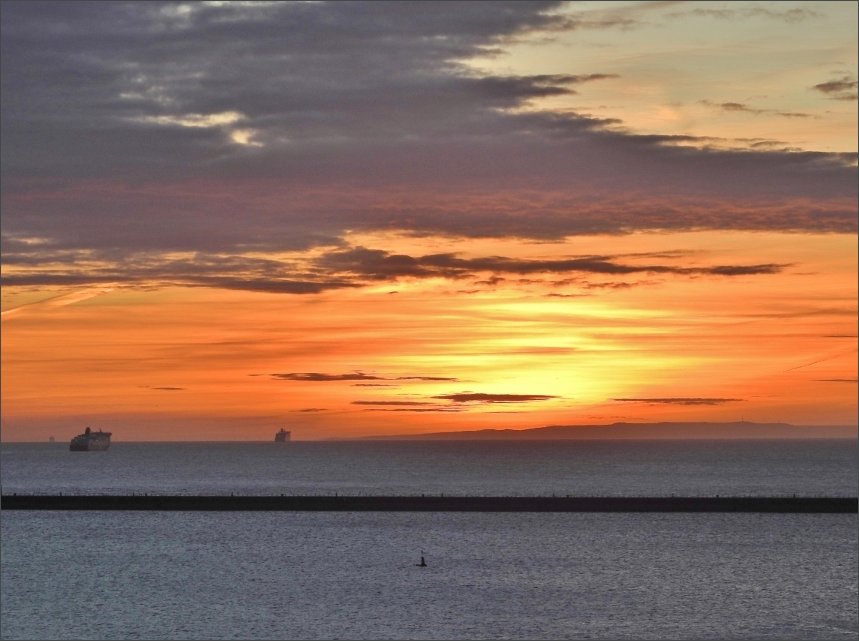 On Saturday morning we gaze across the Channel at the early ferries as they make their way in glorious colour to Calais, France. The P&O ferry leads the way closely followed by the DFDS ferry...as we see above and below. The sun has yet to appear... but the sky awaits in dramatic style.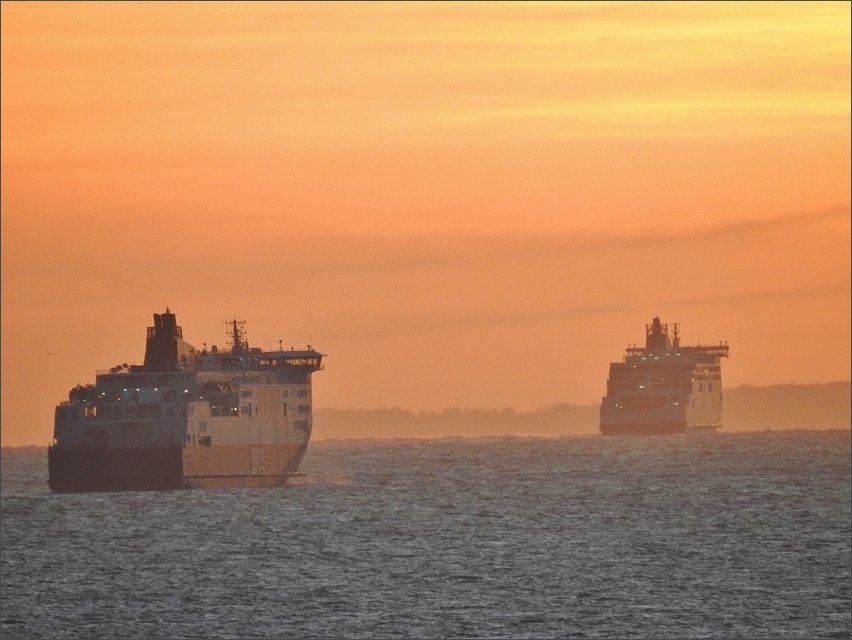 And then below the sun bursts through...always a spectacular moment as the golden globe climbs above Cap Gris Nez and illuminates the English Channel in dazzling light...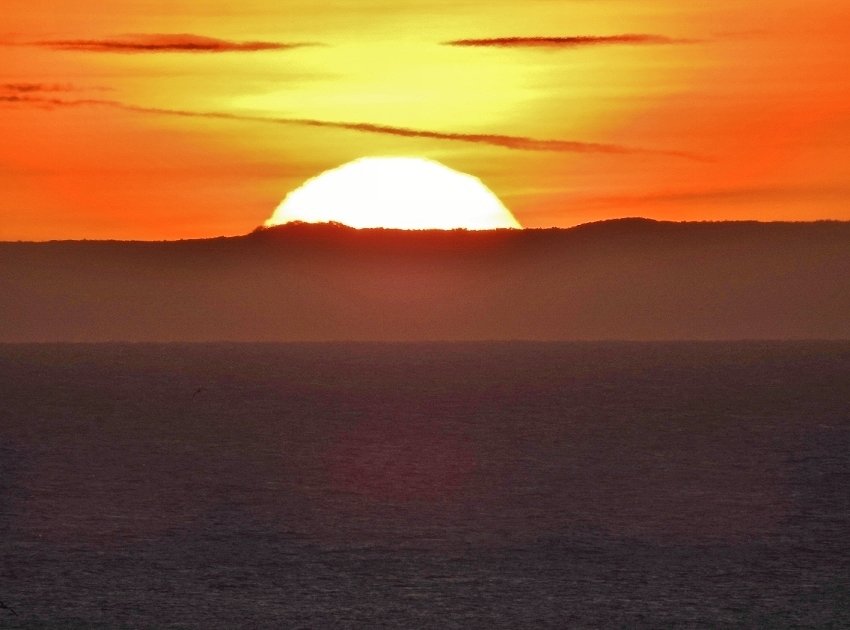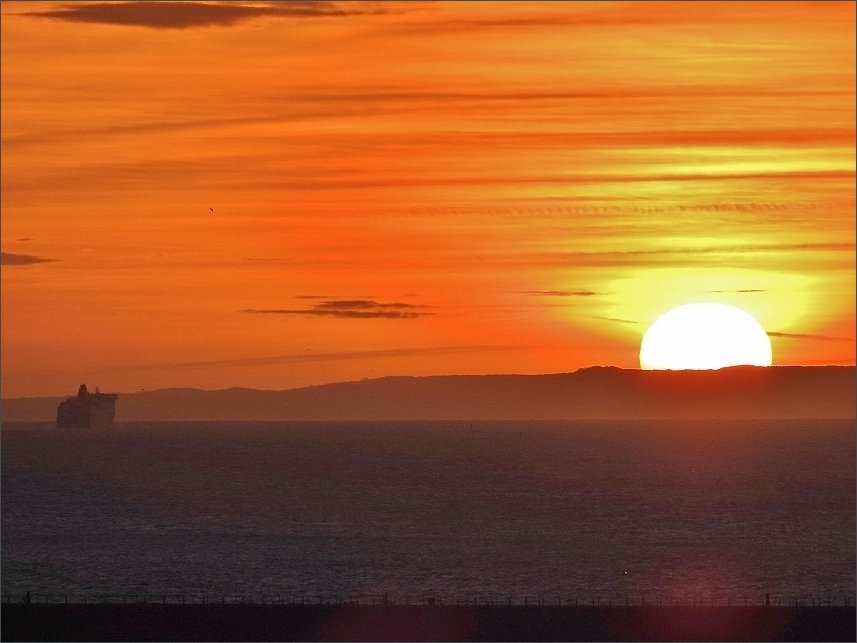 Dover Sunrise:
That's the view from Dover...come and visit Dover and see these great sunrises across the English Channel for yourself...if you're not already here of course !

The working week re-commences today for most. Normal scheduling resumes. Happy 2020 to all !

PaulB
Monday, 6 January 2020 - 05:03
Post 6737
Sea News, Dover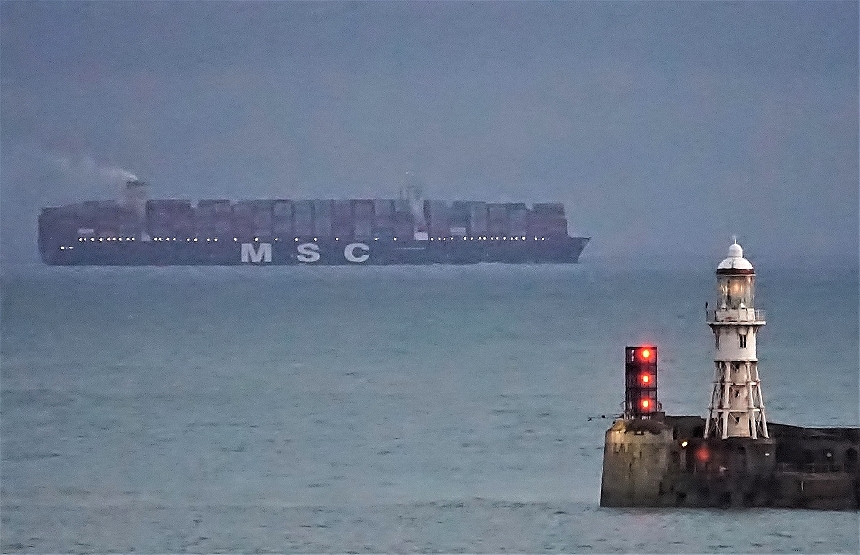 Tried to get a picture of the huge container ship MSC Samar as she went down the channel on Friday night..well more Friday evening but night was falling fast, time of picture 16.10 or ten past four in old money. There was a brief late flurry of light after a grey day.
MSC Samar was only built last year ( 2019 ) and had just completed her maiden voyage from Asia to Bremmerhaven in Germany...now heading south again with a full load, presumably for the first time. She is an impressive whopper.. ( i went all technical there for a moment!

) 400 metres long and an enormous 233,000 tons approx. in weight/size. Must be one of the biggest there is...
Will watch for her again on brighter days...
a few minutes later the sky turned this way below looking west, looking to the right of the ship in top picture. She was almost heading into the sunset.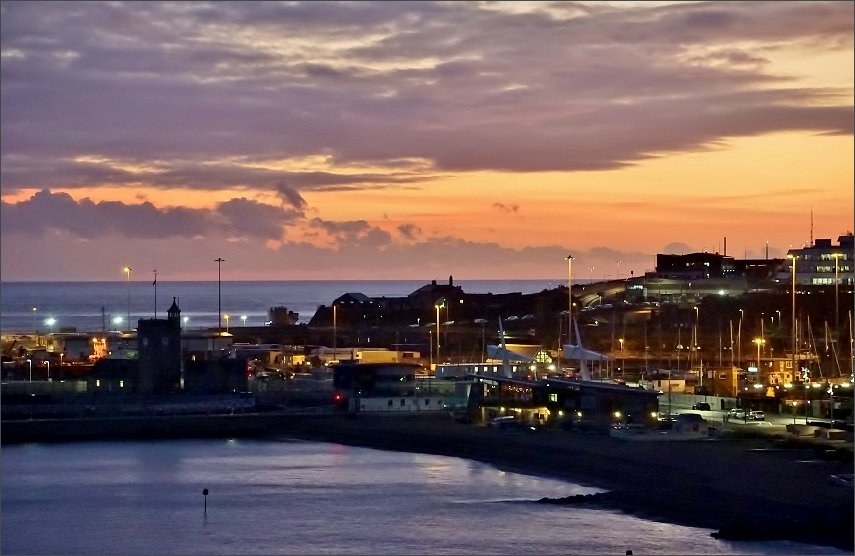 Just saw this one in the files with roughly the same listing name as the one above.... dating from...
yes found it again..dating from September 2017 showing the dramatic sky and some of the Dock Development at that stage.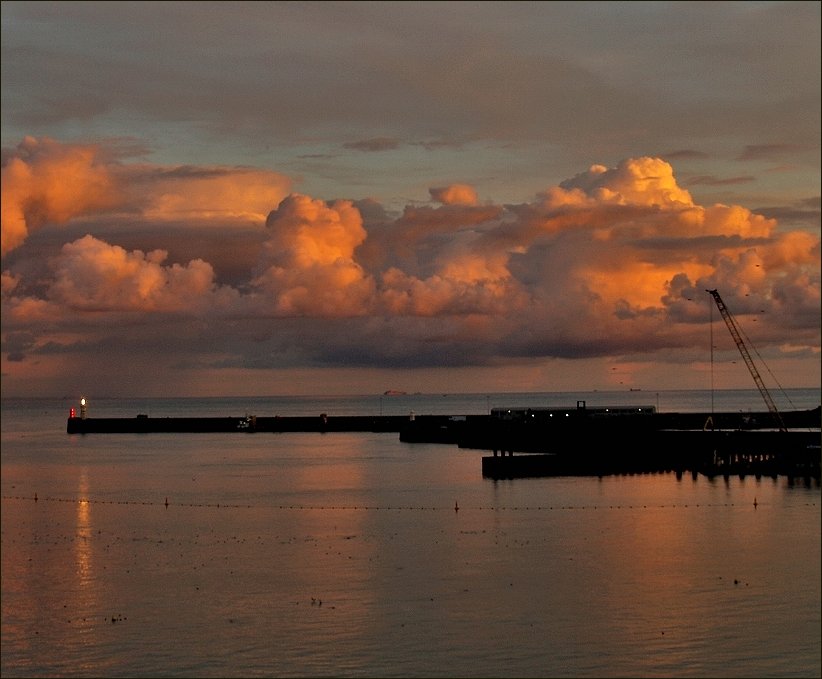 PaulB
Sunday, 5 January 2020 - 07:53
Post 6736
Sea News, Dover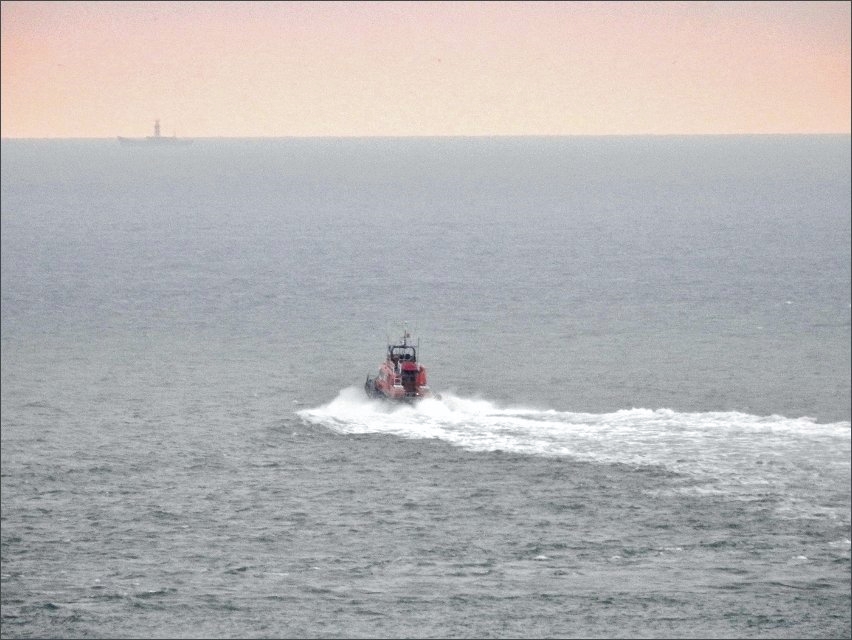 You might remember in the background of one of the Lady Rosemary departure pictures the other day we saw, or barely saw, the Lifeboat in the distant gloom....well here we are with a bit of a better effort on that one. These are mostly computer boosted/generated images today. The top shot shows the Lifeboat at that time powering off into the distance. We understand that it was on another migrant mission. Also out there at the same time were several Border Force vessels including Vigilant. Un-pictureable through the gloom.
Also at the same time the Coastguard helicopter came onto the scene, enter stage left. Caught me out...tried to get ship and chopper together but alas the ship was cut to the quick!
Coastguard helicopter passes over Lady Rosemary... sort of...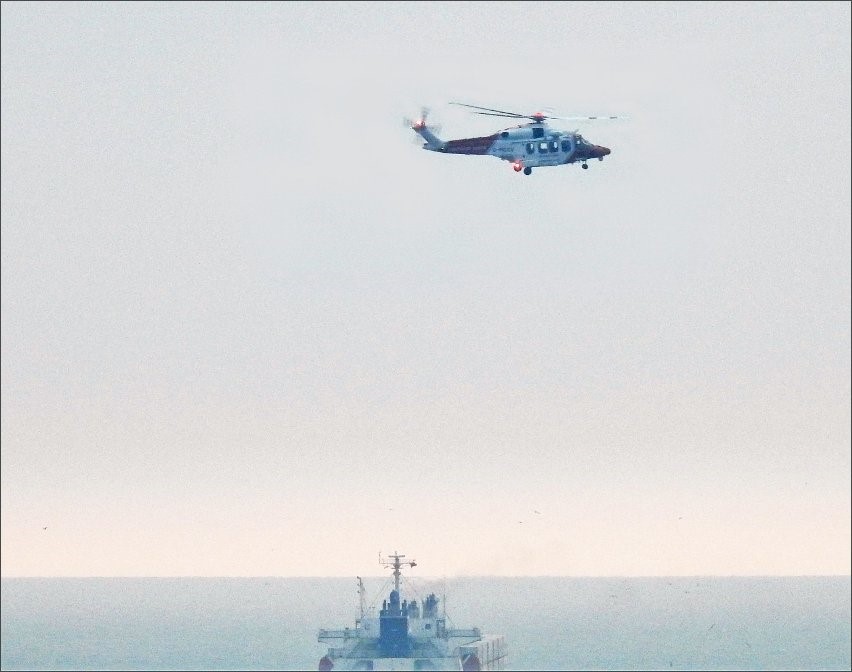 PaulB
Saturday, 4 January 2020 - 06:44
Post 6735
Sea News, Dover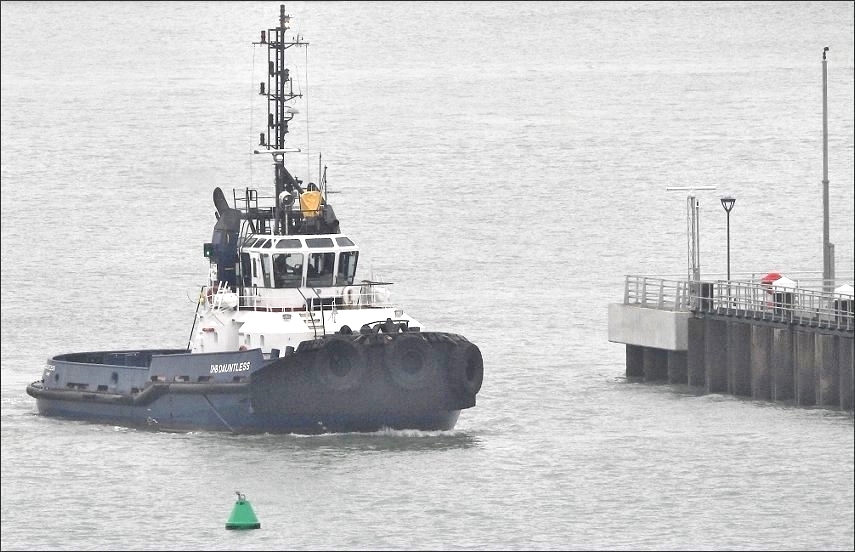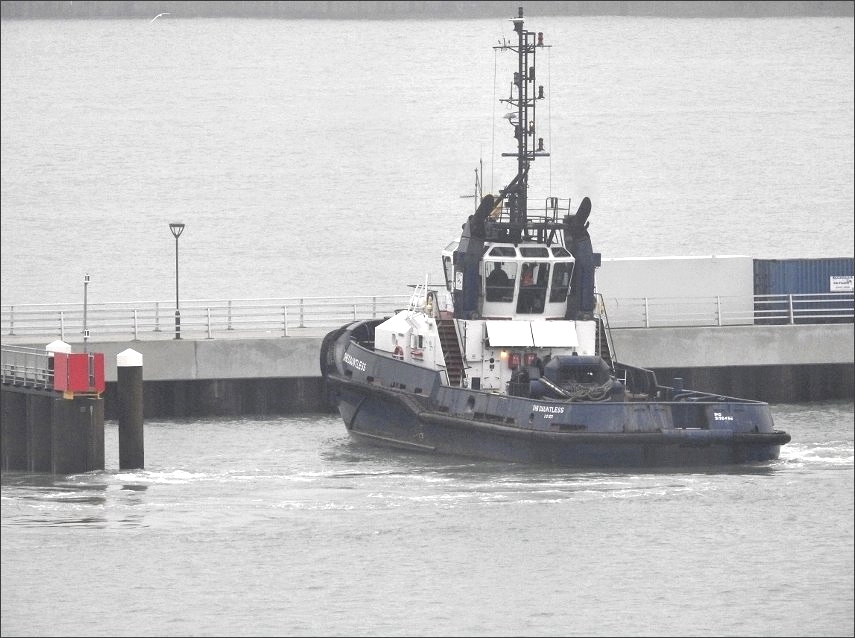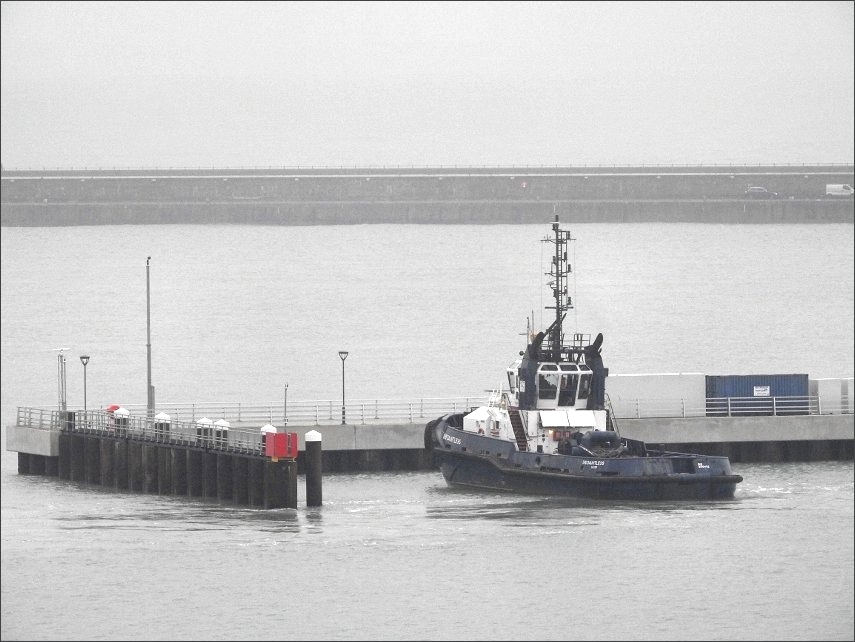 A few days ago, while waiting for the arrival of one of the reefers, Tug Dauntless came over and lingered by the new 'arm' in ... errmmm.. harbour central. Wasn't there some talk at one point of them (the tugs) being stationed/located here at a future time...perhaps the guys were just checking out the new aspect. They picked a murky oul day to do it...but good to get some shots of the tug in a different location as it were and these are quiet days …
PB
Friday, 3 January 2020 - 06:09
Post 6734
Sea News, Dover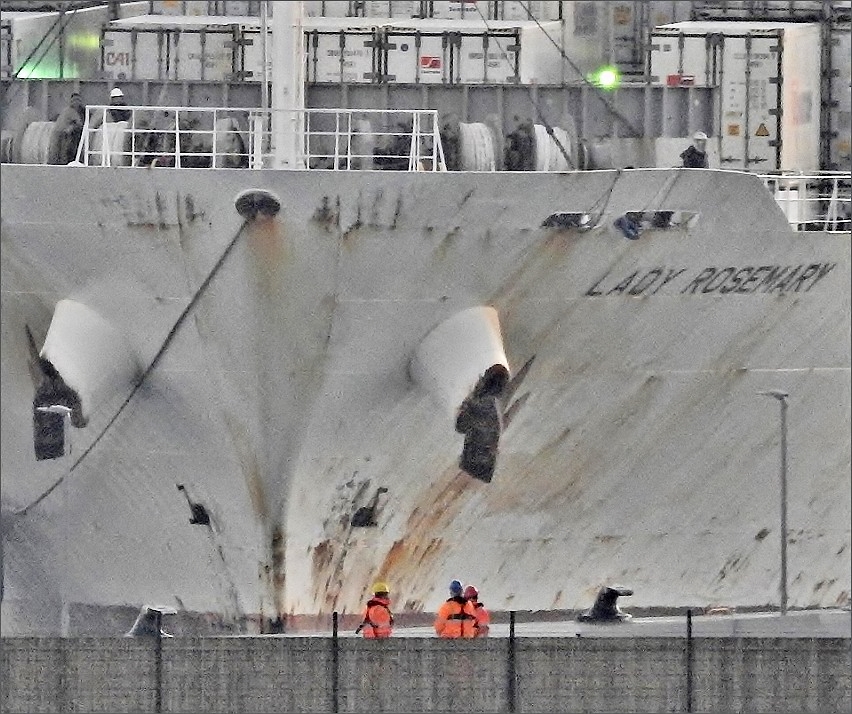 Above we have an enlarged crop of yesterday's picture...showing the crewmen/dockmen at the bow of the Lady Rosemary, there are a further two crewmen in the shot. Can you spot them, that's todays frivolous puzzle. There may even be a sixth crewman minus a hardhat...can you spot him...well now..


Then afore long the Lady Rosemary was off...time of first shot below.. 09.33 on the 31st ( which was ..ermmm.. lets see, yes Tuesday). In the first picture below you can just make out the Lifeboat powering away into the distant gloom, it was very grey, there was a further migrant situation ongoing with Border Force and the Lifeboat involved at the time. Lady Rosemary was on her way to Vlissingen with a heavy load as you can see.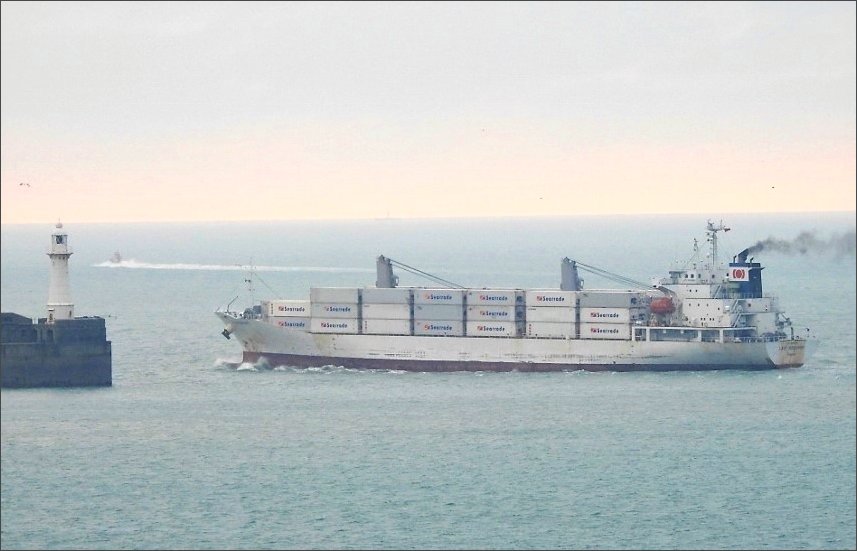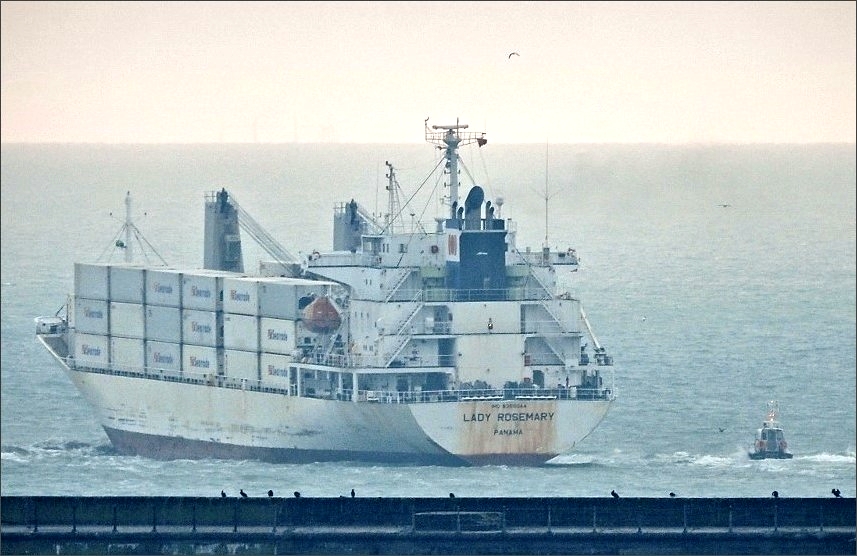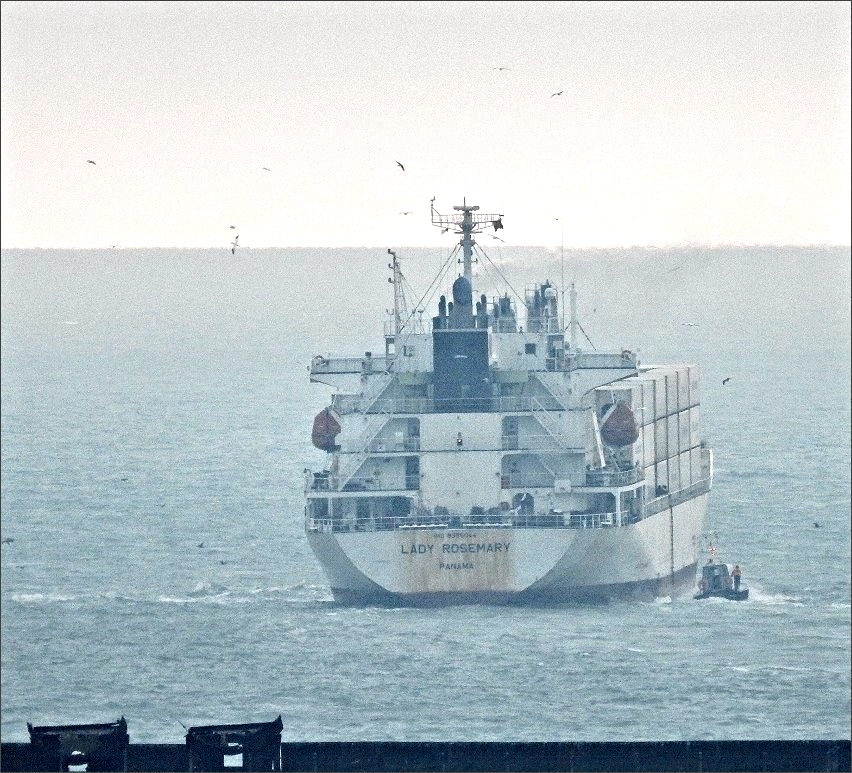 Lady Rosemary.
PaulB
Thursday, 2 January 2020 - 07:37
Post 6733
Sea News, Dover
Happy New Year to All!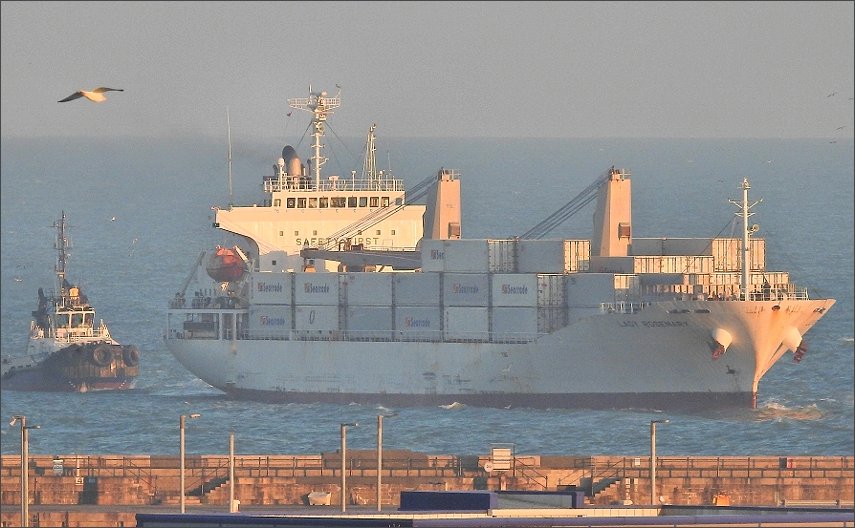 The pictures above there show Lady Rosemary approaching the port from the East after her long trip across the Atlantic. Unfortunately it was misty muggy as she approached so the pictures are not super-clear, but happy to get them nonetheless...able to do so courtesy of the vacated ferry slots. The top two shots are very similar but Sid the Seagull flew into the second one a minute later!
Then below we see Lady Rosemary entering and crossing the Port until she reaches the new Western Cargo Terminal WD5.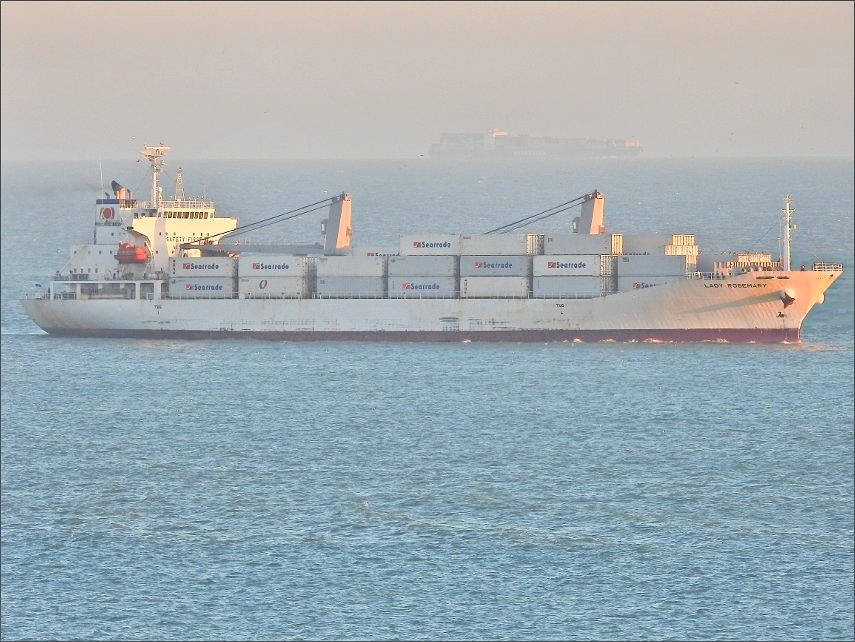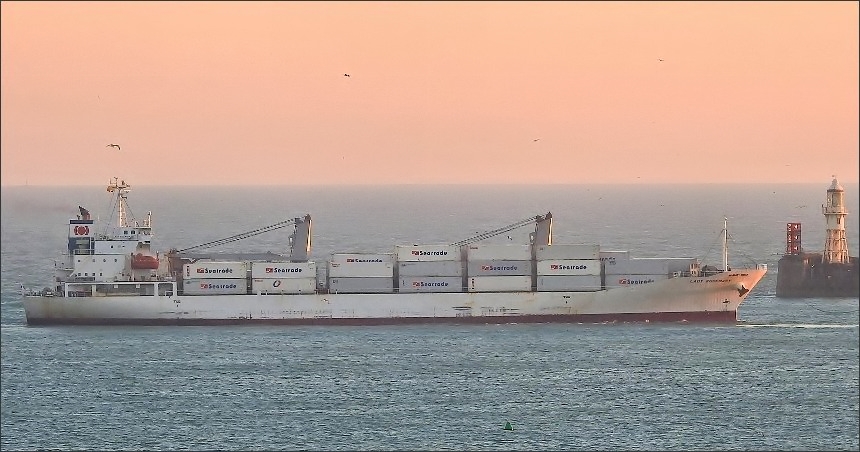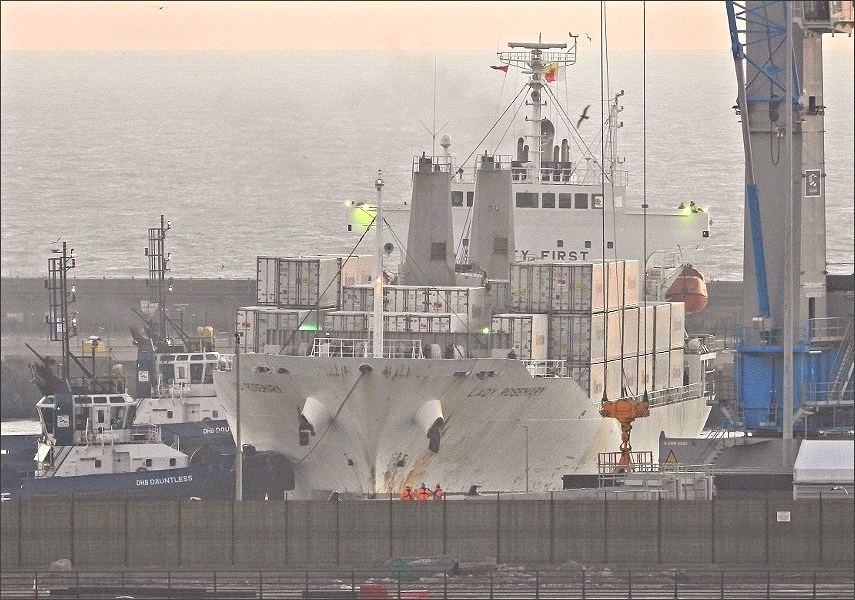 Time of pictures above; 15.30 to 15.50 in fading light December 30.
She has since left us (yesterday)...the turnaround appears to be quicker lately, perhaps its the all new slick terminal...will have some pictures of that departure following along, still in camera. It was murky then too.
Very interesting post below from Mike...don't miss that one. Thanks all round Mike..

Many thanks Del..

2020 here we come!


PB
Wednesday, 1 January 2020 - 07:57
Post 6732
Mike J., Dover
A very Happy New Year to all 'Sea News' readers & thanks to PB for running this most interesting site.
Nothing to do with ferries, but I thought that readers might be interested in this rather fuzzy faded photo of the bar on the bulk carrier-REYNOLDS somewhere out in the Atlantic between Gibraltar & Norfolk.Virginia, as the the old year was 'rung out' by the oldest man aboard, Second Engineer Tommy Patel & 1986 was rung in by the youngest aboard, Colin the Deck Boy, who is waiting his turn.
Unsurprisingly drink was taken.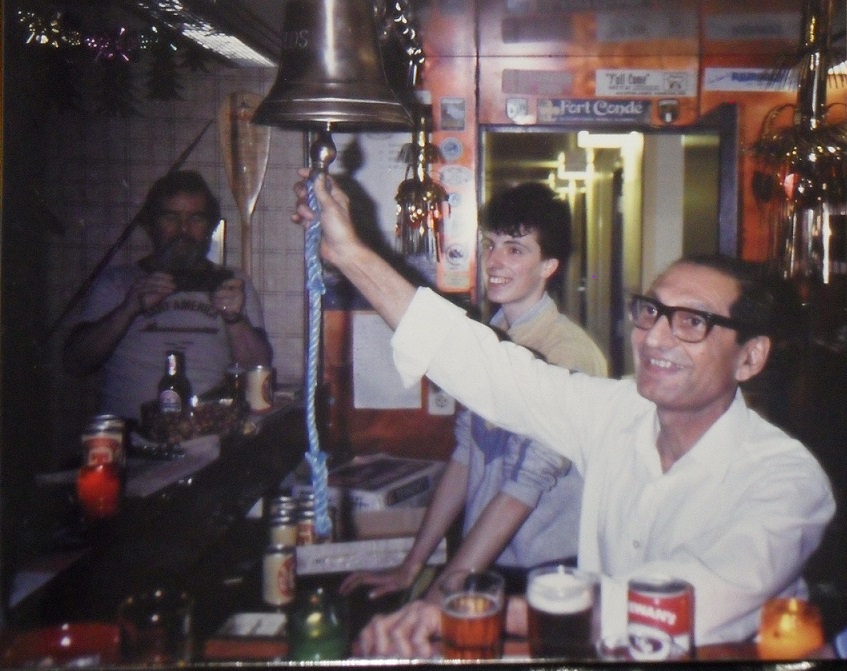 I don't remember a similar ceremony when I was on the ferries in more recent years.
If it was was celebrated similarly drink, of course, would certainly NOT have been taken.
Tommy later flew home to retirement during the voyage & was presented with a tankard engraved 'TOMMY PATEL - FINISHED WITH ENGINES' - a very familiar phrase to him from the ship's engineroom telegraph which received orders from the bridge.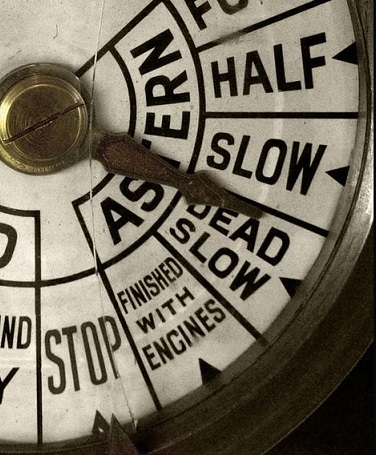 Wednesday, 1 January 2020 - 02:51
Post 6731
Del Styan, Norwich
Beautiful pics - well done.

Wednesday, 1 January 2020 - 00:15
Post 6730
Sea News, Dover
Morning and Evening on the 29th December....
Dover Sunrise, Dover Sunset.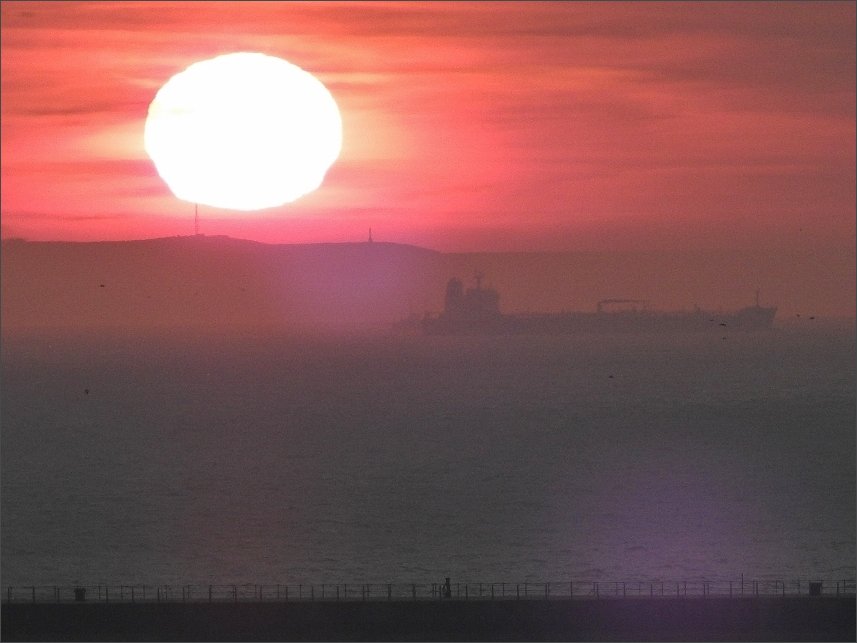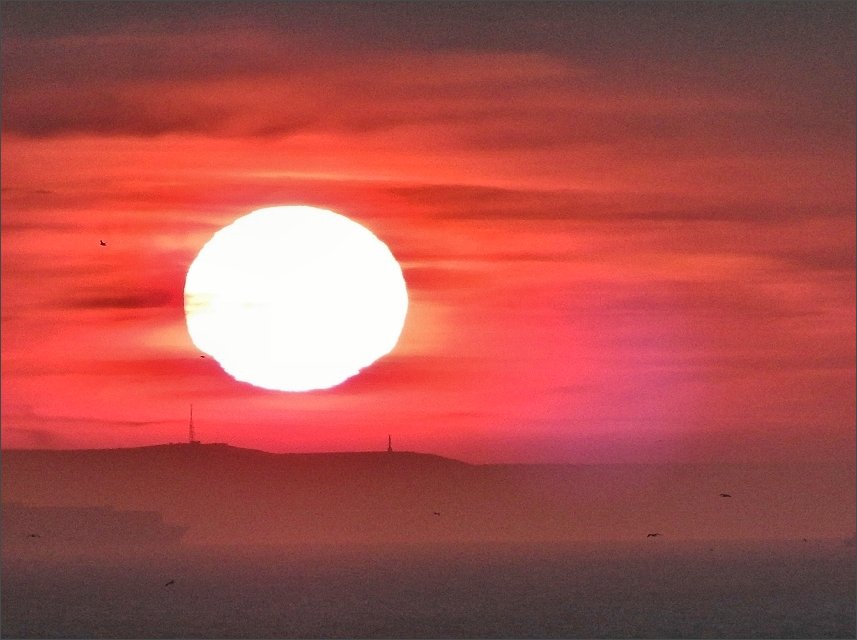 The pictures above show Cap Gris Nez in France on Sunday morning (29th). The shipping lanes are as busy as ever, even at this time of year ...as the sun rises dramatically over the Cap. You can see the monument and the mast there.... actually stood there looking back one time...quite a sight.
There was a stunning sky the same evening...these are just a couple of pictures, have more...
Looking westward ho! Yours truly waited quite a while for this seagull, where are they when you need them...?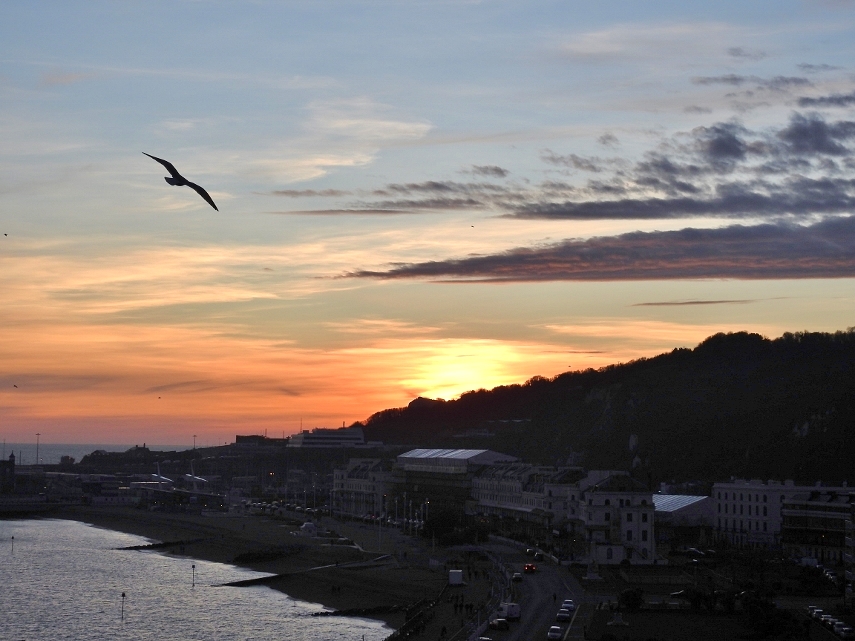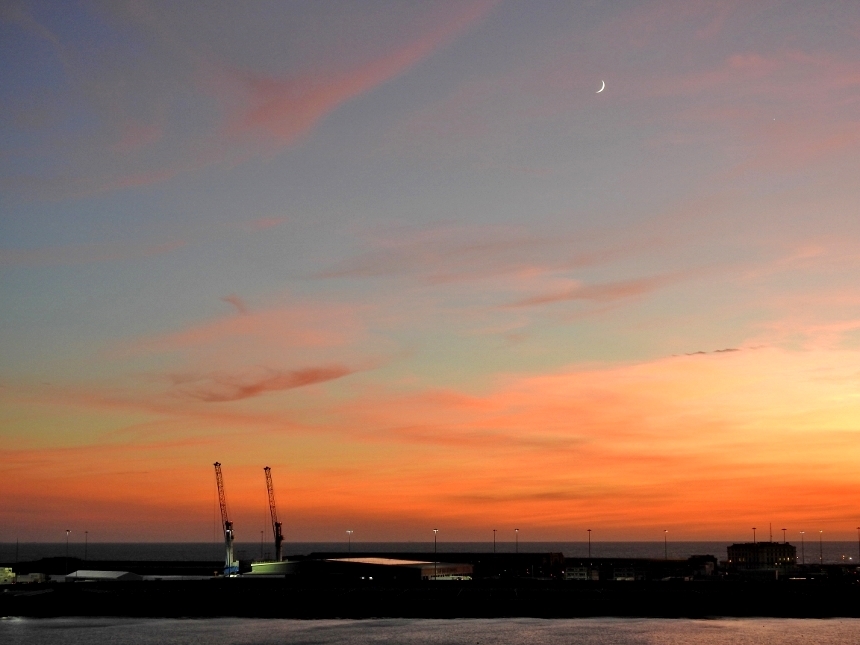 We will have pictures of the reefer Lady Rosemary arriving ... coming soon.. as they say...
That's a first visit..thinkso
PaulB
Tuesday, 31 December 2019 - 07:09
Post 6729
Sea News, Dover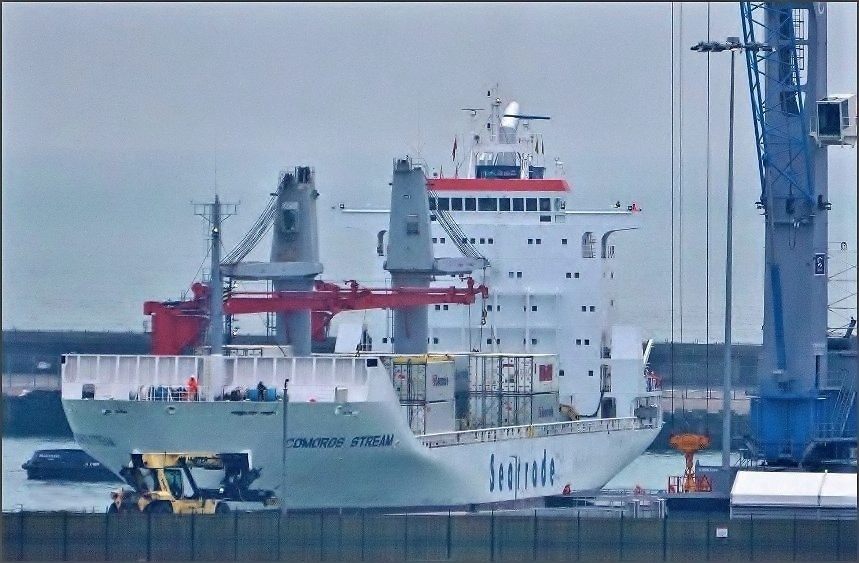 These are quiet days so we have time for a little bit more of Comoros Stream arriving with us here in the Port. Top shot, following along from the earlier pictures below page, shows her sidling into the new Western Cargo Terminal WD5...almost into berth there with the gentle help of the ever present tugs and under the towering new cranes.
While uploading the picture above, yours truly noticed the pic below in the files. Trying to remember why its there ? Have a feeling it was sent to me years back by the Port, possibly illustrating the projected possibility then of an all new Western Cargo Terminal...
anyway...Comoros Stream once again, this time as model extraordinaire...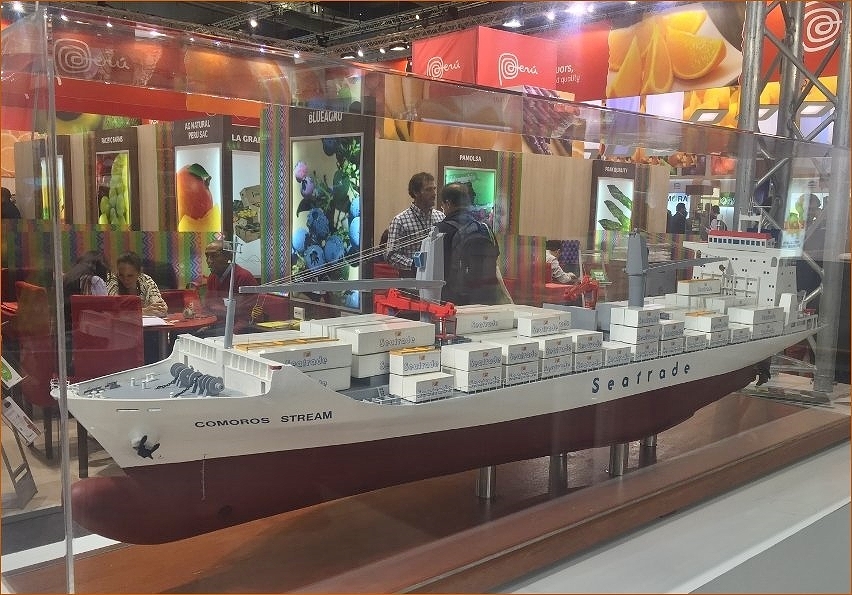 Drifting back now we see the Channel on Christmas Day...Christmas morn in fact at 07.22...we see a small boat making its way to Boulogne and yes you can see Boulogne in the far distance right, sparkling in the near darkness. In the centre of shot you can see the Varne Lightvessel, and in the foreground of course the breakwater lighthouse flashing red...
"all is calm, all is bright...."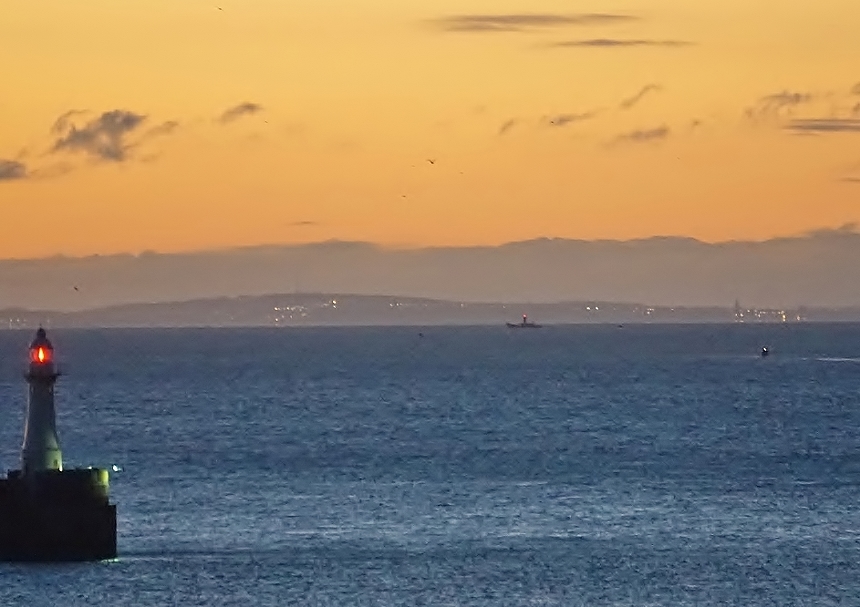 There was some gorgeous skies yesterday, both ends of the day...tried a few pix so will aim to show some of those.. if all went well with the camerawork...

PaulB
Monday, 30 December 2019 - 07:23
Post 6728
Sea News, Dover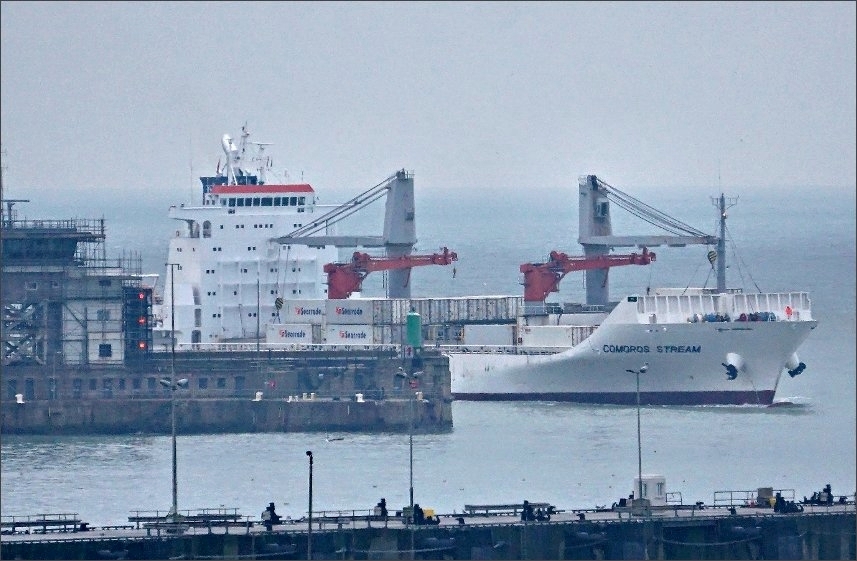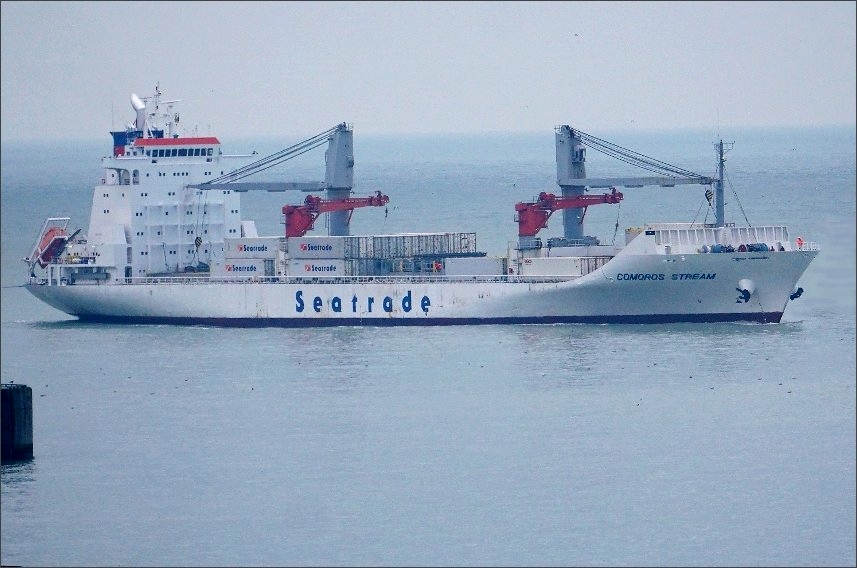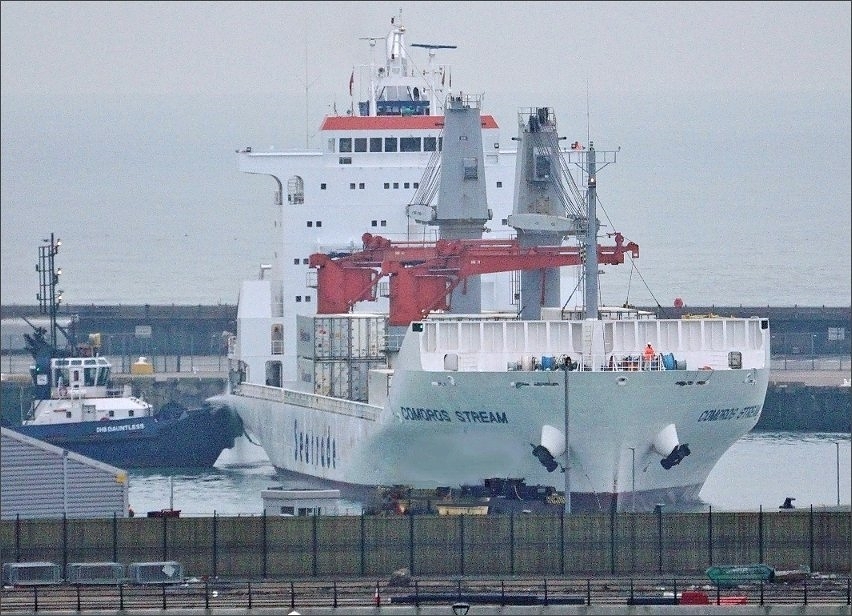 Comoros Stream:
Some further pictures above there of Comoros Stream arriving here in the Port of Dover on the 27th which was.. let me see...yes Friday. Arriving from Vlissingen we understand. She left later the same day taking some of those dockside containers we photographed recently with her.
Harking back now a day earlier...to Boxing Day...not Comoros Stream but Cold Stream this time. Its a rough oul picture (bit forced!) from a rough oul day, but managed to get an image of her at the new Western Cargo Terminal WD5. She left Boxing Day around 9.30pm or so...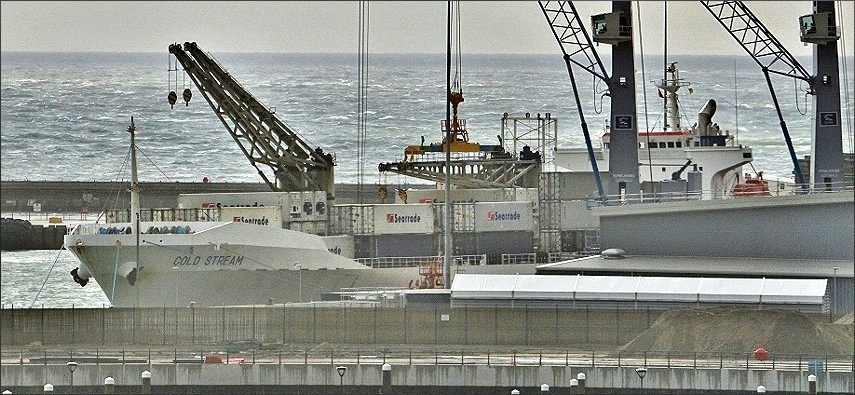 Cold Stream.
Well done Nigel with that picture below. Hugely enjoyable shot...

Don't forget the Archbishop of Canterbury's new years day message with the lifeboat guys here in Dover...
"The Archbishop of Canterbury's New Year's Day message will broadcast on New Years Day on BBC One at 1pm and again on BBC Two (with subtitles) at 4pm that day."
PaulB
Sunday, 29 December 2019 - 06:34
Post 6727
Mike J., Dover
I thought similarly, Del, altho' I wondered whether it might be a special BFD [Bishop Floatation Device],
Mind you, I thought that Senior Clerics could already walk on water . . . . .
Back to the serious stuff, here's a very nice view of the arrival of the COMOROS STREAM, taken from the new reclamation & posted by courtesy of 'Dover Straits Shipping' arriving from Vlissingen on Friday.
Curious red cranes on deck, not seen those before.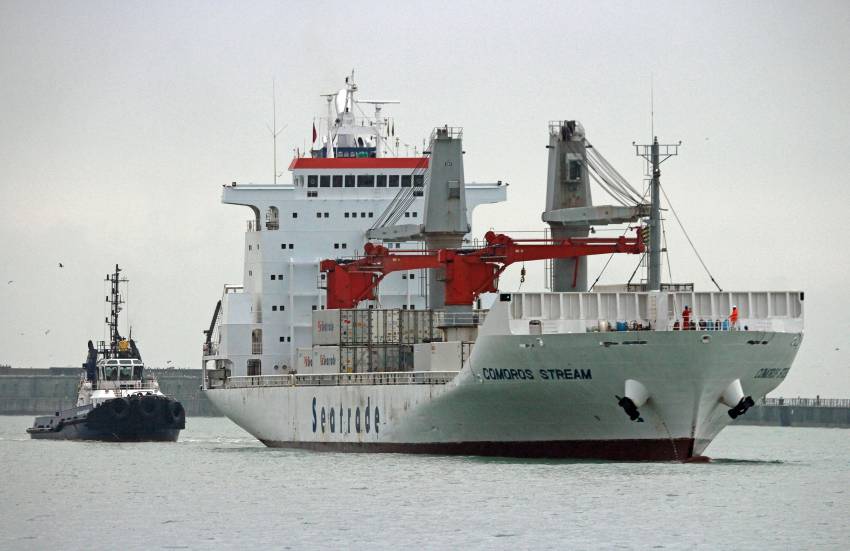 She gone now, heading for Gdansk, but hard on her heels is the LADY ROSEMARY, giving 0600 Sunday as her ETA, with Dover as her first port after crossing the Atlantic.
After that, according to AIS, things go quiet until the next reefer, the PACIFIC REEFER, arrives on 6th.January.
Sunday, 29 December 2019 - 01:39