Tuesday, 26 May 2020
….. On Dover Seafront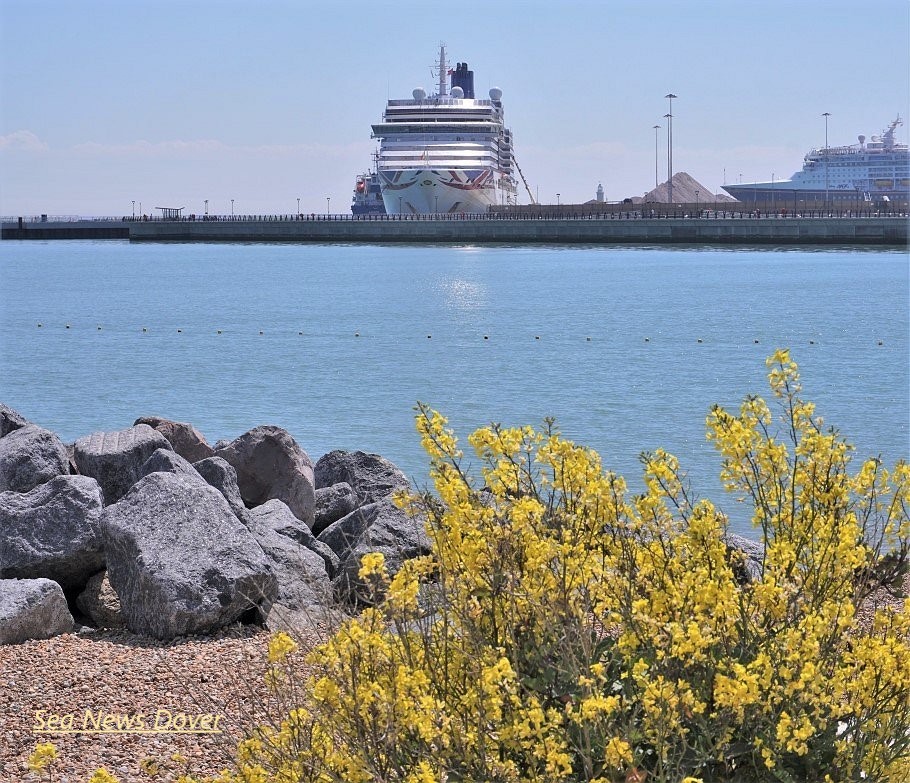 The wild flowers are now in bloom on Dover Seafront as we look across at Arcadia...also in shot bunker ship Andros and to the misty right...Disney Magic. More 'magical' images of Disney below page.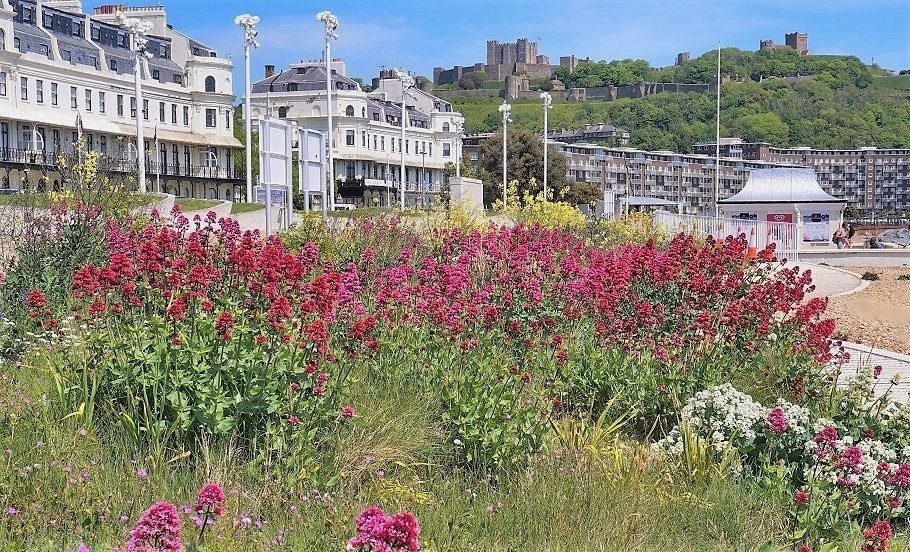 Dover Seafront...wild flowers with Dover Castle.

WWW.DOVERFORUM.COM/SEA-NEWS
Sea Pictures from DOVER: Featuring all the ships that come and go and work at the Port of Dover ..
... with some further coverage of the surrounding ports.
Sea News Dover
Use our SEARCH ENGINE below to find all sorts on the SEA NEWS pages....type in the topic and away you go,
or if you have the post number, just type it in the Search Box, more than
- 7000 -
nautical posts now.
Posts are welcome. just click 'Add Your Comment' below.
Upload a Max of 5 pictures....Many Thanks.
Sea News Editor Paul Boland - send info or pix to dover7@msn.com. Always welcome.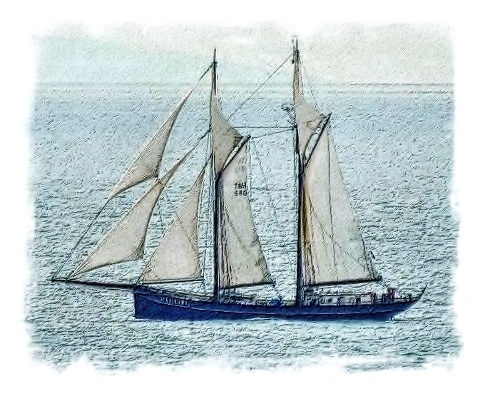 Headlines....
REGATTA CANCELLED see post 7012 below..
Doug Bannister: Open Letter re Covid-19 Critical Supply from Port of Dover CEO 6968.
PORT OF DOVER donates £40,000 to Coronavirus Fund see 6923
P&O FERRIES 1100 staff laid off and Furloughed to HMG scheme , see 6909.
P&O Ferries secure vital flow of goods, medicines...see below, post 6901.
DFDS Coronavirus announcements below see post 6880 and 6885.
P&O Ferries present record breaking cheque to Dover Lifeboat...post 6874 below.
P&O Ferries - European Expansion 6867
Hurtigruten and the Port of Dover see 6857...see also pictures in 6856 and 6859.
See SCARLET LADY pix.. FIREWORKS too..type Scarlet Lady in our SEARCH box below..
DFDS Refit Investment...luxury lounges 6821.
P&O FERRIES - POST BREXIT travel info below 6780.
P&O NEW FERRIES Images below 6775...
Port of Dover, DFDS, P&O say...Travel with Confidence from Dover.. see 6786 below.
Visit us here in White Cliffs Country see 6772
Natalie Elphicke MP - thoughts post Brexit 6784
Just type the post number from the listed Headline in the Search Box below.
Port of Dover Cruise Calls:
http://www.doverport.co.uk/cruise/find-a-cruise/
To show your pictures at their best..it could be worthwhile resizing before posting to
860
pixels wide. Our new standard size.
All pictures on these pages are the copyright of the owners and must not be reproduced without permission.
Post 7009
Mike J., Dover
AURORA didn't stay long & has been replaced by the ARCADIA - Marine Traffic's 'Dover Expected Vessels' page doesn't show any of the other P&Os heading for Dover as at 2330 Wednesday.
The LIOMARE & YEOMAN BANK sailed Wednesday after a quick turnaround leaving only the PANDA invisible on DWD5 behind the reefer shed as she continues to load.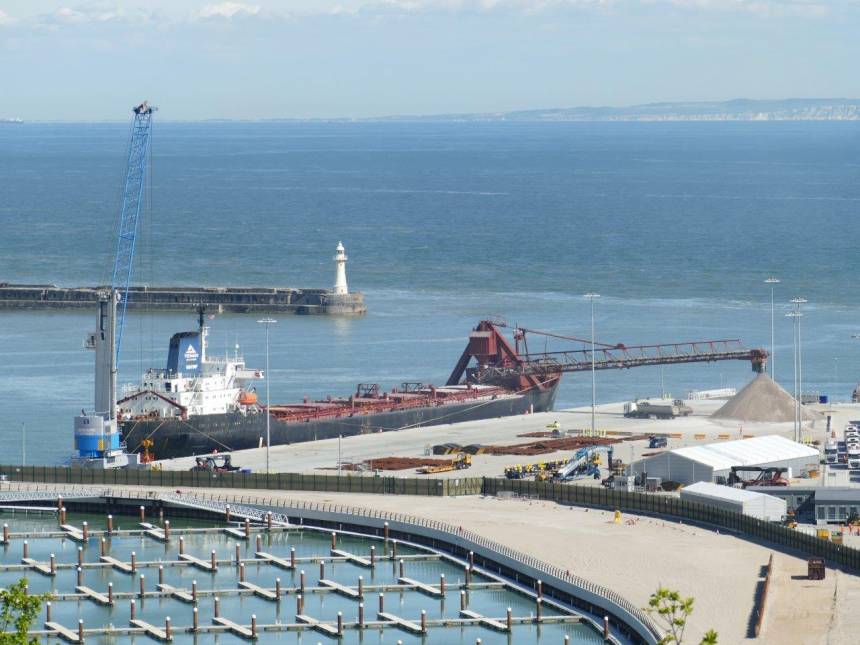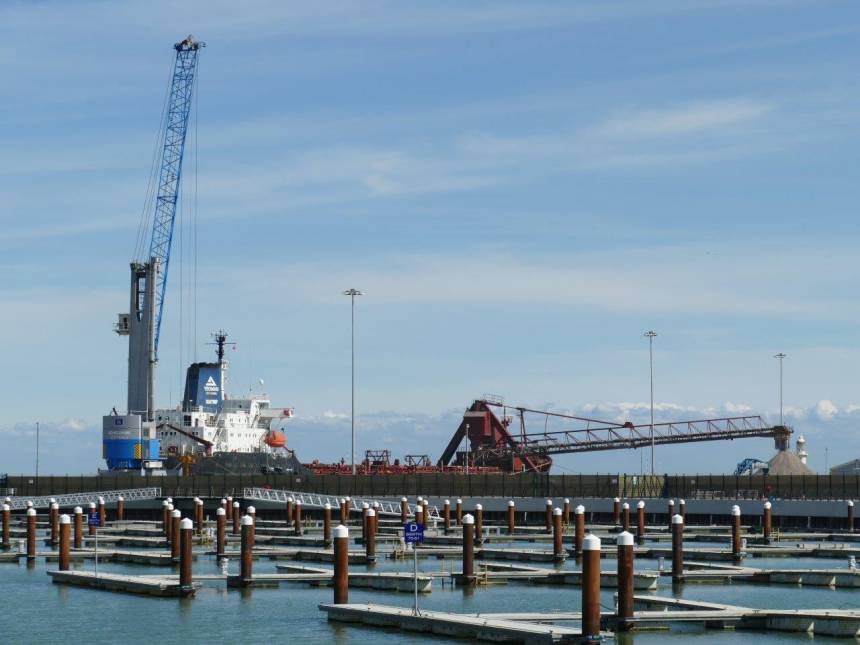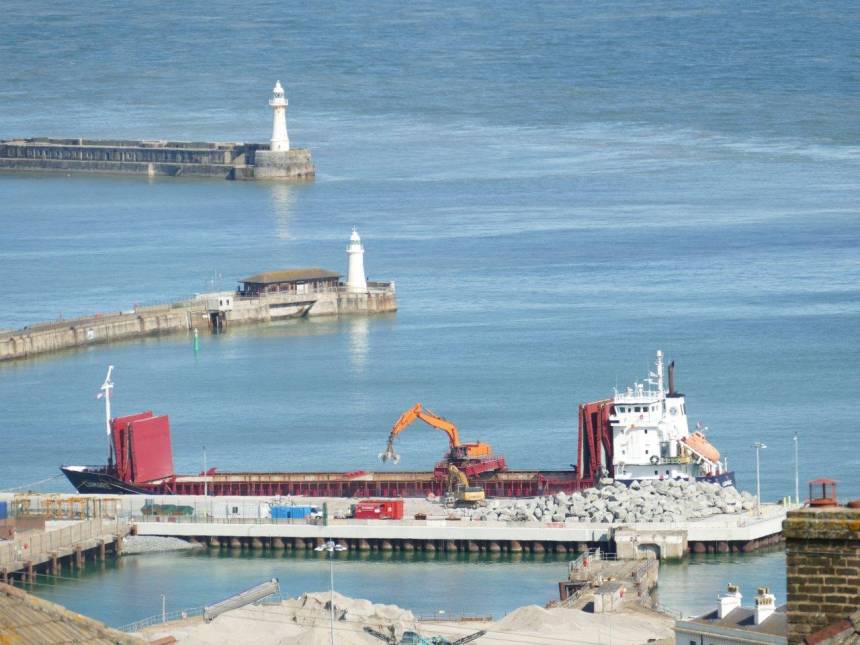 'Border Force Corner' of Granville Dock, unsure of the i/d of the 'spare' patrol vessel that seems to be keeping an eye on migrant RIBs,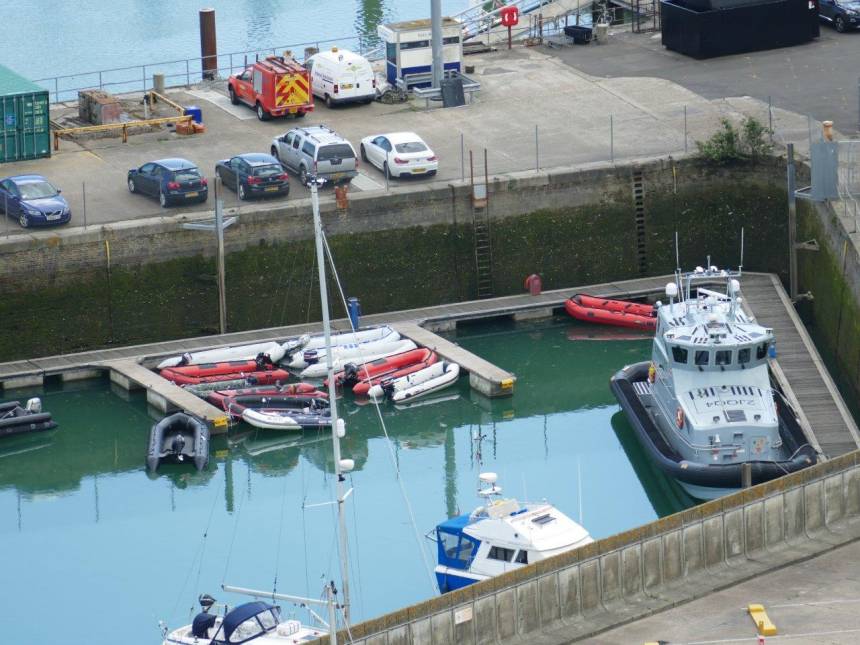 Wednesday, 13 May 2020 - 23:29
Post 7008
Del Styan, Norwich
I echo Vic's post - great pics, thanks.

Wednesday, 13 May 2020 - 23:11
Post 7007
matcham, dovor
great photos they get better and better thank you

Wednesday, 13 May 2020 - 16:58
Post 7006
Sea News, Dover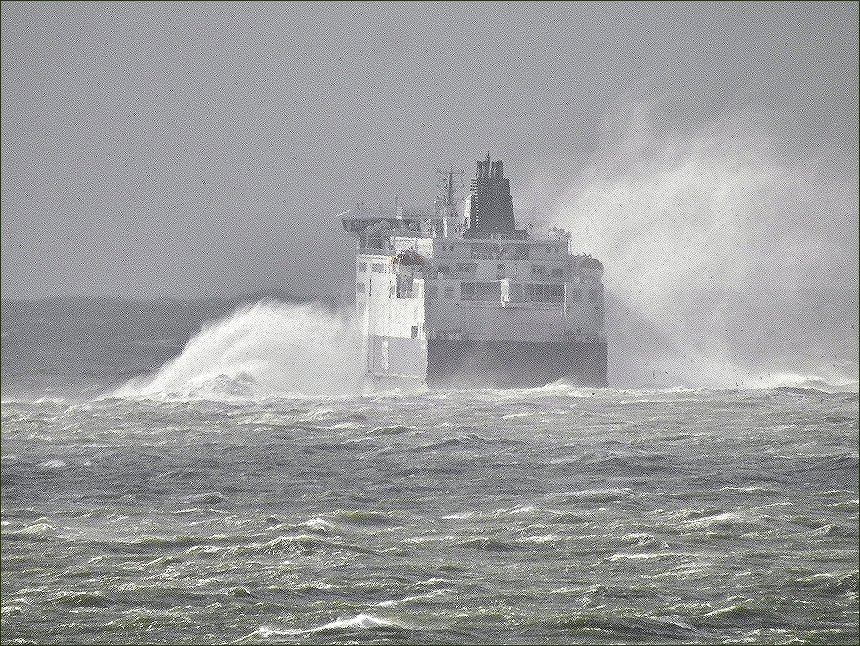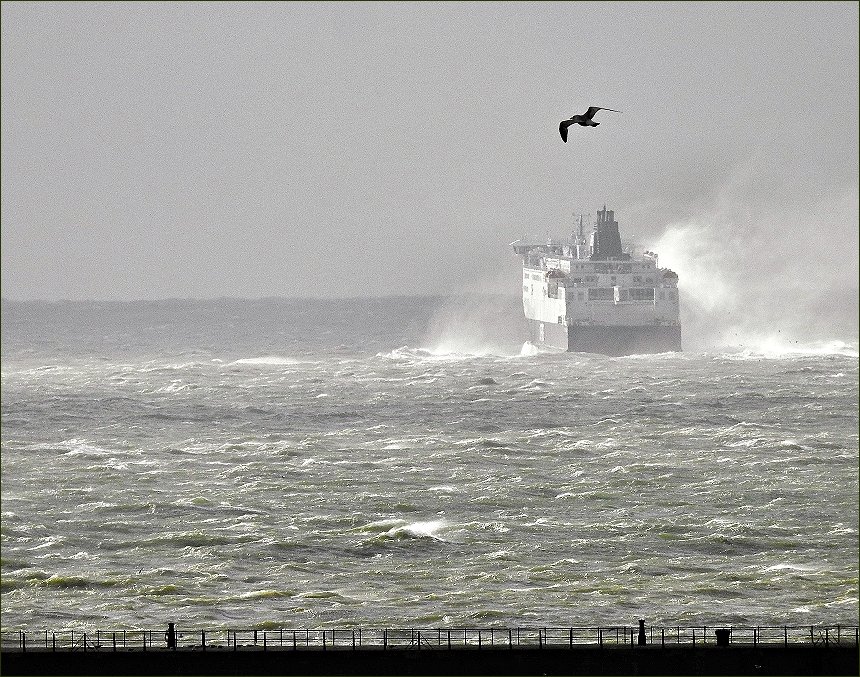 All pictures today are from wild Monday. It was wild and woolley with poor visibility...but then a shaft of sunlight came through and highlighted the weather bashed DFDS ferry above striving towards Calais. Its one of the 'Cotes' ferries ( I think )....but in these times of redundancies as mentioned yesterday re P&O...it shows how these ferries of all types keep going in all weathers and in all seasons, bringing through essential supplies for the nation...An oft used term at the moment but...'unsung heroes' is appropriate for the crews/staff that keep it all going....
The rough weather sometimes bring up close to shore huge ships...here's another one. These pictures from later Monday and Dimitris Y came in close to no doubt drop off a pilot, which seems to be the norm...
carrying one heck of a load...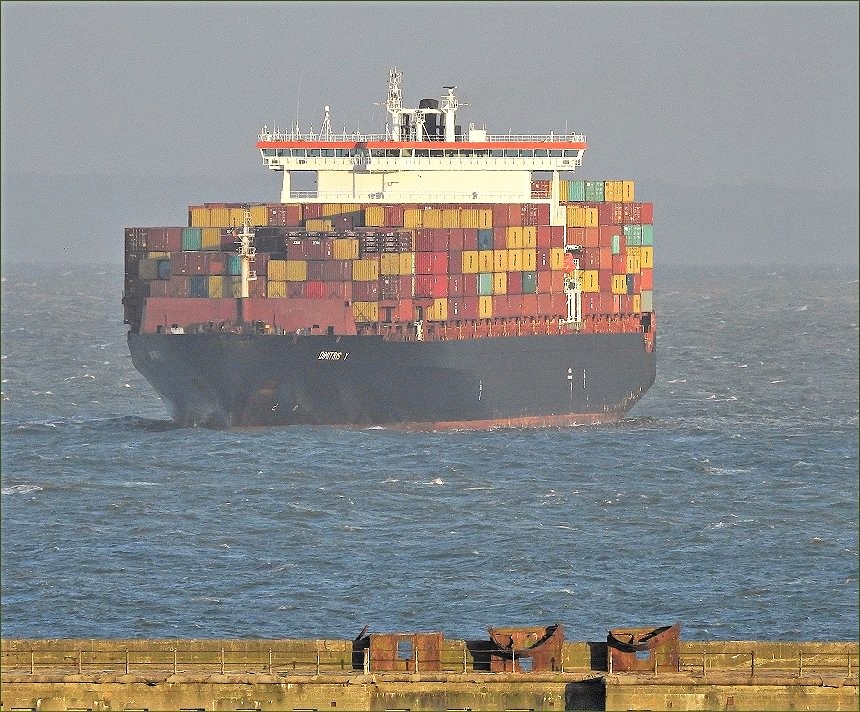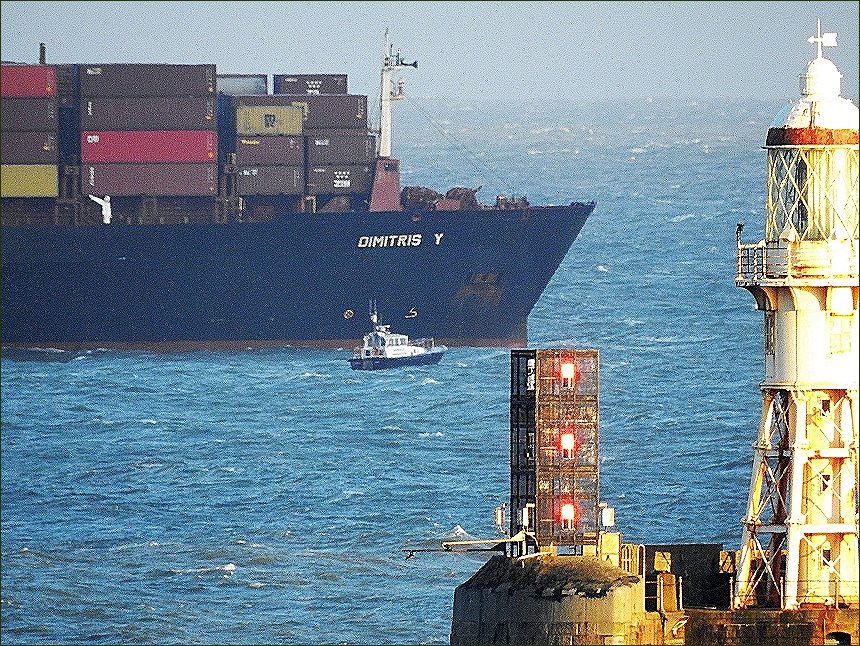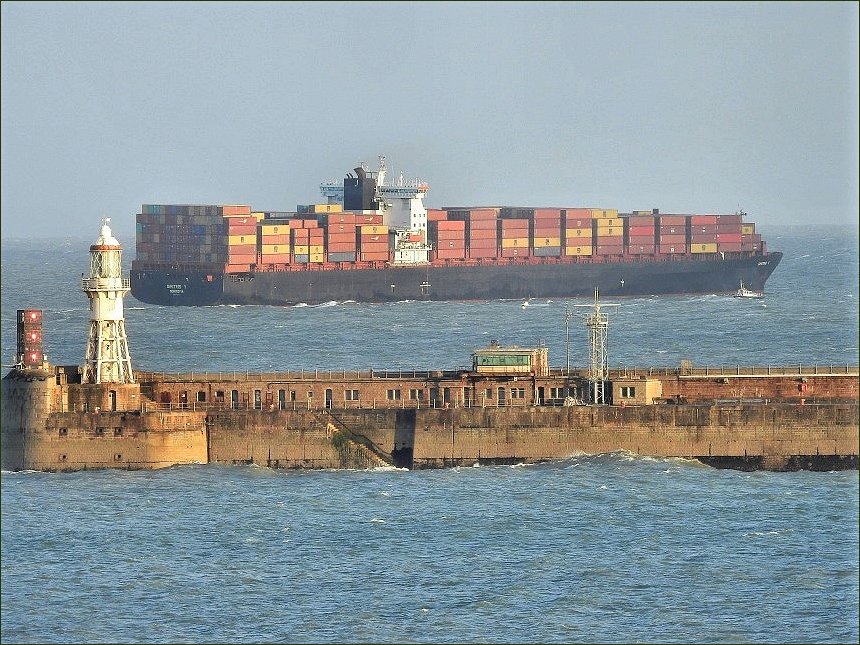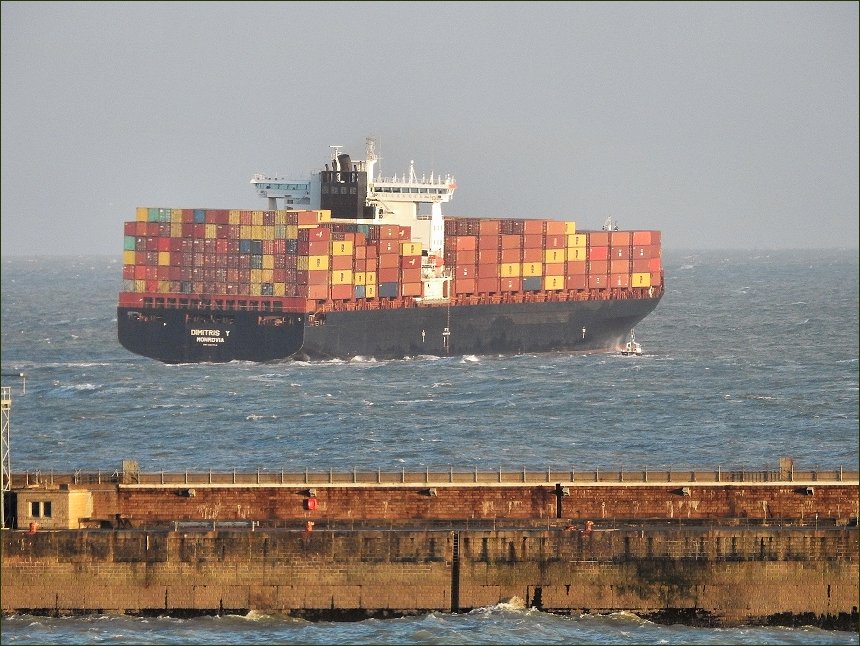 Yes busy day yesterday Mike, nice collection below there. Thanks for the tips, will have some extra pix to follow along in due course..

very interesting one Patrick..good to see that, so many gems right in front of us...

Thanks Del once again...yes the redundancy news is hugely disappointing. No doubt we will have more on that in due course.
PaulB
Wednesday, 13 May 2020 - 06:31
Post 7005
Mike J., Dover
Tuesday was a busy day for the pilots - arrival of AURORA for CT2, sailing of PACIFIC REEFER for Vlissingen , arrival of LIAMARE with stone for WD5 [west] & PANDA for WD5 [east] to load rapeseed.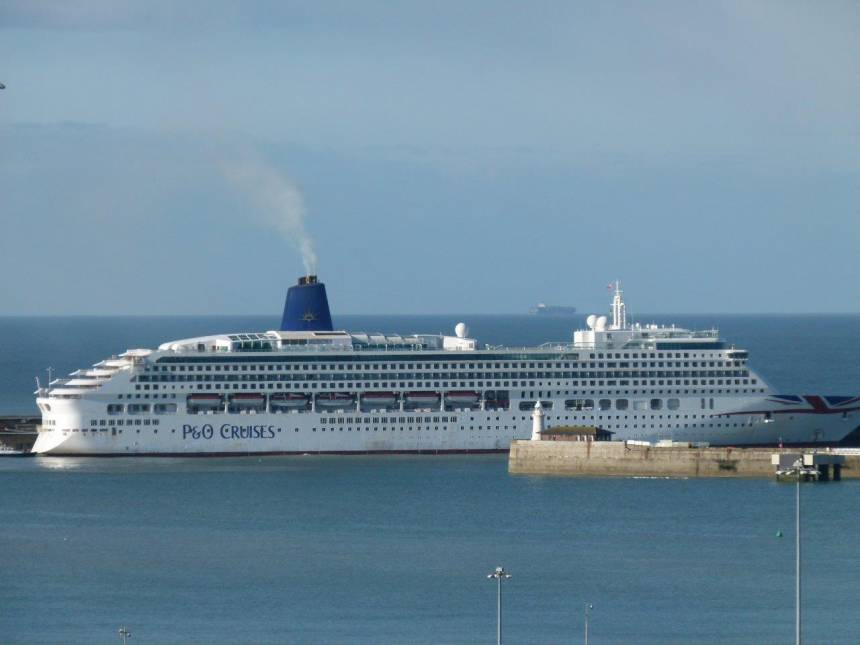 PANDA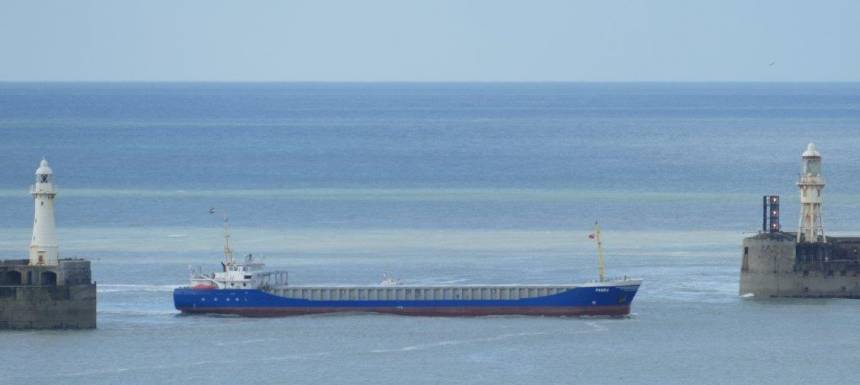 LIAMARE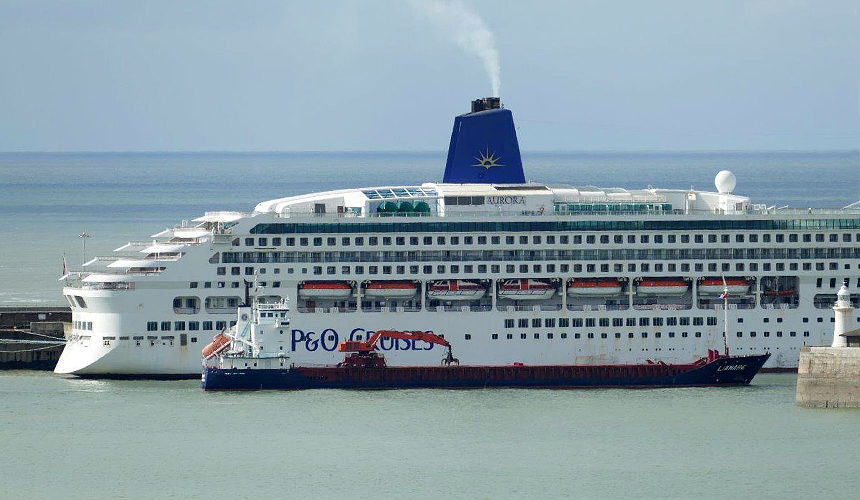 Around midday the arrival of self-discharger YEOMAN BANK via the Eastern Entrance for WD4 from Glensanda Quarry in Scotland with aggregate which is being discharged by Her swinging boom.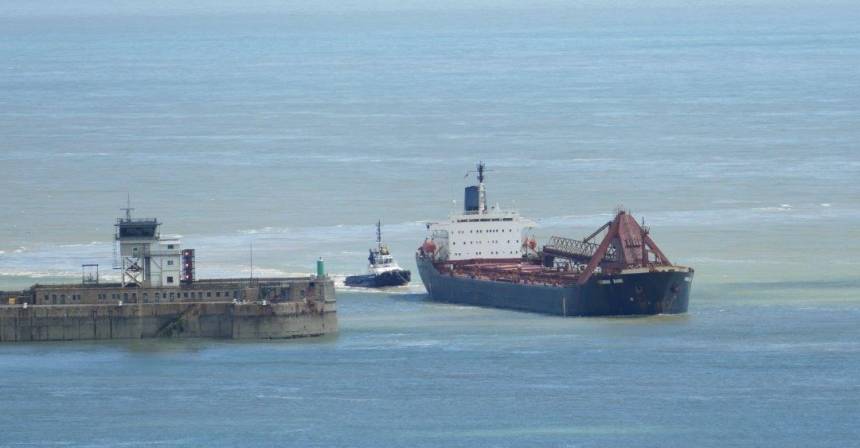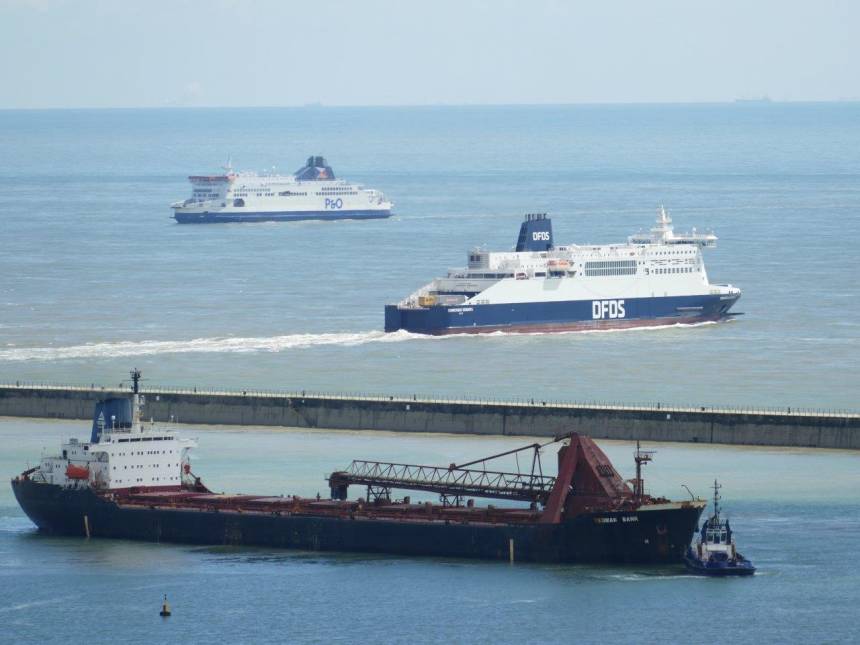 The AURORA is back at sea again now & the other two are expected back over the next few days.
Of the 1100 reported P&O redundancies it is being reported that just over 600 will come from the Dover P&O operation & three ships will, for the moment, be retained.
Obviously the two 'Spirits' & at present the PRIDE OF KENT.
Very little mention recently about P&O's two new double-ended ferries due to enter service in 2023 . . . . .
Wednesday, 13 May 2020 - 03:50
Post 7004
Del Styan, Norwich
Now I've recovered from the 7000 moment, well said Natalie. Thanks for the quote.

Tuesday, 12 May 2020 - 23:13
Post 7003
Del Styan, Norwich
7000! wowwee! What can I say. I suppose the tabloids will be hounding me now. Oh fame - who wants it, I'd better go underground for a while till the fuss dies down.


Tuesday, 12 May 2020 - 23:11
Post 7002
Patrick, Marine Parade
Looking more like part of a WW2 Maunsell Fort this structure can be found much nearer to home. This somewhat murky photograph was taken a few days ago at low tide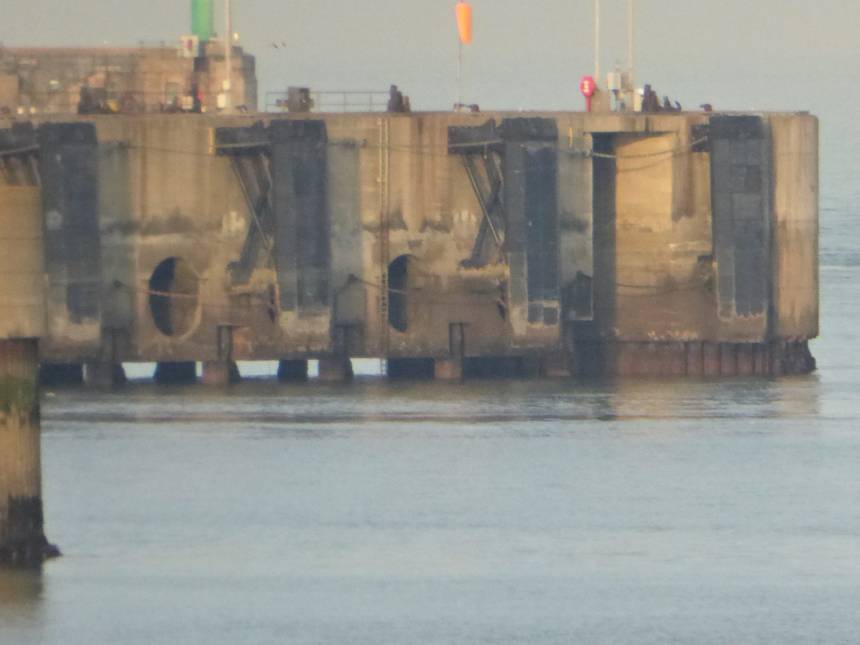 Tuesday, 12 May 2020 - 22:12
Post 7001
Sea News, Dover
Yes Del...its shocking news... up to 1100 P&O job losses.
I thought the situation had been sorted with the Governments furlough scheme but obviously not...
The following is from the RMT (trade union)
RMT Press Office:
__________________
Responding to the news of over 1,000 job losses on P&O's key routes from Dover and Hull to the continent …
RMT General Secretary Mick Cash said,
"This is devastating news and an appalling betrayal of the P&O work force.
" This is a kick in the teeth for P&O seafarers who have maintained key supply lines to the UK during the Covid -19 pandemic.
"What is utterly shameful is P&O have been kept afloat by our members and the taxpayer whilst their owners have been paying out hundreds of millions in dividends in Dubai and cooking up plans to permanently replace UK seafarers with low cost seafarers from thousands of miles away.
"This is an attack on British seafarers, crew and the biggest fear is that these jobs will never return to Dover or Hull. But you can guarantee that P&O ferries will still be running passenger ferry services from those ports to protect their owner's profits at the country's expense.
"We are seeking urgent talks with the company and will fight tooth and nail against these job losses and we are calling on the government to step in now and nationalise these services to protect jobs and the UK's maritime interests,"
Ends
No doubt local MP Natalie Elphicke will have more to say about this in her next Newsletter...
but right now we have this quote courtesy of the BBC
Natalie Elphicke said:
"Let's remember that P&O, which is owned by the Sovereign State of Dubai, has received millions of pounds of financial support from our government in recent weeks. There can be no doubt that Dubai has more than enough money to keep P&O going in full."
The Spirit of France a few evenings ago under the full moon...
…..an upbeat creative picture taken when things looked a little more optimistic...
A picture below of Vigilant taken a day or so ago...heading out for another day at the coalface, dealing with that other news story of the moment...the Migrant surge...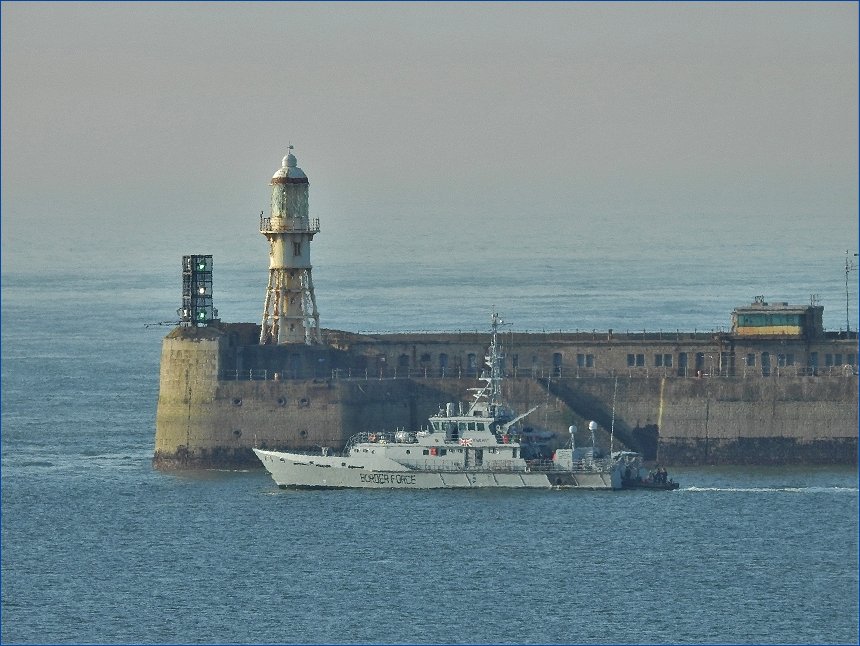 Many thanks Del....

...just noticed Del .. you made the 7000th post...


PaulB
Tuesday, 12 May 2020 - 06:52
Post 7000
Del Styan, Norwich
News of the Dover P and O staff redundancies has hit the national press, I see. I see MP Natalie has something to say on the matter. More to come on this I suspect.

Monday, 11 May 2020 - 23:06
Post 6999
Sea News, Dover
These are quiet days on the activity front, for obvious reasons, but it gives us a chance to look back at a few more 'barge' pictures. These ones taken about a week ago on a nice evening..a tad misty though, but you cant have everything! They show the barge approaching the port from a fair way out...the barge, guided by workboat/tug Sarah Grey with small tug New Ross 1 in close attendance...and also to hand...the pilot boat.
Note the 'airborne' ship in the distance and the Varne Lightship too...they took yours truly by surprise when gazing at the photos later...never saw them up there floating on air...a sort of a trick of the light I guess...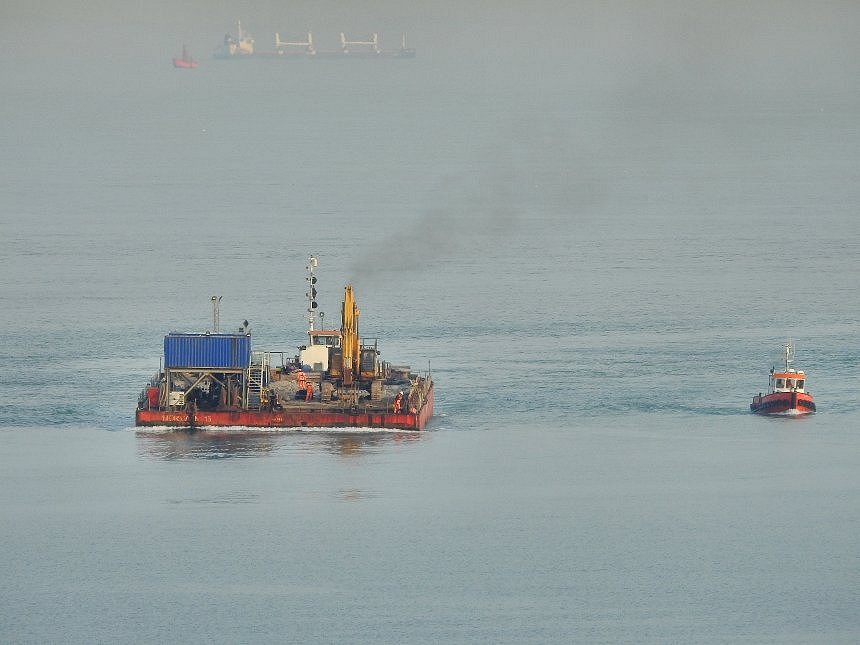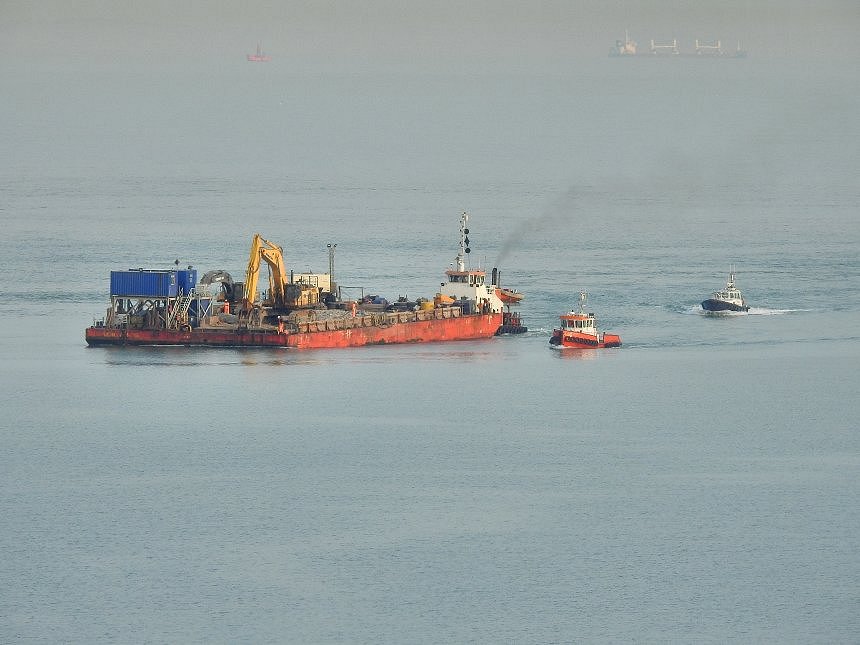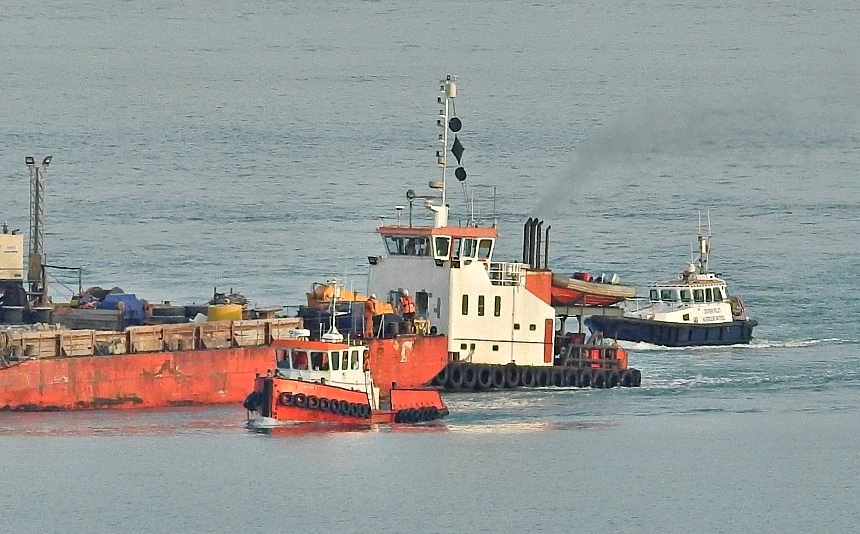 Thanks Del. Yes rough oul weather down here today too..strong chilly gusts whipping through.
Now where did I put me string vest...

PaulB
Monday, 11 May 2020 - 06:50
Post 6998
Del Styan, Norwich
Lovely moon photos - thanks for them. The sun has certainly got his hat on today. Bloody nippy up here in Norfolk, with tidal alerts around the coast. The weather just doesn't know what to do!

Sunday, 10 May 2020 - 23:10
Post 6997
Sea News, Dover
A further picture now of HMS Severn through the mist, this time as she passes Arcadia seen here in the foreground. With the naked eye the container ship in the distance wasn't visible...the computer brought it into play later so they made an interesting threesome. Because yours truly didn't see the container ship the name was never looked up...its a mystery...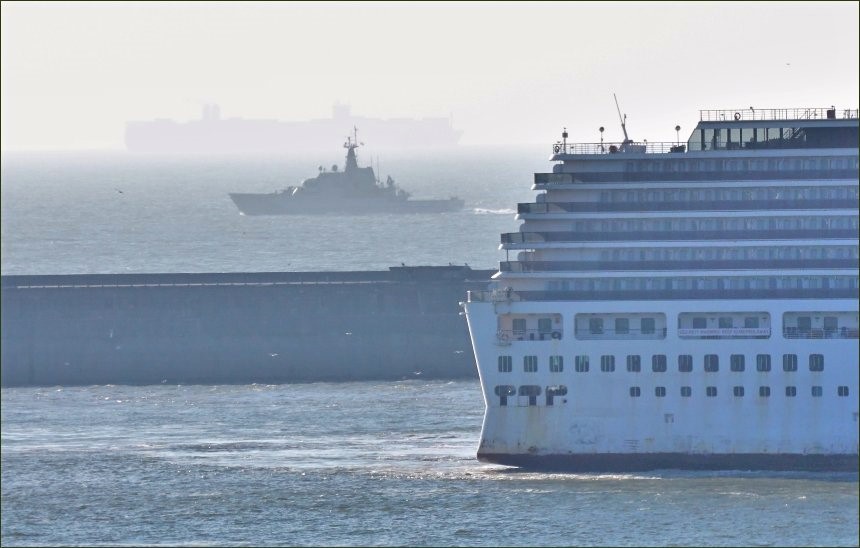 Every full moon seems to be called a 'supermoon' these days...i've seen this one called it as well. Pictures from a couple of days ago as the stunning 'supermoon' sinks onto Western Heights very early morning.. before man or beast was awake. Western Heights overlooks the Port here... pictures from the 7th which was...let me see.... yes Thursday ...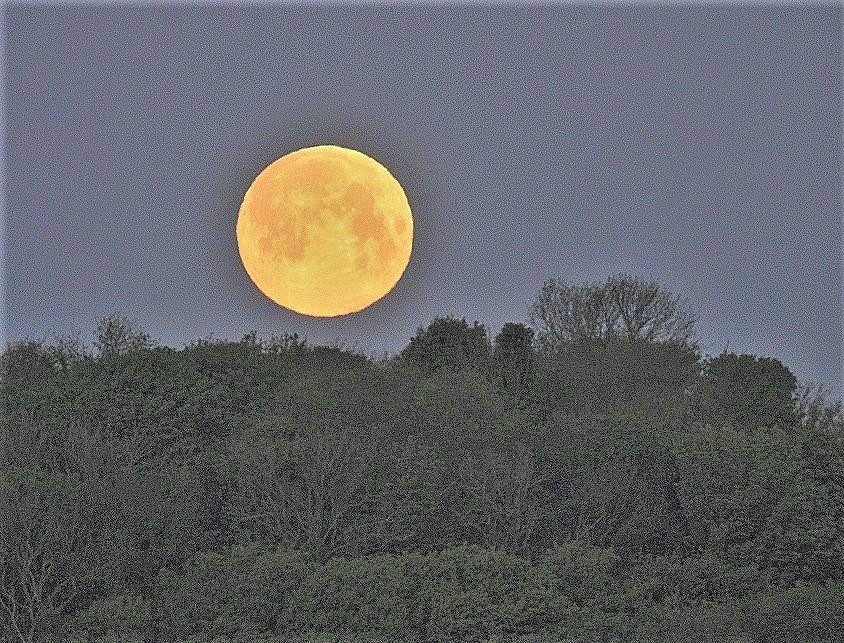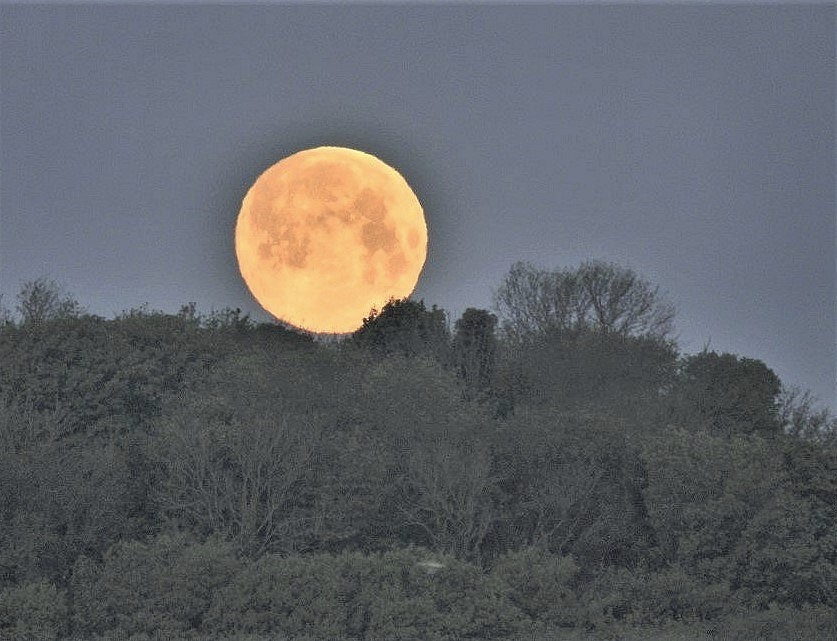 Supermoon Dover.
Looks like our sunblessed heatwave may have dispersed..we have gentle rain here in Dover this morning.
PaulB
Sunday, 10 May 2020 - 07:12
Post 6996
Sea News, Dover
Found this further shot in the files re the Arcadia damage as mentioned yesterday...similar shot to Patrick's here..was focusing on the pilot boat not noticing the damage to Arcadia rear left, just above the pilot...but you can see it once again now..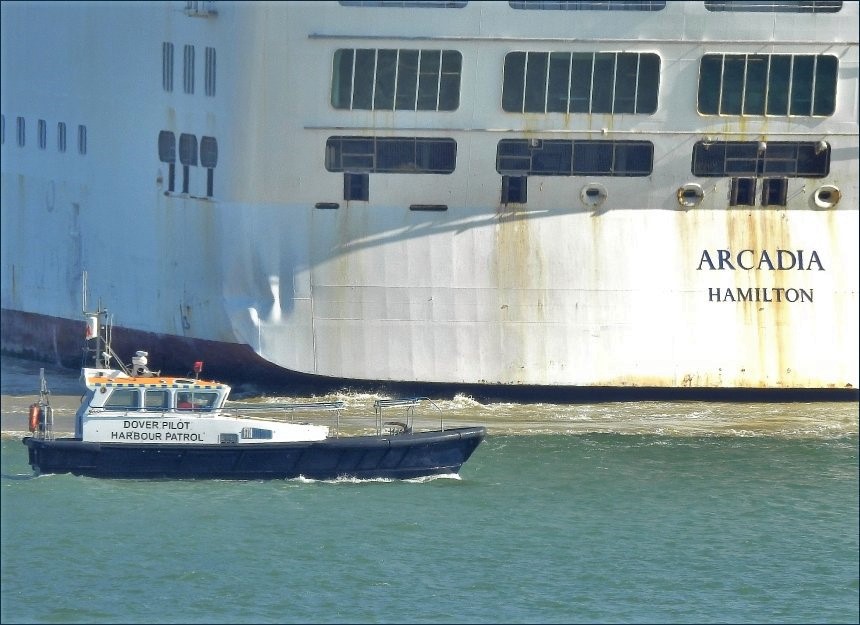 Just to say in advance , the pictures below of 'dive boat' Eagle at pier WD4 (retrieving sunken gangway) are not the best quality. Yours truly tried to reduce the haze via computer, they were very hazy pictures, but instead of making it all better...well...
but anyway, here we are......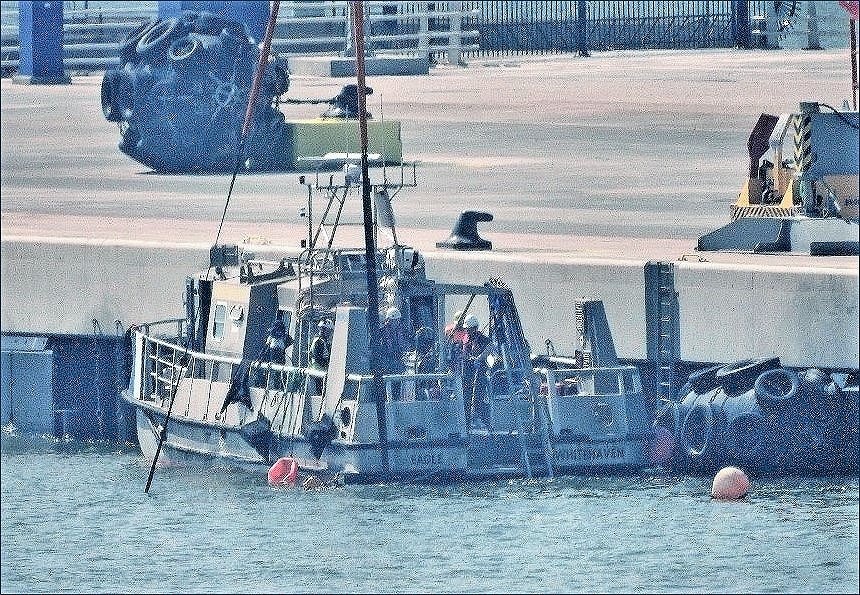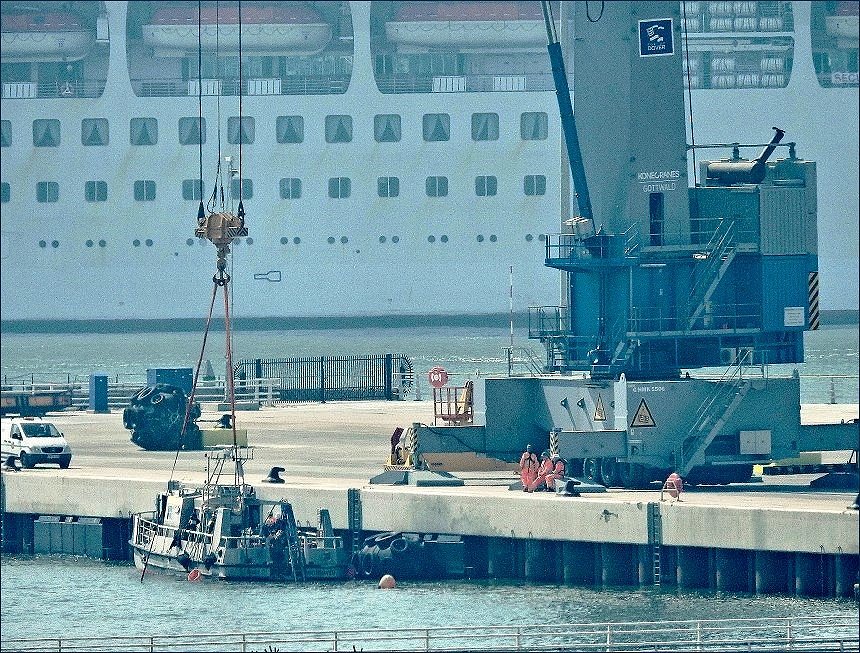 One of the huge cranes had come across from pier WD5. See also 6992 below for more detail...

Thanks for that info below Brian...
PaulB
Saturday, 9 May 2020 - 05:56
Post 6995
brian dixon, dover
oceana departed at 1220 heading westward

Friday, 8 May 2020 - 14:00
Post 6994
Sea News, Dover
Arcadia didn't stay long on the Eastern Arm this time and within a few hours she was off again to the ocean waves at around 4.30pm ...
( 16.30 Wednesday)...and here she goes...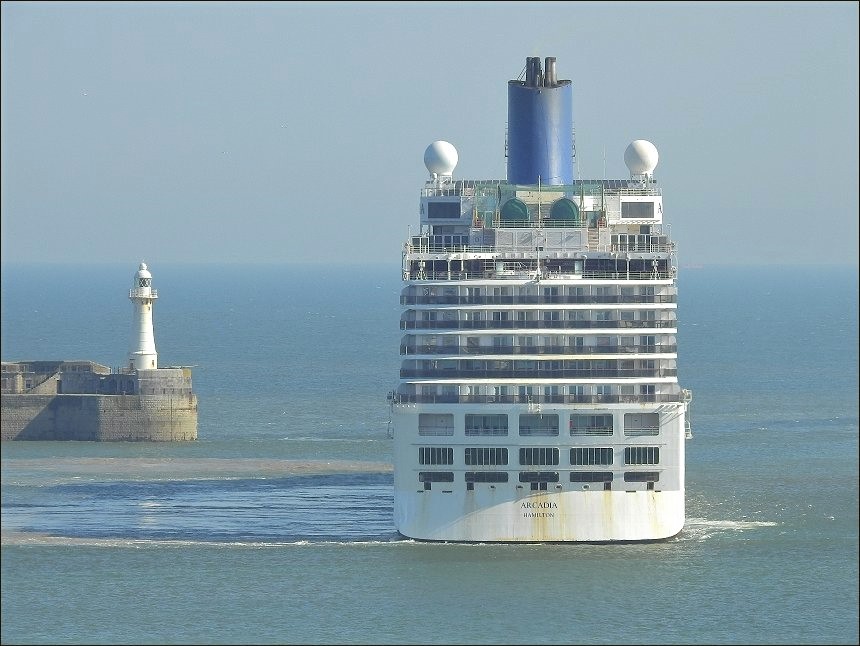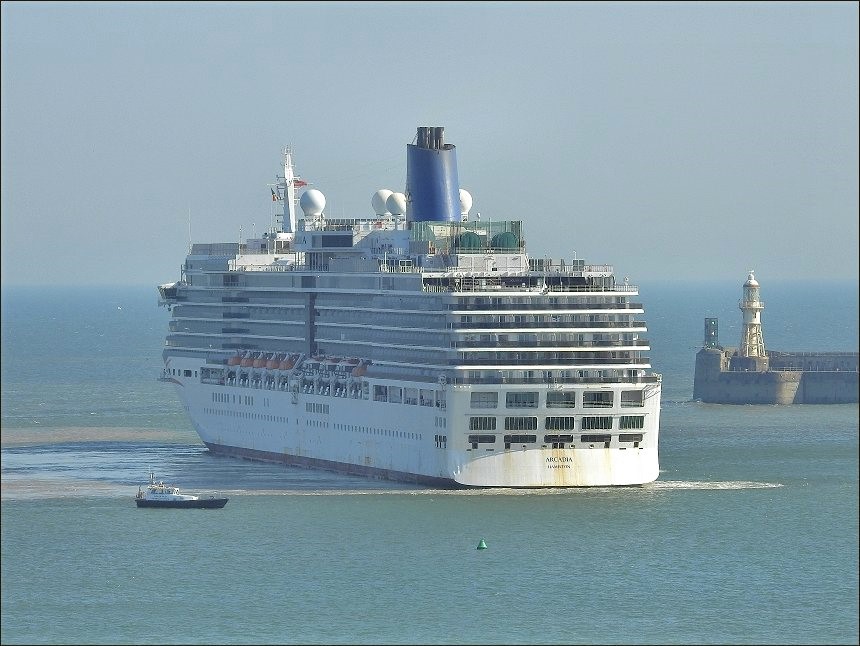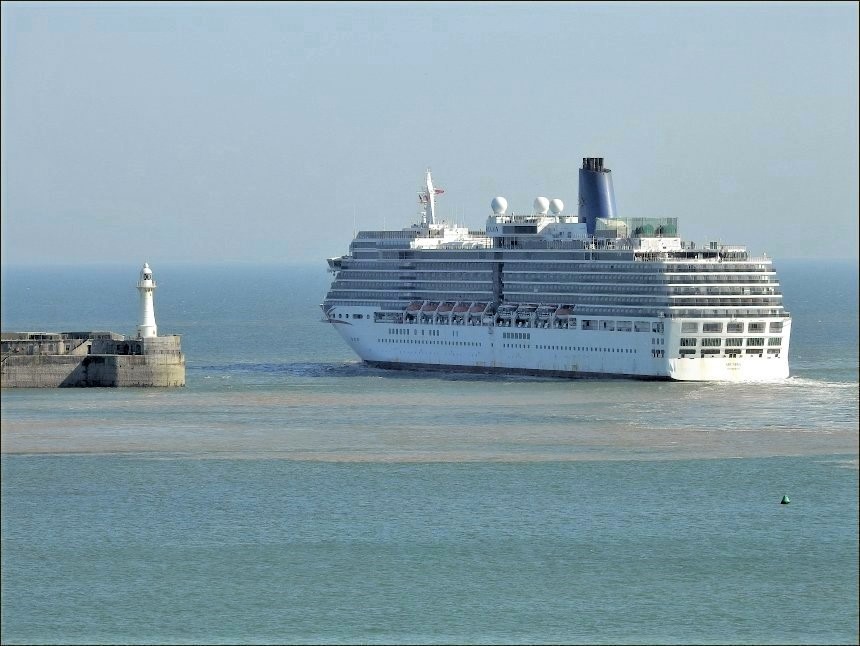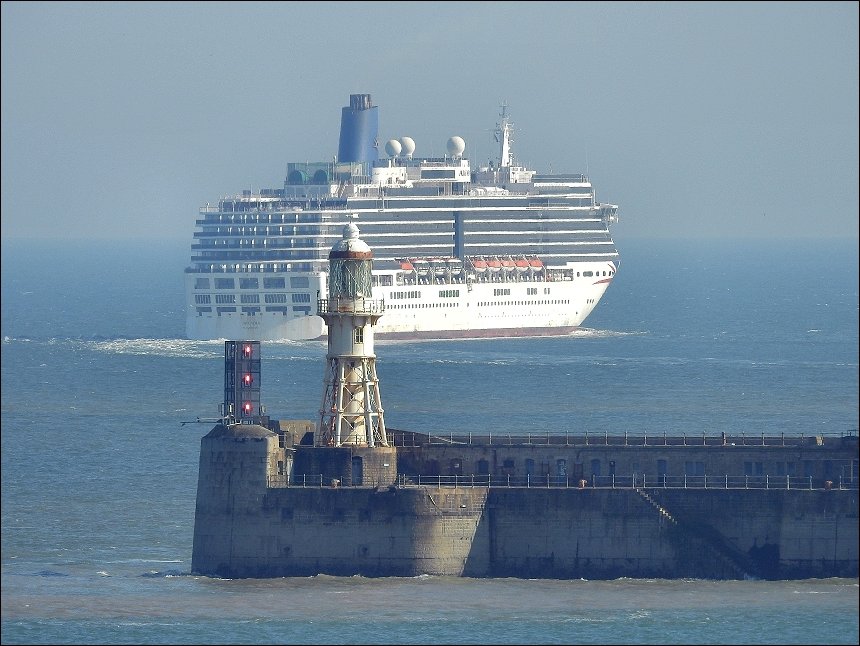 Patrick spotted the damage to the rear left of ship....see his post below...
will have a better look myself as have a few extra pictures in the system...
We mentioned yesterday about the emptiness of the Port at times...yours truly took the picture below of Oceana approaching in the blinding early light...but in a way the more interesting aspect is the foreground...no ships no vehicles. Although...be not alarmed, the trucks are still coming through and going out in good style...but all leisure traffic is gone and at times the Port looks.. well...empty ….you can see some parked truck-trailers in the foreground there but that's it.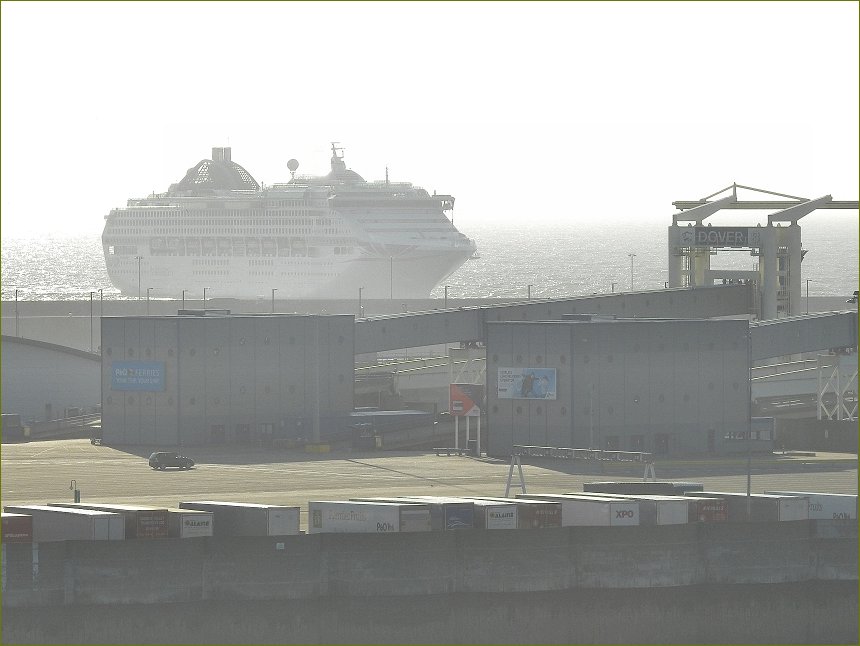 Great post below from 'inshore correspondent' Mike...enjoyable pictures and lots of great info there...don't miss that ..6993.
Fab sun pictures Mike...

Great post too from Patrick just below that 6992...a great spot there Patrick re the damage to Arcadia...never twigged myself. I have some extra pix in the files will have a further look. Nice planes too. Great stuff Patrick!
Terrific clapping and bell ringing last evening on the seafront here once again, and indeed throughout the nation for the NHS and for Carers everywhere. Pots were banged, bells were rung, hands were raw with clip clap clapping...brilliant...
Oceana gave us lots of whistle blasts and rockets were fired from Western Heights overlooking the Port.
Well done too..to all those keeping the whole system working.

VE Day

PaulB
Friday, 8 May 2020 - 06:40
Post 6993
Mike J., Dover
Interesting post & photos from Patrick re the ARCADIA & her 'incident' the other day.
Patrick's photos confirm that there was minor damage which looks to have been painted over - obviously nothing too serious otherwise she would not have been permitted to sail.
She is currently anchored off Portland.
The photos of the 'lift' look to confirm the rumour that her gangway fell into the dock after her bows swung off the berth when her headlines parted.
The 'lift' looks like a slightly rumpled enclosed gangway.
These things happen - a good job that both tugs were available & not busy with ferries.
I don't expect we'll see a cruise-ship on WD4 again, too exposed.
The SEVERN SEA followed the SARAH GREY & VENTURE's departure on Wednesday with their barges, sailing on Thursday afternoon for Falmouth.
A most interesting ship, with some excellent pix by Paul.
There are expected to be further sea defence works at Deal in the fairly near future, with stone brought in by the faithful LIAMARE.
A few more pix from Wednesday late afternoon, very low water for views of the HUNTER & Whitstable-based shellfish dredger WASH PILGRIM, thought to be part of the Cardium Shellfish fleet which have visited Dover in the past for work in the boatyard.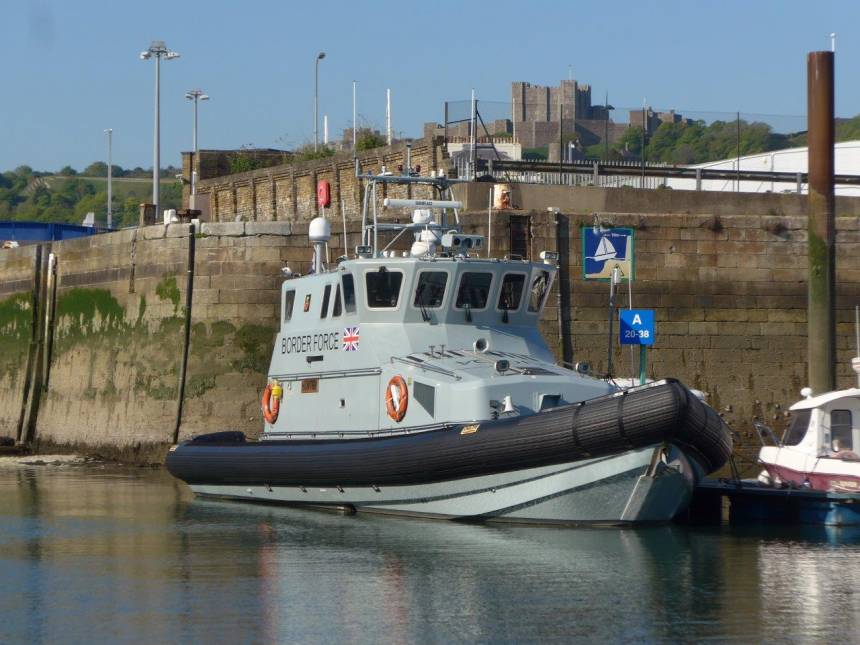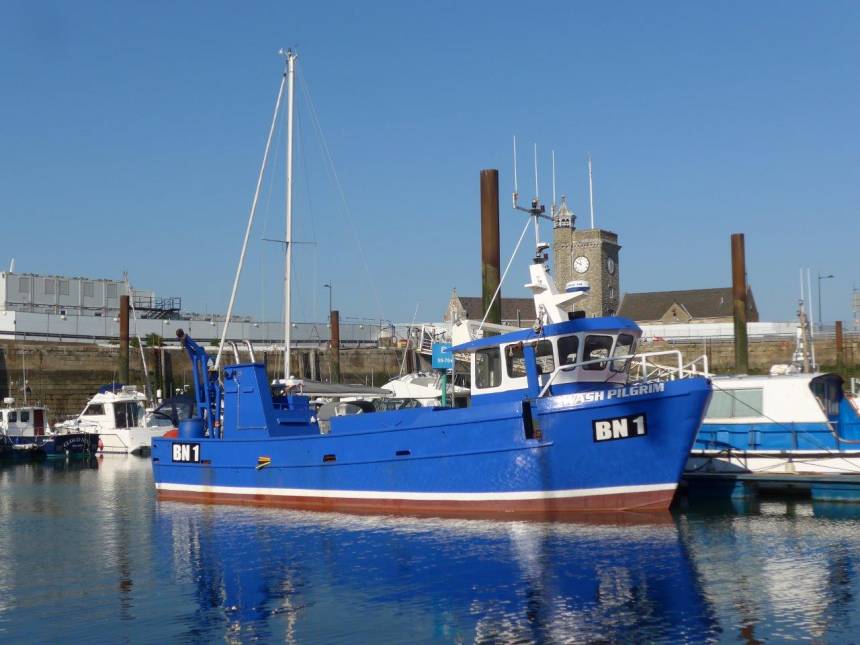 Wellington Dock gate with the swingbridge in the background.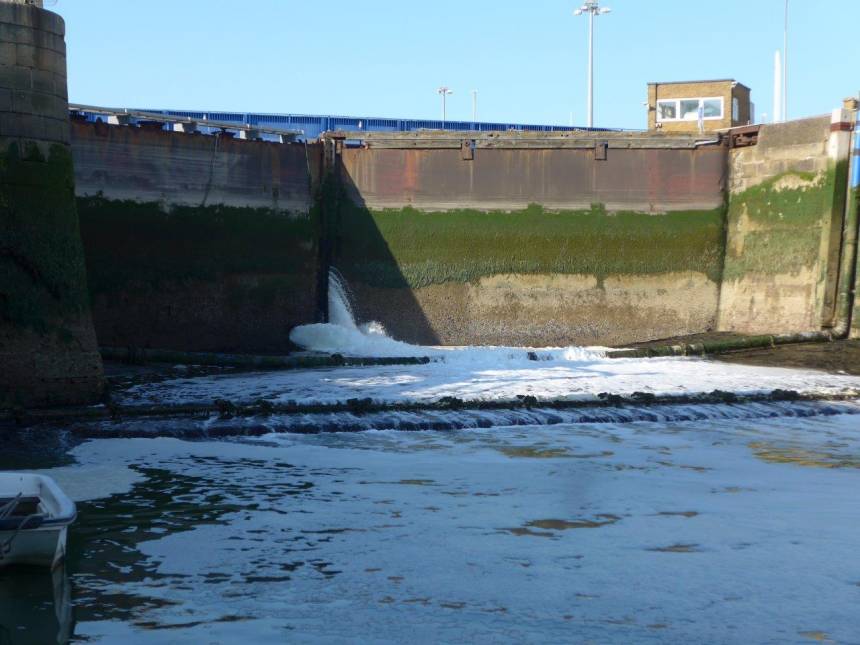 An unusual phenomenon on Thursday could be seen above Dover & in the local area.
A halo around the sun caused by refraction of light thru ice crystals high in the atmosphere.
Individual patches of refracted light thru ice crystals are often called 'Sun Dogs' but a little unusual to see a full halo.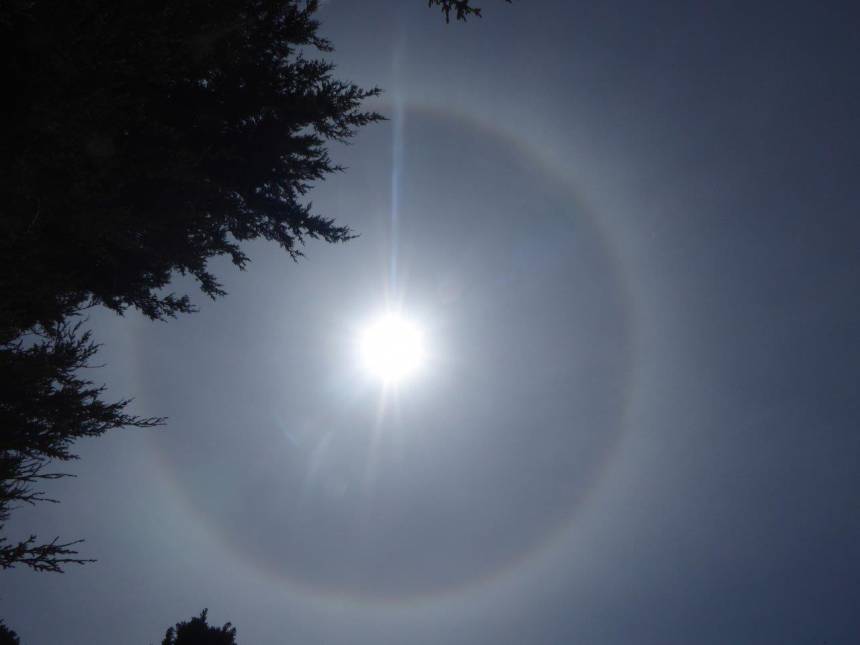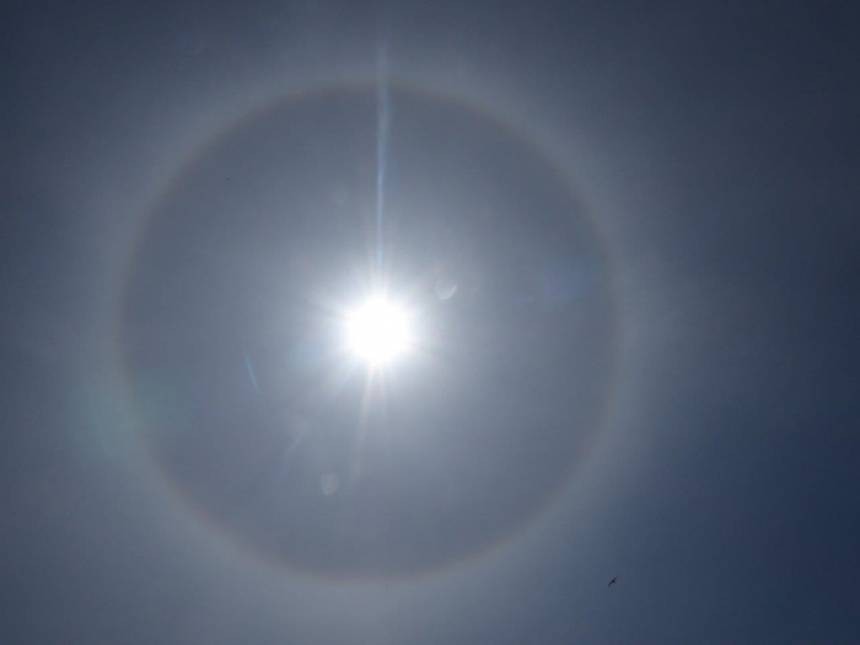 Friday, 8 May 2020 - 01:36
Post 6992
Patrick, Marine
Following on from Paul's #6978 and Mike J's #6974 posts regarding the 'Arcadia' incident on WD4 - when it involuntarily parted company with it's berth (possibly with its gang plank still in place). Having then left on one of those regular P&O Cruise Liner 'trips' to Portland Lay-Up, it made a very brief trip back onto Dover's Eastern Arm before departing again the same day, again destined for Weymouth (Portland) with what appears to be slight damage on the aft port quarter just above the water line.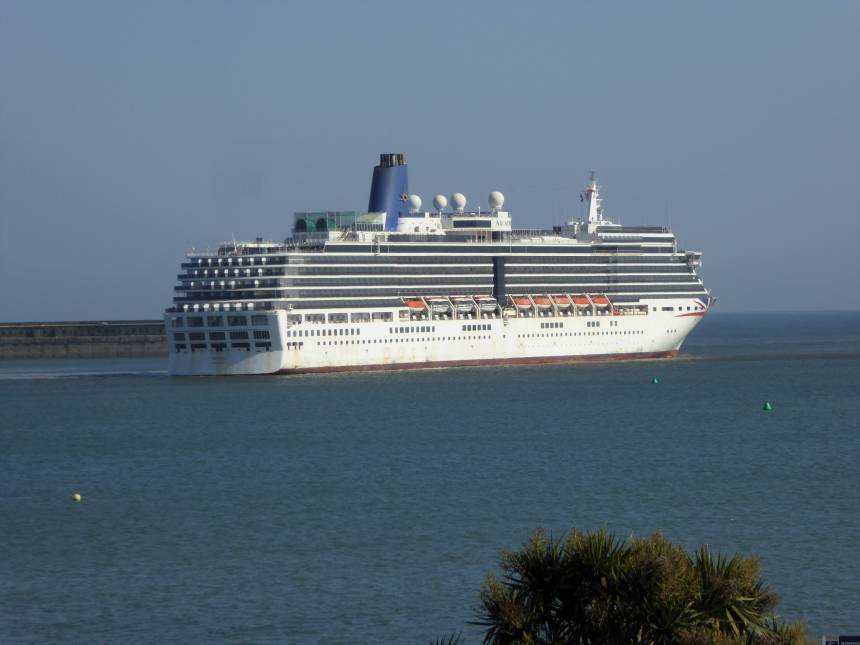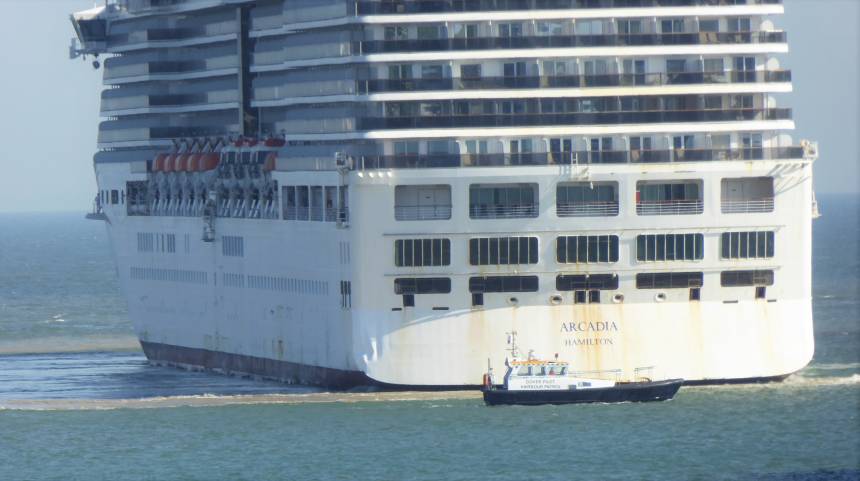 There were diving operations notified relating to WD4 shortly thereafter and today's rather hazy weather photos show one of the cargo terminal cranes involved in a 'lift' at the berth.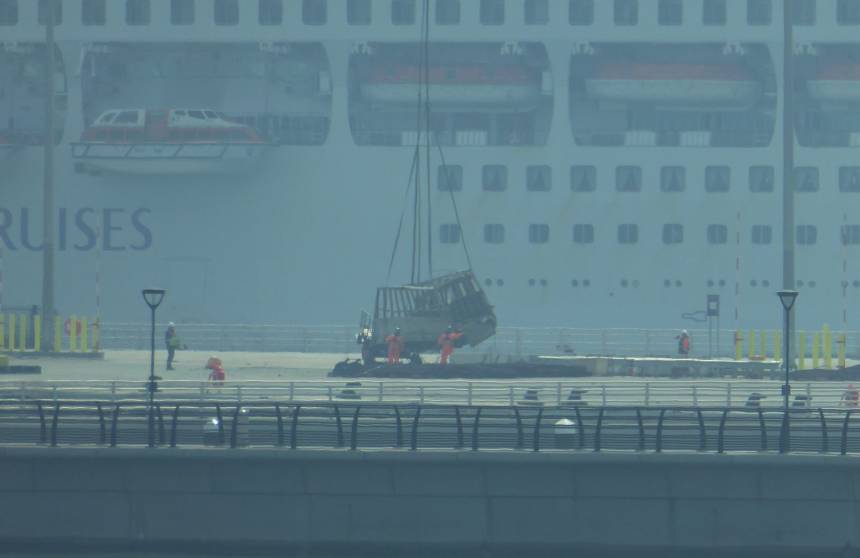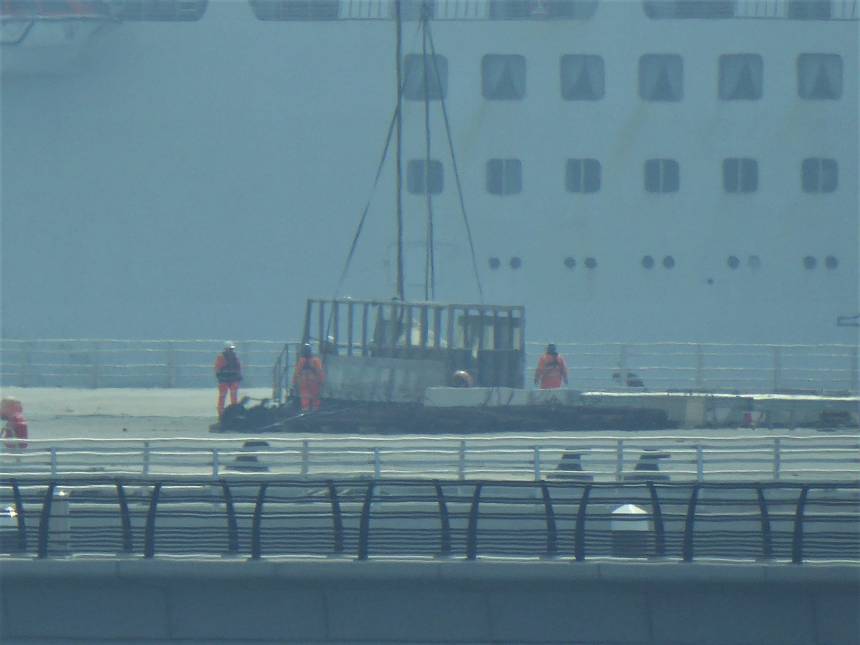 On a more cheerful note there was an aerial display yesterday over the channel and harbour. Was this a rehearsal for VE day?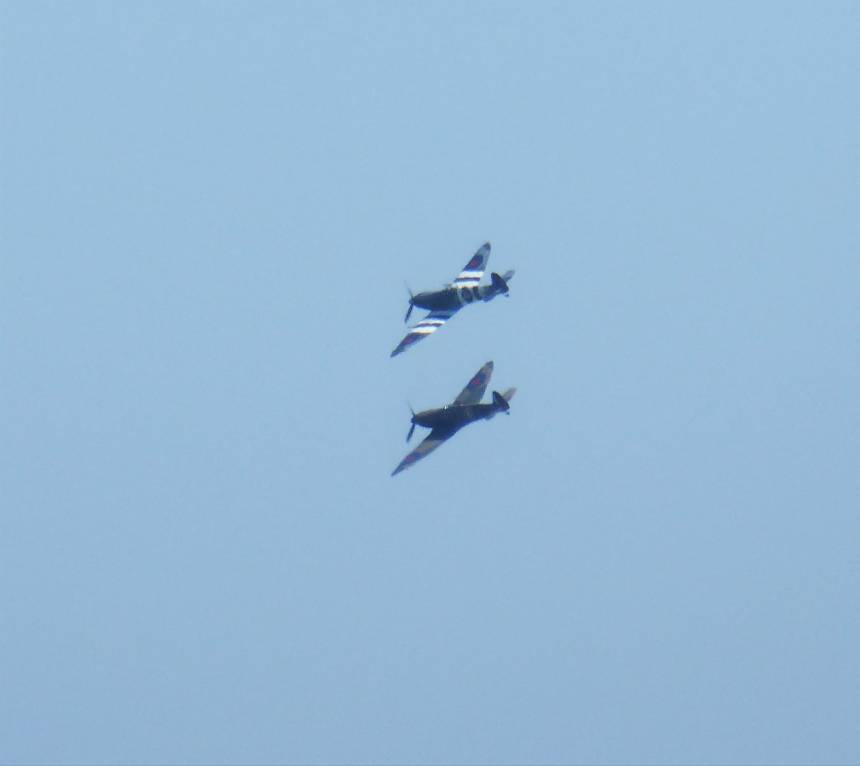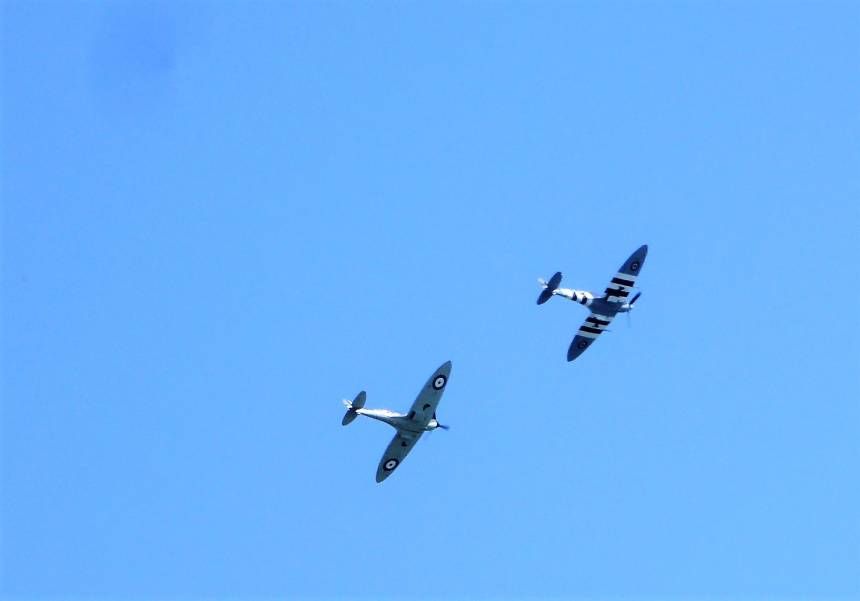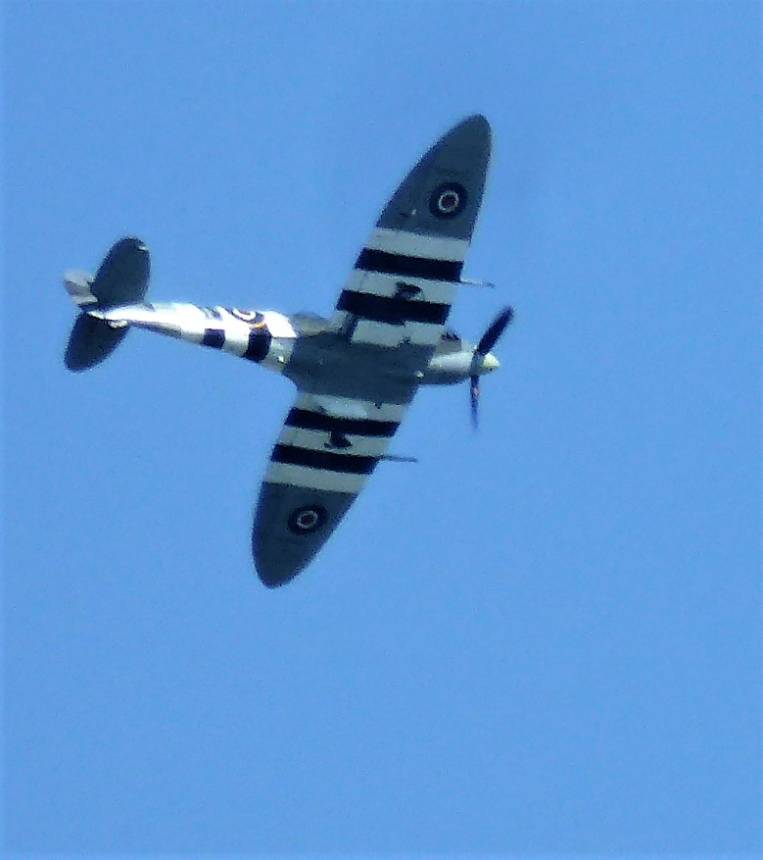 Thursday, 7 May 2020 - 17:58
Post 6991
Sea News, Dover
HMS Severn of the Royal Navy was just off the Port here yesterday morning...conditions were very hazy but we managed to get a few pictures. She was hereabouts just as the P&O Cruise ship Oceana was returning and you can see the combination of the two below. Also returning at the same time...a traffic jam of cruise ships...was Arcadia...no real pictures of her this time but will have some more new shots later...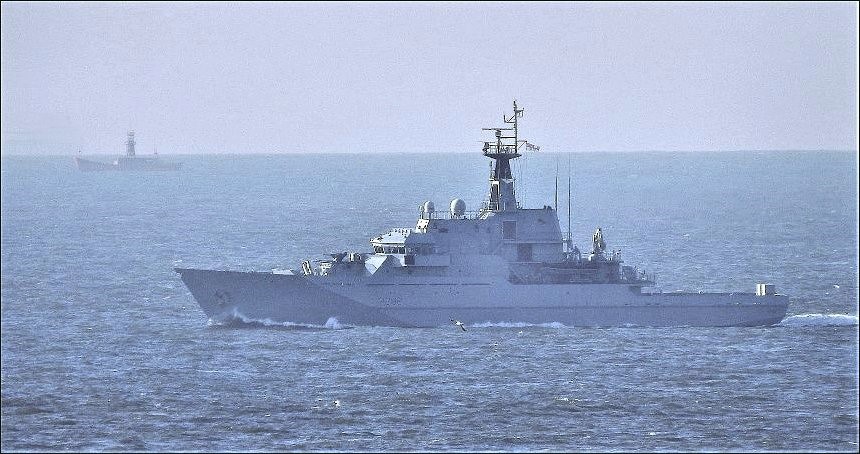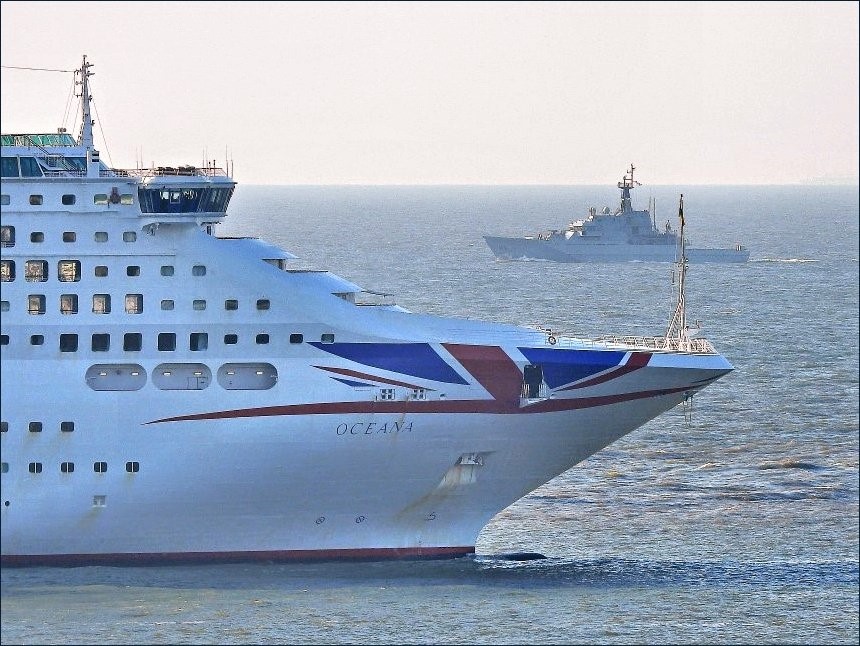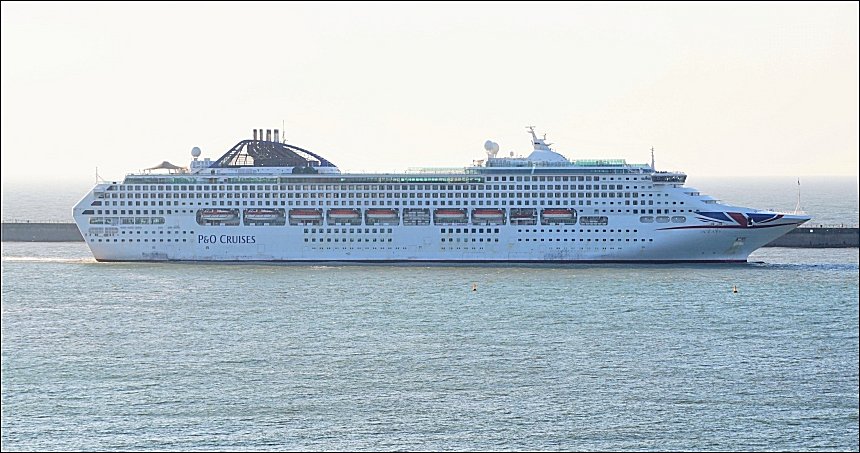 This one of HMS Severn below was taken a wee bit later.. looking east..Arcadia was back on the Eastern Arm by then and as mentioned before, yours truly just has that tiny window there to get a picture..as Arcadia blocks out the light from the East...!!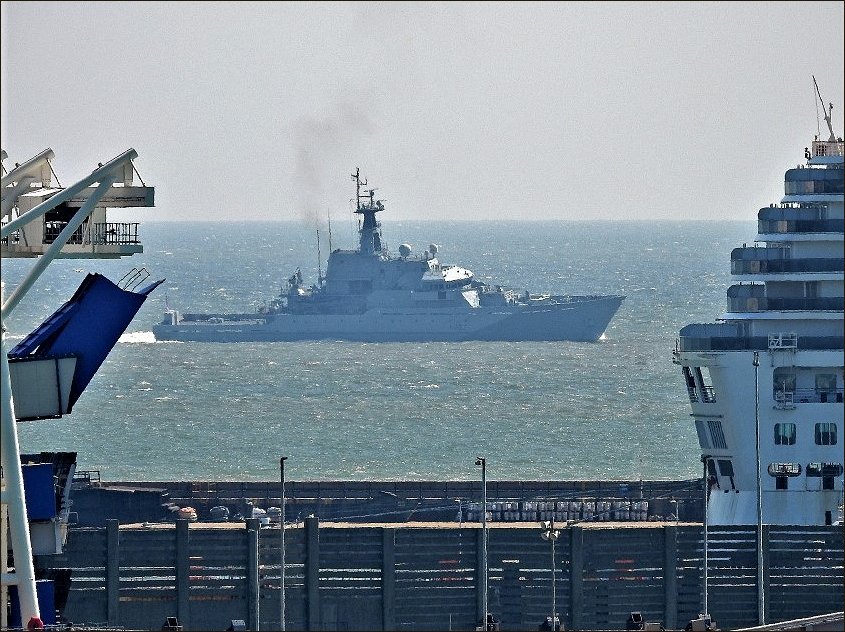 More media...another TV crew in the same spot as Simon Jones a couple of days ago...picture further below page...alas I don't know this particular chap this time... Obviously the Port is the story of the moment, will have a pic tomorrow, all being well, showing just how empty it is....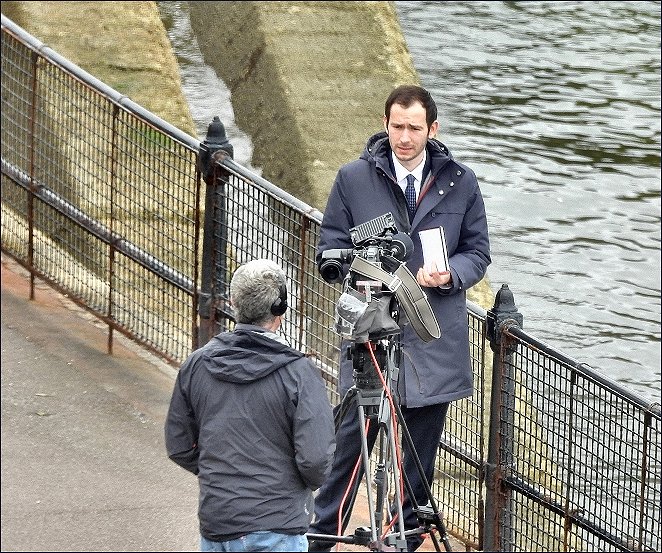 Great info and collection below from Mike...so don't miss all that...great stuff Mike!

Thanks again Vic...interesting info there about the Folkestone sign.

PaulB
Thursday, 7 May 2020 - 06:37
Post 6990
matcham, dovor
that sign on the wall of Folkestone is the one myself and mate welded on years ago still there so my welding must have been OK

and again great photos on this page as they will not put me back on the forum this the only one I can put anything on.

Thursday, 7 May 2020 - 06:22