Friday, 25 May 2018

WWW.DOVERFORUM.COM/SEA-NEWS
Doverforum.com: Featuring all the ships that come and go and work at the Port of Dover with further coverage of the surrounding towns both sides of the Channel. Email: dover7@msn.com to send SEA NEWS pix or info....
or click ADD YOUR COMMENT below to post direct, no membership needed.
PORT OF DOVER: Konecranes for new Cargo Terminal 4916.
PORT OF DOVER: £21 Million DWDR 'paving plus' contract awarded 4895.
PORT of DOVER - three cruise ships, one day 4885.
DFDS Charters New Ship see 4866.
New Marina Pier ... Latest...see 4861.
P&O FERRIES presents big cash to RNLI Dover...see 4829.
PORT of DOVER: Chief Executive TIM WAGGOTT Resigns...see 4778.
P&O FERRIES recruiting...4745.
PORT of DOVER awards Cargo Refrigeration Contract see 4740.
PORT OF DOVER: Community Benefit 4688
TRADING GROWTH FOR DFDS DESPITE BREXIT see 4642
PORT OF DOVER RECORD FREIGHT see 4551.
PORT OF DOVER: GEEST LINE arrival see 4597.
SECOND FEMALE CAPTAIN FOR P&O see 4608.
Sea News Dover :
Use our SEARCH ENGINE below to find all sorts on the SEA NEWS pages..more than 240 now with more than 4750 nautical posts. Posts welcome. Max of 5 pictures preferred per post.
Type CRUISE VISITS in our SEARCH ENGINE below for news of the latest arrivals.
Sea News Editor Paul Boland - dover7@msn.com .
Post 4912
Sea News, Dover
As promised the other 'beast from the east' China Shipping Line's Ocean Pacific
...all 188.000 tons of her and right in close to the Port of Dover. One of the worlds biggest ships.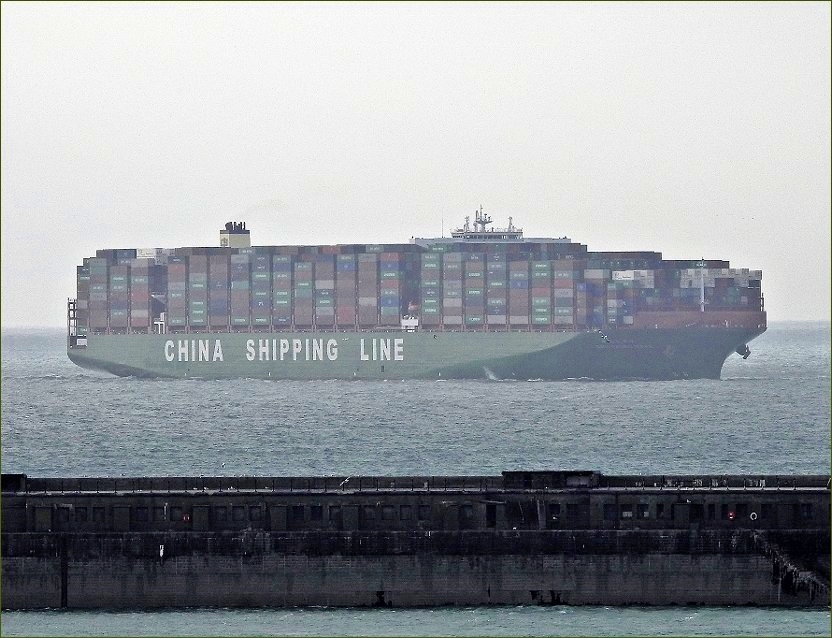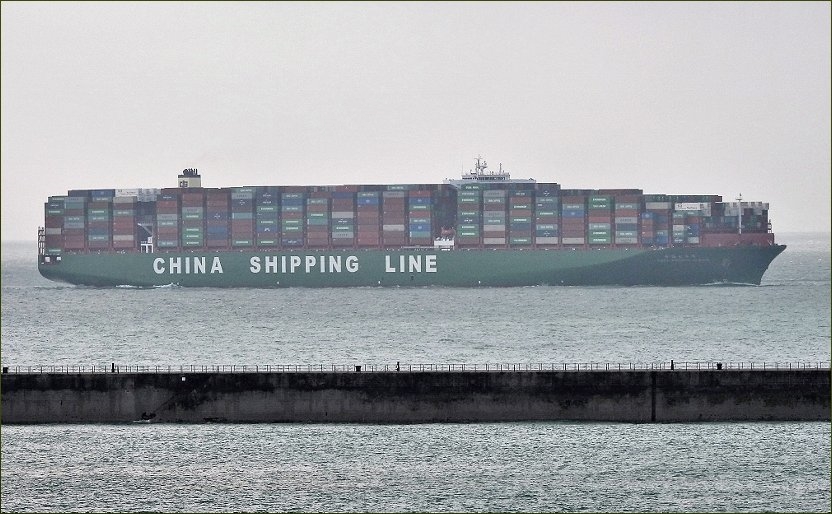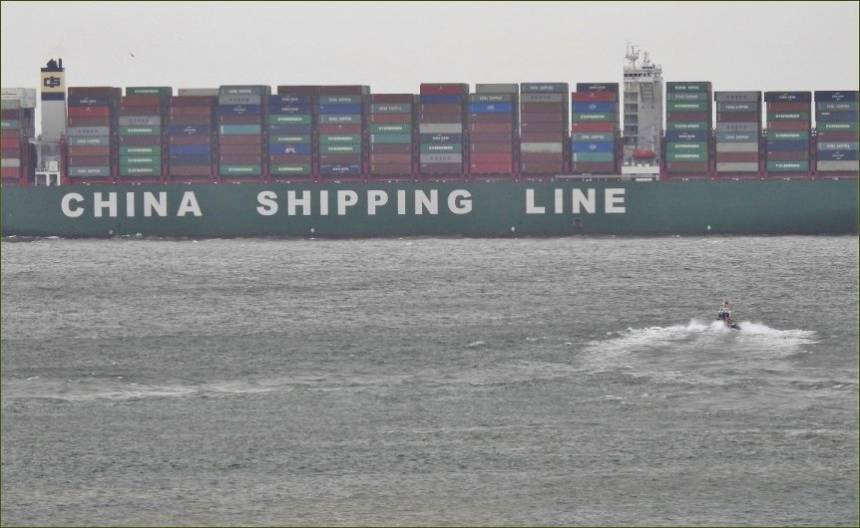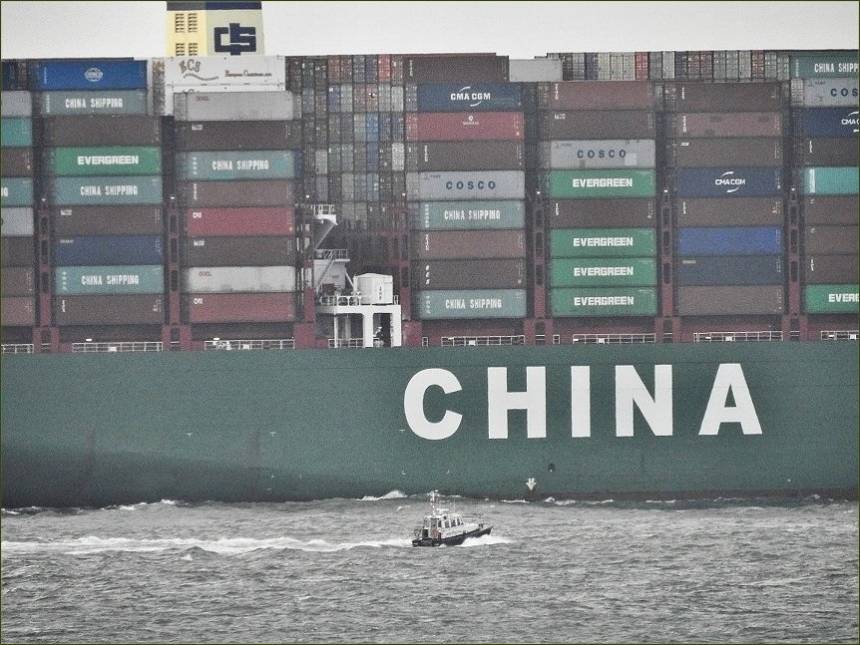 Its hard to do justice in a small space to a ship that big, so yours truly has pushed the pictures as far as we can go behind the scenes here....so all can enjoy. Lets hope it all works okay when I press the upload button. We gather in the rougher weather of a few days ago the ship came close to shore to allow the pilot to leave...you can see our own pilot boat above there, close in to the action.
Ah...have just come across this one below in the files, didnt realise I had taken a picture of the ship before, here we are long range in 2017...although I called her Pacific Ocean rather than Ocean Pacific in the files, I guess its one and the same.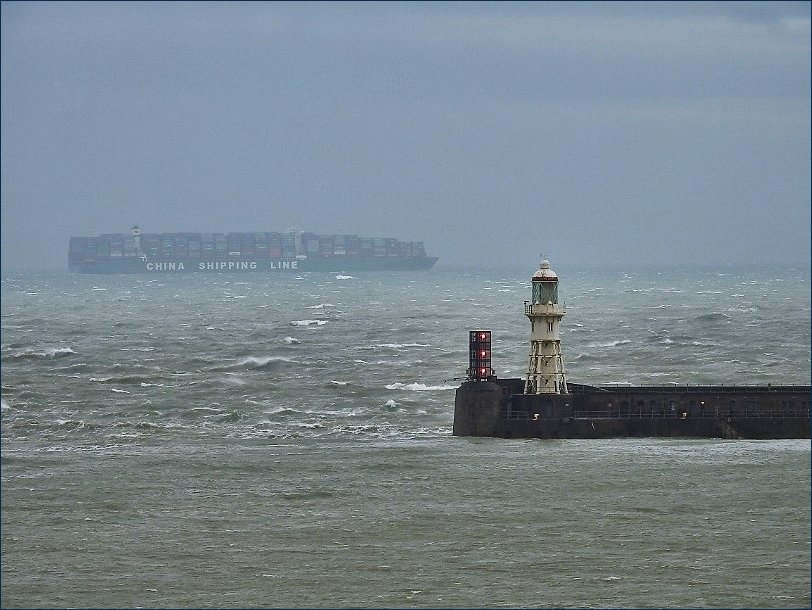 Had a delayed start this morning due to a very long Microsoft update, and now everything is all over the place. Much sorting now needed and several aspects don't work...but no doubt its all fixable. Headache..

Well done Mike...nice all round collection below. Great stuff! Great to see all the development.
Don't miss those.
Update re above...the third pic down came out a bit soft, its not soft in reality. That's what ye get for pushing...
PaulB
Saturday, 19 May 2018 - 08:54
Post 4911
Mike J., Dover
Superb piece of photographic forgery with the MORGONSTER – well done !
A most elegant vessel, built in Holland in 1919 & now operating as a sail training ship.
After anchoring overnight down towards Folkestone she passed Dover again midday yesterday & is now in Calais.
A very good 'capture' of the NORDIC GIANT too in 'trying' conditions.
A few pix from Thursday. A couple of DWDR views & the SMIT YOUNG & one of the crew boats pick their way past the DAVID CHURCH working in the Wick Channel.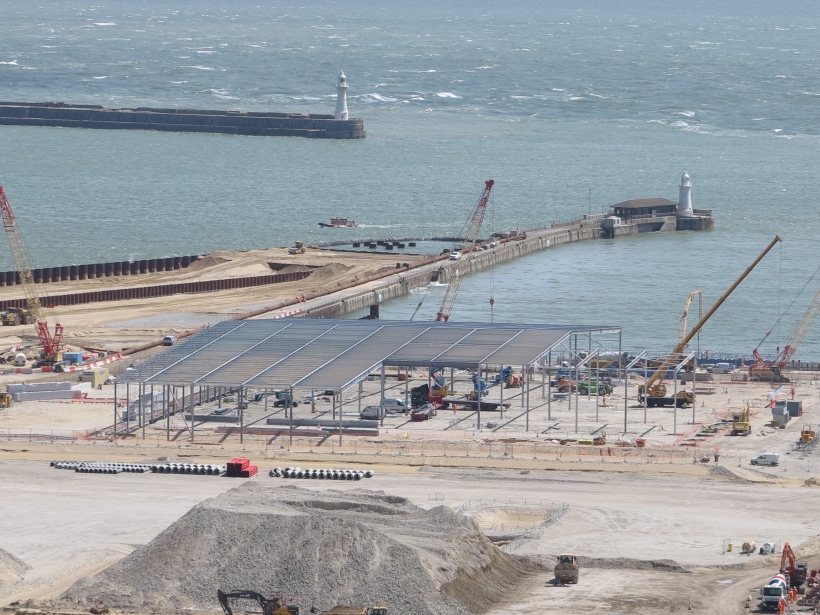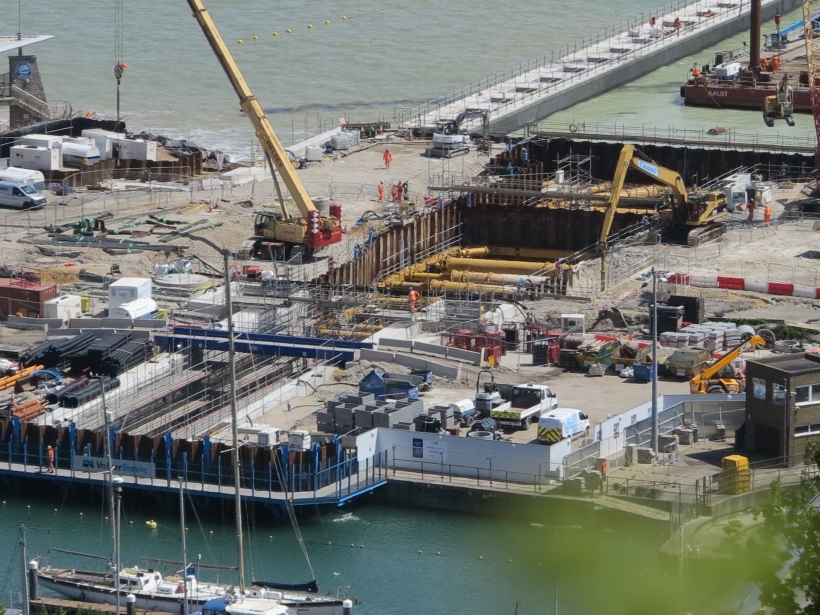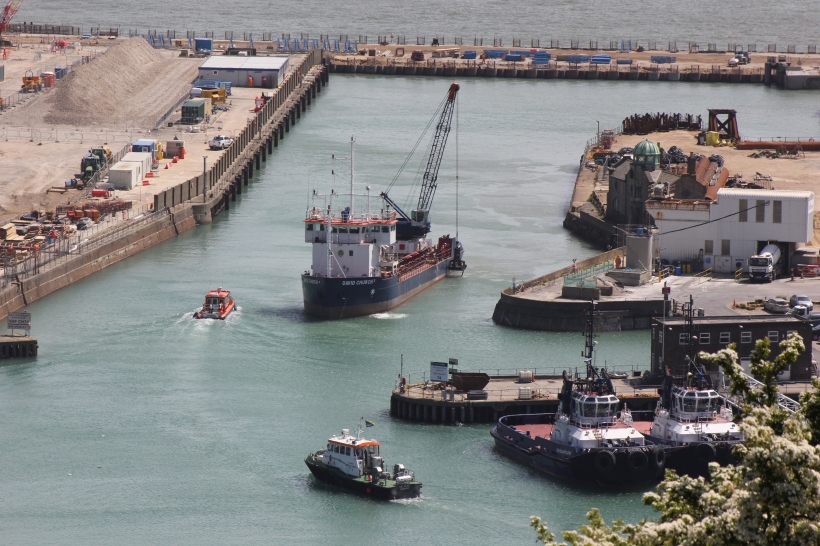 Out in the bay the DUZGIT HARMONY waitS for her next customer after bunkering the SEABOURN QUEST & the EUROPEAN SEAWAYS with a full load of freight comes astern for No.7 berth.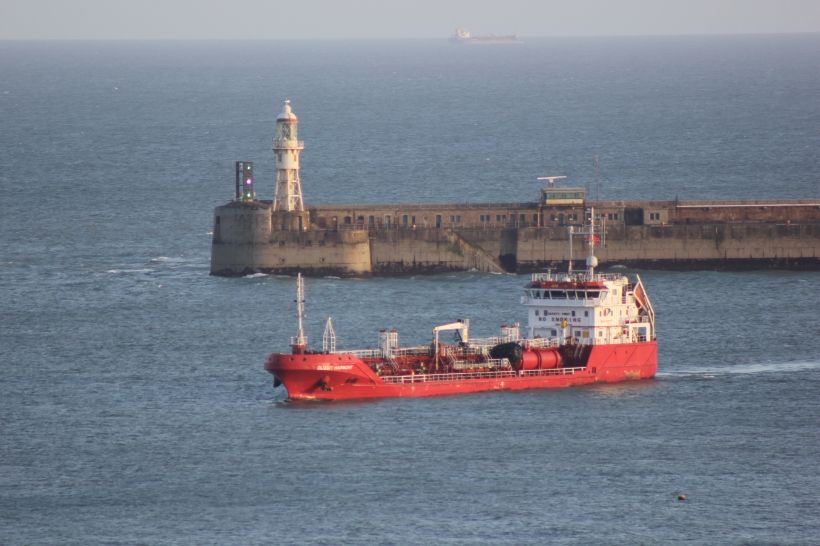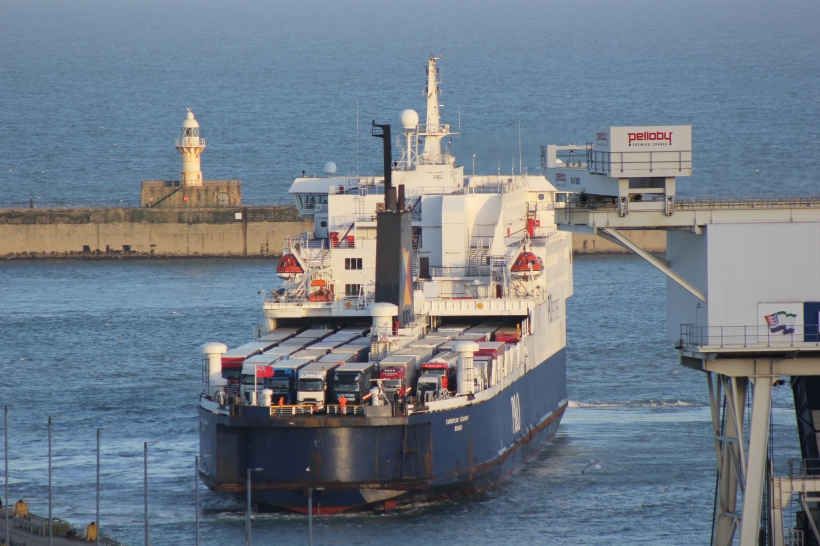 Saturday, 19 May 2018 - 08:28
Post 4910
Sea News, Dover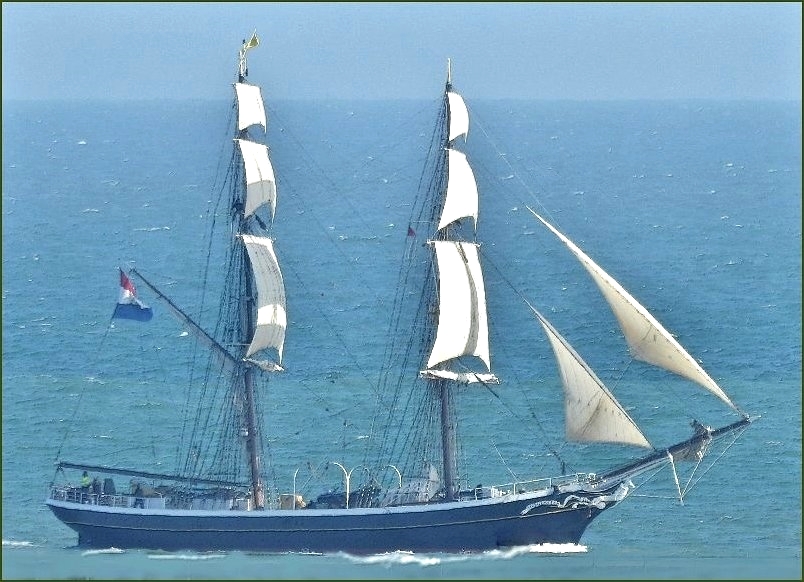 FAKE NEWS: That's a picture above there of Morgenster the Dutch sailing vessel. She passed by the port late yesterday afternoon and yours truly saw her at the very last minute, just before she disappeared behind Cruise Terminal Two. I got just one picture and that's it...far from ideal it was...as she appeared to be sitting atop the Admiralty Pier. There was no sea underneath...in the picture that is. So yours truly added a fake sea this morning with the help of an airbrush...and there you have it.
Pity the ship wasn't seen approaching rather than a-going...


Friday, 18 May 2018 - 15:08
Post 4909
Sea News, Dover
The Seabourn Quest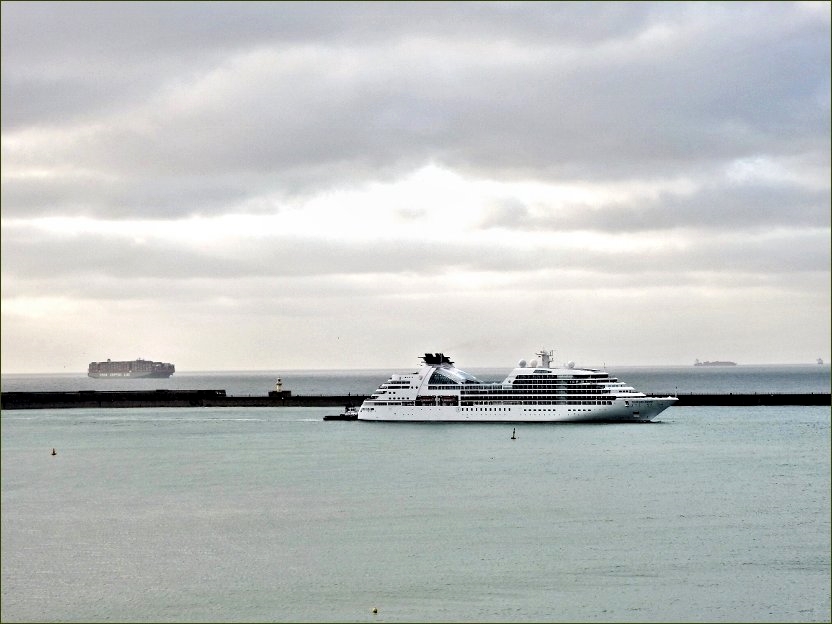 Some pictures now above and below of the glamourous Seabourn Quest arriving with us here at the Port of Dover yesterday morning. As we said previously...(in comparison to the recent Costa), she is smallish but beautifully packaged. One of yours trulys neighbours added yesterday..."its expensive to go on there!". There you have it... For further details see ColetteB's cruise lists. Type in 'cruise visits' in the search engine above for easy access to the info.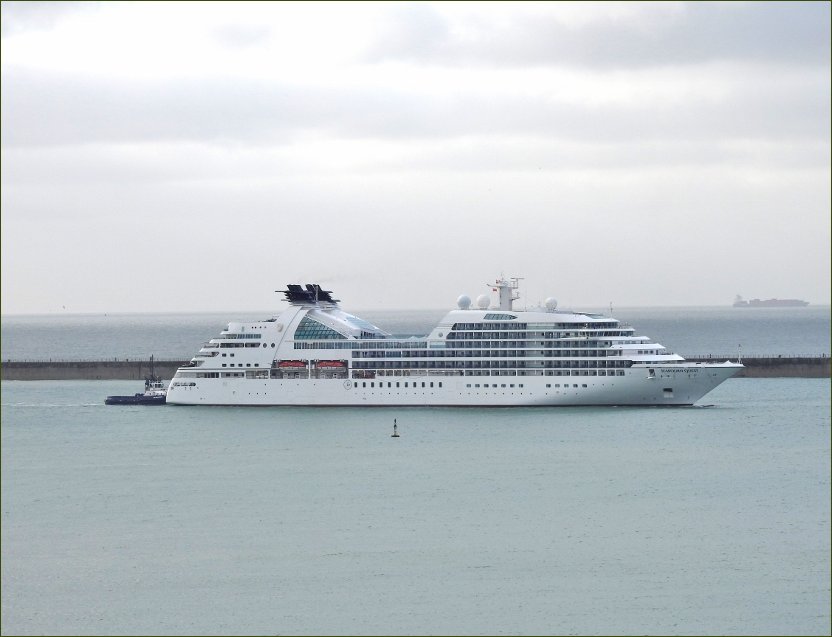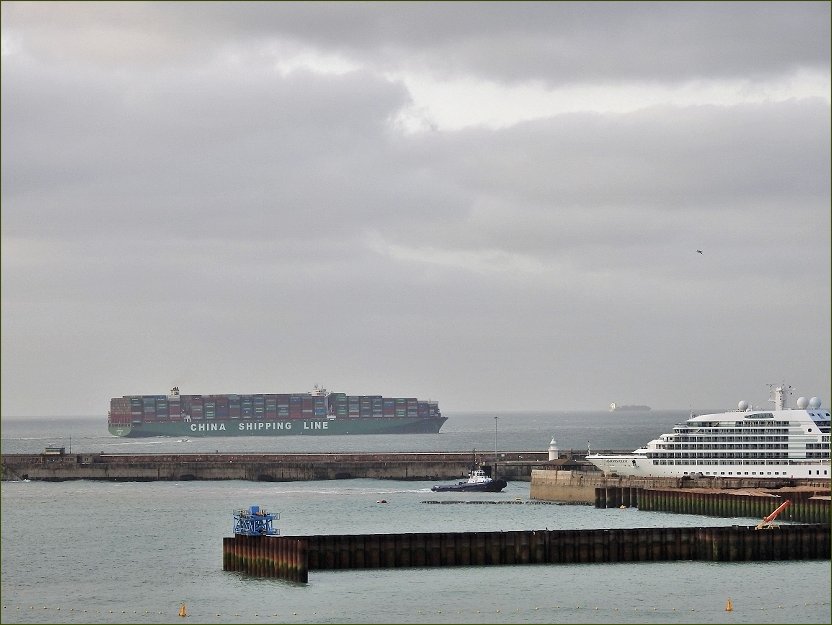 In the background above there you can see another 'beast from the east'. This time in the giant shape of China Shipping Line's Ocean Pacific. A total whopper of a ship...will aim to have more pictures of that one over the weekend. She came right in close to Port...as ever I'm running behind ..

This shot below is from ermmm...let me see...Wednesday evening late. Its about 9.15PM and quite dark. I didn't think there was a cats chance in hell of it coming out but fluke of flukes it did. It shows the platform Nordic Giant struggling in the roughish conditions to make it to port. I think that's Afon Lligwy also in shot. Just out of shot is another tug, this time from Rotterdam, called Sea Bulldog. We might have some pictures of that one to follow...they should be okay...still sorting through.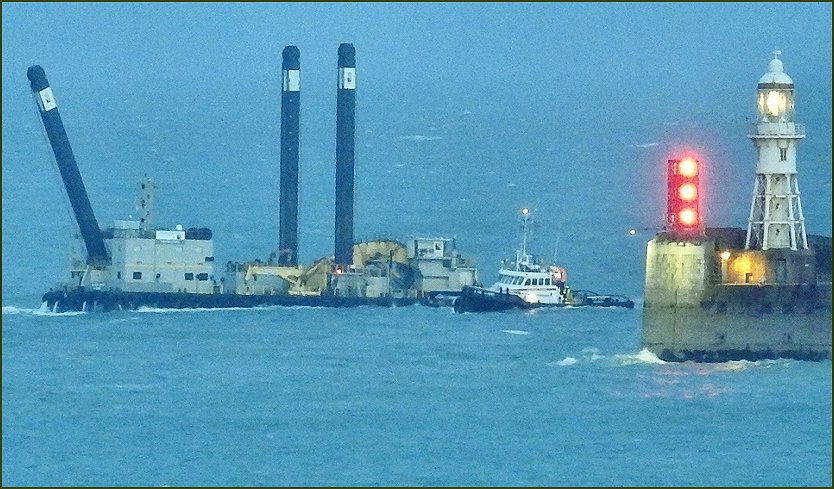 That's an absolute cracking picture below Andrew...absolute blinder!
They sometimes say less is more...you just put up that one shot and it was great.
Enjoyable story too.

PaulB
Friday, 18 May 2018 - 06:28
Post 4908
Andrew, Broadstairs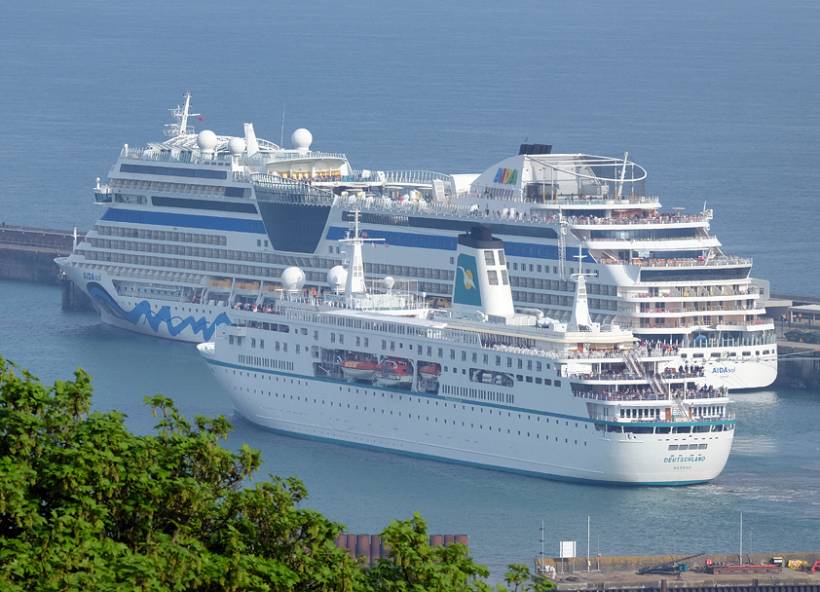 Like Mike, I have been diverted from the computer to the requirements of the garden, much healthier............... so my wife tells me!
Last Friday I made a nostalgic trip to Dover to see DEUTSCHLAND as I had spent a day aboard her when she made her first visit to Dover, sadly I cannot recall the date. She was then owned by Peter Deilmann for whom she was built in 1998 and was only a few years old. If her exterior had clean simple elegant lines with only two balconies, her interior was the height of the elegant quality of the1920's/30's European style. I remember the wood faced cabin doors outlined with grained carved motifs and designs and fitted with keys, no electronic cards! The 'Lili Marleen' lounge echoed that period in German society but for me and I thought Ed might find this interesting, (Missing your contributions and hope you still look at Sea News with improving health), one of the dining areas was decorated with large photographs of German passenger ships and harbour scenes of the same period and around one seating area was a large beautifully painted mural of one of the two Hamburg Sud 'Monte' class liner's with her two white funnels with red tops. The original glass plate negatives of the photographs must be superb, as todays finest digital cameras would have difficulty in producing such detail and sharpness at such a size! I don't know how much of that superb finish has been retained and I am pleased to be left with the memory and just watch her sail, the exterior seems to remain unaltered and makes an interesting comparison with the AIDASOL her outside and no doubt inside built for the requirements of today cruise passengers.
Thursday, 17 May 2018 - 11:30
Post 4907
Sea News, Dover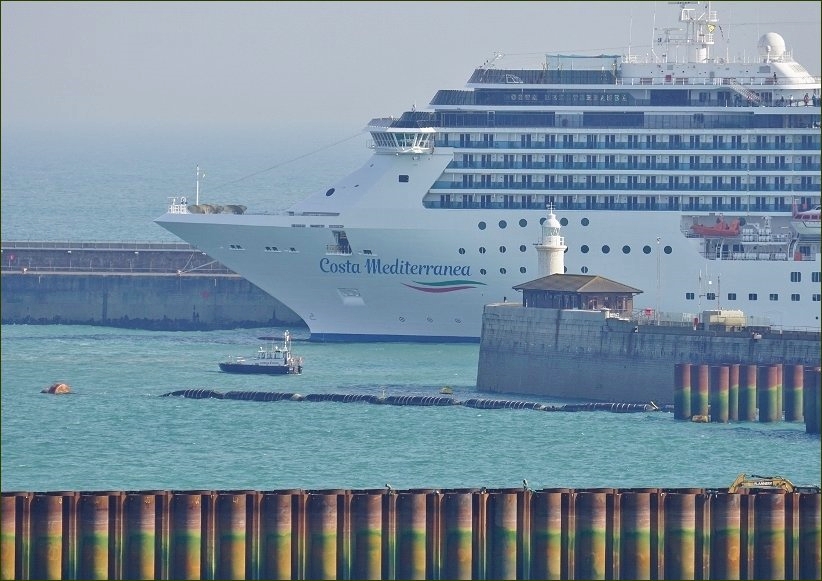 Its evening departure time and you can see the pilot boat pausing above there in the shadow of the magnificent giant Costa Mediterranea, she is indeed pausing, waiting for the reversing Saga Pearl just ahead of her and just out of shot. And there is Saga Pearl below...just about to turn about slowly as the pilot boat moves closer.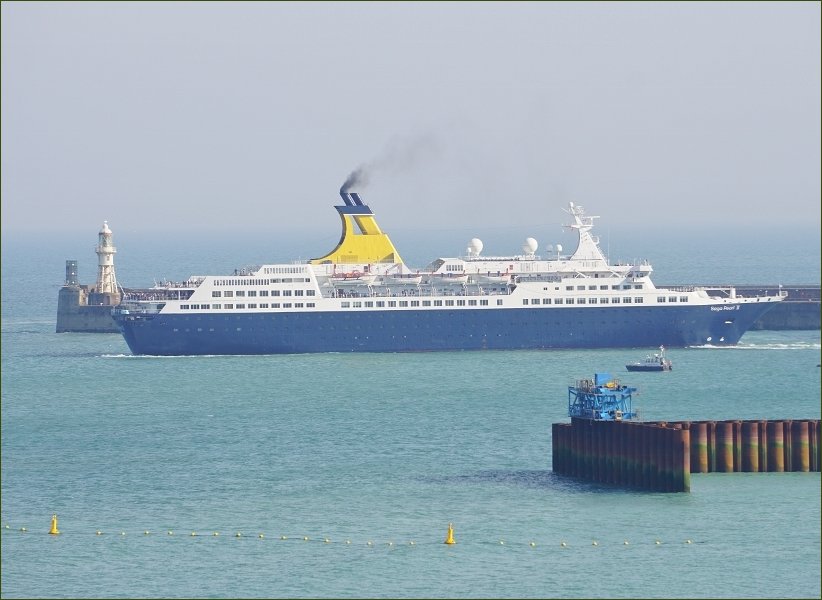 And then she was off...off to the Norwegian wilds ..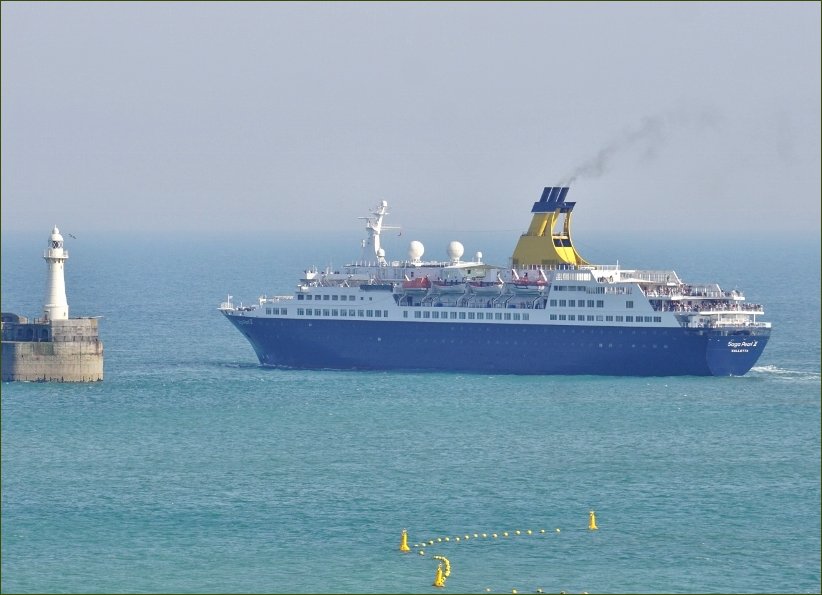 Later that evening...and its 8.15PM now and the elegant giant Costa Mediterranea is underway, next stop Le Havre. You can see the busy pilot boat returning in the fading light.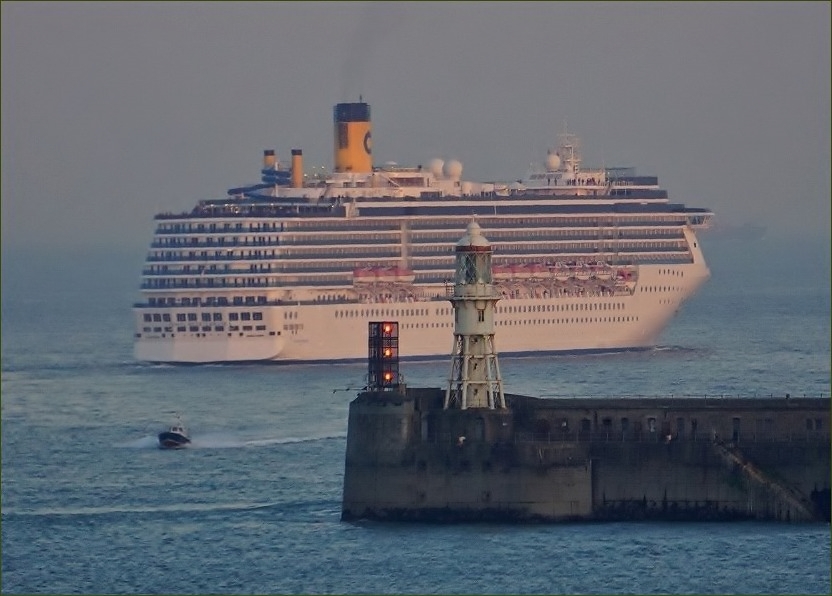 Great shots below there Patrick. Cracking stuff !

Nice collection Mike of the inshore happenings. Well done with those.

Excellent cruise listing Colette. Keeps us up to speed with everything that's about to happen. Ace!

You are welcome Harald

Thanks for those dimensions Jeremy...certainly room for a football pitch or two there..


PaulB
ps: .. have to dash...more activity happening all around me here...


Thursday, 17 May 2018 - 06:23
Post 4906
Patrick, Marine Parade
An early morning arrival yesterday - another photo of the rather large 'Costa Mediterranea'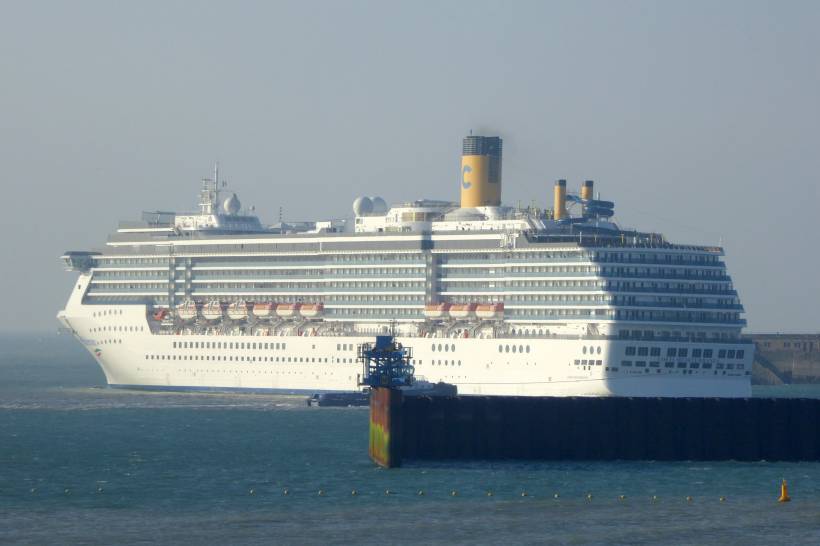 followed a short while later by the Saga Pearl II on one of her first pick up calls of the season taking on new passengers ready for her trip to the Norwegian Fjords.
Departing Dover yesterday evening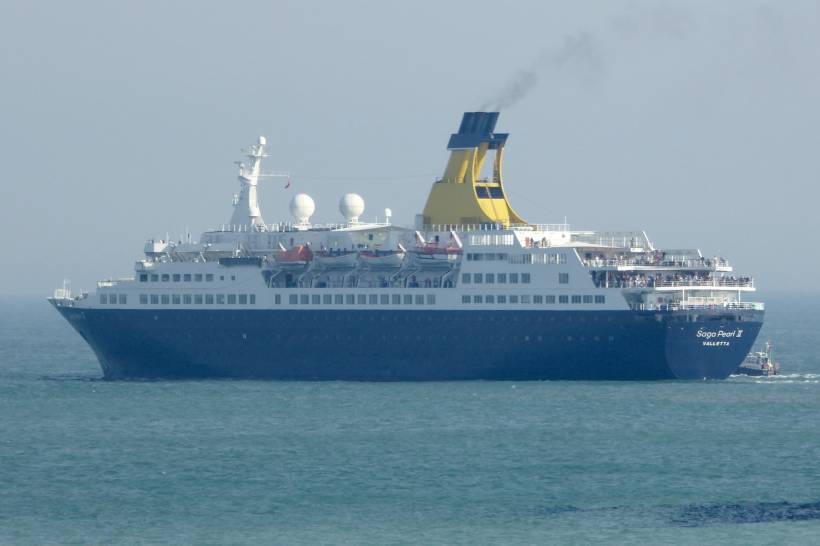 with a stern decks full of happy cruisers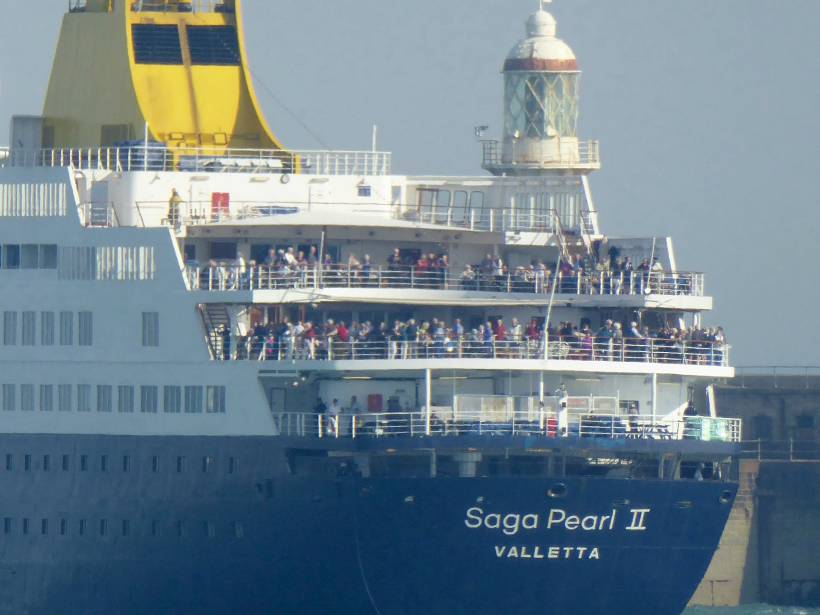 Wednesday, 16 May 2018 - 20:58
Post 4905
Mike J., Dover
Catch up time - been away from the keyboard for a few days.
During the helicopter rescue on Friday I noticed one of the Thames catamaran ferries coming in thru the Eastern entrance.
The METEOR CLIPPER made a very brief visit for bunkers whilst en route Cowes for refit.
The front windows were boarded up in case of lumpy seas during her 'offshore voyage'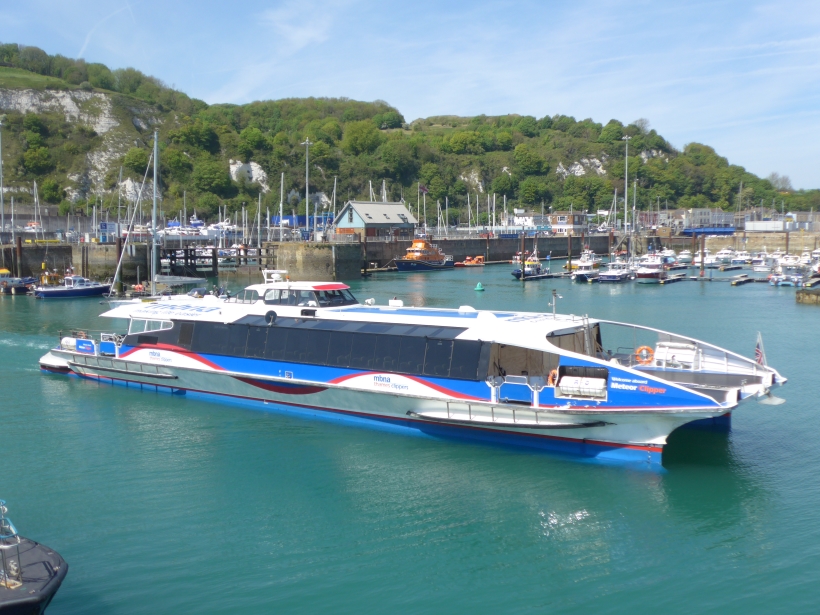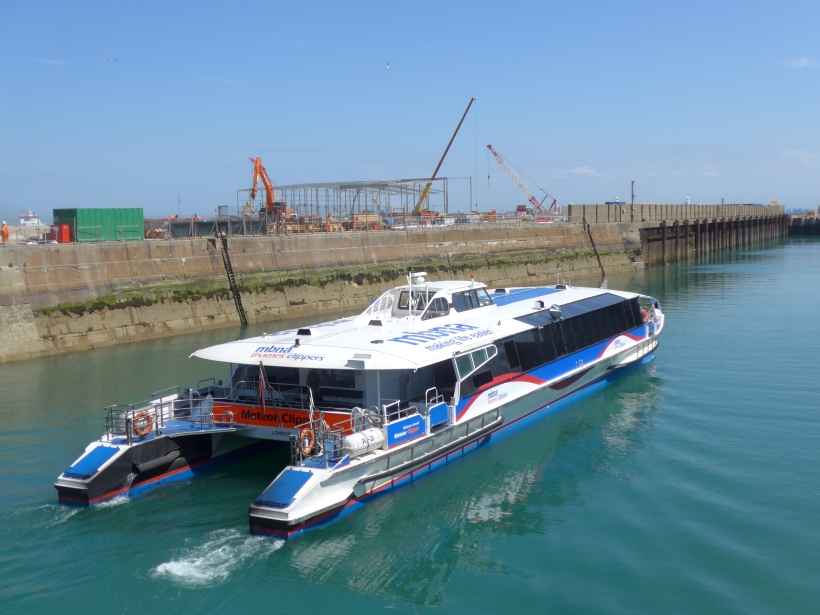 The DEUTSCHLAND seems a popular ship with the photographers & [or me at least] is rather more elegant than the 'monster' AIDAs & the like.
I missed her arrival but here she is shortly after docking in quite different dawn light than Paul's pix,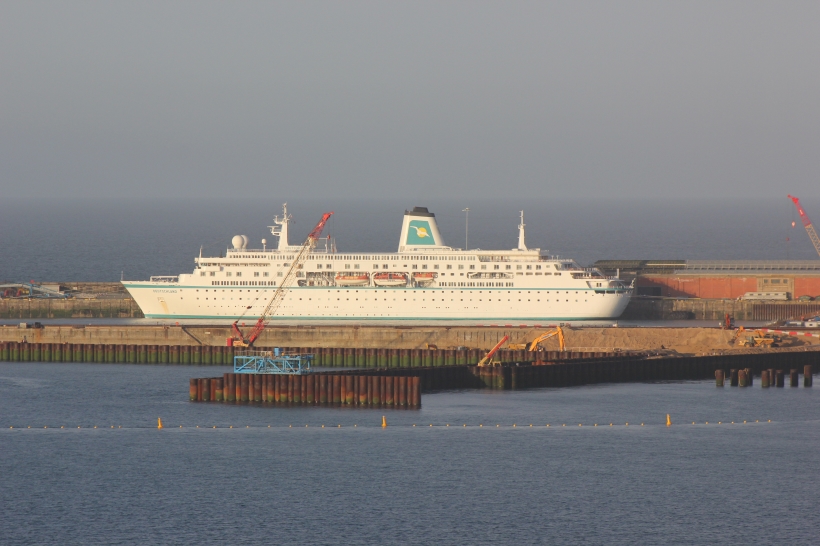 There's an 8 knot speed limit in the harbour for 'pleasure craft' so those jet skis speeding along amongst almost invisible swimmers looks like a disaster waiting to happen.
A few Tuesday pix in the boatyard, a 'different' angle on the shellfish dredger RENOWN IV [post 4887] with the DOVORIAN [at least I THINK that it's the DOVORIAN] just after being lowered onto trestles by the boat lift.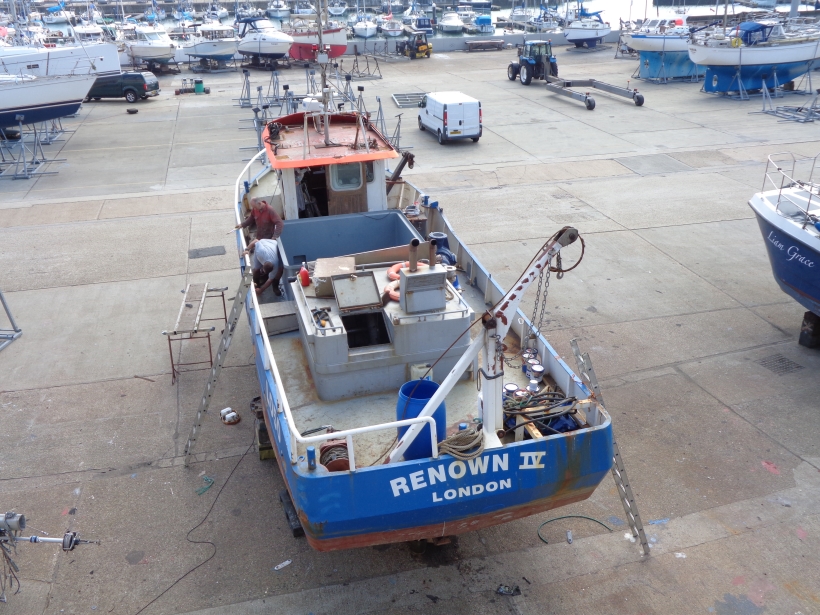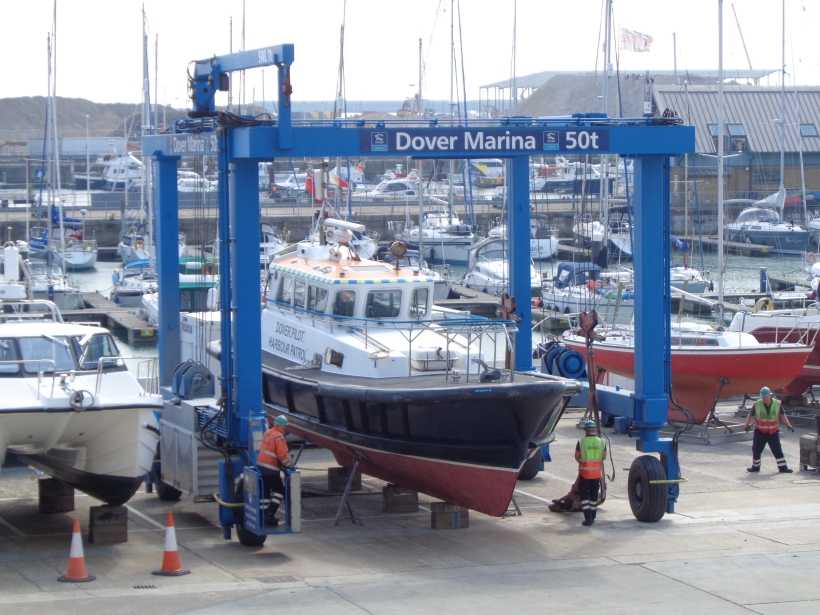 After Paul's pix & mention of the pilot disembarking from the AMADEA [post 4888] there's a most interesting high quality drone film on Youtube about embarking a pilot from heavy ice onto a moving ship,
Just enter 'PILOT BOARDS MOVING SHIP ICE' in the Youtube searchbox.
I was aboard a ship many years ago when we took a pilot off the ice in the same area but in a much less spectacular manner.
We stopped up against the solid ice edge & the pilot came out in a 4x4 & joined in the 'normal' manner, up the pilot ladder onto our deck.
Wednesday, 16 May 2018 - 20:25
Post 4904
Harald Boot, Tholen, The Netherlands
Thank you for your lovely comments.

Wednesday, 16 May 2018 - 19:43
Post 4903
Colette B, Dover
CRUISE VISITS
_____________
I always find it fascinating to see the hardworking tugs manoeuvre such enormous cruise ships like the Costa Mediterranea into position ….. Professionals at Work

Great photos MrB

Thanks Jeremy for the dimensions ….. What a Whopper!

It is good to hear from people elsewhere in Europe and further afield comment on Sea News, it looks as though Harald and his family from the Netherlands had an eventful day last Friday, that was some day trip!

Well here we go with the next batch of cruise visits.
Tomorrow Thursday 17th May, the super sleek Seabourn Quest glides into CT1 at 07.00 hours, last here in September 2017. She sets sail on her 15 night 'British Isles & Iceland' cruise, her ports of call are Bristol, Milford Haven, Douglas, Belfast, Greenock, Oban, Fort William and the Isle of Skye. She then sails across to the Icelandic ports of Seydisfjordur, Djupivogur, Heimaey Island, Grundarfjordur and Reykjavik. Leaving us at 17.00 hours, T/R & PoC.
Then on Saturday 19th May, Prinsendam calls in at CT1, 07.00 hours, (also last here in September 2017) on her 14 night 'Celtic Explorer' cruise. She arrives here from Fort Lauderdale to start her Dover to Amsterdam sailing. Her ports of call are Guernsey, Fowey, Tresco Island in the Scillies, Bristol then on to the Emerald Isles calling at Killybegs, Galway (I'm singing Galway Girl now, can't resist

), Glengarriff and Waterford. The Belgian port of Zeebrugge is next, then Vlissingen, Antwerp and Amsterdam. She leaves us at 17.00, T/R & PoC.
The next day Sunday 20th May, Saga Sapphire calls at CT1 at 08.00, to start her 7 night round trip to the Isle of Man & the TT, (Ahh! Memories of the TT races there

). Her first port of call is Dublin then on to Liverpool, Douglas and Portland. She is due back to Dover on Tuesday 29th May. She departs at 16.00, T/R.
Then on Monday 21st May, the graceful lady Boudicca calls into CT2, 06.30 hours for her 9 night 'Scottish Highlands & Islands and Ireland' round trip. Her ports of call are Invergordon, Kirkwall (Orkney), Lerwick (Shetland), Stornoway Isle of Lewis & Harris, Isle of Mull, Dublin and Dover . She is leaving us at 17.00 hours, T/R.
On Tuesday 22nd May, we have another 'Double Whammy' firstly Saga Pearl ll calls into CT1 at 08.00 hours. She is on her 15 night 'Majestic Baltic' round trip. Her ports of call are Gdynia (Poland), Tallinn (Estonia), St Petersburg (Russia), Katka (Finland), Visby, Gotland Island (Sweden), Karlskrona (Sweden), Kiel and Dover. She leaves us at 16.00 hours, T/R.
At the same time Costa Mediterranea calls at CT2, 08.00 hours whilst on a 7 night Round trip to Amsterdam. Her next port of call is Le Havre in France then Hamburg, Bremerhaven and finally Amsterdam. She departs our shores at 20.00 hours, PoC.
Finally on Thursday 24th May, AIDAaura (last seen here in September 2016) greets us with a warm smile at CT2, 07.00 hours on her 14 night Palma de Mallorca to Kiel cruise. Her next ports of call are Amsterdam, Oslo, Copenhagen and Kiel which will be her home port until late September. She is leaving us at 18.00 hours, PoC.
Some fabulous cruises above, I would enjoy each & every one of them and all on our doorstep and some even bringing us back home again. Now where did I leave my passport

Back soon folks.
Wednesday, 16 May 2018 - 12:10
Post 4902
Jeremy Ward, Whitfield, Dover
The Costa Mediterranea is 292m long and her beam is 32.2m and a draught of 8m

Wednesday, 16 May 2018 - 09:16
Post 4901
Sea News, Dover
The hugely glamourous and indeed huge Costa Mediterranea arriving here with us yesterday tuesday at the Port of Dover.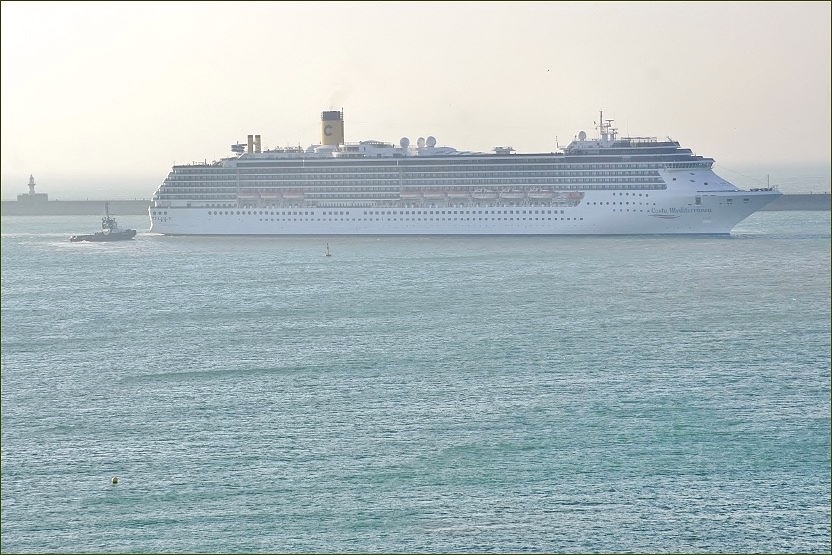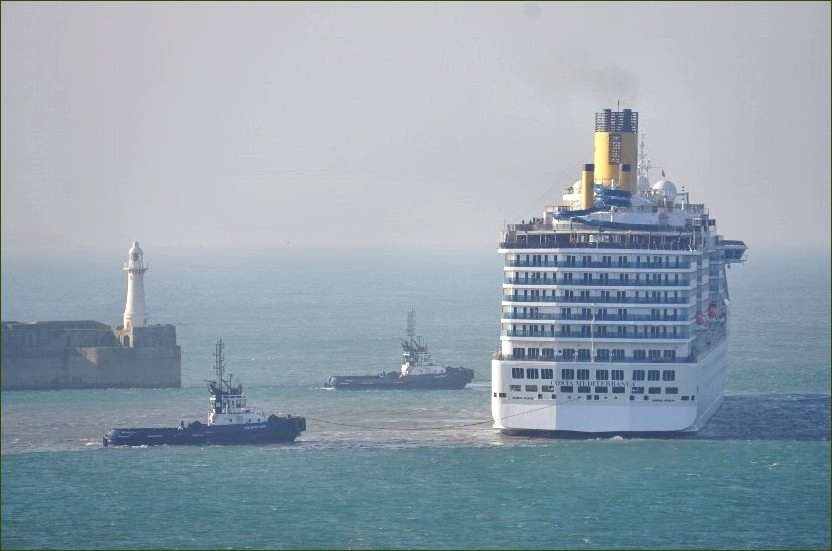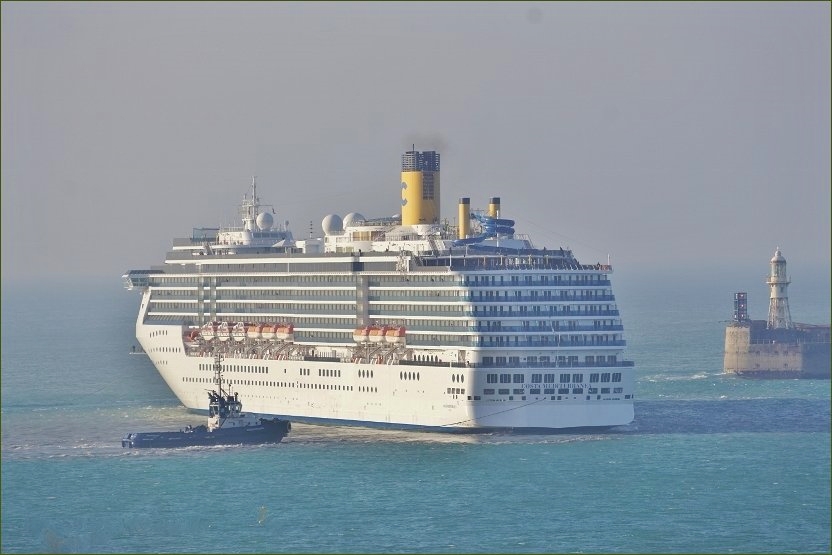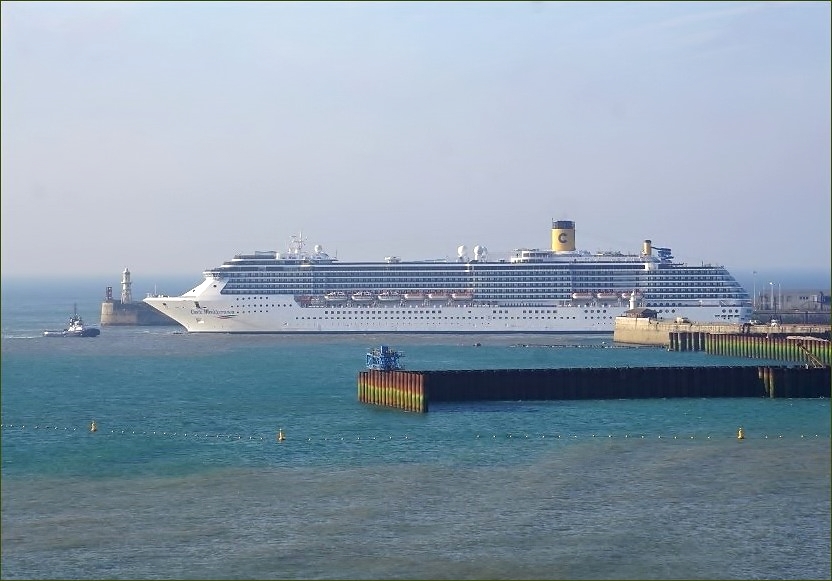 The sequence shows the super ship coming across the harbour in the misty conditions yesterday morning and then turning into position. Yours truly hasn't checked the dimensions but she must easily be the length of a football pitch and more. How does she squeeze in to Terminal Two... thought I .. but indeed she did. Great to see these ships for sure. Saga Pearl was also in later, we will have a pic or two in due course.
Nice collection of pictures below there Harald. I can see you enjoyed your trip to Dover, you certainly got around during the trip, and it looks like AIDAsol was following you about.


PaulB
Wednesday, 16 May 2018 - 07:27
Post 4900
Harald Boot, Tholen, The Netherlands
Last Friday we spend a day around Dover and when we were approaching the Port of Dover on the Spirit of Britain the Aida Sol sailed behind us.
A beautiful view over the Port of Dover.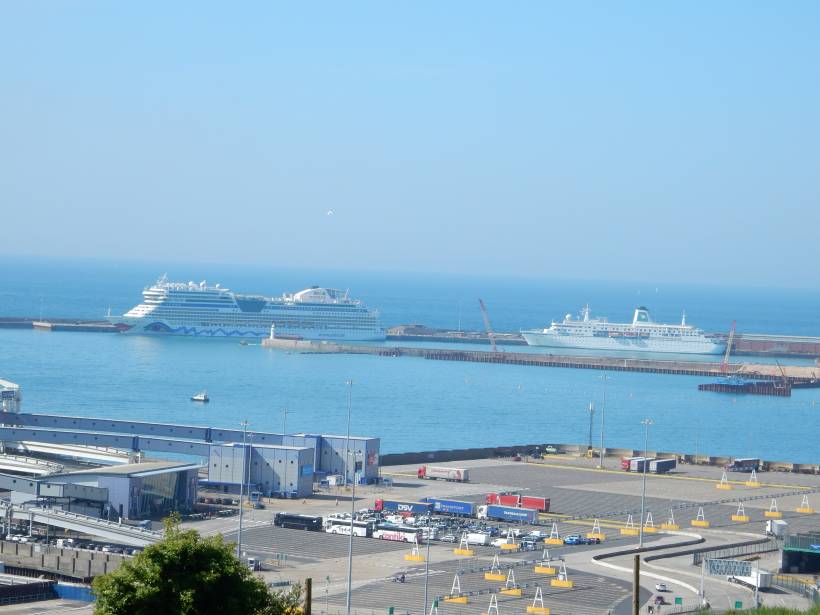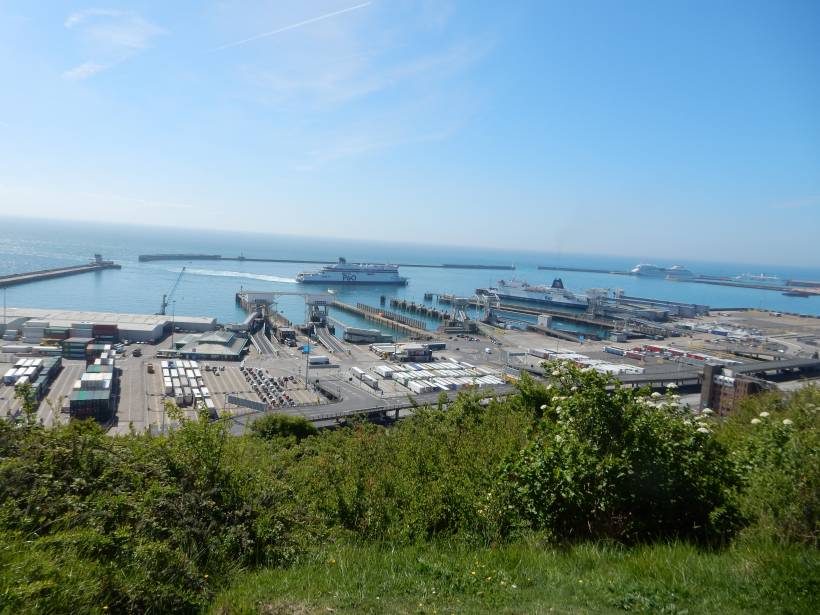 When we were there we also saw the helicopter.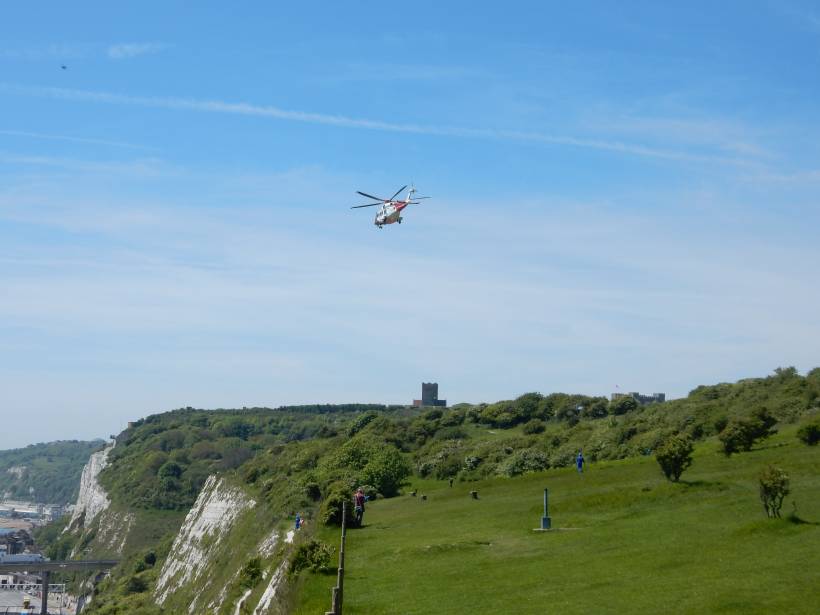 We departed the Port of Dover again on the Spirit of Britain via the western entrance so we had a great view of the Aida Sol.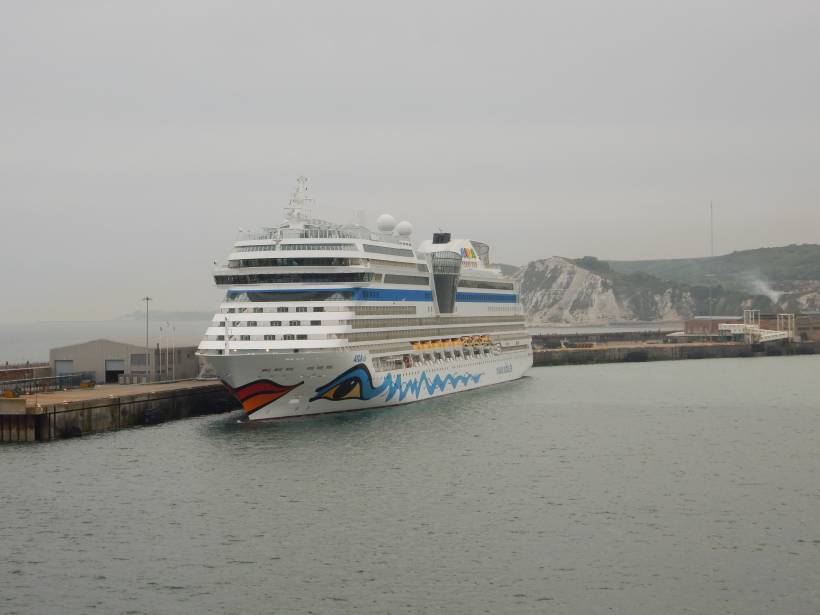 Tuesday, 15 May 2018 - 20:07
Post 4899
Sea News, Dover
New building taking shape at the waters edge ..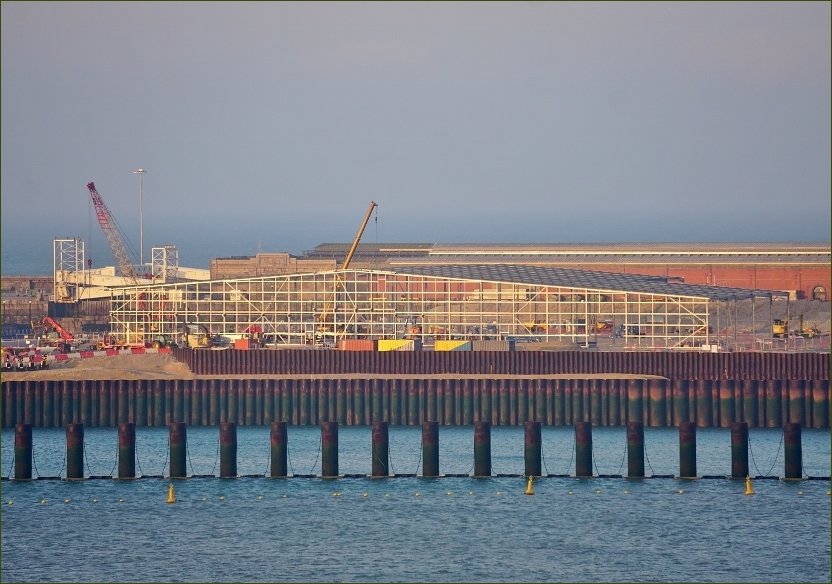 You can see it here catching the very very early sun. Most of the time its not terribly visable but with the early sun hitting the metal structure it leapt forth like a..ermmm.. mirage...

Tuesday, 15 May 2018 - 15:51
Post 4898
Sea News, Dover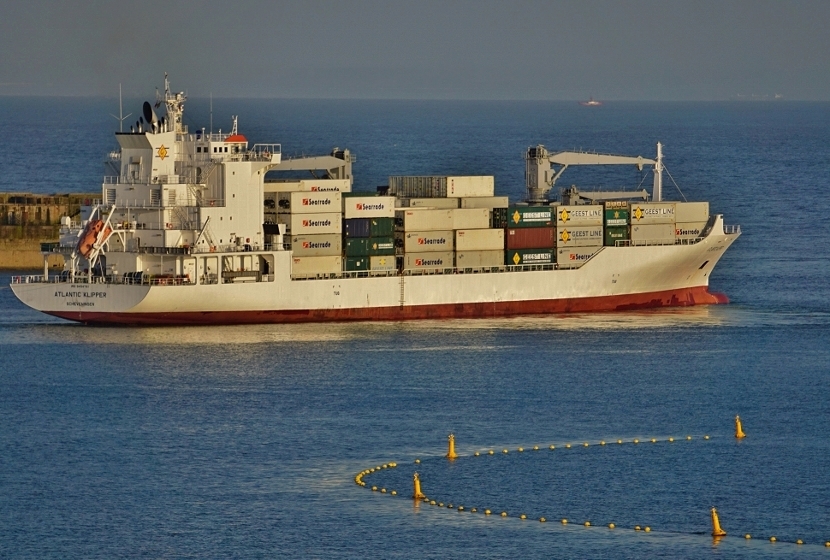 An extra shot above there of the departing Atlantic Klipper...
see also the post below.
Tuesday, 15 May 2018 - 06:31
Post 4897
Sea News, Dover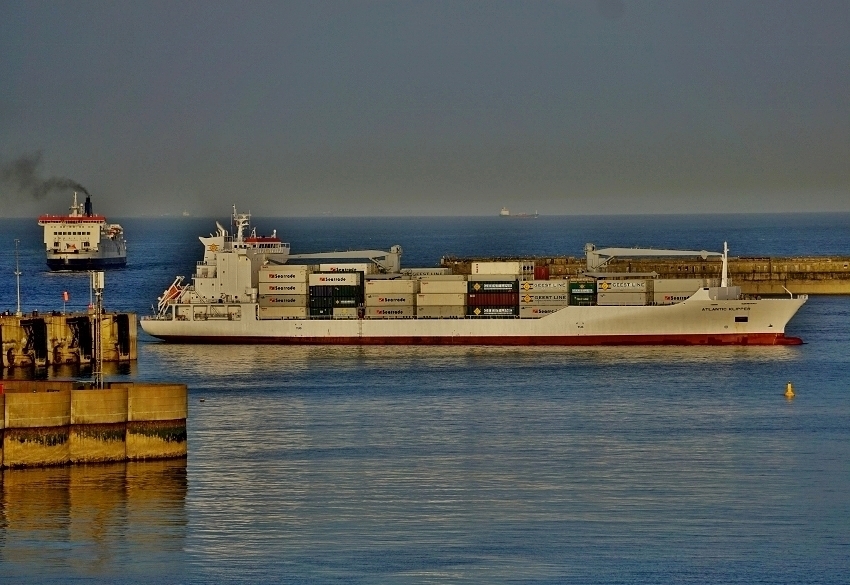 The Atlantic Klipper catching some dazzlingly bright evening sun as she begins to move away late sunday. This time she left by the western exit which is always a bonus for our cameras...however that late low sun is always tricky for the same cameras, especially when the ship is white.

She was off to Vlissingen...
...and away she goes...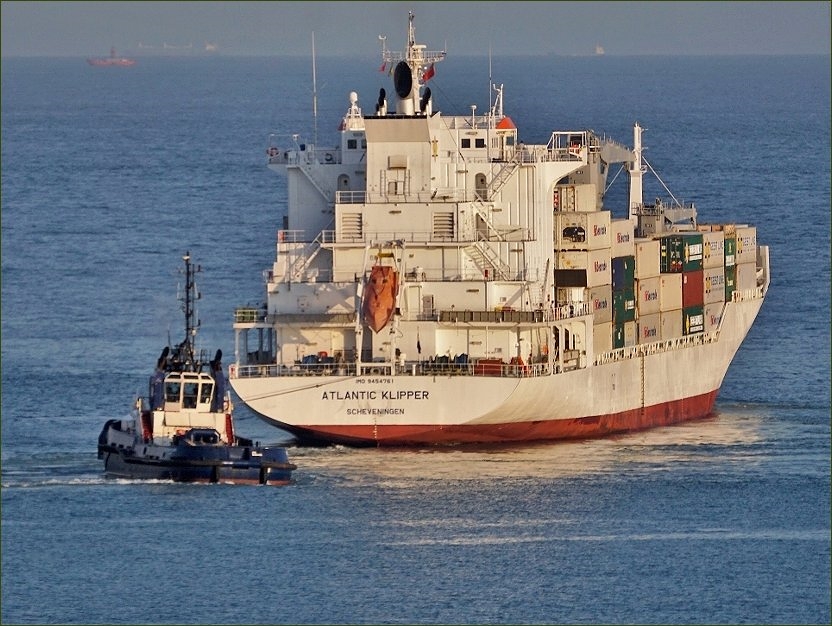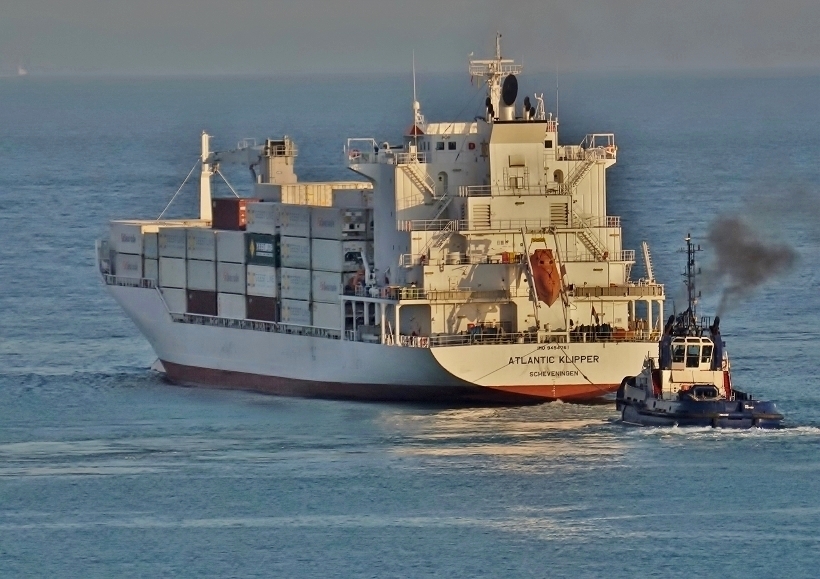 Thanks once again Colette for the Cruise info below. This really is a busy period for cruise ships here at the Port of Dover. Exciting times for sure...
Coming in also as we speak..cargo ship Elvira.
That Costa ship is approaching and its a whopper...to give it a technical term there..

Tuesday, 15 May 2018 - 05:51
Post 4896
Colette B, Dover
CRUISE VISITS
_____________
Wowser!! The dazzling array of photographs over the last few days are truly amazing, anyone would think it was Summer

Jet skis skimming in the harbour, paddling surfboards, cruise ships and our brave Coastguard plucking a gormless youth off the cliffs

There was even a 'lowflying' Airbus being transported down the channel, 'Something for everybody' …….

Tomorrow, Tuesday 15th May we start off with a 'Double Whammy'! First we have a long lost soul, Costa Mediterranea (last seen here in May 2014) arriving at CT2, 08.00 hours. She is on a 7 night Round trip to Amsterdam her next ports of call are Le Havre, Hamburg, Bremerhaven then Amsterdam. She leaves us at 20.30 hours, PoC.
An hour later our old friend Saga Pearl ll arrives at CT1, 09.00 (she was last here in September 2017). She sets off on her 7 night 'Norwegian Notes' round trip calling at such interesting delights as Haugesund on Constitution Day with celebrations taking place all over town, Stavanger and Eidfjord where you can see the cascading Voringfoss waterfall. She departs at 17.00 hours, T/R.
Back soon …….

Monday, 14 May 2018 - 20:47
Post 4895
Sea News, Dover
Paving the way in the next milestone for Western Docks development.
______________________________________________________________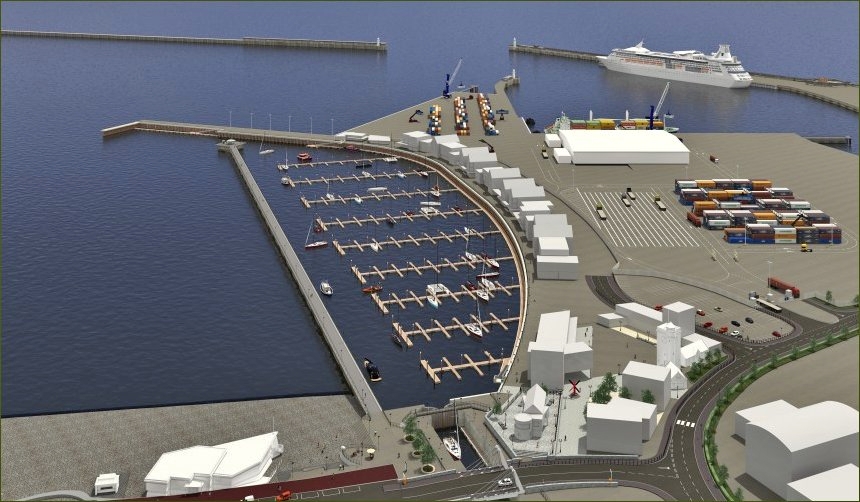 VolkerFitzpatrick has been appointed by the Port of Dover to deliver the paving, utilities and infrastructure contract for the Port's flagship Dover Western Docks Revival (DWDR) development.
With a contract value of £21m, this construction stage is a mix of heavy duty port paving, interconnecting roads, power and lighting, landscaping, street furniture, reefer gantries, fencing and access gates and border control facilities to approximately 10 hectares of the Western Docks.
During the 12 month programme VolkerFitzpatrick will be working alongside VSBW, a joint venture between VolkerStevin and Boskalis Westminster, the dredging and marine structures' contractor, whilst they complete the new marine infrastructure and reclamation for the first stage of DWDR.
VolkerFitzpatrick's specialist paving division will carry out the paving works by utilising its own paving and concrete batching plant onsite.
Dave Herrod, DWDR Programme Director, Port of Dover, said: "The appointment of VolkerFitzpatrick is another significant milestone as the Port works hard to deliver the first stage of Dover's Western Docks Revival in 2019.
"The revival of the Western Docks supports the development agenda for Dover, being identified as the key catalyst for the wider regeneration of the area."
Chris Evans, Managing Director of VolkerFitzpatrick's civils division, commented: "Supporting the overall development of Dover Western Docks is a very exciting and prestigious contract to have been awarded, particularly in terms of the growth expected for the port in the coming years.
"We will work collaboratively with VolkerStevin which will allow us a greater understanding of the project from the outset."
Completion of the first and second stage of DWDR, will allow the Port to complete its aim of a dedicated ferry terminal in the Eastern Docks and a transformed waterfront for Dover, is scheduled for early 2019.
ENDS
Many thanks to the guys at the Port of the info above. Powering forward.

* *
Some pictures now..as promised.. of the delightful Deutschland. She's a bit of a beauty for sure. First two pictures show her catching the early sun at Cruise Terminal One...we are looking across the paraphernalia of progress, showing there in the foreground. The third picture taken much later .. at her evening departure for Amsterdam.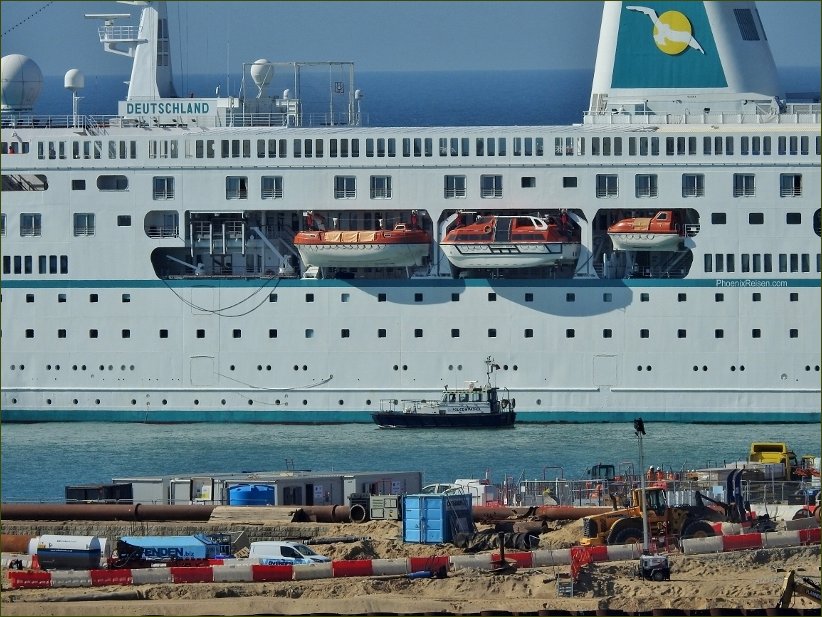 Yesterdays arrival below...AIDAvita early morn..
So many cruise liners - so little time..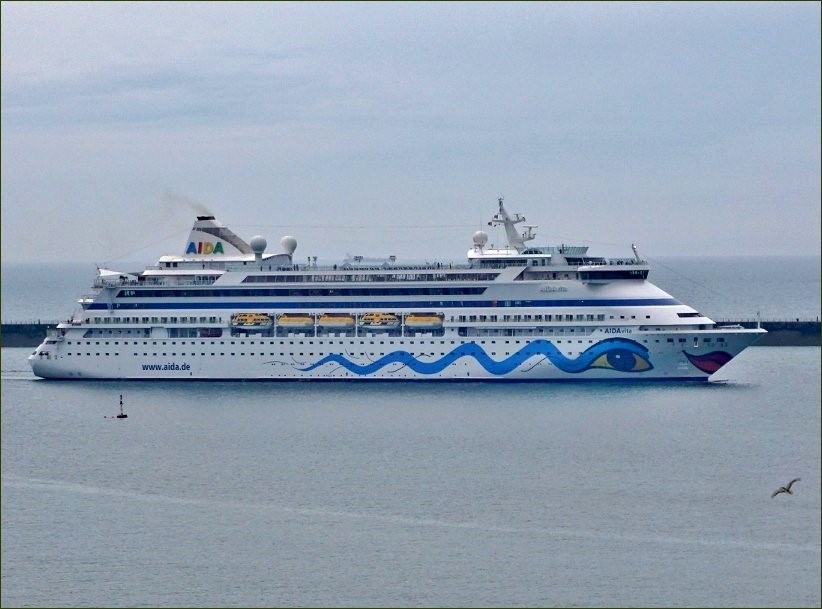 PaulB
Monday, 14 May 2018 - 05:03
Post 4894
Sea News, Dover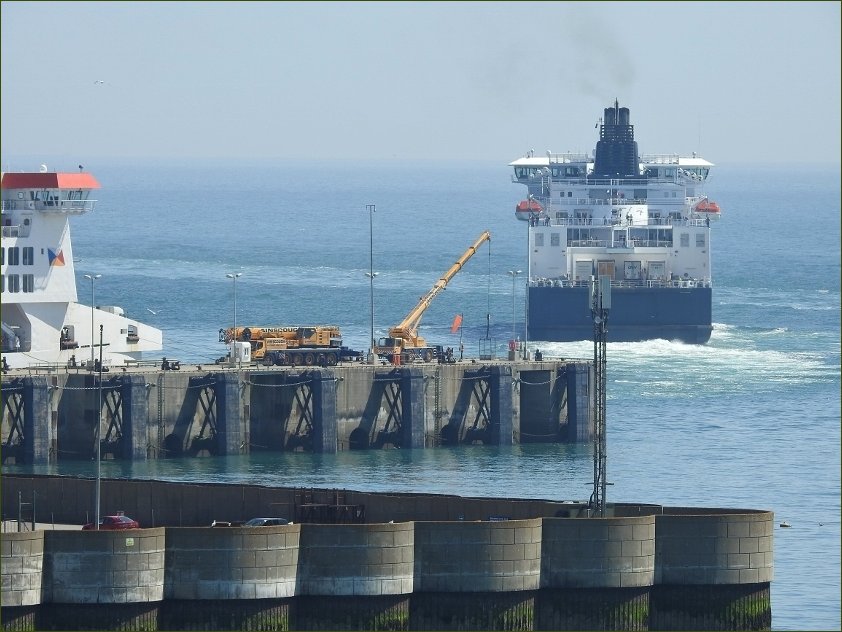 Bit of a miscellaneous collection for a sunday morning here. The top shot shows the Dover 9 pier..its still not in use. More trucks and cranes came on Friday to do more work as hopefully you can see in the shot above...note however progress has been made, in that the scaffolding which was shown in our recent pic has gone. The pier has been out of action for quite a while, awkward in the grand scheme of things.
Some dazzling dashing jet skis now powering towards shore one evening during this pleasant week. Couldn't decide which pic was best.. so .. as with all ditherers everywhere I used both..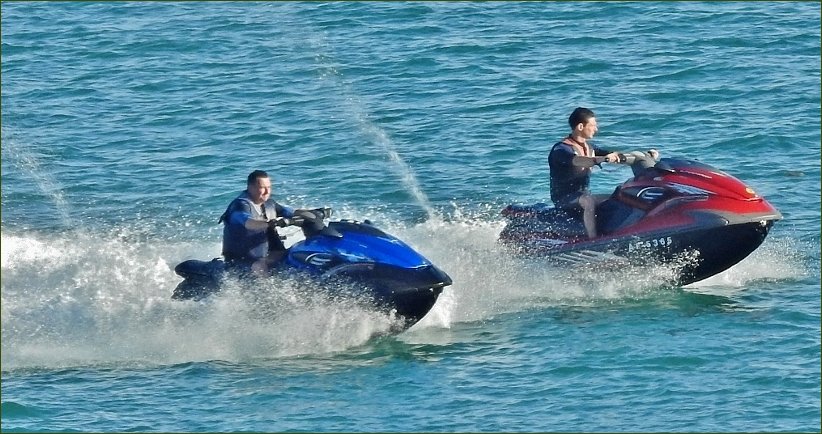 Below another jet ski, this time from our archives ..just came across it now. Had long forgotten it. Often refreshingly we see some of our own pictures on Google, ones we have long forgotten and here we are. The jet ski is a popular evening pastime.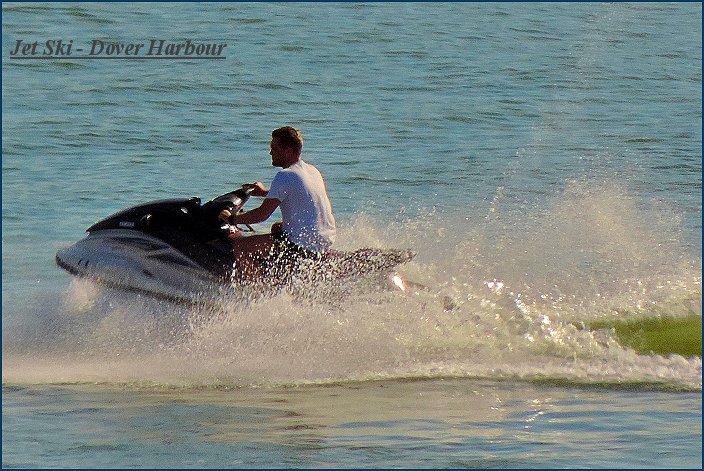 Woman on Board: The same evening as the jet ski action...this woman gently paddled by on her board in elegant style.
Nice one below Patrick, saw that one out there myself and you are right...it was very murky out there. A good get that one.
Its not often you see a 'low flying' airbus


PB.
ps: will have pictures of the Deutschland on monday all being well. A bit behind with that one..
AIDAvita approaching...
Sunday, 13 May 2018 - 06:37
Post 4893
Patrick, Marine Parade
Rather a long way off this shot in rather murky conditions of a 'low flying' vessel - the RORO 'Ville de Bordeaux' passed us earlier today en route from Hamburg to Montoir. Don't see these every day - possibly 'winging it' down the Channel.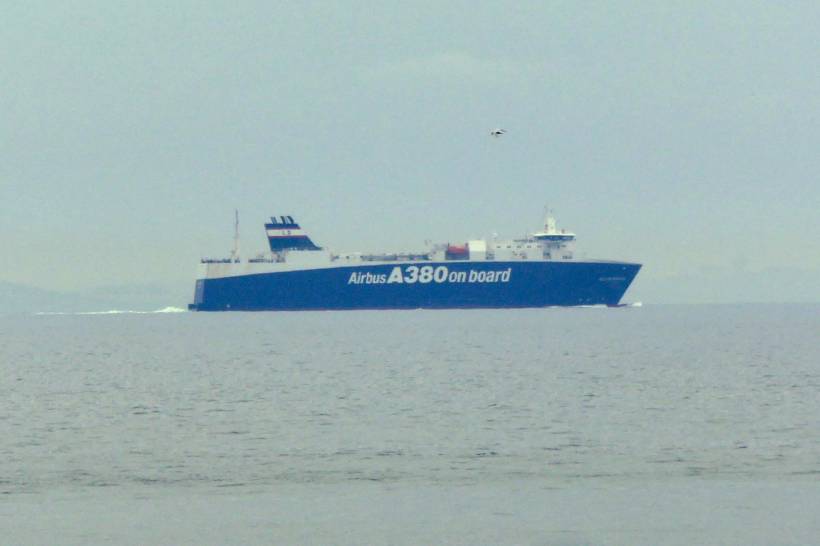 Saturday, 12 May 2018 - 22:09