Friday, 22 February 2019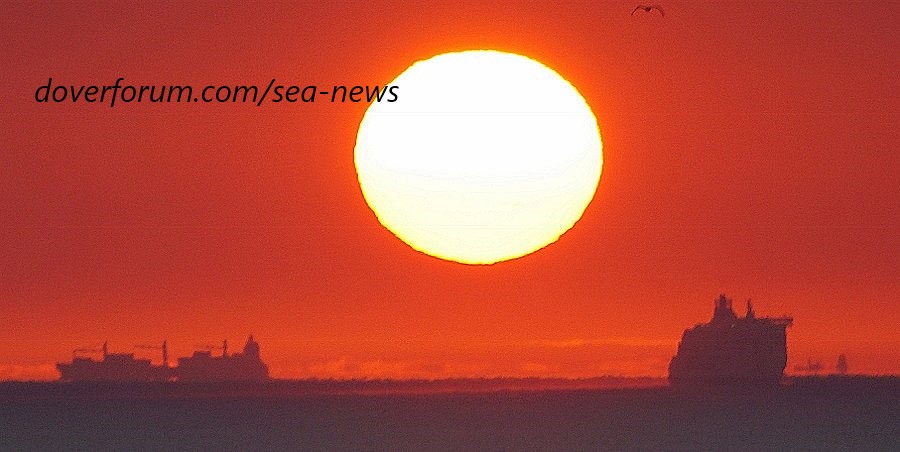 Below...Boudicca reverses...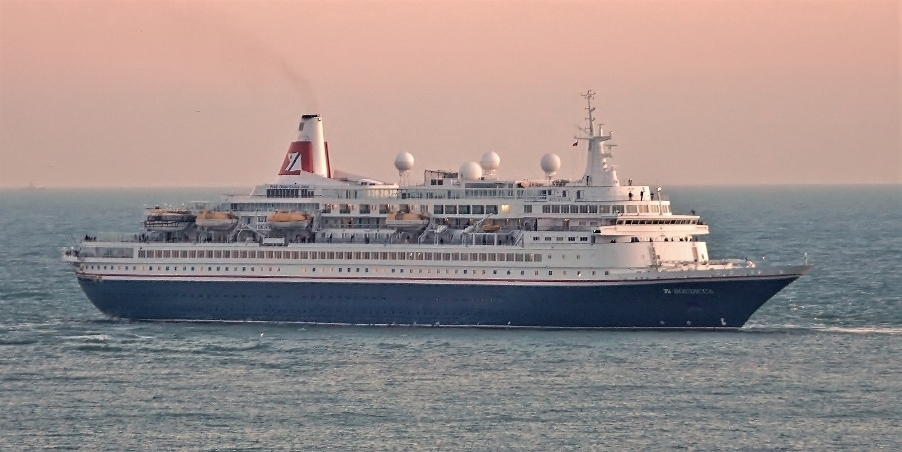 WWW.DOVERFORUM.COM/SEA-NEWS Featuring all the ships that come and go and work at the Port of Dover with further coverage of the surrounding ports both sides of the Channel. Click ADD YOUR COMMENT below to post direct, no membership needed.

Listing highlights....


Scroll down or use our Search Engine for posts and pictures of Border Force in Dover and Ramsgate.
RHA - we need to avoid cliff-edge Brexit 6069.
BREXIT READY statement from Port of Dover/DFDS/P&O Ferries see 6021.
P&O Spirit of Britain - notable Cyprus reflagging see 6017. See also latest 6041.
Tourism Thriving see 6044.
Deal Pier Kitchen restaurant opens 6016.
Charlie Elphicke MP - making our borders stronger, safer 6014.
BORDER FORCE SEARCHER and migrant boat.. see 5969 below..

Port of Dover supports Women in Maritime 5975.
Christmas Lifeboats in Ramsgate see 5937.
P&O: Britain's Favourite see 5922.
DFDS: Voted Worlds Leading Ferry Operator...see 5918..
Charlie Elphicke MP: Migrant Crisis 5894.
P&O: Santa Onboard see 5870.



Highlights continue...


Wreck of the Anneliese 5880, 5881, 5882 ...
Port: Additional Funding for Kent Wildlife Trust 5879.
P&O: Apprentices welcome RB Legion veterans 5853.
Eight new apprentices graduate see 5845.
DFDS: 'SEE PORTS' Calais and Dunkerque 5834.

DFDS Revitalize Dining 5831
P&O: Schoolchildren mark WW1 see 5816.
Lower Thames Crossing boost..5812.
see now also 5817.
Dover Museum's revitalisation see 5807.

Port of Dover: Refrigerated Cargo Terminal .. software for 5801. Latest NATO also 5801.
Port of Dover: Great increase in summer traffic 5795.
Russian and shadow 5785.
The Waverley paddle steamer latest 5778...
New SAGA Ship launching in Dover see 5776.
DOUG BANNISTER: New Chief Executive Port of Dover see 5734....

Merchant Navy Ceremonial images also 5734.
P&O: To Rome on Horseback 5759.
Dover Regatta Rescue incident plus .. see 5713.
Dover Regatta pictures Lifeboat etc..5716, 5717, 5718, 5720.
DFDS Expansion: More New Ferries on order... see 5693 see also 5500 and 5381.
Excellent Tourist season for P&O Ferries see 5649.
VSBW Port of Dover - Women at Work 5638.
P&O Second Female captain see 5107. Also see latest 5570.




NEW:

For instant access to any item listed above - just type the post number in the Search Engine below.

Sea News Dover : Use our SEARCH ENGINE below to find all sorts on the SEA NEWS pages....
type in the topic and away you go, more than - 6000 - nautical posts now.

Posts are welcome. Max of 5 pictures preferred although we can stretch that for special stories..

Sea News Editor Paul Boland - send info or pix to dover7@msn.com. Always welcome.

All pictures on these pages are the copyright of the owners and must not be reproduced without permission.

To show your pictures at their best..it could be worthwhile resizing before posting to

840

pixels wide.
Post 6077
Sea News, Dover
Ferries in Rough Weather ...it goes on...
This time we have tug Dauntless helping to set the Pride of Canterbury on its way to Calais in some fierce weather yesterday Friday. Winds powering through from right to left in the following pictures...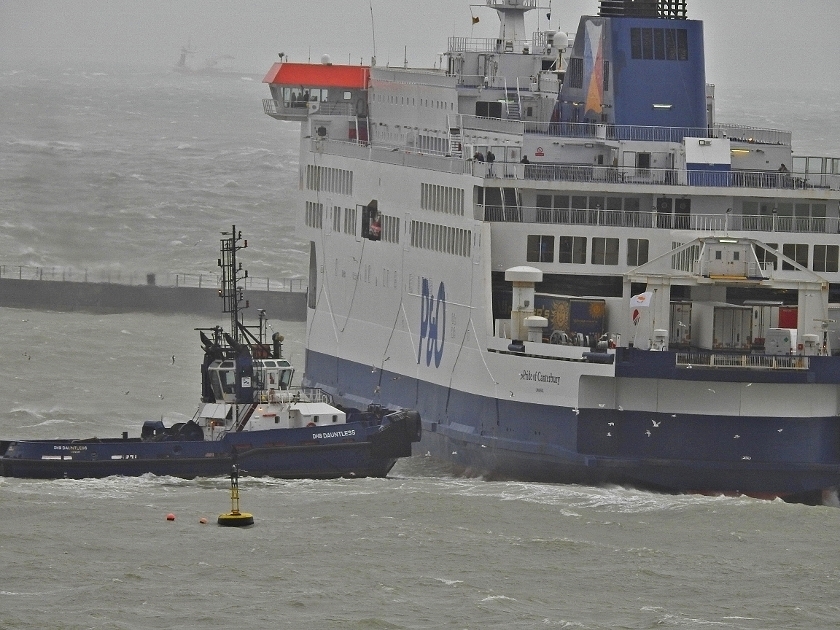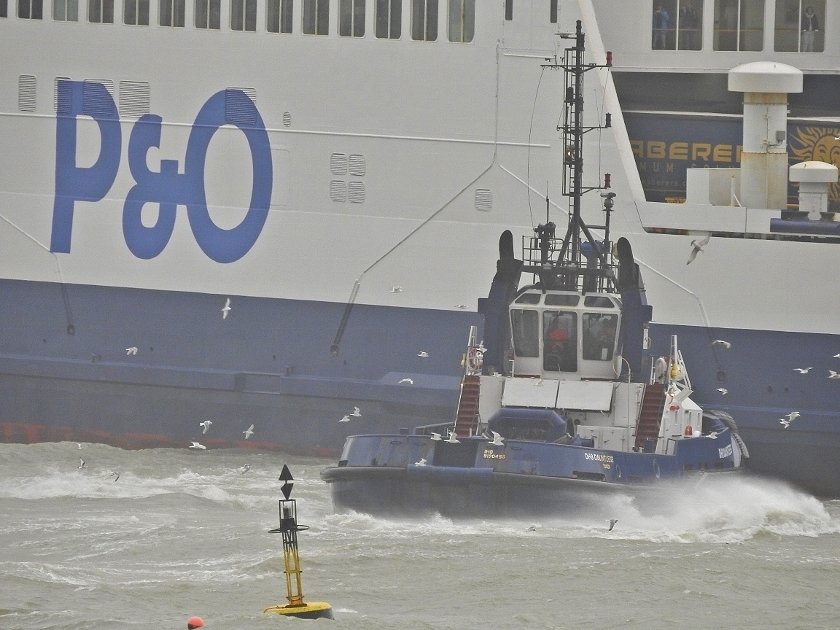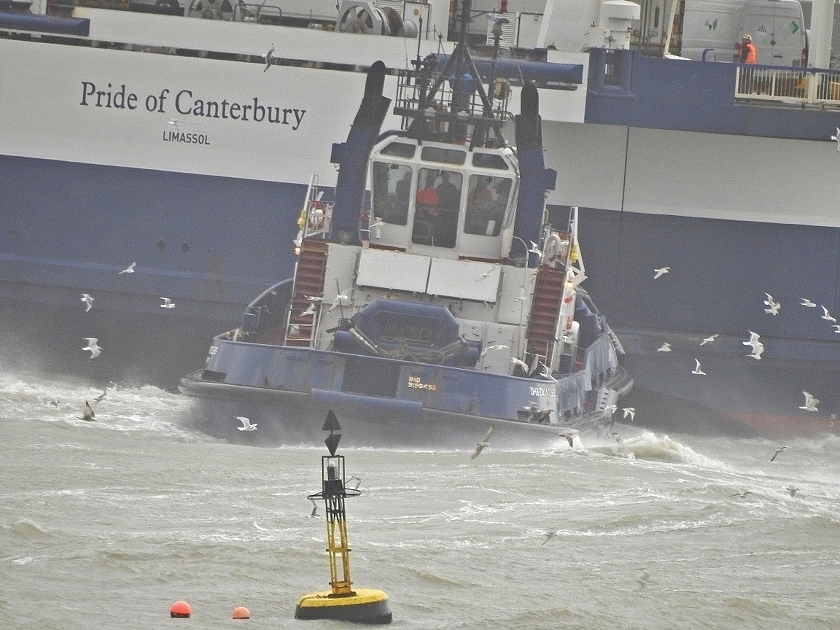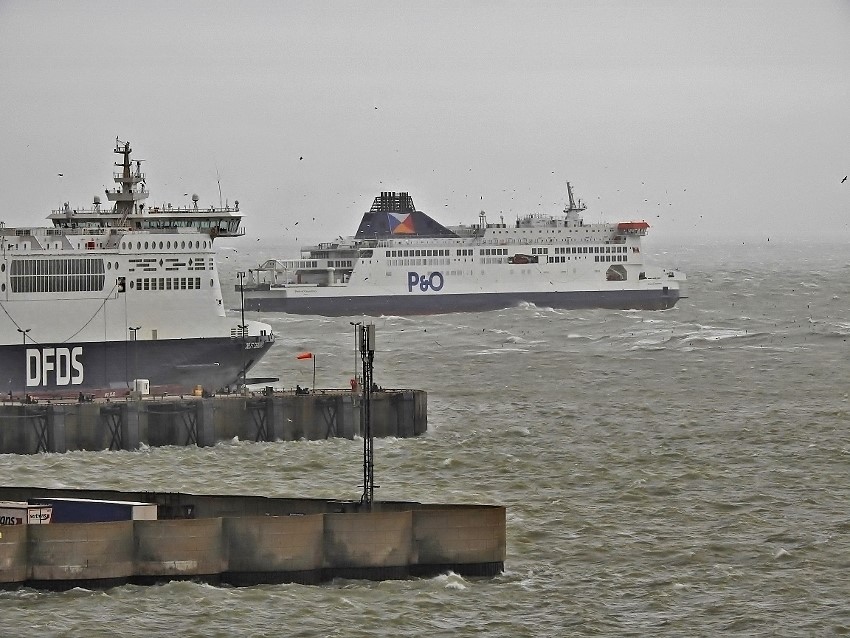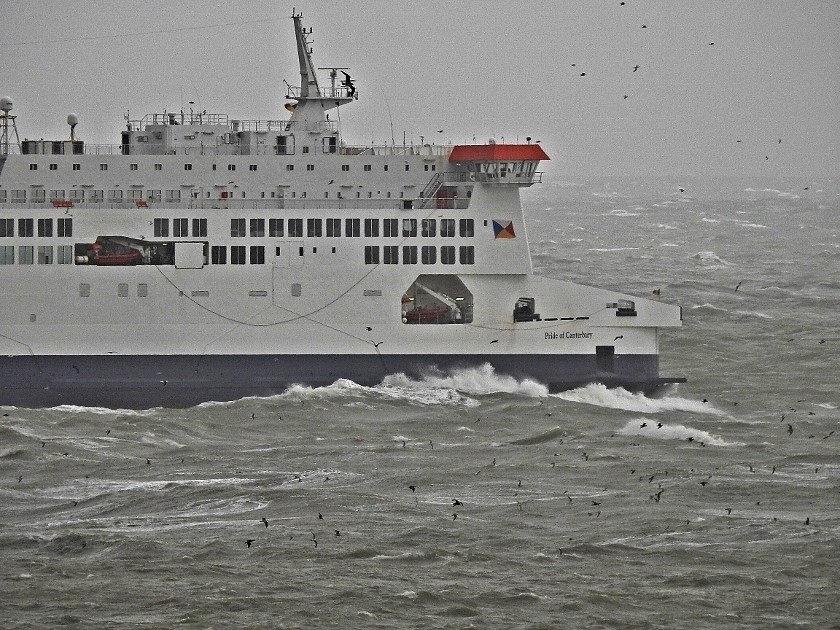 Yes it was certainly fierce weather yesterday, its amazing and astonishing to see how brilliant these guys are, as the ferries keep running no matter what the elements throw at them. Its a pity some of our politicians couldn't see them on a day like yesterday. We see the ferry above, the Pride of Canterbury, packed with trucks and doing its economic duty for the nation. Where were guys like Raab yesterday.... ponders...imagine a Brexit Secretary who didn't know about all this, but what's worse, who appointed him? Did they not ask if he had heard of our trading ports...
PaulB
LATEST: we are just hearing that the Government have pulled out of their bizarre contract with Seaborne Freight at Ramsgate. A company given a near £14million contract by Grayling to significantly help with the 'no deal Brexit' trucking overflow or backlog .. despite having no ferries. See also 6076 below.
Brexit begins in weeks....
Saturday, 9 February 2019 - 04:52
Post 6076
Sea News, Dover
Ferries ...rough weather.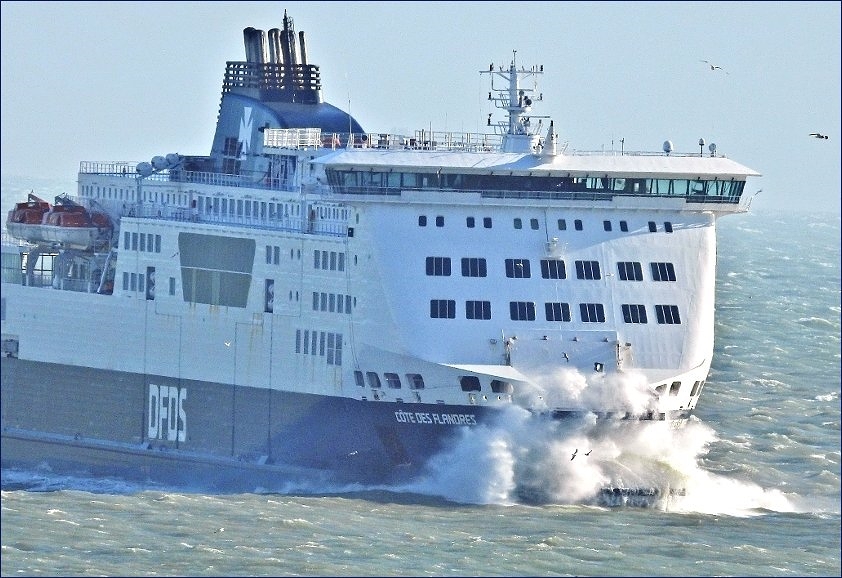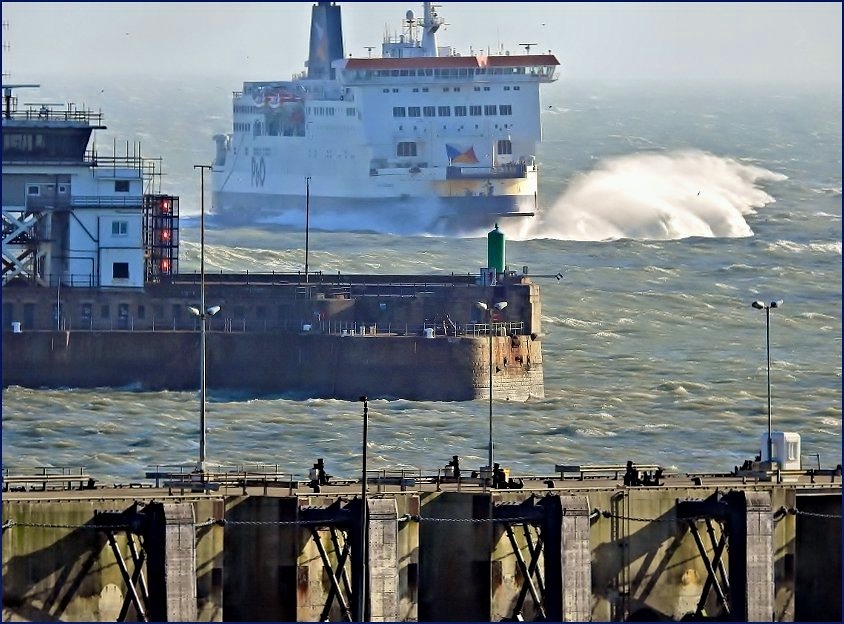 Yes as Mike said in the post below, the heavy fog cleared and Thursday was a windy oul day...and there is much more wind to come it seems over the next couple of days. Hold on to yer hat!. The pictures above were taken yesterday and the top shot shows the ever resilient Cote des Flandres battling the elements just offshore. The second picture shows the approaching Pride of Burgundy looking across the windswept eastern docks. No ferries at the berths there gave us a clear shot.
The light was very peculiarly white or something yesterday. Yours truly took quite a few pictures but none, apart from the two above, came out properly...and they only just made it.
I blame the camera...some adjustments were needed later using the household hammer!
Due to the meagre miserly few pix today we can show this one below from former times...its the good ol Pride of Burgundy again, making its way to Calais on a rough day.. and we get a few of those. This pic looking across the picture-esque breakwater lighthouse.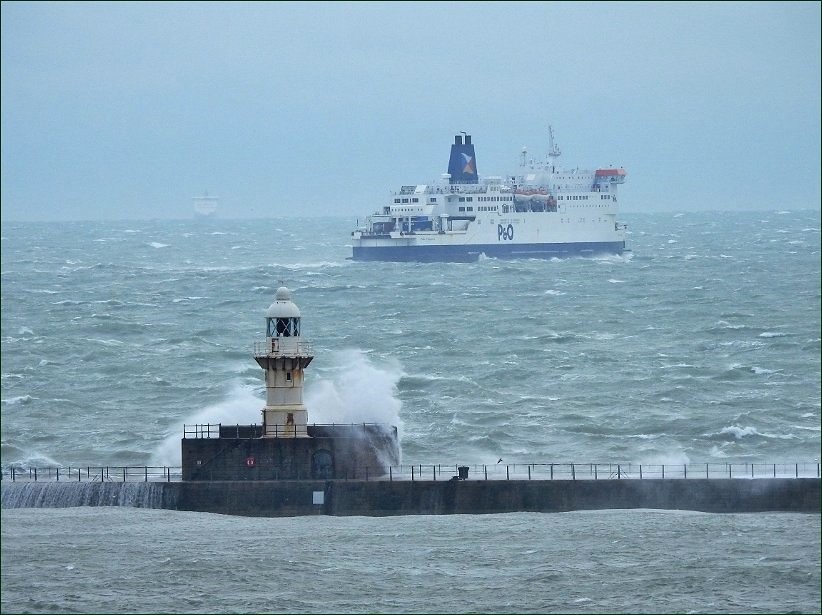 This info from the Google News app...from Claverley Media Group..
Plans to reopen a ferry port in the event of a no-deal Brexit could be disrupted
........if councillors approve a string of budget cuts.
The Government handed Seaborne Freight a £13.8 million contract to run a service from Ramsgate, Kent, to Ostend, in Belgium, to alleviate anticipated delays and queues at the Port of Dover. Discussions are ongoing as to how this will work.
But Thanet District Council, which owns and operates Ramsgate Ferry Port, is proposing funding cuts which could make running such services impossible. The authority has been financing the port to keep it ready for ferry services and says if "arrangements" are not finalised, it will be "required" to make the cuts.
Councillors are to decide whether to make savings of £730,000 over the next year when they vote on the budget on Thursday evening.
ENDS
No news yet on which way they jumped above.
UPDATE JUST IN:
"
A decision on budget cuts which could have prevented Ramsgate reopening as a ferry port in the event of a no-deal Brexit has been delayed. Thanet District Council had been set to cut £730,000 of spending on the port.
But it delayed the decision at the request of Transport Secretary Chris Grayling.
"
Nice enjoyable shots and info below Mike...interesting story re Cork there..

PaulB
Friday, 8 February 2019 - 06:14
Post 6075
Mike J., Dover
Wednesday's fog cleared to a windy old Thursday morning with the DAUNTLESS standing by the CALAIS SEAWAYS & the SPIRIT OF FRANCE as they docked.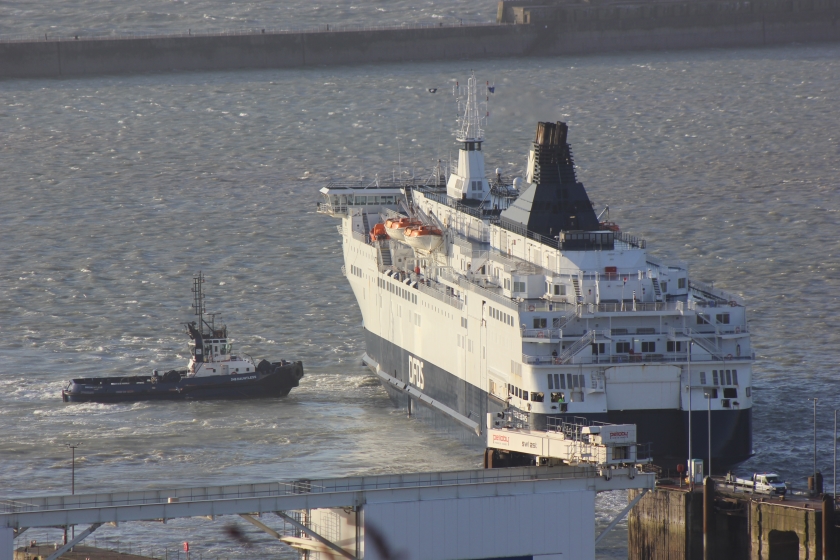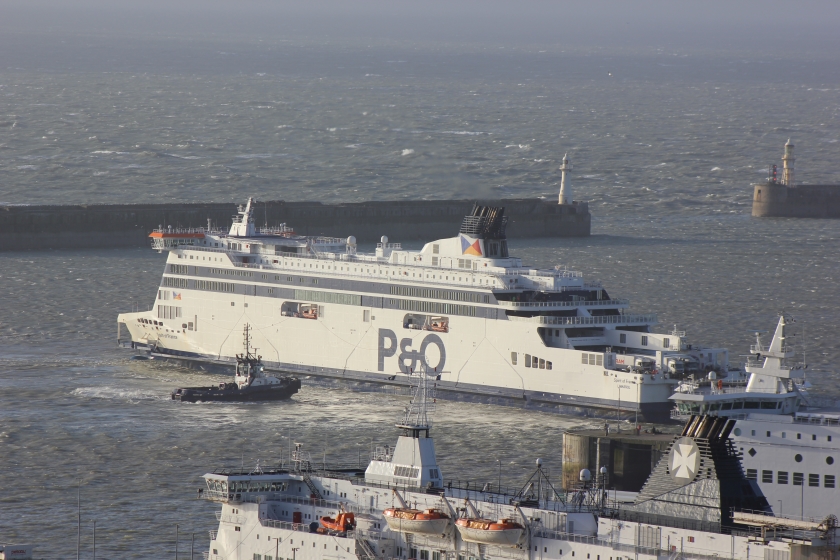 The Cypriot coaster FRI KARMSUND came in overnight to load grain & sailed 1900 Thursday, anchoring off Margate about 2300.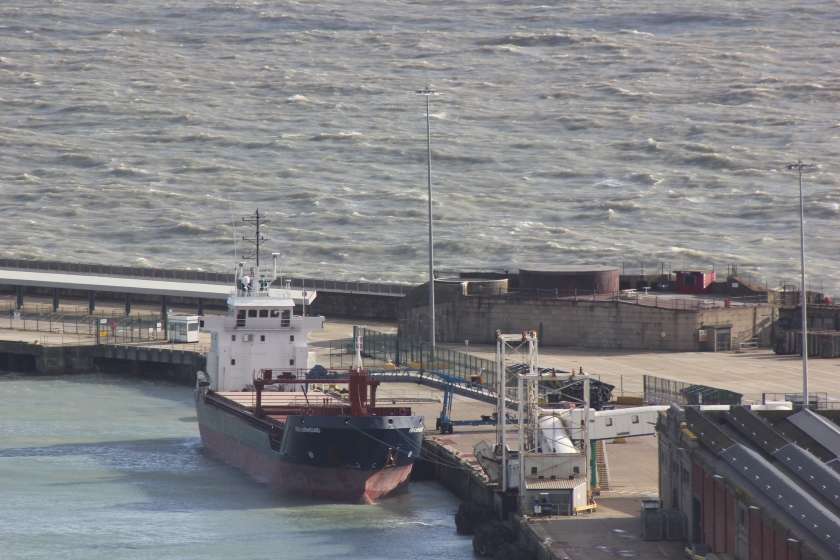 She had come from from Ringaskiddy, a developing port area in Cork Harbour.
I recall going there in the mid-80s on a ship that had cargo problems out in the Atlantic bound for the St.Lawrence, putting in there to check the damage.
No big shore cranes there at the time so we went on up to Belfast to get the damaged cargo removed or re-stowed.
Good views as we entered the fine natural harbour, passing Cobh & the splendidly-named Haulbowline Island, then a steelworks, now an Irish Naval base.
The Trinity House 'Rapid Intervention Vessel' ALERT has been alongside in the Tug Haven for a few days.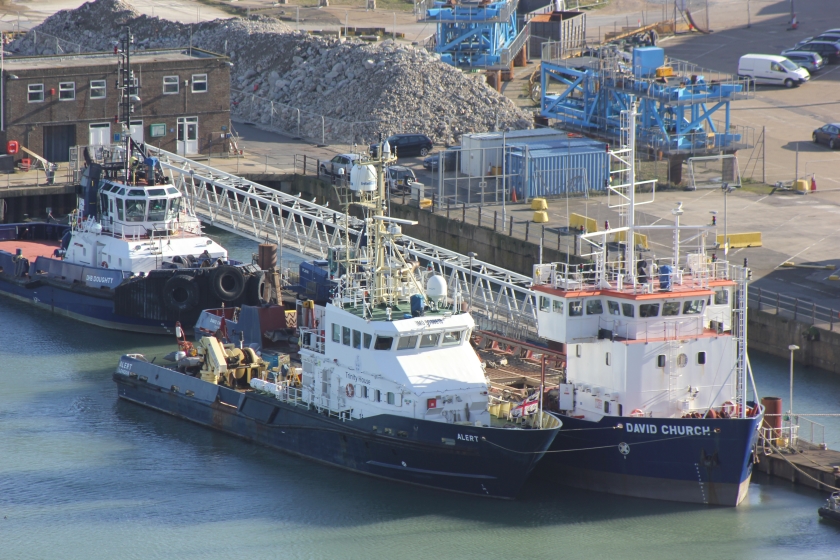 The PRIDE OF CANTERBURY has been on the Eastern Arm for much of the day & is still there, reason unknown.
Friday, 8 February 2019 - 01:44
Post 6074
Sea News, Dover
We had a very early in the year cruise visit yesterday. But it wasn't all good news, the downside was we had thick fog at the same time, so yours truly never saw the ship all day...so no pictures alas.
The ship in Port was the Saga Sapphire...all I can do at this stage is to show a pic or two from former times...
And there she be.... a relatively recent picture...
The picture below is from several years ago and you can see how different everything was, with people having access to the Prince of Wales pier. You could get right in close to the action then. This picture shows both tugs Doughty and Dauntless turning the Saga Sapphire. The pic is mostly about the people and the tugs.. it dates from 2015.
Perhaps its time the Port considered a viewing platform somewhere in the new development...
for photographers, visitors, enthusiasts etc etc.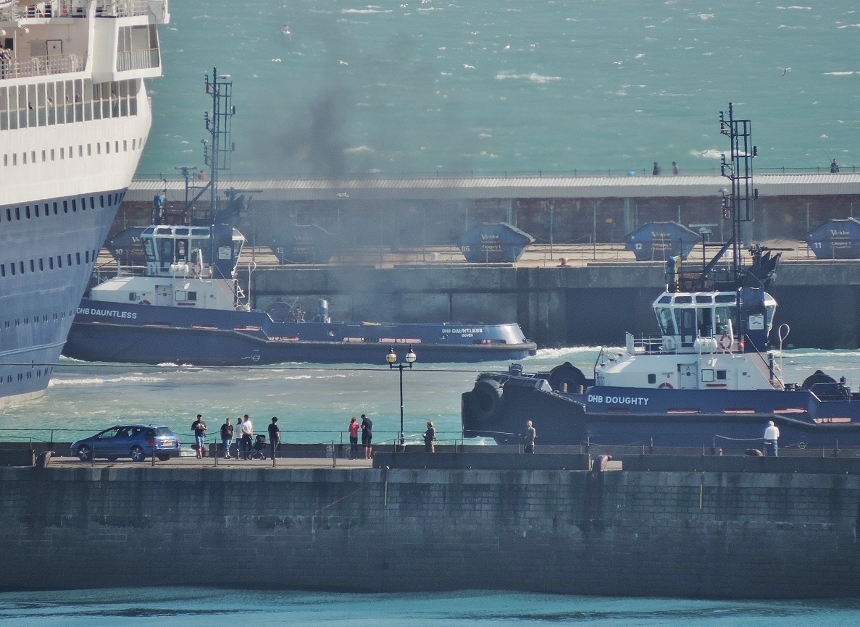 PaulB
ps:no fog today at the time of writing.
No.. today we have a problem with wind …
Thursday, 7 February 2019 - 05:05
Post 6073
Sea News, Dover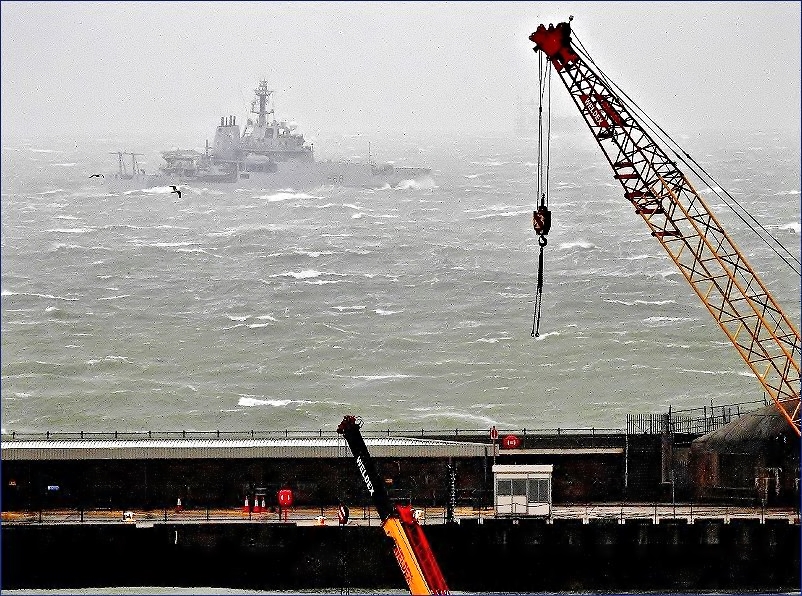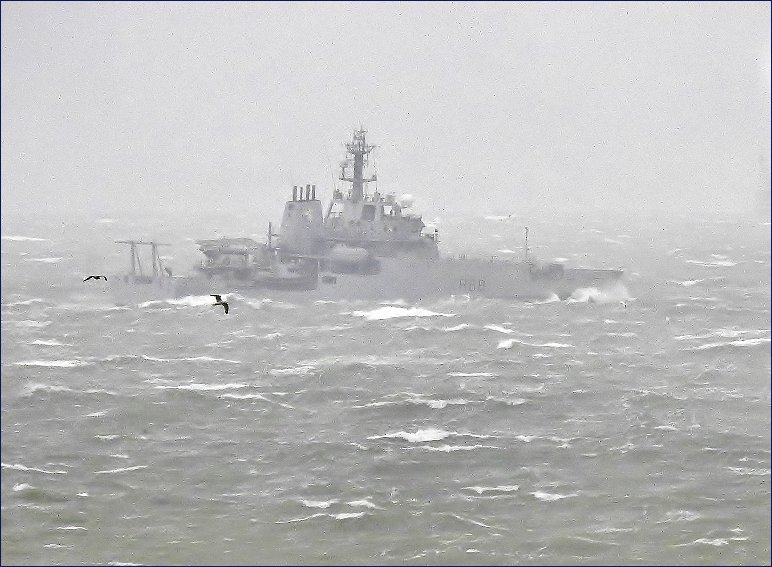 Yes indeed Mike it was a rough oul day for sure for the picture below of HMS Enterprise. The two above ( also HMS Enterprise ) were taken almost at the same time...well actually the second pic above is a crop of the top shot. Twas dangerously blustery at this high level for pictures so had to abandon after just a few shots. The open window was in mortal danger of taking off from its hinges and elegantly heading headlong for Calais.

That was the roughest day this year for sure.
ANOTHER BRICK IN THE WALL
Here we have the latest few shots of the ever rising Premier Inn. This time its the brickwork rising to meet the roof. You can see where to new brickwork meets the old brickwork and of course where the new roof meets the old. Interestingly they have put (what looks like) ventilation pipes in the new roof...where there were none in the old.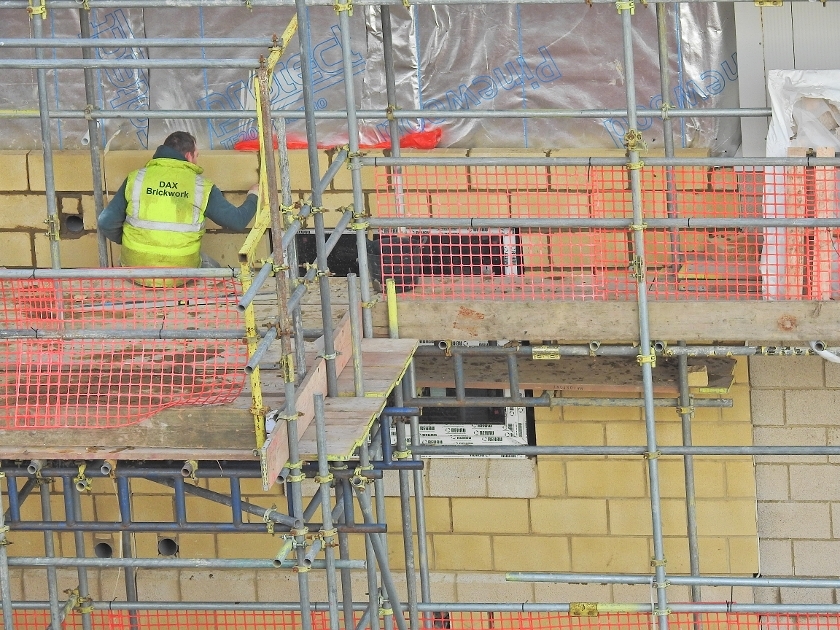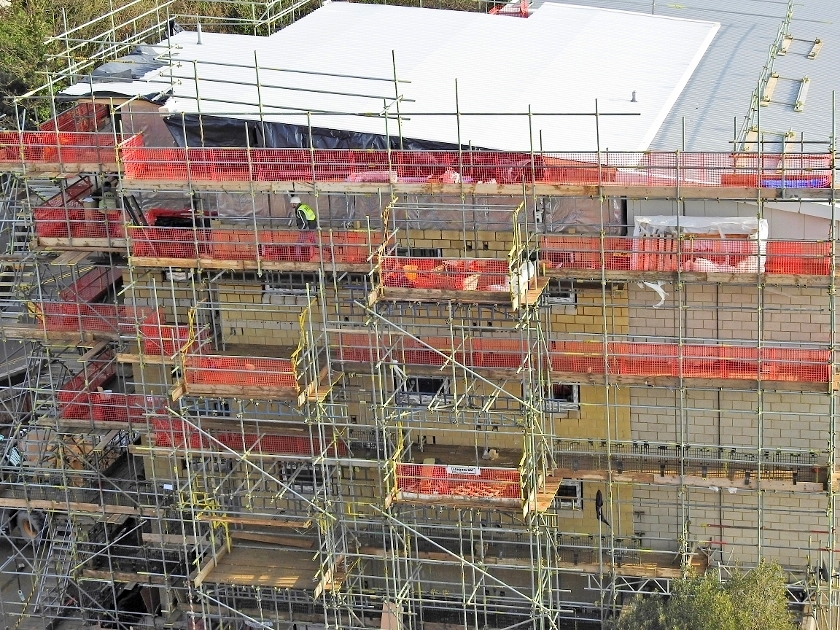 The very latest picture below shows some of the lads beginning to remove the scaffolding from the roof area, a clear sign that the development has moved forward swiftly.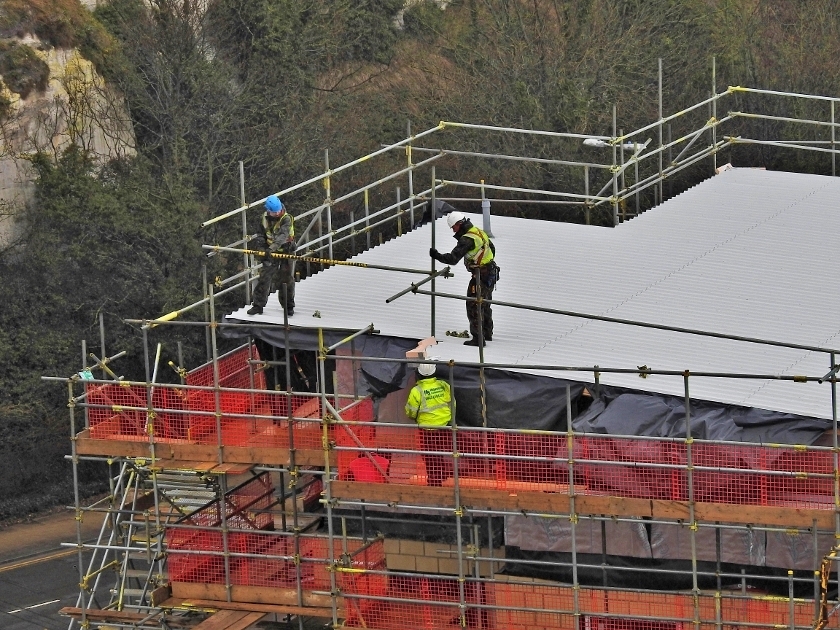 Don't Forget: to see the building rising from flat earth level...type Premier Inn in the Search Engine above and you will see the new hotel extension rise up from ground level.
Nice collection below Mike - good to see those.

Yes a wild pic that one in 6069. That was a rough day and no mistake.
Del yes indeed good words from the RHA but is anybody listening...
with grisly Grayling in charge...well

Yes Brian...

PB
Wednesday, 6 February 2019 - 05:10
Post 6072
Mike J., Dover
Impressively bleak grey view of HMS ENTERPRISE off the port on a very mucky day from Paul.
'Fifty shades of grey' rings a distant bell deep in my memory . . . . .
Update on the new lock -
What looks to be The Wellington Dock gate is in position & the top of it can be seen at the bottom of the picture.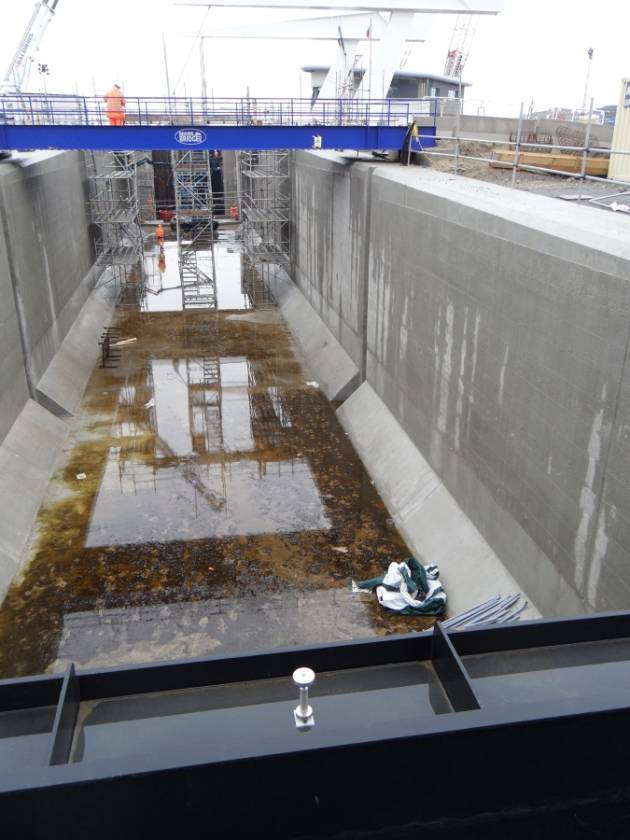 The kit of parts for the outer gate to the new marina arrived Wednesday morning on two lorries & parked-up on Union Street.
By luck I caught them heading off to be unloaded on the eastern side of the new lock, via the Eastern Docks roundabout & Marine Parade.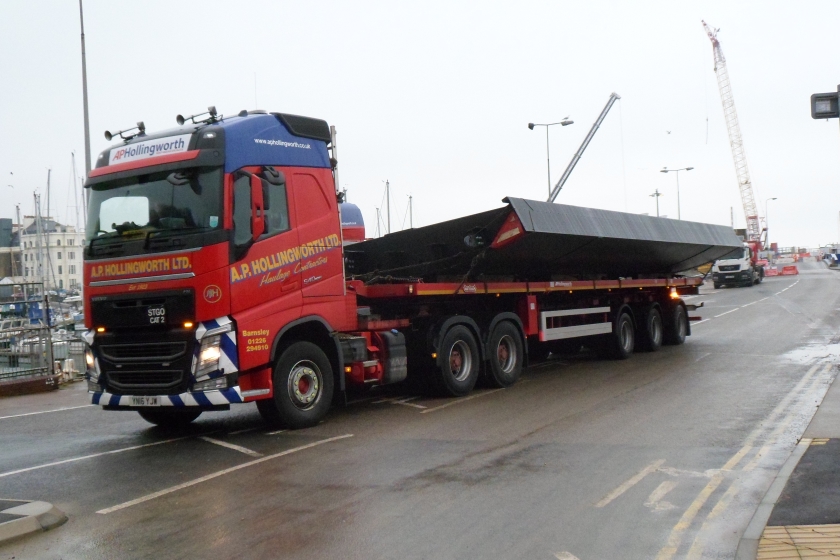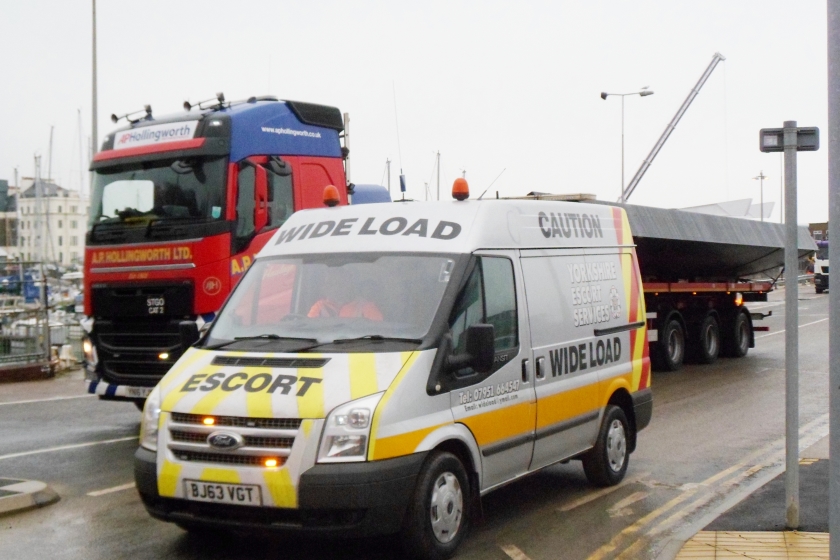 Further good coverage on the lock gates by Patrick S on the Dover Town forum under 'Dover Harbour plans'
Tuesday, 5 February 2019 - 23:42
Post 6071
Del Styan, Norwich
I think I believe the Road Haulage Association, rather than the Govt position. Could it be because they know what they are talking about? Silly old me - it must all be because the NHS will get £350,000,000 a week, so it must be OK.

Tuesday, 5 February 2019 - 23:10
Post 6070
brian dixon, dover
oh well looks we have to cancel the bbq on the roundabout this year.might relocate to meggers car park instead. lol


Tuesday, 5 February 2019 - 13:51
Post 6069
Sea News, Dover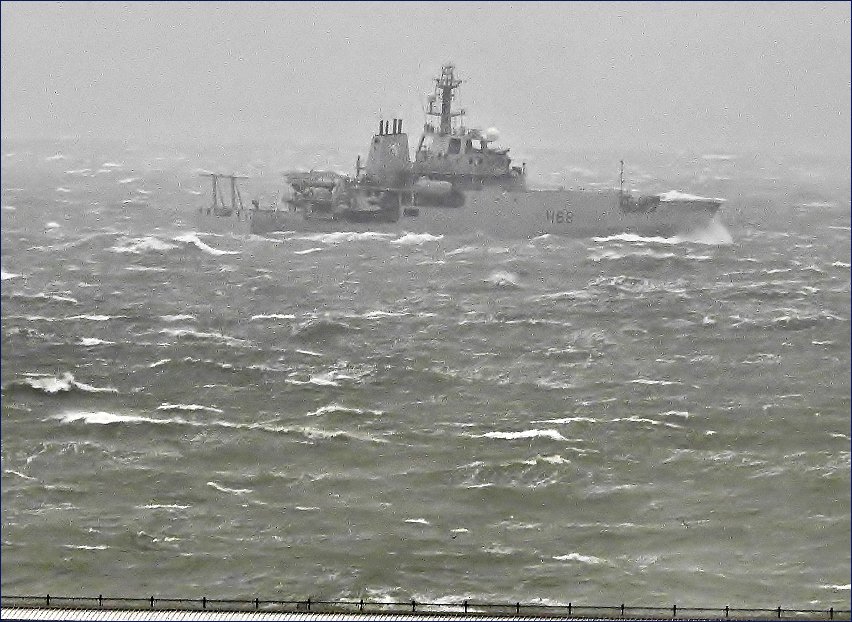 The picture shows the Royal Navy patrolling out there off Dover yesterday on a very rough day indeed. The conditions were horrendous in fact...even the weather hardened Royal Navy personnel, who must be used to this sort of thing, must have found it tough. Its not as if they have a destination...no they just patrol up and down and yesterday the weather gave them a hammering. How does it effect the sailors onboard ?...well even Admiral Nelson himself suffered from seasickness. Just gazing at this picture would give the average landlubbing onlooker a touch of the 'mal de mer'.
The picture doesn't show the ship...HMS Enterprise ..terribly clearly but it certainly captures the very rough seas.
* *
And now from the guys who transport all our goods, all our consumerables, back and forth everyday...
Find a way to avoid a cliff edge Brexit, RHA urges MPs

The Road Haulage Association has called on MPs to avoid the disaster of a cliff edge Brexit.
________________________________________________________________________________
In a letter to MPs, RHA's chief executive, Richard Burnett and national chairman, Andrew Howard, warned that business won't be ready by 29 March and said that a transition period is essential to help industry adapt to new arrangements and regulations.
"An implementation period gives time for vital new processes and systems to be put in place across the supply chain such as efficient new border technology to avoid disastrous queues at Channel and North Sea ports and across the border between Northern Ireland and the Irish Republic."
They blamed "complacent failure" across government departments for a lack of understanding of the vital role haulage plays in the economy and urged MPs not to believe reassurances that preparations are advanced and well developed.
Eleven thousand lorries cross the Channel each day; even a two-minute customs check would lead to a 20-mile traffic jam causing chaos on the roads and bottlenecks at ports.
"If preparations for customs and other border tasks were under control we would not be needing massive holding areas for lorries and would not need backup ferry services."
The RHA has never taken a political view on Brexit but the Association's board of directors is clear that a transition period is essential to avoid unparalleled damage to the supply chain.
-ENDS-
That says it all above...the potential for serious disruption is clear.
From the BBC last night, its also a general news item in a number of publications.. so a briefing took place..
"
Lorries will be able to drive straight off ferries and Channel Tunnel trains without making customs declarations in the event of a no-deal Brexit, the government has announced.
New guidance for importers and hauliers says firms would file a simplified form online in advance and pay duty later.
Hauliers have warned that no-deal could result in long queues at Channel ports.
The industry said firms would still not be ready for a "chaotic" EU exit - even with these simplified procedures.
The UK is due to leave the EU at 23:00 GMT on Friday 29 March - with or without a deal.
"
PaulB
Tuesday, 5 February 2019 - 05:51
Post 6068
Sea News, Dover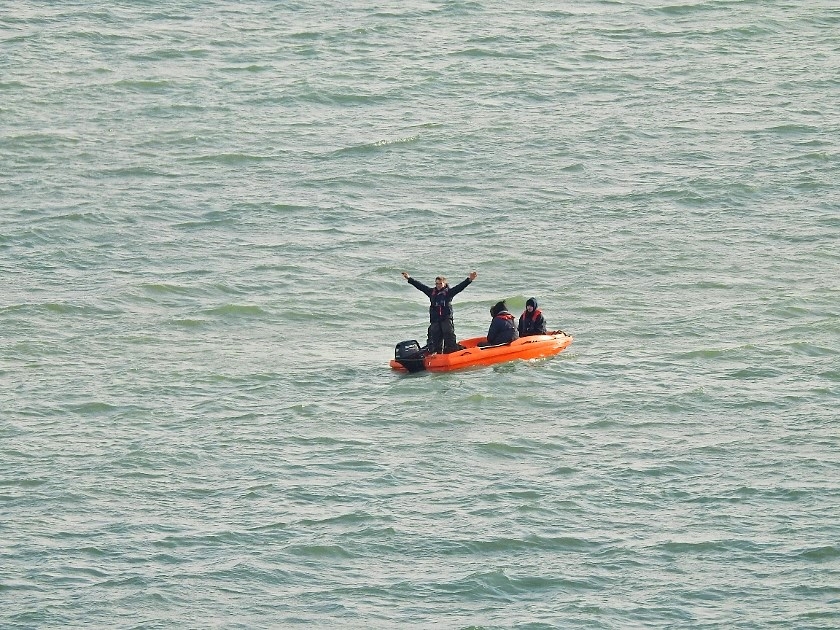 You can certainly guess what this looks like ..yes another migrant situation, a crises in the making. Yours truly spotted the people waving frantically from the dinghy ( just one waving in the shot above but all were waving moments before ) and what would anyone think. In the flash of a moment I approached the window for a closer look and spotted the dark-coloured RIB below. The guys in the dinghy were waving to this...trying to attract attention.
Gazing at it all through the zoom lens and wondering who to call in the developing emergency...I quickly realised then in a further moment, that it appeared to be just a training exercise. The frantic feeling dispersed and the follow-up pictures were taken....
These are zoomed in pictures, with the naked eye from afar it all looks very different.
Below the RIB approaches the dinghy and in shot 4 you can just see the tow-rope attached as they all head back to shore. Clearly a rescue simulation... or indeed did the dinghy genuinely break down...?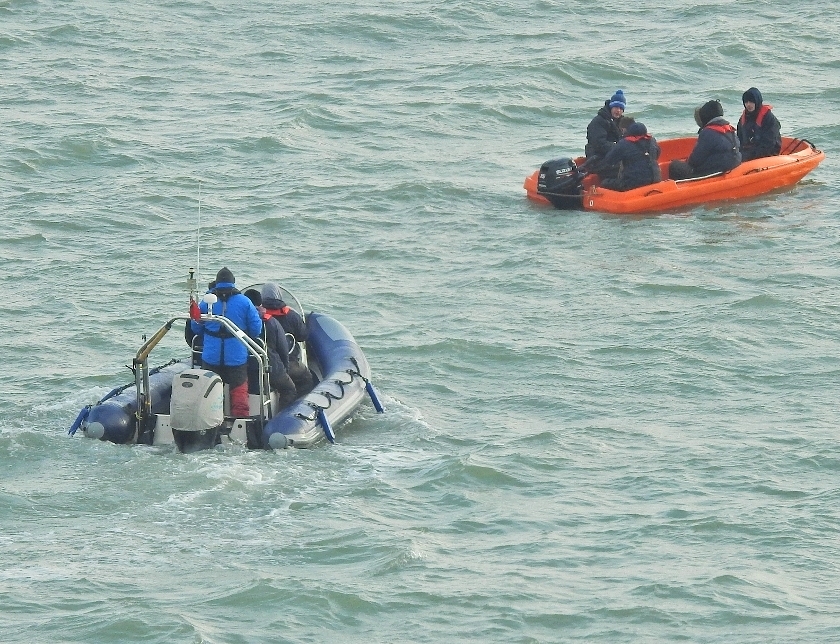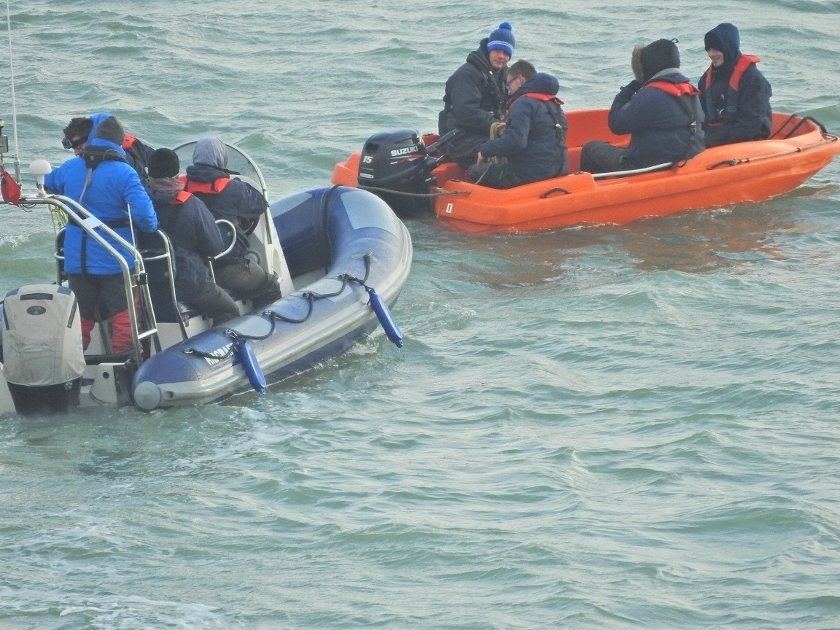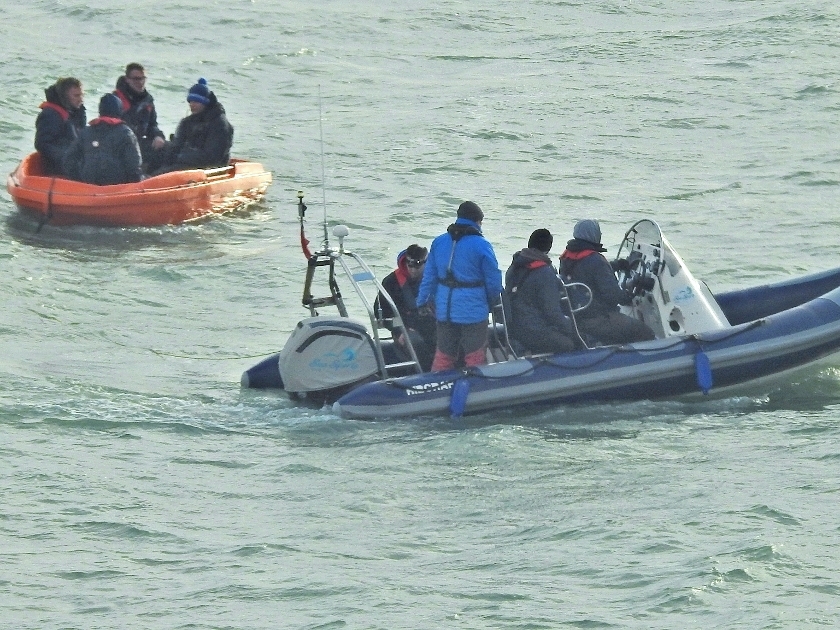 PaulB
Monday, 4 February 2019 - 05:10
Post 6067
Sea News, Dover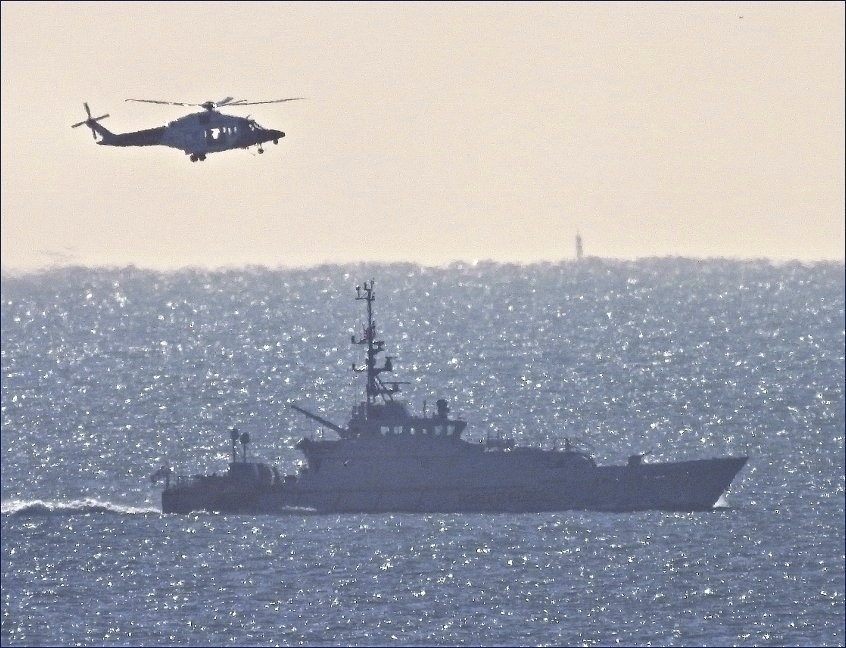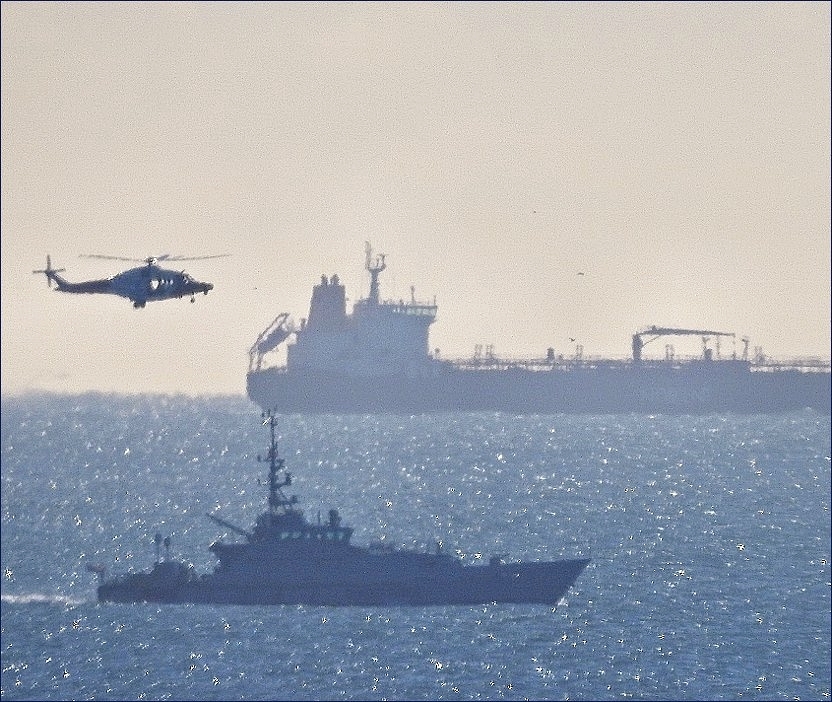 The pictures above were taken just a couple of days ago. They are fairly long range shots and show the HM Coastguard helicopter slowly approaching the rear of one of the Border Force cutters...either Vigilant or Searcher...and hovering in harmony for quite a while as they continue to move forward. As mentioned this took place a good distance out in the Channel. It may have been an exercise as there was no subsequent news story of note.
Here's a shot below, from a former time, of the same helicopter up very close. Right alongside the 'observation tower'. Yes this was taken a while back but shows the helicopter in detail right alongside us here....they were searching the waters edge one late evening.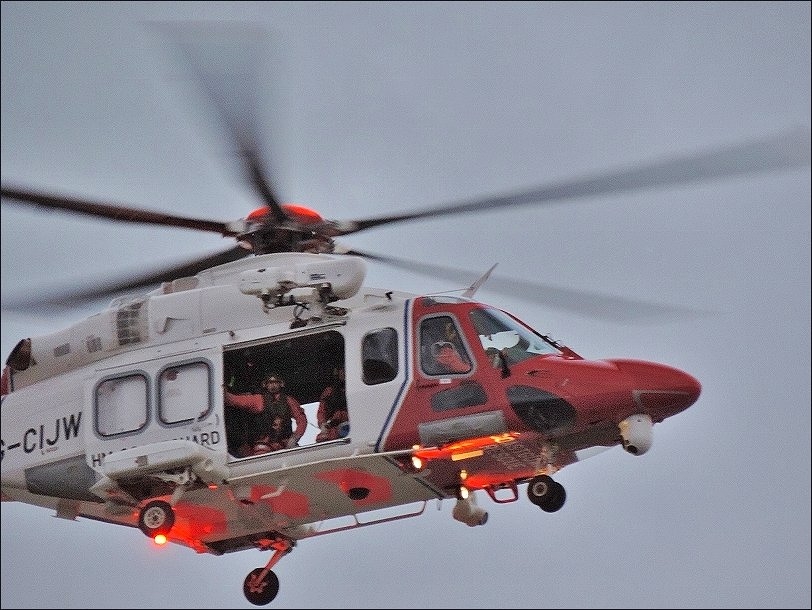 And now for another kind of flying machine. The Cormorant.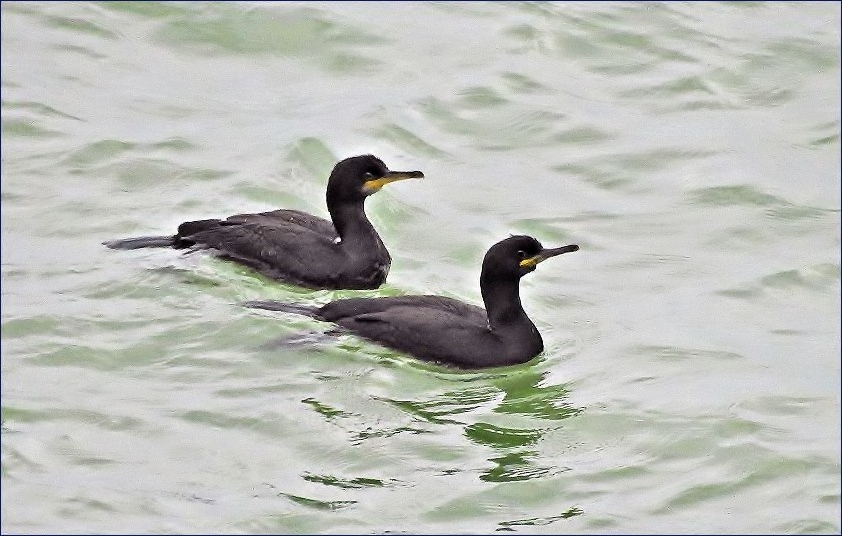 Yours truly spotted these two earlier this week, they were stuck together like glue. There must be a hint of 'spring in the air' although you wouldn't particularly notice it down here at that same waters edge.. so chilly, good to see them though. They might be young ones.. wildlife not my speciality alas.
The Cormorants are usually solitary mean feeding machines...like this guy below..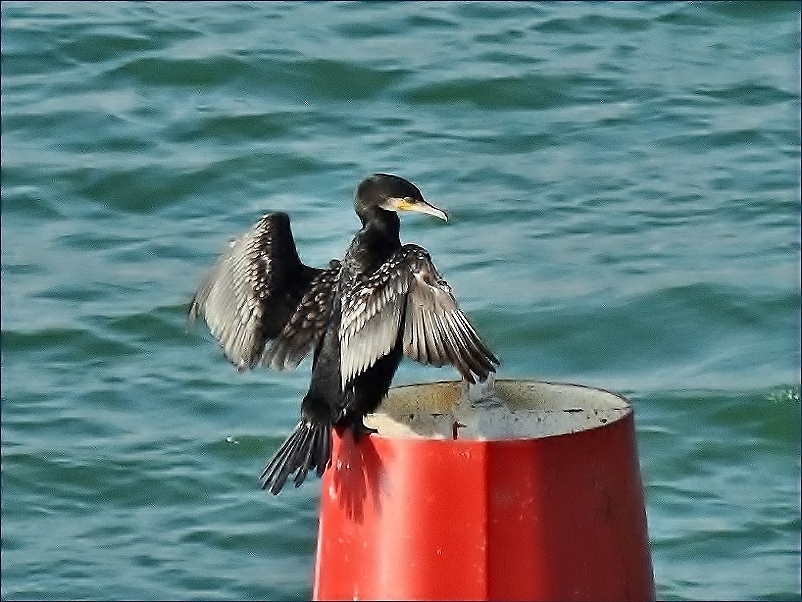 PB
Sunday, 3 February 2019 - 07:45
Post 6066
Sea News, Dover
Frivolity for the Weekend
Yours truly couldnt resist using this photograph. Yes there we are...our Prime Minister Therese May speaking in one of those long interminable debates on Brexit the other day. To either side of her, while the not-so-scintillating words spew forth, the PM's high profile cabinet colleagues have long since dropped off. Yes the soothing nature of all things Brexit has seen them drift off to the land of nod, no doubt dreaming of that time of sunny uplands pre Brexit. Of course the PR spinning whips would say that the effervescent fellows were merely contemplatively concentrating with relaxed eyelids.
The cabinet ministers are Lidington and Hammond...
pictured by myself here while testing the camera.
Do we have faith in any of them saving us from landlocked gridlock in South Kent ?
Yours truly's last 2 trips to France...six hours in the car, 3 hours in France...and I only went to Calais. Now its true I was unlucky with the days I picked .. but... could that end up being the norm?
From Channel Four
The head of the Port of Dover says the government has given no "firm direction" on technology for additional security checks, in the event of a no-deal Brexit.
Doug Bannister, the new Chief Exec of Europe's busiest ferry port, told Channel 4 News: "We haven't got any physical comfort. We haven't seen increased manpower, we haven't seen any new systems or processes.
"For us, the most important thing is what are the physical checks on the dock. If those are minimal, then we can maintain operations. If a hard border therefore means that we have to do physical checks on the docks within our estate, then that is going to create a lot of problems for us."
Doug Bannister says: "It does seem to me to be a very huge task to get it all in, tested and operational before the 29th of March. It comes down to how they want to treat the border."
Ends
Much progress has been made with the beach reworkings..this is the latest pic below. The boulders have been redone into neatness and attractiveness once more...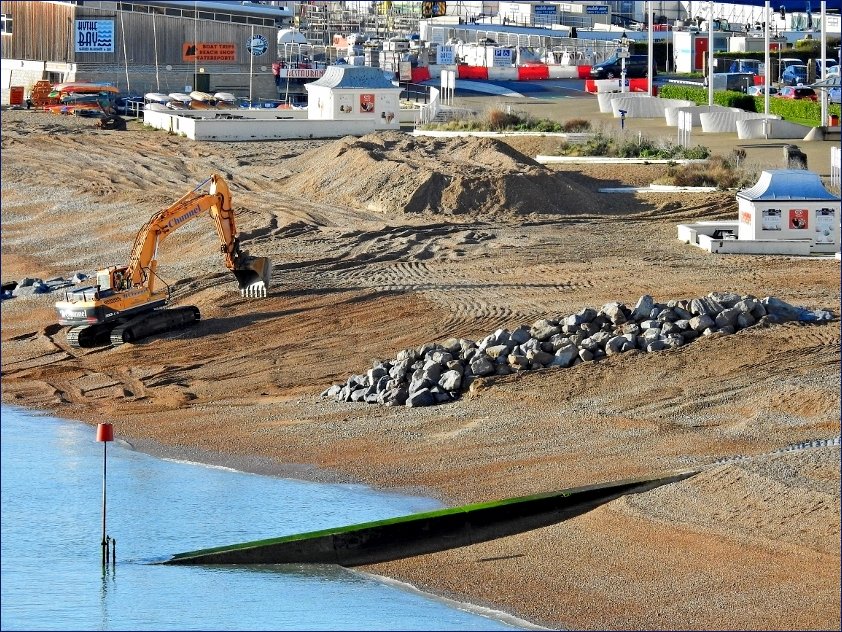 .... this is how they were previously..a further few days ago ( have used this pic below before )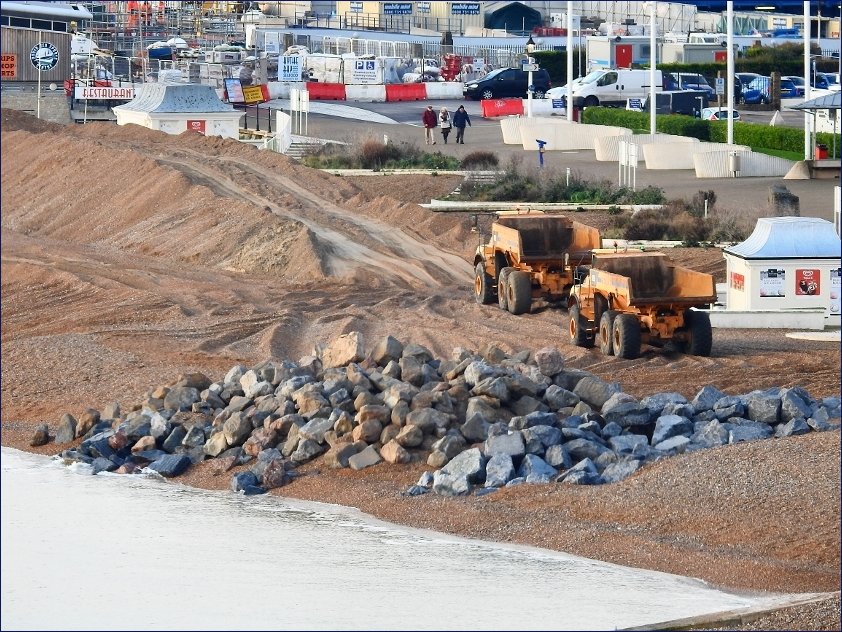 Since that beach pic 1 taken 2 days ago, things have been smoothed out and the heavy metal have departed the scene. Some sand dunes remain, perhaps for further use in due course.
Thanks Del, yes dazzling nature at its best.
Yes we currently have quite a few stories re Brexit/Dover...not sure if I've seen the i newspaper one.
PaulB
Saturday, 2 February 2019 - 06:40
Post 6065
Del Styan, Norwich
Lovely shots across the Channel - the Hotel de Ville very obvious. It still amazes me you can take pics of Calais from your viewpoint. Did you see the article on Dover in the i newspaper today?

Friday, 1 February 2019 - 23:03
Post 6064
Sea News, Dover
Sun Rising over Calais.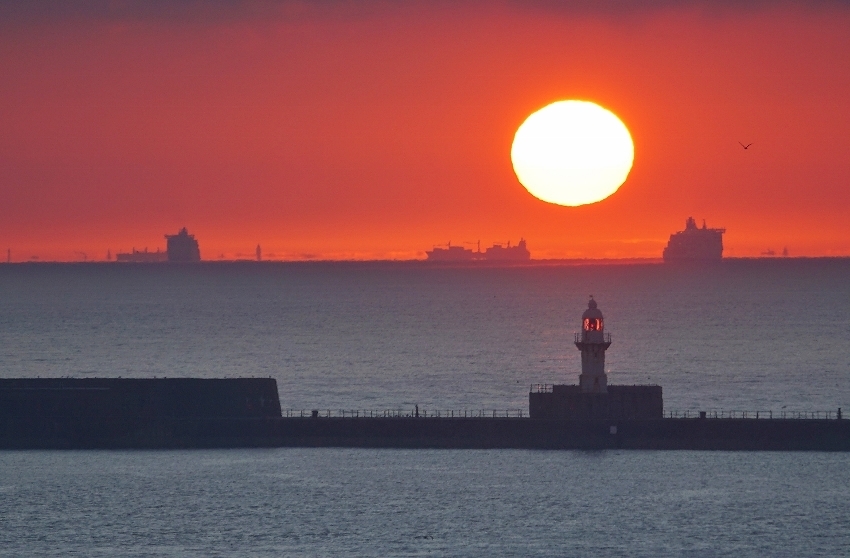 Looking across towards Calais yesterday morning (Thursday) there were some stunning visuals as the sun rose spectacularly into an orange red sky. Visibility was good for a change and the camera did the necessary. These pictures are totally natural..bog standard shots with no fakery. Nature doesn't need help when it wants to put on a show. You can see the various shipping movements and indeed the spires of Calais itself...notably Notre Dame Church and the Hotel de Ville ( Town Hall ).. these structures are beauties in their own right.
The second picture below is more or less the same, save for the interjection of our Border Force. Yes unseen by yours truly the Border Force cutter ( Vigilant or Searcher ) crept into the image as the camera rattled away on a series of shots. A welcome addition to the picture.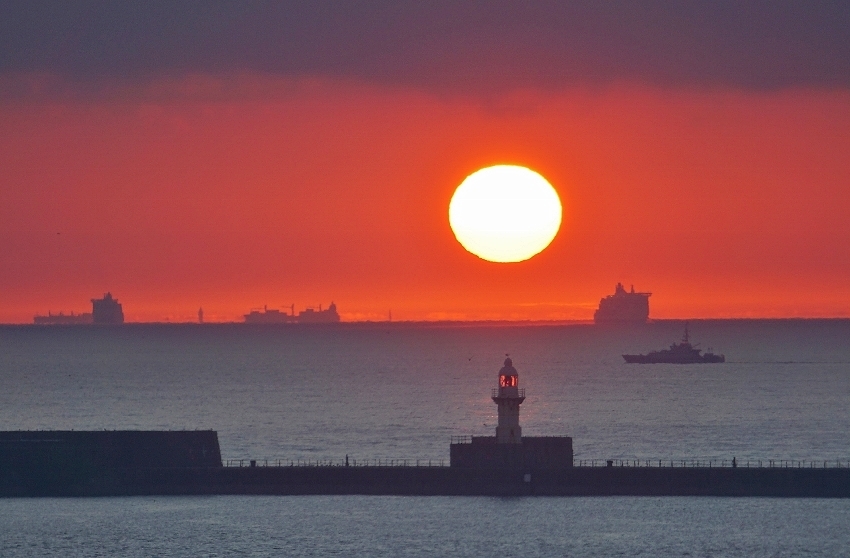 Del its still dark as I write here but the streets just look wet rather than white. We were hit by sleet rather than snow so nothing to shout about here on the seafront. Although in recent days we ourselves here on the seafront and port's edge had nothing much by way of snow ... however cars are occasionally seen driving around covered in the stuff...so there must be some fairly close by.
Its cold though down here at the waters edge...the oul timbers are a shiverin' …

PaulB
Friday, 1 February 2019 - 05:55
Post 6063
Del Styan, Norwich
A light dusting of snow up here in Norfolk, I hope you have some more than us tomorrow.
(I love snow!) Sorry if that disrupts things.

Thursday, 31 January 2019 - 22:55
Post 6062
Sea News, Dover
Border Force Speedwell returning to the Port of Dover on Tuesday morning...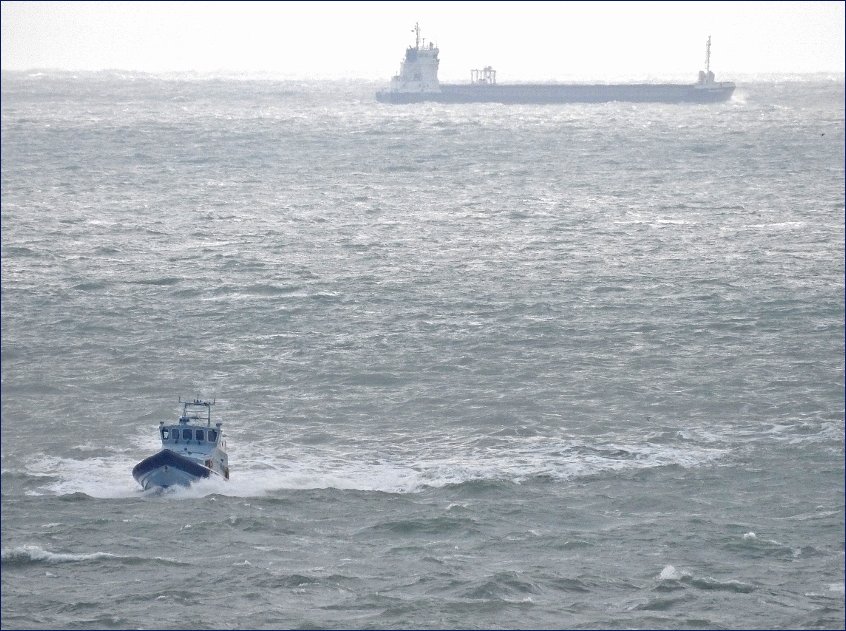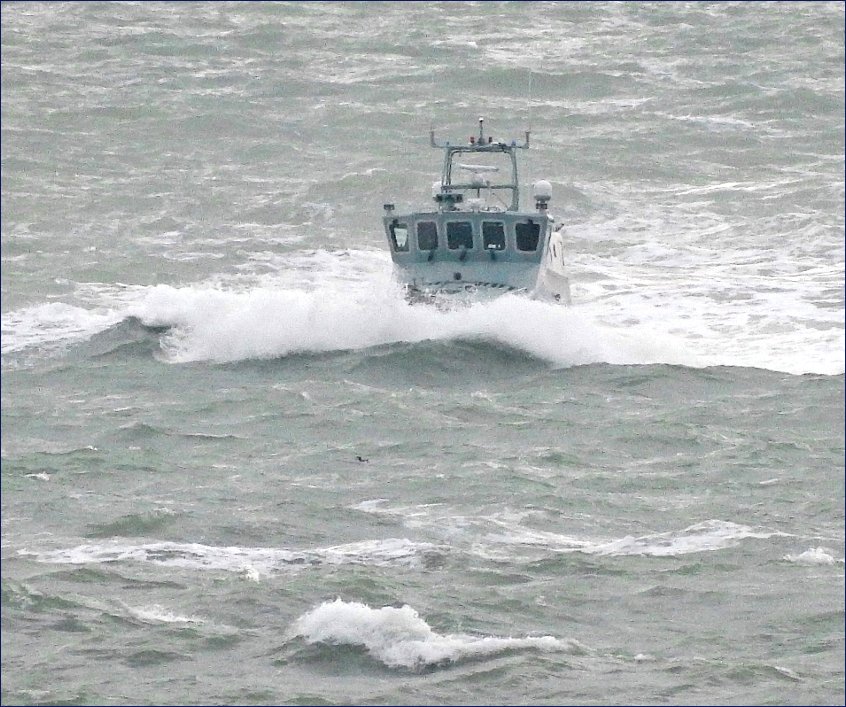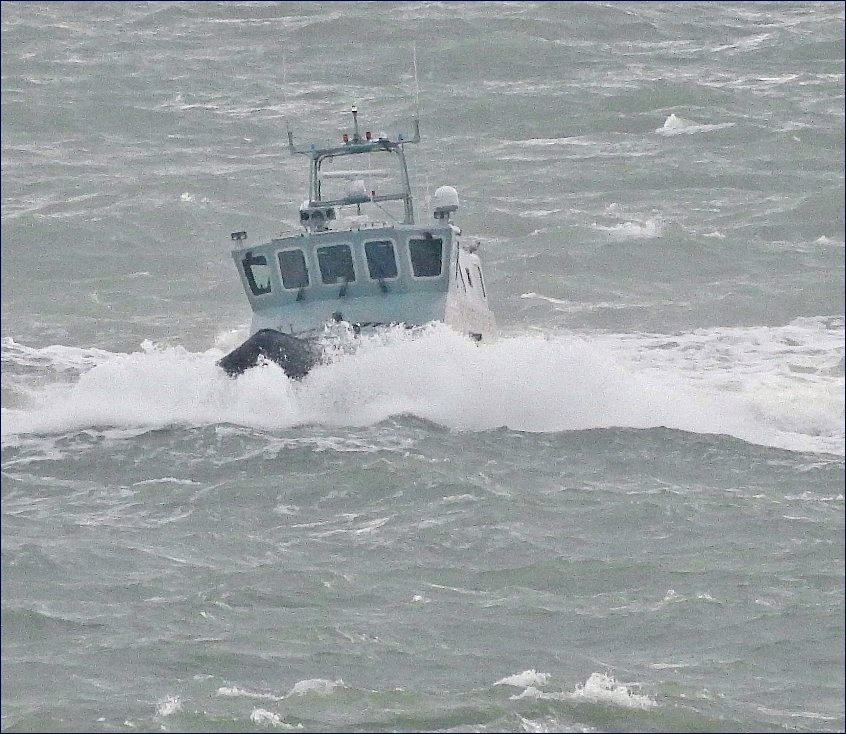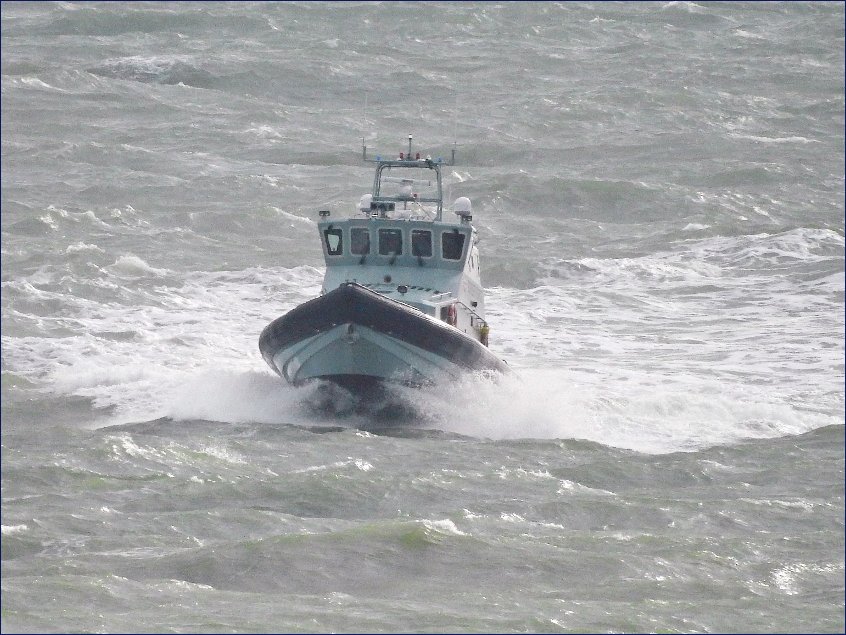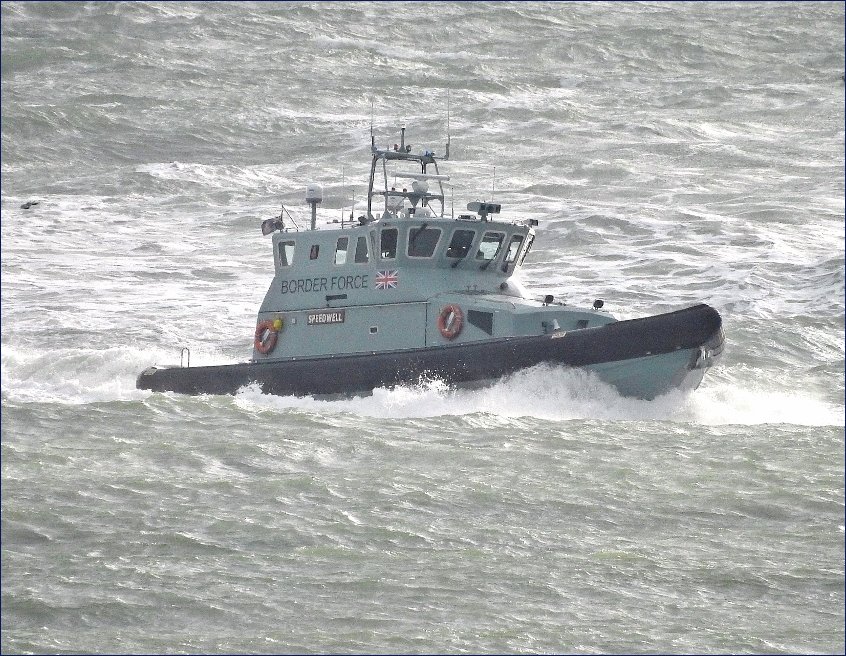 As you can see Speedwell was experiencing some rough conditions there. We had choppy waters.
Out there at the same time as Border Force Speedwell, in roughly the same area, was a Border Force cutter...either Vigilant or Searcher ( it wasn't showing on AIS )...and the Royal Navy in the current shape of HMS Enterprise. So a busy well defended well monitored stretch of immediate water. Some might say this is possibly expensive overkill...but who knows for sure....Home Secretary Javid has his finger on the pulse!!
PaulB
Thursday, 31 January 2019 - 06:26
Post 6061
Sea News, Dover
As promised .. some further pictures now of Bulknes.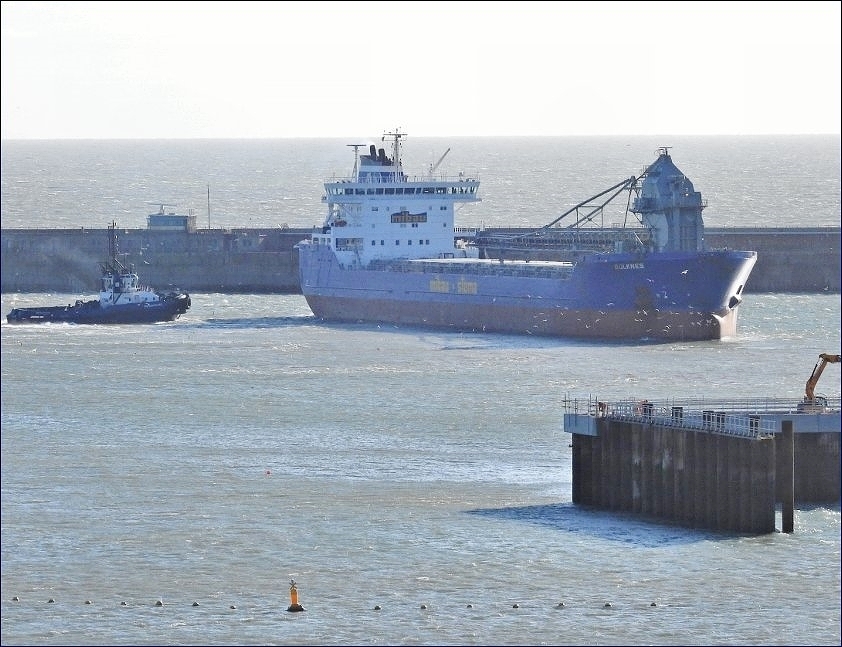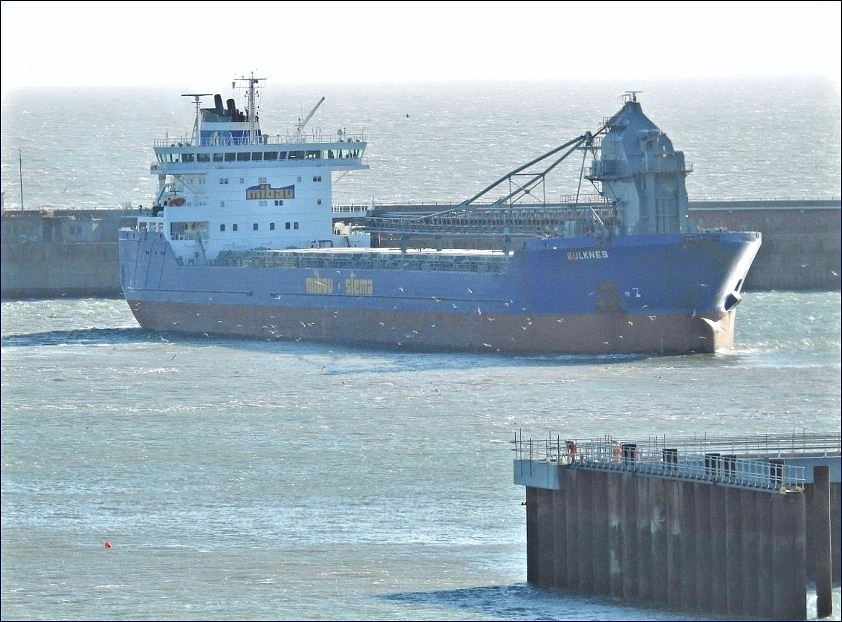 Bulknes.
Reversing out above there. Yours truly thought Bulknes was about to leave port...but then unexpectedly she began to move forward in the pix below...although even then it was a surprise to see her go over to the new terminal. See Patrick's post below 6056. It took yours truly by surprise for sure, as I took my eye of it temporarily, planning to get pictures as she exited the port some minutes later...which of course didn't happen on the day.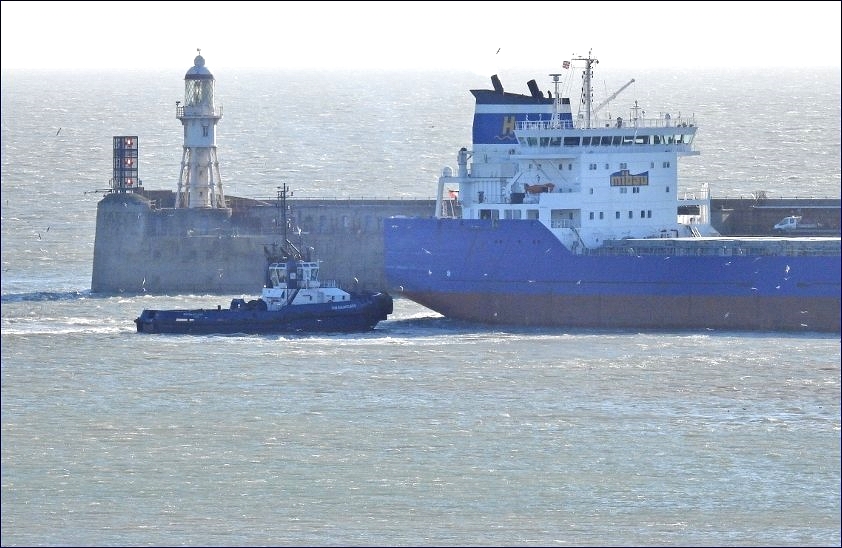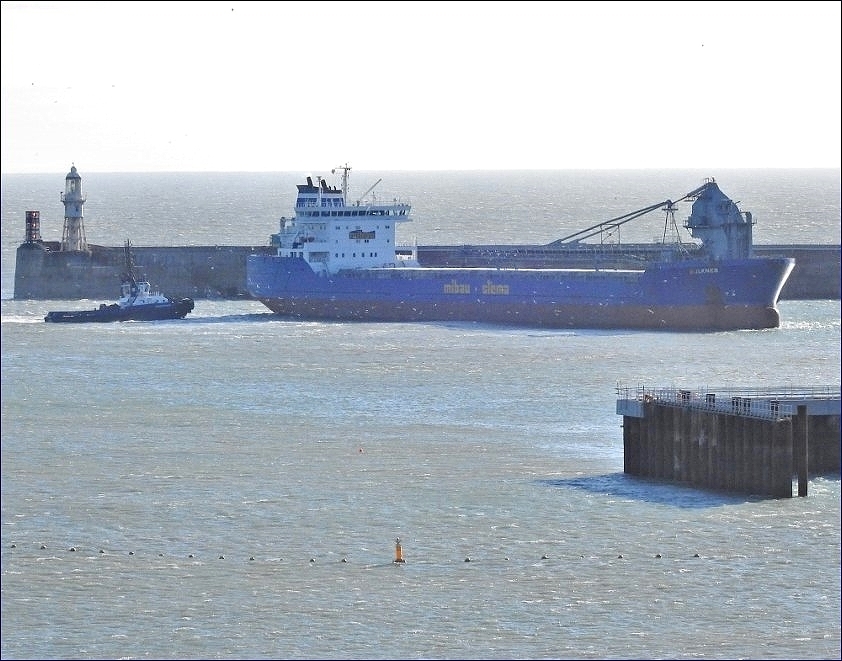 The following day below...yesterday Tuesday in fact, and she moves away....
heading to Norway during a blazing sunrise...time of pic 07.38.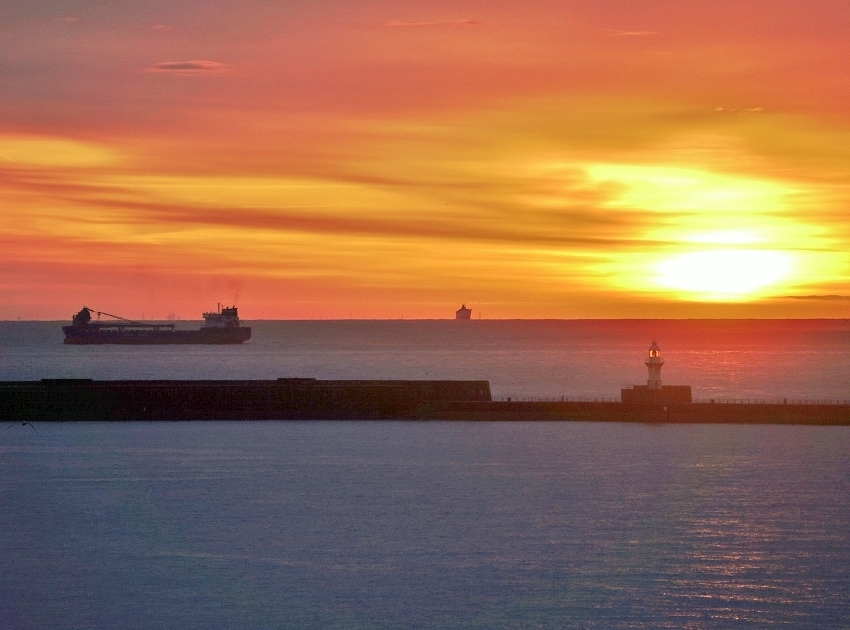 As mentioned above see 6056 also see 6057.
PaulB
Wednesday, 30 January 2019 - 06:59
Post 6060
Sea News, Dover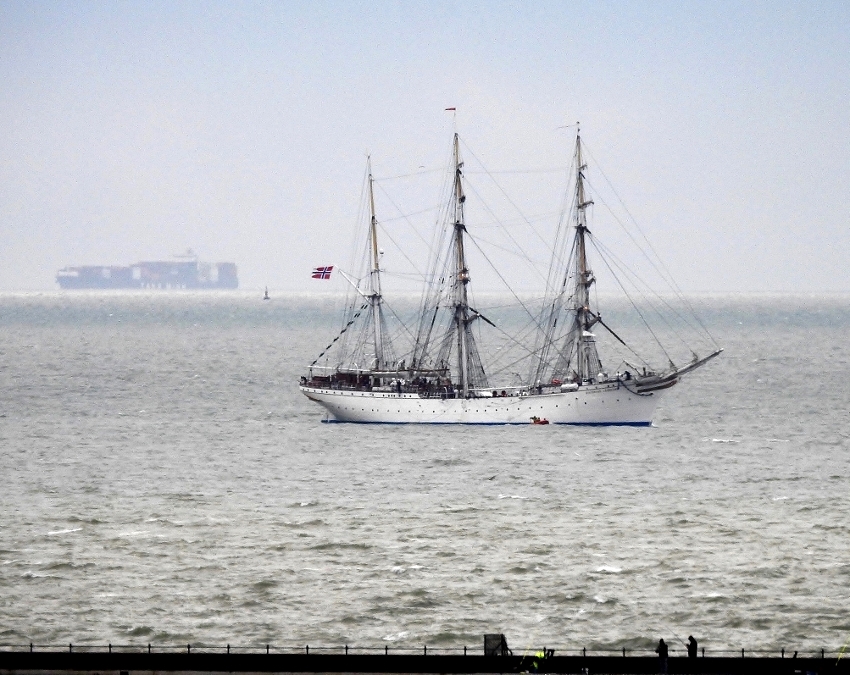 An extra picture there to enjoy of the magnificent Norwegian tall sailing ship...Statsraad Lehmkuhl...that's a tricky one to get right spelling-wise. We are currently featuring the same ship at the top of page but obviously that pic wont stay there forever...so good to have this extra one in the files. Pictured at the weekend when she came in close to shore.
The guys fishing there on Admiralty Pier are carrying on regardless .. hardly giving her a glance.
"Statsraad Lehmkuhl is a three-masted barque rigged sail training ship built in 1914, the vessel is owned and operated by the Statsraad Lehmkuhl Foundation. It is based in Bergen, Norway and contracted out for various purposes, including serving as a school ship for the Royal Norwegian Navy." ...from Wikipedia .
PaulB
Tuesday, 29 January 2019 - 17:06
Post 6059
Sea News, Dover
Bulknes has now moved away.
Will have those extra pictures in the morning. PB.

Tuesday, 29 January 2019 - 08:29
Post 6058
brian dixon, dover
the name of the warship echos the names of kirk and picard. lol beam me up scoty.

Tuesday, 29 January 2019 - 05:53