Thursday, 20 June 2019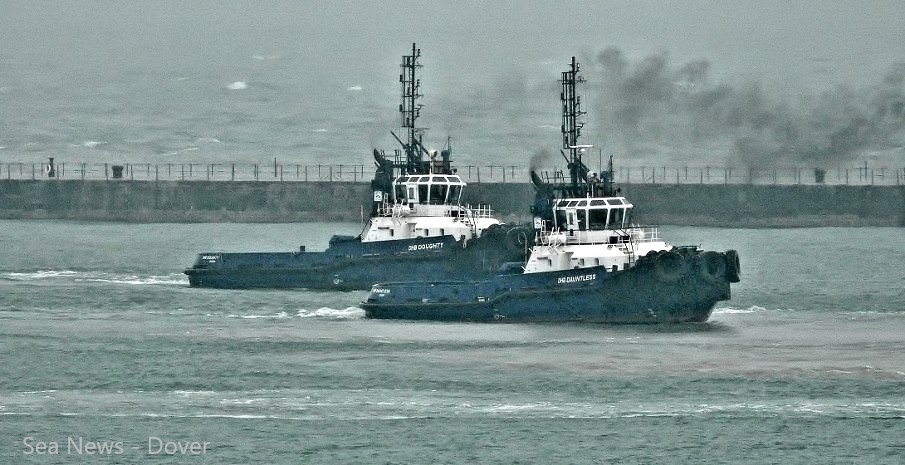 Just having sent Pacific Reefer on her way, the tugs turn back into the Summer (!!) gloom....

WWW.DOVERFORUM.COM/SEA-NEWS
Featuring all the ships that come and go and work at the Port of Dover ..
... with further coverage of the surrounding ports.
Sea News Dover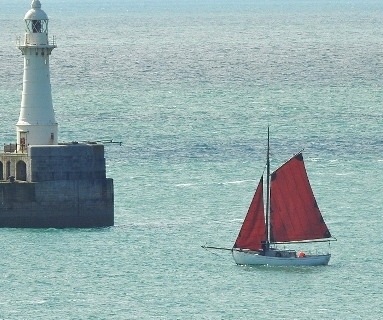 DFDS NEW SHIP for Channel see 6303
DFDS Europe's award winning Ferry Operator 6332
Port of Dover : Virgin Voyages 6289
Port of Dover: Brexit Resilience 6123

P&O Ferries: Alternative Euro Breaks 6298
P&O Ferries: Record Fundraising for Lifeboats see 6253
Port of Dover: Reducing Carbon Footprint 6332
Port of Dover: New Cargo Manager see 6205

Thames Estuary Forts 6250
SS Richard Montgomery at rest (WW II Supply Ship ) 6329
DFDS: ORCA 6179
Premier Inn completes see 6149 plus

Scroll down to see the Boudicca D-Day pictures in several posts.
Use our SEARCH ENGINE below to find all sorts on the SEA NEWS pages....
type in the topic and away you go, or if you have the post number as shown above, just type it in the box, more than - 6300 - nautical posts now.
Posts are welcome. just click 'Add Your Comment' below. Max of 5 pictures preferred although we can stretch that for special stories..
Sea News Editor Paul Boland - send info or pix to dover7@msn.com. Always welcome.
CRUISE CALLS:
https://www.doverport.co.uk/cruise/find-a-cruise/
UPDATE:
To show your pictures at their best..it could be worthwhile resizing before posting to
850
pixels wide.
All pictures on these pages are the copyright of the owners and must not be reproduced without permission.
Post 6330
Sea News, Dover
The ultra modern design of the beautiful Seabourn Ovation....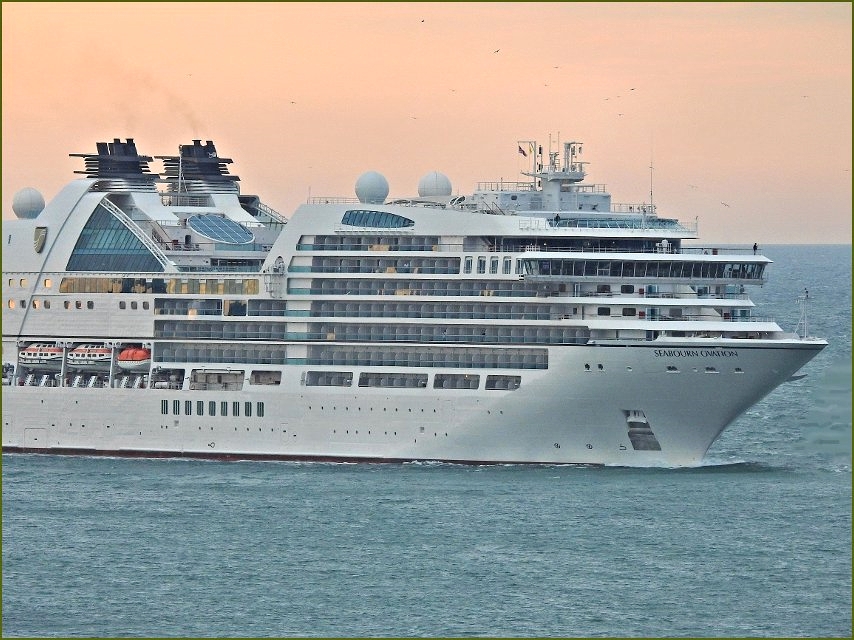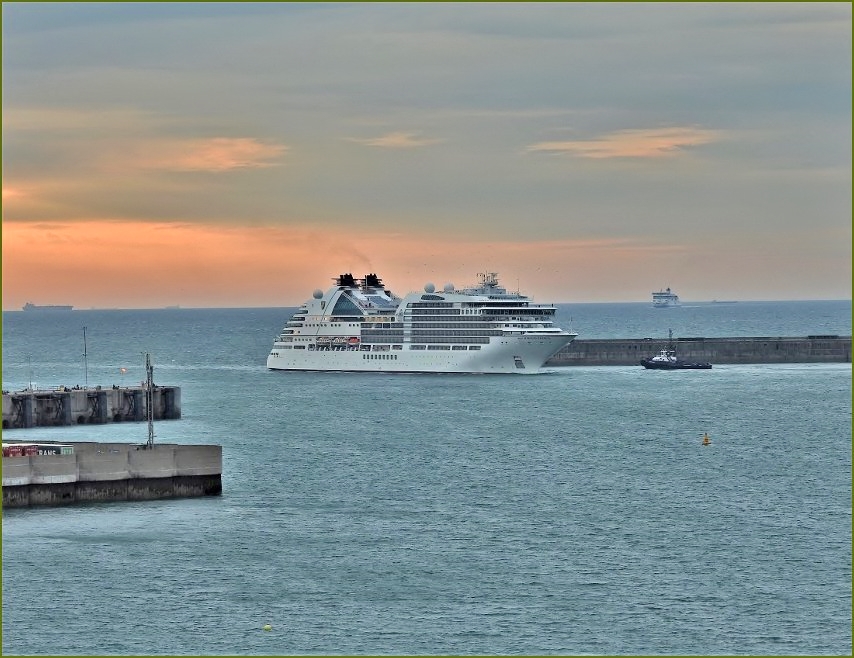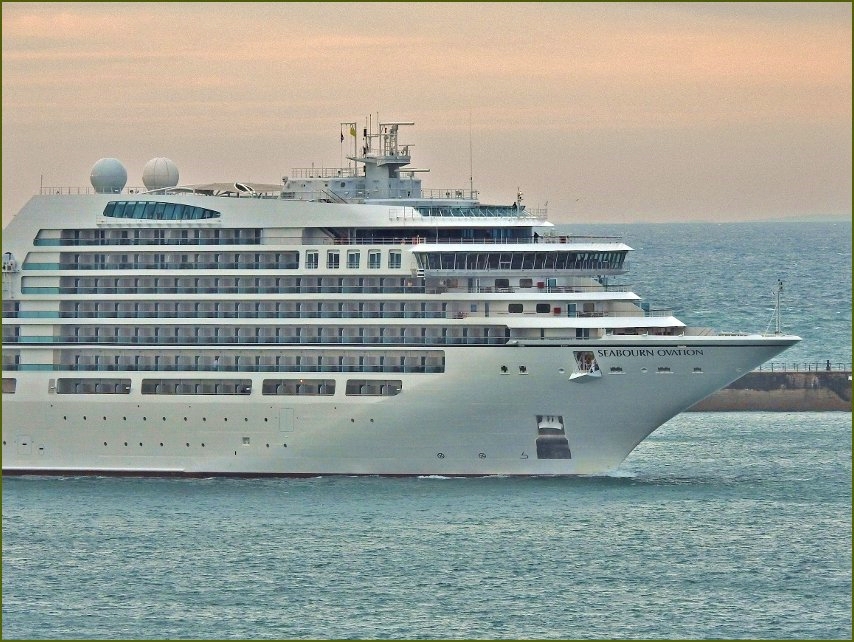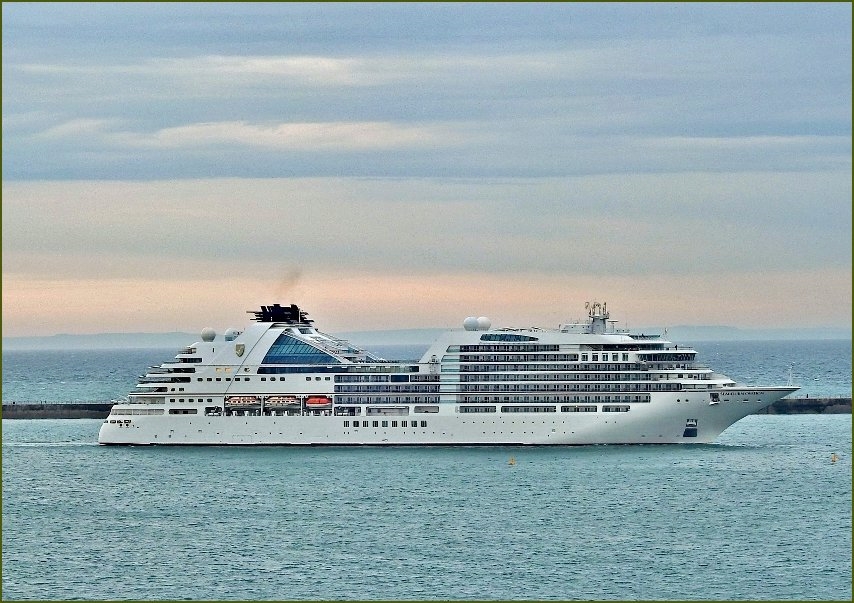 It has taken us a while to catch up but there we go...Seabourn Ovation arriving here at the Port of Dover early last Friday morning...looking good! She left us later that day, heading off on a long cruise of the spectacular Norwegian Fjords...its very popular up there.
Great post below Ted, hugely enjoyable 'famous five' pictures with fine words to match... Great Stuff Ted!

Don't Miss That One..
PaulB
ps: The tall masted Sea Cloud II is in with us this morning
and as I write AIDAaura approaches.
Tuesday, 11 June 2019 - 06:45
Post 6329
Ted, Canterbury
Five from the Medway...Just for interest I had the opportunity to take my boat around the wreck of the Richard Montgomery at low tide last week.
With the 75th anniversary of D Day I thought it appropriate to show this series as she was one of the many vessels that supplied the troops after the landing.
SS Richard Montgomery was an American Liberty ship built during World War II, one of the 2,710 used to carry cargo during the war. The ship was wrecked off the Nore sandbank in the Thames Estuary, near Sheerness, England in 1944, whilst carrying a cargo of munitions.
She travelled from the Delaware River to the Thames Estuary, then anchored while awaiting the formation of a convoy to travel to Cherbourg, France, which had come under Allied control on 27 July 1944 during the Battle of Normandy.When Richard Montgomery arrived off Southend, she came under the authority of the Thames naval control at HMS Leigh located at the end of Southend Pier. The Harbourmaster, responsible for all shipping movements in the estuary, ordered the ship to a berth off the north edge of Sheerness middle sands, an area designated as the Great Nore Anchorage.
On 20 August 1944, she dragged anchor and ran aground on a sandbank around 250 metres from the Medway Approach Channel. As the tide went down, the ship broke her back on sand banks near the Isle of Sheppey about 1.5 miles (2.5 km) from Sheerness and 5 miles (8 km) from Southend.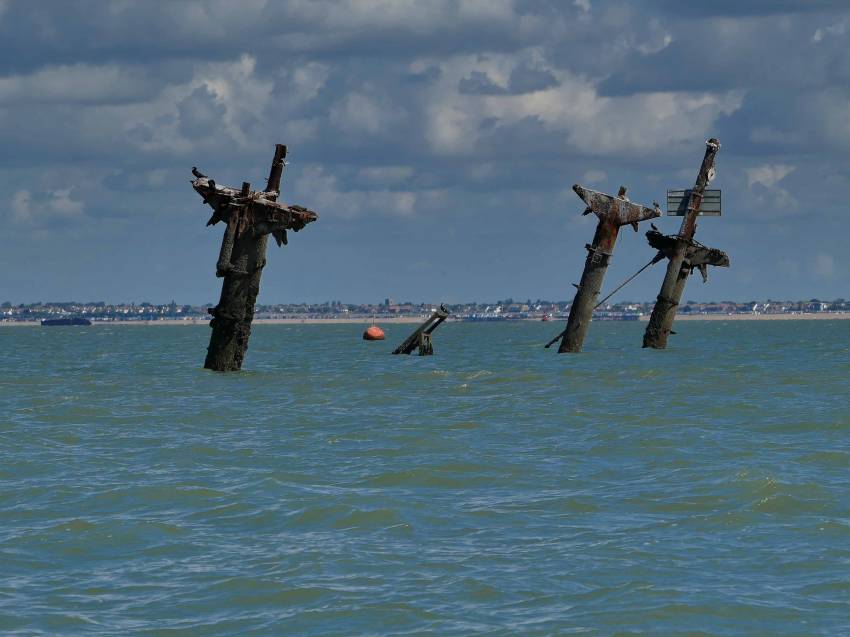 With Southend on Sea in the background if you look to the middle left hand side you can see the remains of a Mulberry Harbour Pheonix Caisson.These were built all over Britain to form an artificial harbour along the Normandy beaches.This one started taking in water and was beached off Southend. Locally one can be seen off Littlestone on Sea near Dungeness.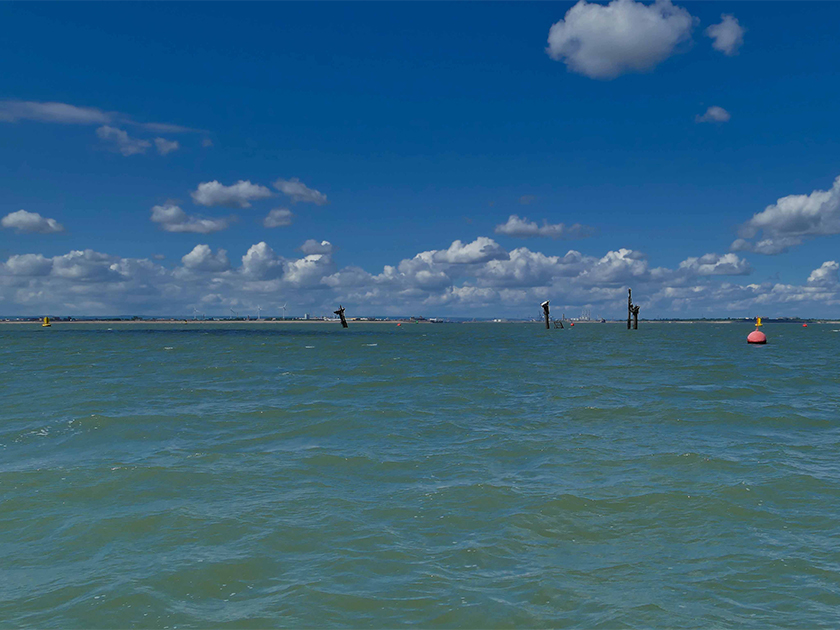 In the background is the mouth to the River Medway with the Port of Sheerness.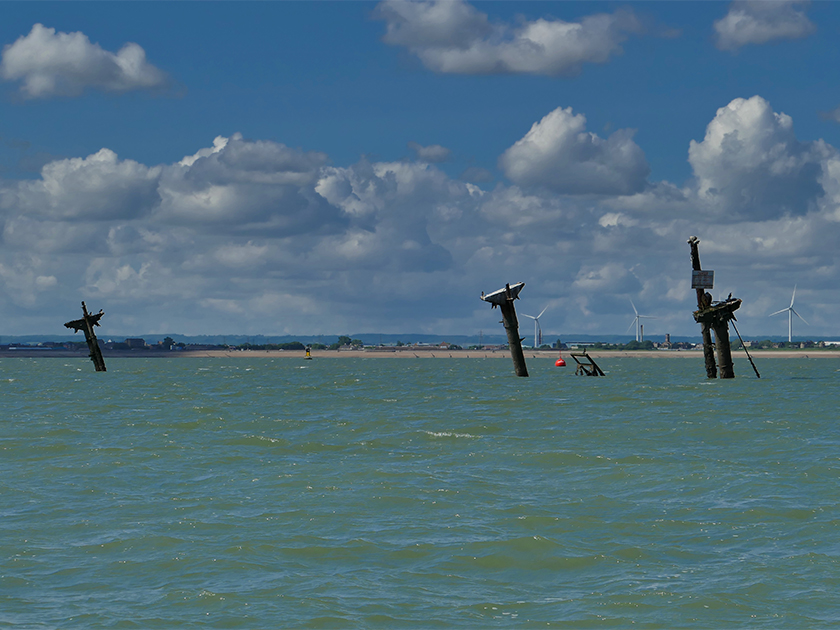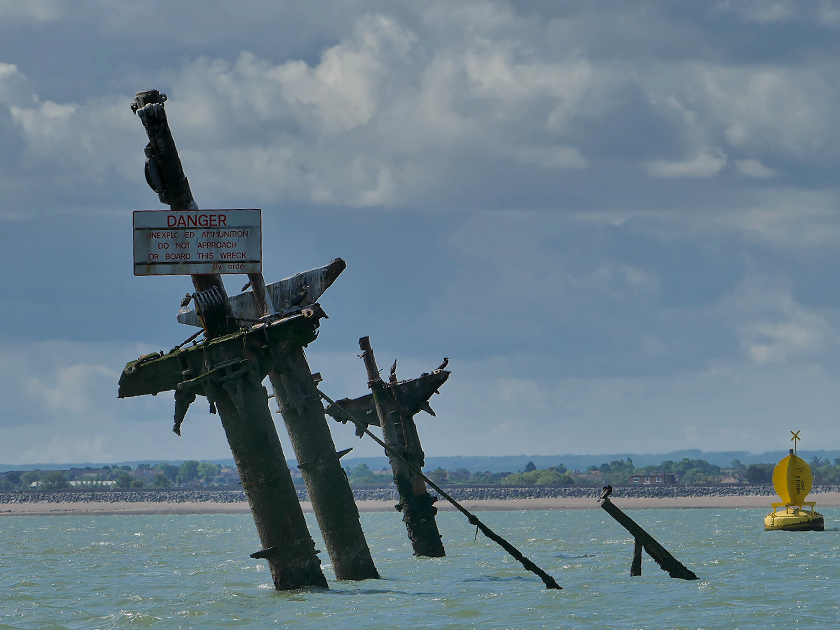 A close up of the wreck.The Maritme and Coastguard Agency survey and monitor her condition.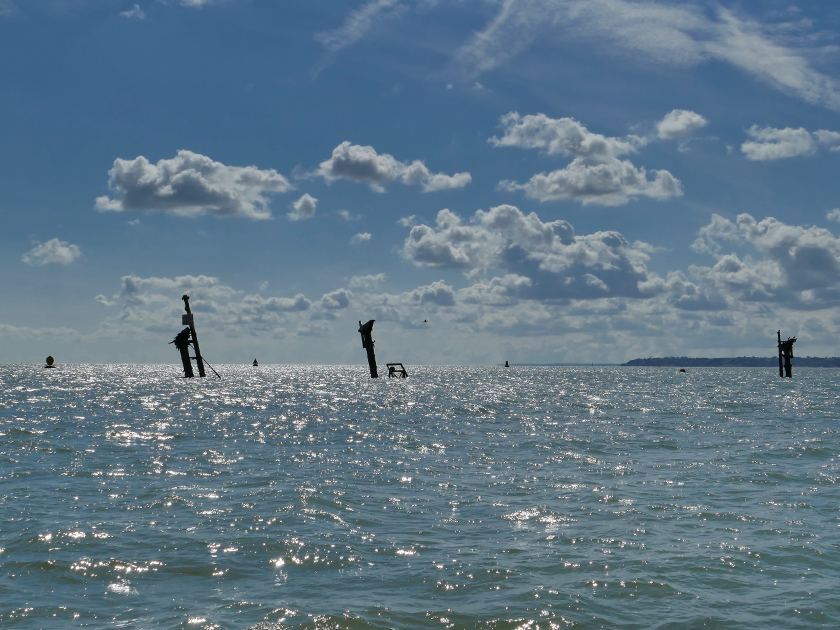 Further information on the Richard Montgomery can be found on the web and in bookshops.
Monday, 10 June 2019 - 12:12
Post 6328
Sea News, Dover
A final round-up of pictures from Boudicca's arrival on Saturday evening late..you can see her below bringing an end to the notable D-Day voyage. The ship was scheduled to go to Portsmouth as mentioned earlier but due to weather difficulties came here to Dover....and very glad we were to have her and the valiant veterans. She has now it seems reversed back to normal duties and is, as of last night, on a tour of the Norwegian Fjords...
Caught the top two shots below just as a ferry was reversing into place...just made it before the view was obscured.
Here she comes catching the late weak rays of the dying sun... and we follow her across...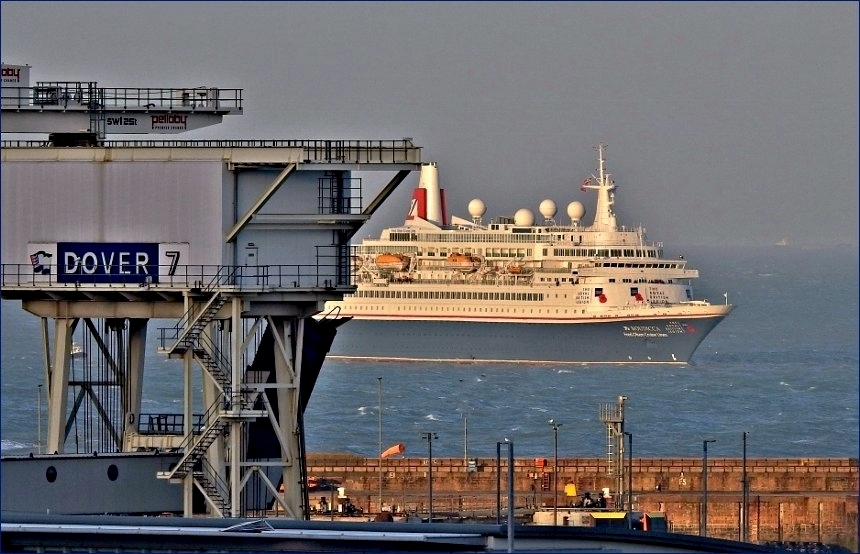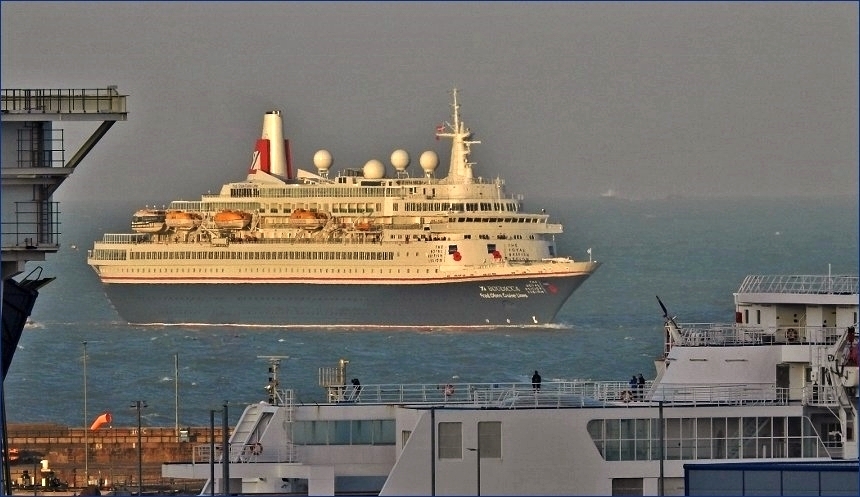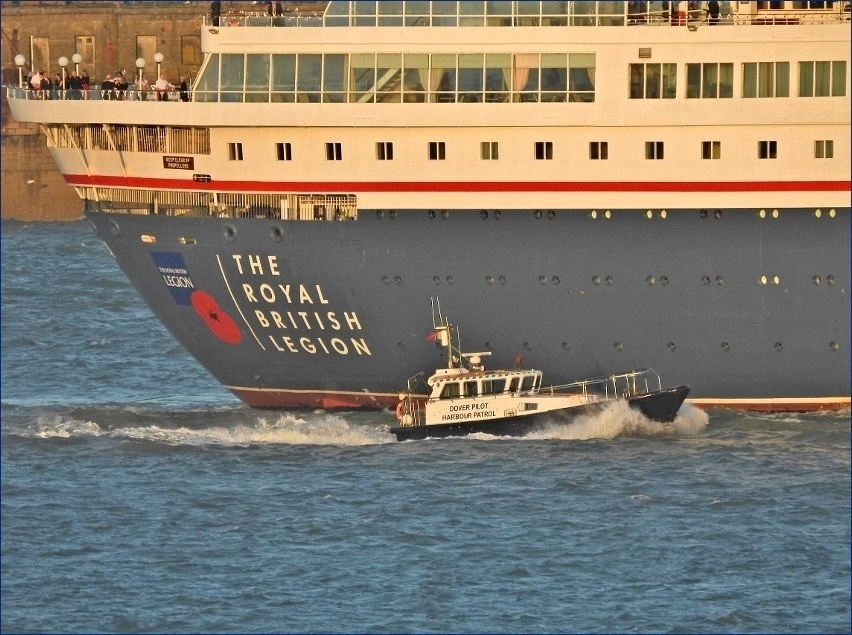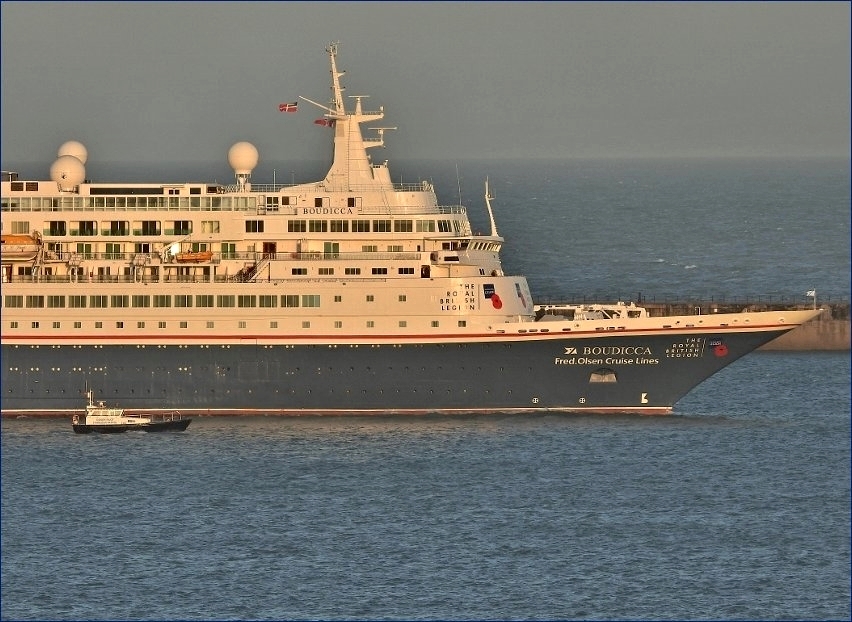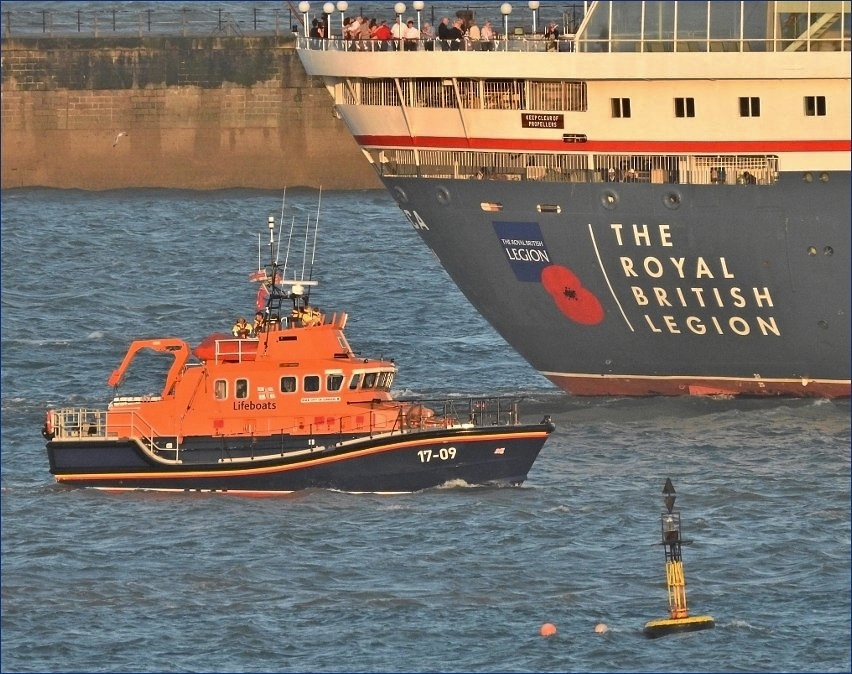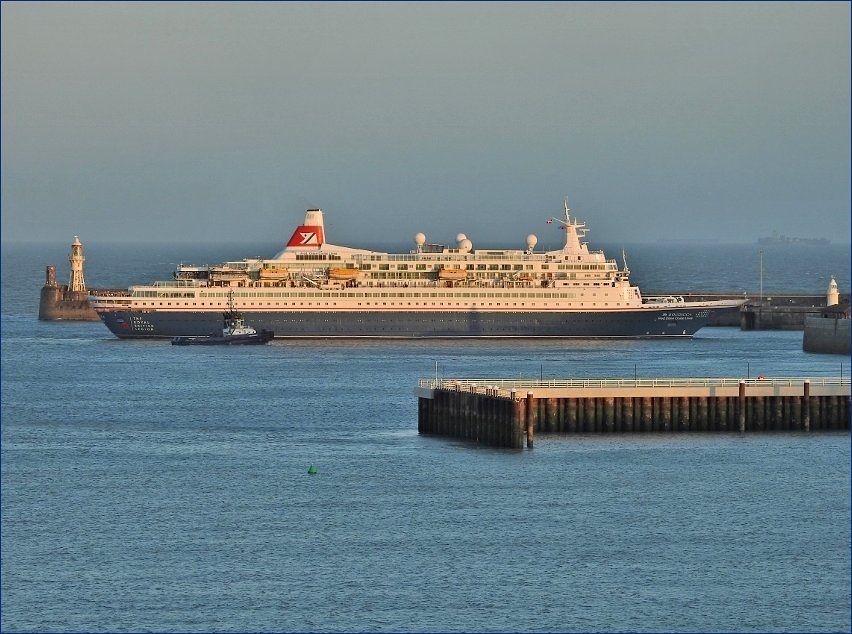 Have yet to get the pictures up of Seabourn Ovation but will do...in the pipeline, we were sidetracked by changing events. Here is a taster below...but we have shots of her arrival and indeed departure (but may not be able to fit all that in).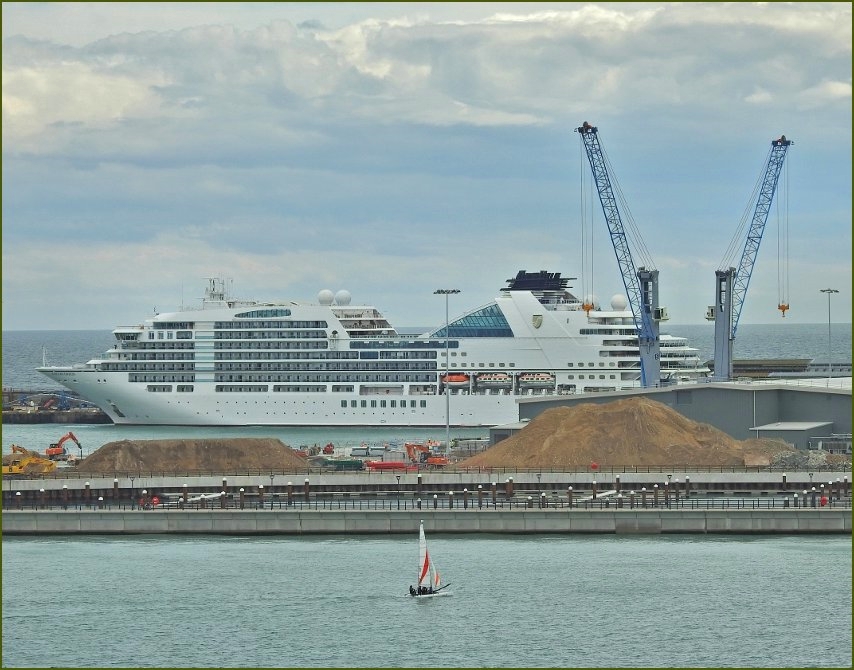 More Boudicca pictures below from the team...
PaulB
ps: Crystal Serenity in port today.
Monday, 10 June 2019 - 07:03
Post 6327
Sea News, Dover
Boudicca returns...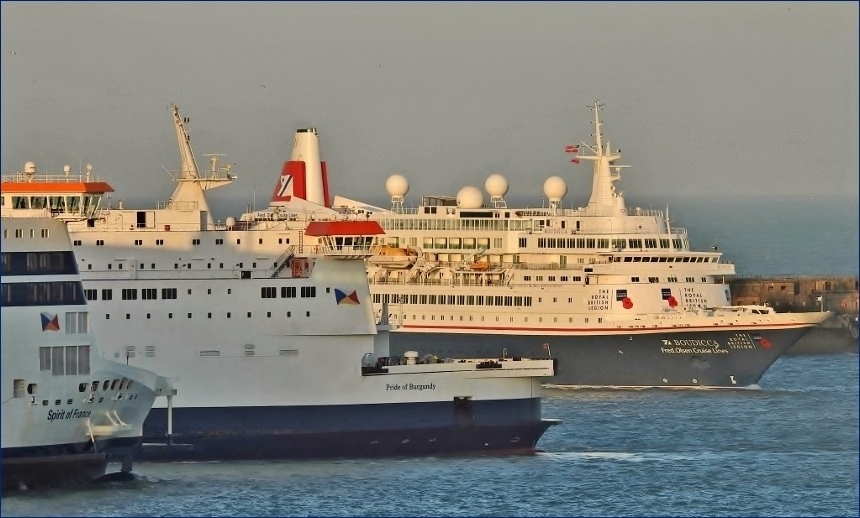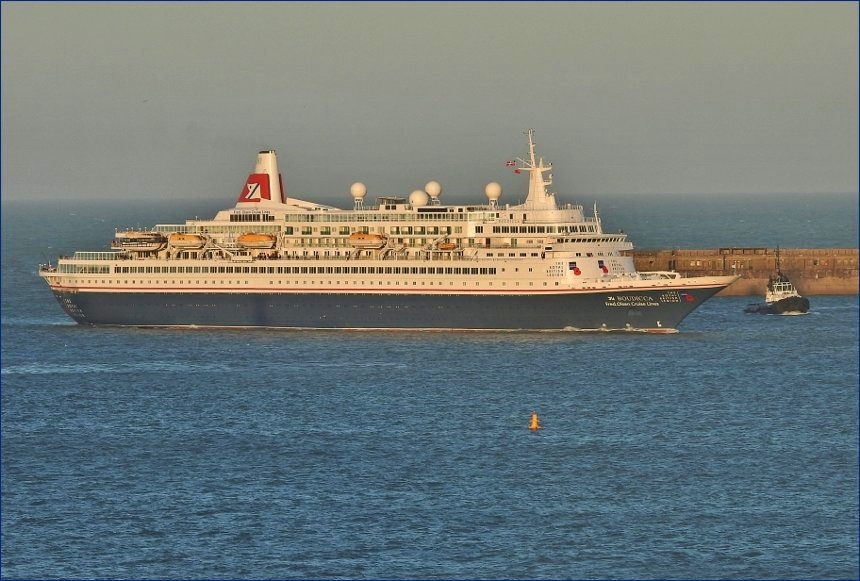 Boudicca returns to a great welcome here in Dover...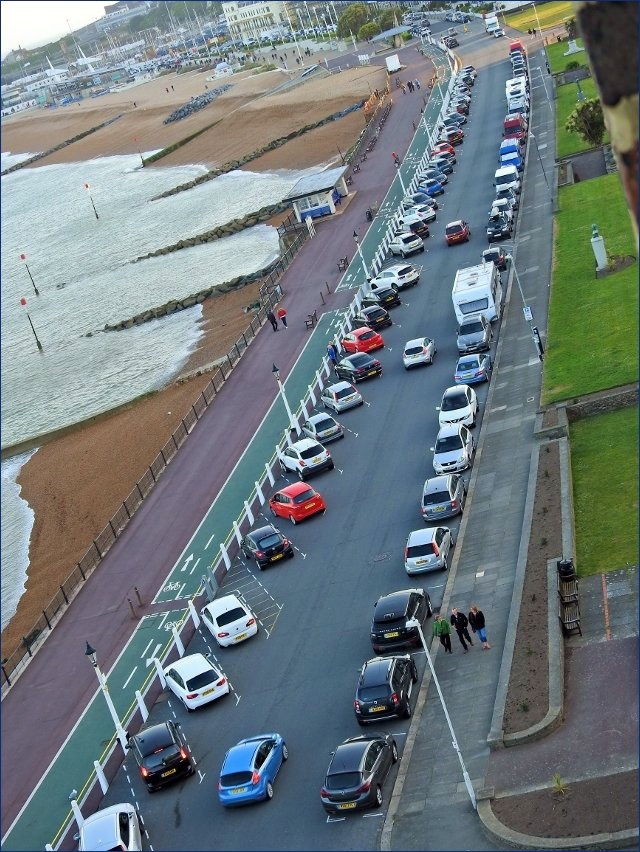 Yes indeed as mentioned...Boudicca was re-routed to Dover last night to avoid stormy weather in and around her intended destination...Portsmouth. The call went out to show support and lots of people came down to the seafront to see the magnificent return. Picture three above shows all the cars beginning to arrive along the seafront, that's a dizzyfying picture to look at, was dizzyfying to capture.. so take-in in small dozes, and Patrick's pictures below show the crowds along the new pier so you can see the excitement/support generated. Great stuff!
Will have further general round-up pix of Boudicca at a later time.
Just catching up with a further group of pictures of Duzgit Harmony from a few days ago to run in tandem with the one currently in top slot....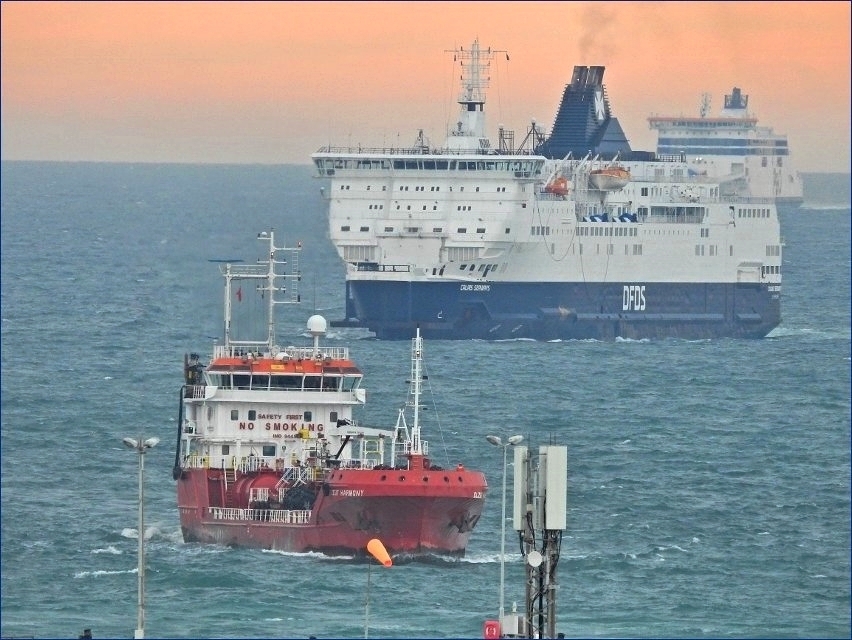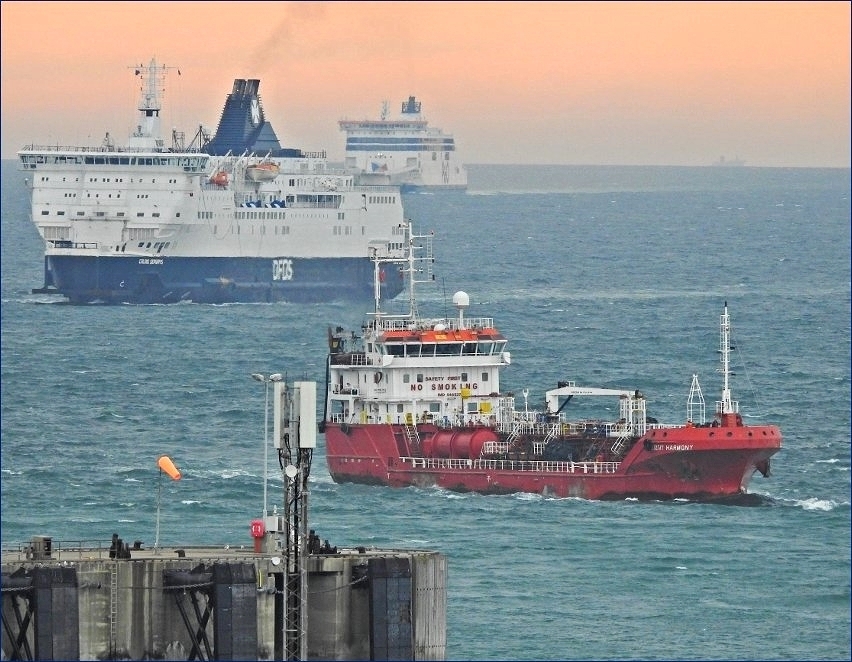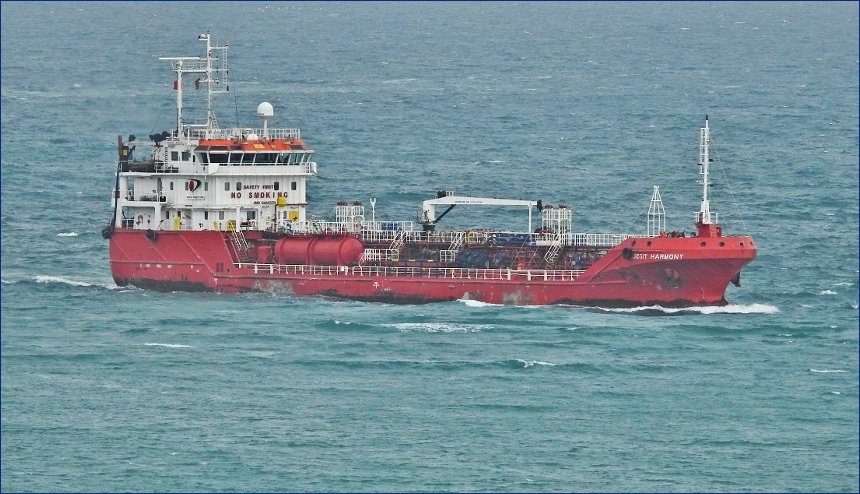 Duzgit Harmony
Great posts from Mike and Patrick below...so DONT MISS THOSE !

Lots of info and exciting pictures below there...
PaulB
ps: not sure if there is such a word as dizzyfying as I'm getting red warning underlines here...but what the heck


Ah...a slight technical issue with yours truly this morning, so my earlier attempt was deleted. Unfortunately it has left a gap in the numbering system...unfortunate..
Sunday, 9 June 2019 - 07:13
Post 6325
Mike J., Dover
After being away from Dover all day on Saturday I looked in at The Tidal Basin on the way back & was pleased to find a brand new workboat sheltering from the present unpleasantness.
The ISLAND RANGER was built by 'Blyth Catamarans' of Canvey Island [interesting website] & was en route to Southampton for the workboat 'Seawork' trade exhibition.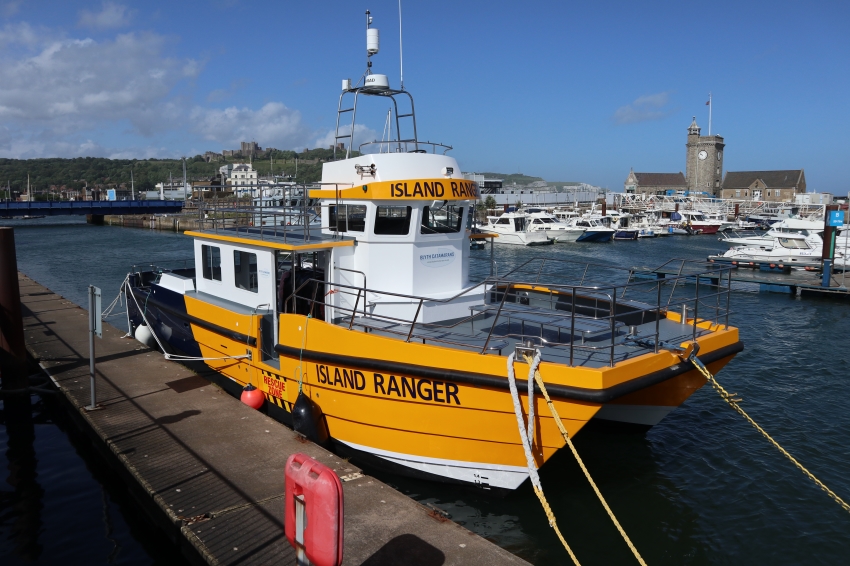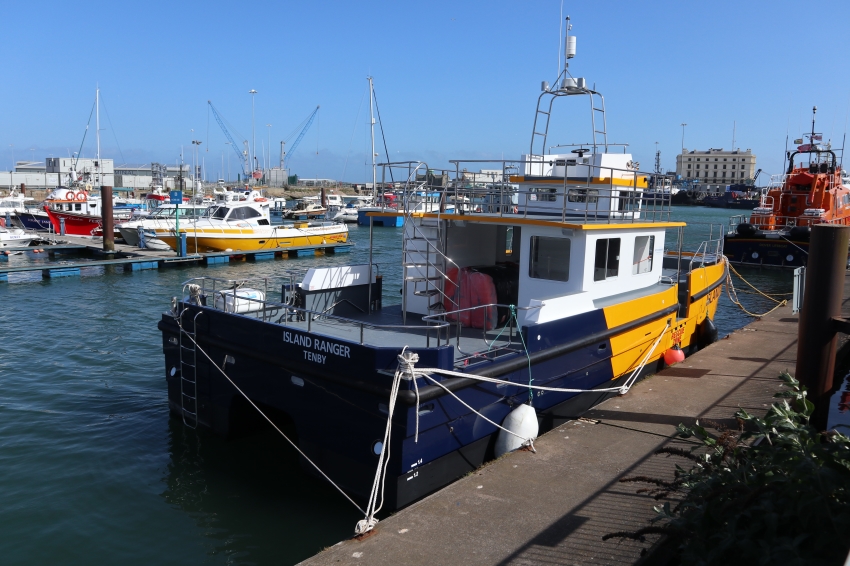 By the seating arrangement on her open decks she may be intended as a sightseeing launch & by her Tenby registration probably working in that area of Pembrokeshire where there are some offshore islands popular with tourists.
When I returned home early evening I heard about the unexpected arrival of BOUDICCA & that Dover was 'being invited to meet the ship & welcome the veterans'
No time to get back down to the docks so I grabbed a few photos, catching the last gasps on the evening sunlight as she entered via Eastern & crossed the bay before berthing on Cruise-2.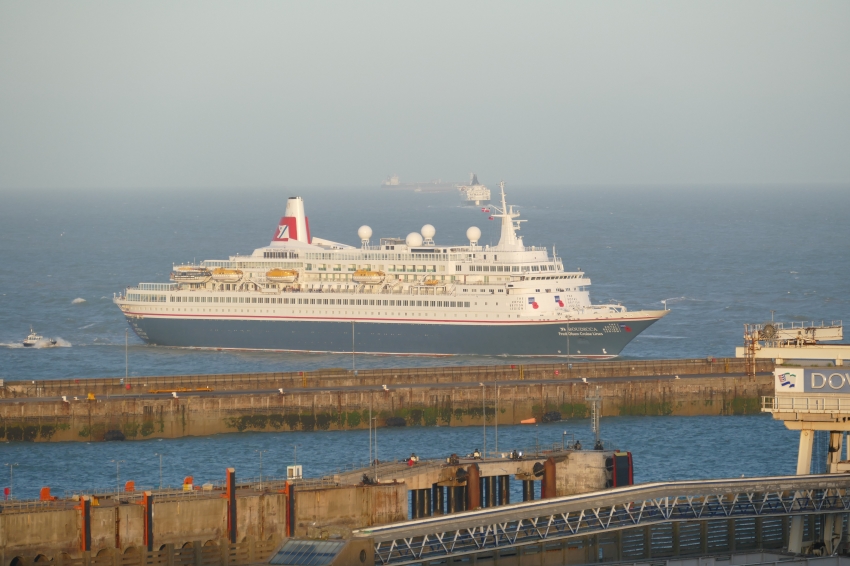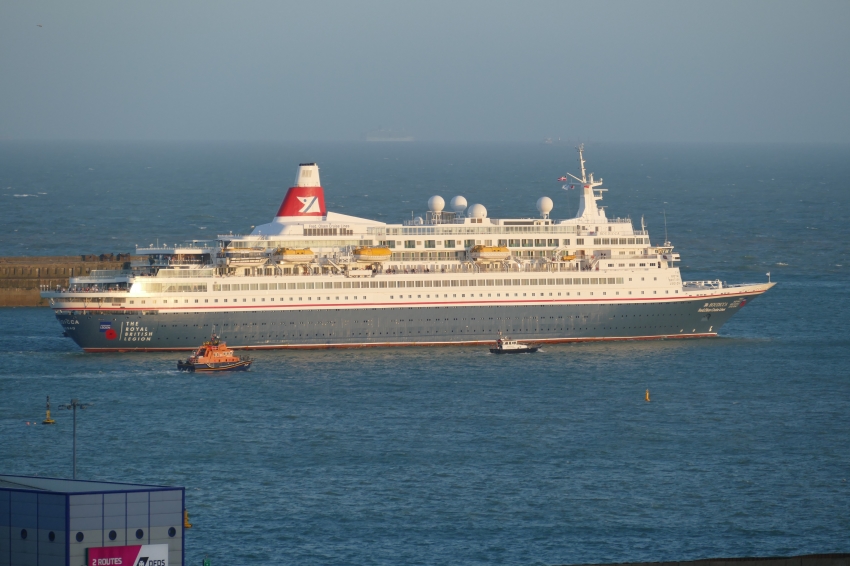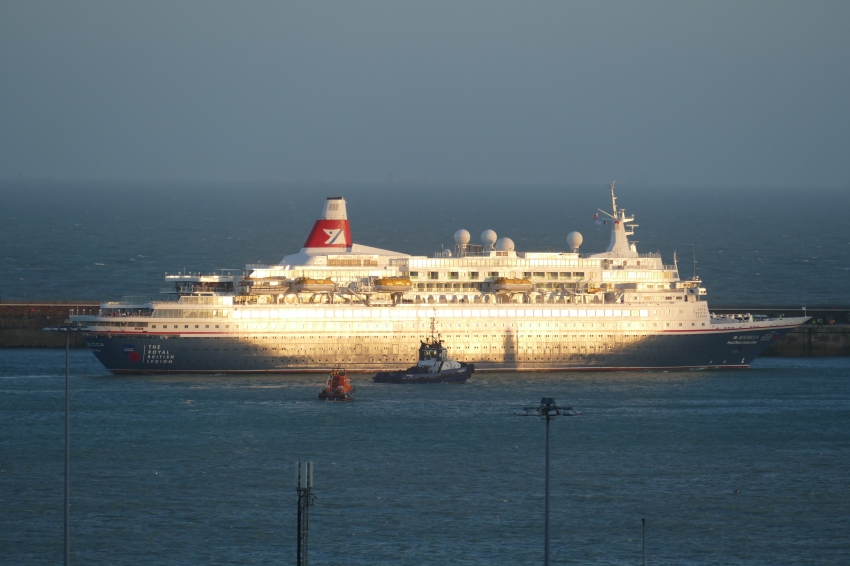 I later heard from someone who had gone down to greet the BOUDICCA on the Admiralty Pier & had found that the security barrier had opened & that the quay was 'solid' with cars & the general public.
Nice 'crowd scenes' & detail pix from Patrick.
Sunday, 9 June 2019 - 01:42
Post 6324
Patrick, Marine Parade
The call went out in Dover tonight to welcome back our returning veterans from 75th Anniversary D-Day Commemorations in Portsmouth and Normandy.... and was answered by scores.
Arriving on the mv 'Boudicca' specially chartered by the Royal British Legion for the occasion, the veterans and their escorts arrived to the sight of cheering crowds that completely filled the new pier end. Flags and cheers went up as the vessel came into the Eastern entrance and across the bay, escorted by Dover Lifeboat and moved quietly to berth at Cruise Terminal 2.
What a welcome back ....... wonderful spectacle and fitting tribute to end their journey of remembrance.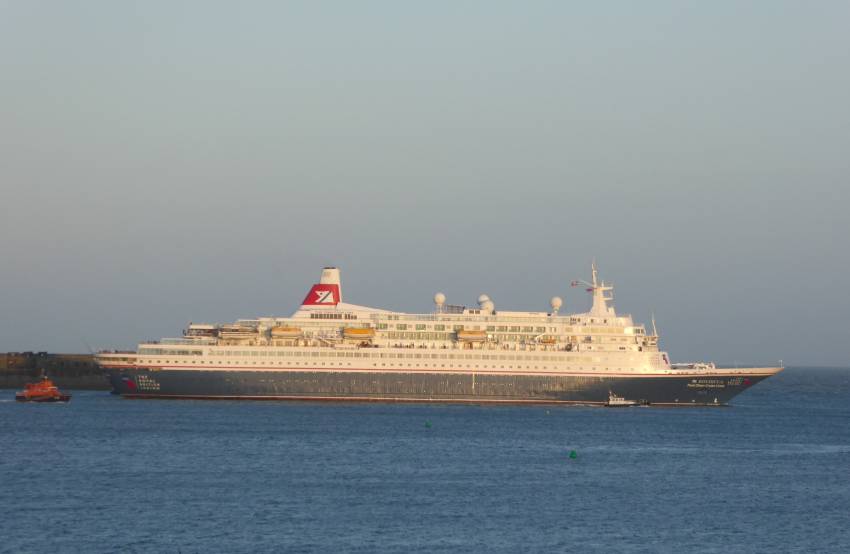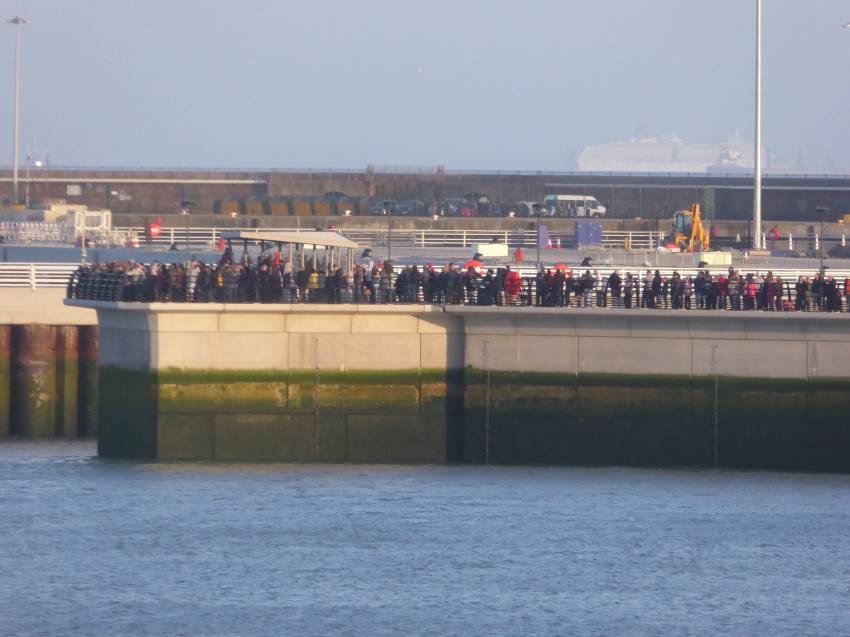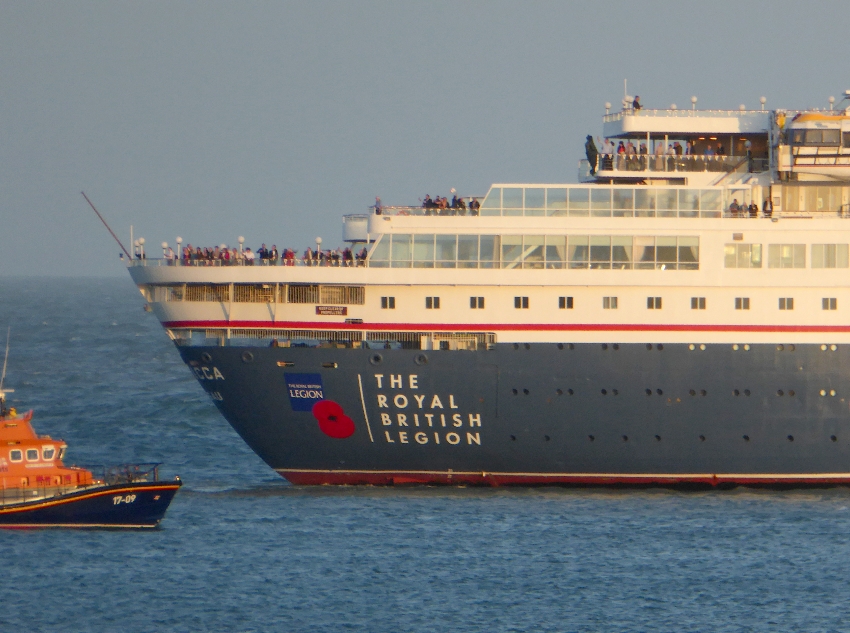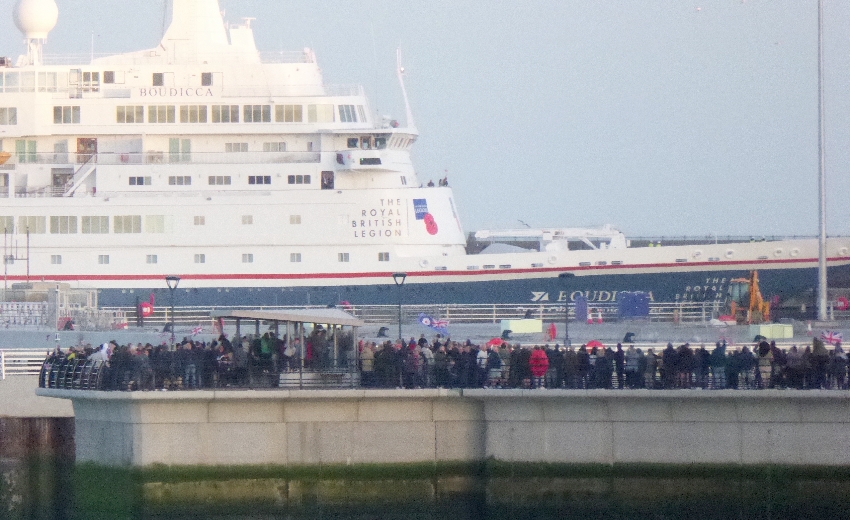 Saturday, 8 June 2019 - 23:13
Post 6323
Sea News, Dover
It was a nice bright blue day when these following pictures were taken...Thursday in fact. Nothing at all like this morning...this morning early we have Gale Force 9/Storm 10 in the English Channel...with buckets of rain a-pouring down. " We need the Rain" said the weatherwoman earlier this morning...well okay if you're sure... The pictures show Trinity House Vessel Alert arriving with us here in Dover on Thursday and as she comes across the harbour we see heavy lift vessel Palmerton departing for Spain and Sevilla ( Seville).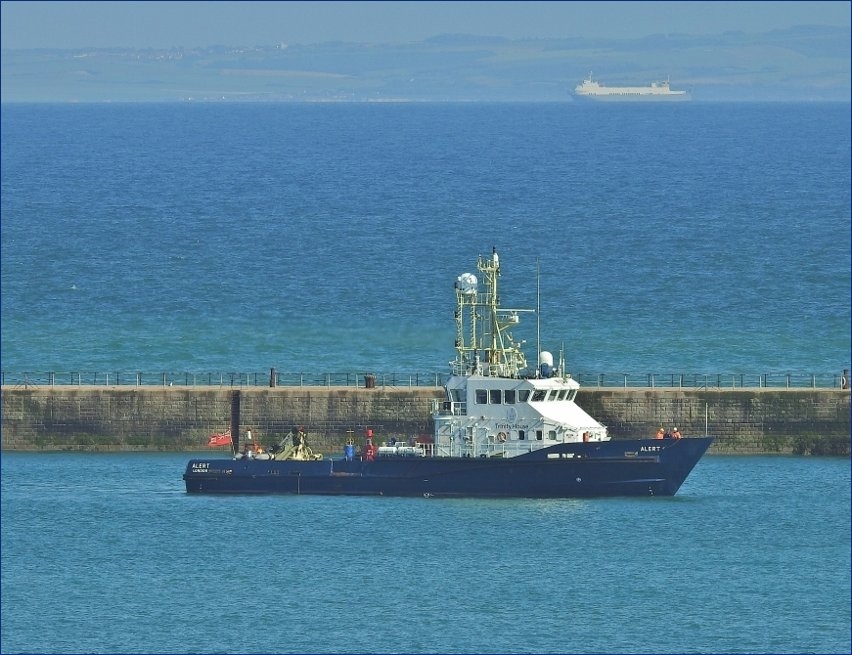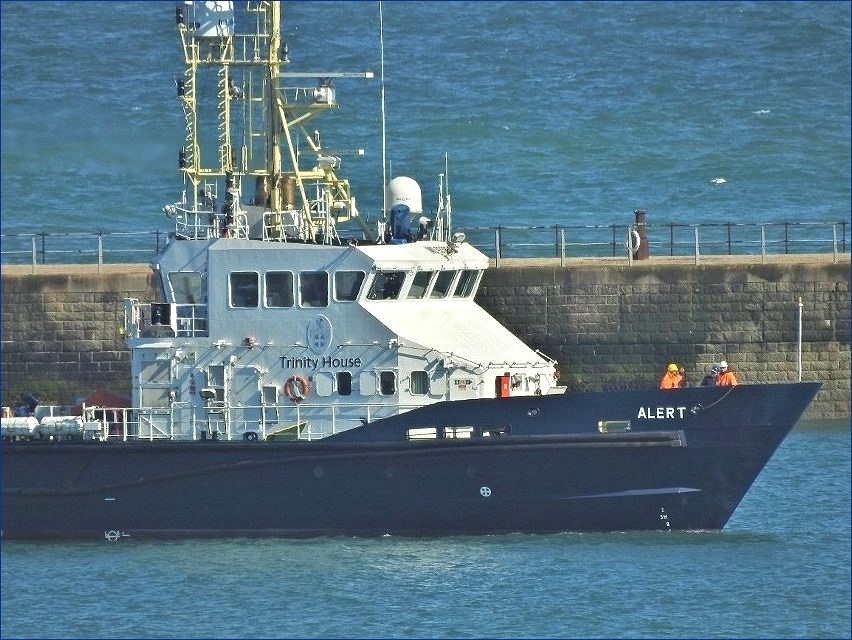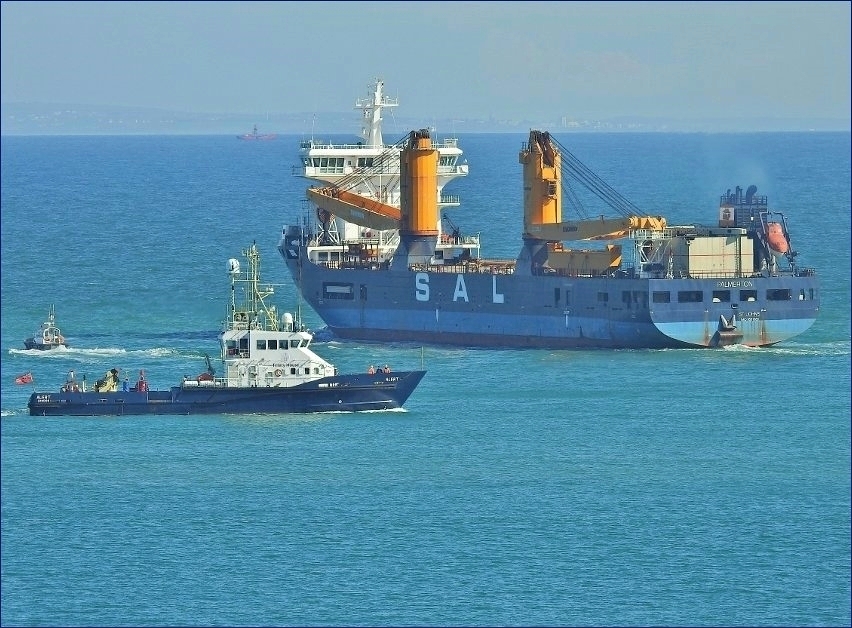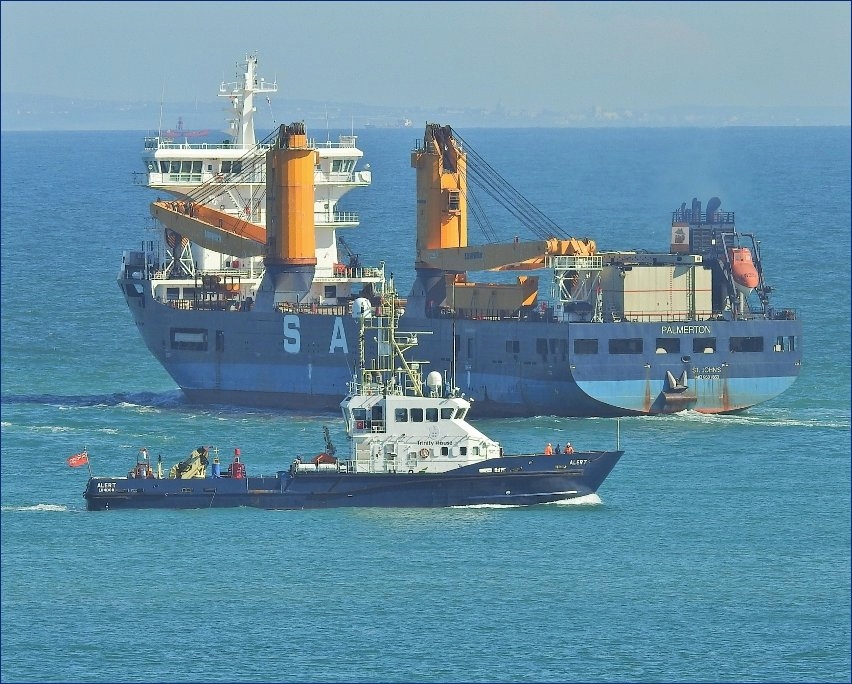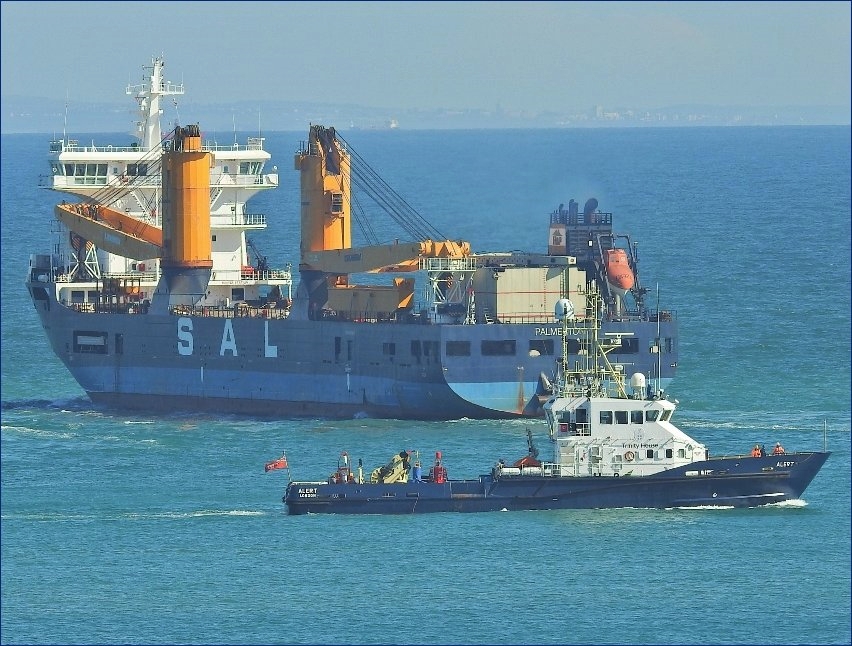 If you look hard enough you can just see Boulogne in the background there through the haze.
Nice collection below there Mike... we've captured Palmerton coming and going... enjoyed the picture of the clifftop roses.

Heavens...its brightening up...weatherwise..
PaulB
ps: also have pictures of Seabourn Ovation in the pipeline both coming and going and more of Duzgit Harmony...
'so much to do so little time'..

Saturday, 8 June 2019 - 06:01
Post 6322
Mike J., Dover
I put up a post of the arrival of the PALMERTON etc at about midnight but they seem to have vanished overnight !
Here's attempt No.2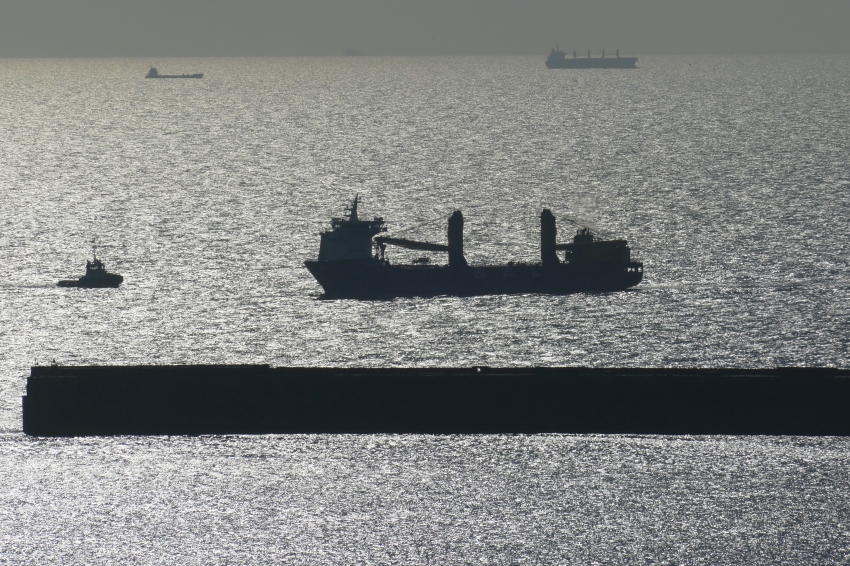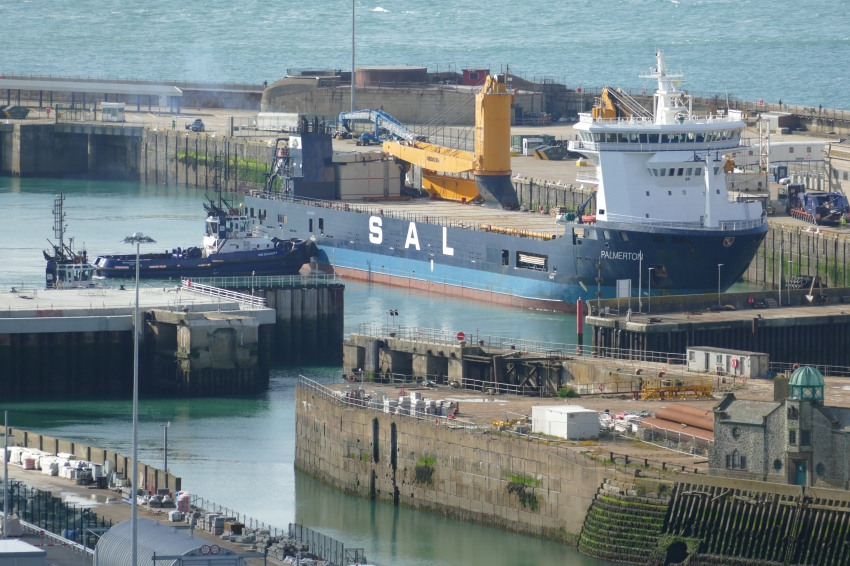 An interesting small craft was noticed in the Tidal Basin on Thursday afternoon.
A weather-beaten rescue boat that seems to have come from from the 2004-built Holland American cruise ship WESTERDAM.
This craft may have been surplus, possibly after a major 2017 refit such as was the recent yellow lifeboat STØDIG [post 6282] when it was surplus after a refit on the Calmac ferry CLANSMAN.
Perhaps a recruit for the Viking Marine fleet in Granville Dock ?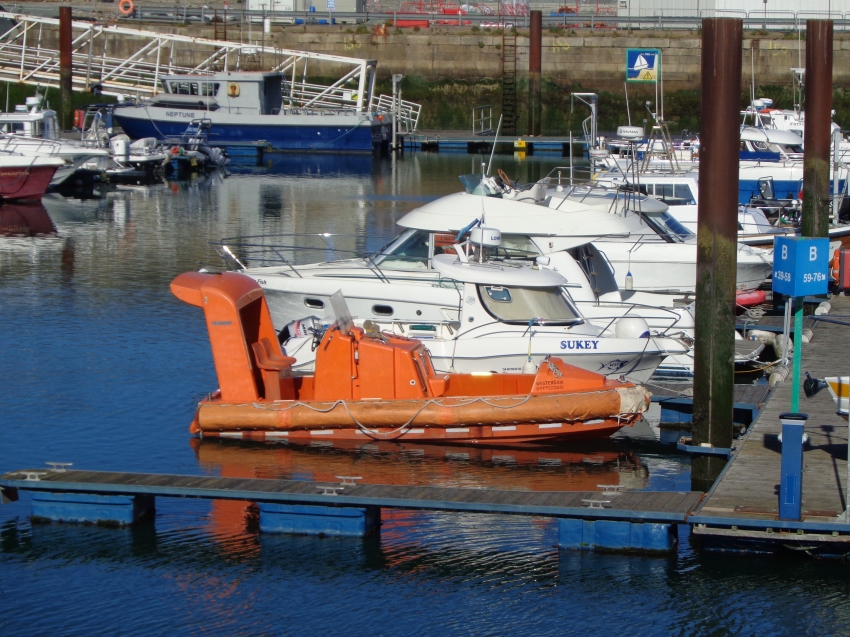 Roses up at St.Martins Battery on Thursday.
Possibly a D-Day memorial or perhaps a touch of romance, who knows ?
Lets hope that they gave comfort or pleasure.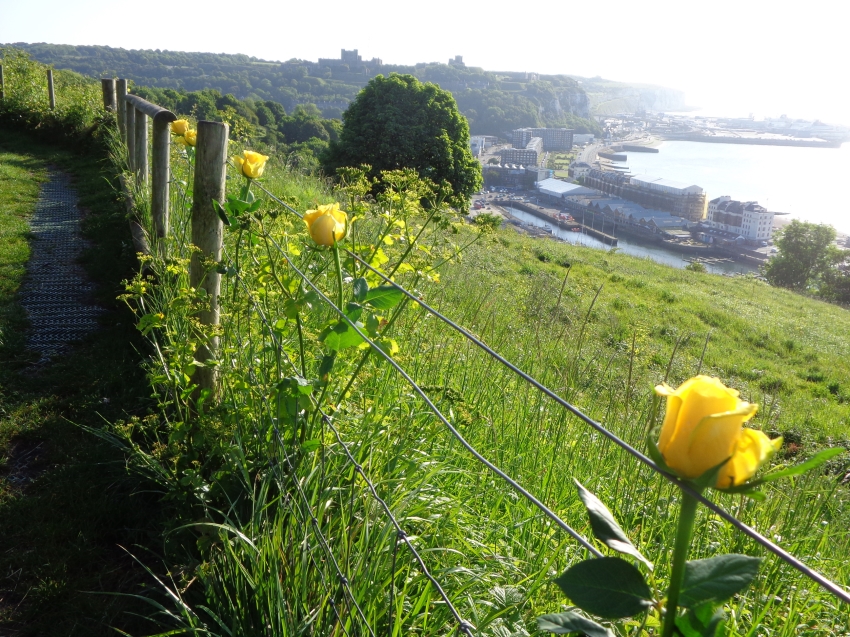 Friday, 7 June 2019 - 08:39
Post 6321
Sea News, Dover
Some pictures now of Palmerton the heavy lift vessel, pix taken yesterday morning beginning at 10.50, you can see her here bringing in to Port some more of those heavy transformers for the National Grid Substation at Sellindge. Here she comes...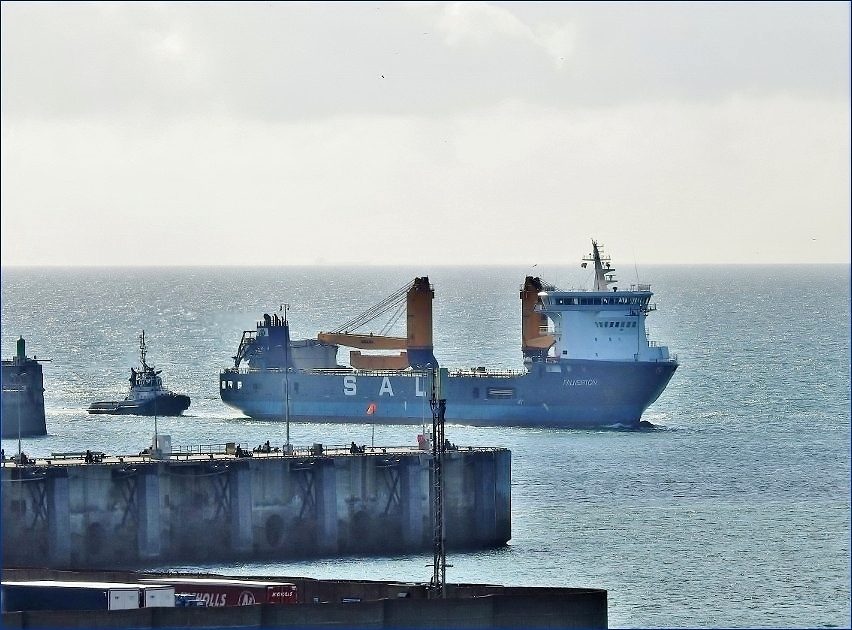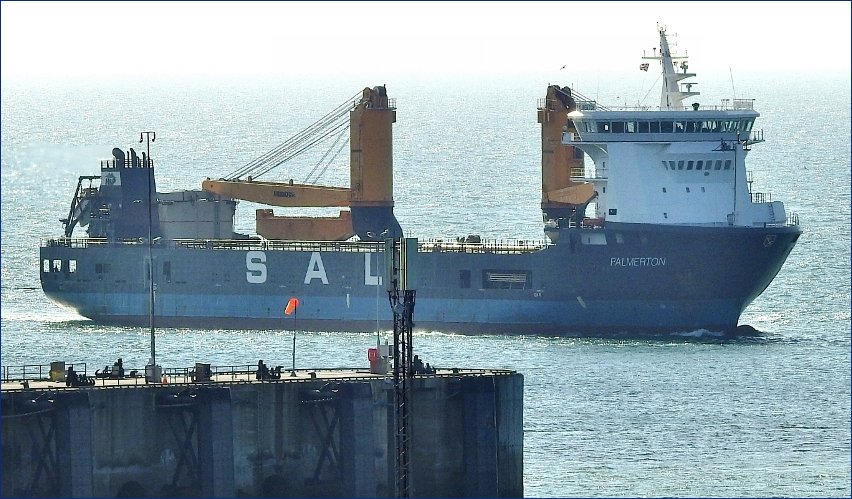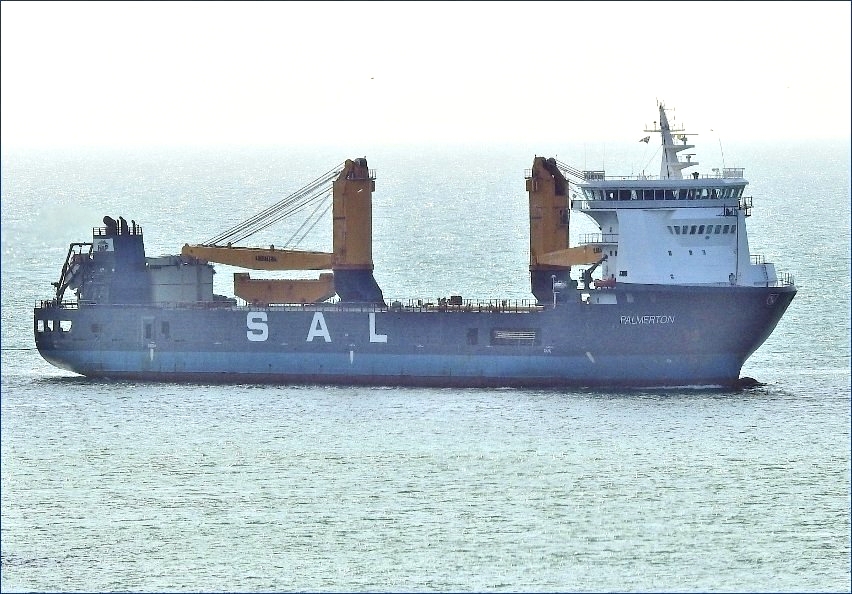 Entering the Port above and gently moving across harbour to eventually settle at Cruise Terminal One.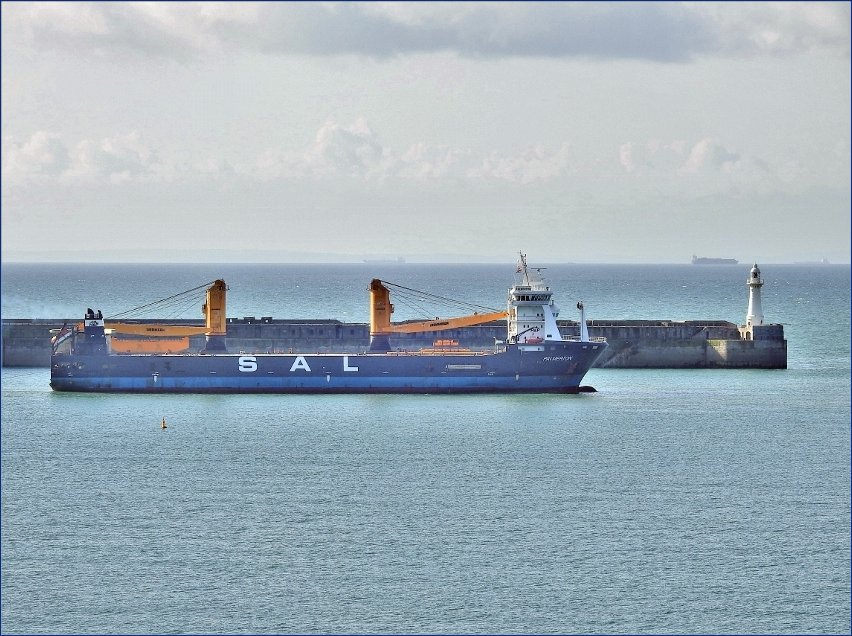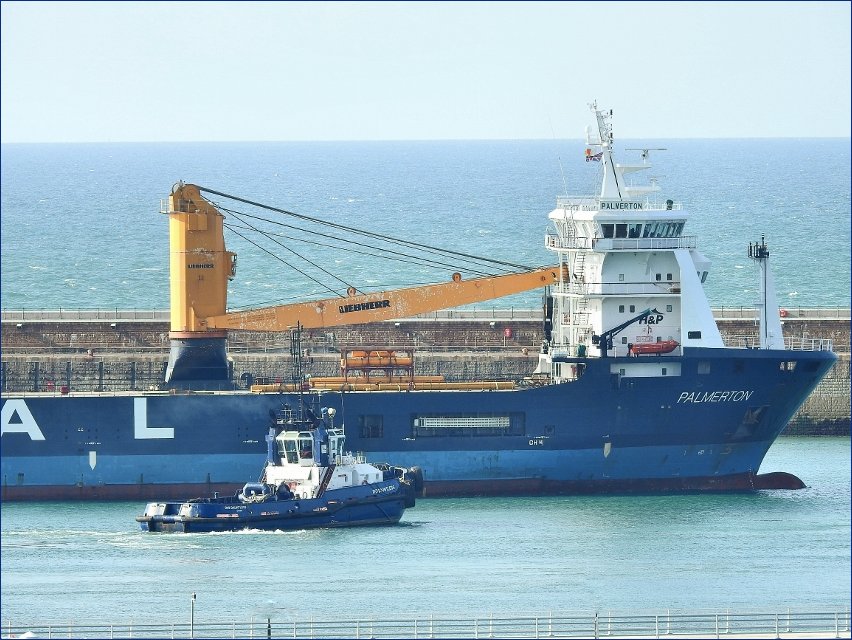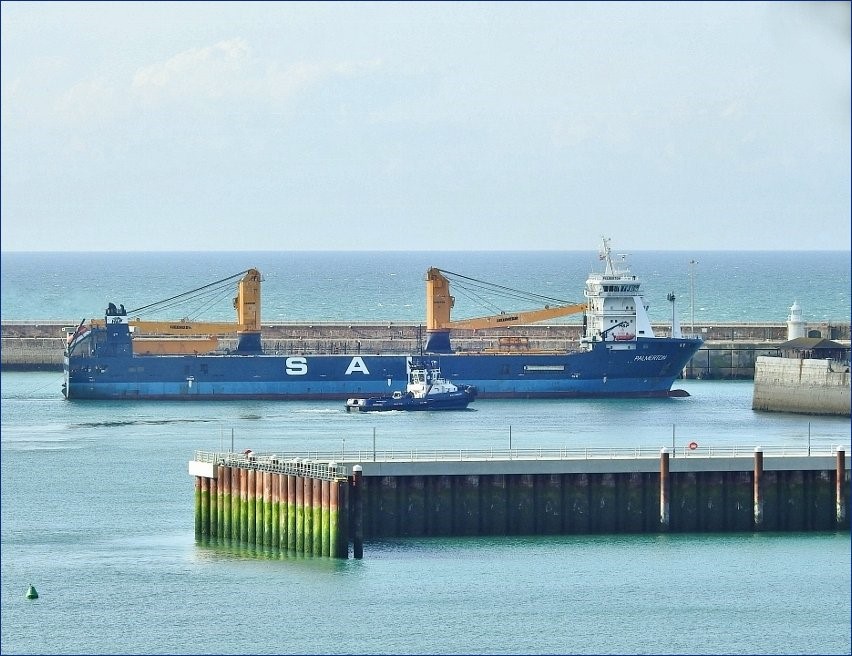 We also have pictures of her leaving yesterday evening with Trinity House Vessel Alert also in the shots...still in camera, so yet to get round to those. Also...this morning the ultra glamourous Seabourn Ovation is in Port...we will have pix of that one arriving too ( when we catch up!! bear with..bear with..

)
Thanks to Mike for the nod on the Palmerton pending arrival.

Well said Del and Jan below there.

Amazing and moving ceremonies and commemorations both in Portsmouth and in Normandy and indeed Dover played its part too as the ship carrying the veterans departed from here...Boudicca of course. Great to see the brave veterans having their special day. Long may we keep peace.
PaulB
Friday, 7 June 2019 - 07:07
Post 6320
Del Styan, Norwich
I agree totally with Jan. I was in Dunkirk last weekend and always think of the 2 wars which meant so much. As Donald himself might have said - so sad, so sad - as we look at the present political scene.

Thursday, 6 June 2019 - 23:14
Post 6319
JanT, Dover
It really makes you feel thankful for the freedom we have today,it just goes to show how close our ties are to Europe and how many of those young men and women that are buried in the cemeteries in France. And to see the veterans make their way to Normandy brings a lump in the throat for many of them it will be the last chance to say goodbye to their fellow comrades.

Some really good pictures over the past week chaps the camera's have worked overtime.


Thursday, 6 June 2019 - 09:49
Post 6318
Sea News, Dover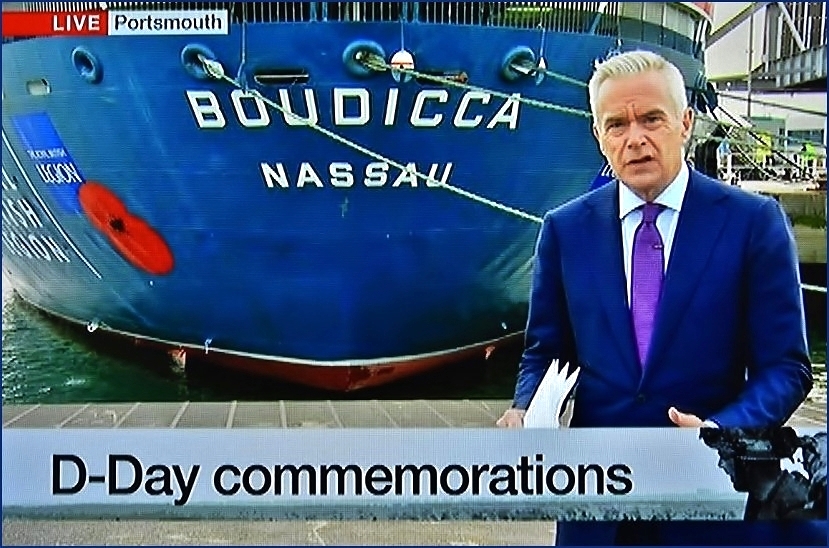 The familiar Boudicca provided the essential backdrop on the BBCTV news last night at 6pm. The ship had returned from Dunkerque to Portsmouth for the huge 75th D-Day commemorations and provided excellent atmospheric support for news anchor Huw Edwards and his 'live' deliberations.
The Remembrances move on to Normandy today. It is great and encouraging to see the political leaders in harmony.
President Trump has moved on to Ireland for a spot of golf and conviviality.
He has almost instantly put his foot in it by comparing the Irish Border to his Mexican Wall project...
Not quite Donald

* *
On sunday morning the Lifeboat had a gentle amble about the harbour...one had the feeling they had some of the D-Day dignitaries on board...so here we have some gentle pictures to go along with the mood, focusing on some close-ups as well as the general shots.
First picture shows the Lifeboat adjacent to the new pier about 10.20 am where some people on said pier got some great close-ups...it comes across the harbour from there... here we go..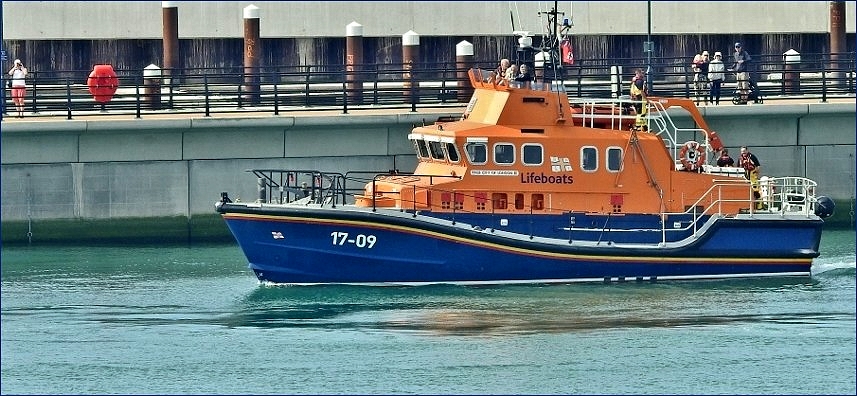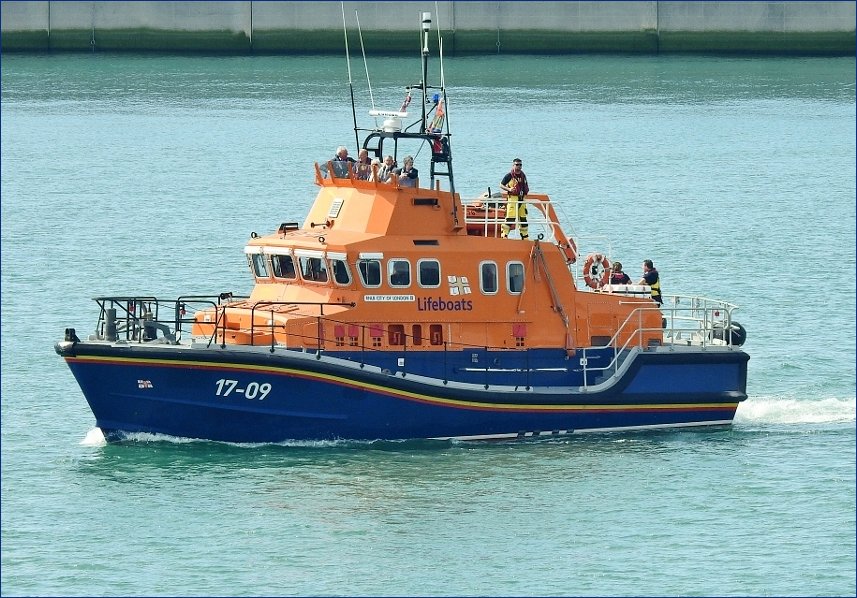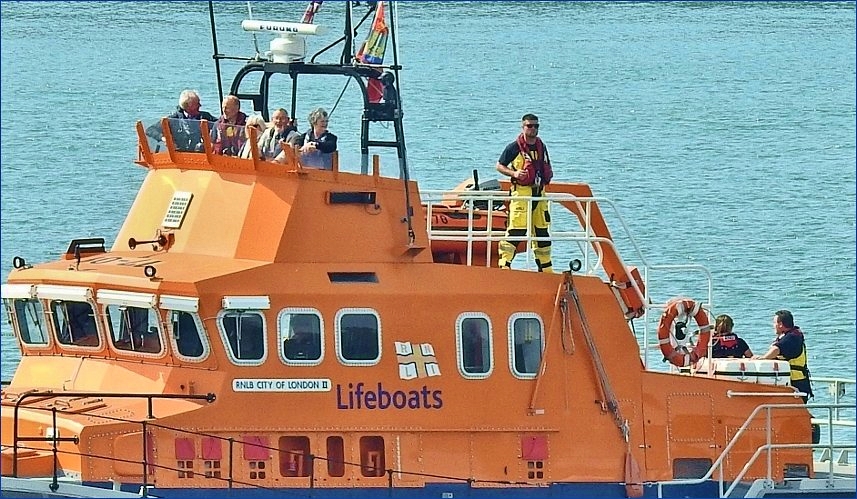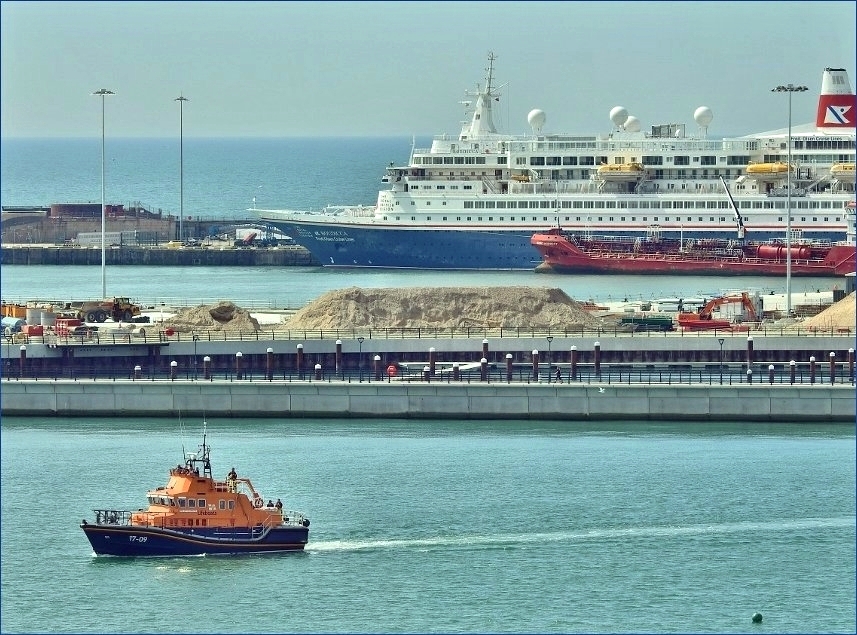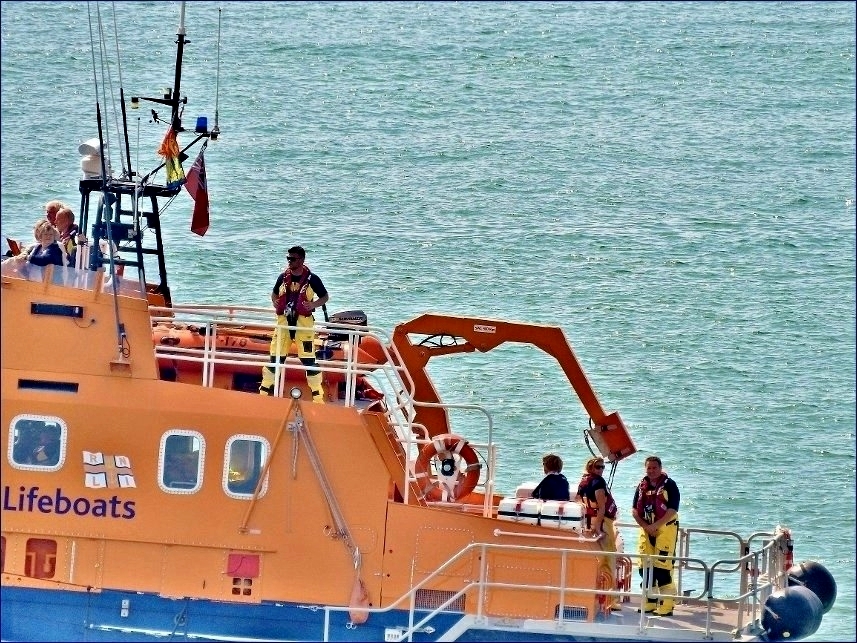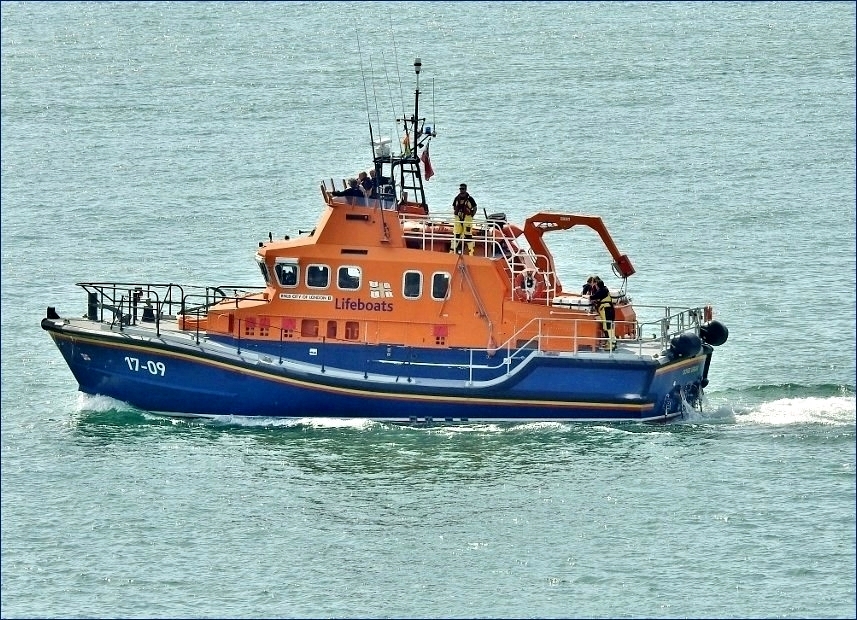 And there we are, lifeboat picture 5 is a bit forced as the sun hit the camera and blinded us out...almost.
Boudicca in the background lifeboat shot 4.
PaulB
Thursday, 6 June 2019 - 06:10
Post 6317
Sea News, Dover
Regular cargo visitor Elvira arriving on a dazzling Sunday morning...
It was a very busy morning in the Port last Sunday...lots happening, you can see the tugs below in full celebratory regalia while carrying out the daily chores, this of course was for the Boudicca D-Day Voyage, remembering the 75th anniversary of the epic D-Day event....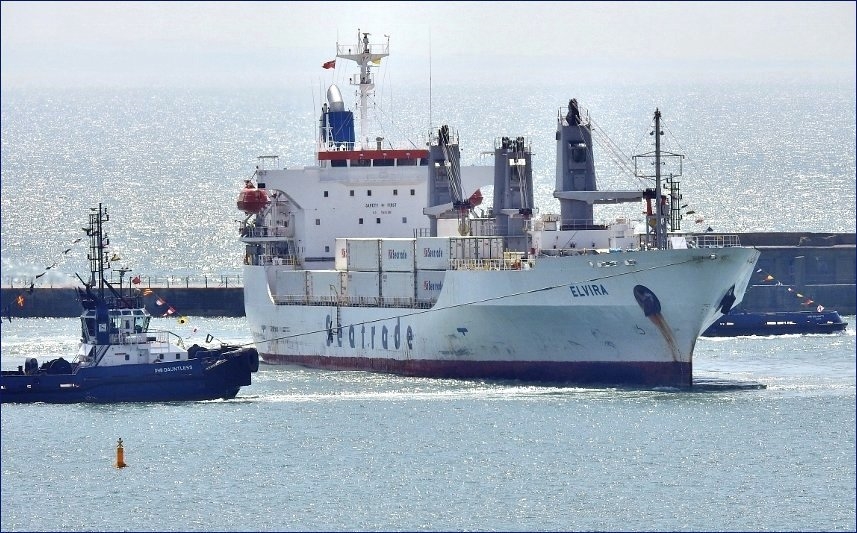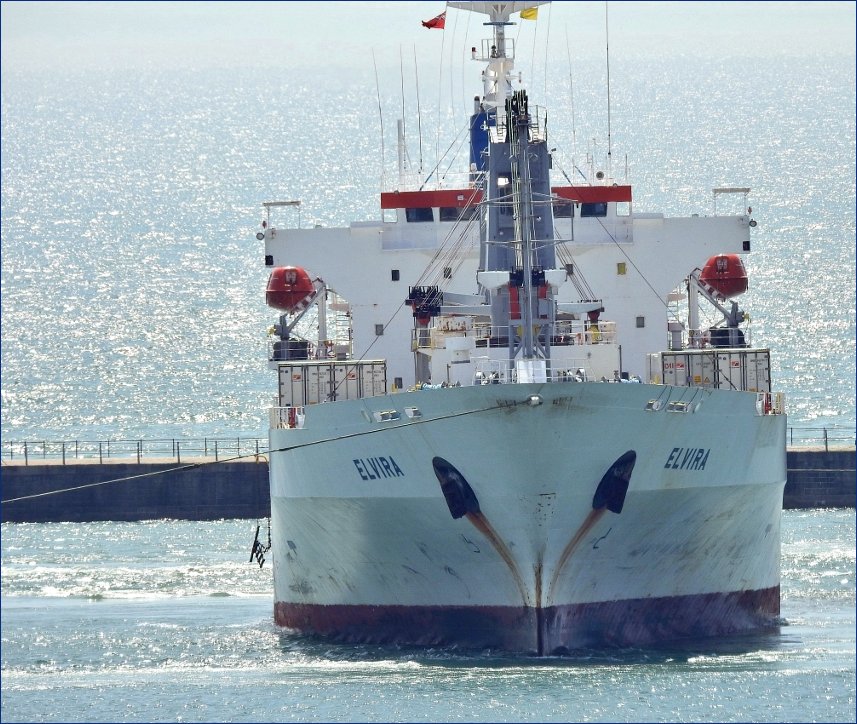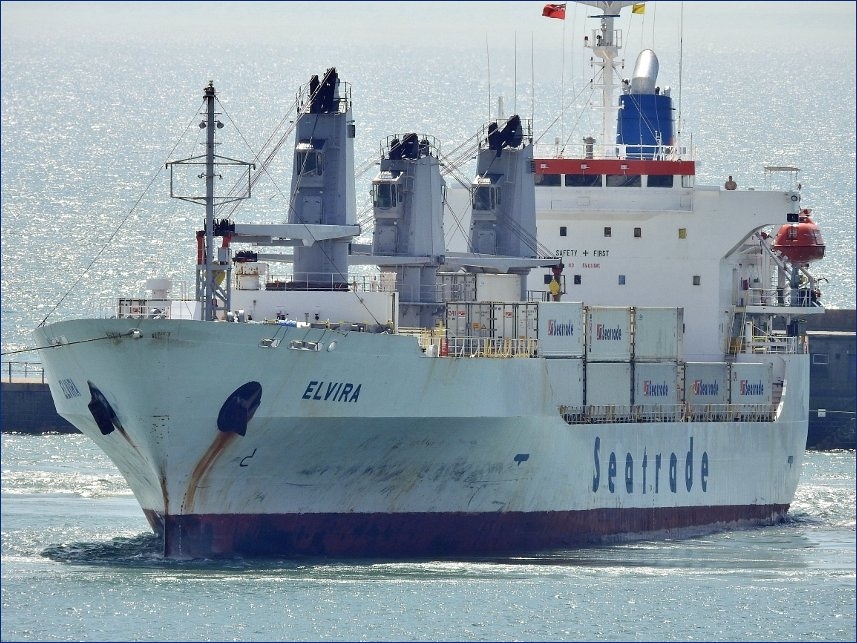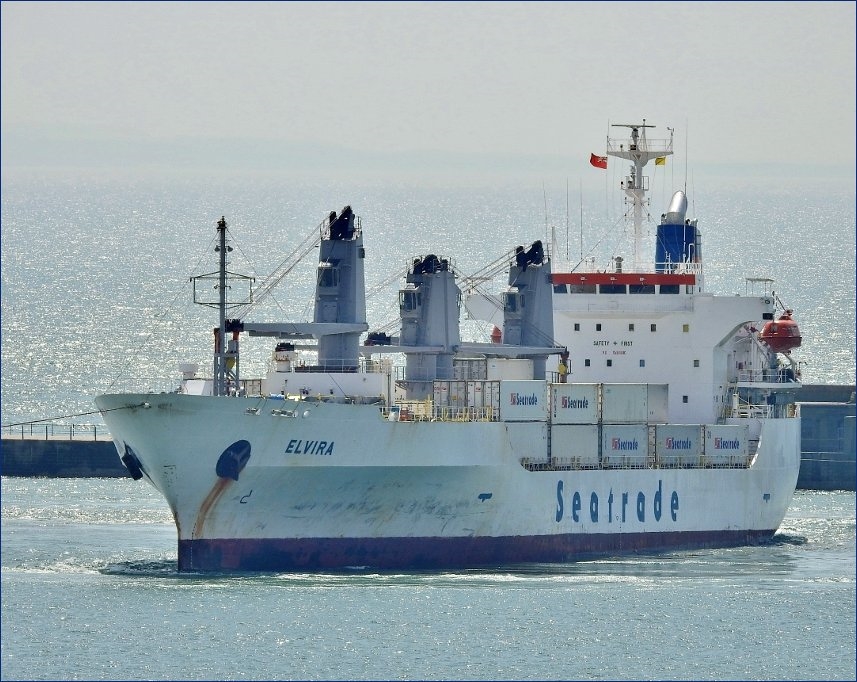 Elvira
Great to see the pictures below from Ramsgate.. ace work all round

PB
Wednesday, 5 June 2019 - 07:00
Post 6316
Mike J., Dover
Most impressive mirage view of Calais & the gas boat.
Quite a contrast Tuesday evening & at 2230 you can't see across the harbour.
Here's the SILVER CLOUD at Ramsgate a few days ago, there are no further plans for any more cruise ship there at present.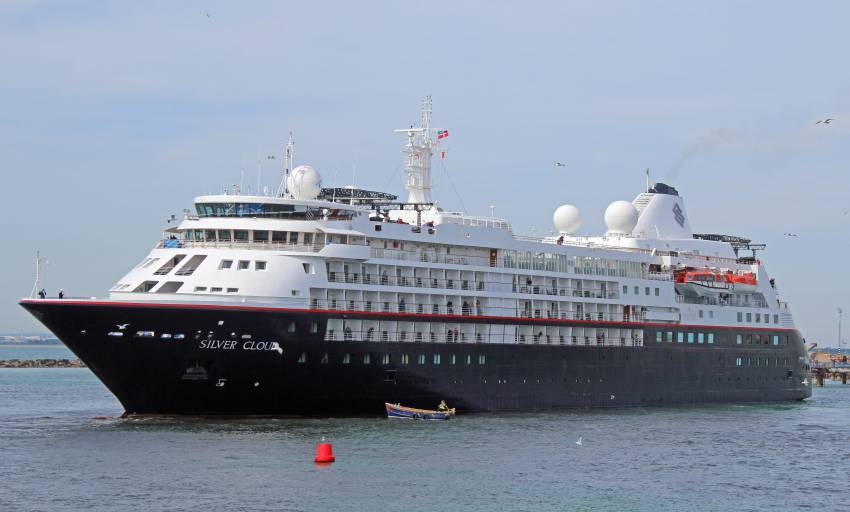 Note the mooring boat BUMBLE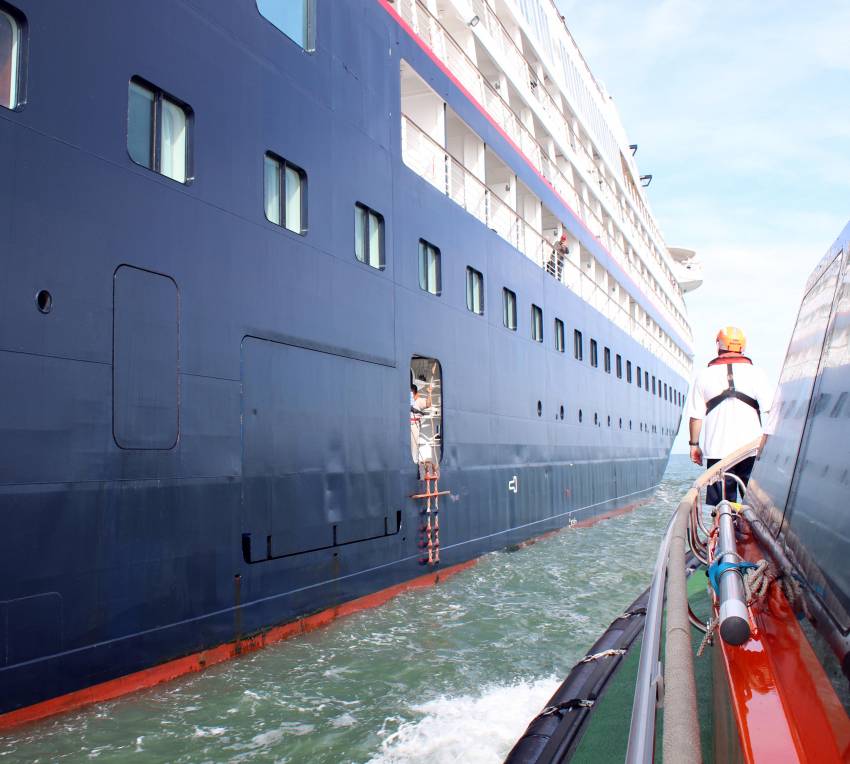 Photos courtesy & copyright of DOVER STRAITS SHIPPING for which many thanks..
Tuesday, 4 June 2019 - 22:46
Post 6315
Sea News, Dover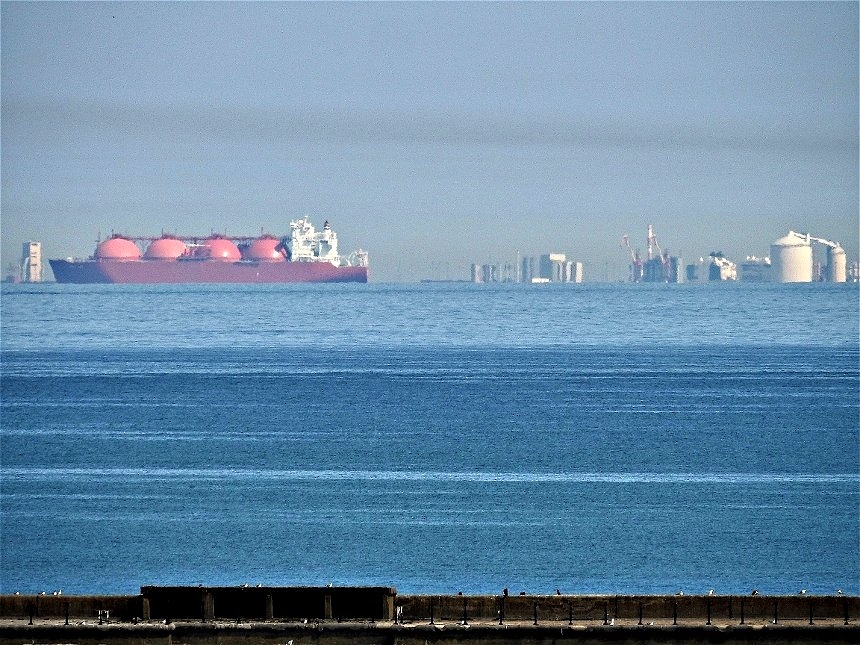 Yours truly noticed a red LNG tanker in the far distance for a few days but was unable to get a picture of it...it would be a very long range shot. But then at the weekend in the truly amazing visibility (complete in some cases with a mirage or two) I was, with the stunning atmospheric clarity, able to get that enjoyable picture above. It shows Arctic Lady anchored just outside Calais in fab weather awaiting a berth at the new LNG ( Liquified Natural Gas) terminal in Dunkerque. I remember Ed got some great pictures of the terminal for us a year or so back.
A record number of migrants crossed the Channel in one day..Saturday. According to the BBC up to 70 migrants in eight boats made the dash for the UK. The visibility was excellent ...so perhaps they were a tad easier to spot for the Border Force teams on patrol, although as you can guess..they are busy busy.
The picture above there shows Border Force Searcher on the day. Also in shot Neptune
...and Neptune below. Now...not 100% certain but I think that's the small boat featured alongside that great monster container ship AFIF a few days back see 6310.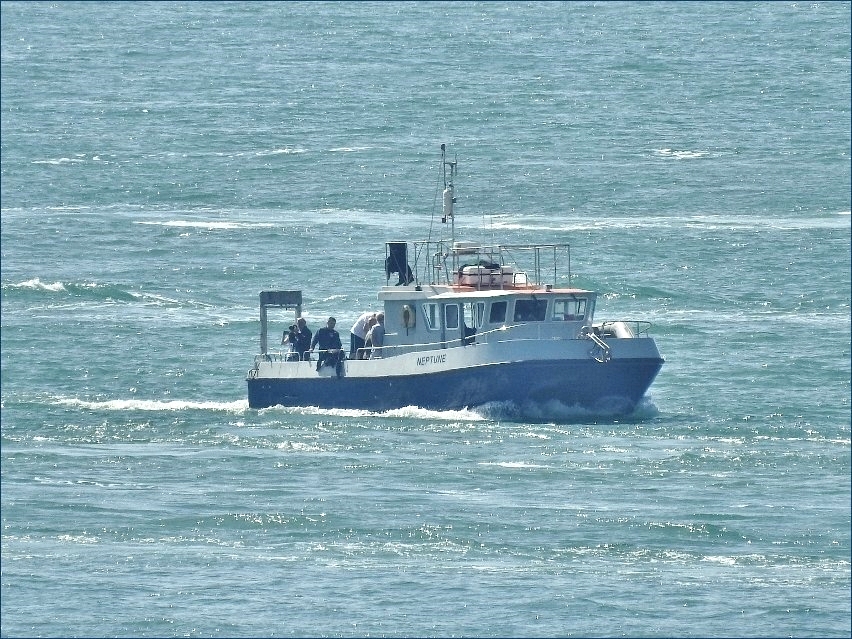 * *
DFDS teams up with tech firm for high seas treasure hunt
_________________________________________________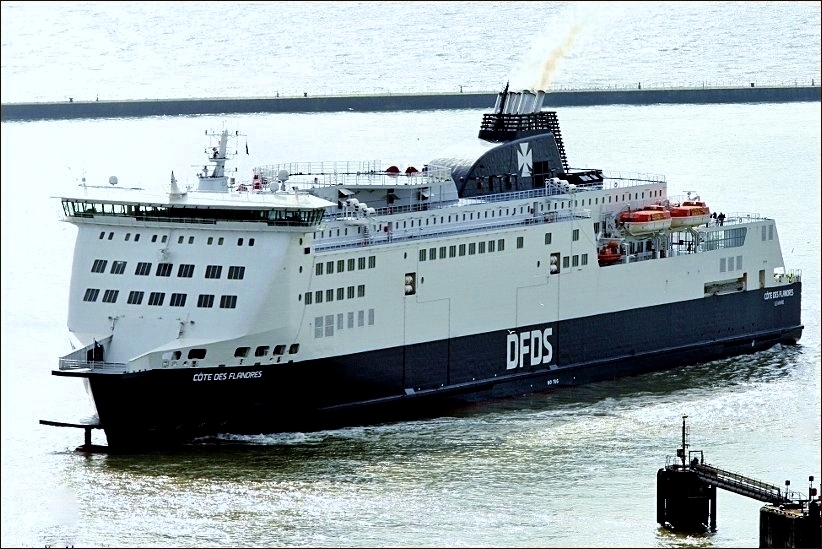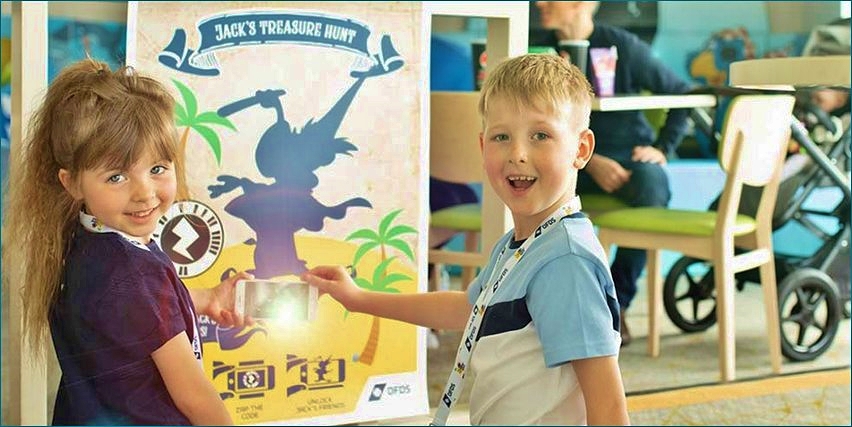 • DFDS launch interactive, mobile game for children with reality specialists Zappar

Leading ferry operator DFDS has teamed up with augmented reality specialists Zappar to create an app to entertain families during their journeys this summer.
The interactive game Jack's Treasure Hunt stars swashbuckling DFDS mascot, Jack the Pirate, and passengers can download the app and play for free on ferry routes from Dover to Calais and Dunkirk, and from Newcastle to Amsterdam.
They are then pitched into an intriguing adventure to discover chirpy Jack the Pirate's hidden treasure as they set sail on the Channel or North Sea. It will take them to different parts of the ship as they track down and solve clues, meet Jack's friends on Pirate Island, collect tokens to win prizes, discover vouchers to spend on board, or access discounted ferry crossings.
Zapping poster codes in different areas aboard the company's ships also helps the mini pirates find the four-part key to unlock Jack's hidden treasure.
DFDS campaign manager Jacques Webb said: "Throughout the summer our young travellers can join an exciting adventure as they cross the Channel or North Sea, but the app is also a fun way to amuse and encourage our young passengers and their families to move around the ship and explore, stretching legs and getting to know all that a DFDS crossing can offer.
"We're excited to become the first UK travel company to work with Zappar, which is part of our digital strategy to enhance our passengers' experiences of travelling with us. The launch of the game also highlights quality Wi-Fi coverage now offered on our ships."
Customers can simply download the Zappar app from the Apple or Android app stores before or after boarding. Find out more about Jack's Treasure Hunt at dfds.co.uk/jacks-treasure-hunt
-Ends-
Your camping or caravanning holiday starts with DFDS
______________________________________________

• Receive 10% off bookings for Camping & Caravanning Club members or take your caravan for free* with DFDS
In celebration of National Camping and Caravanning week, here are some of the great offers and experiences you can get with award-winning ferry operator, DFDS.
Take your caravan from Newcastle across to the continent totally FREE! Travel on selected Sunday, Monday or Tuesday's and only pay for your car, leaving more in your back pocket to spend while you're there. Alternatively, if you are a Camping and Caravan Club member you can get 10% off direct DFDS prices travelling from Newcastle or up to 10% off if going to France on the Newhaven to Dieppe route.
With no luggage restrictions you can set sail then hit the road to visit some of Europe's most popular holiday destinations at your own pace, with Belgium, France, Germany and Holland all within easy reach of our ports.
From Montpellier to Amiens in France, from Ypres to La Roche-en Ardenne in Belgium and from Appeltern to Renesse in Netherlands there are hundreds of great camping sites to choose from that offer river views, to sandy beaches or national parks on your doorstep.
Caravans go free from £45 pp, based on 4 sharing, with one daily sailing from Newcastle to Amsterdam.
Travelling from Dover or Newhaven to France, you can book your up to 10% off via the Camping and Caravanning Club website.
For more information on DFDS, visit: www.dfds.co.uk
Ends
Many thanks once again to the team at DFDS for all the recent news and information.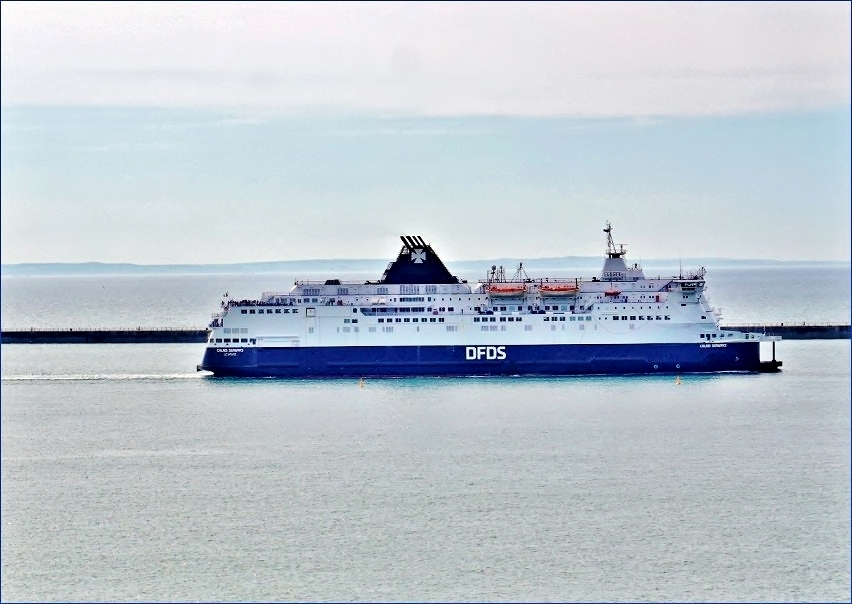 Mike mentioned that it might be the end of the Calais Seaways when the new DFDS ship arrives...Calais Seaways pictured above there. Yes in some of the recent paperwork from DFDS it did indeed mention that the Calais Seaways will be facing retirement.
Many thanks to Mike our 'inshore correspondent' for all the info/pictures below..

Great stuff!

Also have pictures of the Lifeboat and reefer Elvira to catch up with...plus... will all follow along in due course.
PaulB
Tuesday, 4 June 2019 - 06:38
Post 6314
Mike J., Dover
A few more angles on the BOUDICCA on Cruise-1 on Sunday.
The end of the new marina pier isn't a patch on the much-missed Prince of Wales Pier for seeing cruise ships.
The view towards Cruise-1 may get further cluttered as more 'infrastructure' appears on the reclaimed land.
I understand that the new RNLI boathouse will be somewhere along the 'Marina Curve' so there will be good views of the lifeboat coming & going.
I've heard that the tugs & dredger & other DHB small craft will be tucked-in by the short pier at the outer end of the 'Marina Curve'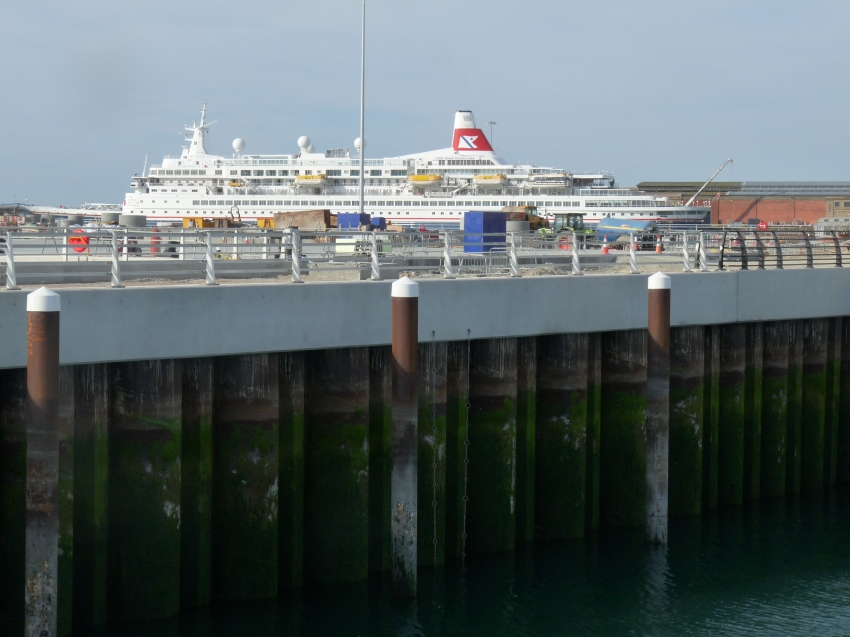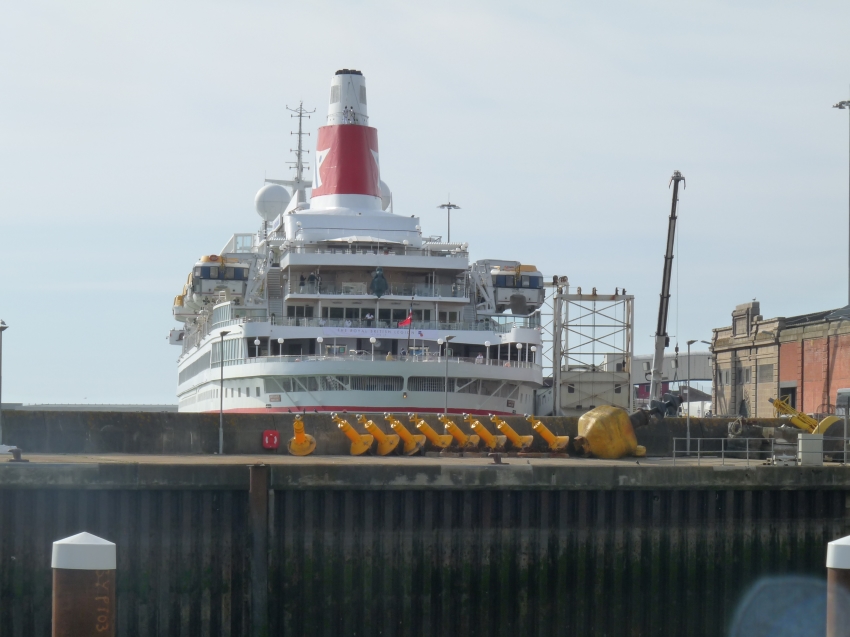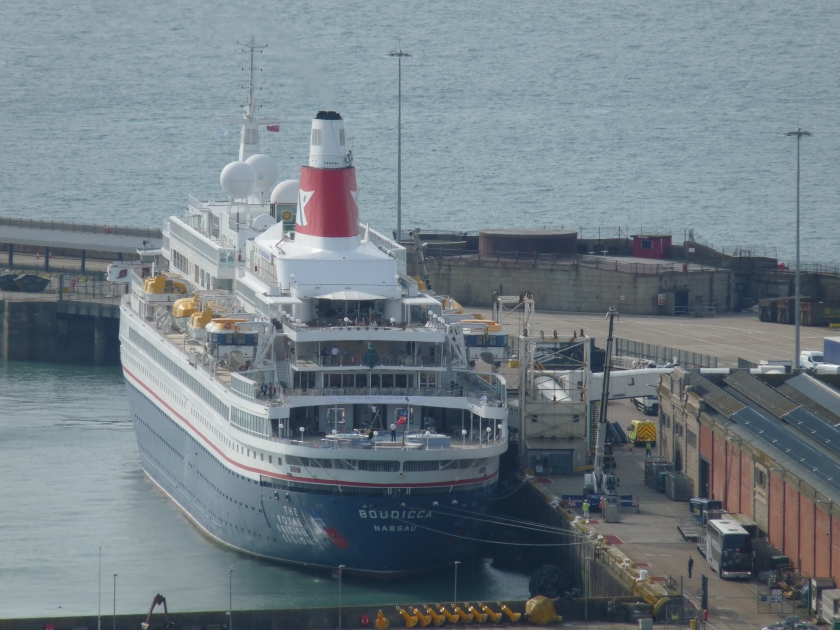 While up at St.Martin's Battery I noticed that small craft in the Wellington Dock had been moved away from the pontoons in the vicinity of the 1868-built Fairbairn hand-crane.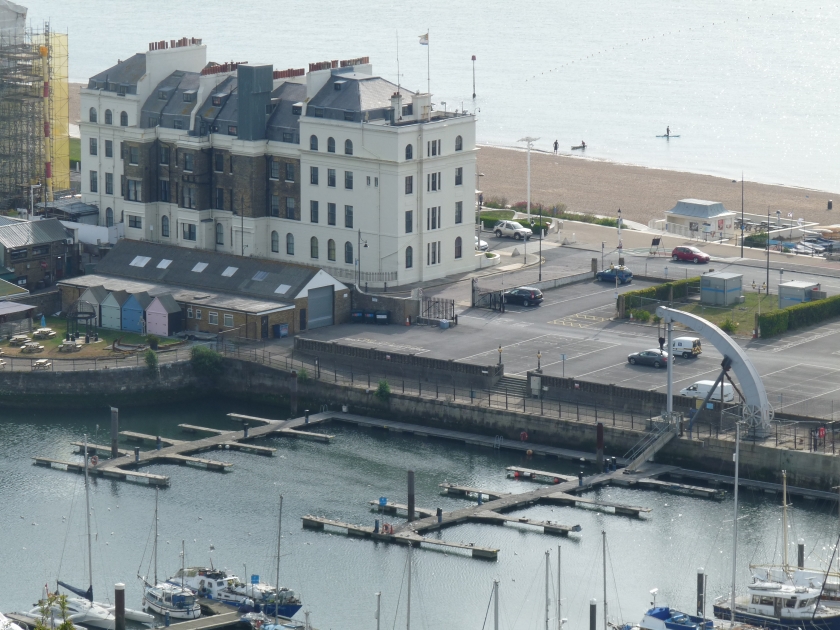 [
This is apparently because of concerns about it's stability.
It was restored several years ago & propped in position.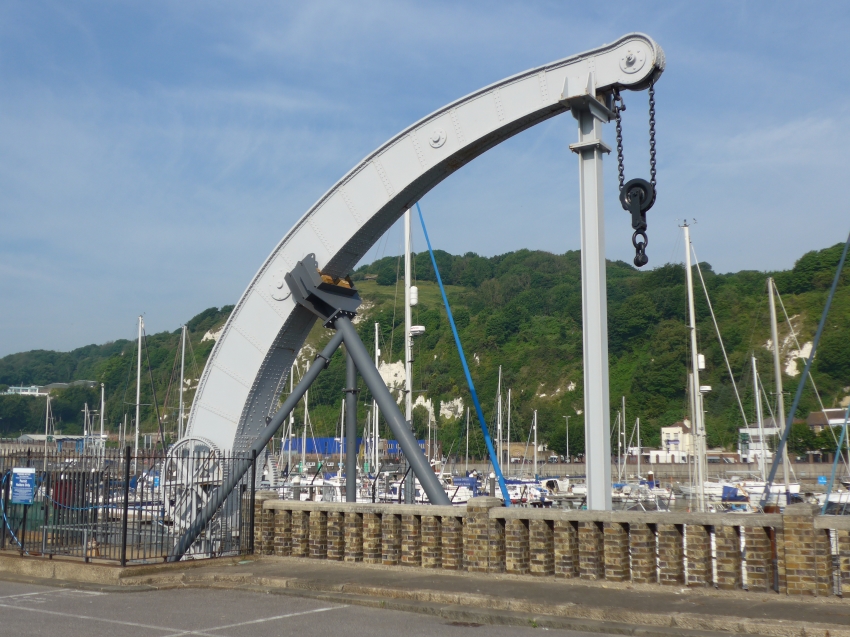 Maybe last year's pile-driving has caused problems.
Despite being a crane it is a 'listed building' so should survive.
Tuesday, 4 June 2019 - 03:08
Post 6313
Sea News, Dover
Following along from Mike's excellent collection of Boudicca arriving yesterday in the post below...here she is departing later last night. She moved away at 9pm on the button...as per schedule. Obviously it was a bit dark by then but the tugs gave them all a very good send off...the veterans will have seen the water jets spray high into the air despite the night ascending.
Boudicca moved across the harbour and left through the eastern exit, a bit unusual for Boudicca that.. but maybe it was so all could see the spray jet spectacle.
Boudicca's D-Day Voyage begins...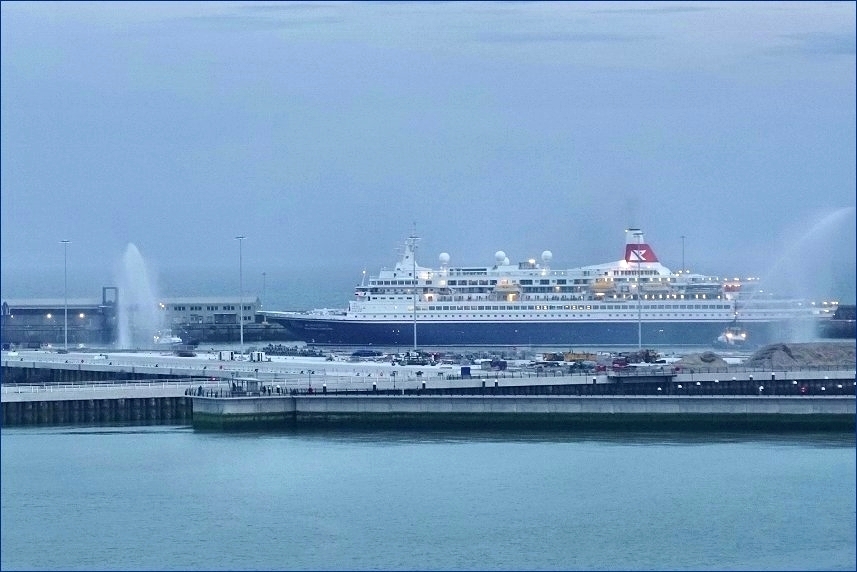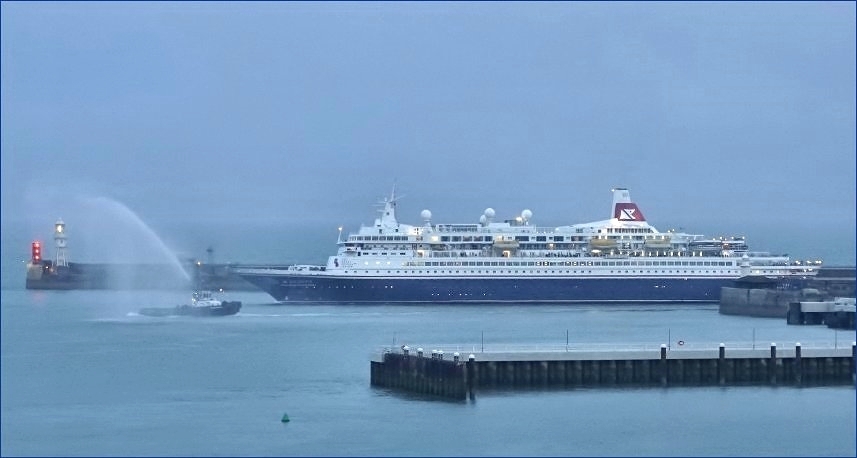 Mike also mentioned the Silver Cloud cruise ship...see the story below 6312 about her adventure in Ramsgate. This is the ship just off Dover in early 2018...in the foreground one of the busy dredgers operating then...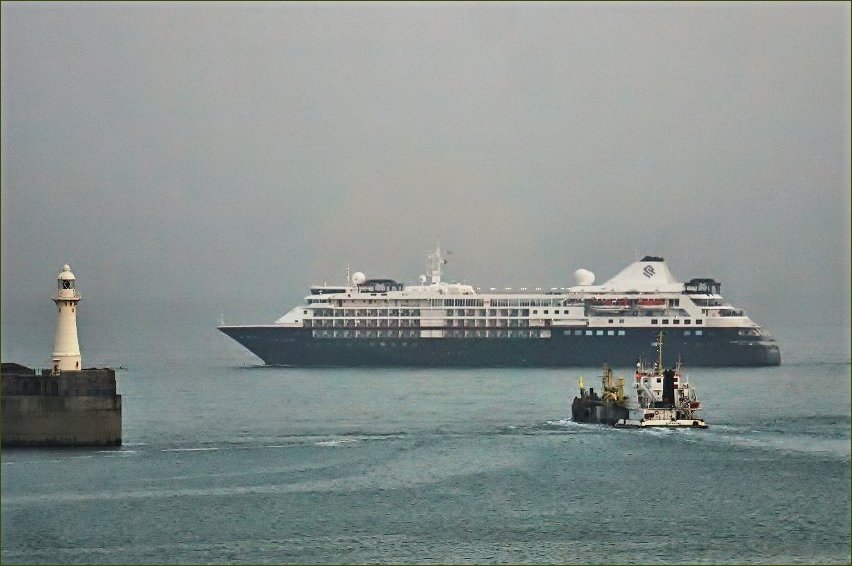 Great collection below Mike...Great stuff!

PaulB
Monday, 3 June 2019 - 16:25
Post 6312
Mike J., Dover (helcion@hotmail.co.uk)
Arrival of the BOUDICCA from Gibraltar about 0530 on Sunday morning from Langdon Cliffs.
She was about 30 minutes early, a good job that I didn't have that second coffee.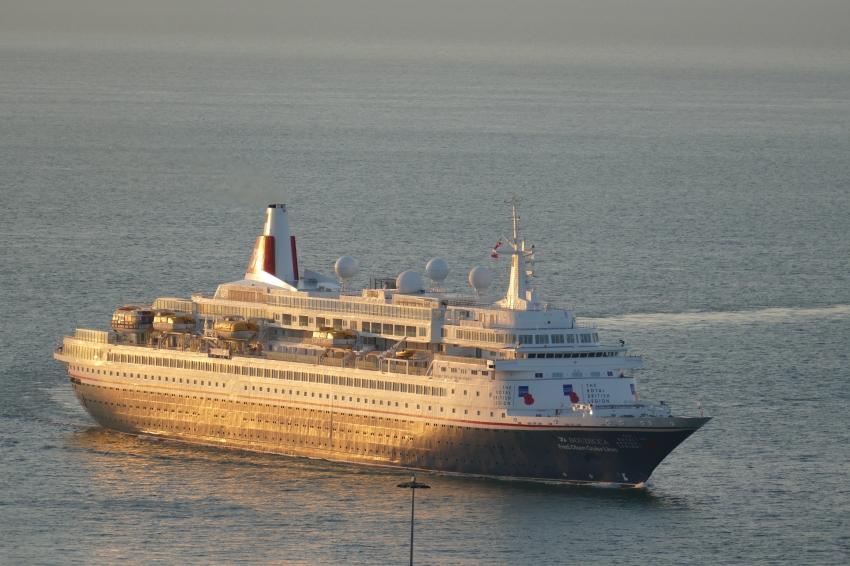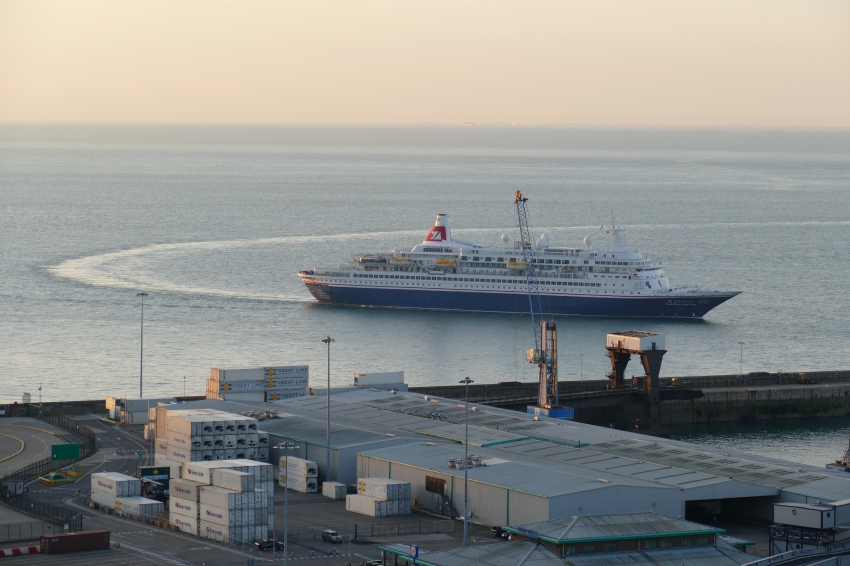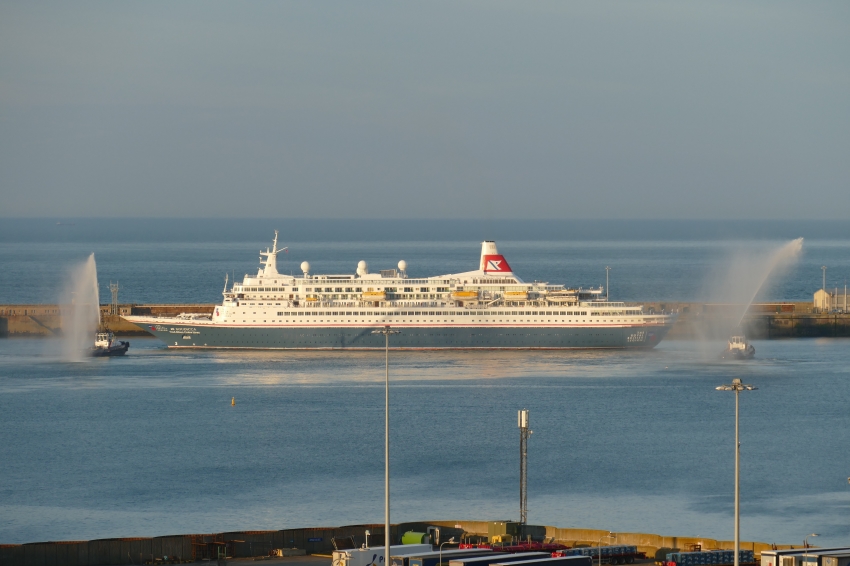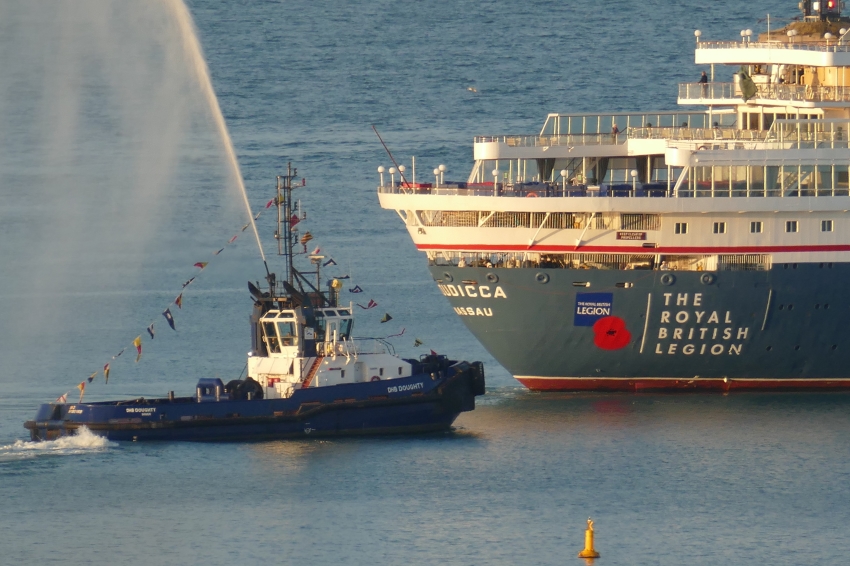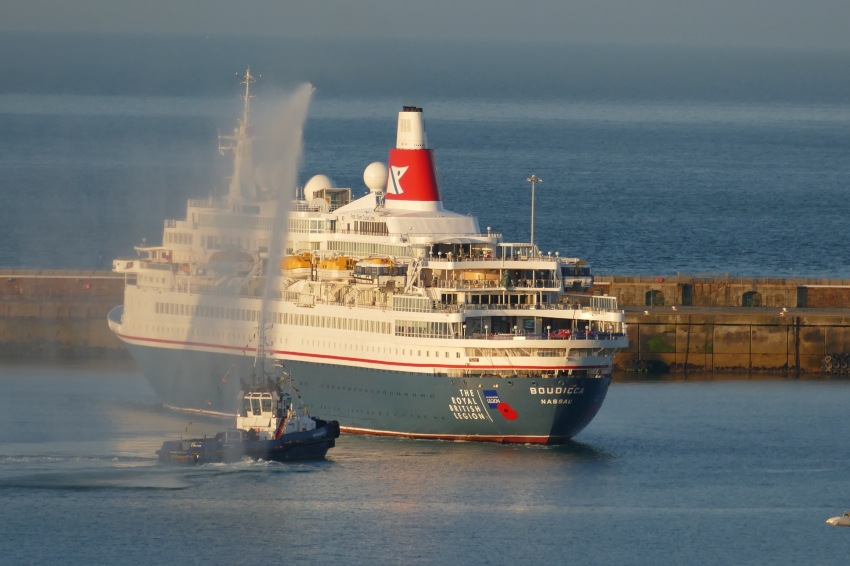 The watery welcome from the tugs was a little unexpected as the D-Day veterans & other Royal British Legion passengers were not yet aboard so I guess that it was for the benefit of the media to catch Sunday's TV news.
If that was the intention, it failed miserably with the main cruise ship item Sunday evening being the runaway MSC OPERA making a 'hard landing' in Venice.
Most unusual activity at Ramsgate today !
The cruise ship SILVER CLOUD called in for 12 hours while on passage to London from Hull.
As there is no passenger side-gangway at Ramsgate passenger transfers were by RIB.
Quite missed that one.
Damn.
I don't seem to have any pix of SILVER CLOUD, maybe Paul or another reader has one.

Monday, 3 June 2019 - 00:24
Post 6311
Sea News, Dover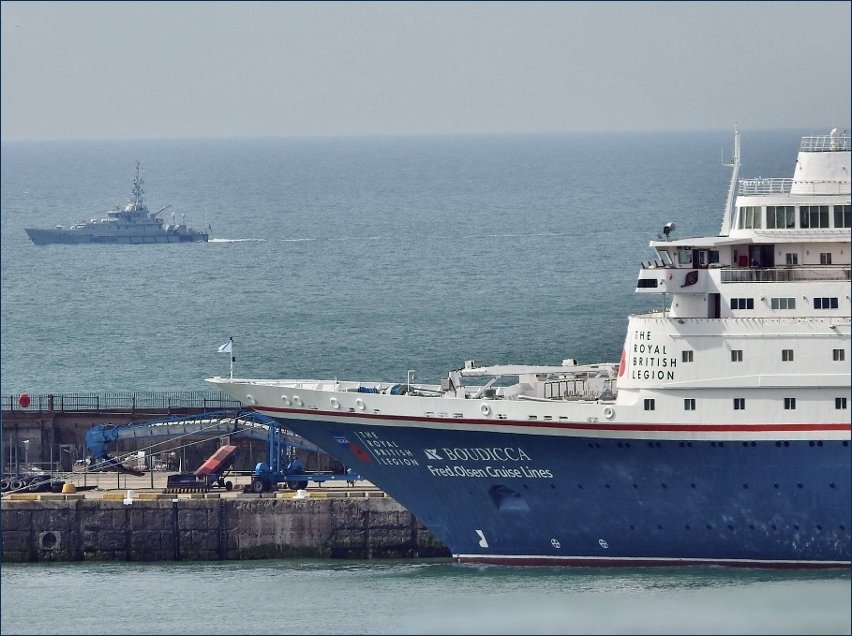 Border Force Searcher and Boudicca awaiting her D-Day Voyage...see below..
Sunday, 2 June 2019 - 16:54
Post 6310
Sea News, Dover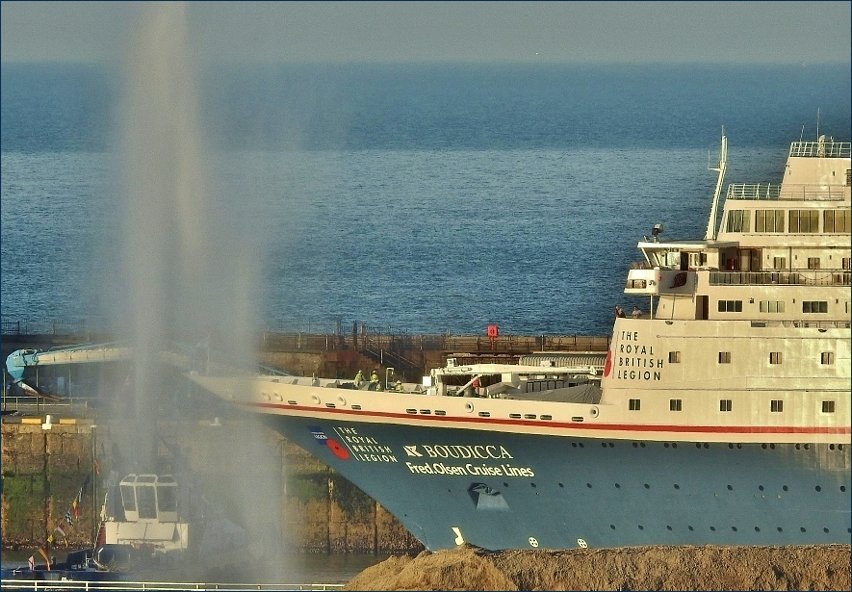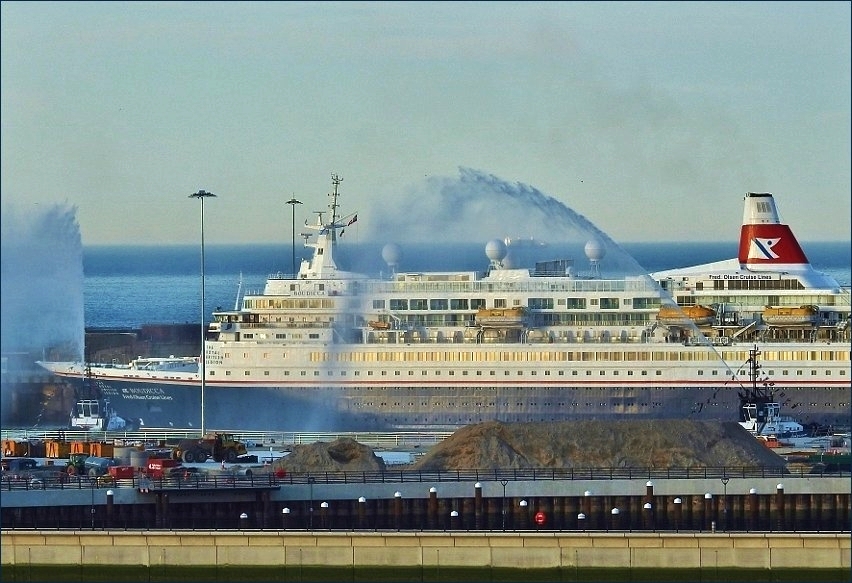 Boudicca....the D-Day Voyage of Remembrance.
Some pictures of Boudicca literally a few minutes ago as I write...time of first shot 05.44 and we just managed to catch the tugboats spraying a magnificent traditional greeting. Not the best pictures by any means with the light being awkwardly reflective on the ship but nevertheless glad to have secured something to mark the moment. You can see her above there moving into Cruise Terminal One.
There were some magnificent views on the Channel yesterday as the visibility and weather was so good. Was intrigued by this monster moving on down yesterday morning en route to Southampton...(off the top of head I think from Antwerp) but presumably going much further afield. She is called AFIF...one of Dover's fishing boats next to it..astern..shows the mind-boggling scale. Fabulous.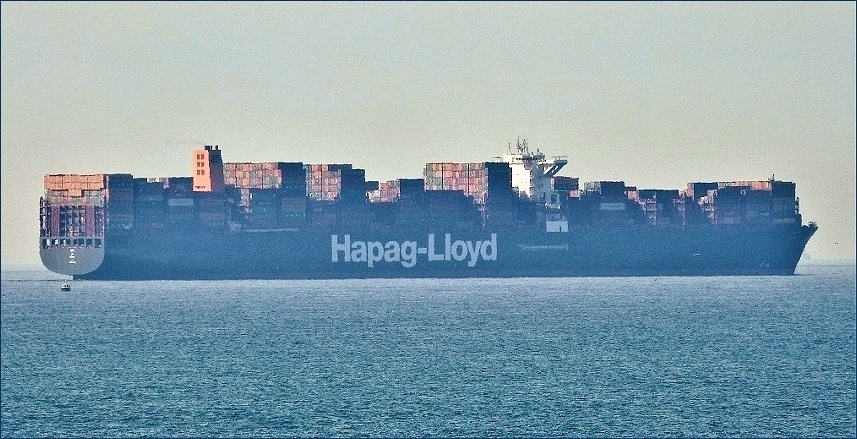 And then we had the Atlantic Klipper a short time later, seen here having just left the Port of Dover and now on her way to Bridgetown in Barbadoes.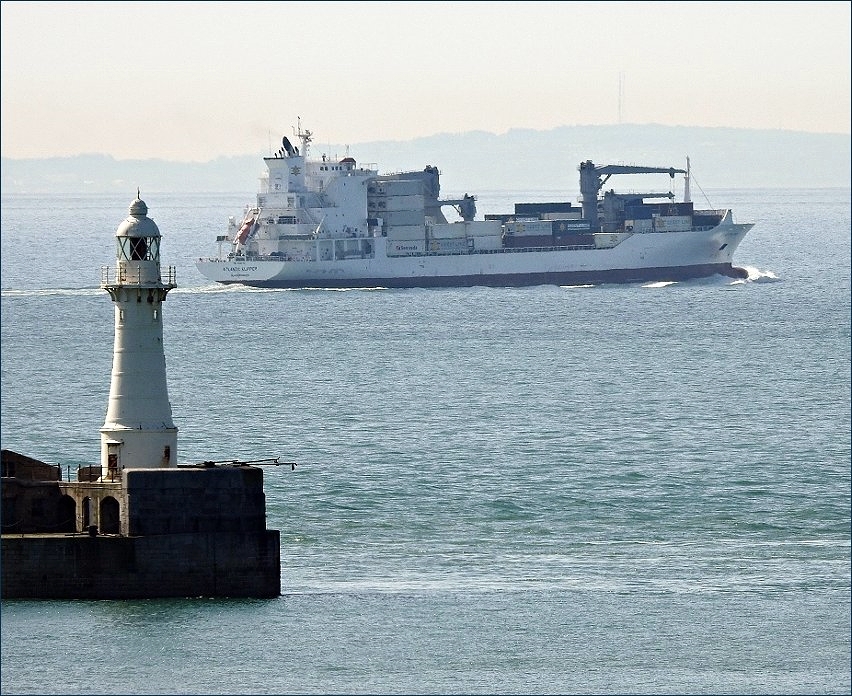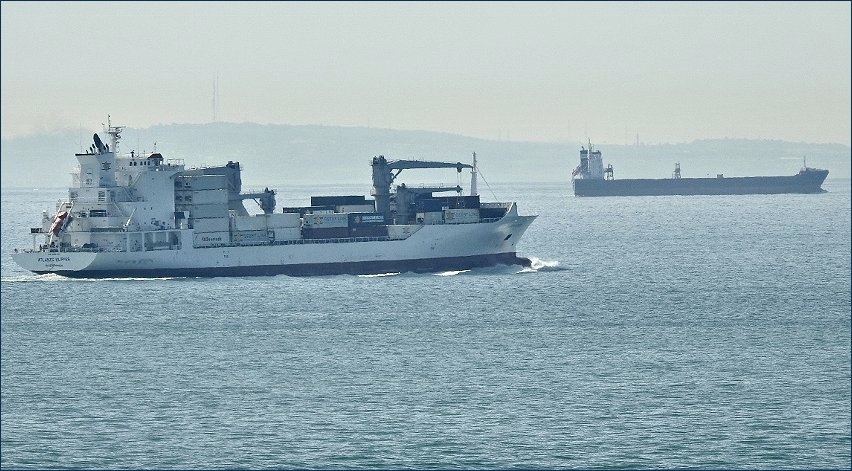 Thanks for the info below Mike... she came in a wee bit earlier as they do...was glad to see the tail end of it. Thanks for the ongoing info.

PaulB
Sunday, 2 June 2019 - 06:16