Sunday, 21 January 2018

doverforum.com/sea-news
Doverforum.com: Featuring all the ships that come and go and work at the Port of Dover with further coverage of Ramsgate, Calais, Dunkerque. Email: dover7@msn.com to send SEA NEWS pix or info.... or click ADD YOUR COMMENT below to post direct, no membership needed.

PORT OF DOVER RECORD FREIGHT see 4551.
Sea News Dover : Use our SEARCH ENGINE below to find all sorts on the SEA NEWS pages..more than 200 now with more than 4500 nautical posts. Posts welcome. Max of 5 pictures preferred per post. Sea News Editor Paul Boland.
Post 4561
Ed Connell, Dover Strait
Spirit of Britain on the Eastern Arm today.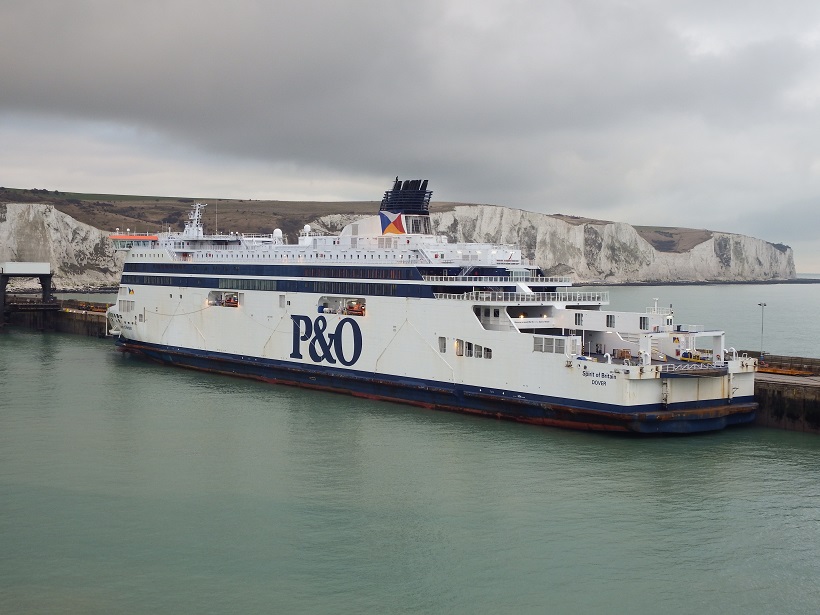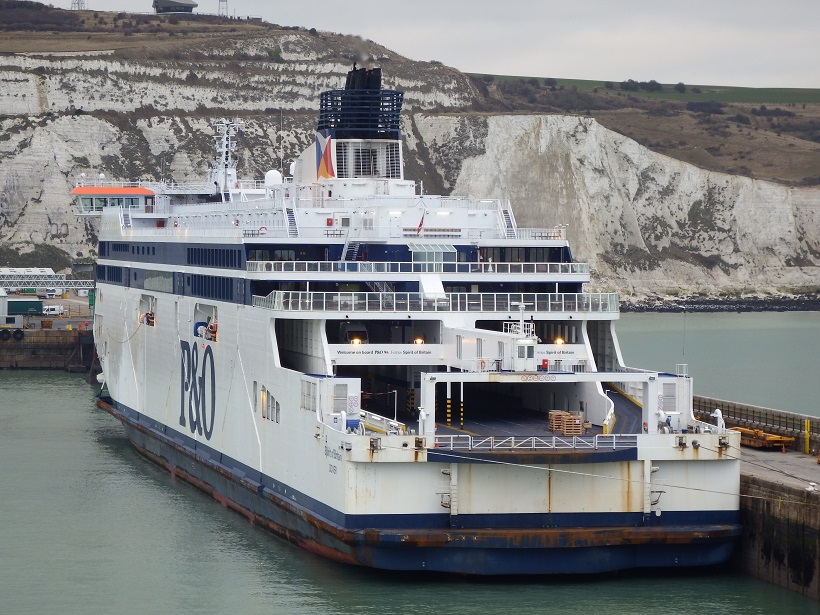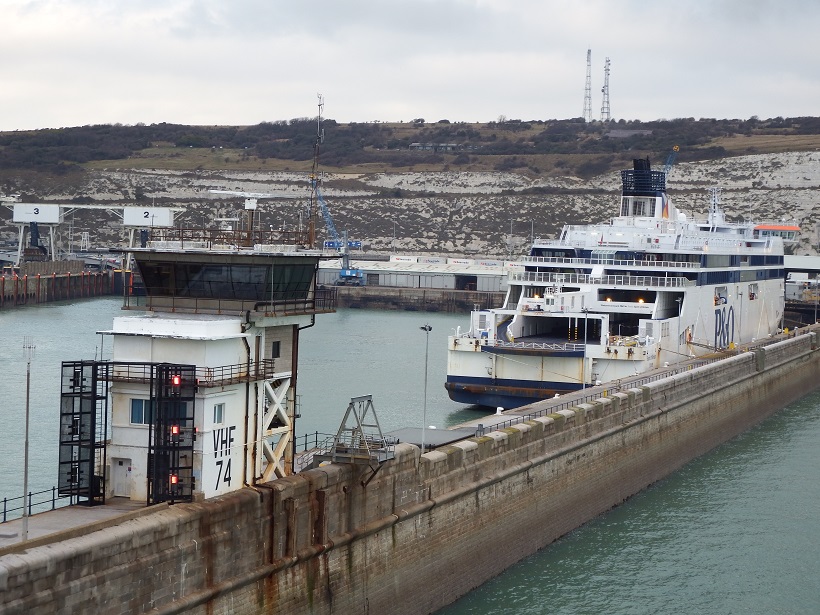 Friday, 12 January 2018 - 22:47
Post 4560
Jeremy Ward, Whitfield, Dover
Whilst at the White Cliffs this afternoon noticed that the Spirit of Britain was moored at the Eastern Arm with her front bow doors open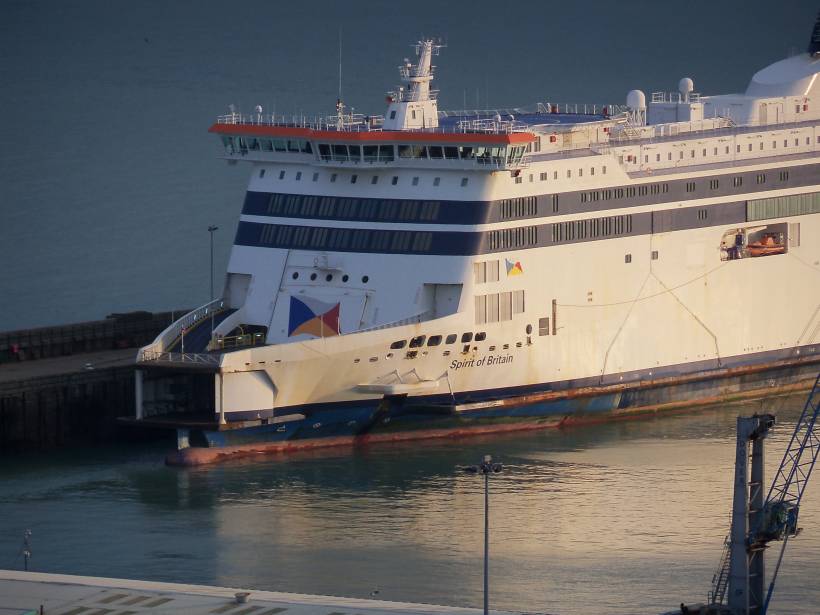 Friday, 12 January 2018 - 22:46
Post 4559
Mike J., Dover
Friday afternoon & the SMIT YOUNG returns to the Tidal Basin after 'attending' the BARENT ZANEN.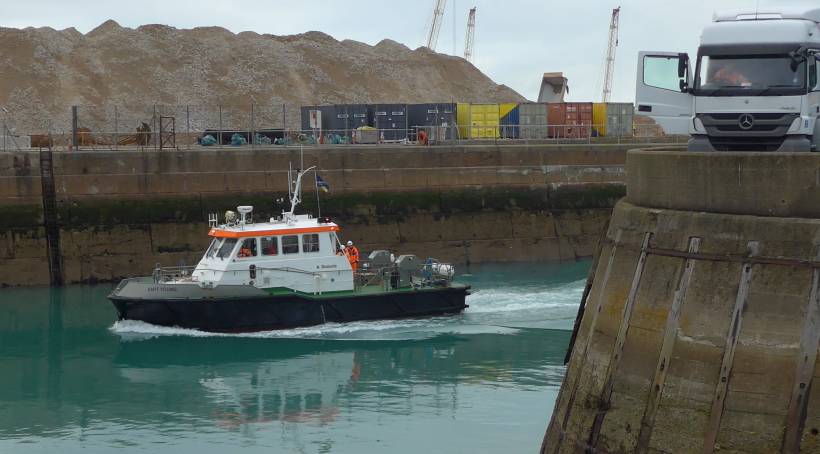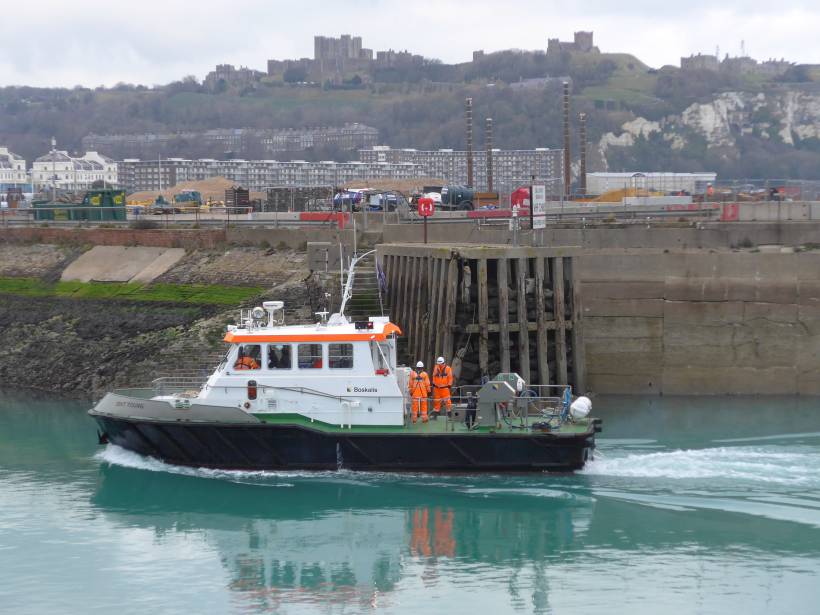 As soon as I recommended the Ramsgate webcam it packed-up !
It WAS working on Thursday, Honest.
Friday, 12 January 2018 - 22:19
Post 4558
Sea News, Dover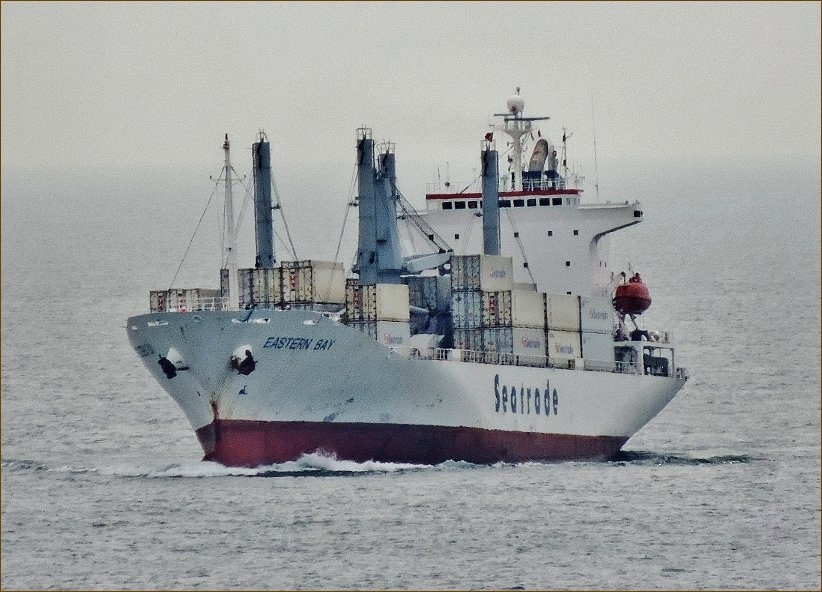 Nice work Ed getting a picture of Eastern Bay up on display yesterday...I wasn't sure if we would have a pic so I prepared the one above from the archives. It hasn't been used before so worth a look even if not up to the minute. Eastern Bay left last night at 7Pm approx. and went south. Unusually the ship was heading for ...lets see I wrote it down somewhere...yes here it is..Radicatel. I had to look that one up. Its located at the mouth of the Seine just behind Le Havre and semi across from Honfleur. So there we are...why there??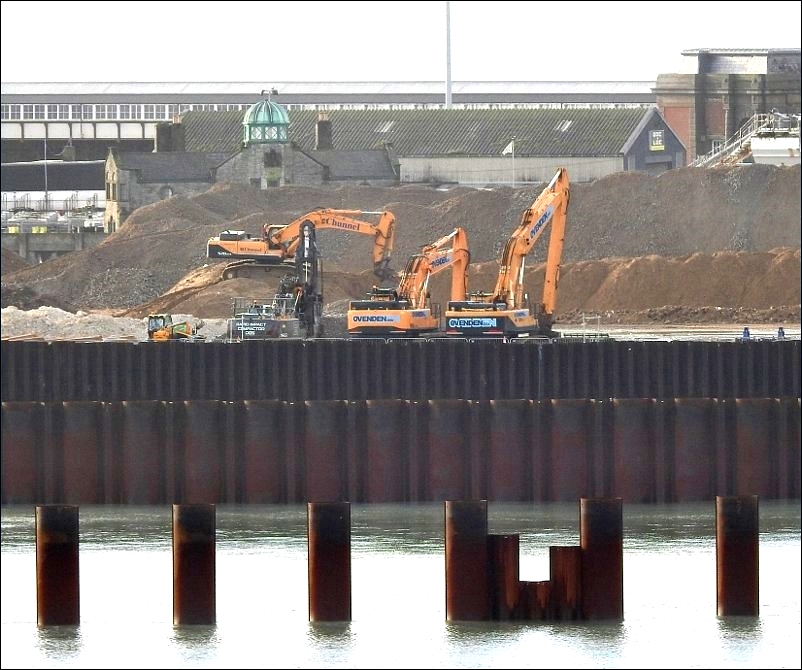 We showed a picture of the Olde Custom House a few days back ( 4549 )...there she is above yesterday morning and the whole view has completely changed. Now almost hidden behind a mountain of sand/gravel/spoil you name it. Amazing amount of work in a few days....much work now going on again right across the DWDR with some more delightful piledriving to enjoy...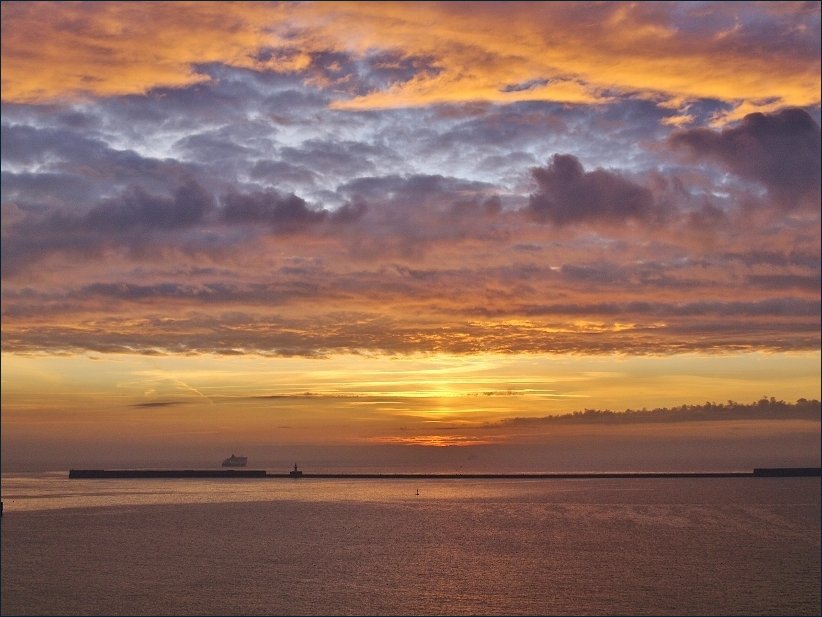 Above we have the scene across the channel yesterday morning. Staggering colours. This is a bog-standard point n shoot shot, no colour or anything added. Just spectacular nature at work.
Good to get the Eastern Bay looking good there Ed...nice shot and good to see the transporter too.

Will enjoy a look at that Ramsgate webcam later Mike... might even see our ace roving reporter at work over there.


PaulB.
Friday, 12 January 2018 - 06:01
Post 4557
Mike J., Dover
I found another webcam, this time for Ramsgate.
Presumably installed so that Sarah can keep an eye on the Lifeboat.

Google 'CAMSECURE' & on their home page go to 'Live Cameras' & click on the 'southeast' area on the map.
If Ramsgate doesn't come up straight away click on it on the list of cameras.

A number of other ports have 'public' webcams, good PR for the ports involved, a pity that DHB don't have the same attitude as there is great interest in the port from the public, look at the numbers of folk up on Langdon Cliffs watching activity in Eastern Docks.
A 'public' camera looking at the DWDR works from on high would be interesting as well.



Friday, 12 January 2018 - 01:01
Post 4556
Ed Connell, Dover Strait
Eastern Bay at the DCT today.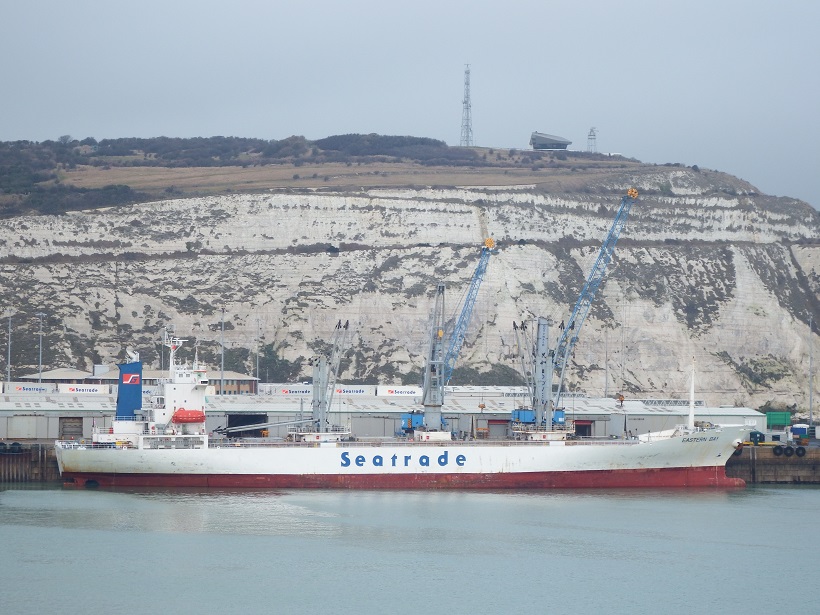 Sellindge transformer convoy sitting in the lanes behind the DCT yesterday.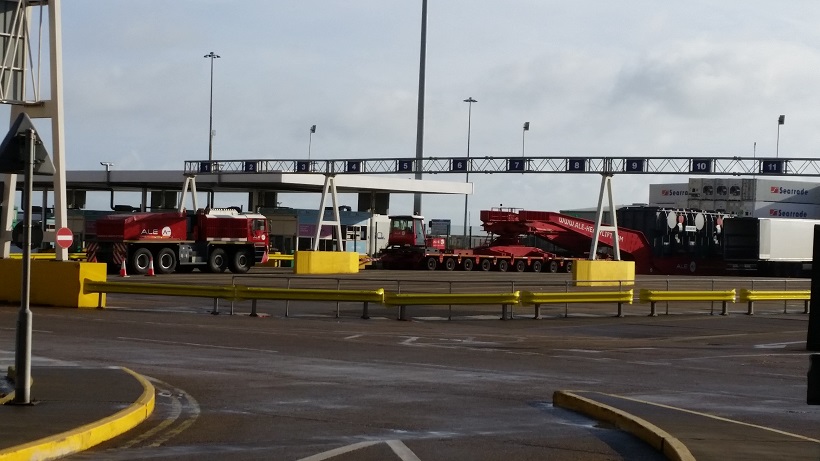 Thursday, 11 January 2018 - 19:23
Post 4555
Sea News, Dover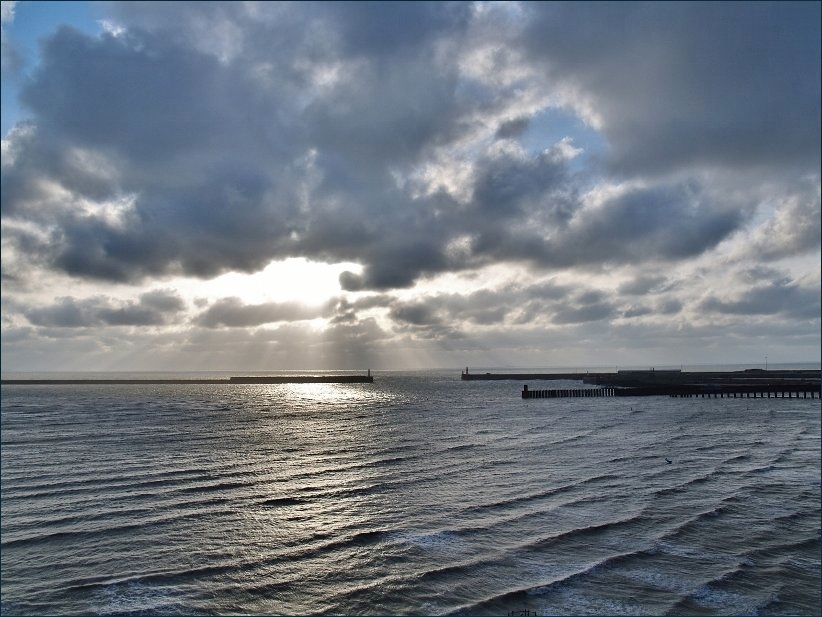 These top two pictures were taken in the last few days just as the worst of the rough weather subsided. The harbour looks dramatic when the wind whistles in coldly from the east ....it changes the direction of the waves in the harbour producing the effect shown above...and it is always chilly at these times, very chilly...brrrrr..
The picture below shows the sun bursting through the clouds over the channel in dramatic fashion a couple of days ago.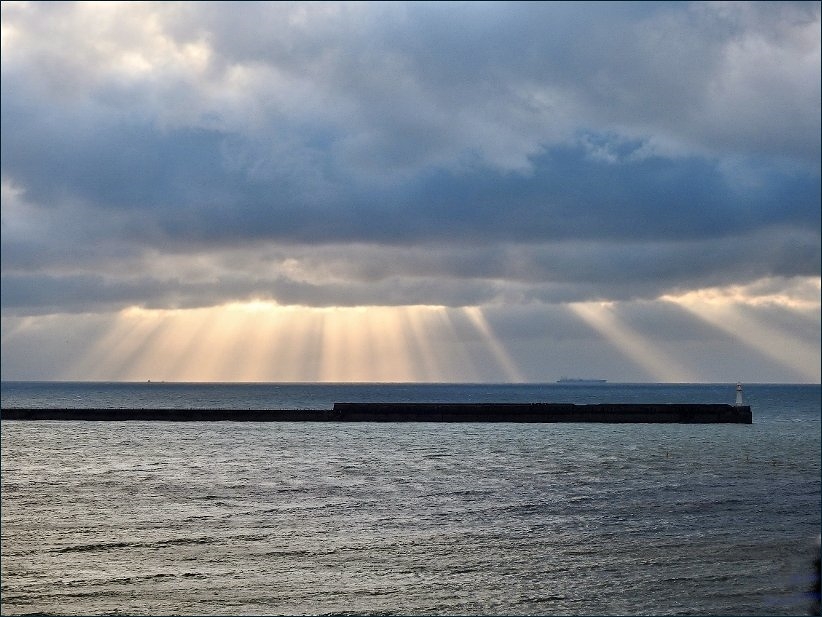 CHARLIE ELPHICKE: Ambitious for our area in 2018
________________________________________________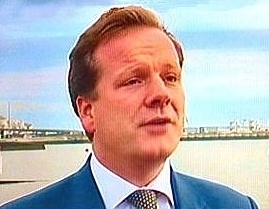 Dear Mr Boland,
As the New Year begins it's time to ask: what's next for Dover and Deal?
Everyone knows the story of how far we have come since 2010. A new hospital built in Dover. Deal hospital saved. The port sell-off stopped. £400 million invested in our area. Unemployment near halved. The Calais Jungle dismantled. The fast train sweeping into our stations, all day every day.
Everyone should be proud of what we have achieved together in the past seven years. Yet we must keep moving forward.
So what are the next steps?
A new cinema, shops and restaurants are being built in the heart of Dover. The St James development will bring in yet more jobs and money to our area. When we watch a movie at Cineworld or go shopping in Next, we must never forget that barely two years ago this area was blighted by the awful multi-storey car park and Burlington House. It has taken so much hard work to get this far.
St James is going to massively improve things in Dover – yet we need our high street to flourish too. Everyone wants the entire Dover town centre to succeed. Making sure the St James development draws more visitors to our high street is our top priority.
We need plans in place to link St James and our stunning seafront. We must find a way of getting visitors to see and enjoy all our town has to offer. That means guiding them from St James to our brilliant independent cafes, shops and micropubs in town – and the amazing Roman Painted House. I would love to see a footbridge over the A20, linking Bench Street and our Banksy to the seafront. I'm really interested to hear people's views on how we can make this work.
Deal has gone from strength to strength in recent years, following the arrival of the fast train. Yet there is still more to do. Firstly, we must seize the opportunity to rejuvenate Deal Pier and ensure this iconic landmark is brought into better use.
Dover is getting a new cinema. Deal's Regent Cinema was supposed to be re-opened years ago. The owners need to shape up and get film reels rolling at the Regent once more – or sell to someone who will.
And we need better road access for Deal. The A258 from Dover is too often gridlocked – leaving no other way to get to town. And traffic heading to Thanet ends up blocking Middle Deal Road. That's why we need to look at building a dualled spur from the A256 to connect to Middle Deal and the North End.
There is so much potential in our beautiful corner of Kent. The Citadel is a site ripe for development. We could use the leisure centre site for more parking and shops. I will be pushing for more services at our hospitals, more funding for our outstanding schools and better broadband across the villages. And we must continue to do everything we can to support our brilliant small businesses.
On top of all of this we have Brexit. I have been working hard to ensure we have the right plan in place so that traffic continues to flow freely between Dover and Calais. I've been working with the French to make sure they are ready too. We are leaving the European Union in little over a year – and we must be ready on day one for every eventuality.
It's clear there will be many challenges in the 12 months ahead. Yet after we've achieved so much over the past seven years – it's now time to push on and truly build a brighter future for Dover and Deal.
Charlie Elphicke MP for Dover and Deal.
* *
A selection of shots below of Atlantic Reefer manoeuvring into position as she readies for departure at midday yesterday wednesday. She was off to Hamburg in Germany. Busy times...
Schweiz Reefer left the day before, see post further below and in today already...Eastern Bay.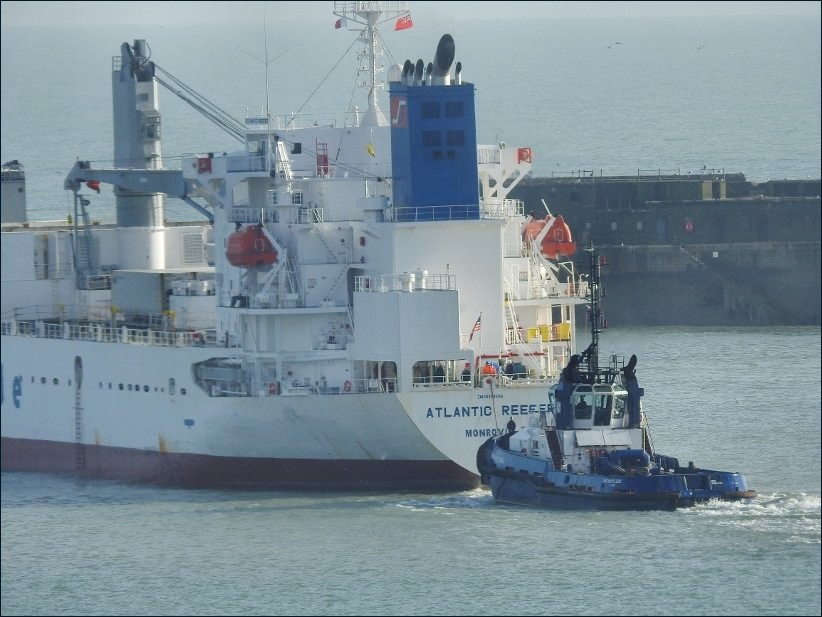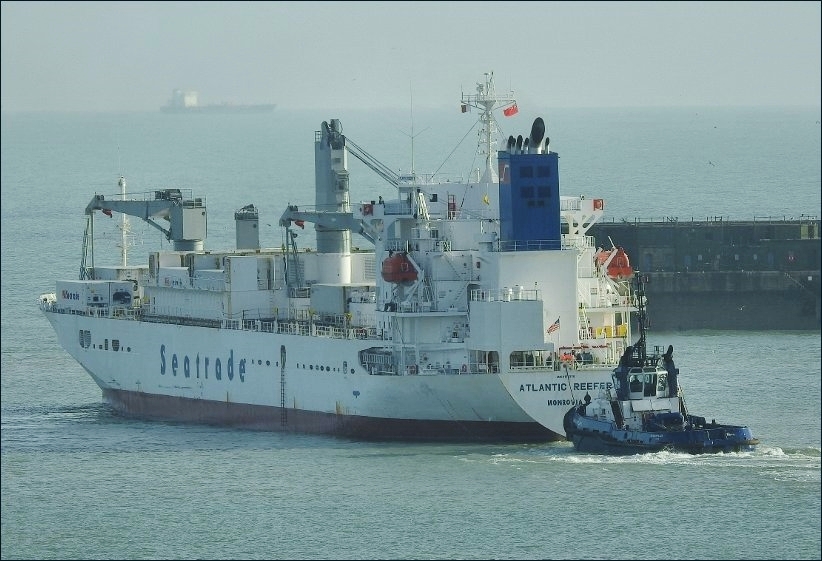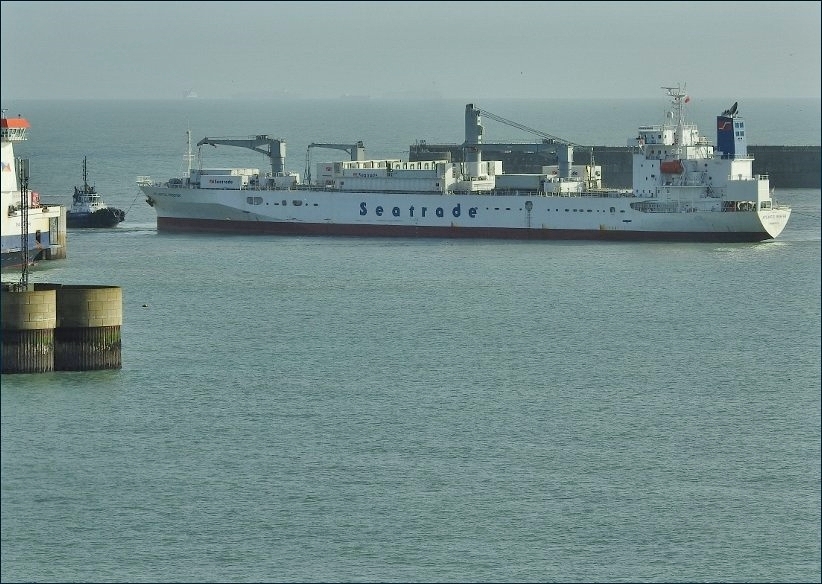 And away she goes...helped by the tugs as ever.
Thanks Mike for the info on the pubs...good to hear its still open down there and has a ghost too... one of these days I must get down there and have a look for that ghost...
"it was a dark and stormy night..."
Thanks for the further info Brian on all those pubs...of course it was different down there once with the Railway Station and so on... Dover Marine it was called I believe.
Yes that's good news indeed on the increased freight traffic Del. Hopefully it will all continue to flow in fine style..even Charlie refers to this essential need in his piece above. Yes indeed re the workers and the pub, but also there is a new truck park down there these times which also must help...

PaulB
Thursday, 11 January 2018 - 06:42
Post 4554
Del Styan, Norwich
Interesting that the pub mentioned is still open - is that so? Perhaps the new harbour workers are keeping it afloat .

And it's such good news about the record levels of traffic through Dover, and heartening to hear Calais's echo of the Dover management's plea for seamless trade. As you say
" just like now.." We can only hope!
Wednesday, 10 January 2018 - 23:13
Post 4553
brian, dover
there used to be four [4] pubs in that area,rose and crown,sink ports,golden arrow and fineally arshcliffe fort.

Wednesday, 10 January 2018 - 19:08
Post 4552
Mike J., Dover
Post 4549 - the pub over the bows of the tugs is the 'Cinque Port Arms' which is alive & well & has a resident ghost.

The building behind it used to be a pub as well - the 'Golden Arrow' closed in the late 80s, & had various other uses, cafe, offices etc., but is now boarded-up.

Both pubs have 'history'

Wednesday, 10 January 2018 - 14:06
Post 4551
Sea News, Dover
SCHWEIZ REEFER - THE TRADE GOES ON...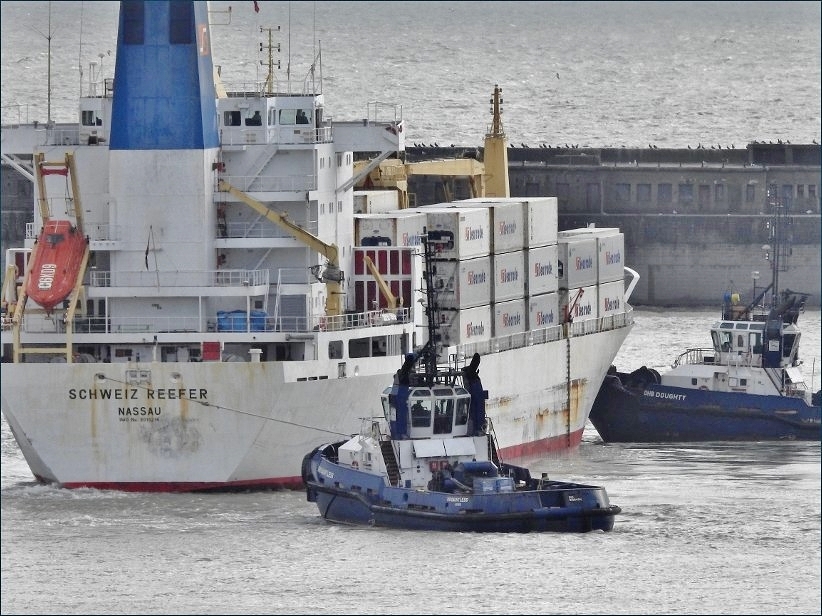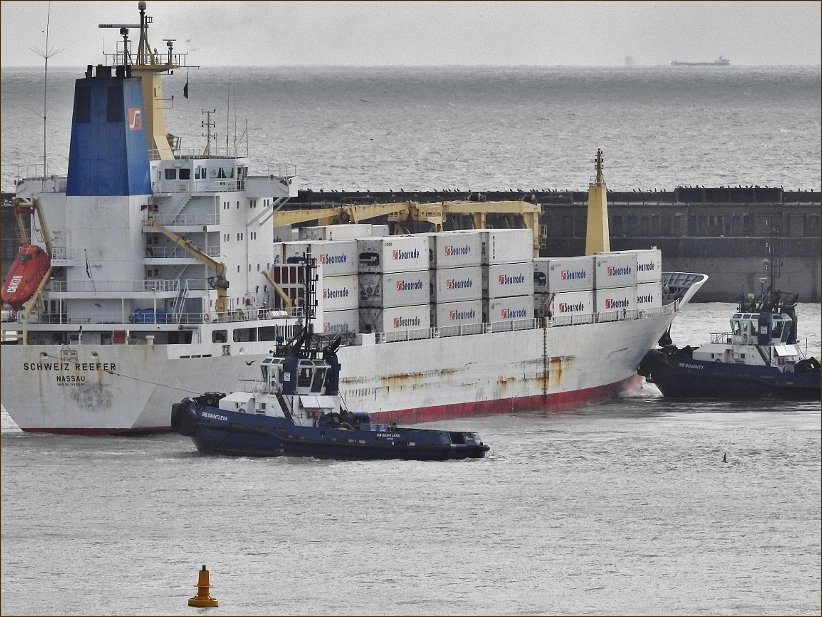 Very busy time for the cargo ships currently...we had Schweiz Reefer offloading with us for the past couple of days - she left yesterday, that's her above, pictures from a recent visit, and at 7pm last night we had another arrival from the South Americas...Atlantic Reefer. There were other vessels recently too, they slip in and out and we are not always able to get pictures this time of the year. Short days dark nights, but its always a joy to see the reefer trade very busy...
And speaking of all things commercial. Look at the latest exciting news below....

RECORD FREIGHT: Port of Dover announces fifth consecutive record year for freight.
_________________________________________________________________________
Freight volumes through the Port of Dover have reached record levels for the fifth consecutive year.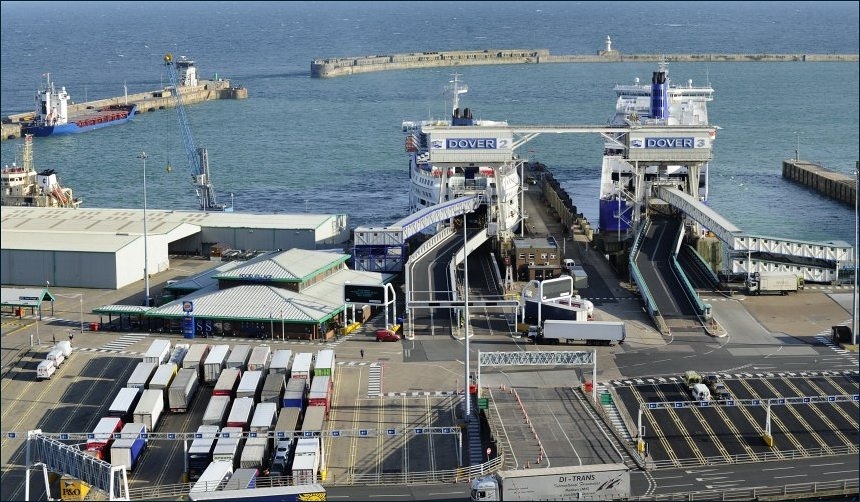 The Port handled 2,601,162 lorries in 2017 - up on the previous record by almost 10,000 units. It brings the total increase over the last five years to just under 650,000 units or 33% per cent.
This continued growth, says Port of Dover Chief Executive Tim Waggott, is proof that Dover continues to be the port of choice for hauliers travelling to and from Europe – the UK's largest trading partner.
The latest figures, released today, also underline the need for a post-Brexit trade deal that ensures continued traffic fluidity at this crucial export/import gateway which handles up to 17% of the UK's entire trade in goods worth up to an estimated £122 billion last year. As Europe's busiest ferry port, there remains no substitutable capacity elsewhere in the UK to handle Dover's trade volumes.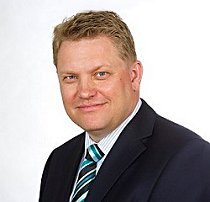 TIM WAGGOTT
Mr Waggott said: "We offer supply chains the shortest sea crossing between the UK and the Continent and, as such, will continue to be the most efficient strategic choice for hauliers.
"The recent year-on-year increases in freight traffic through the Port and continued growth projections further highlight that this key trade route connecting Ireland, the UK and the rest of Europe is vital to the UK's economic prosperity as well as the rest of the EU.
"With Brexit talks about to move on to trade, it is essential that all sides commit to the right solution to ensure fluidity at Dover and the wider trade corridor along with a more resilient strategic road network to support it. Jobs and livelihoods depend on it."
The Freight Transport Association (FTA) – one of the UK's largest trades associations, representing the interests of companies moving goods by road, rail, sea and air – echoed Mr Waggott's calls on post-Brexit trade requirements.
James Hookham, the FTA's Deputy Chief Executive, said: "The ease with which vehicles and their loads can pass through Dover and the French ports will be a big test of the post-Brexit arrangement. With Ro-Ro traffic growing at the current rates, getting clarification on how any future Customs procedures at Dover and elsewhere will work is the top priority for European logistics and supply chain managers in 2018."
Anastassia Beliakova, Head of Trade Policy at British Chambers of Commerce, agreed. She said: "It is great news that the Port of Dover is setting records, demonstrating its importance as a route for trade with Europe.
"It is therefore now important to ensure that ports and businesses all across the UK get clarity as our trading relationship with the EU changes.
"The UK Government must ensure to maintain customs cooperation with the EU, minimise customs administration at the border, as well as commit to infrastructure projects that facilitate the flow of goods to and from Europe."
And Jean-Marc Puissesseau, President-General Manager of Port Boulogne Calais, added his support for fluid trade post-Brexit. He said: "Like the Port of Dover, the Port of Calais is expecting to confirm record freight traffic this year, with 2 million heavy goods vehicles passing through in 2017.
"Forecast growth in freight traffic on both sides of the Channel in the coming years proves that the Calais / Dover route, the shortest and most economical route, remains a strategic choice for the transport and logistics industry.
"It is essential for the Port of Calais and its hinterland that this traffic flow is maintained and that the ongoing discussions between Europe and Great Britain over Brexit ensure the route's durability."
ENDS
It is clearly vital that we keep this trade flowing through the Port of Dover. We need a good deal for both sides in the Brexit negotiations to the commercial benefit of all - (just like we had before..!?) PB.

* *
Yes indeed Vic these are very exciting times. The new shopping complex is a great boost to Dover and to long term Dovorians like yourself... and as we feature regularly...the new Port development is hugely fantastic. We will continue to have lots of photos Vic.
So much going on....
PaulB.
Wednesday, 10 January 2018 - 05:07
Post 4550
victor matcham, Dovor (victormatcham@hotmail.co.uk)
I also think Dovor is on the way up again and the port and new shopping centre has gone along way to making it happen, the town centre still needs a much lifted make over.I was born here in 1942 so seen most what has happen to both the port and town more then most folk my family go way back to the 1500s both in Dovor and the bay so as you can tell we are a local family


. Still some great phots coming of the port and the work being done.Thank you and a happy new year to you all.
Tuesday, 9 January 2018 - 08:41
Post 4549
Sea News, Dover
2018 - A Year of New Openings and Opportunities in Dover District
________________________________________________________
Dover District Council is heralding 2018 as a year of new openings and opportunities across the Dover District. The year starts with a premiere as the much anticipated Cineworld six-screen, 900 seat multiplex cinema opens on Friday, 2 February at the St James leisure and retail development in Dover town centre. The £53m development by Bond City, owned and funded by Legal & General Investment Management Real Assets, provides a host of reasons for people to visit Dover town centre and includes new restaurants and cafes, popular high street brands, including M&S and Next, 24-hour gym, and a 108-bed Travelodge hotel.
In the Spring of 2018, a new £8m Visitor Centre opens at the Betteshanger Country Park, near Deal. The culmination of a major regeneration programme by Hadlow College and Dover District Council to bring new investment to the former East Kent coalfield site, the Visitor Centre incorporates the Kent Mining Museum offering a unique insight into the history of the former East Kent coalfield as well as a glimpse into the energy of the future.
Work also begins in March on a £500,000 refurbishment of Deal Pier to mark its 60th anniversary, including resurfacing, new seating, and structural repairs. By the summer, visitors and locals alike can enjoy a leisurely stroll along the renewed pier.
Energy of the future is also a feature for Sandwich in 2018 as the Discovery Park Enterprise Zone goes green with the opening of a £160m combined heat and power plant. The new facility will generate enough sustainable energy to power the entire park and to sell back to the National Grid. Plans are also underway at Discovery Park to develop a further 50,000 sq. ft. of laboratory space and 60,000 sq. ft. of new office space at what is already one of the leading science and technology business parks in Europe.
Later in 2018 the TradeMarq trade park opens at Whitfield including a new Lokn'Store self-storage facility, Subway, and trade units for Eurocell Plastics and Action Carpets. Construction continues apace on the new £26m Dover District Leisure Centre which opens in early 2019.
Work is also set to continue throughout 2018 on the Port of Dover's £250m Dover Western Docks Revival, along with major housebuilding programmes in Aylesham, Whitfield, and at Buckland Mill and Connaught Barracks in Dover.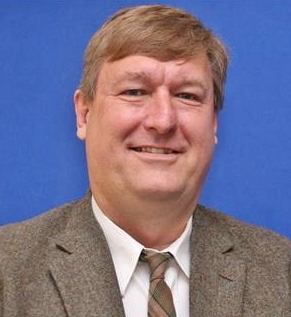 Cllr Keith Morris, Leader of Dover District Council, said: "2018 is going to be an exciting year right across the district with new openings, opportunities, and jobs for local people. The delivery of these major investments is already encouraging others to take a fresh look at what we have to offer in Dover, Deal and Sandwich. This is the year we put the district firmly on the map as open for business, tourism and as a great place to live. We can all play our part in 2018 by talking up what we have to offer."
END
Exciting times for sure.

Many thanks to DDC for the information above.
A couple of run-of-the-mill pictures now taken in the last few days as the workings begin to re-awaken..
the first shot here is looking across the grey day at the olde custom house as the diggers and the bulldozers rev up again for New Year action...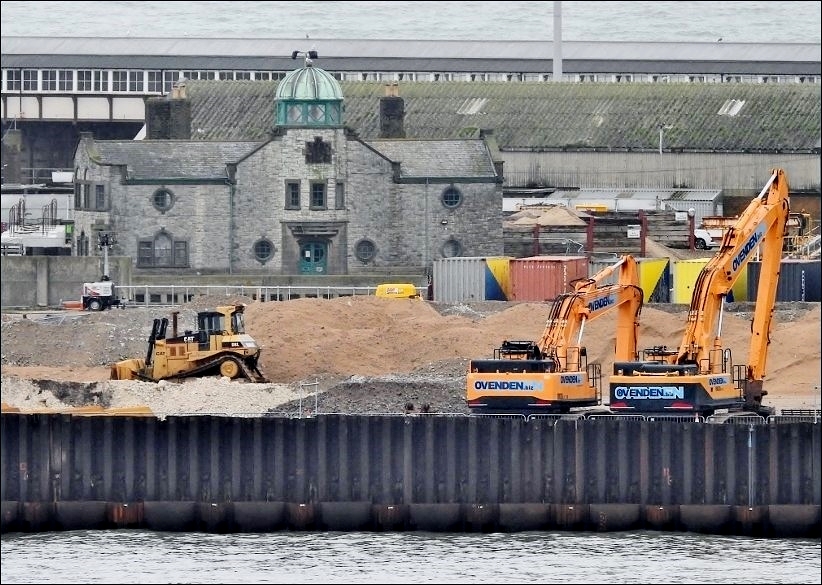 While below the swelling high tide has pushed the tugs higher into view across the harbour...it almost looks like the crews have parked and gone into the pub behind there...of course that would never happen.
Is that pub still open over there?.. sez himself in a headscratchin' moment of ponder ..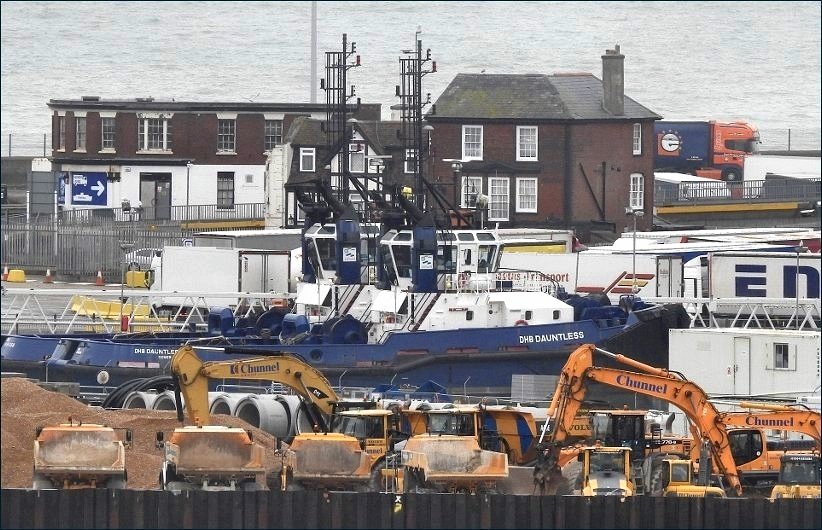 PaulB
Tuesday, 9 January 2018 - 07:10
Post 4548
Sea News, Dover
Stunning pictures below Sarah - absolute stunners!

You can feel the chill factor in your bones just looking at them. Hope you managed to get warm again later. PaulB.
Monday, 8 January 2018 - 15:33
Post 4547
Sarah, Ramsgate
Margate Lifeboat out on exercise on a very cold Sunday morning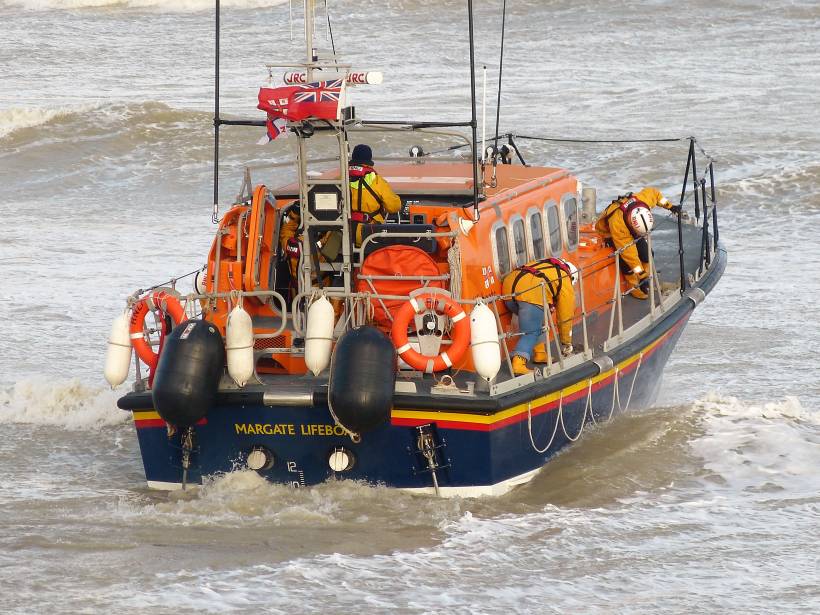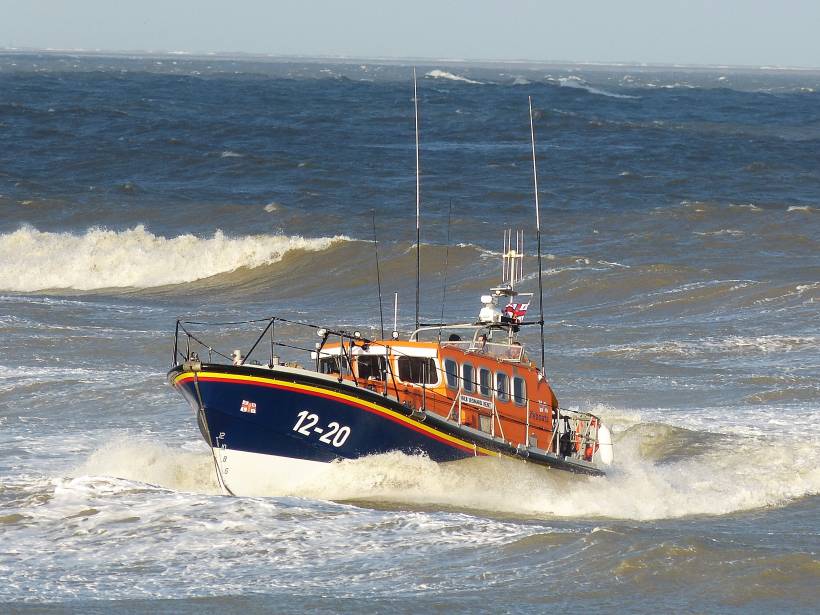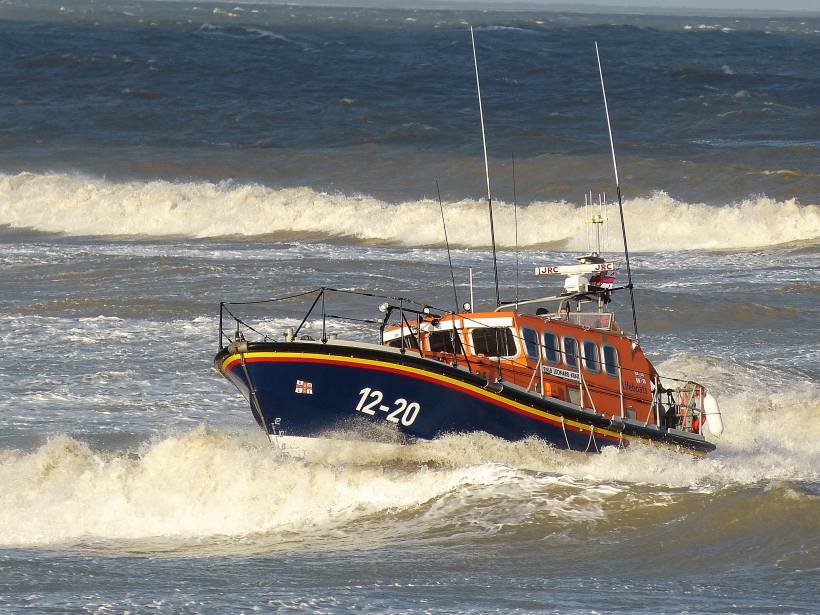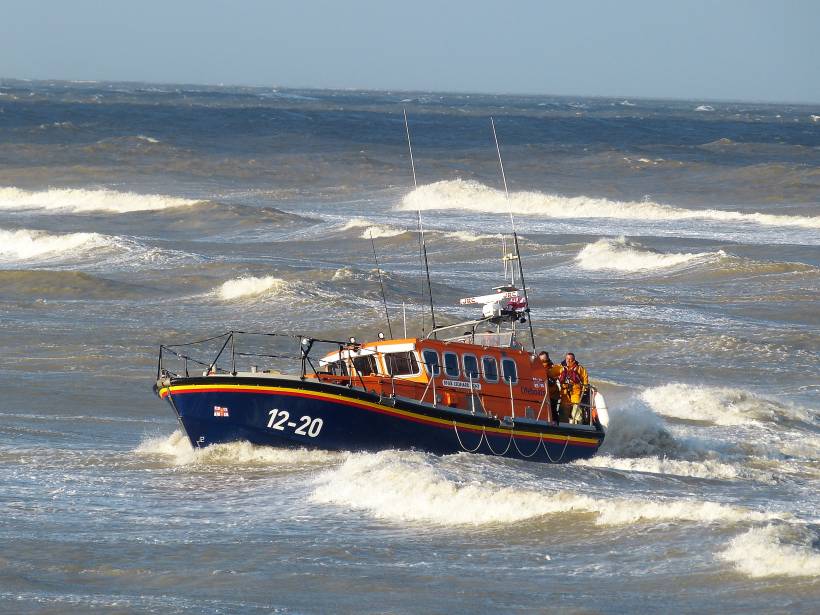 Monday, 8 January 2018 - 08:12
Post 4546
Sea News, Dover
TUGBOAT SPECIAL - Tugs at the Port of Dover
featuring Dauntless this time around...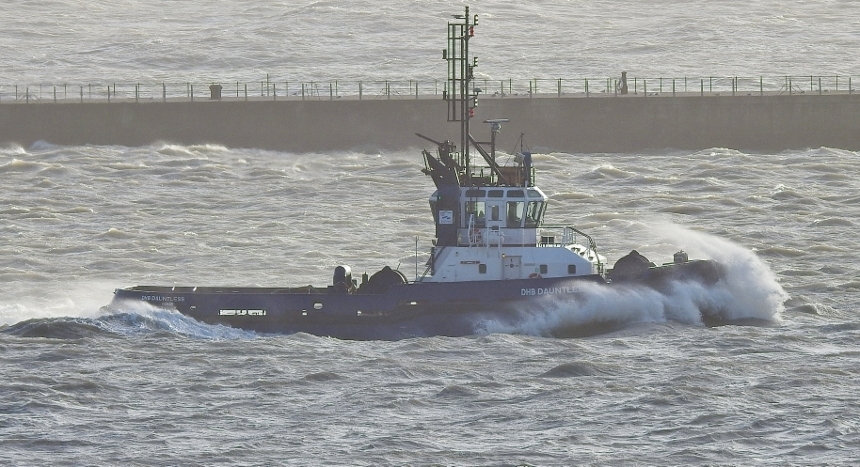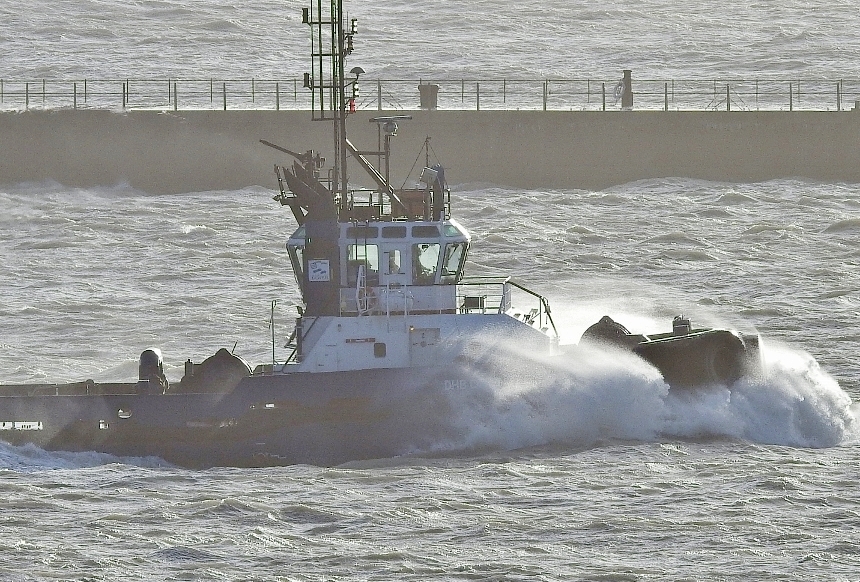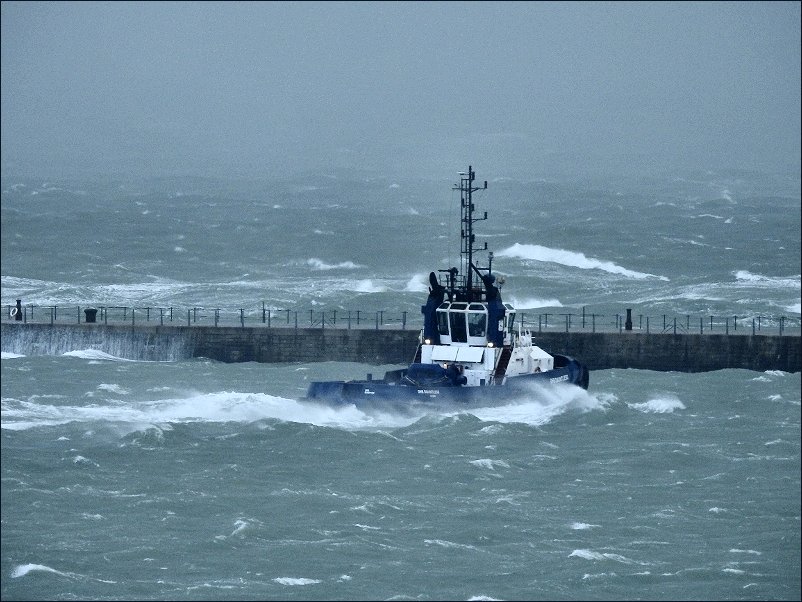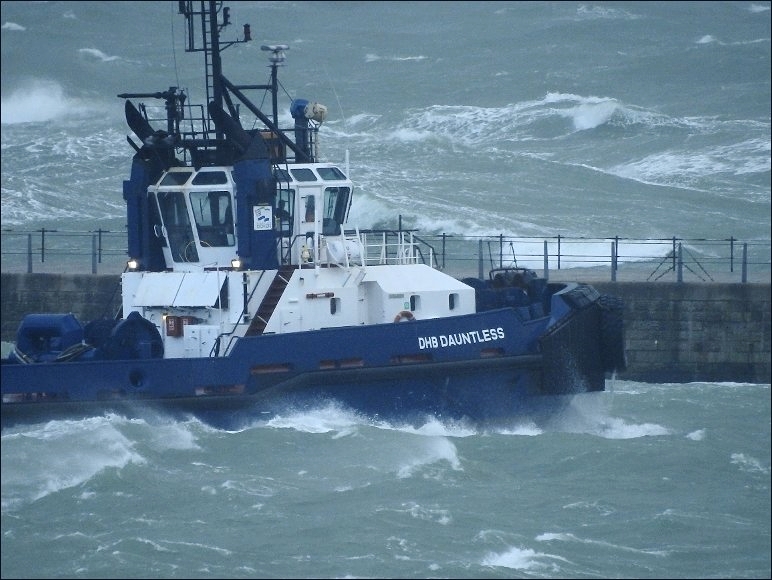 The top two shots are from late last week and show Dauntless in action in those strong winds courtesy of Storm Eleanor. The tugs always make attractive pictures especially in adverse conditions. Their workload has been heavy recently, with the ferries in near constant need of support and attention as they dock. The second two shots show Dauntless again, but from a previous time...also once again in stormy, wild and woolly conditions.
The biting winds go on...there is one heck of chill factor currently ..yikes

Many thanks Harald - great pictures below there once again. Very welcome

Monday, 8 January 2018 - 05:55
Post 4545
Harald Boot, Tholen, The Netherlands
I saw on Marine Traffic that the Spirit of France is at the Damen Verolme shipyard in Rotterdam. I tried to find a good place to see her, but the only thing I could see this afternoon was this.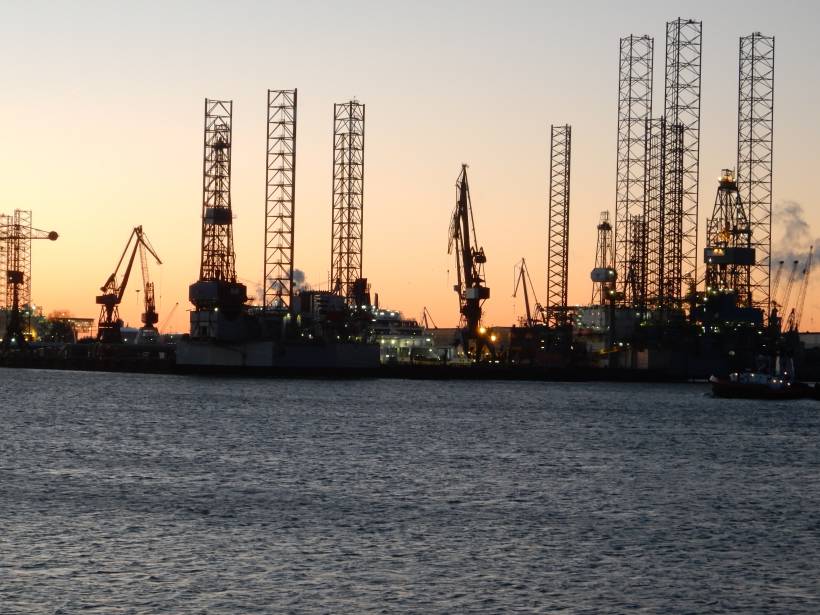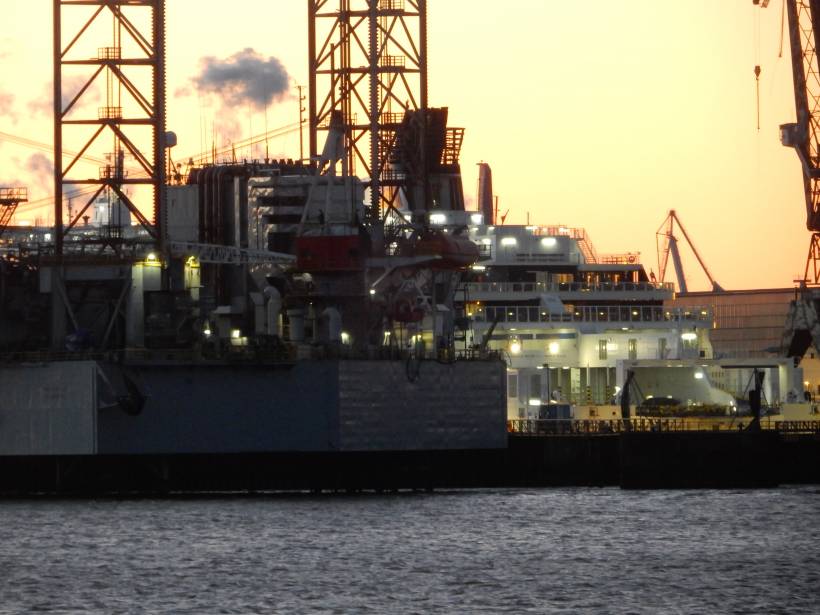 Sunday, 7 January 2018 - 18:59
Post 4544
Sea News, Dover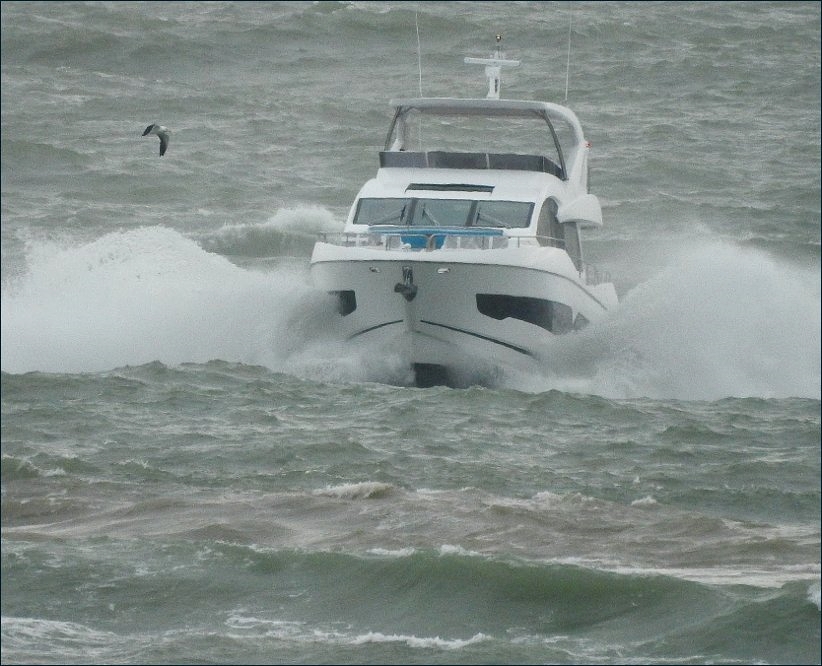 A couple of super-impressive brand new Sunseeker type motor launches powered into the harbour on...ermm..Friday. Before yours truly could get the camera focused the first one powered out of view but we caught the second of the duo as it blasted through the rough tough seas and here she is here... they have come up from their builders in Poole, no doubt being delivered to lucky clients.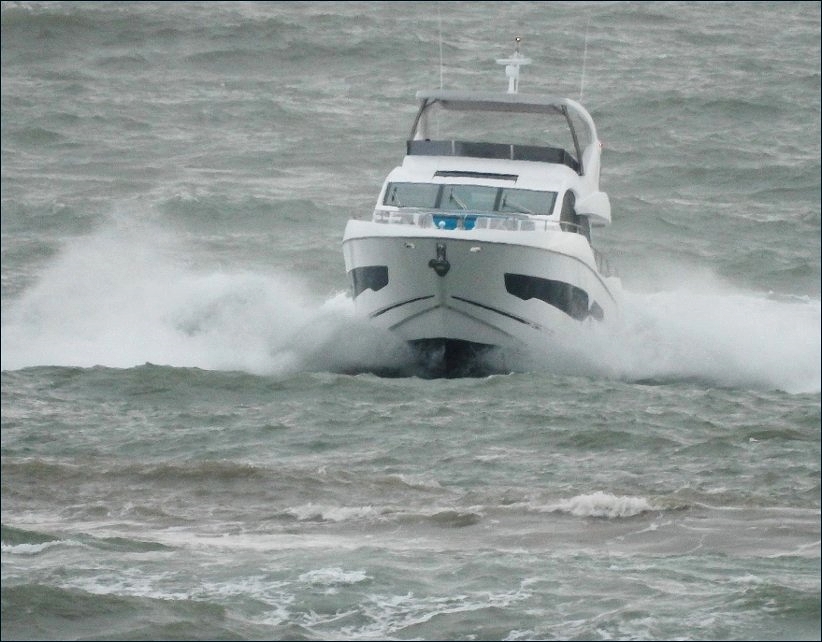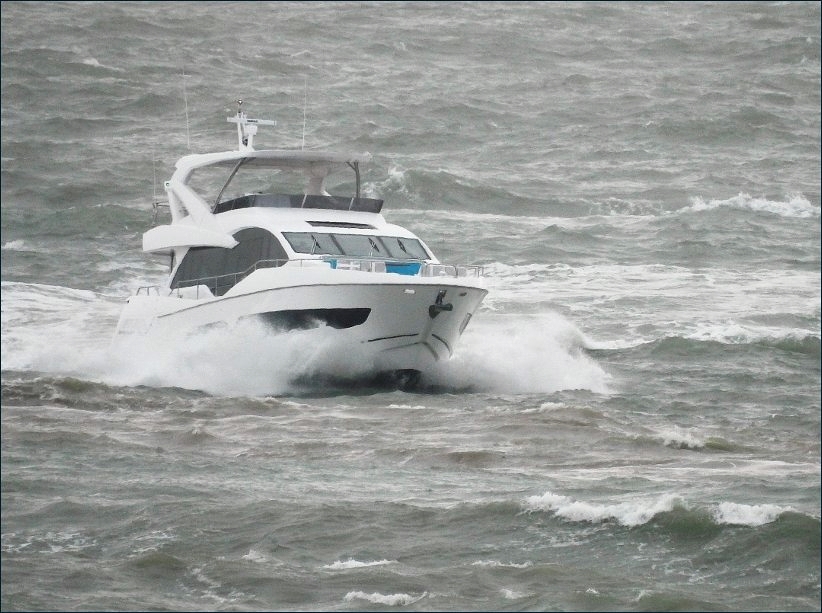 The pictures look slightly odd as there doesn't appear to be anyone 'driving' the thing...surely they are not being delivered by remote control...


lol! of course anything and everything is possible nowadays..
Hi Del have just checked through binoculars and there's not a cormorant to be seen today anywhere...where they go Gawd knows..somewhere warmer and less blustery maybe..

Nice picture below Mike.

yes getting prepared for the resumption of banging... missed all the piledriving over Christmas.
FURTHER NOTE RE DIMENSIONS: Just to let everyone know again in case it was missed. The optimum size for pictures now is 820 pixels wide...just like all the pictures in this post. This 820 size shows them at their best. If you resize..resize to 820. If pictures are posted larger they will still show at 820, if pictures are posted smaller they will show at the size posted.
Hope that's clearer than muddd. The font size is larger too.
PaulB
Sunday, 7 January 2018 - 08:19
Post 4543
Del Styan, Norwich
Love those cormorants. I wonder where they are all going? ( if that's not a stupid question ).

Saturday, 6 January 2018 - 23:20
Post 4542
Mike J., Dover
Signs of life in the old Jetfoil Terminal on Saturday morning with the crane jibs raised as the piling barges come back to life after their Christmas/New Year slumber.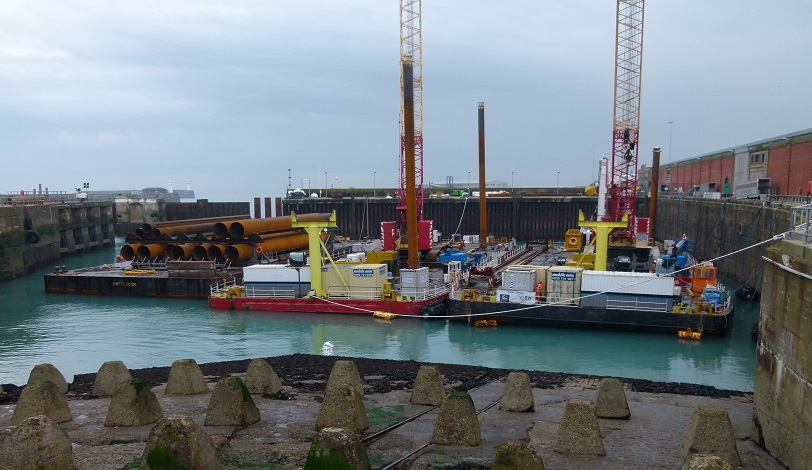 Stand by for a resumption of the thumping . . . . .
Saturday, 6 January 2018 - 23:14