Sunday, 19 November 2017

doverforum.com/sea-news
Featuring all the ships that come and go and work at the Port of Dover with further coverage of Ramsgate, Calais, Dunkerque. Email: dover7@msn.com to send SEA NEWS pix or info.... or click ADD YOUR COMMENT below to post direct, no membership needed.
Mammoth Tooth Find - Extraordinary at Port of Dover see 4389.
DFDS - Helping to tackle Breast Cancer - see 4377.
PORT of DOVER: COOL CARRIERS..great cargo coup. New Trade for Dover.. 4336.
P&O FERRIES...women in the workplace .. also 4336..also see 4370 for the new graduate seafarers.
PORT: Latest DWDR news and drone pictures...see 4330.
DFDS and the Maritime Catering Apprentices 4323.
P&O Ferries help children with serious illnesses cross to France 4316.
Port of Dover's Big Christmas Ice Event 4311. Fun for all...
Port of Dover sponsors War Horse 4294
DFDS - Crowned Europe's leading Ferry Operator 4287.
DDC Leader Paul Watkins retires...see 4282 and 4270. Replacement 4328.
Use our SEARCH ENGINE below to find all sorts on the SEA NEWS pages..more than 200 now with more than 4000 nautical posts. Posts welcome. Max of 5 pictures preferred per post. Sea News Editor Paul Boland.
Type Cruise Visits (or indeed anything) in our Search Engine below for the latest cruise ship arrivals..
Post 4402
Ed Connell, Dover Strait
Dover Seaways bunkering from Whitstar in Dunkerque West at the weekend.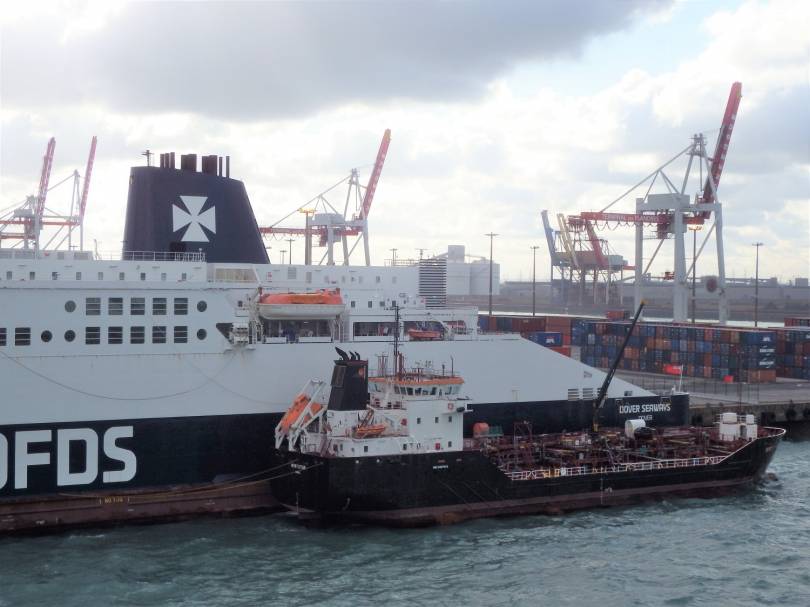 Containership MOL Presence anchored off Calais this morning illustrating what a boxboat looks like without its boxes!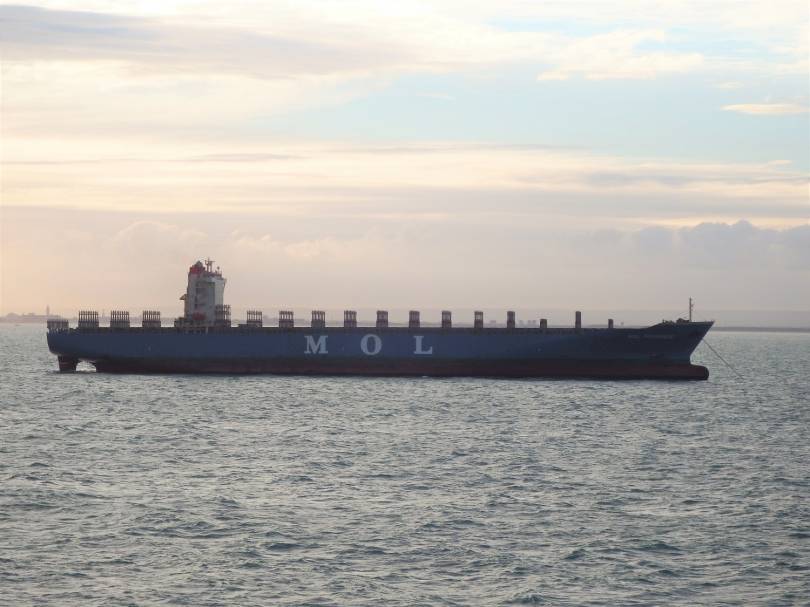 Tuesday, 14 November 2017 - 09:38
Post 4401
Sea News, Dover

Public Consultation On Plans For A Commonwealth War Memorial On Dover's Western Heights
As the country has just experienced its annual Act of Remembrance, people are being asked to share their views on proposals for a Commonwealth War Memorial on the Western Heights in Dover. The public consultation runs from 10 November to 10 December 2017.
The proposed memorial would be unique in honouring the names of all 1.7 million Commonwealth soldiers, sailors and airmen, along with members of the merchant navy who lost their lives in World War I and World War II. Their names would be inscribed on 12 white granite walls, each one facing the sea and the sun.
The Western Heights in Dover have seen over 200 years of continuous military development from the Napoleonic era to the early 1960s. The site identified for the proposed memorial was originally the location of barrack buildings built as part of the town's Napoleonic defences. The terracing on the site provides outstanding views across the English Channel to France.
Dover District Council is facilitating the early development of the project, which is likely to be delivered and managed by an independent charitable trust. Development of the early proposals and initial design work has been funded by the Government's Libor Fund, which promotes activities to support and honour veterans. The project team includes John Pegg, Baca Architects, and WSP.
The public can view the proposals online and share their views by completing a questionnaire. There will be two public events at Dover Library, Market Square, Dover, CT16 1PH on Wednesday, 22 November (2pm-7pm), and Saturday, 25 November (10am-3pm), where people can view the proposals, talk to the team involved with the early development of the plans, and provide feedback.
Ends
Many thanks to DDC for the info above.
Who can resist? Below we have another shot of one of the worlds biggest beasts as she glides by and dwarfs the Varne Lightvessel. See also the earlier post 4397 for more detail...all 215,000 tons elegantly drifts by Dover on the way to her first stop at Le Havre.
Munich Maersk - Fabulous ship. Fabulous size. Try parking that one...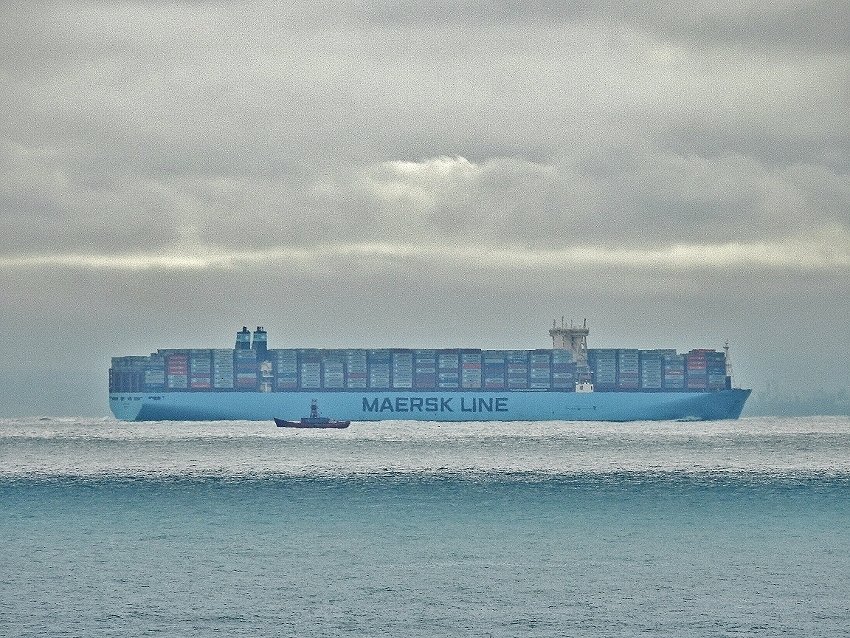 Dramatically through the light drizzle a day or two ago....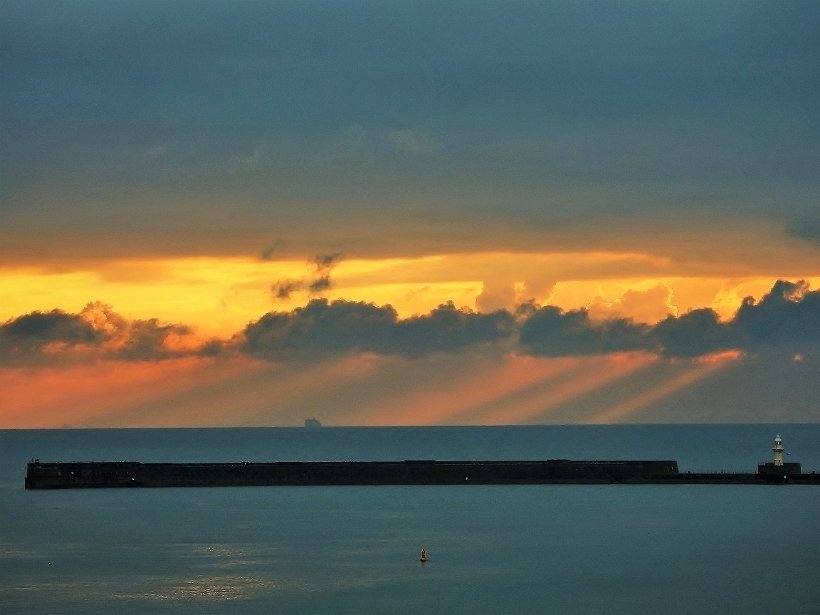 Following on from Ed's nice shot of the Luzon Strait at the Dover Cargo Terminal. Here she is moving off in the darkness last night at 20:15 ( 8.15PM ). It was dark of course so yours truly was quite surprised to get a reasonable image. The ship was off to Hamburg. To the left you can see the P&O Ferry at Dover 9 while the red sky in the distance is in fact Calais all aglow and looking good.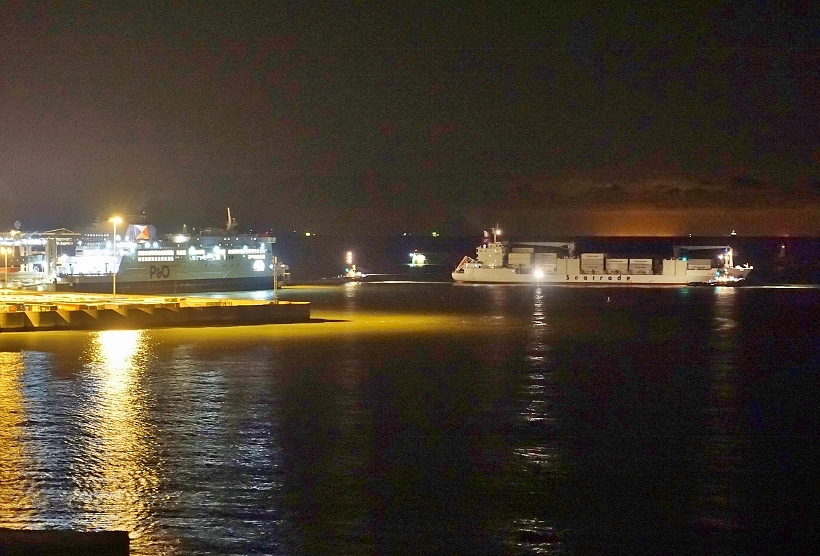 Del and Vic..Ah yes indeed its all trial by media these days. An individual can be hung drawn and quartered without knowing what for in many cases... it can be tragic as we've seen.
PB.
Tuesday, 14 November 2017 - 06:41
Post 4400
Del Styan, Norwich
Fair comment there from Vic re Charlie Elphicke. Innocent until proved guilty,

Monday, 13 November 2017 - 23:19
Post 4399
victor matcham, Dover
Some very good clear photos there
+the sea water looks the same, years ago you could not see the sea water looking like that.So thank you for showing us that. I did talk to our MP over the weekend you could clearly see how upset he is with what is going on. He told me like he has all ready said he does not know what is going on and he has done nothing wrong. I feel at this time we should take that what he is saying is true untill it comes out what he done wrong if anything .

Monday, 13 November 2017 - 11:43
Post 4398
Ed Connell, Dover Strait
Luzon Strait at the DCT today.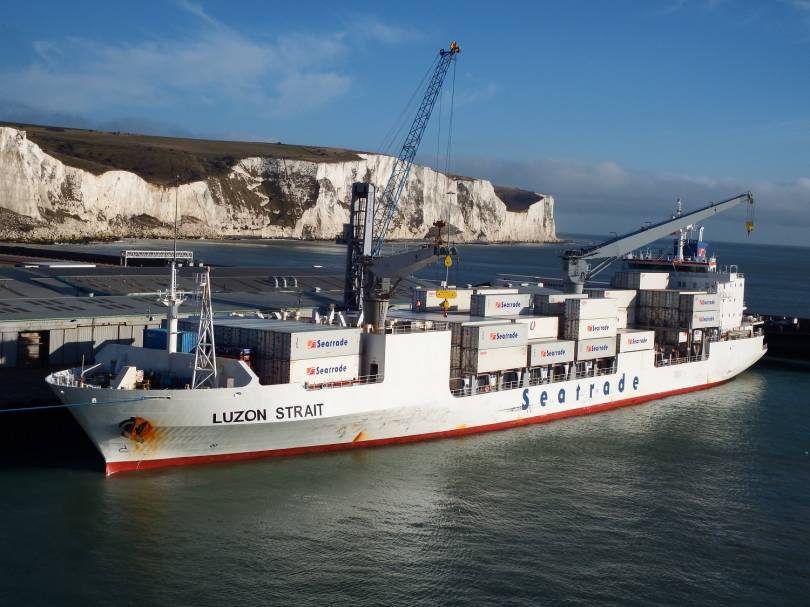 Monday, 13 November 2017 - 09:42
Post 4397
Sea News, Dover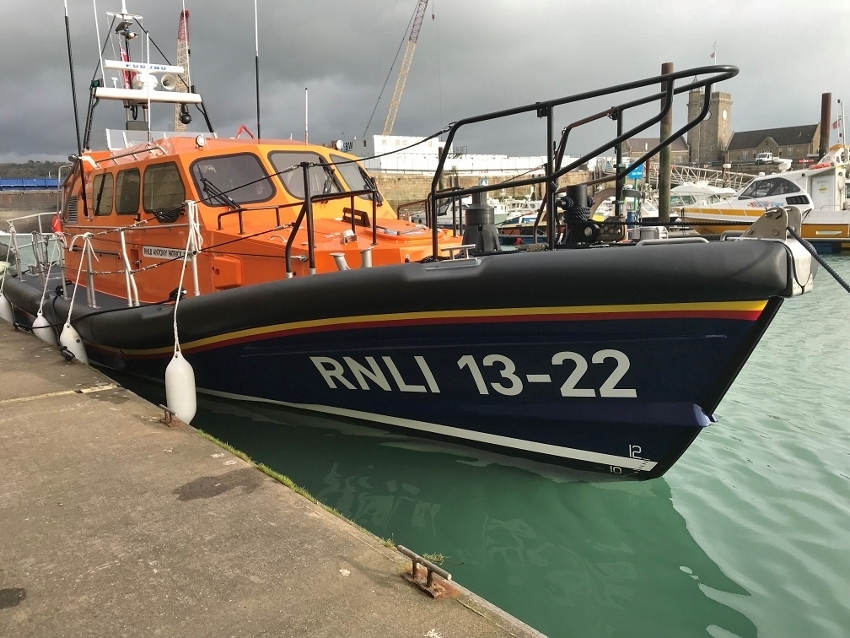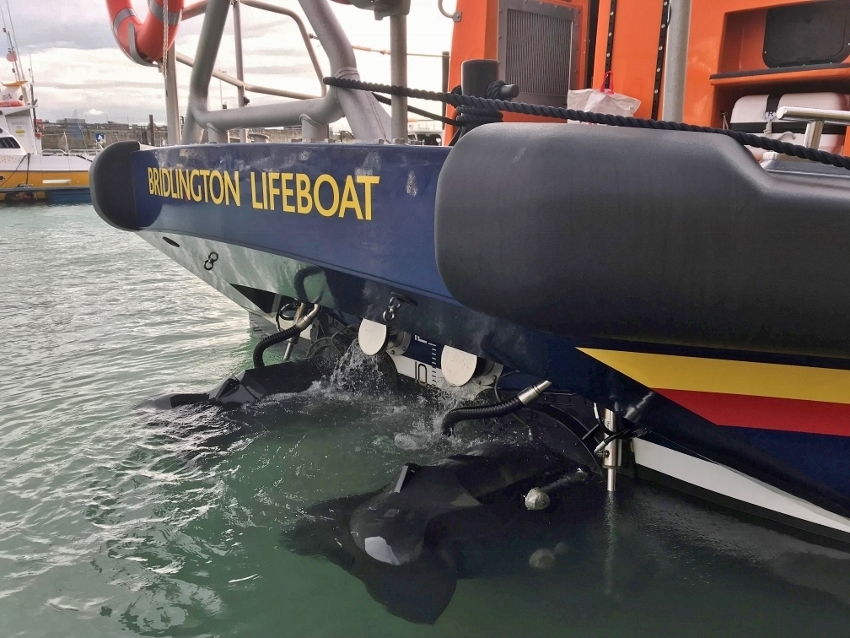 As promised there we are above...the final two pictures currently from Lifeboatman BEN PAYNE.
They show the Shannon Class lifeboat during her stopover here at the Port of Dover...as mentioned previously she was on her way to Bridlington. See earlier post 4395. Many thanks Ben, great pictures.
LOCAL SCHOOLCHILDREN HELP ONE OF THE MOST FAMOUS NAMES IN THE SHIPPING WORLD MARK ITS 180 YEAR ANNIVERSARY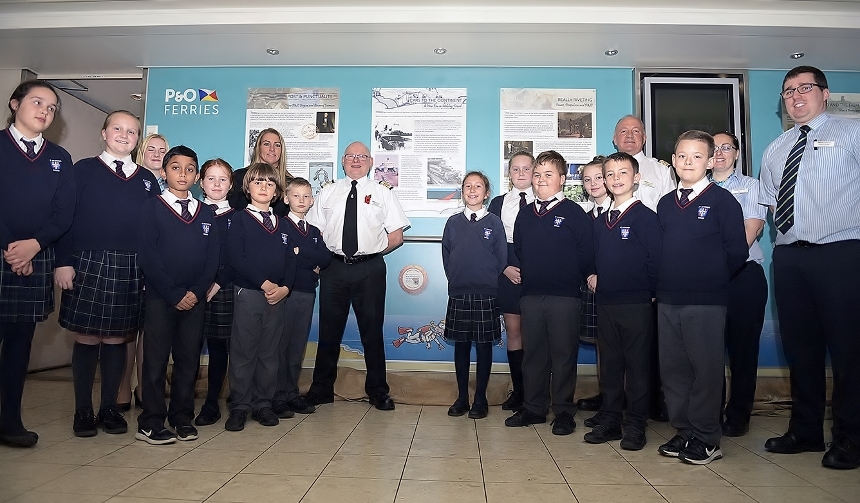 TWELVE schoolchildren from Dover helped P&O Ferries mark a unique occasion last week when they witnessed the unveiling of an on-board display to commemorate the 180th anniversary of the founding of the world's most famous shipping line.
The group of 8 to 11-year-olds from St Richard's Catholic Primary School had been invited onto the Spirit of France to watch the unveiling of six wall panels which explain to passengers how P&O became a famous name, when tourists started taking their cars to the continent and what roles the captain and his crew perform on board. The display also features information to interest younger readers such as the fact that the largest P&O Ferries' ships weigh the same as 8,570 elephants.
For the ceremony to mark the unveiling of the panels - which had been announced over the tannoy to every passenger on board - the children counted down from ten to one and gave a loud cheer when the covering curtain was removed.
On arrival in Calais, the party from St Richard's was given a tour of the bridge of the 47,000 ton ship by Captain Sam Hamer. And on the return journey they were treated to a special sit-down lunch in the Food Court, organised by the ship's On-Board Services Manager Paul Staveney, with the lasagne going down especially well.
Beth Ellis from P&O Heritage, which designed the 180th anniversary display, said: "It was brilliant to see the children interacting with the exhibition, asking lots of questions and generally being excited to be on board the Spirit of France. This is an astonishing company with a proud history and we were delighted to be able to share some of that with them."
Andrew Gretton, Business Manager at St Richard's Catholic Primary School, added: "The children were buzzing all the way back to school and could not wait to tell everyone about it. The generosity shown by the crew was incredible and something that we will not forget."
P&O Ferries' stakeholder project offers visits to schools, colleges and businesses within the local community. This is a totally free initiative. The visit is tailored to school requirements and their current projects. It can be a talk, with learning materials and other artefacts, judging a competition or providing an insight into the world of ferries and logistics.
ENDS
And here we are...the Spirit of France.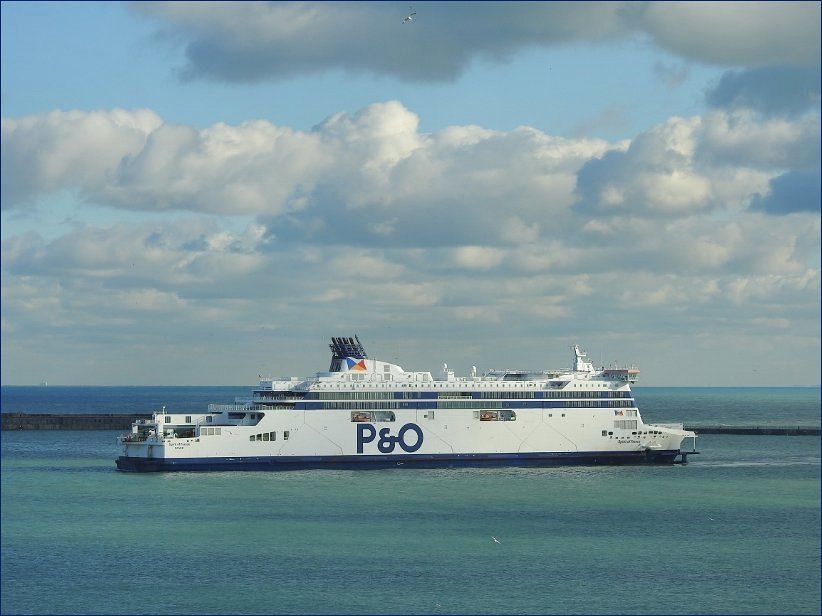 Many thanks once again to the guys at P&O Ferries.
* *
An extra picture below showing one of the worlds biggest ships...Munich Maersk. She weighs in at a considerable 215,000 tons. Staggering! Pictured here as she moved down the Channel on saturday morning at about a quarter to midday. Her first stop was Le Havre. But she wasnt dropping that load off in Le Havre, she was no doubt bound for the far flung far east. As we used to say in the olde days..."wot a whopper!"
As you can see...yours truly went a bit technical there...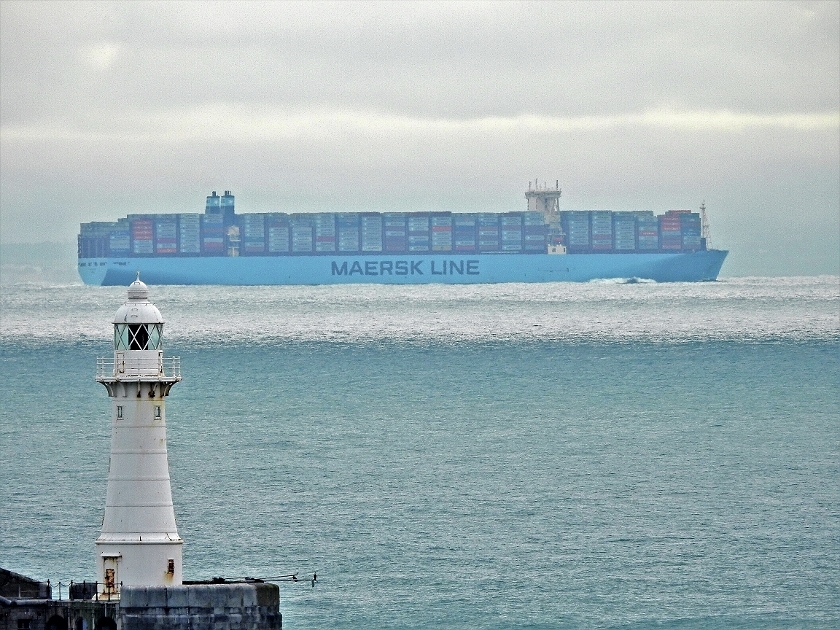 "
Munich Maersk
One of the world's largest container vessels –
Forming part of an exclusive club of megaships, the Munich Maersk stretches some four football pitches in length (399 metres) and spans a breadth of 58.6 metres. At full capacity, she can carry 20,568 TEU containers.
"
There you have it!
PaulB

Monday, 13 November 2017 - 07:06
Post 4396
Colette B, Dover
Fabulous photos there Ben

It was good to see you last week, I was there again yesterday but you must have been having a well earned day's rest

Post 4394, beautiful photos Mr B ......... we are sailing!
That's a great image for Remembrance Sunday

Sunday, 12 November 2017 - 13:42
Post 4395
Sea News, Dover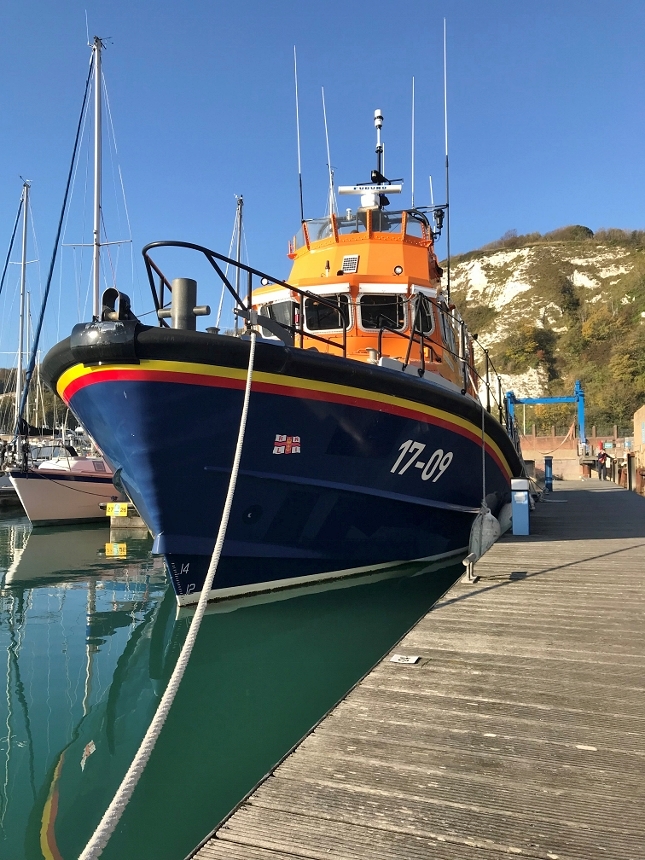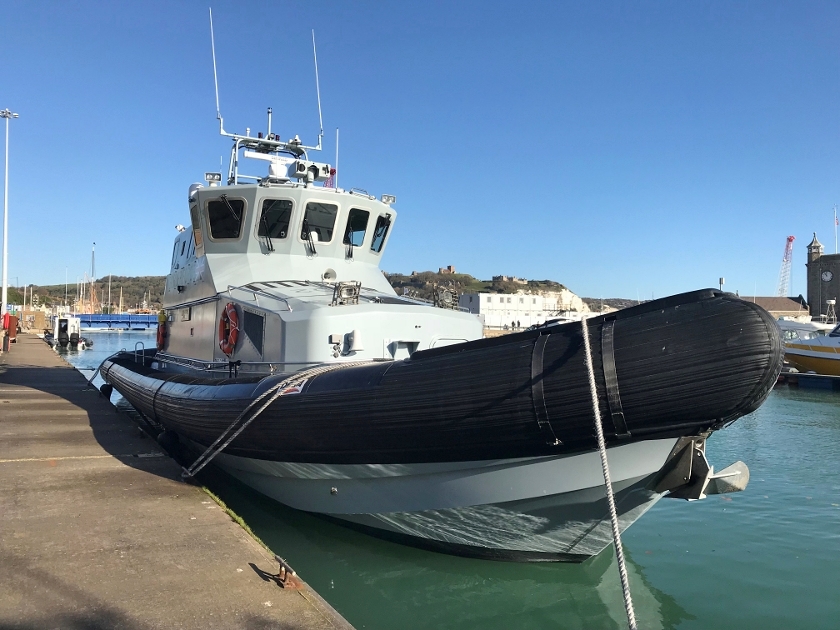 THE PICTURES ABOVE ARE BY LIFEBOATMAN...BEN PAYNE.
Many thanks Ben once again... cracking pictures there. AND we have TWO more to follow on Monday morning.
Ben sent over the following email packed with info...so rather than yours truly trying to explain things, we will let Ben do the talking ..
"
Hi Paul,
Hope you are well. I saw Colette in the hotel last week and gave her my new email to pass on to you. We had been chatting about why the presence of so many lifeboats recently.
We had a relief boat recently 17-38 Daniel L Gibson which is named after a Yorkshire farmers only son who passed away aged just 28. His legacy provided 75% of the £2 million needed to build a Severn class lifeboat at the time. So having the boat named after his son is a fitting memorial which brought end to generations of farming in the family. 17-09 is now back on service as stations boat.
We had Dungeness stay in the marina for two days as they had some technical issues with their slars (Shannon launch and recovery system) and were unable to recover the boat until the issue was resolved.
Our boat 17-09 has been undergoing an electrical upgrade seeing a new radar installed along with a state of the art chart plotter and direction finding equipment. It's more or less the same as a Shannon class lifeboats equipment now but in a Severn.
Also today we saw Bridlington's new Shannon class 13-22 stop over night while she is in passage to Bridlington. Her next stop is Lowestoft then onto Scarborough and back to Bridlington Sunday for her eagerly awaited arrival. Pics to follow.
Hope all is good.
Kind regards
Ben
"
Don't forget...TWO more pictures to follow tomorrow of the Bridlington boat. The pix will be part of one of our Monday pinned specials.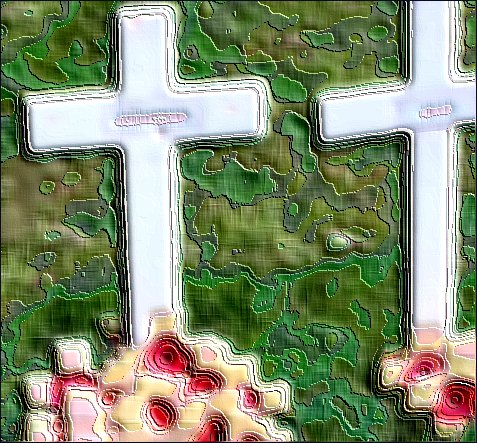 Remembrance Sunday
PaulB
Sunday, 12 November 2017 - 07:32
Post 4394
Sea News, Dover
Beautiful Weekend Sailing in Dover Harbour.
These pictures are from last weekend, taken obviously in gorgeous sunny and colourful weather. The yacht Torbellin now free from summer marker restrictions had free rein to go wherever she wanted...outside of the DWDR Exclusion Zone of course.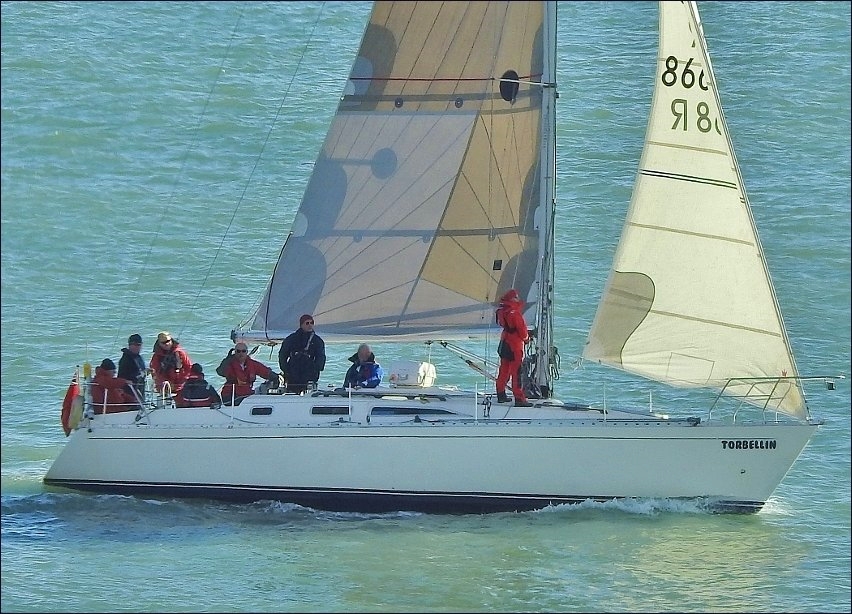 Aahhh the tranquillity of it all...
Sadly the weather isn't like that today, we are currently enduring slate grey drizzle with dire visibility..
PaulB.
Saturday, 11 November 2017 - 08:17
Post 4393
Sea News, Dover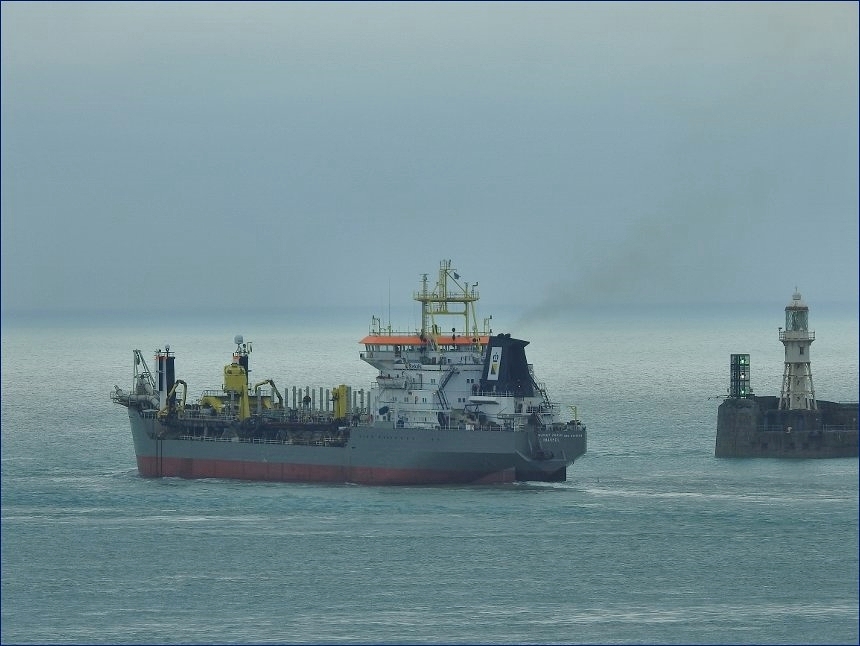 The Barent Zanen suction dredger still plying her trade back and forth. There she goes again above late Wednesday moving off gently through the gloom, but somehow more colourful gloom this time, and heading back to the Thames estuary to suck up more sand ...which is all destined for us here in Dover.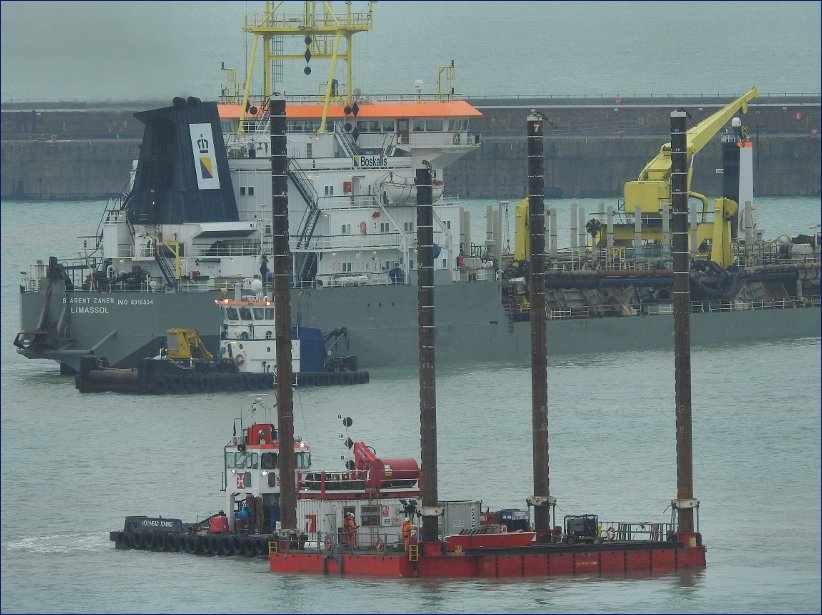 A bit earlier on the same day this new platform was being slowly pushed or manoeuvred into position. The shot above shows tug Llanddwyn Island doing the pushing.
She must have called for extra help as she was soon joined by Afon Lligwy as the picture below shows. In the background you can see of course Barent Zanen with Morag M in attendance as is the usual procedure. Its a packed picture as also coming into play we can see the harbour patrol/pilot boat. You can see the orange clad guys working away there on the platform...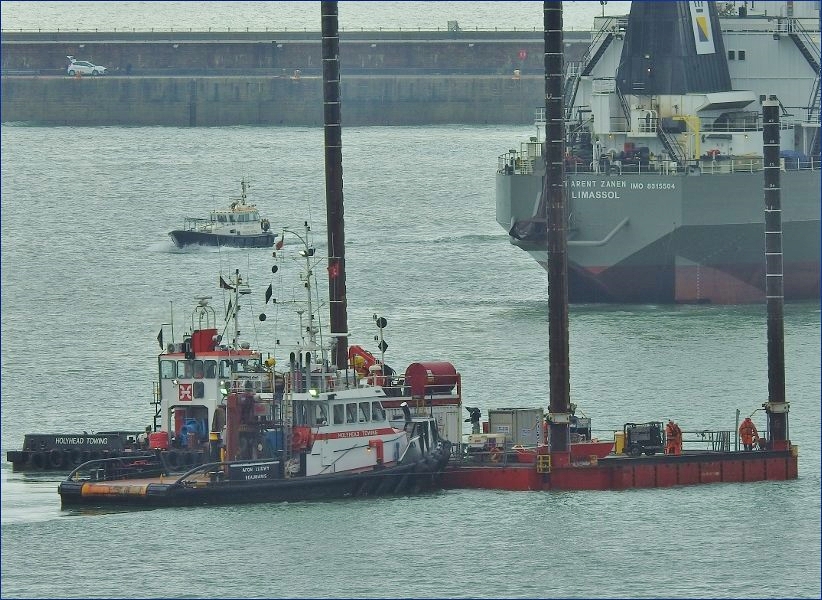 Well done Mike good to see those pictures below of Pickle and good to have that info too.
Excellent work from our 'inshore correspondent' below there. Don't miss those pix.

Good one Ed of Esmeralda...yours truly is having some trouble getting the reefers at the moment !!


Yes Vic - heck of a large tooth that one. Hopefully your dentist wont have to pull anything that big!


Don't miss those extra special pictures of the woolly mammoth tooth further below..see 4389.
PaulB.
Friday, 10 November 2017 - 06:27
Post 4392
Mike J., Dover
The elegant PICKLE [posts 4352/66] returned to Dover late on Wednesday night from Plymouth & sailed late afternoon on Thursday, heading north, probably returning to Hull where she is based.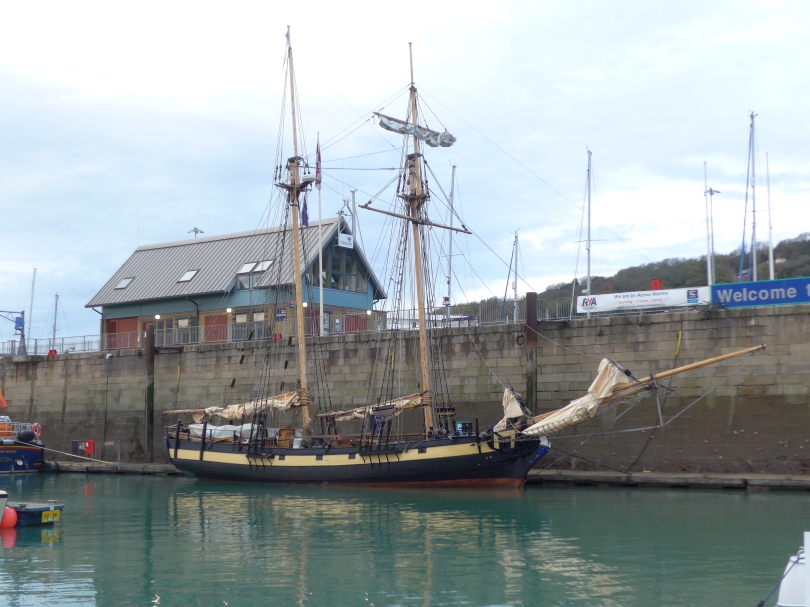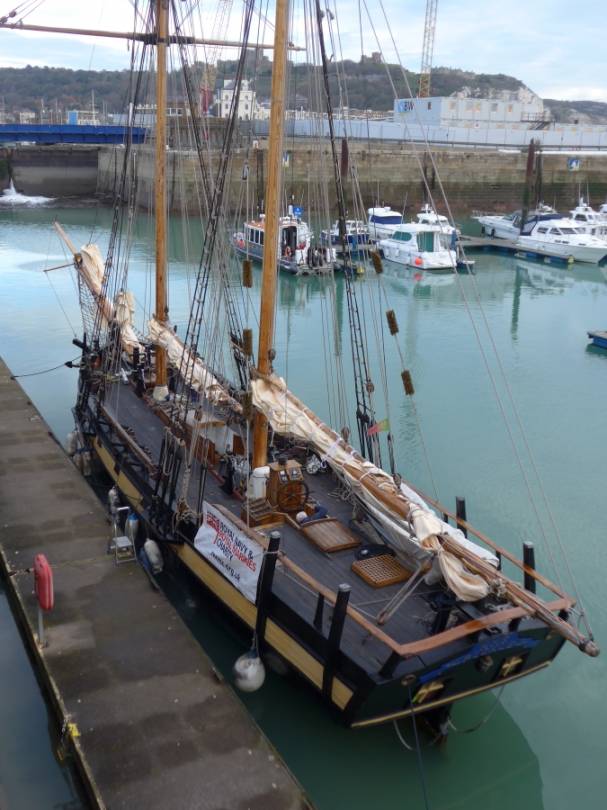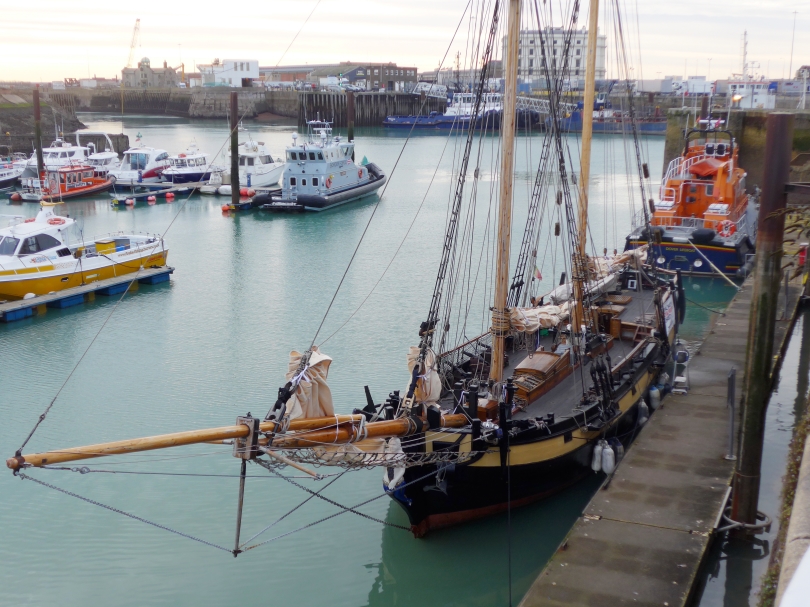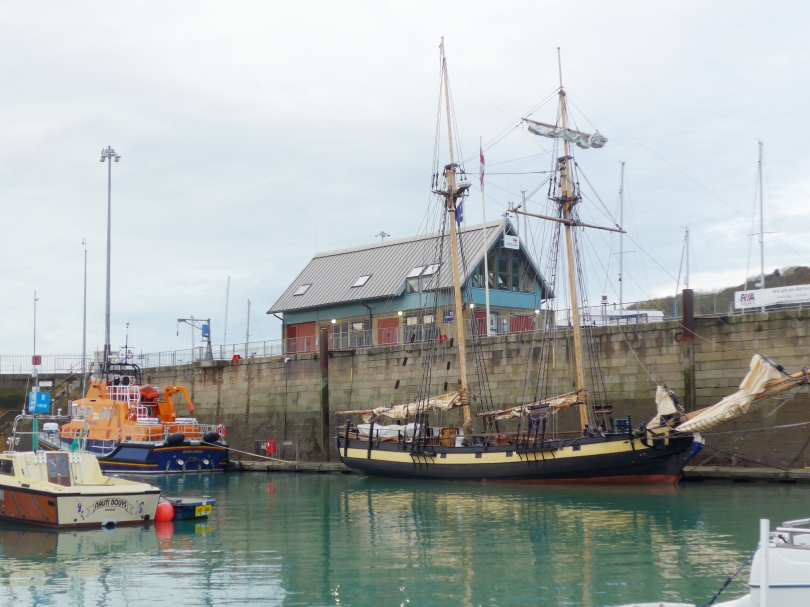 Dover's lifeboat 17-09 CITY OF LONDON 2 is back in service.
AIS Thursday evening showed lifeboat 13-22 ANTHONY PATRICK JONES as having arrived from Gosport & she is thought to be overnighting on a delivery trip to Bridlington, being one of the newest of the 'Shannon' class, the same type as stationed at Dungeness which visited Dover recently [4364].
Thursday, 9 November 2017 - 23:15
Post 4391
Ed Connell, Dover Strait
Esmeralda at the DCT yesterday.
Thursday, 9 November 2017 - 18:45
Post 4390
victor matcham, Dover
Well that is some find,I am having one out next week,they tell me I have big ones,but I do not think it is that big.



Thursday, 9 November 2017 - 08:40
Post 4389
Sea News, Dover
DWDR TEAM MAKE MAMMOTH DISCOVERY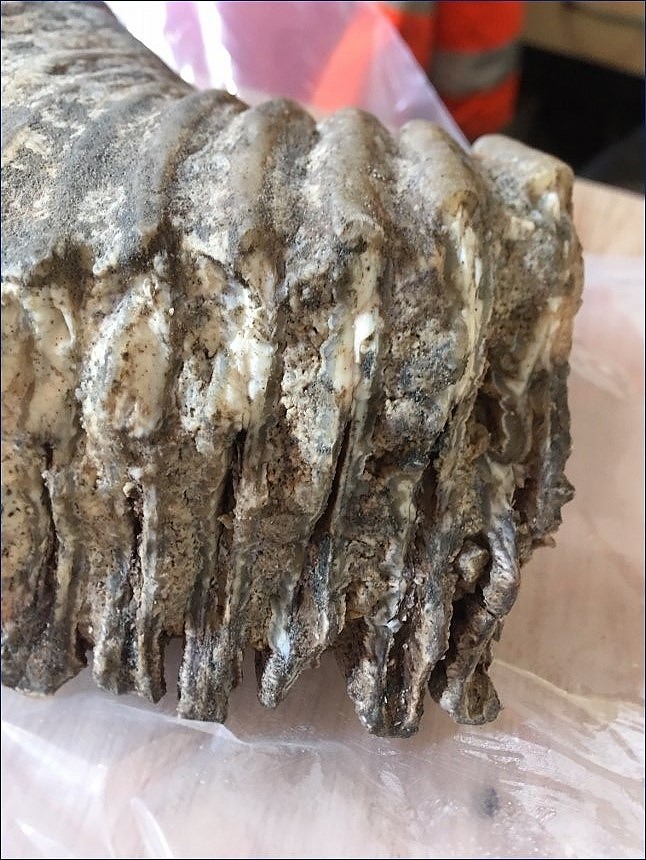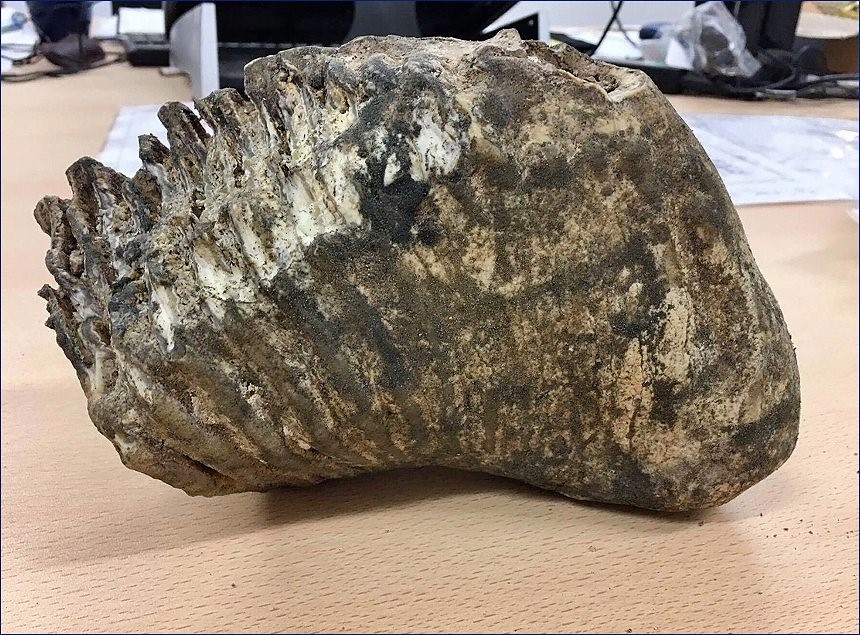 The team working on Port of Dover's flagship Dover Western Docks Revival (DWDR) has made a mammoth discovery after unearthing a fossilised mammoth tooth during the excavation of the Wellington Dock Navigation Channel.
The incredible find was made by the principal contractor's piling supervisor and was being overseen by specialist heritage experts, Archaeology South-East (ASE), who are controlling the excavation at the DWDR construction site.
Kristina Krawiec, Senior Archaeologist, ASE said: "This mammoth find is one of a range of similar finds from the region. It will be subjected to scientific analysis as part of the ongoing archaeological works at the site."
It's not clear how old the tooth is, but the last mammoths are believed to have walked in Britain over 14,000 years ago.
What happened to the mammoth still remains a mystery, but some believe that they were wiped out by an asteroid which sparked huge climate change. Other theories suggest human hunting was to blame.
Josie Sinden, DWDR Conservation Officer, Port of Dover said: "It's not clear how the tooth ended up in Dover, but some suggestions include it washing down the River Dour, washing up on the beach, used as some sort of structure by previous inhabitants or even purposely placed as a sacred item."
The ferry services operating between Dover and France are sometimes referred to as providing a sort of land bridge. The mammoth tooth illustrates the fact the UK was once connected by land to the rest of the near continent across which mammoths and other prehistoric creatures may have once roamed."
ENDS
Amazing find above there...the pictures are truly fascinating.
Many thanks to the Port for the info and pictures as ever.
* *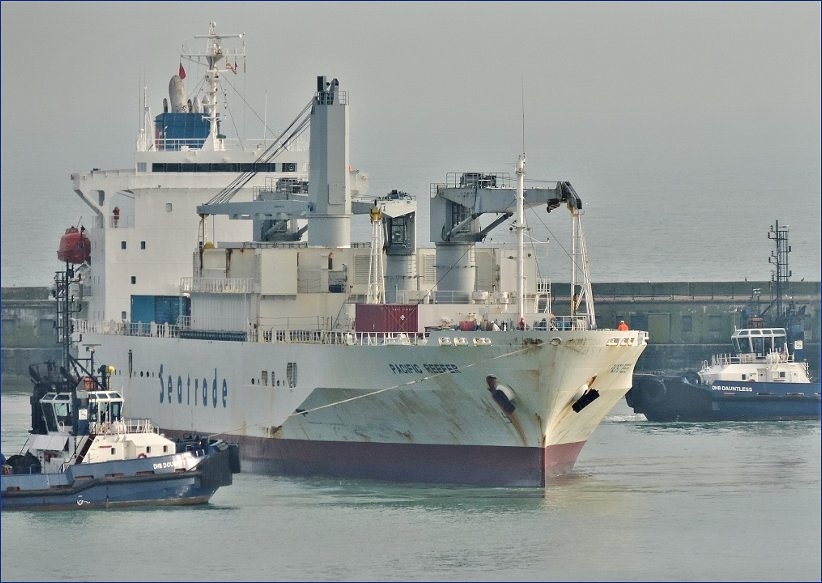 We have had a busy week so far with the cargo reefers. The shot above shows Pacific Reefer. She was with us for the first part of the week, leaving for Hamburg at 8.45pm on...Tuesday I think it was..
She was followed in by Esmeralda ( The Bells The Bells...it must be a whole 3 weeks since I did that joke !

)
The pictures are from a previous time as impossible to get shots at the moment due to the short days...they come in the dark , leave in the dark. But we battle on...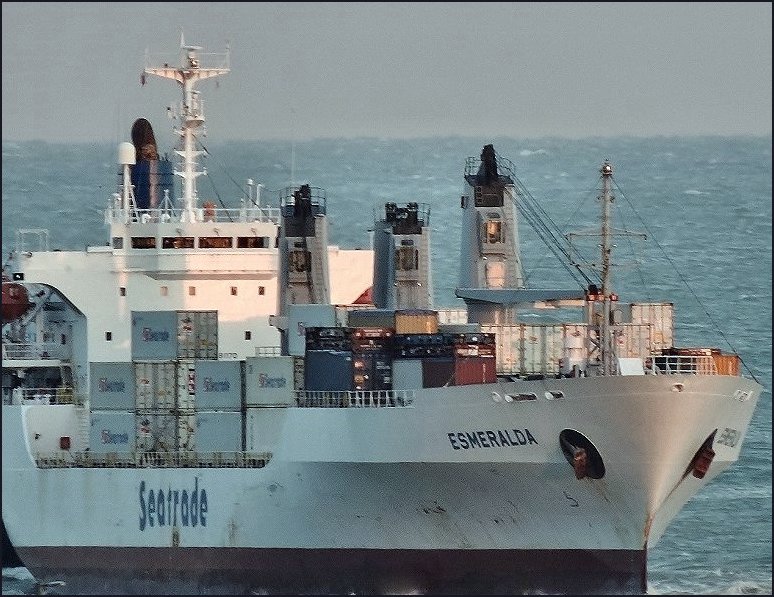 Welcome shot and info below Mike. Nice pic that for sure.
Thanks Vic once again.
PaulB

Thursday, 9 November 2017 - 07:35
Post 4388
Mike J., Dover
Two ALERTs in Dover on Wednesday.
Trinity House's ALERT came into Dover late Tuesday afternoon from Harwich & tied up, as usual, alongside the DAVID CHURCH& was still there Wednesday evening.
Wednesday morning the Border Agency's ALERT was in the Tidal Basin.
No info on her movements as her AIS is rarely switched on, presumably for security reasons.
She visits Ramsgate more often than Dover.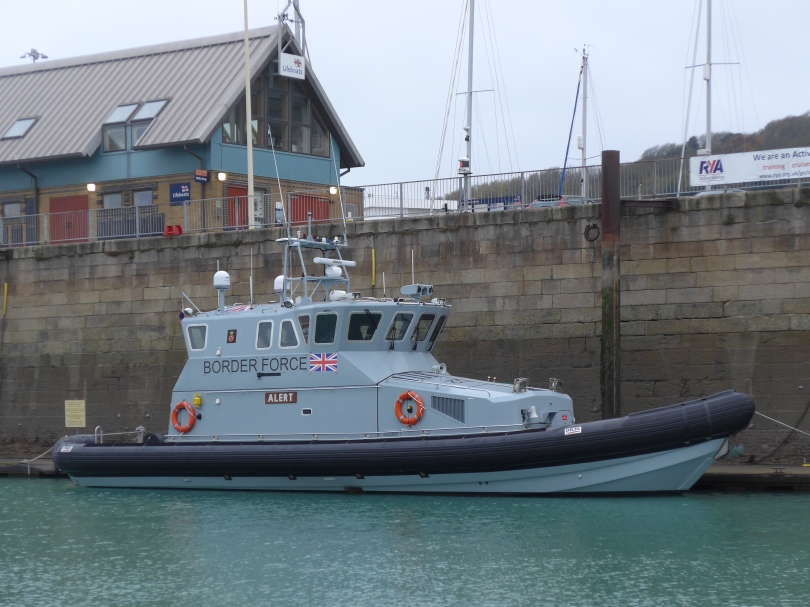 Wednesday, 8 November 2017 - 23:52
Post 4387
victor matcham, Dover
Sir you are right to put the Dover MP report on this page, I do not support him but in this case we are not the court of justice, we do not know anything about his case so untill a 100% verdict is given out then he should carry on ,after all he is still the MP for Dover and Deal. Going back to the port we can see the weather is not good and a high wind which will slow the work up but makes great photos.

Wednesday, 8 November 2017 - 09:04
Post 4386
Sea News, Dover
With the Barent Zanen in port again, here we go with more pictures of the disgorging pipeline. The action looking spectacular against the blazing sunlight of just a couple of days ago. For more info see also Patrick's post 4375.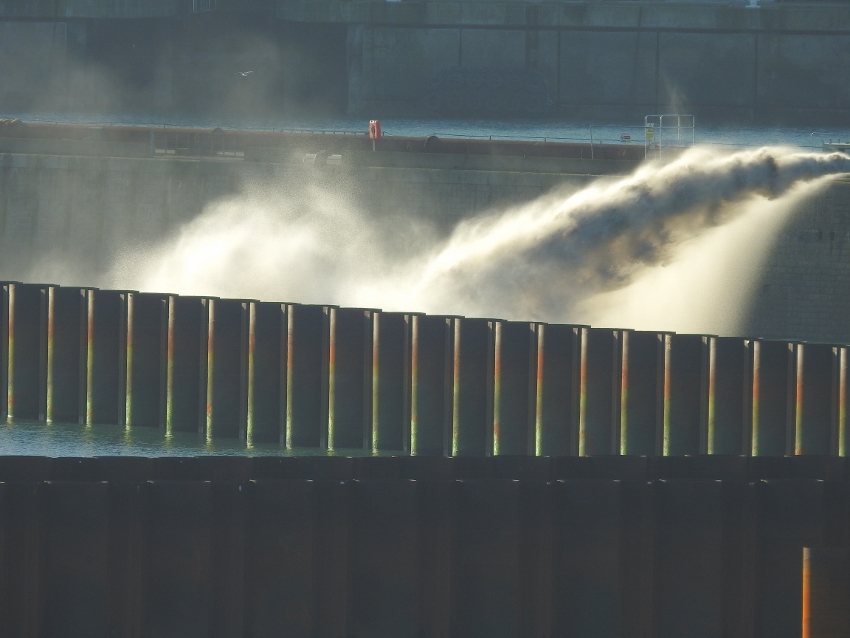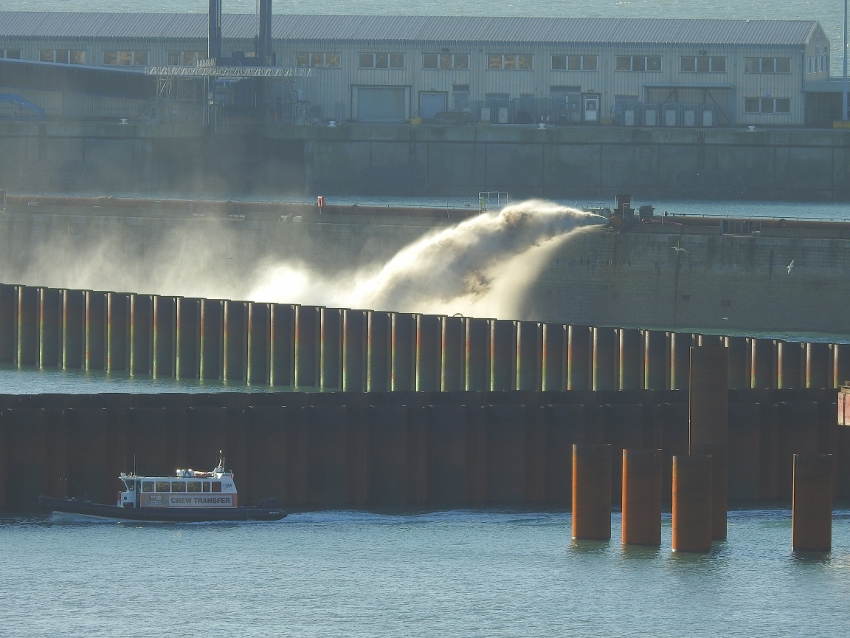 Many of you will know our local MP Charlie Elphicke has been suspended by the Conservative Party following serious harassment allegations. The matter is still pending...but just immediately prior to this development, Charlie sent over to us his usual newsletter and here it is...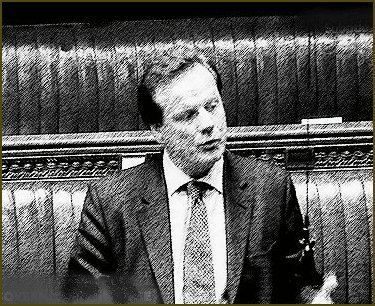 Three good reasons to invest £1 billion at the front line
__________________________________________________
Dear Mr Boland,
We must be ready on day one for every eventuality of Brexit – particularly at the Dover frontline. Planning for no deal is not simply a negotiation point in our talks with the European Union. Increasingly it is the responsible thing to do.
This was the case I made in the House of Commons last week – that it is in the national interest to be ready on day one. There are three key reasons.
First, insurance. You buy house insurance before you are burgled. In the same way we should insure against the risks of error in the current Brussels brinkmanship by making sure we are ready on day one.
Second, to get the best deal. Any experienced negotiator will tell you that if you want a deal, prepare first for no deal. If you can walk away you get a better price and better terms.
Third, this is no regrets spending. Our customs computers are creaking, the border systems are ageing and roads in Kent are far from resilient. In other words, this is investment we need at the Port of Dover and Eurotunnel anyway.
Lack of investment already costs the economy billions of pounds when there are problems at the Channel Ports. In 2015, tailbacks caused by strikes in Calais caused queues of 4,600 lorries over 30 miles. In 2016, a lack of French border police at Dover caused huge tailbacks with miles of traffic and 250,000 people caught up in the delay. Gridlock at Dover will mean gridlock for the British economy.
It would be wrong to wait until the last moment to start investing. It is in the national interest that we invest now. At least £1 Billion should be set aside in the November Budget to invest in upgrading our systems and infrastructure so that we will be ready on day one to forge ahead on day two.
Now, some will say that however ready we are they won't be ready across the English Channel. Yet ports like Calais and Dunkirk would be required to upgrade their systems in line with a new global trade agreement that came into force in February. So if we start preparing now, there is no need for queues of lorries on either side of the Channel.
Others will say we cannot possibly be ready in time. That our system of administration and government organisation simply cannot cope. These are not people who believe in Britain. Nor are they people who have studied our history. For when there is a need, there is no obstacle we cannot overcome – no challenge we cannot meet. We can do this – and we must do this to deliver the greatest opportunities offered to our future generations by seeking a global future.
Yet we must prepare now. As the closest point to Europe, the most important preparations of all will be at the Dover frontline.
CHARLIE ELPHICKE, MP FOR DOVER AND DEAL.
______________________________________
Back to the Barent Zanen again, this time with a wider shot to show the whole scene as she pumps her cargo of sand into the designated reclaim area.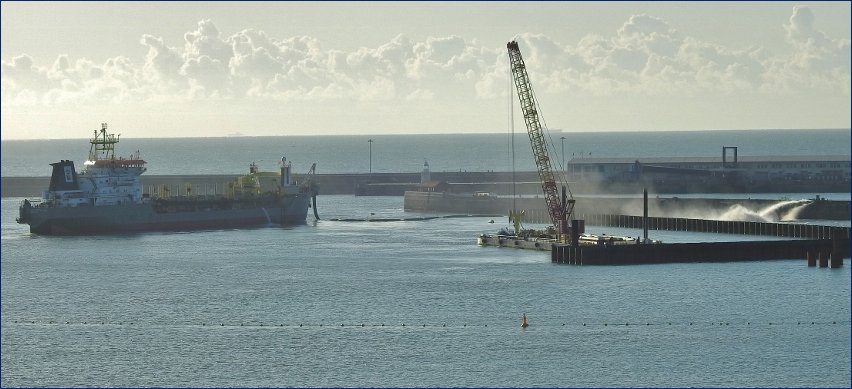 Wednesday, 8 November 2017 - 06:15
Post 4385
howard mcsweeney, dover
The result is expected at the end of the year Mike, my suspicion is that the MMO will release it just before Christmas so that the flak from the losing side lessens before they get back to work two weeks later

Tuesday, 7 November 2017 - 20:54
Post 4384
Mike J., Dover
The DHB still have designs on the Goodwins & are waiting for a decision from the MMO.

An extract from the government's website 'Goodwin Sands Aggregate Dredging Scheme'
Issued last September -


. . . . . . . The MMO on 20 December 2016 has requested further information from Dover Harbour Board to assess the impacts of the proposed dredging, which has now been received. A further consultation on this additional information started on 17 August 2017 and will end on 28 September 2017.

The application for a marine licence has also been updated to:
•reduce the volume of material required;
•reduce the proposed dredge area; and
•alter the stages of the indicative dredging programme . . . . . .


If permission is granted three visits a day from the dredger are expected.

No info at all as to when a decision will be made.


Tuesday, 7 November 2017 - 11:28
Post 4383
Sea News, Dover
Vic - I have no hard info on that one I'm afraid.

Tuesday, 7 November 2017 - 09:09