Friday, 22 September 2017

doverforum.com/sea-news
Featuring all the ships that come and go and work at the Port of Dover with further coverage of Ramsgate, Calais, Dunkerque. Email: dover7@msn.com to send SEA NEWS pix or info.... or click ADD YOUR COMMENT below to post direct, no membership needed.

Commercial News: P&O Ferries with the Kids 4258.

Use our SEARCH ENGINE below to find all sorts on the SEA NEWS pages..more than 200 now with more than 4000 nautical posts. Posts welcome. Max of 5 pictures preferred per post. Sea News Editor Paul Boland.
Type Cruise Visits (or indeed anything) in our Search Engine below for the latest cruise ship arrivals..
Post 4240
brian, dover
your welcome paul,all is fine hear.

Sunday, 17 September 2017 - 15:59
Post 4239
Sea News, Dover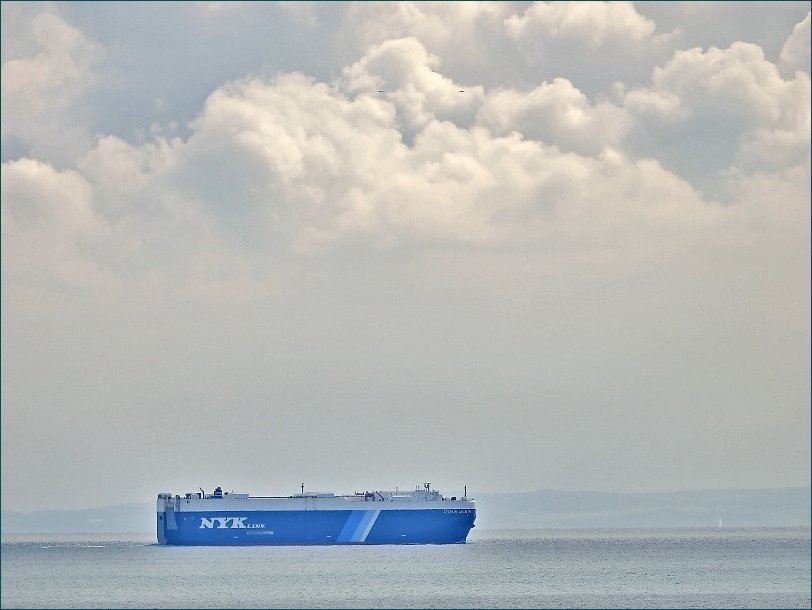 That's the giant car-carrier Cygnus Leader of the NYK Line moving on down the channel yesterday saturday around midday. She was on her way to Turkey and possibly further on to the FarEast afterwards. These are great long distance beasts...not everyone's cup of tea designwise but still an impressive sight.
Thanks re info below Brian. Hope all good with you. Yes indeed you may well be right re the filming but no doubt we will find out for sure in the coming days.

Sunday, 17 September 2017 - 15:43
Post 4238
brian, dover
probably another run of the " tunnel" they have used it on the last run of the program.

Sunday, 17 September 2017 - 07:31
Post 4237
Sea News, Dover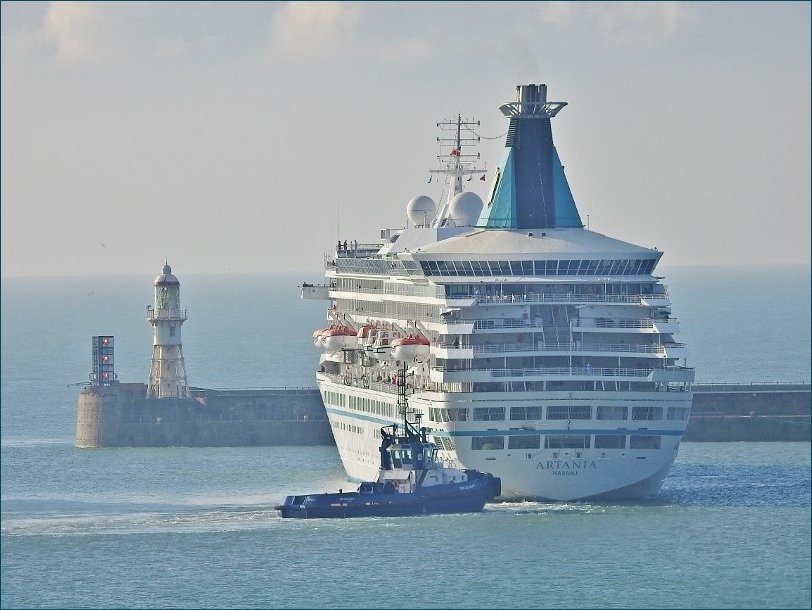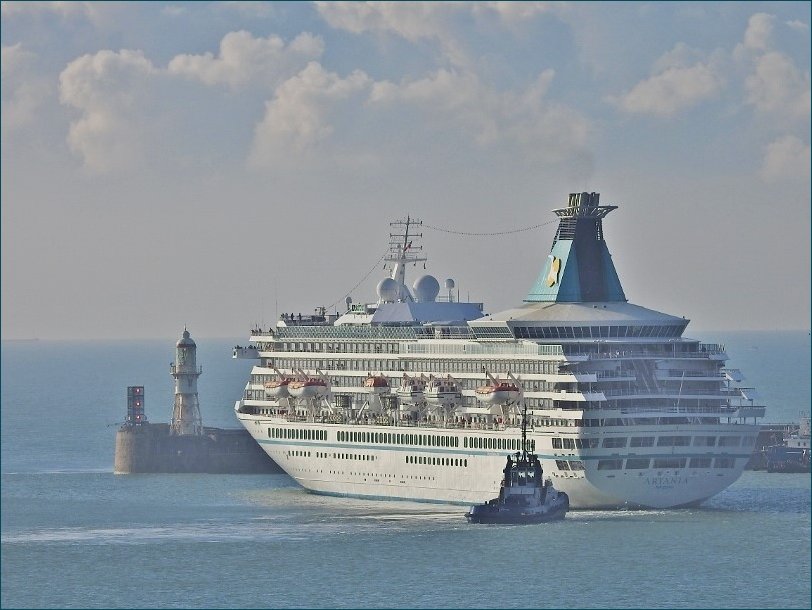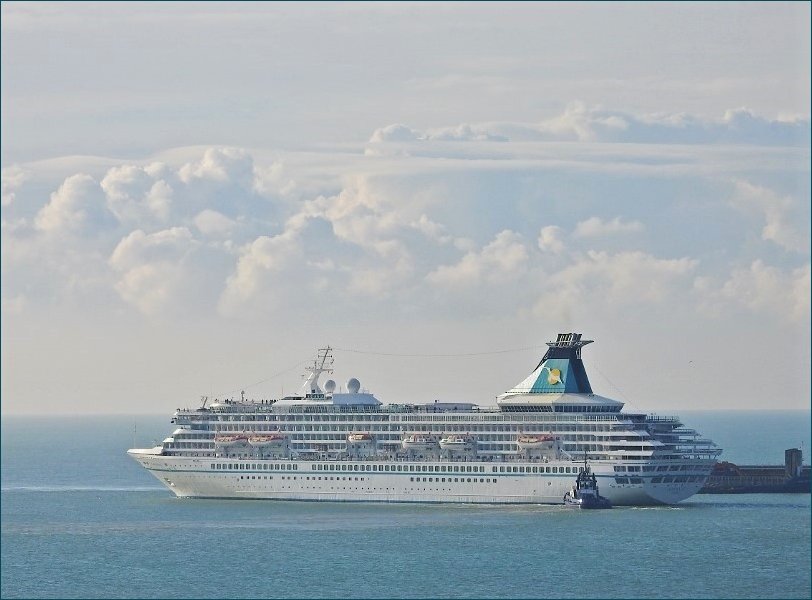 As promised there we are above with pictures of Artania arriving with us in super bright conditions yesterday morning saturday The great autumn spell of cruise arrivals goes on apace.. so we are delighted to see Artania back with us once more. Weatherwise...well it makes a change above re how the weather looks today...quite foggy and dismal as I write. More than a touch of the autumnals these days. Didn't summer end very fast...
Well done Mike with the post below. Sorry to hear you froze your assets down Admiralty Pier but it was worth it. I understand its Disney filming down the pier, so I heard anyway, but how accurate the info is I don't know.
Nice pictures.

Good to hear from you Dave over there in Broadstairs.
Great to see those pictures of the former Lifeboat. Well done with that post...enjoyable for sure.

PaulB.
Sunday, 17 September 2017 - 06:06
Post 4236
Mike J., Dover
A long increasingly-chilly vigil on the Admiralty Pier on Friday afternoon waiting for the departure of the HELENIC from Cruise-1 on completion of her cargo of [mostly] piles.
Thank goodness Mel's Cafe at the turret was open for coffee & bacon rolls.
The HELENIC eventually sailed about 1730 for Rotterdam.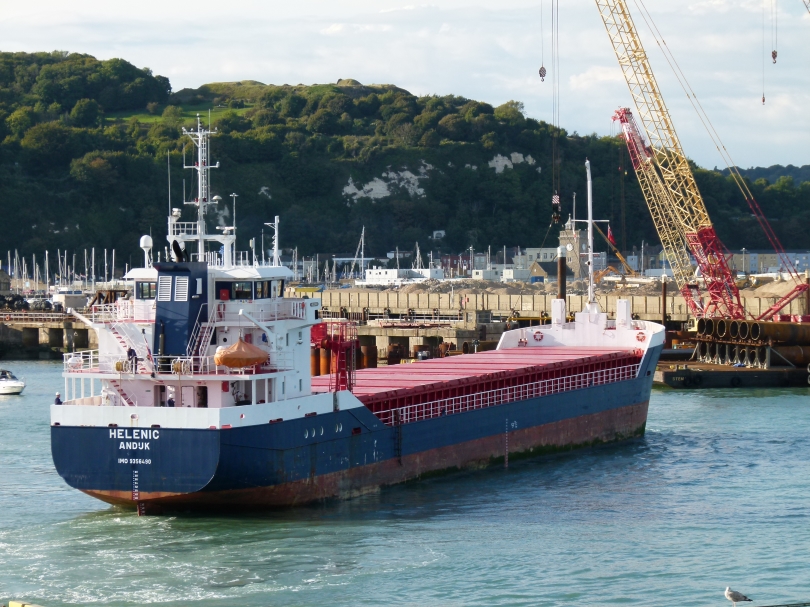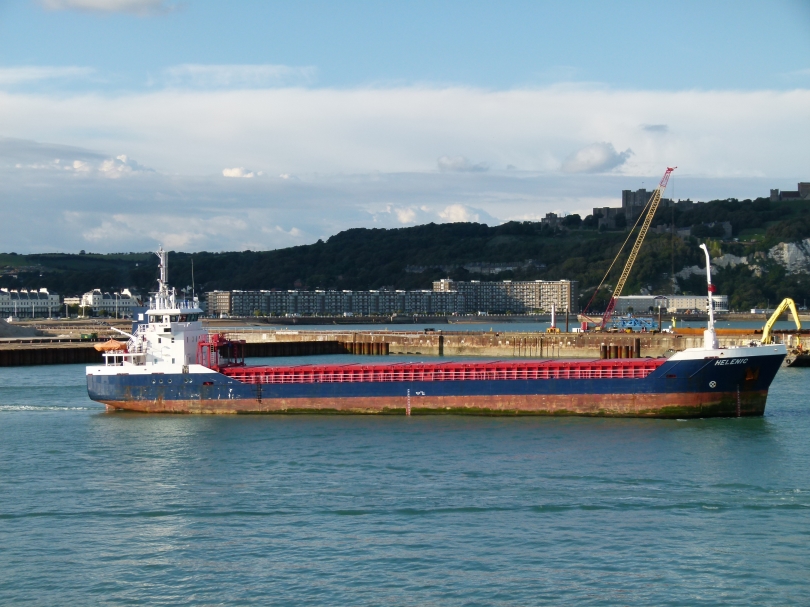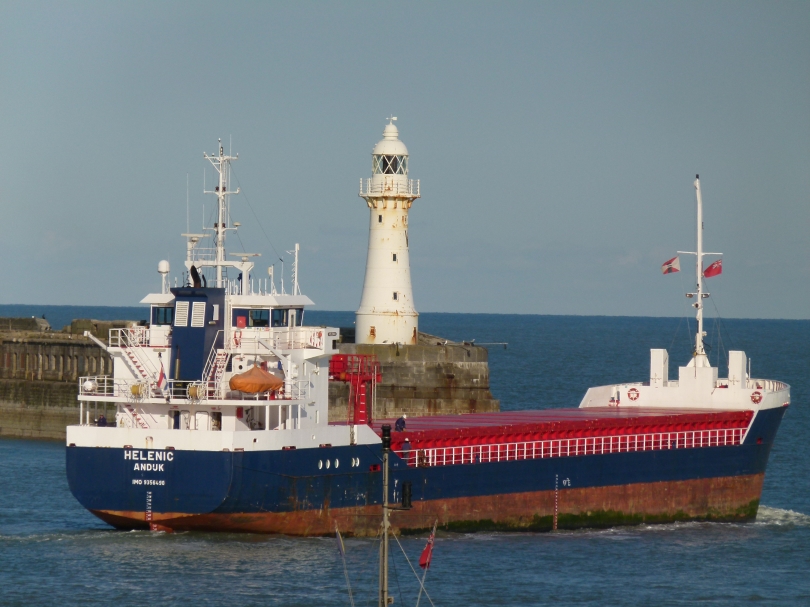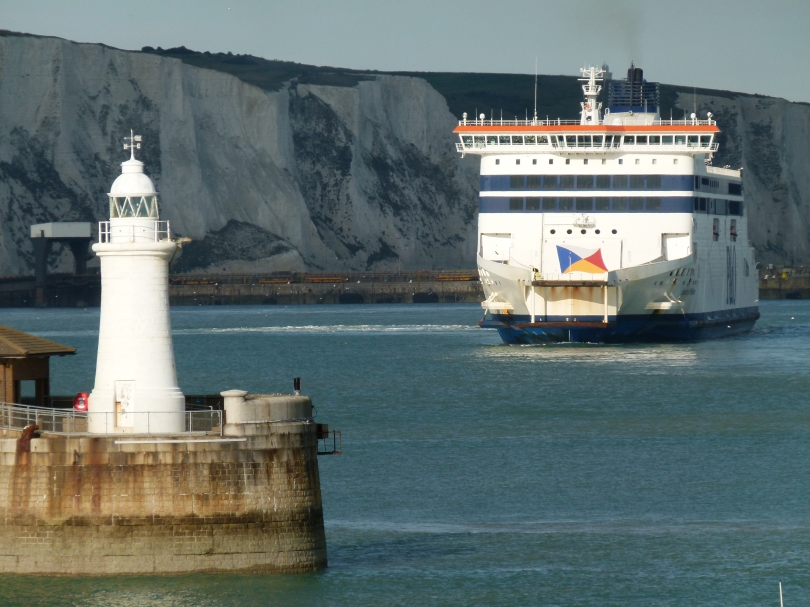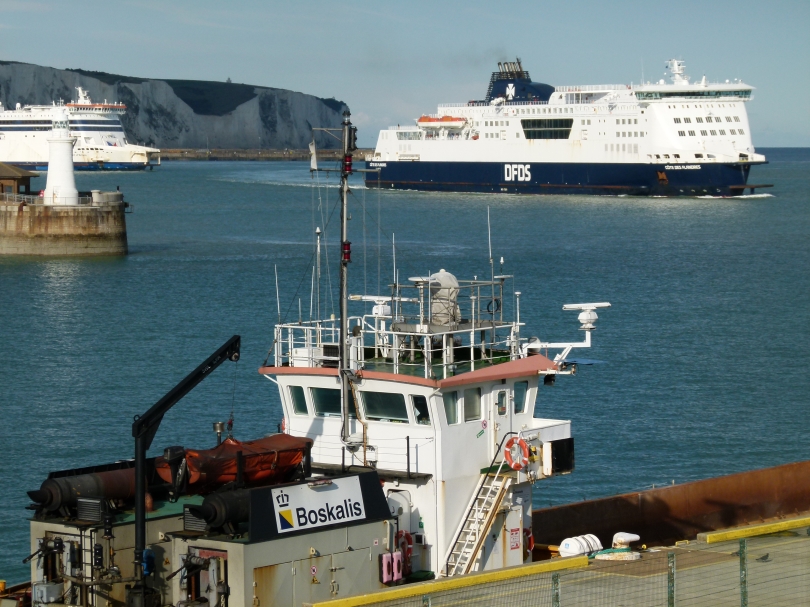 If you were thinking of a nice stroll up the Ad.Pier next week - forget it !
The whole pier will be closed from 2100 Sunday 17th until 0800 Monday 25th due to filming activity & on Friday afternoon the Cruise-1 area was littered with lights & cables & vehicles & generators etc. with some sort of structure being built in front of the Cruise-1 building.
Security was very coy about what was being filmed.
Anglers who often come a long way to fish off the Ad.Pier & who are unaware of the closure are going to be VERY browned-off, as is the caff which will lose a week's business.
Saturday, 16 September 2017 - 23:31
Post 4235
Dave, Broadstairs
Re post 4230:
Ramsgate had its very own Clyde Class lifeboat. 70-003 'City of Bristol' O/N 1030 was based at Ramsgate from 1988 as the Fishery patrol vessel 'John v Storey'. Originally based at Clovelly from 1975 relieving 70-001 which subsequently went into the relief fleet. I served on her for 2 years as YTS deck hand from 1989 - 1991. I believe she is now up in Scotland as the 'Gemini Explorer'. The second image is her as the 'John v Storey' but already sold to Scotland but prior to conversion.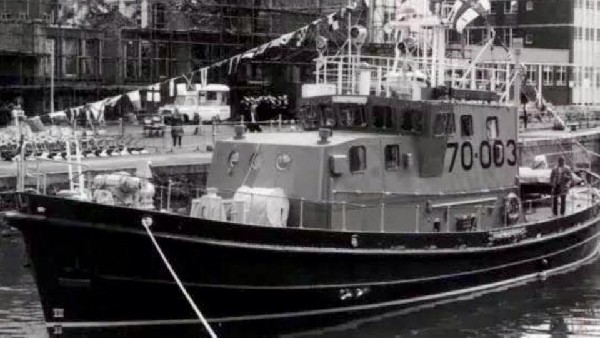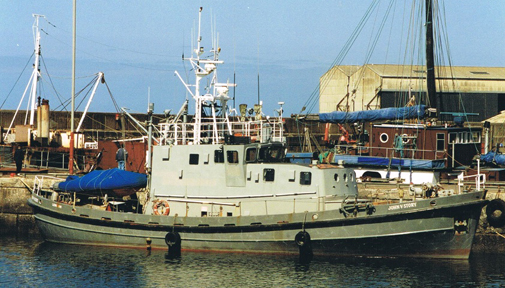 Saturday, 16 September 2017 - 18:39
Post 4234
Sea News, Dover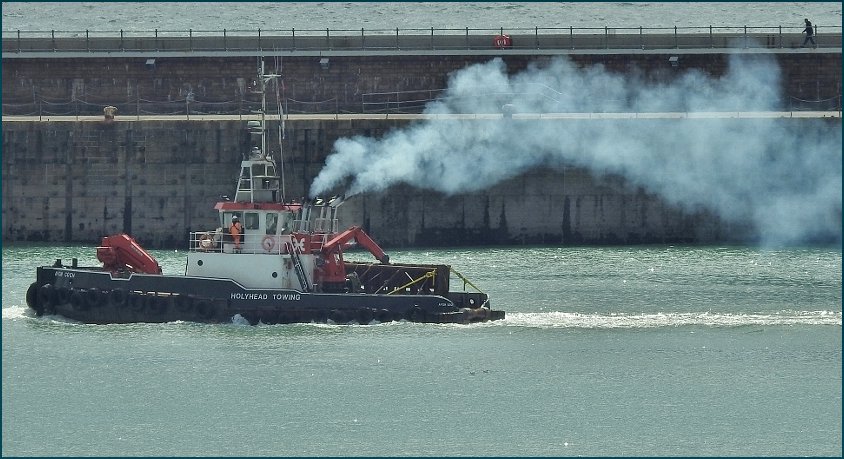 Building Up a Head of Steam: well probably smoke in actual fact but who can resist a good headline ! This is familiar DWDR tug Afon Goch leaving the port late in the day Friday. She was leaving a trail of smoke as you can see which caught the eye. Then looking at our AIS friend it appears she was leaving the Port of Dover...perhaps for good. Last seen heading for Ramsgate with a final destination marked down as Lowestoft.... while a solitary figure gazes on from the Admiralty Pier.
PS: Cruise ship Artania is in with us today and looking good - will have some pix to follow in the morning all being well.
PB.
Saturday, 16 September 2017 - 15:11
Post 4233
Mike J., Dover

Error in my post about the heavy-lift ship - name should be DOCKWISE VANGUARD.
Sorry !

Vic - no problems seeing where they are going on the DOCKWISE VANGUARD - the bridge is on top of the accommodation block on the left of my first photo & has an excellent view ahead & also aft over the 'cargo deck'
A long climb if the lifts up from the maindeck pack up !

She has now loaded the crane barge & is visible at -

fotopaulmartens.netcam.nl/futureland.php
add https:// to get the webcam link to work.



Saturday, 16 September 2017 - 10:08
Post 4232
vic matcham , Dover
I have never seen a ship like that before I would like to see it when lifting and the hight of it how high do you have to be to drive it and being on the wheel? TO SEE WHERE YOU ARE GOING thank you for showing it to us.

Saturday, 16 September 2017 - 08:16
Post 4231
Sea News, Dover
On Thursday evening in poor light with heavy cloud the coastguard helicopter was spotted about 2 miles offshore. She was hovering and circling over a small specific area so was clearly searching for something. She was so low at times that her draught was kicking up spray from the water. Yours truly hasn't been able to find out what it was all about, so if anyone knows do let us know.
Time of pictures 18.15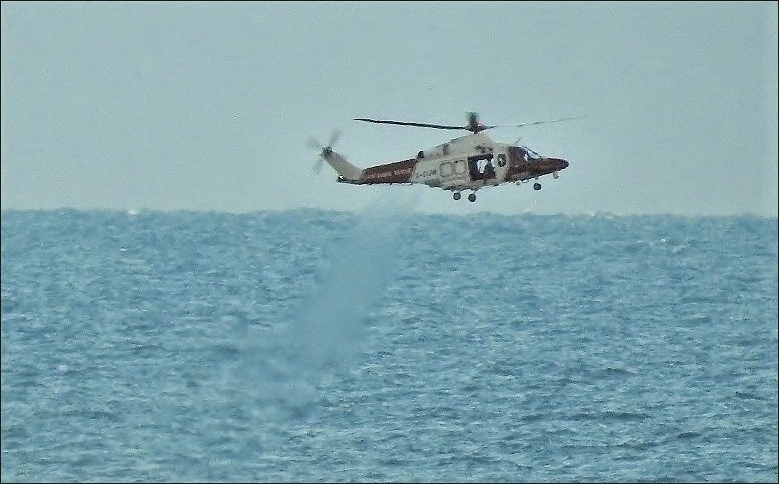 Long range picture above there and you can see the action. In the shot below a seagull flew into the line of zoomed vision as I looked through the lens ..giving yours truly a bit of a fright for an instant as I didn't know what had happened...but it was just the proverbial seagull.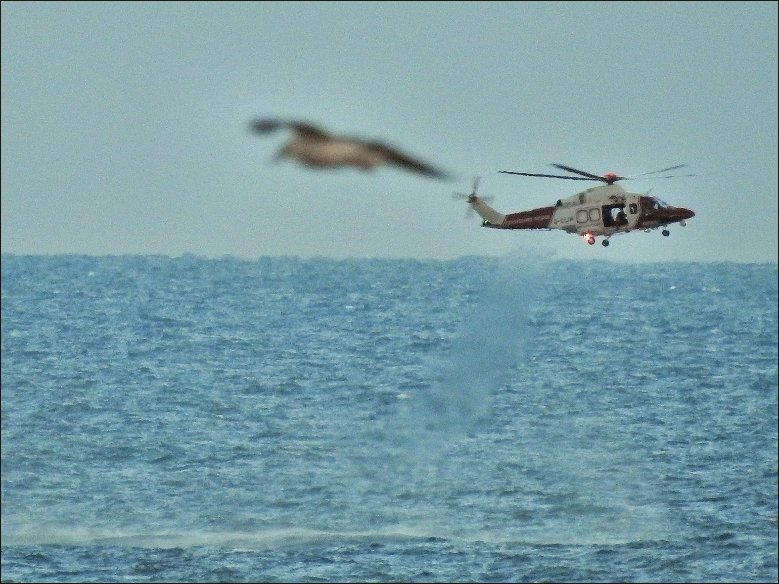 Just zooming out on the scene below as a little late sunlight came through the clouds..
And below the general wide view of the scene at the time. The helicopter is actually at surface level in the far distance beyond the harbour and between the two barges Wadden 1 and Wadden 4 as it were...but not really visible in this shot as we have to reduce the size on here. But the pic shows the general situation at the time weatherwise etc etc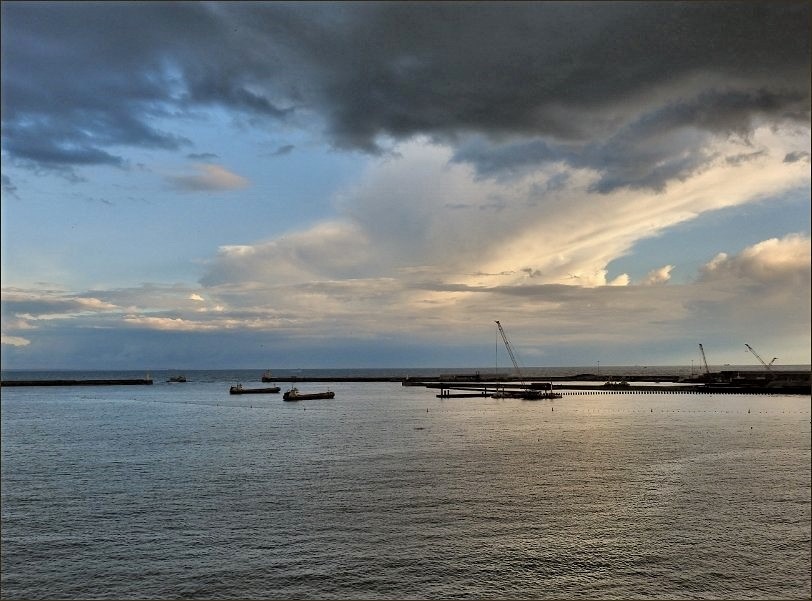 Fascinating post below Mike from Rotterdam. Don't miss that one.

Excellent stuff! Will watch for that lift vessel for sure.
Great to see those (former) Lifeboat shots.
PaulB.
Saturday, 16 September 2017 - 06:21
Post 4230
Mike J., Dover
Back in August 2014 post 961 showed the bizarre heavy-lift ship SEAWISE VANGUARD which has sneaked past Dover in darkness at least three times since then.
Another chance may be coming up in a few days.
She is currently moored in the Maasvlakte, the artificial harbour/island at the mouth of the Maas at Rotterdam/Europort where I photted her under stormy conditions on Monday.
She is waiting to load a very large crane barge for scrapping in China.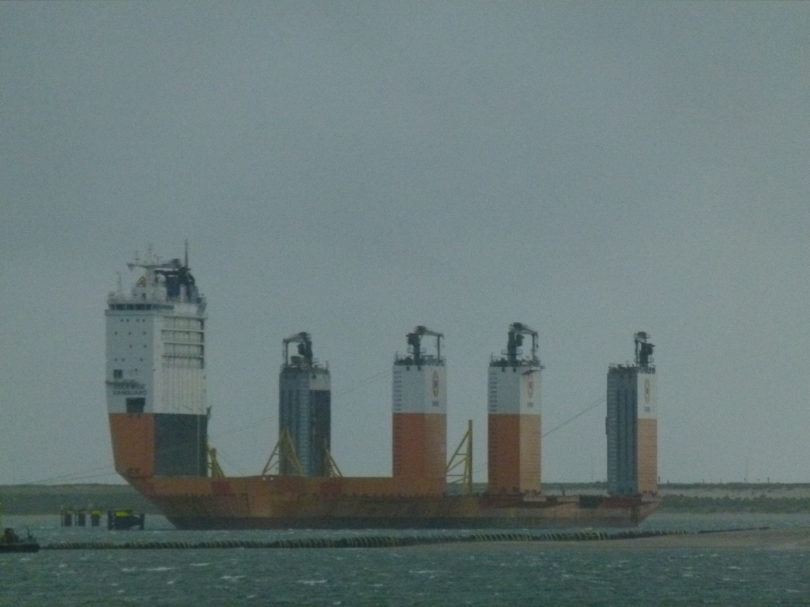 View from ahead. the bridge & accommodation block is on the left.
The four structures topped with cranes can be moved sideways to suit the load.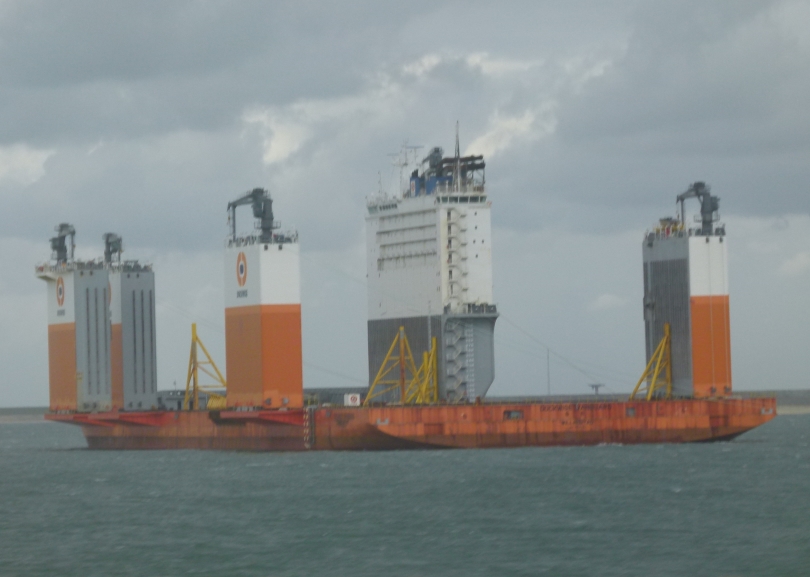 Views from astern.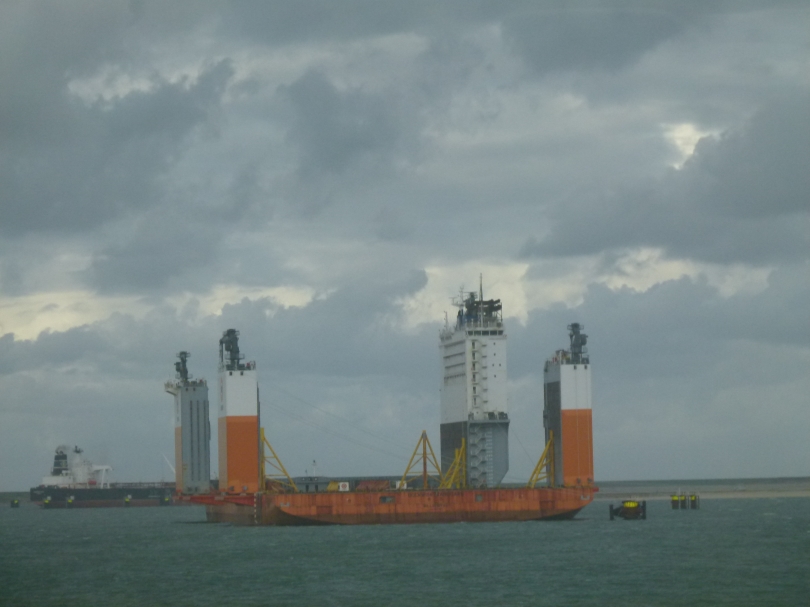 The loading operation was supposed to have started on Sunday but was
delayed by the recent bad weather.
I hear that the loading may have started today & securing the load will take a few days.
Lets hope this time that this most unusual vessel passes Dover in daylight & that photos can be taken.
On the same day, whilst driving up to Europort for the P&O ferry to Hull ferry we paused for a break at Stellendam, on the coast south of Rotterdam & came across a former RNLI lifeboat amongst the many fishing vessels in this small harbour.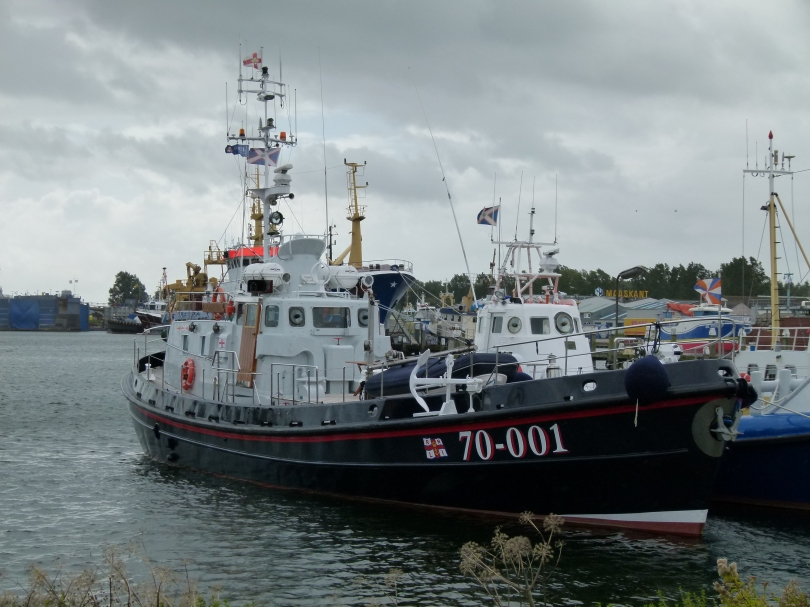 A quick consultation with the 'Sea News' resident RNLI guru revealed that 70-001 was a former 'Clyde' class boat, the CHARLES H BARRETT, which was retired by the RNLI in 1988 & after some time in the UK moved across to Holland & acts as a 'trip boat' at Stellendam.
She looks immaculate, although in a non-RNLI paint job, & is moored alongside the preserved Dutch lifeboat KONINGIN JULIANA.
Thanks Sarah !
Friday, 15 September 2017 - 23:43
Post 4229
Sea News, Dover
Here we are with a picture sequence of Monarch just after she arrived with us on Wednesday morning. With the assistance of both tugs she elegantly turned around out there in the harbour in some dazzling and blinding early light ...
Time of pictures: 07.47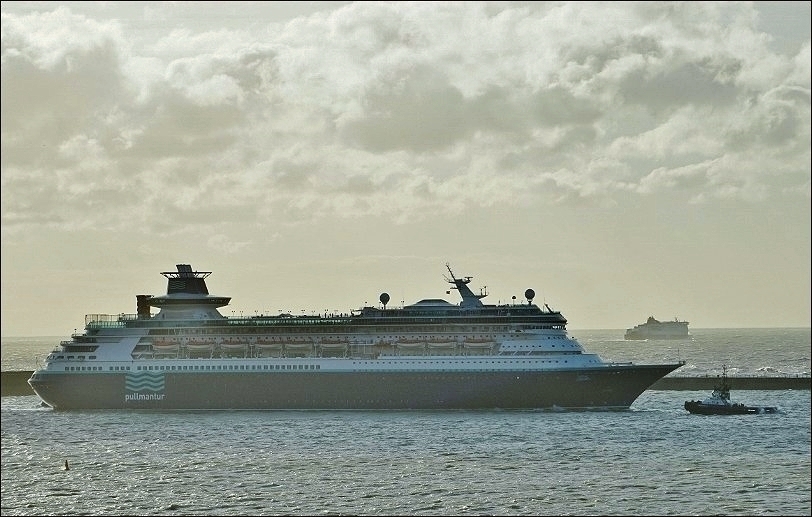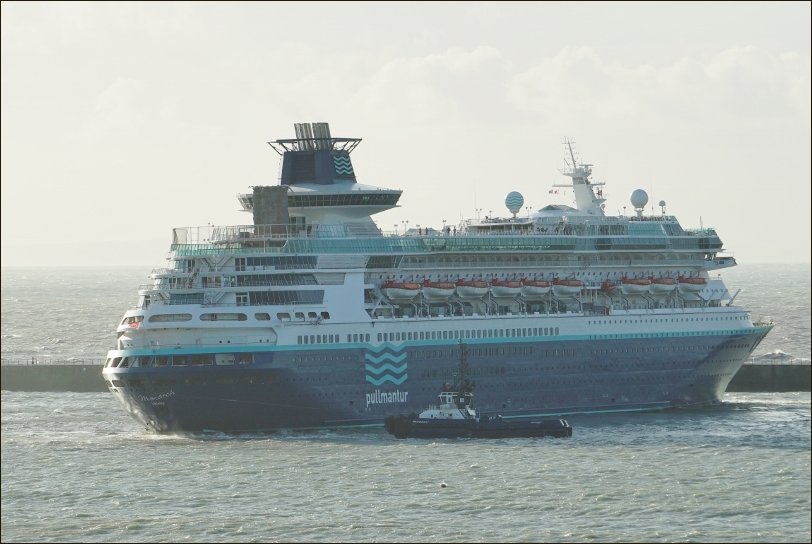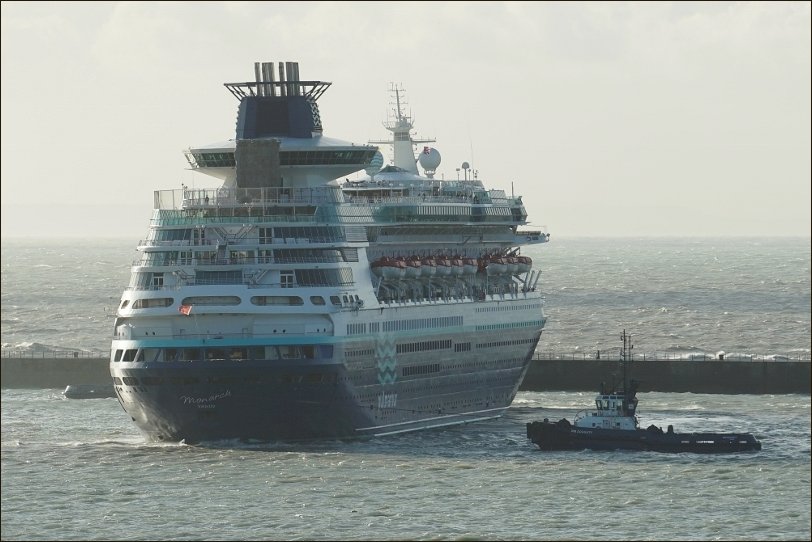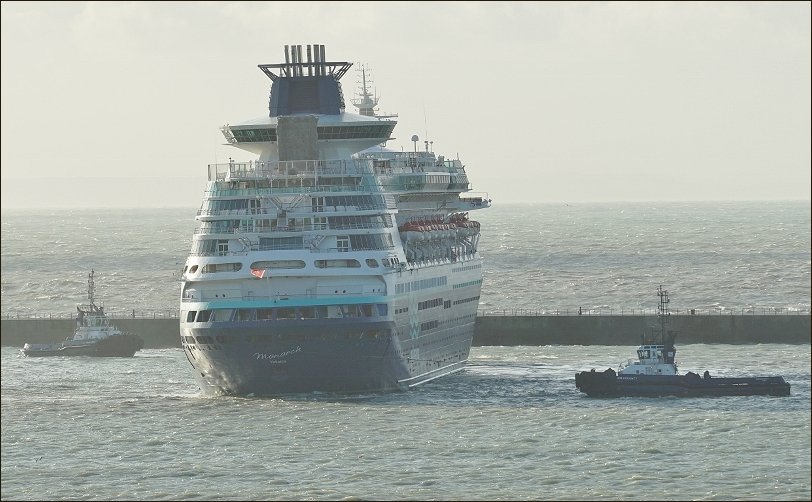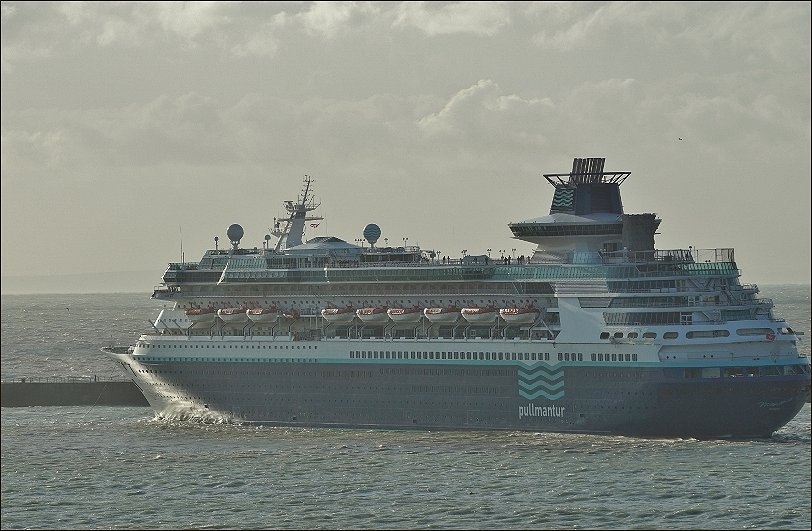 yes indeed Patrick there's a pot of gold out there for sure.
We better get those divers back so that they can go and get it poste haste.
Nice picture

Friday, 15 September 2017 - 07:01
Post 4228
Patrick, Marine Parade
Great action pictures of the 'Lombok Strait' and DHB tug Doughty there Paul.
Your reward - seen near the crow's nest this evening - a pot of gold (oh so near!)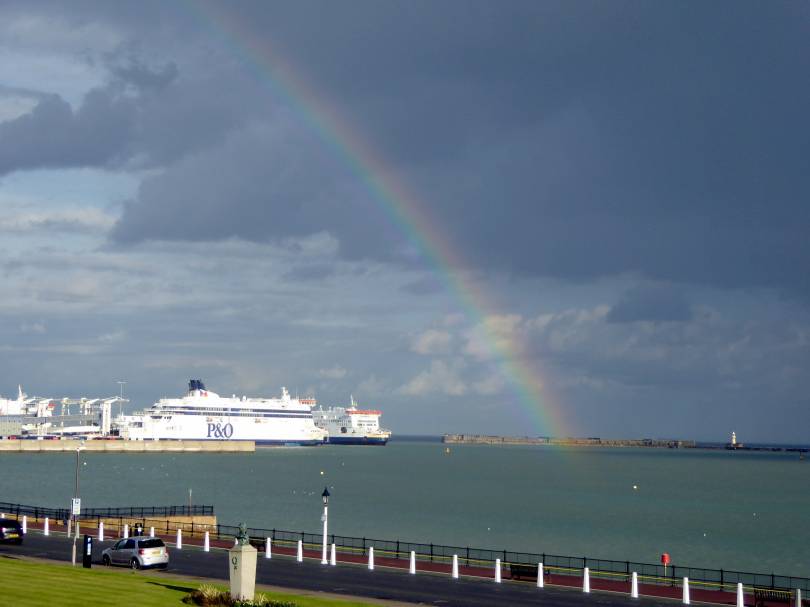 Thursday, 14 September 2017 - 22:17
Post 4227
Sea News, Dover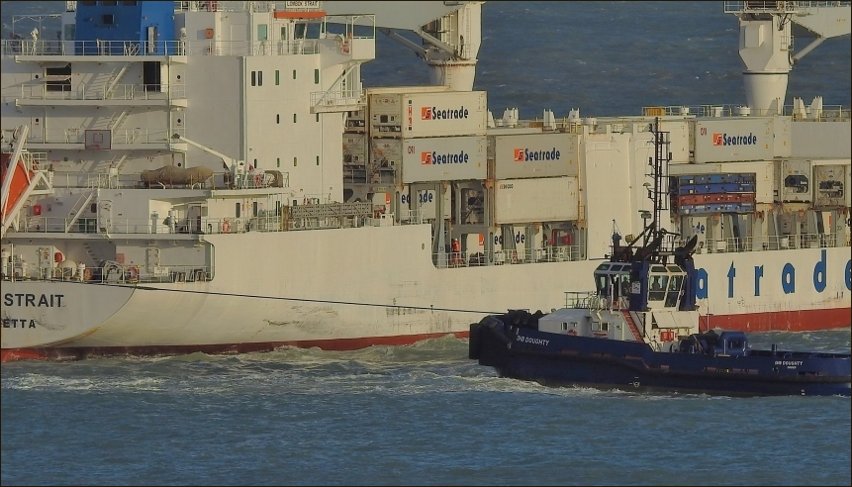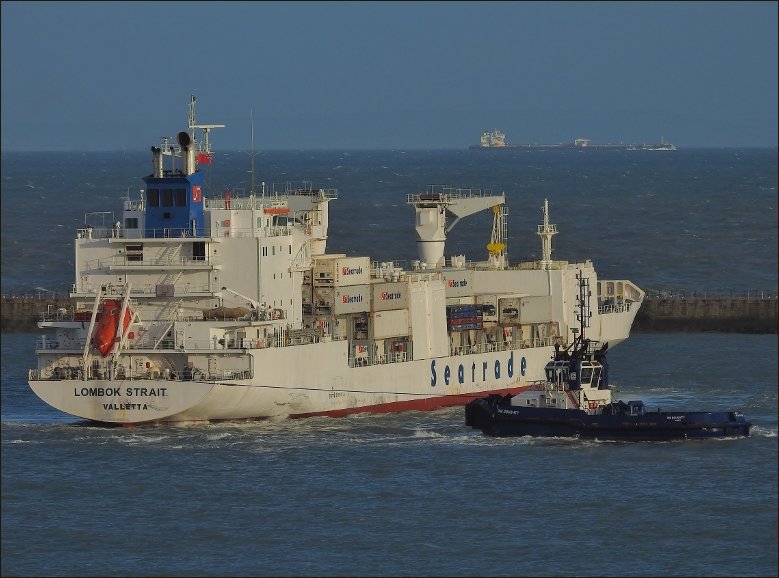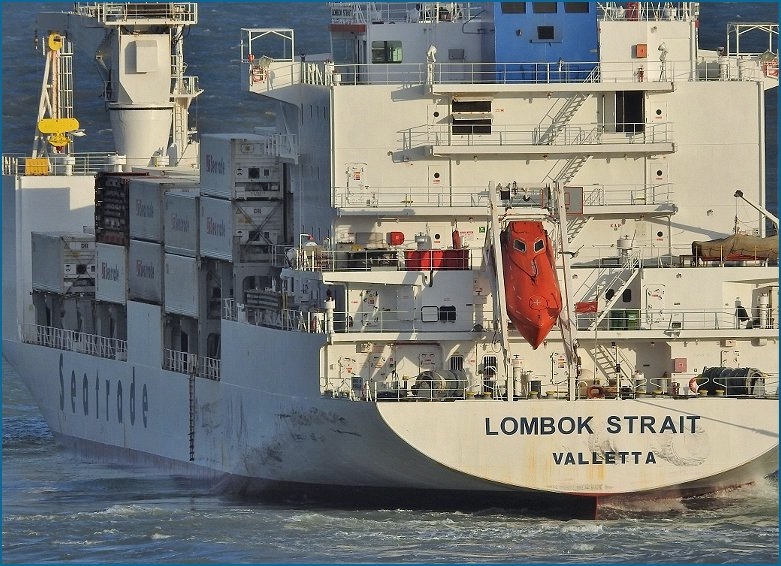 And an extra one below of the overall scene...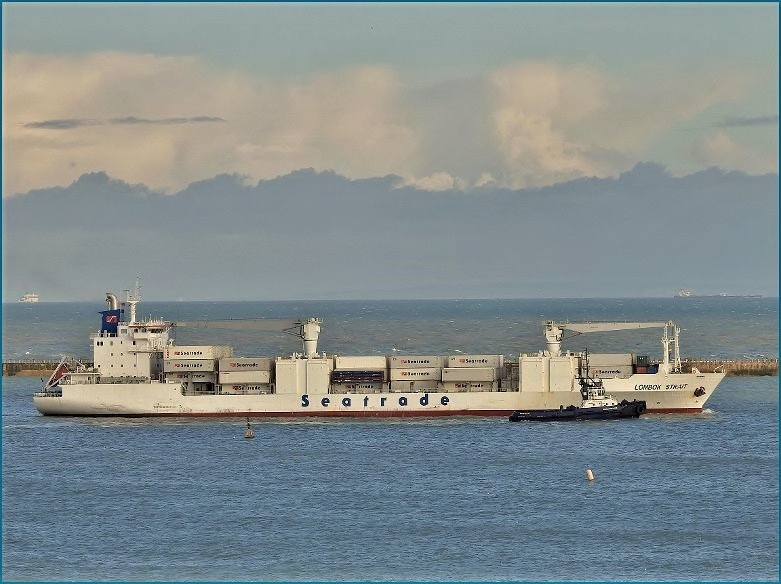 Just prior to Emerald's arrival, see Ed's ace pic of Emerald below, we had the Lombok Strait at the DCT. There she is above departing for ...Hamburg if I remember correctly, with the help of tugboats Doughty and Dauntless.
Many thanks as ever for the excellent pix below from Mike and Ed.
Great stuff lads!


Will also have some pictures of Monarch to follow in due course...
Thursday, 14 September 2017 - 16:27
Post 4226
Mike J., Dover
DWDR Wednesday - the 'Marina Curve' continues to take shape, with just enough room for the service craft to enter & leave.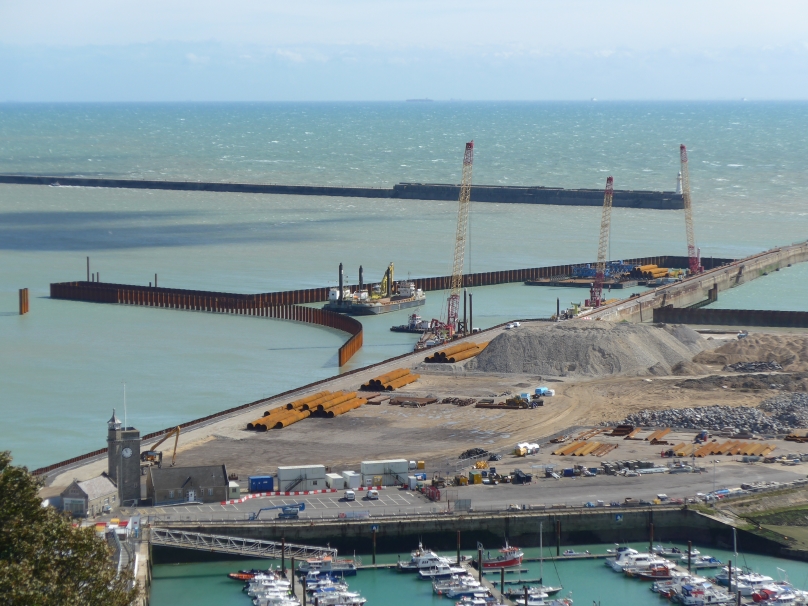 The 'cut' from the Wellington Dock is proceeding apace & the footway between the seafront across the swingbridge to Union Quay now runs across the face of the Wellington Dock cofferdam.
A busy scene the same afternoon in the old Jetfoil terminal with the WADDEN 4, KREEFT, MORAG M & two 'rock armour' barges with the MONARCH in the background, arrived from Ijmuiden. ]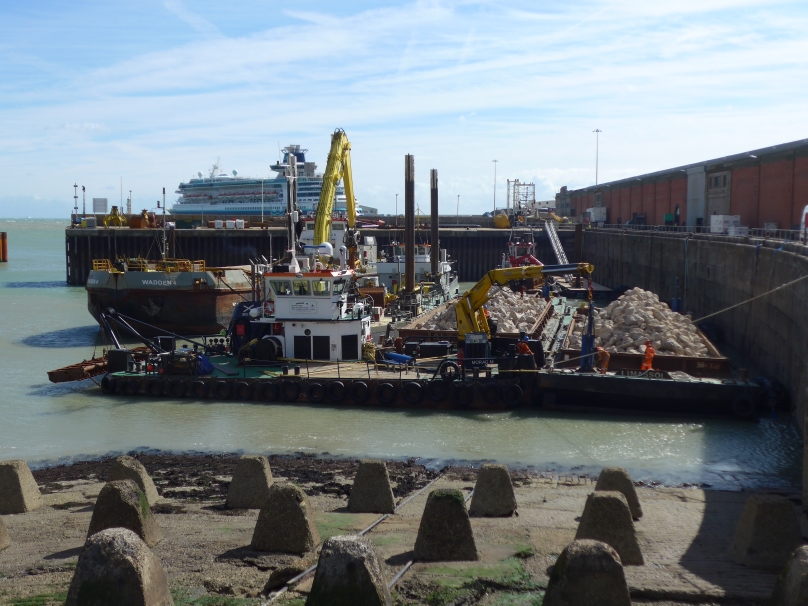 Thursday morning found the HELENIC on Cruise-1, arrived about 0630 with piles from Delfshaven.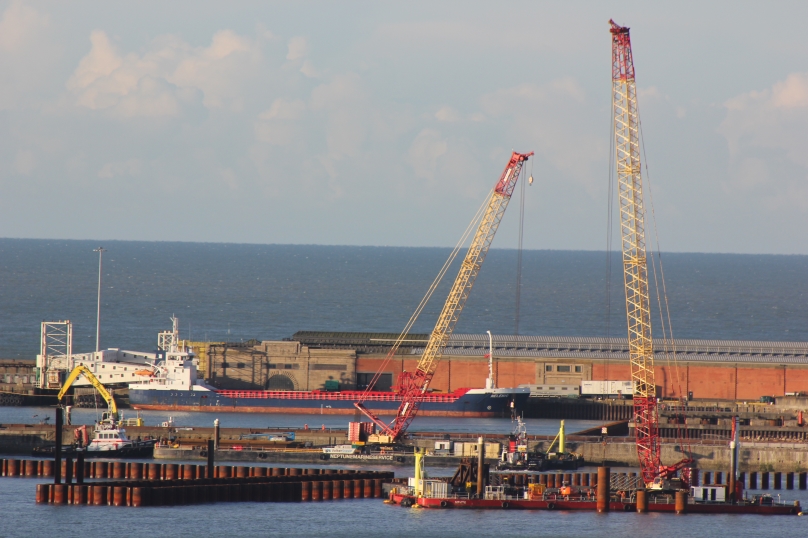 TalKing of the MONARCH, here she is arriving swinging on a very blustery Wednesday morning after the passing, during the night,of storm AILEEN. which caused some congestion in the docks & Operation Stack during the day.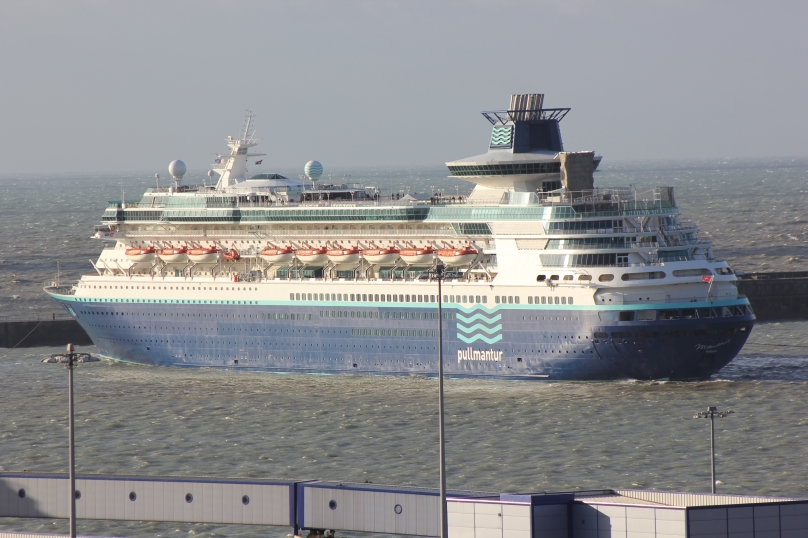 Damned lighting poles . . . . . .
Thursday, 14 September 2017 - 15:27
Post 4225
Ed Connell, Dover Strait
Emerald at the DCT this afternoon and big box boat CMA CGM Kerguelen departing Dunkerque West at tea time.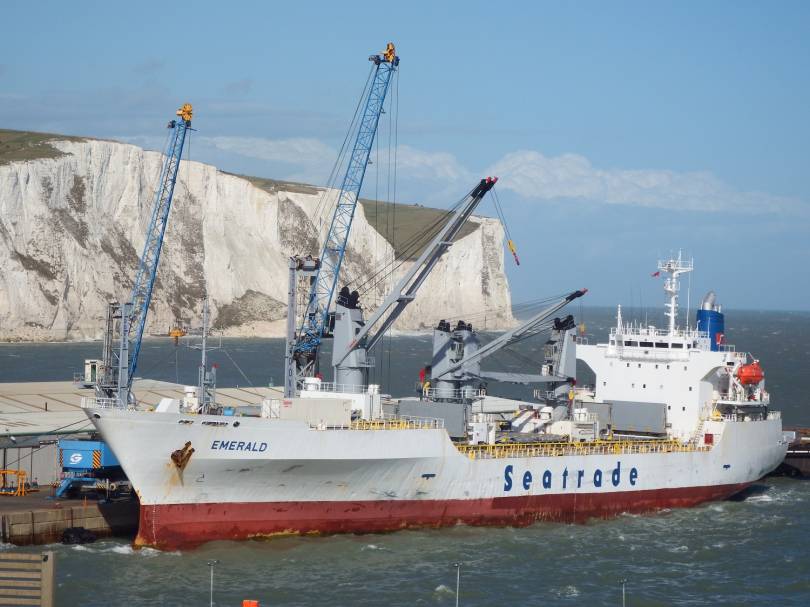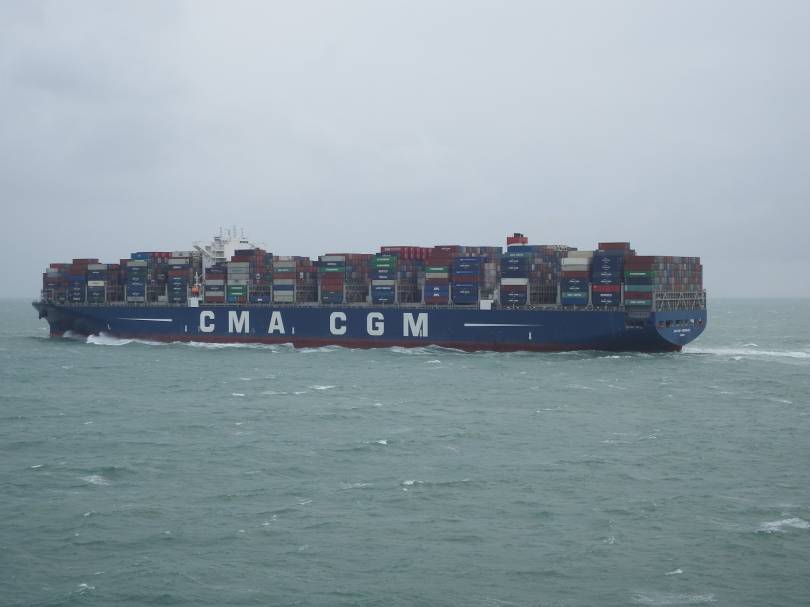 Wednesday, 13 September 2017 - 21:48
Post 4224
Sea News, Dover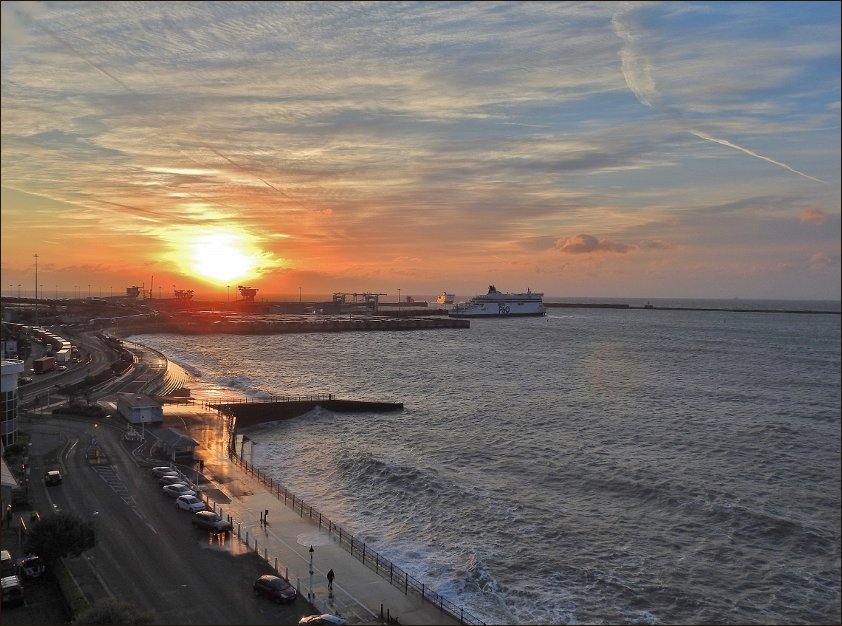 Picture taken this morning just after dawn and immediately after the remnants of Storm Aileen whistled through...the sea was still very rough as indeed it continues to be..
This of course always results in the backlog of trucks waiting to get across as you can see below. Yours truly is guessing the TAP system is on currently. You can also see the line of trucks to the left in top shot.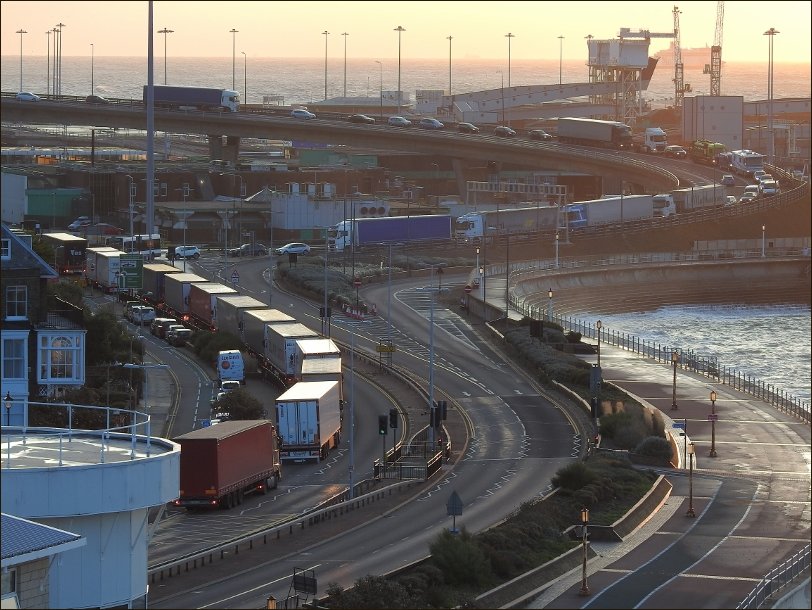 A bit of onshore info below for those wanting to tone those abs ... plus a great deal more...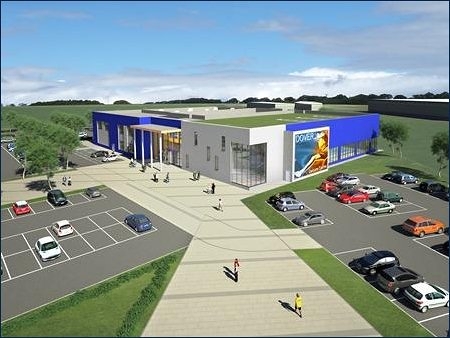 DDC:Cabinet approves £26m leisure centre project and awards build contract
At a special meeting today, (11 September 2017), Dover District Council's Cabinet gave the go ahead for the construction of a new £26m Dover District Leisure Centre. Construction will start on the 2.1ha site in Whitfield later this month with a planned opening early in 2019.
The project to replace the current 40-year old Dover Leisure Centre represents a major investment in the district's sport and leisure facilities and is supported by Sport England with a National Lottery award of £1.5m from its Strategic Facilities Fund.
Following competitive tenders, the Council has awarded a contract to BAM Construct UK Ltd for construction of the new leisure centre. An announcement on the tender to manage the new leisure centre will be made in the coming weeks.
The new Dover District Leisure Centre will feature a competition standard eight-lane swimming pool with spectator seating for 250 people, learner pool with moveable floor, four court sports hall, squash courts, multi-function room, fitness gym with 120 stations, fitness studios, clip 'n' climb wall, and a café. The plans also include two outdoor 3G artificial pitches for five-a-side football and a minimum of 250 parking spaces.
Cllr Paul Watkins, Leader of Dover District Council, said: "This is a major investment in the health and well-being of the district. We are grateful for the support of Sport England in developing these exciting proposals, and would like to thank the many stakeholders, local sports clubs and individuals who have contributed ideas. We look forward to delivering a 21st century leisure centre fit for the district."
Charles Johnston, Property Director for Sport England, said: "We're delighted that we're able to provide National Lottery funding to help create this superb new leisure centre for the community in Dover. It will offer visitors a great experience, which is crucial in encouraging people to live more active and healthy lives."
Daniel Brenchley, Project Manager, BAM Construct UK, said: "Having built in Dover recently, it's particularly satisfying to return especially to create something that so many people will enjoy using. Our work in this beautiful county is extensive, as is our knowledge of the local supply chain and the community. We'll bring our customary skills, expertise and collaborative attitude to this important and landmark scheme."
ENDS

Wednesday, 13 September 2017 - 15:22
Post 4223
Sea News, Dover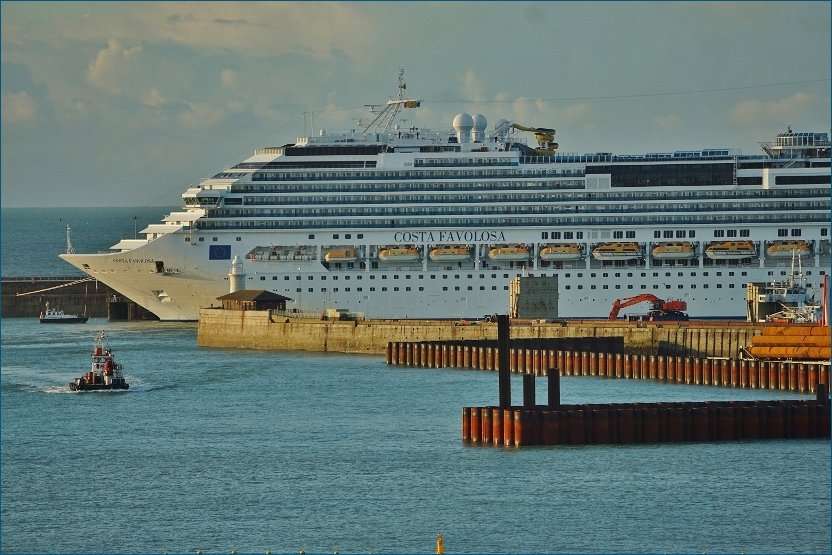 We had yet another stunning Costa ship in yesterday Tuesday, this time the Costa Favolosa. That's three in a row now and this one yet another 115,000 ton magnificent monster. The picture above shows her early morning around 7am catching the early colourful rays of the exotic Dover sun....

Below from the evening before we have the Pacific Princess leaving us with the help of both tugs in the stiffening breeze. She was off on a big 14 day tour to Scandinavia and then on to mother Russia peaking at St Petersburg. Quite a trip that one. Wow!
Just adding this extra one of the Costa Pacifica below which shows both tugs gently pushing the big ship towards Cruise Terminal 2 in the strong crosswind. We have had some rough oul weather and the tugs are fully stretched on all fronts at the moment.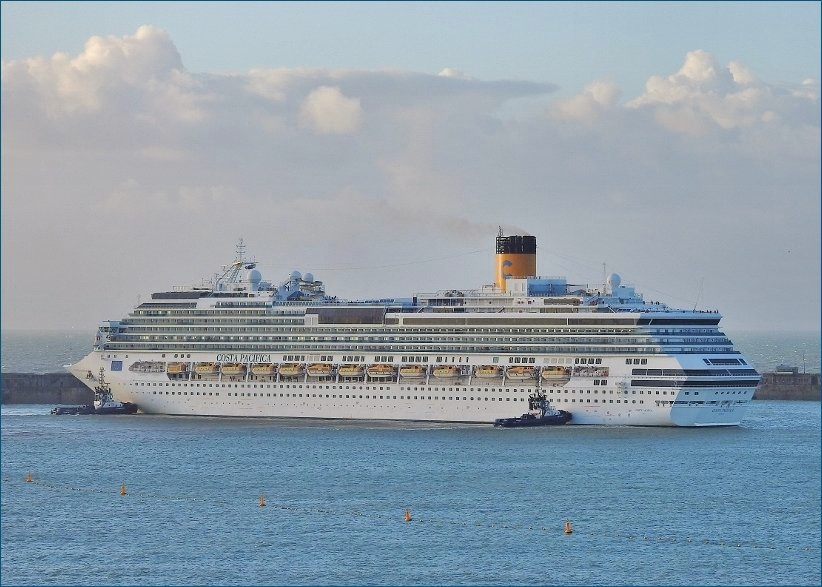 Cruise liner Monarch is approaching...so the flurry of late season cruise ships goes on.

Wednesday, 13 September 2017 - 06:33
Post 4222
Sea News, Dover
Now as promised here we are with more of the stunning Costa Pacifica ...following along of course from the Costa Magica ..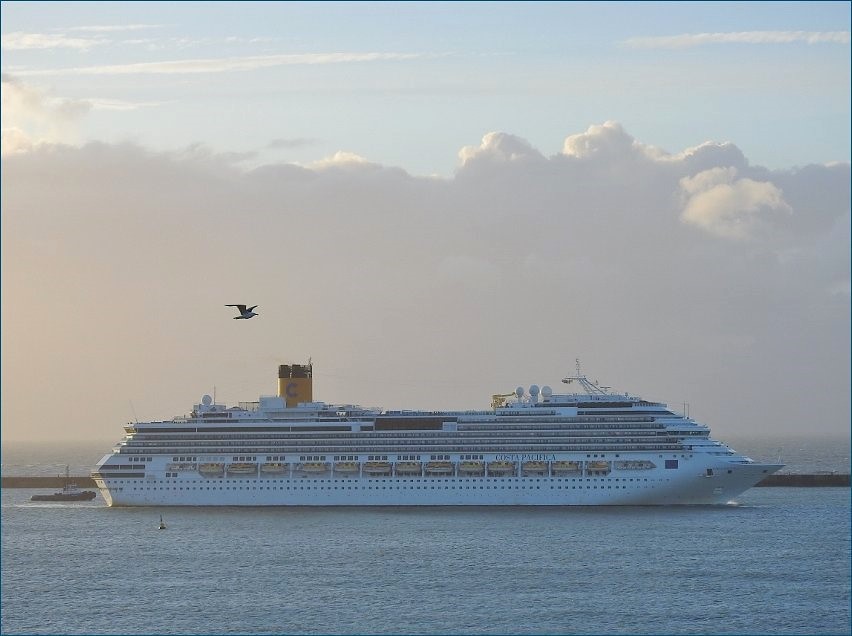 That's the giant Costa Pacifica above there moving all her 115,000 tons across the harbour in fine style yesterday morning Monday. Great to see this awesome beast. We are definitely on a roll with these great Costa ships. The pictures below show her arriving a few minutes earlier...just a tad earlier than the one above. She arrived at 07.00.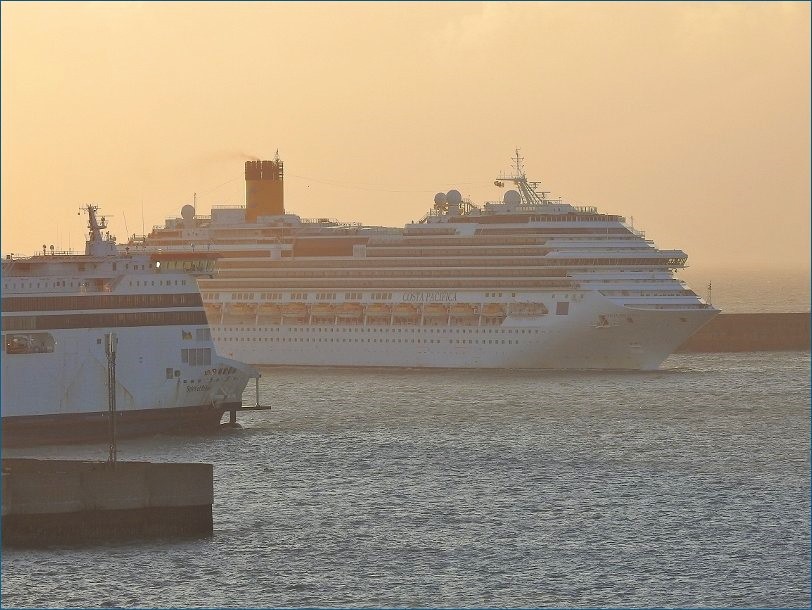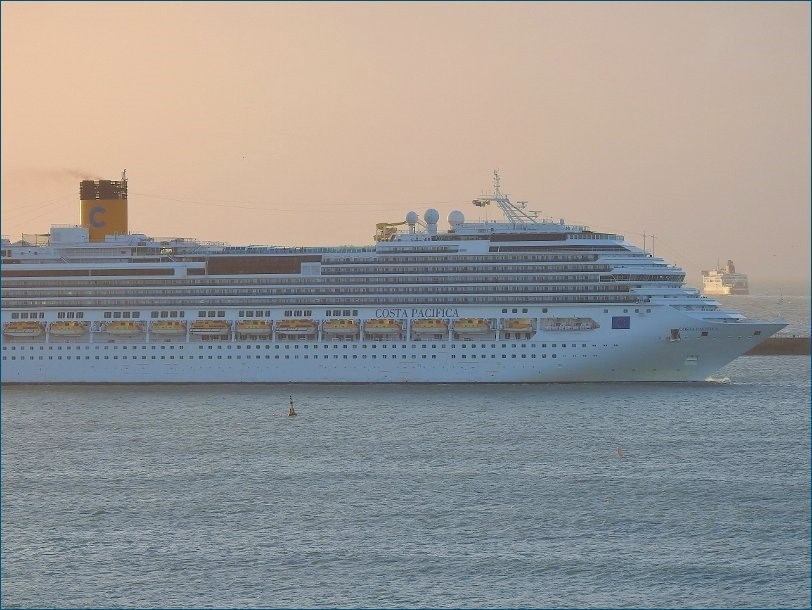 She left us last night at 19.30 heading for first call...Cherbourg. For more info on cruises type in Cruise Visits in our Search Engine.
Thanks for that latest Cruise Info below Colette.

Great pictures below Jeremy. You were able to keep them very sharp from a long range. Great stuff indeed!

PaulB
Tuesday, 12 September 2017 - 04:15
Post 4221
Colette B, Dover
Terrific photos of the two cruise ships below there Jeremy, always a pleasure to see

Monday, 11 September 2017 - 18:13