Thursday, 23 January 2020
Sea Pictures from Dover....

WWW.DOVERFORUM.COM/SEA-NEWS
Featuring all the ships that come and go and work at the Port of Dover ..
... with further coverage of the surrounding ports.
Sea News Dover
Use our SEARCH ENGINE below to find all sorts on the SEA NEWS pages....type in the topic and away you go, or if you have the post number, just type it in the box, more than
- 6750 -
nautical posts now. Posts are welcome. just click 'Add Your Comment' below. Max of 5 pictures preferred although we can stretch that for special stories.. Sea News Editor Paul Boland - send info or pix to dover7@msn.com. Always welcome.
Book with P&O - Free Fuel see 6760
NEW UPDATE ..just in:
To show your pictures at their best..it could be worthwhile resizing before posting to
860
pixels wide. Our new standard size.
All pictures on these pages are the copyright of the owners and must not be reproduced without permission.
Post 6706
Sea News, Dover
Dover Lifeboat in Harbour action once more
once more but its the final four...
from that exciting display on Thursday Dec 12.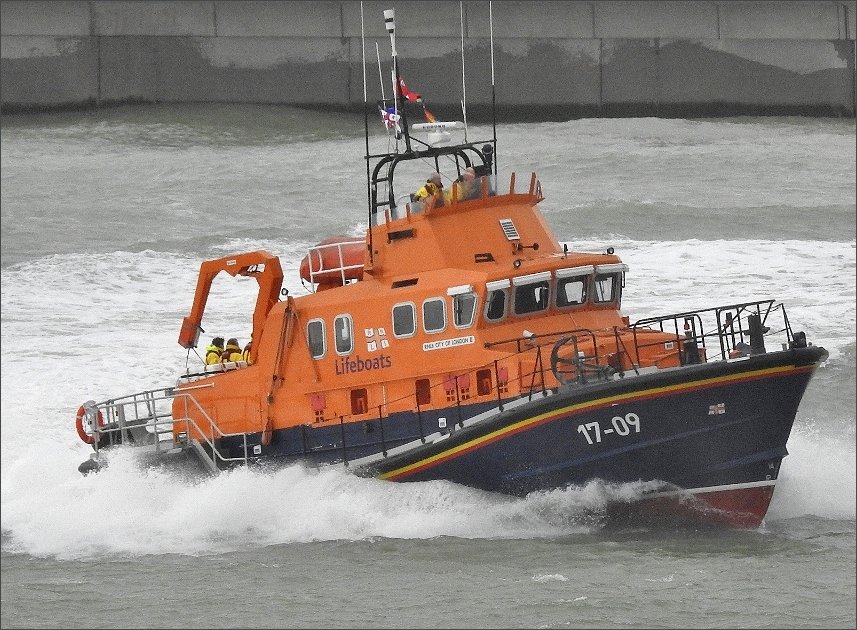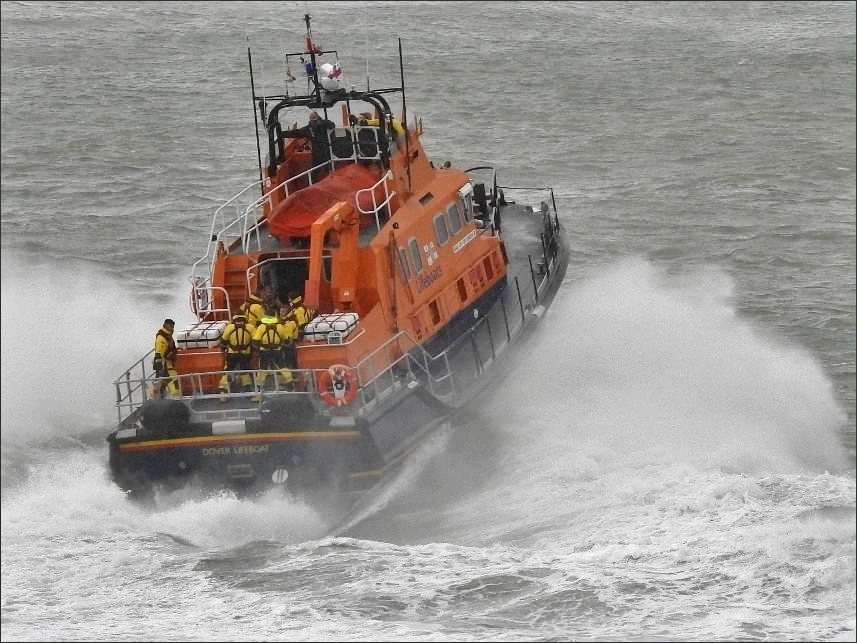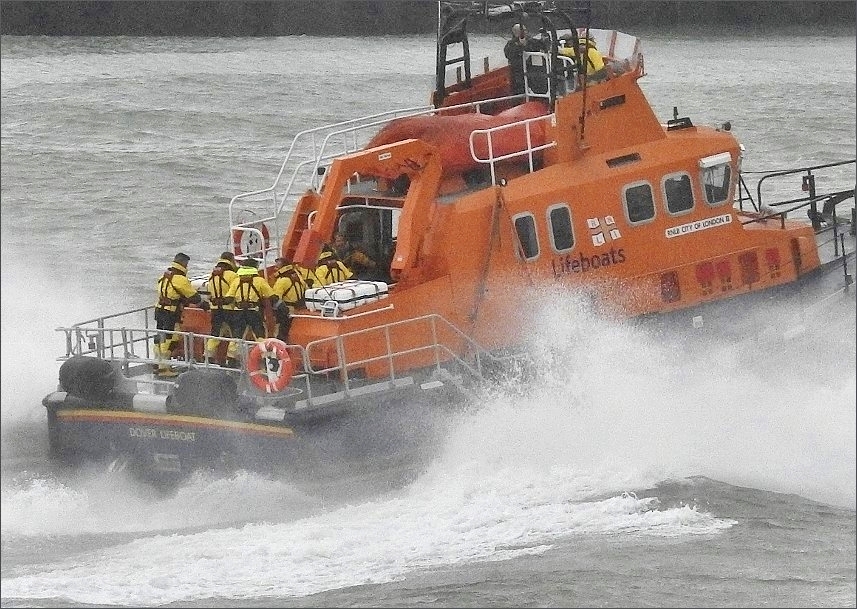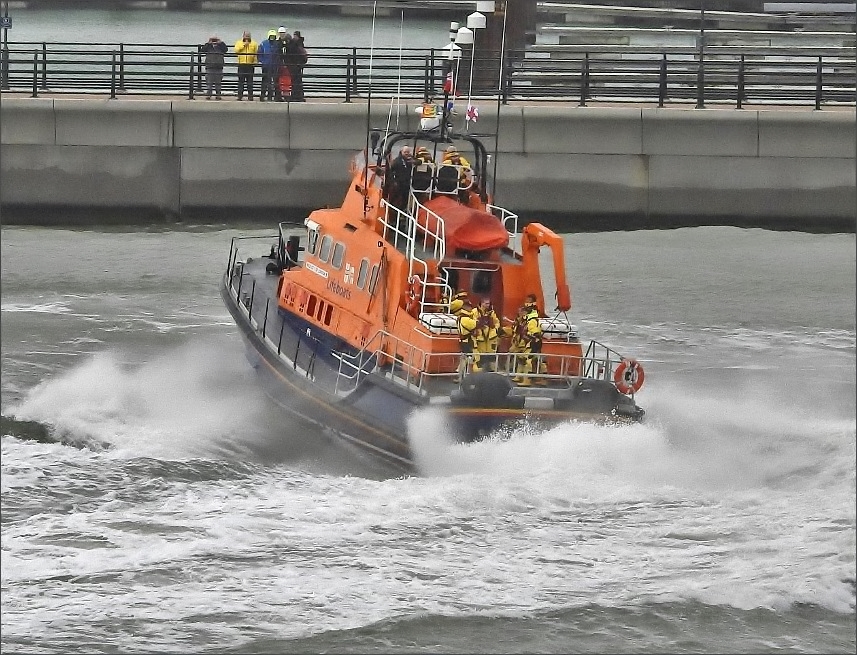 Dover Lifeboat
Closely observed by a group on the new pier in the final shot there.
More... see also the other pictures from the same display in posts 6696 and 6699.
Absolutely brilliant demonstration/display by the Dover Lifeboat.

PaulB
Wednesday, 18 December 2019 - 08:22
Post 6705
Del Styan, Norwich
Thanks for the X bow link - very interesting indeed. One for future ferries perhaps?

Tuesday, 17 December 2019 - 22:39
Post 6704
Sea News, Dover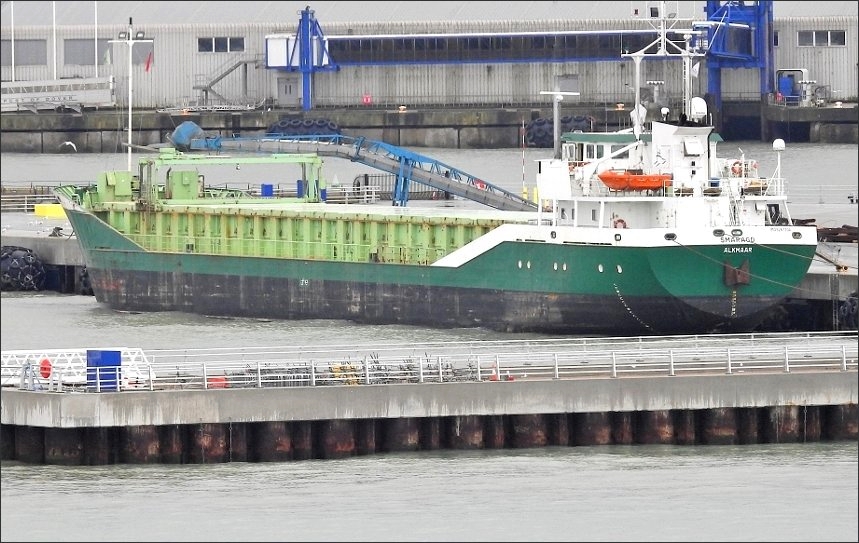 Following along from Mike's picture of Smaragd in the approaches to Dover, and in the pix below, there she is above after she eventually settled in at 'grain pier' WD4. She is still there as we write...absorbing grain deliveries..
Yours truly failed to see Emerald departing after another quick turnaround at new cargo terminal WD5...the Lady Rosebay had a fast (inaugural) visit too, but we caught Emerald mid-channel in the picture below, fairly long range, you can see the familiar reefer here on her merry way to Vlissingen in the Netherlands... 'twas a grey oul day out there...as you can see.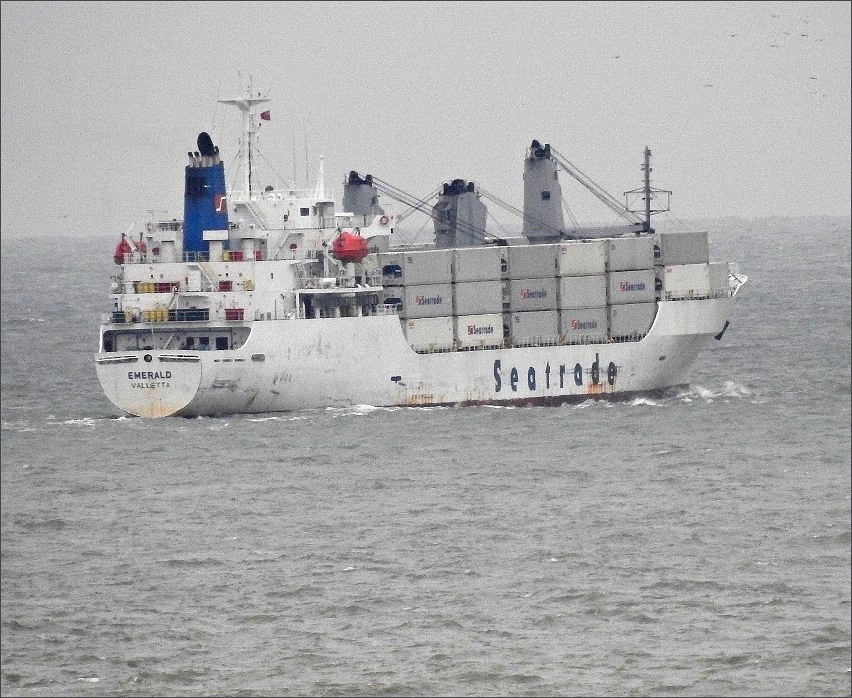 Don't miss Mike's posts below with the interesting collection of pictures/info..

Great shots from Nigel there...well done with those, excellent.

Del

PaulB
ps: will have a final burst of Lifeboat pictures tomorrow from their in-harbour display...the last four..
Tuesday, 17 December 2019 - 06:40
Post 6703
Mike J., Dover

Del -

Missed your X-Bow query untiI I had posted.

Just google 'ULSTEIN X-BOW PHOTOS INFO' & all will be revealed !

Tuesday, 17 December 2019 - 01:47
Post 6702
Mike J., Dover
A view of the EMERALD from St.Martins Battery on a murky Monday morning.
She didn't stop long, sailing for Vlissingen mid-afternoon.
As there are no signs of any repairs to the short-lived temporary walkway on the lower level of the Admiralty Pier this will be the only view of ships on WD5 available to the general public unless they are waterborne.
A big disappointment for the Ad.Pier anglers & the occasional promenaders' [& the even rarer ship photographer].
Even views from Paul's watch tower are obstructed.
Some better views of the EMERALD sailing & SMARAGD loading on WD4 ourtesy [& copyright] of 'Dover Straits Shipping' who has dock access.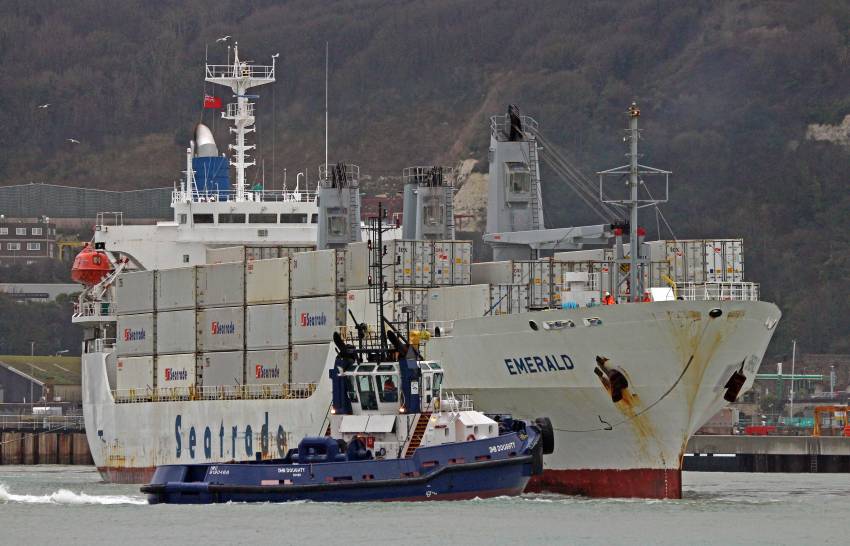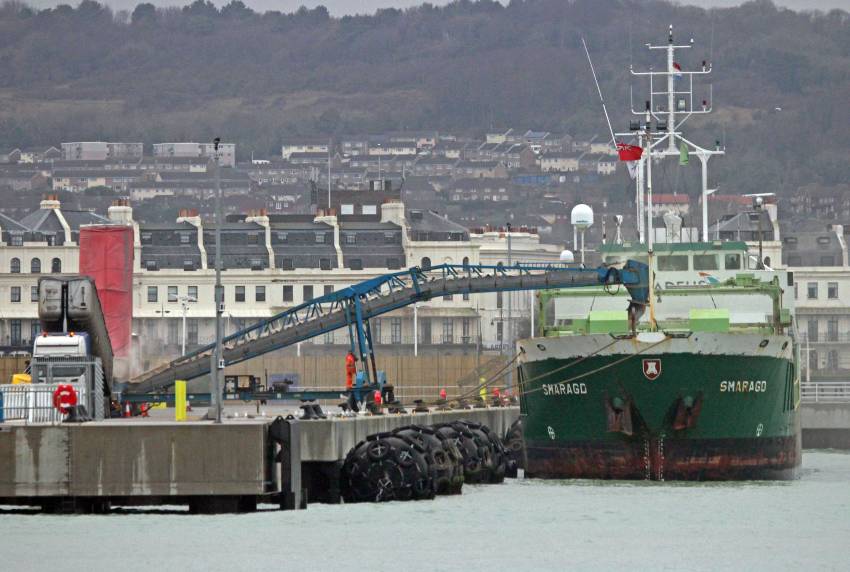 SMARAGD remains alongside Monday night, loading was interrupted during the day due to rain.
Tuesday, 17 December 2019 - 01:40
Post 6701
Del Styan, Norwich
That the 'X-Bow vessel is an odd one - anyone know any more?

Monday, 16 December 2019 - 23:01
Post 6700
Del Styan, Norwich
That 'X-Bow vessel is an odd one - anyone know any more?

Monday, 16 December 2019 - 23:00
Post 6699
Sea News, Dover

Ferry giant DFDS offers passengers its Brexit Guarantee
______________________________________________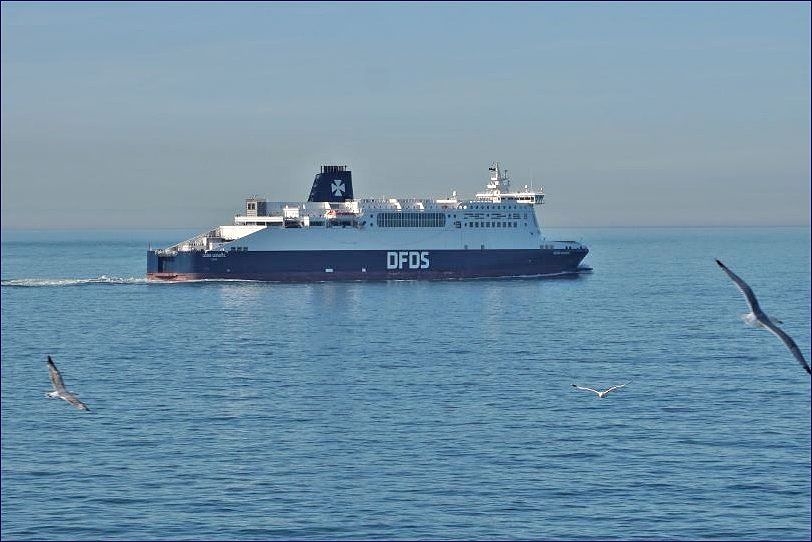 Following the 2019 general election result in the UK, the ferry company DFDS has reminded its passengers they can continue to book to travel to the Continent with confidence.
Kasper Moos, Vice President and Head of Short Routes & Passenger, confirmed that the DFDS Brexit Guarantee will continue.
He said: 'We created the Brexit Guarantee earlier this year so that people could rest assured their trips are safe with us and they can book with confidence. This guarantee means if you book direct you are able to cancel with no additional cost.*
'I want to reassure our passengers that we now expect an orderly transition for the UK to leave the EU which means that there will be no changes to passenger travel until the end of December 2020 at the earliest. At DFDS it is business as usual over the busy Christmas and New Year period. We will still be linking the UK to Europe, Brexit or no Brexit.'
Following the result of the General Election, DFDS expects that the Brexit deal agreed with the EU will be passed by Parliament resulting in the UK leaving the EU on 31st January 2020.
Leaving the EU with a deal means from 31st January 2020 the UK will automatically go into a 'transition period', at least until December 2020.
Although the UK will have left the EU, the transition period means that the UK will still be in the EU's economic zone: the single market and the customs union, so will continue as they have done,
including following EU rules and regulations.
The timetable can change if the UK government seek a transition period extension, which would need to be agreed by the EU, by 1 July 2020. An extension to the transition period can only be requested once and for one or two years.
Anyone with questions about their travel plans can get all the latest advice at the DFDS Brexit FAQs page www.dfds.com/en-gb/brexit. DFDS will monitor the situation as it develops and update our guidance accordingly.
-Ends-
*See terms and conditions. This free cancellation guarantee applies to bookings on four DFDS routes from the UK to France and Holland for travel until 29 February 2020. Call at least 7 days before your trip to cancel for FREE.
* *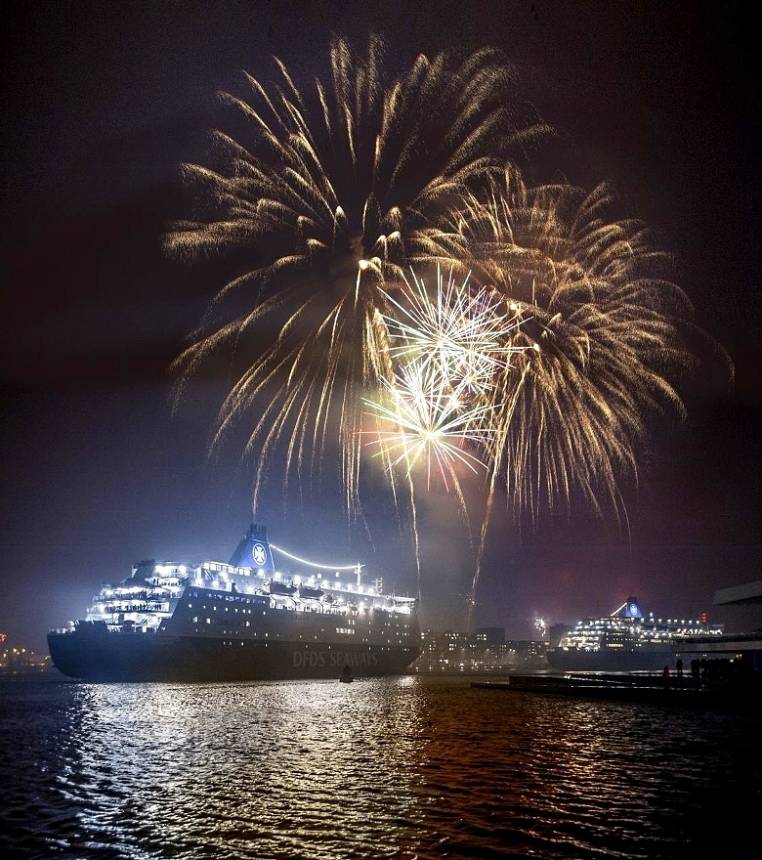 No plans for New Year? Celebrate in style on a DFDS 3-night mini cruise to Amsterdam
________________________________________________________________________

Prices from £328 per person based on 2 sharing an en suite inside cabin, includes Gala Buffet on New Year's Eve and free bar*
After the shopping frenzy of Black Friday and with preparations for Christmas now at peak panic, it's not hard to believe there are people with who haven't yet made plans for New Year's Eve.
Most are put off by thinking that if you haven't already booked, in most restaurants and bars it is already too late to get a ticket.
However, it's not too late to try something completely different. For £328 per person you could celebrate by sailing from Newcastle to Holland on 30th December to bring in the New Year on board the DFDS ship, King Seaways in the centre of Amsterdam.
The price is based on two people sharing an en suite cabin and includes a gala buffet, before toasting the New Year with a complimentary glass of fizz. There's live entertainment from swing sensation Jason Isaacs and singer and guitarist, Mick Hutchinson. Nick Newcombe is the DJ for dancing in the Columbus Club and there's also a casino, cinema and games area on board.
After the party, you can then start 2020 with a hearty breakfast on board the ship before heading into Amsterdam to explore more of the Dutch capital. The 20-metre high Christmas tree in Dam Square is decorated with four kilometres of Christmas lights and Museum Square has been turned into a magical Christmas village. The seventh annual Amsterdam Light Festival brings the city to life with creative light installations. There's plenty of time to explore the famous museums, bustling café culture or the canals lined with Christmas lights. The ship even sails along the Amsterdam canal into the city centre for the perfect vantage point to see the New Year firework show.
And before you return to land, there are savings on confectionery, clothing, gifts, toys and souvenirs, alcohol, tobacco, perfumes and cosmetics if you want to take advantage of the on board shops.
-Ends-
Prices start from £328 per person based on 2 sharing an en suite inside cabin, includes buffet dinner (30th December and 1st Jan), Gala Buffet dinner (31st December) breakfast (31st December and 1st January) and free bar* on 31st December. Group bookings available on request.
* All-inclusive bar on New Year's Eve includes draught lager, ship's red & white wine, soft drinks, water, fruit juice, regular tea & coffee.
* *
Dover Lifeboat: As promised .. some further pictures now of the Lifeboat display in the harbour last Thursday...a blistering display as you can see... see also 6696 for further pictures from the same display.. and we may even have some more...Go Lifeboat go !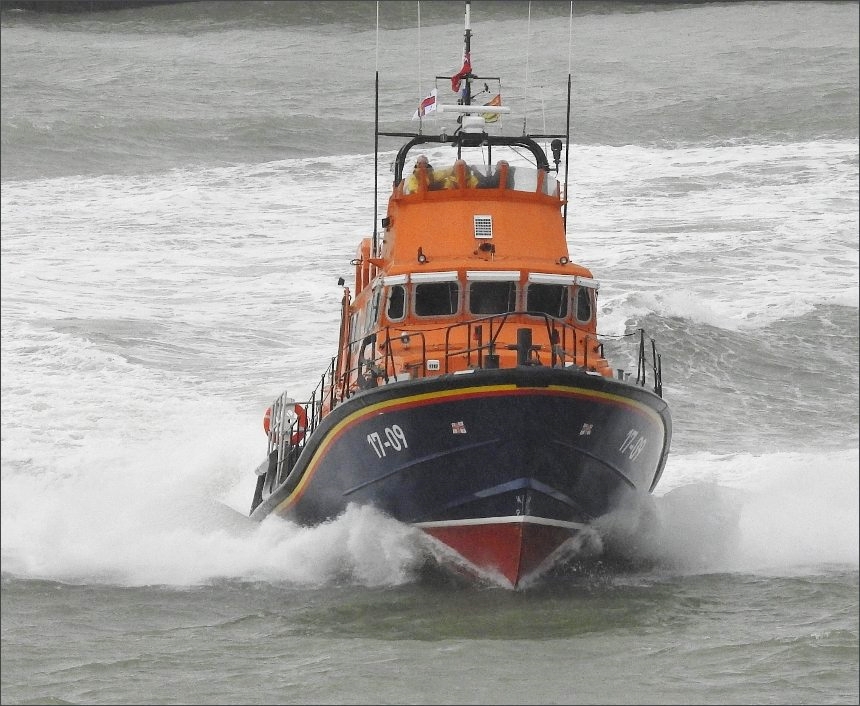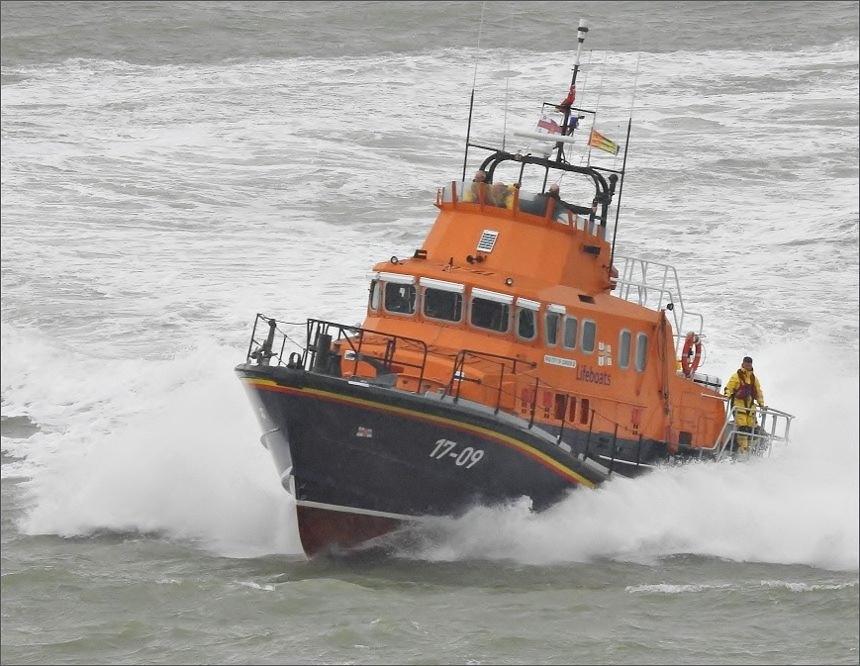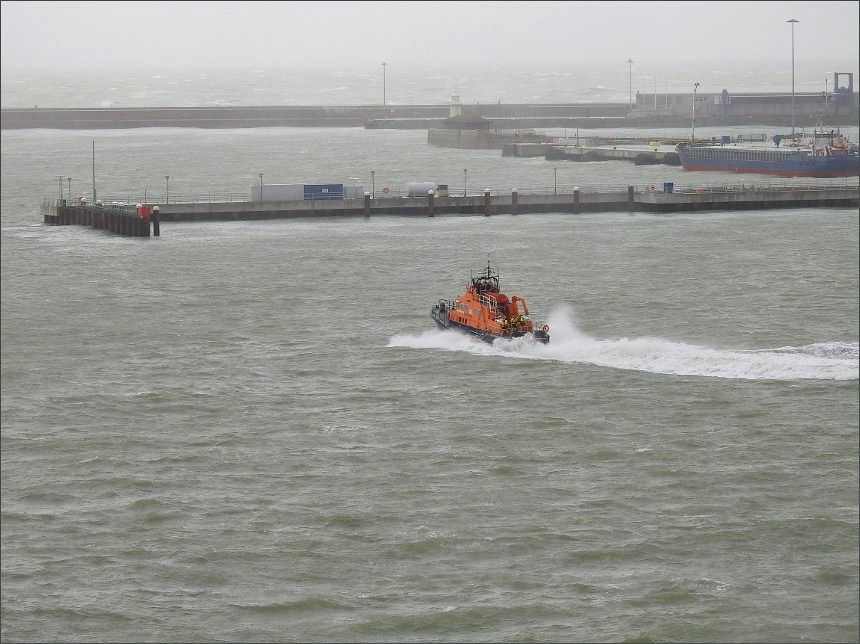 Dover Lifeboat in fine and fast action.
Very useful information and ideas from DFDS above there. Huge thanks to them...

Double DFDS and Lifeboat SPECIAL

See also Mike's latest post below re our two latest visitors. Nice pix,

...had a stab at Emerald photo at 11pm last night Mike
obviously pitch dark but I may have something...
PaulB
Monday, 16 December 2019 - 07:40
Post 6698
Mike J., Dover
A strange heavily-cropped shape off the port on Sunday afternoon - the 'X-Bow' supply vessel VOS PATIENCE heading for Lisbon from Aberdeen.
This unusual bow design is becoming popular as it is said to have better sea-keeping qualities & improves efficiency & reduces fuel costs.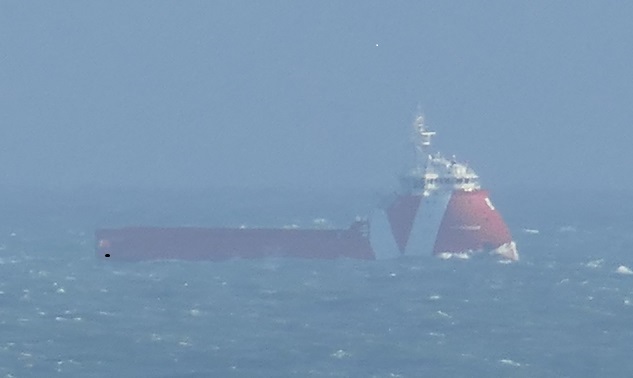 Anchored off Kingsdown on Sunday afternoon was the Dutch coaster SMARAGD came up the Channel this morning & anchored off Kingsdown & who docked on WD4 Sunday evening to load grain.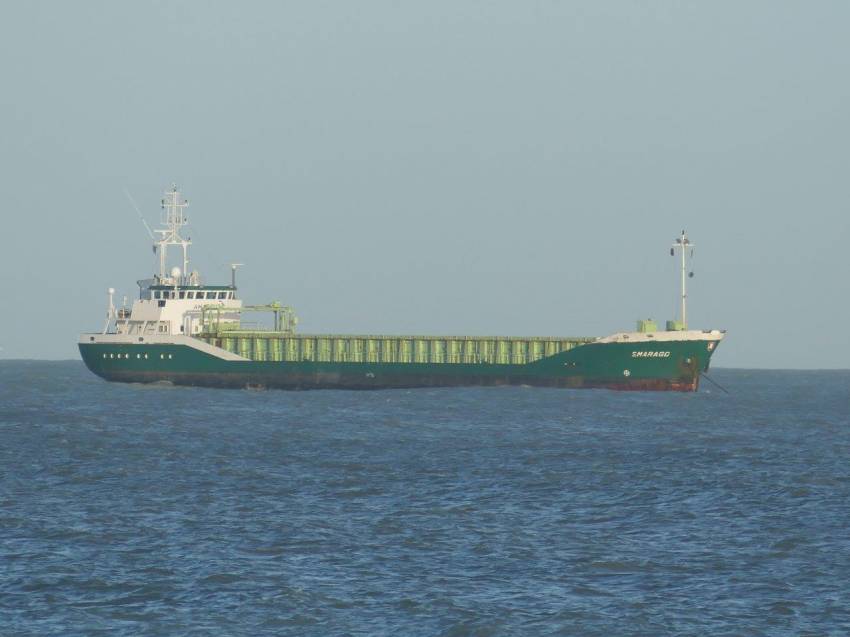 Her unusual name is Dutch for 'Emerald' which may account for her rather nice two- tone green livery.
By a remarkable coincidence as I type this the reefer EMERALD has just docked on WD5, her first European call after the long haul from Paita, Peru, via the Panama Canal.
Two jewels in the DHB crown ?
Sunday, 15 December 2019 - 23:52
Post 6697
Sea News, Dover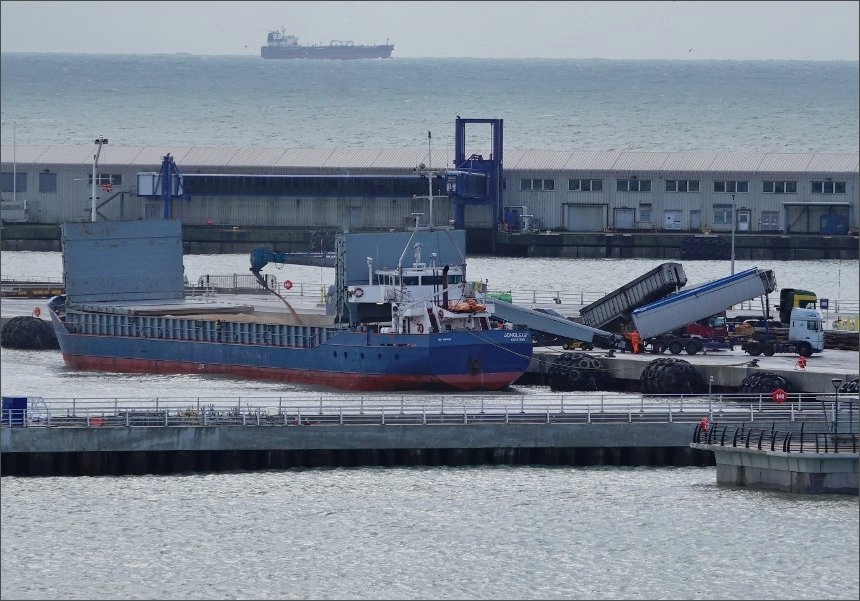 Last picture above there of Jongleur...she has now left the Port slipping away un-noticed and is currently heading for the Port of Leith. You can see the grain trucks loading her up prior to her departure from new pier (grain pier!) WD4. We now await the arrival of the next visitor...
The picture below shows the wider scene as we move the camera to the right of the top shot, it has definitely all changed over at the Western Docks. You can see the trucks waiting and the all new stacked containers...exciting times!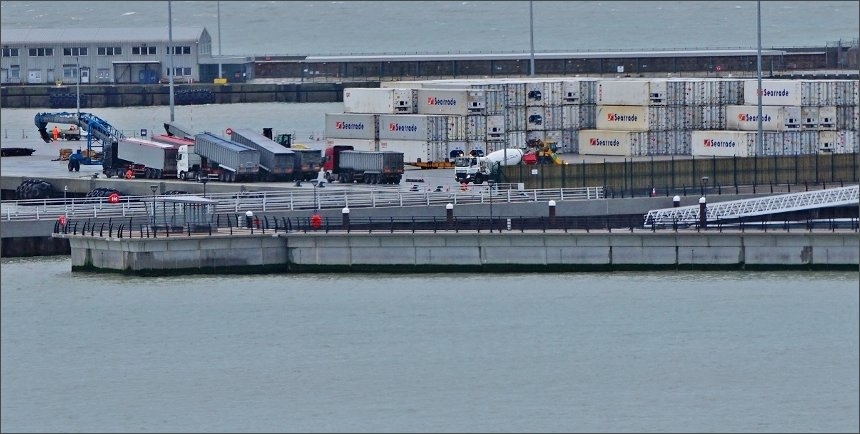 Grain in the Rain! below we have an earlier-in-the-same-day shot of the trucks waiting as the rain falls, we seem to be getting an awful lot of rain recently..heavens! All pictures Friday the 13th.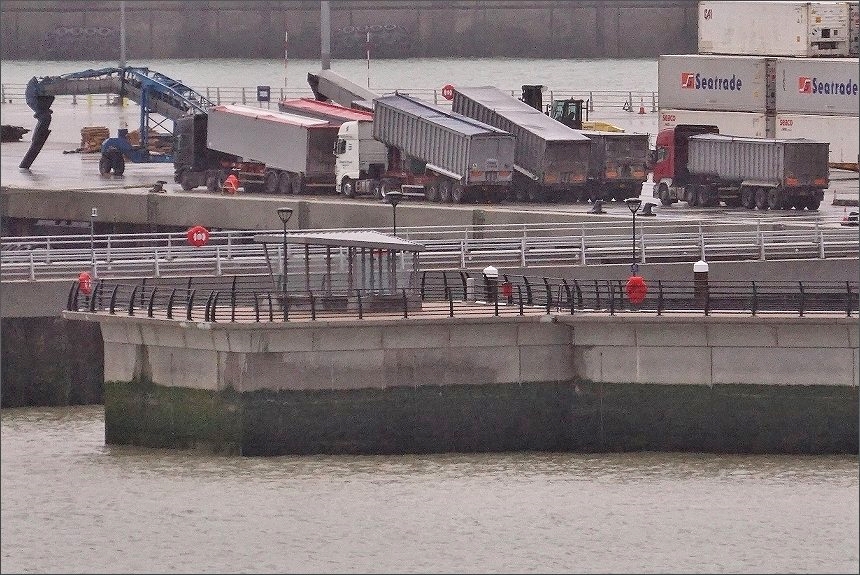 PB
Aiming to get those further Lifeboat shots up tomorrow so watch for those plus update news from DFDS.
Sunday, 15 December 2019 - 06:28
Post 6696
Sea News, Dover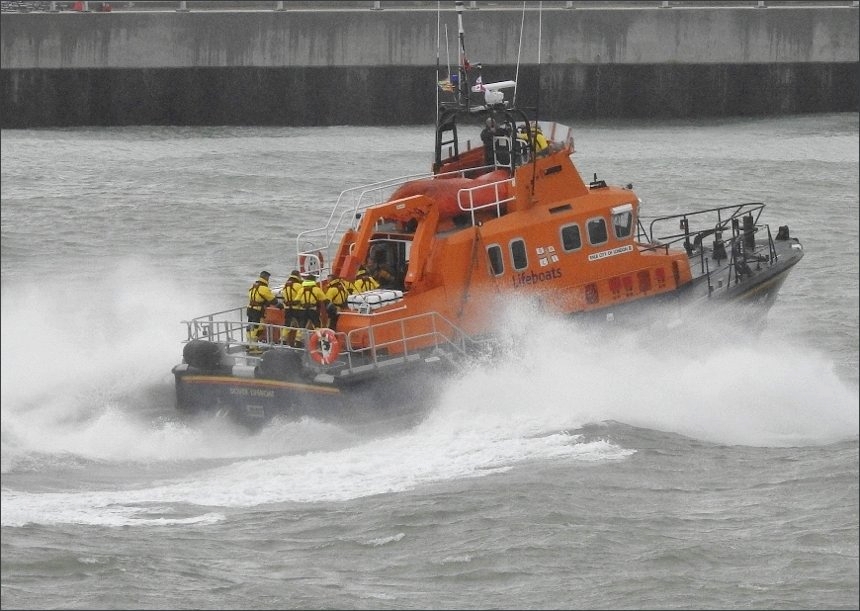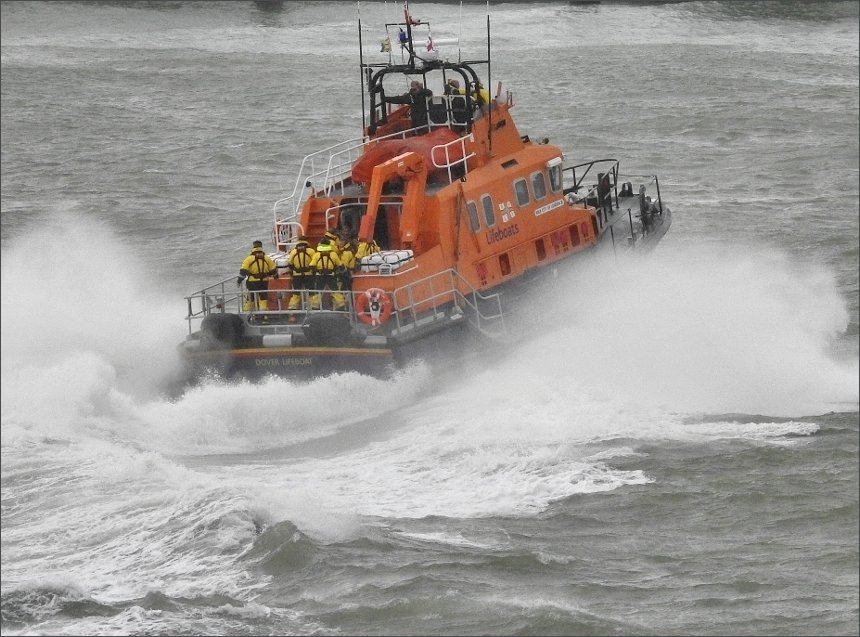 Dover Lifeboat:
Some dynamic new pictures of Dover Lifeboat above there...these pictures were taken during the wild weather on Thursday morning. Time of pix 11.47. The weather got even worse later however...with very strong winds rattling through Dover. The Lifeboat put on a power display during the morning inside the harbour.....perhaps testing new equipment or something...we will have more pictures of this episode to follow in due course with the Lifeboat powering towards us etc etc....
The Lifeboat always a favourite...


An extraordinary election Del...lot of success for both Tories and SNP, everyone else found reverse in their political gearbox.
PaulB
Saturday, 14 December 2019 - 06:48
Post 6695
Del Styan, Norwich
Apart from the obvious election comments I could make, I'll settle for a small comfort - I bet Charlie's not a happy bunny!

Friday, 13 December 2019 - 23:00
Post 6694
Sea News, Dover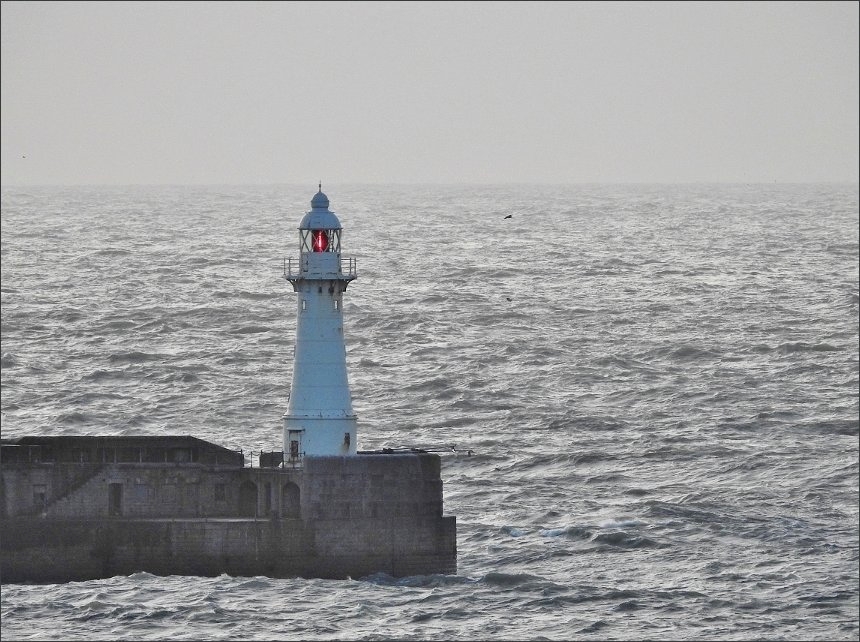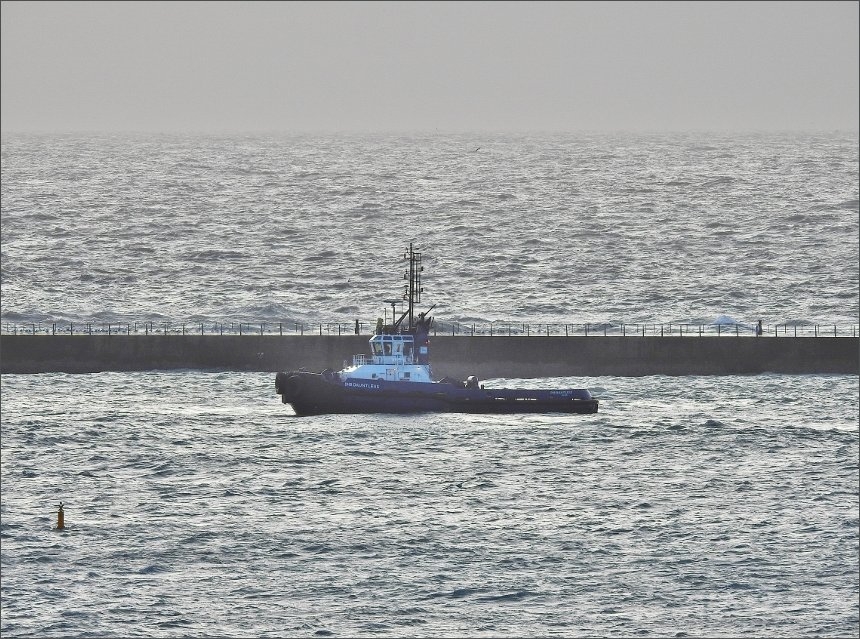 We had some wild and torrid weather here yesterday, the oul 'observation tower' rattled and shook in the fearsome onslaught...but we're still here! The pictures above show a gorgeous rolling silver sea, these pictures were taken a couple of days ago...gorgeous but choppy, very choppy. You wouldn't fancy coming across that in a small boat. Nosirree Bob!
The Lifeboat was out in the wild harbour yesterday...we managed to get some embattled pictures of that...will have some of those in due course all being well.
Here's a rough one from a former time...the Malo Seaways (remember that one?)...
just came across this old one in the home archives under 'rough day' while uploading..
it dates from January 2016.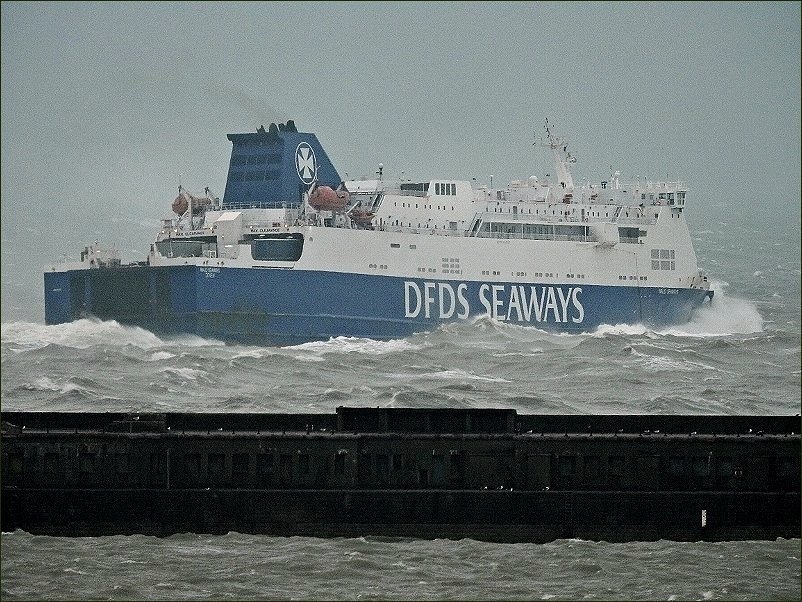 The General Election:
The Conservatives won a massive victory overall, rocking Jeremy Corbyn to his boots. I think its fair to say Remainers ( like yours truly) got a kicking losing seats allover. Here in Dover Natalie Elphicke romped home with a wide margin..it must have been our coverage of the shredding poster wot swung it...

Conservative Natalie Elphicke 28,830
Labour Charlotte Cornell 16,552
all other parties were a long way behind those two here in Dover, but it was a decisive win for the Tories as it has been across the country. The scale of the win was unpredicted. Boris Johnson now solidified as PM.
PaulB
Friday, 13 December 2019 - 07:47
Post 6693
Sea News, Dover
P&O FERRIES' AWARD-WINNING CHOIR RETURNS FOR TWO CHRISTMAS CONCERTS IN KENT
________________________________________________________________________________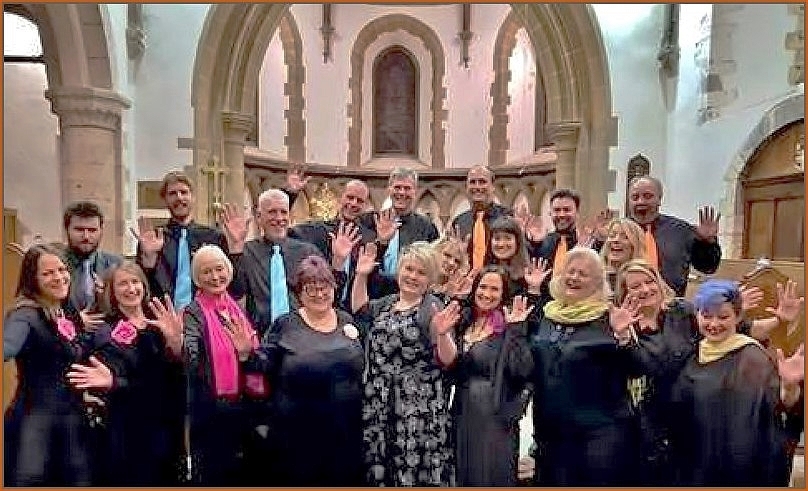 P&O Ferries' award-winning choir, led by famous soprano Hilary Campbell, will be performing two Christmas Concerts this December at local churches in Dover and Walmer, Kent.
Taking place on Sunday 15 December at St Paul's Roman Catholic Church in Dover and on Monday 16 December at St Mary's Church in Walmer, the choir promises a spellbinding recital of both traditional and contemporary Christmas pieces, performed in the impressive, ecclesiastical settings.
Tickets are available on the door at each concert; adult tickets are £5 and children can go for free. Doors open at 19:00 for a 19:30 start, and each concert will be followed by a drinks reception, with festive tipples and mince pies for all.
Hilary Campbell said, "We are thrilled to be performing our two Christmas concerts this year in Dover and Walmer. With Christmas getting closer and closer, it's the perfect time to swing yourself into the Christmas spirit, and revel in the festive atmosphere at one of our concerts."
P&O Ferries' Choir was originally formed with crewmembers and shore-based staff to take part in national BBC reality TV show "The Choir: Sing While You Work". The series featured five corporate choirs competing against one another for the title of 'Workplace Choir of the Year'. Coached throughout by renowned choirmaster Gareth Malone, P&O Ferries' Choir was crowned the winner of the series.
In the past few years, the choir has gone from strength to strength. They have taken to the stage at a number of notable events – whether performing to a London audience of 45,000 at Susan Boyle's Tour, or at Leeds and Dover Castle, or more recently in New York's Cathedral Church of St. John the Divine. The choir has also recorded several albums including classical pieces of Mozart and Bruckner, gospel, pop and Irish folk music.
The P&O Ferries Choir Christmas Concert – Sunday 15th December
______________________________________________________
Location: St Paul's Roman Catholic Church, 103, Maison Dieu Road, Dover CT16 1RU
Time: 19:00 (performance starts at 19:30, followed by a drinks reception)
Tickets: £5 (adults) and free for children (available on the door)
The P&O Ferries Choir Christmas Concert – Monday 16th December
_______________________________________________________
Location: St Mary's Church, St Mary's Road, Walmer, Deal CT14 7QA
Time: 19:00 (performance starts at 19:30, followed by a drinks reception)
Tickets: £5 (adults) and free for children (available on the door)
ENDS
* *
A couple of extra pictures now of Jongleur
still loading grain at the new 'grain pier' WD4
...pictures from early yesterday morning Wednesday. Dredger David Church crept silently into the second shot...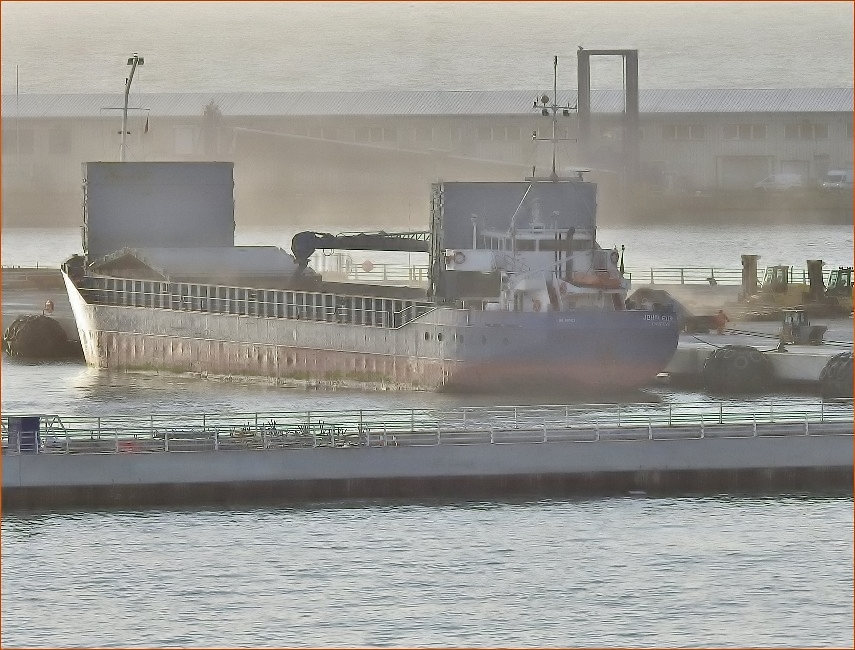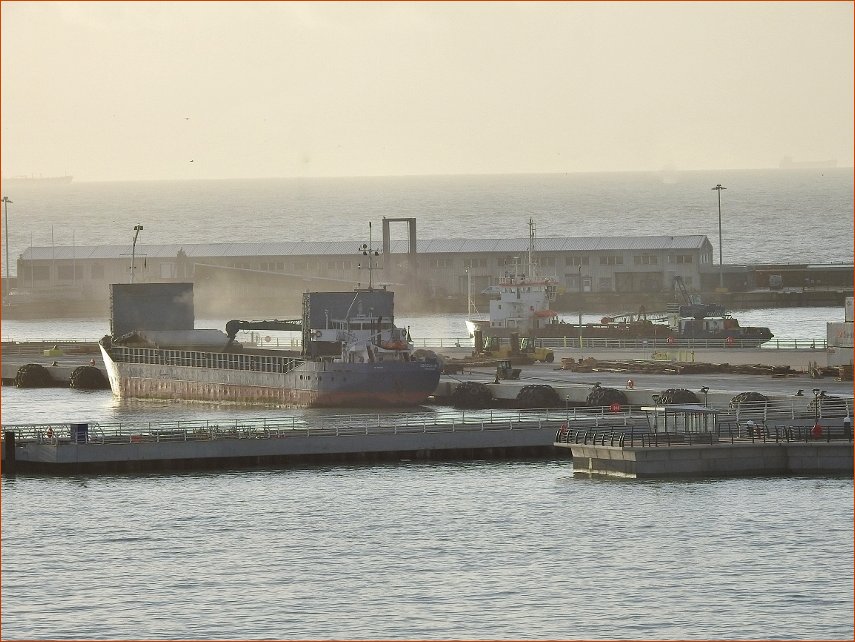 Once again...Many thanks for the info above from the team at P&O Ferries..

Amusing and welcome posts from Del and Mark below.
Good to hear from you again Mark...no excuses now..get painting


Merry Christmas to all in Northants.
The 'observation tower' sends big Merry Christmas wishes to you too Del in Norfolk


Highways England came and took the remnants of Natalie away yesterday...
I felt in my bones that they were coming to remove it anyway..damaged or not..."inappropriate location" or something.
Always good to see Christmas Greetings...

PaulB

Thursday, 12 December 2019 - 06:04
Post 6692
Del Styan, Norwich
Love it Mark! And a Happy Christmas to all in Dover Towers - and Northants - from up here in Norfolk.
I've noticed campaigners are very keen to put up posters, not so keen to take them down after the event. But perhaps Natalie needn't worry about your poster - it's nearly gone anyway!
Anyway - good luck to the Port of Dover, whatever tomorrow brings.


Wednesday, 11 December 2019 - 23:14
Post 6691
Mark Rushton, Northants
Oh dear, that poster is a mess isn't it ? I understand that 25 million people are helping police with their inquiries ! Personally, I'm ambivalent on the election. I've told the missus I can't get the spare room painted until we Get Brexit Done, so I may well run out of excuses tomorrow ! Merry Christmas to the Doverforum community from the Midlands

Wednesday, 11 December 2019 - 09:41
Post 6690
Mark Rushton, Northants
…. see above..

Wednesday, 11 December 2019 - 09:41
Post 6689
Sea News, Dover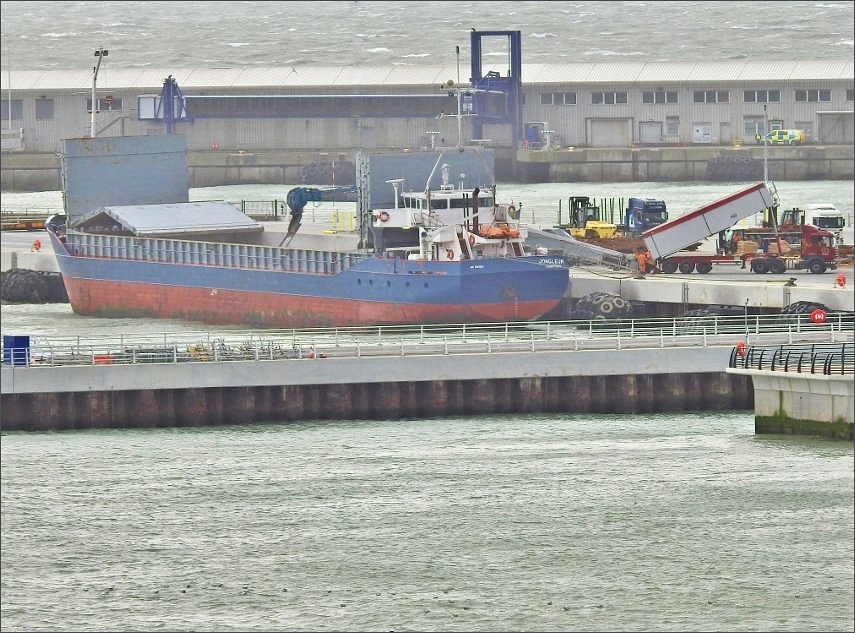 More and fresh activity at the new pier WD5...another grain vessel is in and loading as you can see in the picture above taken yesterday. A rough oul day yesterday. This grain ship is called...Jongleur...and you can see her taking grain onboard in the pic above... the western end of Port beginning to get very busy now..
Oh Dear! once again!... this time its definitely...'Death of a Poster'.
The ongoing poster saga goes ..well goes on...
Whether it was the ravages of the raging wild weather that did for it, or whether it was attacked by mysterious mysterions the Natalie poster/billboard is now torn to giblets.... see also 6686, 6682, 6678.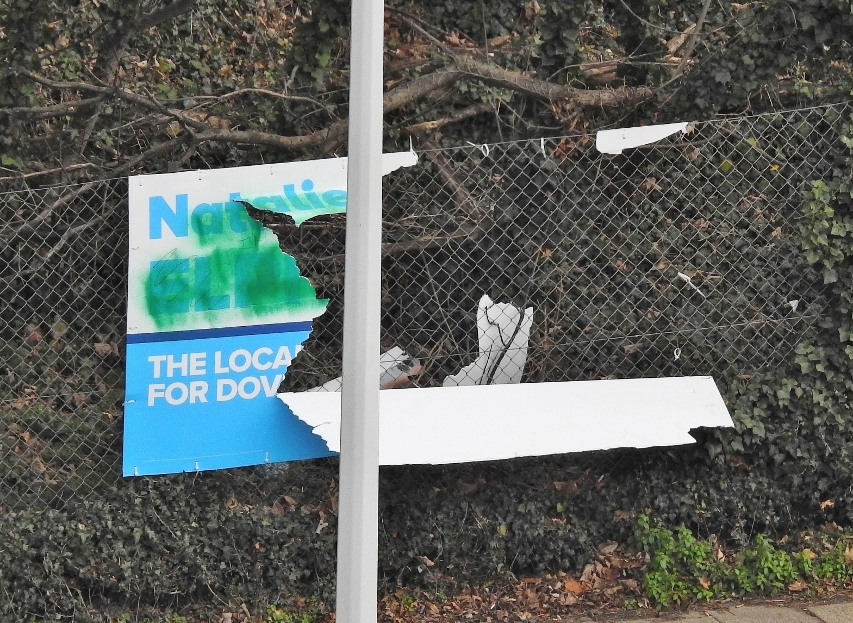 Wonder who is responsible now to take the eyesore down...

Tug Dauntless below ...(testing.. testing one's technicals with this pic)
the tug was on standby over the past few days to help ferries berth if needed in the rough weather.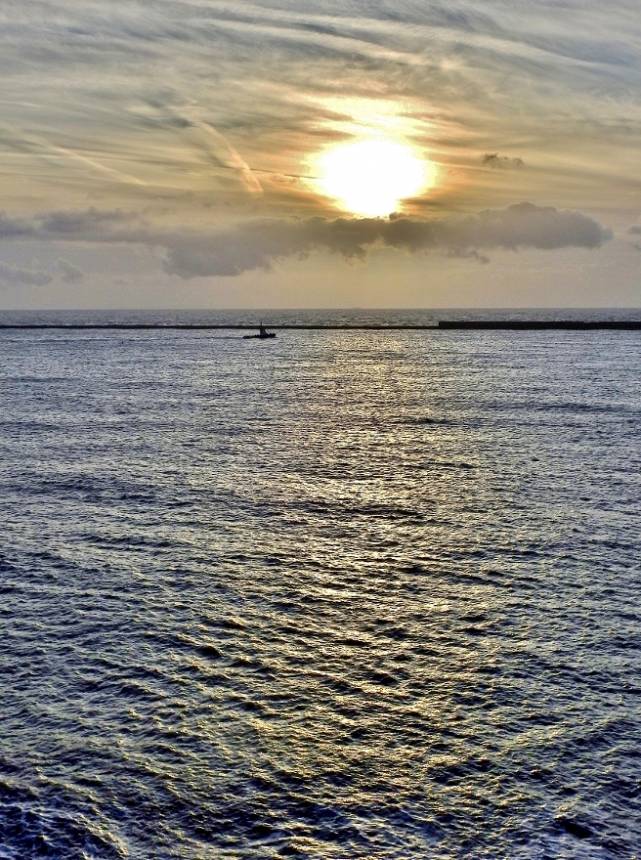 Don't miss the post below heralding the first reefer arrival at Western Cargo Terminal...
PaulB
Wednesday, 11 December 2019 - 07:45
Post 6688
Sea News, Dover
A new era for Port of Dover as the Cargo Terminal West officially opens for business
___________________________________________________________________________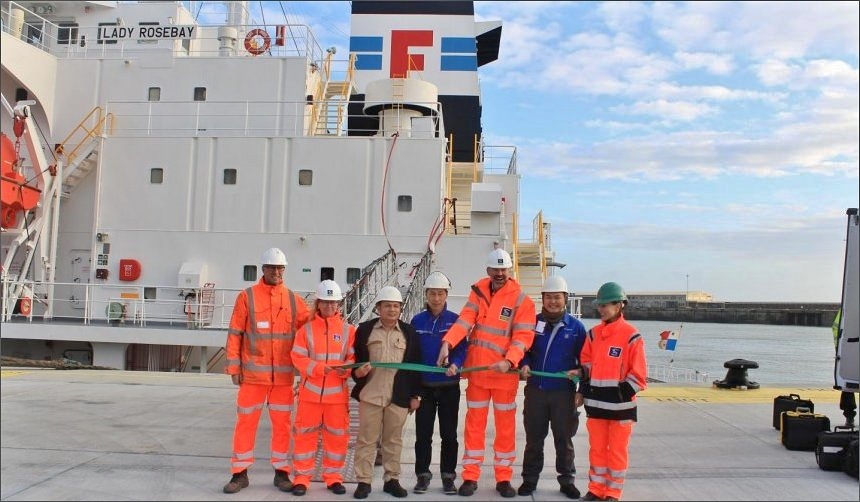 Cutting the Ribbon - Port of Dover Cargo team with Bram van den Broecke from Seatrade and Captain Rey Abdul L. Masilam
On Sunday 8th December, the Port of Dover's brand-new cargo terminal officially opened its doors for business, as cargo from the Seatrade vessel Lady Rosebay was processed through the new state of the art facility. Dover Cargo Terminal West is now completely operational after five years in the making.

Nik Scott-Gray, General Manager of Port of Dover Cargo Ltd said:
"Today heralds an exciting new chapter for Port of Dover Cargo – it's amazing to see the new terminal fully functional and processing such a large variety and volume of cargo using equipment, warehousing and IT systems.
The Dover Cargo business is long established as one of the best in the industry and I'm thrilled that we can now take it even further with the endless opportunities that the new terminal brings us."
Port of Dover Cargo Ltd has seen an expansion in its customer base recently, as new and existing customers have begun to make use of various features of the new facilities over the last few months, including an additional multi-purpose berth.
The business has an established and thriving trade in perishables freight from Central and South America and the new facility means that the Port now has the capability to process a whole range of commodities. Breakbulk steel rebar was recently discharged through the facility for the first time ever in Dover.
Barbara Buczek, Chief Commercial Officer at the Port of Dover added:
"I'm incredibly proud of the whole team for delivering this huge milestone moment for the Port. Port of Dover Cargo plays a major role in the success of our whole business, and I'm so pleased to see our wonderful new facility taking it to new heights."
Dover Cargo Terminal West was constructed to keep up with the demands of an ever-expanding cargo business. Lady Rosebay is the first fresh produce reefer to use the brand-new facility.
Ends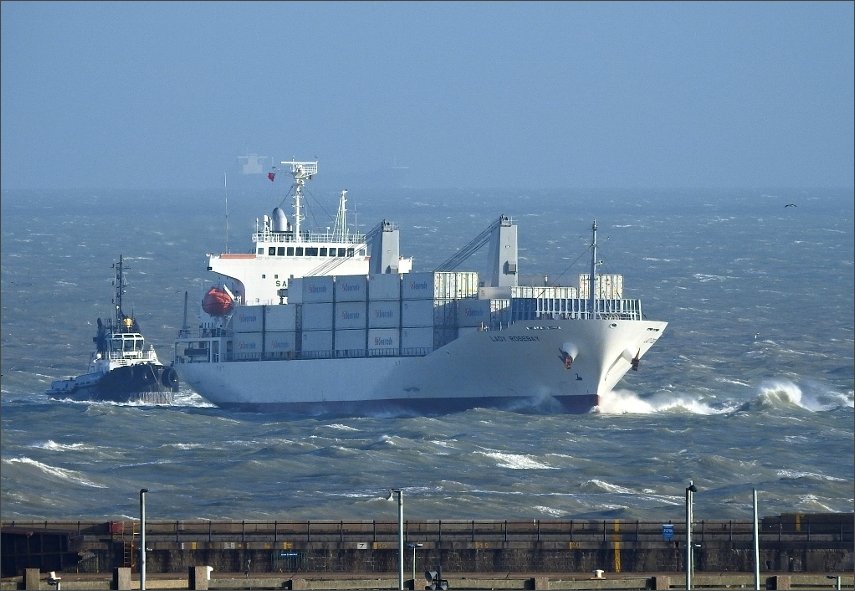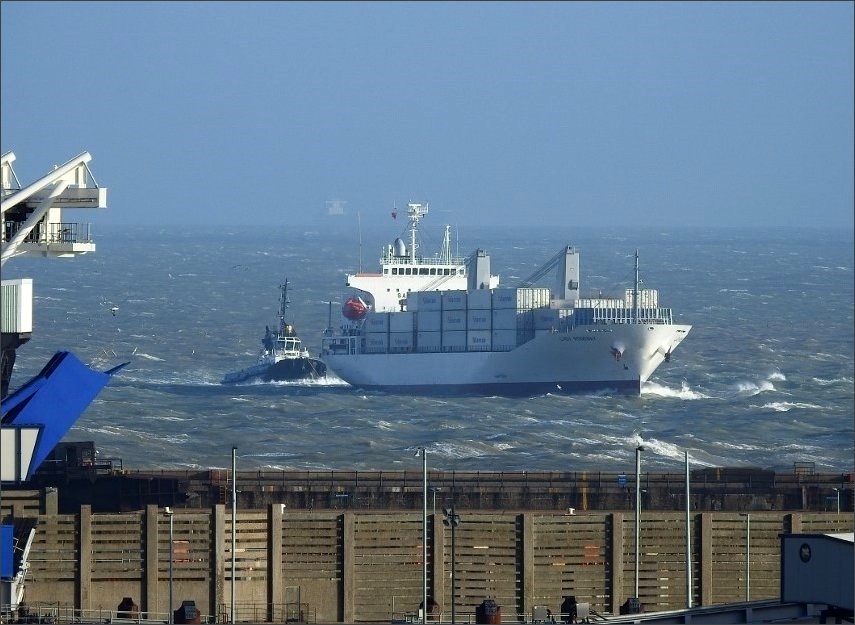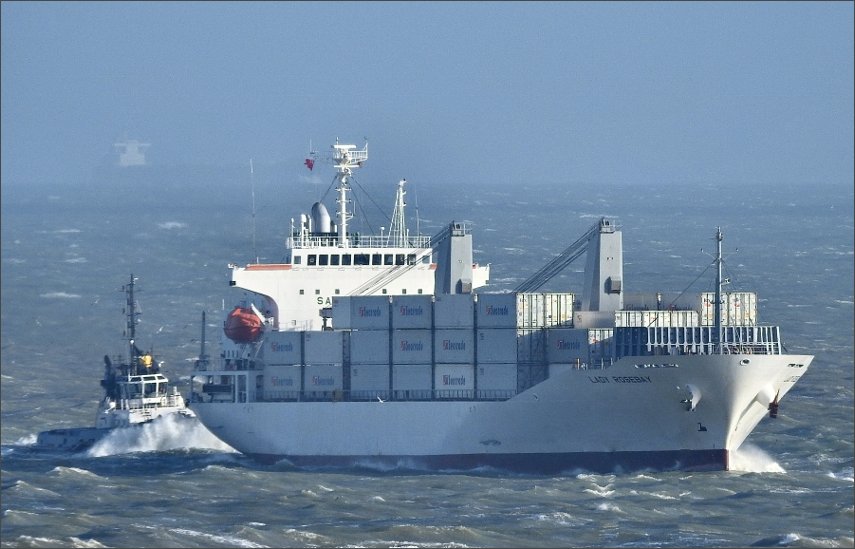 Lady Rosebay approaching the Port on Sunday morning.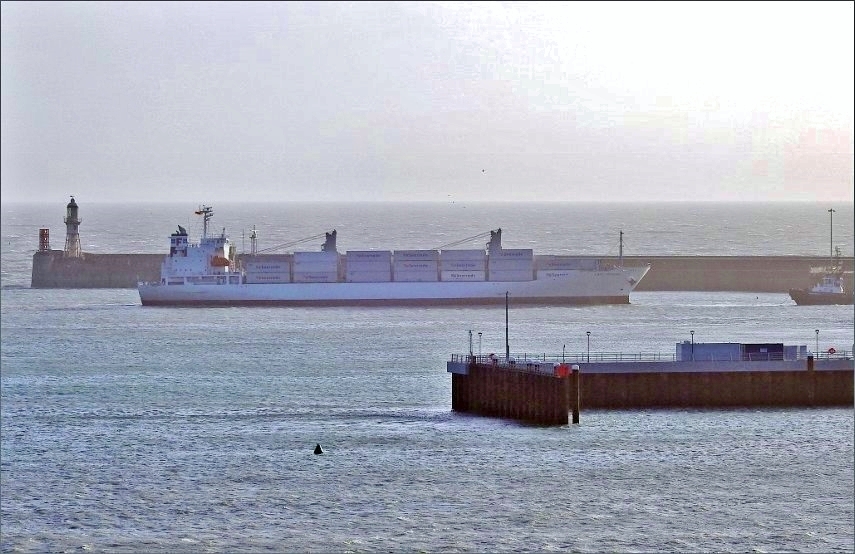 As mentioned yesterday..yours truly was surprised to see Lady Rosebay above keep right on going. Was waiting all agog for her to turn as per normal with camera poised for the usual shots...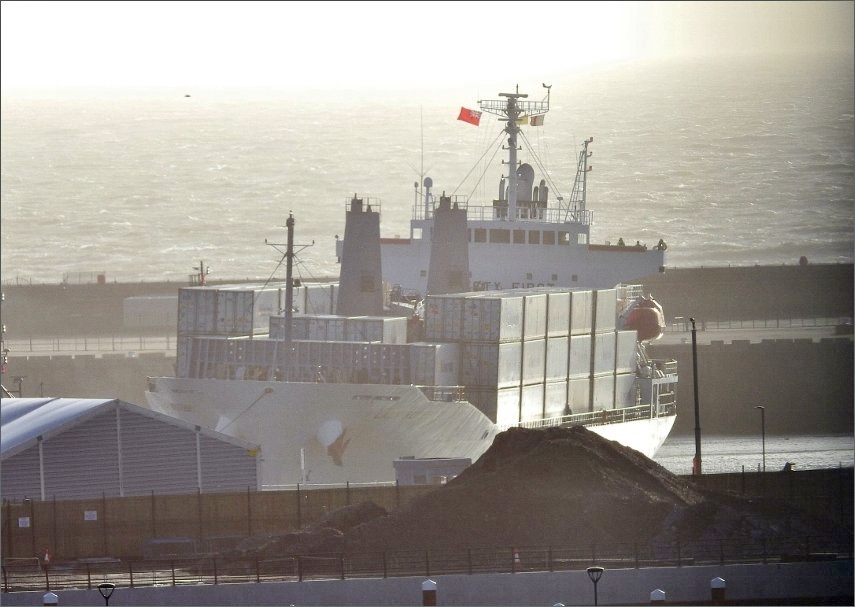 Blinded by dazzling sunlight in this picture here but you can see the gist of things as they develop...the Lady edges towards the new terminal.
The new terminal in full nightime operation below...it made quite a sight..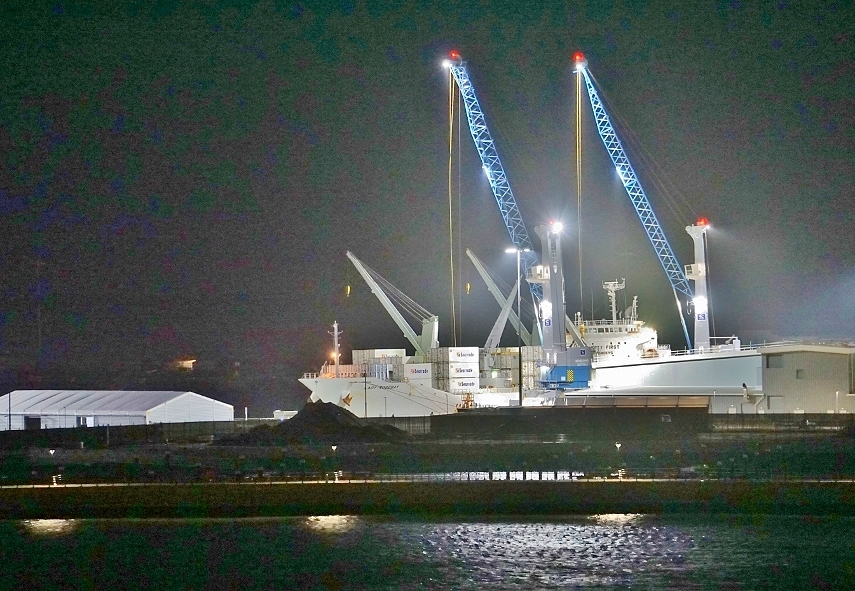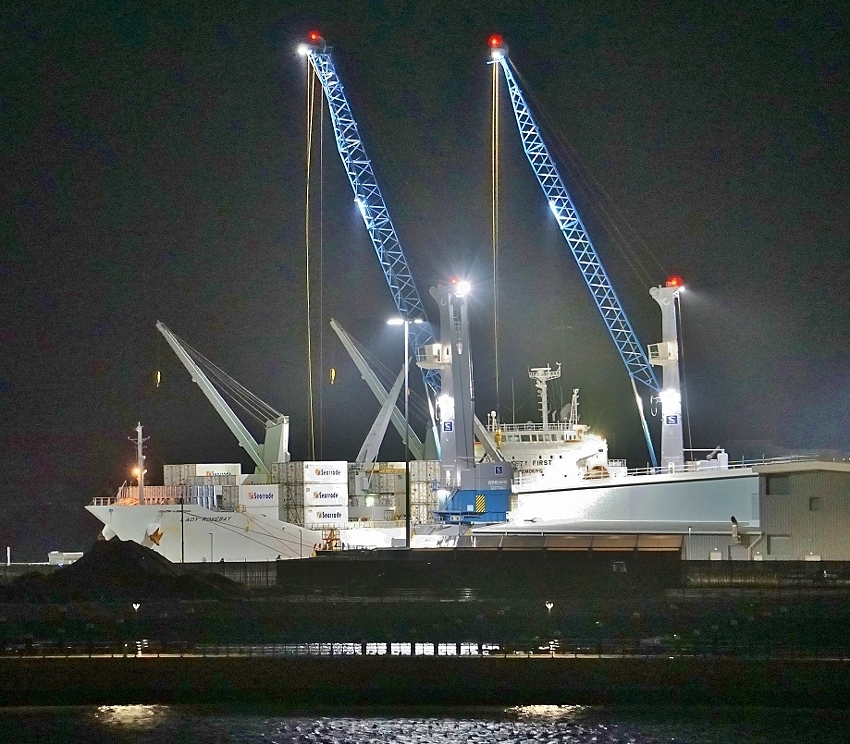 Many thanks to the Media Team at the Port for all the latest information above.

PaulB
Afraid not Del...

Tuesday, 10 December 2019 - 07:01
Post 6687
Del Styan, Norwich
But does the light pole shine on the amended Elphicke poster at night? Perhaps not?

Monday, 9 December 2019 - 23:11