Sunday, 19 November 2017

doverforum.com/sea-news
Featuring all the ships that come and go and work at the Port of Dover with further coverage of Ramsgate, Calais, Dunkerque. Email: dover7@msn.com to send SEA NEWS pix or info.... or click ADD YOUR COMMENT below to post direct, no membership needed.
Mammoth Tooth Find - Extraordinary at Port of Dover see 4389.
DFDS - Helping to tackle Breast Cancer - see 4377.
PORT of DOVER: COOL CARRIERS..great cargo coup. New Trade for Dover.. 4336.
P&O FERRIES...women in the workplace .. also 4336..also see 4370 for the new graduate seafarers.
PORT: Latest DWDR news and drone pictures...see 4330.
DFDS and the Maritime Catering Apprentices 4323.
P&O Ferries help children with serious illnesses cross to France 4316.
Port of Dover's Big Christmas Ice Event 4311. Fun for all...
Port of Dover sponsors War Horse 4294
DFDS - Crowned Europe's leading Ferry Operator 4287.
DDC Leader Paul Watkins retires...see 4282 and 4270. Replacement 4328.
Use our SEARCH ENGINE below to find all sorts on the SEA NEWS pages..more than 200 now with more than 4000 nautical posts. Posts welcome. Max of 5 pictures preferred per post. Sea News Editor Paul Boland.
Type Cruise Visits (or indeed anything) in our Search Engine below for the latest cruise ship arrivals..
Post 4362
Patrick, Marine Parade
Hopper Dredger 'BARENT ZANEN' discharging sand via pipeline along Price of Wales Pier to reclaim area in the piled off section of the Wick Channel alongside the Hoverport site.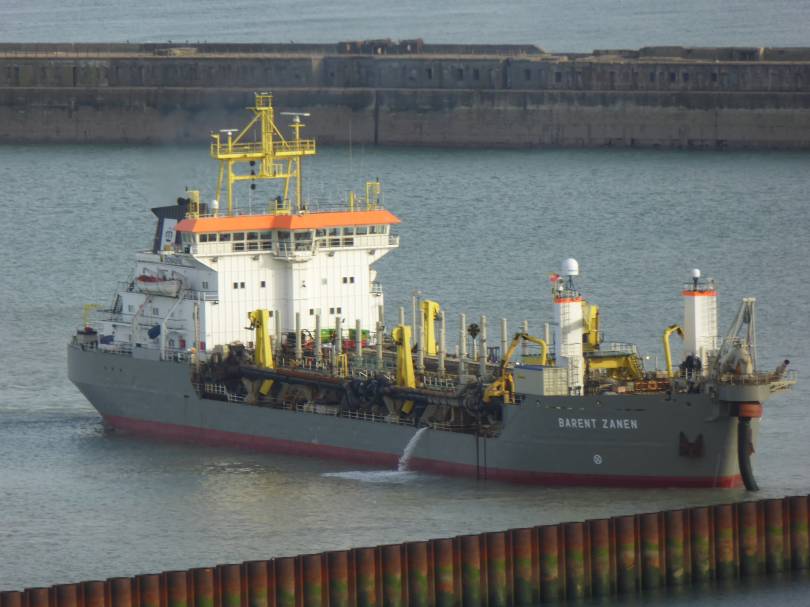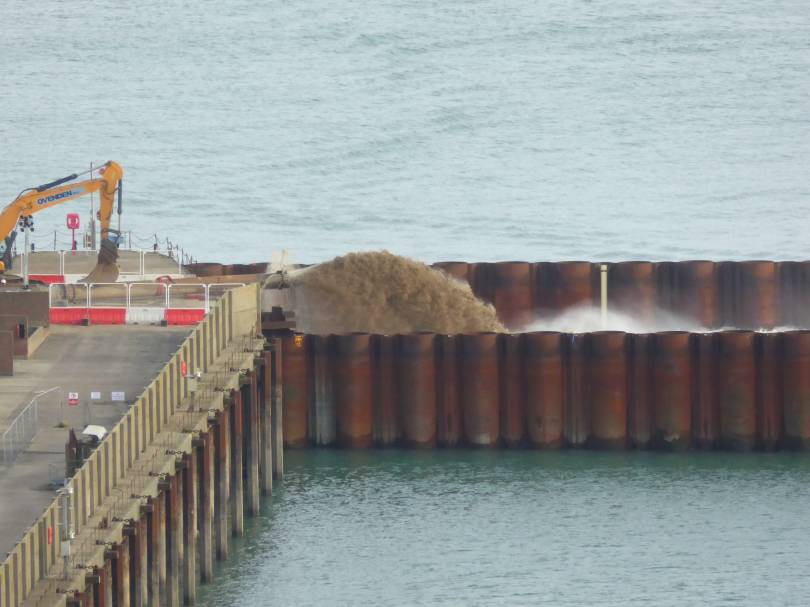 Monday, 30 October 2017 - 17:36
Post 4361
victor matcham, Dover
If you look on the photos of the piles you will see some have been welded to each other well that is because they were off cut off from other piles and then welded to each other so they can be put back into the ground making a saving on piles ,that might be done two or 3 times when they go down to each one making a big saving to the amount of piles they use,but the welding must be good,and that was just part of my days work when piling.

Monday, 30 October 2017 - 16:35
Post 4360
victor matcham, Dovor
Some time ago I did aske the Boss of the D,H.B because of all the piling I had done in the pass for the D.H.B.please could I have a walk to where they are working just to have a look.He told me he would look into it for me ,but because of my legs he did not think that would happen,

and it does look like I will not get along there.

Monday, 30 October 2017 - 15:12
Post 4359
Sea News, Dover
DWDR: Pictures from the waters edge...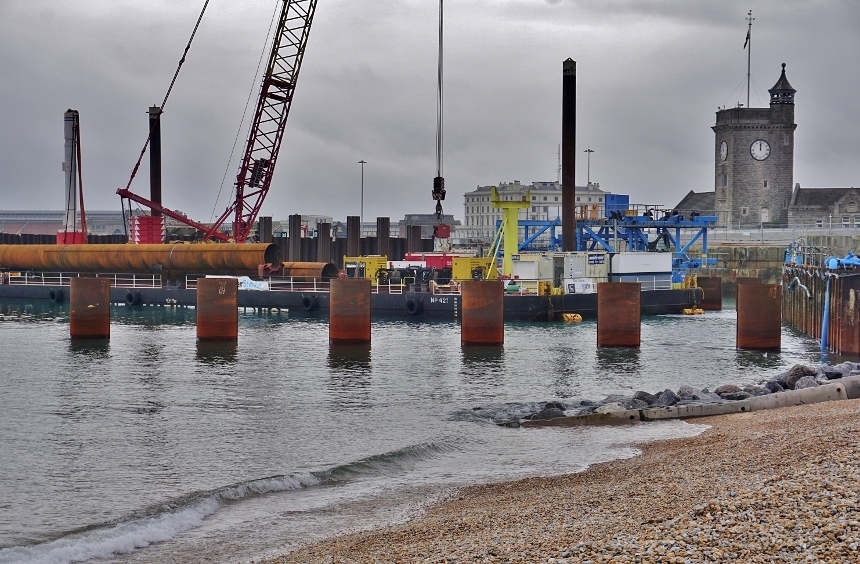 On a very recent gloomy day .. yours truly, the intrepid photographer extraordinaire, ventured across the shingled terrain under a menacing sky, to reach the waters edge...right next to all the DWDR goings-on...and captured these pictures. The top shot shows the ever busy 'canal gate' area and the pictures below swing slowly inwards in sequence from sea to shore..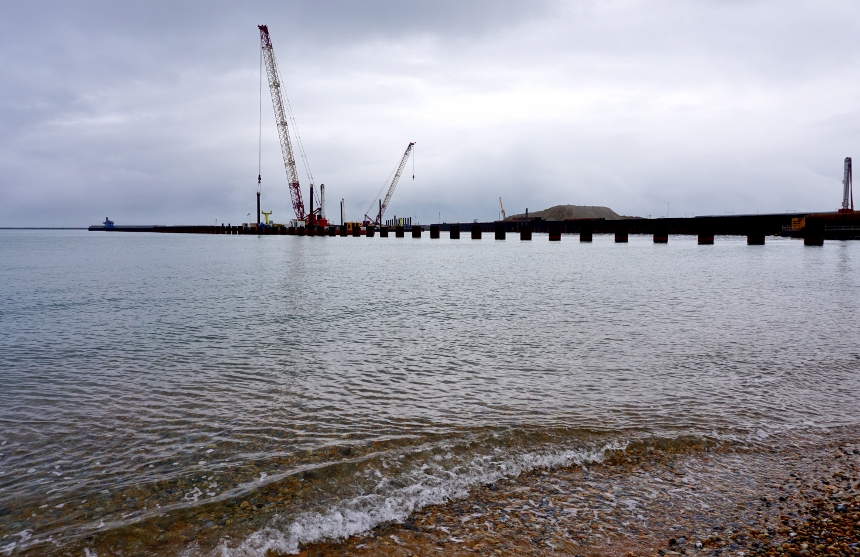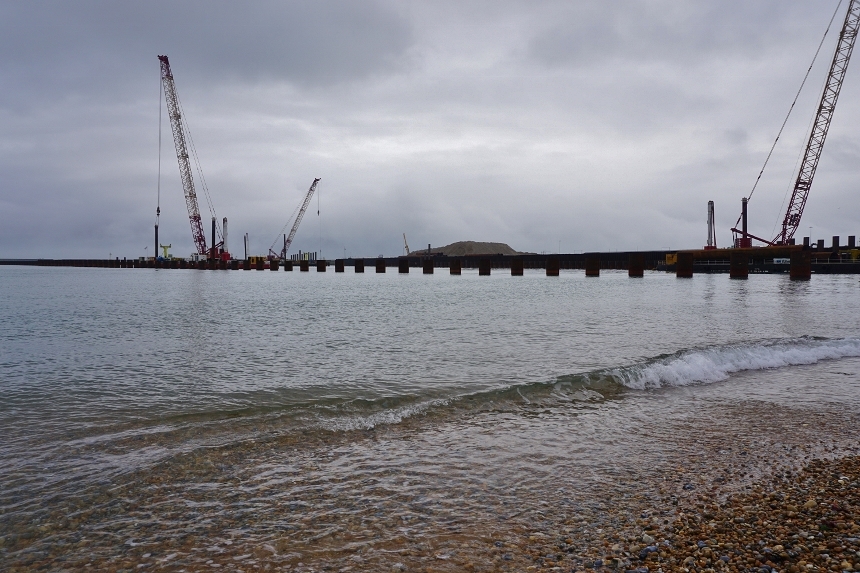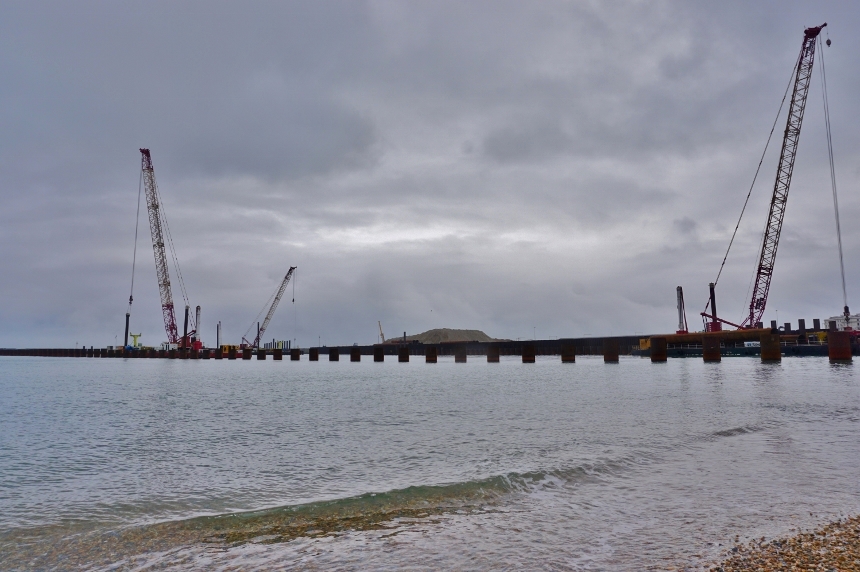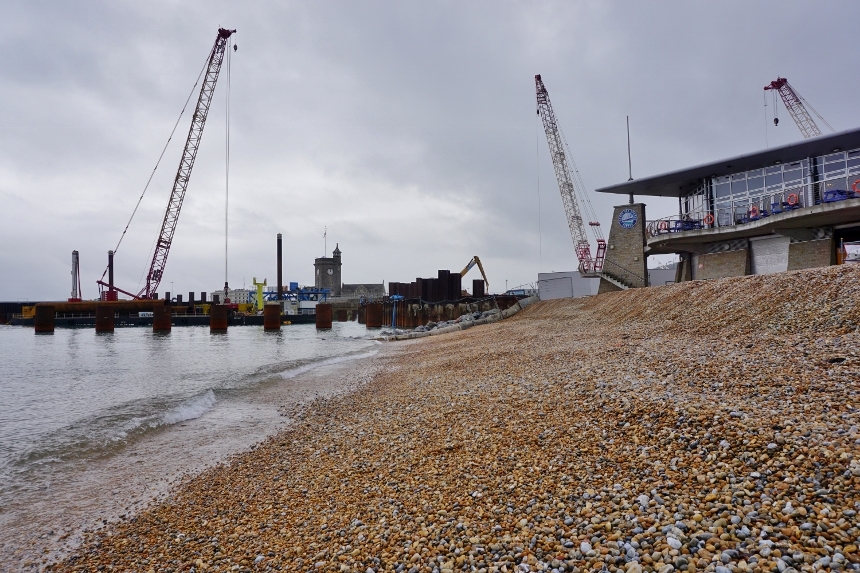 and finishing up with this shot gazing out to sea again, as we wait for more pounding, hammering and grinding...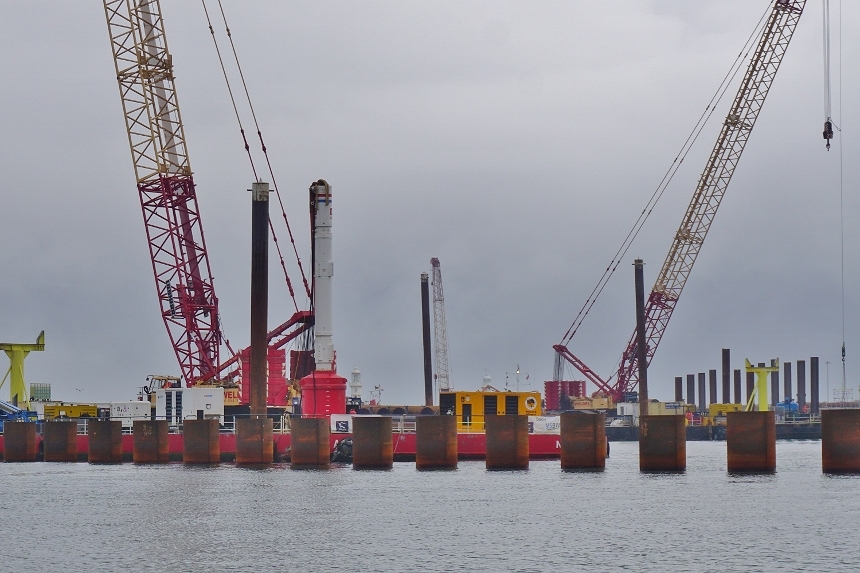 * *
The Zeebrugge Bell
Ringing Out Anew - Dover's Historic Zeebrugge Bell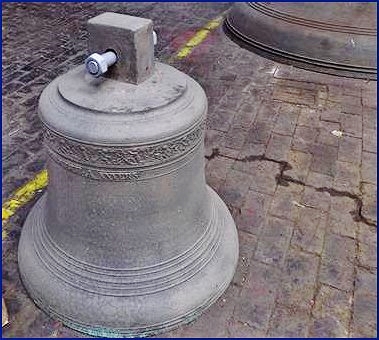 Preparations ahead of 2018 centenary of WW1 raids
The historic Zeebrugge Bell, presented to the people of Dover by the King of the Belgians, Albert I, is undergoing conservation and repairs at the UK's last working bell foundry, as preparations get underway to mark the centenary of one of the most significant naval engagements of World War I.
Work on the Zeebrugge Bell is being undertaken by John Taylor & Co. in Loughborough. The work includes cleaning the bell and rehanging it on new fittings. Alongside conservation of the bell, Dover District Council has contracted Walmer-based Hipperson Builders to undertake conservation works to the stonework, window and door fittings around the Zeebrugge Bell housing.
The Zeebrugge Bell is housed at Dover's Grade I listed Maison Dieu and is struck each year by the Town Mayor at noon on St George's Day (23 April) as part of annual commemorations organised by Dover Town Council to mark the anniversary of the raids on the Belgian ports of Zeebrugge and Ostend. This audacious attempt to block German U-boats from entering the English Channel involved over 70 ships and 1,000 men, many of them volunteers from the Royal Navy and Royal Marines. Casualties were high with 200 dead and over 400 injured. Eleven Victoria Crosses and 679 other decorations were awarded for bravery.
The Zeebrugge Bell was hung at the harbour entrance at Zeebrugge and used to warn of enemy attack. It was presented to the Corporation of Dover in 1918 by HM The King of the Belgians through Vice Admiral Sir Roger Keyes of the Dover Patrol who masterminded the raids. Admiral Keyes is buried at the St James Cemetery in Dover, which is also the final resting place of 66 other servicemen who died in the raids.
Preparations are underway for events to mark the centenary of the raids in 2018 in both Dover and Deal. Many of the Royal Marines involved in the raids trained at the Royal Marines Depot in Walmer.
Ends
PaulB
Monday, 30 October 2017 - 06:28
Post 4358
Sea News, Dover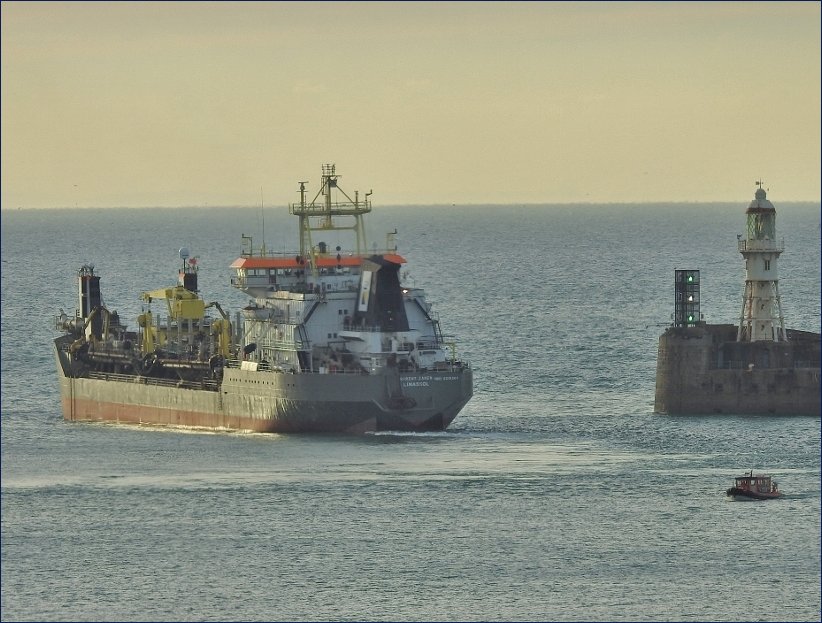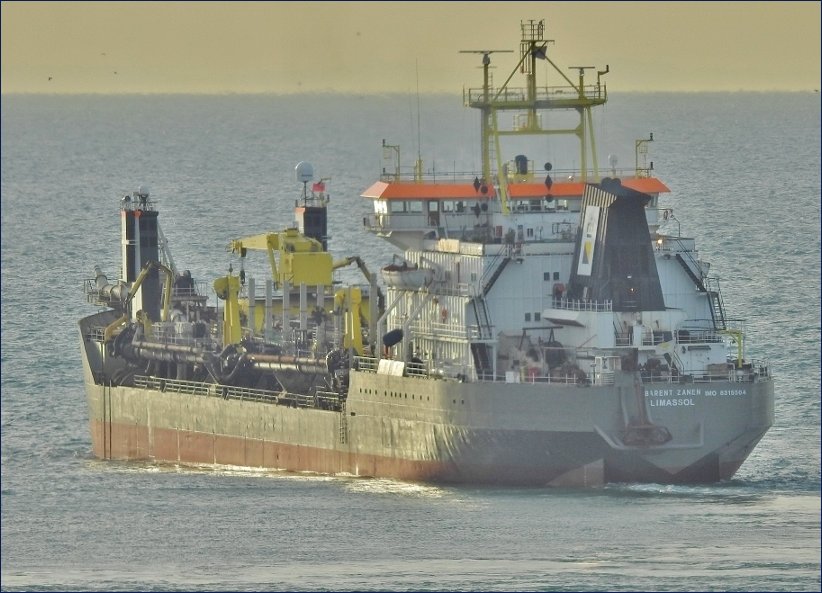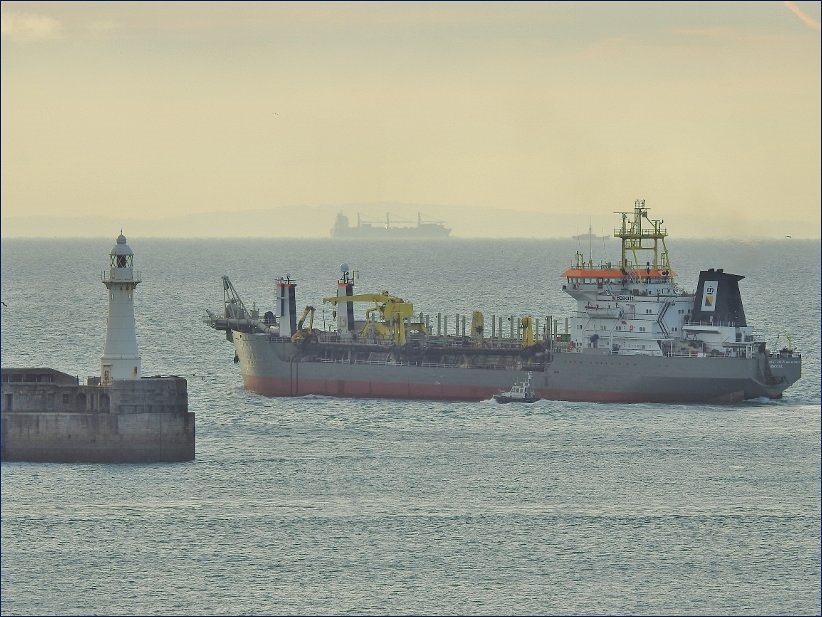 The ship of the moment Barent Zanen is back in port with us this morning, this will be the pattern now I guess, but as promised here we are with those shots of her departing yesterday under an earlyish yellow sky ..
Sunday, 29 October 2017 - 08:14
Post 4357
Sea News, Dover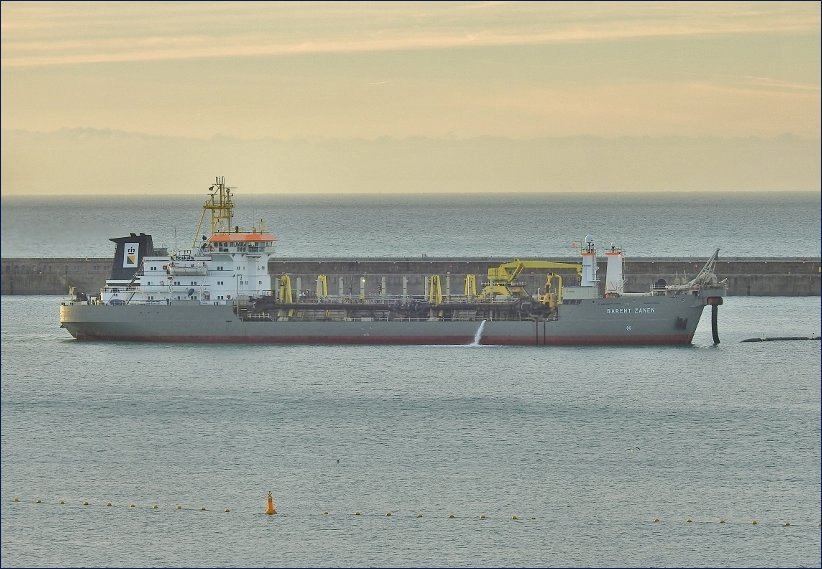 Following along from Patrick's picture below there of Barent Zanen...there we are above with a pic from later in the morning as she pumped her sandy load into the laid on pipeline... we also have pictures of her leaving the Port again, and they will follow in due course.
Nice pictures below from Sarah over there in the ever attractive Ramsgate. An Alert sandwich...


PaulB
Saturday, 28 October 2017 - 13:25
Post 4356
Patrick, Marine Parade
07:30 Hopper Dredger "Barent Zanen" arrived in first light this morning to discharge into the pipeline to the Hoverport infill. Took just 80 minutes this time and departed around 09:00 presumably for the next load of sand off the Thames / Harwich licensed dredging area.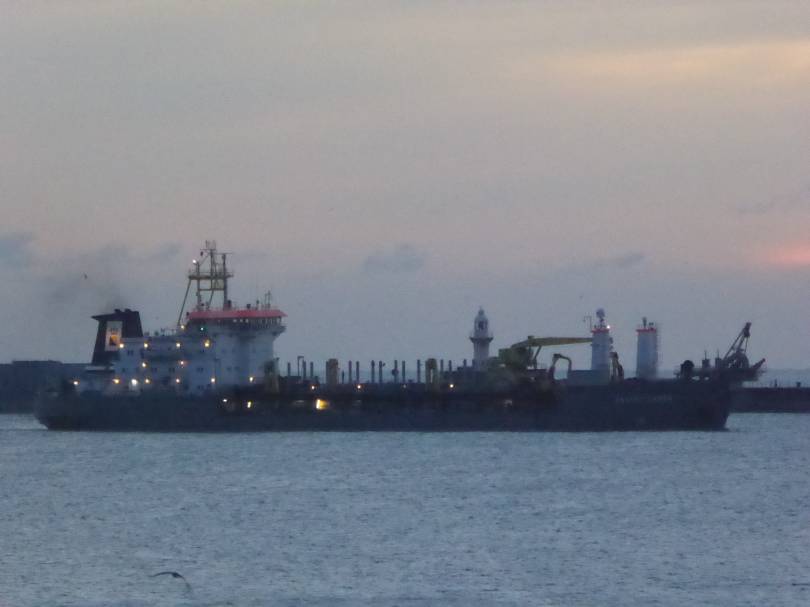 Saturday, 28 October 2017 - 09:07
Post 4355
Sarah, Ramsgate
Great recent photos guys. Daniel L Gibson is on relief at Dover whilst City of London II has some TLC carried out whilst staying at Dover.
At Ramsgate we had a bit of an Alert sandwich yesterday

First up Border Force "Alert" arrived at Ramsgate.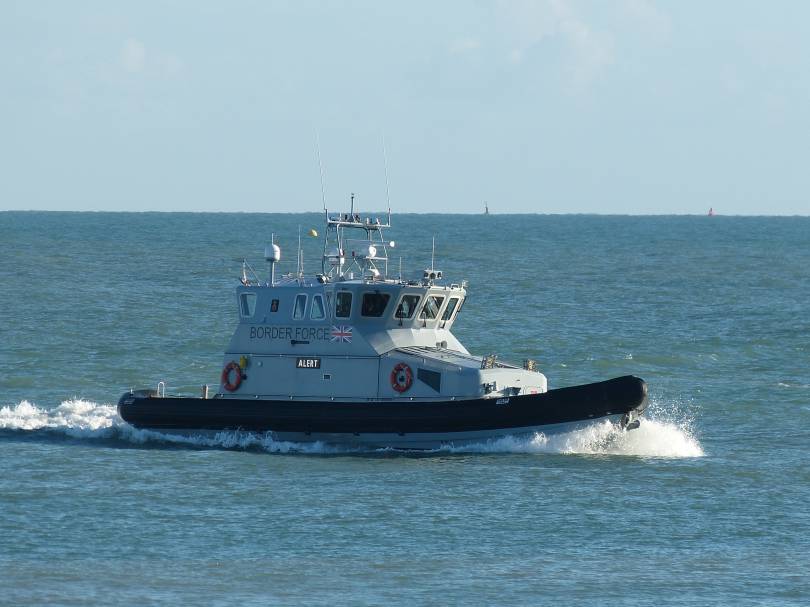 Then Ramsgate Lifeboat returned home from the Republic of Ireland having had a refit.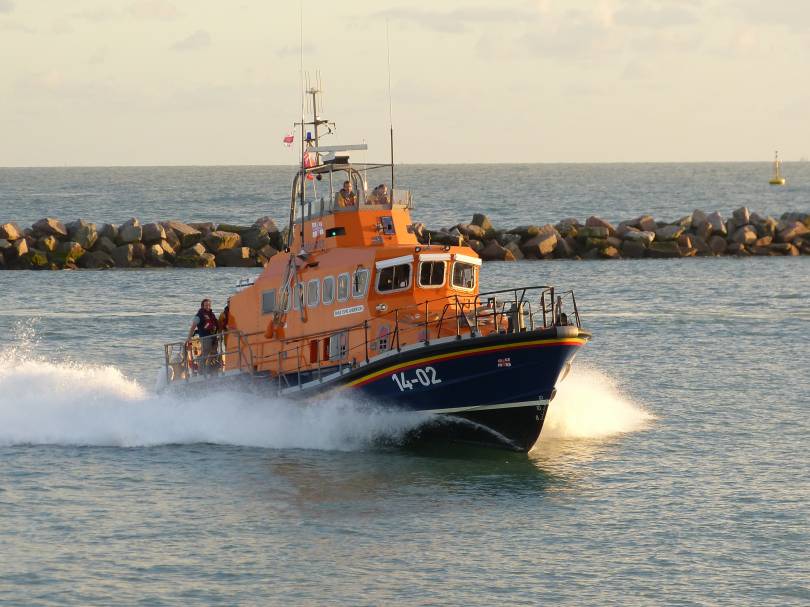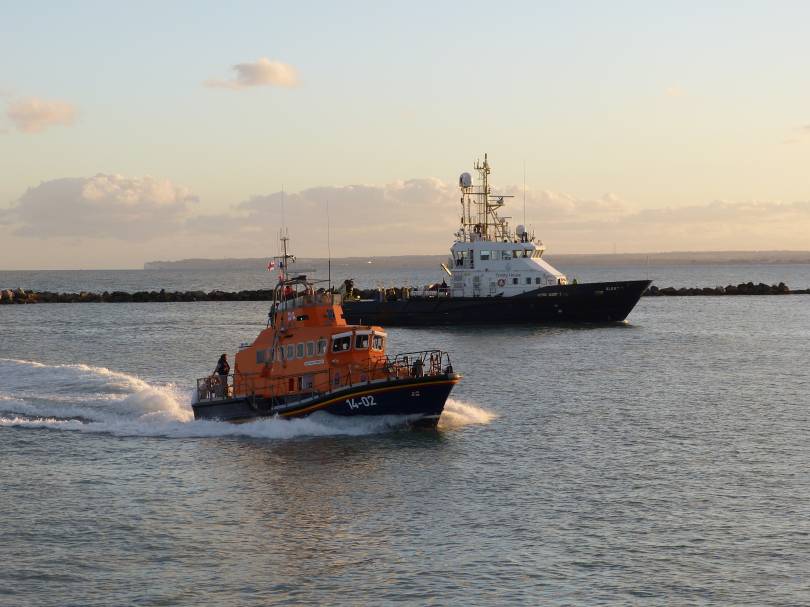 Finally Trinity House Vessel "Alert" arrived back at Ramsgate.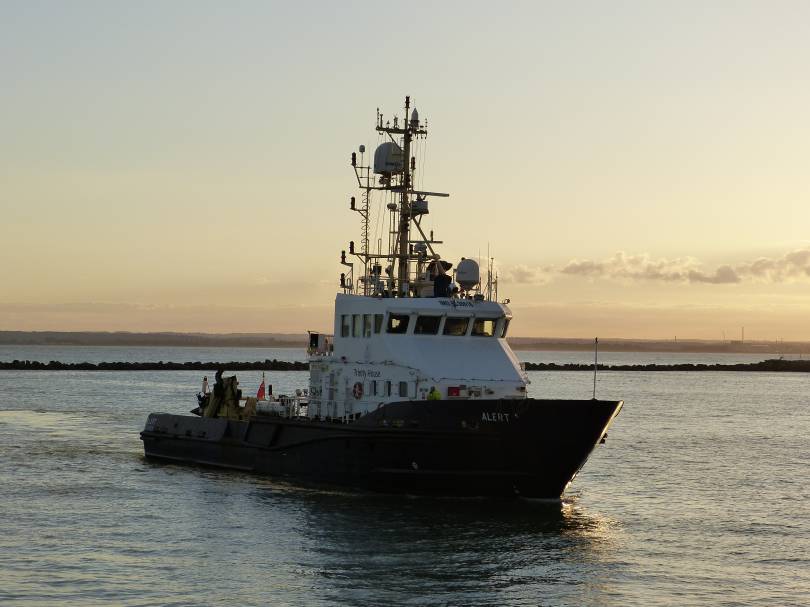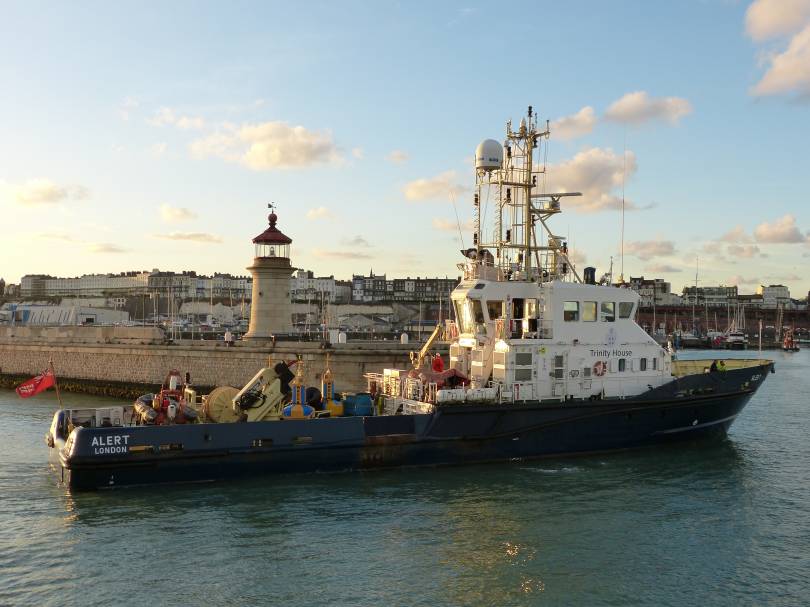 Saturday, 28 October 2017 - 06:47
Post 4354
Sea News, Dover
Cruising for the sturdy...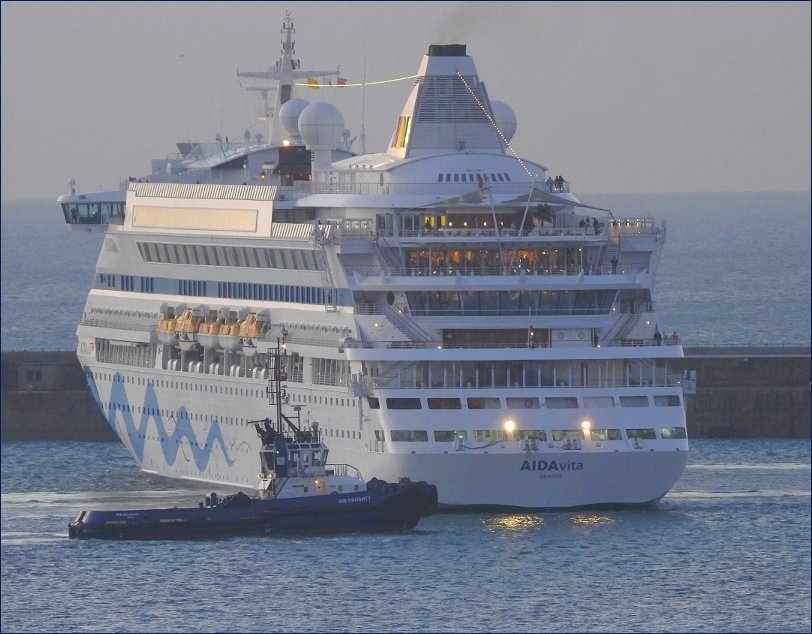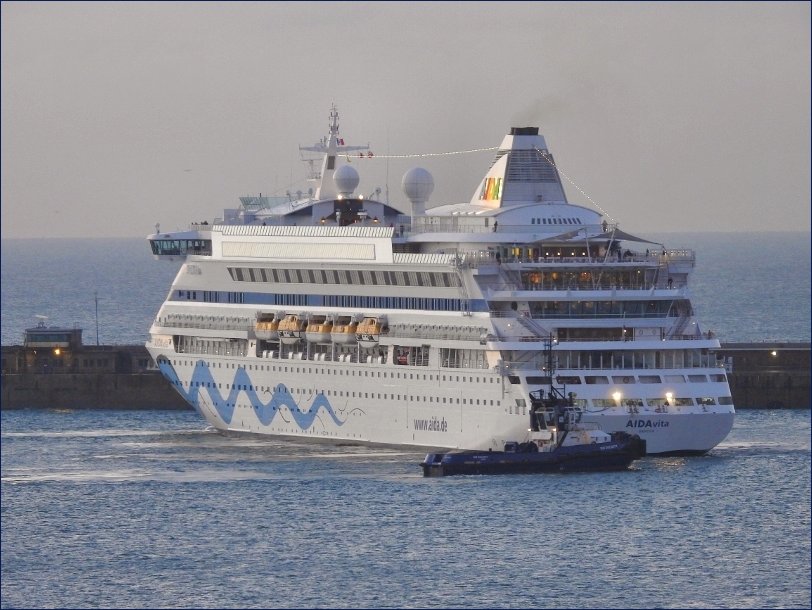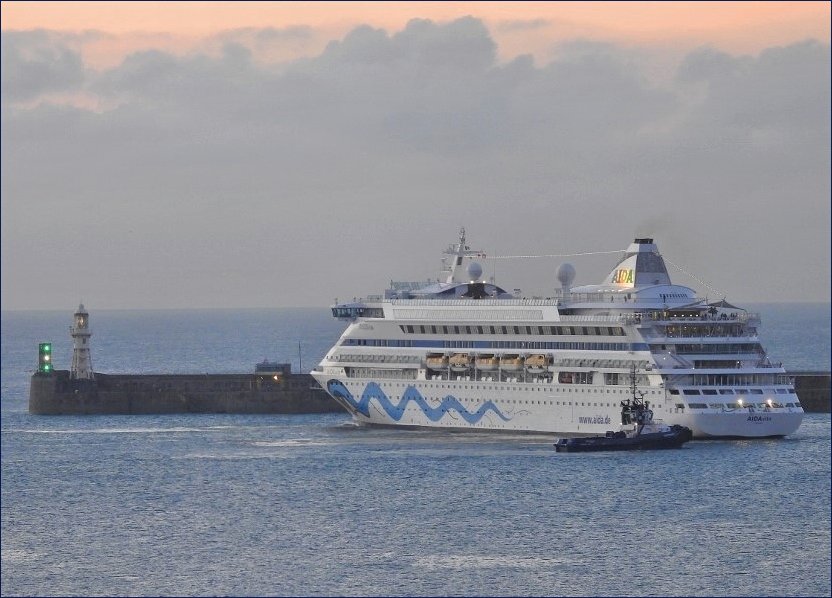 Yes in this late season of robust gales and stupendous storms, it takes a brave soul to venture out there for cruising pleasure. But indeed they do...sturdy sailors with stalwart dispositions say pish and tish to late October and embrace the freshness of it all. So here we are with pictures from yesterday of our latest glamour visitor...the AIDAvita ...and looking good she was too, as she cruised her way from Hamburg to Las Palmas. More in Colette's cruise post 4343.
Yours truly missed her coming across the bay, I've been having one of those weeks, so for those who want to see her smiling face and full lips, here is a pic below from early spring..taken on a cold bracing oul day as you can tell...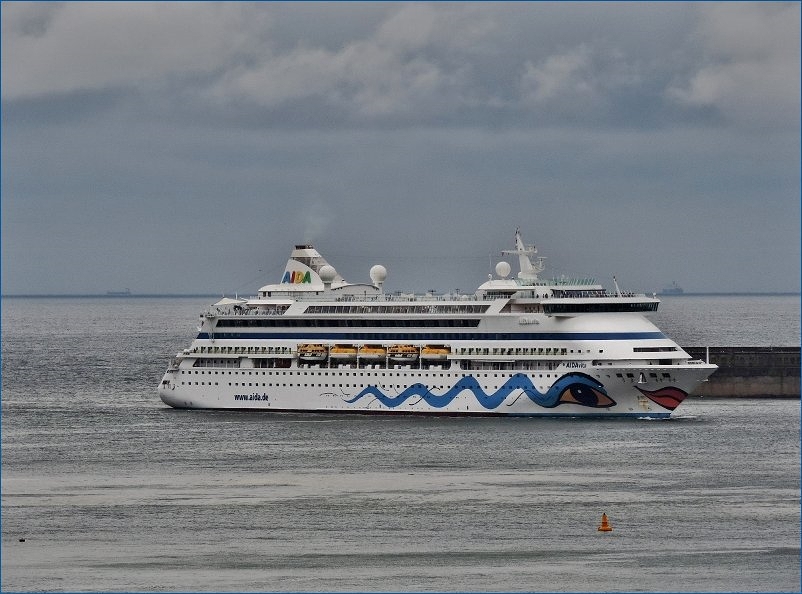 Whoosh! me timbers are a-shiverin' just looking at that picture...
Nice shots and info below there Patrick of Schooner Pickle. Great work

Thanks for that info again Mike

Enjoy yourself in the Highlands Vic and keep tuning in... yes there has been some great pictures from the team all round.

Brian

PB
Saturday, 28 October 2017 - 06:27
Post 4353
victor matcham, Dovor
Looks like the D,H,B, has lost the fight about taking sand from the Goodwin,I am very please about that,it was very wrong of them to think they could just walk over the public on this one.

Saturday, 28 October 2017 - 03:40
Post 4352
Patrick, Marine Parade
Sailing Vessel "Schooner Pickle" arrived in Port in full sail this afternoon. This Square Topsail Gaff Schooner, a replica of Nelson's warship HMS Pickle, was built in 1996 at St.Petersburg Russia.
Volunteers from Portsmouth Naval Base are taking it in turns to sails from Hull to the Solent in time for "Pickle Night" held by the Royal Navy around 6th November each year.
More here:
https://www.royalnavy.mod.uk/news-and-latest-activity/news/2017/september/26/170926-sailors-go-back-in-time-200-years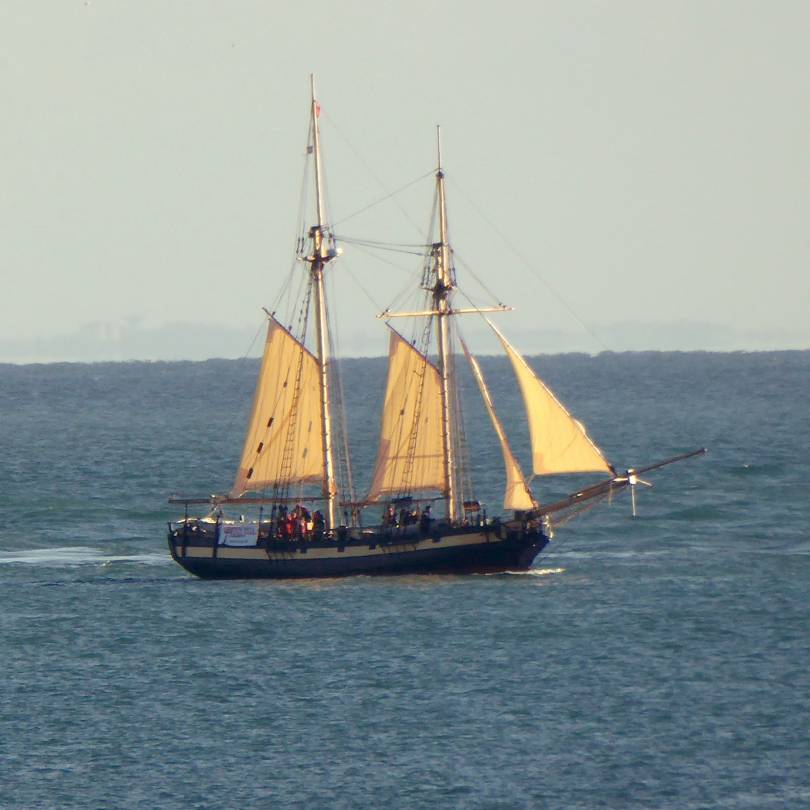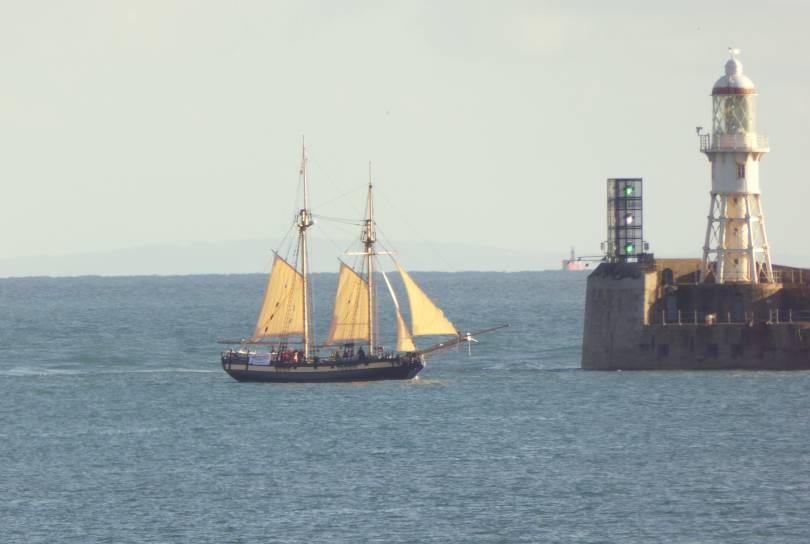 Friday, 27 October 2017 - 17:21
Post 4351
brian, dover
so dhb are scooping the loop then.

Friday, 27 October 2017 - 16:52
Post 4350
Mike J., Dover
After leaving Dover Thursday evening the BARENT ZENAN wenr northeast of North Foreland & presumably dredged up another load of sand.
By 1000 Friday she was lying off St Margarets Bay with Dover showing as her destination, probably waiting to bring in her second cargo.


Friday, 27 October 2017 - 13:27
Post 4349
victor matcham, Dover
Still some great photos coming out on the Royal Port of Dovor,thank you.Looks like we will be taking our days off in the highlands in the winter weeks this time,and I cannot not wait for it.


Friday, 27 October 2017 - 09:26
Post 4348
Sea News, Dover
Well done Mike with those pictures of the Barent Zanen in the previous post below...you saved the day as yours truly just got a couple of weak pictures as shown here. Wasnt sure if it was even worth putting these pix up at all. The visibility was awful over the longer range so had to force an image from the pictures here. As mentioned the dredger only stayed a couple of hours and vanished in the night, so the prospect of further pictures vanished at the same time.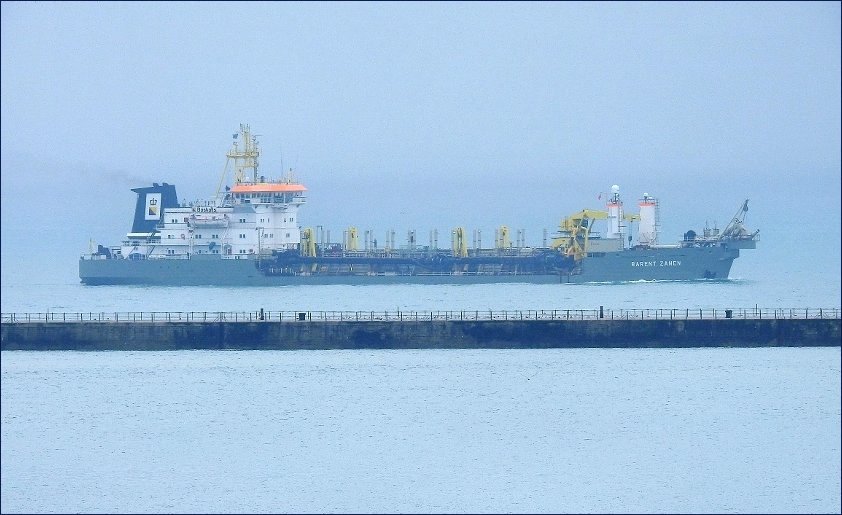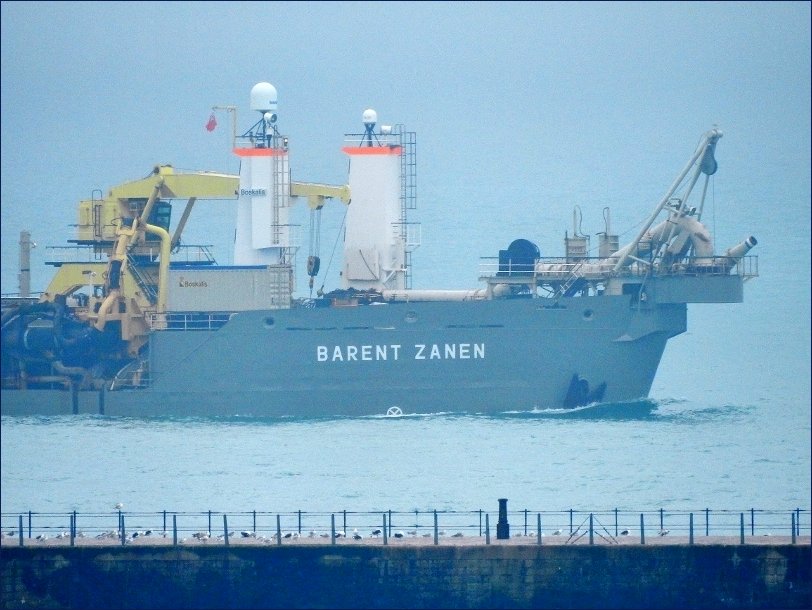 Don't miss the coverage and info in the post below from Mike.

Friday, 27 October 2017 - 07:21
Post 4347
Mike J., Dover
Thursday afternoon saw the arrival of the BARENT ZANEN with the first of many consignments of sand for the DWDR land reclamation works.
The structure on the bows is where she connects to the floating pipeline - she can also 'squirt' the sand quite a distance, a spectacular operation known as 'rainbowing' but this is not expected to be done at Dover.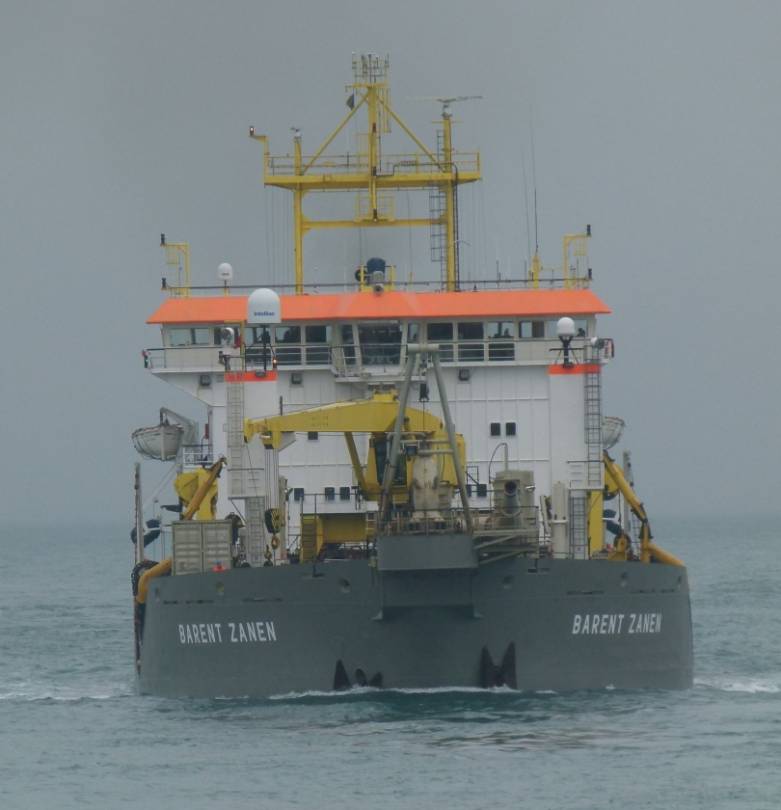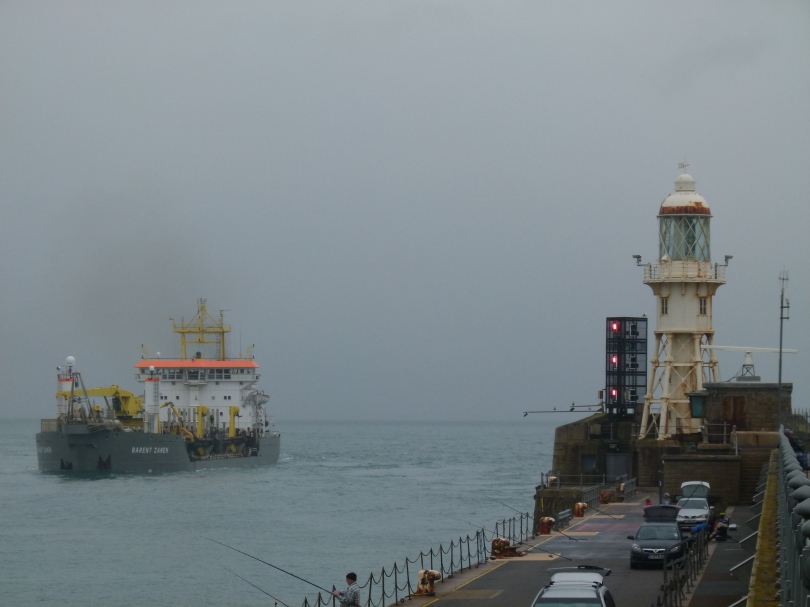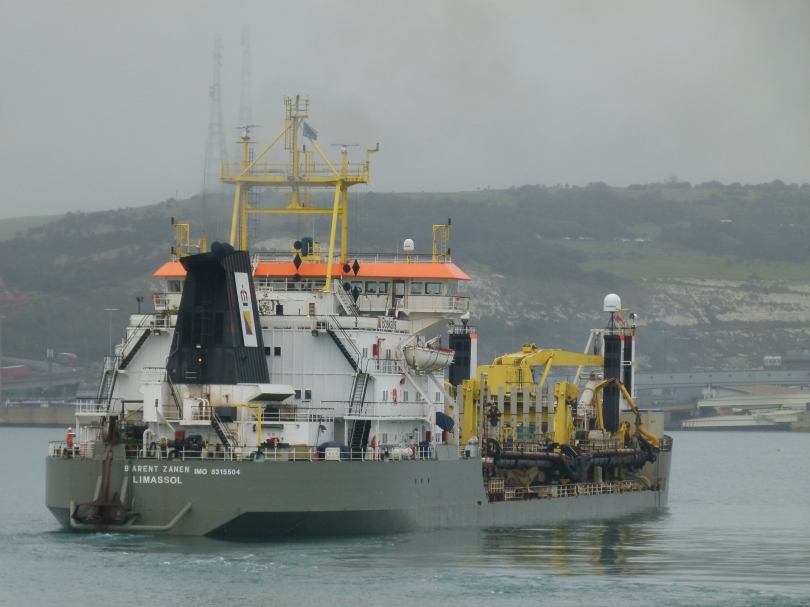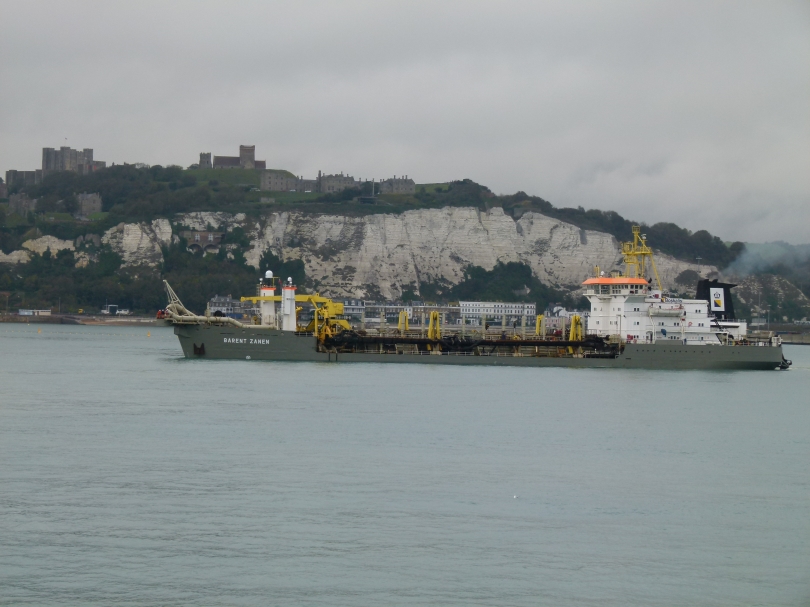 Increasing drizzliness drove me off the pier while she was manoeuvring to pick up the end of the floating pipeline, but she was supposed to start pumping at 1700 & had completed discharge in a couple of hours & sailed about 1945, heading northeast.
If she was fully loaded she would have had just over 14,000 tons of sand aboard.
I had hoped that the TERRA MARIQUE would come across from the Eastern Docks to unload her transformer onto the Ad.Pier, but I was caught out when she landed it on the DCT in Eastern Docks during the afternoon, where the reefers berth.
By way of contrast, in the Tidal Basin on Thursday was the rather flash NORTH STAR.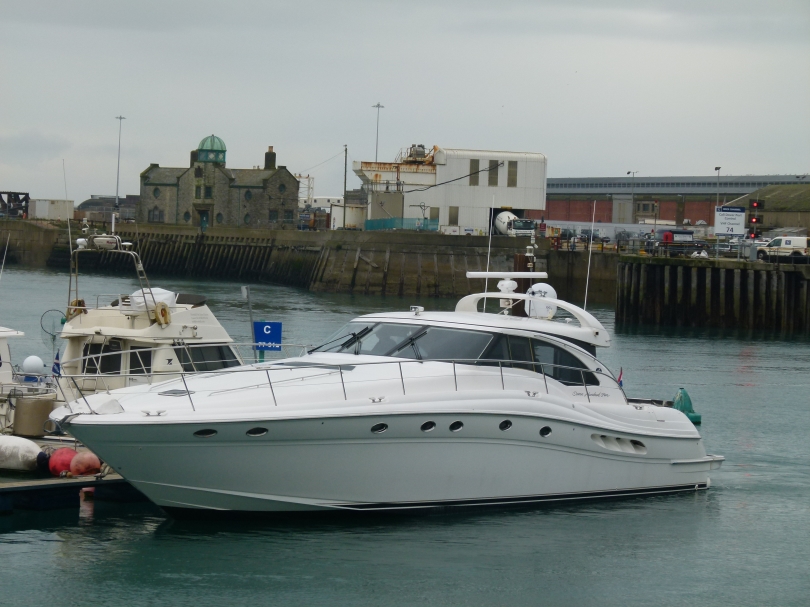 Friday, 27 October 2017 - 00:46
Post 4346
Sea News, Dover
Beach Management Works In Deal
____________________________
As part of ongoing work to maintain sea defences, beach management works are set to start in North Deal this month – works start on 30 October and are due to take two to three weeks.
Trucks and excavators will be used to recycle material from the north of Sandown Castle, and move it back down the beach to between Sandown Castle and Deal Pier. The programme will mean moving 25,000 to 30,000 m3 of shingle.
Works are needed following the natural processes of the shingle being moved by the tide and the effects of the weather, and will help to maintain sea defences for North Deal. Contractors will also look to re-profile the beach and level out the slopes. Banksmen will be on site to ensure safety.
Works are being managed by Dover District Council, working with East Kent partners, and funded by the Environment Agency. Planned works for the future include plans to construct a new rock groyne at Sandown Castle to reduce the effects of longshore drift.
Roger Walton, DDC Director of Environment and Corporate Assets, said: "These are key beach management works for the area. We apologise in advance for any inconvenience caused, and hope local people will bear with us, while we carry out this important work."
Ends
Lots of amazing work going on all over the district at the moment...
the news gives us the chance to show some of those gorgeous little fishing boats on the Deal shingle....and here we are...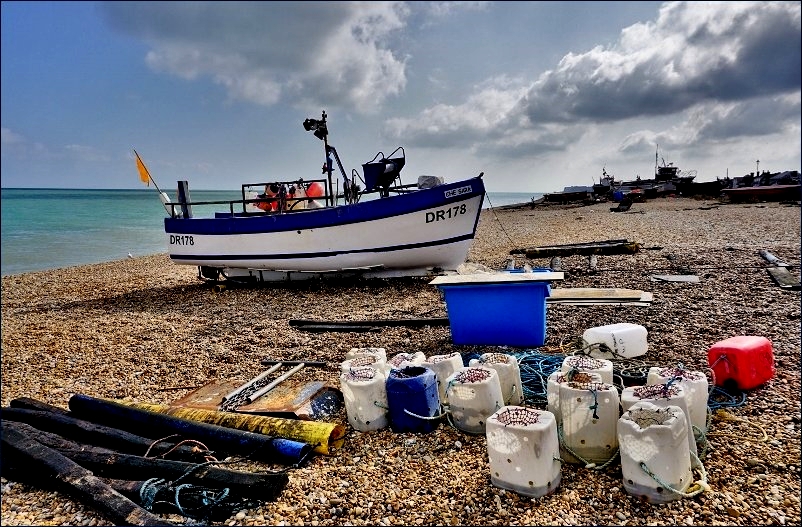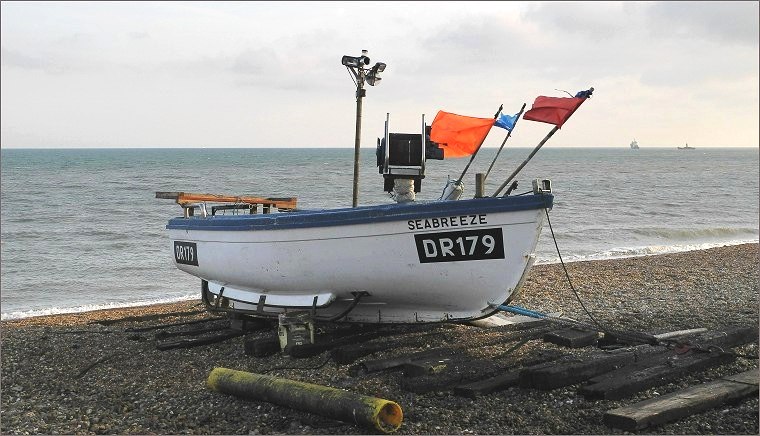 Nice all round work below Mike. Well done with that.

PB.
Thursday, 26 October 2017 - 05:07
Post 4345
Mike J., Dover
Two more visitors - Wednesday morning & two Dutch landing craft [LCU type] spent the night alongside DAVID CHURCH.
They're showing on AIS as L9527 & L9529 & have come up from Plymouth & sailed for Zeebrugge at 1300ish.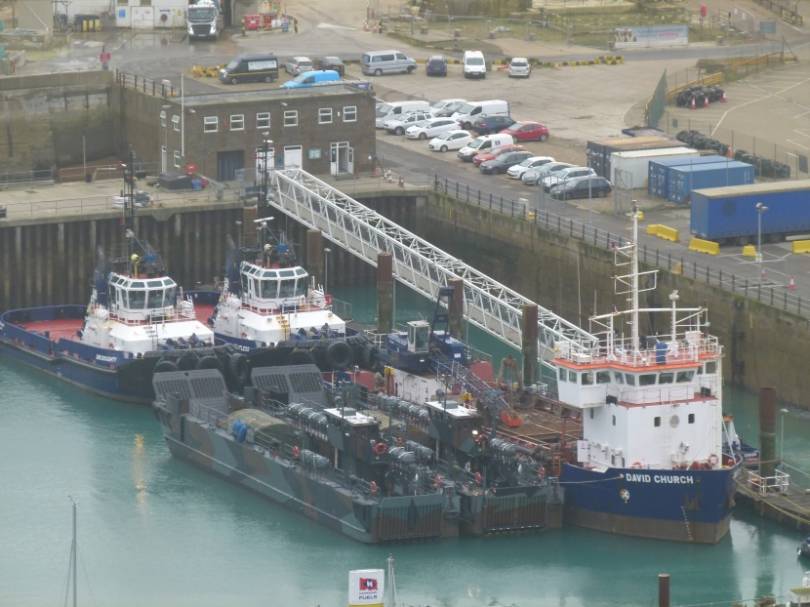 Well camouflaged !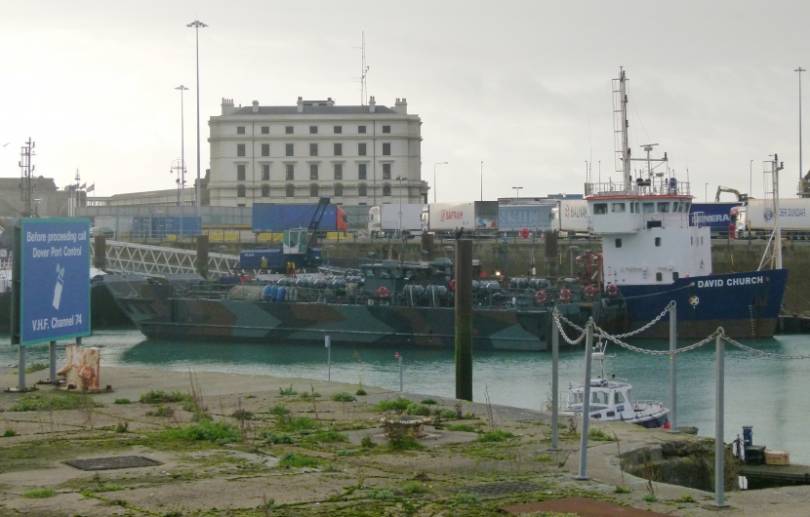 Definitely not a visitor was CITY OF LONDON 2, in Granville Dock for a few days for a spot of upgrading.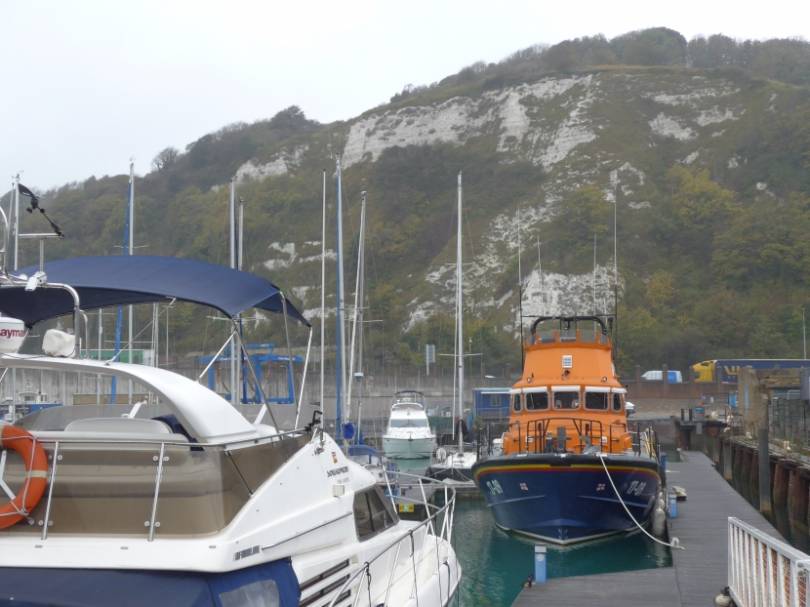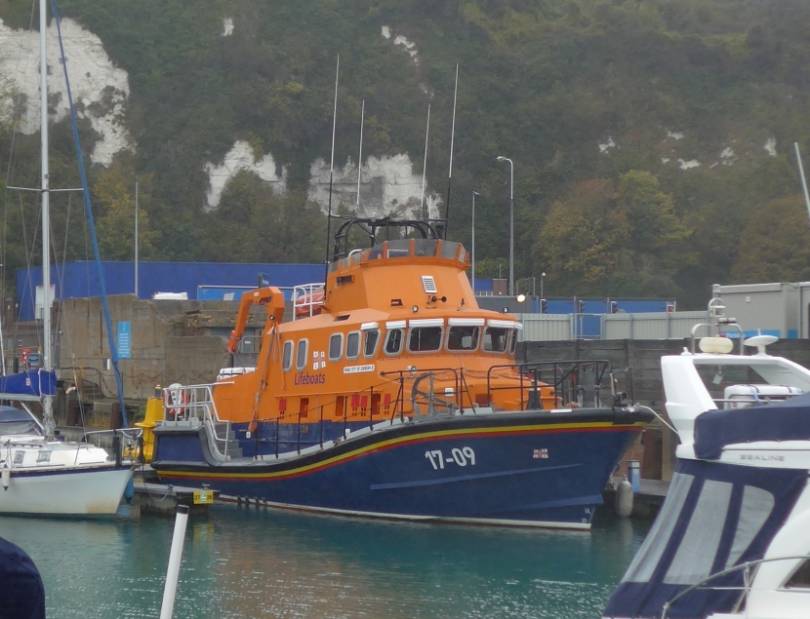 Tug INDUS & TERRA MARIQUE came in yesterday evening & berthed on the Eastern Arm & were still there at 1330.
Landing the transformer will take place around high water on the Ad.Pier - first opportunity will be mid-afternoon this afternoon, but is starting to seem unlikely.
Wednesday, 25 October 2017 - 14:15
Post 4344
Sea News, Dover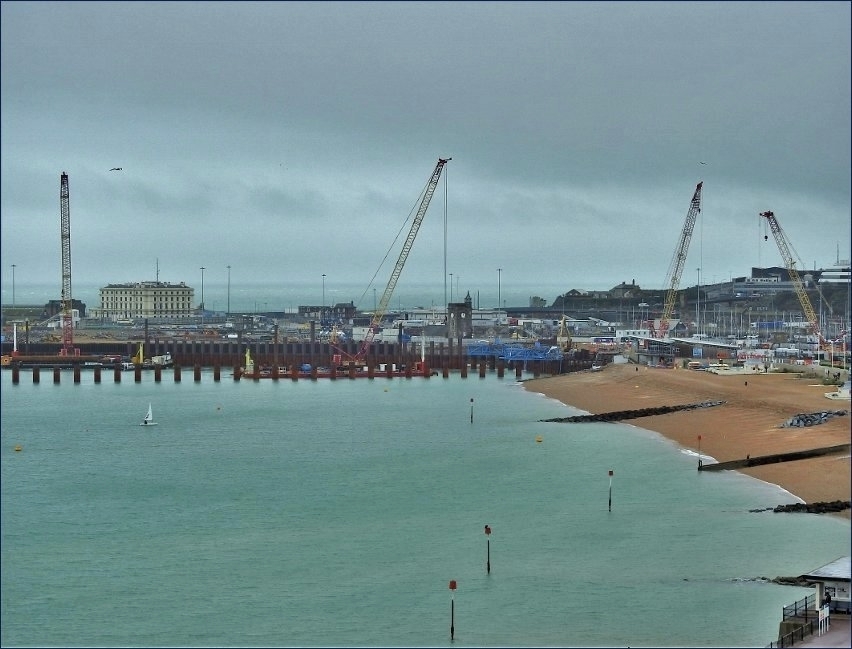 Mike recently showed a picture of the cranes dipped and readied for the approaching Storm Brian...well here they are in the gloom of yesterday fully erect and fully back in action. There are four on show here in this shot above but all and all there are six currently in operation at the DWDR end of things. I think there were one or two others as well earlier on in the proceedings...
As mentioned it was a very gloomy day yesterday but here below we have couple of extra pix from the weekend which show the second strand of piling now completed or near completed and right up to the 'canal gates'.
You can see the latest newer line of piling in the near ground as it were.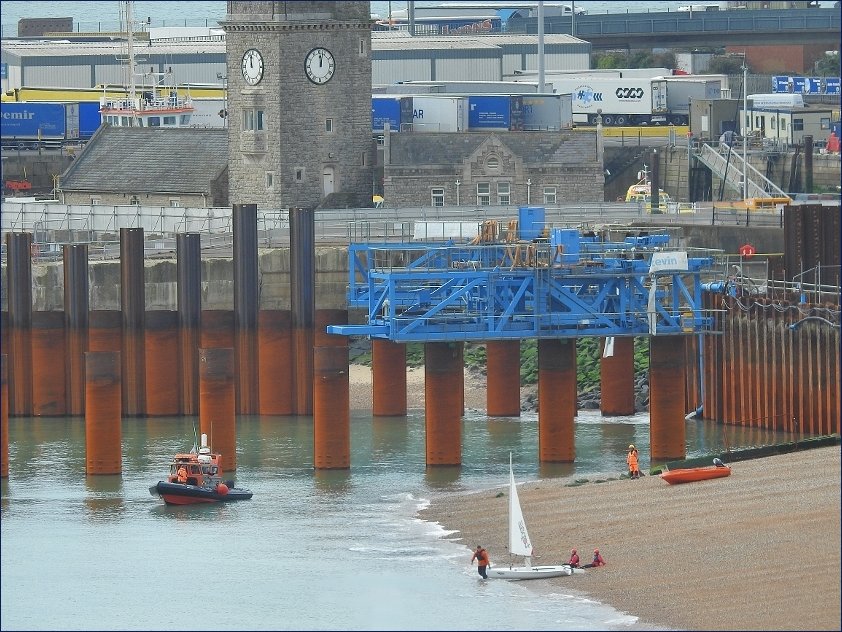 An extra early morning picture below which shows the vivid orange colours of the piling as it catches the golden early sun...or to put it another way, golden early sun meets elegant rusting. You have to admire the accuracy of our famous clock...twice a day its spot on!

You should hopefully be able to clearly see the newer line of piling in this wider shot...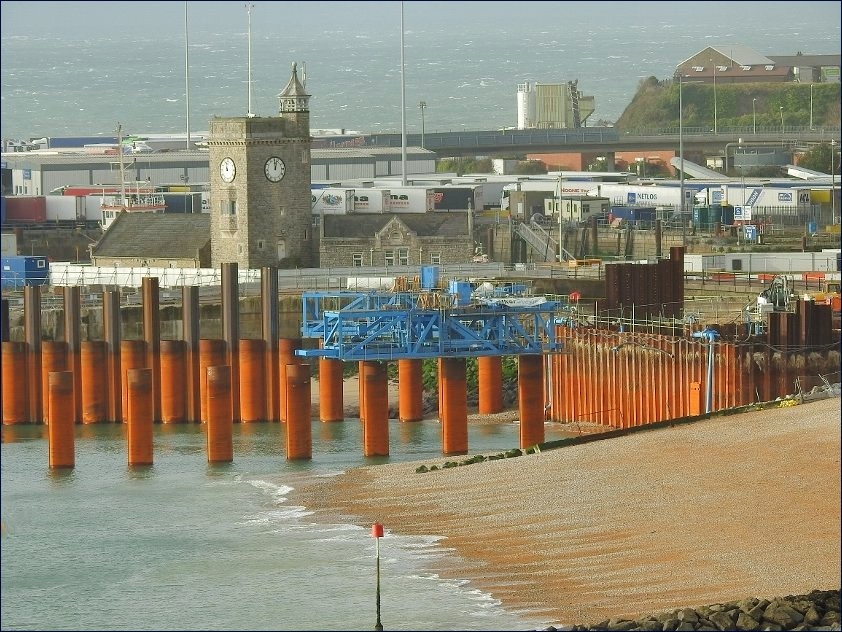 See also the ace pictures in 4330 below page.
Great pictures all round below Ed - cracking stuff. Both of the Arctic Princess in Dunkerque and the rainbow..and glad you got that ace shot of the Lombok Strait ..particularly with the noted expansion in reefer trade announced this week (4336). Great stuff!

Well done Mike, great stuff too ...welcome coverage all round there of all the goings-on from our 'inshore correspondent'

Thanks Colette...still a few straggling cruise liners coming I see - will watch for that one on Friday.

Good to hear from you Adam up there in Warrington...lots more great coverage to come. Glad you are enjoying it all.

PaulB
Wednesday, 25 October 2017 - 06:14
Post 4343
Colette B, Dover
CRUISE VISITS
____________
Lots of dramatic photos chaps, with a photographer risking a soaking to get that all important shot and the ferries battling heavy swells in the wake of Storm Brian… Sea News has it all & with wonderful rainbows too

On my last report I mentioned that AIDAmar was due to visit us tomorrow, instead she is now sailing to New York, due to arrive there on Halloween after leaving her home port Hamburg on the 14th.
Our next visitor due on Friday 27th October is another of the AIDA fleet, the ever smiling AIDAvita last seen here in August. She sails into CT2 at 08.00 hours on her 12 night cruise from Hamburg to Las Palmas, visiting such delights as Le Havre, Ferrot, Porto, Lisbon, Cadiz, Arrecife before finally dropping anchor in Las Palmas, Canary Islands. She departs at 21.00 hours, PoC.
She will be based in the Canaries cruising to the Azores, Portugal and Spain until March 25th 2018.
The last scheduled visitor of the 2017 cruise season is not until 30th November when the Artania graces our shores once more

Tuesday, 24 October 2017 - 14:46