Sunday, 21 January 2018

doverforum.com/sea-news
Doverforum.com: Featuring all the ships that come and go and work at the Port of Dover with further coverage of Ramsgate, Calais, Dunkerque. Email: dover7@msn.com to send SEA NEWS pix or info.... or click ADD YOUR COMMENT below to post direct, no membership needed.

PORT OF DOVER RECORD FREIGHT see 4551.
Sea News Dover : Use our SEARCH ENGINE below to find all sorts on the SEA NEWS pages..more than 200 now with more than 4500 nautical posts. Posts welcome. Max of 5 pictures preferred per post. Sea News Editor Paul Boland.
Post 4521
Patrick, Marine Parade
Great photo Ed. What a difference a clear day makes.

Thursday, 28 December 2017 - 20:30
Post 4520
Ed Connell, Dover Strait
Duzgit Harmony at the DCT today.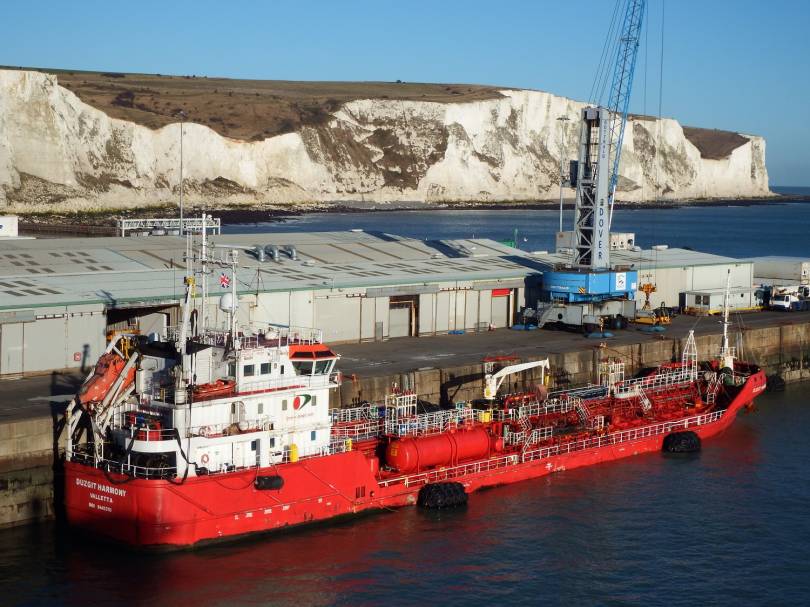 Thursday, 28 December 2017 - 18:58
Post 4519
Sea News, Dover
Harald its really great to see those pictures from the shipyard in Dunkerque. Great pictures for sure. They are very welcome on here.

PaulB.
Thursday, 28 December 2017 - 15:55
Post 4518
Harald Boot, Tholen, The Netherlands
Pride of Kent and European Seaway at Damen Shiprepair in Dunkerque on Boxing Day.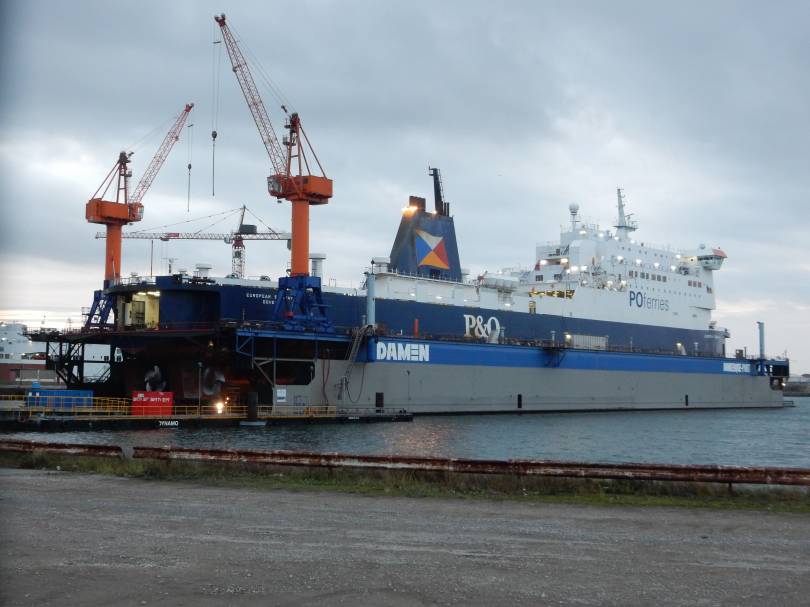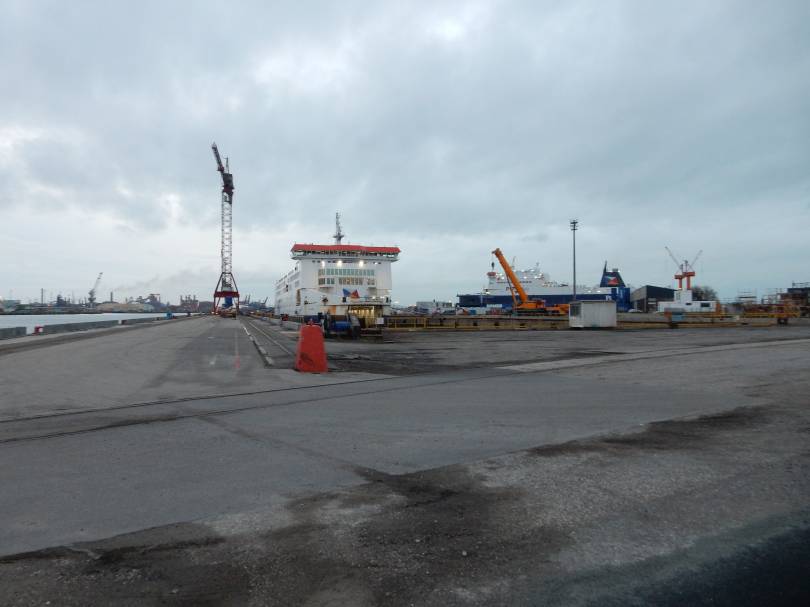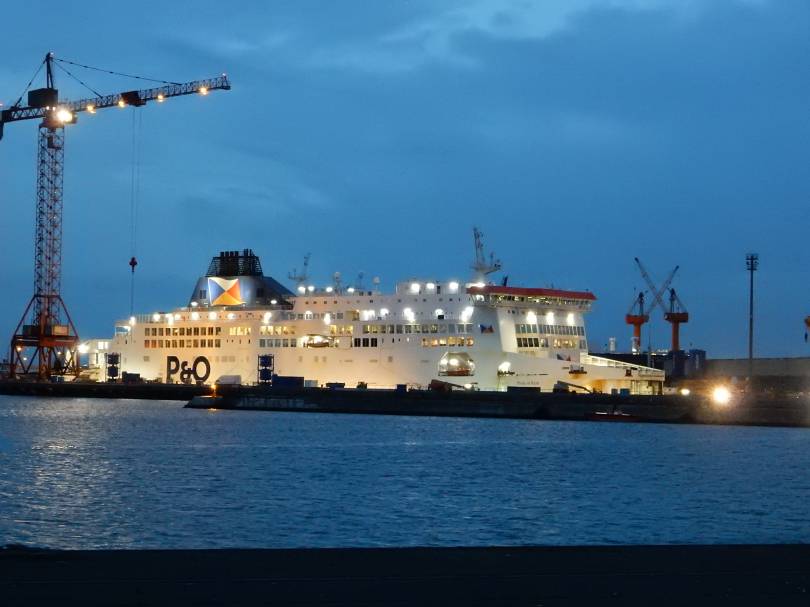 Thursday, 28 December 2017 - 11:20
Post 4517
Sea News, Dover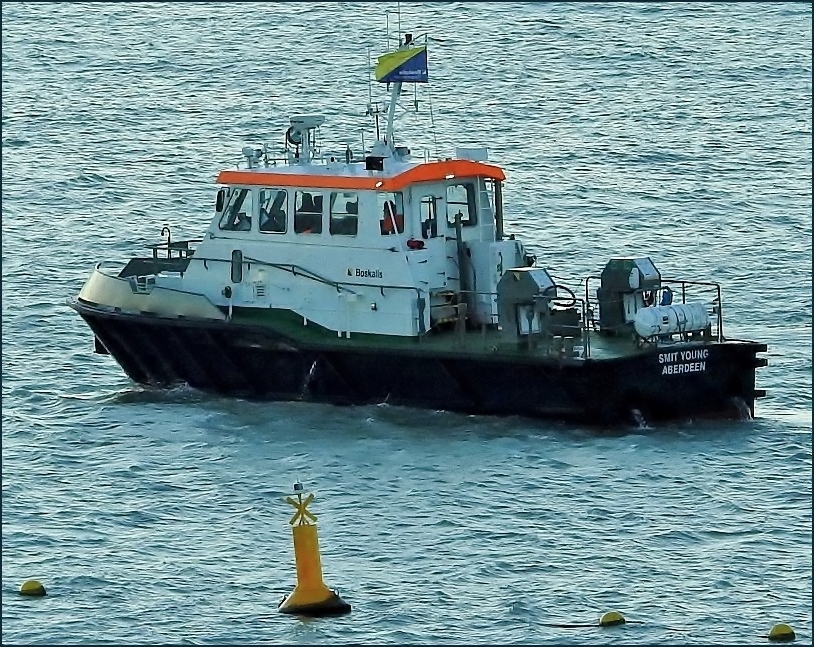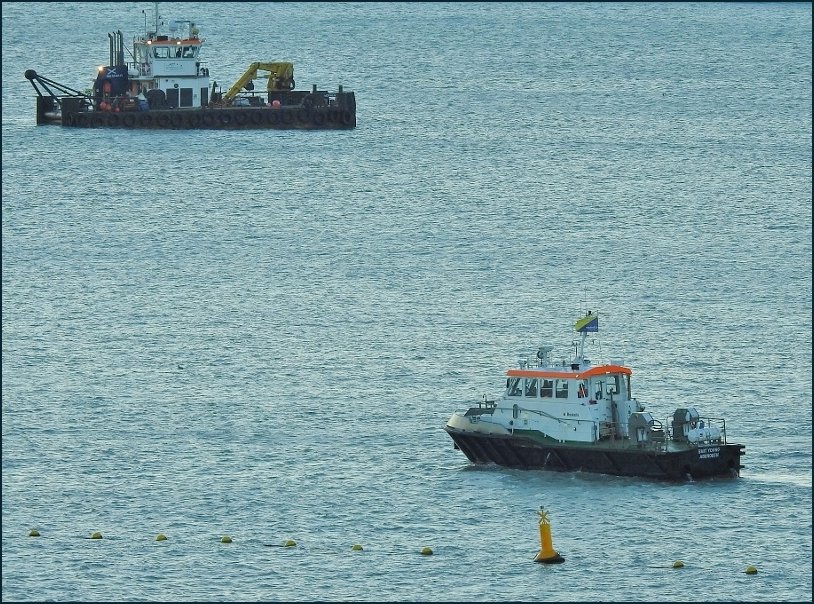 Its early on Boxing Day and above we see the working boats Morag M and Smit Young waiting for the imminent arrival of Barent Zanen...Barent was approaching with another load of sand for our considerable Western Docks redevelopment here at the Port of Dover. Mike got a nice first shot of Smit Young a few days ago (4503)...she is new on the scene here. That's her again in the zoomed shot above with Morag M in the near distance.
Also in with us...and I believe she came in on Christmas Day was our old friend Elvira. Yours truly didn't capture her this time around but here is a rough oul picture of her from around this time 2014...we've recently been having rough weather like this.... she left for Antwerp yesterday. PB.
Thursday, 28 December 2017 - 05:14
Post 4516
Sea News, Dover
BOXING DAY DIP DOVER 2017:
A big crowd turned up for the annual Dover Boxing Day Dip this year. The high bright sun attracted many, and all parking spaces were taken all along the seafront. The annual mad foray into the freezin' water is quite a spectacle, albeit a brief spectacle...well, who wants to stay in that icy water for any length of time. It was fairly chilling for the spectators too, as there was a refrigerating breeze whipping along Dover Beach that would chill yer to the bones even if wearing a Norwegian anorak.


Lifeguards at the ready....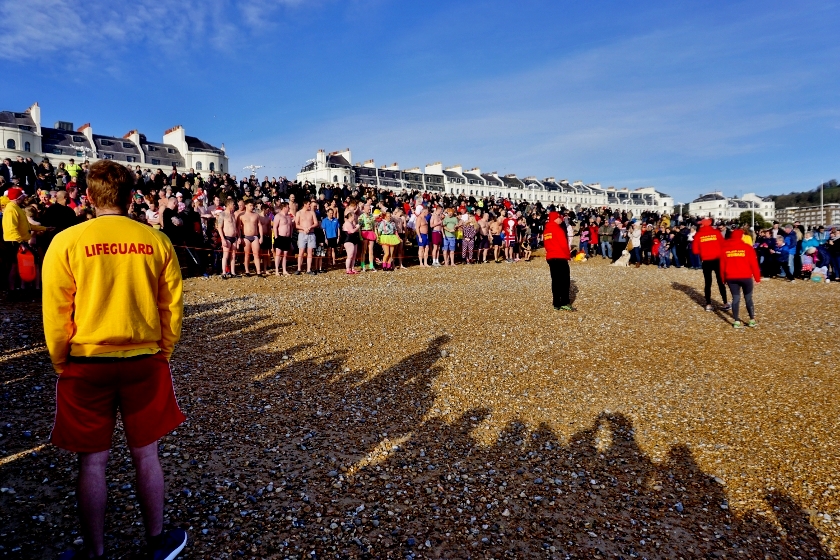 And..they're offfff...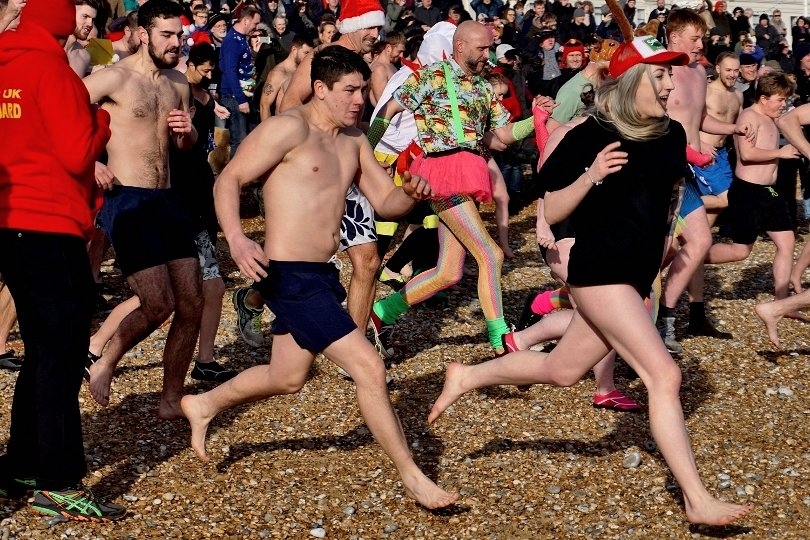 Jeeez that was chilly... lets get out fast..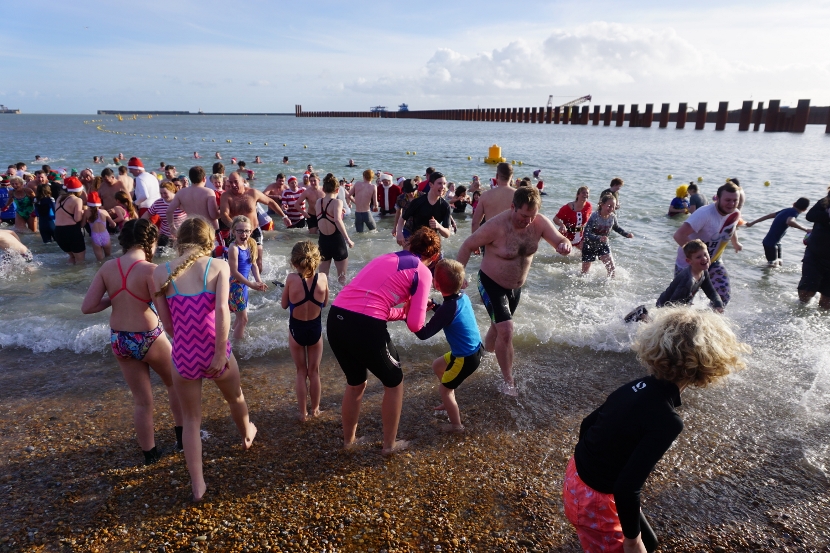 Santa redbeard having a refresher after the rigours of the day before...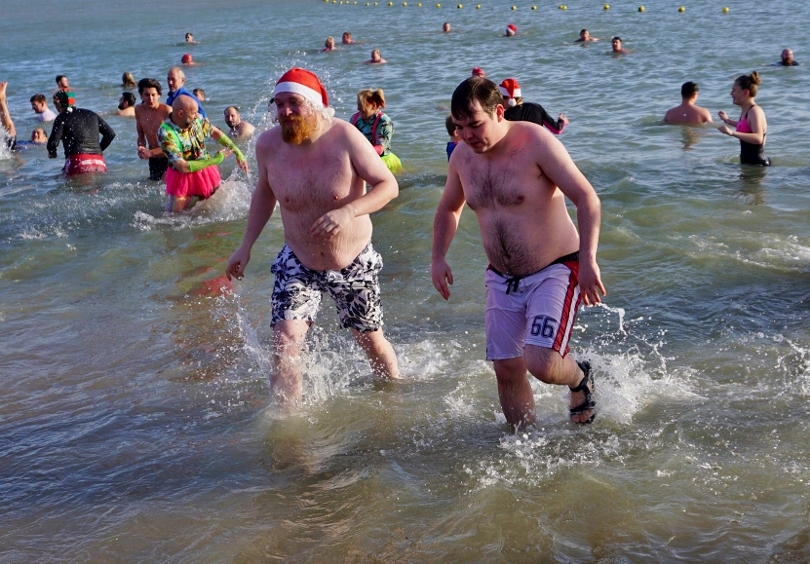 That's a selection of pictures above, a good turnout of dippers, there wasn't as many 'madly dressed characters' this year but it was all great fun nonetheless.
There'll all maaaaad I tell you...


PaulB
Wednesday, 27 December 2017 - 05:05
Post 4515
Sea News, Dover
The weather turned a great deal rougher, the ol wind was wailing and howling around the 'observation tower' during the evening and all through the dead of Christmas night..twas enough to shiver yer timbers so it was. These pictures below were taken a day earlier on Christmas Eve and you can see the choppier waters.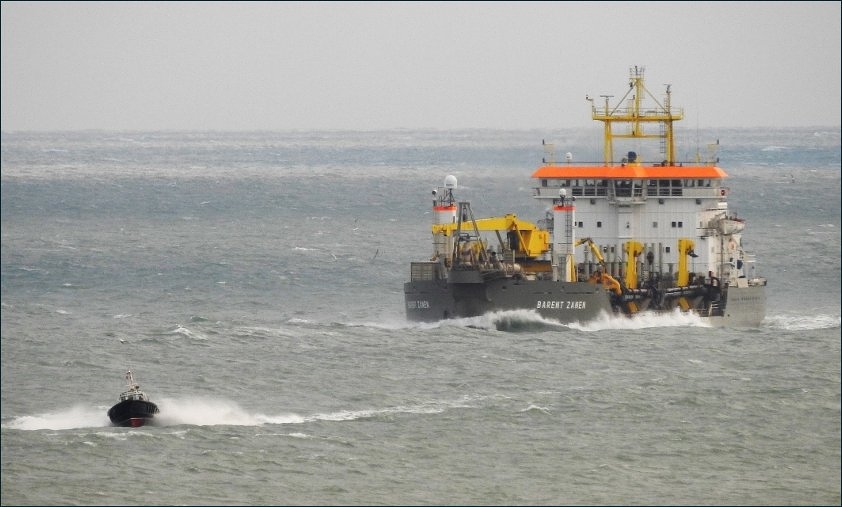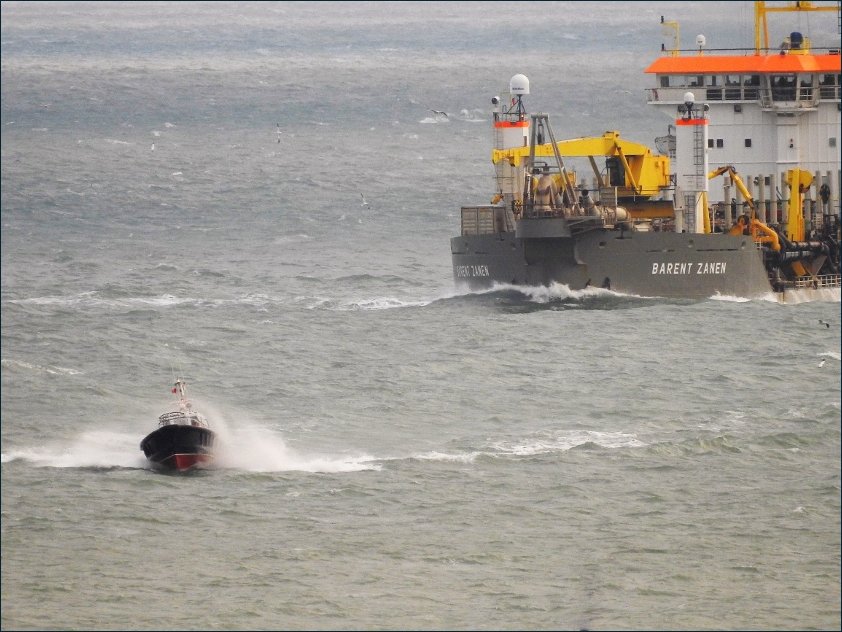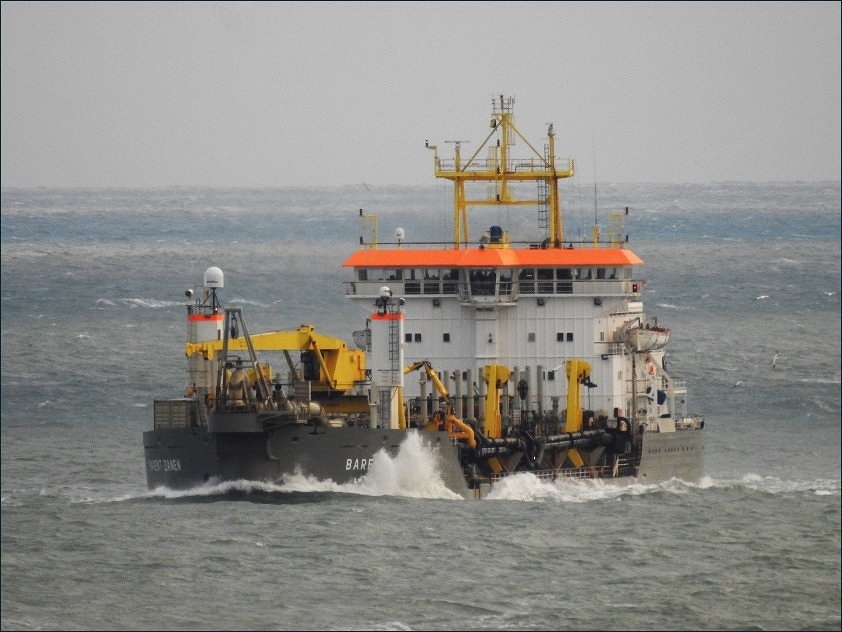 Top two shots show the pilot boat blasting its way homeward through the rough seas with Barent Zanen ploughing along behind.. you can see Barent Zanen more clearly in shot 3 just above. Pictures: Christmas Eve. But the ship was also working all through the day on Christmas Day and also indeed were the support vessels in Port, as you can see in Mike's pictures in the earlier post.
Well done with those pictures below Mike. Great coverage all round re the Christmas Day layover.

Love that Christmas Lifeboat below there Sarah with that great message....
well done all round to our Roving Reporter. Exciting times for sure.

Best wishes to you Del..always good to hear from you.

PaulB
Tuesday, 26 December 2017 - 06:55
Post 4514
Mike J., Dover
A dull grey grotty windy morning up on the cliffs & chilly with it.
The skeleton crews on the ferries will probably be joined their by families for Christmas lunch aboard [at least they used to].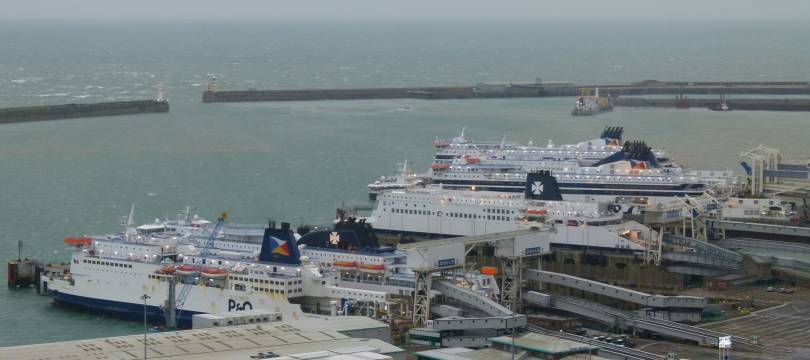 BARENT ZANEN came in about 0930 & was attended by the MORAG M & SMIT YOUNG & the DWDR bulldozers came out to play.
Hope that everyone was on a good Xmas bonus.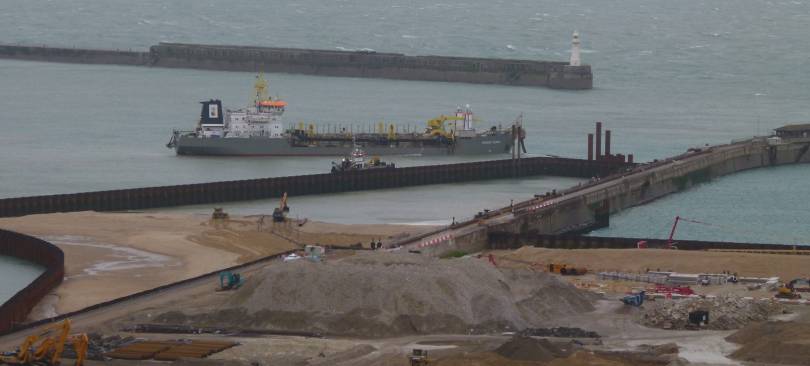 As Patrick showed us a few days back The old Jetfoil terminal was full of contractors' plant & the relaxed security for the Cruise-1 Christmas market permitted a close-up view of them & the LLANDWYN ISLAND.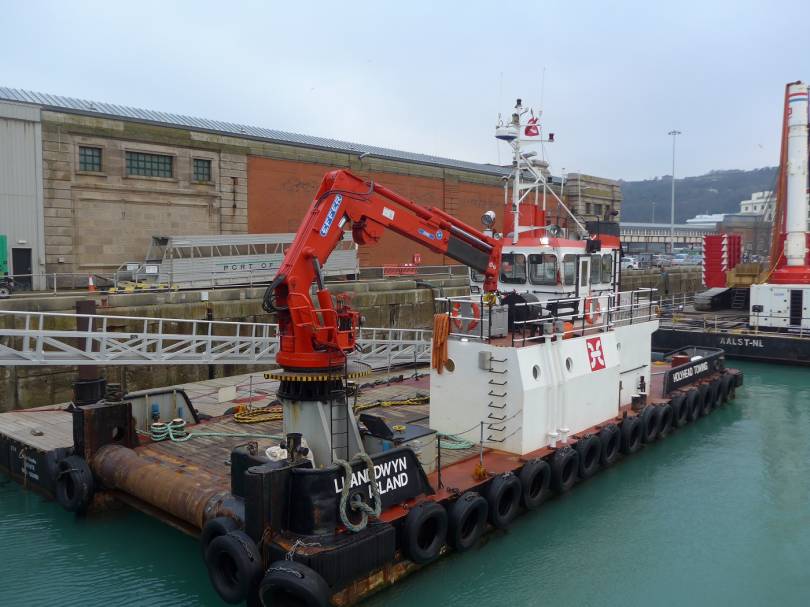 Monday, 25 December 2017 - 11:47
Post 4513
Mike J., Dover
Midnight Christmas morning & the fleets in . . . . . .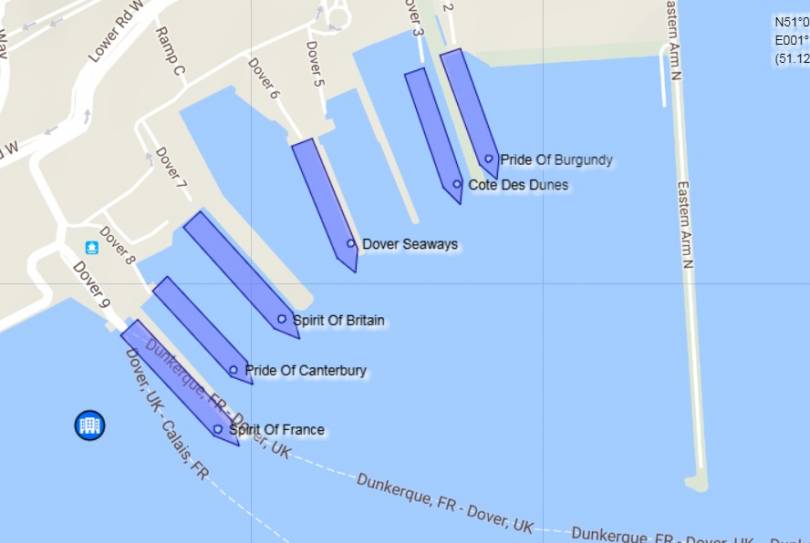 Over on the other side -
Calais - EUROPEAN SEAWAYS – COTE DE FRANCE – CALAIS SEAWAYS
Dunkirk West - DUNKIRK SEAWAYS – DELFT SEAWAYS
Dunkirk East, Damen Shiprepair drydock - PRIDE OF KENT
The Newhaven/Dieppe ferry SEVEN SISTERS is also laid-up in Dunkirk East docks.
Merry Christmas to all 'Sea News' readers & contributors & to Paul for keeping us unruly mob under control & for his own superb pix.
Monday, 25 December 2017 - 01:32
Post 4512
Del Styan, Norwich
Happy Christmas to you all in Dover.

Sunday, 24 December 2017 - 14:46
Post 4511
Sarah, Ramsgate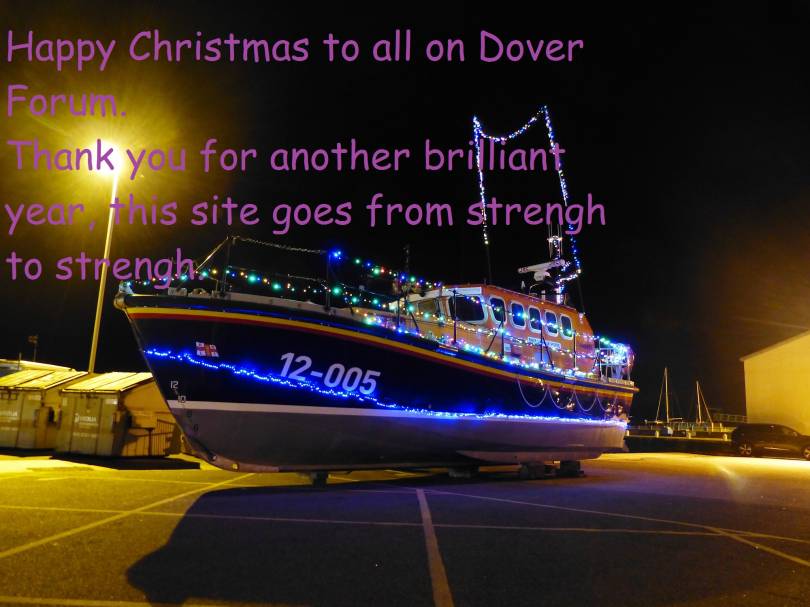 Sunday, 24 December 2017 - 08:33
Post 4510
Sea News, Dover
The Luzon Strait reefer arriving with us yesterday morning at 10.20am. All the way from the South Americas we understand, and very welcome here to the Port of Dover she is too... twas a bit of a grey oul day for these pictures...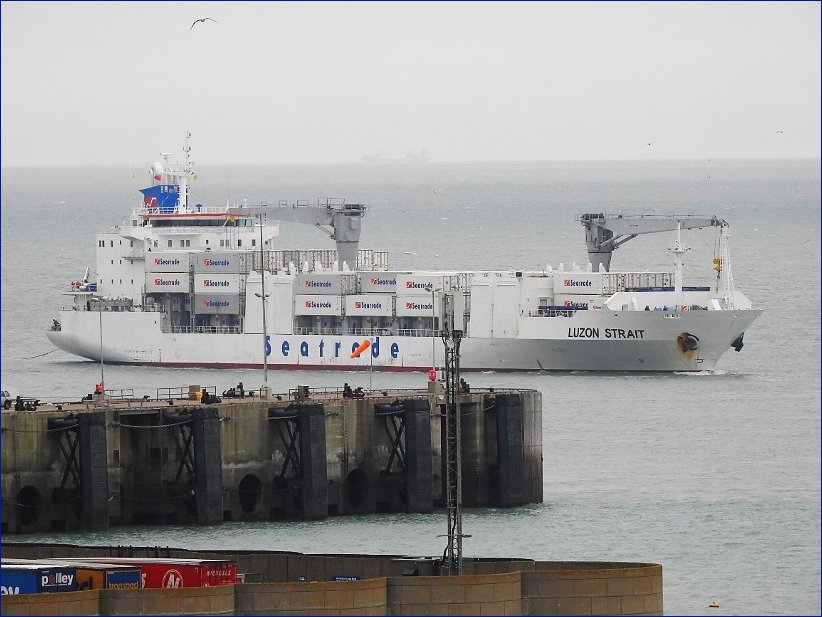 After a short period away..the Barent Zanen is here with us again, doing her daily trips back and forth with her cargo of sand. Here she is departing the harbour at 11.30am yesterday morning with the pilot in close attendance..while on the horizon a giant NYK moves south.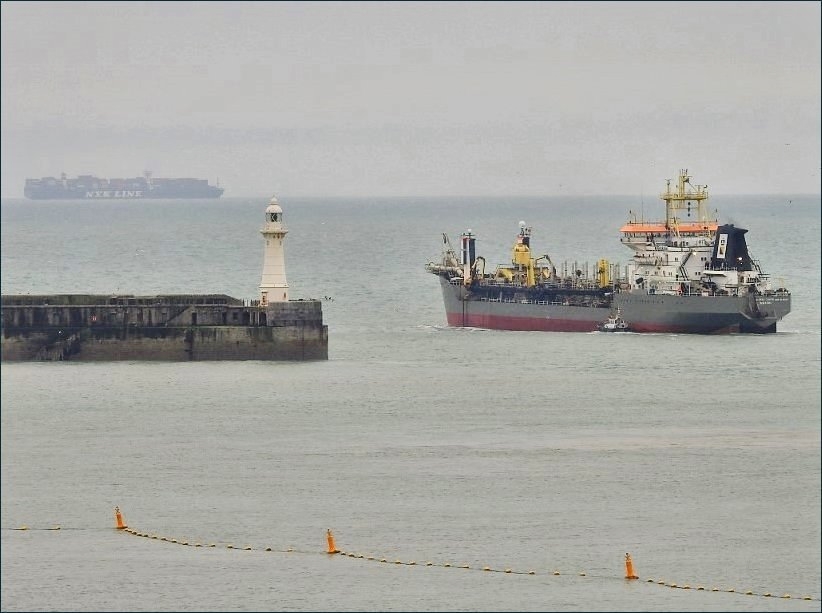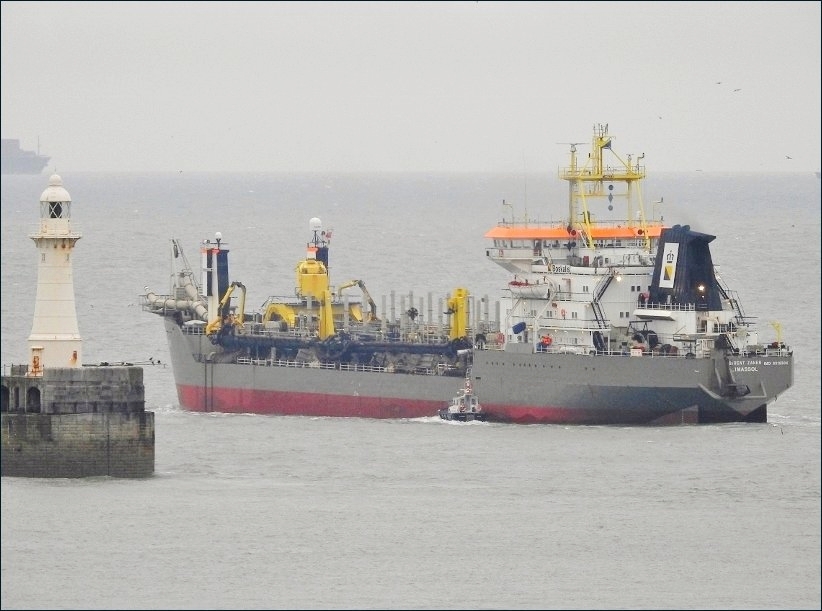 Merry Christmas everybody

PB
Sunday, 24 December 2017 - 05:03
Post 4509
Sea News, Dover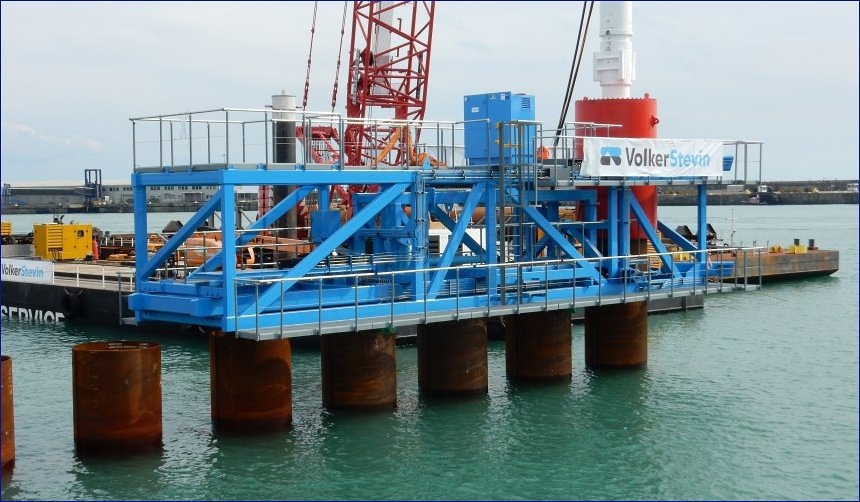 The Port of Dover has gained industry recognition after commissioning a revolutionary temporary work system, for its flagship Dover Western Docks Revival (DWDR) development, that has the potential to transform industrial pile driving across the world.
__________________________________________________________________________________________________________
The 'walking piling gate', which improves the safety, environmental standards and efficiency of the construction process, has been recognised as an innovation by the Considerate Constructors Scheme (CCS), and is featured on the Scheme's Best Practice Hub – the key online resource showcasing best practice in the construction industry.
The Port's principal contractor, VSBW (VolkerStevin and Boskalis Westminster), has been using the custom-built equipment to install large diameter tubular piles for the Port's new berths, pier and marina curve, and is already reporting the kit has increased the number of piles being driven daily from three to a maximum of 10.
Dave Herrod, DWDR Programme Director at the Port of Dover, said: "The Dover Western Docks Revival is enhancing this key piece of national infrastructure by providing further capacity to keep the port resilient for the long term and providing a game changing opportunity for the regeneration of Dover."
"The Port of Dover is committed to achieving high standards on every aspect of this flagship development and I am absolutely delighted our marine civil engineering team has been able to demonstrate this in terms of safety of the workforce, and the impact on the community and the environment by developing this innovative piece of equipment."
The gates clamp onto the previously installed piles and are equipped with hydraulic roller boxes to guide the piles accurately in position. After driving a pile, the gate glides forward autonomously from the crane and hydraulically adjusts its position to prepare for the next pile. Repositioning and levelling of the piling gate without the need of the crane significantly shortens the critical path, as it can be achieved parallel to upending and pitching of a new pile. In addition to piling in straight lines, the new piling gate can also undertake smooth, wide curves, which has proved invaluable with the Port's marina curve design.
Ron Eckersley, Community Manager for VSBW, said: "As Dover Western Docks Revival involves driving over 651 steel tubular piles as part of the marine civil engineering, the Port of Dover and VSBW decided to invest in two innovative best in class piling gates, significantly increasing the projected piling rate. This has helped us deliver the piling phase of the project in a much shorter period, which in turn has been beneficial in reducing noise nuisance to adjacent neighbours.
Considerate Constructors Scheme Chief Executive, Edward Hardy, said: "Innovation has to be at the very heart of construction; both from determining its future success as well as its attractiveness as a sector to work in.
"It is, therefore, essential that the industry as a whole embraces innovation and continually works to raise standards in how it can be used for the benefit of the local community, environment and workforce. The Port's DWDR 'walking piling gate' innovation has clearly achieved benefits in each of these areas, and has made a significant contribution to improving the image of the construction industry.
"The standard of innovations across construction sites and throughout the supply chain is increasing, with around 500 best practice examples of innovations now available on the Scheme's Best Practice Hub. This helps the industry to collaborate and learn from one another by sharing the very best practice from Scheme-registered sites, companies and suppliers across the UK and Ireland. The Scheme looks forward to continuing to help to raise standards and share best practice in this vital area for the industry."
DWDR is the single biggest investment ever undertaken by the Port of Dover and represents the next exciting evolution of the Port, delivering long-term capacity for a key international gateway handling trade to the value of £122bn and representing up to 17% of UK trade in goods.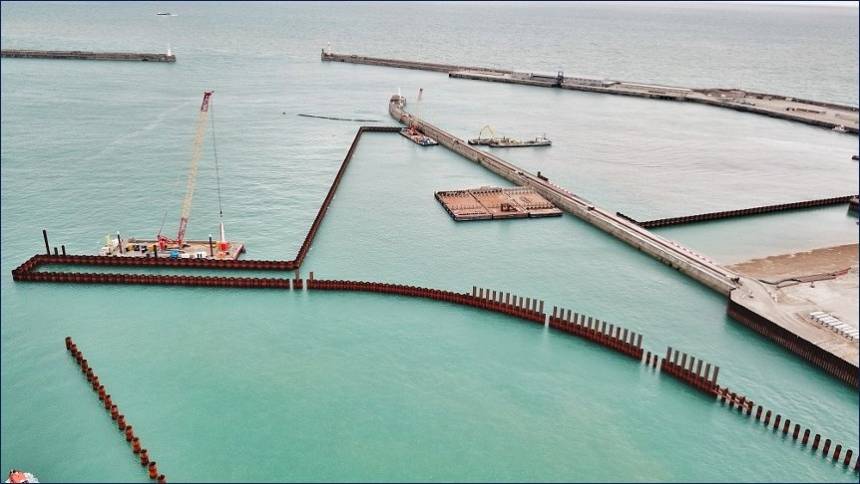 ENDS
Many thanks as ever to the guys at the Port for the above info and pix.
* *
An excellent collection of pictures below there Patrick. Really good to see those. Christmas is nigh...
You posted at the very same time as ColetteB..what are the odds!?


Vic Brian Colette

Saturday, 23 December 2017 - 07:34
Post 4508
ColetteB, Dover
Nice to see the happy photo of Vic & his lovely wife Lesley, I love those Armed Forces Days in Dover

I try to get out & exercise as much as possible Brian

I wish everyone a very Happy Christmas


Friday, 22 December 2017 - 22:35
Post 4507
Patrick, Marine Parade
DWDR VSB Crane and pipe barges laid up in the Inner Harbour for the Holiday recess.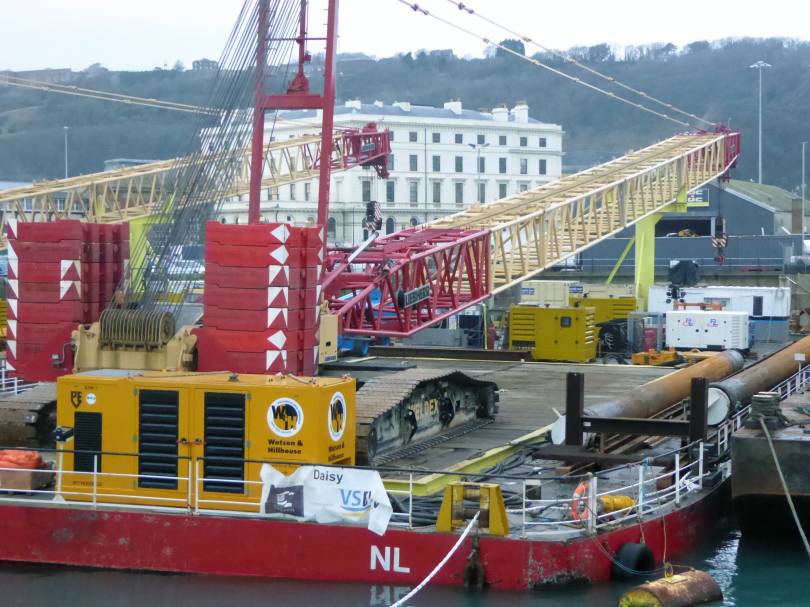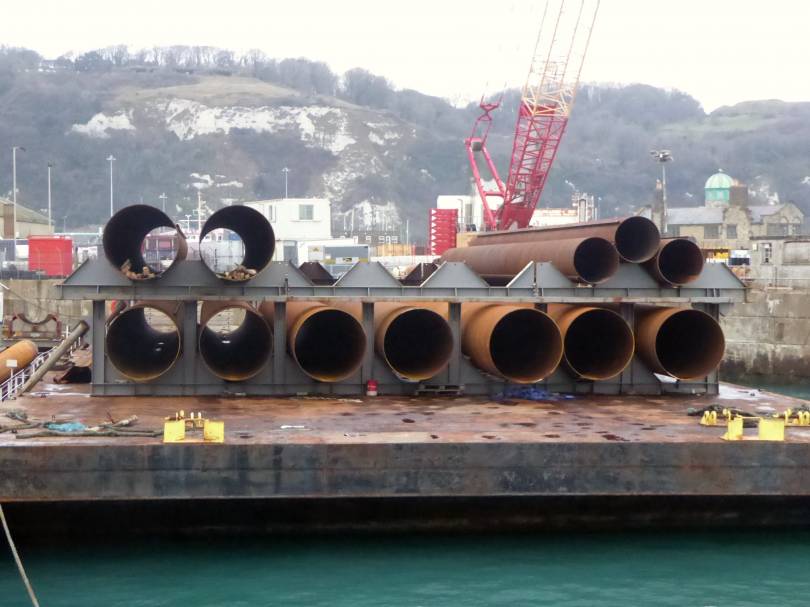 The tall white object with a red base is the power hammer used to drive down the piles. The size of the lifebuoy on the stern gives an idea of size of this driver.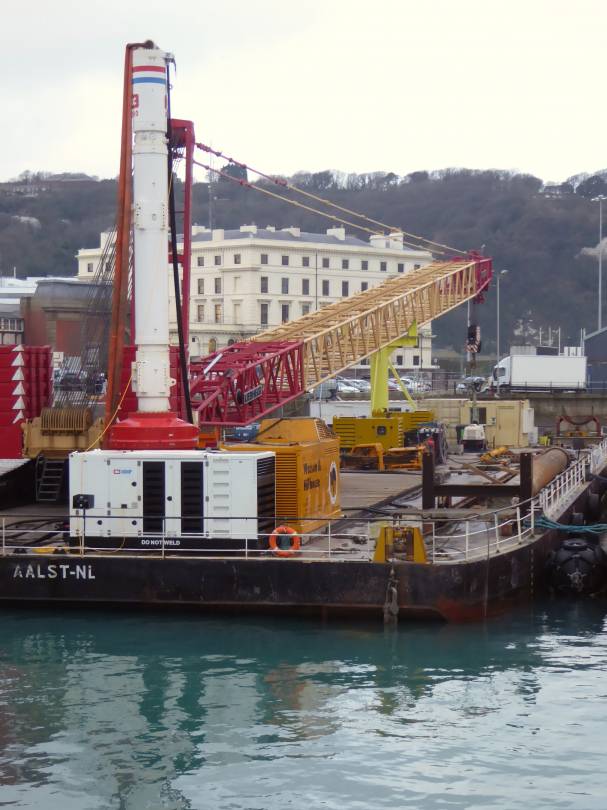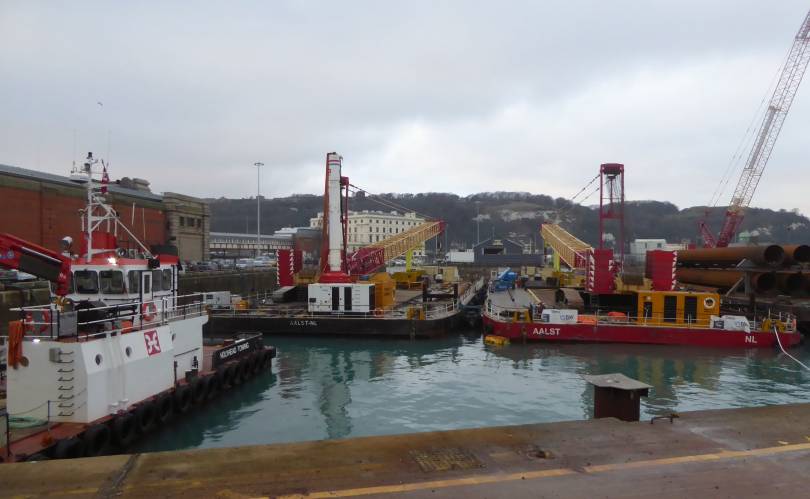 Friday, 22 December 2017 - 22:35
Post 4506
brian, dover
nice to see you out and about today Colette.

Friday, 22 December 2017 - 19:12
Post 4505
victor matcham, Dover
Thank you for showing that ,




Friday, 22 December 2017 - 08:48
Post 4504
Sea News, Dover
Patrick got a very nice colourful shot on the 19th as the sun went down ( post 4500 ). In fact it was a hugely colourful day all round and here are some pictures from morning 'til night taken that very day. Makes a change from the murky oul gloom at the moment.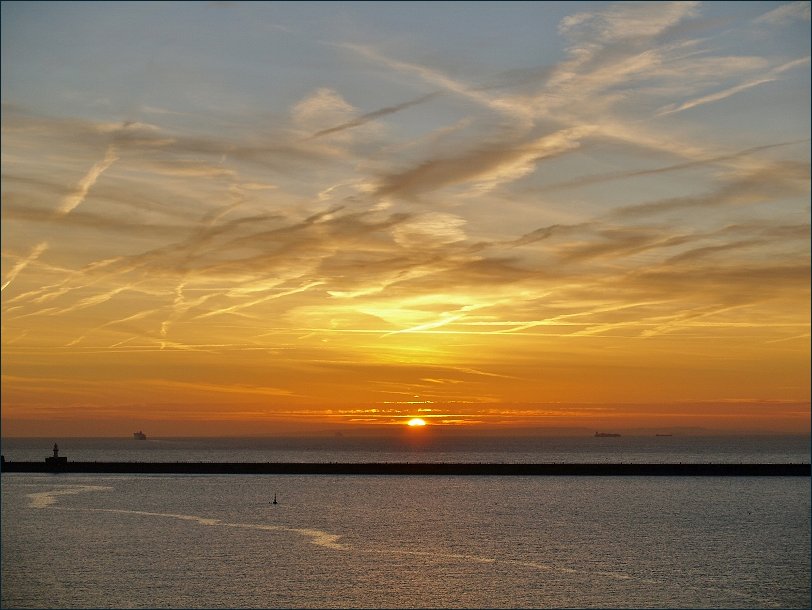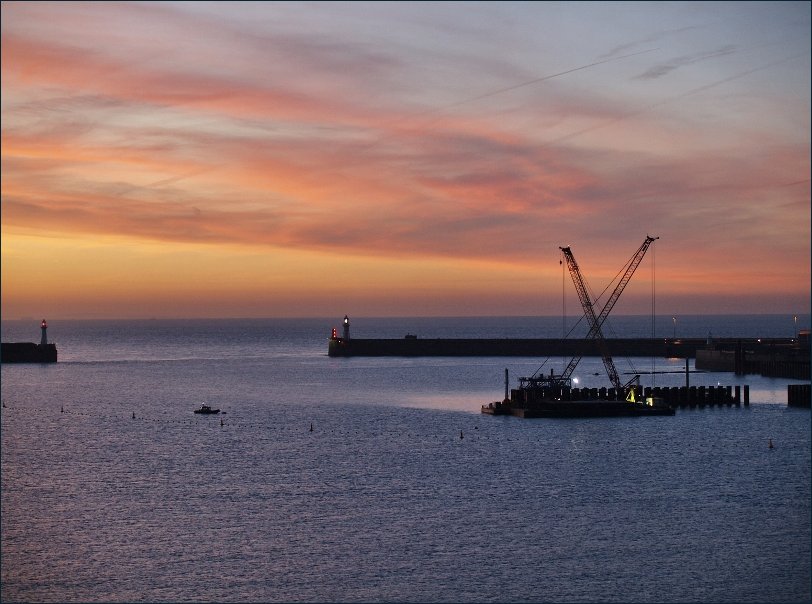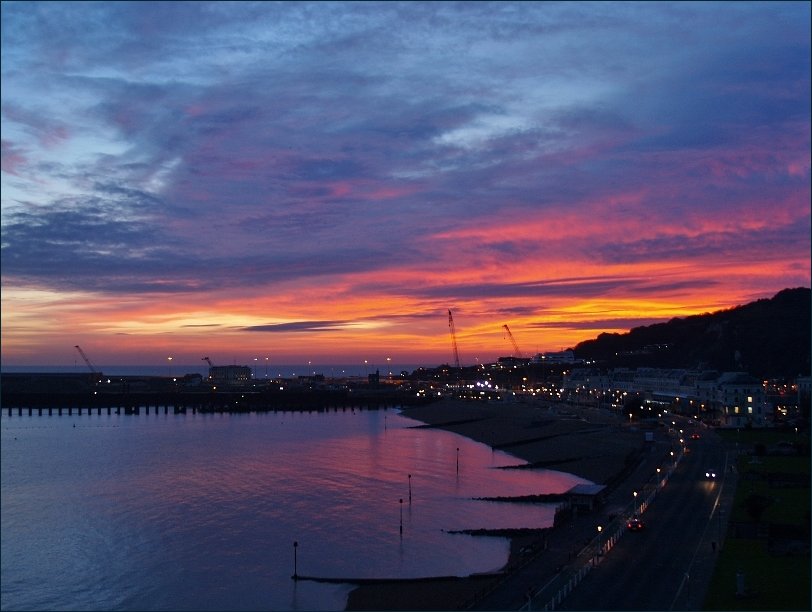 Thanks Vic...I am sure all the contributing teamsters will appreciate that..
Merry Christmas to you and wife Lesley. Here are a couple of pix of the two of you in Pencester several years back.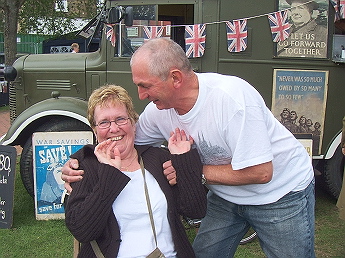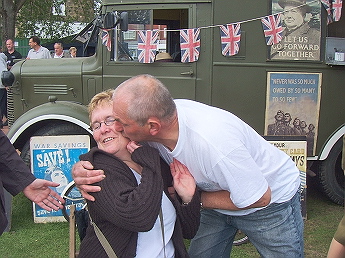 Excellent and interesting pictures below Mike. Great moody atmospherics. Well done with those ..

Friday, 22 December 2017 - 05:51
Post 4503
Mike J., Dover
A slight lift in Thursday morning's fog found the crew transfer vessel SMIT YOUNG in the Tidal Basin, she had arrived from Southampton on Wednesday evening.
She sports BOSKALIS logos.
A brief chat with one of the crew told me that she would be working in Dover, but no idea for how long.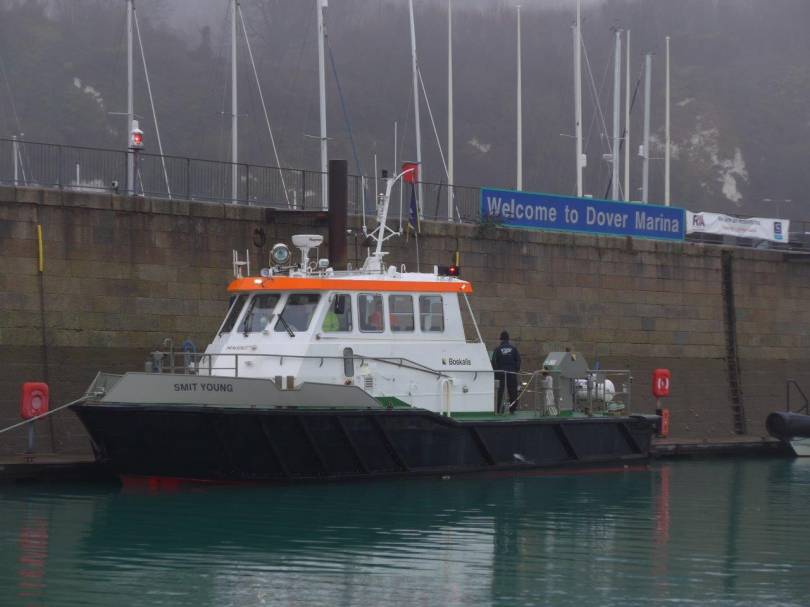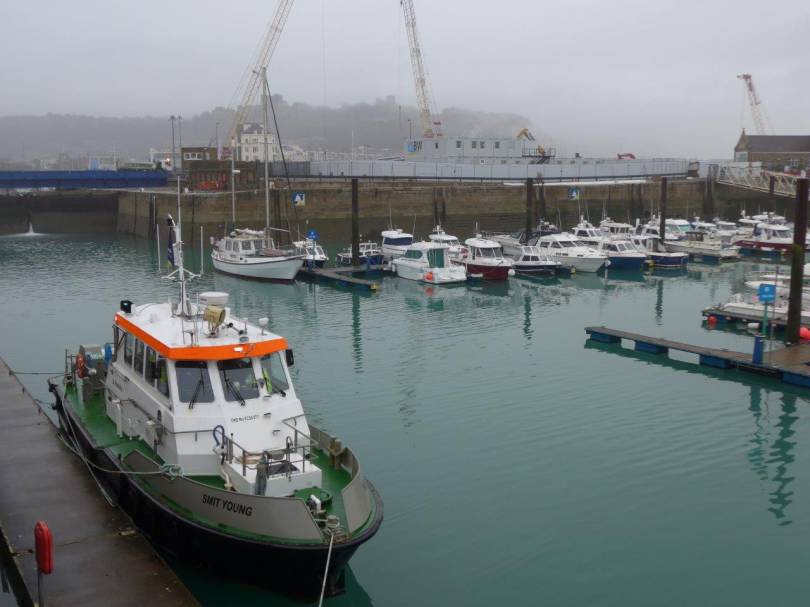 In Weliington Dock a few days ago the rather nice Baltic ketch WILLOW OF HARTY (post 4337) was snuggled-down for the winter.
Anyone know when she was built ?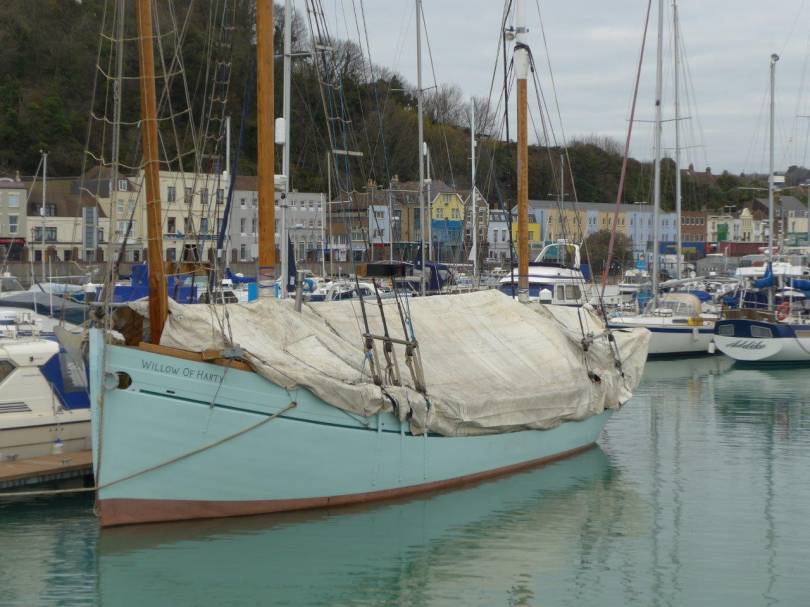 Thursday, 21 December 2017 - 20:55
Post 4502
victor matcham, Dover
Great photos

of the working port of Royal Dover for the whole year, both my wife and myself say thank you and a very happy Christmas and a very happy new year.


Thursday, 21 December 2017 - 16:42