Saturday, 21 September 2019

WWW.DOVERFORUM.COM/SEA-NEWS
Featuring all the ships that come and go and work at the Port of Dover ..
... with further coverage of the surrounding ports.
Sea News Dover
Use our SEARCH ENGINE below to find all sorts on the SEA NEWS pages....type in the topic and away you go, or if you have the post number, just type it in the box, more than - 6500 - nautical posts now.
Posts are welcome. just click 'Add Your Comment' below. Max of 5 pictures preferred although we can stretch that for special stories.. Sea News Editor Paul Boland - send info or pix to dover7@msn.com. Always welcome.
CRUISE CALLS:
https://www.doverport.co.uk/cruise/find-a-cruise/
UPDATE:
To show your pictures at their best..it could be worthwhile resizing before posting to
850
pixels wide.
All pictures on these pages are the copyright of the owners and must not be reproduced without permission.
Post 6483
Sea News, Dover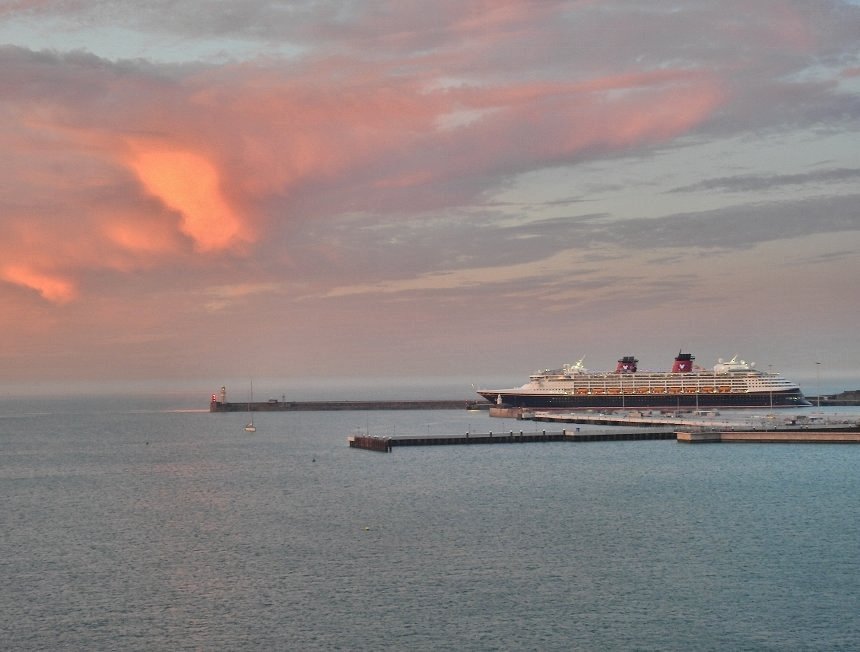 The Disney Magic at the Port of Dover early this morning. Time of picture 05.54. The day is just beginning to brighten. The skies were magnificent this morning early, will have more pictures in due course. Also in today...Pacific Princess.
A sketch of roughly the same view below, a closer view, yesterday evening Saturday... all tranquil after a hot hot day and all are gently winding down....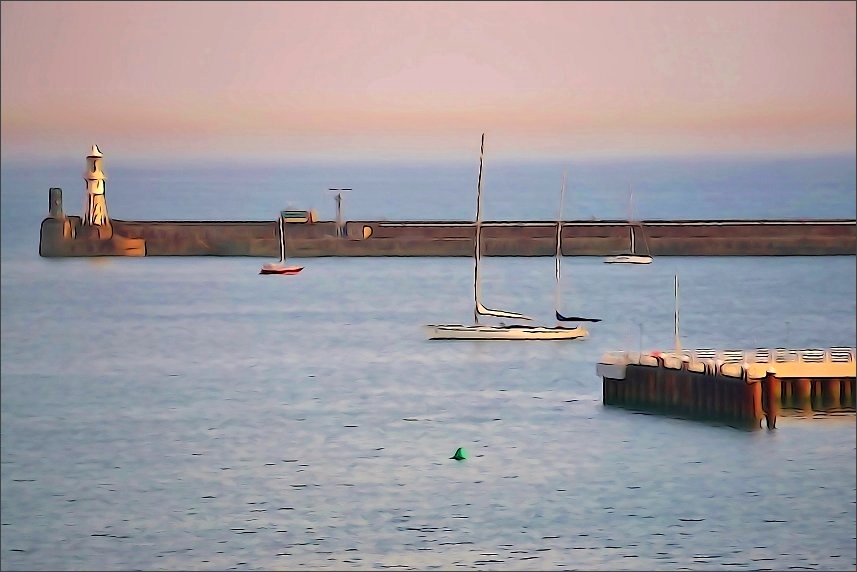 Interesting info below Mike

PB
Sunday, 25 August 2019 - 06:18
Post 6482
Mike J., Dover

Re Paul's remarks about my knowing my way round the docks, all the pix in my latest post were taken from publicly-accessible areas.

The parked helicopter view was taken from the viaduct that leads to the Admiralty Pier, cruise terminals etc.
The take-off pix of RESCUE-163 were taken a little higher from the spiral viaduct that leads up to Channel House, P&O's HQ.
A long lens helps.

Mind you, it is very rare to need to take pix of the lorry park unless you're a lorry-fancier. These folk are not unknown & can be seen occasionally, usually at the A20 roundabouts or on the bridge over Jubilee Way.



Saturday, 24 August 2019 - 09:11
Post 6481
Sea News, Dover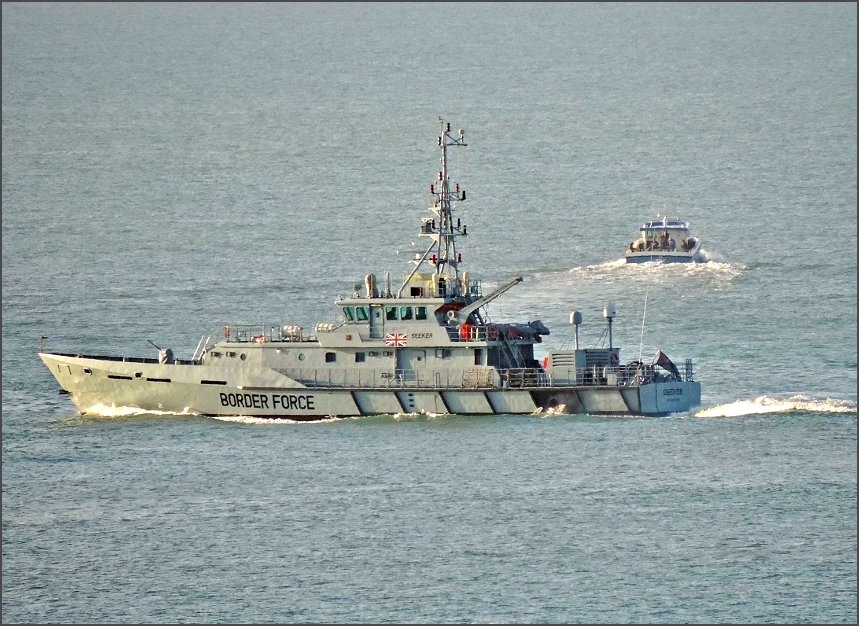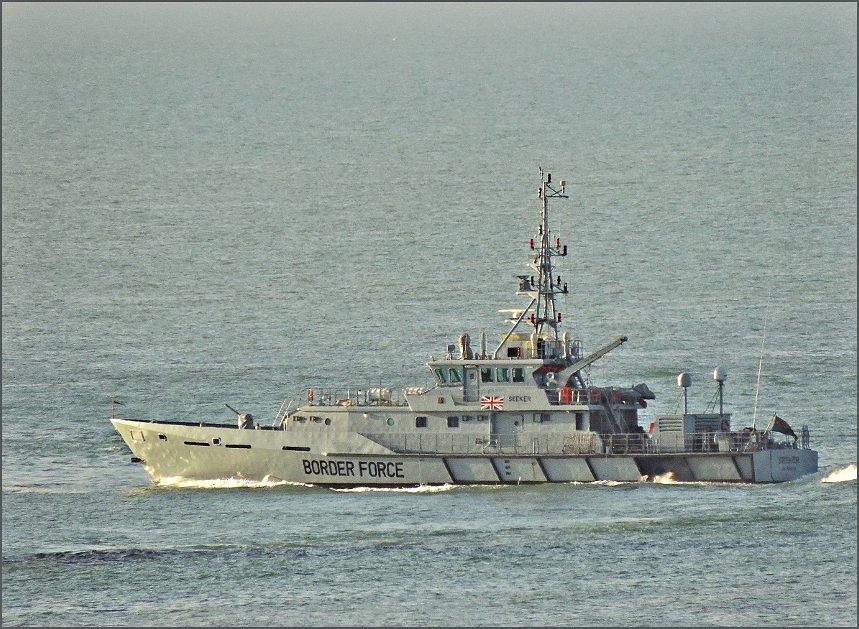 Some early morning shots there of Border Force Seeker as she sets out from the Port here at 07.20 on Thursday morning. You can see her bow just catching the early morning sunlight as she reaches the open sea. In the background one of Dover's fishing boats heads off for the day... nice weather for it if a bit misty early on. These are very busy times for Border Force vessels as we know... they police the channel daily and not without cause. The latest figures according to the BBC show that "More than 950 people, including at least 80 children, have crossed the Channel in small boats this year".
The disappointing Port news this morning is that Geest Line are pulling out of Dover and returning to their original location at Portsmouth. They have been here for approximately 2 years but they always maintained a commercial base in Portsmouth, so there is an air of inevitability about it. Nothing to do with Brexit they say. Some fears were raised however about Dover's potential for gridlock after a no deal Brexit.
Well done with that post below Mike.

Great all round coverage below there from our 'inshore correspondent'
so …….. Don't Miss That One !
Mike knows his way around the port that's for sure and knows all the vantage points.
PaulB
Saturday, 24 August 2019 - 06:10
Post 6480
Mike J., Dover
A busy morning in the Western Docks.
I was up on Langdon Cliffs Friday morning watching the DAVID CHURCH working on the East Buoy when a Border Agency vessel entered Eastern at some speed before crossing the bay followed by what I know now to be the Walmer inshore lifeboat.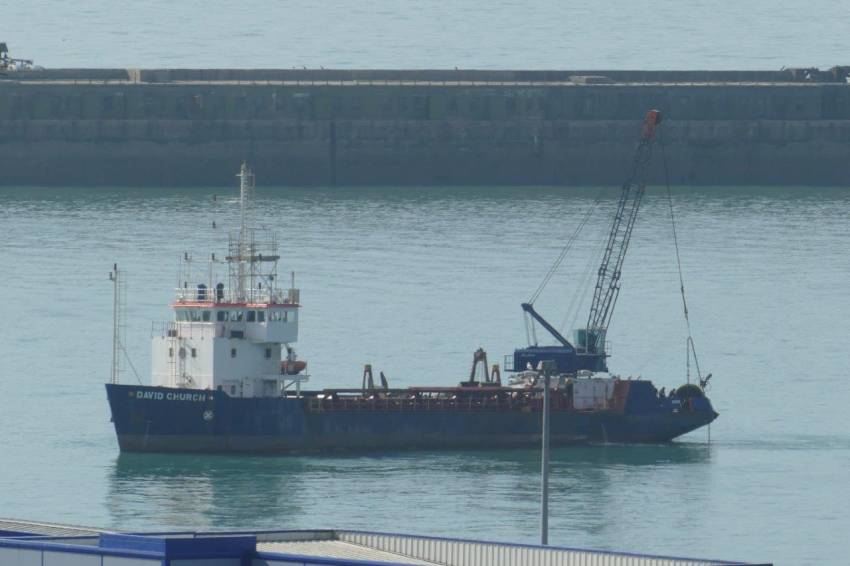 At the same time the Coastguard helicopter appeared & landed in Western Docks.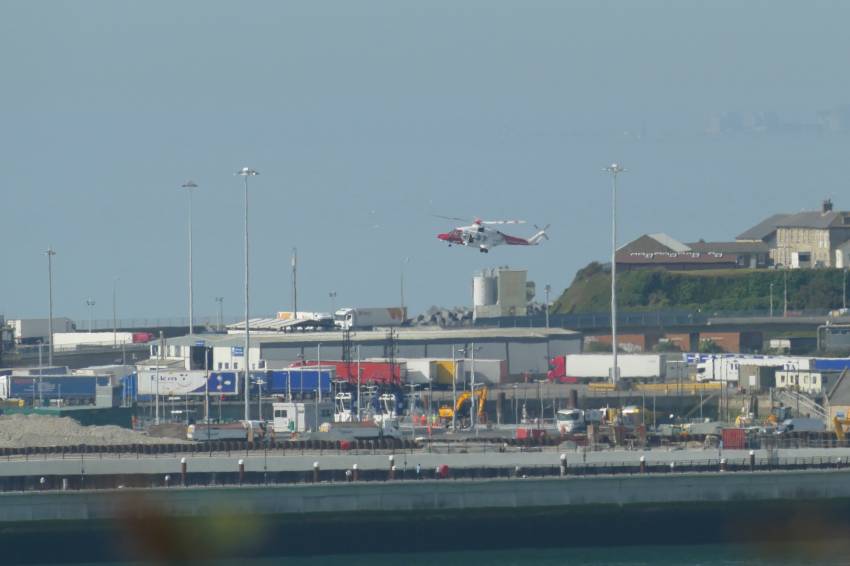 By the time I got to St.Martin's Battery, about a half hour later, the HUNTER was moored alongside the tugs with the Walmer lifeboat nearby.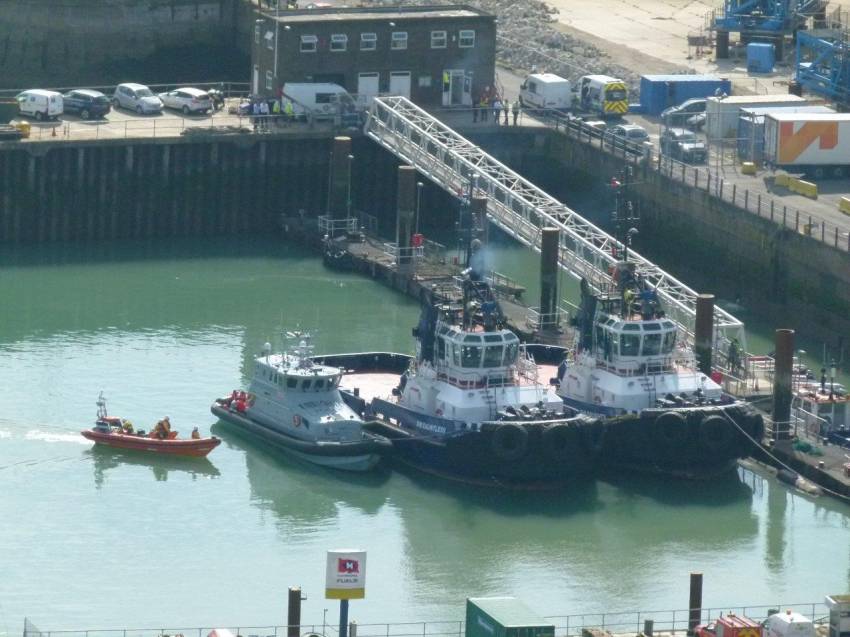 The helicopter was in the freight clearance park with it's rotors still spinning.
There was little activity on the pontoon & eventually the helicopter shut down.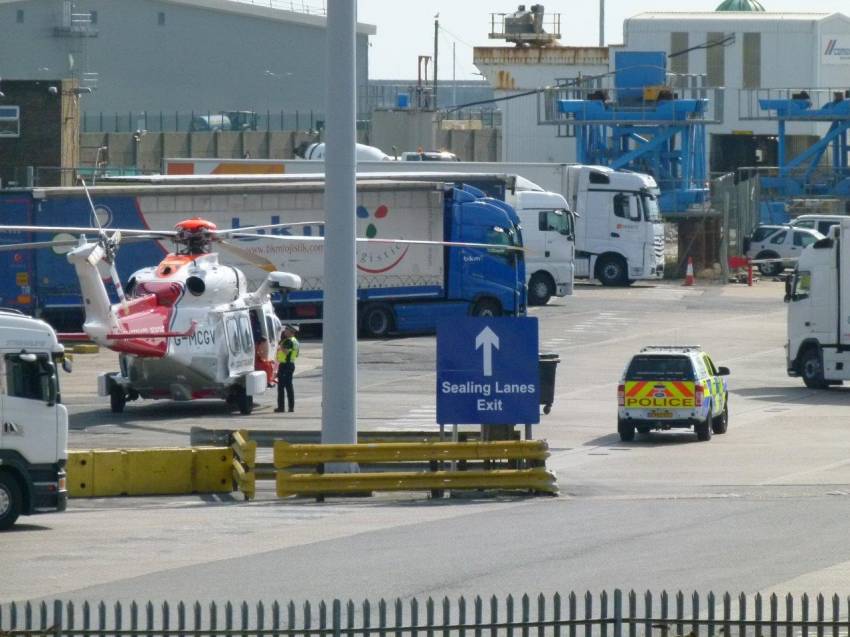 Whatever had caused the activity was obviously over, apart from some police & [presumably] BA vehicles in the area & a few hi-vis jackets standing about.
There were a number of other photographers up at the battery, some looking like 'press' & the Sky News helicopter was slowly circling overhead.
'Sea News' readers may have seen on Friday evening's Sky News brief high-level views of lifejacketed activity on the stern of one of the tugs.
After about an hour the helicopter departed, looking to be heading back to their base at Lydd.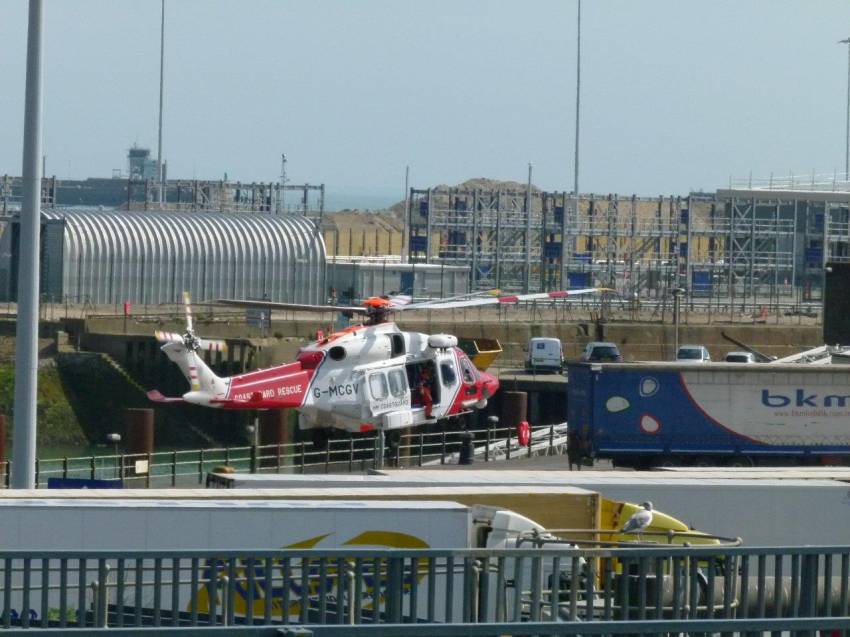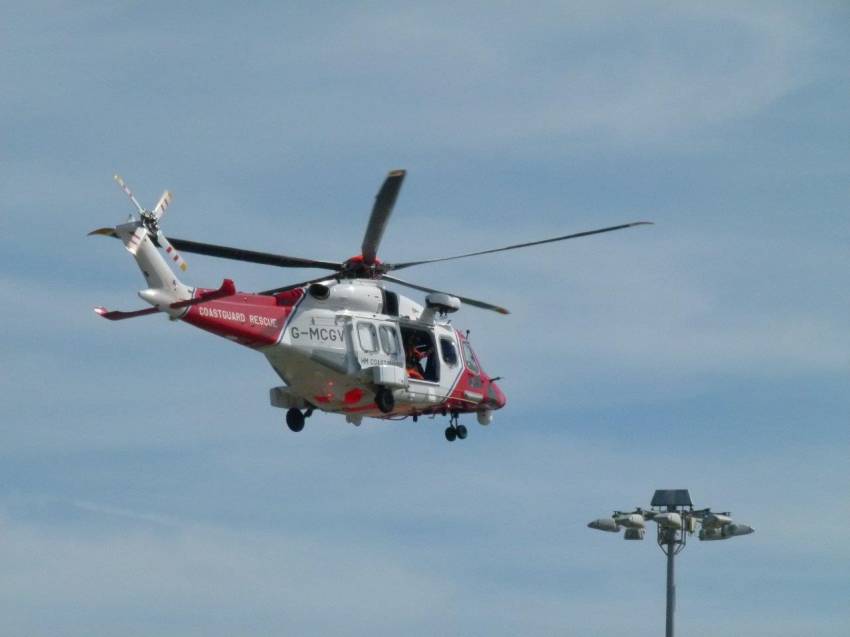 Saturday, 24 August 2019 - 00:45
Post 6479
Sea News, Dover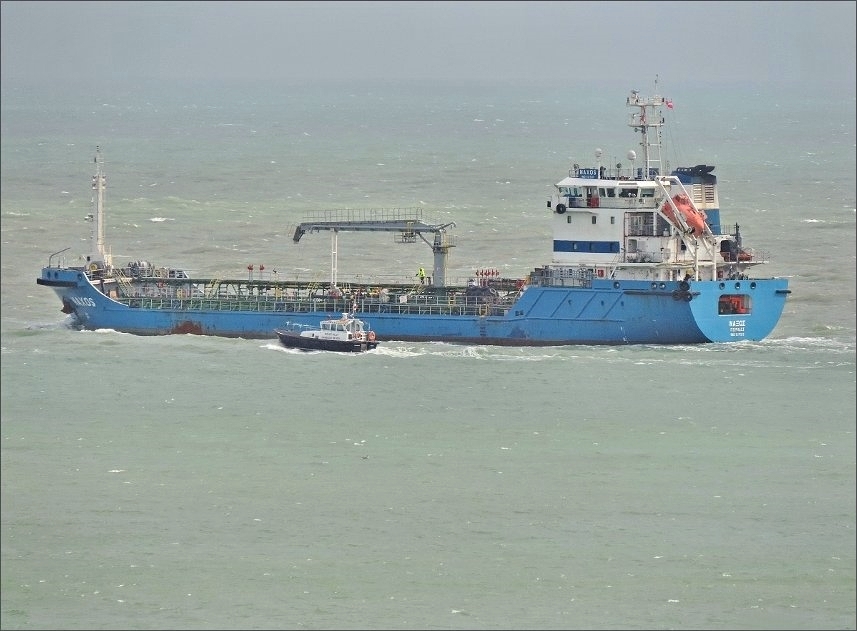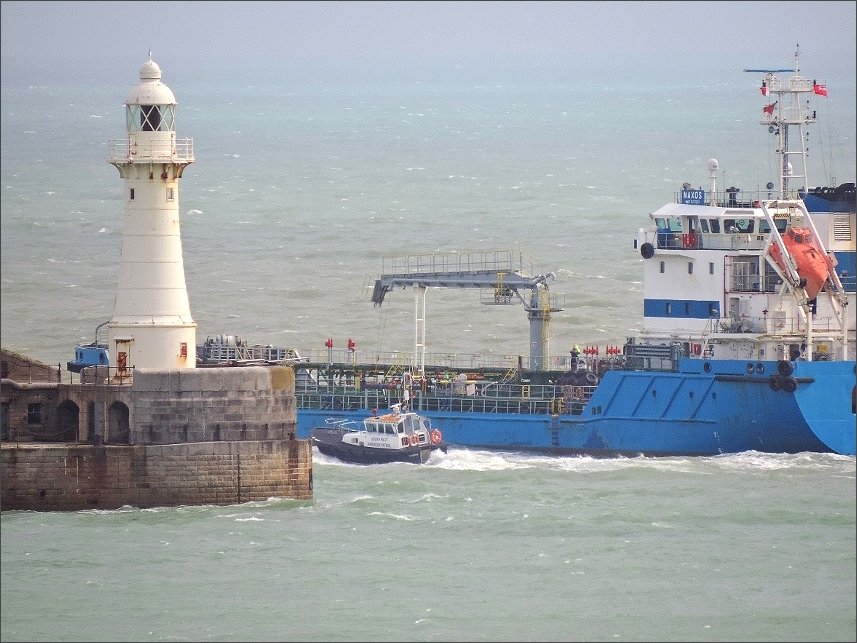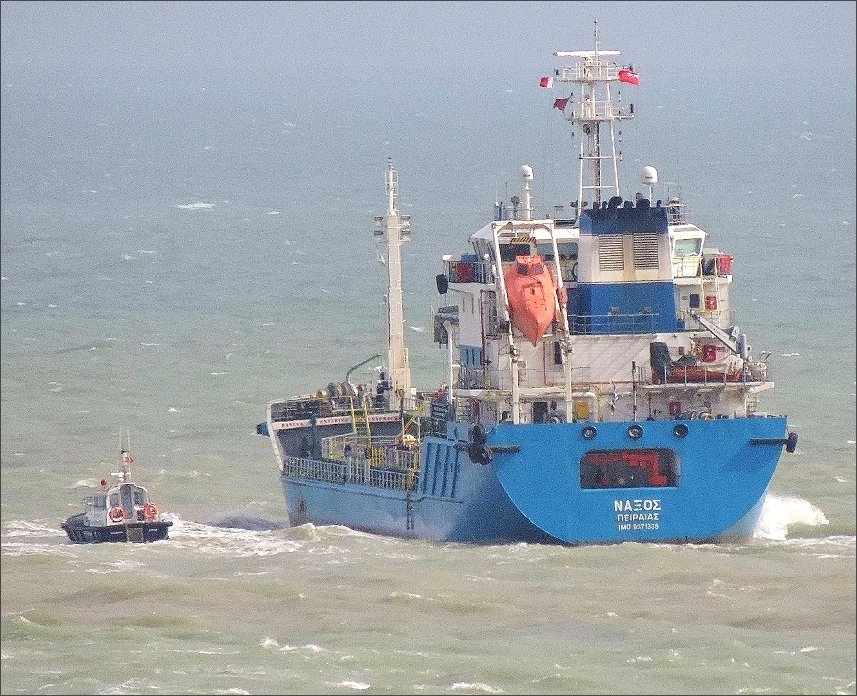 When you look at the stern view in picture 3 you will be inclined to say to yourself ' its all Greek to me ' but from another angle the vessel was/is re-assuringly called Naxos. You can see her here leaving Port on the evening of the 17th having serviced if I remember correctly the Spirit of Discovery.
Picture 2 has everything wrong with it possible...yours truly has severed the front and rear ( bow and stern !) and the pilot boat looks like its about to hit the breakwater...but the pic has an endearing appeal...

And then in Pic 3 outside Port and almost away...
The picture below shows the Saga Sapphire leaving Port in the strong sunshine last evening ( Thursday). She was off on an exciting 15 day tour of the Baltic...highlighting places like Stockholm, Helsinki, and to top it all off the marvellous St Petersburg in Russia. There she goes...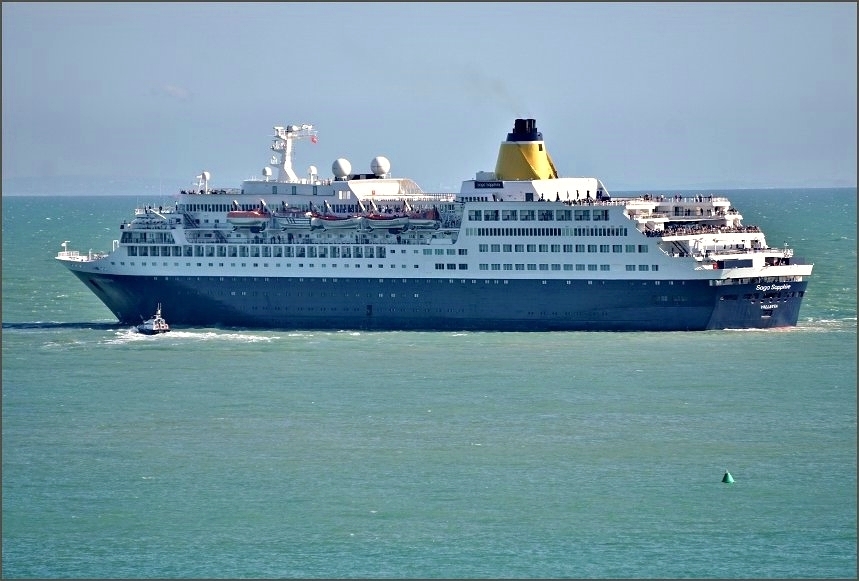 Saga Sapphire

Exciting post below from Andrew...don't miss that one.. fascinating pictures and information there.
Always happy to see Deep Helder Andrew.
PaulB
Friday, 23 August 2019 - 07:10
Post 6478
Andrew, Broadstairs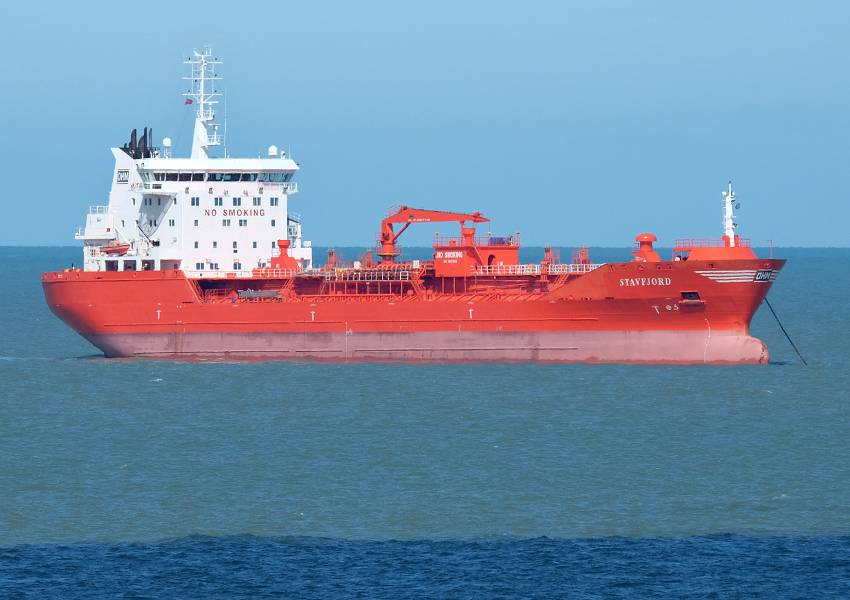 Prior to the photographs shown in Post 6472 I visited the cliff tops at Kingsgate on Sunday and taking advantage of the sun and clear atmosphere following the torrential rain I managed to photograph the smart Norwegian owned STAVFJORD anchored close in shore awaiting orders in the quiet period whilst Europe returns to work after their summer holidays. Over four nautical miles away in the area of the North East Spit pilotage zone, the Dutch tanker COOLWATER was at anchor whilst behind her the Irish owned mini bulker ARKLOW MUSE, having left the anchorage in the Margate Roads, was making a sharp turn into the Princes Channel bound for Sheerness. In the distance the MALACCA HIGHWAY was about to land her pilot on her voyage from Sheerness to Emden for another consignment Volkswagen cars; all this activity going on against the backdrop of the London Array Wind Farm. With electrical power in mind I hope Paul will not think another view of DEEP HELDER leaving Dover last Sunday is one too much but she was making a short passage to this area in the Princes Channel to carry out survey work for the proposed 'Gridlink' France/UK power cable, 140km under sea, that could be laid from Dunkirk to Kingsnorth. Apparently we may be seeing more of DEEP HELDER and associated vessels in Dover in the future, providing Brexit does not 'pull the plug' on French electricity!
Friday, 23 August 2019 - 00:45
Post 6477
Sea News, Dover
Some pictures now of Atlantic Acanthus arriving a few days ago...
one of the newer visitors here at the Port of Dover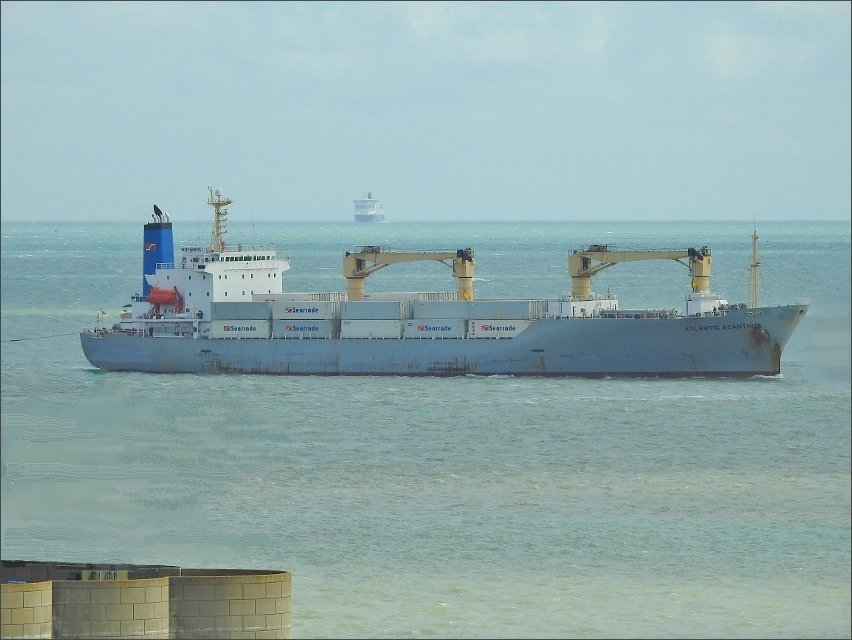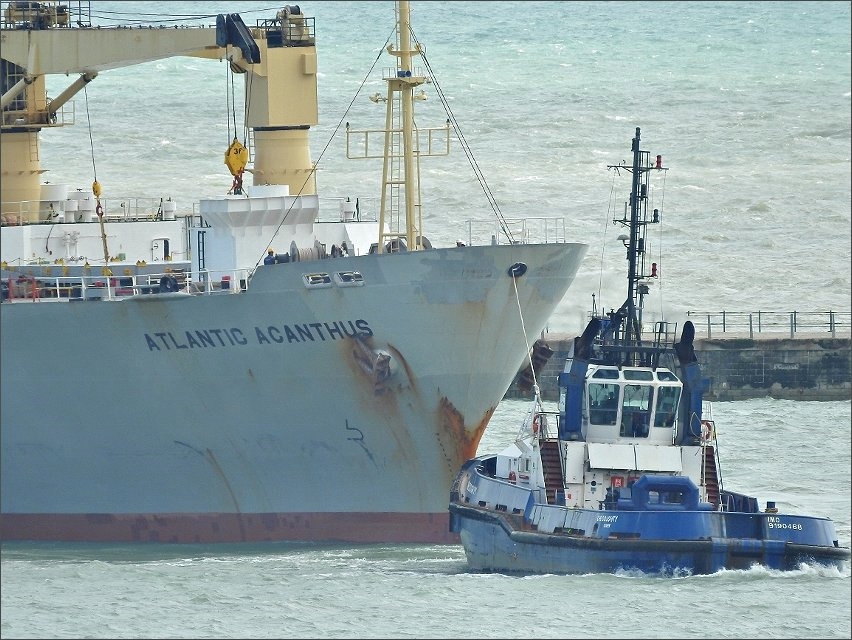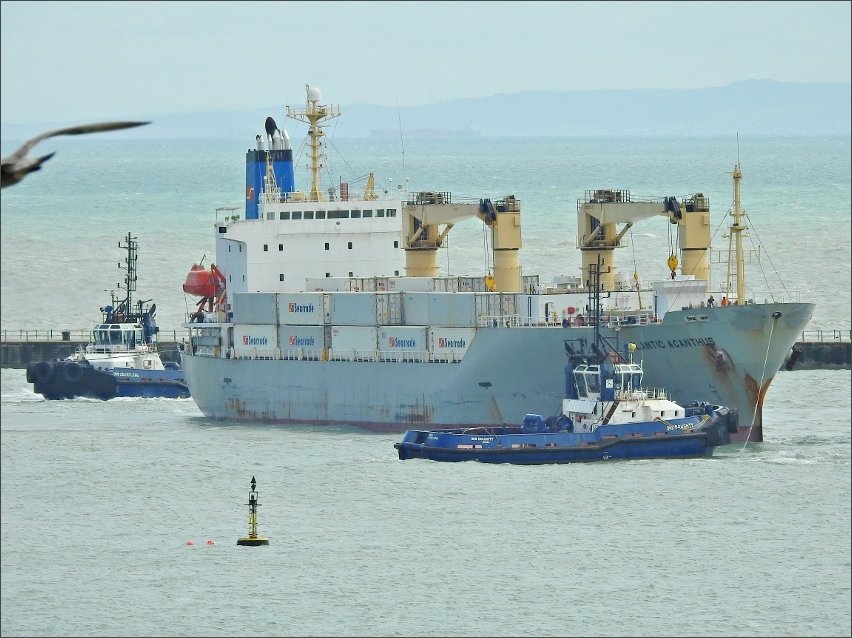 The ship seen here arriving from Paramaribo we understand, as Sammy the Seagull muscles in on the shot again..

!
Pictures from Sunday.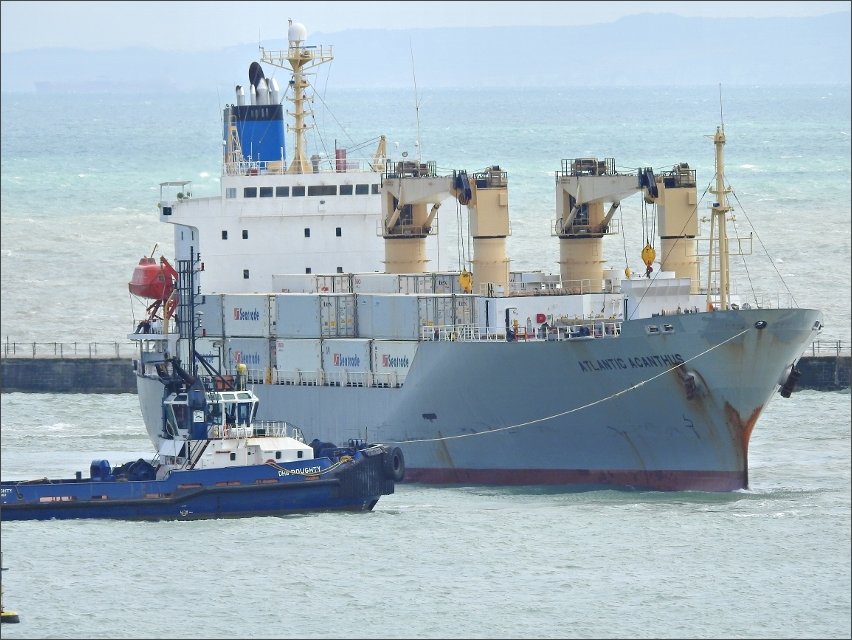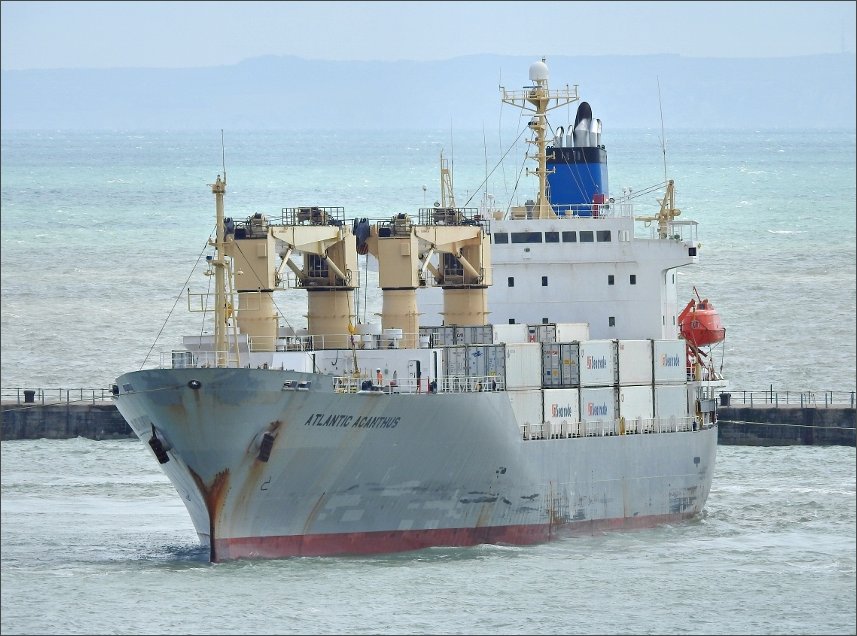 Atlantic Acanthus
PB
Thursday, 22 August 2019 - 06:39
Post 6476
Sea News, Dover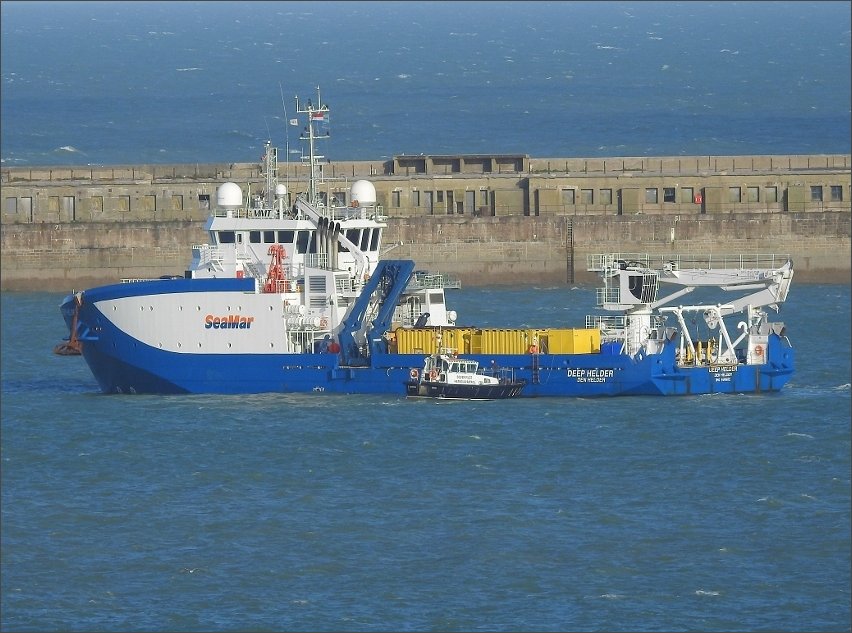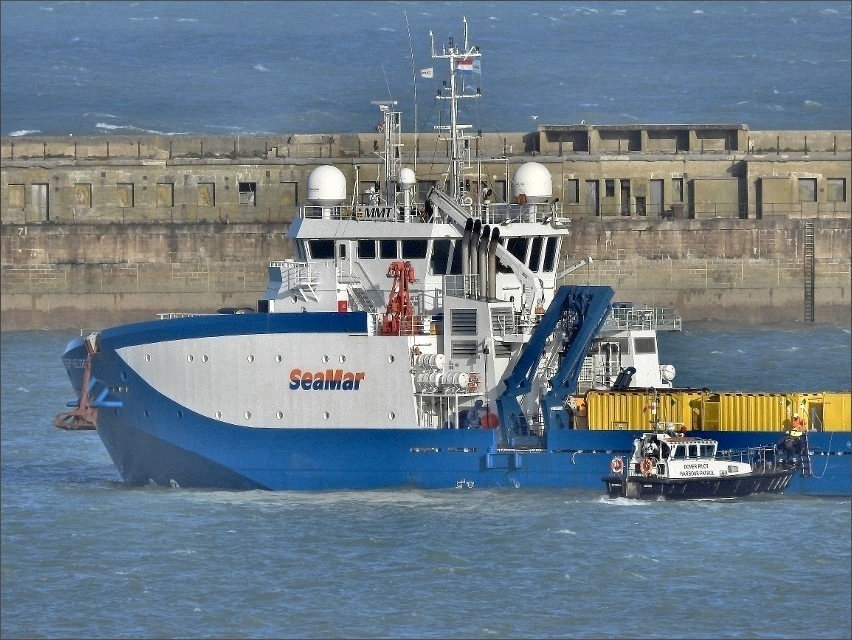 That's Deep Helder above there...you can see the pilot boat alongside and just see a crew member in attendance. The vessel was about to move away soon after the departure of the Disney Magic...round about 6.20pm Sunday evening..
Andrew got Deep Helder moments earlier see 6472.
Later that same evening at 8.10 PM ( 20:10) Amera departed. It was quite dark by then as you can see in the pictures below. She was following the same procedure as Disney Magic earlier and coming across the harbour in the strong wind. Yes quite dark. Sadly the evenings are drawing in already and the days are shortening rapidly..Heavens!
Its all Bojo's fault...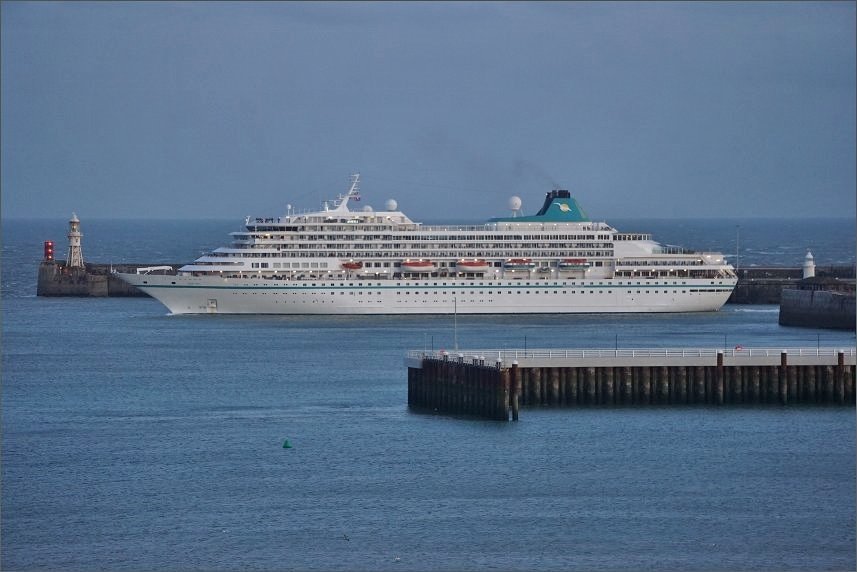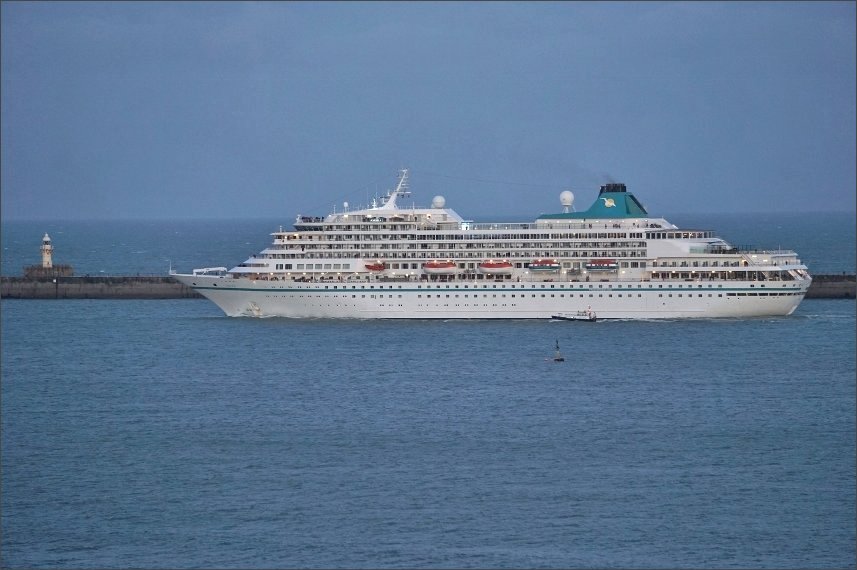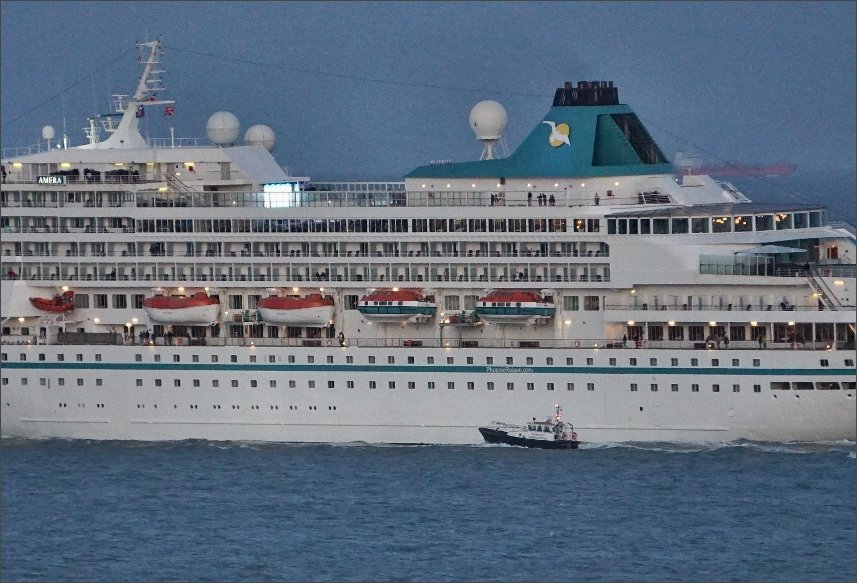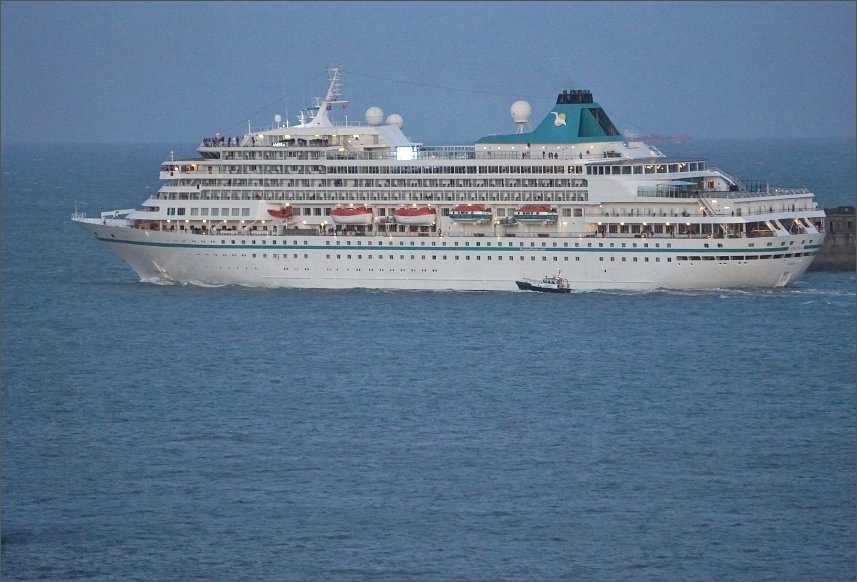 Amera was on a 5 day round trip from Bremerhaven....Dover Antwerp Amsterdam...
Nice picture below there. Well done Mike for showing that one and big thanks to Dover Strait Shipping

Well said JanT...Disney Magic is that bit special, brings out the kid in all of us. The place was packed round here with excite-able kids bursting to go...


PaulB
Wednesday, 21 August 2019 - 06:54
Post 6475
Mike J., Dover
HMS PICKLE prepares to sail for Harwich on Monday
Its only with the DOVORIAN alongside that you realise how small she is.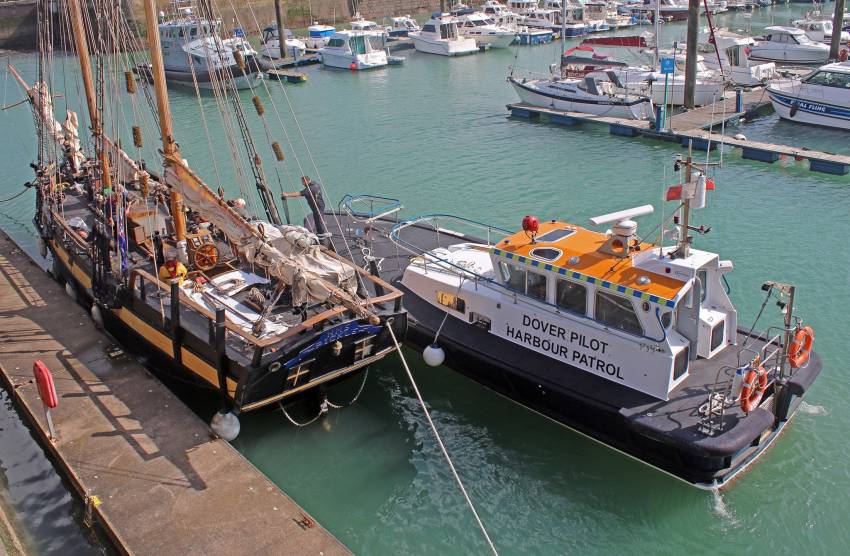 Image courtesy & copyright of DOVER STRAIT SHIPPING.
Tuesday, 20 August 2019 - 15:22
Post 6474
JanT , Dover
Some great pictures of the Disney Magic and what fun for those children that got to sail away on it Sunday evening,every child's dream I'm sure and grown ups too going into a world of magic and fantasy.
The child within comes out you better believe it.

Tuesday, 20 August 2019 - 10:07
Post 6473
Sea News, Dover
More of the Disney Magic now as she moves away...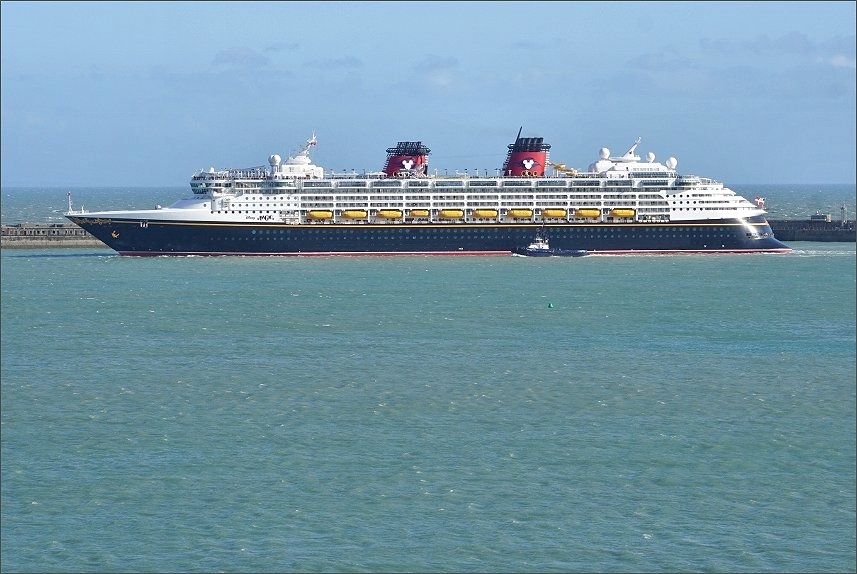 A very strong crosswind saw the Disney Magic come across the harbour this time...not a regular occurrence. An odd shot above there ....as her scale blocks off completely the western exit.. ( its behind you !

)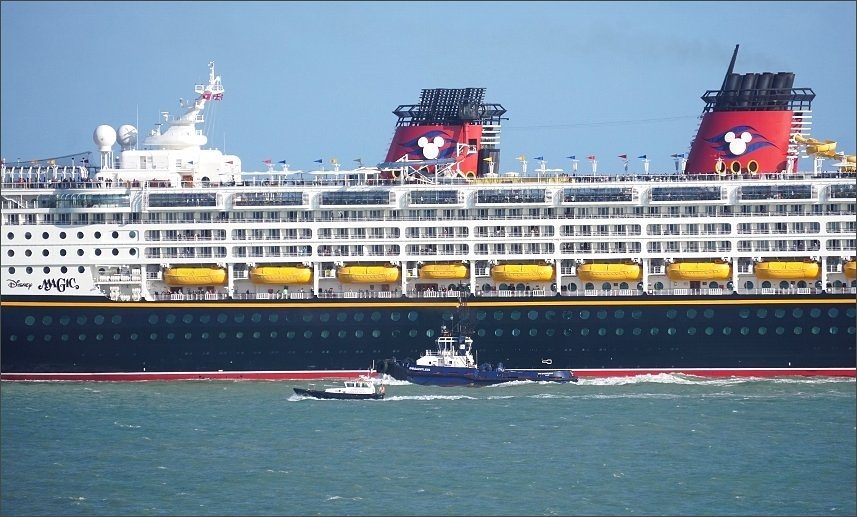 The boats Pilot and Tug sprint alongside as the magical magic makes her way towards the eastern exit...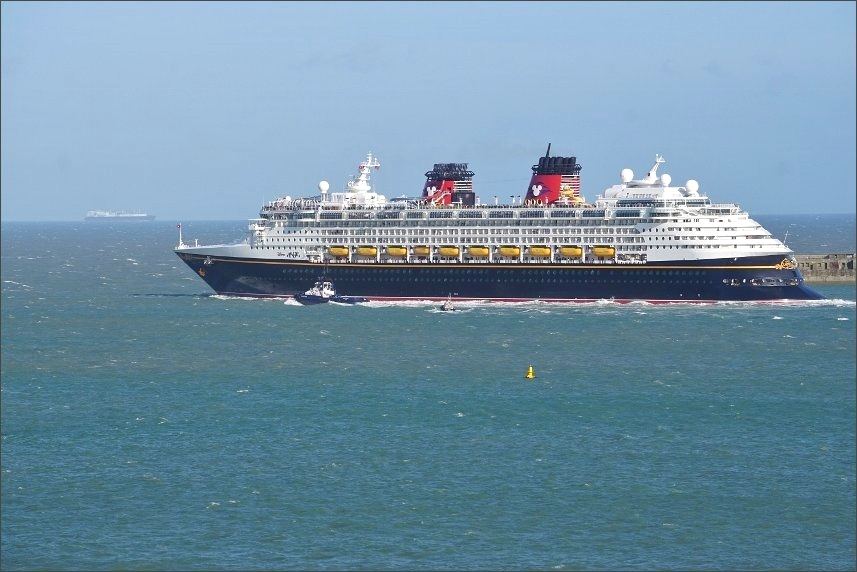 Ahhh the open sea...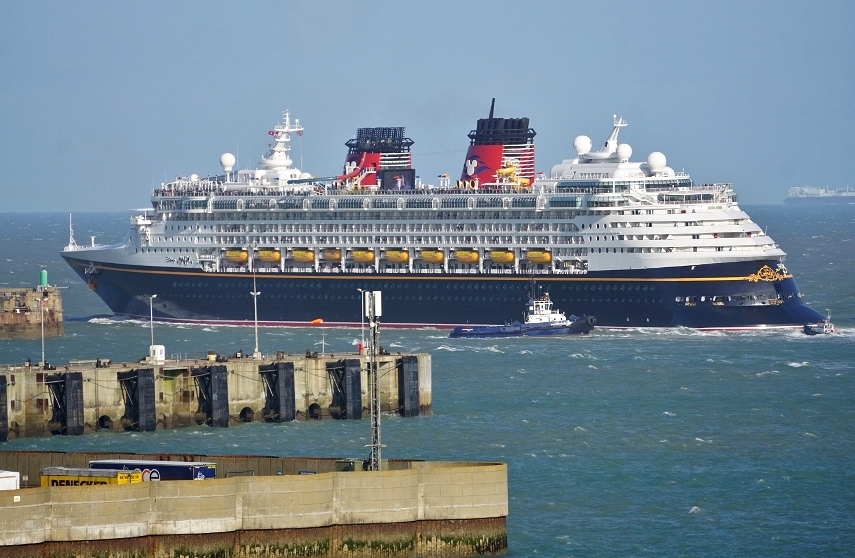 Almost...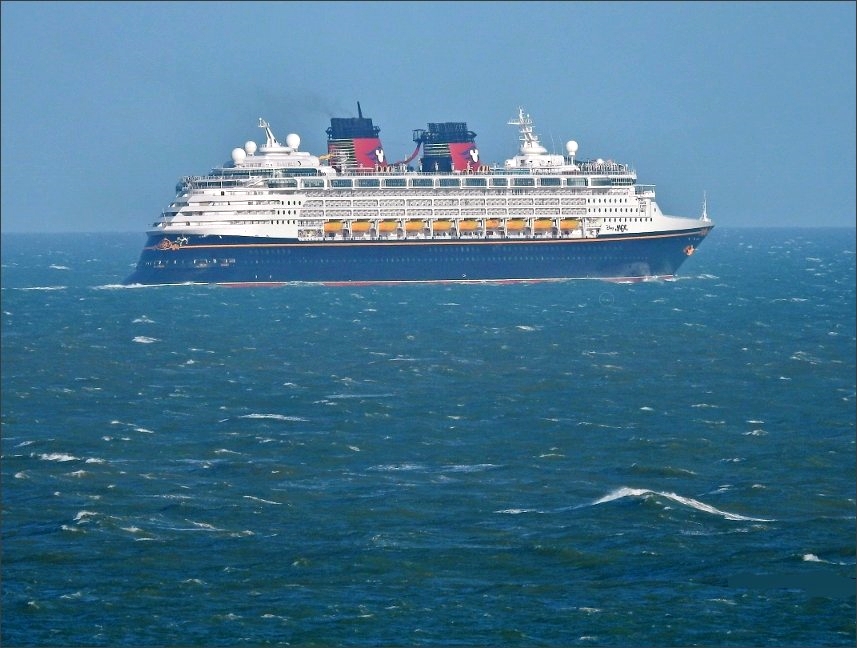 And away she goes across the channel to Amsterdam I believe. That last picture there is quite strange, you might say typical Disney, as the ship appears to be coming and going at the same time. Can you see it? An optical illusion Hollywood style.
Once again the hotels were packed with kids ( of all ages!

) for this cruise. It specifically happens with Disney...very busy. The ship tinkled away with "when you wish upon a star" all day. Very low...you could just about hear it on the wind. The kids love it. Lovely ship too and all very exciting.
Well done Andrew, a cracking enjoyable collection below there. Brilliant...Don't Miss Those!

PaulB
ps: will have a few pix of the departing Amera. It was quite darkish when the ship left so they need work. Amera..Yours truly keeps forgetting that name...it doesn't have that ring of memorability to it.


Tuesday, 20 August 2019 - 07:08
Post 6472
Andrew, Broadstairs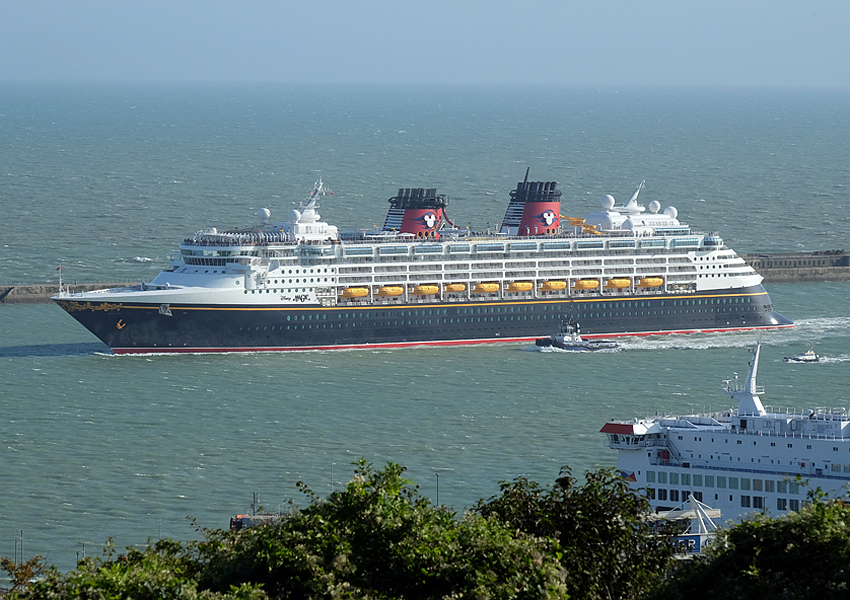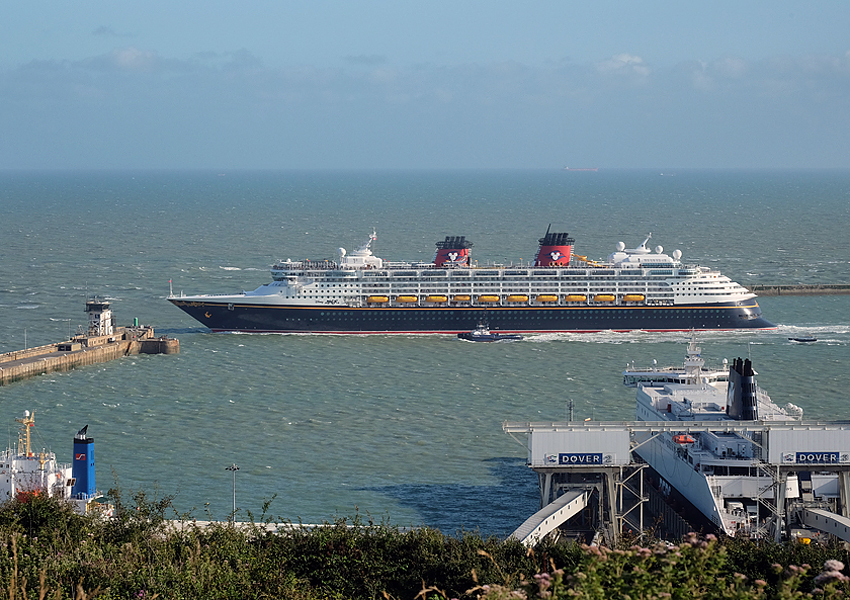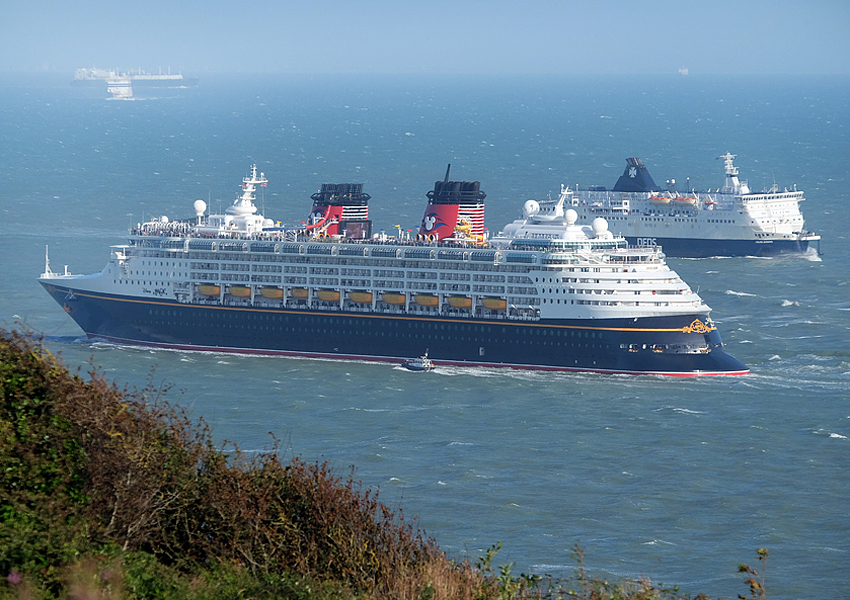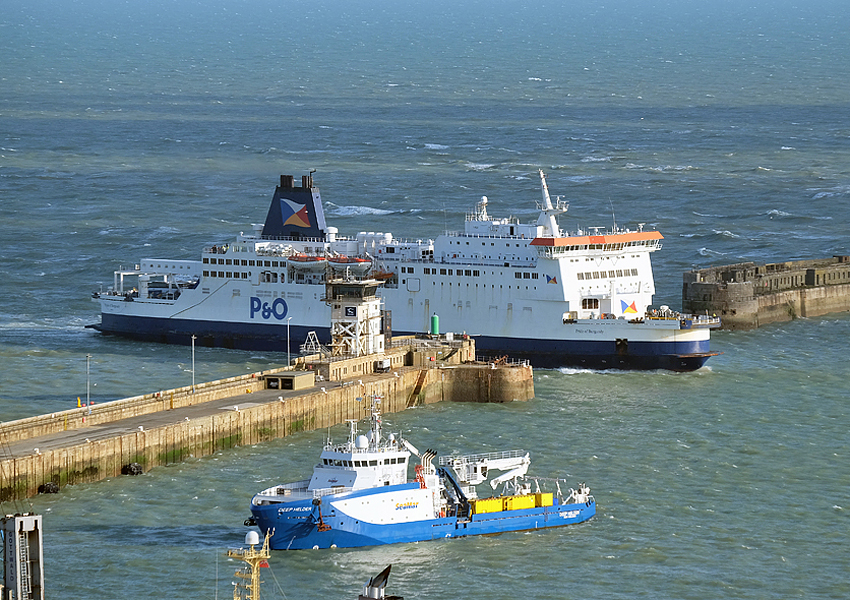 My visits to Dover have sadly, been few this year and I have relied on the great coverage supplied by Paul and the Team to keep abreast of so much that has been going on. It was therefore a great pleasure to be sitting on the cliffs at Langdon on Sunday afternoon watching, in glorious sunlight the DISNEY MAGIC sail past as she departed through the Eastern Entrance this being an added bonus and soon to be followed by the DEEP HELDER.
Tuesday, 20 August 2019 - 02:02
Post 6471
Andrew, Broadstairs
See Above....

Tuesday, 20 August 2019 - 01:58
Post 6470
Sea News, Dover
Time to end the migrant crisis...says Charlie Elphicke MP for Dover and Deal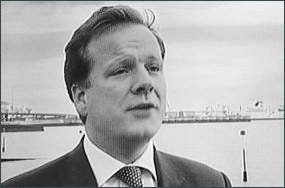 Dear Mr Boland,
Migrants continue to try to break into Britain by crossing the Channel in small boats. Attempts are becoming ever more risky – with a large group of around 50 detained last week having arrived in flimsy canoes.
Tragically, the weekend also saw the first incident in which a person may have lost their life trying to make this dangerous crossing. A woman is reported to have fallen from a dinghy seen heading towards the French coast by a cargo vessel on Friday. A major search operation was stood down on Saturday night.
This shocking incident has long been my worst fear. My thoughts and prayers go out to the woman and her family – as well as sincere hopes that she might yet be found.
These dangerous crossings have got to stop. The people traffickers don't care a jot for people's safety. Over the winter we heard of toddlers being crammed into unseaworthy vessels, which then crossed the Channel in the most appalling weather conditions.
The only way to bring the migrant crisis to an end is for traffickers and migrants alike to know the crossings won't succeed. That means 24/7 surveillance of the French coast – including investment in the long-range thermal imaging cameras used elsewhere in the world – so that any boats are spotted, intercepted and returned safely back to France.
Because as we have seen so many times over the years in Dover and Deal, anything other than strong action only encourages this activity. We will never forget the horrors of the Calais Jungle – a desolate place where thousands of vulnerable people lived in absolute squalor.
We got rid of it with tough action. We fought to convince the French to step up enforcement. By the end of 2016 the camp was dismantled – and things now are much improved. Yet a soft approach let the French port town become a migrant magnet. We must never allow it to happen again.
And it was our efforts that got people to stand up and take notice of the recent crisis. We invited numerous ministers down to Dover. Border Force cutters were ordered to return from the Mediterranean. A meeting was held with top officials in France where a joint agreement was struck, which included sending unsuccessful asylum seekers back to France.
Yet there is so much more that could and should be done. We need to send more of the unsuccessful asylum seekers back to France. We need to make the English Channel a joint UK/France security zone, so our boats can intercept smugglers wherever they are found. That's why the Home Office must now get a grip on this crisis.
We must send out a stronger message. People on the other side of this debate claim to have these people's safety in mind. Yet their plans would simply encourage more dangerous crossings to be made, putting more lives at risk.
One tragedy in the Channel is one too many. Firm action is needed now to prevent any more.
Charlie Elphicke MP
Many thanks to Charlie for the above...
There certainly has been hugely increased activity.
The pictures below show a flurry of presumably related activity on Dover Beach late last week...just double checking..Thursday in fact. It shows the Border Force out in ..well force.. as they retrieve two boats from the water...looked on by the crew of the Dover Harbour Patrol Boat. Presumably all dealing with another migrant situation. I haven't been able to find out much about it as there is so much migrant activity now that it hardly gets reported anymore. We certainly don't want to see people losing their lives making the crossing.
Anyway...here we are with the pictures below, make of it what you will...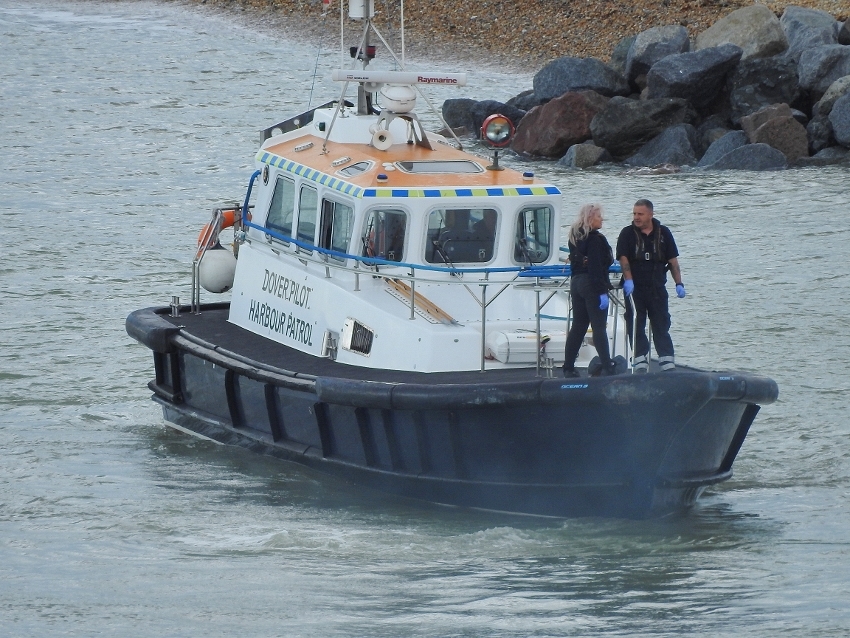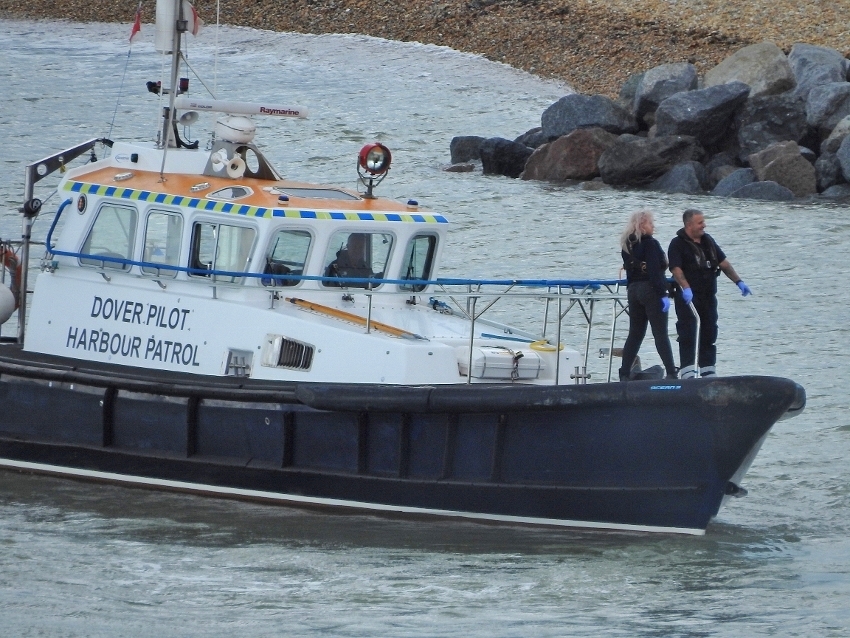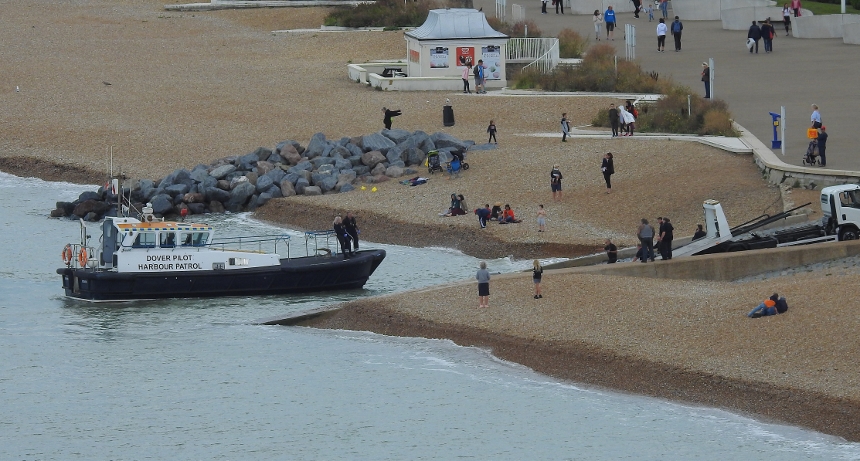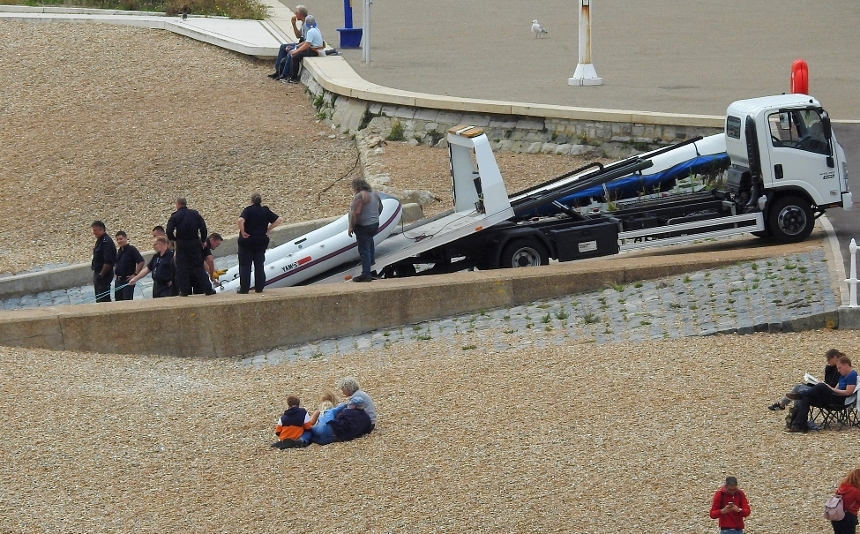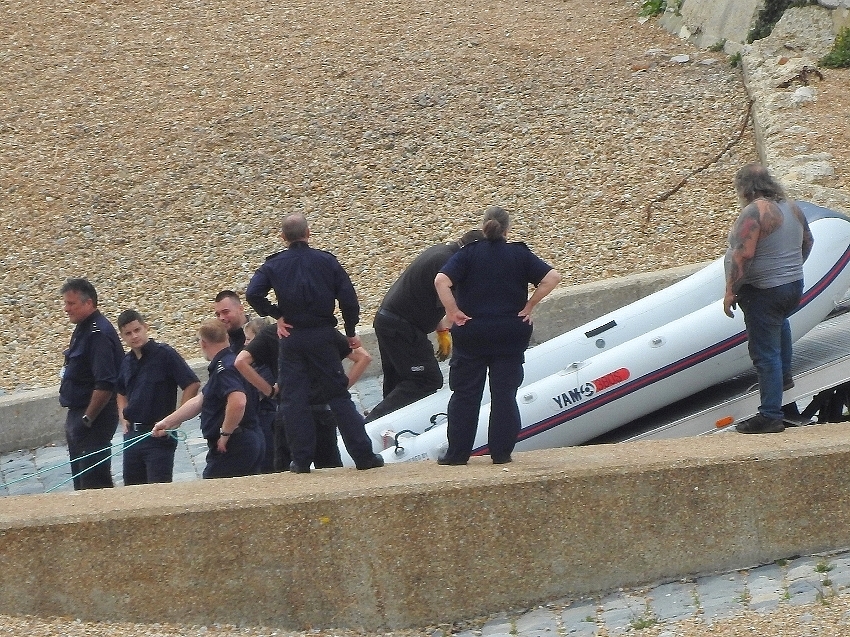 Many thanks Harald for the post below. A nice collection of pictures there. Fresh and enjoyable. Good to hear from you again. Hope you enjoyed your visit over to Dover.
PaulB

Monday, 19 August 2019 - 06:20
Post 6469
Harald Boot, Tholen, The Netherlands
Last Thursday as we were on holiday in Kent we went to the St Martin's Battery car park. The view over the Port of Dover was very beautiful.
We had not expected the HMS Pickle to arrive in Dover so we were surprised to hear him shooting as we saw him arrive.
You can see the HMS Pickle behind the right crane.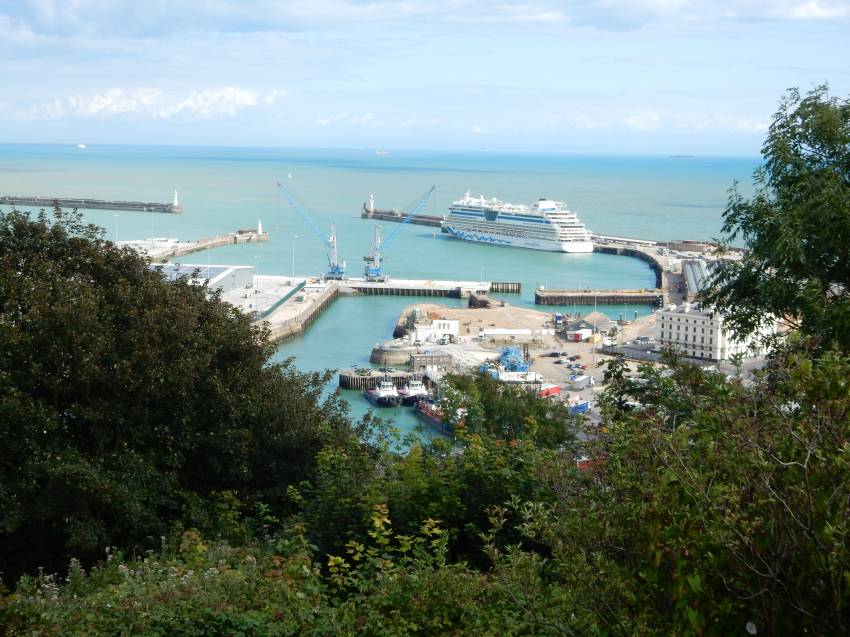 A closer shot of the AIDAbella.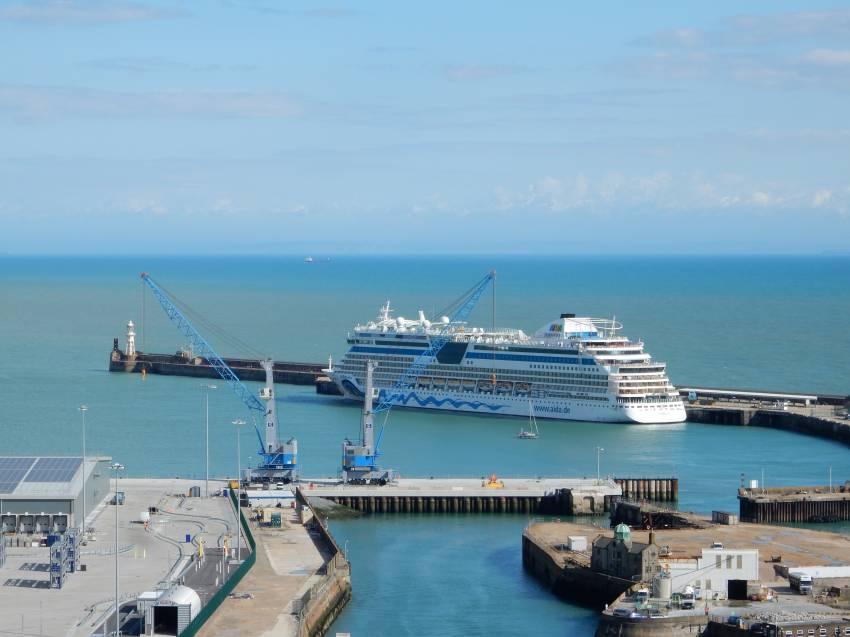 The Spirit of Britain and the Pride of Canterbury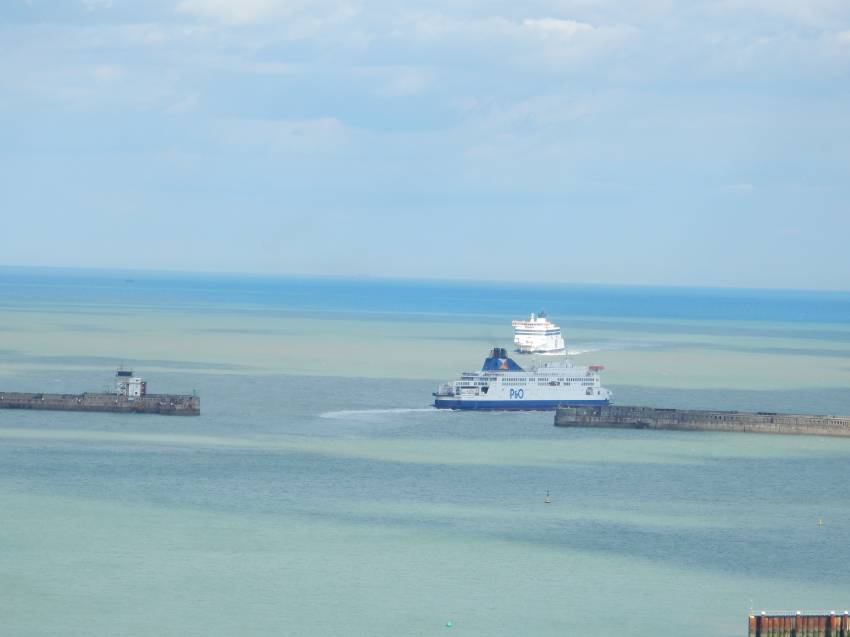 The Spirit of Britain and the Cote des Flandres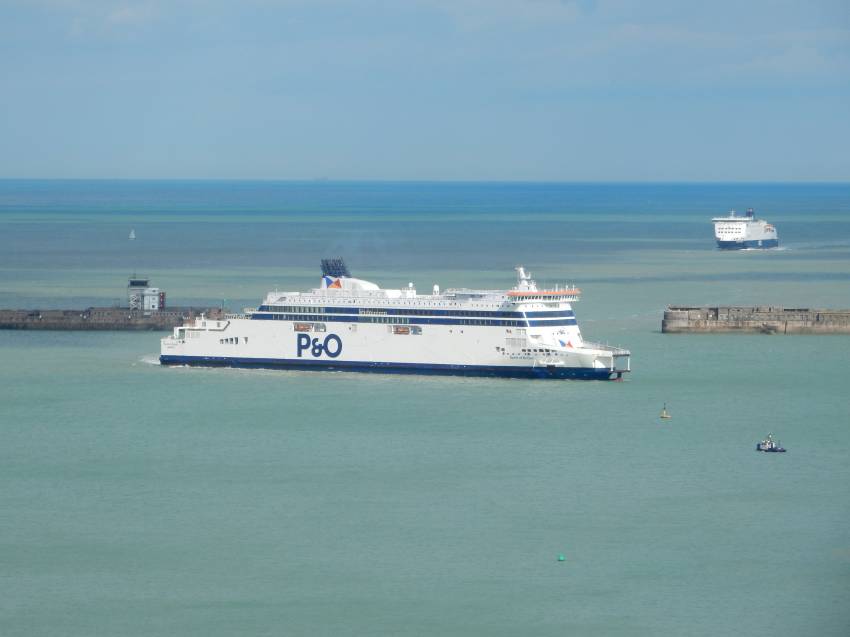 And a view over the whole Port of Dover.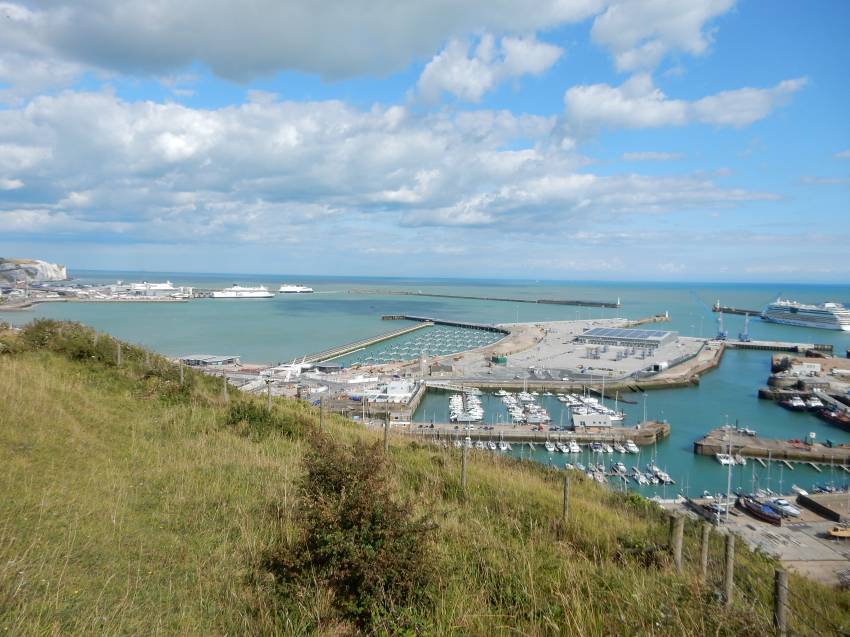 Sunday, 18 August 2019 - 14:47
Post 6468
Sea News, Dover
HMS PICKLE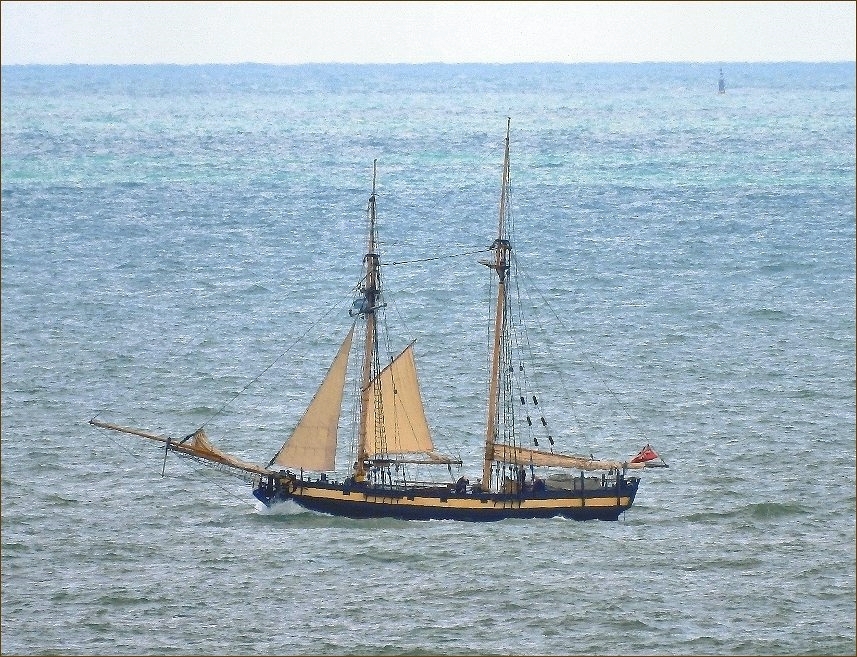 That's the last of yours truly's current batch of HMS Pickle above there. The picture shows Pickle earlier in the sequence and a fair way off .. as she comes along parallel to the coast as it were, before changing course for the Port here at Dover.
Yesterday both the Spirit of Discovery and Pacific Princess were in Port...here they are below early morning under a menacing sky...shiver me timbers..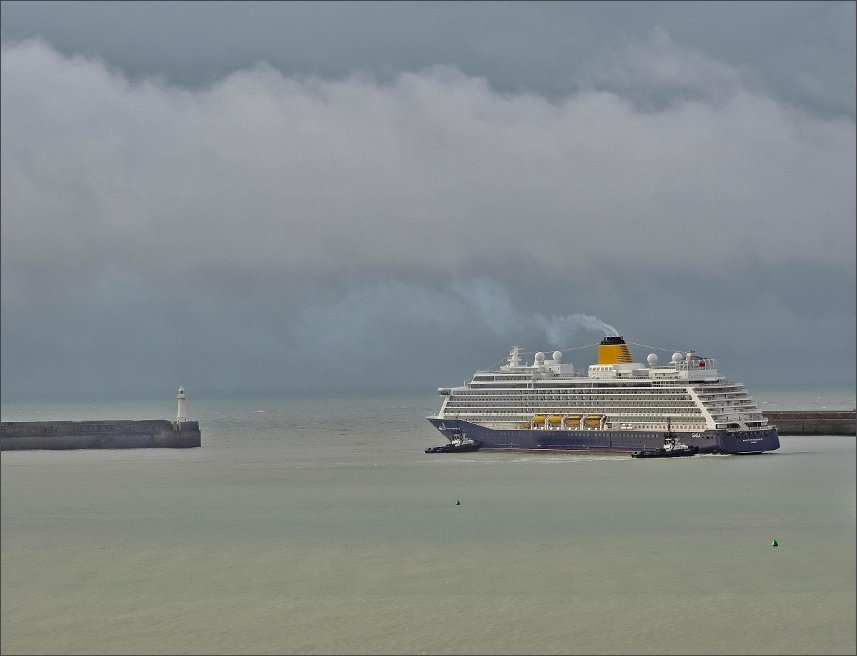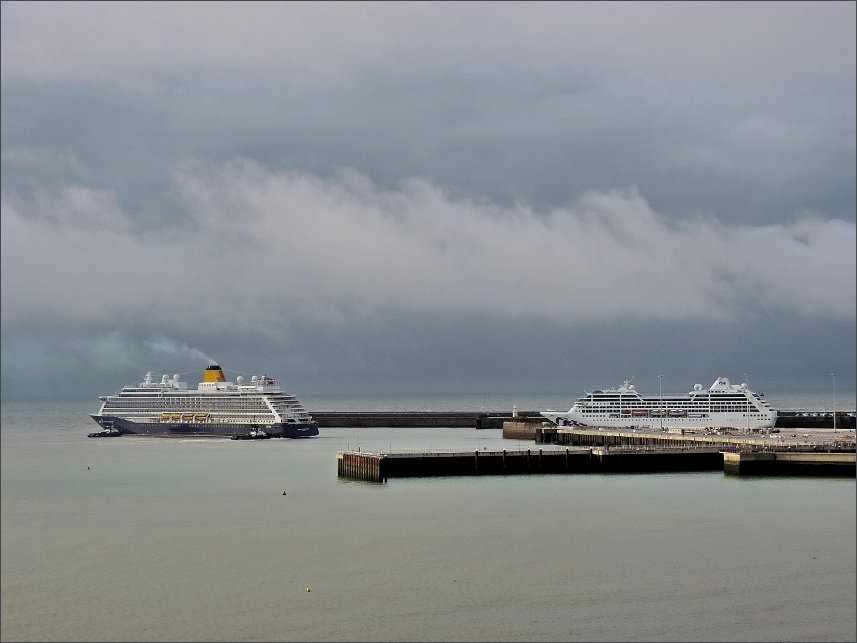 Two exciting cruise ships in Port today...Amera...I don't think off top of head ...that we've had this one before...and also in Port, the extra special Disney Magic, loved by kids of all ages. Alas as I write its raining and grim, so some of said magic is dispersed.
Update re Amera: have just heard from 'a reliable source' that the now white Amera was formerly the black hulled Prinsendam which visited here many times in the past....so there we are. Many thanks.
PaulB
Sunday, 18 August 2019 - 06:52
Post 6467
Sea News, Dover
Some more shots now of HMS Pickle arriving at the Port of Dover on Thursday afternoon...
with all guns a-blazin'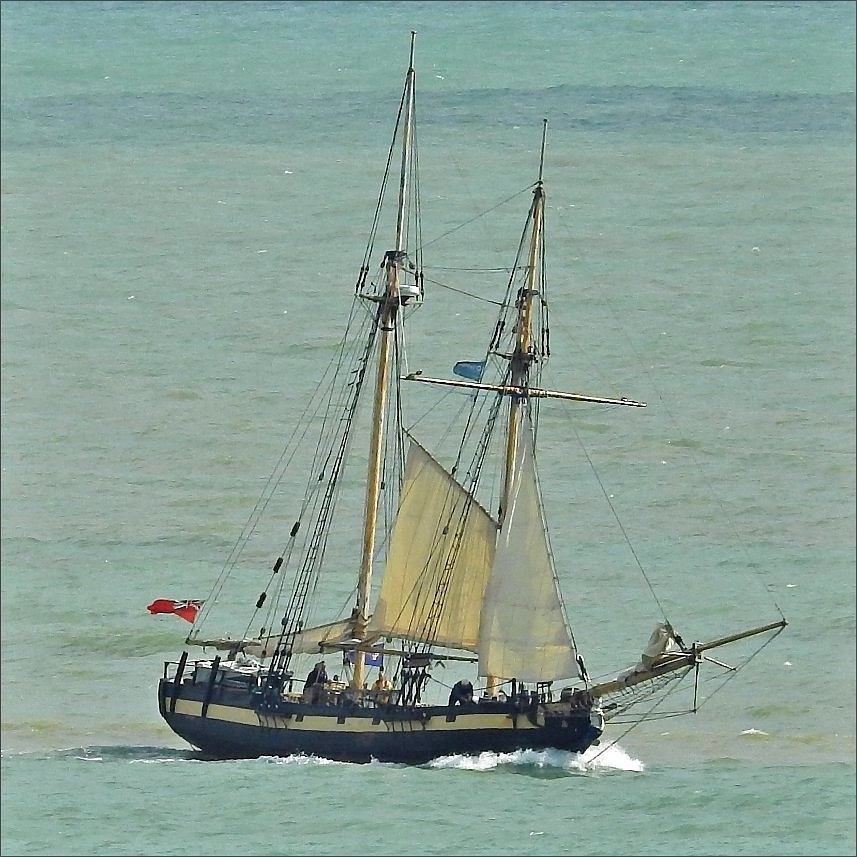 HMS Pickle arriving in Port above and firing off a few rounds as she enters below...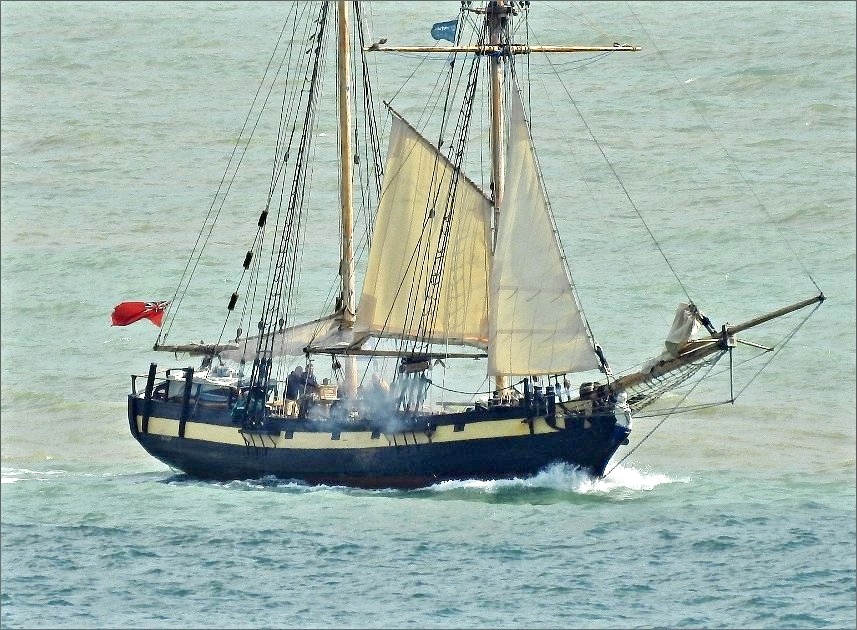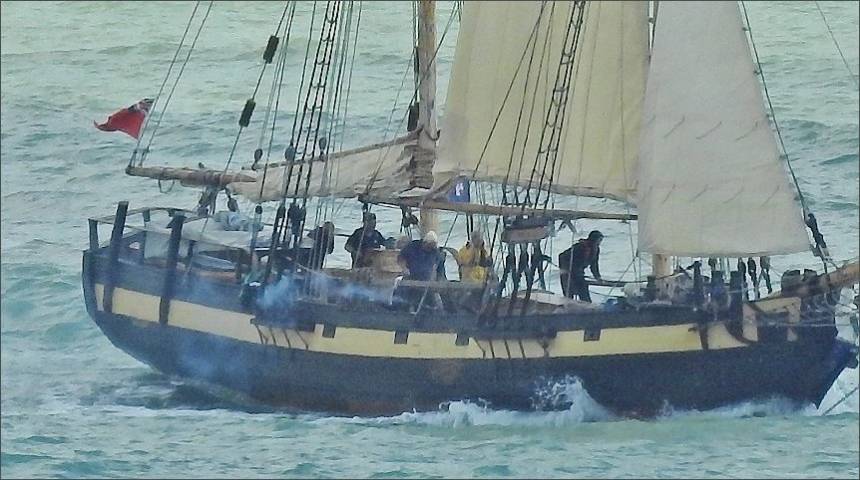 You can see the smoke from the blazing guns there and the crew working hard...the resounding thud from the gun took a long time to reach the 'observation tower'... you would expect a time lapse but twas much longer than expected...fascinating. You can just see the chap in the yellow jacket above there with his hands over his ears waiting for the next ..BANG! Very enjoyable photographing HMS Pickle and quite a challenge getting it right.
A few minutes before the Pickle arrival...the Med Surveyor left the Port
and here she is.......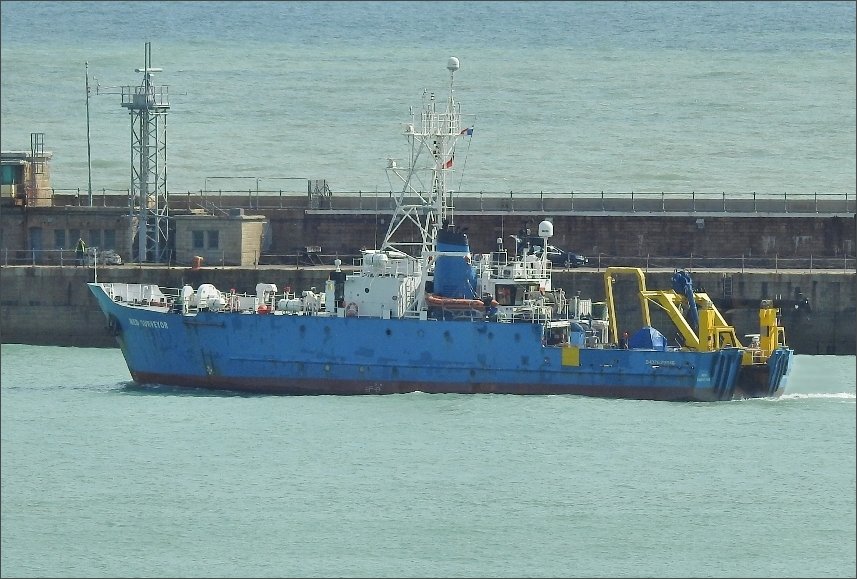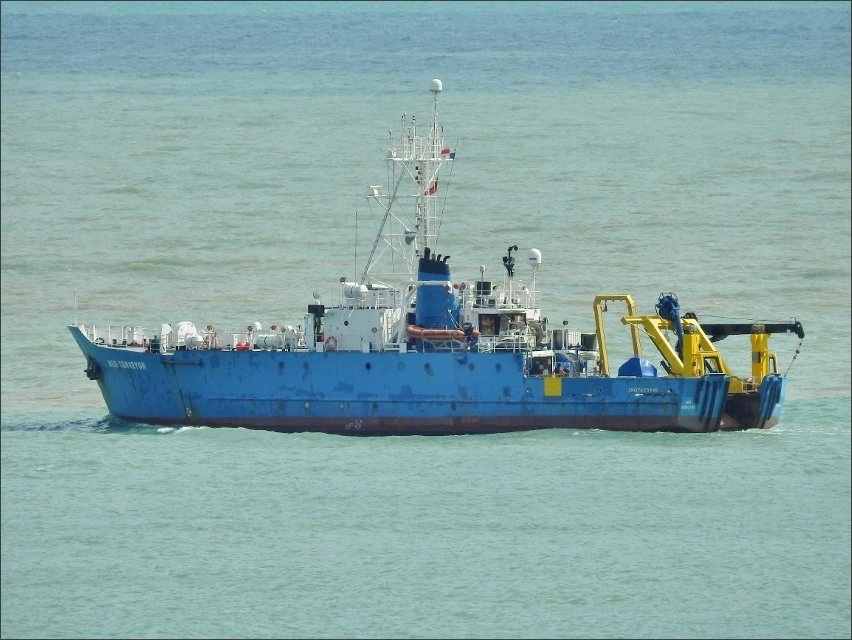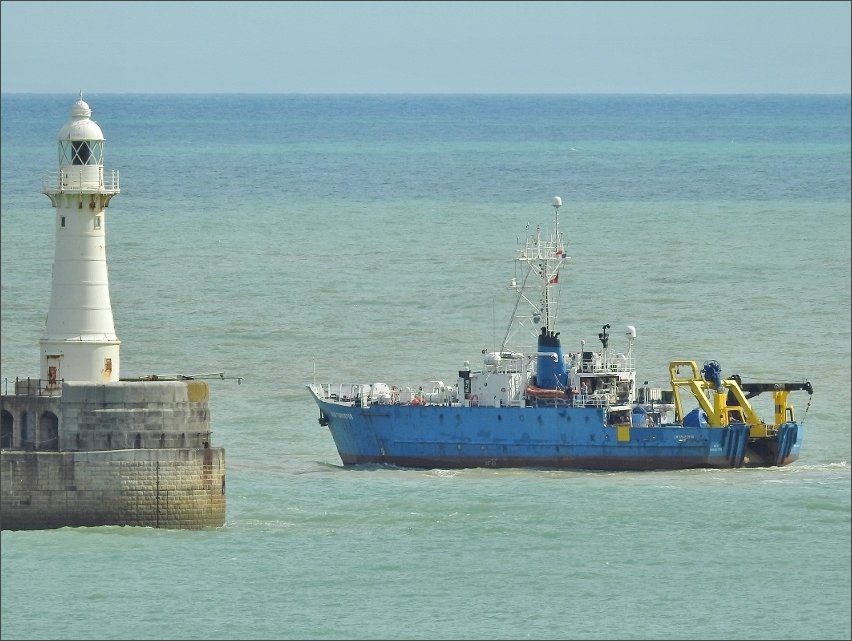 ....type the name in the Search Engine to see the previous Med Surveyor pictures too...
Well done Mike. Interesting pictures and info below. Great stuff!

PaulB
PS: Spirit of Discovery and Pacific Princess in Port today.
Saturday, 17 August 2019 - 07:14
Post 6466
Mike J., Dover
A few more PICKLES - shortly after arrival Thursday evening & from the pontoons Friday morning.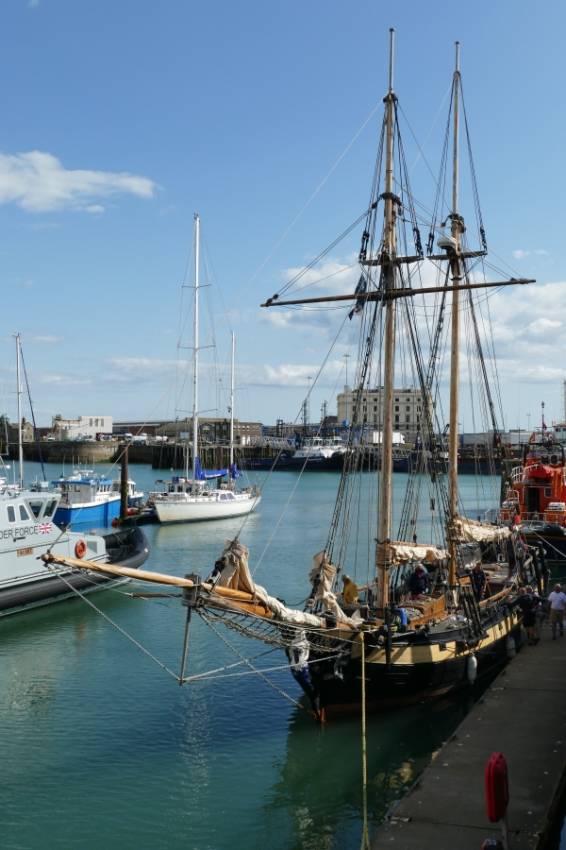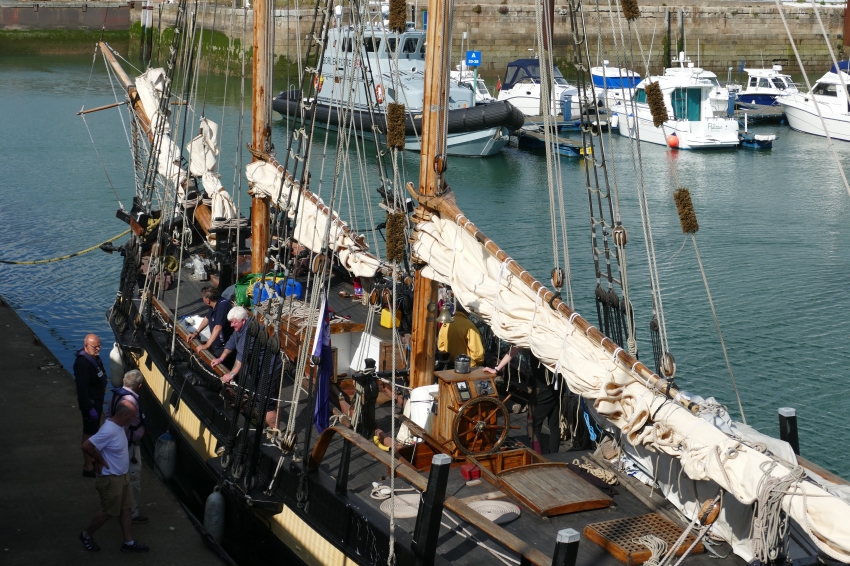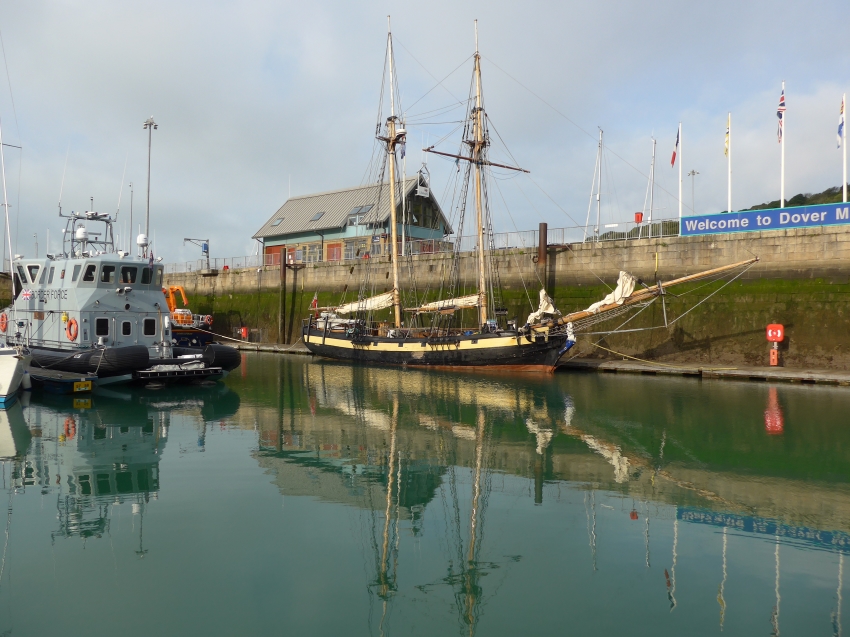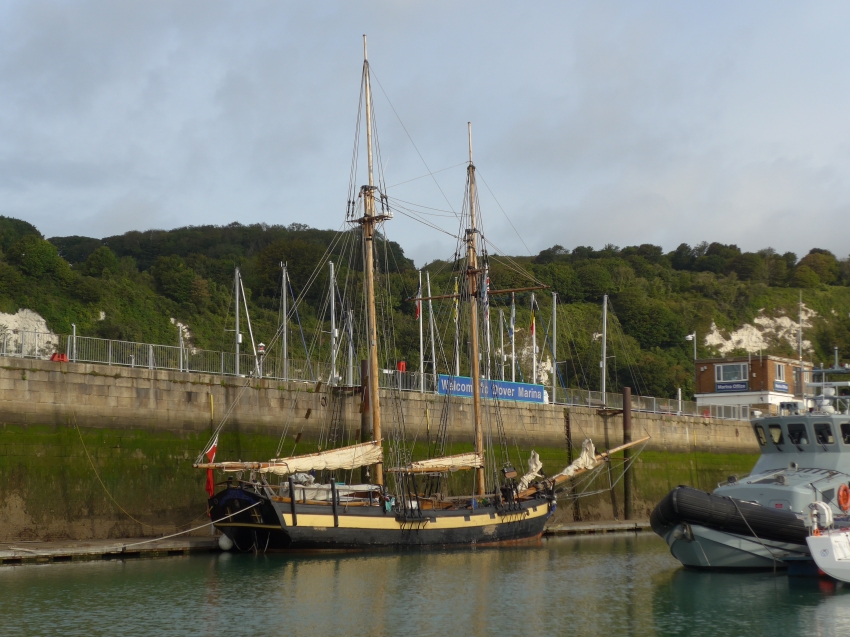 No signs of life aboard at 0730 so unable to find their ETD & next port.
An unusual sight in the Granville Dock for a few days has been the Border Agency's SPEEDWELL on the boat hoist berth awaiting a lift-out.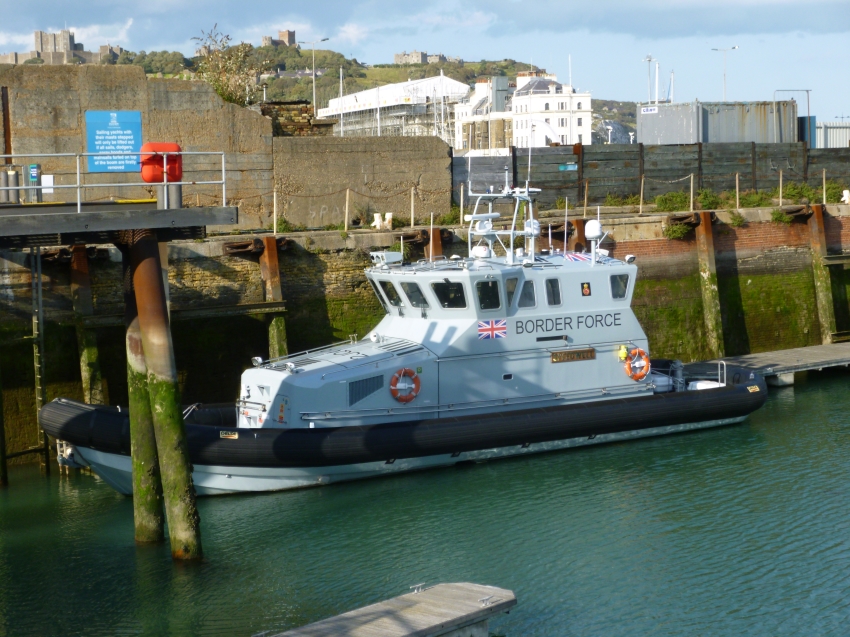 The boat hoist is currently under annual overhaul so maybe she'll be there for a few days more.
DEEP HELDER [post 6454] came in mid-afternoon Friday & was still berthed on the Eastern Arm at 0030.
Excellent pix of the departure of MED SURVEYOR on the 'Dover Straits Shipping' Facebook page.
She's currently off the Dutch coast.
Interesting news for Dovorians who live within earshot of the Eastern Docks foghorns - they have been removed !
I certainly won't miss the one that gave an irritating high-pitched electronic bleep every ten seconds.
More details on Notice to Mariners 38/19 on the DHB website.
Saturday, 17 August 2019 - 00:43
Post 6465
Sea News, Dover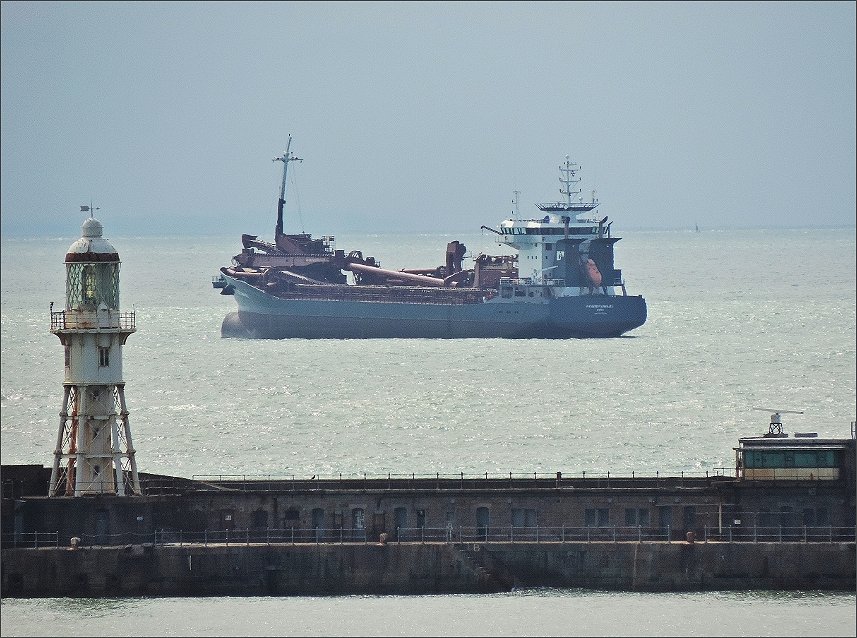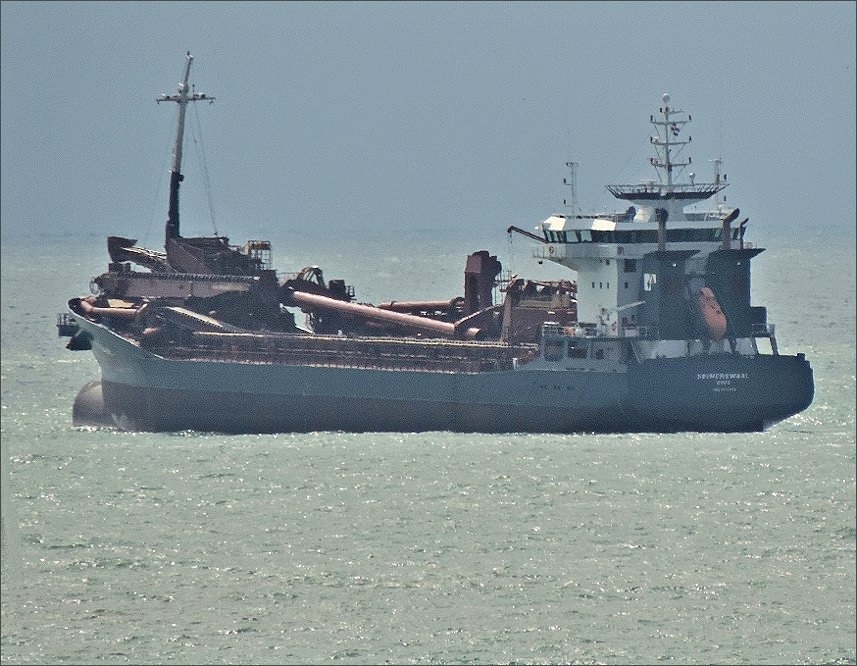 Some pictures above there of dredger Reimerswaal. We have featured Reimers before if you look in our search engine above you can see previous pix. She came in very close to shore earlier this week...presumably to let the 'captive' pilot off ...the pilot no doubt held up by the wild wild weather earlier on..
Below we have AIDAbella tranquilly arriving yesterday morning (Thursday)....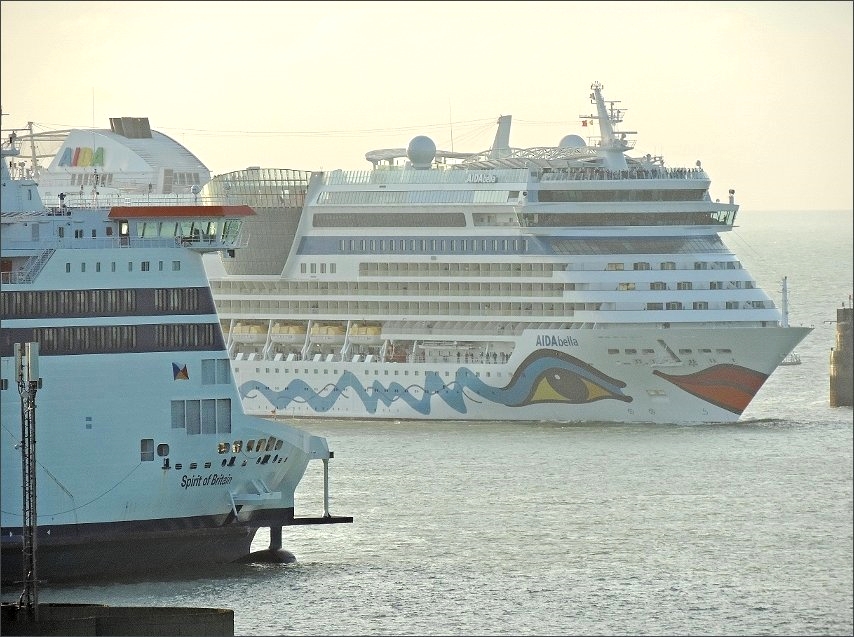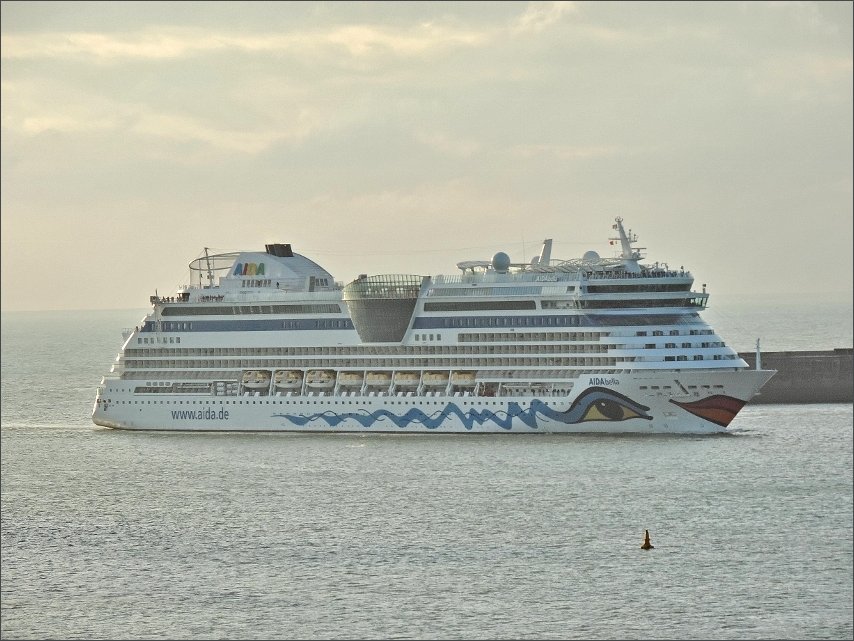 AIDAbella - on a 14 day round trip from Kiel in Germany of essentially the British isles...
The huge crane platform Saipem 7000 was offshore a few days ago. There it was...massive and semi static in front of yours truly but for some reason I couldn't get a sharp picture. I blame the camera...
it has to be the equipment..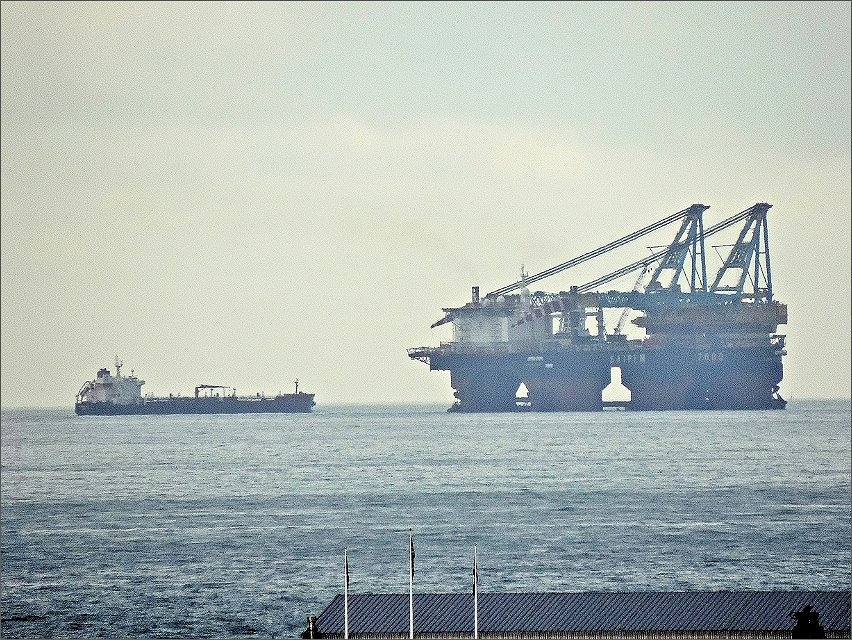 Nice collection below Mike

I understand the frustration but I have some shots of Med Surveyor and also more of HMS Pickle in the pipeline...still sorting...
Thanks Brian

PaulB
Friday, 16 August 2019 - 06:03
Post 6464
Mike J., Dover
A frustrating afternoon which started when I went up Citadel Road to see whether HMS PICKLE was coming up to Dover under sail.
She wasn't & I was about to drive down to the Ad.Pier when I saw to my horror the MED SURVEYOR coming off her berth & heading for Western & was only able to get a few unsatisfactory pix of this most interesting vessel,.
I hope that Paul or Patrick have better views.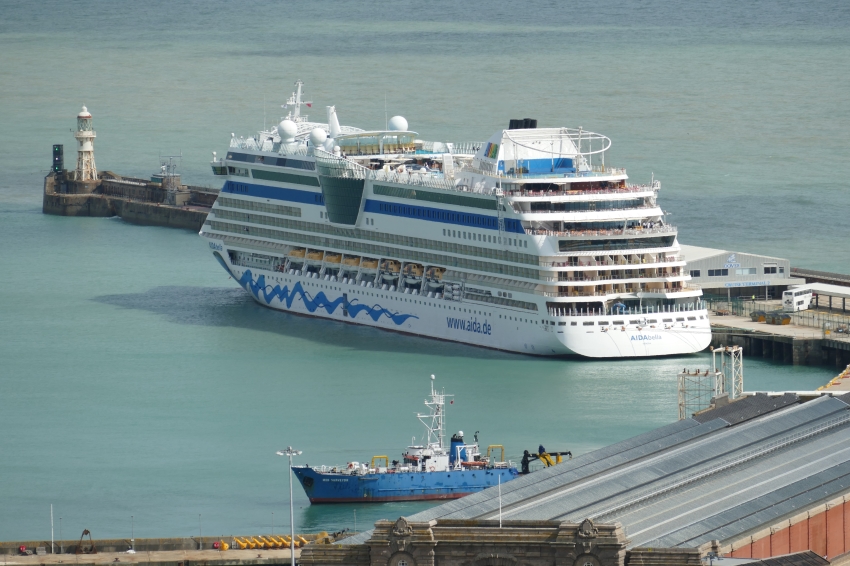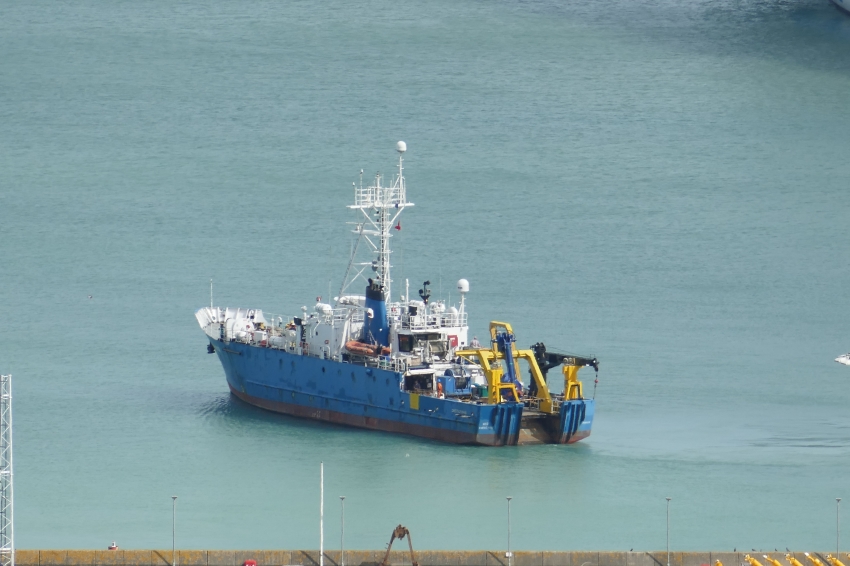 Down on the Ad.Pier on the Turret [as usual the outer end of the pier was closed as a cruise ship was on Cruise-2] I got a few views of PICKLE's arrival - her only sail set was the jib.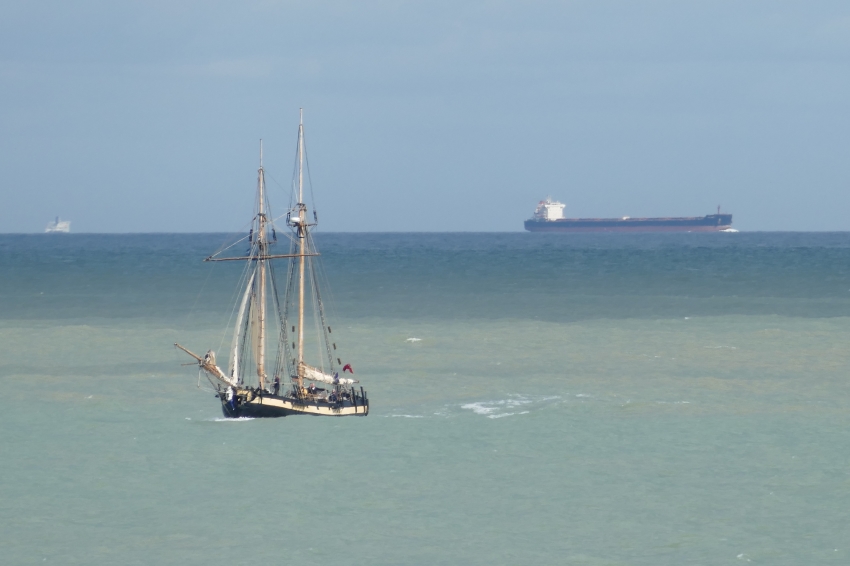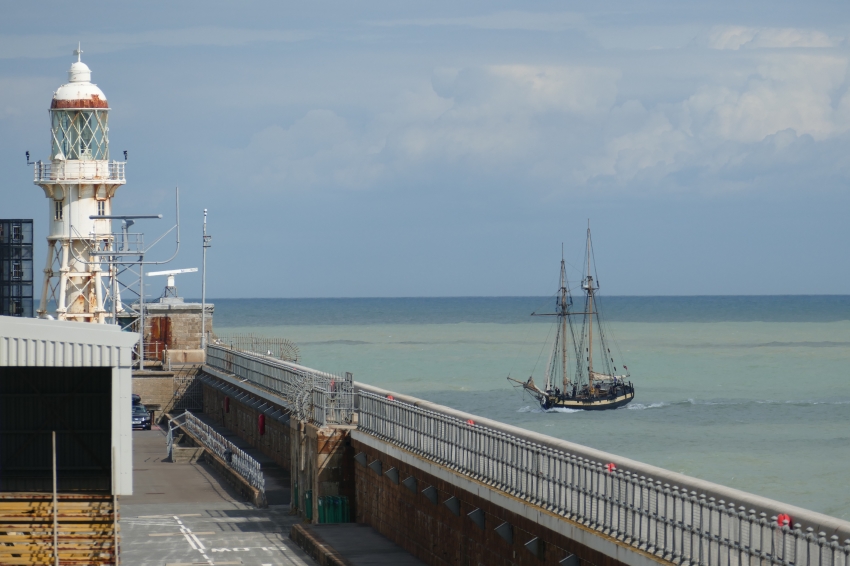 However as Paul's nice pix show she was hoisting more sails as she entered & this must have explained the long wait as she hid behind the AIDABELLA before there was the thud of her cannons going off.
Frustrating not being able to see anything !
Eventually she appeared from behind the AIDA & headed down to the Tidal Basin & berthed astern of the lifeboat, all tied up by the time I got down there.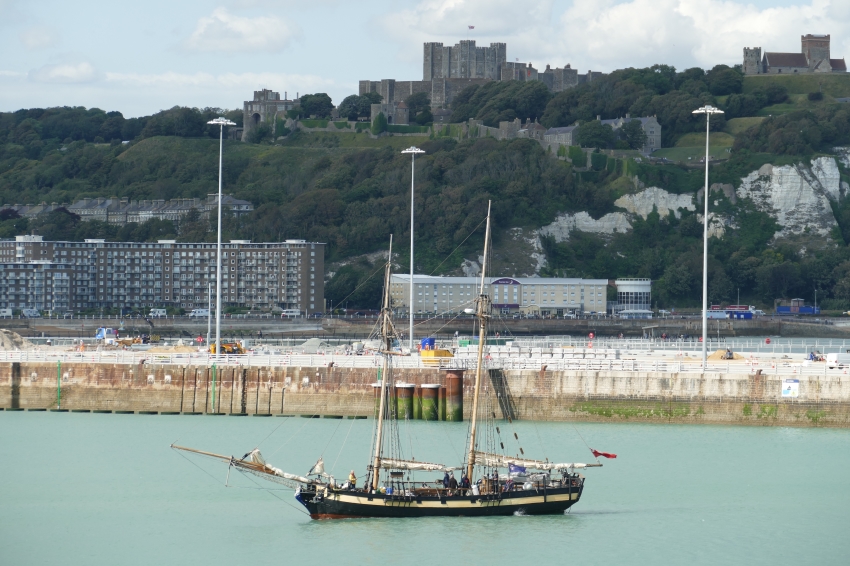 Nice underway pix of ANNA's arrival from Paul.
Friday, 16 August 2019 - 01:42