Friday, 22 February 2019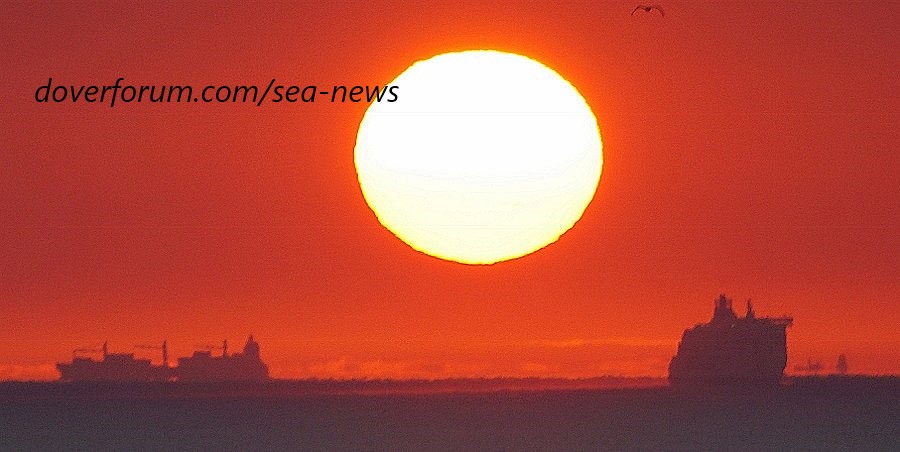 Below...Boudicca reverses...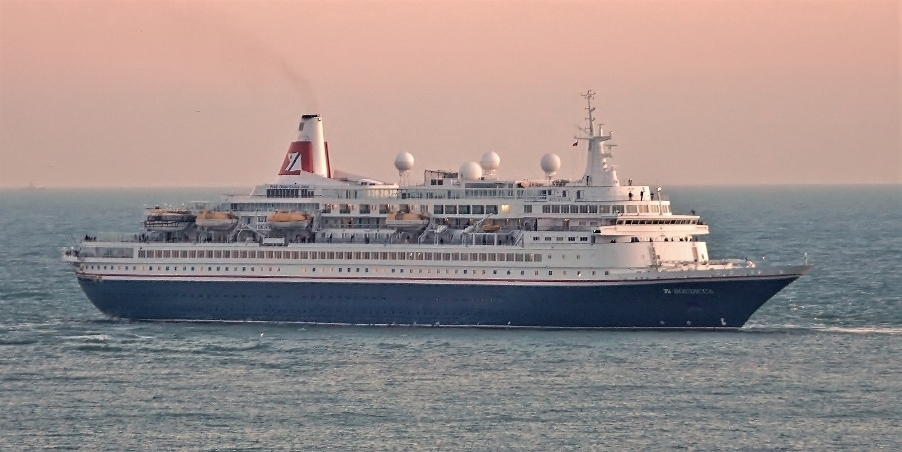 WWW.DOVERFORUM.COM/SEA-NEWS Featuring all the ships that come and go and work at the Port of Dover with further coverage of the surrounding ports both sides of the Channel. Click ADD YOUR COMMENT below to post direct, no membership needed.

Listing highlights....


Scroll down or use our Search Engine for posts and pictures of Border Force in Dover and Ramsgate.
RHA - we need to avoid cliff-edge Brexit 6069.
BREXIT READY statement from Port of Dover/DFDS/P&O Ferries see 6021.
P&O Spirit of Britain - notable Cyprus reflagging see 6017. See also latest 6041.
Tourism Thriving see 6044.
Deal Pier Kitchen restaurant opens 6016.
Charlie Elphicke MP - making our borders stronger, safer 6014.
BORDER FORCE SEARCHER and migrant boat.. see 5969 below..

Port of Dover supports Women in Maritime 5975.
Christmas Lifeboats in Ramsgate see 5937.
P&O: Britain's Favourite see 5922.
DFDS: Voted Worlds Leading Ferry Operator...see 5918..
Charlie Elphicke MP: Migrant Crisis 5894.
P&O: Santa Onboard see 5870.



Highlights continue...


Wreck of the Anneliese 5880, 5881, 5882 ...
Port: Additional Funding for Kent Wildlife Trust 5879.
P&O: Apprentices welcome RB Legion veterans 5853.
Eight new apprentices graduate see 5845.
DFDS: 'SEE PORTS' Calais and Dunkerque 5834.

DFDS Revitalize Dining 5831
P&O: Schoolchildren mark WW1 see 5816.
Lower Thames Crossing boost..5812.
see now also 5817.
Dover Museum's revitalisation see 5807.

Port of Dover: Refrigerated Cargo Terminal .. software for 5801. Latest NATO also 5801.
Port of Dover: Great increase in summer traffic 5795.
Russian and shadow 5785.
The Waverley paddle steamer latest 5778...
New SAGA Ship launching in Dover see 5776.
DOUG BANNISTER: New Chief Executive Port of Dover see 5734....

Merchant Navy Ceremonial images also 5734.
P&O: To Rome on Horseback 5759.
Dover Regatta Rescue incident plus .. see 5713.
Dover Regatta pictures Lifeboat etc..5716, 5717, 5718, 5720.
DFDS Expansion: More New Ferries on order... see 5693 see also 5500 and 5381.
Excellent Tourist season for P&O Ferries see 5649.
VSBW Port of Dover - Women at Work 5638.
P&O Second Female captain see 5107. Also see latest 5570.




NEW:

For instant access to any item listed above - just type the post number in the Search Engine below.

Sea News Dover : Use our SEARCH ENGINE below to find all sorts on the SEA NEWS pages....
type in the topic and away you go, more than - 6000 - nautical posts now.

Posts are welcome. Max of 5 pictures preferred although we can stretch that for special stories..

Sea News Editor Paul Boland - send info or pix to dover7@msn.com. Always welcome.

All pictures on these pages are the copyright of the owners and must not be reproduced without permission.

To show your pictures at their best..it could be worthwhile resizing before posting to

840

pixels wide.
Post 6037
Sea News, Dover
HMS Enterprise off Dover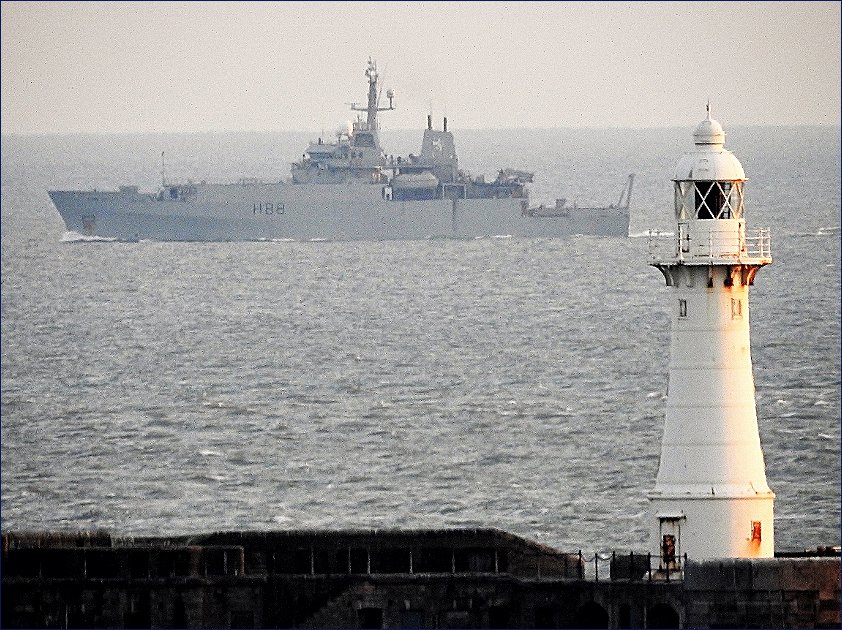 As mentioned earlier...here we are with a picture of HMS Enterprise taken yesterday just off the Port of Dover. We understand HMS Mersey is back in Portsmouth for the moment. Enterprise is patrolling in the same vein as Mersey.
Tuesday, 22 January 2019 - 10:57
Post 6036
Sea News, Dover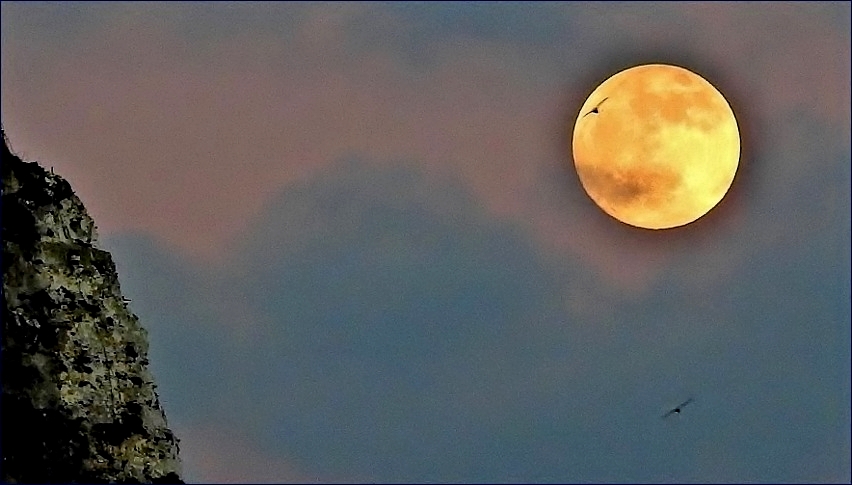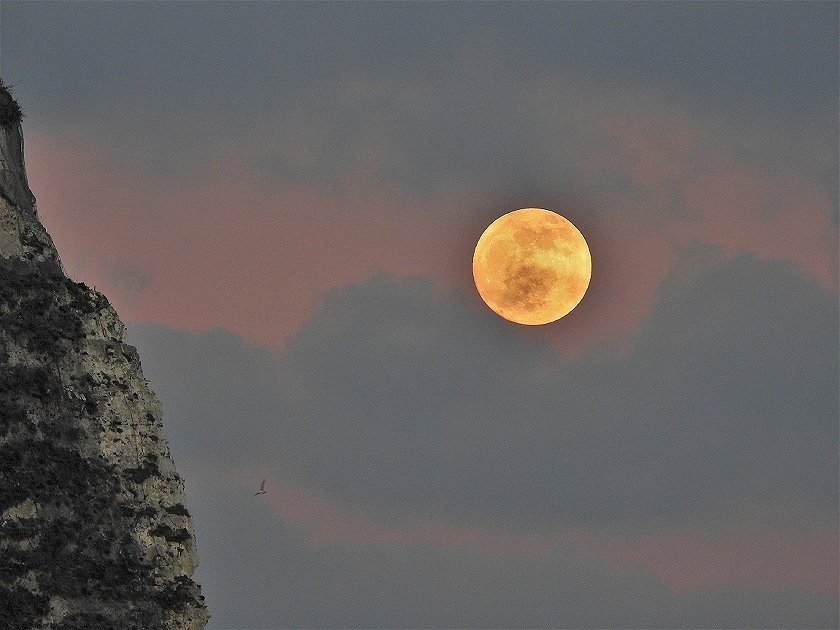 Some shots above there of the much talked about full moon Sunday/Monday. In the wee small hours it reportedly turned red. These pictures were taken before it went red...taken just as it rounded the headland here overlooking the Port of Dover.
The picture below shows Border Force Speedwell a few days ago going out into the channel to join the rest of the Border Force out there...keeping our borders safe and protected. We hear stories now that those promised extra cutters returning from the Mediterranean have been delayed. Home Sec Javid probably fired from the hip with that plan and caught everyone by surprise. That seems to be the way politicians operate at the moment.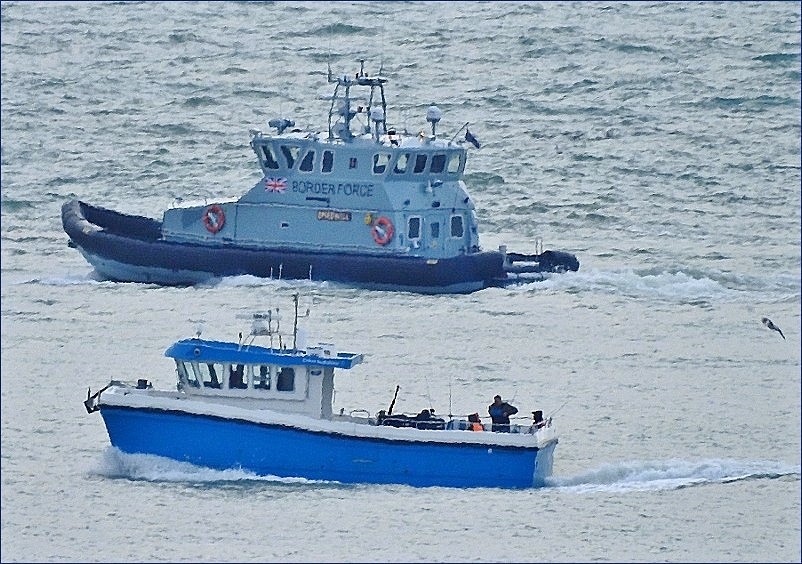 Yes there we have Speedwell.. and in harmony in the foreground a small fishing boat ambles off.. rods at the ready. Bit of shimmer in that photo.
Another Royal Navy warship appeared on the scene yesterday..briefly. HMS Enterprise..tried a few shots. Grey on grey always difficult. The oul camera wont focus, but we should have at least one to follow in due course.
PB
Update: looks like the visit of HMS Enterprise wasn't too brief after all...she is out there again. Perhaps HMS Mersey is back in Portsmouth once again.
Tuesday, 22 January 2019 - 06:01
Post 6035
Sea News, Dover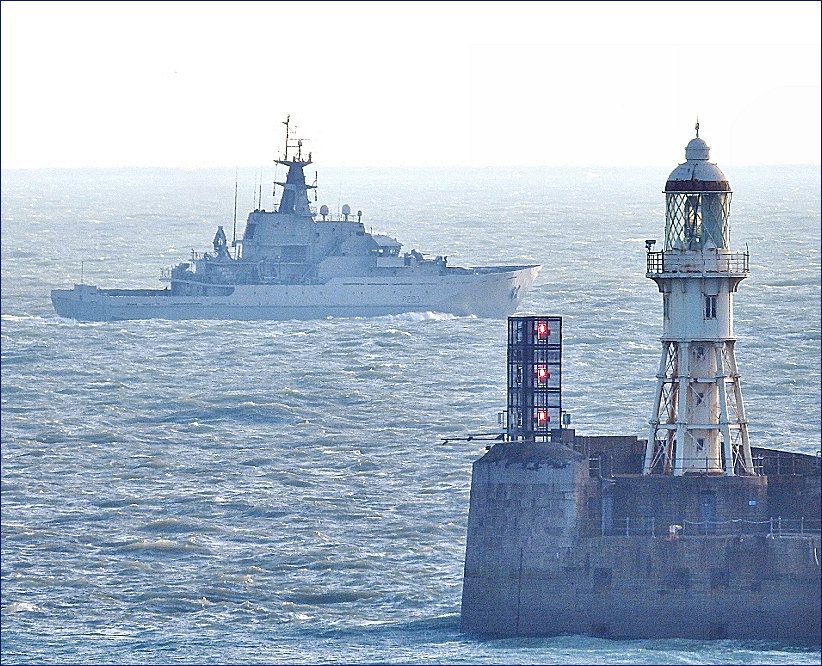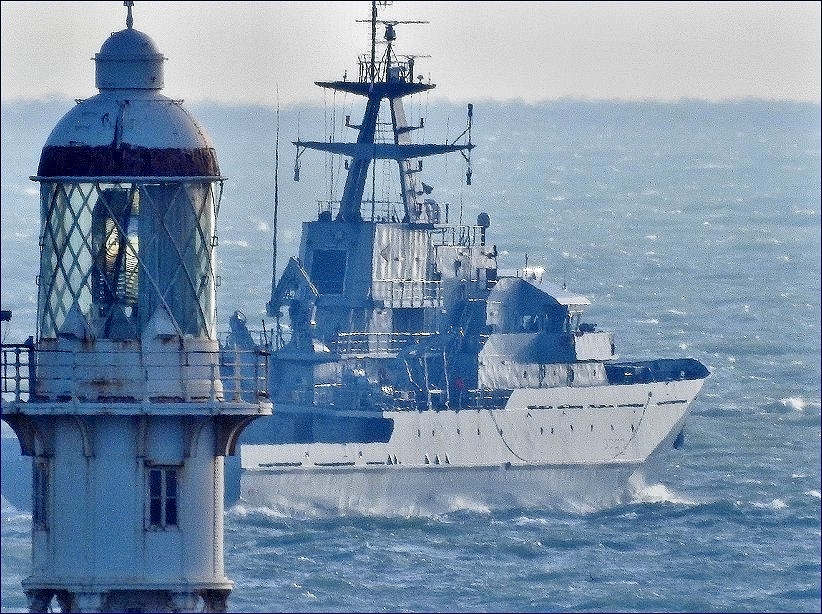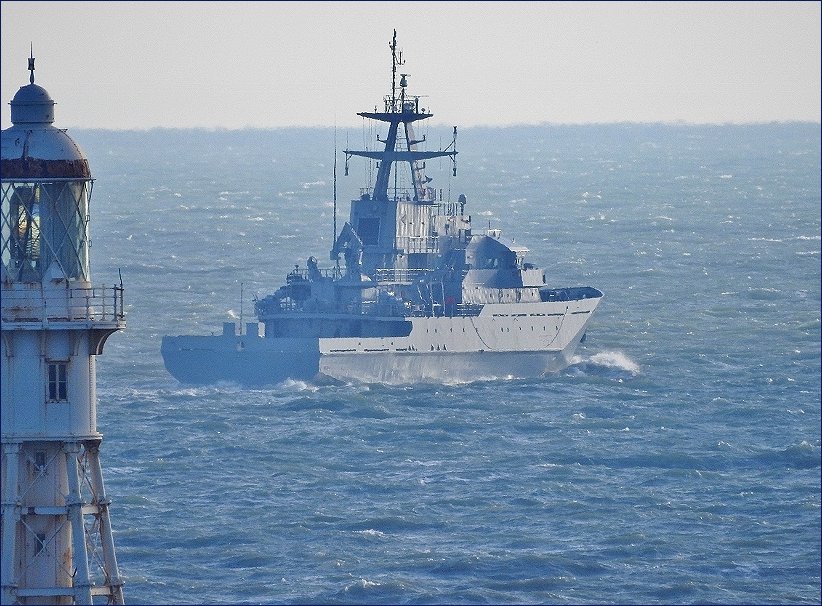 More Migrant Boats...
Our latest pictures above there show HMS Mersey just off the Port of Dover on Saturday … a busy time of it right now and the hectic nature of things goes on. This weekend we had yet more migrant boats coming through on sunday. The BBC reports that three boats made it through. One near Folkestone, one at Walmer and one here in Dover just off Shakespeare Beach. There was helicopter activity all morning yesterday which is a sure sign of another incursion...and so it proved to be. Also in the immediate area just off Shakespeare Beach was Border Force Searcher and Border Force Hunter.
Despite all this heavy hardware out there, it is quite amazing how these small boats get through to land on our beaches without being spotted. In our immediate stretch of water we had HMS Mersey, Border Force Searcher and Border Force Hunter all visible at the time.
* *
A nice collection below there Sarah of all the Lifeboat action. Well done getting those. Great stuff!

Yes Brian just like that

PaulB
Monday, 21 January 2019 - 06:56
Post 6034
Sarah, Ramsgate
Estuary Esprit returning to Ramsgate.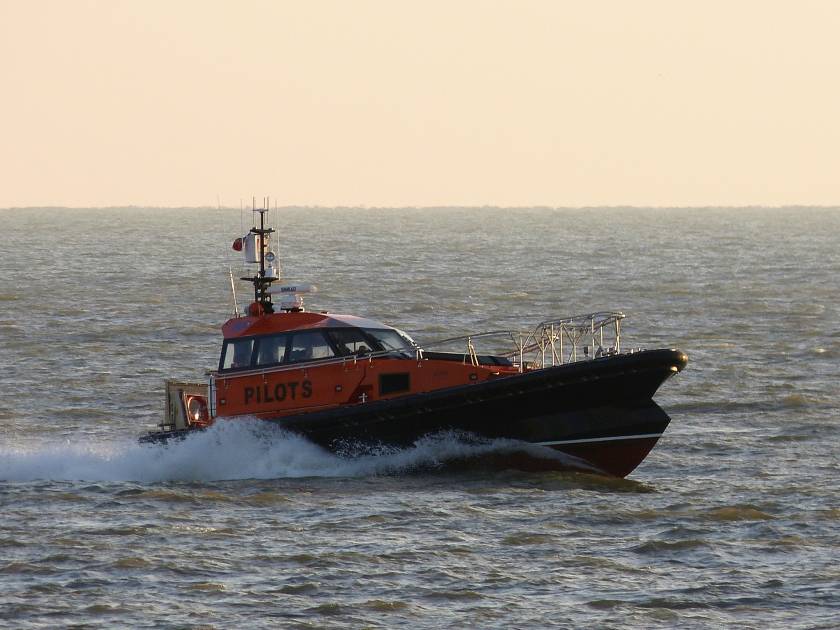 Ramsgate Lifeboat "Esme Anderson" leaving Ramsgate for Margate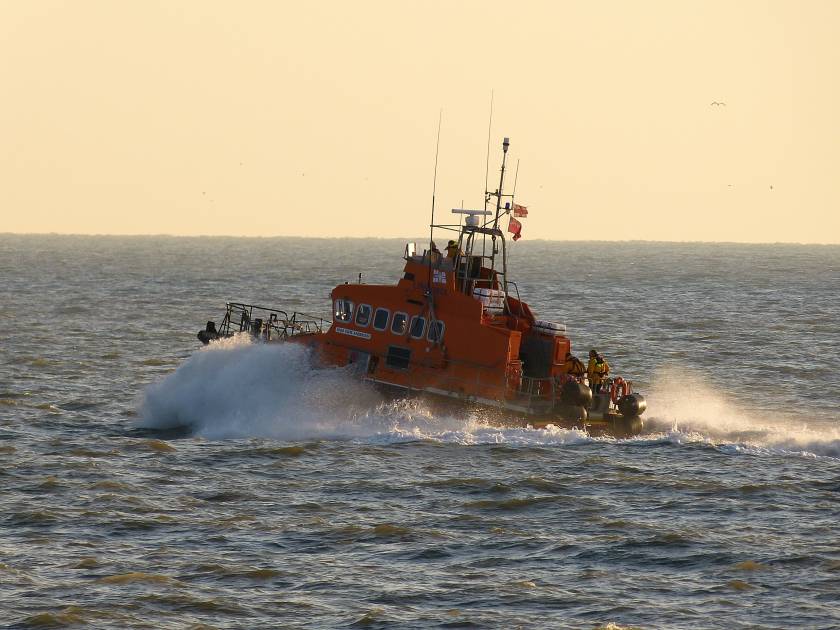 Departing from Margate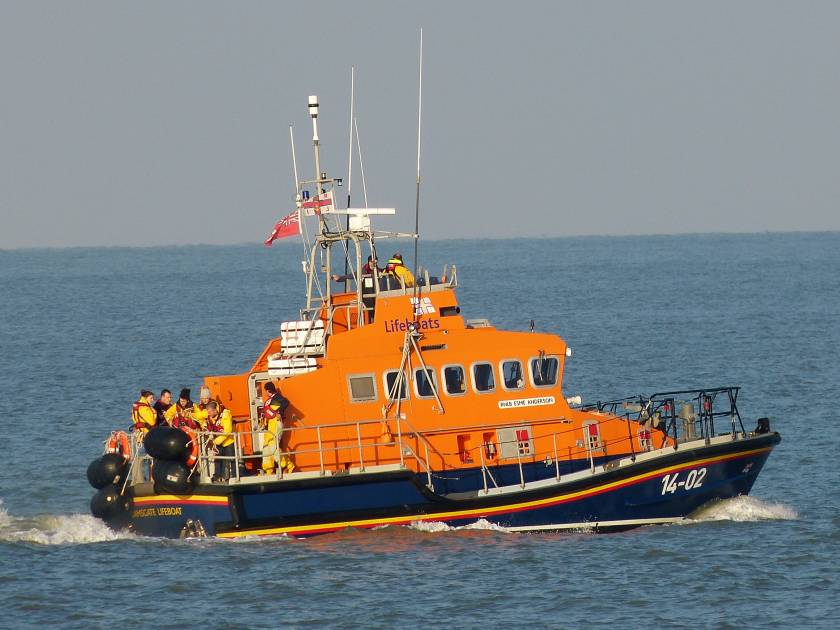 Margate Lifeboat "Tigger Three" on exercise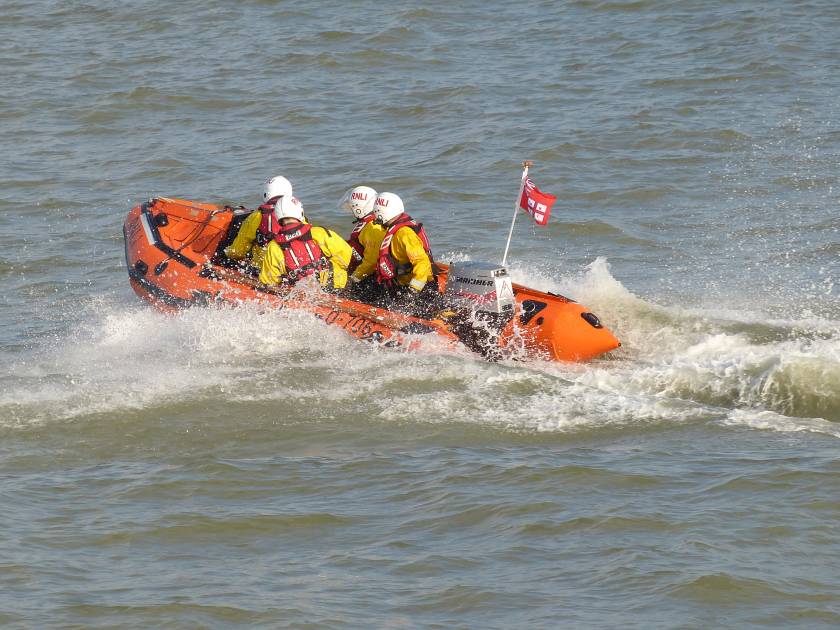 Sunday, 20 January 2019 - 20:11
Post 6033
brian dixon, dover
faster than time lapse pb.

Sunday, 20 January 2019 - 09:47
Post 6032
Sea News, Dover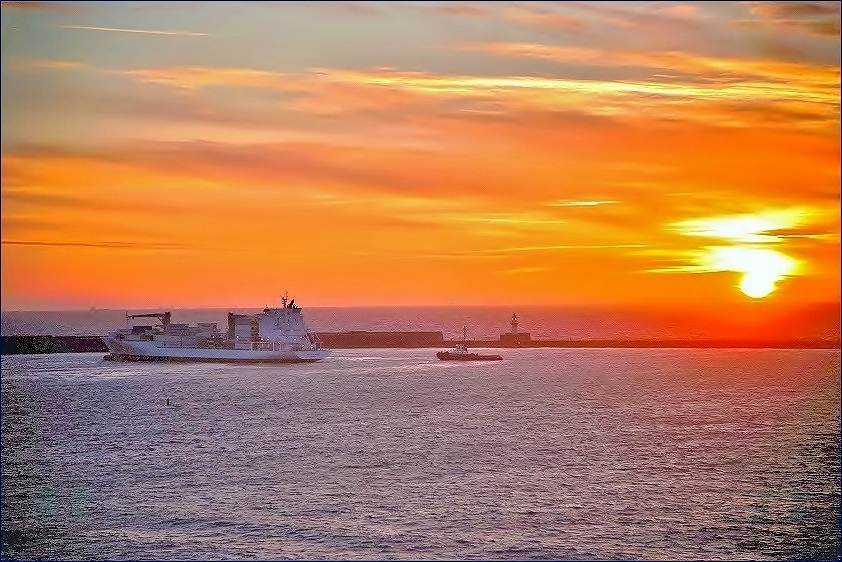 Some pictures above and below now of the Baltic Klipper leaving the Port yesterday morning Saturday...time of first picture 07.50. She was off on long haul to Bridgetown in Barbados. Unfortunately the pictures are not entirely 'au naturelle' as yours truly made a right royal mess of them and didn't realise until the moment had passed that they were very dark ( ie pitch dark ) so the computer was needed to bring them back to life...so slightly unreal...but what can ye do.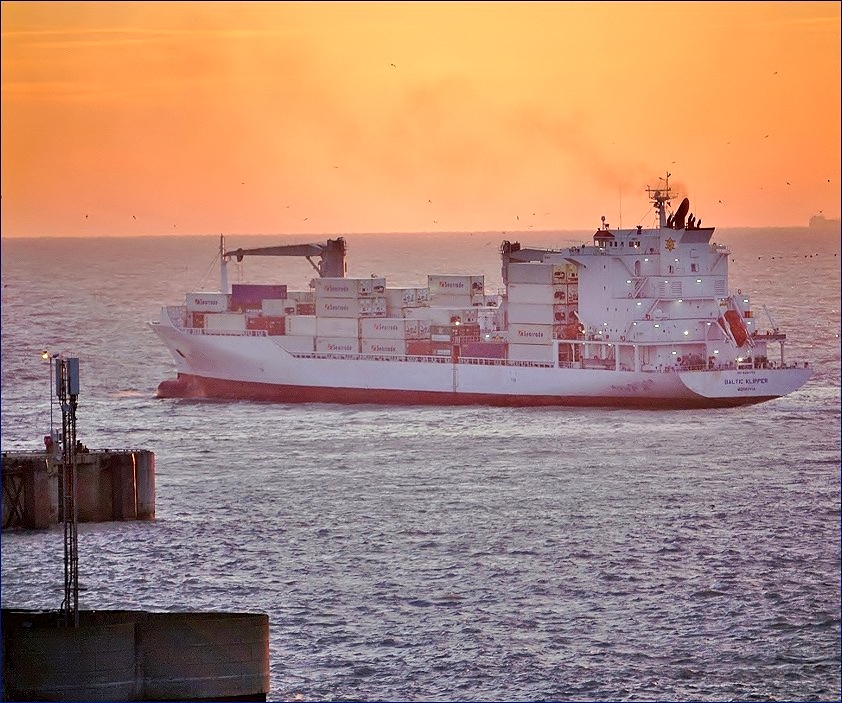 Aren't the weekends coming around very fast - you blink and the next one is here.

PB
Sunday, 20 January 2019 - 06:40
Post 6031
Sea News, Dover
They are knocking seven bells out of our famous Dover Beach at the moment...juggernauts and diggers to the fore! Presumably its some sort of tidal management but whatever it is anyway the digging is extensive. You can see they have moved all those rocks...we had a nice collection in pole position on the beach, a very popular addition some years back, but its been added too with some rougher looking ones as you can see. Lets hope they put it all back as it was in due course. I'm sure they will. Not a week to pick for yer annual beach picnic..Put the Champers back in the cellar Doris!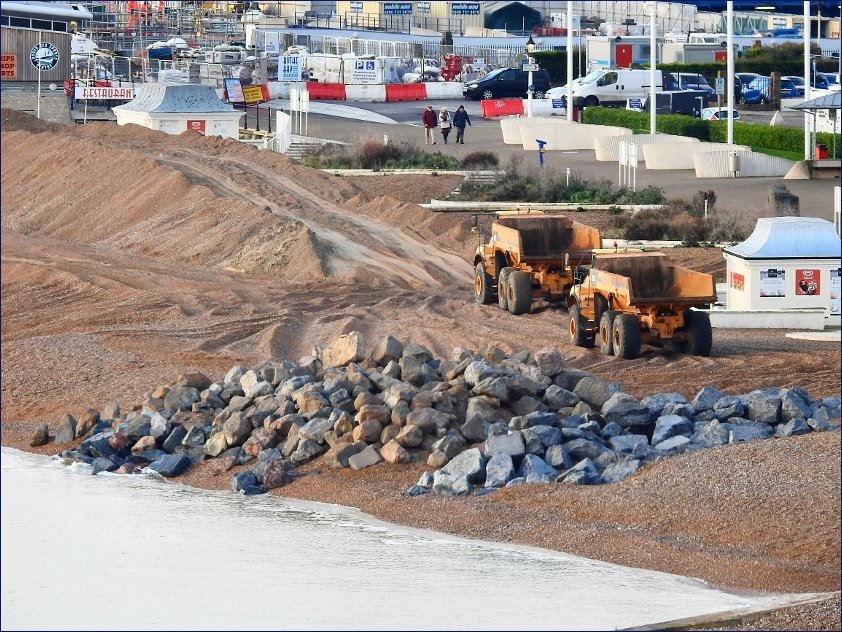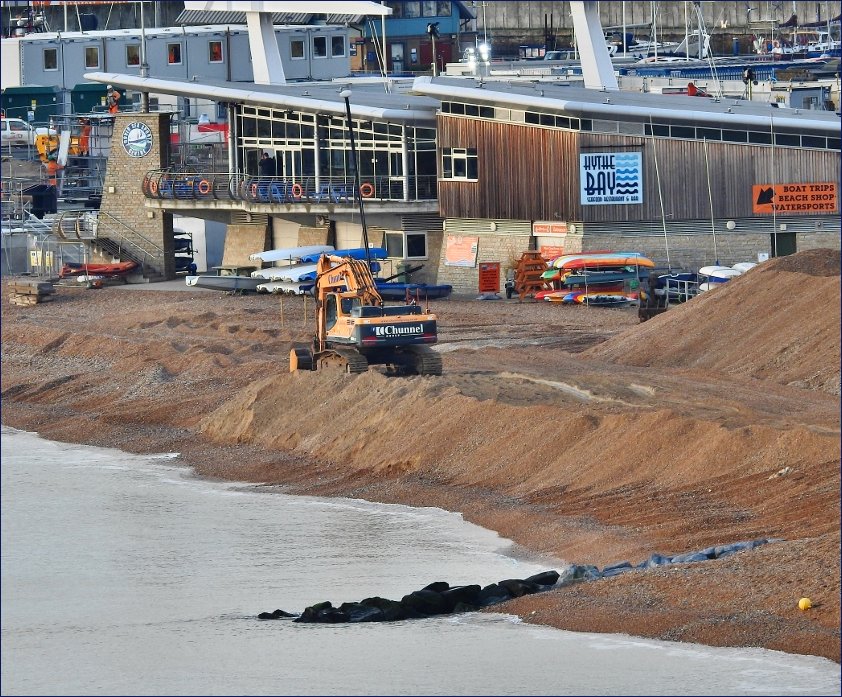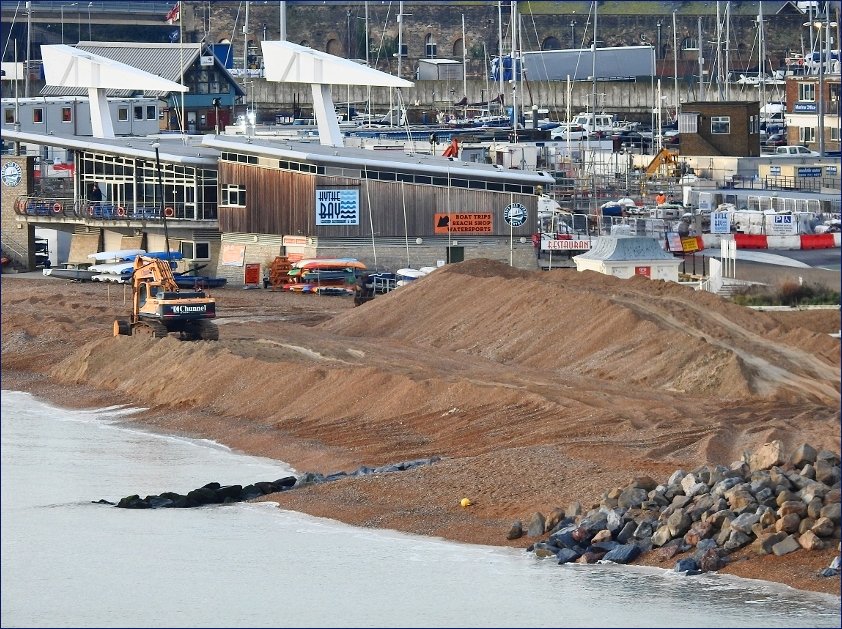 Great work by all the team below. Cracking pictures all round.
Scroll down the page to enjoy all the input.
Some totally fab shots of the Border Force from our 'roving reporter' Sarah over there Ramsgate. Some of these shots will be acknowledged by Google for sure. We have some good stuff on Google.
Well done Sarah. Ace work...

Great all round collections from our 'inshore correspondent' Mike below too. Man on the spot with very topical pictures right now and with the usual very good info.

Very dramatic pictures of that big beast from Patrick. Great stuff Patrick...terrific capture getting that one.

As we see all those trucks in Mike's pictures below Del...there is a heck of a lot of them. I don't think politicians further afield realise the sheer volume of freight coming through here...remember Raab!!

Mike Waight - thanks for that interesting one Mike … a trip down memory lane. Alas I'm not able to help with any info on that one myself.

PaulB
Saturday, 19 January 2019 - 05:03
Post 6030
Mike J., Dover
Tug MTS VALOUR [post-5963] parking a jack-up barge on Pier B on Friday morning.
She had brought the barge, owned by the same company as TOPLOADER, down from Tilbury.
The MTS VALOUR sailed at 1800 heading for Southampton for her next job.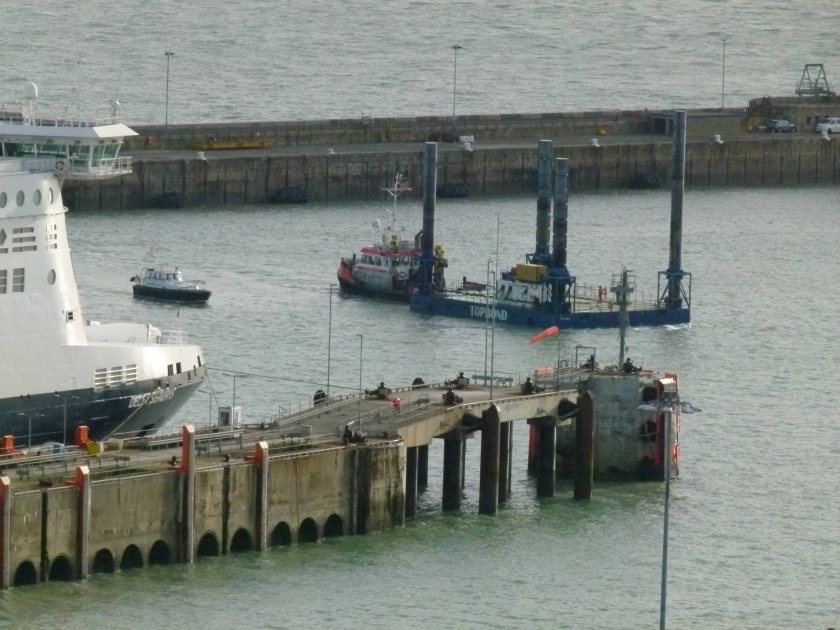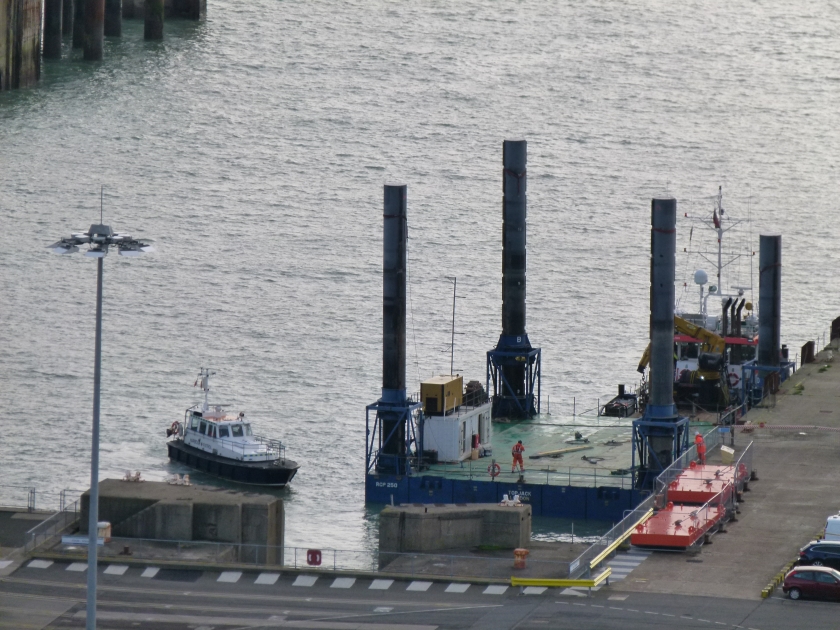 Freight ?
Dover can do freight ! The lifeblood of the Port.
This slow-moving traffic jam, from the SPIRIT OF BRITAIN on No.9 berth, was quickly cleared.
Plenty of freight waiting to go aboard as well.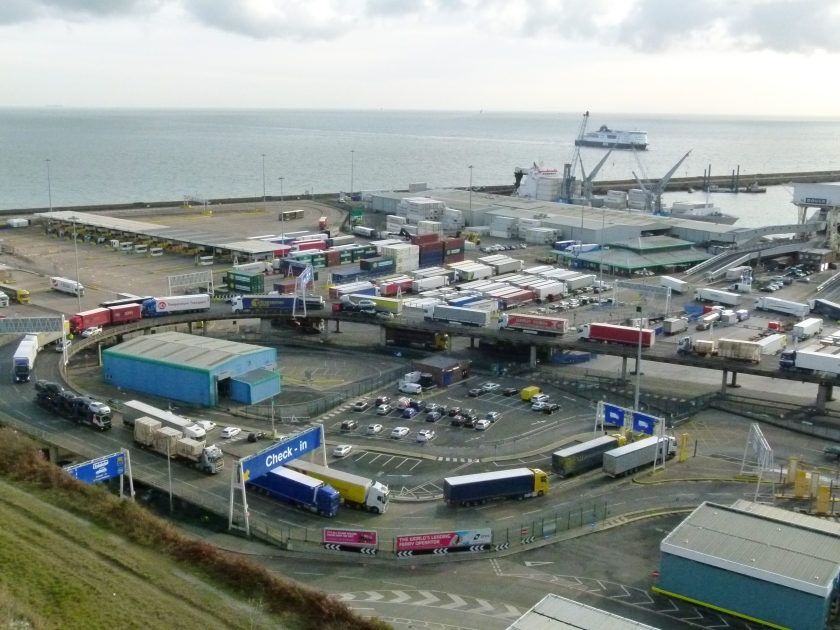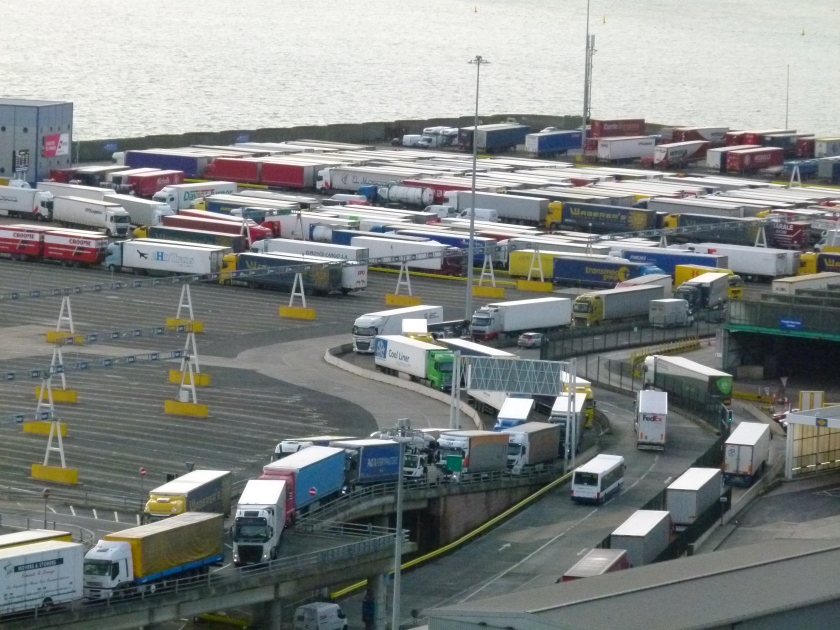 Saturday, 19 January 2019 - 02:11
Post 6029
Mike Waight, Wiltshire
Re #6015 photos of past ferries - Shepperton Ferry in particular - I well recall as a boy watching the train ferries loading and unloading at the Western Docks (circa 1950s) and being fascinated by the concept. I believe it still goes on in some parts of the world. Also remember the Belgian and other passenger ferries on Admiralty Pier. My father told me of one incident where a passenger ferry had backed into the last berth alongside Dover Marine Stn and failed to stop which caused her to run up onto the pyramid shaped tank traps. Anyone know if this happened? Tank traps used to be all over the place then - I recall some off the Deal road although I doubt they'll still be there.

Friday, 18 January 2019 - 15:58
Post 6028
Patrick, Marine Parade
Just managed to catch this shot as I opened the blinds this morning to see heavy load carrier 'DOCKWISE WHITE MARLIN', rig on board, from Norway heading south bound for Aliaga (Turkey)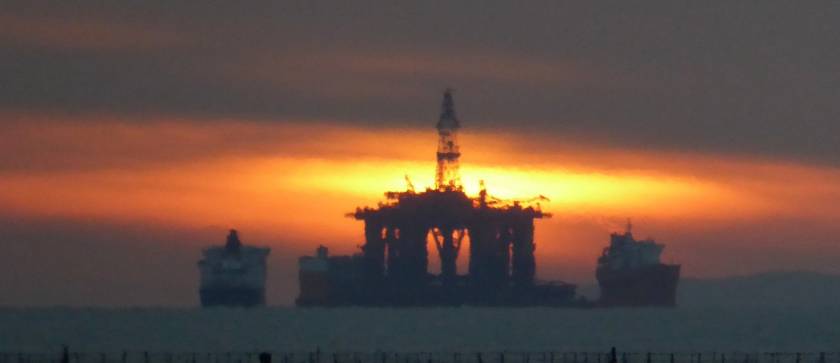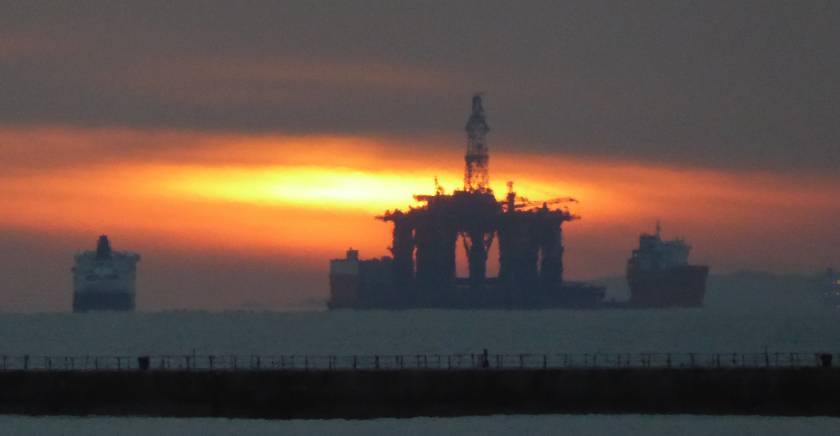 Friday, 18 January 2019 - 12:18
Post 6027
Sarah, Ramsgate
Border Force activity in Ramsgate, HMC Searcher & her RIB.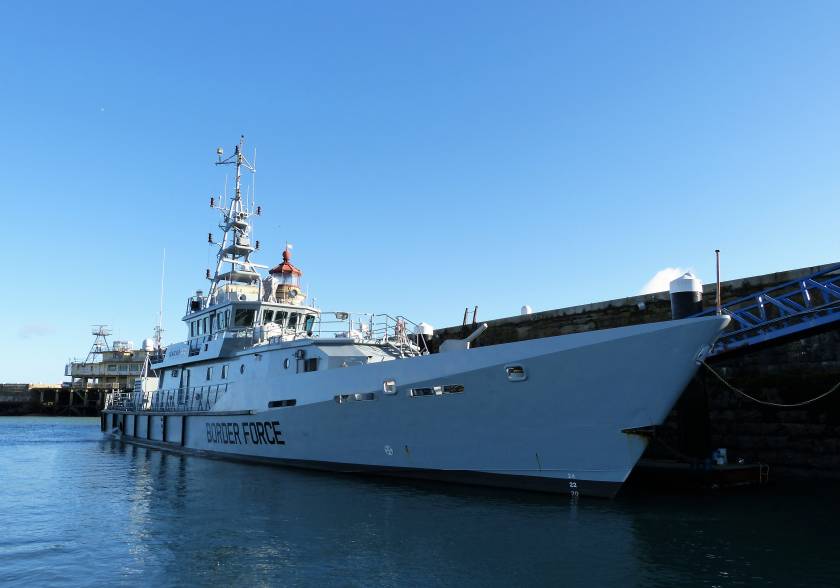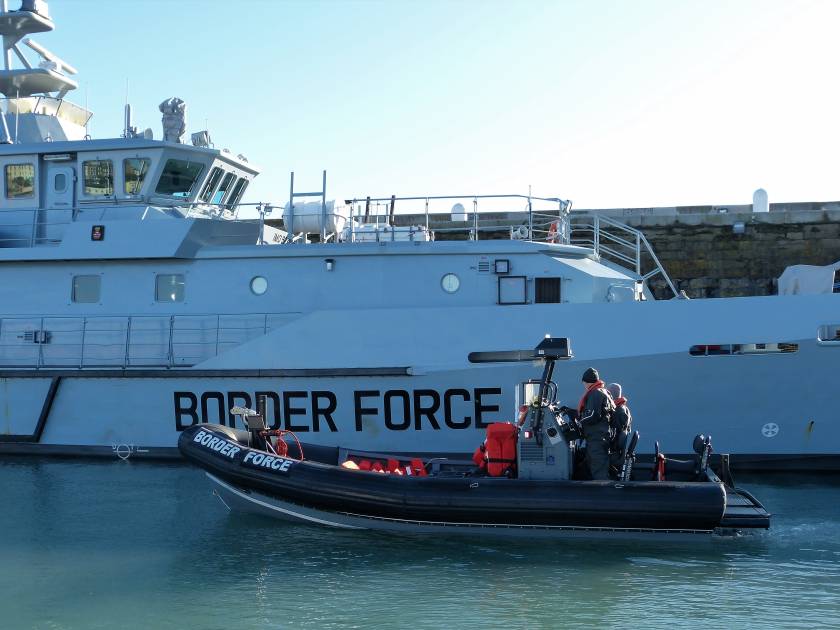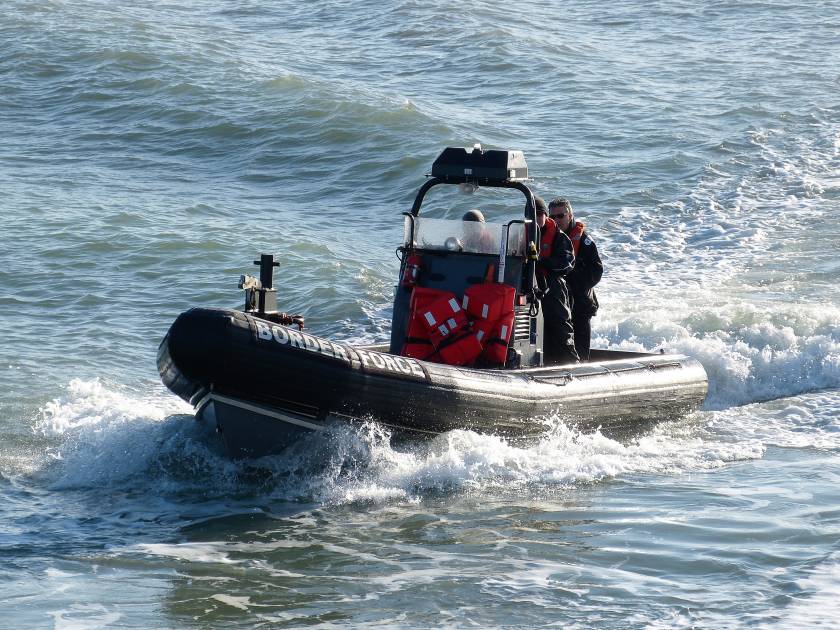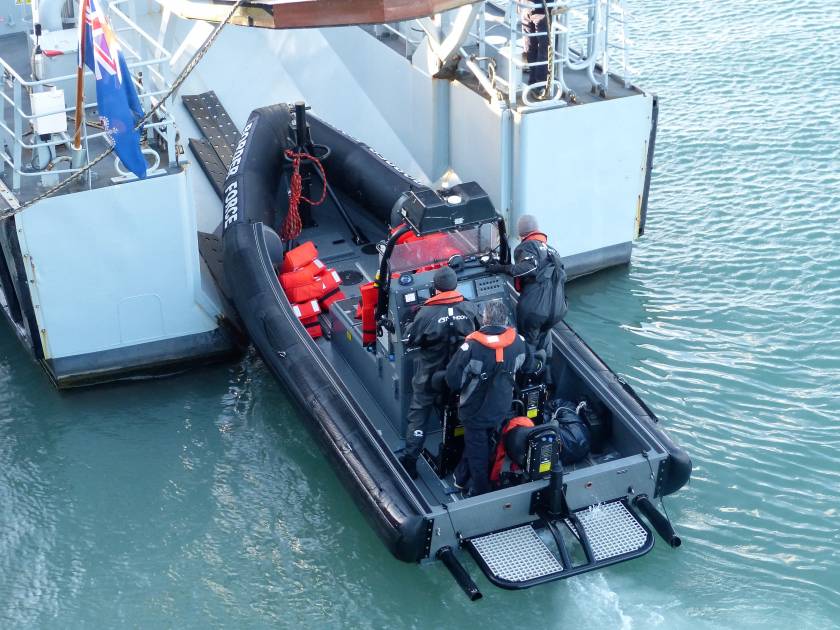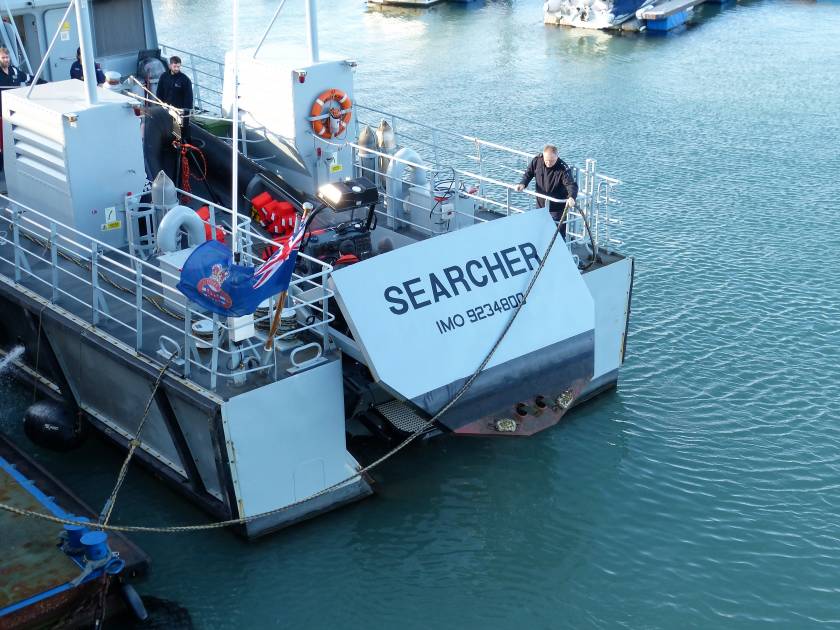 Friday, 18 January 2019 - 06:32
Post 6026
Mike J., Dover
The Maltese-flagged KAMELIA arrived from the Baltic via the Kiel Canal in the early hours of Thursday & was discharging biomass timber on the Admiralty Pier during the morning with an endless procession of lorries headng for the Sandwich Technology Park power station.
It was close to low water so not much of the ship to be seen.
Thought to be the last timber cargo for the moment.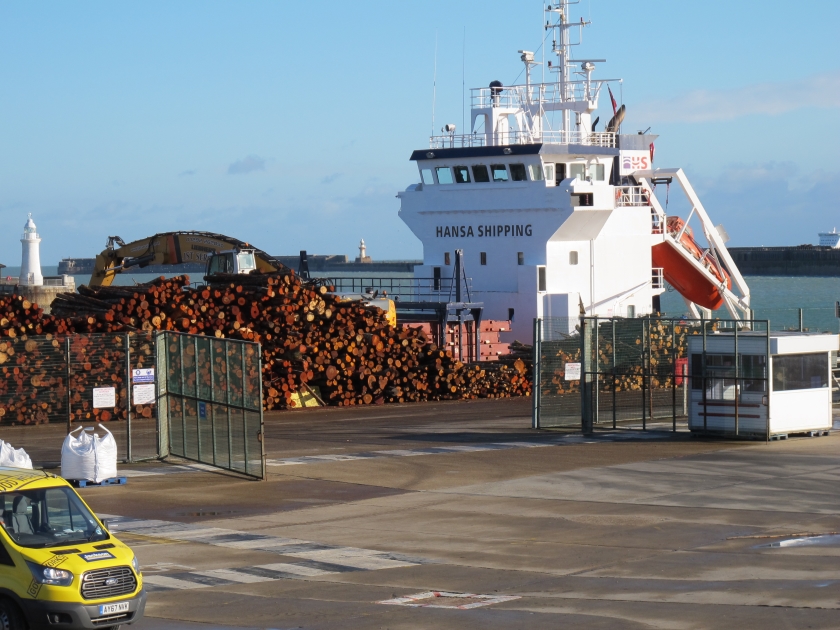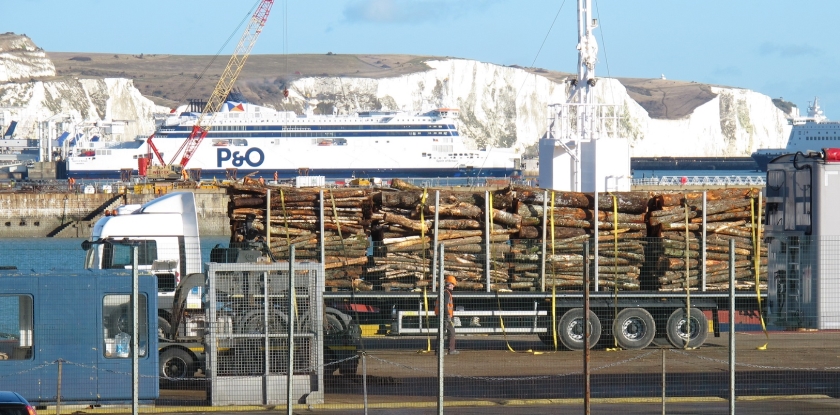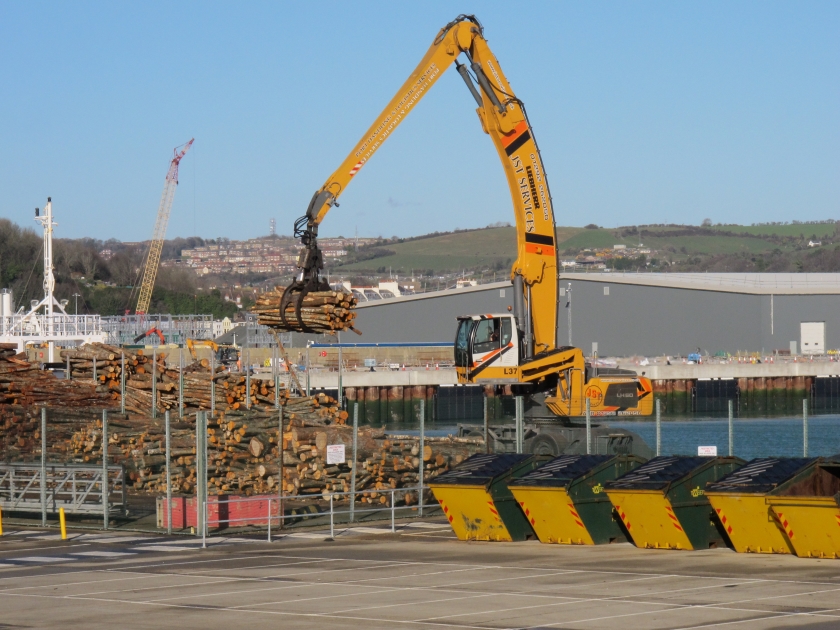 In the brave new world of DWDR these cargoes will be discharged on the berth on the 'outside' of the Prince of Wales reclaimed land, used up to now by'self-unloaders' bringing in stone [post 5843].
Very little DWDR shipping activity recently, only active vessels being the busy crewboat PAMPERO & workboats TOPLOADER & the elusive BEAVER [post 5951] who seems to spend most of her time in the new marina.
Another self-unloader is expected at the end of the month.
Friday, 18 January 2019 - 00:29
Post 6025
Del Styan, Norwich
Well said on the present Brexit mess, and I love your new dawn! We must take our pleasures where we can, even if it's just the sun arising. What on earth will the next few weeks bring.

Thursday, 17 January 2019 - 23:23
Post 6024
brian dixon, dover
thanks paul.

Thursday, 17 January 2019 - 19:18
Post 6023
Sea News, Dover
She did go further down the coast alright Brian.
She is off Lydd as we speak and appears to be heading back here.

PB.

Thursday, 17 January 2019 - 18:45
Post 6022
brian dixon, dover
a daft question , has hms mersey gone back to home port. the reason why is I haven't seen her lurking around for a few days.

Thursday, 17 January 2019 - 14:16
Post 6021
Sea News, Dover
STATEMENT - PORT OF DOVER /DFDS /P&O FERRIES
Dover - ready to welcome customers into the future
_____________________________________________
The UK's planned departure from the EU has changed the way people think about the logistics industry and supply chains. Never has there been more public scrutiny on trade and the efficient movement of goods.
What has not changed is the ability of one port, two ferry operators and a fleet of 12 dedicated ferries to be capable of handling up to 10,000 lorries a day – a 180km trade expressway. Neither will geography change and Dover will remain the only place from which such a fleet can achieve up to 120 ferry movements a day, where each ferry is berthed, unloaded, re-loaded and heading back to France in as little as 45-50 minutes on the shortest sea crossing. With the French coast often in full view, this finely tuned engine simply cannot be matched in terms of capacity or speed.
Of course, external factors such as border controls may slow things down, but they will do that at every EU-facing gateway across the country. What makes Dover different is that it has the experience of how to deal with major disruption and find a way through – nowhere else has this experience.
That is why within a few days of the last significant incident of Operation Stack in the infamous summer of 2015, Dover was once again handling record volumes. During the course of any year, the Port of Dover manages smaller disruptions through our continuing professional approach. Dover has stood the test of time.
The entire operating system – the Port and its infrastructure, border controls and ferry operations - is designed around the fast paced, seamless movement of traffic. With the growth in our volumes, it is a strong indication that people want to continue to take advantage of the Port of Dover and its ferry partners. The Government understands this and the Port has been working closely with its Border Delivery Group for some time, a cross-Government group coordinating Brexit planning across Whitehall and with a firm remit to keep traffic flowing across the Channel.
Preparation is key. Beyond the existing close coordination with the Port and its ferry partners, it will be essential that the UK Government and its agencies as well as the European Union and its Member States expedite the provision of necessary information to the logistics community in order that it has what it needs to plan for and prepare the required documentation in advance of lorries arriving at ports.
Kasper Moos, Managing Director of DFDS in Dover, said:
"We have been preparing for a wide range of scenarios for some time along with the port and our partners. We have adapted our IT systems and are building customs expertise so we can offer customs and other services to our customers to help mitigate any effect. We are now intensifying work to ensure those customers are preparing for any new border processes in order to protect their business and keep people and goods flowing through this vital trade route."
David Stretch, P&O Ferries' Managing Director - Short Routes, said:
"As long as there are goods and people travelling between the UK and Europe, P&O Ferries will continue to provide a comprehensive ferry and logistics service to and from the continent. We have been working with the authorities on detailed preparations to support our operation at Dover which, along with our ports on the east coast of England, will continue to give customers a range of options for connecting with Europe under every scenario."
Doug Bannister, the Port's new Chief Executive, said:
"Throughout the Brexit debate, what people have been desiring is certainty. Uncertainty is continuing, but we are prepared. We will continue to manage our infrastructure professionally and our team stands ready to handle whatever comes our way. We look forward to welcoming customers on 29th March, 30th March and far into the future."
ENDS
Port of Dover - New Dawn?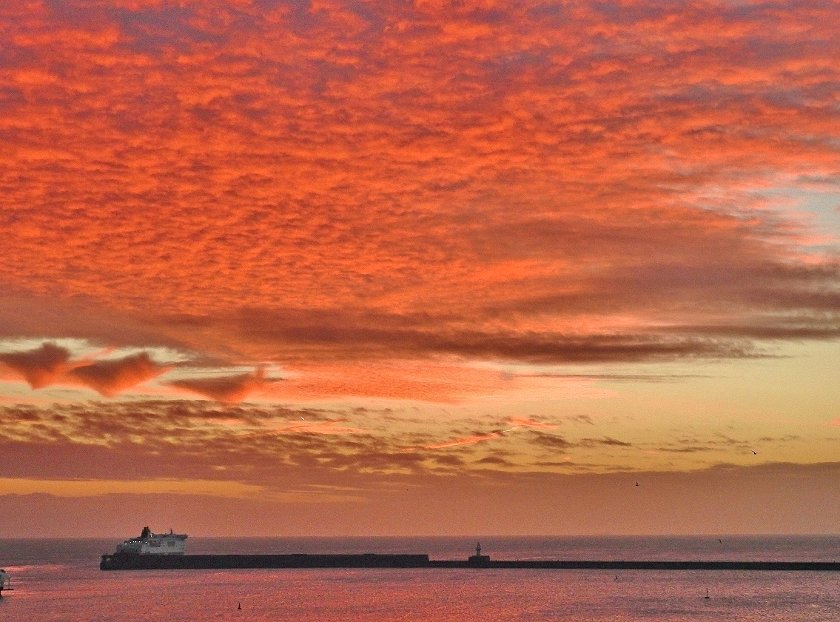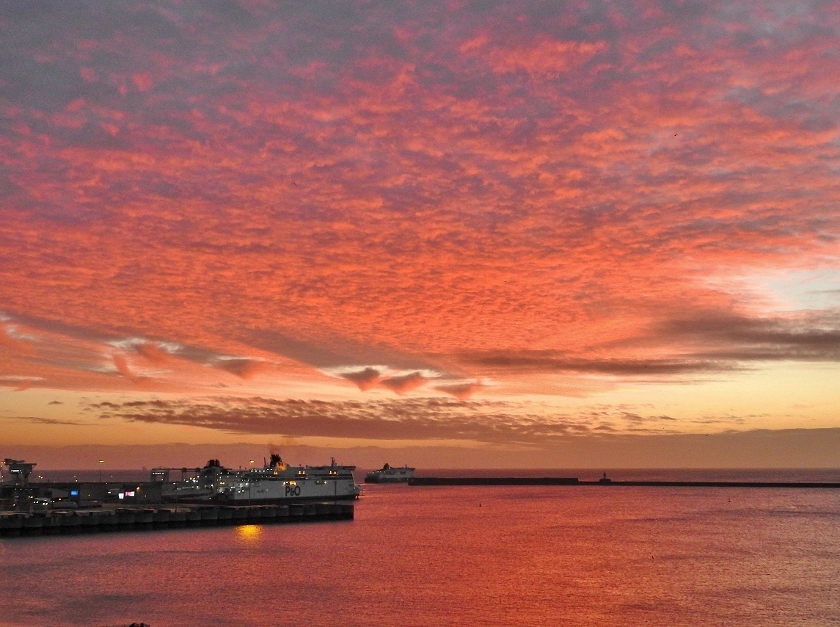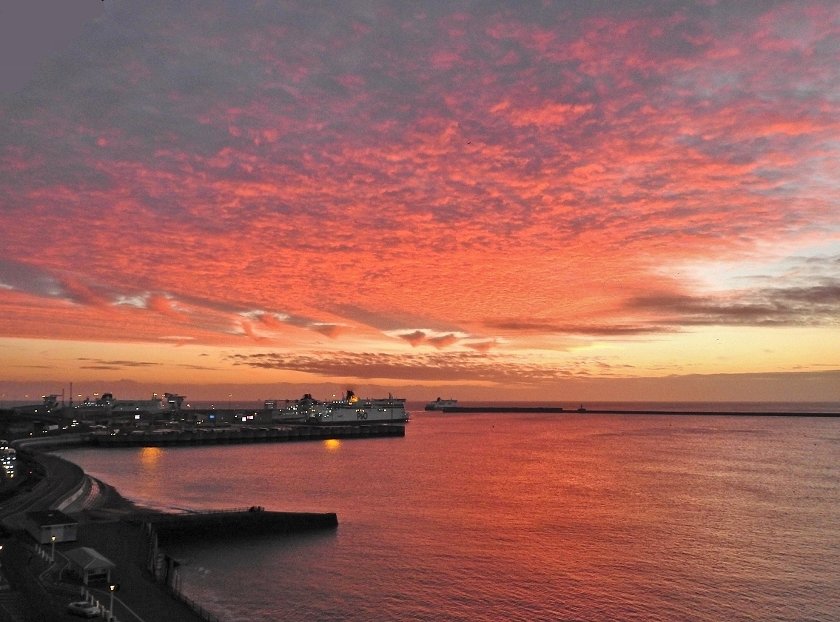 As promised the dazzling sky on Monday morning above there. Just natural photographs with nature doing all the colourful work. It was a very ordinary sky one minute and then suddenly it exploded into exciting dazzling colours. All different photographs above there.. wide, wider and wider still. Before too long alas it had drifted back into slate grey for the departure of Hellas Reefer...that's an extra shot of Hellas Reefer below with the pilot almost alongside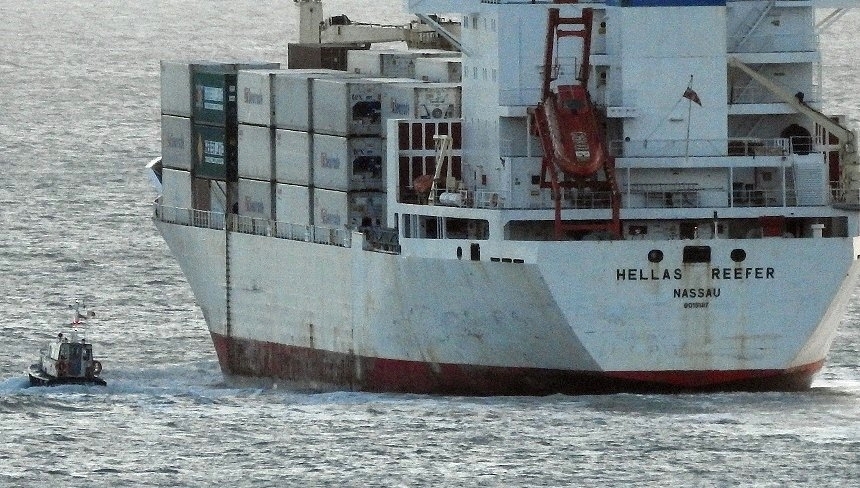 PaulB
Thursday, 17 January 2019 - 07:47
Post 6020
Sea News, Dover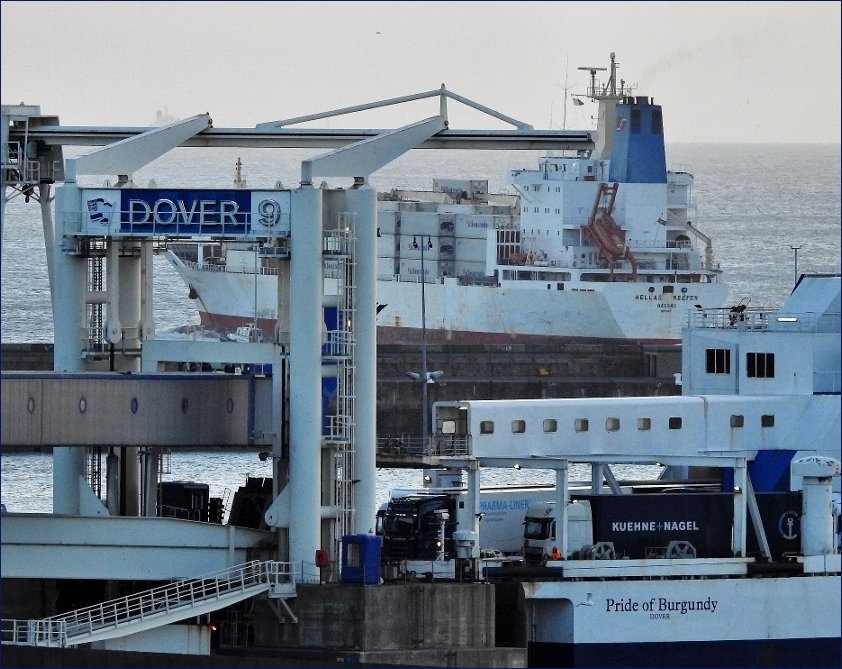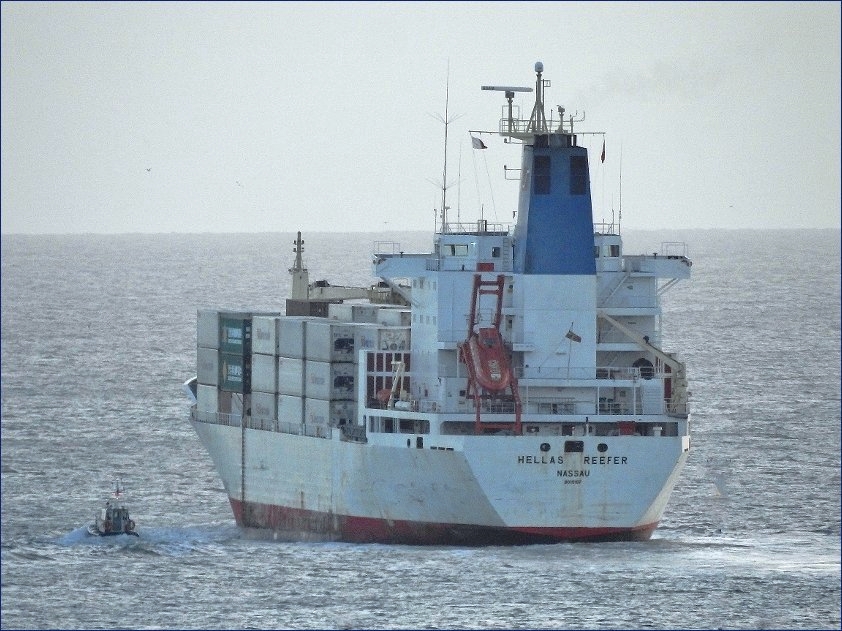 Hellas Reefer : an early morning departure for Hellas Reefer. Monday morning in fact. Yours truly just spotted her across the Port as she moved away. Off to Vlissingen in the Netherlands she was. The top shot shows her across the other side of the Port..the eastern side, as we gaze beyond Dover 9 and the Pride of Burgundy.
The second picture above shows Hellas moving away with the ever active pilot boat alongside. As you can see twas another grey day.
But early sunday morning below, a day earlier, it wasn't grey. There was some delightful colour in the sky as the Lifeboat went out on another run. Wider shots here to capture the general atmosphere. The colour didn't last. If you remember the previous picture from Sunday ( see 6019 below ) taken about 50 minutes later...the pic with the HMS Mersey in it just below...you can see how grey it had become...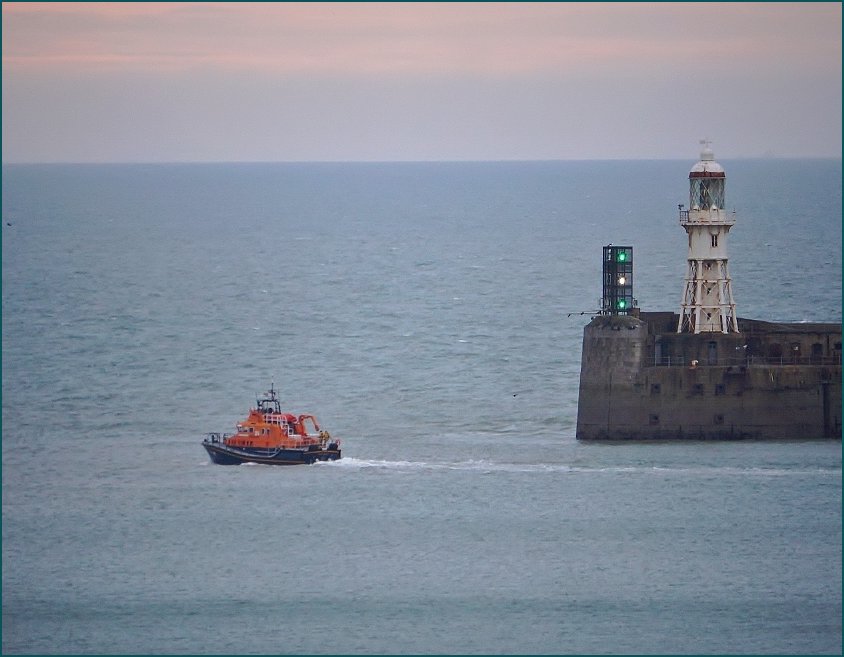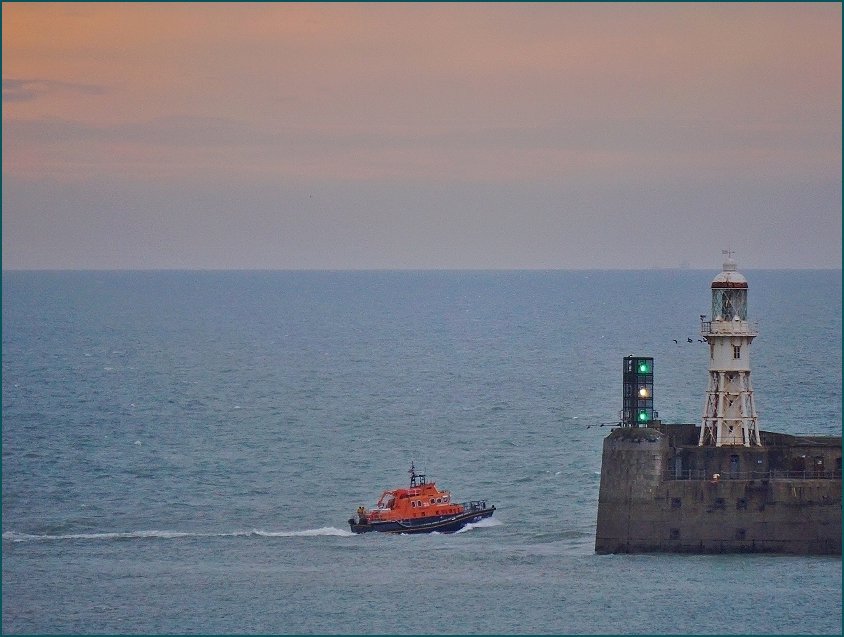 Speaking of colour....Monday very early had some fantastic colourful skies ...
will have those pix tomorrow morning. Wear your sunglasses before tuning in...

Further news on the Ramsgate - Ostend ferry proposal. It seems Ostend are not interested. They are nowhere near ready to accept a ferry service from Ramsgate. So it appears. They dismissed the notion yesterday which leaves the hapless bungling grappling Grayling with yet more egg on his face. Not that Seaborne Freight in Ramsgate are ready either...with no ferries on their books. Yet Grayling presented them with a £14Million pound contract to relieve the potentially overstretched situation here. The Brexiteers tell us we have no worries about pulling out of the EU with a 'no deal'.. but can we believe these politicians if this is the level of future planning they present to us. As we saw in the House last night, the 'dream team' cabinet chaotically shuffle and struggle from one abysmal day to the next.
PB
ps: Just an extra reminder to see also 6017 about the Cypriot reflagging of the P & O ferries.
Wednesday, 16 January 2019 - 06:05
Post 6019
Sea News, Dover
Believe it or not all these pictures are colour pictures, although in some cases you would hardly think so. Its not an artistic attempt at monochrome, its simply that the weather is so grey at the moment looking seaward....except sometimes first thing in the morning. All pictures sunday morning...
The first shot shows Dover Lifeboat returning. In the background there you can see HMS Mersey. Whether they had a liaison or not I don't know as didnt see what happened earlier...the Lifeboat may have just been returning from the same patch of water while on a sunday morning exercise.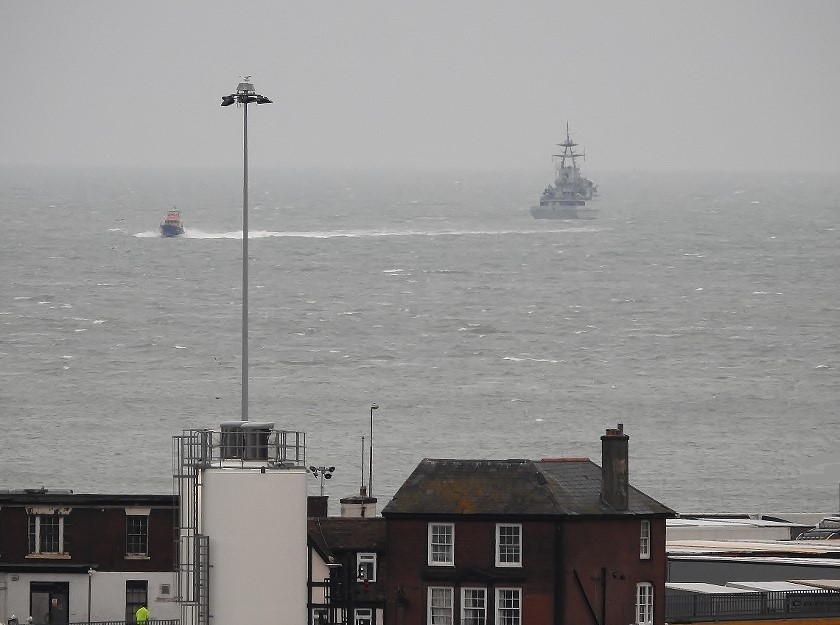 A short while later HMS Mersey turned about and came over in this direction a bit more than usual, as you can see in the pictures below. The ship usually stays further west of the Port...but we are always glad to get a better view... so, good to see it. Better weather eventually will give us better images.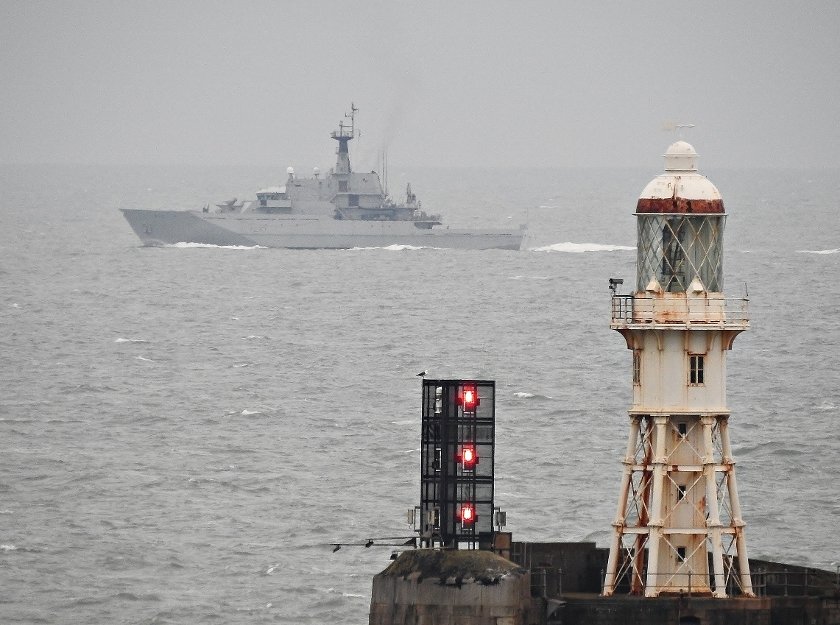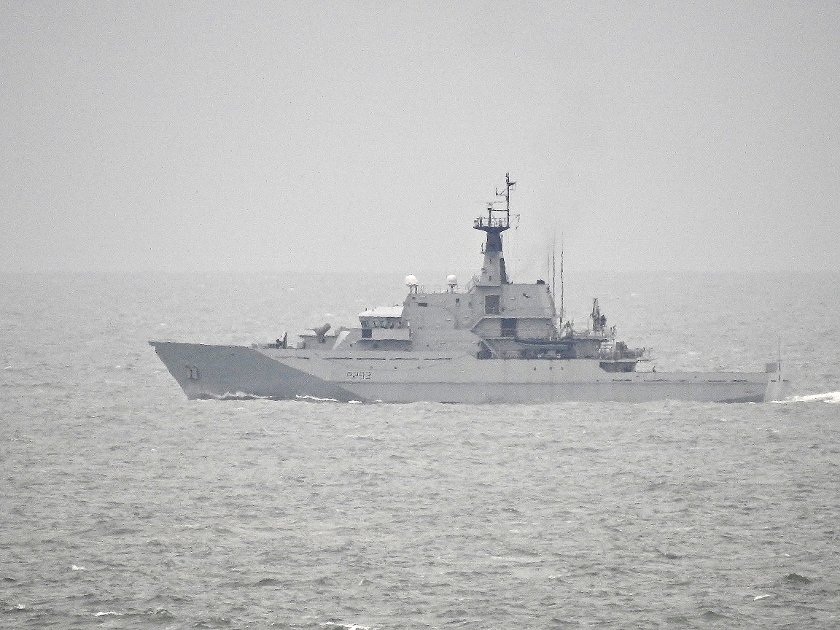 The final shot shows her veering over towards the Varne Lightship...the Lightship being hardly visible in the misty gloom.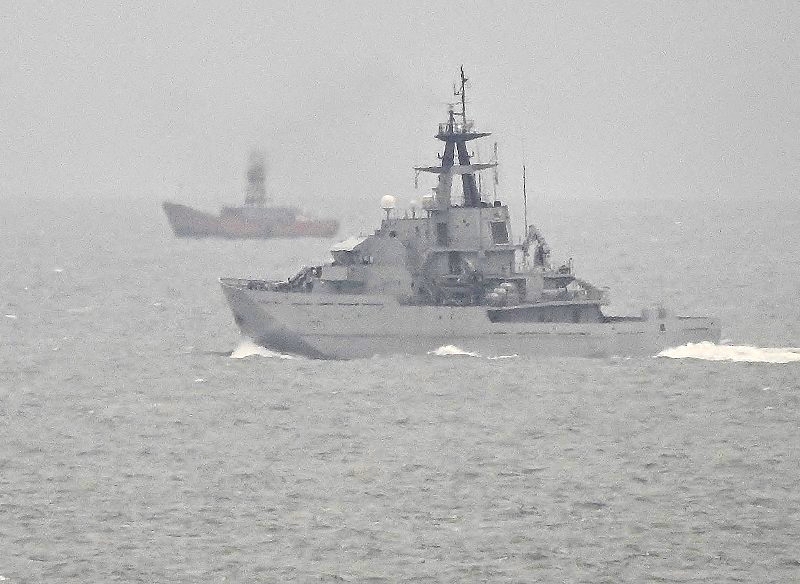 That indeed is a great gathering of lifeboats over there Sarah... a true plethora..lol!

!
Good to see that one of the Maersk Connector too... great shot.

A very interesting post below Mike. Excellent info. Quite a bit of a shock that one. These are indeed uncertain times for all and as we can now see the Ferries have not escaped change either. And of course... a big political day today ...some pundits are saying its one of the biggest ever, and we don't know what we will be left with.
In normal times for example Grayling would not have kept his job..he seems to bungle through every position he holds in wide-eyed hapless style, but times are so difficult there is no political talent coming through to the frontline..we are stuck with the dim and the dismal.
PaulB
Tuesday, 15 January 2019 - 05:15
Post 6018
Sarah, Ramsgate
Spotted off Ramsgate today.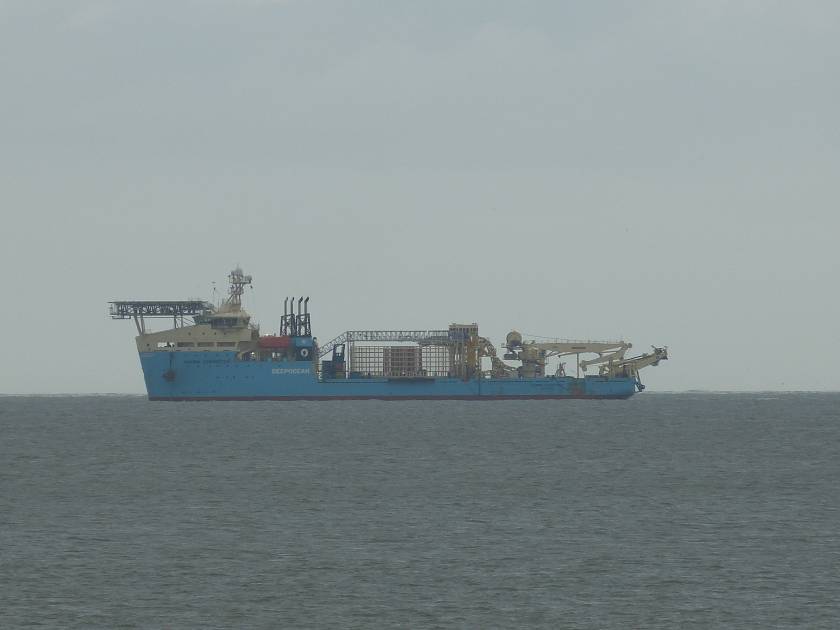 A plethora of lifeboats at Ramsgate today



Relief Lifeboats " Lady of Hilbre", "Dora Foster McDougall" & "John & Louisa Fisher", Ramsgate Lifeboat "Esme Anderson" & Gravesend Lifeboat "Oliver Laura Deare II"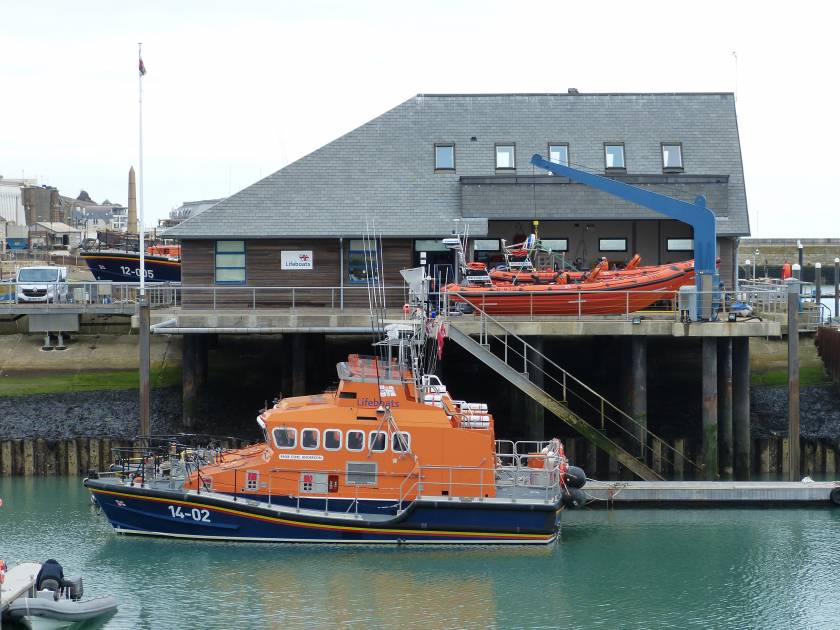 Tuesday, 15 January 2019 - 00:53