Sunday, 29 March 2020

WWW.DOVERFORUM.COM/SEA-NEWS
Sea Pictures from DOVER: Featuring all the ships that come and go and work at the Port of Dover ..
... with some further coverage of the surrounding ports.
Sea News Dover
Use our SEARCH ENGINE below to find all sorts on the SEA NEWS pages....type in the topic and away you go,
or if you have the post number, just type it in the Search Box, more than
- 6750 -
nautical posts now.
Posts are welcome. just click 'Add Your Comment' below.
Upload a Max of 5 pictures....Many Thanks.
Sea News Editor Paul Boland - send info or pix to dover7@msn.com. Always welcome.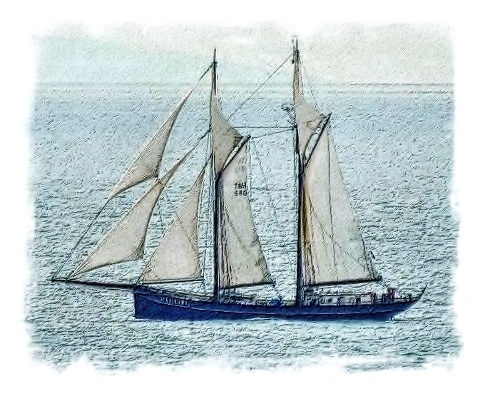 Headlines....
P&O Ferries secure vital flow of goods, medicines...see below, post 6901.
DFDS coronavirus announcements below see post 6880 and 6885.
P&O Ferries present record breaking cheque to Dover Lifeboat...post 6874 below.
P&O Ferries - European Expansion 6867
Hurtigruten and the Port of Dover see 6857...see also pictures in 6856 and 6859.
See SCARLET LADY pix.. FIREWORKS too..type Scarlet Lady in our SEARCH box below..

Port of Dover, DFDS, P&O say...Travel with Confidence from Dover.. see 6786 below.
DFDS Refit Investment...luxury lounges 6821.
P&O FERRIES - POST BREXIT travel info below 6780.
P&O NEW FERRIES Images below 6775...
P&O Ferries - new Catering Apprentices see 6790...
Visit us here in White Cliffs Country see 6772
Natalie Elphicke MP - thoughts post Brexit 6784
Just type the post number in the Search Box below.
Port of Dover Cruise Calls:
http://www.doverport.co.uk/cruise/find-a-cruise/
To show your pictures at their best..it could be worthwhile resizing before posting to
860
pixels wide. Our new standard size.
All pictures on these pages are the copyright of the owners and must not be reproduced without permission.
Post 6848
Mike J., Dover
Late Monday afternoon I arrived at St.Martin's Battery to find the lifeboat coming alongside in VERY nice light.
I could see few cars at the boathouse & not much sign of a full crew on deck.
AIS later showed that 17-09 was returning from a very short 'sortie' off the port.
Engine trials perhaps ?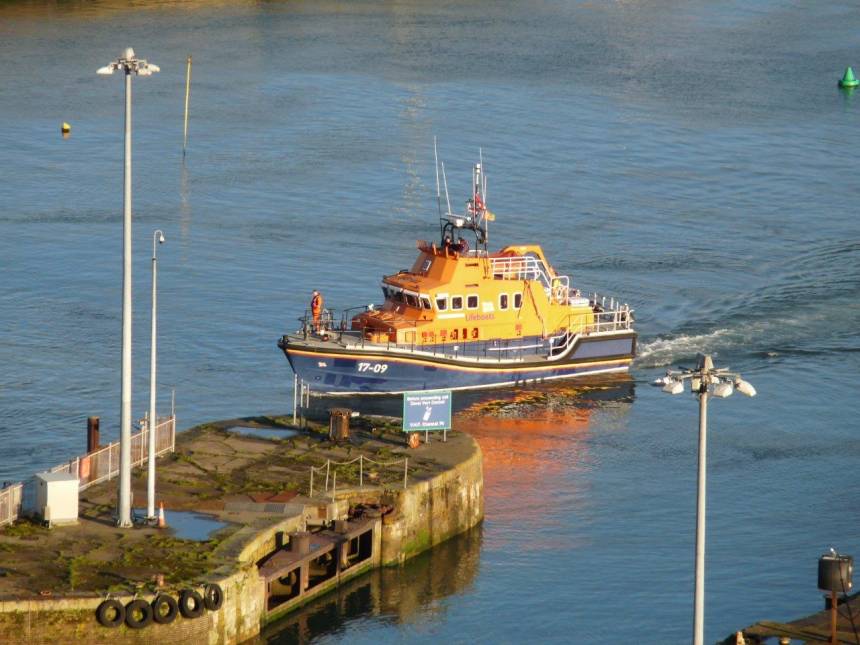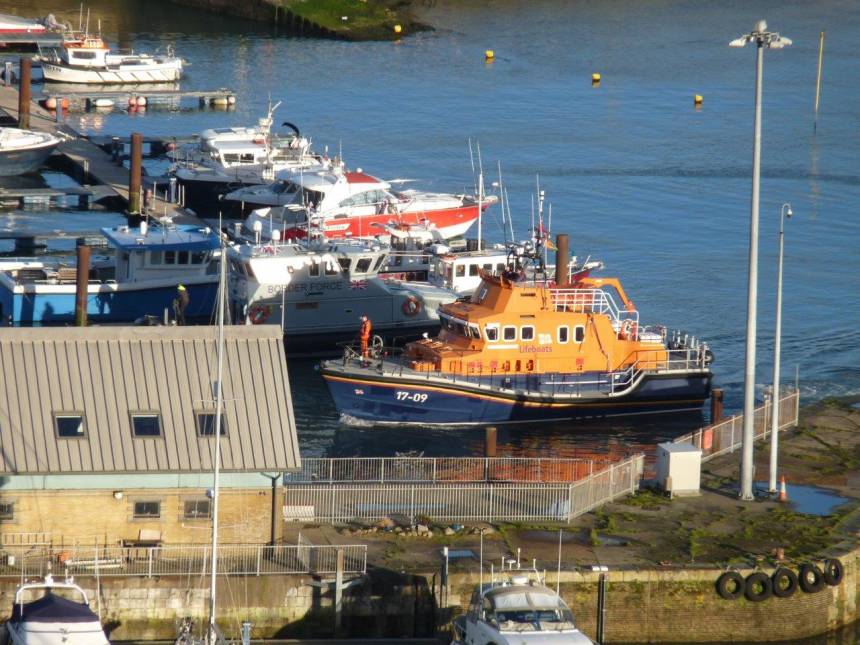 Lucky timing - had I arrived a minute later I would have missed the shots !
Tuesday, 3 March 2020 - 05:05
Post 6847
Sea News, Dover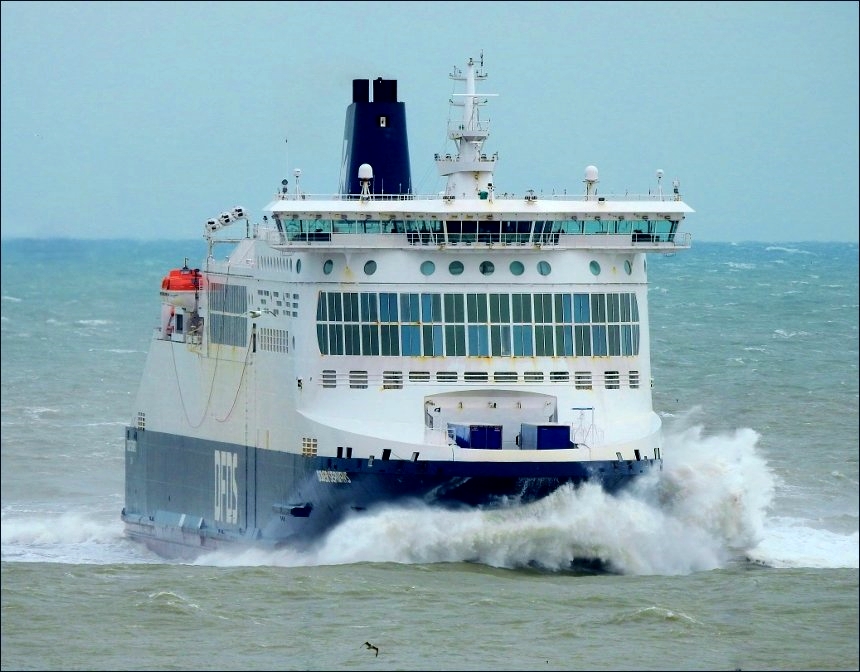 A couple of pictures of the ferries 'enjoying' the rough weather.
Top pic shows the Dover Seaways on Saturday approaching the Port of Dover in the strong wind as supplied by Storm Jorge...
and below..
the Spirit of Britain having just left the Port here and setting out for a rough one to Calais.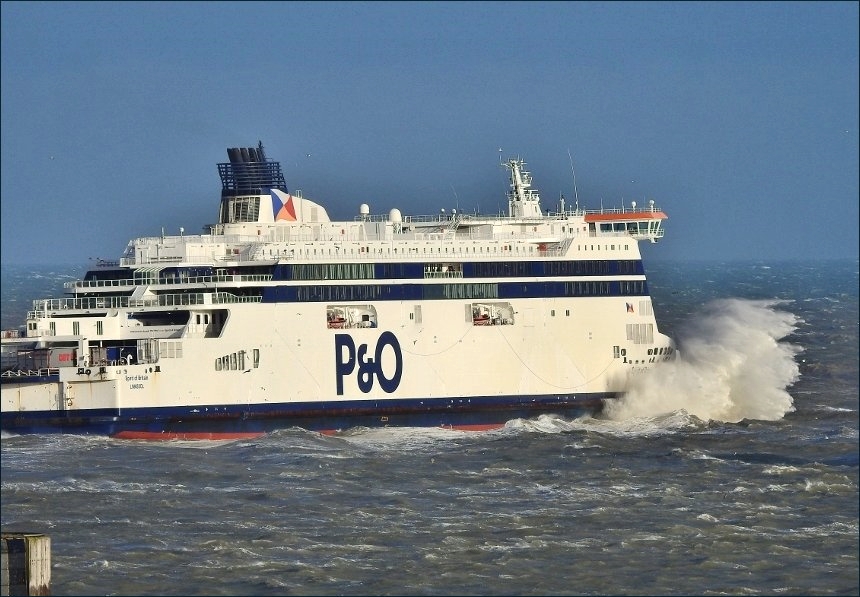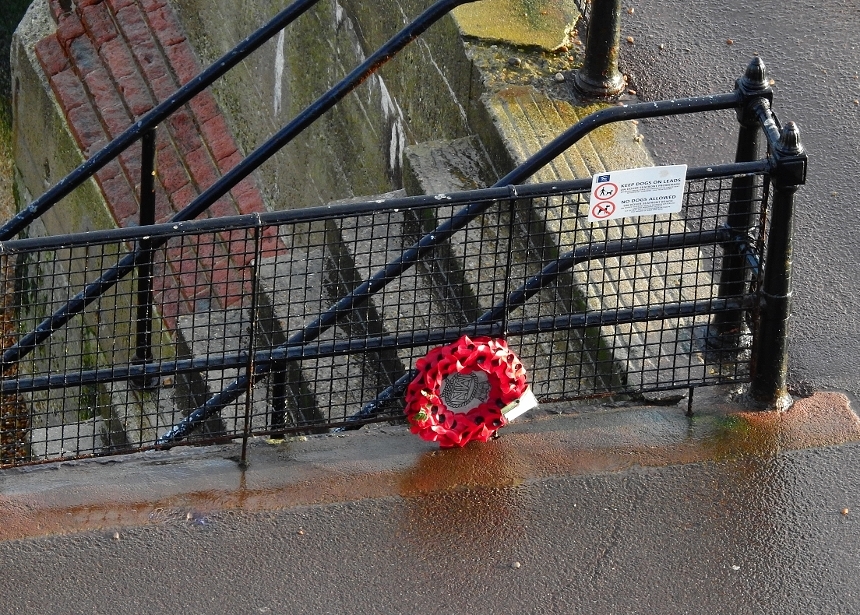 The wreath above there was whipped from elsewhere by the bracing wind and nicely and strategically placed against the seafront railings...
The rain powers down on the 'observation tower' roof as I write, with some force, heavens...when will it end??

PB
Monday, 2 March 2020 - 07:03
Post 6846
Sea News, Dover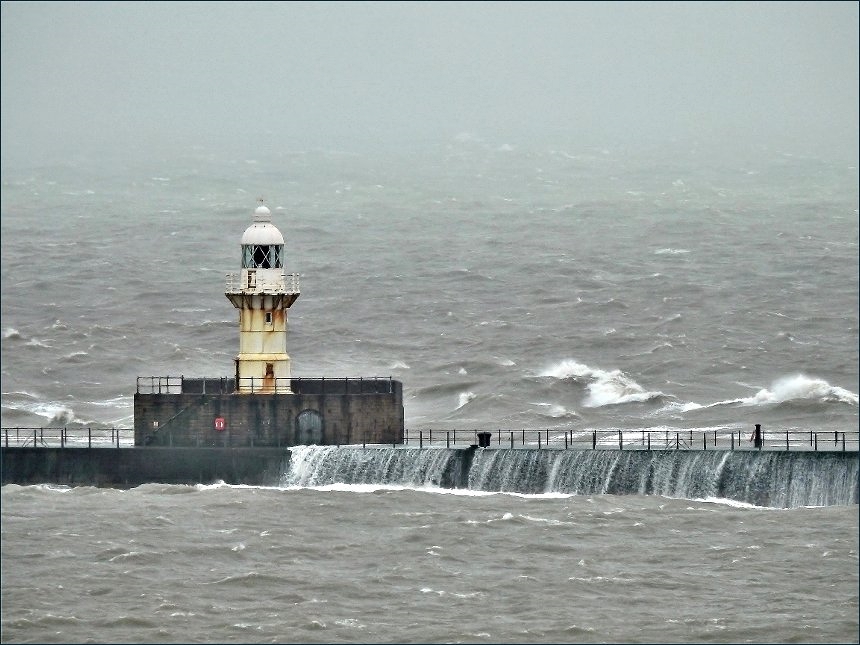 We are back in very windy conditions once again as Storm Jorge gives the nation a bashing. The picture above shows the lighthouse on the Breakwater here in Dover taking its regular inundation.... always makes for spectacular pictures however... well most of the time!
And now the Lifeboat...following along from Mike's excellent up-close pictures in the previous post, a continuation, as just a few minutes later on Friday morning here we see the Lifeboat again but this time out there in the very rough seas...just a couple of minutes after Mike's shots.
Conditions visibility etc etc very poor so the pic isn't the best quality...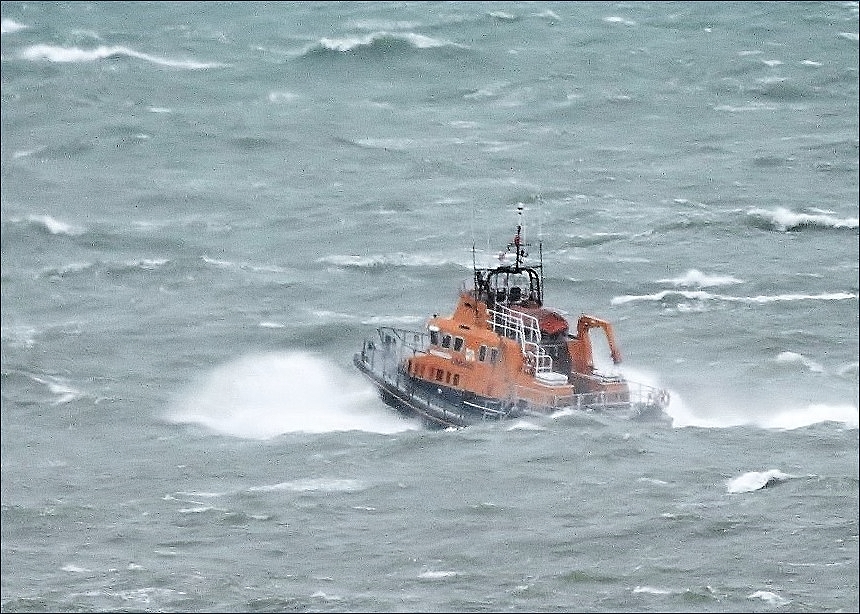 Great pictures below Mike...enjoyably right on the spot

PaulB
Sunday, 1 March 2020 - 06:10
Post 6845
Mike J., Dover
Friday morning while crossing the swingbridge I spotted the crew boarding the lifeboat & a few minutes later CITY OF LONDON 2 sailed.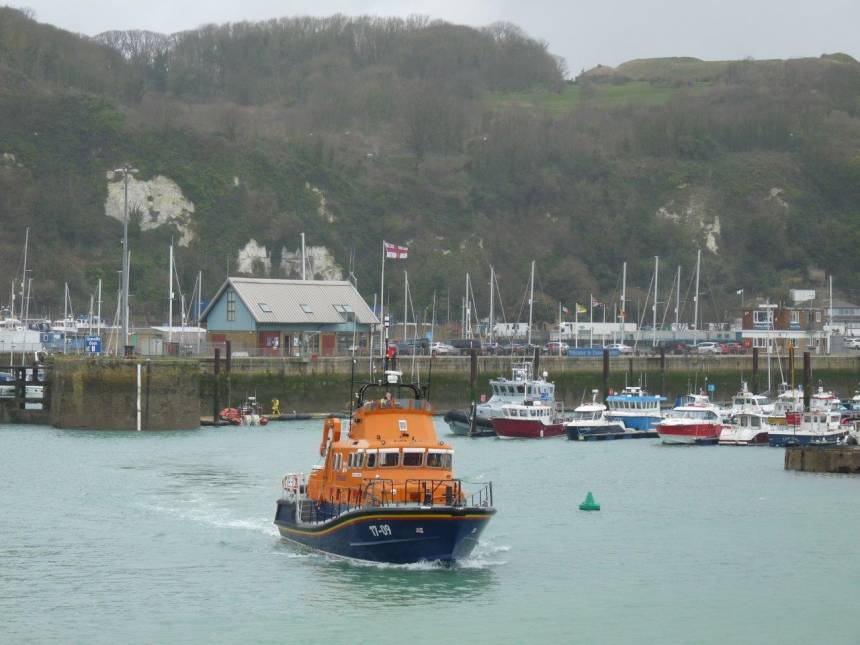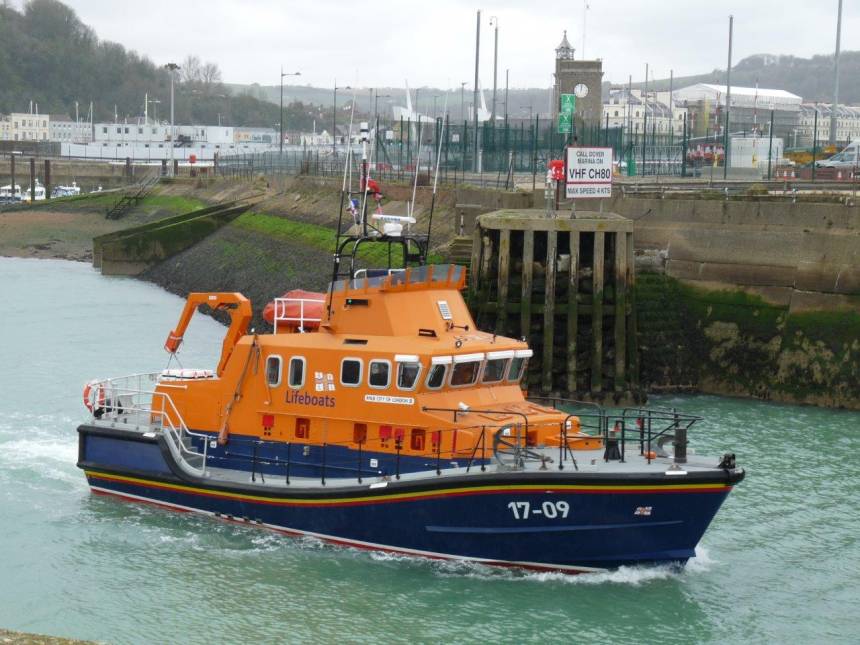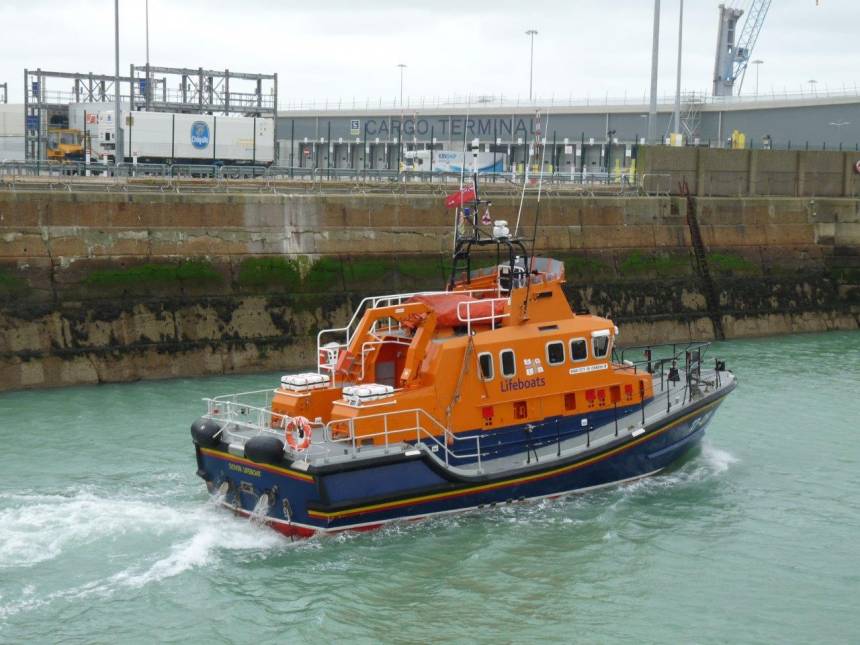 Three hours later she was back alongside & AIS showed that she had been out in the southwest lane, northeast of the Varne lightvessel.
As we get our third weekend storm in a row I see that the German tug WULF 7 [post 5521] has joined the DHB tugs in the Tug Haven.
Refit replacement ?
THV ALERT remains alongside the DAVID CHURCH
Saturday, 29 February 2020 - 09:41
Post 6844
Sea News, Dover
Chemical tanker and familiar friend Duzgit Harmony has been busy in the harbour in recent days, on bunkering duties with P&O...
Some pix to enjoy..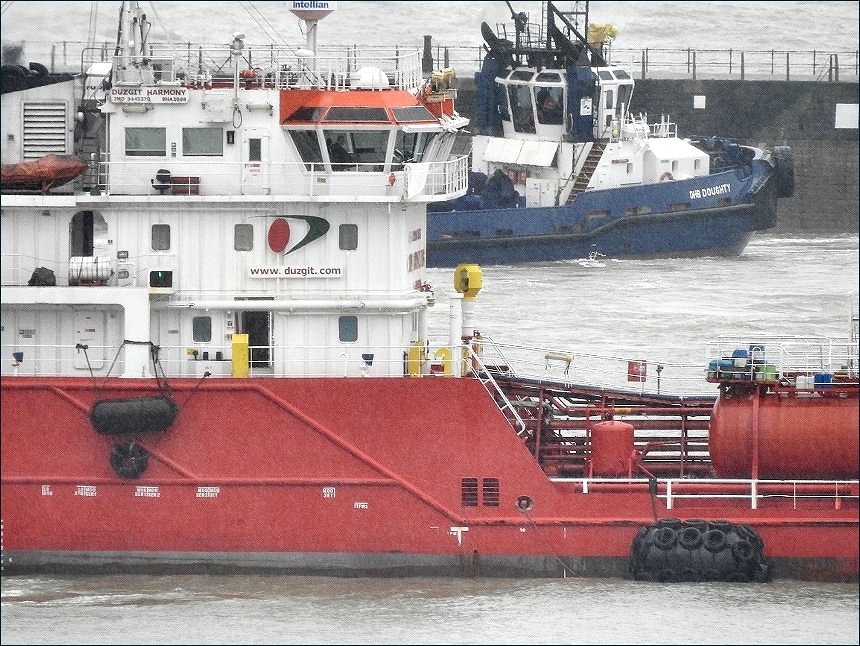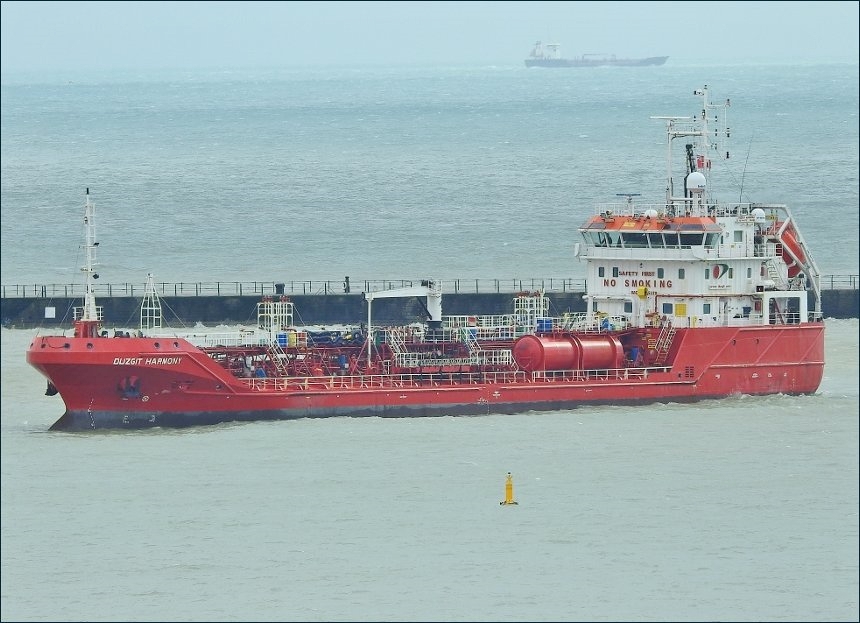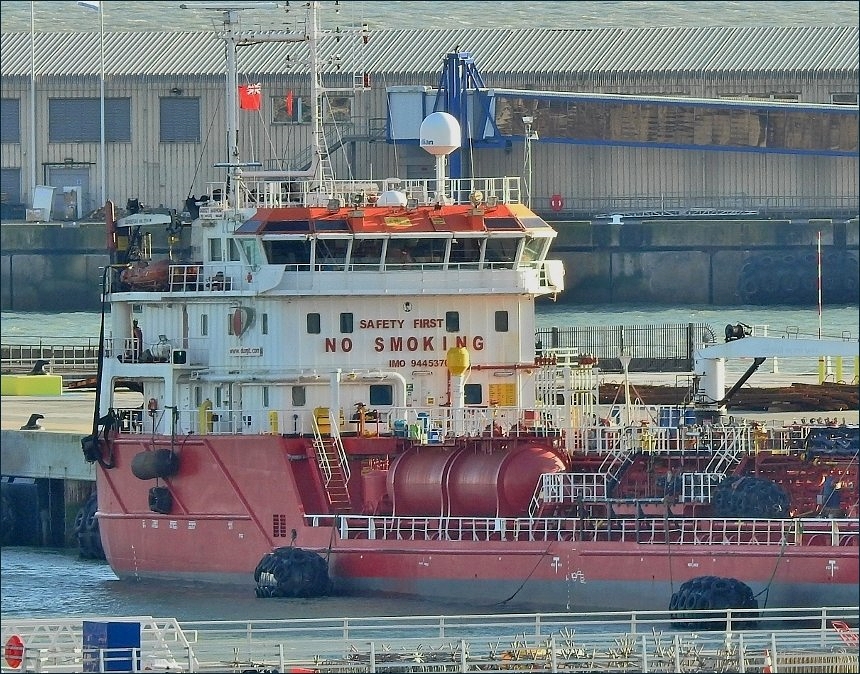 Duzgit Harmony:
Pictures above there taken at various stages on Thursday, the last shot while the vessel was over at 'the grain pier' WD4.
Mike, in his recent post, got a picture of 'new boat on the scene' Dover Grafter and here she is again...picture taken in the wider harbour on Thursday morning around 8am..
Riley Marine's Dover Grafter.
Storm Jorge is a-comin' .. keep yer head down...


PB
Saturday, 29 February 2020 - 06:39
Post 6843
Sea News, Dover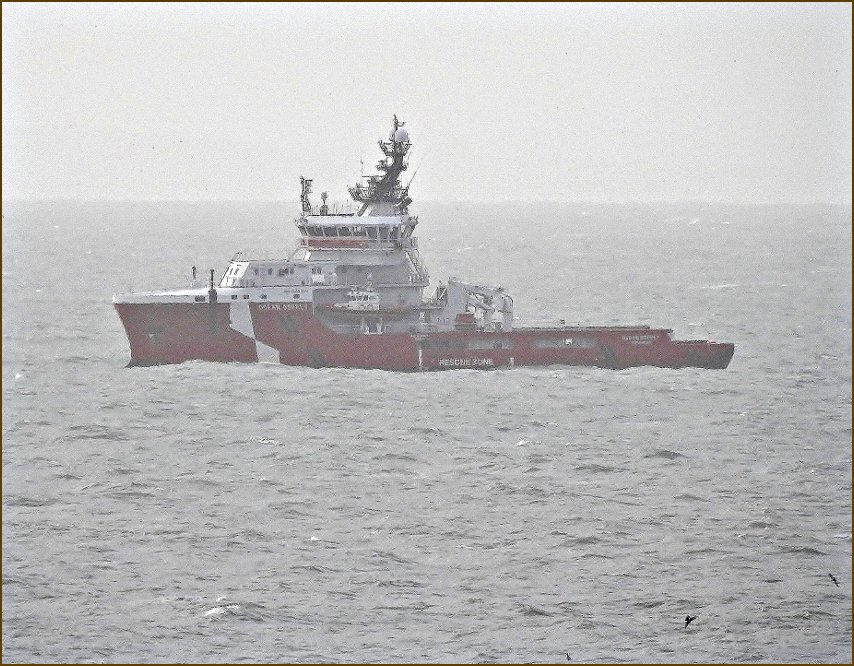 Ocean Osprey:
A few long range pictures today. The shot above shows offshore supply vessel Ocean Osprey a long way out there on a recent grey morning....picture taken through the gloom a few days back.
Here's one from the past below of same vessel...just came across this in the file while uploading and its worth another look. It certainly has more colour. Ocean Osprey and the Varne Lightship.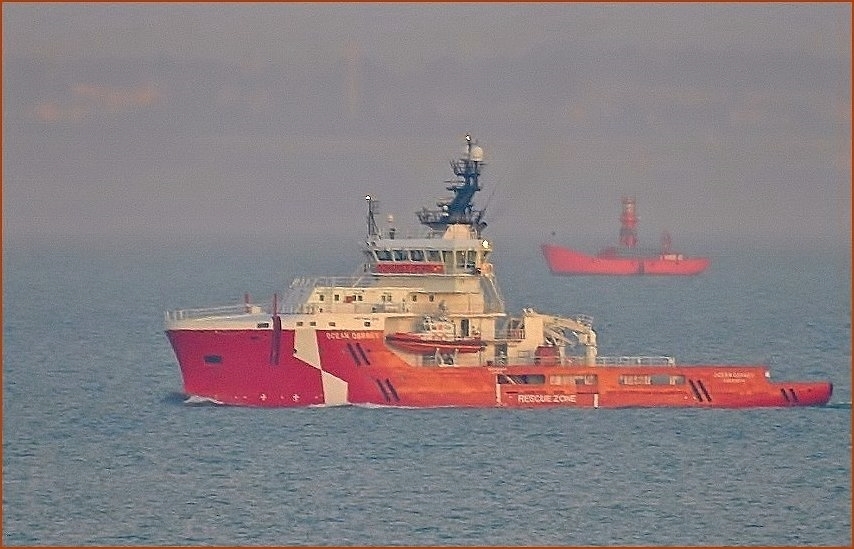 Ocean Osprey
Mike mentioned Galatea a couple of days ago...and here she be...
alas alas the quality is poor on these ones, the second one is very long range once again showing the Varne Lightship. Note the guys on the pier in the foreground of first pic... gives a perspective of sorts..
Earlier THV Galatea appeared to be carrying out work/maintenance at the aforementioned Lightship.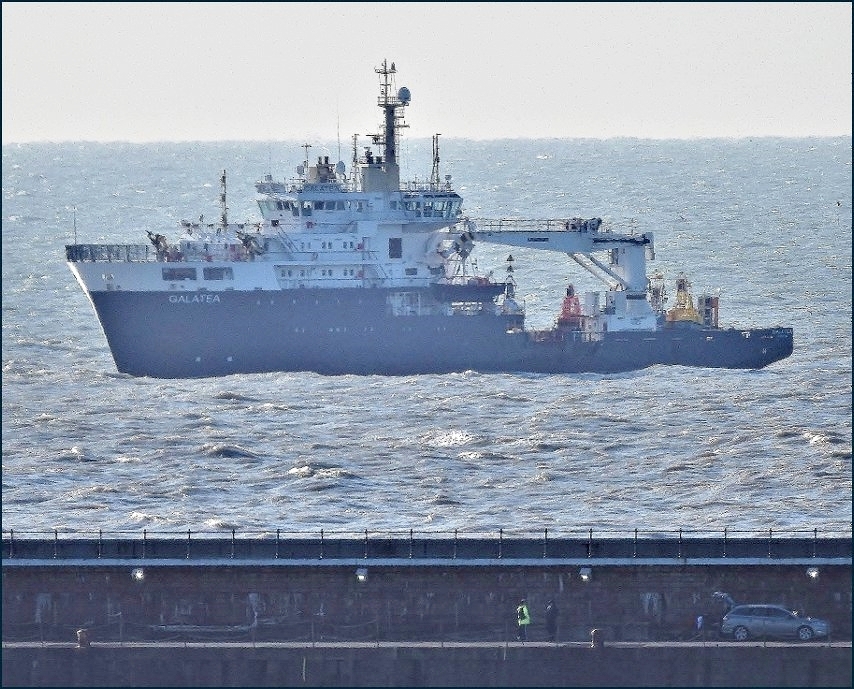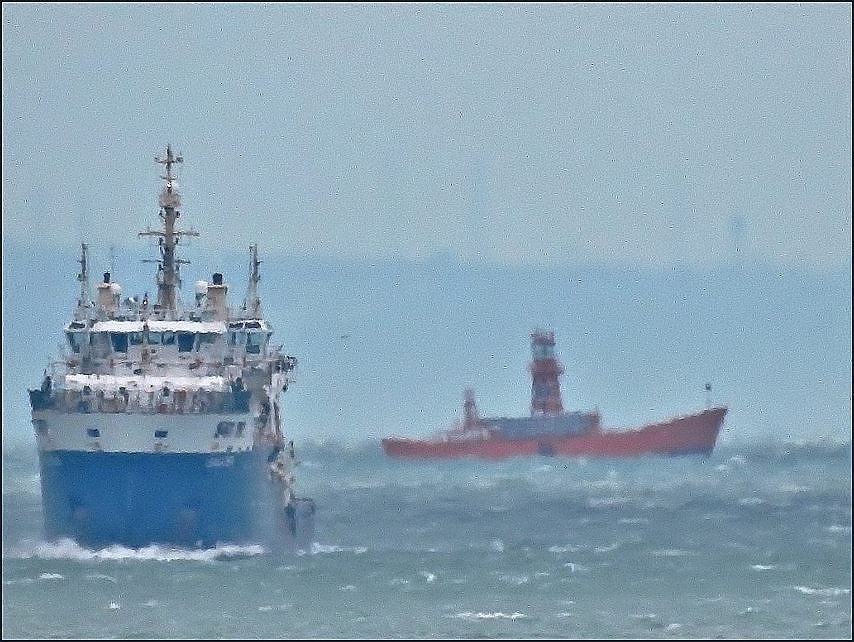 Just to cheer us all up with a bit of colour
here is bunker supply vessel Whitdawn a few days ago approaching one of the P&O Spirits......
Whitdawn at dawn on dazzling day...( or near as dammit to dawn)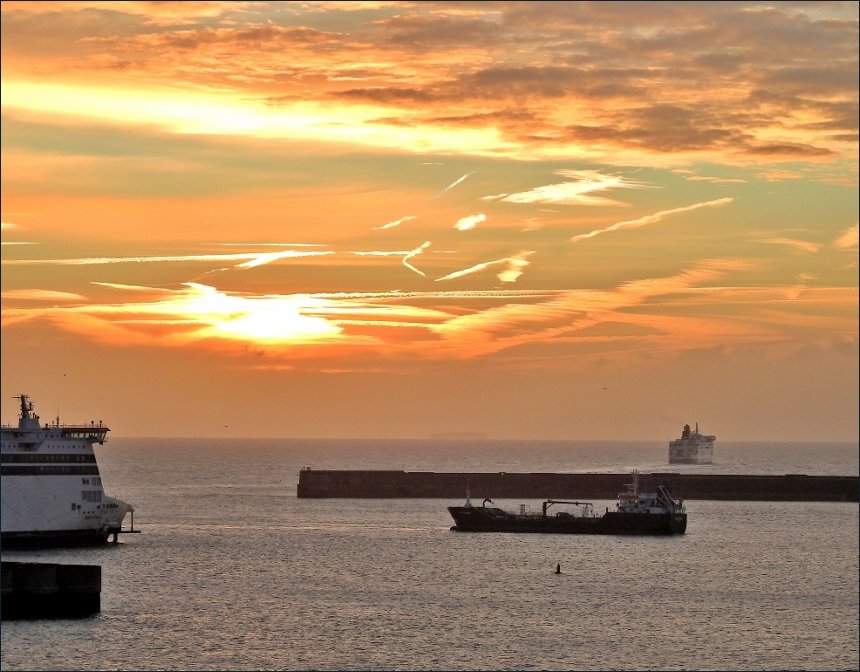 See also Mike's interesting inshore collection below....enjoyable stuff!

PaulB
Friday, 28 February 2020 - 06:12
Post 6842
Mike J., Dover
A few more ALERTs & odds & ends from Wednesday.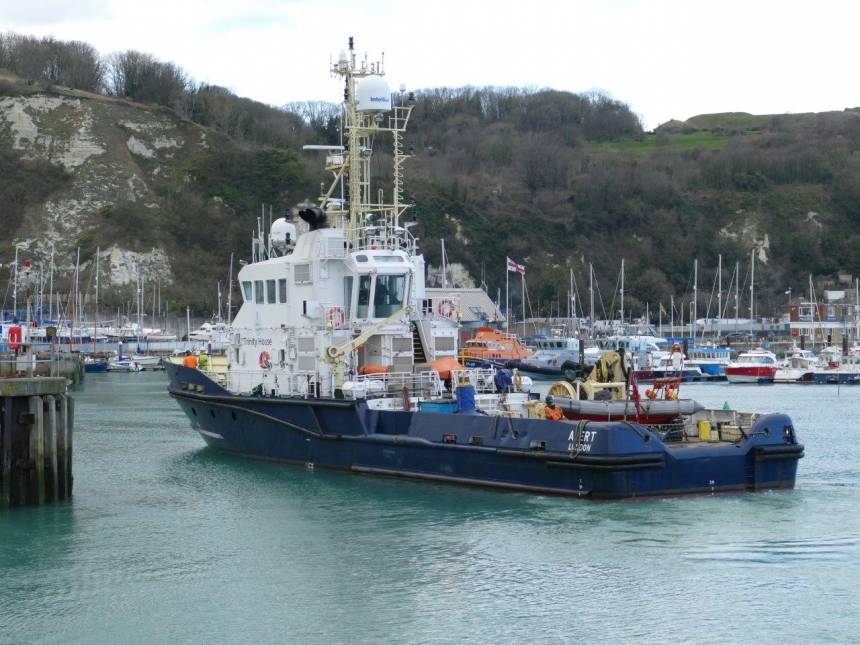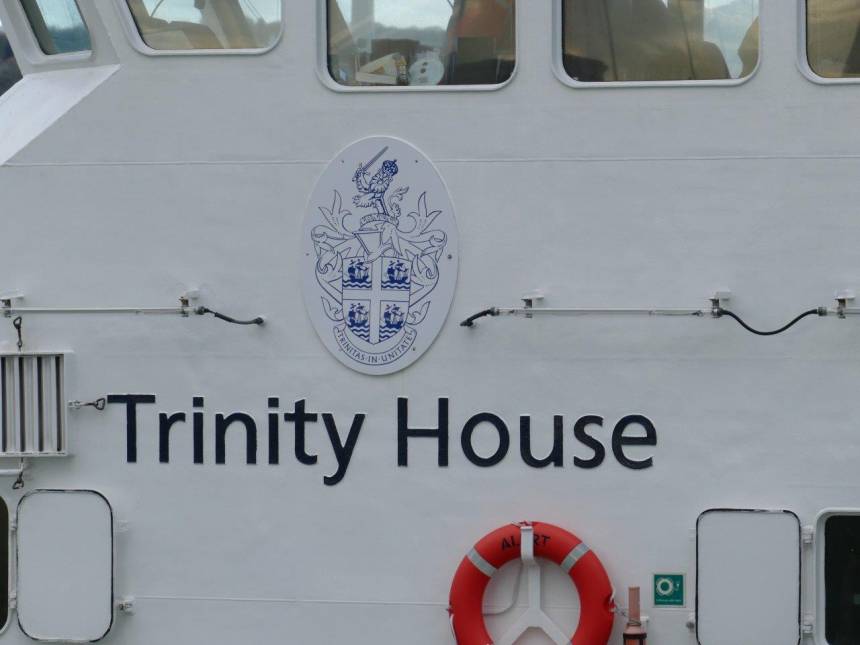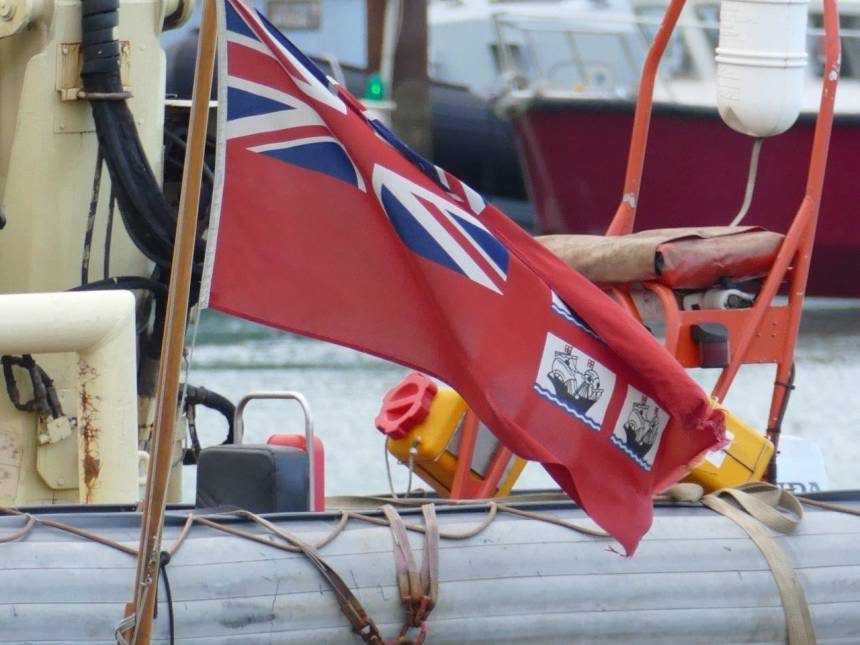 The SIKINOS didn't stay alongside the DUZGIT HARMONY very long & returned to Rotterdam early Thursday morning.
The DUZGIT HARMONY was on WD5..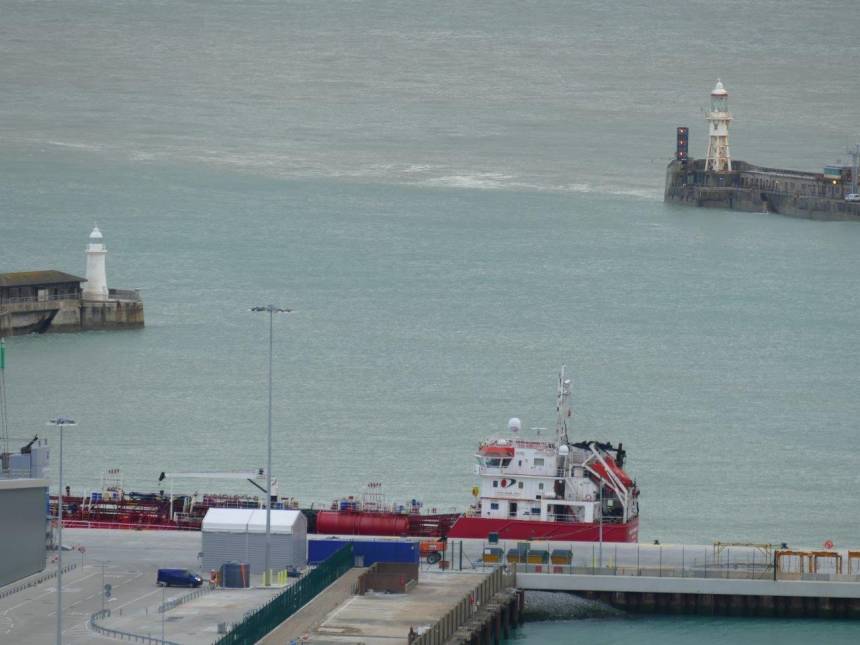 The SIKINOS was replaced by the SCOT MUNCHEN who arrived from Rotterdam early Thuesday evening & is now alongside DUZGIT on WD5.
Before the MUNCHEN arrived the DUZGIT's AIS tracks show her on WD4 before making several visits to Eastern Docks to bunker P&O as well as hanging about in the bay waiting for her next customer.
A distant view of Dover marine contractor Riley Marine's latest workboat DOVER GRAFTER entering the Wick.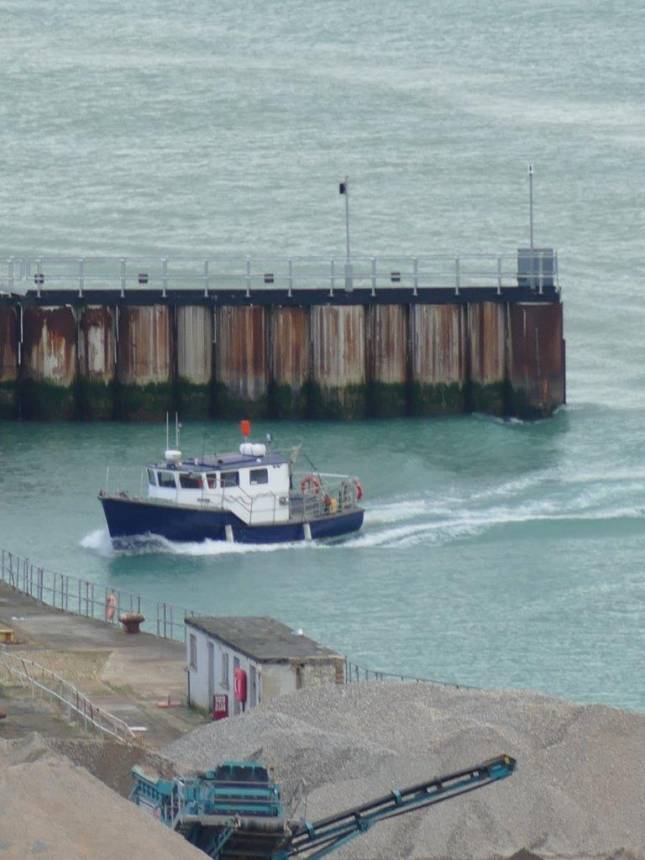 Only in the fleet for a couple of weeks she has yet to receive Riley's blue & yellow paintjob [post 6420]
The SANTA HELENA 1 sailed for the Spanish port of Pasajes late afternoon Thursday.
She's not showing on 'Marine Traffic' but can be seen on 'Vesselfinder'
Friday, 28 February 2020 - 03:06
Post 6841
Sea News, Dover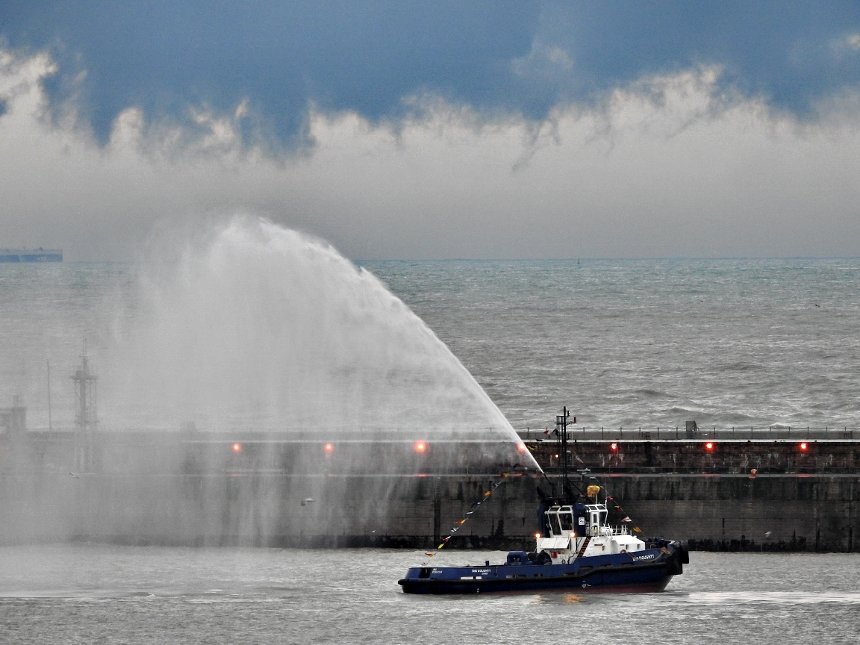 It's Tug Doughty doing a Scarlet Lady gesture spray in the pic above, under a weird sky. She is 30 metres from the bow of the Scarlet Lady there ...time 5PM Sunday... the other tug was at the rear of ship but somewhat lost across the port for camera purposes. As many will know... the tugs will do this as the ship is leaving but Scarlet Lady didn't move until 11pm (6837).
The dynamic sky again below, this time looking eastwards, taken at the same time as top shot ..as one of the Spirits enters port.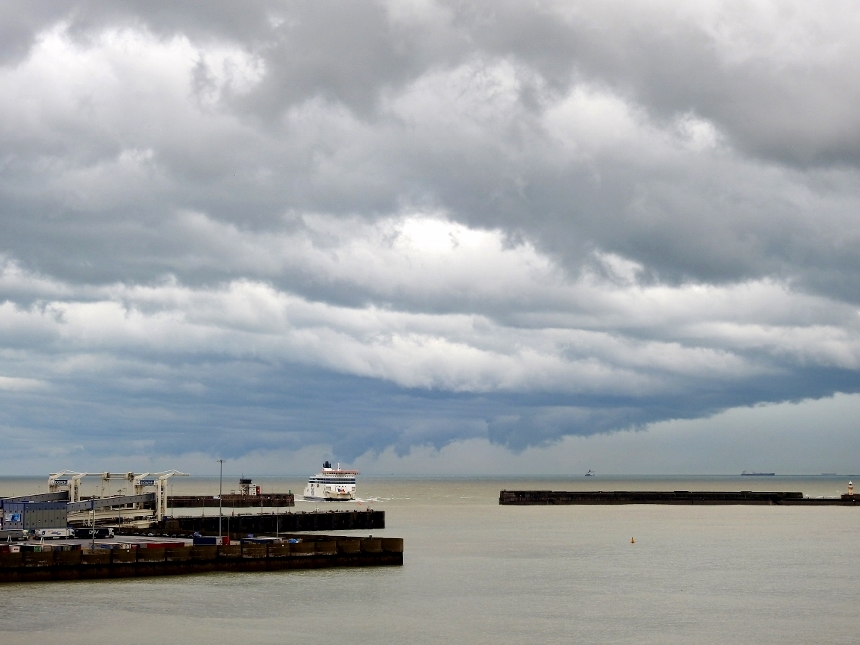 On to a grey oul Monday now and we just catch Atlantic Reefer with pilot alongside as she heads for Vlissingen... more pix further below of her arriving here in Dover in 6839....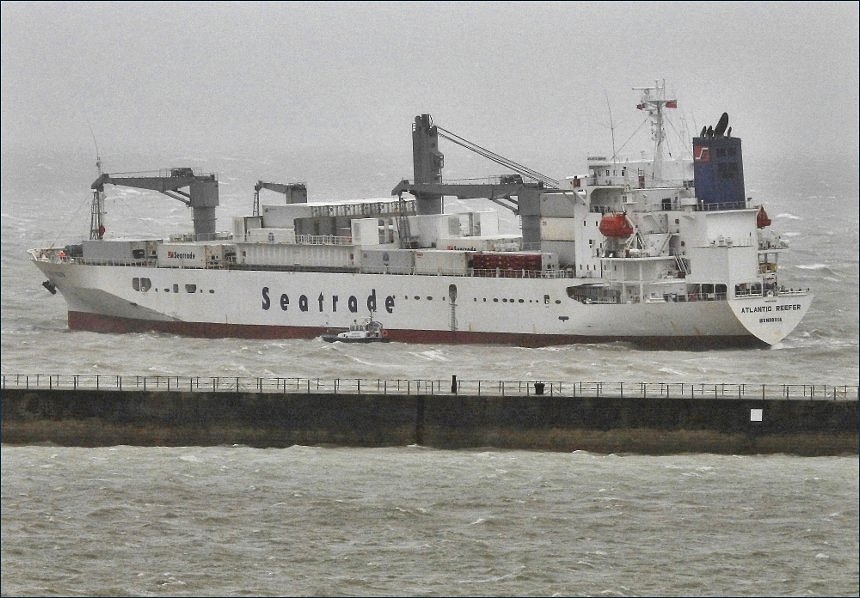 A nice collection and very useful info below from Mike our 'inshore correspondent' .. don't miss those pix.

PB
Thursday, 27 February 2020 - 06:21
Post 6840
Mike J., Dover
Excellent fireworks pix by PB.
The SCARLET LADY has now left Liverpool & is in the Irish Sea, due in New York on 7th.March.
Wednesday visitors -
Cypriot coaster SANTA HELENA 1 came in on Monday evening for shelter & was still alongside CT1.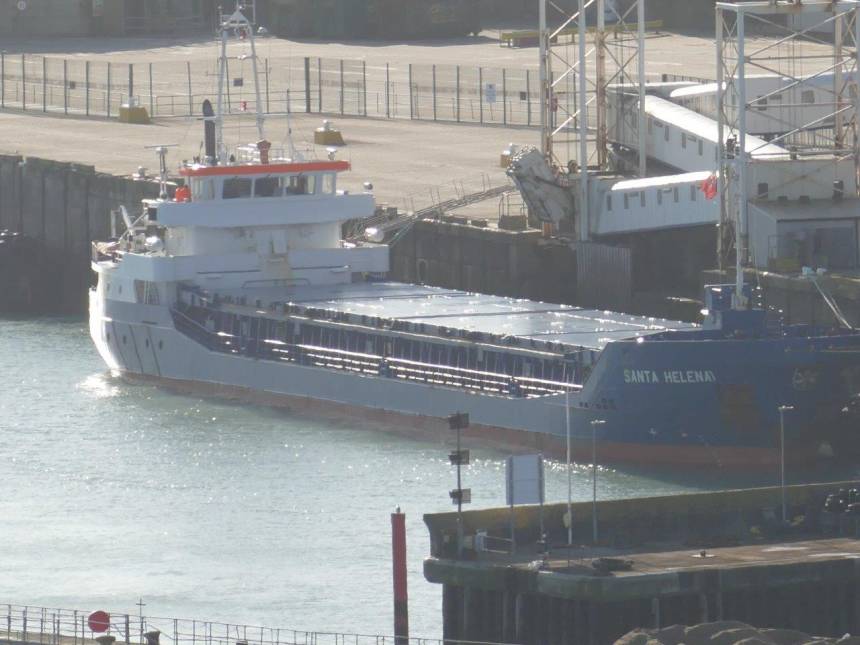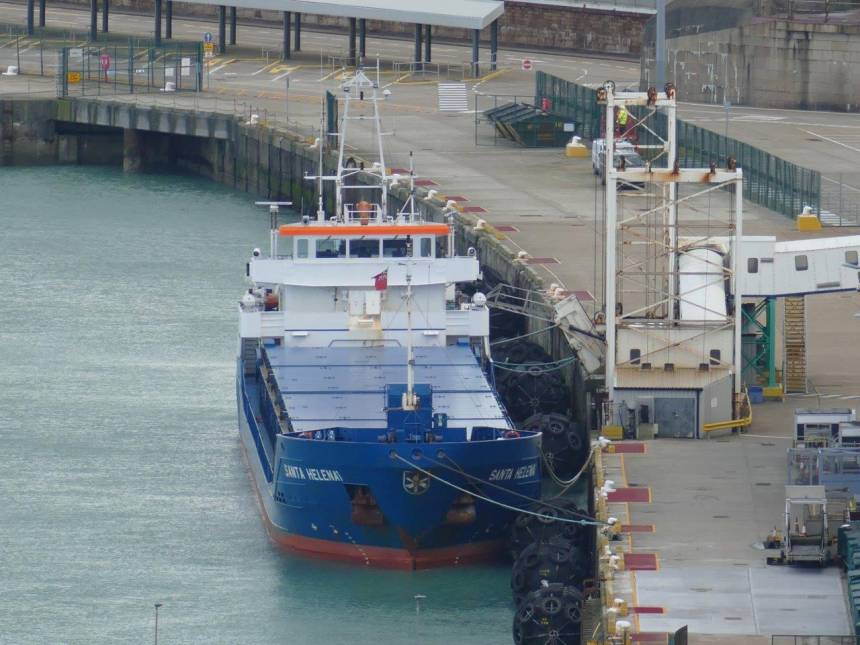 Sleek motor yacht/gin palace [delete as appropriate] ALBORADA came in several days ago from the Solent bound for Antwerp for shipping to the US of A & remained alongside in the Tidal Basin.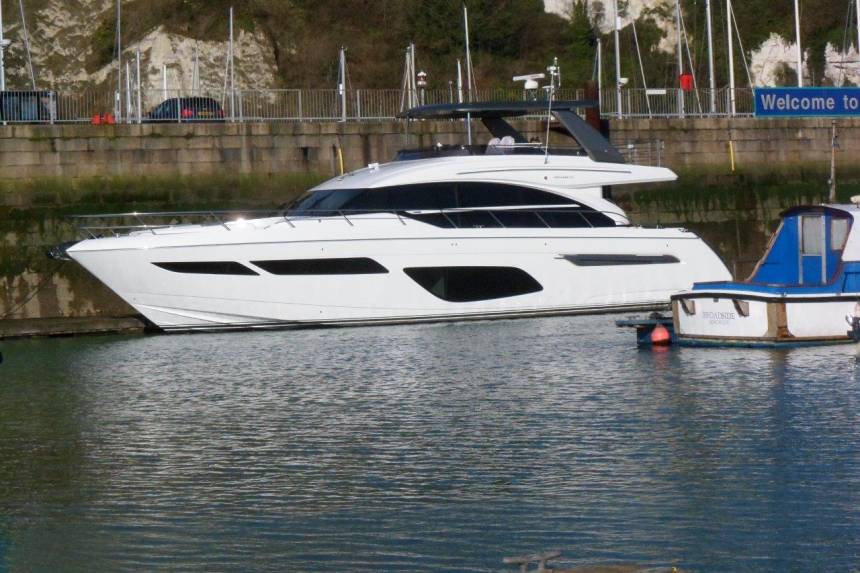 Old friend bunker tanker DUZGIT HARMONY came in from Dieppe early on Wednesday & laid alongside WD5 & was joined during the here & is now berthed alongside the DUZGIT HARMONY, doing a fuel transfer.
It looks as though DH will be working here as bunker tanker [probably for P&O] for a while.
THV ALERT came in late afternoon to moor alongside the DAVID CHURCH, passing the stern of the DUZGIT HARMONY as she entered ghe Wick Channel.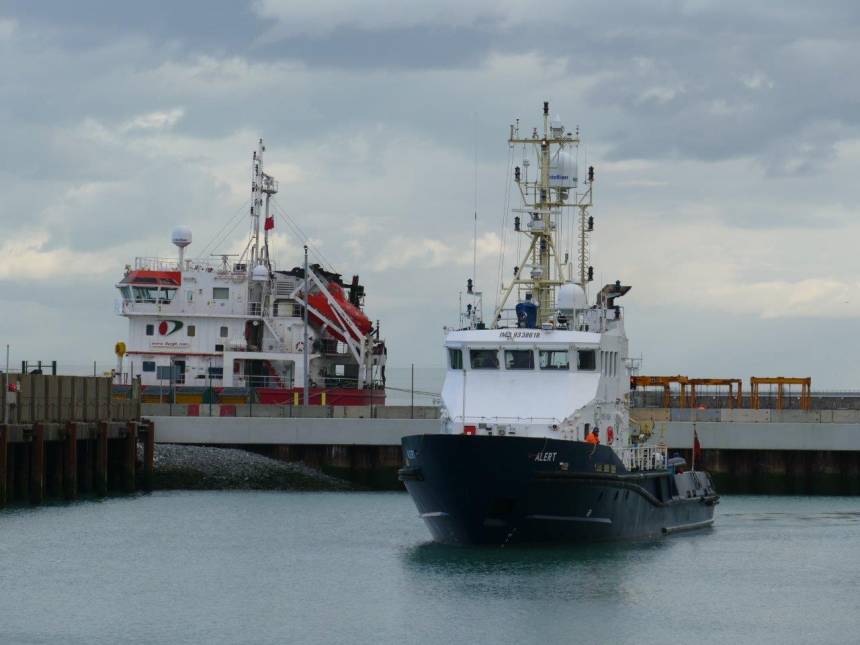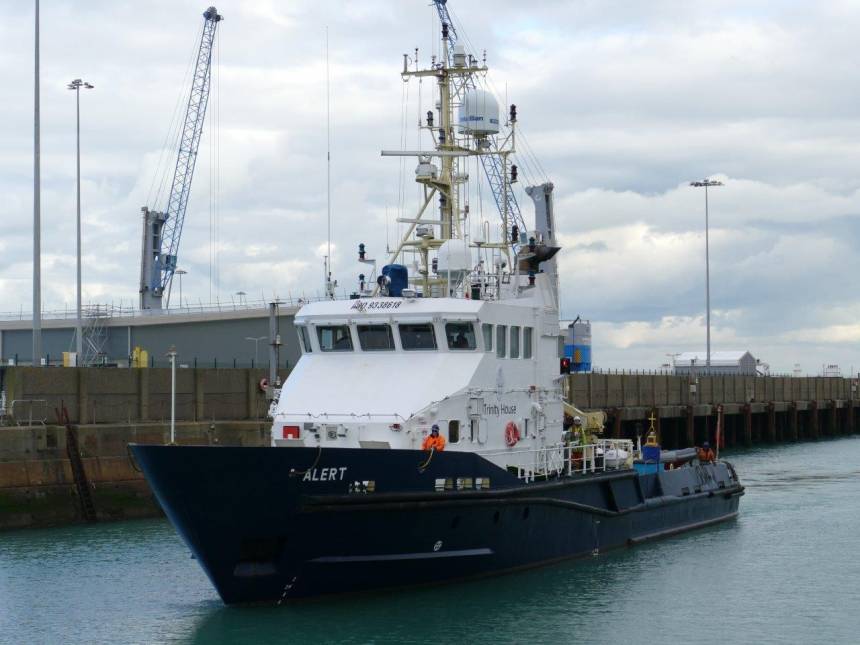 .
THV GALATEA [POST 4481] was off the port during Wednesday morning & is spending the night anchored off Deal
Thursday, 27 February 2020 - 04:01
Post 6839
Sea News, Dover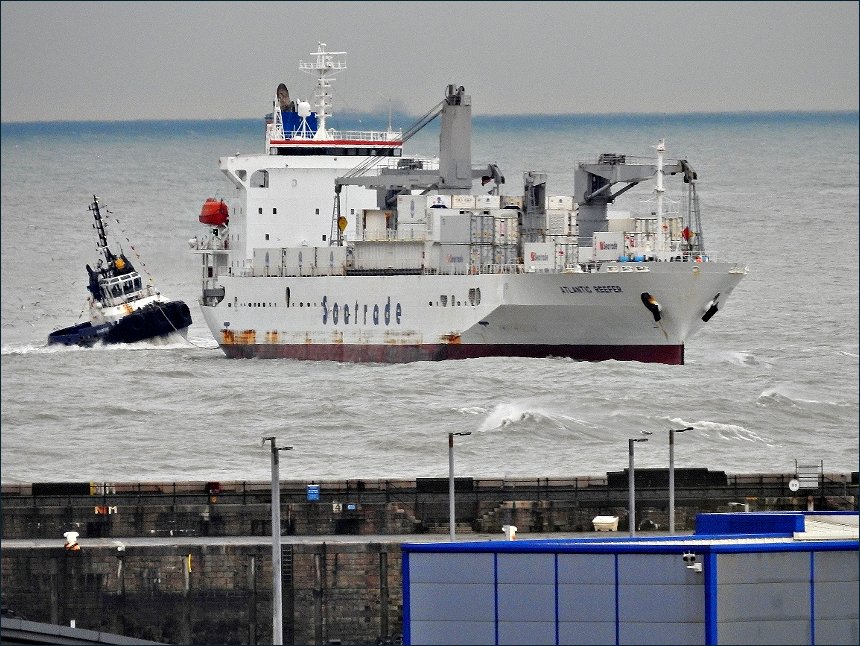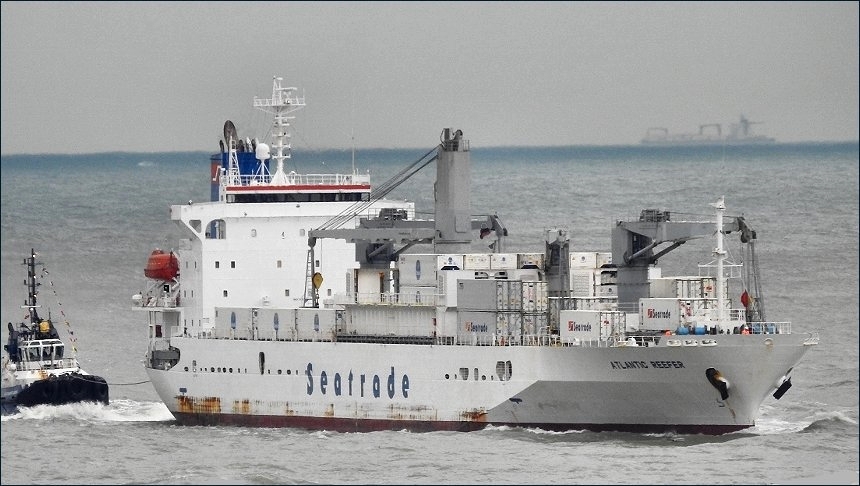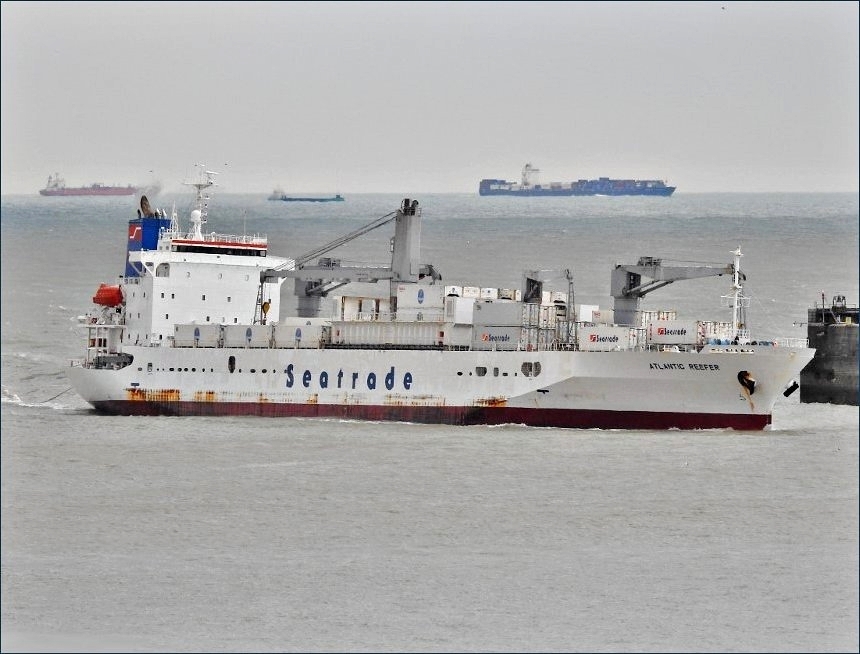 Atlantic Reefer
It is with some reluctance that yours truly leaves the glam pizzazz and excitement behind of the Scarlet Lady and her fireworks, but here we go, returning to the daily grind with renewed vigour as we see above the approaching Atlantic Reefer. Pictures taken on Sunday...she was in Port at the same time as the glam ship but understandably overlooked. But here we are making up for it now...
Great stuff Patrick... glad you enjoyed all that..

PaulB
Wednesday, 26 February 2020 - 07:24
Post 6838
Patrick, Marine Parade
Great set of pictures from Mike J and Paul.

Tuesday, 25 February 2020 - 11:38
Post 6837
Sea News, Dover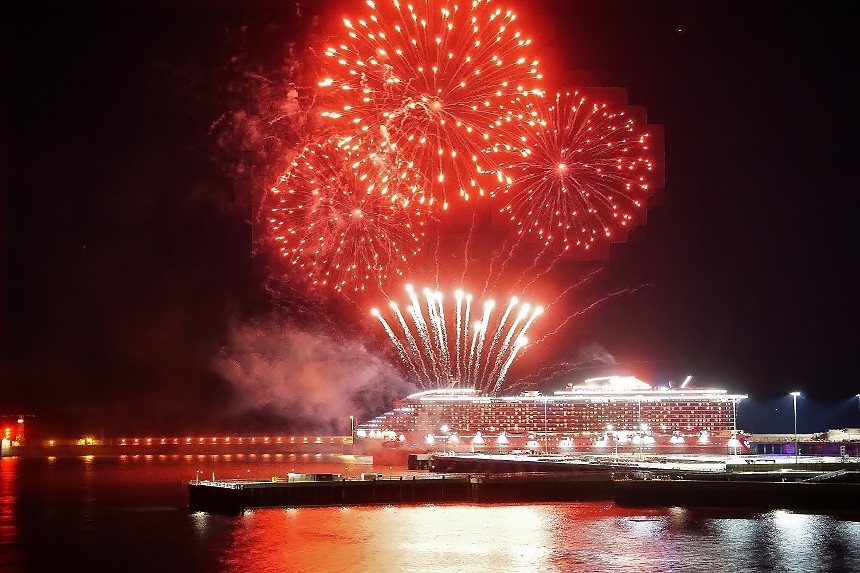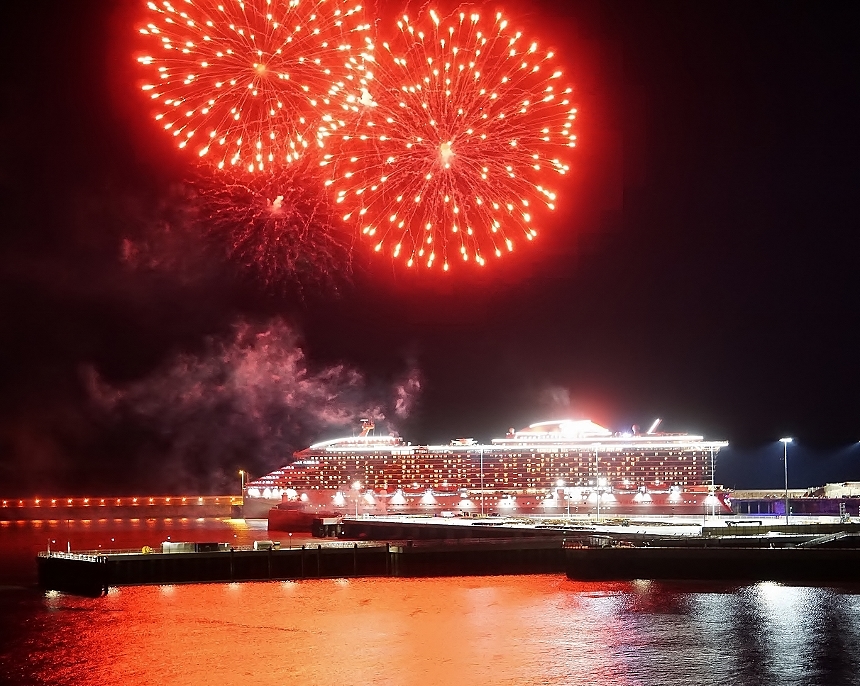 The Scarlet Lady Fireworks:
A couple of pictures above there from the Sunday display. Another great display...although as mentioned previously it went off at 6.15 instead of the scheduled 6.30 slot...catching many people out. You can see the traffic in the picture below...a much bigger crowd on sunday...more a kid friendly hour I guess...lots of kids but many still stuck in cars when the thing went off. Too many cars overloaded the seafront parking. A very popular event for sure...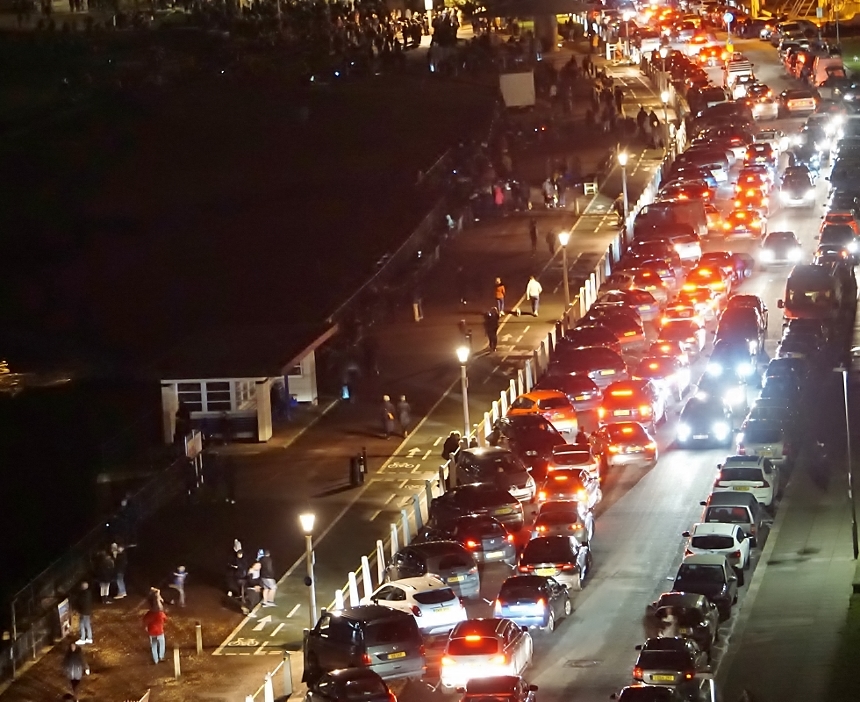 The Scarlet Lady didn't leave the Cruise Terminal until 22.50 approx. and then gently came across the harbour leaving by the eastern exit at 23.00 hours (11pm)...the pictures below...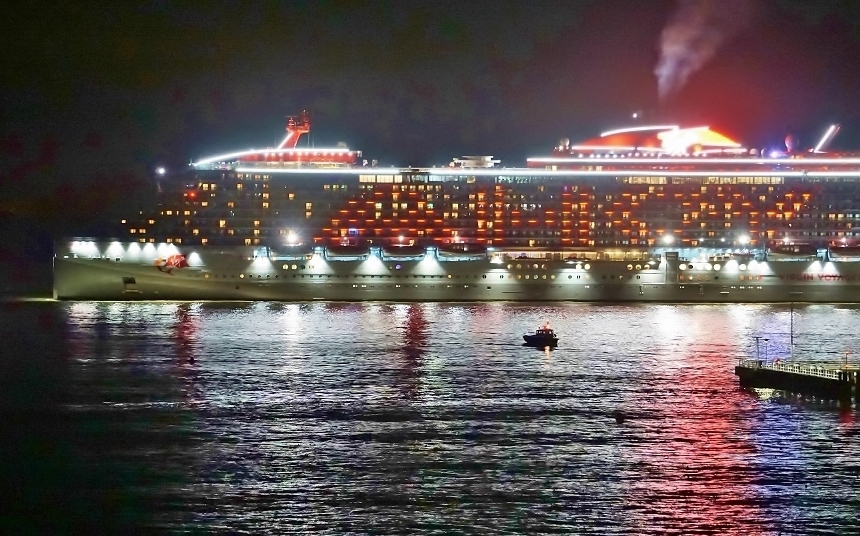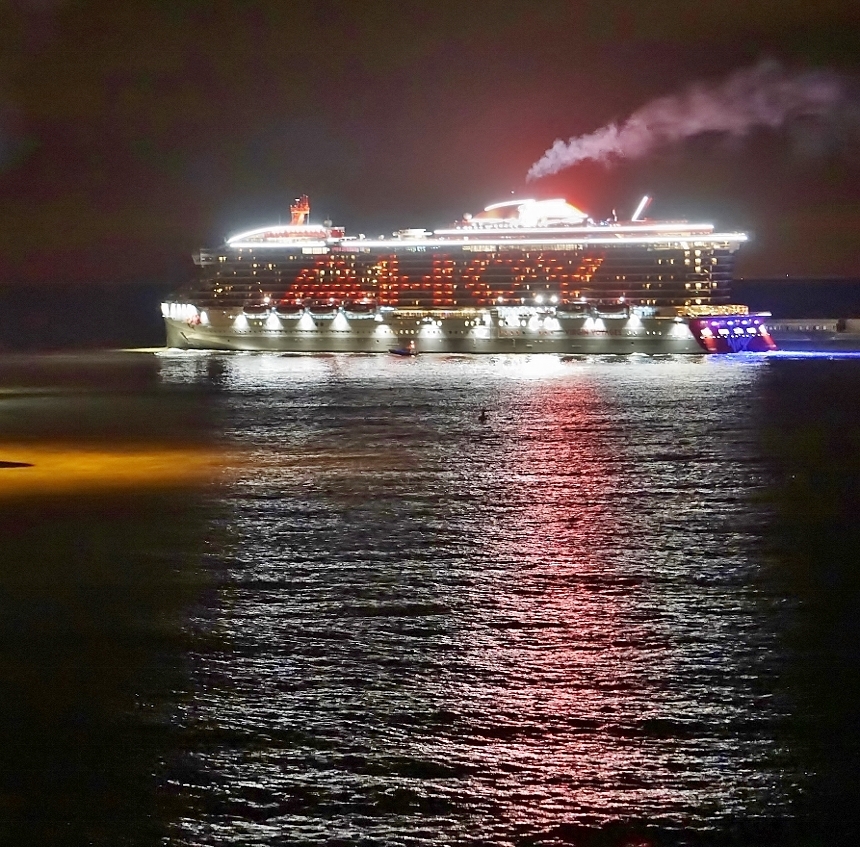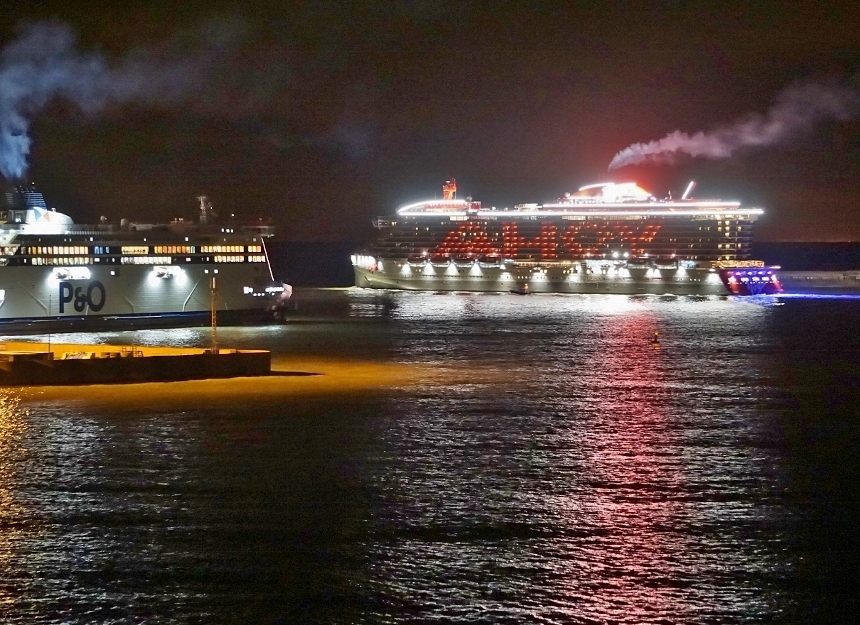 The Scarlet Lady leaving the Port of Dover.
Thanks for that info in the post below Mike

PaulB
PS: Scroll down for more Scarlet Lady pictures below...also more Fireworks (from Friday) 6831

Tuesday, 25 February 2020 - 06:09
Post 6836
Mike J., Dover

Webcam - I've just noticed that the webcam at the Watersports Centre has been upgraded.

Perhaps you know of it already, but if not, well worth a look.

The camera now pans slowly between the Castle & the shore end of the new Marina Pier, zooming at times & giving a better view of the berthed ferries than the original camera as well as vessels using the Eastern Entrance.
Seems a little jerky mid-afternoon Monday, maybe due to the current high winds.

Partly-obstructed views of cruise ships on CT2 & coasters on WD4 should be visible when they are in port,
Wish I'd been aware of it when SCARLET LADY was alongside.

To view the webcam just Google 'SKYLINE WEBCAMS DOVER BEACH'

Or put 'http' in front of -

://www.skylinewebcams.com/en/webcam/united-kingdom/kent/dover/dover-beach-kent.html


Monday, 24 February 2020 - 16:08
Post 6835
Sea News, Dover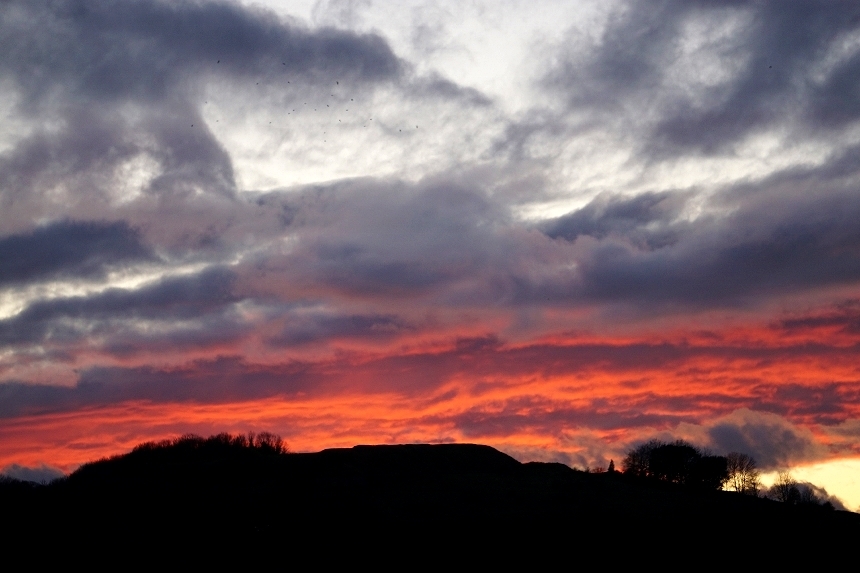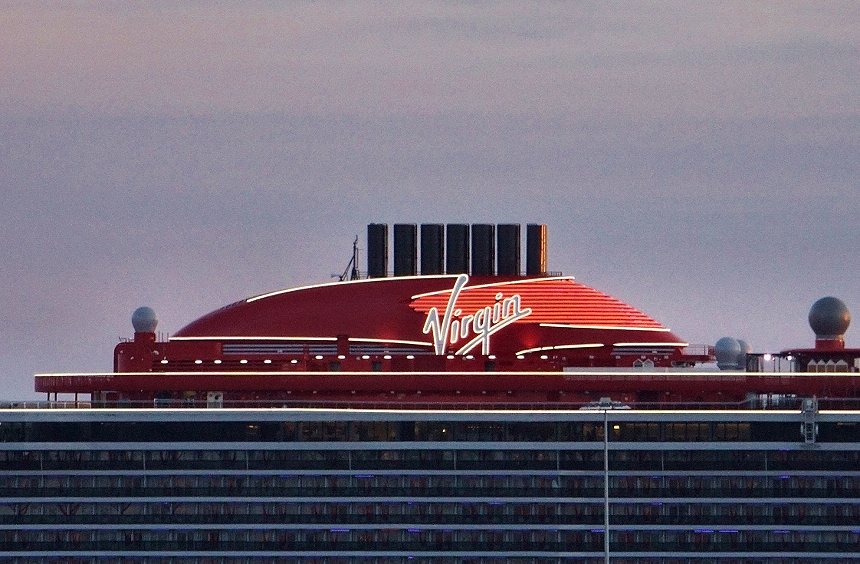 Paint the town Red for the Scarlet Lady: Just a few pictures this morning while we regroup...we will have yet more Firework pictures (6831) and hopefully some shots of the ship departing. The great ship came in the dark and left in the dark...always a pity camera-wise. However we tried some shots as she left last night at 11pm...will examine those to see if useable. The great and massive 110,000 ton ship came across the harbour to glide out through the eastern exit...quite a monster, quite a sight.
The fireworks went off early last night. They were scheduled for 6.30pm but for some reason not known to man nor beast they exploded into life at 6.15...catching hundreds out who were still arriving to an already packed seafront. One of the biggest seafront crowd attractions in recent times and yours truly has seen a few...anyway more on that later...
Top shot ..the sky turns red to greet the Scarlet Lady...you can see the right side of the funnel catching the red sky...
and last night the Castle turned red...well I never... all for the Scarlet Lady.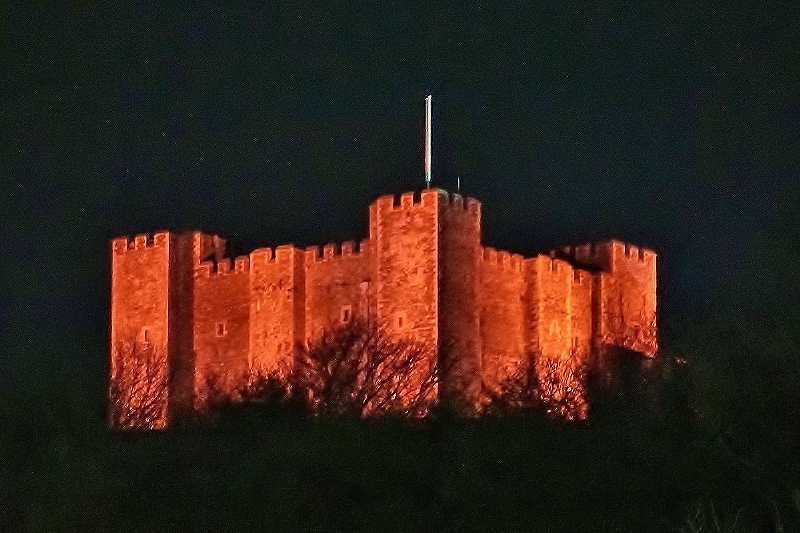 Dover Castle turns red...
Thanks to Vic below for the in-depth comments

Thanks to Del too as ever

PaulB
Monday, 24 February 2020 - 07:14
Post 6834
matcham, Dover
Also if one of them goes over onto its side, that will make half of its life boats no good,and if you notice they are all on the same deck that is not good planing, because how do the public get to them if they are ten decks above them .what is the first thing you must not use if the ship went over are the lifts. you need to have them on all decks the public must have more drill before the ships move off the key side .But just may I should not put this on the sea news page, but the public need to be a where of going on big ships. But back now to the port of Dover and the very good photos on this page of the ships that use the port well done.

Monday, 24 February 2020 - 06:13
Post 6833
Del Styan, Norwich
Thanks for the pics of the latest Branson venture. But I also agree with Vic;s comments. These super high ships do look - to a complete amateur - as highly unstable. But hell - what do I know!

Sunday, 23 February 2020 - 23:15
Post 6832
matcham, Dover
yes we are seeing some very big and good looking ships using our port, but as a welder spend alot of his working life welding on ships and Riveting I am getting worred that the big cruise ships are getting to high and top heavy it will only need a very big wave hit one on the side and we could see it go over,most of the real big ships now are welded and not rivet ,and all welds it does not matter now good your weld is,there is a breaking point on all welds, now it will only need to be a small break one you cannot even see by your eye but at some point in time the whole weld will break ,sorry to talk like this but again I think the time has come to stop building so much above the water line ,rembering they do have very good life boats around of the outside of them .but alot of the public that go s on a cruise are older my age in their 70s or more are not so fit and they will not move at the rate you will need to ,get on deck etc. So are the builders thinking about this or how many they get on to make more money they carrie now well over 2000 members of the public at all ages ,just think if did go over on to its side ,and once that happens it will not take long to turn right over.Again sorry to talk like this but as person who many years on ship repairs I had to say it.Thank you.

Sunday, 23 February 2020 - 20:22
Post 6831
Sea News, Dover
And now....The Fireworks!
Explosive display for the Scarlet Lady. Be bedazzled... whoosh! bang! wallop!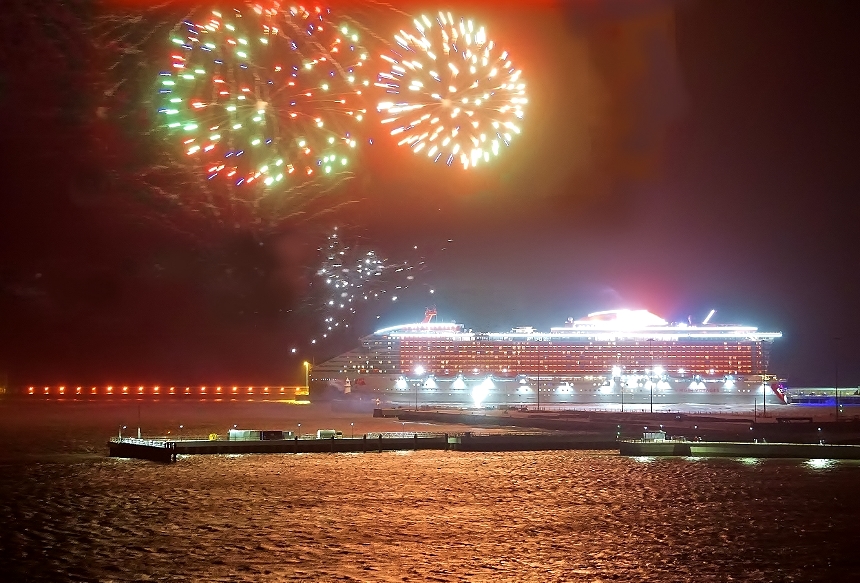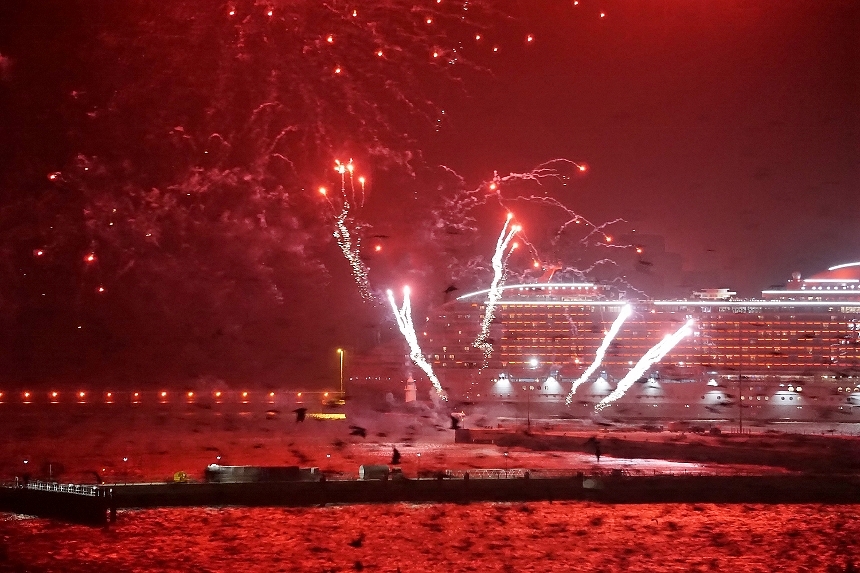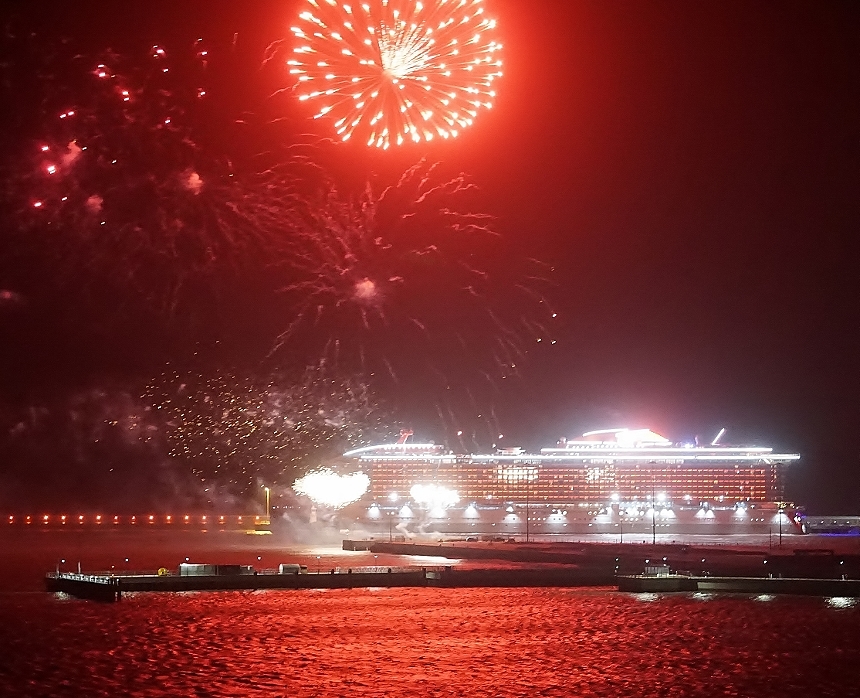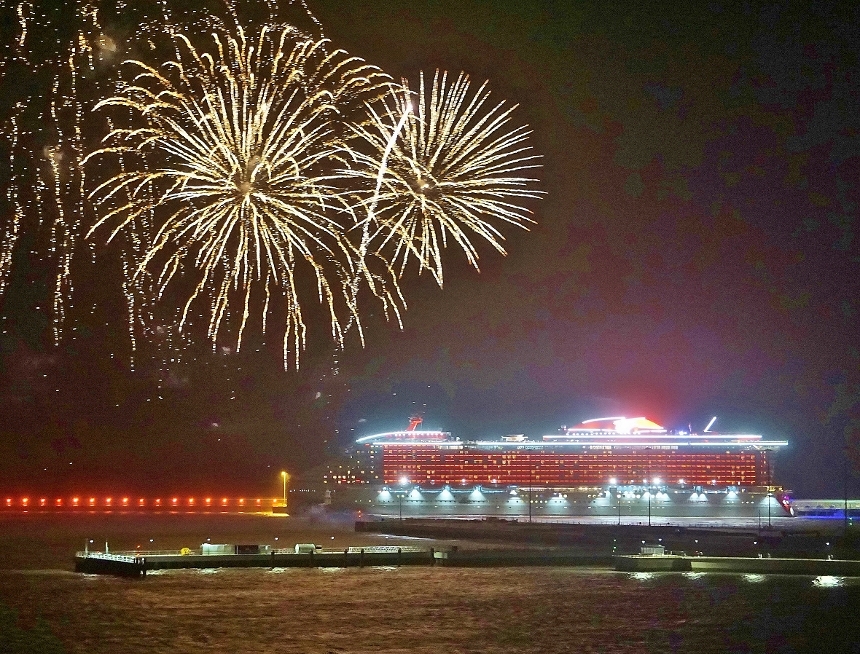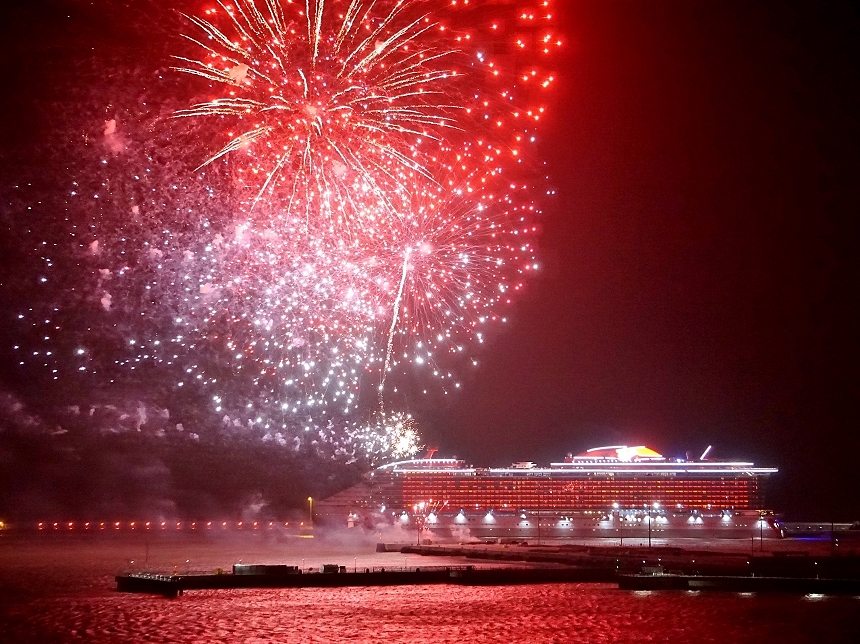 A cracking display for sure. very colourful, very explosive...Mike mentioned the seagulls being shocked from their slumber...in pic 2 you can just make them out...airborne frenzy. The display itself was fantastic. A great crowd came down to the seafront to enjoy it all as you can see in the pic below. Normally it would be quite dark and quiet at 10pm Friday on the seafront...but not this time as you can see below...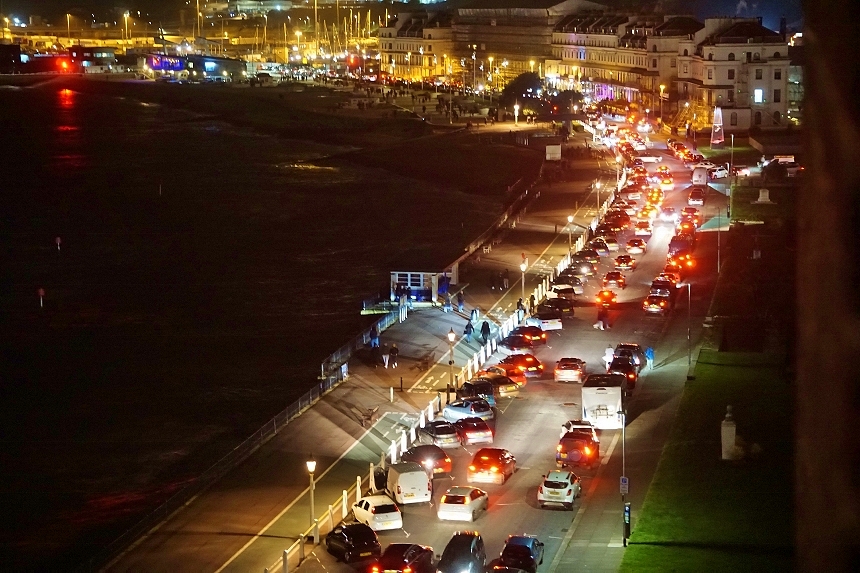 PaulB

More fireworks scheduled for tonight at 6.30pm
Sunday, 23 February 2020 - 07:18
Post 6830
Sea News, Dover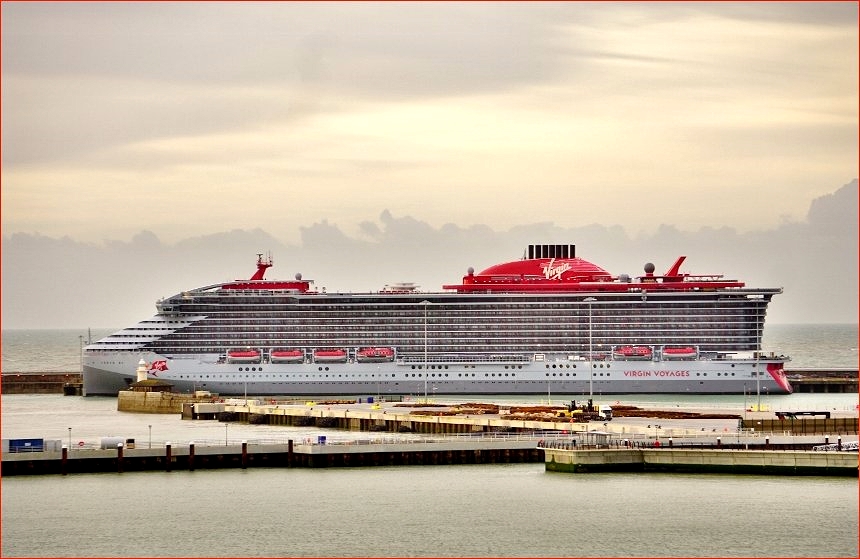 Scarlet Lady: Postcard from the Edge
The Scarlet Lady enjoyed a very spectacular firework display last night...hopefully we will have more on that soon, once the pictures are examined, a great crowd turned up on a blustery night. But there she is above yesterday morning when there was a brief sliver of sunlight shining through...
A striking ship breaking the mould, some traditionalists are cautious, unsure,...but its innovative and daring and will catch the eye of the cruise passenger of the future.
But back to basics now, back to the fundamentals of daily life,
and we see Whitdawn arriving in the port a couple of days ago to supply bunkering services to the Spirit of Britain..
In the first two pictures yours truly could have swore the ship was red...but once out of the blinding sunlight it turned blue ... as you can see in shot 3.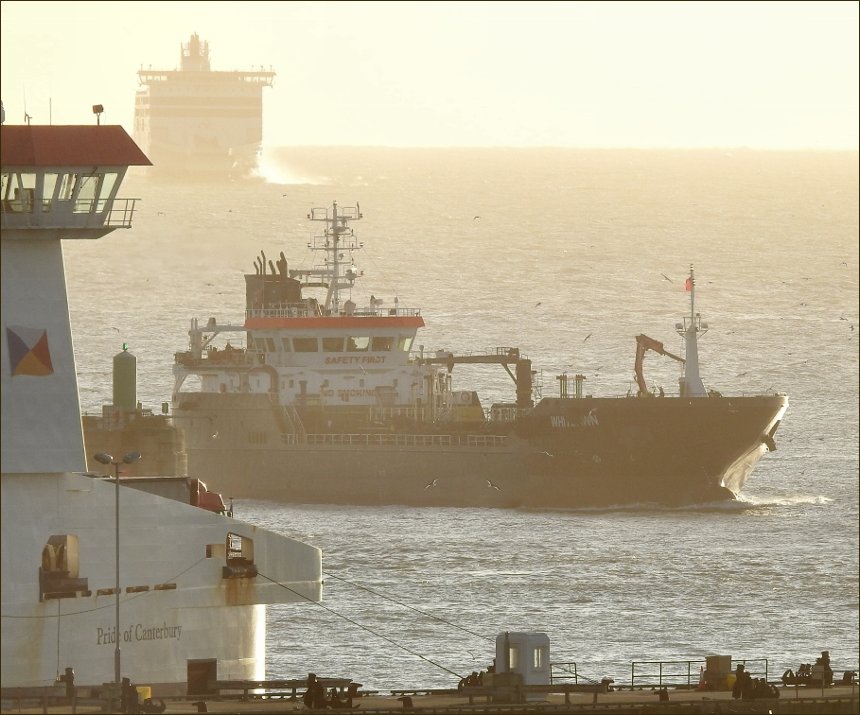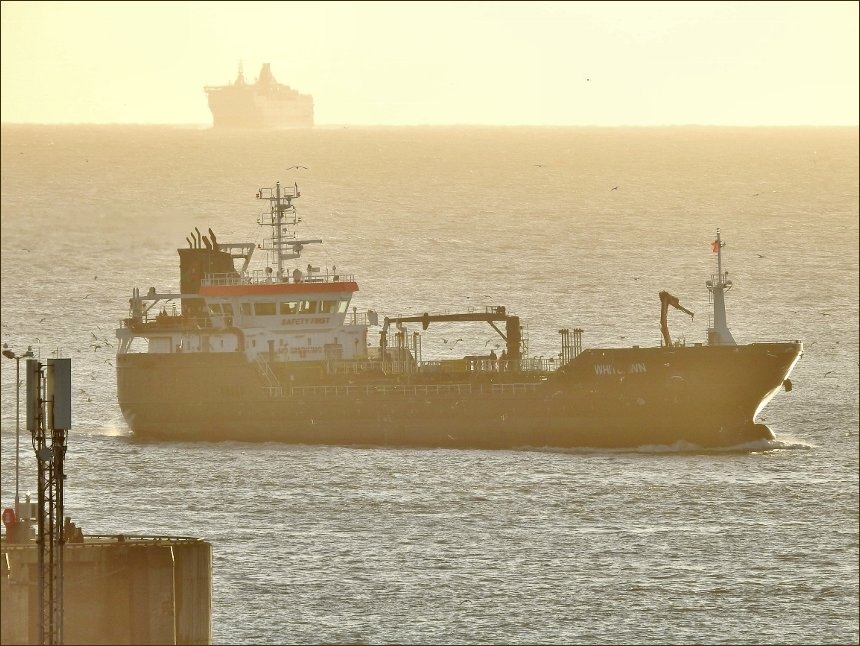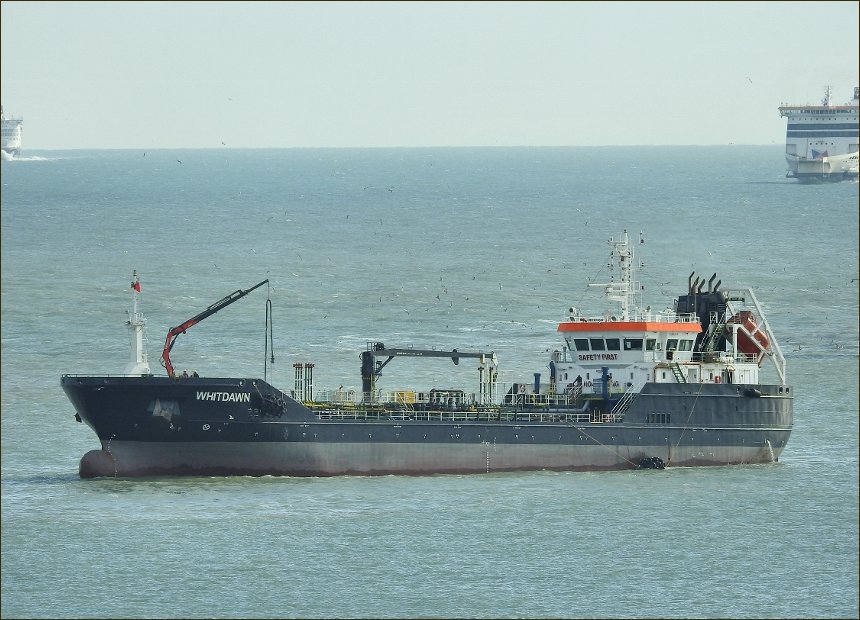 Another couple here of the unfinished coverage the other day.
First up another shot of EEMS Cobalt..see the earlier post too 6823,
and then another one of the lingering JPO Scorpius.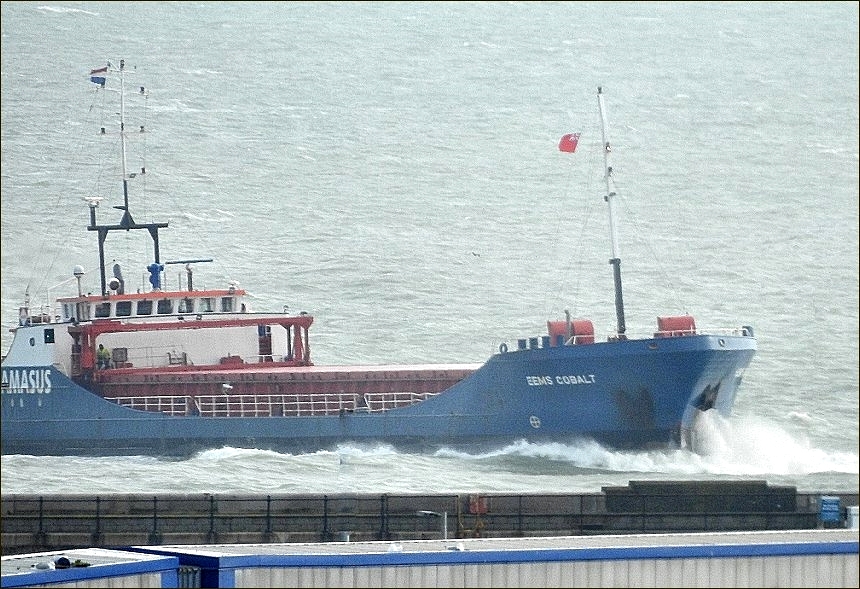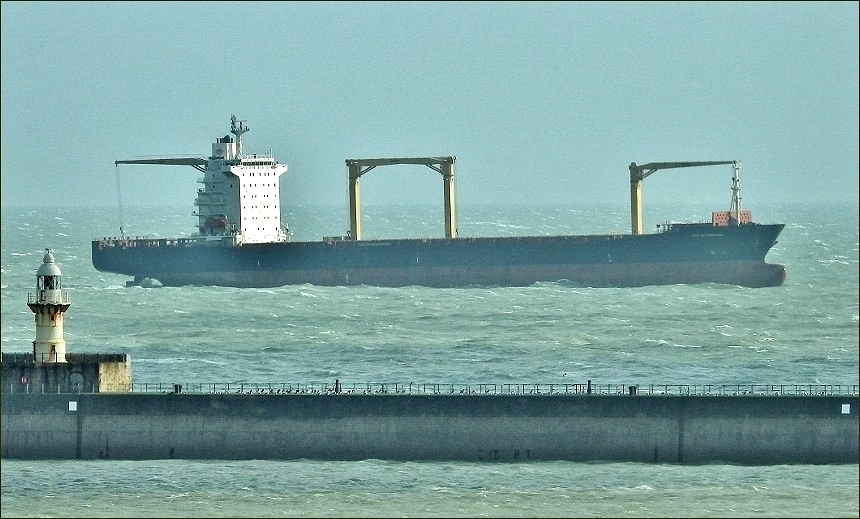 A further fascinating collection re his Scarlet Lady adventure from Mike below...so DONT MISS THOSE

Also see Andrew Wood's Scarlet Lady Video...the link is at top of page. Nice work Andrew

Many thanks also to Patrick for capturing the 'AHOY' image...great stuff!

Many thanks Jan T...glad you enjoyed the fascinating pictures... great work by the team. Hope you enjoyed the fireworks from up there on the hill.

More fireworks sunday at 6.30PM...they are clearly very popular.
PaulB
Saturday, 22 February 2020 - 07:05
Post 6829
Mike J., Dover
A few more from Thursday's DOVER EXPLORER trip.
The unusual, almost vertical bow - quite a change from the raked bow, sometimes 'over the top' on some modern cruise ships.
However quite understandable as Virgin set out to design a 'unique' looking ship & certainly succeeded.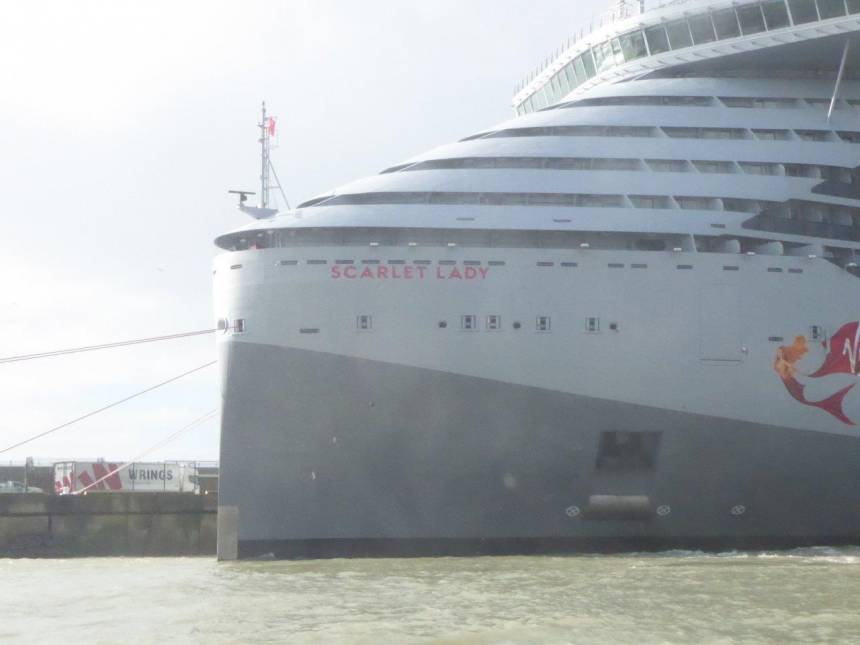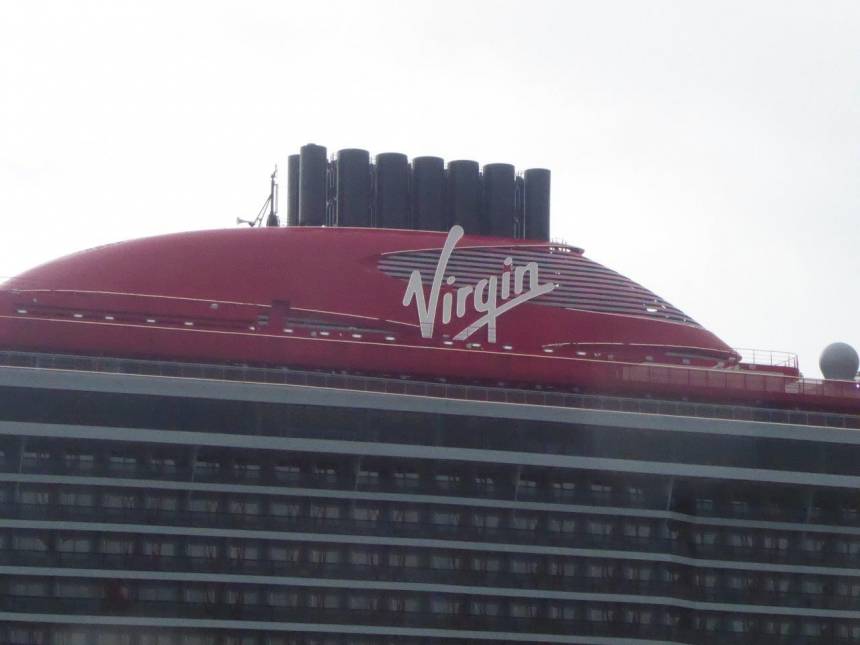 Tender, for ferrying passengers to & fro in anchorage ports & conventional lifeboat.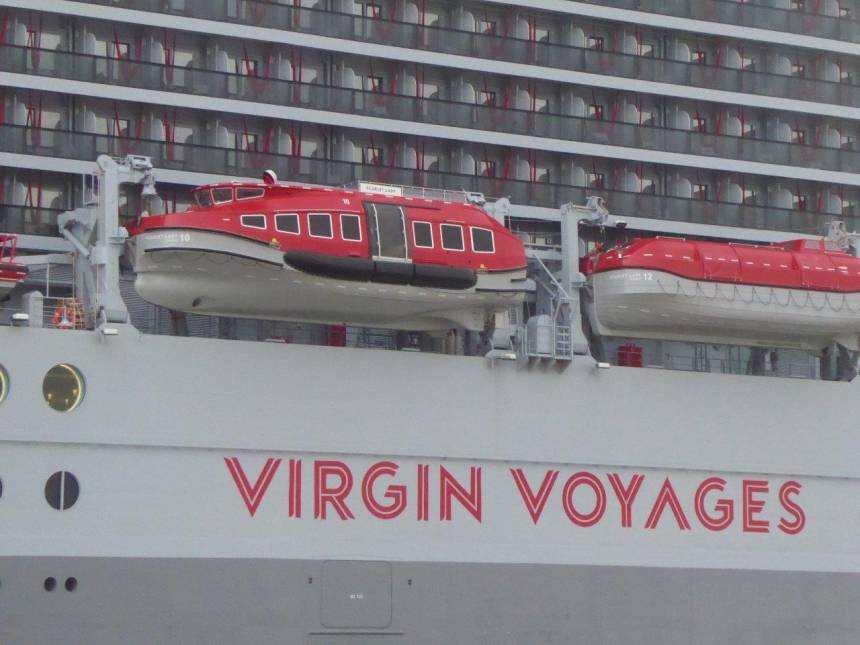 PACIFIC REEFER on WD5.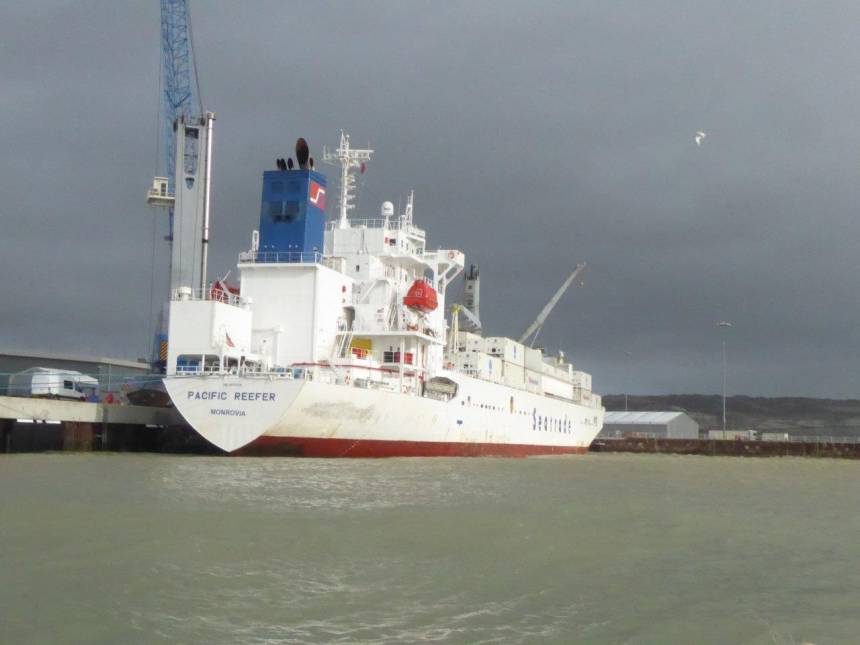 DHB media in attendance.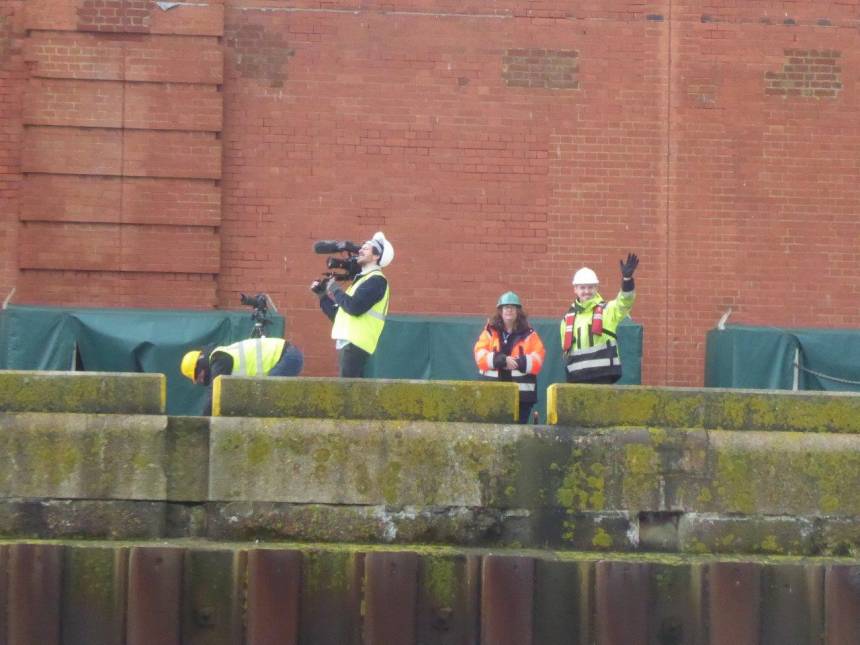 Returning down the Wick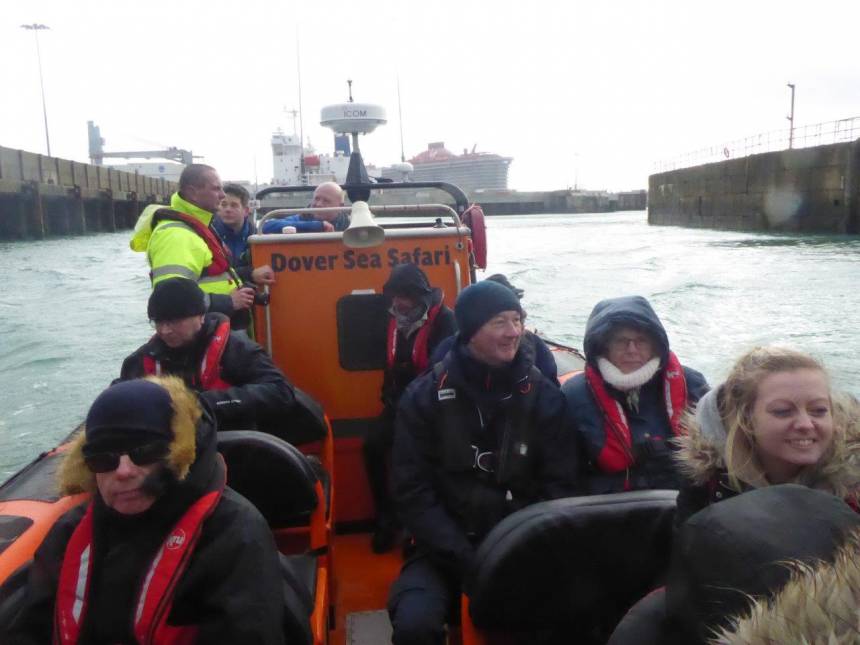 Spectacular fireworks, from the end of the much-missed Prince of Wales Pier, on Friday night.
Unsurprisingly 'Virgin Red' featured strongly in the fireworks colours, with powerful red lights on the pier during the display.
I was up on Langdon Cliffs & as the fireworks started I've never seen so many gulls, like a densely packed shoal of fish, lit by the dock lights, heading east with much panic-stricken squawking.
If you missed the display there will be a second one at 1830 Sunday evening shortly before the SCARLET LADY sails for Liverpool.
Saturday, 22 February 2020 - 03:13