Thursday, 23 January 2020
Sea Pictures from Dover....

WWW.DOVERFORUM.COM/SEA-NEWS
Featuring all the ships that come and go and work at the Port of Dover ..
... with further coverage of the surrounding ports.
Sea News Dover
Use our SEARCH ENGINE below to find all sorts on the SEA NEWS pages....type in the topic and away you go, or if you have the post number, just type it in the box, more than
- 6750 -
nautical posts now. Posts are welcome. just click 'Add Your Comment' below. Max of 5 pictures preferred although we can stretch that for special stories.. Sea News Editor Paul Boland - send info or pix to dover7@msn.com. Always welcome.
Book with P&O - Free Fuel see 6760
NEW UPDATE ..just in:
To show your pictures at their best..it could be worthwhile resizing before posting to
860
pixels wide. Our new standard size.
All pictures on these pages are the copyright of the owners and must not be reproduced without permission.
Post 6626
Sea News, Dover
STATEMENT FROM DFDS......

DFDS AGREEMENT ON NEW AMSTERDAM-NEWCASTLE FERRIES CANCELLED
_____________________________________________________________________
On 6 September 2019, DFDS entered into an agreement with the Italian ferry company Moby to acquire two ferries, Moby Wonder and Moby Aki, for deployment on the Amsterdam-Newcastle route.
Moby would in turn acquire the two passenger ferries currently operating on Amsterdam-Newcastle, King Seaways and Princess Seaways.
The agreement was expected to be completed in the second half of October 2019 but Moby has unfortunately not been able to meet the delivery terms of the agreement. The agreement has therefore been cancelled.
"We will continue to explore solutions for a renewal of the ferries on the Amsterdam-Newcastle route in line with our customers' wishes and our strategic ambitions for the route and for DFDS.
The two current ferries offer a great service today, and they will continue doing so until a new solution with new ferries is in place. Therefore, this will not change our plans for developing the route, it will merely delay it," says Peder Gellert, EVP and Head of DFDS' Ferry Division.
-Ends-
Many thanks to DFDS for the information above. Obviously disappointing news for all concerned.
To see the original statement and artists impression of ship.. see post 6524 (type number into Search Engine Box above) or indeed use DFDS Moby.
* *
As promised here we are with the arrival shots of Lady Rosebay we saw her approaching in the earlier post and here she is arriving on a very bright Sunday. Baltic Klipper moved out of the Cargo Terminal to allow her in...Baltic moving to Eastern Arm...seems to be a new habit.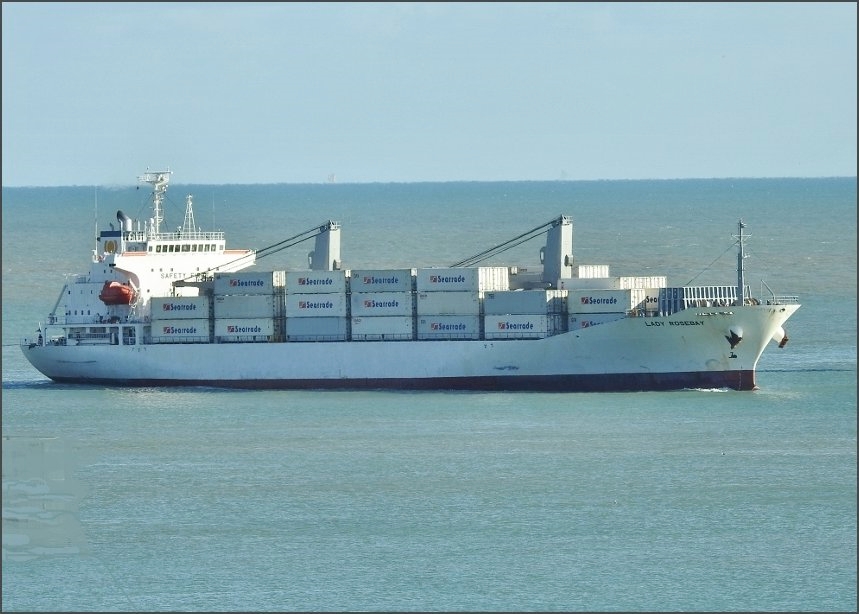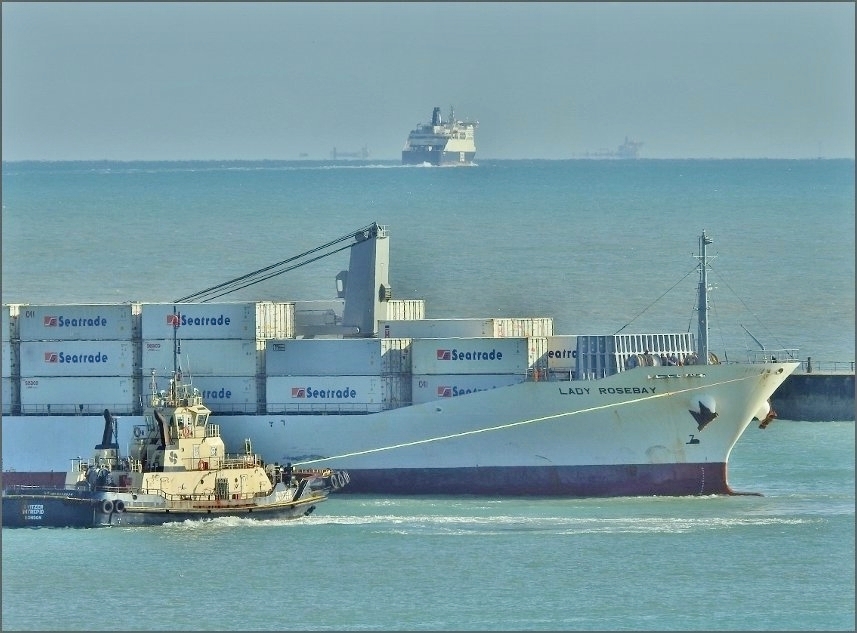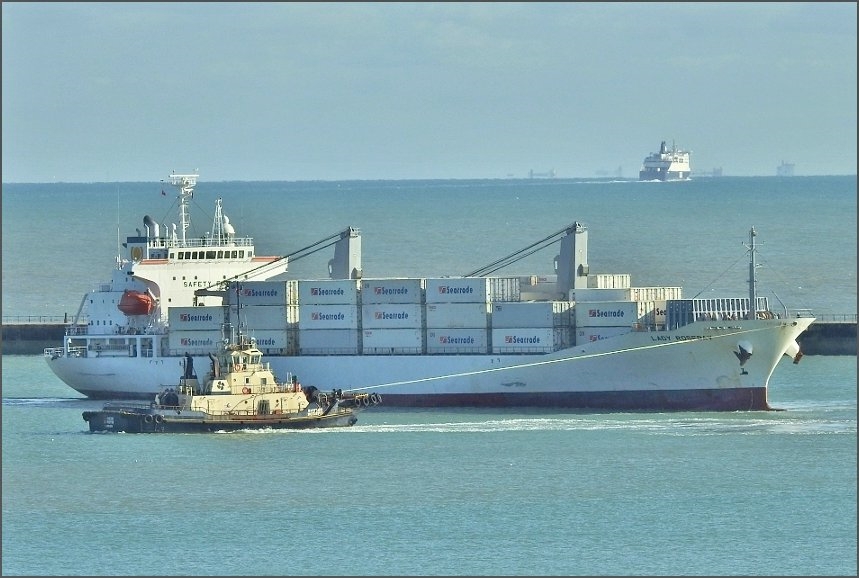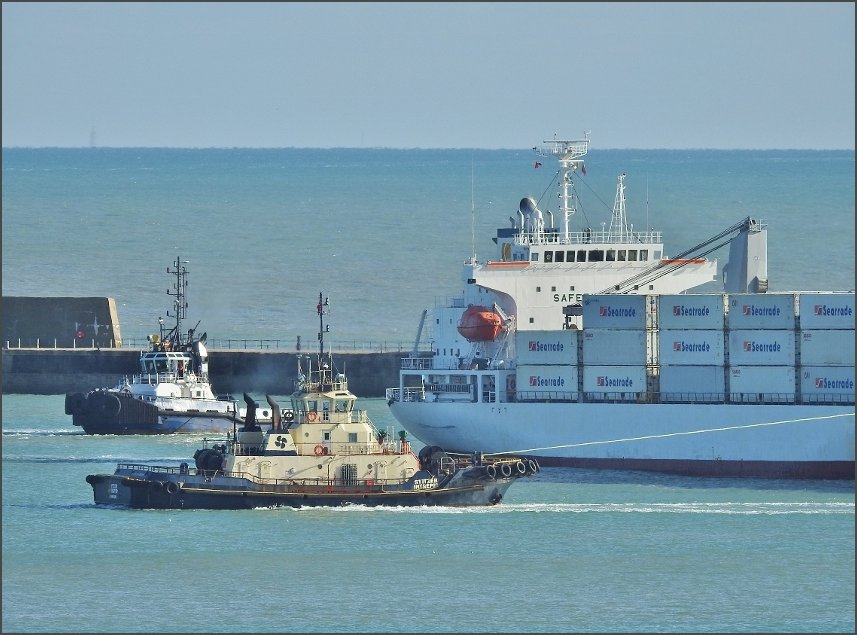 Lady Rosebay
The Lady has since left us for Vlissingen...she didn't remain long in Port and Baltic Klipper returned to the Cargo Terminal. The tugs in action above...Svitzer Intrepid and Dauntless.
We also have pictures of Baltic Klipper, SVS Vega, AIDAsol, Reimerswaal, plus.. to catch up on so bear with...
Don't miss the interesting post below from Mike with SVS Vega...great stuff!

Thanks for the info below there Brian...never a dull moment around here..

PaulB
Wednesday, 30 October 2019 - 07:01
Post 6625
Mike J., Dover
Tuesday morning & the SVS VEGA preparing to discharge 'rebar' [reinforcing steel rods used mostly in reinforced concrete construction] from Klaipeda, the first such cargo to be discharged on WD4.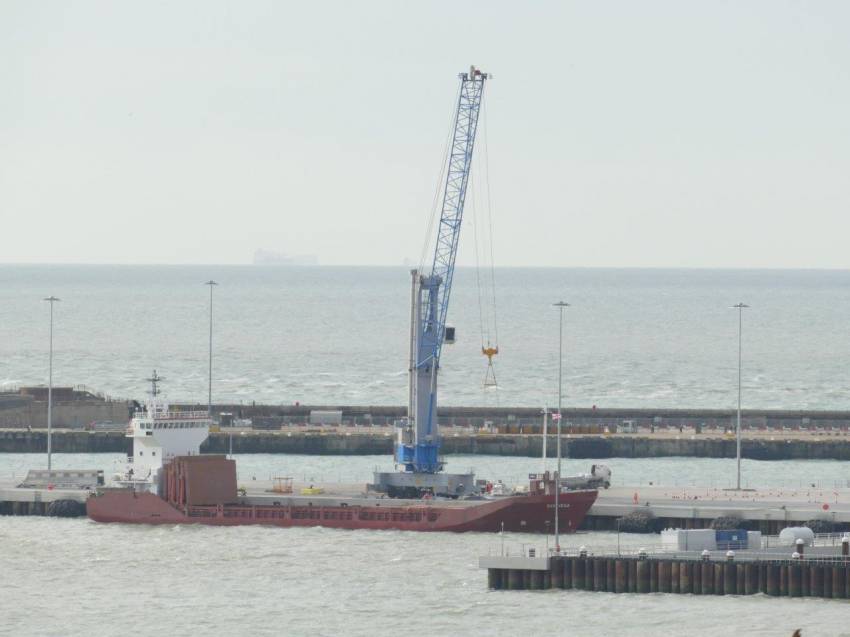 She came thru the Kiel Canal & aanchored in Margate Roads for a day or so waiting for the SEABEE to sail Monday evening for the Italian port of Oristano wth her cargo of beans.
No jokes about a following wind, please.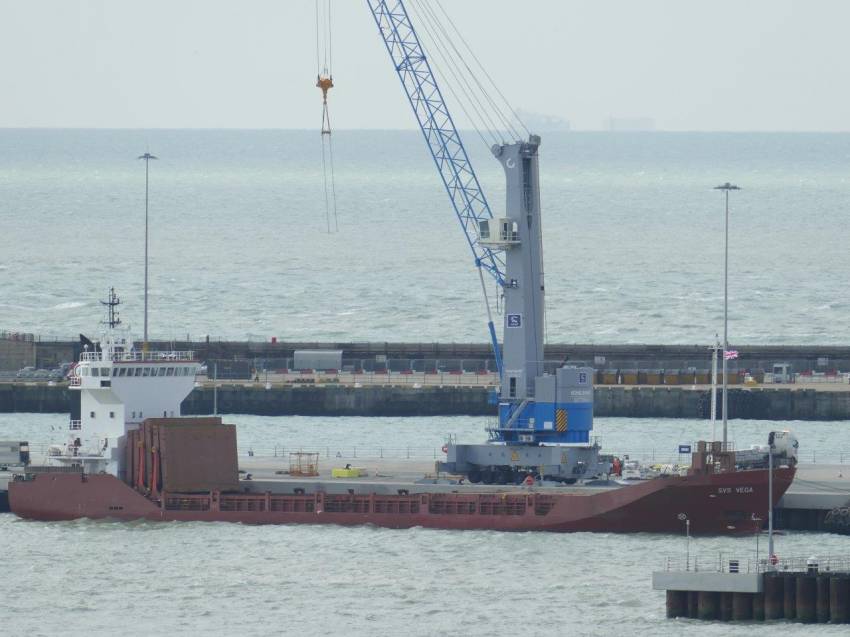 The VEGA had a noticeable roll from time to time during the afternoon, exposed to the swell from the moderate easterlies that we've had for at least 24 hours.
No fun working down the hold connecting up the bundles of rebar to the crane wires with the ship moving about.
Wednesday, 30 October 2019 - 02:24
Post 6624
brian dixon, dover
tell me about it paul, Aycliffe estate was full of police, border force and search dogs. Aycliffe school was on lock down until lunch time because of the dogs.

Tuesday, 29 October 2019 - 19:18
Post 6623
Sea News, Dover
A couple of poor quality pictures of the Lifeboat returning to Port in the misty conditions yesterday morning Monday. Time of first shot 09.26...as you can see the Lifeboat is towing a dinghy. There were reports on the news of 2 migrant dinghies being located early yesterday. One in difficulty spotted by a DFDS ferry which paused on the scene to lend assistance...a second 'empty' dinghy located on Shakespeare Beach here in Dover.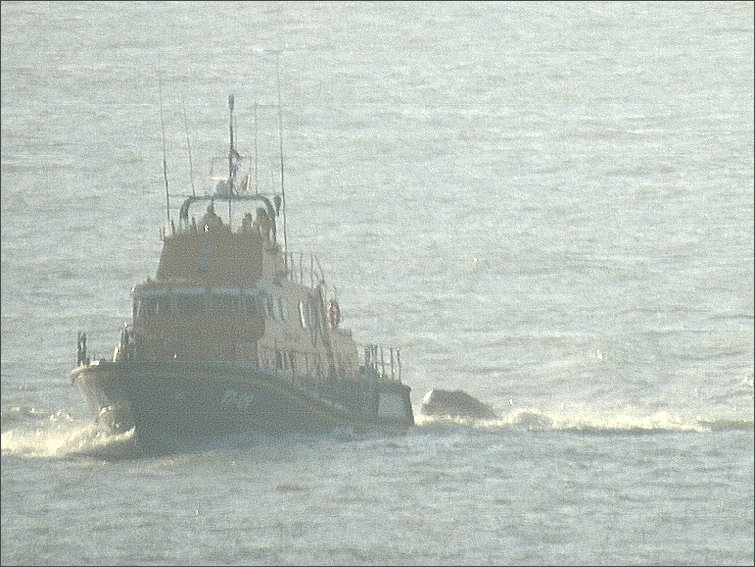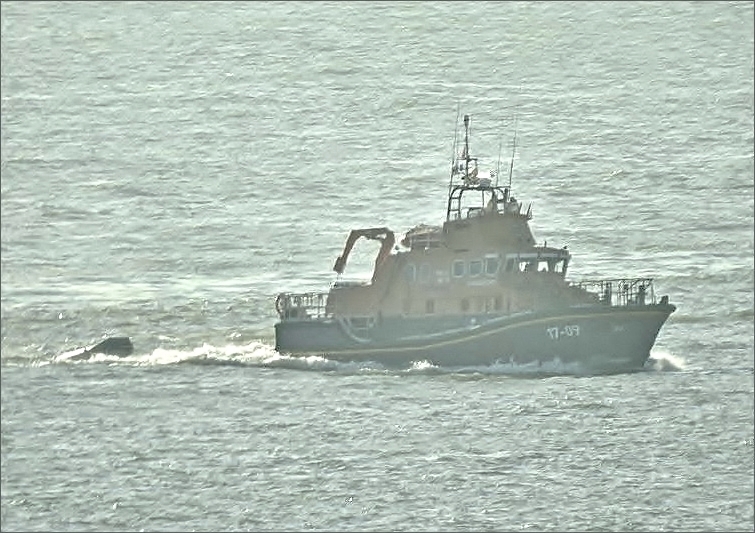 Below we have a picture of an approaching Lady Rosebay in the high bright conditions of Sunday. The picture looking across the Port into the distance. We will have more pictures of this arrival following along. Lady Rosebay is a relatively new visitor, but nevertheless we have pictures in the system ( just one batch)...type in Lady Rosebay in our Search Engine box and you will see them..
Here she is arriving Sunday from Paramaribo.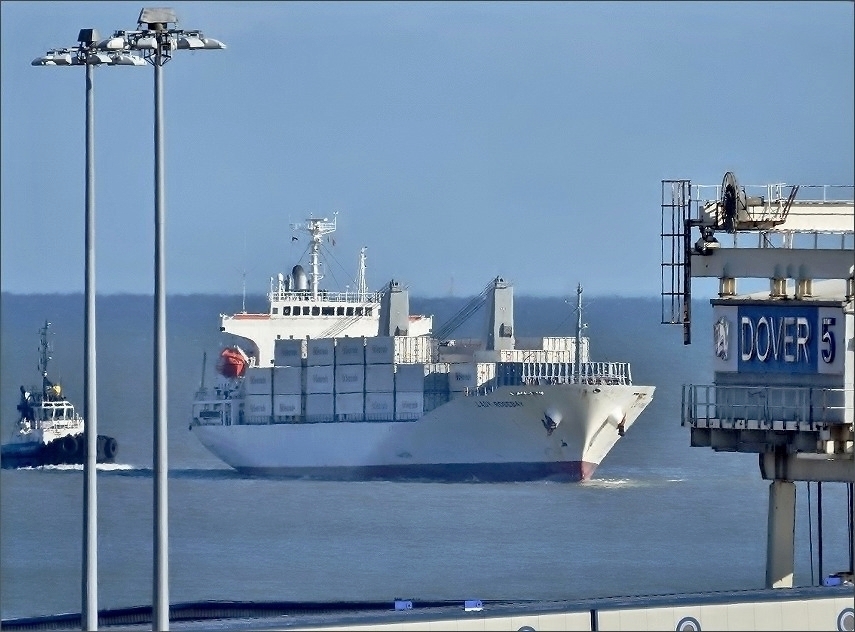 Seabee left Western Dock 4 last night about 8PM
and SVS Vega arrived this morning early to fill the slot about 4am.
No pictures of either of those happenings as too dark alas.
PaulB
ps:Late-in-the-year cruise ship AIDAsol now arriving 06.45
Tuesday, 29 October 2019 - 05:01
Post 6622
Sea News, Dover
Noordhoek Pathfinder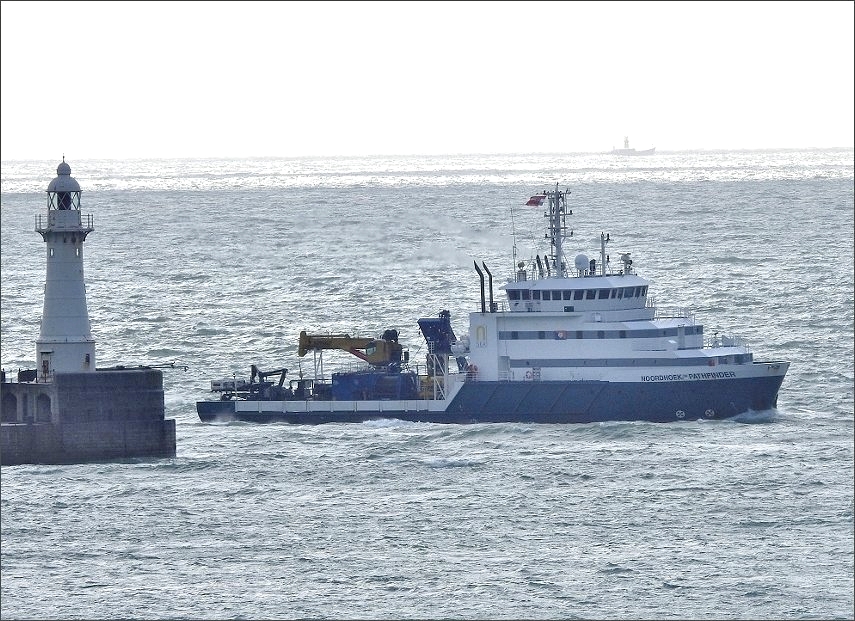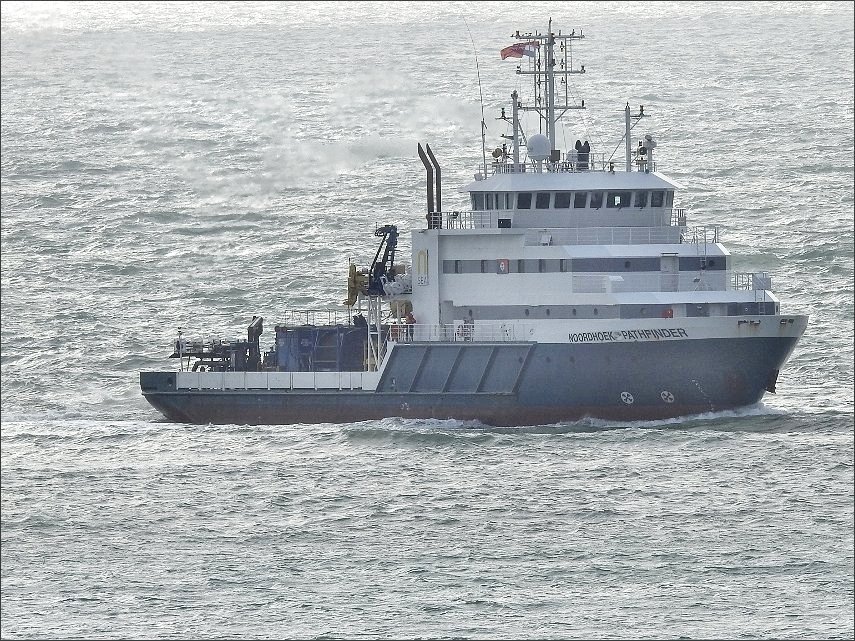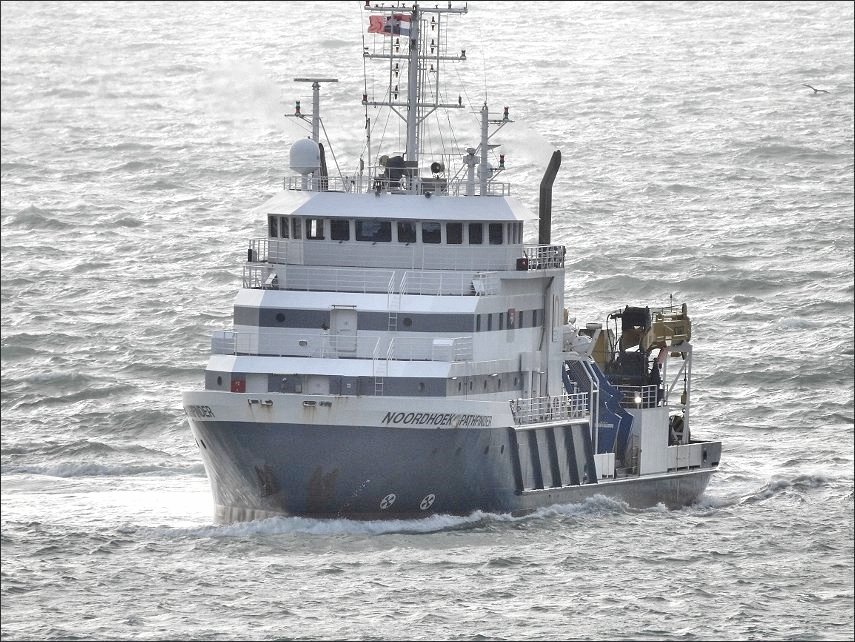 Noordhoek Pathfinder: You will remember we had some pictures of Noordhoek Pathfinder a couple of days ago [6618)...they were taken in murky conditions and relatively (or middling) long range. The following day the exciting Support/Survey vessel obliged us further and came right into Port for a short hop flying visit. This allowed us a great opportunity to indulge and here we are...the sequence was taken on Friday morning following the vessel in and around as it were .. first shot 10.36...as you can see the camera shooting into very bright morning light...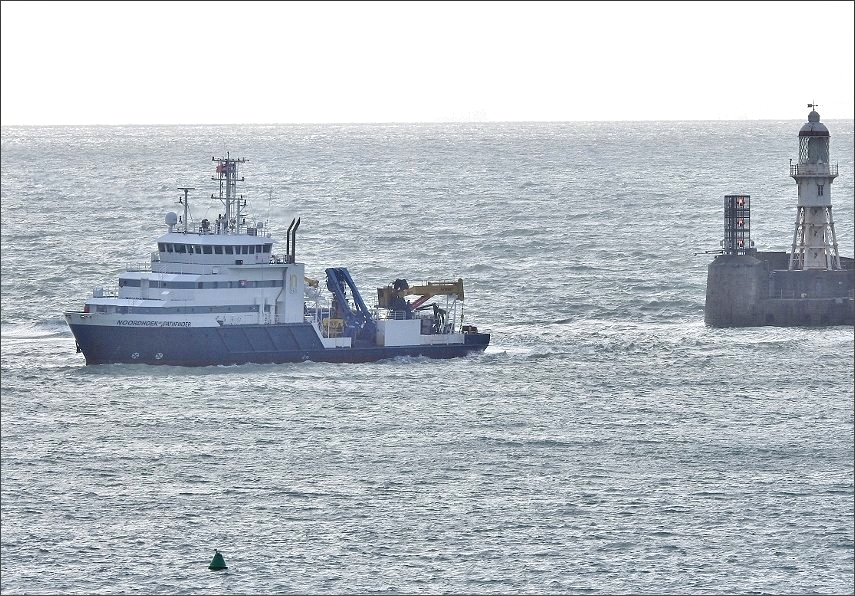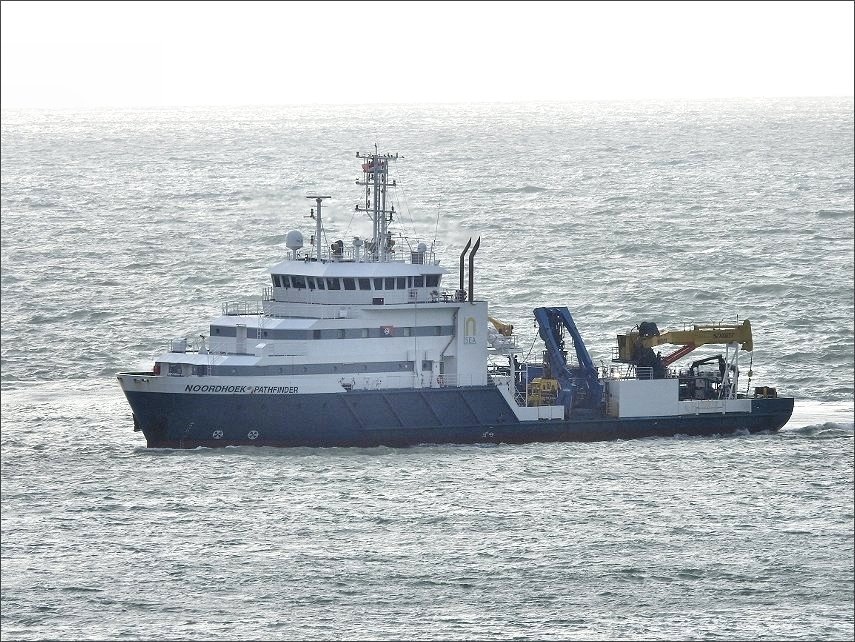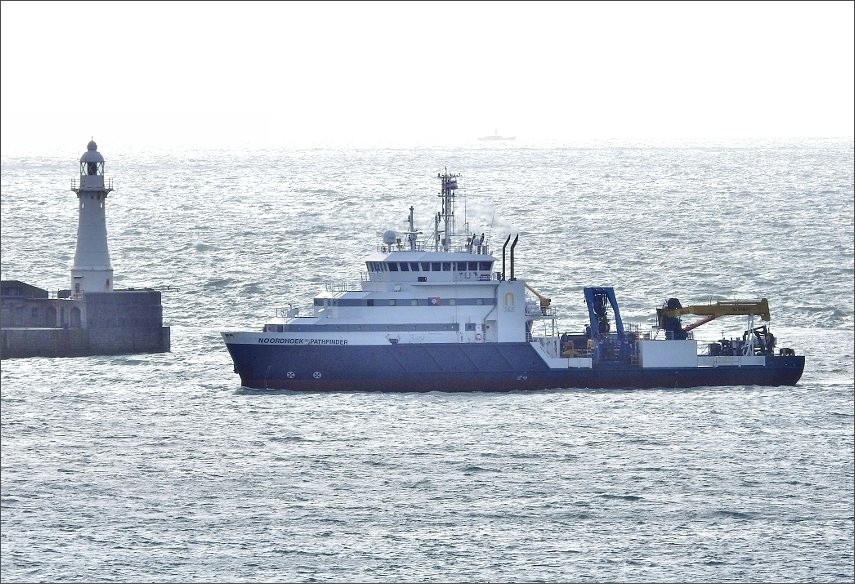 Noordhoek Pathfinder
PaulB
Monday, 28 October 2019 - 07:05
Post 6621
Sea News, Dover
The clocks go back/went back an hour over night
but it caught yours truly out as this post is even earlier than usual...one turned on the shipping forecast as per usual but it wasn't there, had society as we know it collapsed thought I through woolly brain, but eventually..eventually.. the penny dropped...
to give us a lift in spirits and to act as an antidote to the ever eternal rain.. recent picture below taken as the sun rose over the Spirit...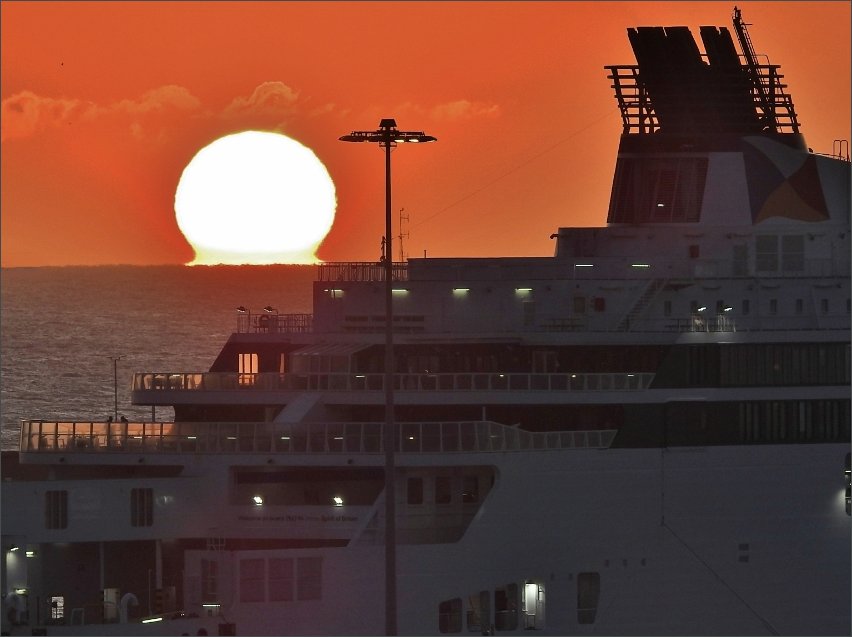 Seabee arrived late in the day, we have shown pictures in the earlier posts below, but as she waited to berth on WD4 night fell... and here she is waiting waiting eagerly anticipating... with the pilot boat seemingly doing tug duties...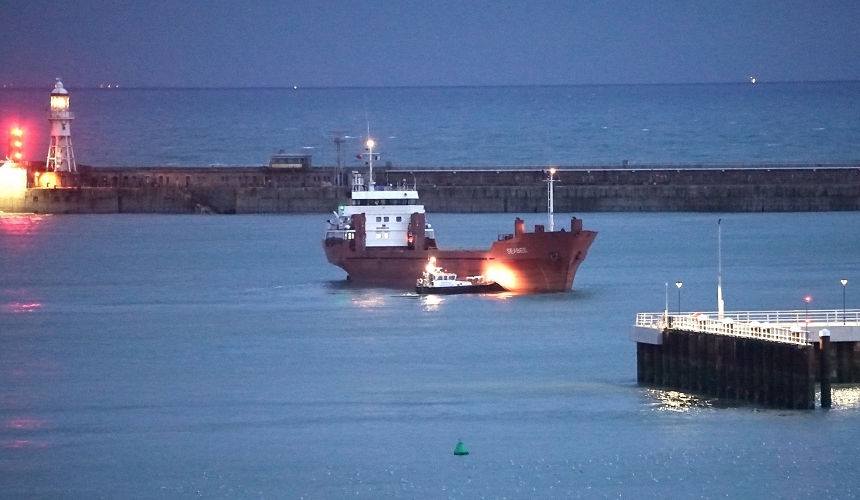 And then below the following day beginning to load up, beans being the commodity this time we believe, in picture 2 you can see the trucks waiting to discharge their load...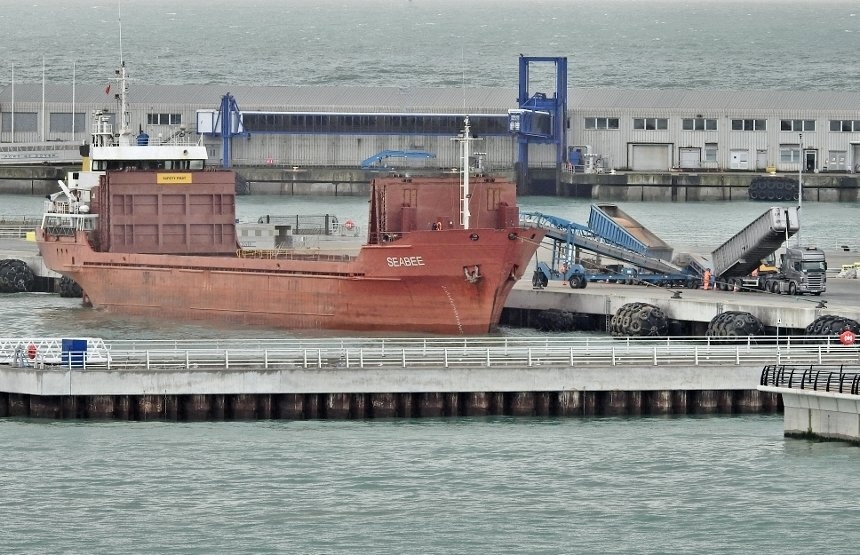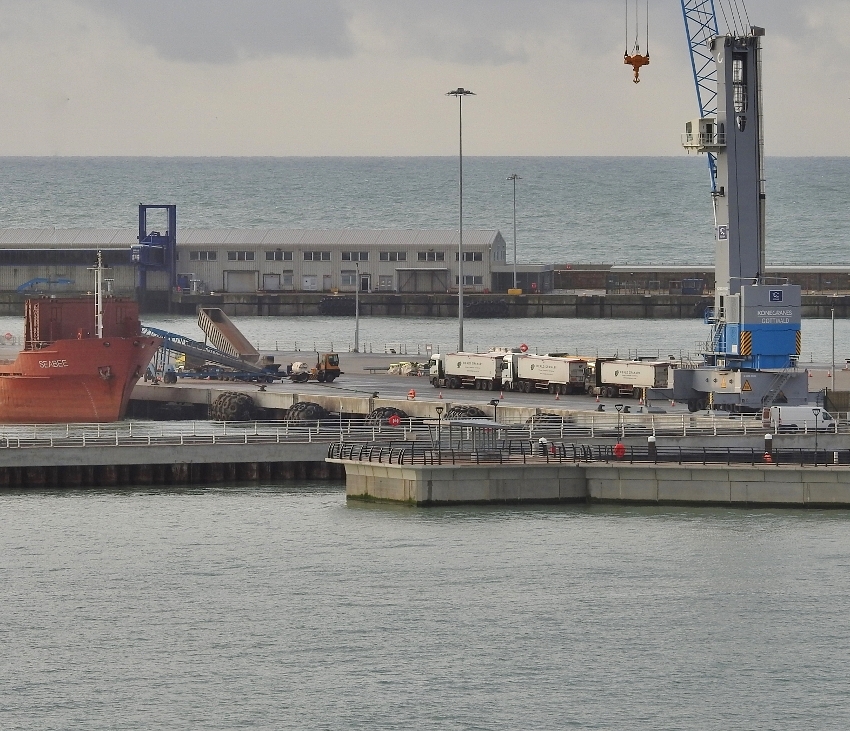 Just a note to say will have further pictures of the Noordhoek Pathfinder up next...taken when she nipped briefly into Port.
Just working on those now...
Mark and Del below

PaulB
Sunday, 27 October 2019 - 05:12
Post 6620
Del Styan, Norwich
I love Mark's comments. It begs so many questions, I dont know when to start!

Saturday, 26 October 2019 - 23:02
Post 6619
Mark Rushton, Northants
Nice picture of G-TECC there. You might like to know that the lady pilot you refer to used to work on the ferries and is a past member of Channel Gliding Club. She has a fondness for flying with a giant teddy bear strapped in to the passenger's seat. And why not ?
Keep up the good work....

Saturday, 26 October 2019 - 10:08
Post 6618
Sea News, Dover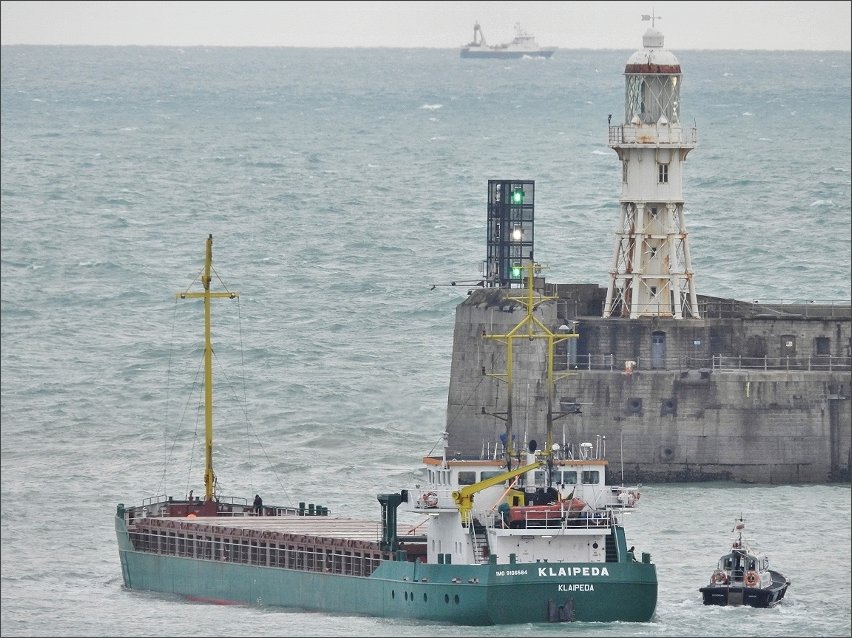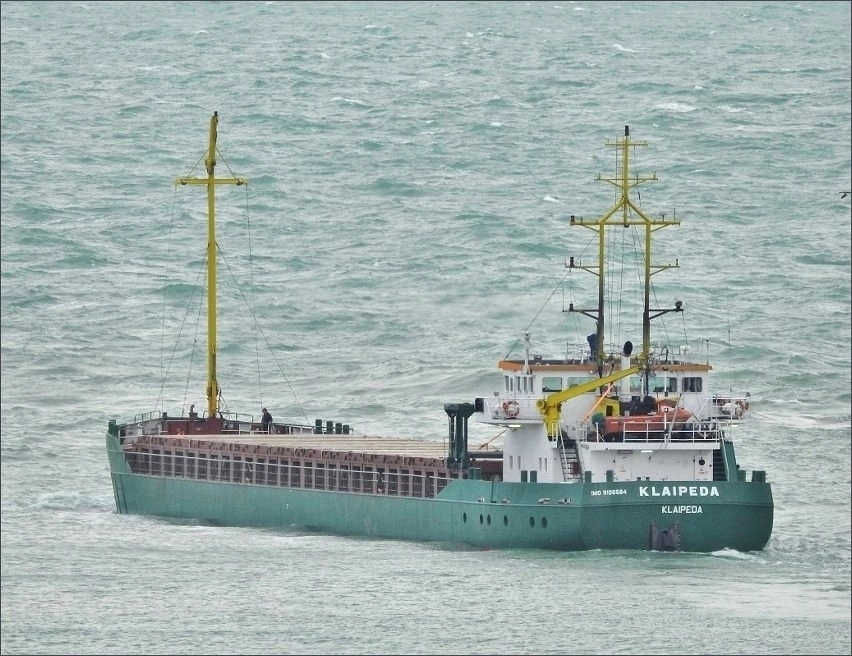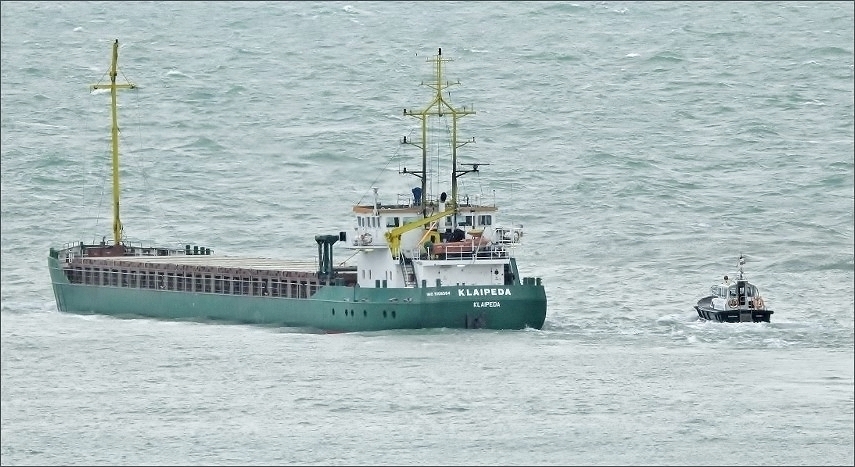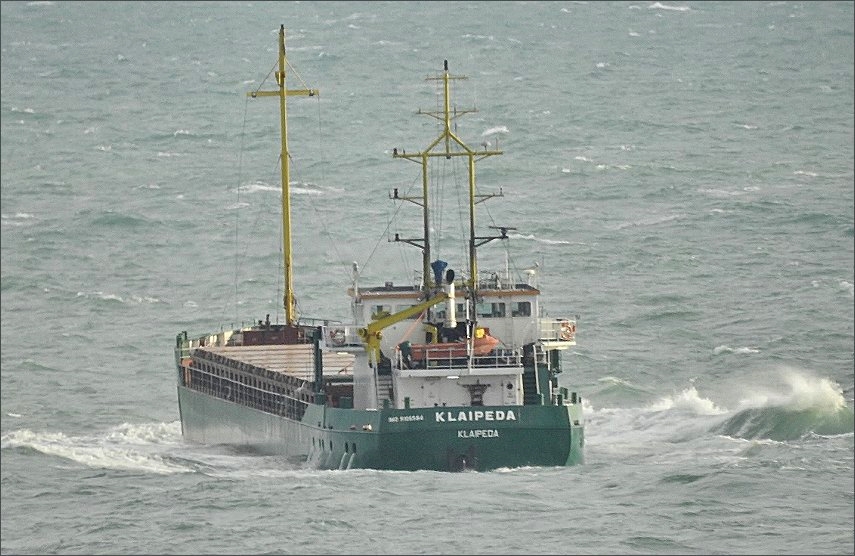 Top four pictures there show Klaipeda leaving Port again after her second visit, no doubt with another full load of grain. She had just moved away from new pier WD4 where she had been for a few days. The pix are from Thursday afternoon, first shot 4.33 pm. The last picture above taken while she was beginning to get some distance behind her....
And speaking of longer distance...or semi longer range, here we are below with offshore support/survey vessel Noordhoek Pathfinder, out there in rough miserable weather earlier the same day. It was very grim/grey/grisly out there... twasn't picnic weather when these were taken, so they needed help from the overworked computer. Hopefully they show up well enough here..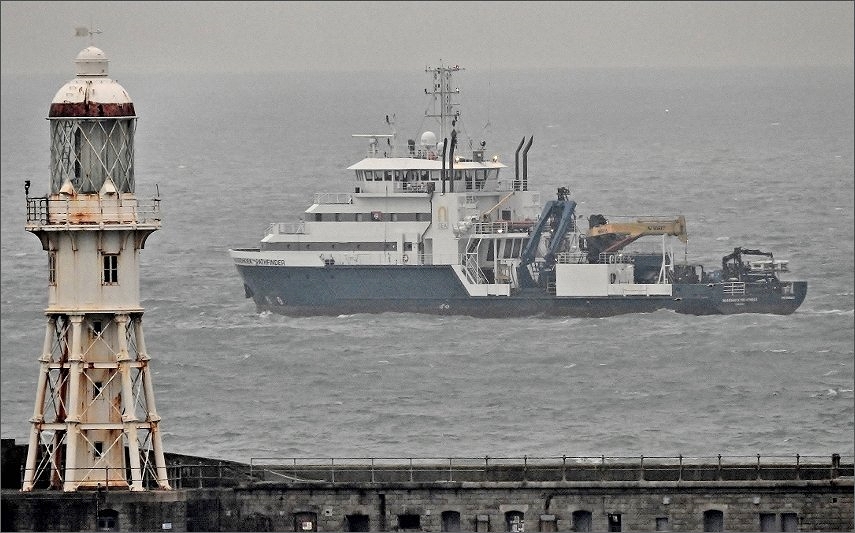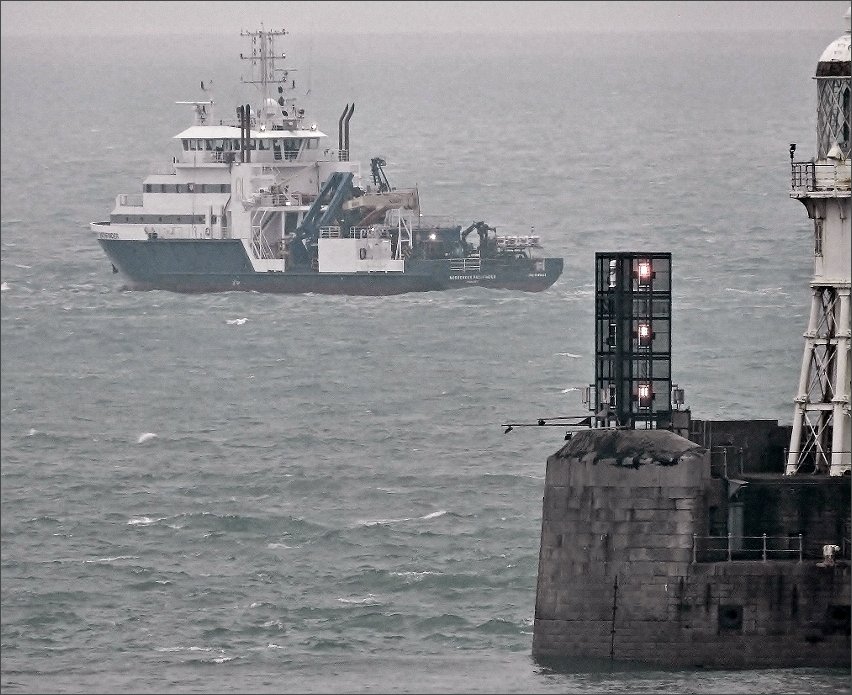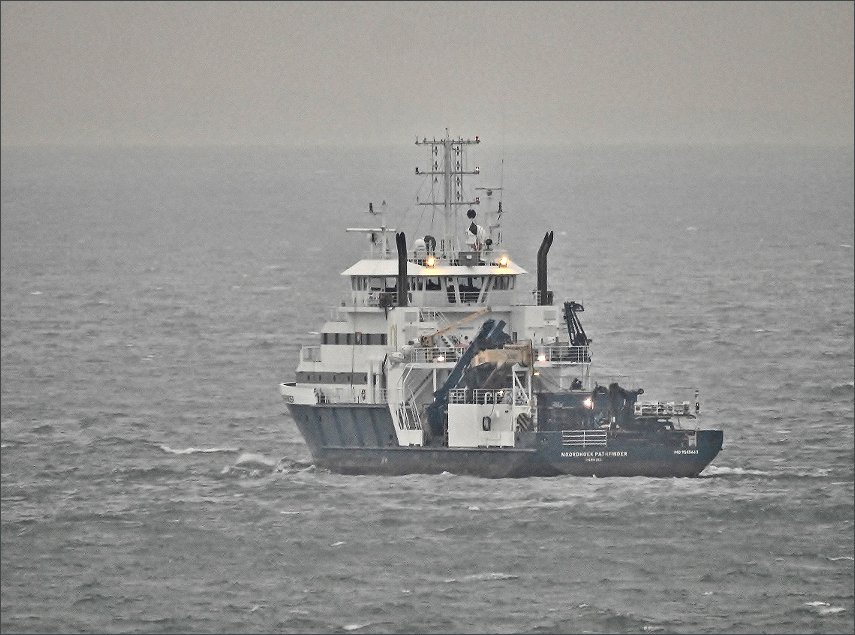 See also post 6382, more pictures of Noordhoek Pathfinder there. Type number of post in Search Engine box above.
Nice round-up collection below there from Mike.. enjoyable pictures. Good to see those.

PaulB
Saturday, 26 October 2019 - 04:59
Post 6617
Mike J., Dover
More 'small fry'
Old friend TOPLOADER, who has often worked in Dover, as pretty as ever, called in briefly on 3/10.
She is currently working over in France. & on Friday night was bound for Fromentine from L'Orient'
A wild night to be out.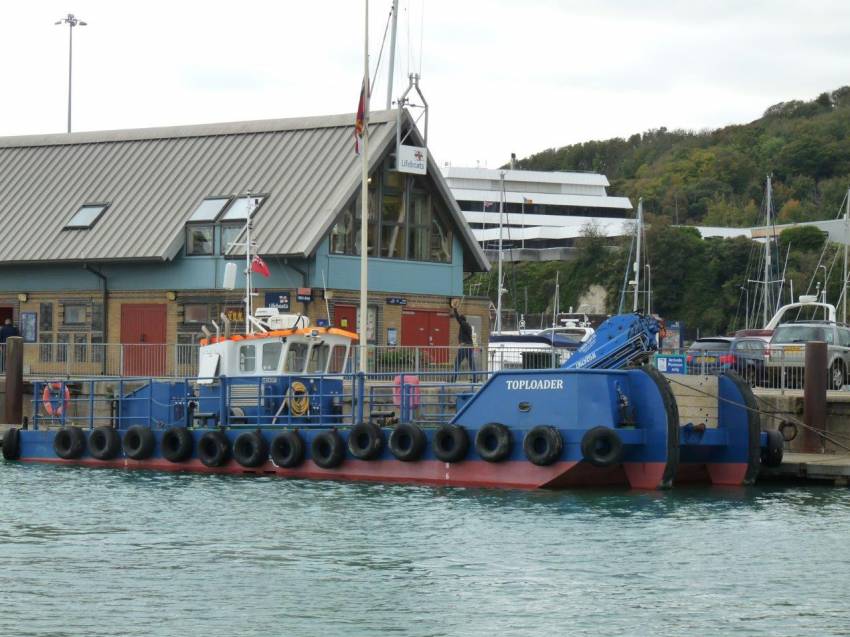 On 23/10 the former Dutch barge BEMA [post 6596] was back in the water in Granville Dock & looking very smart, soon to head off for Richborough for more work.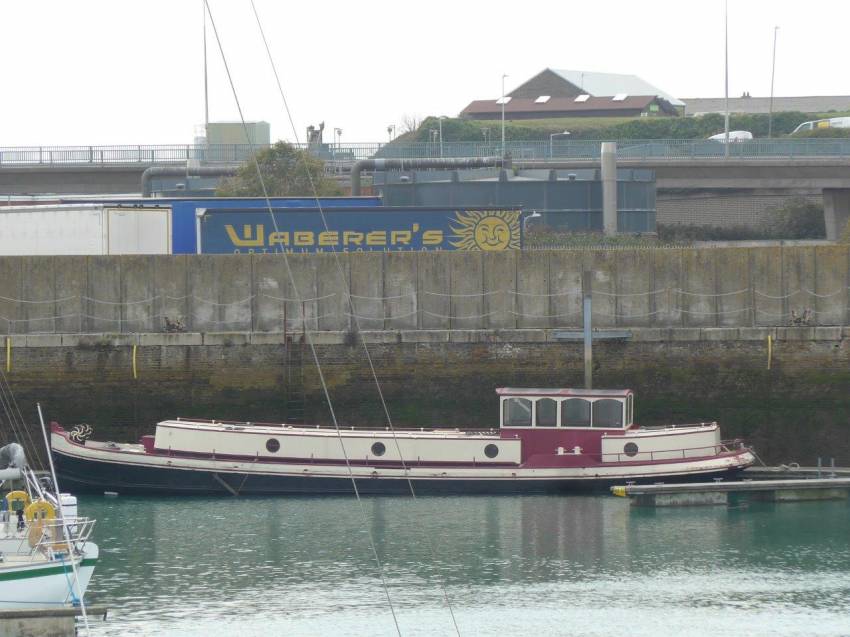 Also the same day the unusual-looking catamaran survey/research/guard vessel MAGNIFICAT [splendid name] was at Ramsgate..
She's been working locally for a while & on Friday night was working off Margate, close by a clump of ships sheltering from the current unpleasantness.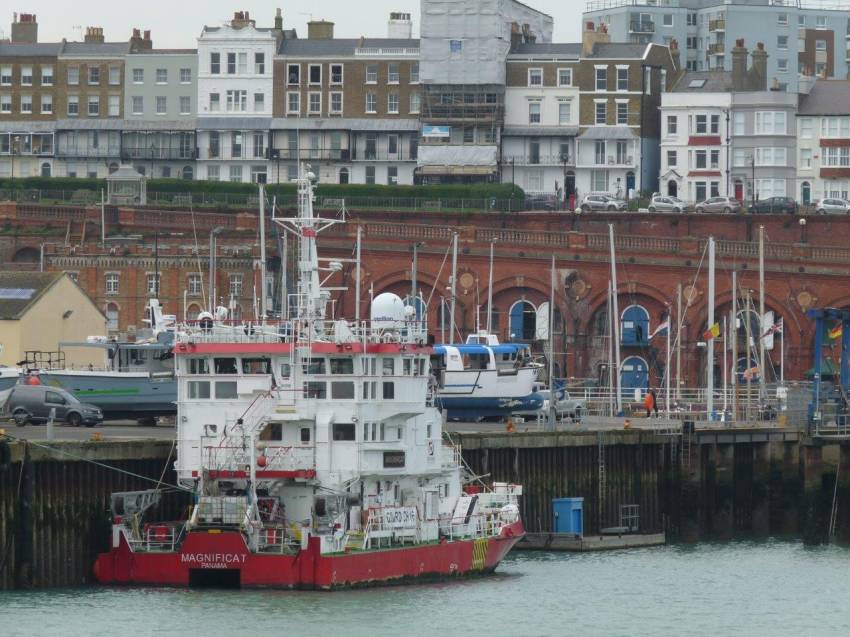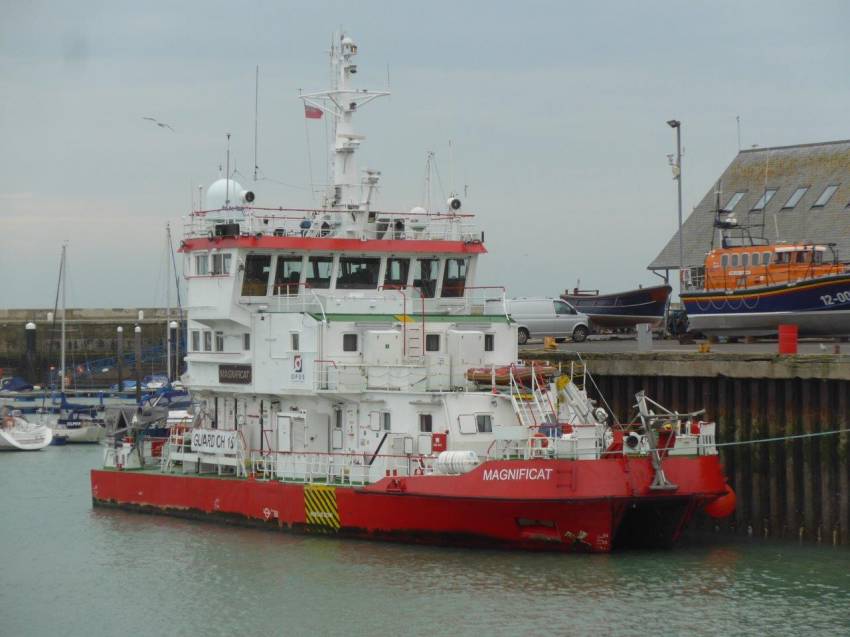 On 7th.October the elderly G-TECC passed slowly over the Admiralty Pier, heading south along the coast.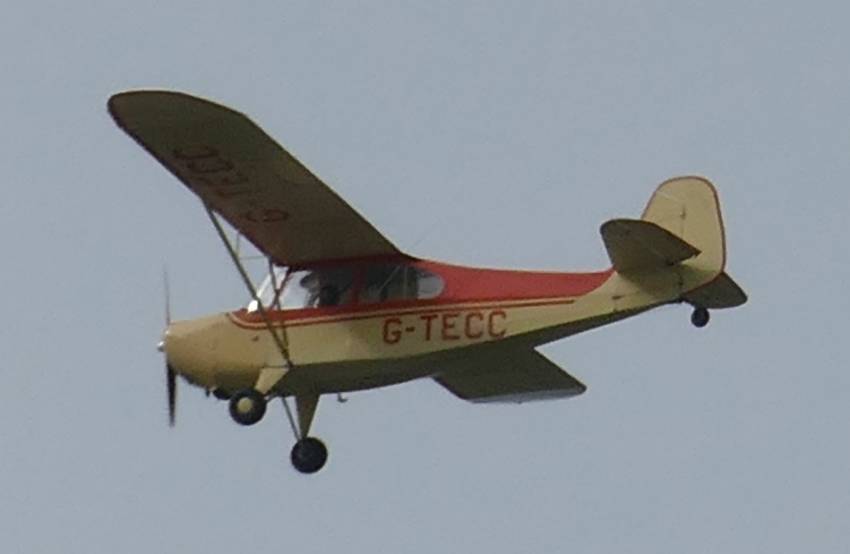 Google tells me that the aircraft is a US-built Aeronca 'Champion' built in 1946 & subject of an Aircraft Accident Investigation Board report in 2008 when she crash-landed after engine failure, fortunately without injury to the lady pilot.
Saturday, 26 October 2019 - 00:58
Post 6616
Sea News, Dover
BIG SKY AT DOVER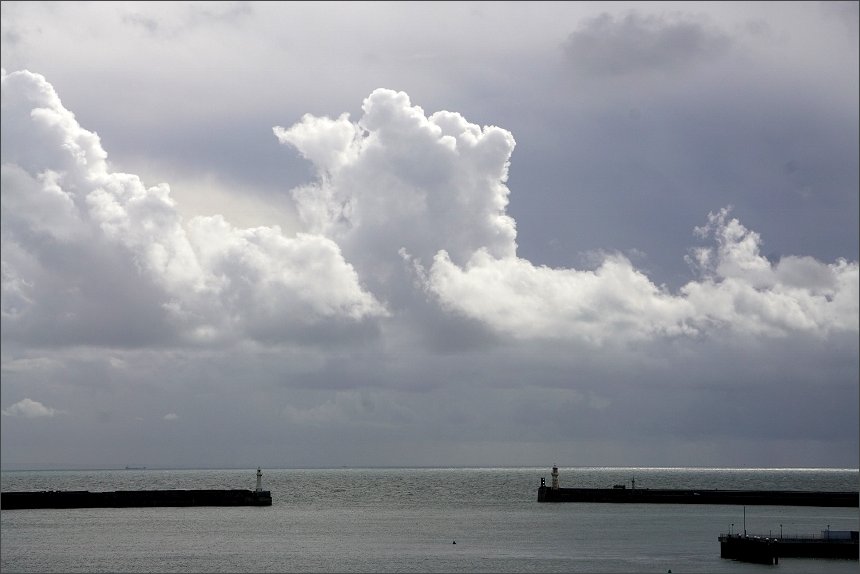 BALMORAL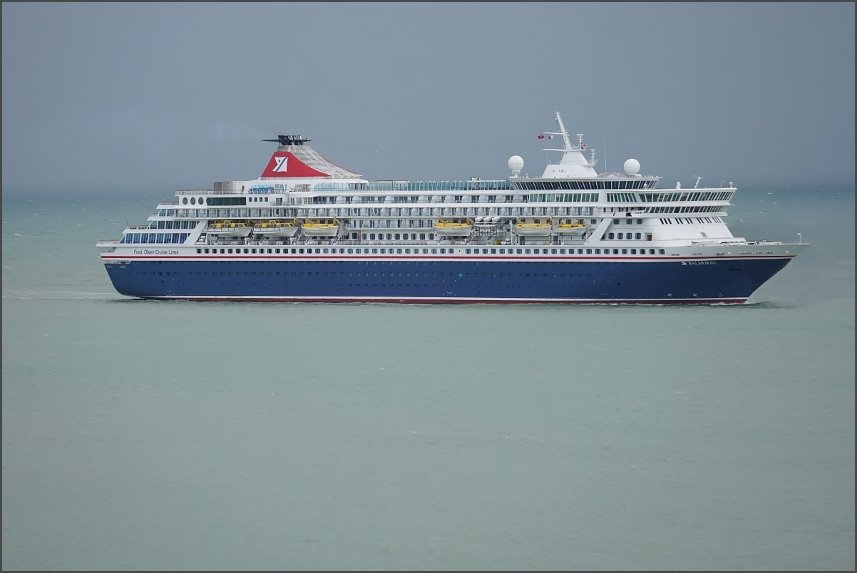 The Balmoral had a fleeting visit with us yesterday...came into port in early pitch darkness and then left by 09:05. So it wasn't a usual style visit. Yours truly got some pix of her leaving at 09:05 but they were all murk drizzle and gloom. So opted to use the images above of her previous visit 5 or so days ago...under that big sky (see also 6605). Only a couple of AIDA visits left on the cruise schedule now...see the list at top.
Yes Mike mentioned and got a picture of Seabee arriving in Port late yesterday..see the post below 6615. Here she is approaching pier WD4 at 5.45PM (17:45) in fast fading light. She lingered there a while...just off WD4 as night fell. Had a try for some night pix and will look at those today to see if useable.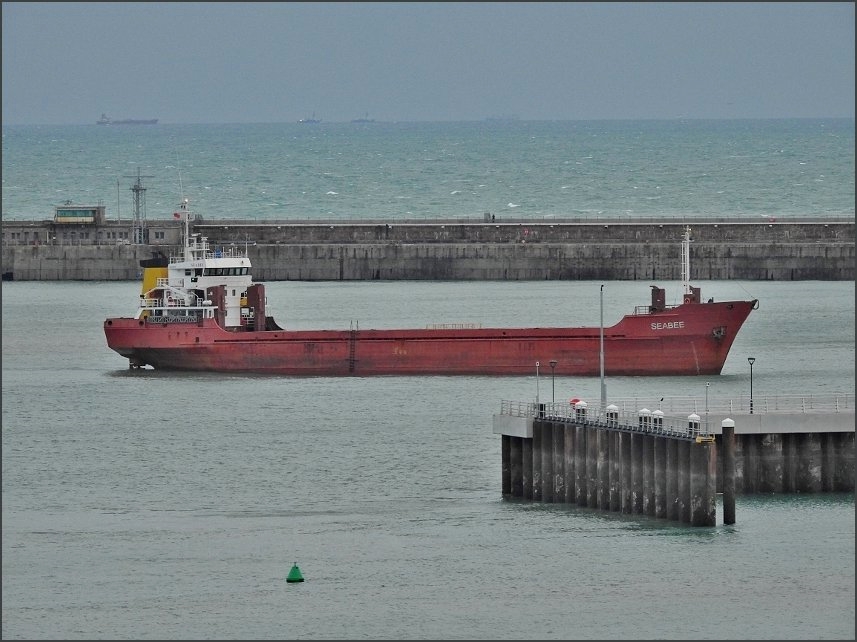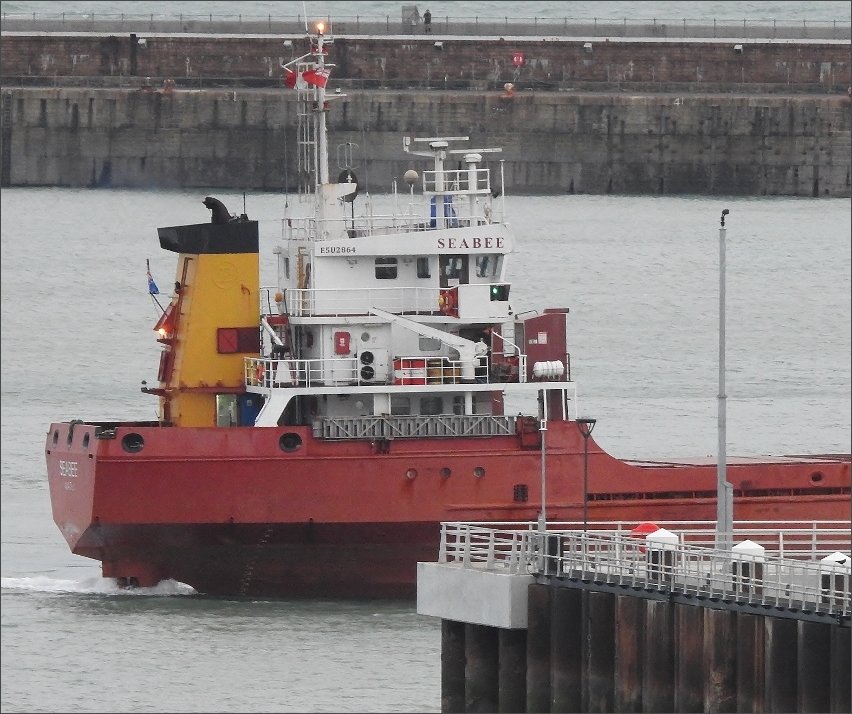 Great stuff from Mike below. I didn't capture those new reefers alas..great to see new names arriving, will look forward to them again for another chance at a shot or two. Yes got some pictures of Noordhoek Pathfinder but very misty near dark pictures...will see if we can recover them. Also have some pix of the departing Klaipeda so watch for all those...busy times....

We had some heavy congested traffic this week Del and Brexit hasn't even kicked in yet..Heavens!...main road rendered useless for much of the time for local residents. Not entirely sure what caused the latest upset to 'free flow'... its such a delicate mechanism that 'free flow' ..
PaulB
Friday, 25 October 2019 - 07:09
Post 6615
Mike J., Dover
Arrival of reefer AUTUMN WIND from Uddevalla midday Thursday.
She didn't stay long & sailed for the Panama Canal the same evening & was swiftly replaced by BARRINGTON ISLAND who had come across from Vlissingen.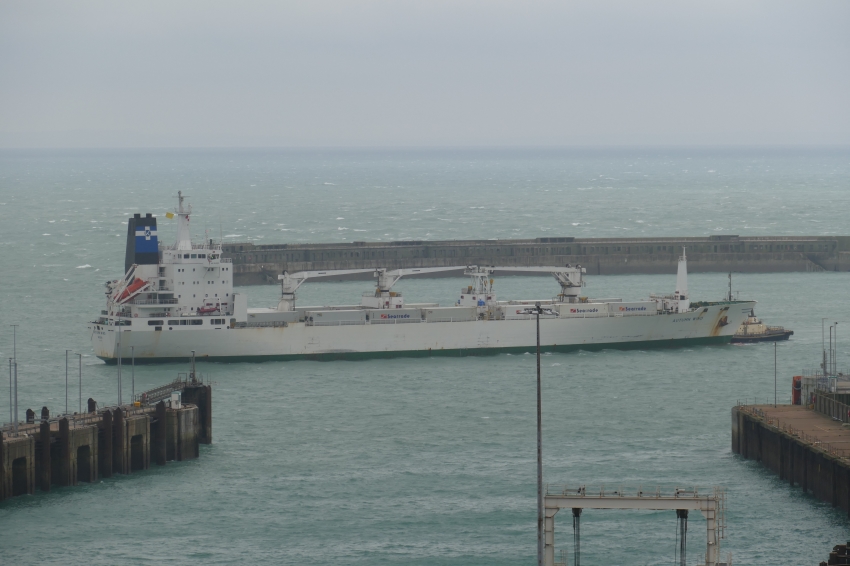 Two 'new' reefers for Dover methinks.
Grain loading completed the KLAIPEDA sailed for Leith late-afternoon & was swiftly replaced on WD4 by the SEABEE who had been anchored off Kingsdown after coming down from Gunness [near Scunthorpe].
Off Dover she waited for DOVER SEAWAYS & a P&O arrival before coming in.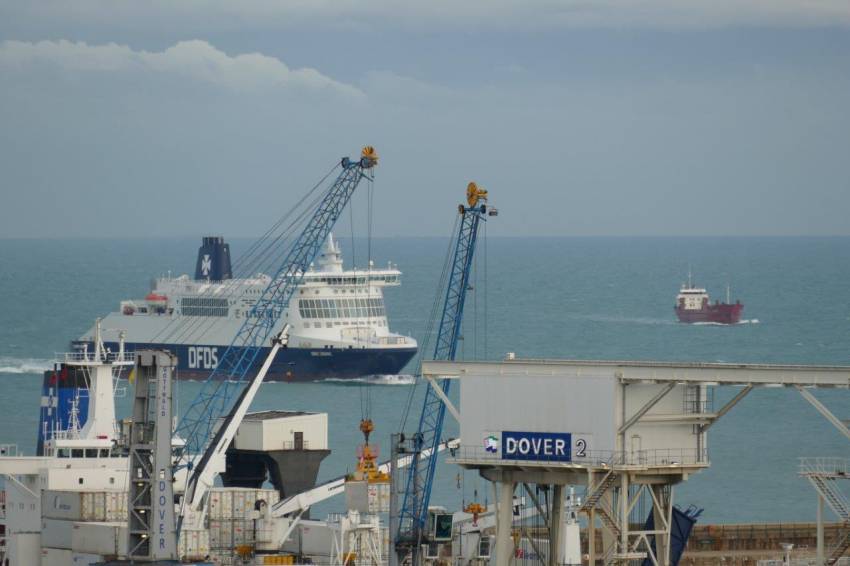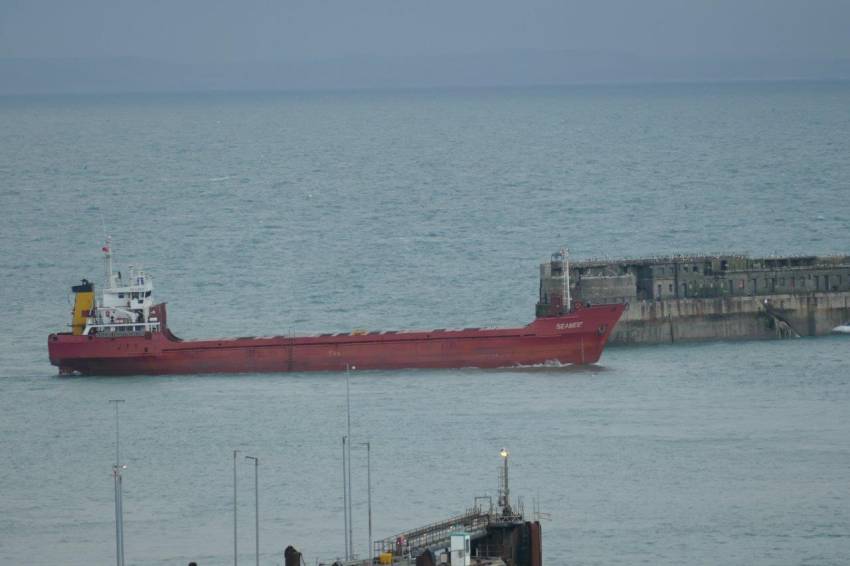 The Dutch survey vessel NOORDHOEK PATHFINDER came down from Antwerp was working on Thursday between Dover & Folkestone for much of the day & is thought to be surveying the X-Channel power cables that were damaged in December 2016 by the bulker SAGA SKY [posts 3713/3761].
My pix weren't up to much but hopefully Paul has her 'in the bag'
Friday, 25 October 2019 - 01:27
Post 6614
Del Styan, Norwich
Sod the brexit debate, lets have more cormorants! Flying back and forth to France for free, and with no queues!

Thursday, 24 October 2019 - 23:10
Post 6613
Sea News, Dover
Pictures of Border Force Speedwell below as she starts off out on patrol yesterday. The patrolling action continues in the Channel as the migrant incursions are ever ongoing. Obviously nobody wants to see any further tragedies of any kind, so let us hope all will be safe out there. The news story from Essex yesterday where 39 bodies were found in the back of a refrigerated truck was truly horrifying...we see these trucks here in Dover every minute of every day so the potential for tragedy is enormous.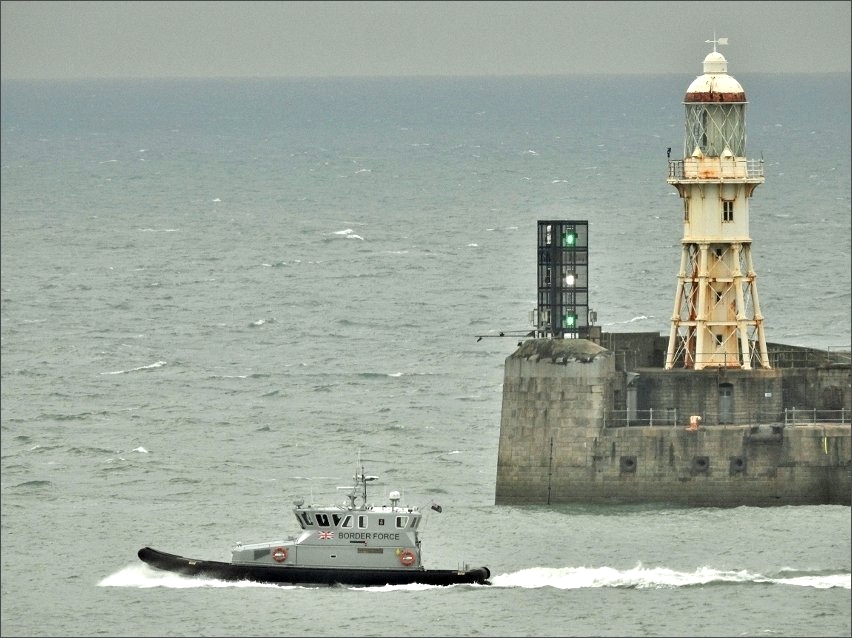 HMC Speedwell: pictures above from yesterday
picture below from recent times..
Border Force Speedwell.
Del...

will keep an eye out for more cormorants, they always make enjoyable pictures..

PaulB
Balmoral back in Port
Grain ship Klaipeda also in...
UPDATE: ultra short visit for Balmoral gone again by 09:05
Thursday, 24 October 2019 - 06:08
Post 6612
Del Styan, Norwich
Love the cormorant's "legs".

Wednesday, 23 October 2019 - 22:56
Post 6611
Sea News, Dover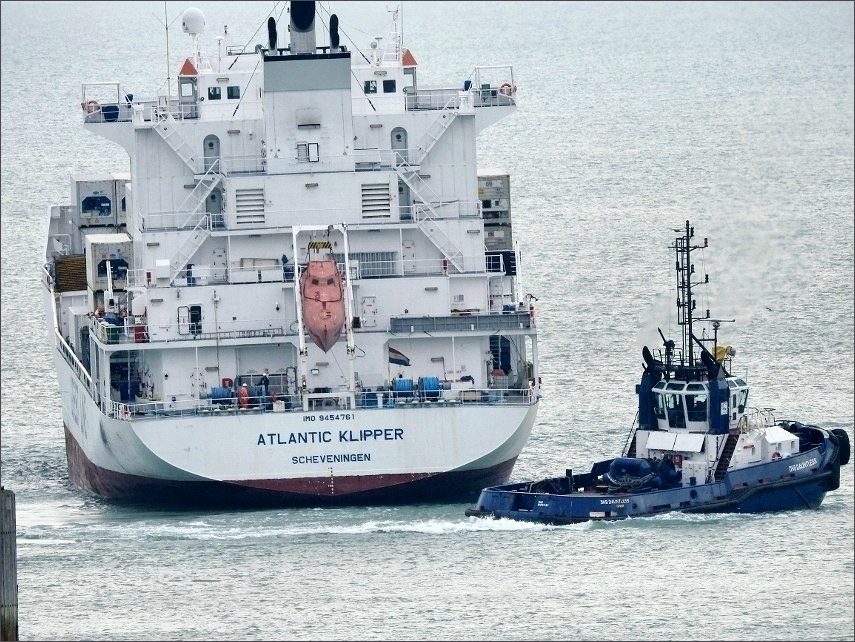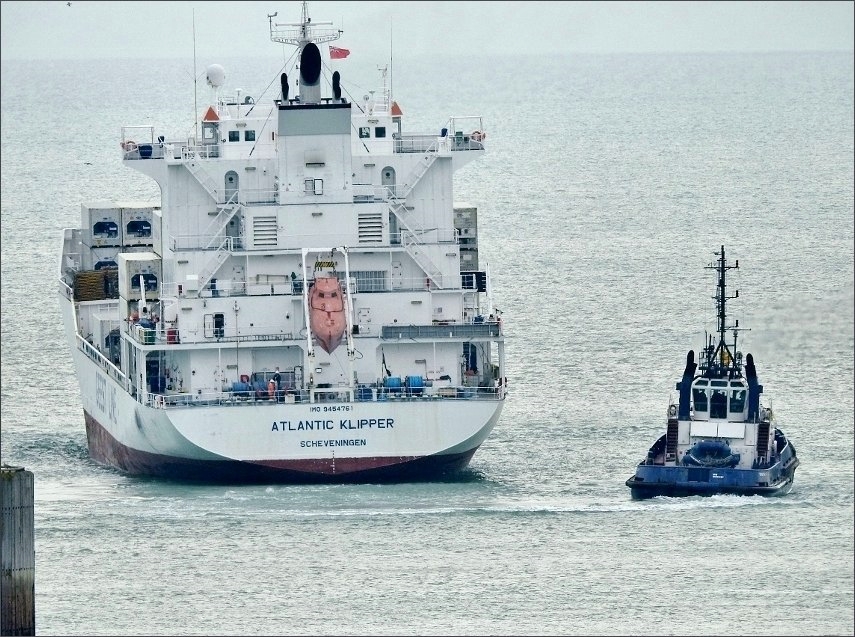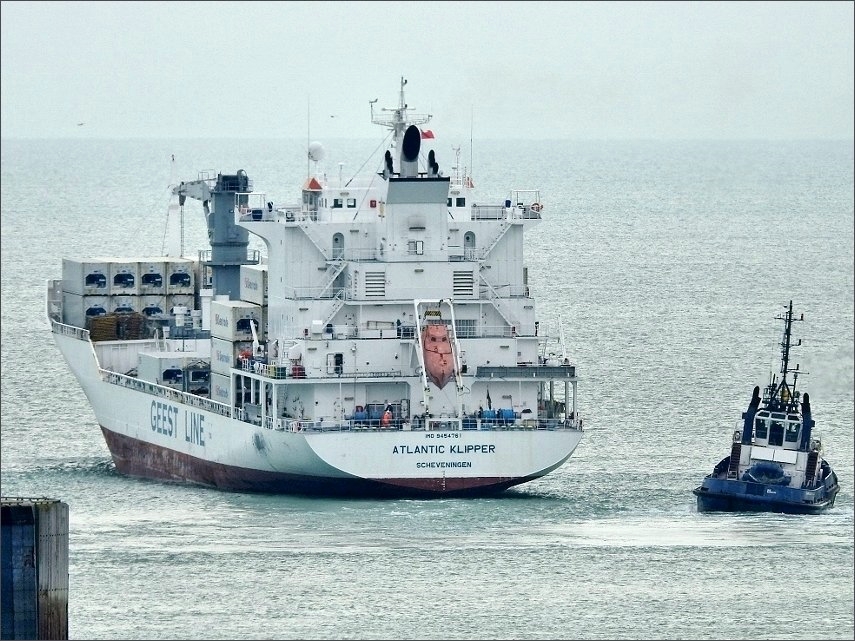 The Atlantic Klipper and Tug Dauntless:
A quick burst of pictures above there of the departing Atlantic Klipper on Sunday morning. It has been a busy time down at the Dover Cargo Terminal...there was another reefer waiting offshore while the Klipper departed. Off the top of head probably Atlantic Reefer. Was lucky enough just to catch Klipper nipping out directly from the Cargo Terminal...my view not blocked/obscured by any Spirit at Dover 9. On her way to Amsterdam I believe.....
The Star Stratos left the Port on Tuesday...yours truly had vacated the 'observation tower' so missed the departure...by way of compensation here we are with an extra shot below taken earlier in the week..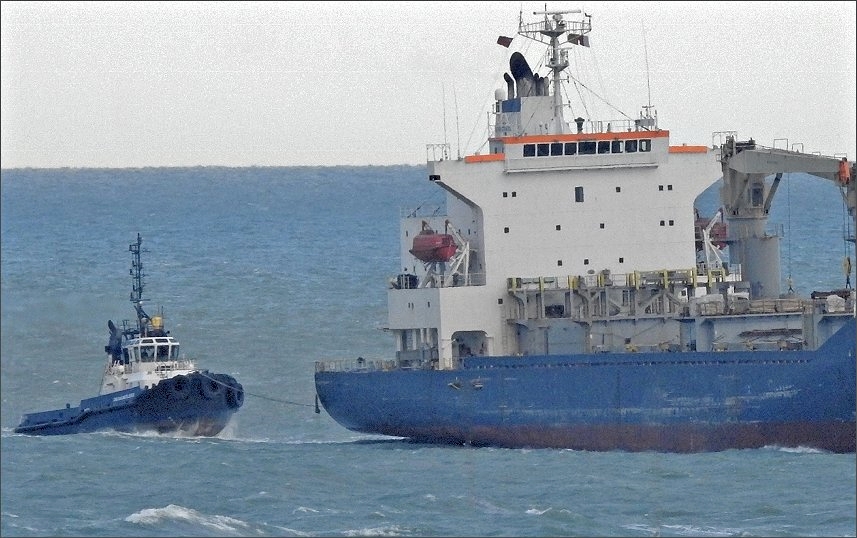 PaulB
Wednesday, 23 October 2019 - 07:08
Post 6610
Sea News, Dover

DFDS announce official keel laying for new vessel, Cote D'Opale
_________________________________________________________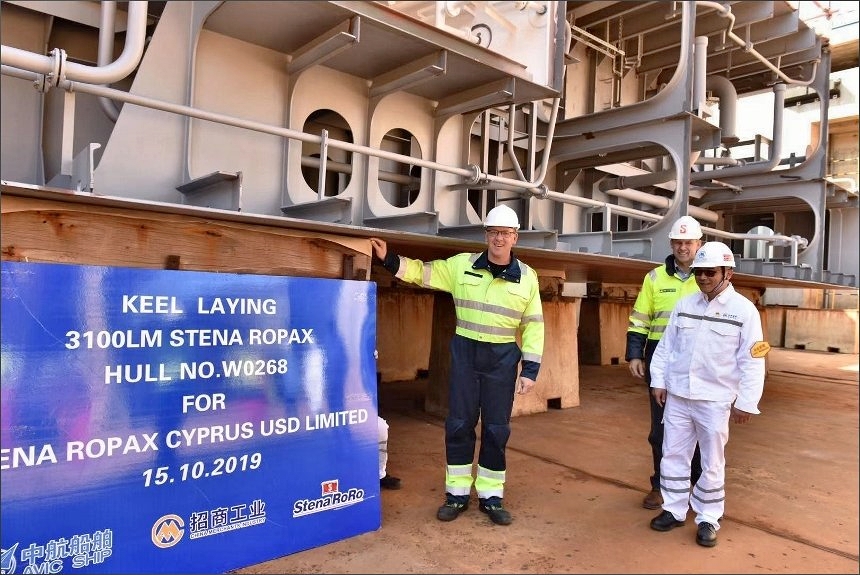 On Tuesday 15th October, DFDS, the world's leading ferry operator reached another milestone at the shipyard, Avic Shipyard in Weihai, China. The keel was officially laid on the new charter vessel, COTE D'OPALE.
The owner, Stena RoRo and DFDS will take the ferry on a 10 year bare-boat charter from delivery in China in June 2021 and the ferry will enter service on the Dover-Calais route. It will be the longest ship on the channel with capacity for 1,000 passengers and crew.
Artists impression of the Cote D'Opale below...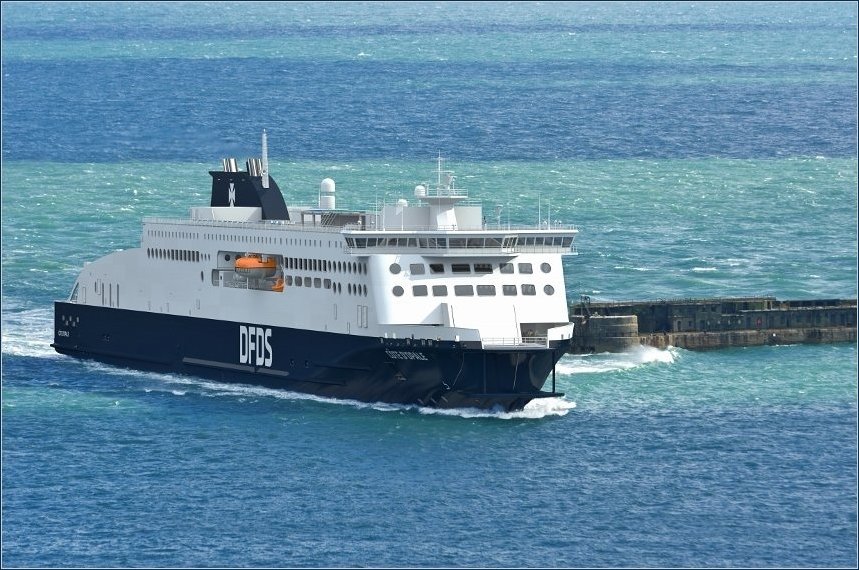 ENDS
Many thanks to DFDS for the info and images. Always welcome.
Exciting times for sure.

* *
Just across from the Premier Inn at low tide you can see the remnants of an old structure..great slabs of concrete lying in the water, presumably a section of pier from long ago. One of these slabs has a great iron ring protruding. This cormorant found said ring during a recent low tide and posed elegantly for yours truly's camera. The pictures are not 'BBC Attenborough quality' ... one doesn't have the equipment!.. but enjoyable all the same... and ermm no that's not a crocodile in the water behind him..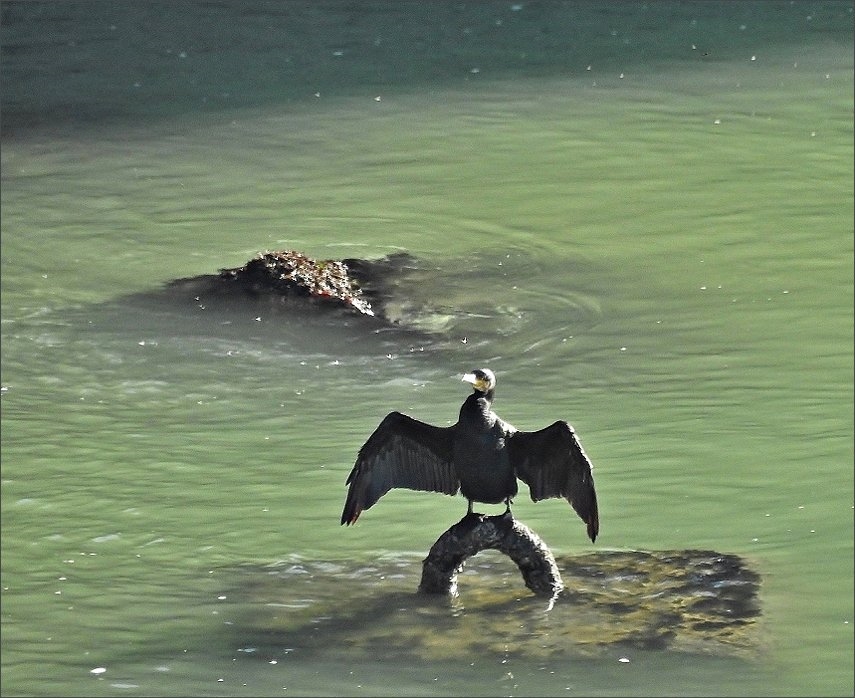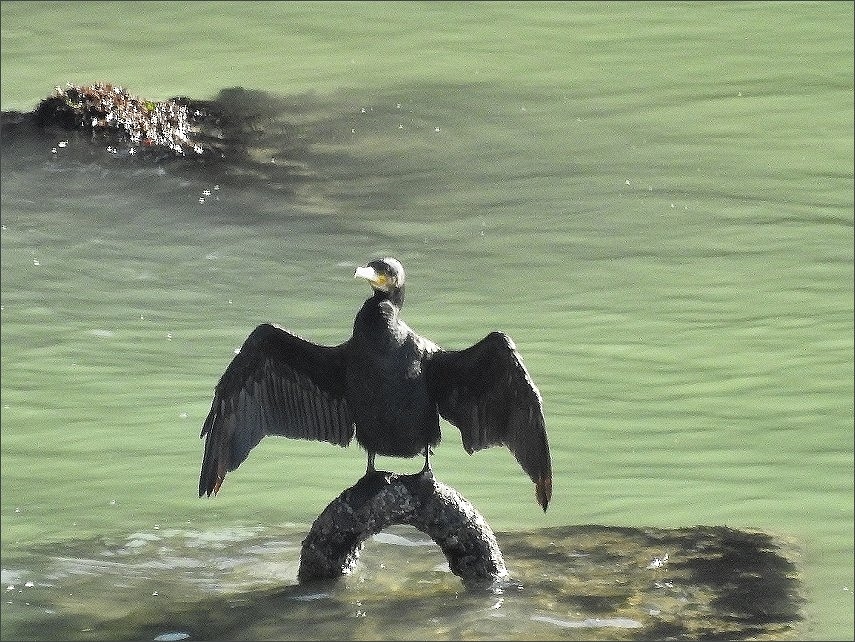 A shot below from last year showing all the cormorants relaxing on the breakwater while in the foreground the not-very-relaxed tug Dauntless battles back to base. Twas a rough oul day...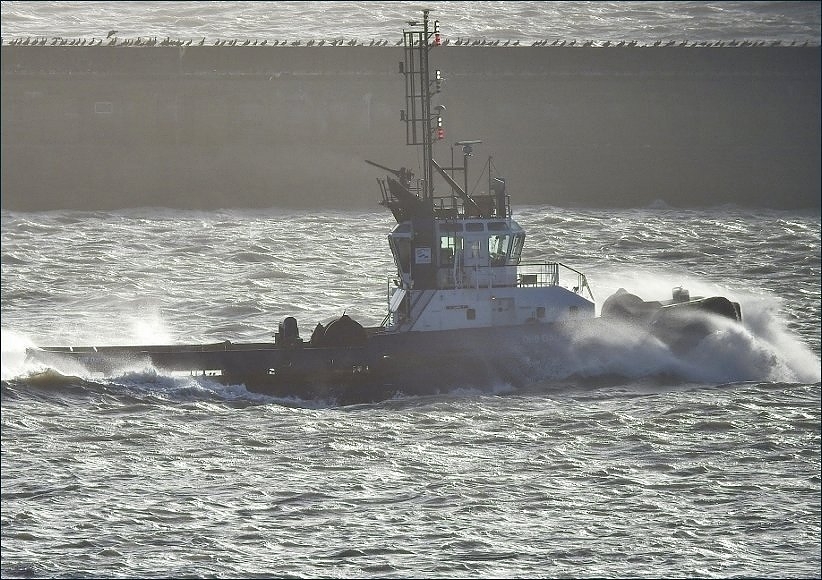 Well done Mike...nice shots below once again from the Eastern Arm

Yes indeed Jan the Police and Lifeboat have to be ready for almost anything as do the Border Force...never a dull moment

PaulB

Tuesday, 22 October 2019 - 07:02
Post 6609
Mike J., Dover
Interesting rescue sequence from Paul.
Two pix mysteriously went missing overnight from my reefer post.
Here they are, another view of the STAR STRATOS [who is now alongside the DCT] & the freight congestion image.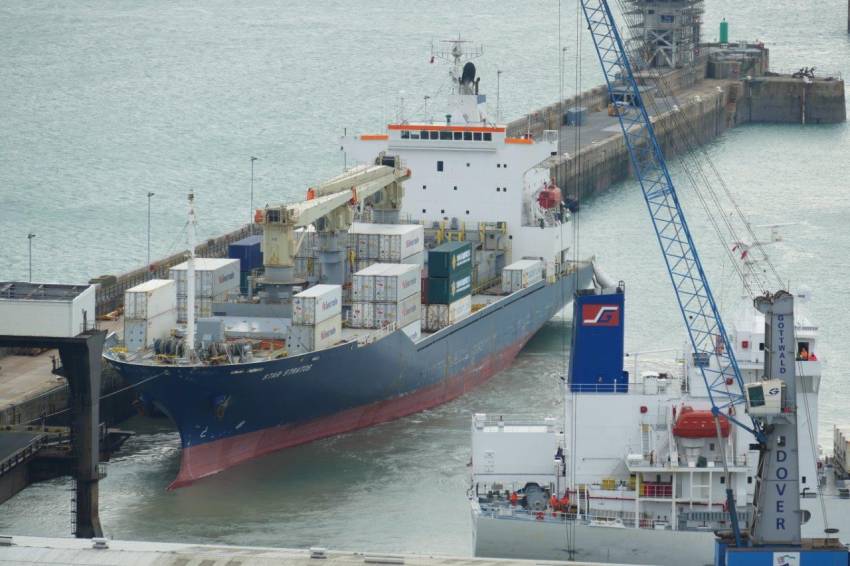 Monday, 21 October 2019 - 12:55
Post 6608
JanT , Dover
Well I guess that's one way of avoiding the Police, but a wet and cold way, hopefully the Police had a large towel to hand.
Just goes to show the Police and LifeBoat have to be ready for anything.

Monday, 21 October 2019 - 08:47
Post 6607
Sea News, Dover
There was something of a drama on Dover Seafront yesterday Sunday. It appears to be the case, surmising from afar, that the police wanted to interview an individual who was behaving erratically, the same individual took fully-clothed to the water to avoid immediate police contact...let the pictures take it from there...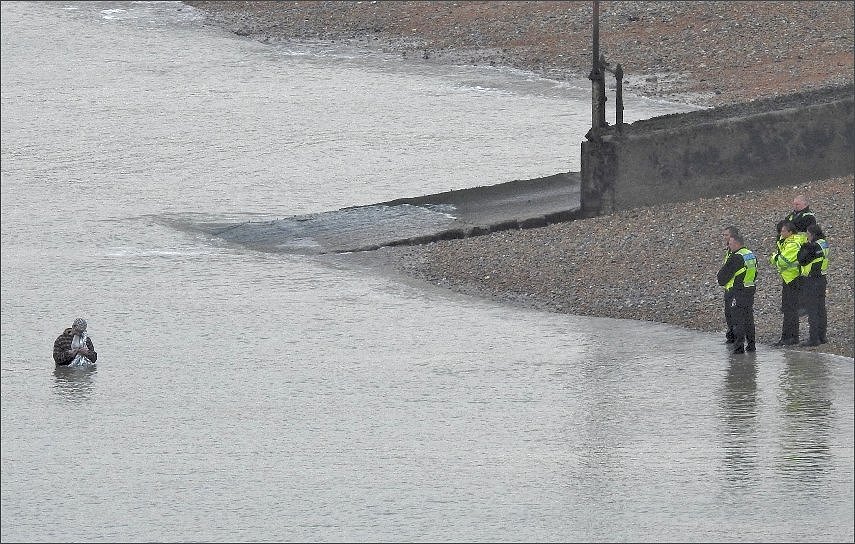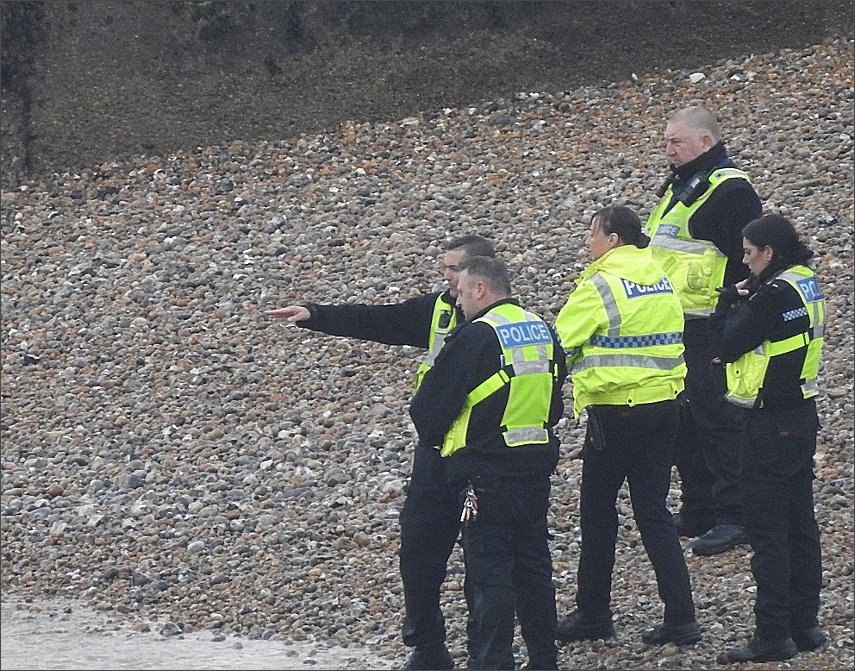 In a short while the Harbour Patrol Boat and then the Dover Lifeboat were on the scene to engage with the situation. The potential was there for an unfortunate outcome as the individual had moved further out to sea...further away from the beach. The Y Boat was launched from the Lifeboat and it went to fetch a Police Officer from the beach... the Y boat then engaged with the water borne individual...
The pictures tell the story from here...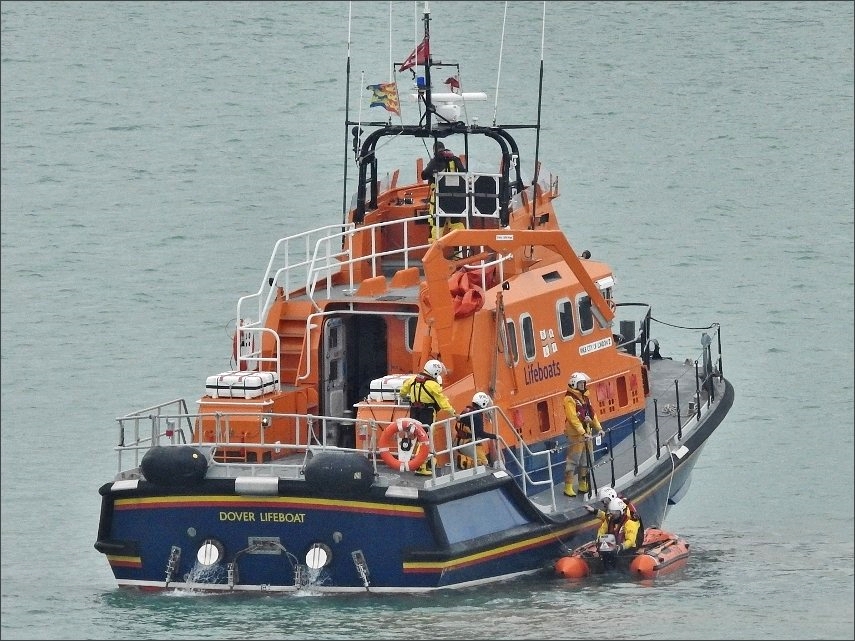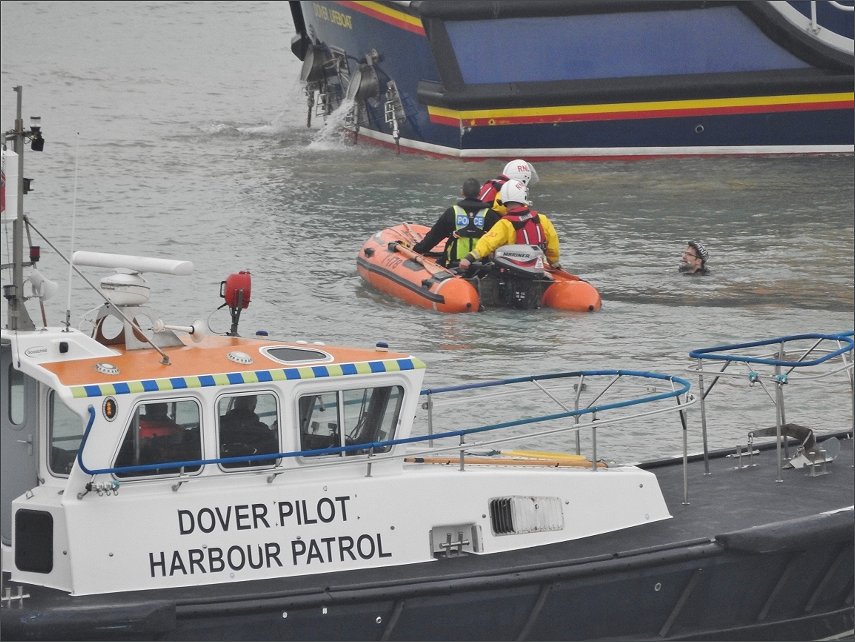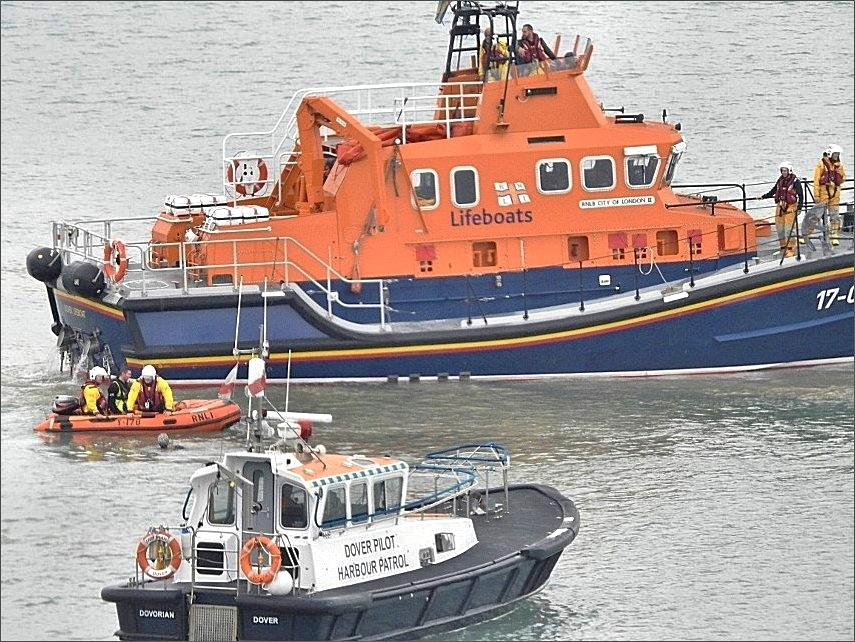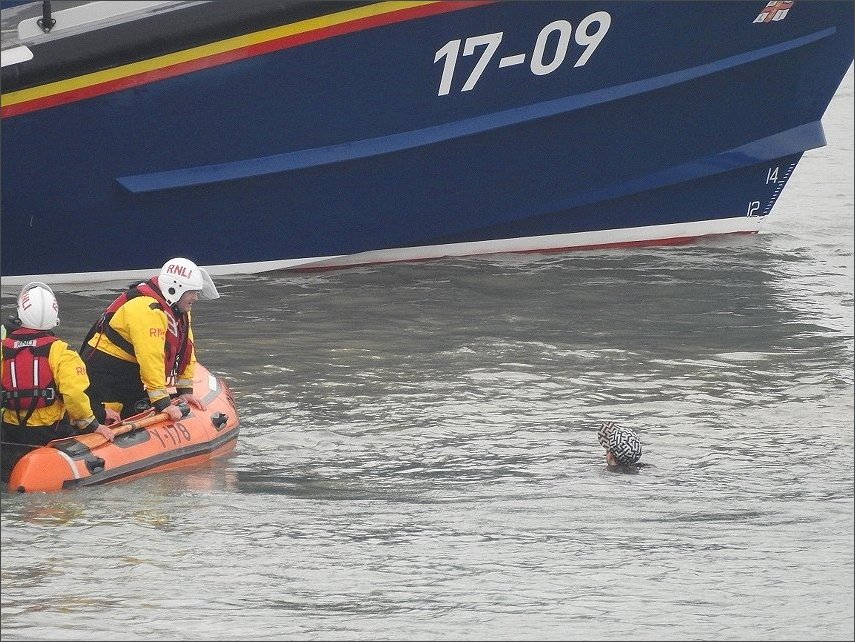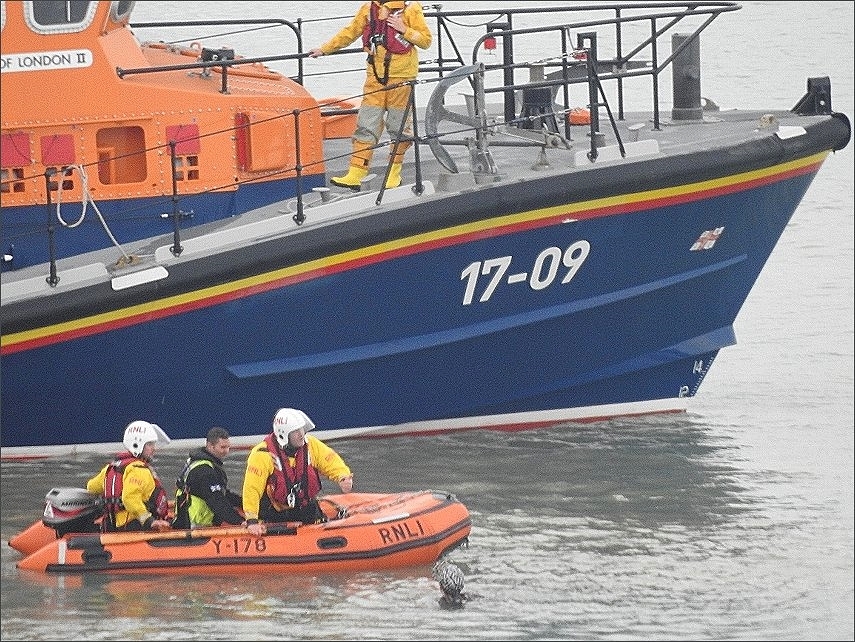 The Lifeboat crew did a sterling job talking the individual around and indeed the Harbour Patrol guys were helpfully on hand at all times...and in the end after much engagement the Lifeboat took the individual onboard. It was good to see a positive outcome...
PaulB
See Mike's enjoyable reefer collection below...great stuff there!

Monday, 21 October 2019 - 06:10