Tuesday, 11 December 2018

WWW.DOVERFORUM.COM/SEA-NEWS
Featuring all the ships that come and go and work at the Port of Dover with further coverage of the surrounding ports both sides of the Channel. Click ADD YOUR COMMENT below to post direct, no membership needed.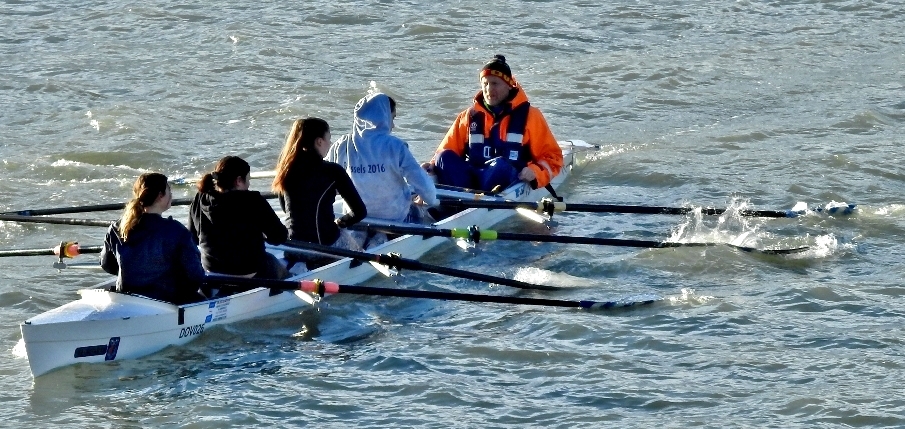 Rowers - cold sunday...
Listing highlights....
P&O: Britain's Favourite see 5922.
DFDS: Voted Worlds Leading Ferry Operator...see 5918..
Charlie Elphicke MP: Migrant Crisis 5894.
P&O: Santa Onboard see 5870.
White Cliffs Ice Christmas at Port 5852.
Wreck of the Anneliese 5880, 5881, 5882 ...
Port: Additional Funding for Kent Wildlife Trust 5879.
P&O: Apprentices welcome RB Legion veterans 5853.
Eight new apprentices graduate see 5845.
DFDS: 'SEE PORTS' Calais and Dunkerque 5834.
DFDS: Revitalising dining concepts onboard.. see 5831.
P&O: Schoolchildren mark WW1 see 5816.
Lower Thames Crossing boost..5812. see now also 5817.
Dover Museum's revitalisation see 5807.
Port of Dover: Refrigerated Cargo Terminal .. software for 5801. Latest NATO also 5801.
Port of Dover: Great increase in summer traffic 5795.

Continues...
Russian and shadow 5785.
The Waverley paddle steamer latest 5778...
New SAGA Ship launching in Dover see 5776.
P&O: To Rome on Horseback 5759.
DOUG BANNISTER: New Chief Executive Port of Dover see below 5734....
Merchant Navy Ceremonial images also 5734.
Dover Regatta Rescue incident plus .. see 5713.
Dover Regatta pictures Lifeboat etc..5716, 5717, 5718, 5720.

DFDS Expansion: More New Ferries on order... see 5693 see also 5500 and 5381.
Excellent Tourist season for P&O Ferries see 5649.
VSBW Port of Dover - Women at Work 5638.
P&O Second Female captain see 5107. Also see latest 5570.



NEW:

For instant access to any item listed above - just type the post number in the Search Engine below.
Sea News Dover : Use our SEARCH ENGINE below to find all sorts on the SEA NEWS pages....
type in the topic and away you go... more than 5900 nautical posts now.
Posts are welcome. Max of 5 pictures preferred although we can stretch that for special stories..
Sea News Editor Paul Boland - send info or pix to dover7@msn.com. Always welcome.
All pictures on these pages are the copyright of the owners and must not be reproduced without permission.
Post 5791
Sea News, Dover
Another Russian....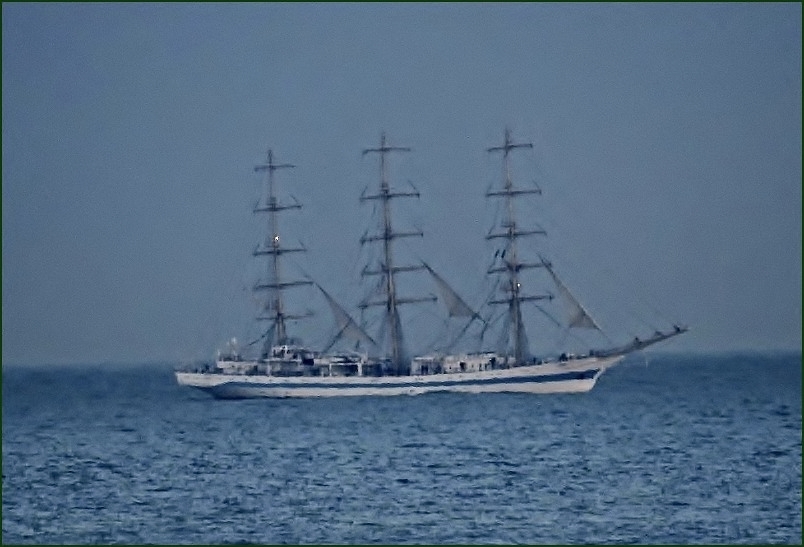 This magnificent Russian tall ship was coming down the channel last night. Yours truly saw it coming a long way off and hoped it would reach us before it got dark. Unfortunately it didn't work out...it was just too dark as it passed Calais above... managed to get an image but...
However here we are below, delighted to be able to show this one...a nice shot taken of the very same ship .. Mir.. in Dunkerque in 2013 at a huge and exciting tall ship event there... had a magnificent trip over there that time, even met some of the friendly crew...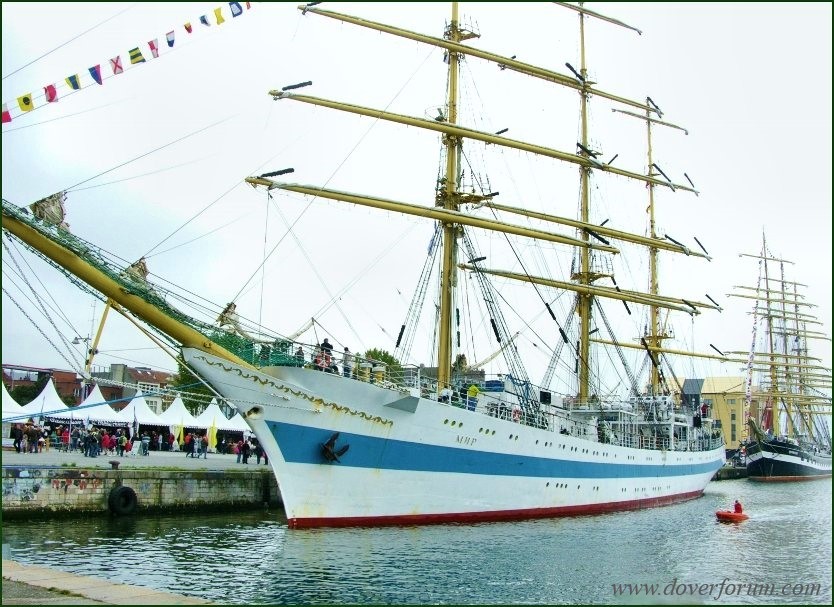 PaulB
see also todays earlier post below.
Wednesday, 3 October 2018 - 15:03
Post 5790
Sea News, Dover
The CRC Comet in dazzling action...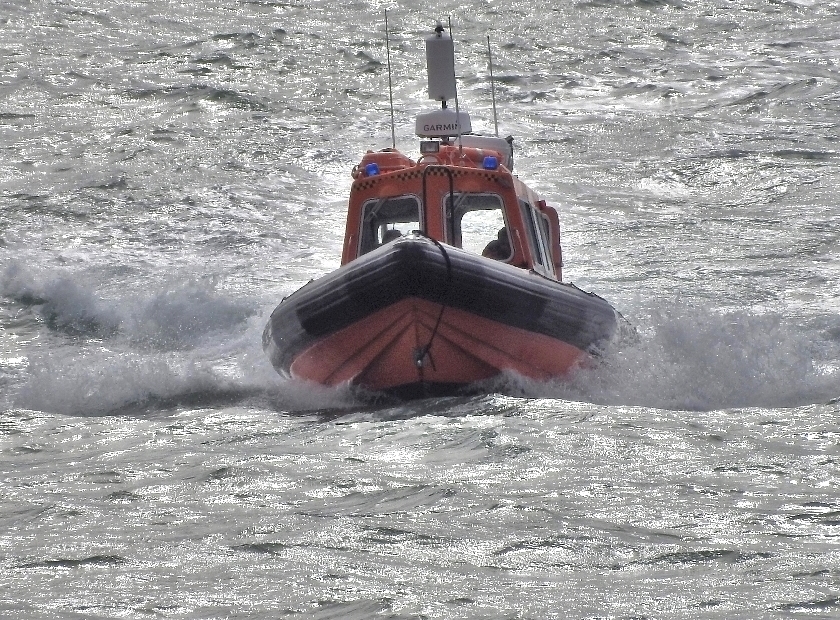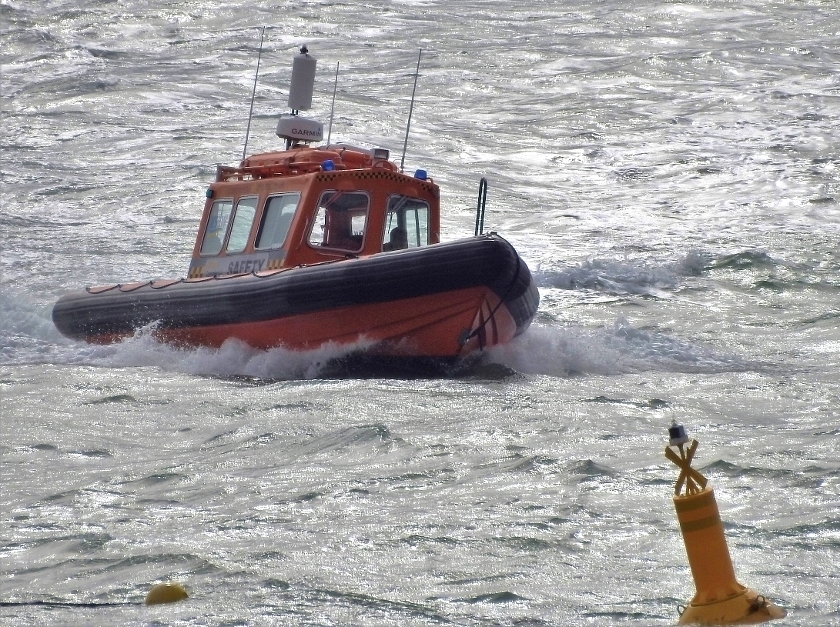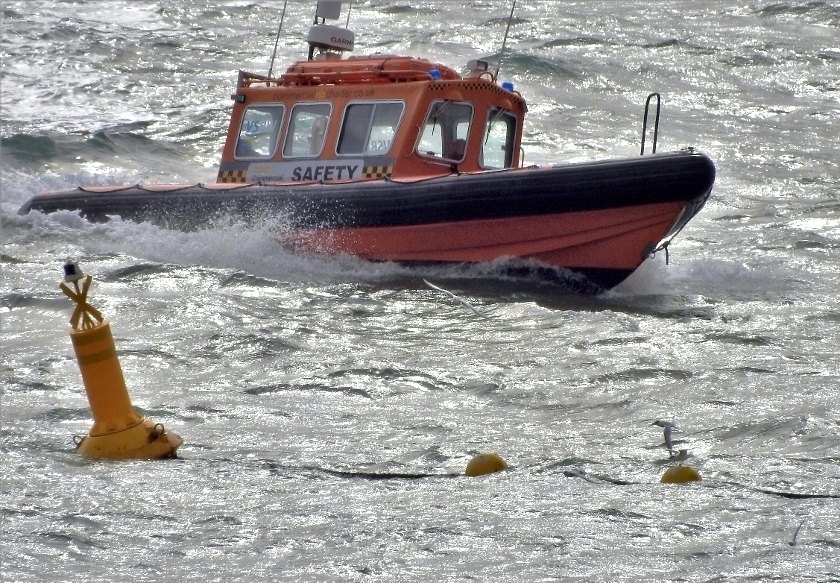 She came hurtling towards yours truly at considerable speed ( but obviously from a long way off!). Fortunately the camera was ready and a few shots were fired off...completely missing the Comet in the last one below as it flashed past. That's todays deliberate mistake...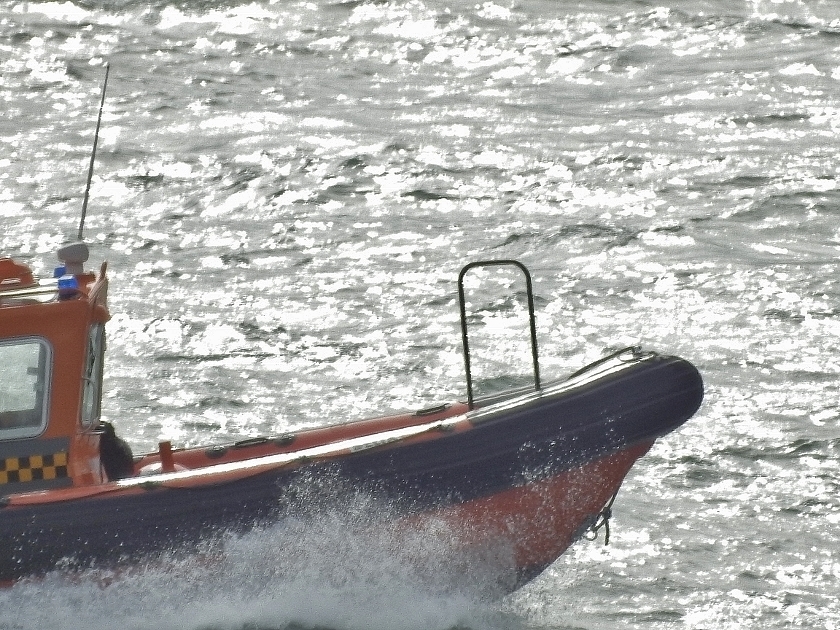 Whoops!! missed it that time

CRC stands for Commercial Rib Charter we understand. The CRC Comet is working as a safety boat with the DWDR.
Thanks Mike for the update below.

PaulB
Wednesday, 3 October 2018 - 07:06
Post 5789
Mike J., Dover
In contrast to Paul's nice pix of the AIDA SOL & the SEABOURN OVATION & their tugs, a final view of the ST.MICHAEL leaving Ramsgate for the Thames last Saturday.
Sarah was on duty at the RNLI boathouse & kindly sent a few pix of SPEEDWELL towing her out, with BUMBLE in attendance.
Thanks Sarah !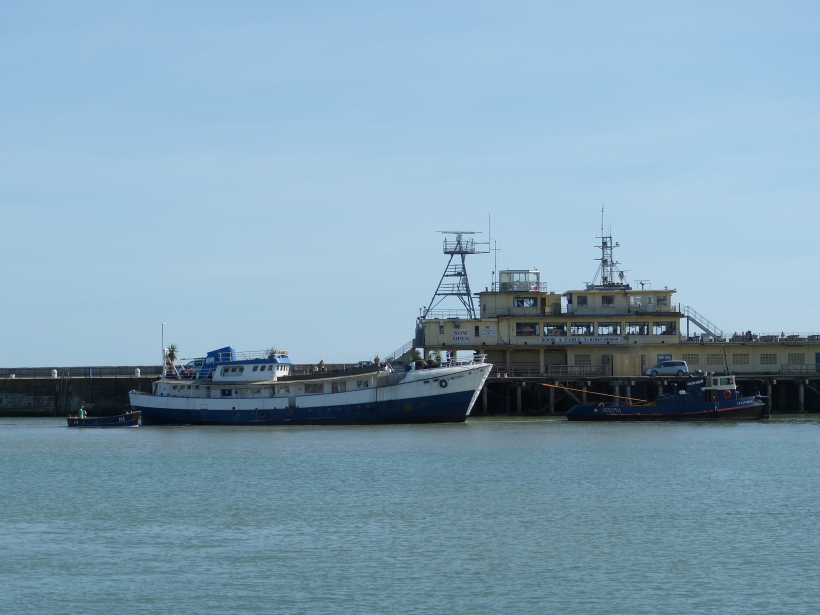 The MILLENIUM DIAMOND [post 5782] didn't go onto the Ramsgate slipway on Monday.
My 'source' had told me 'Monday maybe' which turned out to be quite accurate when I made a brief visit around high-water.
Work was taking place on the slipway carriage which has had extra girders fitted to accommodate the very wide beam of the DIAMOND.
The only photo I took over in Ramsgate was the neat llittle workboat NEW ROSS 1 on the windcat pontoons who had arrived from Eastbourne in the wee small hours of Monday morning.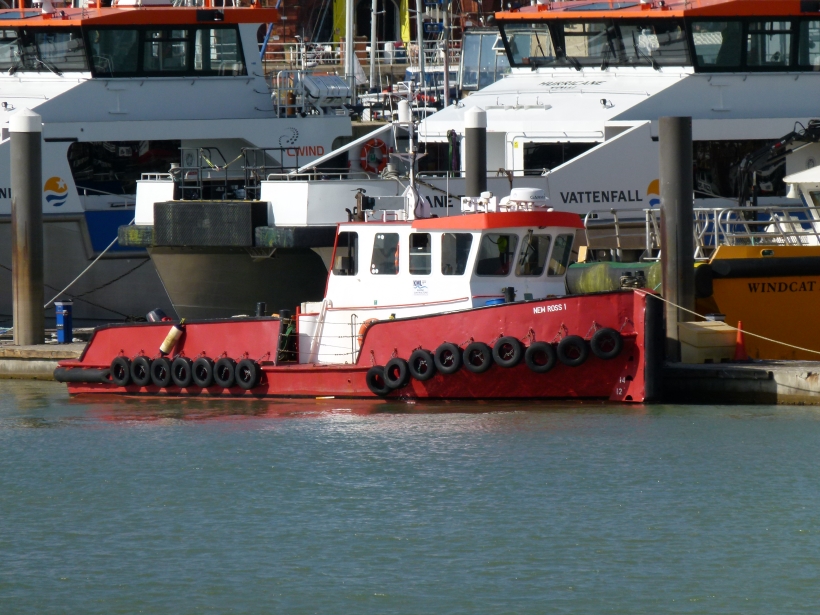 Interesting to read that she is a Dutch design & the builder's name for the workboat class is 'Pushycat' !
Tuesday, 2 October 2018 - 08:15
Post 5788
Sea News, Dover
AIDASOL and Tugs at the Port of Dover.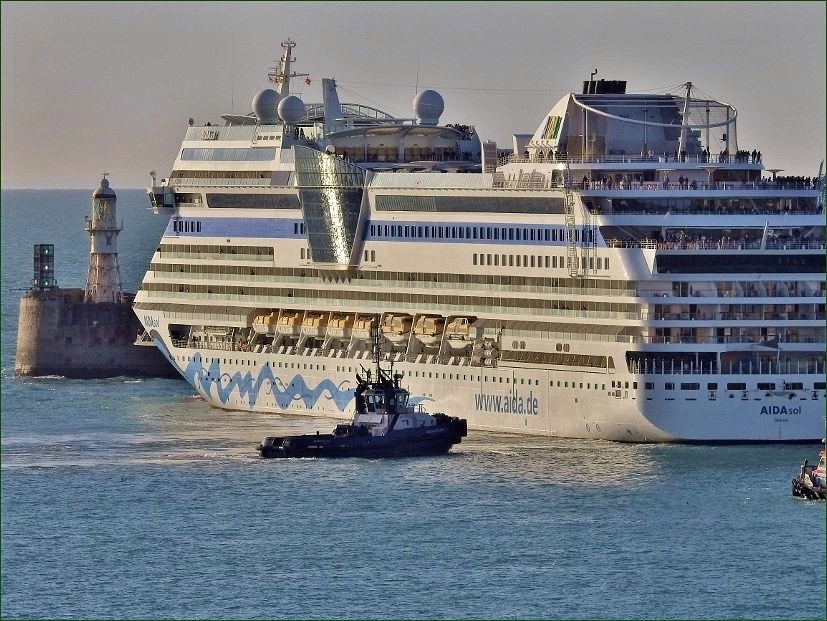 As promised here we are with some more arrival pictures of the AIDAsol but this time majoring on the tugs. By now...in the shot above...AIDAsol is across the harbour and Dauntless stands by, ready to help the large ship into place if needed. Then the DWDR support tug from Holyhead Towing, Afon Lligwy, moves alongside to help out as you can see below ( you can just see her nudging into the picture above too ). We have featured Afon Lligwy in all sorts of different roles but as noticed by Mike recently..she occasionally helps out now in place of regular tug Doughty.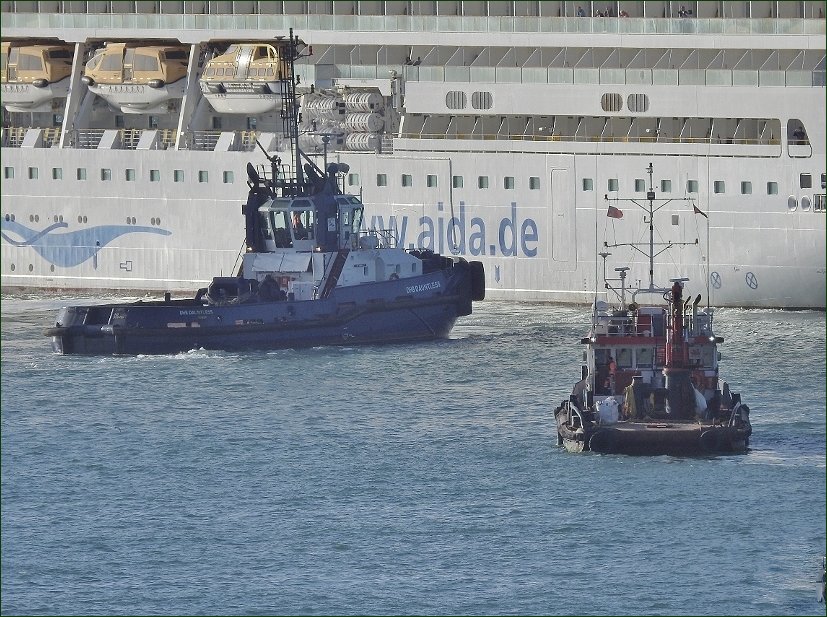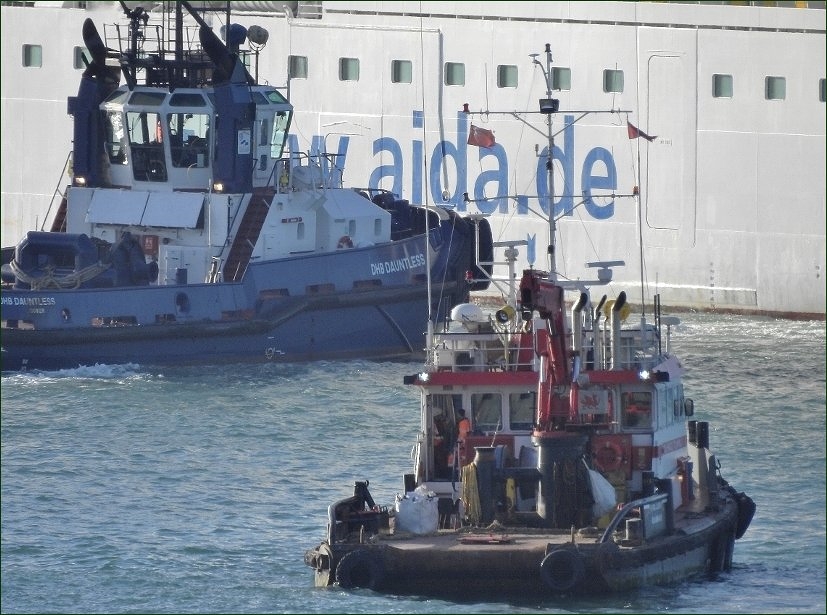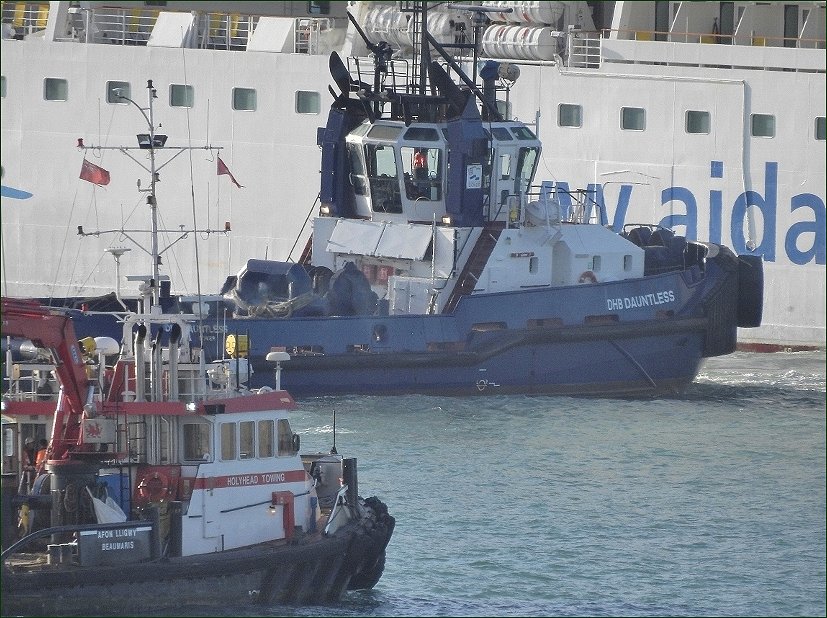 A wider shot below.....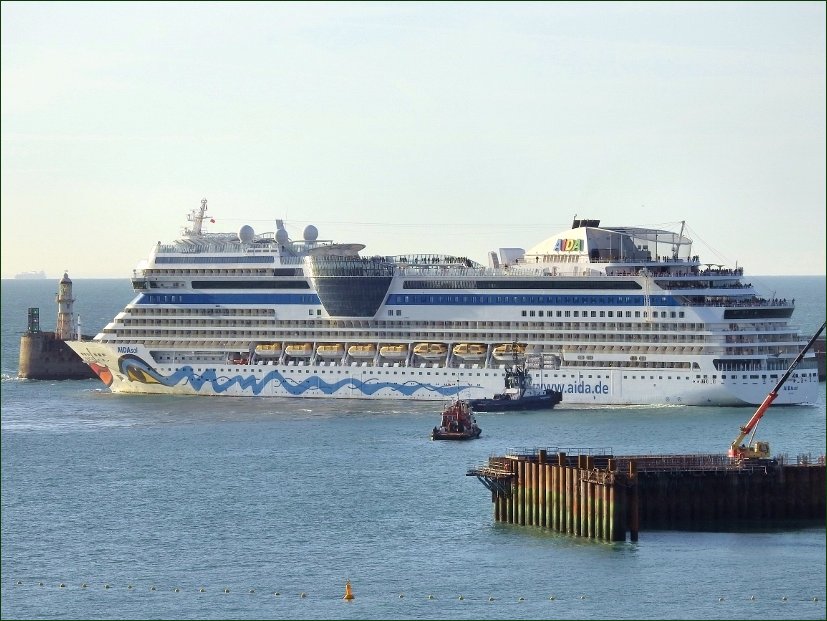 Just popping this one in...yes its the Seabourn Ovation once more. She came in to port in the dark and alas left in the dark too...but here she is around dawn yesterday over at Cruise Terminal 2. She is brand spanking new...a great design, look at these sleek lines...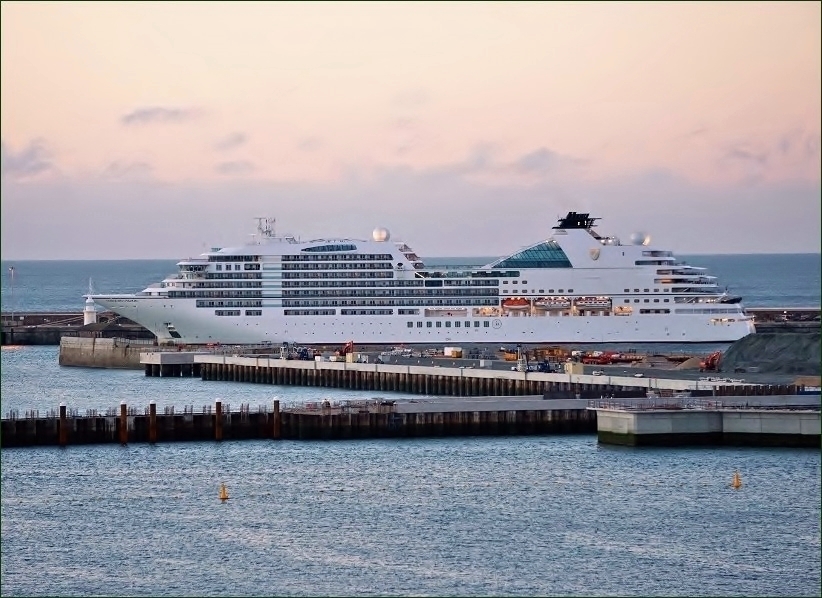 Lol Brian .. is that when it happened - it crept up on me...

PaulB
PS: some fast shots of the CRC Comet coming next.
Tuesday, 2 October 2018 - 06:12
Post 5787
brian dixon, dover
October happened over night paul. lol

Monday, 1 October 2018 - 12:43
Post 5786
Sea News, Dover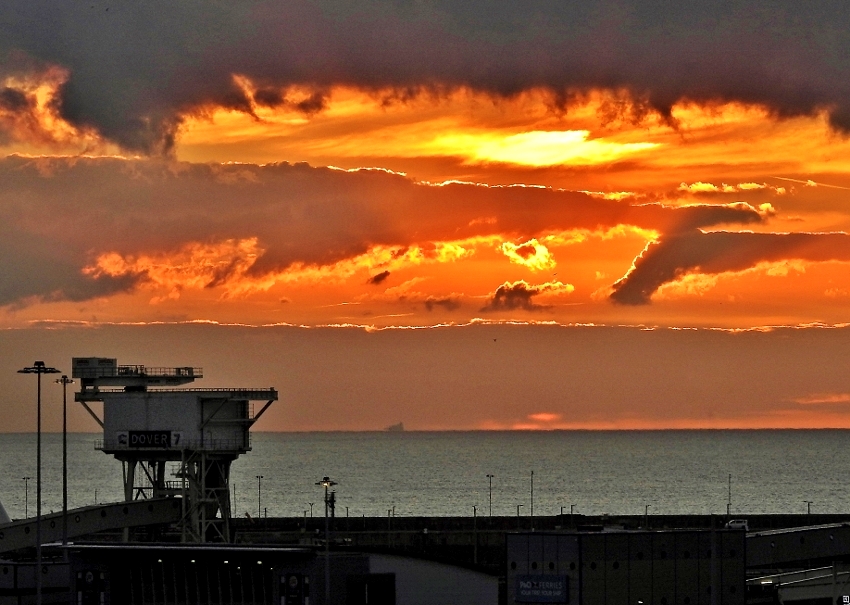 Looking across the top of Dover7 above at the dazzling morning sky a couple of days ago. A day later below and we see the fab AIDAsol approaching in the same area. The 72,000 ton ship is a fair way out in the first of the pictures and of course approaches slowly.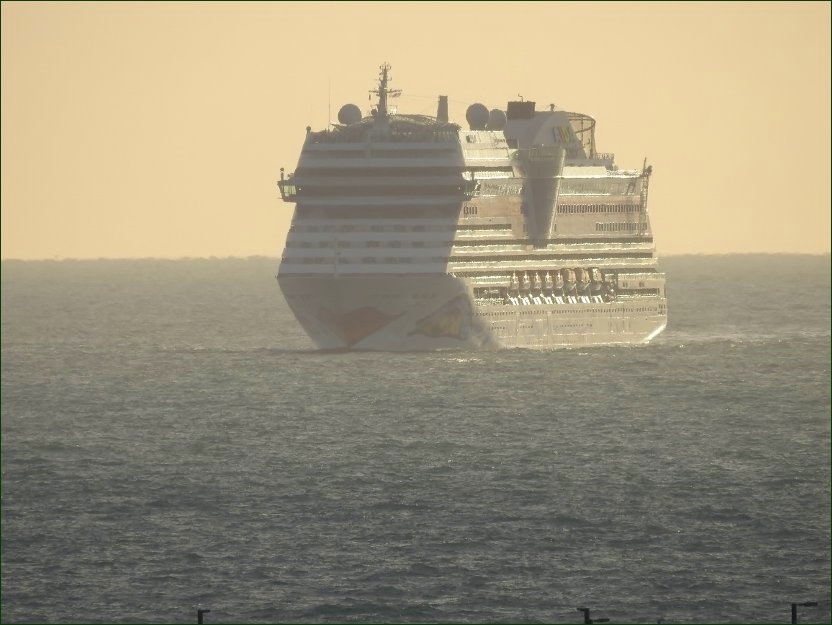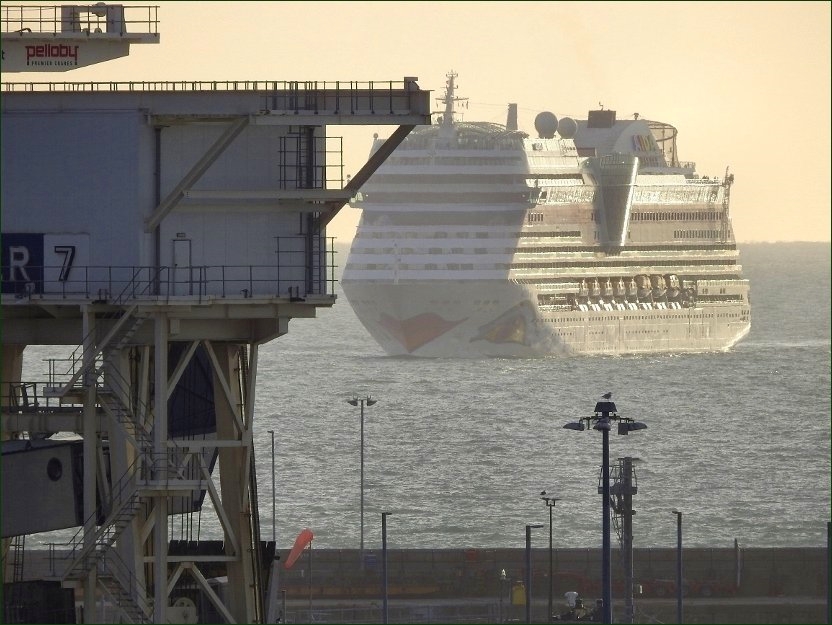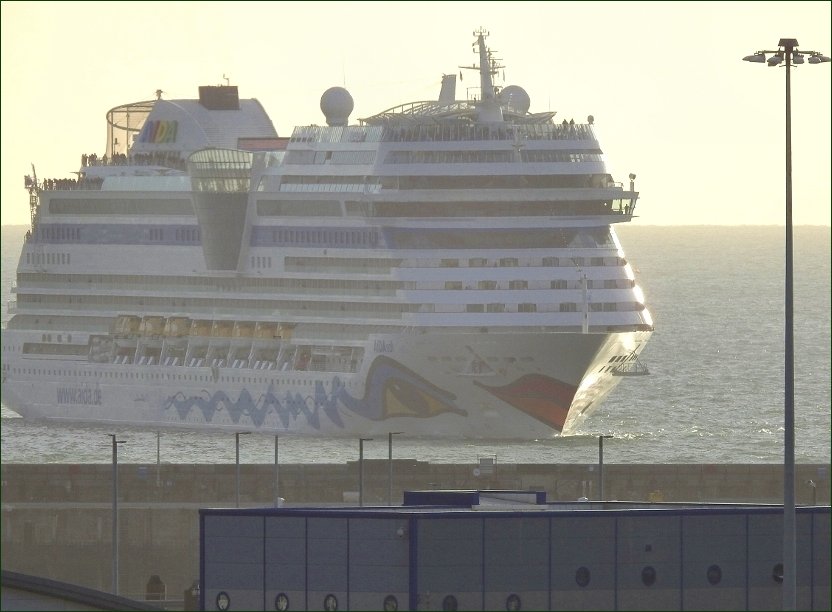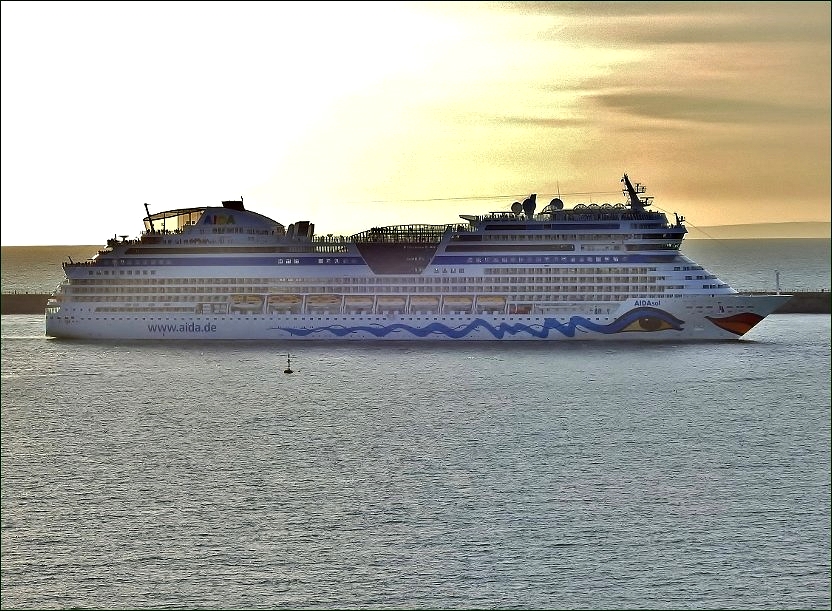 Dazzlingly blindingly bright on that last one..sunglasses needed.

Had to wrestle with that one to get an image.
When she came across the harbour pictures were easier, we will have some of those in due course... Afon Lligwy seemed to be joining in with Dauntless on tug duties again...will have pictures...
See also the interesting item in the post below. Never a dull moment eh.
Heavens!... just realised its October..when did that happen??


I think we can safely say now that summer has gone...
PaulB
Monday, 1 October 2018 - 06:43
Post 5785
Sea News, Dover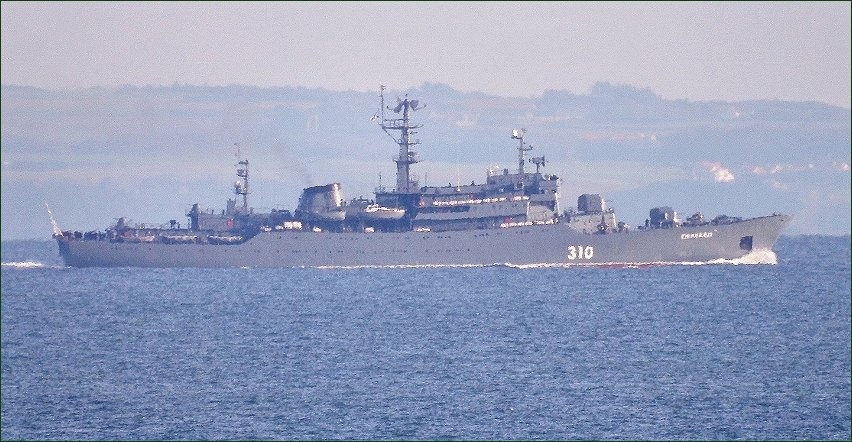 Foreign weaponry moving down the channel yesterday evening saturday about 5.30pm. At a guess the top one there is a Russian ship as it was being shadowed gingerly at a distance by the one below....a sign of the obvious procedure. The markings on the one above suggest RFS Perekop. No discernible markings on the one below, not that yours truly could see anyway ...they were a long way out.
Update: We now believe the escort ship to be HMS Mersey.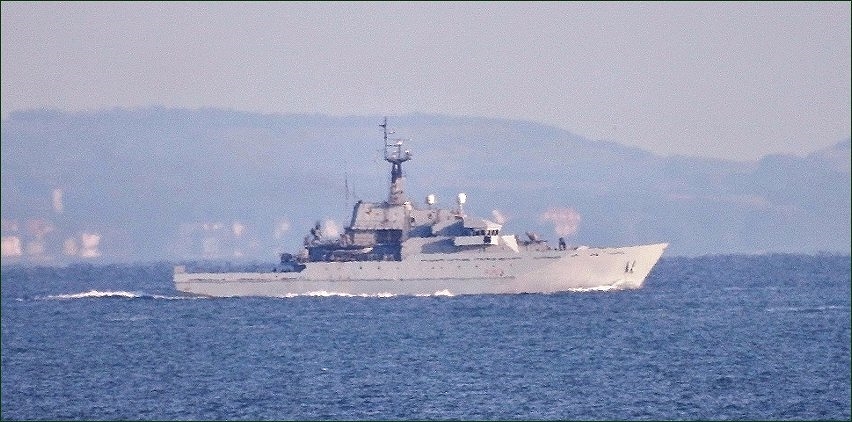 PaulB
Sunday, 30 September 2018 - 17:27
Post 5784
Sea News, Dover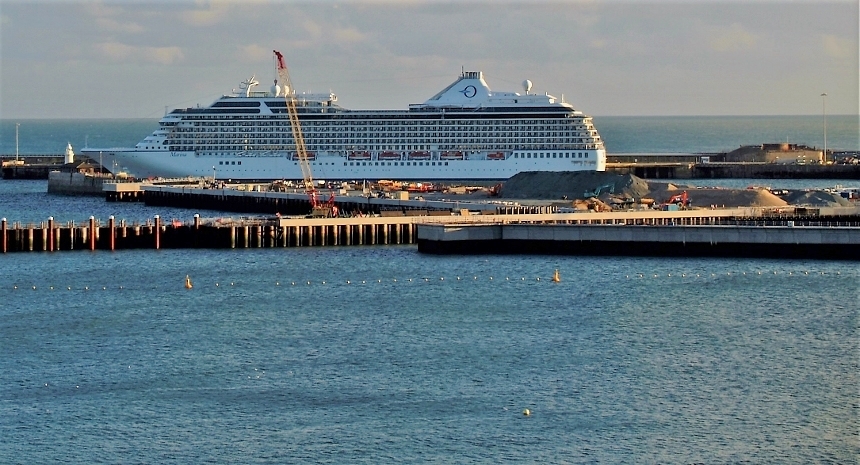 A colourful pic above there of the Marina cruise ship on Friday evening...looking across at her through 'the workings'. Yours truly didn't catch her either coming or going alas alas… although its a nice colourful evening above, earlier in the day it wasn't like that...a wee bit grim is the term that leaps to mind and you can see that below. Same ship same day different conditions.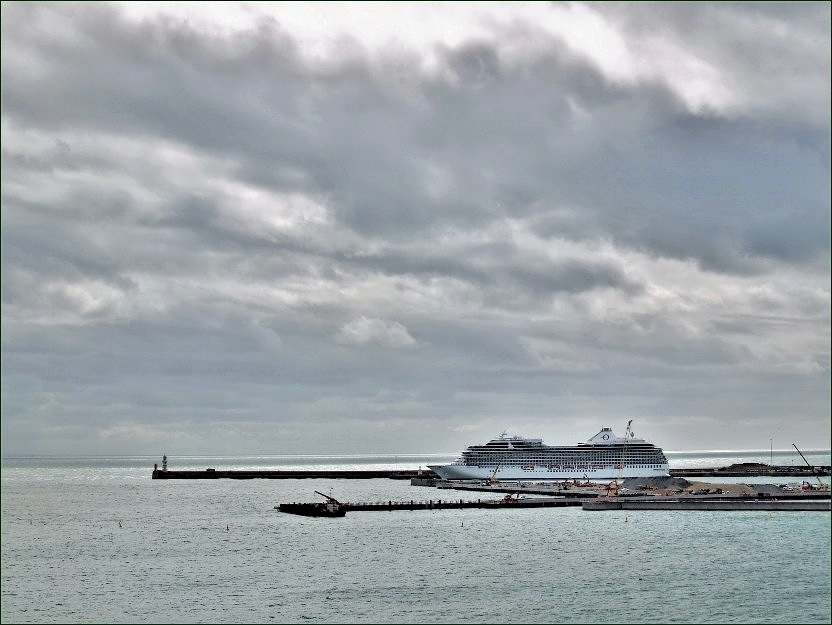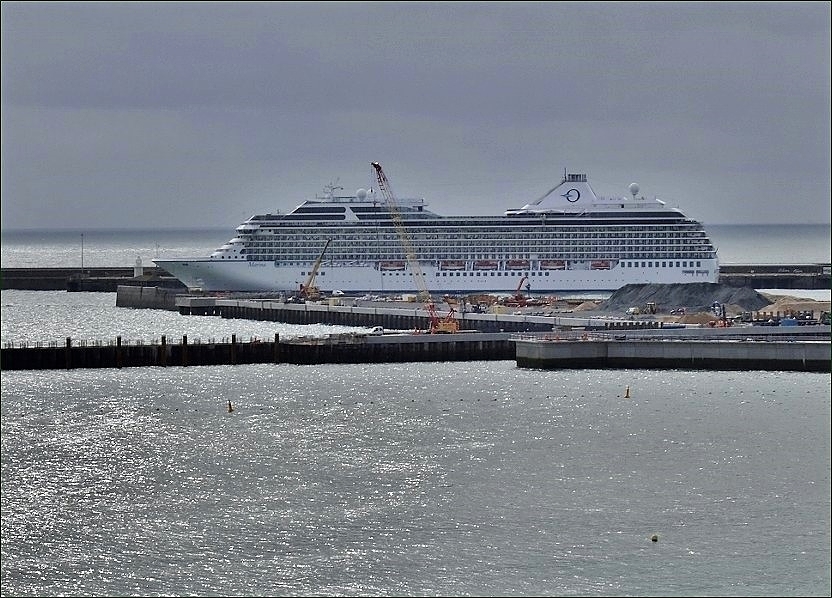 We are having great cruise ships this year...the near 72,000 tonner AIDAsol was back in with us yesterday. Will have pictures of her approaching long range to follow in due course.
While uploading the Marina cruise liner just now...just spotted this pic below in the files from times past, taken at that other marina. Yes an artist at work in Cullins Yard..painting yes you've guessed it...the marina. A nice pleasant cheerful picture for sure.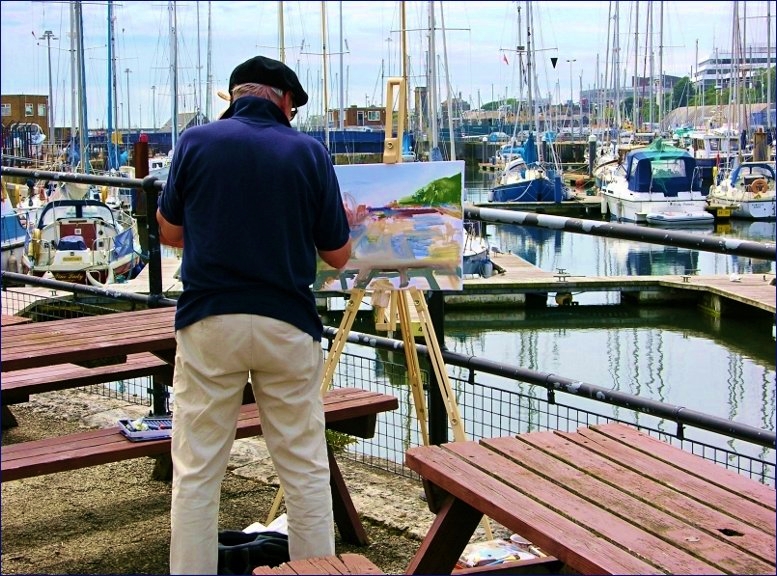 Some gorgeous heavy metal basking in the sun outside the Premier Inn yesterday Saturday. Yours truly has always had a passion for the motorcycle, and these Harley Davidsons below are a joy. Look at the engineering there...all immaculate too. A lot of delicate polishing went on here...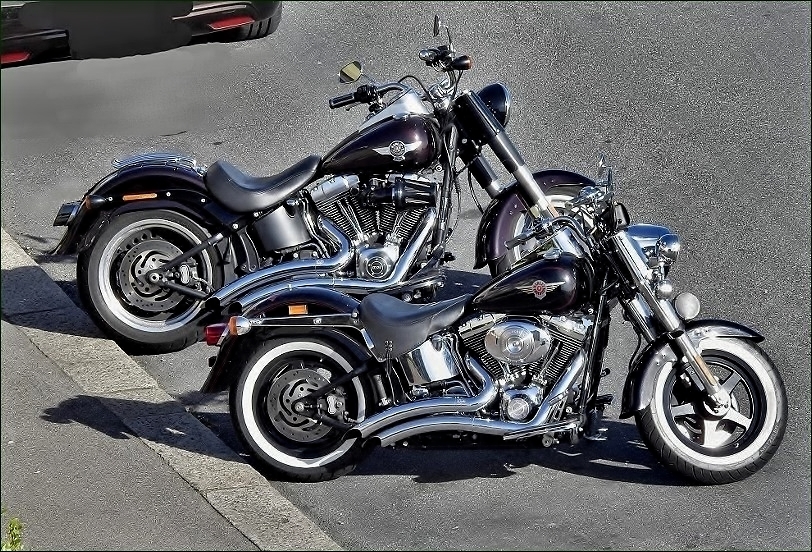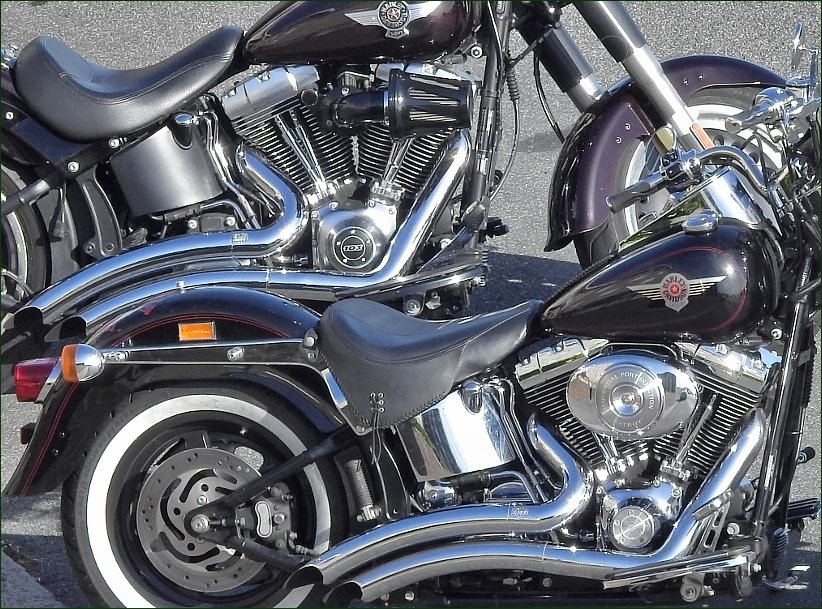 An excellent collection below Mike from Ramsgate. You have been very busy..great to see those.

Mike mentions several previous post numbers below there...don't forget to reach previous posts easily you can now just type the post number in the Search Engine above and lo and behold the previous posts appear as if by magic.

PaulB
Sunday, 30 September 2018 - 07:13
Post 5783
Mike J., Dover
ST.MICHAEL was finally 'launched' Friday midday & was being moored on the East Pier at high water with the assistance of the Cannon's workboat BUMBLE.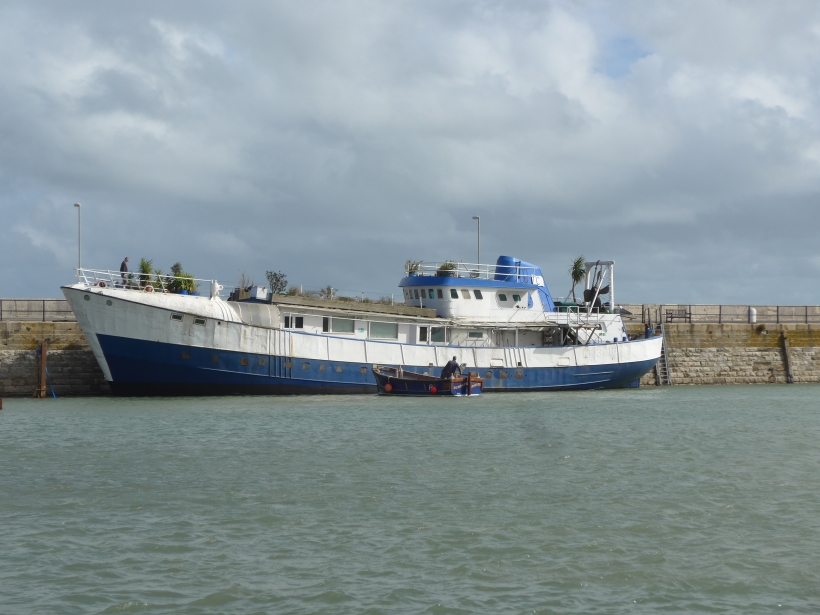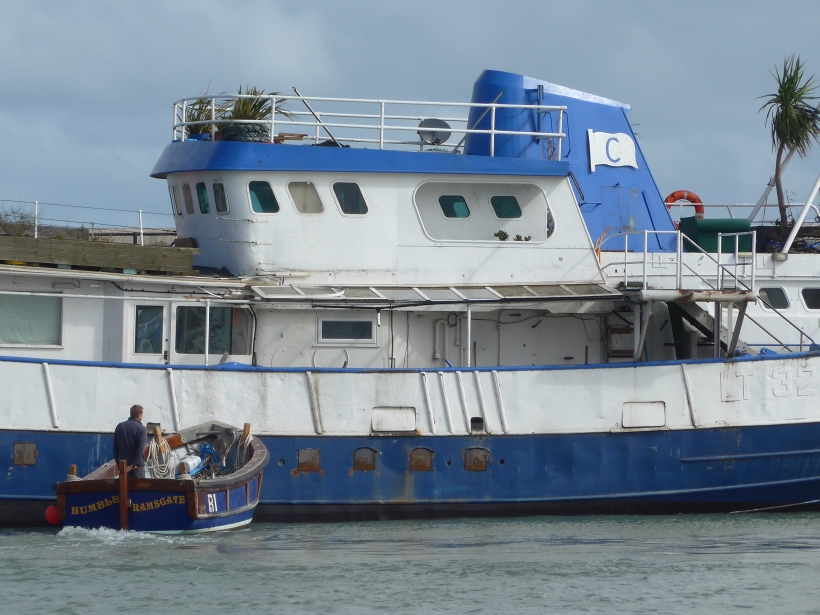 Tug SPEEDWELL [post 5756] arrived from the Medway about 2200 Friday night & will tow the ST.MICHAEL back to the Thames & Vauxhall Marina, the little convoy is expected to sail at noon on Saturday.
The brisk weather had brought at least 15 windcats into port & the fishing boat berths were well filled.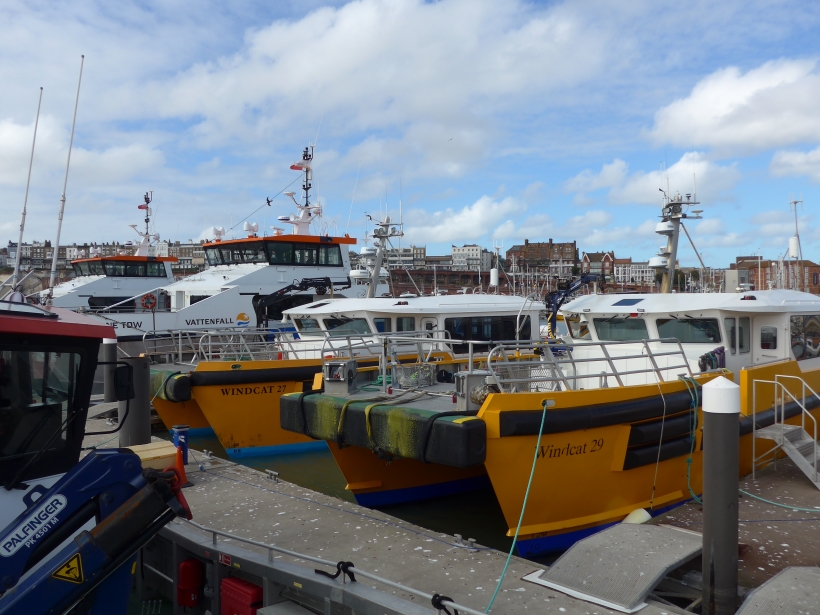 The Svitzer workboat GRAY JUMBO had come in from Newhaven & walkers along the East Pier were getting 'sprayed' from time to time.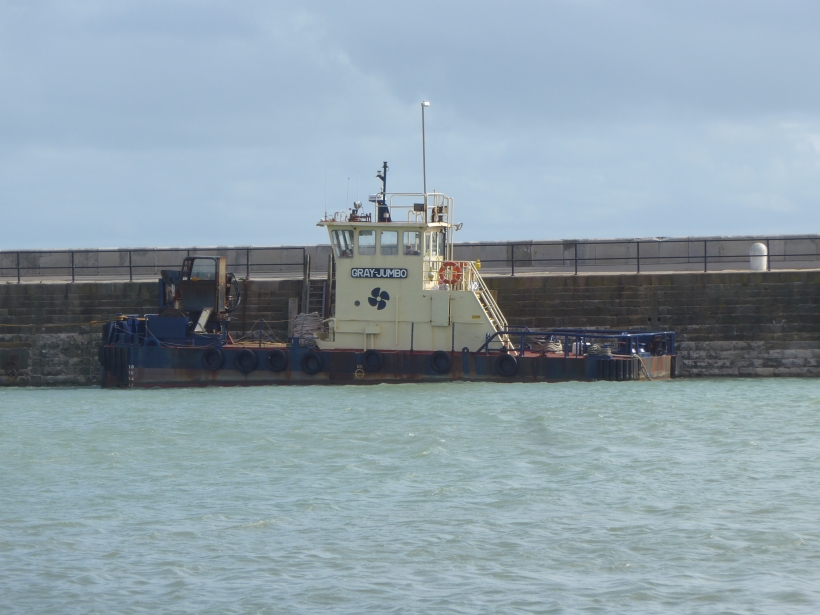 .
Saturday, 29 September 2018 - 00:42
Post 5782
Mike J., Dover
A frustrating Thursday afternoon at Ramsgate.
After hearing from a 'reliable source' [the owner] that the ST.MICHAEL [post 5756] was going back in the water on the midday tide there was a delay & the 'launching' was deferred.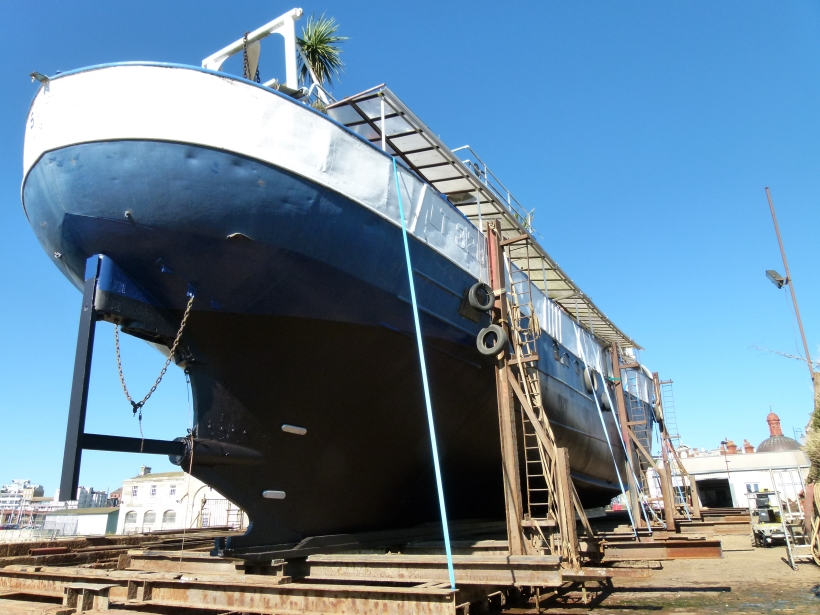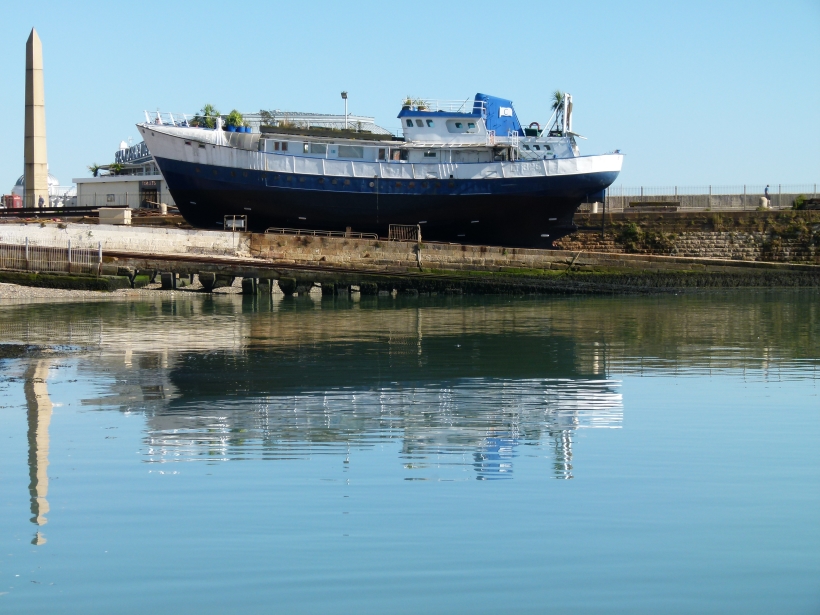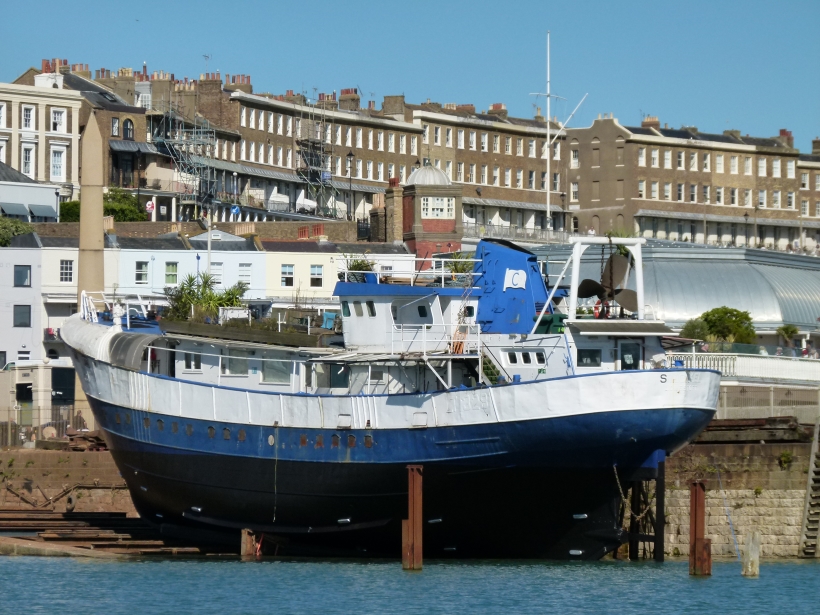 Hopefully this is only a minor 'blip' as tied up to the Commercial Quay is the slipway's next customer, the Thames sightseeing catamaran MILLENIUM DIAMOND of the CITY CRUISES fleet.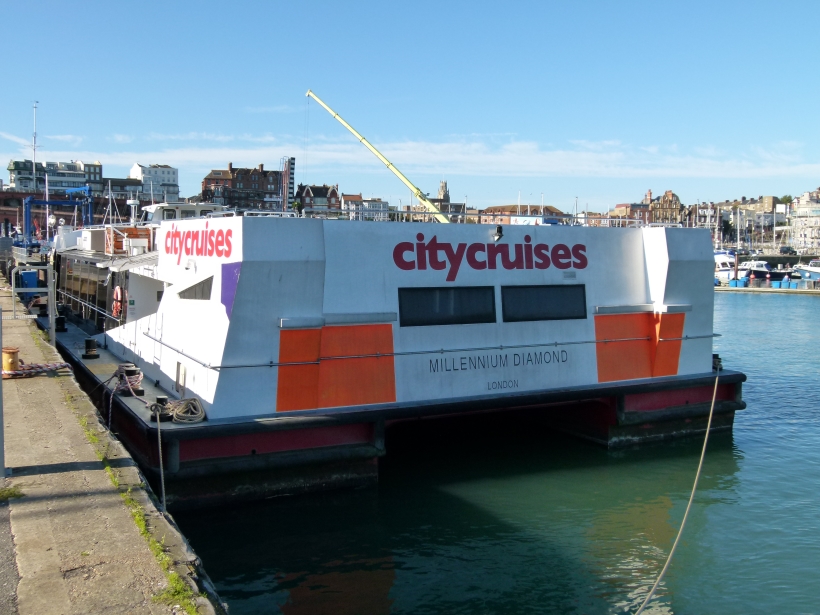 We occasionally see CLIPPERs in Dover [post 5420], calling in briefly for fuel while on passage to & from refits at their builder's yard in the Isle of Wight..
The MILLENIUM was well boarded-up to prevent damage in case she encountered bad weather when at sea away from the rather smoother Thames.
She is expected to go on the slipway on Monday & remain for a month.
Friday, 28 September 2018 - 11:45
Post 5781
Sea News, Dover
In tandem with the picture at the top of the page today..here are some extra images of the Holyhead Towing guys in recent operation...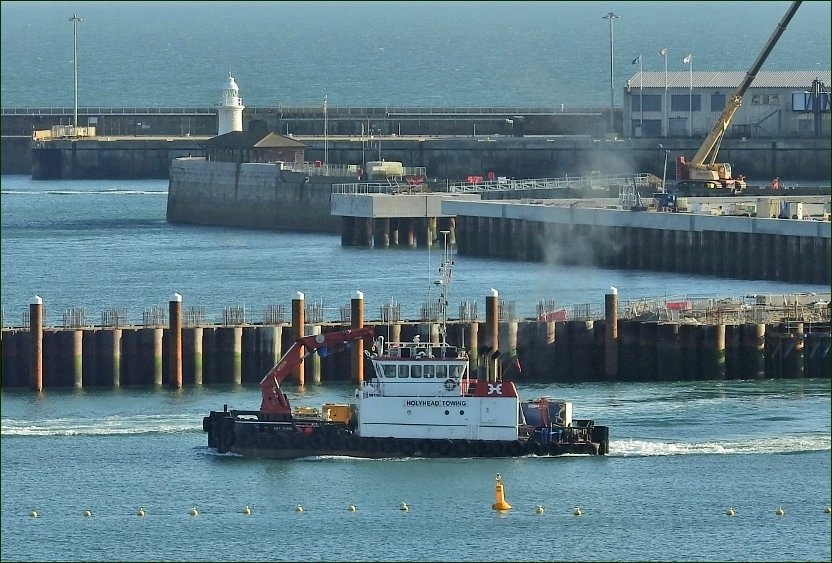 This picture above shows Salt Island late in the day yesterday Thursday...in the background you can see a section of the new development as it all begins to take magnificent shape... there is a huge amount of work going on across a wide area.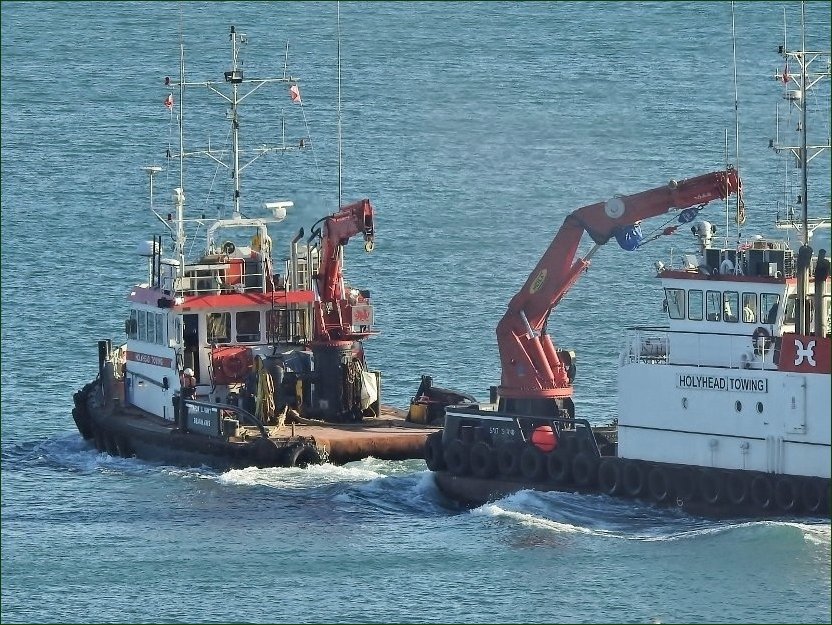 Afon Lligwy and Salt Island catching the late day sun as they head back to the inner sanctum..there they go, yes pictured yesterday late in the day. The pic currently showing at the tip top of page is from a week ago approx.
And now a pic from previously below showing Afon Lligwy once more as she approaches...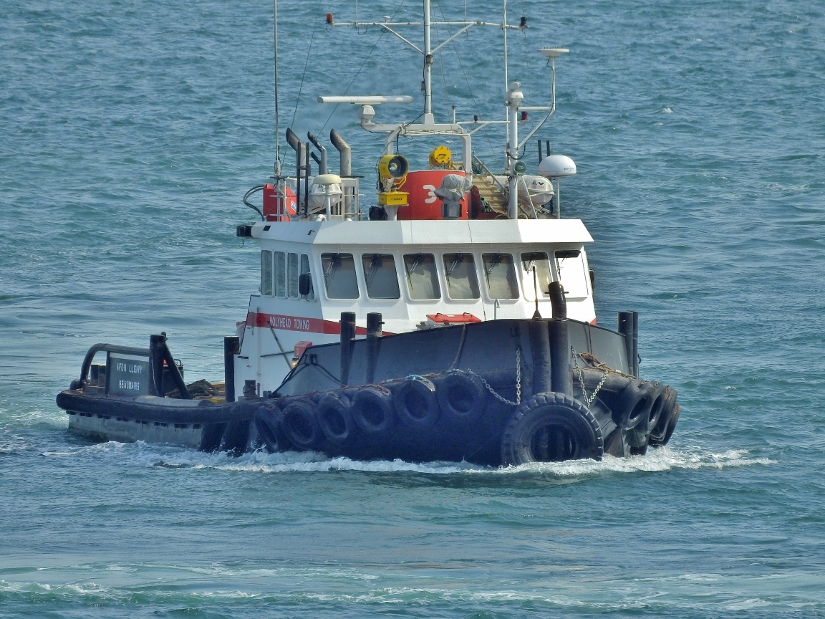 PaulB
Friday, 28 September 2018 - 04:48
Post 5780
Sea News, Dover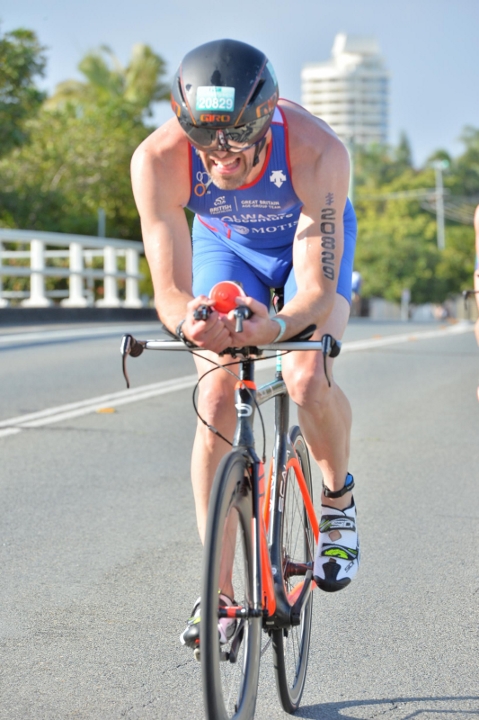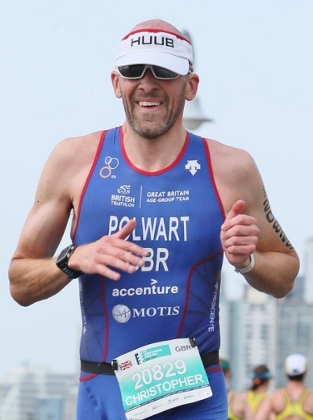 You will remember we covered the Triathlon story about the MOTIS IRELAND commercial director Chris Polwart...just had this email through. Brilliant result indeed. Many thanks for the news and pictures Rachel. PaulB
Hi Paul,
Please find attached a few snaps from the triathlon. Chris finished with a time of 2hrs 07 minutes, 33 Seconds – 31st out of 95 and 2nd Brit home out of 12.
Kind Regards,
Rachel
The original post to follow to refresh everyone... yes here we are...
Motis Ireland Limited Commercial Director qualifies for the GB Triathlon team!
______________________________________________________________
Motis Ireland is pleased to give full support to our very own Commercial Director, Chris Polwart, who will be heading to the Gold Coast (Australia) to compete in the ITU Triathlon (Age Group) World Championship's representing team GB in September this year.
Chris has completed Triathlons from the Shorter "Sprint" distance all the way to Full distance "Ironman" over the last 6 years and managed to secure a spot on the GB squad at a qualifying race in Chester in July where he finished 2nd in the Age Group category. This gave him the opportunity to compete in the same arena with the likes of Jonny Brownlee, Mario Mola and many of the current greats of the sport. Chris will be racing in the "Olympic Distance" race which comprises of a 1500mtr Sea Swim, 40km Bike and 10km Run.
As Motis is very much a Pan European business, Chris spends a significant amount of time visiting customers, suppliers, partners and staff throughout Europe. It is not unusual for Chris to be out running / Swimming / Cycling at sunrise (and before!) to keep fit (and hopefully fast) whilst managing a busy schedule and you are unlikely to find him travelling without at least a pair of trainers in his suitcase!
Motis Ireland is Europe's leading supplier of Freight Ferry bookings, Motorway Toll payment systems, Truck parking, VAT reclaim, Operates the FSA Facility in Dover's Western Docks in addition to many other services to the European Transport industry. Learn more at www.motis.com.
Ends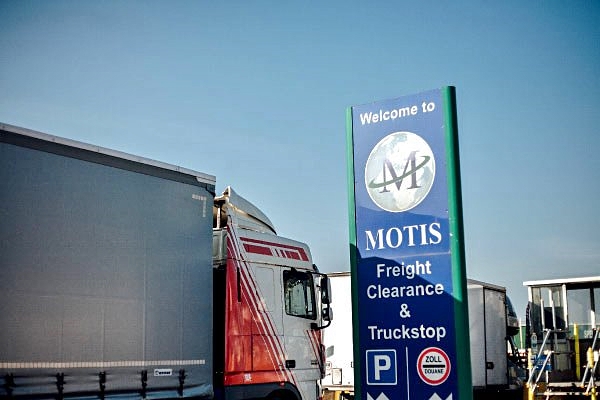 Type MOTIS in our Search Engine for more Motis News.

Thursday, 27 September 2018 - 04:32
Post 5779
Sea News, Dover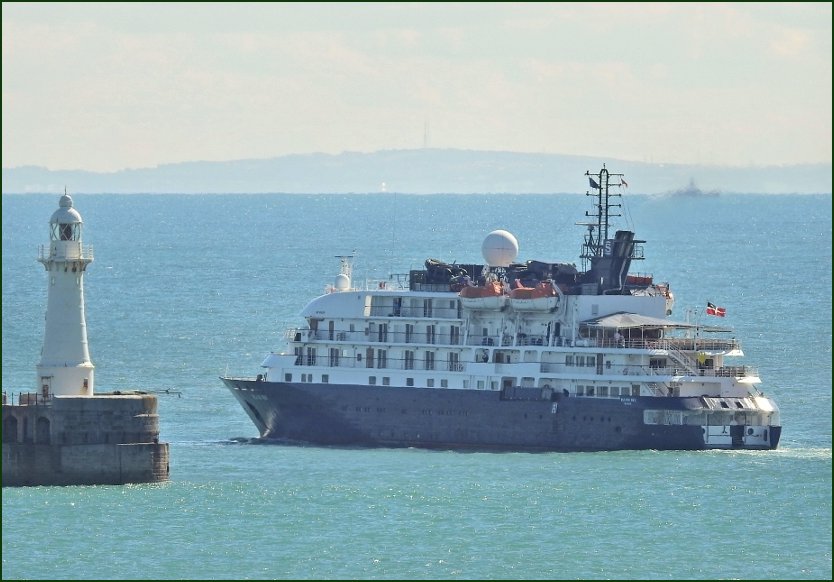 A couple of pictures above there of recent visitor Island Sky. She had just finished a long cruise which involved calling at fab locations like St Petersburg, Tallinn, Helsinki etc. She left us here at the Port of Dover ahead of schedule...departing at 1pm or 1300 hours on Monday...
another exciting visitor...
Below we have two departing pictures of Pacific Reefer from the same day Monday. This time though an evening departure in low level orange sun...always tricky on the camera. The colours look a tad off! Yours truly's dials need adjusting...I am maladjusted!

In the foreground of the first shot you can just see the bow of the Nederland Reefer while in the distance a DFDS ferry heads to Dunkerque. See also Jeremy's picture showing Nederland Reefer in 5777.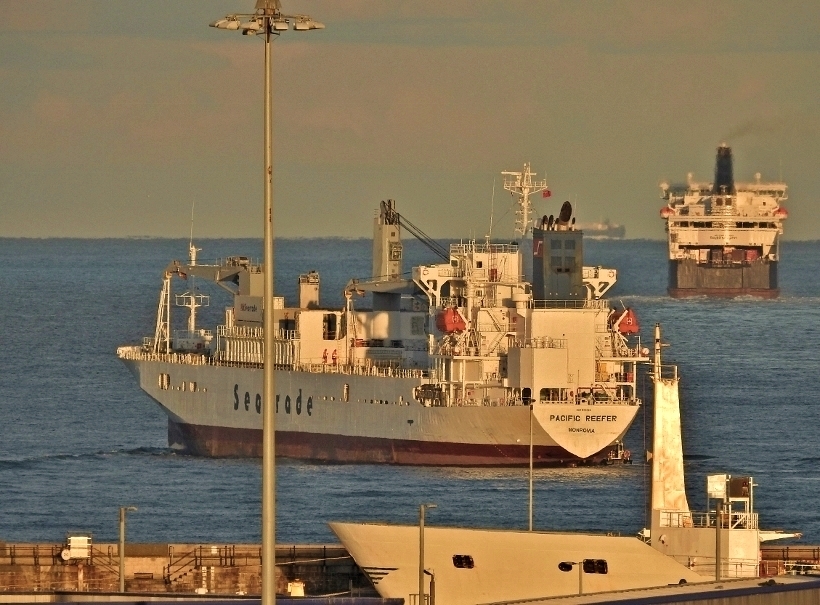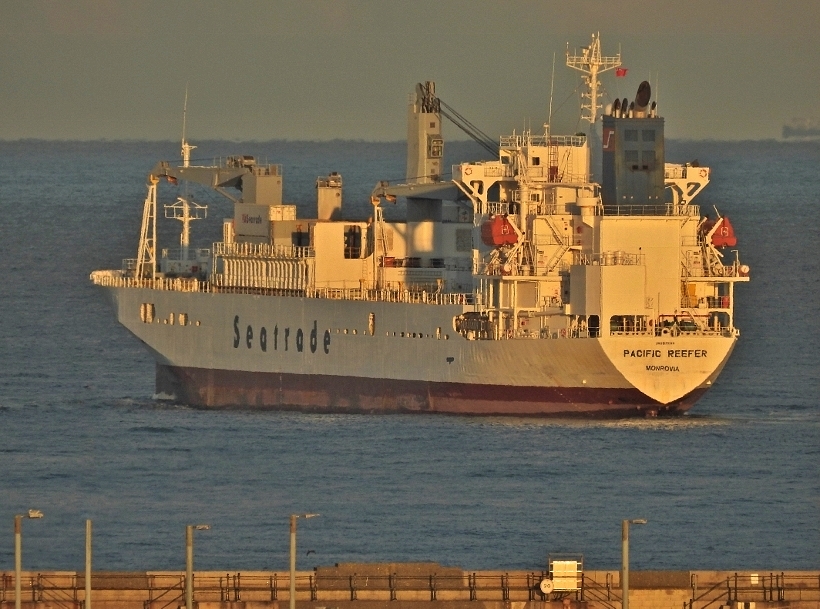 PaulB
Wednesday, 26 September 2018 - 06:30
Post 5778
Sea News, Dover
The Waverley in the English Channel.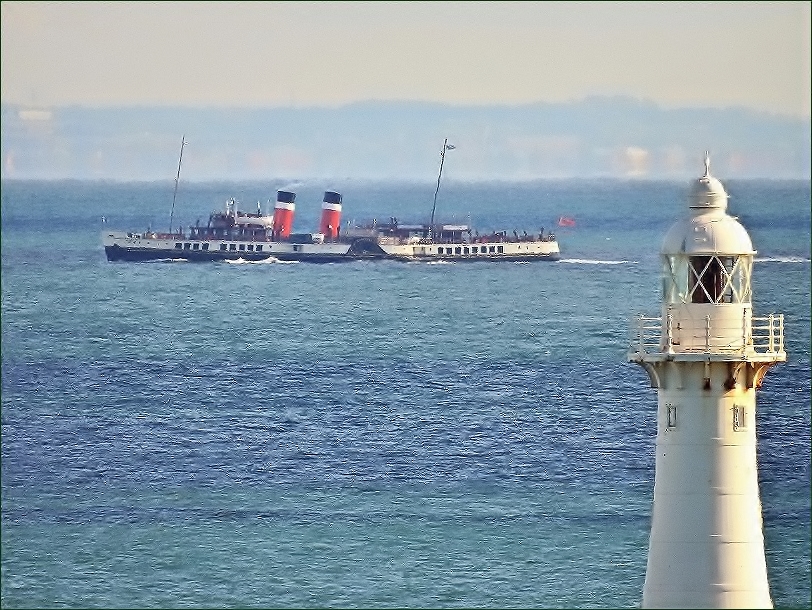 With naked vision I saw something small and brown in the far far distance yesterday...when I grabbed the binoculars I found it to be the famed Waverley paddle steamer passing by west to east. She was a long way out and the visibility wasn't great...but with the help of the computer...well there we have it above...
Cant resist also including this closer shot this morning...this pic below from 2014. Ah such a delight...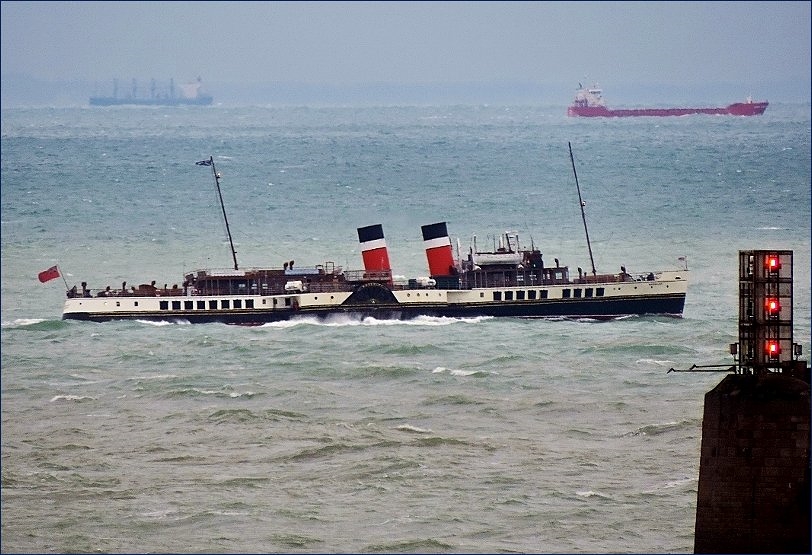 * *
Now the scheduled post...

!!
catching up on some, some, of the regular recent reefer arrivals and departures. First shots up here, the first two, we see the departing Elvira a few days ago...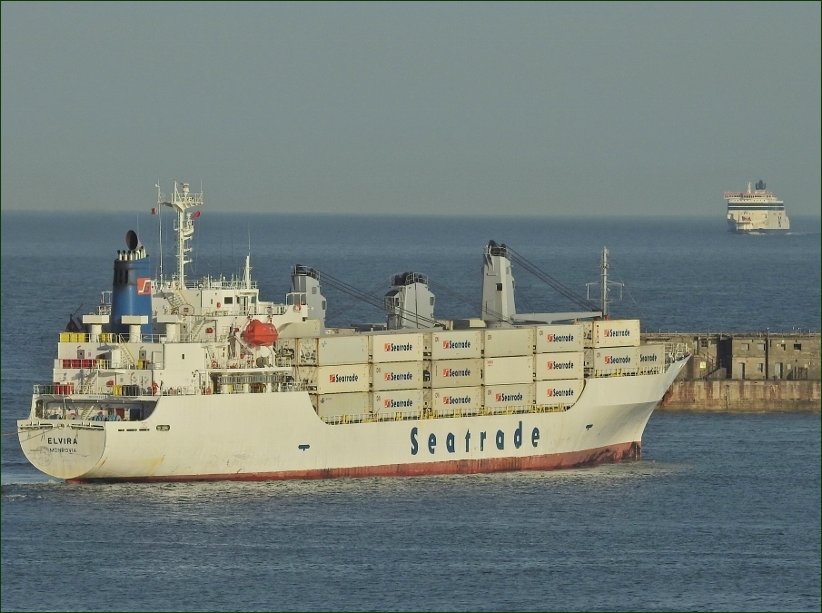 No sooner had Elvira left...we then had the arrival of the heavily loaded Baltic Klipper.
Here she is approaching on the morning of the 22nd...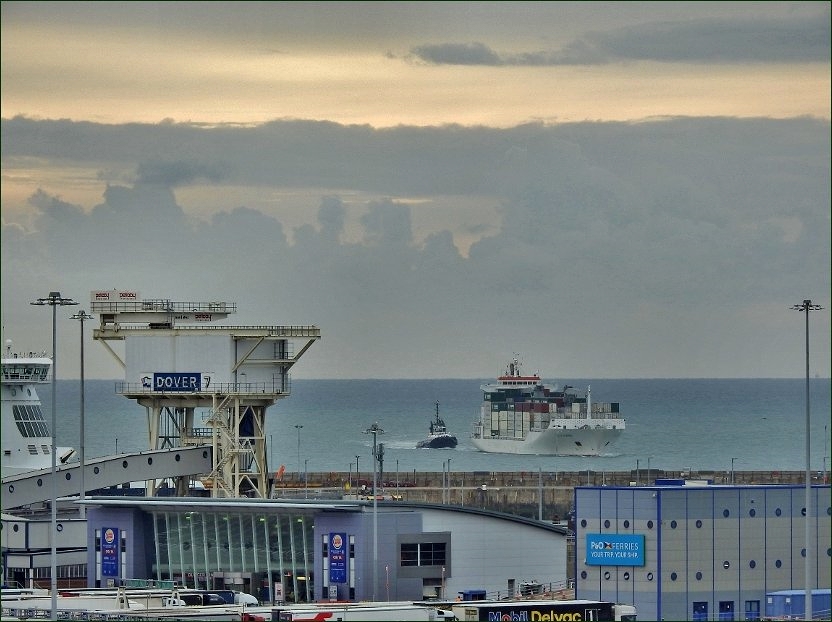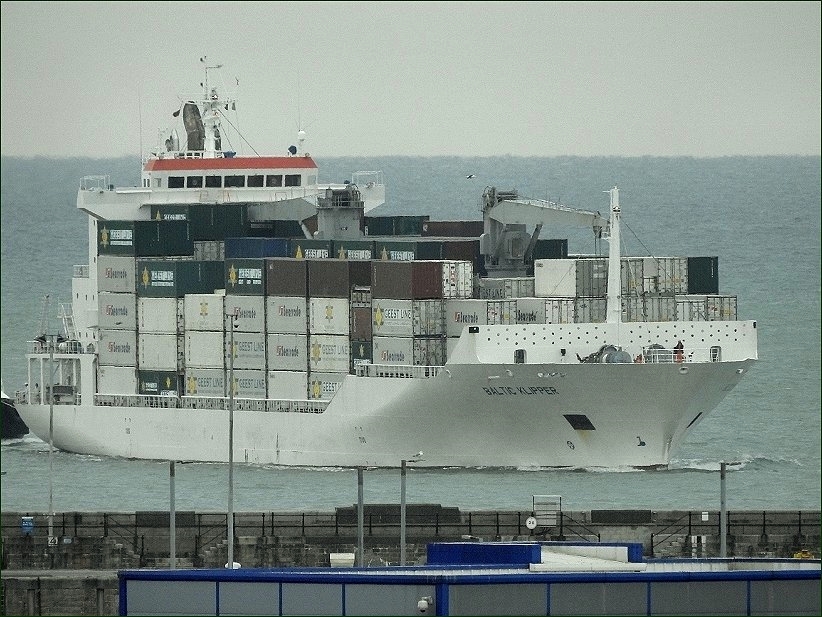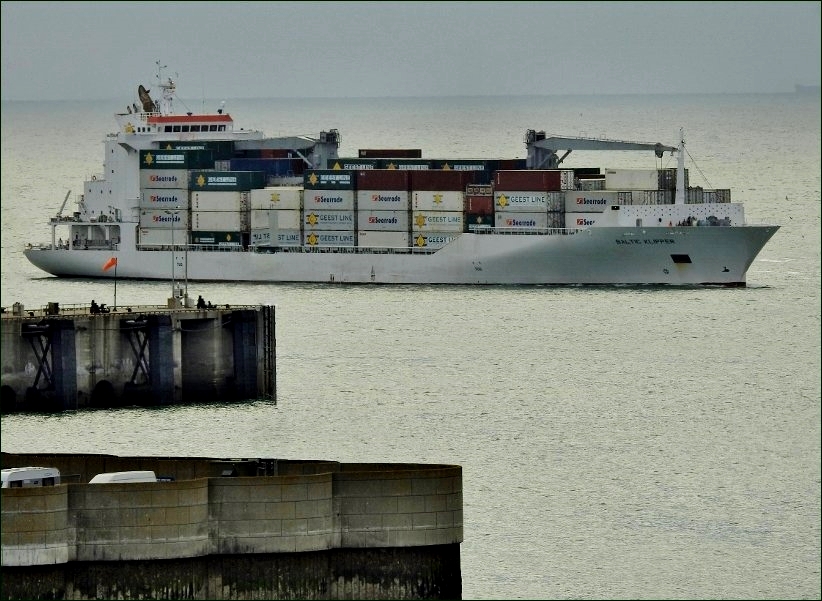 Although those pictures were taken just a few days ago, we since then have had Pacific Reefer and Nederland Reefer...its all happening, no respite on the regular rollicking reefer front.

And speaking of Nederland Reefer - that's a great shot of Nederland Reefer below Jeremy.

Really liking the other pic too. Well done with those.
Yes Nederland Reefer has been at the eastern arm for several days. She may have been in early escaping some of the rough weather while waiting for Pacific Reefer to depart. Pacific Reefer left yesterday and I gather Nederland Reefer moved across to the Cargo Terminal...but this morning she is also gone... so a slight mystery there...
PaulB
Tuesday, 25 September 2018 - 07:47
Post 5777
Jeremy Ward, Whitfield, Dover
A glorious afternoon overlooking the Port of Dover. Wonder why the Nederland Reefer is moored at the Eastern Arm?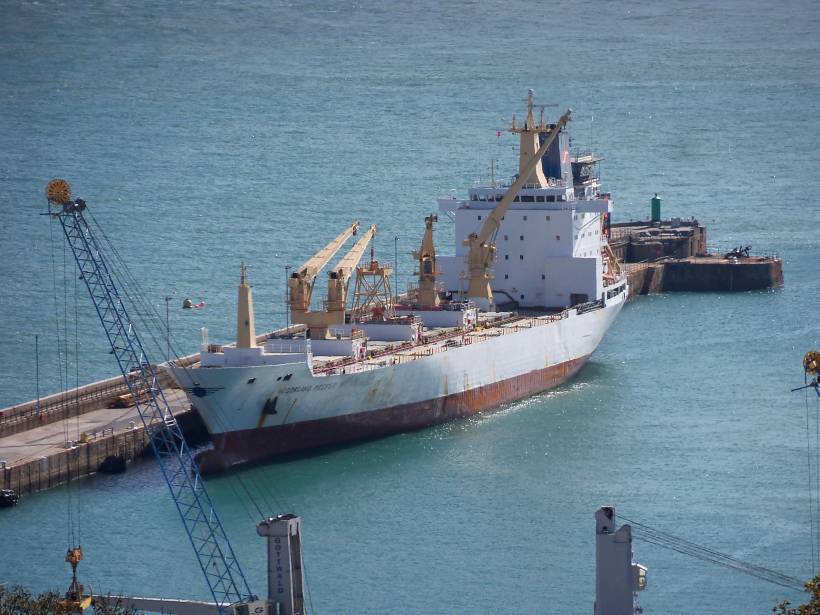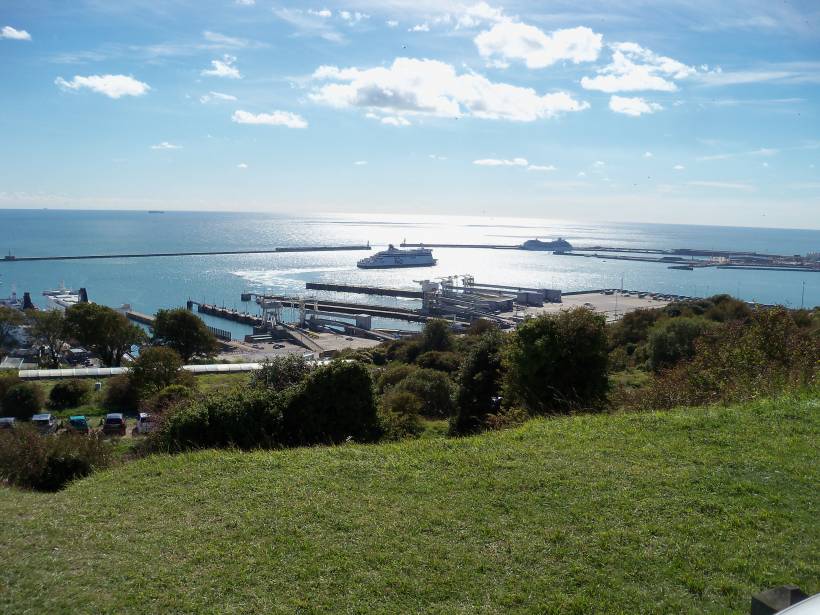 Monday, 24 September 2018 - 16:31
Post 5776
Sea News, Dover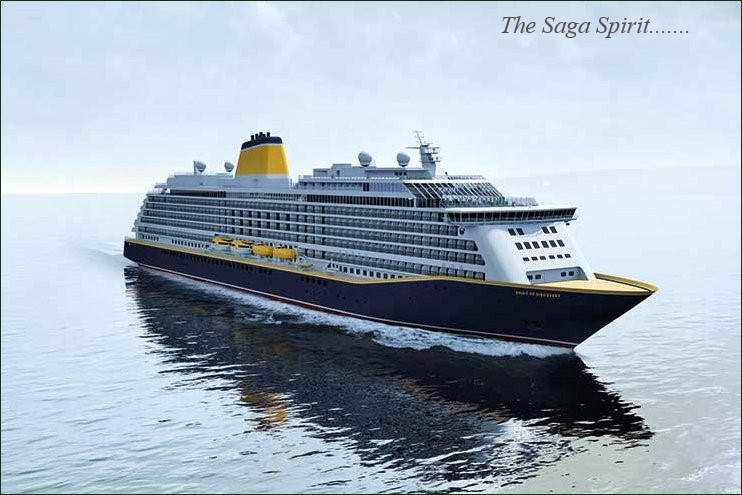 It's a date - Saga announces Dover to be the port for the naming of Spirit of Discovery on July 5th, 2019 -
Saga's first new-build boutique cruise ship to be named in home port. Dover delighted to be chosen as location of momentous naming.
___________________________________________________________________________________________________
Saga have announced that the official naming ceremony of Saga Cruises' first new-build ship Spirit of Discovery will be held at the Port of Dover on July 5, 2019 – the first ship to be named at Dover following the completion of stages 1& 2 of the £250m redevelopment of Dover Western Docks.
"As the place that Saga's first cruise ship set sail from more than 20 years ago, Dover was 'the natural choice", revealed chief operating officer Nigel Blanks, in London, on 18th September at an exclusive event with Jools Holland – the face of The Club by Jools' on board Spirit of Discovery, the only small ship currently being built for a British Market.
"With Saga's Group headquarters based in Kent, we felt it only right that we name our first brand new, purpose-built cruise ship in Kent and what better way to do that than with the iconic White Cliffs of Dover as a backdrop. Spirit of Discovery will be the first cruise ship to be named in the port for more than a decade and the first following the regeneration of the Western Docks.
We are already planning a few surprises, and will no doubt add a few more before next year, so save the date, as we christen the first of our new-build fleet" Blanks added.
Spirit of Discovery's maiden voyage will sail from Dover on July 10, 2019. The 999-guest luxury boutique ship will circumnavigate the British Isles.
"We are really excited about her first cruise as it's a great way to show-off our first new boutique cruise-ship to the British market as we call in to iconic ports such as Newcastle, Edinburgh, Belfast and Liverpool," said Blanks.
The inaugural cruise has already sold out and most other 2019 itineraries are well ahead of expectations with the 109 single cabins proving extremely popular. Spirit of Discovery's destinations throughout summer 2019 include Spain, Scandinavia and the Baltic, as well as a four-night mini-cruise to Holland, Germany and Belgium.
In addition, Saga recently announced the company's strategic decision to move to all-inclusive cruising as standard from 2020. Nigel Blanks said "the decision to go all-inclusive in 2020 had been made to distance ourselves further from the competition and mass cruise market". He said: "I firmly believe this will not only sit very well alongside our 'Boutique Cruising' proposition but will reaffirm our position as Britain's niche luxury cruise operator'.
Port of Dover Head of Cruise, Sonia Limbrick said: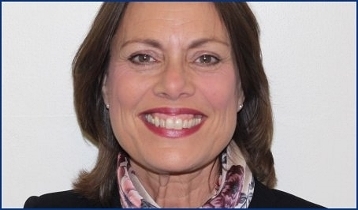 "It is a great honour, and we are thrilled that Dover Cruise has been chosen as the venue for the momentous naming ceremony of Saga's new ship 'Spirit of Discovery'.
"Having first sailed from Dover back in 1997 with the Saga Rose, their magnificent cruise ships have been a welcome feature of the historic Western Docks for over 20 years. With our exciting £250m redevelopment well underway, 'Dover Western Docks Revival' will offer a uniquely enhanced experience to the ship when she calls in 2019 and we are greatly looking forward to greeting her in Dover."
Ends
Exciting times! Many thanks to the team at the Port as ever.

* *
And now - the hotels step up to the plate to keep abreast of all this cruise expansion here in Dover ...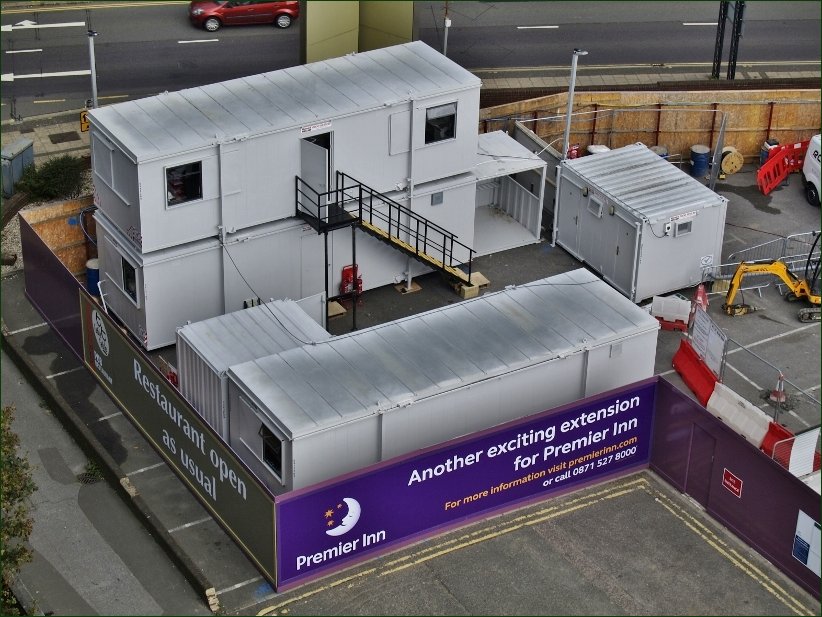 Premier Inn Extension: That's a shot above there of the new extension wing at the Premier Inn...fab portocabin accommodation..!!

Nooo noo just kidding

Those cabins above have recently been moved in and are used by the building team - the building guys have clearly moved in for the long haul. You will remember the pictures of the tree felling....now the concrete pumping into the ground at the rear of the hotel has begun...and you can see the device below. There were numerous diggers in action previously.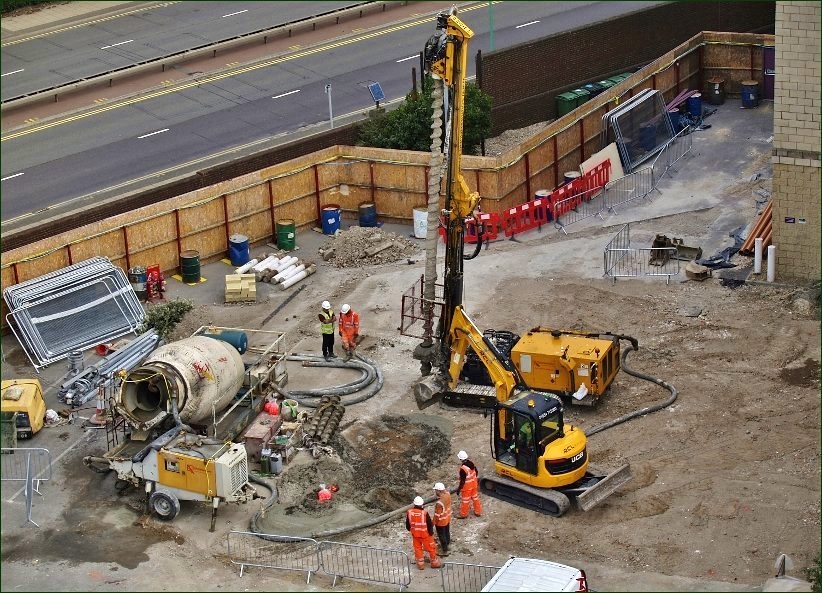 The final view gives a wider shot from a few days earlier.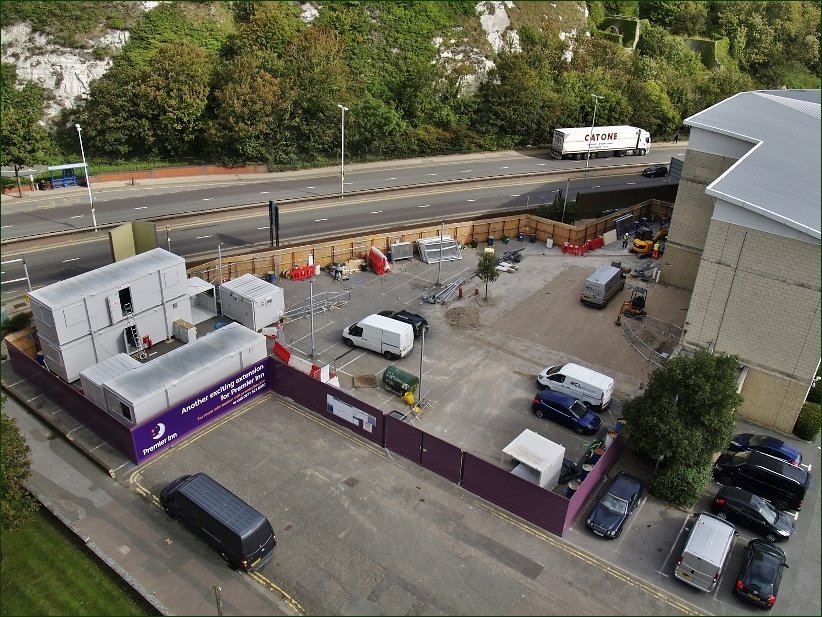 Building work all over the place now on the seafront.
Once more...these are exciting times!!


Excellent cruise item below Colette. Great detailed info there and nice comments. Great stuff!!

PaulB
Monday, 24 September 2018 - 07:53
Post 5775
Colette B, Dover
CRUISE VISITS
_____________
Wow! Sea News has been very active over the past few days

The pictures of Saga Sapphire's early arrival due to stormy seas and the parting photo of her finally leaving port on Friday are testament to the rough seas, looks as though the passengers standing on the stern are maybe having second thoughts

Great shot of the moon MrB, I remember Dark Side of the Moon's closing line by Gerry O'Driscoll in his soft Irish brogue, There is no Dark side of the moon, really. Matter of fact, it's all dark ………

Excellent close-up of the men working on the extended arm from Holyhead Towing's 'Salt Island' and the photo of the Dutch schooner 'Oosterschelde' sailing outside the harbour is very nostalgic, another era……….
Here we are chaps, the last week of September cruise calls and we start with a 'Double Whammy'.
Tomorrow Monday 24th September Pacific Princess glides into CT2 at 06.00 hours to start her 12 night 'European Capitals' Round Trip. Her ports of call are Le Havre, Antwerp, Amsterdam, Oslo and the Danish ports of Helsingor & Copenhagen. Then through the Kiel Canal and Hamburg before her return to Dover on Saturday 6th October.
She leaves at 17.00 hours, T/R.
One hour later Noble Caledonia's 'Island Sky' makes her inaugural visit

at CT1, 07.00 hours ending her 14 night one way 'Stockholm to Dover' cruise. This is a debark only after visiting the following ports, Helsinki, St Petersburg, Tallinn, and Saaremaa Island, Kuressaare (Estonia). She has also called at Riga, Klaipeda (Lithuania), Gdynia, Ronne Bornholm Island (Denmark), Wismar, Kiel and Harlingen.
This small expedition vessel with a 'touch of elegance' has a draft of only 13ft so is able to reach remote islands and unique coastal destinations. Unsure where her next destination is, but I do know that she is due to sail on a round trip to Antarctica via the Falklands & South Georgia from Argentina in November. She departs our shores at 18.00 hours.
Four days later Friday 28th September we welcome another new visitor, Oceania's 'Marina' arrives

at CT2, 07.00 hours whilst on her 31 night 'Copenhagen to Barcelona' cruise. She has already visited the following ports, Helsinki, St Petersburg, Tallinn, Stockholm, Visby, Warnemunde-Rostock, Skagen, Oslo and Amsterdam.
After leaving Dover she visits the French ports of Le Havre, Saint-Malo, Brest, La Rochelle and St Jean de Luz. Her next visits are the Iberian ports of Bilbao, Ferrol, Porto, Lisbon, Cadiz, Malaga, Alicante and Palma de Mallorca. Then the glamorous Monte Carlo & Marseille on the French Riviera before dropping anchor in Barcelona on Tuesday 16th October. That's some cruise!

She will be leaving us at 19.00 hours, PoC.
On Saturday 29th September the forever smiling AIDASol cruises into CT2 at 09.30 hours whilst on her 4 night Hamburg Round Trip. She has called at Ijmuiden after leaving her home port of Hamburg.
She departs at 21.30 hours, PoC.
Then Aghast! October is upon us!

On Monday 1st October, once more the Seabourn Ovation arrives at CT1, 07.00 hours on a 12 night one way 'Dover to Lisbon' cruise. She calls at the following ports, Rotterdam, Antwerp, Rouen, Cherbourg, Portland, Falmouth, La Coruna, Porto and Lisbon. She leaves at 17.00 hours, T/R.
Then we have another 'Double Whammy'!
The following day Tuesday 2nd October AIDAVita greets us with a wonderful smile as she arrives at CT2, 08.00 hours. She is on a 13 night one way 'Kiel to Palma de Mallorca' cruise. Having already visited Goteborg she will visit the following ports, Honfleur, La Coruna, Lisbon, Cadiz and Malaga before her arrival at Palma de Mallorca on Friday 12th October. She will be based there until the end of October when she will sail to the Far East via Dubai and cruise to the Philippines, Hong Kong, Vietnam and Singapore to name but a few. She departs at 19.30 hours, PoC.
One hour later Saga Pearl ll arrives at CT1, 09.00 hours to begin her 10 night round trip of 'Scenic Scandinavia'. She visits the following, Amsterdam, Kiel, then the Danish ports of Sonderborg, Hundested and Zealand Island before Goteborg returning to Dover on Friday 12th October.
She leaves us at 18.00 hours, T/R.
On Wednesday 3rd October AIDASol once more gives us a wink as she arrives at CT2 whilst on her 4 night Hamburg Round Trip. She has visited Ijmuiden along the way. She departs our shore at 21.30 hours, PoC.
That's it for now Folks, Phew!

Sunday, 23 September 2018 - 16:27
Post 5774
Sea News, Dover
It has been a rough few days for the Saga Sapphire...the pictures here just catch her as she 'finally' moves away 5pm friday. Conditions still rough and those tough conditions felt once again by the returning pilot... although I suspect he is used to getting jarred about...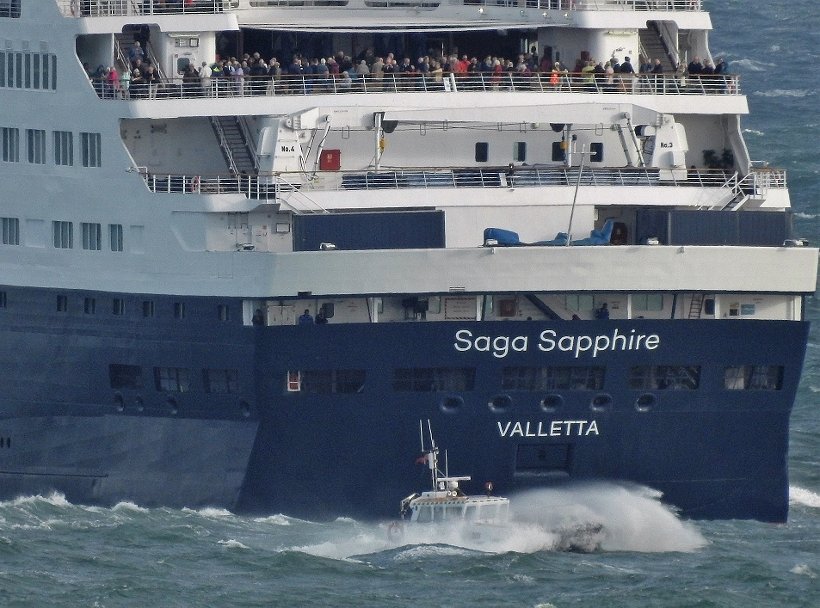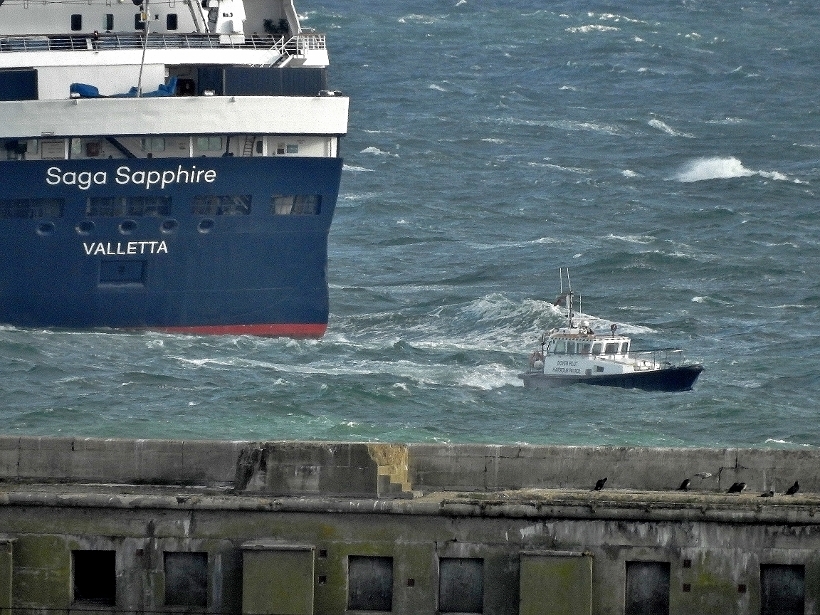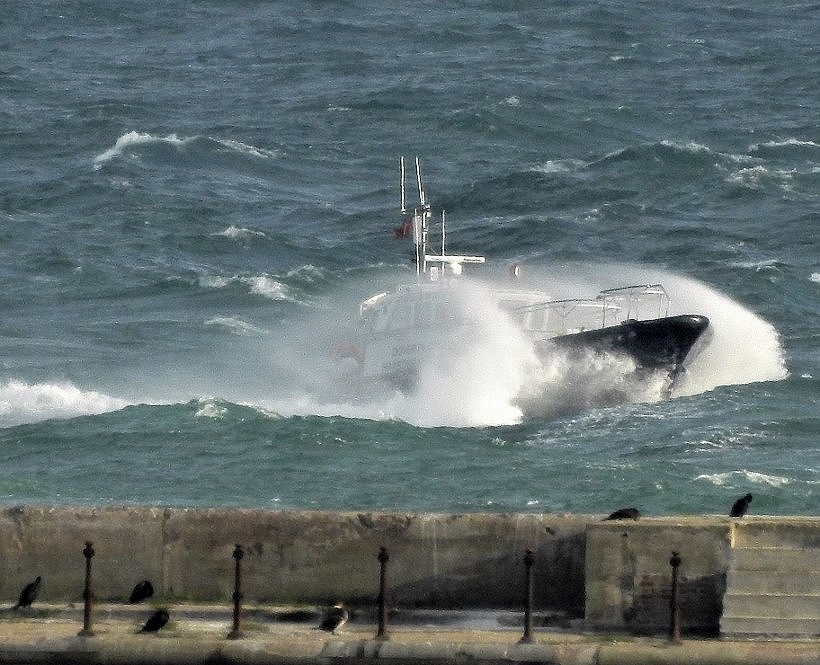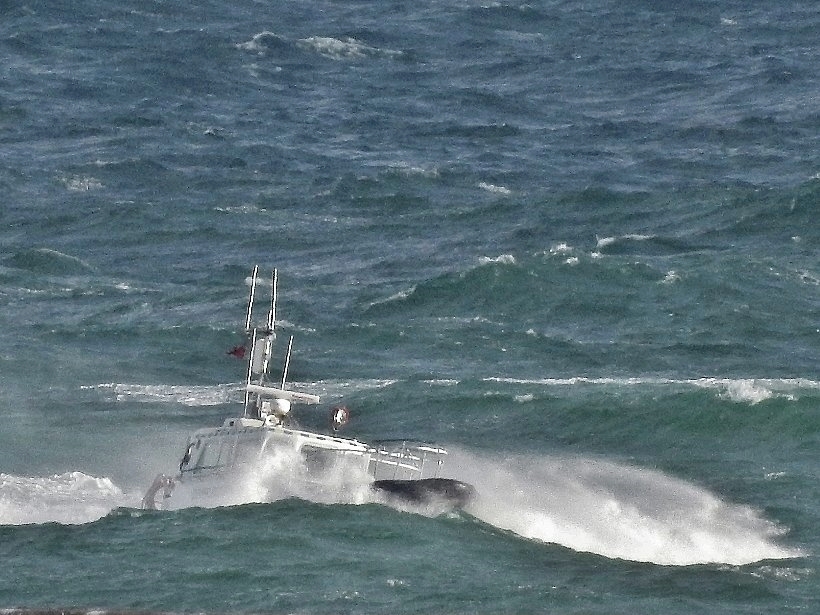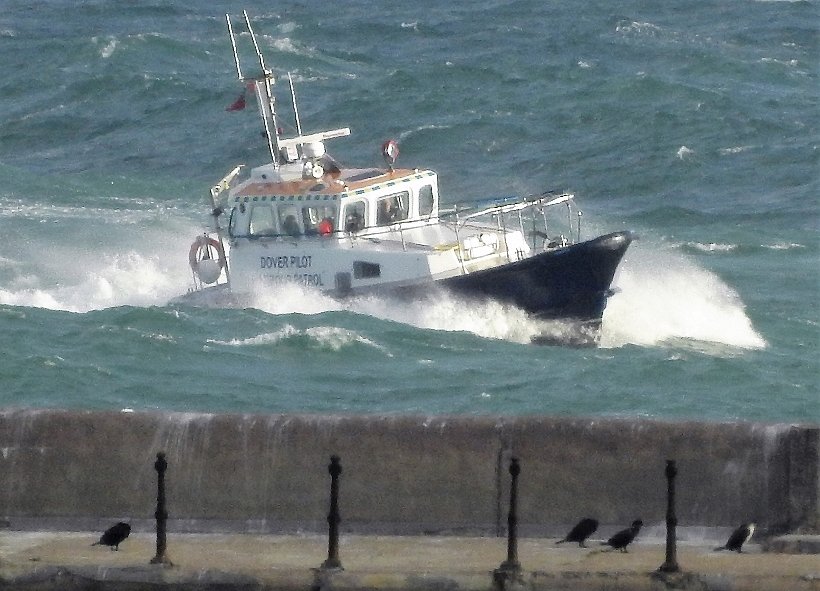 Longer range shots above there looking over the top of the breakwater... a bit soft in places. Those look like cormorants on the breakwater wall.
Thanks Del below...yes here we are featuring the moon yet again. A further touch of lunar lunacy...

Yes indeed, yet another Pink Floyd one leaps to mind
"Is there anybody...out there!"


PaulB
Sunday, 23 September 2018 - 06:28
Post 5773
Del Styan, Norwich
Wonderful moon pics - well done - where is the dark side of the moon? (Time for a song!)

Saturday, 22 September 2018 - 23:22
Post 5772
Sea News, Dover
Moon over the Port of Dover...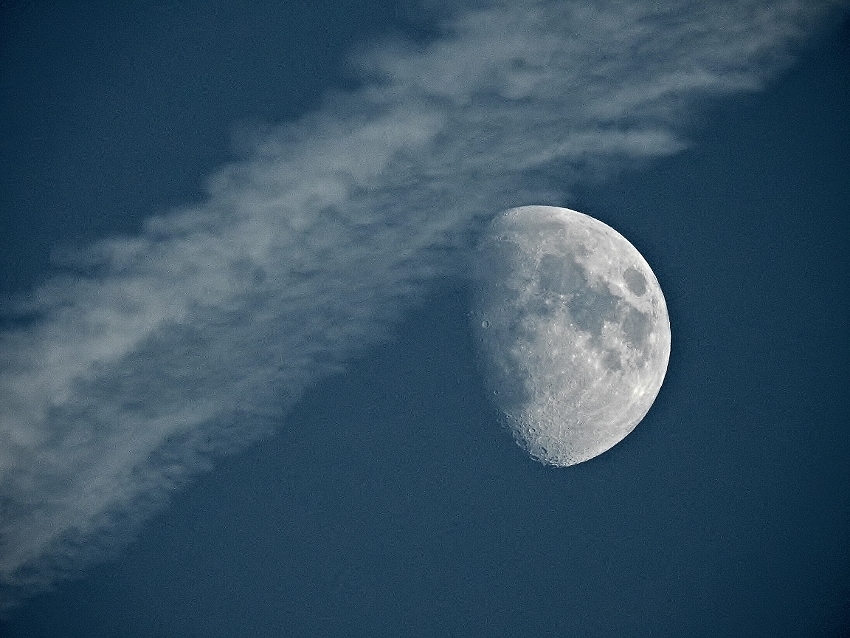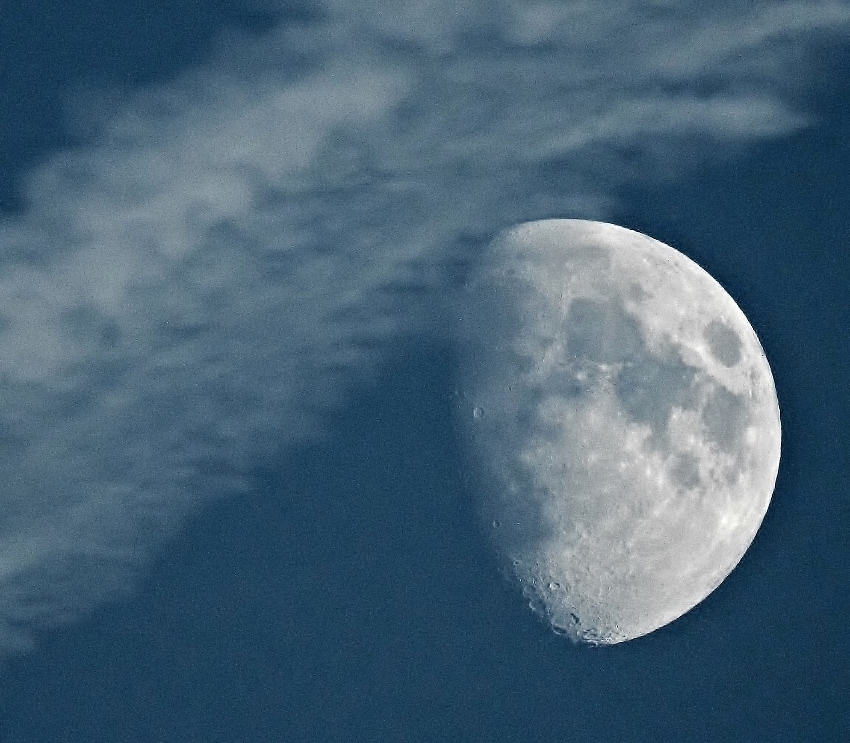 Above we see the moon over Dover Harbour on Wednesday evening, just as night begins to set in. That's a jet stream running by alongside there … bog standard images no tricks. Extraordinary the way the dark side disappears isn't it...
Yes indeed Brian the Saga Sapphire came back into Port yesterday morning after a 'night on the tiles' sheltering behind the headland. 'Twas a rough oul night for sure. Here she is elegantly re-arriving with tug Dauntless alongside under a windswept sky.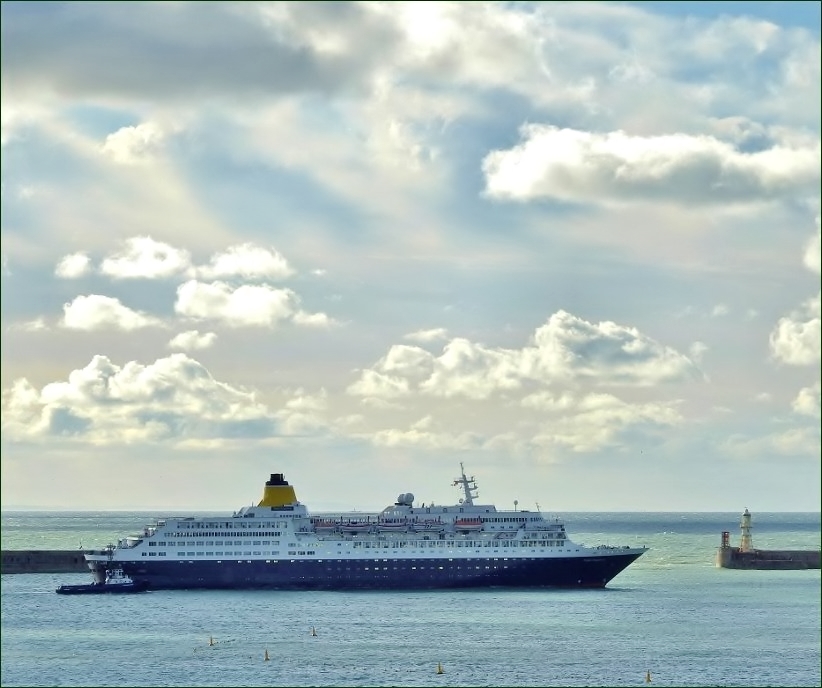 Some of our local readers will be interested in this news re the new development..
Top Hygiene Ratings For St James
All food businesses within the St James development have achieved the top food hygiene rating of a 5 at their recent food hygiene inspection.
Nando's, Travelodge, The Food Warehouse by Iceland, Marks and Spencer Simply Food, Greggs, Poundland, Cineworld and the two Costa stores have all been deemed to be providing high standards of food hygiene and safety by Environmental Health Officers from the Public Protection Team at Dover District Council.
These businesses form part of the 73% of food businesses within the district that currently have the top '5' rating in the Food Hygiene Rating Scheme. The scheme is designed to allow consumers to make informed choices about where they eat out or shop for food by giving them information about the hygiene standards in food outlets at the time they are inspected.
For more information on the Food Hygiene Rating Scheme, or to find the food hygiene rating for a restaurant, takeaway or retailer, please visit the Food Standards Agency website...
www.food.gov.uk/ratings
ENDS
PaulB
Saturday, 22 September 2018 - 07:02