Friday, 22 February 2019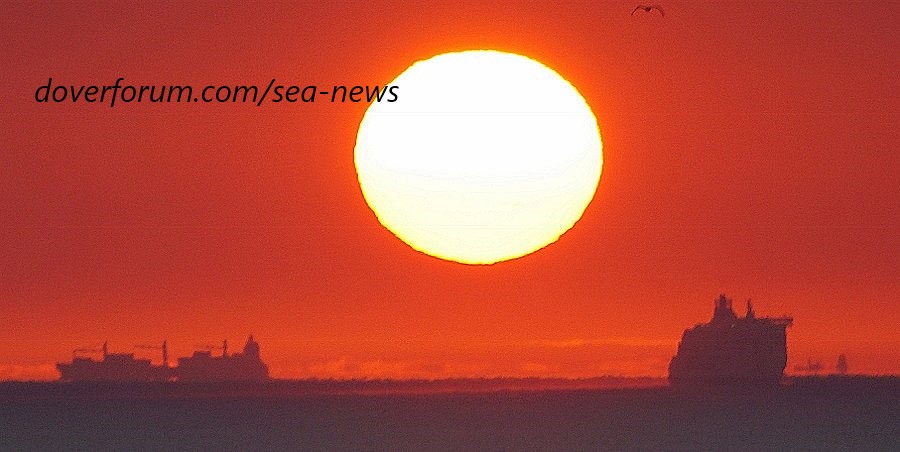 Below...Boudicca reverses...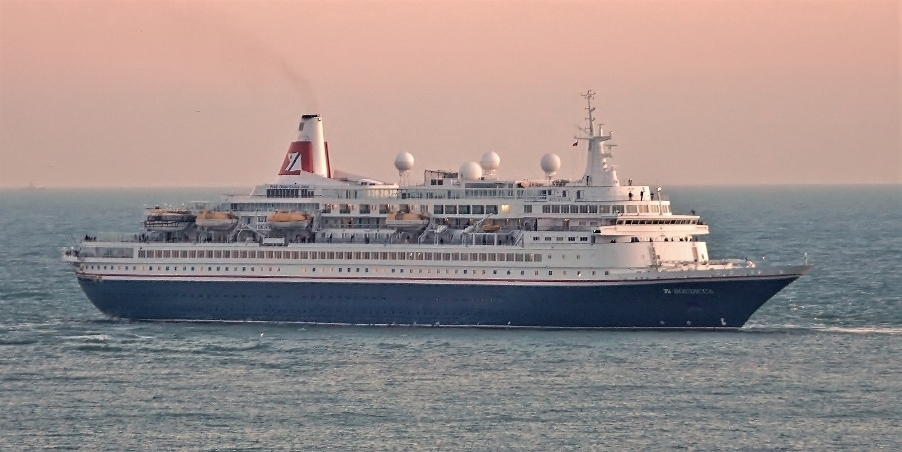 WWW.DOVERFORUM.COM/SEA-NEWS Featuring all the ships that come and go and work at the Port of Dover with further coverage of the surrounding ports both sides of the Channel. Click ADD YOUR COMMENT below to post direct, no membership needed.

Listing highlights....


Scroll down or use our Search Engine for posts and pictures of Border Force in Dover and Ramsgate.
RHA - we need to avoid cliff-edge Brexit 6069.
BREXIT READY statement from Port of Dover/DFDS/P&O Ferries see 6021.
P&O Spirit of Britain - notable Cyprus reflagging see 6017. See also latest 6041.
Tourism Thriving see 6044.
Deal Pier Kitchen restaurant opens 6016.
Charlie Elphicke MP - making our borders stronger, safer 6014.
BORDER FORCE SEARCHER and migrant boat.. see 5969 below..

Port of Dover supports Women in Maritime 5975.
Christmas Lifeboats in Ramsgate see 5937.
P&O: Britain's Favourite see 5922.
DFDS: Voted Worlds Leading Ferry Operator...see 5918..
Charlie Elphicke MP: Migrant Crisis 5894.
P&O: Santa Onboard see 5870.



Highlights continue...


Wreck of the Anneliese 5880, 5881, 5882 ...
Port: Additional Funding for Kent Wildlife Trust 5879.
P&O: Apprentices welcome RB Legion veterans 5853.
Eight new apprentices graduate see 5845.
DFDS: 'SEE PORTS' Calais and Dunkerque 5834.

DFDS Revitalize Dining 5831
P&O: Schoolchildren mark WW1 see 5816.
Lower Thames Crossing boost..5812.
see now also 5817.
Dover Museum's revitalisation see 5807.

Port of Dover: Refrigerated Cargo Terminal .. software for 5801. Latest NATO also 5801.
Port of Dover: Great increase in summer traffic 5795.
Russian and shadow 5785.
The Waverley paddle steamer latest 5778...
New SAGA Ship launching in Dover see 5776.
DOUG BANNISTER: New Chief Executive Port of Dover see 5734....

Merchant Navy Ceremonial images also 5734.
P&O: To Rome on Horseback 5759.
Dover Regatta Rescue incident plus .. see 5713.
Dover Regatta pictures Lifeboat etc..5716, 5717, 5718, 5720.
DFDS Expansion: More New Ferries on order... see 5693 see also 5500 and 5381.
Excellent Tourist season for P&O Ferries see 5649.
VSBW Port of Dover - Women at Work 5638.
P&O Second Female captain see 5107. Also see latest 5570.




NEW:

For instant access to any item listed above - just type the post number in the Search Engine below.

Sea News Dover : Use our SEARCH ENGINE below to find all sorts on the SEA NEWS pages....
type in the topic and away you go, more than - 6000 - nautical posts now.

Posts are welcome. Max of 5 pictures preferred although we can stretch that for special stories..

Sea News Editor Paul Boland - send info or pix to dover7@msn.com. Always welcome.

All pictures on these pages are the copyright of the owners and must not be reproduced without permission.

To show your pictures at their best..it could be worthwhile resizing before posting to

840

pixels wide.
Post 5957
Sea News, Dover
And now...as promised, some pictures of Toploader on the way out for a final day 'at the coalface' before the Christmas break. Its early morning, darkish... you can still easily note the electric lamps powering through the gloom. The conditions, well .. cold and choppy, and as the working team come out they place planks of wood at the front end of Toploader, you can see it below there... not at all sure why...perhaps/probably/presumably to keep the choppy seas at bay.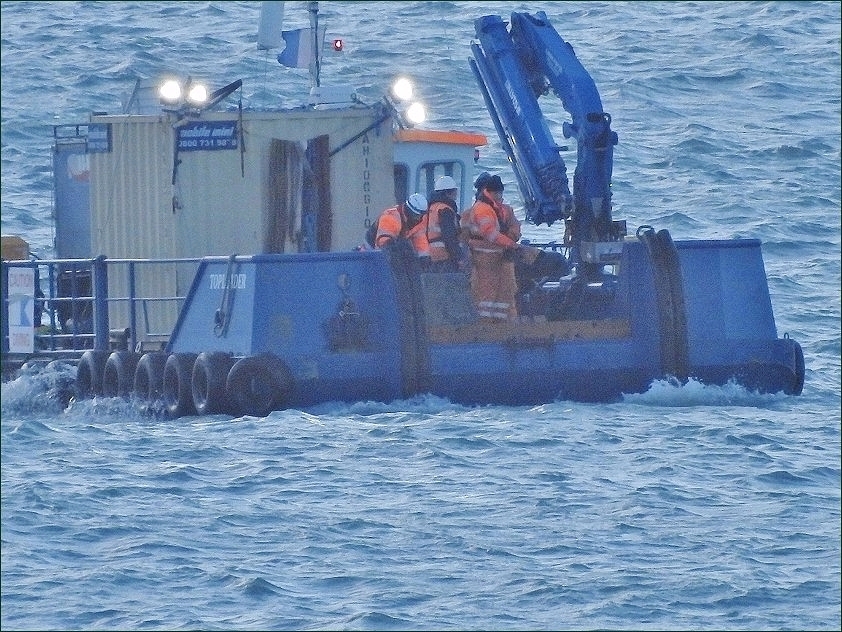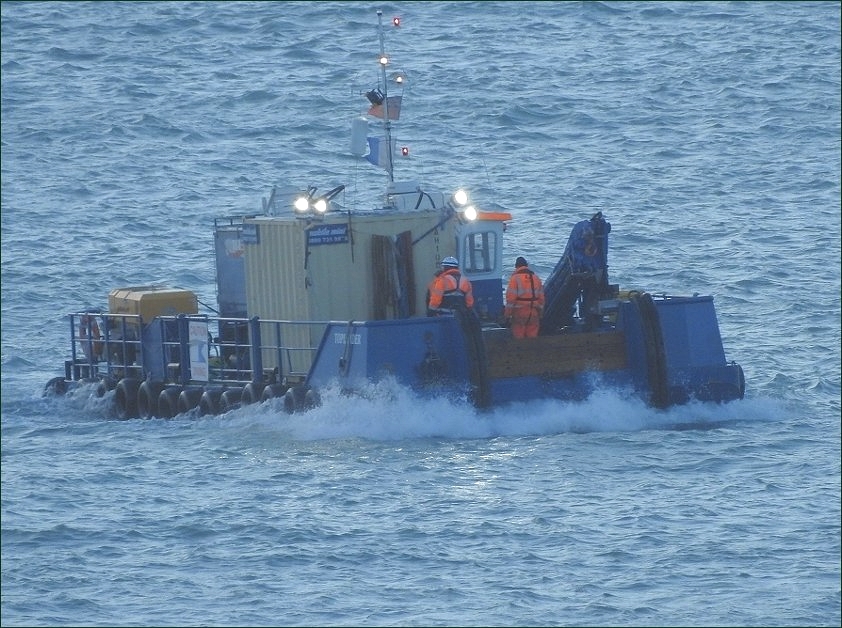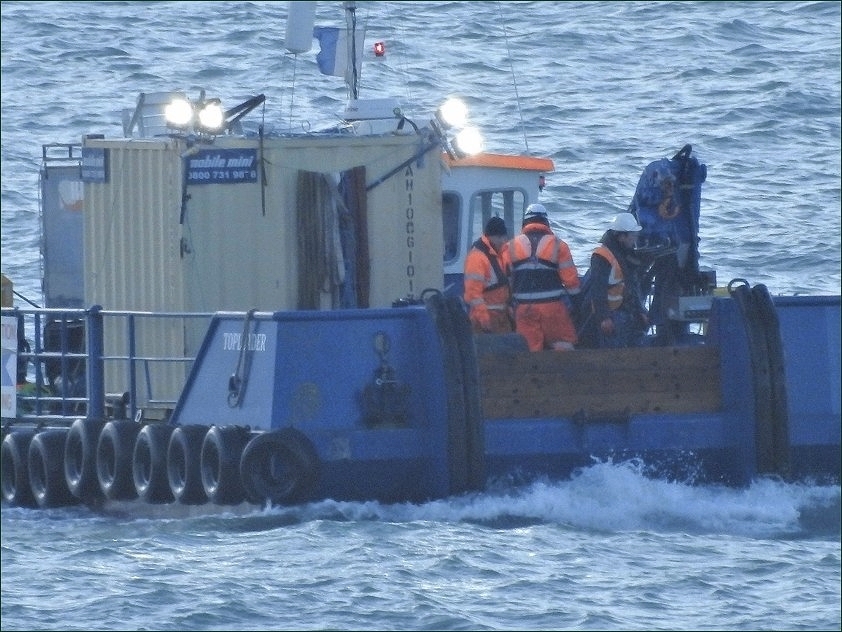 A Merry Christmas to one and all
much goodwill while decking that hall
Jolly good spirits with lots of cheer
and maybe even a glass of beer!

I've got Shakespeare worried there...
PaulB
Monday, 24 December 2018 - 05:02
Post 5956
Sea News, Dover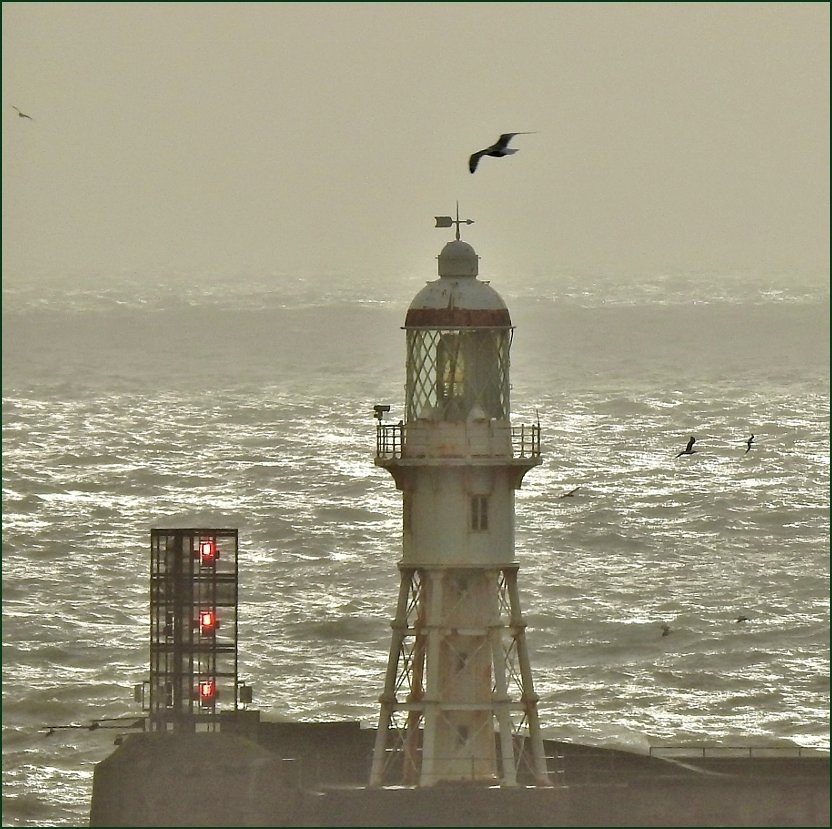 When the sun breaks through on rough seas.
That's the much loved lighthouse at the end of Admiralty Pier on a turbulent day...she withstands all weathers and flashes away magnificently every night giving a kind of grand reassurance.
Swinging the camera eastwards at the same time and we see the approaching DFDS ferry Dunkerque Seaways with one of the P&O Spirits a distance behind waiting to approach the Port. Both pictures from Friday.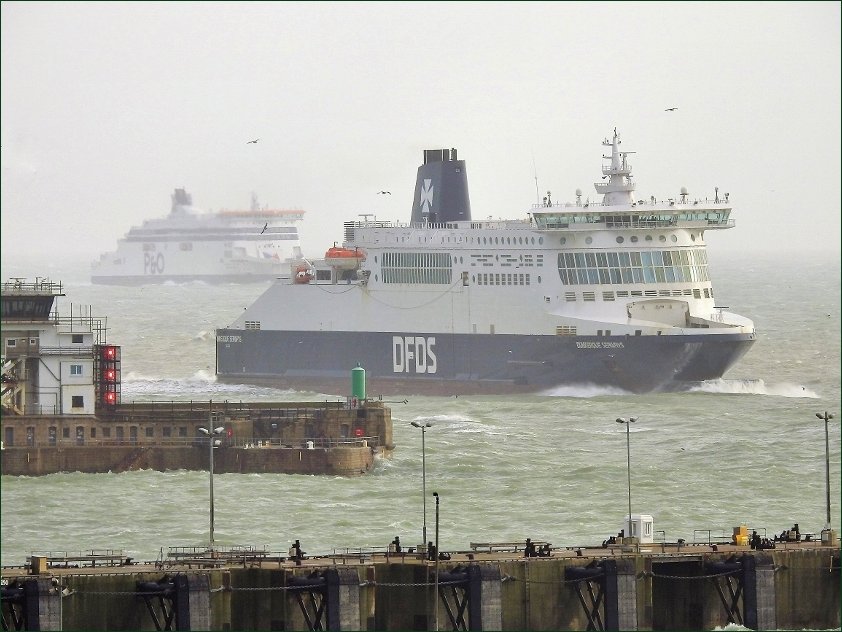 The Grimaldi Lines have been in the news. This is NOT the ship making the headlines but a near identical one by the looks of it...this is one of our own pictures and a relatively recent one, and shows the Grimaldi Grande San Paulo passing by the Port .. as they do regularly. Worth showing it again due to the unfortunate headlines... (see below)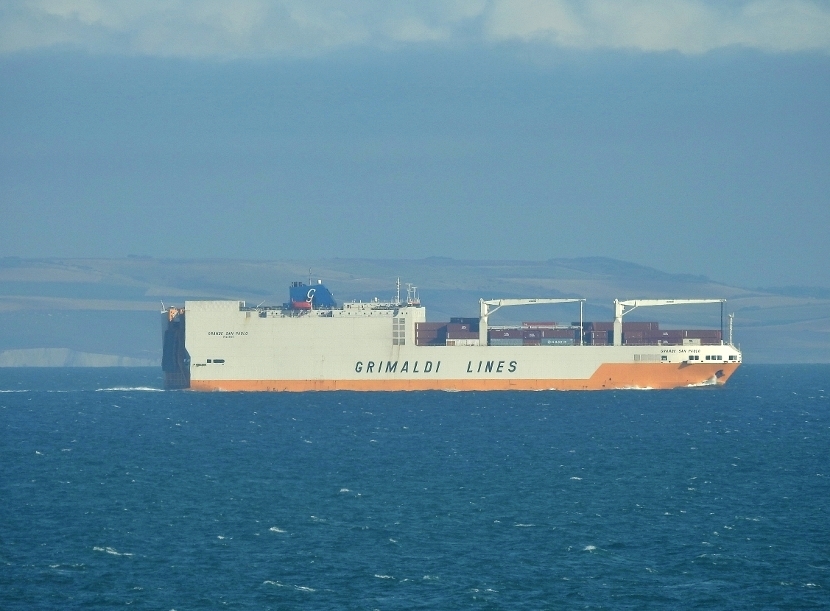 From the BBC
"
Four stowaways found on a Grimaldi cargo ship in the Thames Estuary have been detained after the vessel's crew was threatened. The Grande Tema's crew had to lock themselves in the vessel's bridge for safety, a spokesman said.
Essex Police said the vessel was boarded and secured shortly after 23:00 GMT on Friday - almost 14 hours after the force was first called. Four men who were on the ship have been held under the Immigration Act, the force added.
A police spokesman said they would be handed over to UK Border Force.
"
PaulB
ps: the promised Toploader pictures will be here Monday morn.
Sunday, 23 December 2018 - 07:33
Post 5955
Sea News, Dover
Some more pictures now of cruise ship Columbus...our unscheduled visitor..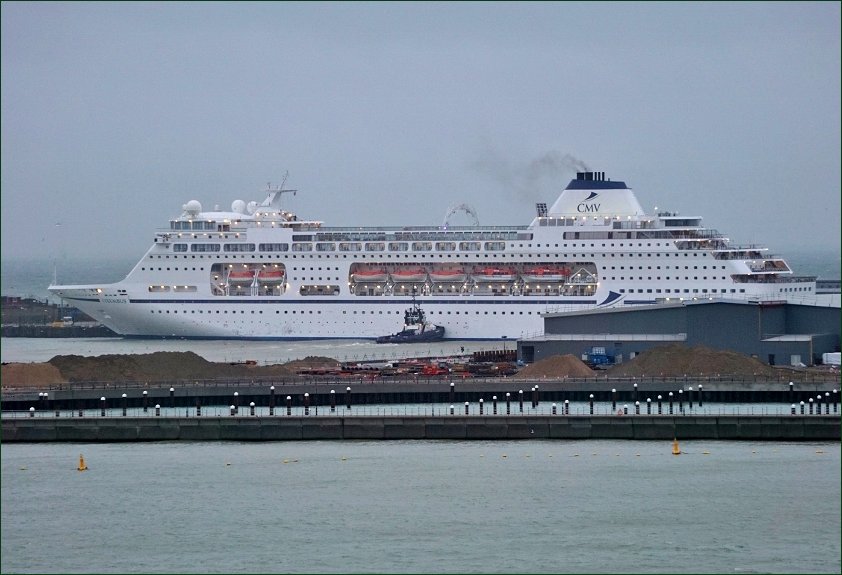 This is yours truly's first daylight picture of her early in the morning Friday after her arrival in the dark on the previous evening. Following along from Mike's shots...Yes indeed you can see the tug above there pinning her to the dock securely, there was a strong and fresh south-westerly crosswind, strong enough to blow the double whipped foam off yer frappe...

Change of camera for the shot below...'the zoomer' was brought into action and it shows Tug Doughty close up and doing the job.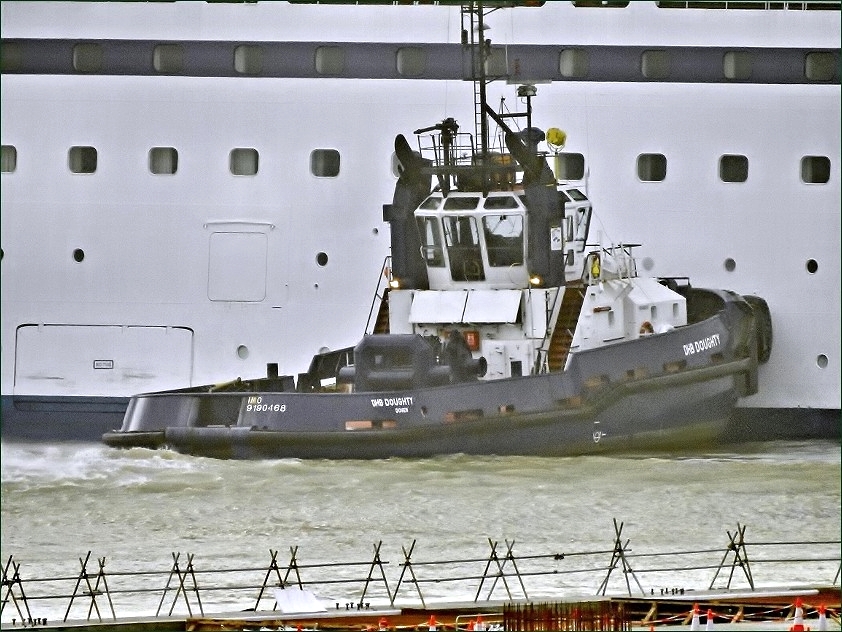 Harking back then to the previous night and we can just see both tugs settling Columbus into position, or trying to, in the strong winds..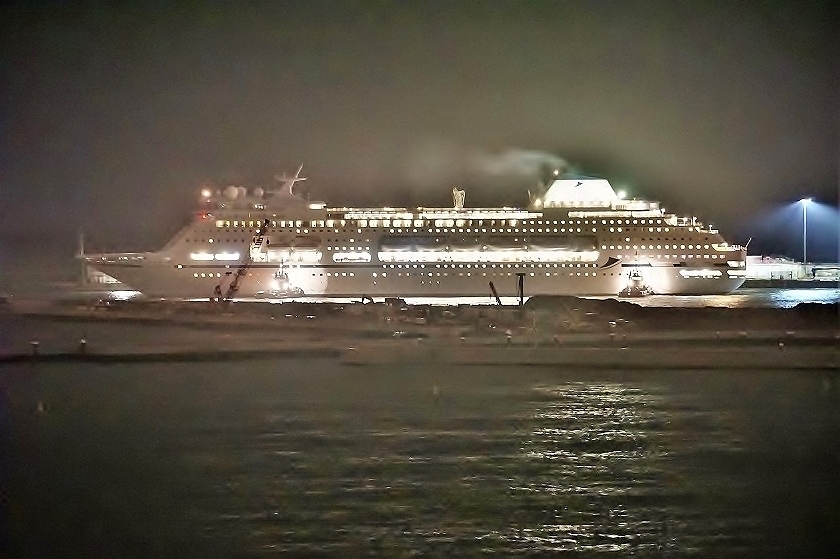 There has been much talk of drones over the past few days, the airwaves ( media ) are full of their major downside as the little blighters have disrupted more than 100,000 people getting away from Gatwick for their Christmas break. Very sad to see such disruption and gobsmacking to see so little official defence for such droning interference. Brings me to a couple of shots here below...
....these taken a while back...while photographing the cranes/barges one evening, the drone seen here suddenly came onto the scene...no idea where it came from or who the operator was. There have been others... and I have seen one in particular a few years back flying right over towards the ferries..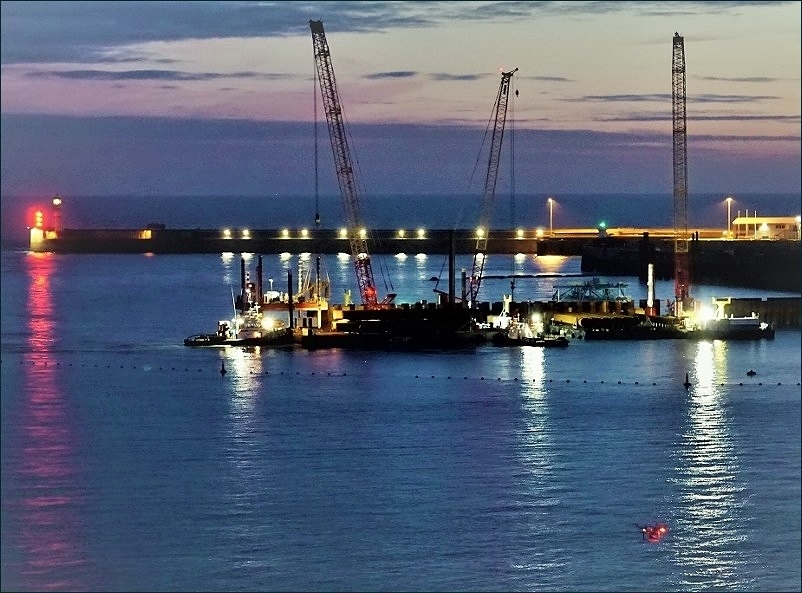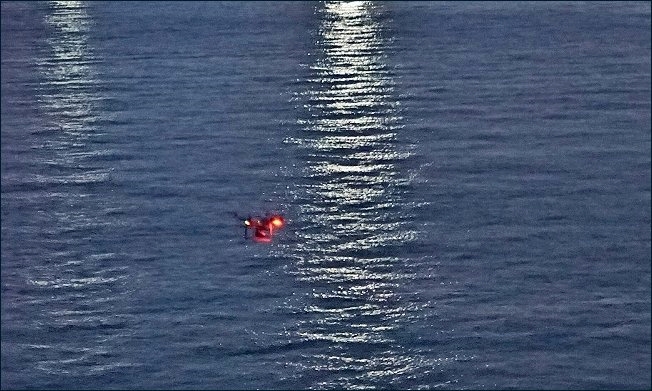 Nice collection below from Mike. Great info too....so don't miss all that.

By coincidence I got some Toploader pictures the same day, as she came out early morn for a last day at the coalface before the Christmas break... will fetch them out and up..
PB
Saturday, 22 December 2018 - 06:55
Post 5954
Mike J., Dover
Home for Christmas - - the TOPLOADER shifted into Wellington Dock Friday morning to lay up until the New Year & was photted coming thru the swingbridge from the deck of the friendly FPV MORVEN [post 5951] who later shifted from the Wellington to moor alongside the DAVID CHURCH, perhaps preparing to sail. She was still alongside Friday night.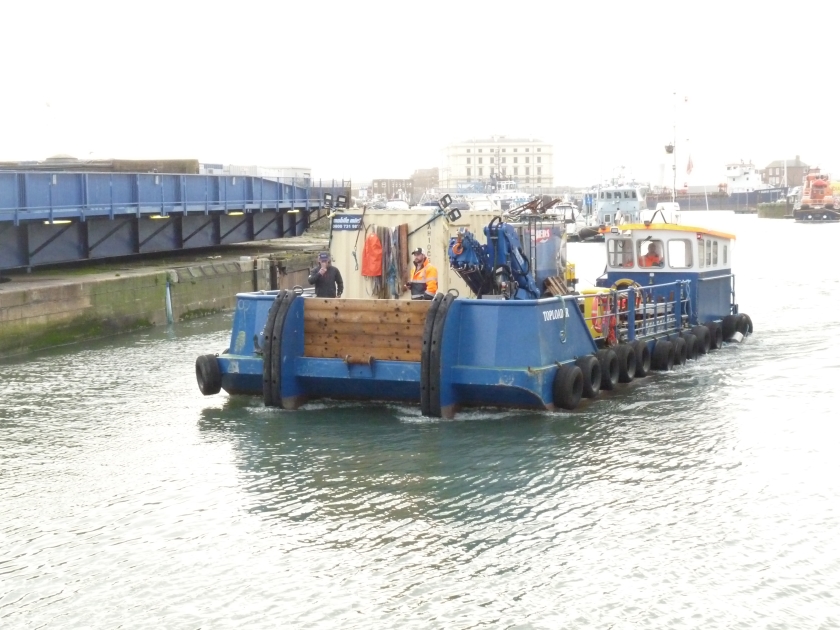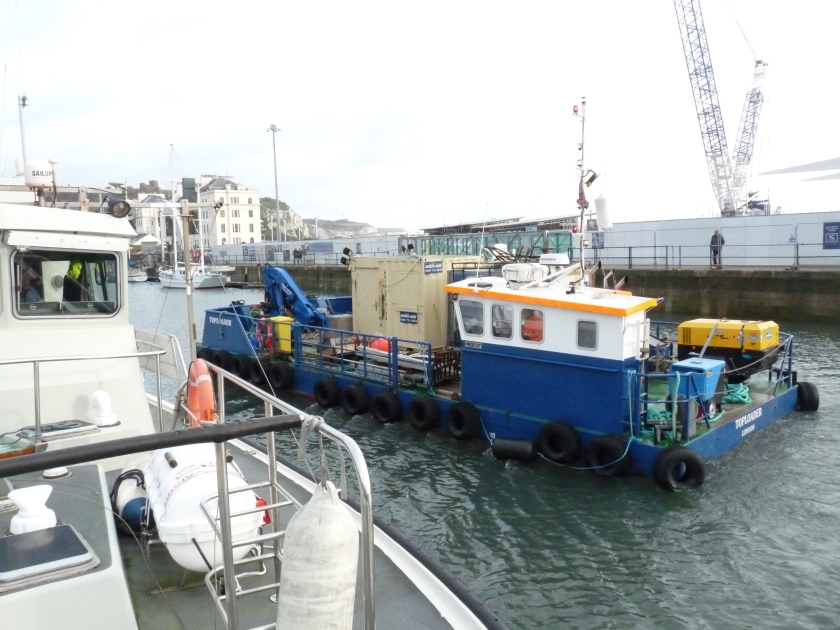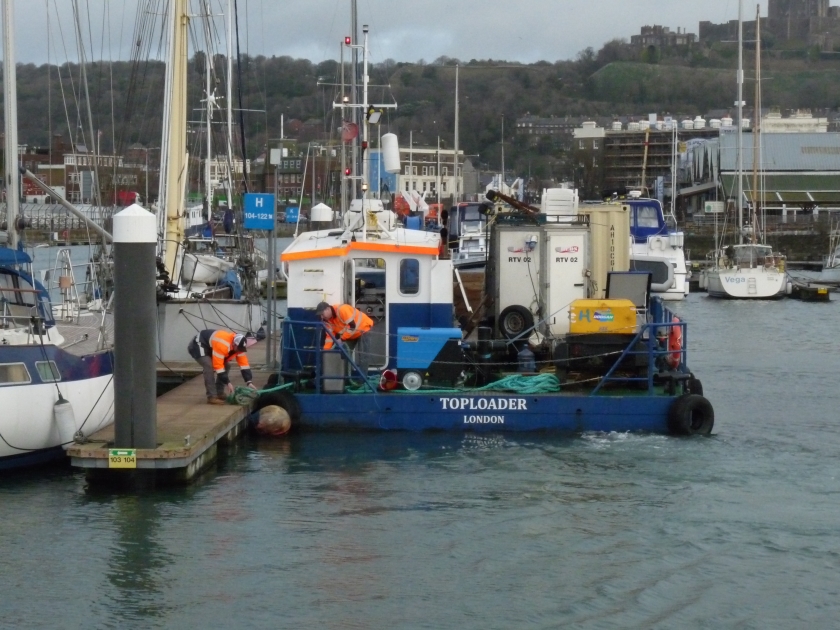 The Admiralty Pier was closed, probably due to the weather, so no close-ups of the COLUMBUS who sailed at 1830 for Amsterdam. Her first Dover call I believe, normally her cruises start from Tilbury.
It was a windy day & one of the tugs was 'pushing up' holiding her on the quay.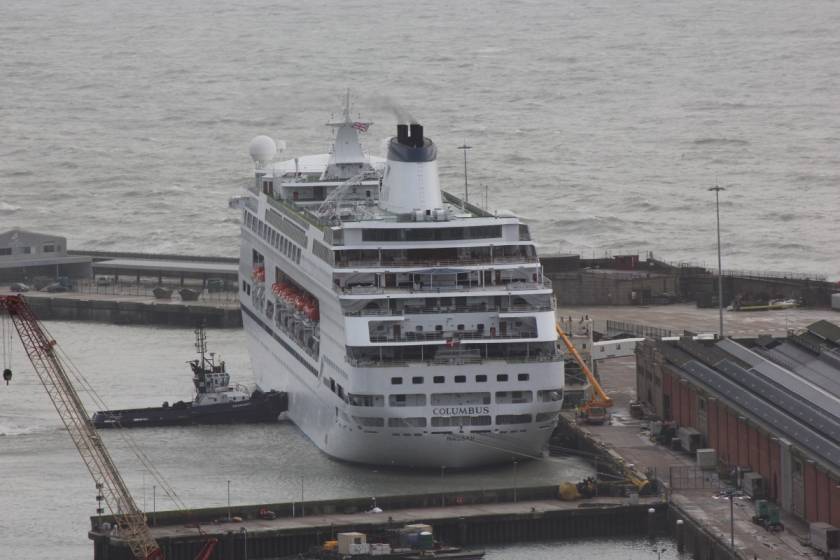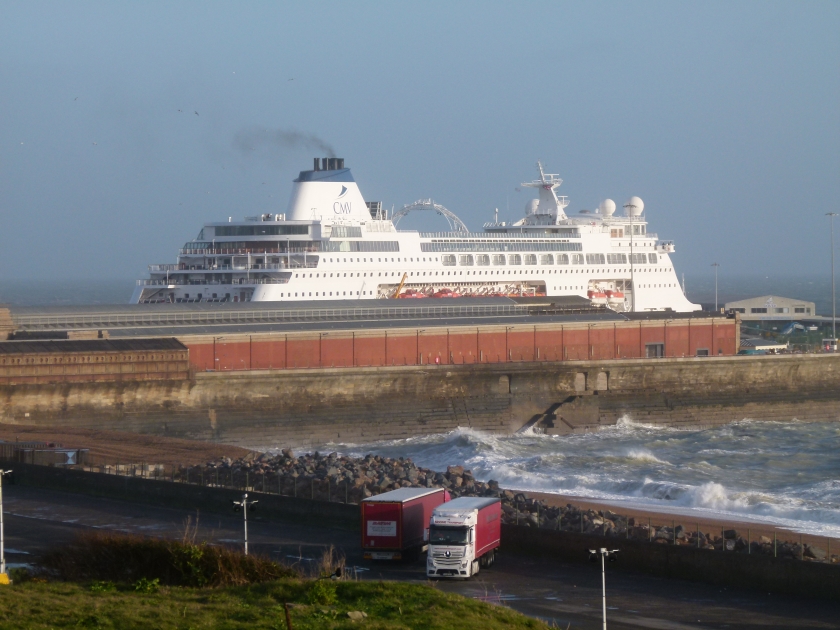 There is a 'piracy' incident taking place off Margate aboard the Italian GRANDE TEMA - some details on the 'Dover Straits Shipping' Facebook page.
Del - fishing vessels in Dover – as far as I know the MARINER 3 is the only commercial f/v working out of Dover but there many 'fishing vessel' type craft who work as angling or dive boats & are occasionally chartered for other work, such as safety boats.
Examples are PORTIA [post 5094] & ROYAL CHARLOTTE [3216].
Occasionally fishing boats will come temporarily for repairs or other reasons & Folkestone's VIKING PRINCESS can be seen in post 5599 embarking what looks like a yacht crew for maybe an off-port crew change. She often lays up in Granville Dock.
While I was down in Western Dock a convoy of the ALE heavy-lift lorries appeared, arriving to start preparation to load another big transformer for Sellindge.
The heavy-lift ship bringing the transformer is arriving after Christmas & is apparently called the HAPPY DOVER !
Friday, 21 December 2018 - 23:53
Post 5953
Sea News, Dover
Some good news for a rainy day. We have been able to increase the size of our pictures so they display now nicely bigger ( much thanks once again to Chris T for doing the necessary ). They are now on display at 840 pixels wide. You can upload any size but... if you resize to 840 before you upload you see the maximum benefit..its the optimum way. These two pictures following along are shown in this way.
Tug Dauntless on a rough oul day...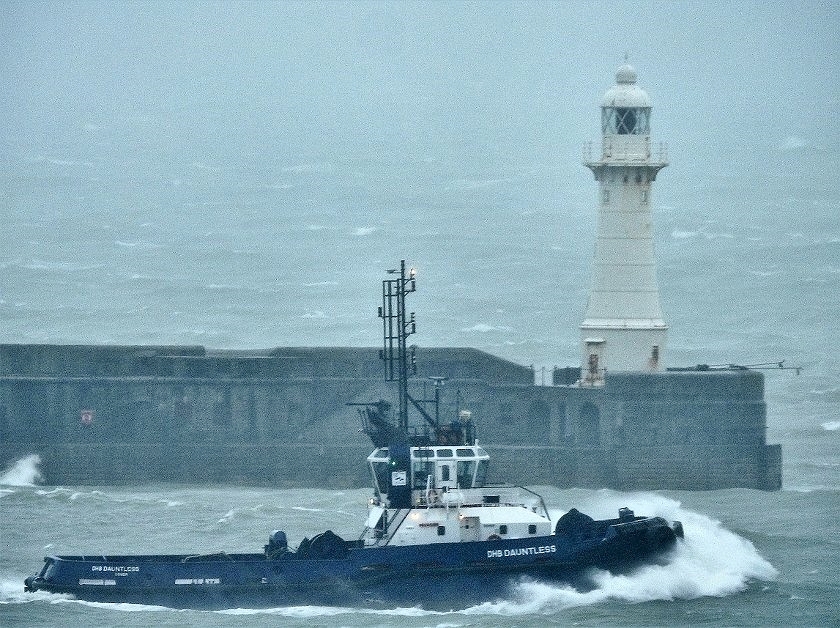 Testing with this nice drawing here below...
drawn by the computer's fair hand...it can be oh so delicate when it wants to be
but some days it bites back...

but not this time...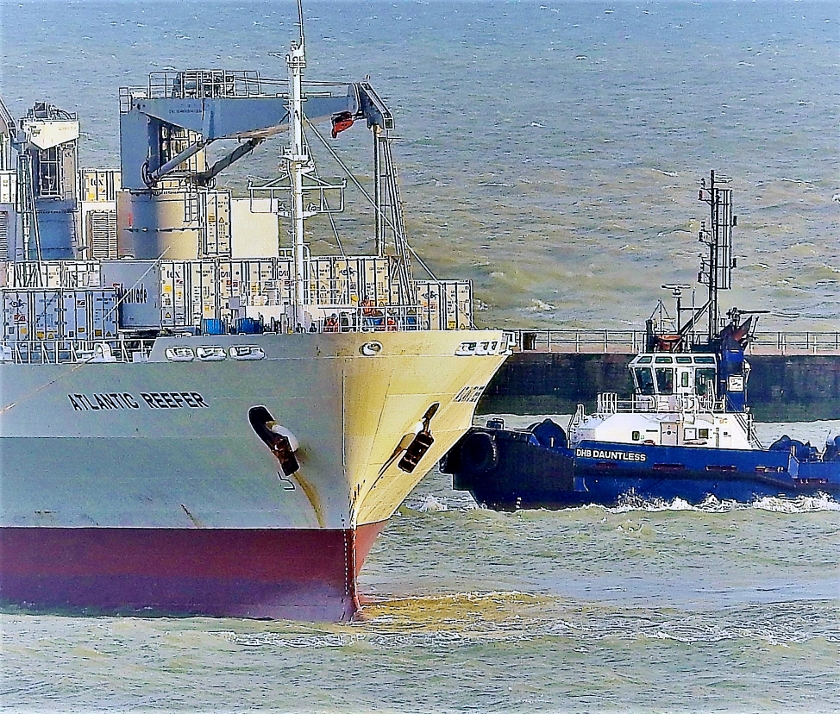 Pictures seem to work better in a more 4:3 format rather than say a 16:9
or in other words slightly squarer shots show slightly better...so there we are..
PaulB
Nice all round collection below from Mike our 'inshore correspondent'...

.
Del...Mike might have some more for you on that.

also see below last nights picture of our unscheduled arrival around 9pm...Cruise Ship Columbus see 5950

Will have another couple of pictures in the morning to follow along..
Friday, 21 December 2018 - 04:46
Post 5952
Del Styan, Norwich
A fishing boat in Dover.... tell me more!

Thursday, 20 December 2018 - 22:56
Post 5951
Mike J., Dover
Small fry. While waiting for the FRI RIVER out on the Ad.Pier on Tuesday I spotted the recently arrived workboat BEAVER moving some of the floating fenders ['Yokos'] from the new reefer berth into the old Jetfoil Terminal.
Some piles have recently appeared in the JFT which won't be filled in as it will become part of the boat yard for yachts & other small craft.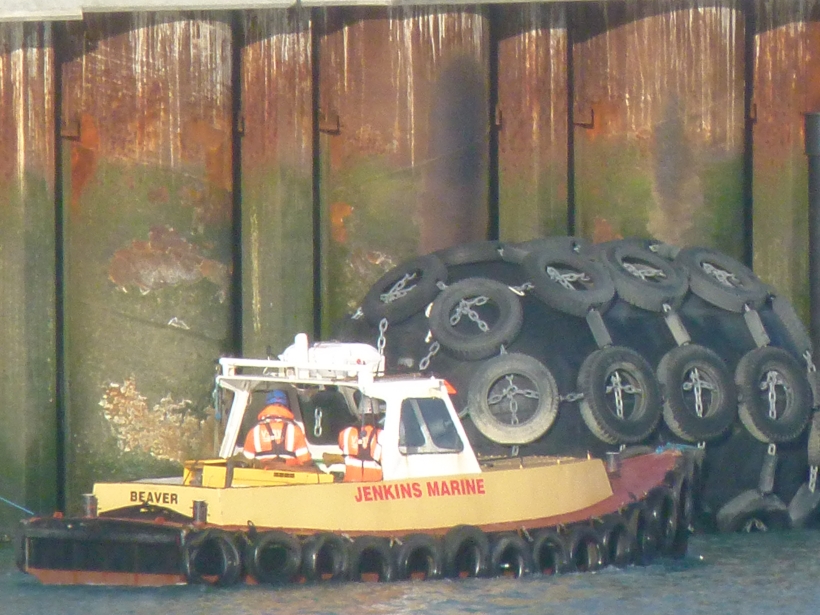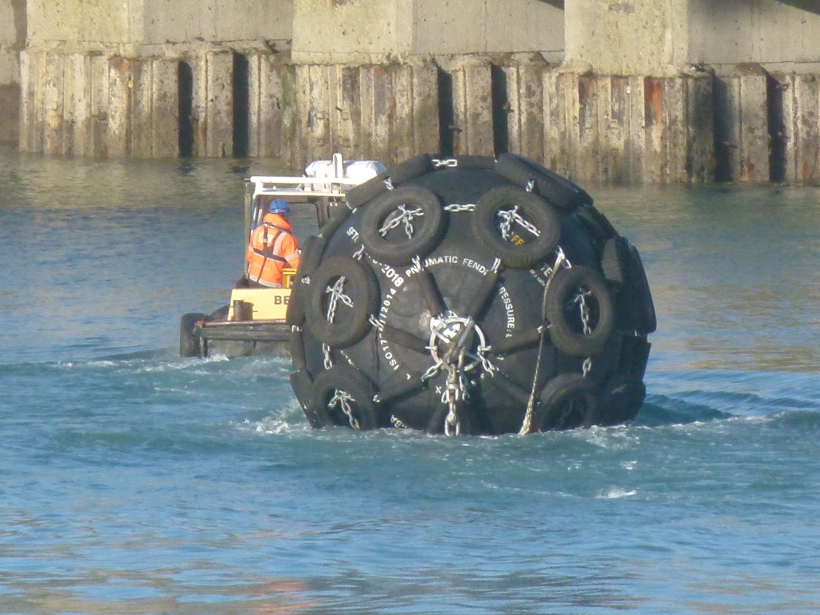 Also passing were the familiar DWDR crew boat PAMPERO & MARINER 3, one of the last, if not the last, commercial fishing boat based in Dover. [post 3195].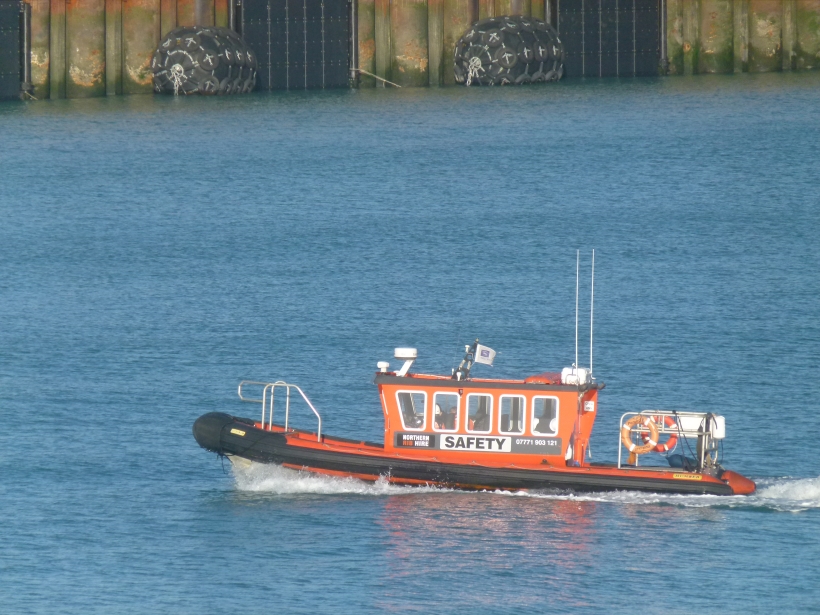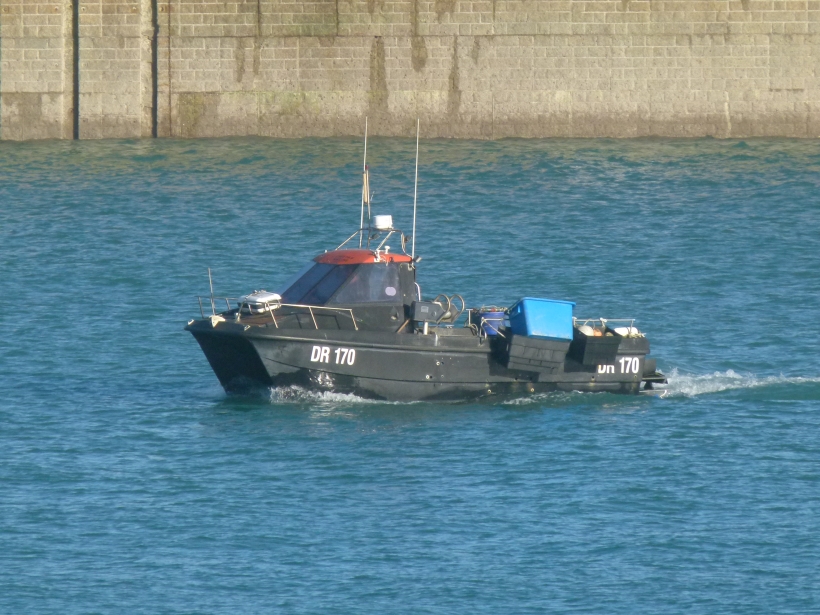 Arriving in the wee small hours of Tuesday from Ramsgate was the survey vessel/workboat FPV MORVEN & she was still in Wellington Dock on Thursday night.
She was built in the Isle of Wight in 1983 as a fishery protection vessel & is currently chartered to A2 SEA who specialise in inshore cable operations & who have an interesting website.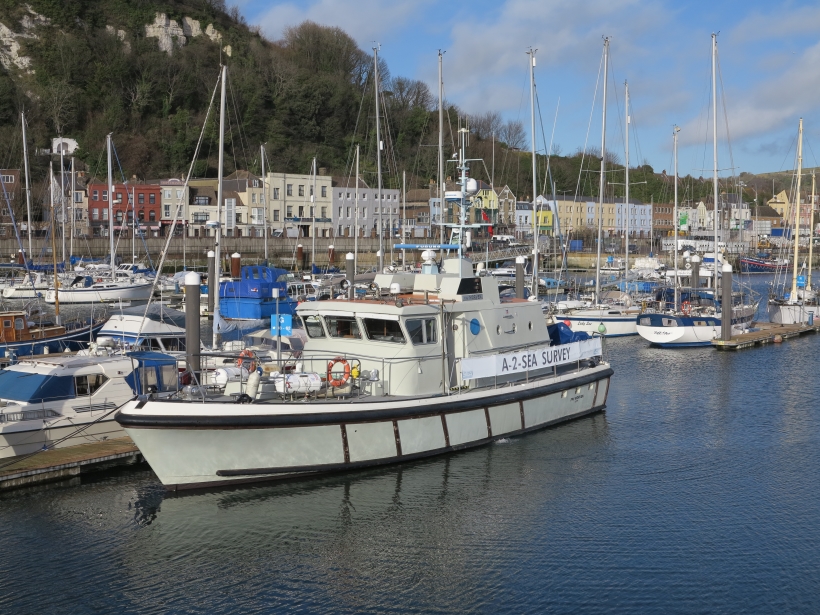 Thursday, 20 December 2018 - 22:05
Post 5950
Sea News, Dover
Columbus..arrives unscheduled.
Time of picture 20.52 tonight in pitch darkness.. She has come into Port here at Dover with ..we understand... a technical problem..
Here she is just a few minutes ago as I write... she was initially en route from Tilbury to Amsterdam.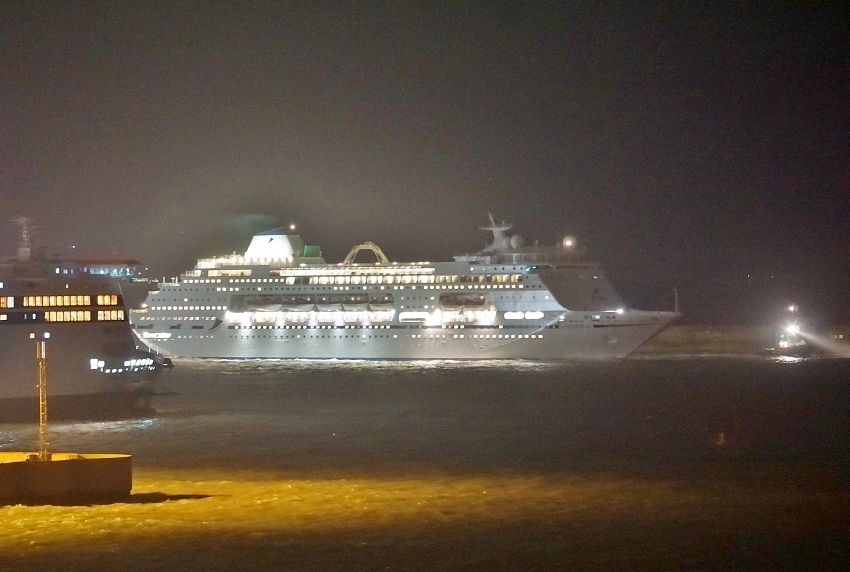 Thanks to Mike once again for spotting the situation early enough...
PaulB
Thursday, 20 December 2018 - 21:13
Post 5949
Sea News, Dover
Another couple of pictures now of Fri River to add to the mix. They show the vessel in the exact same spot ( almost!) both coming and going...( arriving on the 17th departing on the 18th )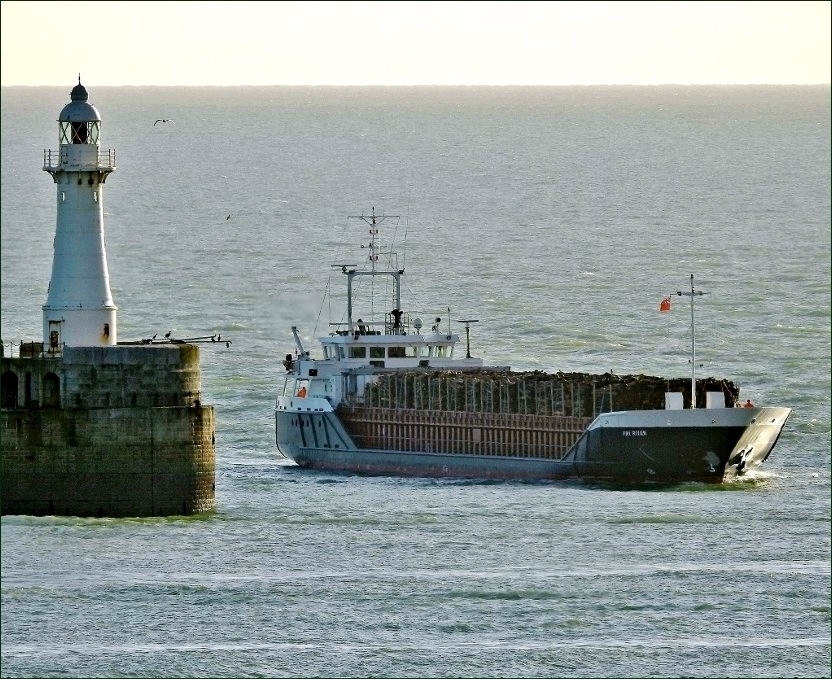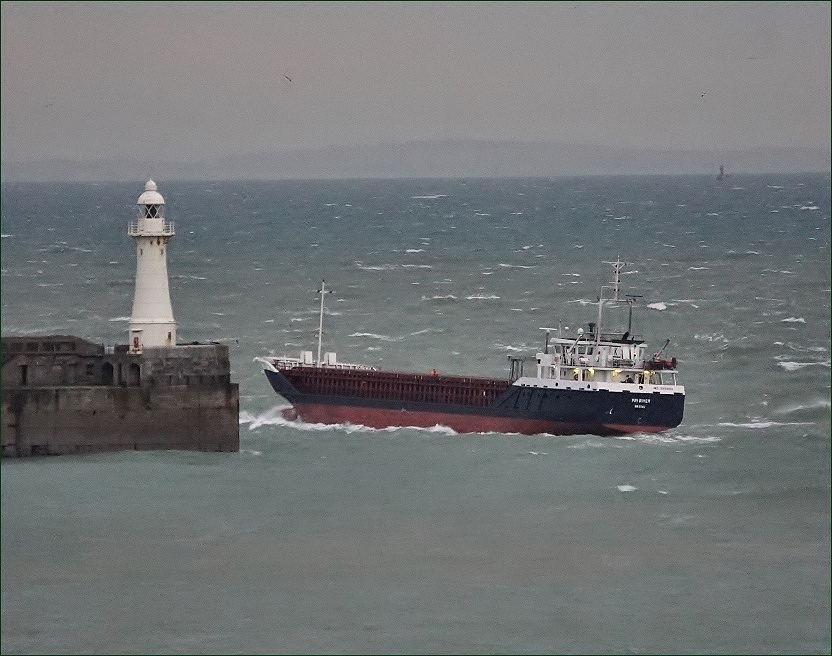 See also 5945 and 5946 for more of Fri River.
PB
Thursday, 20 December 2018 - 07:15
Post 5948
Sea News, Dover
Some further shots now of Elvira arriving at the Port of Dover on Monday morning. Time of first picture 11.11 taken as she approached the Port here in bright calmer weather. The cheerful conditions made a change from the recent grim oul stuff we've been having, that's for sure. Into Port she came after her long trip from Peru. It was a fairly fast turnaround this time and she is already on her way to Hamburg.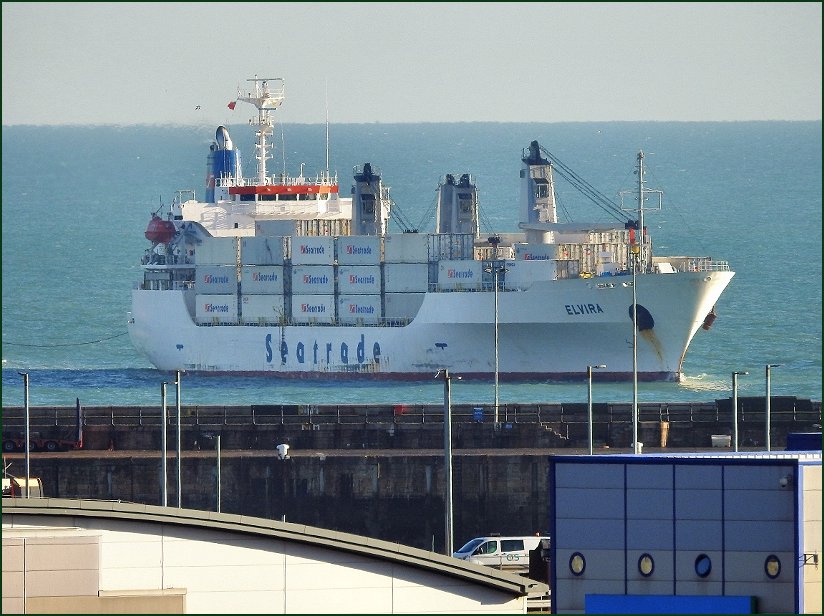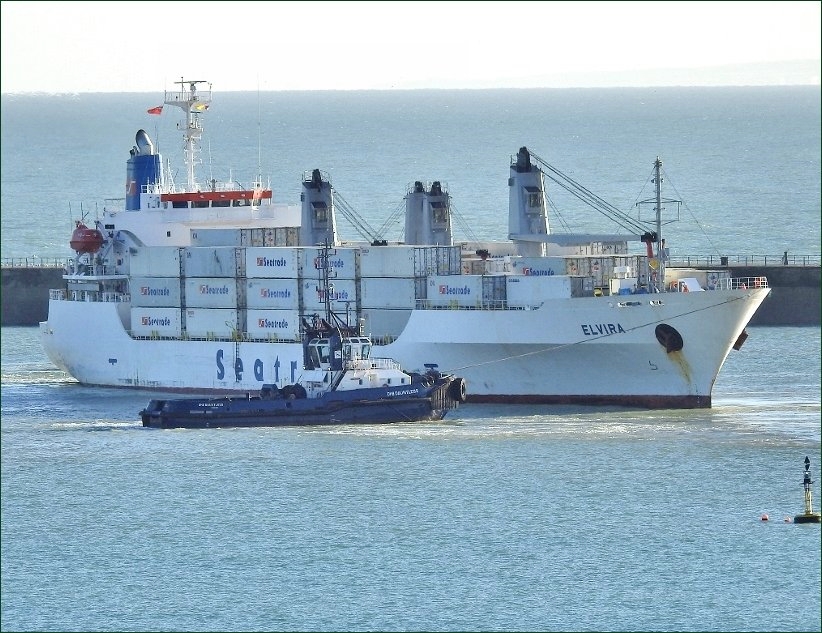 Excellent pix to enjoy from Mike below there. Great stuff!

PaulB
Wednesday, 19 December 2018 - 05:02
Post 5947
Mike J., Dover
Start of bascule bridge construction.
Monday 17th.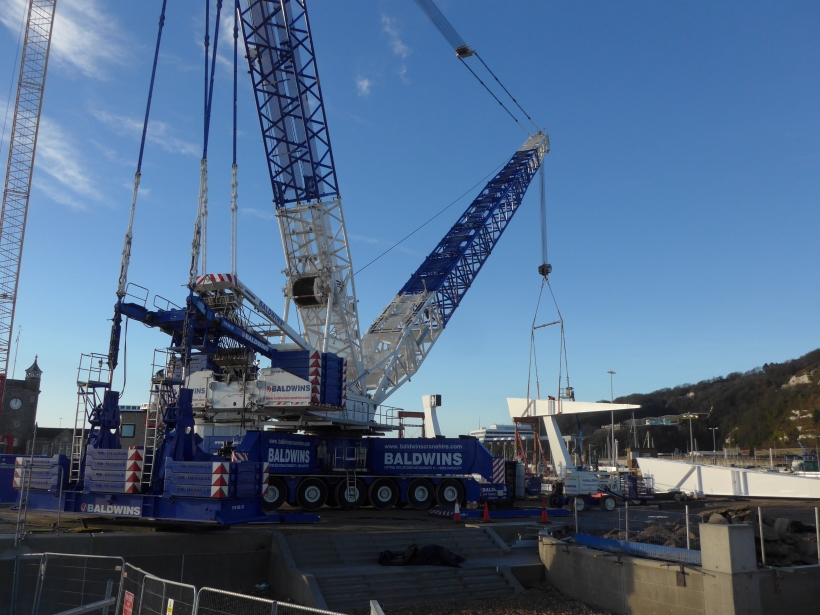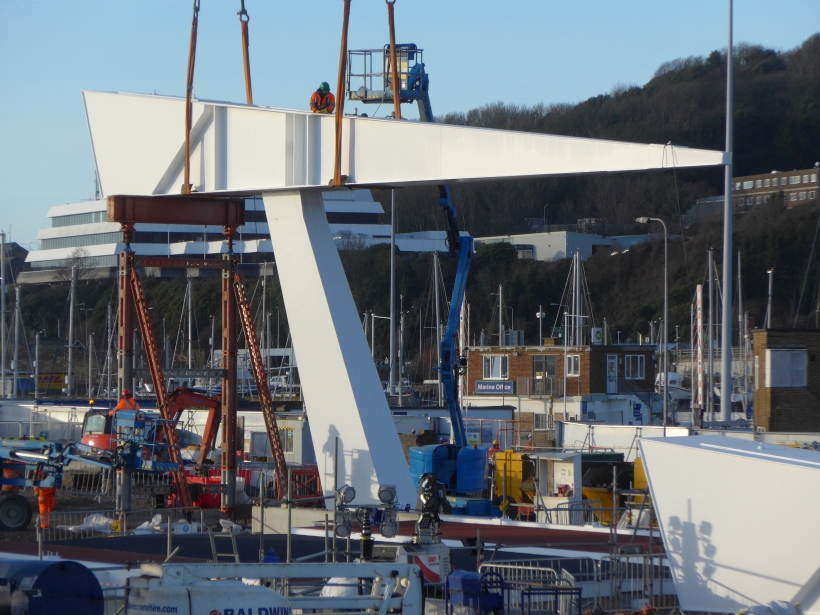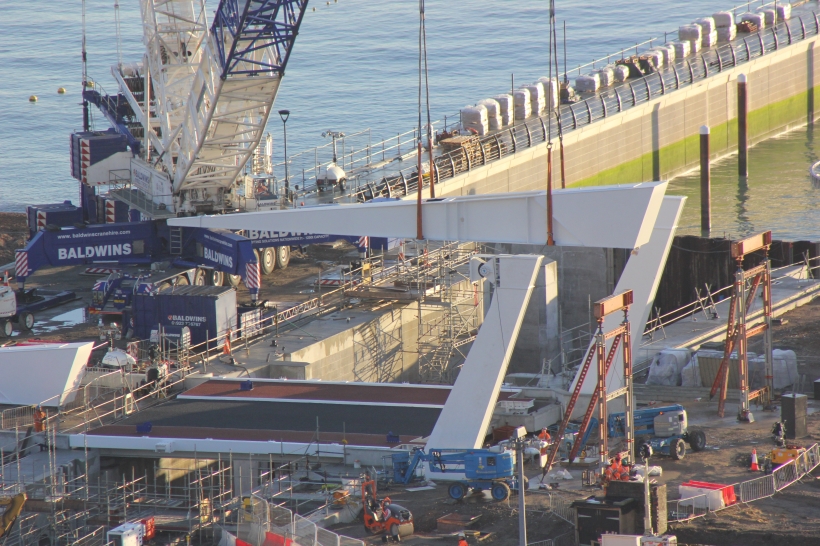 Tuesday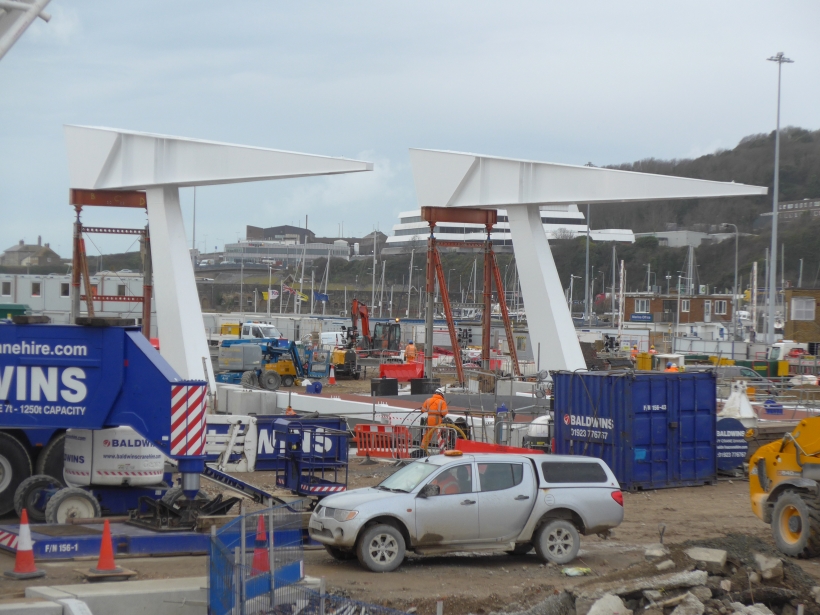 The orange-suited worker at the base of the right-hand tower shows the width of the lifting section of the bridge deck.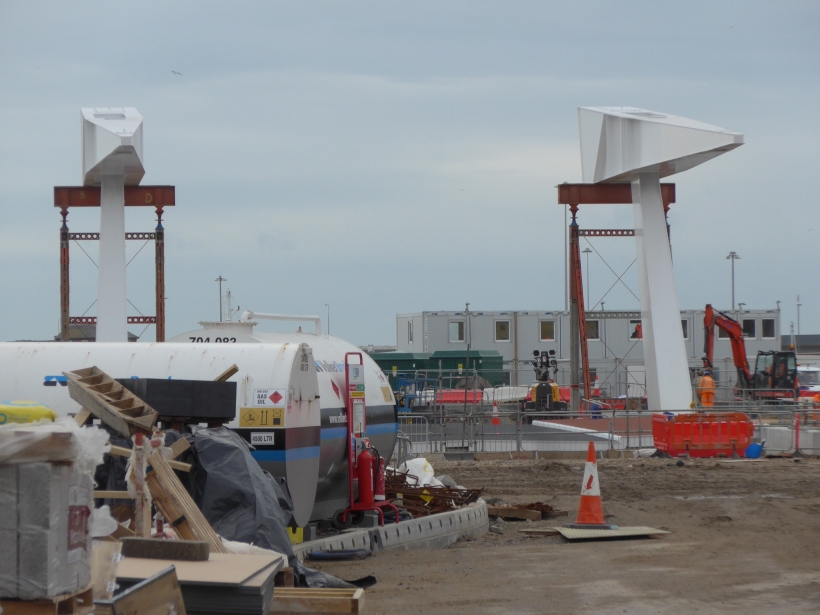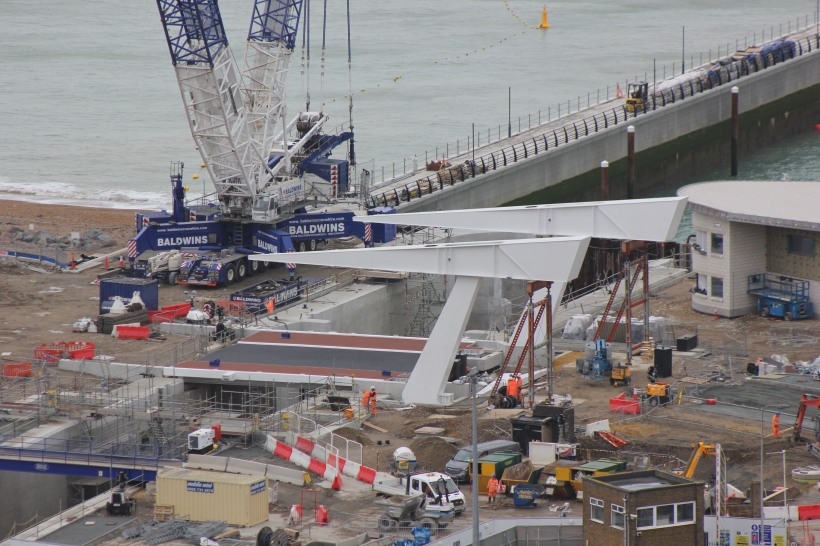 There's a series of very interesting photos of the preliminary work by Patrick S on the Dover Town forum in the thread 'Dover Harbour Plans' with a link to the bridge designers website, giving good details of the lifting bridge & the lock itself.
Well worth a look.
Wednesday, 19 December 2018 - 01:07
Post 5946
Sea News, Dover
Another giant MSC ship comes in close to Port. These pictures were taken just a few days ago. This time its the MSC Camille, all 155,000 tons of her approx. Great to see these huge ships up close...the downside of course is that they generally just come in close in bad weather, which adversely affects the quality of the pictures. But I guess you cant have everything...that's what I grumble to myself anyway.
Here we go, misty murky drizzly conditions, so pictures are a wee bit forced unfortunately...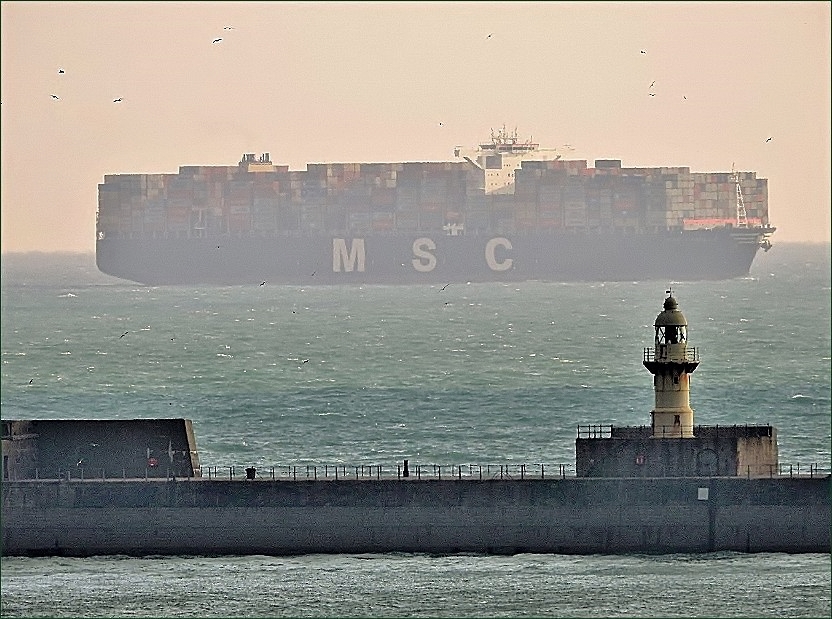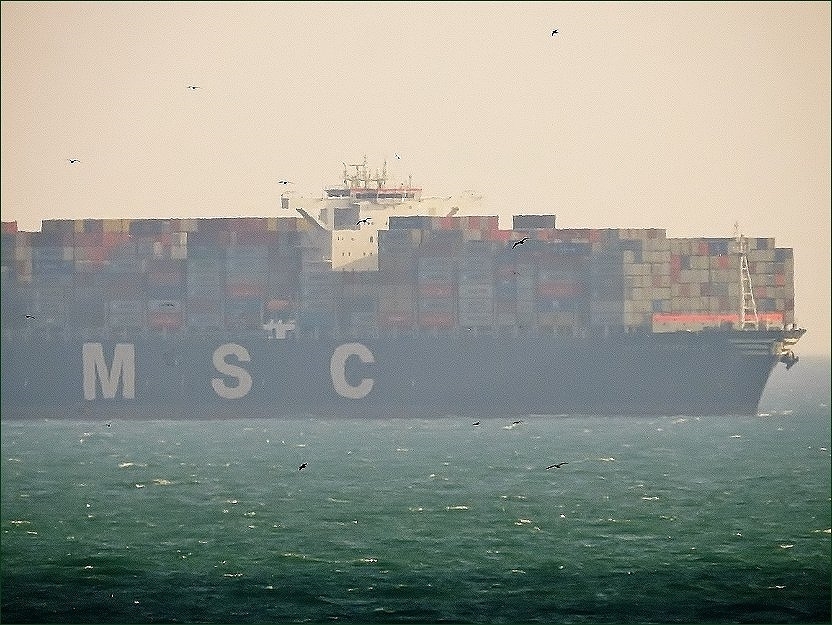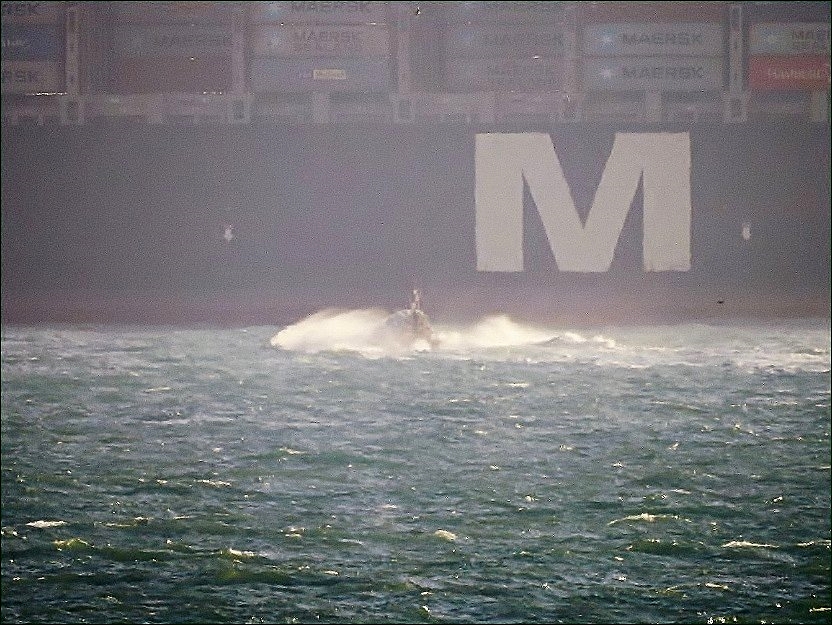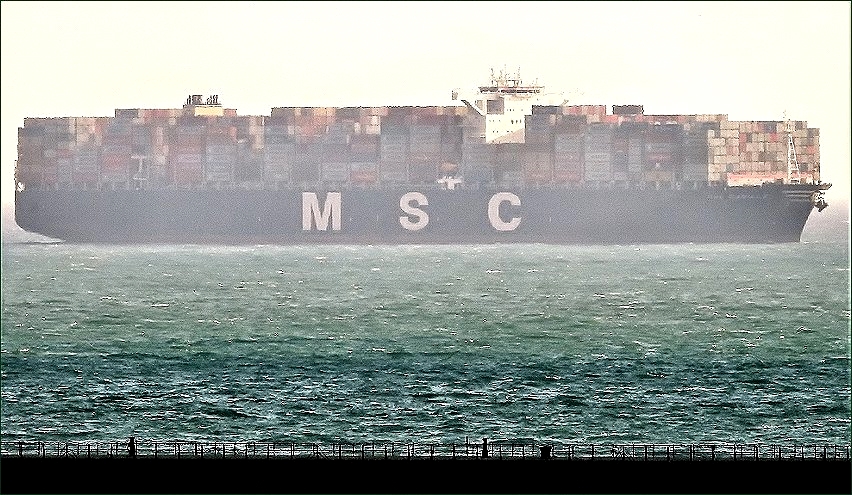 Following along from Mike's excellent pictures in the post below, another shot here of Fri River bringing in a load of those logs yesterday for the Biomass Plant in Sandwich...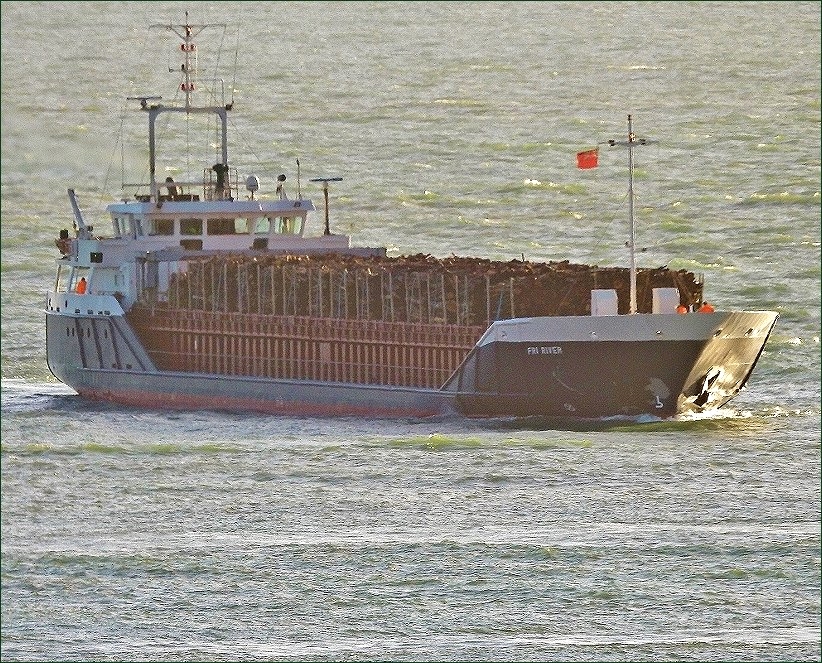 Excellent collection in the post below from Mike. Dont Miss Those..

PaulB
Tuesday, 18 December 2018 - 07:18
Post 5945
Mike J., Dover
Monday afternoon & the arrival of reefer ELVIRA making her first European port call after the long haul from Paita in Peru via the Panama Canal & the 4th 'bio-mass boat' FRI RIVER from the Baltic via the Kiel Canal.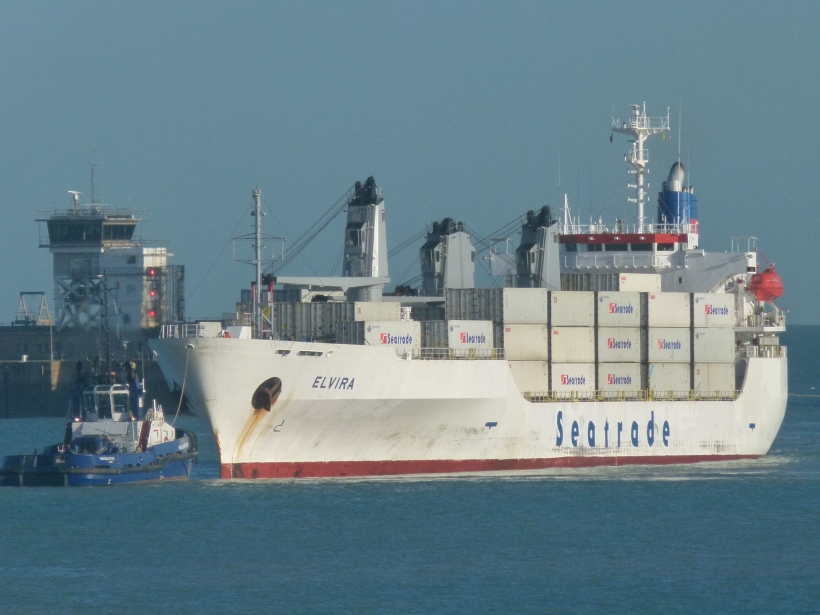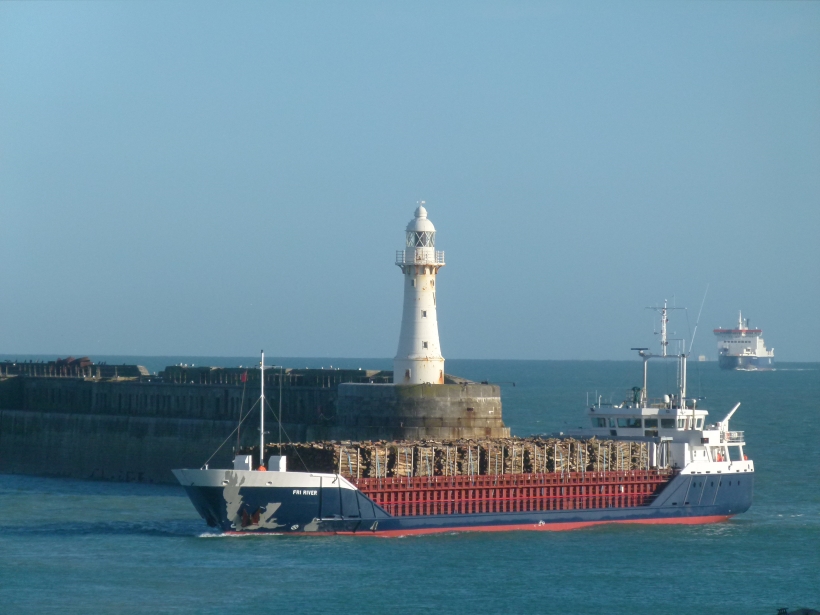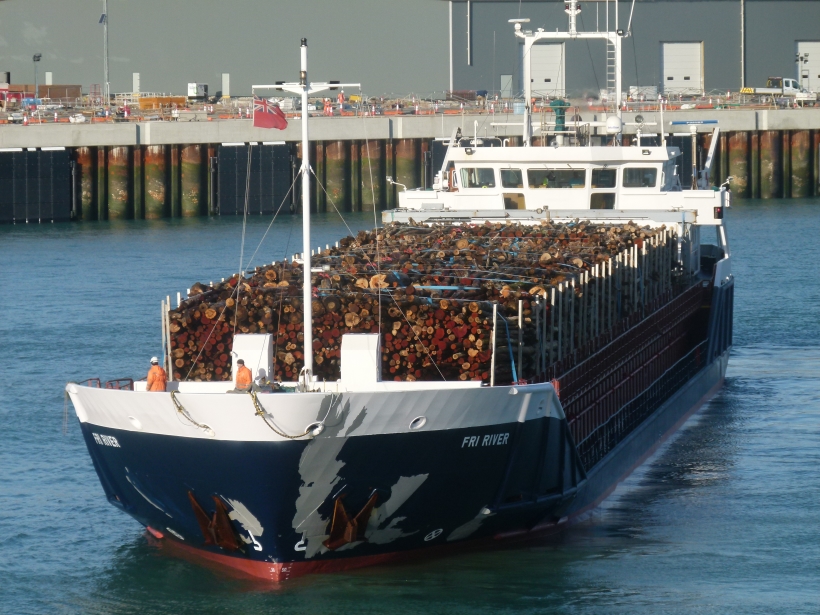 I think there are four more timber ships expected.
Tuesday, 18 December 2018 - 00:35
Post 5944
Sea News, Dover
Just catching up now with some further pictures of bunker supply ship Sikinos as she moved away from the Port last week. These pix obviously run in harmony with the one currently at the top of page. Will give that top shot another day or two but wanted to get these Sikinos ones into the system and into the search archive..and here we are...
First two shots show her turning about...we are looking across the major current workings towards the west wing...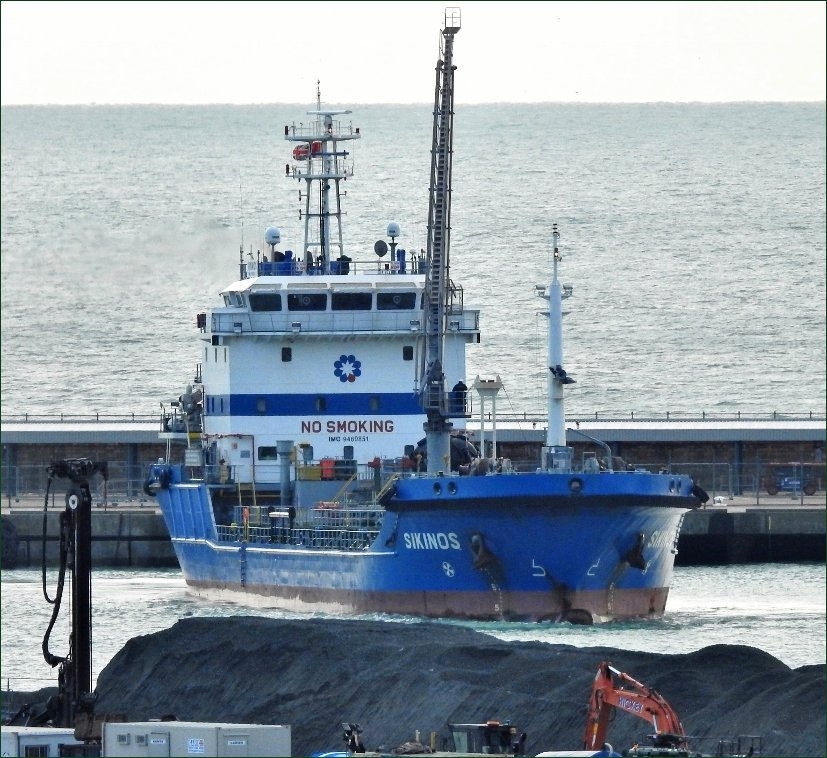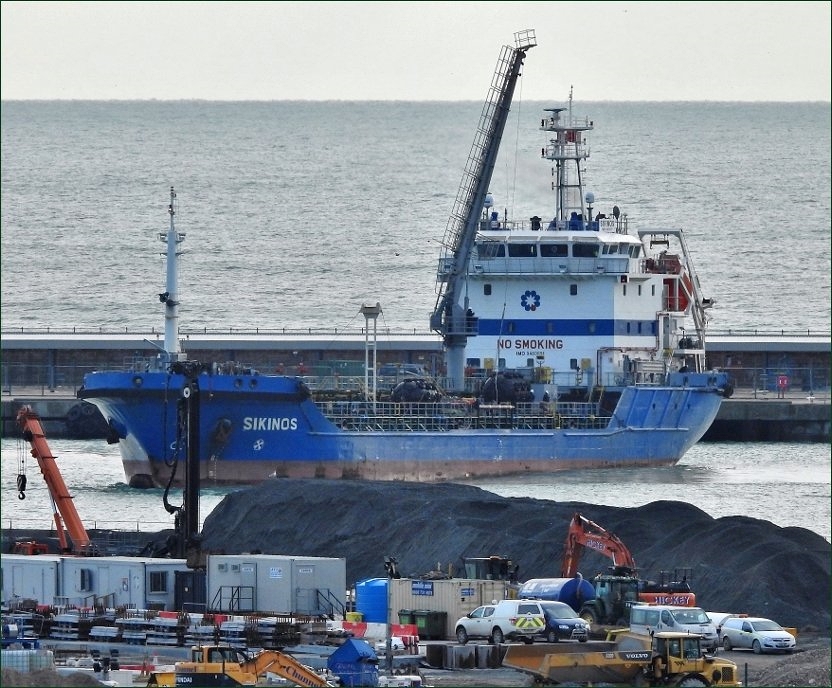 And then off into the blue yonder she goes, possibly to Rotterdam.... with the pilot alongside...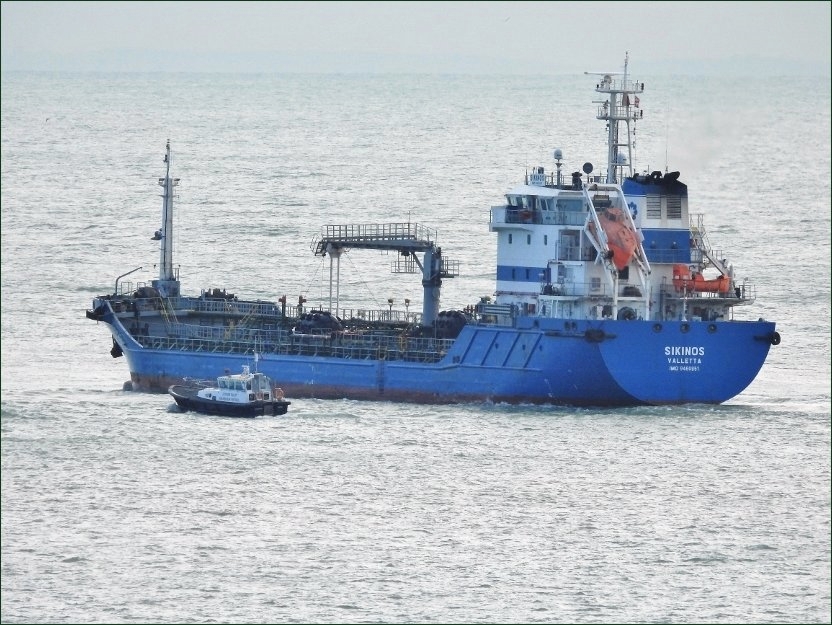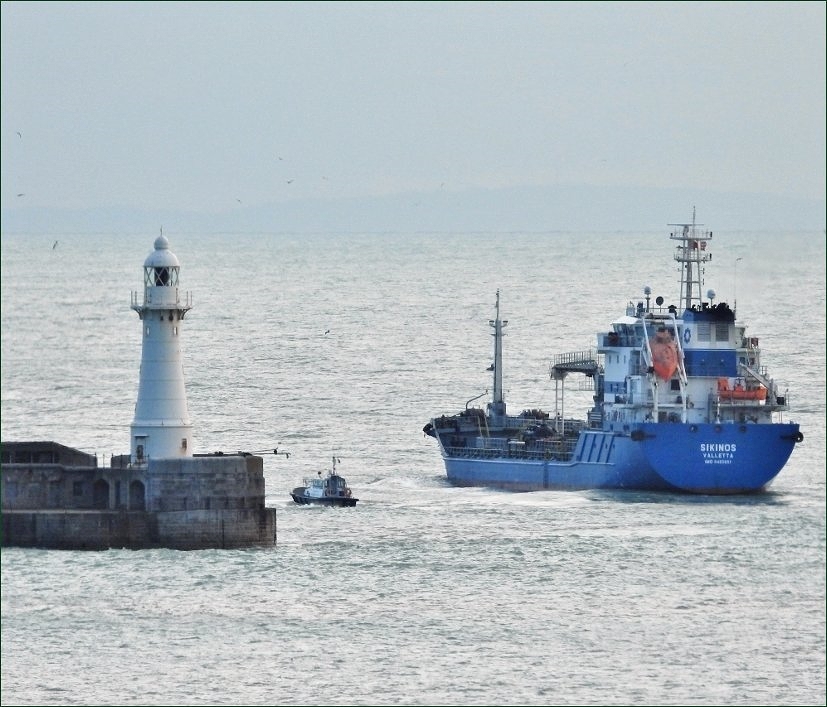 Excellent Bathing Water Results Help To Make A Splash In Dover District
Dover District Council is welcoming news that water quality at all three designated bathing water beaches in the district has been rated as excellent, and is delighted to have taken part in a campaign celebrating our coastline and keeping beaches clean.
Latest news from the Department for Environment, Food and Rural Affairs is that the water quality at the three Environment Agency designated bathing waters at Deal Castle, St Margaret's Bay and Sandwich Bay remains excellent.
This is further to Southern Water choosing the beach around Deal Castle for an investment of around £3.9m to help protect and enhance the area. Deal Castle is one of seven beaches nationally where the water company worked alongside local authorities and others to improve bathing water quality, as part of a major Bathing Water Enhancement Programme, (BWEP).
The BWEP was launched following an investigation into factors influencing water quality. Southern Water has completed a range of works in the Deal area, and has announced that all public misconnections have been rectified. This includes upgrades to sewage pumping stations.
As part of this work, the Beauty of the Beach campaign was launched in the district to encourage everyone to work together to keep our beaches clean. DDC worked with funding from Southern Water on a range of projects in Deal, including increased signage, more enforcement patrols to maintain cleanliness, and improved drainage on Deal Pier.
Cllr Trevor Bartlett, DDC Cabinet Member for Property Management and Environmental Health said: "We are delighted that the bathing water remains excellent at our beaches, and have been very pleased with the success of the Beauty of the Beach campaign. We look forward to seeing the results of this continuing work, and continued excellent standards at our beaches."
ENDS
PaulB
Monday, 17 December 2018 - 05:02
Post 5943
Sea News, Dover
Fake News Alert: or a little bit of frivolity for a sunday morning...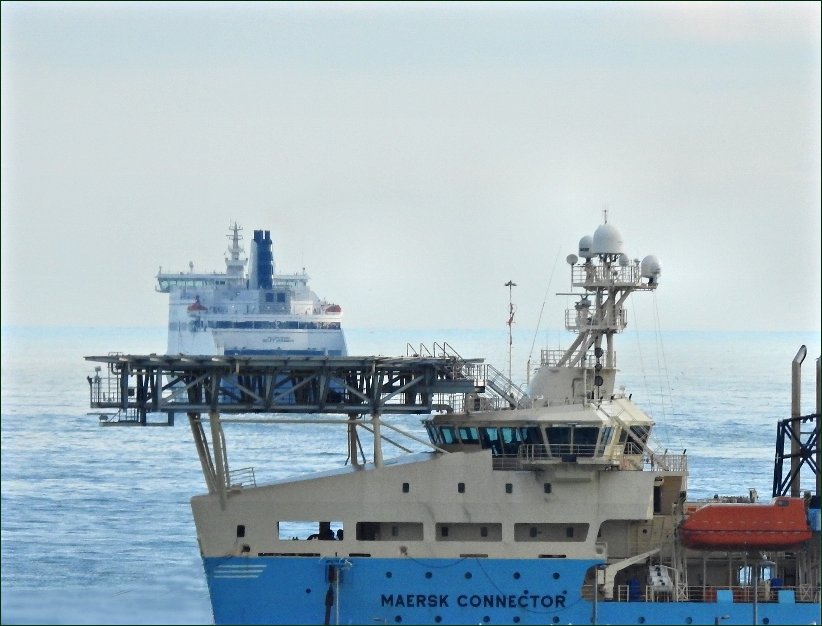 Yes a picture above there of the photogenic Maersk Connector once again - this time giving the Delft Seaways a lift back to Dunkerque ...well it saves on fuel. Two for the price of one. A certain manipulation to the Maersk Connector there shows her all at sea...


Of course that's all gobbledegook above...
But for some serious stuff now.
The ever rising Premier Inn on Dover Seafront. Remember...type Premier Inn in our Search Engine above and you can see the whole thing rise from ground level.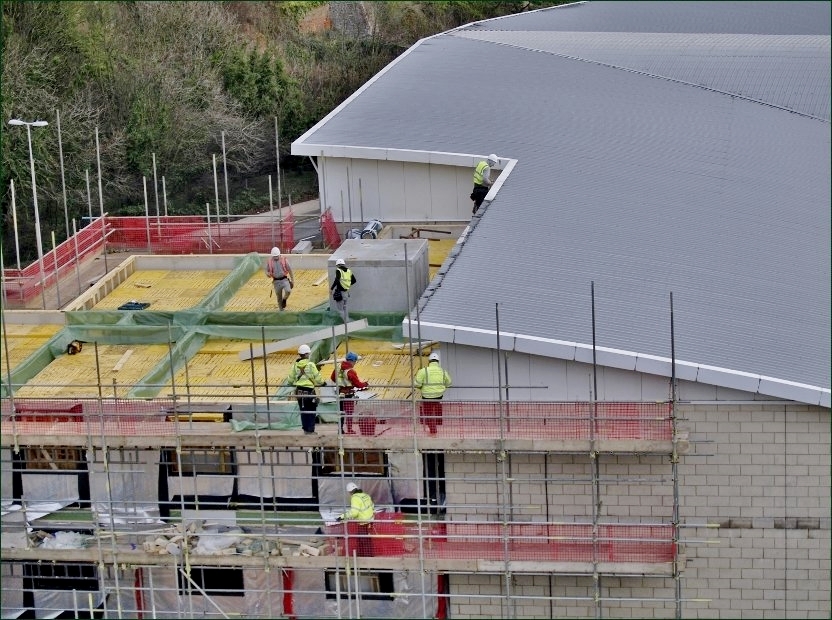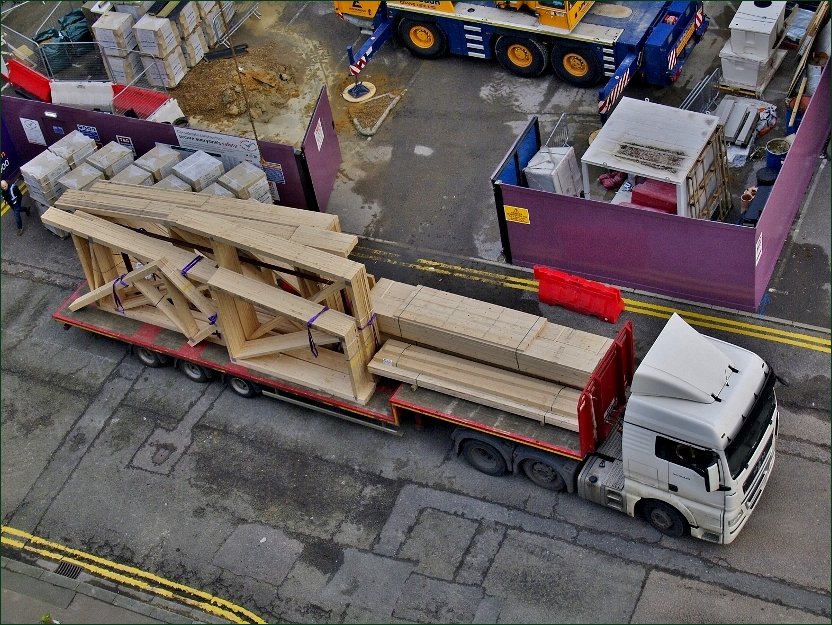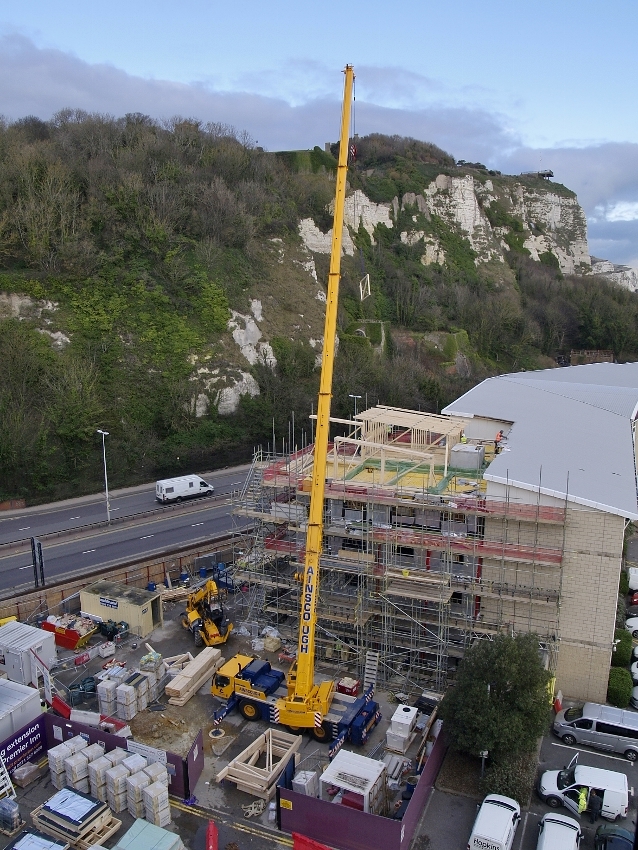 Those picture above from earlier in the week. And even since then...well rapid further progress. Yours truly is gobsmacked by the speed of it. It would take me that long to put a nail in the wall and hang a picture...but those guys build four/five floors plus in the same time...wowser!
As we said before the parts are delivered and then assembled..you can see one of the trucks there. Yours truly's eastward visual is rapidly changing.
PaulB
Nice shot below Mike of the Maersk Connector... yes still there

Sunday, 16 December 2018 - 08:42
Post 5942
Mike J., Dover
The MAERSK CONNECTOR remains on the Eastern Arm & is likely to remain there until the New Year.
The NEMO power cable job has completed the construction phase & commissioning is now taking place.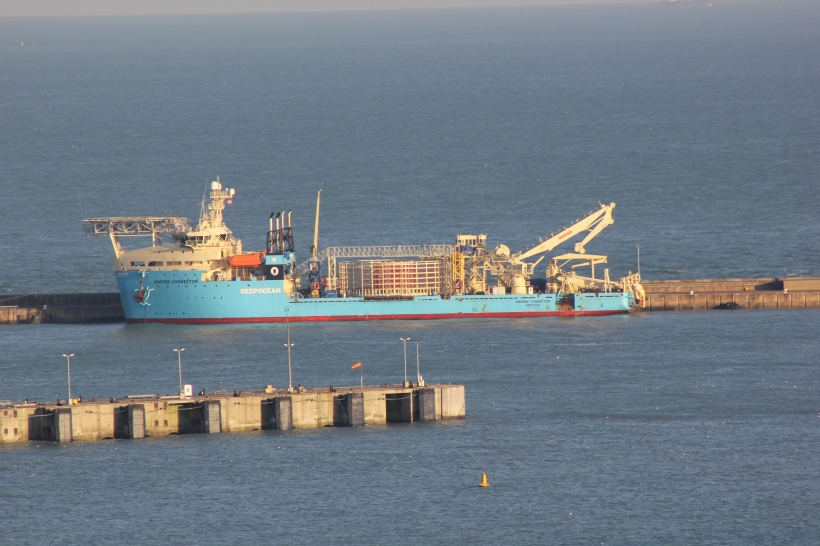 They may have had an uncomfortable time Saturday afternoon & evening when the southerlies got a little lively for a while.
Sunday, 16 December 2018 - 01:42
Post 5941
Sea News, Dover
Just in from Mike...referring to the helicopter post just below...
This from Nigel Scutt, who likes helicopters -
. . . . . . That's the newer and larger Kent Air Ambulance. There was no emergency declared, so the only thing I can think of is that they were doing some night training and looking at potential HLS's as these AW189's are larger than the Eurocopters they are replacing. The service has used the beach before, but not this far down. They can't use the area right outside Sea Sports as it's all tied up with DWDR . . . . . .
Many thanks there to Mike and Nigel for the info..Great stuff lads!

PB
Saturday, 15 December 2018 - 10:12
Post 5940
Sea News, Dover
Here we are with the 'helicopter landing on beach' pictures. At 8.45pm on Thursday night the helicopter below came slowly in towards the beach, its floodlights lighting the way before it. It came down in an arc from the Western Heights direction and surprisingly landed on the beach here on Dover Seafront. As mentioned previously and you can see from the pictures, there was no seafront emergency, no police on the ground. So it was rather a surprise.
I thought initially it might be the Coastguard but as you can see the helicopter is not red. Although sometimes at night the colours are not easily identifiable. But here we are anyway....the arrival certainly gave the customers in the Hythe Bay Restaurant something to gawp at over their oysters, while in Marco Pierre White's Chop House they were surely all agog gazing at the arriving 'Chopper'.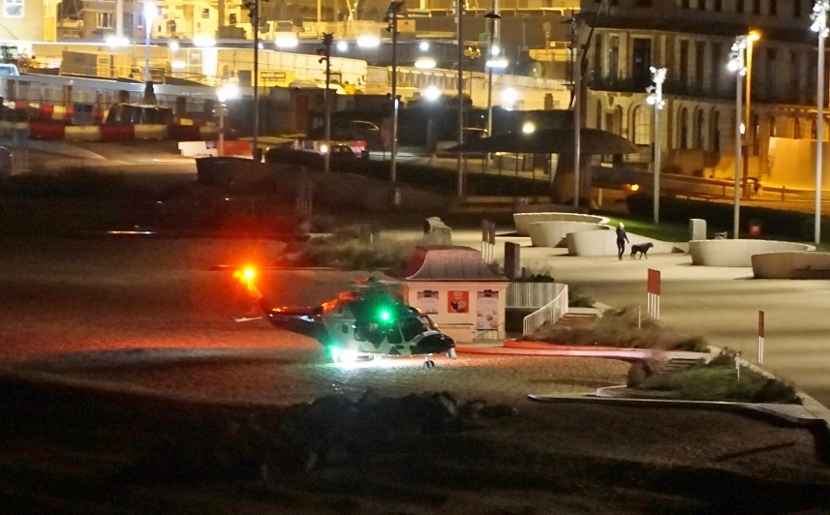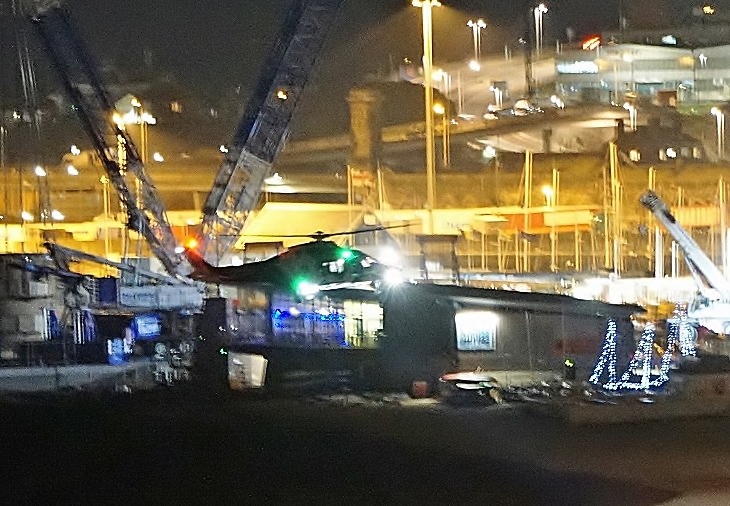 The top shot above shows the helicopter just after it landed. Shot 2 poorer quality shows it approaching just before landing....that's the Hythe Bay Restaurant and Seasports Centre behind it there.
A half an hour later she readied for take-off.. and then in picture 4 she was off. Look at that chap bottom right, sitting on the ground with camera in hands...bet he got some good shots.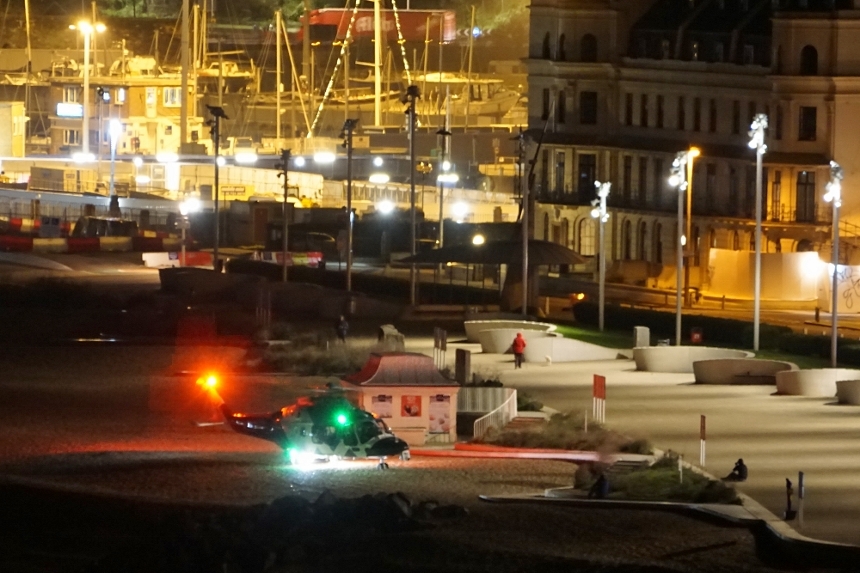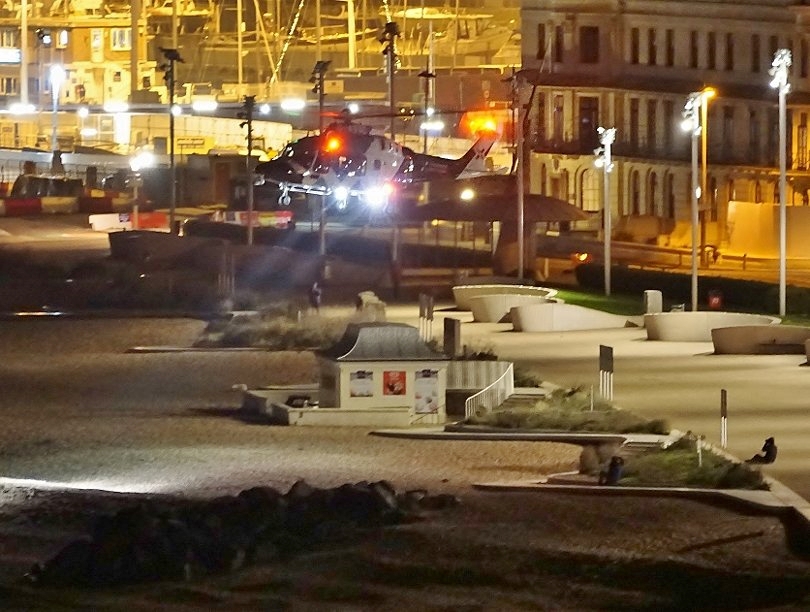 The picture below was taken earlier the same evening...capturing the chilly sunset...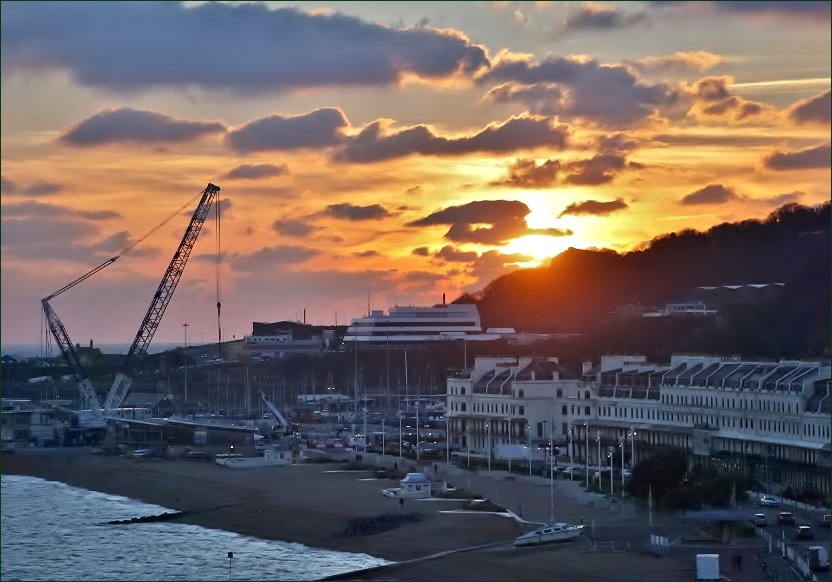 If any helicopter buffs out there recognise the helicopter by all means let us know. Information very welcome.
Update: Its the Kent Air Ambulance see later post.
PaulB
Saturday, 15 December 2018 - 05:08
Post 5939
Sea News, Dover
Some pictures now of what we believe to be another migrant situation although we haven't been able to confirm it. The drone of a suspended-in-mid-air helicopter caught the attention at 0800 Wednesday morning. Then we spotted both the Border Force and the Dover Lifeboat out there in the fray a short distance off Shakespeare Beach, which is just outside the Port. Some poor quality pictures below here but added them to show the whole scene as it were.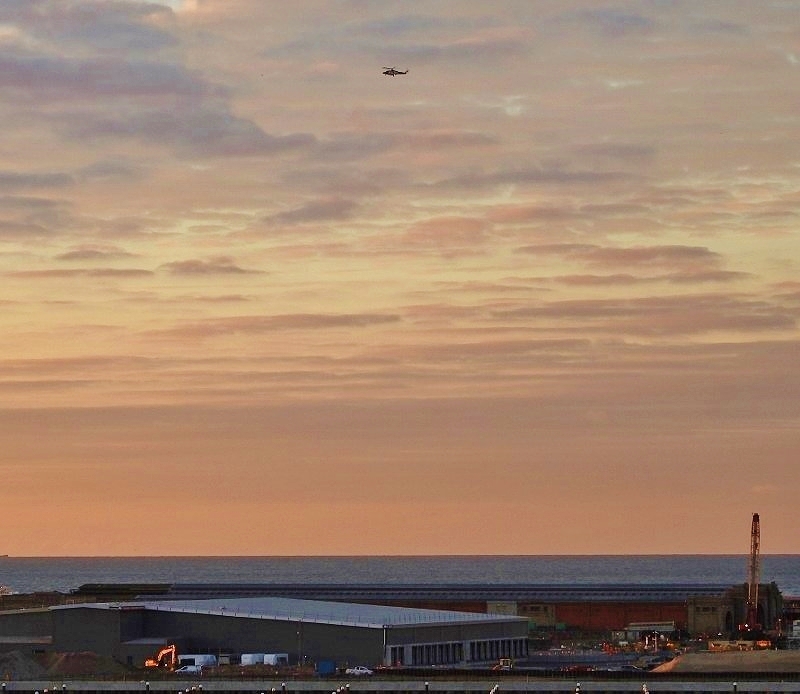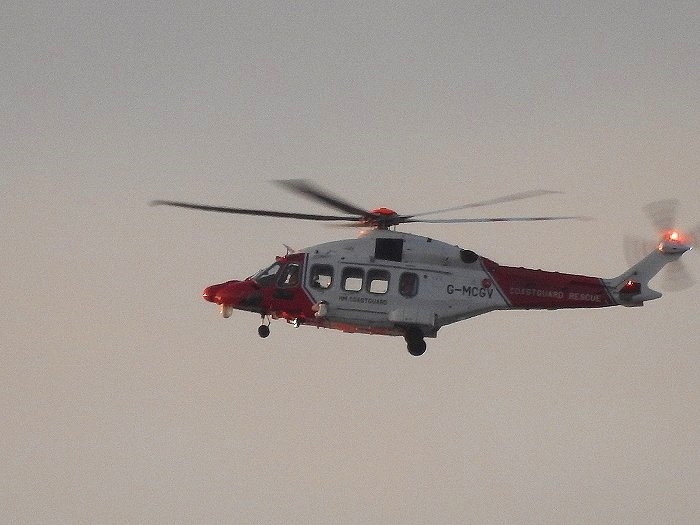 The HM Coastguard helicopter above there as you can see and below Dover Lifeboat and Border Force Hunter in close harmony. The pictures are not the best …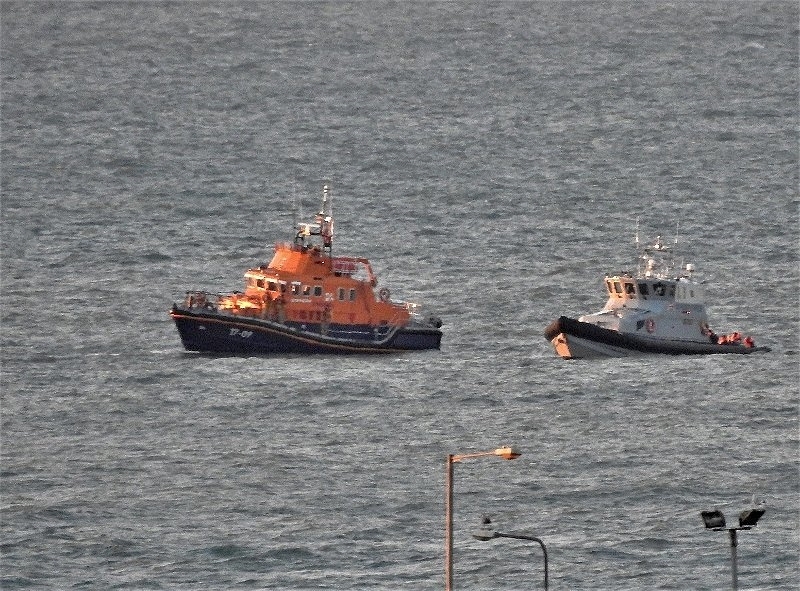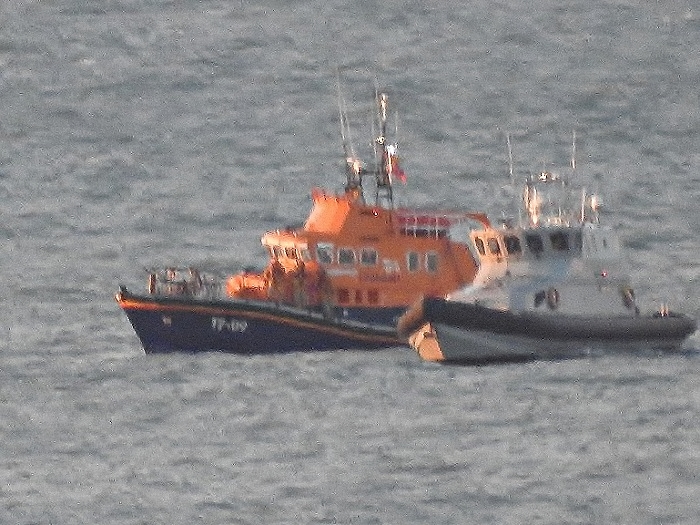 Border Force Hunter returning to Port 15 minutes later at exactly 0815.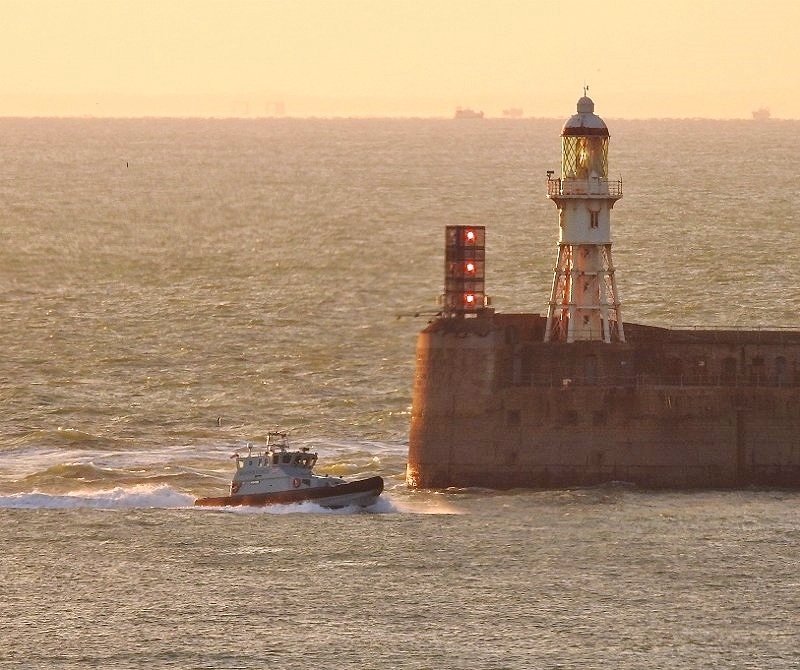 A very busy time for the Border Force.
Last night (Thursday) again we had more helicopter activity. About 9PM a helicopter surprised everybody by landing on the beach here on Dover Seafront. There were no emergency services on the ground, no police, no emergency vehicles of any kind, but the helicopter came down on an empty beach. It stayed there for 20-30 minutes and then was off again. It was pitch dark...I tried to get some pictures and will have some of those to follow in due course. Never a dull moment around here that's for sure.

A great all round set of pictures below from Mike our 'inshore correspondent' showing the latest happenings. A lot of Border Force guys here now. Great shot of the new bridge...
Great stuff! Don't Miss Those...

And Dont Miss the beautiful Christmas pictures just below too from Sarah over there in Ramsgate. We look forward to those ones every year. Great stuff again! cracking shots ...gets us in the Christmas Spirit. Gorgeous building in the background there too...
PaulB
Friday, 14 December 2018 - 06:07
Post 5938
Mike J., Dover
Thursday showed the bridge deck in position with the other bridge components now stored awaiting installation.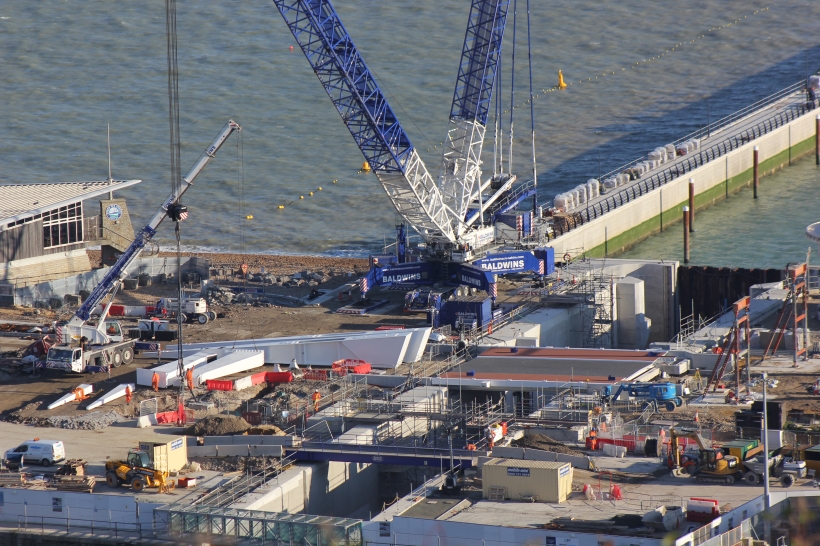 Three of a kind. During the 'big lift' on Wednesday afternoon the Border Agency's patrol vessel NIMROD came in to join the HUNTER & the SPEEDWELL.
First time I think that the three have been together in Dover.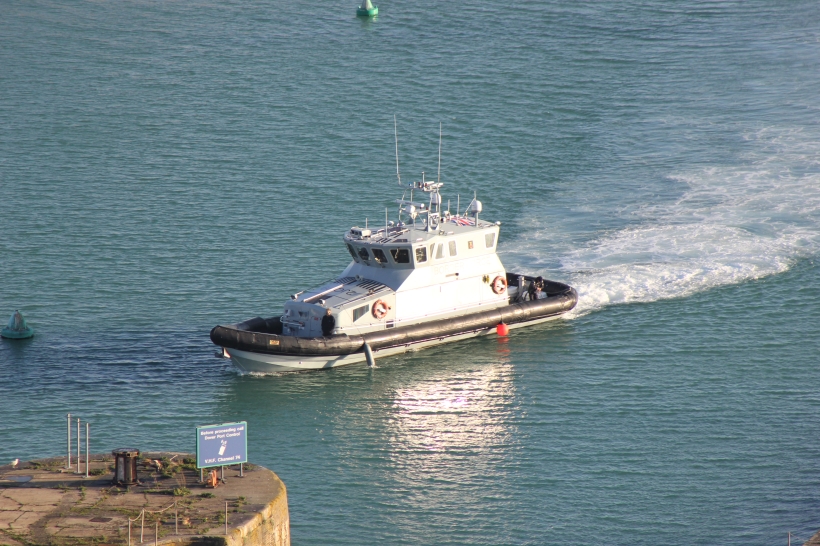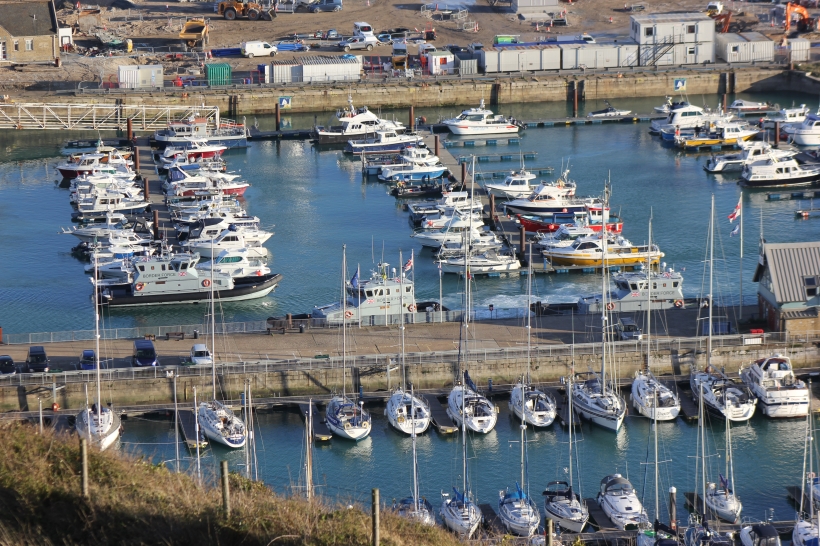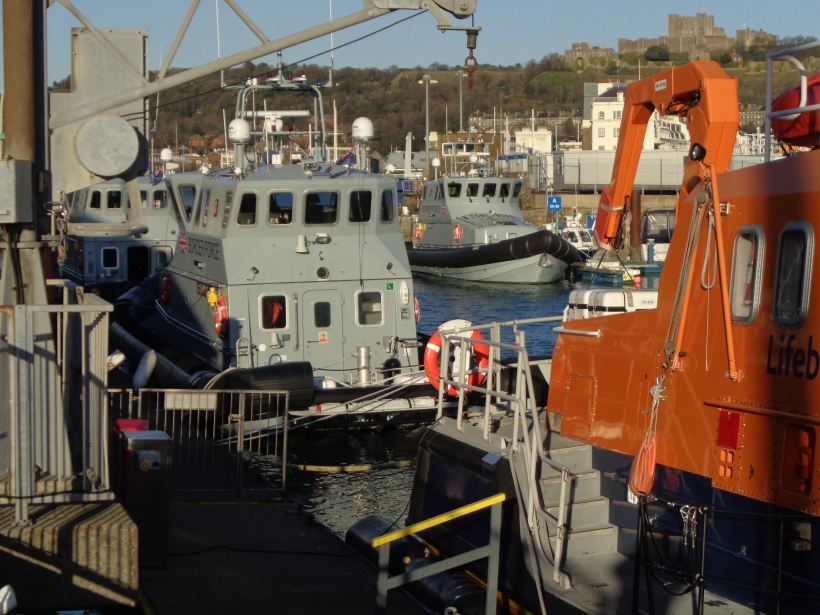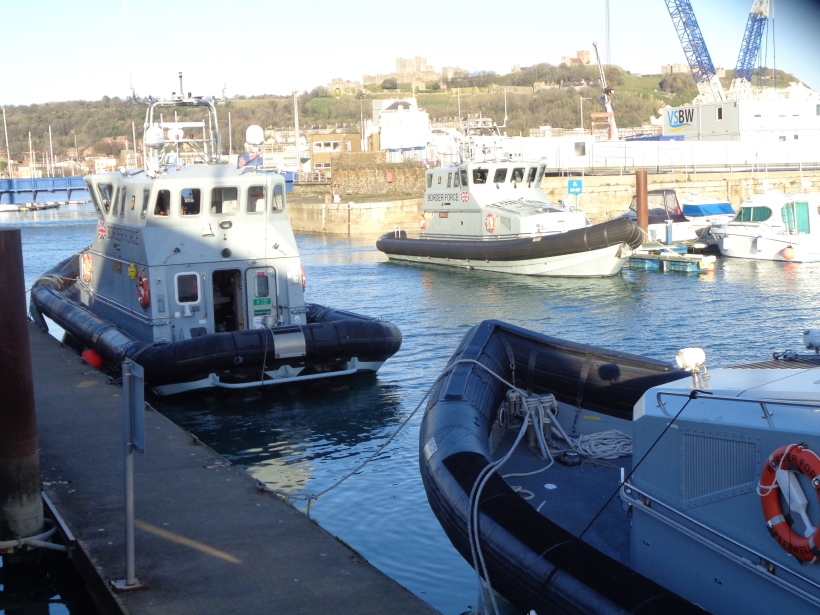 Sarah advises that the NIMROD has come down from Scotland to join the local Border Agency fleet & that the VIGILANT is currently in Ramsgate.
Friday, 14 December 2018 - 01:58