Saturday, 21 September 2019

WWW.DOVERFORUM.COM/SEA-NEWS
Featuring all the ships that come and go and work at the Port of Dover ..
... with further coverage of the surrounding ports.
Sea News Dover
Use our SEARCH ENGINE below to find all sorts on the SEA NEWS pages....type in the topic and away you go, or if you have the post number, just type it in the box, more than - 6500 - nautical posts now.
Posts are welcome. just click 'Add Your Comment' below. Max of 5 pictures preferred although we can stretch that for special stories.. Sea News Editor Paul Boland - send info or pix to dover7@msn.com. Always welcome.
CRUISE CALLS:
https://www.doverport.co.uk/cruise/find-a-cruise/
UPDATE:
To show your pictures at their best..it could be worthwhile resizing before posting to
850
pixels wide.
All pictures on these pages are the copyright of the owners and must not be reproduced without permission.
Post 6403
Sea News, Dover
Moon Shots!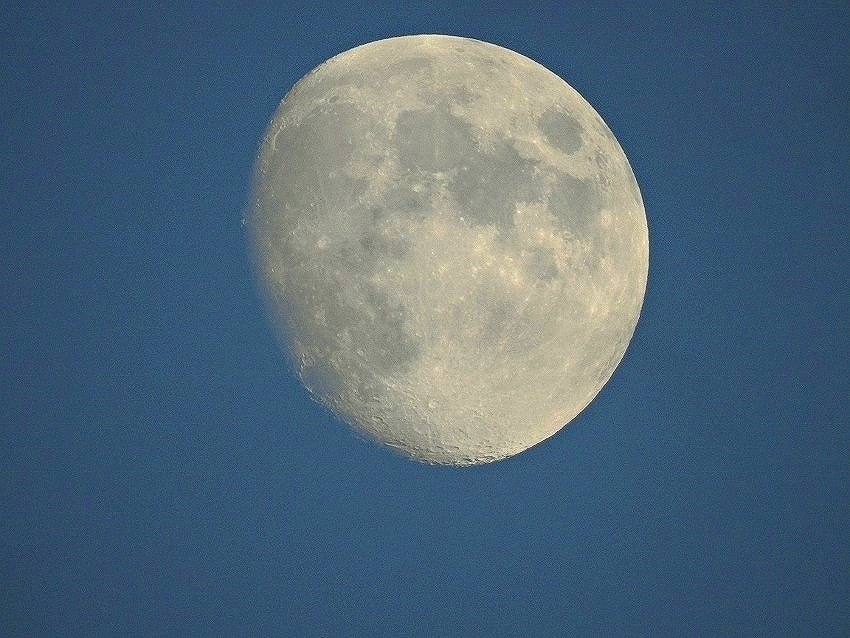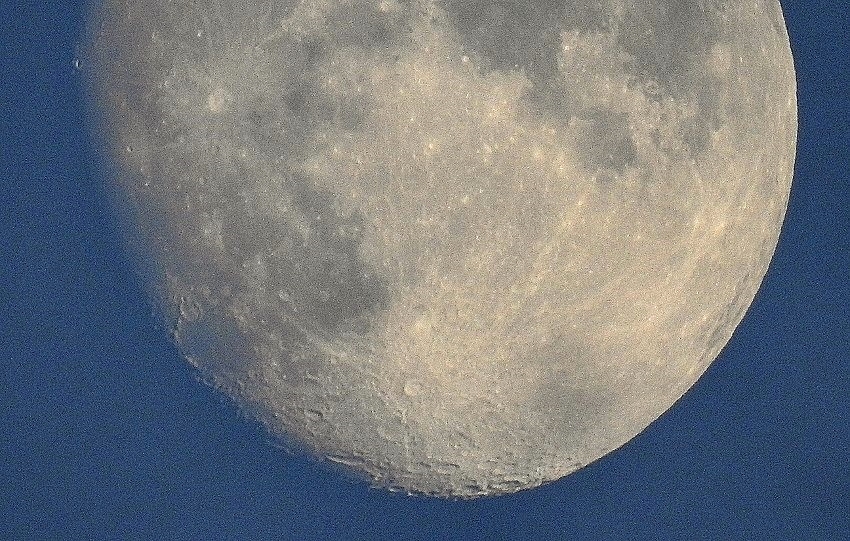 This is a great week for our relationship with the moon, as we celebrate the first lunar landing 50 years ago. Many will remember the great moment when Neil Armstrong set foot on the lunar surface and spoke those immortal words "One small step for man, one giant leap for mankind" it filled us all with hope and expectation. This is our small contribution to the celebration of that great moment.
The pictures above were taken a few days ago as the moon hung over the Port. Not night pix but taken late evening as the moon became more visible. The top pictures are of course zoomed in but you can see the wider general view below. All pictures taken at the same time. Top two look darker but that's because of the zooming...all taken at the same time...evening.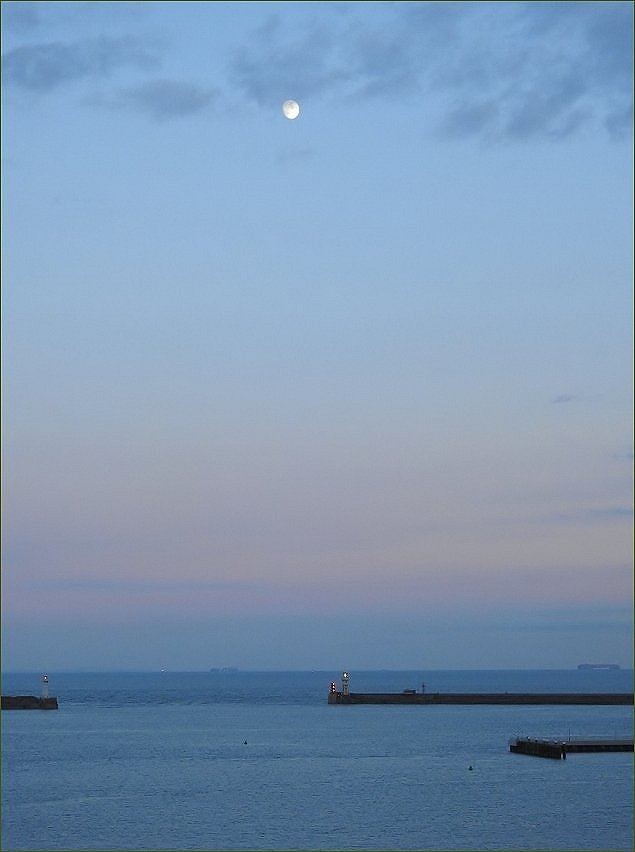 At roughly the same time the Harbour Patrol Boat did its evening patrol...you can see it below meandering re-assuringly around the harbour...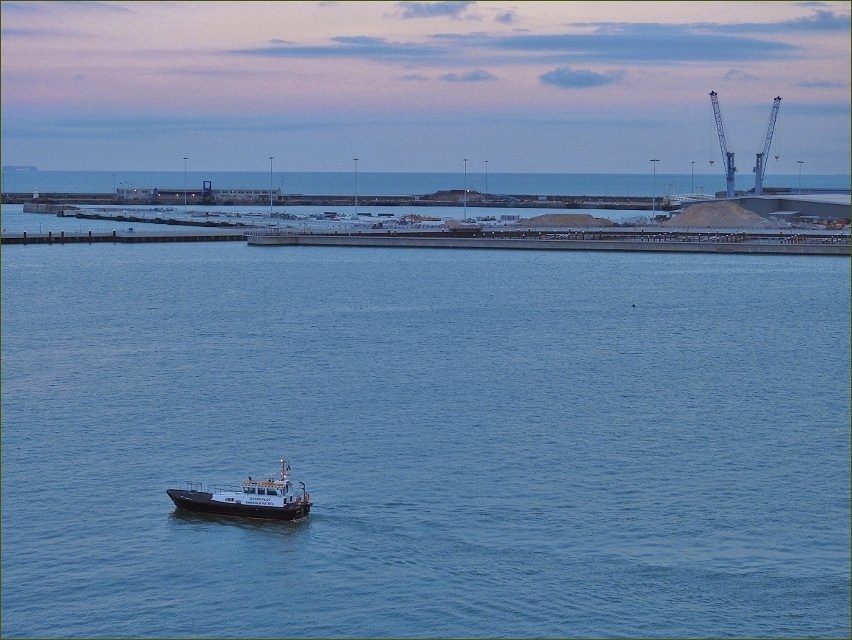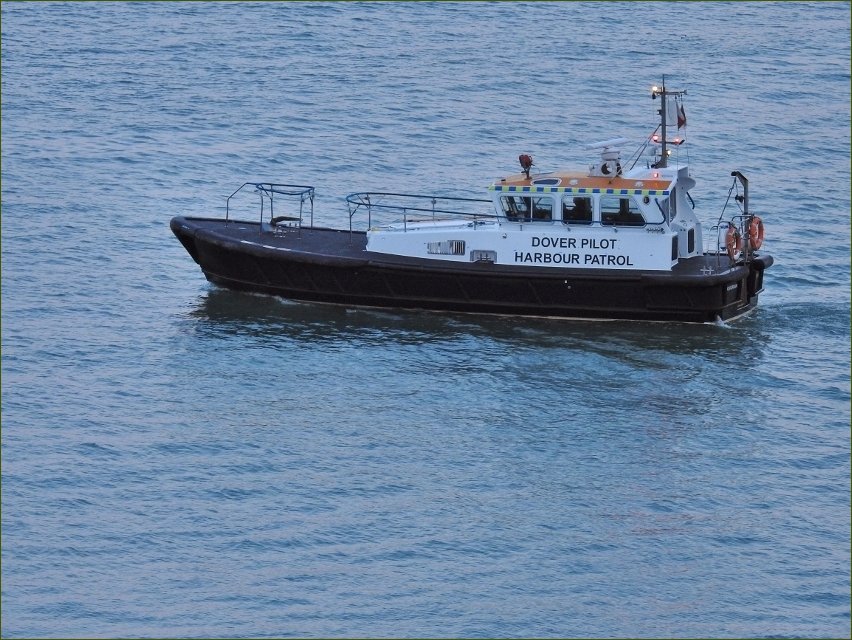 And finally earlier the same evening the Lifeboat returns to Port..presumably from a 'shout' as these are busy times in the Channel for all services...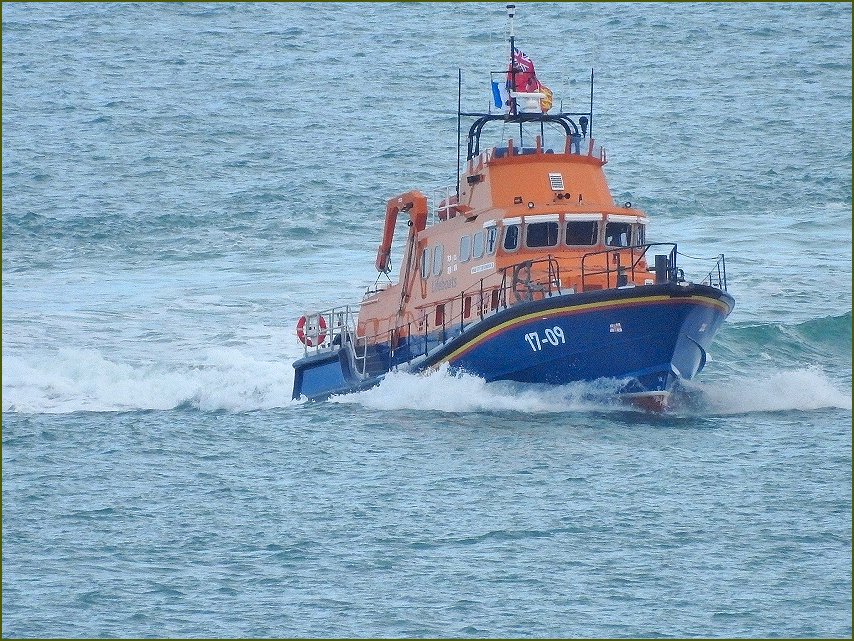 PaulB
Update: The magnificently huge cruise ship Celebrity Reflection just arriving 07.05
Thursday, 18 July 2019 - 06:09
Post 6402
Sea News, Dover
Military Might!
Some military muscle moving down the Channel on Sunday evening...
First shot: splitting the two ferries as they make their way to Calais...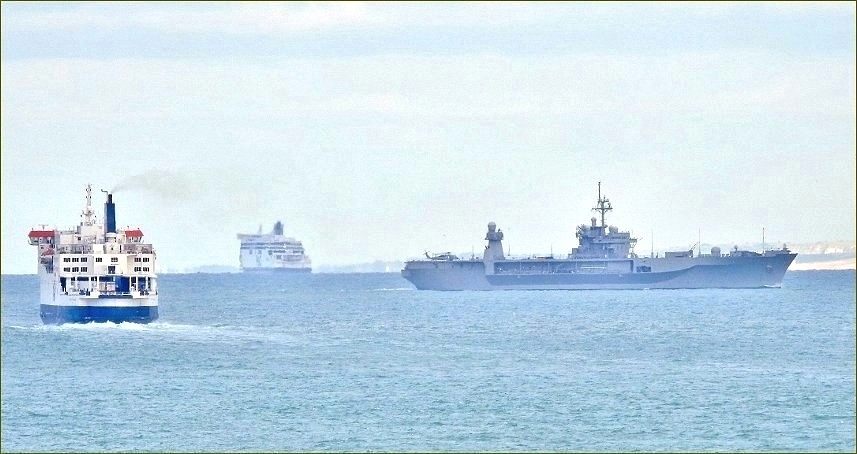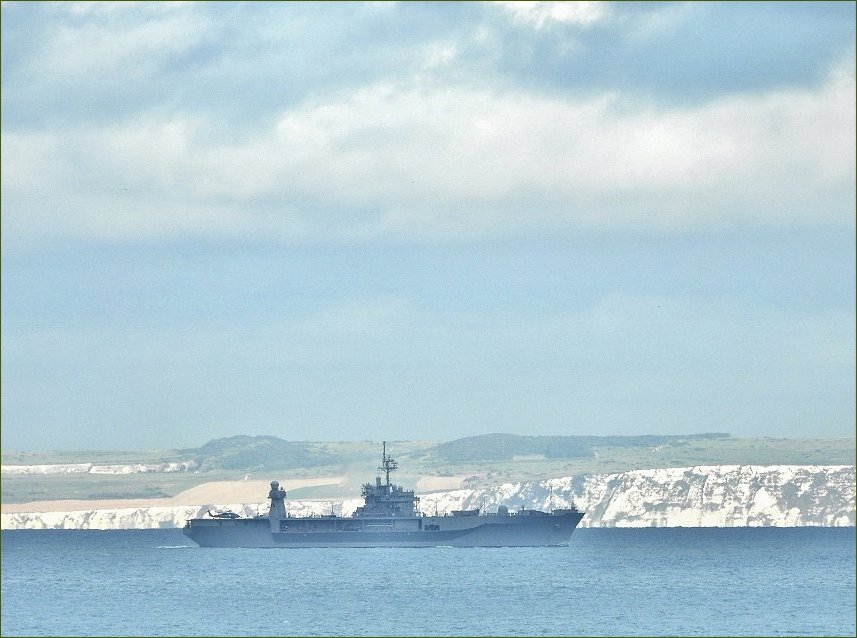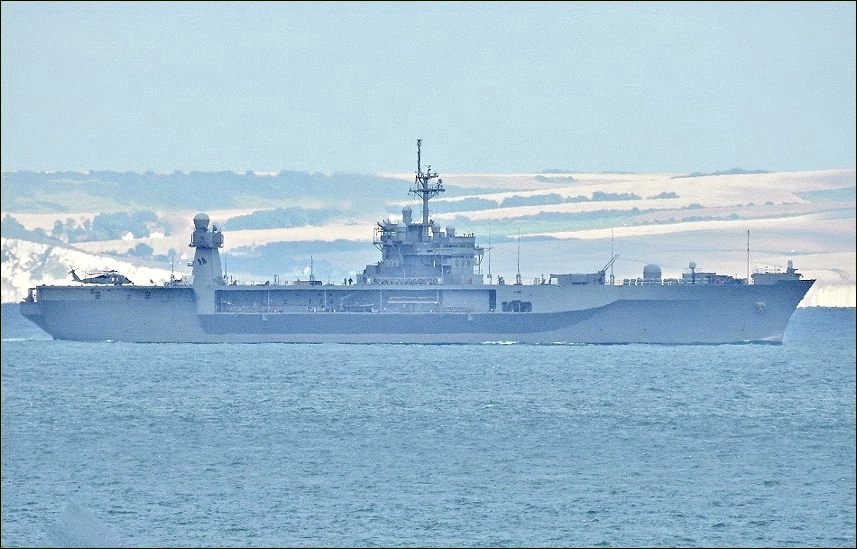 The ship above was mysteriously represented on AIS as a US "Government Vessel" it even had the quotation marks on there as shown...so there we are. Very dark and mysterious. It was difficult getting pictures of it too ...ie dark grey on grey...but the sun came through on the French coast which helped. Fascinating ...so there we are... Headline: "Government Vessel" moves south.
Within the same hour on Sunday evening, the Royal Navy frigate HMS St Albans was also seen moving south. Lets hope they are not all destined for the Gulf...a de-escalation needed there. Who was it that said "Jaw Jaw not Waw Waw"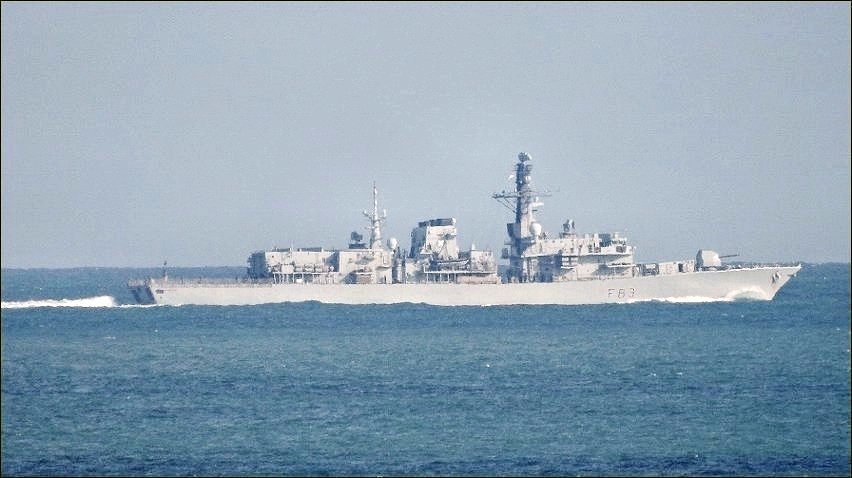 PaulB
Wednesday, 17 July 2019 - 07:04
Post 6401
Sea News, Dover
As promised ...some pictures now of the Rowing Regatta which took place on Saturday..
not full coverage by any means as it was a day-long event but just some shots to mark the dynamic occasion .. and here we are..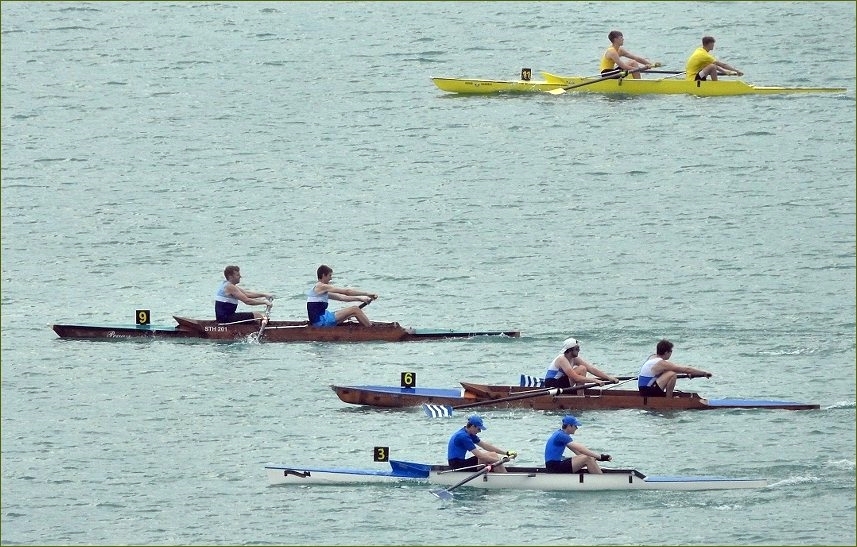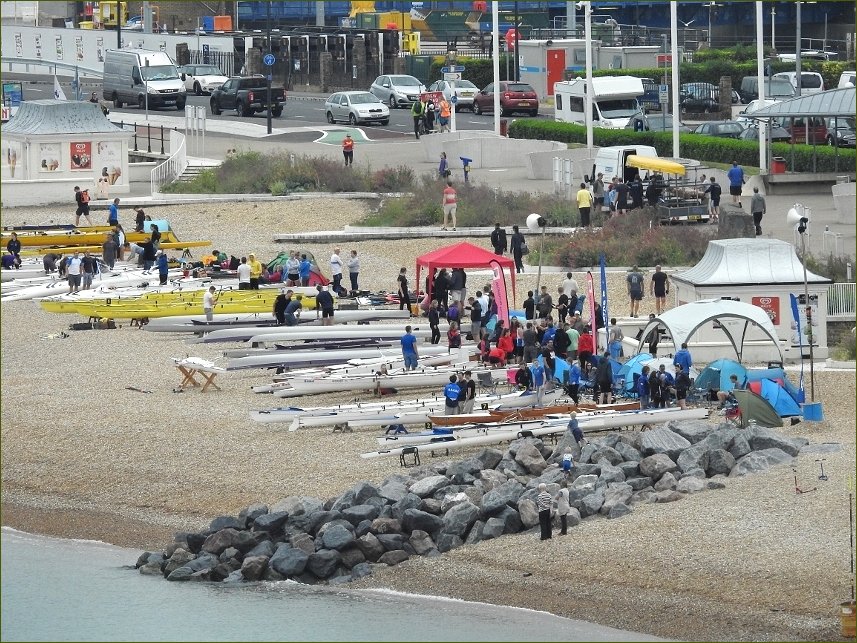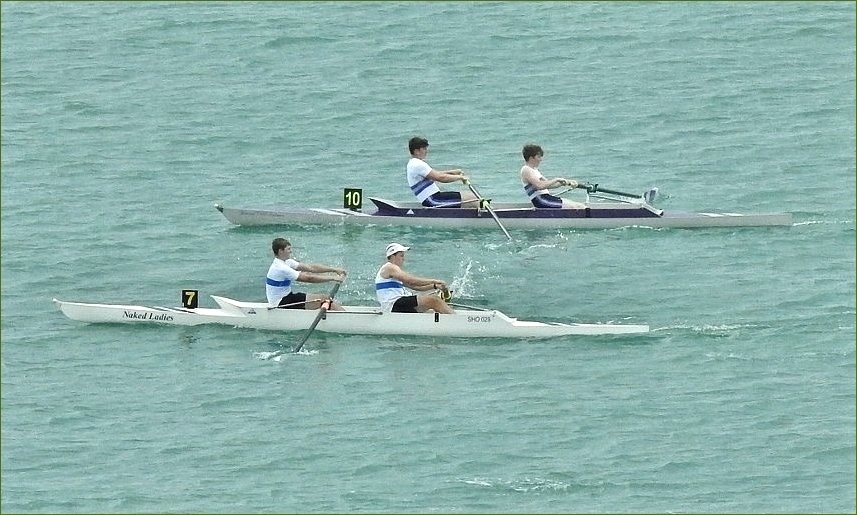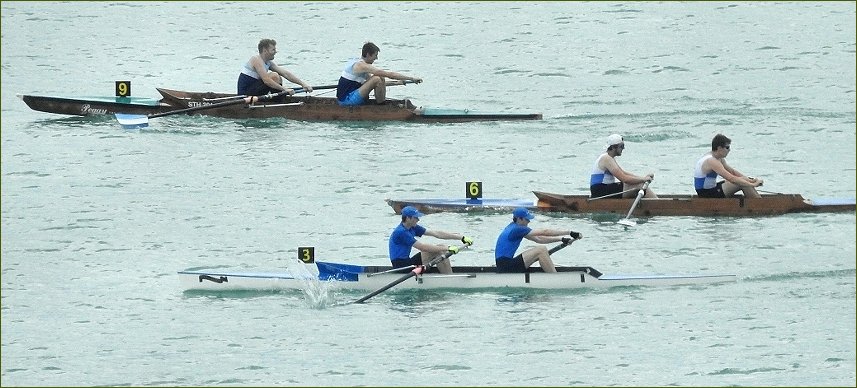 Later the same day yours truly just caught the Lifeboat returning ..
watched it come back to Port from a long way out as evening fell...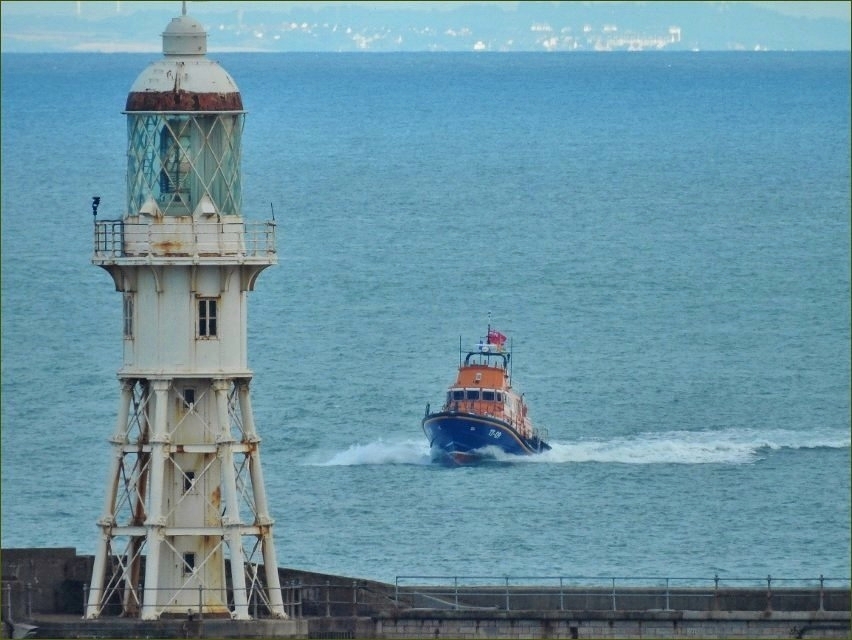 The Lifeboat returns...we were quite grey and gloomy here weather-wise but across the water in France they are basking in a nice late evening sun as you can see in the background there.....
Have just come across this one below.. a forgotten one from the past files and thought it worth including, another evening pic, there's the link to the two. Its a few years old, will double check in a moment ( june 2016 )... note the old logo on the P&O ferry.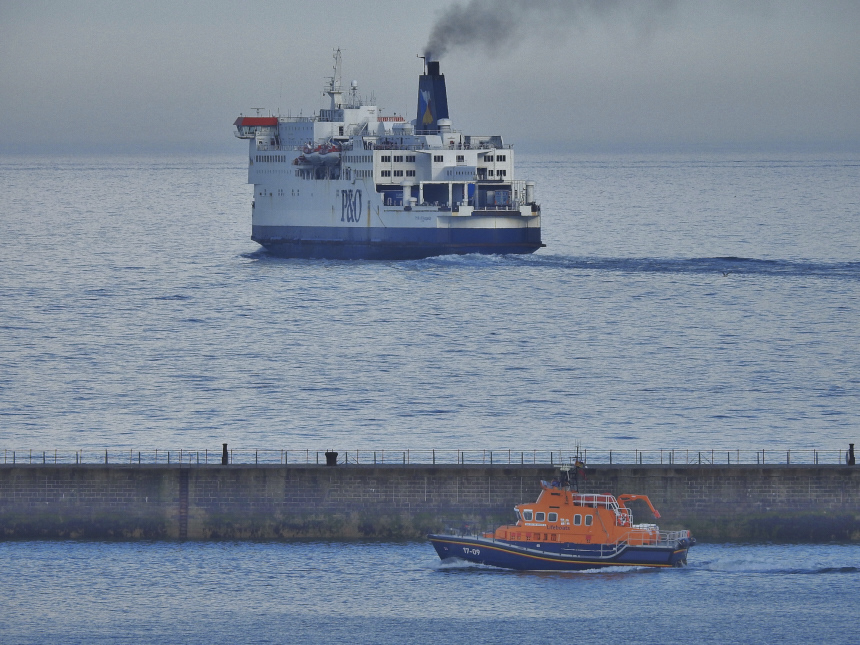 Nice schooner below there Patrick

PaulB
PS: Two cruise ships in today... Seabourn Quest and Pacific Princess, the busy schedule continues..
Tuesday, 16 July 2019 - 06:39
Post 6400
Patrick, Marine Parade
Tres Hombre Shipping carries sail cargo (wind only) across the Atlantic and in Europe.
Their 32m schooner 'Tres Hombres' pictured here in the channel off Dover recently can carry up to 45 tons of cargo and has a crew of 7 plus a similar number of trainees. In service since 2009 their office - Fairtransport B.V. - is based in the Netherlands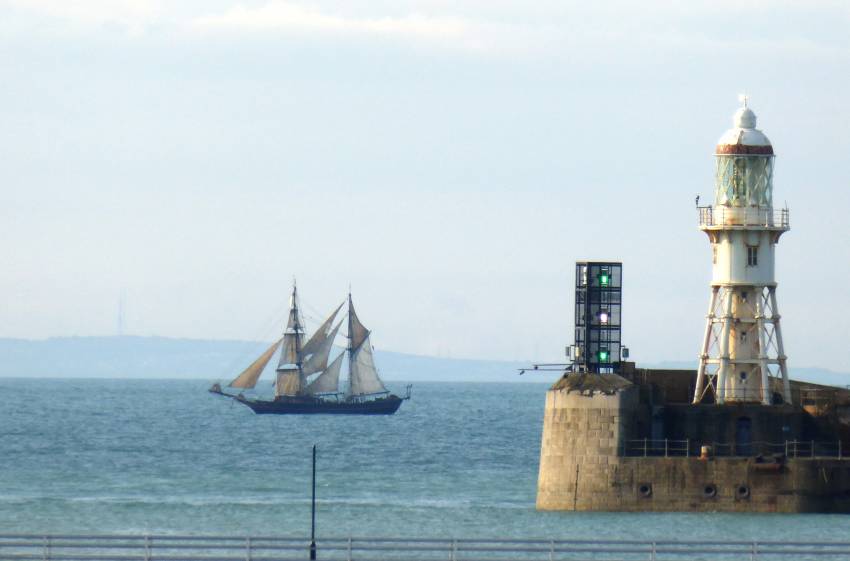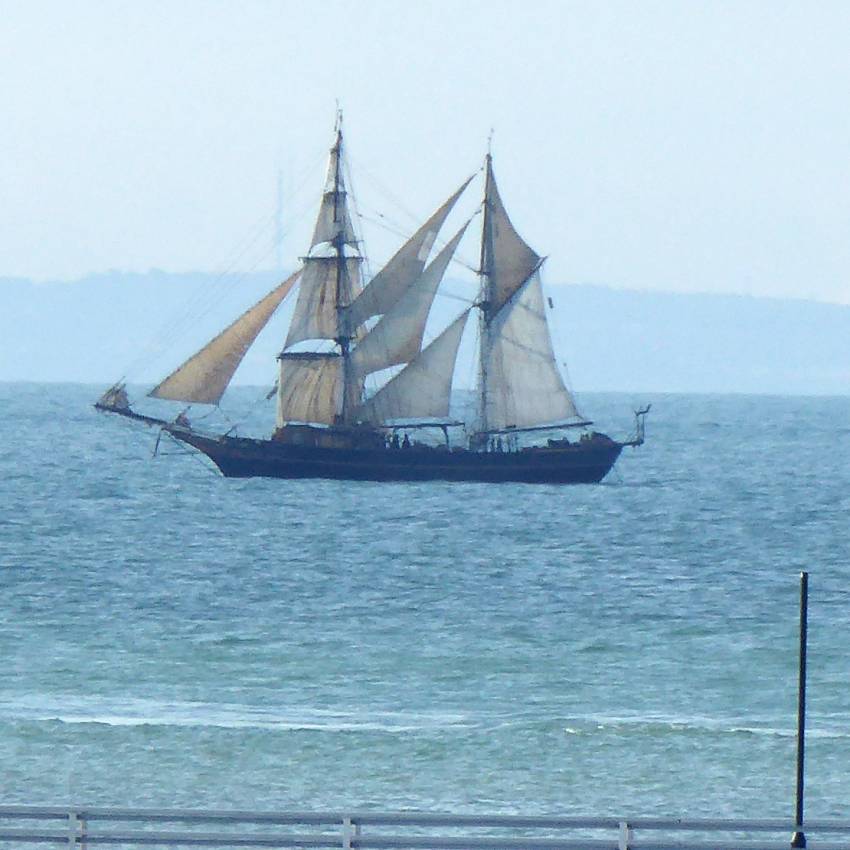 The calming influence of sail is echoed in the sunset glow in this photo of the departing 'Boudicca' this evening. She is bound for a Norwegian Coastal cruise before returning here on the 31st of this month.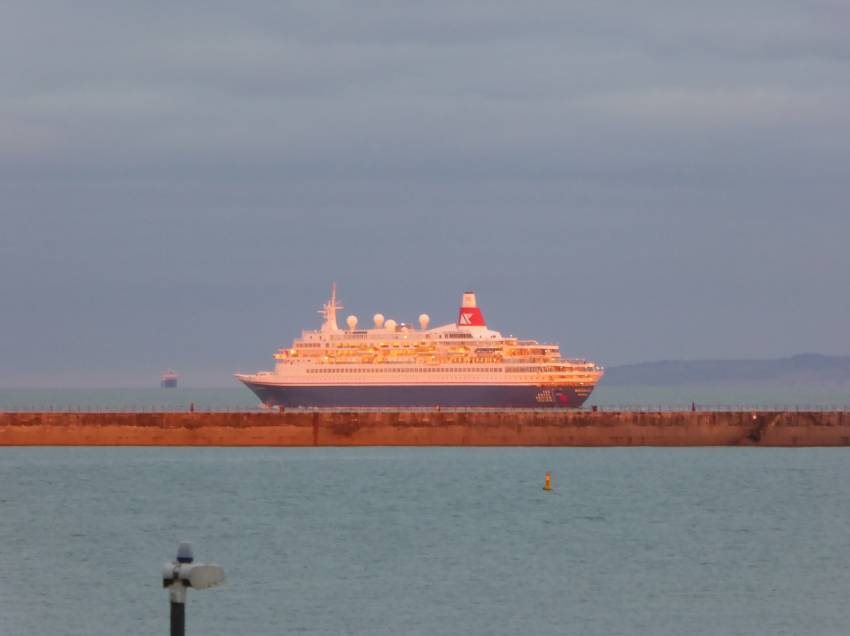 Monday, 15 July 2019 - 23:14
Post 6399
Sea News, Dover
Europa arriving and departing...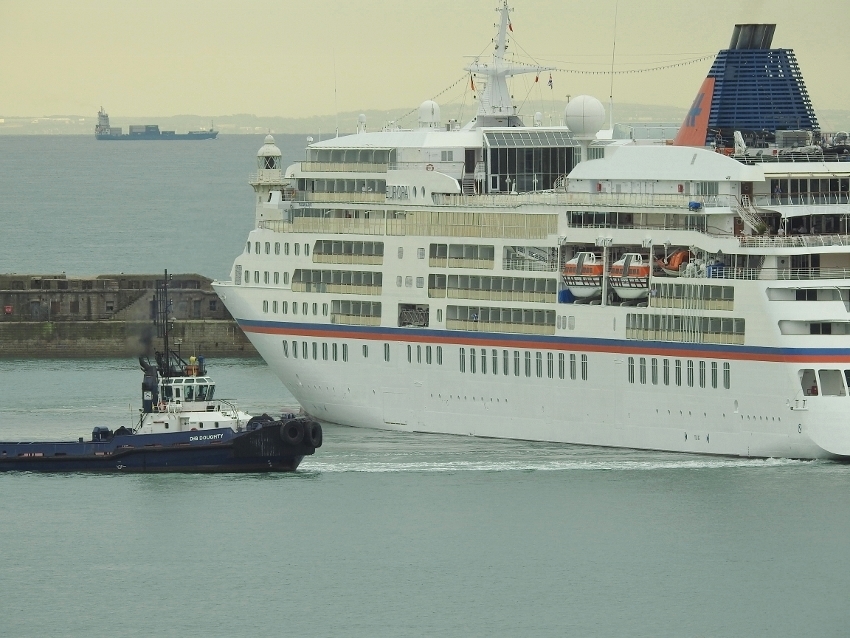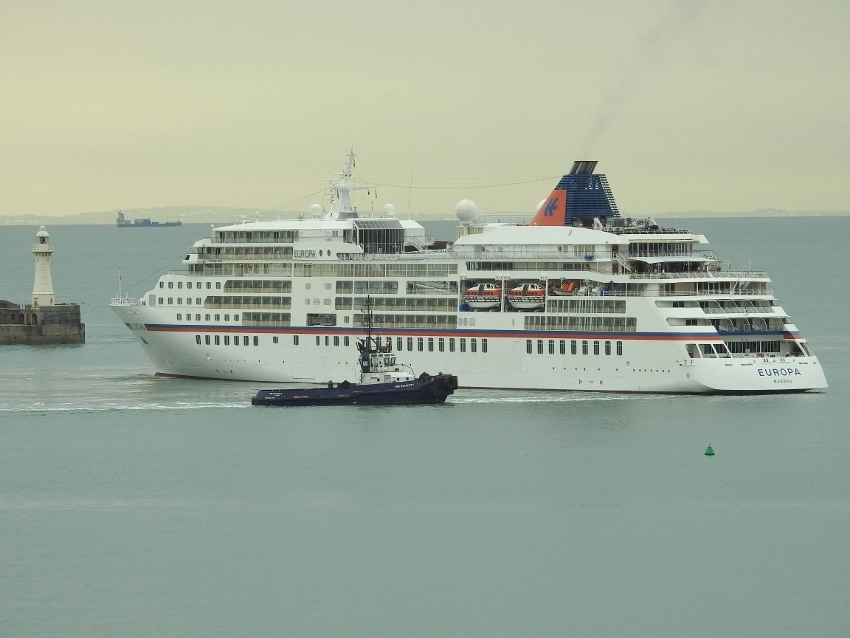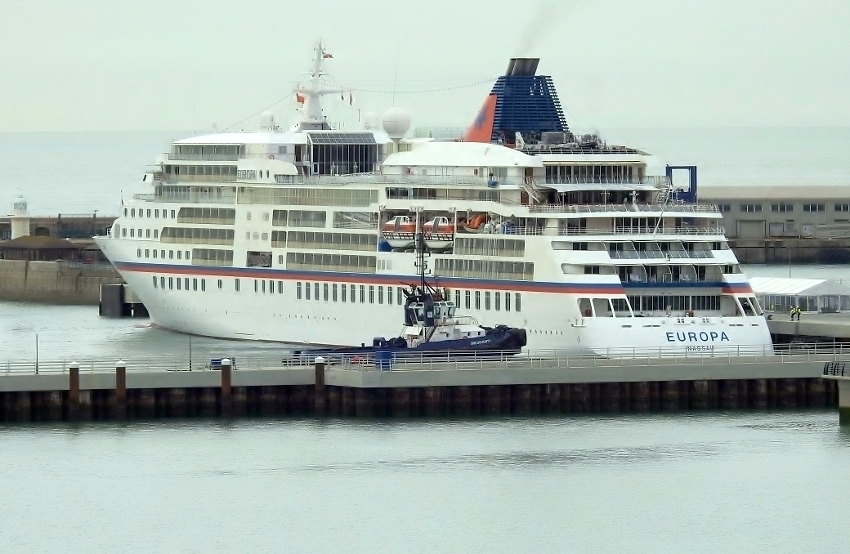 Way behind schedule with these pictures of the Europa cruise ship a-coming and a-going. Mike has already had a shot up from her visit here at Dover on the 9th July (6394 ), but worth while including some more pictures and here they are. Arriving above and of course with the added excitement of seeing the new berth being used at WD4 ( Western Dock 4 ) in pic 3.
Added Note: hadn't realised how biliously yellow those pix were until I put them up!
Then of course below leaving the new berth later in the day... and away she goes on a grand calm evening...heading for Hamburg.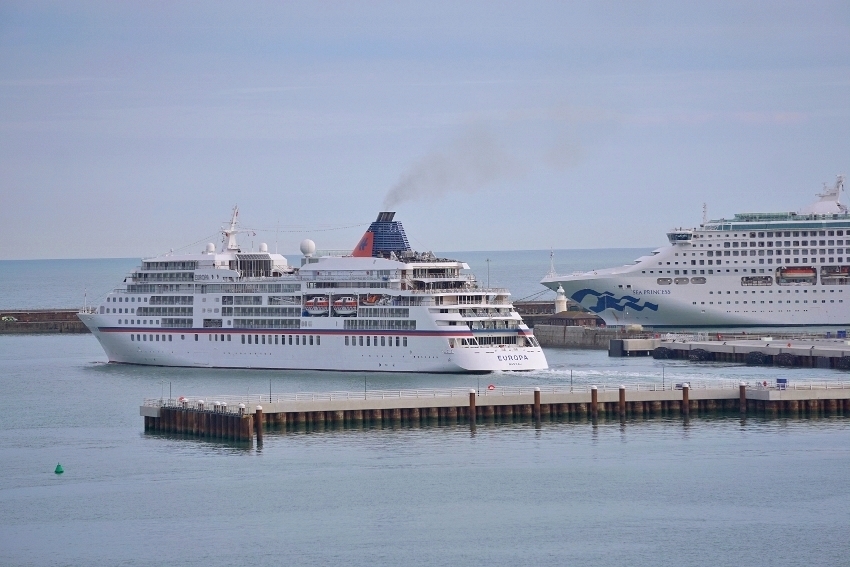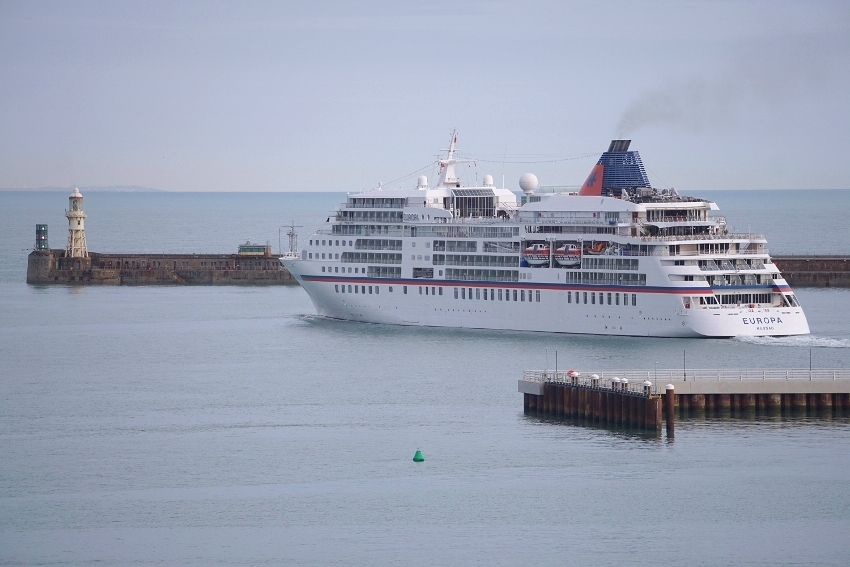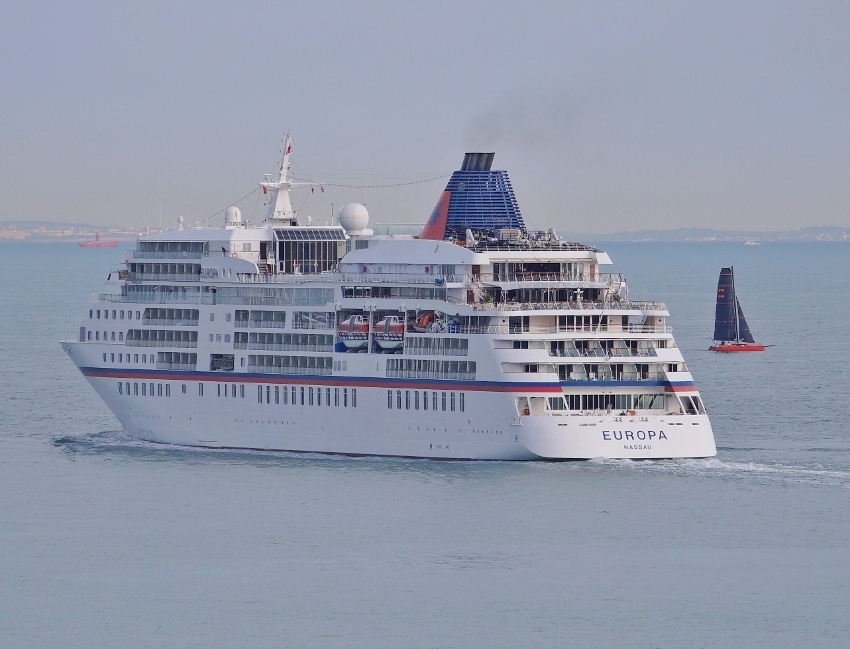 Europa ...and the yacht is a trimaran called Freshly Squeezed. Also featured is Sea Princess above.
There was a rowing regatta here on the seafront on Saturday...will have some pictures to follow. Not full coverage by any means but just a few shots to mark the occasion.
Saga Sapphire in port today.
Boudicca also approaching...
PaulB
Monday, 15 July 2019 - 07:06
Post 6398
Sea News, Dover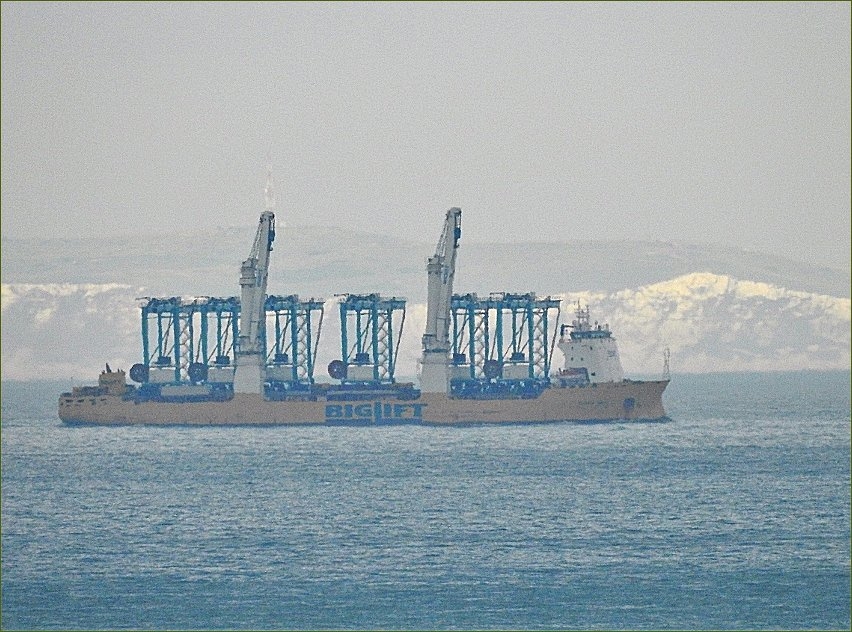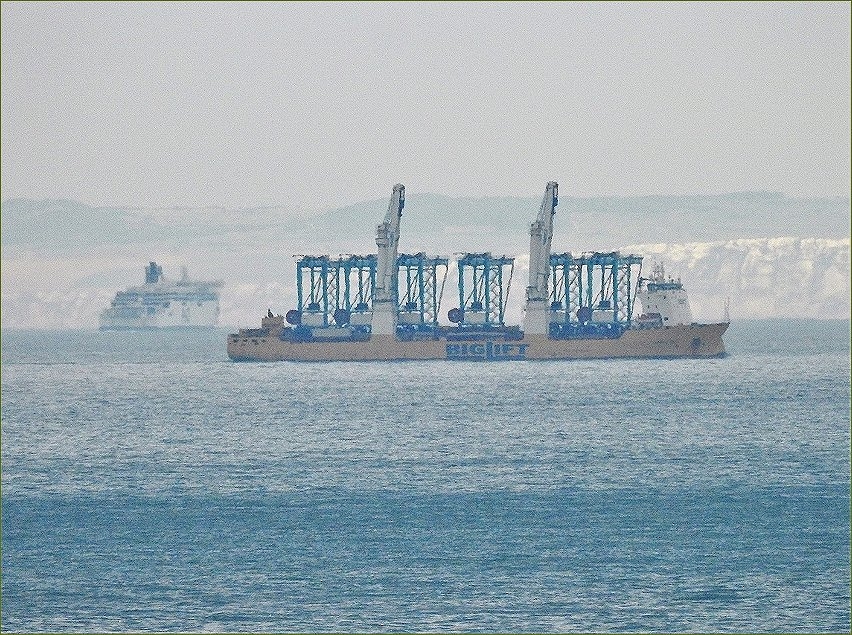 We are familiar with the Big Lift vessels in Dover, we have seen them bring in mammoth transformers and the like from time to time... and here we are with another one, this time passing on down the Channel and heading for Norfolk Virginia in the good ol' USA, coming from Gdynia in Poland. This particular Big Lift guy is called Happy Sky... Pictures taken on Friday.
While gazing out on the Channel...here we are with another shot, this time showing the Varne Lightvessel and Boulogne. Picture was taken yesterday Saturday. You can see the town in all its glory including the magnificent Cathedral there on the hill in the 'old town'. The lightvessel has Varne in striking large lettering on its side but alas the letter N seems to be semi obscured. Not the worst of problems of course...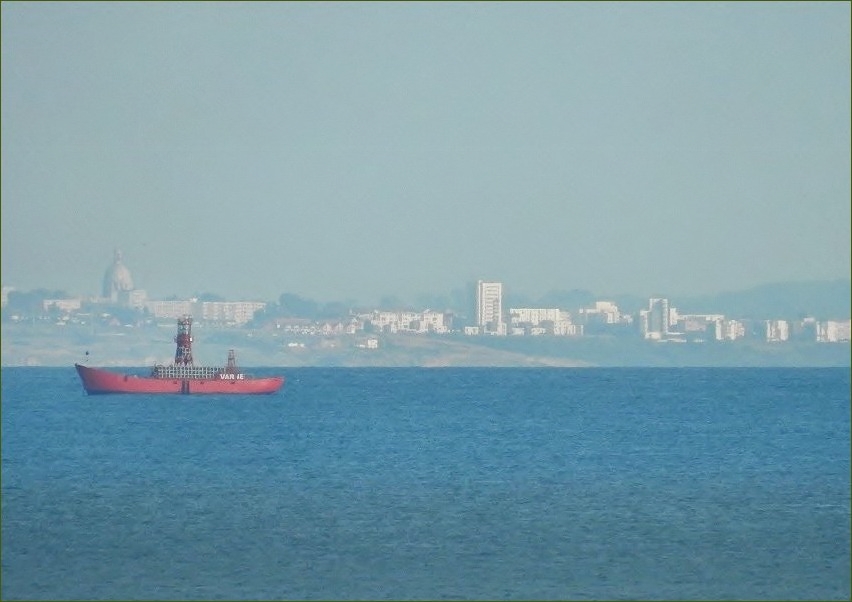 Hugely enjoyable inshore post below from Mike...don't miss that one

PaulB
Sunday, 14 July 2019 - 06:11
Post 6397
Mike J., Dover
Excellent pix of the DE GALLANT as she passed Dover - elegant for sure !
A few days previously Dover had an interesting visiting yacht, altho' nowhere nearly as old as the 1916-built DE GALLANT.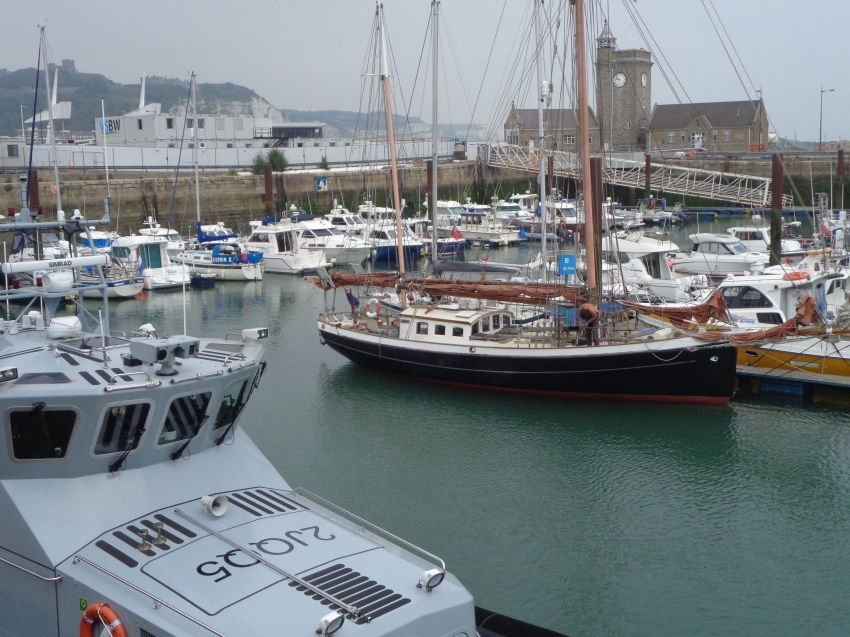 The steel ketch MOYA, with the lines of a Brixham sailing pilot boat, was built in Capetown in 1997 for a South African naval officer for local use.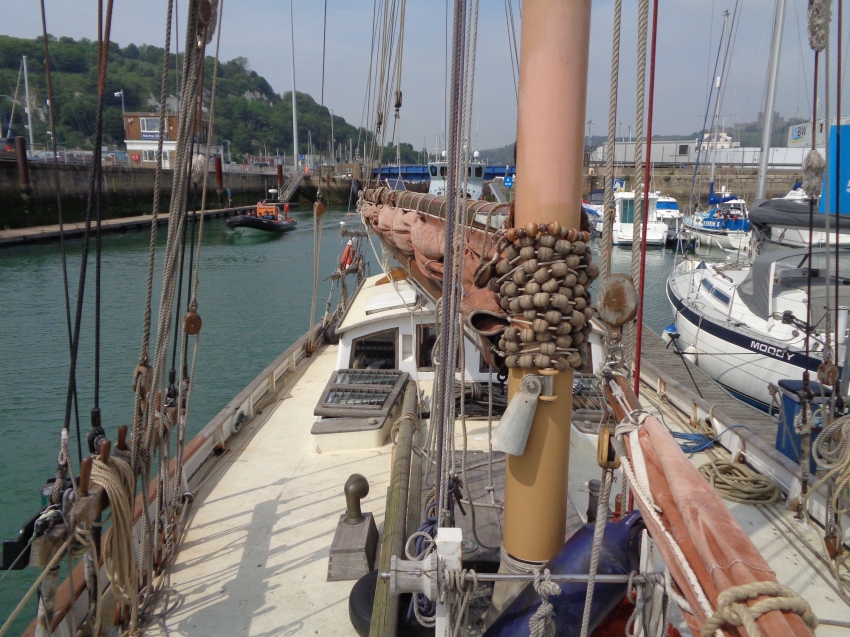 She later crossed the Atlantic several times, initially to Brazil & then up the U.S & Canadian east coasts before spending time in the Caribbean before crossing to Liverpool & spending time in Europe.
Still registered in Liverpool she is manned by three friendly Swiss.
Cockpit with Philippe, Christophe & [sorry forgotten], note the tiller steering, a characteristic of this design.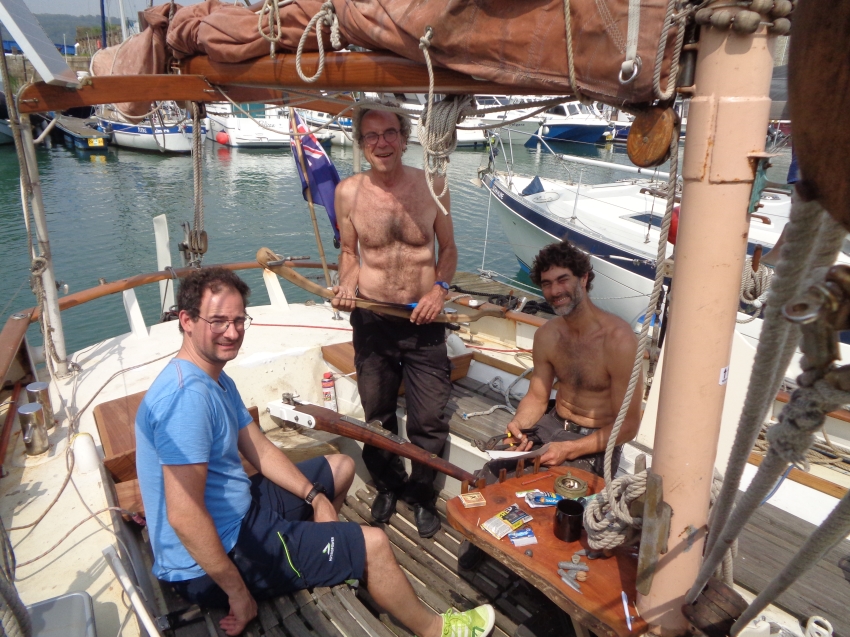 MOYA spent a couple of nights in Dover before heading down to Falmouth en route the Mediterranean & spent a few days in the Scillies.
She has AIS & is on Saturday evening was sailing down the southern Portugese coast.
After a phonecall from them just before they sailed on June 25 & she was caught leaving in the last gasps of dusk sunlight, but she looks best when under sail & I'm sure that Christophe won't mind me posting this excellent photo of the MOYA doing what she does best, oriiginally posted on Marine Traffic AIS.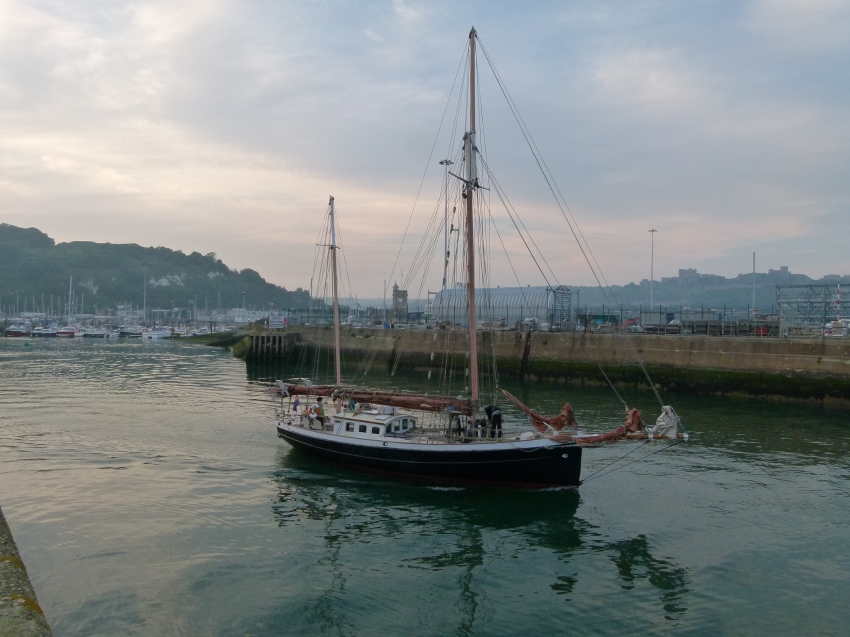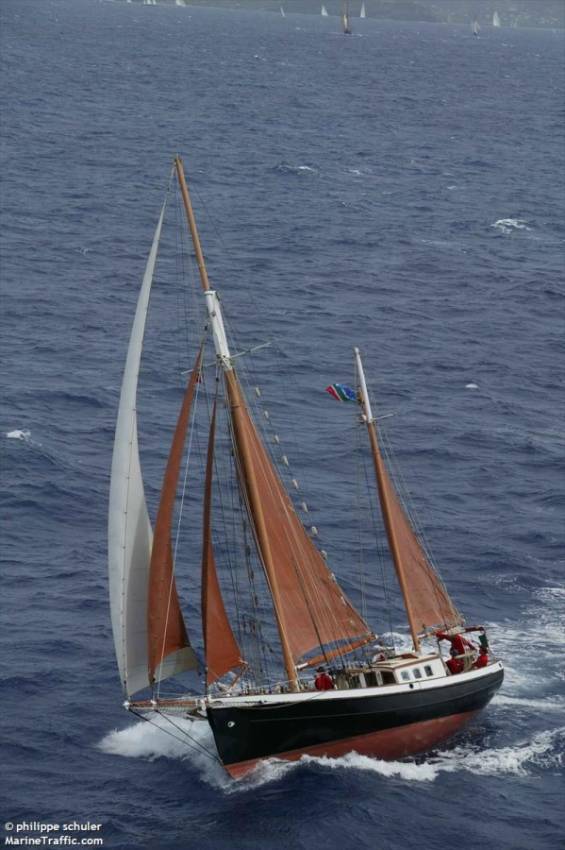 The SPIRIT OF DISCOVERY continues her 'BRITISH FIRST' maiden voyage & on Saturday was anchored off Leith, the port for Edinburgh & presumably 'tendering' the passengers ashore.
Next port Kirkwall, in the Orkneys, on Sunday & SOD is due back in Dover on the 23rd.
Sunday, 14 July 2019 - 03:23
Post 6396
Sea News, Dover
Tall sailing ship De Gallant elegantly passing by Dover on Wednesday...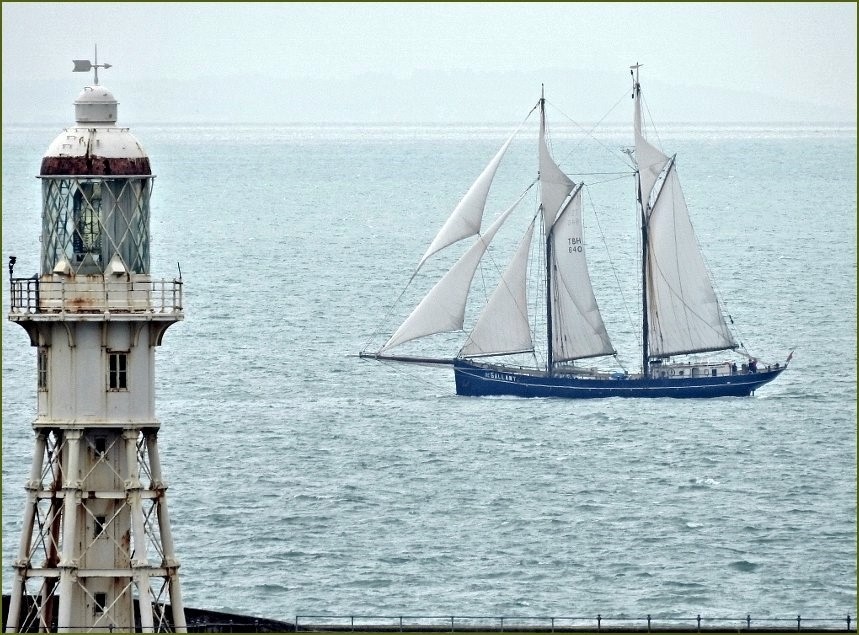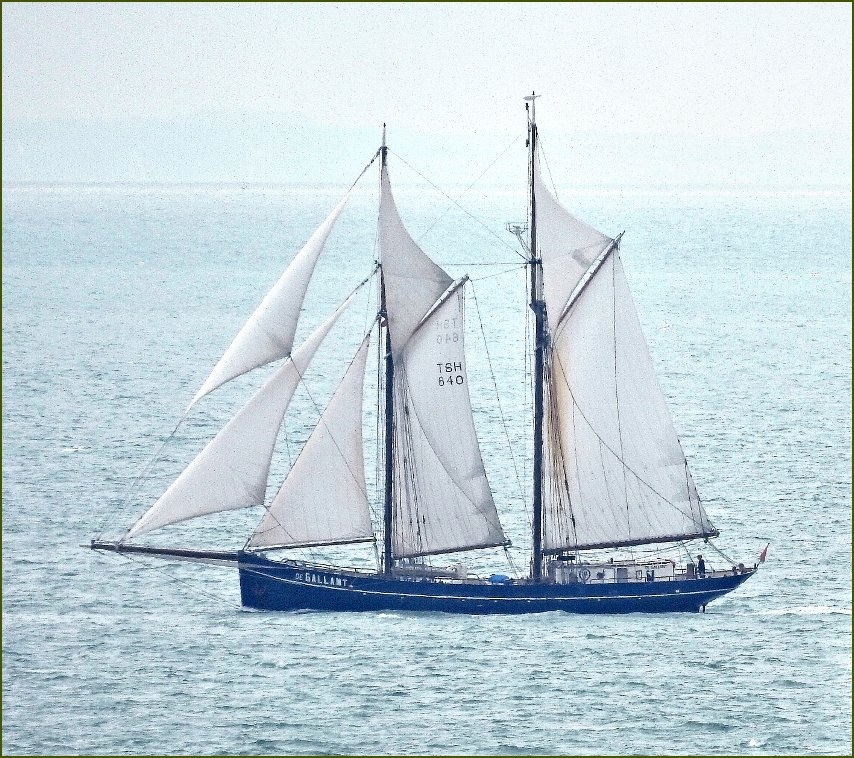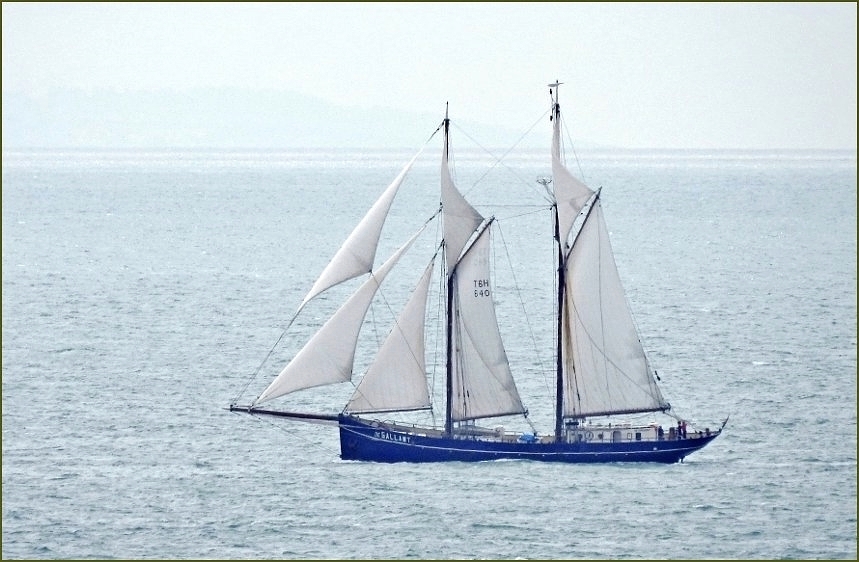 She was coming from Newhaven we understand ... and heading on to the Dutch port of Scheviningen. As always with sailing vessels...they make such an attractive sight indeed...easy on the camera's eye so it was great to spot this one.
Border Force Seeker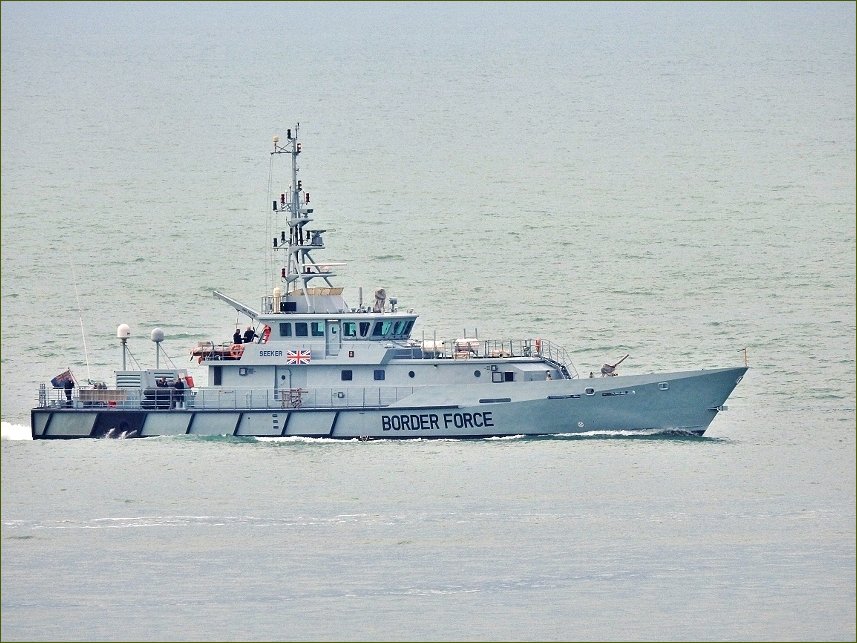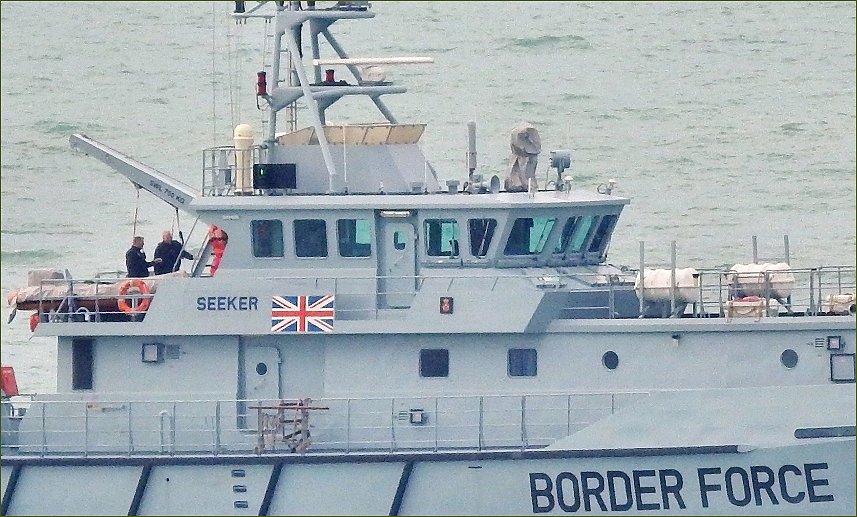 Yes that's Border Force Seeker entering the Port 2 days ago. The Border Force are having a busy time of it for sure with more migrant incursions in the past few days. The good and calm weather makes it a viable proposition for those desperate enough.
The second picture is a close up crop of the first...it shows the guys in earnest discussion...
who knows, they could be chatting about the following cheeky arrival...
from The Telegraph
"
Two migrant stowaways were discovered in a British Grand Prix paddock after clambering on board a truck belonging to a Ferrari F1 team supplier during its journey across the English Channel.
The pair were discovered as the truck was unloaded at Silverstone yesterday and later handed over to police.
They were believed to have boarded near the French port of Calais, according to a team spokeswoman. Humanitarian organisations estimate that several hundreds of migrants are still living in the Calais area, all hoping to find a way to get to Britain. More than 20 suspected illegal immigrants were detained by the Border Force, which intercepted a small boat crossing the Channel on Saturday.
"
Ferrari Fast Tracked:
That's a cheeky one. Not only did they get into the UK but they probably got to see the team racing/practising as well...

PB
Saturday, 13 July 2019 - 07:20
Post 6395
Sea News, Dover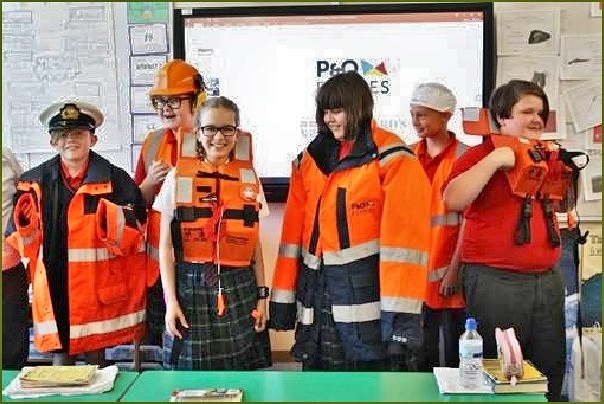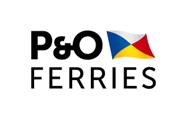 P&O FERRIES INSPIRES LOCAL SCHOOL CHILDREN TO CONSIDER FUTURE CAREERS
___________________________________________________________________________
Dover's largest employer, P&O Ferries carried out a presentation to students at St Richard's Catholic Primary School in Dover last week, to highlight the benefits of career planning and long term skills development in advance of joining secondary school.
Addressing a class of 30 students in Year Six, Jacqueline Burns, Business Transformation & Communications Officer at P&O Ferries, led an hour and a half session with the class to inspire them to start planning for the future. Careers in the maritime industry, as well as a variety of other pathways were showcased.
The session involved a presentation, a Q&A and the chance to try on various ferry related props including life jackets, hi-vis jackets, hi-vis vests, chef hats, Chief Engineer hats and helmets with ear defenders.
The students were encouraged to think differently by considering the difference between a job and career, with visual aids explaining the concept of 'climbing a career ladder'. Dover's close proximity to the continent was also used to highlight the value of learning a second language, with many of the children expressing surprise at the number of well-known figures who are bilingual.
Eager to learn more about P&O Ferries' background, questions from the students included 'How long does it take to build a ship?' and 'How do you become a Captain?'
Ms Emily Drage, teacher at St Richard's stated, "I think the class got a lot out of it and it certainly made me look at things differently. At such a crucial time for the children's development it was really interesting to get them thinking about where they'd like to be in future and even I learned things I did not know."
Headquartered just a few miles from the school, at Dover House, and with over 4,000 employees spanning a diverse range of sectors, P&O Ferries is well placed to offer careers advice. The company has an ongoing programme involving partnerships with local organisations and its people to support the ongoing interests of the community.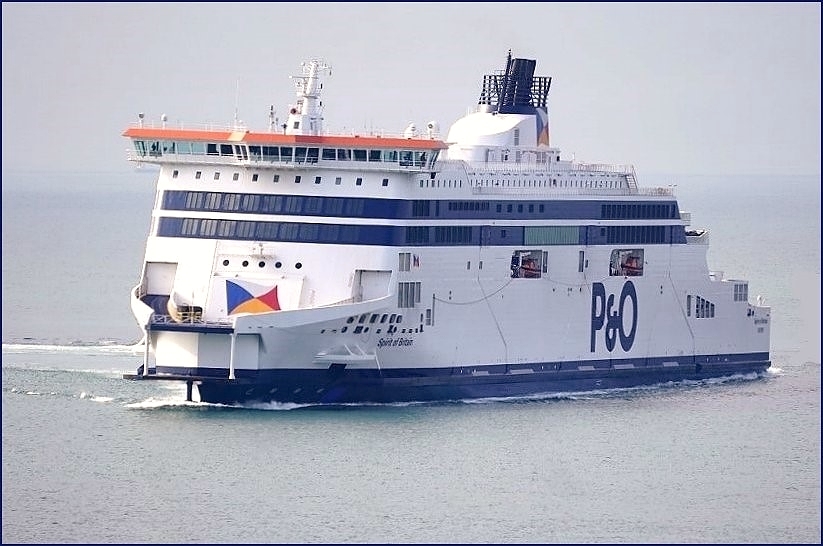 Spirit of Britain
ENDS
for more information on P&O visit www.poferries.com
* *
Some pictures now of the big Firework display on Wednesday night just prior to the Spirit of Discovery departing on its magical maiden voyage around Britain. You can see the ship all aglow in the second picture down. Here we go...explosive colour...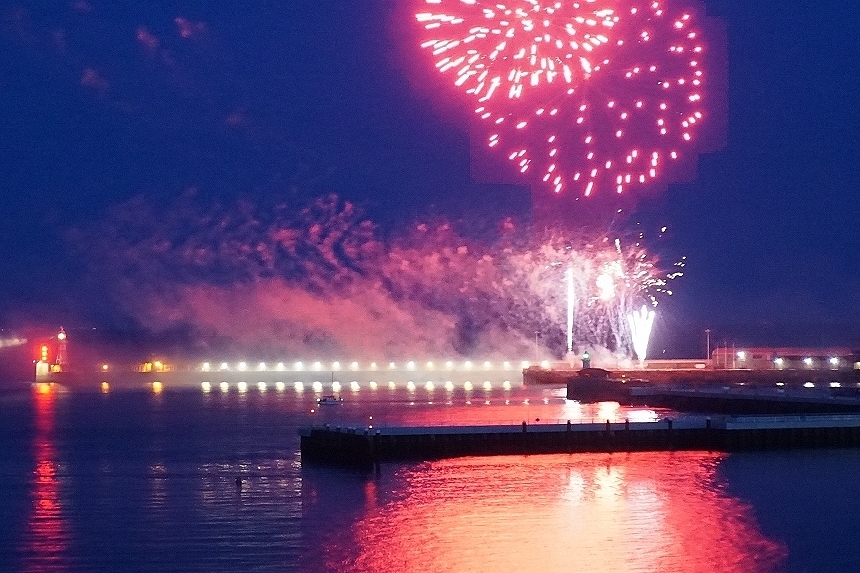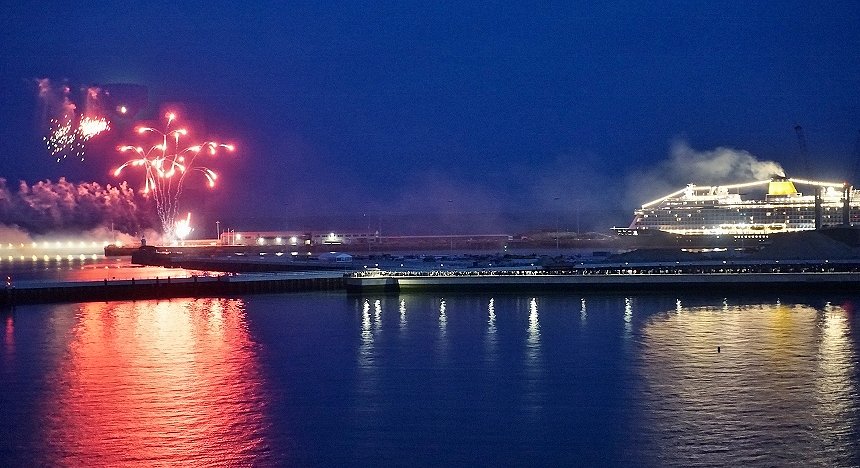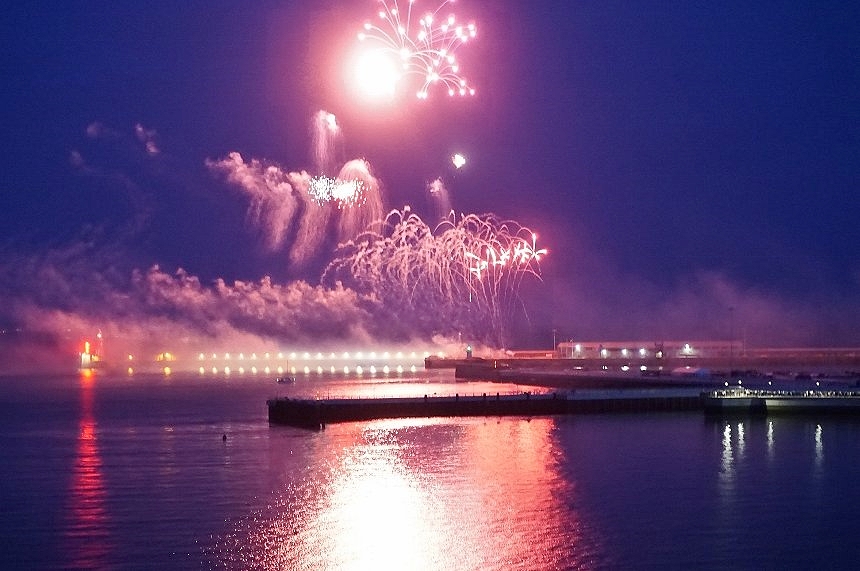 Fireworks for the Spirit of Discovery on July 10th.
* *
Great stuff below Mike. Cracking pictures all round there from our 'inshore correspondent'...

And excellent enjoyable pictures too further below from Ted...Great stuff Ted, always good to see your 'famous five'

Don't miss those posts below... lots of info too.
PaulB

Friday, 12 July 2019 - 07:47
Post 6394
Mike J., Dover
An interesting selection from Ted with some dramatic photos on the Ramsgate lifeboat page.
Good work by the ESTUARY ELAN & the windcat as well as by the lifeboat.
9th.July arrivals -
The EUROPA enters ahead of the SOD & crosses the bay to berth on WD4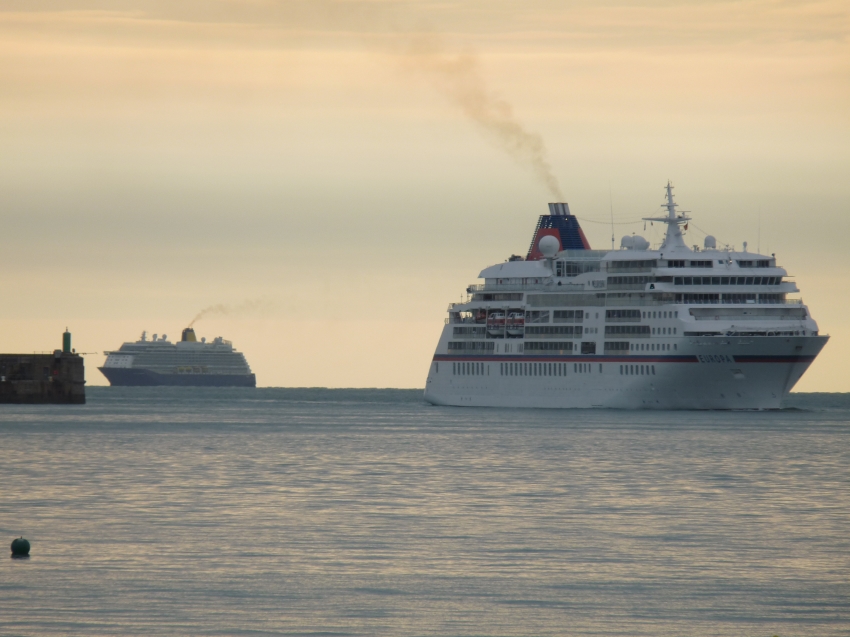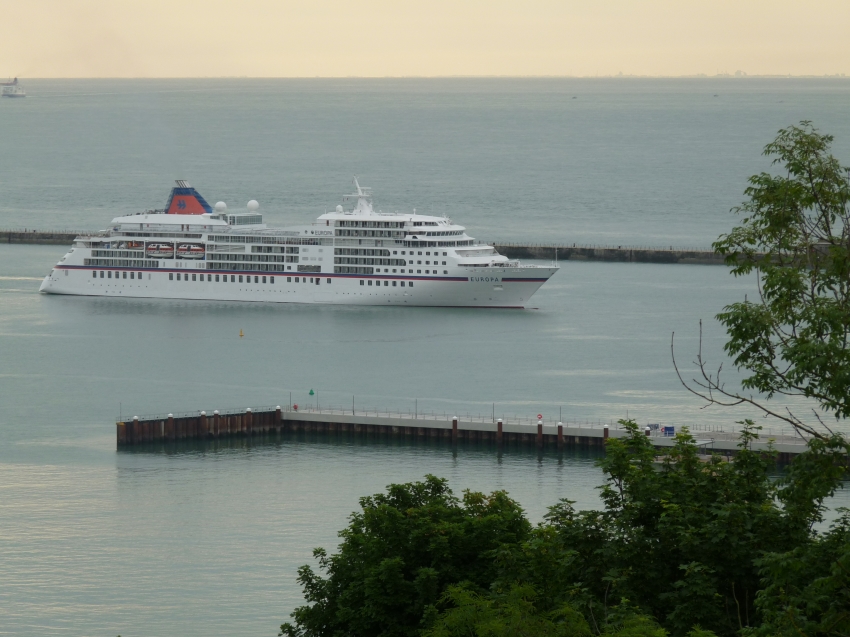 I'd just driven down overnight from the Midlands & by sheer chance came down Jubilee Way just as EUROPA entered - sometimes you get lucky.
Later in the day the SOD & SEA PRINCESS from Citadel Road on the Western Heights & & at ground level from the old Jetfoil Terminal which is expected to survive the future infilling of the Wick & Granville Dock & the Tidal Basin, surviving to serve the new boatyard.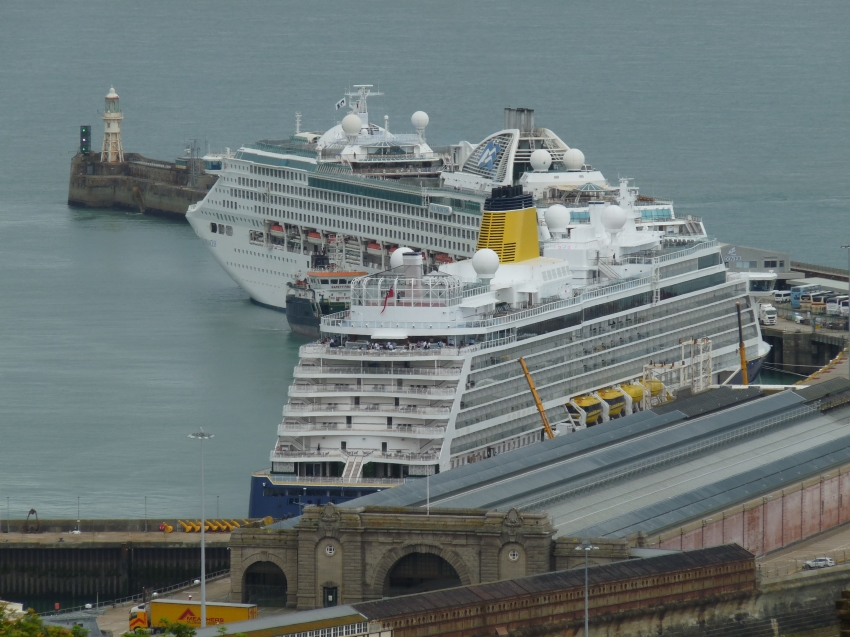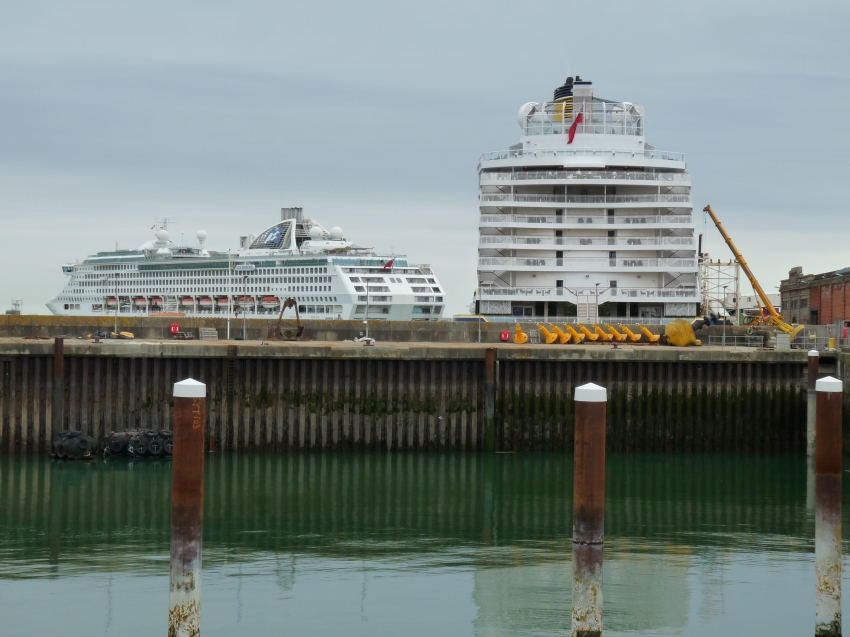 & still the ferries keep coming . . . . . .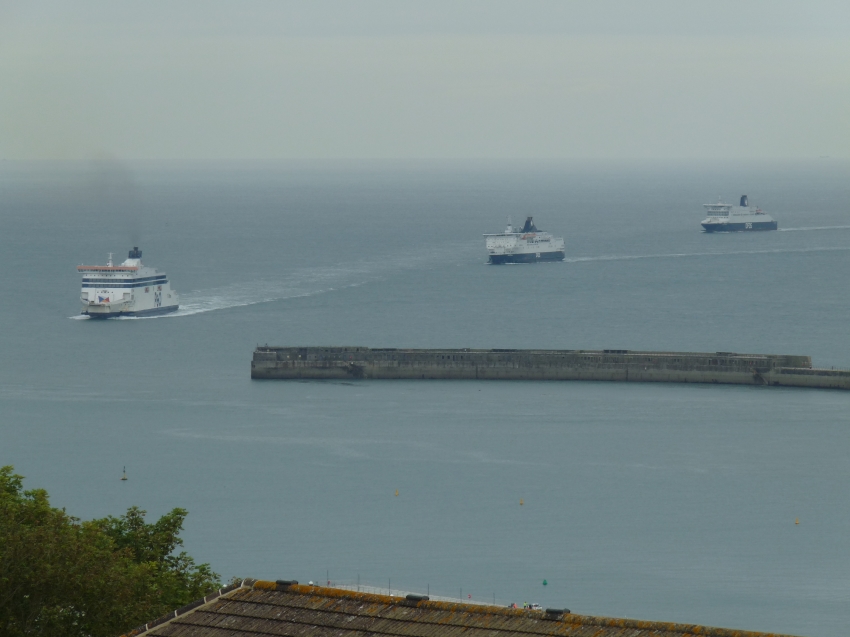 Friday, 12 July 2019 - 00:34
Post 6393
Ted, Canterbury
"Five from Ramsgate"
The Pilot Cutter "Estuary Esprit"being lowered back into the water after an inspection of her propeller and stern gear.The Cutter normally works from Sheerness.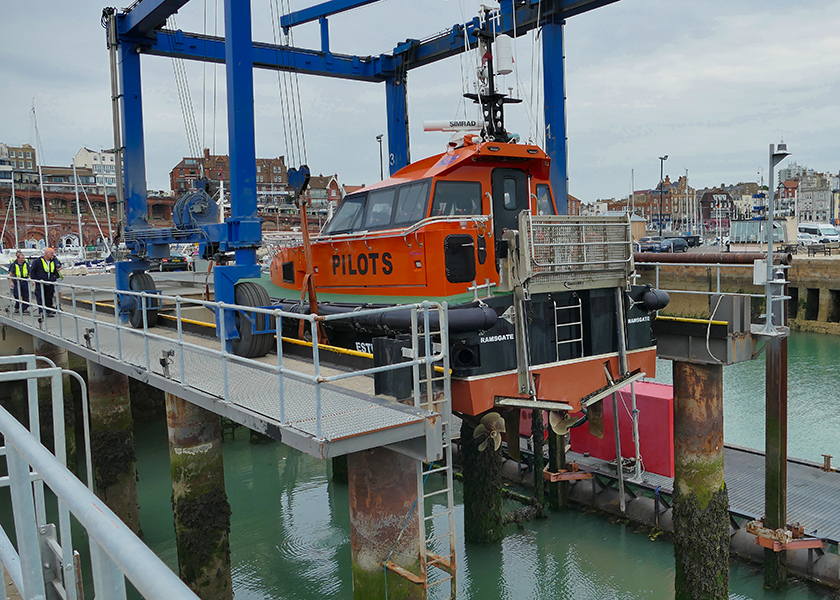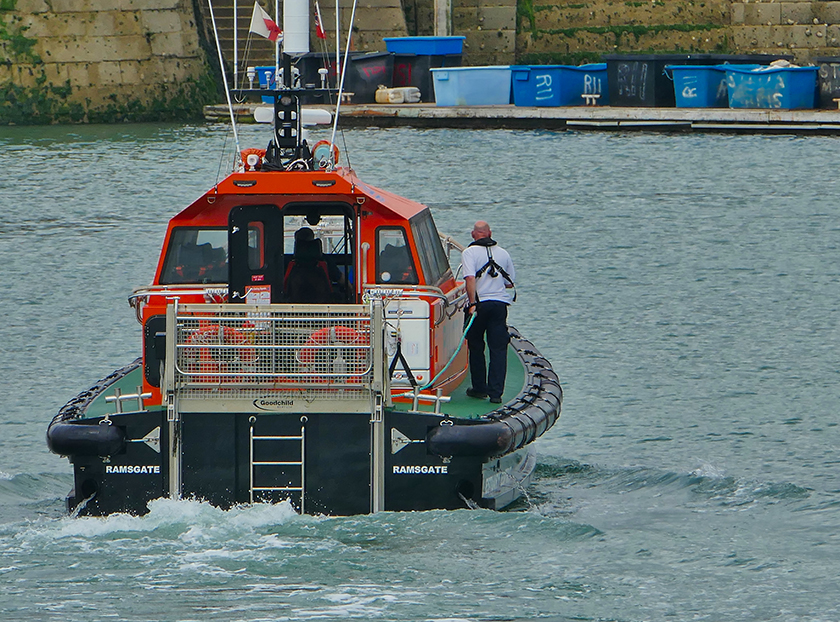 After sea trials the Estuary Esprit returns to her pontoon.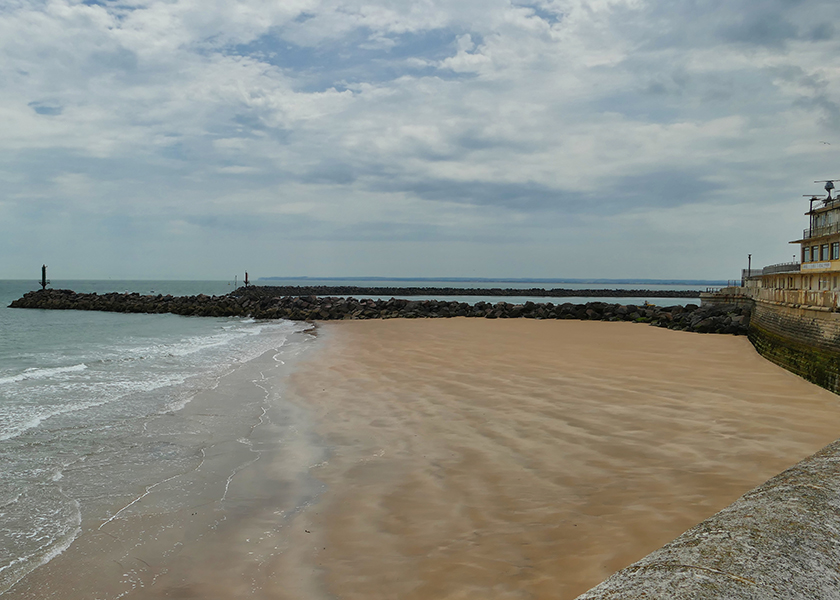 Low tide at Ramsgate.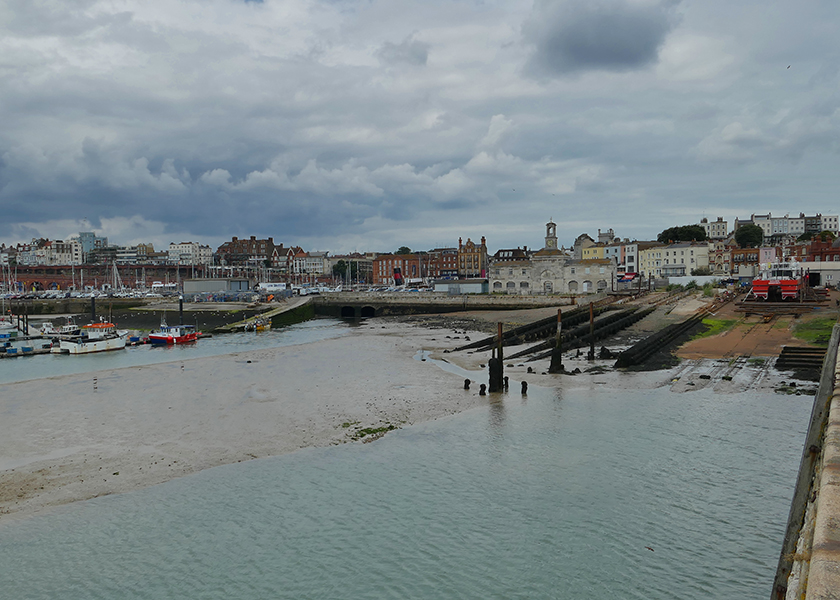 Low tide looking towards the slipway.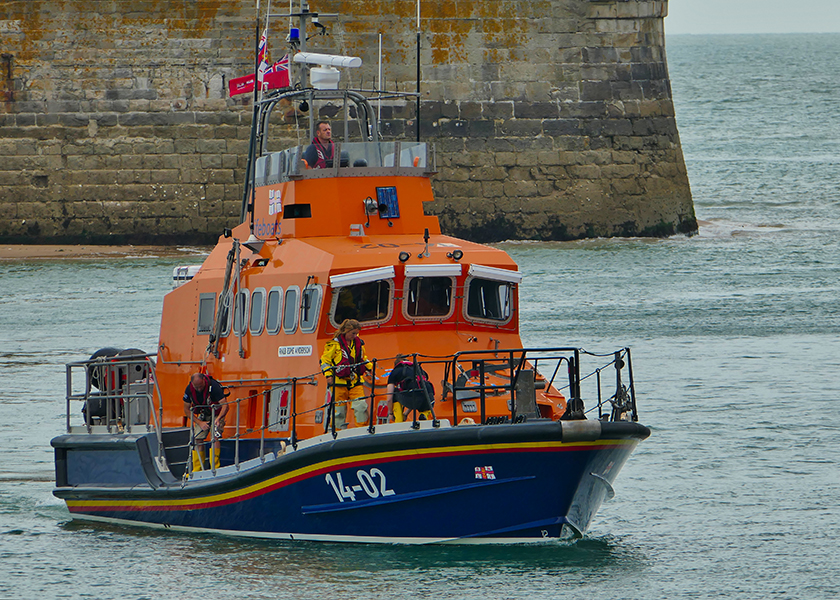 Ramsgate Lifeboat returning from a shout.
Details taken from the RNLI Ramsgate Lifeboat Facebook site where photographs of the casualty can be found.
10th July @ 12:04 AWB launched at the request of UK Coastguard to a yacht on fire with a view to towing it back to Ramsgate. Whilst the AWB made its way to the casualty a pilot boat passing by saw the vessel alight and headed in its direction. The pilot boat then retrieved the four persons from their liferaft, took them aboard, along with their liferaft, and brought them back to Ramsgate. Also during this time a wind farm vessel had arrived on scene and using their fire hose, attempted to put the fire out. Once the AWB arrived on scene they set up two further fire hoses and assisted in trying to put the fire out. After 3/4 hour of hosing the vessel down which was still burning in some areas, it took on sea water, as the level of the hull had burnt to the sea level and unfortunately sank.
Thursday, 11 July 2019 - 12:55
Post 6392
Sea News, Dover
The Sea Princess arriving at Dover...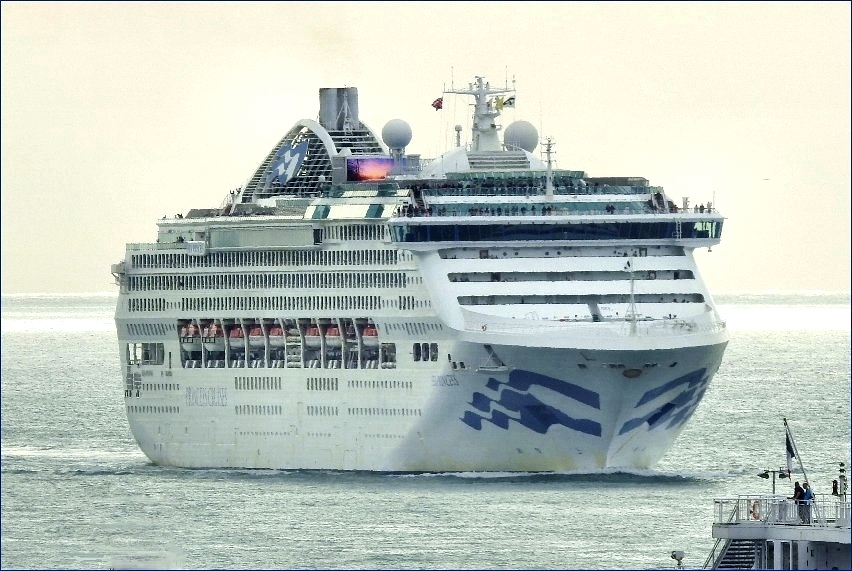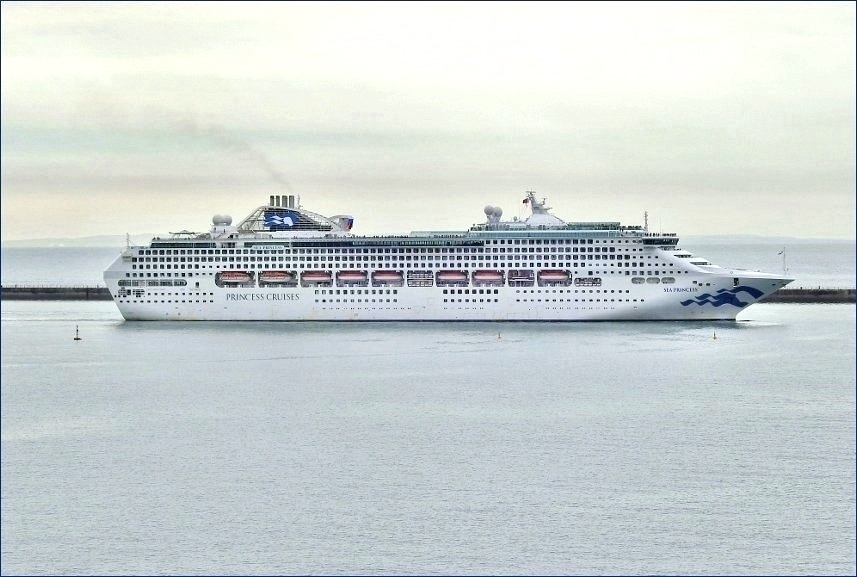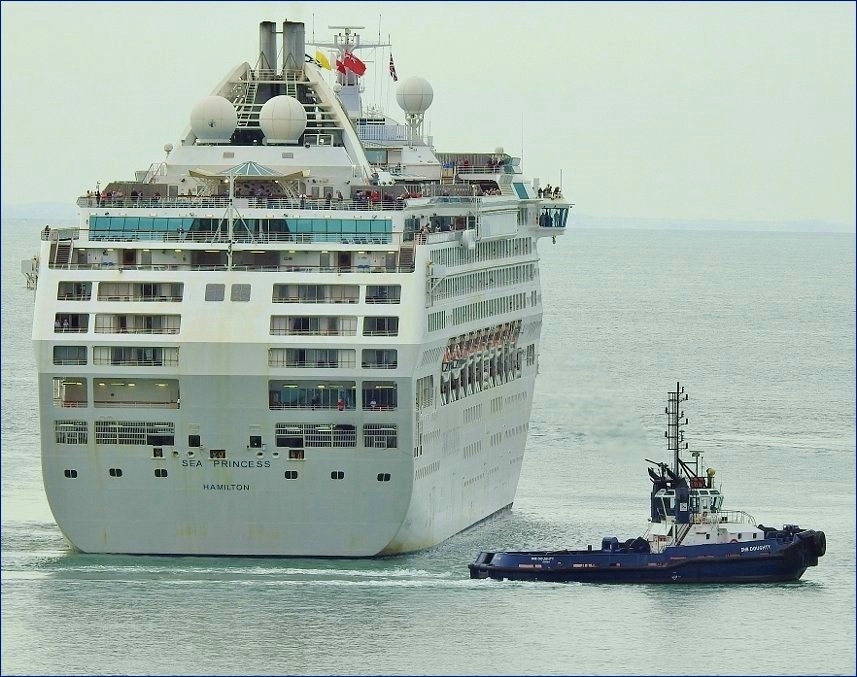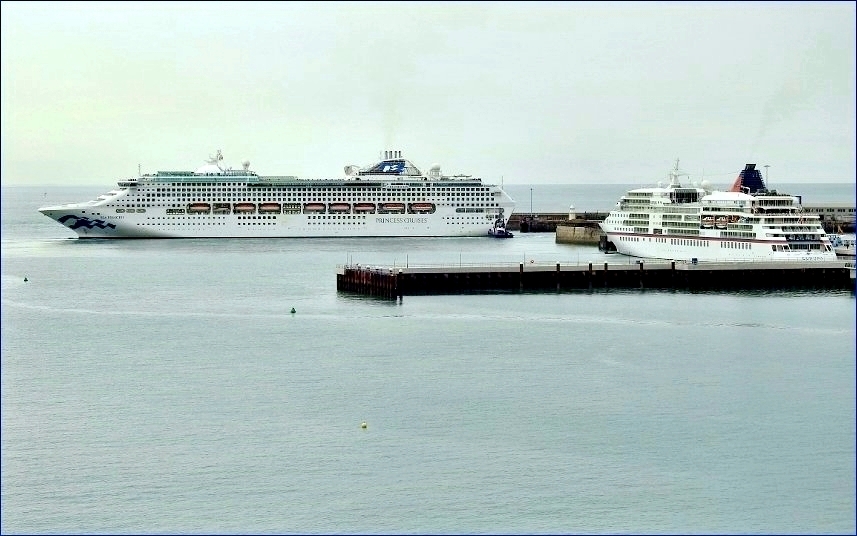 Sea Princess above there arriving with us here at the Port of Dover early on Tuesday morning...not toooo early though, first picture was taken around 08.20. Conditions were calm but very grey. I think I mentioned previously that it may have been a first visit but no.. she has been here before..found previous pictures in the archive. So many ships...

In the shot immediately above you can see Europa already in berth 4, the new berth ( WD4), as Sea Princess arrives..heading for CT2. We will have pictures of Europa soon...a-comin' and a-goin' ..
A late nightime departure below...time of picture 21.14
and away she goes... on a world cruise to Australia we understand, hopefully that info is correct.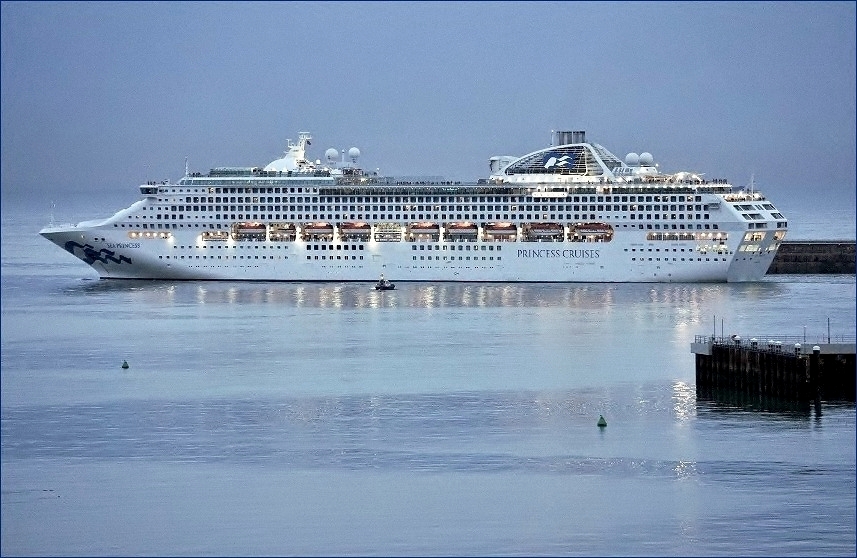 Sea Princess
EXTRA: the Spirit of Discovery had a firework send-off last night on her maiden voyage. She was off on a round Britain trip with some Irish calls also. Should be quite spectacular. A 13 night trip and then back to Dover. The seafront was quite packed for the grand occasion. We may have some Firework pictures once examined...obviously it was very dark etc.etc.
Hugely enjoyable Lifeboat collection below from Mike - DONT MISS THOSE

PaulB
Thursday, 11 July 2019 - 06:39
Post 6391
Mike J., Dover
Close encounters of the RNLI kind - meeting the SPiRIT OF DISCOVERY on 28/6.
Perhaps the lifeboat stayed in the bay as publicity photos were being taken outside & maybe Saga's PR Dept didn't want photos of their new ship with a lifeboat in attendance - might give the wrong impression !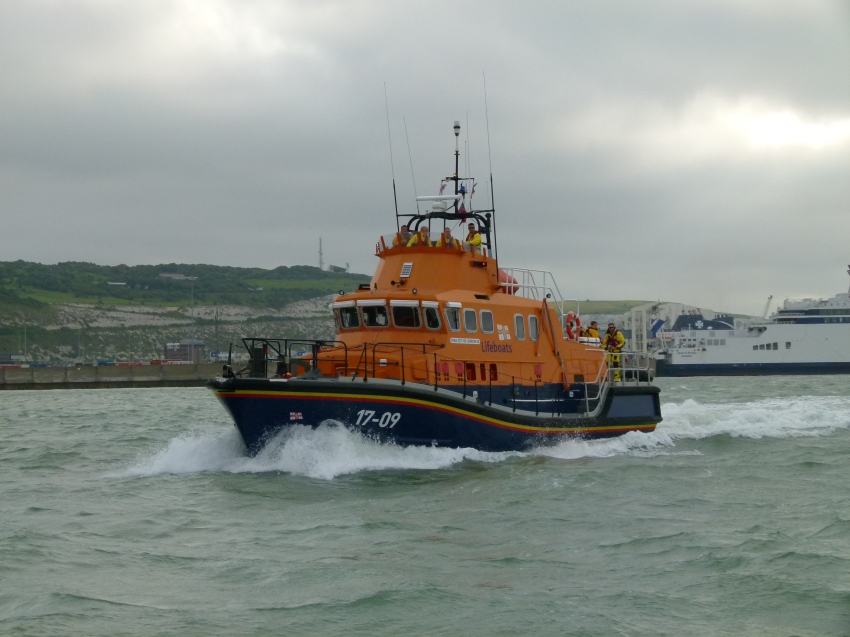 Whilst waiting for the entry CITY OF LONDON 2 came close up close for a chat.
There were family of the lifeboat crew aboard WETWHEELS SOUTHEAST.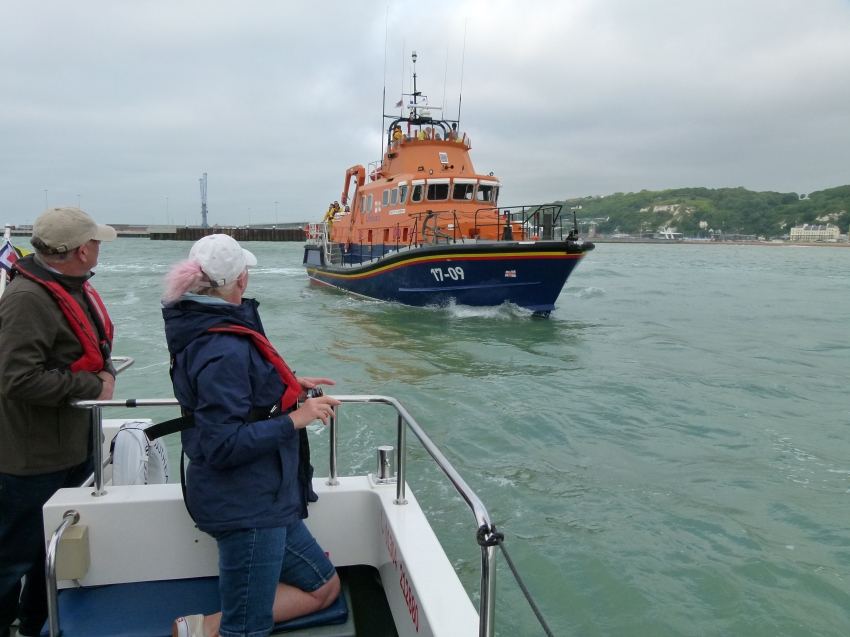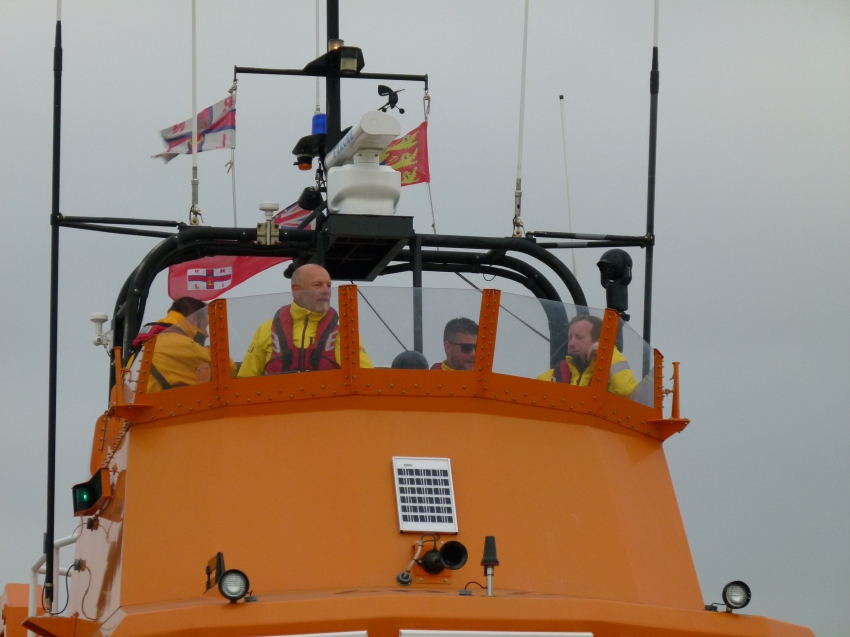 Heading off in pursuit of SOD.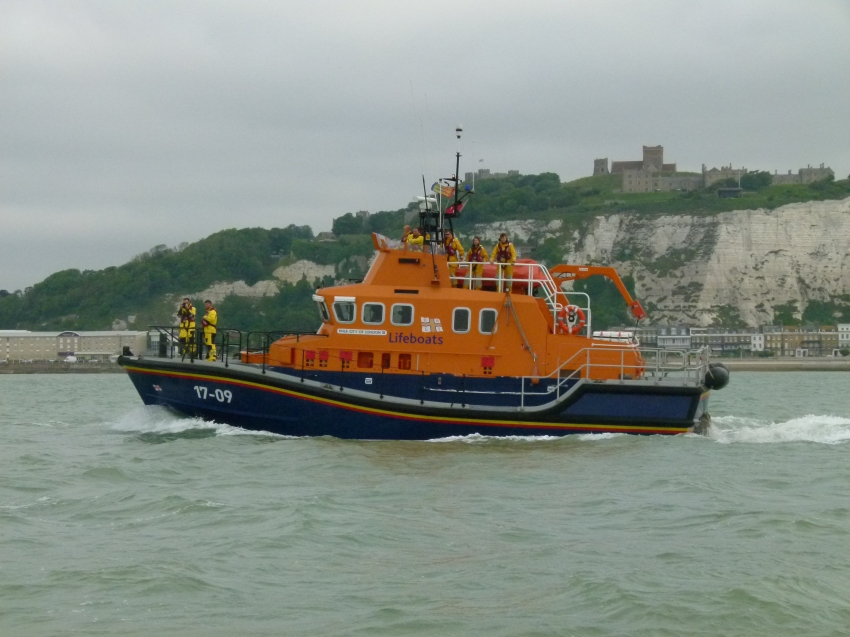 After heading the little flotilla of small craft following the SOD across the bay 17-09 was seen socialising with sightseers on the end of the new Marina pier as SOD berths on new berth WD4, the first cruise ship to call there.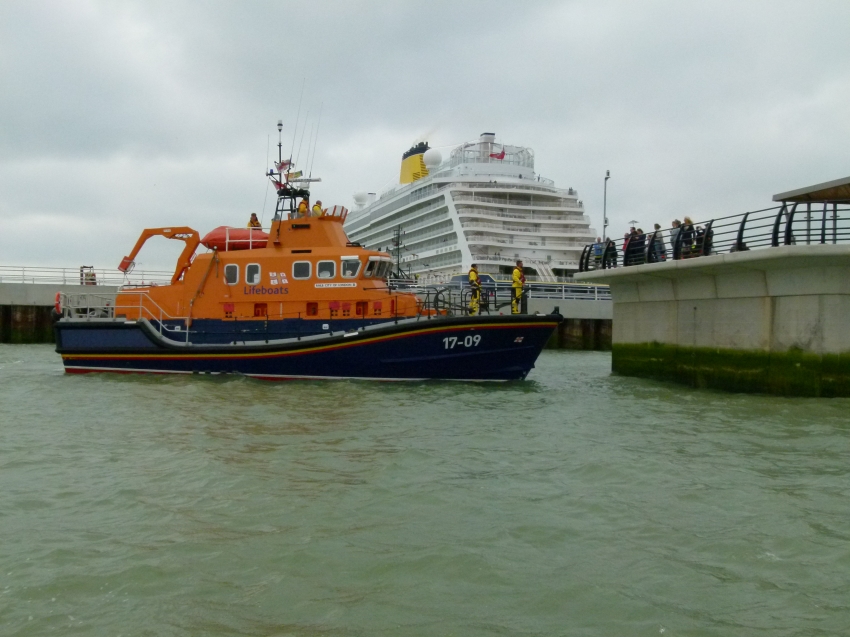 Thursday, 11 July 2019 - 01:48
Post 6390
Sea News, Dover
DFDS offers 15% off sailings from Dover to France, plus 6 free bottles of wine
_______________________________________________________________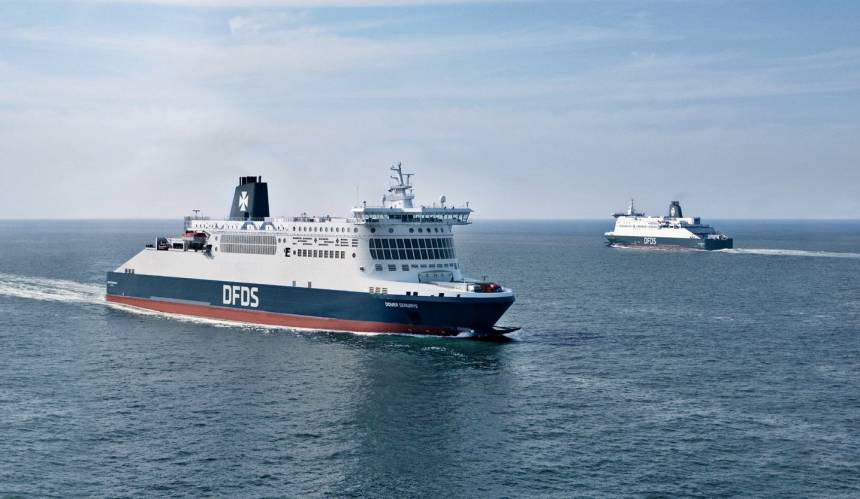 Award-winning ferry operator DFDS are offering customers a saving of 15% off sailings from Dover to Calais and Dover to Dunkirk routes with 6 free bottles of wine, worth £24.
From dining aboard Princess Elizabeth, a boat that formed part of the Dunkirk evacuations, to walking to the top of the magnificent Belfry in Calais town centre to take in the views of the channel, there are a multitude of exciting things to do in the port towns of Dunkirk and Calais.
Take your car onboard and choose from a selection of Chilean Gran Tierra Reserva Sauvignon Blanc and Gran Tierra Reserva Cabernet Sauvignon when you book a crossing from only £39* each way.
Visit www.dfds.co.uk
-Ends-
*Book by 15 July. Selected departures until 18 December 2019.
T&Cs: To redeem your 6 free bottles of wine, please present your booking confirmation with your lane hanger in the onboard shop. The voucher cannot be exchanged for cash and no change will be given. If specific wine is not available, then you will receive an alternative. The voucher cannot be redeemed if lost or stolen. The 6 free bottles of wine can only be redeemed on outbound sailings until the 31st of August 2019 from Dover on both Dover-Dunkirk and Dover-Calais routes.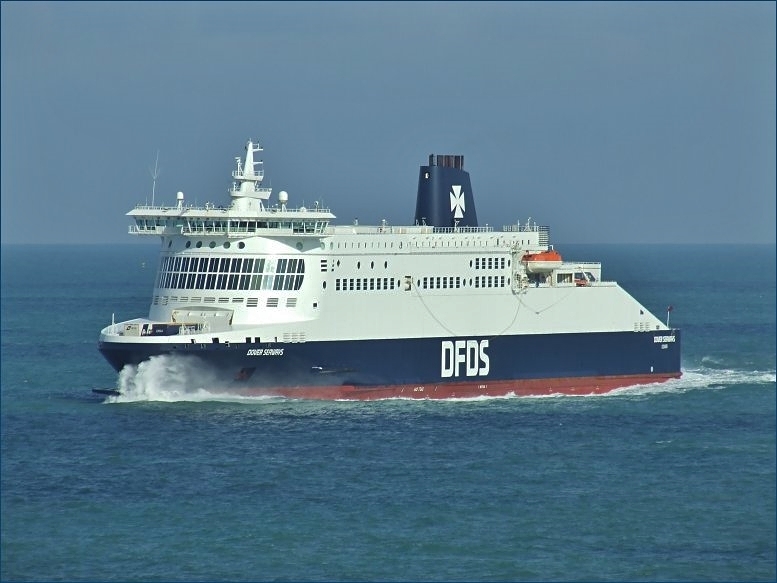 Picture by George Holland ...Top shot from DFDS.
Both pictures feature the DFDS Dover Seaways ferry.
* *
Many thanks once again to the team at DFDS for the info above...quite an all round bargain above there. Excellent

Catching up on one of our very latest Reefer visits.
Pictures here of Atlantic Acanthus just a couple of days ago. Although she has been here before, the Acanthus visits are fairly rare...so we were glad to get some decent shots of her here...catching her arrival in Port.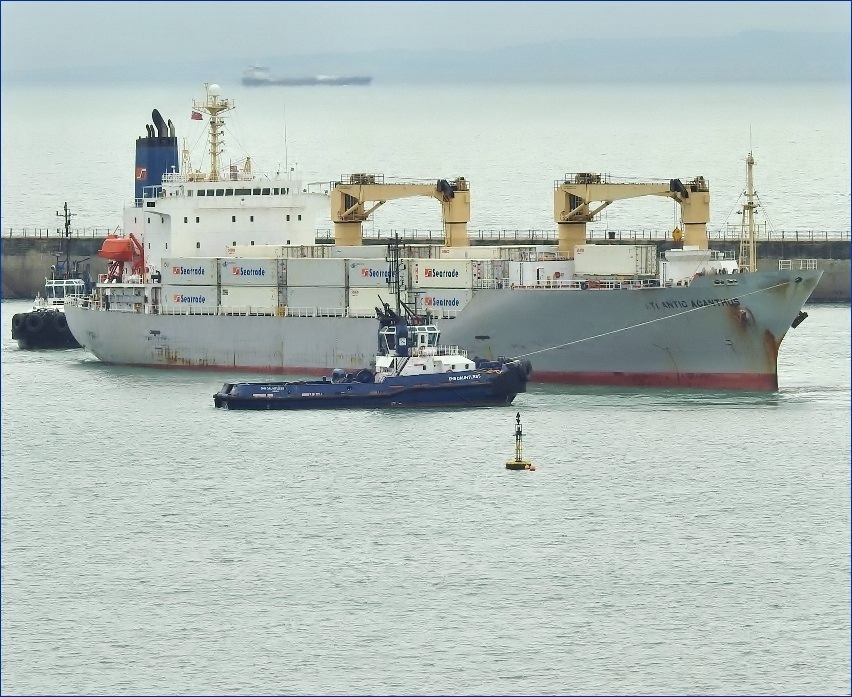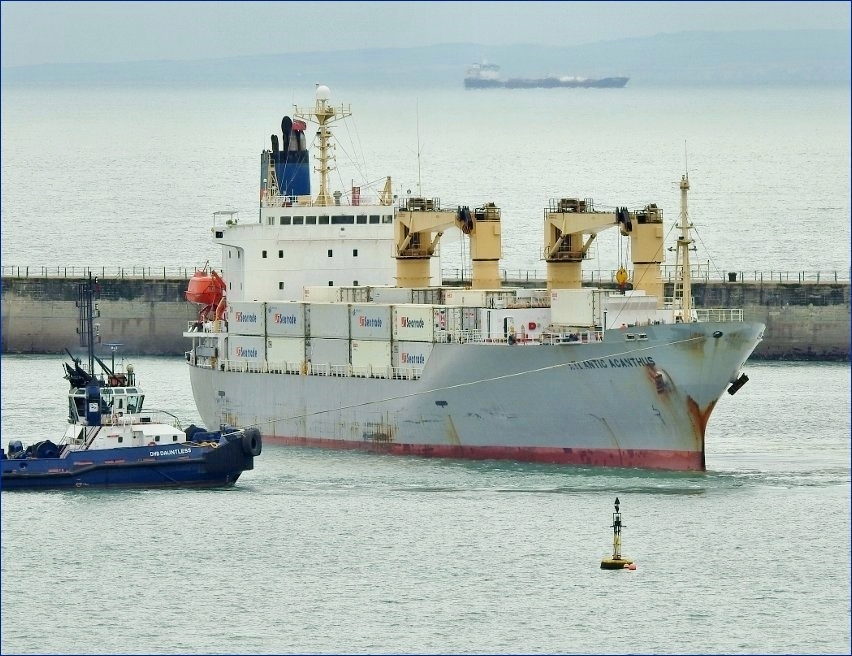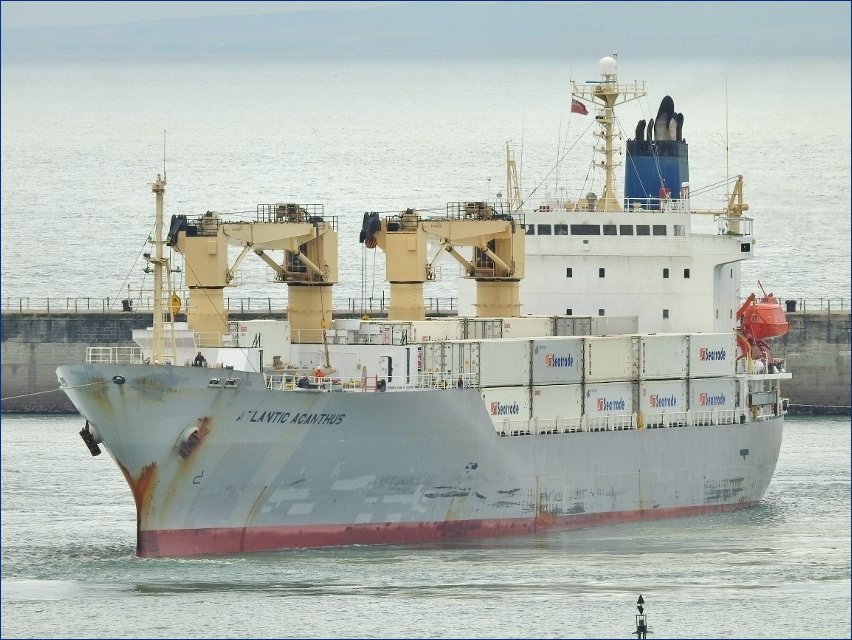 Atlantic Acanthus
An extra picture below of the departing Viking Sun...you can see her here in the distance as she heads off round Britain and on to Bergen, while in the foreground swimming support launch Suva drifts into shot. Formerly a navy colour...Suva now painted pink for fund raising charitable purposes we understand.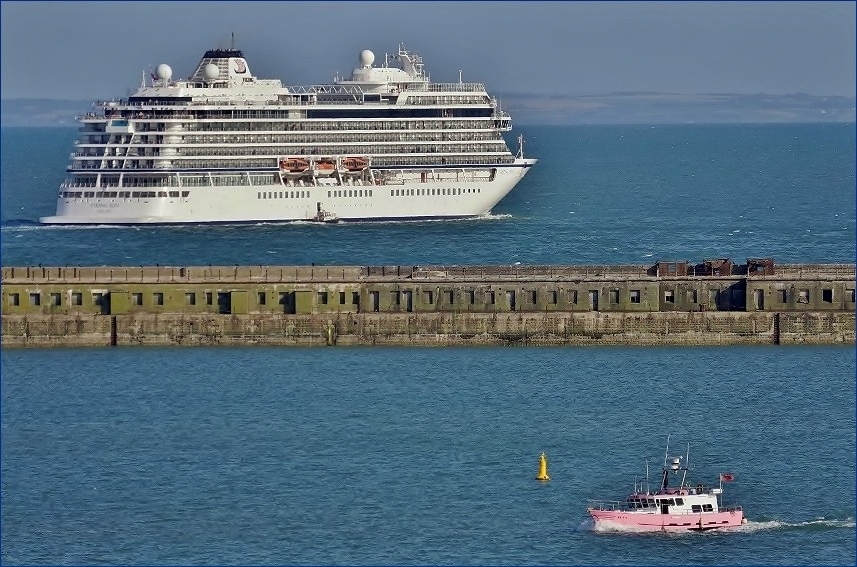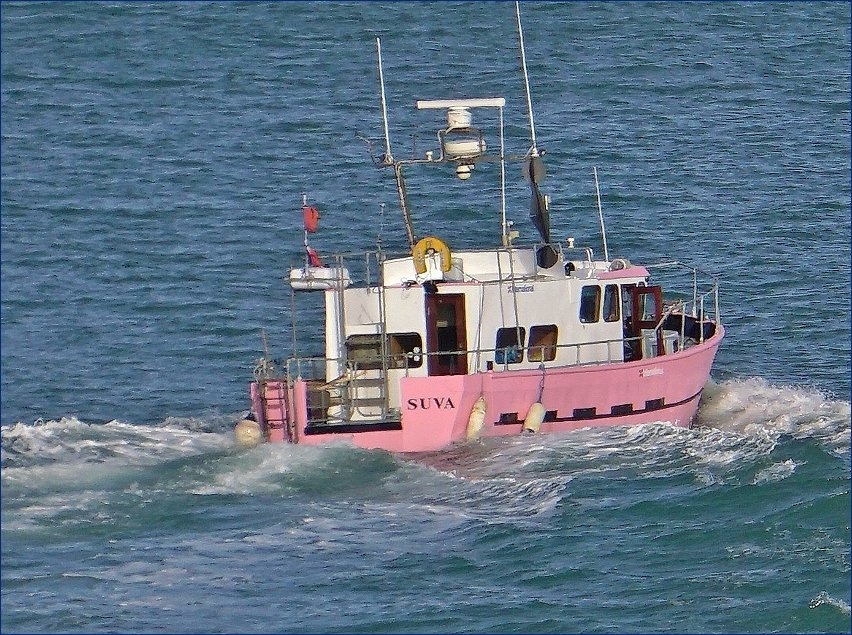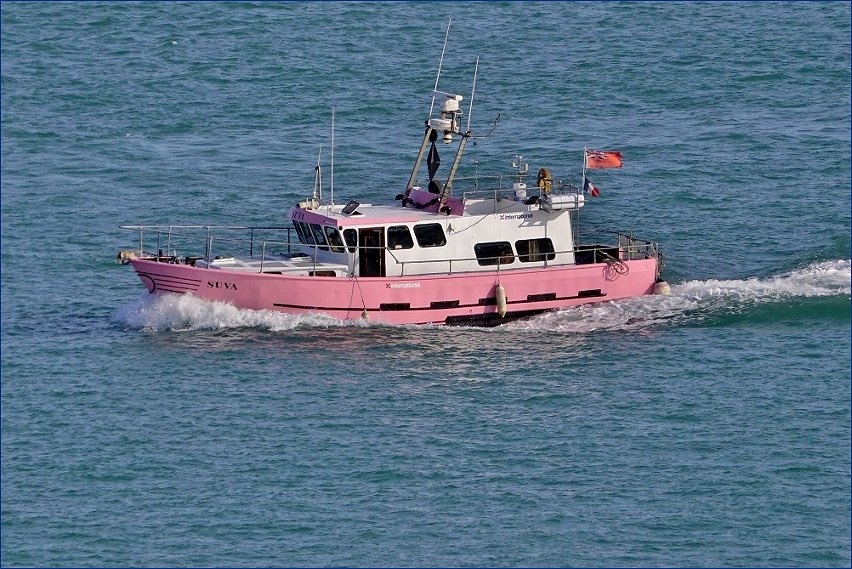 Viking Sun and Suva.
Well done Vic all round - that's great fund-raising there for Parkinson's. Excellent stuff!

Hope all going as well as possible. Glad you are enjoying all the ships...
Yes Jan its great fun in Sandwich...a nice festival for sure with lots going on.

PaulB

Wednesday, 10 July 2019 - 07:06
Post 6389
matcham, Dover
I do like looking in on this page and the photos are great.I would just like to add my wife who has Parkinson's, held a tea cake party for the Dover group and raise £81 which in two hours was very good. But back to the port the D.H.B. are doing a great job at the Western part of the port and all looking very good for the Vistors that come to Dover from round the world.

Tuesday, 9 July 2019 - 19:27
Post 6388
JanT , Dover
Was nice to see people enjoying the ALE and FOLK FESTIVAL in Sandwich on Sunday,the chaps giving their hearty renditions of sea shanties which got all singing along,and the ladies in the picture below enjoying a break from their dancing.
Some even having lunch on their yacht enjoying the sunshine very nice.


Tuesday, 9 July 2019 - 17:43
Post 6387
Sea News, Dover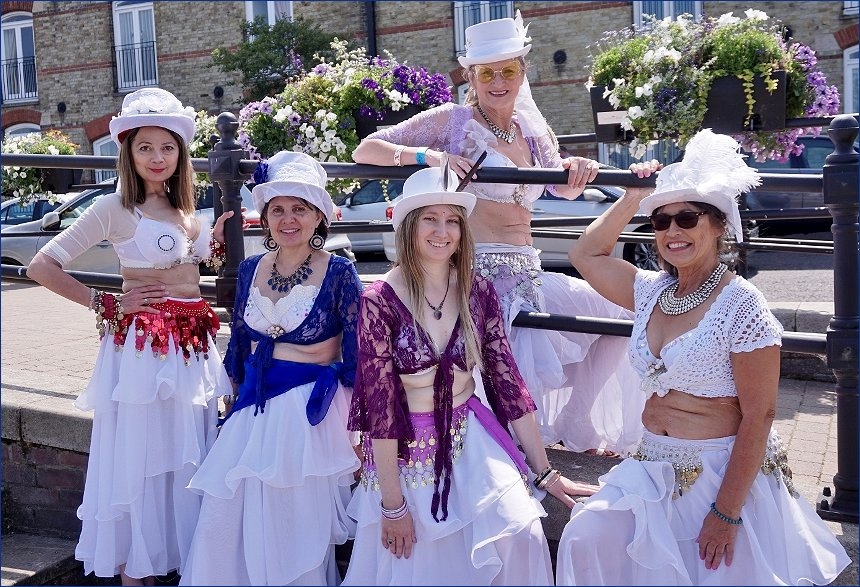 THE SANDWICH ALE AND FOLK FESTIVAL: Who could resist this delightful group of ladies at the Sandwich Ale and Folk Festival..as you can see all beautifully attired for the occasion in fine finery, and a delightful breath of fresh air they are too. One came across this Festival on Sunday by accident...and totally enjoyable it was...in particular had a great time listening to a group of 20 or so sturdy men belting out hearty sea shanty's in blistering style. Fab! Thanks hugely to the girls above for posing so elegantly.
Some general shots below at the waters edge. We didn't cover the event fully as didn't know it was on...but took just a few snaps to hopefully capture the jolly festive mood, and there we are..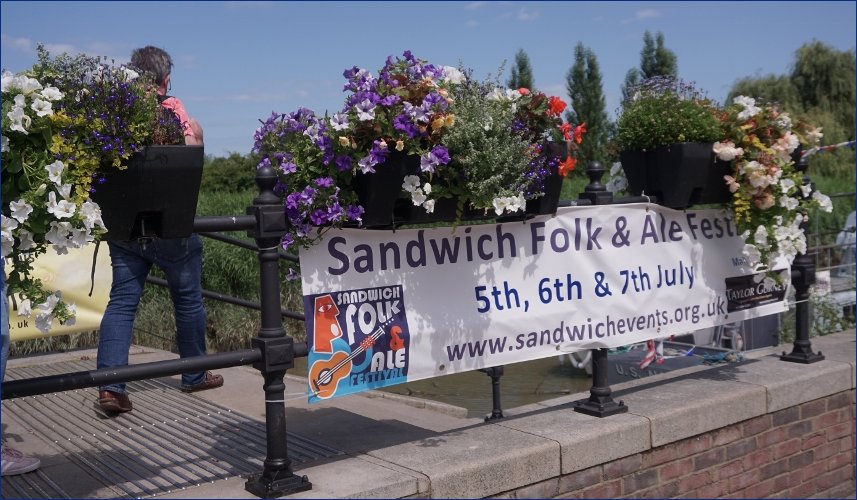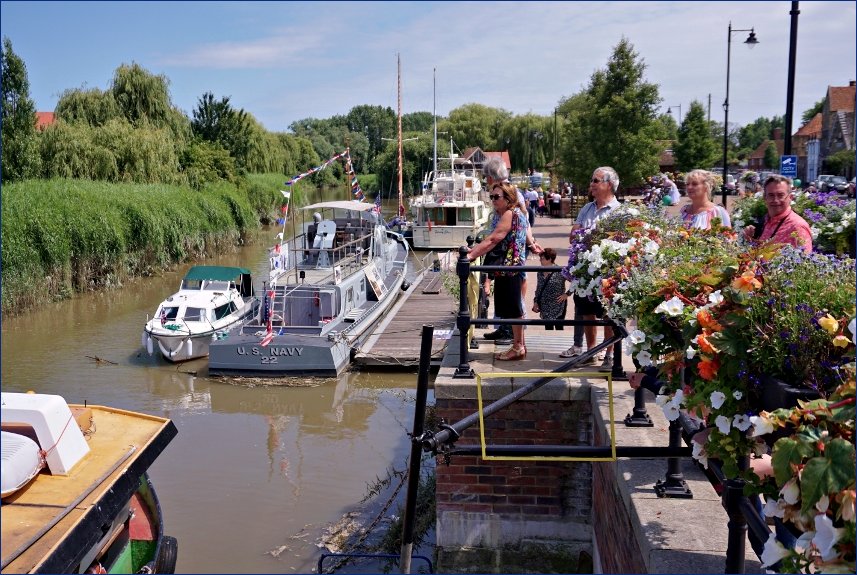 The American P22 Rhine Patrol Boat... used by the Americans on the Rhine in the 1950's Cold War era.
A regular in Sandwich but if I remember correctly had moved to Ramsgate in recent times...now back in Sandwich for the festivities as you can see. The second pic is from a former time and gives probably a better angle...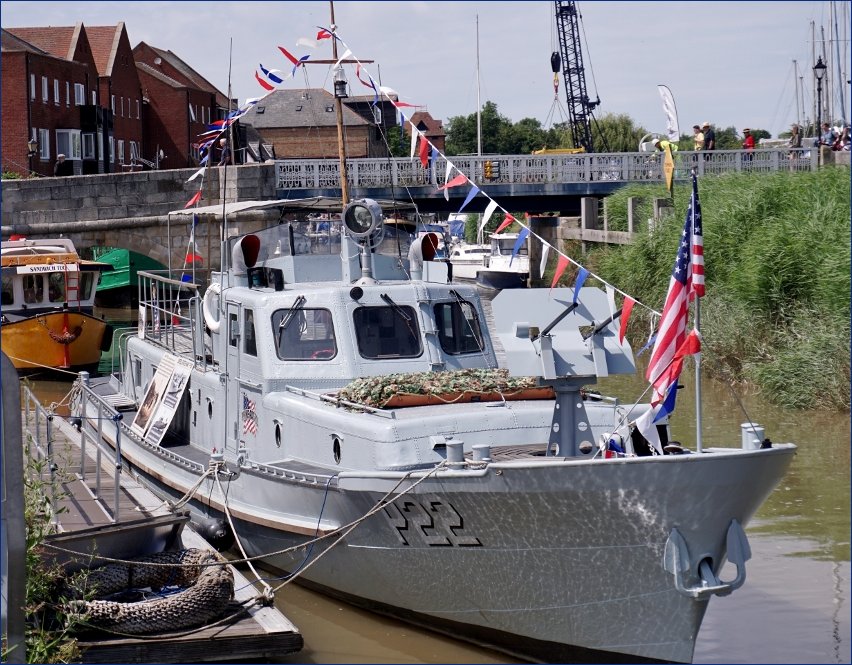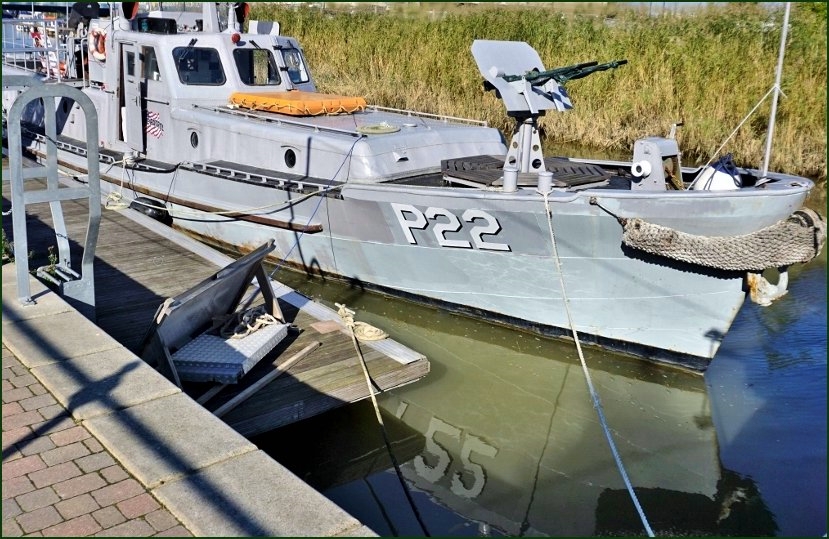 The Viking Sun arriving in Dover on Monday morning.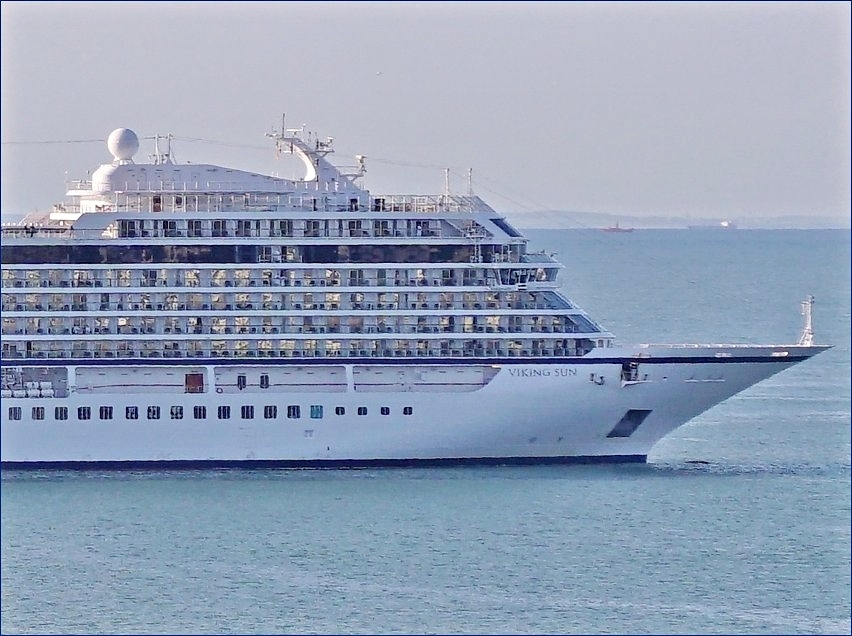 The VIking Sun....on a 14 day trip from Tilbury to Bergen but going round the British isles with Irish/Scottish ports featuring large...
will hopefully be able to squeeze more pix of the Viking Sun in, bit inundated behind the scenes.
Today so far we have Europa...now excitingly at WD4 (the new berth Western Dock 4)..as the Spirit of Discovery returns from another channel jaunt, she went to Guernsey this time we understand. As you can imagine by now we have any amount of pictures of the Spirit of Discovery.
UPDATE: Also just arrived 08:50 we have the fabulous and large Sea Princess, off the top of yours truly's head...this is a new one for us here at Dover.
Three cruise ships today all looking good.
PaulB
Tuesday, 9 July 2019 - 07:06
Post 6386
Sea News, Dover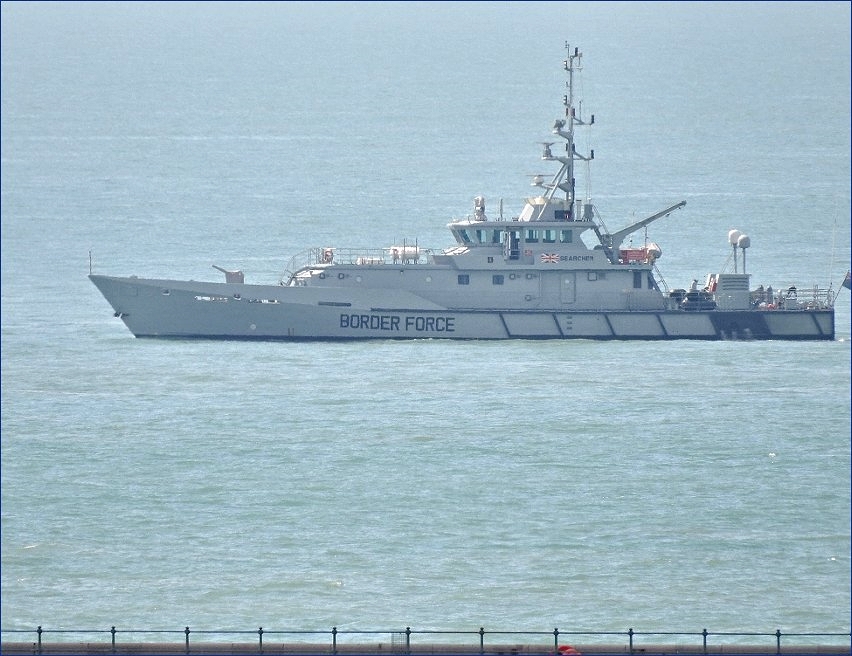 Border Force Searcher
With all the ballyhoo and razzmatazz surrounding the cruise liners recently, one almost forgets about the everyday..the daily grind...but in the midst of all the excitement the Border Force kept right on going (of course!) As you may have seen on the news there were more migrant boats 'visiting' Kent over the weekend, so once again the Border Force was right on the spot. The pic above was taken a couple of days ago...showing Searcher just off the Port of Dover.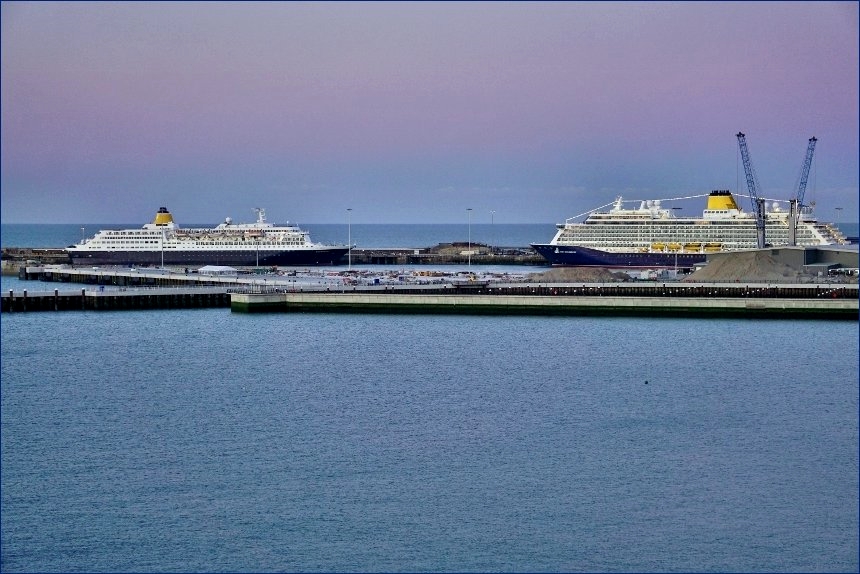 The Two Saga ships very early morning...who sleeps around here...the picture was taken on the 4th at 04.36...now that's bleary eyed early for sure. On the left Saga Sapphire...on the right the all-new Saga ship Spirit of Discovery.
Below we see Saga Sapphire departing the same day ….
moving astern through the western exit in the first shot and in the second shot moving off westerly on the softest of soft evenings... she was away on a 14 day Highland cruise...going right around the entire UK in fact....the full circle.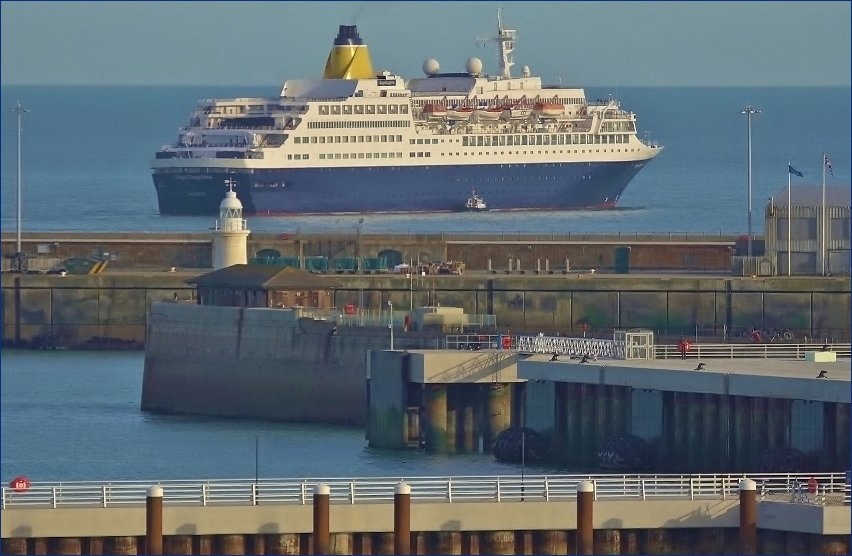 Saga Sapphire
PaulB
Viking Sun in Port today.
Monday, 8 July 2019 - 07:31
Post 6385
Sea News, Dover
Just catching up now with some further pictures of the new SAGA ship...the Spirit of Discovery .. as she goes out on her second channel jaunt..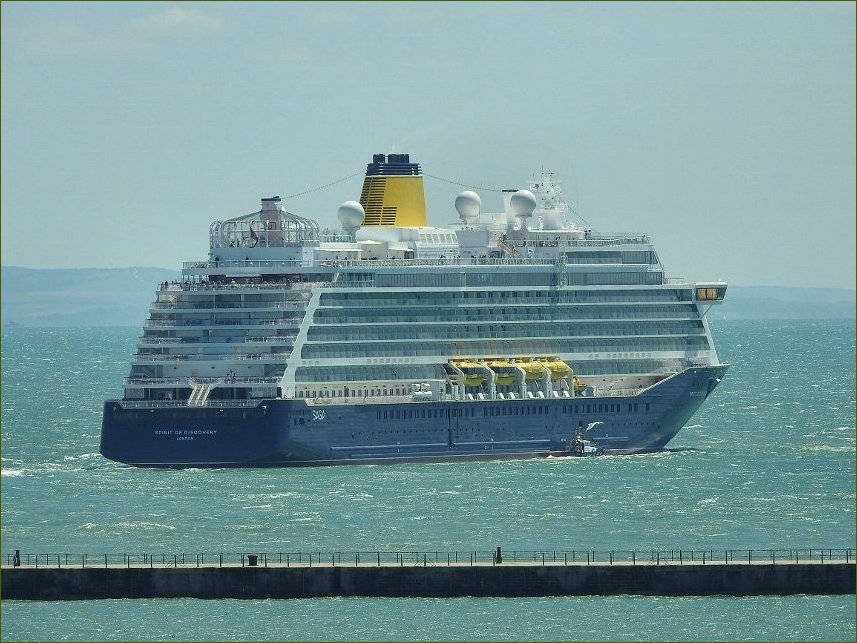 The Spirit of Discovery
Having left the Port of Dover the pilot boat waits alongside ..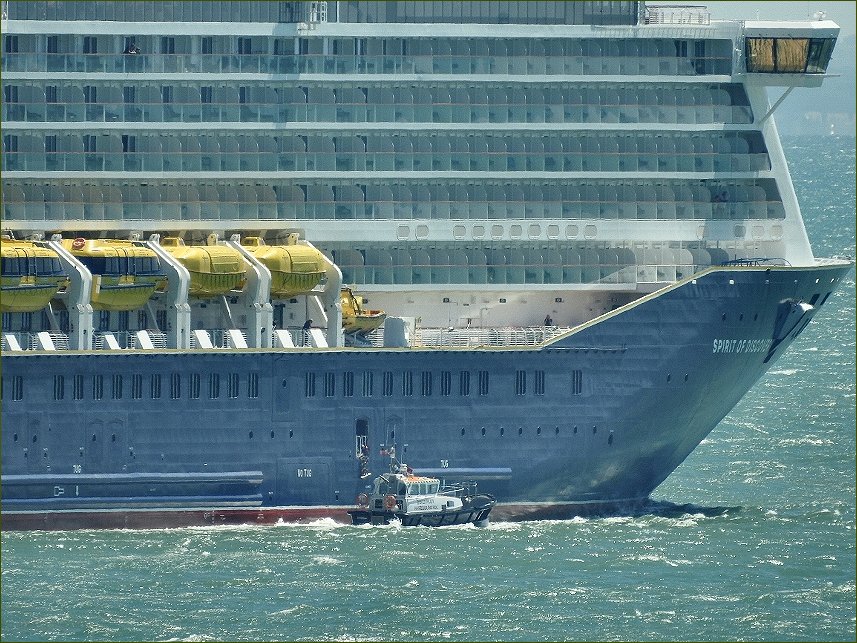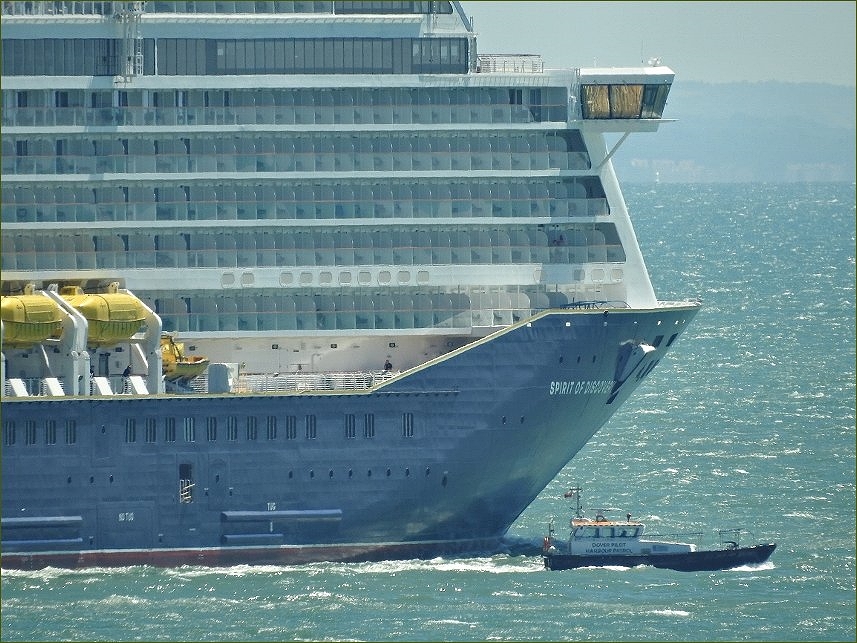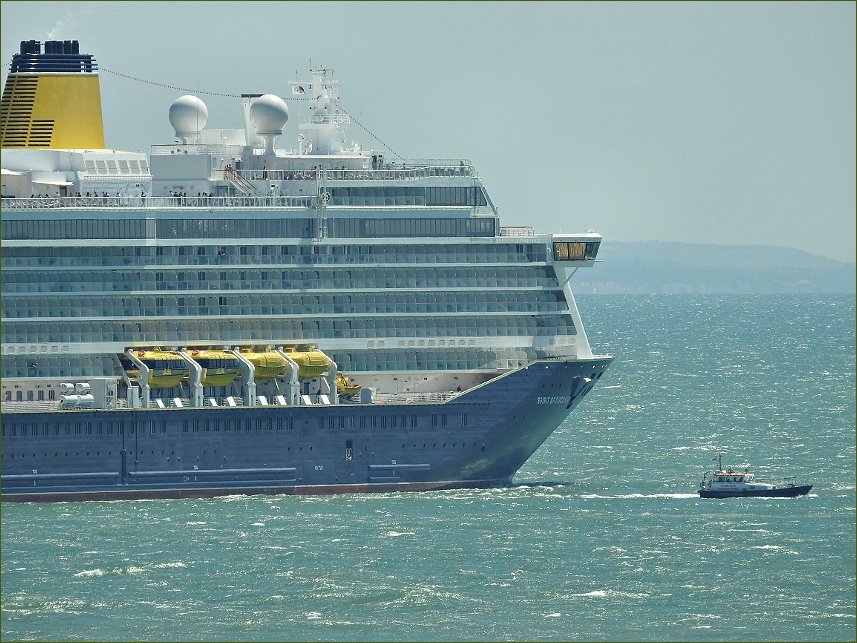 The three shots above show the pilot departing and beginning his return to the Port...
While below we see the ship moving away south in elegant style in the blazing sunshine...ermmm No that's not a shark fin in the foreground of pic below...although...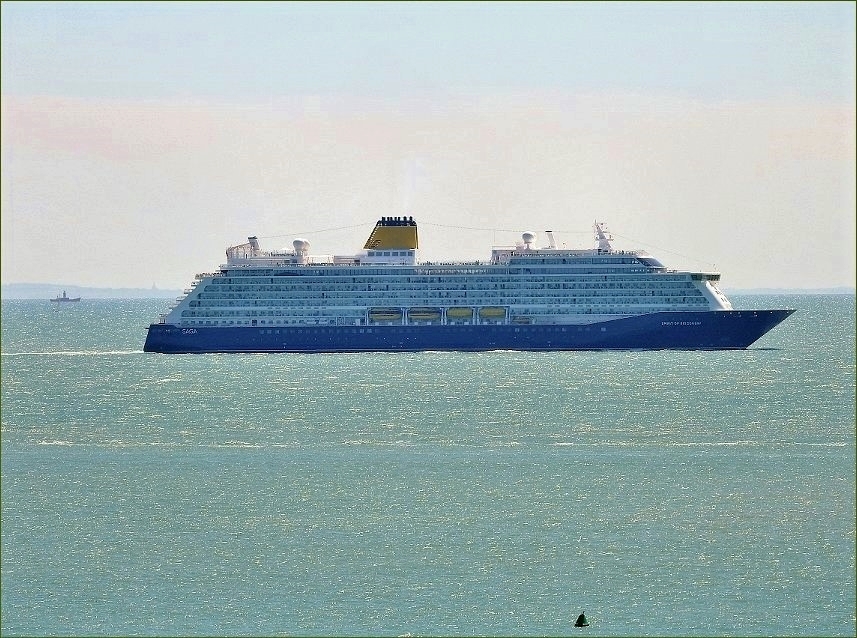 Just kidding re the shark of course....its one of the markers for the new marina.

Thanks for the info below there Mike. Great stuff!

Thanks Del yes its always good to see Boulogne shimmering away over there.

PaulB
Saturday, 6 July 2019 - 06:37
Post 6384
Del Styan, Norwich
Boulogne in the distance - Wow!

Friday, 5 July 2019 - 23:05