Sunday, 21 January 2018

doverforum.com/sea-news
Doverforum.com: Featuring all the ships that come and go and work at the Port of Dover with further coverage of Ramsgate, Calais, Dunkerque. Email: dover7@msn.com to send SEA NEWS pix or info.... or click ADD YOUR COMMENT below to post direct, no membership needed.

PORT OF DOVER RECORD FREIGHT see 4551.
Sea News Dover : Use our SEARCH ENGINE below to find all sorts on the SEA NEWS pages..more than 200 now with more than 4500 nautical posts. Posts welcome. Max of 5 pictures preferred per post. Sea News Editor Paul Boland.
Post 4441
Mike J., Dover
On close comparison of Paul's safety boat photo & the one that I posted of the CRC COMET I realise that I've made a mistake - my apologies !

At 0900 Sunday morning the COMET is in the Tidal Basin & the only other small safety boat showing on AIS is the PAMPERO who is owned by NORTHERN RIB HIRE.

Sunday, 26 November 2017 - 09:06
Post 4440
Mike J., Dover
Post 4436, Paul's unidentified workboat - I think it's the CRC COMET who has been showing on AIS for a few days & must be a recent arrival.
Here's a photo of her from her owner's website - COMMERCIAL RIB CHARTER, who operate most of the Safety & Crew boats for the DWDR job.
The COMET is the latest addition to their hire fleet.
CRC have a large fleet of different craft & an interesting website, well worth a look.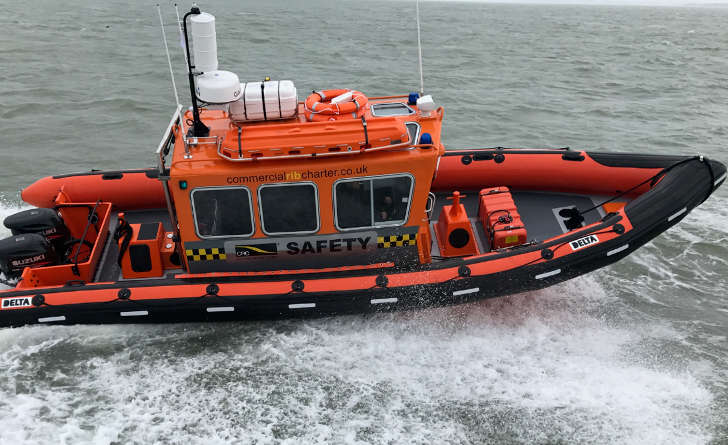 A big concrete pour was taking place in the new cut on Friday afternoon, here the pump is waiting for another lorry-load of cement.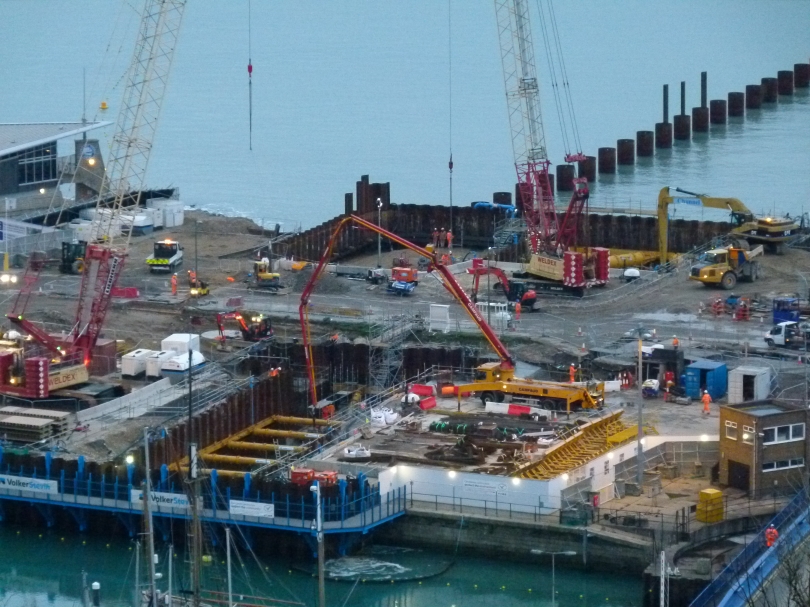 A sequence, at dusk, as the DAVID CHURCH made a very careful approach thru the 'Dunkirk Gap' with her usual route hindered by a jack-up rig.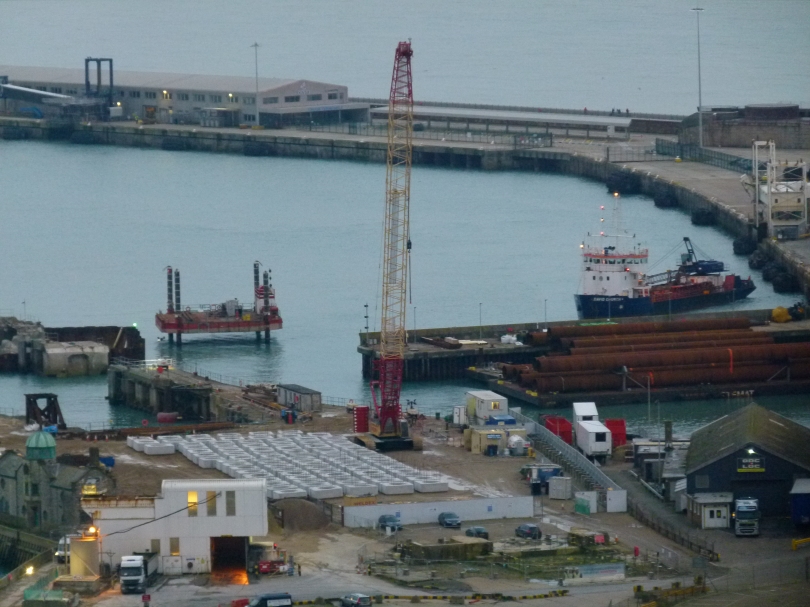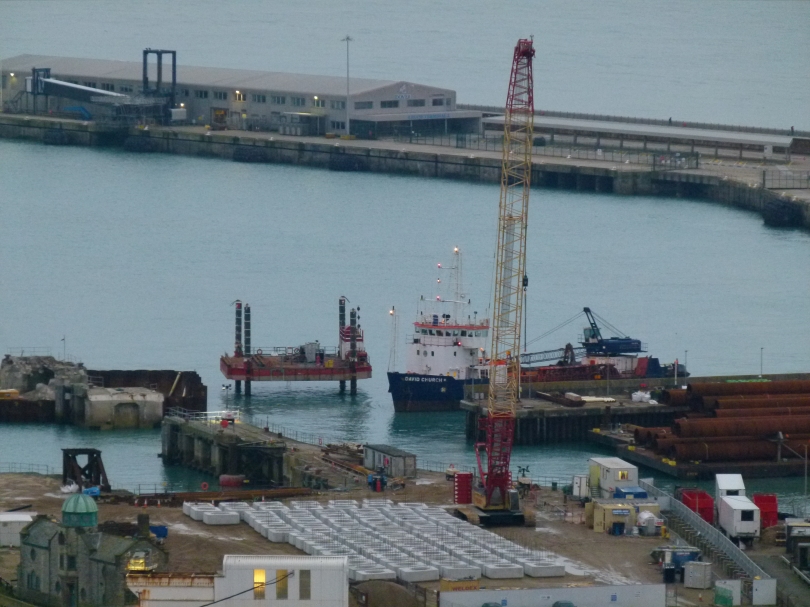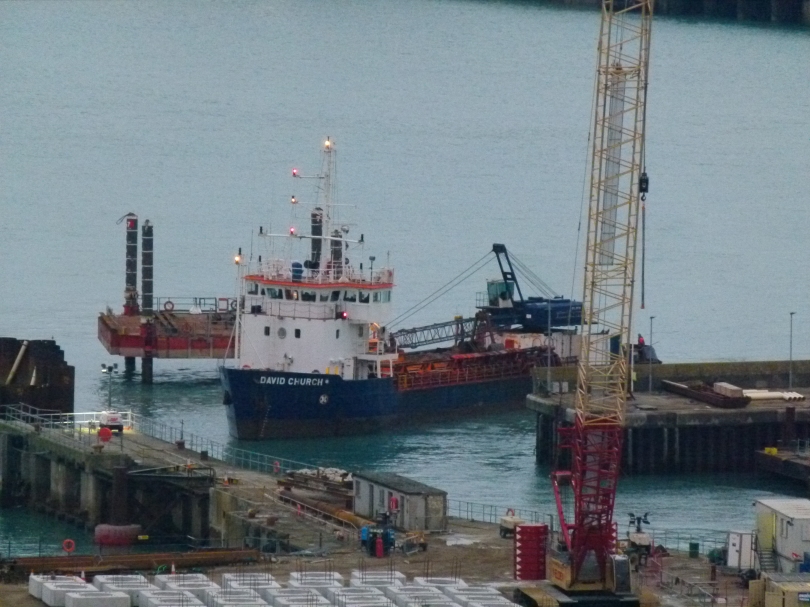 Made it !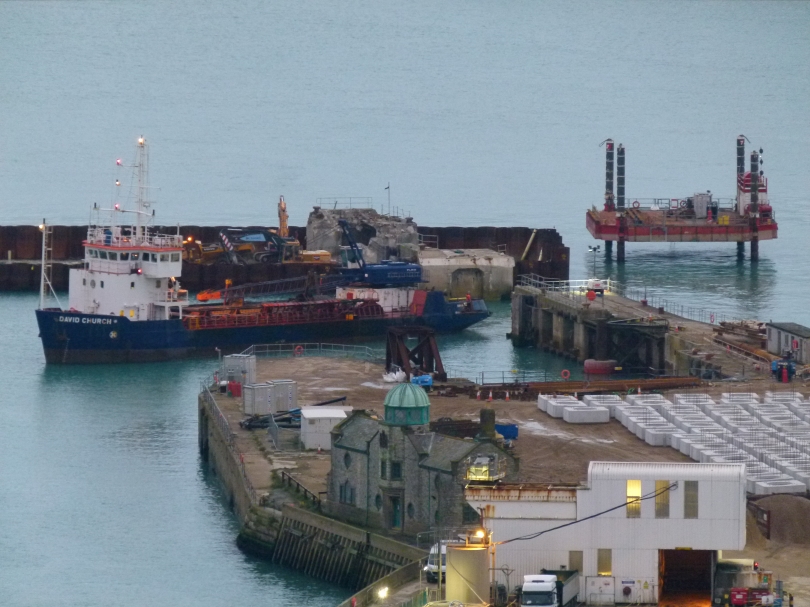 Sunday, 26 November 2017 - 00:08
Post 4439
Patrick, Marine Parade
Great photos Sarah.
Daybreak today over Dover harbour provided an impressive sight as the sun rose against a darkened sea and the distant shadow of the French coast edging the clouds in white light before disappearing once more to start another day.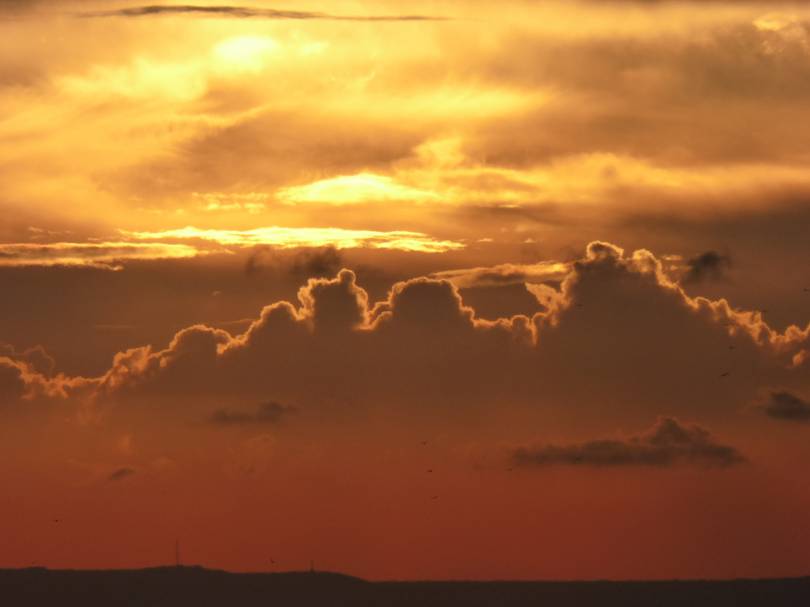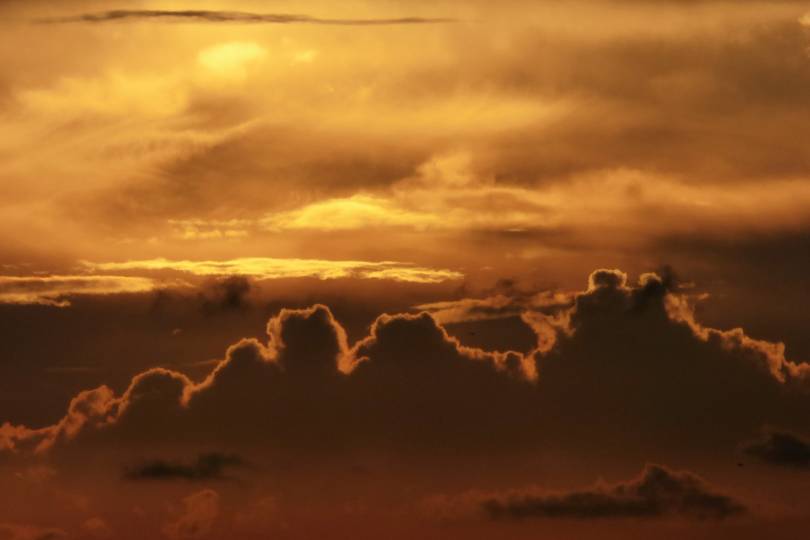 Saturday, 25 November 2017 - 22:31
Post 4438
Sarah, Ramsgate
Photos of all of the all weather lifeboats currently at Ramsgate, happy days for me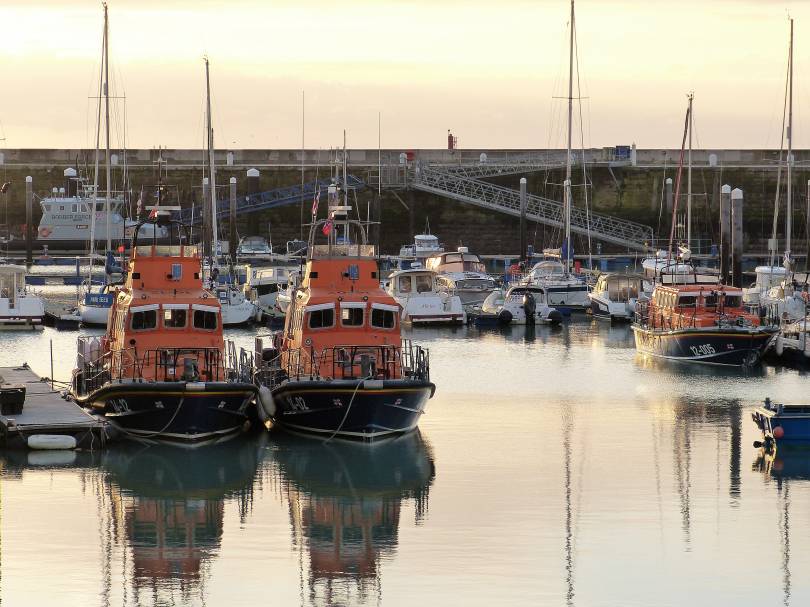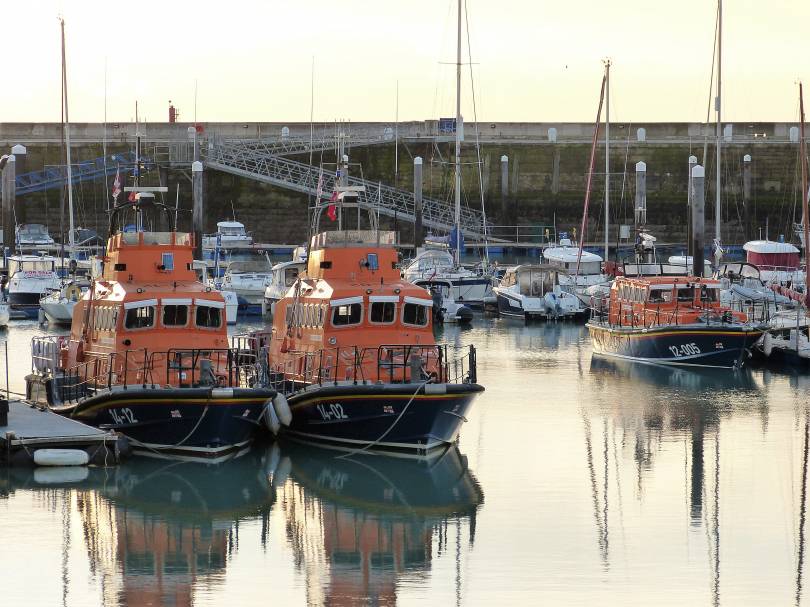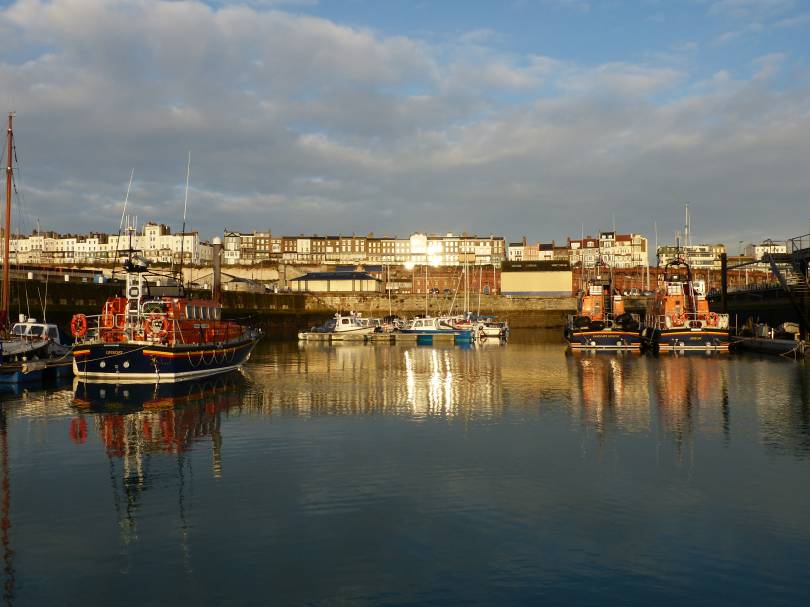 Saturday, 25 November 2017 - 17:54
Post 4437
Sarah, Ramsgate
We have another relief lifeboat here at Ramsgate. It is Mersey Class lifeboat, 12-005 Lady of Hilbre which had a spell with us some time ago, lovely to have her back in time for Christmas. She will be decorated in lights & will be part of the Ramsgate Harbour Lights display over the Christmas period all with the RNLI's blessing.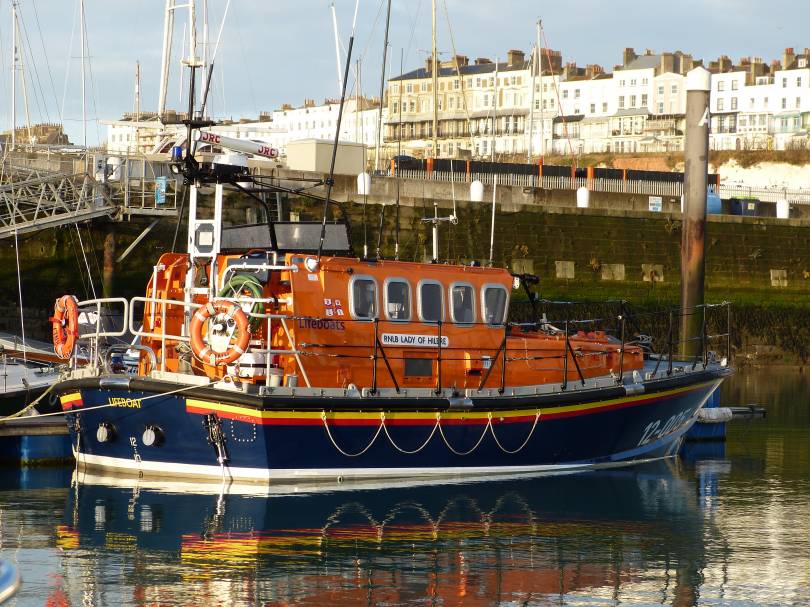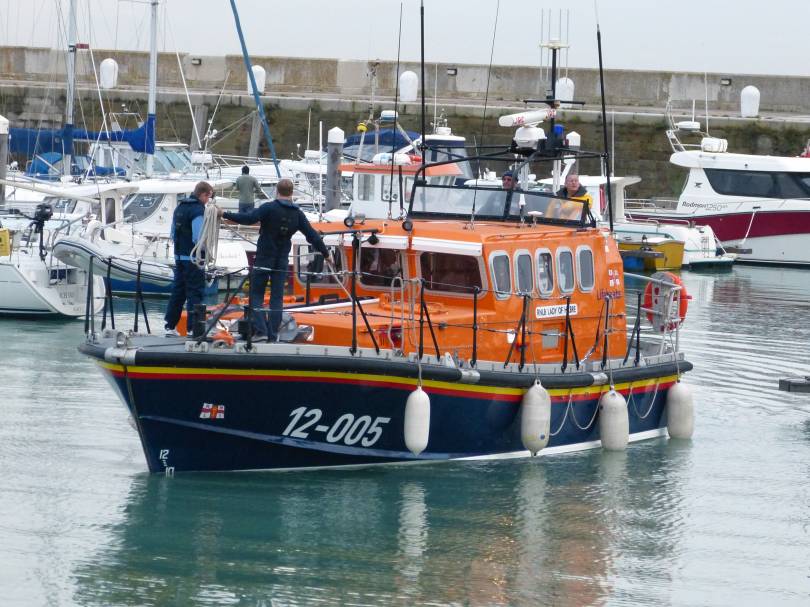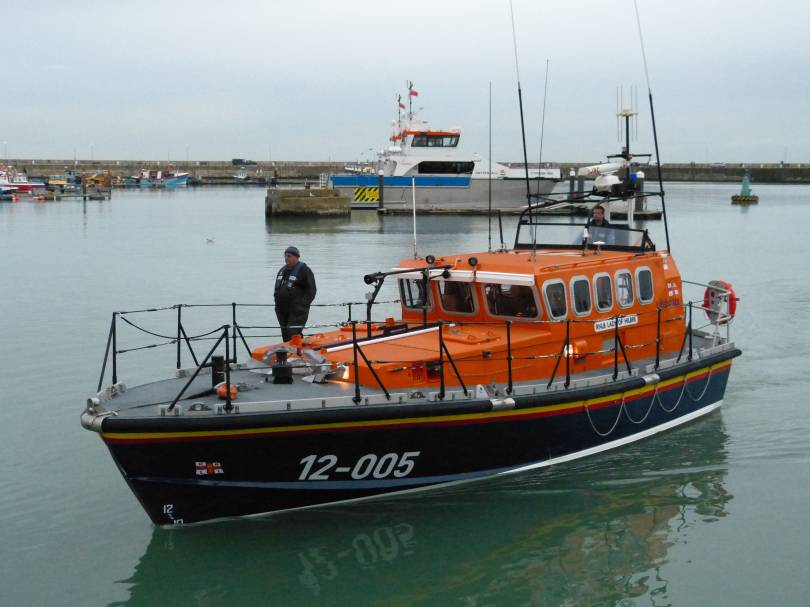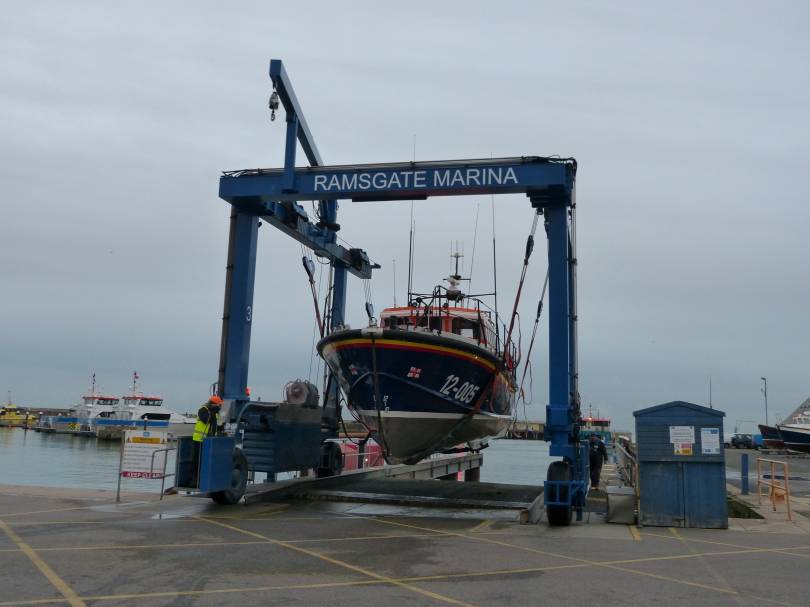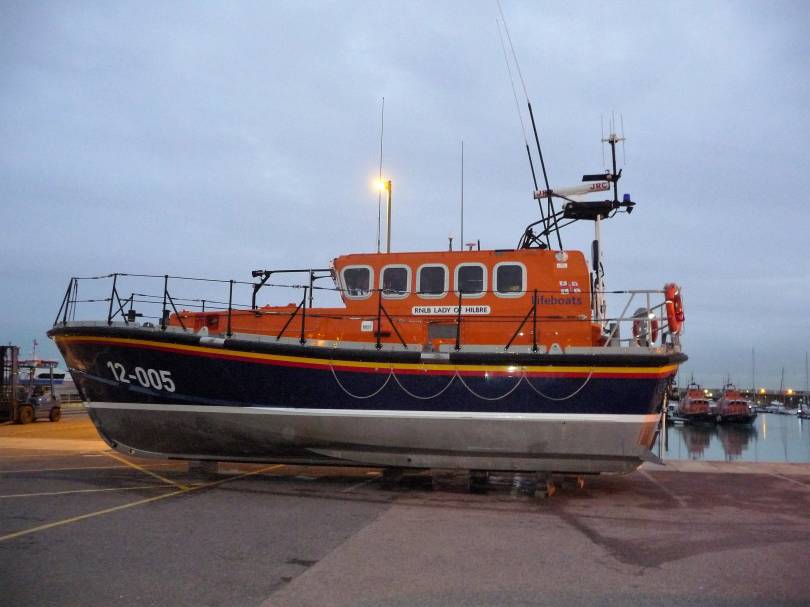 Saturday, 25 November 2017 - 14:30
Post 4436
Sea News, Dover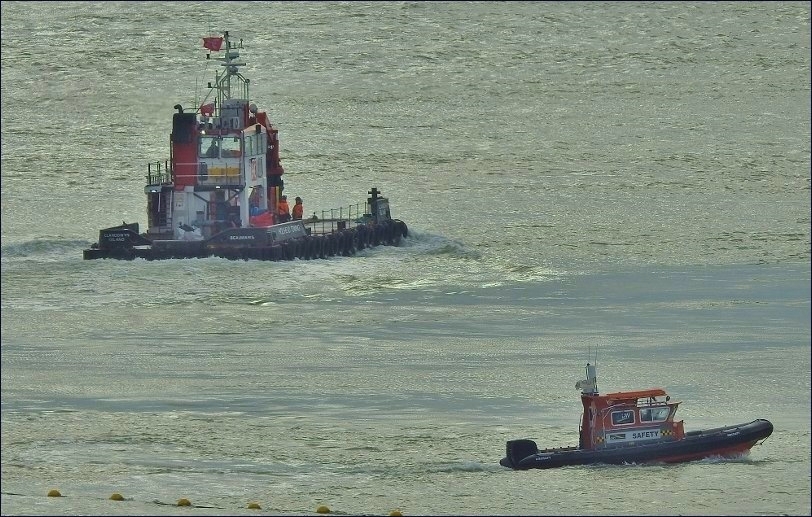 A couple of pictures above there of the little safety workboat as she zaps about the harbour in busy bee fashion. Yours truly cant for the life of him remember the name of it for the moment but there she goes in essential action. In the background in top shot is Afon Lligwy and in the background on second shot in the dazzling mid morning light is Llanddwyn island.
A lovely set of uber natural pictures below there Sarah..great the way you get that soft yet clear look to the pictures and of course great to see that particular Alert again.

PaulB
ps: don't forget its a huge day at the Port of Dover's cruise terminal..."Santa Claus is coming to town" ...see 4427.


Saturday, 25 November 2017 - 07:26
Post 4435
Sarah, Ramsgate
Back on home territory it has been a very busy day in the harbour.
Border Force "Alert"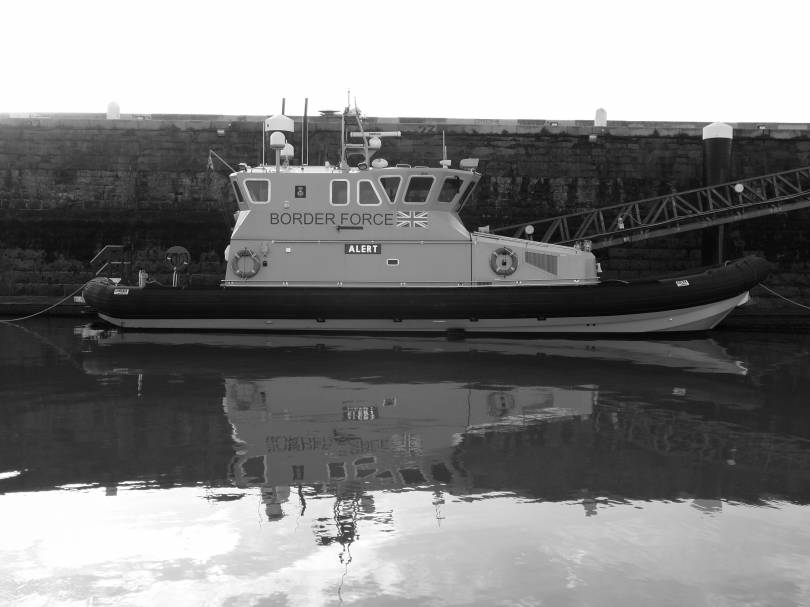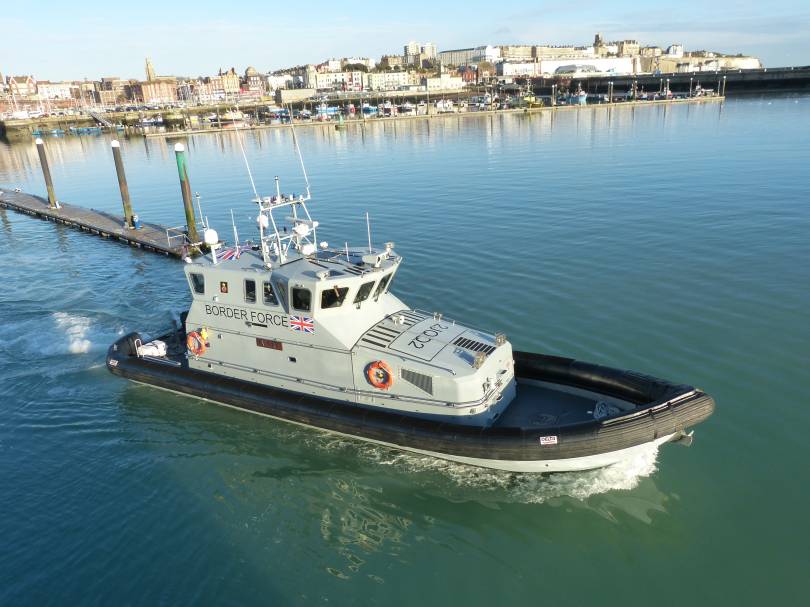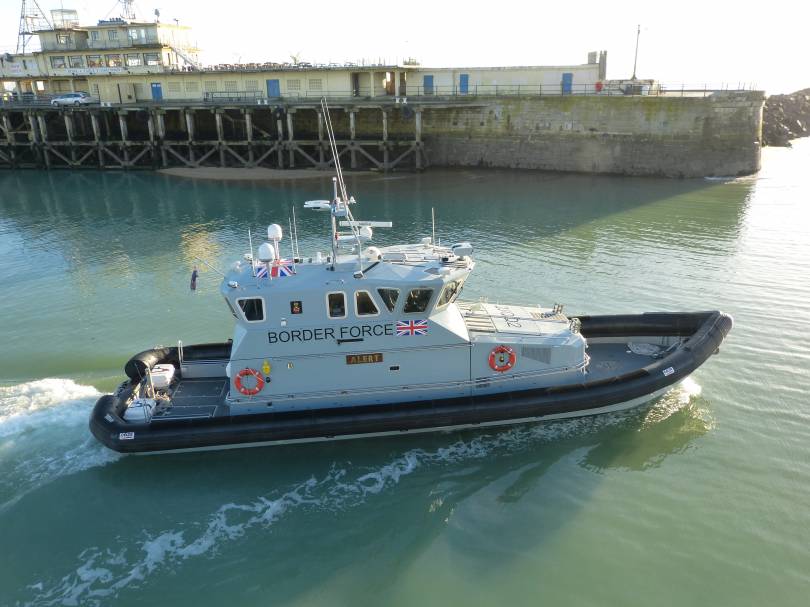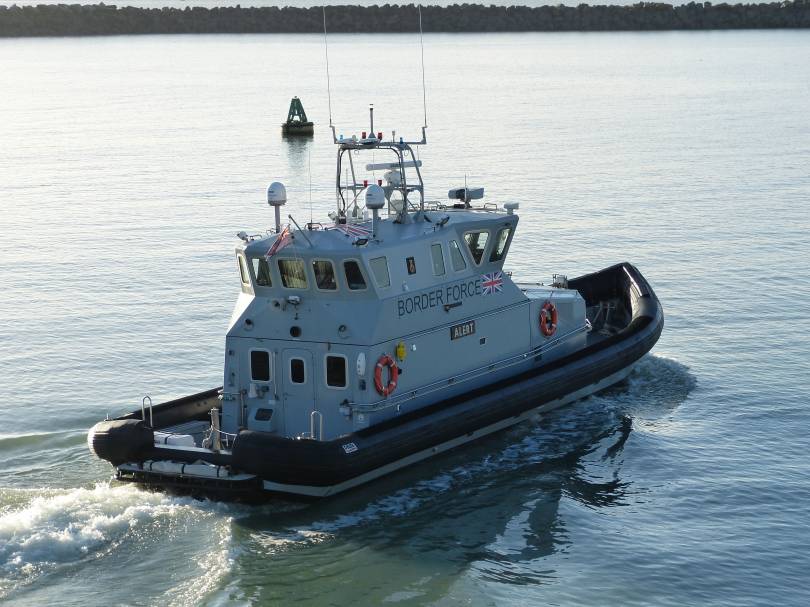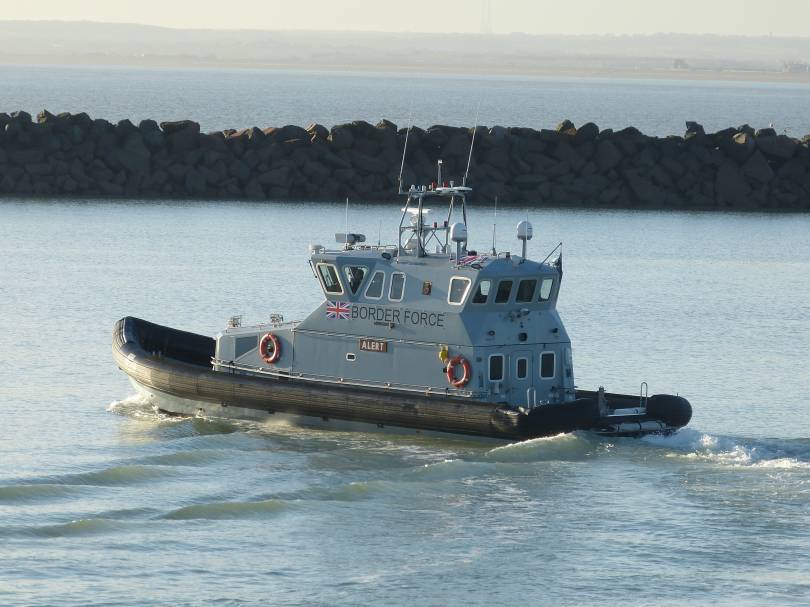 Friday, 24 November 2017 - 19:10
Post 4434
Sea News, Dover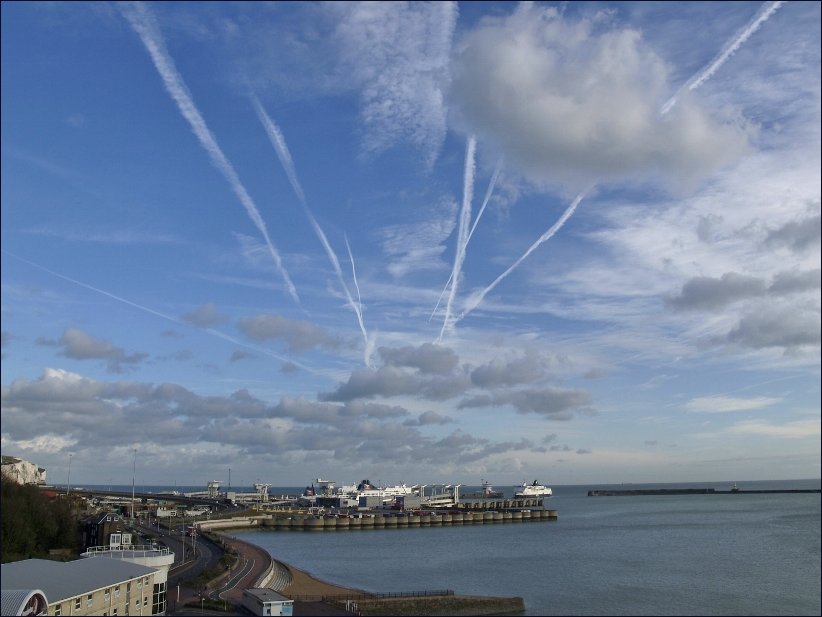 We have gone a wee bit jet stream mad this morning. With the onset of cold or cooler weather, the air traffic looms large in the sky becoming a real feature. Those jets heading off to far flung destinations leave a dazzling trail above the Port of Dover. The top picture was taken this week...and the following two...well they are from our archives but who could resist including them on a cool Friday. Let the birds play their part too...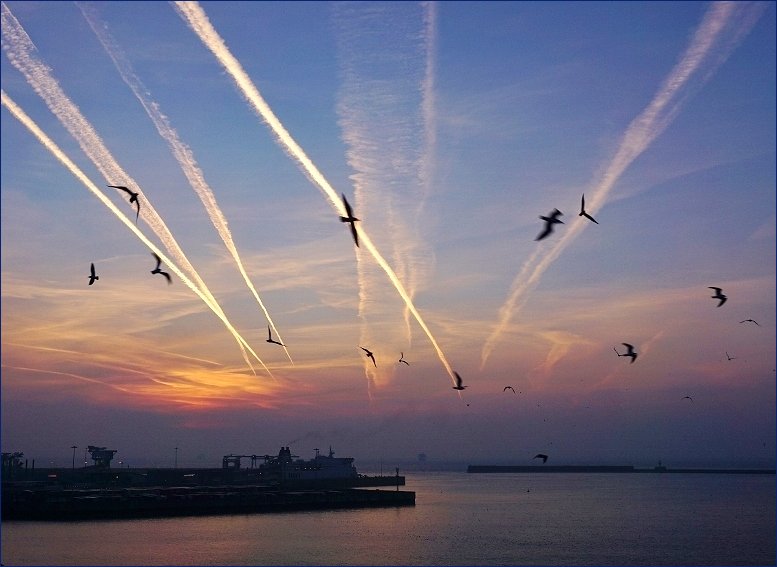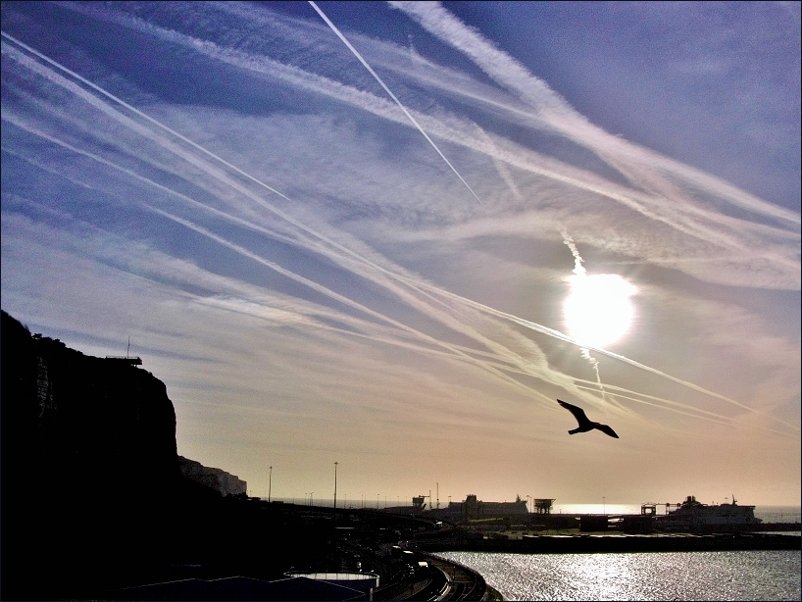 Fuel Duty Frozen - A Golden Opportunity Missed says Road Haulage Association
_____________________________________________________________________
The RHA is extremely disappointed that the Chancellor failed to reduce fuel duty in this week's Budget.
Commenting, RHA chief executive Richard Burnett said: "At a time of Brexit uncertainty, the Chancellor had the golden opportunity to make the production and distribution of UK goods more competitive.
"Fuel duty makes the UK less competitive - we have the highest fuel duty in Europe -nearly 50% higher than the European average. And despite the 7-year freeze, at 57.95 pence per litre, fuel duty remains grossly excessive. It has a negative effect on everything we buy and makes all UK made goods more expensive to transport.
"We implore the Chancellor to amend his budget and introduce a fuel duty rebate scheme for essential users of fuel – a system already adopted by 8 EU member states, including our nearest neighbours – The Republic of Ireland, Belgium and France.
"An Essential User Rebate of 10 pence per litre would enable our hauliers to gain advantage over their European counterparts and would considerably lessen the fiscal drain on our emergency services which are also in a financial stranglehold as a result of the high price of diesel.
"Let the sectors that work tirelessly to keep the economy moving and the population safe, well and fed be rewarded, not punished."
Ends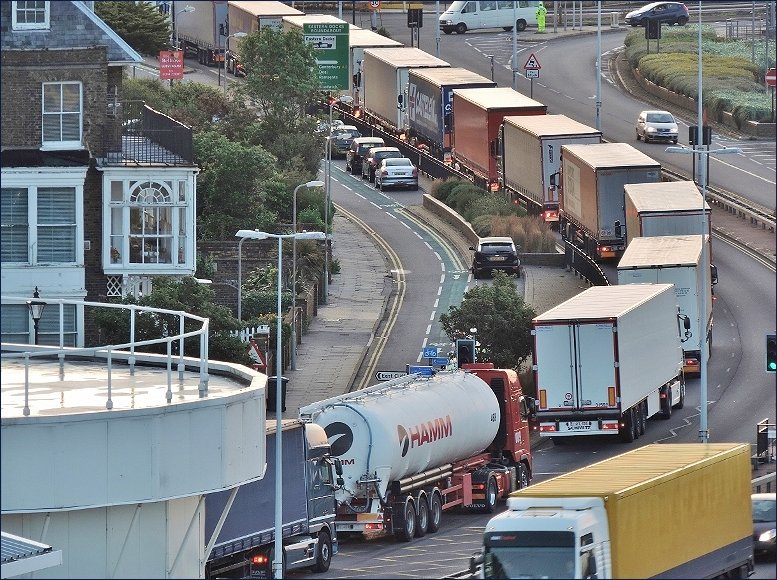 PaulB.
PS: Don't forget CHRISTMAS fantastico starts tomorrow at the Cruise Terminal ..see 4427.

Friday, 24 November 2017 - 06:58
Post 4433
Sea News, Dover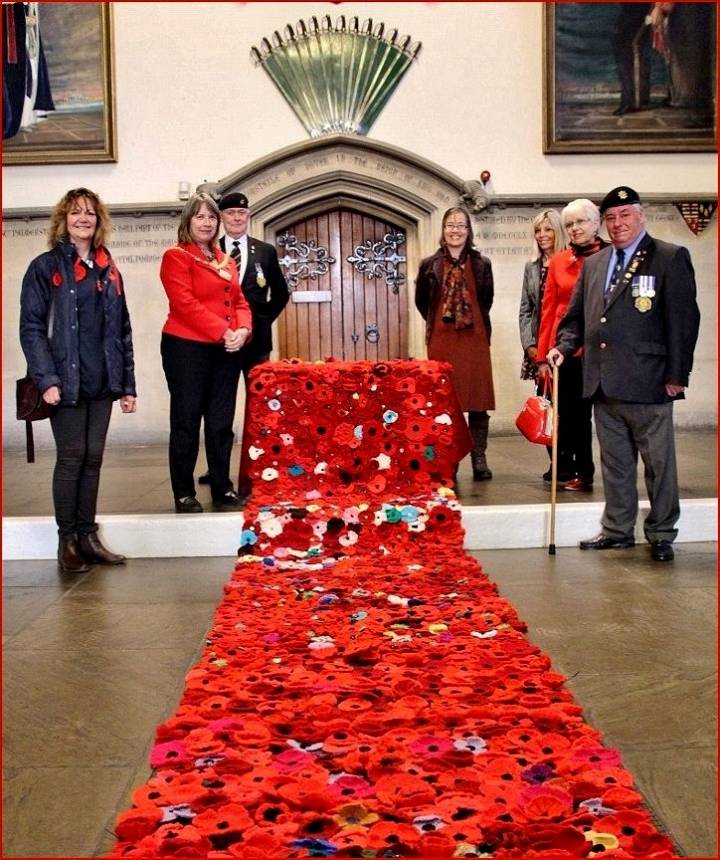 Communities Thanked For Success Of Knitted Poppy Appeal
_________________________________________________
A big thank you is being sent out to all the knitters who provided fantastic support for the area's Knitted Poppy Appeal. Over a thousand poppies were delivered to our local collection points, and helped to make a giant poppy carpet, which featured in a range of events as part of the remembrance commemorations in Dover District.
Cllr Sue Chandler, Chairman of Dover District Council, said: "We would like to say a big thank you to everyone who supported the appeal, and helped to produce this amazing poppy carpet. This was a great opportunity to bring communities together, to remember those who lost their lives in times of warfare, and to raise awareness of the Royal British Legion's Poppy Appeal."
The knitted poppy carpet featured in a range of events and locations, including: the launch of the Royal British Legion's Poppy Appeal in Dover; the Dover Marine War Memorial at the Western Docks, as part of the British Torch of Remembrance Annual Pilgrimage; the 'topping out' of the new war memorial in Aylesham; the Hellfire Corner Association's Remembrance Concert in Dover Town Hall; and the Remembrance Sunday Service in Dover Town Centre.
The local appeal was launched in August, when Dover District Council with the Royal British Legion, Dover Arts Development, and Dover Big Local/Art 31invited people to help create a carpet of knitted poppies. Other Kent councils were involved with similar projects in their own districts. A range of incredible volunteers helped to attach the poppies locally, and the carpet in Dover District is now over 7m long.
Knitters were invited to use a range of collection points, including Council offices and the Dover Big Local Hub in the Charlton Centre in Dover. A range of poppies were received from individual knitters and from local groups across the district. Balls of free wool were supplied by DAD, and there was a run on supplies of red wool at local shops. 'Learn to Knit a Poppy' sessions were held at the Dover Big Local Hub, and a knitting group was set up, which they intend to continue.
The carpet is currently on display at the Dover Gateway in Dover Town Centre. This year's appeal has drawn to a close, but we are looking to continue to build on the success of the project, with a range of key occasions coming up. This includes the centenary of the Zeebrugge Raid (23 April 2018), the centenary of the end of WW1 (11 November 2018), and the centenary of the return of the Unknown Warrior through Dover (10 November 2020).
ENDS
Many thanks to DDC for the info and picture above.

An interesting situation below... when all the crane-loaded barges pulled away yesterday we were left with one isolated 'outstation' of piling all alone out there in the blustery conditions. Hard to see this as being part of the overall scheme as illustrated previously...but I'm sure it makes sense, or I'm sure it will make sense in the long run.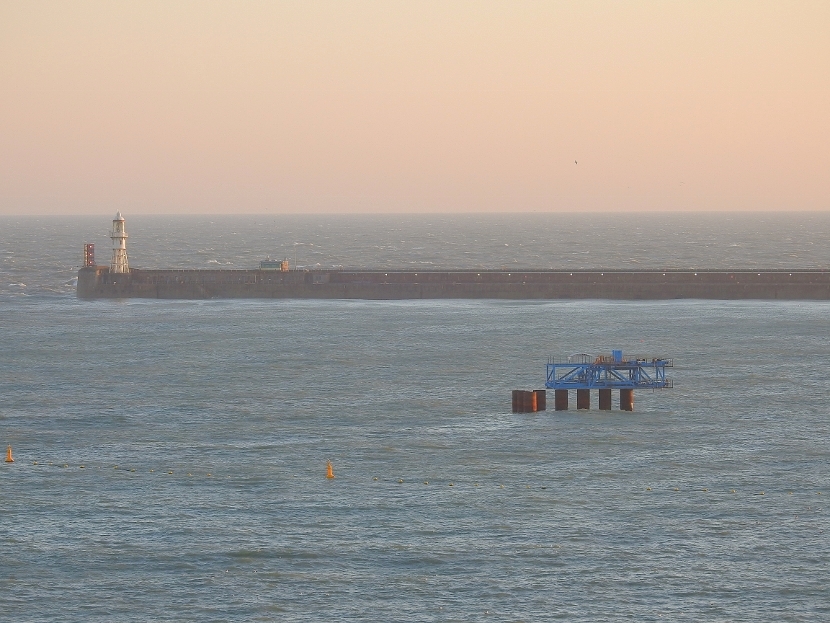 Brilliant collection below Mike. We posted at the same time. Fascinating stuff! Yours truly is most definitely not from an engineering background alas, but the engineering on show is spectacular.

PaulB

Thursday, 23 November 2017 - 07:46
Post 4432
Mike J., Dover
Arrival of the BARENT ZANEN, with MORAG M in attendance.
From approaching the buoy to starting pumping - 7 minutes.
100 minutes later she sailed for another load, returning about six hours later.
A slick operation.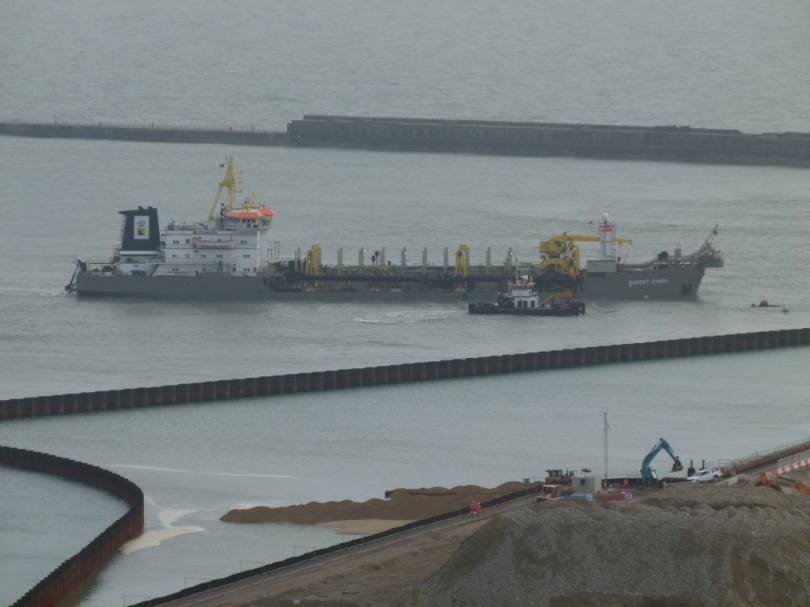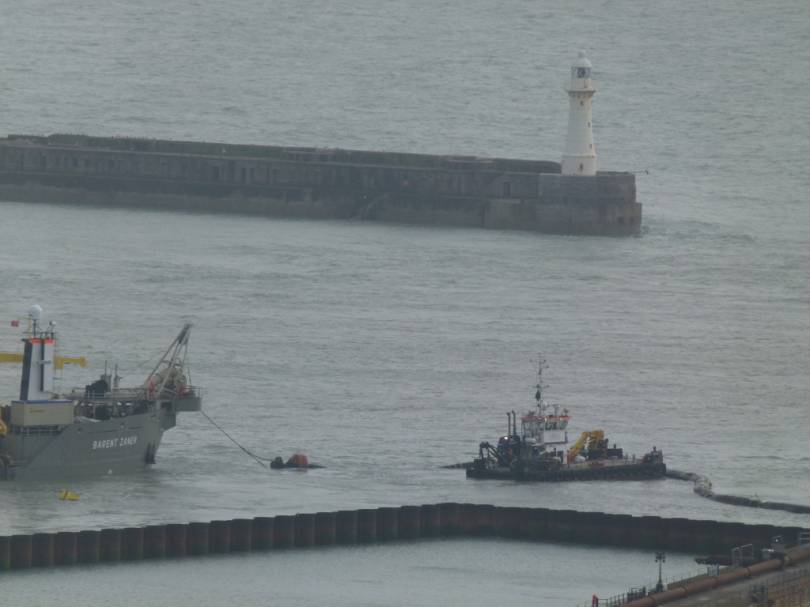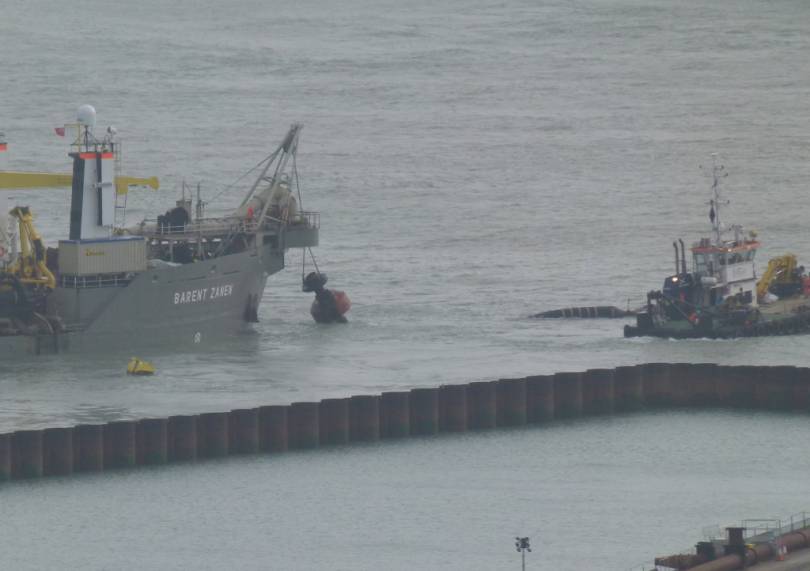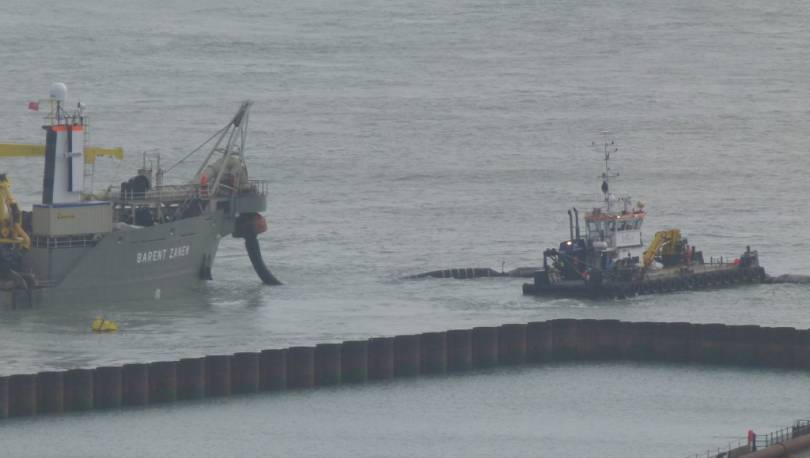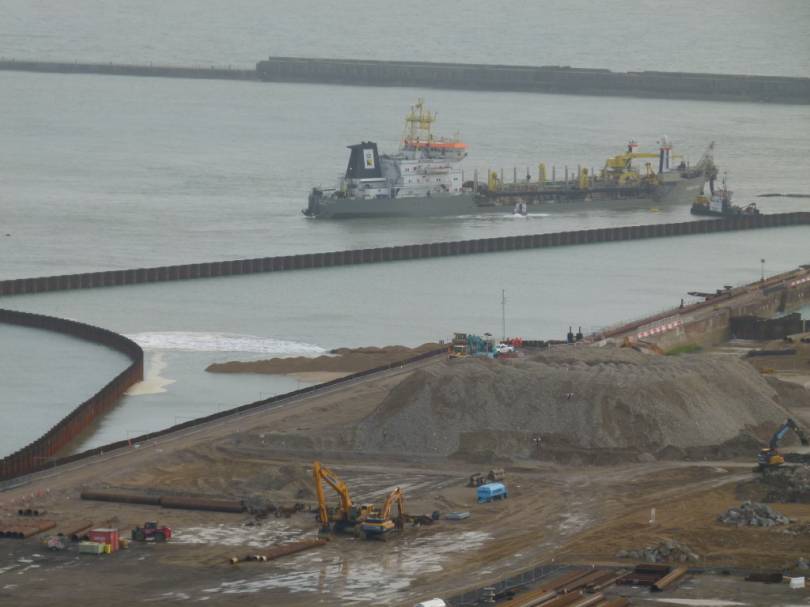 Thursday, 23 November 2017 - 07:45
Post 4431
Sea News, Dover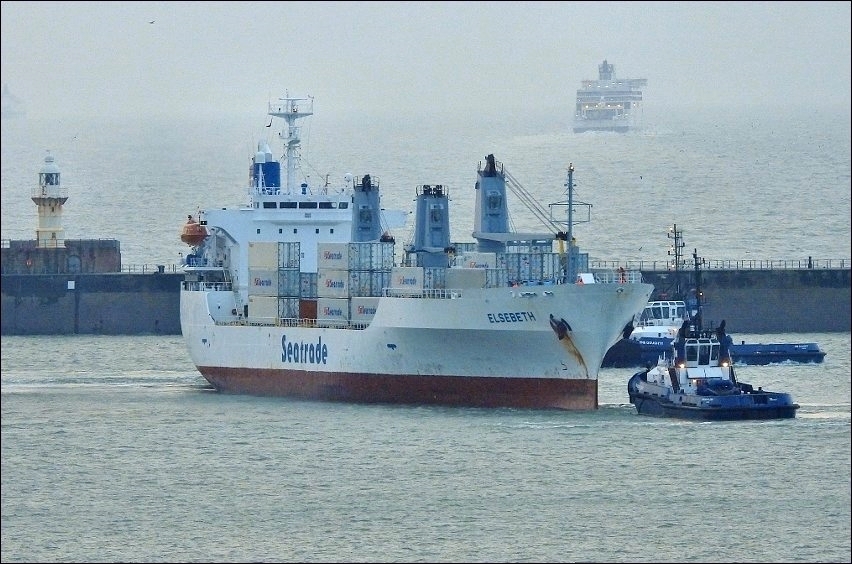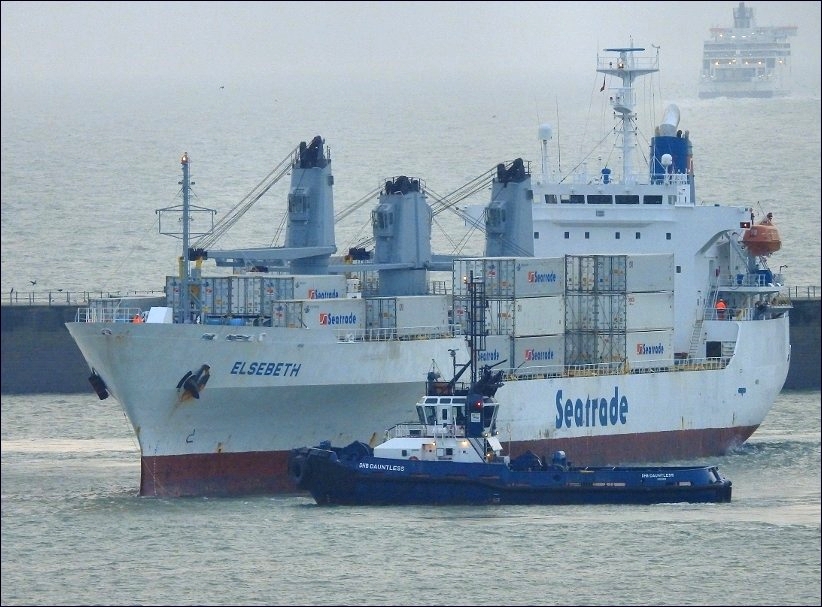 Following along from Ed's cracker of a night picture, here we are with Elsebeth again. Pictures above show her upon arrival from Vlissingen yesterday morning. Great...a daytime arrival, nice to be able to get pictures..
Below we have the Dutch tug again Lingestroom, wasn't sure which picture to use, yours truly struck dither mode again, so have gone for all three. Pictured while she paused over near cruise terminal one. Impressive looking tug for sure... big and muscular..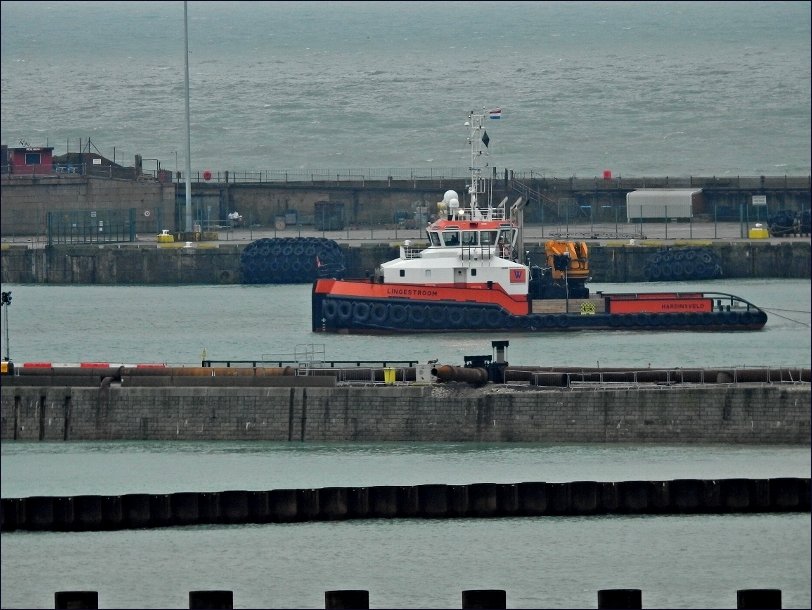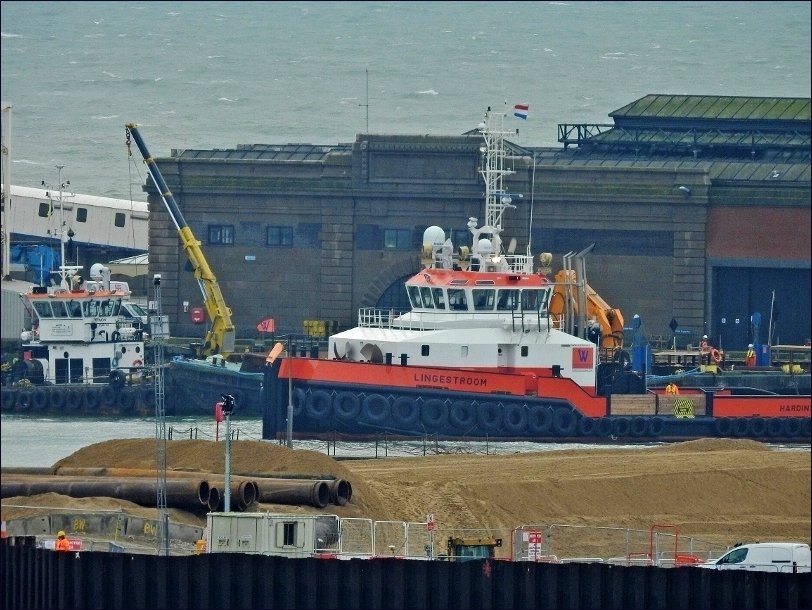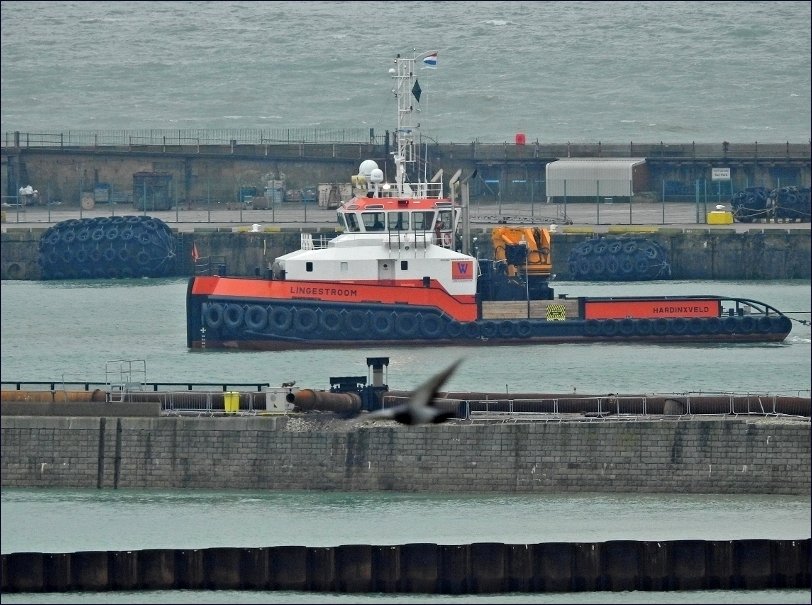 Smashin' clear sequence from Sarah below there of the Lifeboat moving from Granville, well done with those Sarah. You roved over to Dover .. always worth it. Great stuff!


Nice collection Mike..good to see those, particularly fascinating is the one with the bulldozer on the sand in the reclaim zone.

And as mentioned already.. cracker of a night shot from Ed of Elsebeth below.

Looks like we are in for a blustery oul day.. hold on to yer hat


PB.
Wednesday, 22 November 2017 - 07:15
Post 4430
Sarah, Ramsgate
Relief Lifeboat moved from Granville Marina to Dover Lifeboat Station in readiness for her departure from Dover tomorrow.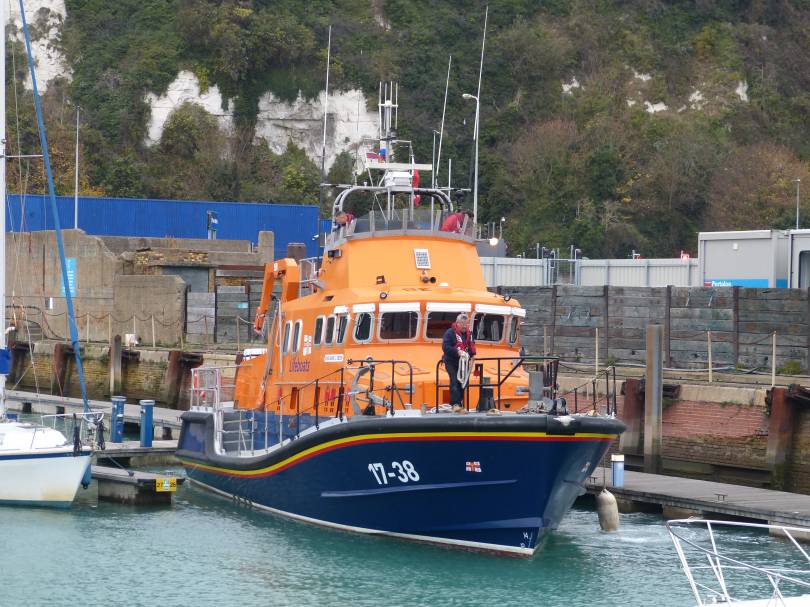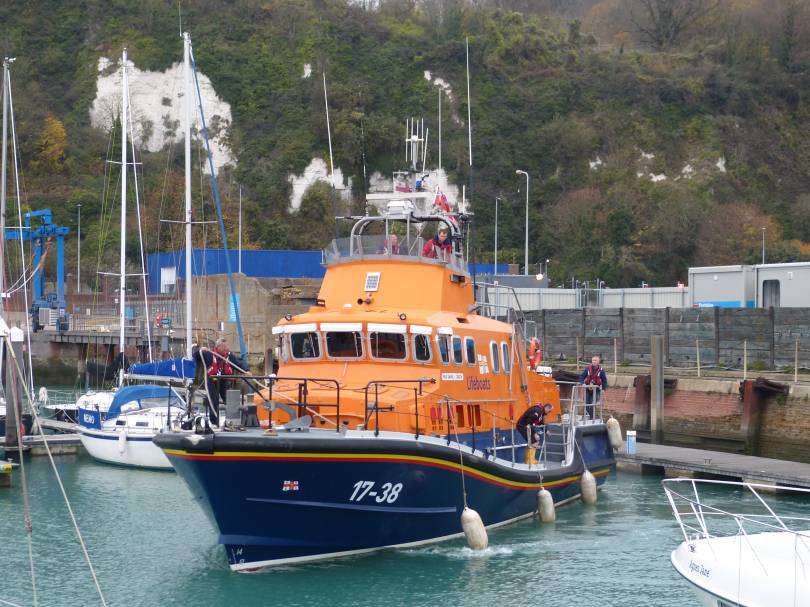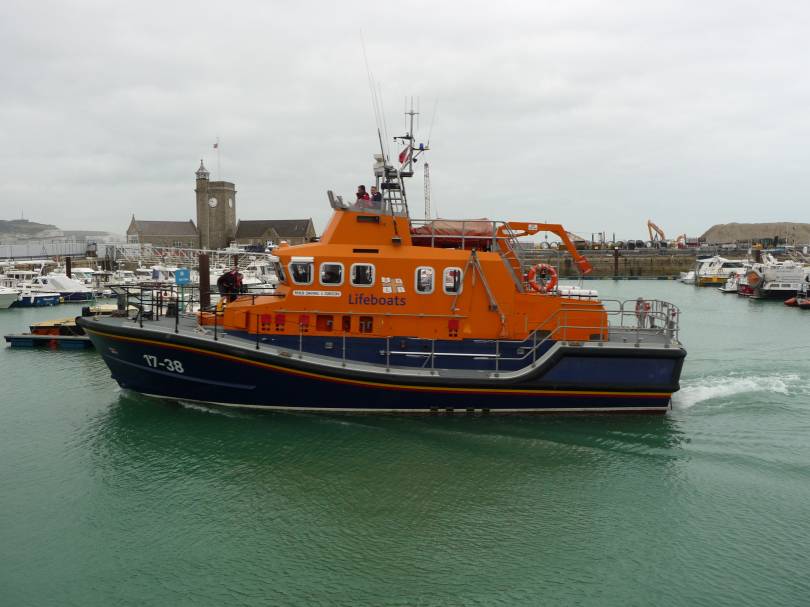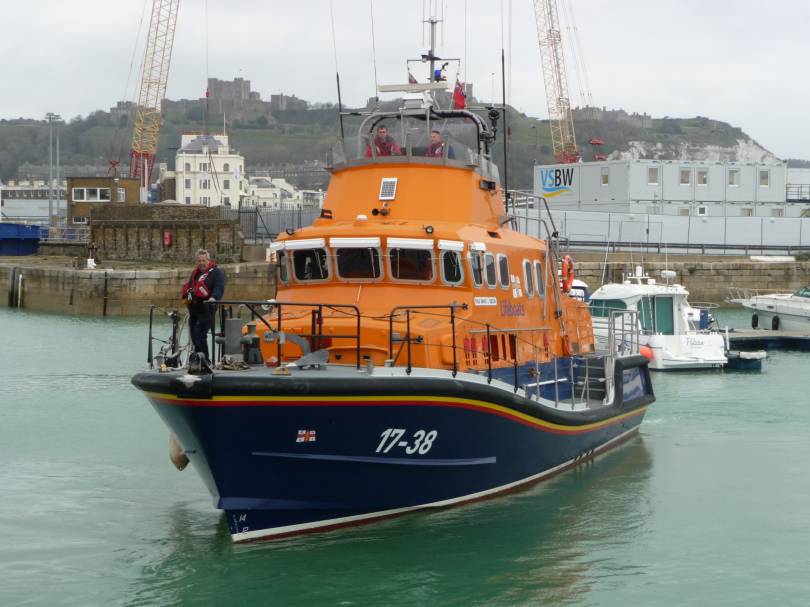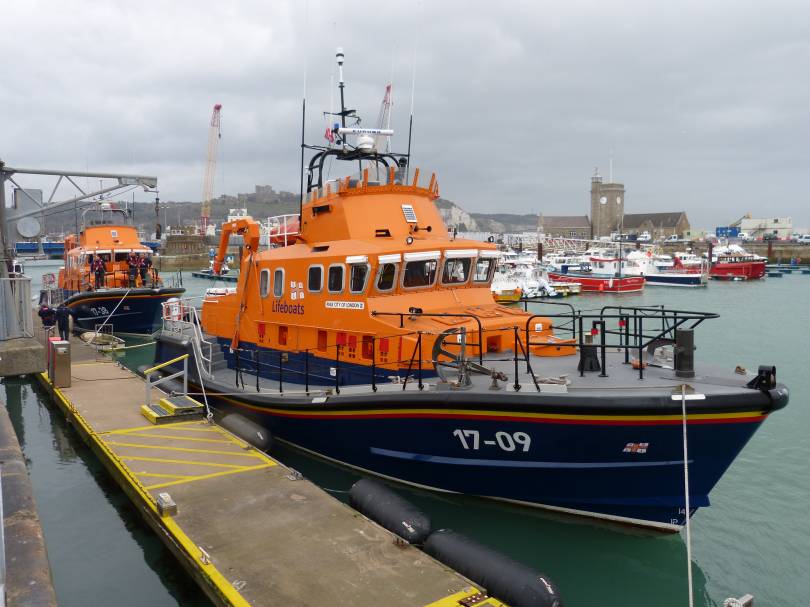 Tuesday, 21 November 2017 - 22:23
Post 4429
Ed Connell, Dover Strait
Elsebeth at the DCT this evening.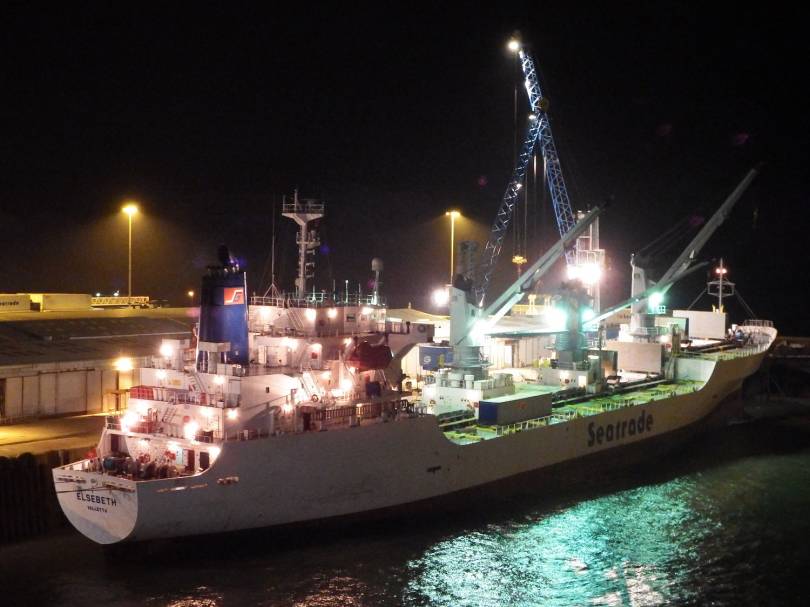 Tuesday, 21 November 2017 - 18:23
Post 4428
Mike J., Dover
The Dutch tug DUTCH PIONEER arrived in Dover on Monday from Lowestoft to tow away the KREEFT.
On Tuesday morning she was alongside the DAVID CHURCH & the KREEFT was in the old Jetfoil Terminal prepared for the tow.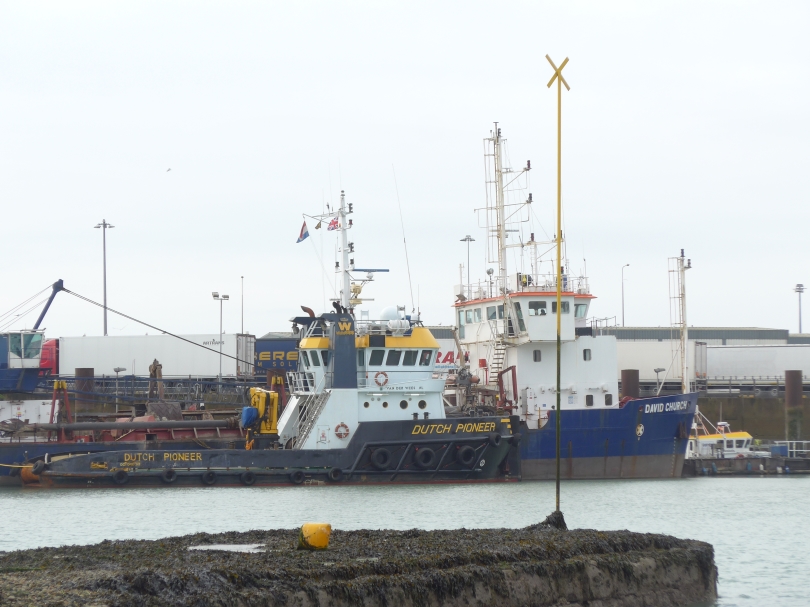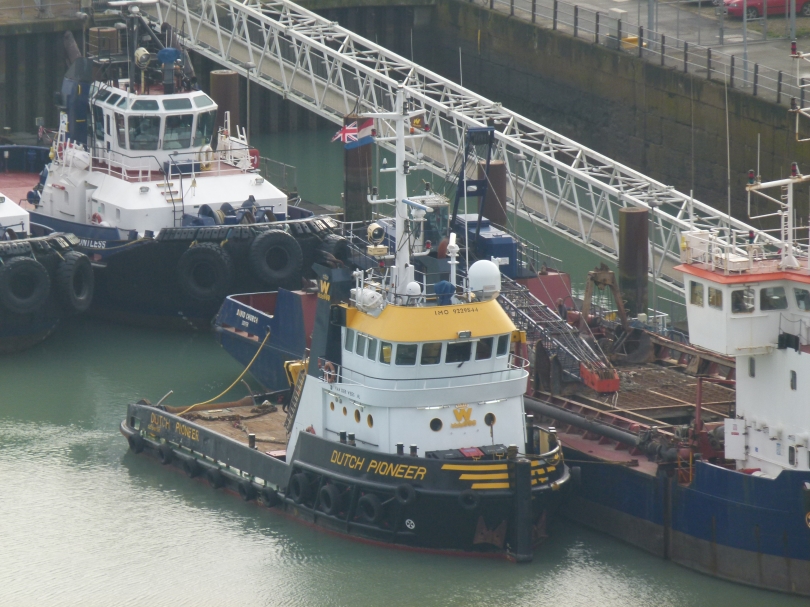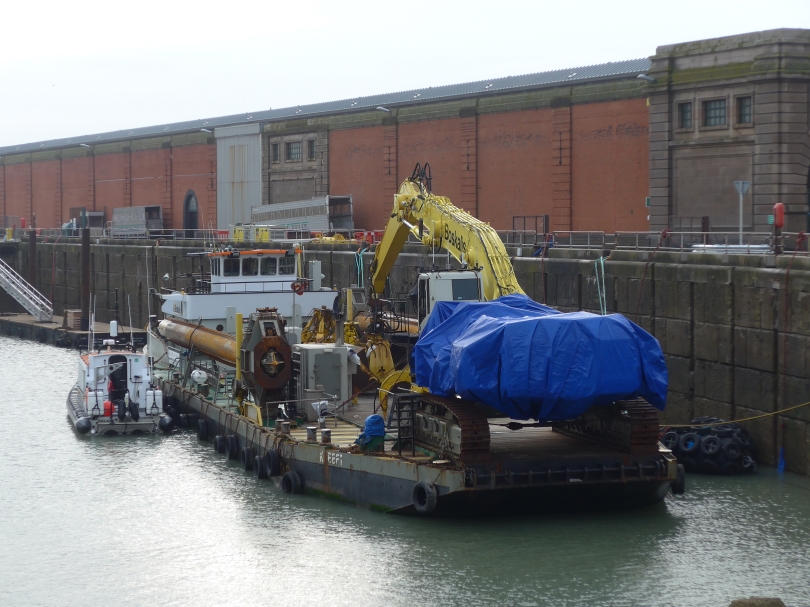 'Dry Land' was starting to appear at about half-tIde in the reclamation area & a bulldozer was busy re-arranging the sand.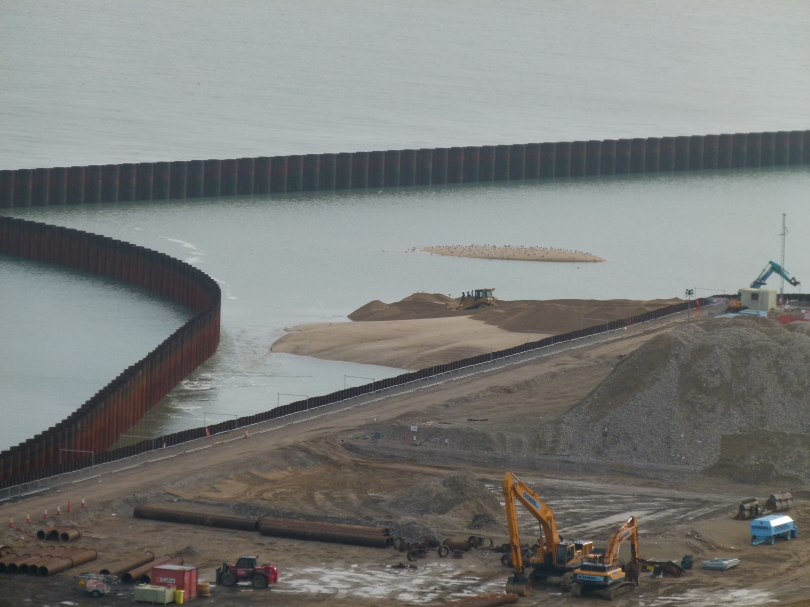 Tuesday, 21 November 2017 - 15:07
Post 4427
Sea News, Dover
SANTA CLAUS IS COMING TO TOWN....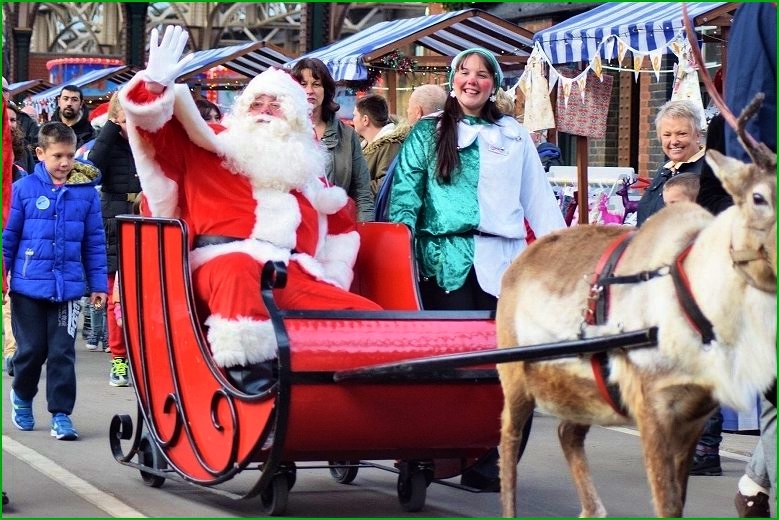 "He knows when you bin sleepin
he knows when youre awake
he knows when you bin good r bad
so be good for goodness sake...."

YES SANTA CLAUS IS COMING TO THE PORT THIS SATURDAY...IT ALL BEGINS NOW...
Join us for the White Cliffs Christmas Opening Event
______________________________________________
We have a packed festive programme in store for our grand opening of the White Cliffs Christmas on Saturday 25 November.
From 10am you can skate on our real ice rink (booking is recommended) or shop at our indoor Christmas Market including arts and crafts from the students makers team, a range of local produce from English Heritage and scrumptious cakes and pastries from Honey Cake Bakers.
From 11am musical entertainment will be provided from the Swingtime Sweethearts, singing songs from their Christmas repertoire. The official opening and welcome from Port of Dover Chairman, Richard Everitt is at 12pm followed by the arrival of Father Christmas on his sleigh guided by his real reindeers. He will then take up residence in his enchanting Marine Station Grotto every Saturday and Sunday until midday 24 December, to greet children with his friendly elf helpers and give out early presents. Children can also bring their Christmas Wish letters to Father Christmas and place them in the special post box.
At 1pm, the unique 12-piece Your Music School Steel Band will add a festive twist to the day followed by the swinging sounds of Michael Buble tribute, Jason Allen Sway.
Talented local bands Cool Maniere and Stellar Talks will also be performing in the evening from 6pm.
The Local photography group Kent Clickers will again kindly be providing photography of the event throughout its duration.
To book Skating and/or Father Christmas visit the White Cliffs Christmas website at: www.whitecliffschristmas.co.uk
ENDS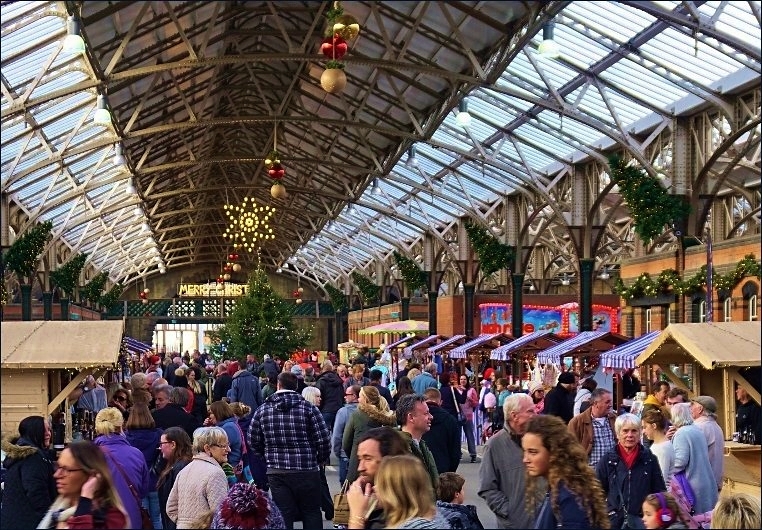 I'll be there for sure...no doubt doing a double pirouette across the ice around midday..


PaulB

Well done Ed. Great stuff below all round. Particularly like that one of the Schweiz Reefer. I may be able to add to those tug shots later when I catch up....

Tuesday, 21 November 2017 - 06:56
Post 4426
Ed Connell, Dover Strait
Tug Lingestroom towing two barges in mid channel today.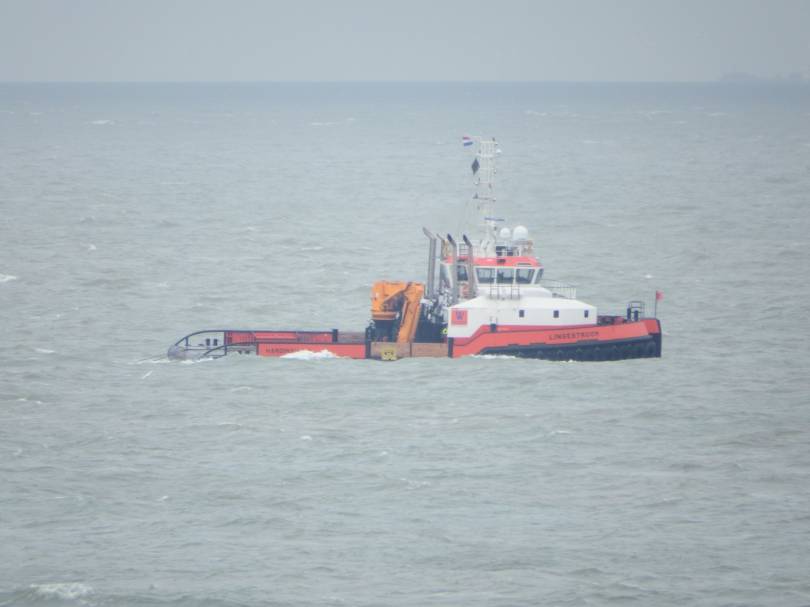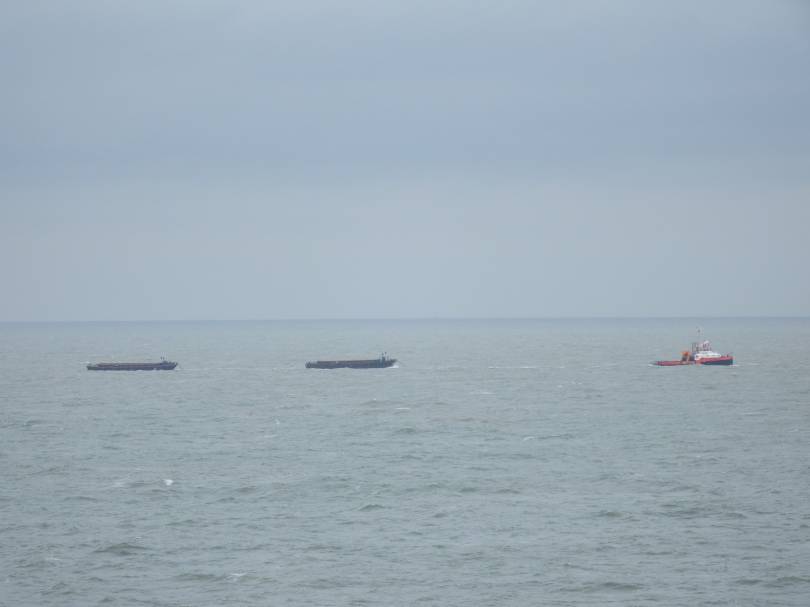 Monday, 20 November 2017 - 12:55
Post 4425
Ed Connell, Dover Strait
Schweiz Reefer at the DCT today.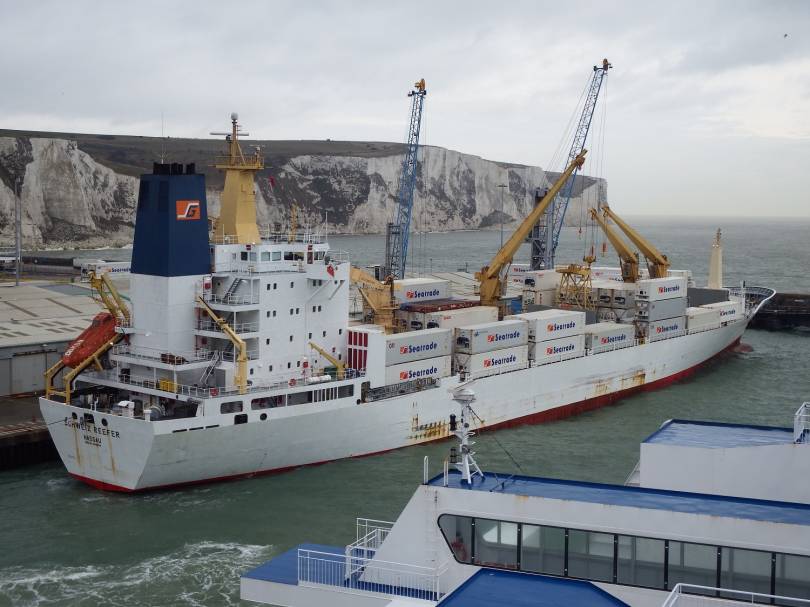 Monday, 20 November 2017 - 12:11
Post 4424
Sea News, Dover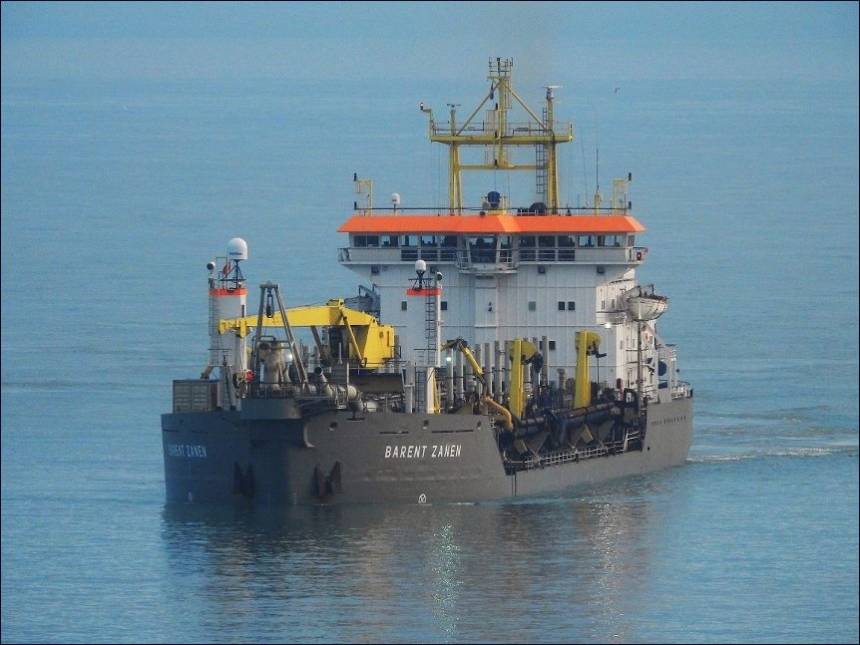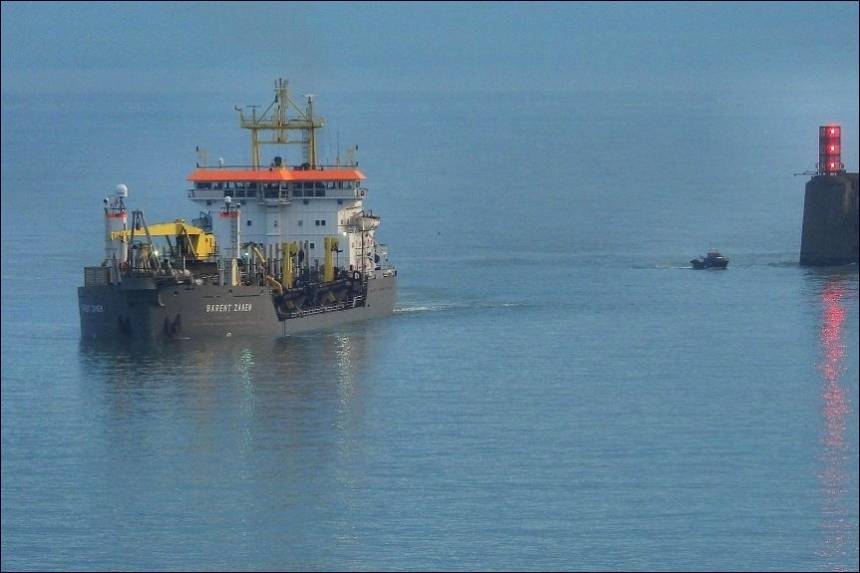 Barent Zanen is back in full action after the brief period off, you will remember the pictures from yesterday, now again she is working day and night. The pictures above were taken in the late evening the day before her bunkering..just catching the warm evening colours as she enters port by the western entrance/exit... I say warm but...
NOW ...the latest newsletter from Charlie Elphicke MP.
Charlie as you know is currently suspended from the Conservative Party pending investigation. Read on...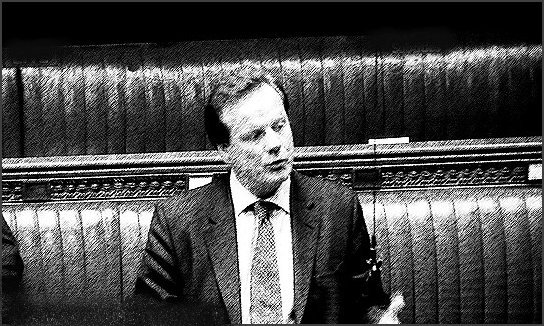 Why the values of our nation matter so much
_______________________________________
The job of the Member of Parliament is not about the Member of Parliament. It is about what you do, the team you build and what you achieve for the people you serve.
We have come a long way together over the past 10 years. We have achieved much and we should be proud of the change we have made together in our community.
Let's remember how things were back in 2010. Our port was about to be sold off. Dover's hospital had been decimated for a decade – services withdrawn and wards axed one by one. Deal's hospital was left teetering on the edge. Deal itself was called a "village" by the Government, unfit for the fast train. Unemployment had rocketed and things looked bleak.
Fast forward to today and there is a brand new hospital in Dover. Deal hospital has been safeguarded. We are now working tirelessly to get more services in both hospitals – to save people long and expensive journeys to hospitals far away. We stopped the port sell off and it is now not just forever England – it has been reformed to bring it closer to the community. The fast train now sweeps into Deal all day, every day and Deal is a town transformed. In Dover Burlington House is gone and a new shopping complex rises in the heart of the town. Unemployment has halved. Ours is a community on the up.
Just this week hundreds of letters have gone out to constituents. Whether it's fighting their corner on issues such as housing, health or getting a decent bus service – this work goes on, and will continue to do so. I am still holding surgeries, doing everything I can to help people. It's business as usual.
I write this because sometimes I need to remind myself as well as our team why we do it and why it's all worth it. And I want to thank the hundreds of well wishers from across Dover & Deal – indeed across the whole nation - who have got in touch in the past week.
So what then is my explanation for what has happened and what I am accused of? I cannot give one. Because, two weeks on, I still do not know.
But let me say some things about the way matters of this sort should be handled. First, there must be a fair due process for people who are the victims of crime – and fair due process for those facing allegations.
Moreover in the febrile atmosphere that grips our country from time to time, we must never rush to judgement. We must not confuse accusation with proof. We can never muddle courts of law with courts of social media and public opinion. Nor should we confuse prejudice with fact. The whole area of reporting misconduct and managing allegations of misconduct in public life is a mess. I have every sympathy with people who have been harassed or victimised and feel they have nowhere to turn. That is a denial of justice.
It is also a denial of justice when people who have had allegations made against them, lose their job or their party whip without knowing what those allegations are. The more so as political parties are quick to panic and throw people under the bus for the expediency of looking tough and strong. That is fundamentally wrong. Wrong because it's an injustice to those who stand accused – and in at least one case the humiliation has tragically proven too much to bear. But also wrong because it undermines our fundamental values as a country.
We believe in the rule of law – that everyone, be they so very high or so very low, should be equal before the law. We believe in the presumption of innocence until proven otherwise. We believe in natural justice. These are cornerstones of our constitution.
It was not in keeping with these values that the media were told of allegations made against me last week before I was. It was not in keeping with these values that the presumption of innocence was undermined by the panicked action of my party. And it was not in keeping with these values to cause prejudice and harm the chances of my getting a fair hearing.
Whatever it turns out I stand accused of, I deny any criminal wrongdoing. I cannot deny that the pressure of these events has taken a heavy toll on me and my family. Yet I will stand fast to our values and do all I can to uphold them, whatever the price may be. I am not here for myself, but for the people of Dover & Deal – the people I serve.
I have always done my utmost to work hard for our community. And I am resolved to continue to do so. I have always put all my energy into fighting for the people of Dover and Deal – and I am resolved to continue to do so.
For me, the interests of the people of Dover & Deal will always come first.
Charlie Elphicke MP for DOVER and DEAL.
* *
Thanks to Charlie for the piece above.
Good to see those shots below from Dunkerque West Ed..great to get them as always. Paul.
Monday, 20 November 2017 - 06:44
Post 4423
Ed Connell, Dover Strait
LNG carrier Al Dafna approaching Dunkerque West at lunchtime.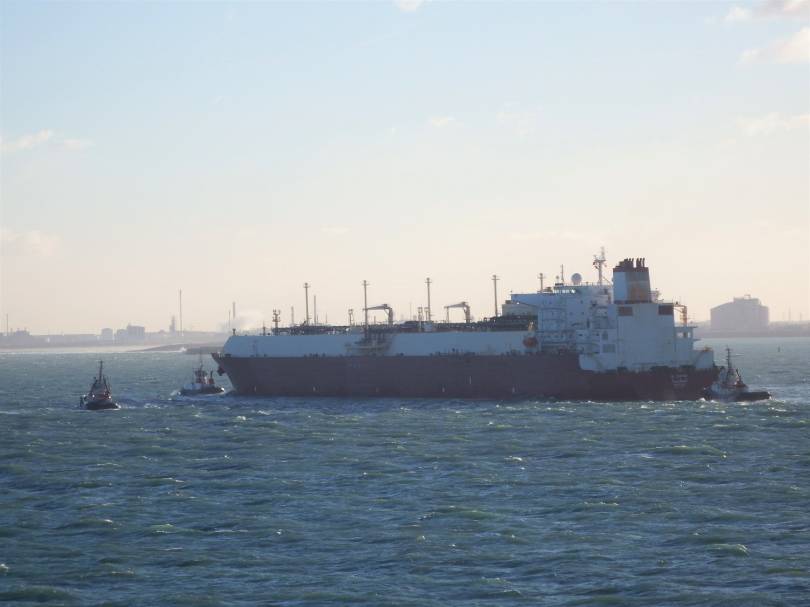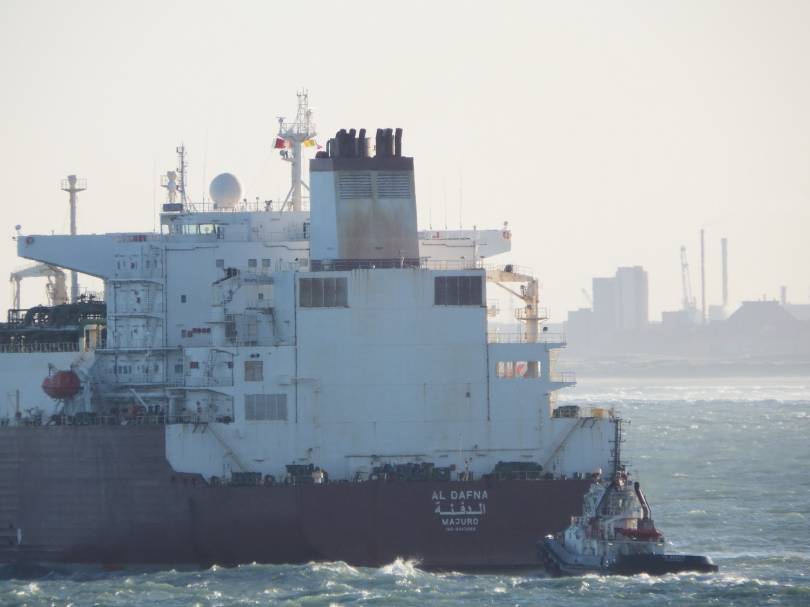 Sunday, 19 November 2017 - 12:23
Post 4422
Sea News, Dover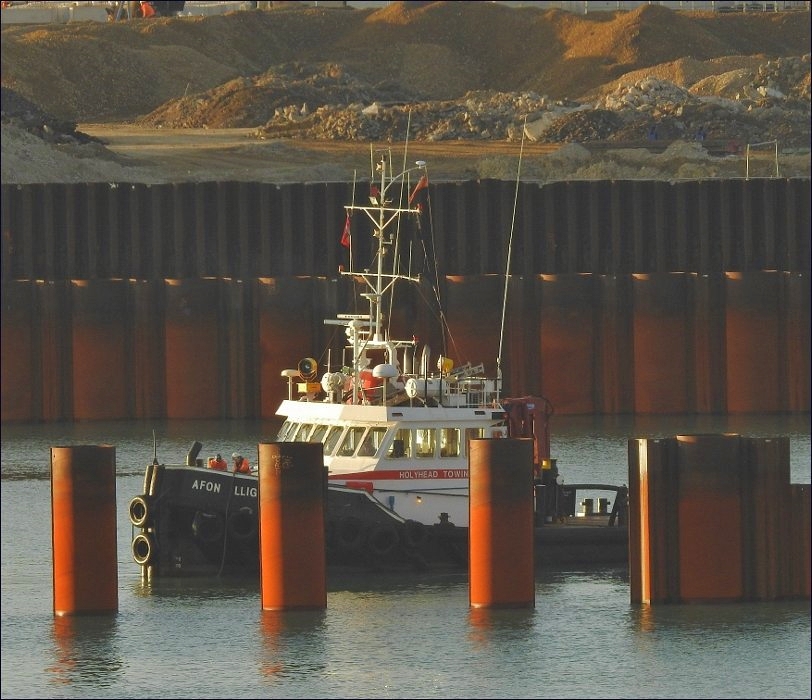 That's a shot above there of Afon Lligwy working hard amongst the piling yesterday morning, both the tug and the piling catching the gorgeous early morning sunlight. That sunlight soon vanished of course...
The ever hard working dredger Barent Zanen was taking a breather yesterday over near cruise terminal 2 and in time was joined by Skaw Provider, presumably for bunkering services. A couple of longer range shots here..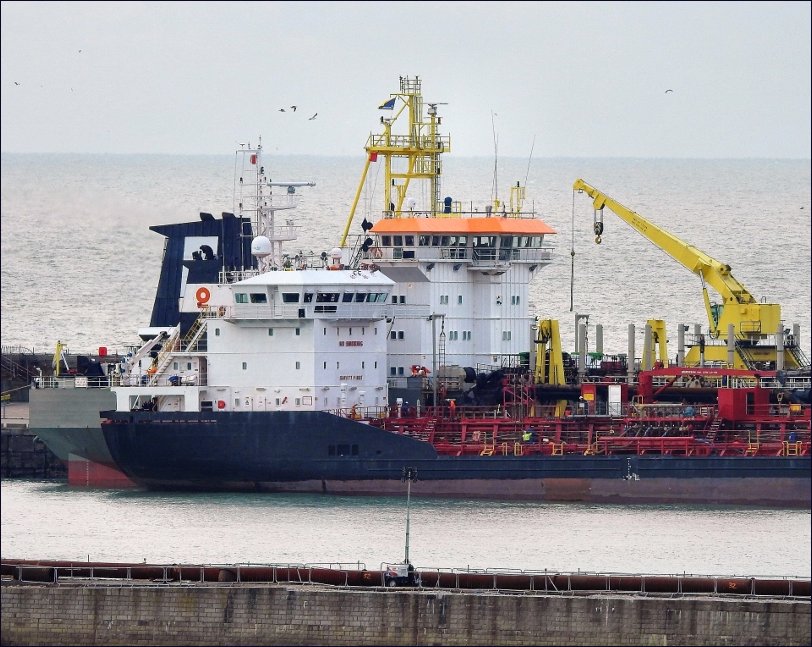 Cracking set of pictures below Patrick, its great to have those. Ace work. We can clearly see the fuller picture now..

PB
Sunday, 19 November 2017 - 06:50