Friday, 25 May 2018

WWW.DOVERFORUM.COM/SEA-NEWS
Doverforum.com: Featuring all the ships that come and go and work at the Port of Dover with further coverage of the surrounding towns both sides of the Channel. Email: dover7@msn.com to send SEA NEWS pix or info....
or click ADD YOUR COMMENT below to post direct, no membership needed.
PORT OF DOVER: Konecranes for new Cargo Terminal 4916.
PORT OF DOVER: £21 Million DWDR 'paving plus' contract awarded 4895.
PORT of DOVER - three cruise ships, one day 4885.
DFDS Charters New Ship see 4866.
New Marina Pier ... Latest...see 4861.
P&O FERRIES presents big cash to RNLI Dover...see 4829.
PORT of DOVER: Chief Executive TIM WAGGOTT Resigns...see 4778.
P&O FERRIES recruiting...4745.
PORT of DOVER awards Cargo Refrigeration Contract see 4740.
PORT OF DOVER: Community Benefit 4688
TRADING GROWTH FOR DFDS DESPITE BREXIT see 4642
PORT OF DOVER RECORD FREIGHT see 4551.
PORT OF DOVER: GEEST LINE arrival see 4597.
SECOND FEMALE CAPTAIN FOR P&O see 4608.
Sea News Dover :
Use our SEARCH ENGINE below to find all sorts on the SEA NEWS pages..more than 240 now with more than 4750 nautical posts. Posts welcome. Max of 5 pictures preferred per post.
Type CRUISE VISITS in our SEARCH ENGINE below for news of the latest arrivals.
Sea News Editor Paul Boland - dover7@msn.com .
Post 4792
Sea News, Dover
Pacific Reefer and tug Dauntless at the Port of Dover.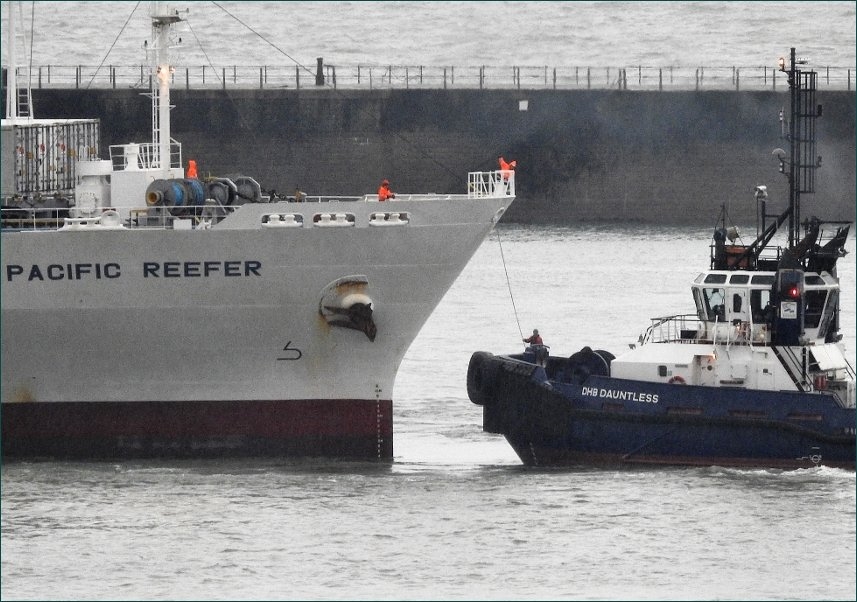 Some more pictures of the Pacific Reefer now, yours truly just catching up on the busy busy Port situation over the past few days. These pictures show her arriving on..ermmm..let me see..yes late Monday afternoon around 5.20pm. You can see a crewman on the bow of Pacific Reefer getting a line to the newly returned Dauntless tug. Similar picture below but zoomed in more. Further below a general shot which makes a chap grateful for Ed's closer pictures from the DCT..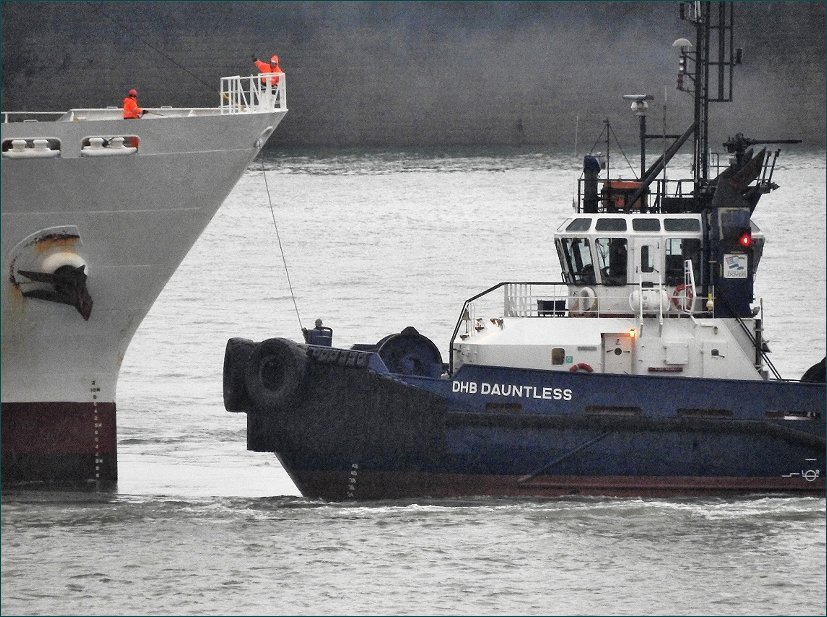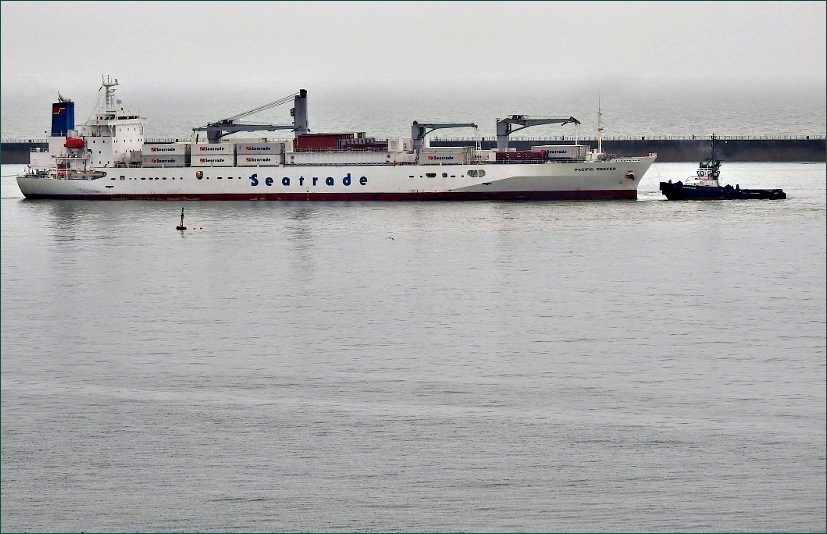 I have been asked what the dark speck in the water was as cruise ship Boudicca departed, see the picture in the post below. Well here we are...its a 'Man in an Orange Dinghy' . I didn't have a separate picture but have enlarged the small section of the main shot and yes here we are... it was choppy windy and wet out there...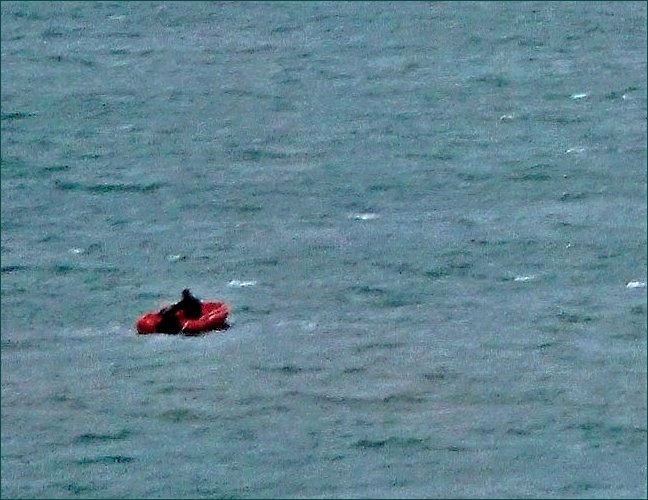 PaulB
EXTRA: The magnificent AIDAsol approaching.
Wednesday, 4 April 2018 - 06:00
Post 4791
Sea News, Dover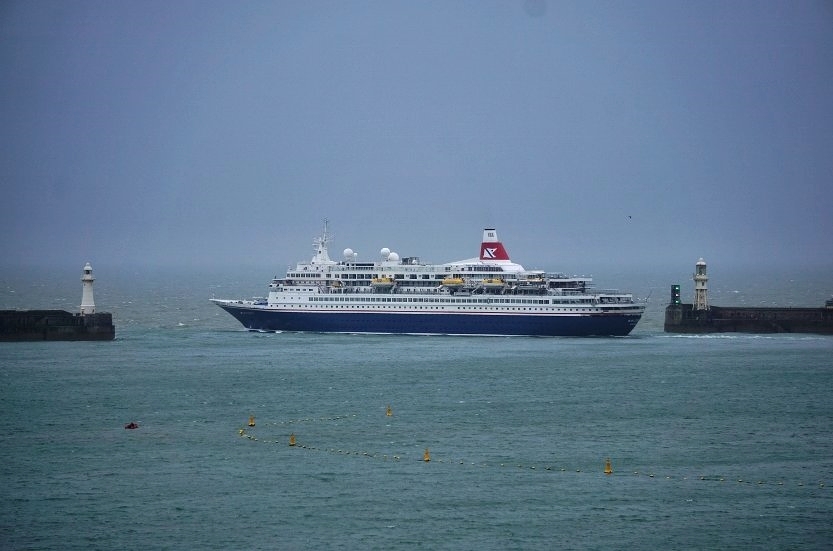 Boudicca leaving us here at the Port of Dover just a short while ago...5PM to be precise-ish. Once again the gloomy drizzle played a part in the departing picture. Bound for Hamburg she was .. her first stop on a German Waterways tour....
Many thanks for those pix below Ed. Great to get those angles for sure.

Will have more of Pacific Reefer following along soon too.
PB.
Tuesday, 3 April 2018 - 18:32
Post 4790
Ed Connell, Dover Strait
Boudicca at CT2 and Pacific Reefer at the DCT today.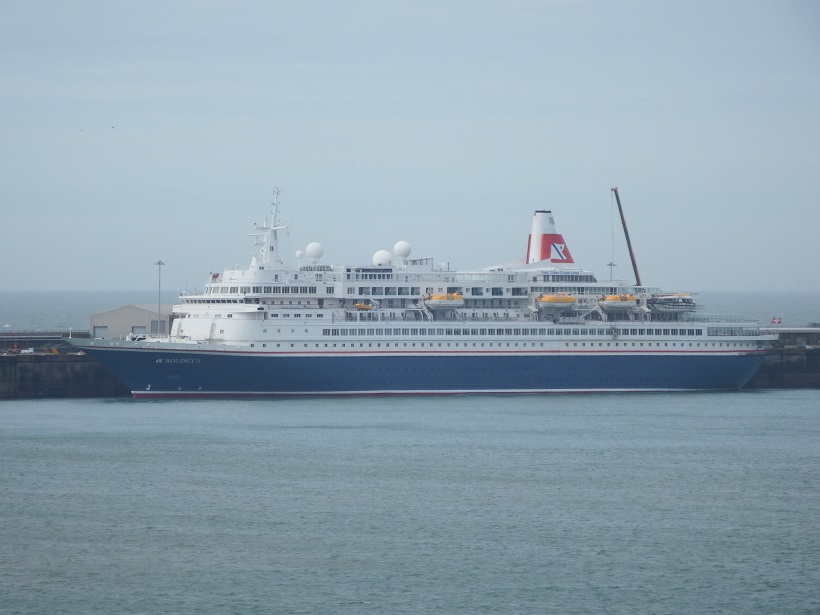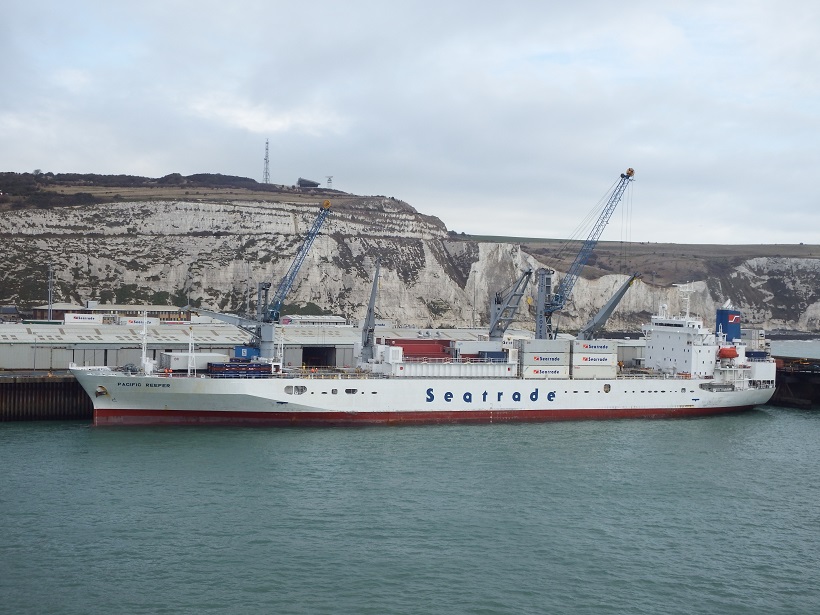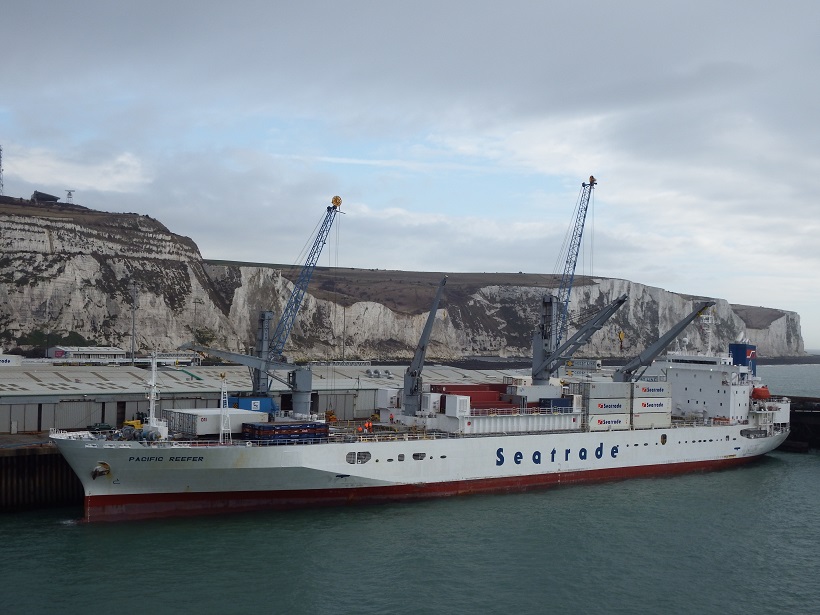 Tuesday, 3 April 2018 - 09:24
Post 4789
Sea News, Dover
A cracking picture in the post below from Ed of the just arrived Pacific Reefer, but just before she arrived yesterday the Baltic Klipper left us for Flushing with a packed load. We have a fascinating picture of Baltic Klipper below, not from Dover at all, but from the other end of the line... sent over yesterday by MICHAEL COMFORT of Deal ... huge thanks Michael.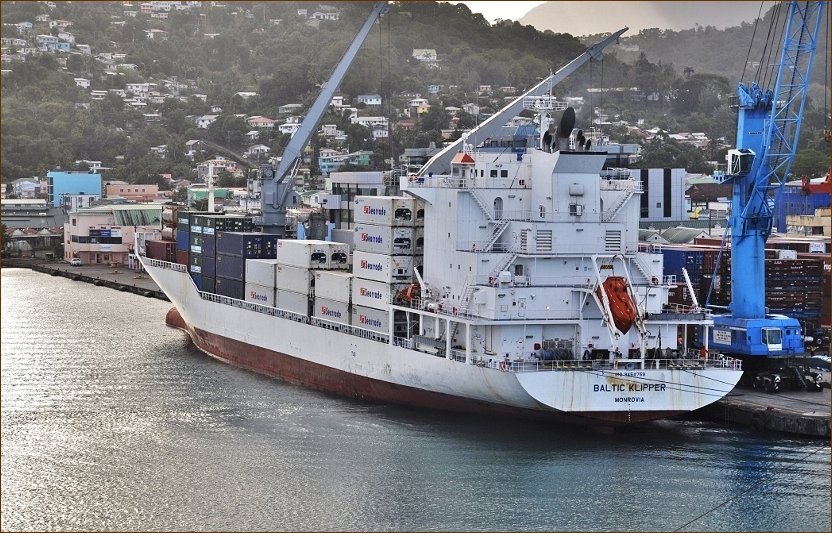 I will let Michael's email explain more...
Dear Paul
Thankyou for the site and information with pics you constantly deliver - always of local interest.
Thought you might like to have the enclosed snap of one of the Dover regulars, probably at other end of his journeys.
For the record it was taken on 13th March 2018 at Castries, St. Lucia. - must be on the banana loading.
Best wishes
Mick C.
Deal
And here she is leaving with a full load yesterday about 6.15PM. Unfortunately sods law .. just as she was leaving it started to rain. So these pictures are a bit less exotic.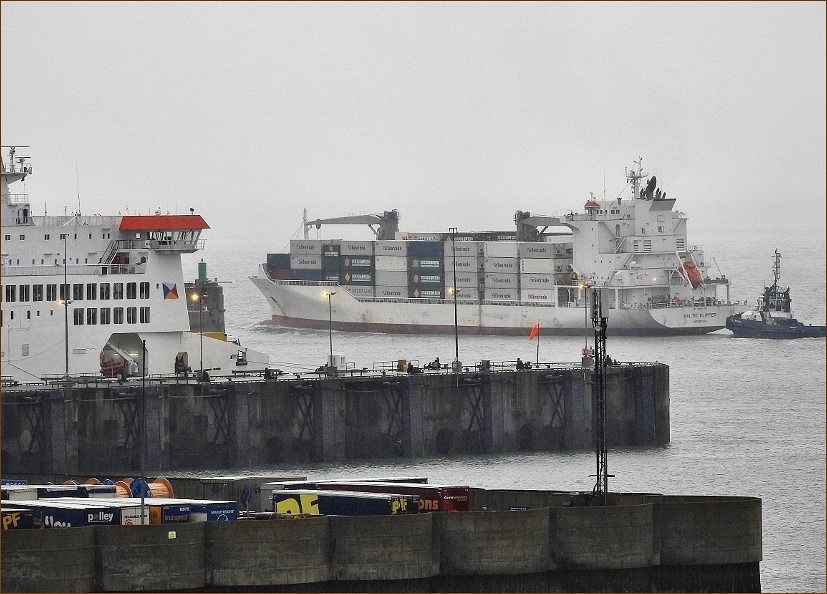 Will add this extra one below . Pictures are a bit forced because of the conditions. But as soon as Baltic Klipper left us Pacific Reefer came right in ...within minutes..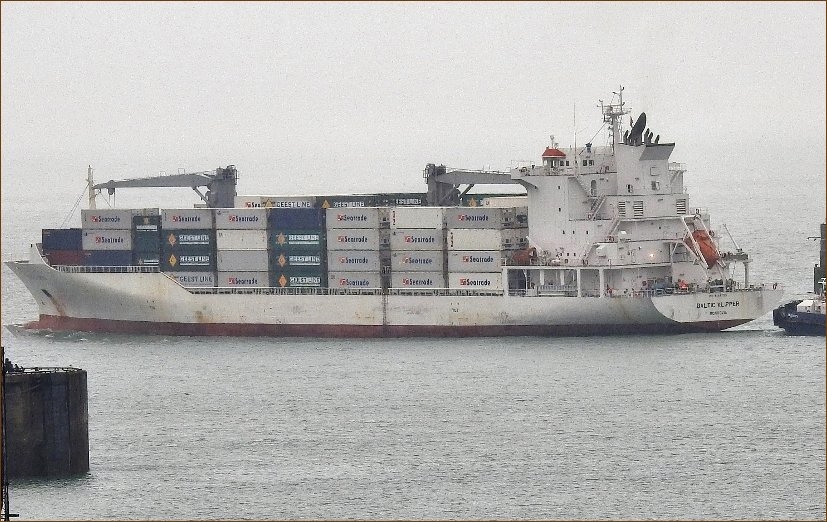 Great picture below Ed of Pacific Reefer...those night shots always tricky.

PaulB
PS: Boudicca back in Port.
Tuesday, 3 April 2018 - 07:26
Post 4788
Ed Connell, Dover Strait
Pacific Reefer at the DCT tonight.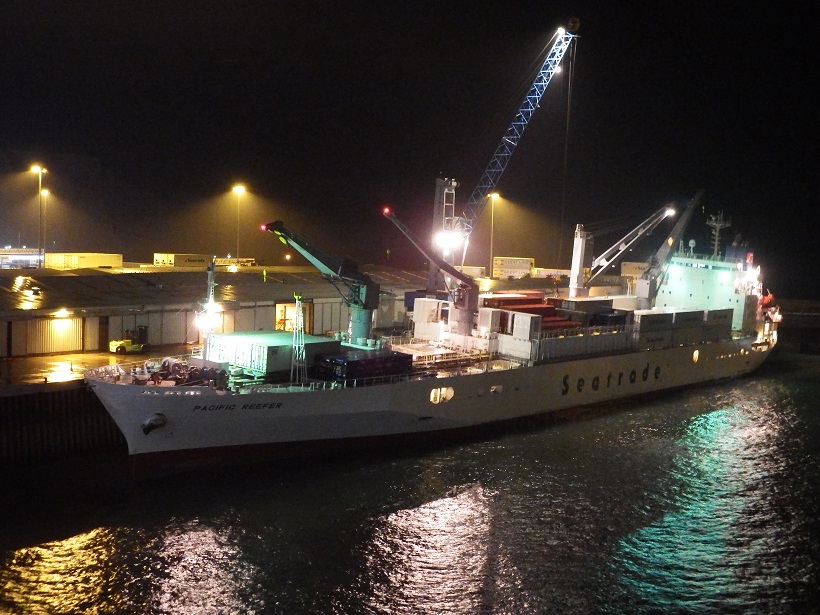 Monday, 2 April 2018 - 22:04
Post 4787
Sea News, Dover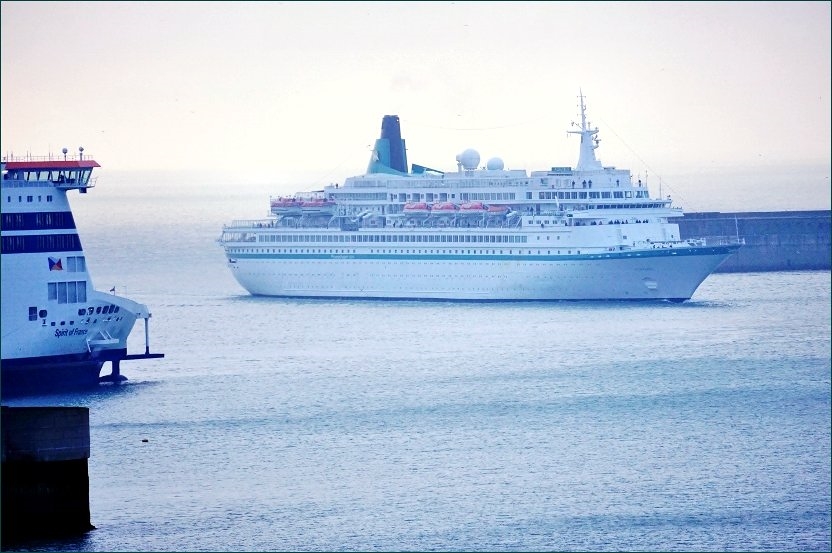 Albatross was in with us yesterday as mentioned, and there she is. Top shot is a bit wishy-washy unfortunately but shows her arriving during the misty morning. The pic below is from a while later looking across some of the DWDR workings. There are better pictures of Albatros ( or Albatross) in the system, just type the name in our search engine and you will see those.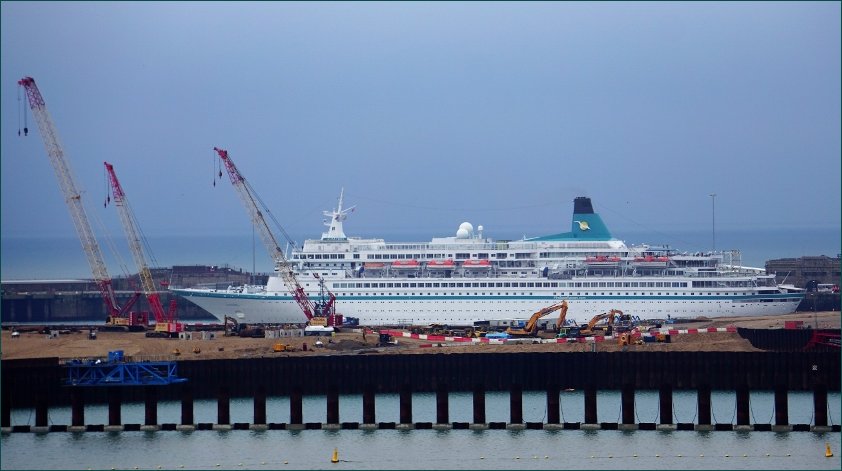 Ah love that one of the 'Bunny on the Bridge' Ed
left it in top slot most of the day...nice to see those pix of the Polish Squadron car too. Great stuff all round

Monday, 2 April 2018 - 15:04
Post 4786
Ed Connell, Dover Strait
Easter bunny on the bridge of the Delft Seaways.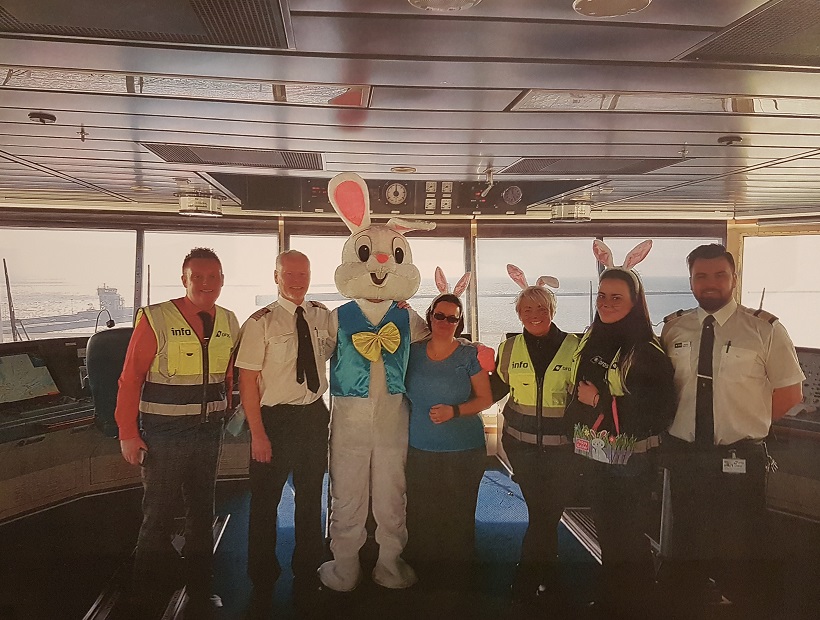 Car adorned with wrap representing 303 Squadron RAF which was comprised of Polish pilots and was the most successful unit in Fighter Command during the Battle of Britain.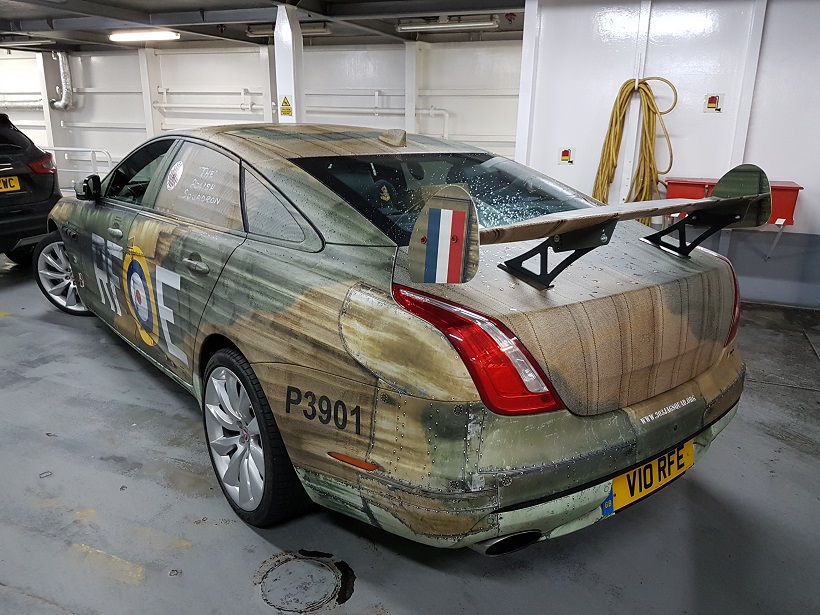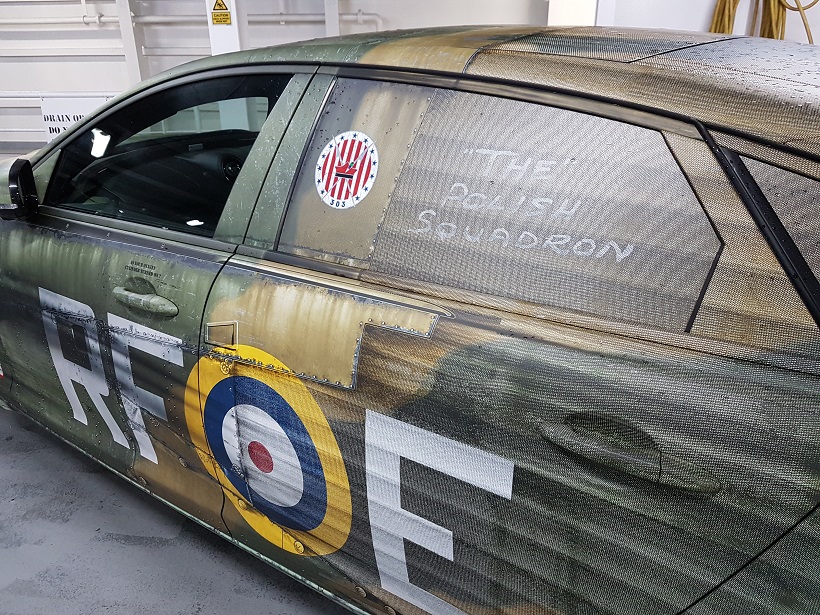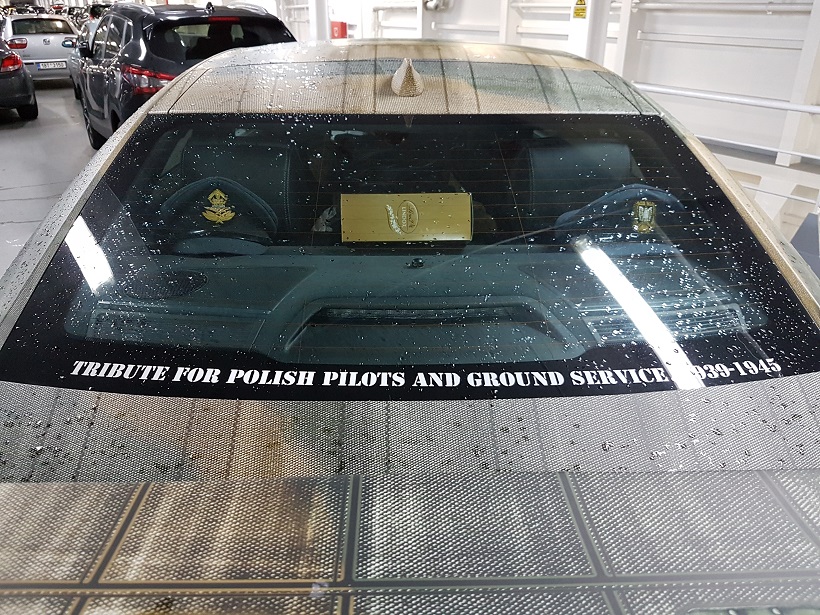 Monday, 2 April 2018 - 00:38
Post 4785
Sea News, Dover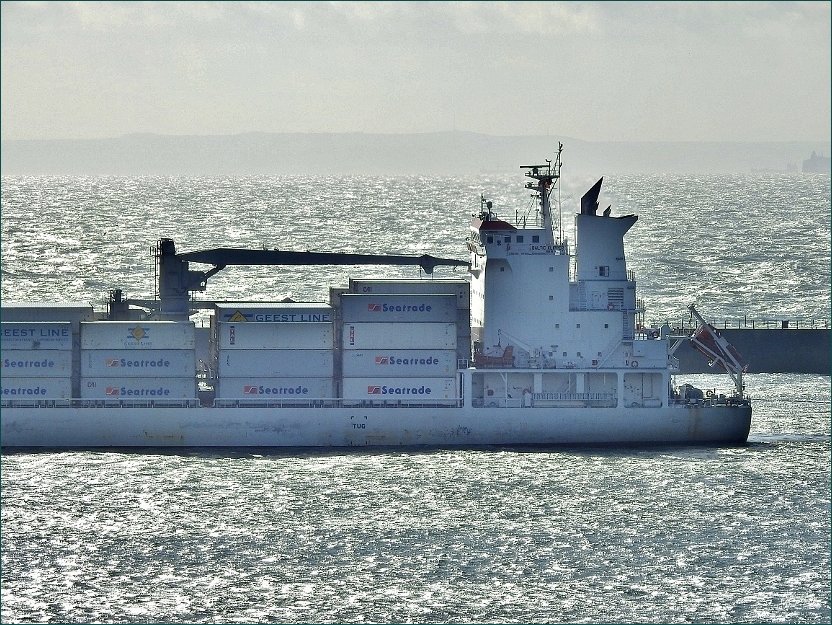 That's a picture above there of Baltic Klipper arriving yesterday mid morning. Unfortunately .. the blinding light reflecting off the water made it near impossible, for a better overall picture see Ed's shot in 4780.
Last night there was a huge and impressive walk along the seafront in support of those with Breast Cancer. The seafront was blocked off for most of the day while they readied for the event. Then Dover Castle went red/pink in support... a very impressive walk indeed with literally hundreds and hundreds of people.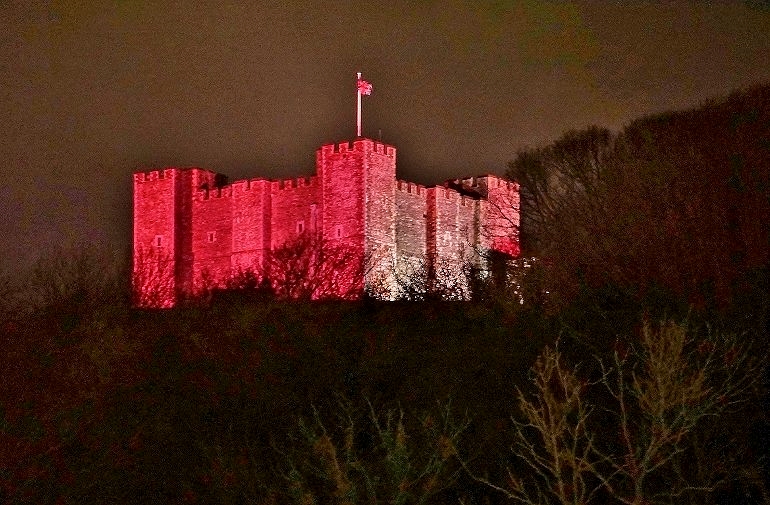 As mentioned above .. see Ed's shot of Baltic Klipper further below. Nice one Ed

Well done Ted re that collection from Granville Dock. David did well there. Fascinating stuff!

Colette thanks for that LIST again. Great info there...Albatross is approaching as I write... well done.

Glad you like that one Del...lots more to come ..

Thanks for that info Vic.

PaulB
Sunday, 1 April 2018 - 07:12
Post 4784
Del Styan, Norwich
Love the shot 4779, showing in detail the Opal Coast in the background. Your long distance shots from the Observation Tower really narrow the distance between the French coast and us.

Saturday, 31 March 2018 - 23:22
Post 4783
Colette B, Dover
CRUISE VISITS
____________
I can't believe it's April already

and we have a 'Bevy of Beauties' visiting the port this week.
We start tomorrow, Sunday 1st April, (All Fools Day) with Albatros seen here in May last year.
She is calling in from Hamburg on her 7 night Easter English Channel cruise, arriving here at CT1 08.00 hours, visiting Le Havre, Portland, Zeebrugge, Ijmuiden before dropping anchor back in Hamburg. She leaves us at 20.00 hours, PoC.
She has just returned after a whopping 100 night cruise from South America to her home port of Hamburg, Wowser!

Then on Tuesday 3rd April, once more we have the old girl herself, Boudicca, arriving at CT2 06.30 hours before setting off on a 10 night Round trip of the German Waterways. Calling at Hamburg, Kiel, Travemunde, Warnemunde-Rostock then back through the Kiel Canal on to Bremerhaven before her return to Dover. She departs at 17.00 hours, T/R.
Some good friends of mine are on this cruise and are looking forward to a day trip visiting Berlin

The following day Wednesday 4th April we welcome back another smiling face, AIDAsol, arriving at CT2 at 08.00 hours, last seen here in August 2017. She is on her way to her home port of Hamburg via Amsterdam on her 13 night cruise from Las Palmas in the Canary Islands after calling at ports in Spain, Portugal and France. She leaves us at 20.00 hours, PoC.
Beautiful Sunrise photo MrB, very fitting for Eastertime. Happy Easter to everyone

See you soon...

Saturday, 31 March 2018 - 19:46
Post 4782
victor matcham, dover
Great photos of the old docks and dockside cranes and yes it was part of my job at the time to keep maintenance and the welding up to working standard which I done at weekends.

Saturday, 31 March 2018 - 16:00
Post 4781
Ted Ingham, Canterbury
'FIVE IN THE GRANVILLE'
Five coasters that were regular visitors to the Granville Dock.
The Ardingly,Argus Pride,Christopher M, Glen Cree and the Luminence.
As part of the DWDR this will eventually be filled.
All photographs taken by my brother David.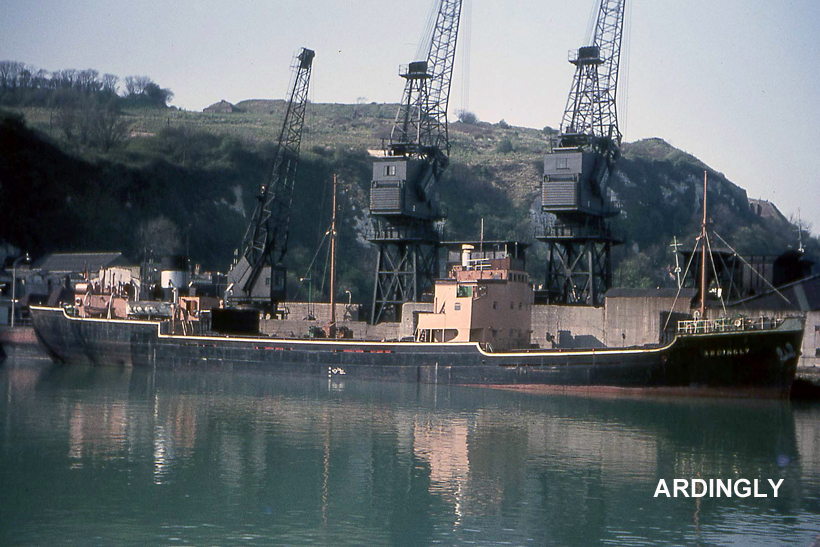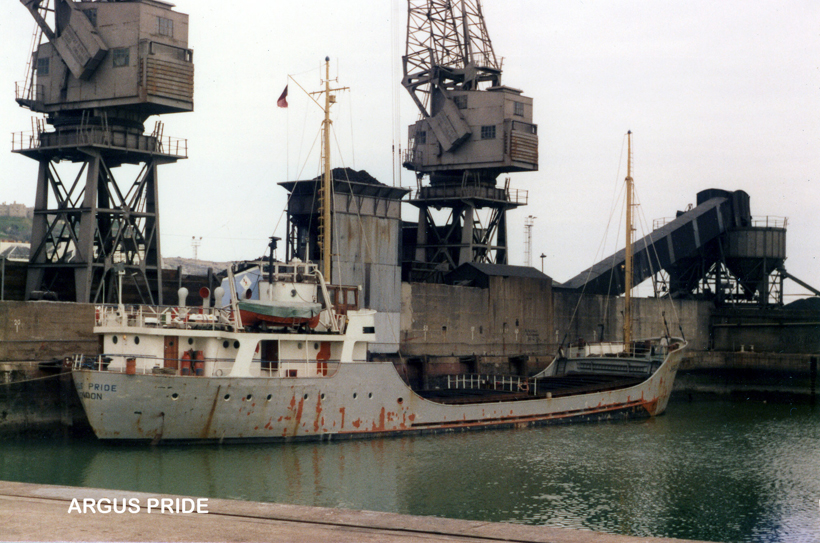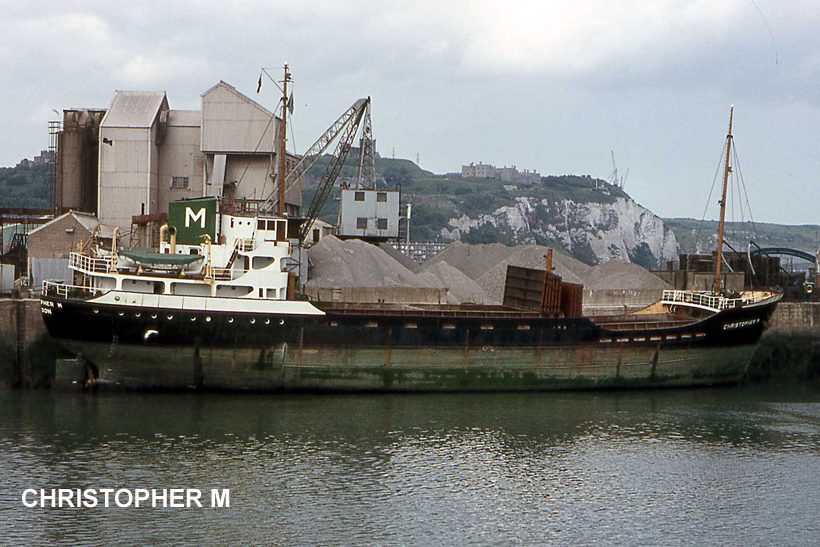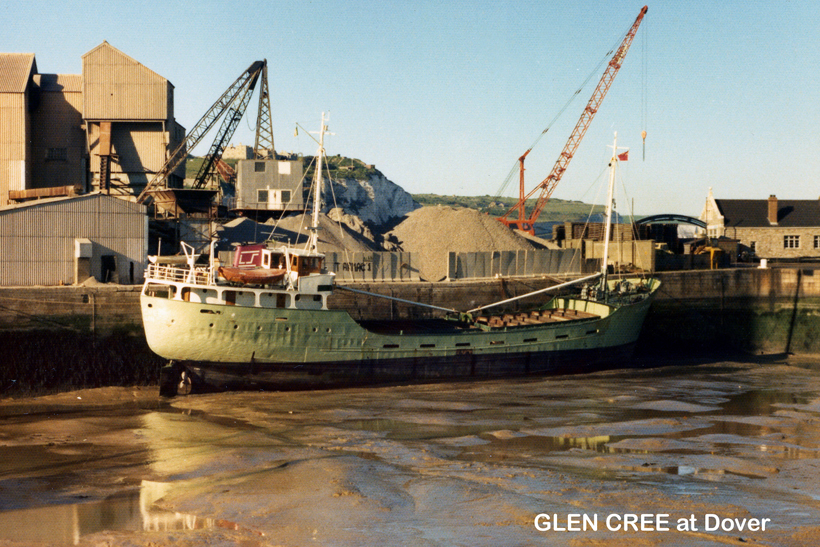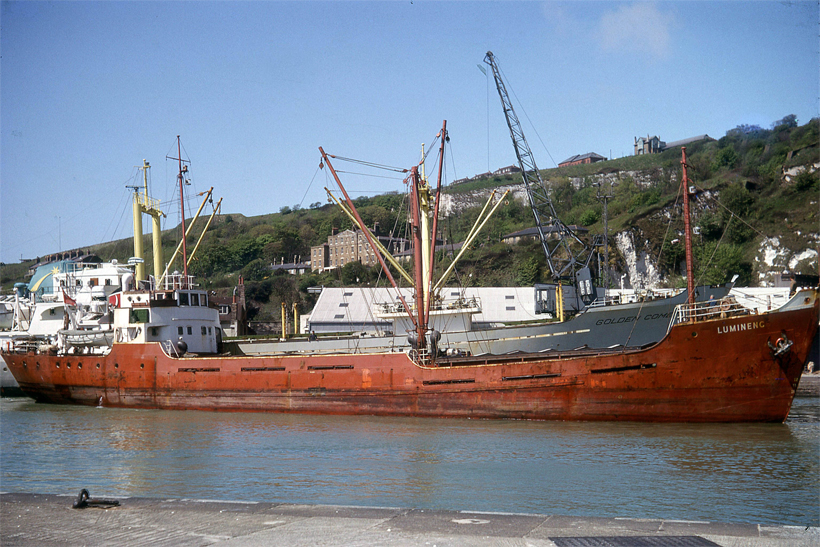 Saturday, 31 March 2018 - 15:43
Post 4780
Ed Connell, Dover Strait
Baltic Klipper at the DCT today.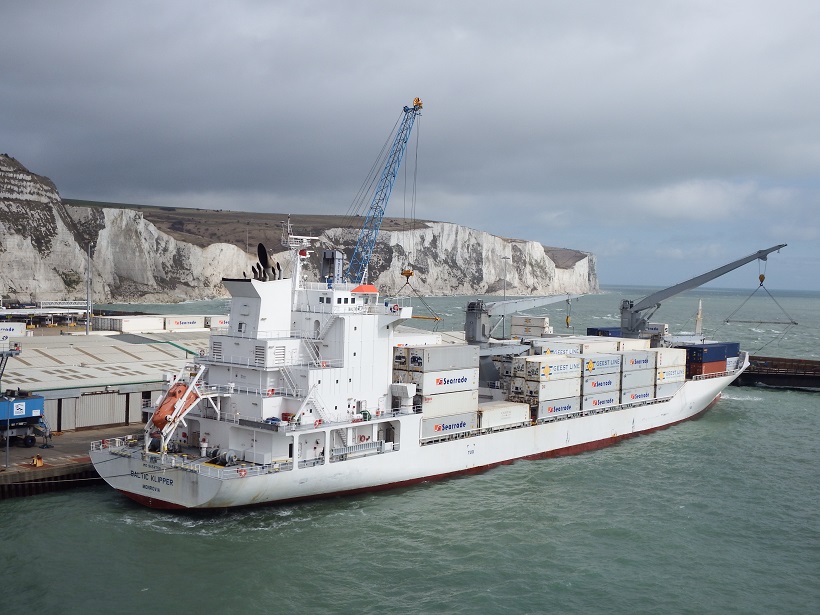 Saturday, 31 March 2018 - 12:05
Post 4779
Sea News, Dover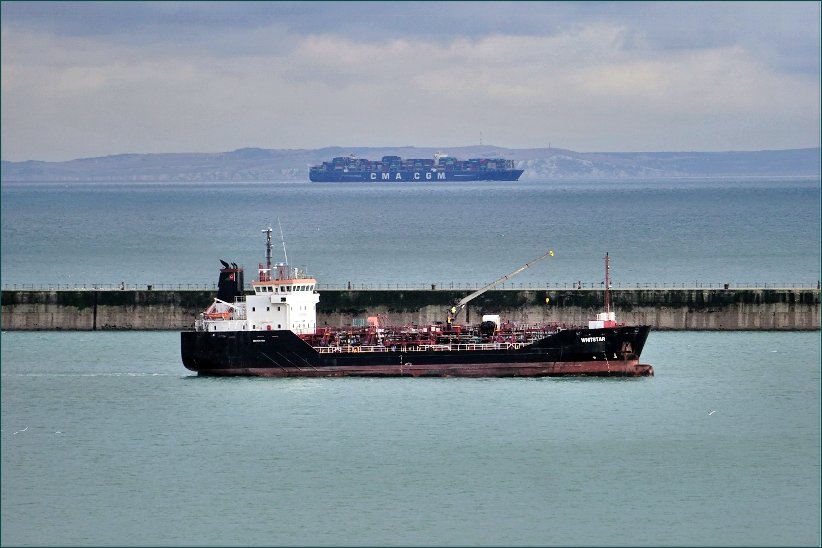 Shortly after the arrival of Boudicca the other day...Whitstar above came into view and into Port. She had come to supply bunkering services to the aforementioned cruise ship and she did indeed. In the far distance there you can see one of those great CMA CGM monsters going down the channel. Alas yours truly didn't get the name of that one - made a mental note to do it...but...simply forgot. Grrrrrrr..

And then in due course Boudicca was off on her mysterious 'mystery cruise' and hopefully they are all having a jolly good time of it onboard.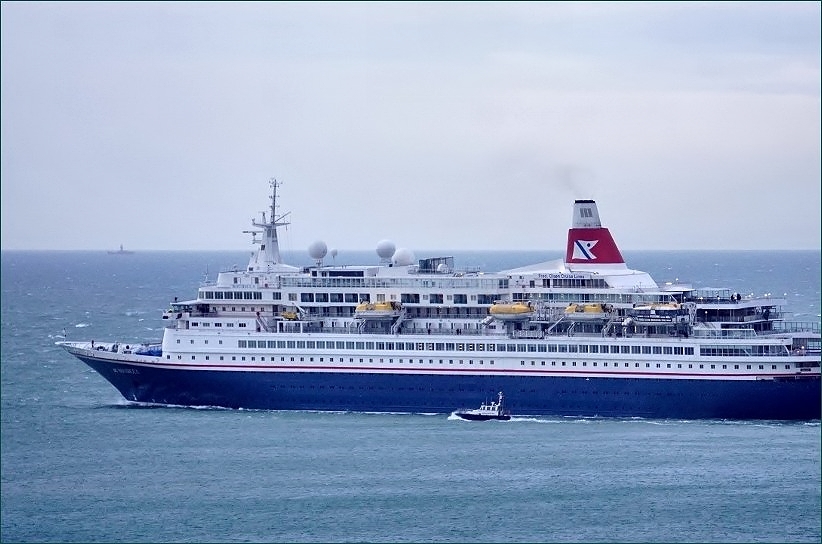 Yes she's leaving .. and just as the pictures were being taken, camera A runs out of memory. 'Oh fiddles' says I, or words to that effect... camera B then hurriedly comes into play. Note the different colour balance.
Anyway , we got there in the end.... sort of..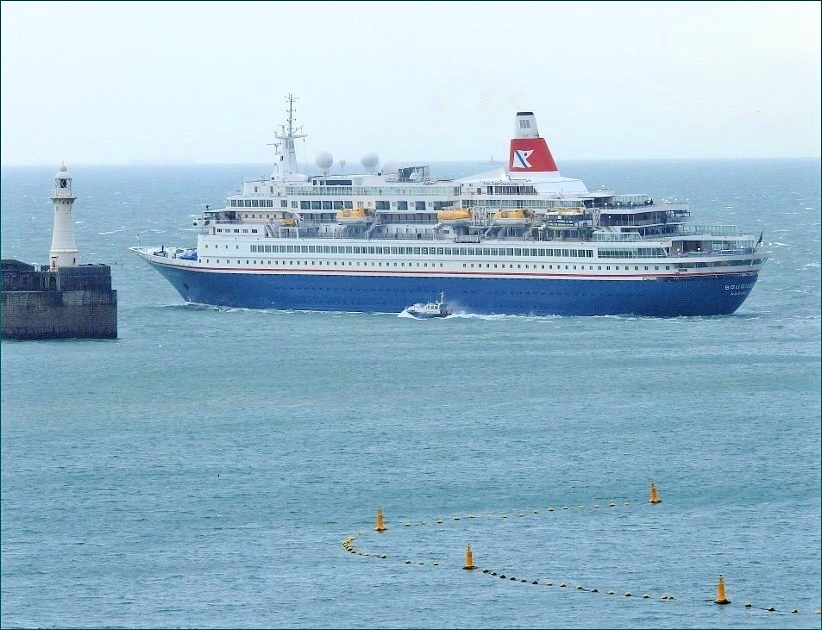 PaulB
Saturday, 31 March 2018 - 04:44
Post 4778
Sea News, Dover
Chief Executive Tim Waggott has decided to leave the Port of Dover at Easter to pursue new opportunities
_____________________________________________________________________________________________
Tim Waggott has decided to leave the Port of Dover at Easter to pursue new opportunities following more than a decade of service to the organisation in various positions, and as Chief Executive since 2013.
Chairman Richard Everitt said, "Tim has led a number of successful initiatives including securing new powers, commencing the transformational Western Docks development, raising the profile of the Port (particularly in relation to Brexit), delivering improved community relations, and coping with many challenges to consistently deliver record volumes of freight traffic."
Mr Waggott said "It has been a great privilege to work at the Port of Dover. I have had an incredible journey and made many friends who I thank wholeheartedly for their support. I am proud of the achievements of the entire team and I know they will go on to be ever more successful in delivering for future generations."
The port continues to be run by a strong executive team under the direction of the board.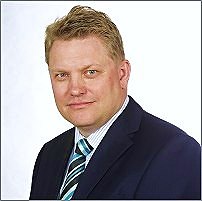 Friday, 30 March 2018 - 06:07
Post 4777
Sea News, Dover
Some further pictures of the arrival of Boudicca ...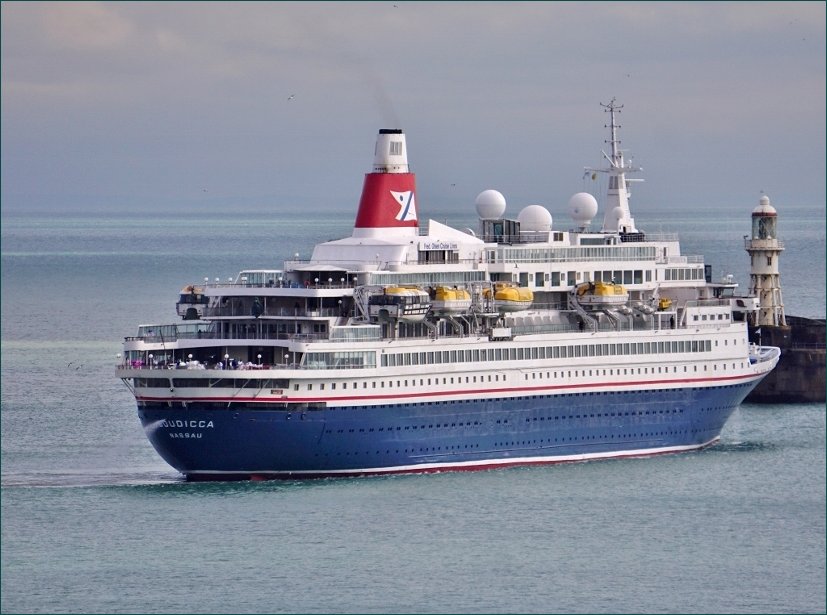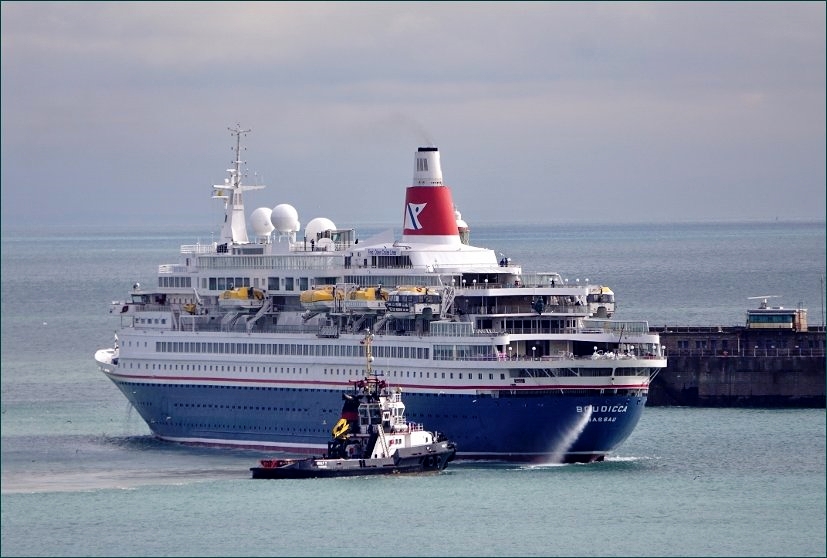 Friday, 30 March 2018 - 06:02
Post 4776
vic matcham, dover
Who is going to take over the running of it all now?

Thursday, 29 March 2018 - 16:40
Post 4775
Sea News, Dover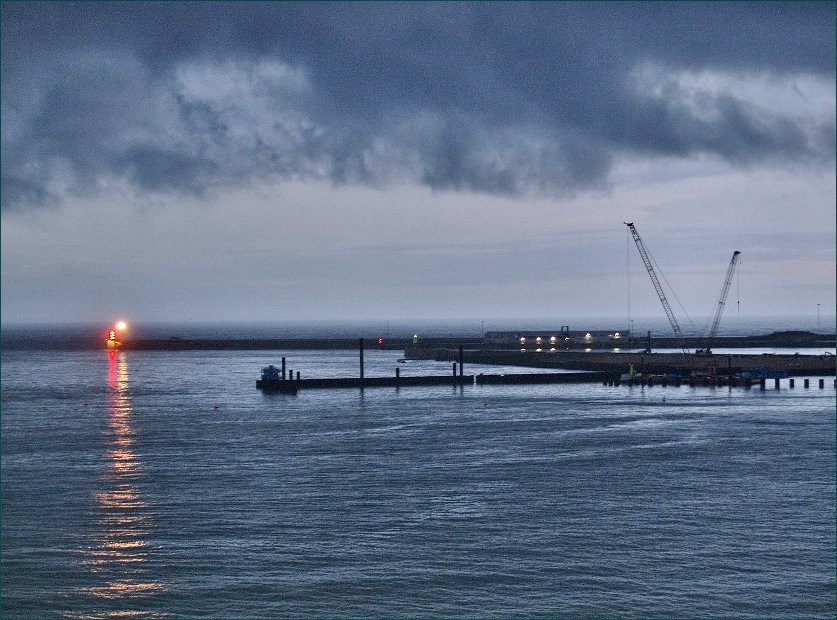 Trying here to capture the ongoing dynamics during the horrendous downpour late Tuesday evening. It thundered down onto the roof of the observation tower with much noise...yours truly thought Armageddon had finally arrived. As soon as there was a pause I stuck the camera out the window and hoped for the best...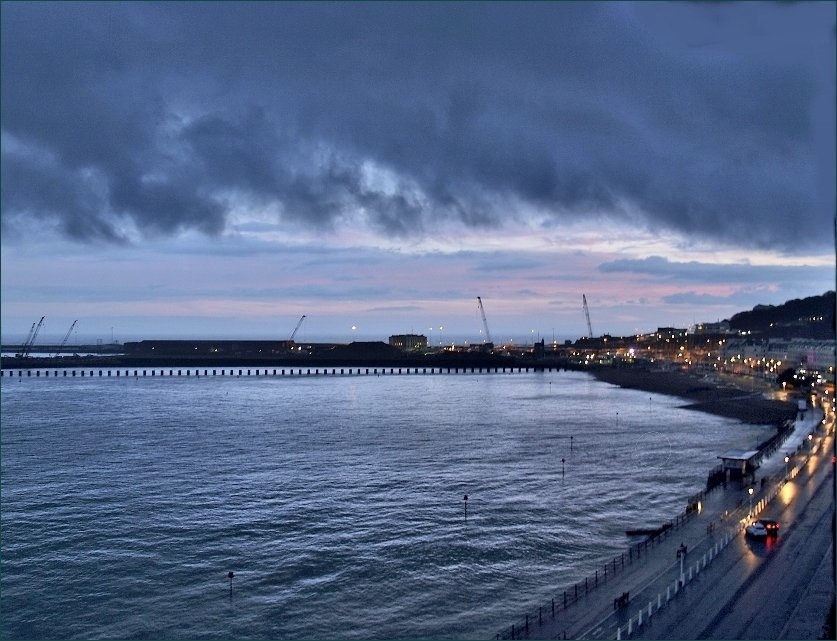 Yes indeed Brian.. Boudicca made a glamourous entrance ahead of schedule late yesterday afternoon...looking good. Will aim to have some more pictures - have put one pic at the tip top of page.
Still some thumping thudding and banging Del - its amazing though what you can get used to.. after a while it fades away...

PB.
Thursday, 29 March 2018 - 08:05
Post 4774
Del Styan, Norwich
Ah Brian, you're talking Radio 4 Extra now. A trip down memory lane.

Glad to see the swimmers reinstated on the beach. The Western Docks is certainly getting there. I hope the piling is at an end?

Wednesday, 28 March 2018 - 23:05
Post 4773
brian, dover
Boudicca now berthed on ct2,what a nice ship she is too.

Wednesday, 28 March 2018 - 17:29