Friday, 22 September 2017

doverforum.com/sea-news
Featuring all the ships that come and go and work at the Port of Dover with further coverage of Ramsgate, Calais, Dunkerque. Email: dover7@msn.com to send SEA NEWS pix or info.... or click ADD YOUR COMMENT below to post direct, no membership needed.

Commercial News: P&O Ferries with the Kids 4258.

Use our SEARCH ENGINE below to find all sorts on the SEA NEWS pages..more than 200 now with more than 4000 nautical posts. Posts welcome. Max of 5 pictures preferred per post. Sea News Editor Paul Boland.
Type Cruise Visits (or indeed anything) in our Search Engine below for the latest cruise ship arrivals..
Post 4120
Patrick, Marine Parade
On the rocks again Paul? Nice shot. Noisy though, as you say, and I am much nearer the action. Thankfully almost all of the original rock pile has now been removed. At high tide the wave action in that corner sends spray high into the air as it comes against the piling of the coffer dam. Quite impressive on a blustery day.
On the other side of the cut here are a couple of shots I took from St Martin's battery this morning showing the coffer dam and lock preparation. The rest of the lock on the seaward side has yet to be excavated.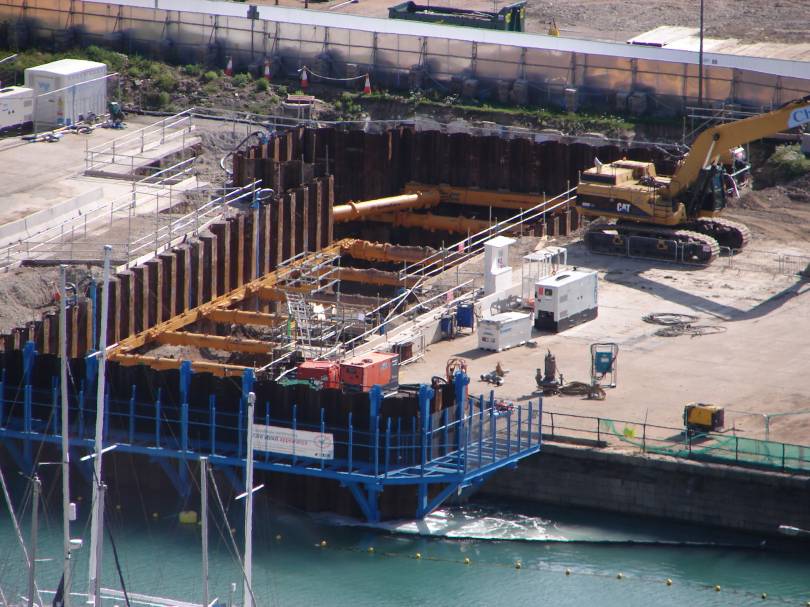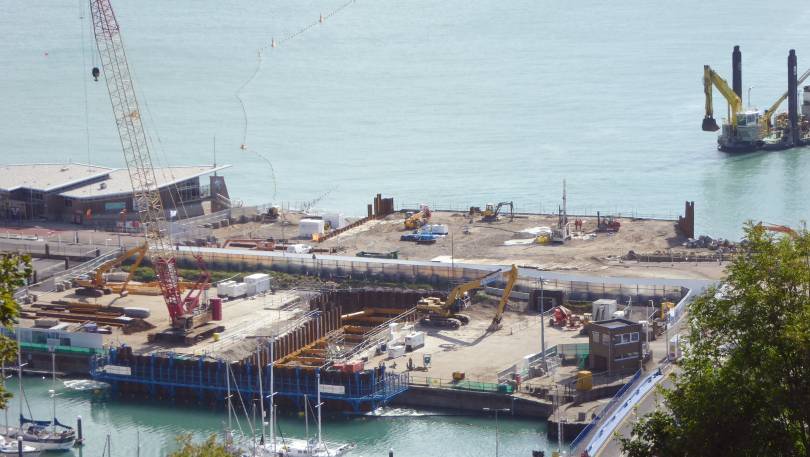 Saturday, 19 August 2017 - 15:41
Post 4119
Sea News, Dover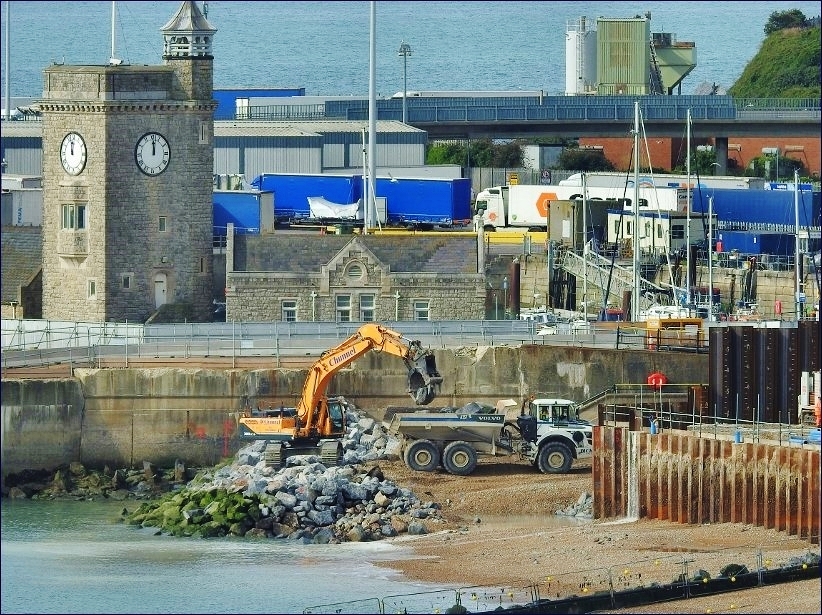 They currently appear to be dismantling the wall of rocks which have surrounded the engineering works on the through canal section... this wall was built to keep the sea at bay while the work went on. So...with the departure of this fortification, it must mean real progress is being made...exciting times! Makes one heck of a racket shifting them rocks...
While below familiar boat Grumpy abandons crew transferring for the moment to add some additional marker buoys around the Exclusion Zone. Go for it Grumpy!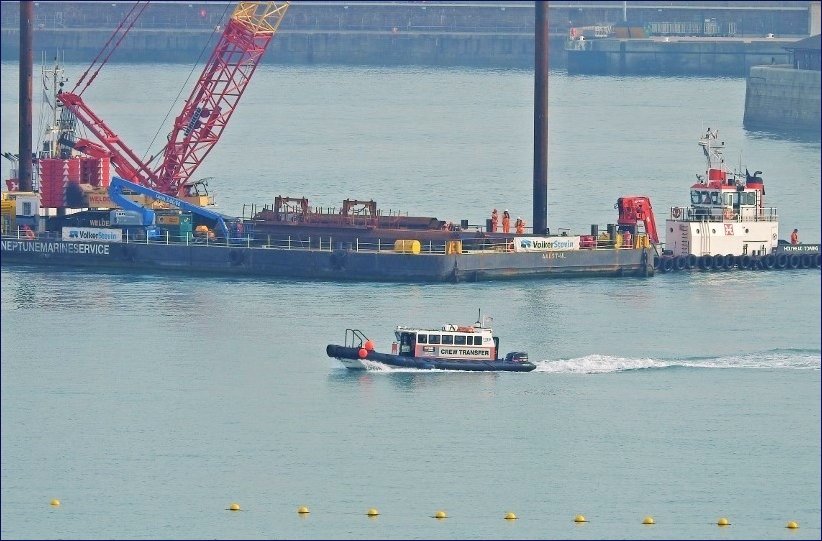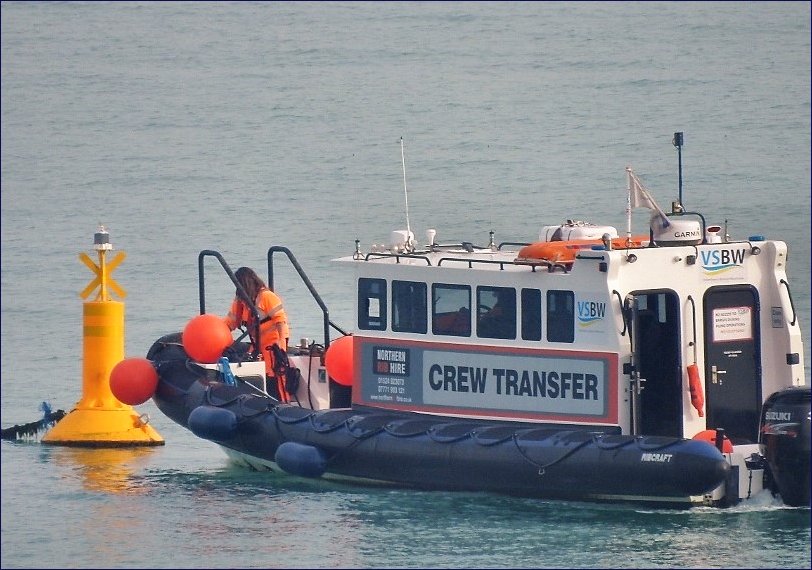 Nice shot below Patrick. Good to see it...

Grand Ramsgate collection once again below there from our favourite roving correspondent.

Well said Barry. We are all in harmony...the harmony of the seas..


Saturday, 19 August 2017 - 05:22
Post 4118
Patrick, Marine Parade
'Saga Sapphire' crosses the bay passing the 'Spirit of Britain' yesterday afternoon departing via the Eastern entrance before an unscheduled return later in the day owing to some emergency presumably, having only reached a position off Margate.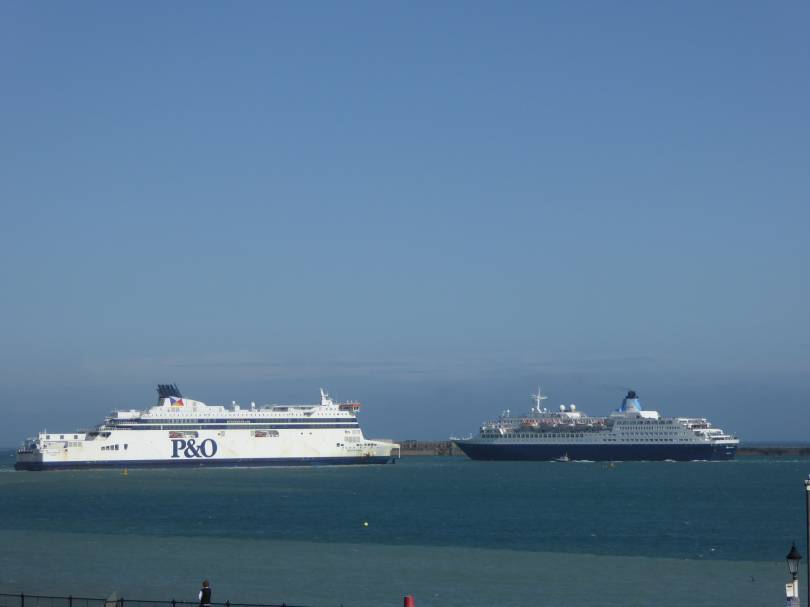 Friday, 18 August 2017 - 22:30
Post 4117
Sarah, Ramsgate
Lovely photo of Galatea Ed.

We have her sister vessel Alert in Ramsgate along with a few other interesting vessels.
Alert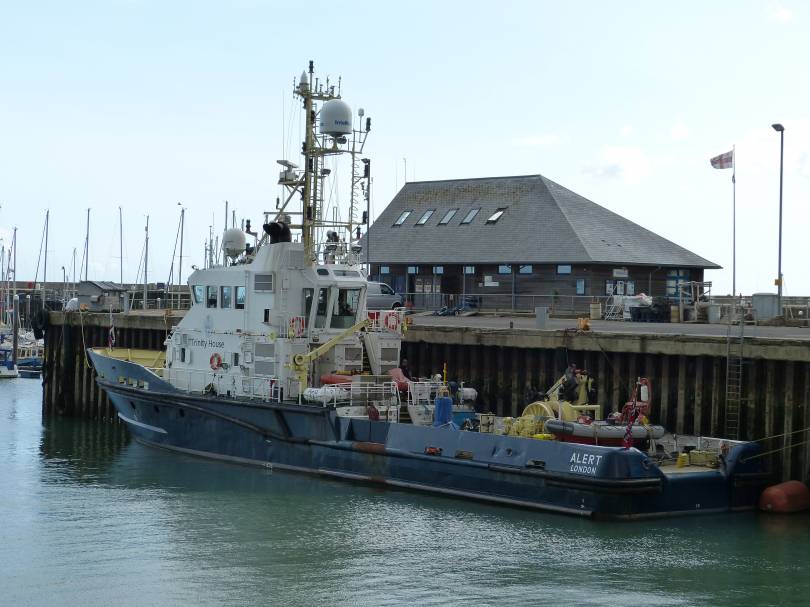 Tonijn Guard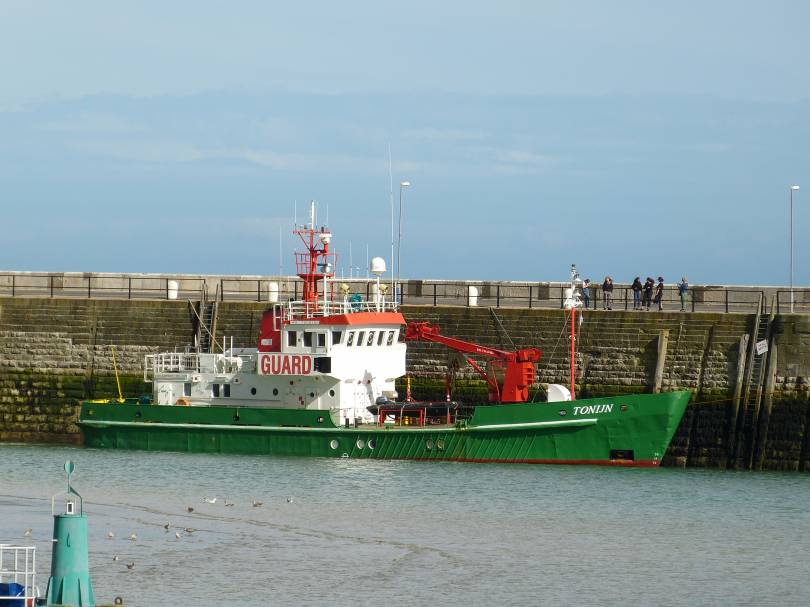 Windcat 21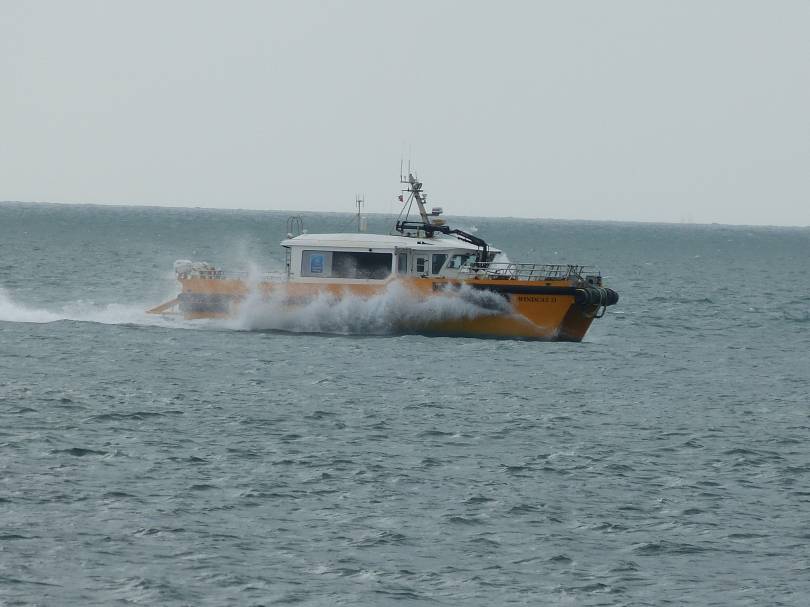 Estuary Elan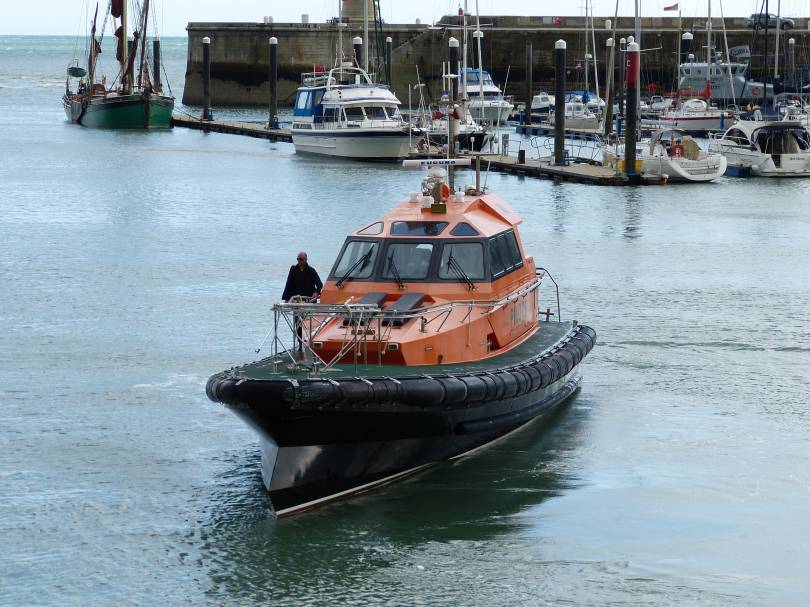 Barney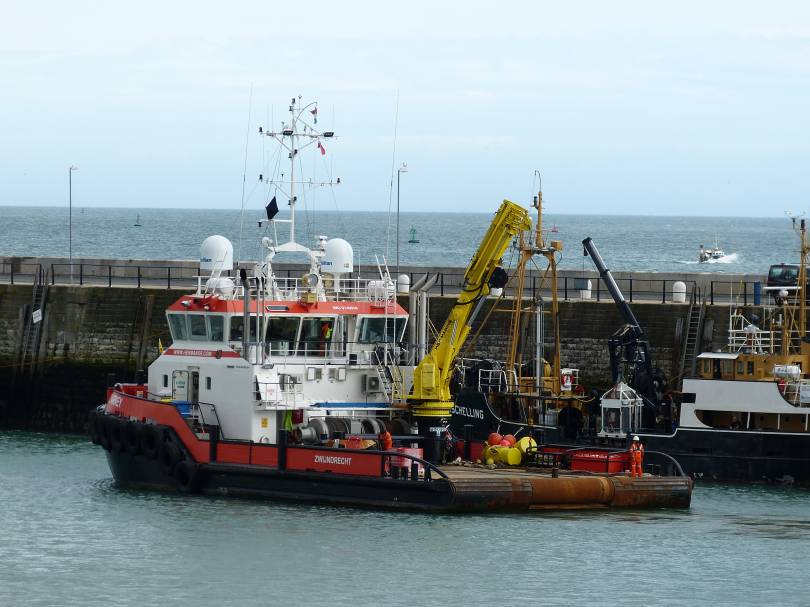 Friday, 18 August 2017 - 20:06
Post 4116
Barry W-S, Dover
Yes Mike J, I also watched the RNLI programme, I was riveted to my seat, I too recognised the Astrid as being one of our visitors. The Kinsale coxswain was very brave going aboard her to make sure everyone got off safely and very lucky to survive the pounding waves, before she sank.
We are very lucky to have the RNLI protecting us from the perils at sea

Friday, 18 August 2017 - 17:33
Post 4115
Sea News, Dover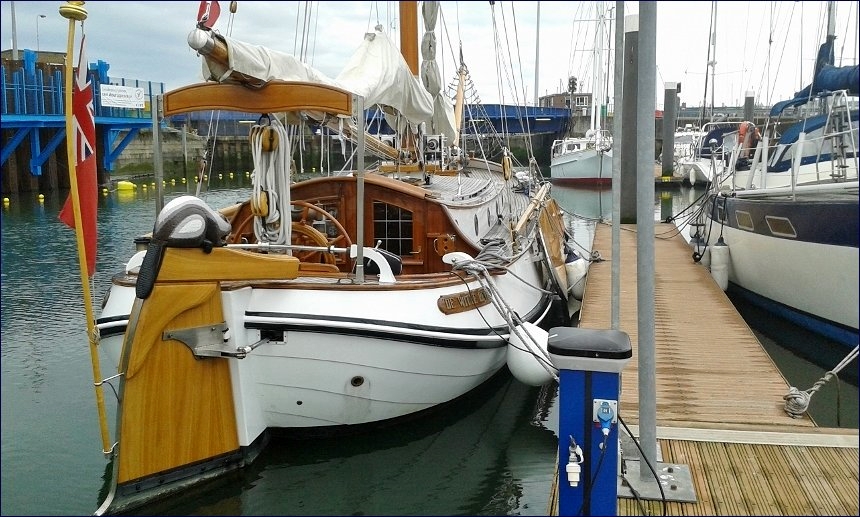 PICTURE BY MIKE JACKSON
One of Mike's pictures failed to appear in post 4109 and there she is above. Its a nice picture for sure. It adds to Mike's sequence of the Dutch barge yachts ...the one above called De Witte Beever I understand. See also 4109.
Its not possible to add pictures to a previous post so we have reproduced it above there.
Following along from Ed's picture of Esmeralda here she is departing soon after...an evening departure as the light begins to fail. Off to Flushing she was in the Netherlands, so this post is all happily Dutch.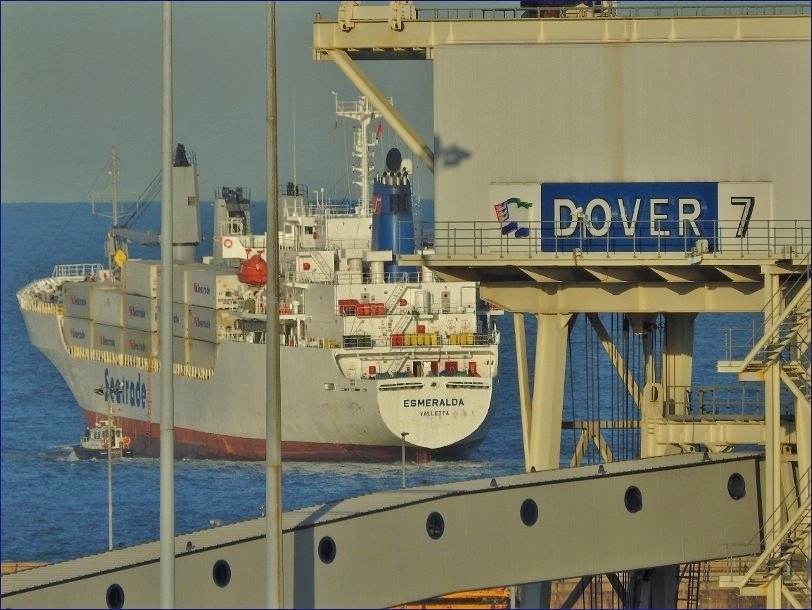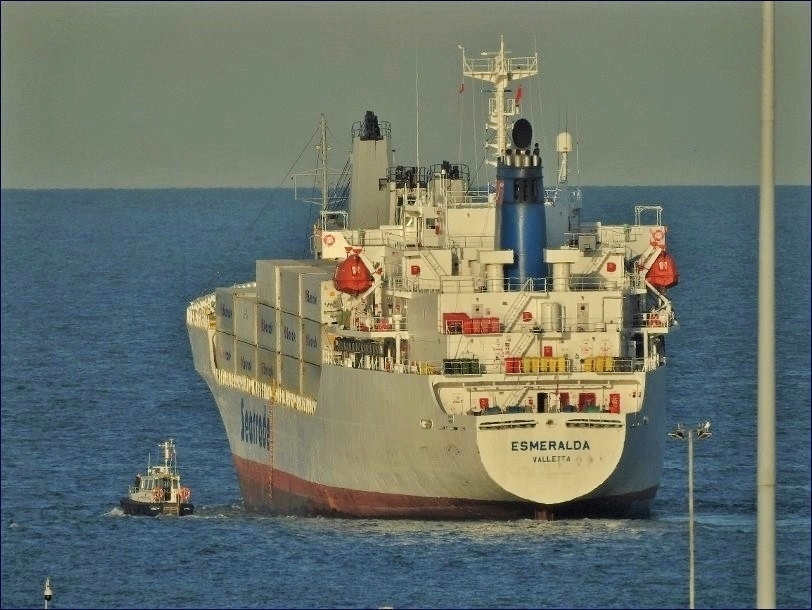 Bye for now Esmeralda ( The Bells ! The Bells!...now I said I wouldn't do that anymore...

)
Good post below Mike...remember that sailing vessel well, have some pictures of it myself here.

Well done Ed welcome back. Nice shots below there ...

Lol Del don't sell me short...it was 05.15 .. gawd 'elp us... even earlier. I might occasionally have a 40 winks but couldn't possibly admit to it on a public forum



PaulB.
Friday, 18 August 2017 - 06:53
Post 4114
Mike J., Dover
I expect that a lot of folk watched the excellent programme about RNLI rescues on the box on Wednesday night, the first of 12 programmes & I think that Dover RNLI will be featuring.
One of the sequences was the highly successful rescue of all of the crew & the 20+ trainees from the Dutch sail-training vessel ASTRID after she went aground off the southern Irish coast near Kinsale in July 2013,
A fortnight earlier, on 8th.July, the ASTRID was anchored in the bay at Dover before setting off on her ill-fated last voyage.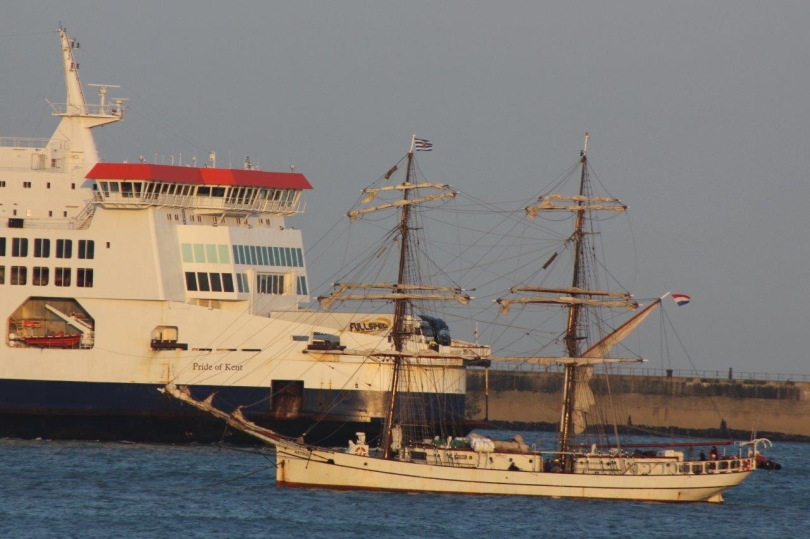 Incidentally, although she sank after the rescue operation she was later salvaged & brought into Kinsale but was deemed too badly damaged for repairs & was scrapped,
The ASTRID had quite a history & is well worth a little internet research.
The SAGA SAPPHIRE sailed for Stavanger about 1700 but was back in Dover by 2200.
AIS shows her being met in the bay by the lifeboat before resuming her passage.
Medical emergency presumably, lets hope that there's a good outcome.
Friday, 18 August 2017 - 00:20
Post 4113
Del Styan, Norwich
Lovely early morning pic of the clouds over the docks. 5.45am! The lengths you go to add to our enjoyment. I hope you get an afternoon nap!

Thursday, 17 August 2017 - 22:54
Post 4112
Ed Connell, Dover Strait
Some views from yesterday. Esmeralda at the DCT and Trinity House vessel Galatea stooging about off Dover.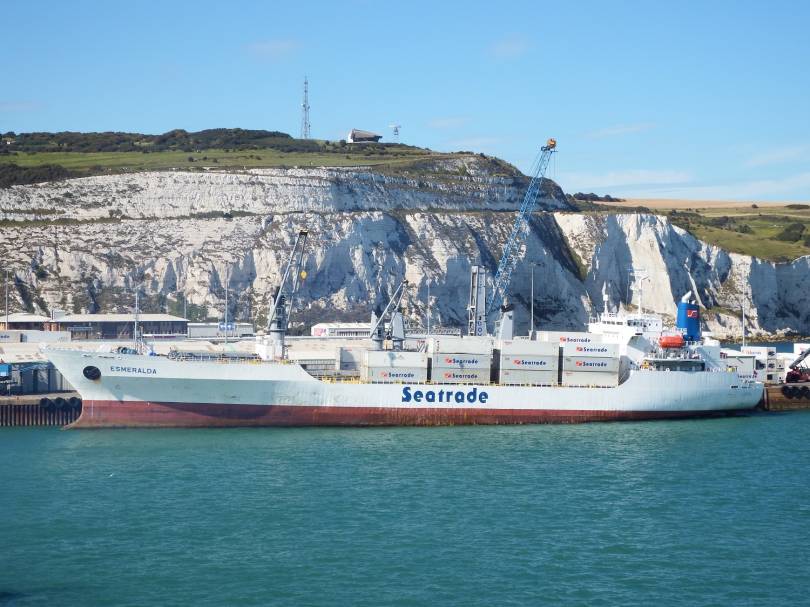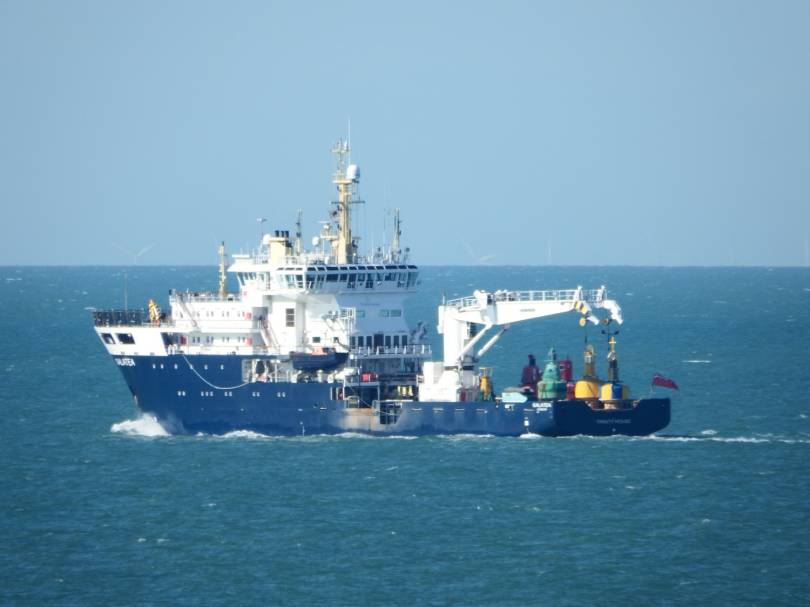 Thursday, 17 August 2017 - 16:08
Post 4111
Sea News, Dover
We have a wee bit of a horrible oul morning this morning...very grey and damp here in Dover. But this was the dramatically colourful scene yesterday morning very early (05.15) looking east from the observation tower. The unusual cloud formation/pattern caught the sleepy eye as it moved slowly between cliff and port...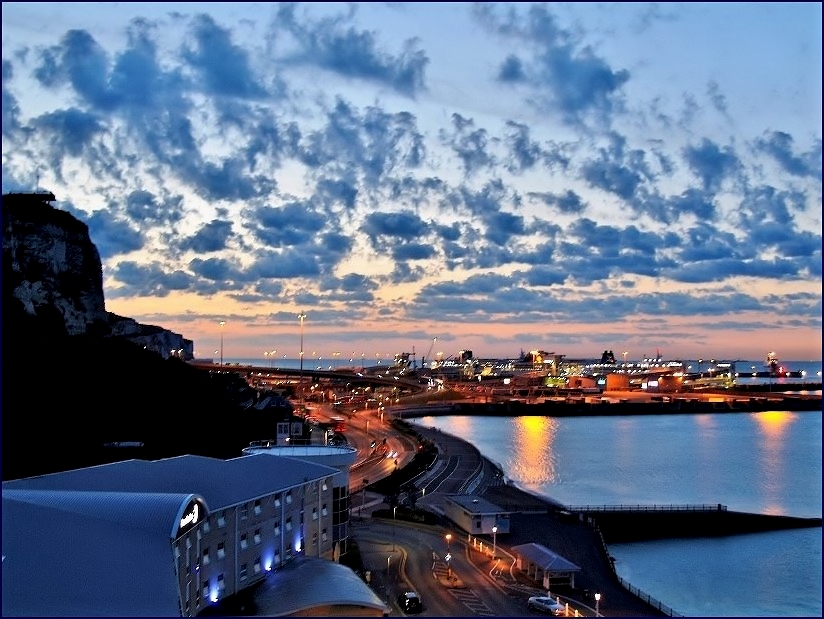 The exciting AIDAvita was in with us yesterday...but she came very early and although primed like a coiled spring, somehow I missed her, and she left very late so picturewise it wasn't the best for yours truly...
but got this shot below during the day showing her behind the piling and the working boats/cranes.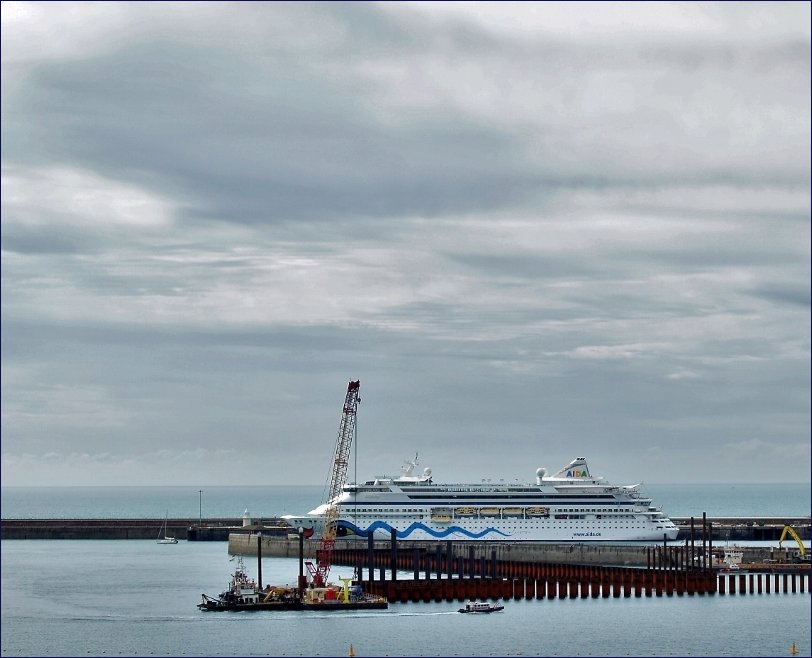 Nice story again Mark . Good to hear from you.

Well done Mike - it was a bit of a struggle but looks good..

Saga Sapphire in with us today. For more info on our cruise ships see Colette's cruise post below 4106.
PaulB.
Thursday, 17 August 2017 - 07:55
Post 4110
Mark rushton, Northants
Good to see Thames Clippers ordering a new vessel from a British yard - as I recall, many of the preceding orders went to Australia. I used to finish my daily commute to Canary Wharf on the Clippers in my last two years working in London - a great way to dodge the crowds and the historic river bank of East London was endlessly fascinating. The only frustration was that the boats really dawdle in central London where a speed limit is in place - it's only east of Tower Bridge where they really let rip and you can feel the raw power of the engines.

Wednesday, 16 August 2017 - 12:24
Post 4109
Mike J., Dover
The latest addition to Thames Clipper's fast ferry fleet, the JUPITER CLIPPER, called briefly at Dover Tuesday afternoon for fuel on her delivery voyage from the builders on the Isle of Wight to the Thames.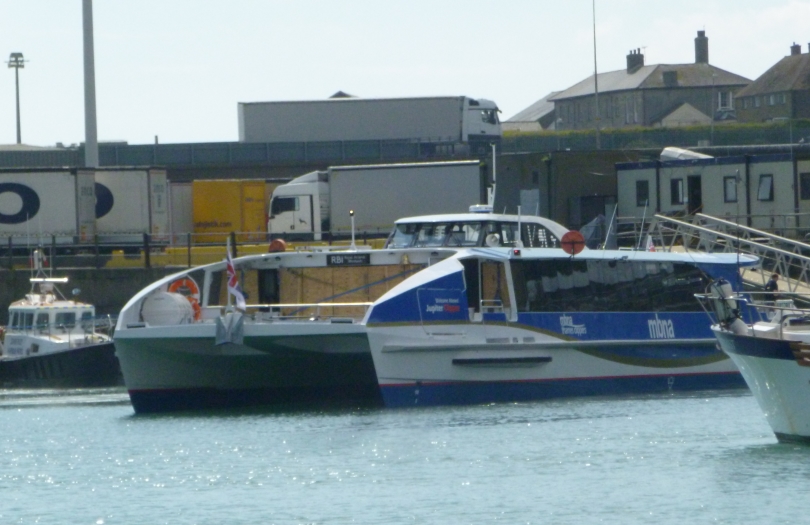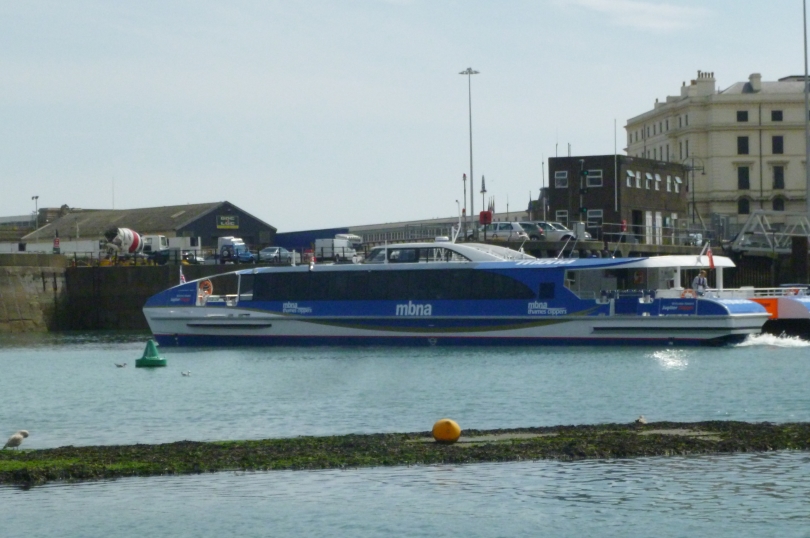 I should have chosen a better 'phot-spot' but the arrival was a bit unexpected.
Her forward-facing windows are boarded-up in case of bad weather en route.
While looking at the 'original' pix of the Dutch 'barge yachts' that I put up on post 4100 I noticed carvings on the rudder stocks.
I took a closer look on Tuesday morning & had a chat with the friendly owners of DRIFTER, Debbie & Neil - the carvings are traditional Dutch decorations & there were more carvings in the cockpits.
DRIFTER & her lion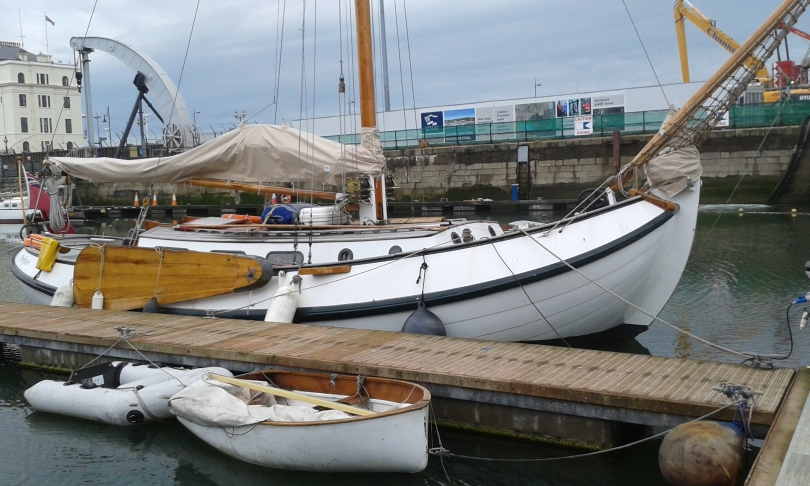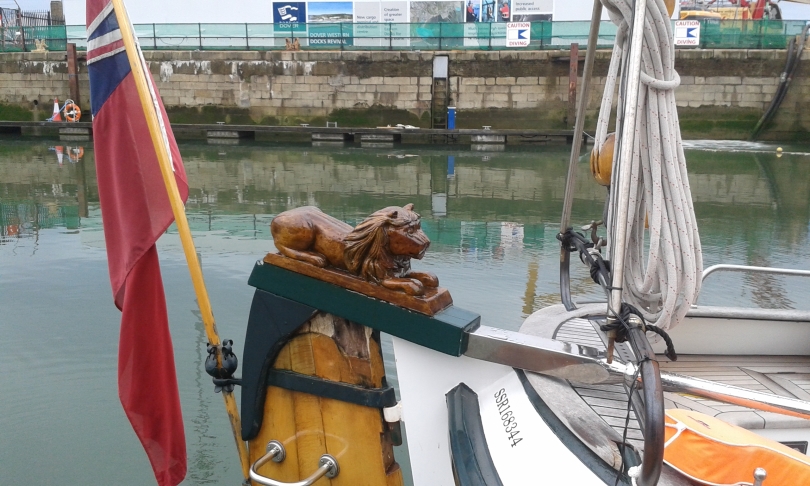 The DE WITTE BEEVER [THE WHITE BEAVER] has, of course, a carving of a rather cute beaver.
[IMAGE-10]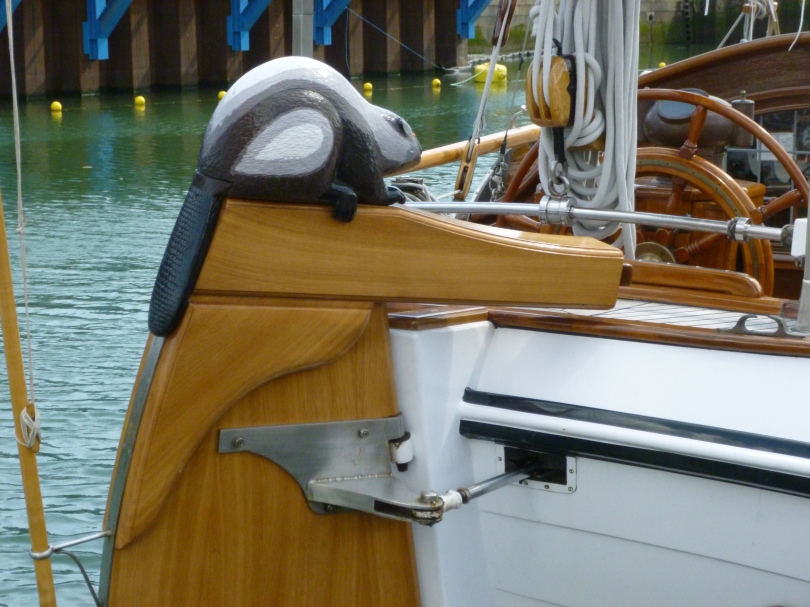 The DRIFTER was built in the mid-60s & the DE WITTE BEVER in the mid-70s & both are based on Dutch fishing vessels called 'Lemsteraak'
There are thought to be only three of this type of vessel under the Red Ensign.
Both are now on their way down to Falmouth.
Thanks to Paul for sorting a few problems that I had with this post.
Wednesday, 16 August 2017 - 10:44
Post 4108
Sea News, Dover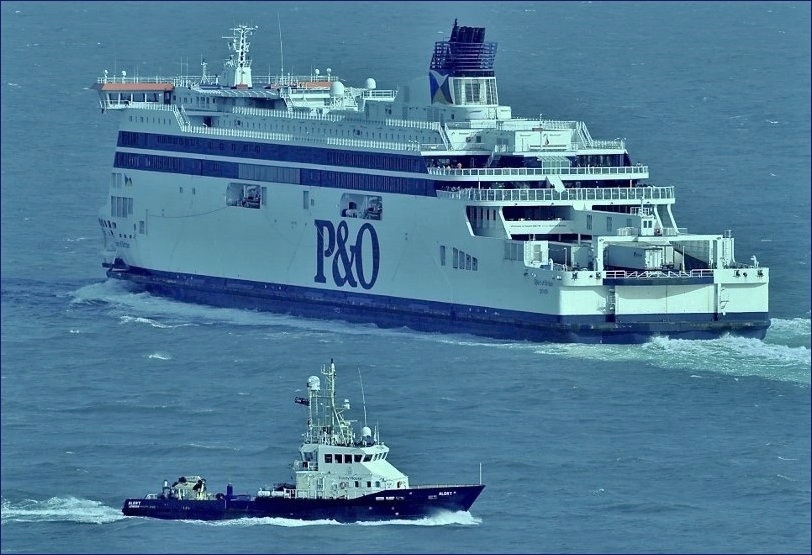 PICTURE by SIMON BRISS. Many thanks Simon for sending the picture above over to us here. Its a nice shot and shows Trinity House Vessel Alert approaching the Port of Dover while the Spirit of Britain in the background heads for Calais. Nice picture.
Last evening late it became busy at the Cargo Terminal. First shot below shows the departing Atlantic Klipper. Time was about 7.40pm as she headed off bound for Hamburg. Within a shot time.. but getting dark by now...Esmeralda came in to Port ..she had been waiting offshore for the Atlantic Klipper to depart. Busy times....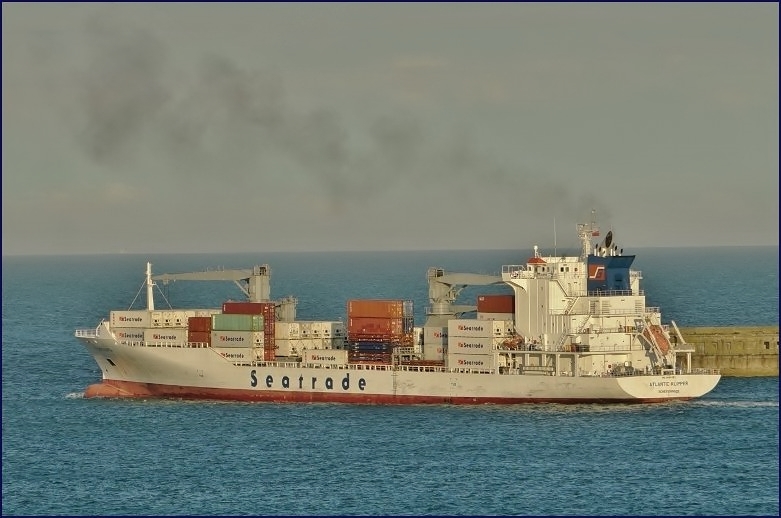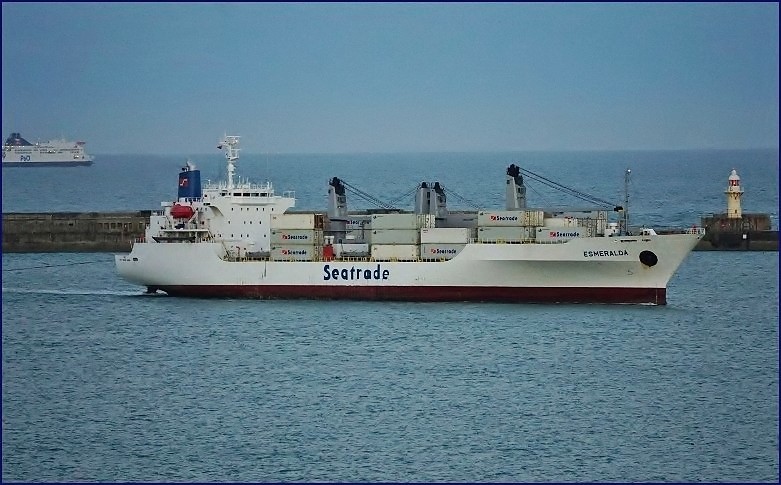 More....
Well done Sarah...lovely atmospheric shots from Folkestone further below there and the recent ones are great to see too. You are doing a great bit of Roving Reporting....one minute here, the next minute there...


Thanks to Brian and Vic for the info.

Well done Colette with the latest Cruise List...great.. lets us know where we are..

Paul
Wednesday, 16 August 2017 - 07:23
Post 4107
Sarah, Ramsgate
A few photos from Ramsgate last night.
Spectrum 1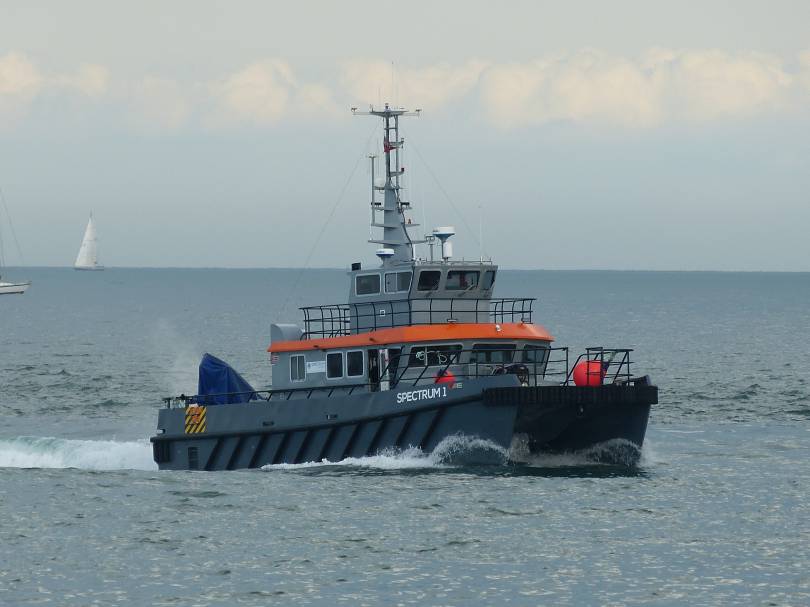 Walmer Lifeboat & Relief Lifeboat change over.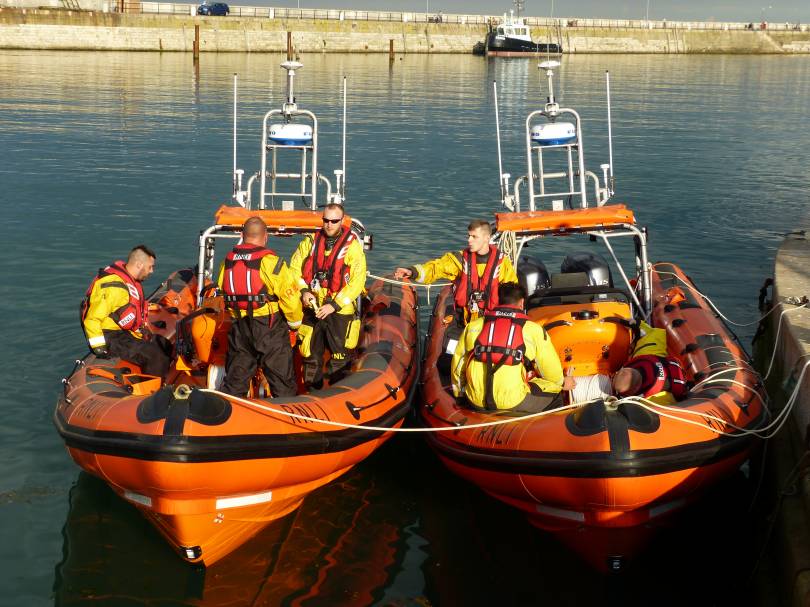 Afon Cefni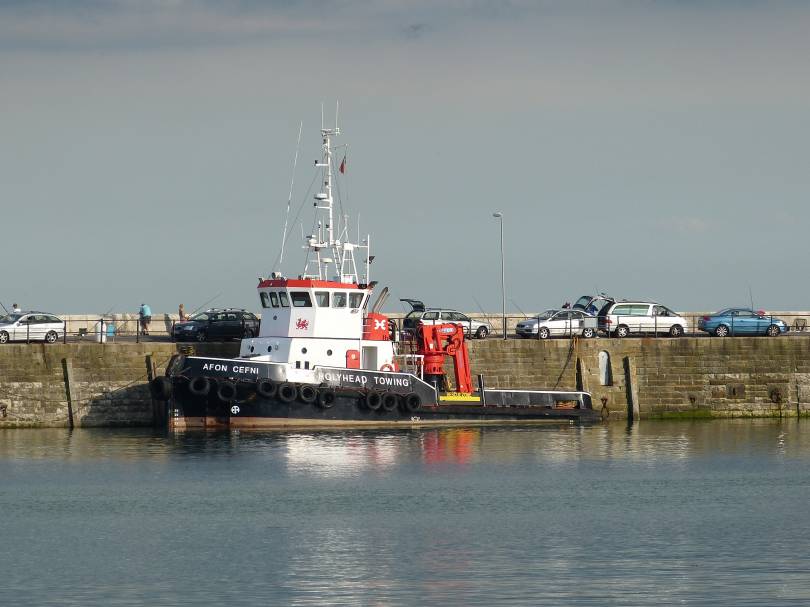 GPS Arcadia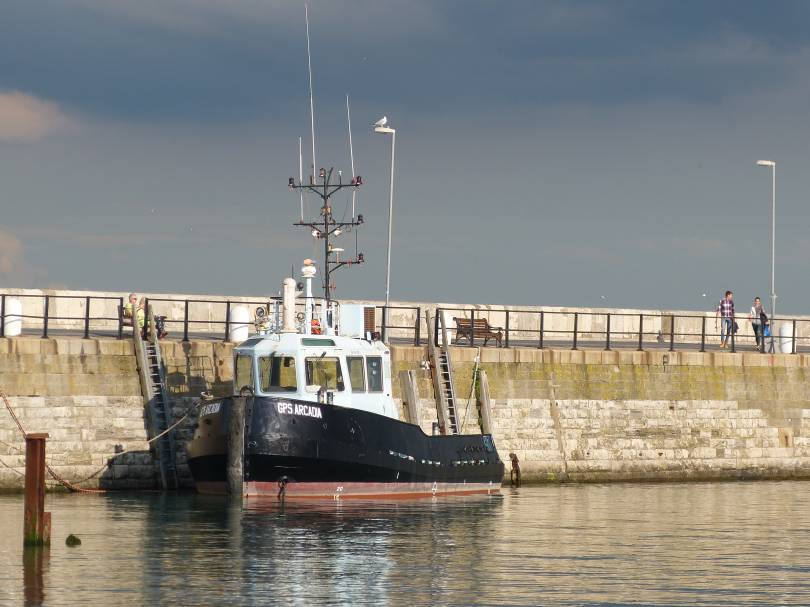 Thames Barge - Kitty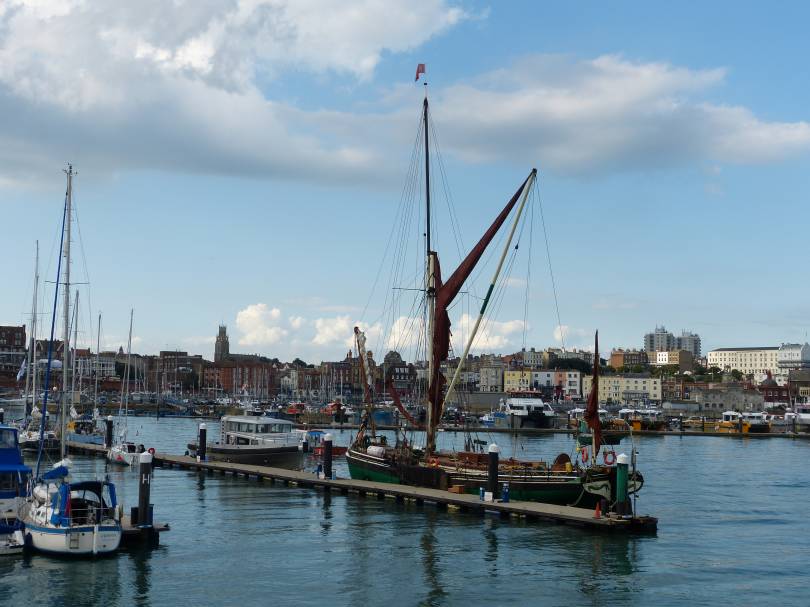 Wednesday, 16 August 2017 - 05:49
Post 4106
Colette B, Dover
CRUISE VISITS
Wonderful photos of the Trawler Race in Folkestone Sarah, a great party atmosphere, looks like fun. The close up of the jets on the deck of the USS George H. W. Bush look amazing, (that's some military hardware MrB) and the interesting shots of Mike J's Dutch 'Schuyts' just to mention a few. The array of ships of all shapes and sizes is awesome

Tomorrow Wednesday August 16, always with a big friendly smile, the AIDAVita visits us once again whilst on her 14 night 'Round Britain & Ireland' cruise, taking in Fishguard, Dublin, Greenock, Invergordon and Aarhus in Denmark before returning to Germany via the Kiel Canal. She arrives here at CT2, 08.00, departing at 21.00 hours, PoC.
Then the following day Thursday August 17th Saga Sapphire starts her 7 night 'Fabulous Fjords Explorer' cruise calling at the Norwegian ports of Stavanger and Flam which is said to be the world's most beautiful train journey, then on to Olden and Bergen. She arrives at CT1, 08.00, leaving at 16.00 hours, T/R.
On Saturday August 17th we have another real 'Humdinger' of a cruise. Seabourn Quest sets off on her 34 night cruise to Montreal Canada, she will be saying farewell to us this cruise season. She begins her cruise via Ireland & Scotland. Her itinerary is a follows: Portland, Fishguard, Belfast, the Isle of Mull and Stornoway. Then she visits Heimaey Island, Reykjavik and Isafjordur in Iceland before sailing across the Atlantic to Qaqortoq and Nanortalik in Greenland. Her next ports of call are St John's, Newfoundland Island and the French Overseas Territory of St Pierre Island. Then on to the Canadian ports of Saguenay, Quebec City, Trois-Rivieres before arriving in Montreal. That's some cruise… Wow! She will be arriving here at CT1, 07.00 and departing at 20.00 hours, T/R. Phew!

On Sunday we have a 'Double Whammy', firstly, Pacific Cruises 'Pacific Princess' visits us once again to repeat her 8 night 'British Isles' cruise which includes the 'Royal Edinburgh Military Tattoo' also visiting Jersey, Waterford and dear auld Dublin. She arrives here at CT2, 06.00, leaving 17.00 hours, T/R.
On the same day Saga Pearl ll starts her 19 night 'Spanish Sorjourn' cruise calling at Gibraltar, Palma de Mallorca in Spain and the Italian ports of Cagliari and Sardinia. She then sets sails for the Spanish ports of Port Mahon, Barcelona, Valencia, Malaga and Seville. She arrives here at CT1 08.00, departing 16.00 hours, T/R.
I'll be back with more August cruise calls soon

Tuesday, 15 August 2017 - 22:37
Post 4105
brian, dover
h.w bush paul.

Tuesday, 15 August 2017 - 14:52
Post 4104
vic matcham , Dovor

More of my work can be seen below the word Folkestone on the pier was done by me and two of my working mates ,still there to day so the welding we done must have been about right.


Tuesday, 15 August 2017 - 12:31
Post 4103
Sarah, Ramsgate
A few photos from the Trawler Race at Folkestone.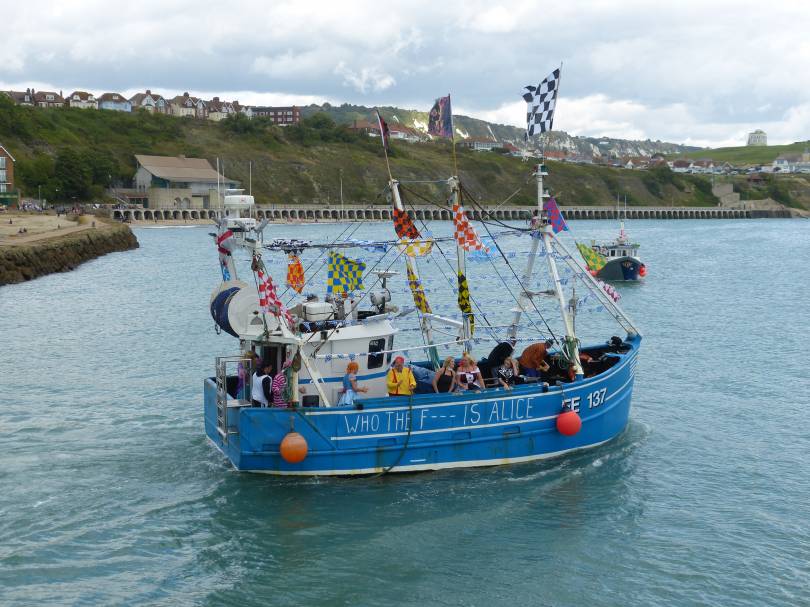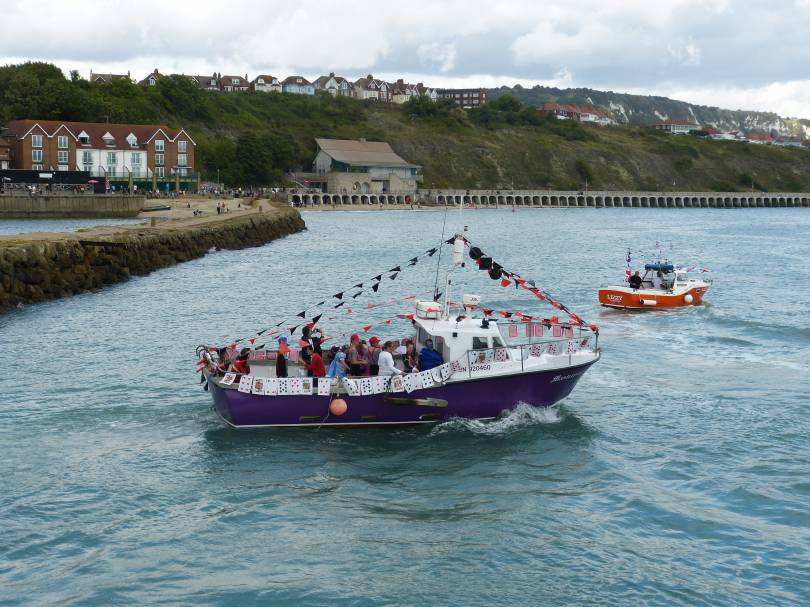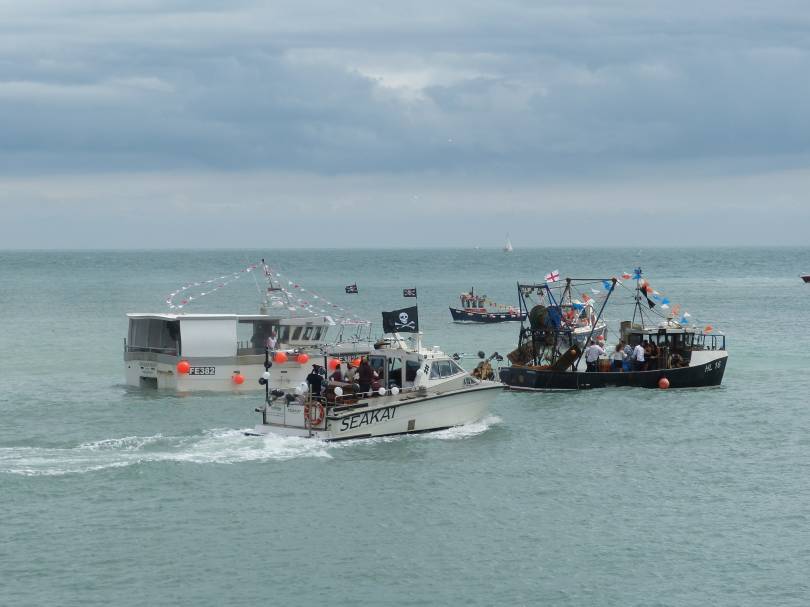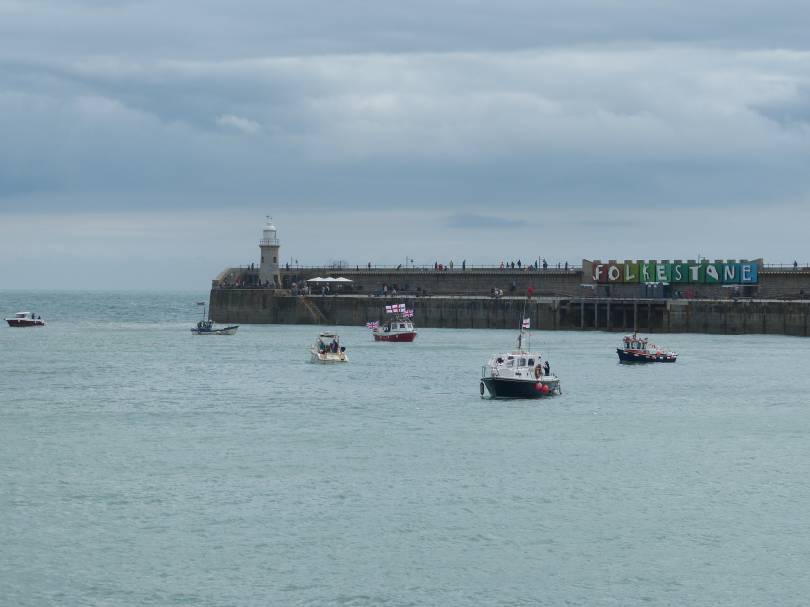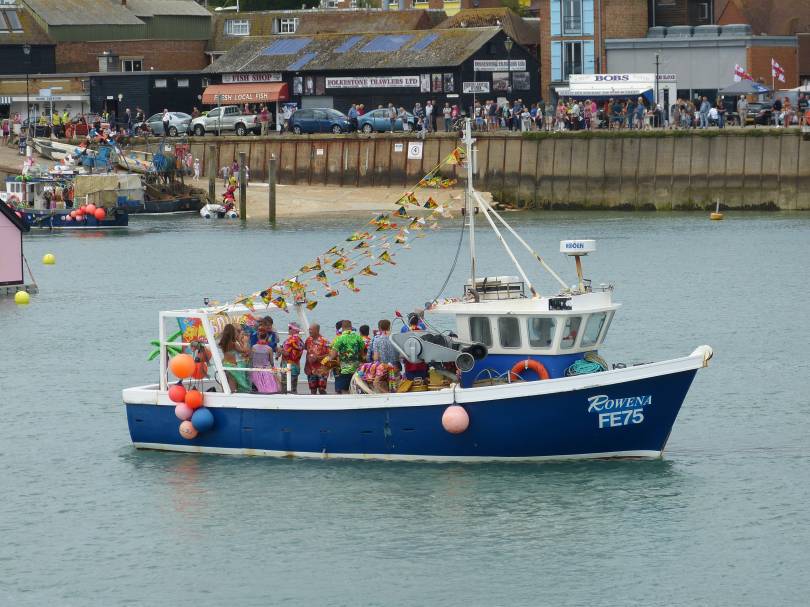 Tuesday, 15 August 2017 - 10:53
Post 4102
vic matcham , Dover
Some ship that is, over 3000 crew +Air crews but it is getting old unlike our new ones, just may be the U.S.A. will give us some planes to put on it or lets us have back the jump jets we sold them for peanuts some years ago.

Tuesday, 15 August 2017 - 09:41
Post 4101
Sea News, Dover
It was a bit of a quiet day yesterday and my from angle the blue haze killed any hope of reasonable pictures of anything anyway. So I thought we would have another look at the US Navy's Aircraft Carrier. I have reworked the poorish pictures to hopefully make them better so that we can all see the jets on the deck more clearly. That's the plan anyway. I've pushed the pictures as large as possible and split the ship in two...not very elegant but...here we go...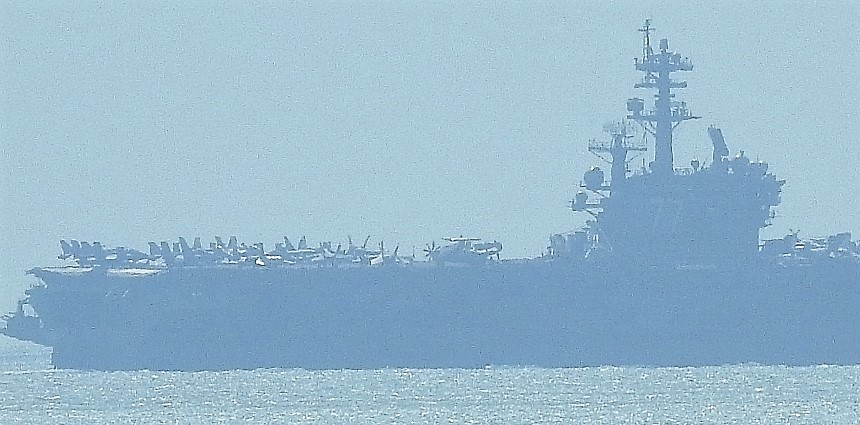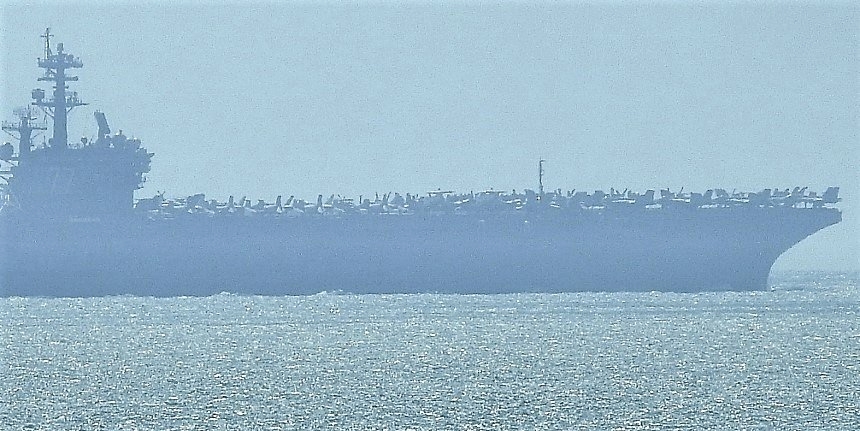 Yes its the George W Bush once more above there. Now, there were two Presidents called Bush, not sure which one the ship is called after. The second one as I remember wasn't too .. ermmm .. 'swift'. He didnt appear so anyway. Sidenote: If that plane precariously positioned at the front falls off we can grab it for use in the RAF.
A couple of pictures below from about a week ago which show the DWDR tugs of Holyhead Towing. That's Afon Cefni at the front this time, not sure which one is bringing up the rear but it may be the Llanddwyn Island.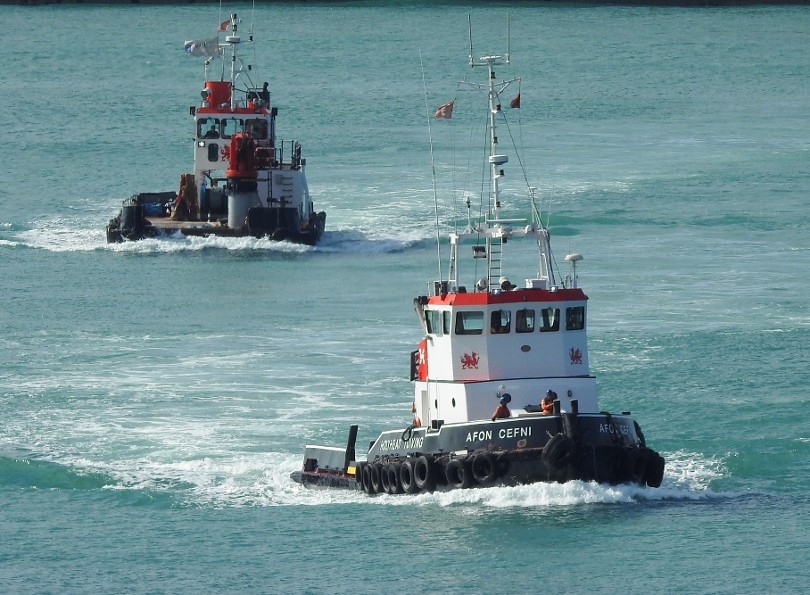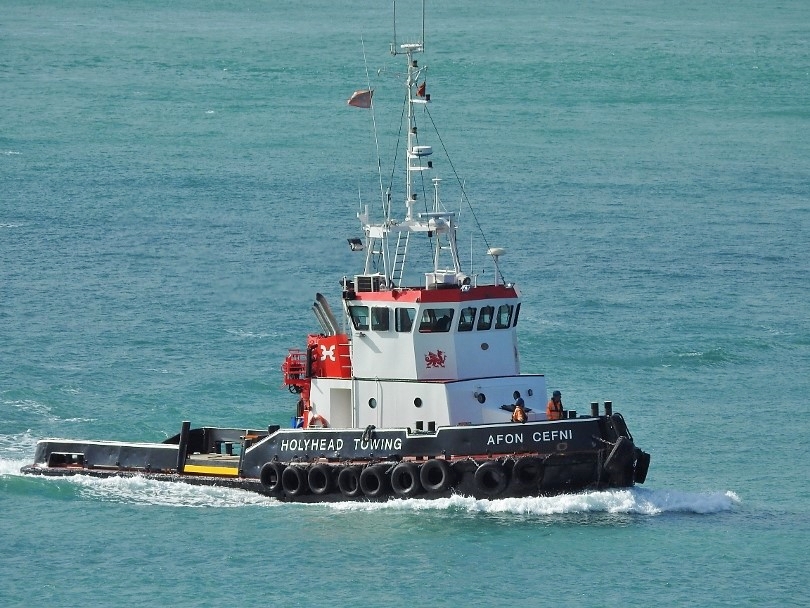 The thunder rumbles on as I write. Its grey gloomy and grimmmm..Armageddon is upon us.

Nice collection Mike below. That's quite amazing on the side of the Viking Princess. Yikes

Yes indeed Del...as Mike says below..Banksy is still here and looking good!

PaulB.
Tuesday, 15 August 2017 - 06:53