Thursday, 21 November 2019
Sea Pictures from Dover ...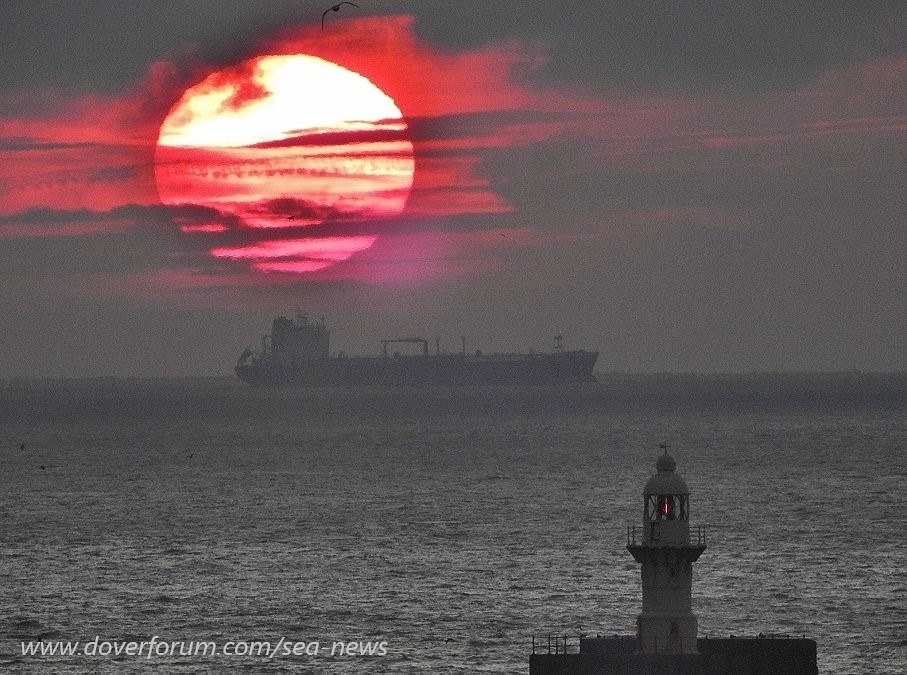 Gloomy sunrise..if you can have such a thing..over the Channel a few days ago, looking over from Dover.

WWW.DOVERFORUM.COM/SEA-NEWS
Featuring all the ships that come and go and work at the Port of Dover ..
... with further coverage of the surrounding ports.
Sea News Dover
Christmas Spectacular at the Port 6648... Port Fundraise Record 6659.
MP Charlie Elphicke moving aside for wife..see 6646.
P&O: St Richards School trip to Calais for 6 year olds see 6630. New Apprentices 6662.
DFDS: Contract Cancelled see 6626. New Apprenticeships 6650.
Use our SEARCH ENGINE below to find all sorts on the SEA NEWS pages....type in the topic and away you go, or if you have the post number, just type it in the box, more than
- 6600 -
nautical posts now. Posts are welcome. just click 'Add Your Comment' below. Max of 5 pictures preferred although we can stretch that for special stories.. Sea News Editor Paul Boland - send info or pix to dover7@msn.com. Always welcome.
CRUISE CALLS:
https://www.doverport.co.uk/cruise/find-a-cruise/
UPDATE:
To show your pictures at their best..it could be worthwhile resizing before posting to
850
pixels wide.
All pictures on these pages are the copyright of the owners and must not be reproduced without permission.
Post 6524
Sea News, Dover

DFDS ANNOUNCE TWO NEW SHIPS TO JOIN THEIR NEWCASTLE-AMSTERDAM ROUTE THIS YEAR
______________________________________________________________________________

Moby Wonder and Moby Aki will join the fleet in October 2019, sailing in early 2020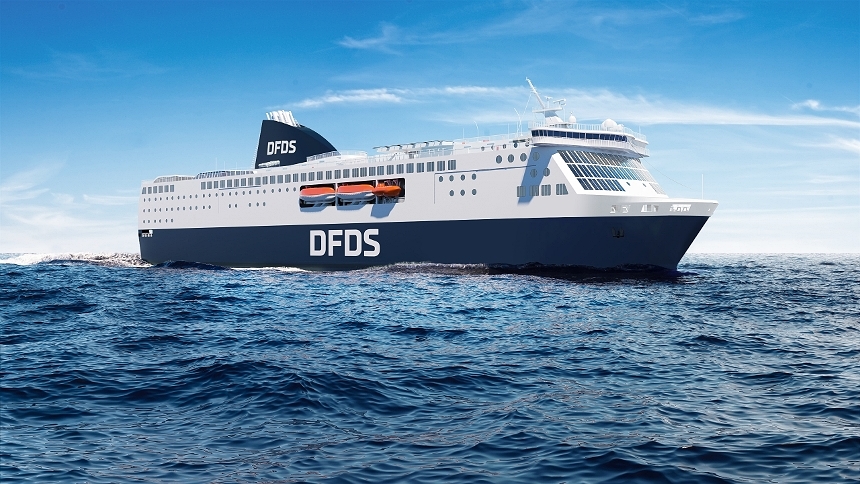 (Artist Impression)
DFDS has entered into an agreement with Italian ferry company Moby to exchange two passenger ferries, with the focus of raising the onboard customer experience and capacity, for both passengers and freight customers.
Moby will acquire the two passenger ferries currently operating on the Newcastle to Amsterdam route — King Seaways and Princess Seaways, built in 1987 and 1986, respectively.
At the same time, DFDS will acquire two passenger ferries currently operated by Moby — Moby Wonder and Moby Aki, built in 2001 and 2005, respectively. The ships will be renamed when they join the fleet. The names are yet to be decided.
The ferries are expected to be delivered in the second half of October 2019 and will undergo significant refurbishment, including commercial and technical investments on board as well as port investments.
DFDS will subsequently bareboat-charter King Seaways and Princess Seaways until January and February 2020.
Kasper Moos, Vice President & Head of BU Short Routes & Passengers at DFDS said: "The new ferries are ideally suited to our Newcastle to Amsterdam route. They will provide our passengers with modern onboard facilities and with more car-deck capacity, the new tonnage will allow DFDS to increase passenger revenue by fulfilling the growing demand for high yield car passengers. To freight customers, we will be able to offer increased capacity that can remain constant throughout the entire year"
DFDS's freight capacity is expected to increase around 40%* on a full-year basis and car capacity increasing around 5% on a full-year basis.
-Ends-
Although outside our general remit area we were delighted to hear of the new ships above there and very happy to include the info.
Many thanks once again to DFDS. Exciting times - one way or another.

* *
Big numbers of migrants making the Channel crossing in the past couple of days...these following pictures were taken right in the midst of all the increased activity two days ago...
Border Force Seeker morning and evening...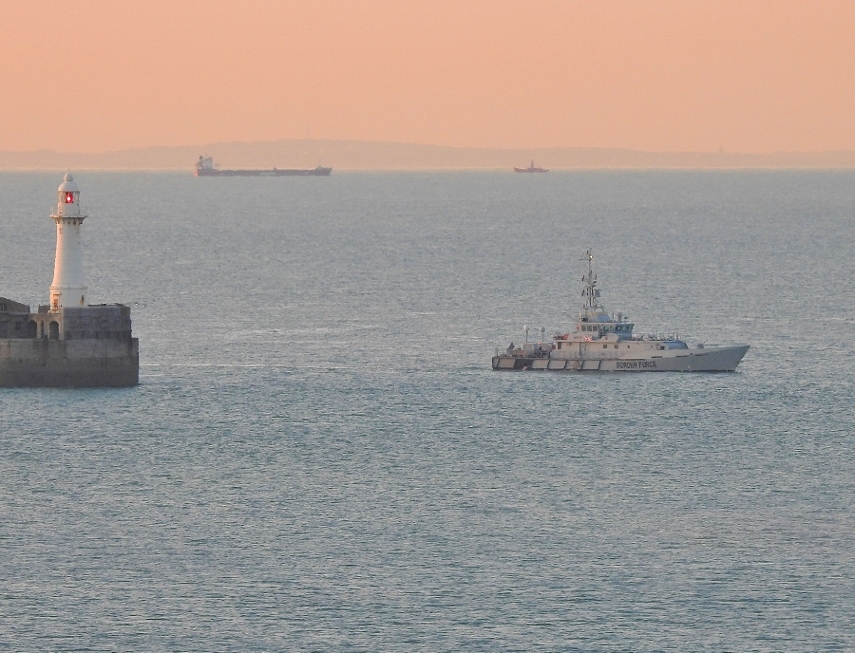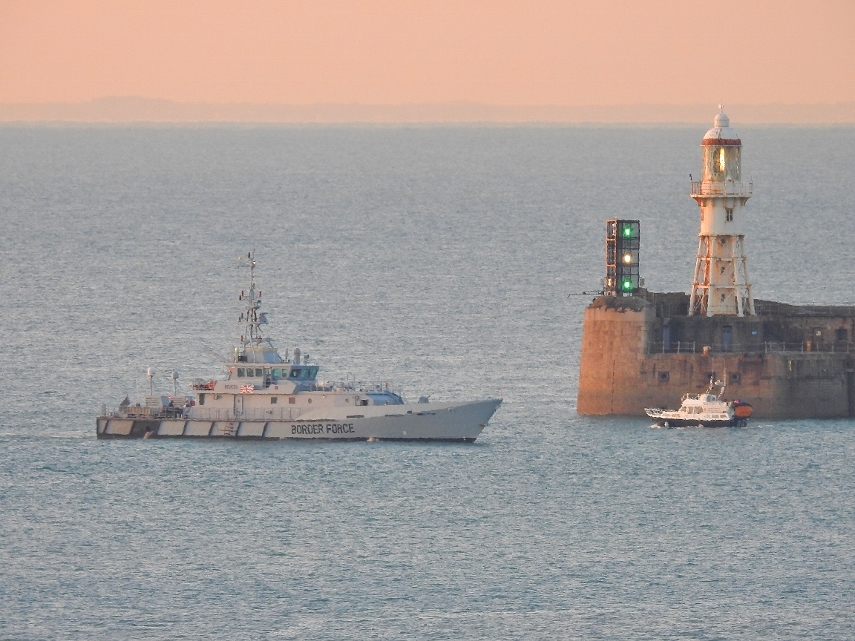 Evening...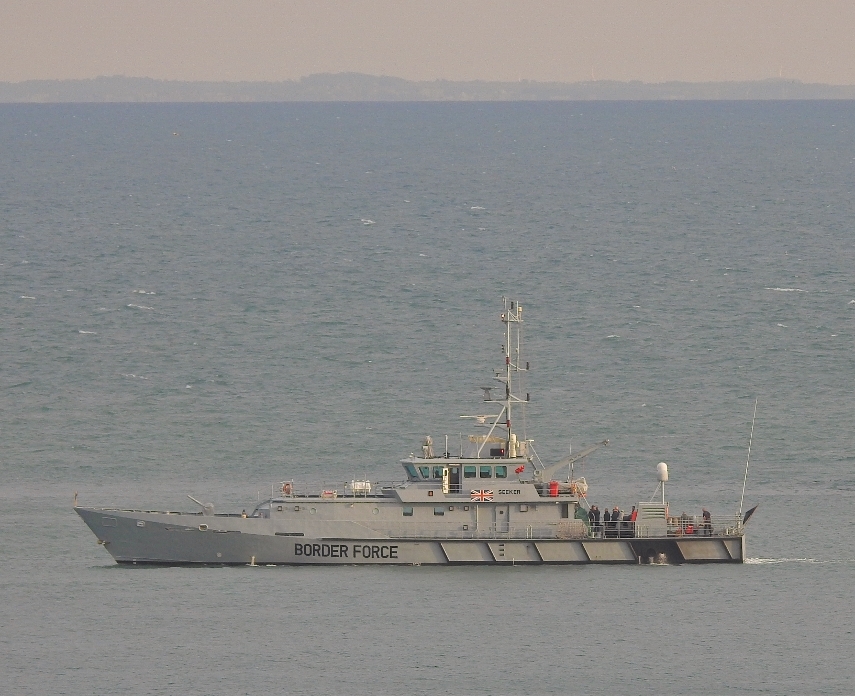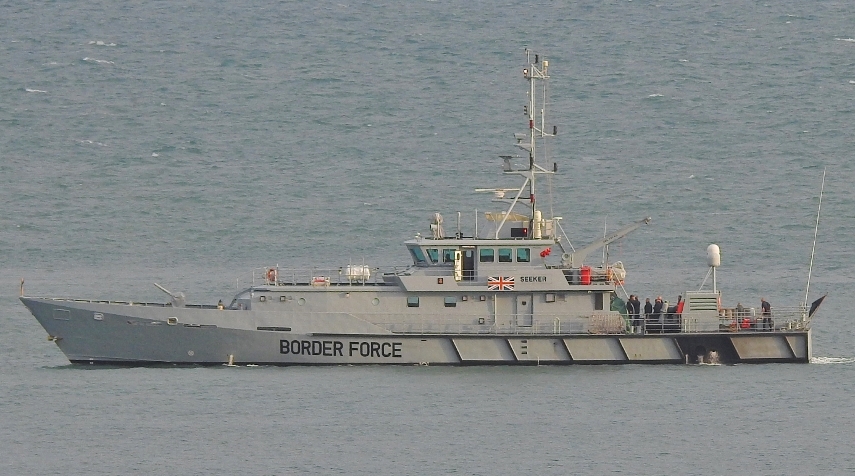 Border Force Seeker.
* *

Well done Mike with those pix below..right on the spot. Must have been chilly down there yesterday in all the gloom....those pictures are very enjoyable. I missed the ship leaving...that's what you get when head is stuck in computers. Got a long range pic...will have a look later to see if any good.
PaulB
ps: Spirit of Discovery arriving...

Thursday, 12 September 2019 - 06:48
Post 6523
Mike J., Dover
Cable ship NKT VICTORIA sailed 1600 Wednesday.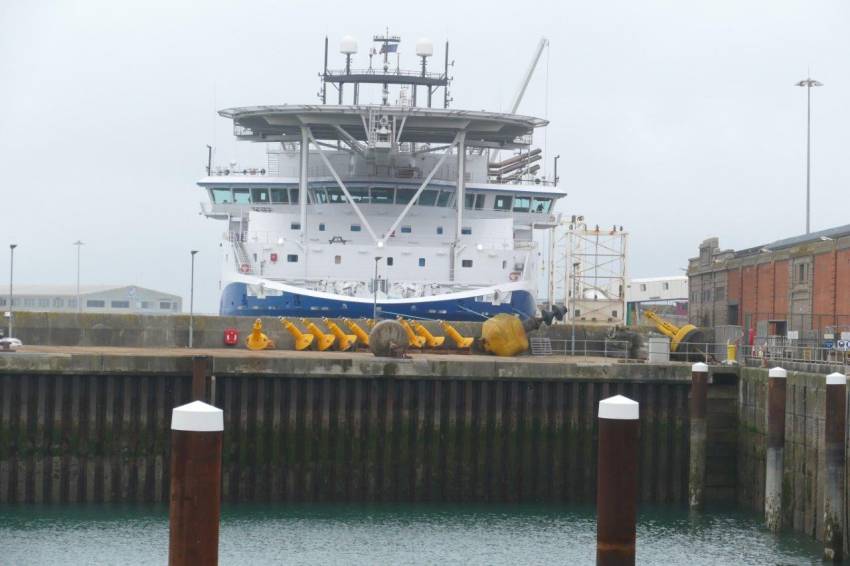 A rapid swing after coming off Cruise-1 showed her maneuverability before she left, heading across to the northeast lane & her eventual destination of Karlskrona.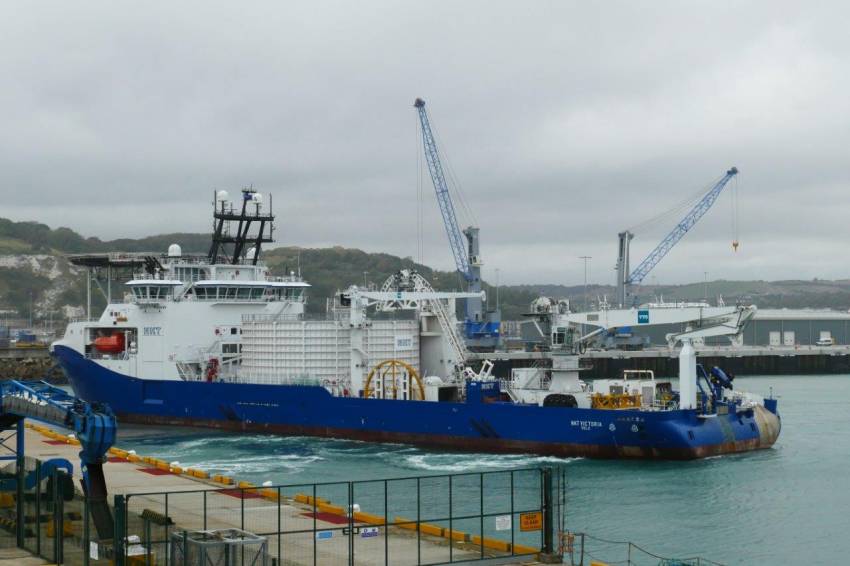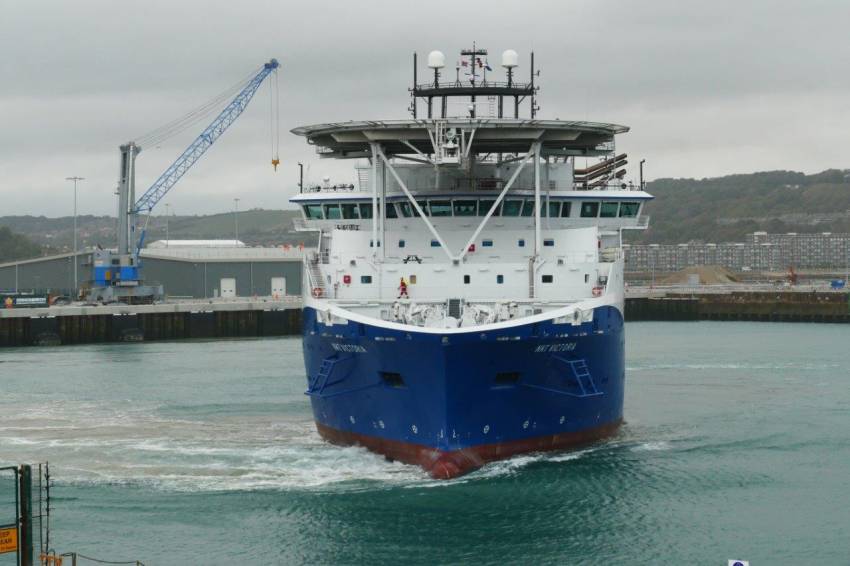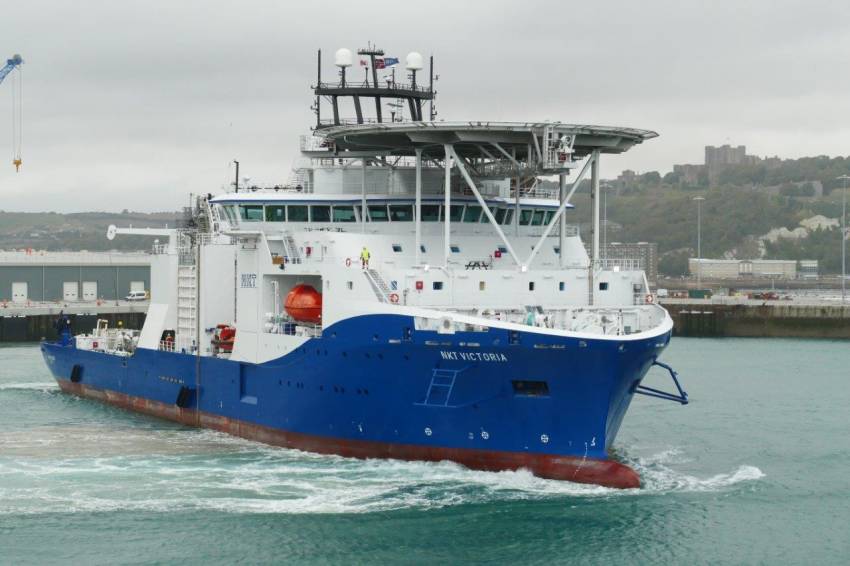 A but lumpy outside & the pilot disembarked before the VICTORIA passed thru the Western entrance.
Sid the Seagull kept an eye on proceedings.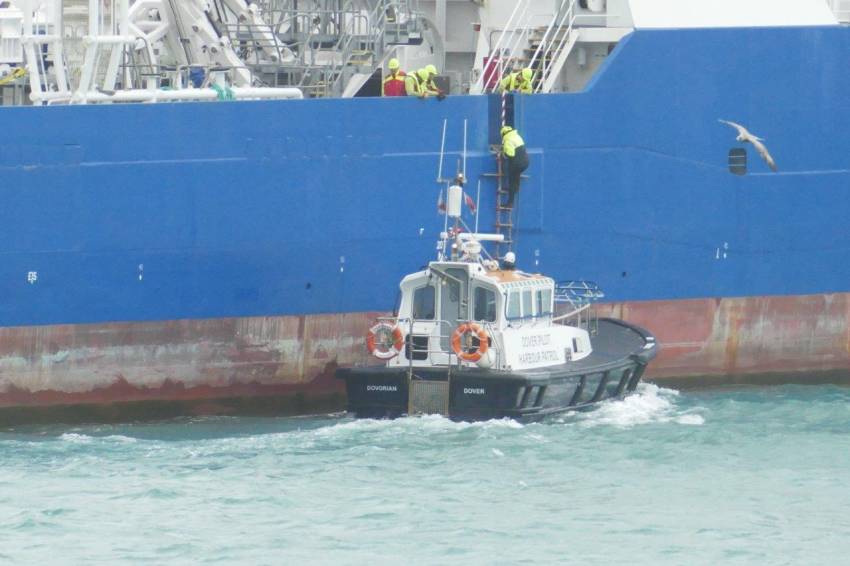 Thursday, 12 September 2019 - 01:31
Post 6522
Sea News, Dover
Some pictures to add here now of the MPI Adventure going down the Channel this morning in the gloom...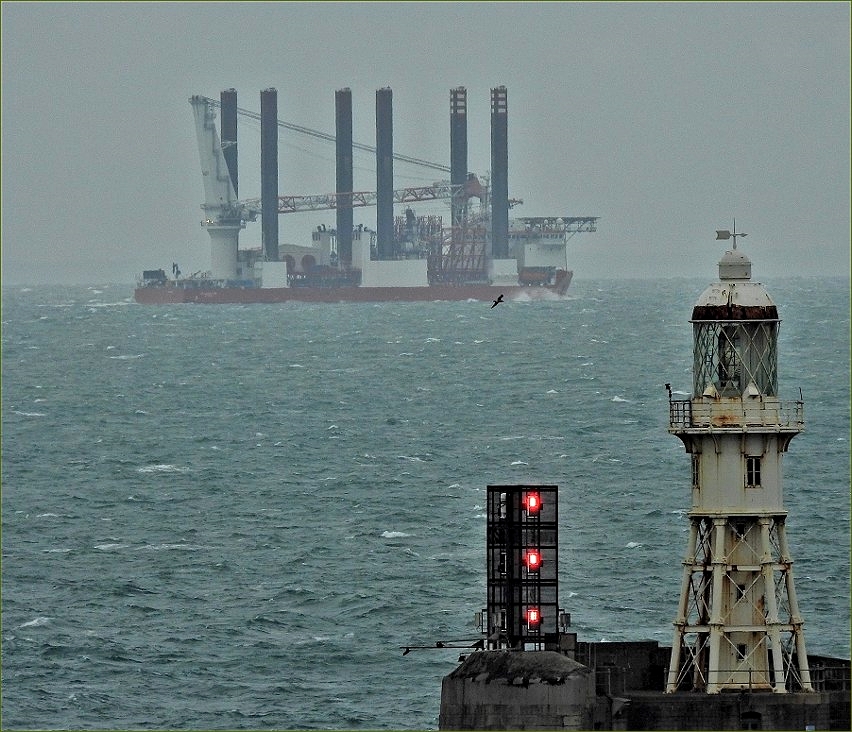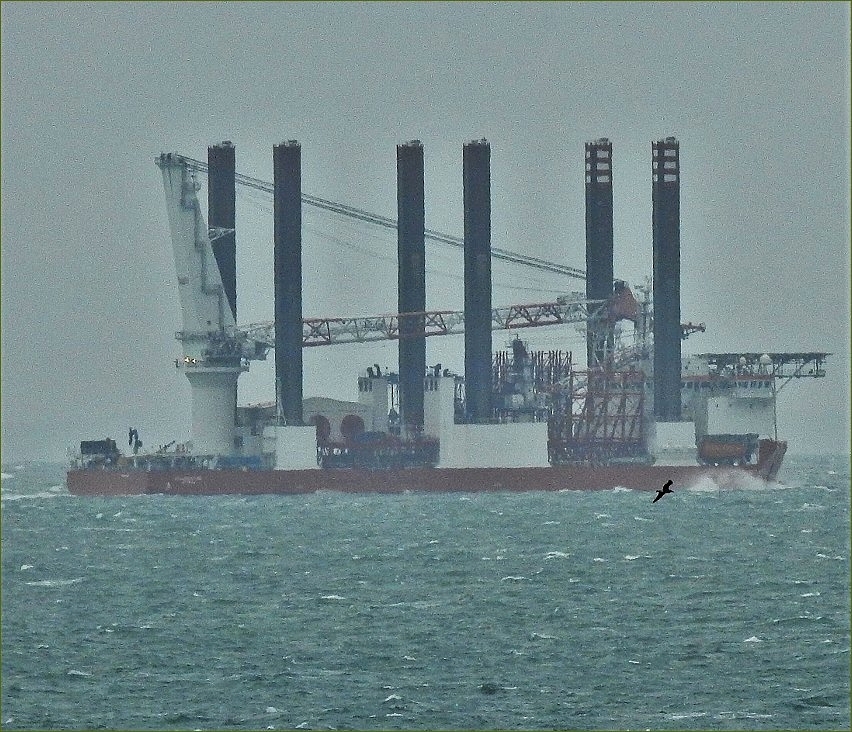 An impressive beast for sure. The second picture is a crop of the first as it was difficult to get a useable shot in the conditions. We have also featured other MPI platform vessels in the past...put MPI Discovery or MPI Enterprise in the Search Engine to see more. This mornings vessel, MPI Adventure, did not have a particular destination listed...
PB
Wednesday, 11 September 2019 - 15:57
Post 6521
Sea News, Dover
Pullmantur Zenith arriving at dawn yesterday....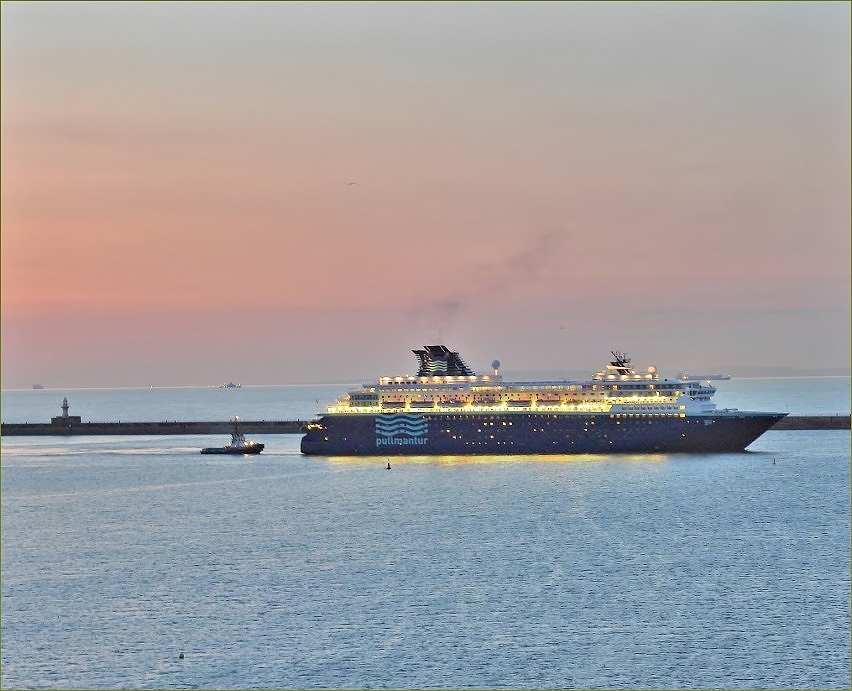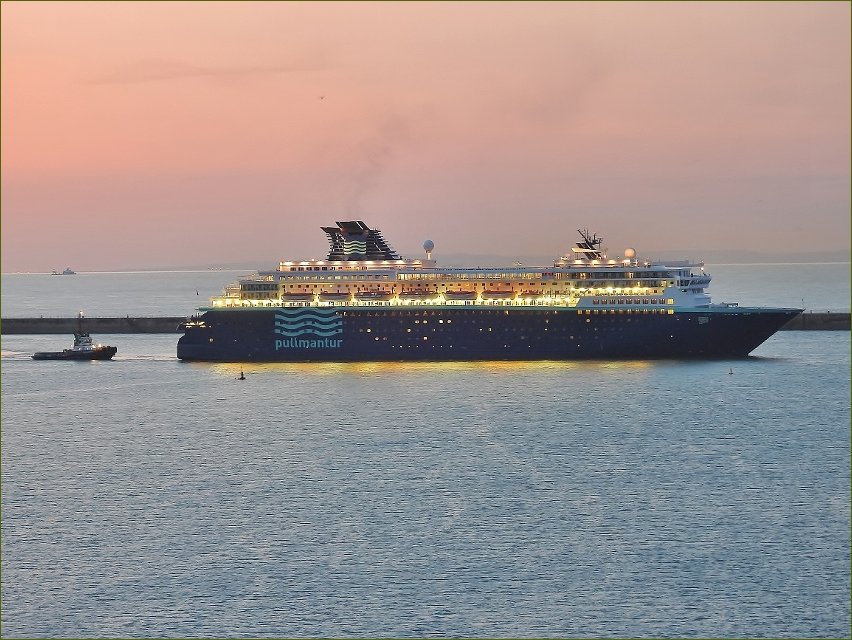 It was a mixture of dark and bright as Pullmantur Zenith made its colourful way across the harbour yesterday morning very early. A second camera ( the little one ) was used below as a back up as the pictures in camera one appeared to be too dark...but all was well...or wellish as you can see. She made her way over to Cruise Terminal 2 in elegant style. She left Dover for Cherbourg last night..... currently on a 7 day cruise from Malmo in Sweden to Vigo in Spain. Yes it was a colourful arrival as you can see...no such colours this morning, all is slate grey out there as we speak.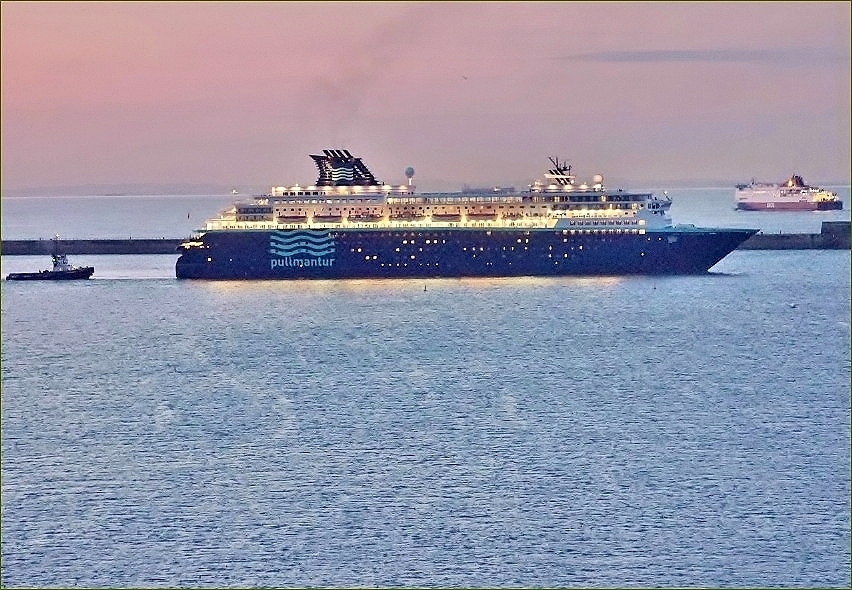 Very interesting collection below Mike from further afield...some familiar guys there for sure...

Yes a busy day for the Border Force yesterday...the highest number of migrants in one single day made the attempt at crossing. The number was 86 we understand.
PaulB
Wednesday, 11 September 2019 - 06:53
Post 6520
Mike J., Dover
Considerably outside our local area but I thought that three familiar vessels that I met on Monday whilst returning to Dover from Lowestoft might be of interest.
At Lowestoft Holyhead Towing's AFON CEFNI was looking very smart as usual & the Border Agency cutter SEARCHER was nearby.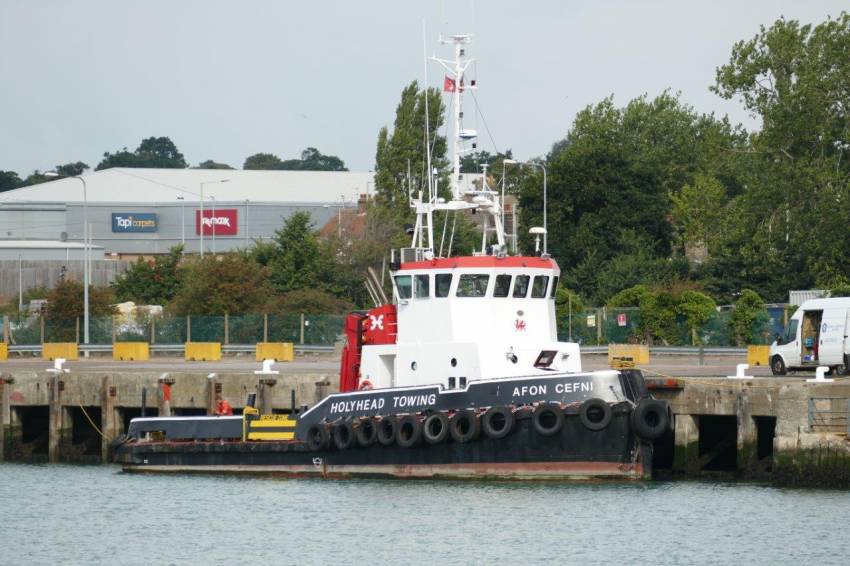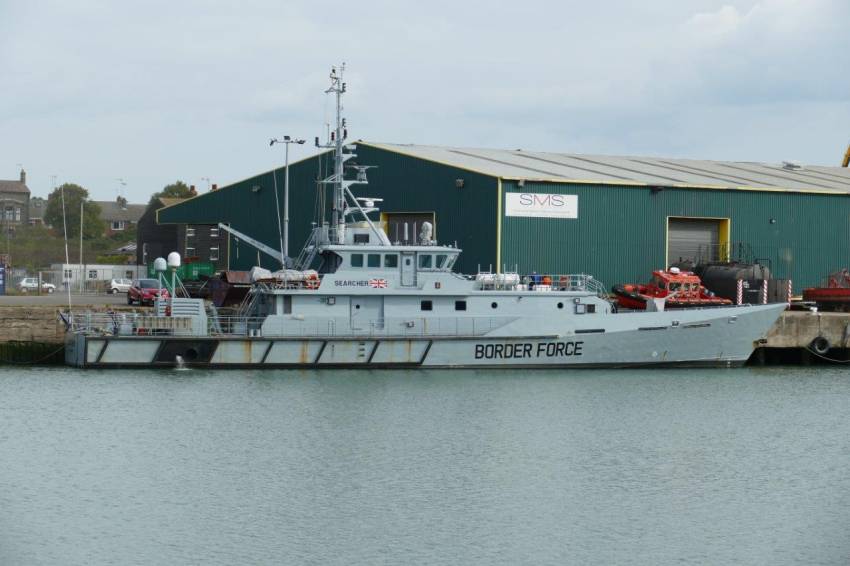 SEARCHER was moored at the SMS shiprepair yard & drydock & the DHB tugs have visited the same yard for refit work in the past.
At Harwich International was the COSTA MEDITERRANEA with the bunker barge ANUKET SAPPHIRE alongside.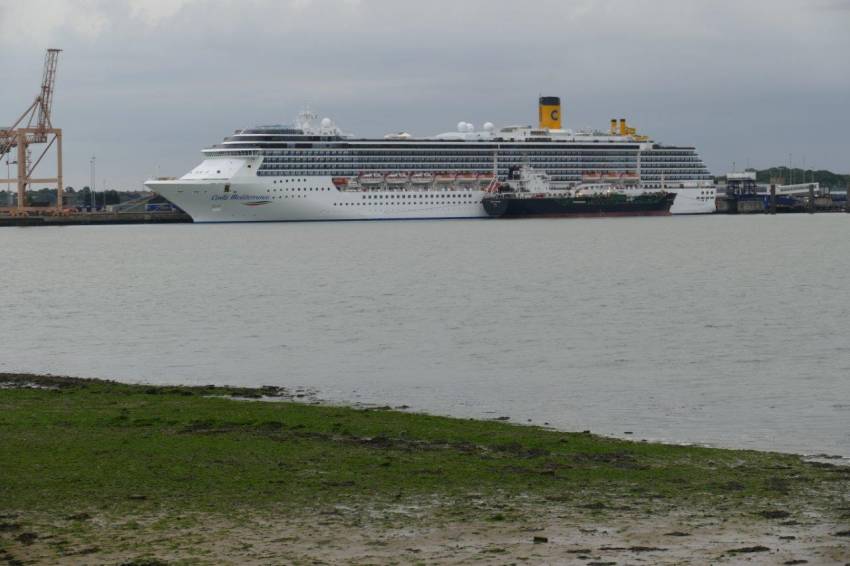 Nothing to do with Dover but I can't resist a snap of the tiny Harwich/Felixstowe/Shotley foot-ferry dwarfed by the MAERSK MCKINLEY MOLLER as she was arriving Landguard Fort, Felixstowe where she beaches to load & unload passengers using the odd-looking-but-safe structure on her bows.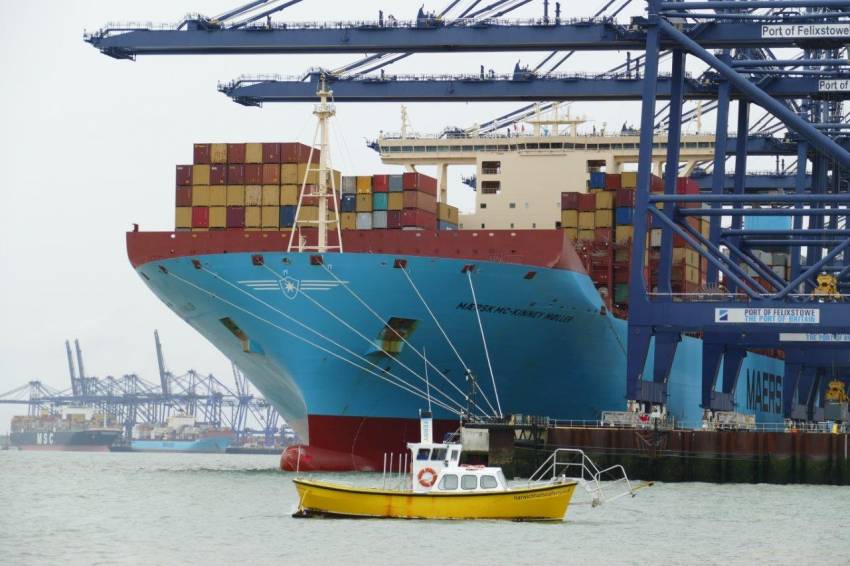 As she had no passengers for Felixstowe & no-one was waiting to board she got discouraged & didn't beach, turning round & plodding off to Shotley.
I believe that ferry boat was originally a passenger tender on a P&O cruise ship, maybe Del will know . . . . .
Harwich to Felixstowe as the seagull flies is 1.5 miles, by road 33 miles . . . .
More info ? Google 'Harwich Harbour Ferry' for their excellent website.
I hear that one of today's 'incidents' was right off Dover with a Border Agency cutter & one of their Dover-based patrol craft in attendance.
Wednesday, 11 September 2019 - 01:11
Post 6519
Sea News, Dover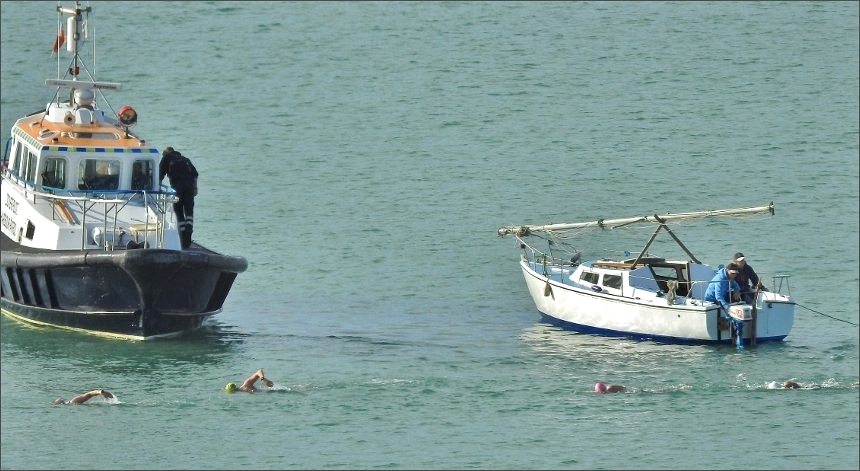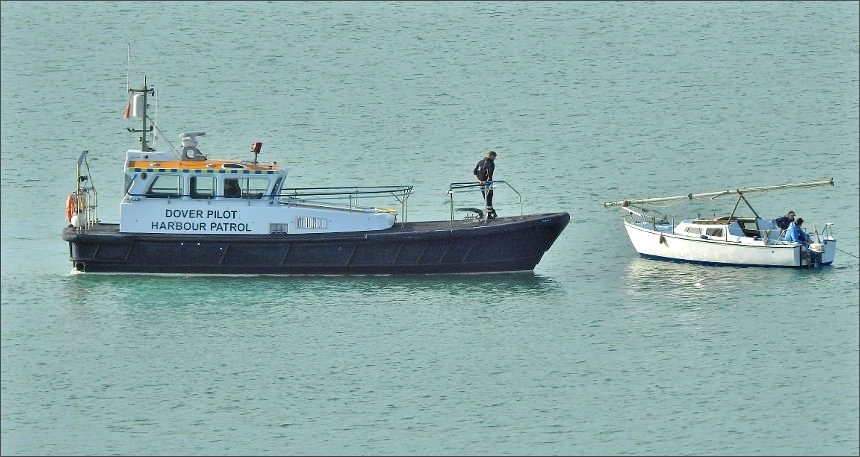 Yet again the swimmers appear to be compromised, this time with a small yacht right in their path at the weekend and inside the exclusion area. Fortunately on this occasion the Harbour Patrol arrived to move it on. I wrote to the Port Media re the previous pictures (SEE 6507) which showed the swimmers in potential harm...but heard zippo back...although maybe they passed on the info and vigilance has been increased. We don't want any accidents.
A couple of pix below now of the passing Blue Clipper. Its always a delight to see a sailing ship and one always hopes for full sail...partial success here. The small boat is Altered Ego from Dover..its a small fishing boat if I'm remembering correctly off top of head .. pictures from Sunday...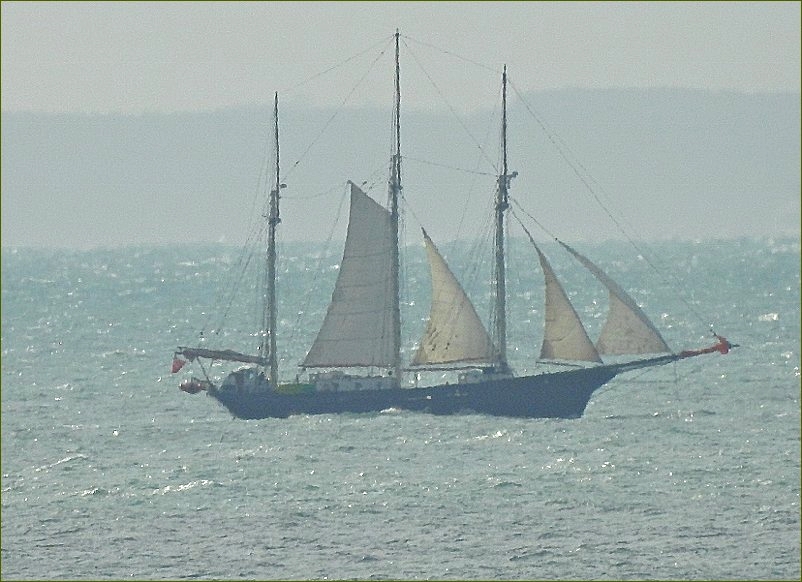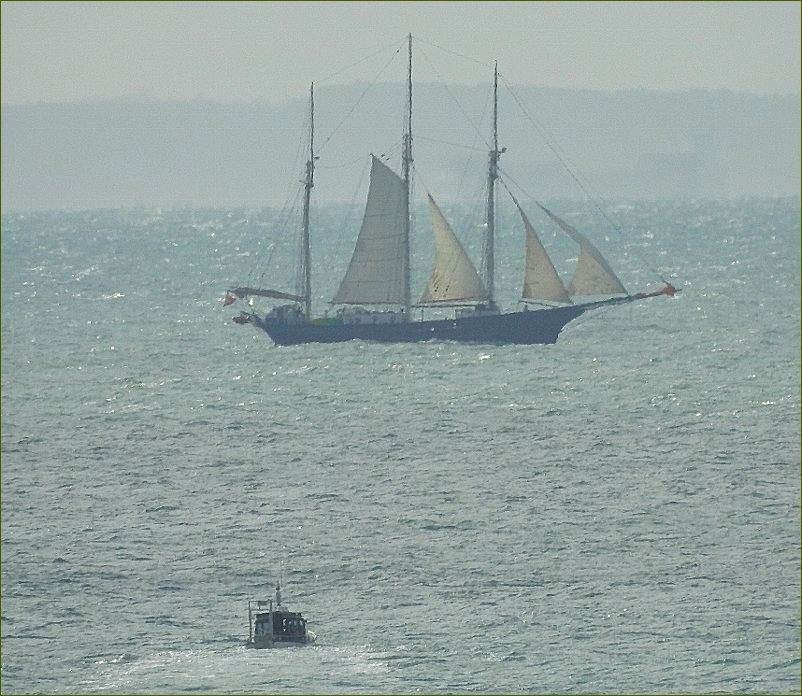 Just caught NKT Victoria yesterday morning before she nipped 'round the bend' to Cruise Terminal One. She is still here.... an award winning cable laying vessel we understand. Striking ship for sure. Hope to get some better shots in due course.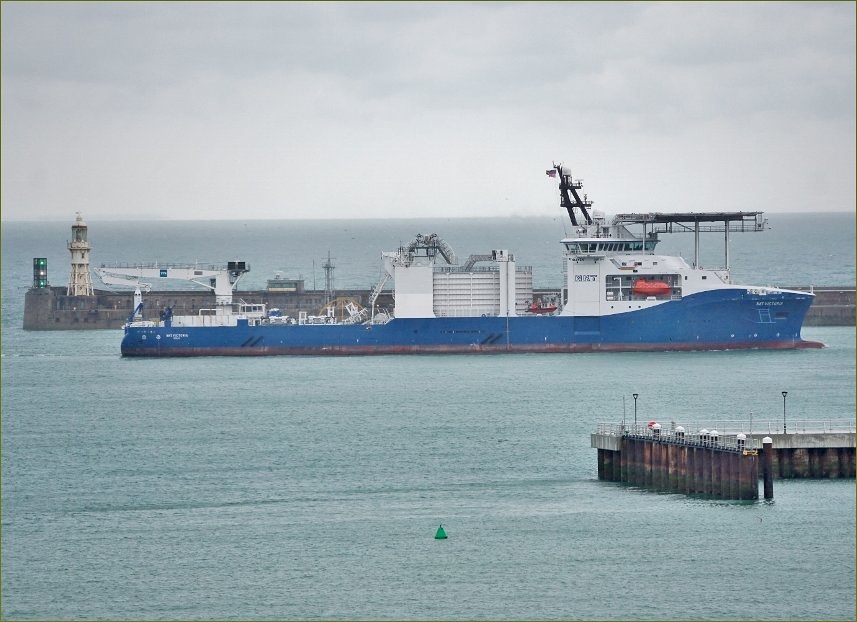 Del many thanks, glad you like all things lunar and this time the mention of the Indian story too...great stuff!

Jan yes great to see the Rock Choir, imagine being surprised by them onboard a DFDS ferry...that would be an enjoyable shock/surprise.

PaulB
ps:Pullmantur cruise ship Zenith in Port today.
Tuesday, 10 September 2019 - 06:58
Post 6518
Del Styan, Norwich
Wow - what a moon shot. Well done! Reminds me of the recent moon landings reminiscences. And well done for mentioning the Indian space exploration attempts - woefully under reported in our press.

Monday, 9 September 2019 - 23:13
Post 6517
JanT , Dover
Wow Rock on DFDS how amazing was that,I hope the Rock Choir did well, would be interesting to find out if anyone at DFDS knows.

Monday, 9 September 2019 - 12:35
Post 6516
Sea News, Dover
Surprise singing at sea!
_____________________

An 86 member Rock Choir surprised passengers on a DFDS ferry to France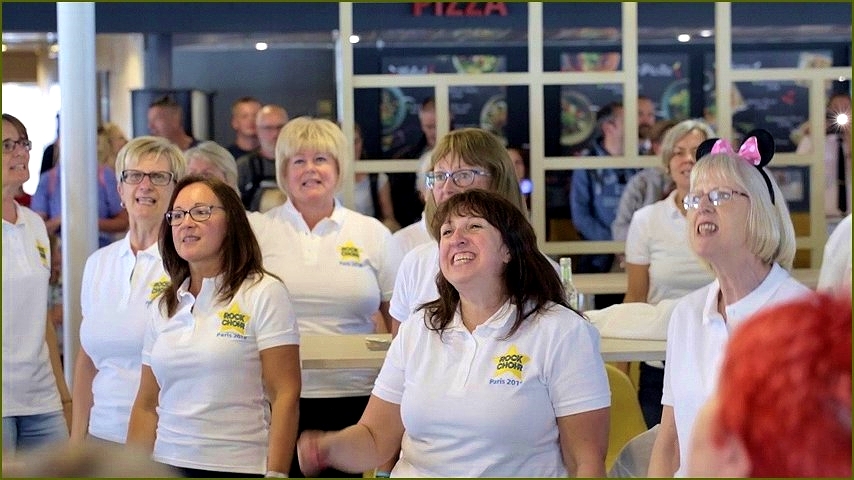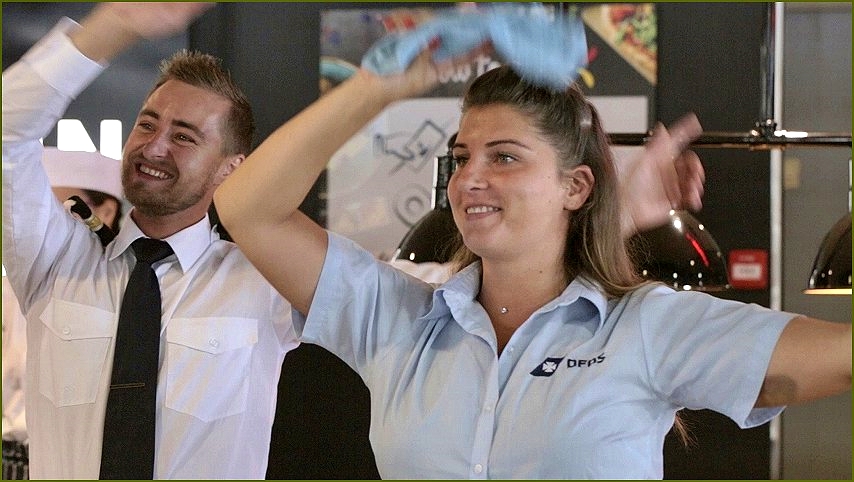 Passengers sailing from Dover to Calais with DFDS were surprised recently when they were entertained by an 86 member "Rock choir" in the middle of the English Channel.
On this occasion the choir were travelling to Paris to perform on Saturday 24th August in the public park, Parc Montsouris and on Sunday 25th to perform on Videopolis auditorium stage in Disneyland Paris but broke into song after leaving the port of Dover.
The choir sung the hits "Don't stop me now" by the legendary Queen and "Shut up and dance" by American rock band, Walk the Moon and were joined by members of the public and some of the crew in the Horizon restaurant aboard the Côtes des Dunes.
The Rock Choir were from the Hertfordshire, Bedfordshire and Buckinghamshire area and comprise of 3 different choirs led by professional singer and conductor Lizzie Deane.
Lizzie said: "We do flash mobs to give the members another new experience, the buzz of performing to an unsuspecting public, and to 'spread some joy'. It's great fun for members and public alike. It's also a great way of promoting singing to those who have perhaps never tried it before. This was the first flash mob performance that these choirs have performed together and it was a brilliant ice-breaker.
"The Rock Choir groups around the UK offer a glamorous inclusive experience with no auditions and no requirement to read music. Anyone joining need not have any previous singing or musical experience and it offers all ages an alternative experience to the traditional classical or community choir introducing members to feel-good pop, rock and contemporary chart songs."
Naomi Harper, PR Manager at DFDS said "We were delighted to be able to offer passengers sailing with us this special exclusive performance. The atmosphere when the choir started singing was electric and unexpectedly emotional. It was lovely to see passengers of all ages joining in, from toddlers bopping to adults singing along and cheering!".
To join a rock choir please visit rockchoir.com and enter a postcode or nearest town and a free taster session can be booked.
To view a video of the event follow this link https://youtu.be/dqYAIf9-flk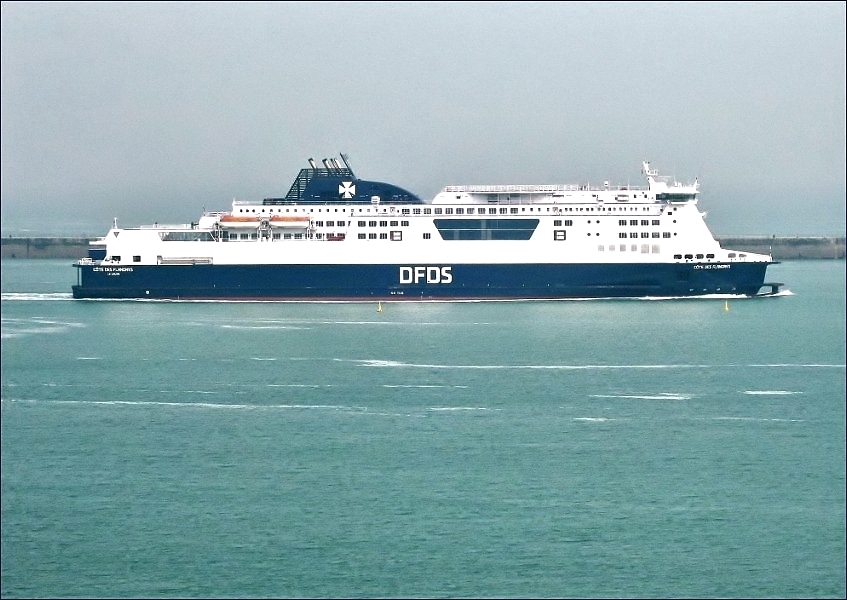 ENDS
And speaking of Disney above...here we are with a couple of pictures from last evening (Sunday). First shot shows the magnificent Disney Magic having left the Port of Dover and turning towards her destination ...The Irish Sea and first stop Dublin. You can see the two patrol boats in attendance...in fact in the pic they are beginning their return to base as the ship magically sets off...job done!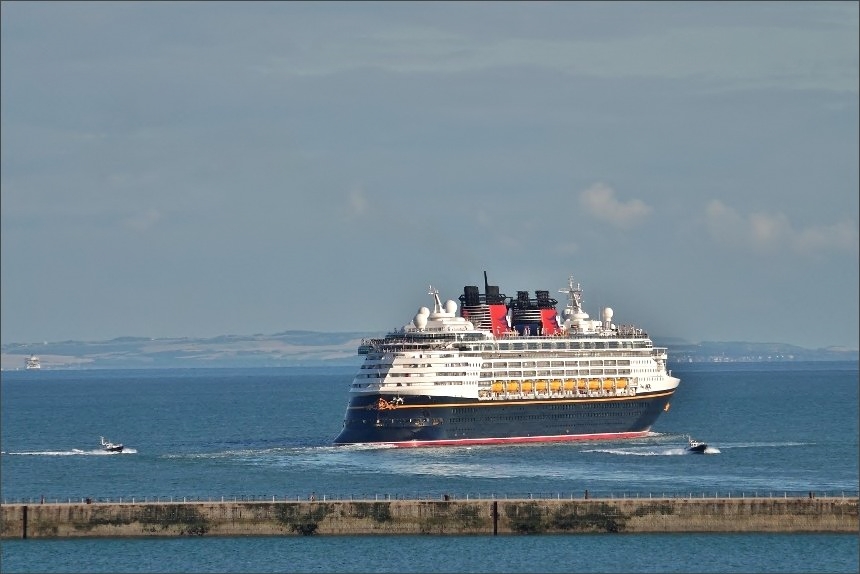 The second pic below shows the aforementioned boats...Harbour Patrol Boat (pilot) and Police Patrol Boat having a conflab below yours trulys 'Observation Tower' prior to the Disney departure...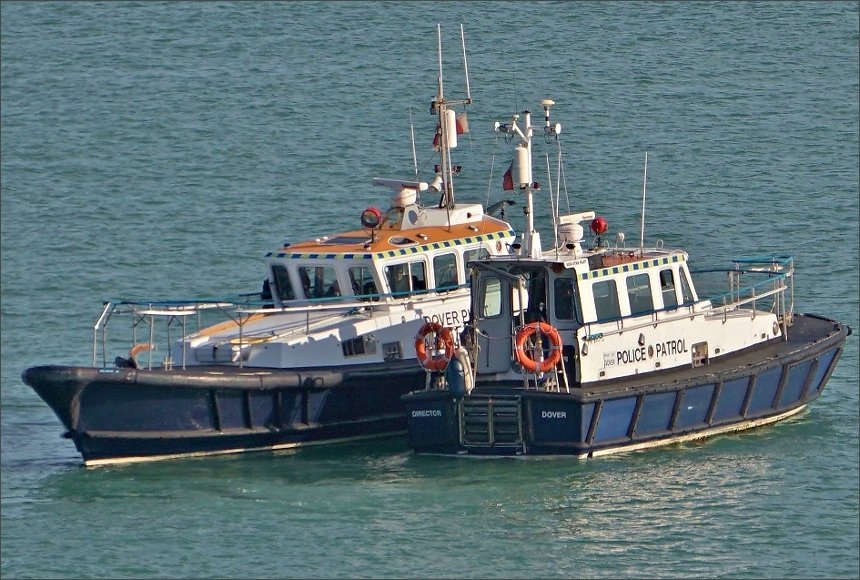 PaulB
ps: Pacific Princess in Port today.
Many thanks once again to the Team at DFDS for the information....rock'n'roll….


Monday, 9 September 2019 - 07:23
Post 6515
Sea News, Dover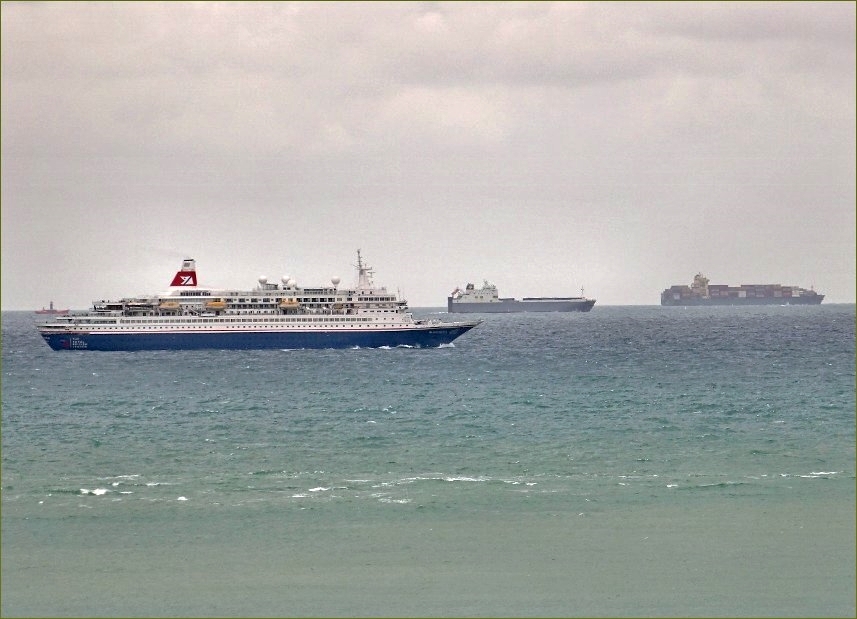 Boudicca joins the charge south in the pic above. Photographed just outside the Port on Friday as she sets off at pace for the French Rivers and the towns of Rouen, La Rochelle and Bordeaux etc. Lots of nice wine to taste down there on her 9 day round trip. The picture was taken through the western exit and you can see how calm the sea is inside the harbour, while beyond... a wee bit choppy for sure. Hope all are having a good trip.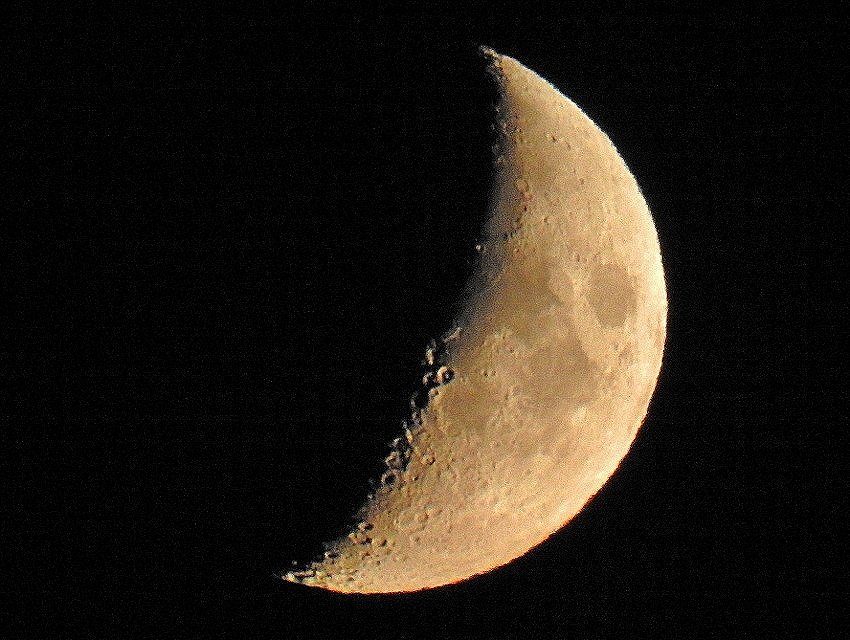 "The Dark Side of the Moon"
The picture of the quarter/half moon is from the middle of the week and this is how it looked over the harbour on...just checking.. yes wednesday. When you see it sectionalised like that it always looks so strange. We are hearing on the news bulletins that an Indian moon lander has been lost on the dark side....not surprised when you see the above...
PaulB
ps: the Disney Magic back in port today...very early arrival.
Sunday, 8 September 2019 - 06:28
Post 6514
Sea News, Dover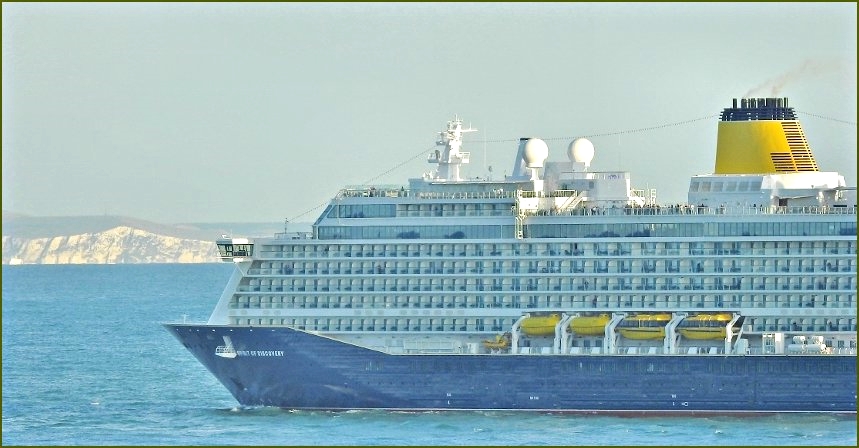 The Spirit of Discovery heads to the Fjords on thursday evening with the French Cliffs in the distance...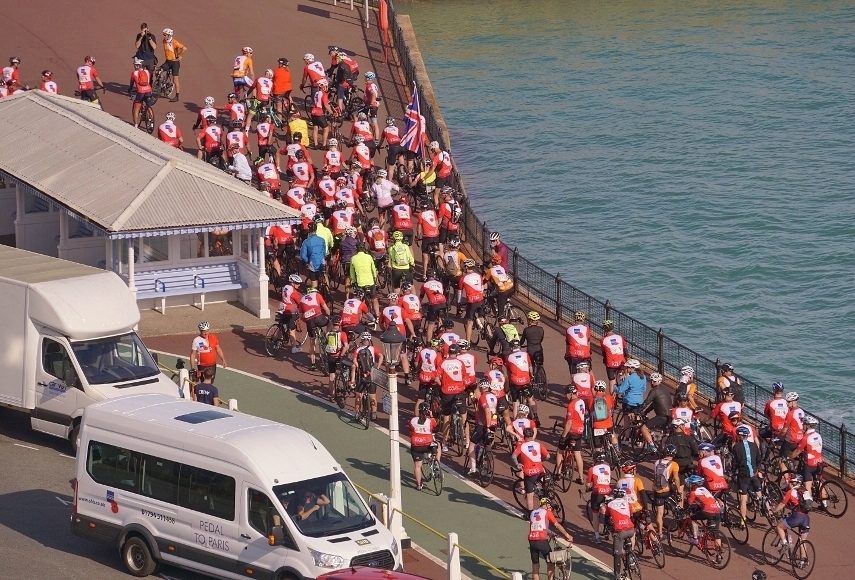 The PEDAL to PARIS Royal British Legion Event above and below...very exciting colourful event passing through Dover from London. We had pictures last year as well. These current shots were taken on Thursday. Pausing above there, champing at the bit, just like the start of the Tour de France...and then below...they're off !! Whooosh!!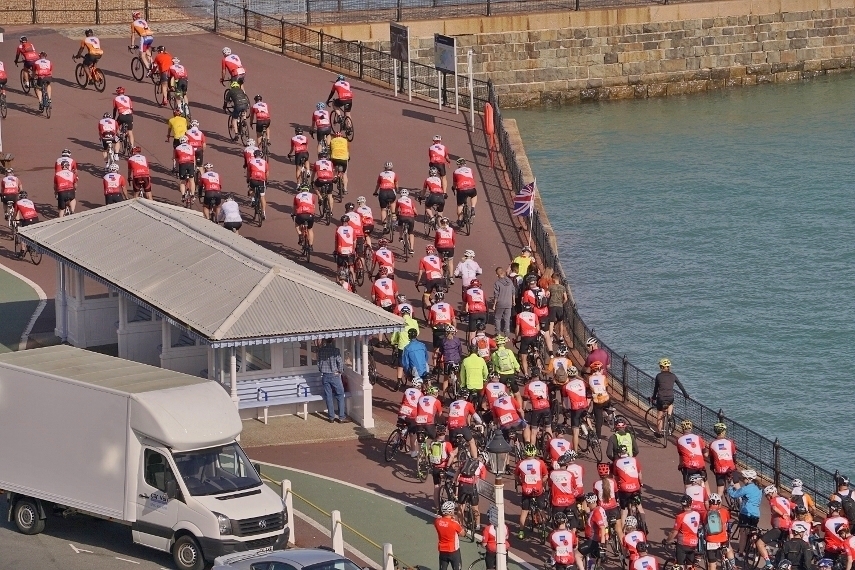 Below you can see them relaxing earlier and note all the accompanying vehicles...an exciting event for sure...one was almost tempted to don the lycra, although yours truly probably said that last year as well...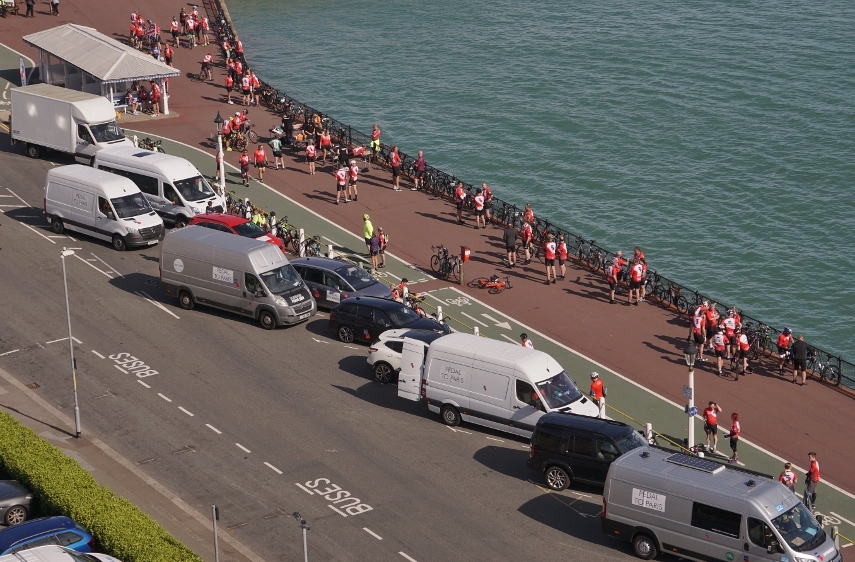 Thanks to Del and Jan below there for the Goofy comments...

or perhaps I better put it another way...thanks for the comments on Goofy...

PaulB
Saturday, 7 September 2019 - 06:03
Post 6513
Del Styan, Norwich
I don't have much time for the corporate Disney brand, but I must admit that Goofy pic is a cracker!

Friday, 6 September 2019 - 22:57
Post 6512
JanT , Dover
The good old Nikon did do well yes that's Goofy,as said you would never have known he was there had the camera not been able to capture the picture brilliant

Friday, 6 September 2019 - 08:32
Post 6511
Sea News, Dover
The Spirit Of Discovery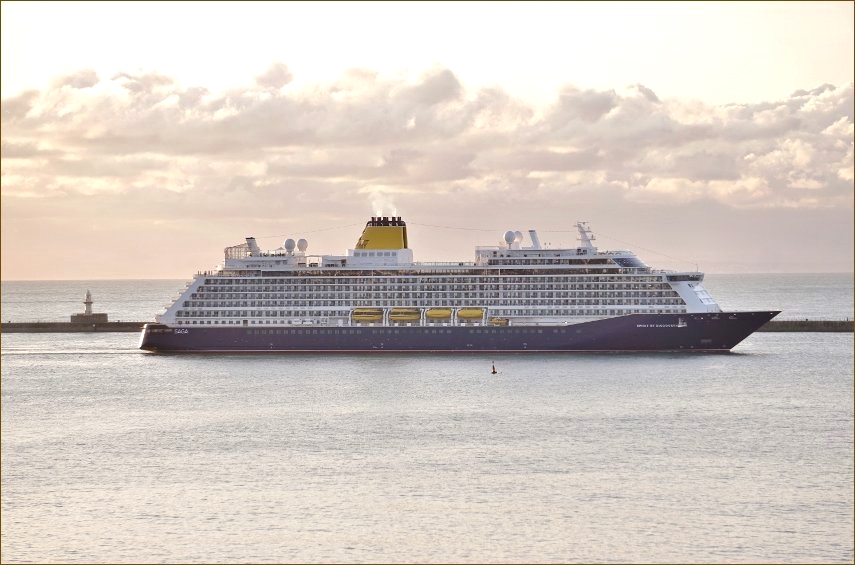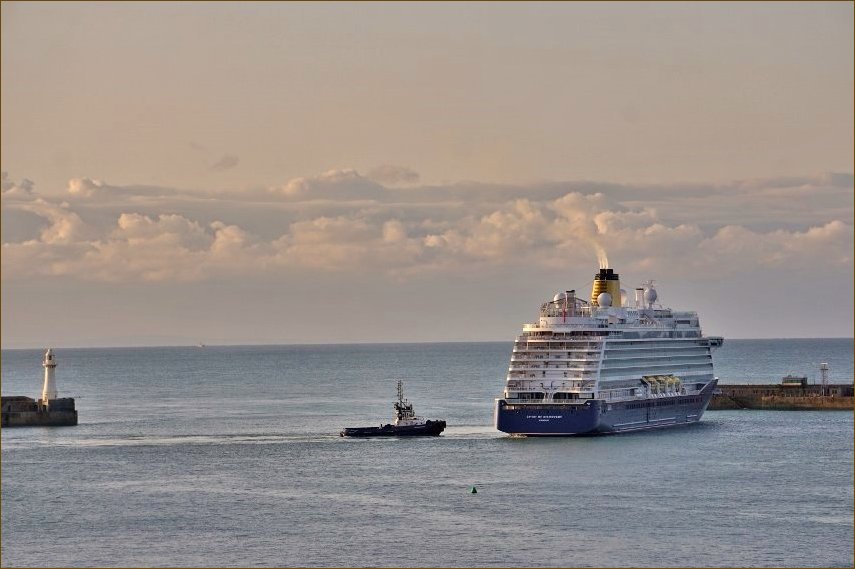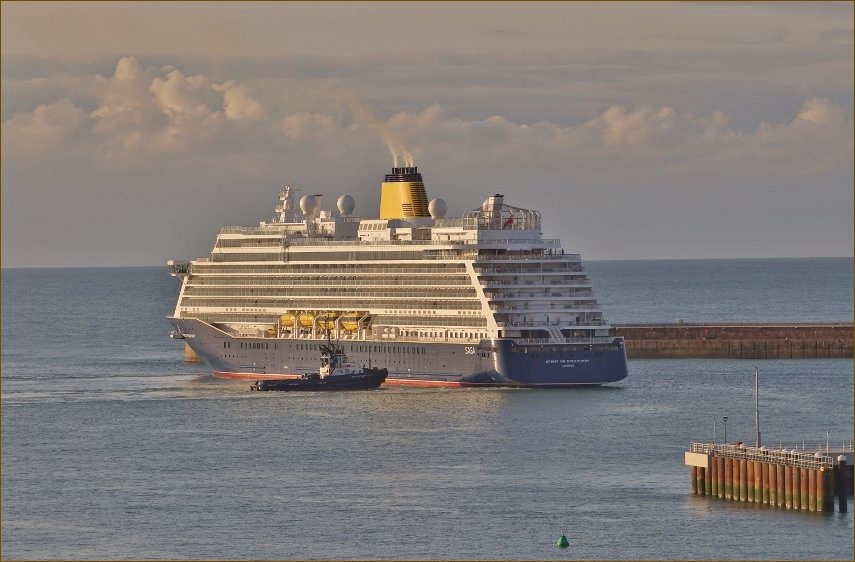 Some pictures above there of the Spirit of Discovery arriving with us again yesterday morning early...catching the now autumnal light here in Dover. The pictures have a sepia tone to them, but not anything supplied by yours truly...all natural....
She is on a 7 Day round trip...Dover - Norwegian Fjords - Dover.
Below we have some departure shots of the recent Disney Magic visit on September 1...yes we are still catching up...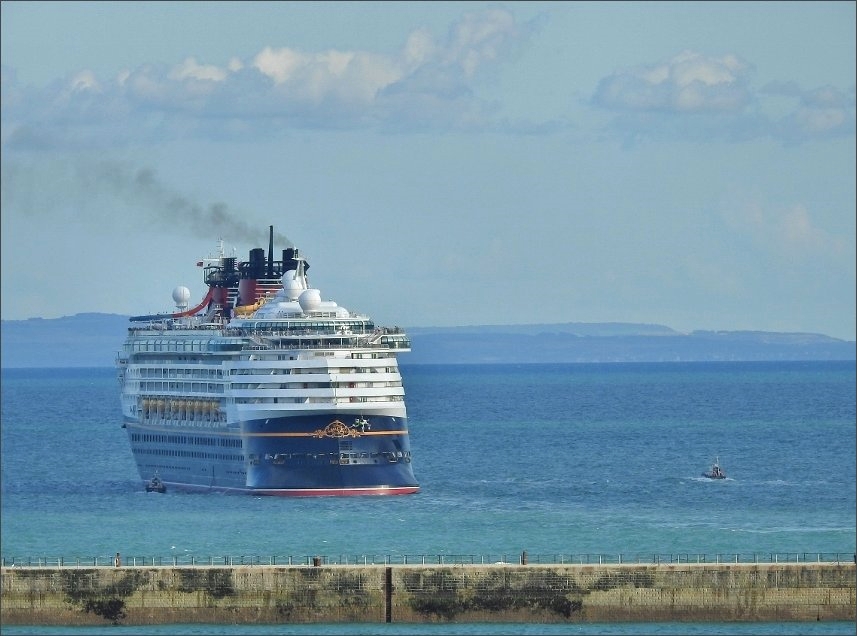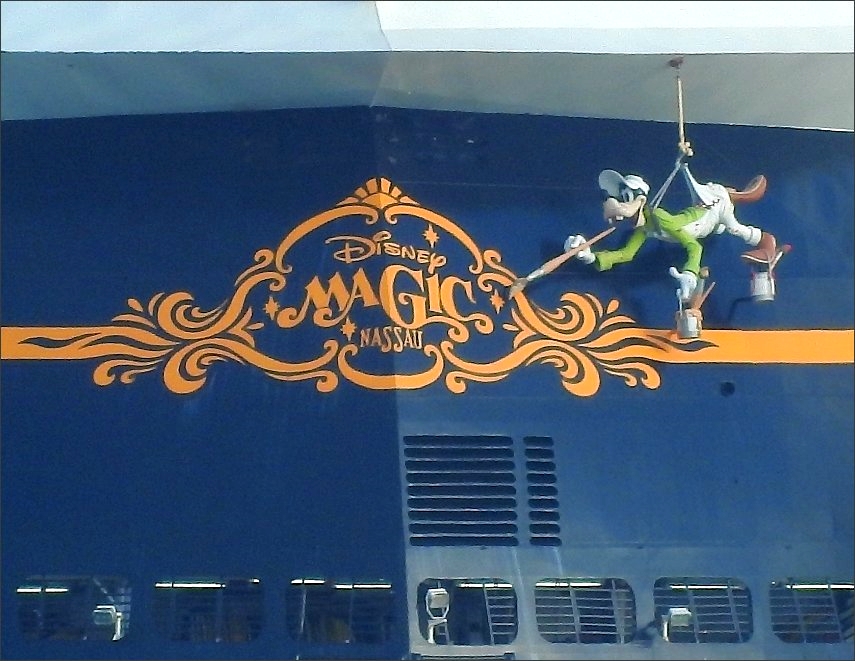 You can see the pilot boat to the left of top shot there, normal procedure, but over on the right of picture you can just spot another launch...the police escort we understand.
The second picture surprised me as it came out better than expected as its quite long range...wasn't expecting such clarity. The old Nikon did well there...

That's Goofy isn't it??

PaulB
ps: Boudicca in Port.
Friday, 6 September 2019 - 07:05
Post 6510
Sea News, Dover
Some pictures now from Merchant Navy Day on Tuesday...showing the ceremony on the seafront..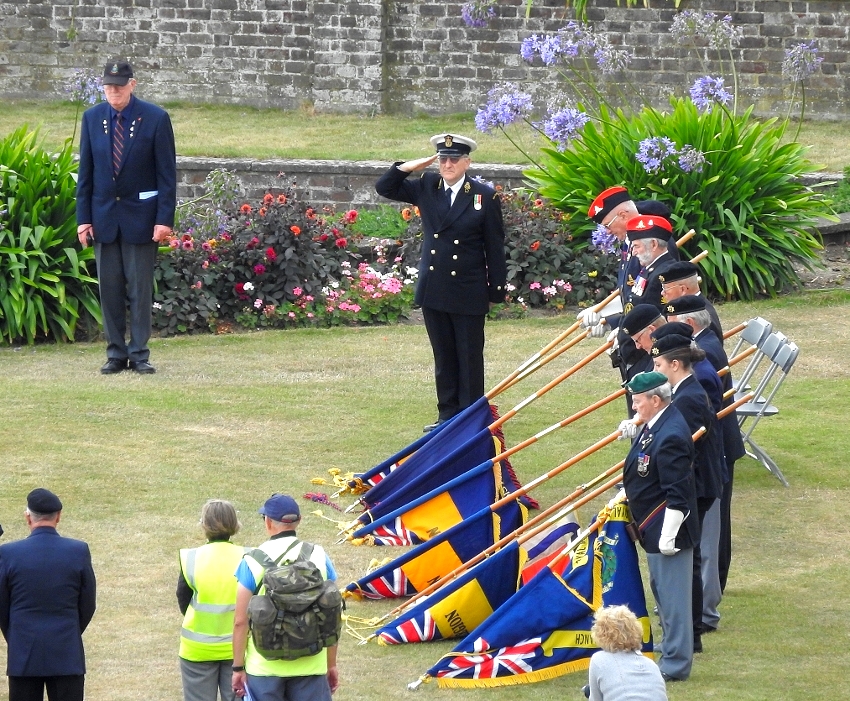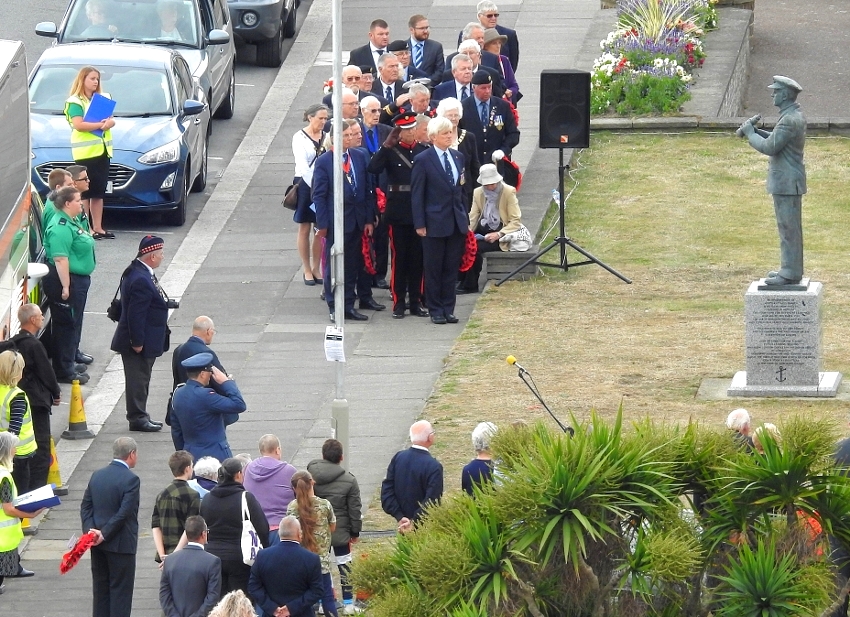 You can see the assembled dignitaries waiting to lay wreaths at the statue. Always a very moving ceremony beautifully done, it follows along from the event at the Town Hall. Just marking the occasion above there with those few pictures.
Well done TED. Great to see your "Famous Five" below there. Excellent standard on the brilliant pictures there in 6508.

Brilliant shots from our 'inshore correspondent' Mike below too in 6509...great stuff all round!

DONT MISS THOSE posts below

PaulB
ps: Spirit of Discovery in Port today.
Thursday, 5 September 2019 - 07:16
Post 6509
Mike J., Dover
A drizzly day in Dover Docks [sounds like a song title !],
Fortunately it cleared up later in the day but I was severely drizzled-on at 0845 as the 'Tamar' class Cromer lifeboat 16-07 sailed from Dover after overnighting en route for refit at Poole.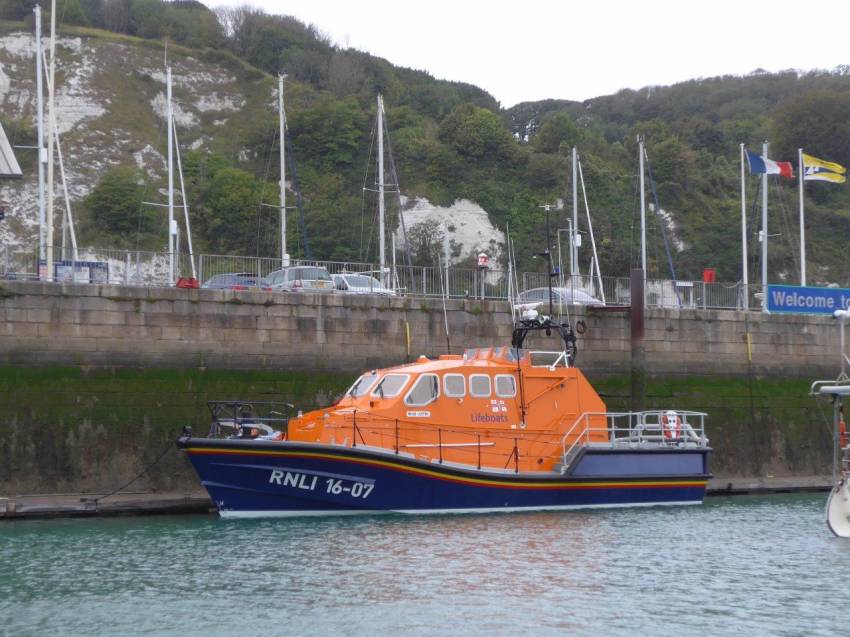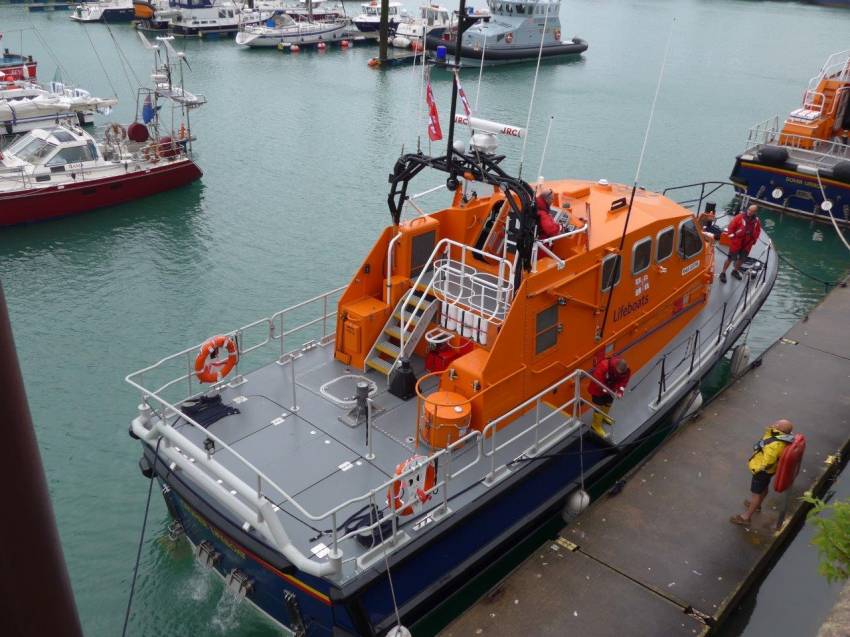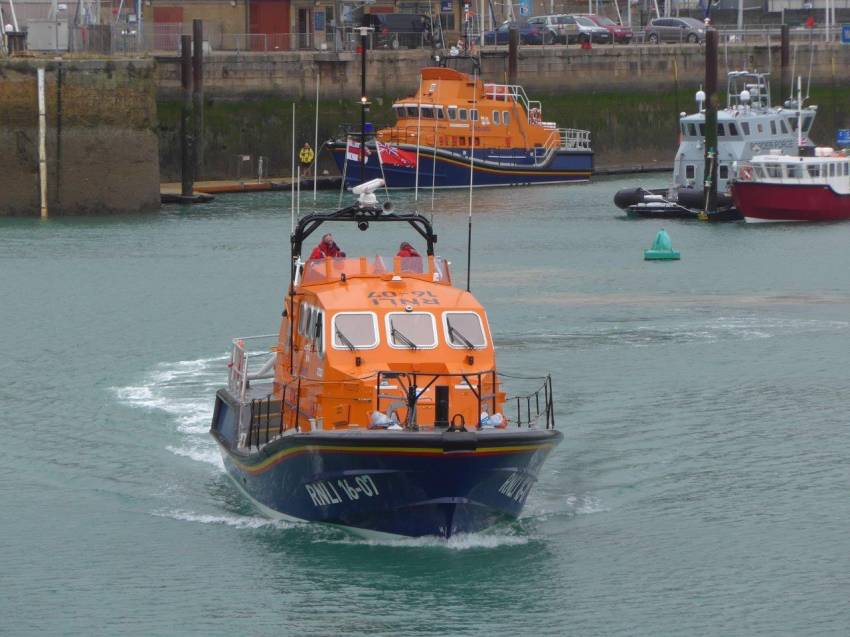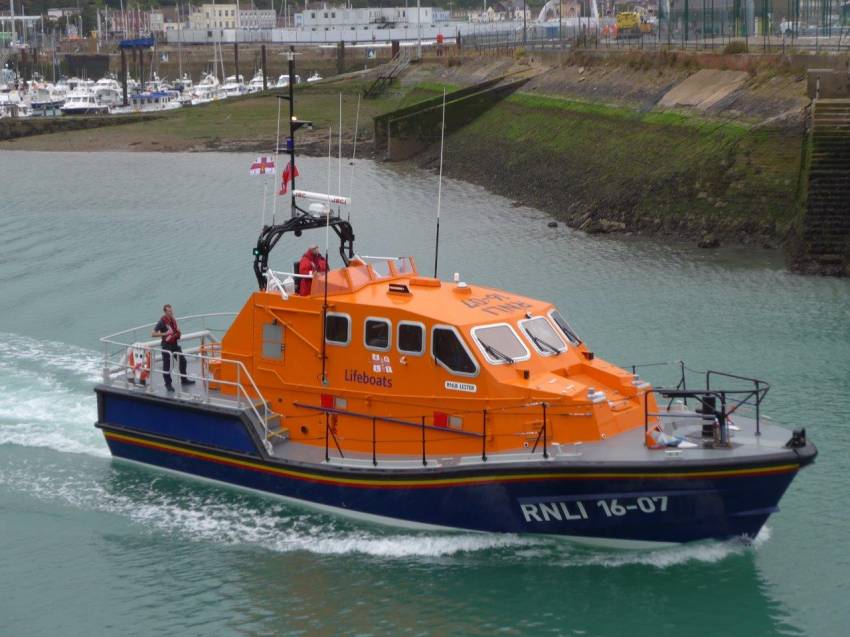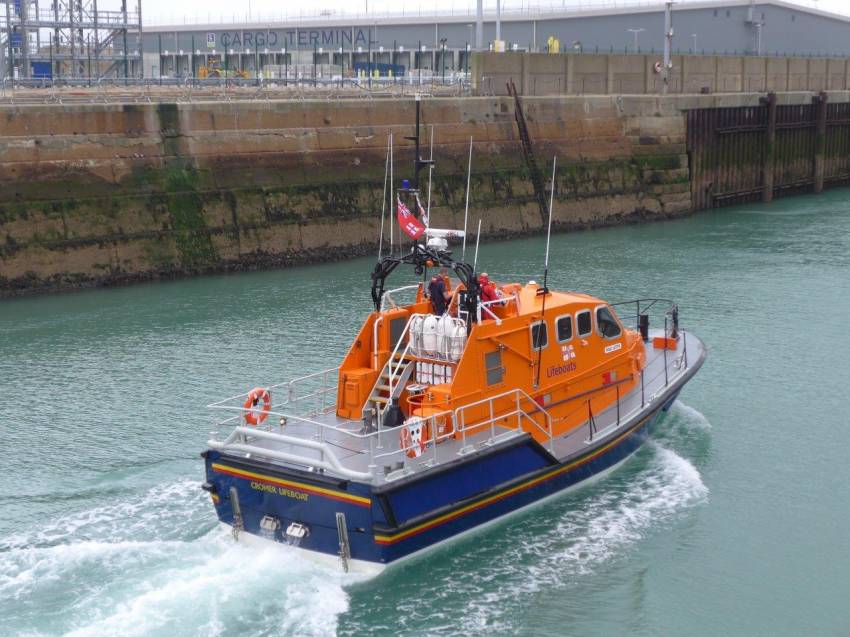 The LESTER has been temporarily replaced up at Cromer by another 'Tamar' PETER & LESLEY–JANE NICHOLSON, 16-01, the prototype of the class.
An excellent selection from Ramsgate - Ted seems to have a knack of finding plenty of action & interesting vessels on his Wednesday visits . . . .
Thursday, 5 September 2019 - 00:47
Post 6508
Ted, Canterbury
"Five from Ramsgate"
Ramsgate Lifeboat had a busy day with an early morning rescue.
The narrative is taken from the Ramsgate Lifeboat Facebook page.
Service Call 48
4th September at 05:19 All Weather Boat tasked by UK Coastguard to an 18m Ketch at anchor with engine failure at the end of the Ramsgate approach channel. On scene the AWB passed a line and after the skipper of the ketch ditched his anchor, towed it into Ramsgate.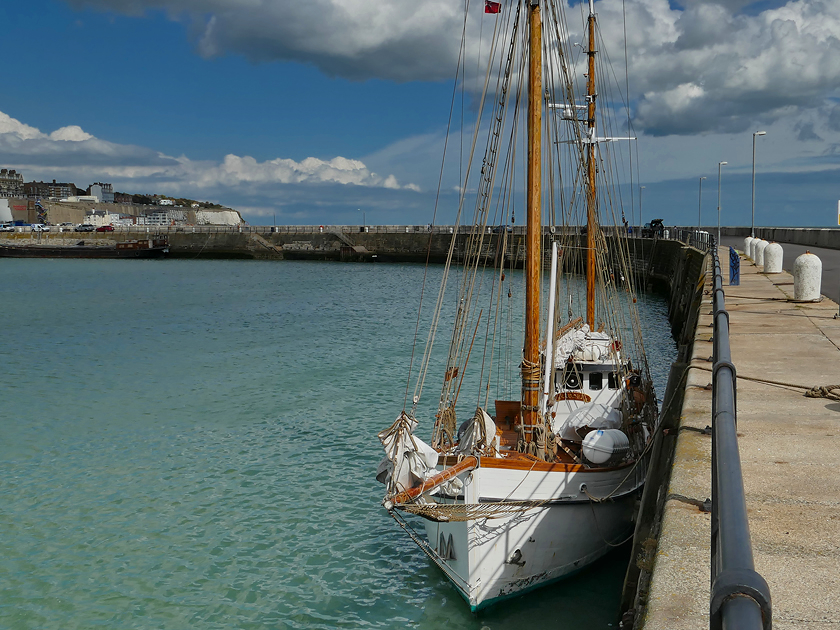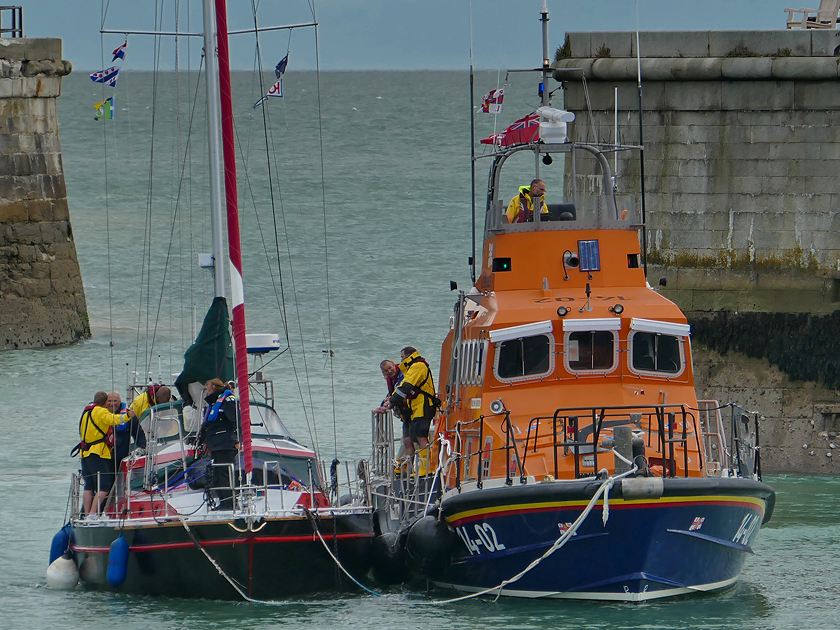 Service Call 49
4th September, immediately after completing Service Call 48, the AWB was re-tasked by UK Coastguard to a yacht with engine failure 26 nautical miles NE of Ramsgate. On scene the AWB passed a line and towed the casualty vessel into Ramsgate harbour. Wind on scene Force 9.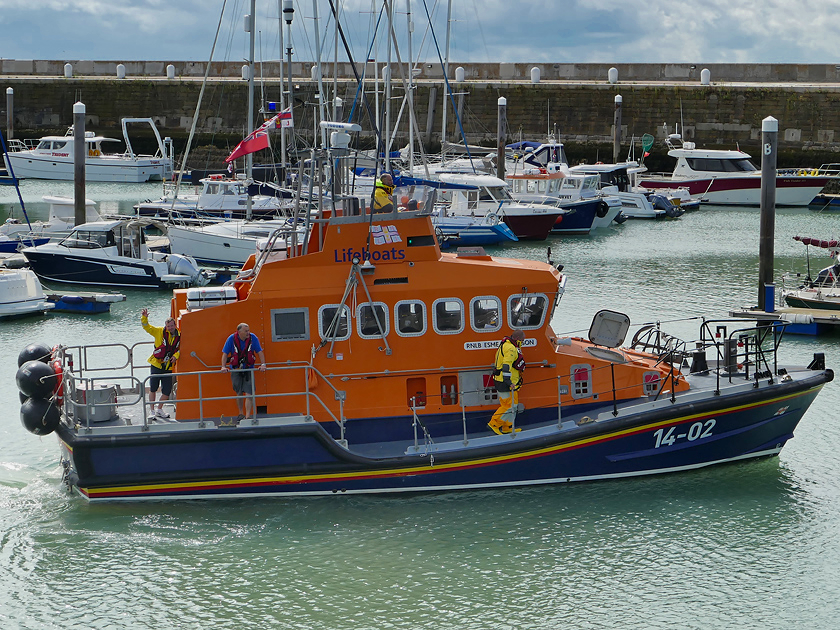 Ramsgate Lifeboat returns to the Boathouse to get refuelled and ready for service.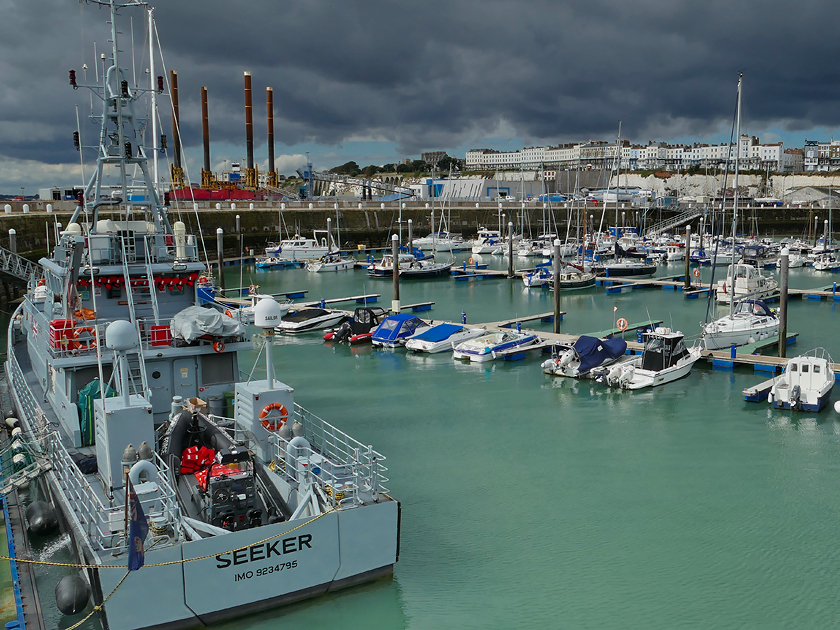 A weather front passes over Ramsgate but luckily the rain stayed away.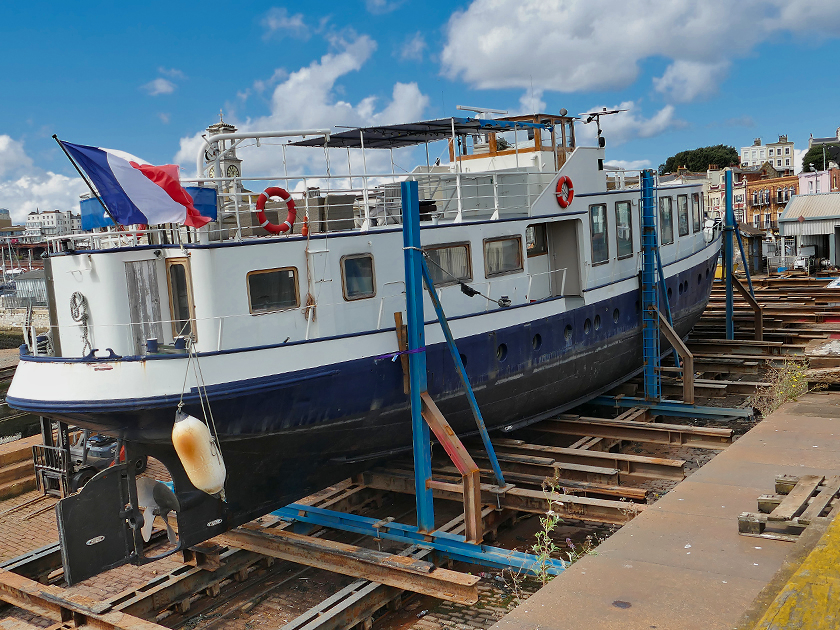 Now fine weather and a fine looking motor vessel on the slipway at Ramsgate.
Flying the French flag..but the name on the awning on the stern was Zeeland which is a coastal region of the Netherlands.A Marine surveyor was taking readings of the hull plating.I cannot find any information about her on the web.
Wednesday, 4 September 2019 - 18:35
Post 6507
Sea News, Dover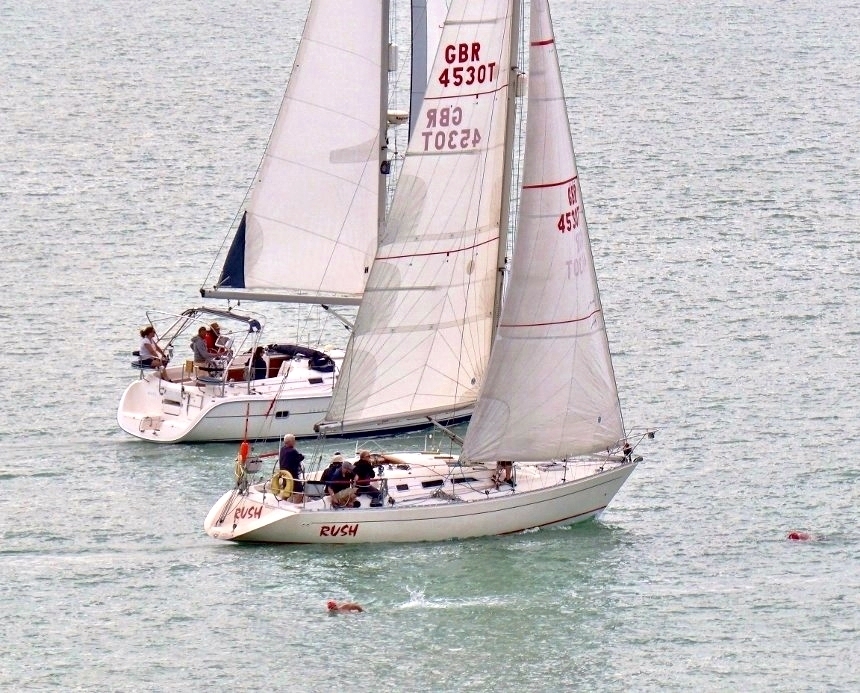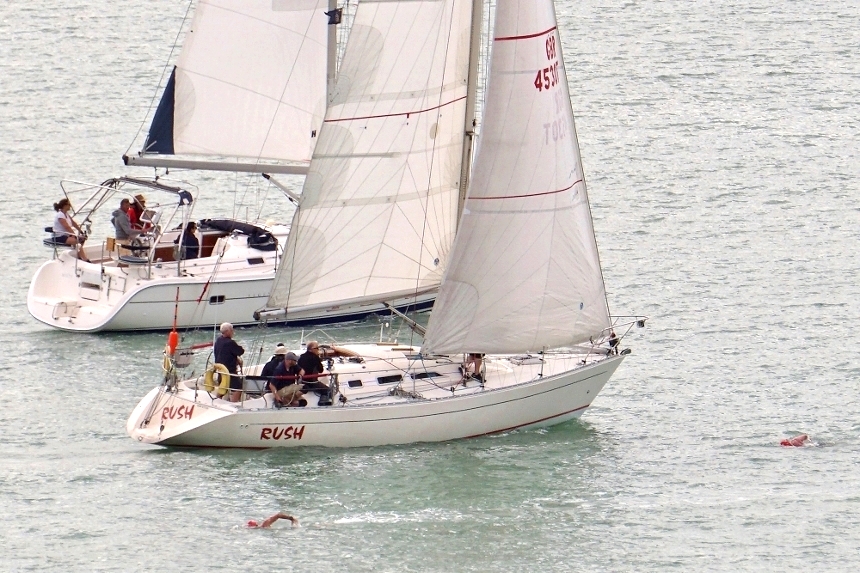 Two pictures above there taken on Saturday...the pix obviously show the yachts sailing by but look at the swimmers in the water right next to them. Yours truly didn't notice at first but upon examining the pictures later was surprised and concerned to see the swimmers right alongside the yachts as the yachts powered by. There was a number of yachts out there as you saw in Patrick's earlier shot ( 6499 ).
I will draw the Ports attention to this as none of us want to see an accident.
PaulB
More.....
Thanks to Howard James for the information on the US Warship see the UPDATE in 6502.

Thanks to Mike as ever for the information on those early ferries below. in 6503..

And thanks too to John Hendy for the cracking shot below looking across the channel

Wednesday, 4 September 2019 - 06:59
Post 6506
Sea News, Dover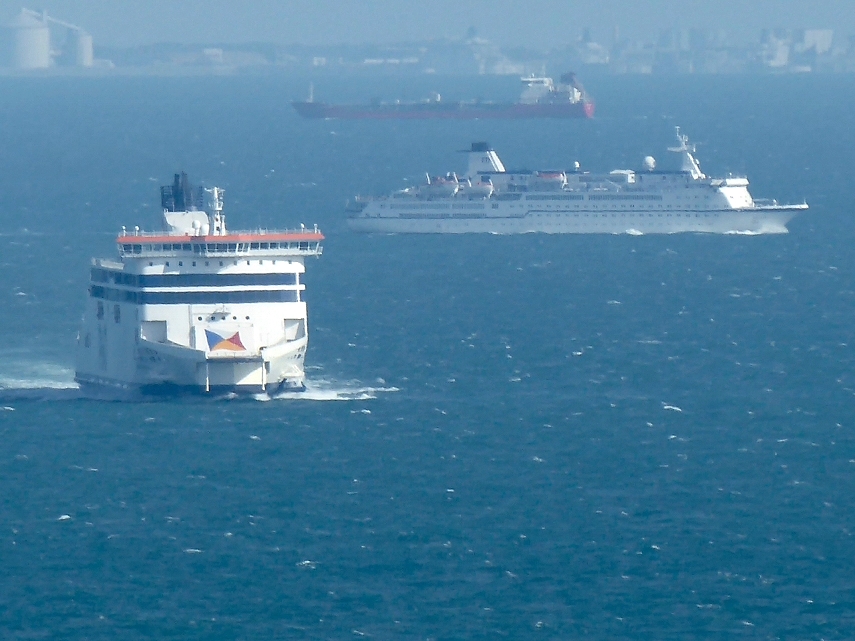 The Spirit of Britain making for Dover passes the liner Berlin in the Dover Strait. The latter was making for Le Havre. A hazy view but at least a record!
Picture/words by John Hendy
Many thanks for the striking picture John - happy to help. PaulB

Tuesday, 3 September 2019 - 14:51
Post 6505
John Hendy, St Mary's Bay (johnhendy479@btinternet.com)
Image above....

Tuesday, 3 September 2019 - 12:08