Wednesday, 24 April 2019

WWW.DOVERFORUM.COM/SEA-NEWS
Featuring all the ships that come and go and work at the Port of Dover ..
... with further coverage of the surrounding ports.
Sea News Dover
Port of Dover: Brexit Resilience 6123
DFDS: For apprentice information see 6125
Premier Inn completes see 6149 plus
P&O: Brexit Buffer.. Free Cancellations 6176
DFDS: ORCA 6179
P&O: Jobs Fair/Apprenticeships 6187
Port of Dover: New Cargo Manager see 6205
Use our SEARCH ENGINE below to find all sorts on the SEA NEWS pages....
type in the topic and away you go, or if you have the post number as shown above, just type it in the box,
more than - 6000 - nautical posts now.
Posts are welcome. just click 'Add Your Comment' below. Max of 5 pictures preferred although we can stretch that for special stories..
Sea News Editor Paul Boland - send info or pix to dover7@msn.com. Always welcome.
CRUISE CALLS:
https://www.doverport.co.uk/cruise/find-a-cruise/
To show your pictures at their best..it could be worthwhile resizing before posting to
840
pixels wide.
All pictures on these pages are the copyright of the owners and must not be reproduced without permission.
Post 6088
Sea News, Dover
Another picture now of the departing Saga Sapphire...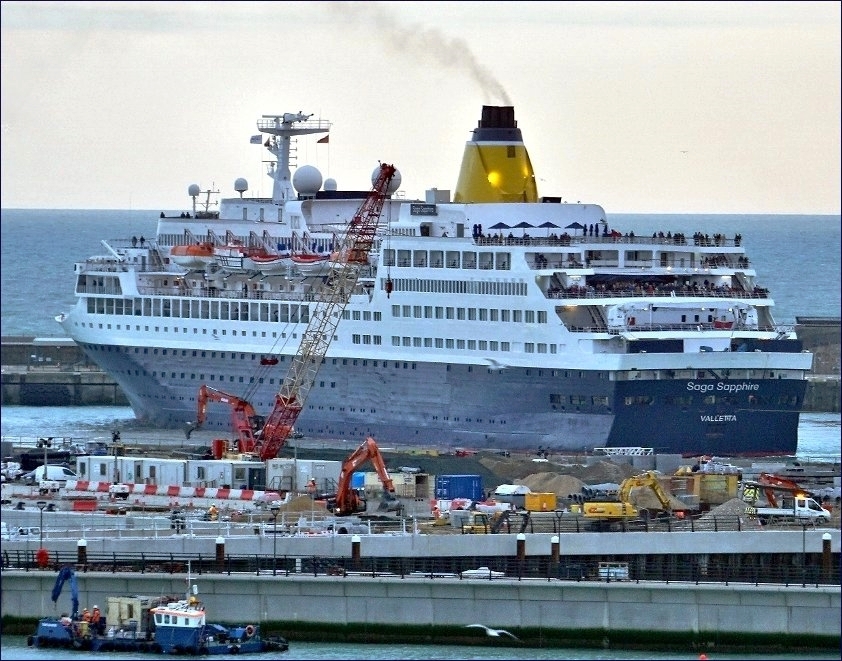 Yes there she goes making a tight turn in the inner harbour. In the foreground you can see some of the DWDR workings and bottom left the workboat Toploader which of course we have featured several times before. Also see the post below for more of the departing Saga....
Our pictures of Boudicca setting off on her romantic trip to Antwerp will be up in the morning all being well.
Thursday, 14 February 2019 - 16:55
Post 6087
Sea New, Dover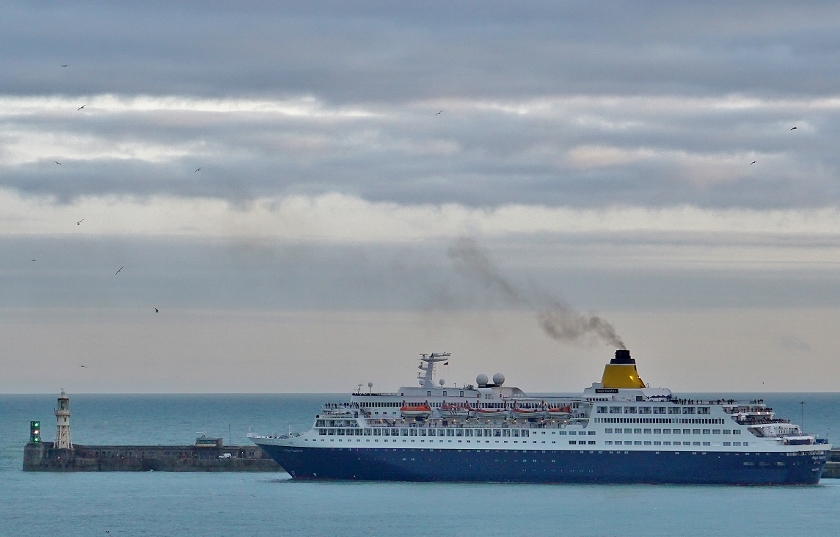 Saga Sapphire moving away on Tuesday evening at 16.30 approx. It was still bright which was good to see. The days are getting that bit longer which helps with the coverage. Also in the pictures below you can see the pilot boat in attendance and also moving through the shot... the ever busy David Church dredger.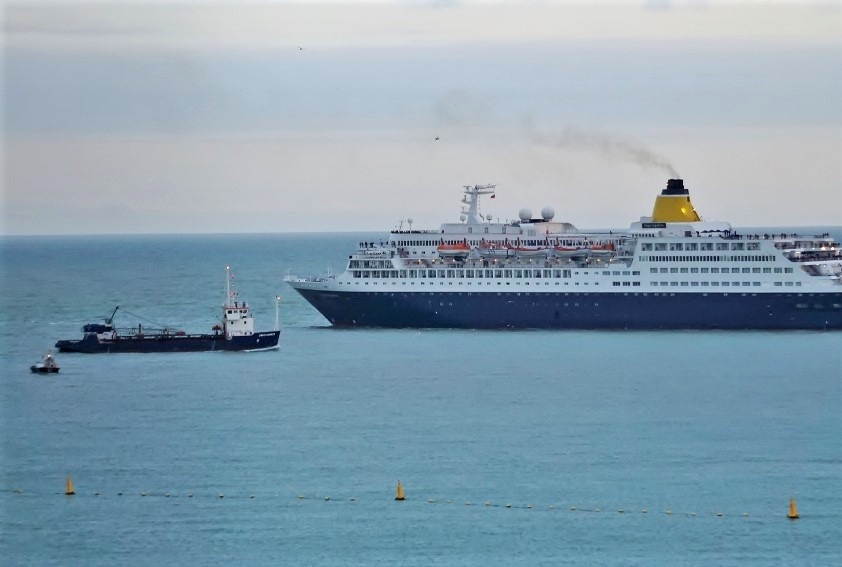 Boudicca was with us yesterday and we will have pictures of that one too.
Thanks for the info Mike.

PB
Thursday, 14 February 2019 - 04:33
Post 6086
Mike J., Dover

The bizarre semi-submersible BOKA VANGUARD [formerly SEAWISE VANGUARD post 4723] carrying an extremely large piece of oilfield equjipment will be passing Dover early afternoon today bound for Norway from Korea.

Wednesday, 13 February 2019 - 08:19
Post 6085
Sea News, Dover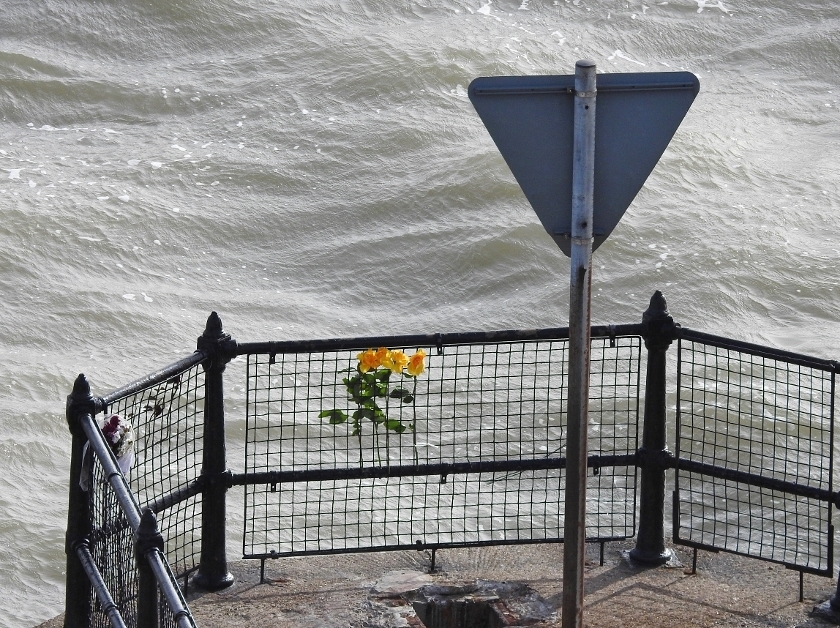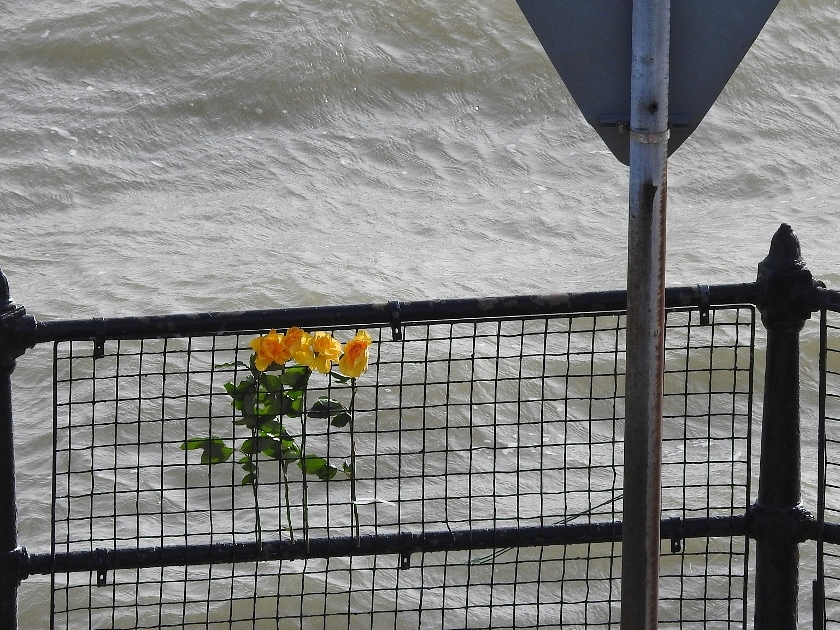 * *
This pic below is very similar to the one currently at the top of the page...it shows the Pride of Canterbury in the recent rough weather. The one at the top of page obviously wont be staying there permanently, so .. just getting this similar one on the system.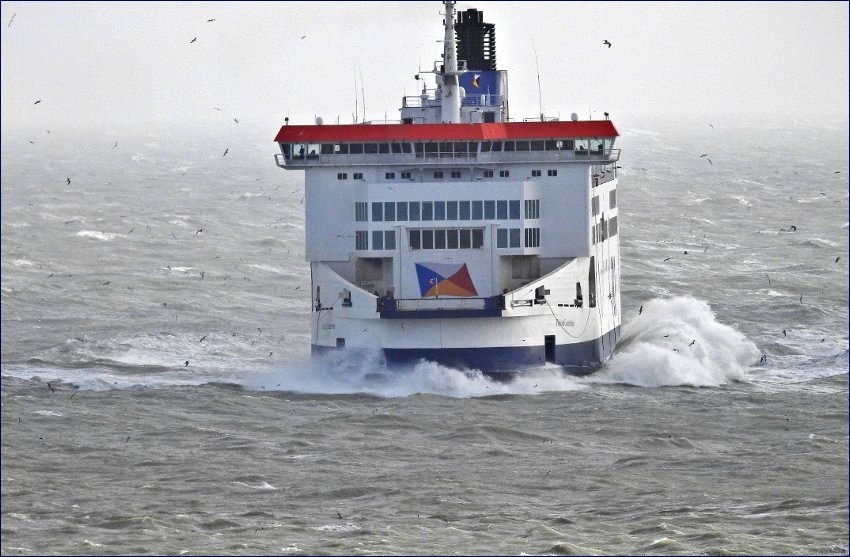 The Pride of Canterbury.
The Saga Sapphire was in Port yesterday. The last time she came in, quite recently, we were fogbound, so we had no pictures...but we will have some from yesterday. They will be up next.
PB
Boudicca in Port today.
Wednesday, 13 February 2019 - 06:23
Post 6084
Sea News, Dover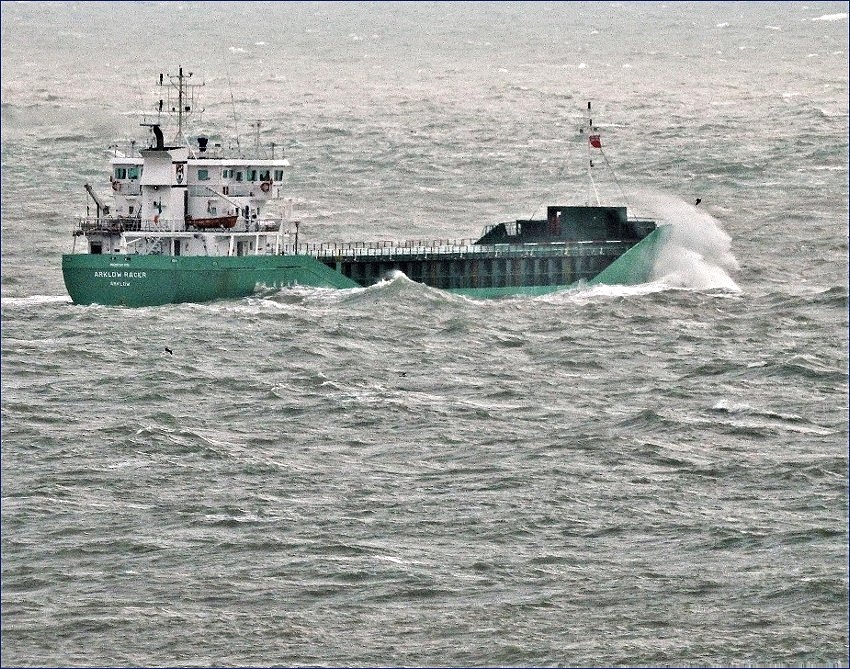 ARKLOW SHIPPING: we cant resist one more pic above there of the Arklow Racer as she disappears into the distance in the choppy waters. Away on a rough oul trip back to Arklow. Slipping away, just beyond our best camera range there as she goes...
Latest batch below now of the ever evolving extension to the Premier Inn.
Quite extraordinary .. the speed of these things nowadays. One's gob is smacked..
The last time we showed pictures the guys had begun peeling the scaffolding from the roof while of course it all remained below. Then they began to peel the core of it away, and these pictures follow the disappearing scaffolding...away we go..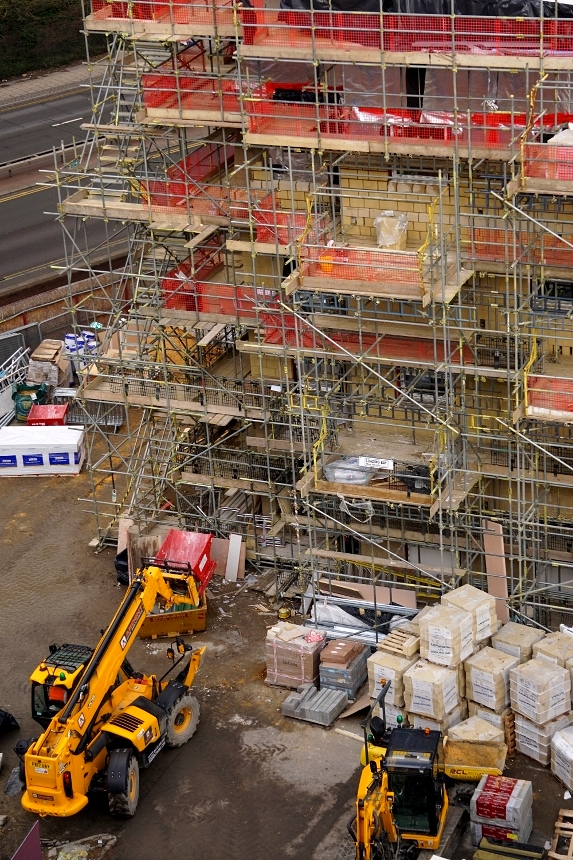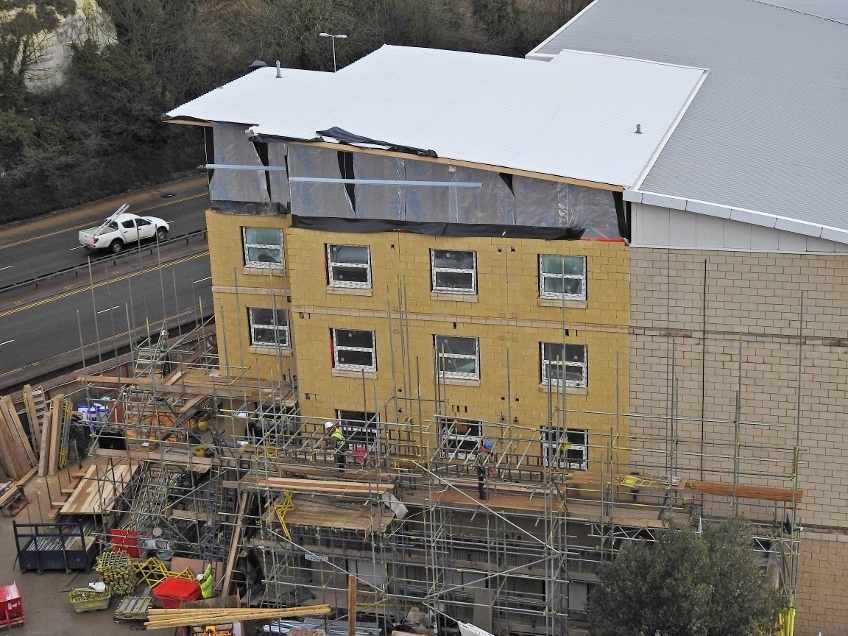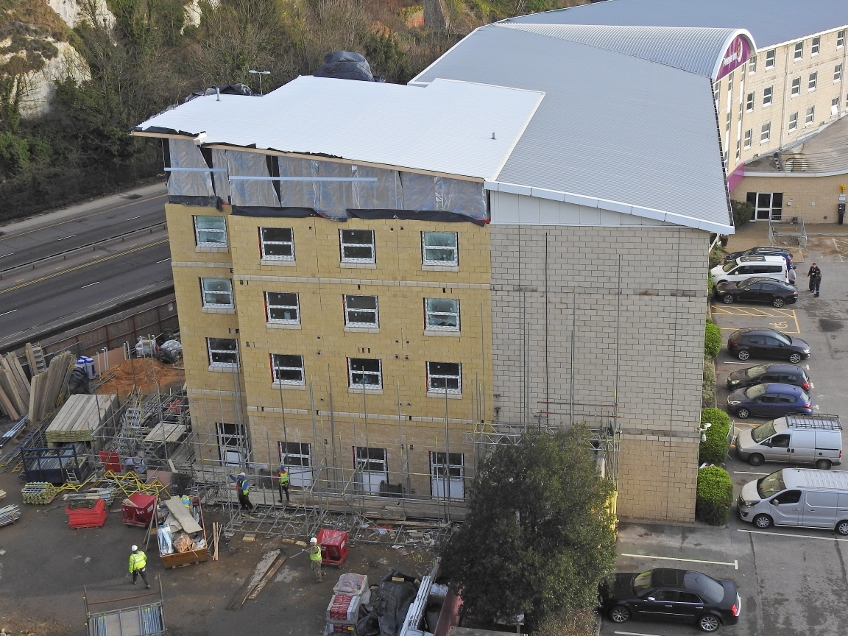 You can still see the remnants of the shrinking scaffolding in the final shot...now in reality that's just gone now too, so all clear of scaffolding and you can now clearly see the whole building as one. Will have a further pic or two, but all the main work has now shifted inside.
As mentioned before...if you want to see the Premier Inn extension rising from ground level...just type Premier Inn in our Search Engine above and it will all appear, you can see it rising.
* *
Good to hear from you again Mark. Glad you are still enjoying it. Great poetic fun in the post below.. I cant resist joining you in Poetry Corner

Yes sadly ol' Grayling keeps failing
the taxpayer sighs and starts wailing
the ferries will run
but it wont be much fun
the congestion will kill us dear Grayling.

PaulB
Latest: it emerges that HMGovernment is being sued by Eurotunnel now over the awarding of these Brexit contracts ...
(ie Seaborne Freight) "Un big mess" says The Guardian newspaper using its best French.
Tuesday, 12 February 2019 - 07:57
Post 6083
Mark Rushton, Northants
Afternoon all. Here's a poem wot I wrote.

A cabinet member called Grayling
Considered his Brexit plan ailing
So he called an old mate
who said "Try Seabourne Freight"
But now it seems that the ship won't be sailing,

But seriously, interesting piccies of St Patrick 2. I assumed that she'd been long since scrapped but she appears to be doing a very interesting one week cruise itinerary from Montreal to the Gulf of St Lawrence as the CTMA Vacancier. Now THAT looks like a good trip !

Monday, 11 February 2019 - 16:29
Post 6082
Sea News, Dover
ARKLOW SHIPPING : in the news recently.
The Irish company have about 45 ships in service.
As promised yesterday...here we are with some of their vessels, some of the ones that have visited the Port of Dover in relatively recent times...
Arklow Cliff below..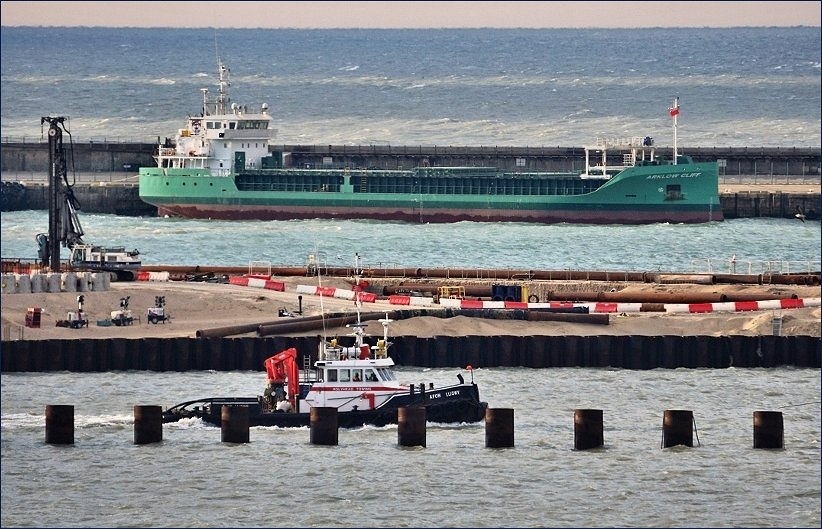 Arklow Racer below underway....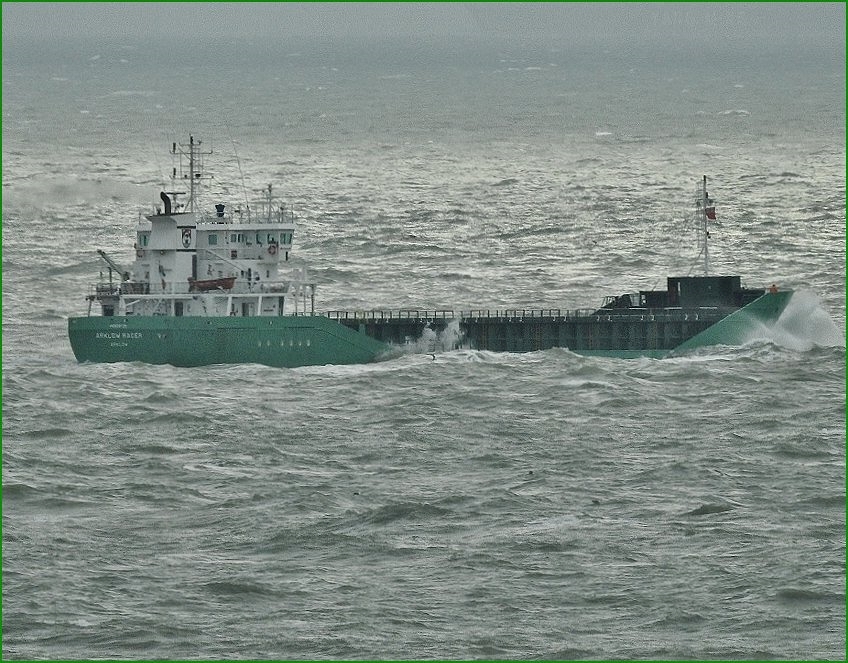 Arklow Racer again..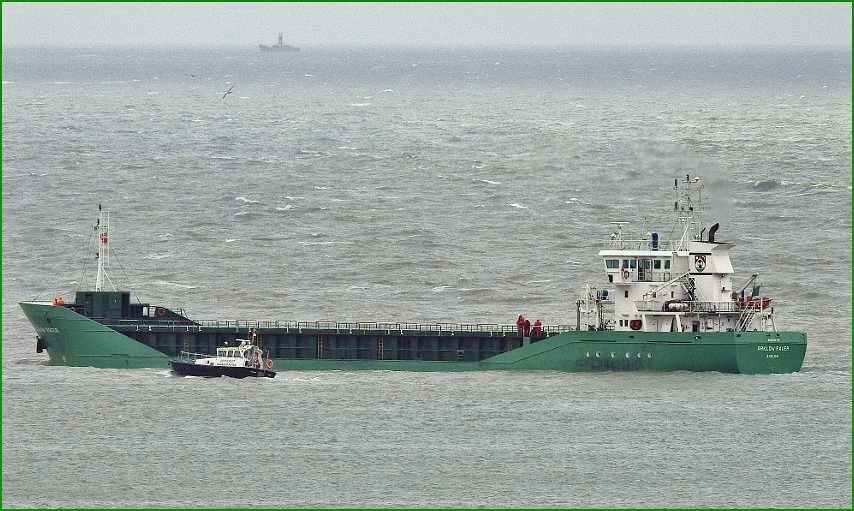 Arklow Fortune below, and below that we see trucks waiting to load their grain onto Arklow Fortune.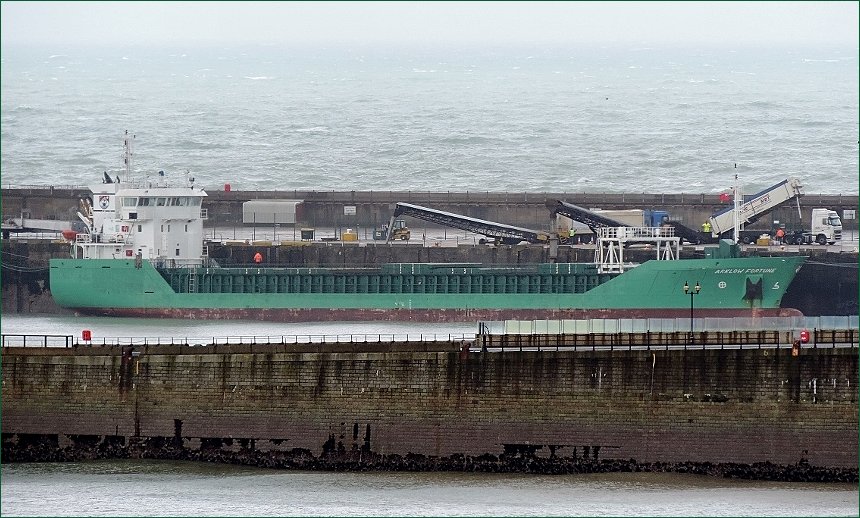 That collection just shows some of their ships here at Dover.
"
Arklow Shipping is a leader within Europe in the dry bulk trade, with chartering teams based in Arklow and Rotterdam. Arklow Shipping has a long term relationship with many of Europe's multinational trading groups and is continually updating and enlarging it fleet to meet customer requirements.
"
PaulB
Monday, 11 February 2019 - 06:59
Post 6081
Sea News, Dover
Following along from Mike's cracking traffic pictures below, here we are with another couple of shots showing the backlog traffic situation yesterday morning early.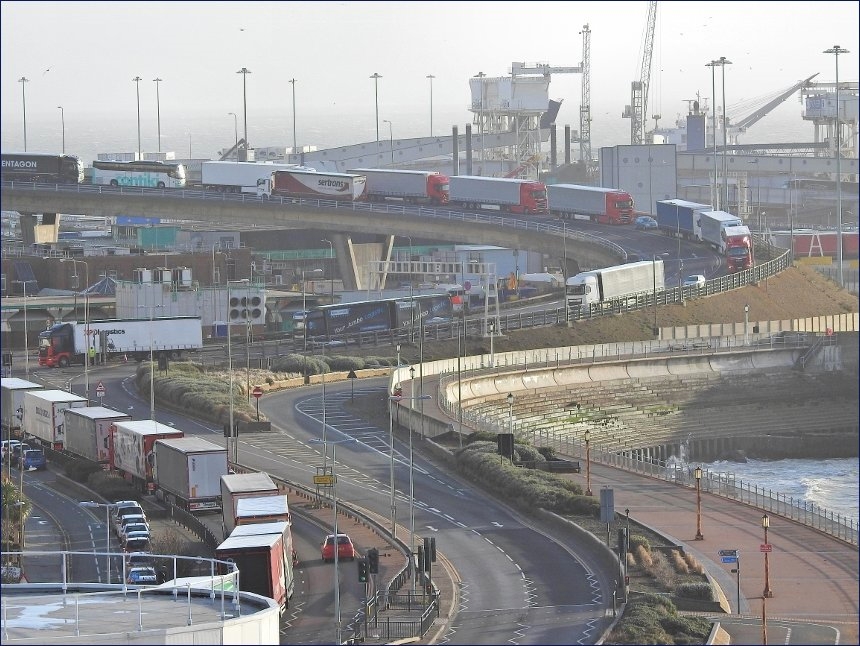 You can see the trucks winding down Jubilee Way above there ...blocked, stationary, then moving forward piece by piece as it were. While below in the foreground you can see the queue coming in from this end. At the top right of shot you can just see the reefer Royal Klipper loading up while the traffic chaos goes on.
Top picture was taken at 08.41
The picture below an hour and a half earlier at 07.11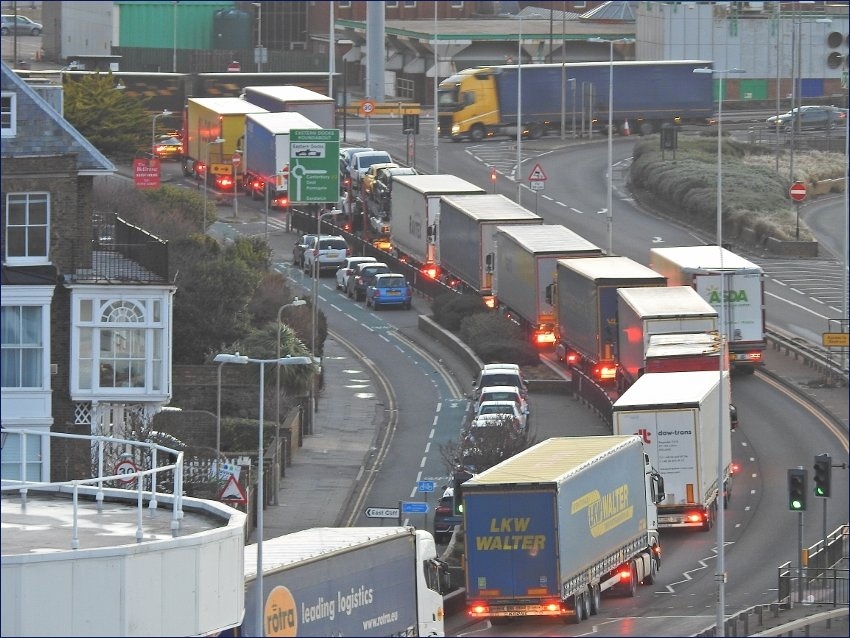 We understand they have begun closing sections of the Motorways now in preparation for a 'No-deal Brexit'... one suspects the chaos will only get worse..
...heavens!

Re Seaborne Freight: Following the stark cancellation of the Seaborne Freight contract, several of the newspaper headlines, as seen last night on Google, were calling for the head of 'Failing Grayling' as some call him. He is so bad that words fail..
" I make no apologies for helping to start up a British company "
said Grayling on TV after the proverbial s... hit the fan on this a month or so ago. He fell back on that standard nationalistic spin, fine notion if you have 5 years to spare and perhaps the company had some hope of ships. But as Horatio himself said.."I see no ships!"
Yes Mike re Arklow Shipping and the blame game...not buying it. Arklow Shipping are indeed an Irish Company with a large fleet of ships, but they are small bulk carriers all coloured a distinctive green. They come into the Port here from time to time. Will show a picture or two on Monday to show what we are talking about...will search the files. They don't have ferries.
Anyway ...enough exasperation...

Great post below Mike. Great shots of the backlogged trucks for sure. Great info all round and v interesting piece on the Irish Ferries with pictures...thanks to Ted too. Ace work..

Well done Patrick..good capture. We don't want that fender cascading about out there in the rough seas..

lol Del ah yes .. all big southern softies down here...

Have just looked up the Reedham Chain Ferry ..excellently making its way to a nice pub there.
yes it must have been rough...
PaulB
Sunday, 10 February 2019 - 06:08
Post 6080
Mike J., Dover
Nice 'cover picture' of the CANTERBURY, just returned from refit & proudly flying the Cypriot flag as can be seen in the sequence in post 6077.
A neighbour tells me that their son-in-law, on deck on the CANTERBURY, reports a 'helluva Friday' with the bad weather, delays & heavy freight.
A good catch by Patrick of the runaway Yoko !
Weather still a bit lumpy on Saturday, with the DAUNTLESS working during the morning & with freight piling up in the docks, & traffic on the M20/A20 not helped with the overnight closure of the M20 for 'lorry parking roadworks' & the closure of the Round Hill tunnels at Folkestone due to a wobbly CCTV mast.
This has meant that the M2/A2 has been very busy.
A few pix of the congestion in the docks & slow-moving traffic coming down Jubilee Way.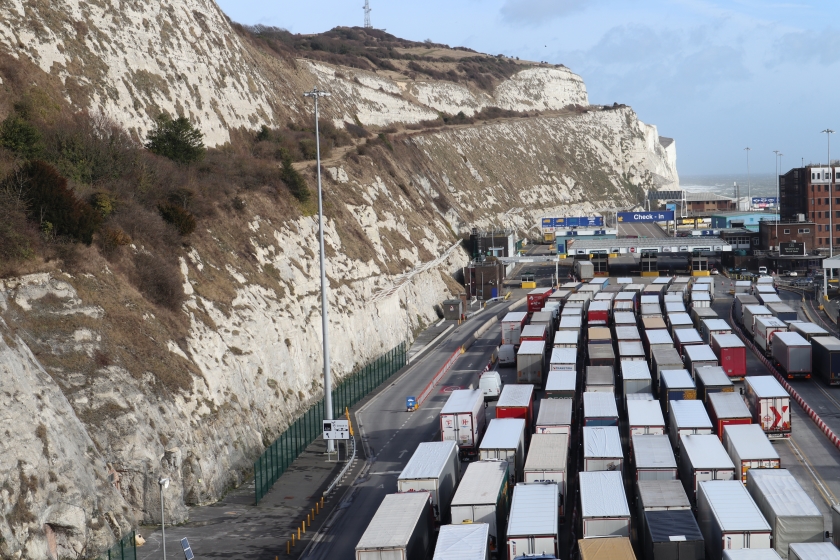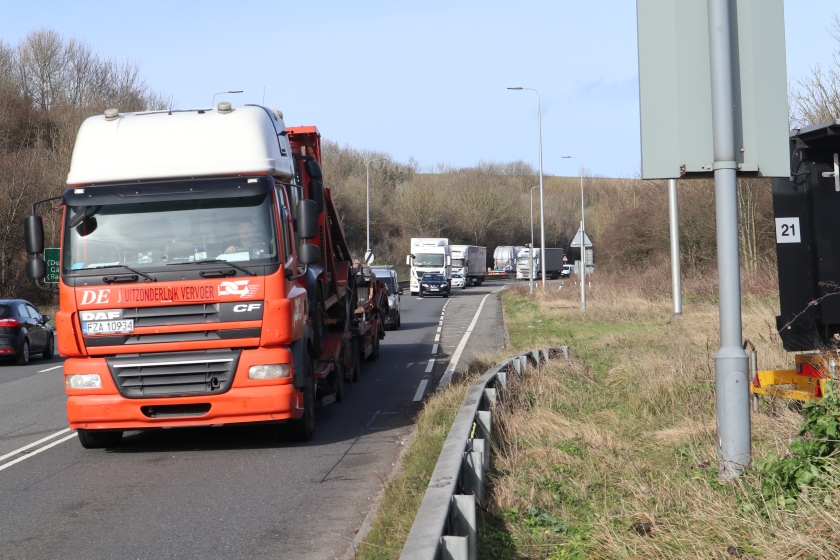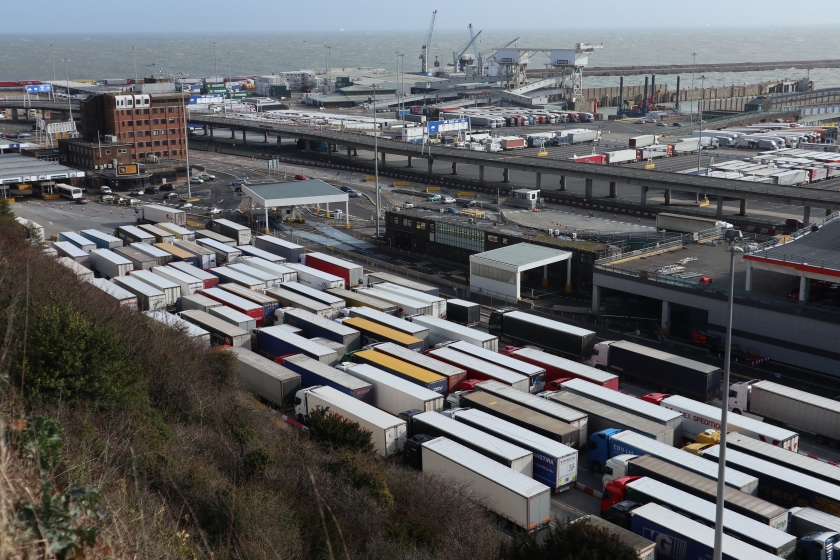 I expect that A2 freight coming down Jubilee Way was sent back up the A20 to the Folkestone area before they are allowed to return to Dover, joining the queue held at the traffic lights at the 'Megger' Roundabout, the first roundabout on the A20 on arrival Dover, & let thru from time to time to prevent gridlock on the approaches to the docks.
Interesting that the Irish company Arklow Shipping are being blamed [the Govt is never wrong !] fpr the collapse of the Seaborne Freight fiasco, perhaps they would have operated Irish-flagged vessels which would have pleased Mr.B !
Almost 30 years ago an Irish ferry WAS operating out of Dover.
Soon after I joined Sealink I worked aboard the chartered Irish Ferries SAINT PATRICK 2 - she worked as a freight ship with usually only one round trip every 24 hours.
We used No.1 berth, in the corner by the DCT - a terrible berth in bad weather.
We always docked 'bows in' on No.1 berth & one time, when pitching badly, stabbed an artic with the bow visor to the disgust of the lorry driver & a large amount of paperwork ensued.
This 1990 photo, with thanks to Ted Ingham, shows her across the now-demolished motorboat pens, with the bow visor in 'threatening' mode.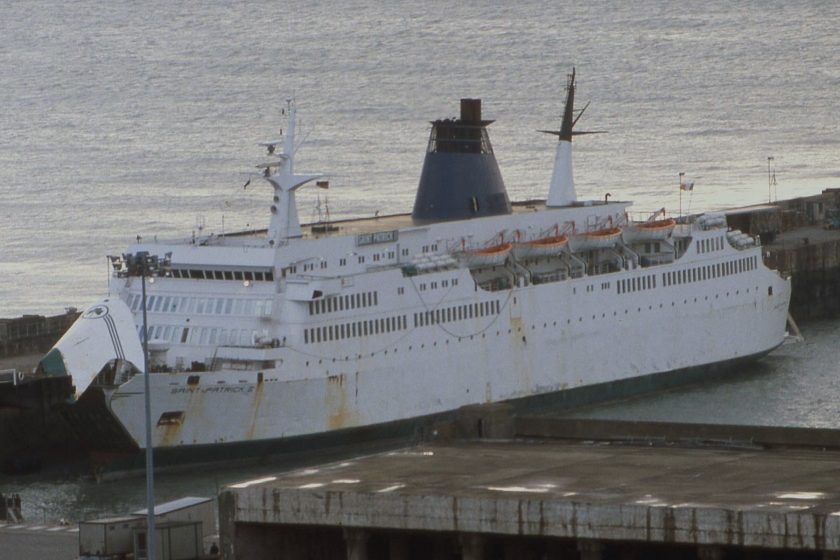 My own photo, taken a year later from the FANTASIA, shows the SP2 on No.4 berth when she was chartered by P&O & she had by then regained her Irish Ferries funnel.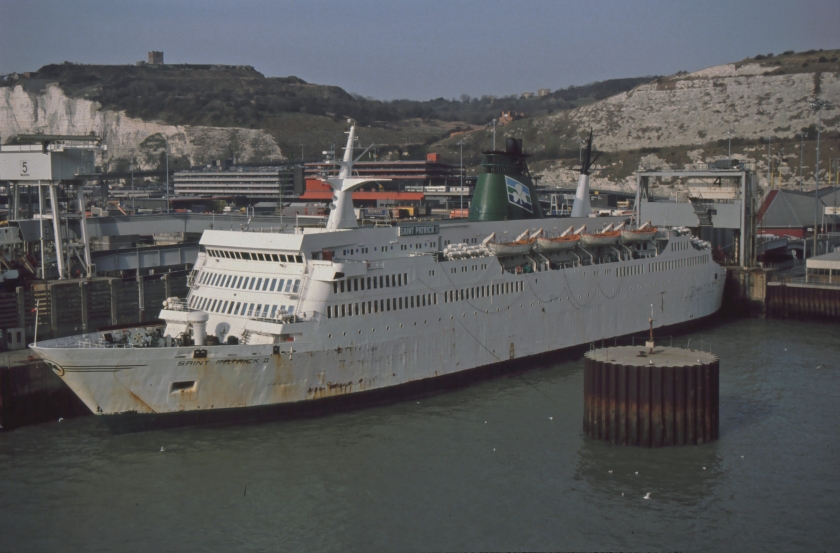 These photos & her full history as well as that of many of the local ferries, ancient & modern, & other vessels that have visited Dover can be found in the excellent 'Past & Present' section of 'Dover Ferry Photos' which is frequently updated – a most valuable 'resource'
Sunday, 10 February 2019 - 03:42
Post 6079
Del Styan, Norwich
Rough! you don't know the meaning of the word. Up here in Norfolk the Reedham chain ferry service was suspended all morning because of heavy ripples! Southern softies!

Saturday, 9 February 2019 - 23:15
Post 6078
Patrick, Marine Parade
With the onset of some wild and windy weather yesterday one of the yoko (fenders) from Berth C broke loose and made a run for it, possibly an attempt to cross the Channel to France to escape our BREXIT woes?
Thankfully if was retrieved by 'Pampero' Safety Boat before it got too far and was towed into the new Marina.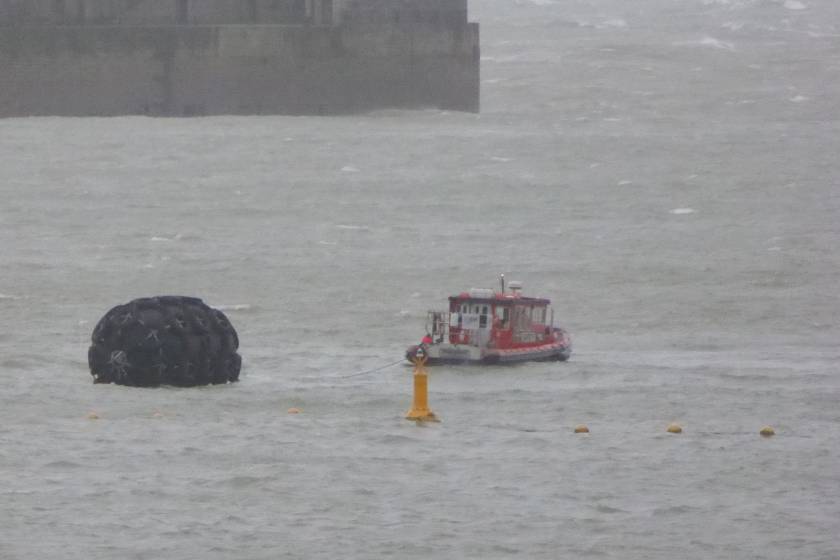 Saturday, 9 February 2019 - 17:19
Post 6077
Sea News, Dover
Ferries in Rough Weather ...it goes on...
This time we have tug Dauntless helping to set the Pride of Canterbury on its way to Calais in some fierce weather yesterday Friday. Winds powering through from right to left in the following pictures...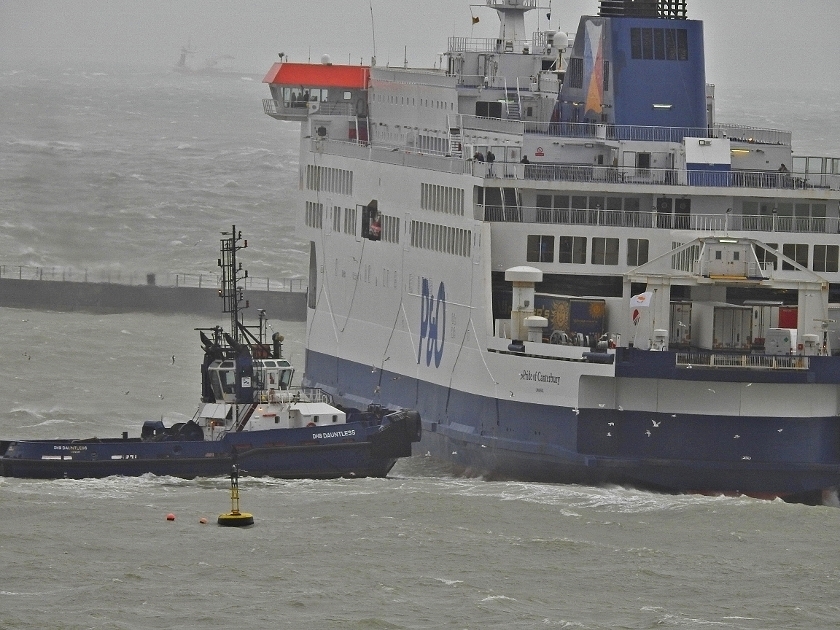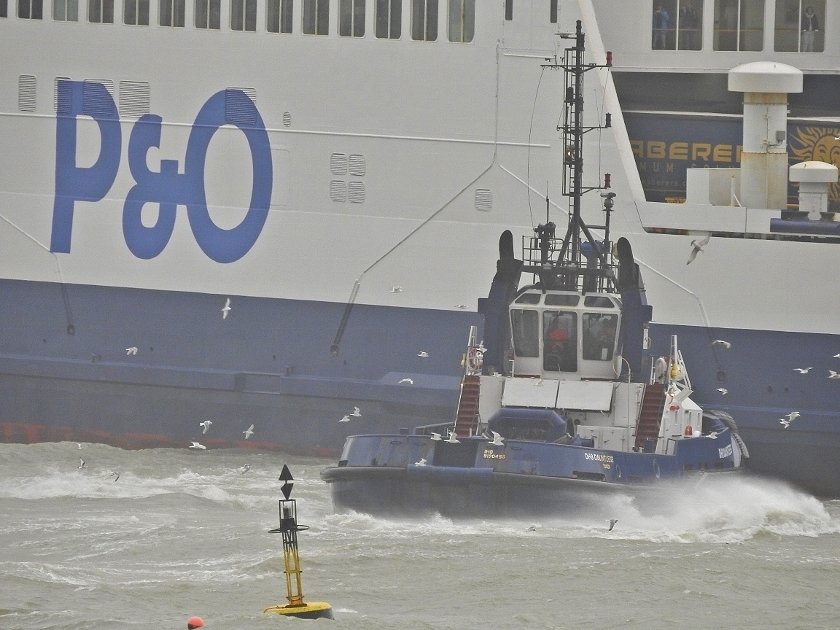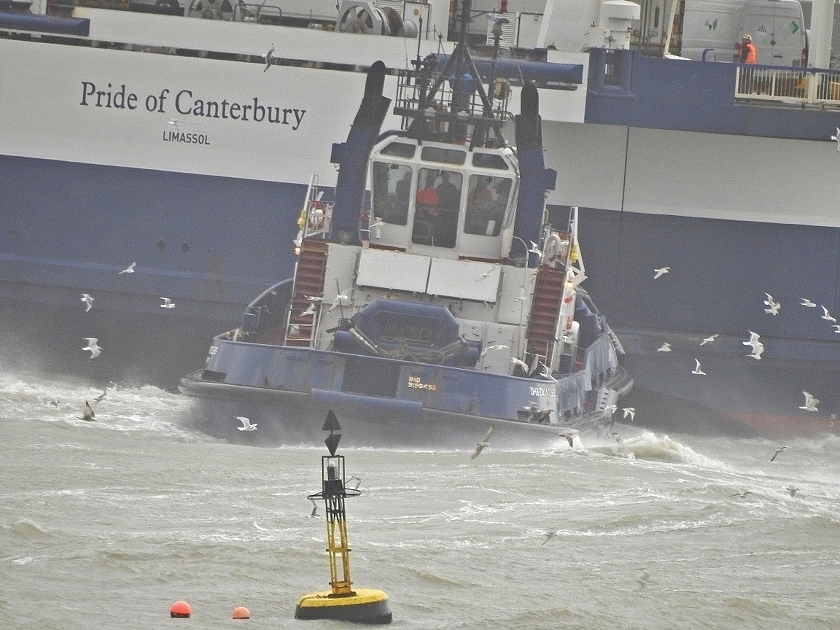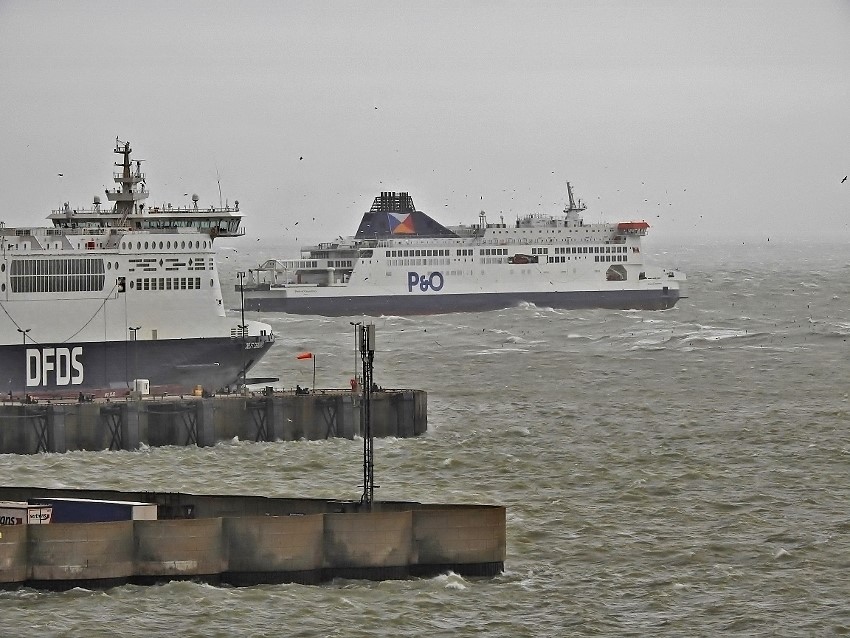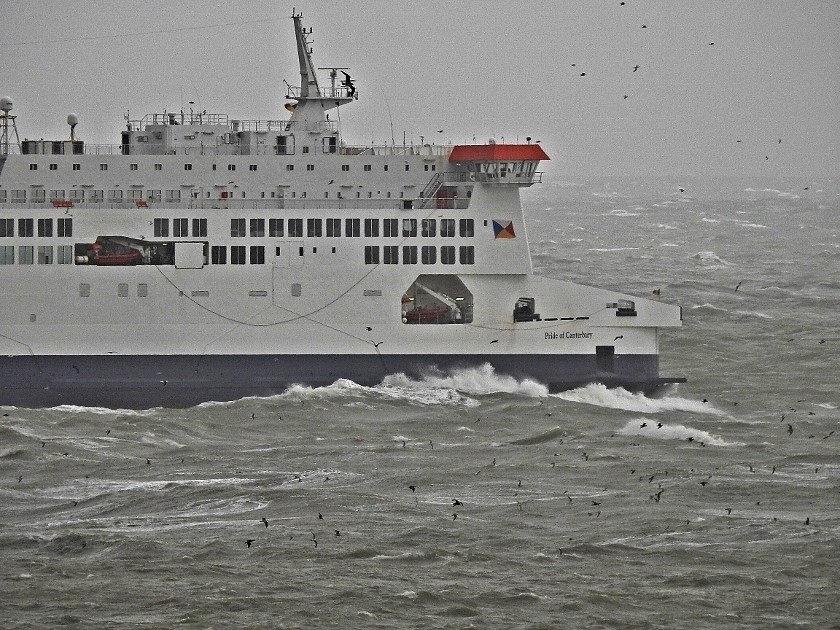 Yes it was certainly fierce weather yesterday, its amazing and astonishing to see how brilliant these guys are, as the ferries keep running no matter what the elements throw at them. Its a pity some of our politicians couldn't see them on a day like yesterday. We see the ferry above, the Pride of Canterbury, packed with trucks and doing its economic duty for the nation. Where were guys like Raab yesterday.... ponders...imagine a Brexit Secretary who didn't know about all this, but what's worse, who appointed him? Did they not ask if he had heard of our trading ports...
PaulB
LATEST: we are just hearing that the Government have pulled out of their bizarre contract with Seaborne Freight at Ramsgate. A company given a near £14million contract by Grayling to significantly help with the 'no deal Brexit' trucking overflow or backlog .. despite having no ferries. See also 6076 below.
Brexit begins in weeks....
Saturday, 9 February 2019 - 04:52
Post 6076
Sea News, Dover
Ferries ...rough weather.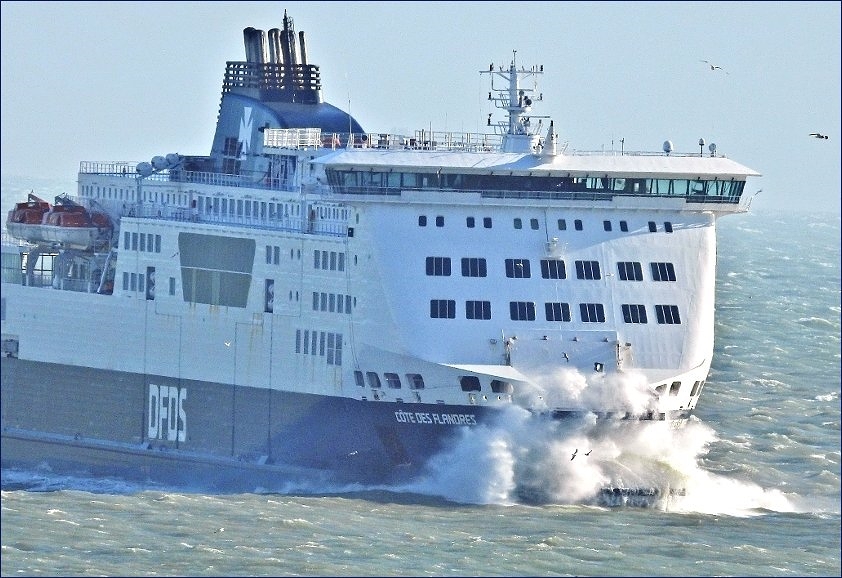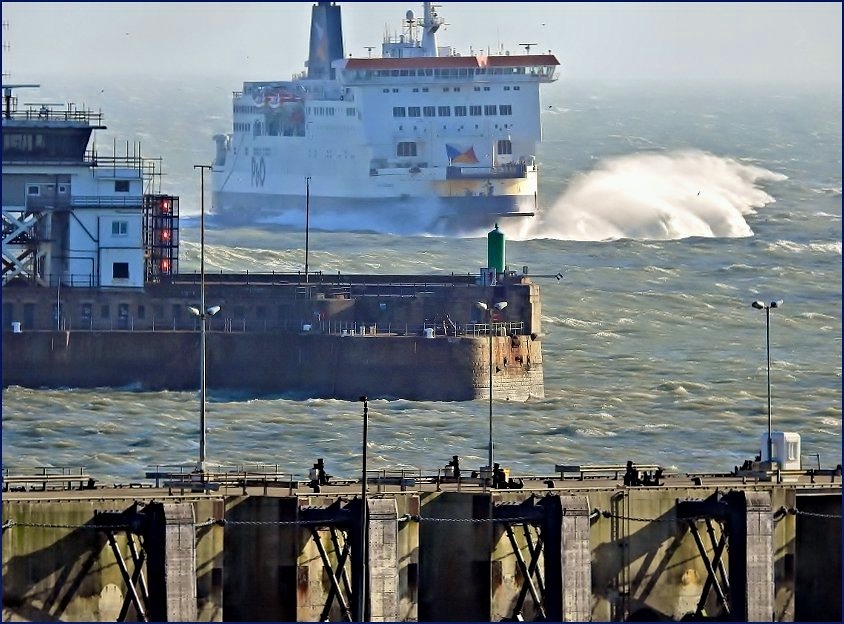 Yes as Mike said in the post below, the heavy fog cleared and Thursday was a windy oul day...and there is much more wind to come it seems over the next couple of days. Hold on to yer hat!. The pictures above were taken yesterday and the top shot shows the ever resilient Cote des Flandres battling the elements just offshore. The second picture shows the approaching Pride of Burgundy looking across the windswept eastern docks. No ferries at the berths there gave us a clear shot.
The light was very peculiarly white or something yesterday. Yours truly took quite a few pictures but none, apart from the two above, came out properly...and they only just made it.
I blame the camera...some adjustments were needed later using the household hammer!
Due to the meagre miserly few pix today we can show this one below from former times...its the good ol Pride of Burgundy again, making its way to Calais on a rough day.. and we get a few of those. This pic looking across the picture-esque breakwater lighthouse.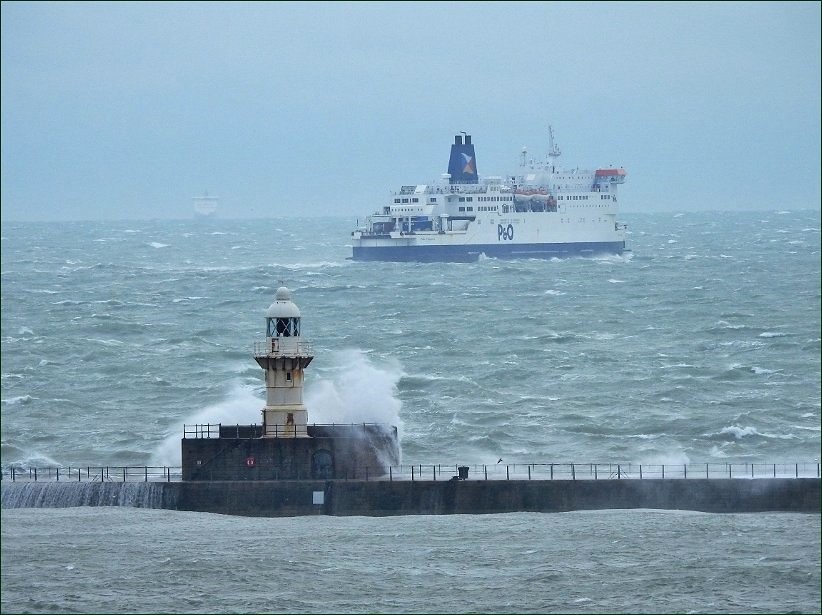 This info from the Google News app...from Claverley Media Group..
Plans to reopen a ferry port in the event of a no-deal Brexit could be disrupted
........if councillors approve a string of budget cuts.
The Government handed Seaborne Freight a £13.8 million contract to run a service from Ramsgate, Kent, to Ostend, in Belgium, to alleviate anticipated delays and queues at the Port of Dover. Discussions are ongoing as to how this will work.
But Thanet District Council, which owns and operates Ramsgate Ferry Port, is proposing funding cuts which could make running such services impossible. The authority has been financing the port to keep it ready for ferry services and says if "arrangements" are not finalised, it will be "required" to make the cuts.
Councillors are to decide whether to make savings of £730,000 over the next year when they vote on the budget on Thursday evening.
ENDS
No news yet on which way they jumped above.
UPDATE JUST IN:
"
A decision on budget cuts which could have prevented Ramsgate reopening as a ferry port in the event of a no-deal Brexit has been delayed. Thanet District Council had been set to cut £730,000 of spending on the port.
But it delayed the decision at the request of Transport Secretary Chris Grayling.
"
Nice enjoyable shots and info below Mike...interesting story re Cork there..

PaulB
Friday, 8 February 2019 - 06:14
Post 6075
Mike J., Dover
Wednesday's fog cleared to a windy old Thursday morning with the DAUNTLESS standing by the CALAIS SEAWAYS & the SPIRIT OF FRANCE as they docked.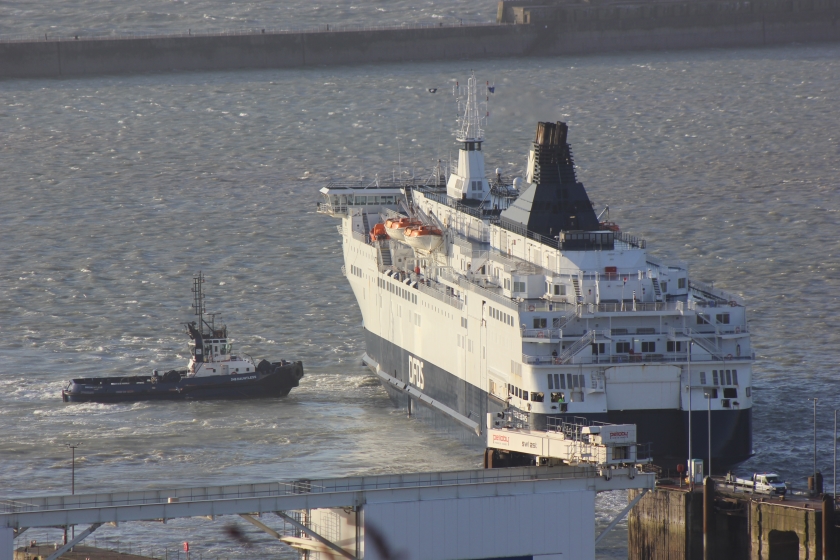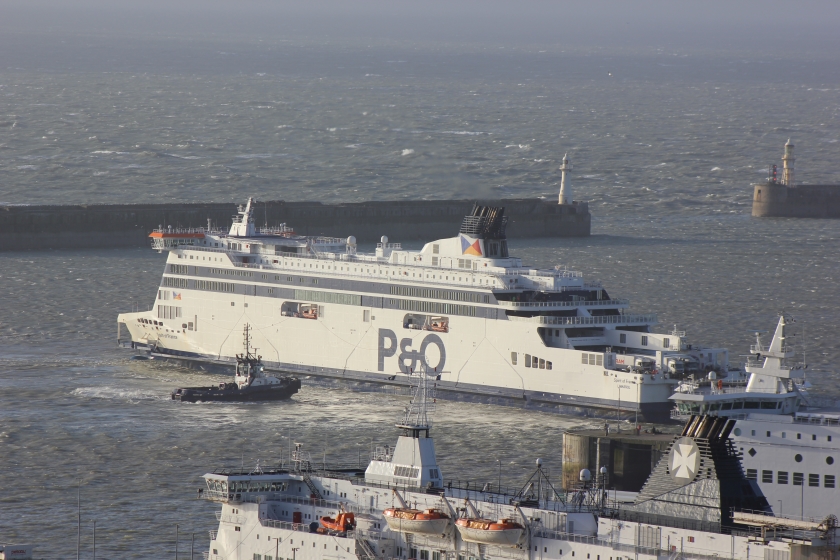 The Cypriot coaster FRI KARMSUND came in overnight to load grain & sailed 1900 Thursday, anchoring off Margate about 2300.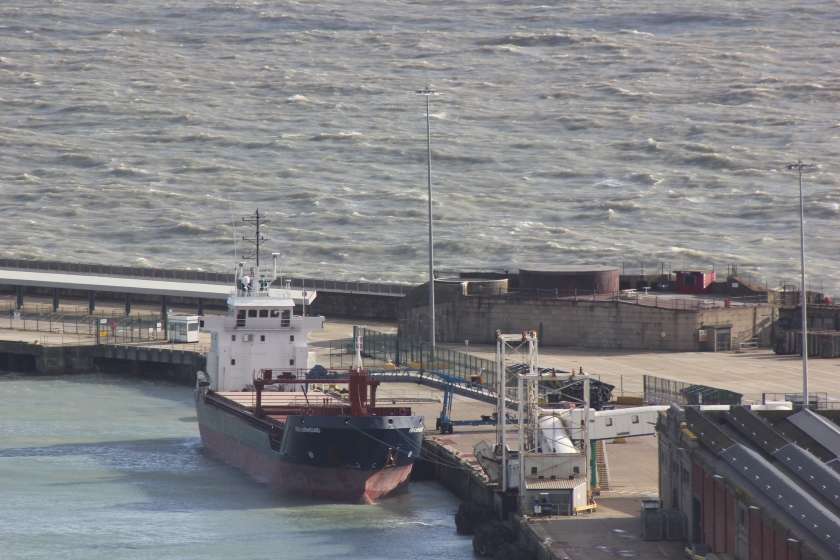 She had come from from Ringaskiddy, a developing port area in Cork Harbour.
I recall going there in the mid-80s on a ship that had cargo problems out in the Atlantic bound for the St.Lawrence, putting in there to check the damage.
No big shore cranes there at the time so we went on up to Belfast to get the damaged cargo removed or re-stowed.
Good views as we entered the fine natural harbour, passing Cobh & the splendidly-named Haulbowline Island, then a steelworks, now an Irish Naval base.
The Trinity House 'Rapid Intervention Vessel' ALERT has been alongside in the Tug Haven for a few days.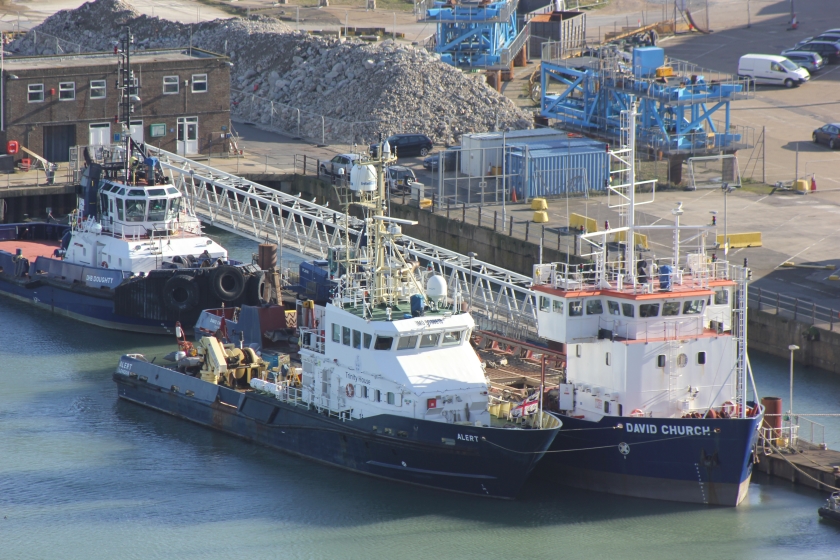 The PRIDE OF CANTERBURY has been on the Eastern Arm for much of the day & is still there, reason unknown.
Friday, 8 February 2019 - 01:44
Post 6074
Sea News, Dover
We had a very early in the year cruise visit yesterday. But it wasn't all good news, the downside was we had thick fog at the same time, so yours truly never saw the ship all day...so no pictures alas.
The ship in Port was the Saga Sapphire...all I can do at this stage is to show a pic or two from former times...
And there she be.... a relatively recent picture...
The picture below is from several years ago and you can see how different everything was, with people having access to the Prince of Wales pier. You could get right in close to the action then. This picture shows both tugs Doughty and Dauntless turning the Saga Sapphire. The pic is mostly about the people and the tugs.. it dates from 2015.
Perhaps its time the Port considered a viewing platform somewhere in the new development...
for photographers, visitors, enthusiasts etc etc.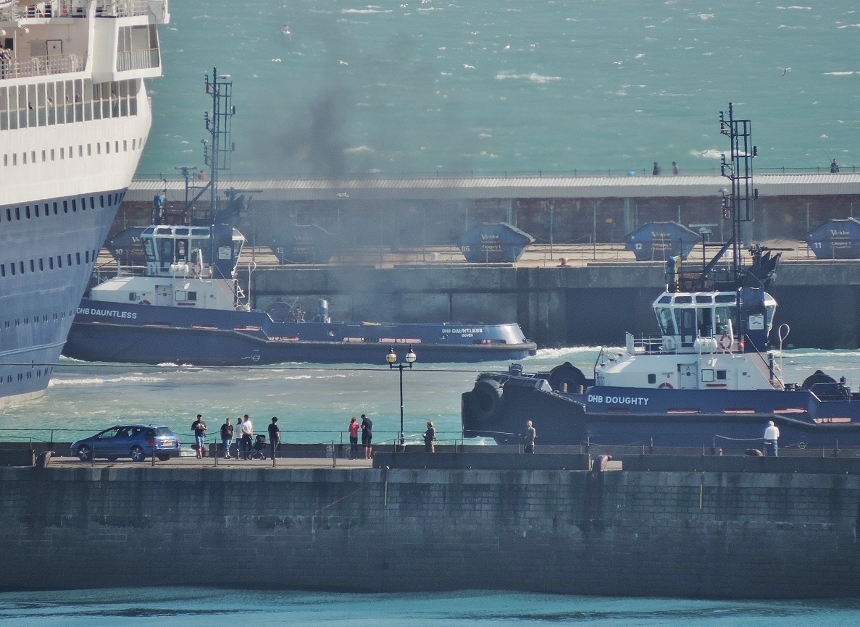 PaulB
ps:no fog today at the time of writing.
No.. today we have a problem with wind …
Thursday, 7 February 2019 - 05:05
Post 6073
Sea News, Dover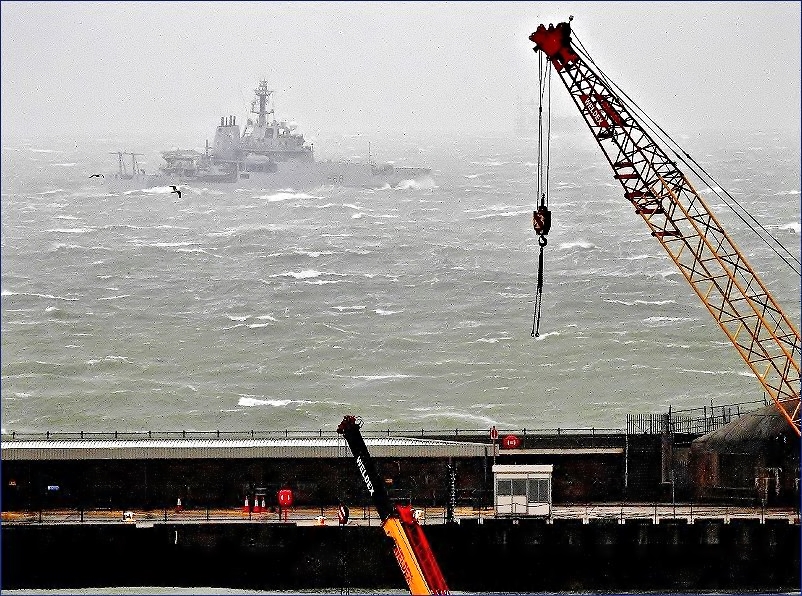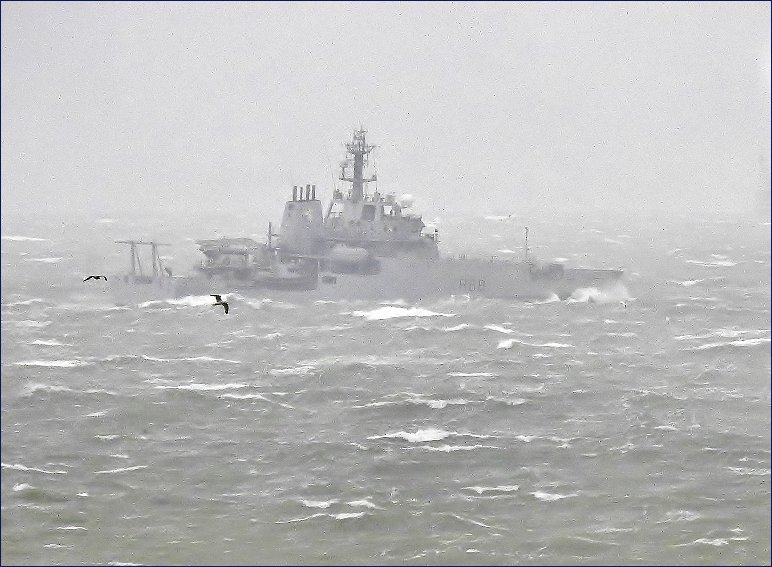 Yes indeed Mike it was a rough oul day for sure for the picture below of HMS Enterprise. The two above ( also HMS Enterprise ) were taken almost at the same time...well actually the second pic above is a crop of the top shot. Twas dangerously blustery at this high level for pictures so had to abandon after just a few shots. The open window was in mortal danger of taking off from its hinges and elegantly heading headlong for Calais.

That was the roughest day this year for sure.
ANOTHER BRICK IN THE WALL
Here we have the latest few shots of the ever rising Premier Inn. This time its the brickwork rising to meet the roof. You can see where to new brickwork meets the old brickwork and of course where the new roof meets the old. Interestingly they have put (what looks like) ventilation pipes in the new roof...where there were none in the old.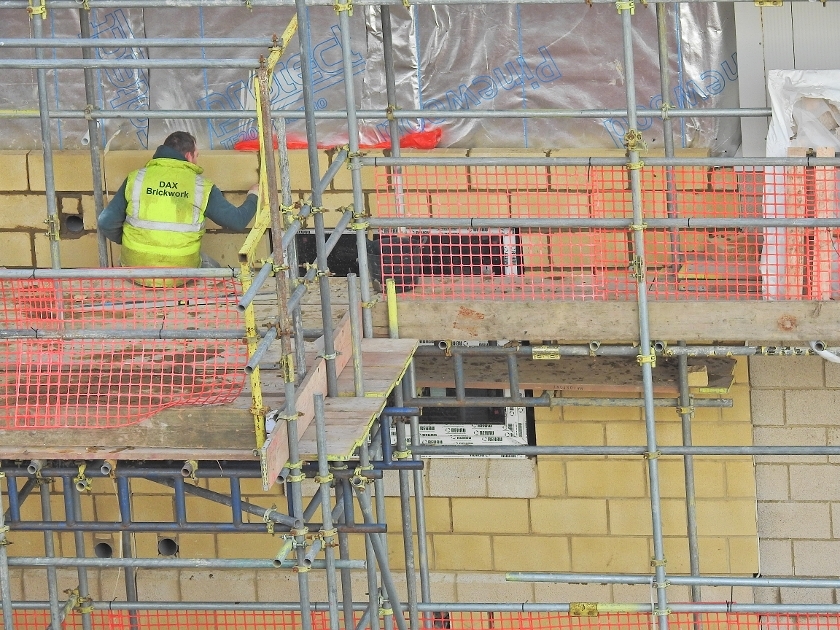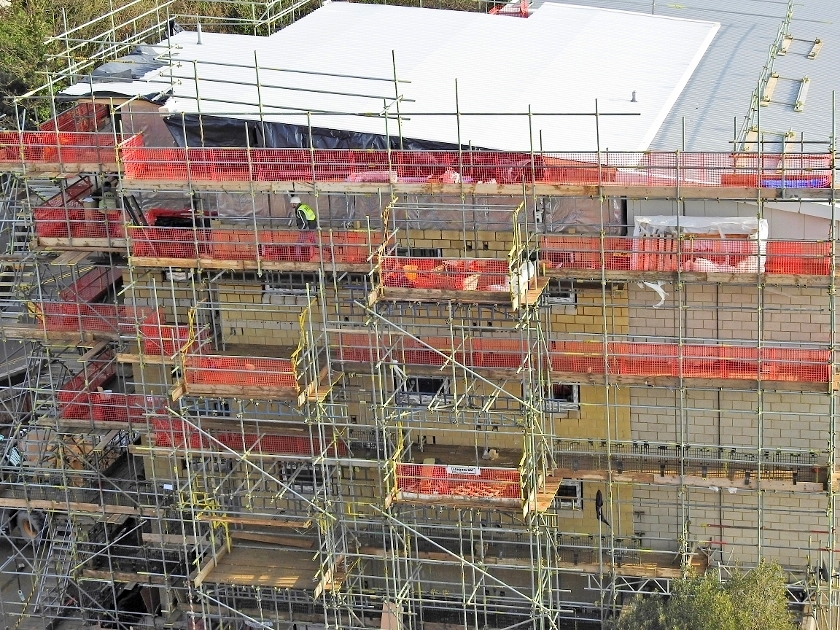 The very latest picture below shows some of the lads beginning to remove the scaffolding from the roof area, a clear sign that the development has moved forward swiftly.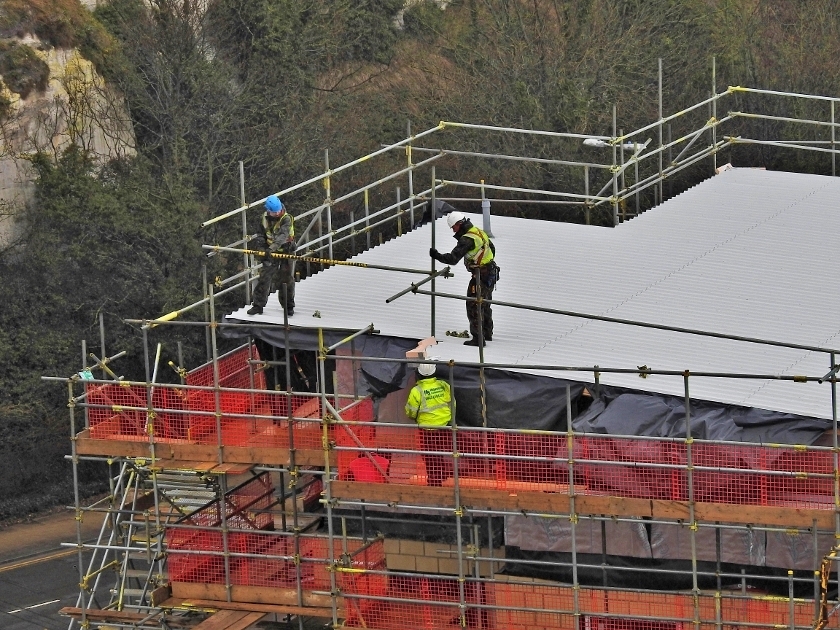 Don't Forget: to see the building rising from flat earth level...type Premier Inn in the Search Engine above and you will see the new hotel extension rise up from ground level.
Nice collection below Mike - good to see those.

Yes a wild pic that one in 6069. That was a rough day and no mistake.
Del yes indeed good words from the RHA but is anybody listening...
with grisly Grayling in charge...well

Yes Brian...

PB
Wednesday, 6 February 2019 - 05:10
Post 6072
Mike J., Dover
Impressively bleak grey view of HMS ENTERPRISE off the port on a very mucky day from Paul.
'Fifty shades of grey' rings a distant bell deep in my memory . . . . .
Update on the new lock -
What looks to be The Wellington Dock gate is in position & the top of it can be seen at the bottom of the picture.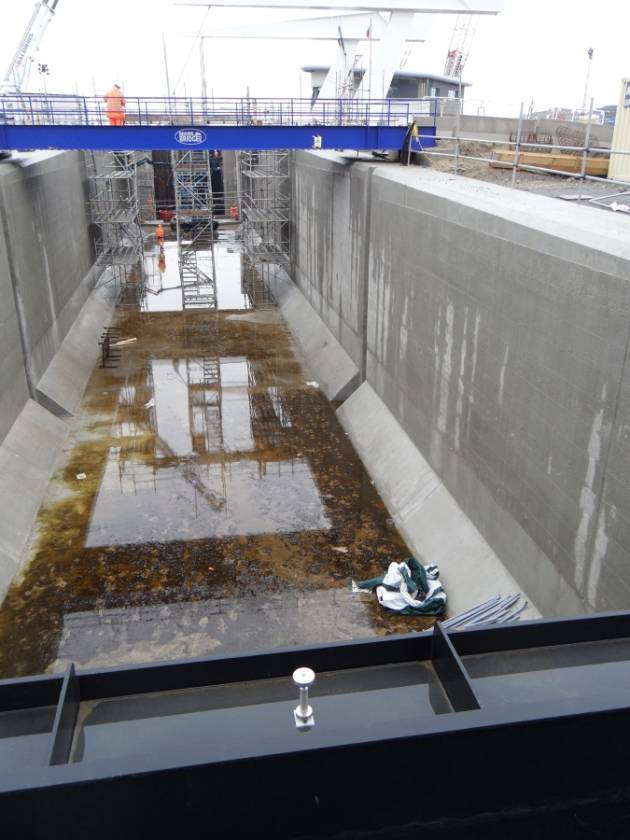 The kit of parts for the outer gate to the new marina arrived Wednesday morning on two lorries & parked-up on Union Street.
By luck I caught them heading off to be unloaded on the eastern side of the new lock, via the Eastern Docks roundabout & Marine Parade.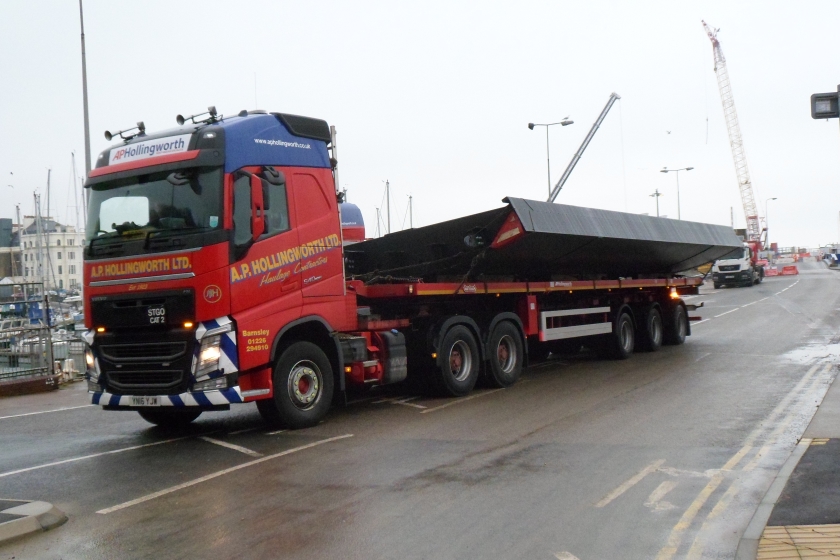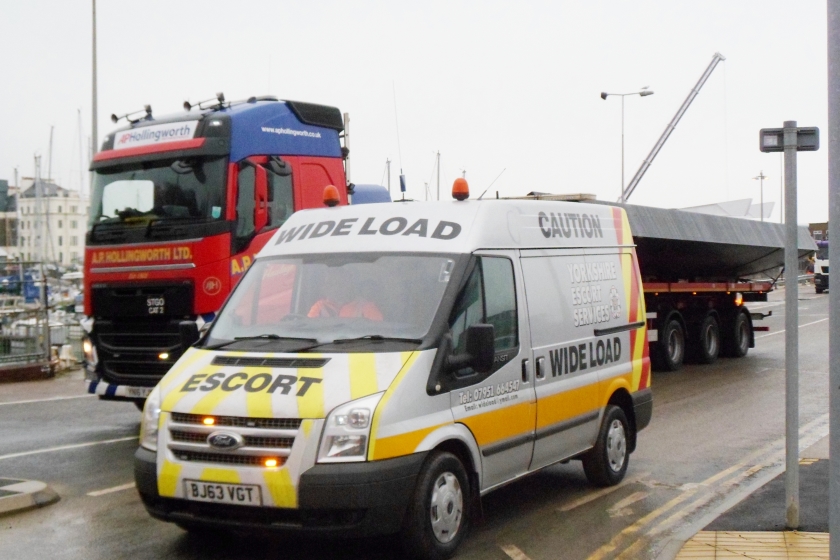 Further good coverage on the lock gates by Patrick S on the Dover Town forum under 'Dover Harbour plans'
Tuesday, 5 February 2019 - 23:42
Post 6071
Del Styan, Norwich
I think I believe the Road Haulage Association, rather than the Govt position. Could it be because they know what they are talking about? Silly old me - it must all be because the NHS will get £350,000,000 a week, so it must be OK.

Tuesday, 5 February 2019 - 23:10
Post 6070
brian dixon, dover
oh well looks we have to cancel the bbq on the roundabout this year.might relocate to meggers car park instead. lol


Tuesday, 5 February 2019 - 13:51
Post 6069
Sea News, Dover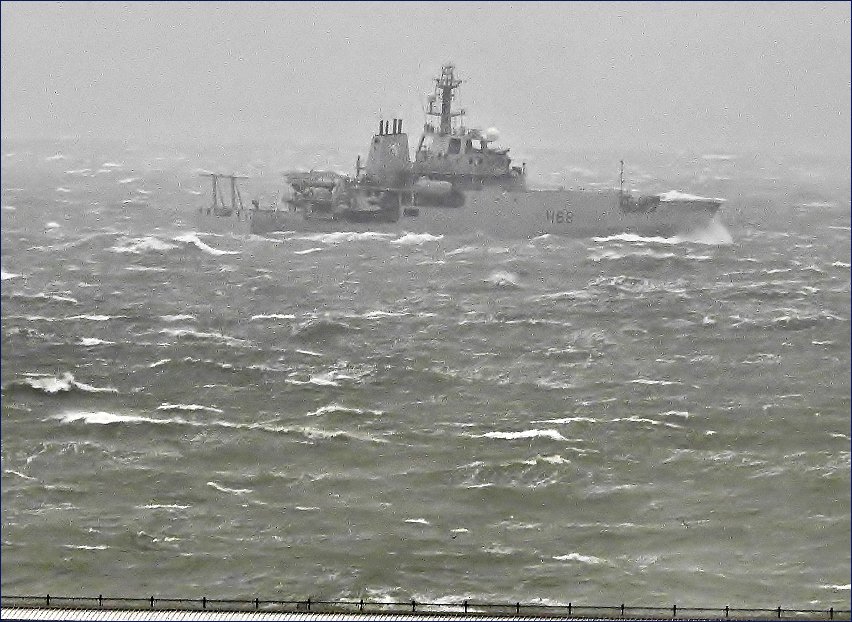 The picture shows the Royal Navy patrolling out there off Dover yesterday on a very rough day indeed. The conditions were horrendous in fact...even the weather hardened Royal Navy personnel, who must be used to this sort of thing, must have found it tough. Its not as if they have a destination...no they just patrol up and down and yesterday the weather gave them a hammering. How does it effect the sailors onboard ?...well even Admiral Nelson himself suffered from seasickness. Just gazing at this picture would give the average landlubbing onlooker a touch of the 'mal de mer'.
The picture doesn't show the ship...HMS Enterprise ..terribly clearly but it certainly captures the very rough seas.
* *
And now from the guys who transport all our goods, all our consumerables, back and forth everyday...
Find a way to avoid a cliff edge Brexit, RHA urges MPs

The Road Haulage Association has called on MPs to avoid the disaster of a cliff edge Brexit.
________________________________________________________________________________
In a letter to MPs, RHA's chief executive, Richard Burnett and national chairman, Andrew Howard, warned that business won't be ready by 29 March and said that a transition period is essential to help industry adapt to new arrangements and regulations.
"An implementation period gives time for vital new processes and systems to be put in place across the supply chain such as efficient new border technology to avoid disastrous queues at Channel and North Sea ports and across the border between Northern Ireland and the Irish Republic."
They blamed "complacent failure" across government departments for a lack of understanding of the vital role haulage plays in the economy and urged MPs not to believe reassurances that preparations are advanced and well developed.
Eleven thousand lorries cross the Channel each day; even a two-minute customs check would lead to a 20-mile traffic jam causing chaos on the roads and bottlenecks at ports.
"If preparations for customs and other border tasks were under control we would not be needing massive holding areas for lorries and would not need backup ferry services."
The RHA has never taken a political view on Brexit but the Association's board of directors is clear that a transition period is essential to avoid unparalleled damage to the supply chain.
-ENDS-
That says it all above...the potential for serious disruption is clear.
From the BBC last night, its also a general news item in a number of publications.. so a briefing took place..
"
Lorries will be able to drive straight off ferries and Channel Tunnel trains without making customs declarations in the event of a no-deal Brexit, the government has announced.
New guidance for importers and hauliers says firms would file a simplified form online in advance and pay duty later.
Hauliers have warned that no-deal could result in long queues at Channel ports.
The industry said firms would still not be ready for a "chaotic" EU exit - even with these simplified procedures.
The UK is due to leave the EU at 23:00 GMT on Friday 29 March - with or without a deal.
"
PaulB
Tuesday, 5 February 2019 - 05:51