Thursday, 23 January 2020
Sea Pictures from Dover....

WWW.DOVERFORUM.COM/SEA-NEWS
Featuring all the ships that come and go and work at the Port of Dover ..
... with further coverage of the surrounding ports.
Sea News Dover
Use our SEARCH ENGINE below to find all sorts on the SEA NEWS pages....type in the topic and away you go, or if you have the post number, just type it in the box, more than
- 6750 -
nautical posts now. Posts are welcome. just click 'Add Your Comment' below. Max of 5 pictures preferred although we can stretch that for special stories.. Sea News Editor Paul Boland - send info or pix to dover7@msn.com. Always welcome.
Book with P&O - Free Fuel see 6760
NEW UPDATE ..just in:
To show your pictures at their best..it could be worthwhile resizing before posting to
860
pixels wide. Our new standard size.
All pictures on these pages are the copyright of the owners and must not be reproduced without permission.
Post 6646
Sea News, Dover
Yes indeed, as Del says below, because Charlie Elphicke MP has a legal case to answer, his wife Natalie is taking up the reins in his stead... and standing in the general election as the Conservative representative for Dover. Well I never!
A clever twist ?
Dover and Deal Conservatives Association chairman Keith Single said: "We considered matters most carefully and it is clear to us that Natalie will be an outstanding candidate for the Conservatives in Dover & Deal."
He went on to say..
"She has loyally and effectively campaigned for the Conservatives over the past 30 years, and with us in Dover and Deal for over a decade. Nationally, she has led a government review into housing policy and been director of the Conservative party's policy forum."
* *
I had the following scheduled to go up so will go ahead anyway... never a dull moment...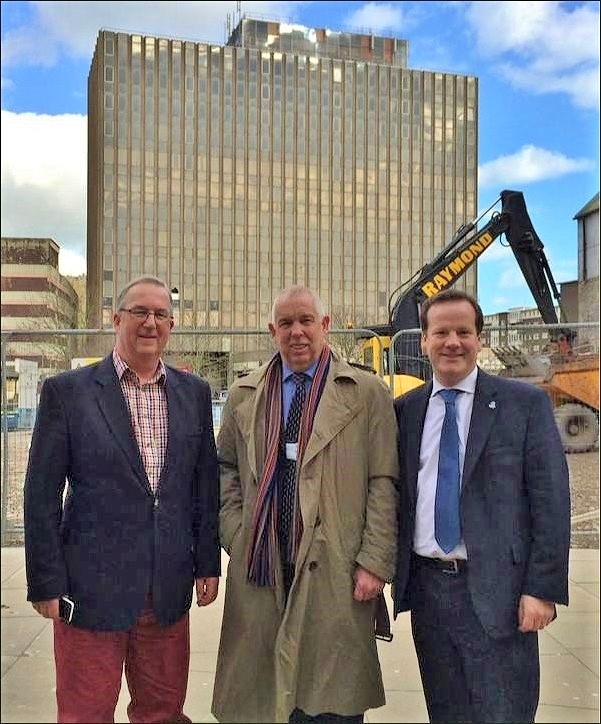 This is one from the past, it shows three local leaders posing in front of the then soon-to-be-demolished Burligton House.. We have from left to right former long time Leader of the Council Paul Watkins, top council man Tim Ingleton, and of course Charlie Elphicke MP. An historical picture now in more ways than one...
This latest missive below arrived with us here from Charlie Elphicke MP on Thursday....
Delivering for our area
______________________
Dear Mr Boland,
We've come such a long way together. Why would we want to return to where we were less than a decade ago?
Since 2010, record investment has been secured for the public services we all rely on. I have campaigned tirelessly for more jobs and money because a secure job and being able to pay the weekly bills matters to us all.
In healthcare we've seen the new £26 million hospital built in Dover, while Deal Hospital was safeguarded after our strong local campaign. Now we also have a new medical school on the way, taking its first students next year. The UK's first ever dementia village is due to open in Dover too. On top of all that, the record NHS investment secured in the new national funding deal means £350 million upgrades are planned for our major hospitals in east Kent.
School standards are up as well. Since 2010, some 27 local schools have improved their Ofsted ratings. I also fought for a new funding deal that will see our pupils get nearly 10% extra, meaning millions more for years to come. An official study recently put Dover and Deal in the UK top 10 for social mobility in both nurseries and primary schools meaning more opportunity for our young people.
The campaign for the renewal of our area has helped create 7,700 new jobs, rising wages and more than £500 million of investment. Burlington House is down, with a £53 million cinema and shopping complex rising in its place. We've also got the new £26 million leisure centre and the £250 docks transformation, while the fast train sweeps into Deal and the villages all day, every day.
And we've worked to get our area's voice heard at the very top of Government. We got the French authorities to dismantle the Calais Jungle. I am just as clear now on the need for them to take stronger action to stop people making dangerous journeys in small boats. Because everyone knows that letting the migrants in Calais into this country, as proposed by Jeremy Corbyn, only encourages more people trafficking.
We've fought for safer streets too. I campaigned in Parliament to secure £23.6 million extra cash for Kent Police from central government an 8.1% boost. As a result, 380 new officers have been recruited across the county. From the latest intake alone, an extra 11 officers will soon be patrolling the streets of Dover and Deal.
Alongside the mum of a teenager who died from a deadly new drug, I also campaigned to secure "Robert's Law". This means tougher sentences for dealers of fentanyl. Deaths from it fell for the first time for years in 2018 and our top cops at the NCA have heaped praise on the campaign.
It's vital that we build on all this massive progress for our area, not go backwards. We need to get Brexit done so we can keep moving forward. Our best days are yet to come.
Charlie Elphicke
* *
Some gentle wide pictures of the Lifeboat going out on exercise last sunday morning...all was calm.. We were going to lead with these shots but the latest news changed the order.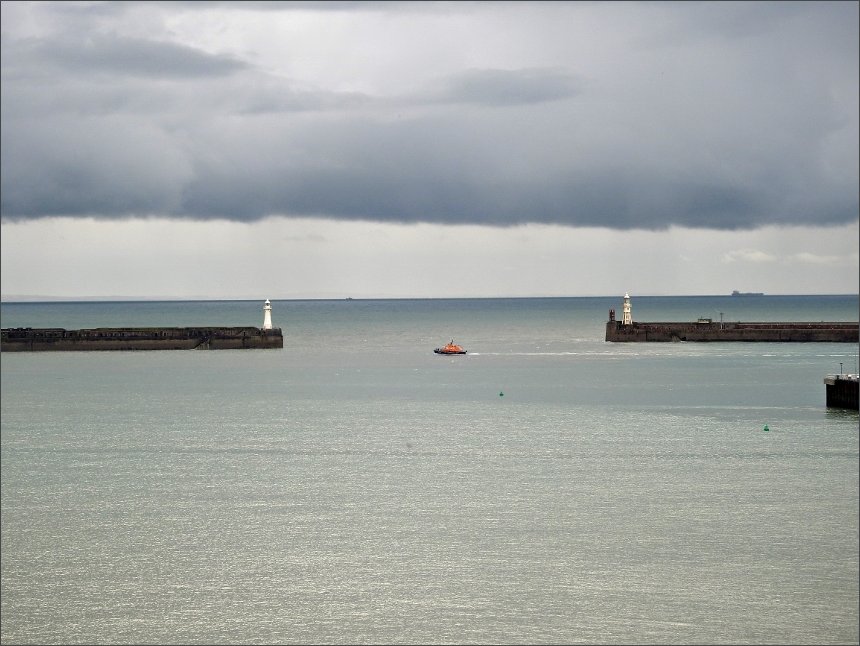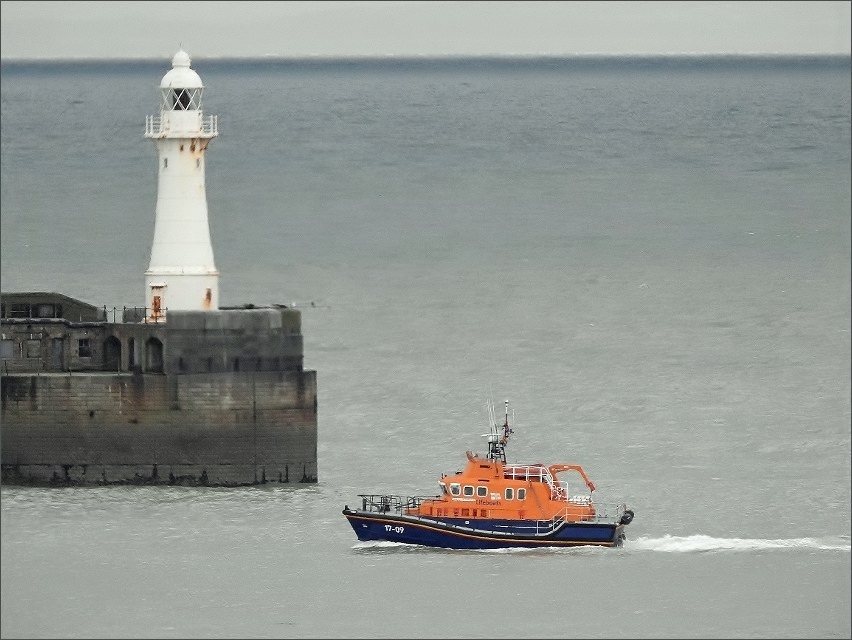 The picture below from Thursday shows German warship Mecklenburg Vorpommern passing by. I thought it was a first for yours truly but later came across another picture in the files of the same ship...the pic wasn't all that sharp then either ! It must be a camouflage thing !!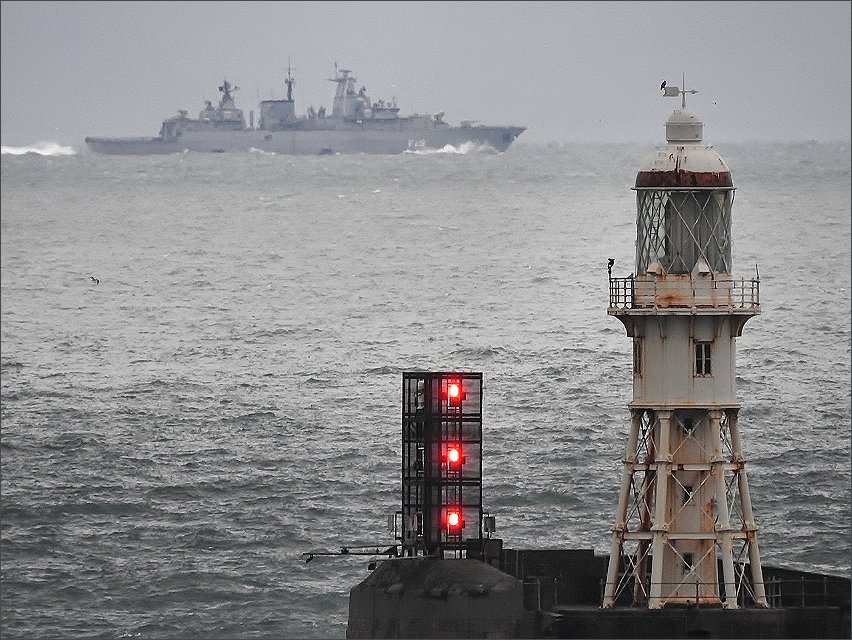 No we didn't see that one coming Del...

Let's see how all this develops...
A cracking 'Famous Five' collection below from Ted once again. Don't Miss All That! great pictures and great info Ted...

PaulB
Saturday, 9 November 2019 - 06:28
Post 6645
Del Styan, Norwich
I see Mrs Charlie has been selected to be his successor. Didn't see that coming!

And I learnt a bit about the UK's gas supplies as well - what an interesting day.

Friday, 8 November 2019 - 22:56
Post 6644
Ted, Canterbury
"Five from far away"Well,still in Kent.The North Kent Coast on the Isle of Sheppey.
A one off.
When you turn on the gas at home...ever wondered where it comes from?......
Well as North Sea gas is becoming depleted we have to import the gas from overseas. LNG (Liquid Natural Gas). With the drop in temperature demand increases.The latest shipment of LNG arrived at the Isle of Grain from North Russia,Sabeta, in the Arctic Circle and the USA (Sabine Pass).It also arrives from Trinidad and the Middle East.
The photo below was taken from Queenborough.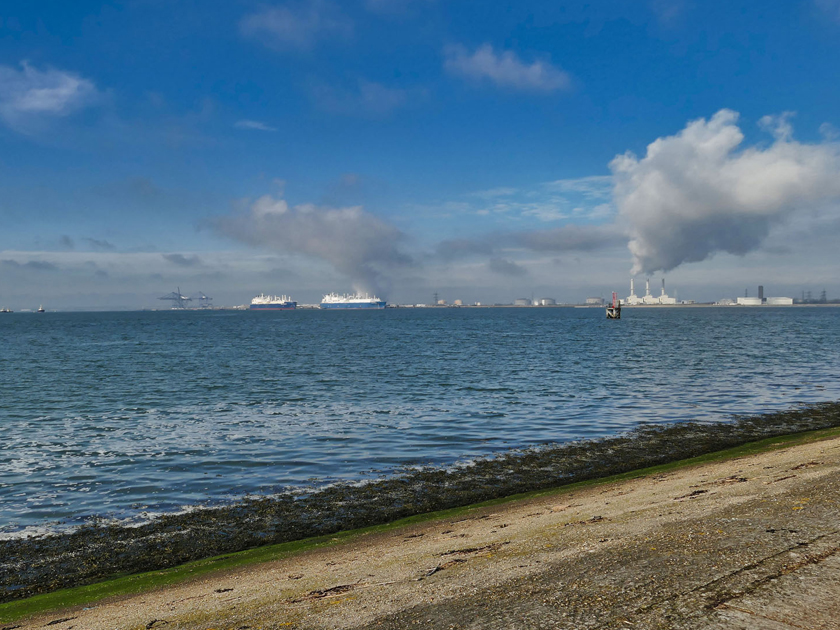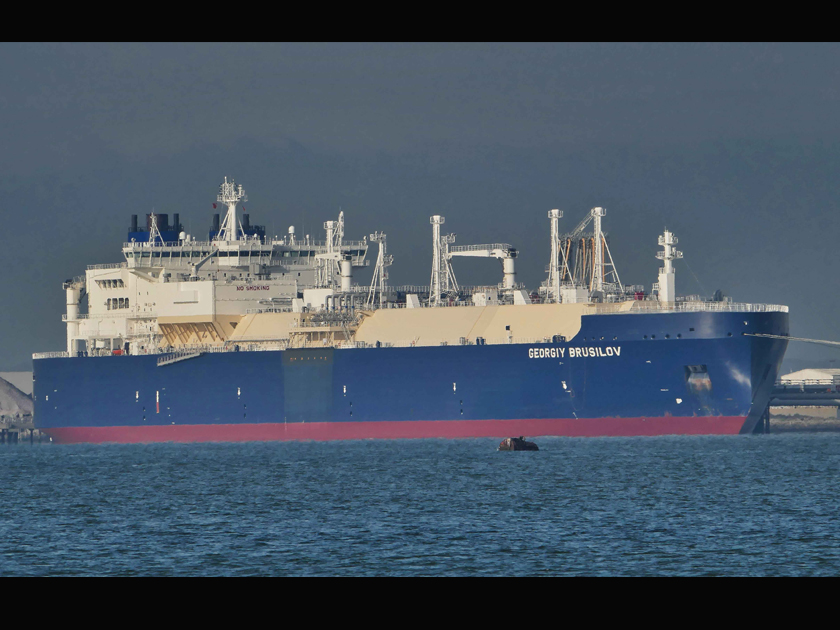 The Russian LNG tanker GEORGY BRUSILOV has just completed discharging and is waiting for the Pilots and tugs ready for departure.There are now a few number of this class of vessel with ice breaking capabilities for the Arctic journey.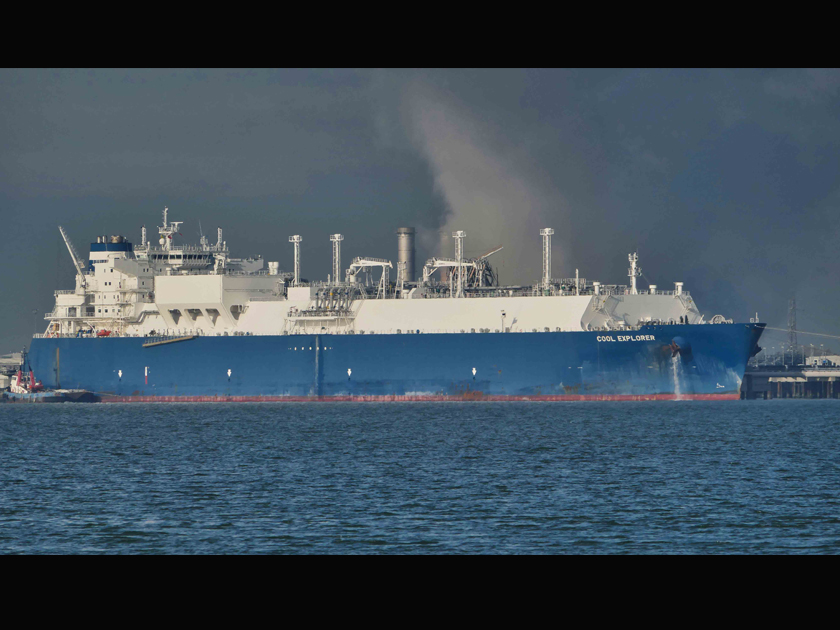 The Maltese registered LNG tanker COOL EXPLORER has just arrived from Sabine Pass U.S.A.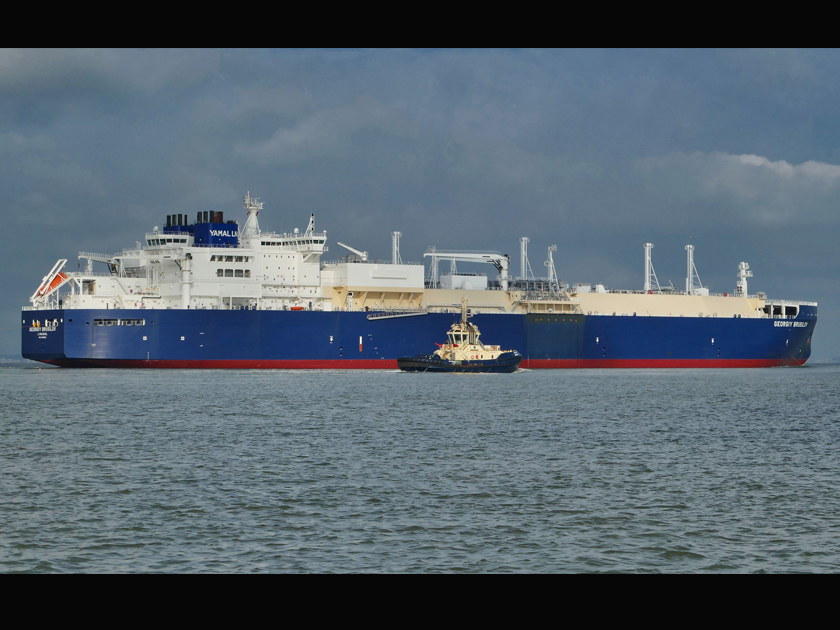 The GEORGY BRUSILOV bound for the large LNG Terminal in Sabeta,North Russia.She has a tug escort whilst in the Medway Channel.One tug is connected to the stern and the other follows alongside.The journey to Sabeta takes approx twenty days.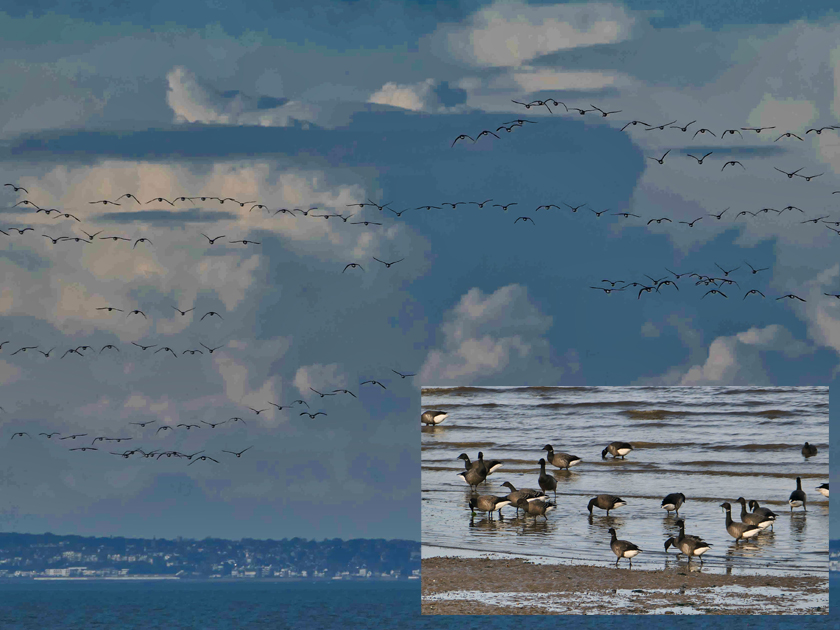 Whilst on the subject of North Russia...Hundreds of Brent geese are arriving on the North Kent Coast from North Russia.They can be seen feeding on seaweed and grasses along the shoreline before spending the nights on the Medway Marshes.They arrive at the end of October and usually depart in April heading back to North Russia to breed.
Friday, 8 November 2019 - 16:41
Post 6643
Sea News, Dover
Noordhoek Pathfinder back again....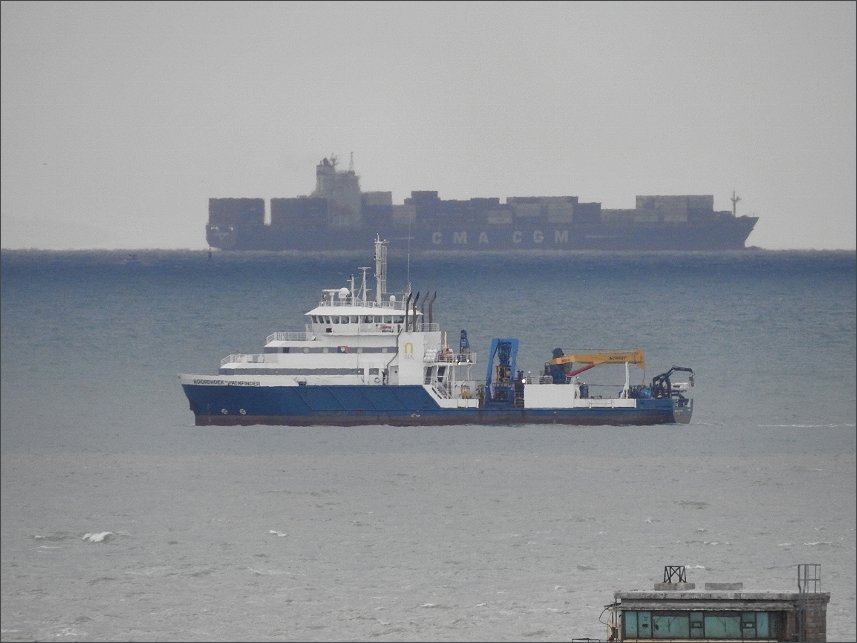 Yes indeed the support/survey vessel Noordhoek Pathfinder is back with us again ( or almost with us!) doing her thing just offshore once more... these pictures show her out there on a much welcomed calm sea, but under a dark brooding sky. In the background of the shots you can see container ship CMA CGM Sambhar moving south....heading to Tangier.
Gadzooks!! can you believe it !
Pathfinder has just come into Port as I write but alas alas yours truly missed it.... well I never..

PaulB
Friday, 8 November 2019 - 07:14
Post 6642
Sea News, Dover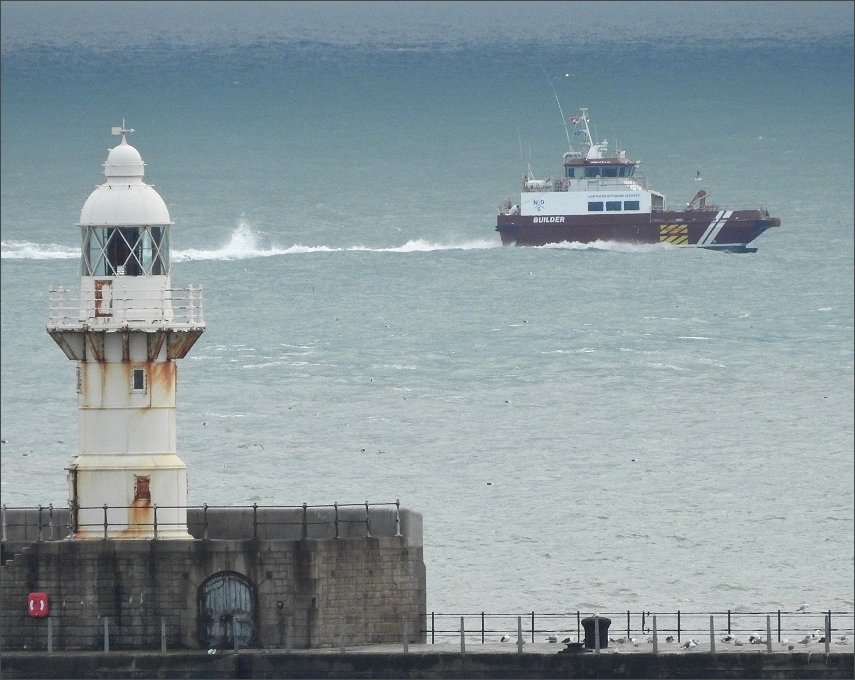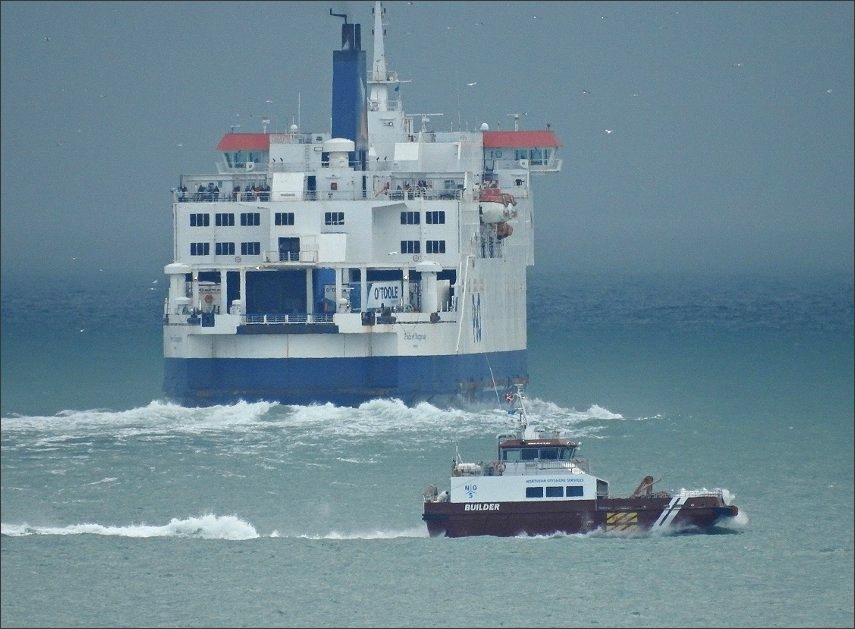 The boat shown above there came powering by the Port a few days ago..just after the storm...you can see something of a menacing sky still lingering. Its a boat called Builder as you can see... a windfarm support vessel from Northern Offshore Services. It looked impressive dashing by. If you go on their website on Google it shows some of their fleet coming almost towards you mid-ocean and all at once.. a nice moving picture..worth a look...
or go to (copy and paste)
https://n-o-s.eu
click on The Fleet...then click.. View All
The ferry above there is P&O's Pride of Burgundy
An enjoyable collection below there from our 'inshore correspondent'. Well done with those Mike..and thanks to Nigel for the added image. Great stuff!


PB
Thursday, 7 November 2019 - 06:16
Post 6641
Mike J., Dover
Impressive heavy weather pix, particularly the Breakwater & the LUZON STRAIT & the tugs struggling in the bay.
Gibraltar-registered EEMS DART came in from the Thames early on Wednesday from the Thames is is loading grain on WD5.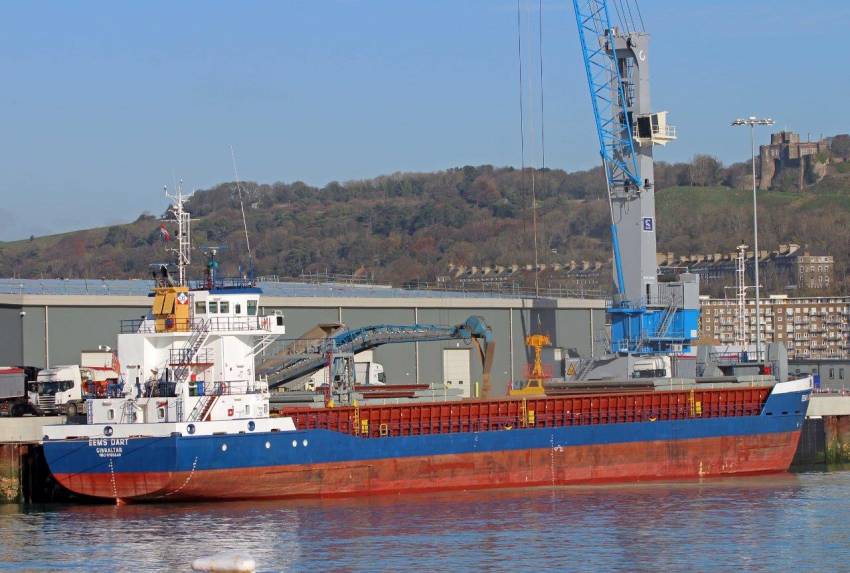 This excellent photo courtesy of 'Dover Straits Shipping' who have access to the Ad.Pier.
Thanks Nigel !
Access to the Ad.Pier for anglers & walkers [& shipspotters] looks to be a few days off as much of the low-level walkway [post 6637] was wrecked during Saturday's storm when seas were breaking over the Ad.Pier.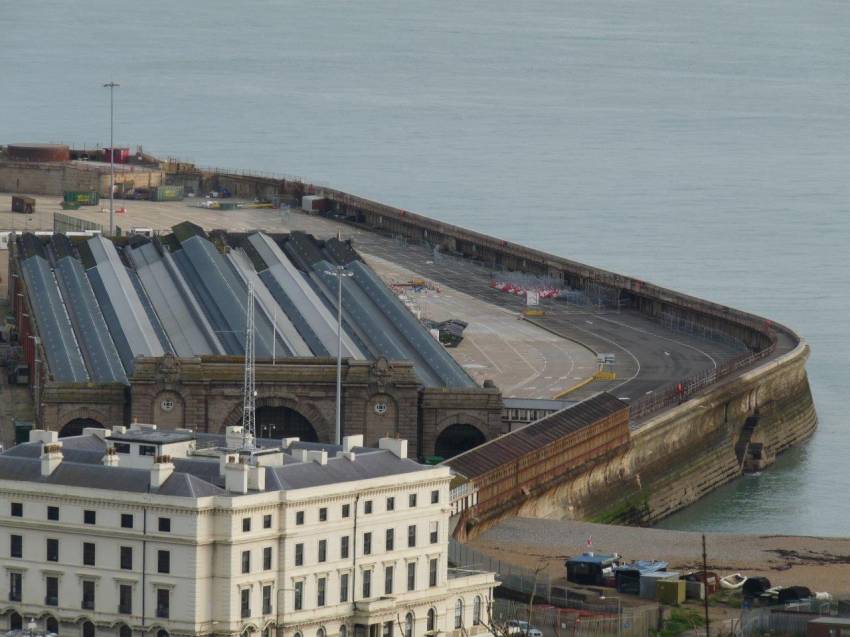 The compressed photo won't give much detail but the low-level walkway extends from the end of the covered way to the grey 'cube' [anglers WC] just short of the caff [red, behind the lighting pole] & the turret [rusty].
Some fenciing is still scattered about but much has been gathered up & piled up with the red & white plastic mounting blocks.
While I was up at St Martins Battery I noticed the SPEEDWELL entering via Eastern & hurried down get a few pix of her coming down the Wick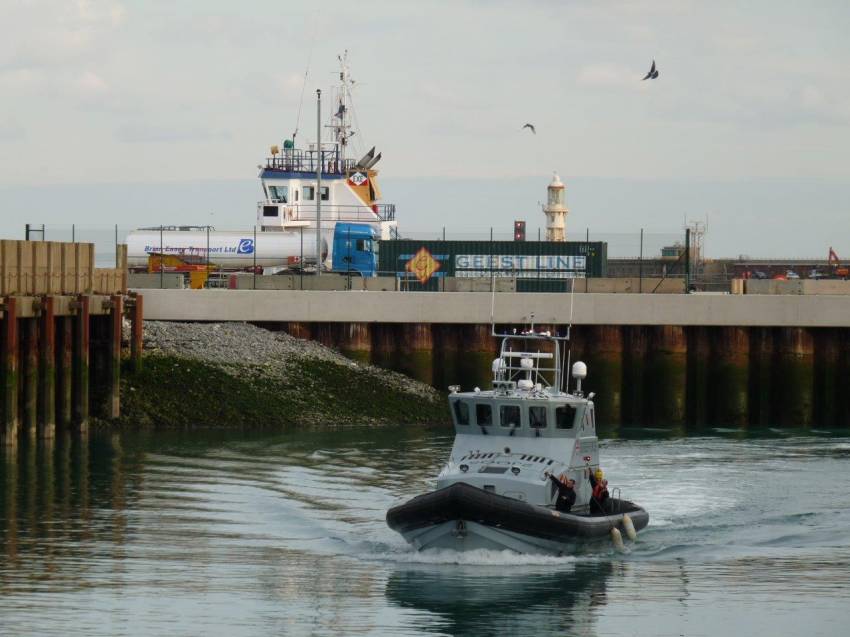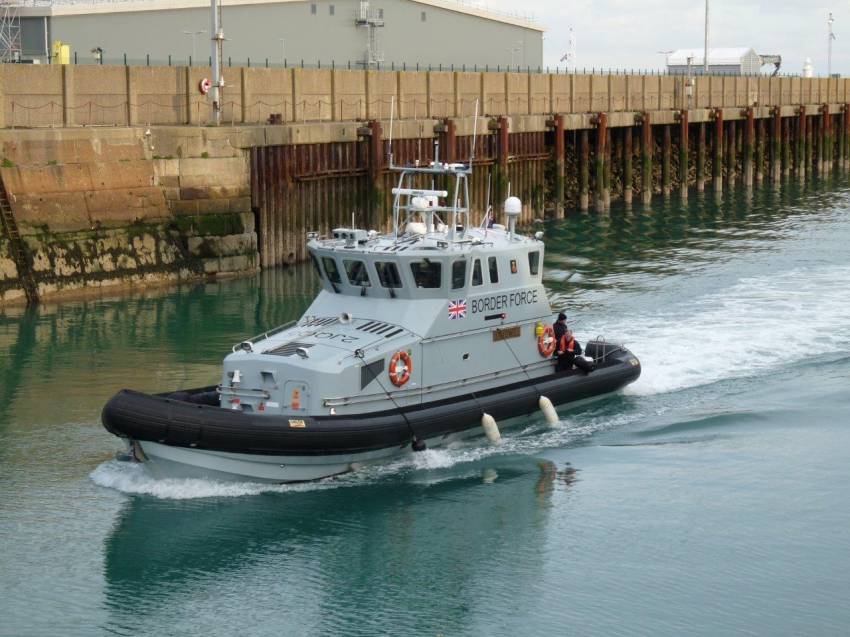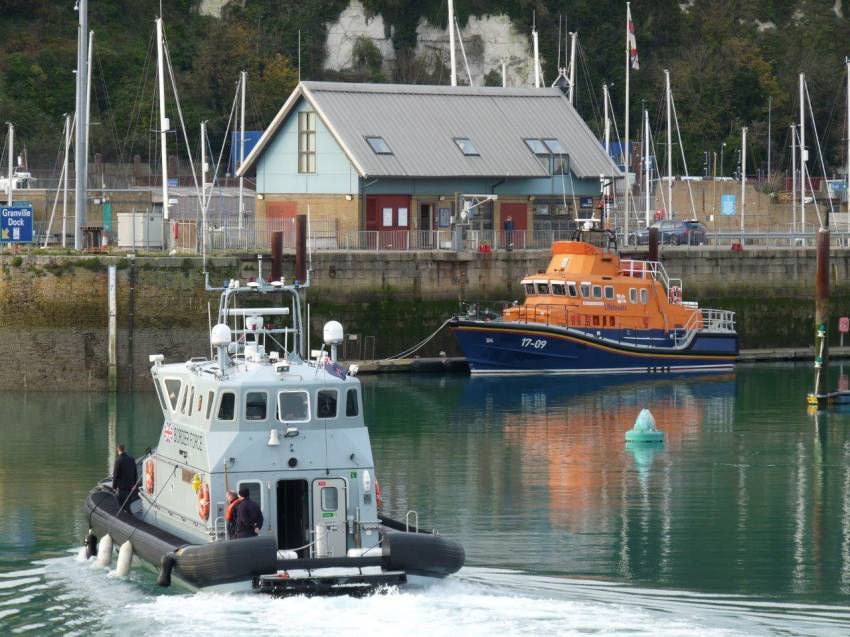 Thursday, 7 November 2019 - 03:00
Post 6640
Sea News, Dover
The dredger Reimerswaal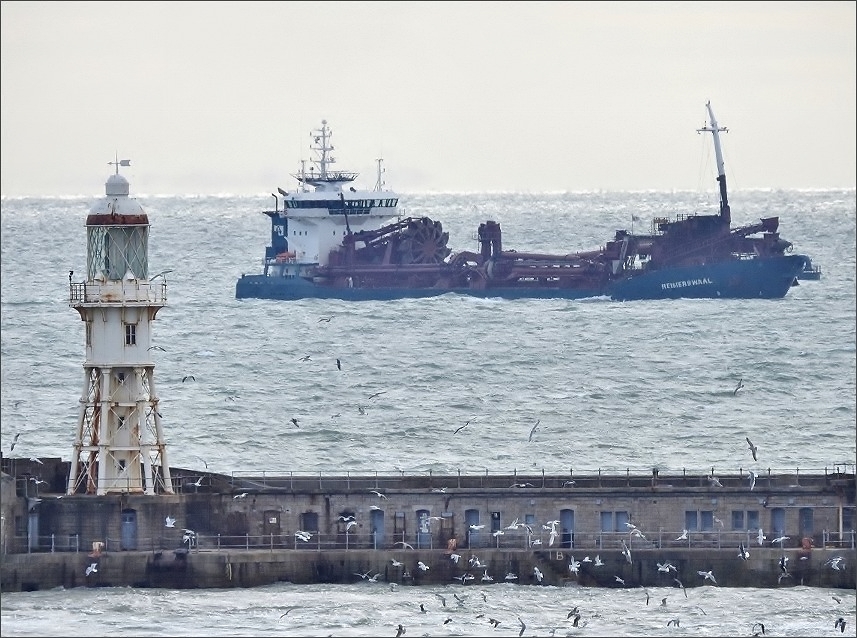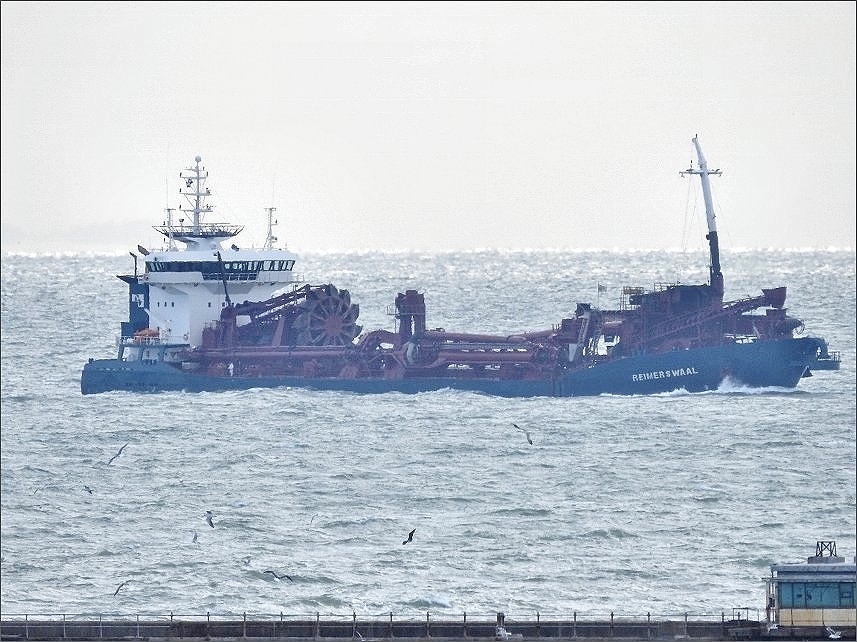 Something of an old friend Reimerswaal, we have photographed her before. She doesn't come into Port as such but often idles by just outside. We go back now to just before the storm, we had these pictures ready but with the storm we had to put them on hold in order to get the more topical shots on display...but here they are now. They show the vessel lingering for a time just outside the western entrance six or seven days ago.
"
The Reimerswaal was developed with one key characteristic in mind: flexibility.
As a result, the Reimerswaal can be used for ship-to-shore pumping, rainbowing, discharging (shoreface nourishment), dry discharging, and rock fill depositing. The innovative engineering plan has resulted in a ship that is suited both for the dredging and the offshore industry.
The Reimerswaal is equipped with state-of-the-art technology, including an operating system with a programmable logic controller at the heart of it that can be operated fully from touch screens at various locations on board.
"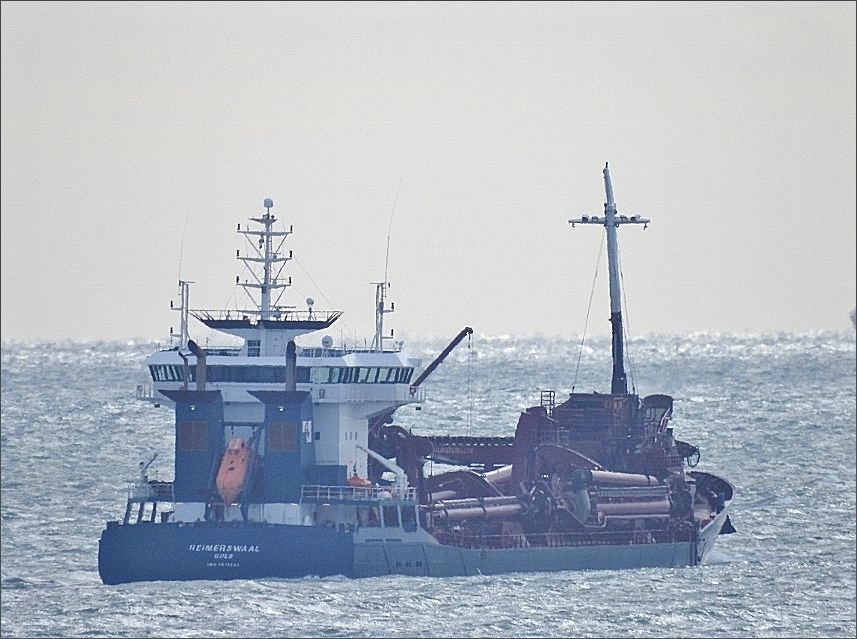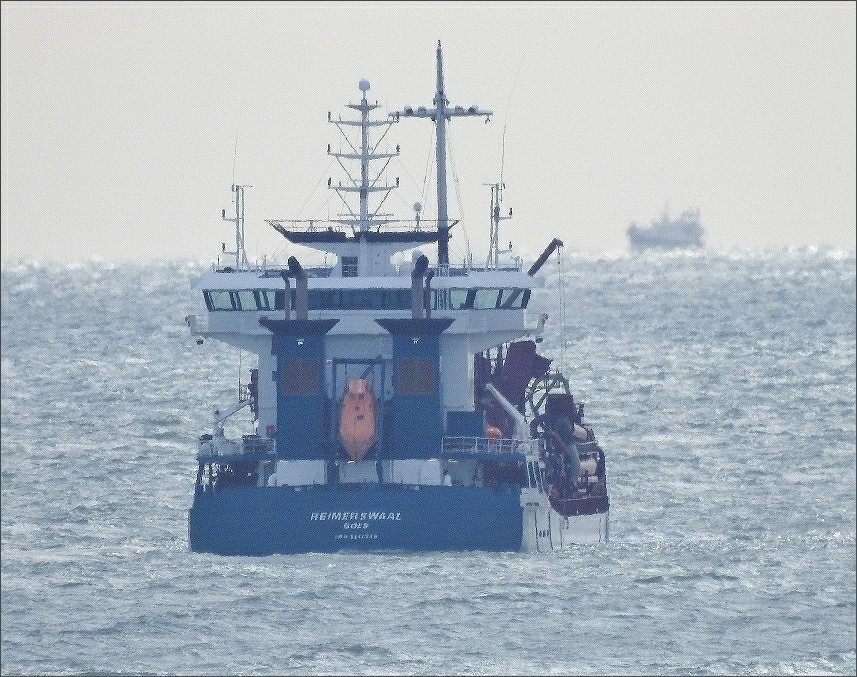 PaulB
Wednesday, 6 November 2019 - 06:55
Post 6639
Sea News, Dover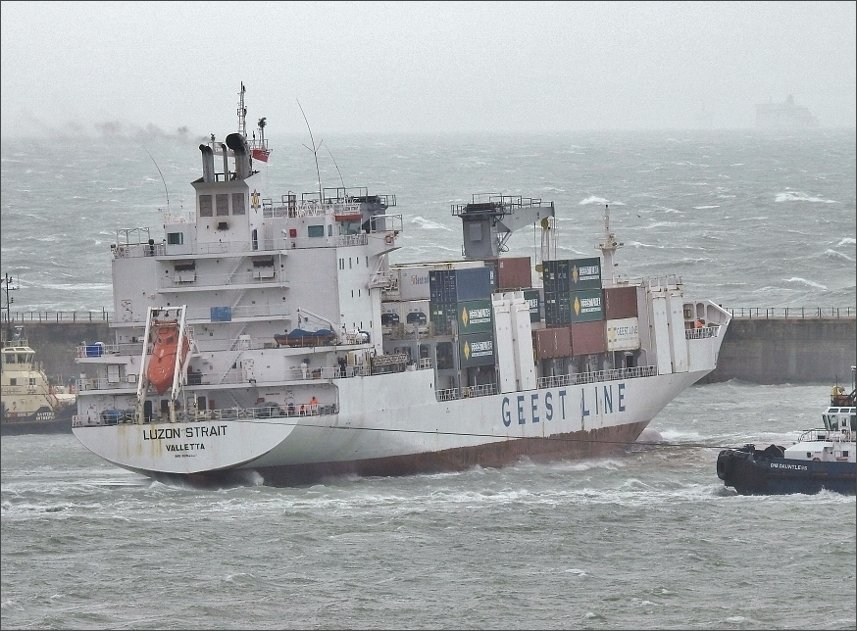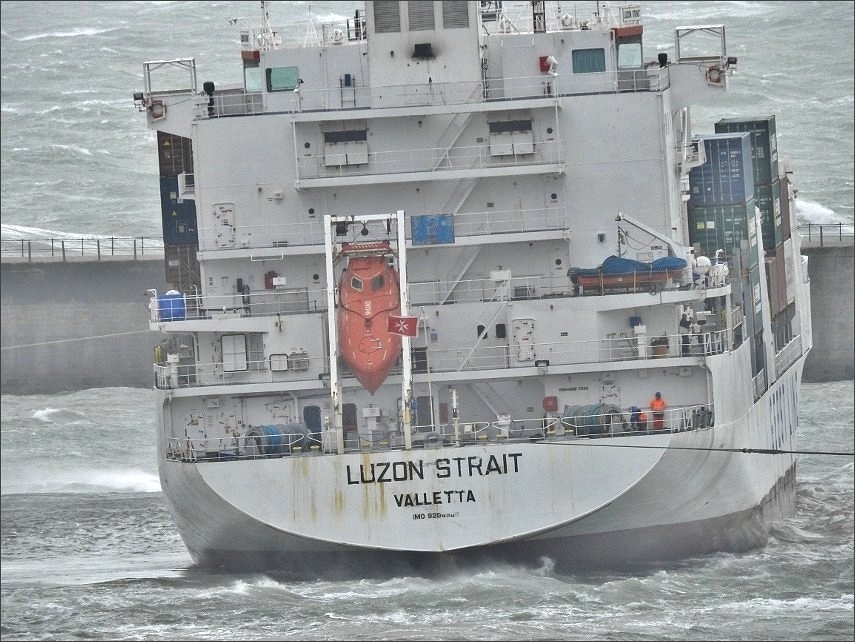 There we are with pictures of the Luzon Strait preparing to leave the Port in the rough wild conditions on Saturday morning. The full beast of the storm had'nt arrived yet and the ship was exiting the harbour to weather the fierce storm offshore. Must admit yours truly is not grasping the full logic of that plan, but there must be a sound nautical reason for it. Surely the safety of the harbour would be.... well...
Just two pictures of this as twas impossible to keep the 'observation tower' window open. The other storm pix were taken from the more sheltered rear window but Luzon wasn't fully visible from that angle...just out of camera reach.
Anyway..there we are..cables straining at the leash...
You can see in the background there ..the ferries were still running at this point...time of first shot 09.59...or 10am in easy money.
PaulB
Tuesday, 5 November 2019 - 07:32
Post 6638
Sea News, Dover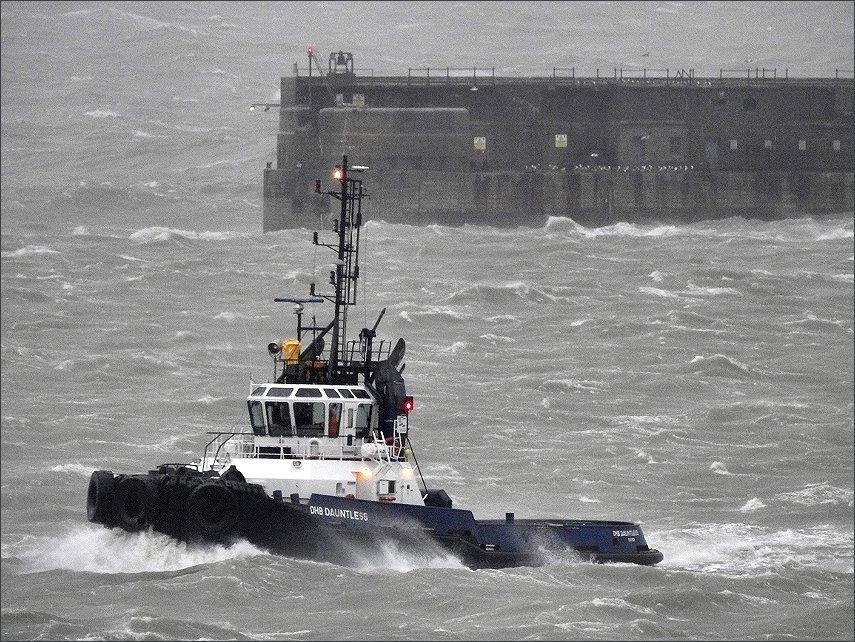 Tug Dauntless out there battling the rough weather on Saturday...see other 'rough' pictures below (6635) and up top...
Don't miss Mike's all round report below...essential updates..

Yes rough times Del...in more ways than one..

PaulB
Monday, 4 November 2019 - 06:12
Post 6637
Mike J., Dover
A wild old Saturday with the port closed as mentioned by Paul around high water during the afternoon.
Prior to the closure several ferries 'aborted' whilst trying to dock despite tug assistance & returned to sea with the DELFT SEAWAYS being the last ship to sail before the port was closed.
Langdon Coastguard reported gusts up to 69mph at 1300 & at one stage six ferries were waiting off the port.
Horizontal rain & poor visibility discouraged photography [wimp !] & I understand that there was minor damage over on the Admiralty Pier.
Nice picture under 'difficult' conditions from Paul as the SVS VEGA shifted to Cruise-1 for shelter.
The reefer LUZON STRAIT left the DCT as the storm approached & spent the day sheltering up in the Downs with other vessels but is now back alongside & I see on AIS that the SVS VEGA has now returned to WD4.
Speaking of the Ad.Pier it has now re-opened for anglers & walkers after the repairs mentioned in post 6580.
Due to damage to the upper level walkway at the shoreward end it is now necessary to descend to the lower level of the pier after passing the Dover Sea Angling's steward's hut at the end of the covered walkway & then walk almost to the turret along a fenced-off path before regaining the upper level.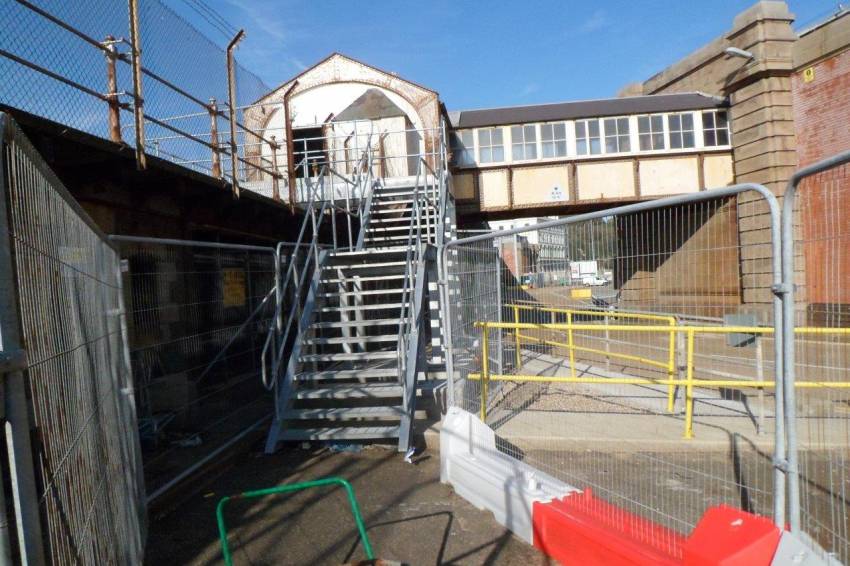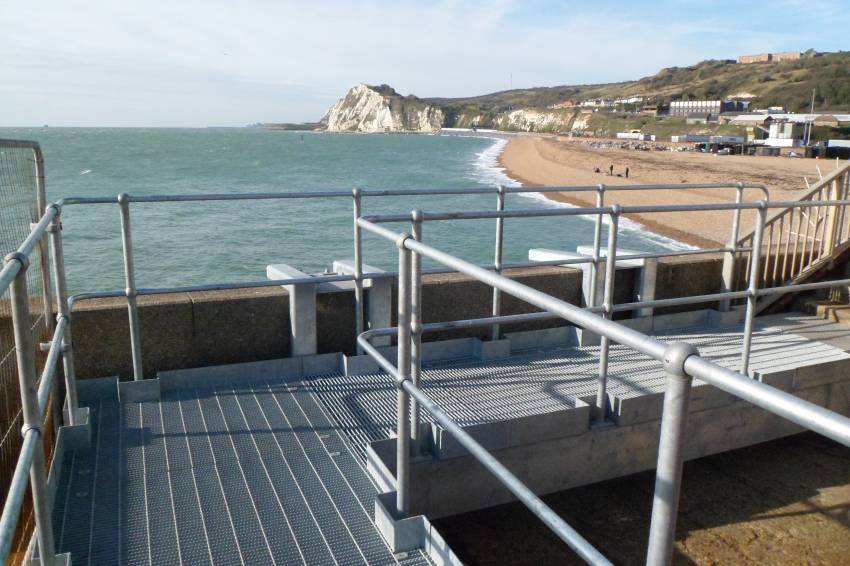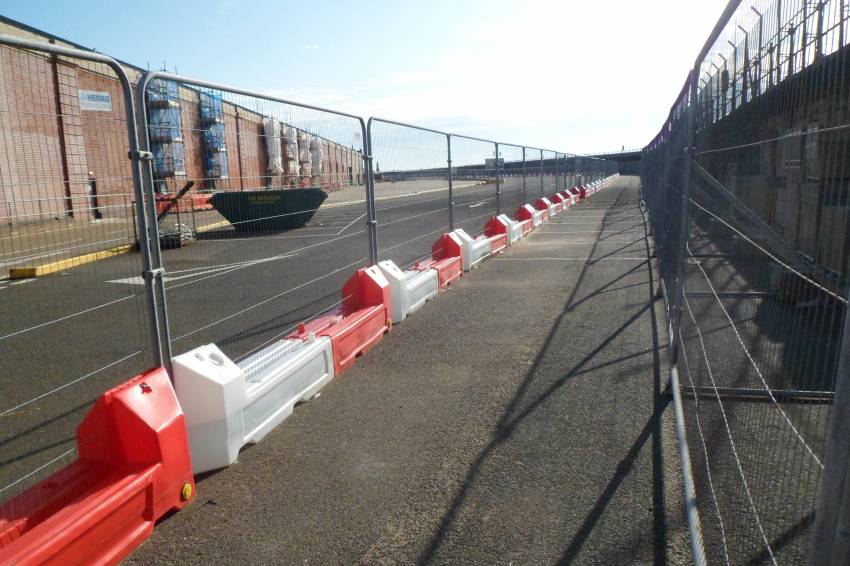 I've not walked the walk yet & these pix were taken on 30/10 but I understand that, if you wish, you can walk [& fish] back down towards the shore on most of the upper level [the main damage being to the walkway being almost at the shoreward end].
The gate for the outer section beyond the turret will continue to be closed when paranoid cruise ships are on Cruise-2 but apparently next cruise season will not be closed for EVERY cruise ship on CT2 as seems to have been the practice recently.
Of course the whole pier will be continue to be completely closed in bad weather, unlike the much-missed all-weather Prince of Wales which has gone forever.
I was hoping for a morning stroll up the Ad.Pier in the much improved sunny Sunday weather [& for a bacon-roll provided that the caff hadn't been washed away] but unfortunately after all the work for the new access the pier has now closed again for walkers & anglers & I understand that there was further damage on the pier.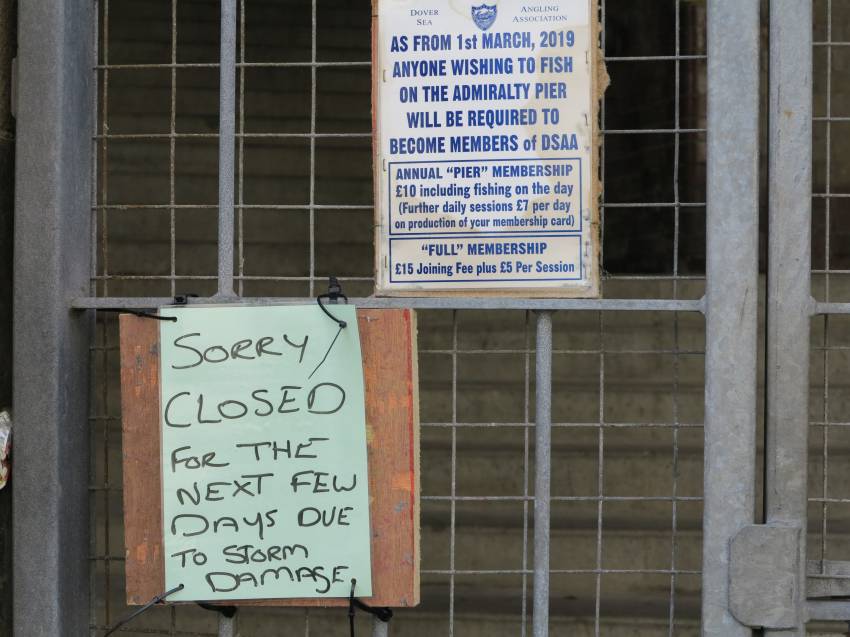 By Sunday mid-morning The DOUGHTY had arrived back from her Hull refit & the SVITZER INTREPID was preparing to return to the Medway.
Probably the last photo of of the INTREPID's visit to Dover [she certainly worked for her charter fee yesterday, as did the DAUNTLESS] unless Paul caught her departure - by 1800 she was back at Sheerness.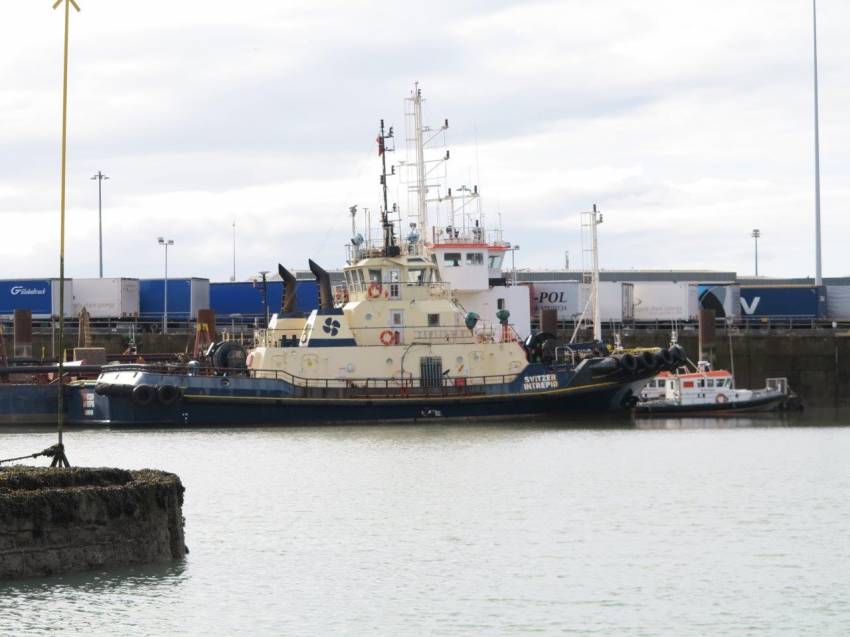 The lifeboat was also back at the boathouse after her Sunday morning exercises.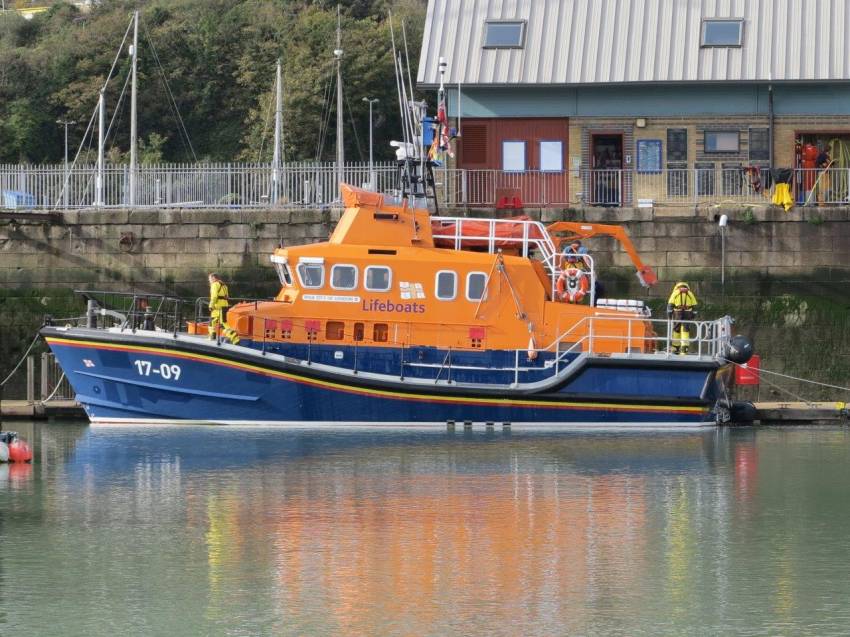 Monday, 4 November 2019 - 01:20
Post 6636
Del Styan, Norwich
Sorry to hear about your rough conditions yesterday. We had a tree or two down up here in Norfolk, but you got the brunt of it in the South East.
I will watch the Charlie outcome with great interest! An Election no one can forecast, but lots of guesses.

Sunday, 3 November 2019 - 23:22
Post 6635
Sea News, Dover
Rough Day in Dover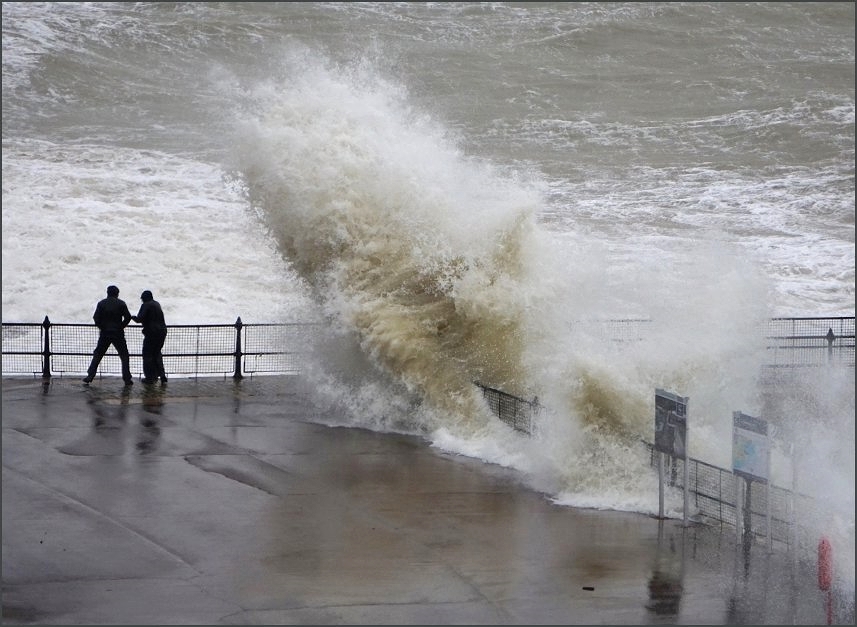 The couple above there are about to get a soaking...brace yourselves!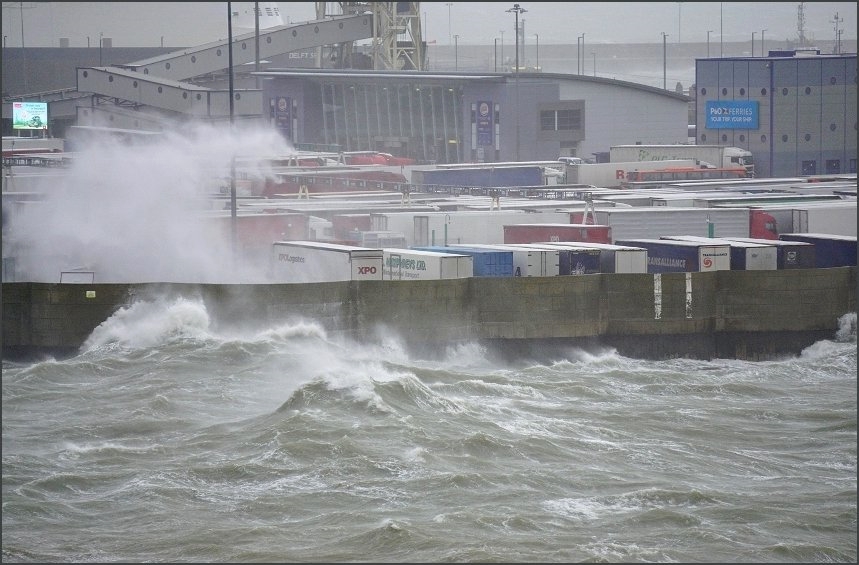 Nobody going anywhere fast as the rampant rabid waves roll in...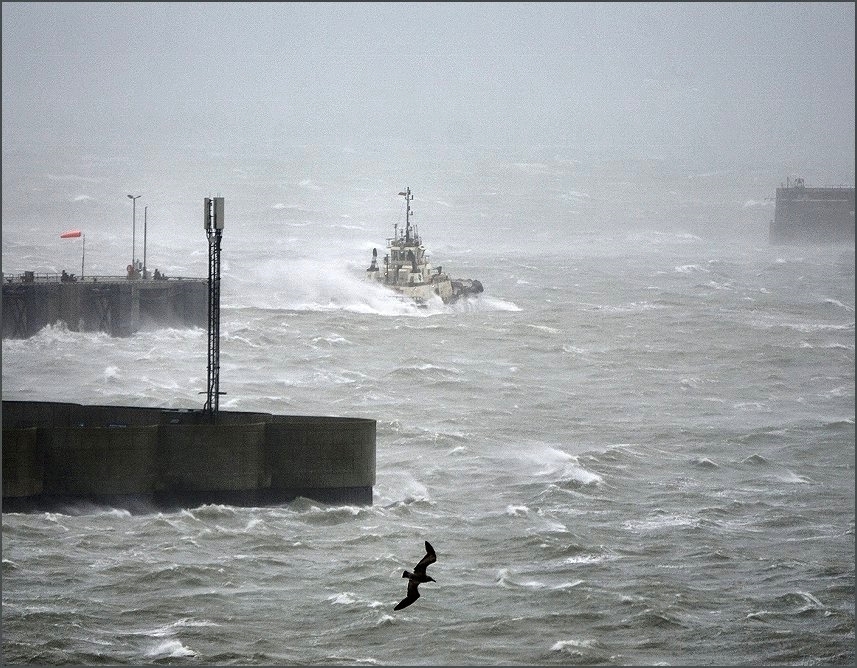 The tugs (Svitzer Intrepid here) tried manfully but look at it....impossible.... Sid the Seagull however is carrying on regardless..
You wont need me to tell you how rough yesterday was...it was horrendous. The ferries tried to carry on gamely, going out in the very rough weather initially, but even they had to pause in the end to let nature 'get on with it'. All services were stopped for something like 4/5 hours.
Night shot below of SVS Vega moving away from new pier WD4 the night before...time of shot 5.25pm...she is still in port at the Cruise Terminal One...presumably moving over for increased shelter.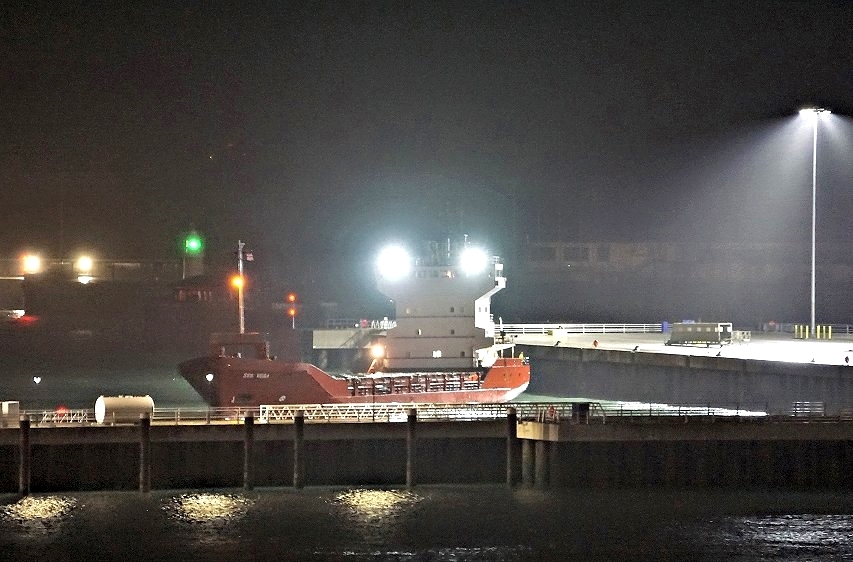 Well Del the election announcement is incredibly bad timing for Charlie Elphicke as he is firmly ensconced in 'no mans land' with the legal situation hanging over him, and the Conservative whip removed. There has been no announcement as to his situation...is he standing or is he not...however just a couple of days prior to the Election announcement yours truly had a 4 page A4 promo leaflet through the front door highlighting Charlie's achievements (according to the Conservative Party)...
....so as they say 'watch this space'.
Charlie was an avid Remainer initially but when most here in Dover voted the other way, Charlie re-invented himself, and he turned into the tub thumping Leaver extraordinaire...

PaulB
Sunday, 3 November 2019 - 07:38
Post 6634
Del Styan, Norwich
Sorry to interrupt the sea theme - do you know if Charlie is standing for the General Election? Do feel free to delete if you think it's inappropriate!

Saturday, 2 November 2019 - 23:12
Post 6633
Sea News, Dover
SVS Vega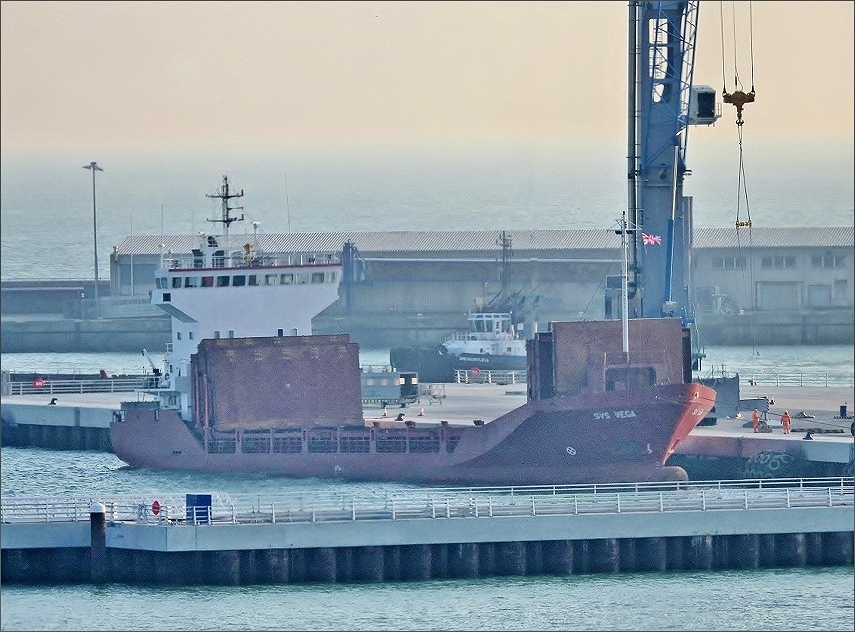 Some more pictures now of SVS Vega, this time yours truly's shots are without the overpowering backdrop provided by the cruise ship AIDAsol (6627). Top picture there shows the ship at evening time on Halloween. No witches to be seen anywhere. But you can see tug Dauntless paused there in the background.
The two pictures below were taken yesterday early afternoon and show the reinforced steel bars being lifted off SVS Vega by the towering crane.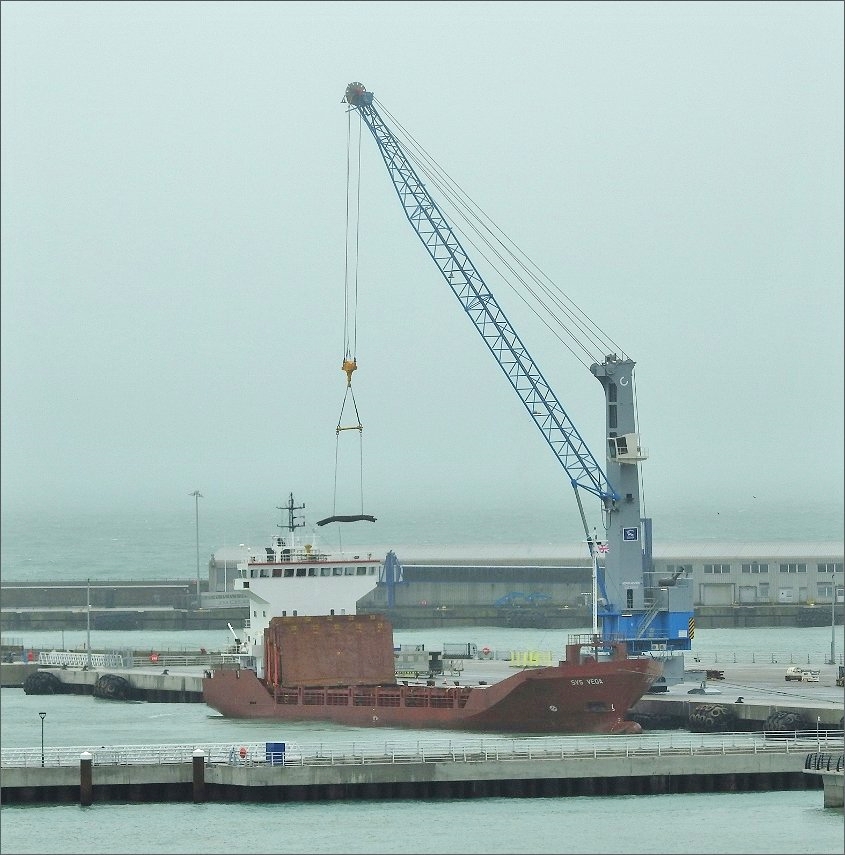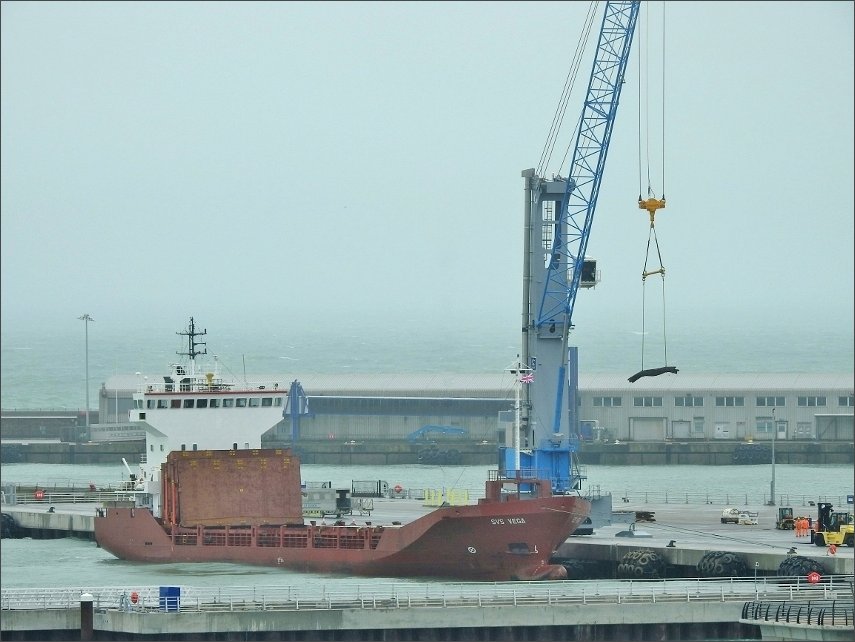 SVS Vega moved away from WD4 last night at 5.25PM. We may have a night shot of that...although it was pitch dark and raining...will examine and see if useable. Although I cant see with naked eye...it looks like SVS Vega is over at Cruise Terminal One. It may be a sheltering option as very strong winds are forecast here this morning... "severe gale 9, occasionally storm 10" .. said the man on the shipping forecast.
Below we have a glimpse of well known dredger Reimerswaal passing us on Thursday...will have pictures of that following along...bear with..
The Spirit of Britain was entering through the western entrance with Reimerswaal a short distance behind...you can see everything in the picture..the dredger, the lighthouse, the Spirit and the hardy passengers sitting on the rear deck...it was chilly and damp at the time... hardy souls..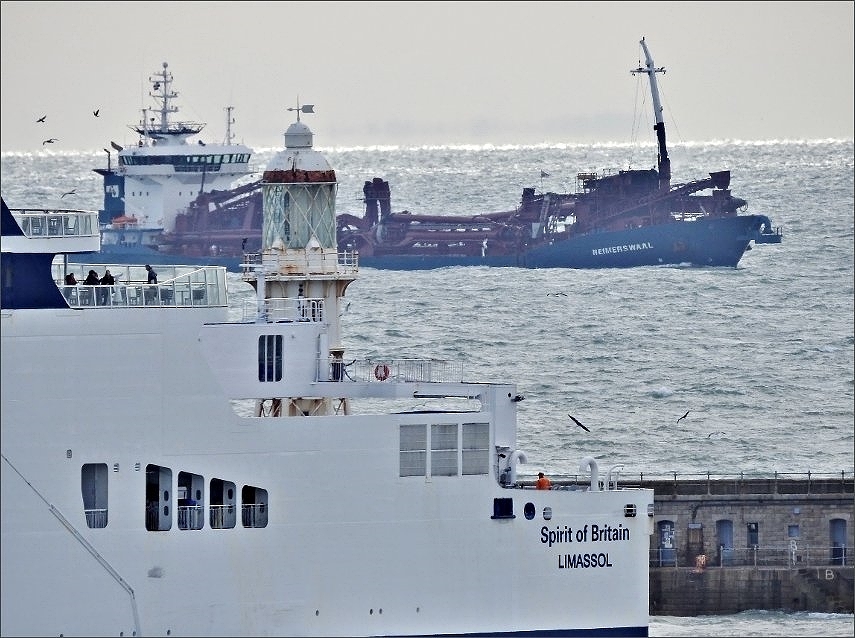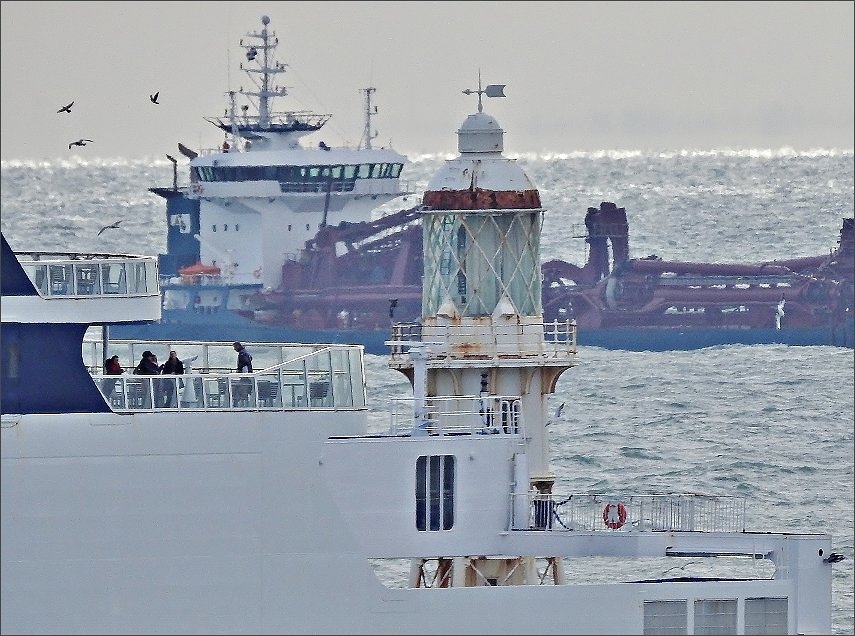 The second picture is a closer crop of the first there...
Del yes indeed a very encouraging story in these hardened times... glad you enjoyed that one..

Another 'famous five' from Ted below...so don't miss those. You are getting really amazing quality on the pictures Ted.

PaulB
Saturday, 2 November 2019 - 06:06
Post 6632
Del Styan, Norwich
What a lovely story from P and O about the school children going to meet their counterparts in Calais. Gives you hope in these troubled times. Give me more!

Friday, 1 November 2019 - 23:11
Post 6631
Ted, Canterbury
"Five from Ramsgate"
A stroll around Ramsgate Harbour on Tuesday.The rain had cleared and blue sky started breaking through.A strong breeze from the East added to the atmosphere.
The wind farm vessel Tempest enters in choppy conditions.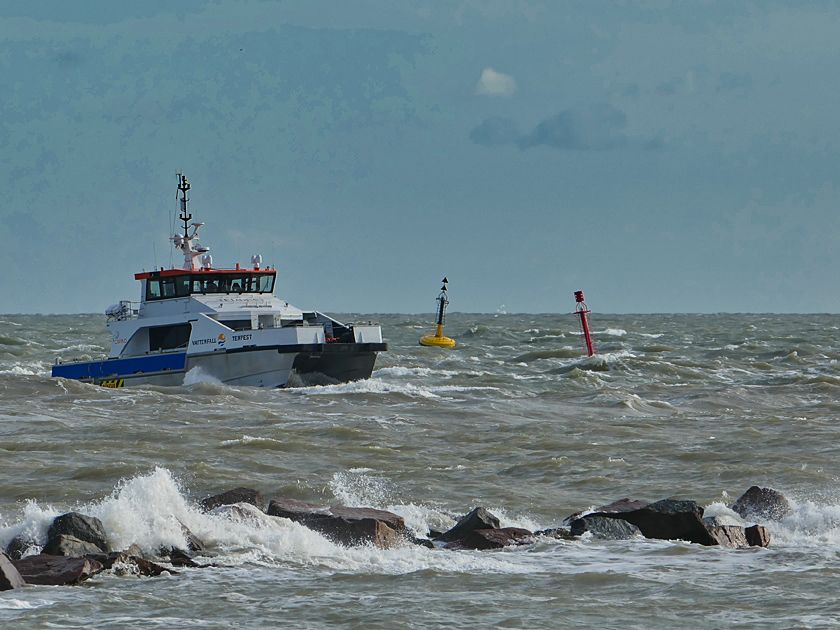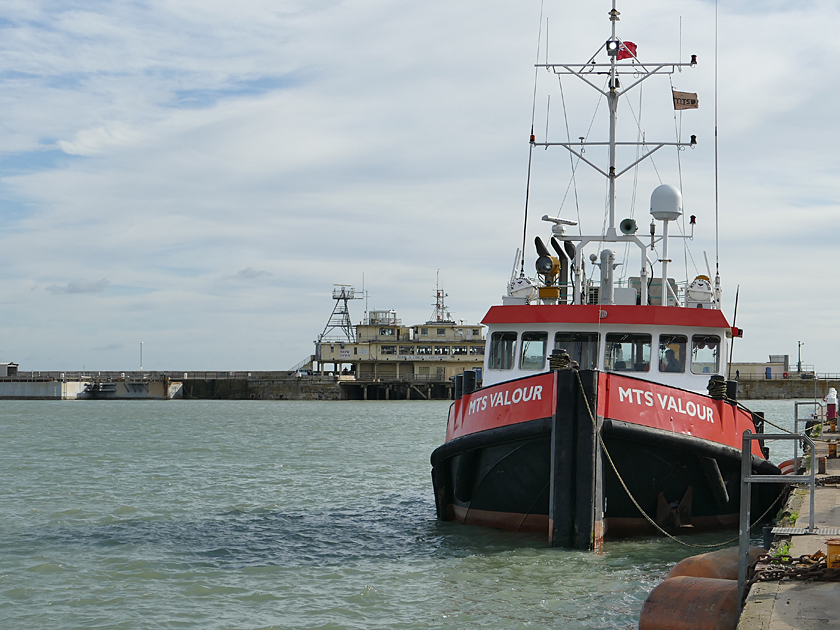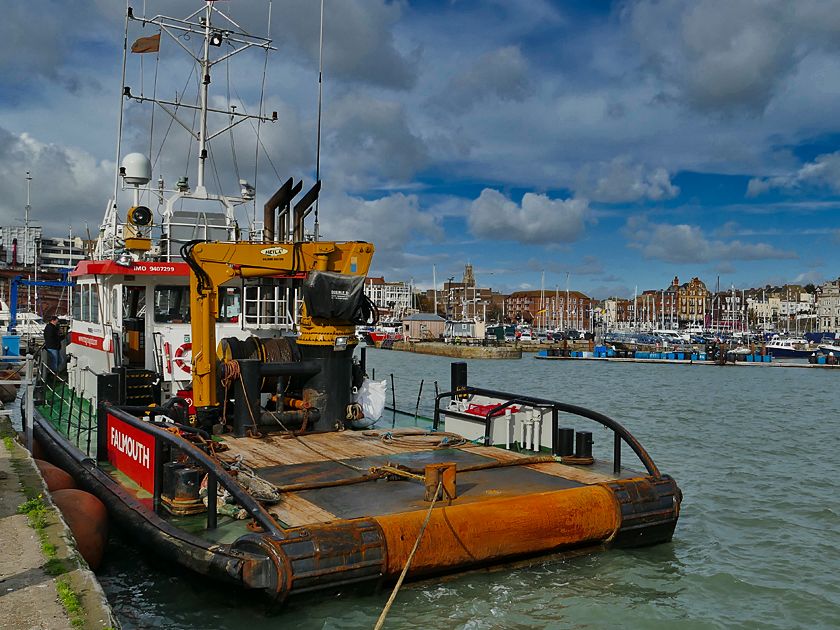 The workboat/tug MTS Valour alongside the Commercial Jetty.
A workhouse around the coast towing barges etc for Coast protection projects.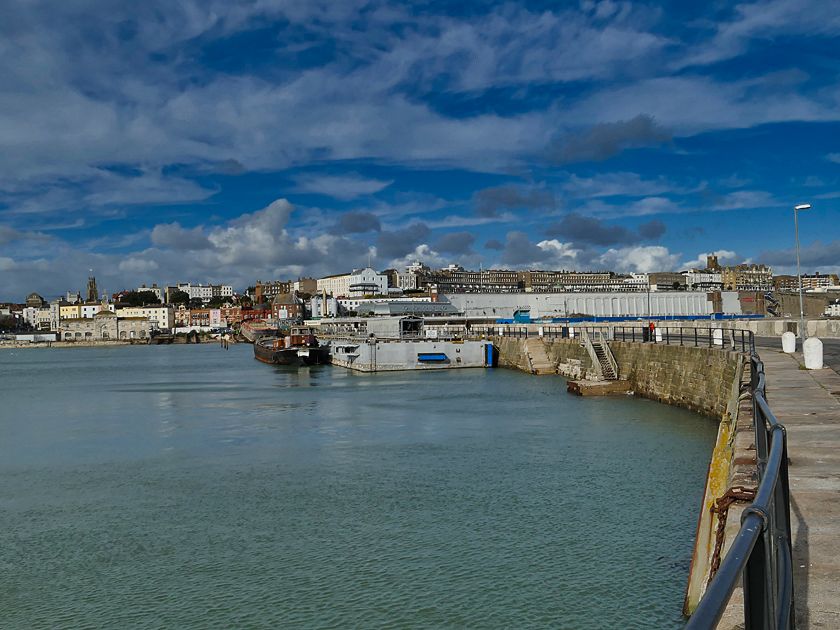 Alongside the East Pier the "Art Barge"which will eventually be converted into an Art Gallery attraction in the inner harbour.The other large pontoon will be moved over to Bretts Wharf.
With the zoom lens on full magnification the Dutch square rig vessel Morgensten appeared on the horizon heading for Ramsgate. My thanks to John Masefield for the quote.
Friday, 1 November 2019 - 10:38
Post 6630
Sea News, Dover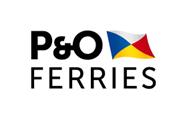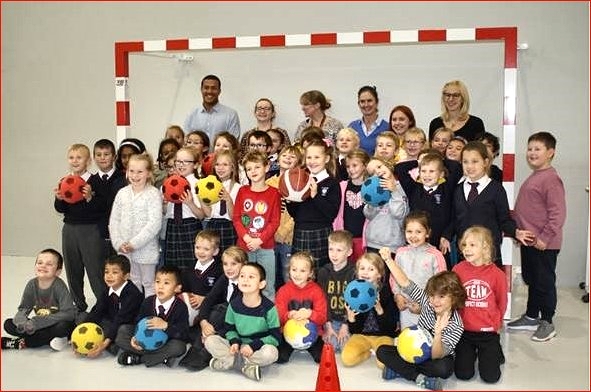 P&O FERRIES RE-UNITES ENGLISH AND FRENCH SCHOOLCHILDREN COURTESY OF CROSS-CHANNEL FERRY TRIP
____________________________________________________________________________________________________
A class of six-year-olds from St Richards Catholic Primary School in Dover enjoyed a day out with an international twist when they were transported to France on a P&O Ferries ship to meet with their counterparts at Ecole Notre Dame de Calais last month.
The six-year olds had first met in November 2018 at the launch of P&O Ferries' Sail with Santa initiative, where the two classes were invited onboard to meet Father Christmas and one of his reindeers, who were then special guests on weekend sailings in the lead up to Christmas. Despite the language barrier, the children hit it off, and the resulting connection between the two schools led to this month's trip across the channel, provided by P&O Ferries.
During their sailing across the channel, the 21 pupils from St Richard's were given a guided tour of the ship and enjoyed trying on P&O Ferries' various uniforms, including the chief engineer's hat, helmets and hi-vis jackets. The children were further entertained with a quiz about the vessel, where they were tested with questions like 'how many lorries can be loaded onboard' and 'how many tonnes of chips are cooked in a year'.
The children arrived at Ecole Notre Dame de Calais in time to share lunch with their French friends, and with no hint of language barriers, went out to play with the whole school. The children's' French and English speaking skills that they had practiced in the lead-up to the reunion were put to the test through activities organised by Ecole Notre Dame. 'Find a friend' proved particularly popular, where each child was given the name of someone in the opposite class, and they had to find that person by asking questions in the language they were learning.
While improving their language skills and building friendships was a key element to the day, the experience also provided the children with the opportunity to learn about a new culture. St Richard's pupils were interested to learn that all French school children eat lunch at home every day with their parents, while the French pupils were intrigued about St Richard's uniform, not having one of their own. The day concluded with a guided tour of Ecole Notre Dame for St Richard's.
Jacqueline Burns, Business Transformation and Communications Manager at P&O Ferries, said: "We're thrilled to have been able to facilitate St Richard's trip across the channel and it was fantastic to see how excited the children were to visit their friends in Calais. It was a joy to hear that they got on so well after meeting for the first time last year aboard the Spirit of Britain, and we hope that we can continue to support the special relationship between the two schools."
Mrs Hannah Waller, Teacher at St Richard's, said: "We're very grateful to P&O Ferries for supporting the relationship between our two schools and making this wonderful exchange trip happen. The children learned a great deal, both onboard the Spirit of France and at Ecole Notre Dame, and we hope that our close bond will continue long into the future."
Finally, Madame Fabienne Evrard, Head Teacher at Ecole Notre Dame, added: "We were very happy to welcome the children from St Richard's to our school and it was great to see the children renew their friendships. Following the initial meeting, children at Ecole Notre Dame now start learning English from the age of two, and it's brilliant that through our schools' connection, we can build on this and allow our children to put these important skills into practice."
For more information or to book a crossing visit www.poferries.com
ENDS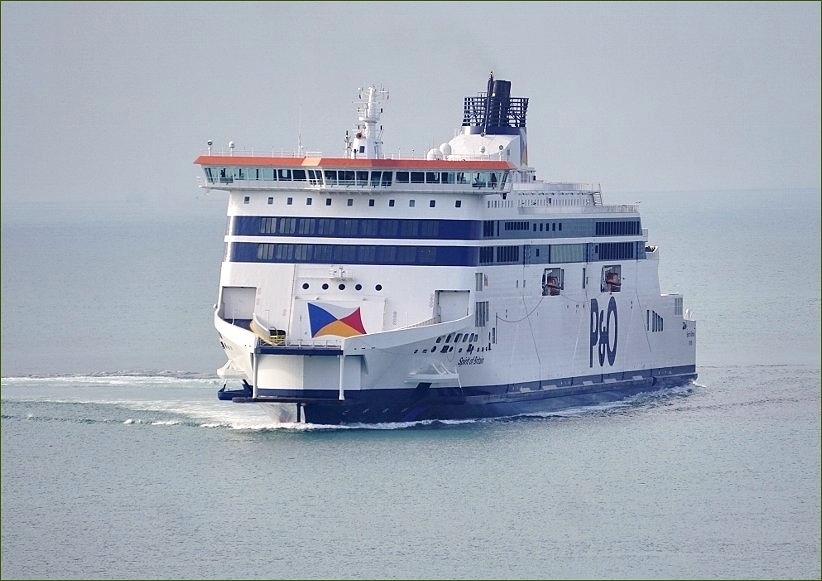 The Spirit of Britain
* * *
Many thanks as ever to P&O Ferries for the information above. A heartwarming enjoyable story for sure. Great to see that.

And now...the departing Baltic Klipper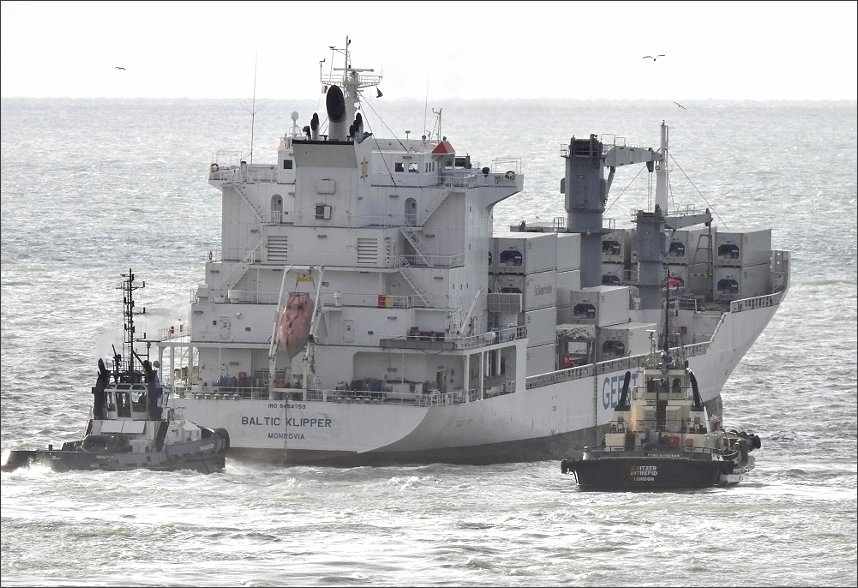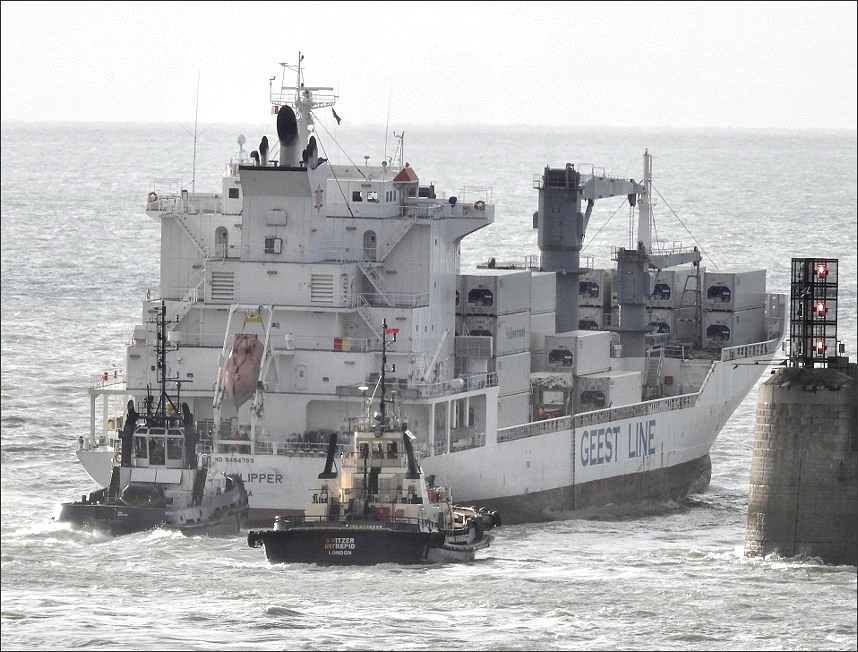 Baltic Klipper: Just caught her at the last minute as she left through the western exit a few days ago, heading for another exotic destination...this time Madagascar we understand. The vessel had two short visits to the cargo terminal having moved out of the way ( to the eastern arm ) to accommodate another cargo vessel Lady Rosebay.
An extra pic below as she rounds the bend as it were... ! Tugs are Dauntless and Svitzer Intrepid.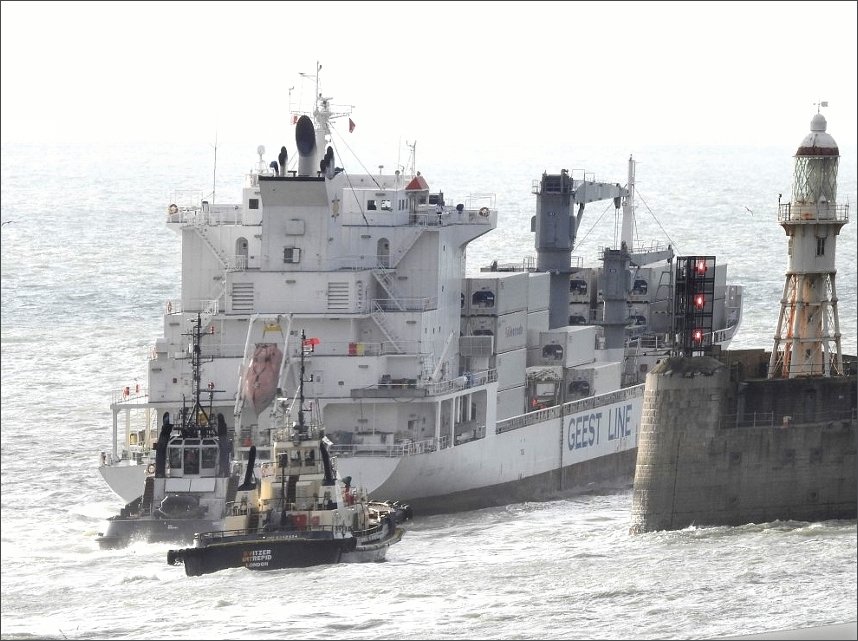 Teds 'Famous Five' : Absolutely cracking pictures below from Ted who roved over to Whitstable...very nice shots indeed Ted..

'Inshore correspondent' Mike got in close below there to get those shots of SVS Vega

Don't miss those pictures below from Ted and Mike.
PaulB
Friday, 1 November 2019 - 07:01
Post 6629
Mike J., Dover
Nice Whitstable pix from Ted, always worth a walk around the colourful harbour on a sunny day, particularly when the faithful NEPTUNE is in port & other movements taking place.
With Ramsgate, one of the few commercial harbours in the southeast where public access is permitted.
Liked the tortoises & Paul's view of Sid the Seagull in fancy dress swooping in for Halloween.
A few views of SVS VEGA discharging on WD4 on Thuesday afternoon.
High water is a 'must' for pix from the end of the new Marina pier, around 5 metres difference between high & low tide.
Paul has the prime spot [post 6627].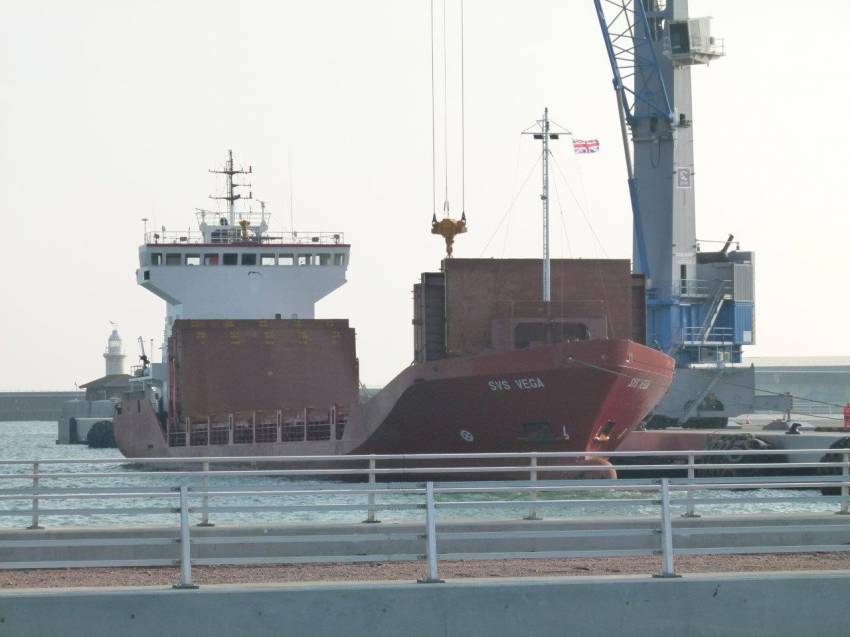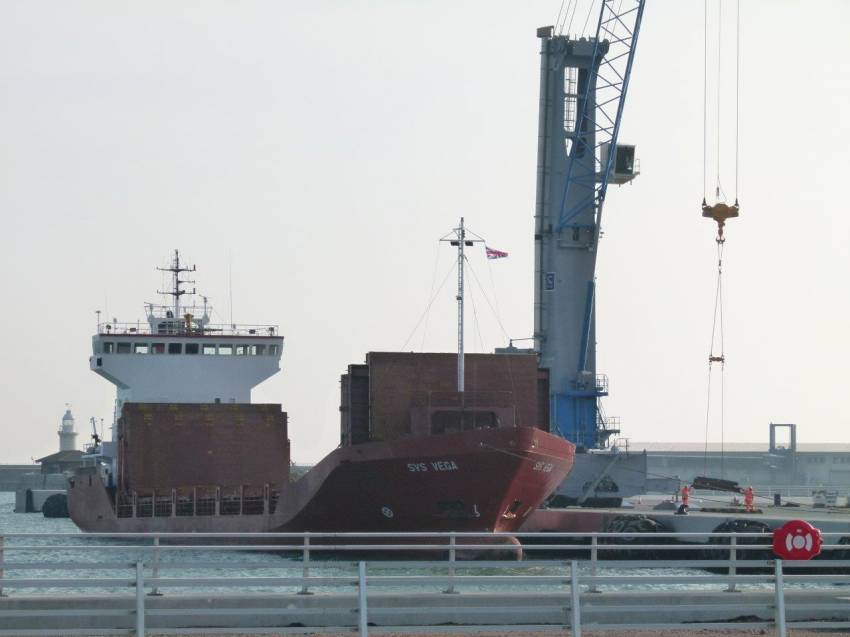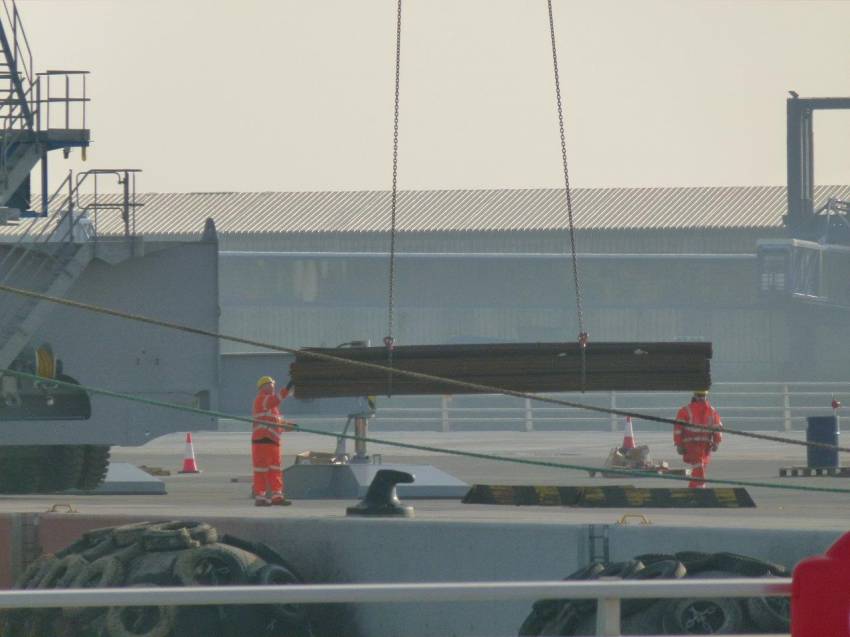 The 'rebar' is being stacked on the quay, handled by a heavy-duty forklift.
My apologies for the damned lighting pole across the bows, not noticing it before I got back home - sloppy . . . .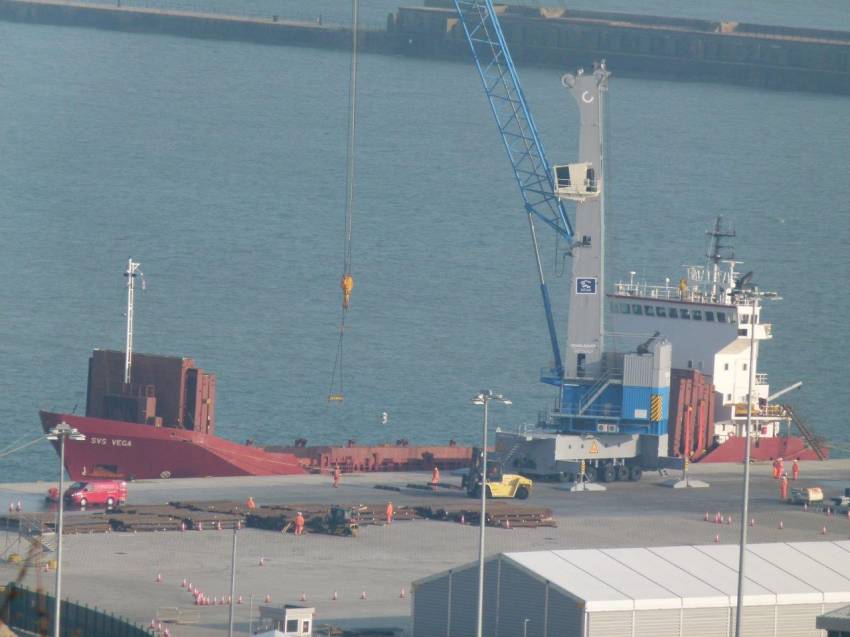 Friday, 1 November 2019 - 00:00
Post 6628
Ted, Canterbury
"Five from the Bubble" (Whitstable)
The Thames sailing barge Greta departs Whitstable for her Winter layup at Faversham Creek.
Greta is a Thames Sailing Barge built in 1892 to be used as a working barge transporting cargo on the River Thames and the Thames Estuary. She carried ammunition, beer, grain, malt and building products. Although Greta no longer carries cargo she still works providing Thames Sailing Barge day trips for individuals from Whitstable Harbour, The sailing season is usually from Spring (April/May) till late Summer (Sep/mid Oct). During the winter months she is moored at the Standard Quay Faversham.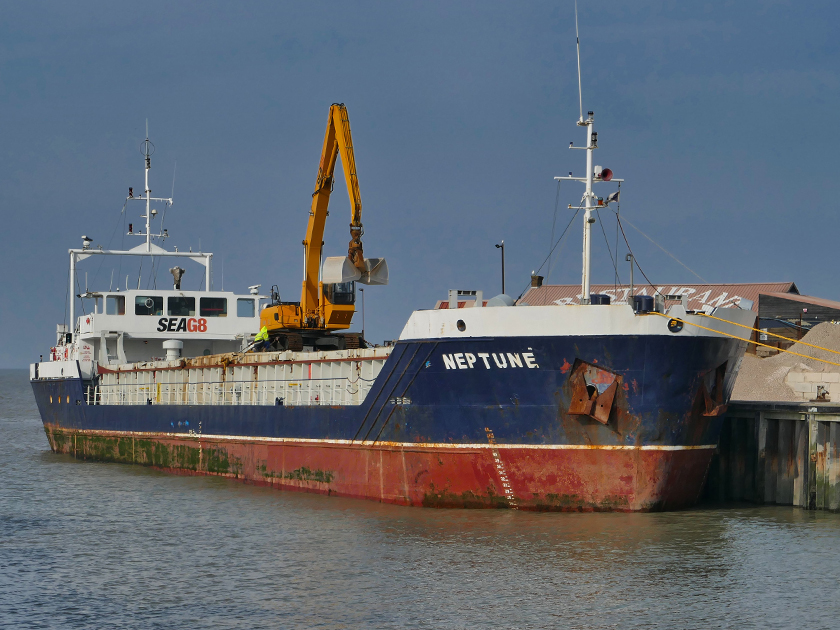 The self discharge coaster Neptune unloading stone for Bretts.The stone will be used to make asphalt from their plant on the quay.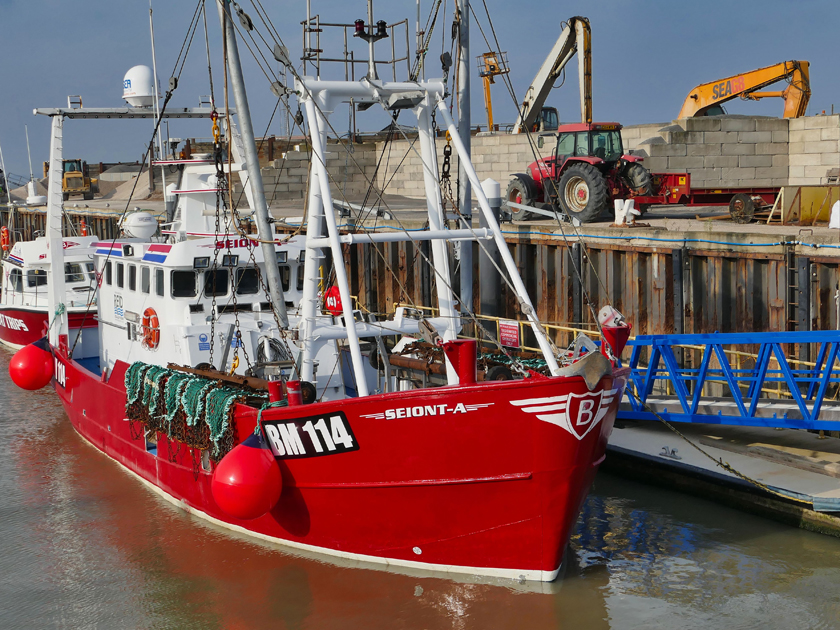 The beam trawler Seiont-A which is registered in Brixham but has been around our part of the coast for some time.Last seen on the slipway at Ramsgate having an overhaul.
The green coloured nets attached to the beams are for catching scallops.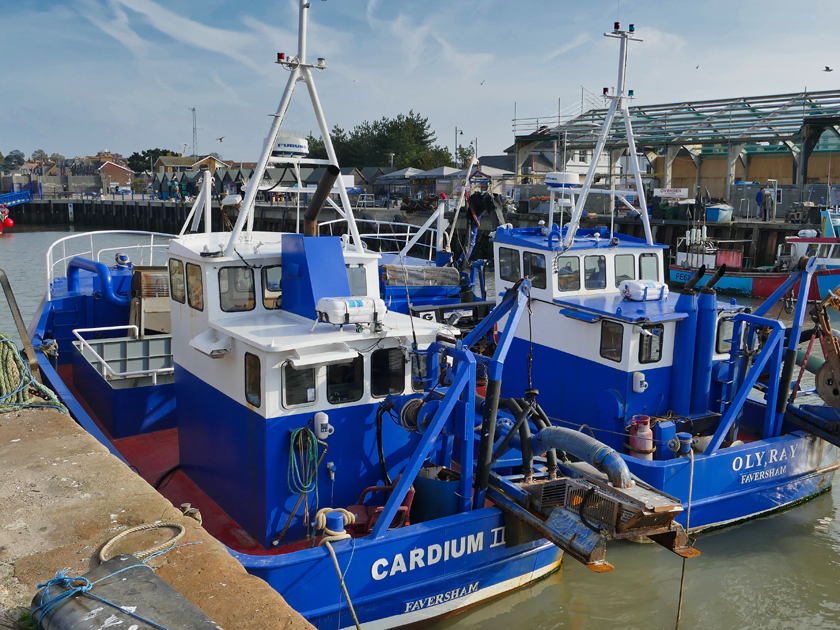 The Cockle boats Cardium ll and Oly-Ray now laid up until the Cockle season starts at the end of June until the end of October.Most of the catch is exported to Spain.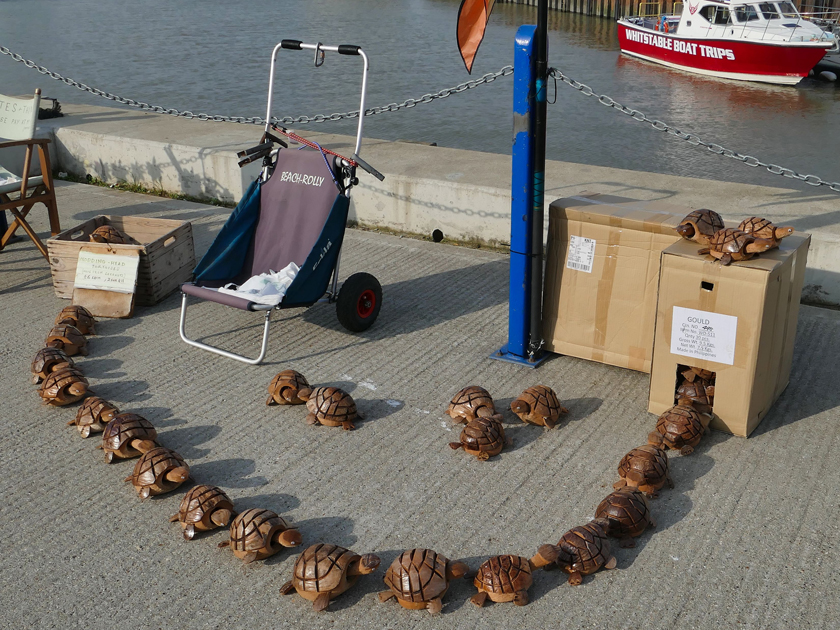 With Winter approaching the Harbour tortoises are now making their way back home.
Once in the box it will be from the London Gateway or Felixstowe to the Philippines.
Thursday, 31 October 2019 - 19:11
Post 6627
Sea News, Dover
SVS Vega with the magnificent cruise ship AIDAsol as backdrop...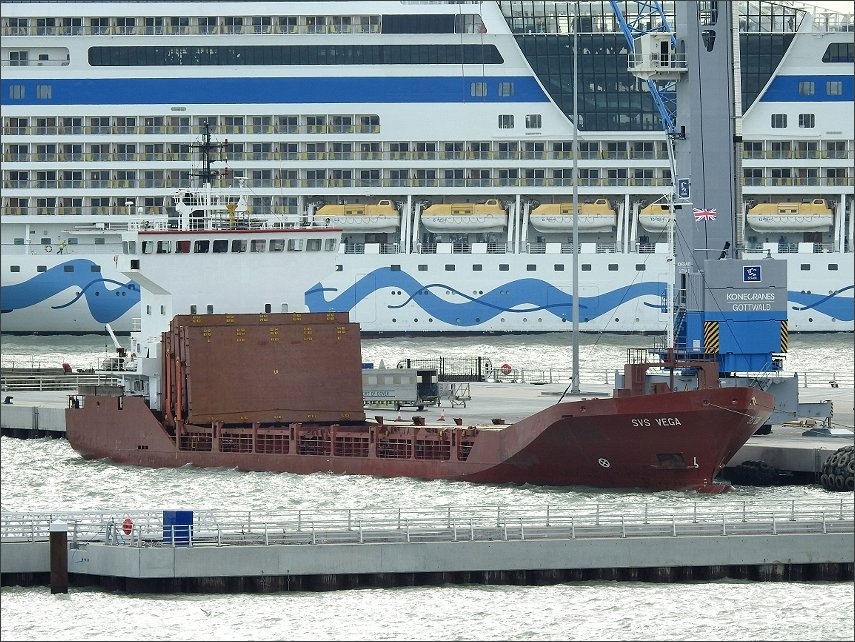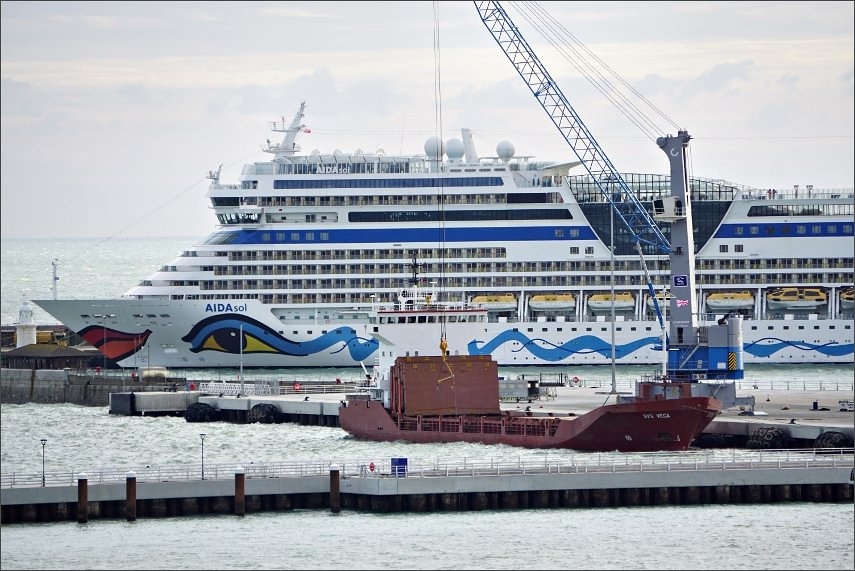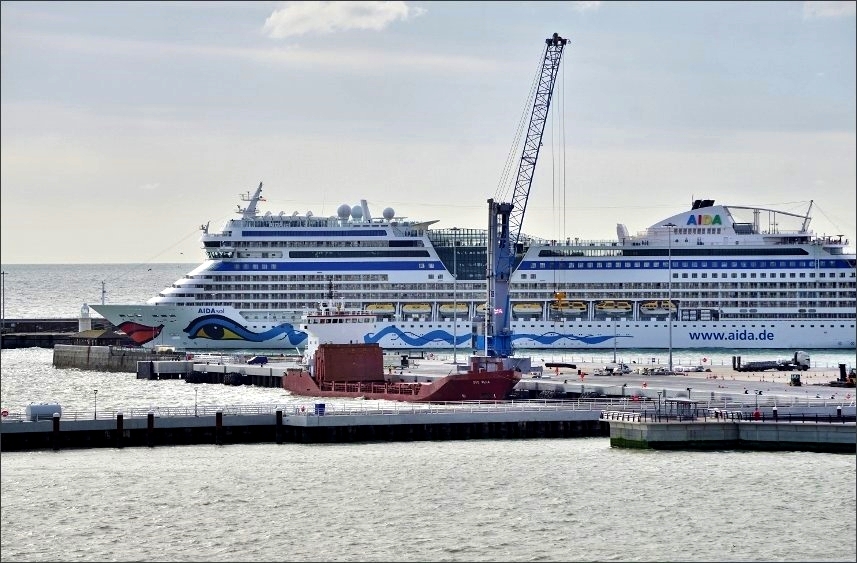 SVS Vega and AIDAsol
Following along above there from Mike's earlier shots in post 6625, we see again SVS Vega at new pier WD4...offloading her cargo with the help of the super new towering crane, which had moved over and across from WD5 especially for the job. AIDAsol here providing a striking backdrop...AIDA came in the dark and left in the dark, she is currently on a one way 13 day cruise from Hamburg to Majorca with all stops in between...including Dover of course.
There is only one cruise visit left on the schedule..towards end of November, strictly.. one would think.. for those who like it wild and blustery...
Put the Pimms back in the bottle!
PaulB
Thursday, 31 October 2019 - 07:29