Tuesday, 11 December 2018

WWW.DOVERFORUM.COM/SEA-NEWS
Featuring all the ships that come and go and work at the Port of Dover with further coverage of the surrounding ports both sides of the Channel. Click ADD YOUR COMMENT below to post direct, no membership needed.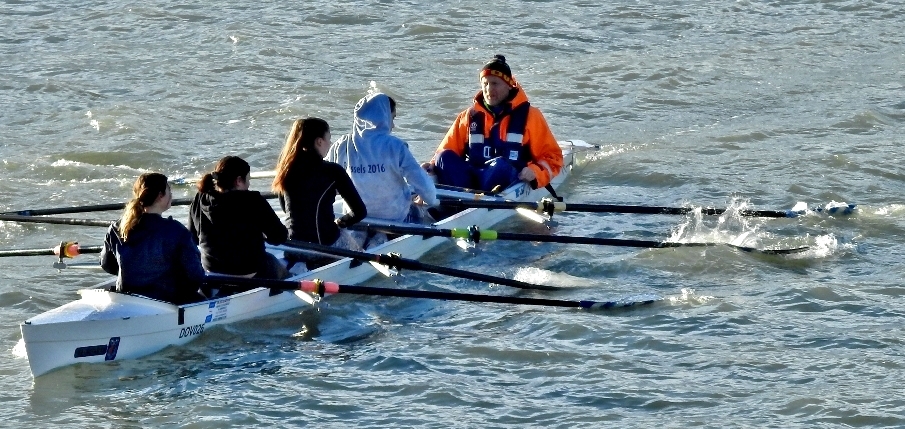 Rowers - cold sunday...
Listing highlights....
P&O: Britain's Favourite see 5922.
DFDS: Voted Worlds Leading Ferry Operator...see 5918..
Charlie Elphicke MP: Migrant Crisis 5894.
P&O: Santa Onboard see 5870.
White Cliffs Ice Christmas at Port 5852.
Wreck of the Anneliese 5880, 5881, 5882 ...
Port: Additional Funding for Kent Wildlife Trust 5879.
P&O: Apprentices welcome RB Legion veterans 5853.
Eight new apprentices graduate see 5845.
DFDS: 'SEE PORTS' Calais and Dunkerque 5834.
DFDS: Revitalising dining concepts onboard.. see 5831.
P&O: Schoolchildren mark WW1 see 5816.
Lower Thames Crossing boost..5812. see now also 5817.
Dover Museum's revitalisation see 5807.
Port of Dover: Refrigerated Cargo Terminal .. software for 5801. Latest NATO also 5801.
Port of Dover: Great increase in summer traffic 5795.

Continues...
Russian and shadow 5785.
The Waverley paddle steamer latest 5778...
New SAGA Ship launching in Dover see 5776.
P&O: To Rome on Horseback 5759.
DOUG BANNISTER: New Chief Executive Port of Dover see below 5734....
Merchant Navy Ceremonial images also 5734.
Dover Regatta Rescue incident plus .. see 5713.
Dover Regatta pictures Lifeboat etc..5716, 5717, 5718, 5720.

DFDS Expansion: More New Ferries on order... see 5693 see also 5500 and 5381.
Excellent Tourist season for P&O Ferries see 5649.
VSBW Port of Dover - Women at Work 5638.
P&O Second Female captain see 5107. Also see latest 5570.



NEW:

For instant access to any item listed above - just type the post number in the Search Engine below.
Sea News Dover : Use our SEARCH ENGINE below to find all sorts on the SEA NEWS pages....
type in the topic and away you go... more than 5900 nautical posts now.
Posts are welcome. Max of 5 pictures preferred although we can stretch that for special stories..
Sea News Editor Paul Boland - send info or pix to dover7@msn.com. Always welcome.
All pictures on these pages are the copyright of the owners and must not be reproduced without permission.
Post 5811
Sea News, Dover
Ah...its sunday morning again - time for something a little different.
A big day for the swimmers is sunday. They gather on a near corner of beach, revving up for the physical endeavours ahead. And then they're off... scything through the surf with energetic aplomb.
The pictures below...well what can you say. We have had better ones before so let's call this collection...
"an artistic interpretation of swimmers in action"

We watch the swimmers approach and go
powering through tides both high and low.
There you are ...we've got Shakespeare worried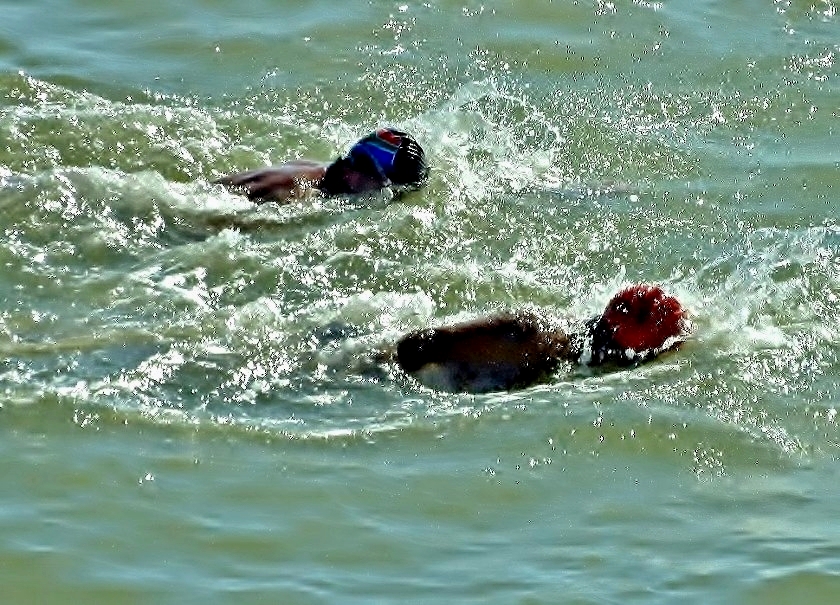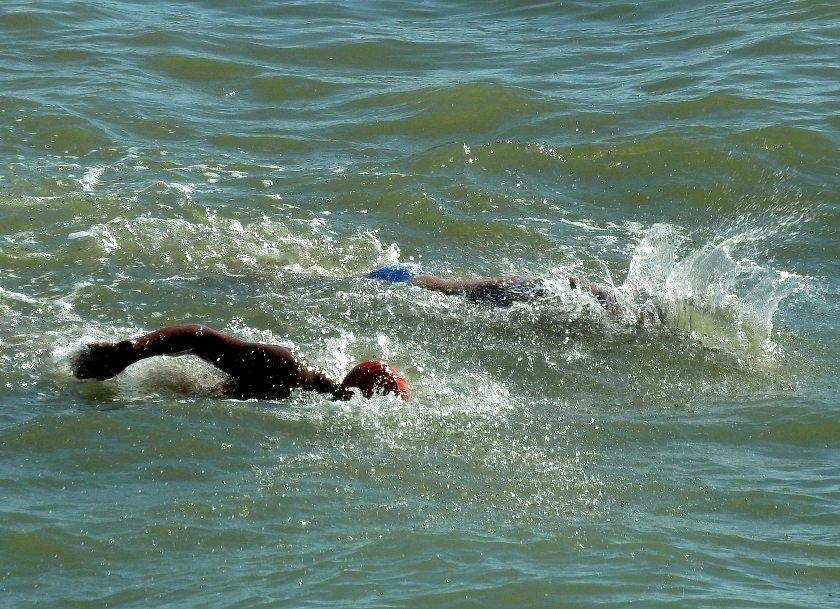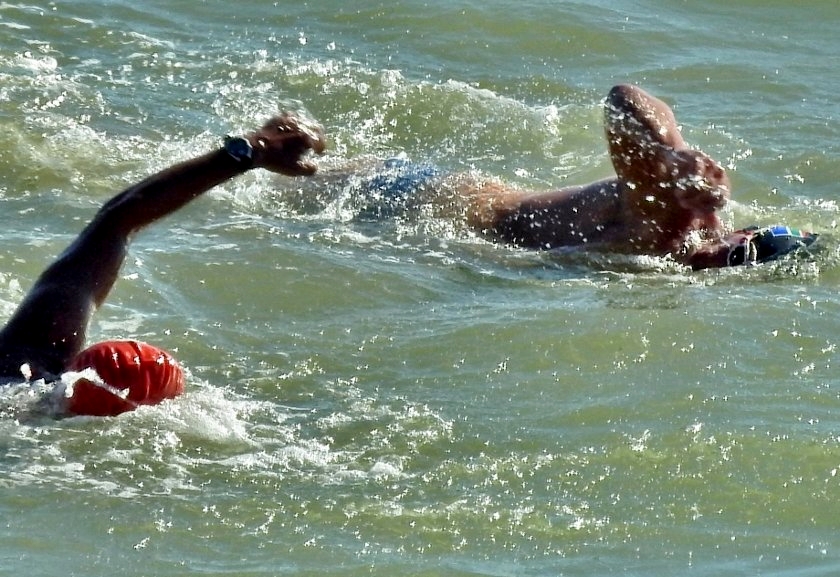 A rather odd bit of parking below on Friday. As this post is a swimming special, perhaps the chap in the interesting car wanted to be close to the statue of Capt Webb...that other swimmer of note.
However if Mr Pod ( see number plate) is spotted by Mr Plod he may well be ticketed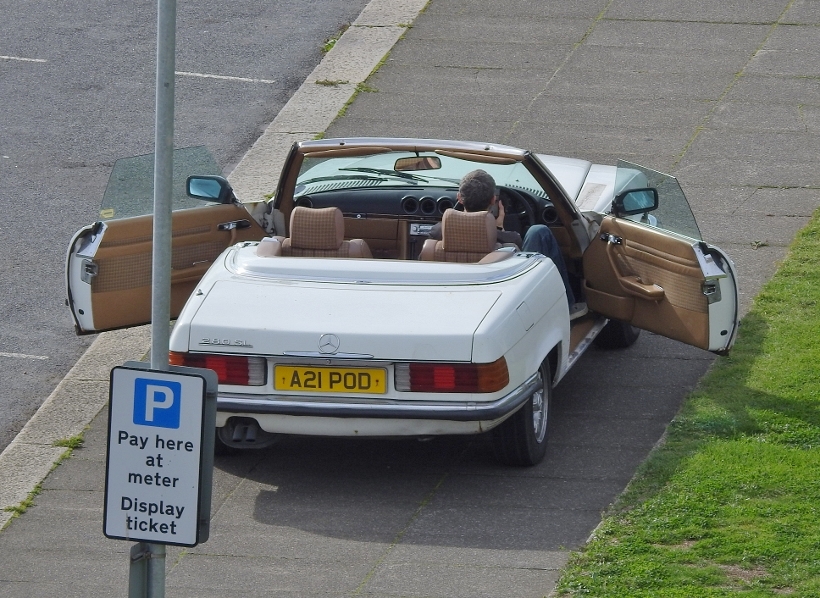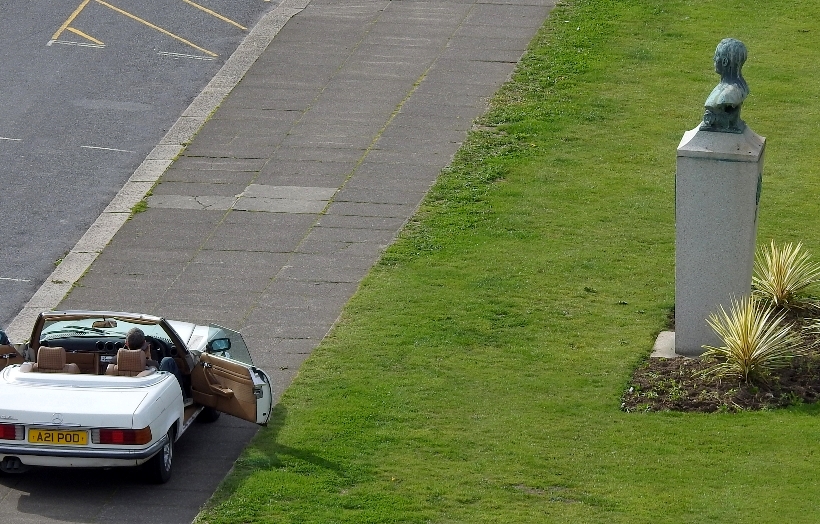 PaulB
ps: we will have some final shots of the Saga Pearl on Monday, showing her as she moved away on Friday evening for the last time.
Sunday, 14 October 2018 - 07:00
Post 5810
Sea News, Dover
Hi Howard - I changed it. You did indeed put 'this morning' but I changed it to 'yesterday morning' .. the Saga Pearl ship came in yesterday morning (Friday). She left for the final time last night (Friday) about 6.20pm.

Cracking colourful pictures. Well done Paul Sampson.
PaulB
Saturday, 13 October 2018 - 17:31
Post 5809
Howard McSweeney, dover
Apologies the post below should read this morning.

Saturday, 13 October 2018 - 15:22
Post 5808
Howard McSweeney, dover
Photos of the Saga Pearl 2 arriving yesterday morning taken by Paul Sampson of WCCP.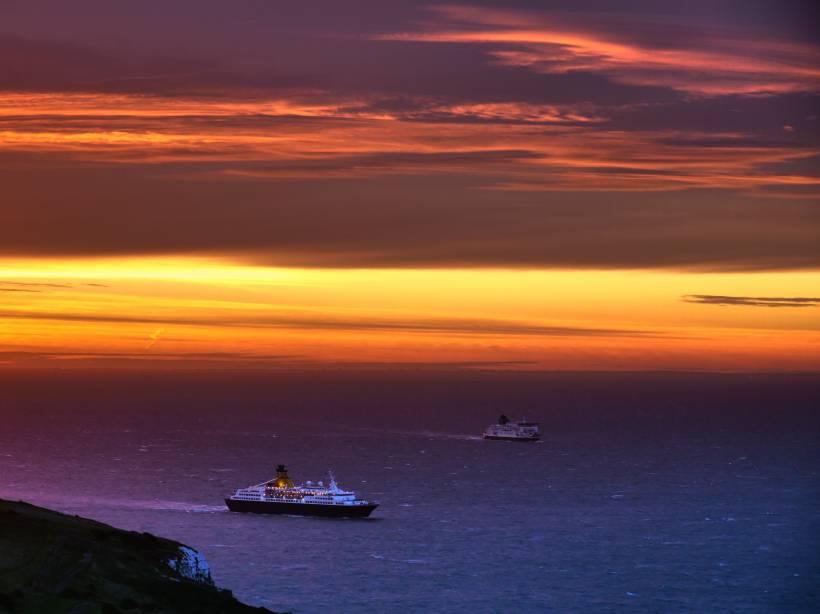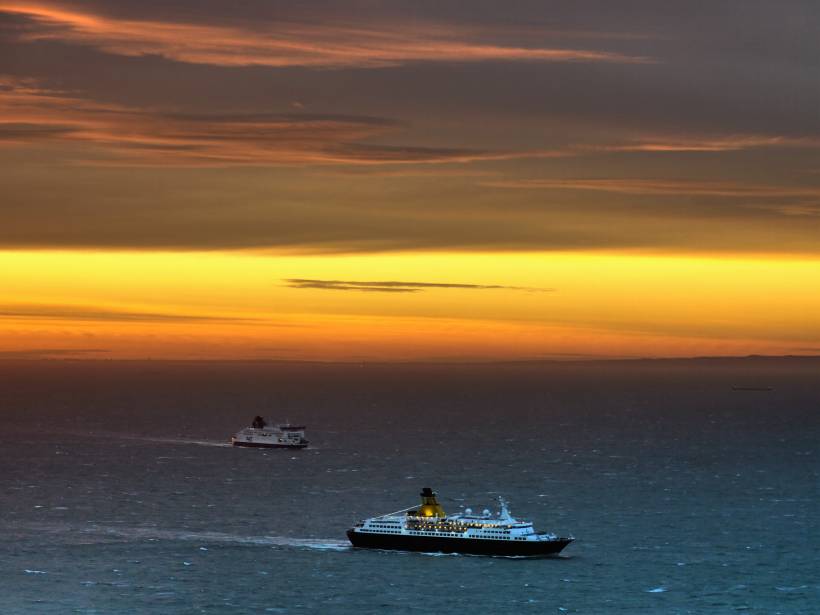 Saturday, 13 October 2018 - 08:50
Post 5807
Sea News, Dover
Some pictures now of Sikinos moving away yesterday at 13.10, She had been supplying bunker services to the Saga Pearl, the Saga Pearl being on her final visit here... more on that in due course. But here we are with Sikinos on a bit of a rough oul day...
heading back to Dunkerque ...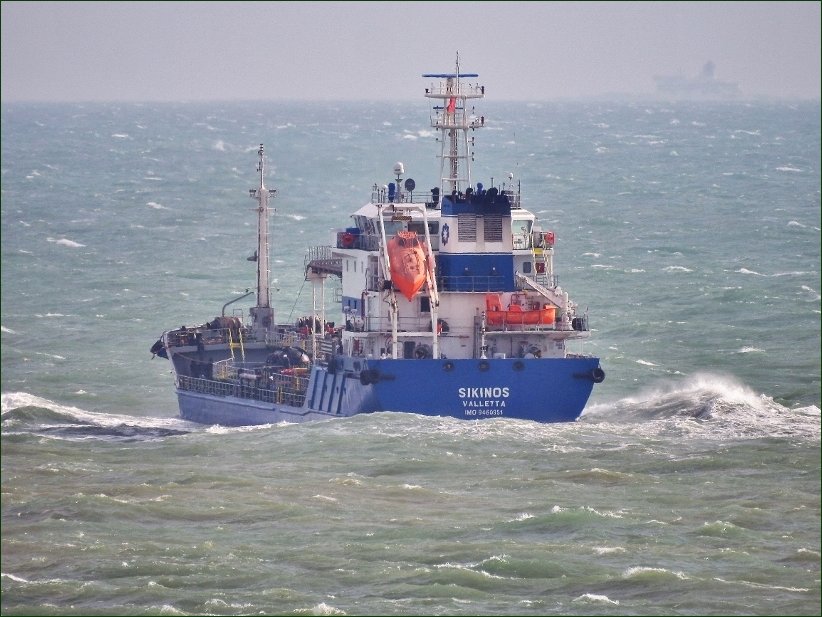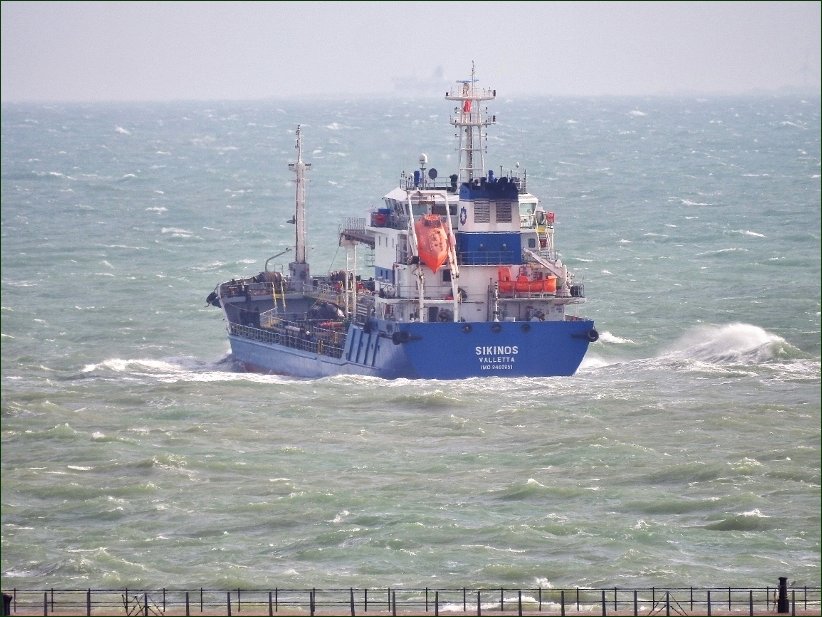 Some general new-era info now on Dover Museum and the Bronze Age Boat Gallery...
First Stage of Plan to Revitalise Dover Museum Gets Go Ahead
_______________________________________________________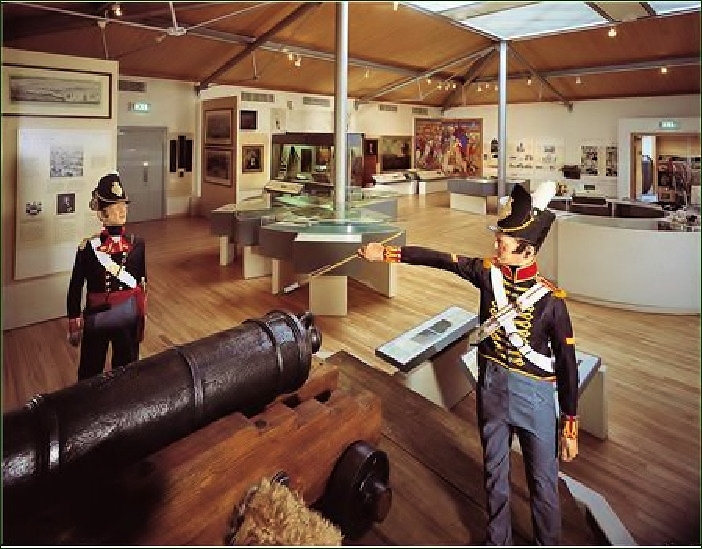 An ambitious and exciting plan to enhance Dover Museum and the Bronze Age Boat Gallery located in Dover's Market Square has been given the go ahead by Dover District Council's Cabinet.
The proposals aim to harness the full visitor potential of the museum, seize on the increasing tourism opportunity resulting from Dover's emergence as the UK's second busiest cruise terminal, and to ensure that the museum forms a key part of the regeneration of Dover Town Centre.
The programme is due to start by the end of this year with a full audit of the Museum collection, the majority of which is in storage spread across a number of sites in the District, and not normally accessible to the public. This will take around two years to complete and will be led by the appointment of a new Museum Collections Manager, supported by two apprentices/research assistants.
The collection will be entirely reviewed, and catalogued, and a new collections policy will ensure that the collection's focus remains relevant to the District's heritage and future development, and enabling the stores to be rationalised. This will reduce the storage space required, and enable the Museum to vacate storage space in the Maison Dieu, in preparation for that building's restoration following the District Council's successful Heritage Lottery Fund bid.
The review of the Museum collections leads into a wider DDC/KCC partnership project looking at how the Dover Discovery Centre might be developed into a cultural hub, including space for the Museum to expand through the creation of:
Temporary exhibition space so that more of the Museum's collection can be put on display, and so that the District has the capacity to show visiting national exhibitions;
Joint archive and study centre so that the public/students/researchers/ businesses have access to the District's significant collections of historical documents and records, and;
Expanded on site storage provision at the Museum where valuable items of the collections can be properly protected and maintained.
Dover Museum is one of the oldest museums in Kent. It was founded over 150 years ago, and moved from the basement area of the Maison Dieu to the current location in Market Square in 1991. It contains the award winning Bronze Age Boat Gallery housing the oldest boat in Europe, a wonderfully diverse collection highlighting the fascinating history of Dover and the wider District, and last year was visited by 26,417 people. Entrance is free, with special arrangements for student/school groups with education forming a key part of the Museum's offer.
Cllr MJ Holloway OBE, Cabinet Member for Tourism said: "This ambitious programme will transform the Museum making it a key part of the District's overall tourism offer, and ensuring its development complements the exciting and far reaching regeneration plans for Dover Old Town. The appointment of the Museum's new Collections Team will kick start the programme with a full audit of the extensive collection. Over the coming months we will be updating and consulting stakeholders and residents as the programme progresses."
ENDS
Nice all round collection below Mike. Well done with that.

PaulB
Saturday, 13 October 2018 - 07:39
Post 5806
Mike J., Dover
Spectacular effects with Paul's AIDA pix & a very nice 'mid-morning & sunbeams' shot as the 'headline picture' - plenty of water in the harbour that morning !
Windcat CAPTAIN P in the Tidal Basin after coming down from Brightlingsea, arriving Dover about 0930 Friday.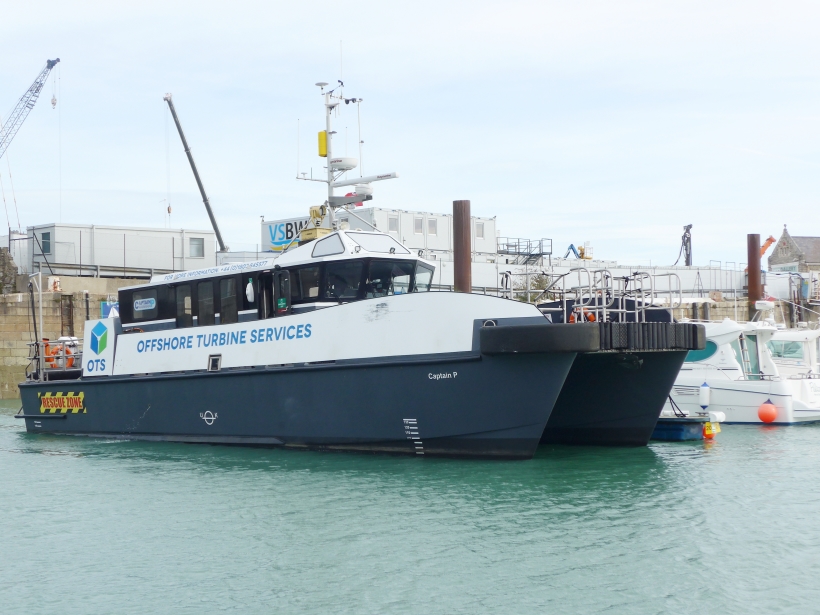 SAGA PEARL 2 on Cruie-1 in the background.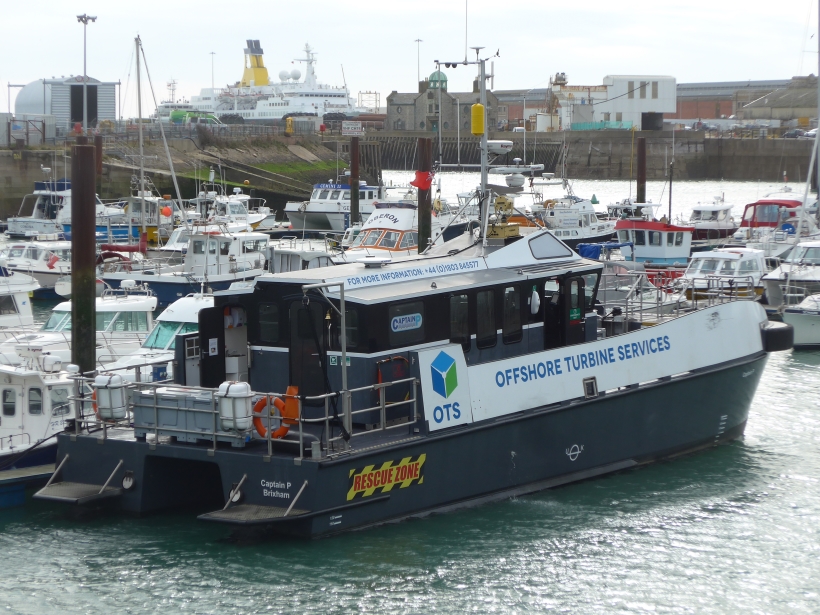 Catch-up time - on 3/10 I got the latter part of the haul-out of the MILLENIUM DIAMOND [post 5789] on the Ramsgate slipway as dusk was falling.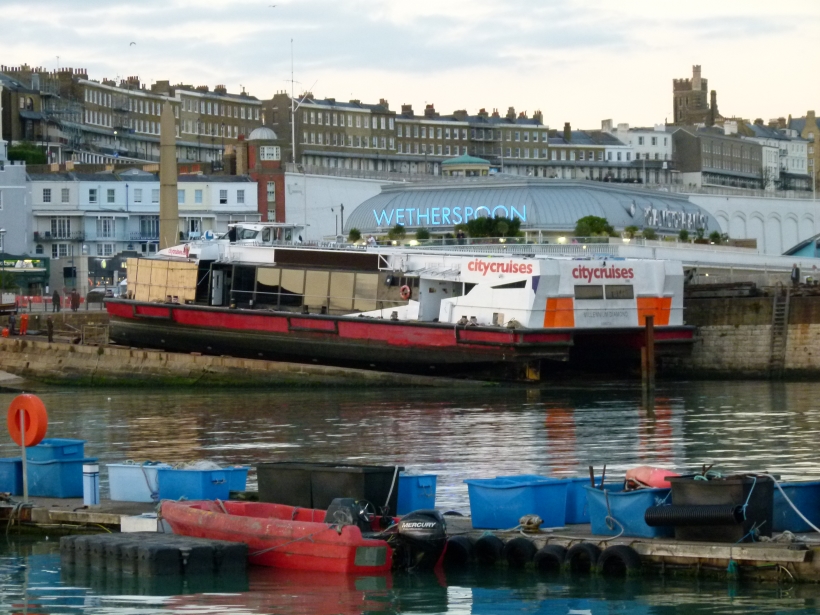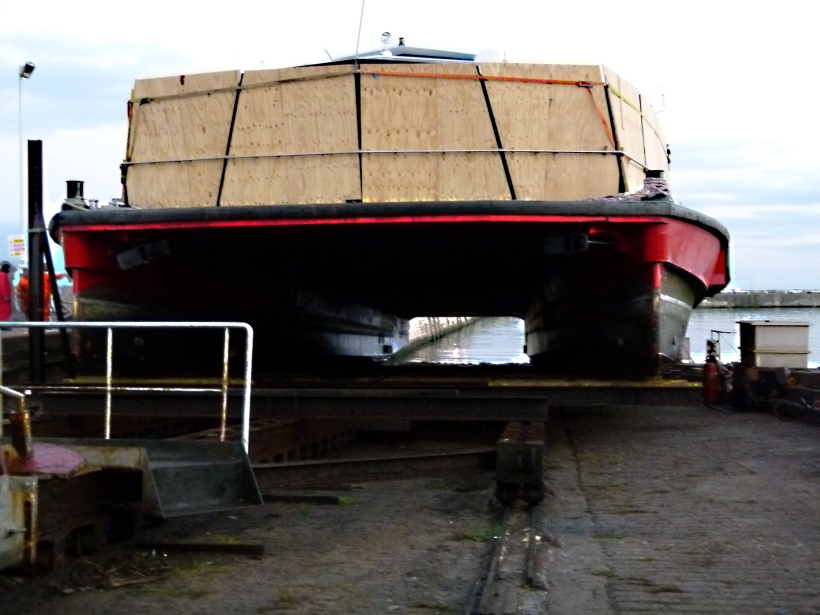 She is expected to be on the slipway for another two weeks & a second 'City Cruises' vessel may come to Ramsgate in the New Year.
Friday, 12 October 2018 - 23:53
Post 5805
Sea News, Dover
The AIDA cruise ships at the Port of Dover. AIDAsol ...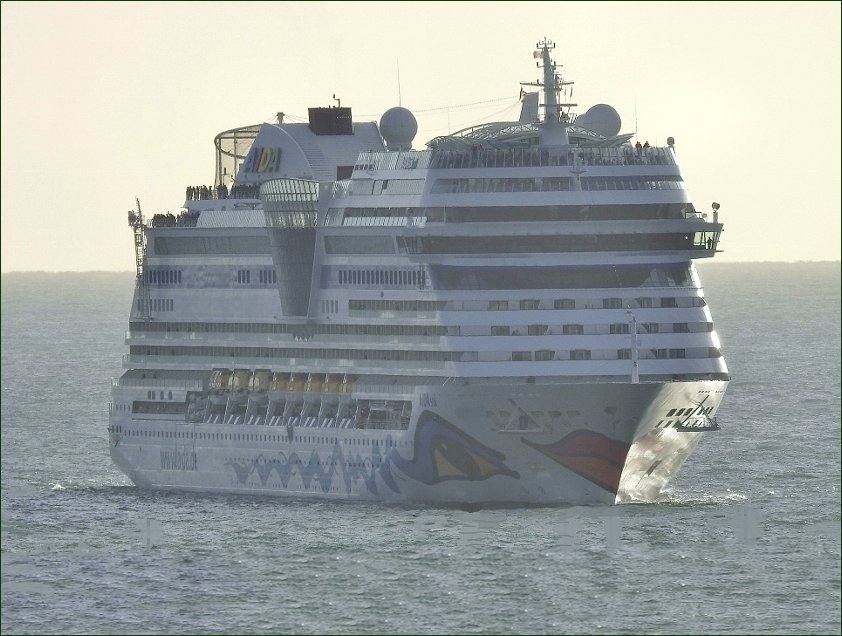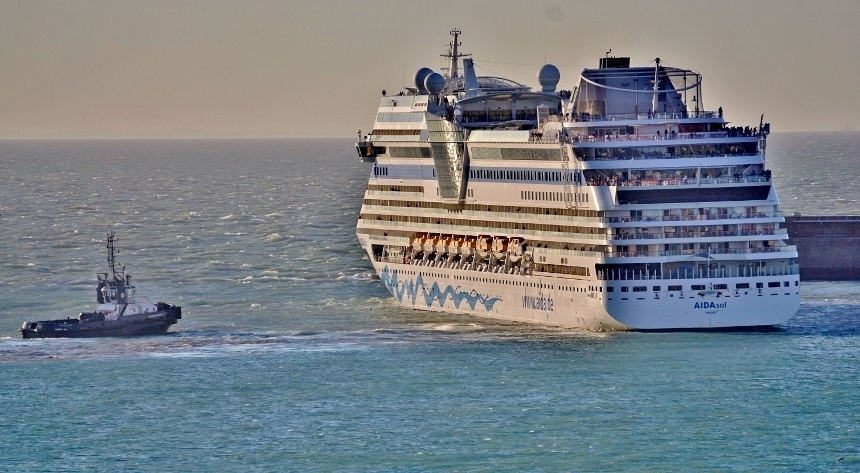 AIDAsol was back with us again yesterday.. she is currently doing those 4 night trips to Hamburg. Cruising in fine style as ever... leaving last night past 9PM in a blaze of dazzling light.
And speaking of dazzling light...don the Raybans for the next couple of pictures. As she turned to reverse into Cruise Terminal 2, the sizzling low and ultra bright morning sun caught the bridge in an explosion of light. Rather than discard the pictures as one might do normally...yours truly went with the flow this time, well its late in the season, and added to it. And here we are...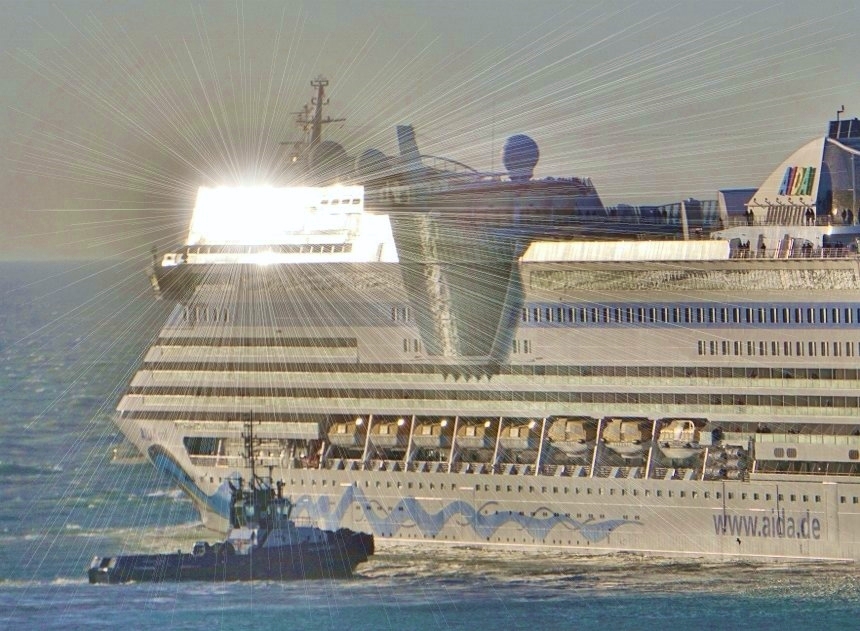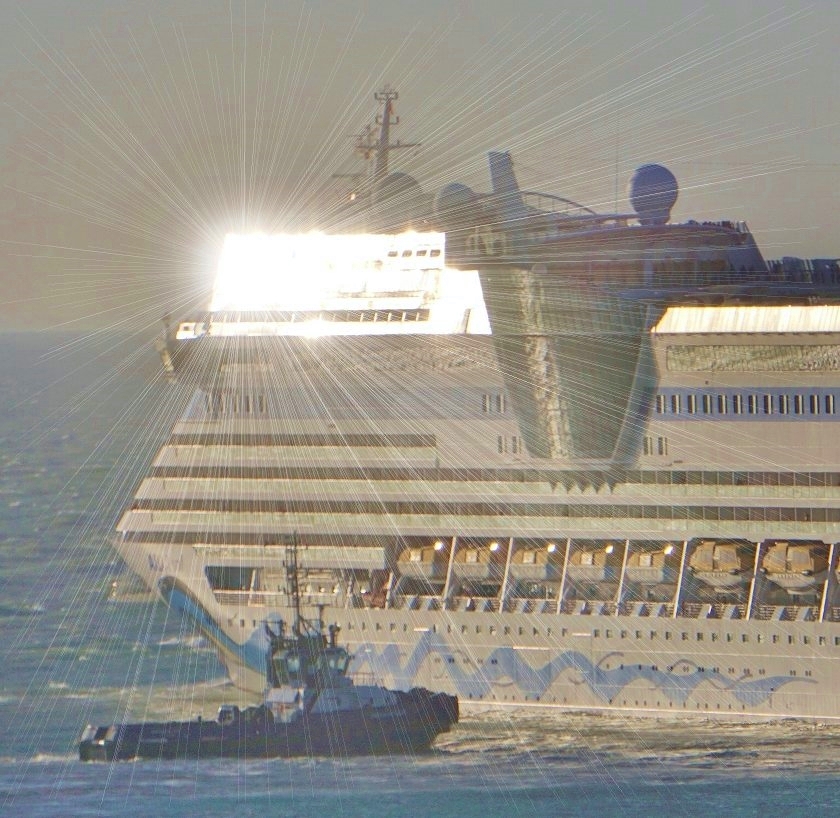 New Seating On Deal Pier In Latest Phase Of Refurbishment
_____________________________________________________
Work is set to start on the installation of new seating on Deal Pier during week commencing 22 October – with work on repairs to the lower deck to begin the week before.
Hipperson, based in Walmer, have already started making the new seating, using sustainably sourced Iroko, matching the timber used for the restaurant building. Initially the colour is a rich russet but, quickly, this will oxidise to the colour of the restaurant timbers.
Teignmouth Maritime Services are currently making replacement grilles for the areas of the lower deck damaged by storms earlier in the year. Grilles are being installed, which will last many years, rather than replacing the timber planks, which are being damaged more and more frequently by storms.
The pier stem will remain open during the works, but the lower deck will be closed until the replacement grilles have been fitted. DDC apologise for any inconvenience during these works.
ENDS
PaulB
PS:we might lose one of those sunbursts later...
Friday, 12 October 2018 - 07:55
Post 5804
Sea News, Dover
Jetstreams: This picture above was taken just a few days ago. it shows the amazing golden jet streams in the sky very early morning. The sun hasn't yet appeared for us mortals on ground level, but high up there it catches the jets streams in the high sky and turns them bright gold. The Port itself is still relatively dark but as ever working away.
Yours truly had forgotten that we have quite a few Jetstream pix in the archives. Just re-realised.

Two below here from a former year..catching the frolicking birds early morning at the same time as the jetstreams.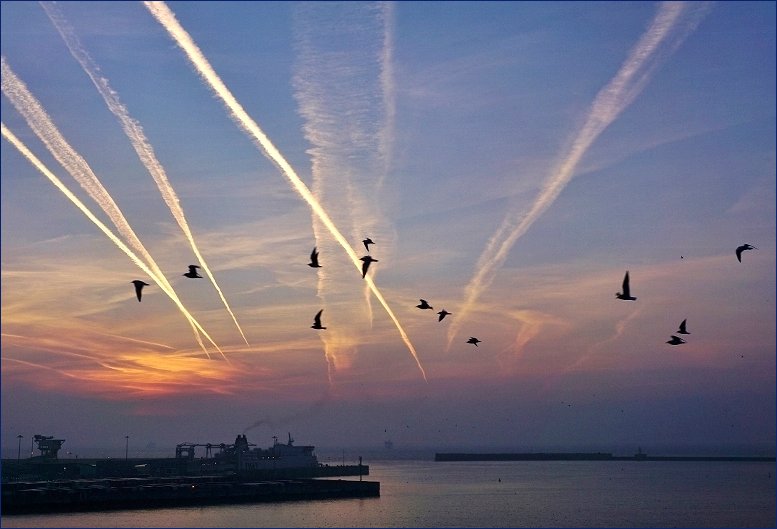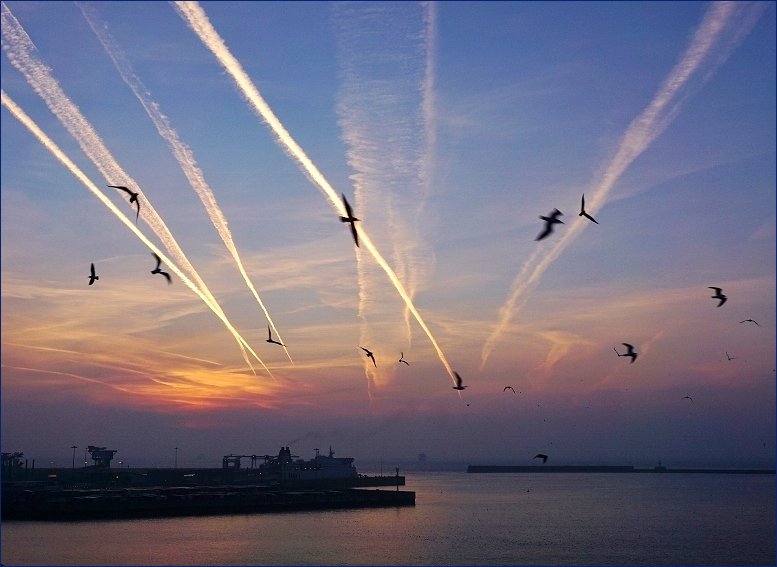 PaulB
Thursday, 11 October 2018 - 08:15
Post 5803
Sea News, Dover
A couple of shots of Emerald moving away from the Port on Monday evening. Spotted her too late in the departure procedure so had to shoot across the top of Dover 8 again. Its becoming a habit!

Carrying a full load there as you can see and heading for Hamburg. Time of pictures 18.10 or if you prefer 10 minutes past 6pm.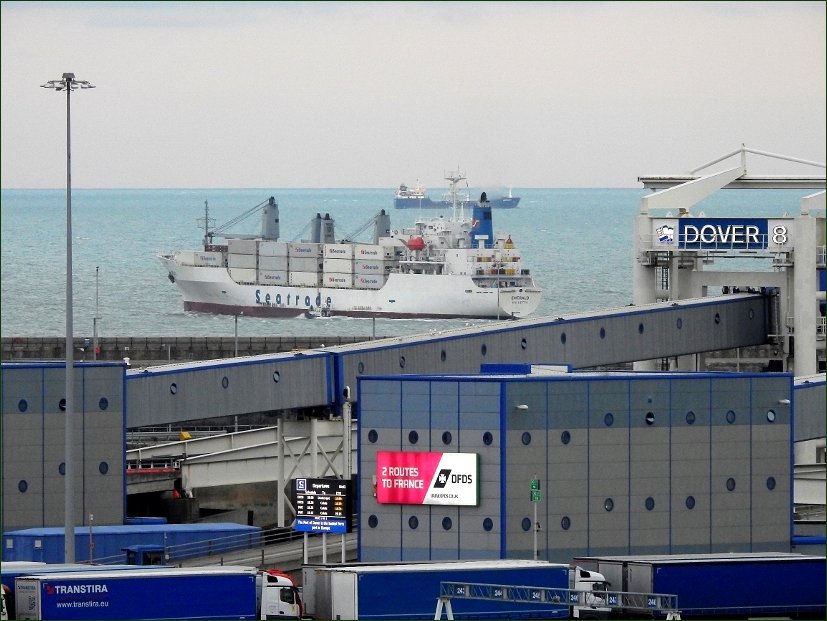 You can just see the pilot boat alongside above there, and in fact you can just make out the pilot too, just having left the ship. Its not terribly clear...but at least here we are below with a better shot of the pilot boat, this time up fairly close...and indeed while we are delving into archive territory, finally we have another one of Emerald from a former time as she pauses in the bay area of Dover Harbour.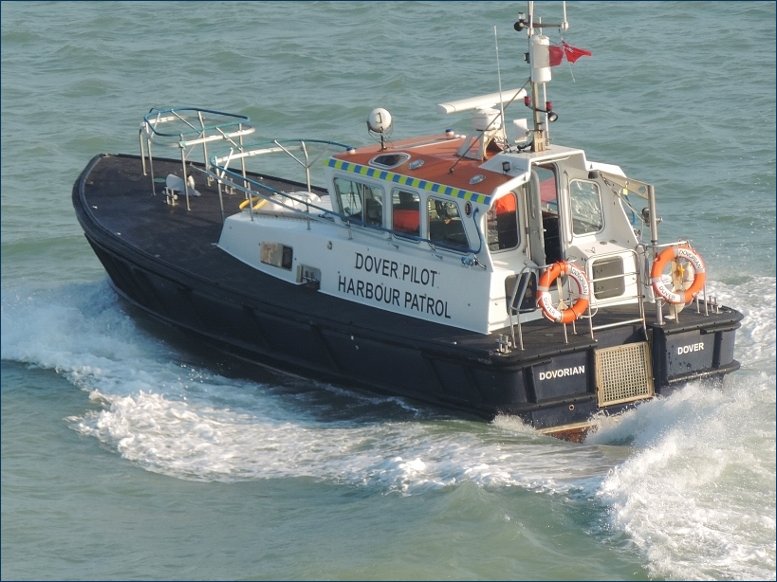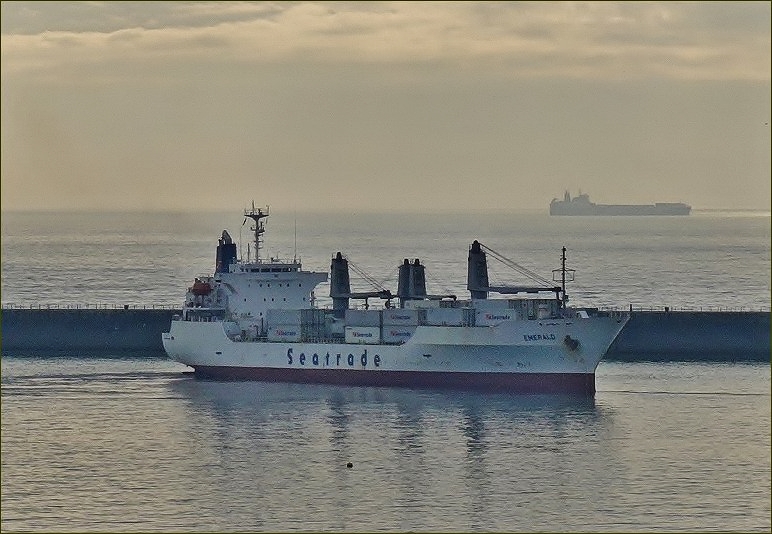 PaulB
Wednesday, 10 October 2018 - 07:25
Post 5802
Sea News, Dover
Some pictures now of heavy lift ship Bokalift 1 moving on by on sunday morning. We saw a distant glimpse of her in one of the pictures yesterday. Some closer ones here now, but not ideal as shooting into a low sun but the computer helped out later. Time of pictures 08.50. She did not have a destination marked on the AIS..very impressive vessel..
I have made these pix as large as I can so hopefully all can see fairly clearly.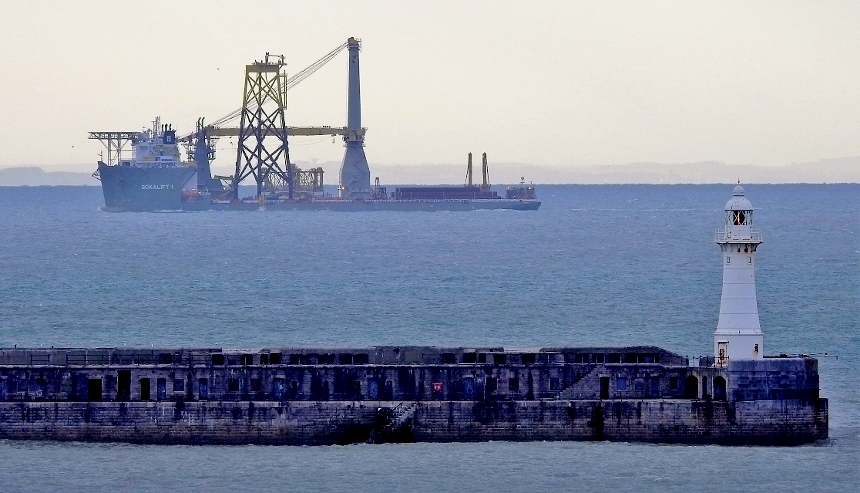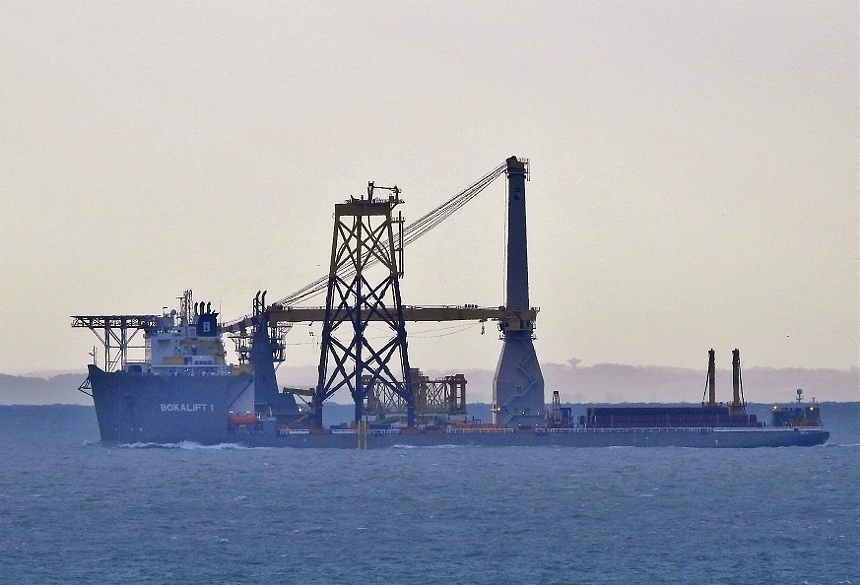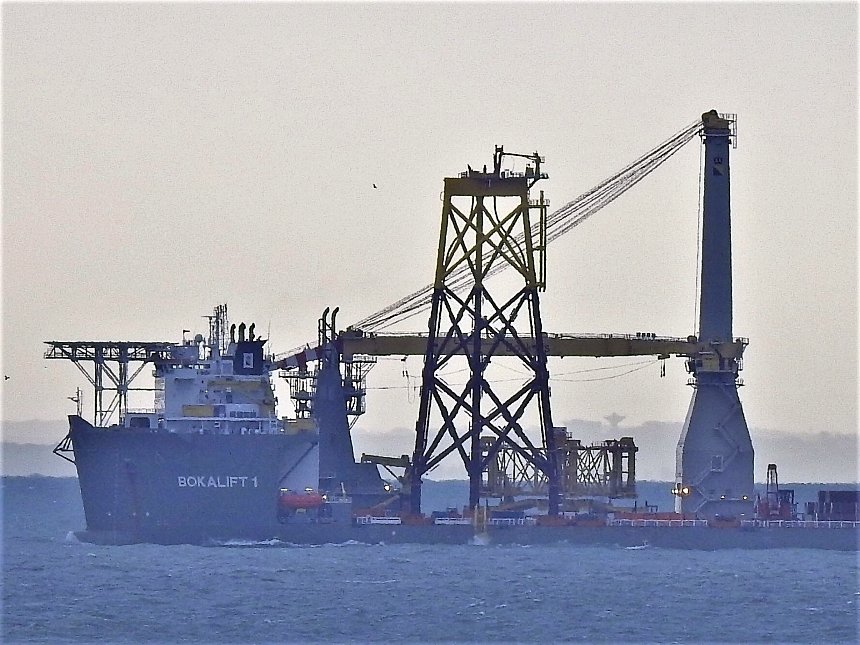 PaulB
Tuesday, 9 October 2018 - 07:34
Post 5801
Sea News, Dover
Port of Dover choose Sanderson Group software solutions for new Refrigerated Cargo Terminal
___________________________________________________________________________________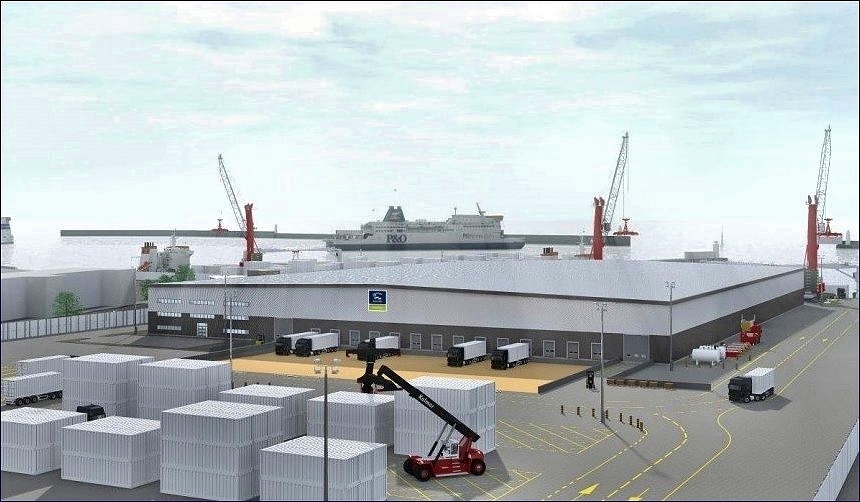 In another milestone for the Port of Dover's flagship Dover Western Docks Revival (DWDR) development, Sanderson Group has been appointed to supply the Warehouse Management and Cargo Terminal Management software for the new Refrigerated Cargo Terminal (RCT).
The software solutions will be deployed throughout the newly constructed multi-purpose RCT which is uniquely positioned to deliver fast, dedicated and direct access to Europe on the shortest sea crossing.
Port of Dover Cargo specialises in the handling, storage and freight forwarding of temperature controlled commodities which include pineapples and bananas, but will also handle more than just the 5-a-day including break bulk, project cargo and abnormal loads for the energy industry across the Kent coast.
Shaun Pottage, Director of Finance & Operational Services, said:
"The Sanderson solution will make a huge difference to our operation, allowing us to grow the business and boost our efficiencies to help us deliver service improvements to our customers.
"As part of the drive to provide state-of-the-art infrastructure to customers, Port of Dover Cargo has installed the Sanderson solution to provide customers with real time updates using barcode scanning and RF functionality from the point of receipt though to put away, order processing, pick and pack and dispatch with speed and accuracy."
With excellent road networks and transport links to the UK, Port of Dover Cargo's software solutions will manage the complete operation across the terminal to include ships unloading at the quay, dispatch from the warehouse to road traffic entering and leaving the site while integrating with the current systems at the Port. All vehicle and container movements on the site will be live-tracked.
Dave Renshaw, CEO at Sanderson Supply Chain and Logistics, said:
"We are delighted to be working with the Port of Dover, who are delivering one of the most important cargo projects in North West Europe.
"It is really good to see how such a prestigious client will benefit from our strategy to offer a broad product capability with our solution covering Warehousing, Terminal Management and Transport related functionality."
DWDR is the single biggest investment ever undertaken by the Port of Dover and represents the next exciting evolution of the Port, delivering long-term capacity for a key international gateway handling trade to the value of £122bn and representing up to 17% of UK trade in goods.
Dave Herrod, DWDR Programme Director at the Port of Dover, said: "The supply of the Warehouse Management and Cargo Terminal Management software signals a significant step towards the completion of Dover's new Refrigerated Cargo Terminal, scheduled to open in 2019.
ENDS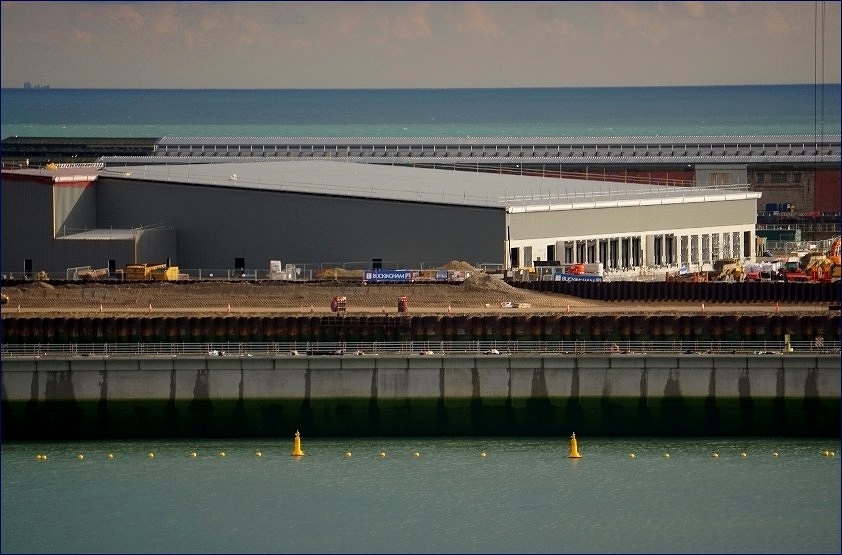 That's the latest view of the Refrigerated Cargo Terminal as it develops. And speaking of all things cargo...below we have an 'over the rooftops' shot of the Luzon Strait loading across at the current cargo terminal yesterday. In the distance you can see a heavy lift ship Bokalift 1. We may be able to show a few pictures of that one...those pix still waiting to be assessed.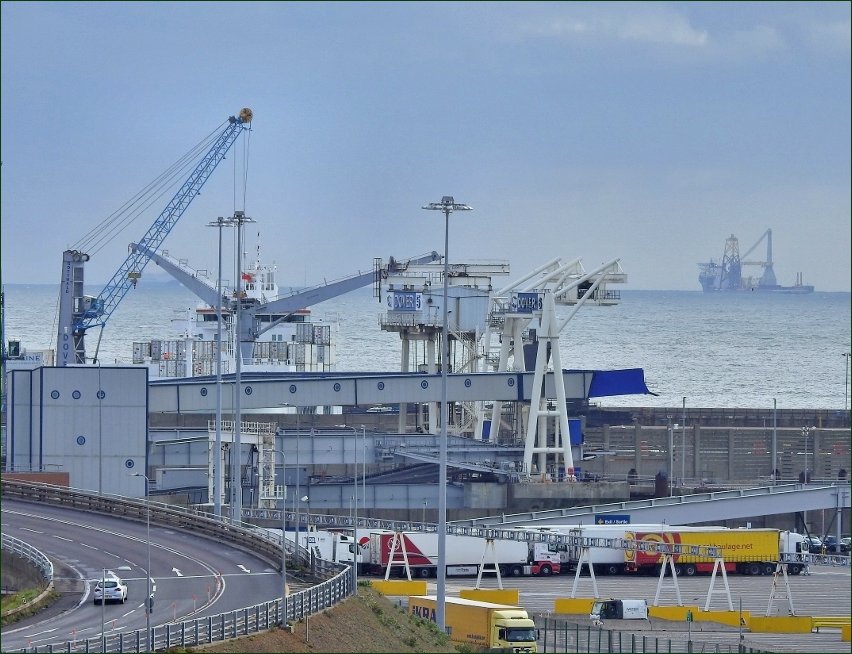 * *
Info on the NATO warships to follow shortly...yes here we are...
Firstly we have two shots of the Royal Norwegian Navy ship Helge Ingstad...number F313. We believe it to be a Guided Missile Frigate.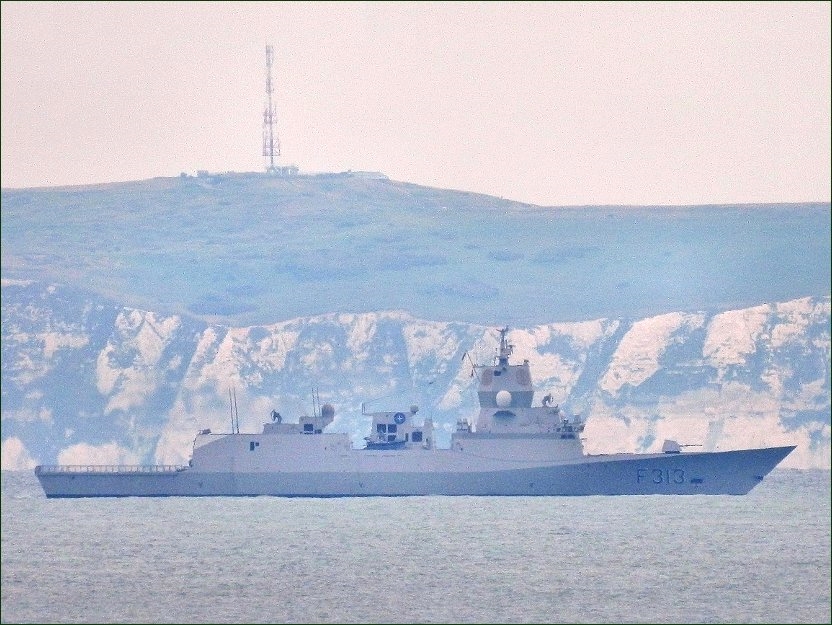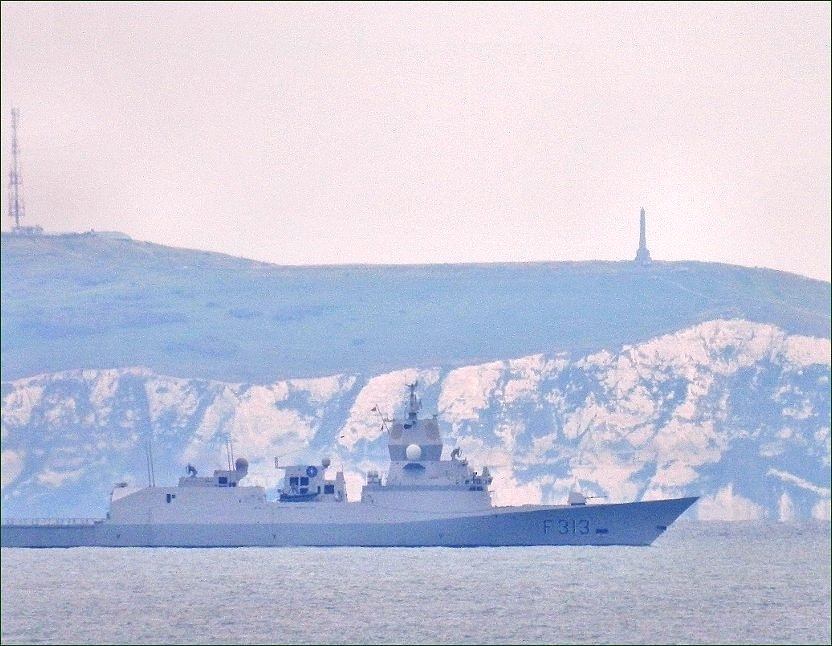 Below we have on the left L17 which is Danish, the Royal Danish Navy... the HDMS Espern Snare, and on the right of the picture from Portugal F332..the Corte Real.
The pictures of course are very very long range and taken on a grey day, so hopefully all can see them okay. That's the coast of France behind there and you can see how close to France the ships were.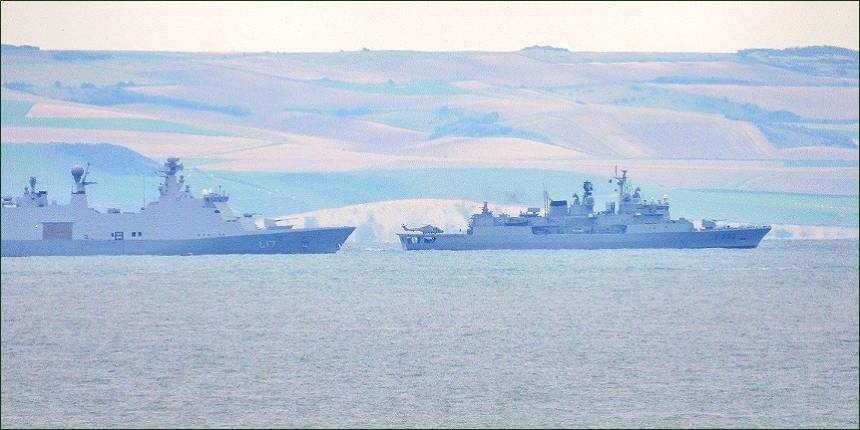 Thanks Del - yes a great time of the year for the 'big sky' image ...lots of dramatic skies, will feature a few more in due course as we go along.

PaulB

Monday, 8 October 2018 - 06:17
Post 5800
Del Styan, Norwich
Lovely sun shots PB. Well done.

Sunday, 7 October 2018 - 23:08
Post 5799
Sea News, Dover
AIDAsol has been with us all day...
here she is arriving in the dark at 6am this morning putting on a real show, a dazzling display of light. That's Calais in the distance left, also lighting up the night sky.. in reality it was much darker than shown in the picture. You can just see one of the tugs there bringing up the rear. More AIDAsol info in the Cruise post below 5796.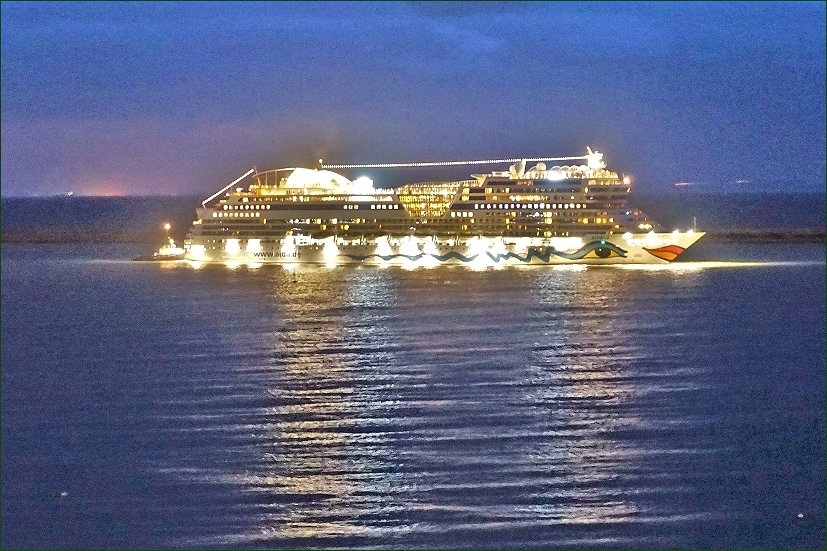 See also todays earlier post below...
will get those promised long-distance pictures of the NATO warships plus up tomorrow all being well.
PB
Sunday, 7 October 2018 - 18:51
Post 5798
Sea News, Dover
Some pictures now from the past few days which show the sun playing a pivotal role, an autumn sun now it has to be said. The first three featuring one of the DFDS ferries as she approaches 'out of the sun' from Dunkerque. The first shot showing that natural spread of light at the base of the sun as she comes up out of the water as it were...in mushroom shape, and then rising slowly above the water as the ferry powers on to Dover. Dover 8 beckons...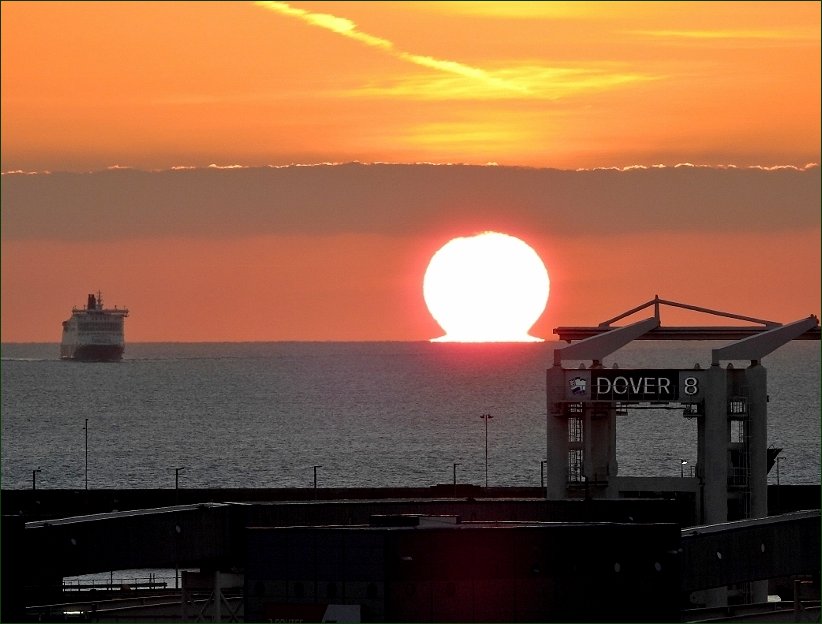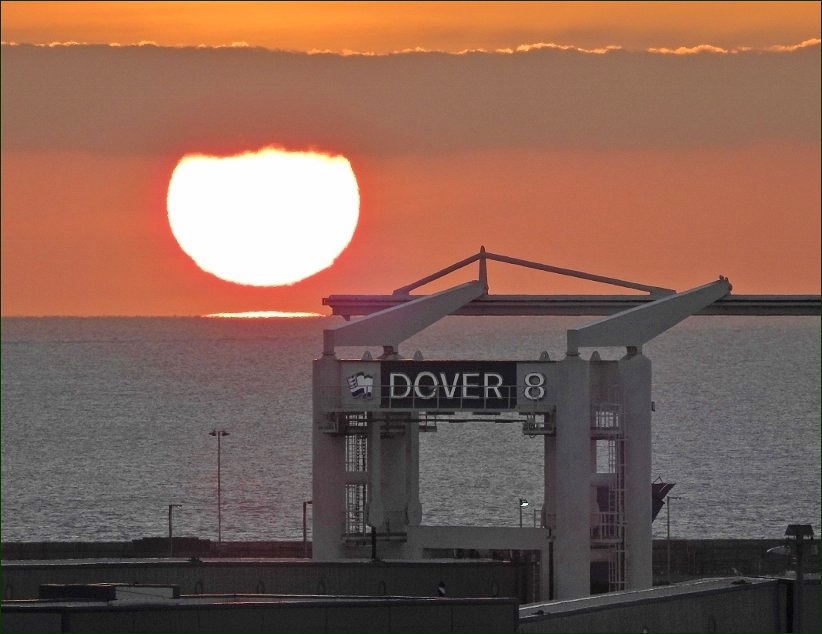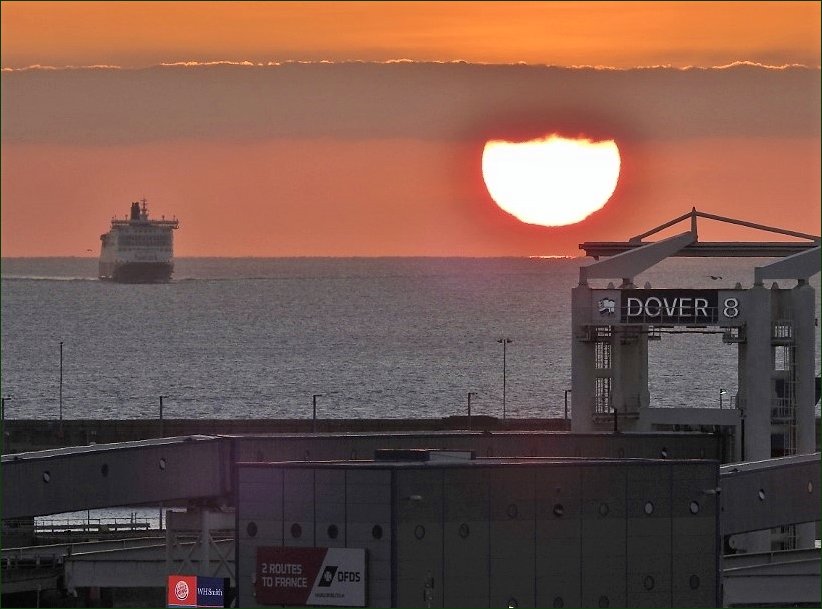 Looking behind us now and the same low early sun washes the seafront gardens, casting long shadows...
while two burly crows devour something dead on the lawn.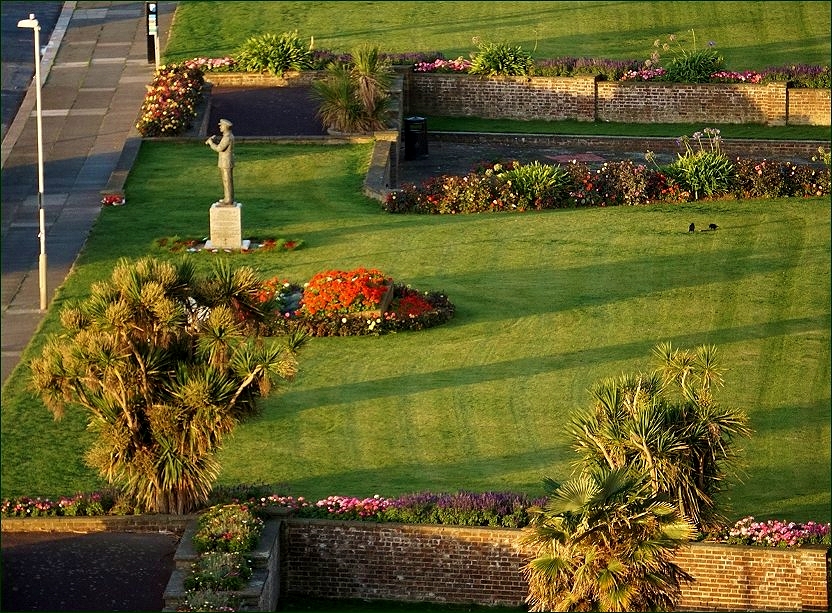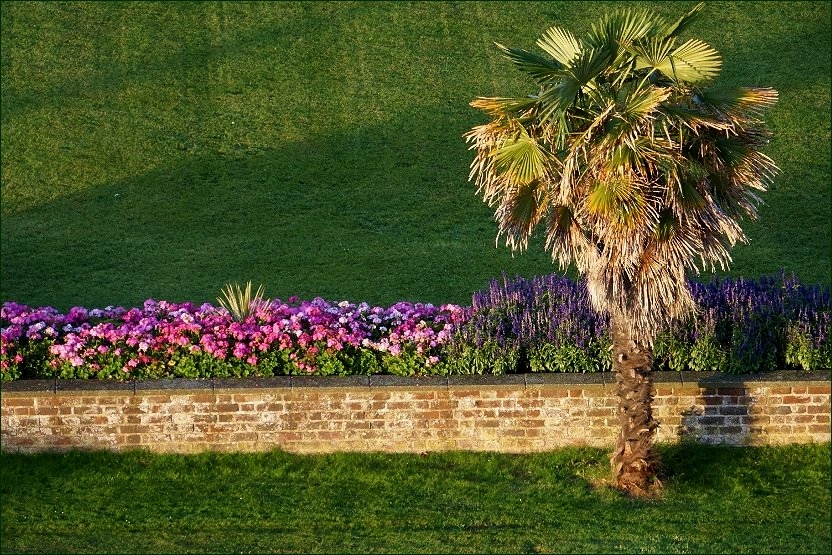 PaulB
Sunday, 7 October 2018 - 06:39
Post 5797
Sea News, Dover
And now as promised, here we are with a sequence of shots of the departing Sun Discoverer...
we catch her as she heads off to Cartagena on Thursday evening..time of pictures.. around about 16.40.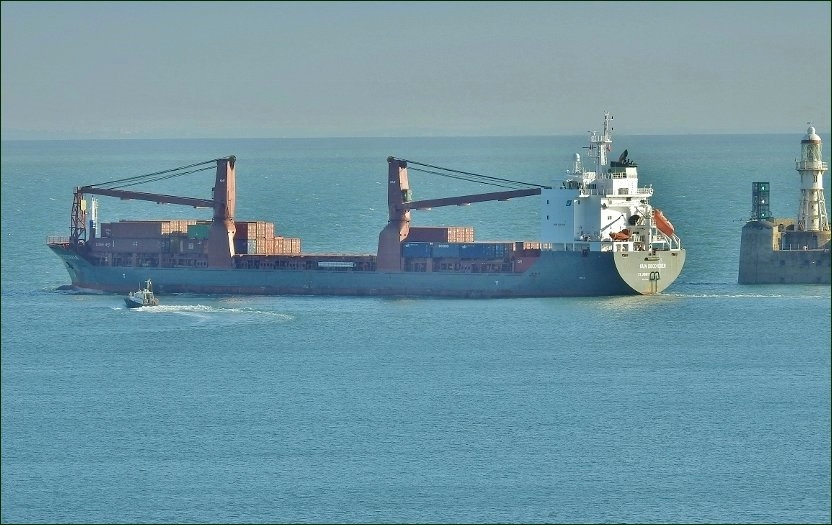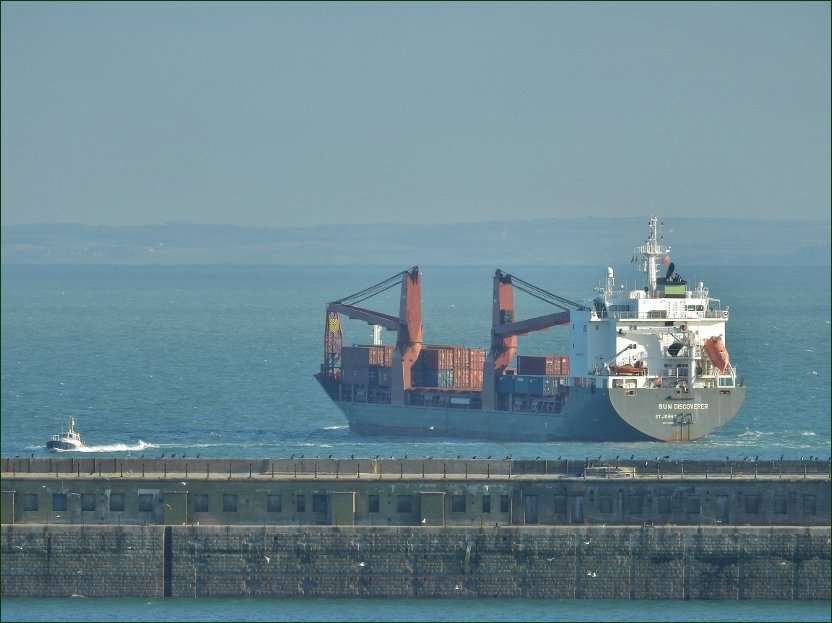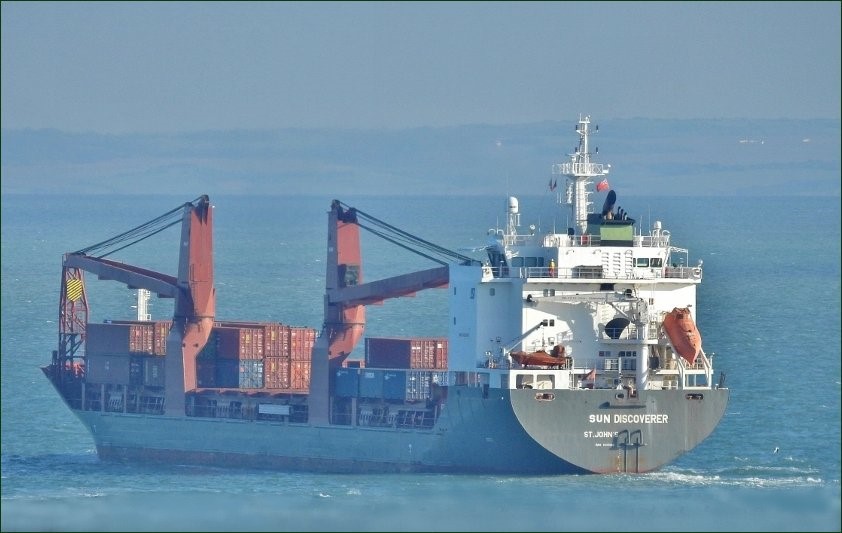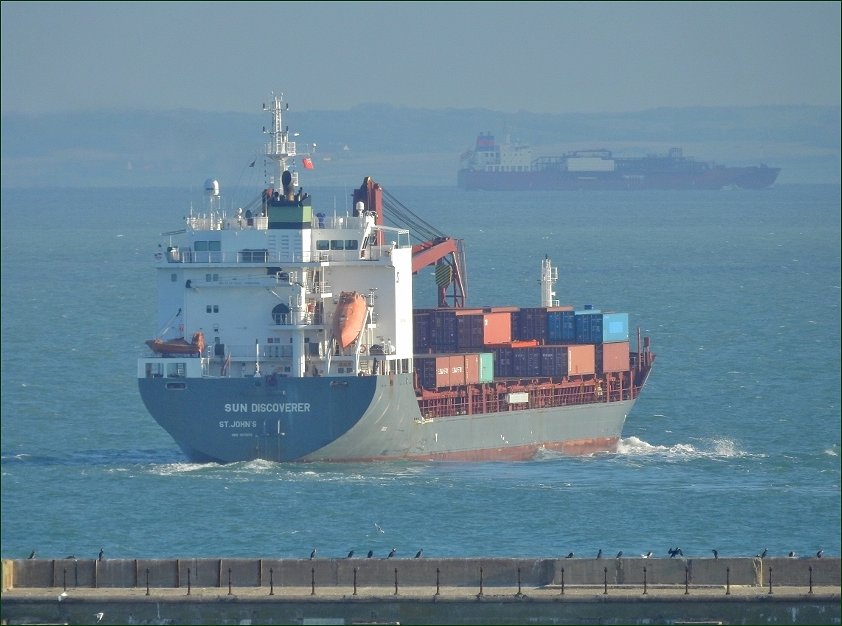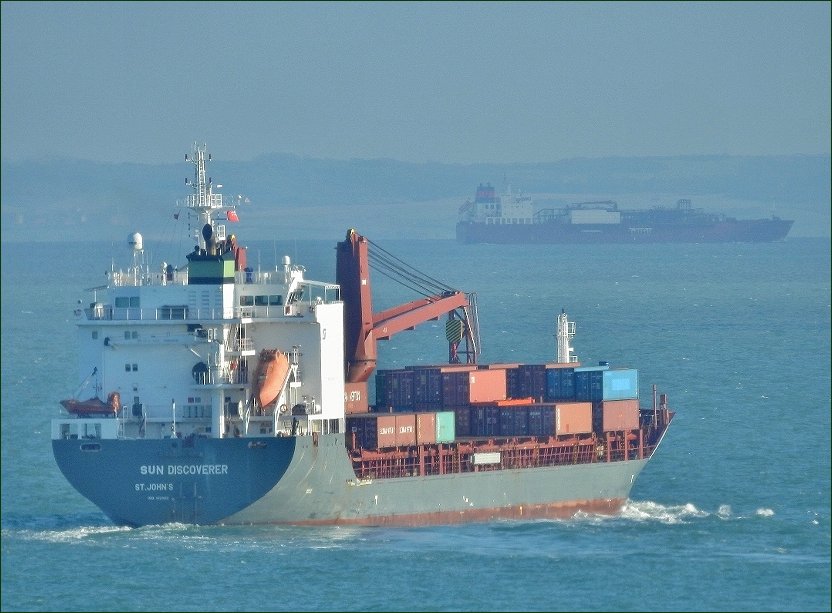 See also Mike's post below 5794.
Well done to Colette and Barry re the Cruise info below. Great work there.

Always catch up with all the arrivals by using the Search Engine above.
PaulB
PS: this is your last chance to book a P&O day trip with the FREE WINE offer. Booking ends on Oct 7...for travel up to October 26.
Paste the following in your browser for full info...
http://www.poferries.com/en/dover-calais/offers/day-trip-offer?promotionCode=WINE18
Saturday, 6 October 2018 - 07:56
Post 5796
Barry W-S, Dover
CRUISE VISITS
____________
Hello Chaps, here I am in Colette's absence with the latest batch of cruise calls.
Sea News over the past week is varied to say the least, the discovery of Dover's very own 'Terracotta Army' and Andrew's impressive photos of the granite boulders making a 'Splash' off Herne Bay and there's more …...
The Russian Tall Ship 'Mir' caught in the far distance, a speeding Comet, a Russian Naval ship being shadowed along the English Channel and the wonderful Waverley paddle steamer passing by. It almost takes my breath away that all this is going on within the workings of our busy port with ferries, cruise ships, container ships and all the while the expansion work is forging along

Tomorrow Saturday 6th October Pacific Princess glides into CT2 at 05.00 hours to begin her 12 night one way 'European Explorer' cruise. Her ports of call are Le Havre, La Coruna, Cadiz, Gibraltar, Barcelona and Sete before setting her sights on the Italian ports of Genoa and Livorno before dropping anchor at Civitavecchia Thursday 18th October.
She will be based in the Mediterranean cruising from Venice & Civitavecchia until December when she crosses the Atlantic to Fort Lauderdale in the good 'ol U S of A sailing to Los Angeles, the Caribbean, Cape Town & Sydney. She returns to our shores in June 2019.
She departs at 17.00 hours, T/R.
The following day Sunday 7th October AIDASol arrives at CT2, 09.30 hours with a massive smile. She calls in to say Hello whilst on her 4 night Hamburg round trip after calling at the Dutch port of Ijmuiden along the way. She drops anchor in her home port of Hamburg on the morning of Tuesday 9th October.
She will be leaving at 21.30 hours, PoC.
On Thursday 11th October AIDASol calls in with a winning grin once more, whilst on her 4 night Hamburg Round trip. She arrives in her home port on Saturday 13th October.
She leaves us at 21.30 hours, PoC.
Then on Friday 12th October Saga Pearl ll arrives at CT1, 09.00 hours to start her 18 day 'Ancient Wonders of the Mediterranean' cruise. Her ports of call are Lisbon, Barcelona, San Remo, Livorno, Civitavecchia, Cagliari, Cartagena and Gibraltar before dropping anchor in her new home port of Portsmouth on Tuesday 30th October until February 2019.
Sadly this will be her last visit to Dover as this is her 'Farewell Cruise Season', she finishes in a blaze of glory with a 54 night African Cruise, finally arriving in Portsmouth April 2019. There she awaits her new future or retirement

She leaves us at 18.00 hours, T/R.
Colette will be back with the final cruise calls for the 2018 season.
Friday, 5 October 2018 - 20:48
Post 5795
Sea News, Dover
Increase in summer tourist traffic signals return to benefits of cross-Channel ferry travel
________________________________________________________________________

Following a spell of exceptional summer weather, the benefits of starting a holiday by setting sail across the English Channel with the famous White Cliffs as a backdrop have seen holiday makers flocking back to Europe's busiest international ferry port.
The Port of Dover welcomed nearly 42,000 more cars compared to the summer of 2017 (573,076 in 2017 to 615,035 in 2018), a 7.3 per cent increase, while 442 more coaches took thousands of additional customers on their way to France, representing a 3.2 per cent increase from 13,885 in 2017 to 14,327 in 2018.
The busiest day for tourists bound for Europe was Saturday July 28 when 12,993 cars headed to Dover for the short sea crossing to Calais or Dunkirk.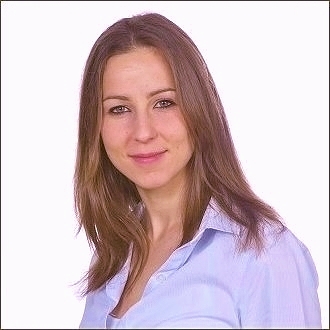 Barbara Buczek, Director of Corporate Development and Operational Businesses, said:
"With so many holidaymakers reliant on us to get their well-deserved break off to the best start, we spend months planning with our major ferry customers and border agency partners to deliver an efficient and welcoming service. The flexibility and ease of ferry travel along with unrivalled crossing times makes Dover the perfect departure point to explore the rich variety of Continental Europe."
Kasper Moos, Vice President & Head of Business Unit Channel at DFDS, said:
"The increase in passengers travelling through the Port of Dover this summer, compared to summer 2017, re-enforces the fact that more Europe-bound holiday-makers are realising the benefits of ferry travel. As Europe's Leading Ferry Operator taking passengers to Calais and Dunkirk, we're committed to ensuring all passengers enjoy a fluid journey through the port and can get their holiday off to the best possible start. We look forward to continuing our strong relationship with the Port of Dover to ensure that this smooth process continues for all passengers."
ENDS
You will remember we spoke yesterday about the recent hotel expansion here in Dover and the continued ongoing expansion as well, you can see why following the report above...
Thanks to the team at the Port for the info above.
And now catching up on a cruise visit by AIDAvita. We featured the much bigger AIDAsol only recently yet she has been back again since...its all go. But we didn't take any further pictures of AIDAsol as we have had lots of coverage of that one...but here we are from a day later Oct 2...and its the smaller sleeker AIDAvita arriving on a grey morning.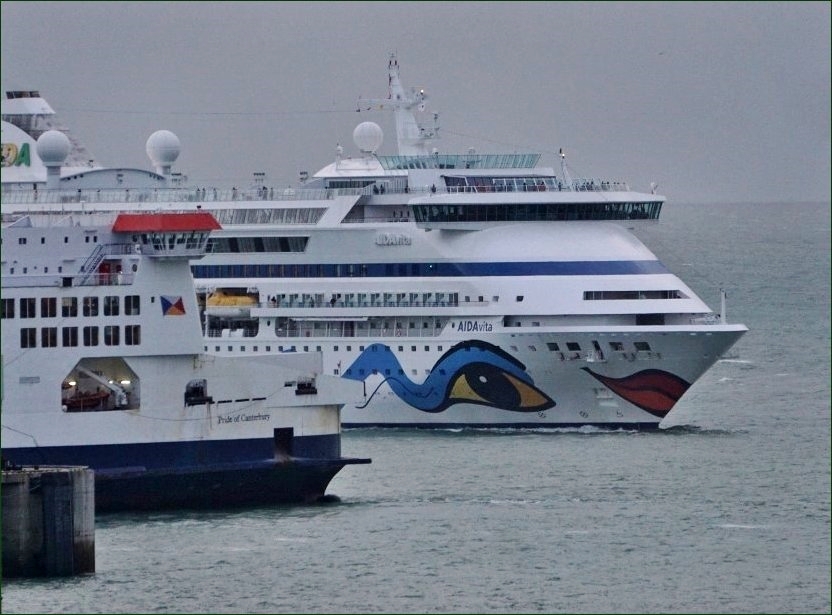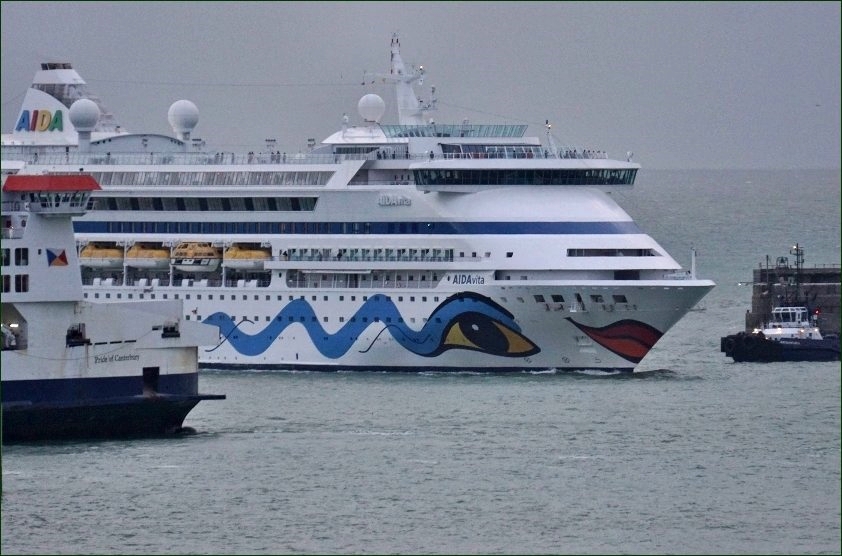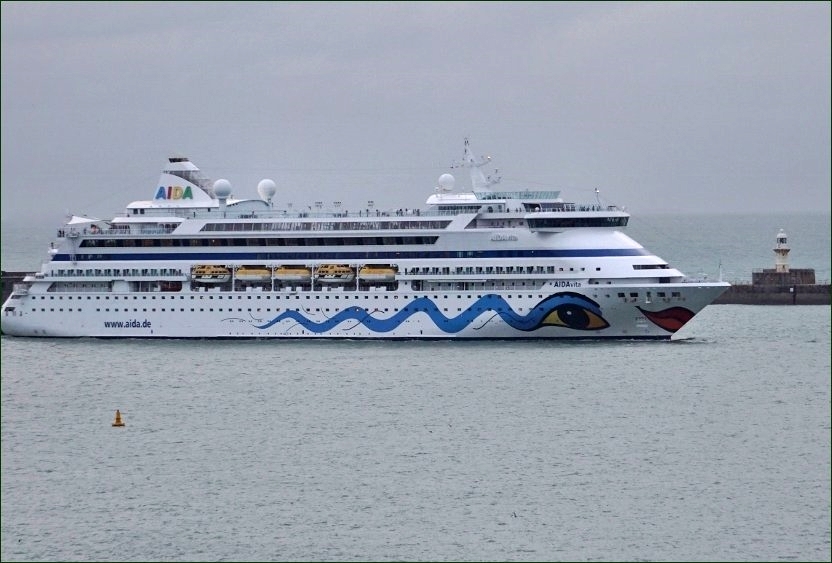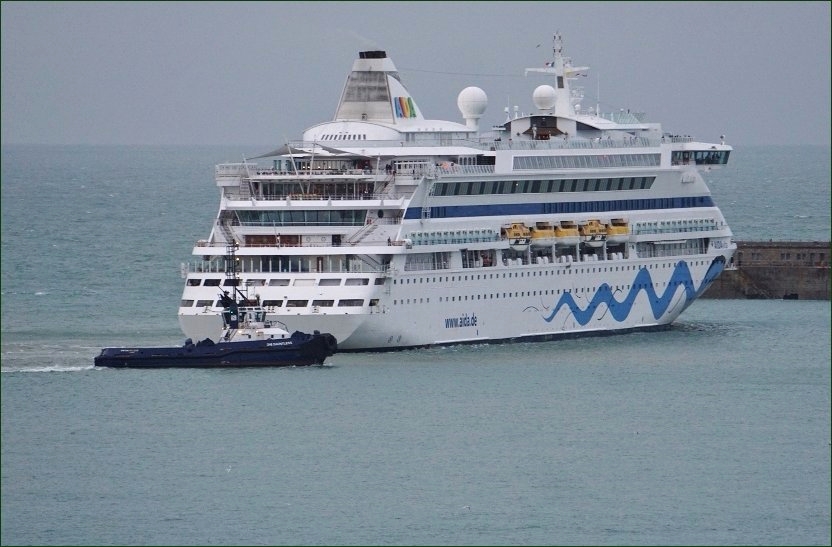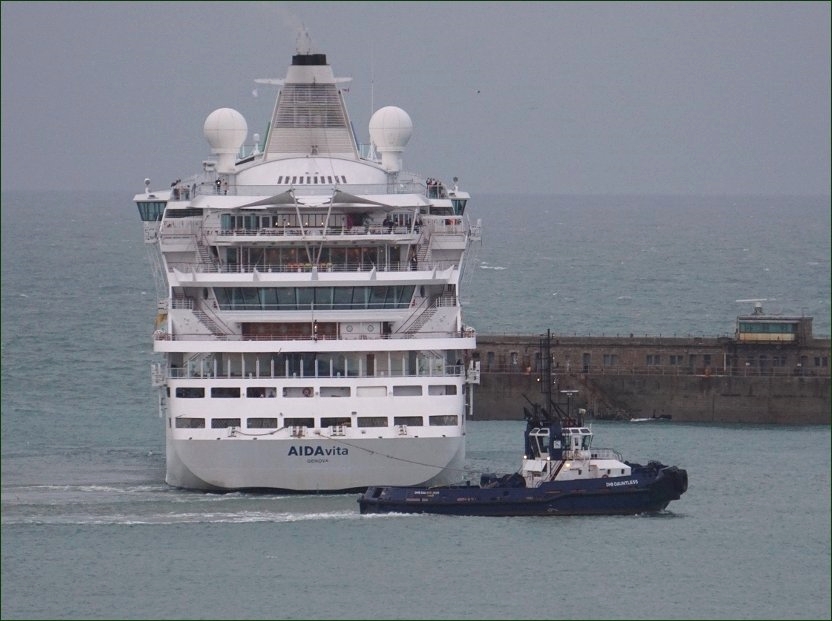 Good info and interesting pix below there Mike

We will have pictures of a departing Sun Discoverer in due course
plus more warships as well...this time from NATO. We have a backlog but like Microsoft says...we're working on it...

PaulB

Friday, 5 October 2018 - 06:18
Post 5794
Mike J., Dover
Fascinating Herne Bay sequence from Andrew - a much smarter barge than the battered old CHARLIE ROCK who was in Dover a few years back on s similar groyne job as well as assisting with the railway seawall works. [posts 569 & 3367].
Job done at Herne Bay the little NEW ROSS 1 [post 5789] was noted on Thursday afternoon passing Dover & is now back in her home port of Falmouth.
I was out on the Admiralty Pier on Thursday afternoon waiting for the coaster DRAIT who was due to load grain after coming up from Plymouth.
She didn't make her expected ETA, finally docking 1800 by which time I was long gone.
Fortunately the long wait on the Ad.Pier wasn't a total waste of time as the caff was open & unsatisfactory pix were possible of the heavy-lift ship SUN DISCOVERER who was on Cruise-1 waiting for the swell to subside so that she could discharge her cargo of bulky heavy Eurotunnel transformers.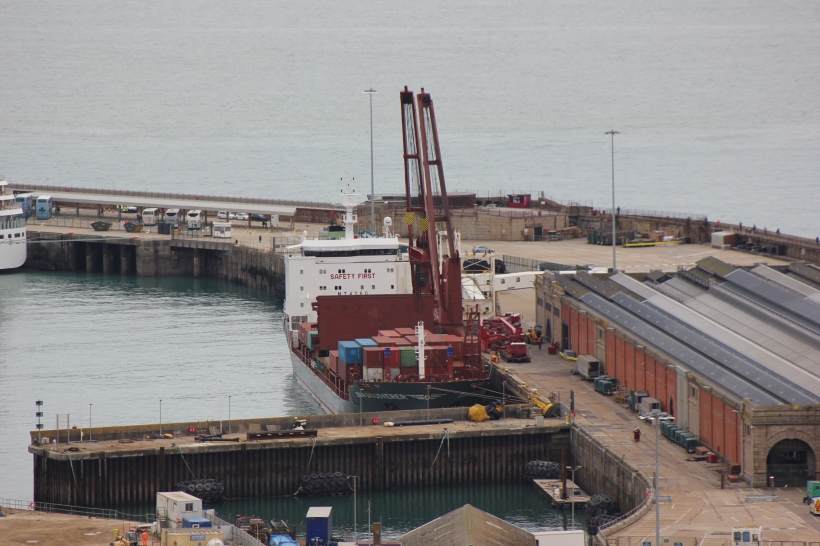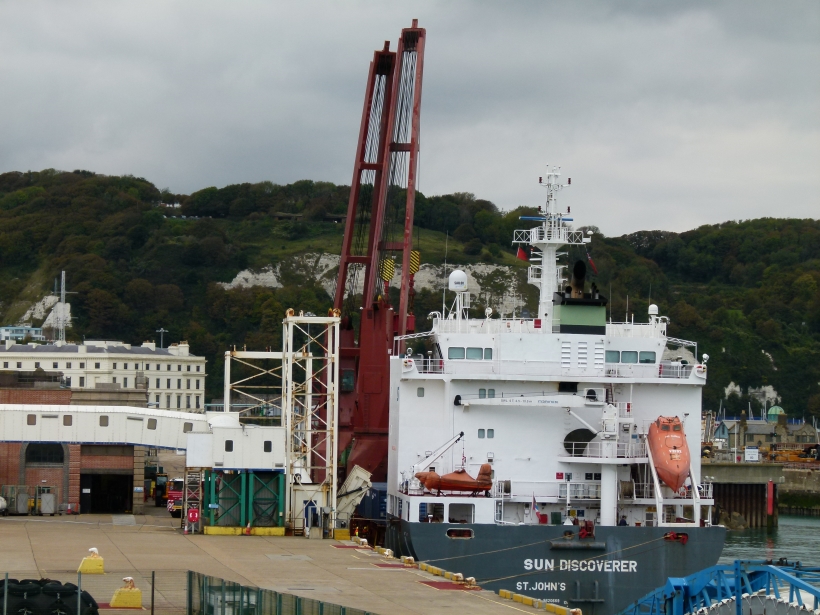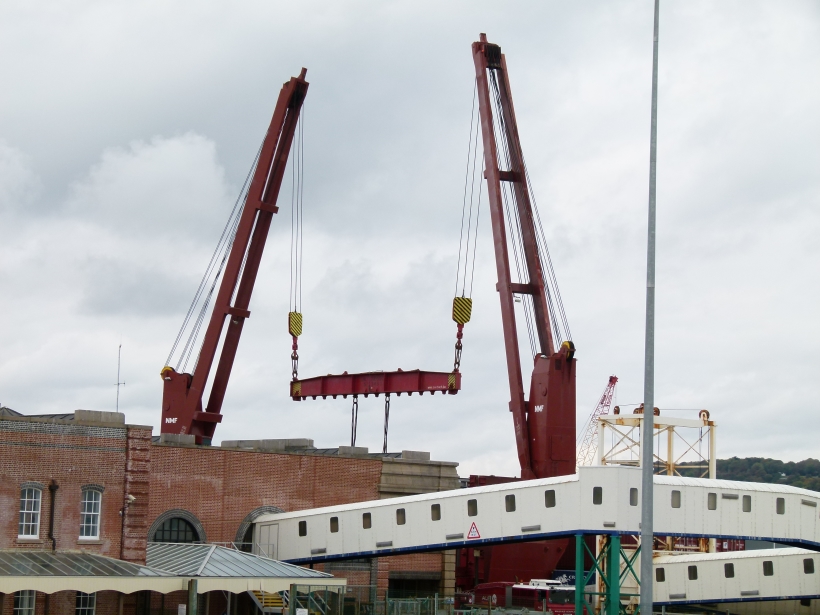 She had arrived on Wednesday from Vlissingen & sailed for Cartagena around 1630 Friday afternoon.
Cruise-1 is now a bit of an awkward spot for photos 'across the bay' as someone has built a socking great shed in the way.
How I wish that drones had been invented sooner, I could have got very keen on them . . . . .
MILLENIUM DIAMOND [post 5782] is now on the slipway at Ramsgate, pix to follow.
Thursday, 4 October 2018 - 21:35
Post 5793
Sea News, Dover
As we know, Dover is a busy busy place at the moment..heavy 'workings' going on all over the place, so just some general pictures now of all the hard work. Time now for that famous quote, very appropriate for these pictures...
'hard work fascinates me, I could sit and watch it all day'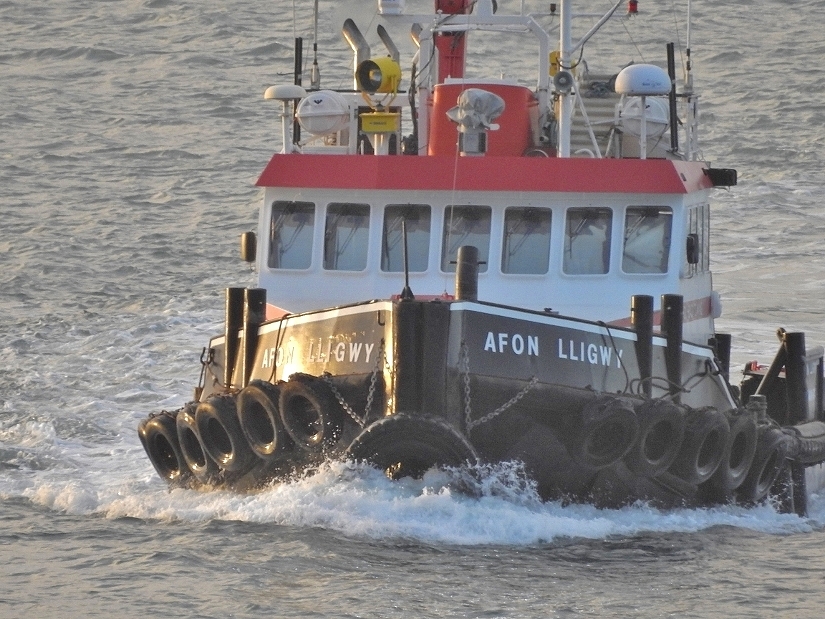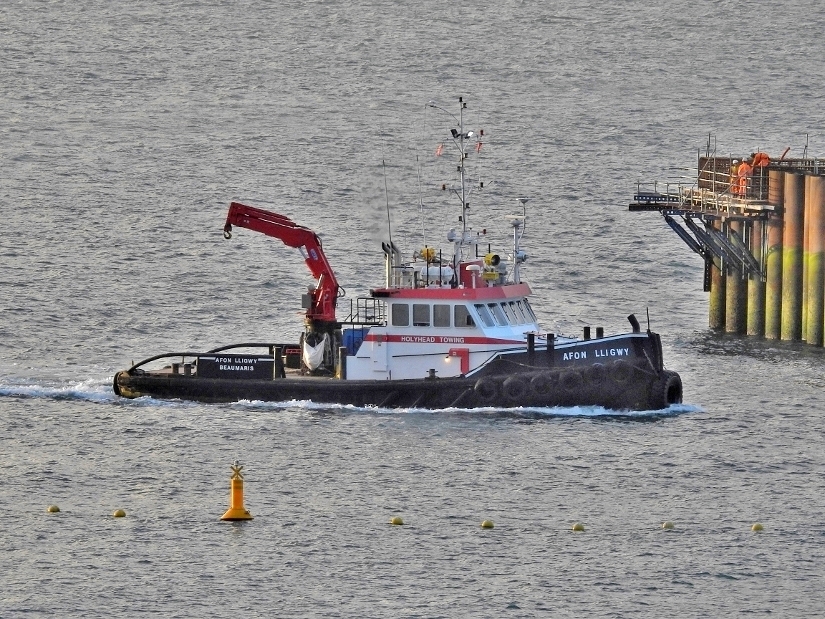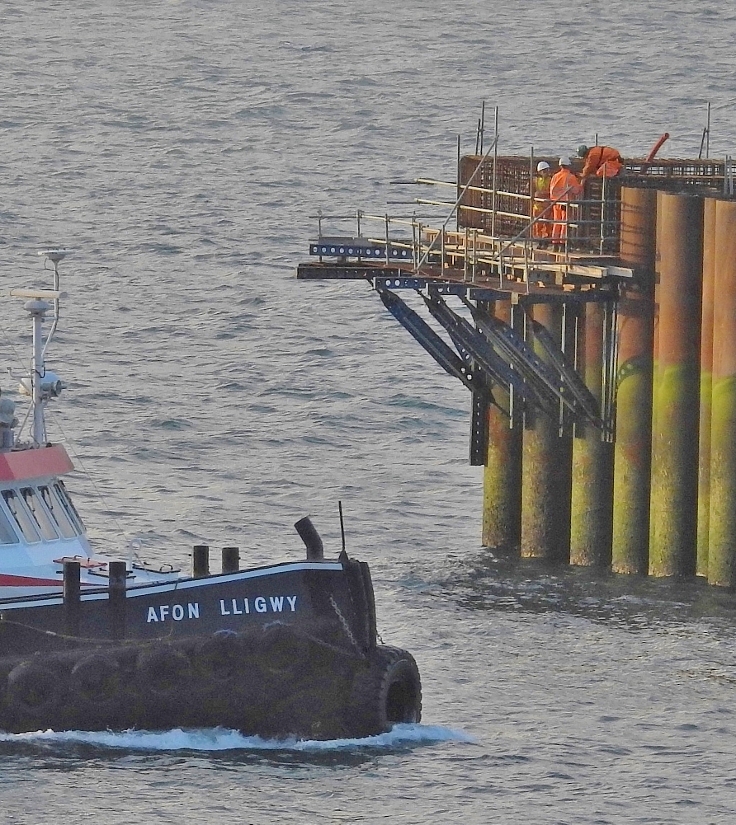 Above there we have Afon Lligwy coming out onto the morning scene for another hard day at the office. As Afon gets to the end of the new extended arm you can see the men already working there. The third pictures is a crop of that section of picture 2.
Now back to the expanding Premier Inn. This expansion work is being undertaken in order to meet the demand from the growing ferry tourist traffic into Europe. We also of course, have a brand new Travelodge just across the road doing the same thing..meeting the demand. We will have more on this growth following soon.
A picture below of Dover's very own 'Terracotta Army'...

!!
Yes this collection of strange monoliths were dug up at the back of the Premier Inn a few days. But lets got get too excited...they were probably just some old foundations from a former time. Whatever they were anyway, they are now demolished... but we have captured them for all time with the camera...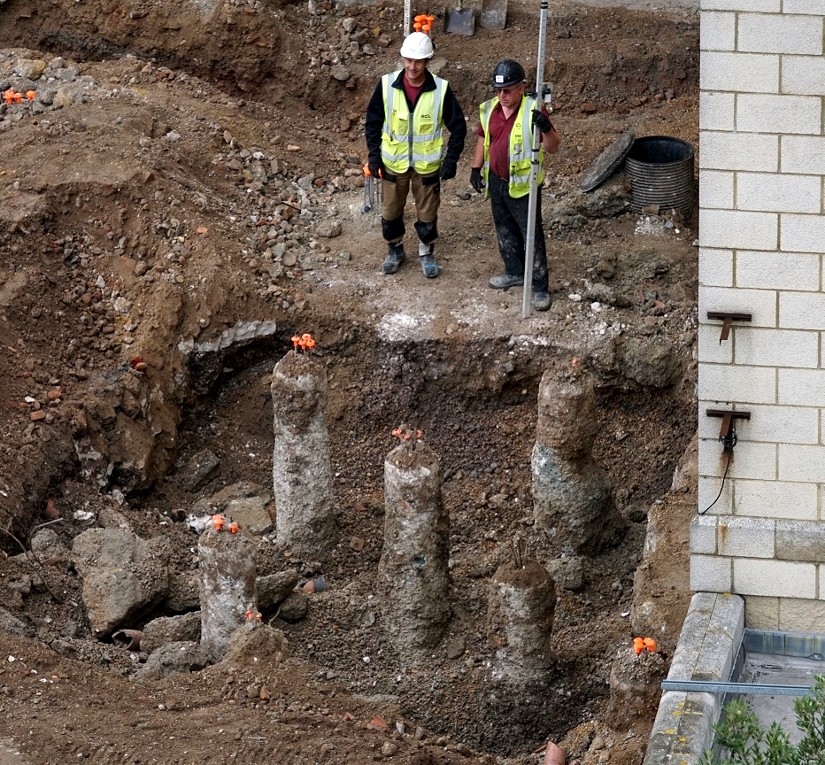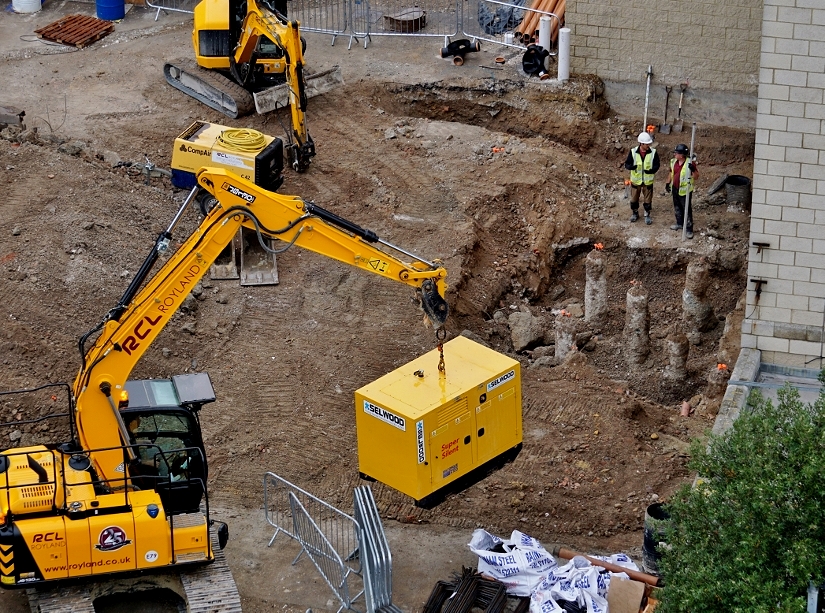 Excellent post below Andrew. Great collection of pictures to enjoy there. Don't miss that!

PaulB
Thursday, 4 October 2018 - 06:15
Post 5792
Andrew, Broadstairs
Herne Bay's 2.5 million pounds sea defence and coastal erosion work is well under way and brought a new seaside entertainment, be it brief, to the townspeople enjoying an afternoon walk along the promenade in the warm autumn sunshine on Tuesday.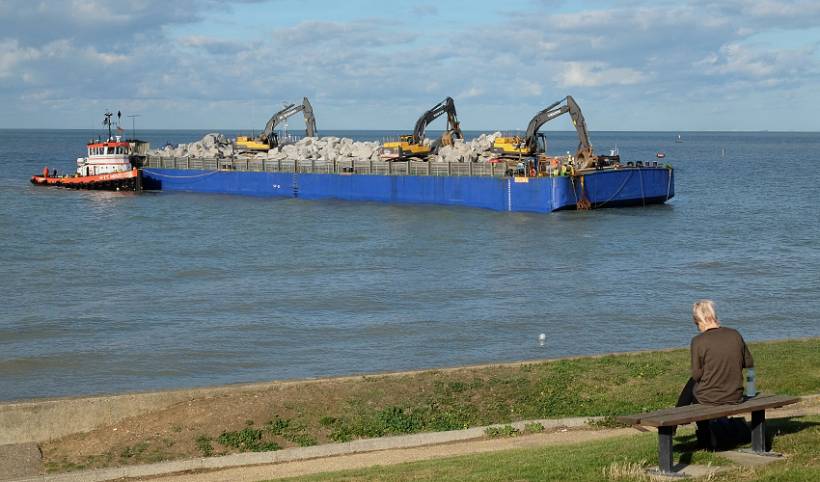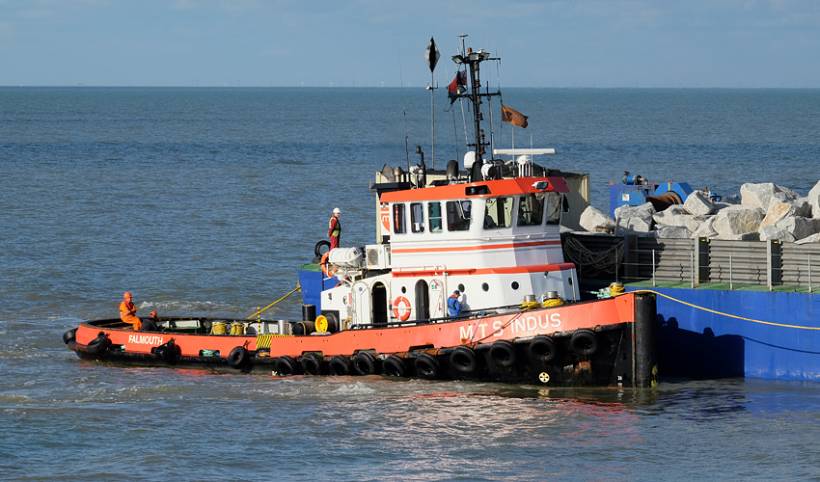 The tug MTS INDUS (a Dover visitor see Posts 3086 and3099) carefully, with the assistance of 'pushycat' tug NEW ROSS 1 (Mike's recent Ramsgate Post 5789)and Medway tug CHRISTINE (Post 4804) brought the rock carrying barge SELINA very close to the shore, just east of the Kings Hall Theatre.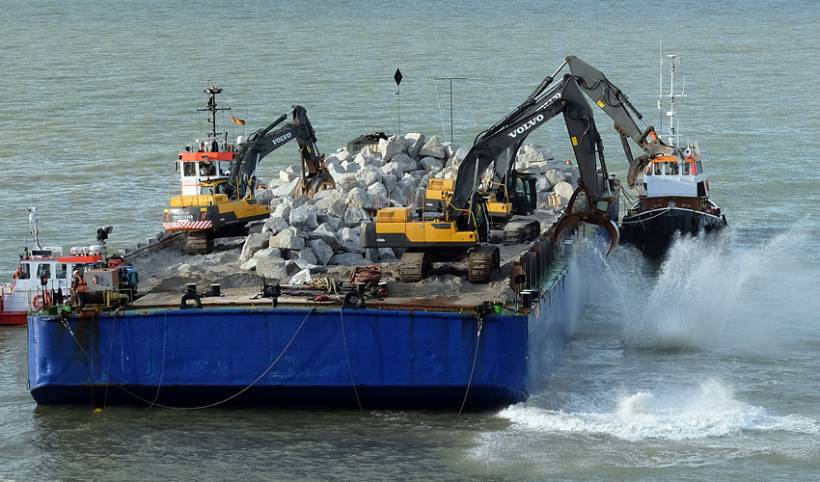 Laying 90 degrees to the shore line the three crawler cranes started to discharge the granite boulders into the sea with some impressive noisy splashes which brought more onlookers the majority of whom produced mobile phones, tablets, video and still cameras to capture the moment and if possible the highest splash and with luck a boulder caught in mid-air! (No Paul it is not Photoshoped in!)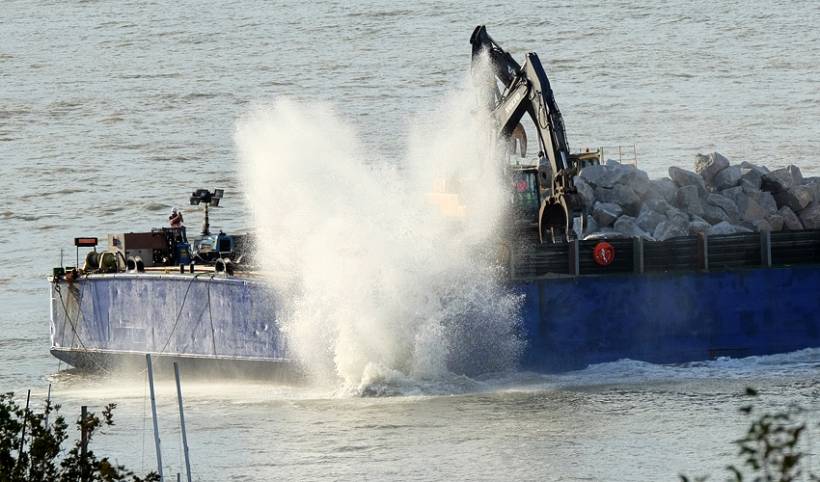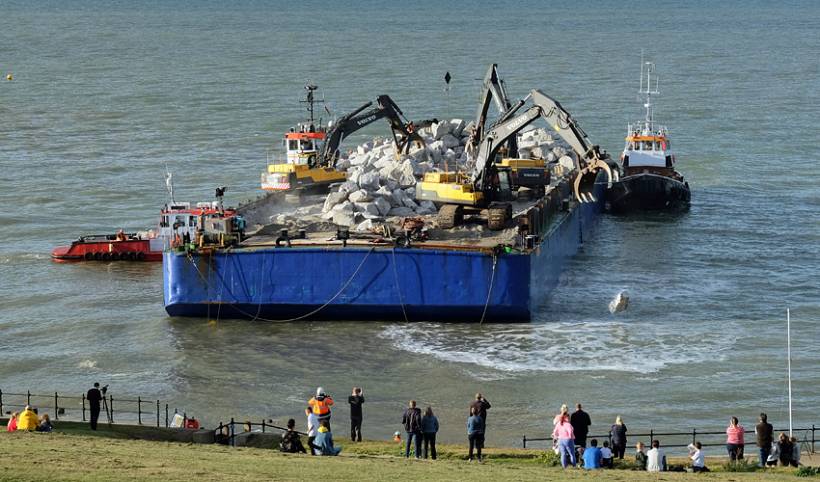 As we have experienced at Dover these armour rock projects are often sourced from Norway but on this occasion, I am pleased to report, it is entirely home grown. The SELINA, only acquired from Sweden in August, and tug NEW ROSS 1 both belong to an Appledore based company specialising in all types of marine work including salvage and the granite was mined from newly reopened quarries in Cornwall.
Thursday, 4 October 2018 - 01:11