Wednesday, 24 April 2019

WWW.DOVERFORUM.COM/SEA-NEWS
Featuring all the ships that come and go and work at the Port of Dover ..
... with further coverage of the surrounding ports.
Sea News Dover
Port of Dover: Brexit Resilience 6123
DFDS: For apprentice information see 6125
Premier Inn completes see 6149 plus
P&O: Brexit Buffer.. Free Cancellations 6176
DFDS: ORCA 6179
P&O: Jobs Fair/Apprenticeships 6187
Port of Dover: New Cargo Manager see 6205
Use our SEARCH ENGINE below to find all sorts on the SEA NEWS pages....
type in the topic and away you go, or if you have the post number as shown above, just type it in the box,
more than - 6000 - nautical posts now.
Posts are welcome. just click 'Add Your Comment' below. Max of 5 pictures preferred although we can stretch that for special stories..
Sea News Editor Paul Boland - send info or pix to dover7@msn.com. Always welcome.
CRUISE CALLS:
https://www.doverport.co.uk/cruise/find-a-cruise/
To show your pictures at their best..it could be worthwhile resizing before posting to
840
pixels wide.
All pictures on these pages are the copyright of the owners and must not be reproduced without permission.
Post 6108
brian dixon, dover
welcome back paul, I missed your cheeky posts.

Wednesday, 27 February 2019 - 16:27
Post 6107
Sea News, Dover
AIDAmar arriving this morning...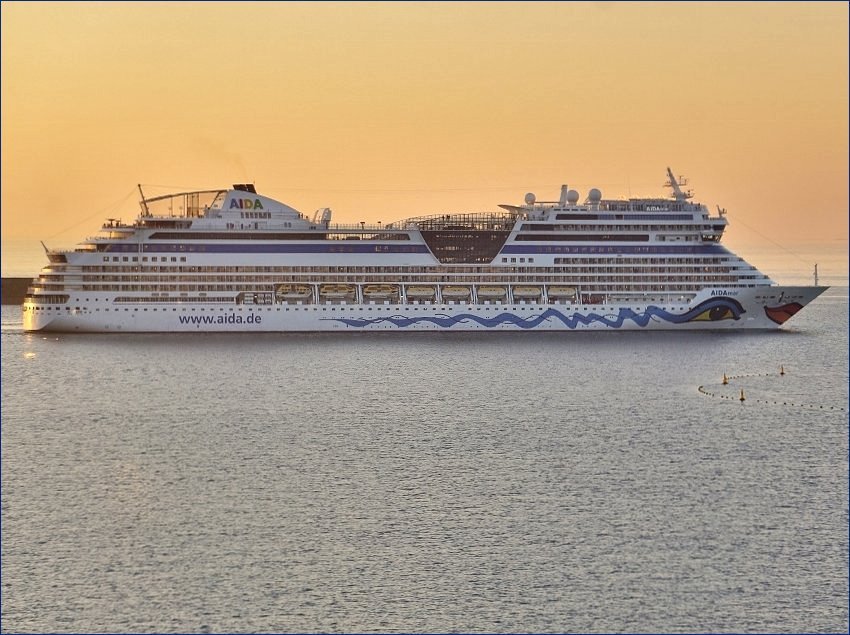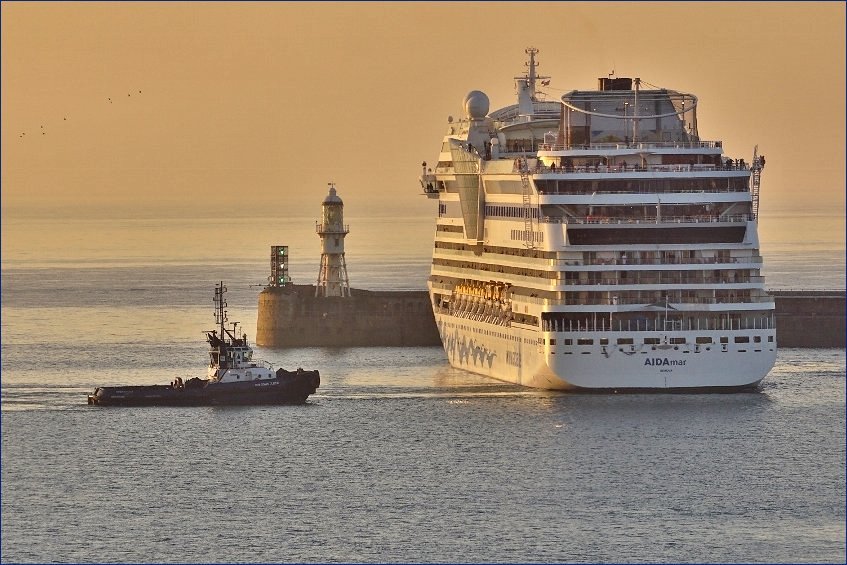 And a glorious morning it was too. Time of pictures: 07.10
PB
See todays earlier post from yours truly below.
Wednesday, 27 February 2019 - 16:09
Post 6106
Sea News, Dover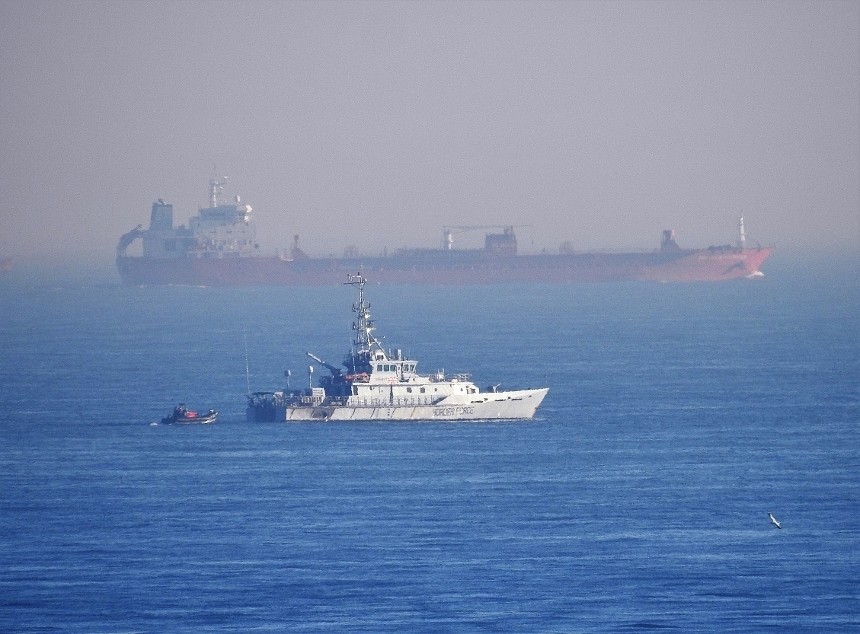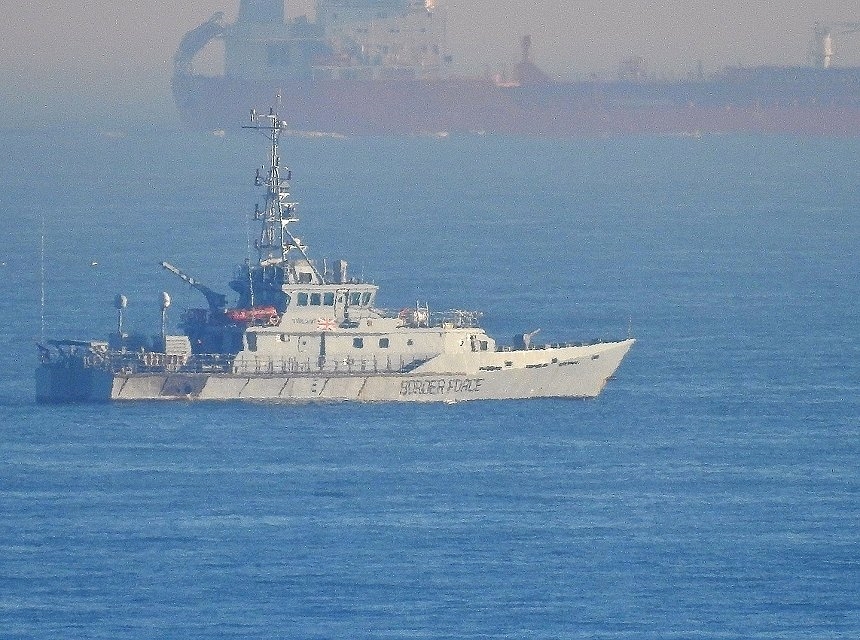 You will have seen on the news the sudden upsurge in migrant boats coming across the channel once again, presumably encouraged by the unbelievably good, almost freaky, weather. The pictures above were taken on the 24th which I believe coincided with the arrival of the first family of seven...two adults five children according to reports. The images above, showing Border Force Vigilant and RIB, are quite long range. Yours truly tried zooming in on the second one but the heat haze/shimmer got a bit too much..have used the picture anyway for info purposes and pushed both as large as poss so all can see.
* *
Obviously I have been out of action in a big way. Lost my phone line with all that entails nowadays. Its unbelievable the amount of stuff that comes through on a chaps phone line and when it goes wrong ... well you are stuffed.
I have now returned with added fibre ( no I'm not talking about Bran Flakes !

) and a new provider so hopefully it will all work.
Thanks to all the teamsters for keeping everything going.
Great and interesting picture collections from Mike and Patrick below, so don't miss all those.

And don't miss the 'images exceptionelle' (trying a wee bit of French there...most of my emails are French believe it or not..must be the location ) but yes the pictures of the ponies in post 6094 are truly fab. Type the post number in the Search Engine Box above.

Thanks to Ray as well too - glad you are enjoying it all Ray. Lots more to come.

Thanks also to Del and Brian too...

And last but not least thanks to our former Mayor of Dover Jan Tranter for keeping everyone posted about yours truly's plight....in between her postings on the Victoria Derbyshire show - we are not worthy


PaulB
PS: 2 cruise liners in today..whopper AIDAmar and regular Saga Sapphire.
Wednesday, 27 February 2019 - 05:07
Post 6105
Mike J., Dover
Interesting DWDR pix from Patrick, some mysterious structures being built & I'd not previously noticed the hinged hydraulic cylinders on the uprights of the bridge which give a clue as to how it'll operate - it'll be interesting to see the bridge in action when testing starts.
The veteran yacht made a nice contrast to all the 'new works' going on.
Midday Tuesday with an Ainscough crane assisting with the erection of the first reefer berth crane, the large grey object on the right.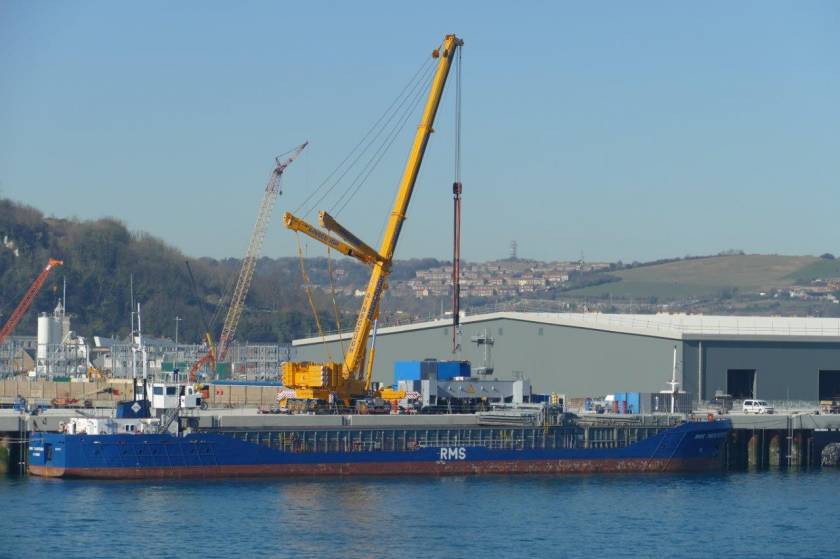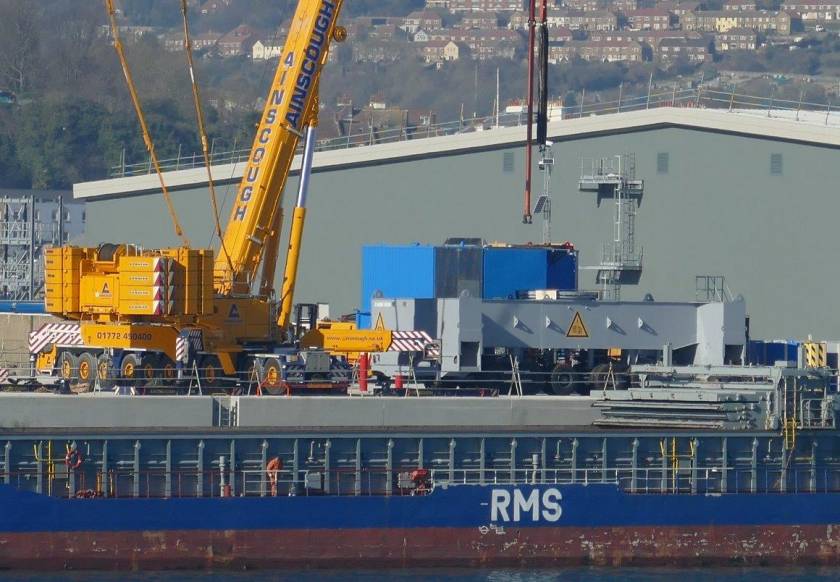 Another vessel, the Dutch HEKLA, of a similar size as the RMS TWISTEDEN is heading for Dover from Rotterdam & her AIS is showing an ETA of 0500 on Wednesday.
The second shipload of crane parts ?
I was talking to the Dover Sea Angling Club steward on the Admiralty Pier & he said that there was no truth to the rumour that DSAC will be charging non-angling visitors to walk up the Ad.Pier.
He also said that few people took the opportunity of a stroll, even with the current good weather, with most non-anglers being families of some of the anglers. [as well as the occasional eccentric ship-spotter].
Wednesday, 27 February 2019 - 00:49
Post 6104
Patrick, Marine Parade
Much better photos of the RMS boat by Mike J yesterday.

Tuesday, 26 February 2019 - 17:55
Post 6103
Patick, Marine Parade
General cargo vessel RMS TWISTEDEN arrived at DWDR Berth A yesterday morning with sections of the cranes that will be used to load/unload goods into the RCT.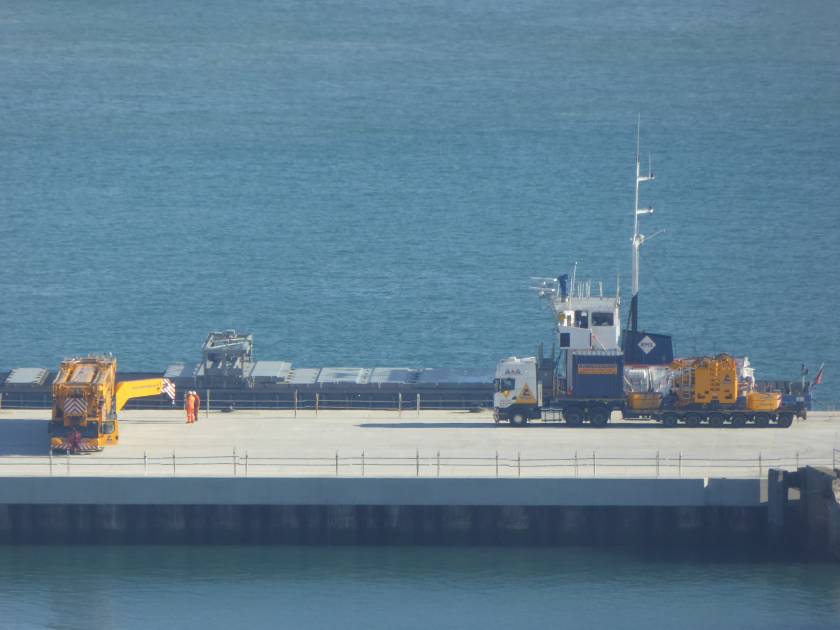 At the Bascule Bridge across the Lock Cut traffic lights and barriers have been installed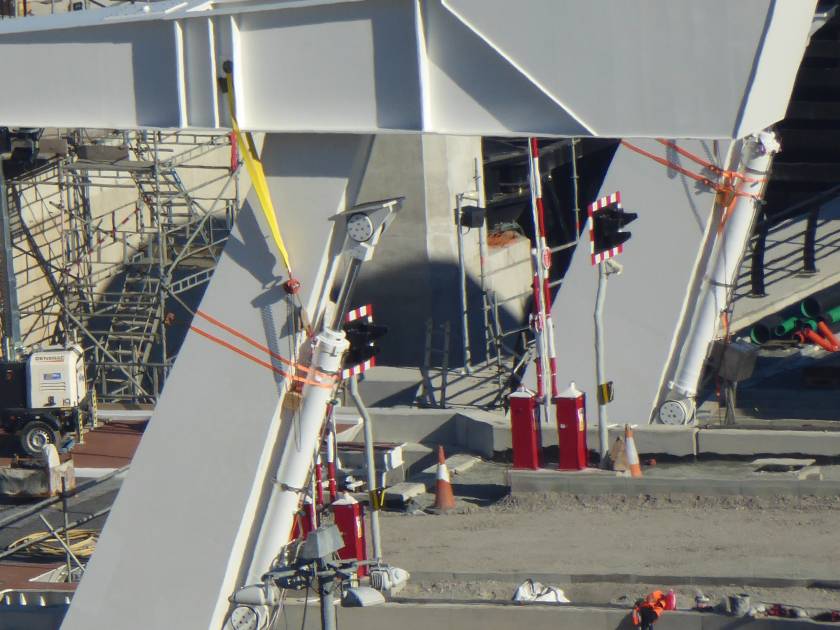 with work continuing across the DWDR site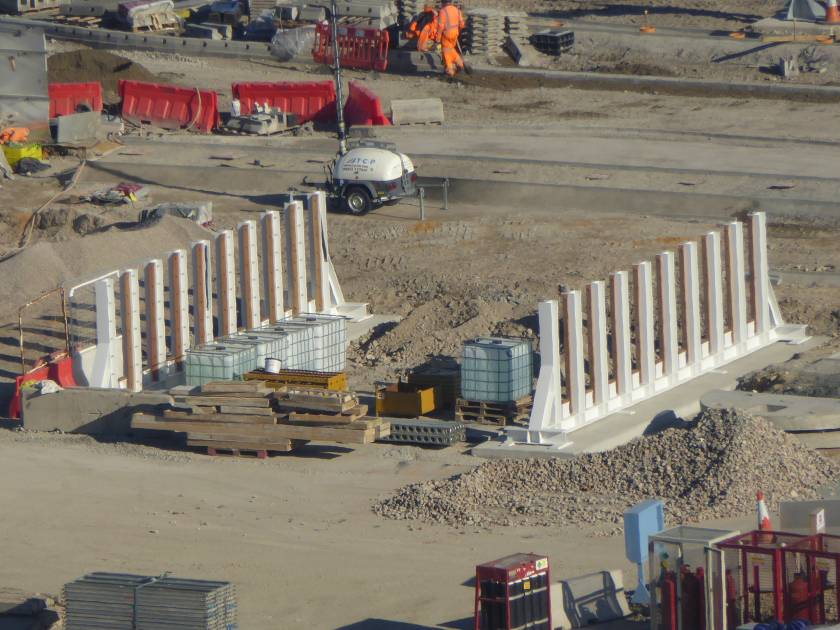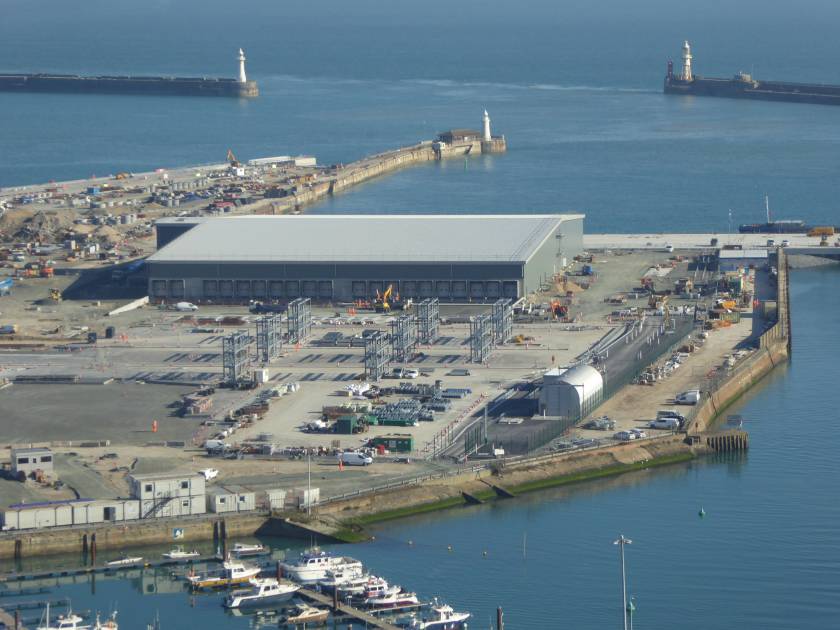 Meanwhile, in the outer harbour on a quieter note everything is red and serene. Reminded me of that popular 1963 tune by Ronald Binge - 'Sailing By'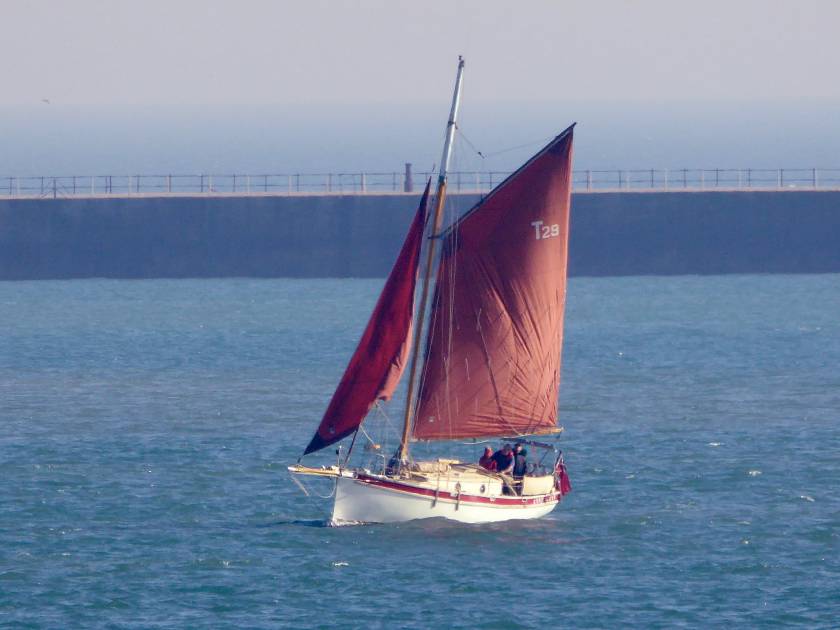 Tuesday, 26 February 2019 - 17:49
Post 6102
Jan T, Dover
Nice set of pictures Mike J shows the lovely weather we've been having as well as all the works being carried out
Yes it's been frustrating but
Keep eye's on seanews your Editor PaulB will be back very soon.


Tuesday, 26 February 2019 - 08:10
Post 6101
Mike J., Dover
The Antiguan-flagged RMS LINKEDEN soon after arrival on Monday morning after spending the weekend anchored off Kingsdown.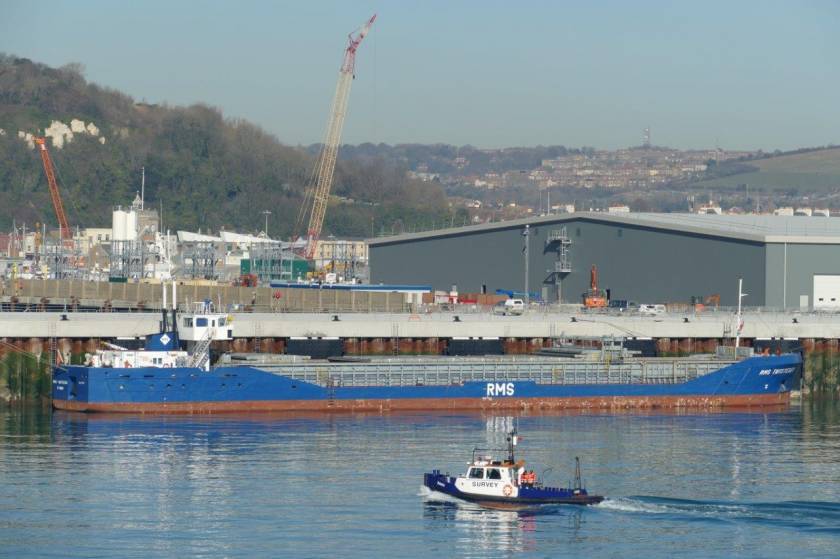 She had come down from Rotterdam & is thought to be carrying one of the yet-to-be-assembled mobile cranes that will be used for handling reefer boxes at the new fruit terminal & may perhaps work on the other cargo berths.
The DIANA passes by after a spot of surveying.
A second ship is expected very soon with a similar second crane, but nothing that might be her is showing on Marine Traffic's 'Dover ETAs' page.
Wellington Dock was in a reflective mood this morning.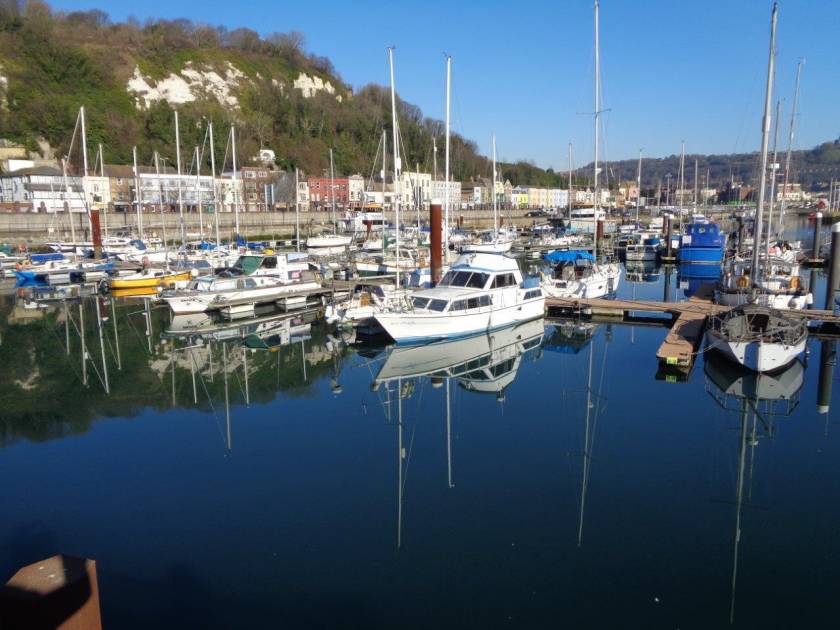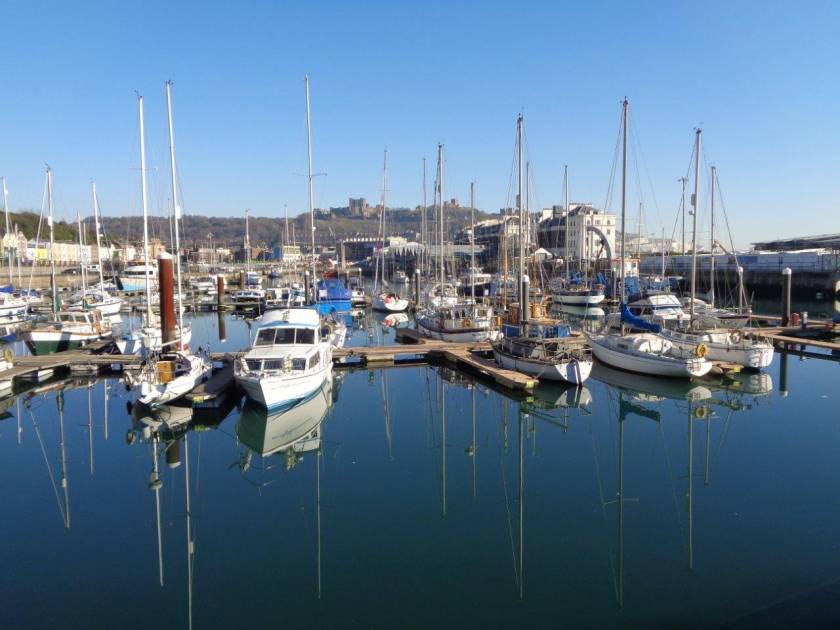 The very low tide this morning revealed a pipe that has been laid across the sill of the Wellington Dock gate, perhaps temporarily.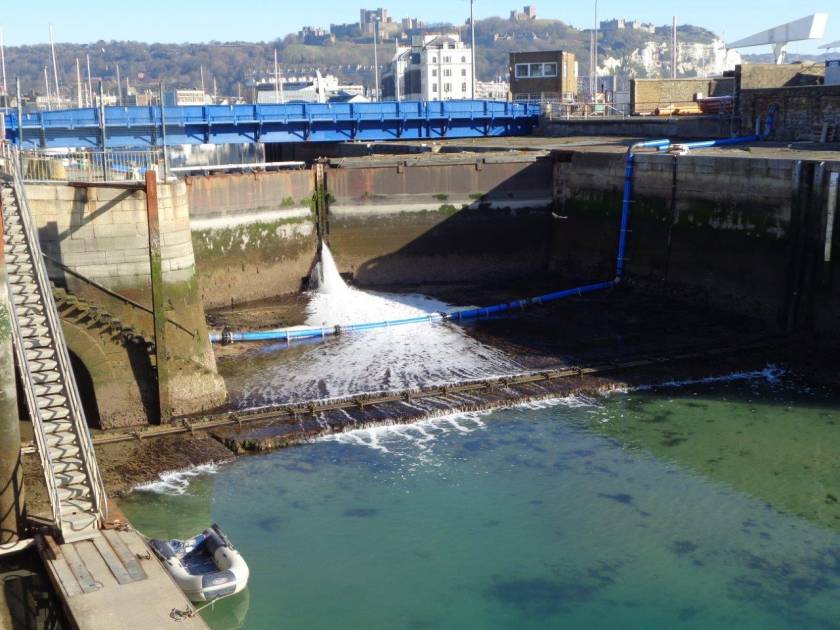 Blue pipes usually indicate water but I dunno whether that shade of blue indicates wastewater or freshwater.
Not often that you can see that much of the gate & surrounding 'structures'
Tuesday, 26 February 2019 - 03:53
Post 6100
Ray, Dover
Good shots of the new lock gates and the bascule bridge, it will be interesting to get down there and have nose around when it is completed. I have been missing Paul B's harbour shots over the days that he has been off air hopefully he will be back soon.

Sunday, 24 February 2019 - 10:04
Post 6099
Patrick, Marine Parade
Thanks Mike J for the update on the lock gates. Frustratingly the views still obscured by the temporary constructors road bridge.
Great photos of the ponies too.

Sunday, 24 February 2019 - 09:56
Post 6098
Mike J., Dover
Just an experiment to see whether 'SEA NEWS is 'operating independently' of Paul B who seems still to be 'off the air' & must be getting very frustrated.
Lock chamber & bridges on 17/2, partly obscured by the contractors' temporary bridge.
Both sets of lock gates that make up the lock chamber look to be on the seaward side of the bascule bridge.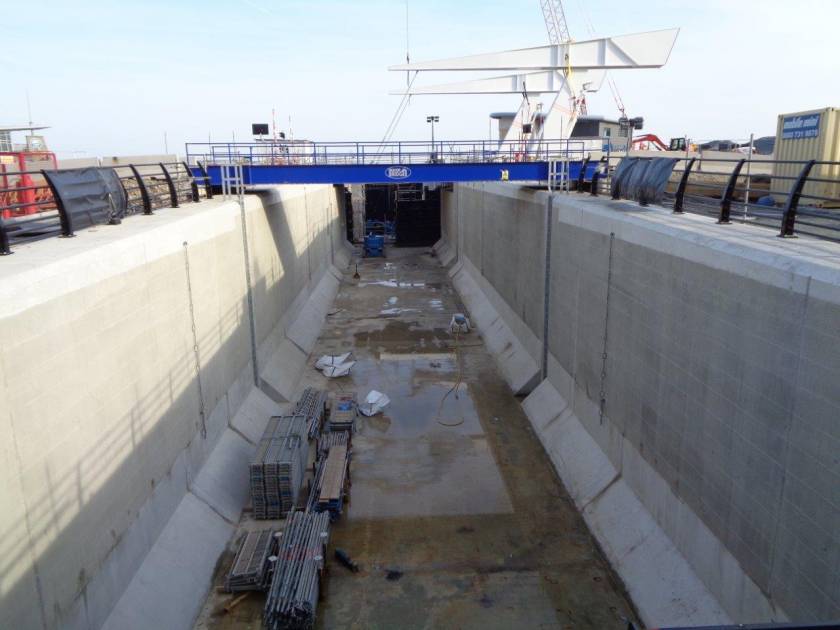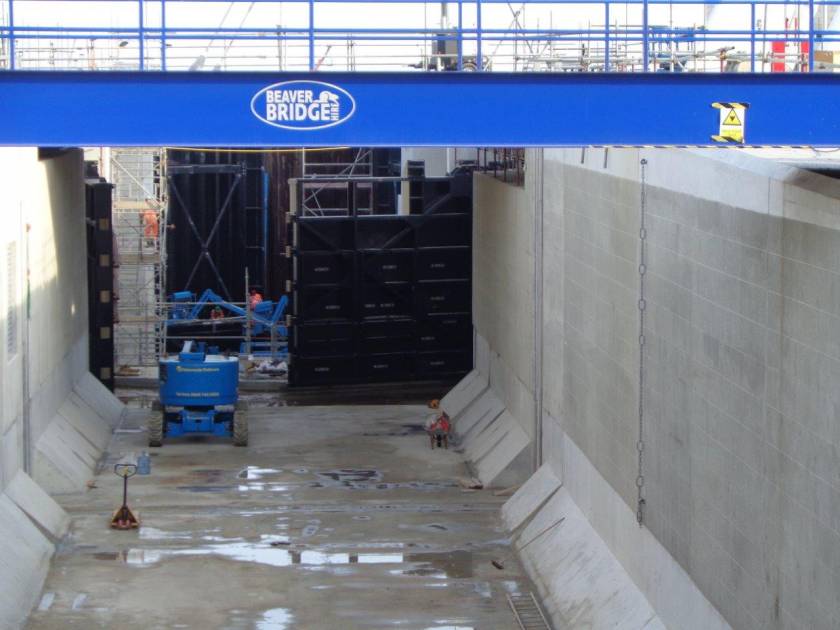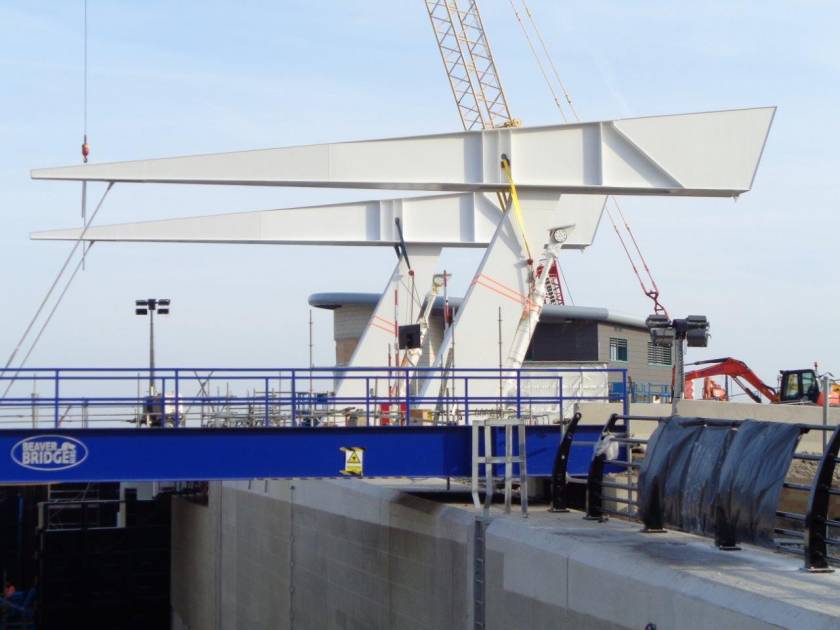 Sunday, 24 February 2019 - 00:04
Post 6097
Jan T , Dover
Just to add to this mornings post seanews users seanews is still up and running,it is PaulB with the Internet problems but he will be back in a few days.

Love the pictures of the ponies such beautiful animals,hopefully everyone is enjoying our spring weather.

Tuesday, 19 February 2019 - 15:00
Post 6096
Jan T, Dover
Good morning seanews users due to Internet problems Paul B will not be on for a few days,will be back as soon as the problem is sorted out.

Tuesday, 19 February 2019 - 07:55
Post 6095
brian dixon, dover
I am sure that the chap feeding the horses is the one and only vic matcham/

Monday, 18 February 2019 - 16:08
Post 6094
Mike J., Dover
The nice sunny weather brought out the crowds on Langdon Cliffs on Sunday afternoon.
The Exmoor ponies were out too & very popular with the crowds with one pony very keen on carrots & apples from suitably equipped walkers.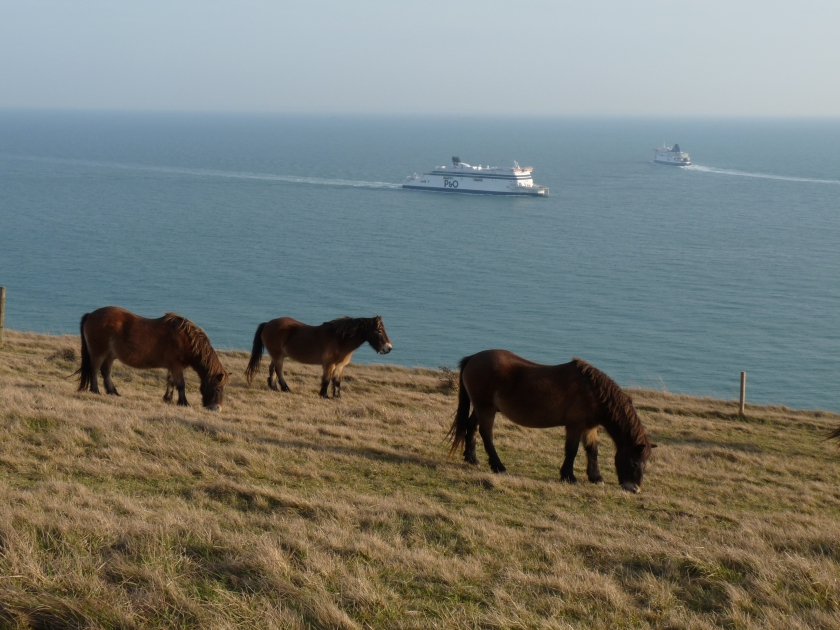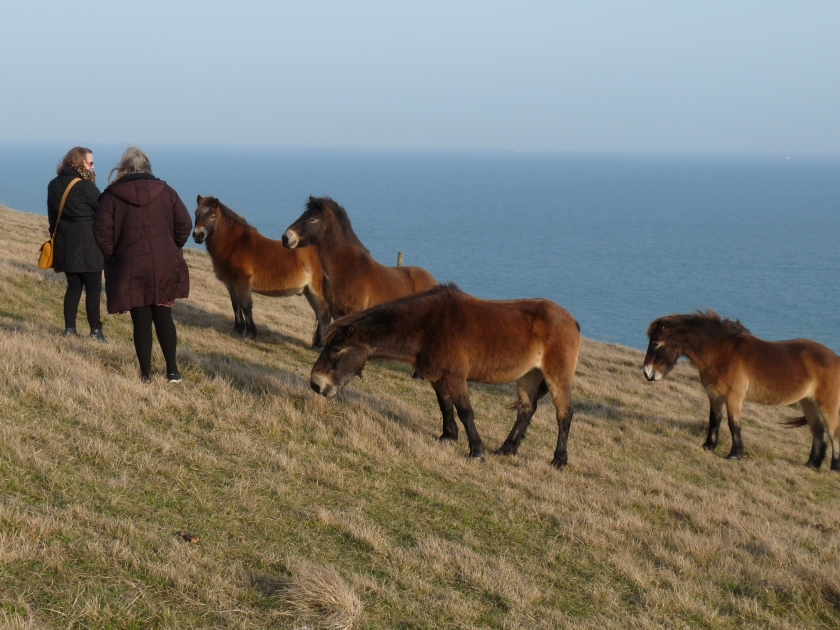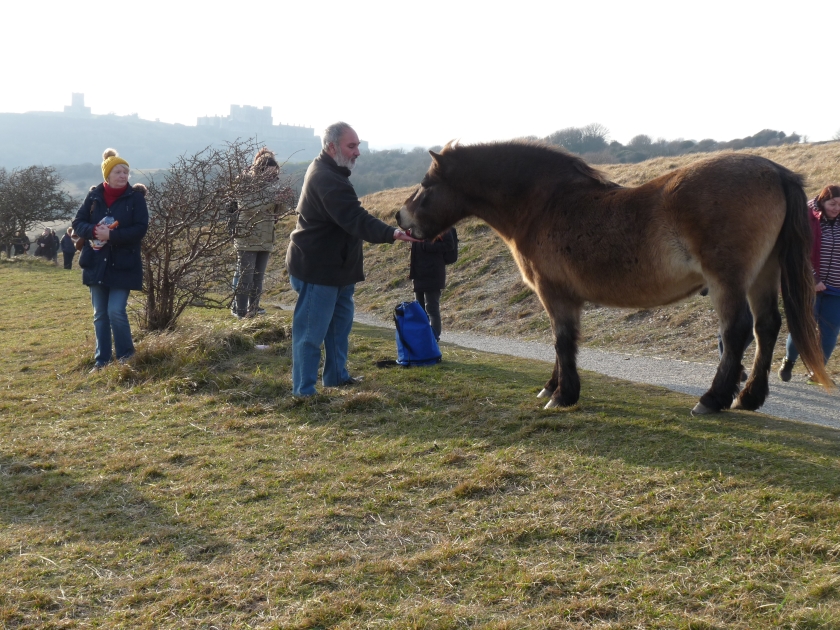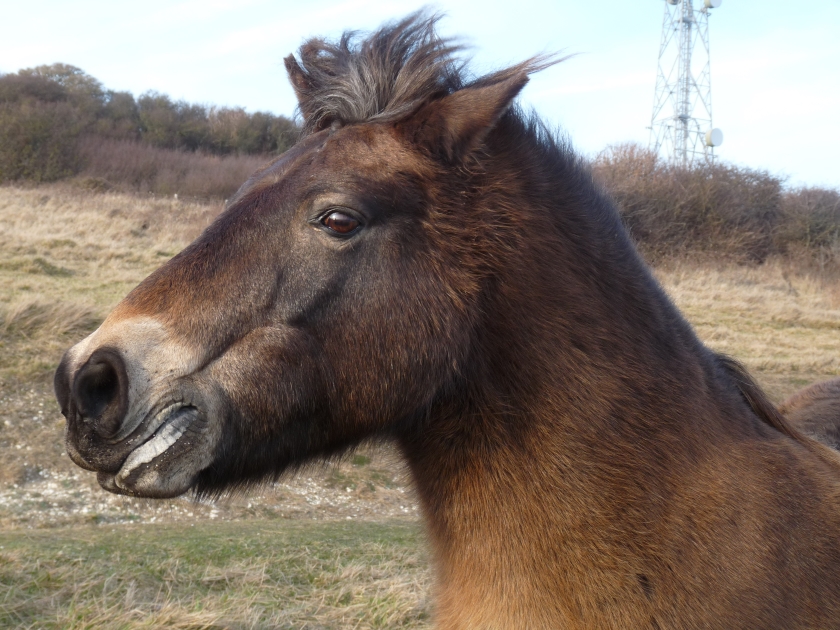 Monday, 18 February 2019 - 02:01
Post 6093
Del Styan, Norwich
Limassol indeed - Huh! Need I say more.

Sunday, 17 February 2019 - 23:23
Post 6092
Sea News, Dover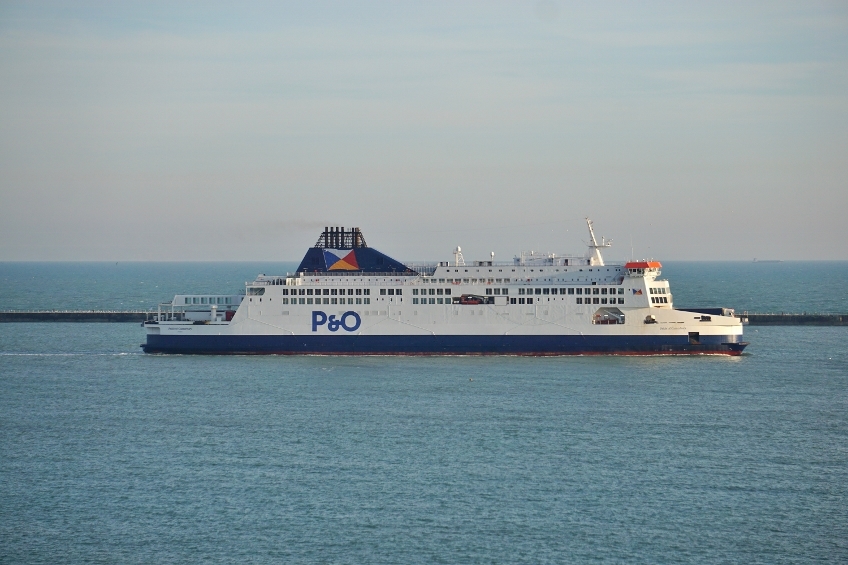 The picture above shows the ultra clean Pride of Canterbury moving across the harbour on Friday evening...just catching the gentle late sun as she goes. The ferry looks 'in good nick' after her refit and of course ( dont mention it!) after the reflagging...which sadly reflects the changing times.
The picture below is just a crop of the one above. Yours truly wanted to show how tiny they put Limassol on the ship. A microscope needed to see it just below Pride of Canterbury, but there we are.... almost as if slightly embarrassed about it. But as we said...changing times. It used to show of course ...Pride of Canterbury, Dover.
As mentioned, the pic below is a crop of the one above but it didn't enlarge terribly clearly but you get the gist of it.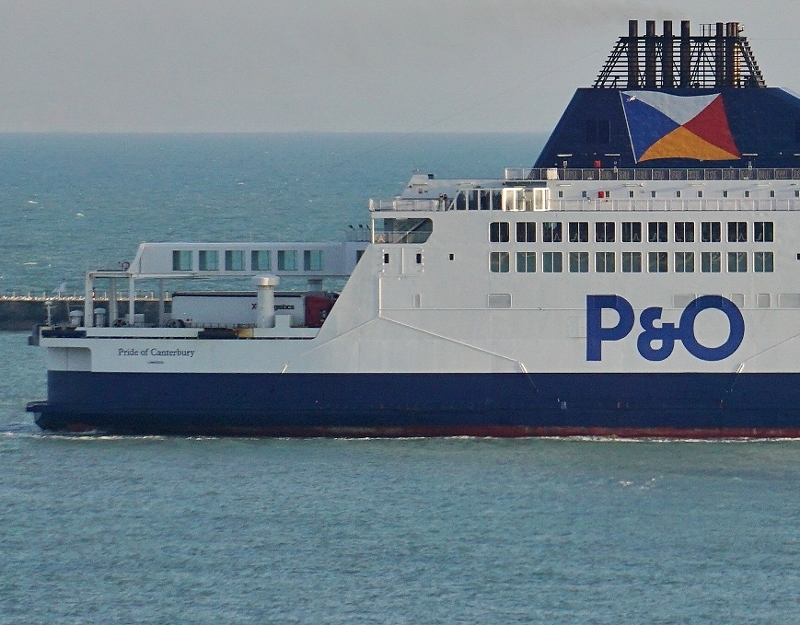 Boudicca is back in port after her Valentine extravaganza.
PaulB
Sunday, 17 February 2019 - 06:19
Post 6091
Sea News, Dover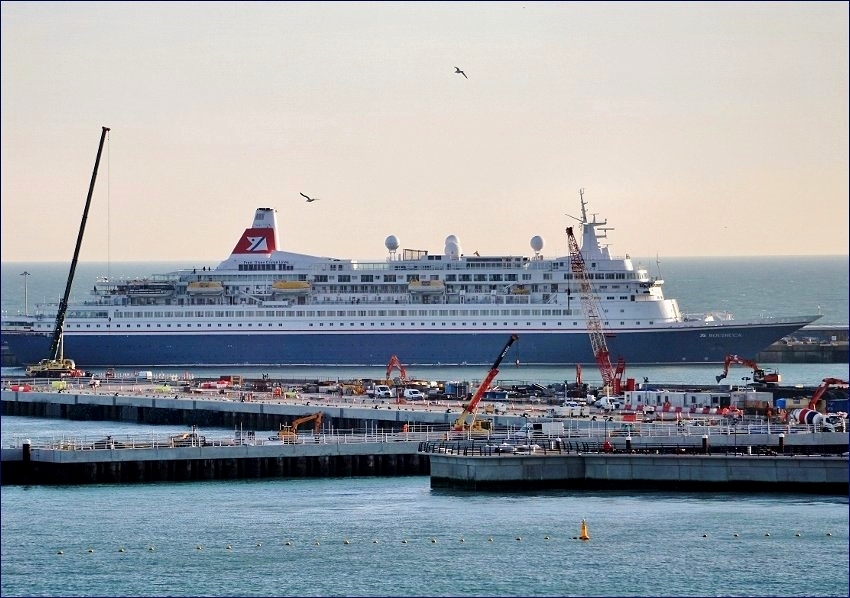 Another picture of Boudicca above there looking across the extensive workings...this one taken while she was docked at Cruise Terminal Two. This picture taken somewhat earlier than the previous shots featured.
This is a reminder below of how Boudicca used to look in 2015
...the new livery and design is probably much more effective and evocative..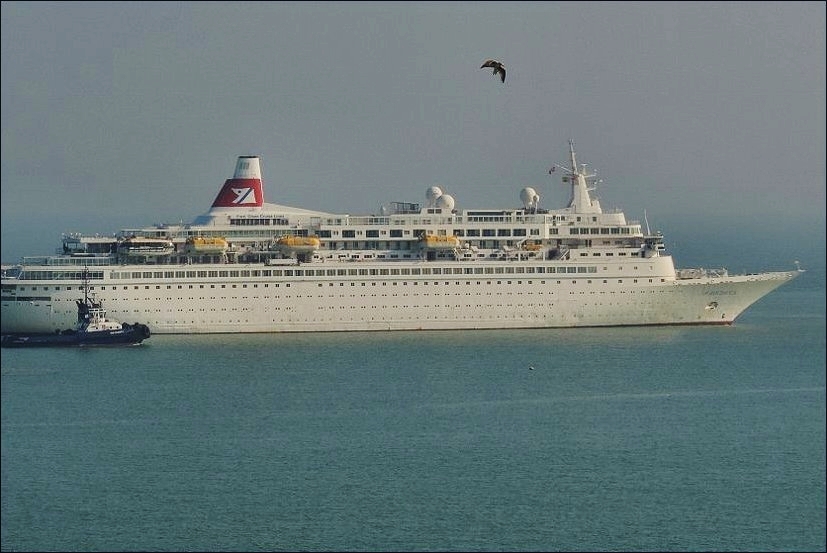 Indeed Del, grateful for the help from that seagull...but trying to get them to co-operate.. well...

We have a few more featured today as you can see.
PB
Saturday, 16 February 2019 - 07:35
Post 6090
Del Styan, Norwich
You may have missed the ships, but you did get a seagull.

Friday, 15 February 2019 - 23:15
Post 6089
Sea News, Dover
An All-round Colourful Array Today...
Boudicca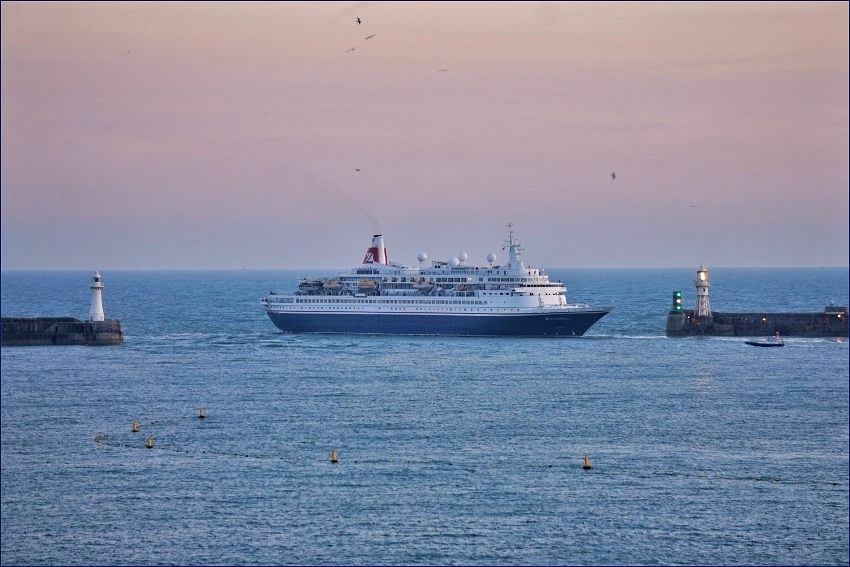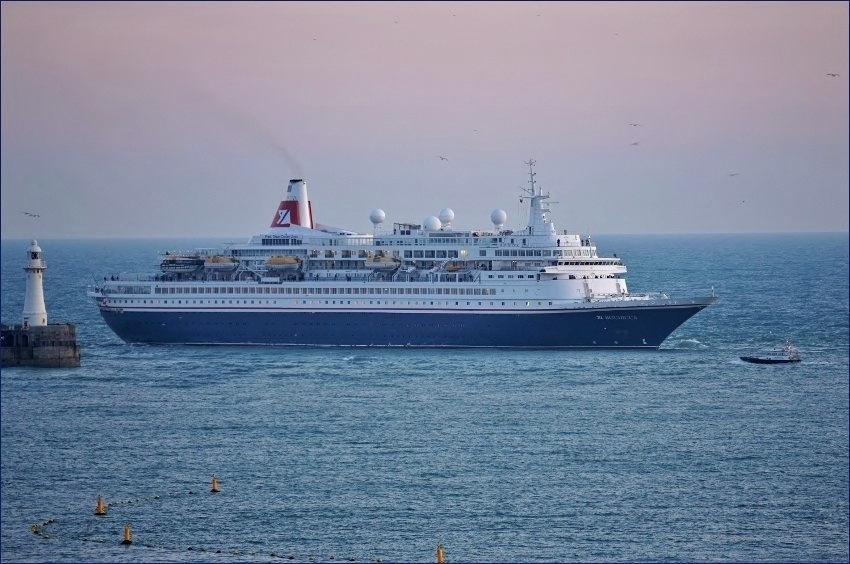 The pictures above show Boudicca reversing out of Port on Wednesday evening...she was just catching the last colourful glows of the late day as she moved out through the western exit. The jolly passengers were celebrating St Valentine's Day in fine style as they enjoyed a short cruise to Antwerp.
Early the same morning we see the sun slowly creeping up and over the horizon in the pictures below...
(must get hot in Calais with the sun always right there on top of it !!


)
We just needed a ship or two going along the horizon there to make the pictures complete..but ..what a to do...
....no ships when you need them.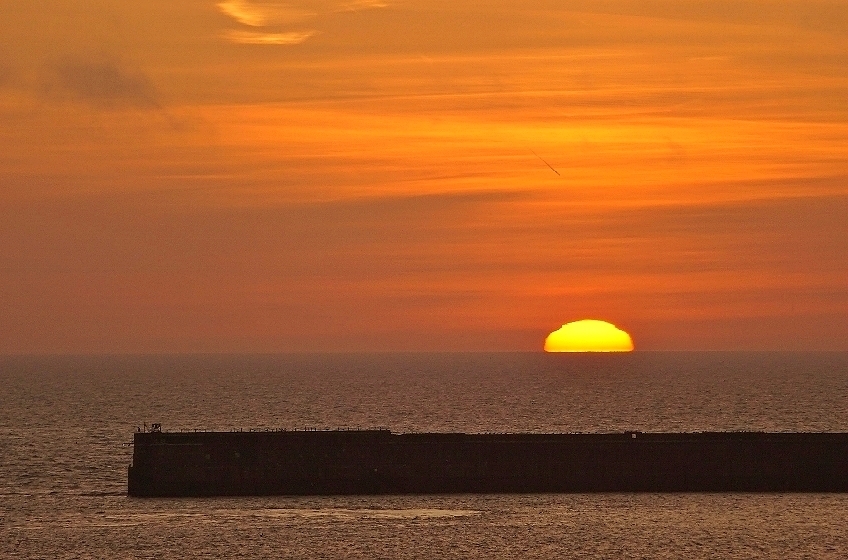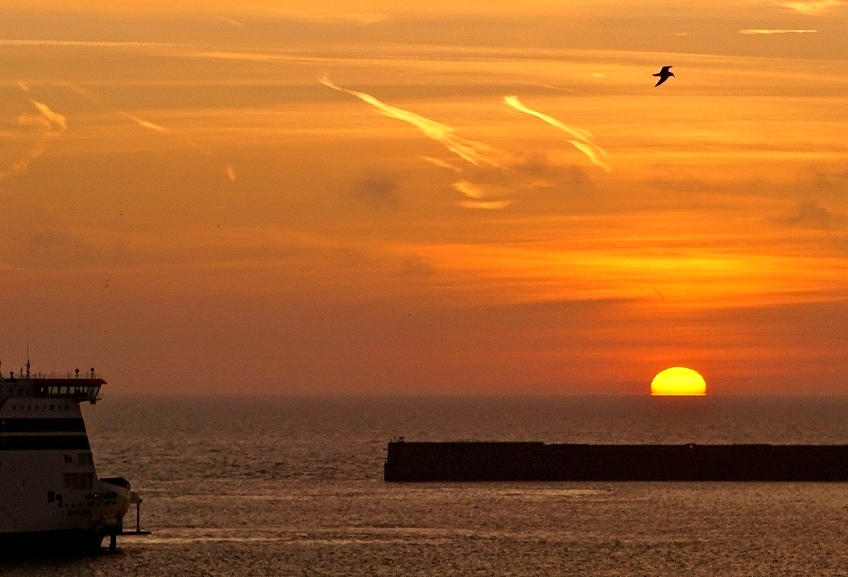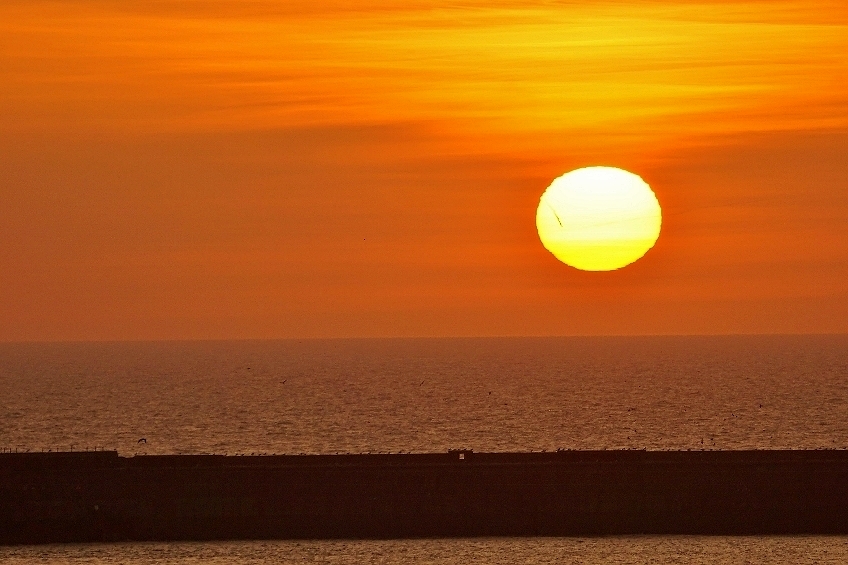 You can actually just see a jet stream going across the sun in the last pic above there.
Helen Willetts on the Shipping Forecast this morning ..
"We have high pressure over Europe at the moment"
Well indeed we do Helen, in more ways than one!

PaulB
Friday, 15 February 2019 - 06:08