Friday, 22 September 2017

doverforum.com/sea-news
Featuring all the ships that come and go and work at the Port of Dover with further coverage of Ramsgate, Calais, Dunkerque. Email: dover7@msn.com to send SEA NEWS pix or info.... or click ADD YOUR COMMENT below to post direct, no membership needed.

Commercial News: P&O Ferries with the Kids 4258.

Use our SEARCH ENGINE below to find all sorts on the SEA NEWS pages..more than 200 now with more than 4000 nautical posts. Posts welcome. Max of 5 pictures preferred per post. Sea News Editor Paul Boland.
Type Cruise Visits (or indeed anything) in our Search Engine below for the latest cruise ship arrivals..
Post 4140
vic matcham , Dover
So much going on at the port both this side and over the water to France you could stay up all night just looking at it all,but again thank you all so much for the great photos .

Thursday, 24 August 2017 - 13:13
Post 4139
Ed Connell, Dover Strait
Crystal Symphony on the Eastern Arm today with bunker barge Skaw Provider.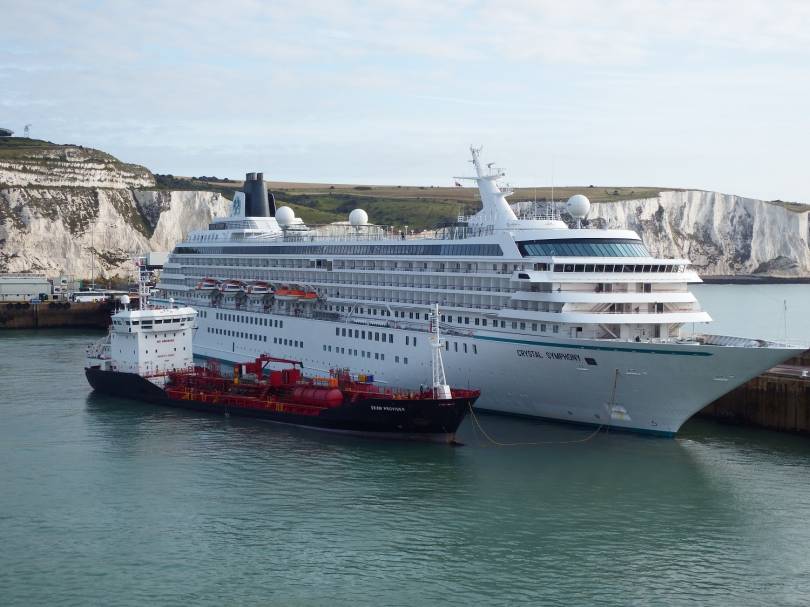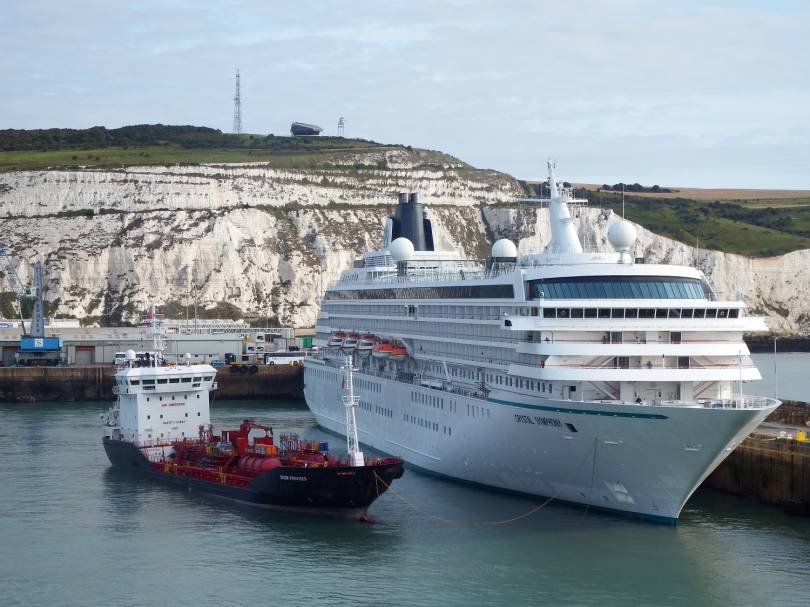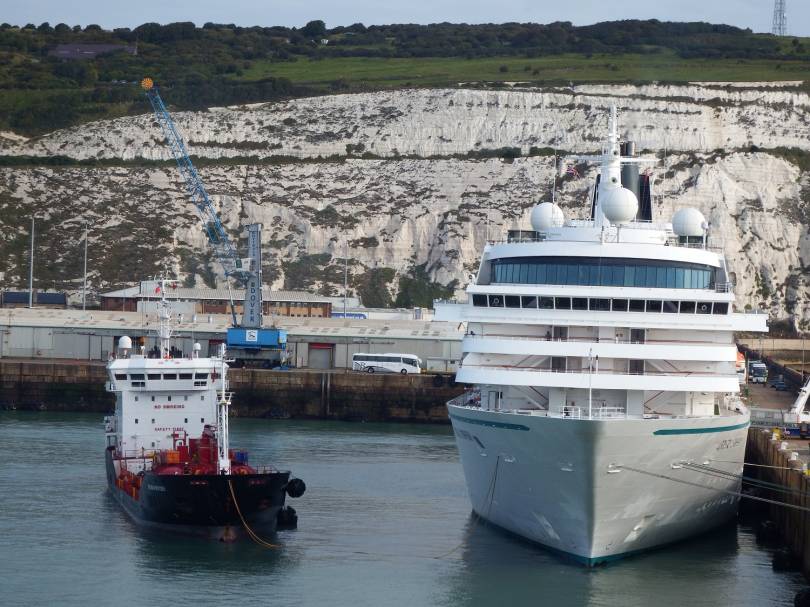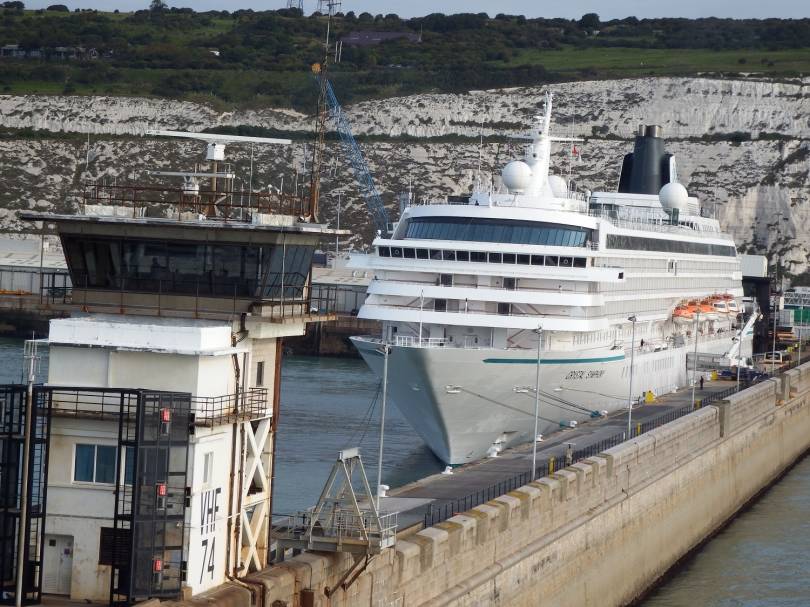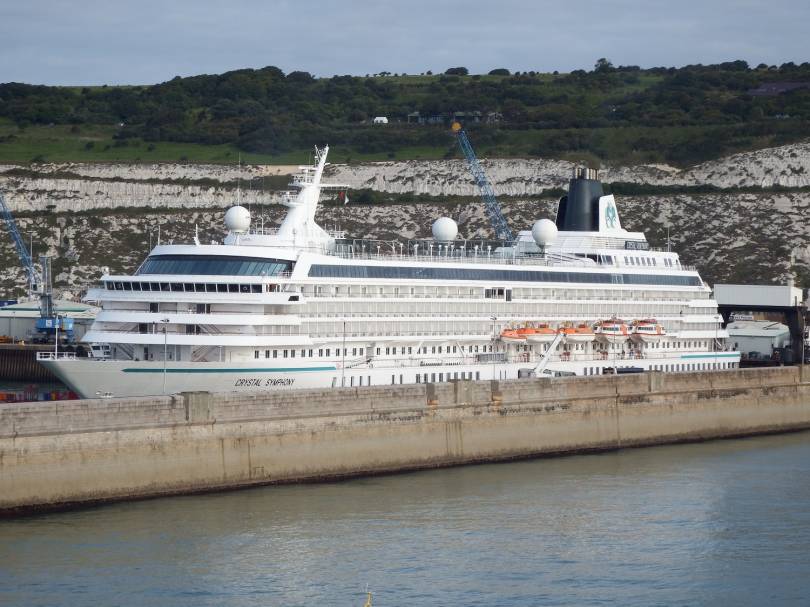 Thursday, 24 August 2017 - 13:02
Post 4138
Ed Connell, Dover Strait
Mobile Pearl anchored off Calais today, discharging rocks into lighters alongside on both sides. Ongoing construction of the Calais Port 2015 project.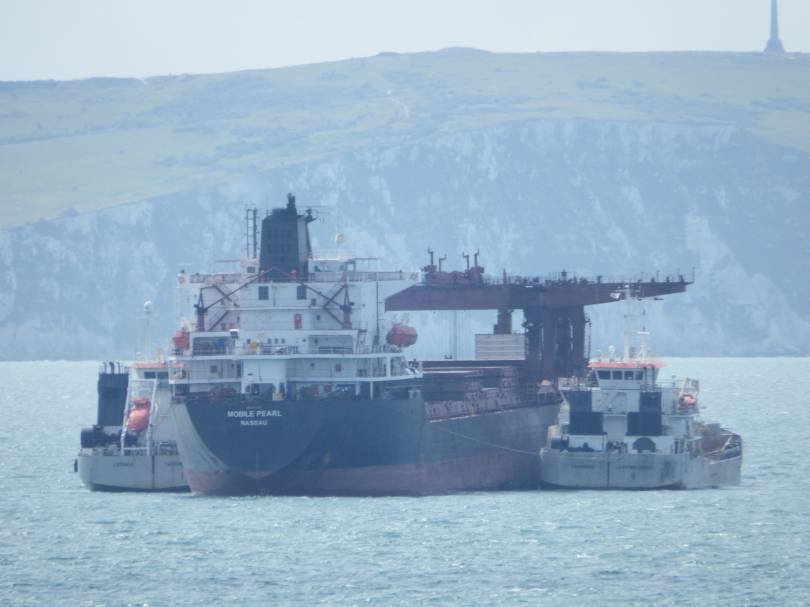 Curacao Pearl was the previous vessel delivering rocks, seen a month ago.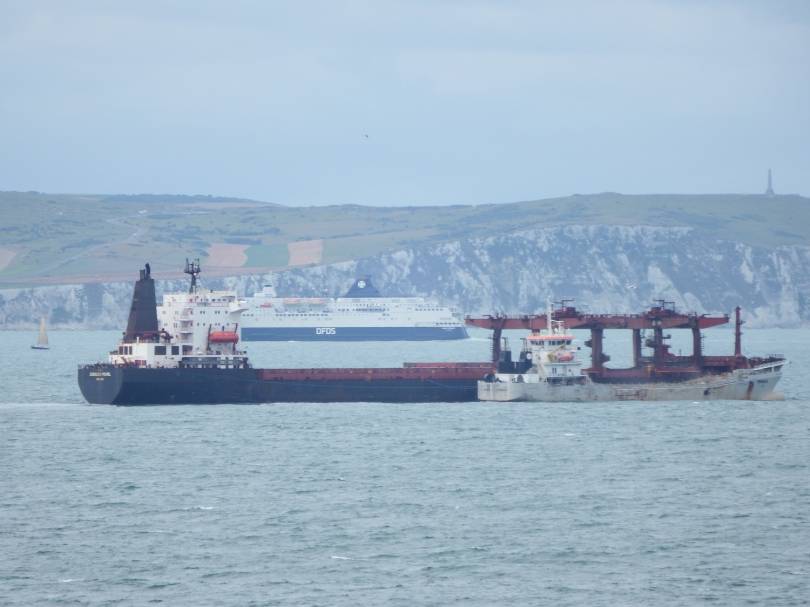 Deepwater mining and fallpipe vessel Simon Stevin seen at same time. Presume delivering and positioning rocks for the project.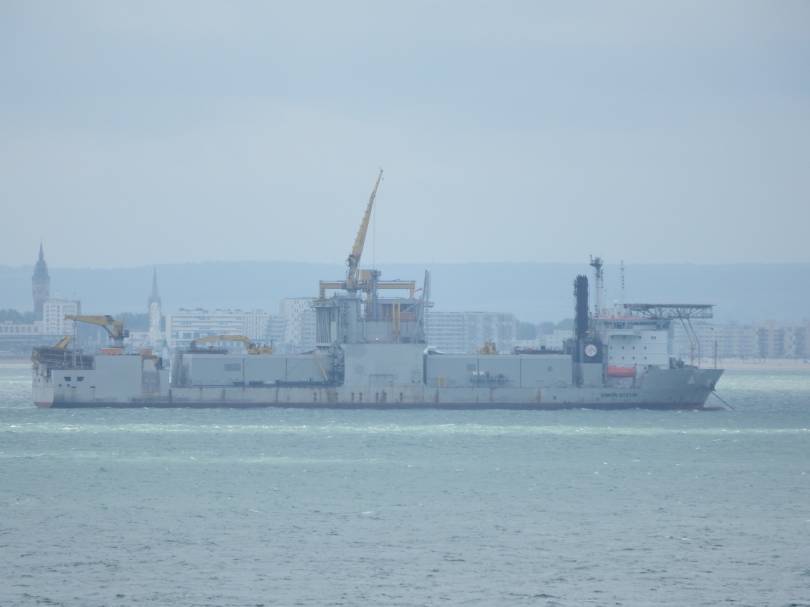 French cable layer Ile d'Aix seen off Calais at same time.
Thursday, 24 August 2017 - 12:59
Post 4137
Ed Connell, Dover Strait
Elvira at the DCT yesterday.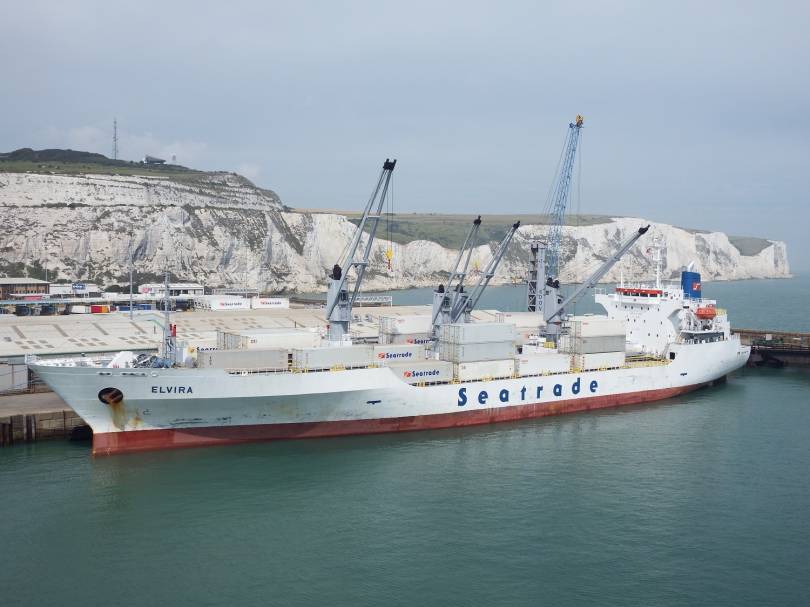 Portuguese four masted lugger Santa Maria Manuela at anchor off Calais yesterday. Built in 1937 as a fishing lugger and now used for sea training and cruises.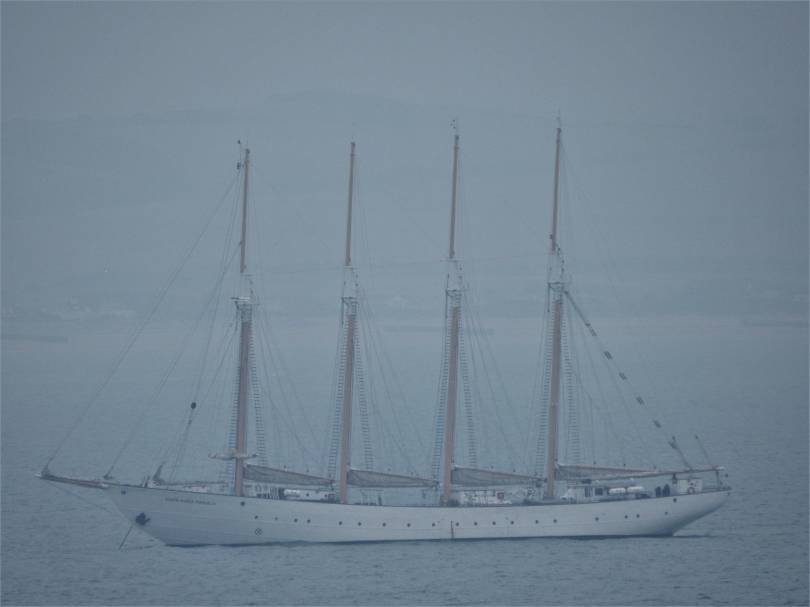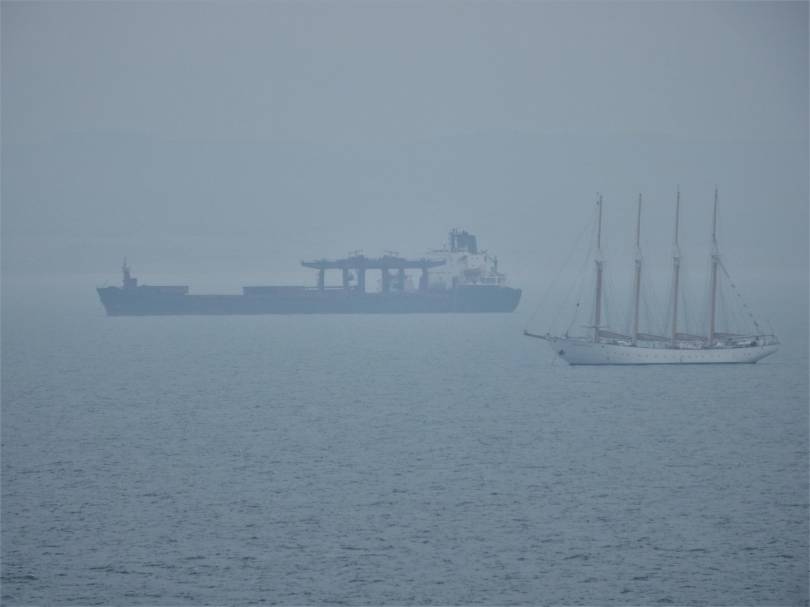 Thursday, 24 August 2017 - 09:21
Post 4136
Sea News, Dover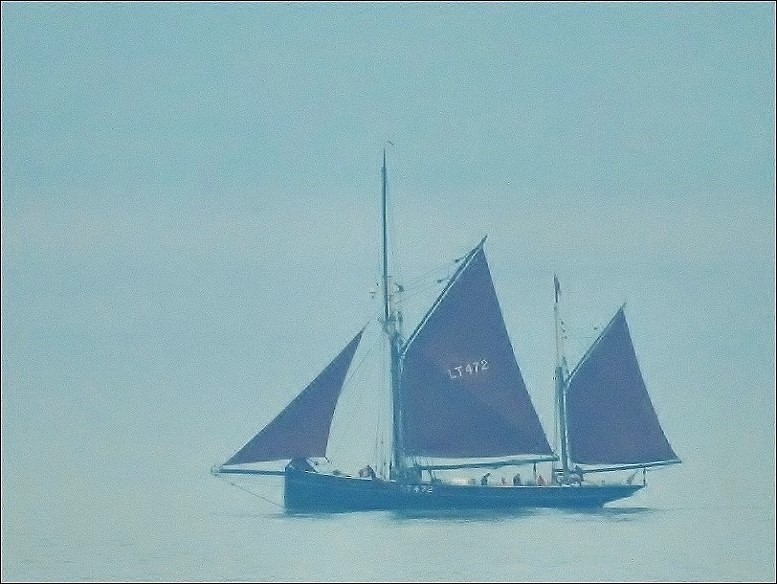 This delightful sailing barge was slowly idling up the channel in the murky conditions of Monday so I thought I would have a stab at a picture. Visibility was very poor out there so the computer was relied upon again to save the image...
But just as soon as the picture was put in the system, one realised the very same vessel...Excelsior is the name...was photographed previously in better conditions....well I never, had forgotten all about it. And here she is in 2015...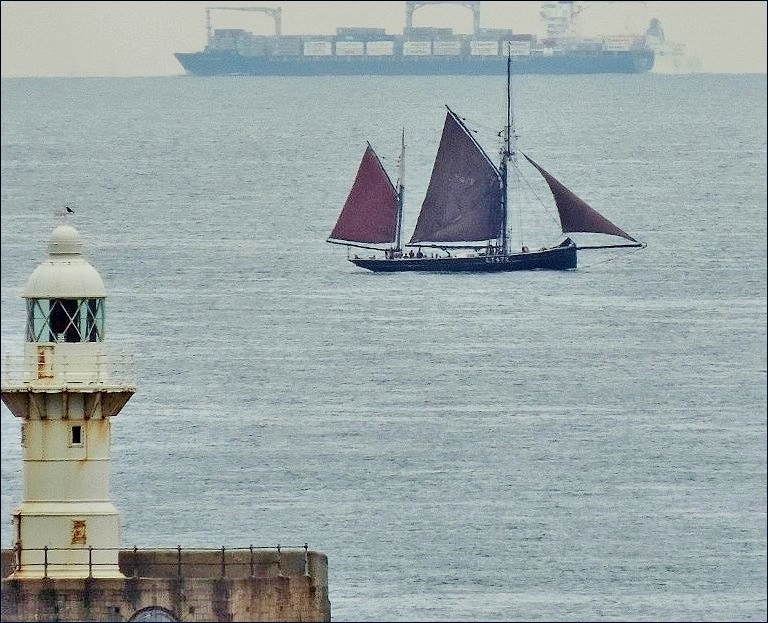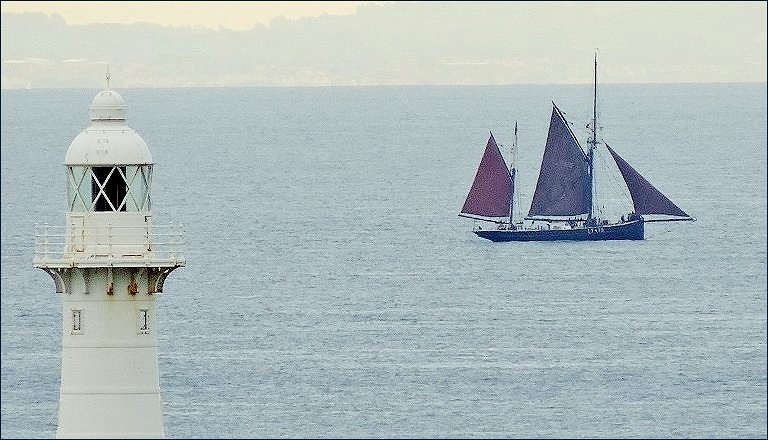 We are due a double whammy of Cruise Liners today...Saga Sapphire and the super AIDAbella...but ..but...have just noticed across the harbour looking eastwards that the fabulous Crystal Symphony is already here and resting on the eastern arm of the Port. That's an addition to our schedule once again...
very exotic. So in essence we have a 'triple whammy' today and you cant say that all the time.

Pictures will follow in due course as ever.
Nice collection below Mike from Dungeness, great to see those....

PB.
Thursday, 24 August 2017 - 06:37
Post 4135
Mike J., Dover
Old news, but a few pix showing shoreside operations to add to Sarah's coverage of the Dungeness RNLI Open Day in post 4096.
Impressive launching/recovery tractor.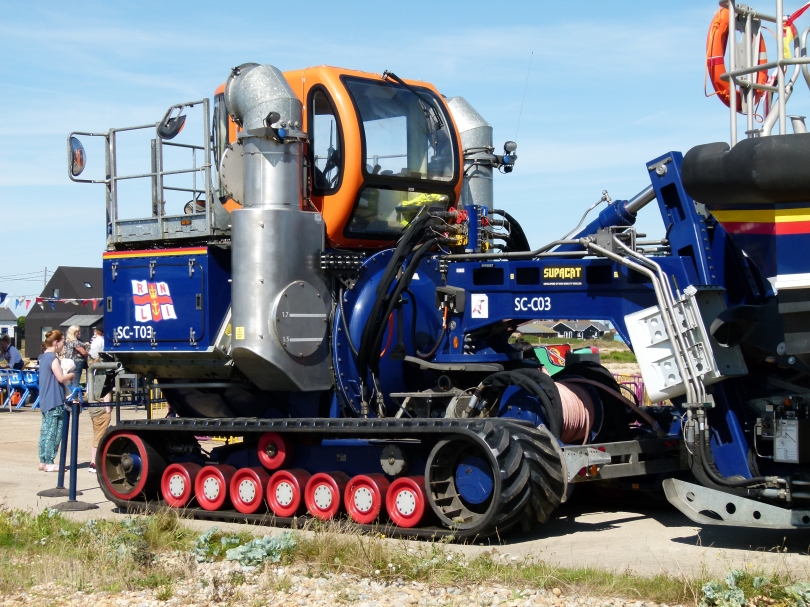 The sun went in [of course] for the 'walk down' from the boathouse to the sea.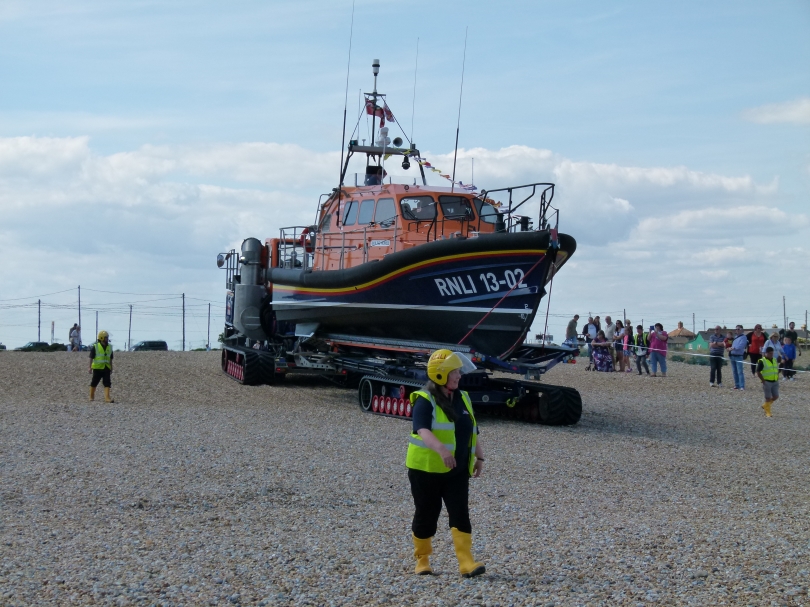 Launching - at low water the lifeboat would be pushed out over the sands until the water was deep enough for the launch.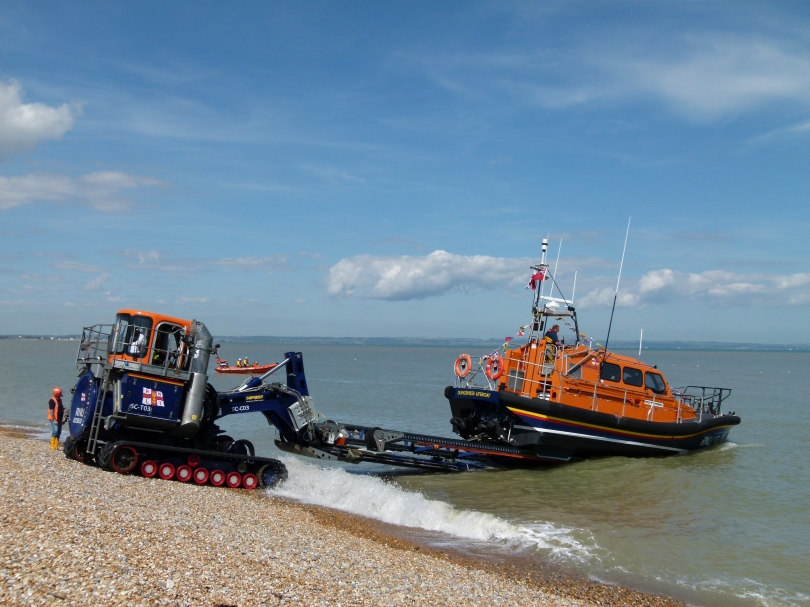 I was trying to catch the spectacular beaching operation where the lifeboat comes ashore at speed running up the shingle, finishing well up the steep bank.
Sadly my camera only permits me 15 photos in a 'burst sequence' & I pressed the button about two seconds too early.
The 15th & final shot of the 'burst' shows 13-02 at speed, just about to hit the beach.
Re-visit needed . . . . .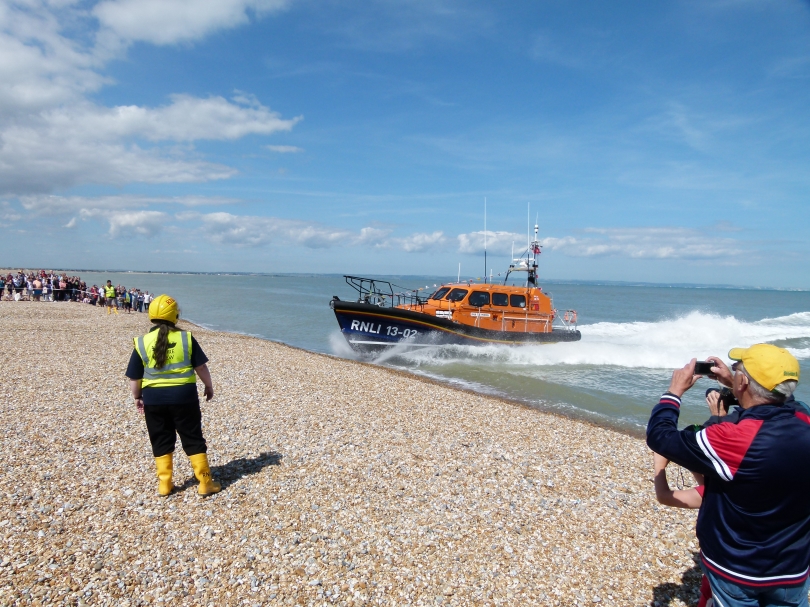 After the lifeboat has been winched aboard the launching trolley it is turned on the built-in turntable ready for the next launch.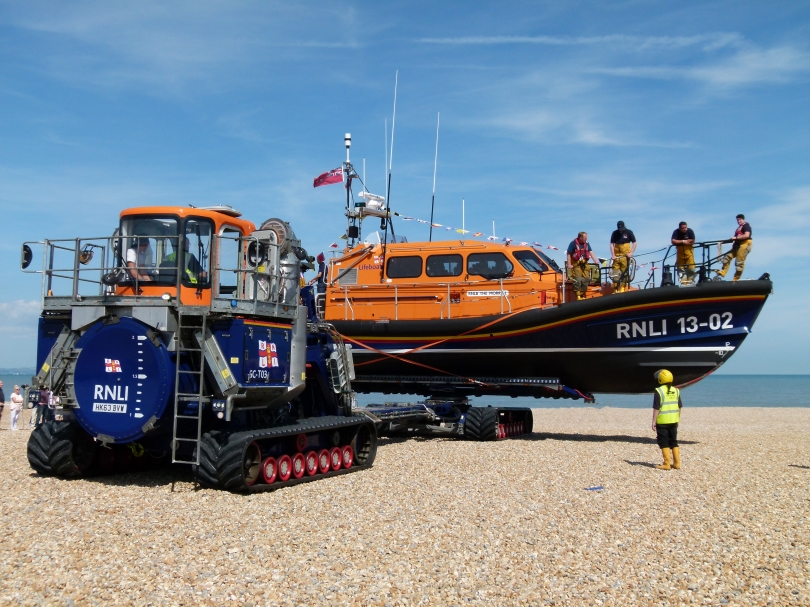 .
Wednesday, 23 August 2017 - 17:36
Post 4134
Sea News, Dover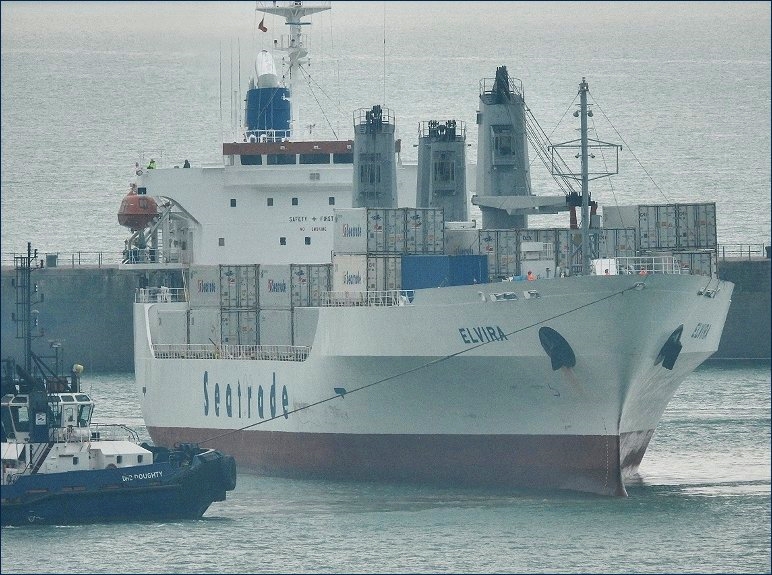 Elvira slipped into port yesterday and left presumably in the wee small hours of the morning as yours truly failed to see her. But here she is from a previous visit anyway and looking good. We are keen to cover the cargo vessels that come and go, when we get the chance that is, as the departure and arrival schedules don't always make it easy for the camera. She is now in Rotterdam. PB
Wednesday, 23 August 2017 - 16:46
Post 4133
Sea News, Dover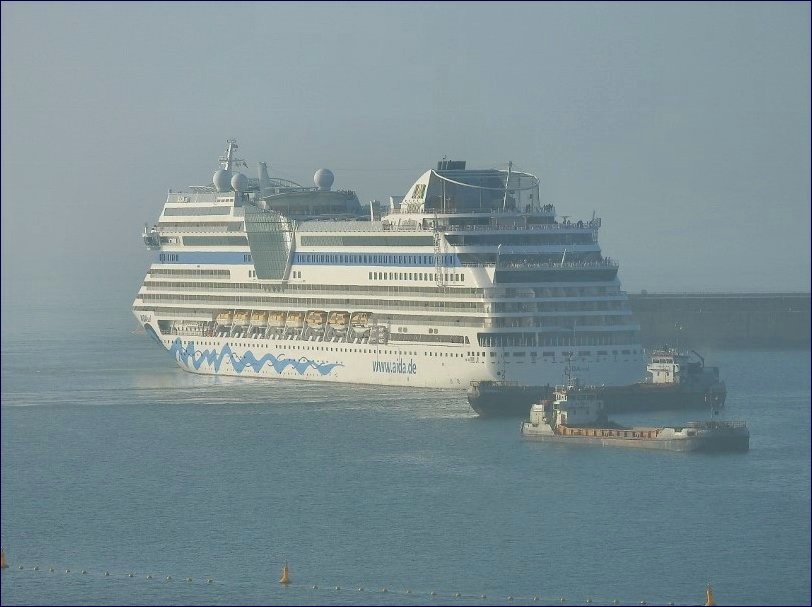 A couple of pictures above there of the super cruise liner AIDAsol arriving with us here at the Port of Dover yesterday morning. Conditions were not helpful for picturing, as it was quite foggy...needed the computer to save the images and there we are above. Time of arrival: 07.30. The other vessels featured are the two Wadden Barges (Wadden 1 and Wadden 4) both trying hard to get into shot above.
The picture below was taken later in the morning.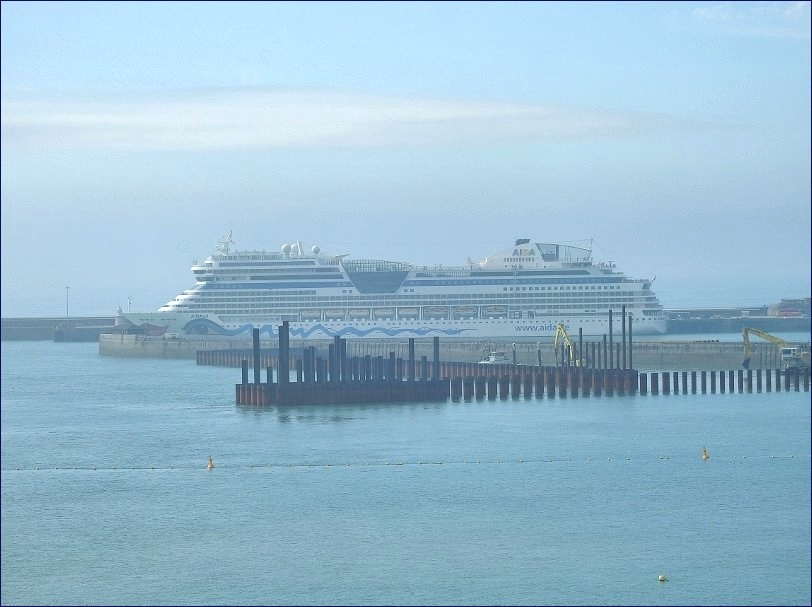 She left us last night at 20.30...heading to her first call ..Le Havre.
That was a real SCOOP yesterday Ed. I was delighted to pin it to the top all day. Cracking set of pictures from mid-channel. Ace work indeed.

Well done once again Sarah. Another fab set of pix of the fishing boats at Ramsgate below. I can feel the fresh salty breeze just looking at those...

PaulB.
Wednesday, 23 August 2017 - 06:59
Post 4132
Sarah, Ramsgate
Ramsgate Junior Fishing Challenge in aid of the RNLI took place today.
Selection of fishing boats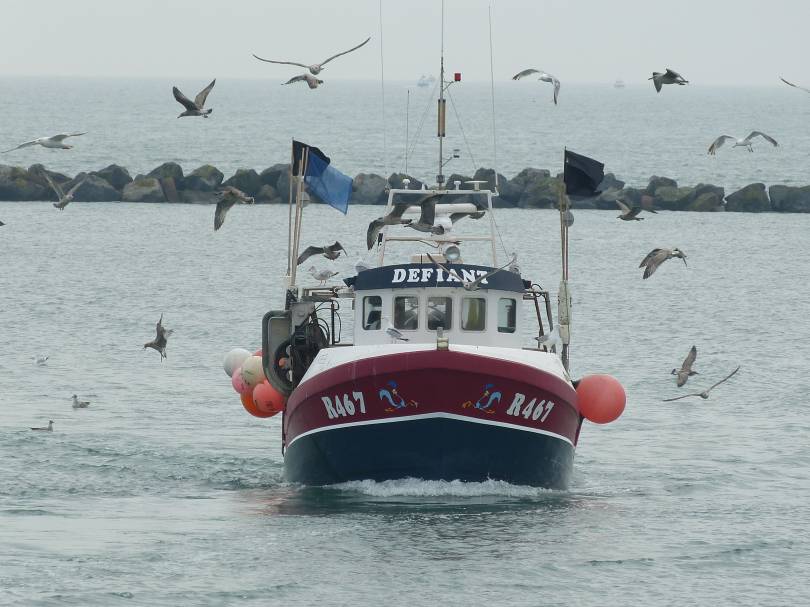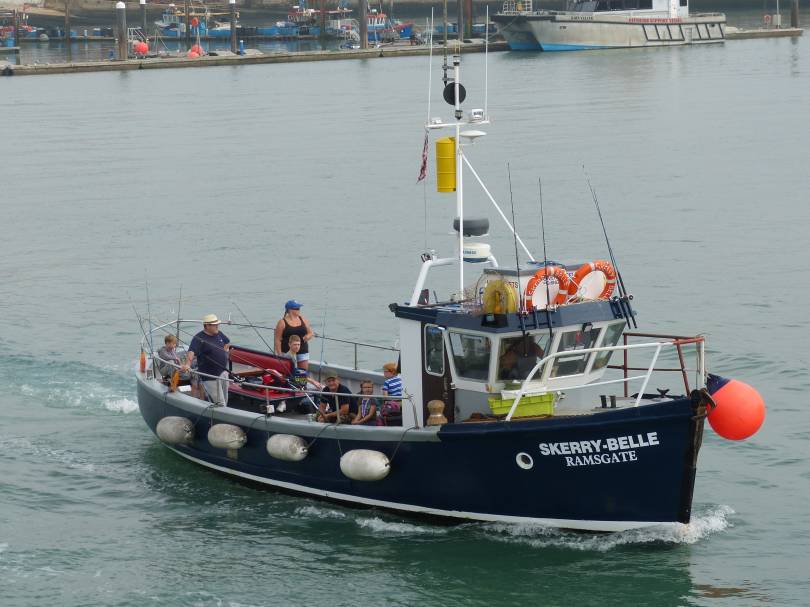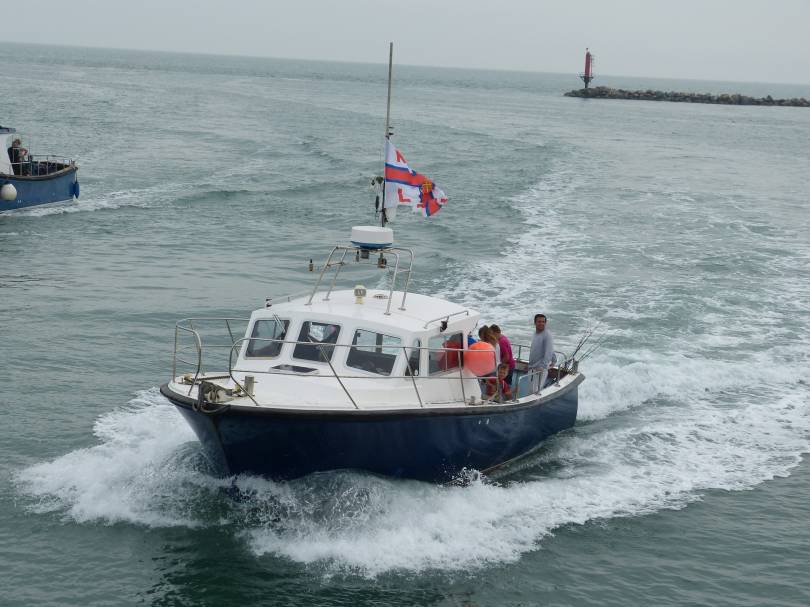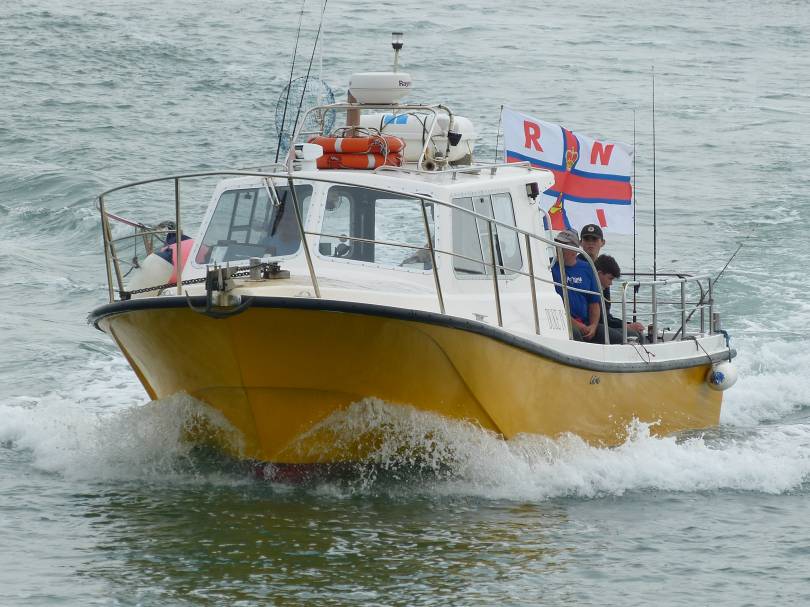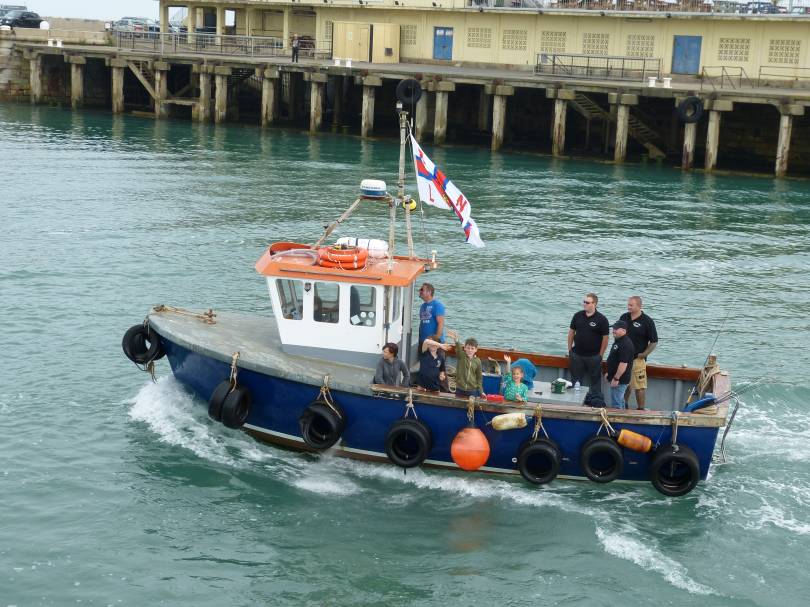 Tuesday, 22 August 2017 - 23:25
Post 4131
Ed Connell, Dover Strait
We were called up by the Coastguard helicopter yesterday and asked if they could land a paramedic onboard for practice. Photos taken from the Bridge with my mobile phone.
Helicopter landing paramedic onboard on the mooring deck aft.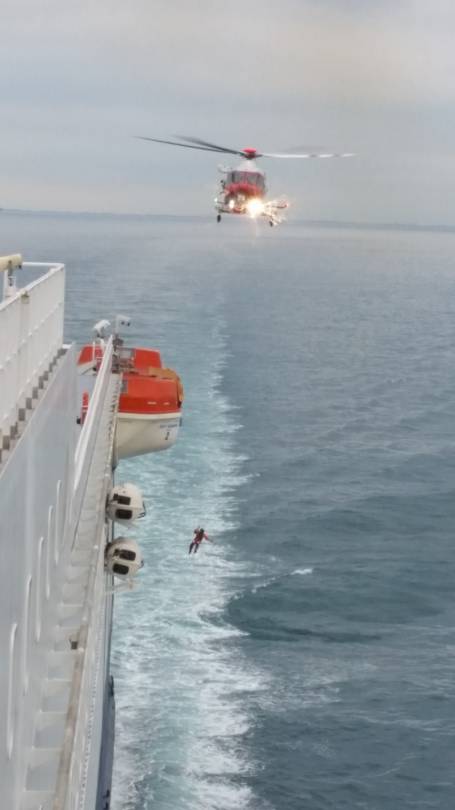 Helicopter standing by whilst paramedic onboard.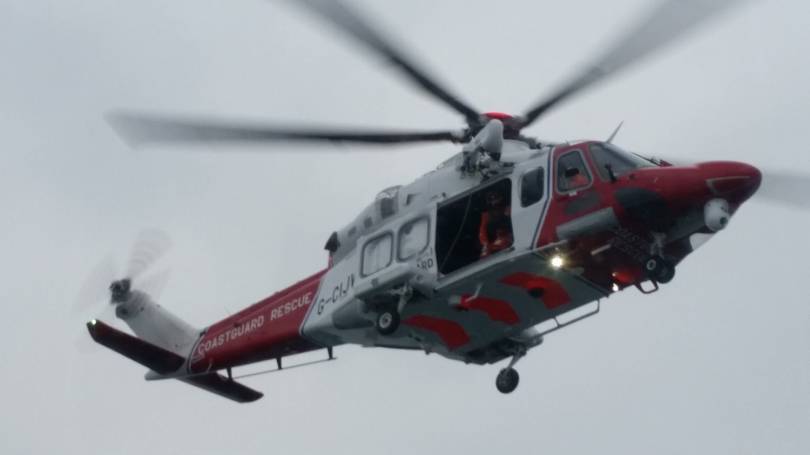 Paramedic escorted to Bridge.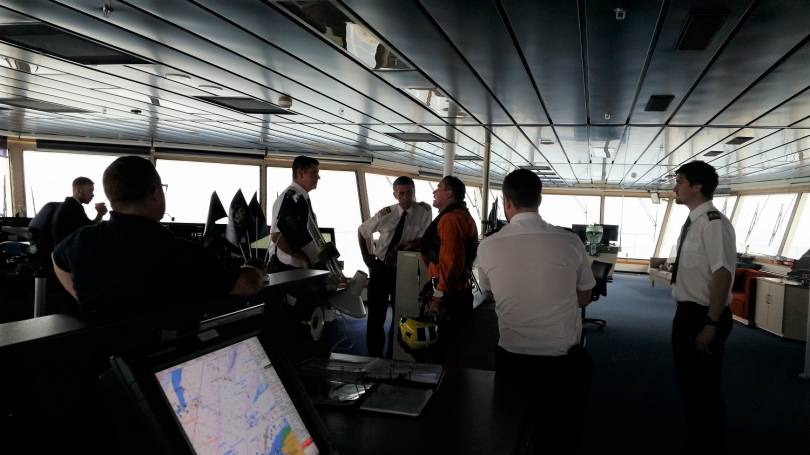 Paramedic chatting to Captain and Chief Officer.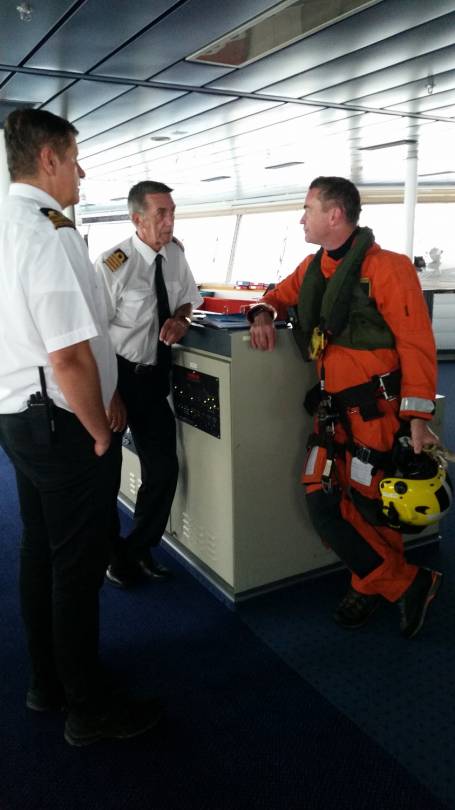 Helicopter off port Bridge wing ready to retrieve paramedic.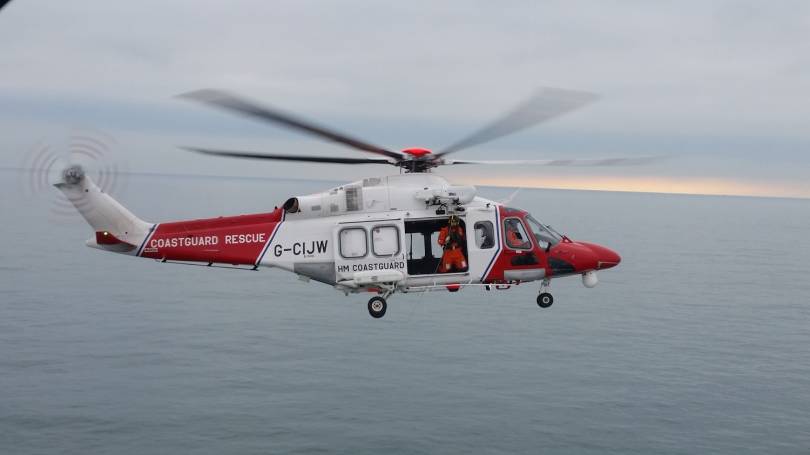 Paramedic leaving from the wrap-around walkway around the Bridge.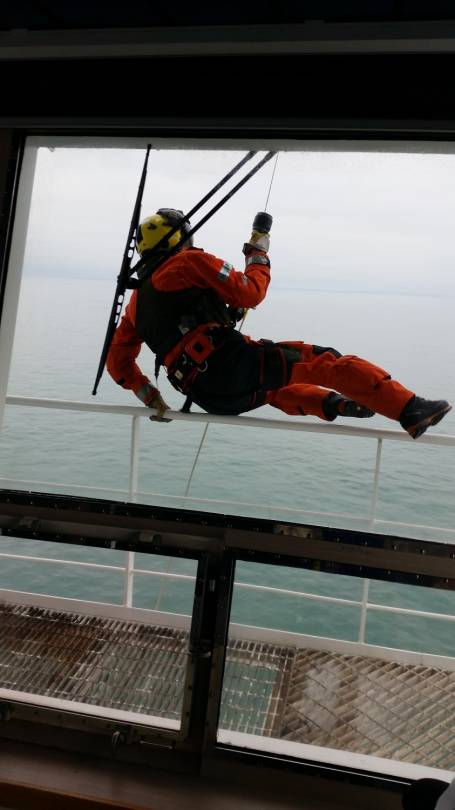 Helicopter retrieving paramedic.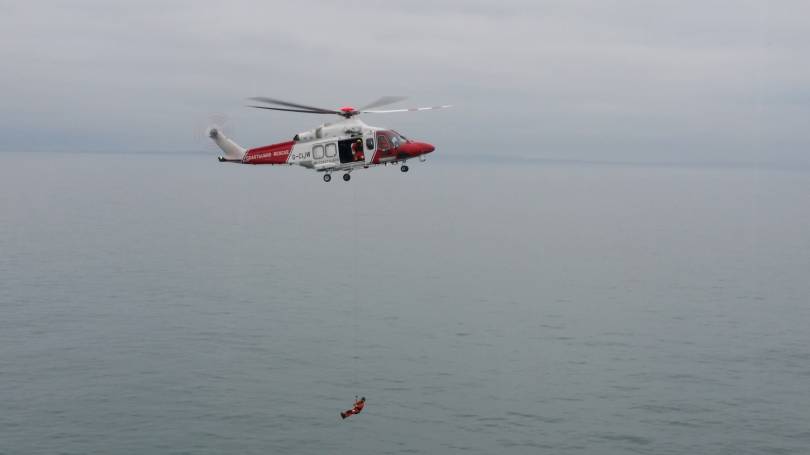 Tuesday, 22 August 2017 - 13:17
Post 4130
Sea News, Dover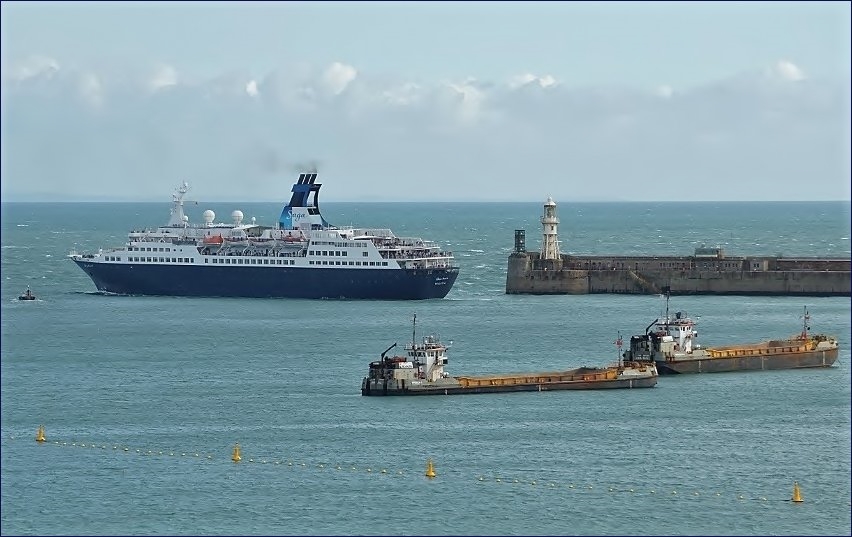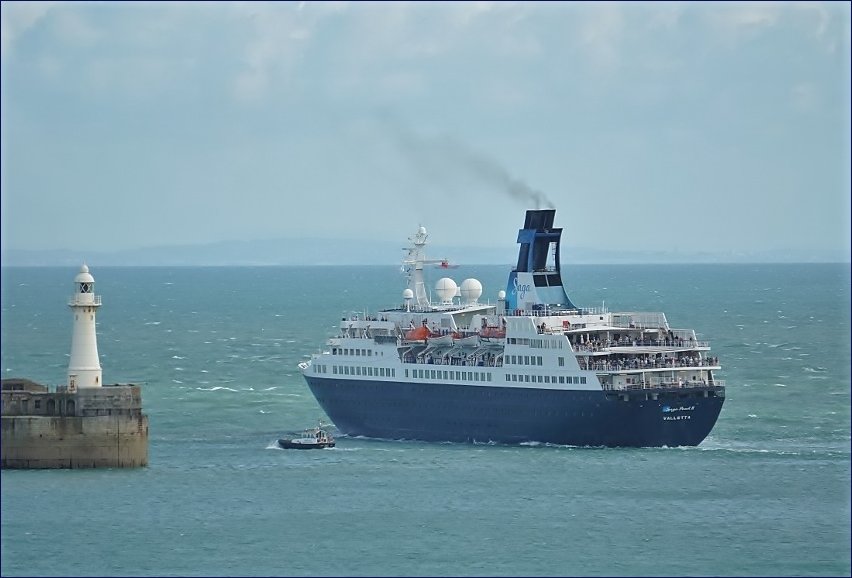 A couple of pictures above there of our ol friend the Saga Pearl as she moves off a couple of evenings ago, heading on down to the Mediterranean blue..first stop Gibraltar and then on to the wider resorts down there. Nice trip for sure that one...
Below we have an extra shot of the Camper Vans as they break the imaginary world record for the amount of them staying at any one time. This pic from a couple of days ago. Yes its 6am and all are still asleep save for one man top right who is out early to enjoy the seafront gardens below... the pic just shows a section of them of course as they stretch right down the seafront.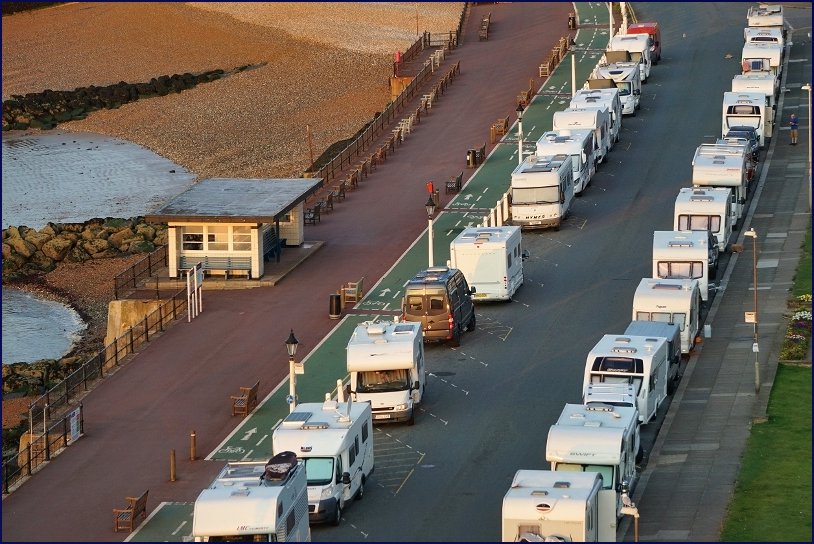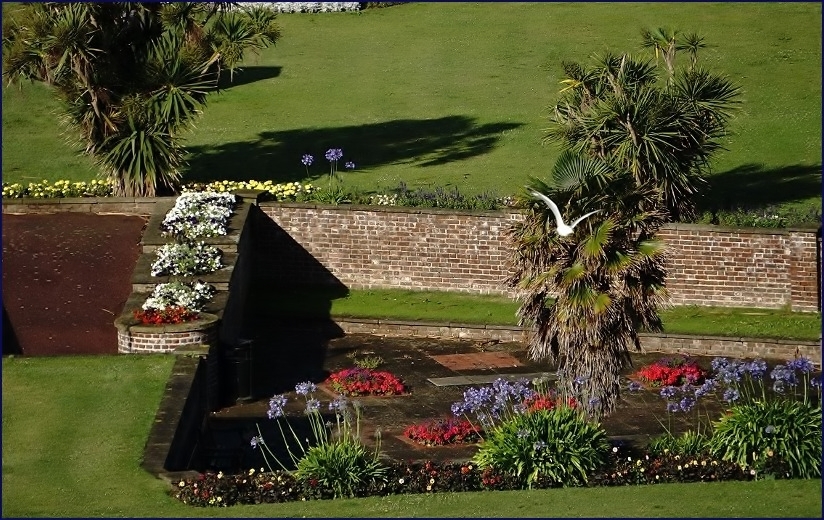 lol Brian I got a laugh with that one below. Yer a terrible man...

An excellent set of pictures below there Sarah from Sheerness. All are very good indeed but love that one of the X-Pilot. It would be great as a wall picture 6ft by 4ft. Nice work for sure...you are doing a fair bit of roving these days ...the roving reporter...


Nice item re Portland below there Barry about Team GB during the Olympics. Great stuff! Those guys won a fair few medals.

Well done re Luzon Strait Ed...I can never seem to get that one..she left us in the dead of night..

Well done Colette with the cruise list. keeps us up to speed. I see we have a brace of AIDA ships coming...cant be bad!. Not sure I will be able to see much this morning...its a wee bit foggy so it is.

PaulB
Tuesday, 22 August 2017 - 06:55
Post 4129
brian, dover
yes I have been to Portland dorset .while there I met Portland bill, such a nice chap

Monday, 21 August 2017 - 19:24
Post 4128
Colette B, Dover
CRUISE VISITS
_____________
Lovely shots of the Seabourn Quest taken early Saturday morning, truly awesome! Campers and caravans having an early breakfast, all whilst construction work continues in the background.
Love the photos of the Sheerness lifeboats Sarah, Sheerness & banana sandwiches come to mind from my distant past


Tomorrow Tuesday August 22nd AIDAsol greets us with a warm smile at CT2, arriving here at 08.00 via Hamburg on her 14 night cruise to Las Palmas. She will be calling at Le Havre, the Spanish port of Ferrol, Porta, Lisbon, Cadiz, Funchal and Santa Cruz de Tenerife before arriving at her final destination, Las Palmas, Gran Canaria. She departs at 20.00 hours, PoC.
Two days later on Thursday August 24th we have a 'Double Whammy' again. Firstly, Saga Sapphire arrives at CT1, 08.00 to start her 5 night 'Bank Holiday Escape' cruise. Calling at Zeebrugge, Ijmuiden before finishing her cruise at Bremerhaven in Germany. She will be departing at 16.00 hours, T/R.
On the same day AIDAbella arrives at CT2, 08.00 whilst on her 13 night cruise to Palma de Mallorca from Kiel and the Swedish port of Goteborg. She will be calling at Le Havre, La Coruna, Lisbon, Cadiz, Malaga, Valencia and Palma de Mallorca, Majorca. She leaves us at 21.00 hours, PoC.
Then we have a few days break until Bank Holiday Monday August 28th when Princess Cruises 'Pacific Princess' starts her 14 night 'Iceland & British Isles' cruise. She arrives here at CT1, 08.00 hours. Her first call is my hometown Dublin, then Oban, Seydisfjordur, Grundarfjordur, Reykjavik, Belfast and Liverpool. She cruises away from the Port of Dover at 17.00 hours, T/R.
The following day Tuesday August 29th Saga Sapphire arrives at 08.00 hours, CT1. She starts her 16 night 'Baltic Treasure' cruise, which will be the last time she visits us this year, as she will be based in Southampton for the rest of the 2017 season. She will be calling at Kiel, Gdynia (Poland), Stockholm, Helinski, St Petersburg, Tallinn, Saaremaa (Estonia), Riga, Wismar, Kiel and finally Southampton. She departs our shores at 16.00 hours, T/R.
On Wednesday August 30th AIDAVita calls again at CT1, 08.00 hours on her 14 night 'Round Britain & Ireland' cruise via Kiel and Newcastle. She will be calling at Fishguard, Liverpool, Dublin, Greenock, Invergordon, Aarhus in Denmark then home to Kiel. She leaves us at 21.00 hours, T/R.
These are the final cruise calls for August, the next is not until Thursday September 7th.
Enjoy! See you in September

Monday, 21 August 2017 - 15:33
Post 4127
Ed Connell, Dover Strait
Luzon Strait at the DCT today.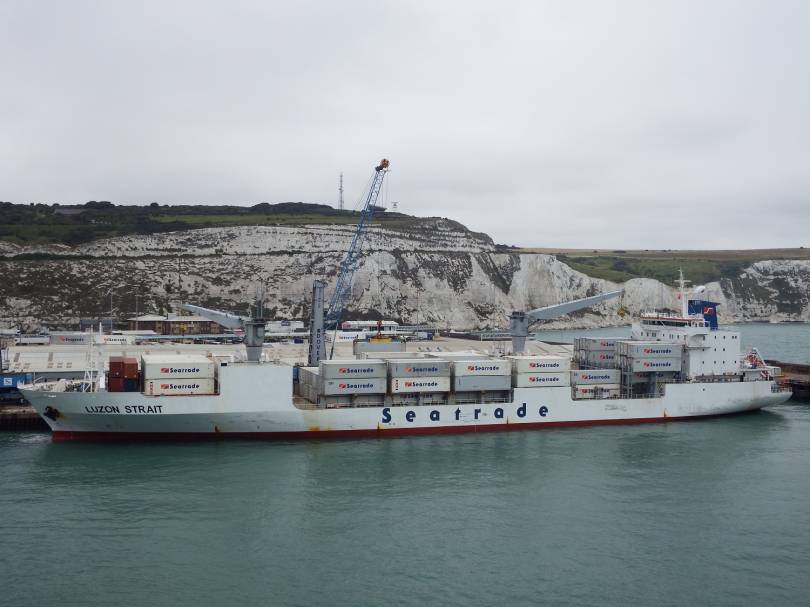 Monday, 21 August 2017 - 13:17
Post 4126
Barry WS, Dover
When you mentioned Portland MrB, it brought a good spate of memories. I worked for TeamGB looking after our sailing team in the build up to and during the Olympics 2012. I got to know the team and Portland quite well Chesil beach especially

Portland, USA never been there myself.
Monday, 21 August 2017 - 09:50
Post 4125
Sarah, Ramsgate
I went to Sheerness Lifeboat Day at Queenborough yesterday. The last thing I expected to see is our good old friend Eagle

Eagle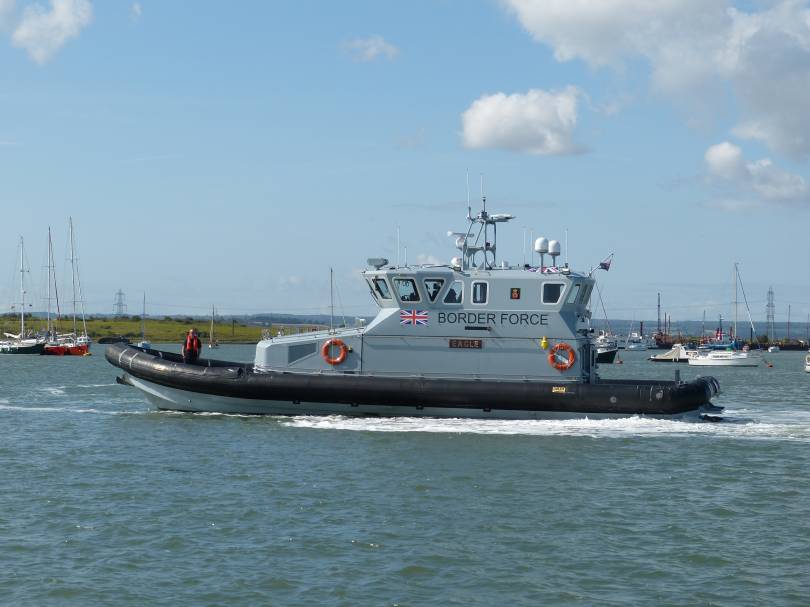 X-Pilot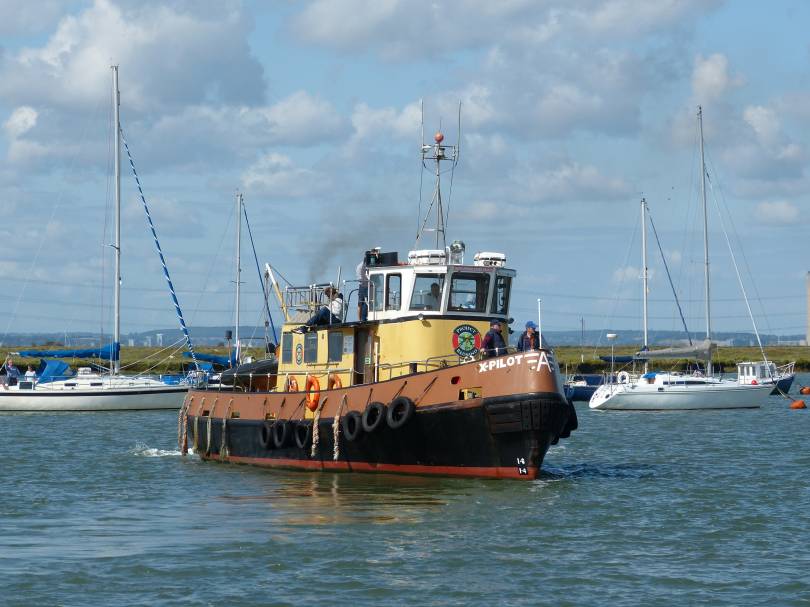 Luhnau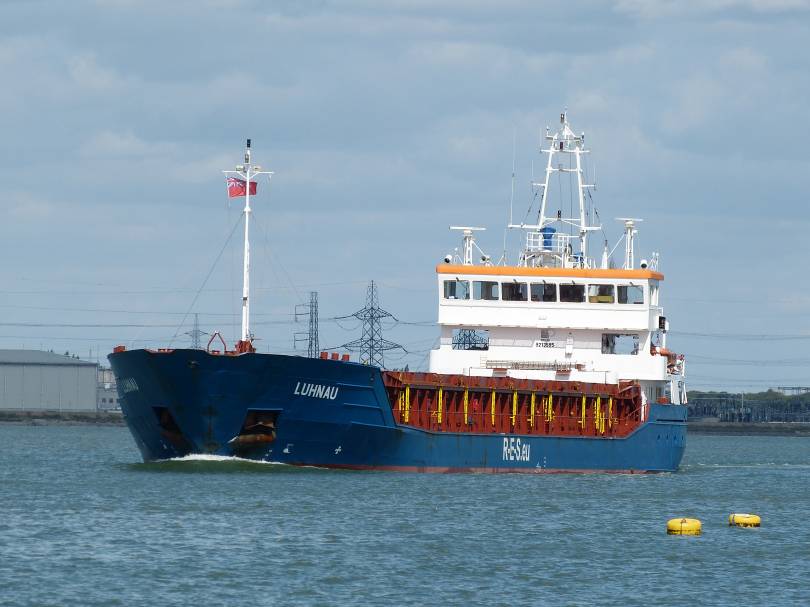 Sheerness D Class lifeboat - Buster D-799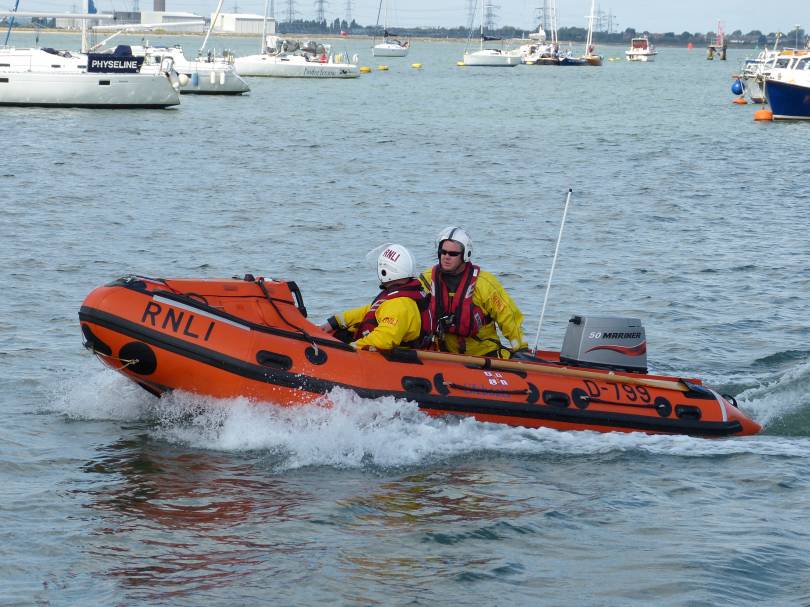 Sheerness Trent Class Lifeboat - George & Ivy Swanson 14-13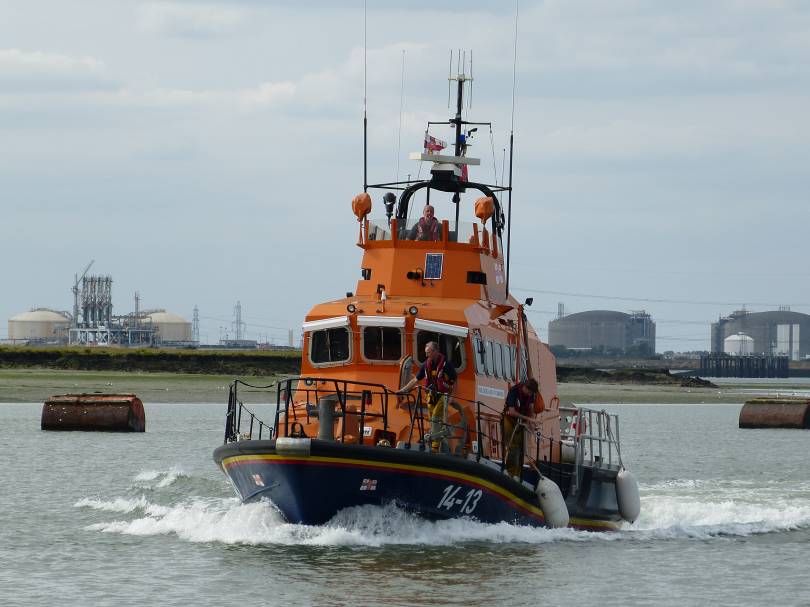 Monday, 21 August 2017 - 07:21
Post 4124
Sea News, Dover
The super sleek Seabourn Quest says farewell to us this for this season. Sad to see her go as she looks great - the epitome of glamour cruising. Looking at Colette's notes she is off on a gigantic cruise to Montreal in Canada via Ireland...first stop Portland on the south coast here. The AIS said Portland USA but yours truly fell for that one before ... its our Portland here. Anyway...here she be..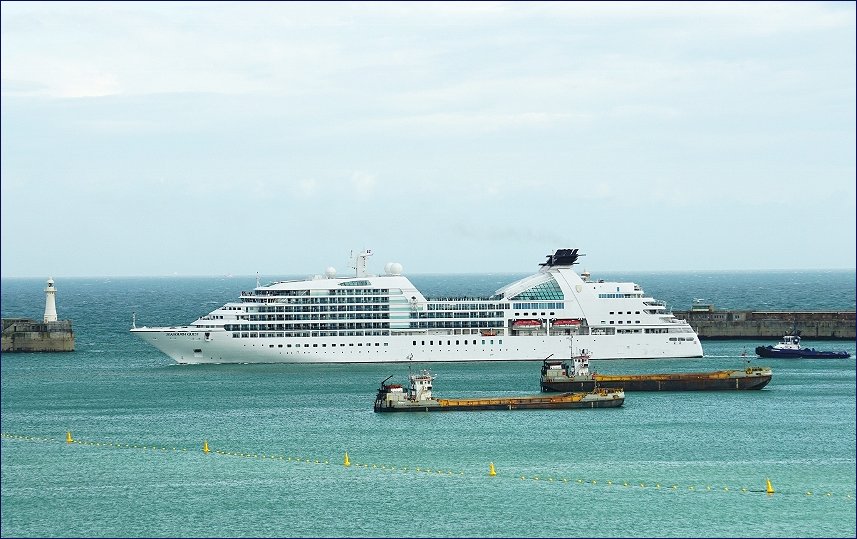 Bon voyage Seabourn Quest.
Late last week , Friday if I remember correctly, the guys from Riley Marine were inspecting our waters-edge structures up close and personal. Not sure what the problem was or what they were about, but certainly worth a few shots and here they are. PB.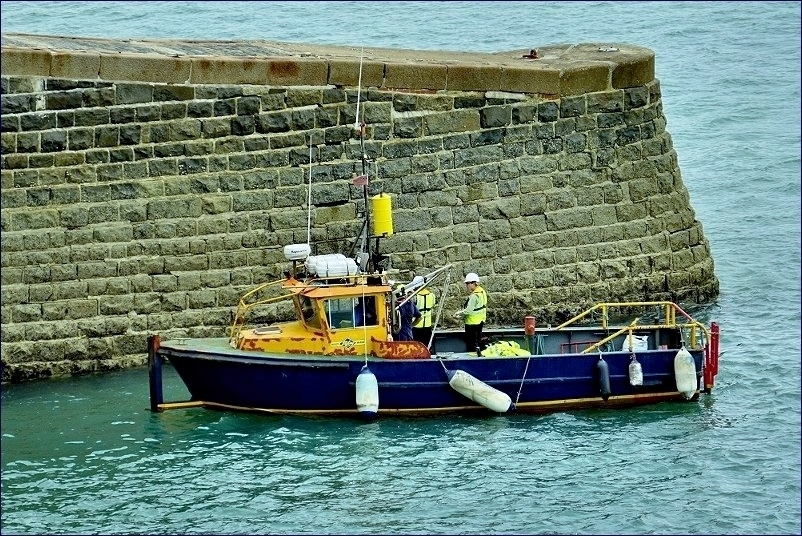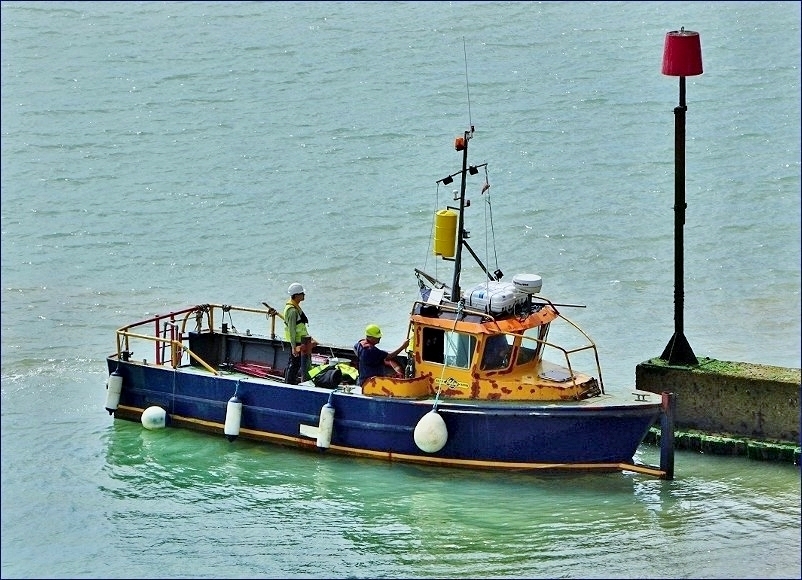 Monday, 21 August 2017 - 05:56
Post 4123
Sea News, Dover
Wakey! Wakey! Campers...time to rise 'n' shine...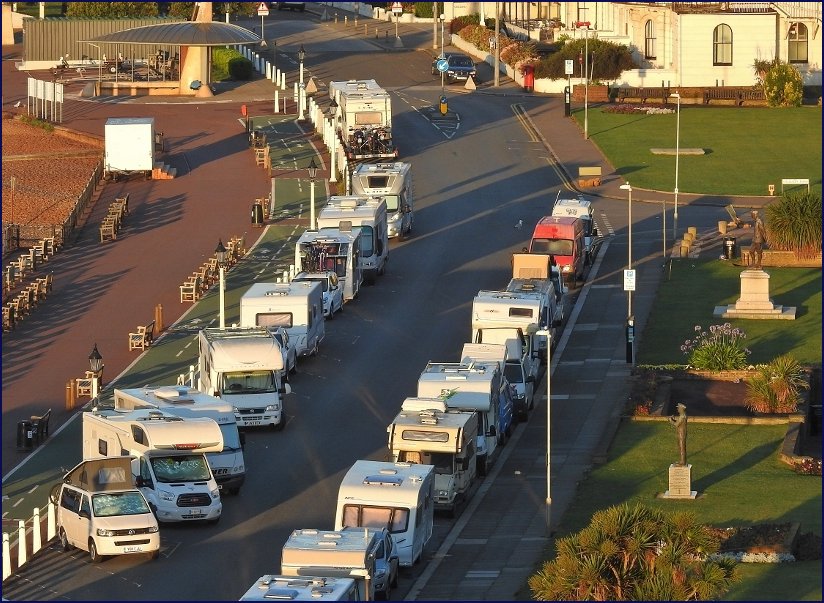 I think we went for the world record last night...we were fully lined with camper vans from all over the place, both home and abroad, on both sides of the seafront street. Yes the mobile 'tented' village moves in every evening now. More than ever before..people from everywhere. Quite an exciting august...
there they are above catching the early sun...
At 05.20 yesterday morning below, while it was still fairly dark, the gorgeous Seabourn Quest moved into position at Cruise Terminal 2....
Pictures below. The Pacific Princess and Saga Pearl are back in with us today.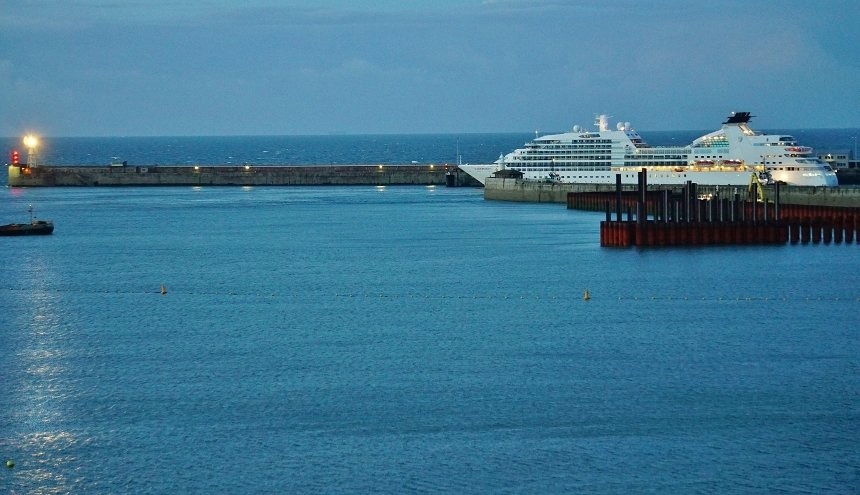 Thanks for the tales Vic. Interesting stuff!

Excellent pictures and post below Patrick. Good to have those pix. Ah yes re rocks...the only rocks I want to see now are the ones at the bottom of a long cool glass.


PaulB.
Sunday, 20 August 2017 - 06:28
Post 4122
vic matcham , Dover
On seeing the coffer dams in your photos ,also takes me back to the time ,we had made a frame up and lowed it into place in a coffer dam we had done for the sewage outlet going out to sea in Folkestone,I was siting on the frame welding it to the piles which was next to a very big fex/hose running a cross it taking all the main sewage from Folkestone ,this was done temporary till all the work in the coffer dam was done ,well I was welding next to this hose one morning and I could hear all the sewage running in this hose,then it stopped and before I could get away off the frame it bust open and all the sewage went over me and it came out with such force it pushed me off the frame and I fell backwards down into the coffer dam which was half filled with water at the time ,and I had not put my life jacket on ,so I was swimming about in all the sewage and even drinking it ,they had to lower the crane to get me out.must say I was very unwell for a fewdays,that is a very true story.


Sunday, 20 August 2017 - 02:21
Post 4121
vic matcham , Dover
Thank you for the photos of the coffer dams .As a person who has done alot of this kind of work it is good to see how they moved on in the way they have been done,I have made many of them up and four of them in Dover on the ferry birth.and now to see the frames inside them to hold the piles in place all Hydraulic push rams is a great way to do it saving money and alot of hard work by welders, in my day we had to weld up a frame outside the dam then lift it in place and weld it to the piles not a easy job .and once you made it up and welded in ,after you done all the work you had to burn it all out again and they could not be used again so you cut them up. With the way they have done it in your photos they can be put in place easy and after taken out again, and used time and time again,making a big saving and less hard work.

Sunday, 20 August 2017 - 02:01