Friday, 22 February 2019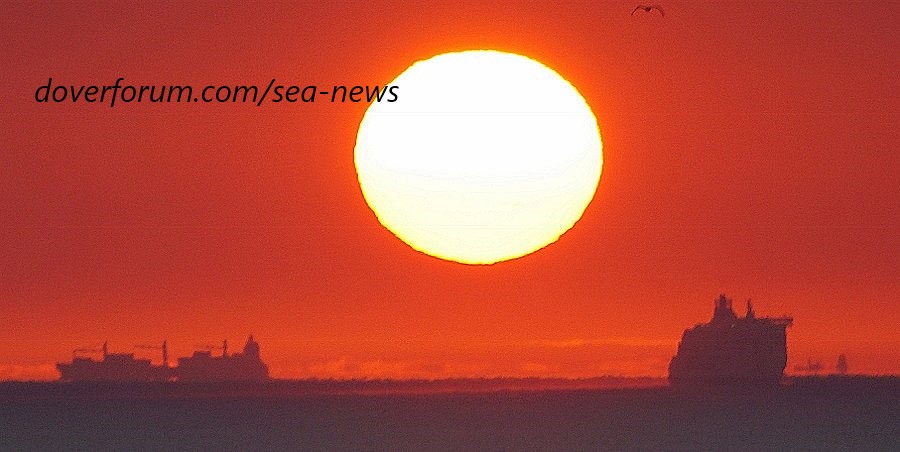 Below...Boudicca reverses...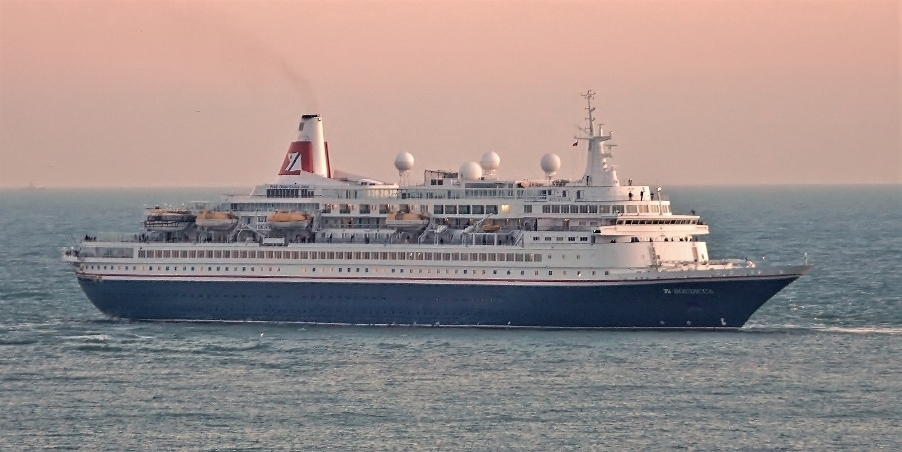 WWW.DOVERFORUM.COM/SEA-NEWS Featuring all the ships that come and go and work at the Port of Dover with further coverage of the surrounding ports both sides of the Channel. Click ADD YOUR COMMENT below to post direct, no membership needed.

Listing highlights....


Scroll down or use our Search Engine for posts and pictures of Border Force in Dover and Ramsgate.
RHA - we need to avoid cliff-edge Brexit 6069.
BREXIT READY statement from Port of Dover/DFDS/P&O Ferries see 6021.
P&O Spirit of Britain - notable Cyprus reflagging see 6017. See also latest 6041.
Tourism Thriving see 6044.
Deal Pier Kitchen restaurant opens 6016.
Charlie Elphicke MP - making our borders stronger, safer 6014.
BORDER FORCE SEARCHER and migrant boat.. see 5969 below..

Port of Dover supports Women in Maritime 5975.
Christmas Lifeboats in Ramsgate see 5937.
P&O: Britain's Favourite see 5922.
DFDS: Voted Worlds Leading Ferry Operator...see 5918..
Charlie Elphicke MP: Migrant Crisis 5894.
P&O: Santa Onboard see 5870.



Highlights continue...


Wreck of the Anneliese 5880, 5881, 5882 ...
Port: Additional Funding for Kent Wildlife Trust 5879.
P&O: Apprentices welcome RB Legion veterans 5853.
Eight new apprentices graduate see 5845.
DFDS: 'SEE PORTS' Calais and Dunkerque 5834.

DFDS Revitalize Dining 5831
P&O: Schoolchildren mark WW1 see 5816.
Lower Thames Crossing boost..5812.
see now also 5817.
Dover Museum's revitalisation see 5807.

Port of Dover: Refrigerated Cargo Terminal .. software for 5801. Latest NATO also 5801.
Port of Dover: Great increase in summer traffic 5795.
Russian and shadow 5785.
The Waverley paddle steamer latest 5778...
New SAGA Ship launching in Dover see 5776.
DOUG BANNISTER: New Chief Executive Port of Dover see 5734....

Merchant Navy Ceremonial images also 5734.
P&O: To Rome on Horseback 5759.
Dover Regatta Rescue incident plus .. see 5713.
Dover Regatta pictures Lifeboat etc..5716, 5717, 5718, 5720.
DFDS Expansion: More New Ferries on order... see 5693 see also 5500 and 5381.
Excellent Tourist season for P&O Ferries see 5649.
VSBW Port of Dover - Women at Work 5638.
P&O Second Female captain see 5107. Also see latest 5570.




NEW:

For instant access to any item listed above - just type the post number in the Search Engine below.

Sea News Dover : Use our SEARCH ENGINE below to find all sorts on the SEA NEWS pages....
type in the topic and away you go, more than - 6000 - nautical posts now.

Posts are welcome. Max of 5 pictures preferred although we can stretch that for special stories..

Sea News Editor Paul Boland - send info or pix to dover7@msn.com. Always welcome.

All pictures on these pages are the copyright of the owners and must not be reproduced without permission.

To show your pictures at their best..it could be worthwhile resizing before posting to

840

pixels wide.
Post 5977
Mike J., Dover
Happy New Year to all 'Sea News' readers !
As usual not a peep from the five ferries or the MAERSK CONNECTOR or the EMERALD at midnight, see post 5022 of a year ago.
VIGILANT & Folkestone f/v BOY BEAU, flying a 'Protect British Fishing' flag, were in the Tidal Basin Monday morning amongst the regulars - angling & dive boats were busy.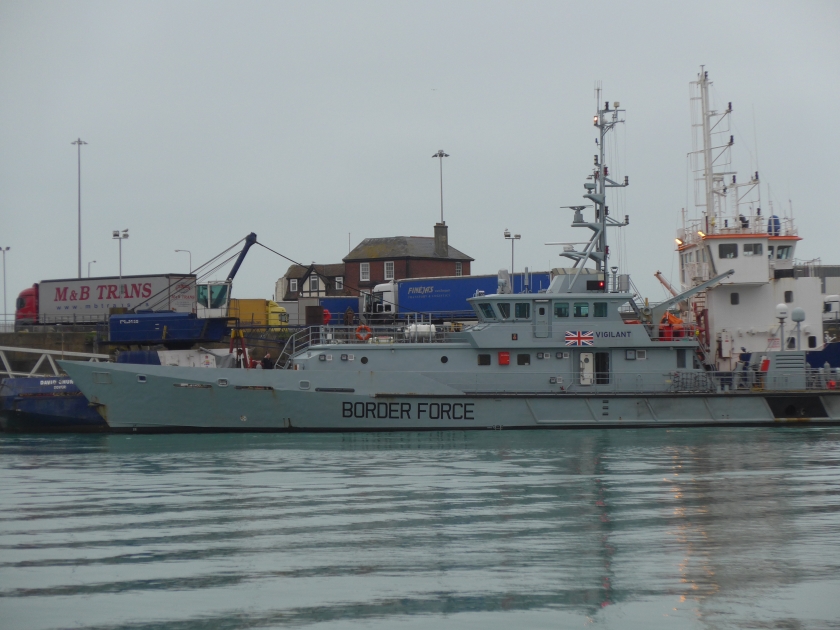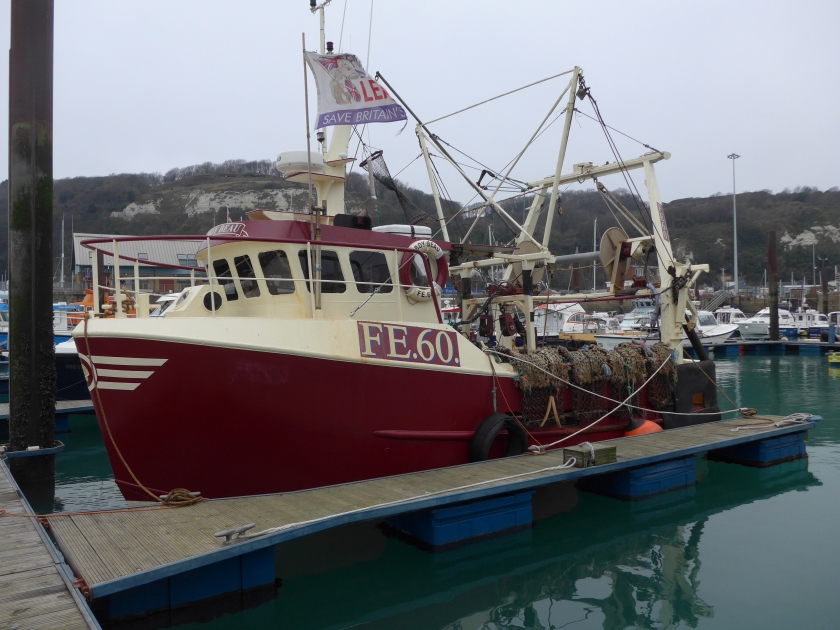 More inaccurate reporting in the media, the BBC on Sunday had asylum-seekers landing at 'Kingsdown near Dover' [& here's me thinking that Kingsdown was practically a suburb of Deal].
Monday Sky News reported that the Iranians who came ashore at Greatstone had landed at 'Lydd-on-Sea' which must be news to the citizens of Lydd which is at least 4km inland.
The politicians are still getting confused about the number of Border Agency patrol launches & cutters working locally - we know of five & they're all on 'Sea News'
Del - I heard your remarks about 'let there be light' as -
& the Lord said 'Let there be light'
& there was Light
& you could see for [expletive deleted] miles.
Tuesday, 1 January 2019 - 01:02
Post 5976
Del Styan, Norwich
Let there be light! And a Happy New Year to you and all Dover Forum contributors.

Monday, 31 December 2018 - 20:37
Post 5975
Sea News, Dover
Port of Dover pledges support and celebrates Women in Maritime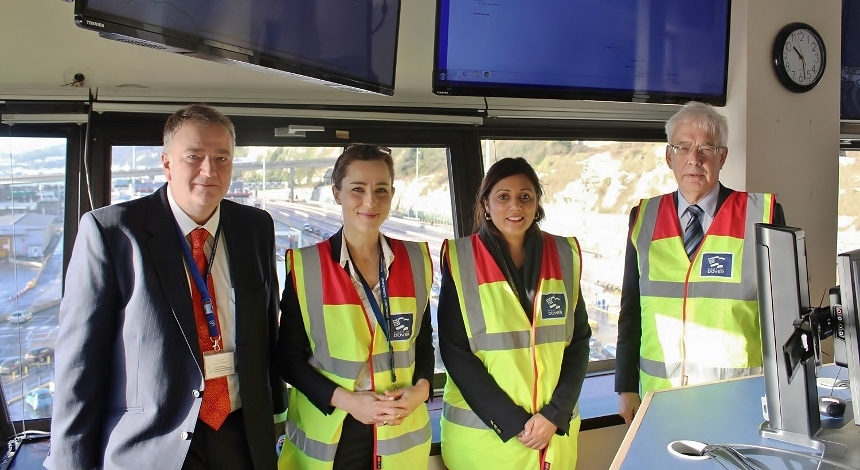 The Port of Dover is proud to announce that it has become one of over 80 signatories of the Maritime UK Women in Maritime Pledge.
The Pledge states: "We are committed to building an employment culture that actively supports and celebrates gender diversity, at all levels, throughout our organisation and our industry." The port's chairman Richard Everitt CBE signed the pledge on behalf of the port alongside other signatories Department for Transport maritime minister Nusrat Ghani MP and Women in Maritime chair, Sue Terpilowski OBE. Following the signing, Ms. Ghani was given a tour of operations to experience Europe's busiest ferry port in action.
As a signatory of the pledge, the port of Dover has made clear its intent to create positive change within the organisation, and collectively, across the UK maritime sector. The port is already actively involved in the work of the Women in Maritime Taskforce, represented by Director of Corporate Development and Operational Businesses, Barbara Buczek, herself a successful woman in the maritime sector and one of the winners of the 2018 Seatrade 20 under 40 awards which recognise the rising stars of the cruise industry. The Taskforce brings together leaders from across the maritime sector to identify practical steps to increase the number of women in maritime.
The Woman in Maritime Pledge is the forerunner to the Women in Maritime Charter, which is due to complete its pilot phase and be rolled out in 2019. As one of the Pledge signatories, the port of Dover will go on to become members of the Women in Maritime Charter in 2019 and take practical steps, setting measureable and ambitious goals towards meeting the aim of the Pledge.
Port of Dover Chairman, Richard Everitt said: "The Port of Dover is committed to encouraging and building gender diversity, at all levels, throughout the maritime industry. We are proud to support the Women in Maritime Pledge and Taskforce and in doing so, shaping positive change within the sector."
For more information on the Maritime UK Women in Maritime Pledge visit:
www.maritimeuk.org/programmes/women-maritime/
Pictured above L to R: Director of Finance at the Port Shaun Pottage on the left, then Barbara Buczek Director of Corporate Development here at the Port, then Nusrat Ghani MP Chair of Women in Maritime, then Port of Dover Chairman Richard Everitt.
ENDS
Some pictures below now taken just a couple of days ago...of one of those guys walking on air. Well I honestly don't know what to call these pictures or indeed this activity...airborne man over water!!??

We had some pictures before of a 'crossing the channel event' using this particular skill. Fascinating. Here we are with these late in the day pictures taken as the sun went low in the sky...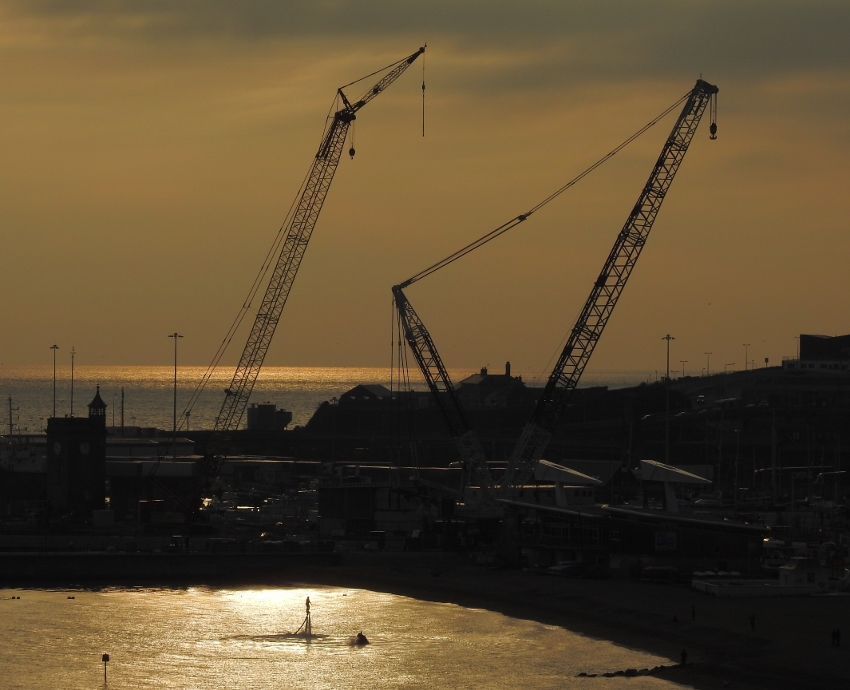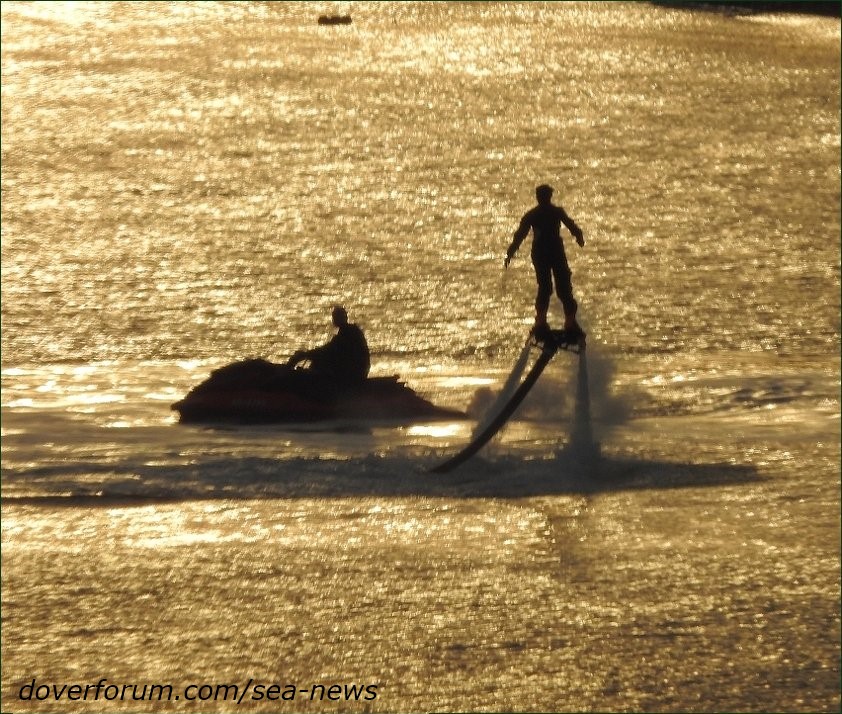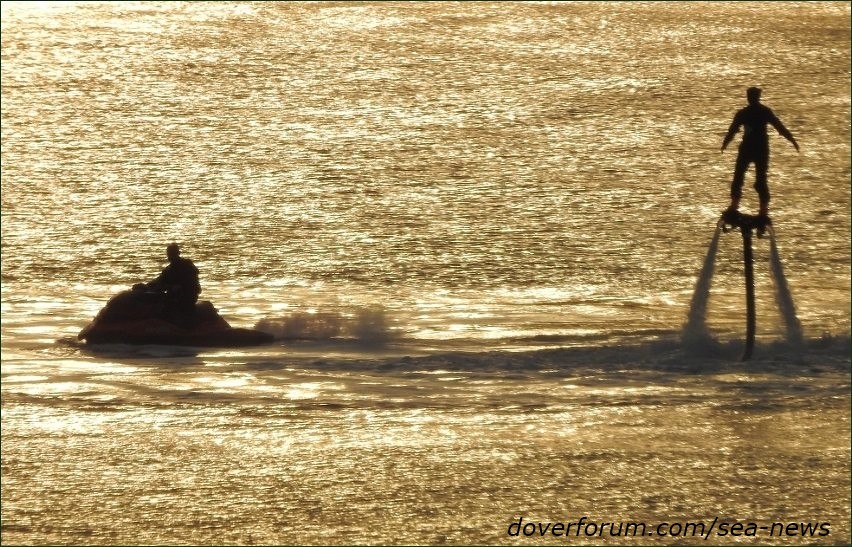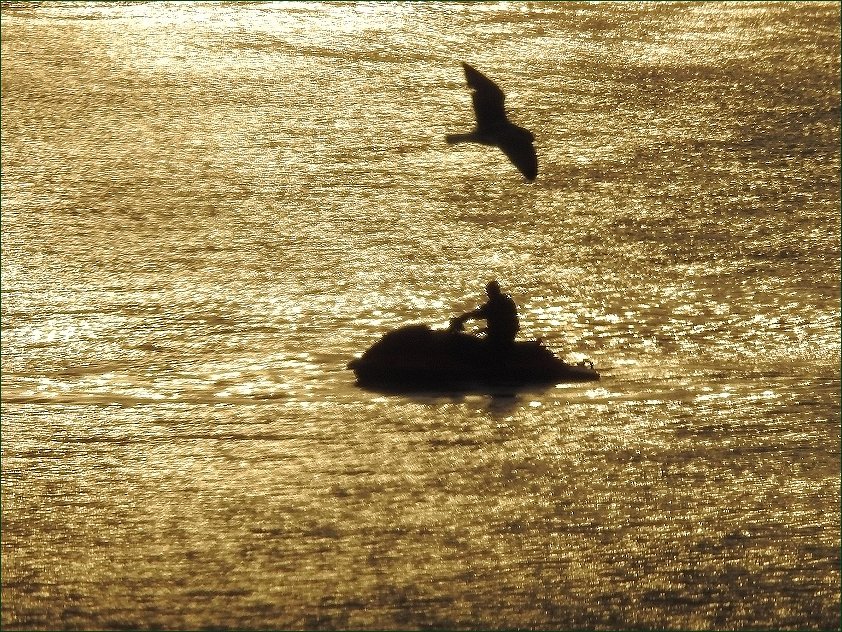 A chap could get thirsty looking at those pix never mind doing it....Yikes


A great collection below there from Mike of the transformer-carrying Happy Dover. Don't Miss those!!

Yes indeed Mike one particularly odd Ferry contract awarded. Limited awareness London-centric decisions are being made all the time....that being the latest, in other words they appear to know very little of what goes on locally.
Well Del right on cue. The lights returned last night. Eureka!. Was about to mention them this morning so your query is right on cue. Several electrical contractor vans came and worked the previous night through the night...lights now delightfully working on Port side of street and on Council side of street as of last night. Not before time, they have been out for a month or so...its been pitch.
Let there be Light and there was Light...said the man with the electric van

PaulB
Monday, 31 December 2018 - 06:03
Post 5974
Mike J., Dover
HAPPY DOVER unloading one of her two transformers for Sellindge on Cruise-1 after arriving from Antwerp early on Sunday morning.
She sailed 2100, returning to Antwerp.
The huge blue crane is 'deck cargo' for the USA.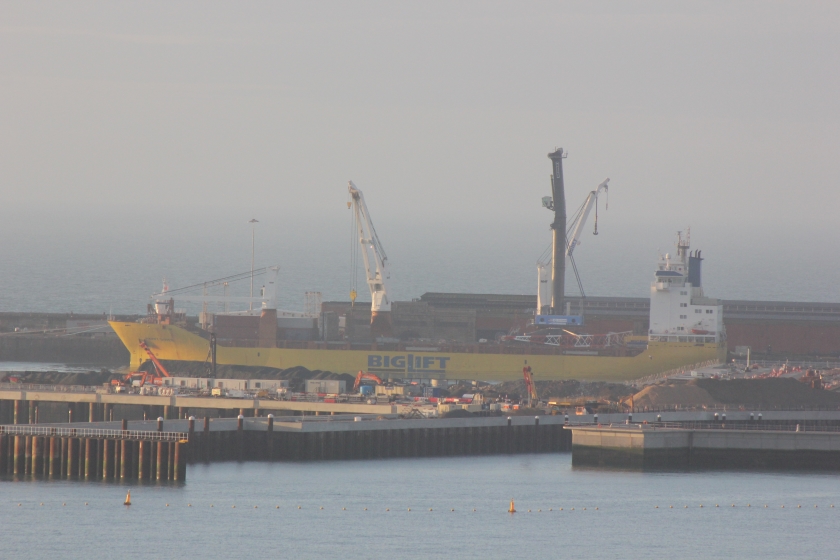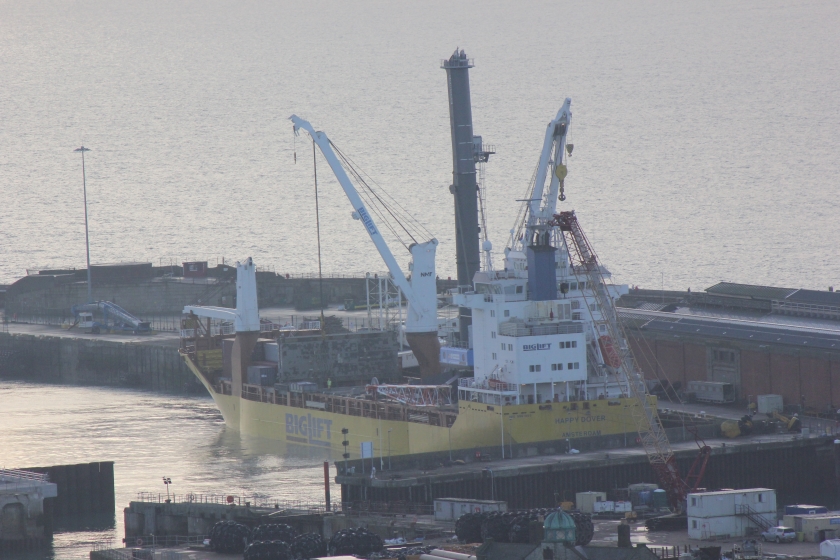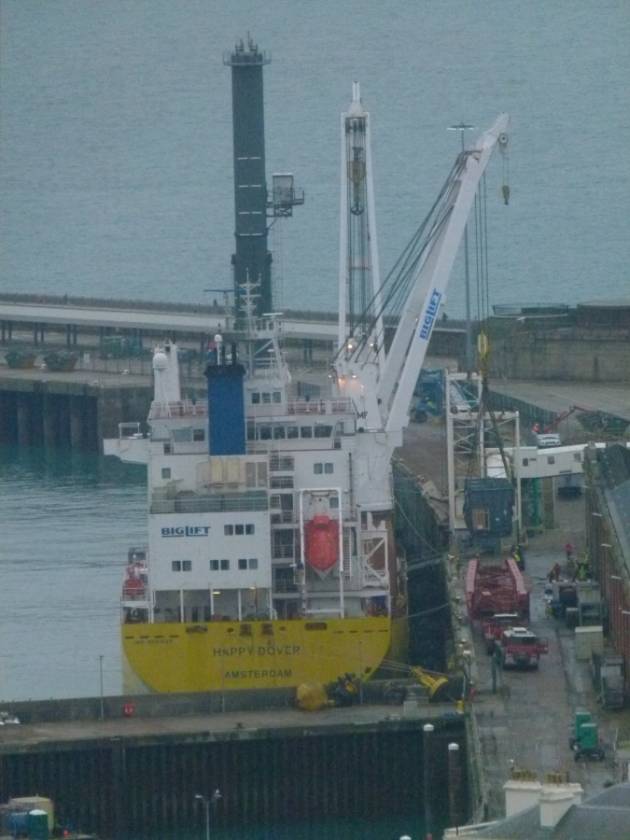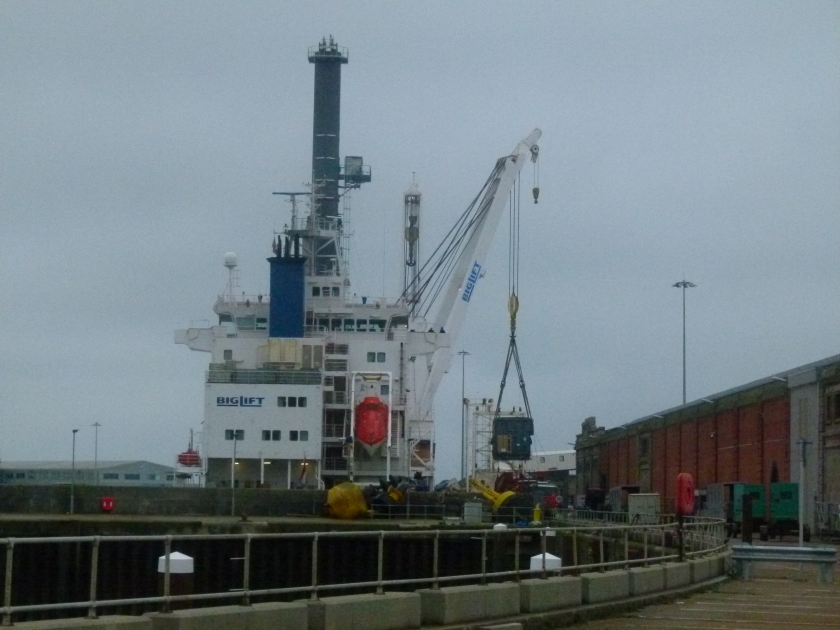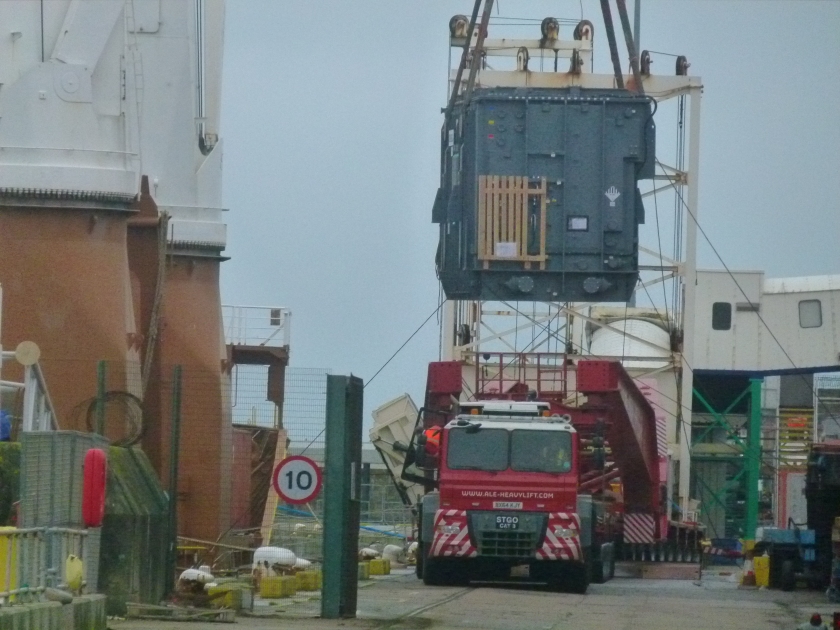 'BIG LIFT' are a Dutch 'heavy lift' company with a big varied fleet with many of the ships called HAPPY --------
More details if you Google 'Big Lift Shipping'
Excellent sea-level pix of the HAPPY DOVER on the 'Dover Straits Shipping' Facebook page, taken from the Harbour Patrol launch.
Friends in high places !
It has just been announced the the Government has given almost £14 million to 'Seaborne Shipping' who have been proposing a Ramsgate/Ostend service for quite a while, but have so far produced little more than a website, let alone a ship.
Questions are already being asked . . . .
Long-established DFDS & Brittany Ferries are already contracted to supply extra freight tonnage if needed.
Sunday, 30 December 2018 - 23:39
Post 5973
Del Styan, Norwich
Are your lights still off? Do they belong to Kent County Council, or the Highways Agency, or Dover District Council? Or even - at a bit of a stretch - the Harbour Board It's a minefield out there for getting seemingly simple things done.
Well, it makes a change from Brexit !

Sunday, 30 December 2018 - 23:20
Post 5972
Mike J., Doiver

Sunday morning & the BBC News is still coming out with the 'one patrol vessel' error.

At least the visiting minister yesterday had heard about the smaller patrol vessels & mentioned them amongst a blizzard of platitudes.

How these politicians love 'photo opportunities' & the chance to wear hi-vis jackets for the cameras, hard hats are popular too. but not worn on this the occasion.

I bumped into Charlie Elphicke this morning by the Marina office & he mentioned the 'one patrol vessel' issue but was also aware of the smaller BA vessels.

I think that the other two BA cutters, VALIANT & SEEKER, are 'showing the flag' down in the Adriatic & will no doubt return soon & be introduced as 'new' vessels.

The overworked Border Agency, RNLI & police will be very pleased to hear that the Home Secretary is cutting his holidays short to 'take charge of the situation'


Back to 'normal' maritime matters the HAPPY DOVER docked on Cruise-1 about 0630 to unload her two transformers.
Pix to follow.



Sunday, 30 December 2018 - 11:00
Post 5971
Sea News, Dover
The Dover Lifeboat has been called out many times recently due to the migrant channel issue. Here she is leaving the Port on Friday morning at 09.37. Not much rest for these guys at the moment. It was a grey misty and fairly miserable day out there on Friday, the Lifeboat must be a welcome sight for anyone struggling or in difficulty in the channel... Here she goes...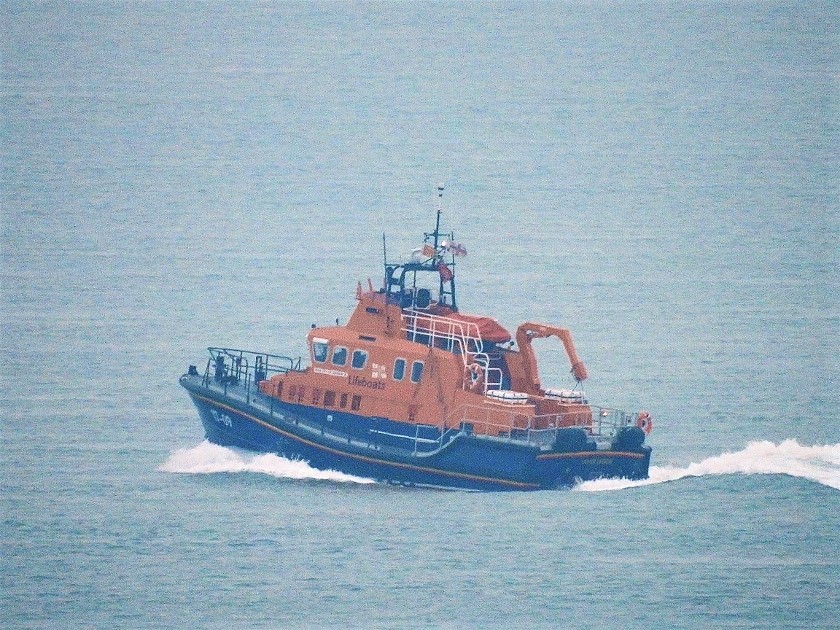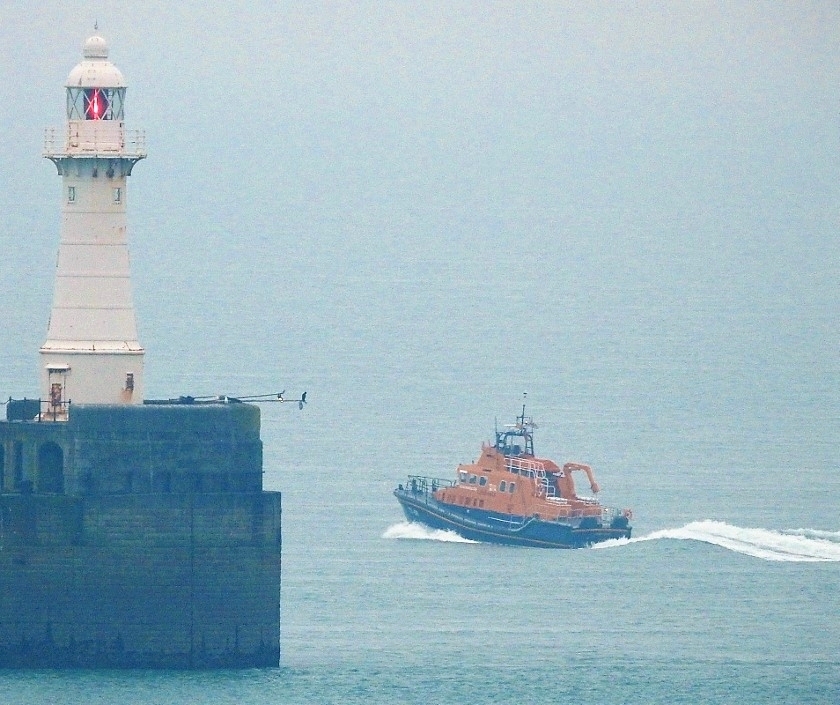 There was also a big emergency on Friday to do with a base-jumper on the cliffs. We understand his parachute failed to open. In the midst of all this frenzy, normal life goes on. We just caught this shot of Atlantic Reefer below heading off late in the day Friday aided by both tugs. Its been very busy at the cargo terminal, obviously we don't capture every ship but we do what we can.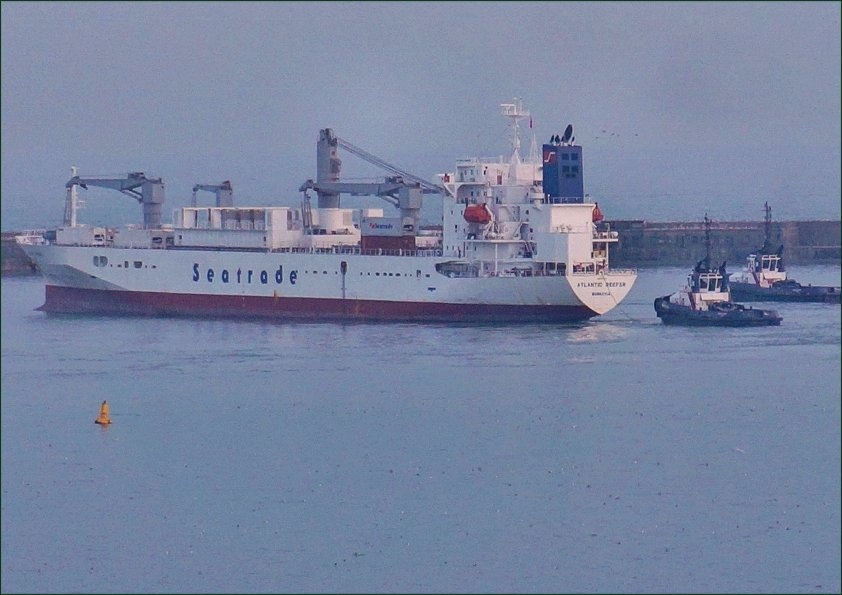 Del its all gone totally bizarre. I'm sure the Port of Dover here wont like that latest Government announcement. Years have been spent building up the business here and it works like a Swiss Watch in normal times.
Sadly those 'normal times' have been taken away and we've got ourselves into this current mess. I imagine the Port will issue a statement about this. We will watch out for that statement and bring it to us all on here.
PaulB.
Sunday, 30 December 2018 - 07:54
Post 5970
Del Styan, Norwich
Govt minister visits Dover - my god, what next! Giving hundreds of millions of pound to other ports? Surely not. That would be ridiculous - wouldn't it?

Saturday, 29 December 2018 - 23:23
Post 5969
Sea News, Dover
Border Force SEARCHER and Migrant boat...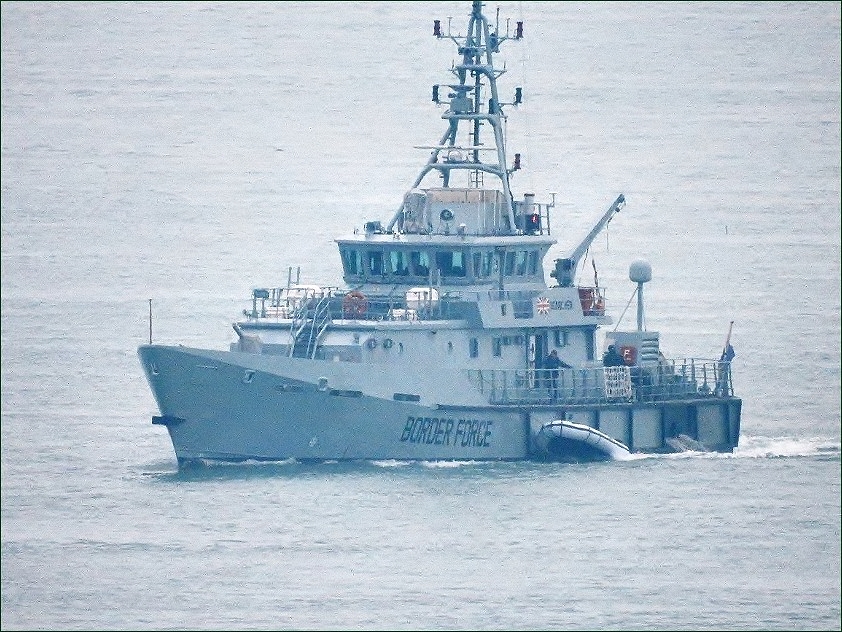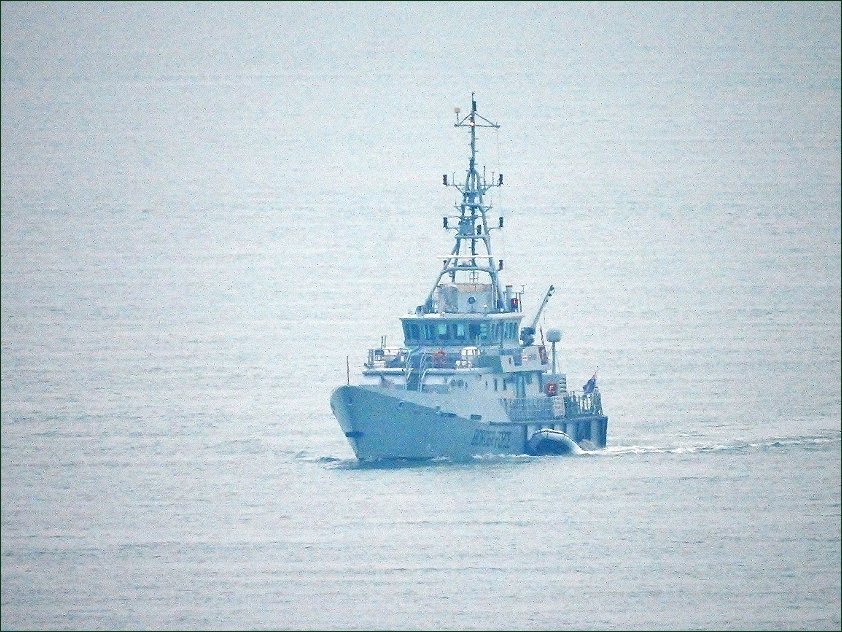 The long range pictures above were taken yesterday morning Friday. They show Border Force Searcher bringing a migrant boat back here to the Port of Dover. The crises goes on .. with ever increasing numbers attempting to cross the channel in sometimes the flimsiest of boats. It has indeed been a hectic few weeks.
Duncan Kennedy of BBC News did a report at 10pm last night from below the window of the 'observation tower' here ( he shone like a beacon while filming here in the pitch darkness, why are the seafront lights still not working!?). But he made an error that's been repeated on the BBC News since...again this morning...that Border Force only have one 'cutter' working in the Channel when there are clearly at least two...we ourselves have photographed both Searcher and Vigilant in the past week, along with the unmentioned smaller Border Force boats.
This below is an extra picture of Searcher in action at a previous time. Worth another look in these strange times. We understand a government Minister is coming to Dover today Saturday to look at the situation... Caroline Nokes…
so we're in safe hands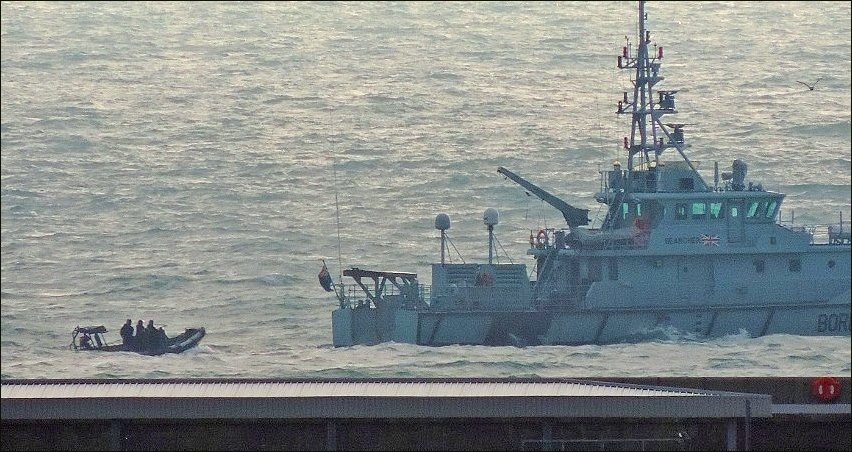 Some wide views below of the arriving log-packed Kertu...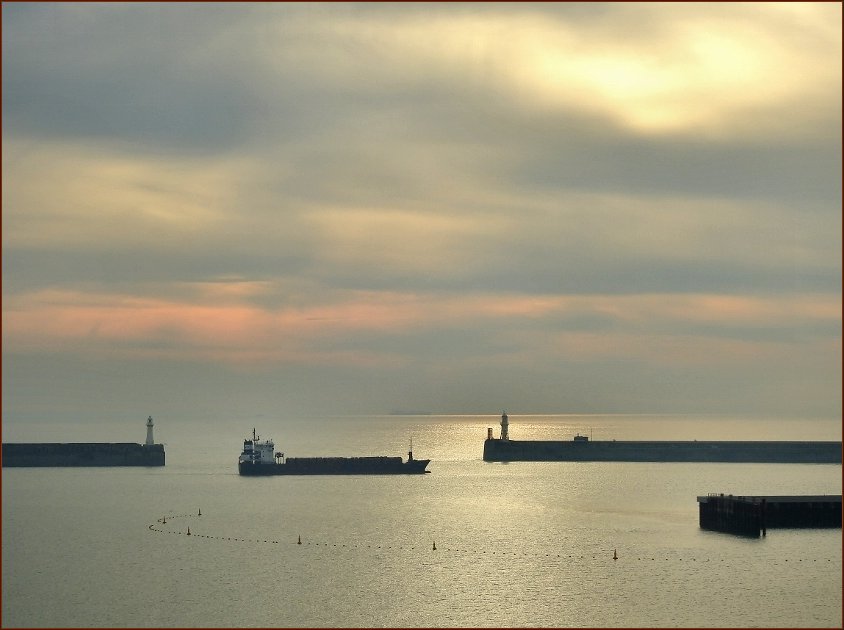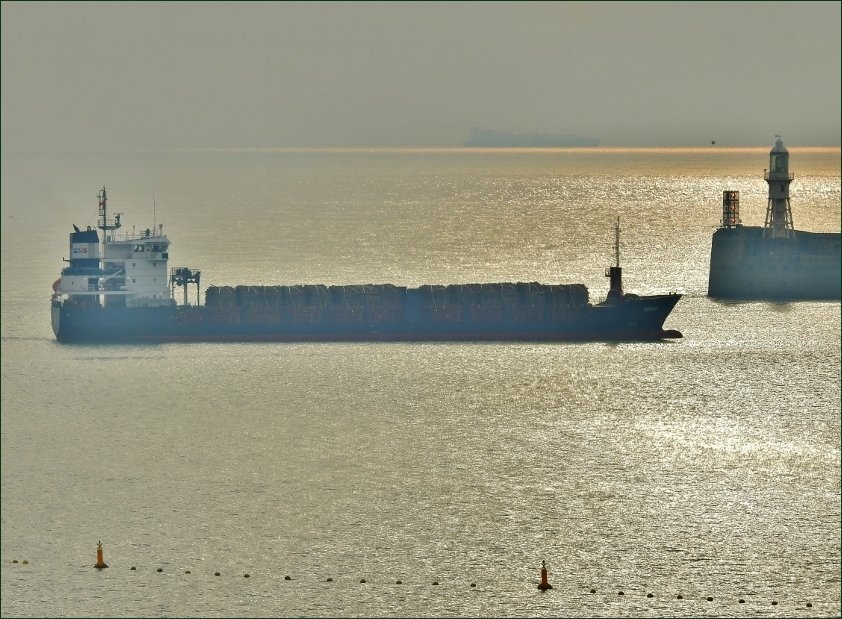 More pictures of Kertu below plus more Border Force action. Great stuff below there from Mike

Brian yes indeed...

PaulB
Saturday, 29 December 2018 - 06:02
Post 5968
Mike J., Dover
Post 5965 - I sure as heck didn't plan to post 14 images – major finger trouble !
Here's the Mk.2 version, hopefully 'as originally planned' –
Arrival of KERTU from Liepaja with logs, Thursday morning.
Her second visit with 'biomass'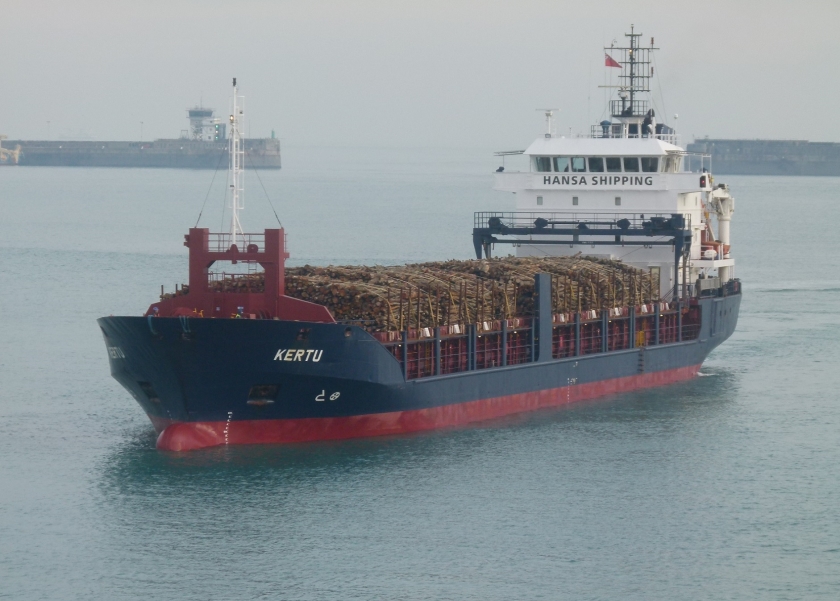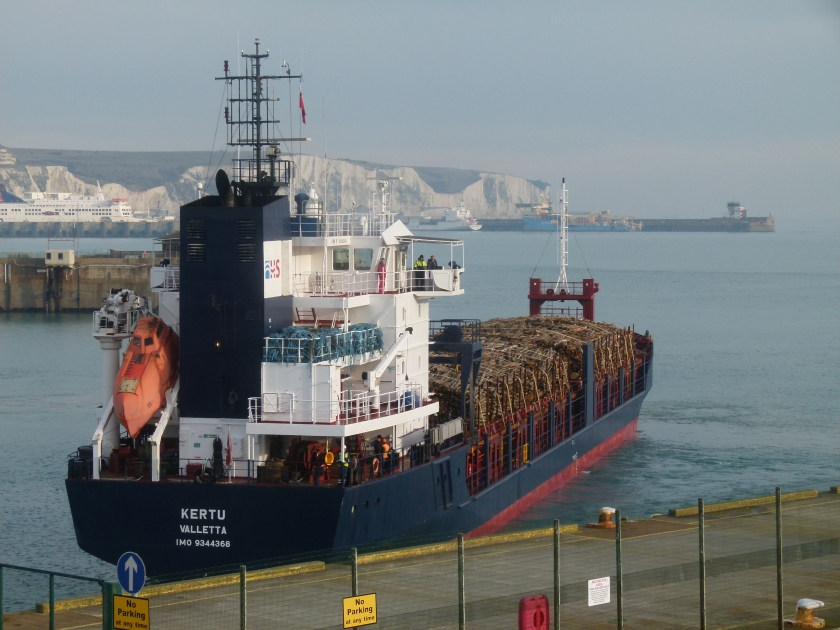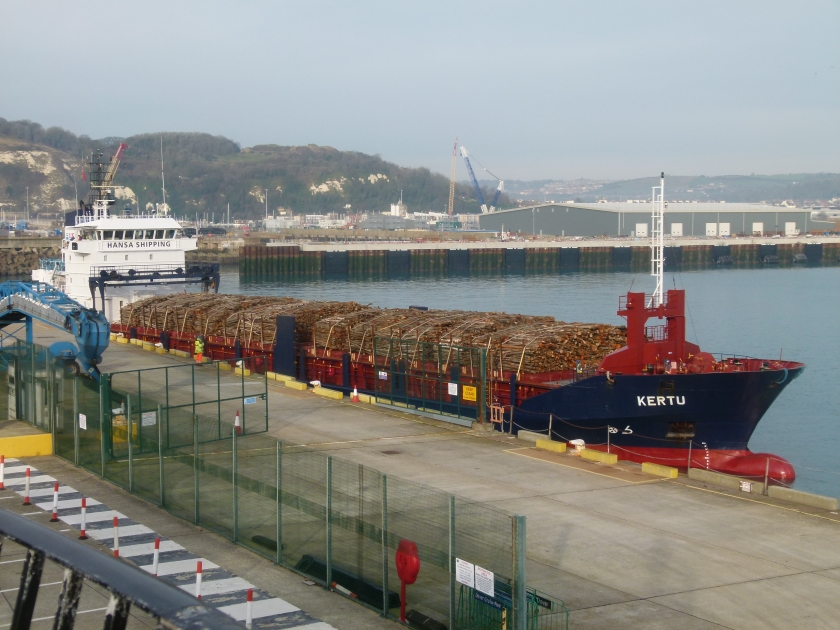 As I started to walk back along the Admiralty Pier after a welcome coffee & bacon roll I noticed the HUNTER approaching from the Folkestone direction presumably with more people aboard than when she left Dover.
She entered & went down to the Tug Haven where the ayslum-seekers are initially processed.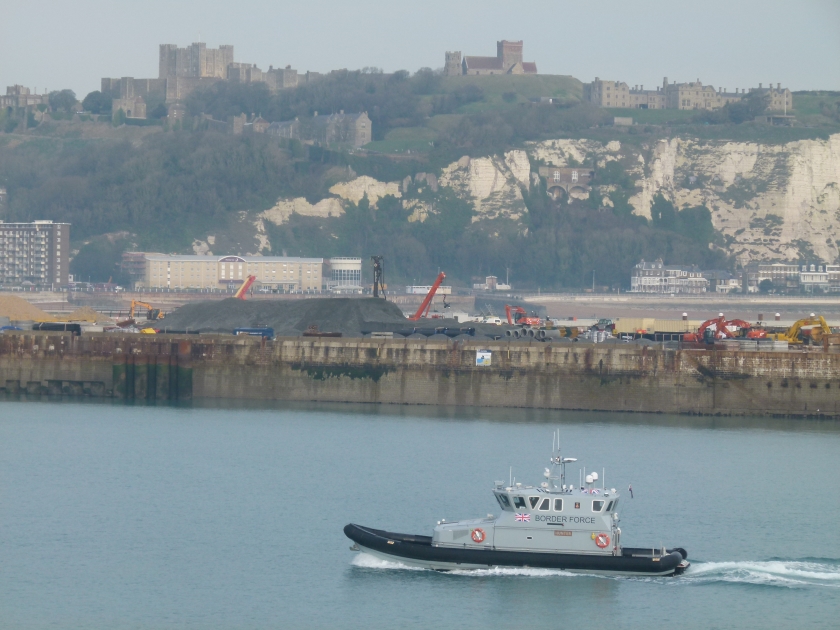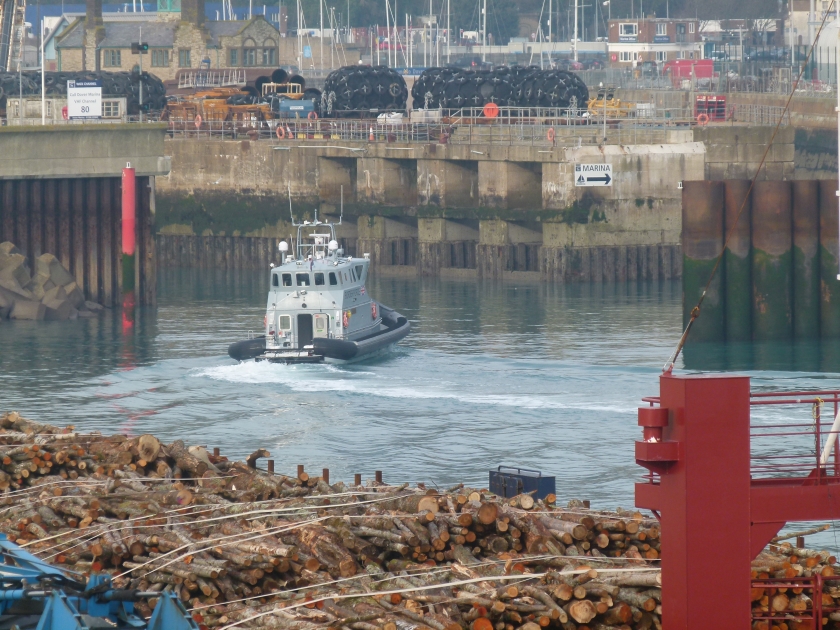 As I approached the shore end of the AP I noticed 'activity' on Shakespeare Beach & the Dover Sea Angling steward told me that at dawn he'd seen a rubber boat on the beach with half a dozen people milling about & had reported the sighting to Port Control & the 'visitors' had been swiftly rounded-up.
No sign of the dinghy but the tilt-bed lorry & the hi-vis jackets must have been the 'clear-up' party.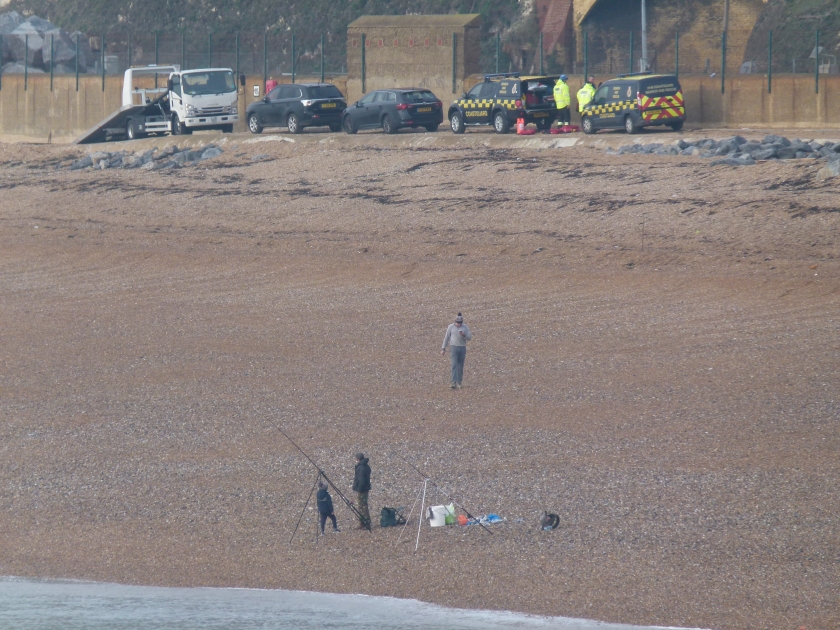 p.s
i caught a distant view of one of the big cutters, VIGILANT or SEARCHER, coming into Dover today, Friday, & there have been media reports of further 'interceptions' today.
Friday, 28 December 2018 - 22:43
Post 5967
brian dixon, dover
uncle jack the pirate looks a bit worse for wear.

Friday, 28 December 2018 - 16:32
Post 5966
Sea News, Dover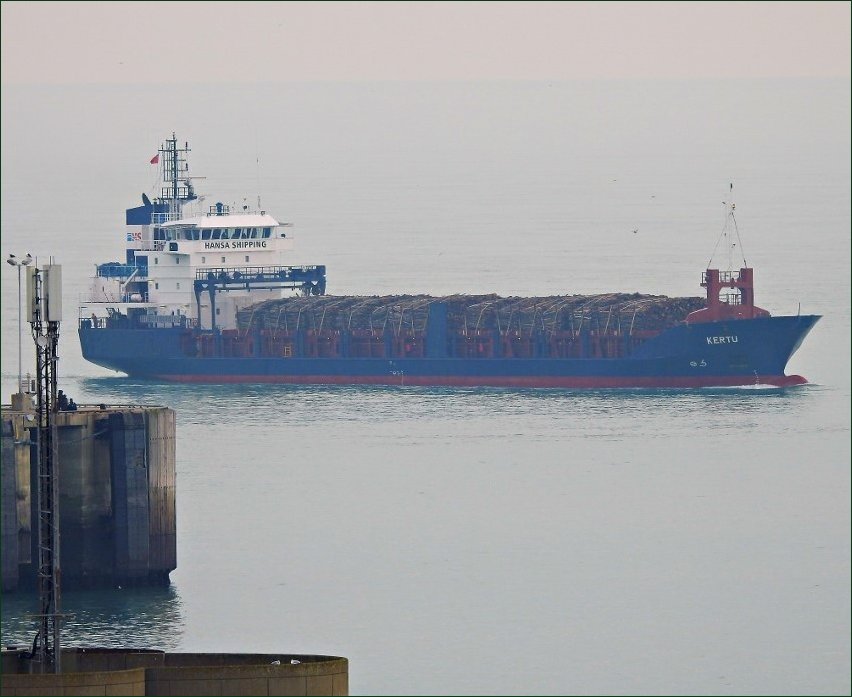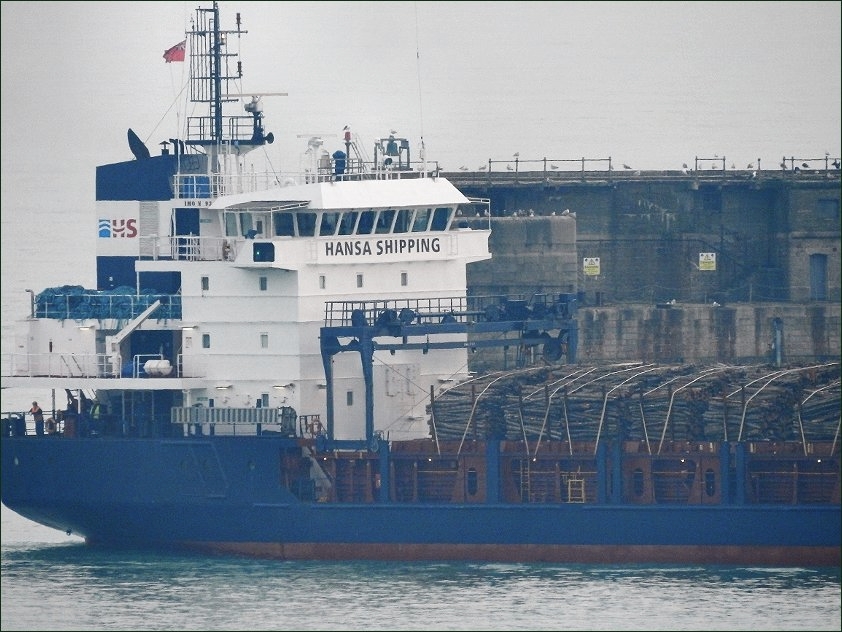 Two pictures above there of Kertu arriving in port yesterday morning around 10.00am or soon after. The atmosphere had too much blue mist for clear shots but have forced a few images there. Thanks to Mike for tipping me off and letting me know that she was approaching. Yes with another delivery of logs.
A few jollier seasonal ones below from Cullins Yard..taken a few days ago. First shot taken before lunchtime got busy busy and shows the cosy interior and seasonal lights. That's Richard to the right, he probably didn't know he was being photographed .. ahh the joys of the wide angle lens.
Yours truly will be in there tonight too all being well.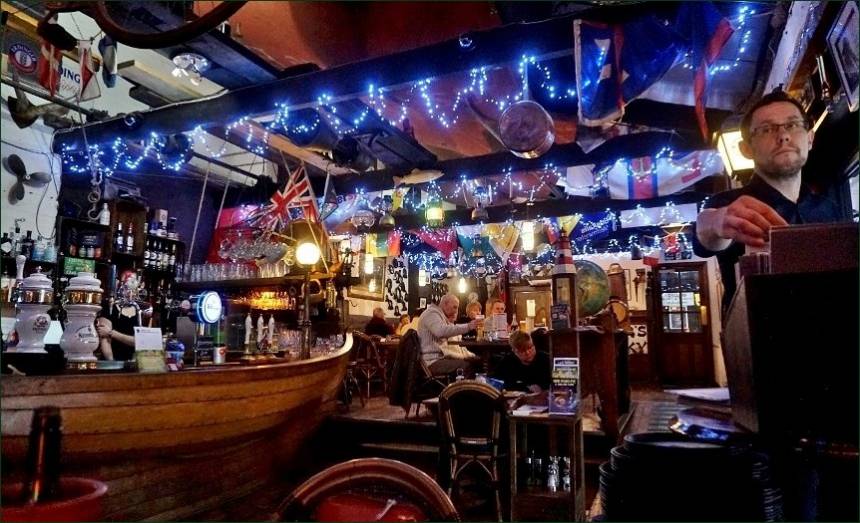 A view below taken from the rear of the restaurant.... which is a great place for us nautical types, the place is full of nautical memorabilia and more... I think this picture below has gone a wee bit soft on me..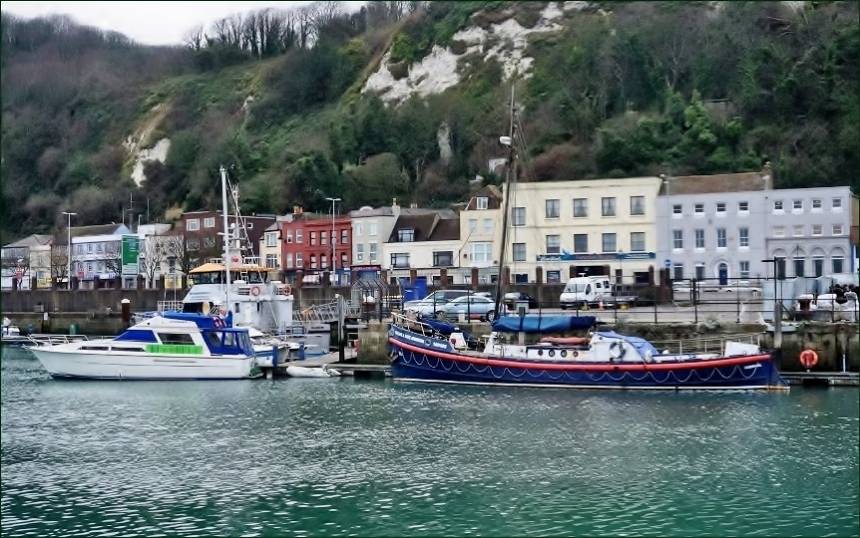 This guy serves up your burger...


!!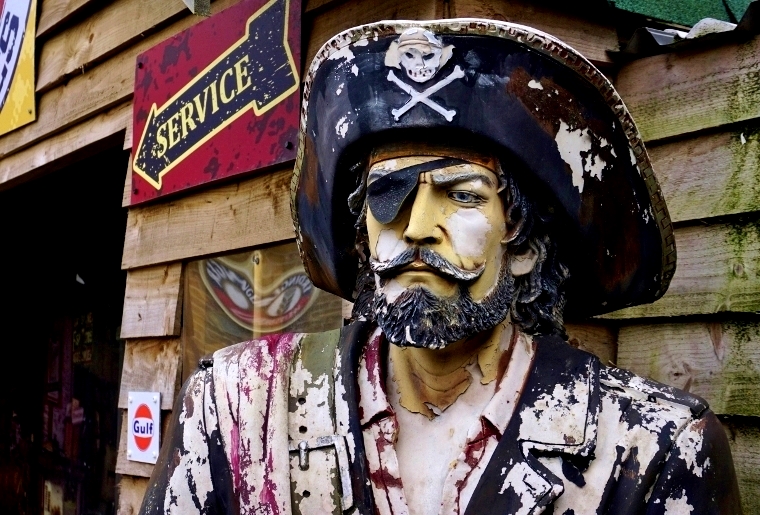 Nice shot from Mike below of Kertu.

but alas alas we have a malfunction below as most of Mike's pictures didn't visualise.
The clue is here, in the number of images put onto the system... IMAGE 14...(way overload I'm afraid).
PaulB.
Friday, 28 December 2018 - 06:14
Post 5965
Mike J., Dover
EDIT: Post reworked and updated see 5968.

Friday, 28 December 2018 - 02:32
Post 5964
Sea News, Dover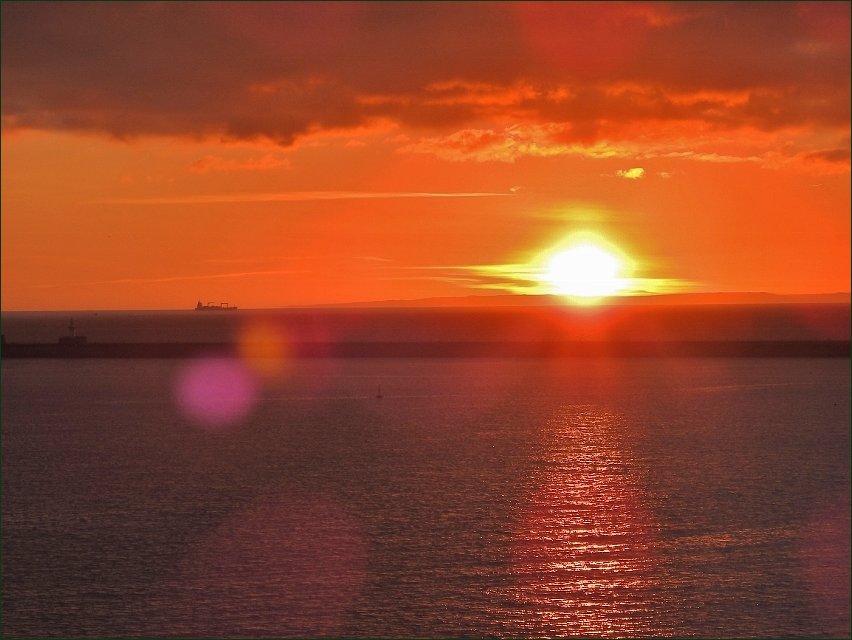 The sun rising spectacularly on Christmas morning above as we look across towards Calais. Yours truly thought it was going to be that kind of easy tranquil Christmas day but not so... as the breaking news channels were telling us early morning that more unfortunates had attempted to cross the channel in the night.
Shortly after the above, Border Force Vigilant moved very slowly by.. towing a dinghy as you can see in the picture below. Rather surprisingly Vigilant did not come into the Port here at Dover but moved slowly on by.. presumably heading to Ramsgate ( since confirmed by Mike's pictures in the post below ). Was that a migrant dinghy? that was the question of the moment.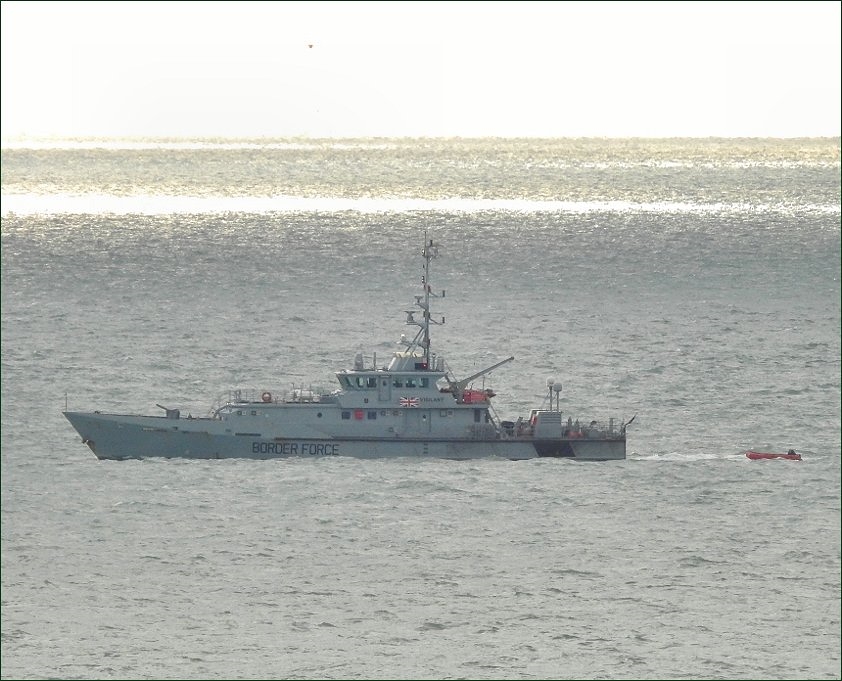 Shortly afterwards Border Force Speedwell chased out of the Port here and headed after Vigilant, the two shots below showing her exiting the Port through the eastern exit.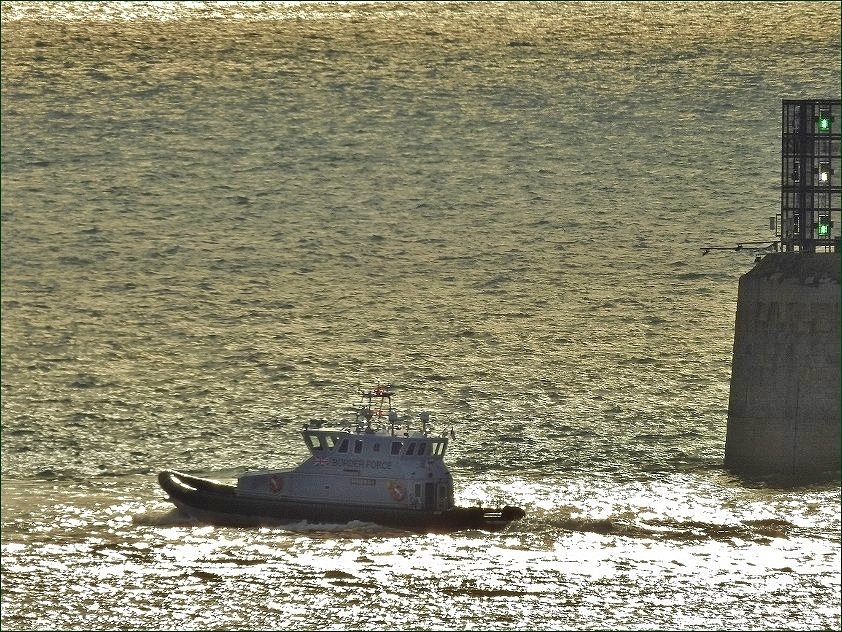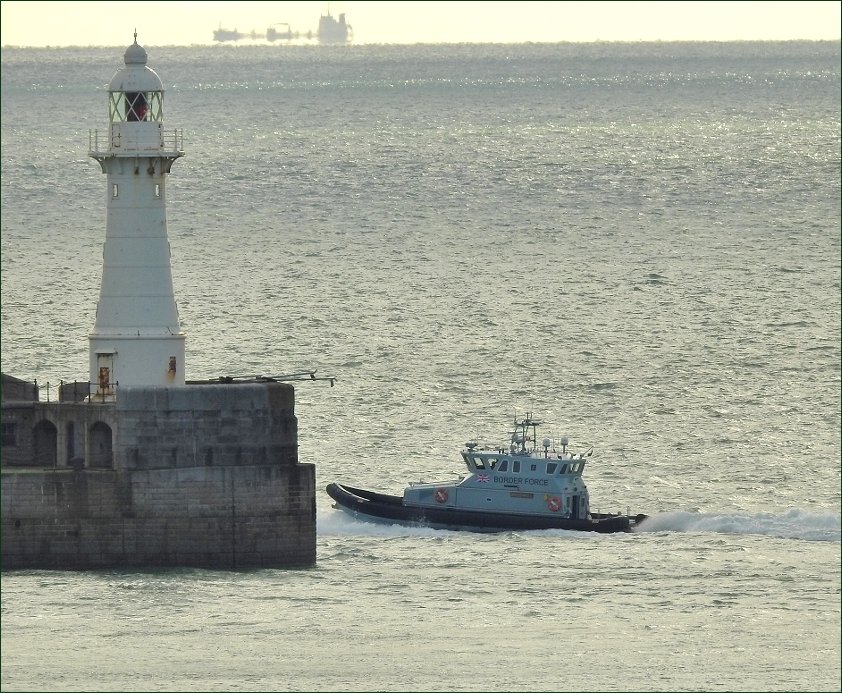 Just then while checking the pictures in the camera...I visually just caught the tail end of Dover Lifeboat heading off at speed. Just got one shot as she disappeared behind the resting Pride of Kent. Phew! thought I...its all happening....
Then two police vans showed up on the seafront. Clearly someone had called them and with all the pointing etc etc....we realised there was a boat adrift in the harbour. Someone had wisely called the police because sometimes you don't spot the obvious...yours truly didn't even notice it. This is the boat below... interestingly though...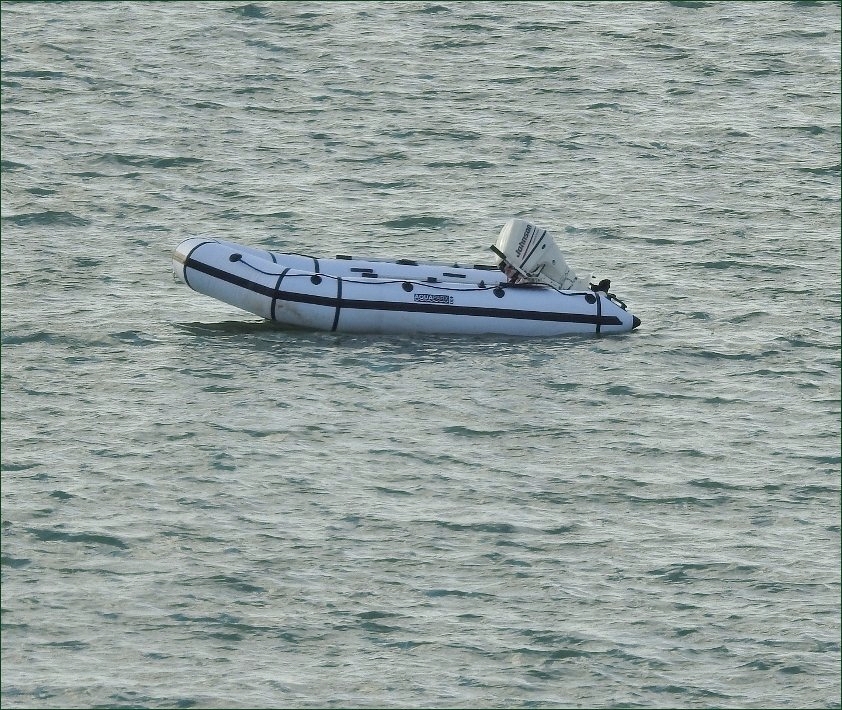 This is the very same boat featured on the national news overnight with migrants onboard. How it got to be adrift right here in the harbour Gawd knows...
All this and it was still only 11am Christmas day. I had to dash out then, and just as I was dashing out...dashing into view at speed came the Harbour Patrol Boat, the police had obviously called them re the drifting migrant boat...
How did that boat get to be drifting about out there...headscratching moment


PaulB
Cracking Ramsgate shots below there from Mike...Don't Miss Those

Thursday, 27 December 2018 - 05:00
Post 5963
Mike J., Dover
Returning to Dover on Boxing Day I called into Ramsgate 'on the off-chance' & found that the diversion was worthwhile.
Border Agency cutters SEARCHER & VIGILANT were on the West Pier & the patrol vessel NIMROD was on the Visitor's pontoon.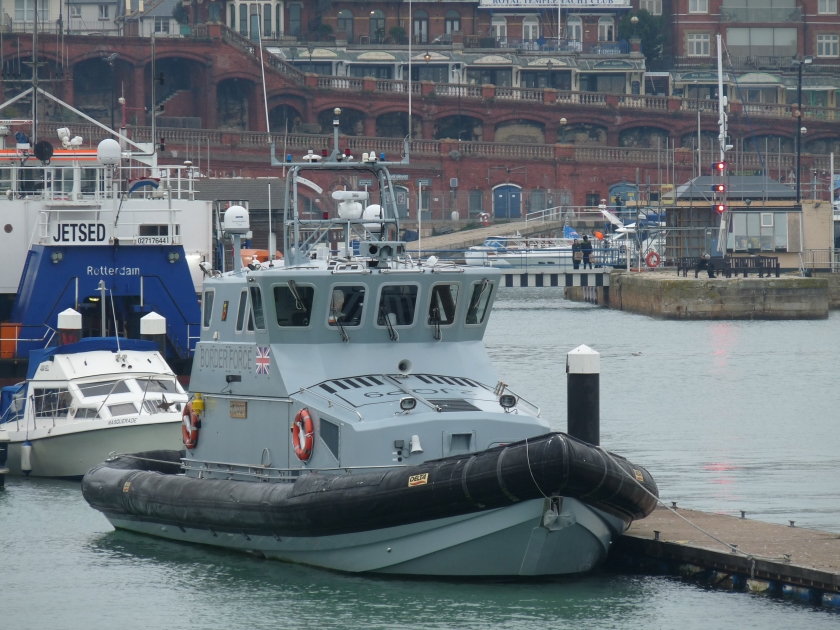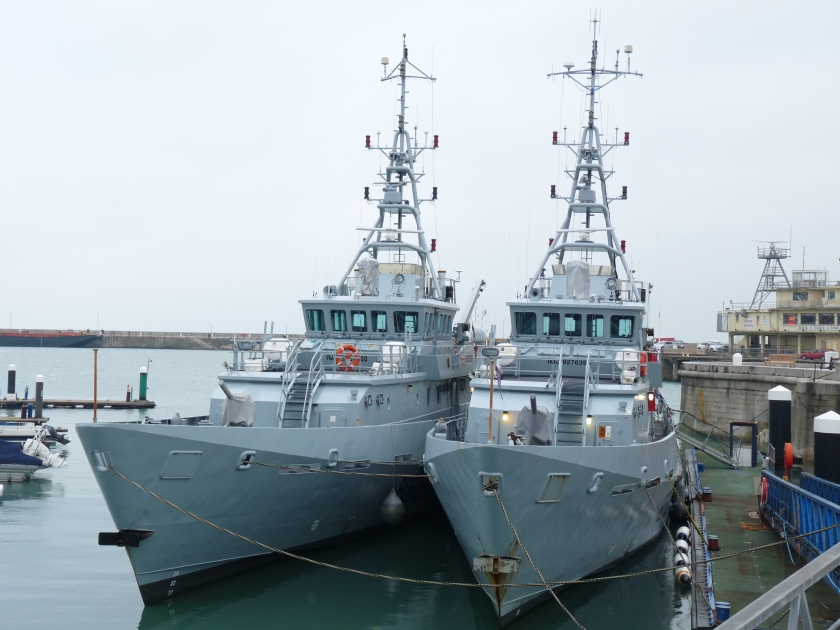 The stern view show the 'doors' that pivot upwards to permit the launching & recovery of the Boarding RIBs.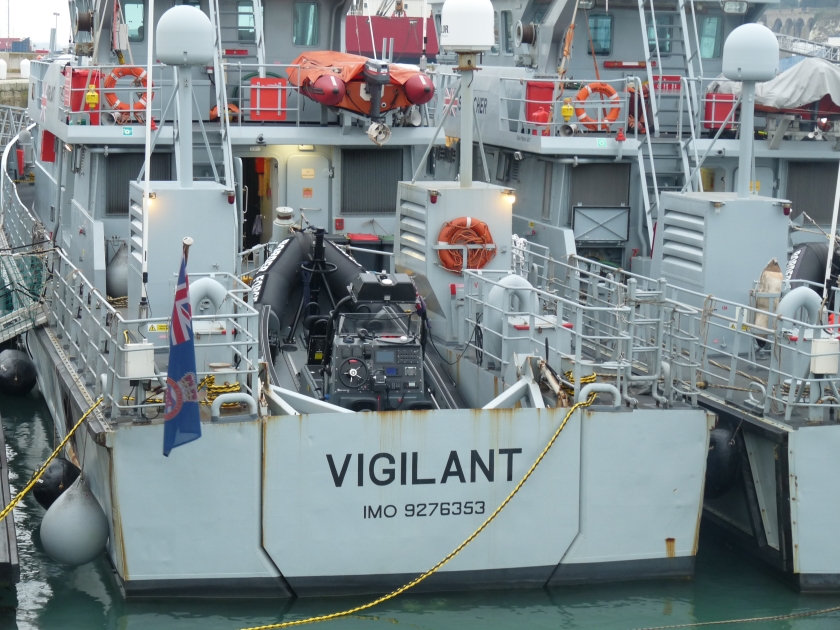 Also in port for Christmas were the MTS VALOUR & the odd-looking very specialised dredger JETSED who has made several visits to Ramsgate in the past to work on Ramsgate's long-standing shoaling problems.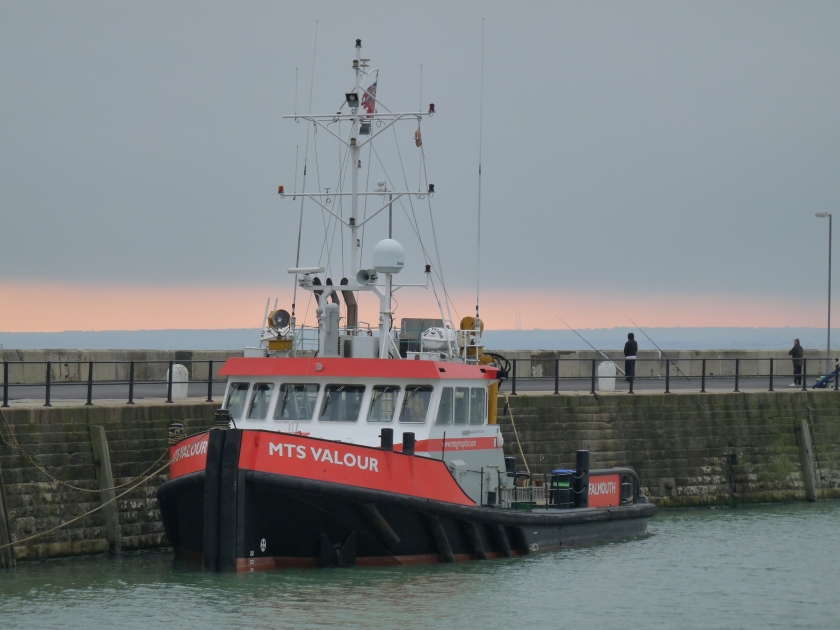 Wednesday, 26 December 2018 - 21:55
Post 5962
Sea News, Dover
Well it was Christmas day yesterday as we know and we thought it would be all sleepy and inactive. But not a bit of it..generally inactive yes...but nonetheless we had action from the Border Force, Vigilant towing what looked like a migrant dinghy, Speedwell leaping off into the fray, the Dover Lifeboat called out...just caught the tail end of her as she disappeared behind Pride of Kent nestling on the western wing...and the Police called because there was a boat adrift in the harbour.
And all that before 11am when yours truly had to dash off...
will have pictures of all that tomorrow morning when normal service will be resumed, haven't had a chance as yet to sort them..
Never a dull moment eh..


Great capture below there Patrick of an arriving Atlantic Reefer. Well done with that.Great to see..

Splendid all round collection/info Mike of the general Port enjoying a rest on Christmas Day. Great stuff!

Nice to see the RNLI Ramsgate Christmas greetings Sarah.

Del as you can see ..inactive of one hand, frantic on the other...

Thanks for the all round comments..ace

PaulB.
Wednesday, 26 December 2018 - 06:29
Post 5961
Patrick, Marine Parade
I echo Mike J's wishes and thanks to PB in the crows nest. Our intrepid and constant look out for all thing Port wise. Thanks for some amazing reports and shots this last year on the forum.
One of the last arrivals before Xmas shutdown was the Seatrade 'Atlantic Reefer' from Paita, Peru for the DCT.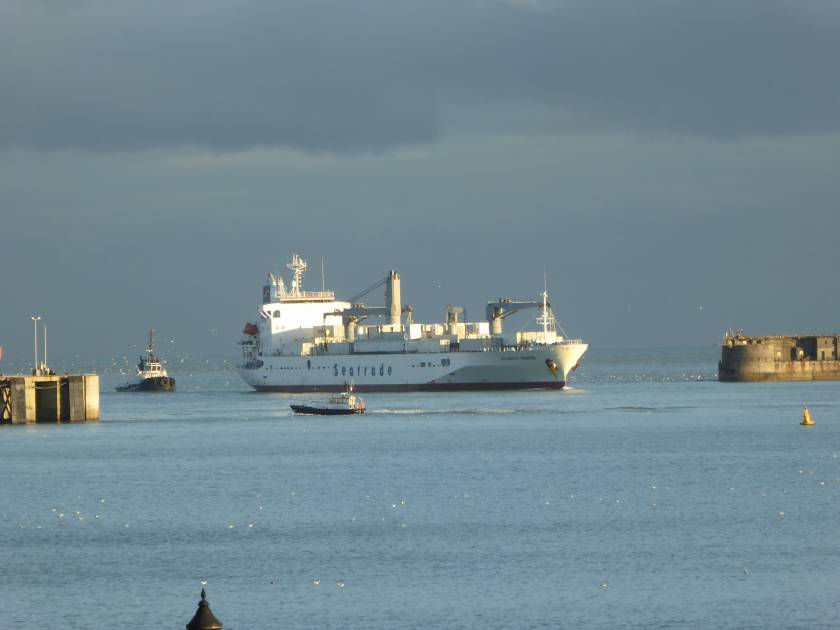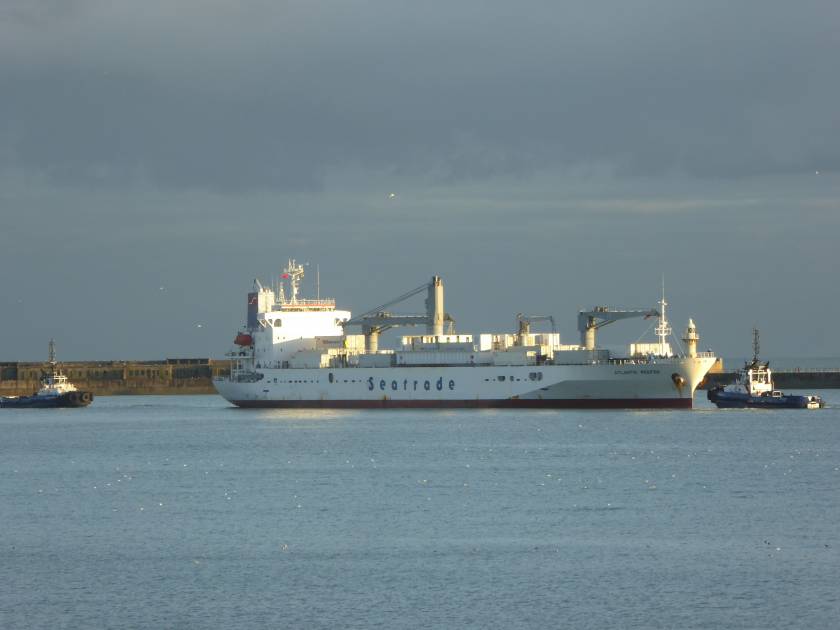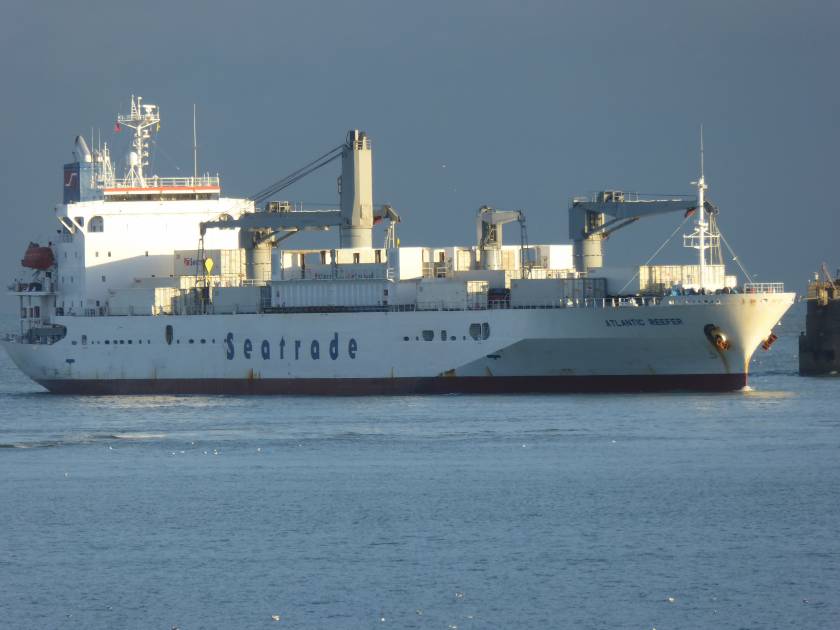 Two other reefers -'Atlantic Klipper' & 'Lombok Strait' are currently laid up on The Downs from Zeebrugge and Vlissingen respectively.
Tuesday, 25 December 2018 - 16:34
Post 5960
Mike J., Dover
A very Happy Christmas & best wishes for the New Year to all 'Sea News' readers & thanks to Paul for running the forum.
A few pix of the annual shutdown, sadly I arrived a little late for some fabulous golden dawn light which rapidly fizzled out.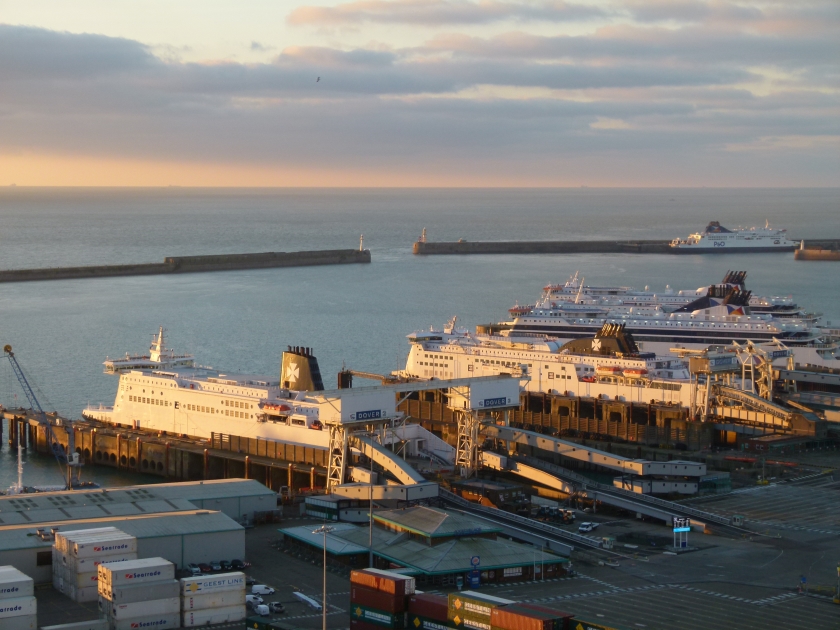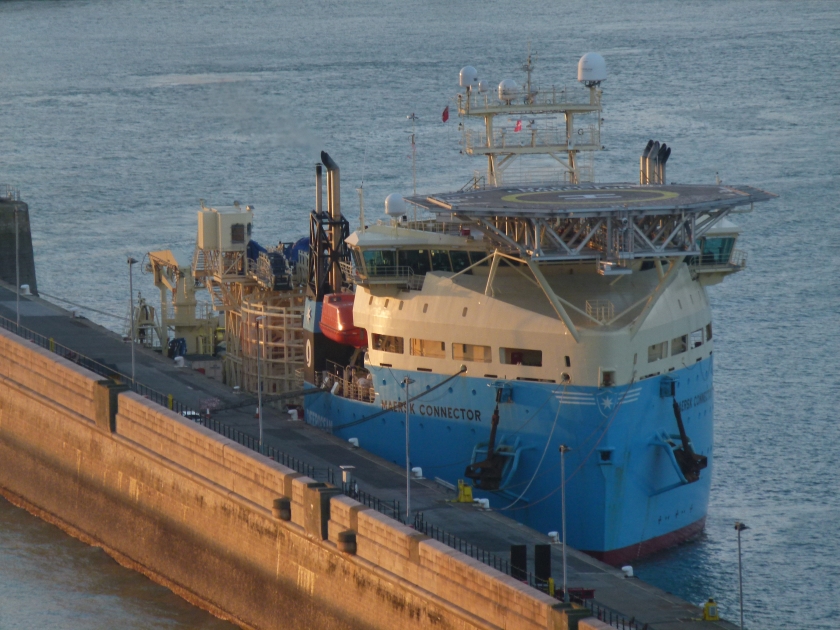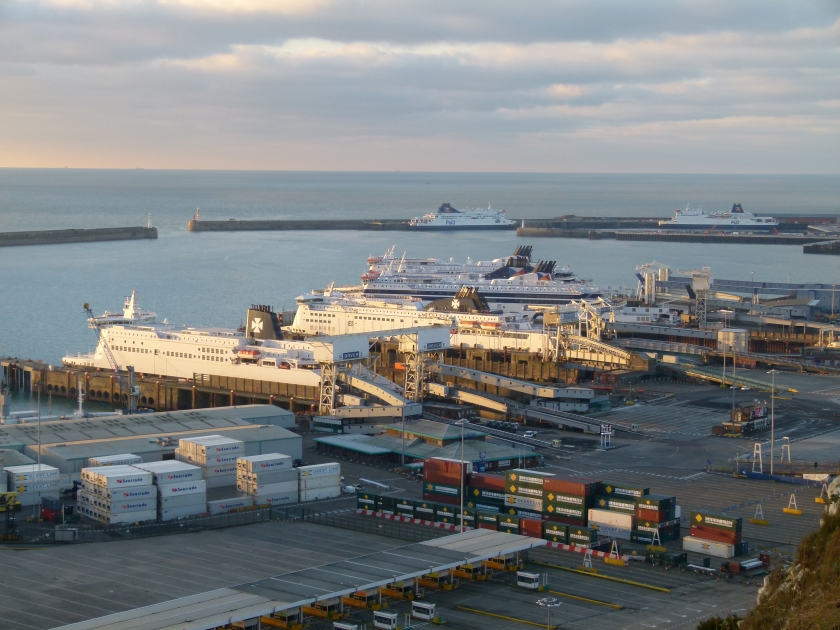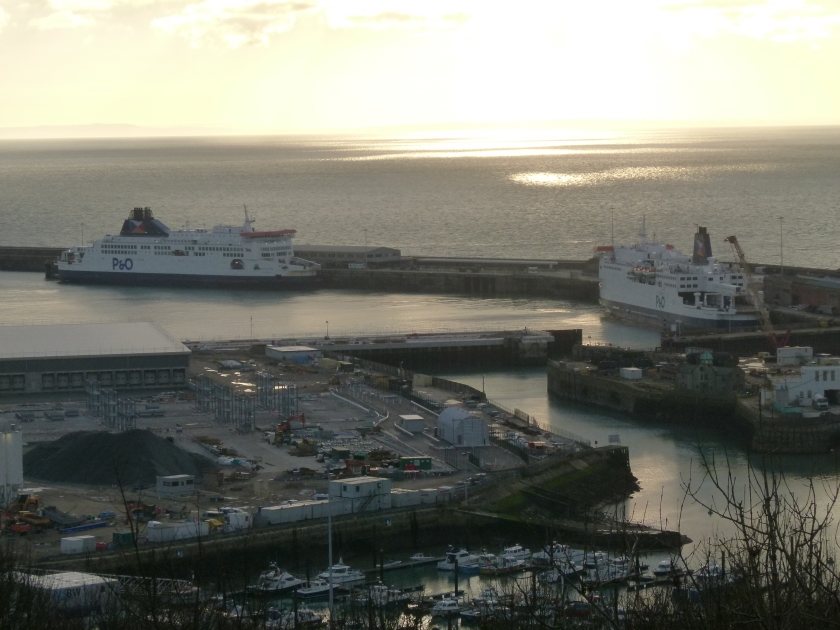 Over in La Belle France the COTE DES DUNES & CALAIS SEAWAYS are in Calais with the DOVER SEAWAYS & the DUNKERQUE SEAWAYS in Dunkerque & the EUROPEAN SEAWAY in the Dunkerque drydock.
Larger 'commercials' in Dover, apart from the DHB 'regulars' on Christmas morning were -
MAERSK CONNECTOR Eastern Arm
ATLANTIC REEFER DCT
r/v MORVEN Wellington Dock
windcat EMS VULCAN Wellington Dock
DWDR 'Mosquito Fleet' Tidal Basin
Border Agency HUNTER Tidal Basin
B/A NIMROD & SPEEDWELL are elsewhere, perhaps out there seeking customers.
Dover lifeboat was busy during the night, AIS showing her off Deal but at 0900 she was back on her berth.
However a look at AIS at 1030 showed her back out at sea, mid-channel & almost alongside the big French Government tug ABEILLE LANGUEDOC, both vessels being almost stationary.
Tuesday, 25 December 2018 - 11:22
Post 5959
Del Styan, Norwich
Happy Christmas, PB. Hope you spot some port inactivity tomorrow.

Monday, 24 December 2018 - 23:13
Post 5958
Sarah, Ramsgate
Seasons greetings sent out by the RNLI Ramsgate & Broadstairs Fundraisers. Happy Christmas to everybody on Dover Forum.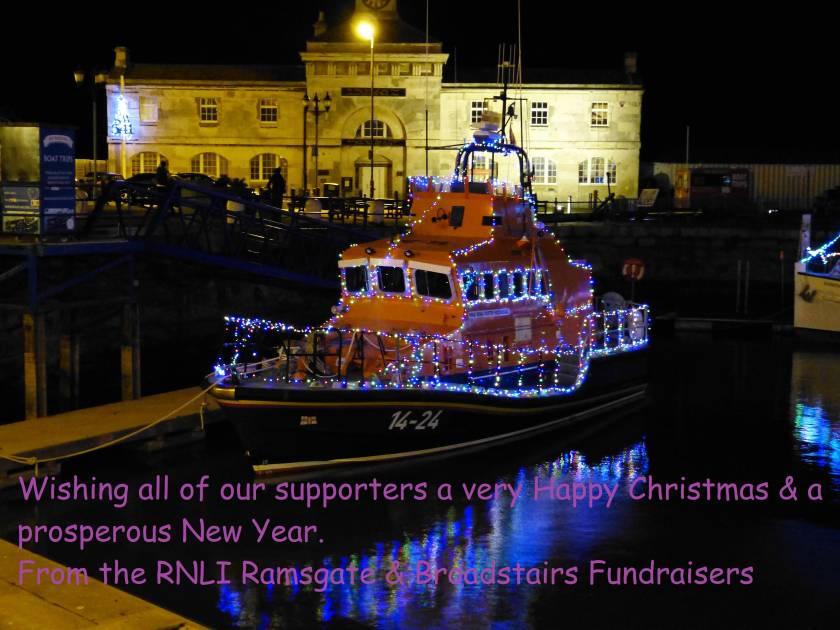 Monday, 24 December 2018 - 07:35