Thursday, 20 June 2019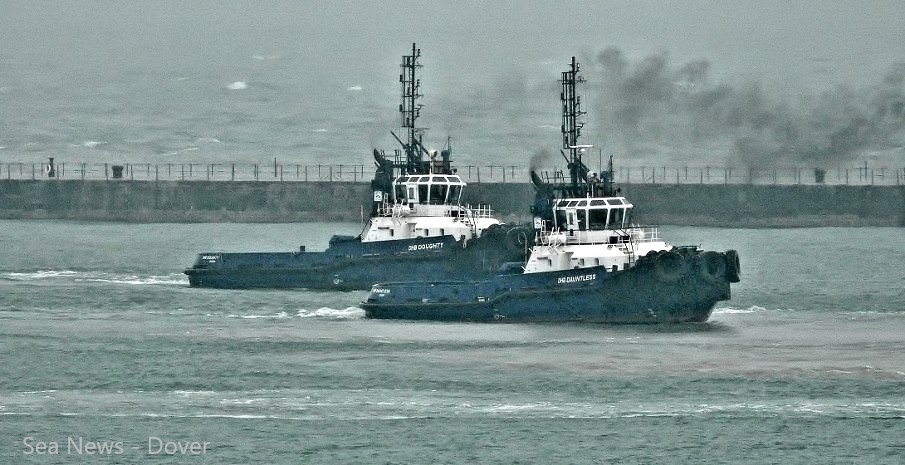 Just having sent Pacific Reefer on her way, the tugs turn back into the Summer (!!) gloom....

WWW.DOVERFORUM.COM/SEA-NEWS
Featuring all the ships that come and go and work at the Port of Dover ..
... with further coverage of the surrounding ports.
Sea News Dover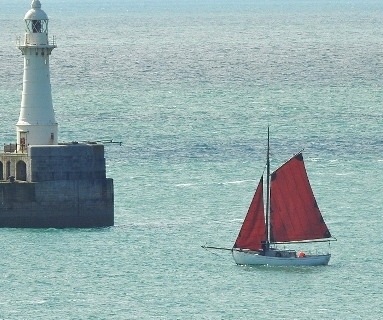 DFDS NEW SHIP for Channel see 6303
DFDS Europe's award winning Ferry Operator 6332
Port of Dover : Virgin Voyages 6289
Port of Dover: Brexit Resilience 6123

P&O Ferries: Alternative Euro Breaks 6298
P&O Ferries: Record Fundraising for Lifeboats see 6253
Port of Dover: Reducing Carbon Footprint 6332
Port of Dover: New Cargo Manager see 6205

Thames Estuary Forts 6250
SS Richard Montgomery at rest (WW II Supply Ship ) 6329
DFDS: ORCA 6179
Premier Inn completes see 6149 plus

Scroll down to see the Boudicca D-Day pictures in several posts.
Use our SEARCH ENGINE below to find all sorts on the SEA NEWS pages....
type in the topic and away you go, or if you have the post number as shown above, just type it in the box, more than - 6300 - nautical posts now.
Posts are welcome. just click 'Add Your Comment' below. Max of 5 pictures preferred although we can stretch that for special stories..
Sea News Editor Paul Boland - send info or pix to dover7@msn.com. Always welcome.
CRUISE CALLS:
https://www.doverport.co.uk/cruise/find-a-cruise/
UPDATE:
To show your pictures at their best..it could be worthwhile resizing before posting to
850
pixels wide.
All pictures on these pages are the copyright of the owners and must not be reproduced without permission.
Post 6229
Sea News, Dover
Featuring Border Force today...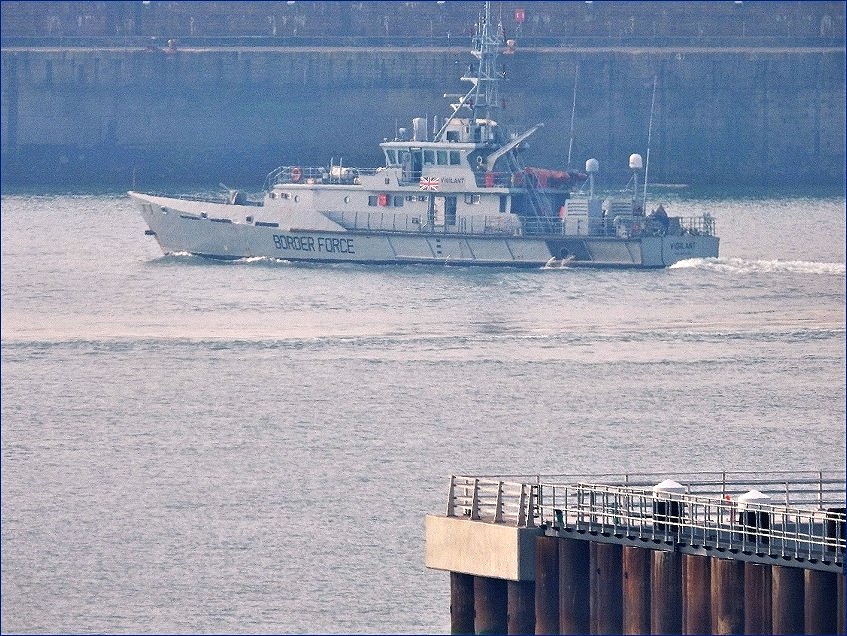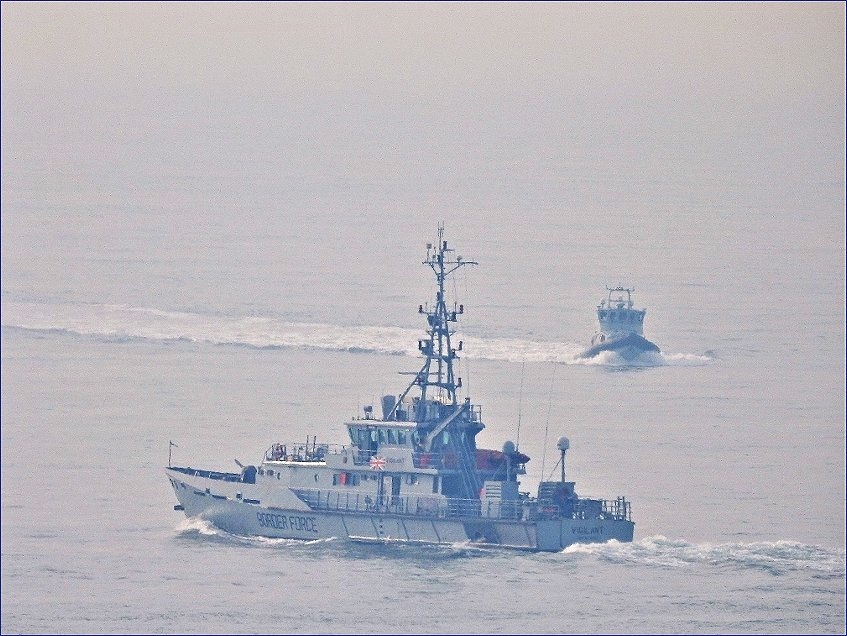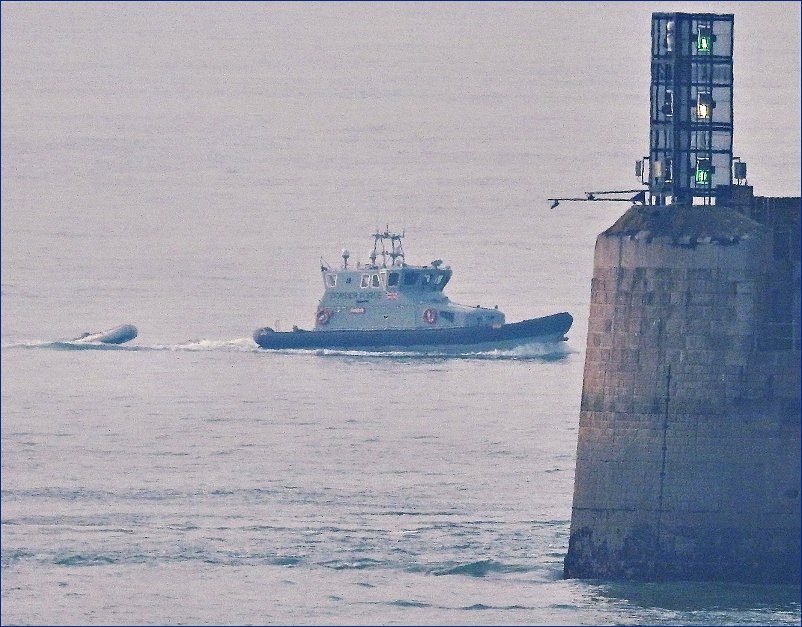 The shots above ( seriously hampered by misty murk ) are from Easter Monday which was a very busy day for Border Force with the reported sightings of incursions. You can see Vigilant above there heading out from the Port of Dover to join the fray as it were. Vigilant most definitely gets about, certainly highly active, we saw her in Ramsgate in Sarah's pictures a couple of days ago.
As she headed out one of the smaller Border Force boats came towards Vigilant. We understand it to be Speedwell...the smaller boat was towing a dinghy, read into that what you will, and as she approached the Port entrance had a change of heart and surprisingly veered off to her left, her port side...
As we said, those three pix above are from Easter Monday 08.20 approx...and the one below shows another Border Force cutter...this time its Searcher heading out. This picture below was taken yesterday morning Tuesday at 09.39...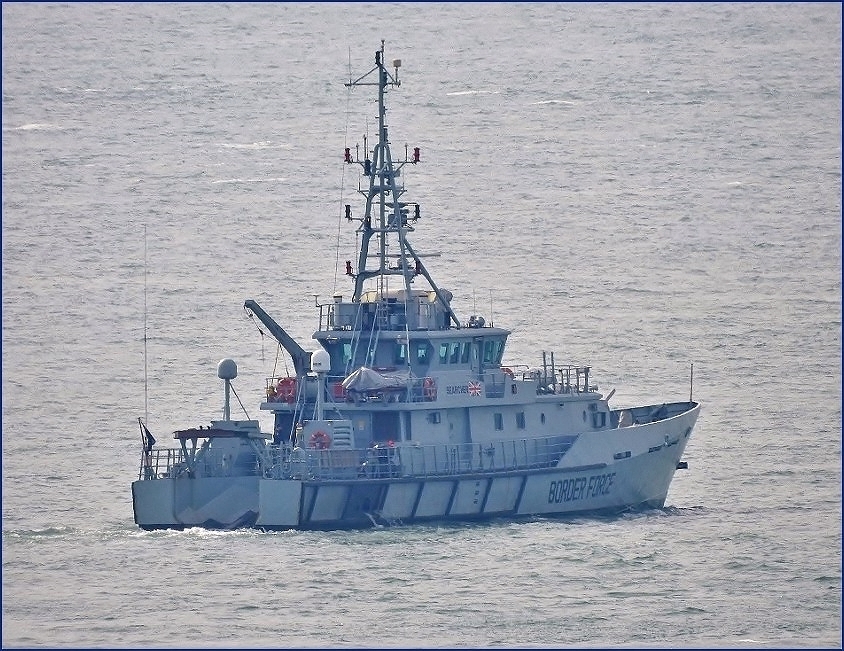 PaulB
Wednesday, 24 April 2019 - 06:20
Post 6228
Sea News, Dover
Some very hazy pictures now from Sunday morning. It looks like HMS Mersey in action here but because of the mist/haze call it what you will, we cant be entirely sure. But assuming it is HMS Mersey...the naval vessel was advancing westward and suddenly did a swift 180 degree turn presumably to check something out, perhaps some concern was expressed onboard over the visible yacht. This was another weekend of migrant boat activity so you can understand the ship being in high alert mode... three incursion boats were picked up over Easter.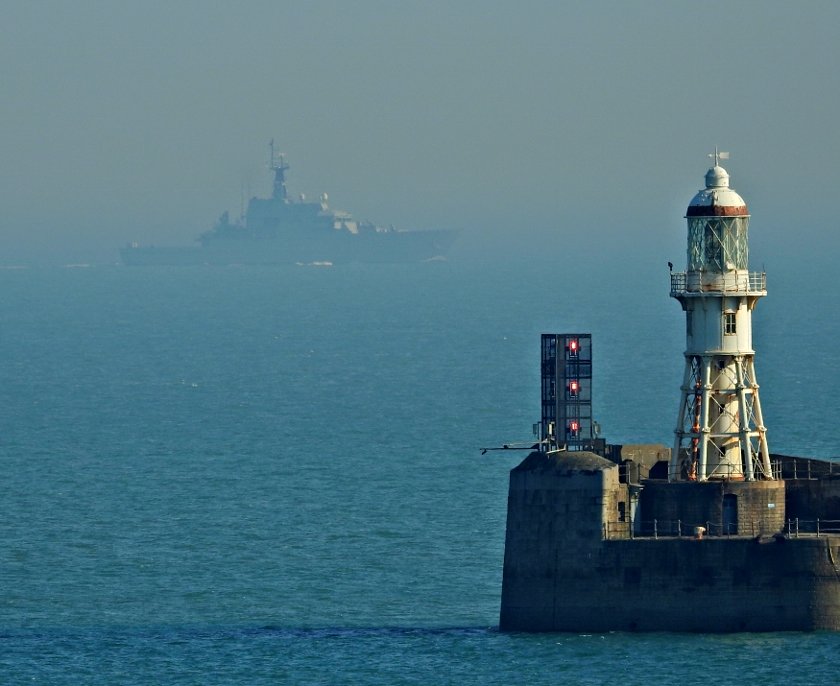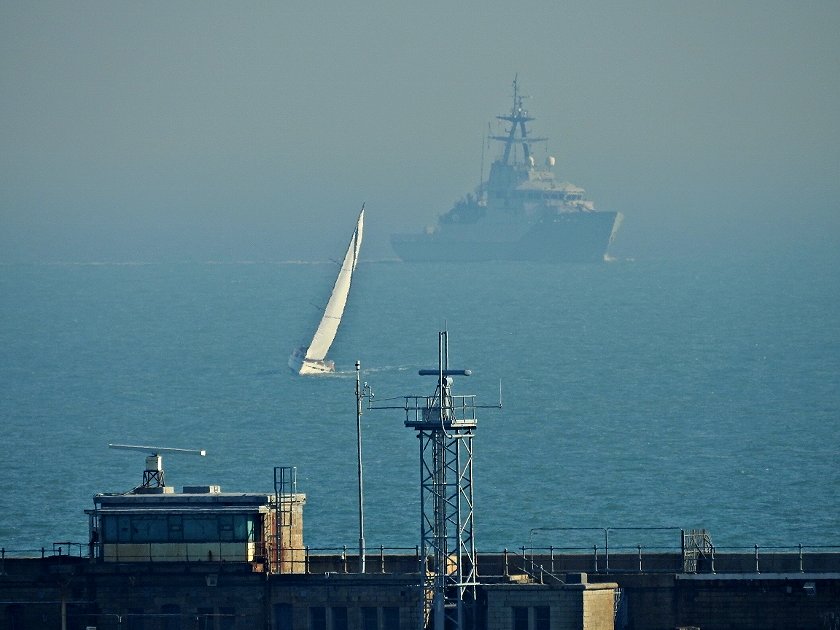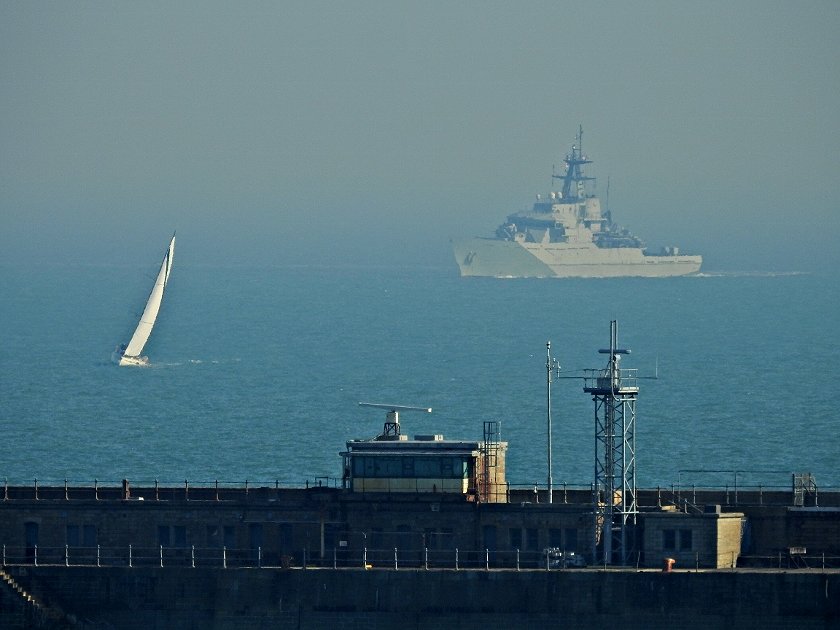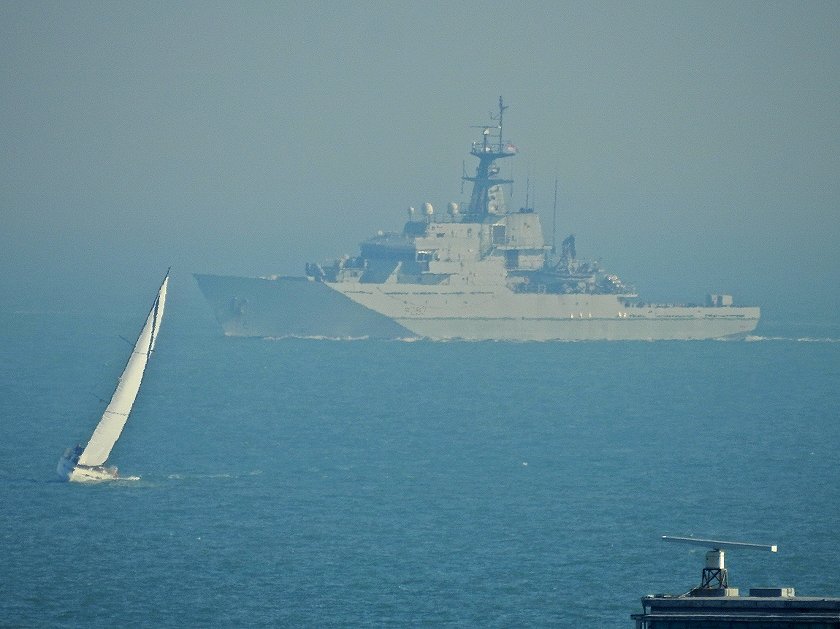 Also have pictures of Border Force activity...still in camera but if quality any good will also show those. The visibility haze issue might hamper us a bit with those yet again..

Nice collection below from Dover Sarah.. well done with those....
...the roving reporter roved over to dover with camera over shoulder ready to record...

Try saying that in a hurry...

PaulB
Tuesday, 23 April 2019 - 06:27
Post 6227
Sarah, Ramsgate
Enjoyed The Easter Event at RNLI Dover on Sunday, below are a few photos.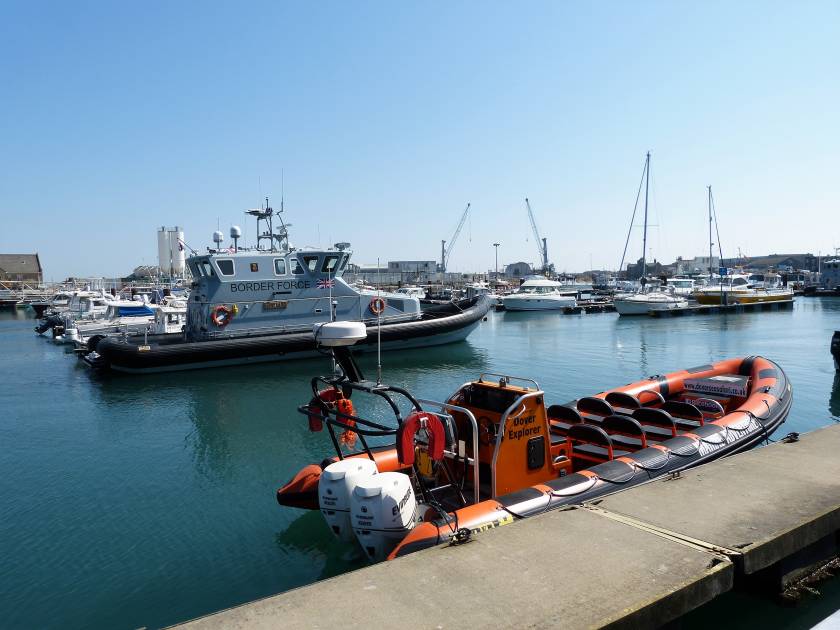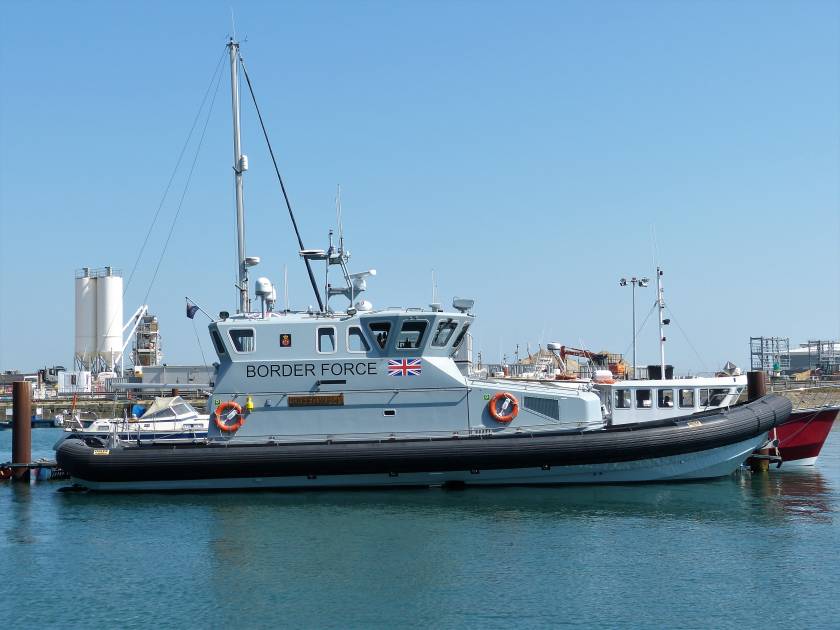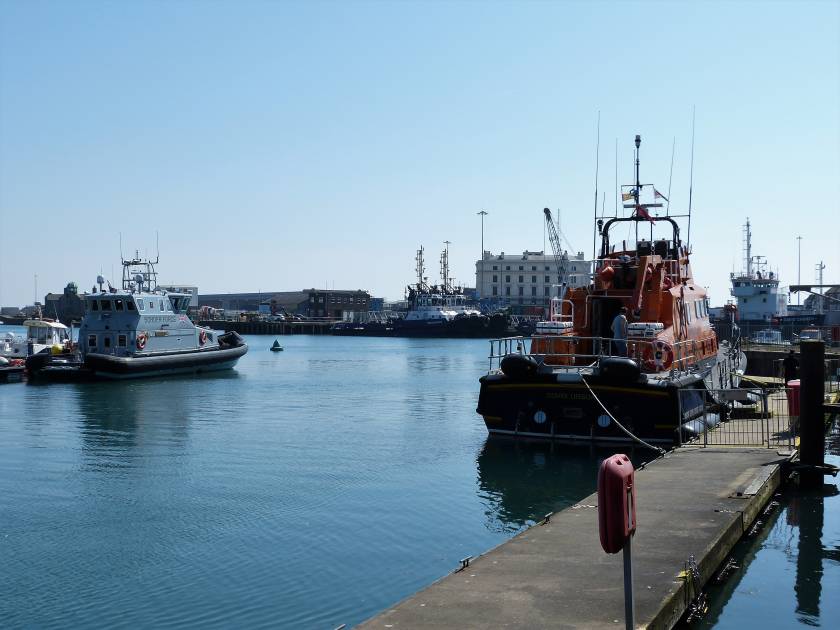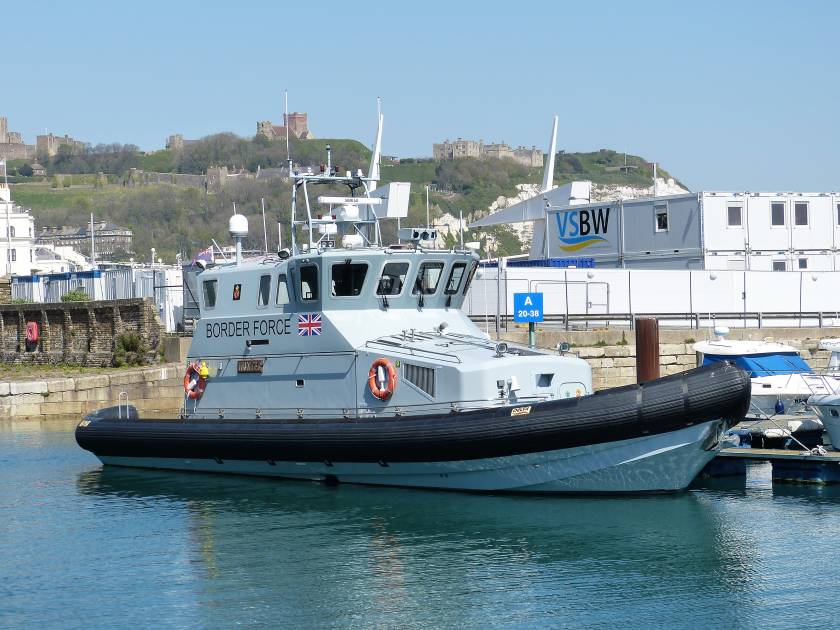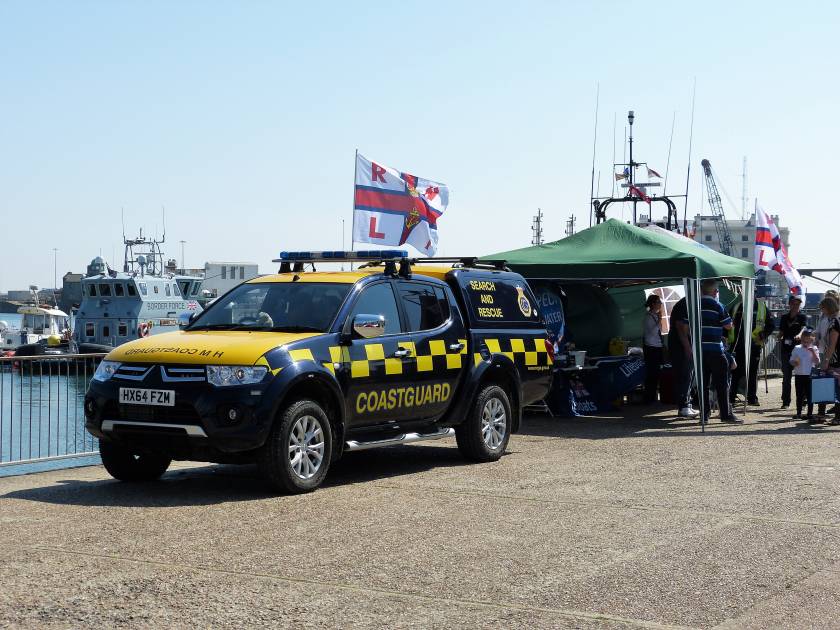 Monday, 22 April 2019 - 19:35
Post 6226
Sea News, Dover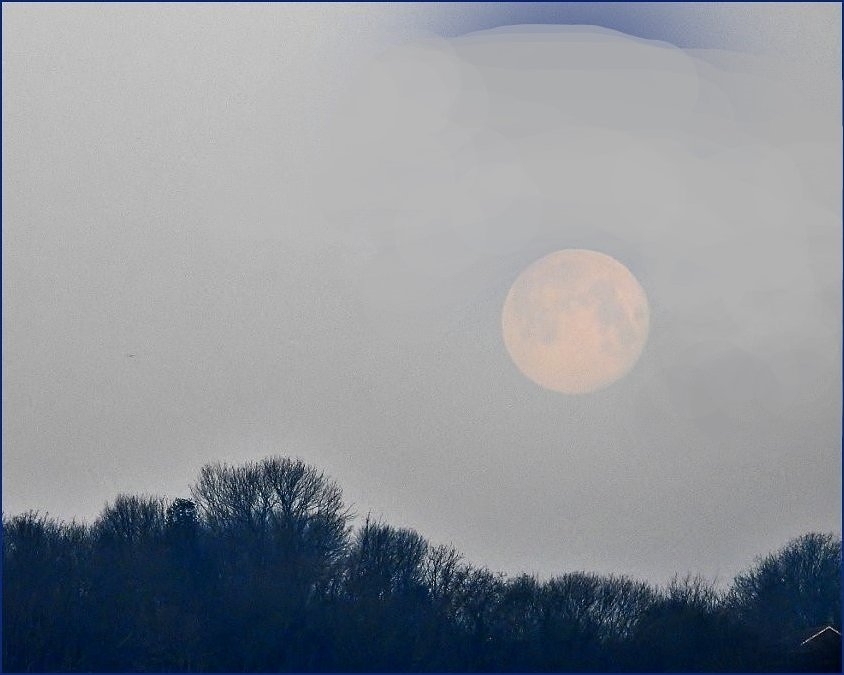 Misty Morning Moon: The picture above shows the moon on Saturday morning at 6am. Yes its the misty morning moon hanging just above Dover's Western Heights and about to disappear... but looking spectacular even though gently fading away...
Turn the clock back a few hours and we look out across the night-time port with one of the P&O Spirits to the left and the moon lighting up the Dover Straits. Not really focusing on the moon in this shot... just a general night pic.
As you can see...the moon beautifully and conveniently lights the way to Calais.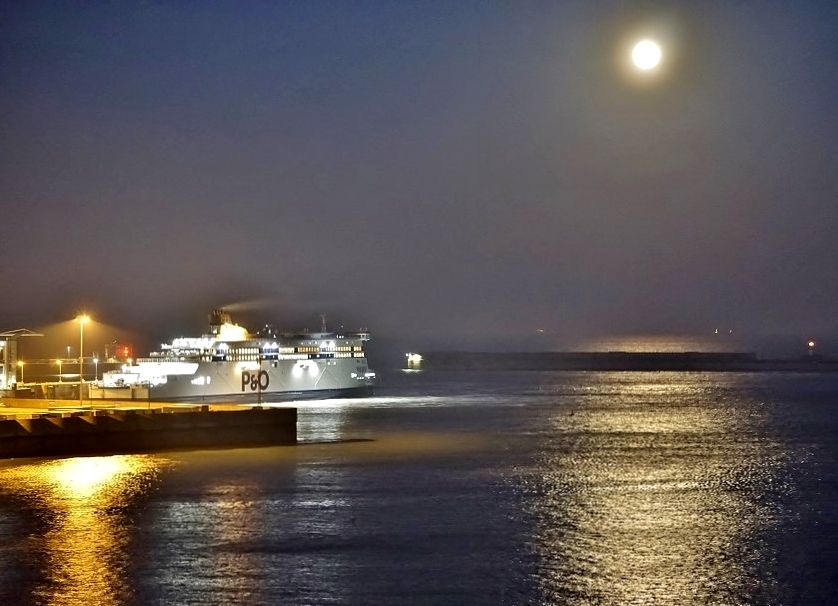 Wow! Sarah...an awesome collection of pictures below there... absolute stunners..
and the featured vessels amazing, amazing to get them all in one place.
Bet Google will highlight those in due course.
Don't Miss Those!!
Thanks Jeremy on behalf of all the 'snappers'. Glad you're liking it all.....


PaulB
Monday, 22 April 2019 - 06:15
Post 6225
Jeremy Ward, Whitfield, Dover
Great photo's on here from some talented photographers!

Sunday, 21 April 2019 - 22:13
Post 6224
Sarah, Ramsgate
Relief Lifeboat "Forward Birmingham" has returned to Ramsgate from having completed a successful spell of relief at Sheerness. Pilot Boats Estuary Elan & Estuary Esprit are seen in the background.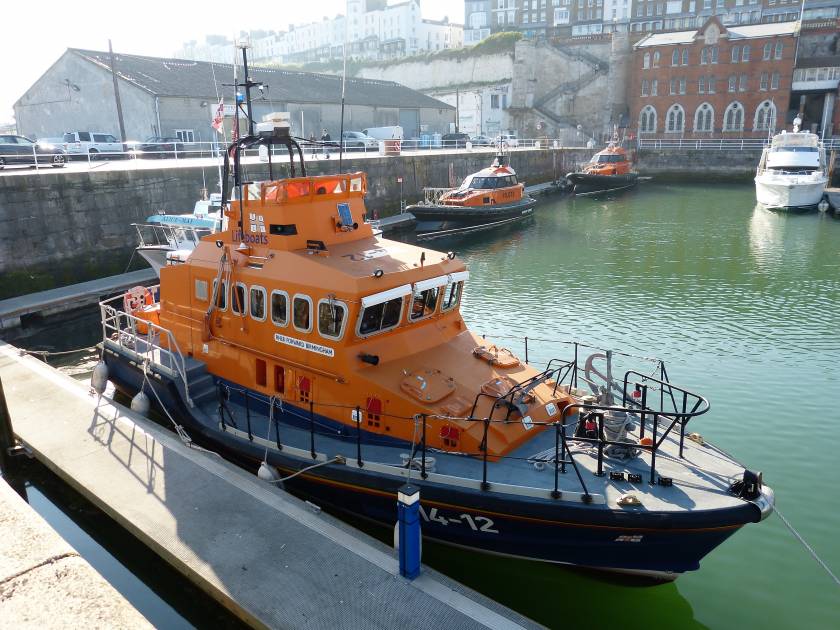 HMS Blazer, Dasher & Puncher overnighting in Ramsgate.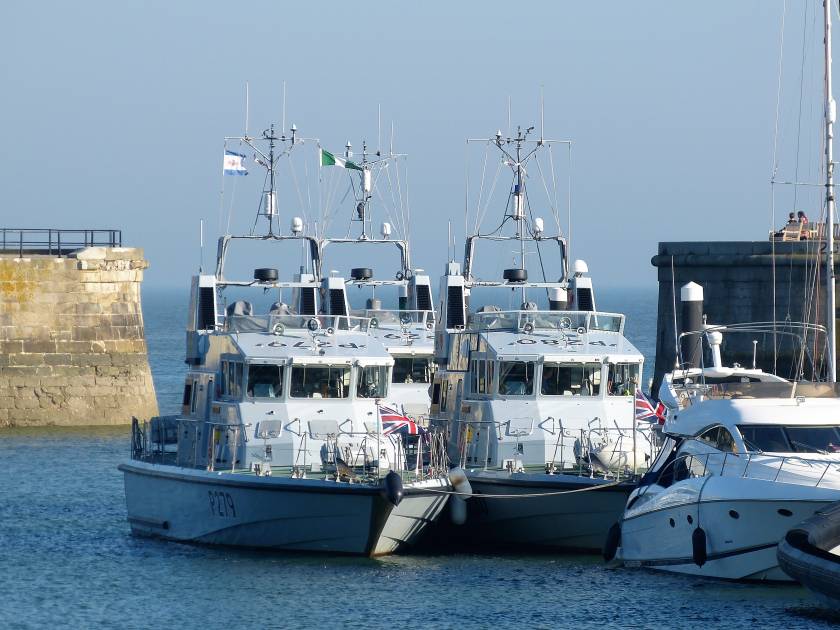 CPV Alert in Ramsgate.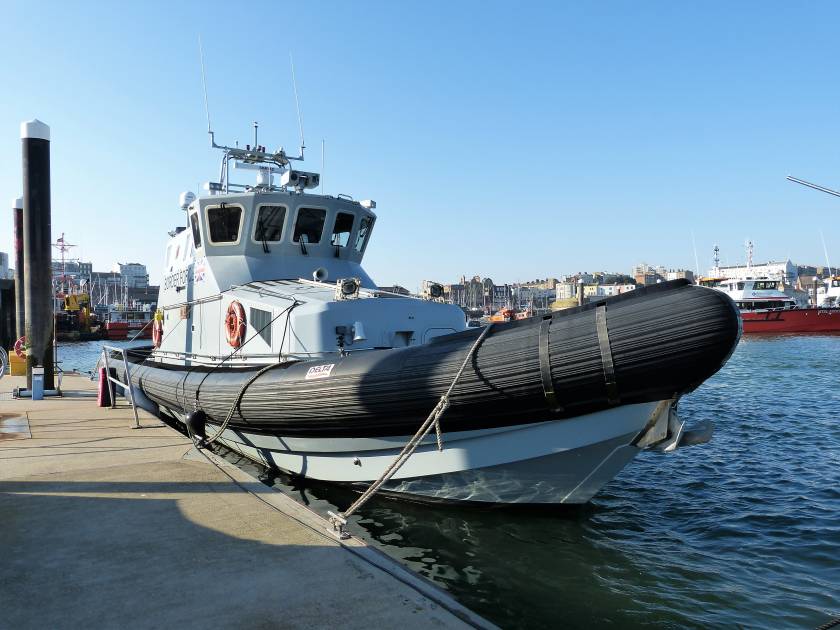 HMS Puncher in Ramsgate.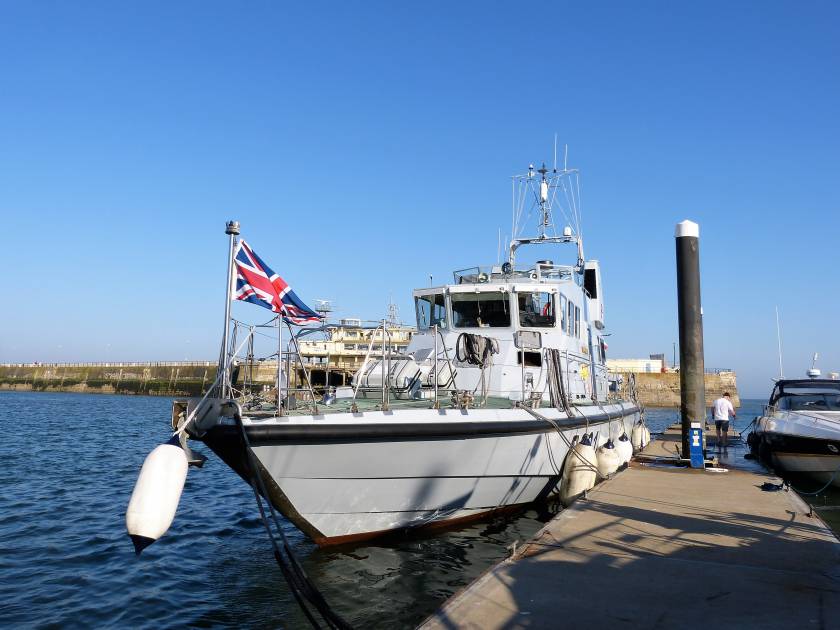 HMC Vigilant at rest in Ramsgate.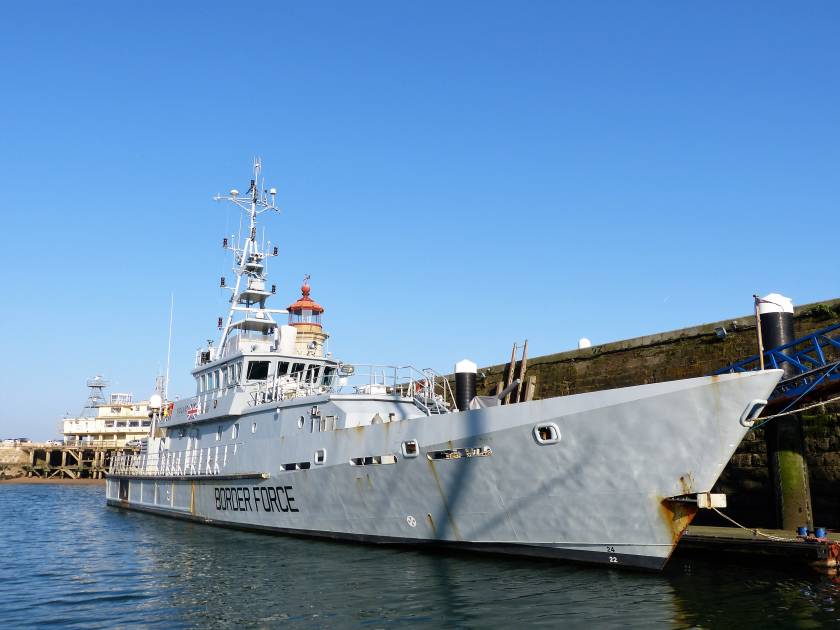 Sunday, 21 April 2019 - 19:44
Post 6223
Sea News, Dover
Yours truly accidently left these two extra pictures of MV Hamburg off the earlier post with the Jetskis this morning. These follow along from the earlier shot of the elegant ship leaving late evening in post...ermmm just check the number.. thats it...6219.
You know what they say...better late than never!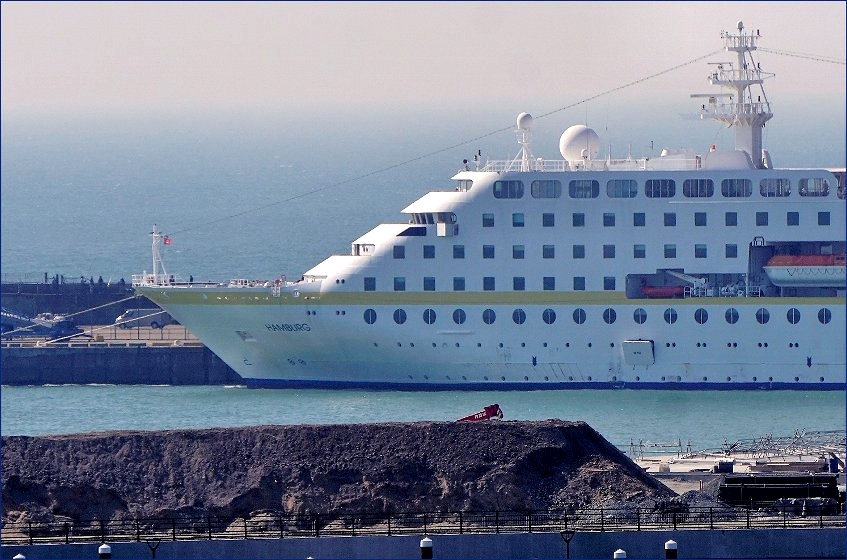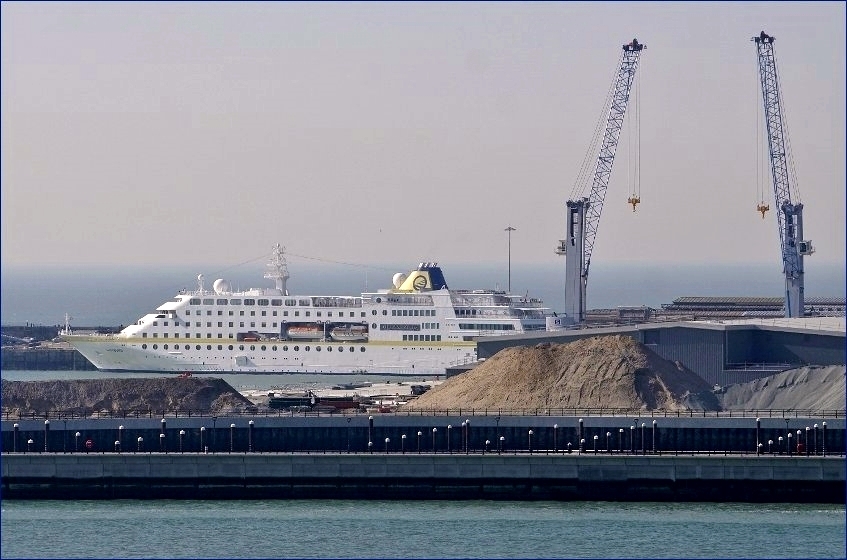 Sunday, 21 April 2019 - 10:07
Post 6222
brian dixon, dover
still missing colettes witty posts though.

Sunday, 21 April 2019 - 07:31
Post 6221
Sea News, Dover
JET PROPULSION -
MAKING WAVES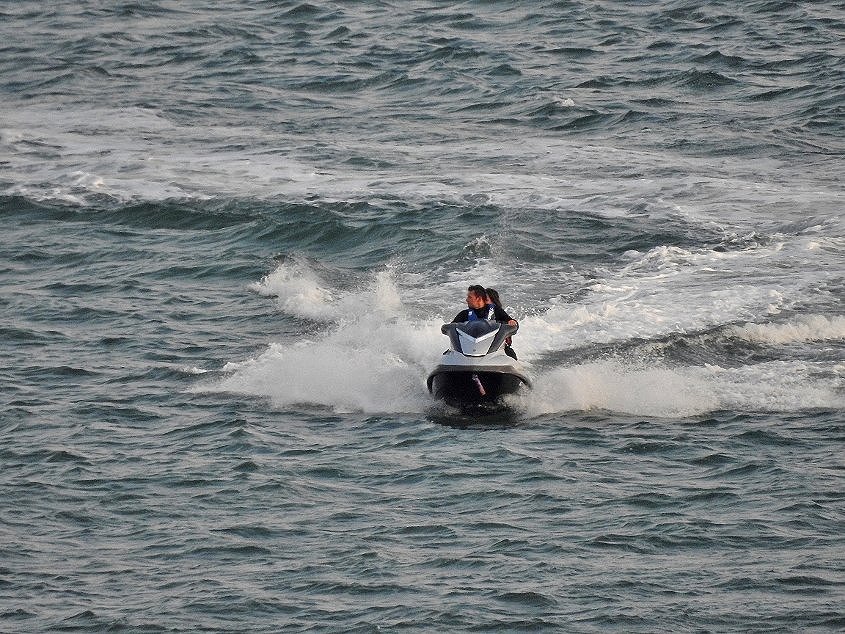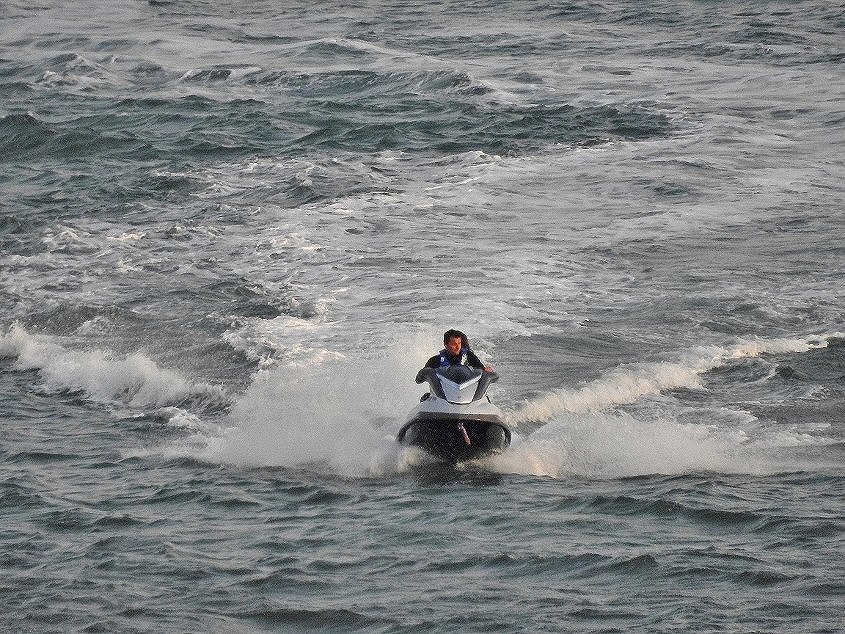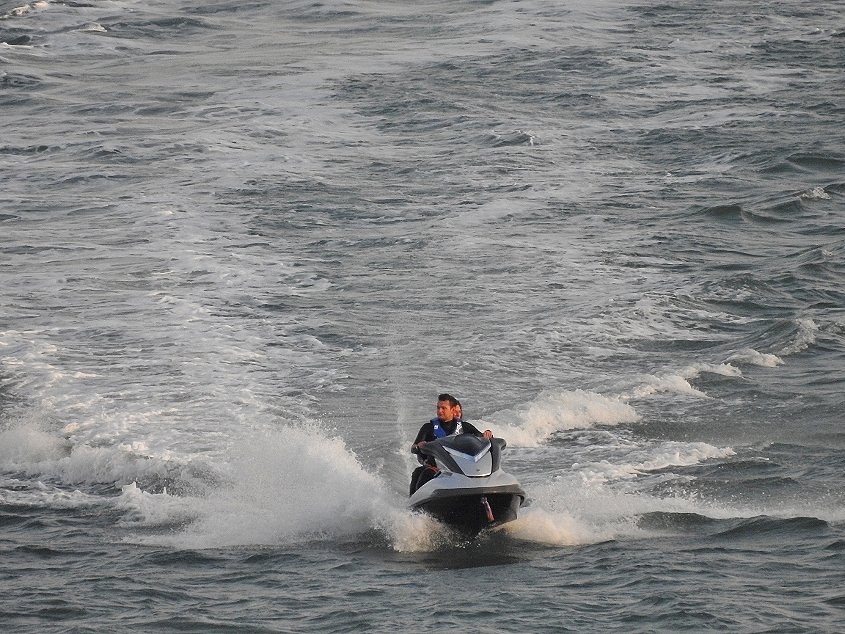 The couple on the jetski above are shown powering back into Port from the open seas on Thursday evening. They are clearly having an exhilarating time of it in the late day sun. The weather was then and is now...just gorgeous. An amazing Easter - Dover enjoying big numbers of visitors.
Brian

PaulB
Sunday, 21 April 2019 - 06:27
Post 6220
brian dixon, dover
liking the cruise ship listings.

Saturday, 20 April 2019 - 19:43
Post 6219
Sea News, Dover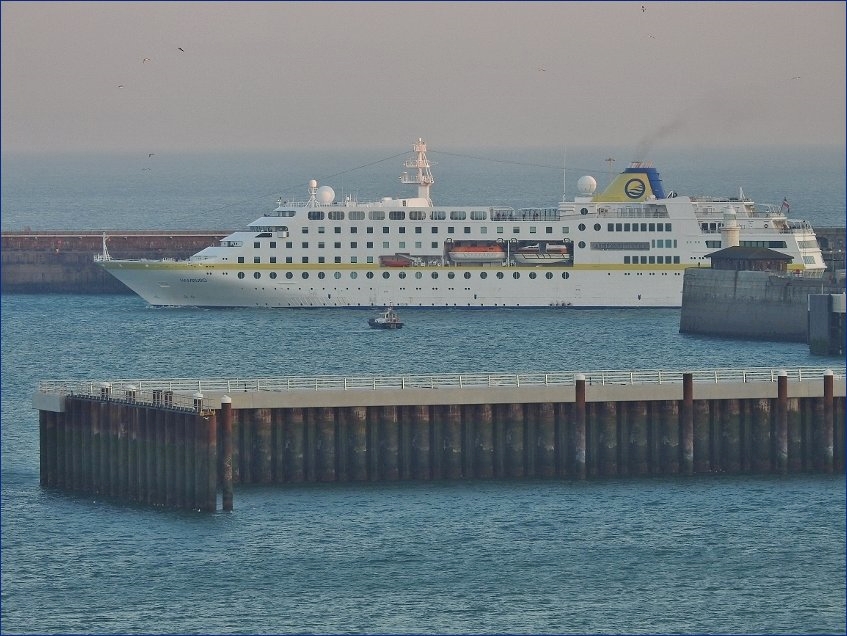 Yes indeed MV Hamburg was with us yesterday and there she is above leaving the Port in the fading light last evening. Time of departure about 19.30 or 7.30pm if you prefer. She was off to...well yes you've guessed it...Hamburg !!

The pictures below are from the evening before and we have AIDAluna leaving and where was she going ? ...yes Hamburg again.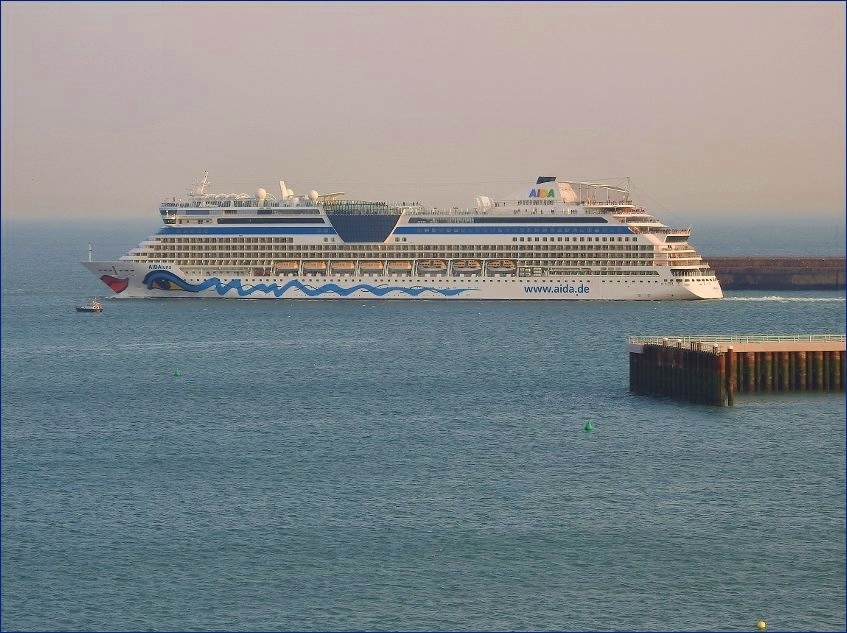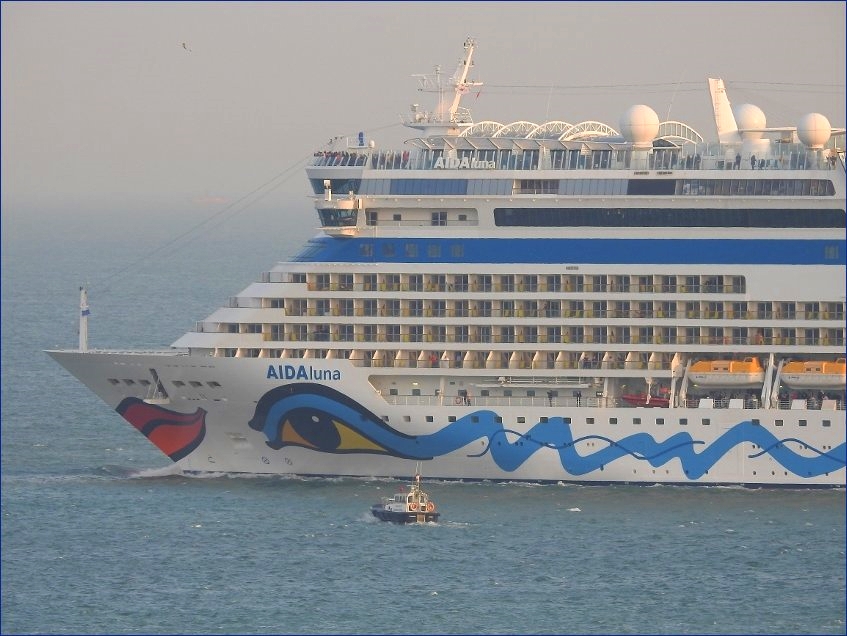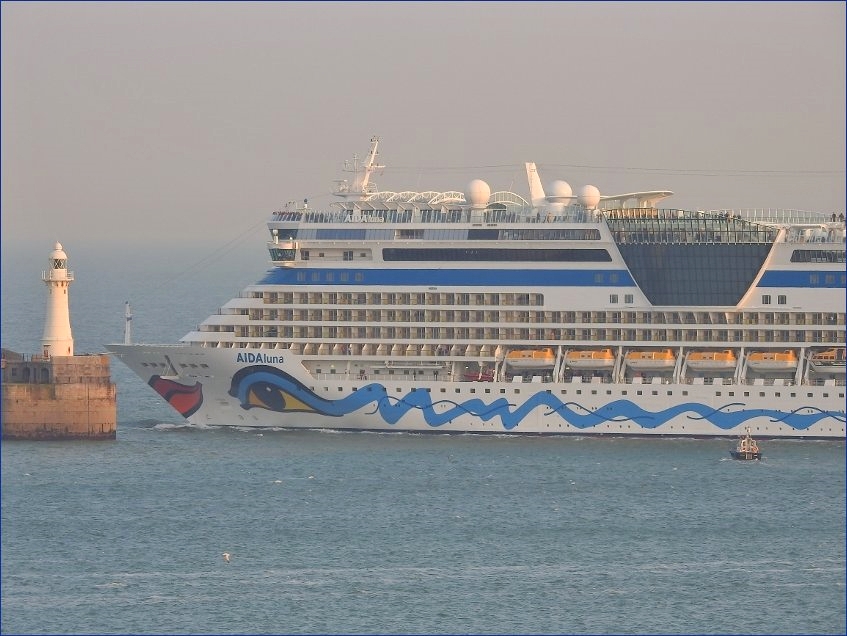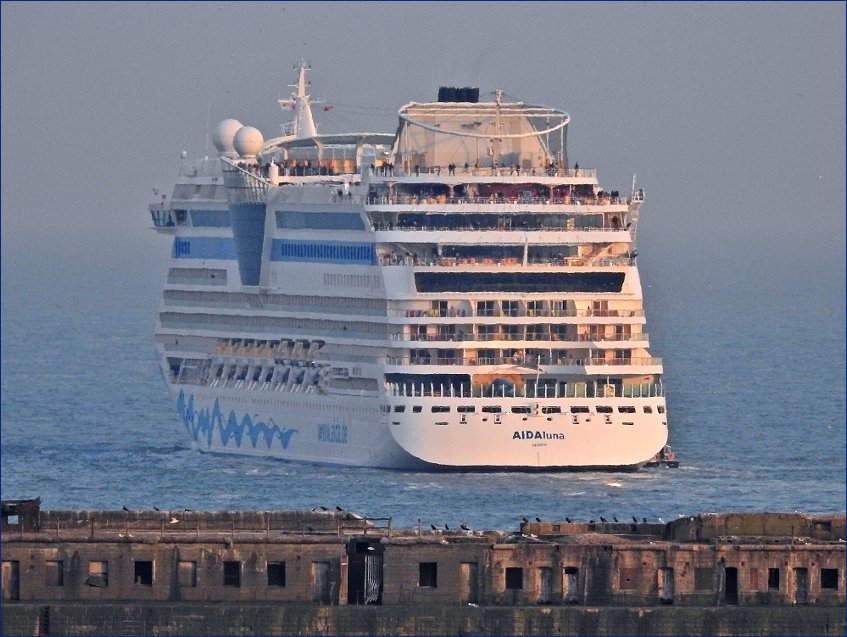 Its all happening in Hamburg

Im afraid we have been off the air for quite a few hours. Not sure what caused it as yet but very much a disappointment. We are back now so hopefully all okay.
Many thanks to the guys below for all the info on traffic etc... nice shot below there from Patrick.
Great traffic pictures Mike...will try and add that link to the top of the page will be helpful while in the current situation.
PB
Saturday, 20 April 2019 - 08:51
Post 6218
brian dixon, dover
yes phil, cleaed up about half 3 / 4 o'clock.

Friday, 19 April 2019 - 19:09
Post 6217
Phil C , Dover
Seems clear now - just drove back from Folkestone through Capel, but when I got to the junction at the top of Folkestone Road there was nothing queueing on the A20 at all.

Friday, 19 April 2019 - 17:25
Post 6216
brian dixon, dover
mike, j, thanks for the info about cruise ships.

as for a20 pretty dire with freight at a standstill, reports of the que going 7 miles plus as far back as the roundhill tunnels.

Friday, 19 April 2019 - 16:15
Post 6215
Mike J., Dover
Brian -
For cruise ship info put 'https://' [don't include asterisks] in front of -
www.doverport.co.uk/cruise/find-a-cruise/
& all should be revealed.
Pretty good info but not always updated for last-minute changes which is where the Fairy Godmother comes into her own with updates [nearly got meself into trouble there by almost saying 'from the horse's mouth' - apologies, Colette].
Good Friday traffic starting to build with Jubilee Way inching along & there's no way that I shall be investigating the A20 approaches.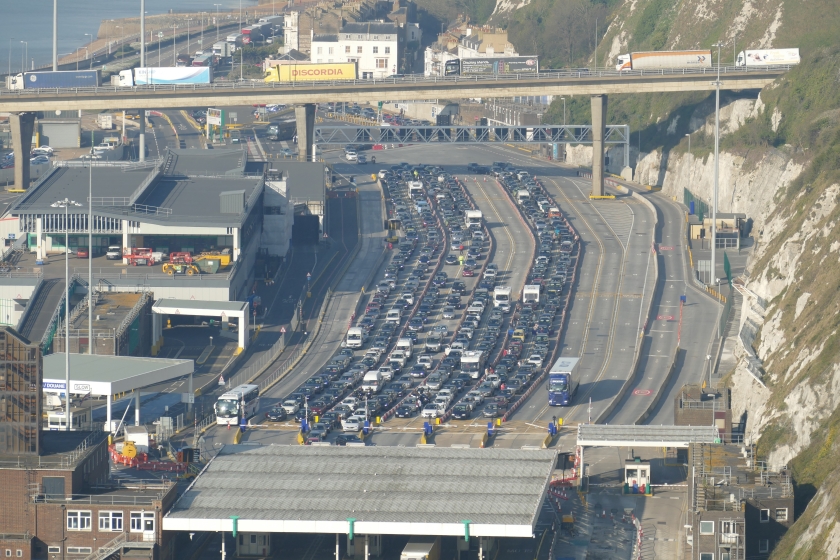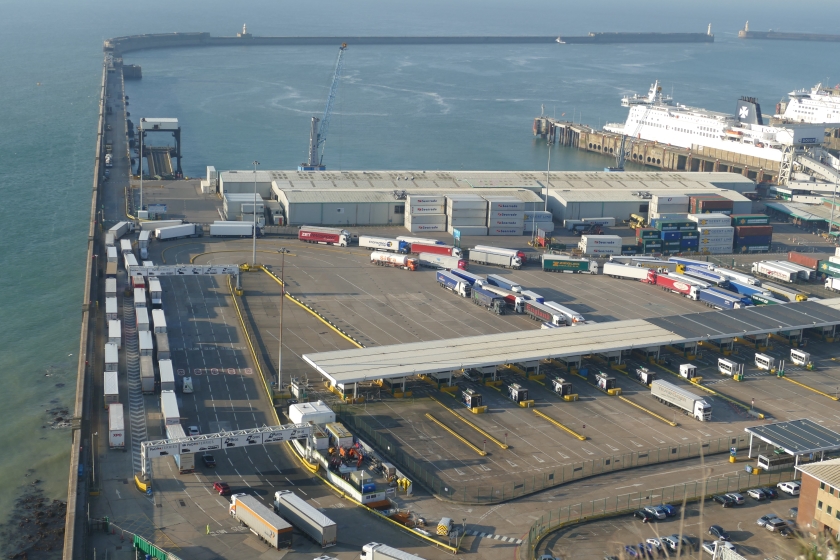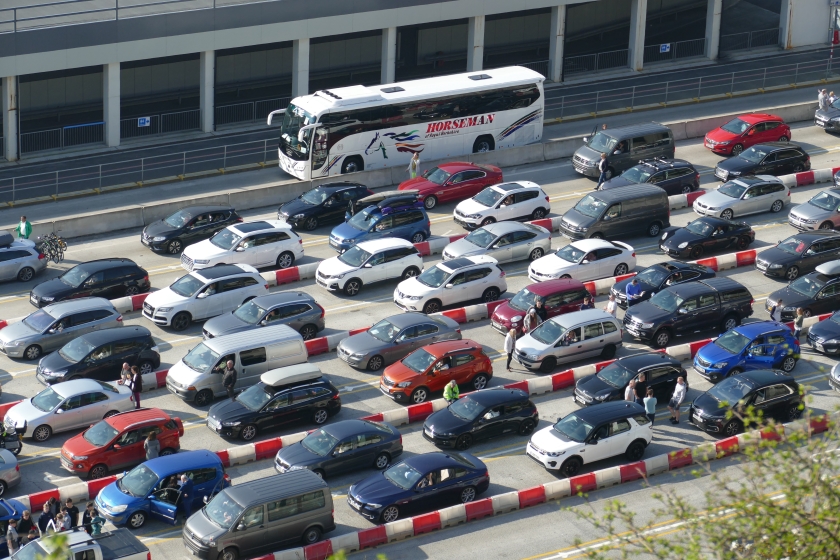 The pretty little HAMBURG [compared to the AIDA monsters & the like] arrived Ffrom Falmouth about 0800, a few pix from Langdon Cliffs later.
Caro & Vanesa from the AIDA DIVA had left their mark on Langdon Cliffs . . . . . .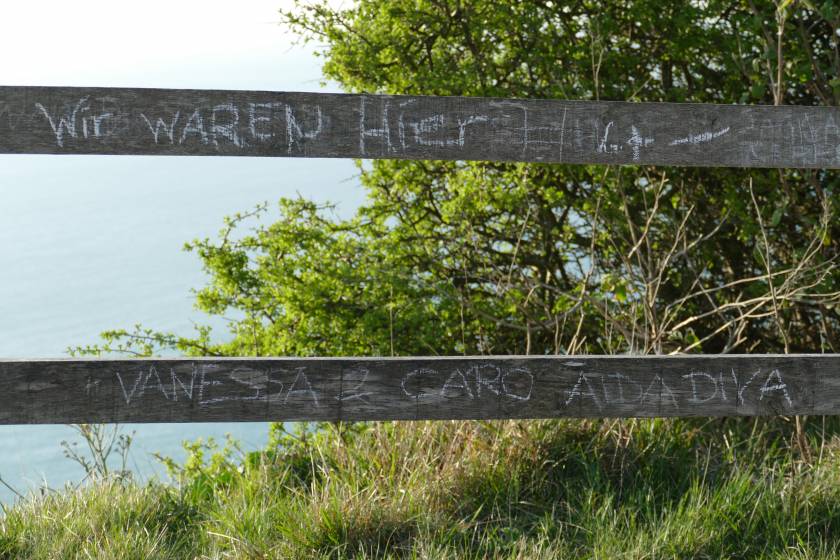 Friday, 19 April 2019 - 15:25
Post 6214
Patrick, Marine Parade
Cruise Liner 'Saga Sapphire' passes the 'Aida Luna' on departure from Dover yesterday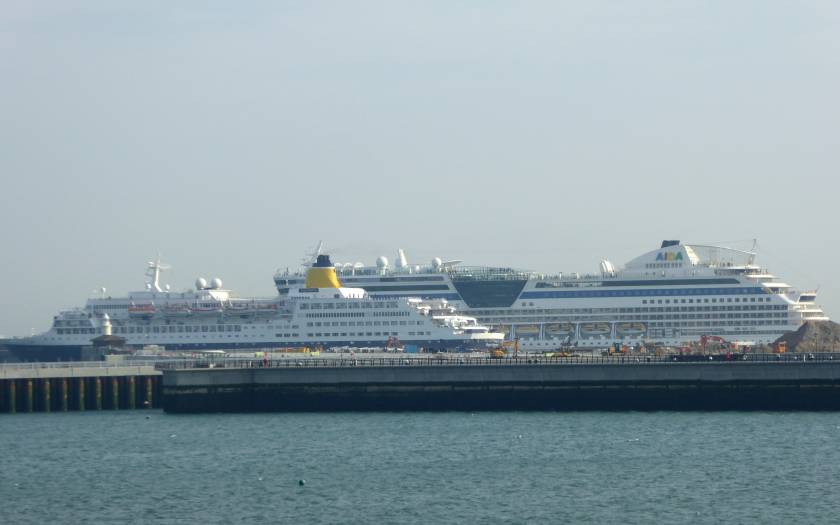 Friday, 19 April 2019 - 10:25
Post 6213
brian dixon, dover
I note that the cruise ship " mv hamburg " is in port today.

will the cruise list godmother be posting her useall cruise lists soon. destpretly missing those cheerfull posts I do.

Friday, 19 April 2019 - 09:42
Post 6212
Sea News, Dover
AIDAluna and AIDAdiva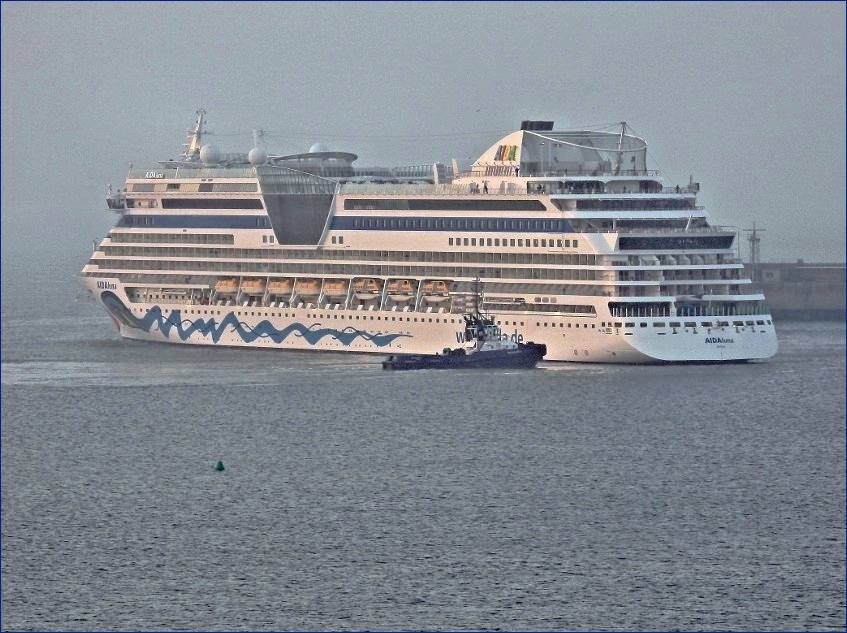 That's the 70,000 ton AIDAluna above there arriving with us yesterday morning just after 6am. It was quite misty at the time, but with a bit of chinookery/chicanery on the computer, we managed to bring the ship out of the fog a wee bit and there we are above.
You wont need me to tell you that all the AIDA ships look alike near-as-dammit, as we are hark back below to another shot of sister ship AIDAdiva leaving a couple of evenings before... leaving as we said through the eastern exit. AIDAluna left last evening taking the normal route through the western exit. We will have some pictures of that to follow along in due course...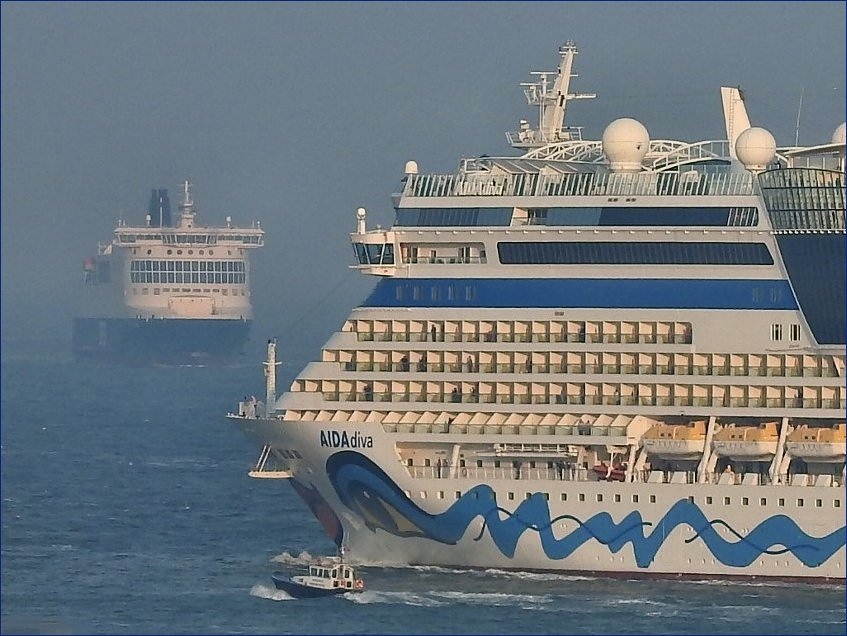 You can see the pilot boat alongside AIDAdiva there with one of the DFDS ferries approaching...
These are magnificent ships though, we mustn't take them for granted, but its definitely a case of the …
"if its Thursday it must be Luna" syndrome....

PaulB
ps: more AIDAdiva in 6210
Friday, 19 April 2019 - 04:48
Post 6211
Sea News, Dover
Italia Reefer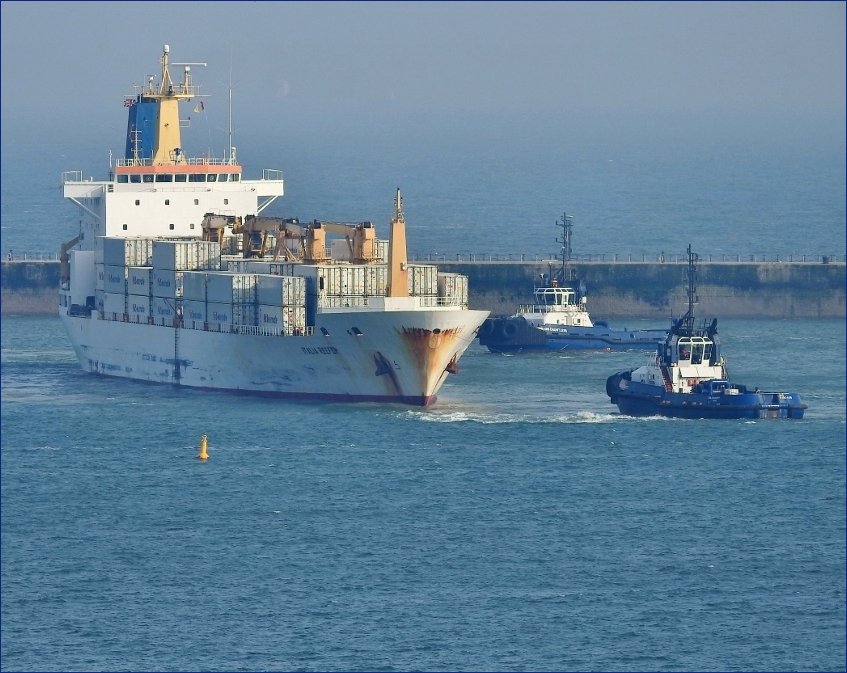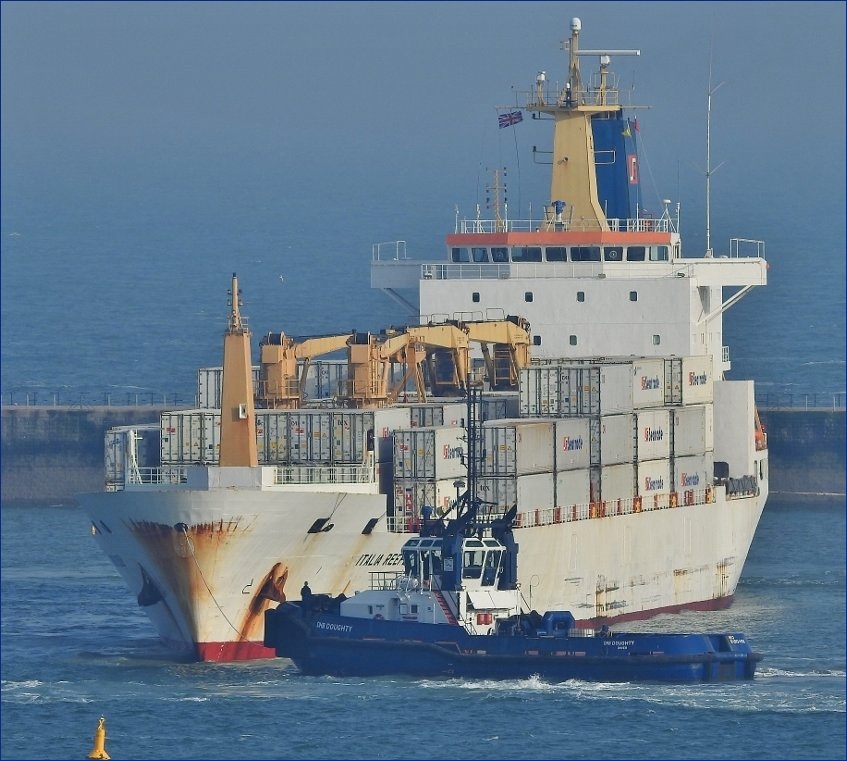 Italia Reefer arriving with us here at the Port of Dover earlier this week...Monday in fact. Time of pictures 17.15 (5.15PM). Both tugs Doughty and Dauntless lending assistance as per the norm. Some great and welcome sunshine at last as you can see...
Saga Sapphire has been in Port on an overnighter and now AIDAluna has joined us...
Thursday, 18 April 2019 - 05:49
Post 6210
Sea News, Dover
AIDAdiva leaving the Port...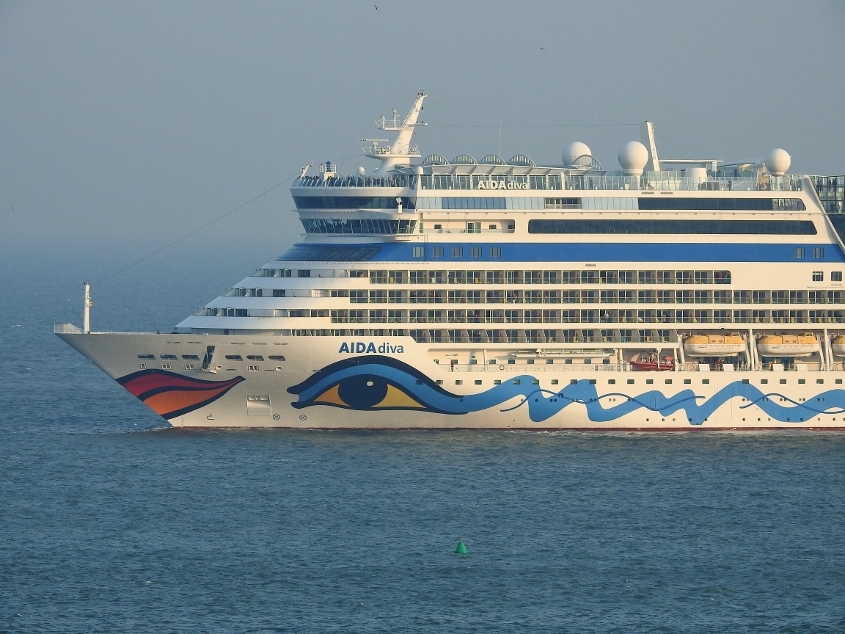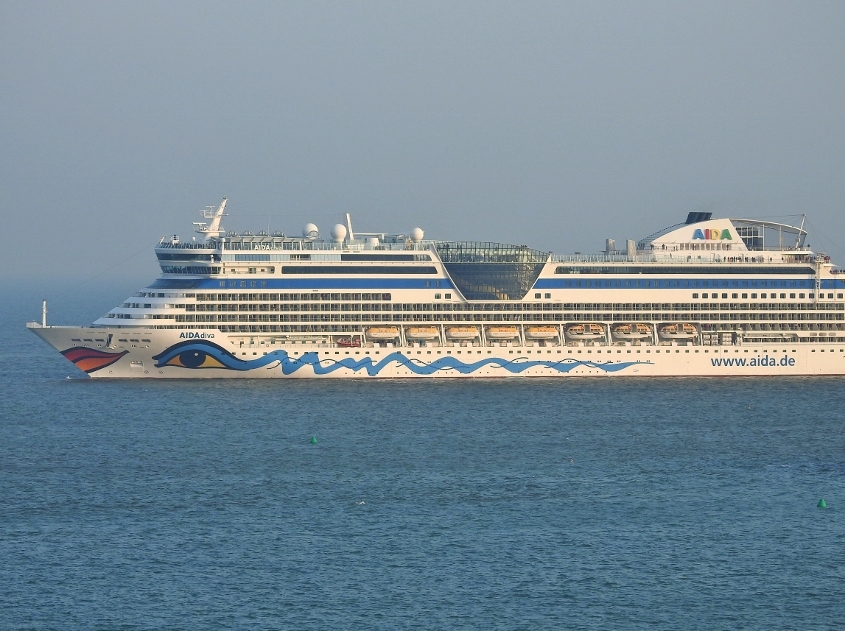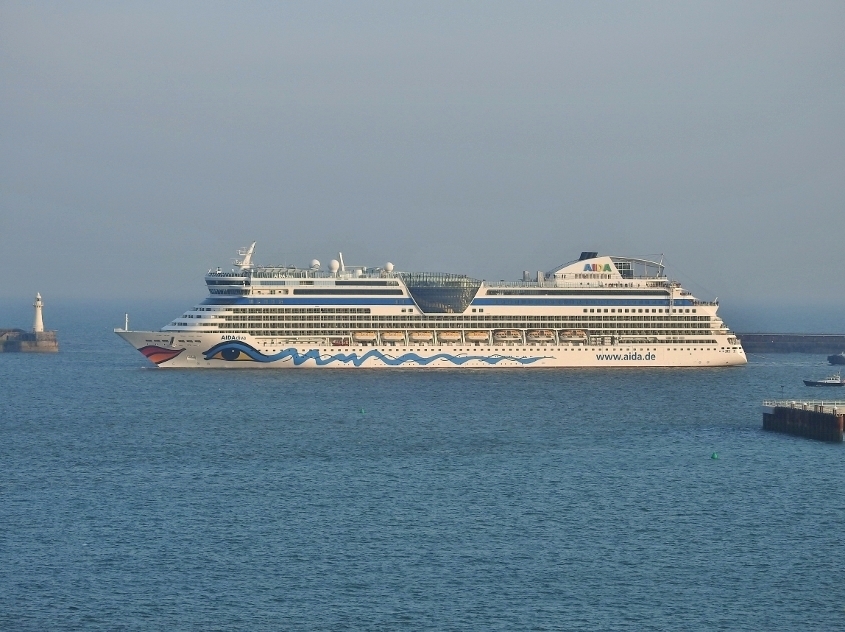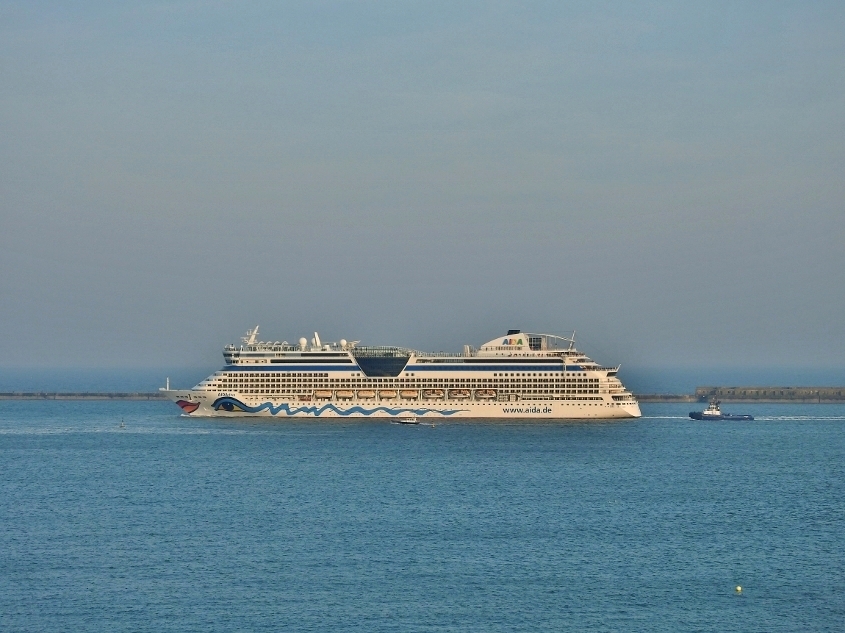 Yes there she goes...AIDAdiva moving away on Monday evening at 7pm in some nice gentle light this time. She came right across the harbour on this occasion, cutting a magnificent dash, and off she went through the eastern exit..unusual.....next stop Rotterdam and eventually Hamburg. Her cruise took her from Las Palmas to home base Hamburg.
Wow nice collection below there from Mike our man-on-the-spot ..
Don't miss those!
Well done Mike!

PaulB
Wednesday, 17 April 2019 - 06:28