Sunday, 29 March 2020

WWW.DOVERFORUM.COM/SEA-NEWS
Sea Pictures from DOVER: Featuring all the ships that come and go and work at the Port of Dover ..
... with some further coverage of the surrounding ports.
Sea News Dover
Use our SEARCH ENGINE below to find all sorts on the SEA NEWS pages....type in the topic and away you go,
or if you have the post number, just type it in the Search Box, more than
- 6750 -
nautical posts now.
Posts are welcome. just click 'Add Your Comment' below.
Upload a Max of 5 pictures....Many Thanks.
Sea News Editor Paul Boland - send info or pix to dover7@msn.com. Always welcome.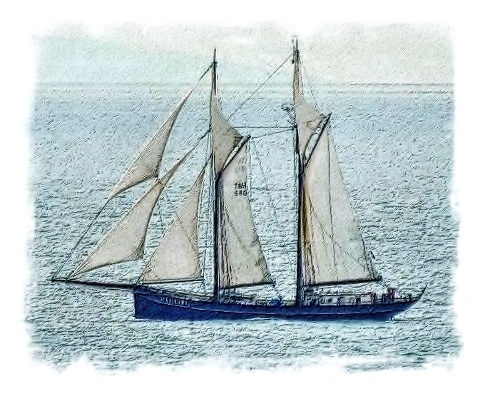 Headlines....
P&O Ferries secure vital flow of goods, medicines...see below, post 6901.
DFDS coronavirus announcements below see post 6880 and 6885.
P&O Ferries present record breaking cheque to Dover Lifeboat...post 6874 below.
P&O Ferries - European Expansion 6867
Hurtigruten and the Port of Dover see 6857...see also pictures in 6856 and 6859.
See SCARLET LADY pix.. FIREWORKS too..type Scarlet Lady in our SEARCH box below..

Port of Dover, DFDS, P&O say...Travel with Confidence from Dover.. see 6786 below.
DFDS Refit Investment...luxury lounges 6821.
P&O FERRIES - POST BREXIT travel info below 6780.
P&O NEW FERRIES Images below 6775...
P&O Ferries - new Catering Apprentices see 6790...
Visit us here in White Cliffs Country see 6772
Natalie Elphicke MP - thoughts post Brexit 6784
Just type the post number in the Search Box below.
Port of Dover Cruise Calls:
http://www.doverport.co.uk/cruise/find-a-cruise/
To show your pictures at their best..it could be worthwhile resizing before posting to
860
pixels wide. Our new standard size.
All pictures on these pages are the copyright of the owners and must not be reproduced without permission.
Post 6788
Sea News, Dover
Flight of the Container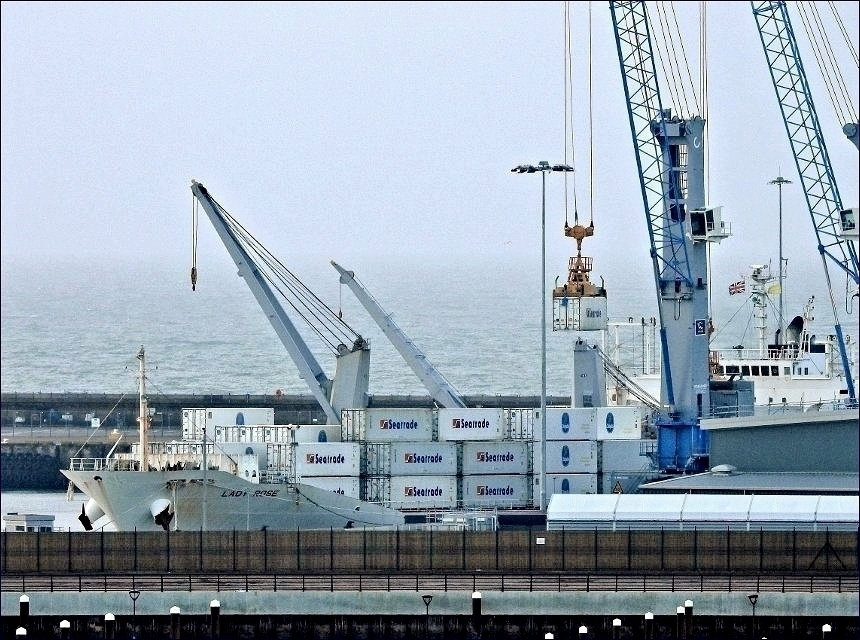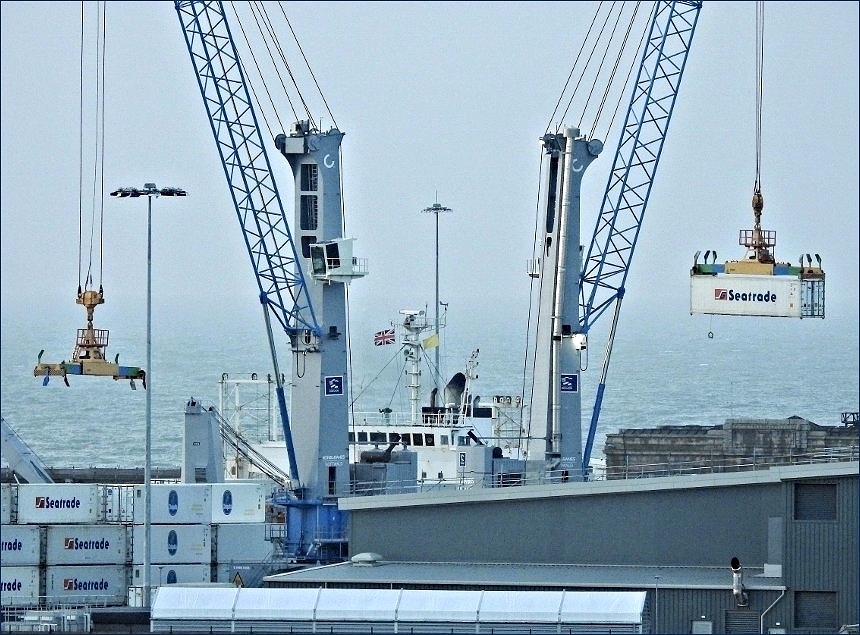 Airborne Containers: A couple of pictures above there of the containers being unloaded on Monday from the reefer Lady Rose...both cranes in operation there. We were hoping to get some further pictures but the ship came in the dark and left in the dark...impossible but disappointing..in the short term. But we have longer brighter days ahead.
Somebody somewhere in the reefer business is fascinated by a lady named Rose...since the new western terminal opened..we have had Lady Rose, Lady Rosebay, Lady Rosemary...what next..? To be fair we have had one or two others as well...
She left us for Vlissingen on Monday night.
PaulB
Update: Cruise ship AIDAcara arriving.... doesn't appear to be scheduled...
Wednesday, 5 February 2020 - 06:58
Post 6787
Sea News, Dover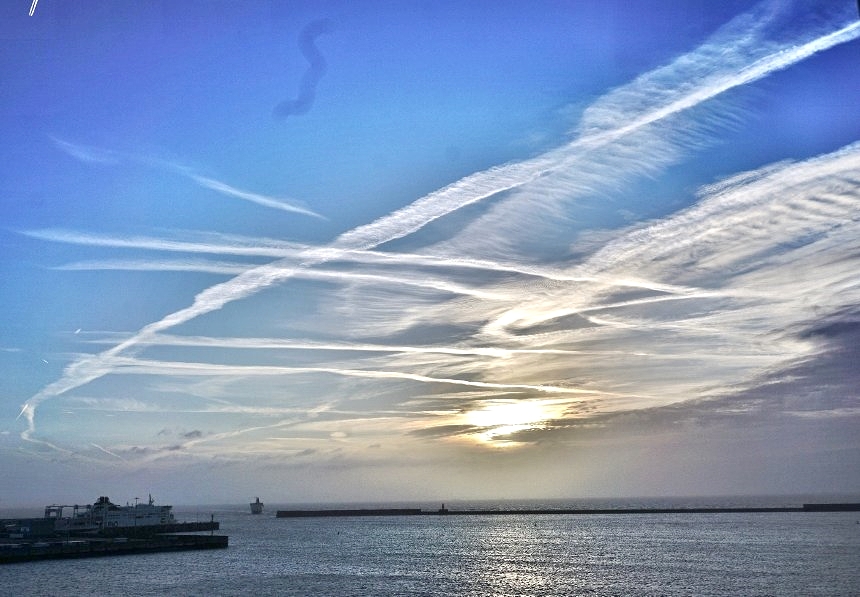 Above we see the dazzling jet streams emblazoned across the sky yesterday morning...time of picture 08.02. We used to gaze at these things and regard them as a 'thing of beauty' ... as very often these streams made (or make) striking images. Now of course all we see, rightly or wrongly, are climate change concerns... carbon emissions and carbon footprints. The aviation industry has come in for particular criticism. The news this morning suggests they are phasing out petrol/diesel cars by 2035...it will all be electric from then on...electric planes anytime soon??
Some jet stream images from recent times below ...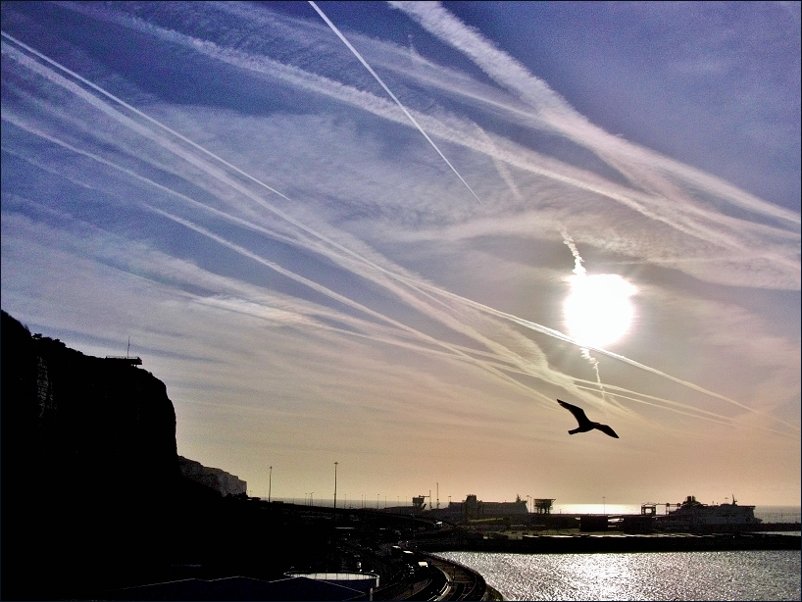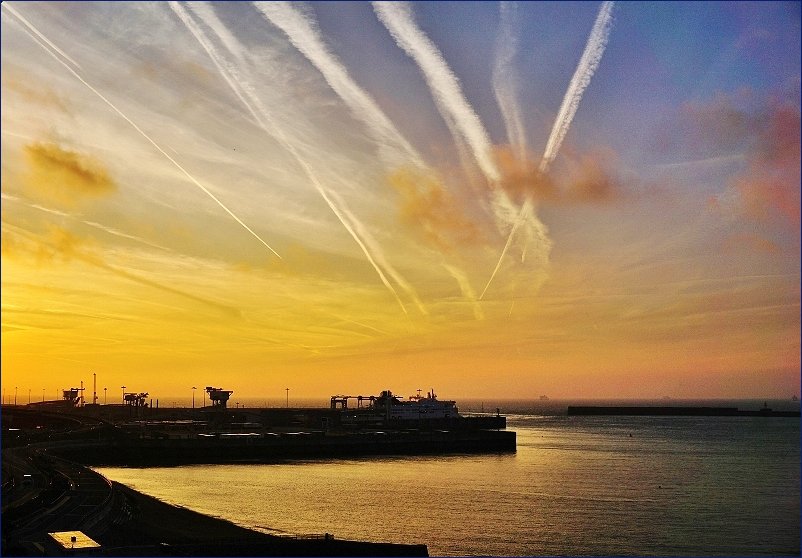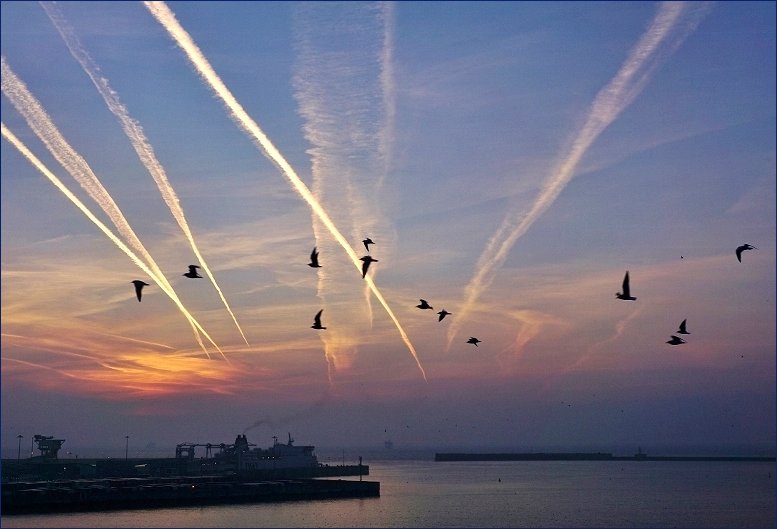 The reefer Lady Rose has been in with us.. off top of head a first I think...alas she came in the dark and left in the dark, however will have some docked shots in due course.
PaulB
Tuesday, 4 February 2020 - 07:04
Post 6786
Sea News, Dover
Travel with confidence from Dover by Ferry
___________________________________

"Book your ferry tickets and sail from Dover with confidence in 2020".
That is the message from the Port of Dover, P&O Ferries and DFDS.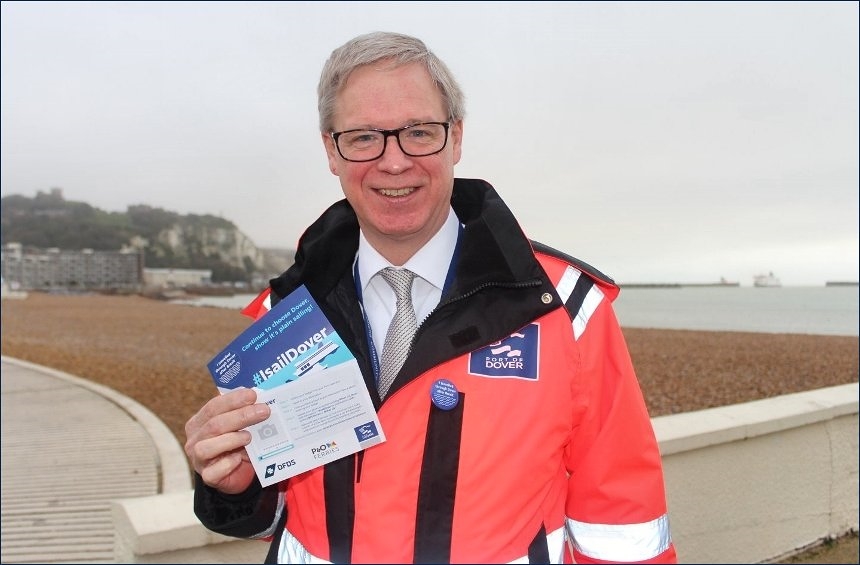 With the UK entering a transition or implementation period while its future relationship with the EU is negotiated, current arrangements remain in place and nothing changes until at least 31st December 2020.
Speaking on behalf of the Port and the two ferry operators, Doug Bannister, Chief Executive, Port of Dover, said: "To our tourist customers, whether it is for Easter, summer or Christmas getaways, weekend breaks or day trips, I would like to reassure you that nothing changes this year, so you can book your ferry tickets and travel with confidence."
"For our freight customers, it's business as usual throughout 2020 with no new documentation needed. With over half of the freight using Dover heading beyond London, we continue to support businesses and consumers across all parts of the nation."
Mr Bannister added: "As the negotiations move forward, we will be working hard to ensure we are prepared for 2021 and beyond so that customers can continue to enjoy the benefits of choosing the Port of Dover and ferry services provided by P&O Ferries and DFDS on the shortest sea crossing."
"The investment in new dedicated ships being committed by both ferry operators to the cross-Channel route also demonstrates long-term confidence in Dover."
Kasper Moos, Vice President and Head of Short Routes & Passenger, DFDS, said: 'We are confident we have done all we can to prepare and ensure that trade continues to flow between the UK and Europe. The Port of Dover continues to be very important to DFDS and our support for Dover can be seen with our introduction of a new vessel, the Cote d'Opale, on this route in early summer 2021."
David Stretch, Managing Director – Short Routes at P&O Ferries, added: "We have consistently said that as long as there are families and freight travelling between Britain and Europe, P&O Ferries will continue to provide a comprehensive ferry and logistics service to and from the continent. I am confident that our hugely experienced team will maintain a punctual, reliable and efficient service for our customers throughout the coming years, whatever the final relationship between the UK and EU."
Mr Bannister concluded: "In the meantime, enjoy sailing over from Dover with confidence in 2020."
ENDS
EXTRA: To support the fact that there are no changes to the practical arrangements for travelling via Dover throughout 2020, the Port and ferry operators will be running an #IsailDover competition from 11pm on Friday 31st. Follow @Port_of_Dover @POferries @dfds_uk
* *

Many thanks to the team at the Port for all the info above.
Good to know that nothing changes in the short term...long may it remain so.
"Enjoy sailing over from Dover!"
Picture shows Chief Executive Port of Dover Doug Bannister.
* *

Thanks Del - hope you didn't have to spend too many hours pushing that motorbike.
PaulB
Monday, 3 February 2020 - 07:17
Post 6785
Del Styan, Norwich
Blimey - and not a mention of the fact she is divorcing him!

My memories of being a biker include quite a bit of of breaking down in remote areas and the ignominy of wheeling said bike home. Never got so far as to try the nets!

Sunday, 2 February 2020 - 23:10
Post 6784
Sea News, Dover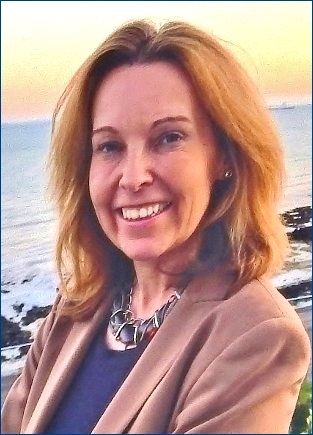 Building a strong, prosperous country together
___________________________________________
Dear Mr Boland,
Last week I delivered my maiden speech to the House of Commons. The first time a Member of Parliament rises to speak in the Chamber is a big moment – a chance to tell the House about their constituency, their predecessor and their priorities.
I spoke of the history of our area as the frontline – as the guardian, gateway and custodian of our nation. And the crucial part that Dover & Deal has to play as we leave the European Union and reclaim our independent place in the world.
Our community is not simply home to the greatest people. It is home to the White Cliffs too – and their timeless values of liberty, freedom, justice, faith and friendship, community and caring for others.
For us, it is not just about what we can do. It is about who we are.
As is traditional for a Maiden Speech, I spoke of my predecessor's service and record of delivery. Charlie Elphicke's election success in 2010 was one of the stand-out results of that election. His trademark in politics was time and again winning against the odds and delivering for our area. Early on, he fought to see off the planned sale of the Port of Dover to the French or whoever. With the support of Dame Vera Lynn, the sell-off was ditched and a ground-breaking People's Port delivered at the docks.
Since 2010, more than £500 million of investment has swept into Dover and Deal, including a brand new hospital in Dover and the fast train to Deal. He also took up more than 23,000 cases for local residents.
Building on this record is a high hurdle for any new MP. Yet build on it I will to deliver on our community's priorities – stronger borders, free-flowing trade, more investment in roads and rail, better healthcare, more jobs and money.
I also care deeply about improving opportunity, prosperity and life chances. I am proud to have started life in the safety and security afforded by a council house. My education at a Catholic faith primary and a grammar school transformed my life chances - and indeed my life.
Growing up in the 1980s, I was one of a generation who benefited from a time of national ambition, shared prosperity and opportunity for all, where hard work could bring rewards. I am committed to providing for others the tools for social mobility and opportunity that were given to me: good-quality and affordable housing, help for those in need, faith, grammar schools, economic growth and shared prosperity.
This is an historic time for our nation. As your representative, I am looking forward to the independent, successful, prosperous and strong country that we can build together in the decades to come.
Natalie Elphicke MP for Dover and Deal
* *
That's the view above there of our new MP.

Vic I remember the nets lifting...I just caught the tail end of that, but not in Dover. I remember my much-adored BSA Shooting Star motorbike being lifted in a net, I think it was either in Liverpool or Holyhead for a trip across the rough oul Irish Sea. It gave me a touch of the horrors seeing it scooped up like that and flying airborne...but all went well, not a scratch.
For those who know about this kind of thing...the aforementioned BSA Shooting Star was gold and silver...with racing clip-ons and rearsets with a semi racing seat...it looked the business and it could "do a ton on the M1".
Wish I still had that one...
Anyway there we are, yours truly is rambling on...but well its Sunday...
PaulB
Sunday, 2 February 2020 - 06:27
Post 6783
matcham, Dover
Having been here from 1942 I have seen the port grow from just one ferry crossing over and that one was about 4,500tons to the ones we have today which are about 30,000tons and roll on and off when we had at war time one ferry and put the cars not many on the deck by a net if my mum and dad was still with us and not for getting the train that went from one end to the other with a man in front ,they both would say how was that all done

in a few years

Saturday, 1 February 2020 - 09:16
Post 6782
Sea News, Dover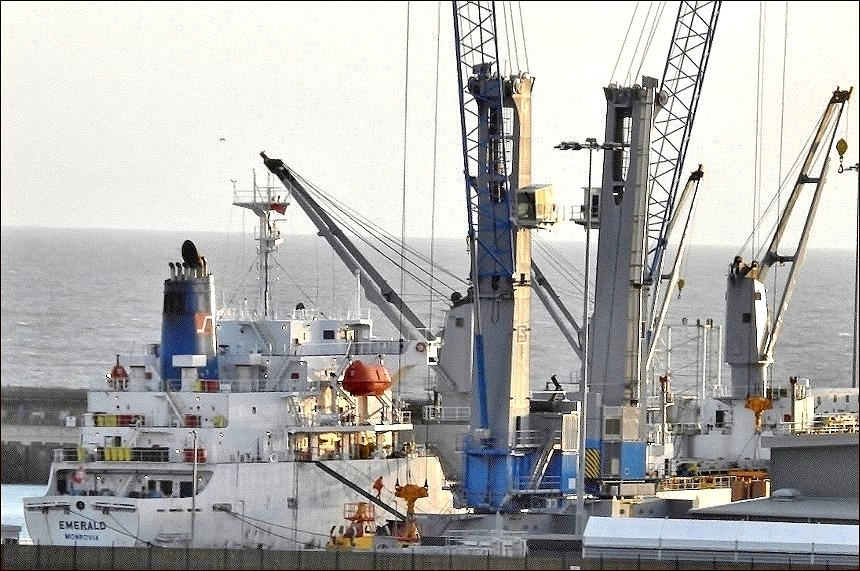 The reefer Emerald, a familiar friend, has been here with us for the past few days...she departed yesterday lunchtime for Vlissingen. Some shots here looking across the port showing her at the new western cargo terminal..WD5...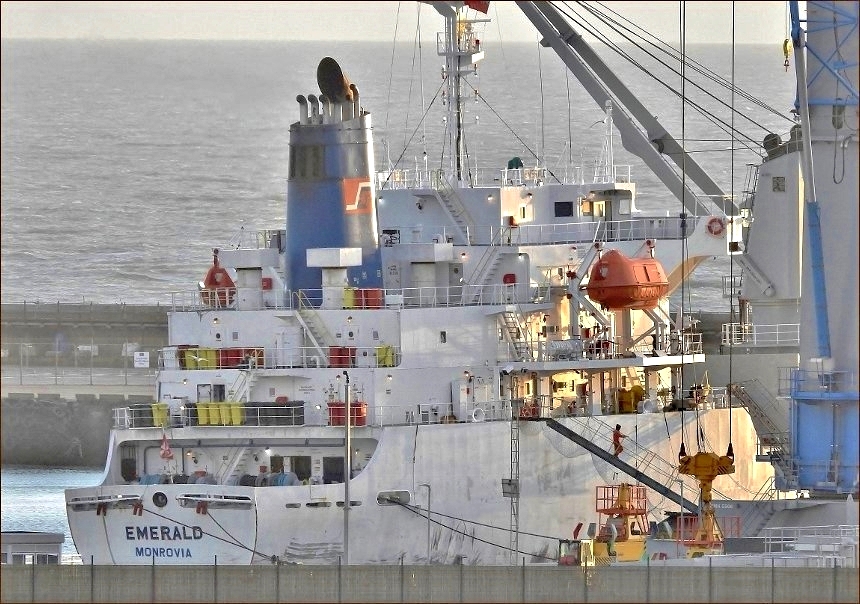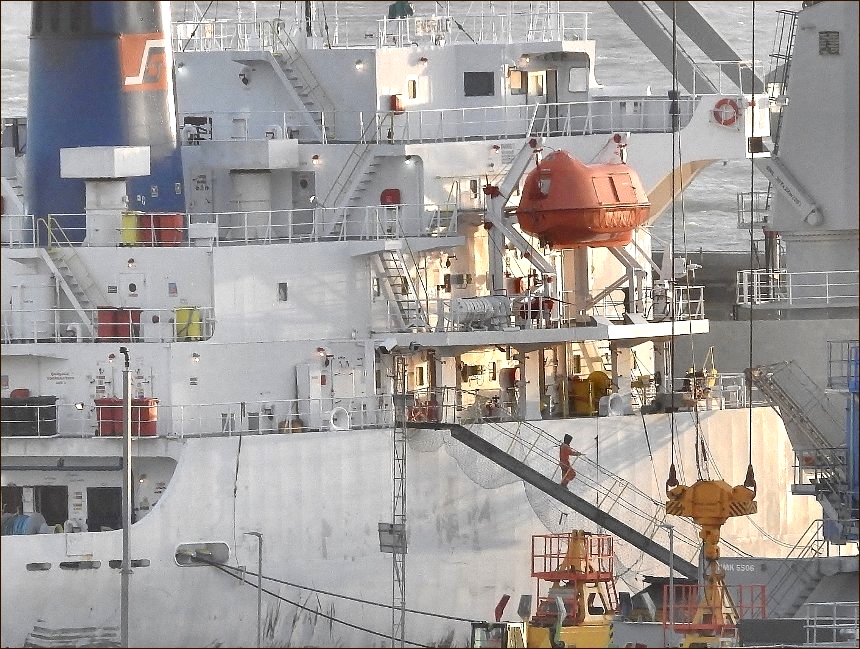 Shot number 3 above is a crop and zoom of shot 2...
The ship was shrouded ( bit of a tongue twister that, try saying it out loud!) in mist for most of her visit this time....pictures were hard to get but here we are with a picture from a former time.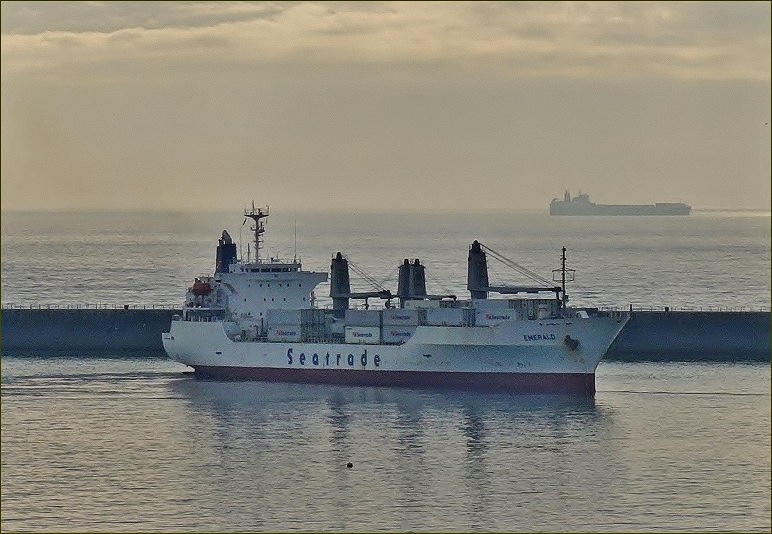 Yes indeed Vic we are out of the EU now...I think I heard one firework at about 11.07pm !

For more info see the recent posts from P&O 6780 and of course see the new ships, a sign of optimism, in post 6775.
PaulB
Saturday, 1 February 2020 - 08:34
Post 6781
matcham, Dover
Well I was here when we went in and still here now that we have come out of the EU, that is good news and the port will still grow .

Friday, 31 January 2020 - 11:22
Post 6780
Sea News, Dover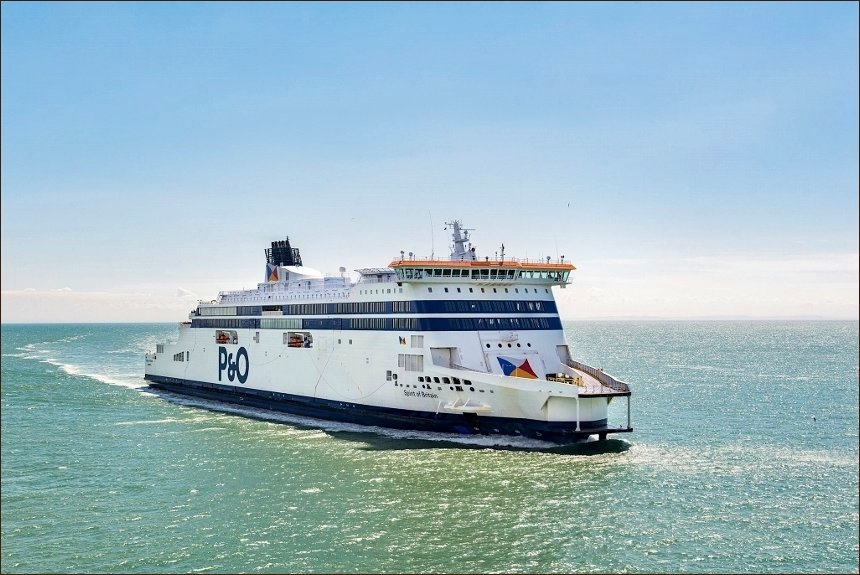 P&O FERRIES EXTENDS ˜BUSINESS AS USUAL" BREXIT BUFFER
......FOR PASSENGERS TRAVELLING BETWEEN BRITAIN AND EUROPE
_____________________________________________________________
Ahead of Britain's departure from the EU this Friday 31st January, P&O Ferries has extended its 'Brexit buffer' offer allowing free cancellation across all routes until the end of February, reassuring its passengers that it's business as usual.
The offer, which is valid across all ticket types and routes for travel between now and 29th February 2020, guarantees that crossings can be cancelled free of charge when booked directly through P&O Ferries. The extension of the offer, originally introduced in 2019, aims to encourage passengers to continue to book to mainland Europe with confidence.
Sarah Rosier, Director of Passenger Sales at P&O Ferries, said, "As Britain enters an important period of transition, P&O Ferries wants to reassure its passengers that they can continue to book their travel with complete confidence.
"We have been sailing in and out of Europe for over 180 years, and so, while Britain focuses on formulating its future agreement with the EU, our passengers can rest assured that we are perfectly positioned to manage any Brexit-related issues, should they impact their travel plans. As the situation currently stands, we don't anticipate any changes to passenger travel until the end of 2020."
At a time when how we travel is considered as important as where we travel, Brits can look to P&O Ferries to provide a memorable European break taken at their own pace, whether that's on foot, bicycle, car or campervan. Offering up to 23, 90-minute sailings a day from Dover to Calais, it's never been easier to get to France and beyond. In addition, overnight routes between Hull and Rotterdam and Zeebrugge offer comfy cabins, extensive dining experiences and on-board entertainment. Finally, a scenic sailing from Cairnryan to Larne is the shortest way to cross the Irish Sea, allowing travellers to immerse themselves in its spectacular sights, including Northern Ireland's magnificent Causeway Coast.
To provide further peace of mind to its passengers, P&O Ferries has put together some top tips offering advice to those travelling to Europe after Brexit.
1.
Passports
Travellers, whether an adult or a child, visiting the EU after 31st January are advised to have a passport with at least six months validity from the date of arrival in the EU. It is recommended that Brits with soon-to-expire passports apply for a new one as soon as possible, to avoid being caught up in the inevitable rush to renew.
2.
Visas
For the time being, travellers will not need a visa to travel to the EU. However, from 2021 the European Commission is rolling out a new U.S. style electronic travel authorisation system for non-EU visitors, called the European Travel Information and Authorisation System (ETIAS). British citizens, as third country nationals, will need to pay a fee expected to be 7Euro (£6.00) for visa-exempt travel, which will likely be valid for three years.
3.
Travel to the Republic of Ireland
Travel between Britain and Ireland is covered by the Common Travel Area, a long-standing arrangement which covers Britain, the Channel Islands, Isle of Man and Ireland, allowing free travel between these areas without the need for a passport. The Government has indicated that this commitment will stay the same after Britain leaves the EU.
For more information about P&O Ferries, visit www.poferries.com.
-ENDS-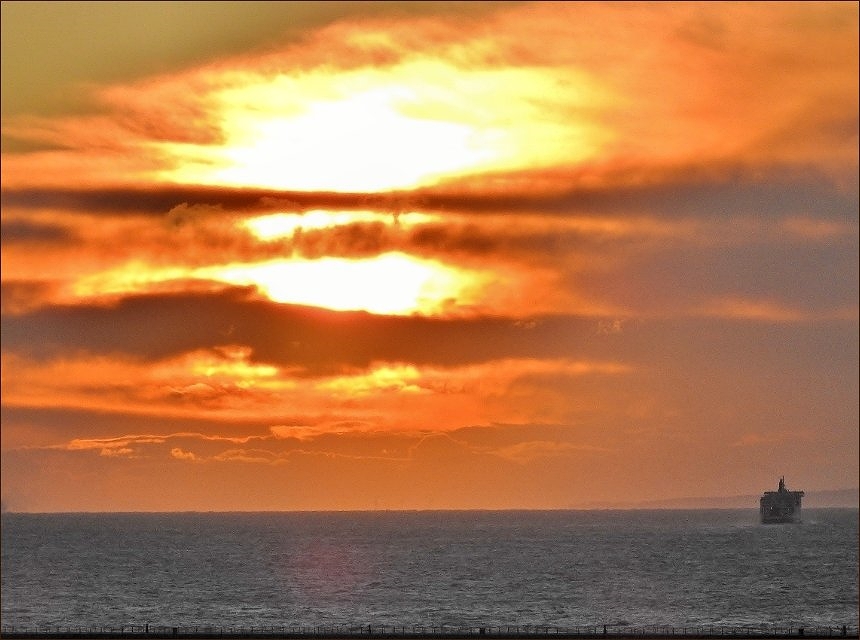 New dawn.
* *
Many thanks once again to the P&O team for all the latest info. Very welcome.

Extra: The eagle-eyed will have noticed that we have lost a couple of post numbers this morning...
this is due to an intrusion...unfortunate.
PaulB

Friday, 31 January 2020 - 06:02
Post 6777
Sea News, Dover
Mike mentioned in post 6774 that the breeze was just strong enough to warrant tug assistance...Tug Dauntless was out in the bay on same day ready to lend assistance if called upon. The Pride of Burgundy made that call and the slumbering tug burst into life.....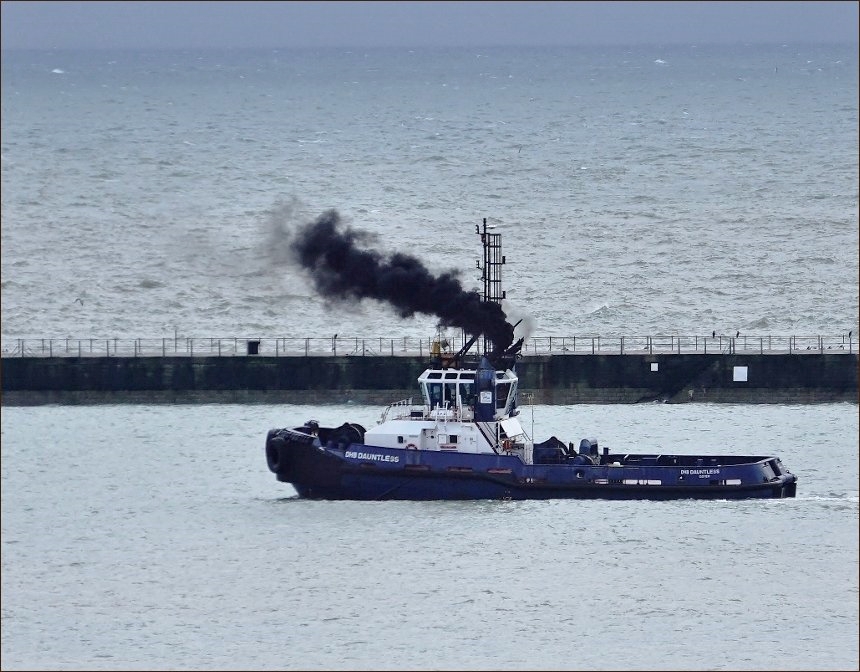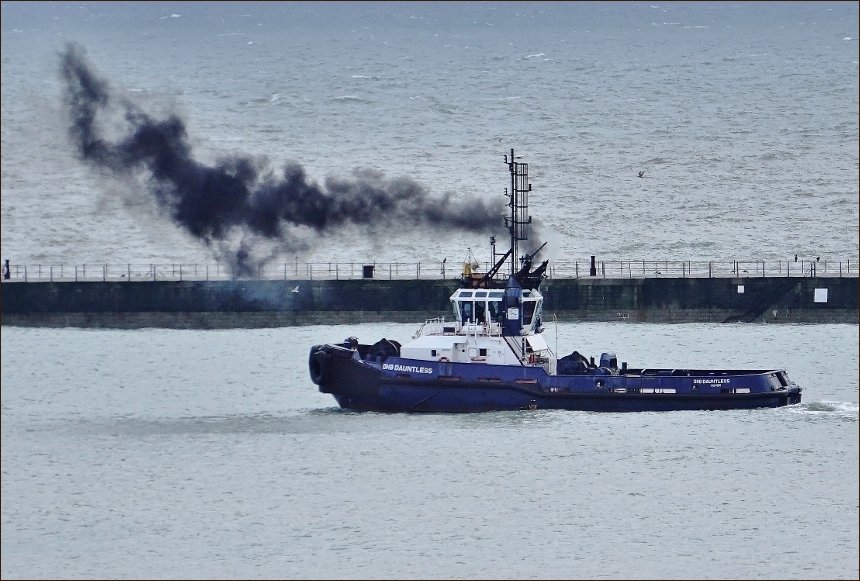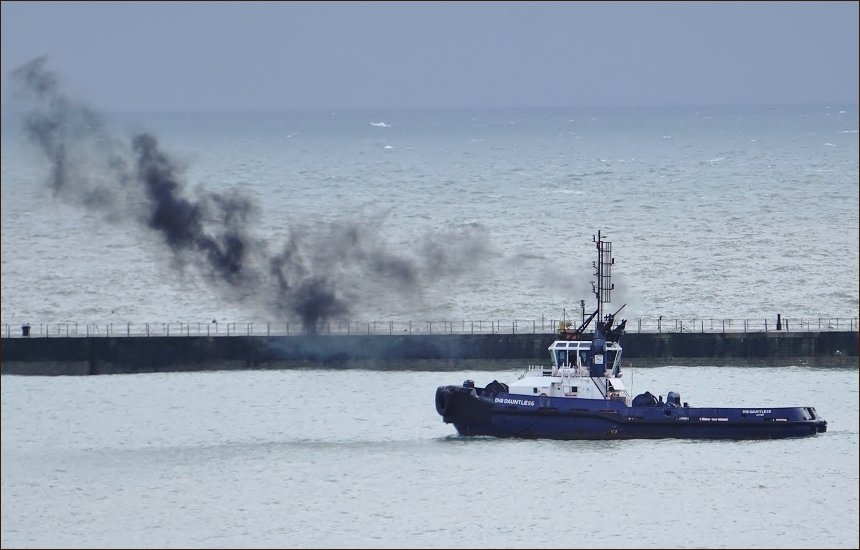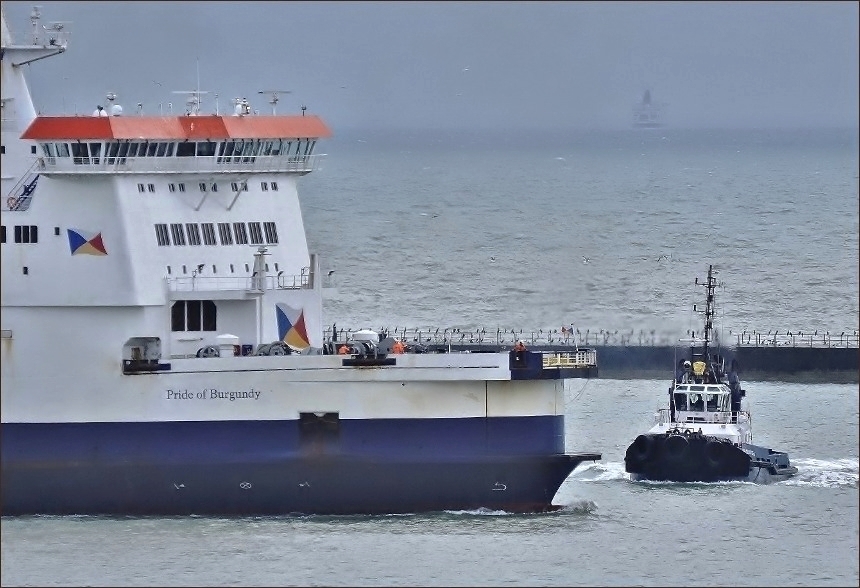 The 172,000 ton CMA CGM Argentina moving south a couple of days ago...the picture marks the return of brighter conditions a couple of days ago after a very grey period. This ship is fairly brand spanking new..less than one year old... launched 2019.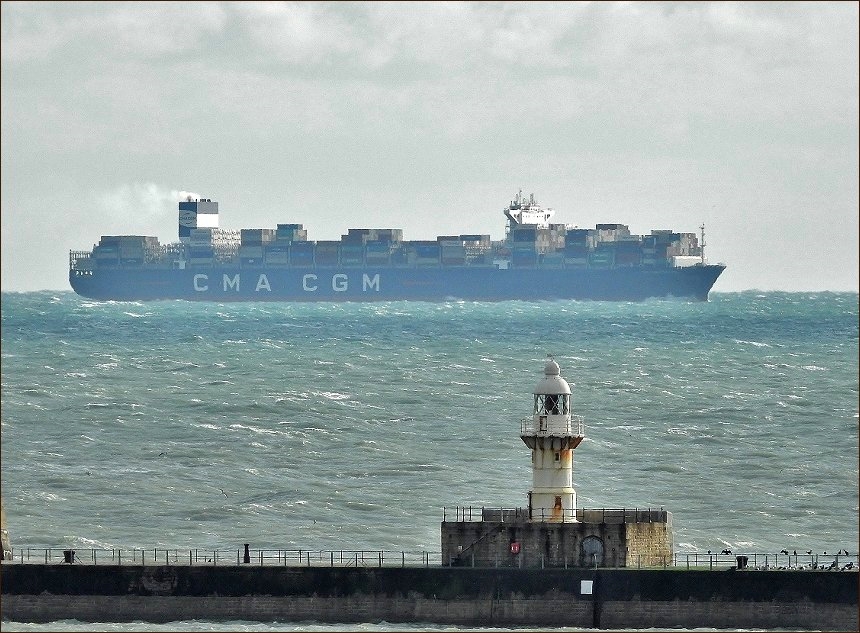 Good to hear from you Vic...yes you will need to have a trip over on those new ferries for sure, an exciting prospect isn't it. Happy New Year to you toooo…
The new ferries...see the P&O post 6775.
PaulB
Thursday, 30 January 2020 - 06:08
Post 6776
matcham, Dover
Well I am still about, one year older .Thank you again for the great photos we get year by year of the port which is getting bigger and better each time you look at it,and the new ships that cross over are also getting bigger, hope we get on one of the new ones in two years time.Well happy new year all, better late then never,


Wednesday, 29 January 2020 - 09:18
Post 6775
Sea News, Dover
P&O FERRIES RELEASES FIRST IMAGES OF ….
260M NEW SUPER-FERRIES DESIGNED TO REVOLUTIONISE TRANSPORT BETWEEN BRITAIN AND EUROPE
________________________________________________________________________________________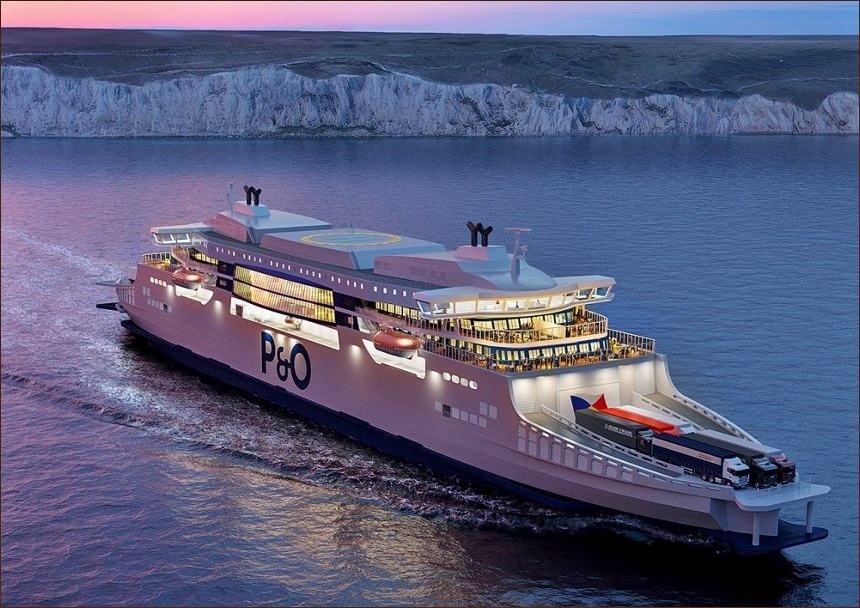 Release time: immediate
P&O FERRIES today releases the first official images of the 260 million new generation of super-ferries which will transform the experience of travelling between Britain and the Continent.
The largest ships ever to sail between Dover and Calais, the first of the 230-metre super-ferries will be operational by 2023.
David Stretch, Managing Director - Short Routes at P&O Ferries, said: "These remarkable images provide a glimpse of the transformation which our customers will experience when they travel between Britain and Europe on the most sustainable, most reliable and most customer friendly ships ever to sail on the route."
"This major investment will be a vital part of Europe's transport infrastructure into the 2040s and symbolises our commitment to making trade flow for our customers."
Major innovations of the new super-ferries will include:
Cutting fuel use by 40 per cent through a combination of fuel and battery propulsion.
The heat recovery system saves fuel which reduces the vessel's carbon footprint.
Future proofing anticipates the zero carbon emissions ship.
A double-ended design and two bridges on the ship, meaning that there is no need for it to turn around.
Outside deck areas to provide viewing platforms of the White Cliffs of Dover.
Panoramic sea views for passengers.
A power management system to efficiently close down parts of the ship when not in use.
A revolutionary new shape of hull for the English Channel and azimuth thrusters which increase manoeuvrability of the ship.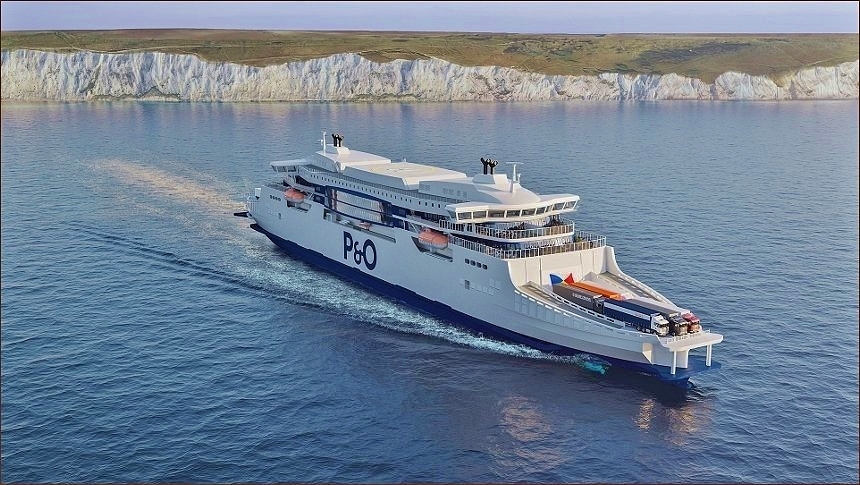 P&O Ferries is a leading pan-European ferry and logistics company, sailing 27,000 times a year on eight major routes between Britain, France, Northern Ireland, the Republic of Ireland, Holland and Belgium. It operates more than 20 vessels which carry 8.4 million passengers and 2.3 million freight units every year.
Together with its logistics business, P&O Ferrymasters, the company also operates integrated road and rail links to countries across the continent including Italy, Poland, Germany, Spain and Romania, and facilitates the onward movement of goods to Britain from Asian countries via the Silk Road. P&O Ferries is part of DP World, the leading enabler of global trade and an integral part of the supply chain.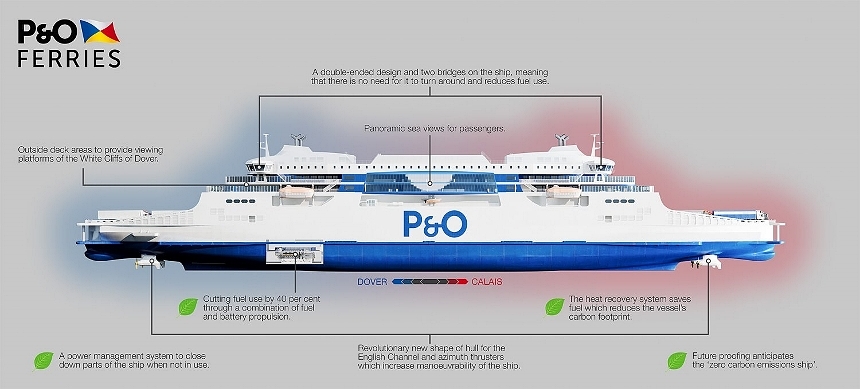 ENDS
Many thanks once again to the team at P&O Ferries.

NOTE: We will have difficulty reading the notes on the final picture but unfortunately it cant be helped...we're trying to fit a large pic into our relatively small slot...even though we have increased our size lately. It may be possible to zoom-in on your computer...
* *
Thanks to our 'inshore correspondent' Mike once again for the excellent pix below...

PaulB

Wednesday, 29 January 2020 - 07:27
Post 6774
Mike J., Dover
A sunny but chilly stroll on the cliffs on Tuesday afternoon with enough wind for some of the ferries to take tugs.
Weather delays & reduced capacity with ferries off for refit caused freight to build rapidly.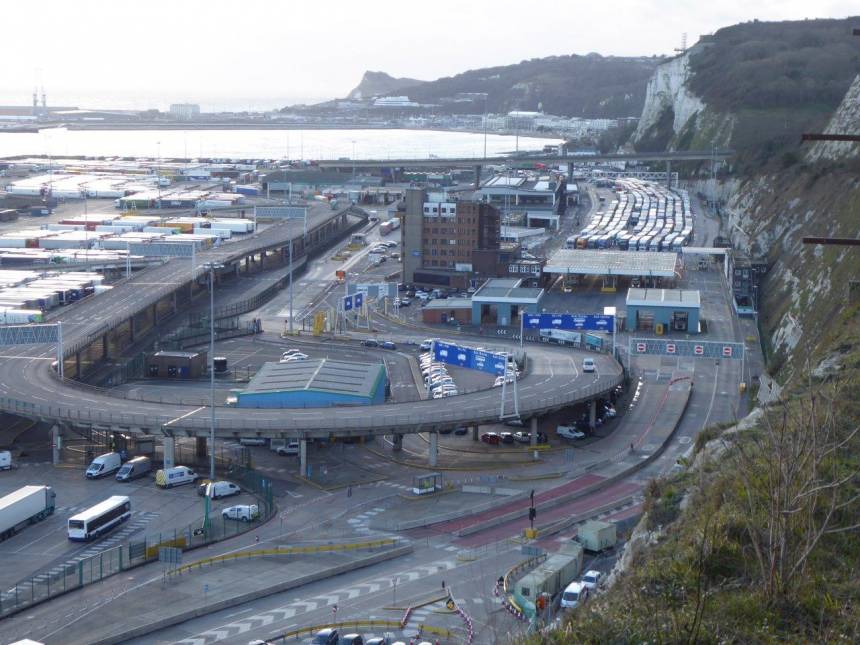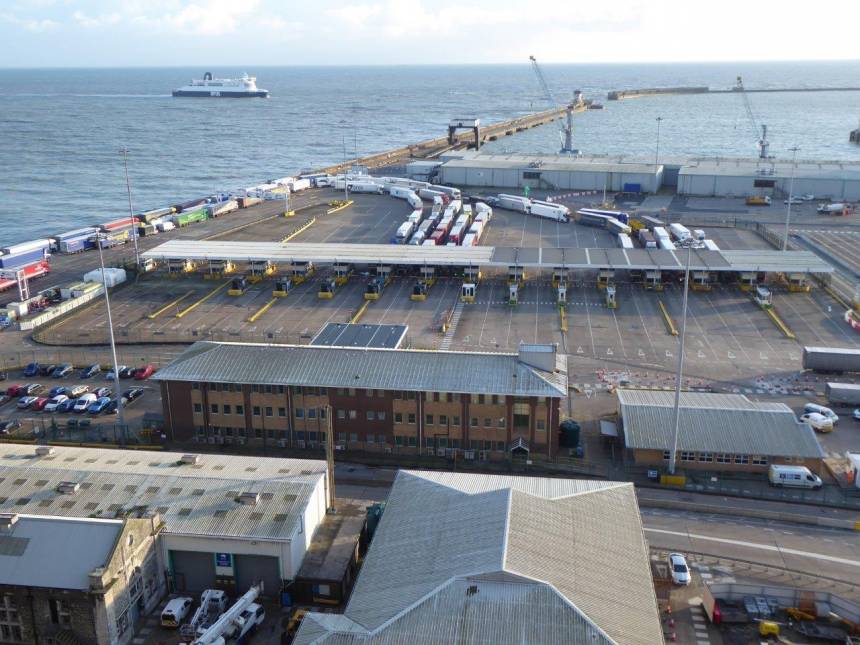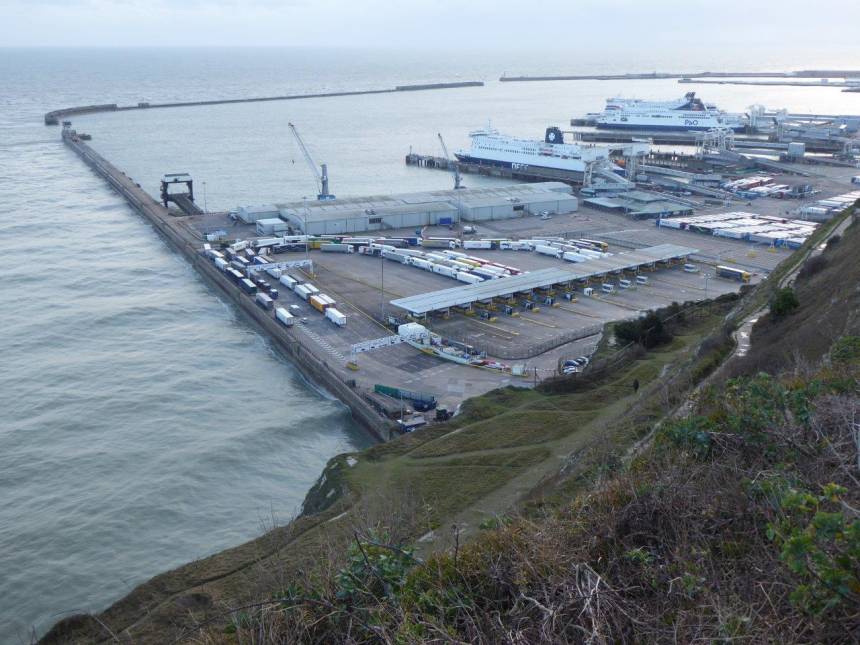 DFDS on the lefthand check in booths with P&O in the right as DUNKERQUE SEAWAYS makes her approach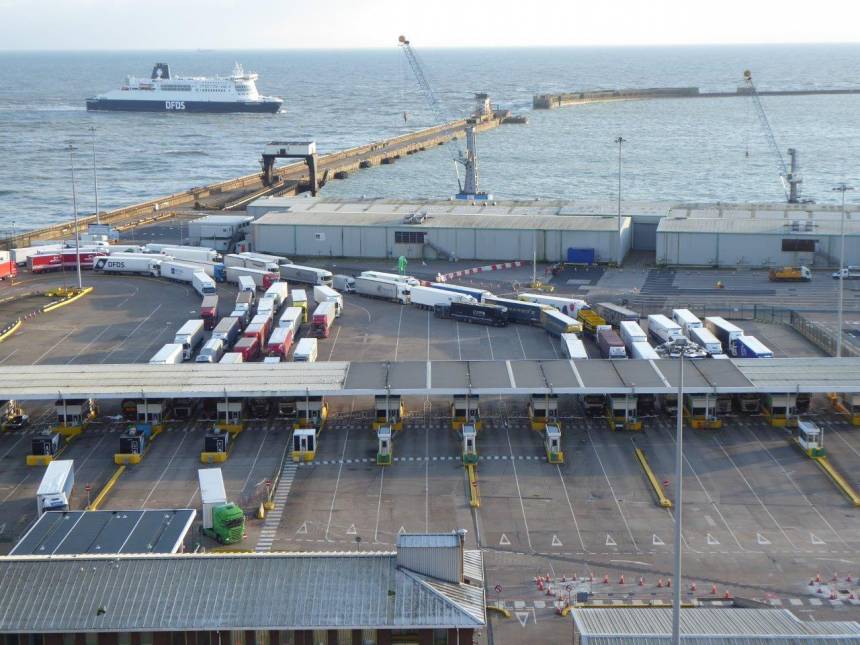 The disused linkspan by the Eastern Arm is soon to be demolished & the old reefer sheds on the DCT face an uncertain future.
Wednesday, 29 January 2020 - 01:57
Post 6773
Sea News, Dover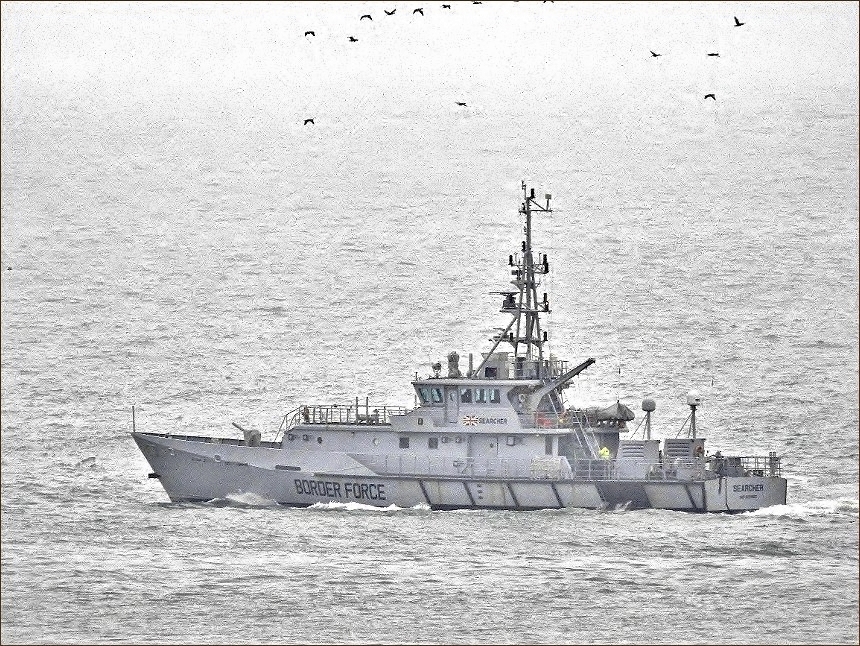 Another picture of Border Force Searcher above there, this one to run in harmony with the picture currently at the top of page...both taken at roughly the same time in the foggy conditions a couple of days ago...some artwork needed to reduce the fog in the pix. Up to 28 migrants rescued in the past few days, initial estimates suggested seven but the figure was upgraded. Busy times for Border Force. You can see the wildlife in the picture going their way too... or are they..?
The Obelisk !
The platform showing below is situated in the castle grounds. It overlooks the harbour and offers striking views in normal times, in recent days it has taken on a new demeanour. The flagpole, well it looks like a flagpole but is it just a flagpole?...well it has acquired extensive scaffolding... I mean what can ye do with a flagpole...?! The new structure seems to dominate the landscape...
The 'viewing platform' was formerly used as an Admiralty Lookout and Signalling Station in WW2 ...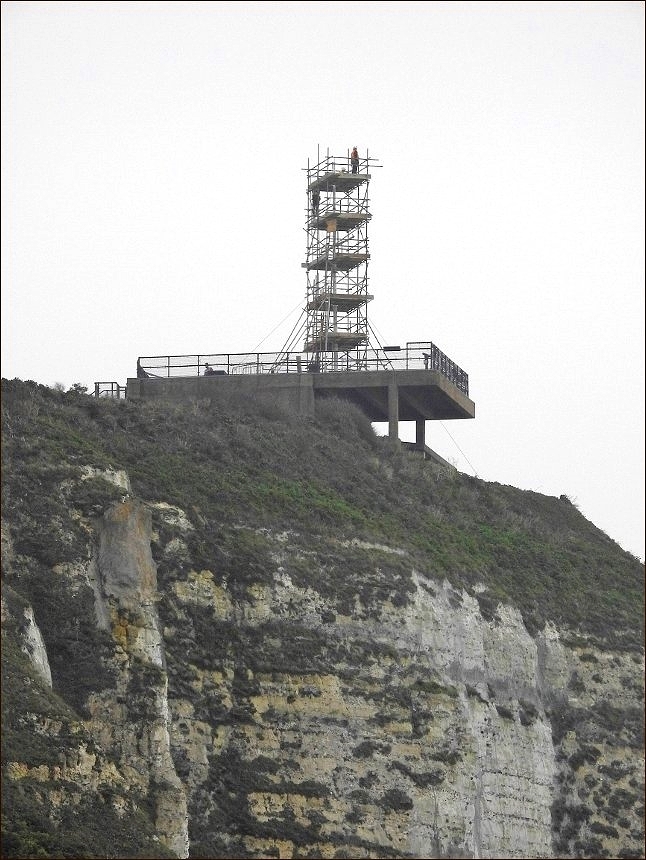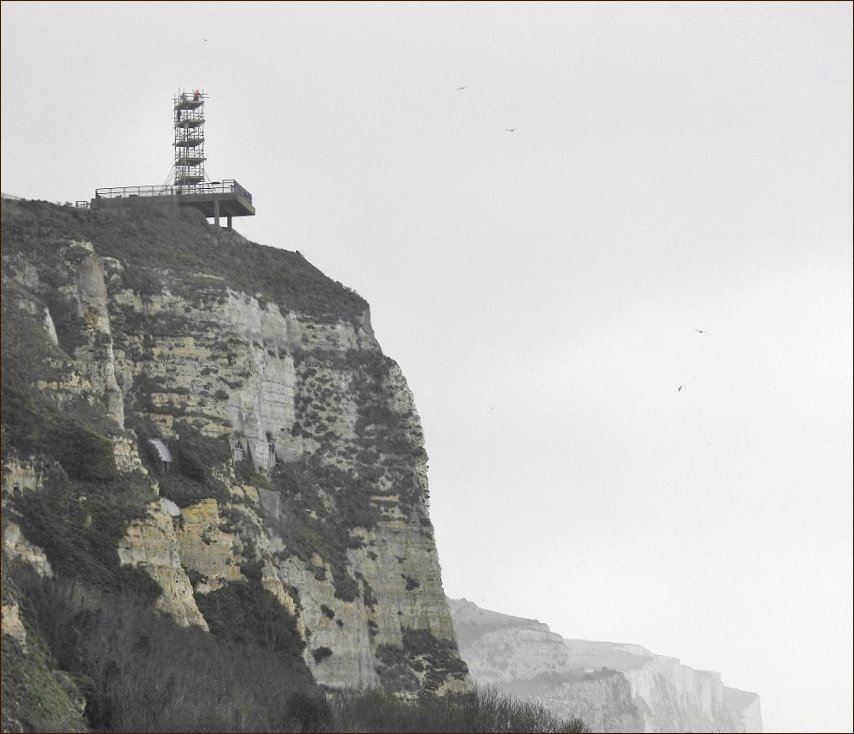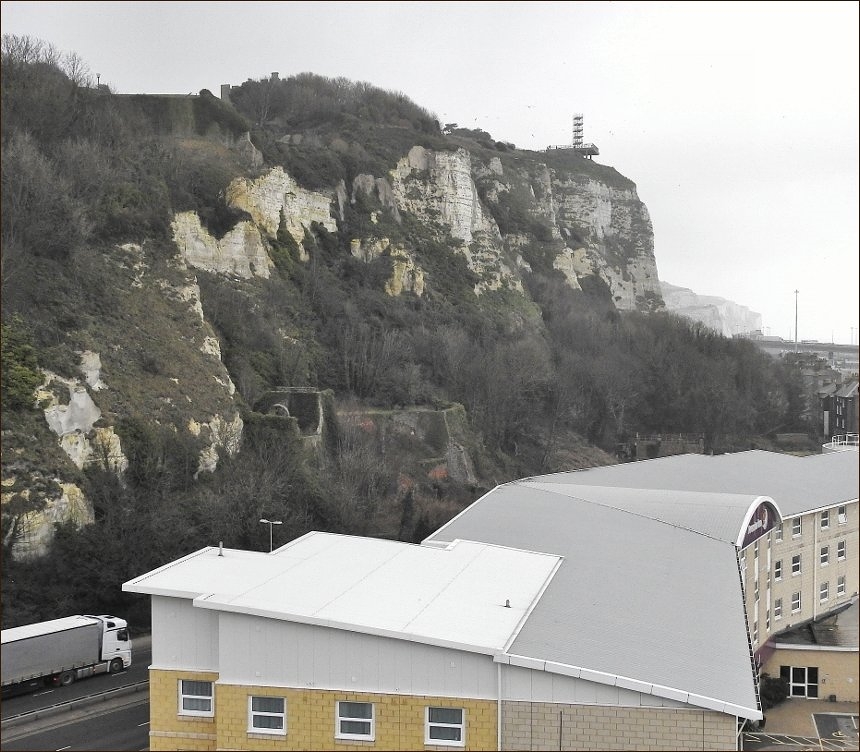 Will aim to have new P&O info and imagery tomorrow...just need to sort it all..
PaulB
Tuesday, 28 January 2020 - 06:16
Post 6772
Sea News, Dover
Get Set to Go Places in 2020 - White Cliffs Country Visitor Guide Launched
_________________________________________________________________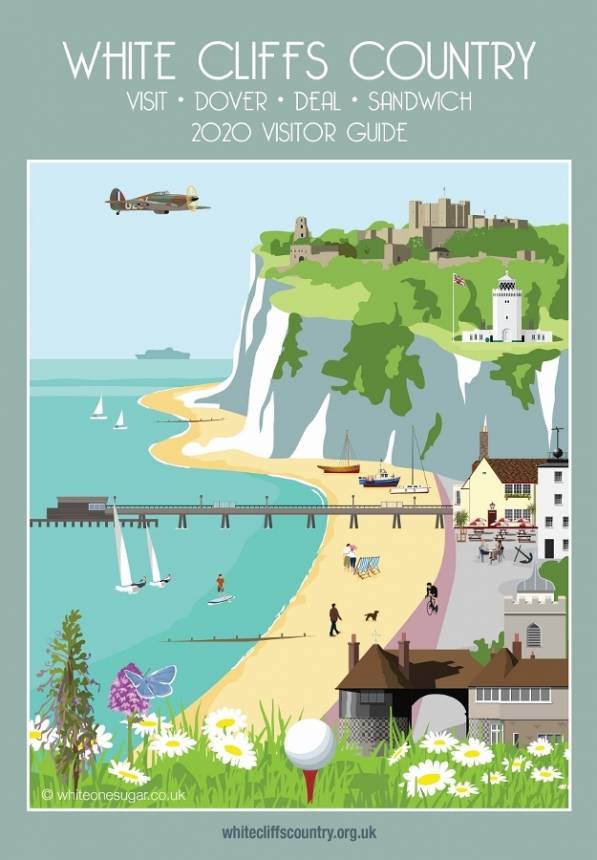 As White Cliffs Country looks forward to an exciting year ahead in 2020, including The 149th Open coming to Royal St George's in Sandwich, Dover District Council has published a striking new Visitor Guide packed with information for all the family.
The 53-page guide is designed and produced in-house by DDC, and showcases the unique tourism offer in the district, highlighting a range of diverse visitor attractions, events and leisure activities throughout Deal, Dover, Sandwich and the surrounding coast and countryside.
The Visitor Guide provides a great introduction to the district and features a whole range of helpful information to inspire visitors, with eye-catching new artwork, pictures and maps. The guide includes ten good reasons to visit the area, including: our world-famous White Cliffs; impressive history and heritage; stunning coastline; beautiful countryside; perfect places for walking and cycling; exhilarating coastal activities and outdoor pursuits; culinary delights; quirky hidden gems; the chance to relax with some retail therapy; and vibrant festivals and regattas.
Cllr MJ Holloway, DDC Cabinet Member for Tourism, said: "It's going to be a great year in White Cliffs Country, as tourism continues on its upward trajectory, supported by our work on our dynamic new Tourism and Visitor Economy Strategy. As well as a range of stunning attractions and events in White Cliffs Country in 2020, the area is honoured to be hosting The 149th Open at Royal St George's this summer.
"The district has something for everyone, with excellent transport connections, year-round family-based attractions and great local hospitality, amazing facilities, as well as breath-taking heritage and landscapes. Whether people are visiting for great days out, family holidays, or visiting and returning to the district for world-class sport, we look forward to welcoming visitors throughout the year."
Copies of the 2020 Visitor Guide are available from the Visitor Information Centres in Deal, Dover and Sandwich, or online at www.whitecliffscountry.org.uk
ENDS
Many thanks to the team at DDC for the info above..

* *
You will have seen me referring to the gloom on Saturday morning in my recent post...well the miserable conditions didn't put these sailing guys n gals off....loads of them took to the water on Saturday and it cheered a viewer up...all those colours were a delight in the deep midwinter gloom...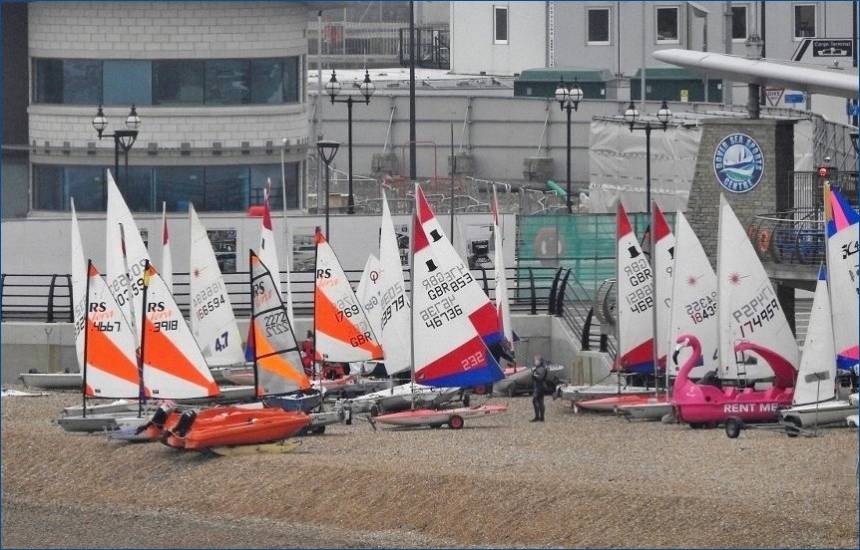 Readying for the off above... there were many more...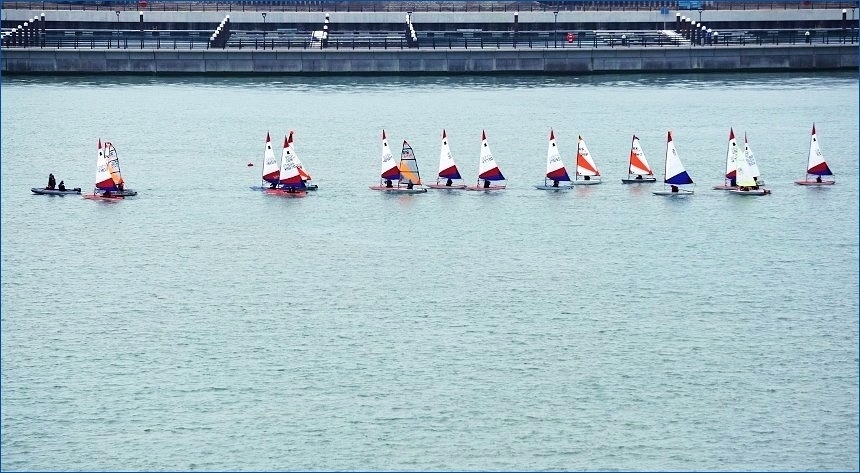 The cavalry charge to the see...and yes there were many more..
And below a little later as the light improved a tad, cheerful, colourful, skilful ...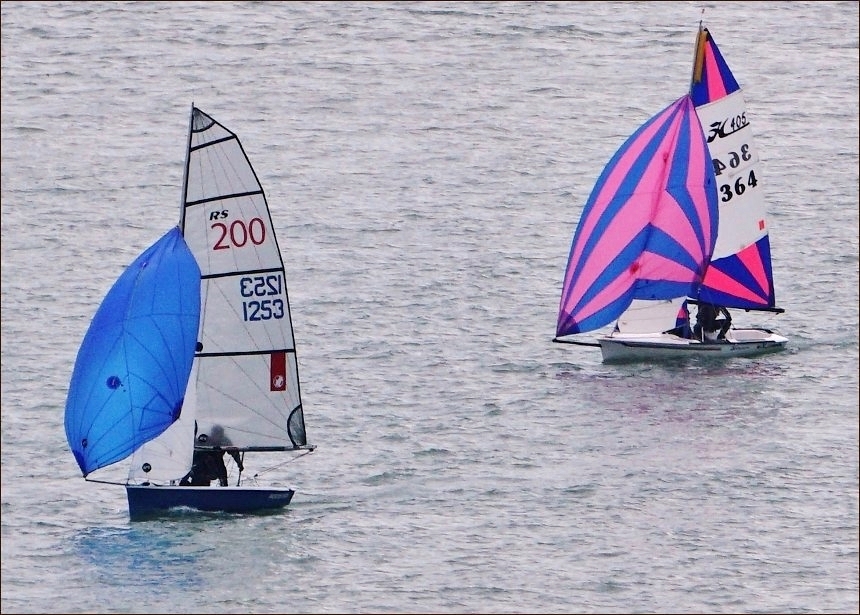 Don't miss the collection from Ramsgate below..Great Stuff Mike !

PaulB

Monday, 27 January 2020 - 07:51
Post 6771
Mike J., Dover
A quiet Sunday morning at Ramsgate, with just a little work taking place on the bunker tanker DISTRIBUTOR on the slipway.
She normally works on the Thames.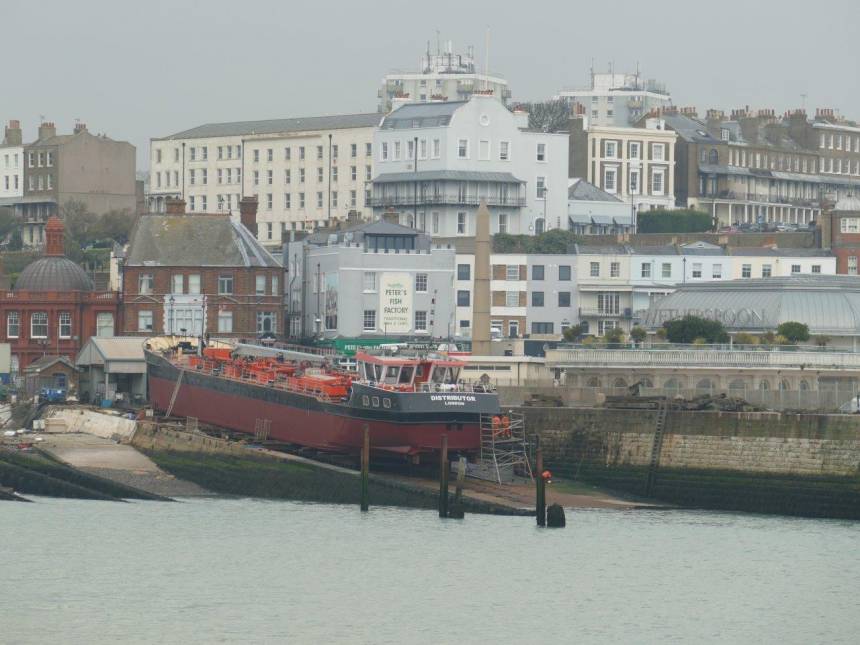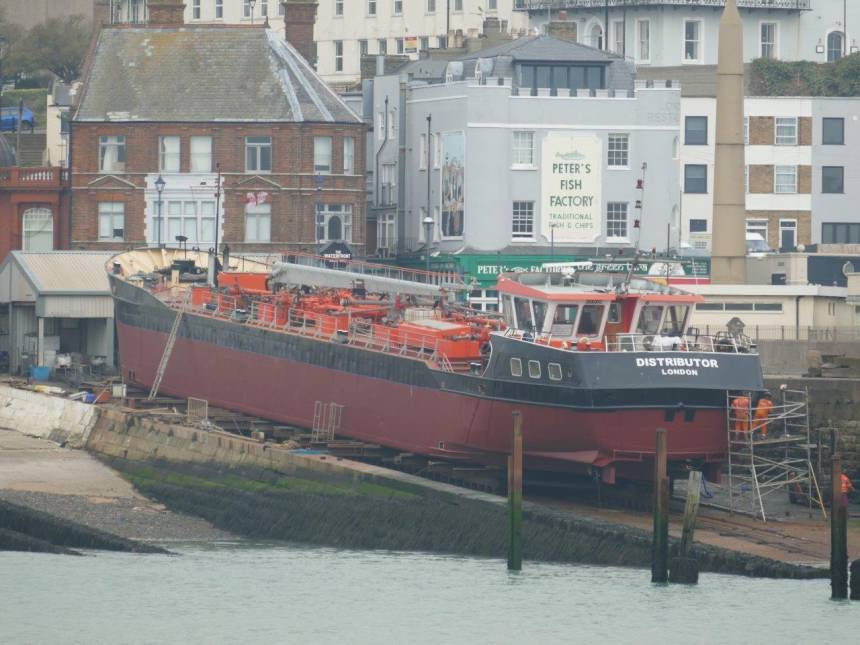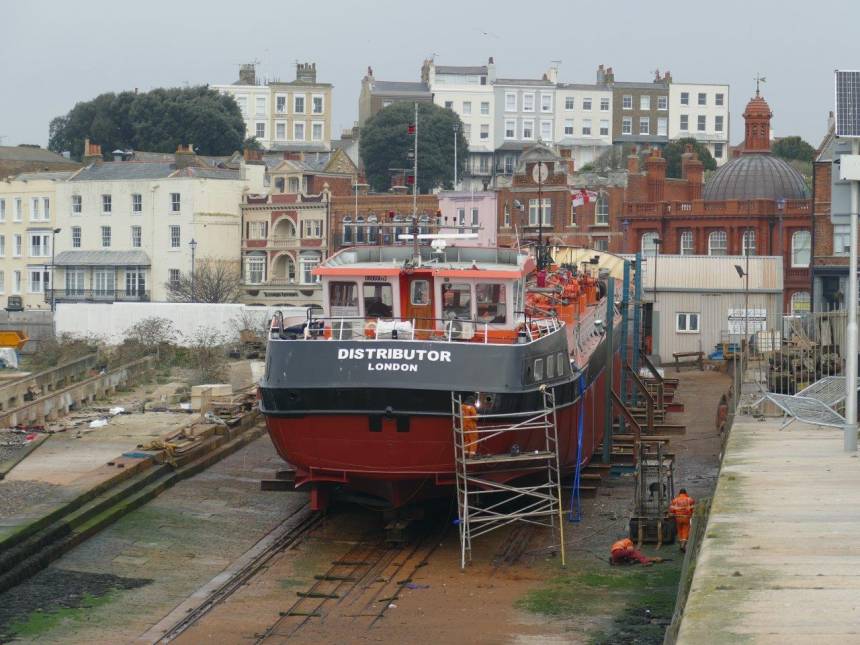 Laid up in the Inner Harbour, [AKA the 'Inner Marina'] were windcats CWIND FULMAR & GALLION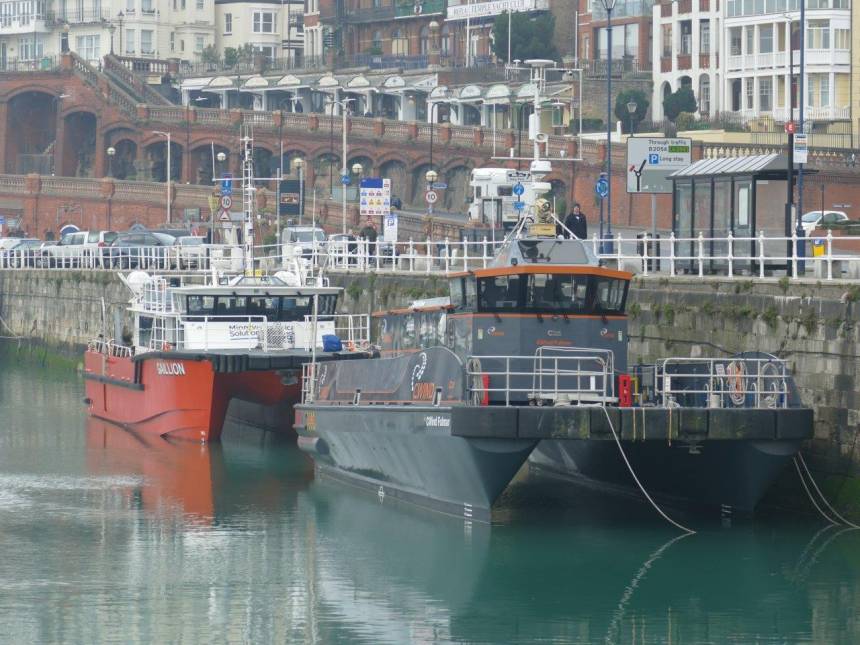 GARDIAN 3 was tucked up at the at the eastern end of the dock with the elegant 'Clock House' in the background.
The bows of the DISTRIBUTOR can [just] be seen on the left.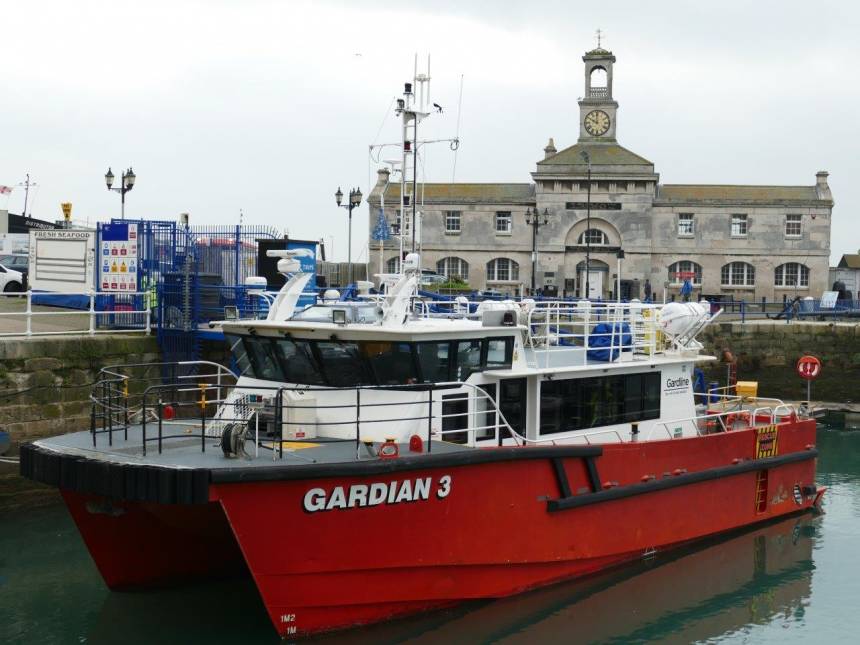 Monday, 27 January 2020 - 02:52
Post 6770
Sea News, Dover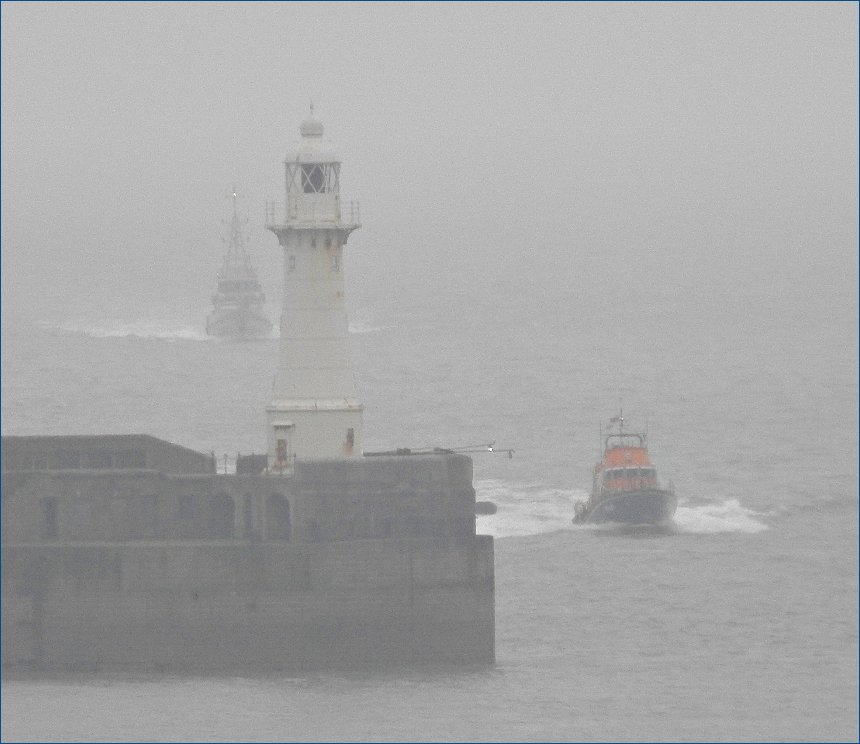 We understand there were 7 migrants picked up yesterday. The overall weather condition was foggy...in the pictures above, through said fog and mist, you can see the Dover Lifeboat returning to Port here in Dover towing a dinghy...you can just see the dinghy in the top shot. With the naked eye at the time yours truly didn't spot it until the Lifeboat came closer to Port, as seen in pic 2 below. Following along behind is the Border Force...this time Border Force Searcher....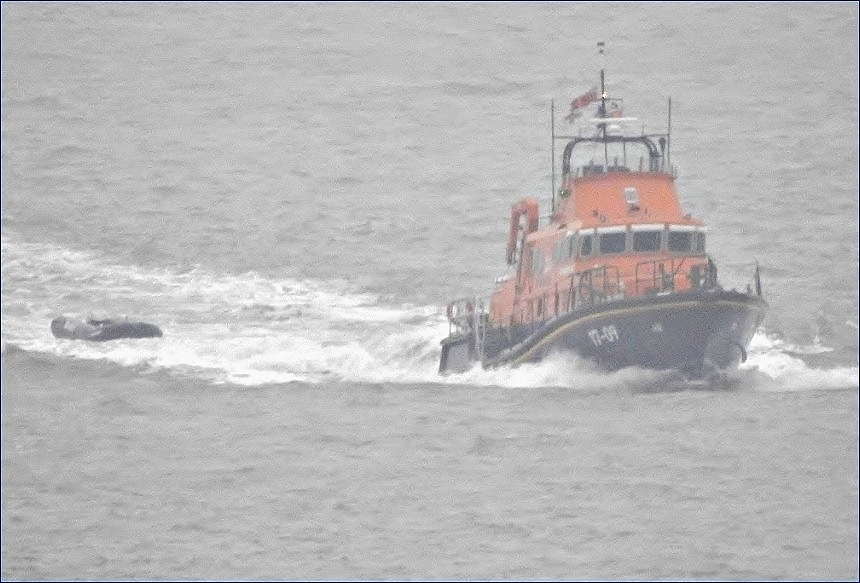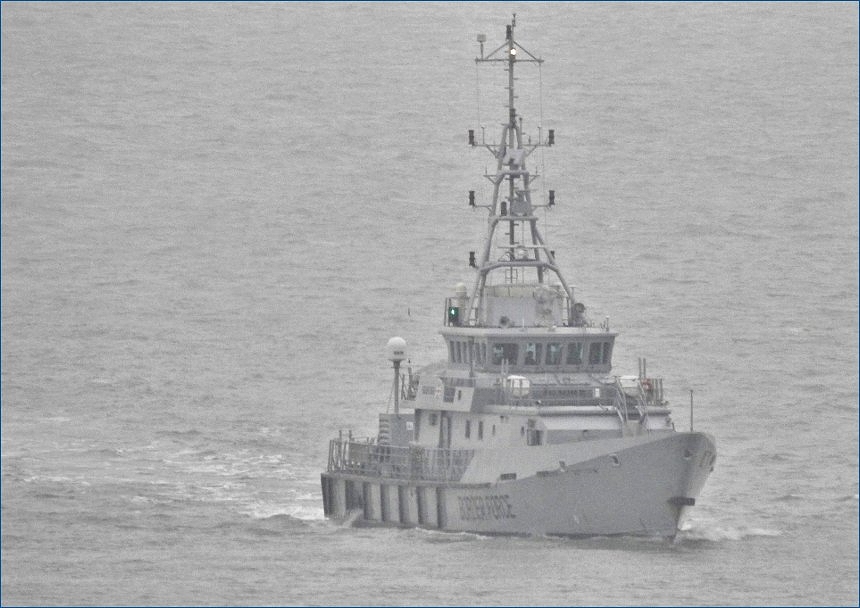 It was very gloomy early yesterday with the fog...the crow below seemed to fit the gloom perfectly, like an extra from a Hammer Horror...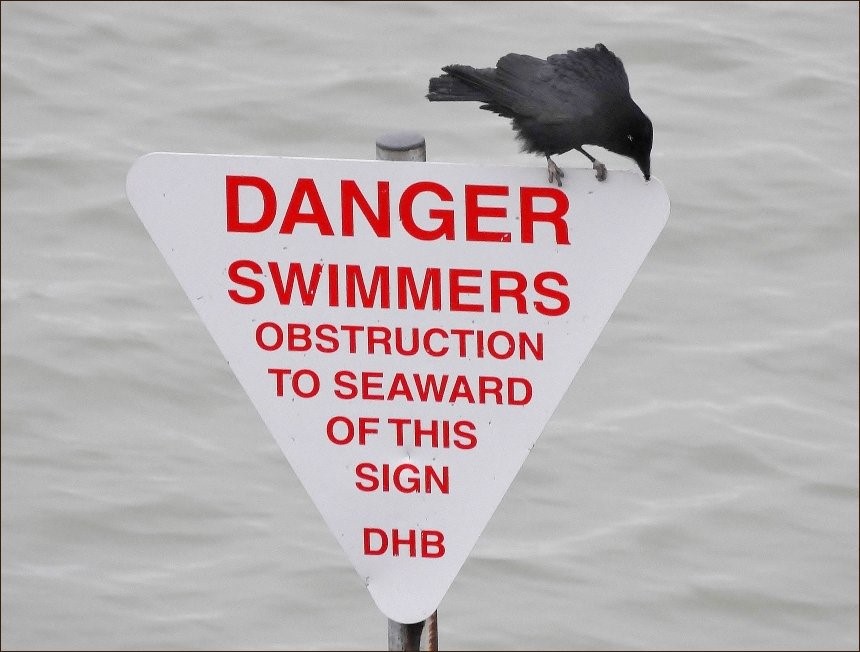 Great spot below Mike....will watch for that. Seems a bit odd/unusual without a logo on the funnel. Still, changing times..

PaulB
Sunday, 26 January 2020 - 05:56
Post 6769
Mike J., Dover
The end of the Maltese Cross ?
I'm not sure when the COTE DES DUNES returned from her January refit, but it was only Thursday that I noticed that she now carries DFDS lettered on her funnel in place of the familiar DFDS Maltese Cross.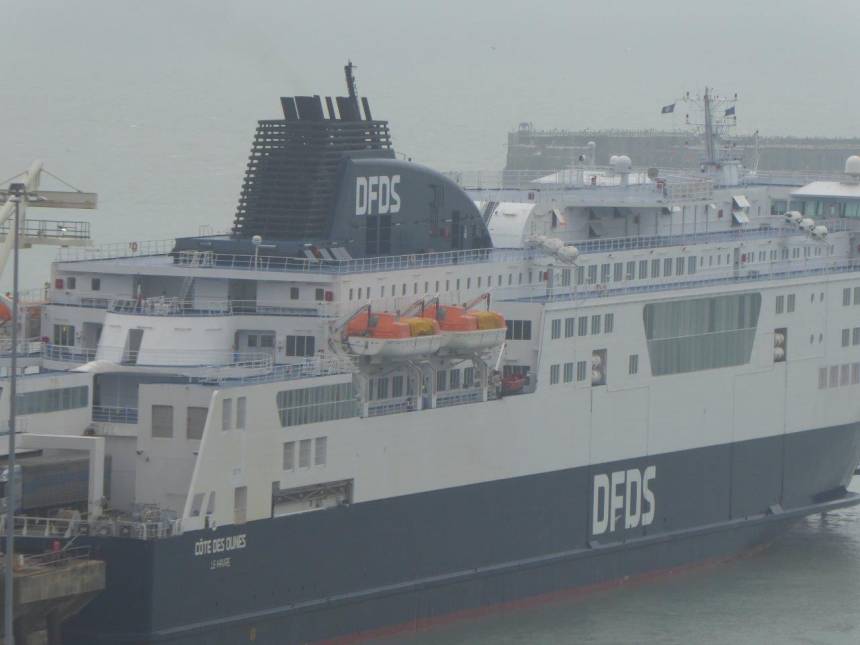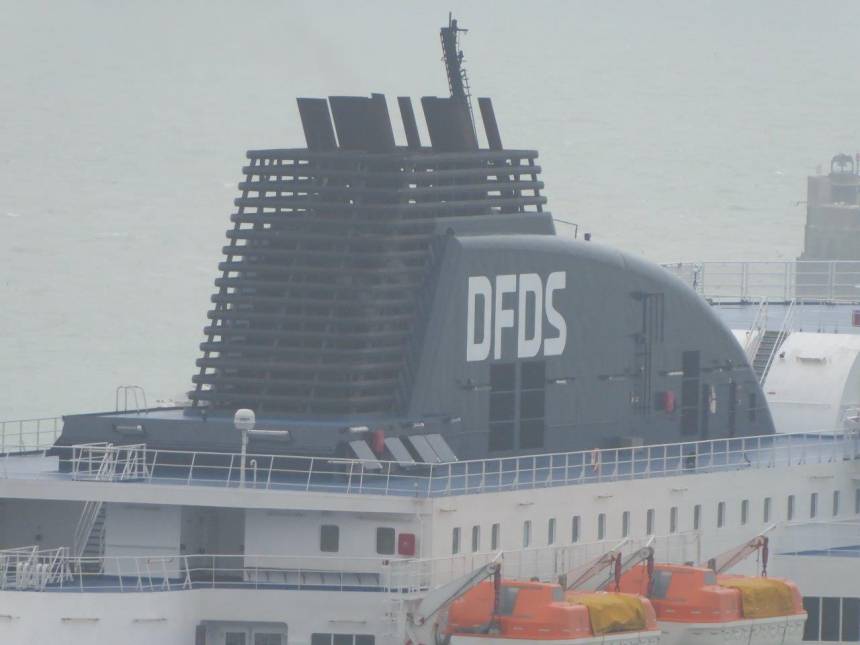 Presumably this 'rebranding' will be seen on other vessels as they return from refit.
Saturday, 25 January 2020 - 01:41
Post 6768
Sea News, Dover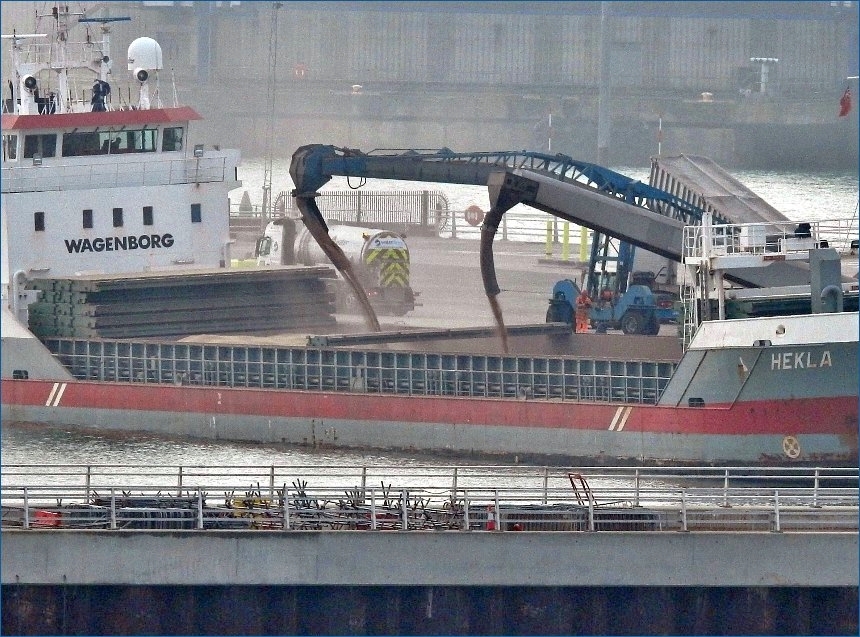 Hekla loading grain...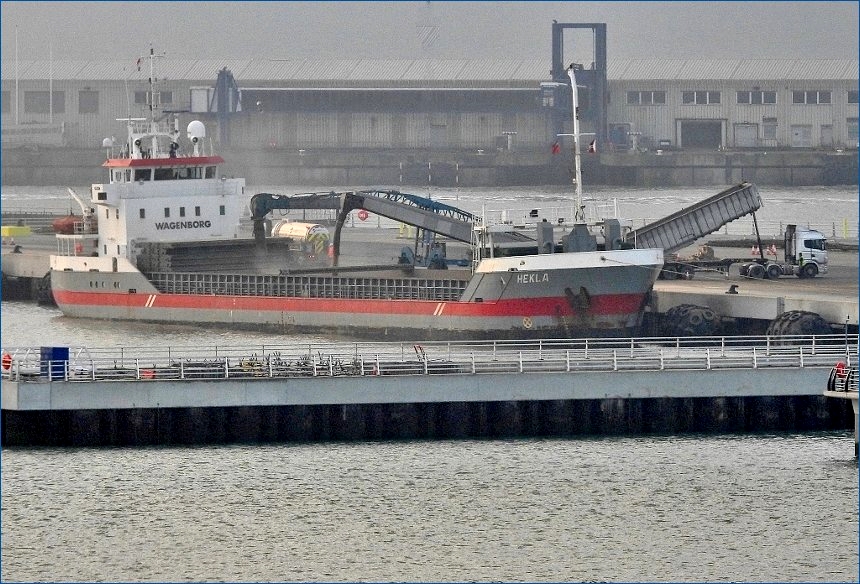 Some final pictures above there of Hekla to make up for the one yours truly failed to deliver yesterday, these taken on wednesday just prior to her departure for Rotterdam...and you can see the grain being pumped/conveyed onto the ship there with gusto...
Below we have Border Force Searcher the same day...very grey early morning, very grey vessel... but the migrant activity continues, with up to 50 intercepted this week. It was cold out there...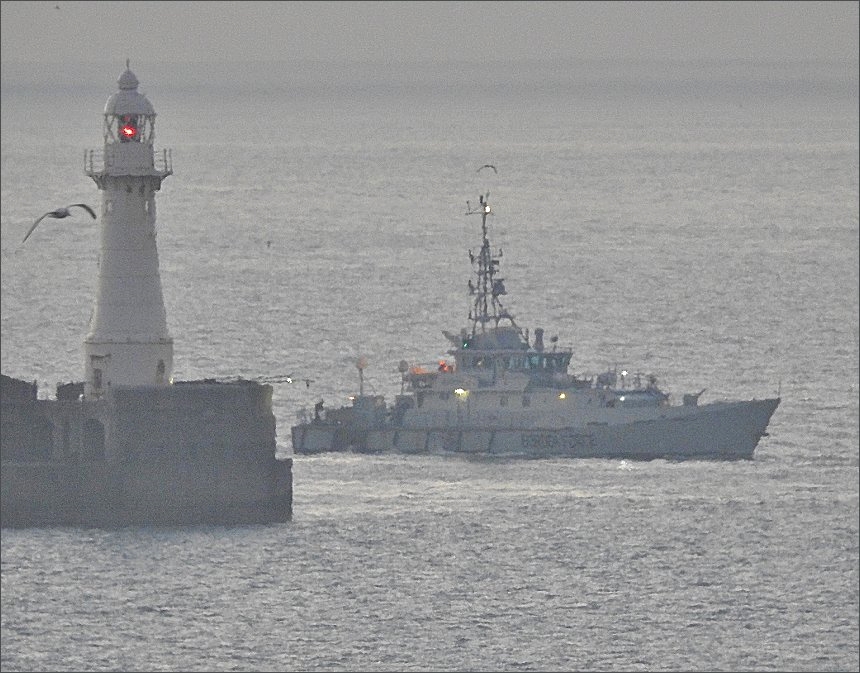 PB
Friday, 24 January 2020 - 07:38
Post 6767
Sea News, Dover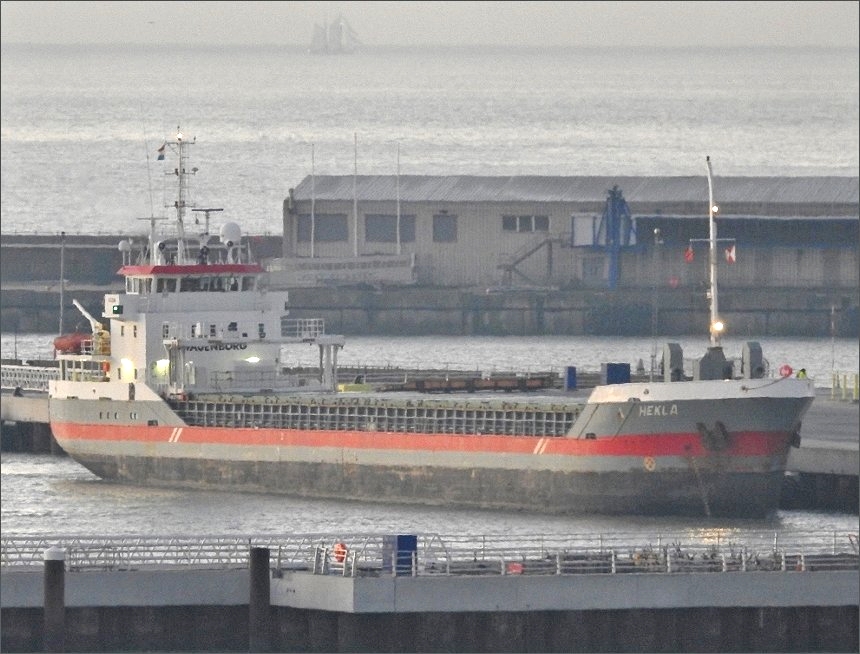 Top picture there shows general cargo ship Hekla arriving at the 'grain' pier WD4 on Tuesday morning at 07.30. All was fine on a misty morning ( do you see the tall sailing ship in the distance at the top of picture one above...missed that completely, never even saw it until I sorted these pix on the computer later! doh! must have been the misty conditions!!)) The second picture shows Hekla approaching the pier a few minutes earlier with pilot boat in sharp attendance. All was fine...yours truly had a third picture to go up right here, but on further inspection this morning have decided to scrap the picture...it was ermmm ...far too grainy!!

Can the jokes get worse than this..

However will have two more pictures of the ship taken yesterday to follow in due course.. to complete things.
Hekla left last night at 7pm - destination Rotterdam.
Now back to the stunning sunrise of Monday as promised.
First picture here...well it probably should have been in the sequence yesterday but better late than never. It shows the Spirit of France ferry blowing a huge bubble from the funnel...well I joke of course. But it almost looks that way. This is a lucky shot because the intention of producing this image was far from mind... just get the pic in the bag was the aim...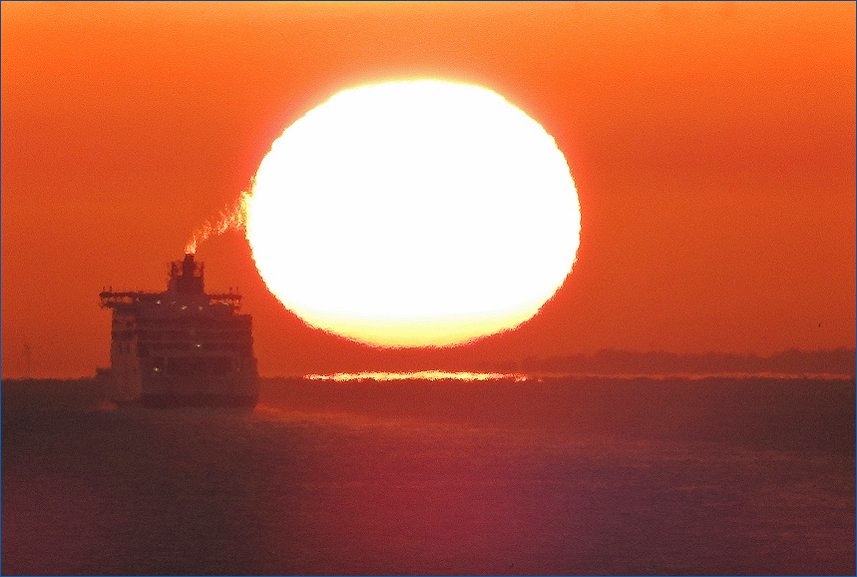 Sunrise and the Dover ferry.
We mentioned yesterday...before the sun arrived the sky was even more dramatic....here it is below....
nature at work...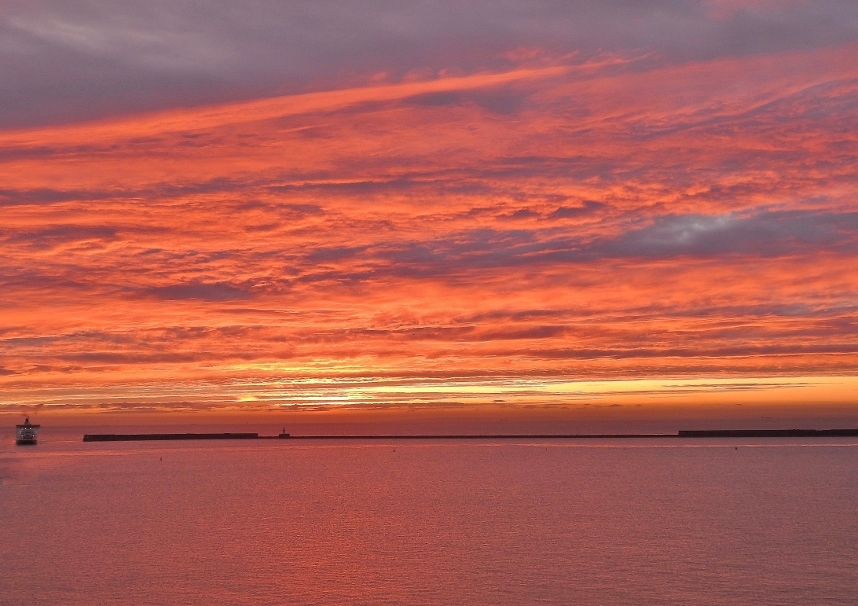 Sunrise at Dover...above and below...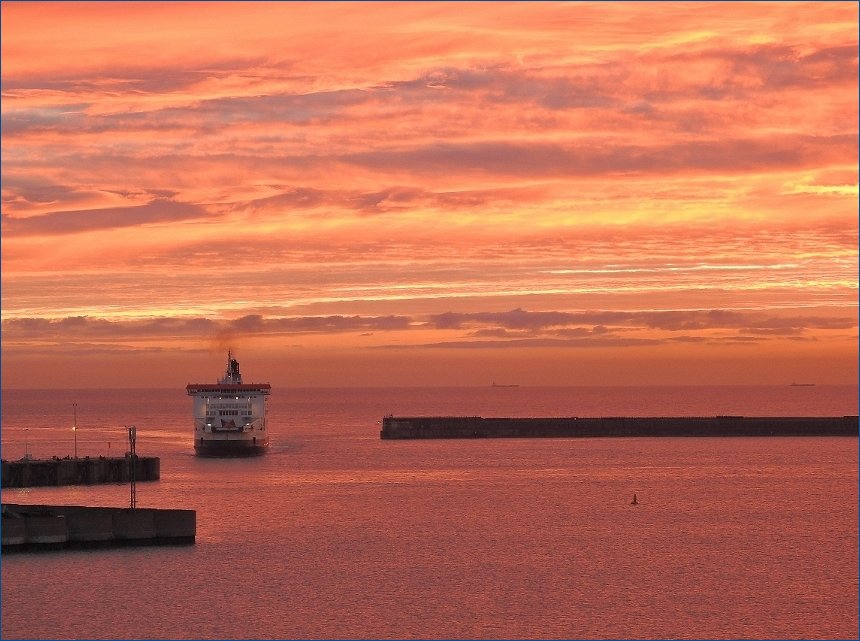 PaulB
Thursday, 23 January 2020 - 07:01