Sunday, 21 January 2018

doverforum.com/sea-news
Doverforum.com: Featuring all the ships that come and go and work at the Port of Dover with further coverage of Ramsgate, Calais, Dunkerque. Email: dover7@msn.com to send SEA NEWS pix or info.... or click ADD YOUR COMMENT below to post direct, no membership needed.

PORT OF DOVER RECORD FREIGHT see 4551.
Sea News Dover : Use our SEARCH ENGINE below to find all sorts on the SEA NEWS pages..more than 200 now with more than 4500 nautical posts. Posts welcome. Max of 5 pictures preferred per post. Sea News Editor Paul Boland.
Post 4501
Sea News, Dover
Port of Dover helps to provide food and shelter for those in need at Christmas.
_______________________________________________________________________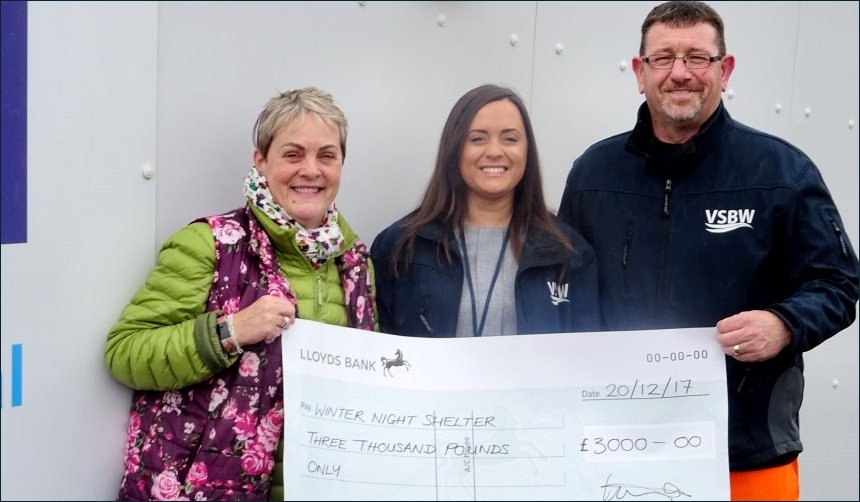 As part of the Port's support for local charities and initiatives at Christmas, it has together with its contractor VSBW raised £3,000 for the Dover Outreach Winter Shelter.
The Winter Shelter operates out of premises at St Paul's Catholic Church in Maison Dieu Road and offers a drop-in centre to cater for people who are homeless, vulnerable, socially isolated and lonely by providing supervised overnight accommodation at town centre churches, including a warm evening meal.
VSBW raised funds by undertaking a number of 'dress down Fridays' and requesting their suppliers to donate to the charity fund instead of giving normal Christmas gifts. Whilst the Port held a 'winter festive competition' in the DWDR Project Office as part of their efforts to fundraise for the charity.
Tim Waggott, Chief Executive at the Port of Dover, said: "As the Port helps thousands of festive deliveries to homes across the UK in time for Christmas, it is so valuable that we can also help in providing food and shelter to local people in difficult personal situations."
Judith Shilling, Treasurer and Secretary for the Dover Outreach, said: "We want to say a huge thank you to the Port of Dover, VSBW and their sub-contractors for the time and effort they put into raising money for us.
"Homelessness in Dover is an issue nobody can ignore, especially in the cold winter months, and the Port has responded."
The Port of Dover, VSBW and sub-contractors One Way Resourcing Ltd, Sword Contracts Ltd, Coastal Energy Kent Ltd, Chunnel Group and Euroclean Contractors Ltd working at Dover Western Docks Revival (DWDR) have collectively joined together to fund the evening meals at the Winter Shelter for the next several months.
On handing over the cheque Toni Taylor, Senior Quantity Surveyor for VSBW, said: "Our staff working and living in Dover have allowed us to see the work that Dover Outreach does locally for those who need their help and support.
"I am extremely grateful to have the chance to raise awareness of such an important issue and help make a difference."
ENDS
Great work from the guys at the Port and the DWDR guys above there.

Ah lovely shot below Patrick, terrific colours...yes there was an unbelievable sky the other evening,
You've made the seafront look all romantic there....



Thursday, 21 December 2017 - 05:51
Post 4500
PatrickS, Marine Parade
On the western skyline. Sunset colours over the Western Docks yesterday evening; while DWDR floodlights provide the ground illumination.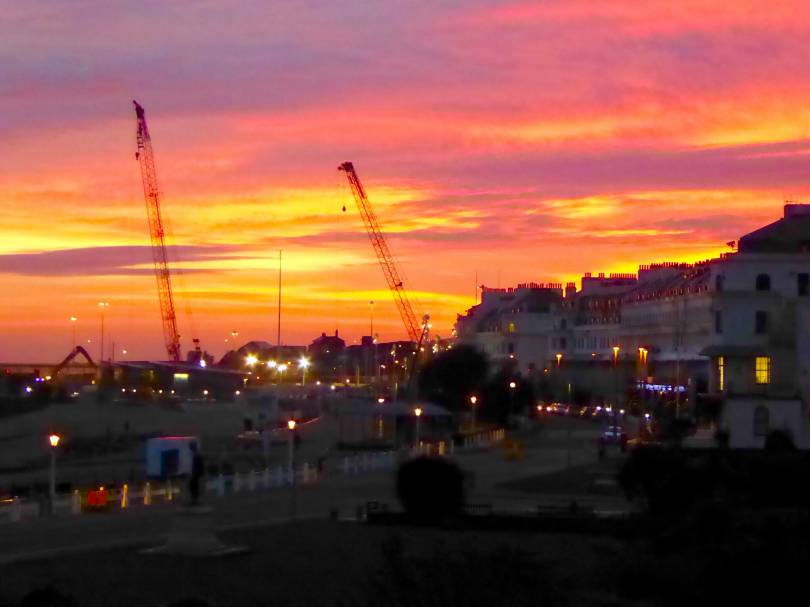 Wednesday, 20 December 2017 - 16:16
Post 4499
Sea News, Dover
Another one about to be pounded into position.
You could say....its pending piling awaiting pounding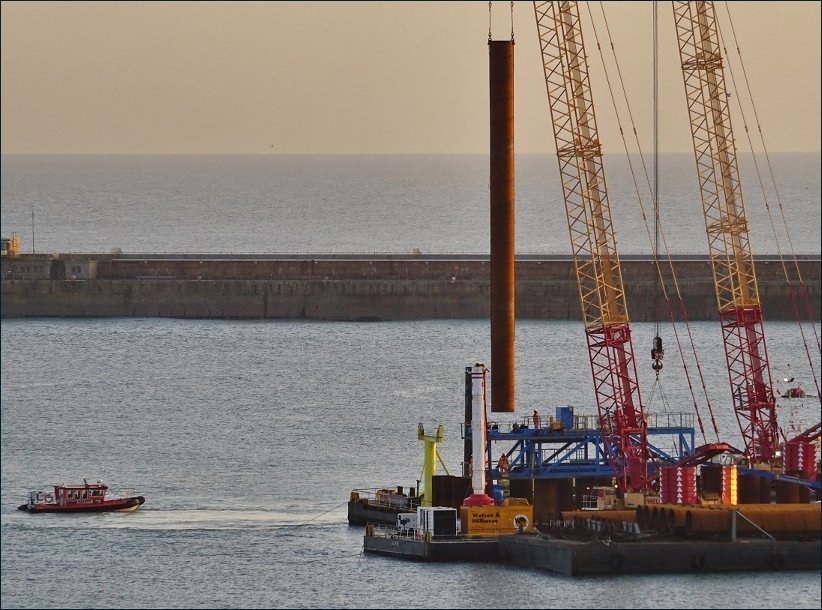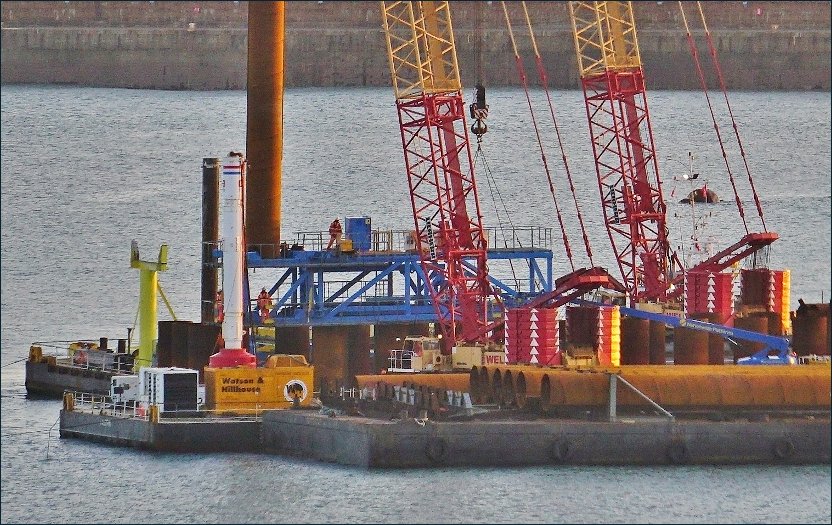 Taken 2 days ago in the late day sun.
Very nice shots below there Sarah...excellent stuff. Really good to see those from over there in Ramsgate. Always busy over there.

Glad you got Esmeralda Ed..."The Bells The Bells" ( oh noo not that quote again...I said I wouldn't do it...)

She left last night about 8.30PM but it was a black oul night so no pictures alas.

PaulB
Wednesday, 20 December 2017 - 14:45
Post 4498
Sarah, Ramsgate
Ramsgate Lifeboat leaving for Calais on its second sea trial today.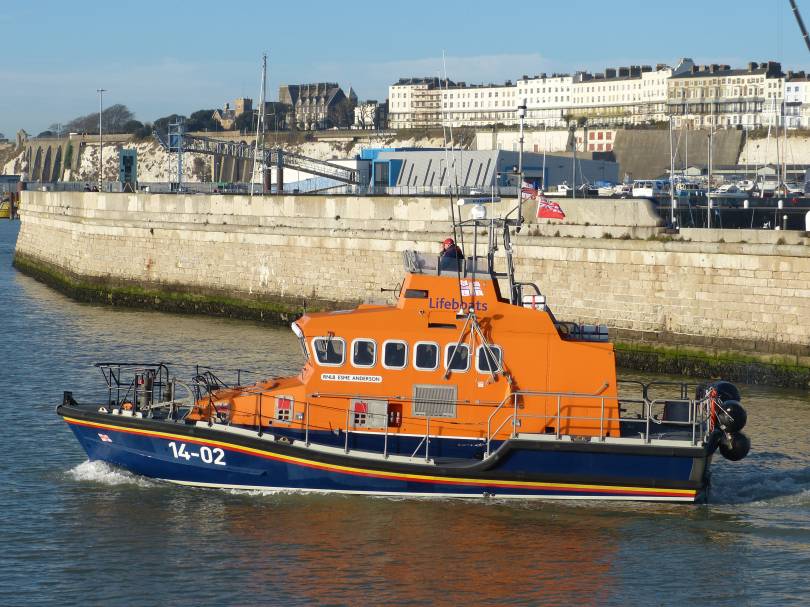 Estuary Escort arriving back at Ramsgate.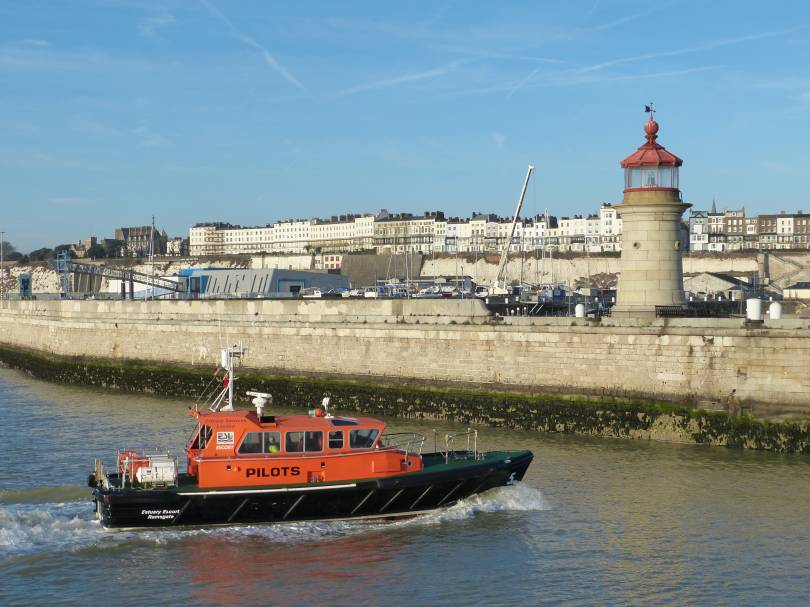 SC Falcon entering Ramsgate Royal Harbour.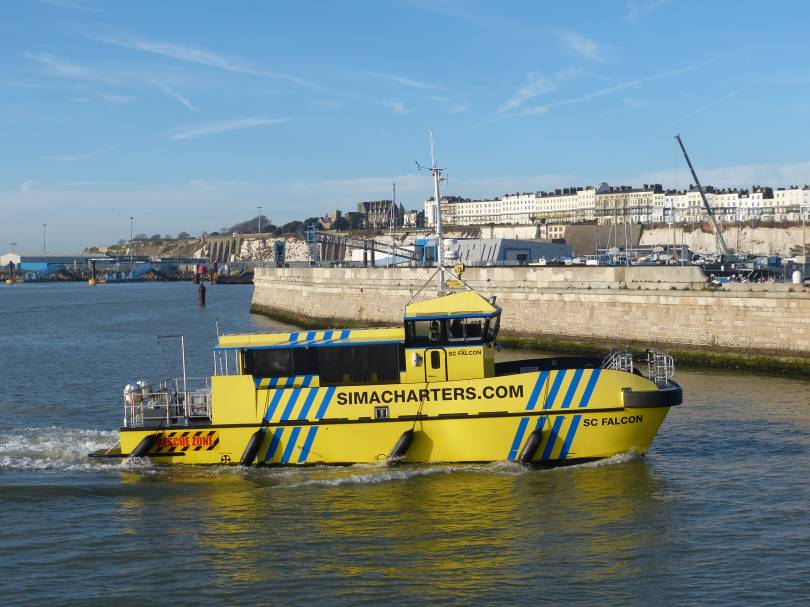 Tuesday, 19 December 2017 - 17:38
Post 4497
Ed Connell, Dover Strait
Esmeralda at the DCT today.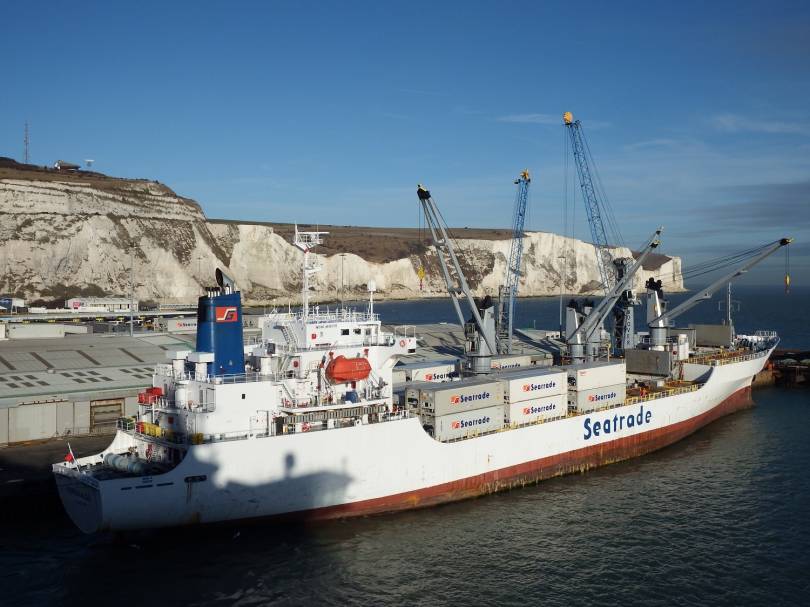 Tuesday, 19 December 2017 - 13:27
Post 4496
Sea News, Dover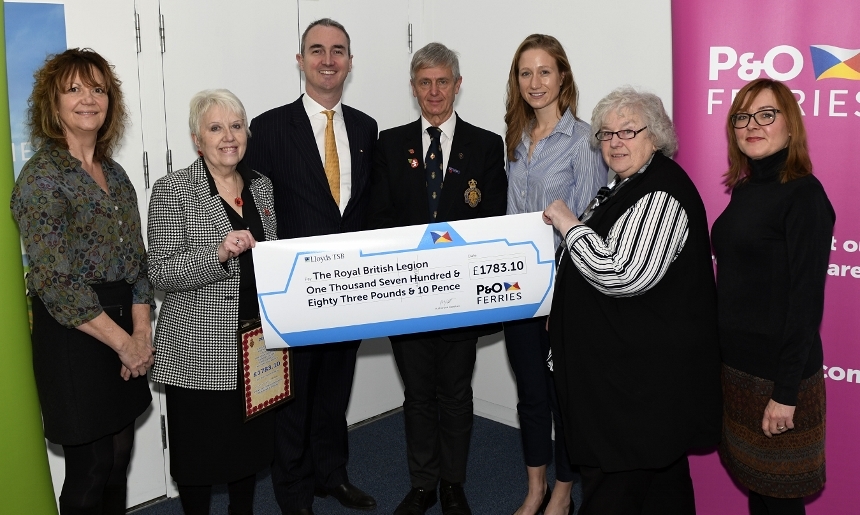 P&O FERRIES HANDS OVER CHEQUE FOR £1,783 TO ROYAL BRITISH LEGION VOLUNTEERS AFTER SUCCESSFUL POPPY APPEAL
____________________________________________________________________________________________________
VOLUNTEERS and officials from the Royal British Legion visited P&O Ferries' Dover headquarters this week to take delivery of a cheque for £1,783.10 which was raised by the ferry and logistics company's employees and customers during last month's poppy appeal.
P&O Ferries' connection with the Armed Forces goes back to the foundation of P&O 180 years ago. The company lost 80 ships in World War One, another 182 in World War Two and had five vessels which served in the Falklands War. It has a longstanding connection with the Royal British Legion, which is one of its two official charities.
Kimberley Wood, Chartering and Marine Insurance Manager at P&O Ferries, said: "We are delighted to have been able to play our part in raising another £1,700 for a cause which is very close to the hearts of the people who work and travel with us."
"Our company has employed many ex-servicemen and women in a variety of on-board and shore-side roles over the years. Helping to reintegrate those who have served their country overseas back into civilian life is something which we promise to continue to do for many years to come."
The Royal British Legion is dedicated to providing lifelong support for the Armed Forces community, including serving men and women, veterans, and their families. It needs £1.7 million per week to deliver its current level of support.
Christine Walton, Poppy Appeal Organiser of the Royal British Legion's Dover branch, added: "We would like to thank the employees and customers of P&O Ferries for their generous support for our ex-servicemen and women this year. If you think that £45 pays for a former soldier to wear a suit for a job interview after he leaves the Armed Forces, you start to understand how the Royal British Legion will be able to use this money to make a real difference to the lives of the men and women who have served their country."
P&O Ferries is a leading pan-European ferry and logistics company, sailing 27,000 times a year on eight major routes between Britain, France, Northern Ireland, the Republic of Ireland, Holland and Belgium. It operates more than 20 vessels which carry 10 million passengers and 2.2 million freight units annually.
ENDS
Well done to everyone at P&O and to its customers for raising that money above - great stuff indeed! Excellent cause.

A couple of extra pix now of the P&O ships in action. First shot shows the Spirit of Britain a couple of chilly days ago, leaving the harbour by the western exit. The second picture shows the Pride of Burgundy taken at an earlier time...one from the files..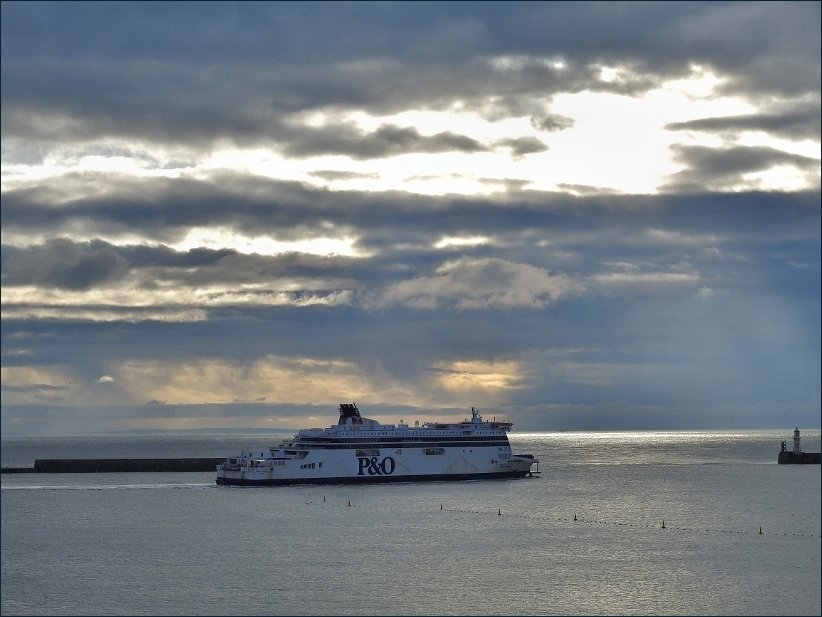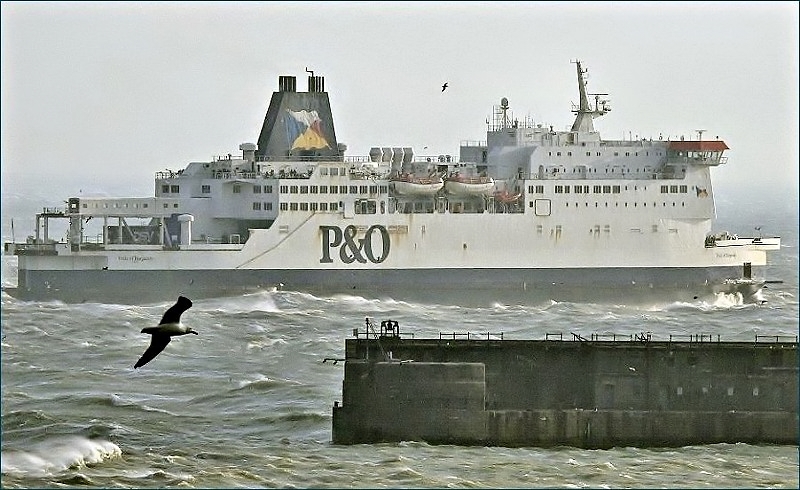 * *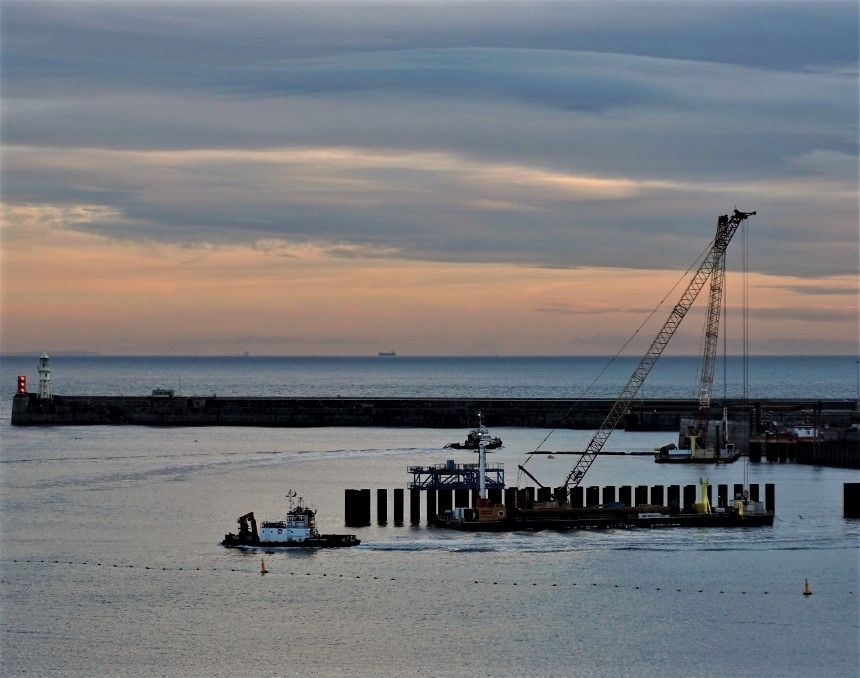 You might remember a picture previously where we had just 4/5 isolated pilings standing out there on their own... an island of heavy metal. In the picture above there you can see how that island grouping has expanded or extended. The nearest vessel in action there is Llanddwyn Island again.
Colette and Brian

Well done with that one below Ed - good to get the Pacific Reefer. Nice shot too.

Just noticed Pacific Reefer is now gone and Esmeralda has taken up the slot.
PaulB
Tuesday, 19 December 2017 - 06:37
Post 4495
ColetteB, Dover
I enjoyed visiting the Cruise terminal for the White Christmas Ice Festival, albeit on crutches this year

PaulB is right, it wasn't skating that broke my ankle or even something as charming as Chamonix Mont Blanc or Val d'Isere.
It was great to see the excitement on children's faces and adult's alike as they took to the ice, pirouetting with seals & penguins (not the real ones of course

) and spinning this way & that. There was a nice variety of Christmas gifts to be had on the stalls as well. A Big Well Done to the Port of Dover.
Thanks Brian for your kind words, I'll certainly be plastered in more ways than one this Christmas

Monday, 18 December 2017 - 21:55
Post 4494
brian, dover
oh dear poor Colette not again. get well soon.

Monday, 18 December 2017 - 16:59
Post 4493
Ed Connell, Dover Strait
Pacific Reefer at the DCT today.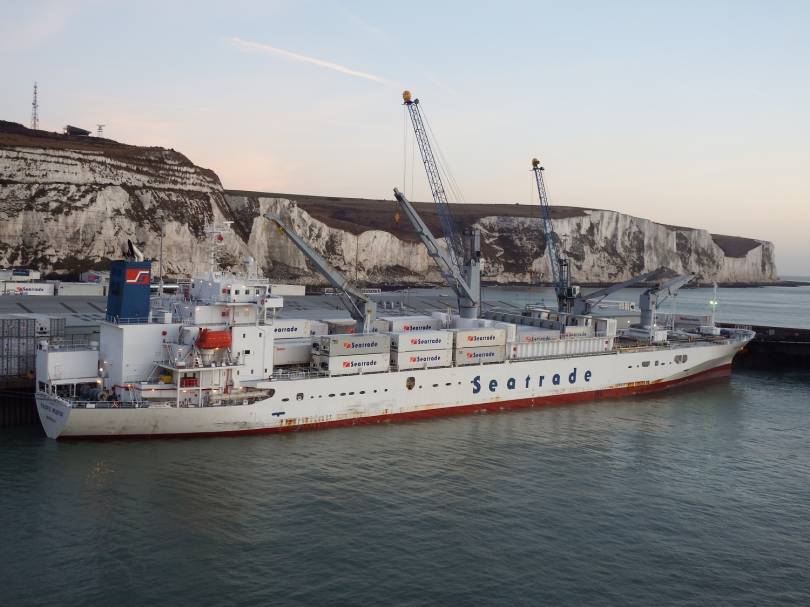 Monday, 18 December 2017 - 08:07
Post 4492
Sea News, Dover
Here we are with the latest batch of exciting pictures from the colourful and delightful White Christmas Ice Festival at the Port of Dover...
Wow! You can see how busy the ice rink is. These pictures were taken on Saturday around about 2PM when the madly excited population were .. 'going for it'. The kids love it, don't tell anyone but so do the mums and dads!!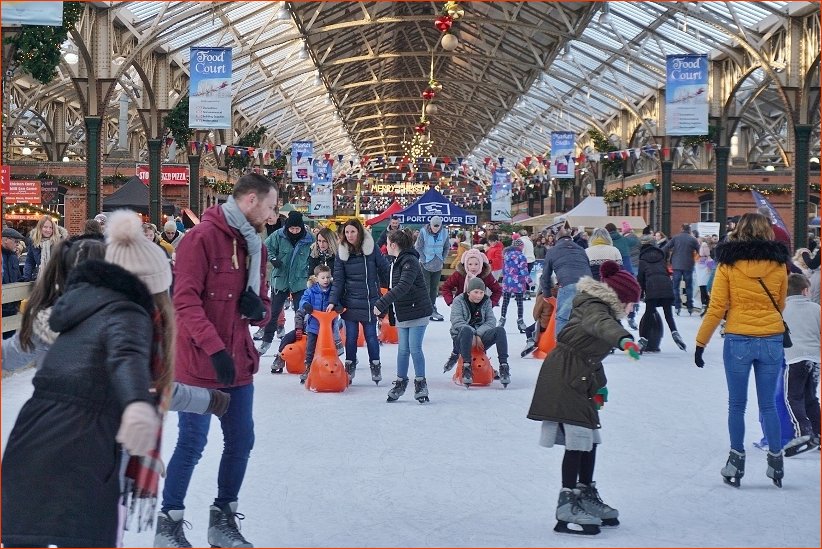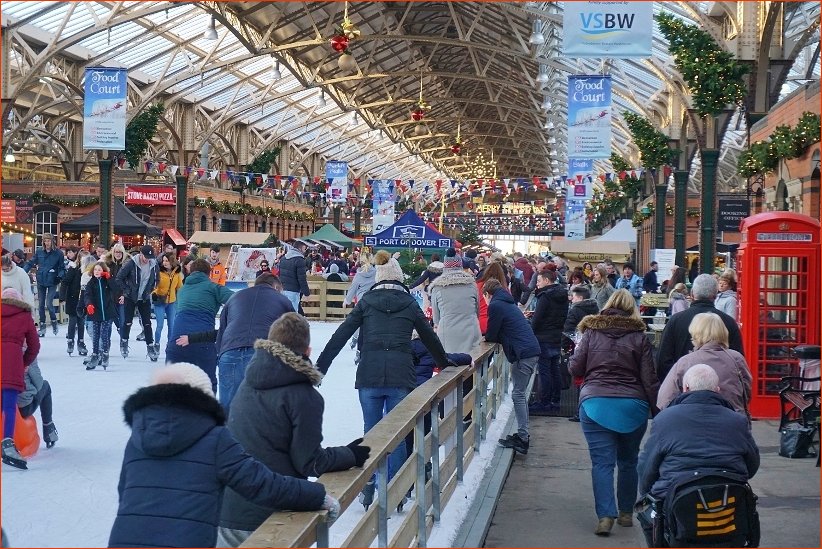 There are great craft style stalls to enjoy too as you can see below..very colourful.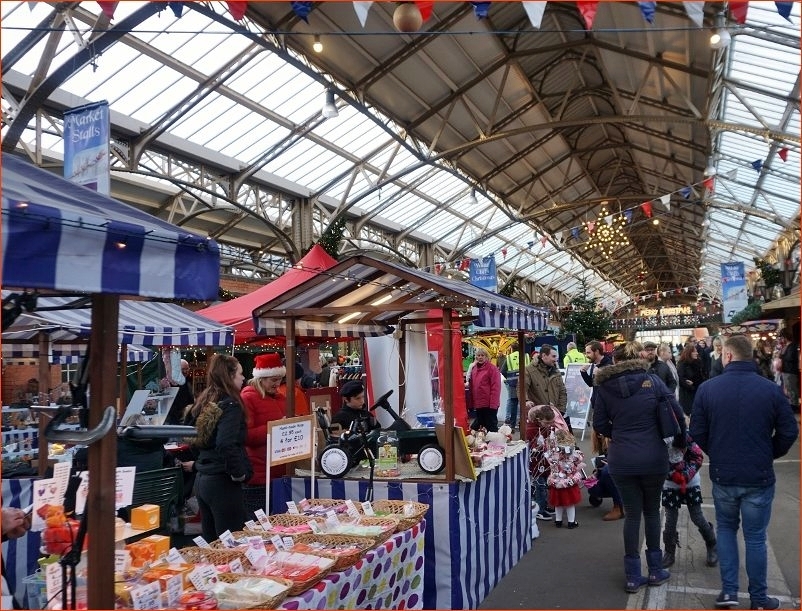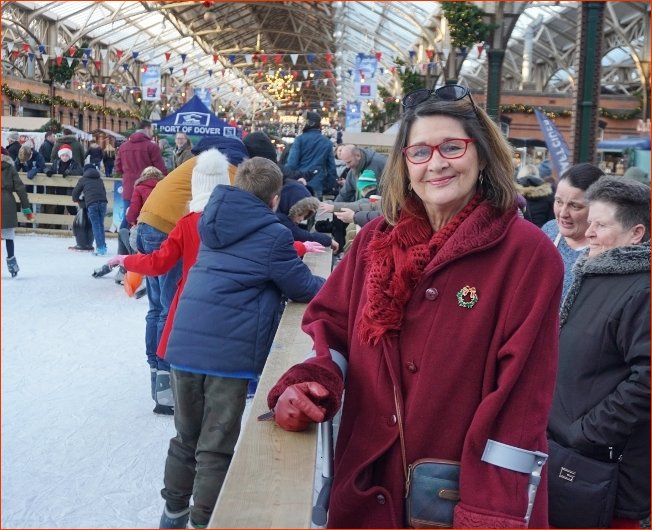 Our cruise correspondent ColetteB was there. The poor thing has not been too well. You can see she is on crutches, its a broken ankle but no no she didn't get it doing that famed triple pirouette on the ice.. she did a triple pirouette alright but not on the ice..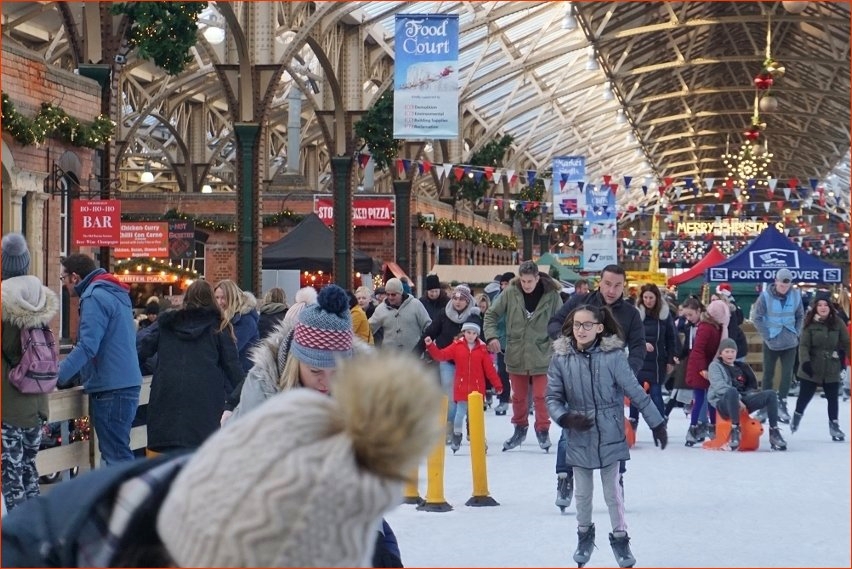 More ice skaters above there... zapping this way and that..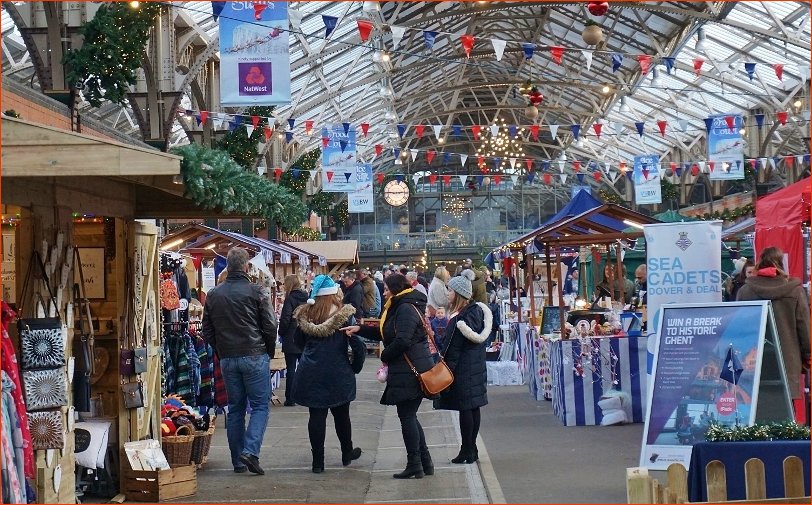 And more colourful stalls..
See also post 4460 and see also the link at the top of the page for more details about the event.
PaulB.

Monday, 18 December 2017 - 05:46
Post 4491
Sea News, Dover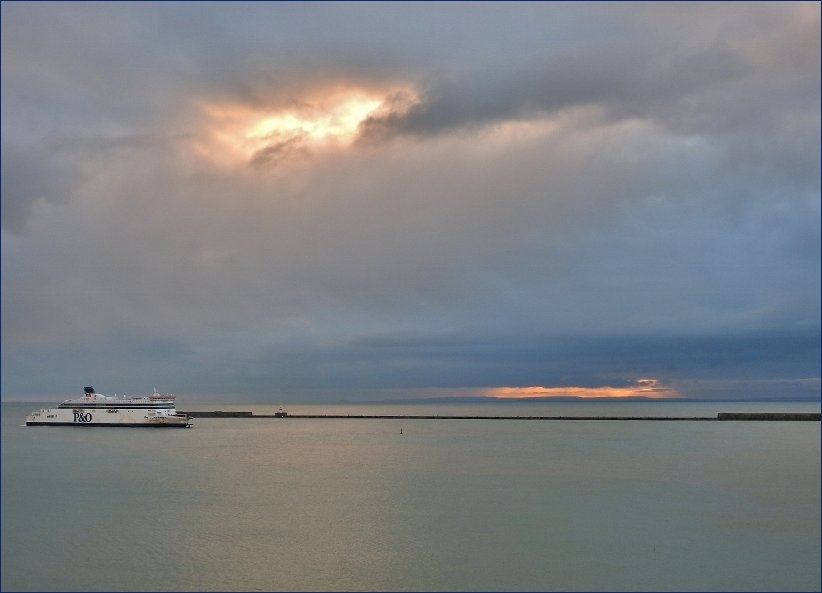 These pictures are from Friday. It was a cold day but at least the sea was calm as you can see above. This makes a welcome change. You can see a slightly weather-beaten Spirit of Britain entering the port to the left .. and in the distance over the hills of France you can spot a dynamic strip of orange/red sky. The picture below is zoomed into that bit of sky...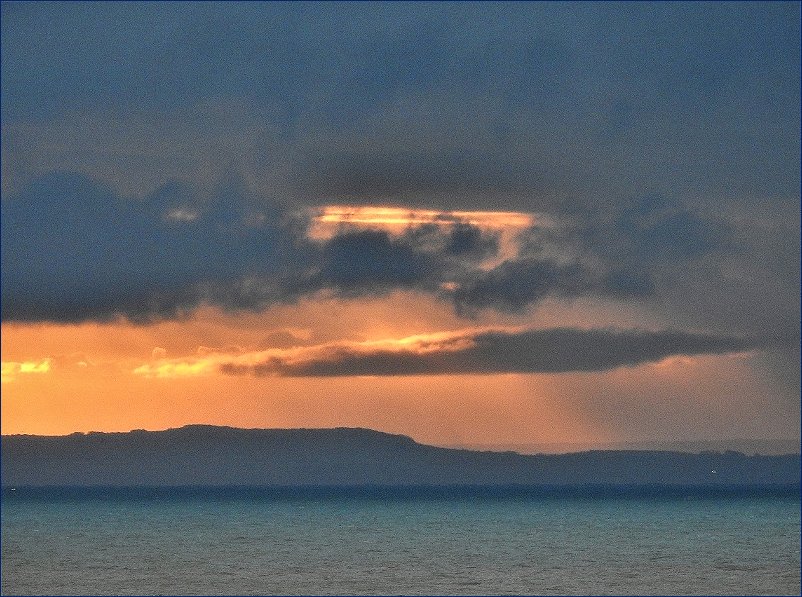 We will have more pictures of the Christmas Ice Festival at the Port tomorrow. We have had another visit. Its great fun down there at the Cruise Terminal and its all free to enter. See the link at top of page for more details.
Sunday, 17 December 2017 - 06:13
Post 4490
Sea News, Dover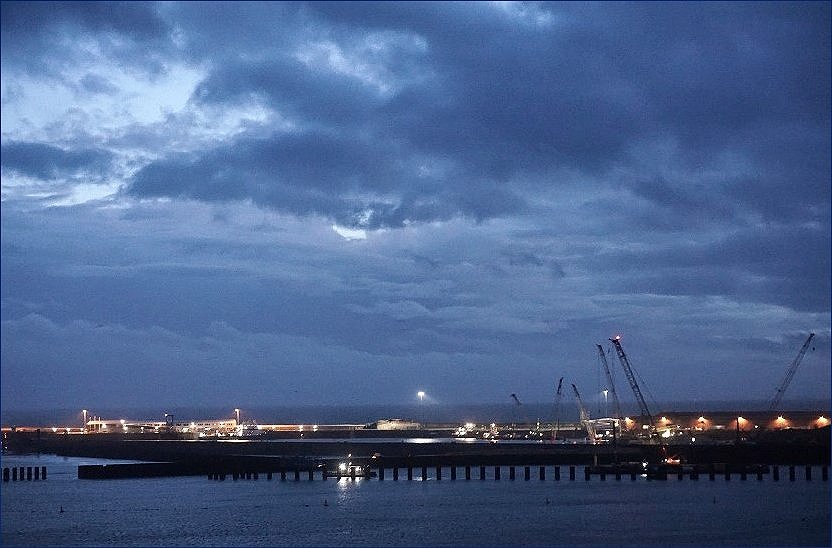 Night begins to fall in the picture above over the Port development workings and a dark menacing grim oul night it is too...but the works crews keep powering forward through all weathers. Picture taken a couple of evenings ago.
Thanks for that info Brian.. here is the ferry in question...the Spirit of France, picture taken the very evening before her 'technical issue'. All looking good at that point...nice and clean too.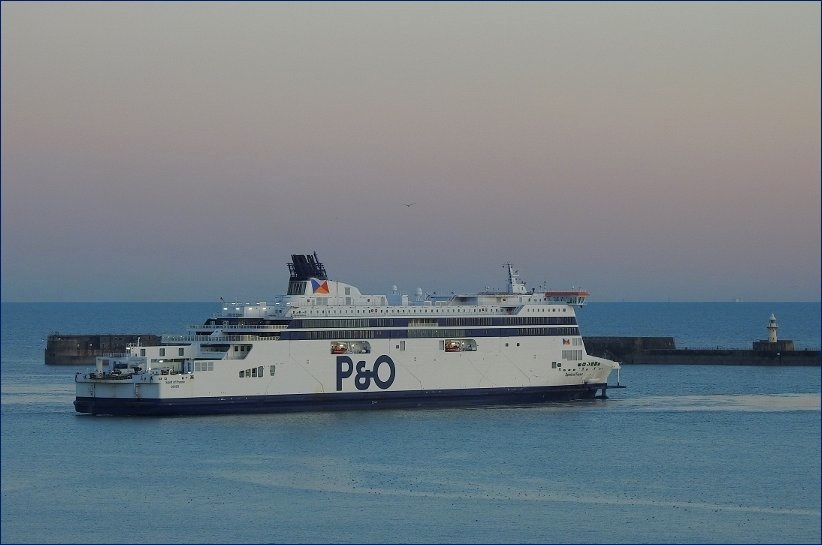 All the ferries take a fair ol' pounding. Remember what happened to the Pride of Kent just a few days back too. Here below we have another shot of the Spirit of France, this time approaching the Port of Dover in rough weather.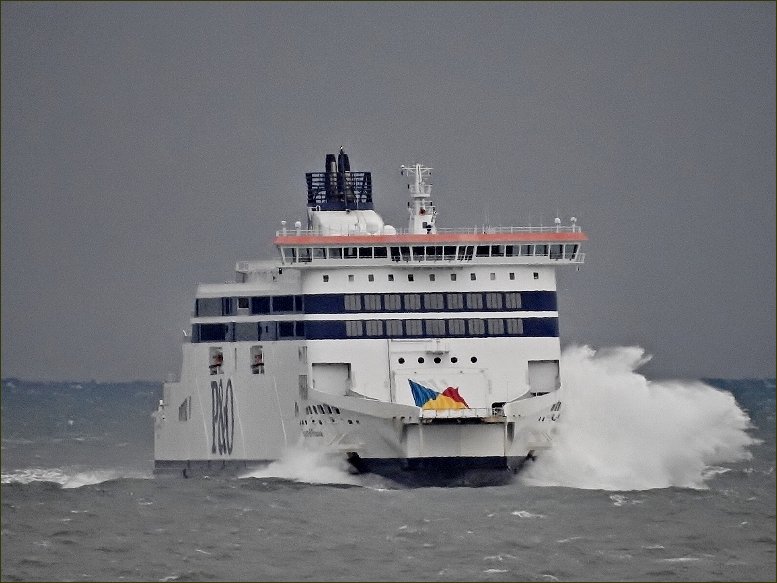 PaulB
Saturday, 16 December 2017 - 04:58
Post 4489
brian, dover
its a shame that p & o's sprite of france broke down a mile or so from dover harbour last night.delft seaways over took it as it was being towed in by one of dhb's tugs.

Friday, 15 December 2017 - 19:12
Post 4488
Sea News, Dover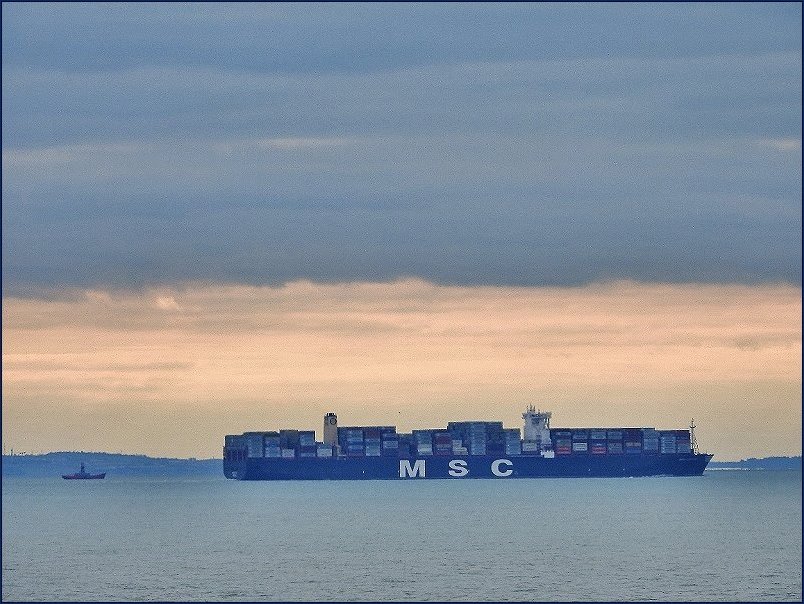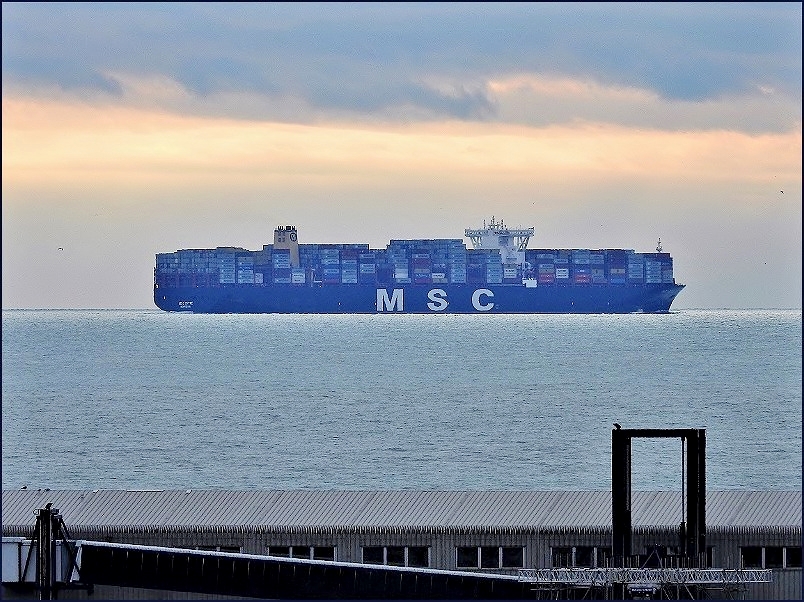 Just prior to all the recent storms, about six or seven days ago, the monster above idled by in calm and tranquil weather, heading off long distance ( just off Sharm el-Sheikh as we write ). Its MSC Ditte...a beast of more than 195,000 tons and there she goes. Visibility wasn't at all bad for that one...
You can see the Varne lightvessel in the top shot and of course the coast of France near Boulogne. In fact the ship is so big it blocks Boulogne itself out. The second one skims across the top of the Cruise Terminal Two.
Yes indeed Del let us hope the bewildering (or should that be bewildered!) politicians can come up with something sensible that leaves trade thriving here. We will watch and learn of course.
Glad you liked that sunrise one.

Well done Ed once again. You've kept us going this week with fascinating stuff. Great pictures below there of Deep Helder and .. of Discovery Bay. i've had trouble getting much this week myself what with one thing and another...

PaulB
Friday, 15 December 2017 - 06:27
Post 4487
Del Styan, Norwich
We do indeed need a "free flowing deal" Well said PB. I wonder if some of the fanatical leave-at-any-cost MPs have watched the flow of traffic on the ferries and the Tunnel. Maybe they fly everywhere.

And, on a lighter note, another lovely shot of the dawn sun over Dover docks. Keep on getting up early!

Thursday, 14 December 2017 - 23:05
Post 4486
Ed Connell, Dover Strait
Deep Helder dropping the pilot and departing Dover this afternoon.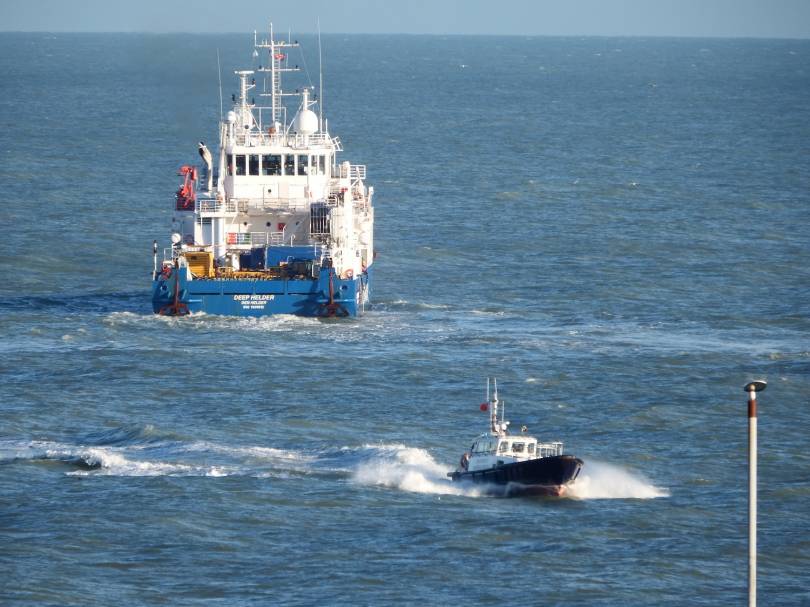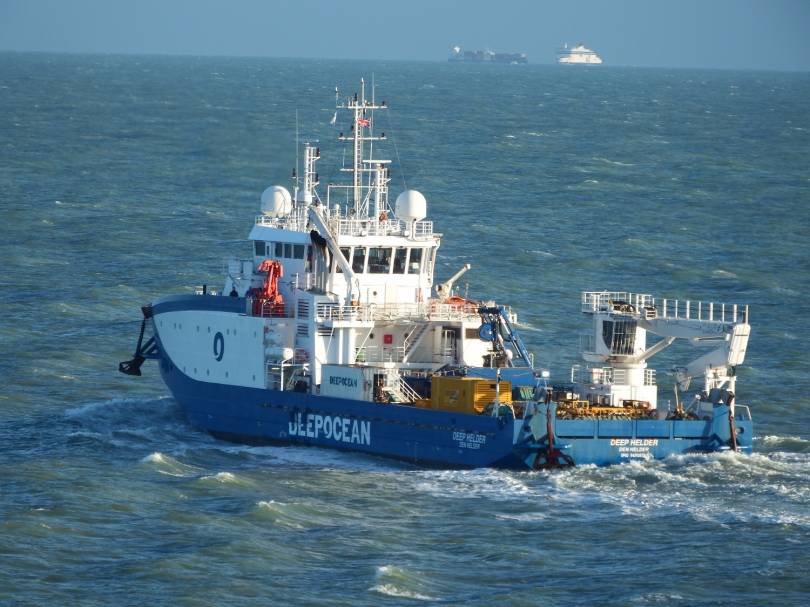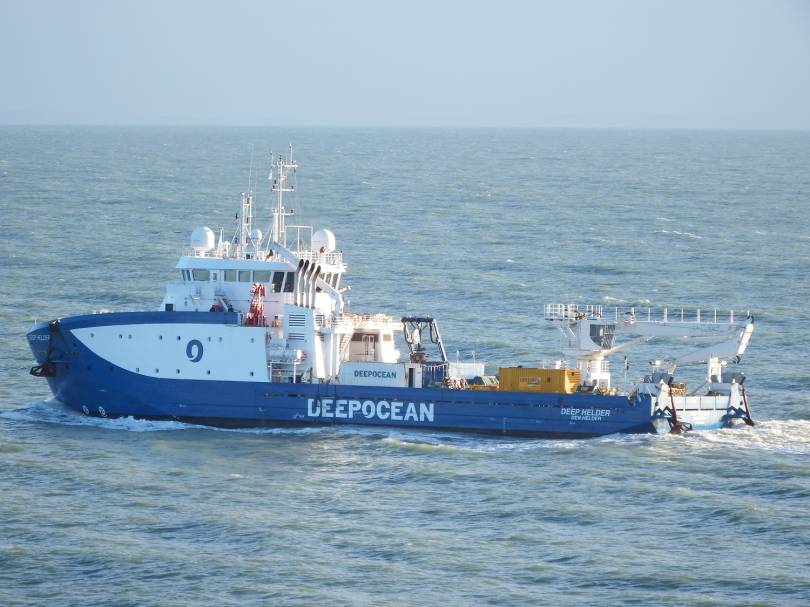 Thursday, 14 December 2017 - 18:58
Post 4485
Ed Connell, Dover Strait
Discovery Bay at the DCT yesterday.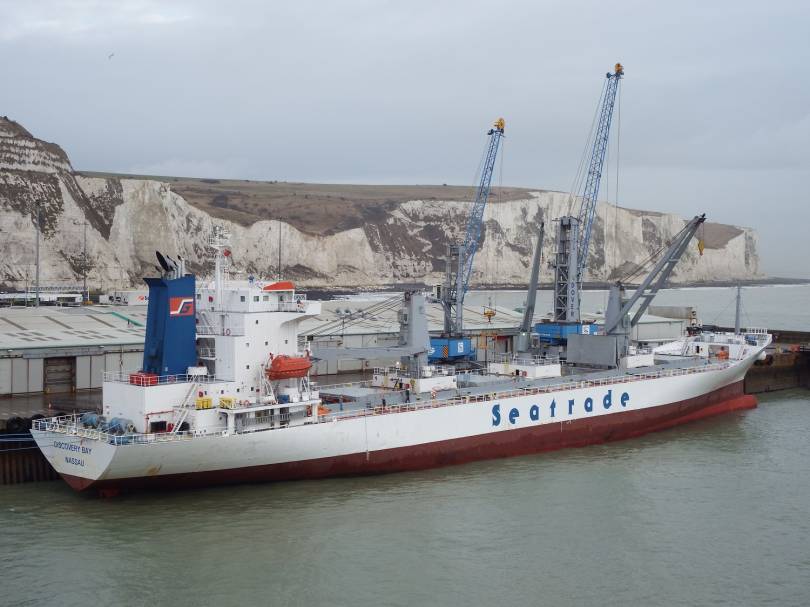 Thursday, 14 December 2017 - 12:11
Post 4484
Sea News, Dover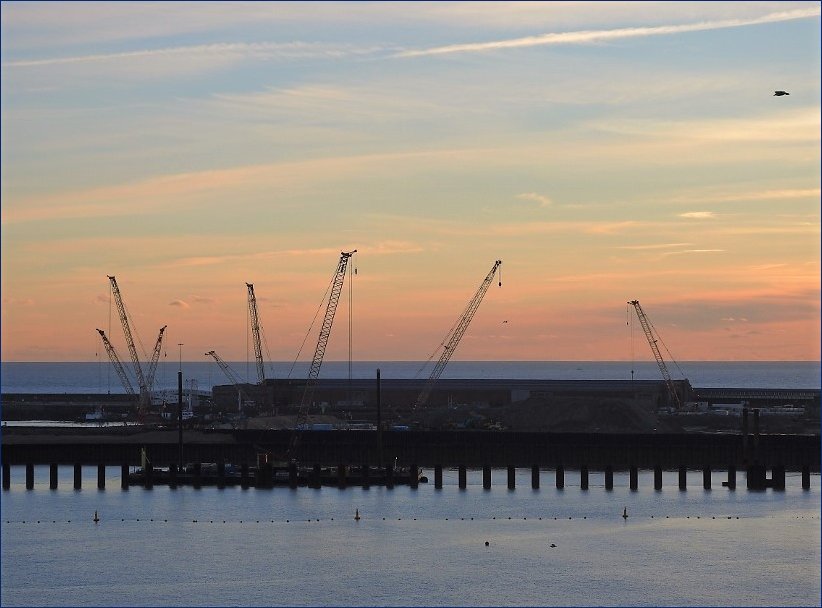 Despite the abysmal weather, storms, strong winds, driving snow, ice, heavy rain...the sun did manage to get through in the past few days, but just alas for short periods. Above we have a shot of the cluster of eight cranes. They rose up to stretch their limbs after the recent high winds and here they are in operation Tuesday evening as the day faded. There are ten cranes in all currently...two more over by the 'canal' to Wellington Dock.
A day or so earlier we had a blinding start to the day across the Dover Straits. It didn't last...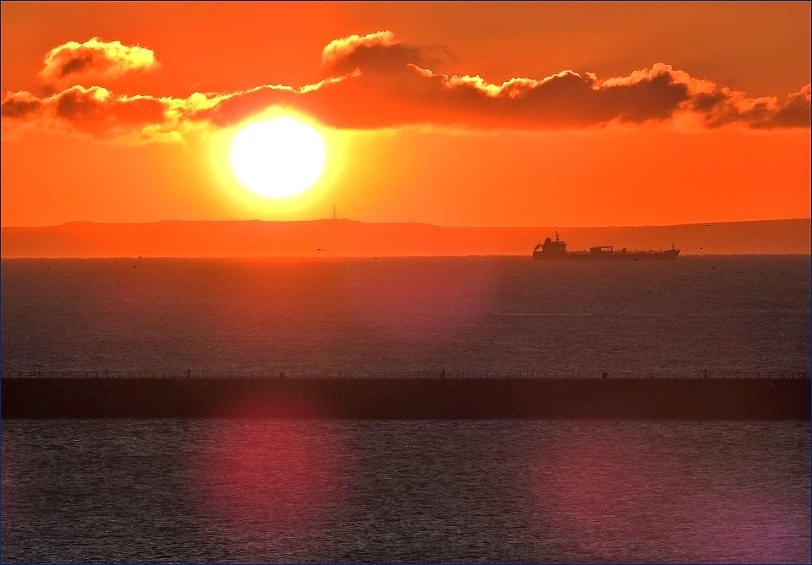 Trading with the European Union.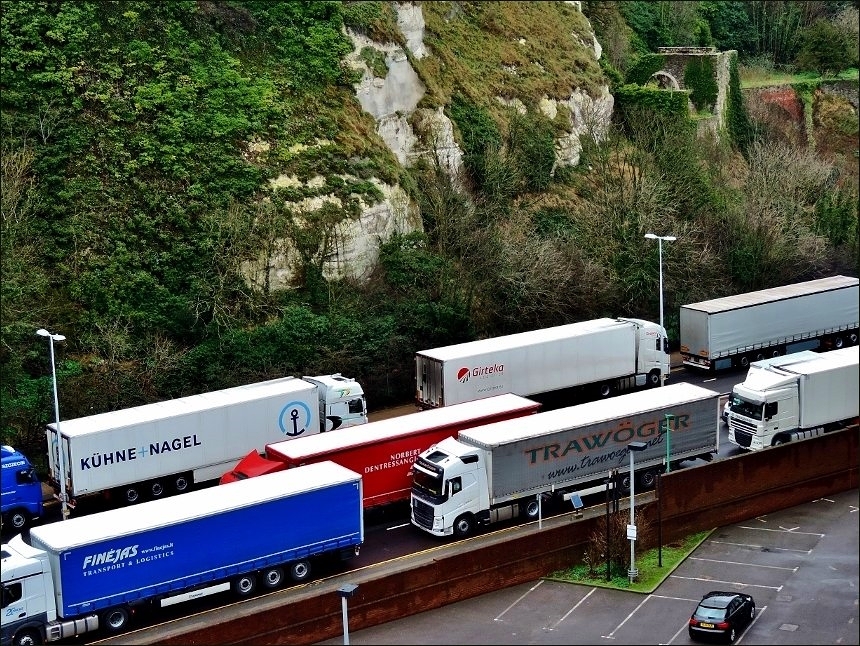 Trucks in Dover flowing freely back and forth to the EU.
Speaking recently on behalf of truckers and trucking...Chief Executive of the Road Haulage Association Richard Burnett said: "We hope that the successful outcome of these particular border issues (Ireland) can be reflected in negotiations over cross-border traffic between other EU member states. However, our big concern is that we can strike a deal for free-flowing lorry traffic across the Channel."
However since he said that with a tad of optimism, following the Irish Border talks...we seem to have a worsening ongoing shambles. Our politicians last night left us further in no-mans land as they cooked up a dogs breakfast of chaos. Nobody knows any longer which is the best way forward.
One thing for certain however, it would be wise to keep our trade flowing freely with the EU particularly from a Dover and UK perspective. A no nonsense economist on the Radio 4 Today programmes business section said without political baloney either way...
"we do 43% of our trade with the EU, they do 6% of their trade with us."
Sobering. We need a free flowing deal.
PB
Thursday, 14 December 2017 - 06:02
Post 4483
Sea News, Dover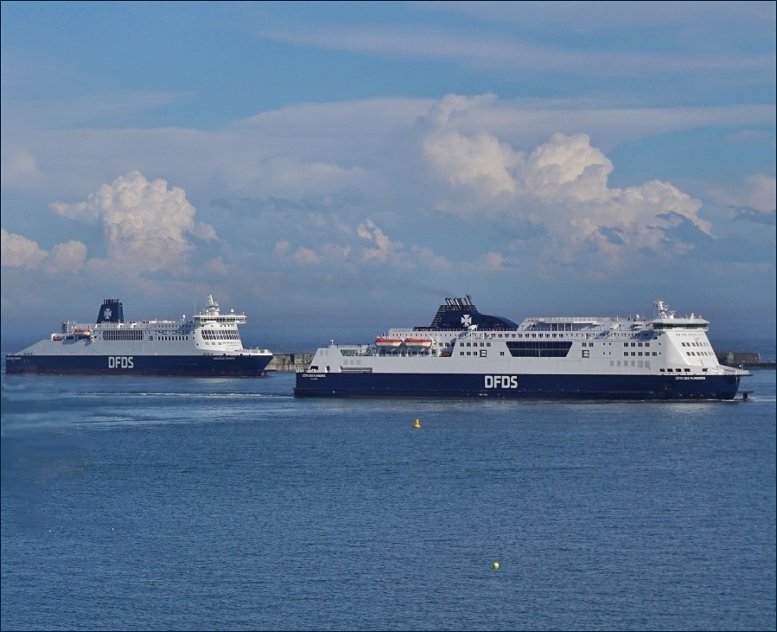 DFDS NAMED WORLD'S LEADING FERRY OPERATOR AT THE 2017 WORLD TRAVEL AWARDS
_________________________________________________________________________________
DFDS has been named the 'World's Leading Ferry Operator' at the World Travel Awards for the seventh year.
The awards were hosted in Vietnam this week (10 December 2017) and recognise outstanding achievements within the travel industry, rewarding those companies who consistently provide their customers with an exemplary service.
DFDS operates a comprehensive passenger route network, including four routes from the UK to Europe via Dover-Dunkirk, Dover-Calais, Newhaven-Dieppe and Newcastle-Amsterdam. It also offers routes in Scandinavia and across the Baltic Sea, including a cruise ferry service from Copenhagen to Oslo and services from Germany to Lithuania, Sweden to Lithuania and Sweden to Estonia.
The company was shortlisted for the awards following extensive travel and tourism industry support. Over one million votes were cast from 140 countries across 12 categories. The company asked some of its most honest customers to explain why they felt it had won the awards and the results are here: https://youtu.be/b1cfuR6O_-M.
Pete Akerman, Marketing Director at DFDS, commented: "We are thrilled to have secured the acclaimed 'World's Leading Ferry Operator' title for a record seventh year and we send our deepest thanks to everyone who voted for DFDS.
"We aim to provide an outstanding experience for our customers, whether they are travelling on our cruise ferries from Newcastle to Amsterdam, or our flexible, frequent crossings from Dover to Calais and Dunkirk. We have worked hard to continually improve our service and will continue to invest in our ships and enhance our product throughout 2018 to ensure we remain at the top of our game."
For further information, please visit https://www.dfds.co.uk or telephone 0871 521 5522.
ENDS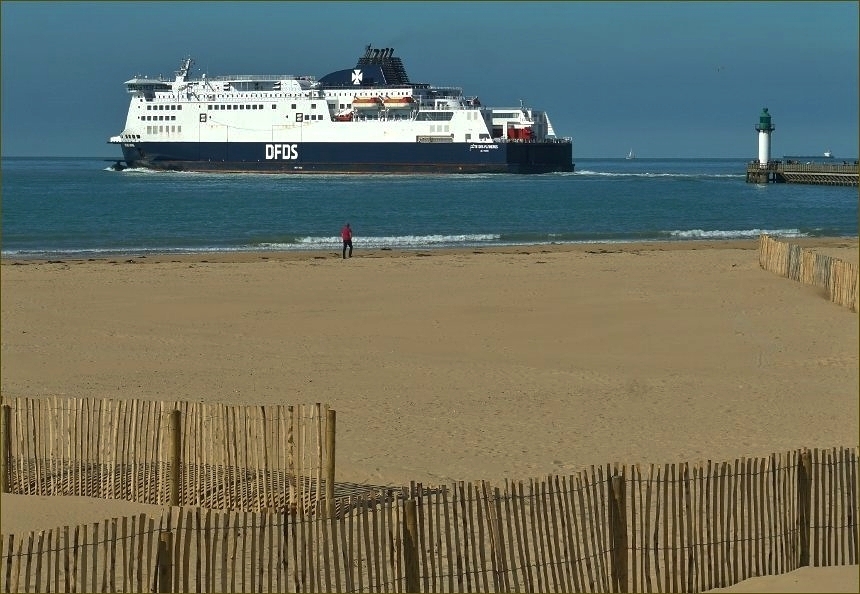 Super congratulations to DFDS.

Many thanks to the team at DFDS for the above release.
Ships featured from top: Dunkerque Seaways and Cote des Flandres, Cote des Dunes long range, and Cote des Flandres.
* *
Lol! Vic - no nobody fishing these days out there on the breakwater.
What with all the rough weather you would never hold on to your tackle!

You got a bit of a scoop below there Ed with the Pride of Kent on her way to drydock...and by night too. Great stuff indeed!
Don't miss those pix below!


Wednesday, 13 December 2017 - 07:10
Post 4482
Ed Connell, Dover Strait
Pride of Kent passing Dunkerque West this evening on her way to drydock.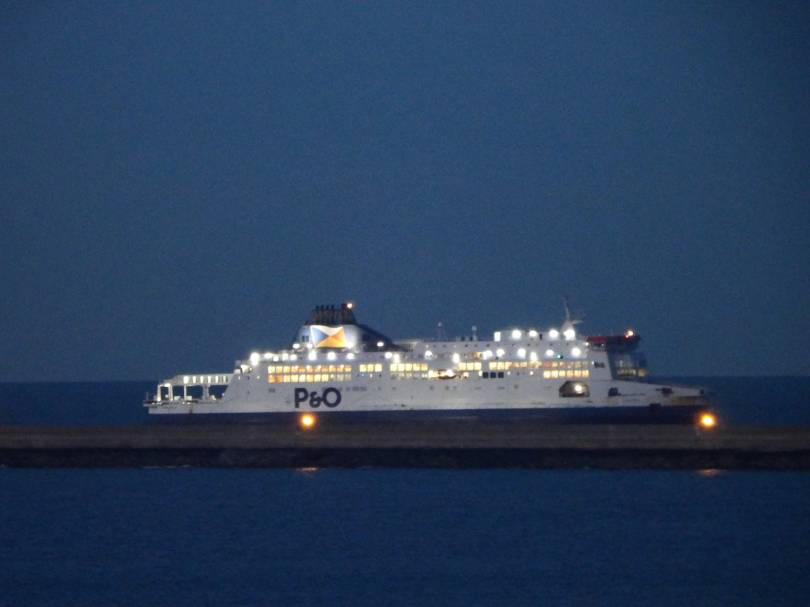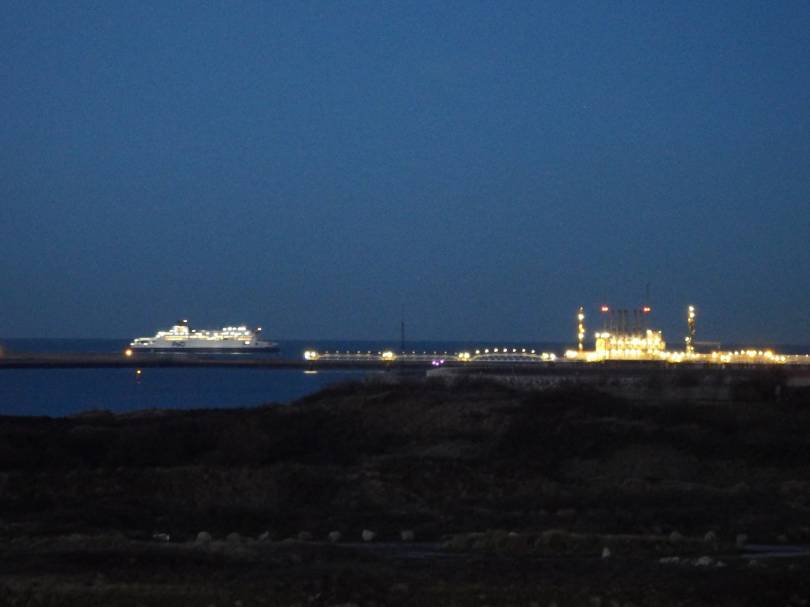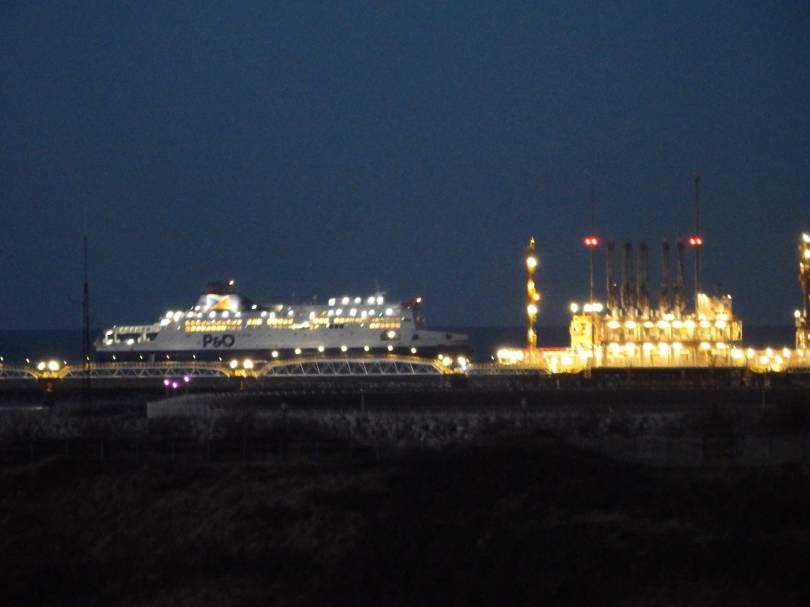 Tuesday, 12 December 2017 - 19:03