Tuesday, 26 May 2020
….. On Dover Seafront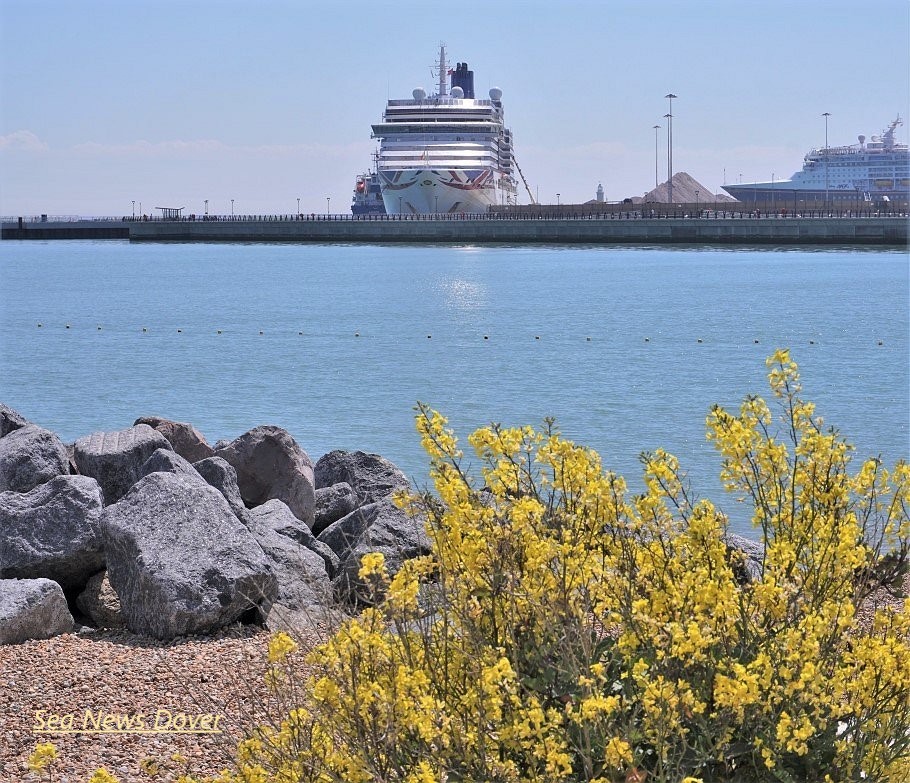 The wild flowers are now in bloom on Dover Seafront as we look across at Arcadia...also in shot bunker ship Andros and to the misty right...Disney Magic. More 'magical' images of Disney below page.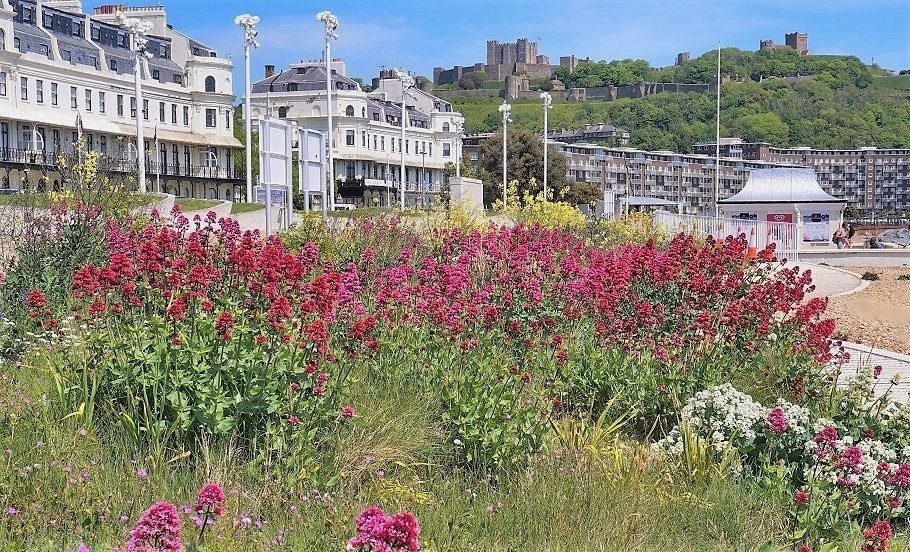 Dover Seafront...wild flowers with Dover Castle.

WWW.DOVERFORUM.COM/SEA-NEWS
Sea Pictures from DOVER: Featuring all the ships that come and go and work at the Port of Dover ..
... with some further coverage of the surrounding ports.
Sea News Dover
Use our SEARCH ENGINE below to find all sorts on the SEA NEWS pages....type in the topic and away you go,
or if you have the post number, just type it in the Search Box, more than
- 7000 -
nautical posts now.
Posts are welcome. just click 'Add Your Comment' below.
Upload a Max of 5 pictures....Many Thanks.
Sea News Editor Paul Boland - send info or pix to dover7@msn.com. Always welcome.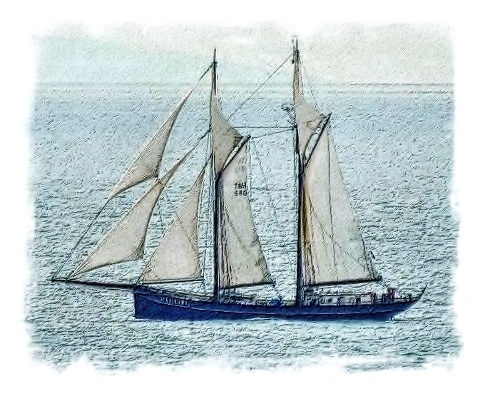 Headlines....
REGATTA CANCELLED see post 7012 below..
Doug Bannister: Open Letter re Covid-19 Critical Supply from Port of Dover CEO 6968.
PORT OF DOVER donates £40,000 to Coronavirus Fund see 6923
P&O FERRIES 1100 staff laid off and Furloughed to HMG scheme , see 6909.
P&O Ferries secure vital flow of goods, medicines...see below, post 6901.
DFDS Coronavirus announcements below see post 6880 and 6885.
P&O Ferries present record breaking cheque to Dover Lifeboat...post 6874 below.
P&O Ferries - European Expansion 6867
Hurtigruten and the Port of Dover see 6857...see also pictures in 6856 and 6859.
See SCARLET LADY pix.. FIREWORKS too..type Scarlet Lady in our SEARCH box below..
DFDS Refit Investment...luxury lounges 6821.
P&O FERRIES - POST BREXIT travel info below 6780.
P&O NEW FERRIES Images below 6775...
Port of Dover, DFDS, P&O say...Travel with Confidence from Dover.. see 6786 below.
Visit us here in White Cliffs Country see 6772
Natalie Elphicke MP - thoughts post Brexit 6784
Just type the post number from the listed Headline in the Search Box below.
Port of Dover Cruise Calls:
http://www.doverport.co.uk/cruise/find-a-cruise/
To show your pictures at their best..it could be worthwhile resizing before posting to
860
pixels wide. Our new standard size.
All pictures on these pages are the copyright of the owners and must not be reproduced without permission.
Post 6949
Sea News, Dover
The promised pictures of Arcadia now...we see her here as she moves across to exit the Port on Saturday at around midday. We have left the earlier shots in the sequence to one side, and just concentrated for now on her exiting in a slow gentle style with hardly a ripple.....calm calm all is calm...
The gentle giant moves off...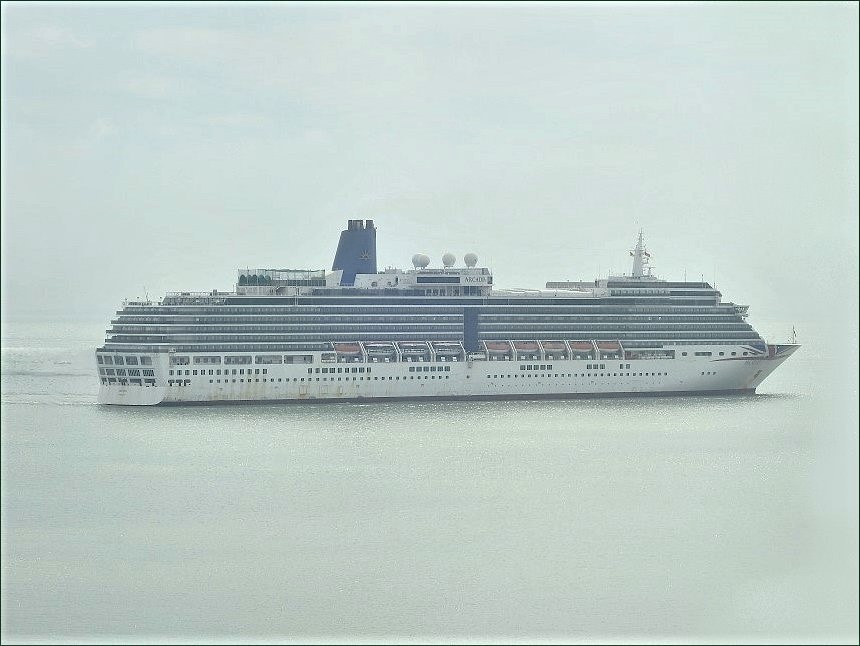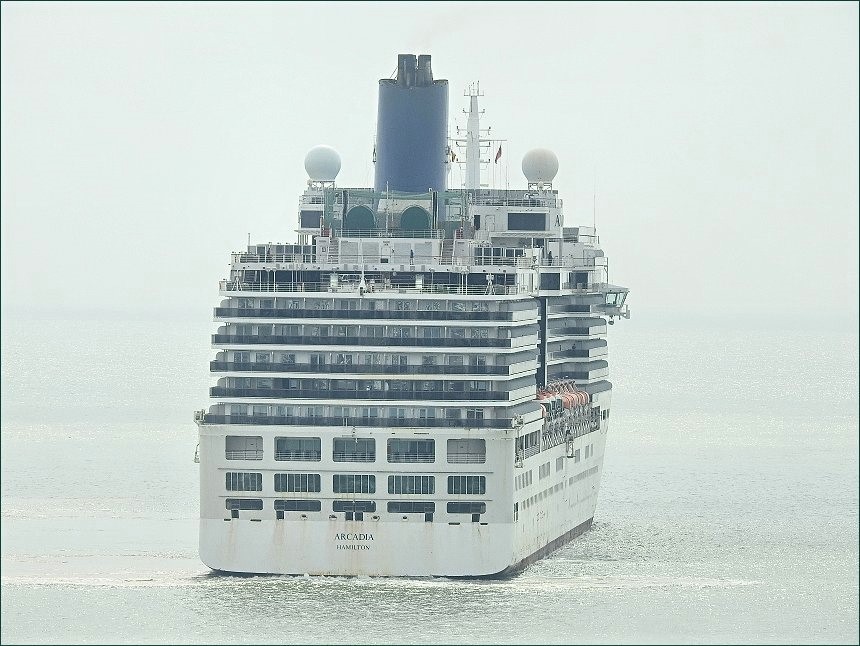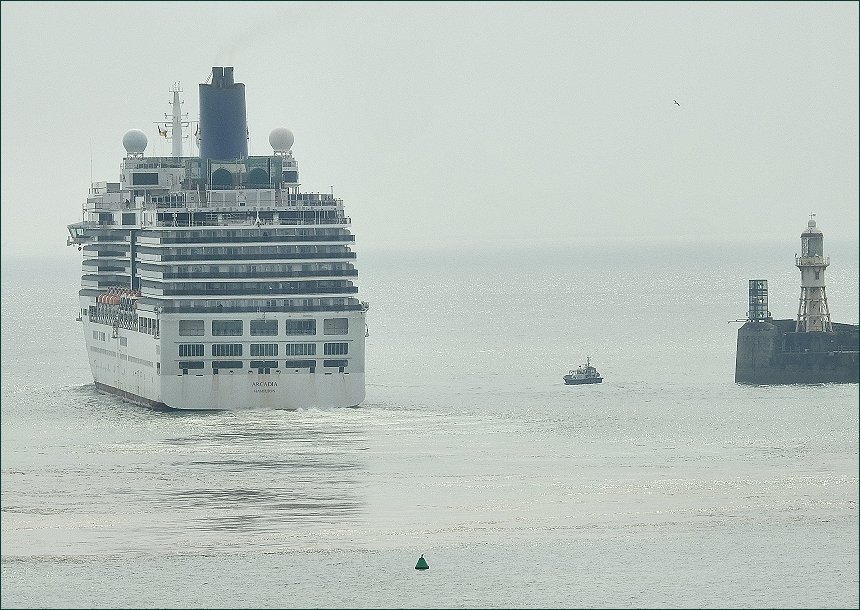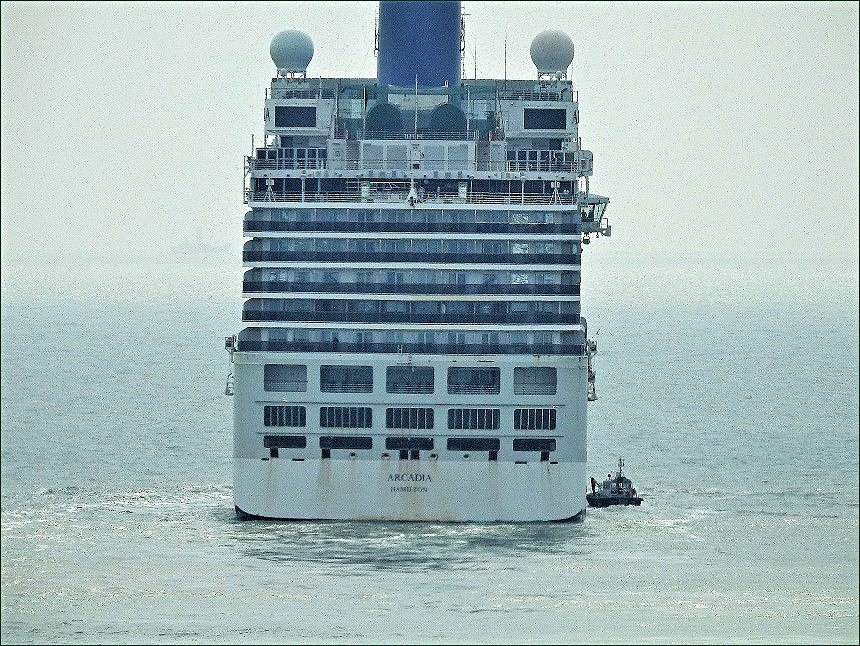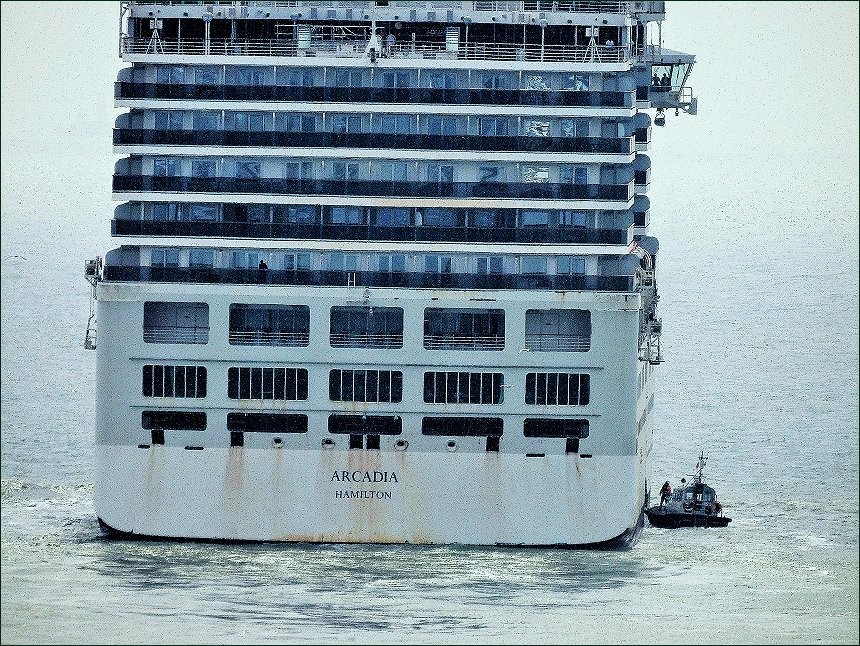 P&O cruise Ship...Arcadia

Yes they are real characters Del. I used to have one that came every morning here to the 'observation tower' ...always knocking on the window looking for his breakfast. Yes he actually knocked every day...then one day he didn't come no more...must have met his fate somewhere alas.
PaulB
Tuesday, 21 April 2020 - 07:03
Post 6948
Del Styan, Norwich
Very adaptable those gulls. In addition to Mike J's post about the gulls atop of the car park, in the past I have watched them tapping for worms just outside the swimming pool on Maison Dieu Road, taking no notice of all the thundering lorries on the A26. They are very clever, and no doubt will nest in the areas we are leaving alone in these tricky times.
Hitchcock's The Birds movie may not seem so silly!

Monday, 20 April 2020 - 23:22
Post 6947
Sea News, Dover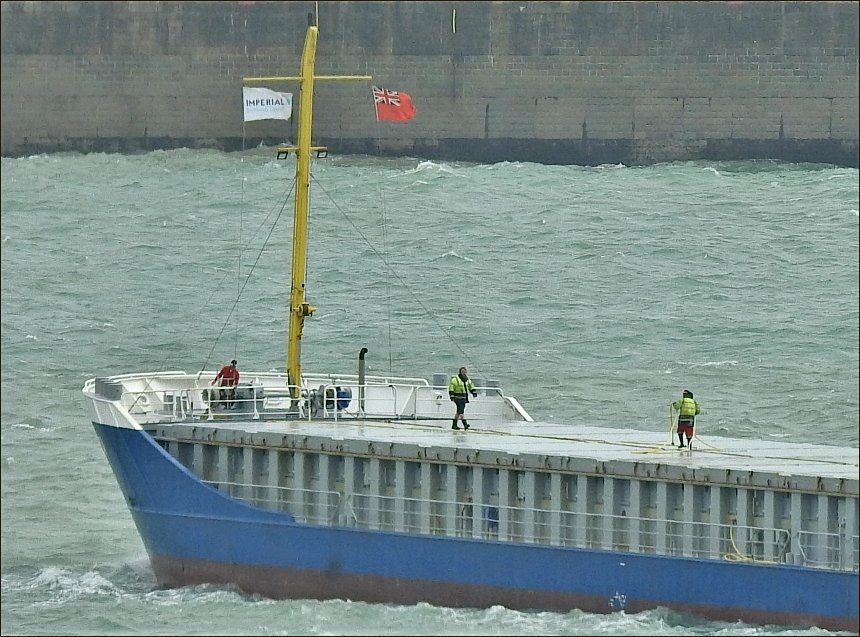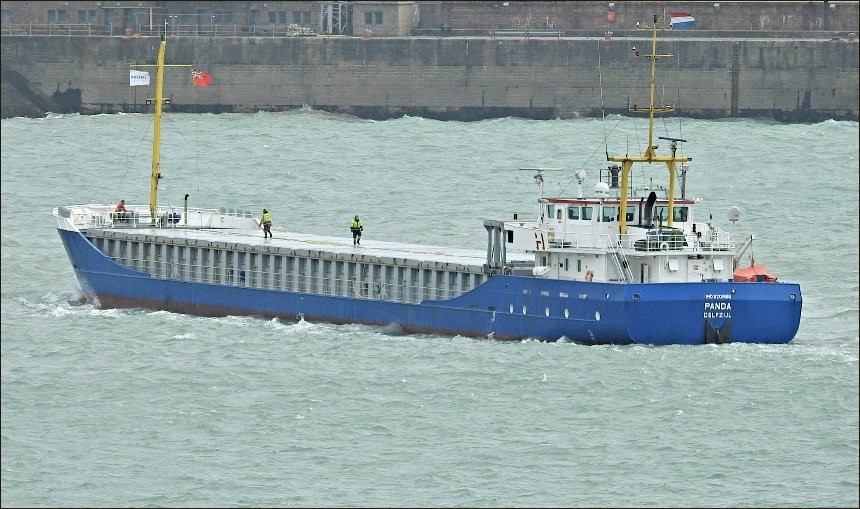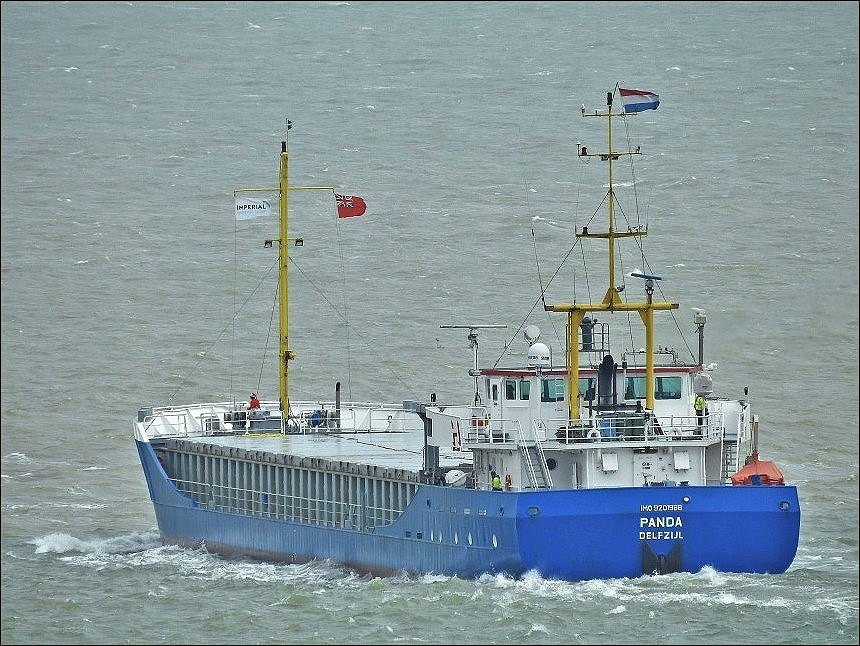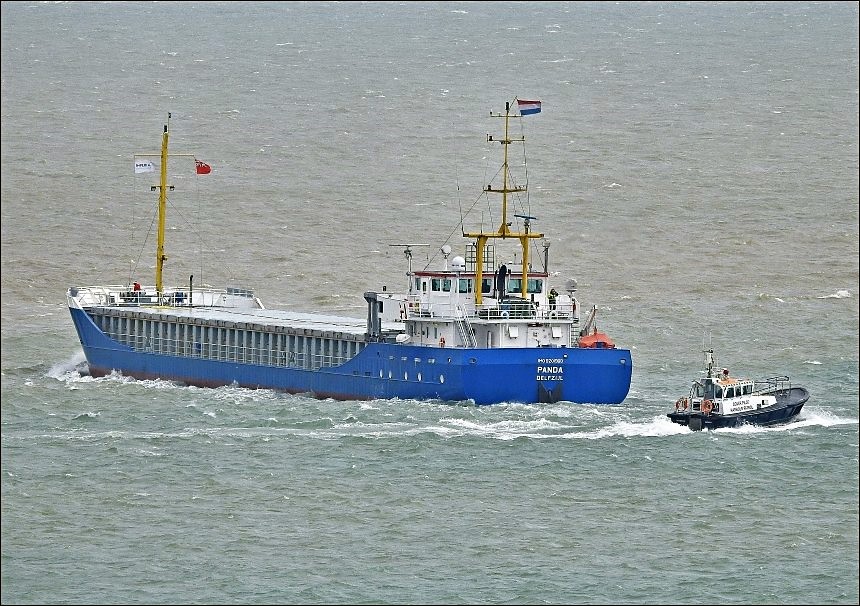 Some pictures above there of grain ship Panda as she leaves the Port last Friday the 17th. In the first couple of shots you can see the crew settle things down as she moves away from 'grain pier' WD4 . You can see her there late afternoon ...as she heads directly to the open sea with pilot boat in close attendance.
An earlier image below....loading at the grain pier.
'Amadeus, Amadeus...'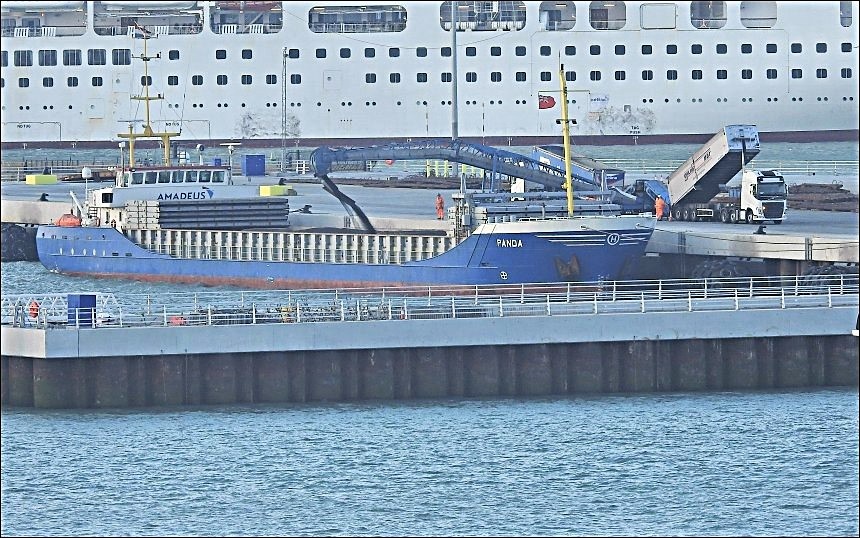 Nice collection below with lots of added info from Mike...don't miss

PaulB
ps: Will have some pictures next of the giant Arcadia as she gently glides across and heads out to sea.
Monday, 20 April 2020 - 05:20
Post 6946
Mike J., Dover
The P&O threesome at Western Docks didn't last very long & the AURORA sailed from CT2 about 1030 Sunday morning on another 'grey water cruise' heading northwest.
However by 1900 Sunday she was already back in Dover on CT2 again.
So if you missed them on Sunday you can catch them again on Monday, unless anyone else slips away to sea.
.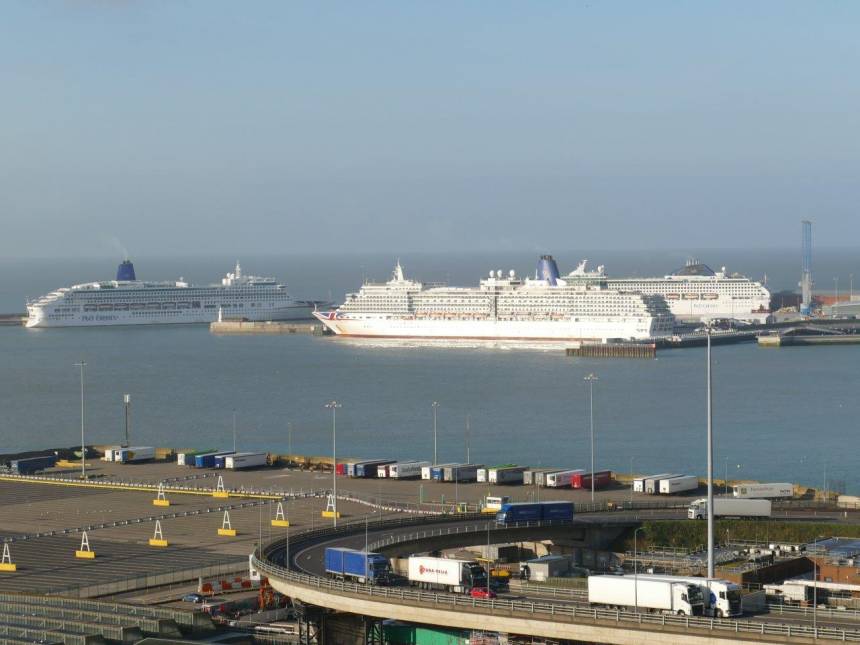 When I was going thru the pix of the three cruise ships I realised that I had inadvertently included the the LIAMERE on WD5 together with her rockery - I had quite forgotten that she was there.
Her accommodation had blended into the OCEANA's stern & even her port holes were in line with portholes on the OCEANA !
Here she is, highly-cropped.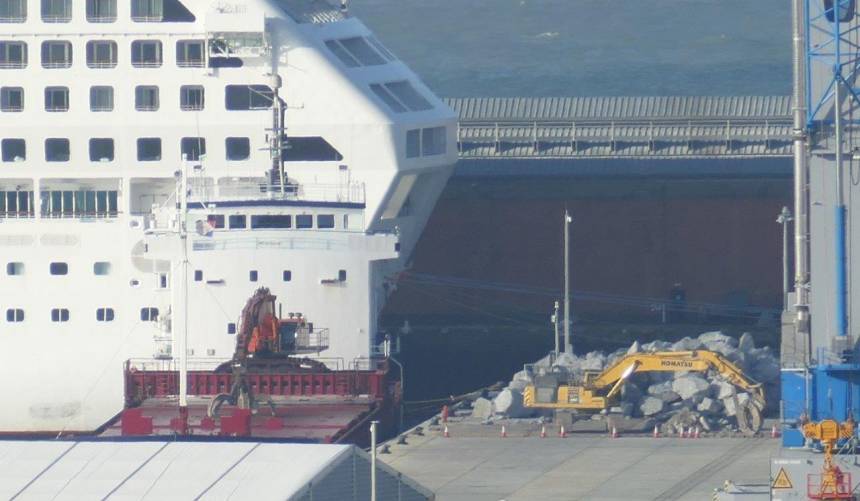 Here's a few more pix of the EAGLE last Wednesday heading down the Wick after a day's diving on No.7 berth.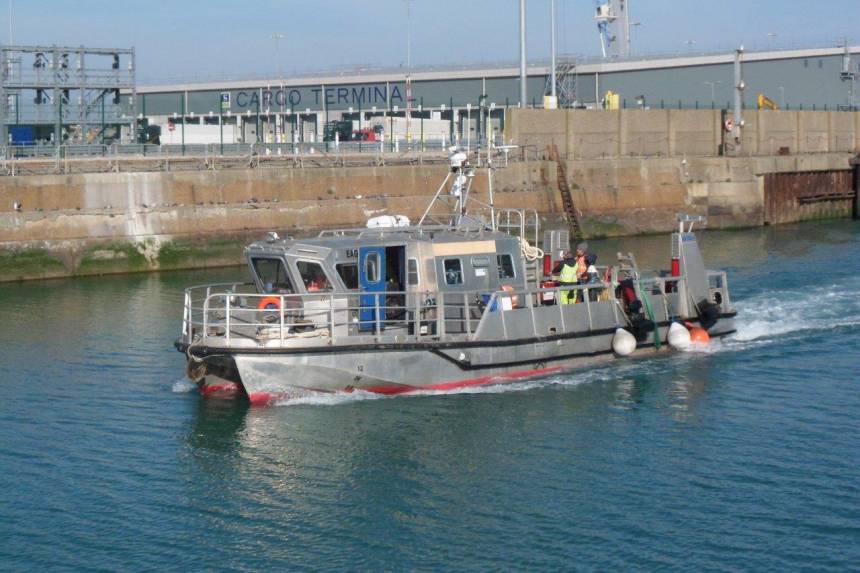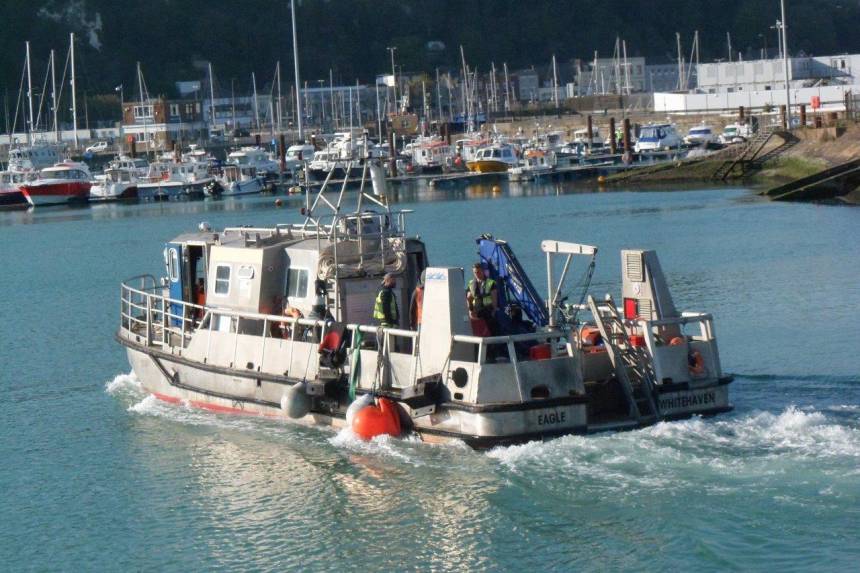 Also the NEW ROSS 1 on 19th.April.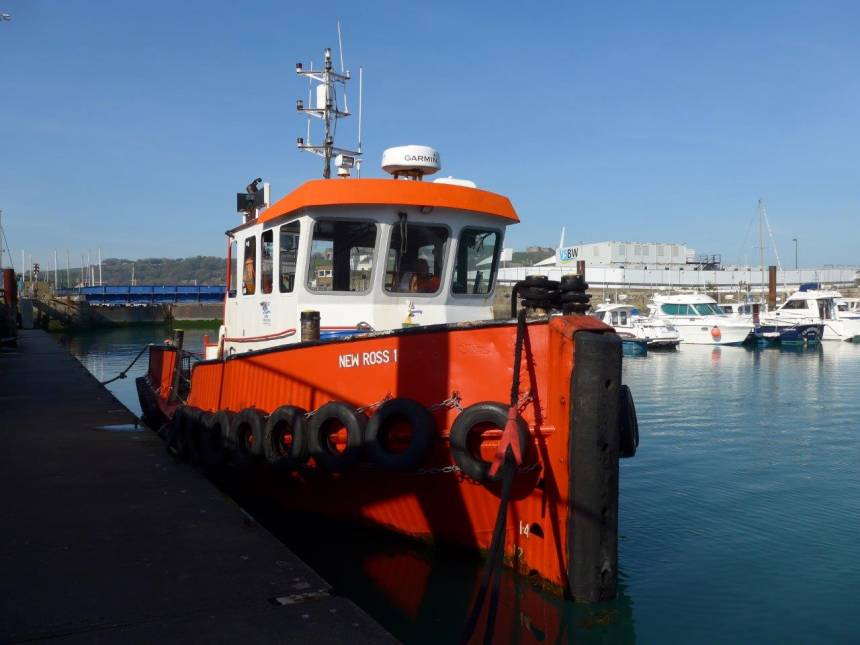 As Paul suspected she is of Irish origin & used to work at the small Irish port of New Ross, near Waterford on the southeast Irish coast.
Built by the wellknown & very busy 'Damen' shipyard, a Dutch company who produce many different types of vessels in their many yards scattered worldwide, she is a standard small tug/workboat design that has been in production for many years & is of the splendidly-named 'Pushycat' class.
I was amused by Paul's very close encounter with a gull in his recent post & wonder whether perhaps some are nesting atop his observation tower.
Gulls get very aggressive during the nesting season & I've been several times hit by glancing blows of wings or feet [knocked my hat off once] when on the cliff path from the clifftops down to Athol Terrace at the entrance to Eastern Docks.
The gulls nest on the cliffs above the path.
Back in the days when the ferry crews used to park in the now-closed multi-storey car park in Eastern Docks seagulls used to nest on the open top level of the park.
DHB did not approve of this & used to destroy the nests before the eggs hatched & i understand that this was a 2-man operation, one man to destroy the nest & the second man to protect him from the outraged gulls.
Monday, 20 April 2020 - 02:42
Post 6945
Sea News, Dover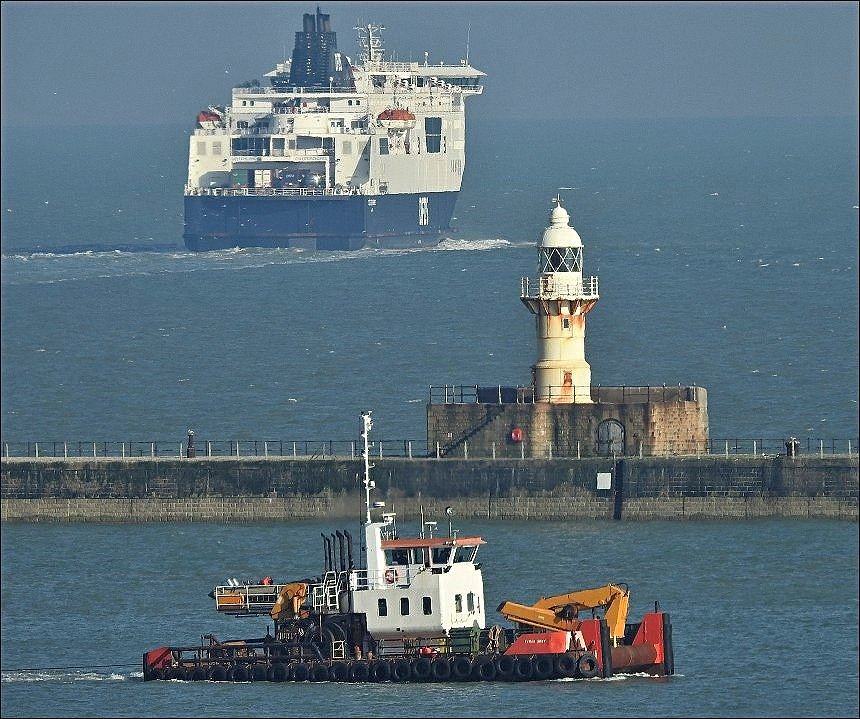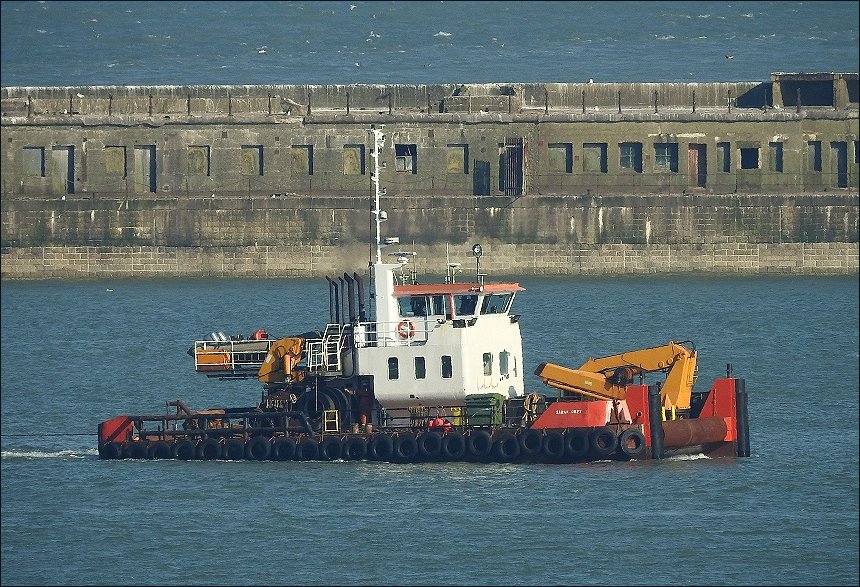 The barge towing goes on, in fact yesterday another barge was being towed... the pictures above were taken recently and they show current lead barge towee...if there is such a term...Sarah Grey, in action at the head of the pack heading westward. The top shot conveniently taking in the background and showing the breakwater lighthouse and a DFDS ferry winding its way to Calais...
While the barge towing was going on, larger workboat Eagle powered by, heading back to the western end of the harbour after a long day... and here she comes ..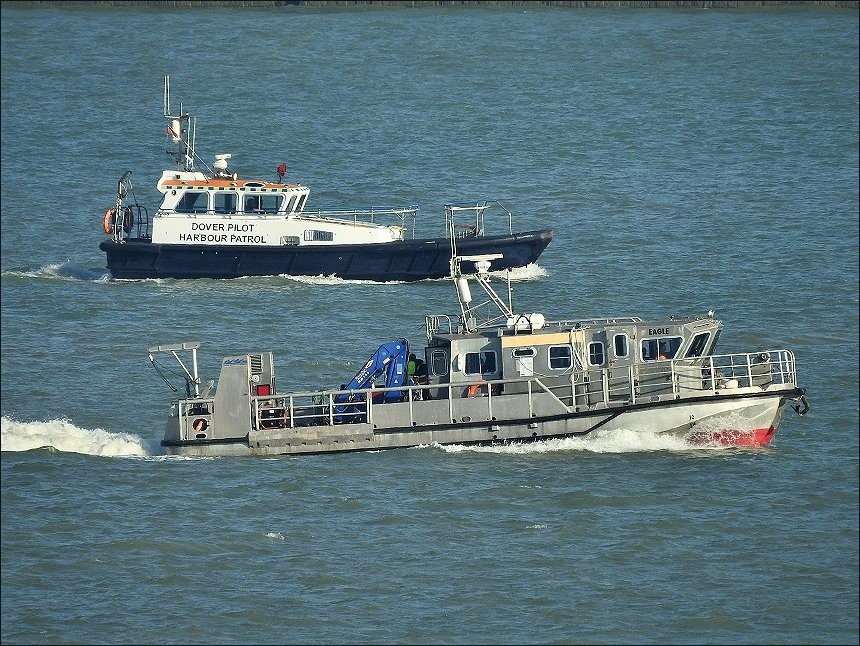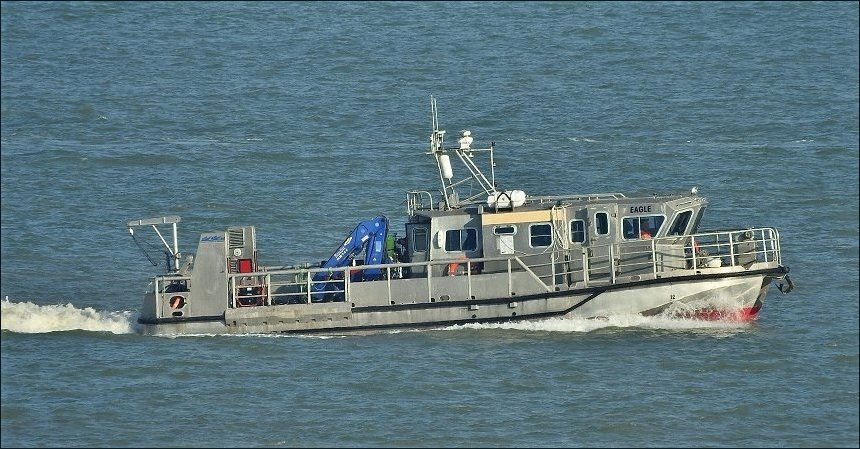 Now back to the rear end of the barge convoy and you can just see New Ross 1 bringing up the rear...picture taken moments before I almost had a collision with an at-speed seagull as you can see below...strewth!! nearly bashed me camera!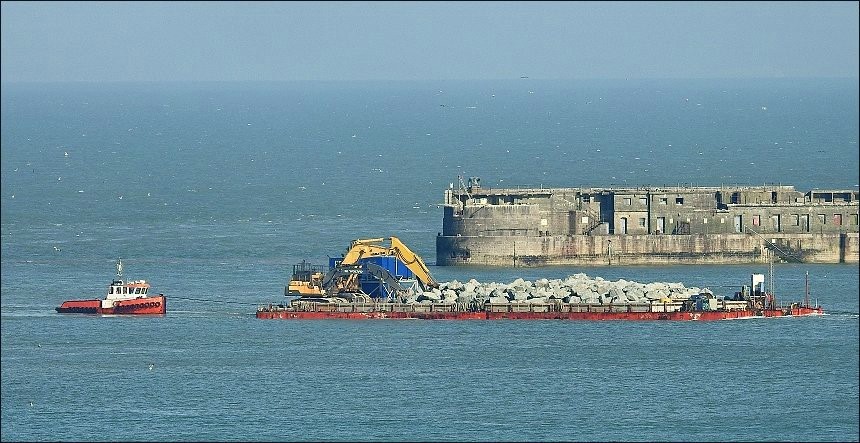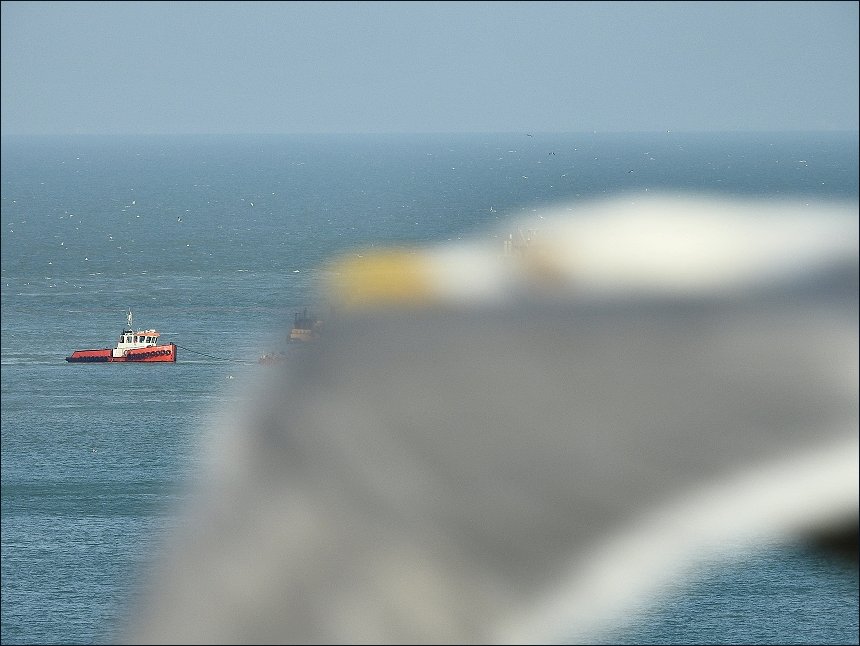 Ah yes re grey water Del...well its all been happening here with the P&O Cruise Ships. Oceana went out again last night for a shorter run this time...and has just come back as I write at 06.20. But to my surprise also back in the dead of night after a run...Arcadia...now surprisingly over at the 'grain pier' WD4...didn't think she would fit there, but life is full of surprises ..as she is a bit of a whopper... will have pix in due course.
PB
Sunday, 19 April 2020 - 06:36
Post 6944
Del Styan, Norwich
Ahh, now I know what grey water is!

Saturday, 18 April 2020 - 23:13
Post 6943
Sea News, Dover
Some pictures now from the 15th which was...ermmm....Wednesday.. yes Wednesday evening in fact...time of first shot 18.32 and we see Aurora off on another 'grey water' run. We see her moving out of Port stern first in the first pic below. She returned the next morning, so had a much shorter 'gallivant' than her stablemate Oceana...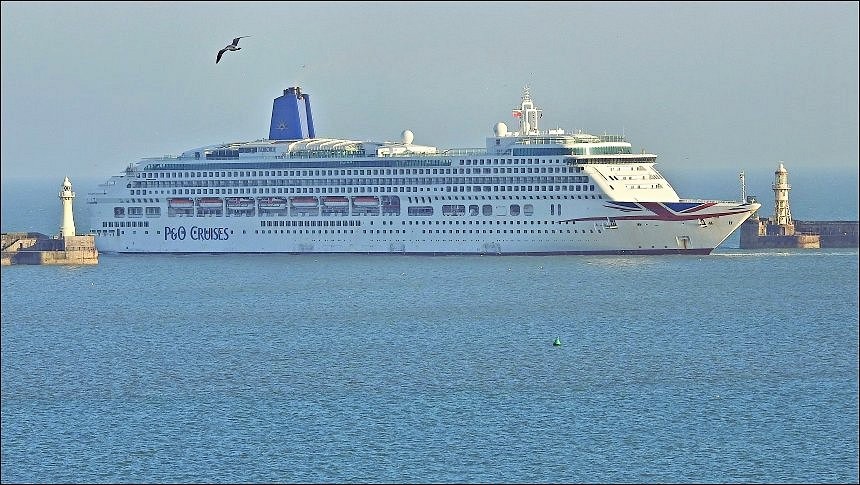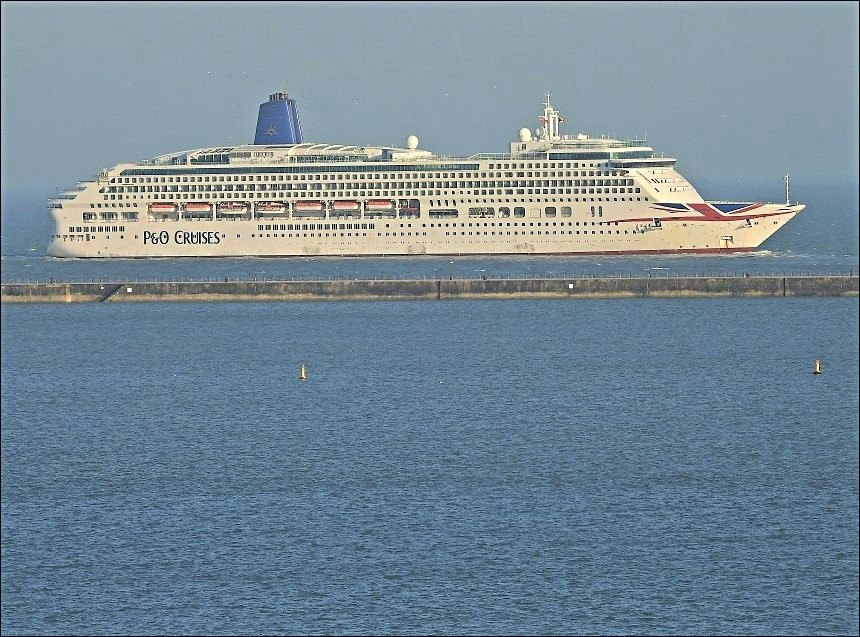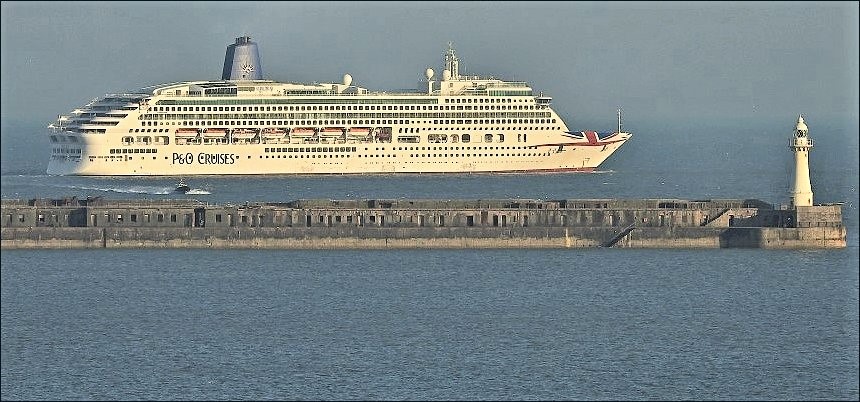 Off she goes....
Mike mentioned Smit Dee a short while ago.( see 6811 and 6924 )...had this picture from her recent visit but completely forgot to upload the thing, but here we are now.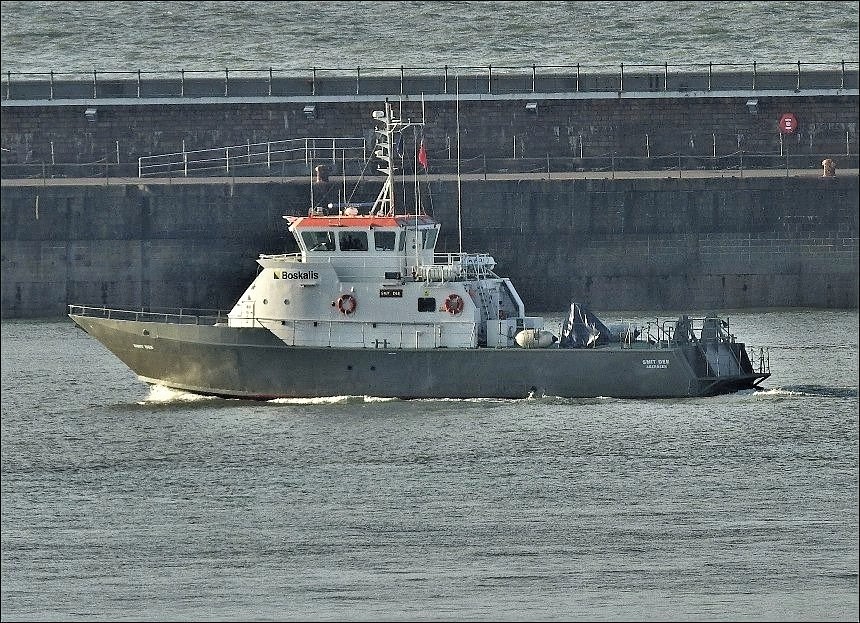 Yes interesting picture of Panda below there Mike

I have some pictures of her departure and her offloading...still in camera alas
will get round to it all but up next a small group that includes workboat Sarah Grey, barge, Eagle etc etc ..
PB
Saturday, 18 April 2020 - 06:09
Post 6942
Mike J., Dover
Dutch coaster PANDA sailed late Friday afternoon from WD4 after loading grain for Rotterdam.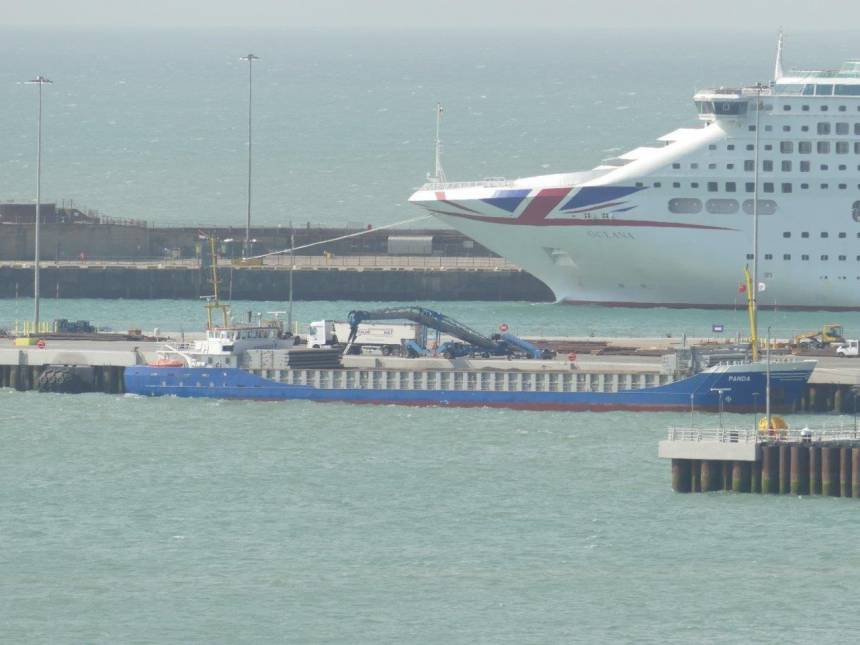 At about midnight Friday night the DOUGHTY towed in the windcat DISCOVERY who had broken down off St,Margarets Bay whilst n passage from Newlyn to Ramsgate,'
Sarurday 1100 the ARCADIA is expected to sail from the Eastern Arm on a short 'grey water cruise'
Saturday, 18 April 2020 - 01:52
Post 6941
Sea News, Dover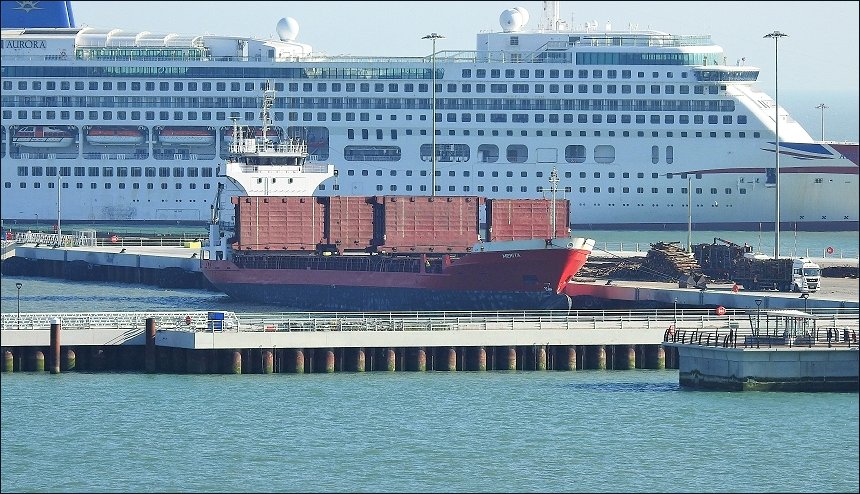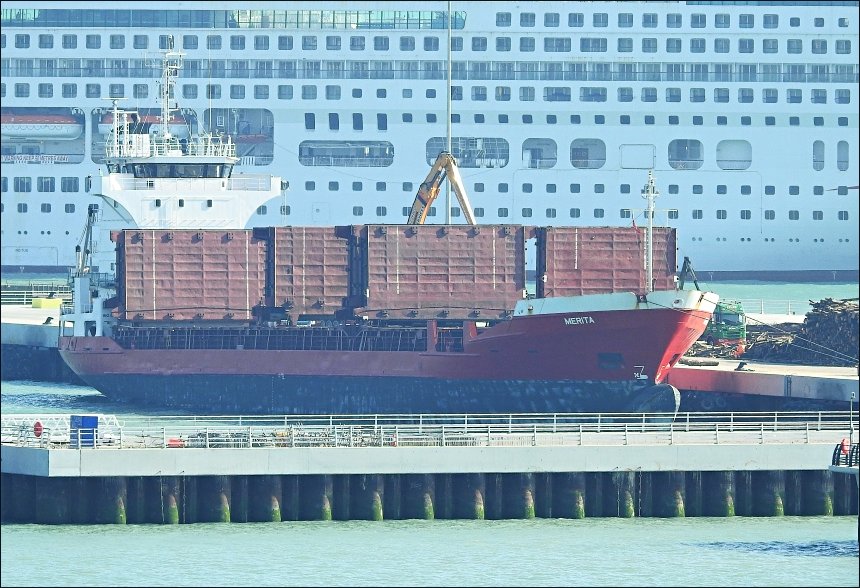 Mike mentions Merita and here she is now from yours trulys angle...she came to deliver a huge quantity of timber...trucks streaming away fully loaded for a couple of days now. Three pictures here taken at various times, the one below shows her fully loaded early morning soon after arrival. She left the port yesterday.
Just to add...that's Aurora in the background there...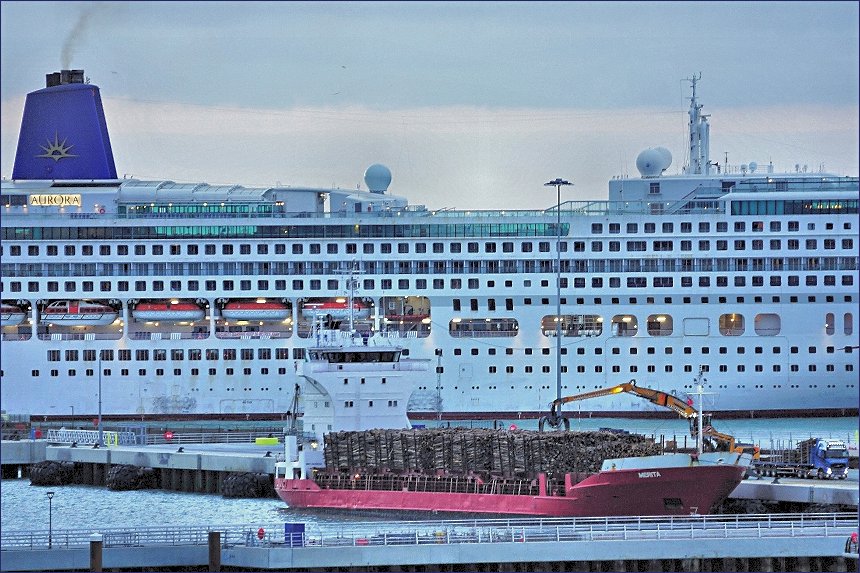 A lone shot of Elvira after leaving port...its just a little black and white number this time. We were hampered by miserable mist at times.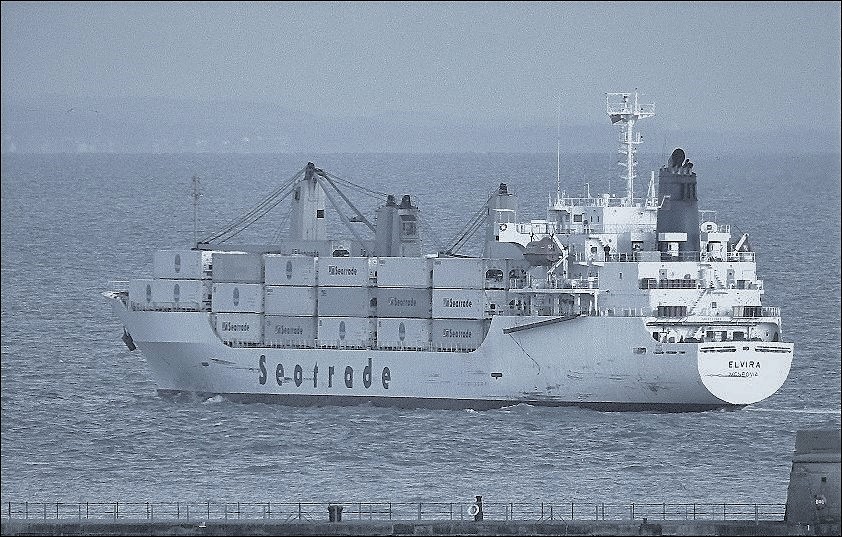 The three cruise ships in Port as we speak...Arcadia, Oceana, and Aurora, all blew there magical whistles in support of the NHS carers last night Thursday at 8pm. Applause rang out across the seafront here in Dover...there were claps, cheers ...bells were rung, saucepans bashed with spoons ….. a big well done to the NHS and all carers, food deliverers, and all those keeping the system going....

Nice further collection below Mike..enjoyable shots there

PaulB
Friday, 17 April 2020 - 06:20
Post 6940
Mike J., Dover
A few more ARCADIAs as she she berthed on the Eastern Arm without tug assistance.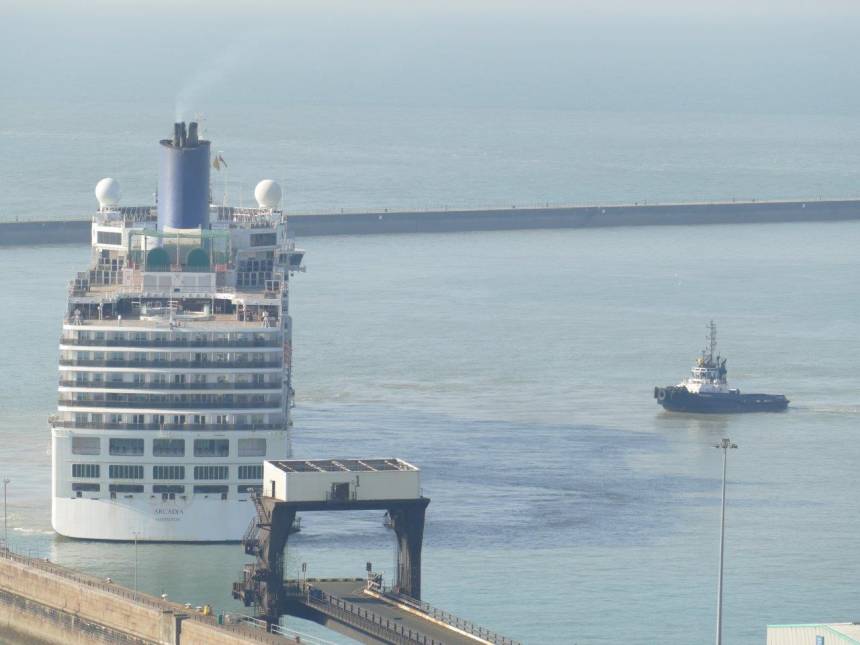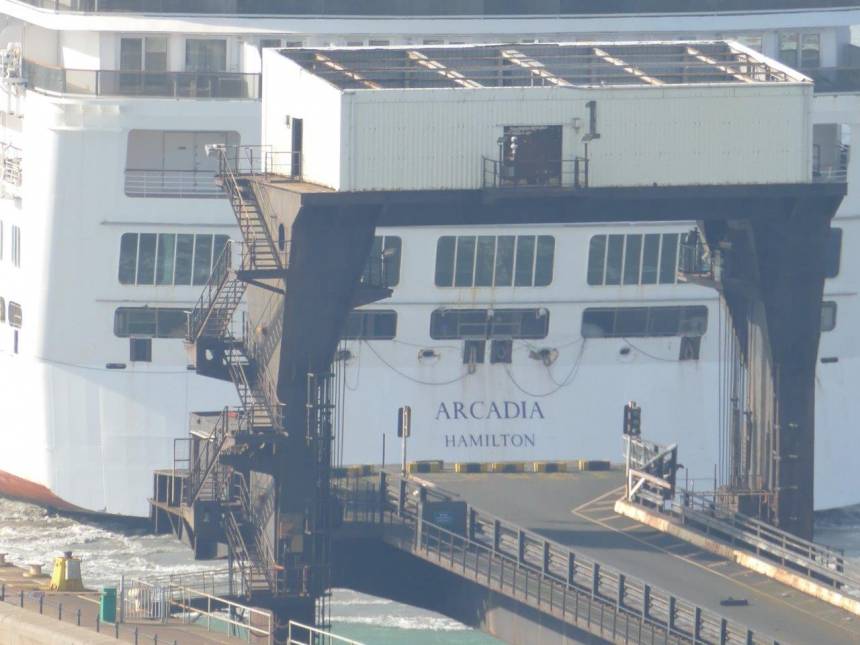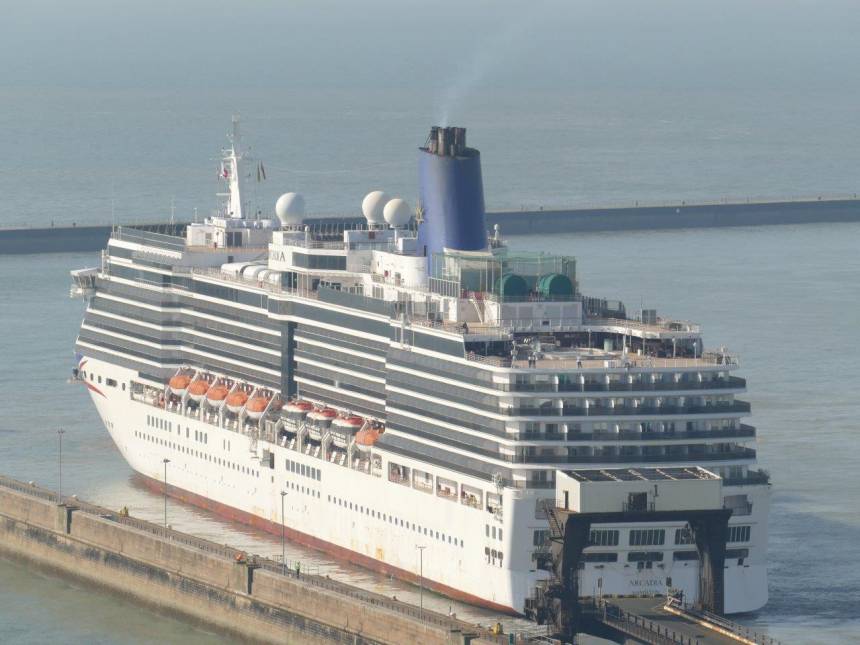 Also a sunnier view of the MERITA on Wedensday, riding high with discharge almost completed.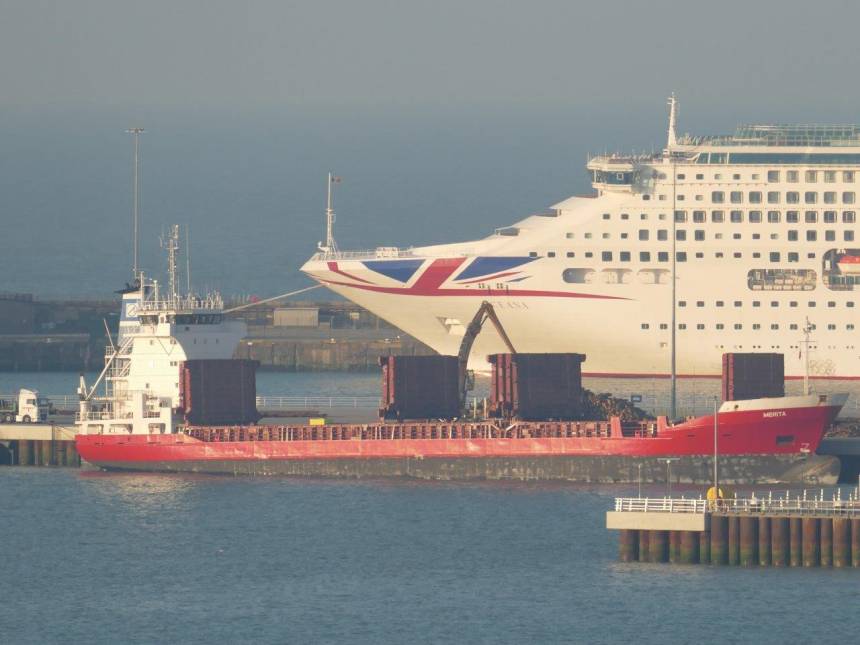 She sailed the same evening for Seljestocken [Norway] & has been replaced by the Dutchman PANDA.
Friday, 17 April 2020 - 02:43
Post 6939
Sea News, Dover
Just jumping back to Tuesday now and we see Oceana approaching the Port once again after another one of her channel runs...time of first pic 07.18... and here we go... we lose the yellow sky the closer to Port she gets...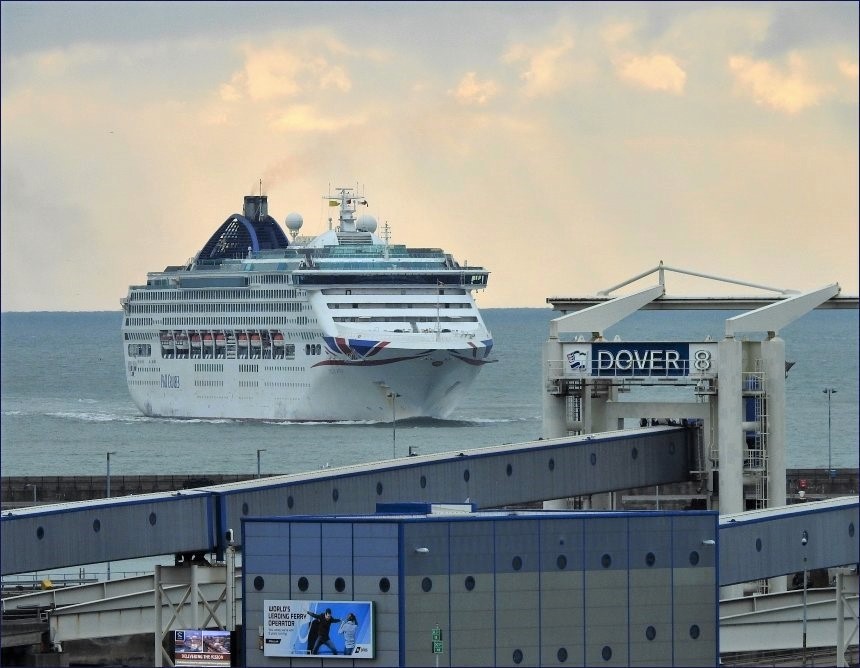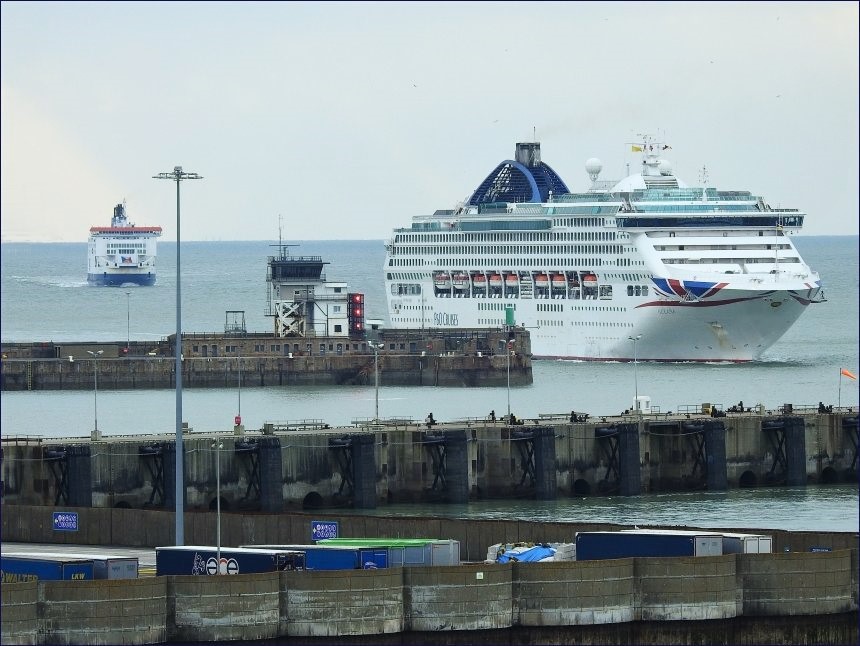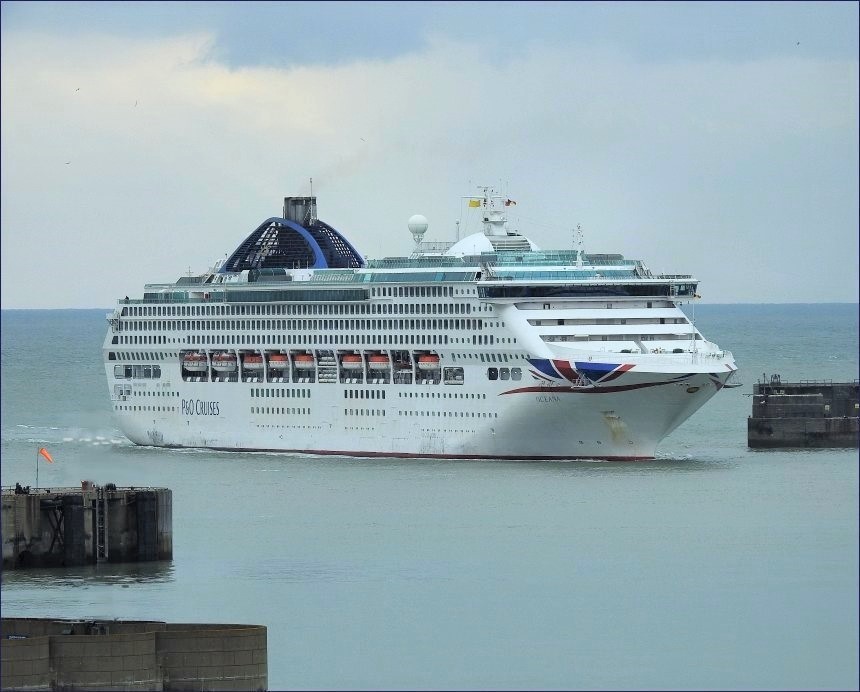 Oceana approaching the Port of Dover.
On to yesterday now and we see Arcadia. So glad Mike got the pictures in the post below as this one is fairly poor....shooting into dazzling light through a white mist...which we have again today. I asked the computer to help out in this case, but it made it worse...anyway there we are... and here we are..
Yours truly is hoping for better shots of this one in due course...
Great work from Mike below...DONT MISS that collection of Arcadia approaching and arriving. Very busy Port as you can see....
Well done Mike

PaulB
ps: Aurora went out last evenng too...conveniently blowing her horn so that yours truly didnt miss the picture...

Thursday, 16 April 2020 - 07:08
Post 6938
Mike J., Dover
Arrival of ARCADIA from Southampton on Wednesday morning.
She went over tg the western part of the bay to wait for two ferries to berth & then backed to her berth on the Eastern Arm, with her stern very close to the derelict No.1 berth, which I hear is soon to demolished.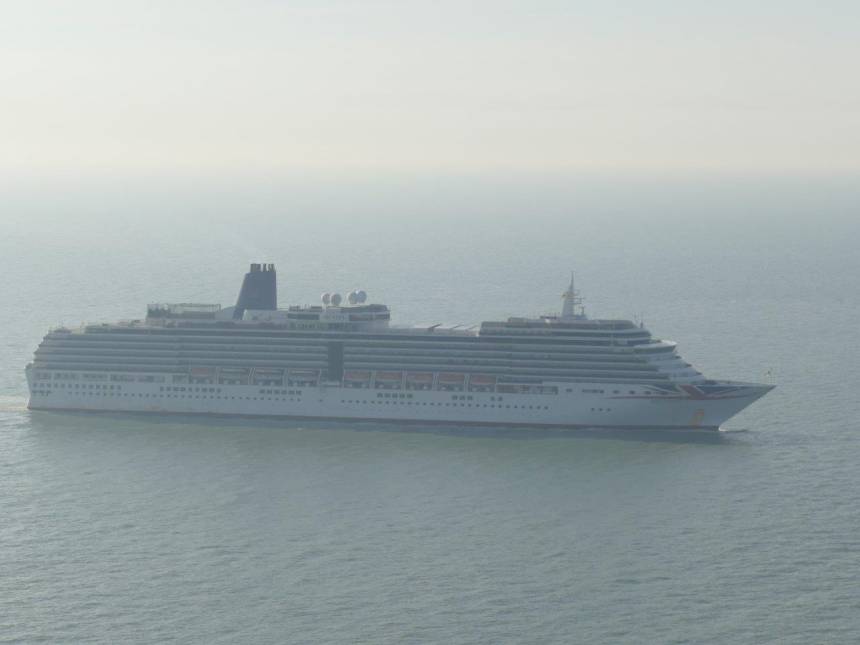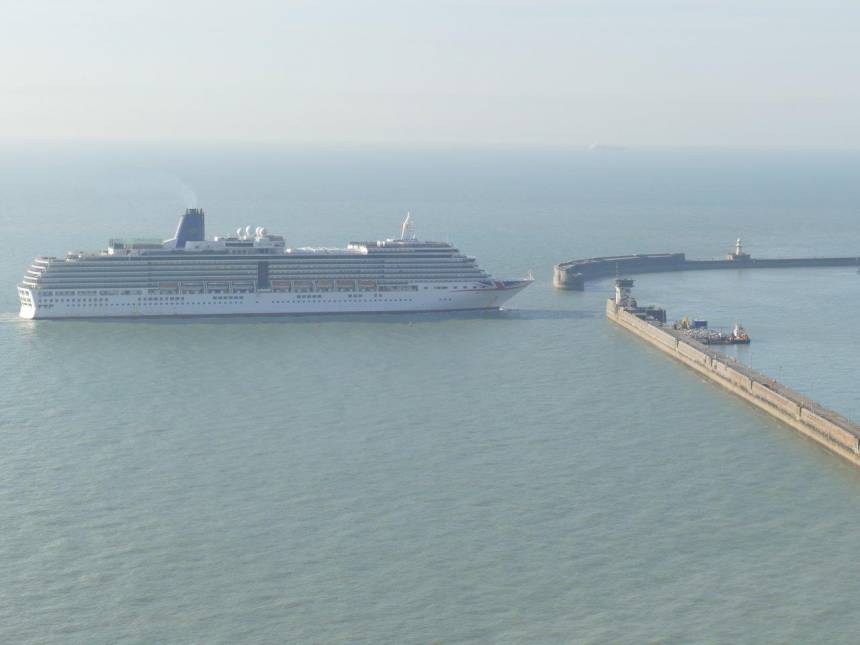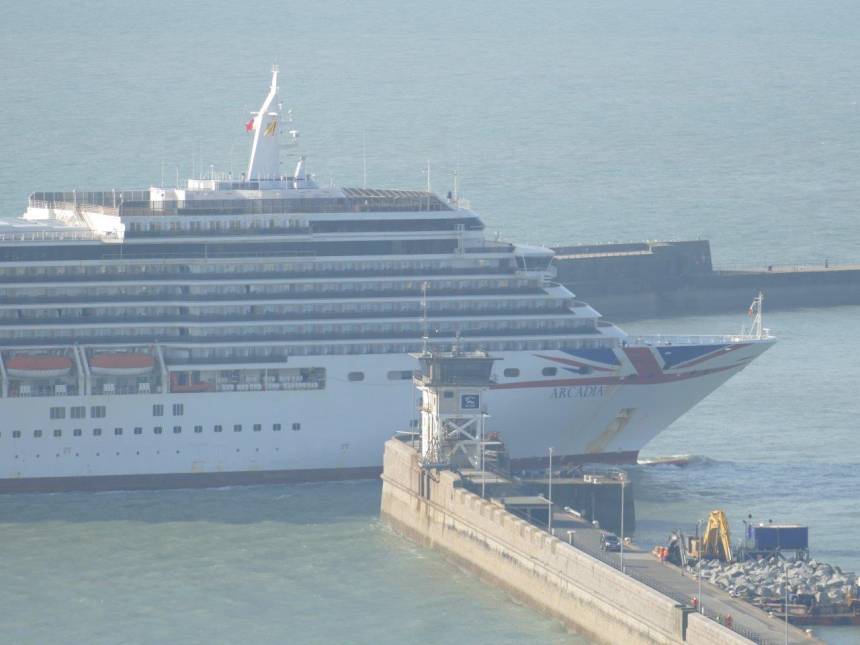 Three of a kind . . . . .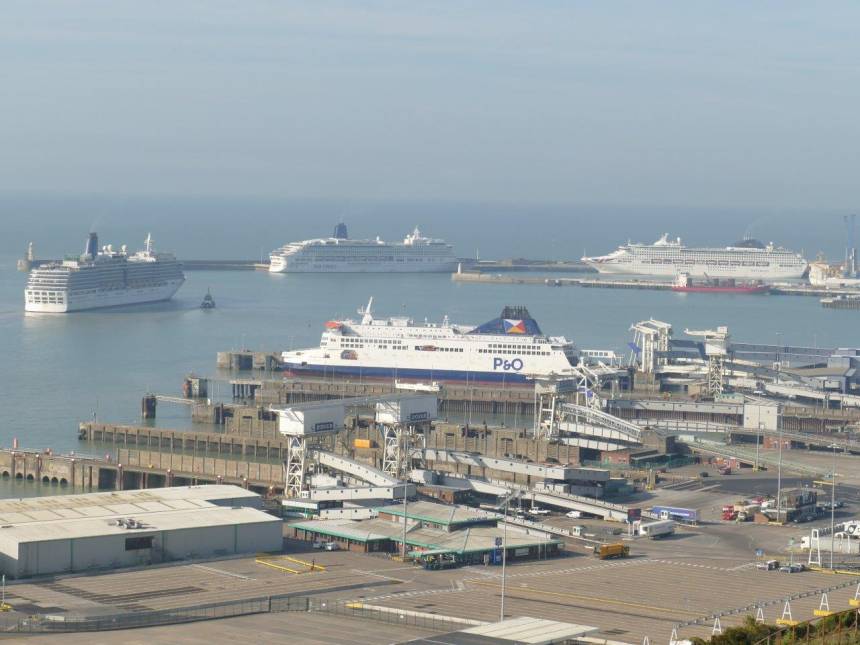 A busy harbour this morning.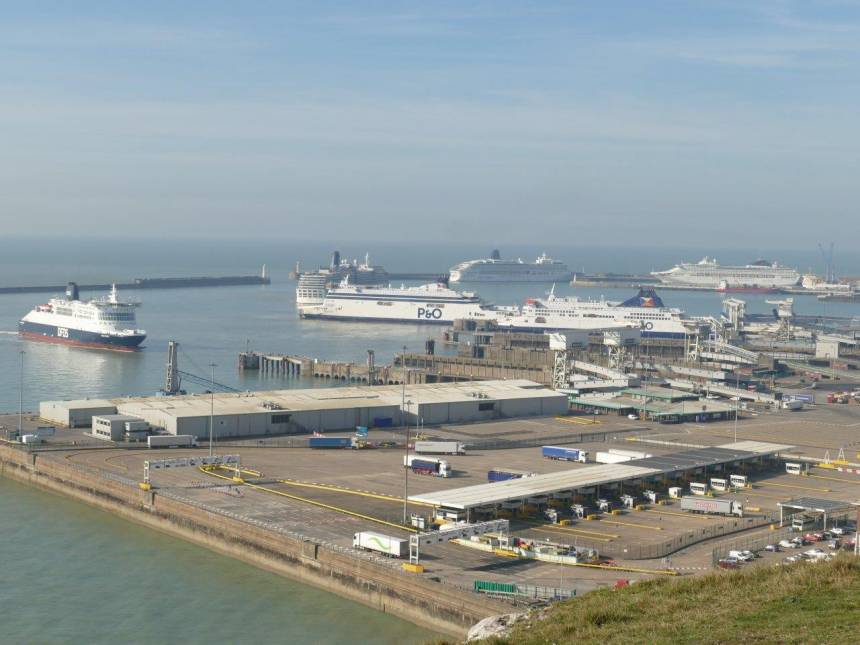 After Sid the Seagull & Percy the Pigeon getting the way in pix, we now have Cyril the Crow [or possibly Robby the Raven] trying for his moment of fame as the ARCADIA backs down to the Eastern Arm & the COTE DES FLANDRES heads for the Western Entrance.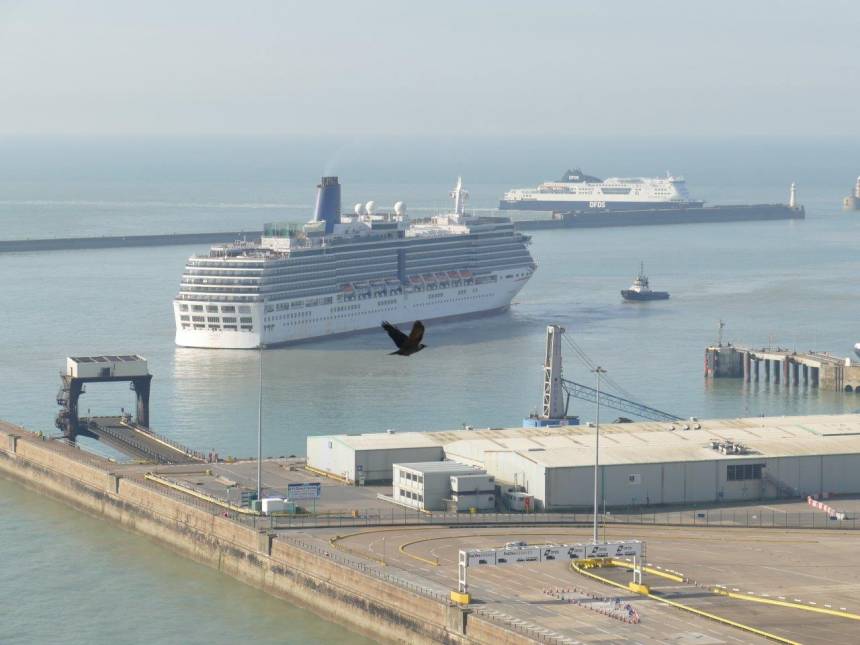 Quite noisy up on the cliffs with nesting seagulls squawking away & I was pestered by outraged gulls swooping down on me - the things I do for 'Sea News' . . . .
Thursday, 16 April 2020 - 02:15
Post 6937
Sea News, Dover
Further pictures of MSC Regulus now which came in close to Port on Easter Monday in the difficult conditions...these to accompany the picture currently at top of page.... the conditions suddenly went very bracing after all the warm weekend weather and you can see it here... 'one had to hold on to one's hat' as we say in Windsor...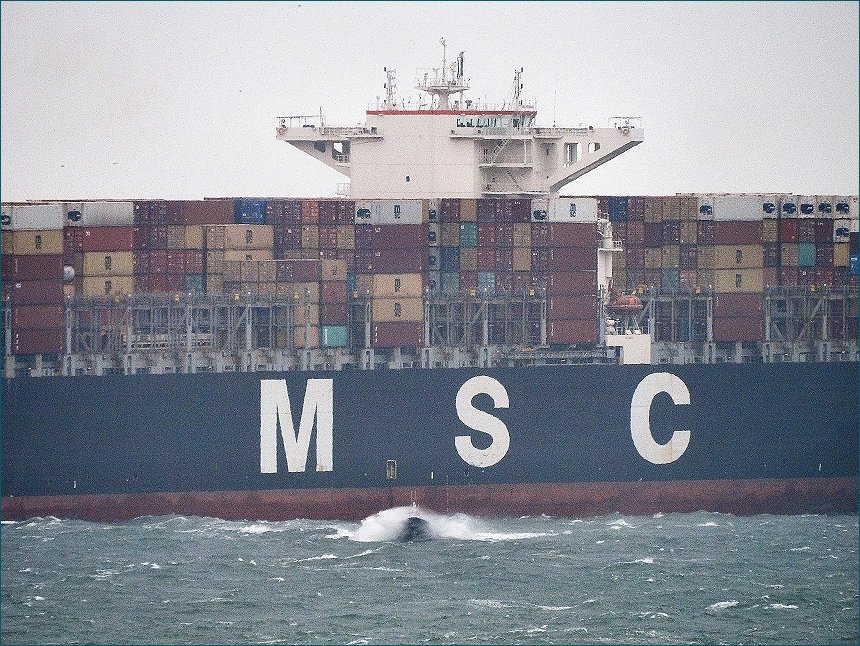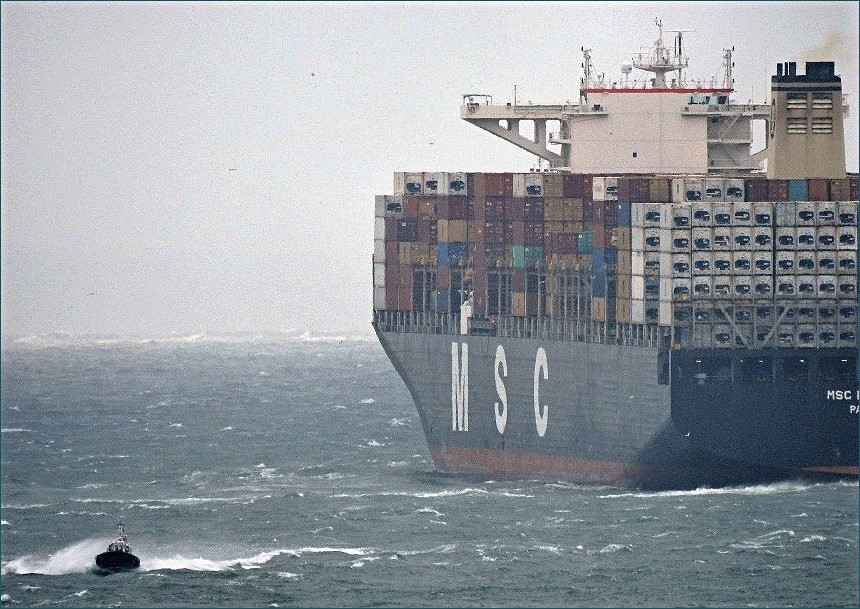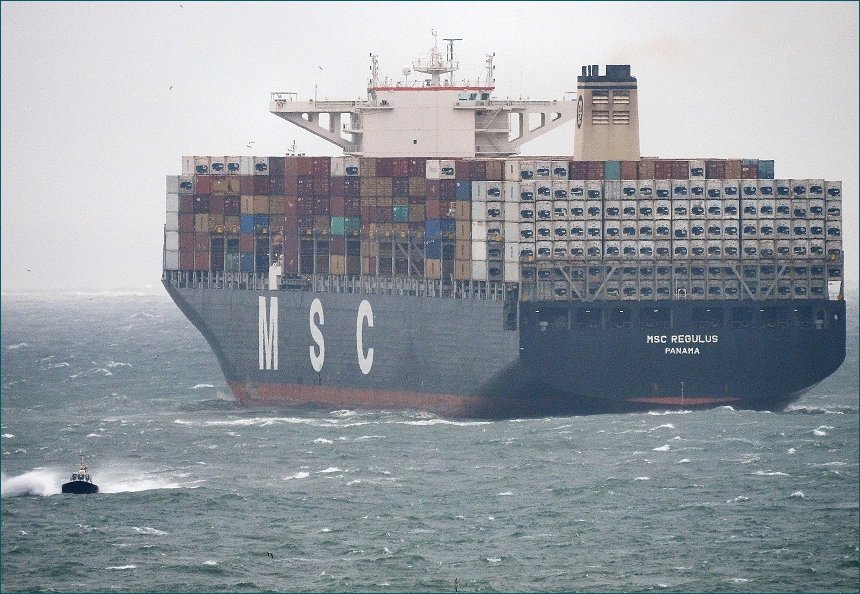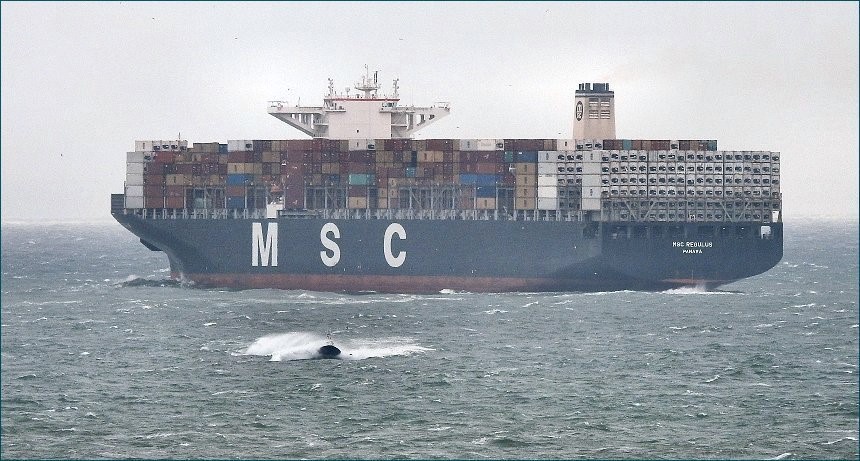 The Returning Pilot.
You will notice pic 3 is the same as the one currently and temporarily atop page...included here to remain in files. Presumably the 142,000 ton MSC Regulus came in close to Port to let the pilot pff...as noted previously with other ships. She was enroute to Rotterdam.

Good to see those pictures Mike. yes although Merita is relatively small she is carrying a huge amount of timber...impressive to see...

Mark Del Mike..glad you are all enjoying or have enjoyed Bill Bryson's books...excellent during confinement in these grim times.

Well said Vic...get it right say the port or 'walk the plank'
PaulB
Lots more to come...much catching up to do.
Wednesday, 15 April 2020 - 06:18
Post 6936
Del Styan, Norwich
Love Bill Bryson's books. I agree completely with the previous comments. I re-read them and still laugh. Must be my age.

Tuesday, 14 April 2020 - 23:25
Post 6935
Mike J., Dover
Sandwich or bust !
A biomass lorry heads-up Jubilee Way en route for the mini-power station at Pfizer's old site.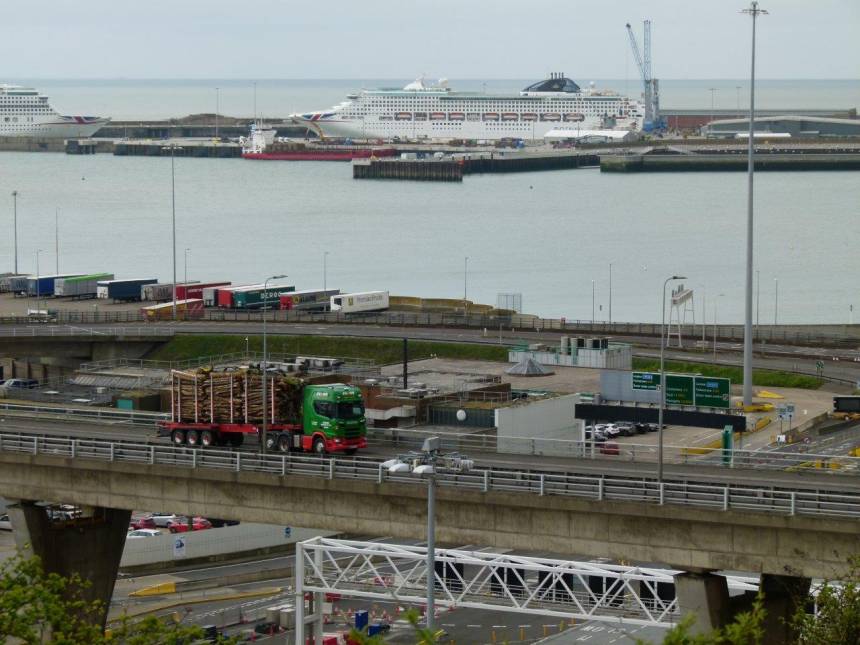 The MERITA started discharging on WD4 Tuesday morning after spending most of Easter anchored off Margate & by mid-morning unloading was well underway with most of her deck cargo either on lorries or being stockpiled on the quay.
OCEANA in the background.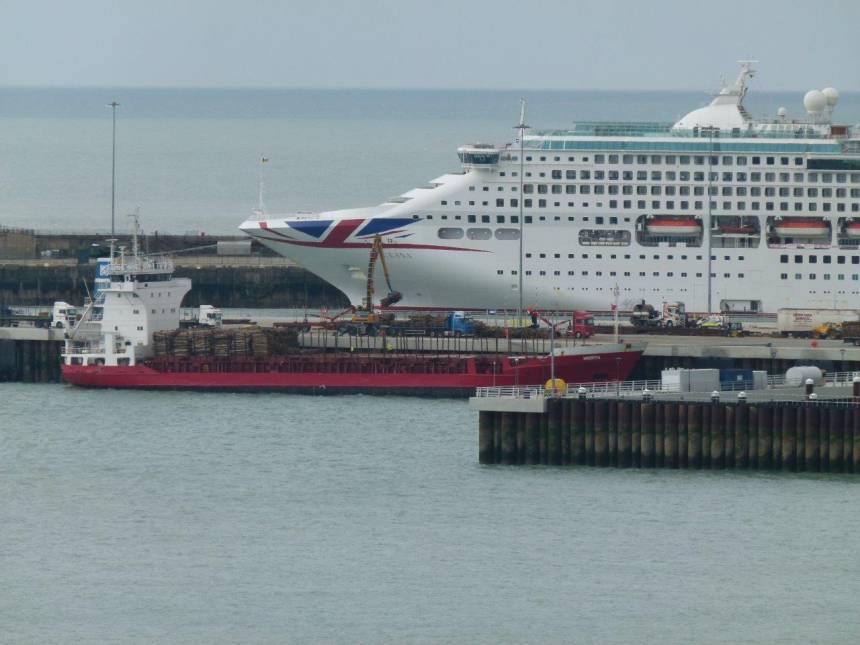 Looking forward to Paul's MERITA pix from his lookout post.
ARCADIA left Southampton Tuesday evening & is giving her ETA as 0715 & will be going on the Eastern Arm.
Mark - I like Bill Bryson as well - about the only author who can make me laugh out loud even when re-reading & knowing when the jokes are coming up !
Remember Mrs.Smeg the Dover landlady ?
Not just comedy - writes interesting stuff between the jokes.
Tuesday, 14 April 2020 - 23:03
Post 6934
Mark Rushton, Northants
Greetings from my house arrest in the Midlands. Your reposted photo of the empty seafront reminds me that I'm half way through re-reading Bill Bryson's "Notes from a small island". The first chapter describes his first arrival in the UK on a night ferry from Calais back in the 1970s and dossing down in one of the seafront shelters with a pair of boxer shorts on his head for warmth. Hilarious and compulsory reading for anyone who remembers the Dover of old. I'll close with a stirring chorus of "We'll meet again"....

Tuesday, 14 April 2020 - 10:43
Post 6933
matcham, DOVOR
Yes to that one, never home always in some port or on a ship but must say D.H.B have /always working keeping the port one of the best in the world working 24/7 best port I have ever work in , and it had to be done right first time or you was for it.


Tuesday, 14 April 2020 - 10:15
Post 6932
Sea News, Dover
A couple of further pictures of small tug or workboat New Ross 1 taken in the past few days. Following along from the earlier pix in post 6925...it doesn't look quite so red here as shooting into the light this time rather than with it, but see the other pictures also. The tug is making her way 'homeward' after a long day...or in other words returning to the inner harbour western end...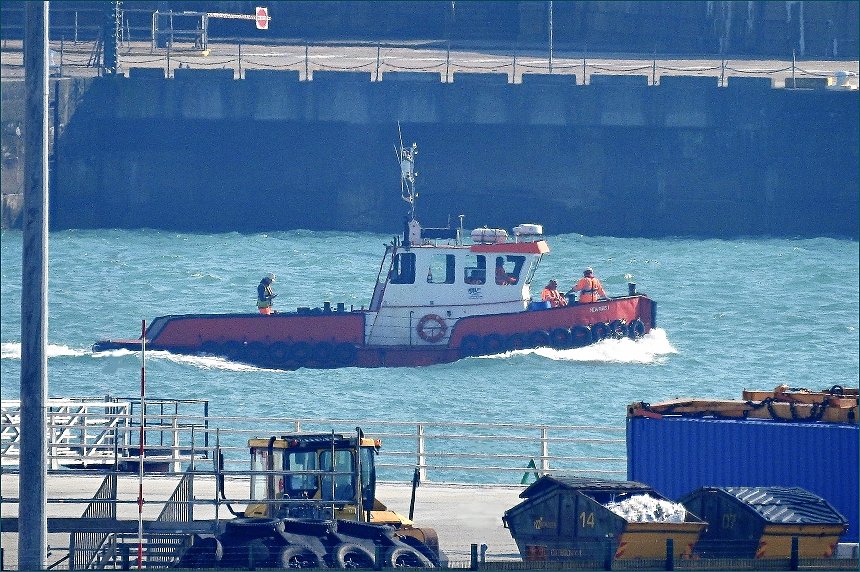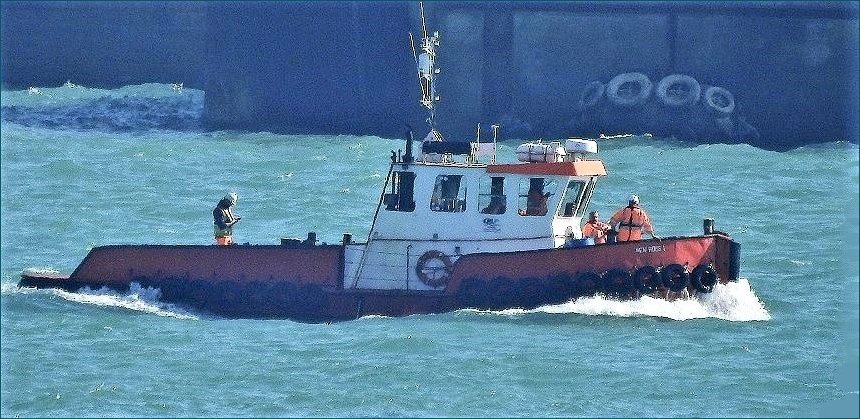 Showing her passing all the dock paraphernalia above there ..the second picture taken a tad earlier. Looks like tha chap at the rear is checking his messages...looking at his options for the evening perhaps...although .. these days...sigh..!.
Just showing the picture below again, putting it up for record purposes as the originals were lost in our recent problems.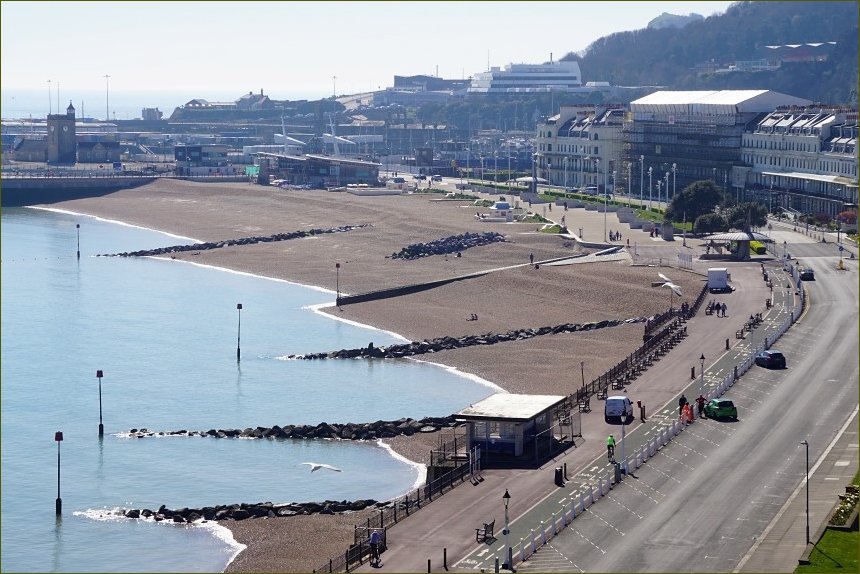 Dover Beach ..hot day but in lockdown. Would normally be packed...
Hi Vic yes there seems to be plenty of work at the moment.. twas good to see those pictures from Sandwich (post 6929). Looking back...I bet you always kept busy though...

PaulB
ps: there is a town in Ireland called New Ross, I wonder if the tug above has any connection...seems quite a co-incidence..
Sez he pondering wistfully while gazing into the distance at an approaching Oceana...

Also we will have more pictures of the great container ship as seen at top of page...MSC Regulus.
Tuesday, 14 April 2020 - 06:41
Post 6931
matcham, Dovor
MYkind of work going on at Sandwich, and our port, yet when I was working none of that was going on and HAD to go 200 miles or so to work and living away most of the time


Monday, 13 April 2020 - 09:12
Post 6930
Sea News, Dover
The Twilight Zone; Nature couldn't quite make up its mind whether it was night or day (and neither could the camera!) as Oceana began to move away from 'grain pier' WD4 on Saturday around 19.40. Off on another channel cruise, we guess re the aforementioned grey water situation, in the fading but colourful light...and here she goes..stern first initially and then coming round to exit the Port... no tugs in attendance..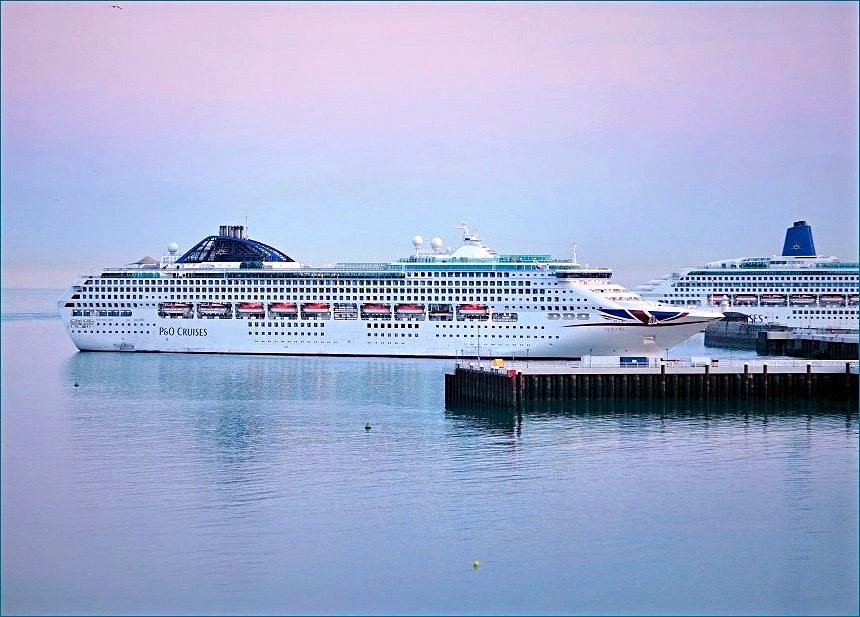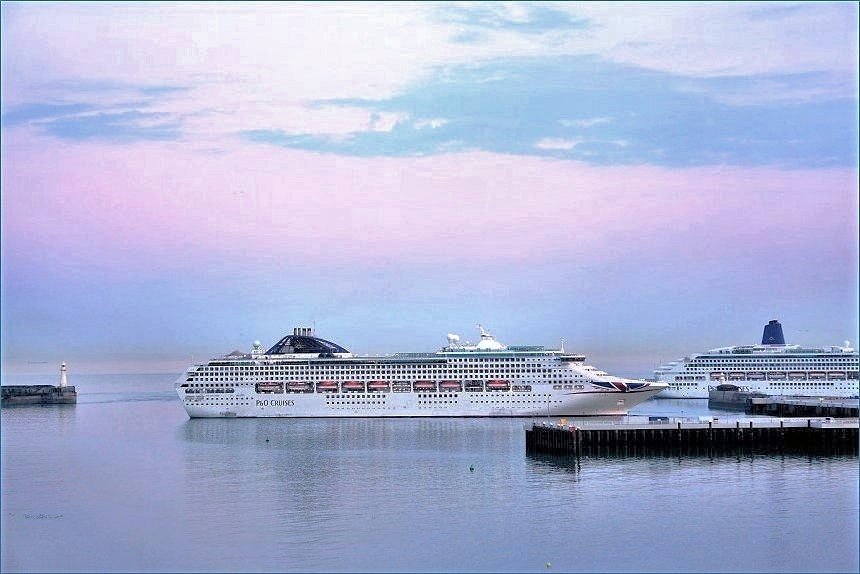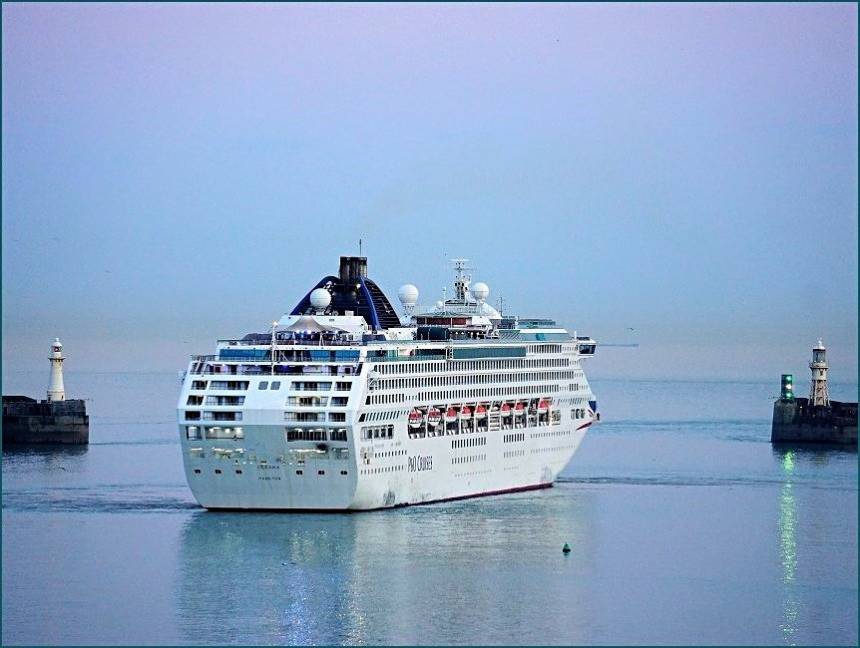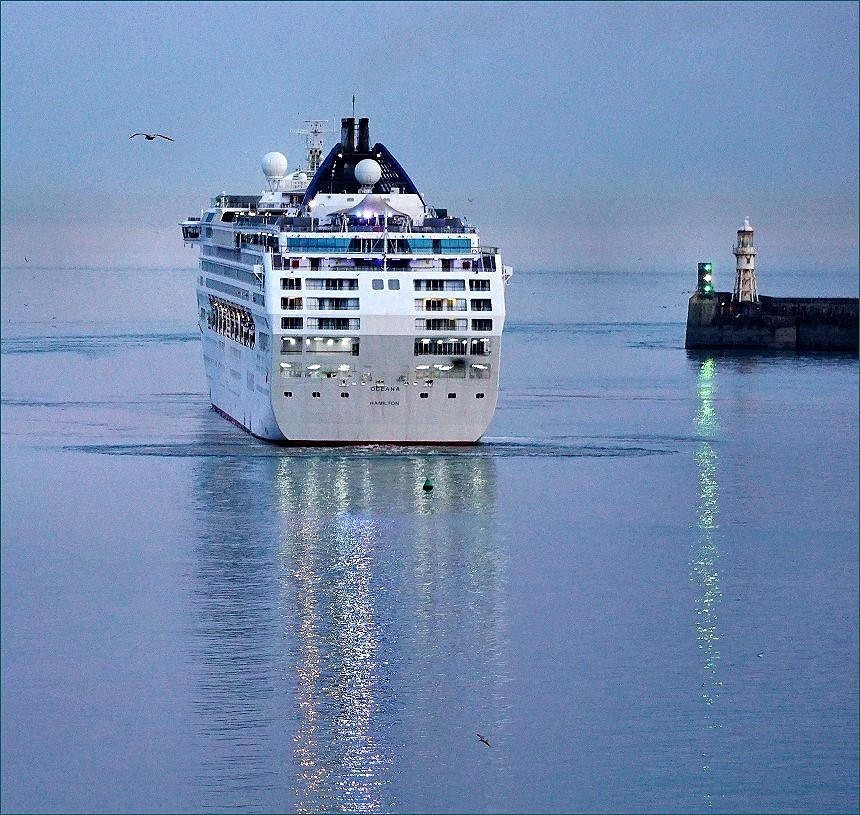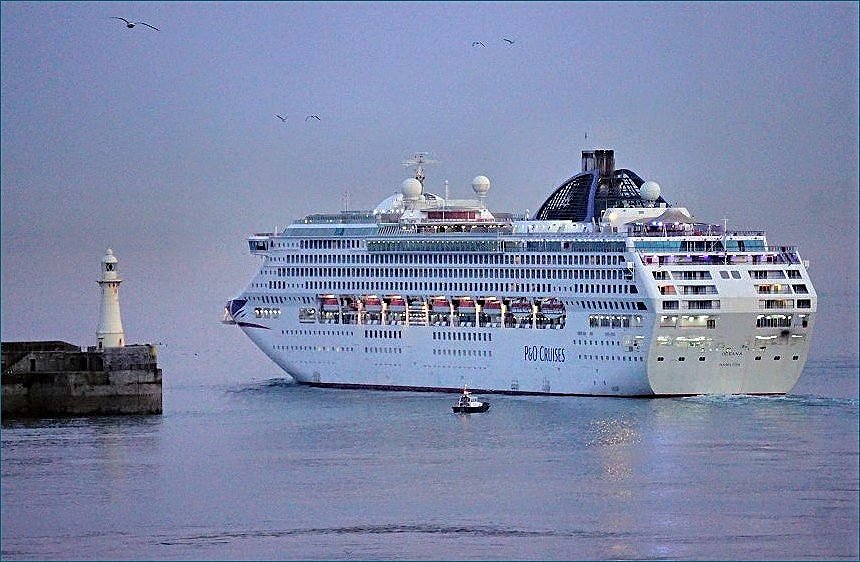 Oceana

Very interesting post below from Mike so don't miss that one...very unusual to see a large platform all the way up in central Sandwich ...fascinating stuff....yes good one from Mike there ... Don't Miss it!
The sunny and warm spell seems to be over...for now...we are under grey clouds this morning with the shipping forecast suggesting some gale force winds...its blustery here in the 'observation tower' for sure, me timbers are a-rattlin'
PaulB
Monday, 13 April 2020 - 06:19