Friday, 22 February 2019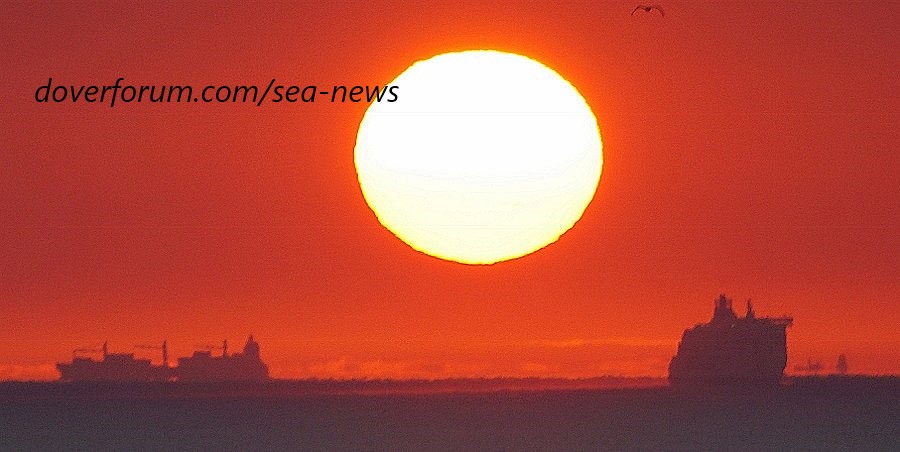 Below...Boudicca reverses...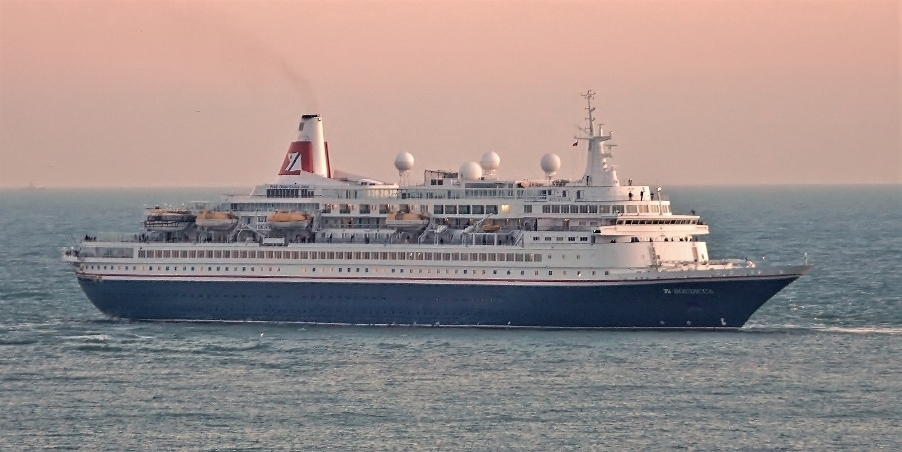 WWW.DOVERFORUM.COM/SEA-NEWS Featuring all the ships that come and go and work at the Port of Dover with further coverage of the surrounding ports both sides of the Channel. Click ADD YOUR COMMENT below to post direct, no membership needed.

Listing highlights....


Scroll down or use our Search Engine for posts and pictures of Border Force in Dover and Ramsgate.
RHA - we need to avoid cliff-edge Brexit 6069.
BREXIT READY statement from Port of Dover/DFDS/P&O Ferries see 6021.
P&O Spirit of Britain - notable Cyprus reflagging see 6017. See also latest 6041.
Tourism Thriving see 6044.
Deal Pier Kitchen restaurant opens 6016.
Charlie Elphicke MP - making our borders stronger, safer 6014.
BORDER FORCE SEARCHER and migrant boat.. see 5969 below..

Port of Dover supports Women in Maritime 5975.
Christmas Lifeboats in Ramsgate see 5937.
P&O: Britain's Favourite see 5922.
DFDS: Voted Worlds Leading Ferry Operator...see 5918..
Charlie Elphicke MP: Migrant Crisis 5894.
P&O: Santa Onboard see 5870.



Highlights continue...


Wreck of the Anneliese 5880, 5881, 5882 ...
Port: Additional Funding for Kent Wildlife Trust 5879.
P&O: Apprentices welcome RB Legion veterans 5853.
Eight new apprentices graduate see 5845.
DFDS: 'SEE PORTS' Calais and Dunkerque 5834.

DFDS Revitalize Dining 5831
P&O: Schoolchildren mark WW1 see 5816.
Lower Thames Crossing boost..5812.
see now also 5817.
Dover Museum's revitalisation see 5807.

Port of Dover: Refrigerated Cargo Terminal .. software for 5801. Latest NATO also 5801.
Port of Dover: Great increase in summer traffic 5795.
Russian and shadow 5785.
The Waverley paddle steamer latest 5778...
New SAGA Ship launching in Dover see 5776.
DOUG BANNISTER: New Chief Executive Port of Dover see 5734....

Merchant Navy Ceremonial images also 5734.
P&O: To Rome on Horseback 5759.
Dover Regatta Rescue incident plus .. see 5713.
Dover Regatta pictures Lifeboat etc..5716, 5717, 5718, 5720.
DFDS Expansion: More New Ferries on order... see 5693 see also 5500 and 5381.
Excellent Tourist season for P&O Ferries see 5649.
VSBW Port of Dover - Women at Work 5638.
P&O Second Female captain see 5107. Also see latest 5570.




NEW:

For instant access to any item listed above - just type the post number in the Search Engine below.

Sea News Dover : Use our SEARCH ENGINE below to find all sorts on the SEA NEWS pages....
type in the topic and away you go, more than - 6000 - nautical posts now.

Posts are welcome. Max of 5 pictures preferred although we can stretch that for special stories..

Sea News Editor Paul Boland - send info or pix to dover7@msn.com. Always welcome.

All pictures on these pages are the copyright of the owners and must not be reproduced without permission.

To show your pictures at their best..it could be worthwhile resizing before posting to

840

pixels wide.
Post 6017
Mike J., Dover
SPIRIT OF BRITAIN departs Dover on Monday after resuming service on her return from her Hamburg refit.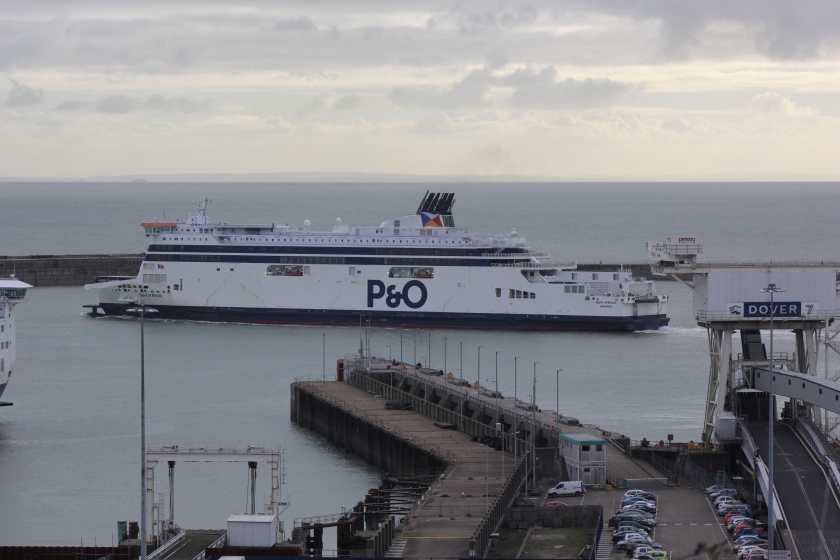 Notice anything different ?
She has been reflagged from the British Shipping Register & now flies the 'Flag of Convenience' of Cyprus & no longer has 'Dover' on her stern.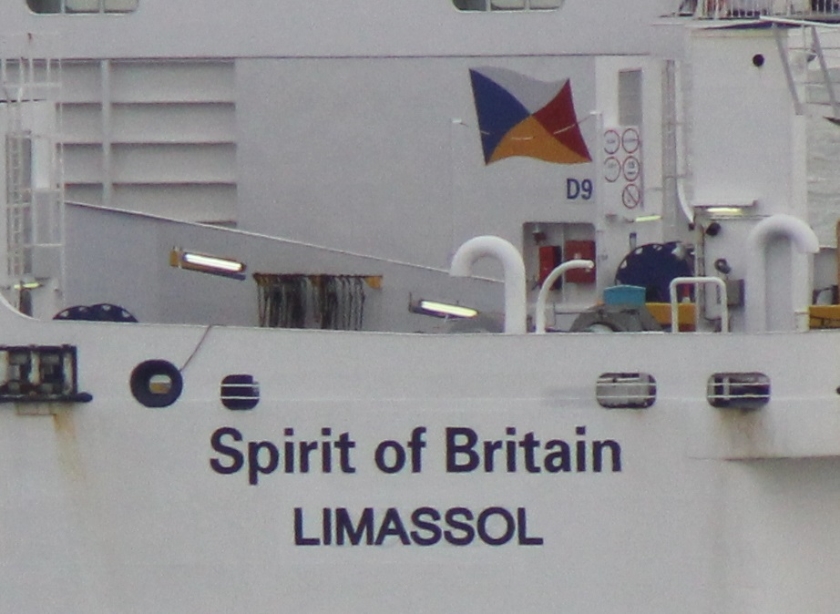 Additionally she will no longer fly the Red Ensign, except possibly as a 'courtesy flag' above the bridge.
I'm not for a moment suggesting that there will be any reduction on the very high standards of operations by all of the British ferry operators, presumably the re-flagging is is a move to obtain some useful 'flexibility' in the uncertain world of post-Brexit Europe, although there must be some unease amongst the crews onboard.
I'm sure that there will be further reflaggings in the near future.
Many 'British' ferries operating on routes away from Dover have been flagged-out for some time & indeed during the brief presence of Stena Line in Dover their ferries were registered in the Bahamas, again for tax & financial advantages.
P&O ferries are owned by Dubai Ports [a comparatively small part of their operations] & DFDS is a Danish company & neither owner has any particular loyalties to the UK, quite understandably they are in business to make money & it is their right to operate their companies in the manner that they see fit, but it doesn't build confidence in the British economy in the future.
Uncertain times indeed.
Turning away from politics the refit season is underway with the SPIRIT OF FRANCE leaving Dover on Monday morning & is due in Hamburg midday on Tuesday.
Monday, 14 January 2019 - 23:11
Post 6016
Sea News, Dover
Deal Pier Kitchen Officially Opened by Council Chairman
_________________________________________________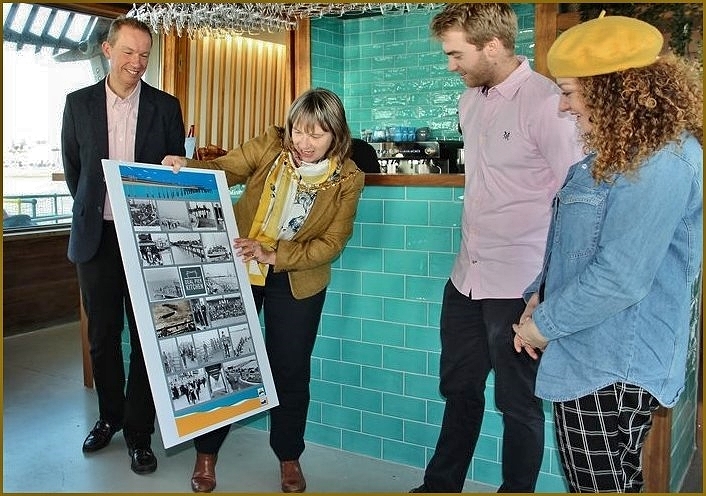 The Chairman of Dover District Council, Cllr Sue Chandler officially opened Deal Pier Kitchen recently, the new cafe restaurant at the end of the council-owned Deal Pier.
Deal Pier Kitchen is open seven days week and brings a fresh, new offer to the pier. The cafe restaurant is housed in the Royal Institution of British Architects (RIBA) award-winning building designed by Niall McLaughlin, opened in 2009, and featured on the CHALKUP21 trail of contemporary coastal architecture. The café restaurant offers outstanding views out across the English Channel.
The team behind Deal Pier Kitchen, hospitality entrepreneurs, Rebecca Hodson and Tim Biggs, were awarded a 20 year lease of the cafe restaurant following a competitive tender by Dover District Council and supported by leisure property specialists, Fleurets.
Cllr Trevor Bartlett, Dover District Council's cabinet member for corporate property, said: "We're delighted to welcome Deal Pier Kitchen as part of our £500,000 revamp of Deal Pier. We were impressed with Rebecca and Tim's vision for the cafe restaurant and the fresh new approach that they bring. The pier is very much at the heart of local life in Deal so we know they are going to be very busy!"
Tim Biggs, said: "We look forward to welcoming everyone to Deal Pier Kitchen. We've developed an exciting new menu based on local produce and creating a dining experience to make the most of this fantastic location."
ENDS
Picture L to R: Cllr Trevor Bartlett, Cllr Sue Chandler, Tim Biggs, Rebecca Hodson.
Sue presents a poster of historical Deal Pier to the couple.
Many thanks to DDC for the info above. A great treat for those who enjoy dining out.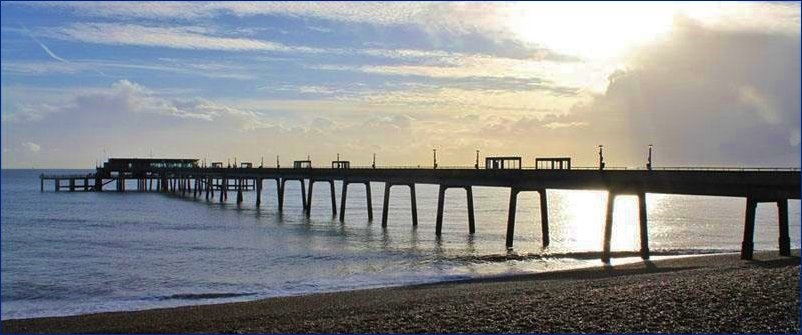 The enjoyable Deal Pier above....
and below the always photogenic fishing boats along the strand there.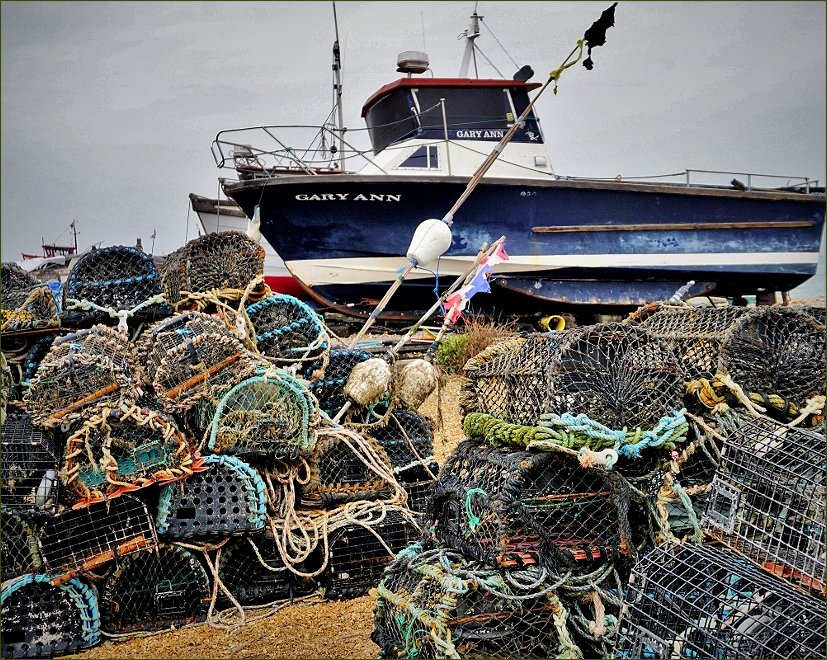 * *
Following along from Mike's excellent pictures of Viking and Vulcan in the inner sanctum see 6013...the same day I caught Vulcan in the distance heading towards Folkestone. Yours truly was merely testing the camera's changed program and Vulcan popped into view. This is fairly long range, looking across the roof of the Dover Cruise Terminal One. Time of picture 13:05 Friday.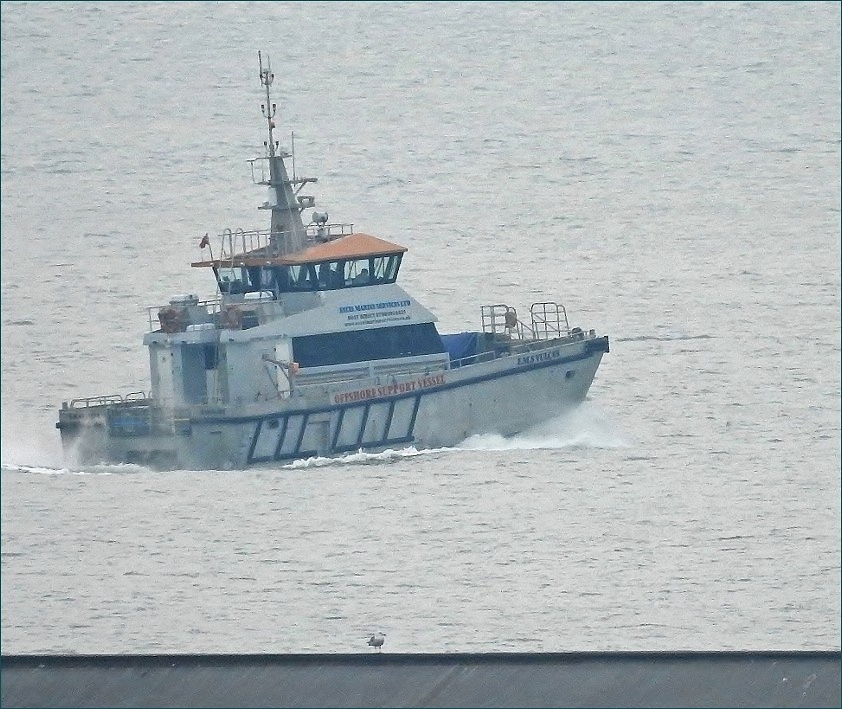 Absolutely great 'famous five' pictures below there Ted from your brother David...excellent. All great - am particularly fond of the top one taken exiting Port of Calais.
Well done Ted and David.

PaulB
Monday, 14 January 2019 - 07:25
Post 6015
Ted Ingham, Canterbury
"Five Dover ferries from the past"
A selection photographed by my brother David.
P&OSL DOVER.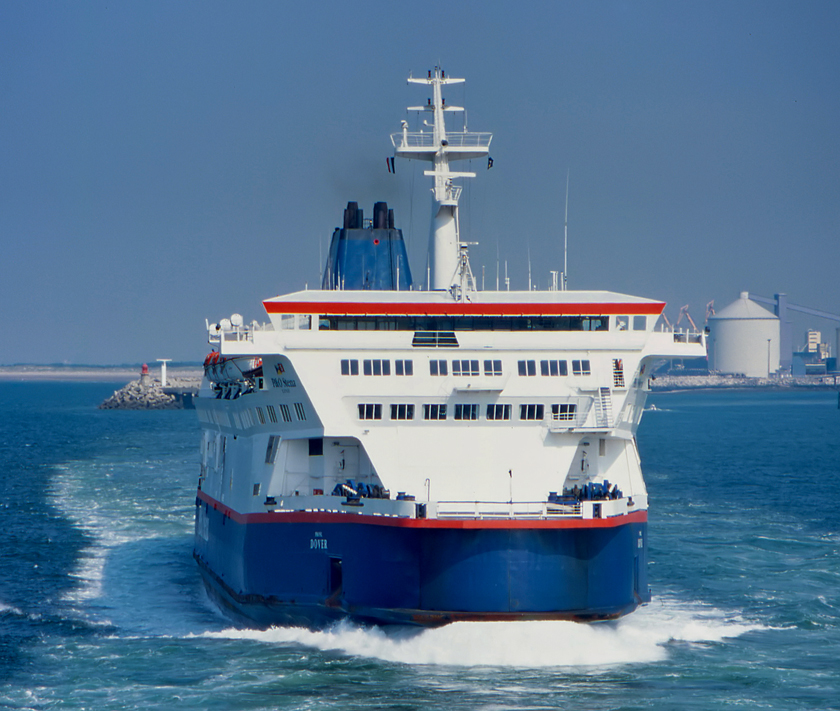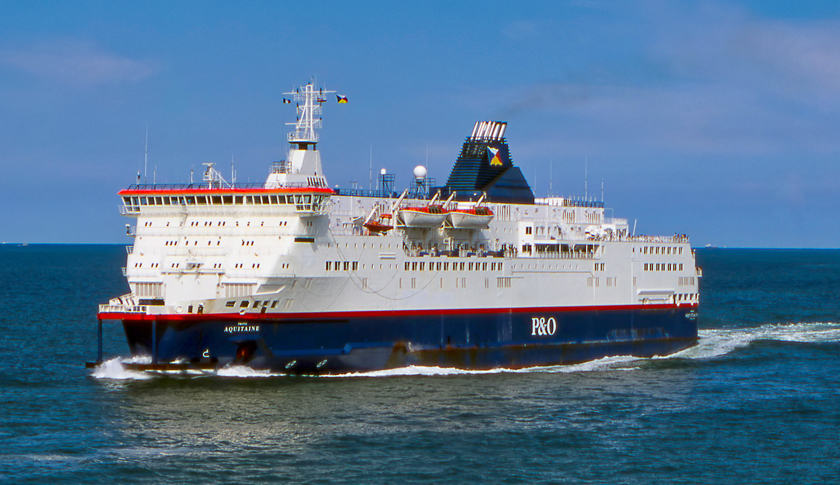 P&OSL AQUITAINE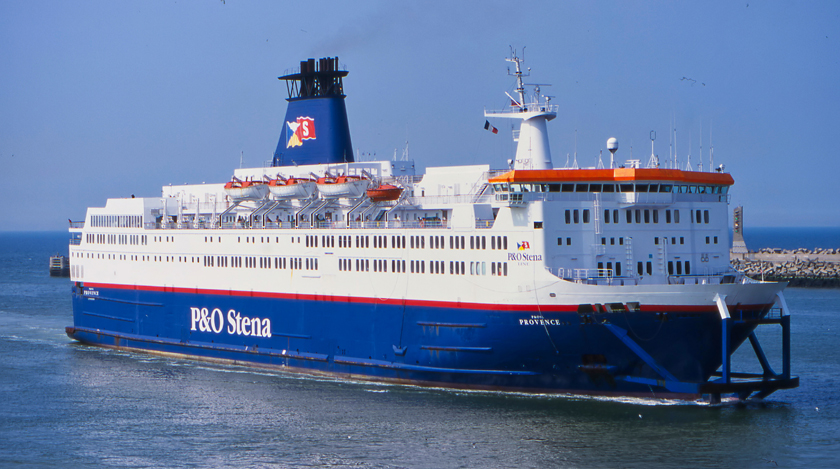 P&OSL PROVENCE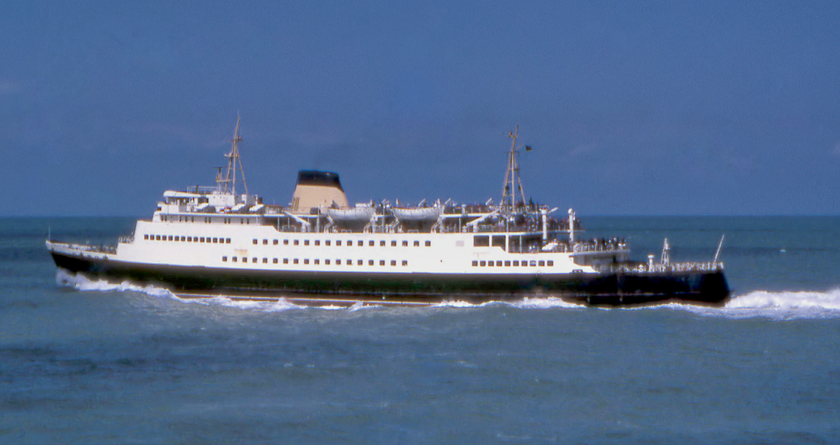 PRINSES PAOLA ..The Dover to Ostende passenger ferry known locally as "The Racing Greyhound"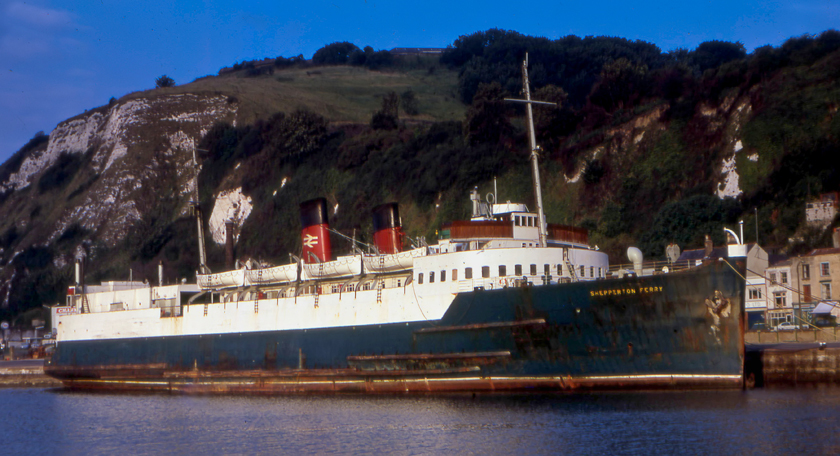 The train ferry SHEPPERTON FERRY laid up in the Wellington Dock.
Saturday, 12 January 2019 - 11:39
Post 6014
Sea News, Dover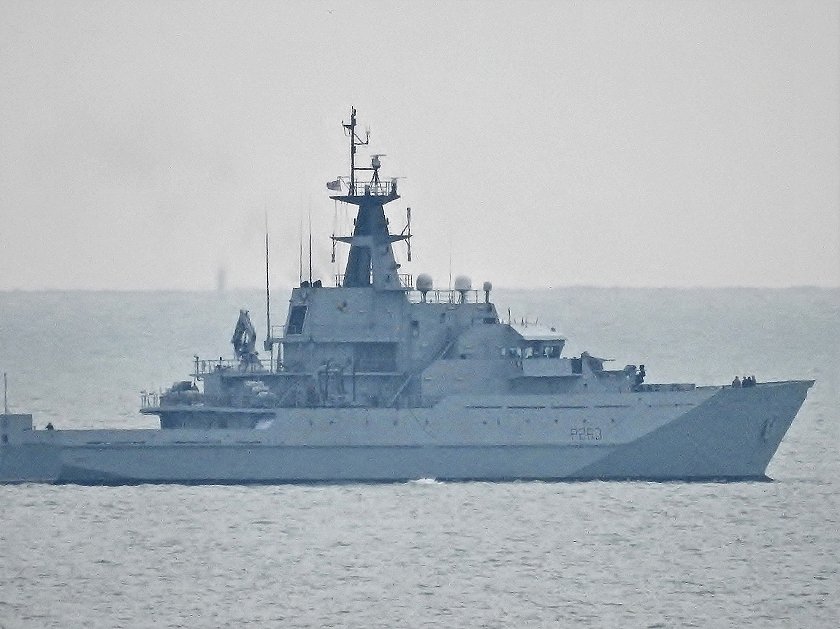 HMS MERSEY : Yes there we are with HMS Mersey again. This picture taken yesterday Friday. Still fairly long range and taken in our current ultra grey conditions, so the pic not ideal...but a bit closer anyway. You can see some of the crew there near the bow, and maybe one towards the rear of shot. She slowly patrols daily but her path of choice seems to be more in the Folkestone direction...then back towards west of Dover...then back towards...
The Latest from Charlie Elphicke MP for Dover and Deal.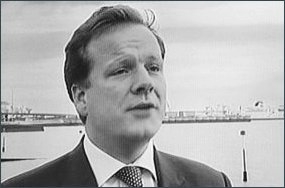 Fighting to make our borders stronger and safer
Dear Mr Boland,
The migrant crisis in the English Channel escalated yet again over Christmas and New Year, with dozens more arriving along the Kent coast.
Here at the Dover frontline, we have been fighting hard over the past few months for Ministers to take action. In November in the House of Commons, I called on the Prime Minister to tackle the traffickers and boost our border security by increasing patrols. I'm pleased to see that our campaign is now making a difference.
Firstly, the Home Secretary acknowledged this is a major incident and appointed a Gold Commander. He then listened to our calls to return the UK's two cutters back from cruising in the Mediterranean to patrol the English Channel and take back control of our borders.
I was delighted Sajid Javid also accepted my invitation to visit Dover. He was able to see how our heroic lifeboat crews, Border Force and emergency services work tirelessly along our coast to protect the border and keep people safe.
Meanwhile, the National Crime Agency have recently made arrests in connection to the smuggling network allegedly behind the recent spike in crossings. And the deployment of HMS Mersey is a welcome first measure too – as we seek to increase the deterrent in the Channel.
Now we need to see more action from the French. It's vital they immediately increase the number of craft and police patrolling their coastline – to stop these small boats from embarking. And there is a strong case for using aircraft with thermal imagery cameras to track any attempts to make these dangerous and illegal crossings.
We cannot be complacent. Because it was a lack of swift action that led to the rise of the Calais Jungle. At its height, some 10,000 people lived in the migrant camp in misery and squalor. People traffickers roamed free exploiting the vulnerable and terrorising tourists and truckers. Only after a hard-fought campaign was the Jungle dismantled and the number of migrants being trafficked plummeted. We cannot risk allowing the bad old days to return.
The Home Secretary is right to send a strong message and remind everyone that asylum should be claimed in the first country people come to, not the last. Indeed, why are they not claiming asylum in France, which is a very safe country? To return those attempting to cross to France would be the best deterrent and I hope the French will agree to that.
For too many years, the UK has gained a reputation as a soft touch on immigration. That needs to change or else people will continue to huddle on board these unseaworthy vessels, risking their lives and those of their young children.
We cannot allow this to carry on. The key is to stop the boats before they leave the French shore – and catch the ruthless people traffickers behind this crisis.
Investing more in our border security and taking firm action on illegal immigration must be a national priority.
Charlie Elphicke MP
Ends
From our newly restored Conservative Charlie there..saying much the same thing as Home Secretary Javid on his recent visit.
And we felt re-assured then didn't we...??
It is going to be an interestingly chaotic week in politics next week...Gawd knows what 'witches brew' will ensue.
There is nothing like having a stable government and ...(you know what I'm going to say next )
....this is nothing like having a stable government!!

Another picture now to finish off...showing once again the Maersk Connector leaving us on Thursday morning.. time of pic 11.30am.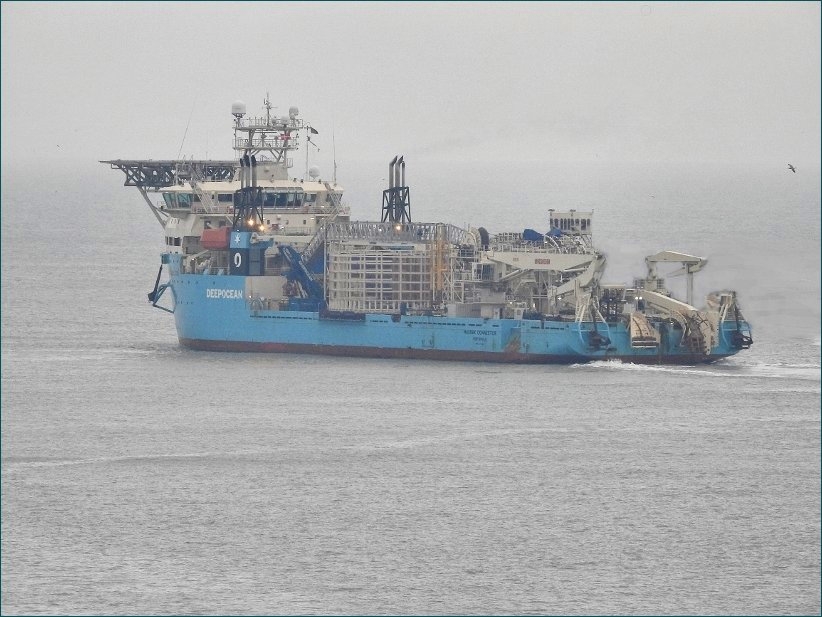 See also post 6009.
Brilliant shots below there Sarah 6012. Cracking shots. Great to have those and in such close detail too. Excellent.
Well done there.

Nice collection below there too from Mike ..from our inshore waters...always good to see those. Interestingly I tried a long range shot of Vulcan yesterday while testing the camera as she made her way westward. It might be okay - will have a look.

PaulB.
Saturday, 12 January 2019 - 07:46
Post 6013
Mike J., Dover
Nice 'underway' pix from Sarah who seems to have the knack of being in the right place at the right time.
Why am I not surprised ?
Friday morning & the long laid-up windcat EMS VULCAN has been joined in Wellington Dock by fleetmate EMS VIKING who spent Christmas at Whitstable [post 5985].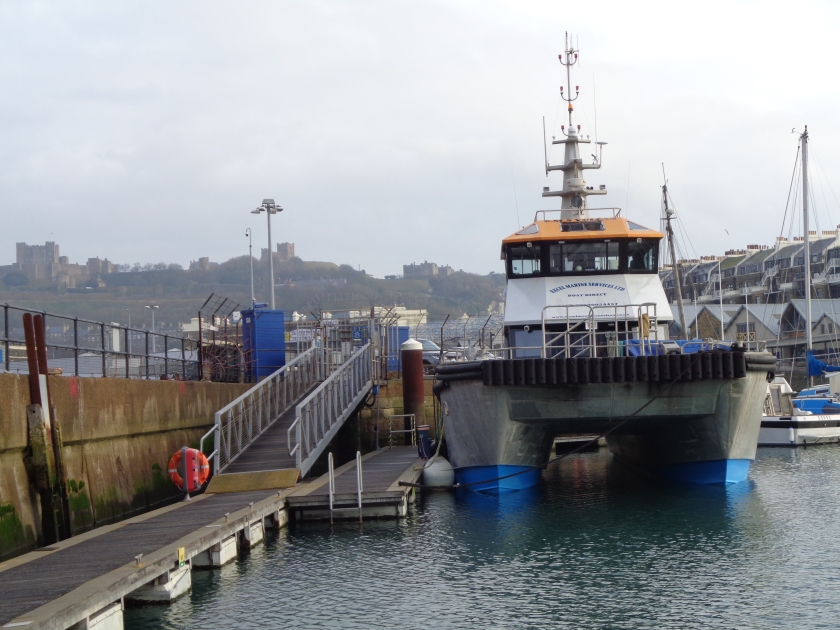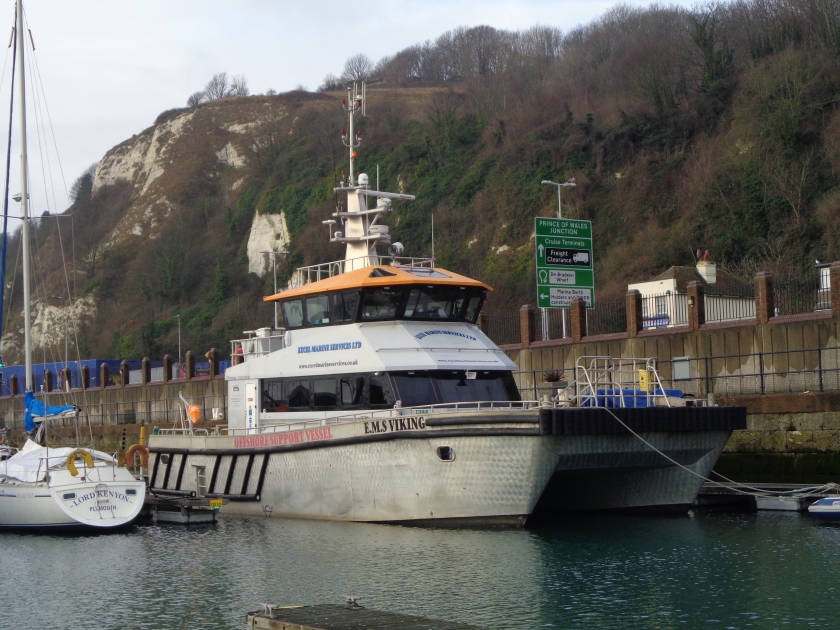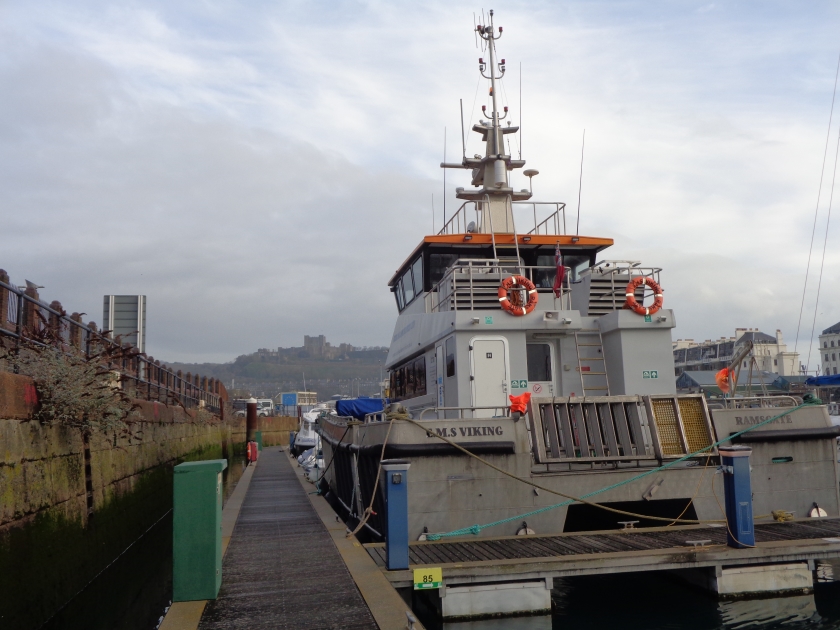 Saturday, 12 January 2019 - 00:28
Post 6012
Sarah, Ramsgate
HMC Vigilant leaving Ramsgate to go on duty in the English Channel.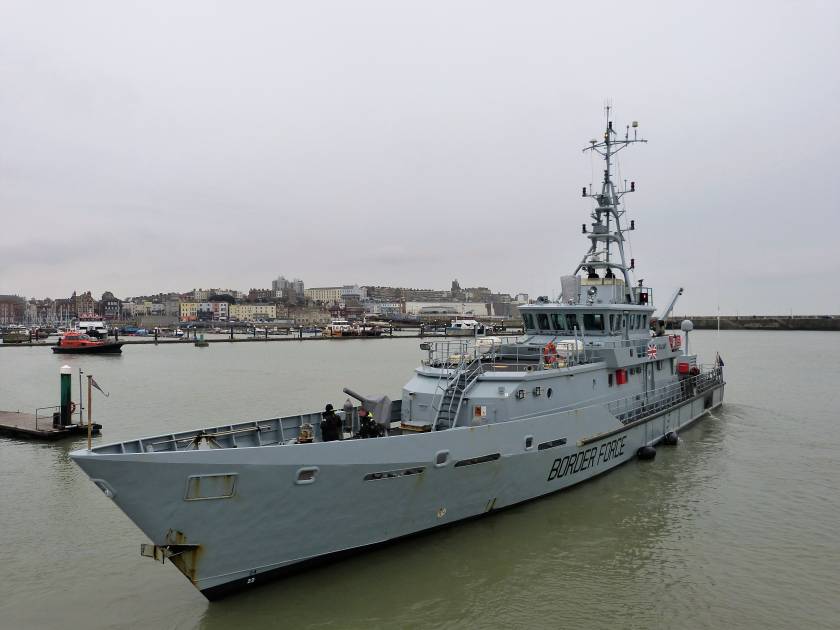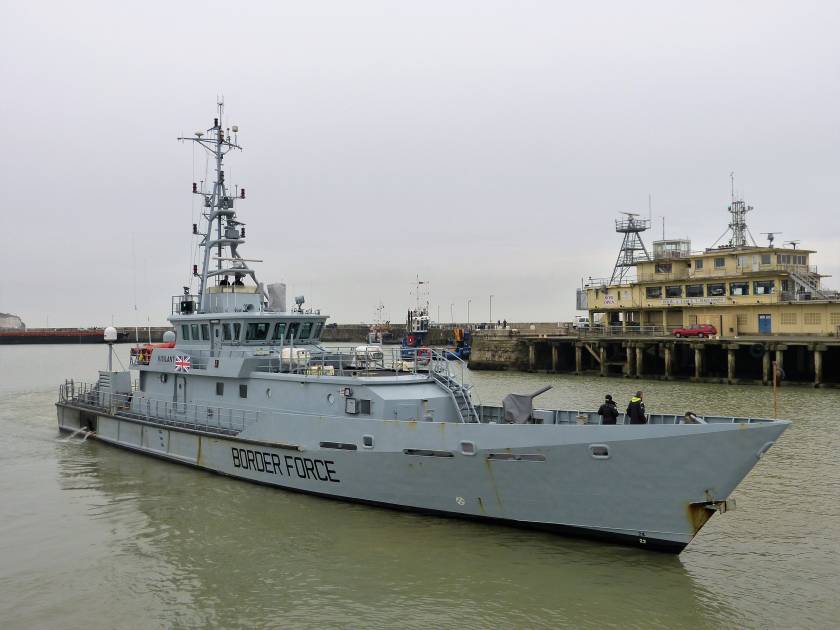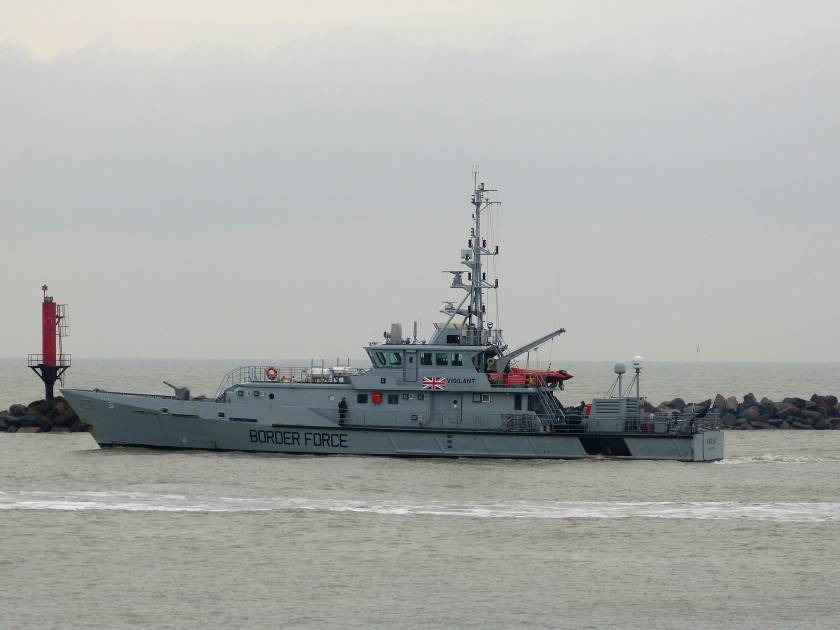 FPV Morven leaving Ramsgate.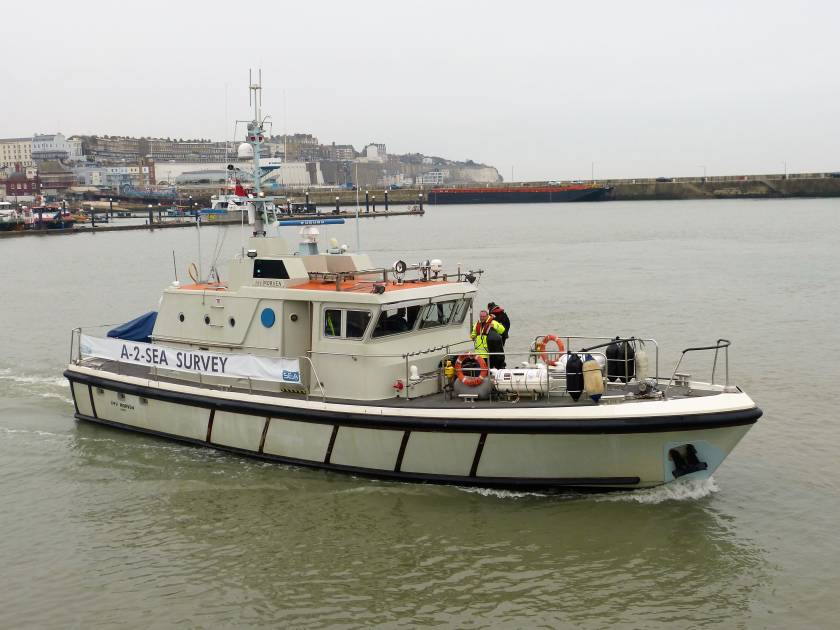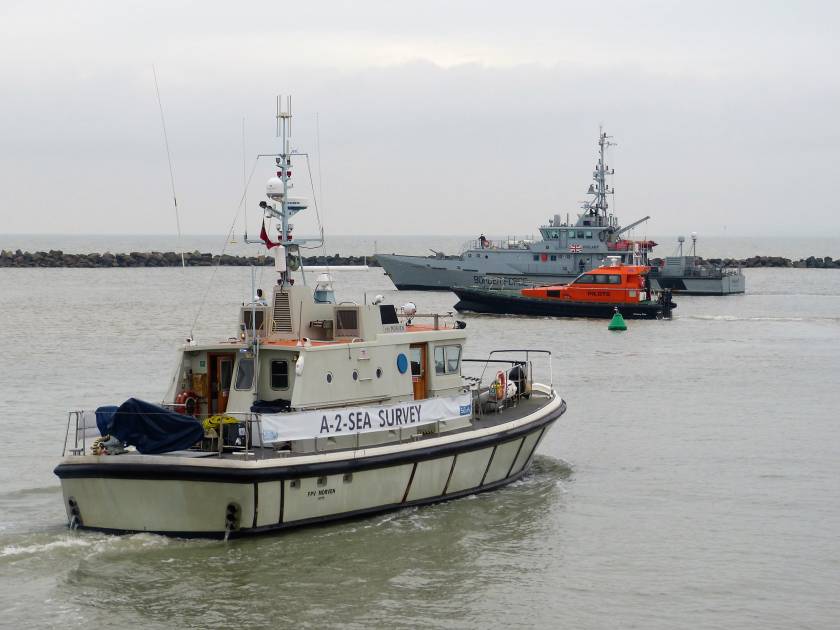 Friday, 11 January 2019 - 09:07
Post 6011
Sea News, Dover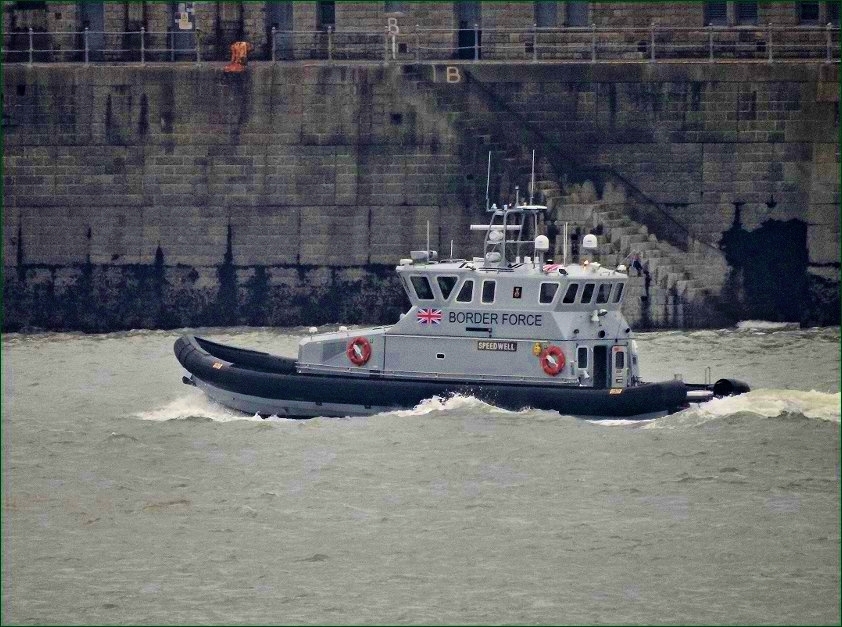 Border Force Speedwell making its way out of the Port of Dover yesterday morning..heading out for another 'tour of duty' out there in the Channel. Extra picture for this morning there, but also see todays other post below featuring the departing reefer.
PaulB
Friday, 11 January 2019 - 07:42
Post 6010
Sea News, Dover
The Atlantic Klipper heads to Vlissingen.
As promised.. some further pictures now of the Atlantic Klipper moving off earlier in the week.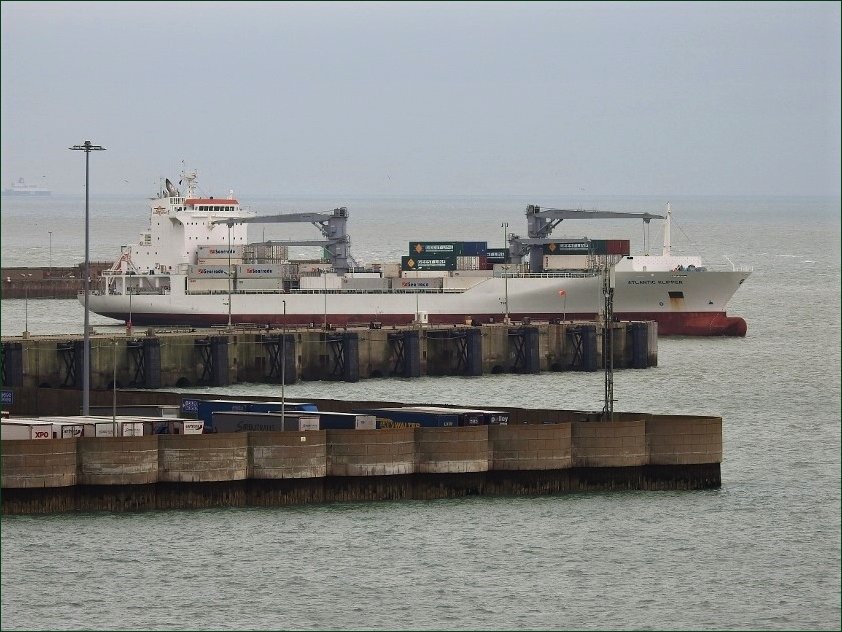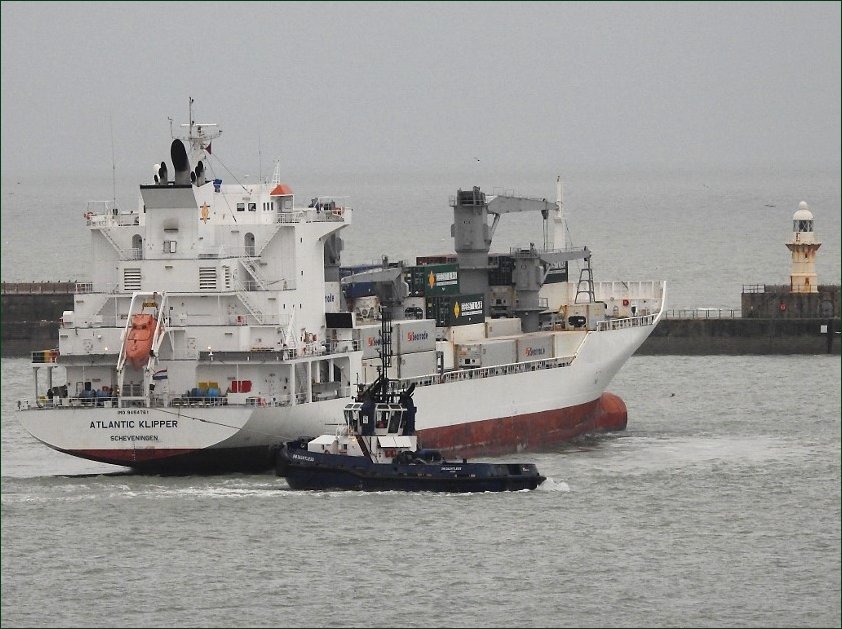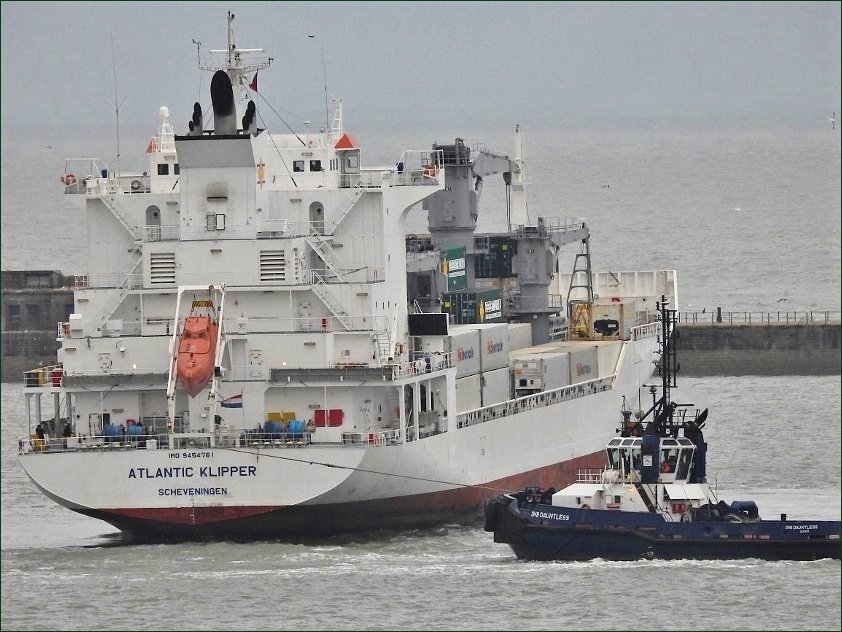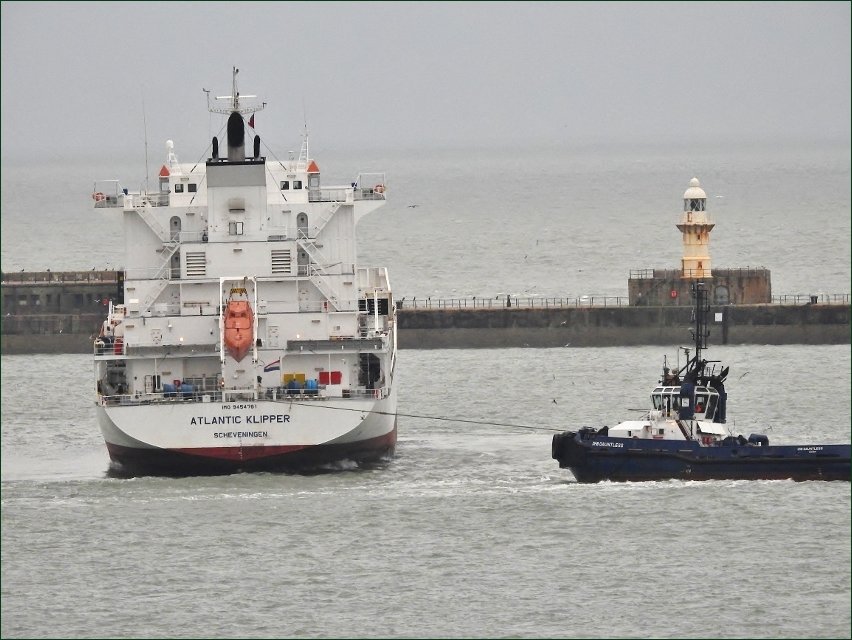 There she goes...the pictures are quite grey, we are suffering from eternal greyness at the moment. Gloom gloom all is gloom...speaking weatherwise of course

Friday, 11 January 2019 - 05:00
Post 6009
Sea News, Dover
The Maersk Connector.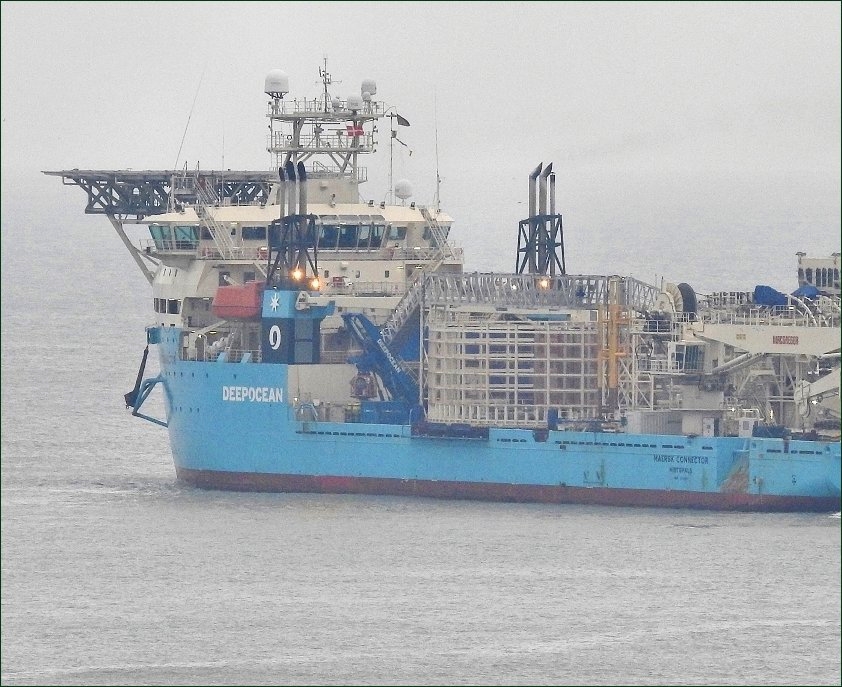 After a long stint in the Port over Christmas and the New Year, the Maersk Connector moved off today at 11.30 am this morning (Thursday). The picture above there shows her exiting the Port in the late morning gloom...she was destined to return to cable laying near Ramsgate.
Lol Brian - yes I thought something similar. You may well be right..


PB
Thursday, 10 January 2019 - 16:24
Post 6008
brian dixon, dover
pb. probably buggering of to warmer climes before Brexit sets in.

Thursday, 10 January 2019 - 14:54
Post 6007
Sea News, Dover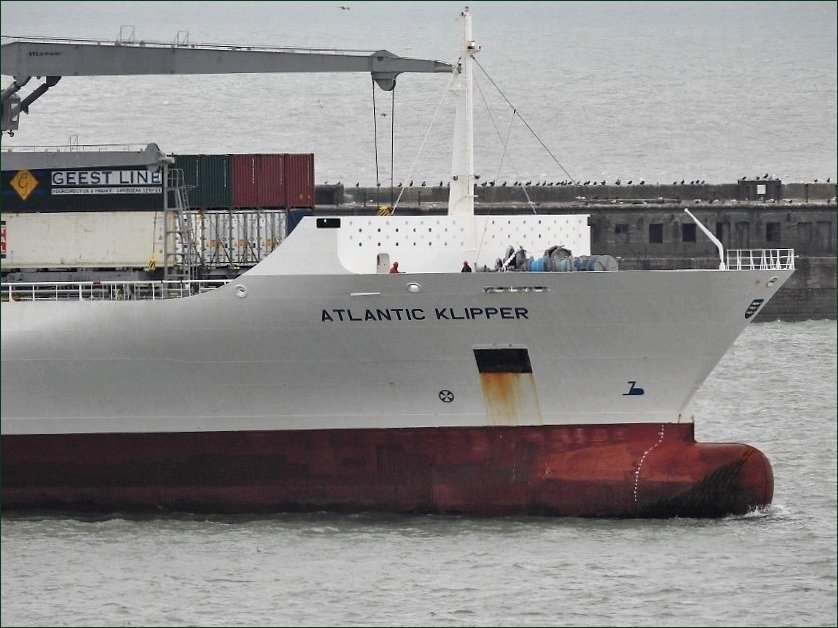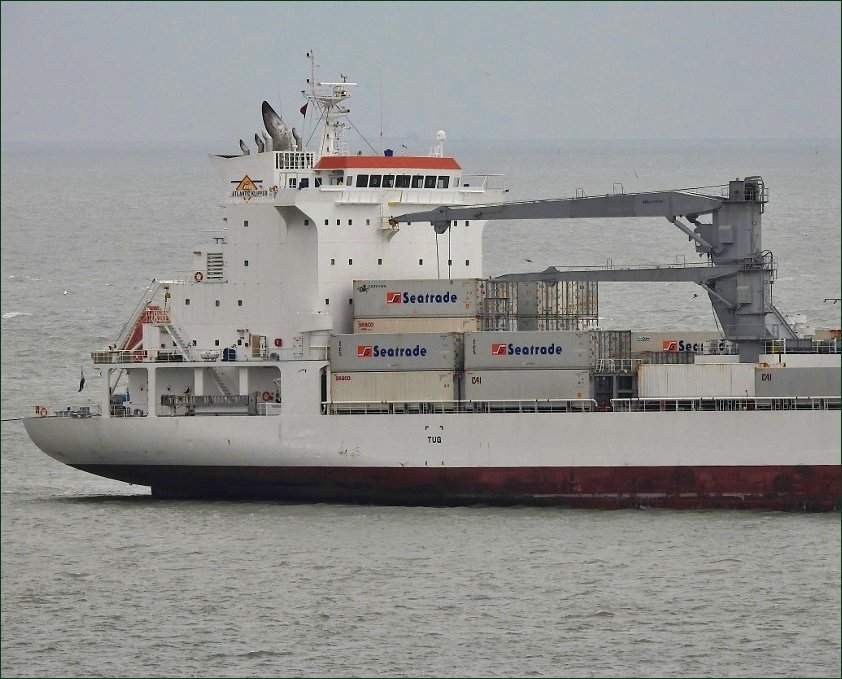 Some pictures above there of Atlantic Klipper readying for departure on monday. A bit behind schedule on this one. Just a couple of pix for the moment but will have further wider shots to add to this sequence following along in due course.
Ted is back with his 'famous five'

Cracking set of pictures below Ted...looking great.
You've got a marvellous method going with your pictures - great info too.
Don't Miss Those !
PB
PS: Just a reminder for all about our new 840 pixels wide size. If you want to resize that's the size to go for.
also
Just noticed a large group of camper vans along the seafront..they obviously spent the night here..
Has schpring schprung ?? When did that happen ??...

Thursday, 10 January 2019 - 06:06
Post 6006
Ted Ingham, Canterbury
'Five from Ramsgate'
The Water Injection Dredger JETSED.
Unlike a conventional dredger that either sucks up or grabs the mud/sand from the sea bed and then dumps it out to sea the JETSED is fitted with a very powerful pump that sucks in the sea water and then injects under very high pressure above the sea bed.
This stirs up the bottom silt layer and with the help of the tidal flow moves it elsewhere.
Used extensively on the Thames and Medway deepening berths alongside jetties where there is a very strong tidal flow.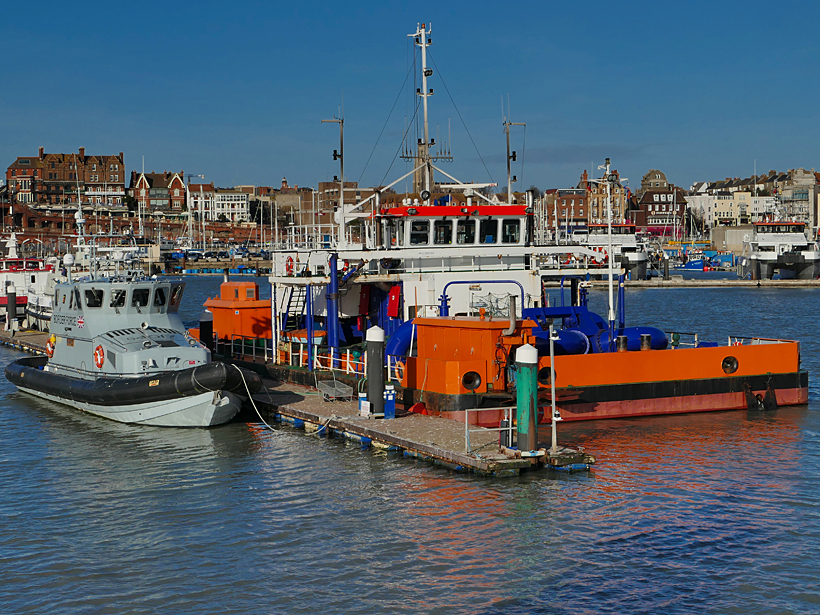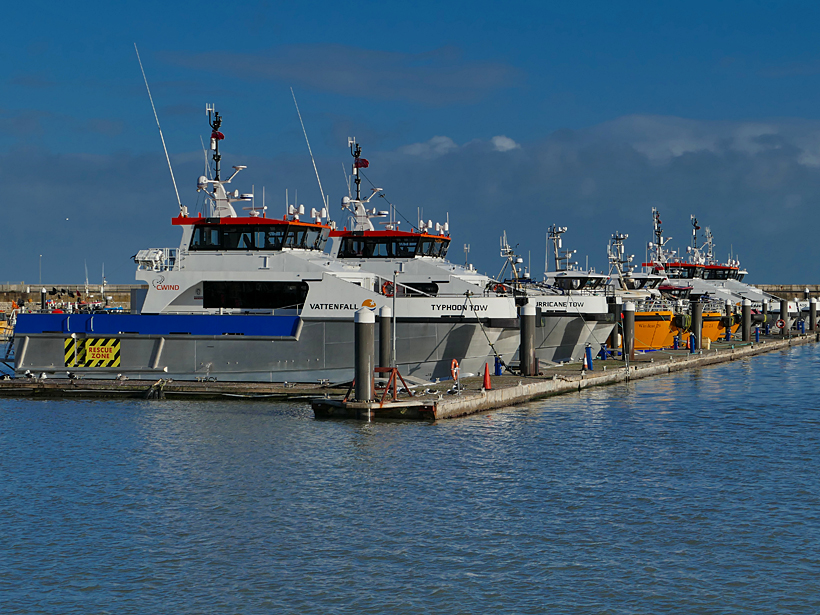 Due to the strong North Westerly winds the Windfarm vessels take a break.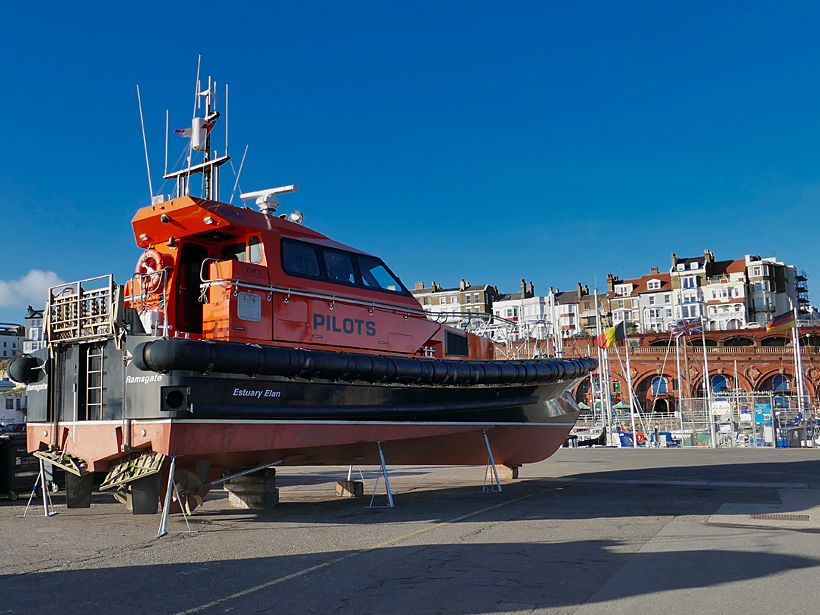 The pilot cutter ESTUARY ELAN undergoing maintenance on the Commercial Jetty.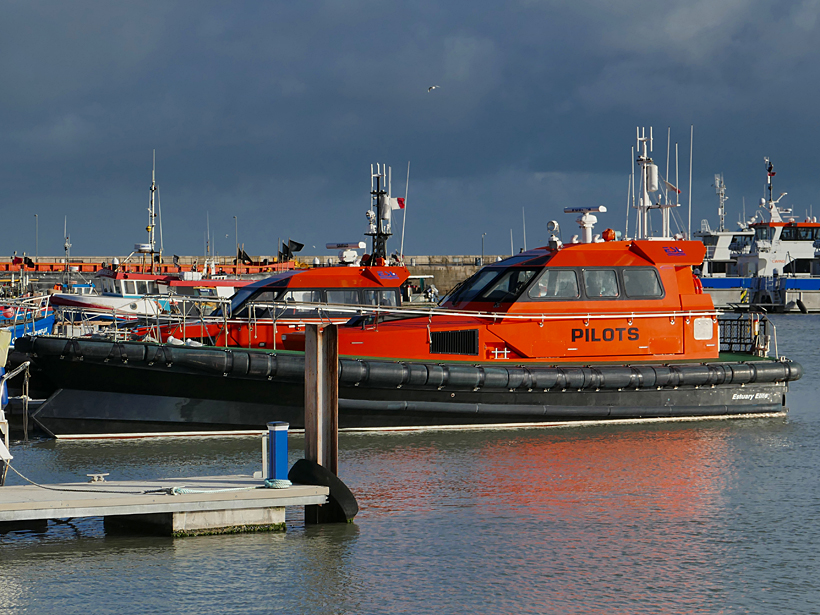 The duty pilot cutters await their pilots.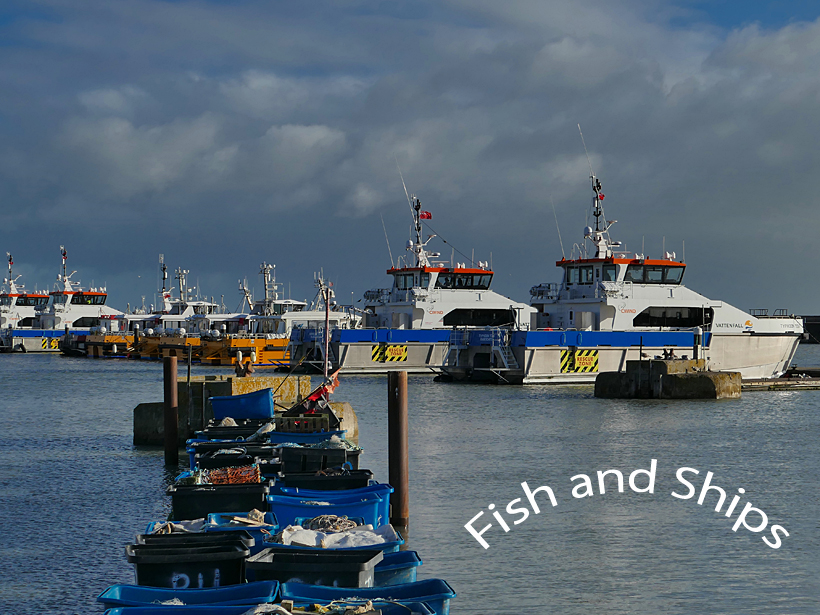 Wednesday, 9 January 2019 - 21:18
Post 6005
Sea News, Dover
Border Force Hunter and HMS Mersey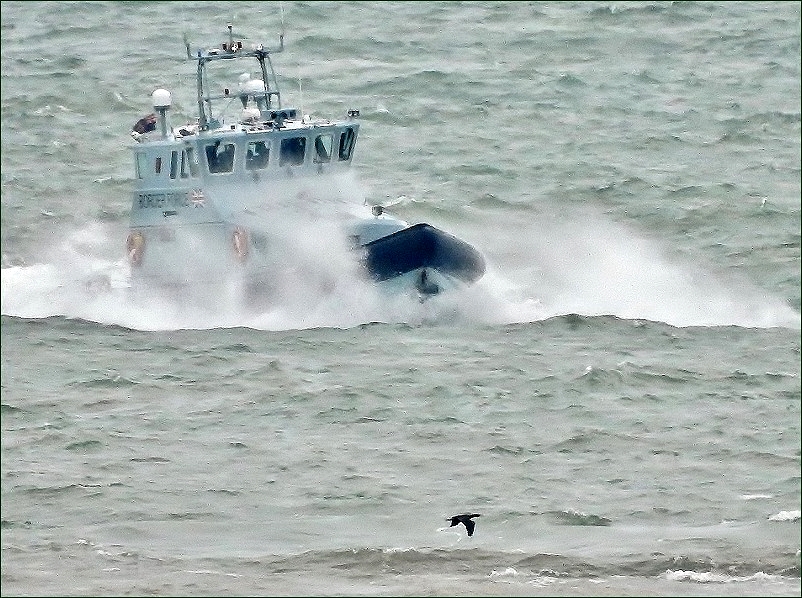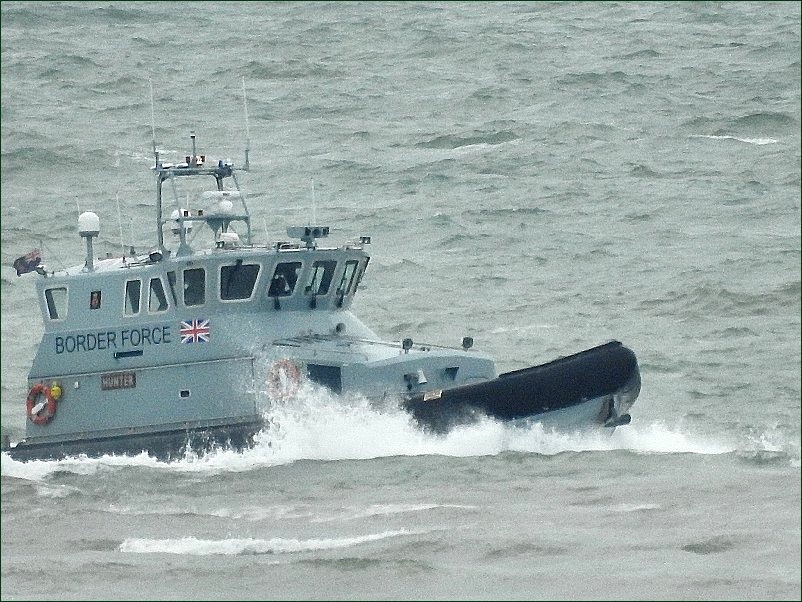 Yes indeed that's Border Force Hunter returning to base ( or one of its bases ) on Monday morning. She is powering through the grey choppy waters above there. Time of pictures which are fairly long range...11.42. And then below she reaches the inner calm sanctuary of the Port of Dover. Nearly lost her off the bottom of the shot there trying to accommodate the lighthouse...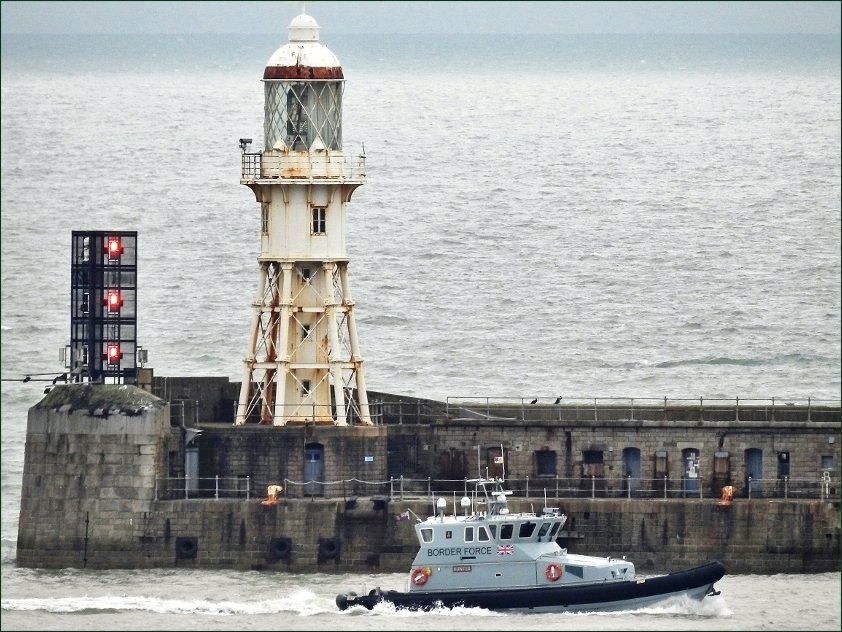 An even longer range shot below of our latest recruit to the migrant patrol...yes its HMS Mersey... picture taken yesterday afternoon round about 4pm or 16.00 hours. Once again its a bit grainy but we are getting closer, better..
Use the Search Engine above to see our previous pictures of HMS Mersey.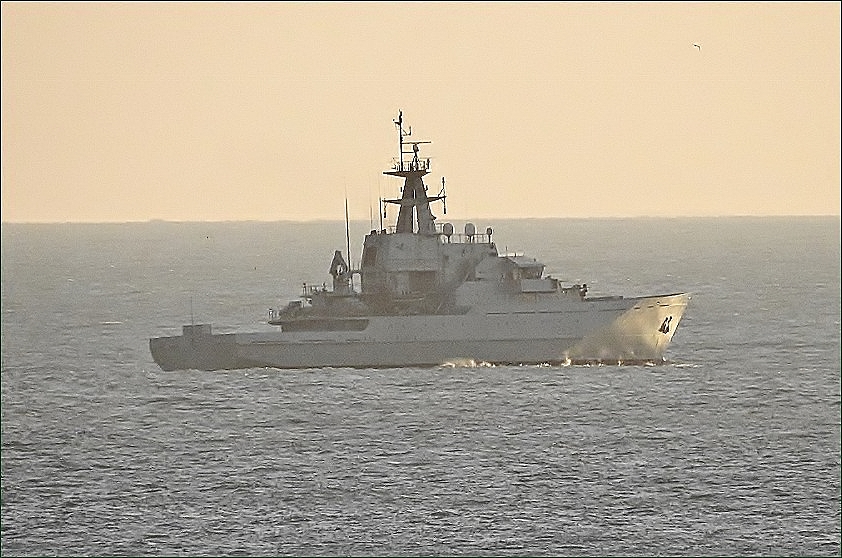 HMS Mersey.

Del there is very little clarity about anything coming from the dark corridors of the Palace of Westminster. The mother of parliaments is in disarray. And there doesn't seem to be much point in spending further money on the truck experiment anyway...as most seem to agree it didn't accomplish anything. Numbers taking part were too small... but we wait and see.
Yes the Premier Inn powers on. Nothing by way of change particularly visible now since the last shots, as most of the work seems to be going on inside...but will keep the sequence going. The port works continue...most of the water based workings seem to be over or partially over for now anyway...all the floating crane barges and the Holyhead Towing teams are gone, it drives on...

Ah yes I definitely spotted that Brian. Well done...
PaulB
Wednesday, 9 January 2019 - 07:45
Post 6004
Del Styan, Norwich
Just a thought - if today's vote is as I read it, and it's a bit technical, to put it mildly - if no money can be spent on no-deal preparations, maybe there will not be another Manston run?
On more lighter matters, how's the Premier Inn extension getting on? Have they resumed after the traditional 2 weeks construction holiday over Christmas? And has the Western Arm project restarted?

Tuesday, 8 January 2019 - 23:15
Post 6003
brian dixon, dover
cheers paul for pointing that one out, never noticed it at the time.

Tuesday, 8 January 2019 - 14:06
Post 6002
Sea News, Dover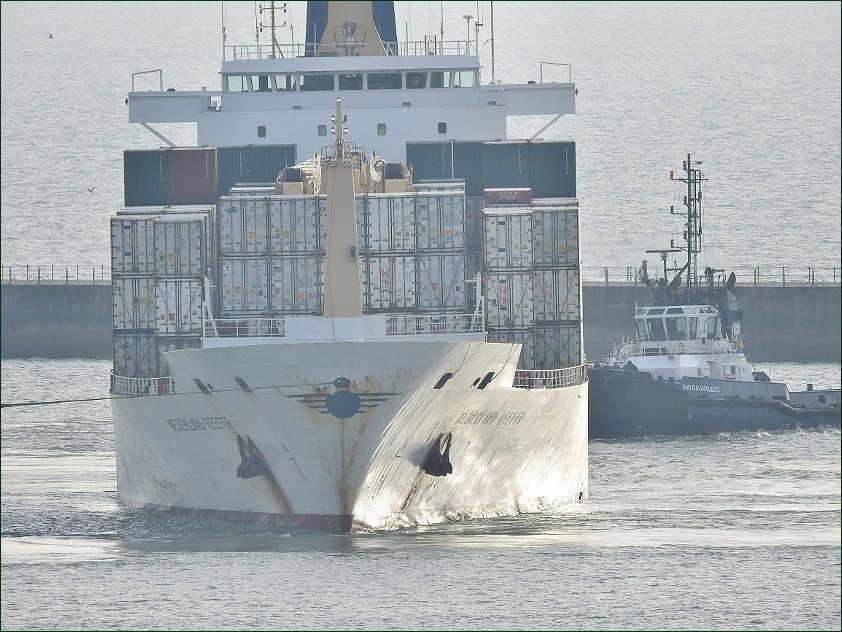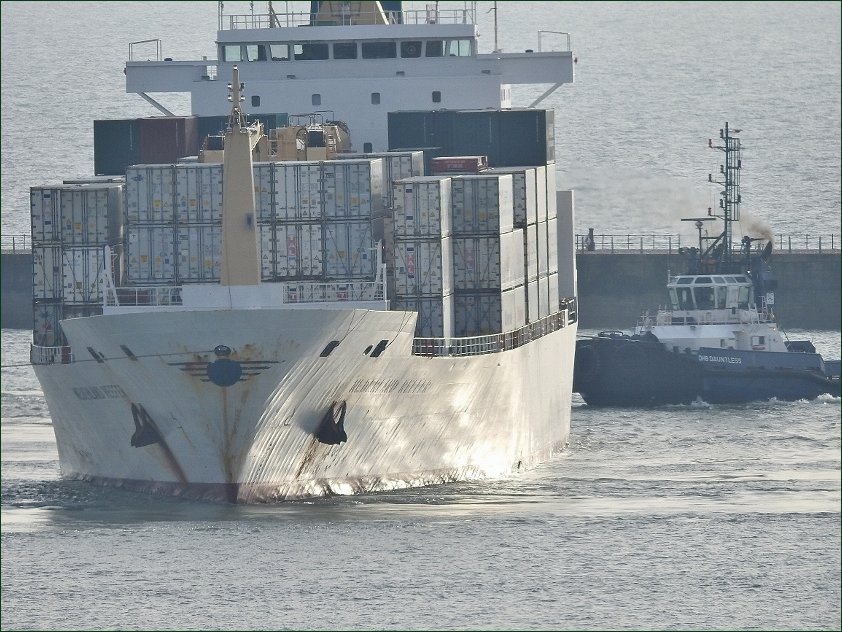 NEDERLAND REEFER arriving ...
Despite all the Brexit political turmoil and the various experimentations...normal life goes on at the Port of Dover. The pictures above there show familiar friend and visitor Nederland Reefer arriving yesterday monday mid morning. Two reefers in the port at one time...obviously more capacity needed and yes its coming.
Winding the clock back a few minutes below and you can see Nederland Reefer approaching the Port from distance. Visible there over the top of the Atlantic Klipper which had moved over to the eastern arm so that the Cargo Terminal could accommodate Nederland.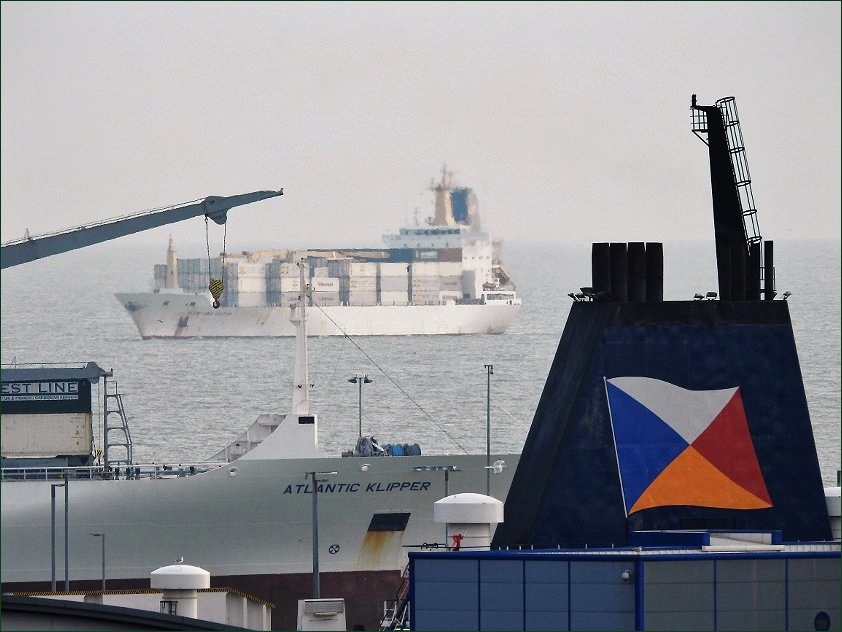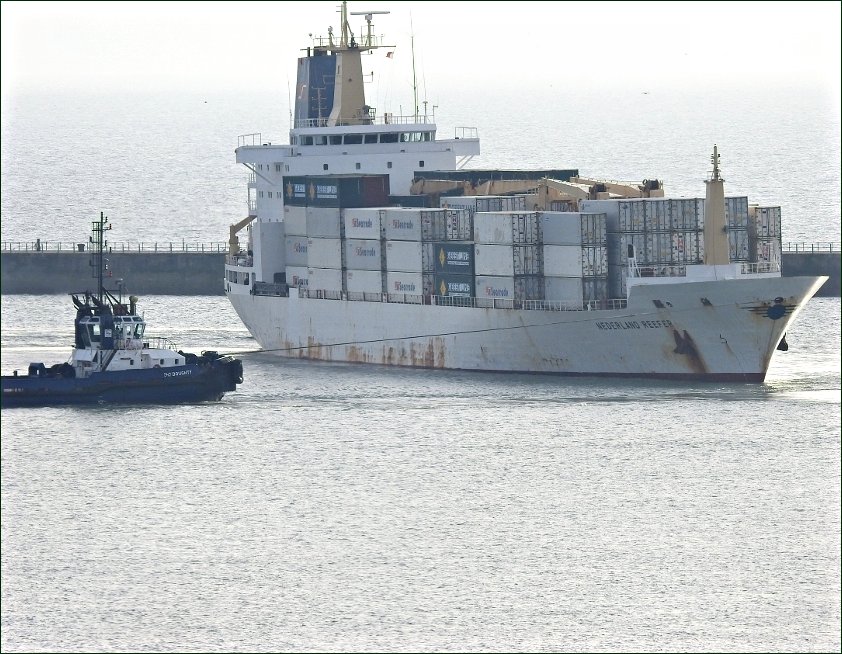 Some time later the Atlantic Klipper moved away heading for Flushing (or Vlissingen if you prefer) and we will have pictures of that one leaving in due course. We may have more Border Force shots first...
* *
News on yesterday's Truck Experimentation
From ITV NEWS ….
"
Authorities hoped up to 150 trucks would be involved, according to letters which emerged last week, but 89 arrived on the morning at the disused airfield which has a capacity of just under 4,000.
Some 10,000 lorries may be held on Kent roads on a routine basis if there is no deal, the council previously warned.
The exercise was "too little too late" and could not "possibly duplicate" the anticipated reality, according to the Road Haulage Association's chief executive Richard Burnett.
He said the test may need to be repeated, adding: "This process should have started nine months ago. At this late stage it looks like window dressing."
The criticism comes just days after questions were raised over a £13.8 million no-deal Brexit contract awarded by DfT to a ferry company which has not yet run services and faced accusations it copied part of its terms and conditions from a takeaway firm.
"
Press Release below from the Road Haulage Association

"Its too Little too Late"
January 7th : Today's Kent truck trial at Manston Airport, part of the county's Operation Brock contingency plan in the event of hold ups at the port of Dover has been a success in as much as approximately 80 HGVs trucks now know what to do in the event of lengthy, local traffic queues between Manston and Dover.
Commenting, RHA chief executive Richard Burnett said: "Of course it's good to have a plan in place but today's limited scope trial will need to be repeated to stress-test other aspects of the management of thousands of lorries properly.
"Today's trial cannot possibly duplicate the reality of 4,000 trucks being held at Manston airport in the event of a no-deal Brexit.
"It's too little too late – this process should have started 9 months ago. At this late stage it looks like window dressing."
ENDS
Some news above there Del. There was some good filming by helicopter on the news programmes last night. On the grand scheme of things this was a very small scale experiment .. and very spartan when viewed from the air which gave a good assessment of scale.
Sadly Del our own budget for helicopters has exhausted itself!


That was a funny one Brian.. it raised a chuckle or two..

We have to have a smile in these bewildering times.
Congratulations you have just made our 6000th nautical related post

PaulB

Tuesday, 8 January 2019 - 07:17
Post 6001
Del Styan, Norwich
Be interested on any news of the Manston convoy - staggered, of course. And I loved your point and shoot pic of the western docks at dusk.

Monday, 7 January 2019 - 23:16
Post 6000
brian dixon, dover
as for manston what a farse, only 89 turned up including 2 removal lorrys and a dust cart. lol

Monday, 7 January 2019 - 15:45
Post 5999
Sea News, Dover
Cornelis Vrolijk
As promised here we are with pictures of trawler Cornelis Vrolijk, first one taken as she waits in the harbour here for a fresh crew.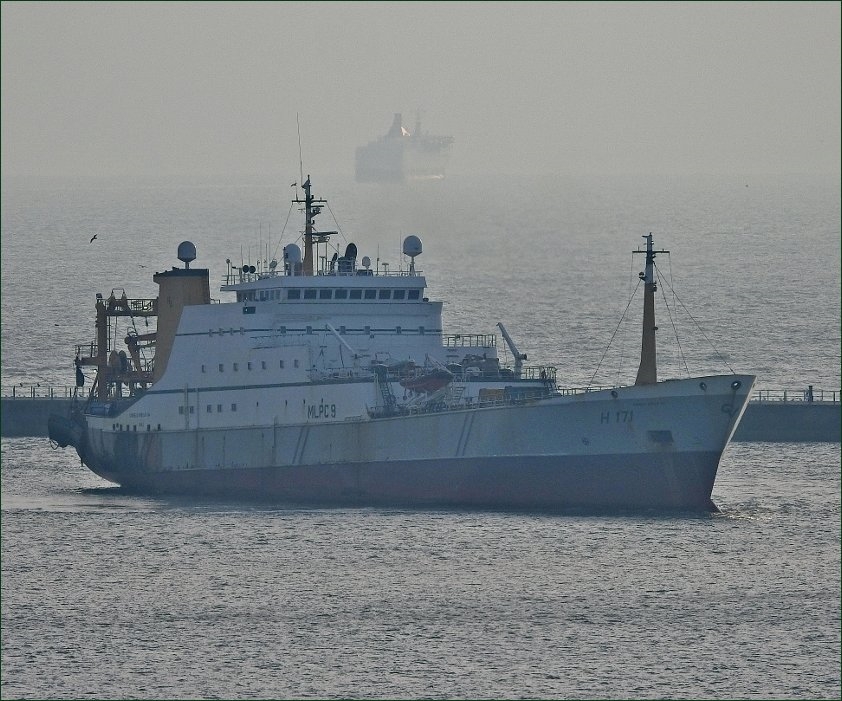 She never lingers too long and a short time later with replenished crew...away she goes with the pilot boat alongside. Both pictures taken on friday.
Out into the gloom, once more ...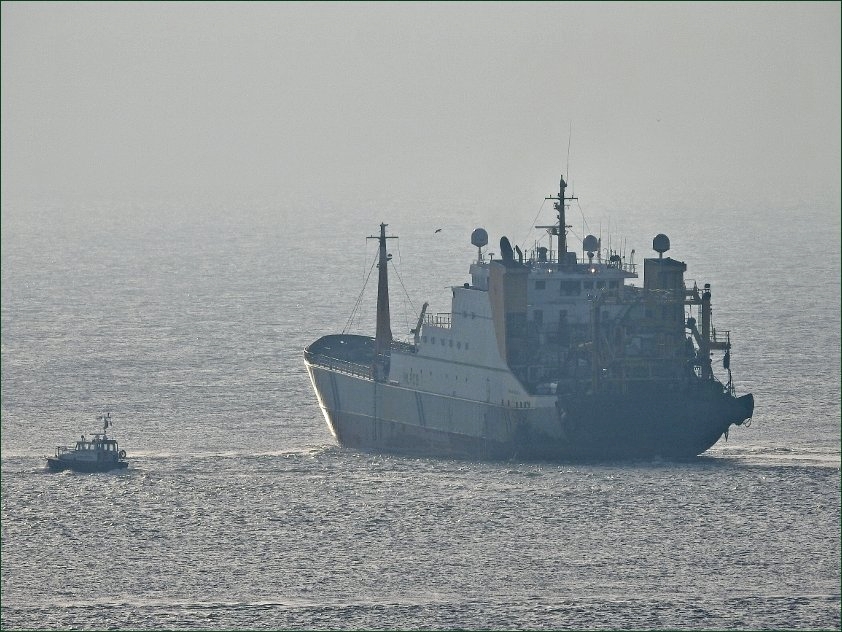 Yes gloomy conditions prevail camera-wise particularly over longer range.
First picture below shows Border Force Vigilant out there...gently moving by..
tried to zoom in closer but 'twas no good.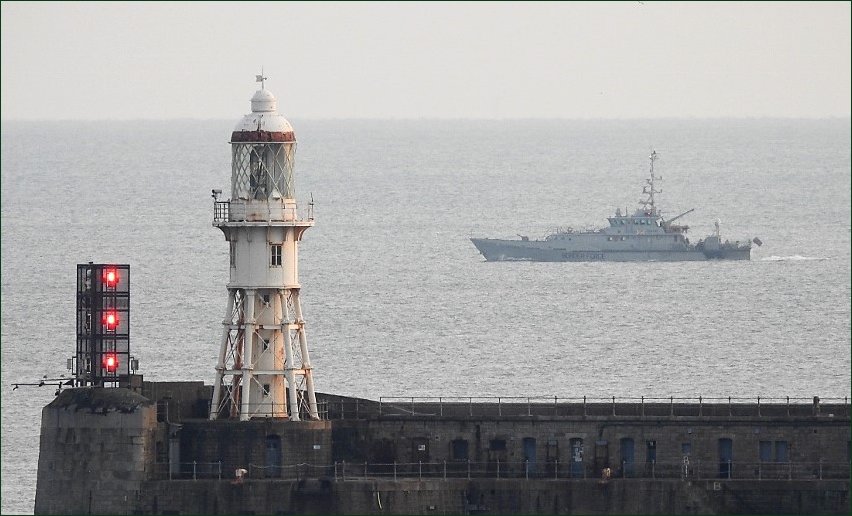 Just to confirm that HMS Mersey is also out there...here she is yesterday just off the Port of Dover. Alas this picture is atrociously bad and shouldn't be used...but we thought we would show it for record purposes.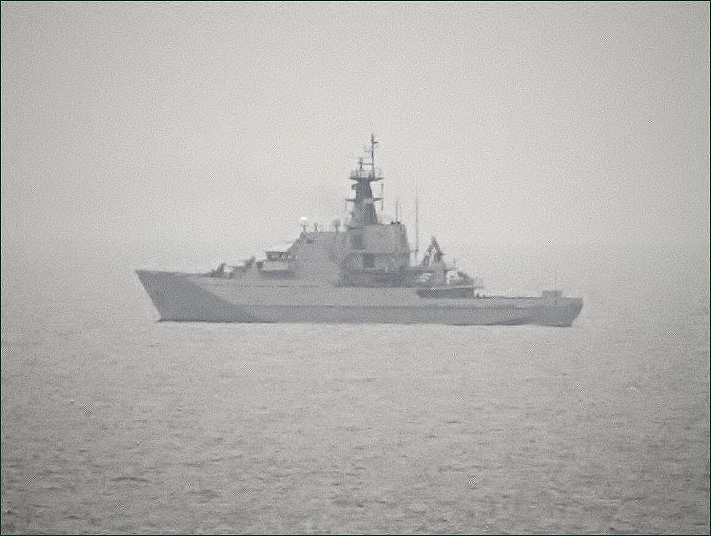 This is the day that 100-150 trucks will be accumulating at the former Manston Airport and descending on the Port at the behest of HMG. This is part of the no deal Brexit strategy...or so it seems....
From the BBC:
"
More than 100 HGVs will travel the 20-mile route from Manston Airport, near Ramsgate, to the Port of Dover from 08:00 GMT. Hauliers fear a no-deal Brexit will create additional border checks, leading to queues of up to 29 miles.
The government said it had to "prepare for all eventualities... including a possible no deal".
The trial, between 08:00 and 11:00 GMT will test how the A256 copes with increased lorry traffic.
"
Check for that lot thundering into your rear view mirror...
PaulB
Monday, 7 January 2019 - 07:32
Post 5998
Sea News, Dover
We're in colourful mode for Sunday morning, both pics taken on Friday at both ends of the day...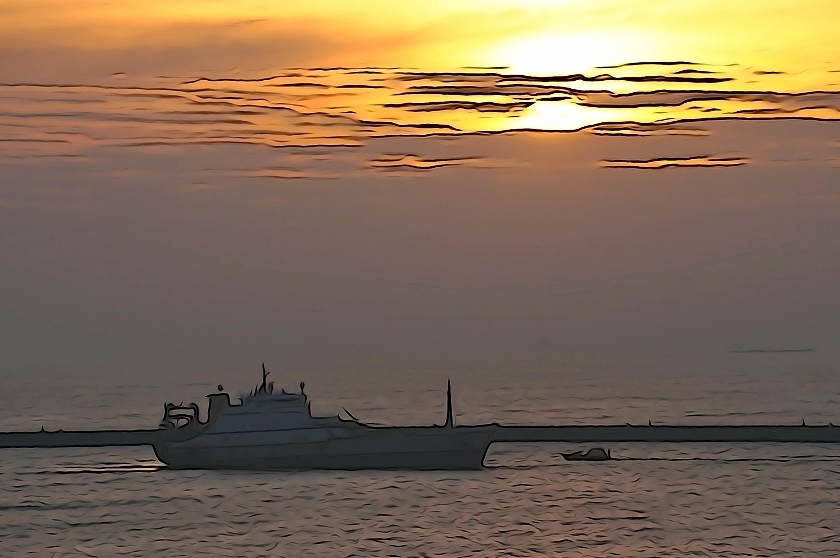 Cornelis Vrolijk; yes that's our ol friend the long distance trawler Cornelis Vrolijk above there early on Friday 4th. Every few months she comes into the Port here for a crew change and there she is. The computer decided to make a painting of this one, but we will have some real pictures on Monday which were taken on the other camera just to be sure. The machines are taking over...
Late in the day Friday 4th now...and for a brief period there was a dazzling sky over the Port of Dover and of course Dover Seafront as you can see below. An all natural bog standard shot...a point 'n' shoot shot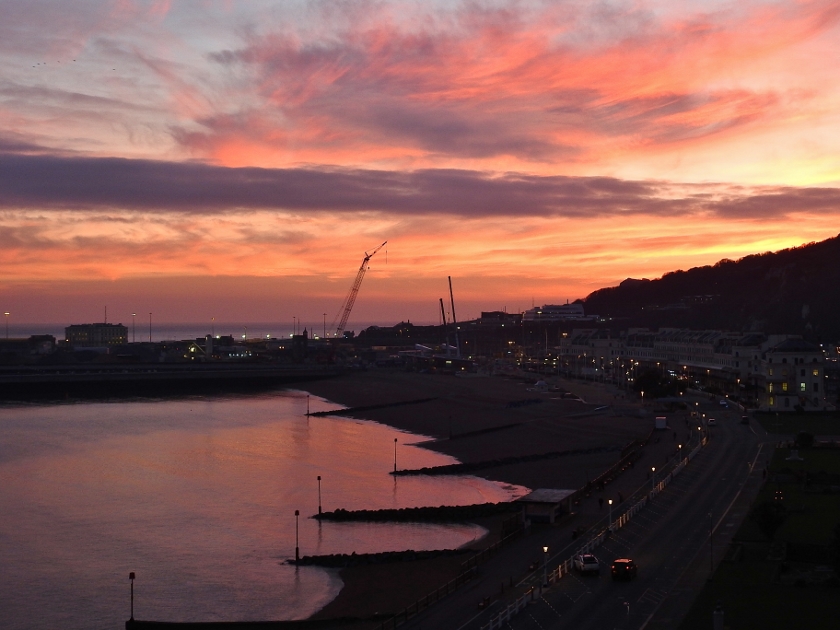 The huge Baldwin crane now absent from our immediate horizon.
We spotted HMS Mersey out there yesterday...so she has arrived. Visibility was way too poor for a new picture...she moseyed up and down as did the Border Force. will aim to get a picture or two in due course.
Del yes its all happening...but in an unhappy way for those trading with the EU...so its going to be an 'interesting' month in parliament and beyond that's for sure.

Harald many thanks for that info. Good to hear from you again...always welcome.

PaulB
Sunday, 6 January 2019 - 07:47