Thursday, 20 June 2019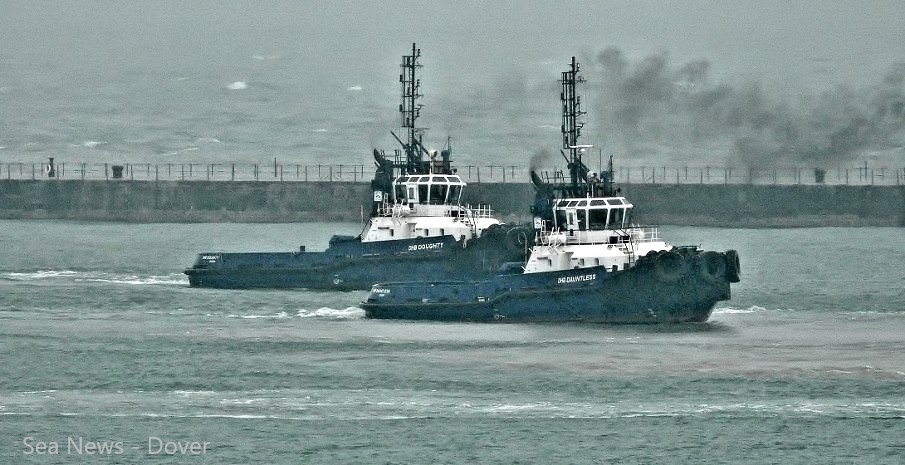 Just having sent Pacific Reefer on her way, the tugs turn back into the Summer (!!) gloom....

WWW.DOVERFORUM.COM/SEA-NEWS
Featuring all the ships that come and go and work at the Port of Dover ..
... with further coverage of the surrounding ports.
Sea News Dover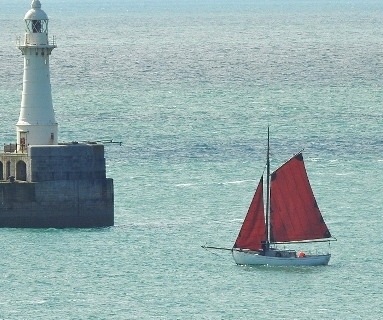 DFDS NEW SHIP for Channel see 6303
DFDS Europe's award winning Ferry Operator 6332
Port of Dover : Virgin Voyages 6289
Port of Dover: Brexit Resilience 6123

P&O Ferries: Alternative Euro Breaks 6298
P&O Ferries: Record Fundraising for Lifeboats see 6253
Port of Dover: Reducing Carbon Footprint 6332
Port of Dover: New Cargo Manager see 6205

Thames Estuary Forts 6250
SS Richard Montgomery at rest (WW II Supply Ship ) 6329
DFDS: ORCA 6179
Premier Inn completes see 6149 plus

Scroll down to see the Boudicca D-Day pictures in several posts.
Use our SEARCH ENGINE below to find all sorts on the SEA NEWS pages....
type in the topic and away you go, or if you have the post number as shown above, just type it in the box, more than - 6300 - nautical posts now.
Posts are welcome. just click 'Add Your Comment' below. Max of 5 pictures preferred although we can stretch that for special stories..
Sea News Editor Paul Boland - send info or pix to dover7@msn.com. Always welcome.
CRUISE CALLS:
https://www.doverport.co.uk/cruise/find-a-cruise/
UPDATE:
To show your pictures at their best..it could be worthwhile resizing before posting to
850
pixels wide.
All pictures on these pages are the copyright of the owners and must not be reproduced without permission.
Post 6269
JanT, Dover
Opening the curtains this morning to see two more cruise ship's sitting in the harbour.
Took a drive on the new piece of road and across the new bridge yesterday, along with the new pier it all looks very impressive

Monday, 13 May 2019 - 08:30
Post 6268
Sea News, Dover
P&O FERRIES PAYS BACK CUSTOMERS WITH FREE FUEL VOUCHERS
_______________________________________________________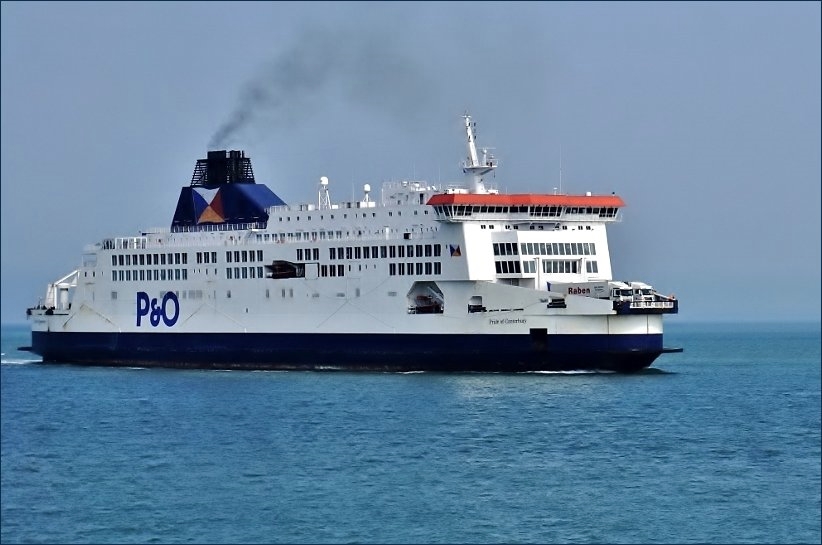 P&O Ferries is encouraging Brits to venture further when exploring Europe, by giving away £20 worth of free fuel for long break (5+ days) return bookings, or £10 of free fuel credit for single journeys from Dover to Calais.
Travellers can book direct on the P&O Ferries website from now until 5th June, for travel until 15th July 2019, using promo code Q2FUEL19. Valid for motorised vehicle bookings only, excludes bicycles, foot passengers and commercial vehicles such as vans.
Sarah Rosier, Director of Passenger Sales at P&O Ferries, said: "Just one of the many reasons people choose to sail with us to Europe is the freedom to take their car abroad and travel on their own steam. There are so many incredible destinations across the Continent reachable by ferry, from France, Spain, Belgium, the Netherlands and Germany – all within a day's drive from Calais."
"By filling our customer's tanks with an extra top up of fuel, we hope to lessen worries around rising fuel costs. This offer is also there to encourage people to travel further and explore beyond the usual tourist hotspots – by discovering somewhere new who knows what unforgettable holiday memories await."
To redeem your free fuel voucher (valid 24 hours after you've sailed), follow the below steps:
Use promo code Q2FUEL19 when you make your booking
Fill up on fuel
Follow the link on your e-voucher email
Enter your unique code and upload your fuel receipt
Once confirmed (within 7 days) fill in your bank details via the secure portal
Receive payment direct to your account
There are up to 23 sailings a day between Dover and Calais with P&O Ferries, which are 90 minutes in duration, giving flexibility to fit your schedule and ensuring a relaxing trip across the Channel. On board are a variety of eateries, including The Brasserie for an a la carte dining experience, as well as the Food Court, offering a full range of family favourite dishes. For those who want to travel in further comfort, spaces at the Club Lounge are bookable from just £12 per person.
For more information, or to book a crossing visit www.poferries.com.
-Ends-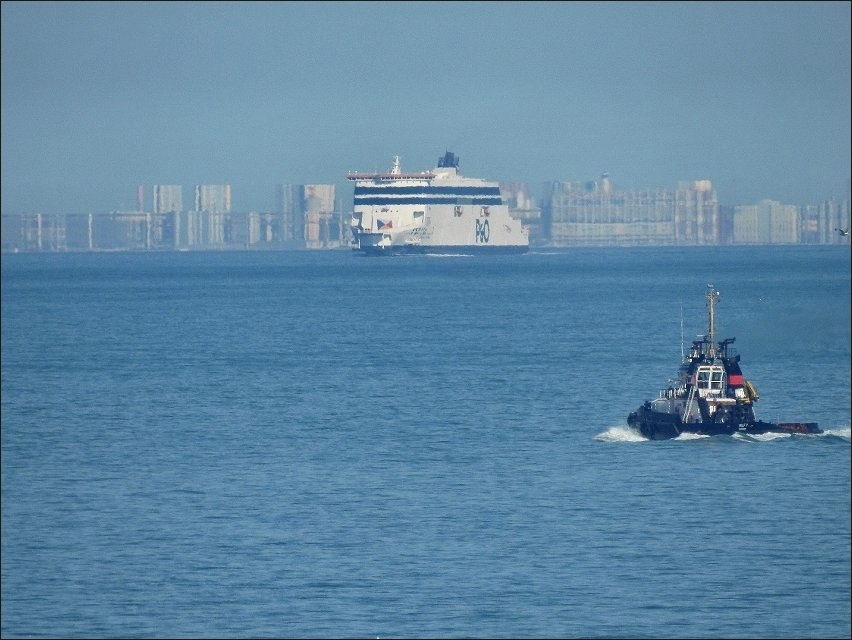 One of the P&O Spirits making its way back from Calais in the picture above. We have shown this one before but the mirage affect showing the buildings in Calais behind the ship is quite extraordinary. Its rare to get that effect so worth showing again. Obviously a long range pic...with the tug Wulf in the foreground.
Top shot shows the Pride of Canterbury approaching the Port of Calais.
A fascinating and novel idea above there from P&O Ferries. Some good offers from P&O at the moment see top of page. Like that other well known brand says..."every little helps!"
Many thanks to the team at P&O for the info.
* *
A busy time of it this weekend for Border Force.
The following pictures show the Border Force cutter Searcher in action yesterday evening just off the Port of Dover... more below..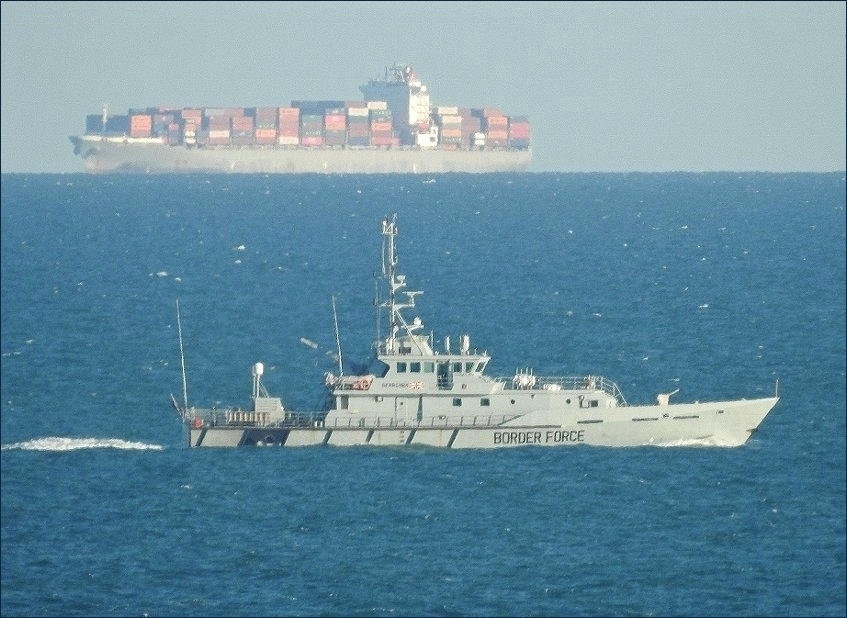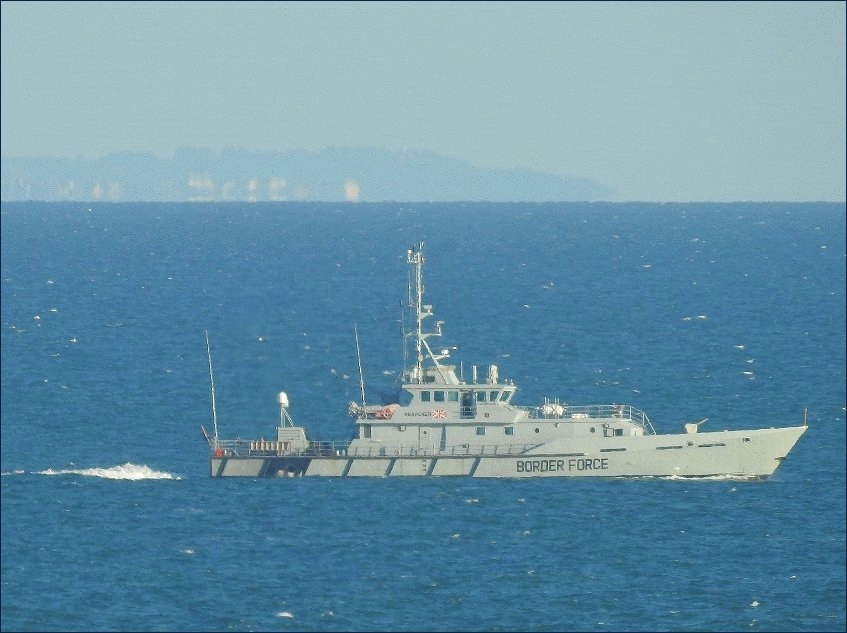 From the BBC...
"
Eight children were among 26 migrants intercepted in two dinghies off the Kent coast, Border Force said.
The first boat, carrying 14 people, was spotted by a fishing vessel in the early hours, before being intercepted by two Border Force cutters. A second boat with 11 men on board was met by a Border Force patrol boat.
All 26 have been checked over and four were sent for "further assessments" in hospital, the Home Office said.
"
AIDAvita was in with us again yesterday and we see another double whammy today..
Saga Sapphire and Viking Sun, so a very busy time of it.
Cracking shot below Patrick..

PaulB

Monday, 13 May 2019 - 06:08
Post 6267
Patrick, Marine Parade
Yesterday the cruise liner 'Crown Princess' was just visible out in the channel as it passed our Port en route to Le Havre from Scotland. In the process dwarfing the 'Cote Des Dune' ferry crossing the lanes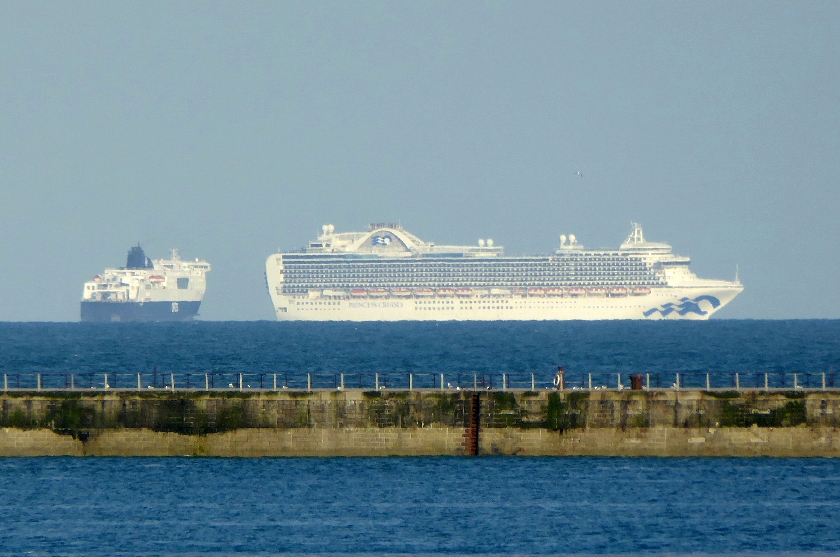 Sunday, 12 May 2019 - 22:37
Post 6266
Sea News, Dover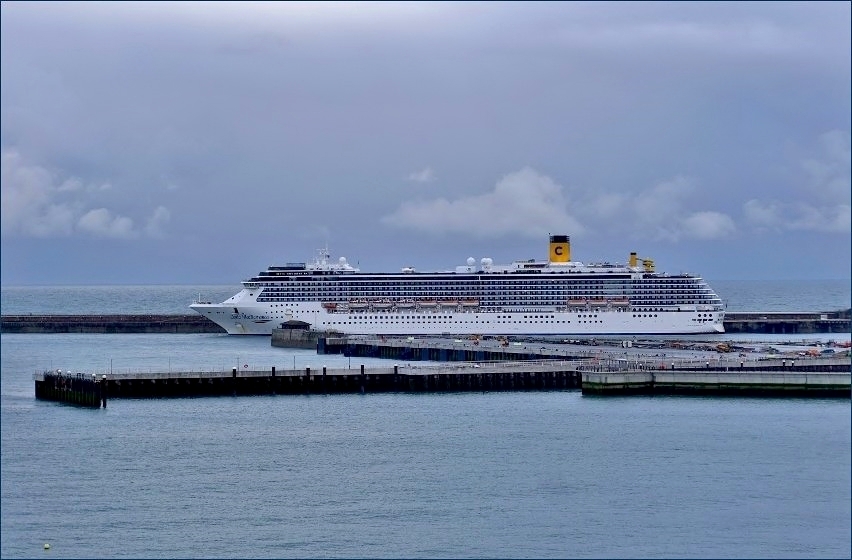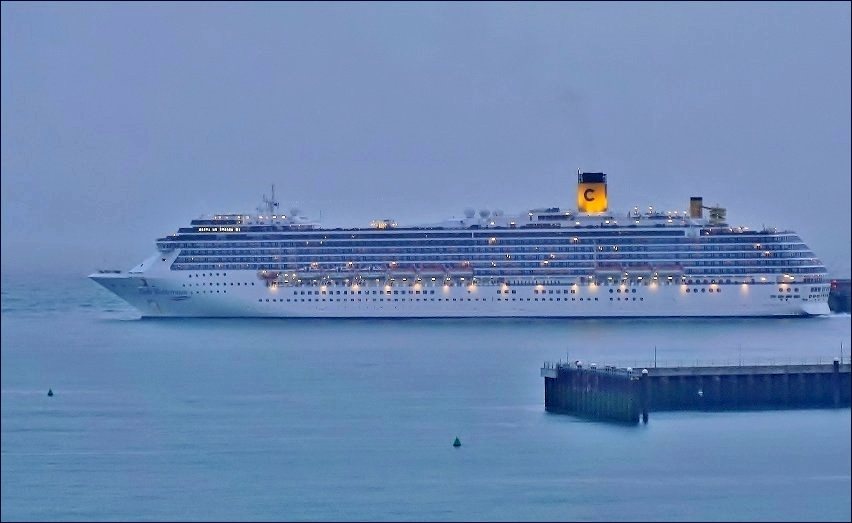 Costa Mediterranea
Some late-in-the-day pictures of Costa Mediterranea above there. Top pic shows her getting ready for departure and the following one shows the huge ship underway...it was getting dark as you can see. She was off to Bremerhaven in Germany as part of a seven day round cruise from Amsterdam/Ijmuiden which took in Bruges/Zeebrugge and Cherbourg and of course Dover and Bremen. Great to see the Costa ships still coming... always welcome. Pictures from Thursday evening.
A novelty pic of sorts below. Bog standard shot showing the harbour in the gorgeous sunlight 2 days ago. Yours truly is always amazed by the fixated patterns in the water, the regimented lines...a natural phenomenon.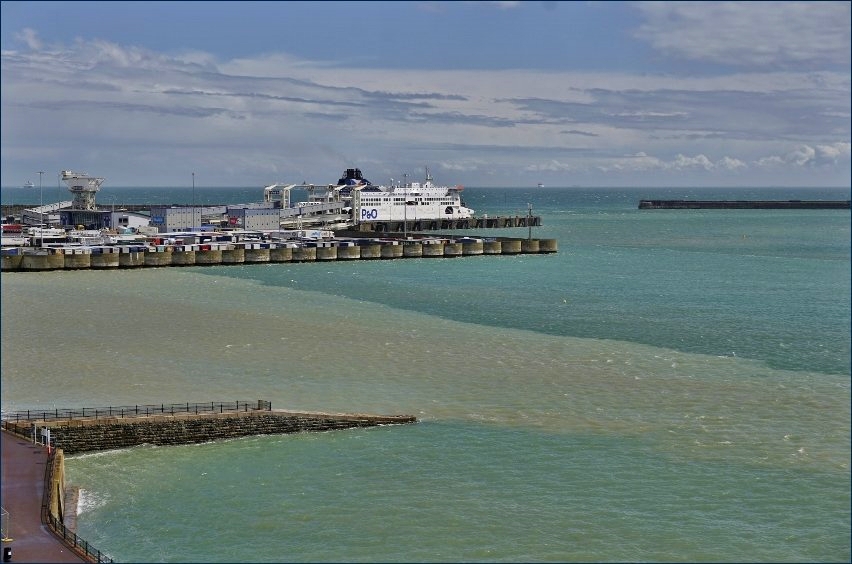 PB
Sunday, 12 May 2019 - 06:22
Post 6265
Sea News, Dover
Cargo Activity at the Port of Dover.. from the past few days...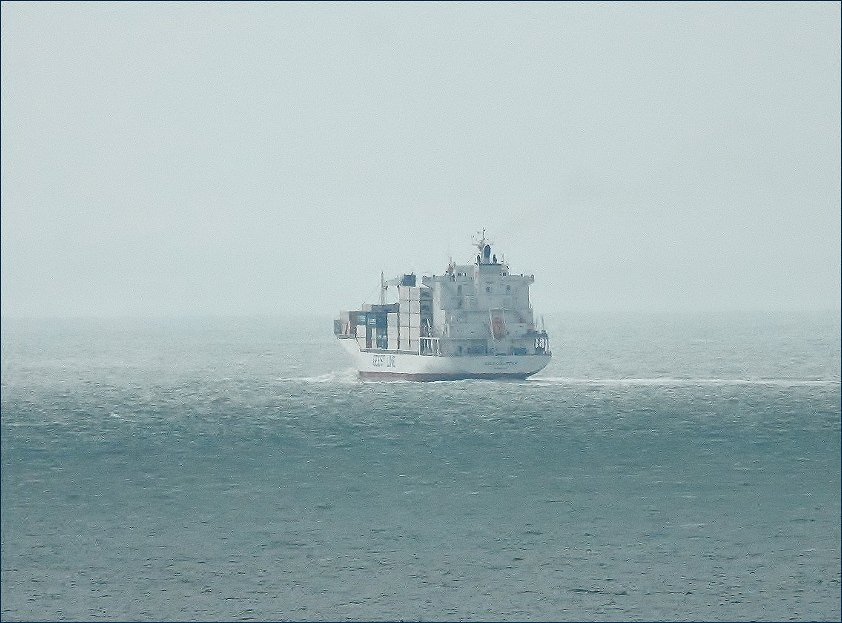 Distant picture above there of the Baltic Klipper moving off earlier this week. Just caught the tail end of her in the distance as she set sight for Bridgetown in Barbados...a long run.. she was just about to disappear into the low hanging mist above there..
Enter Stage Left: Just as Baltic Klipper moved off...in towards Port from the east came the Atlantic Reefer, yes to the left of original shot. You can see the ship here below approaching and entering Port...
Atlantic Reefer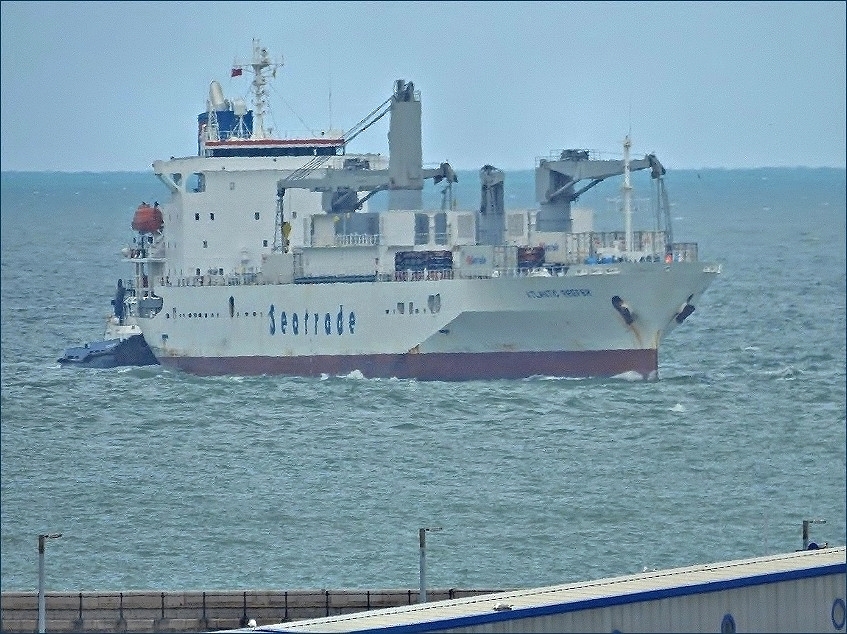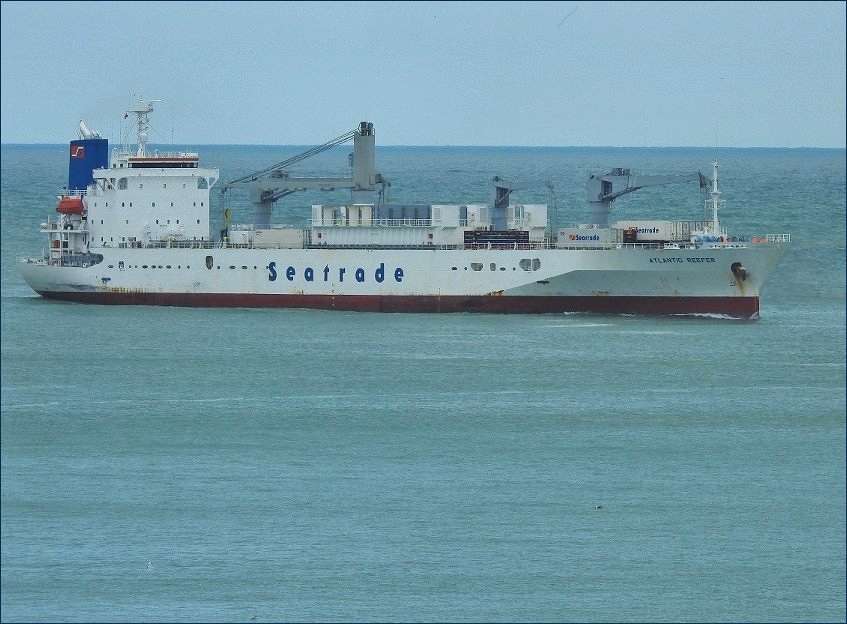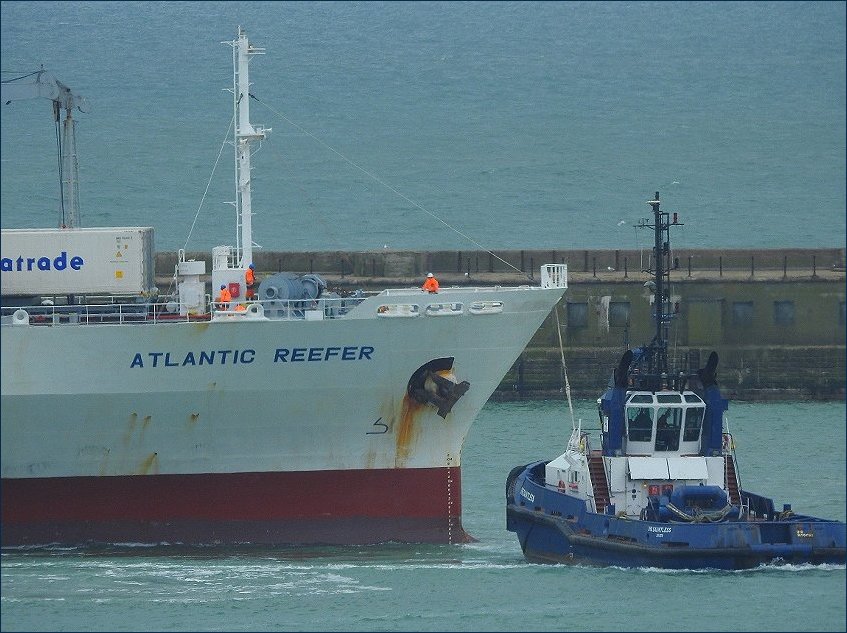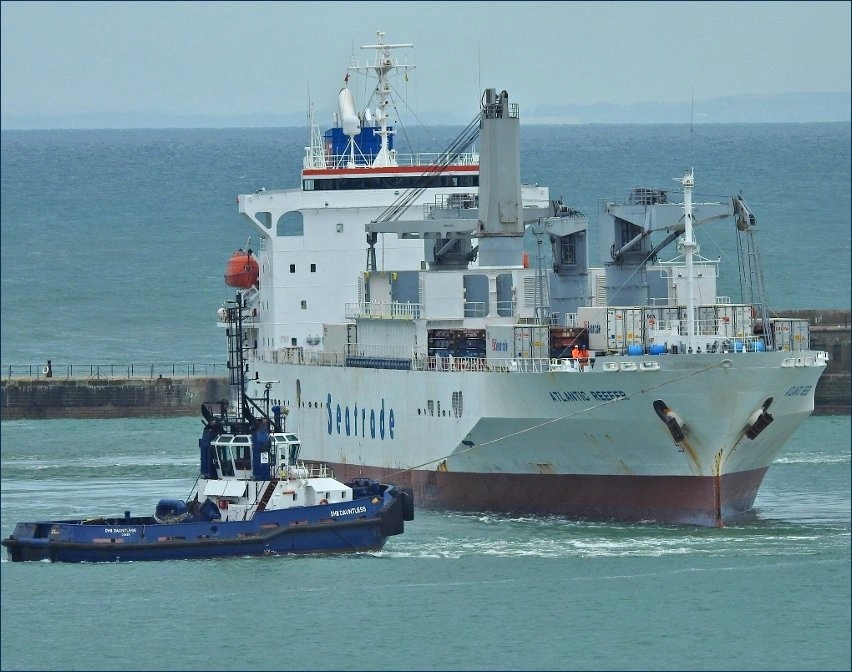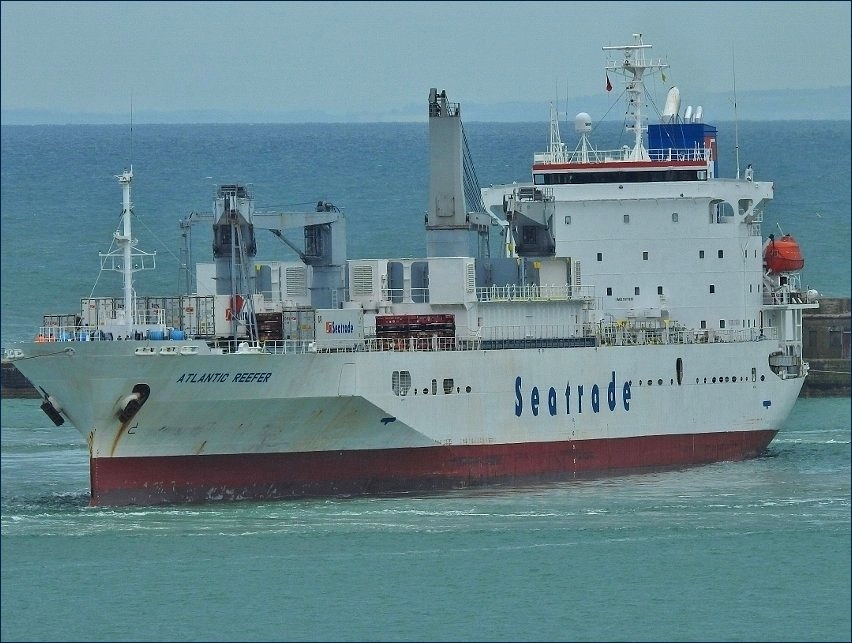 There is another reefer in Port as of now...Luzon Strait...so they come thick and fast. Never a dull moment!

Thanks Del, yes quite enjoyed that pic myself...not everyday you can get a pic of the French Coast due to visibility issues etc...
PaulB
Saturday, 11 May 2019 - 06:31
Post 6264
Del Styan, Norwich
Great long range shot of the Calais coast. Well done!

Friday, 10 May 2019 - 22:44
Post 6263
Sea News, Dover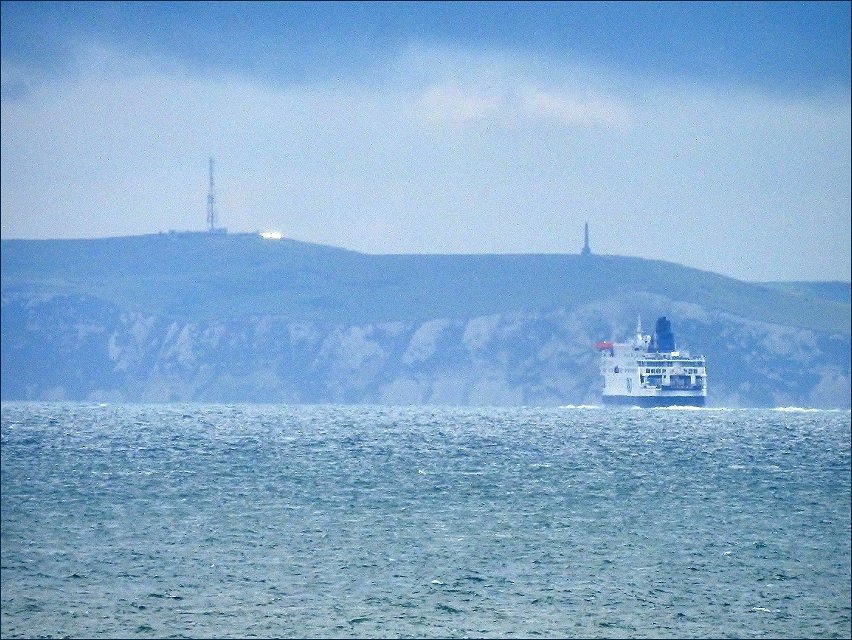 Just adding this very long range shot taken yesterday. The building at the very top of the French Cliffs beamed an amazing light across the channel as the sun caught something there late in day. Its obviously some sort of communication station there on top of Cap Gris Nez. The picture doesn't quite catch the beam of light but amazingly it came out fairly well all the same considering the range and mist etc..etc...
Friday, 10 May 2019 - 15:25
Post 6262
Sea News, Dover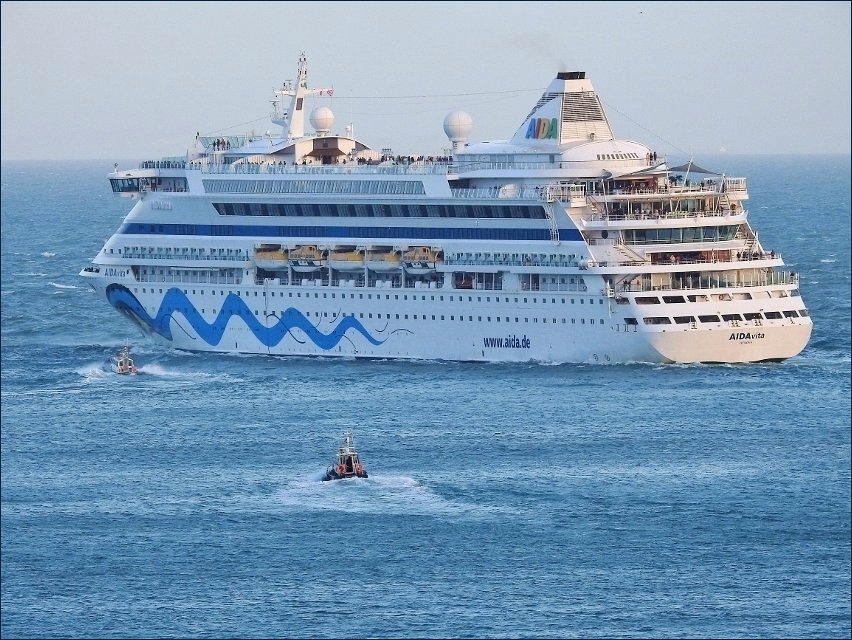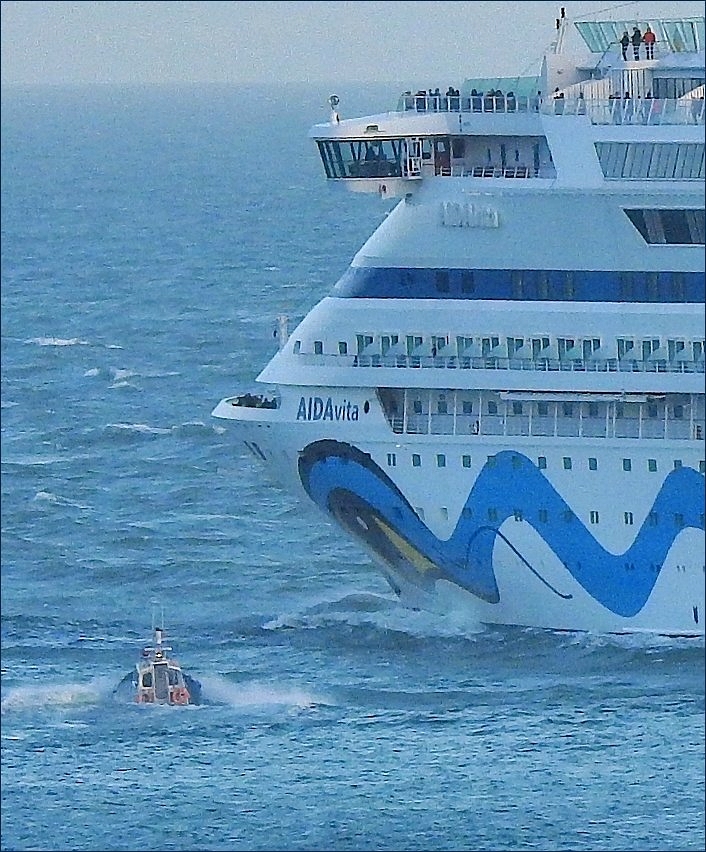 Top two pictures show AIDAvita departing on Wednesday evening at 19.50 or close to 8PM. Taken of course in fading light at that time...she was off to Hamburg via Amsterdam having cruised all the way across the Mediterranean from Crete. The pic below is from an earlier time and shows the other angle as it were. Nice looking ship for sure...bit smaller, not one of the 'whoppers'.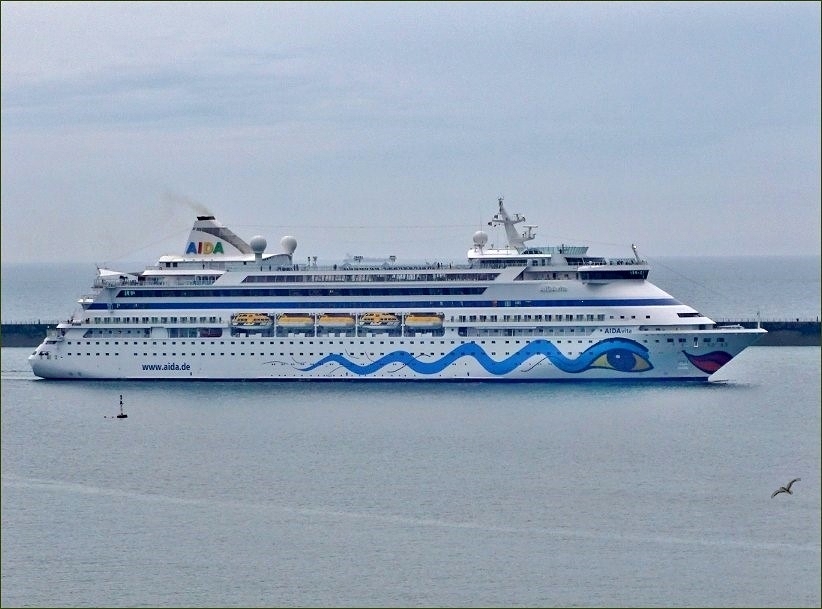 The same day we had AIDAluna...so we had an impressive double whammy of AIDA's. The pictures below are from the visit just before. As the ship comes in very regularly and we were not able to catch up... here we are now at last...AIDAluna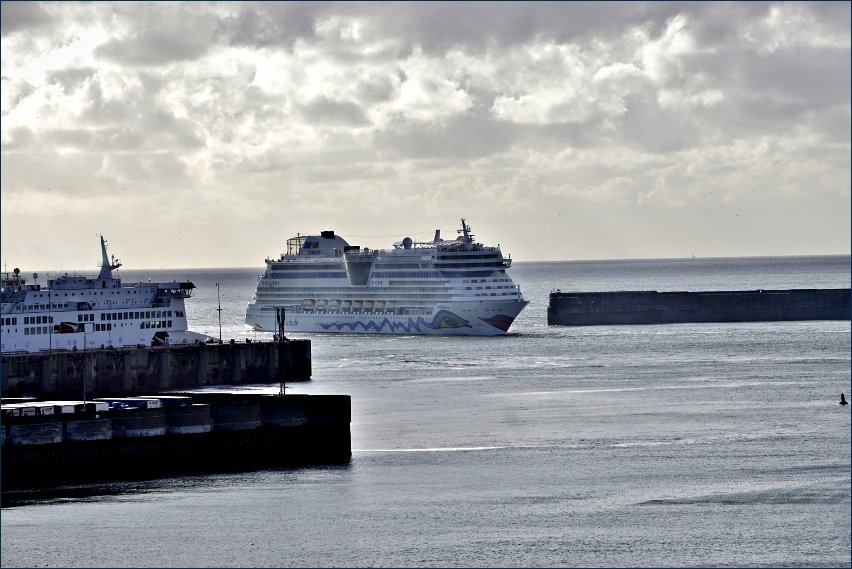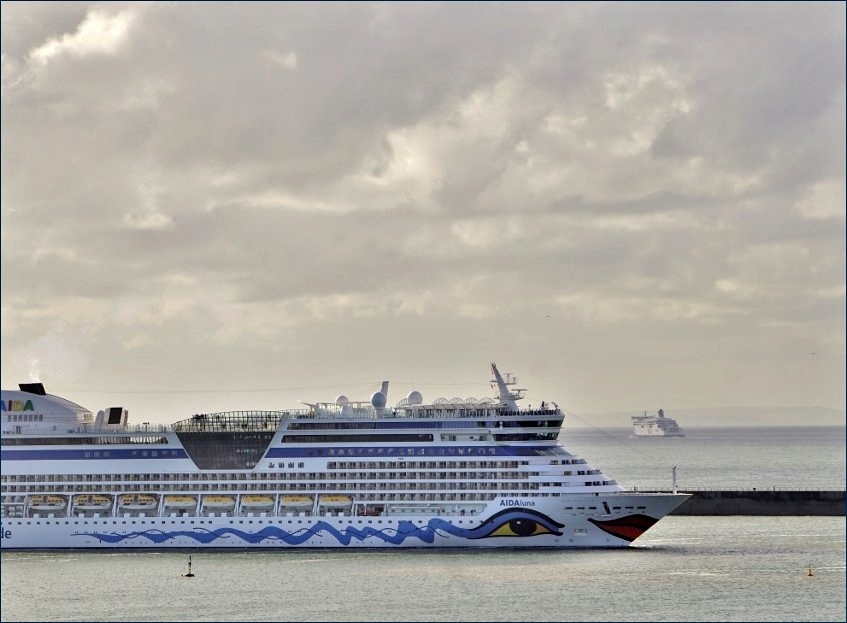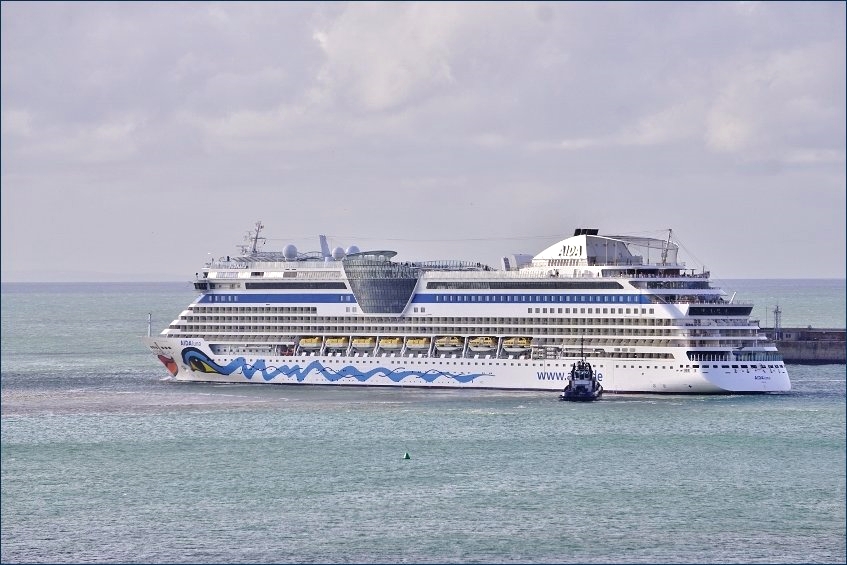 Excellent post below from Mike...interesting pictures plus...so...
Don't Miss Those!
Foggy today.
PaulB
Friday, 10 May 2019 - 06:33
Post 6261
Mike J., Dover
Thursday afternoon arrival of Maltese-flagged KEIT from Paldiski, Estonia via the Kiel Canal with the first of several consignments of log cargos for the Sandwich biomass plant.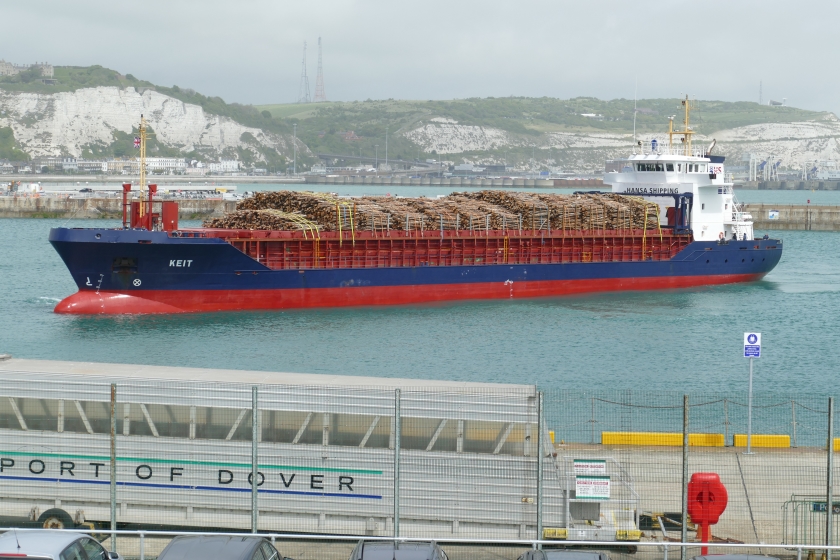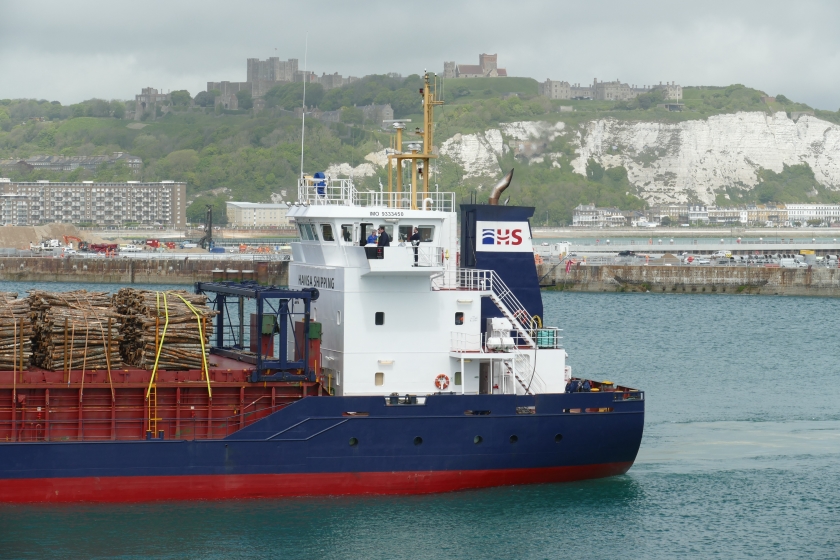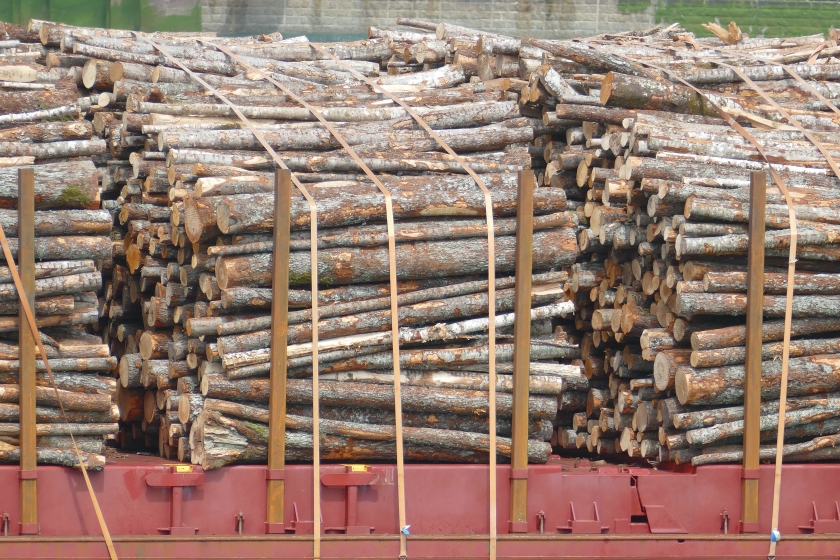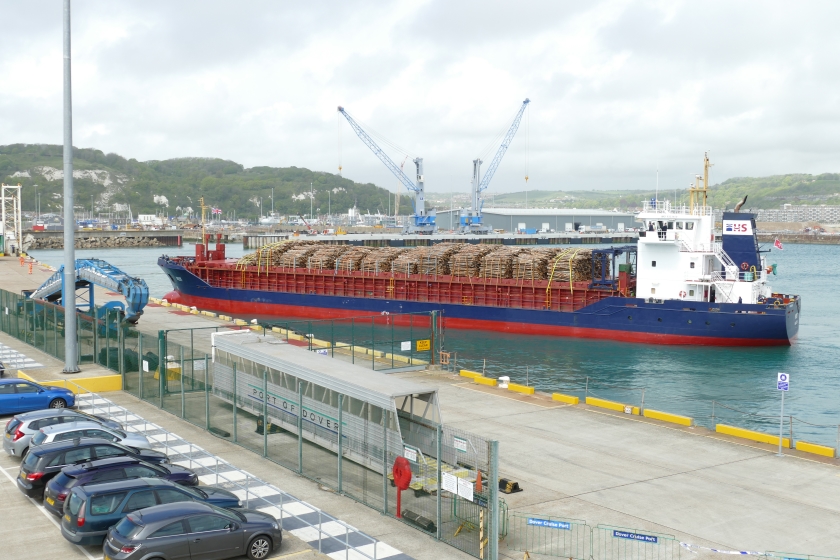 Log lorries awaiting loading.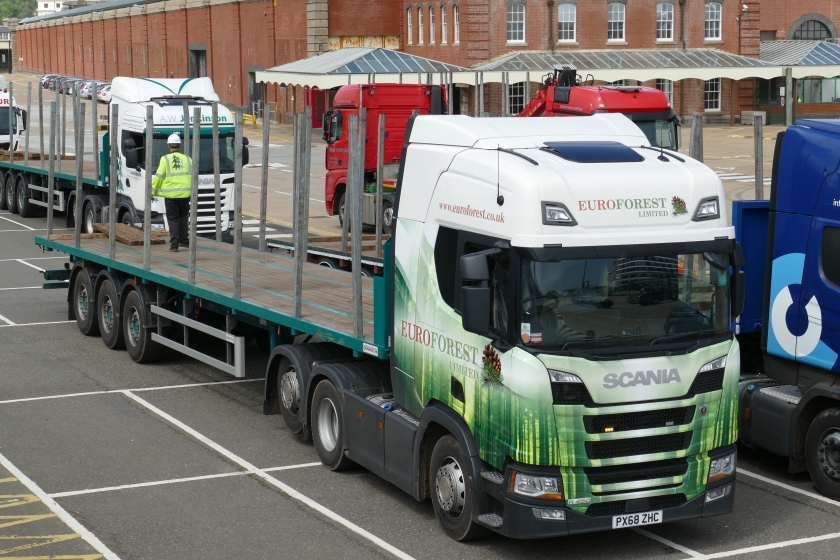 Friday, 10 May 2019 - 00:25
Post 6260
Sea News, Dover
PRINSENDAM DEPARTING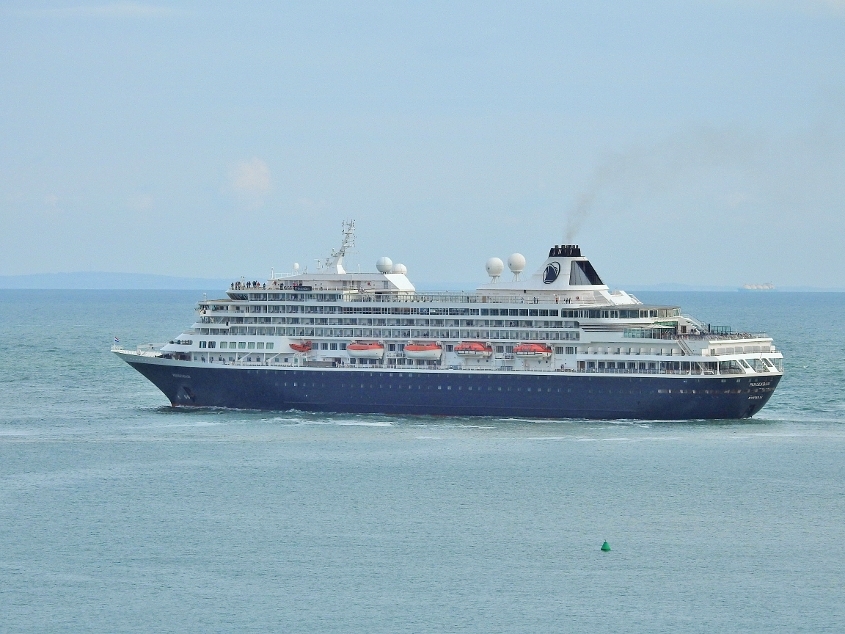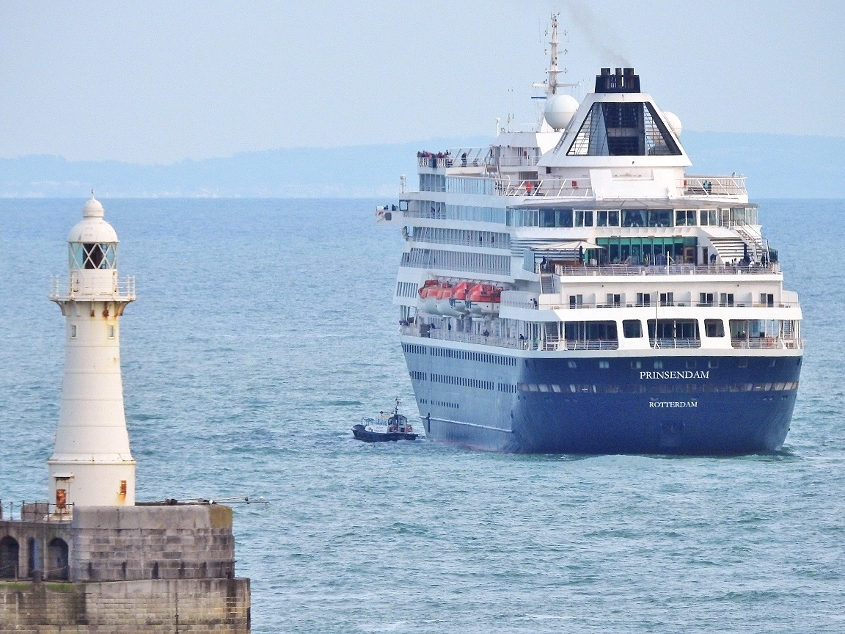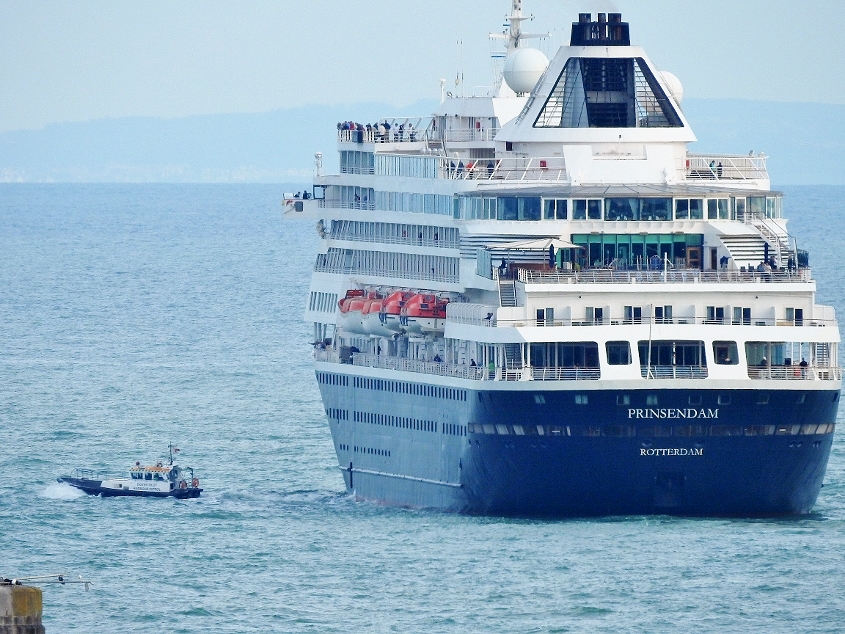 Some shots above there of the Prinsendam leaving us a couple of evenings ago ( Monday)...you can see the pilot boat alongside there on a blue evening as she made her way off on a 14 night Celtic Explorer cruise, and very nice too.
Cant resist also including this double whammy shot from last year which also shows Prinsendam and the Seabourn Ovation. Just re-found this picture in the files...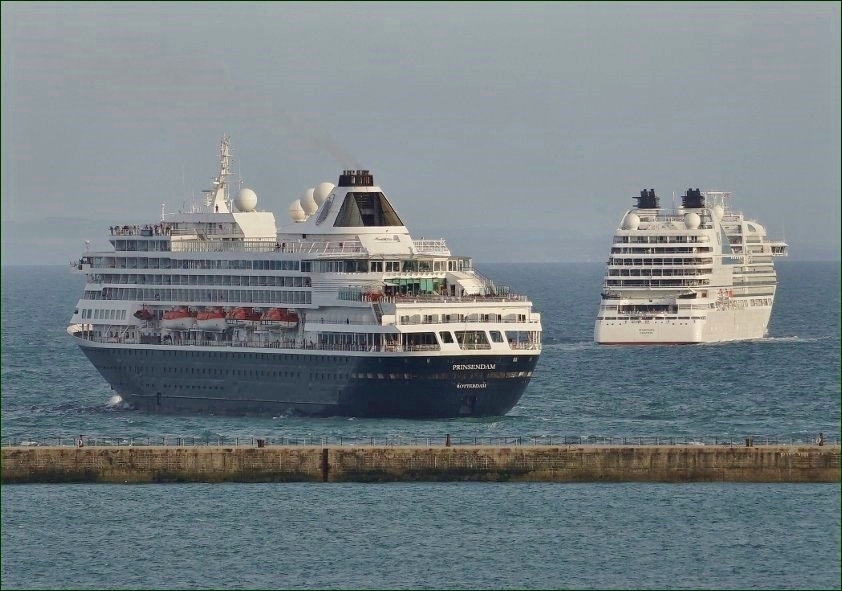 The Anuket Sapphire provided bunker services for the Prinsendam and here she is a-coming and a-going .. obviously on the same day... not an easy ship to photograph from range.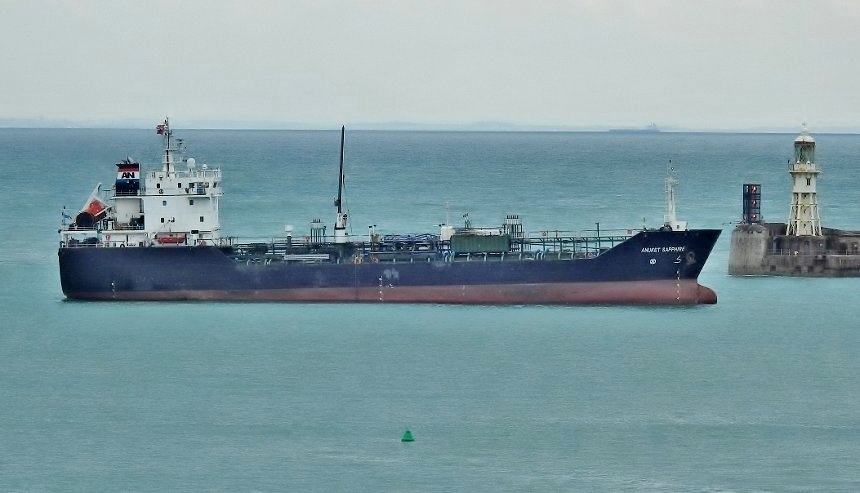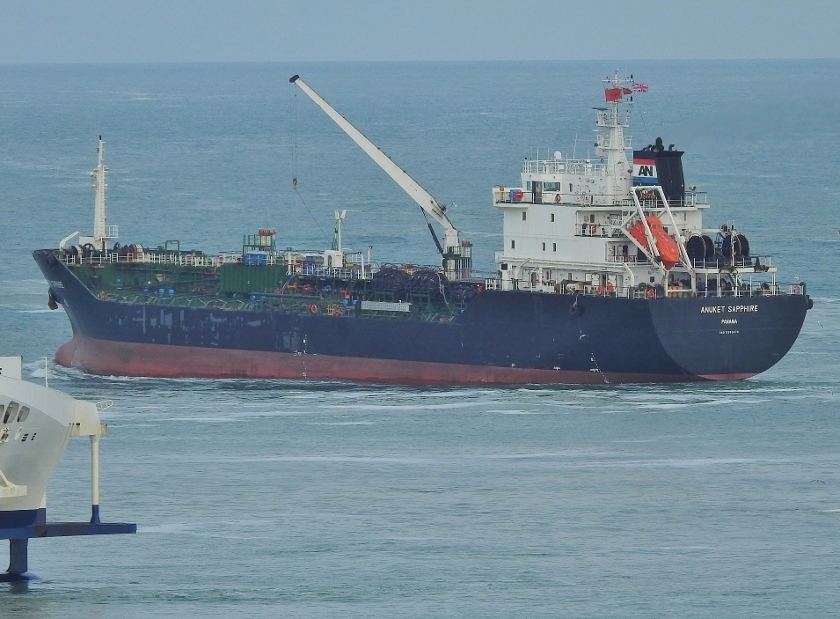 PaulB
The great cruise ship visits continue...Costa Mediterranea in with us today.
Thanks Jan yes lots happening at the moment.
Yes the Free Wine offer is very tempting...not that I touch a drop myself you understand!

!!
Thursday, 9 May 2019 - 06:58
Post 6259
JanT, Dover
Nice collection of picture's chaps, busy times in the harbour, and a good offer from P&O I'm sure lot's will be taking up the offer

Wednesday, 8 May 2019 - 09:03
Post 6258
Sea News, Dover
Dungeness Lifeboat in towing rescue action...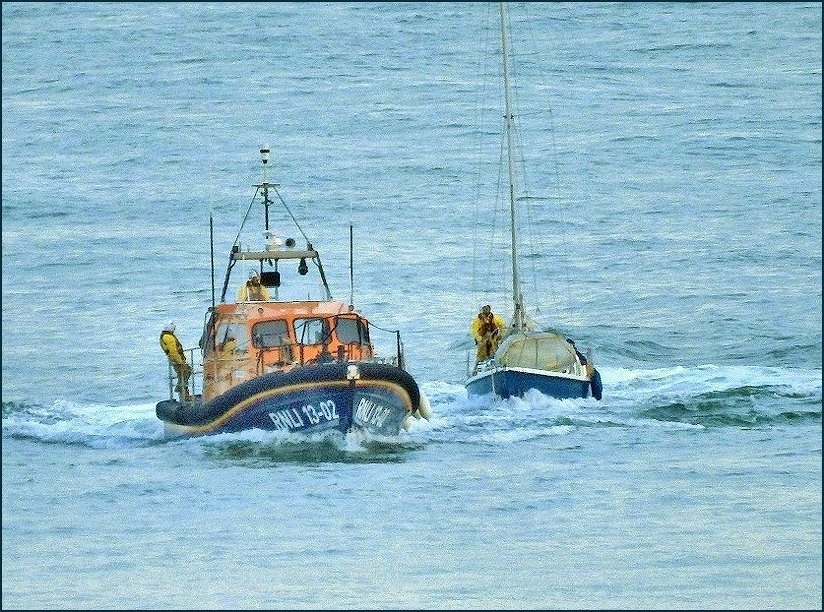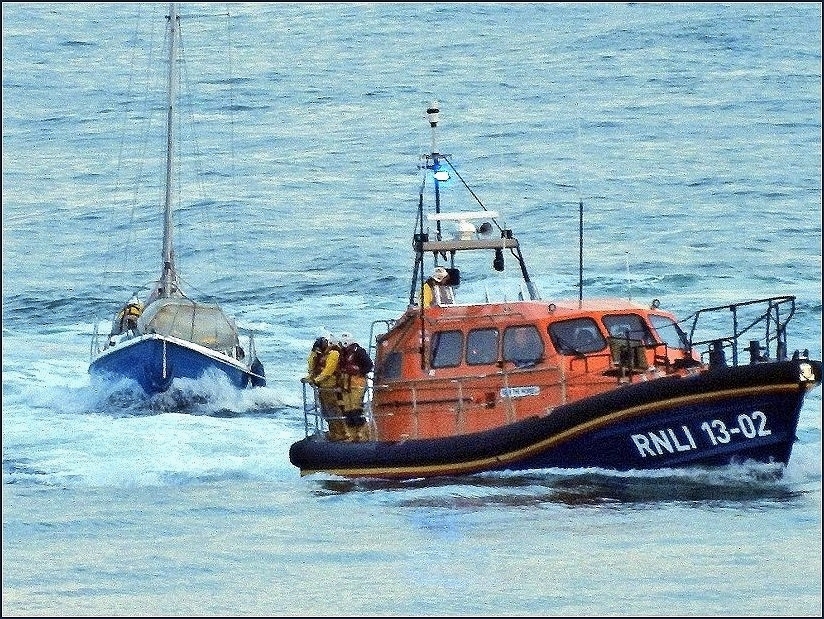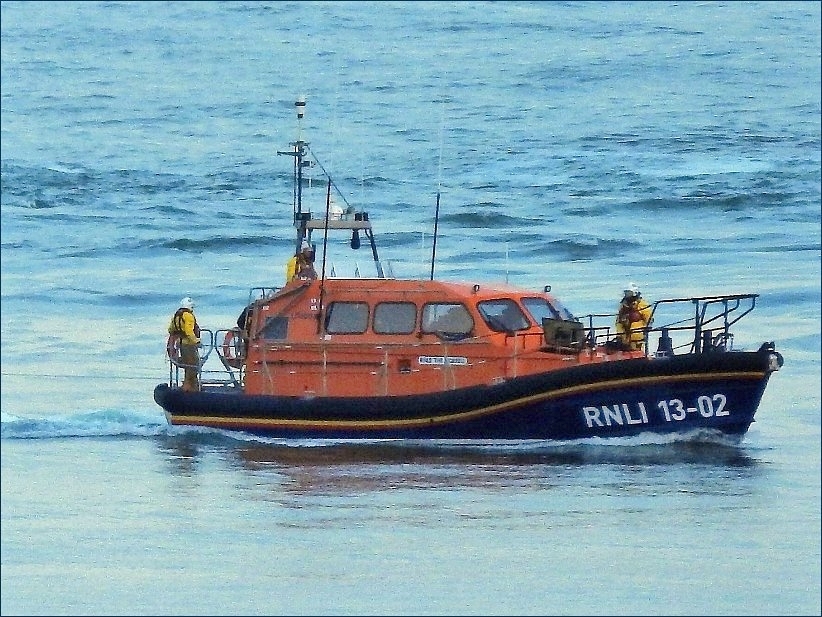 The pictures above were taken on Monday evening just before 8pm ( 20.00 ) and show Dungeness Lifeboat towing a small yacht back to the Port of Dover. The light was fading fast but with a bit of luck in the camera department, we managed to get the shots as they entered the Port. The pix were fairly dark and had to be brightened up somewhat with the help as per usual of the computer program. You can see a Lifeboatman onboard the yacht there in one of the shots guiding things along. Excellent work once again by the RNLI.
* *
DAY TRIP TO FRANCE IN MAY WITH P&O FERRIES AND GET SIX FREE BOTTLES OF WINE
____________________________________________________________________________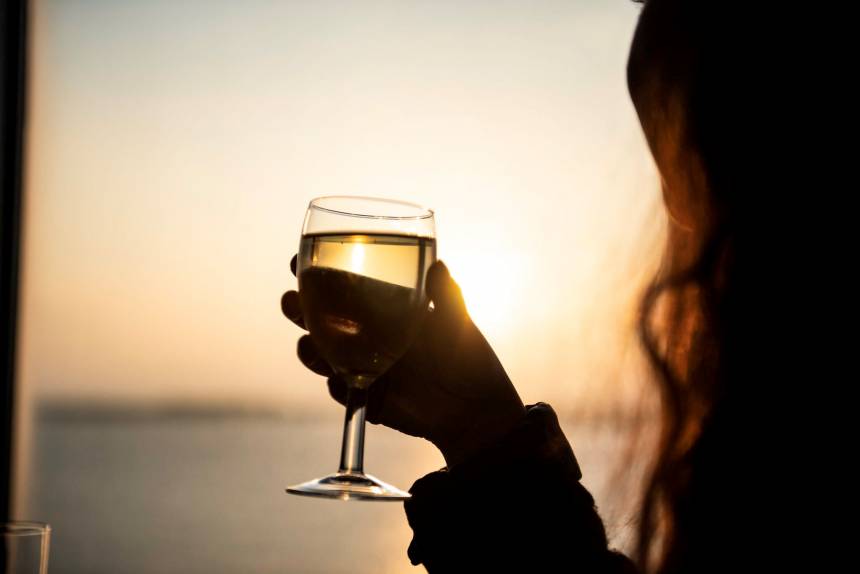 Travel to the continent just got that much more tempting, as British ferry operator P&O Ferries is giving away six free bottles of wine for every day trip booking between Dover and Calais.
Book from now until 26th May, for travel from 7th May until 28th May 2019, to claim six free bottles of Banrock red, or white wine - dependent on your preference and subject to availability. Valid for car, or high car bookings only, using promo code WINE19.
Sarah Rosier, Director of Passenger Sales at P&O Ferries, said: "Imagine spending a day in France, exploring its beautiful sights and unrivalled cuisine and then sailing back to the UK with six free bottles of wine to enjoy. We are giving our customers the opportunity to experience that for themselves with this exclusive offer. It's a great day out and a special treat for when you get back home."
Renowned for its diverse landscapes and fascinating history now is the perfect time to explore northern France, with warmer weather on the horizon. For culture seekers, a day trip to the Hauts-de France region offers the opportunity to view stunning scenery including forests, farmland, beaches and chalk cliffs. Just over an hour from Calais the city of Lille also offers cobbled streets lined with bars and bistros, plus plenty of shopping opportunities. Travellers interested in history can venture to the battlefields of Ypres, or Dunkirk's famous beach, just a short drive from the port.
How to claim:
1. Book your crossing via the P&O ferries website
2. Enter promo code WINE19
3. Receive your voucher at Dover port check-in on the day of departure
4. Present your voucher at the tills on board during your outward journey
5. Pick up your six free bottles of wine
There are up to 23 sailings a day between Dover and Calais with P&O Ferries, which are 90 minutes in duration, giving flexibility to fit your schedule and ensuring a relaxing trip across the Channel. On board are a variety of eateries, including The Brasserie, as well as a Club Lounge for those who want to travel in further comfort, spaces are bookable from just £12 per person.
For more information, or to book a crossing visit www.poferries.com
ENDS

The enjoyable sandy Calais beach below...you can see families enjoying themselves there. The beach is great for a daytrip and with wine on offer as well...wowser!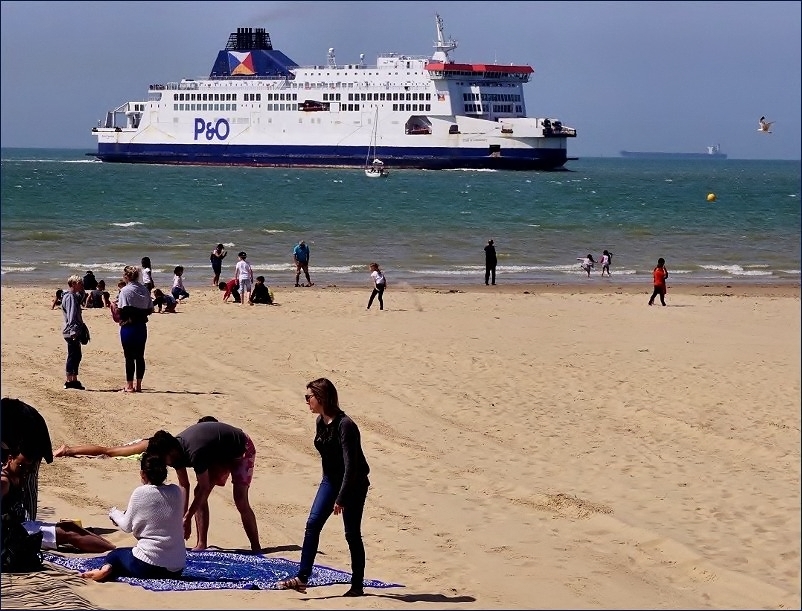 Nice collection below Mike. Good to see those...thanks for the info re the motor yacht, have added the name to the earlier post now so our search engine can pick it up later if needed.

Thanks for that info Del. Well done with that.
Heavens! we wouldn't want you turning into another Chris Grayling...one of those is enough.

Ooops that wine picture uploaded bigger than expected. A Freudian slip ?...
PaulB

A double whammy of AIDA ships in today AIDAluna and AIDAvita
...will also have pictures of Prinsedam to follow along also reefers plus more...we're a bit behind but catching up..

Wednesday, 8 May 2019 - 06:11
Post 6257
Mike J., Dover
Paul's sleek motor yacht in post 6255 is the Portguese CHELINA which had come up from Plymouth & is still in Dover on Tuesday evening & showing on AIS.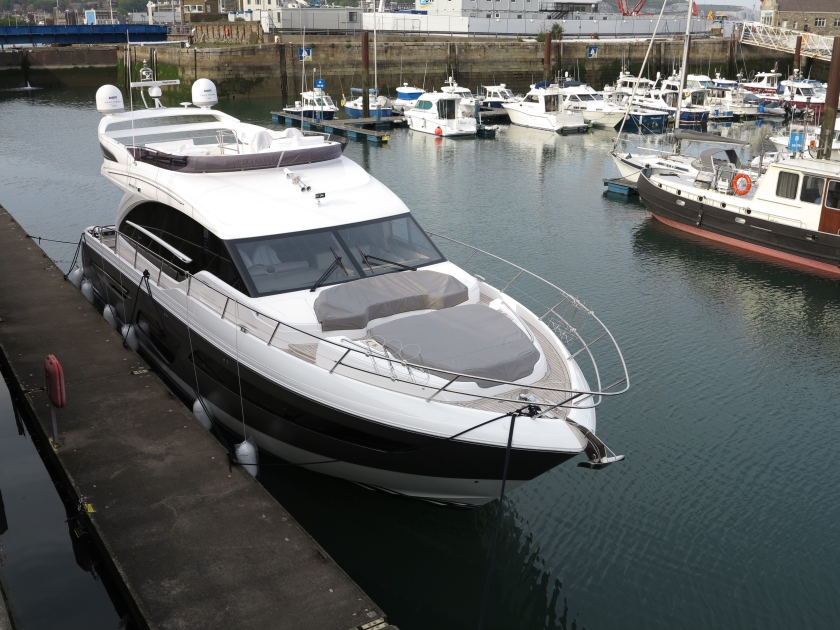 Also in the Tidal Basin was an interesting Dutch motor yacht, the NOORD BANK who looks a lot more businesslike & may be based on a workboat design.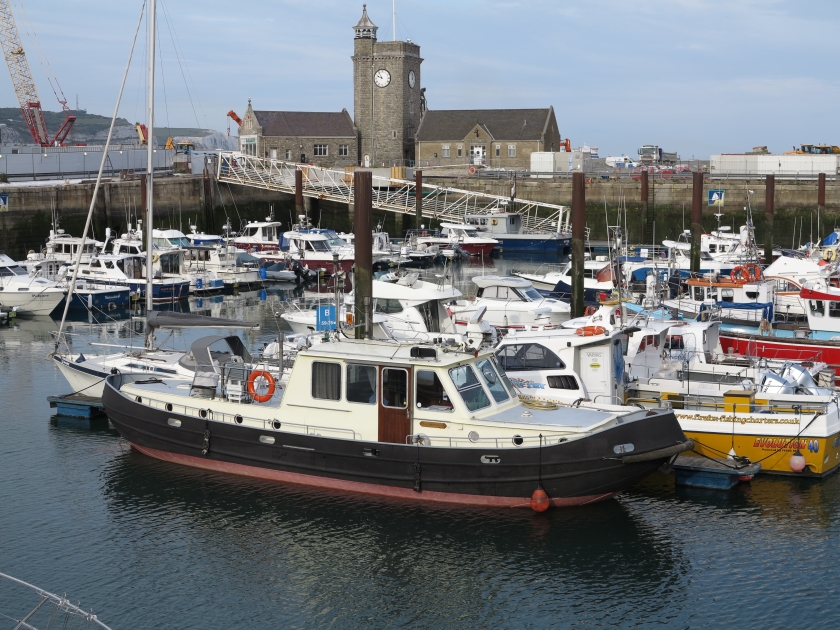 Kind friends from Littlestone have sent me pix of the Antiguan coaster RMS RATIGEN who was in Rye Harbour on Wednesday.
Thanks Alison & Mike !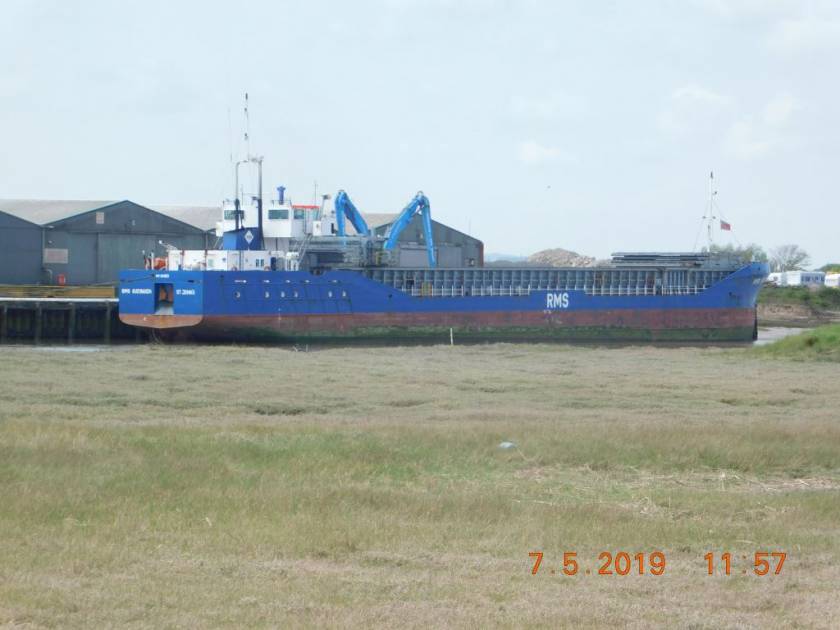 A stroll up the new marina pier shows that views of shipping at the Eastern Entrance is better than expected, altho' poor from the end of the pier due to obstructions.
Views of the cruise ships on the Admiralty Pier & the Western Entrance are poor.
A nice structure for sure, with excellent views of the Castle & the town but not a patch on the Prince of Wales,
A lady on the Dover Town forum who calls her herself 'Weird Granny Slater' has posted her mixed feelings about the new pier in an excellent post, No.4 on the 'New Marina Pier & Lock Bridge open' thread.
The same thread has excellent infrastructure pix from PatrickS.
Wednesday, 8 May 2019 - 01:03
Post 6256
Del Styan, Norwich
I've done a bit of google digging, and the forts were used from 23rd September 1964 till 9th February 1967 by Radio City. Thank god - I thought my memory was going the way of Chris Grayling's Seaborne decisions.

Tuesday, 7 May 2019 - 23:13
Post 6255
Sea News, Dover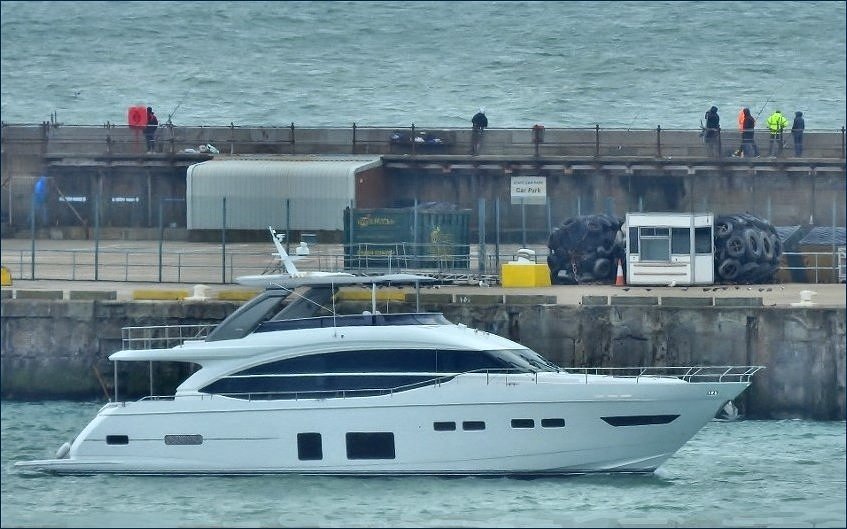 While photographing the lifeboats on sunday this fabulous motor cruiser came into port and made its way to the inner sanctum. A very impressive beast indeed...however the guys fishing on the Admiralty Pier in the background of pic there weren't overly impressed and hardly gave it a second glance...nor did the lifeboat crews below...what can ye do

Yours truly didn't get the name of the thing...so if anyone knows... ??
it was one of those jobs you mean to go back to .. ah thanks to Mike... Name of cruiser is Chelina.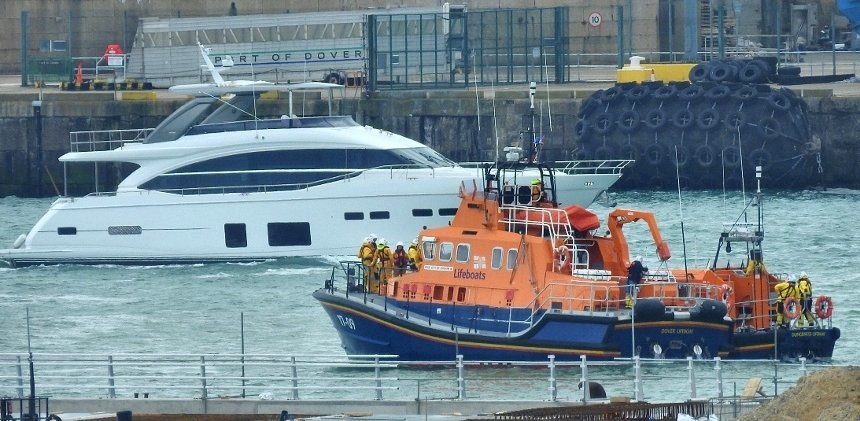 And speaking of all things exotic...an even more serious piece of exotic equipment is this ultra fab superyacht below belonging to the formula one race team Force India. This one joined us here in Port a couple of years back. Yours truly's invitation for a pink gin onboard got lost in the post...strewth!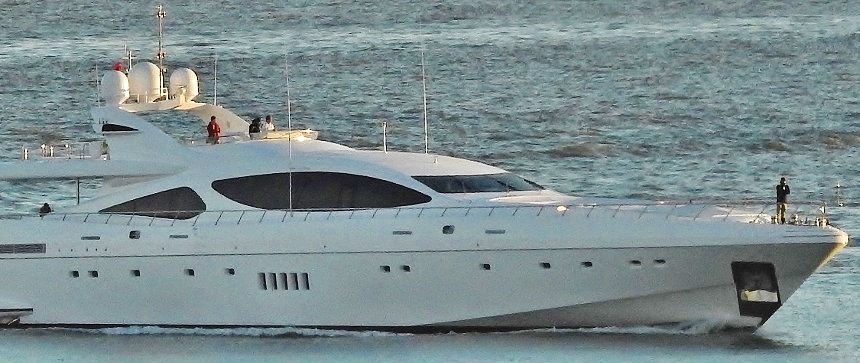 Now alas at the other end of the social scale...the picture below shows the Police crackdown on rough sleepers last week. A much higher profile from the police was in evidence as they cleared out the seafront shelters over a series of days. Picture below...you can also see an ambulance on the scene. The rough sleepers had taken up residence in the shelters for quite some time.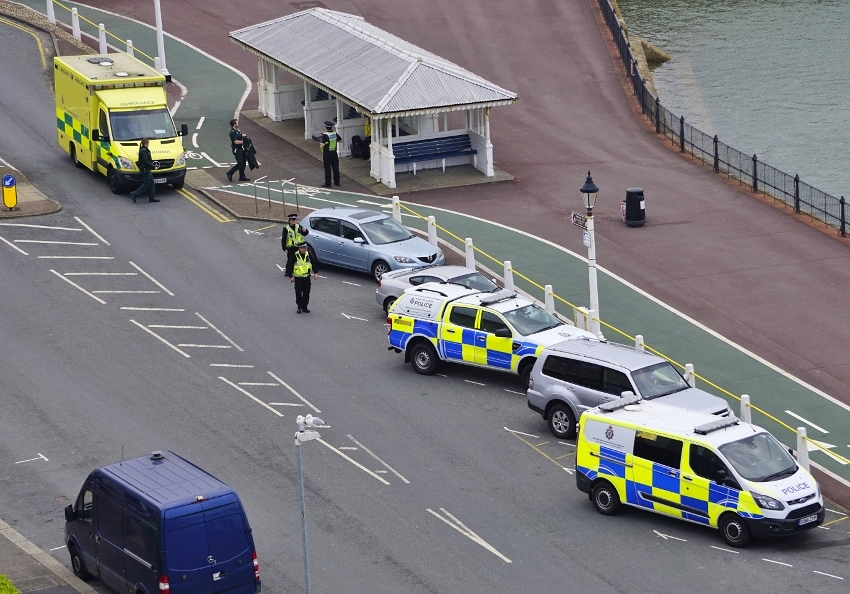 See also yesterdays fund raising post/pictures re P&O Ferries and the Lifeboat.
PaulB
Ah yes indeed Del there used to be offshore radio stations...not sure if those forts were featured but maybe...
Tuesday, 7 May 2019 - 06:11
Post 6254
Del Styan, Norwich
I seem to remember some of the pirate stations operating from the forts in my youth. Radio City, I think? Maybe Radio England?

Monday, 6 May 2019 - 23:13
Post 6253
Sea News, Dover
P&O FERRIES RAISES RECORD-BREAKING AMOUNT FOR THE ROYAL NATIONAL LIFEBOAT INSTITUTE
_________________________________________________________________________________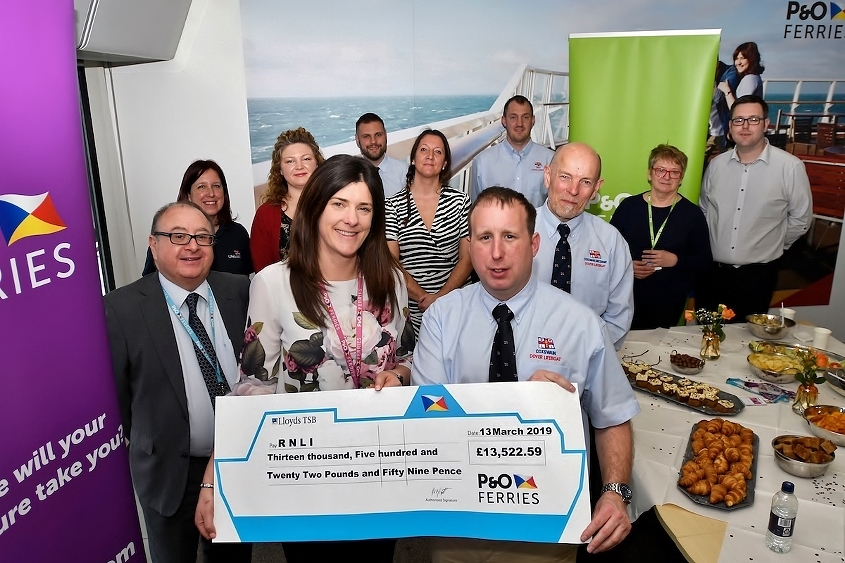 P&O Ferries welcomed volunteers and officials from the Royal National Lifeboat Institute (RNLI) to Channel House, Dover to present them with a cheque for £13,522.59 – the largest amount ever raised for the charity by the ferry operator's employees and customers.
Continuing the long-standing partnership between P&O Ferries and the RNLI, this figure was raised through collection boxes placed on all six of its ships serving the English Channel throughout 2018, allowing donations of any currency.
As the company's official charity these are the exclusive collection boxes on board and this year's efforts signify an increased donation of over £500, in comparison with the amount raised in 2017.
In attendance at the presentation and accompanying lunch were a range of figures from the RNLI's Dover branch, who work tirelessly to save lives at sea, as well as P&O Ferries crew who were recognised for their exceptional fundraising efforts on-board.
James Clapham, Coxswain at RNLI said,
"We are very grateful to P&O Ferries, their employees and passengers for their valuable donations. These contributions are a big part of our ability to undertake life-saving at sea."
Joe Ciantar, Head of Security, Gaming and Foreign Exchange at P&O Ferries said,
"P&O Ferries are proud to present the RNLI with a cheque for £13,522.59 in respect of 2018 donations, which is another record breaking amount from the generosity of our passengers and employees for the RNLI. The RNLI is our nominated charity with whom we have a long connection and relationship."
For more information on the RNLI visit www.rnli.org. For further details on P&O Ferries visit www.poferries.com.
-Ends-
Pictured with the 'large' cheque (large in more ways than one! ) above and below are Joan Hazelden and James Clapham.
This is the largest amount ever raised by the ferry company employees and customers.
One of the P&O Ferries below which helped to raise all the cash...the Spirit of Britain...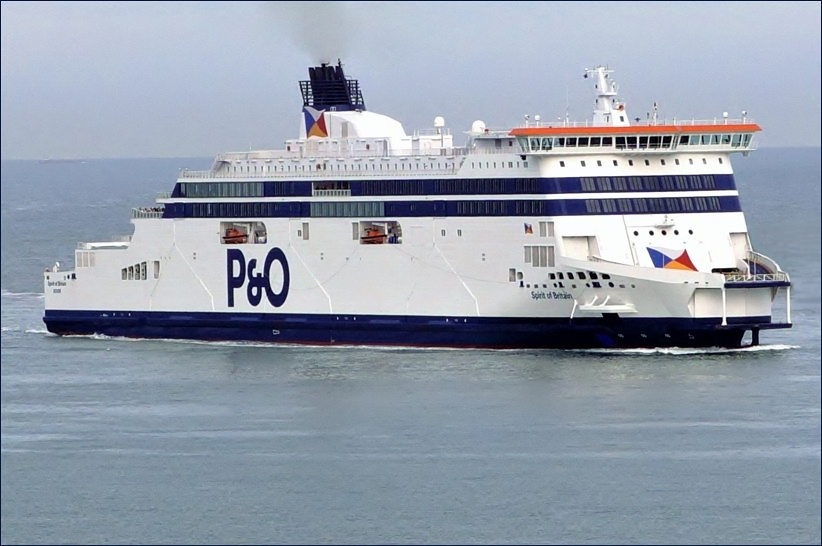 There is much talk of the new pier at the moment, this picture below of Dover Lifeboat was taken from the old pier, yes the Prince of Wales Pier. This picture of the Lifeboat was taken a few years ago by our 'roving reporter' Sarah Hewes ..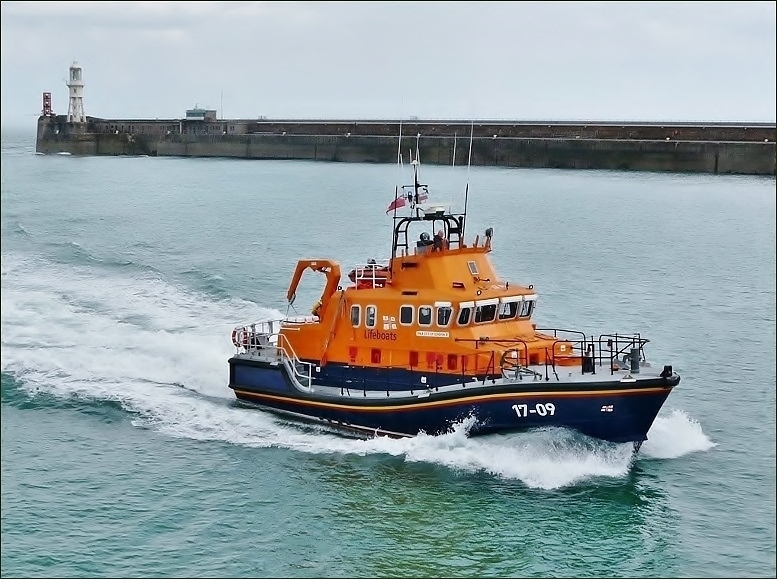 Now a couple of shots of Lifeboat action in the harbour yesterday. Both Dover Lifeboat and Dungeness Lifeboat were on a training exercise and here we are below... Dover Lifeboat to the left in first shot...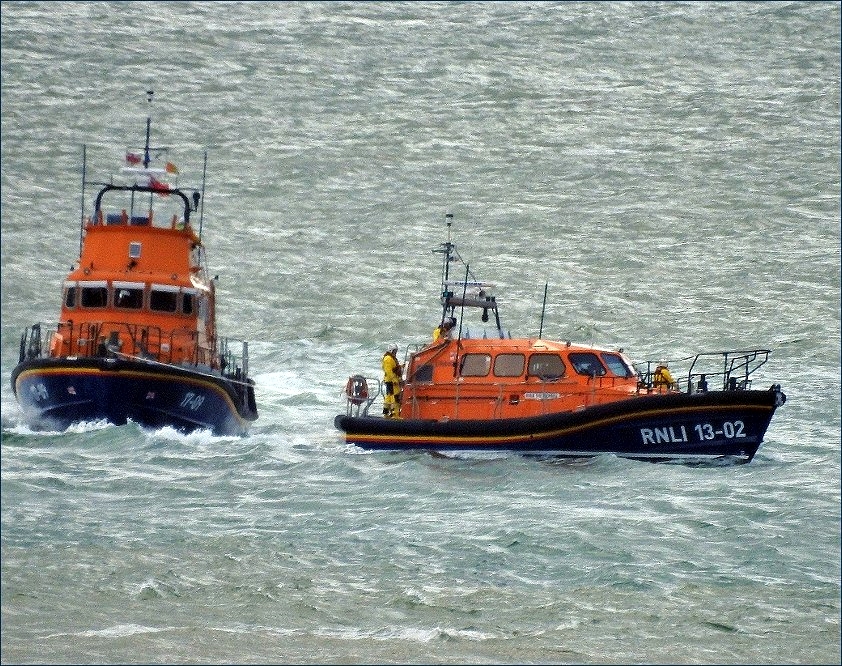 Picture above shows the Lifeboats at the Port entrance...and the pic below shows Dover Lifeboat and crew as we look across the new development works to the inner harbour.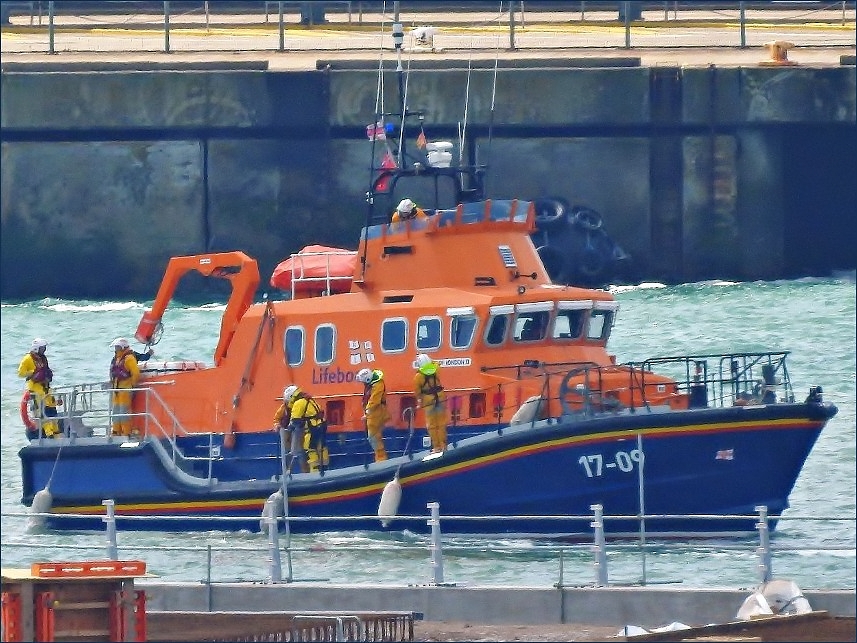 * *
Many thanks to the team at P&O Ferries for the information. Great great fundraising there...

Nice shots below Mike...we are having a big Lifeboat day today.

PaulB

Monday, 6 May 2019 - 06:00
Post 6252
Mike J., Dover
Sunday morning & Tamar Class ELEN COMBIE awaits departure from Dover after overnighting during her long 655 mile trip from Poole to Longhope in the Orkneys.
By Sunday night she had arrived in Lowestoft.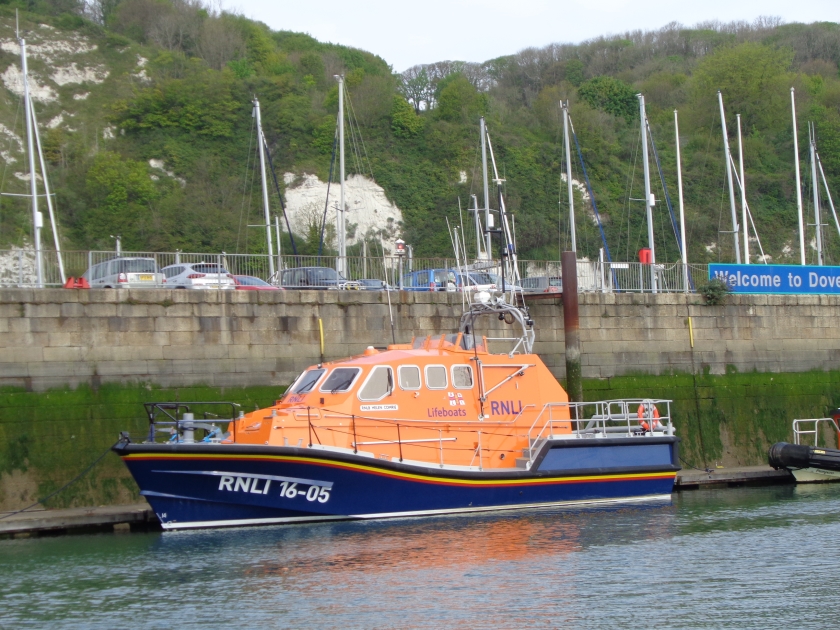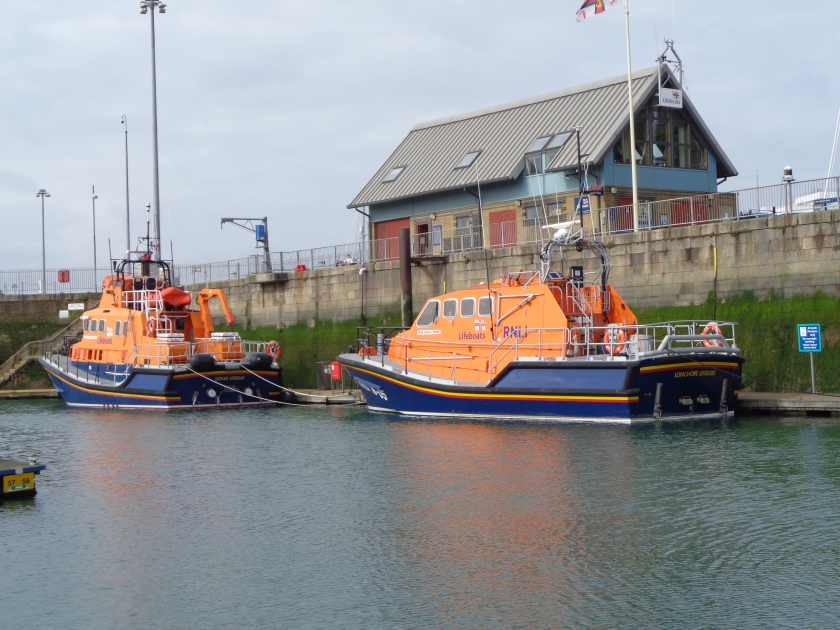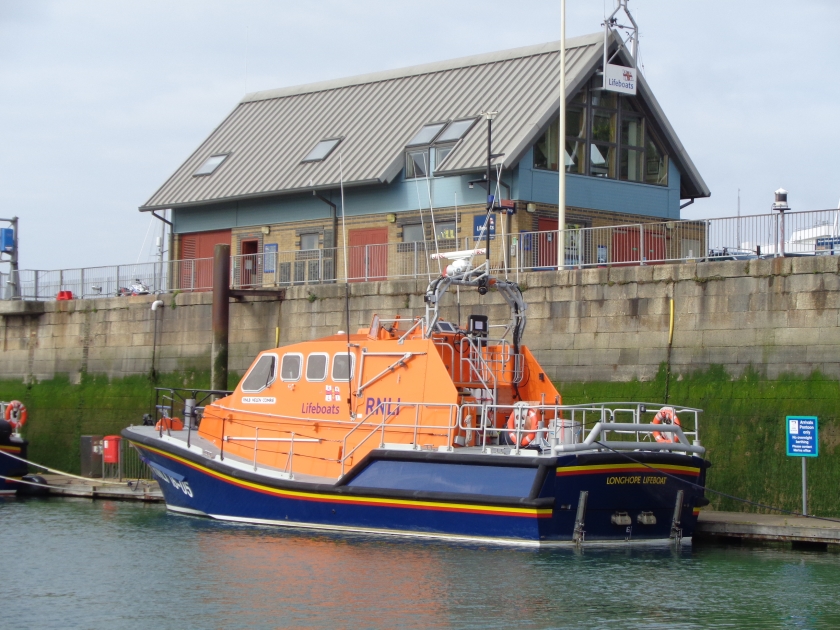 Sunday, 5 May 2019 - 23:31
Post 6251
Sea News, Dover
Great to have those photos below of the new pier Patrick..great stuff indeed!

Jeremy they may well add seating later. I understand they rushed to get it open for the bank holiday weekend, but time will tell.

Yes the new pier should be great for a summer stroll Jan...bet things look good from down there

Mike's marvellous 'adventure special' pinned today

... ( UPDATE: hugely enjoyable post below now unpinned )
PaulB
Sunday, 5 May 2019 - 05:52
Post 6250
Mike J., Dover
In post 6239 I pushed the 'local' limits of 'Sea News' with a few pix of the Sheerness lifeboat rescuing a small motor launch.
I was waiting at Queenborough before taking a trip out to three of the Thames Estuary WW2 anti-aircraft forts aboard the X-PILOT.
The first & furthest fort visited was the Knock John tower, about 20 miles north of Whitstable, one of several built of concrete & originally manned by the Royal Navy.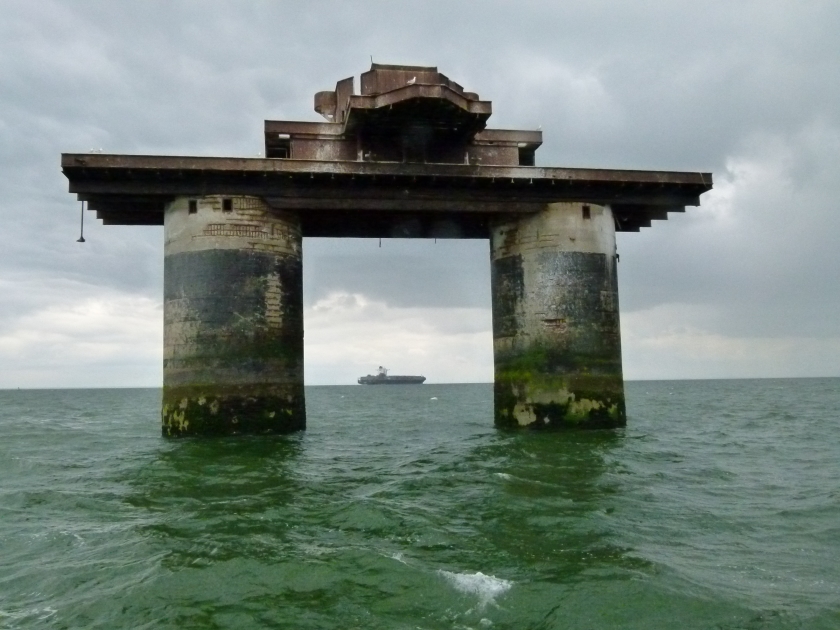 The other two forts visited were the Shivering Sands & Redsand towers, built to a different design of a number of steel towers, originally connected by catwalks.
These forts were manned by Army personnel.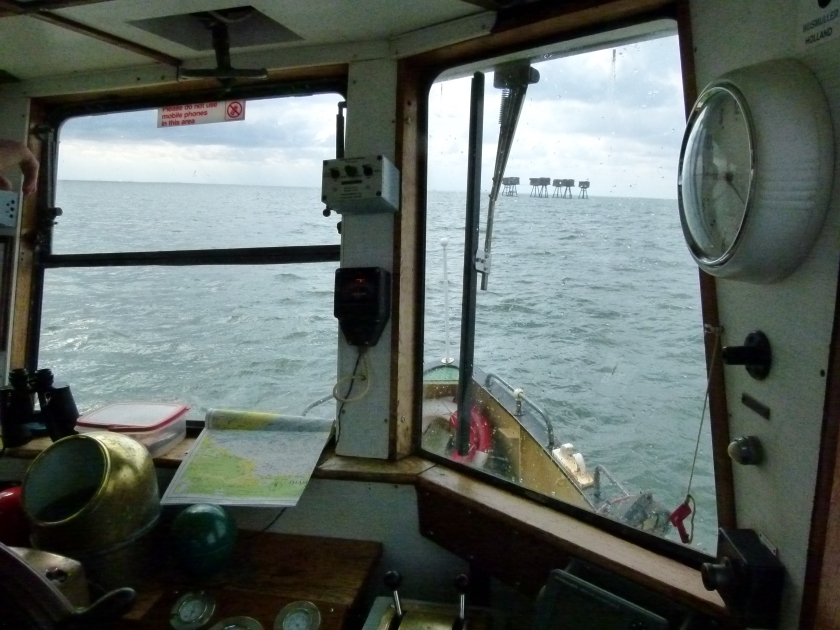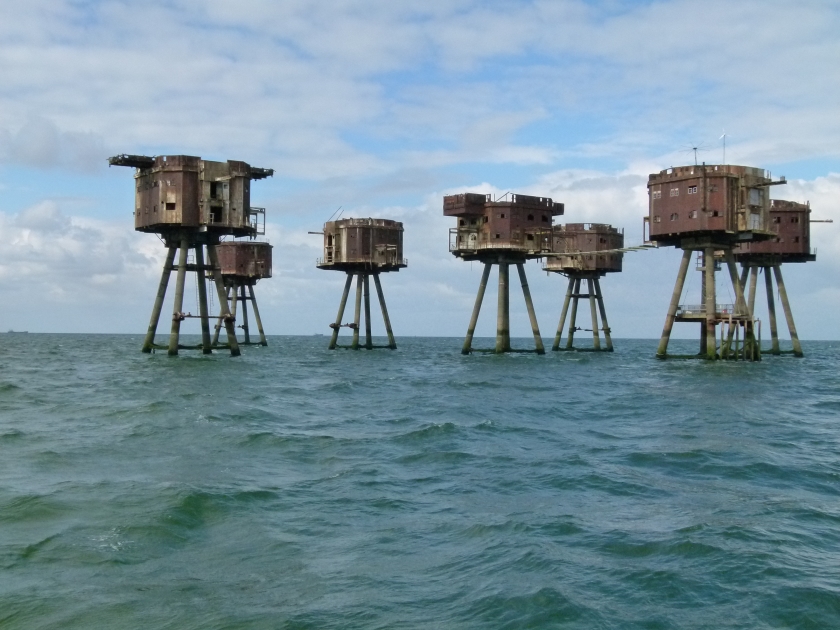 Restoration of one of the Redsand towers is slowly taking place by a group who recognize the historical significance of these defences & regular work parties go out from Queenborough aboard the X-PILOT.
A lot of work has already been carried out internally & occasionally members of the public can board the tower with the work group.
[We went VERY close alongside the landing stage & passed between two of the towers beneath a temporary bridge, a fascinating experience & a rare chance to get close to these little known historic relics, some of which are visible from parts of the North Kent coast.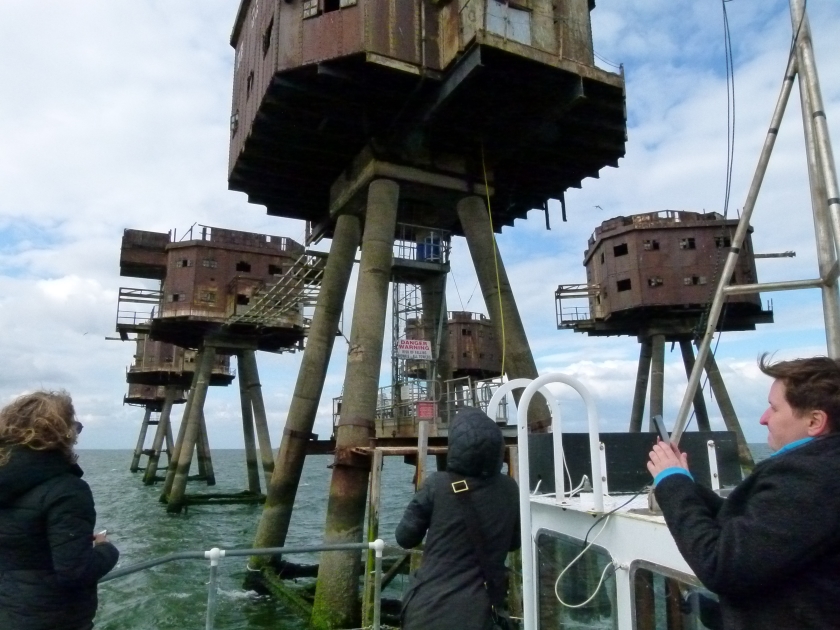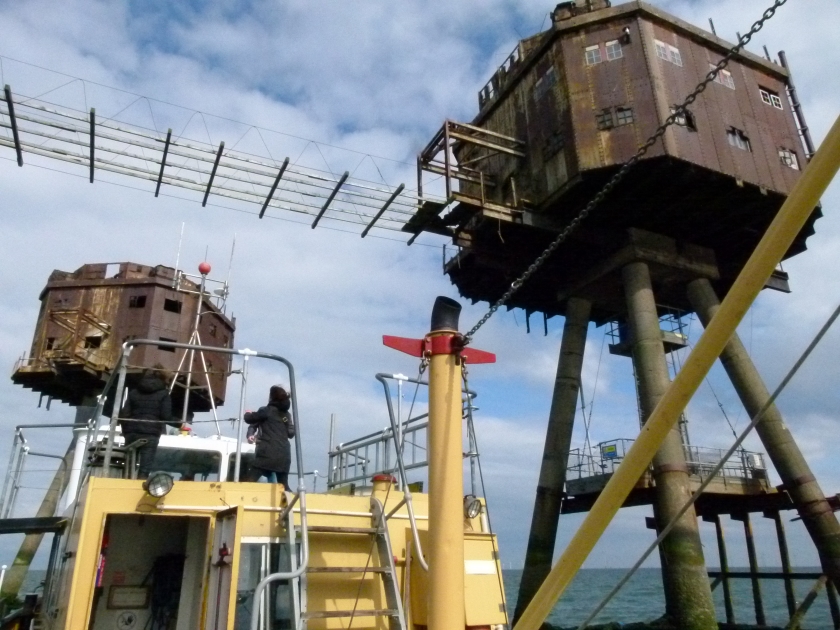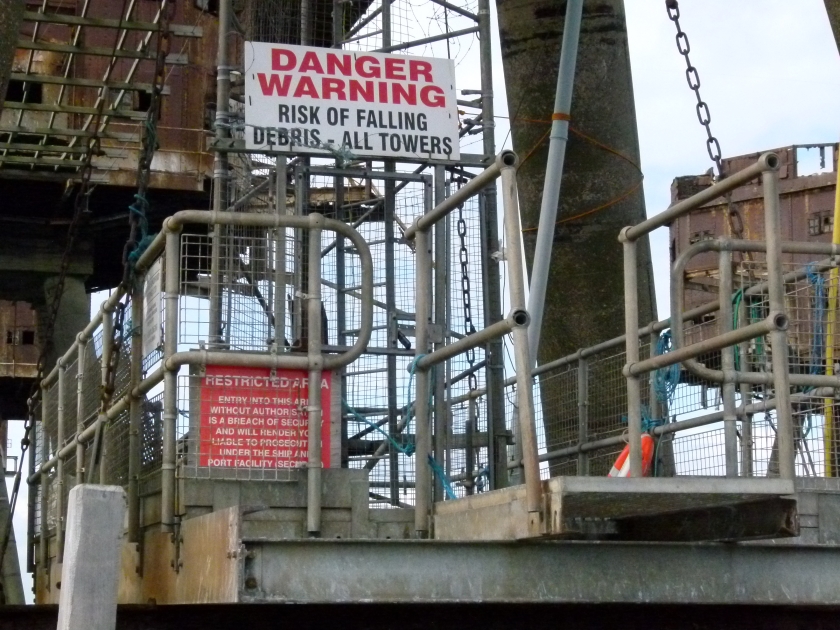 Sunday, 5 May 2019 - 01:53