Tuesday, 11 December 2018

WWW.DOVERFORUM.COM/SEA-NEWS
Featuring all the ships that come and go and work at the Port of Dover with further coverage of the surrounding ports both sides of the Channel. Click ADD YOUR COMMENT below to post direct, no membership needed.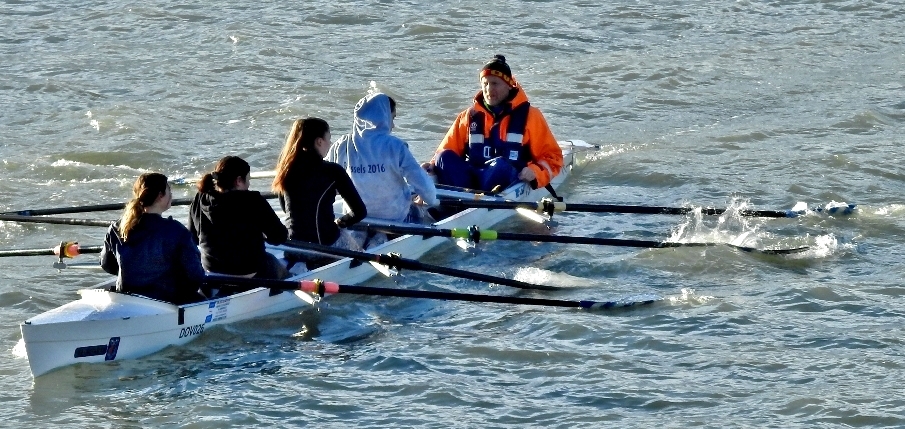 Rowers - cold sunday...
Listing highlights....
P&O: Britain's Favourite see 5922.
DFDS: Voted Worlds Leading Ferry Operator...see 5918..
Charlie Elphicke MP: Migrant Crisis 5894.
P&O: Santa Onboard see 5870.
White Cliffs Ice Christmas at Port 5852.
Wreck of the Anneliese 5880, 5881, 5882 ...
Port: Additional Funding for Kent Wildlife Trust 5879.
P&O: Apprentices welcome RB Legion veterans 5853.
Eight new apprentices graduate see 5845.
DFDS: 'SEE PORTS' Calais and Dunkerque 5834.
DFDS: Revitalising dining concepts onboard.. see 5831.
P&O: Schoolchildren mark WW1 see 5816.
Lower Thames Crossing boost..5812. see now also 5817.
Dover Museum's revitalisation see 5807.
Port of Dover: Refrigerated Cargo Terminal .. software for 5801. Latest NATO also 5801.
Port of Dover: Great increase in summer traffic 5795.

Continues...
Russian and shadow 5785.
The Waverley paddle steamer latest 5778...
New SAGA Ship launching in Dover see 5776.
P&O: To Rome on Horseback 5759.
DOUG BANNISTER: New Chief Executive Port of Dover see below 5734....
Merchant Navy Ceremonial images also 5734.
Dover Regatta Rescue incident plus .. see 5713.
Dover Regatta pictures Lifeboat etc..5716, 5717, 5718, 5720.

DFDS Expansion: More New Ferries on order... see 5693 see also 5500 and 5381.
Excellent Tourist season for P&O Ferries see 5649.
VSBW Port of Dover - Women at Work 5638.
P&O Second Female captain see 5107. Also see latest 5570.



NEW:

For instant access to any item listed above - just type the post number in the Search Engine below.
Sea News Dover : Use our SEARCH ENGINE below to find all sorts on the SEA NEWS pages....
type in the topic and away you go... more than 5900 nautical posts now.
Posts are welcome. Max of 5 pictures preferred although we can stretch that for special stories..
Sea News Editor Paul Boland - send info or pix to dover7@msn.com. Always welcome.
All pictures on these pages are the copyright of the owners and must not be reproduced without permission.
Post 5831
Sea News, Dover
DFDS APPOINTS SMC TO REVITALIZE DINING CONCEPTS ON-BOARD EASTERN CHANNEL FLEET
_____________________________________________________________________________

Award-winning ferry operator DFDS today announces the appointment of leading ferry and cruise ship design consultancy, SMC Design, to redevelop its catering outlets on board its Eastern Channel routes.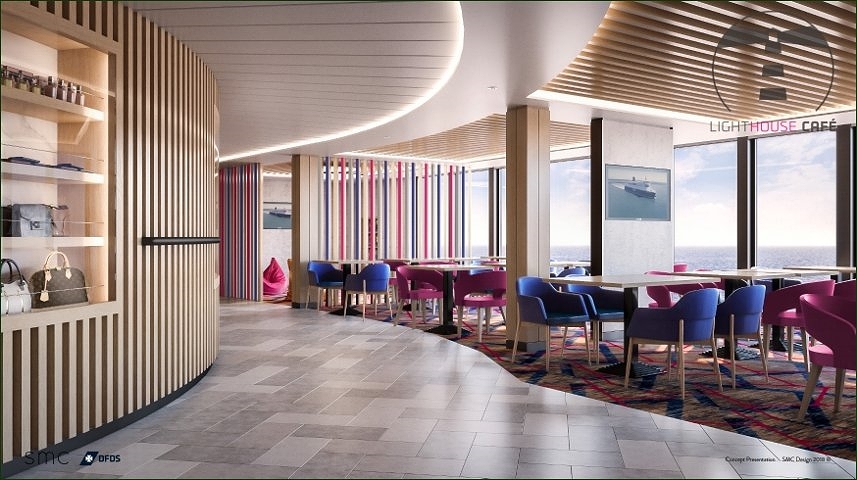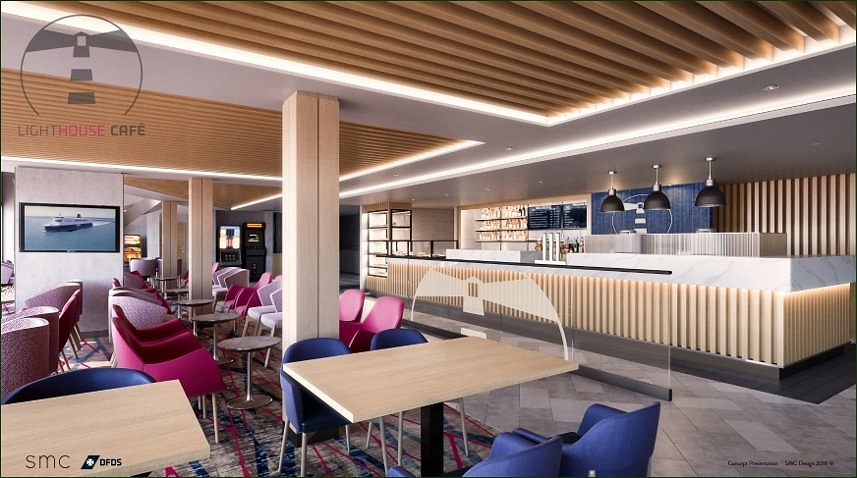 The redesign will commence when the first Dover-Dunkirk vessel enters dry-dock on 7 January 2019, with plans to complete the entirety of the fleet in just five weeks. The £1,800,000 investment, equating to £600K per ship, will see the relaxed food and beverage outlet revitalized to create the Lighthouse Café, a fresh and modern European coffee shop experience.
Steve Newbery, On-Board Commercial Director, at DFDS commented: "We're delighted to be working with the prestigious SMC Design consultancy, on a project designed to offer a new, contemporary dining outlet for our passengers.
"The decision to revitalize the current catering concept on board our Eastern Channel routes follows passenger feedback, something we pride ourselves in listening and responding to. In an effort to boost passengers experience on-board, the Lighthouse Café will include a revised menu, recycling stations and a re-vamped children's play area, all underpinned by a new and vibrant colour scheme."
The project with SMC Design will continue over the next three-years and will expand to include a £180,000 investment and upgrade to the Horizon restaurants on-board the Dover-Calais fleet, with work commencing early 2019.
This re-design contributes to DFDS' ongoing investment in its fleet which includes a chartered combined freight and passenger ferry (ro-pax) to be delivered in 2021 for deployment on the English Channel routes. This, in addition to the recent order of a freight ferry (ro-ro) new build, in August, and five previously ordered freight ferries, contributes to DFDS' plans to increase operational efficiency in the route networks in northern Europe and the Mediterranean.
For more information, or to book visit: www.dfdsseaways.co.uk
ENDS
Extra pictures now showing some of the DFDS fleet in daily action..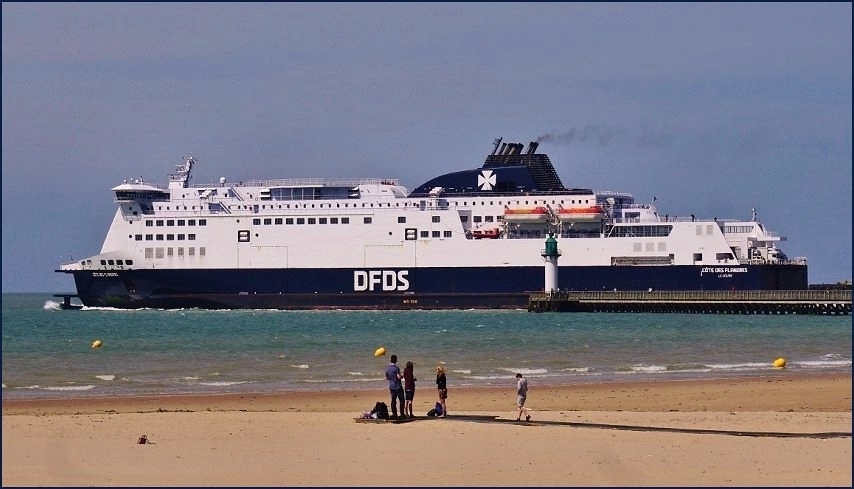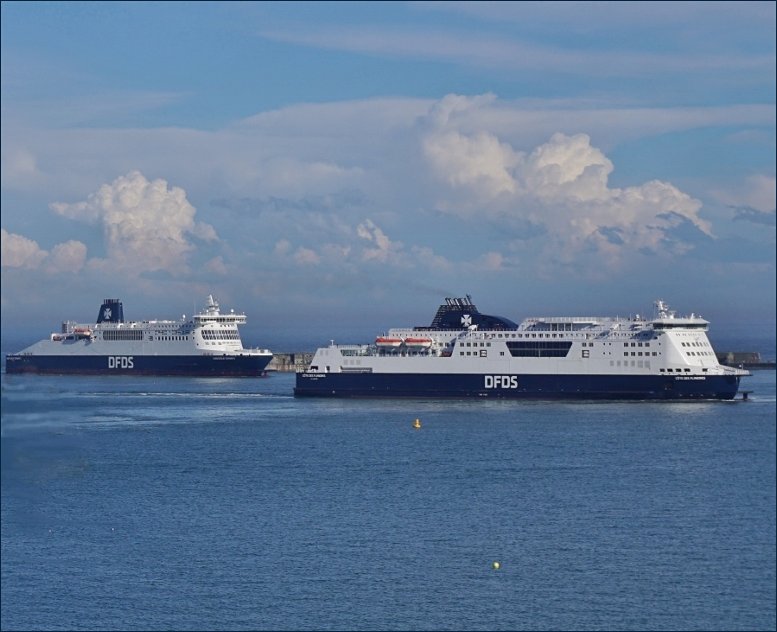 * *
Many thanks to the team at DFDS for the info and the top pictures above. Brilliant designs, fascinating item.

The early ferries at work below, pictured a few days ago under a golden sky.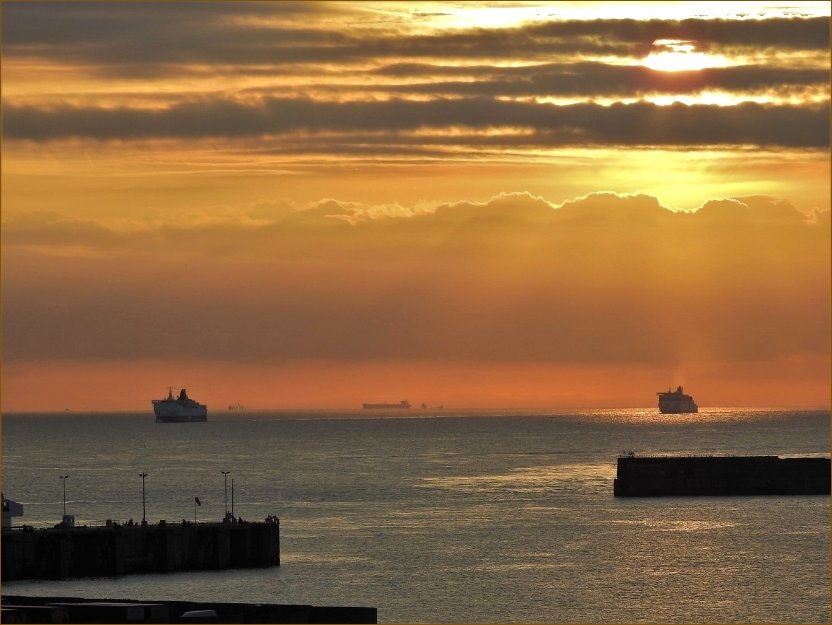 Thanks again Mike for the info below..and yes nice pic from Sarah below there.

PaulB

Wednesday, 24 October 2018 - 05:59
Post 5830
Mike J., Dover (helcion@hotmail.co.uk)

Thanks to Sarah for the excellent Ramsgate photo.
Spoke to the Sandwich Harbourmaster who also runs the seal-spotting trips [almost said seal-hunting trips !] in the SANDWICH TUG while the SOUTHERN QUEEN is under repair after her sinking by vandals.

The REVENGE is to be restored for commercial service & in a few days will move downriver to Sandwich Marina.


Tuesday, 23 October 2018 - 16:02
Post 5829
Sea News, Dover
Well done Mike, we were on the same page! Excellent info and pic.

PB
Tuesday, 23 October 2018 - 12:47
Post 5828
Mike J., Dover (helcion@hotmail.co.uk)
Beat me to it, Paul !
I took very similar pix on Monday when there was no-one around to ask what's going to happen to her.
You must have arrived very soon after she arrived from Ramsgate where Sarah had pounced on her on Friday.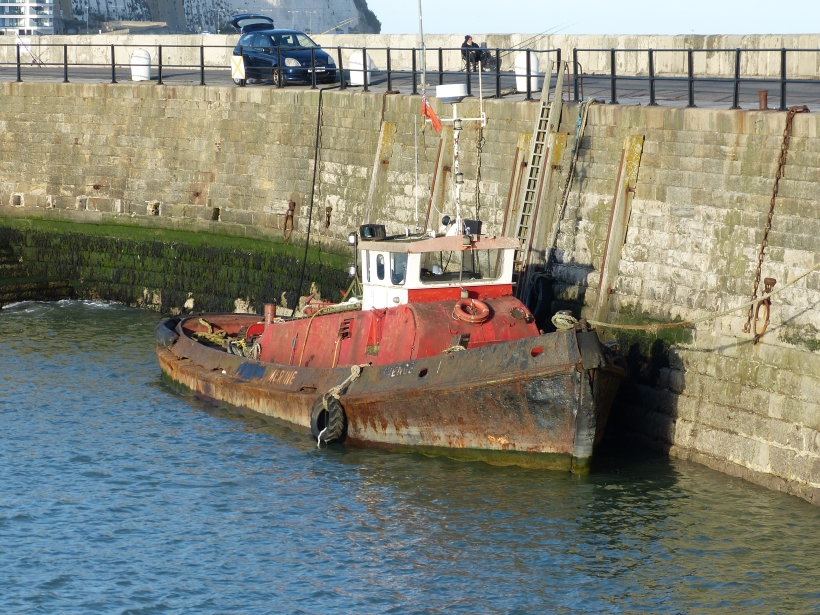 On the way up the Stour she had tied up at Richborough, probably waiting for the tide.
The REVENGE was built for Cory Lighterage in 1946 & had been laid up at Silvertown for five years & had arrived from the Thames a few days earlier.
One rumour has her at Sandwich for a complete refit, another that she is to be converted to a houseboat.
I have to go to Thanet this afternoon & will see if I can find out more about this 70-year old veteran.
Tuesday, 23 October 2018 - 10:49
Post 5827
Sea News, Dover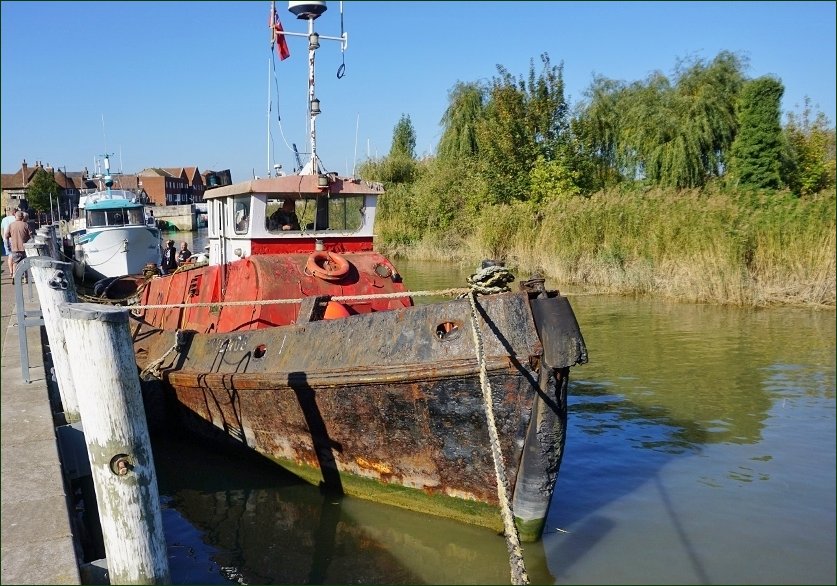 This old tug called Revenge is currently on the quayside in Sandwich, pictures taken on the Sunday just gone. She is in a poor oul state, some might even call her an old rustbucket. But it looks like she could be about to have some major restoration. There are pictures of her in pristine condition on our Channel Traffic link (marinetraffic.com) on dover.uk.com our sister channel.
Were the people looking around below interested in a second home? who knows... The Sandwich Marina guy there looks like he knows his way around a toolbox..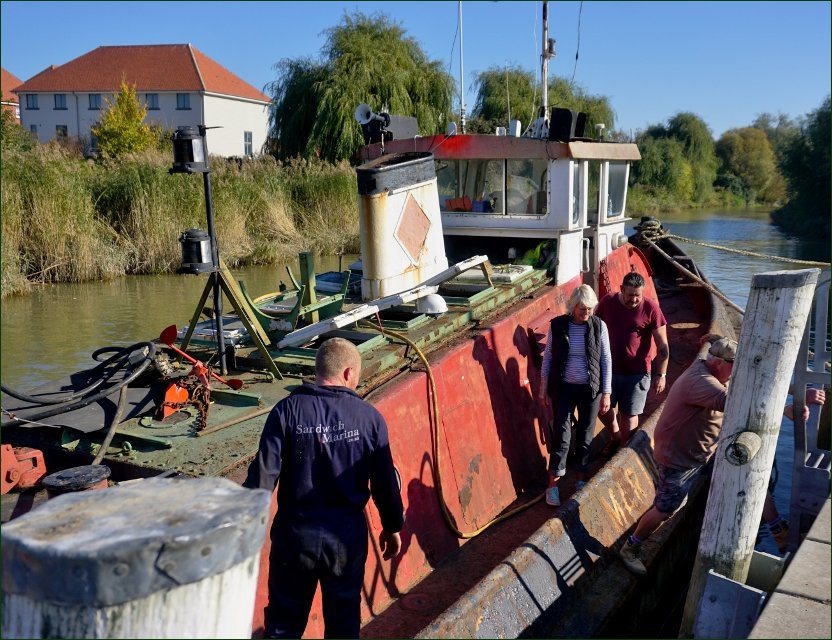 A jolly but sedate trio of water-scooters went by and took yours truly by surprise as he sauntered across the Sandwich bridge.. Can never remember what they're called...ahh yes jet-skis that's it. Making their way out to sea for some fun and frolics.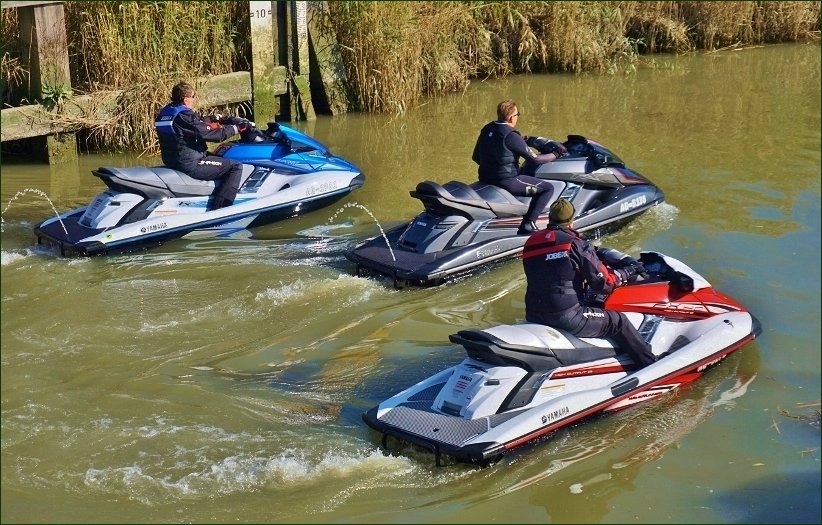 You can see same jet-skis below further along...in the foreground the ol tour bus..the Sandwich Tug is just loading some visitors.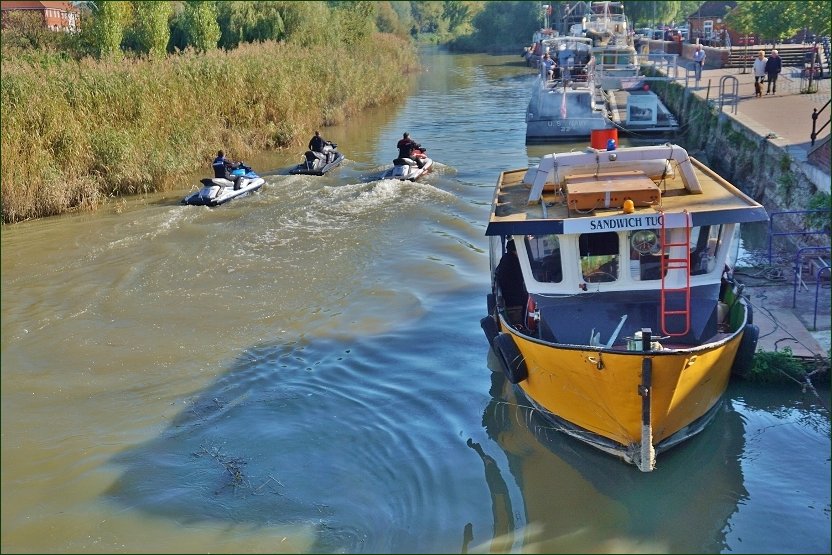 PaulB
Tuesday, 23 October 2018 - 07:58
Post 5826
Sea News, Dover
Another pic here also showing the arrival of Royal Klipper. Wide view. Picture taken on saturday. The sky is so odd it hardly looks like Dover at all...but indeed it is. The Klipper has now slipped away and into Port almost un-noticed came Esmeralda. Very busy cargo comings and goings.. a chap cant keep up...

Had time to do some work on this extra pic...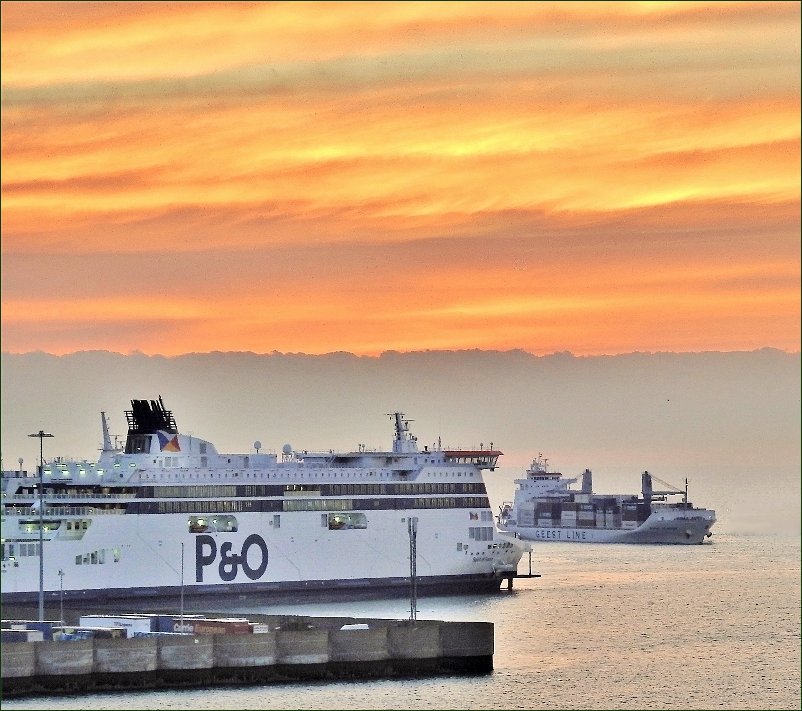 PaulB
Monday, 22 October 2018 - 19:09
Post 5825
Sea News, Dover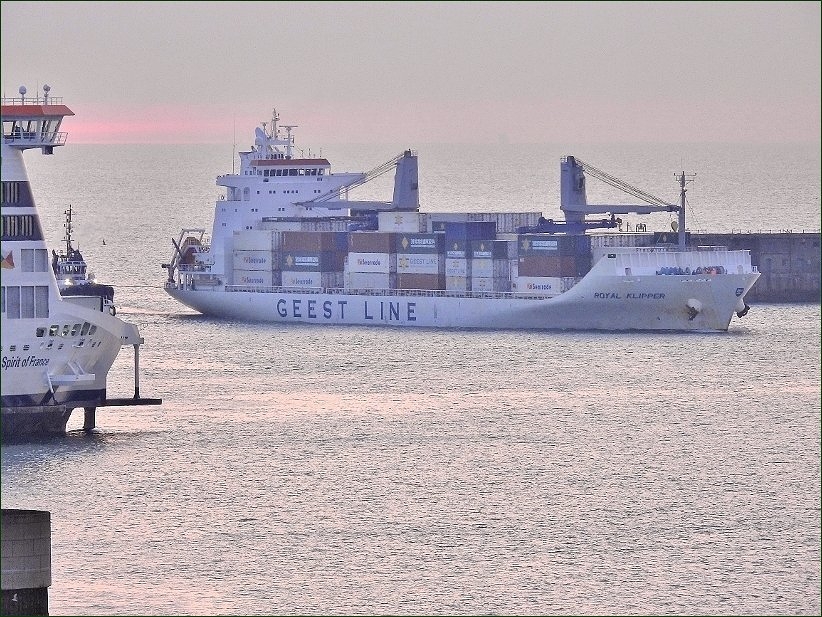 Above there we see the Royal Klipper arriving on Saturday morning at 07.20 and below some more pictures as she moves in across the bay. She has quite a good load onboard as you can see. That's the Spirit of France to the left of top shot and you can just see one of the tugs nosing into view...you can also just see that the tug has the Royal on a tight rein...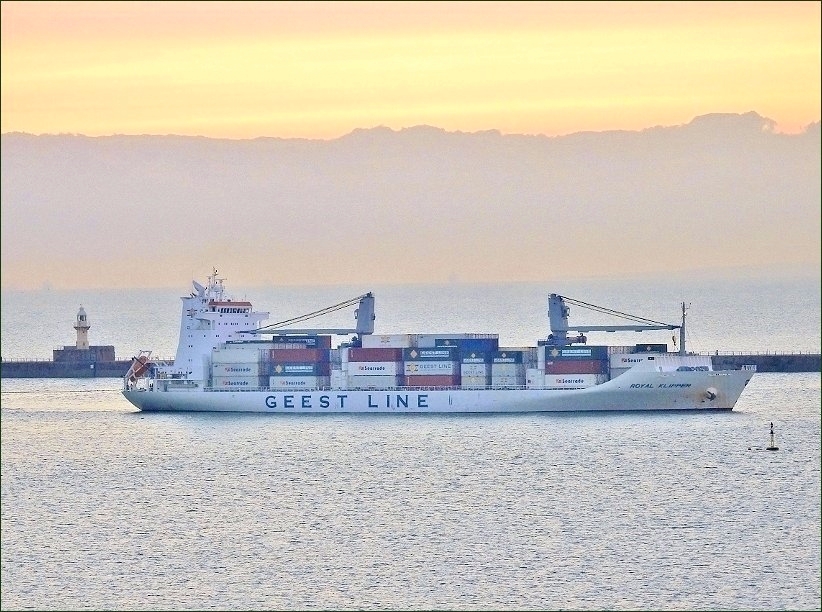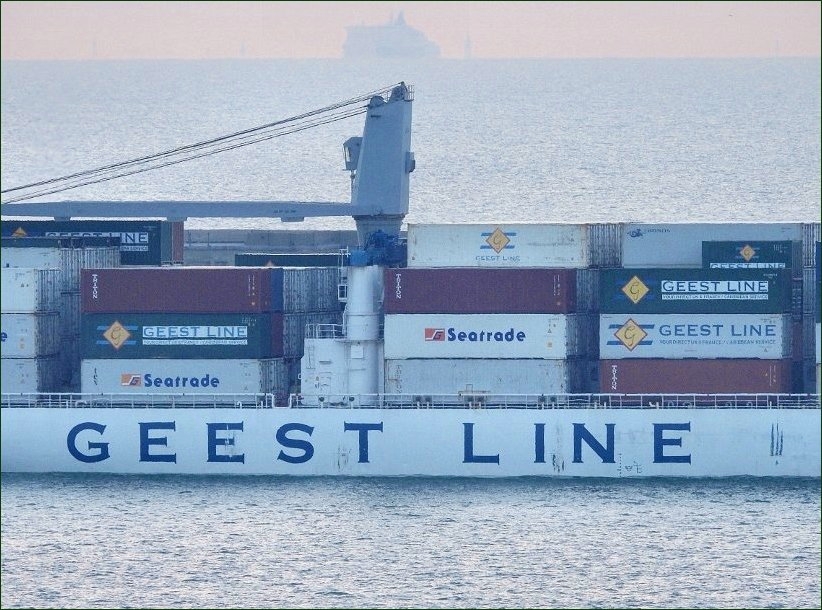 A 'Geest Line' close up above there. Right at the same time below the Spirit of France begins to move away and the Royal arrival has to wait... One mustn't keep the Royals waiting

but in this case all was well.
A final shot below and the Geest Line ship reverses towards the Cargo Terminal while in the background the Spirit of France is now well under way to the Port of Calais.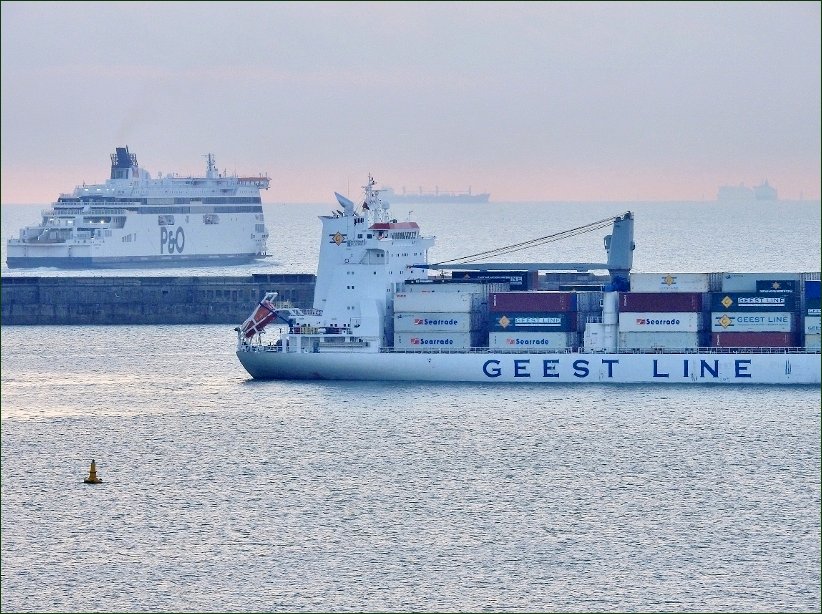 Brian I don't have the latest info to hand just yet but as you will gather the cruise arrivals begin to taper off round about now.
PB
Monday, 22 October 2018 - 05:59
Post 5824
brian dixon, dover
is there any cruise ships dew in the next couple of weeks

Sunday, 21 October 2018 - 16:58
Post 5823
Sea News, Dover
Some pictures now of the Dover Lifeboat returning to the Port on Friday evening. Time approximately 5.45PM. The boat just catching the late evening sun as she makes her way homewards .. the days grow short now. We understand she had been out on an active 'shout' as it was believed a paraglider had gone down off Folkestone, but nothing was found.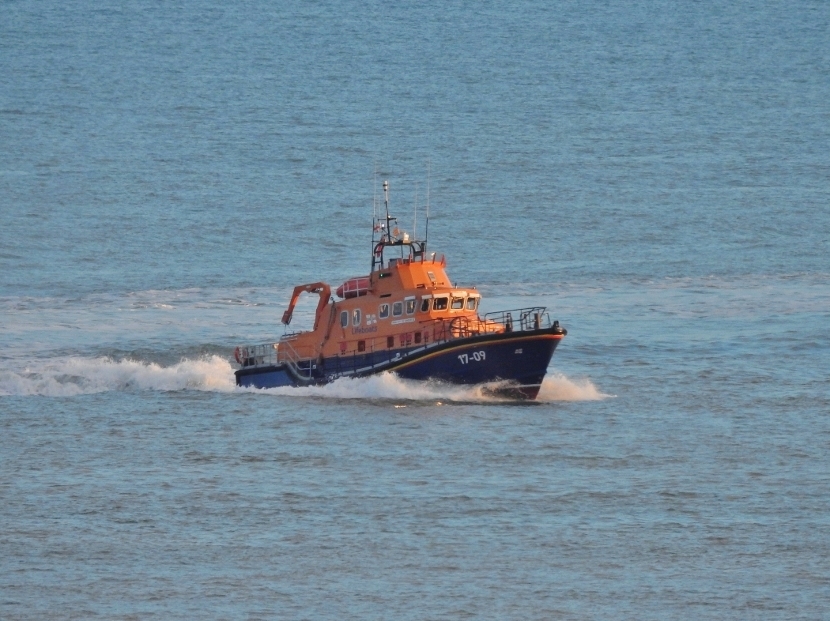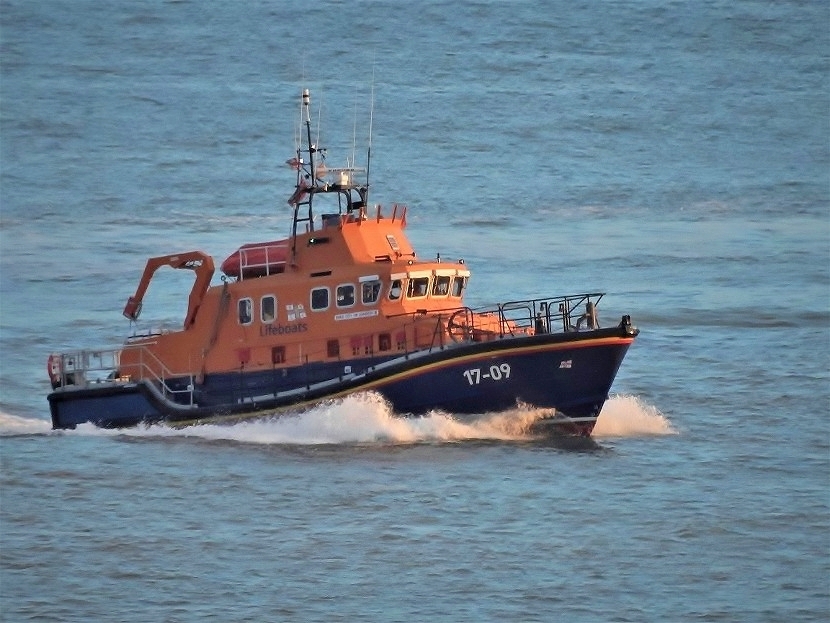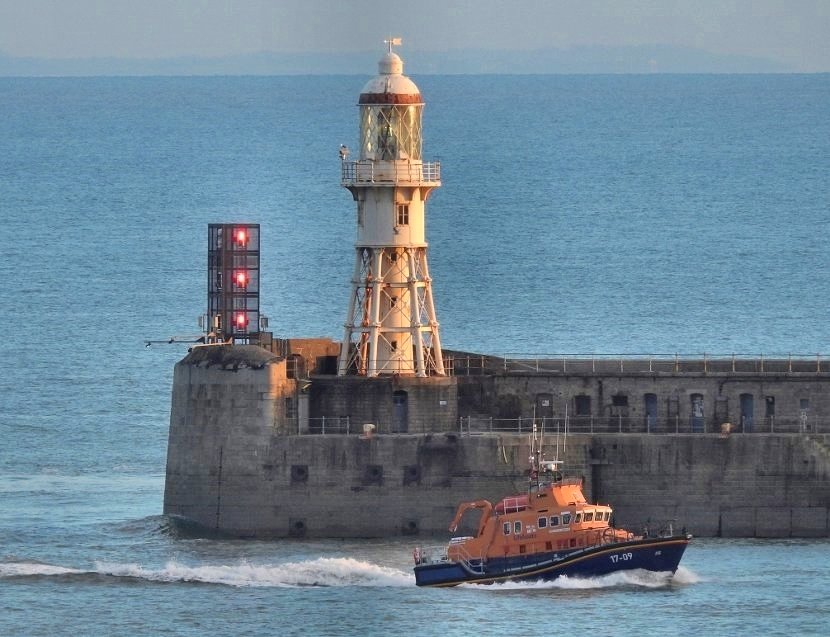 Will just add this one below from times past..have just re-found it in the archives while uploading. The Lifeboat again, but this time in Sunday morning exercise action .. in the foreground this time we have an interesting one. Its sailing ship Phoenix, a one time missionary sail ship from Denmark. In more recent times enjoying a lucrative film career. Had forgotten this picture but here we are now. It dates from 2015, ermm the picture that is, not the ship.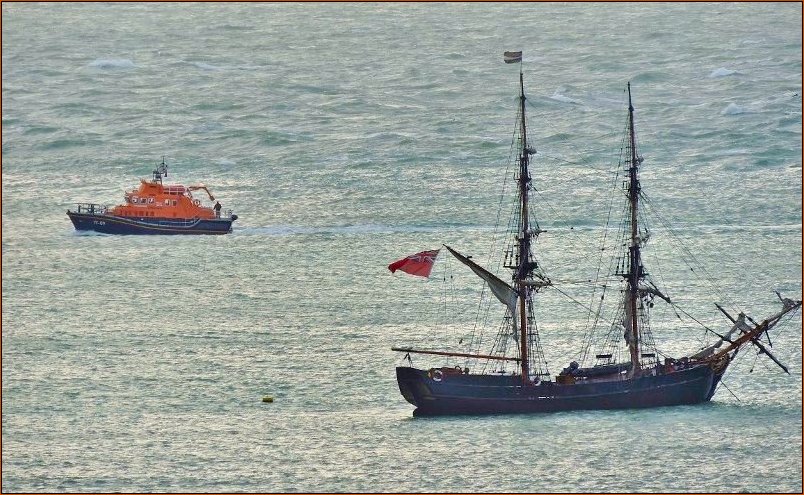 Great collection below there Patrick. Great to see those, and to have them in our Search Engine here on Sea News...always good for future ref.

Lol

Del... the modern machinations never cease to amaze.

PaulB
Sunday, 21 October 2018 - 06:22
Post 5822
Del Styan, Norwich
That Premier Inn concrete laying machine looks like a Spider from Mars. Perhaps it's after the terracotta army?

Saturday, 20 October 2018 - 23:07
Post 5821
Patrick, Marine Parade
The latest views of the Dover Western Docks Revival (DWDR) work from 'The Heights'. What a great October we are having.
Pontoon piling seems to have been completed and the crane barge that lifted them into place has moved to the old jetfoil terminal. New Pier now has clean lines all the way up to the 'diamond' at the end.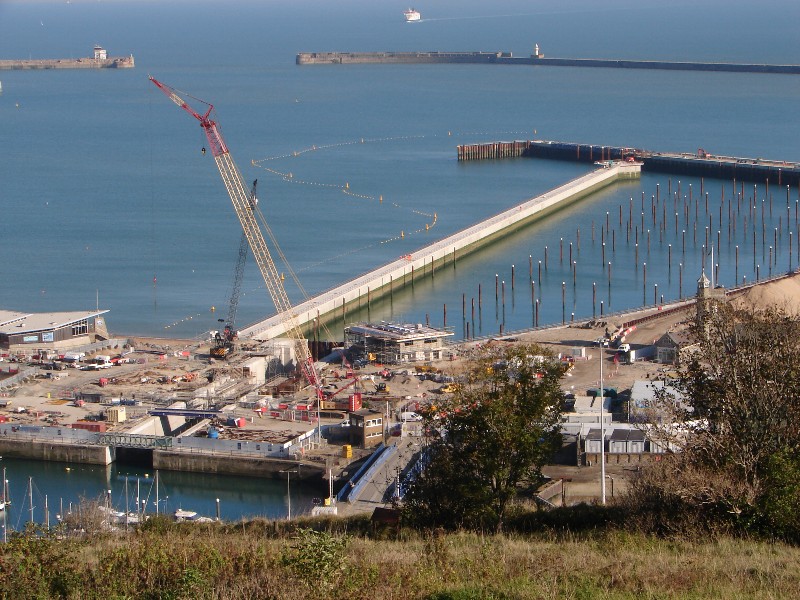 New Marina Control Building - roof work ongoing. Solar panels perhaps?
Work around the RCT ('banana shed')continues with more hard surfaces being laid. The pile of dark grey aggregate is getting smaller. This was the material that was unloaded earlier at Berth 'C' from the self discharging bulk carriers.
'Diamond' shape end to the new pier - lot of steam lately from behind some green netting with a red tank in evidence. In the meantime the concrete sides to the marina curve are being filled by a procession of concrete lorries feeding the site.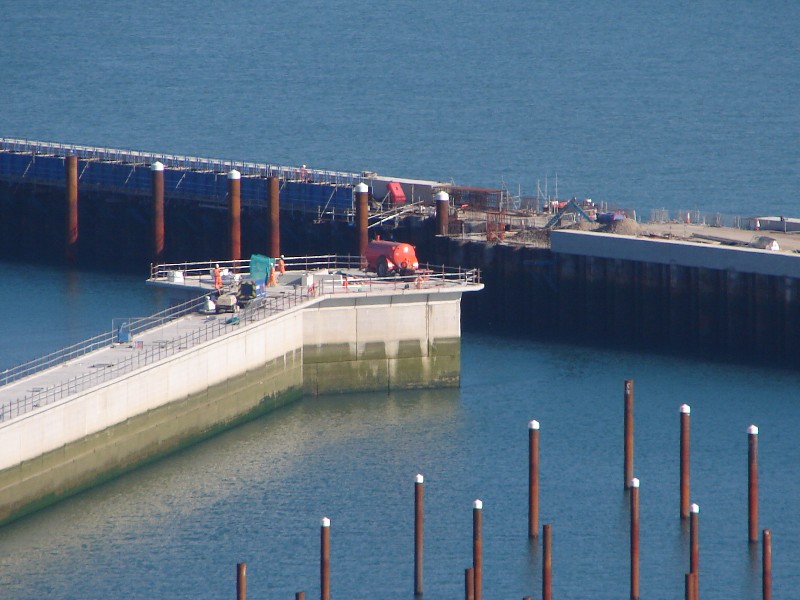 Saturday, 20 October 2018 - 18:44
Post 5820
Sea News, Dover
While we are in dig and shovel mode - here we are now with some further pictures of the well known seafront hotel...yes indeed its the Premier Inn extension again. The intensive work goes on... top two pictures from 5/7 days ago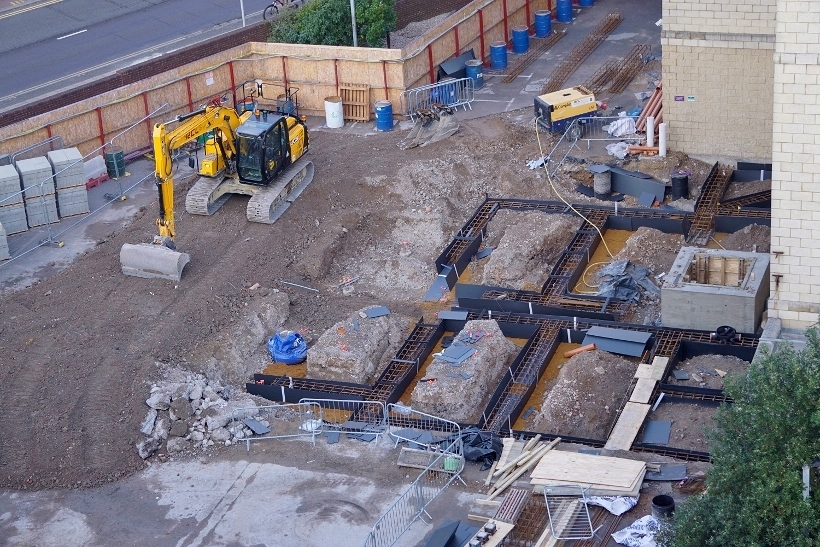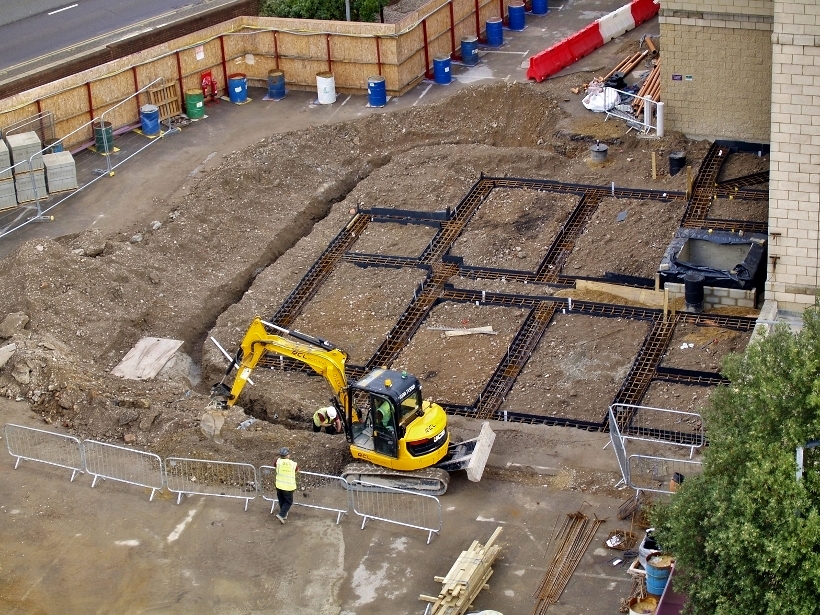 The two shots below were taken yesterday and you can see the progress. Looking with awe at that fantastic device for pumping concrete. Not that yours truly would know much...but fascinating the way the concrete truck attaches itself to the pumping truck to perform as one...well I never! As you can just make out..the concrete is being pumped into the black square sections. Hopefully I am making that clear...ish ...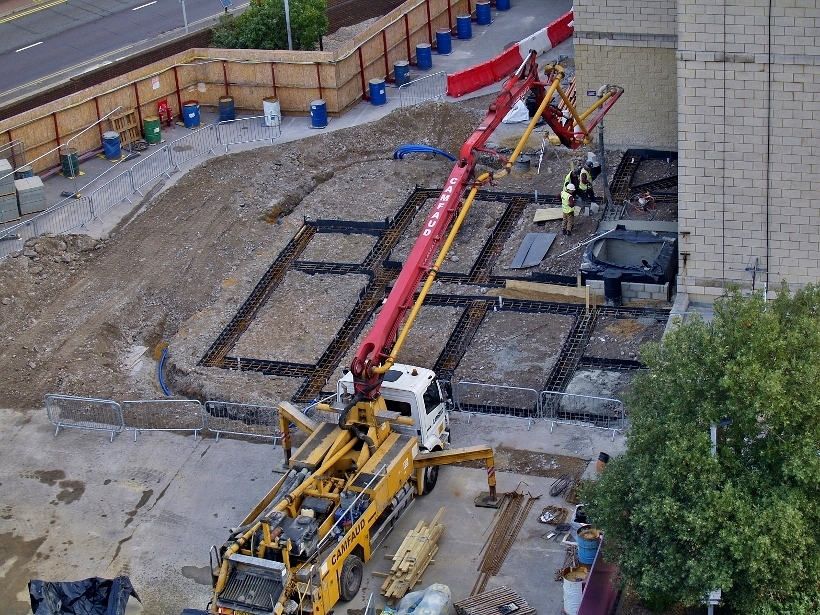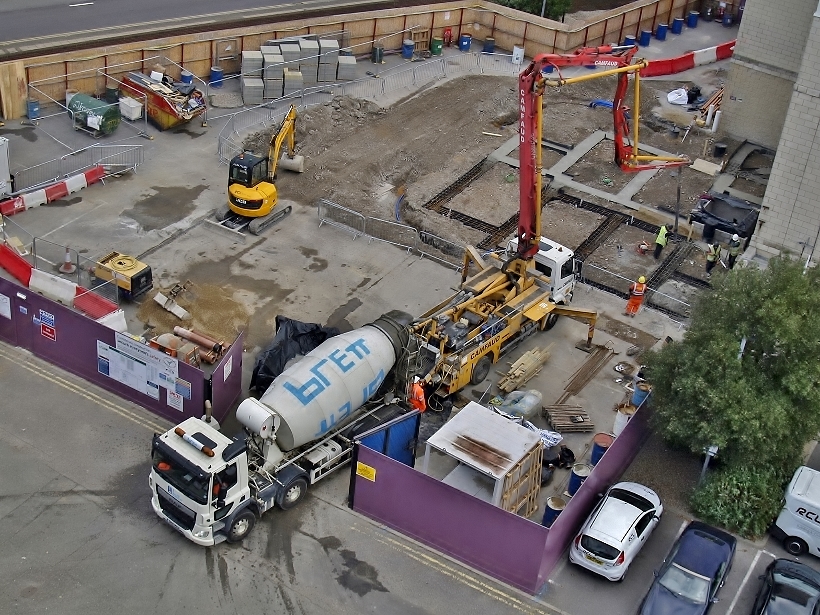 Alas our Terracotta Army is gone...our ' dover warriors' are no more, buried in a sea of sand. A final glimpse below..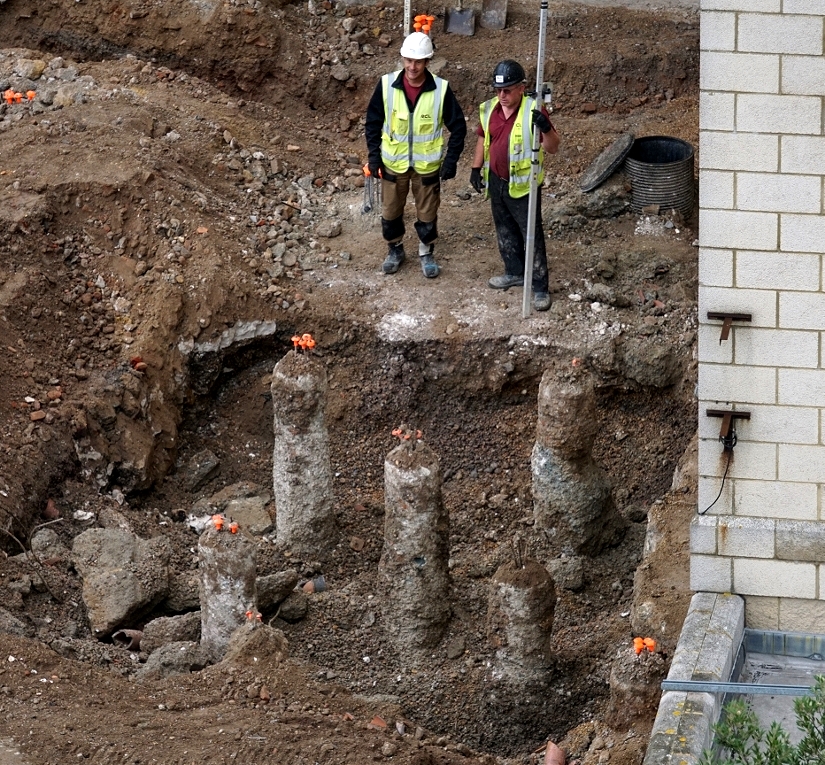 See also 5776 for the early shots.
Indeed Del - mustn't get that classic car splashed!

PaulB
Saturday, 20 October 2018 - 08:10
Post 5819
Del Styan, Norwich
I see the works are getting close to the beach. I hope the bloke parked on the pavement with his doors open has moved on. He might get a splash or two!

Friday, 19 October 2018 - 23:13
Post 5818
Sea News, Dover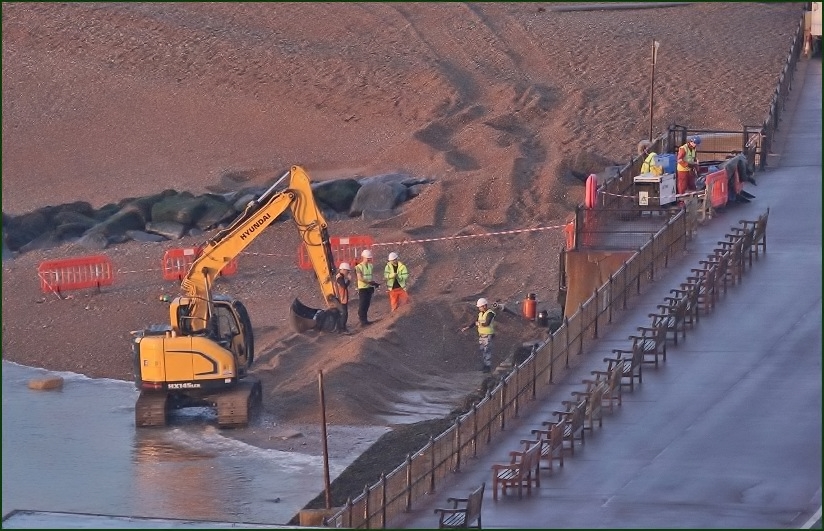 The pictures here show some of the work being carried out on the main beach here in the harbour, it has been going on energetically all week - presumably shoring up sea defences so that the lovely beach here in Dover Harbour remains in tact as it were..the work is being carried out at the eastern end of the main beach.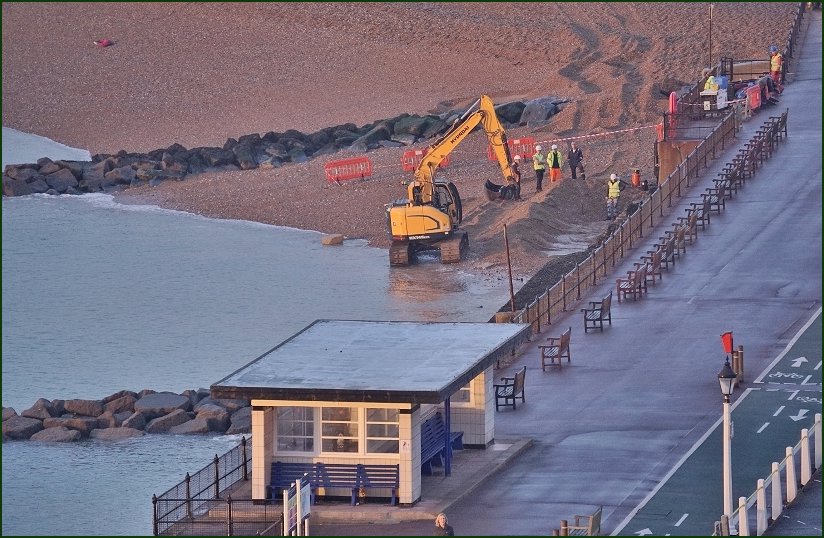 A wider view above there to better show the location of the work being done.
The pictures were taken very early morning, hence the pink glow...
as right behind the camera and across the harbour you had this scene below.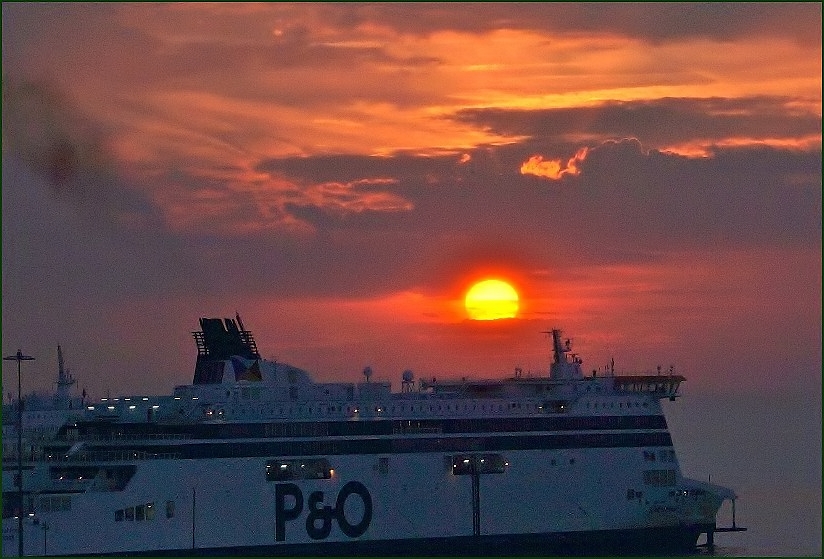 The pictures above are from earlier this week and the picture below was taken yesterday... the work goes on.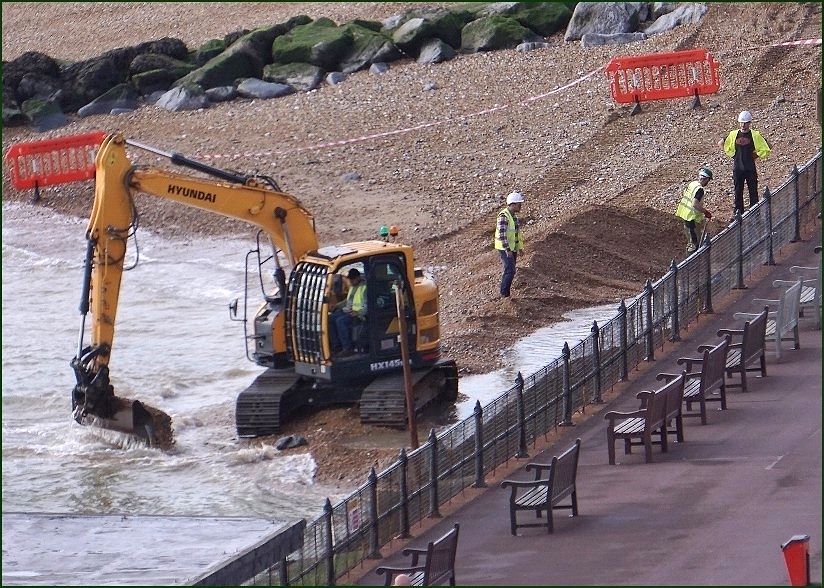 The work above appears to be separate to the massive workings still going on with the redevelopment of the Western Docks.
PaulB
Friday, 19 October 2018 - 08:01
Post 5817
Sea News, Dover
Following along from Mike's first pic of Comoros Stream in post 5815...here we are with a few more. Alas these pictures are a bit plain but hopefully better shots will eventually follow. She had just arrived all the way from the South Americas … looking good.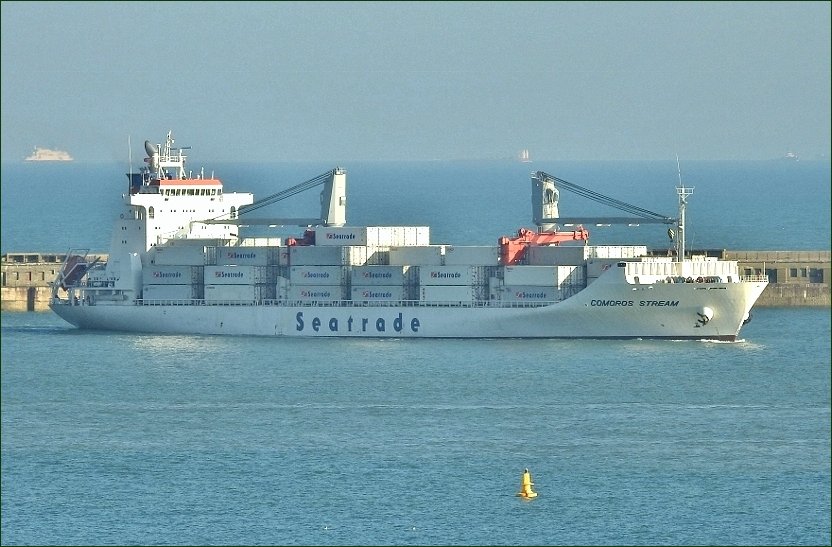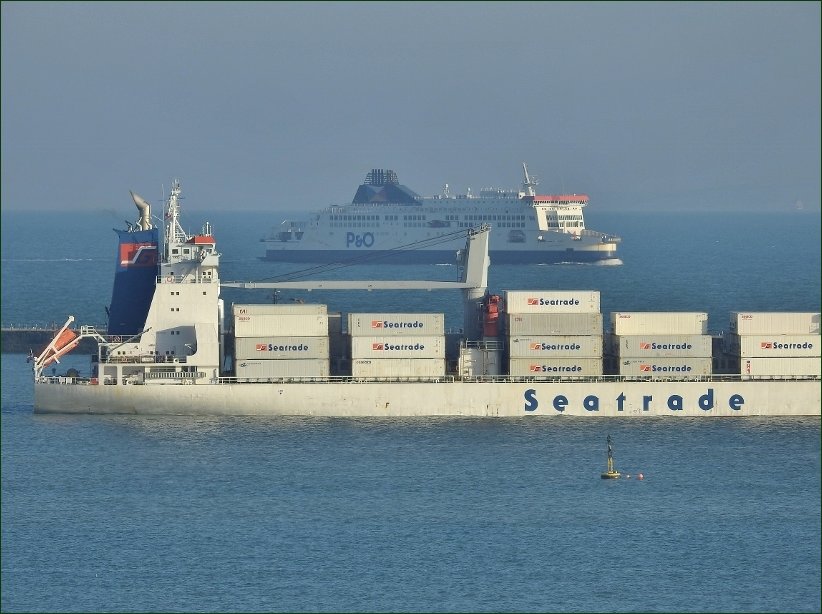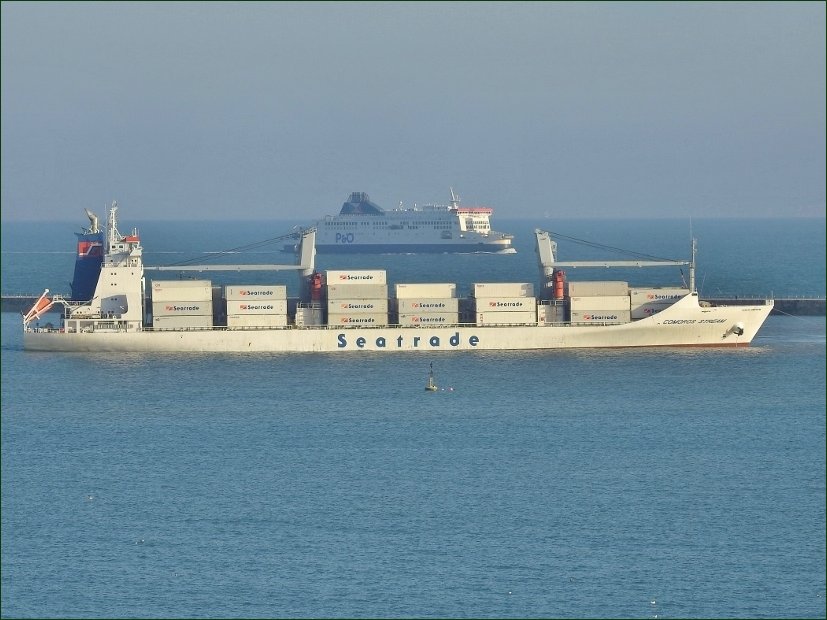 As promised, the extra local info on the new announcement re the Lower Thames Crossing ...
Dover District Council Urges Businesses and Residents to Have Their Say on Lower Thames Crossing
________________________________________________________________________________________
Dover District Council is urging residents to have their say on plans for a Lower Thames Crossing. Highways England has launched a 10 week statutory consultation on the plans which will see a new tunnel connecting Kent with Thurrock and Essex.
The only public consultation event on the plans in East Kent will be held in Dover at the Maison Dieu (Dover Town Hall)
on Tuesday, 4 December (2-9pm).
Cllr Nigel Collor, DDC Cabinet Member for Access, said: "We have long advocated the need for dualling of the A2 from Lydden to the Port of Dover which will become more pressing with the increased traffic that this route will attract once the new Lower Thames Crossing is open in 2027.
"Increasing the resilience of this key transport corridor has for many years been a priority for the Council and the Port of Dover and with Brexit on the horizon, there is a compelling case for investment in the strategic road network across East Kent.
"The new Lower Thames Crossing will greatly benefit local businesses and residents by improving access particularly to the north and east of London and Essex."
The consultation closes on Thursday, 20 December. Residents can also have their say online …
https://highwaysengland.citizenspace.com/ltc/consultation/
(or indeed the link on the HMGovernment release which we featured earlier...
www.lowerthamescrossing.co.uk/haveyoursay )
ENDS
Bit of a pity there are two links re the above.. but there we are...
See our earlier major post on this... 5812
PaulB
Thursday, 18 October 2018 - 07:08
Post 5816
Sea News, Dover
KENT SCHOOLCHILDREN MARK WORLD WAR ONE CENTENARY WITH 'MOVING' EVENT ON BOARD P&O FERRIES SHIP
____________________________________________________________________________________________________
Release time: immediate
TWELVE schoolchildren from Kent attended a special afternoon tea on board a P&O Ferries ship last week (5th October) to mark the 100th anniversary of the end of the First World War.
The youngsters from St Richard's Catholic Primary School in Dover, aged 9 and 10, met with veterans from the Royal British Legion to mark the charity's 'Thank You' campaign, which remembers some of the individuals who took part in the war a century after the event.
The children were met on board P&O Ferries Spirit of France ship by Chief Officer Tom Hackford, who at 31 is the youngest acting-up captain in the company's fleet. They were also given a presentation about the war by Cherrie Harris, the first female vice chairman in the 100 year history of the Royal British Legion Kent.
Ms Harris explained that the children were sailing on the same route as the soldiers would have taken to the Western Front and that the armistice was signed on the 11th hour of the 11th day of the 11 month in 1918. She added interesting facts about the war including how it heralded major social change such as votes for women and how the tommys took cats with them to the trenches in order to catch rats.
The children enjoyed an afternoon tea – a famous P&O tradition dating back to the last century – which was specially prepared by chef Jason Chappell to include WW1 nostalgia items such as bully beef sandwiches and trench cake. The day ended with the children writing their own thank you poems and making poppies with their eyes closed or only using one arm, to emulate the disabled veterans who were the first makers of commemorative poppies 100 years ago.
James Blomfield, Headmaster of St Richard's School, said: "I would like to thank P&O Ferries for inviting the pupils to attend their WW1 'Thank You' afternoon tea party. The trip was a remarkable and moving experience for our children – they have learned a huge amount about the war as well as the significance of remembering all those who sacrificed their lives for our freedom."
Jacqueline Burns, Corporate Communications Officer at P&O Ferries, added: "We are proud to be a longstanding supporter both of the Royal British Legion and also the schoolchildren in the communities where we operate. We hope that the children will now be able to tell their friends why the First World War still matters even today."
ENDS
Nice picture of little Luke above there. Well done Luke and all the schoolchildren.

Many thanks to the guys at P&O Ferries for the story.

As a compliment to the above item which features the Spirit of France..a couple of pictures now of said ferry.
The Spirit of France ...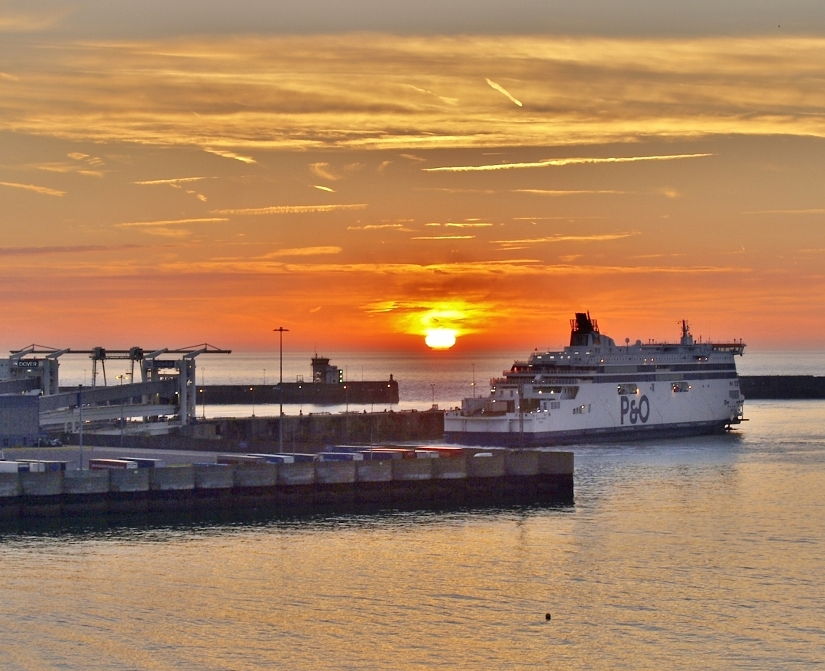 The pic above .. taken just two days ago as the Spirit of France makes an early morning departure under a gorgeous sky. All natural picture. Below we see the ship again, a familiar shot this time with the older logo, taken in Calais a while ago.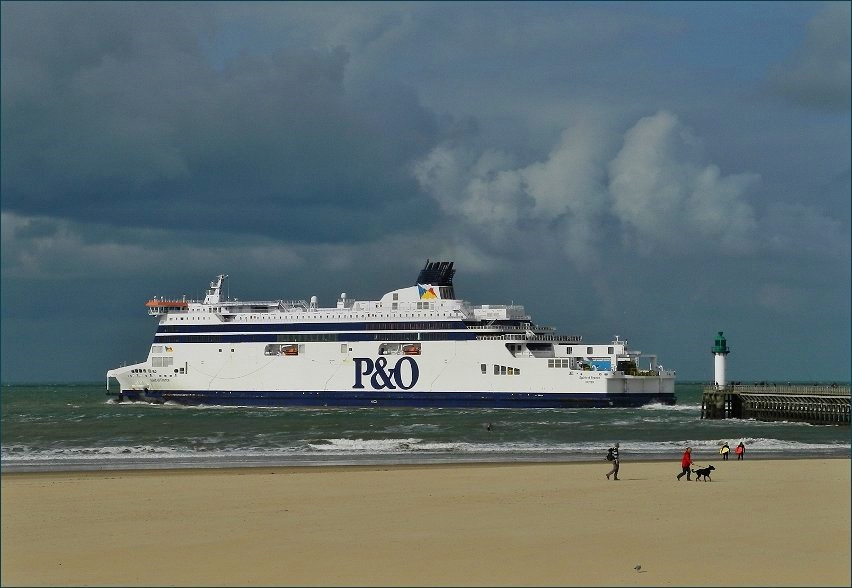 Well done with Comoros Stream below there Mike.

yes indeed a significant transformation from a model in a glass case. (to see glass case pic type 2852 in Search Engine)
Will have a few pix myself to follow along in due course.
PaulB

Wednesday, 17 October 2018 - 07:09
Post 5815
Mike J., Dover
First arrival of the COMOROS STREAM ?
First time on 'Sea News' anyway, apart from a model in a glass case in an earlier post.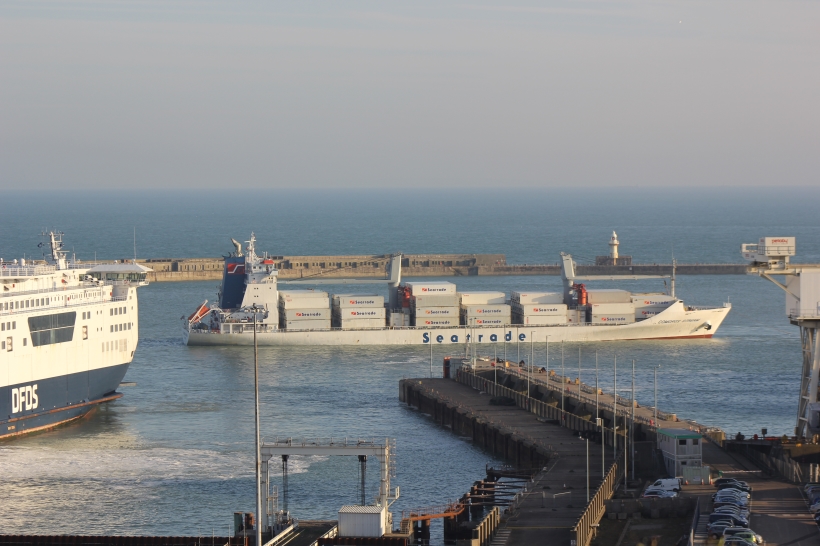 She arrived Dover Tuesday afternoon from Puerto Barrios in Guatemala & was held in the bay by the tugs for a short while the COTE DES FLANDRES unusually shifted from No.2 to No.6 berth.
In the backgroumd the CANTERBURY heads for Western & No.7 berth.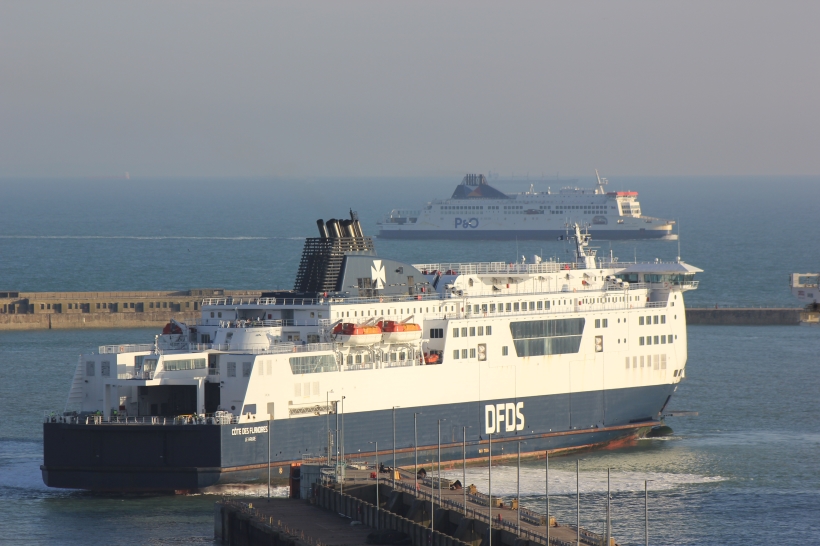 Re Paul's pix of the recovery exercise by Viking Marine - in real life the 'casualty' would float much deeper in the water & would be a lot heavier & harder to recover !
Tuesday, 16 October 2018 - 22:42
Post 5814
Sea News, Dover
The Maritime Skills Academy in Dover Harbour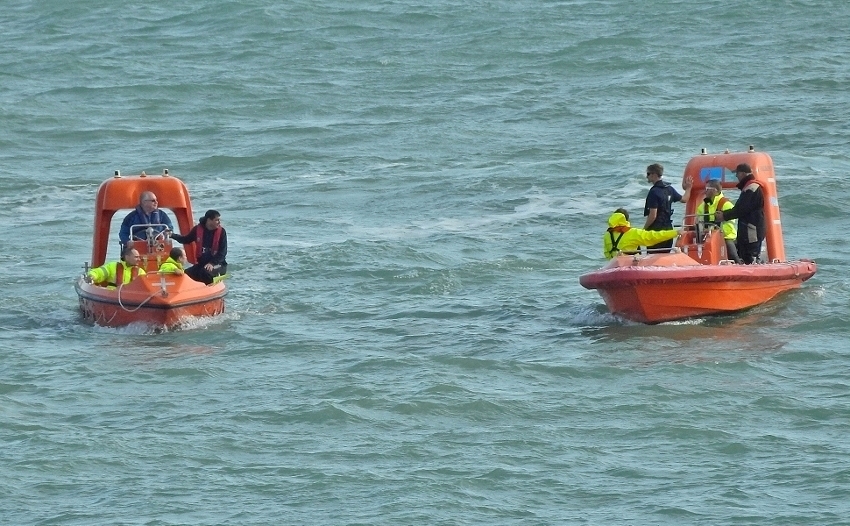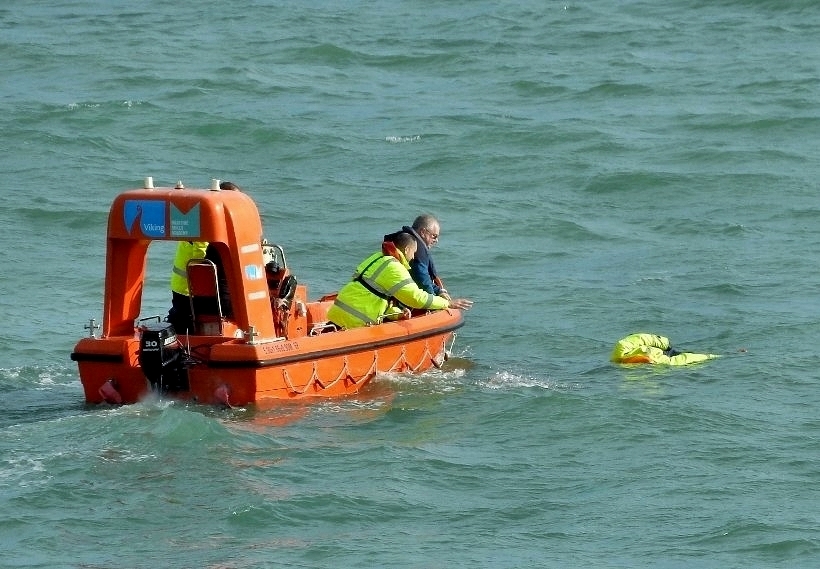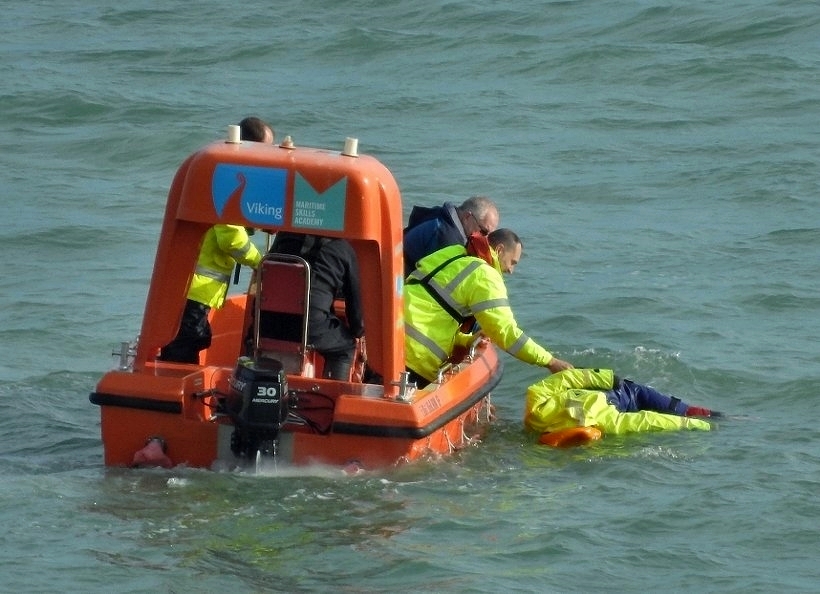 Some pictures above there of teams from the Maritime Skills Academy out in training action in Dover Harbour on the afternoon of the 11th of October. They were obviously practising how to retrieve a dead or wounded victim from the water .. as you can see in the shots above, as well as other training exercises..
Good to see them in action.
Nice pictures from Ramsgate below Mike...right in the heart of it. Great to see those boats up close. Fascinating too to see those eateries recently in your shots..right at the waters edge over there in Ramsgate, have personally never seen them. Wetherspoons right in there in the harbour, and now the Royal Harbour Brasserie...fascinating..

PaulB
Tuesday, 16 October 2018 - 15:10
Post 5813
Mike J., Dover
Like Dover, Ramsgate is having contractors working in the harbour, but not perhaps on the same scale as DWDR.
Like Dover, piling works are taking place & this little workboat was busy on 3/10 with preliminary work on the pontoons before the installation of replacement piles.
She [it ?] had arrived in Ramsgate [by lorry] a few days previously.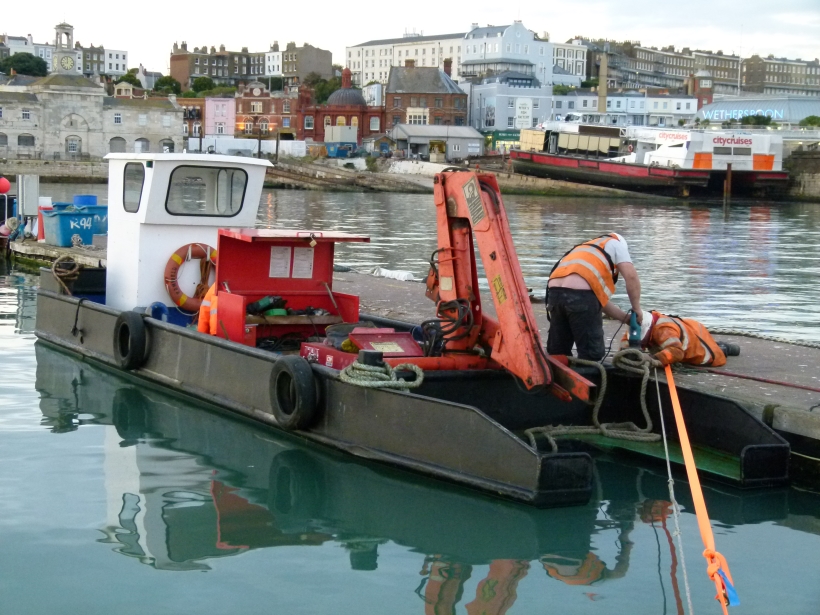 Dunkirk Little Ship 'LA MOUETTE' under overhaul in the Inner Harbour at Ramsgate.
She has an interesting history which can be found on the website of the 'Association of Dunkirk Little Ships'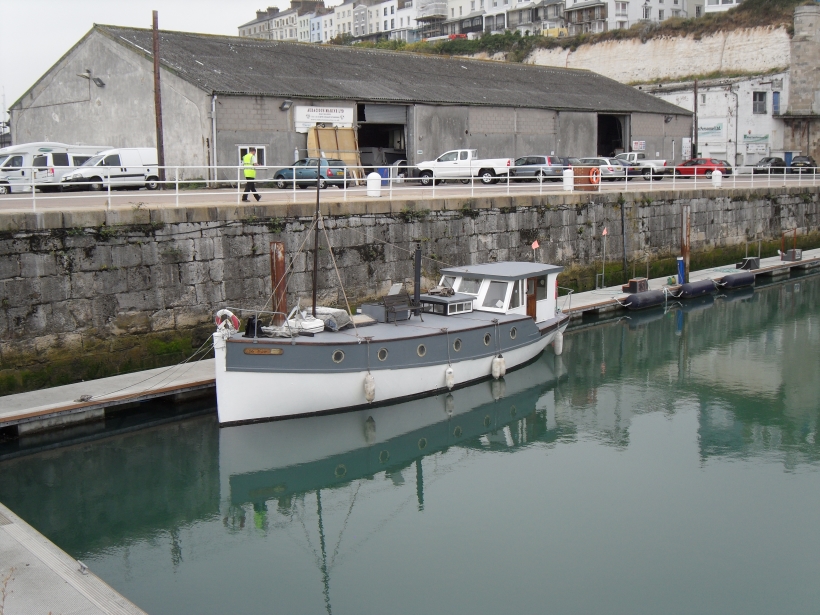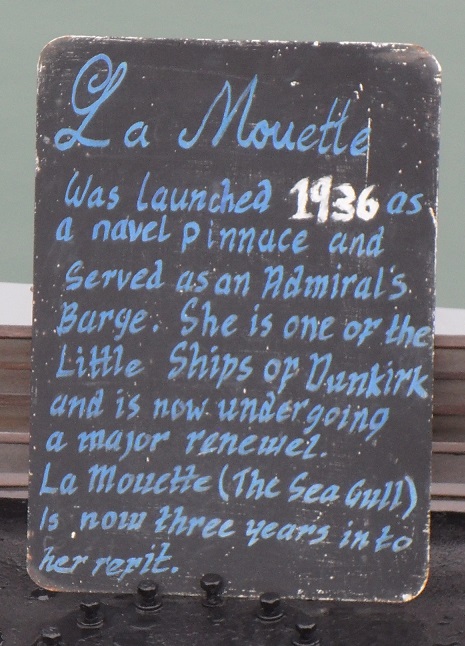 Ramsgate Port Control atop the Royal Harbour Brasserie & sun deck at dusk.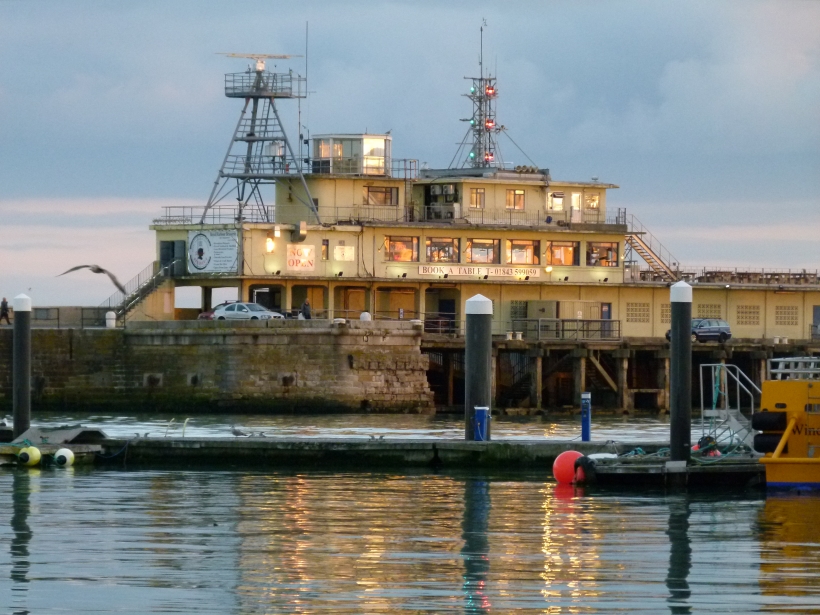 Monday, 15 October 2018 - 23:42
Post 5812
Sea News, Dover
Lower Thames Crossing to boost road capacity by 90 per cent
_________________________________________________

A major new road linking Kent, Thurrock and Essex would nearly double road capacity across the river Thames and almost halve northbound journey times at Dartford Crossing, under updated plans just released by Highways England.
Transport Secretary Chris Grayling said:
"We are making the biggest investment in improving our roads since the 1970s, ensuring journeys are quicker and safer. The multi-billion pound project will connect communities, boost the economy and add vital extra resilience to the road network while reducing pressure on the existing Dartford Crossing. It is set to be the most ambitious road project since the M25 opened 30 years ago and will include the UK's longest road tunnel.
47,000 people had their say in a previous consultation on the proposals – a record for a UK road scheme. A new, ten-week consultation on the latest designs for the improvements will start on Wednesday 10 October and run until Thursday 20 December.
The improved proposals published today include:
Making the whole route a three-lane dual carriageway to improve traffic-flow;
A new rest and service area to the west of East Tilbury;
A new design for the Tilbury junction, removing the proposed Tilbury link road toreduce traffic on the local road network, and;
An improved junction with the A2.
The 14.5 mile route connecting Gravesham in Kent and Thurrock in Essex is expected to reduce traffic at Dartford by 22 per cent with 14 million fewer vehicles using it every year. It will almost halve the morning peak average journey times between M25 junctions 1b and 31 from nine minutes to just five.
"The Lower Thames Crossing will help transform journeys, create new business opportunities in Kent and Essex and unlock productivity across the UK.
"It will also cut congestion at the Dartford Crossing and improve connectivity from our industrial heartland to our ports in the South East."
Tim Jones, Project Director for Lower Thames Crossing, said:
"For too long the Dartford Crossing has been the only way to get across the Thames east of London. It is a vital gateway, but carries more traffic than it was ever designed for and drivers there suffer from regular delays, severing communities and holding back economic growth.
"The Lower Thames Crossing is the most ambitious project of its kind ever in the UK and the biggest single road upgrade since the M25 was completed more than 30 years ago. It would almost double road capacity across the Thames cutting congestion, significantly easing pressure at the Dartford Crossing and boosting the resilience of the whole road network. This consultation is an important opportunity for people to share their views on our proposals and I urge anyone who has an interest to have their say."
The project will create a new, three-lane dual carriageway connecting the M2 near Rochester and the M25 in Essex between North and South Ockenden. It would include a 2.4 mile-long tunnel under the Thames between Gravesend and Tilbury – the longest road tunnel in the UK – and, at over 50 feet wide, the third largest bored tunnel in the world.
The plans published today include an updated, more detailed design which aims to maximise the project's huge benefits and includes significant changes to minimise the impact on local communities and the environment.
Numerous measures have also been included to reduce the impact that the new road will have on local communities, including:
Extending the tunnel so the tunnel entrance in Kent is 600 metres further south to reduce the visual impact and protect access to a community church;
Lowering road by five to six metres in places to reduce its visual impact;
Moving the road 80 metres further east where it passes Chadwell St Mary to increase the distance from residential properties.
The preferred route was announced last April by Transport Secretary Chris Grayling. Some 25 public information events are being held across Kent and Essex, as well as 30 visits to local communities to help people understand more about the proposals and put any questions directly to the project team. At each event, specialists will be on hand to explain the proposed route, how it would be built and operated, and how Highways England plan to minimise the impact on the local environment and community.
All information is also available online ...
www.lowerthamescrossing.co.uk/haveyoursay
The consultation starts today and runs for ten weeks.
Ends
THE PORT OF DOVER :
Port of Dover Richard Christian, Head of Policy & Communications, Port of Dover, said:
"The UK's reliance upon continued frictionless trade at the Port of Dover has been accepted at the heart of Government. So has the need to preserve it. For a port handling £122bn or 17% of the UK's trade in goods, and with half of that trade moving beyond London to keep factories busy and shops full in the Midlands and the North, the Lower Thames Crossing is an investment in the long-term economic success of the UK as a whole. The Port continues to press hard for a Government commitment to other complementary strategic investments such as the dualling of the A2 to Dover which, together with the Lower Thames Crossing, will help protect jobs and livelihoods, keep traffic flowing and prices low for British consumers."
Dover District Council are also involved and we will have more of that to follow in due course.
* *
The following pictures feature the departing Saga Pearl II. She left us here at the Port of Dover on Friday at 6.20pm for the final time. It was getting dark so the pictures are not sprightly clear. She left in a strong wind too, so the acknowledgement spray from the tug was dispersed somewhat in said wind. She left to the sound of horns and hoots in celebratory style. Sad to see her go......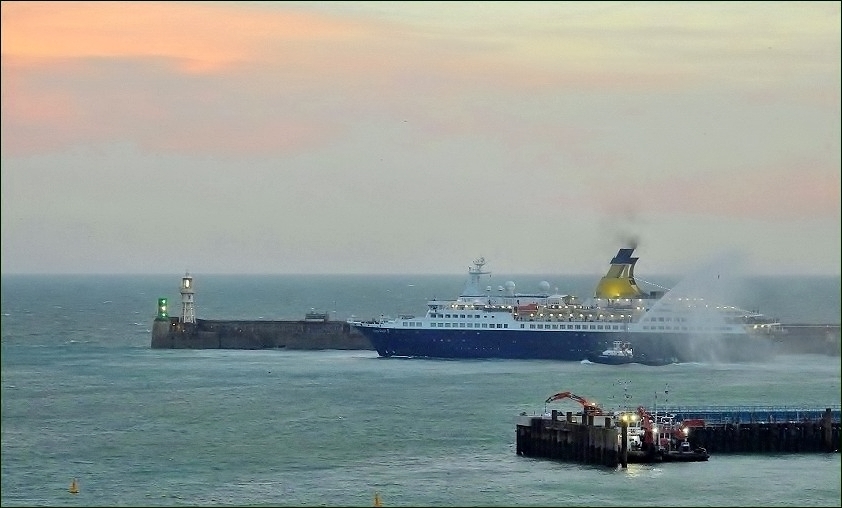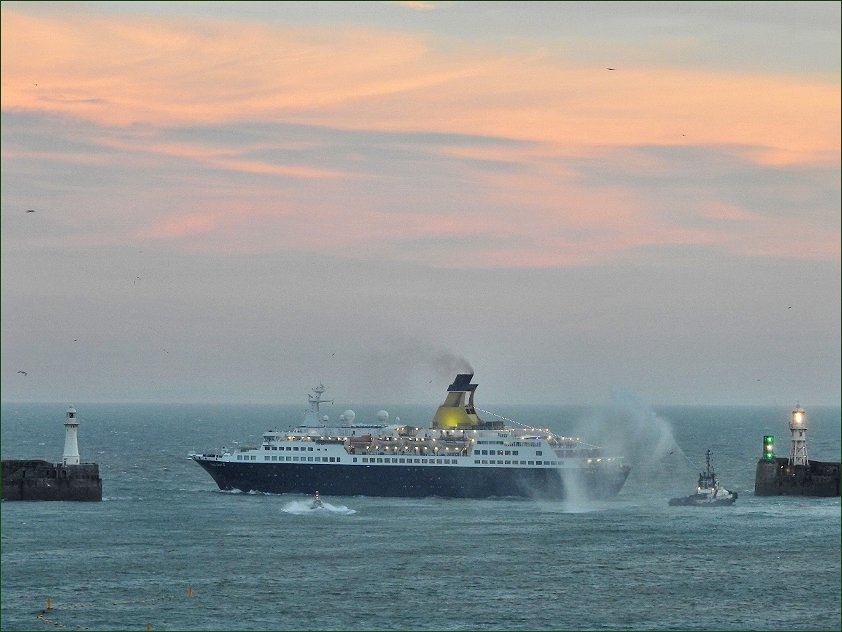 The recent picture below shows her off better.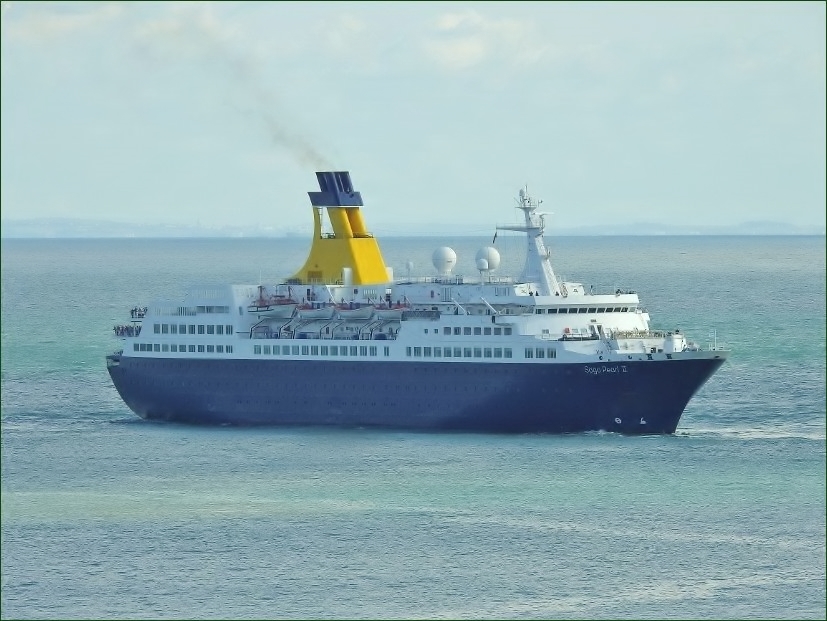 And her replacement below...due in July 2019. The Spirit of Discovery.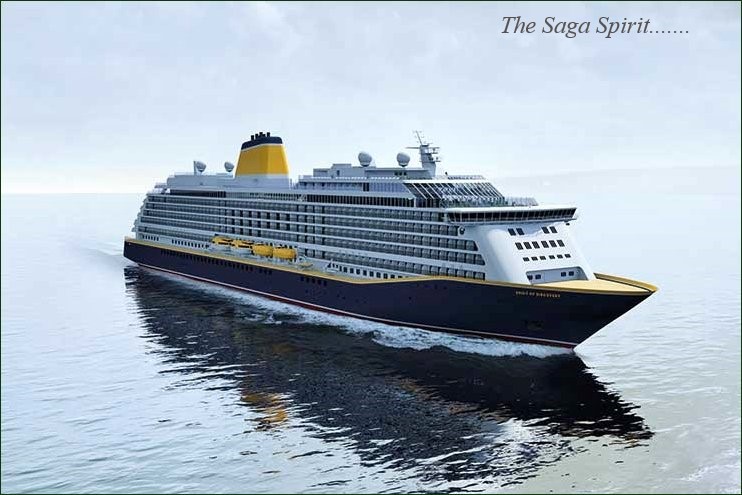 See also post 5776 for more detail on the new ship ... type 5776 in our Search Engine above for easy access.
PaulB
Monday, 15 October 2018 - 06:16