Thursday, 22 August 2019

WWW.DOVERFORUM.COM/SEA-NEWS
Featuring all the ships that come and go and work at the Port of Dover ..
... with further coverage of the surrounding ports.
Sea News Dover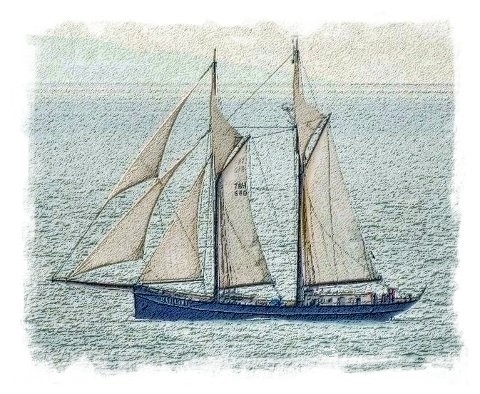 P&O Cadet Bursaries plus.. see 6457
DFDS:Temple Ewell Run plus FIP(?) booking 6453
Dover Regatta see 6438, 6441, 6442
Port of Dover: Chief Exec EU statement 6373
DFDS New Ship for Channel see 6303
DFDS Europe's award winning Ferry Operator 6332
Port of Dover : Virgin Voyages 6289

Port of Dover: Brexit Resilience 6123
P&O Ferries: Alternative Euro Breaks 6298
P&O: Record Fundraising for Lifeboats see 6253
Port of Dover: Reducing Carbon Footprint 6332
Port of Dover: New Cargo Manager see 6205

WW1 Soldier Dover Seafront 6414
Thames Estuary Forts 6250
SS Richard Montgomery at rest (WW II Supply Ship ) 6329
Premier Inn completes see 6149 plus

Scroll down and over to see the Boudicca D-Day pictures in several posts...
….and now also too the Spirit of Discovery
Use our SEARCH ENGINE below to find all sorts on the SEA NEWS pages....type in the topic and away you go, or if you have the post number as shown above, just type it in the box, more than - 6400 - nautical posts now.
Posts are welcome. just click 'Add Your Comment' below. Max of 5 pictures preferred although we can stretch that for special stories..
Sea News Editor Paul Boland - send info or pix to dover7@msn.com. Always welcome.
CRUISE CALLS:
https://www.doverport.co.uk/cruise/find-a-cruise/
UPDATE:
To show your pictures at their best..it could be worthwhile resizing before posting to
850
pixels wide.
All pictures on these pages are the copyright of the owners and must not be reproduced without permission.
Post 6376
Mike J., Dover
Departure of SEABOURN QUEST at 1745 Monday, bound for Portland.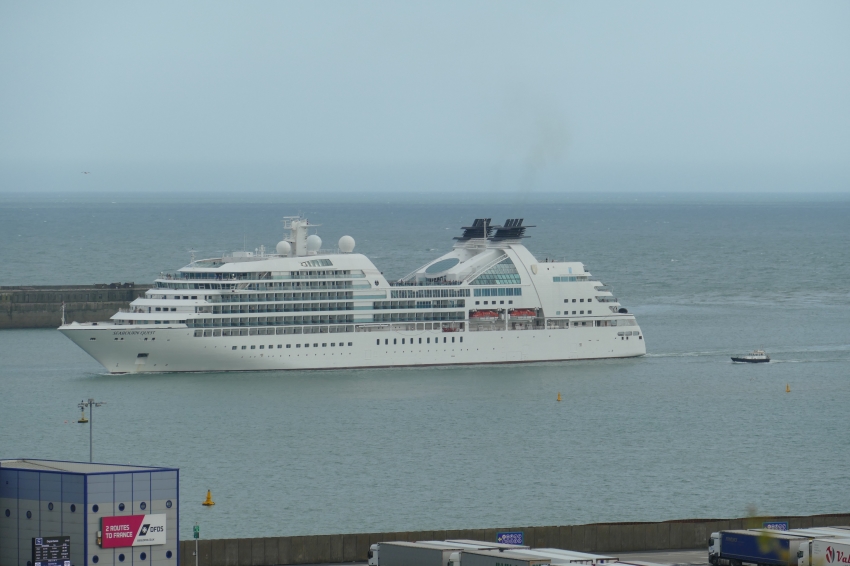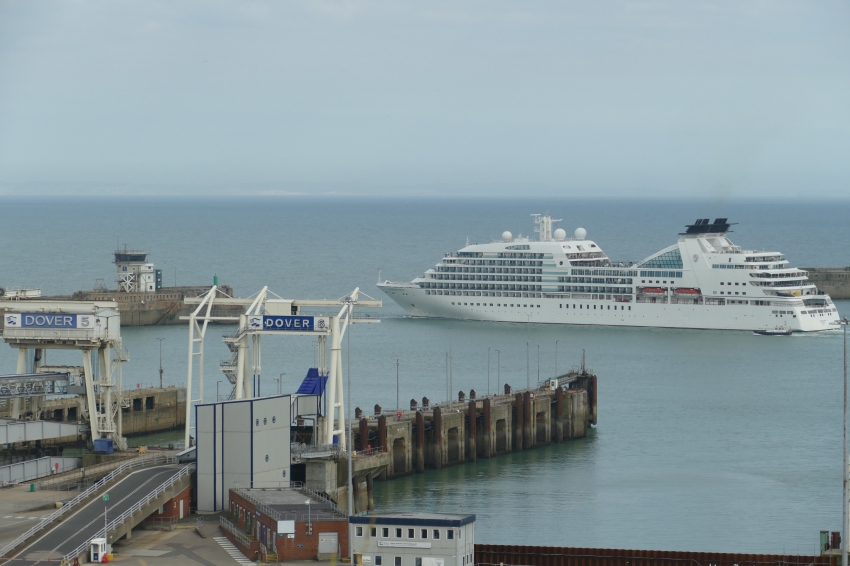 Much smaller than Dover's regular cruise ships & designed to carry only 450 passengers in considerable luxury she looked quite big as she passed Port Control.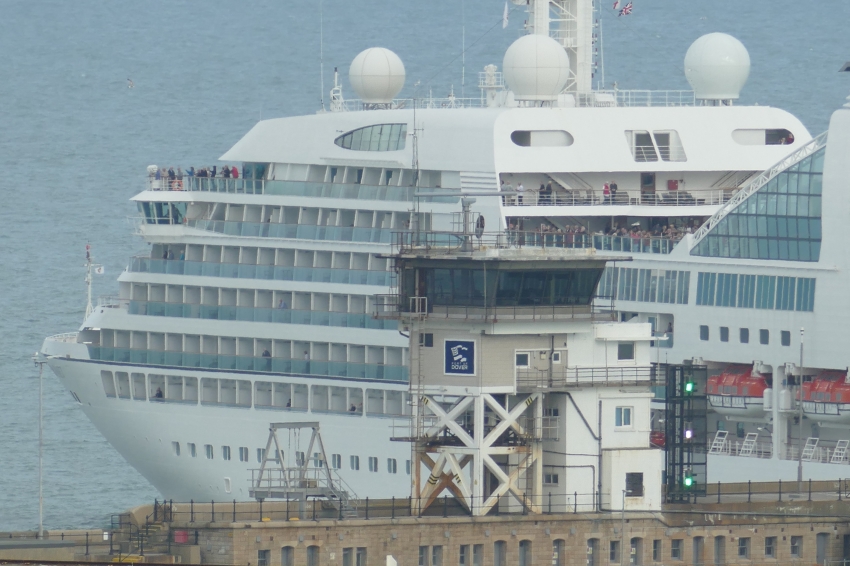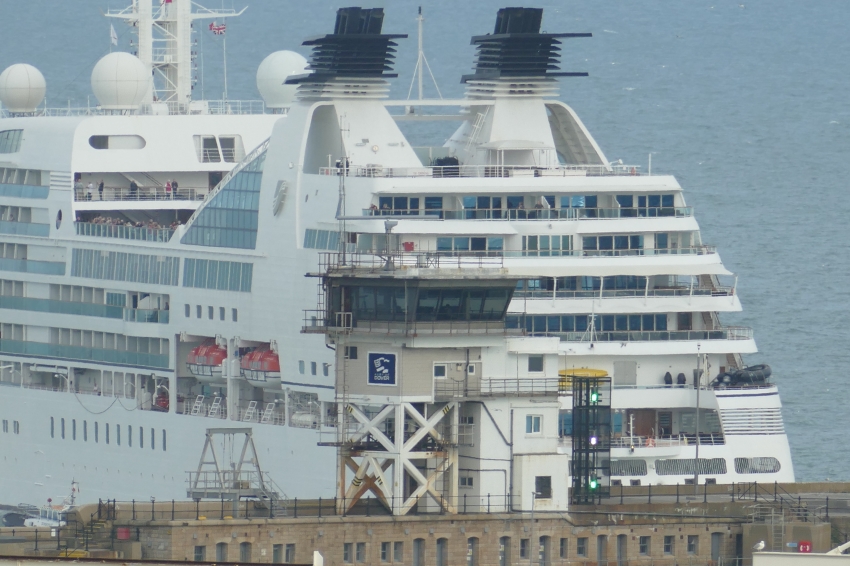 S.O.D had been on WD4 all day as CT1 & CT2 were needed for SEABOURN QUEST & BOUDICCA.
She sailed about 2000 for an overnight cruise down-channel & will be back in Dover Tuesday morning.
Tuesday, 2 July 2019 - 01:25
Post 6375
Del Styan, Norwich
Well said Jan, especially your last sentence.

Monday, 1 July 2019 - 23:13
Post 6374
JanT , Dover
A very busy time for cruise ships today,and it was good to get a glimpse of the new Saga ship yesterday on a very busy seafront.
I have to say it's very impressive and I have to say our seafront is looking good, the new pier was busy but please put some seats halfway along as some of us don't always make it to the end.
Also to say well done to the Port of Dover and I'm sure I read on a sign that it was in conjunction with European funding.
Let's hope with all that we read that we stay close to Europe, as having the freedom to travel and work in Europe benefits all.

Monday, 1 July 2019 - 13:30
Post 6373
Sea News, Dover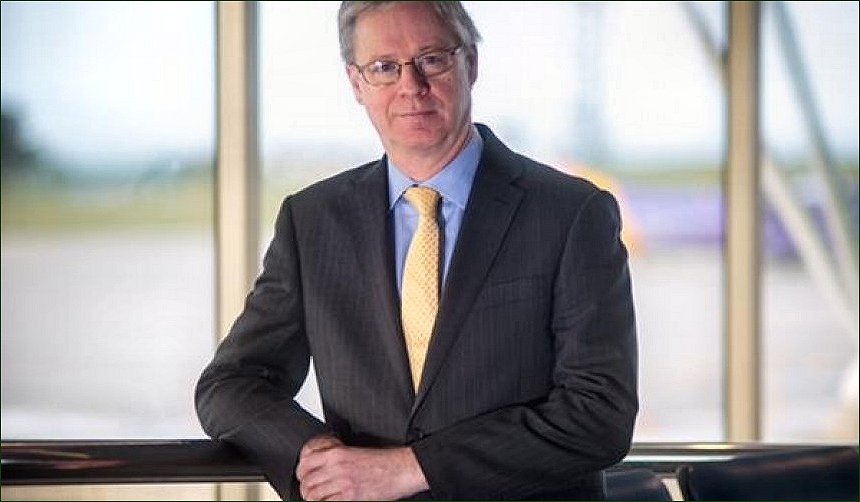 Port of Dover Chief Executive Doug Bannister....
.....responds to ministerial statement by David Lidington on EU Exit preparedness
_________________________________________________________________________
"In the current circumstances, it is natural and appropriate that the UK Government should consider how to protect the supply of certain critical goods such as medicines. However, we also need a measured and holistic approach, one that rationally deals with all of our trading needs. The identified Category 1 goods, whilst critical, form a small subset of the total volume of goods essential to maintaining our quality of life. We believe a prudent Government should place a commensurate level of attention to ensure that all borders remain open so that other time sensitive essential items, such as perishable foods, continue to flow via the most economic route to market.
The Port of Dover has been working with Government Departments and its business partners on both sides of the Channel for the past 18 months to address the practical issues of keeping trade flowing freely. It is clear that the Dover Straits route provides the most popular and efficient connection for trade between the UK, Ireland and Europe – keeping all borders open will enable this key route to provide the essential support to Britain's economy – factories stay busy, our distribution system remains efficient, shops are full of the goods we want to buy and so prices remain low for the consumer.
Keeping the traffic moving freely across borders will mean balancing any requirements for declarations around the realities of just-in-time logistics and flexible routing of lorries, and crystallising those requirements in sufficient time for merchants to develop the capability to meet them. It is in this area of 'trader readiness' that Government can have a profound impact.
The Port of Dover, as with our sister ports in France and our ferry partners, are prepared for the 31st of October. Merchants, border agencies and highway authorities pivotal roles to play in ensuring the system continues to operate smoothly.
We stand ready to support Government and business through this transitional period."
ENDS
David Lidington's Statement made 26th June : EU Exit Preparedness
_______________________________________________________________
While the Government believes that leaving the EU with a deal is the best outcome, leaving without a deal remains the legal default at the end of the extension period on 31 October 2019. As a responsible government, we have been preparing to minimise any disruption in the event of a No Deal scenario for over two years and are continuing with these preparations. This statement is intended to provide the House with an update on these preparations.
We have published approximately 750 pieces of communications on No Deal since August 2018, including 106 technical notices explaining to businesses and citizens what they need to do to prepare. Our advice covers a wide range of information, from maintaining funding for EU-funded programmes to driving in the EU after Exit. To provide further advice, we have also contacted businesses directly, for example c.145,000 businesses who trade with the EU to help them get ready for No Deal customs procedures.
Since an extension to Article 50 was agreed between the UK and the EU, the Government has continued to prepare for No Deal. We continue to lay statutory instruments to ensure a functioning statute book by Exit Day. Since 12 April the Government has laid SIs to address deficiencies in retained EU law in areas such as the environment, aviation safety, emissions trading and Euratom. The Government will continue to bring forward further statutory instruments to ensure we are fully prepared for Exit.
We have signed a number of trade continuity agreements, including with Switzerland, a key trading partner. In addition to these signed agreements, the UK has also reached an agreement in principle with South Korea on the terms of a continuity trade agreement, through which businesses will be able to continue to benefit from existing trade arrangements. Once that agreement is signed, the UK will have signed agreements with countries that account for 63% of the UK's current trade with those countries for which the UK is seeking continuity.
Guaranteeing the supply of critical 'category 1' goods, including medicines, medical products, veterinary medicines and chemicals remains an essential element of the Government's No Deal contingency planning. The Government is therefore undertaking steps to secure freight capacity for suppliers of these goods in a No Deal scenario.
The Department of Health and Social Care is starting the process of setting up an express freight contingency arrangement to support continuity of supply of medicines and medical products. This will be an urgent contingency measure for products requiring urgent delivery, within a 24-48 hour timeframe, if the UK leaves the EU without a deal. This express freight contingency arrangement forms part of the Department's multi-layered approach, which includes rerouting medical supplies from the short strait crossings, extra warehouse space, stockpiling, buffer stocks, clarifying regulatory requirements, supporting traders to have all necessary paperwork in place at the border, and strengthening the processes used to deal with shortages to ensure that patients have uninterrupted access to medicines and medical products if the UK leaves the EU without a deal. Government will only pay for capacity as and when it is needed and used. This will be designed to cover all of the UK. The Department will be writing to industry to set out further details of these preparations.
The Department for Transport is putting in place a freight capacity framework agreement that will provide government departments with the ability to secure freight capacity for our critical supply chains as and when required. This framework does not commit the Government to purchasing or reserving any freight capacity, but it does provide a flexible list of operators and options for the provision of the capacity that can be drawn upon if needed.
In the coming months, the Government will make further announcements on its preparations for a possible No Deal Exit on 31 October, including on trade continuity agreements to limit disruption to our trade with third countries after we leave the EU.
Many of the most important mitigations require businesses and citizens to act. There have been hundreds of meetings at ministerial and official level to discuss preparedness with businesses and civil society groups. The Government will continue to engage with stakeholders across the UK to ensure they are ready for all scenarios. We have published extensive advice on the steps that businesses and citizens may need to take to prepare for our exit from the EU, which is available on www.gov.uk/euexit.
ENDS
* *
We have a dazzling array of cruise liners in the port today...a truly impressive vision first thing this morning. Boudicca, Seabourn Quest, and of course Spirit of Discovery. Spirit moved away from Cruise Terminal One last evening and returned to her previous position at the new berth WD4.
Here she is all aglow last night at WD4. Picture not ideal but shows the situation last night at 10pm..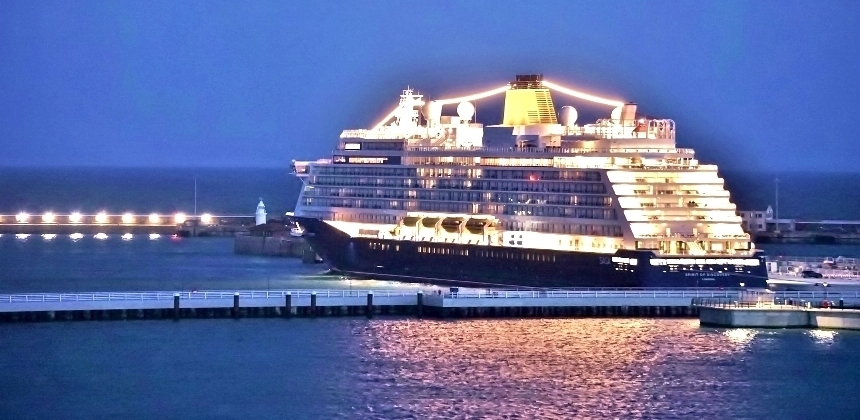 PaulB

Monday, 1 July 2019 - 06:42
Post 6372
Sea News, Dover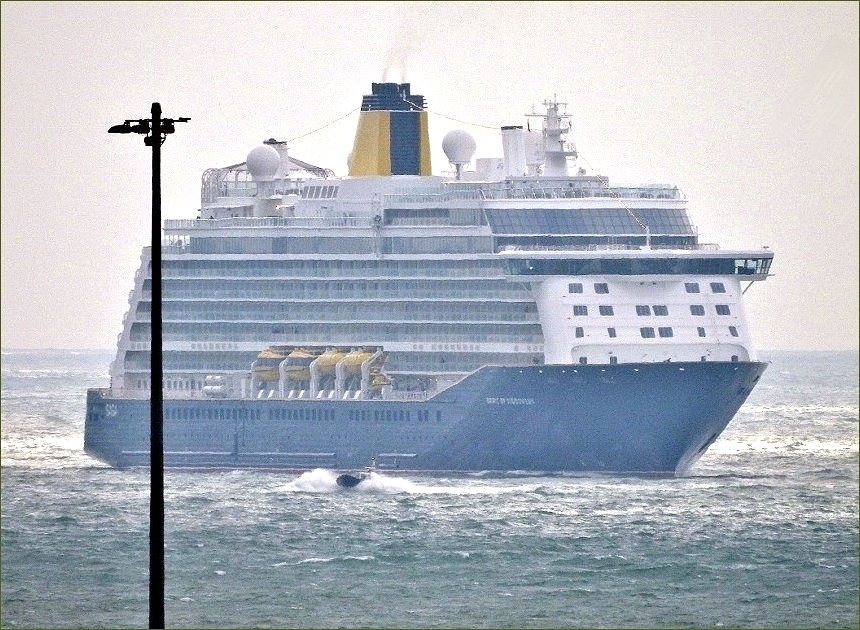 The Spirit of Discovery.
Have managed to conjure up another long range approach shot of the Spirit of Discovery...there it is above. It was taken at a similar moment to the previous one in post 6366... You can see the choppy conditions once more as the fab ship approaches. This time its the pilot boat in the foreground.
To break with tradition I will re-show the other picture from 6366 here again as well ...
so that all can see the two pix together at a glance..
....yes here we are again below.. with the press-carrying Portia in the foreground …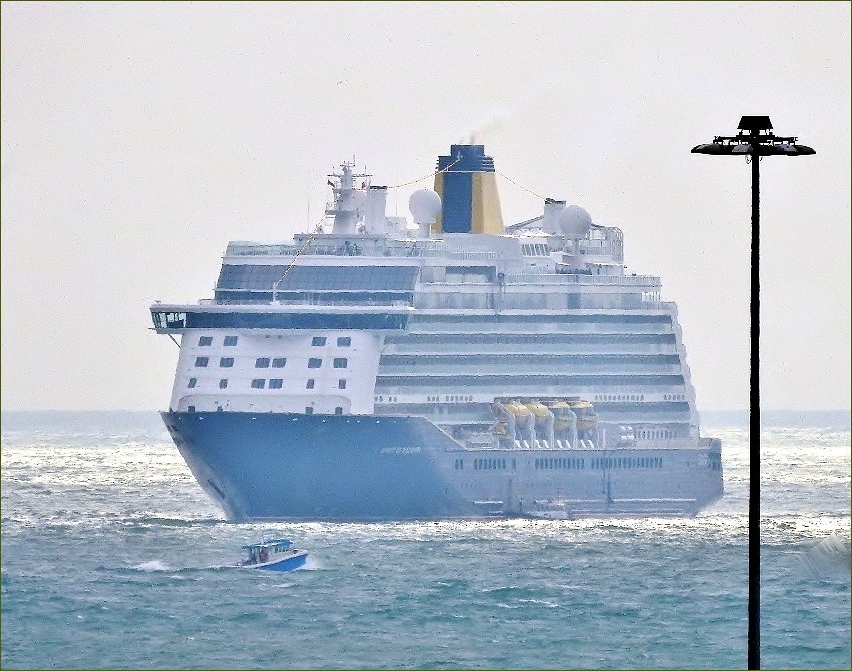 The Spirit of Discovery .. long range.
Are there more light poles than there used to be...sheeesh!

Mike mentions he was on Wetwheels Southeast for the big arrival of the Spirit of Discovery. These pictures below were taken just one day before when Wetwheels was I believe taking some youngsters for an exciting trip around the harbour. And of course Mike was onboard the following day for the new Spirit arrival.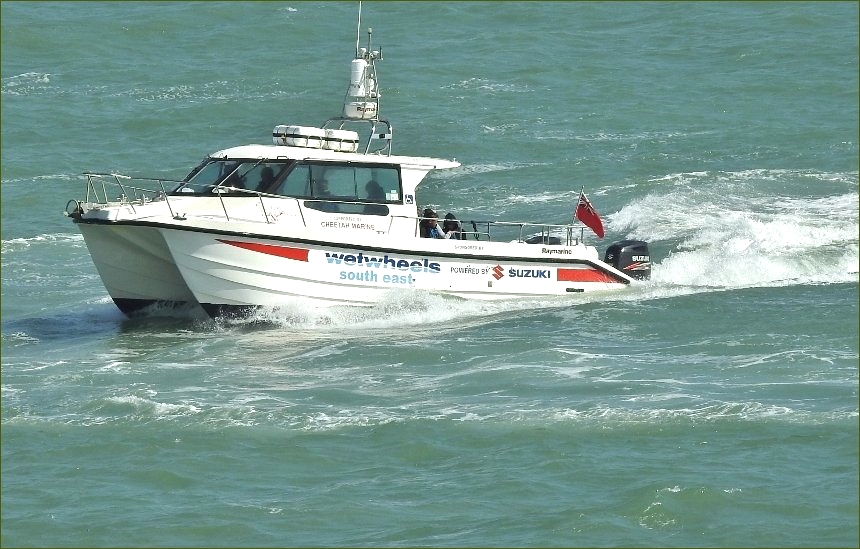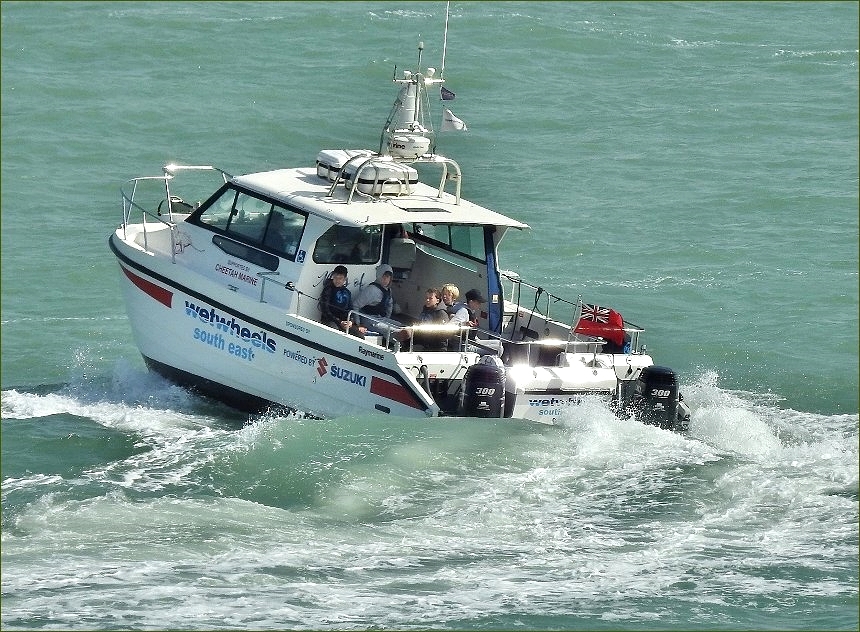 Another fascinating post from Mike below - so don't miss that one!

Great angles on the pictures below there with lots of info.

Glad you were down here Vic getting a great view of all the happenings at the arrival of the Spirit of Discovery. Well done Vic and as ever thanks again..

PaulB
ps: Pacific Princess is in with us today and of course the Spirit of Discovery is still here.
Sunday, 30 June 2019 - 06:30
Post 6371
Mike J., Dover
SPIRIT OF DISCOVERY from on high.
Firstly during her short stay on WD4 after arrival on Friday.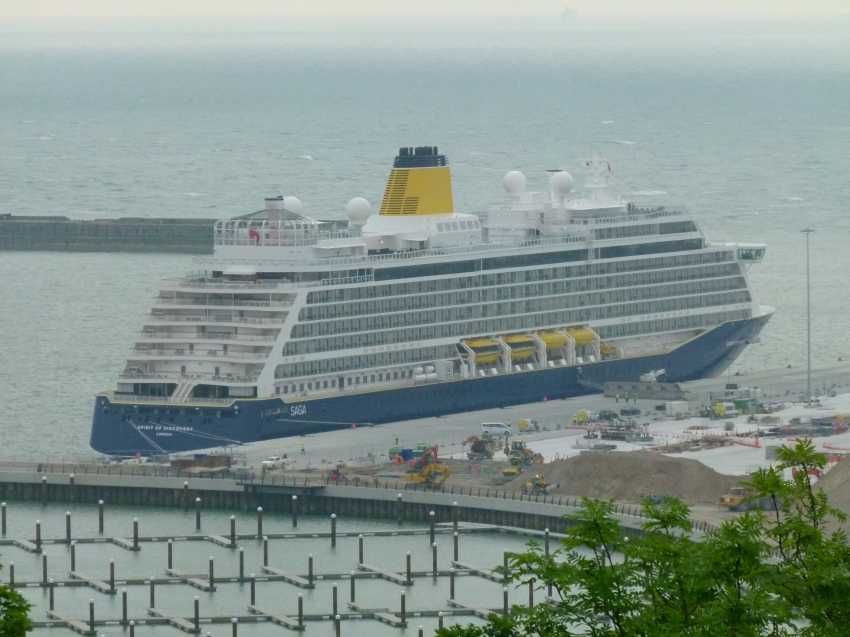 Saturday morning on Cruise-1 [WD1] from St.Martin's Battery & the usefully wider angle from the Drop Redoubt footpath.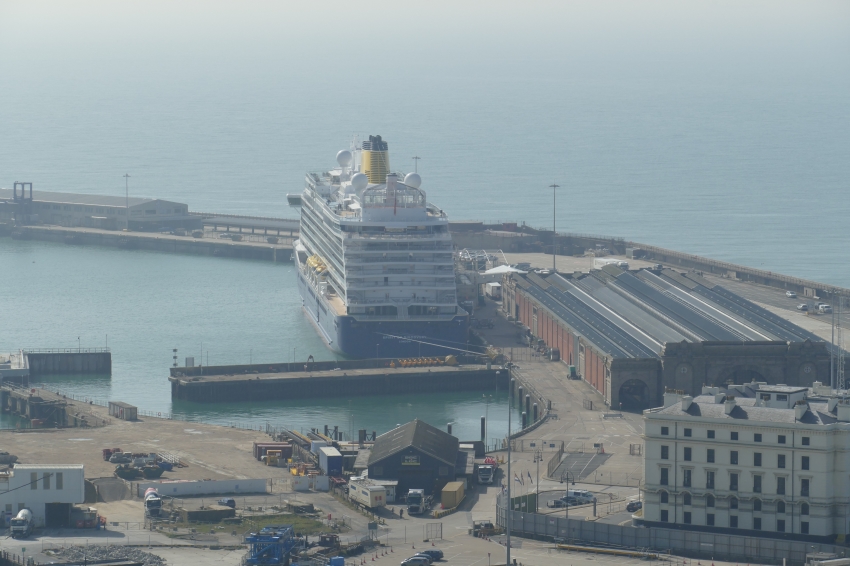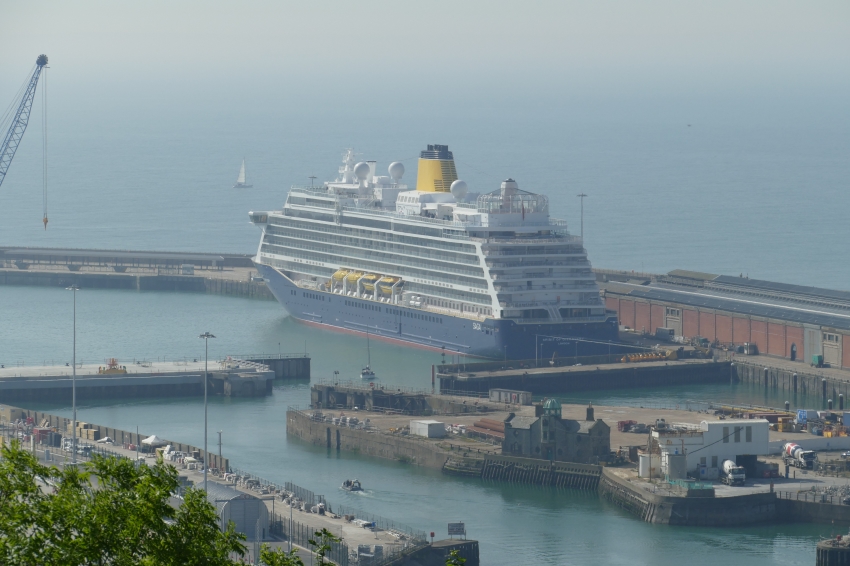 In post 6367 Paul was wondering which boat I was aboard for the arrival pix.
I was on the WETWHEELS SOUTHEAST [post 5315] which is the white vessel in the last-but-one photo in Paul's post.
The other vessels are press boat PORTIA [blue] & the yellow launch is GEORGE HAMMOND & of course CITY OF LONDON 2.
Crossing the new cut between Wellington Dock & the new marina Saturday morning I noticed that the cofferdam at the Wellington end of the new cut has been removed & only a string of barely visible buoys [on my photo anyway] prevents an over-enthusiastic yachtsman trying for the first transit.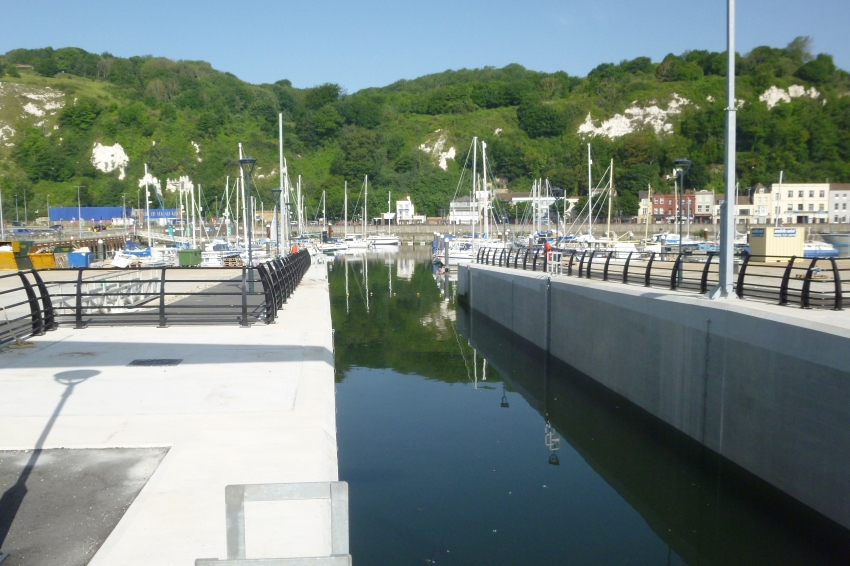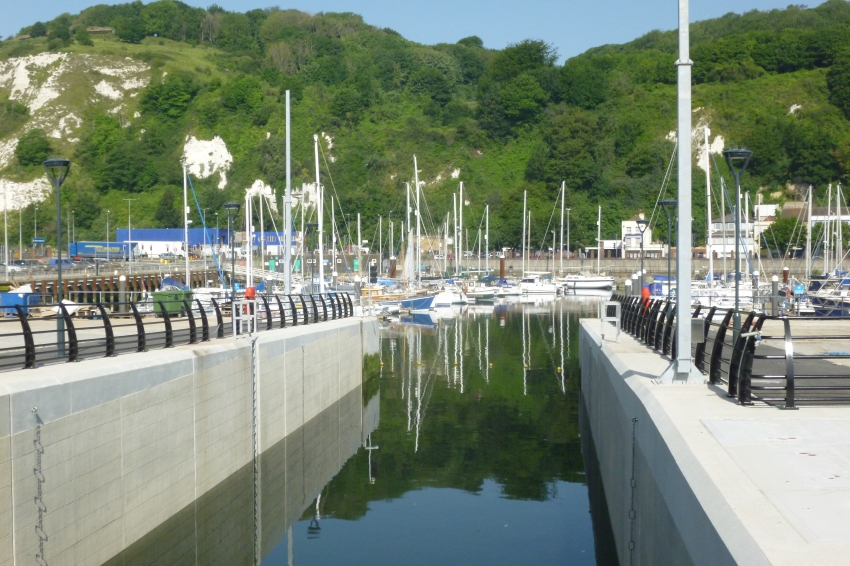 Sunday, 30 June 2019 - 01:57
Post 6370
matcham, Dover
yes I was down on the pier head when she came in, great ship and Dover was ready for her even that it was cold and a wind blowing very hard it blow off the press trypot which they were using,but all in all and very good turn out with the public waving both on the pier and the ship also cars up on the west cliffs.some great photos out on this page thank you.

Saturday, 29 June 2019 - 06:25
Post 6369
Sea News, Dover
The Spirit of Discovery...once more..
This time as she manoeuvres into position for her arrival at the new pier ( WD4).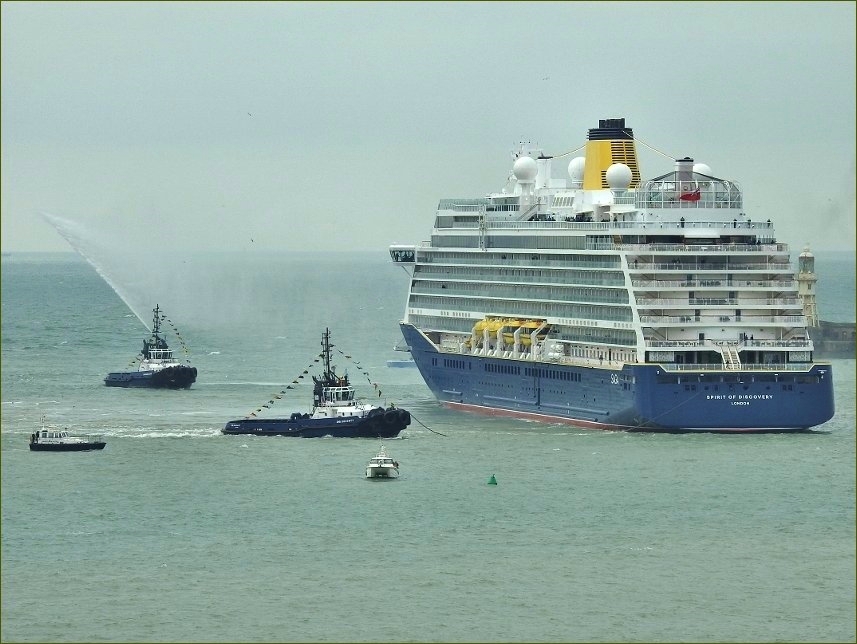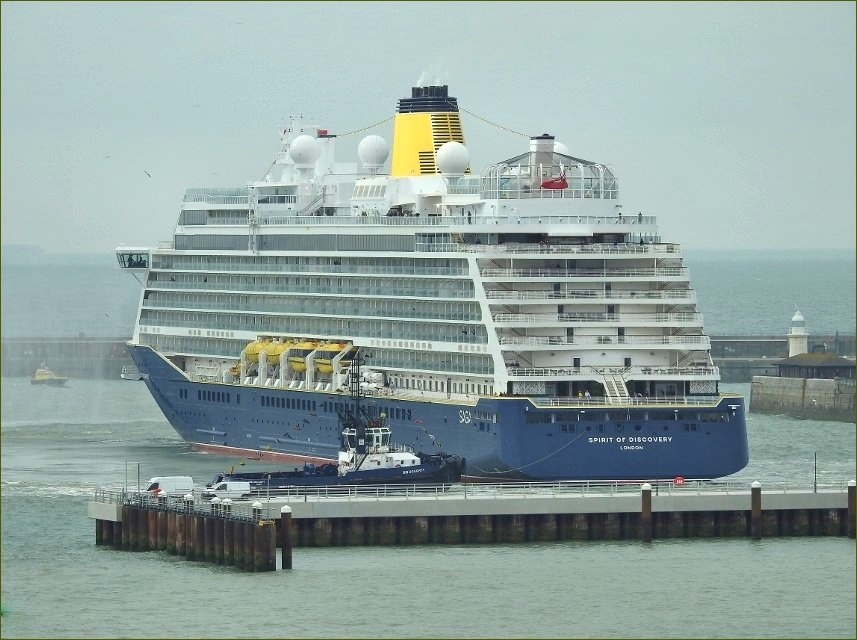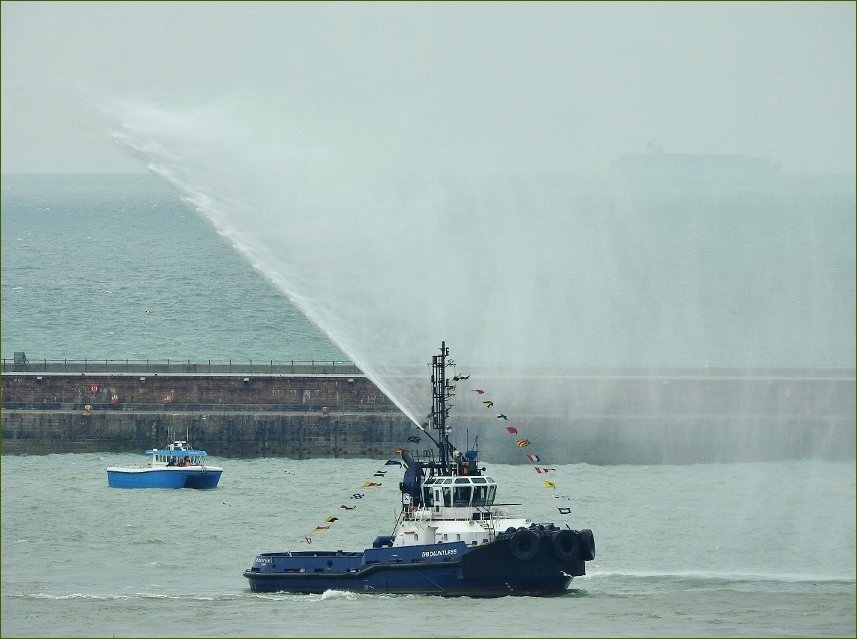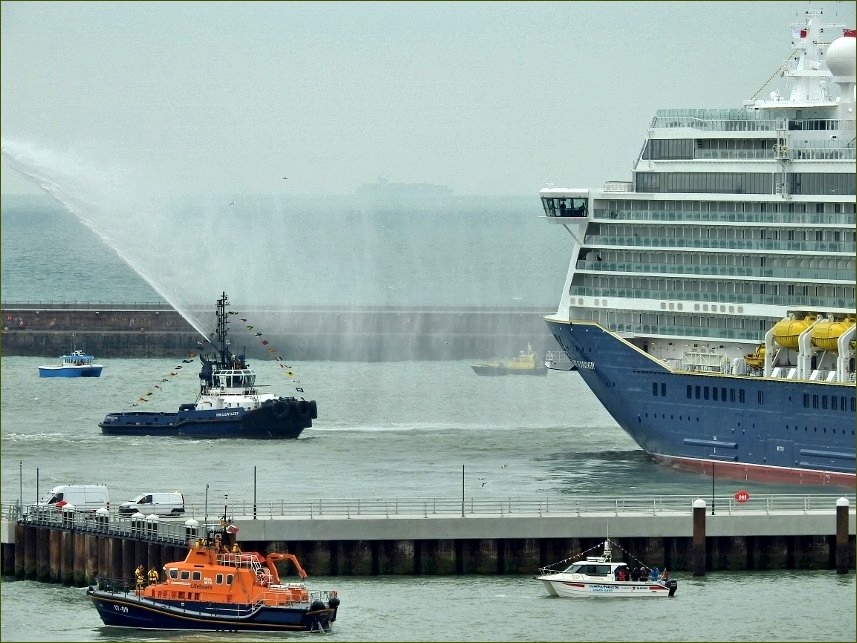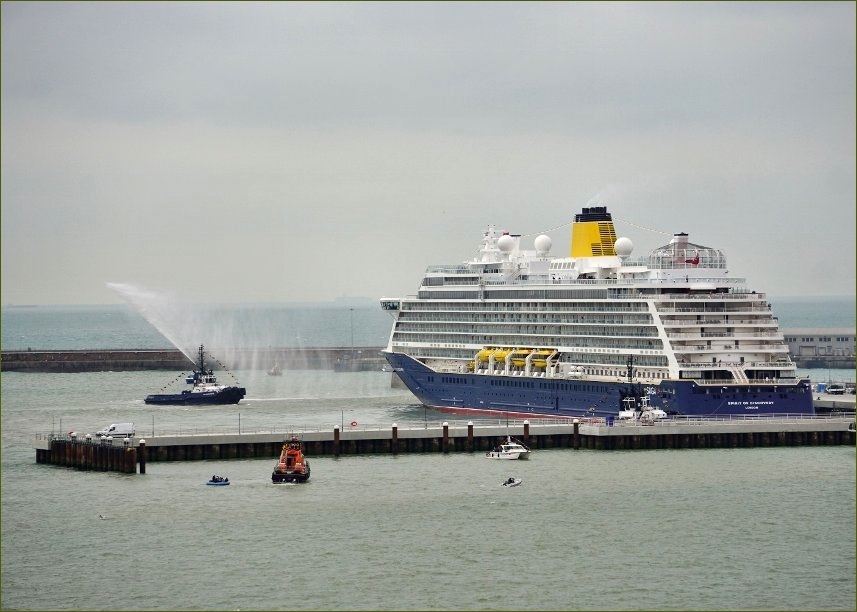 That's the last of the shots from yours truly for now.
The fifth picture was taken on a different camera to the four pix above it.. different colour balance.
Note to self: adjustment needed on top one.

Great to see the pictures from Mike below... Cracking shots

DONT MISS THOSE!

Mike was out there as you can see on one of those boats snapping away in great style. I believe he was on one of the boats featured in the pictures above there.
A very exciting day all round.
PaulB
Saturday, 29 June 2019 - 06:01
Post 6368
Mike J., Dover
More on the SPIRIT OF DISCOVERY arrival, this time from sea-level.
The original plan of meeting her 'outside' & following her in thru the Eastern Entrance was deemed unsafe due to the wind & lumpy waves outside so the 'mosquito fleet' massed just inside & north of the entrance.
Unexpectedly the lifeboat remained inside as well, whilst only a few press vessels were 'outside' with the blue-hulled cat PORTIA flying some drones as the pilot boarded in Paul's first post 6366.
Interesting that drones seem now to be taking the place of the press helicopters that used to attend such events.
There was a certain amount of obstruction as vessels manouevered to get the best angles but the arrival was impressive, even despite the obstructions.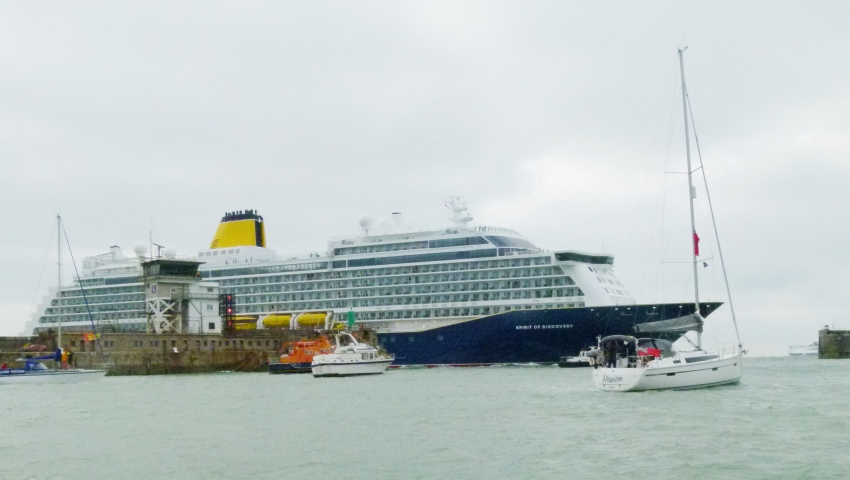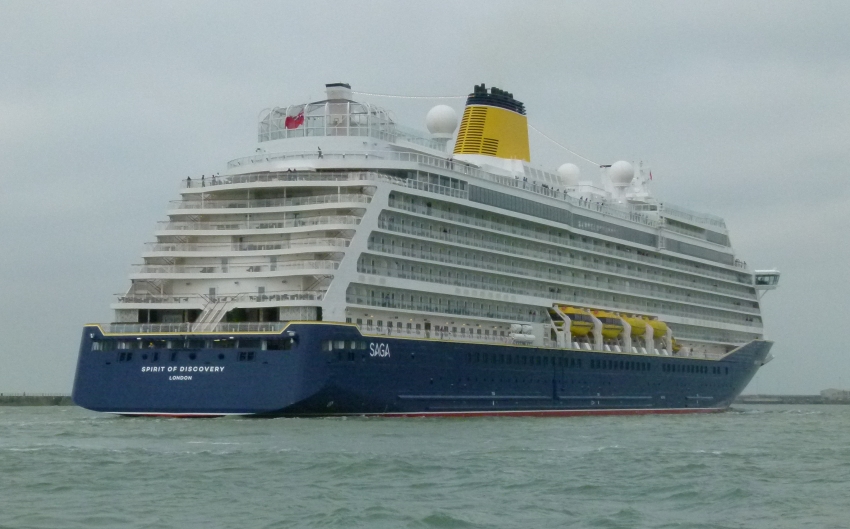 Heading across the bay & preparing to swing before berthing on WD4.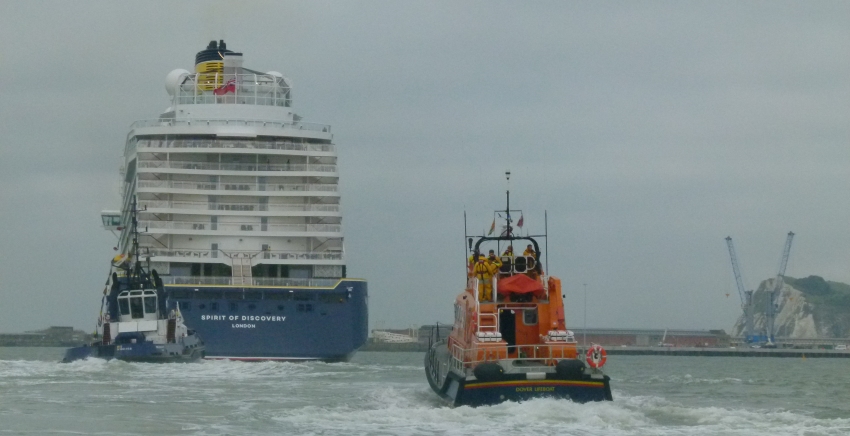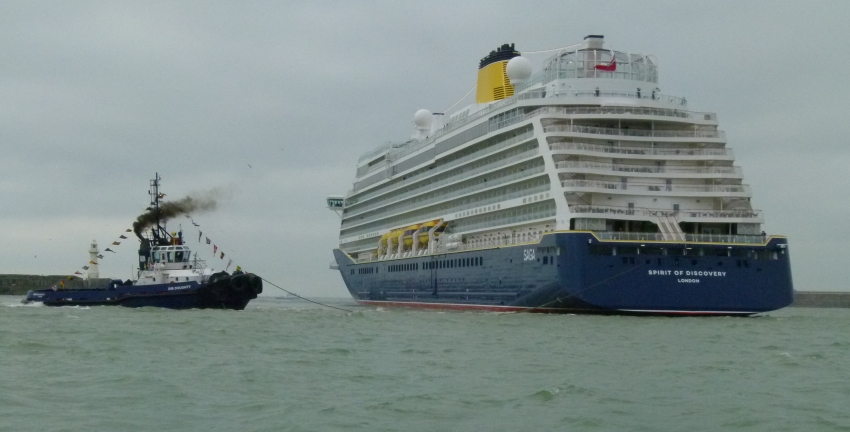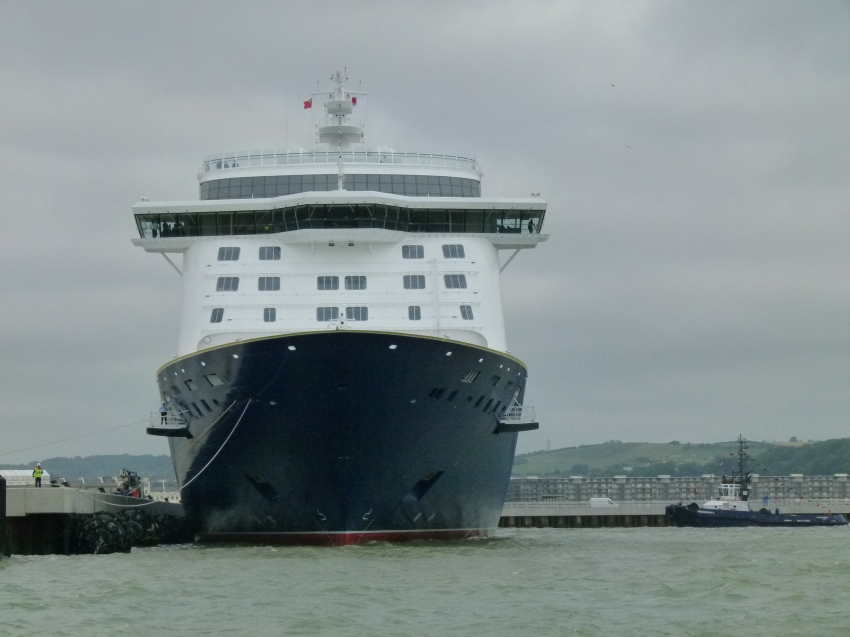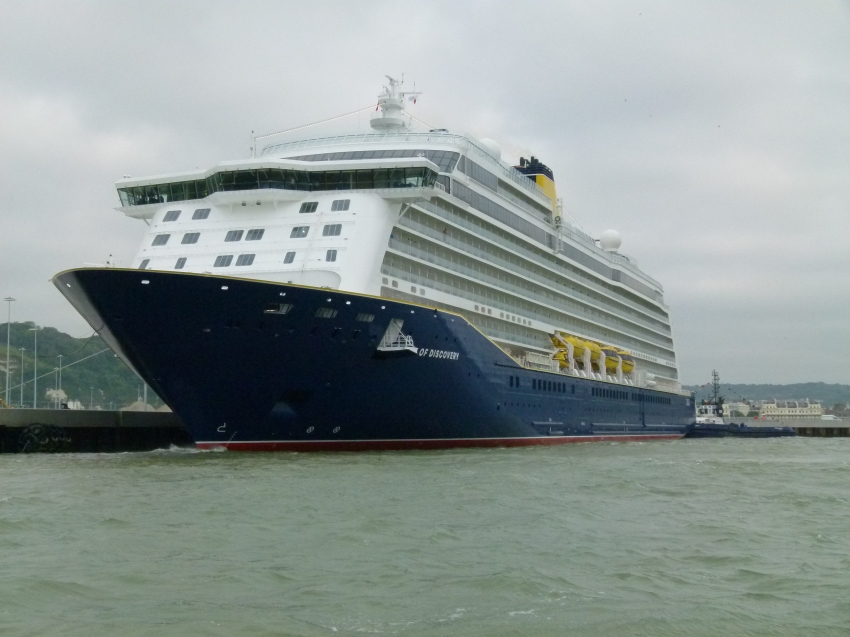 After the unexpected docking on WD4. the first commercial vessel to do so other than DWDR dredgers & stone-unloaders, which seemed for the benefit of the press, the SPIRIT made her way round the end of what remains of the Prince of Wales pier to Cruise-1 where we'd noted preparations going on with a big marquee under construction & if rumours are to be believed real grass & trees will soon be installed.
Seems a little over the top, but who are us mere mortals to tell the PR people how to do their job ?
There was good coverage, with some slightly dodgy descriptions, like WD4 being a cruise terminal, on the Meridian TV local news at 1800, but no mention at all on the BBC Southeast news 30 minutes later.
Saturday, 29 June 2019 - 01:23
Post 6367
Sea News, Dover
The Spirit of Discovery.
Here we are with some more pictures. That special moment of arrival in the Port of Dover for the SAGA ship. She was scheduled to arrive at 07.45...well what time did she arrive?...yes right on the button.. 07.45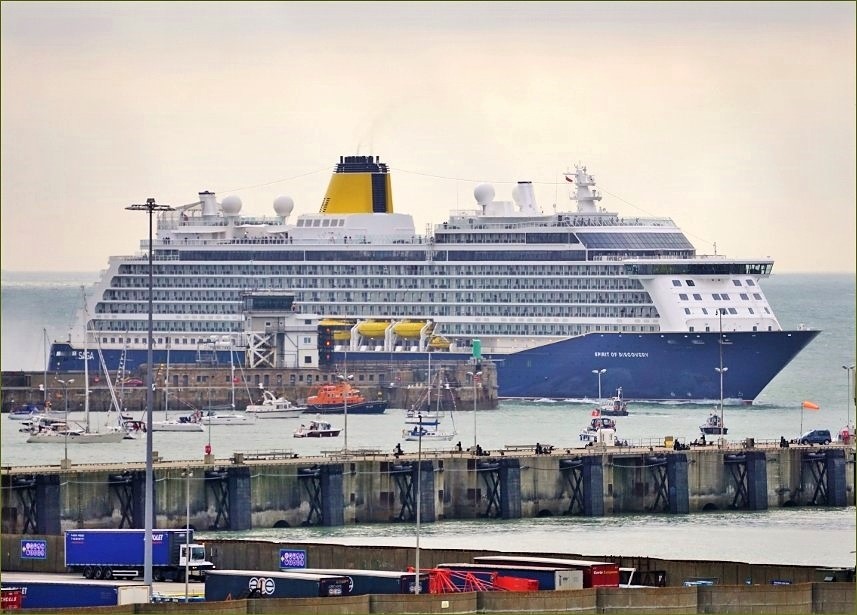 Yes here she comes...to the left foreground you can see the flotilla of small boats waiting to get in behind her as she comes across the harbour. Great stuff!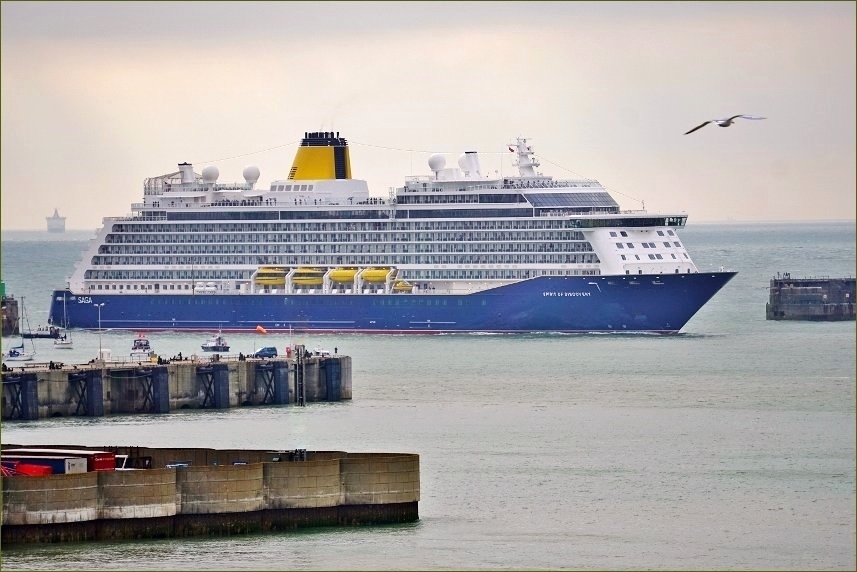 We sent up a Bluebird to greet her...well of course ..what else??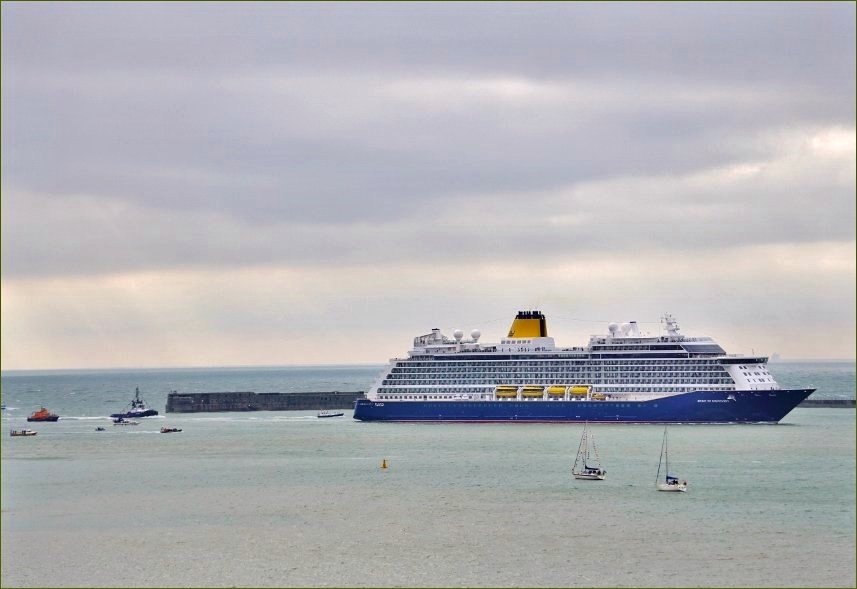 In port now and the small boats gather behind.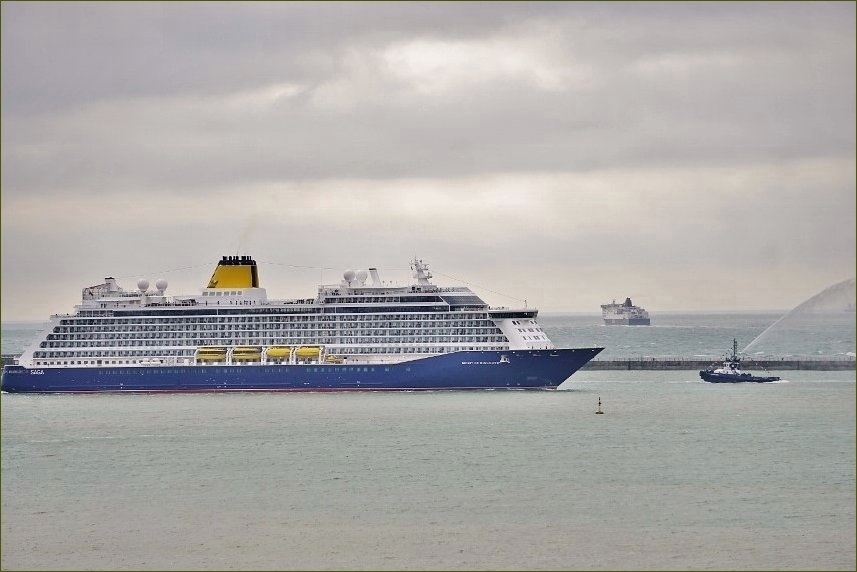 All the while the tugs sprayed merrily in a spectacular greeting, while in the distance the daily routine goes on..
The Spirit of Discovery.
We will have more pictures...we have shots of her docking at the new pier.
NOTE: at around quarter to 1PM she moved from there over to Cruise Terminal One. Terrific visuals from the 'observation tower' when the ship lingered at the new pier...a nice future prospect. I was so close I felt I was having cucumber sandwiches with the Duchess.

See also the early picture in the post below from distance.
PaulB
Friday, 28 June 2019 - 15:22
Post 6366
Sea News, Dover
The Spirit of Discovery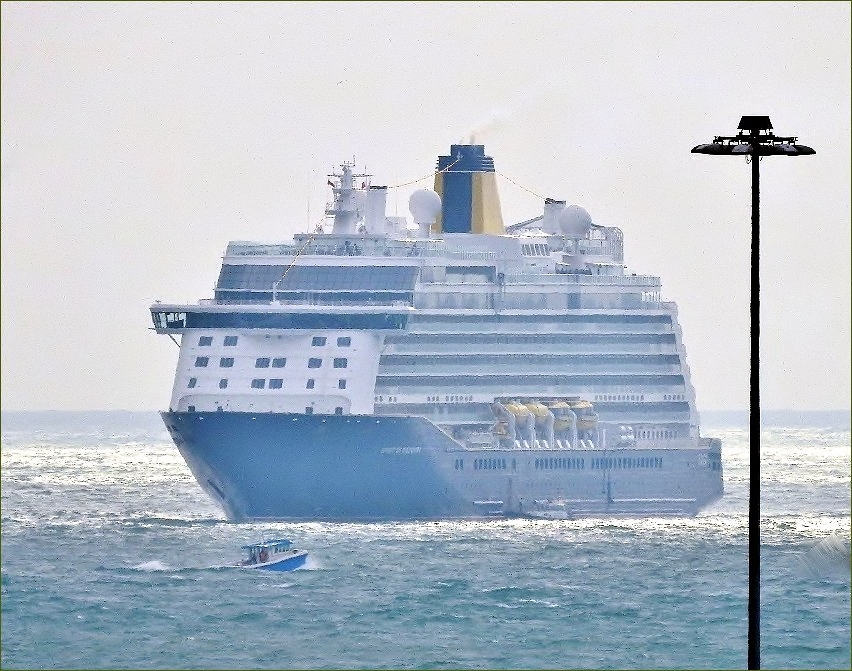 The long range picture above shows the all new and fab cruise ship Spirit of Discovery approaching Dover this morning through the haze at 07.25am approx...we will have much more in due course. She has very excitingly docked on the new DWDR pier..not at the standard cruise terminals.
HRH Camilla, Duchess of Cornwall will perform the naming ceremony later.

Friday, 28 June 2019 - 08:25
Post 6365
Sea News, Dover
As promised here we are with pictures of Eastern Bay departing on Monday....she was off to Vlissingen if one remembers correctly off top of head. Looking at the pictures you would be forgiven for thinking it was a winters day, it all looks very novemberish and gloomy but no it was actually Monday in not-so-flaming june...its flaming elsewhere..we hear of 40 degrees across the channel...


But back to Eastern Bay, and here she is...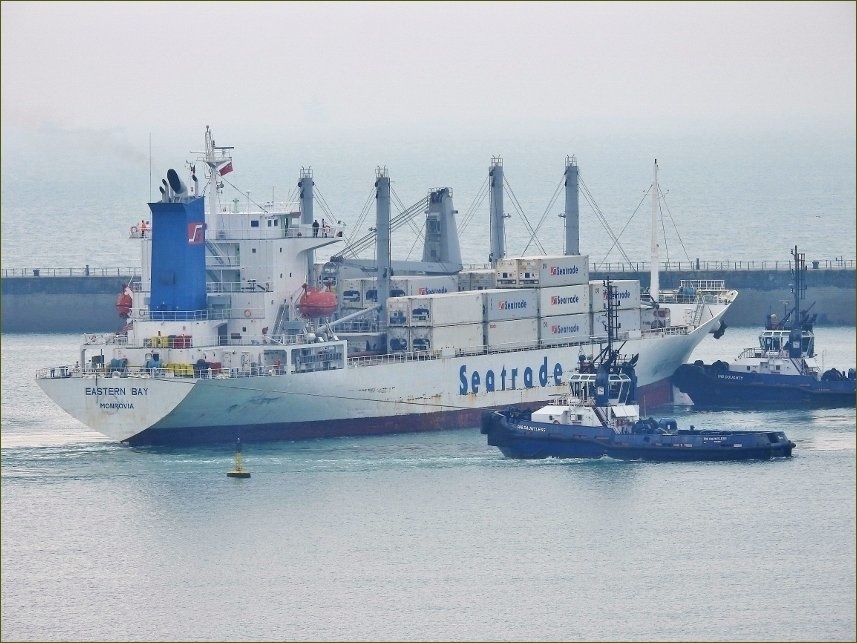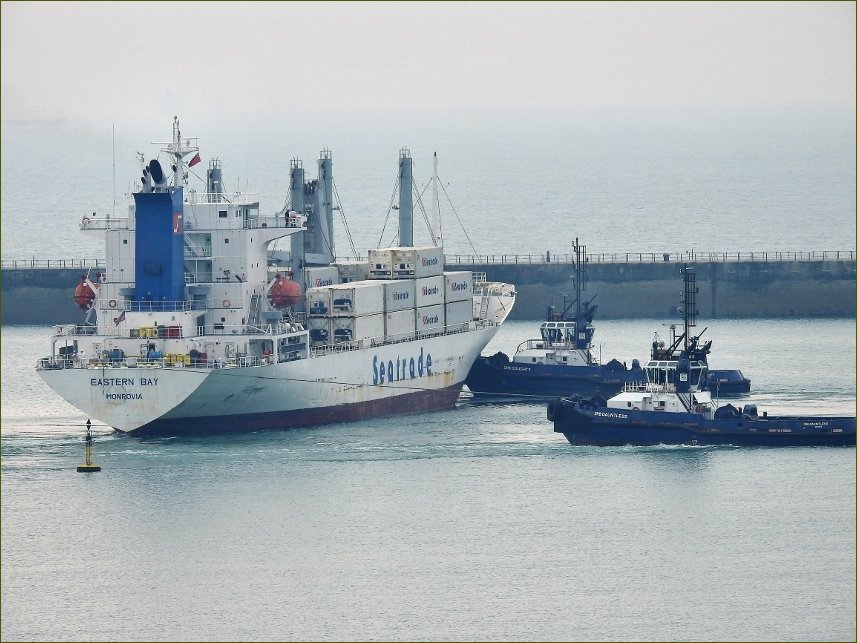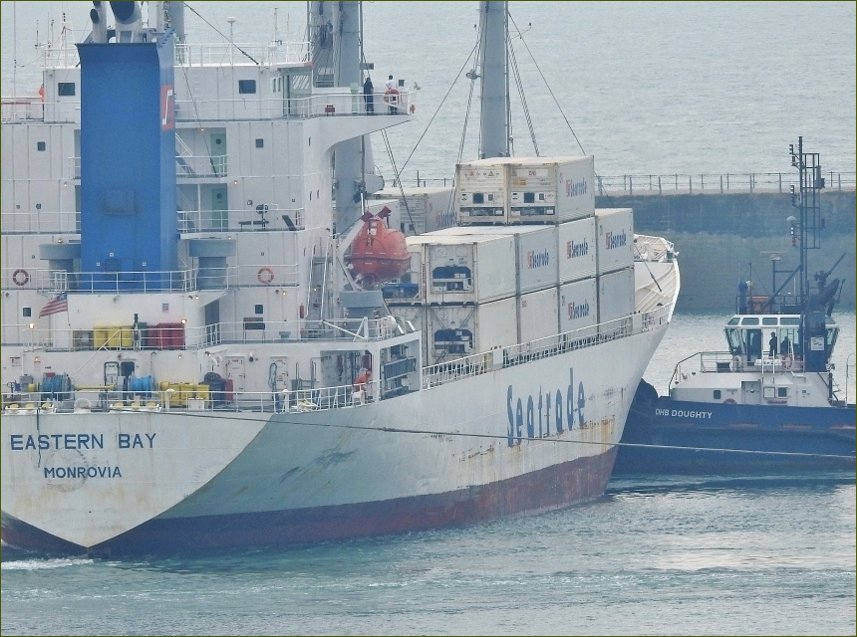 Close crop of the one above...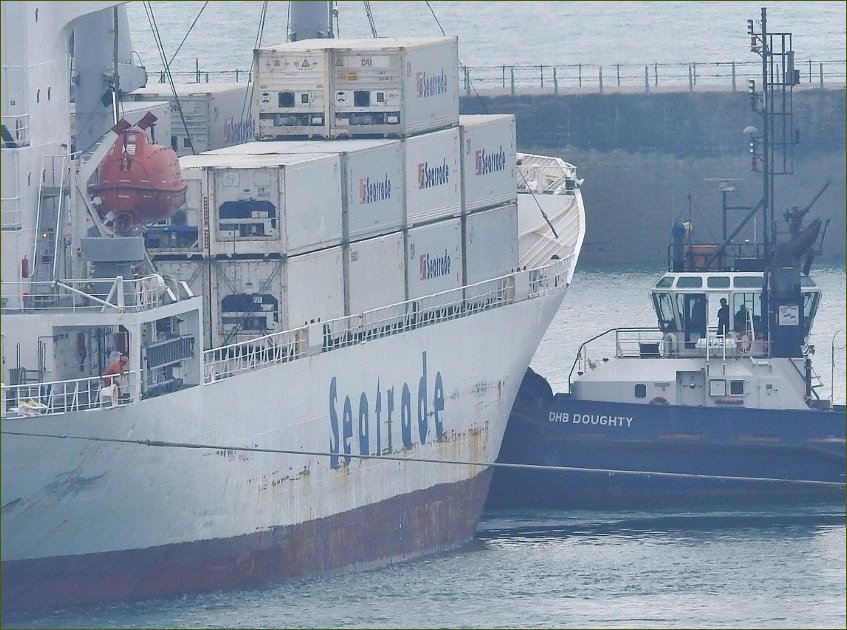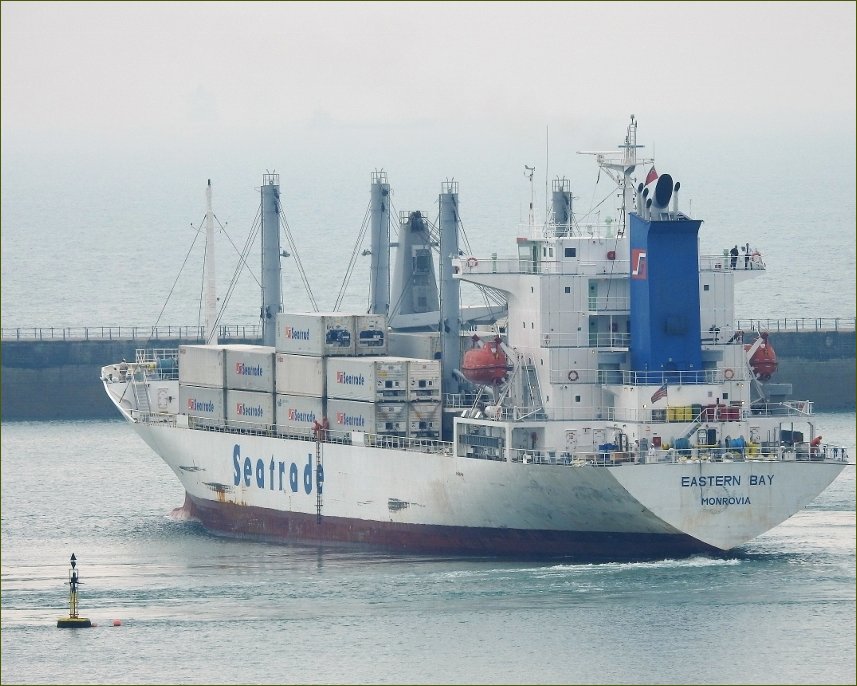 Eastern Bay.
Both tugs giving able assistance above there.
Many thanks for the info below there Patrick. Have copied and pasted...


its all happening in the morning 07.45 approx...and indeed earlier, will make sure camera battery charged.
PaulB
Thursday, 27 June 2019 - 06:03
Post 6364
Patrick, Marine Parade
further to Mike J post at #6362 regarding Saga's 'SPIRIT OF DISCOVERY' arrival on Friday next, DHB have posted the following 'Notice To Mariners 37/19' of interest to any followers of the new vessel and its itinerary/welcome to Dover Flotilla:

https://www.doverport.co.uk/administrator/tinymce/source/Notices%20to%20Mariners/37-19-SM-Saga%20%E2%80%9CSpirit%20of%20Discovery%E2%80%9D%20Arrival%20Flotilla.pdf

Wednesday, 26 June 2019 - 22:13
Post 6363
Sea News, Dover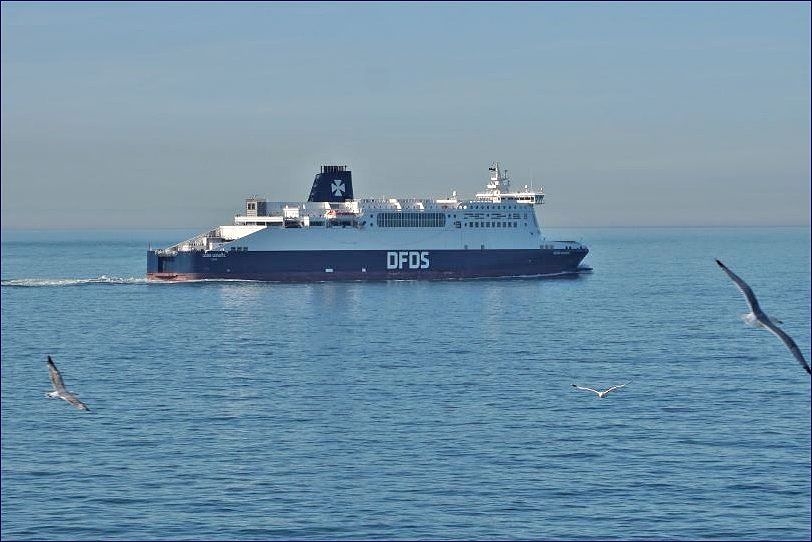 The DFDS ferry DOVER SEAWAYS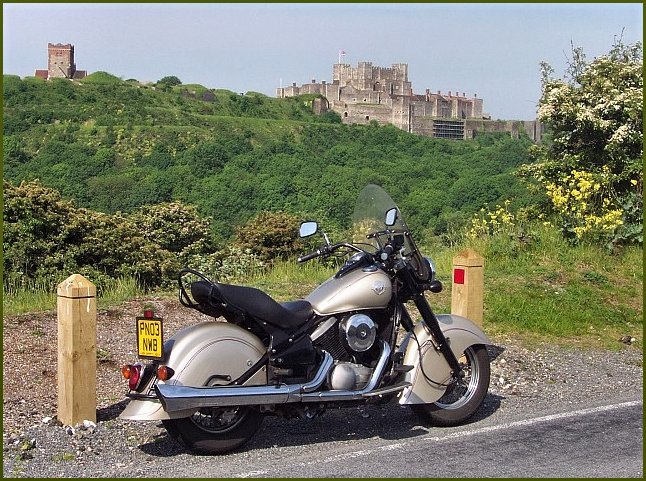 DFDS offers 25% off for motorcyclists this summer and beyond
___________________________________________________

Award-winning ferry operator DFDS is offering motorcyclists 25% off sailings from Dover to Calais and Dover to Dunkirk.
With thousands of miles of amazing roads to explore, through some of the most diverse and striking landscapes in Europe, the motorcycling holidaymaker is spoilt for choice. With 54 sailings a day to choose from, bikers can set sail and ride away, visiting some of Europe's most popular holiday destinations at their own pace, the perfect way to experience a road trip.
This special deal means crossings on these routes to France start from £18.75* each way for a motorbike and 2 people.
On board, passengers can enjoy a freshly made meal with great quality ingredients in one of the restaurants and cafés or perhaps a spot of retail therapy in the on board shop.
Or for a touch of luxury, passengers can enjoy some relaxation time in the Premium Lounge, available for an extra £12 per person with complimentary hot and cold drinks, pastries, fresh fruit, newspapers and even a glass of prosecco.
To book please visit dfds.co.uk

*booking period is 24th June 2019 to 30th June 2019 for travel between 24th June and 18th December 2019.

-Ends-
Many thanks to the team at DFDS for the above info. Book straight away.

Have added some throbbing thrilling pix of thundering machinery

The top motorbike was yours truly's a few years back...
while below we have recent seafront visitors.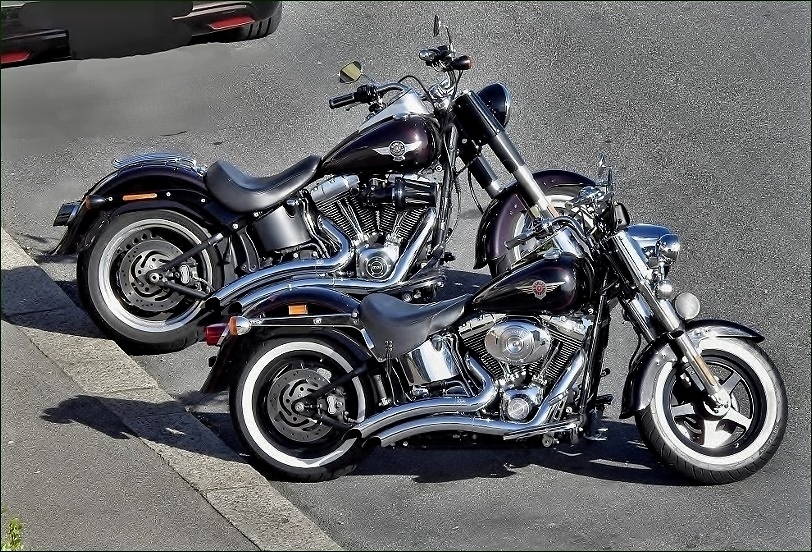 * *
Just caught the tail end of events here...on a gorgeous evening the Lombok Strait heads for Bridgetown in Barbados. Long oul haul but they have a nice evening for it (Saturday). "We're bound for Valparaiso round the Horn"..well not quite but...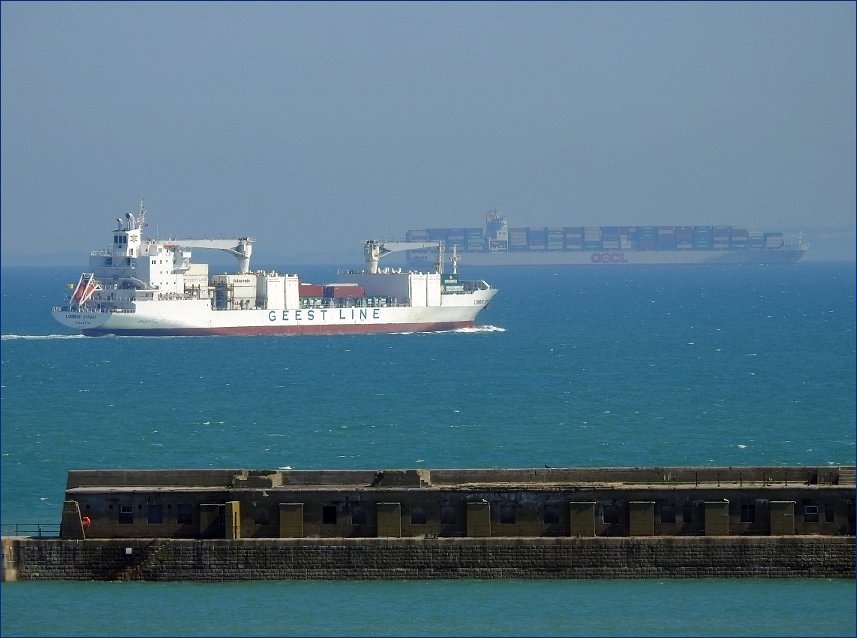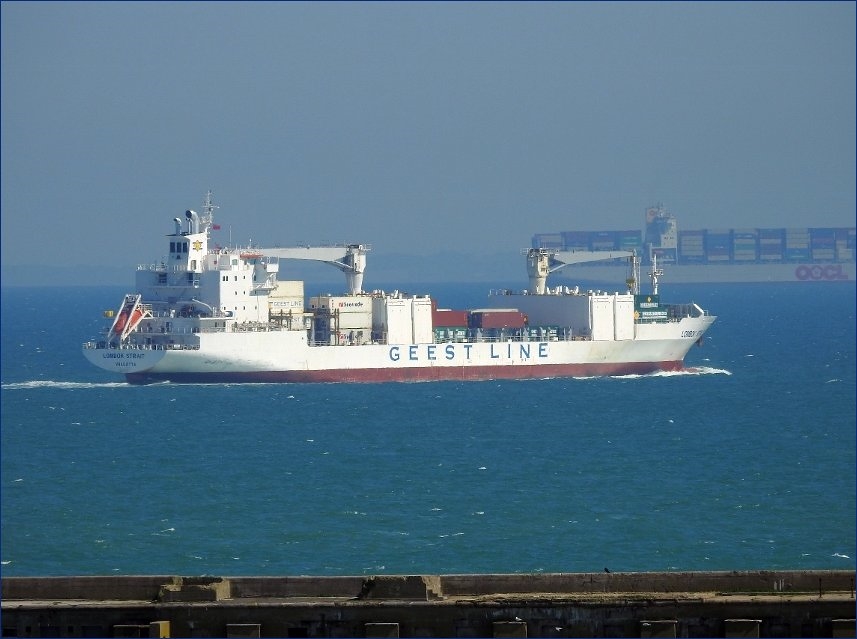 Lombok Strait on her way to Bridgetown...
Since then Eastern Bay has been in with us - have some pictures of that one too. Up next...
Well done Mike below - Hugely enjoyable collection/info below there from our 'inshore correspondent'

PaulB

Wednesday, 26 June 2019 - 06:05
Post 6362
Mike J., Dover
RIB activity in the Tidal Basin Tuesday afternoon.
DOVER EXPLORER heads out with a couple of RIB-loads of desperadoes & SPEEDWELL shifts from the Crosswall pontoon to her usual berth.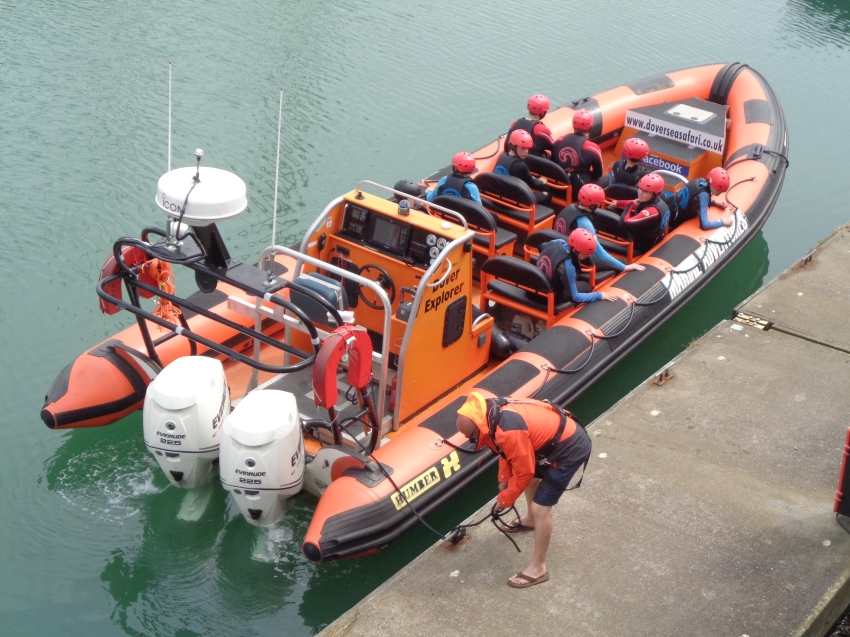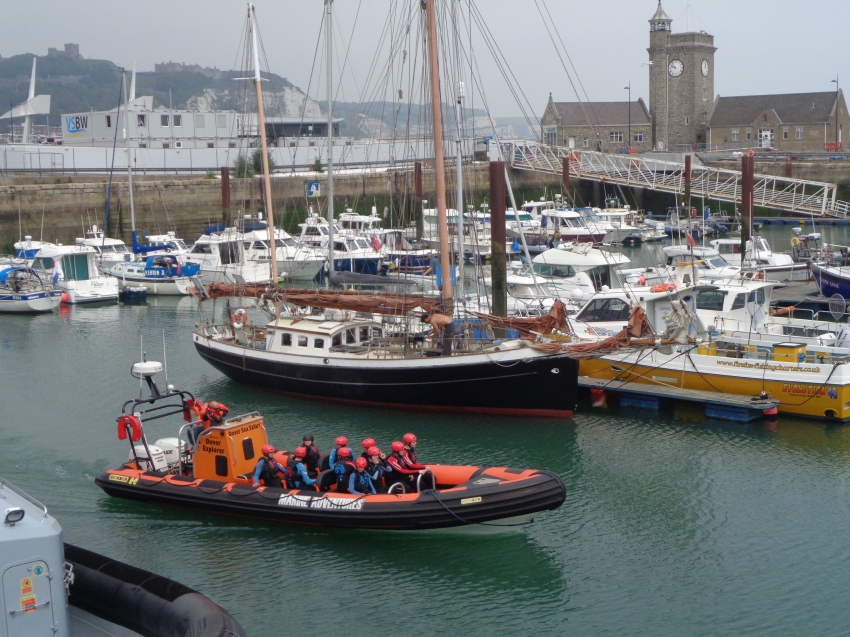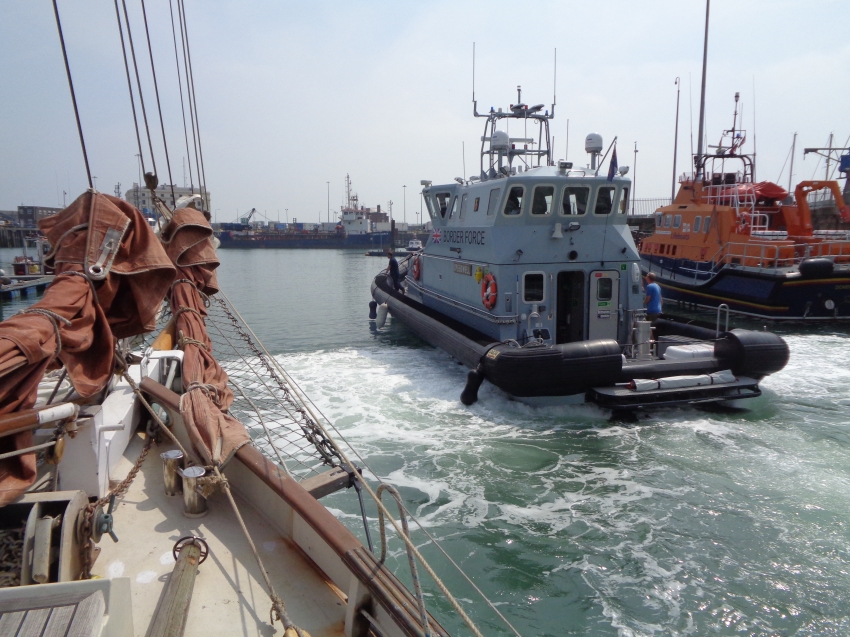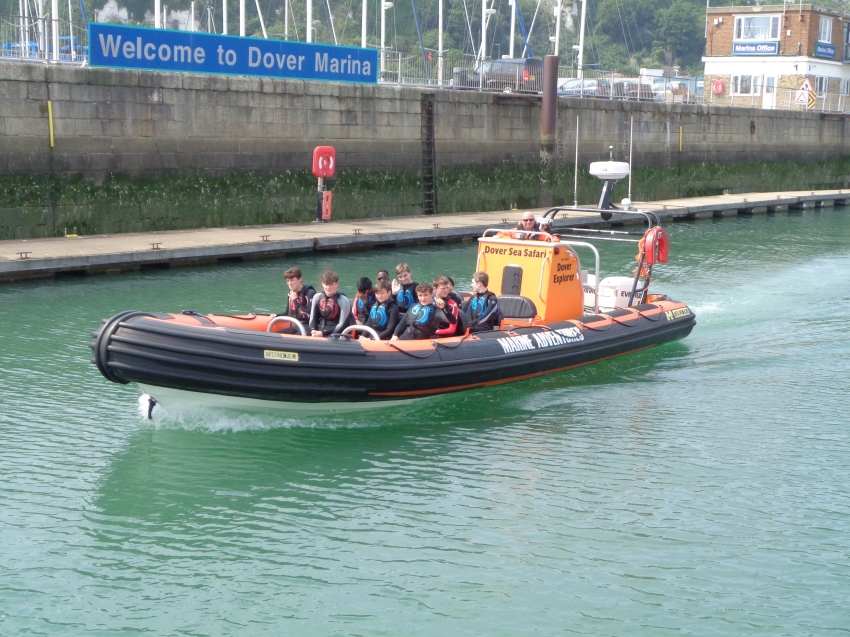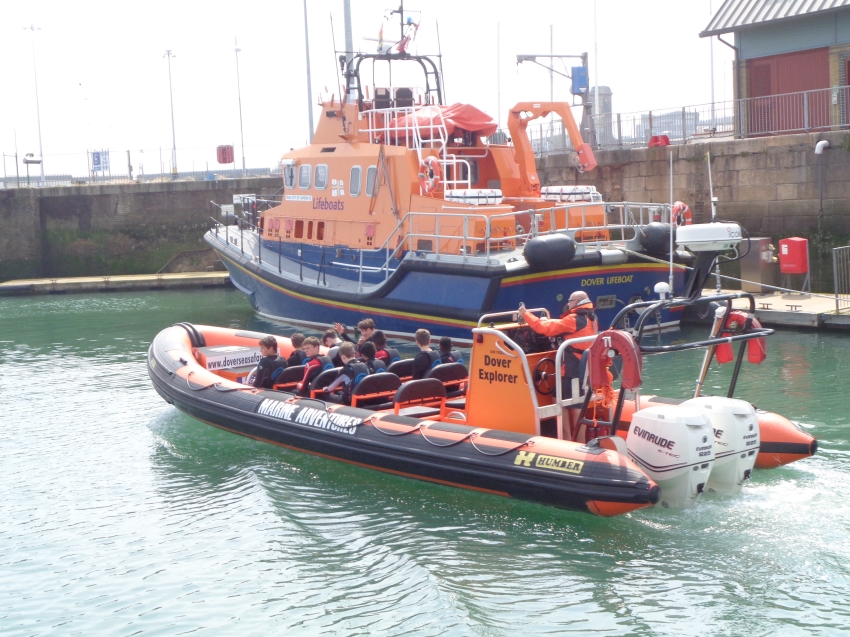 In my previous post I mentioned the arrival of the SPIRIT OF DISCOVERY on Friday & likely increased security.
These notices have appeared at the entrance to the Admiralty Pier & nearby.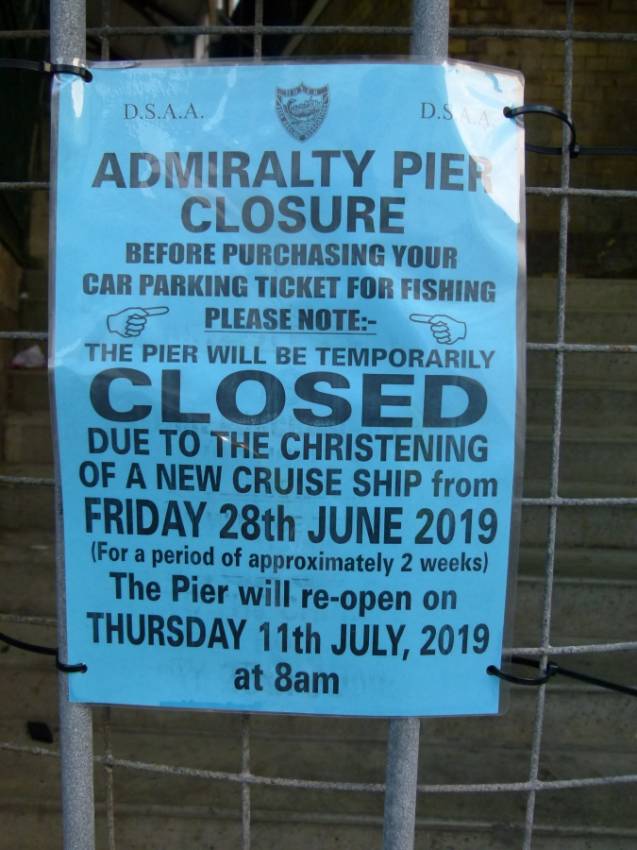 Hope that nobody puts any money in the hungry parking machines before reading the notices . . . .
Tuesday, 25 June 2019 - 22:06
Post 6361
Mike J., Dover
More angles on the CELEBRITY REFLECTION, a vessel well-covered by 'Sea News' !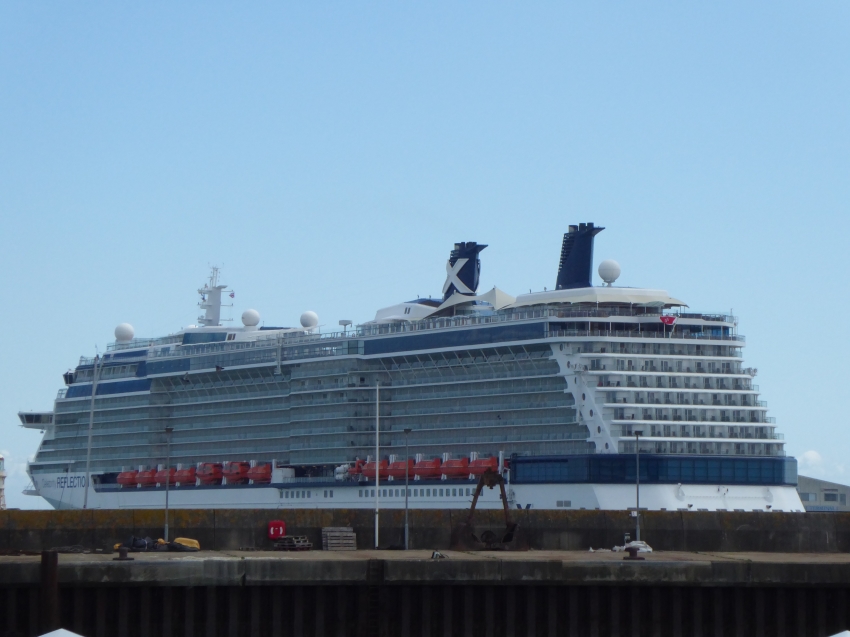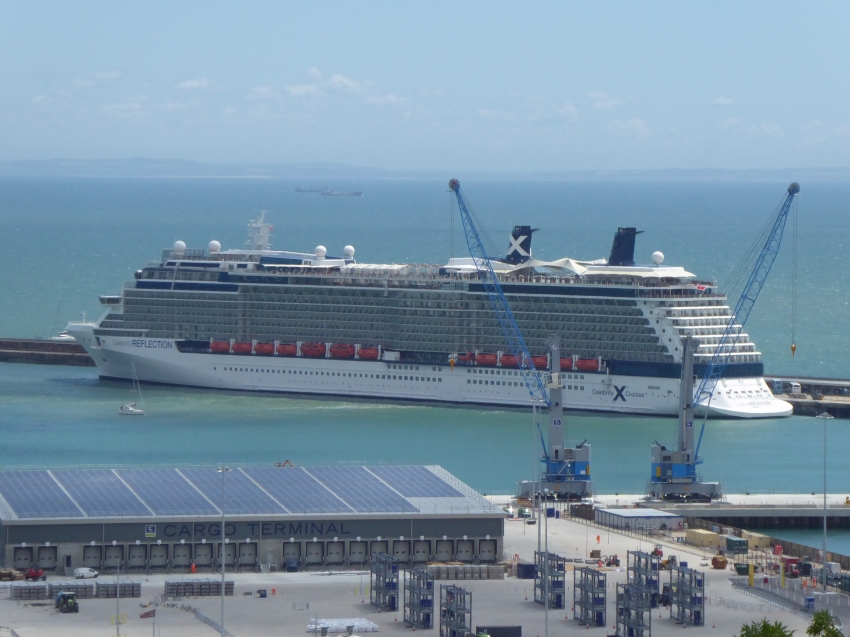 Further to Patrick's remarks about the SPIRIT OF DISCOVERY, she is in fact due to arrive in Dover on Friday & remain in port until she sails on her first cruise on 10th.July.
Its not known whether she will remain alongside for the whole period or perhaps go out on little 'demonstRation trips'
One thing is certain, there will be massive security in the Western Docks when the Royal couple are in the area.
At 1600 Tuesday AIS showed the SPIRIT OF DISCOVERY stationary [probably anchored] just off Heligoland having come downriver from Emden, with her next destination showing as Ijmuiden.
Tuesday, 25 June 2019 - 15:59
Post 6360
Sea News, Dover
Brilliance of the Seas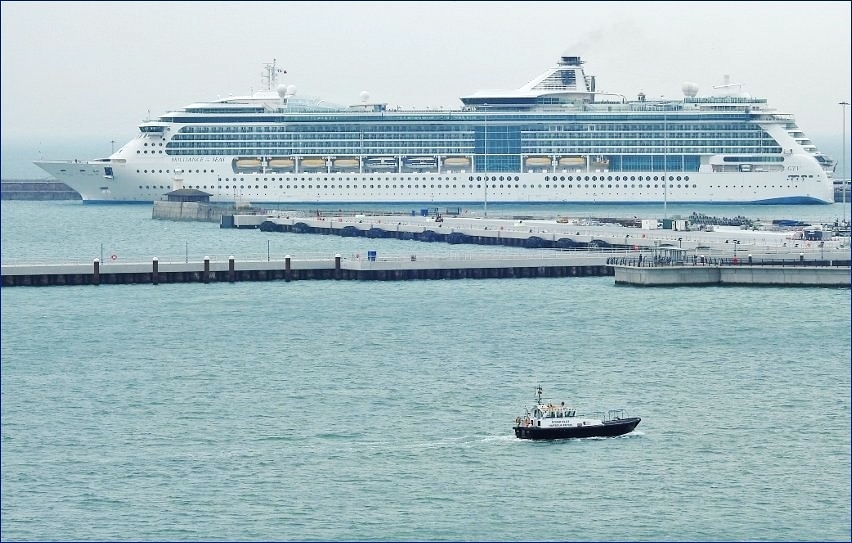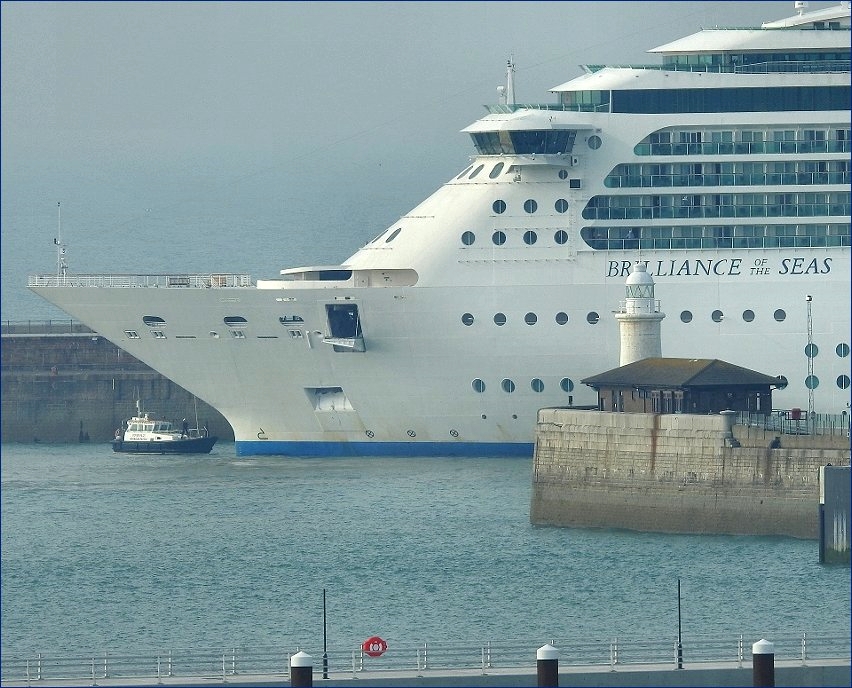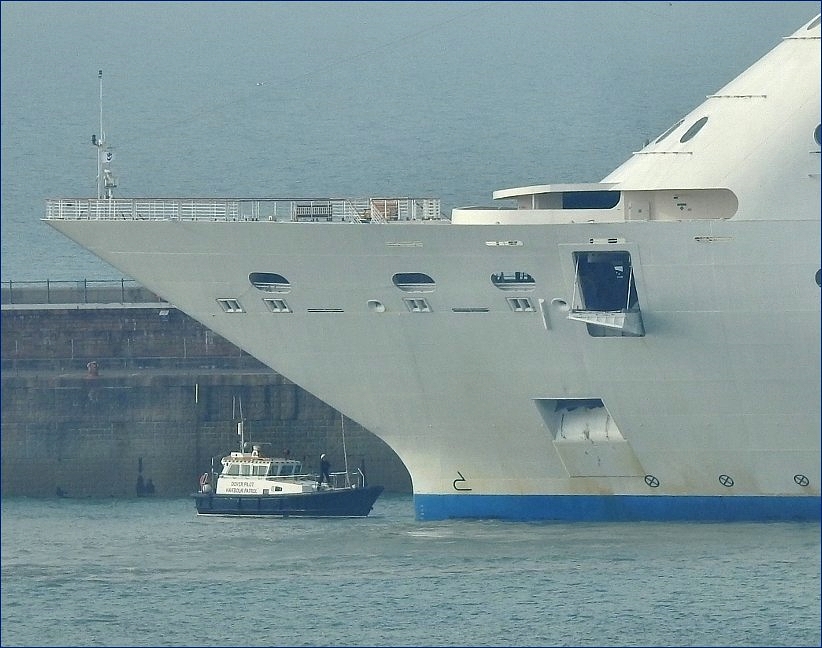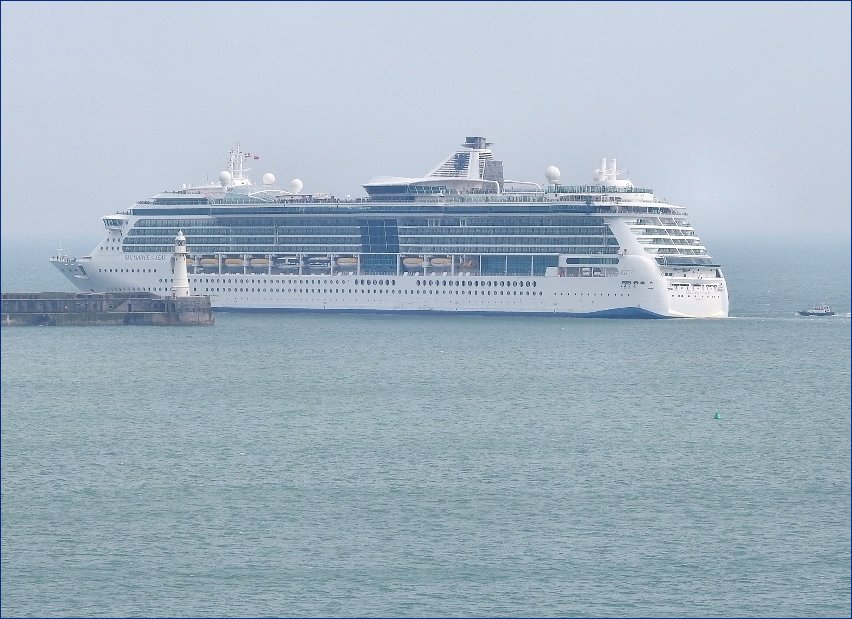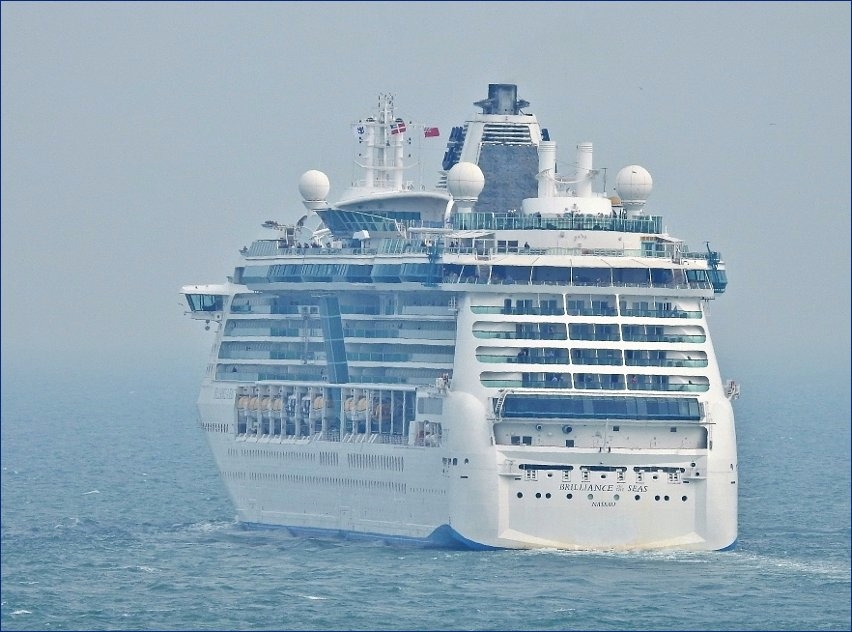 Yes the magnificent ship Brilliance of the Seas was here with us on Sunday and there we are with a selection of shots above....they are a tad misty murky unfortunately. She was on her way back to Amsterdam after a 12 day Celtic round trip from there...taking in Lerwick Invergordon Belfast Dublin Holyhead Cork/Cobh Dover....
EXTRA: Just while yours truly was uploading those pictures above...I remembered pictures of the pilot boat at the bow in the very same way last year...yours truly thought there was some crises with a man appearing to be outside the rail of the ship above the pilot boat...we had a discussion about it, anyway here is that picture again below.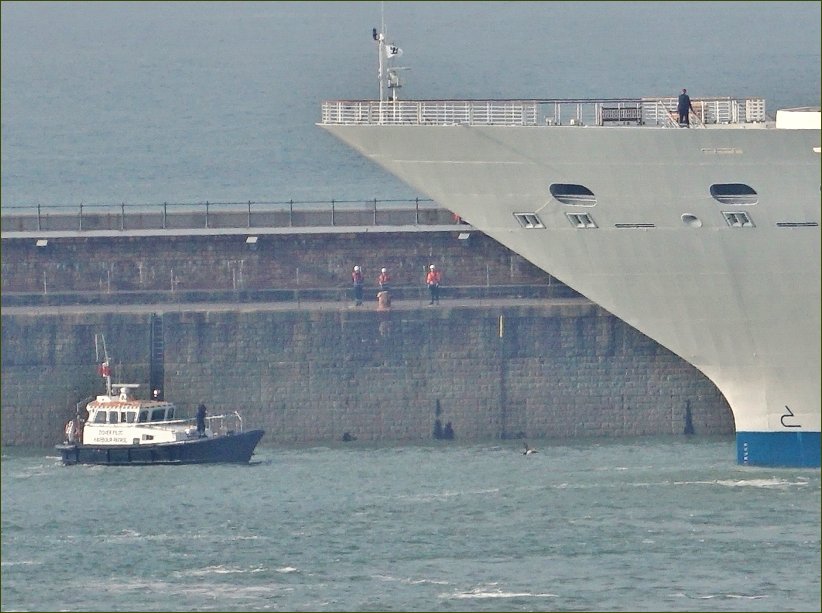 Nice collection below Patrick

PaulB
Tuesday, 25 June 2019 - 07:04
Post 6359
Patrick, Marine Parade
A few more shots of the impressive cruise liners that have graced our Port in the last few days
On 21st June the 'CELEBRITY REFLECTION'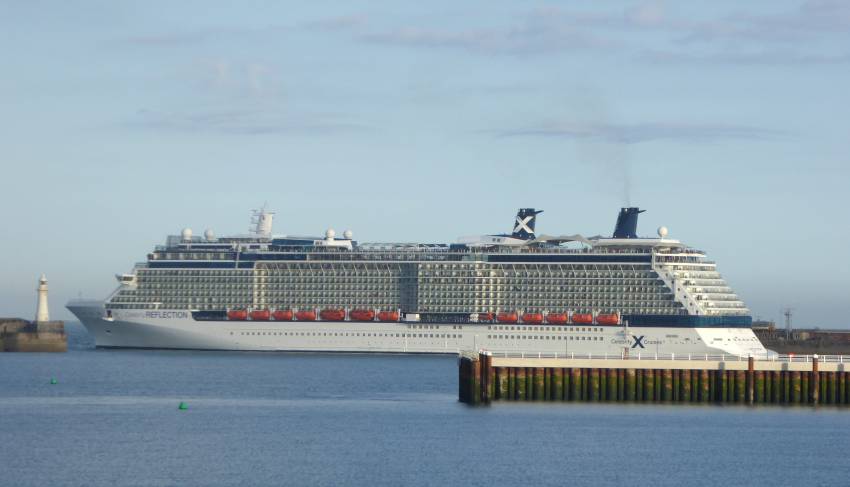 The newest of the 'Celebrity' 5 fleet launched in 2012 with a length of 319 metres (over 3 football pitches) with 15 decks. Can accommodate over 3,000 passengers, has 1,523 cabins and a crew of 1,246
Here alongside in Port and dwarfing the new and old - The Prince of Wales Pier Lighthouse and the defunct cafe building, and extreme bottom right - the new marina pier end shelter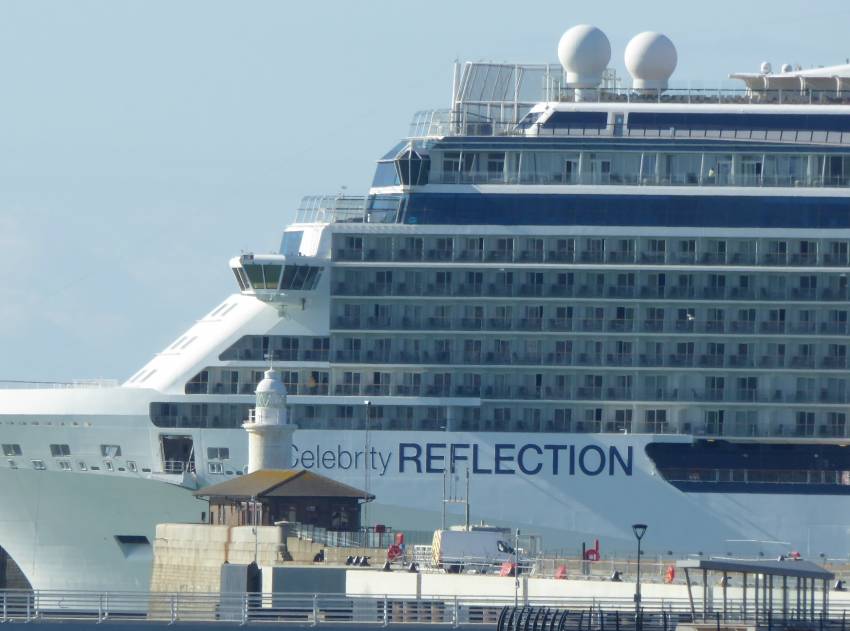 On 23rd June another vast tower block of a liner - Royal Caribbean's 'BRILLIANCE OF THE SEAS'
Launched 2002. Up to 2,500 passengers with a crew of 848. Measuring 292 metres with 12 decks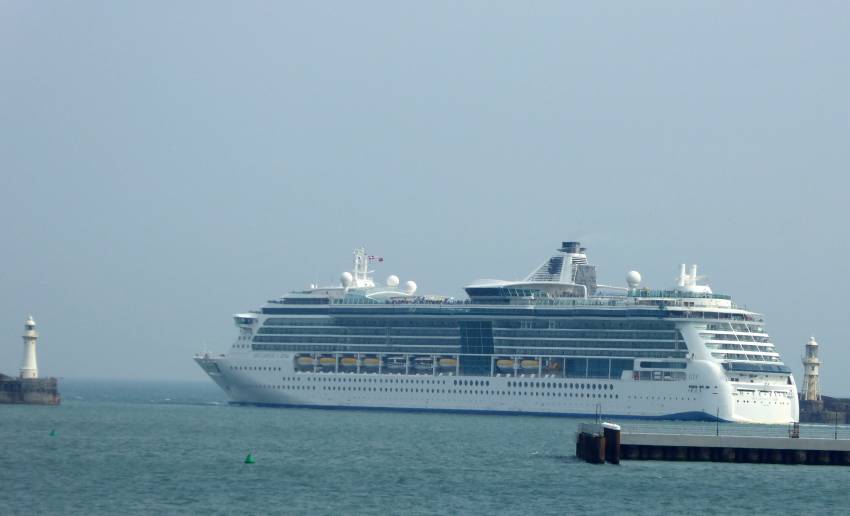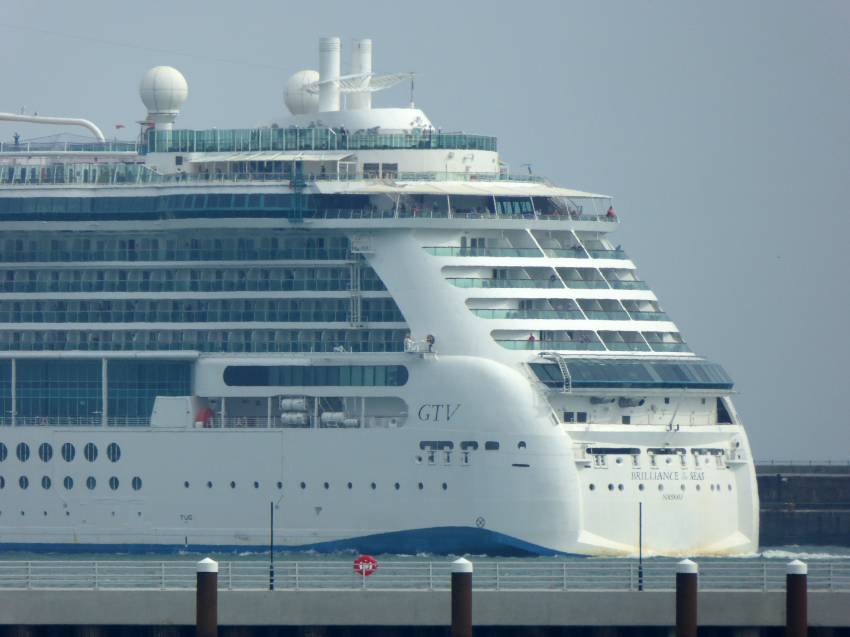 And on Friday 5th July we look forward to seeing a new Saga Ship - the 'SPIRIT OF DISCOVERY' official naming by the Duchess of Cornwall with inaugural 13 night round Britain cruise on her maiden voyage starting from Dover on 10th July.
Monday, 24 June 2019 - 23:09
Post 6358
Sea News, Dover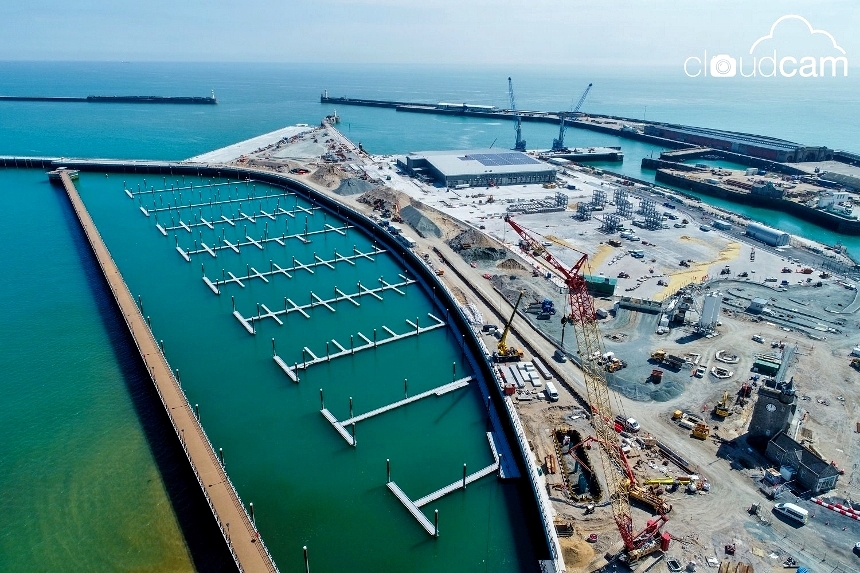 2019 Dover Marina Open Day returns for the whole weekend
________________________________________________

With taster sessions, life jacket checks, a free flare amnesty and many more activities, the Open Day is back bigger than ever on 6th and 7th July from 10am until 4pm.
As well as hosting a fantastic group of exhibitors (below), the Port will be showcasing its brand new Marina, due to open next year as a key part of the £250 million Dover Western Docks redevelopment. So come along and meet the marina team for first-hand information and advice.
Chris Windsor, Marina Manager at the Port of Dover says:
"We are really proud of our excellent facilities and location, which make Dover one of the best known marinas on the South Coast. With our brand new site due to open next year, and more exhibitors attending than ever before, we are really looking forward to showcasing our superb services to our existing and new boating fans."
Exhibitors include:
_________________
DOVER RNLI will be carrying out life jacket checks, or you can go for a tour and have a chat with the crew.
Clarke & Carter - speak to the largest yacht broker on the Kent Coast, whose new offices will be opening in Dover next year.
Ramora UK - disposal of old flares and marine pyrotechnics.
Cruising Association Kent – meet the largest organisation for cruising
sailors and motor cruising enthusiasts.
Viking Maritime Skills Academy - the leading cruise ship and superyacht crew management specialists, offering career opportunities and training.
Boat-Shift Marine Transport - an established specialist boat and yacht haulage firm based locally, near Folkestone.
UK Border Force will be on hand with free giveaways and marine information.
Kent Fire and Rescue Service talk fire safety and offer equipment testing.
Dover and Deal Sea Cadets - children can gain boating and other qualifications including first aid and catering.
Wetwheels/Dover Seasports Centre - Wetwheels boats improve the quality of life and equality of opportunity for all disabled people.
Royal Cinque Ports Yacht Club - a premium yacht club on the South coast of England.
Plus local refreshments!
ENDS
Many thanks to the team at the Port of Dover for the info above....

* *
'ANNY' under way in the wild tough rough conditions late last week...
pictures show her just outside the western exit and feeling the breeze.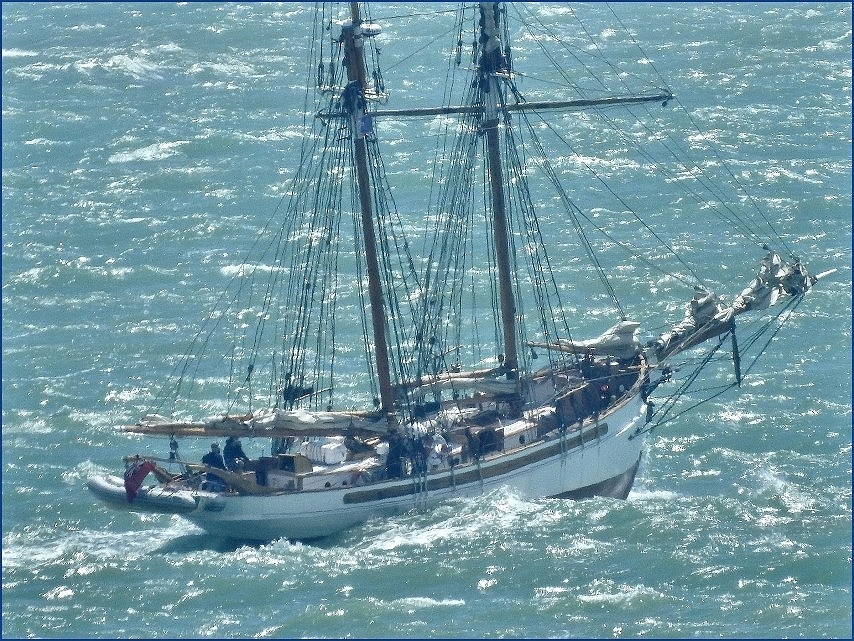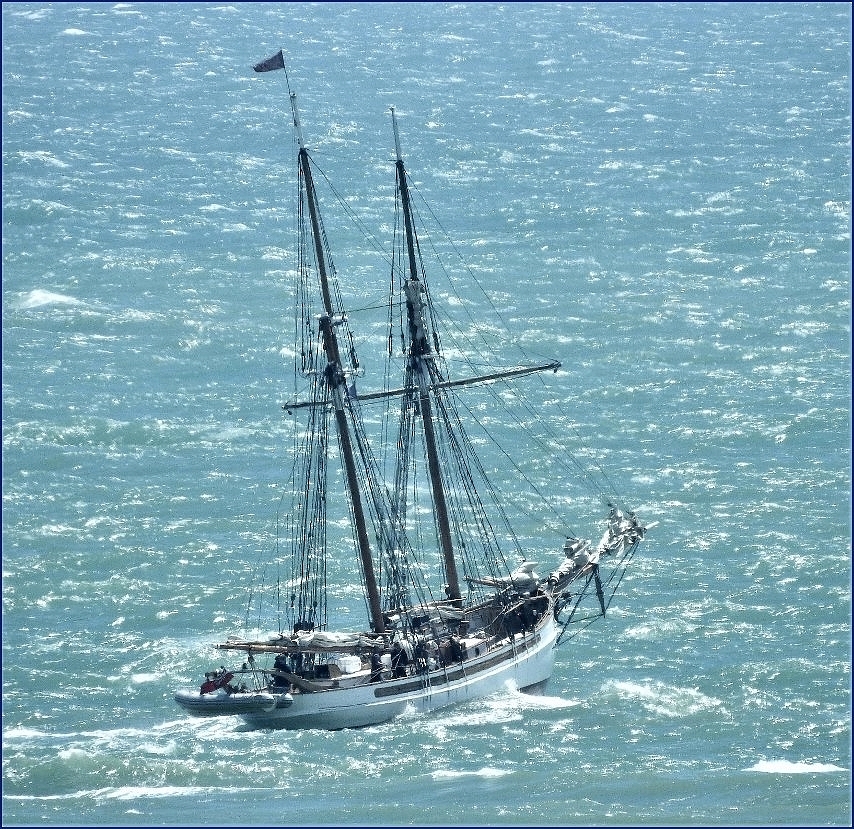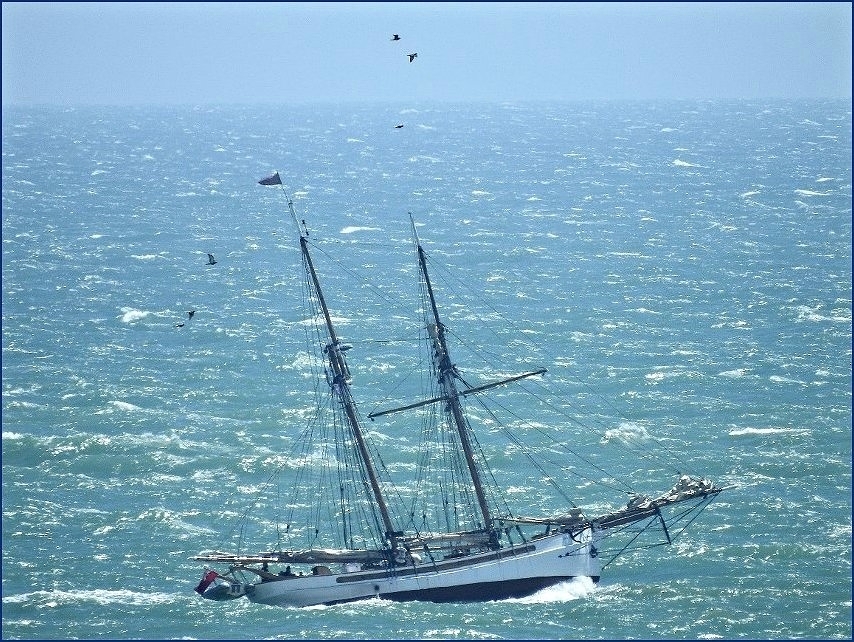 See also Patricks shots further below 6353.
We will have pictures of Brilliance of the Seas following along in due course.
PaulB

Monday, 24 June 2019 - 06:50
Post 6357
Sea News, Dover
Some more pictures of the Celebrity Reflection now to accompany the latest one currently showing at top of page. It shows the ship leaving us for Le Havre on Friday evening at 7.35pm approx (19.35). As you can see ..'twas on a gorgeous evening too...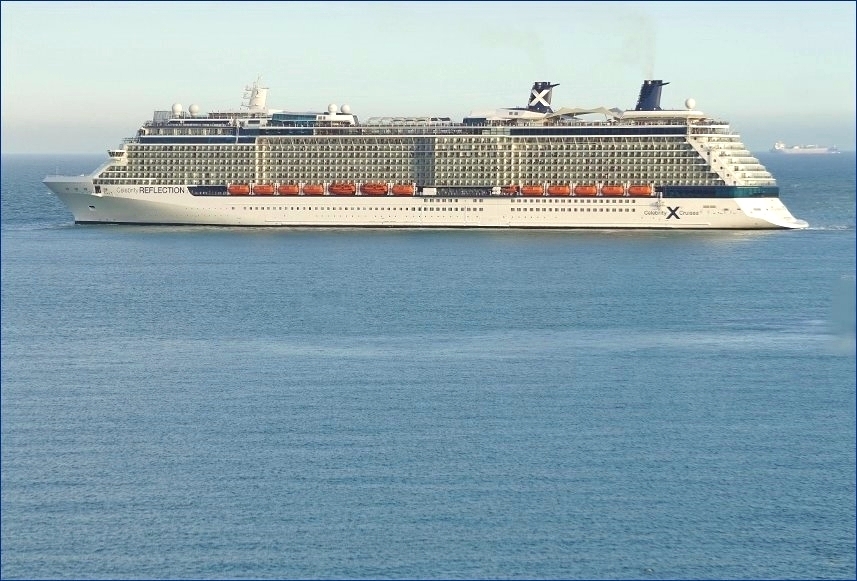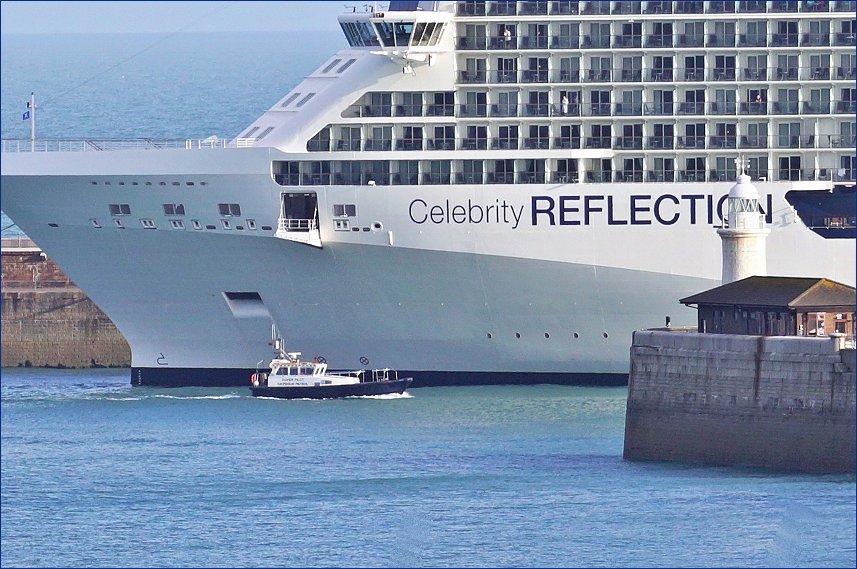 The pic below was taken earlier in the day on a different camera showing slightly different colours...this pic taken in an effort to show the sheer scale of the ship as it dwarfs all around it. Hopefully it does...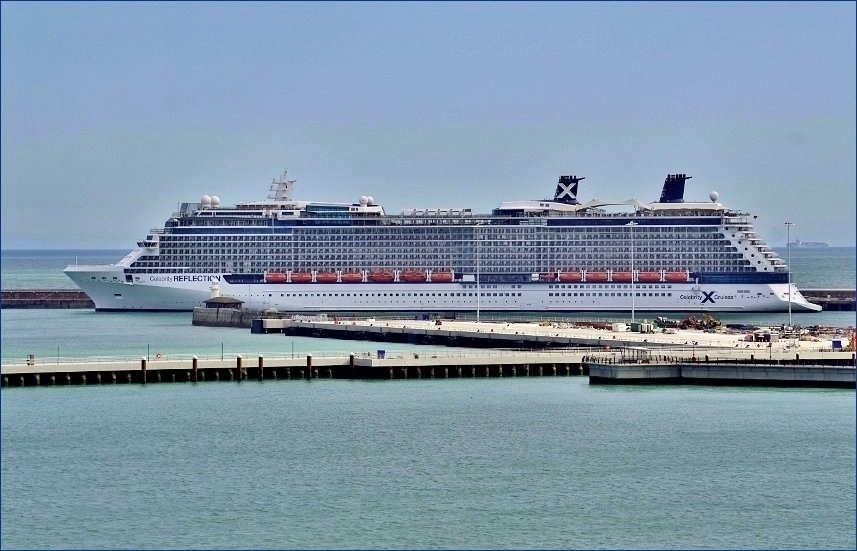 Celebrity Reflection.
Yes its certainly big Phil. Just as light faded last evening saw an even bigger one... the Queen Mary passing us by here in Dover, all 150,000 tons (almost) of her. It was just too murky to get a picture of that one this time...
PaulB
Another magnificent cruise ship in today...Brilliance of the Seas...
Sunday, 23 June 2019 - 06:09