Sunday, 19 November 2017

doverforum.com/sea-news
Featuring all the ships that come and go and work at the Port of Dover with further coverage of Ramsgate, Calais, Dunkerque. Email: dover7@msn.com to send SEA NEWS pix or info.... or click ADD YOUR COMMENT below to post direct, no membership needed.
Mammoth Tooth Find - Extraordinary at Port of Dover see 4389.
DFDS - Helping to tackle Breast Cancer - see 4377.
PORT of DOVER: COOL CARRIERS..great cargo coup. New Trade for Dover.. 4336.
P&O FERRIES...women in the workplace .. also 4336..also see 4370 for the new graduate seafarers.
PORT: Latest DWDR news and drone pictures...see 4330.
DFDS and the Maritime Catering Apprentices 4323.
P&O Ferries help children with serious illnesses cross to France 4316.
Port of Dover's Big Christmas Ice Event 4311. Fun for all...
Port of Dover sponsors War Horse 4294
DFDS - Crowned Europe's leading Ferry Operator 4287.
DDC Leader Paul Watkins retires...see 4282 and 4270. Replacement 4328.
Use our SEARCH ENGINE below to find all sorts on the SEA NEWS pages..more than 200 now with more than 4000 nautical posts. Posts welcome. Max of 5 pictures preferred per post. Sea News Editor Paul Boland.
Type Cruise Visits (or indeed anything) in our Search Engine below for the latest cruise ship arrivals..
Post 4322
Mike J., Dover
Ramsgate, Saturday - poaching on Sarah's territory !
Taking a stroll around the harbour I was about 30 seconds too late for a decent view of survey vessel HMS GLEANER as she left the fuel pontoon after a very brief visit whilst en route Lowestoft from Gosport.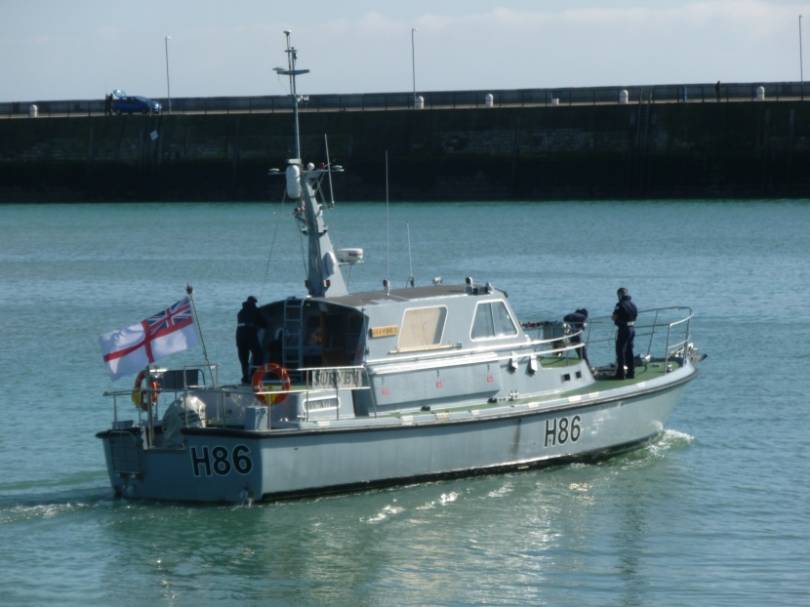 The GLEANER is thought to be the smallest commissioned vessel in the RN.
She was built in 1983 & is notable as the only RN vessel to have visited Switzerland when she steamed up the Rhine to Basle in 1988.
She visited Dover in October/November 2014 for a spot of surveying, posts & pix - 1180/1224.
Three windcats were laid up in the Inner harbour, Spectrum Offshore's SPECTRUM 1 & Turbine Transfers' RHOSCOLYN HEAD & PORTH DIANA.
Turbine Transfers are a subsidiary of Holyhead Towing who have tugs & worksboats working on the DWDR project.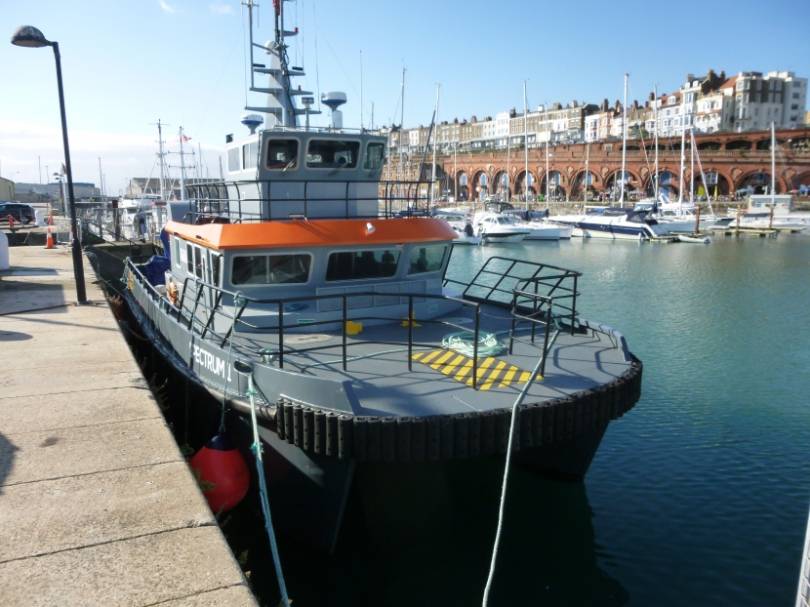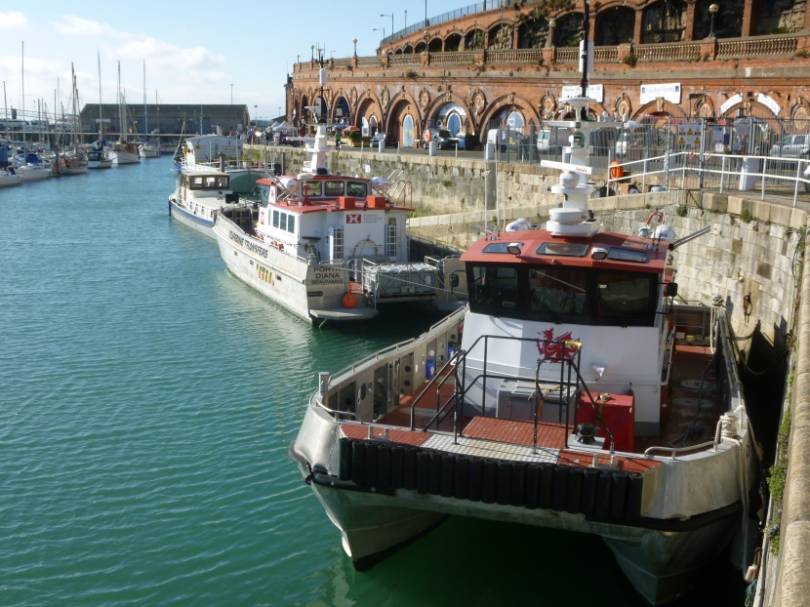 Absolutely nothing whatsoever to do with shipping was this delightful 'James Handy-Van' of mid-30s vintage on display outside one of the Inner Harbour 'arches'
Well worth a photo though.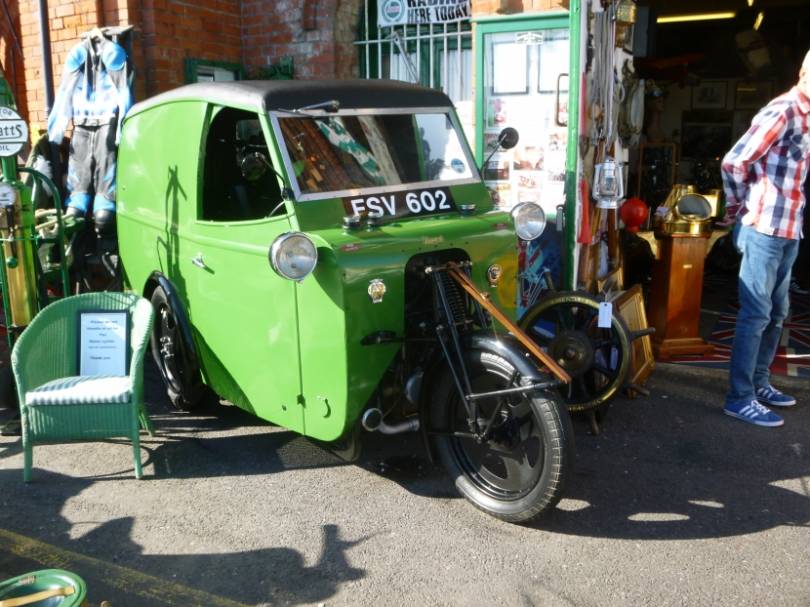 Sunday, 15 October 2017 - 10:28
Post 4321
Sea News, Dover
Just idly watching the world go by...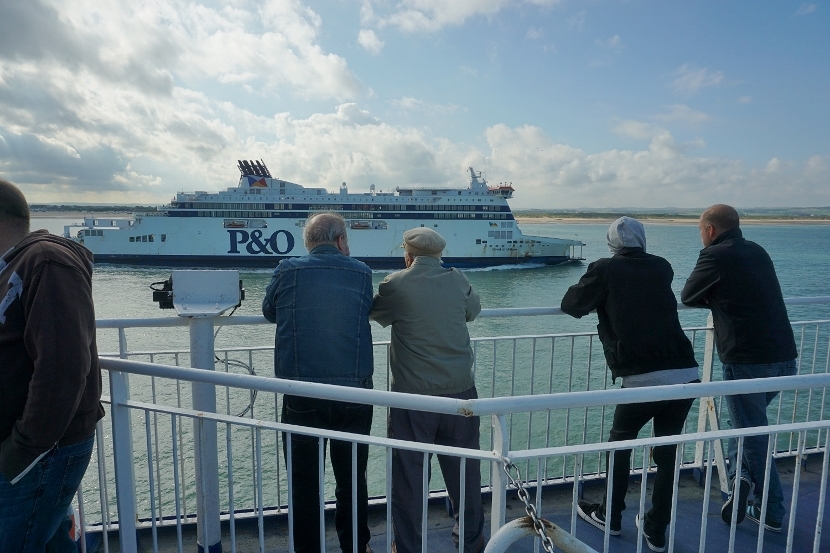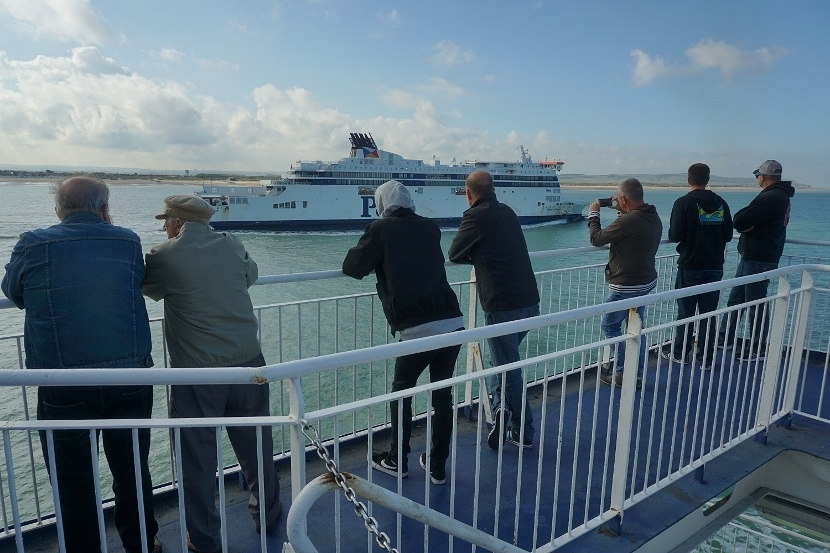 or in this case just idly watching the Spirit of Britain amble by just off Calais, from onboard the Pride of...ermmm which one was it...yes that's it...The Pride of Canterberrry...
and there goes the Spirit out into the Channel on a lovely sunny day...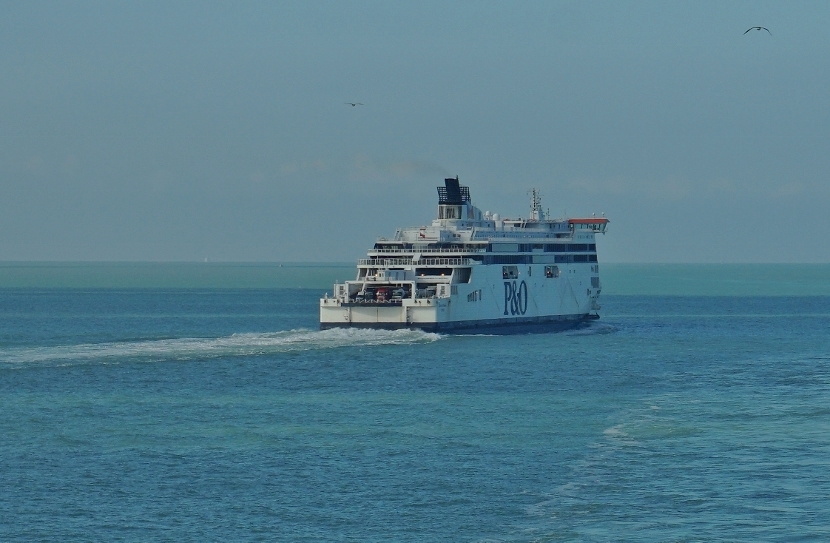 Some of the guys were up on the Thames last week aboard the Waverley and quite by chance I came across this picture of one and the same yesterday. I didn't remember I had this one...
The Waverley passing Dover in 2014.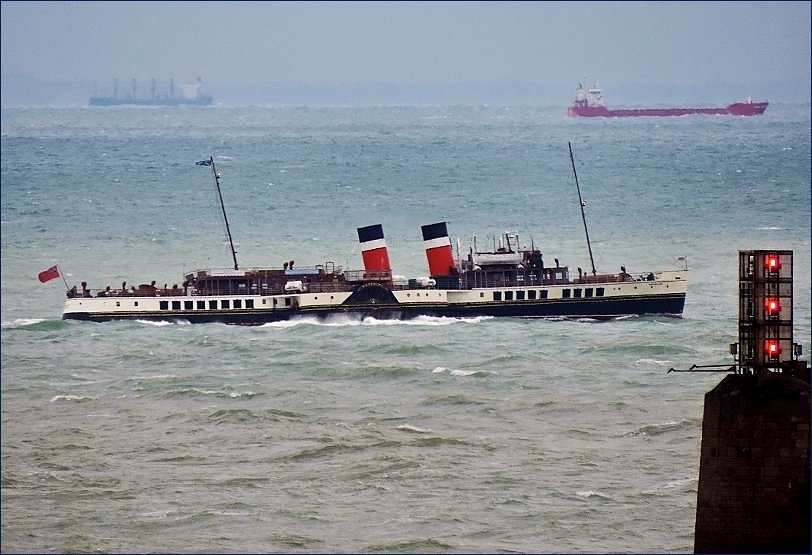 Thanks Sarah, glad you liked those pix of Alert...always a photogenic vessel for sure. Hope all good over there in Ramsgate...


PaulB.
Sunday, 15 October 2017 - 06:08
Post 4320
Sarah, Ramsgate
Loving the superb Alert photos



Saturday, 14 October 2017 - 18:25
Post 4319
Sea News, Dover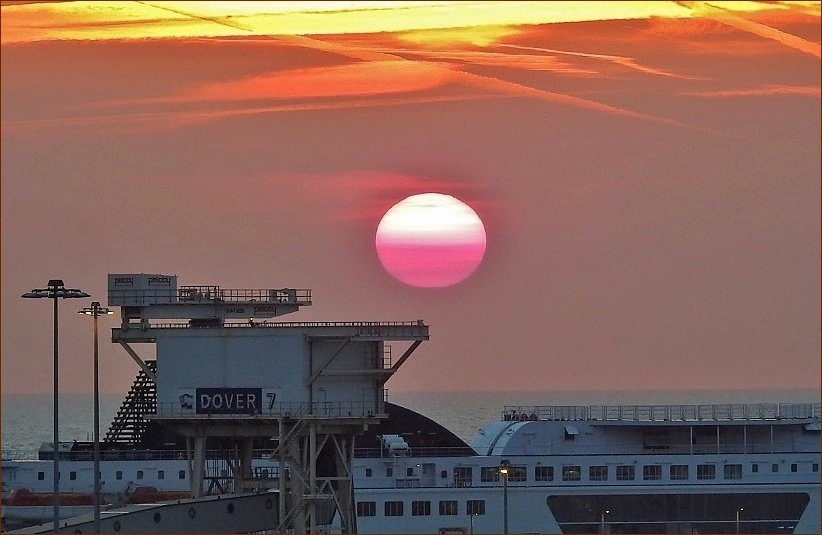 The sun rises over Dover 7 and so begins another day at the Port of Dover...
Dover and Deal are on the up...says Charlie Elphicke MP
_____________________________________________
We're working hard to build a brighter future in Dover and Deal. And it's clear things are on the up in our beautiful corner of Kent.
The new cinema and shops at St James are set to open in the coming months. The £120 million Western Docks development is underway. Deal continues to go from strength to strength and was recently ranked as one of Britain's top coastal towns.
There are exciting times ahead and people I speak to when I'm out and about are really positive about the future. Indeed, last week research was published which said happiness in Dover and Deal has reached its highest levels since records began.
Our level of happiness in 2016/17 was 7.69, researchers found. This is above the national average of 7.51 and a big rise locally from 7.17 last year. When the Office of National Statistics started measuring personal well-being in 2011/12, the level of happiness in Dover and Deal was 7.38.
Life satisfaction in the constituency is also up year on year, while anxiety is down. More people feel what they do in life is "worthwhile" than in 2011/12.
Too often some people talk us down. Yet the truth is that Dover and Deal are on the up. We've come a long way in the past seven years. We stopped the port sell-off, got a new hospital built in Dover and safeguarded Deal's. We secured £500 million of investment for our area and unemployment has near halved.
People said we'd never get the fast train to Deal – yet now it sweeps into the station every day. People said Burlington House would be there forever – yet we kept fighting until it was torn down. Now the former St James site is transforming before our eyes. Meanwhile the rubble from Burlington House is being used to lay the foundations of the Western Docks Revival.
Of course, there is still much more to do as we build a brighter future for Dover and Deal. The most vital issue of our times is ensuring we are ready on day one for Brexit. We cannot have a situation where there are long queues of trucks clogging up our roads. That's why I've been working with industry experts to put together a plan setting out the action we need to take now at the Dover and Deal frontline.
If we get it right, we can enjoy a real boost from Brexit. I got 40 MPs together to write to the Chancellor, calling for duty free sales on travel to Europe to return after Brexit. This could help boost visitor number and our ferries.
Things are changing. We are working relentlessly – taking action to secure investment, plan ahead and build a brighter future for Dover.
And if there's one reason above all else to be happy – it's that we finally got rid of the 40mph limit on the A20!
ENDS
An extra pic of Alert below...testing a new method used to produce the picture... PB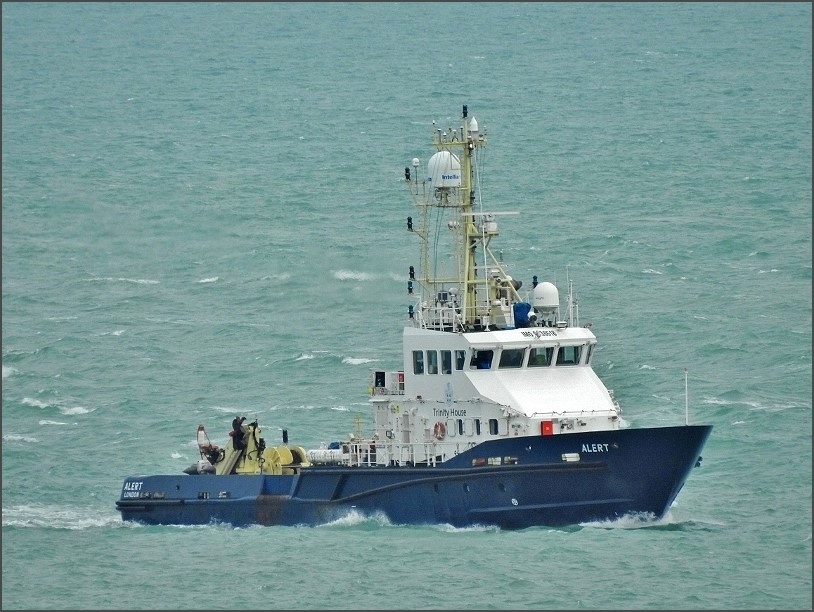 The return of Duty Free...is that a step forward or back?
Who knows anymore...what with the current Brexit befuddlement. At the very least it will give TV producers the notion to make more of those awful Booze Cruise films... currently never off ITV3.


Saturday, 14 October 2017 - 06:50
Post 4318
Sea News, Dover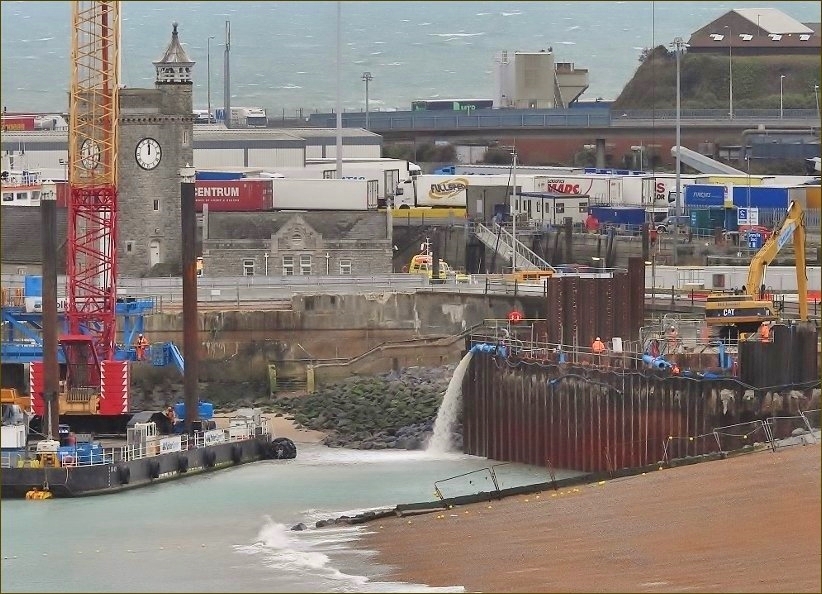 The picture above was taken just two days ago...early morning 11 October. But since then yet more piling has been pulverised into position right up close to the 'dock gates' .. for want of a better term. The noise has been horrendous. Yours truly didn't notice his Ming vase trip ever closer to the edge of the mantelpiece with all the vibration and tumble into a thousand pieces on the floor...!!
sheesh ! ..said I with a sigh and a scratch of the head !


Seriously though...terrific progress has been made...
You can see the progress being made in the following pictures since last March...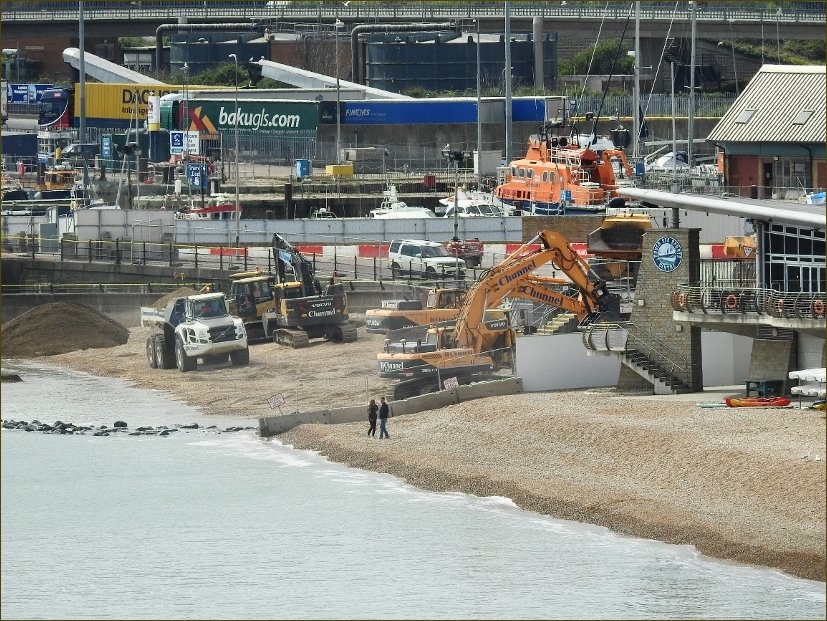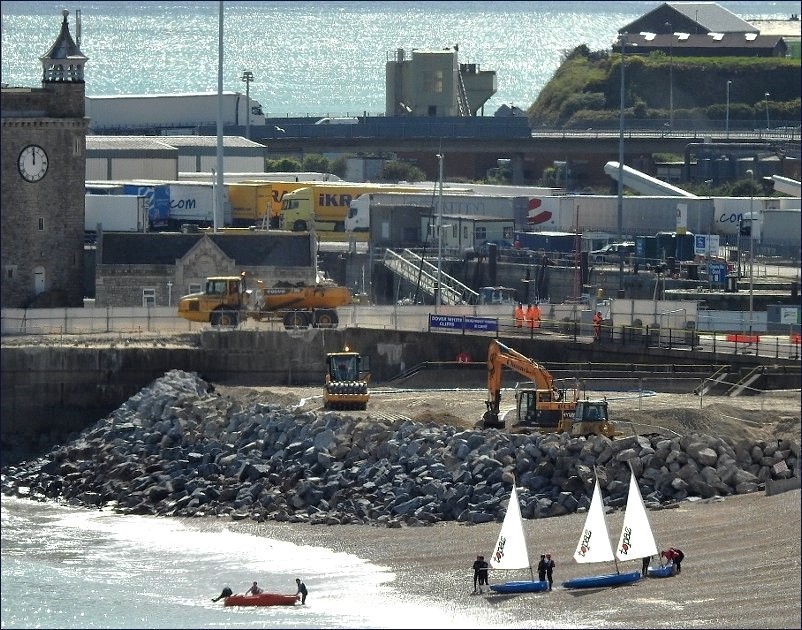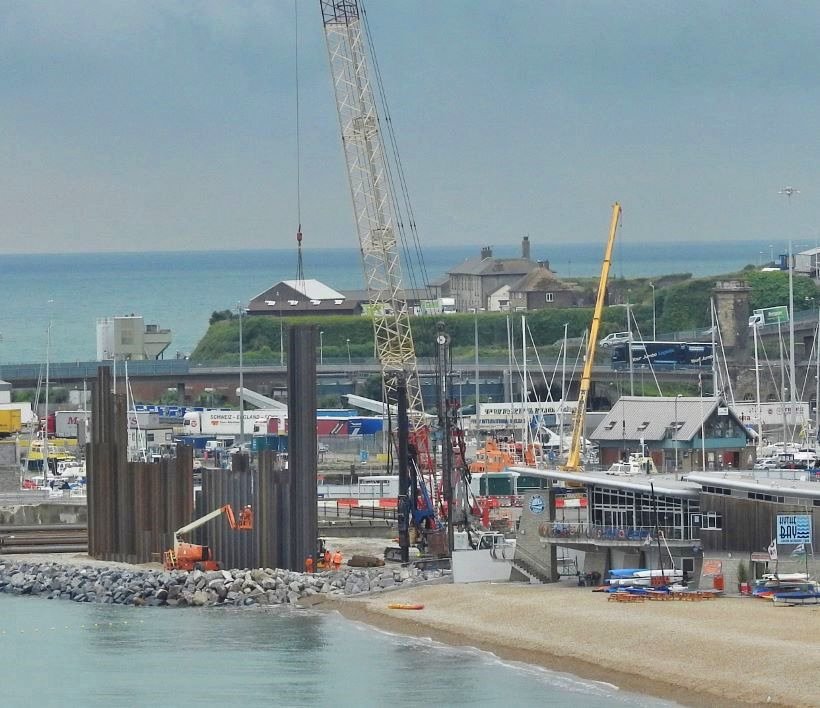 As we've mentioned previously...Once again pay no attention to the clock which has the delightful regularity of being right twice a day.

Fascinating tale below once again Vic. Tough times...but shows the resilience all round.
PaulB.
Friday, 13 October 2017 - 11:29
Post 4317
victor matcham, Dover
And that was not end of it that night,when we got longside with the tug pushing us in,it was time for the crew to get off and the day crew to get on ,we got moored up and put down the walkway,tug master told us we would be ok now,and went off.
I was staying on the ship with my mate because of all the work that still had to be done,so the old crew were getting off the new crew was waiting to get on .and then it happen the wind got up again most of the old crew had got off but the mooring ropes was torn away and the walkway ended up going in the sea ,and this is very true, all we had on the was five members of the old crew and the capt/ and the only thing holding the ship in was one wire.
The capt/said to me some how we must cut the wire free or the ship will get even more damge done to it.SO the only thing I could do was to cut it free with a h/saw and knowing what would happen the wire would do a whip across the deck, so the remain crew got well clear so the wire did not hit them and I was cutting it as close to the end which was still fixed on the ship,so any whip would come from the birth and I was praying it would not be to long to hit me,and thank God it worked .they got the tug again to push the ship against the birth so we could retie it up with new ropes etc,, and they put out to us a new walkway so the remaining old crew could get off and the new one on.as I said we stayed on but the captain did thank me before he got off.

Thursday, 12 October 2017 - 21:22
Post 4316
Sea News, Dover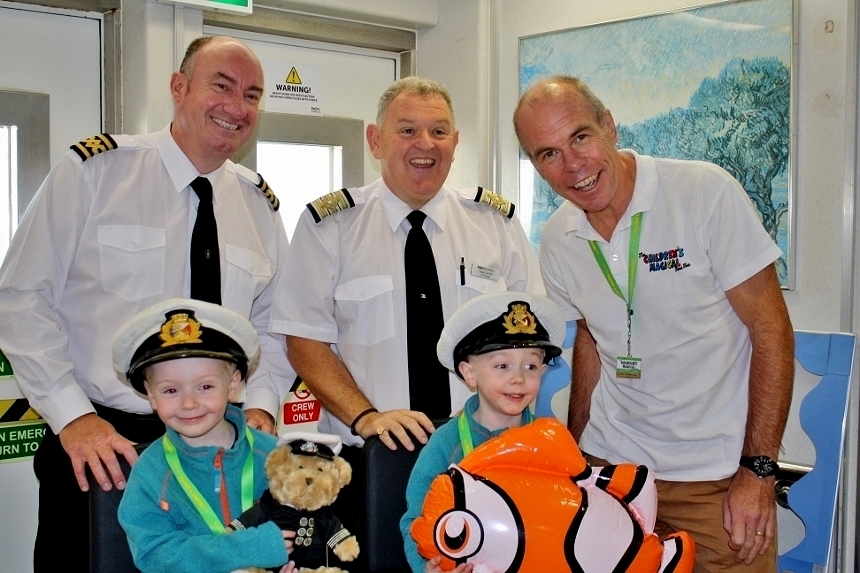 P&O FERRIES HELPS 170 CHILDREN WITH SERIOUS ILLNESSES CROSS THE CHANNEL TO FRANCE .....
.... ON THEIR WAY TO DISNEYLAND PARIS

MORE than 170 children with life-threatening illnesses enjoyed a trip to Disneyland Paris via a P&O Ferries ship last week (Friday 6th October).
The children were driven from Canary Wharf in London to Dover in 100 black taxis driven by members of the Worshipful Company of Hackney Carriage Drivers. The convoy was seen off in the capital by the Lord Mayor of the City of London, Alderman Dr Andrew Parmley, and embarked P&O Ferries' Pride of Burgundy ship to cross the English Channel.
The event - now in its 24th year - is known as the Magical Taxi Tour and involves more than £100,000 of funds raised by the Worshipful Company of Hackney Carriage Drivers over the course of an entire year being used to give the children a special day out at Disneyland Paris.
Jacqueline Burns, Corporate Communications Officer at P&O Ferries, said: "We have been supporting the Magical Taxi Tour for 24 years and try to give every one of these children and the carers accompanying them a crossing to remember. Our captain and his crew set-up a photo booth, which proved extremely popular, where the children could have their picture taken wearing either a captain's hat or a pirate's hat and cuddling a P&O Ferries' teddy bear."
The children were chosen by the doctors and nurses at hospitals including Great Ormond Street, the Royal Marsden and Chase Farm. Their trip to Disneyland Paris included two nights of hotel accommodation and special 'queue jumper' tickets, provided because some of the children were too unwell to queue for the rides and attractions. They returned to England on P&O Ferries' Spirit of Britain ship on Sunday afternoon.
Alec Robertson, a driver participating in the Magical Taxi Tour for the ninth consecutive year, said: "P&O Ferries were absolutely brilliant. We have used them every year for 24 years and they look after us so well. The crew are very friendly and great with the children."
In addition to working with the seriously ill children on the Magical Taxi Tour, P&O Ferries' stakeholder project offers visits to schools, colleges and businesses within the local community. This is a totally free initiative. The visit is tailored to school requirements and their current projects. It can be a talk, with learning materials and other artefacts, judging a competition or providing an insight into the world of ferries and logistics.
Left to right: back row - Captain Nick Jones, Food & Beverage Manager Sean Smith and Alec Robertson; front row - brothers Henry and Sam Maceachen.
ENDS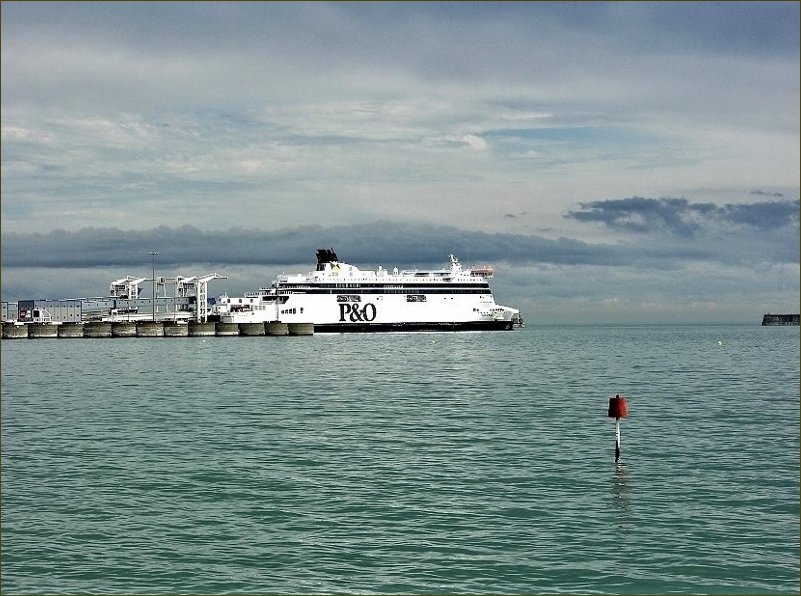 Many thanks to the team at P&O...that's a grand story above for sure.

A couple of pictures now of Blue Marlin heading down the channel two evenings ago with another of those huge drilling platforms. En route from Norway and going all the way down to Turkey at a slow steady pace.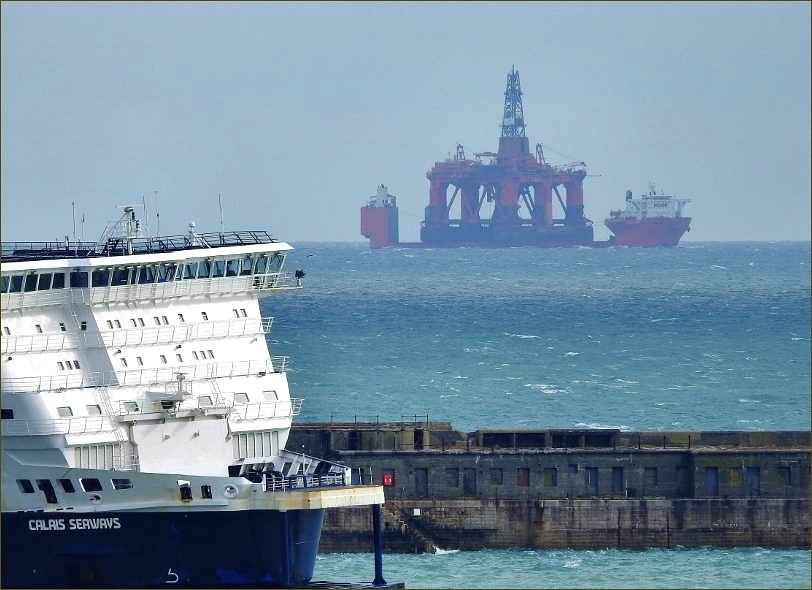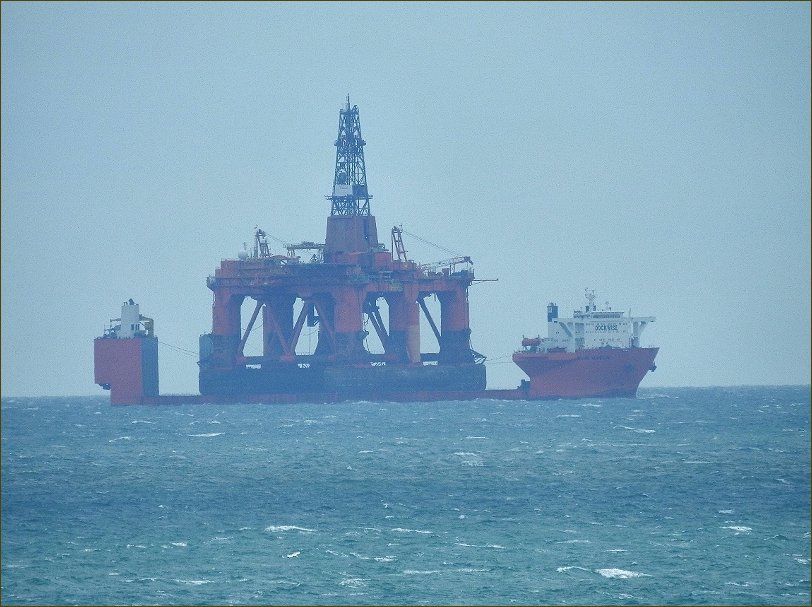 Following on from Ed's shot of the Elsebeth at the DCT...here we are with a couple of pix of her moving off last night...bound for Flushing in the Netherlands. Time of pictures: 6PM or 1800 hours if you prefer. It was gloomy and rough so was lucky with the pictures.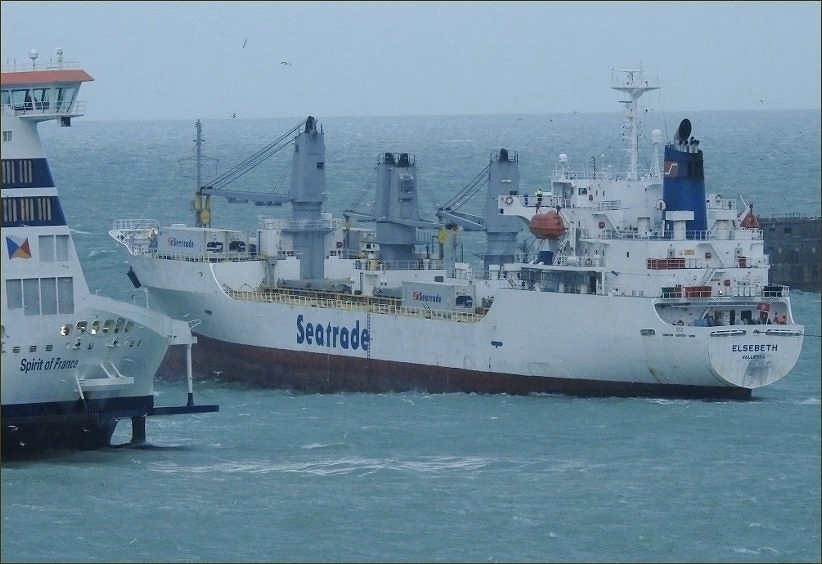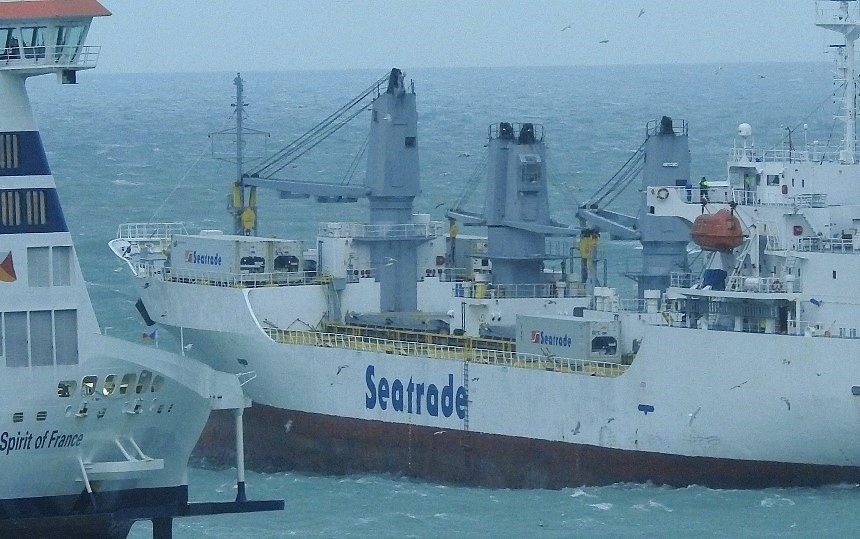 Well done Ed - nice shot of Elsebeth below there.

Glad I was able to follow up on that one.
Yes indeed Del..Amazing tale from the past Vic...rough tough times for sure. Very brave work.


PaulB.
Thursday, 12 October 2017 - 07:00
Post 4315
Del Styan, Norwich
Vics experience sounds terrifying.

Wednesday, 11 October 2017 - 23:04
Post 4314
Ed Connell, Dover Strait
Elsebeth at the DCT today.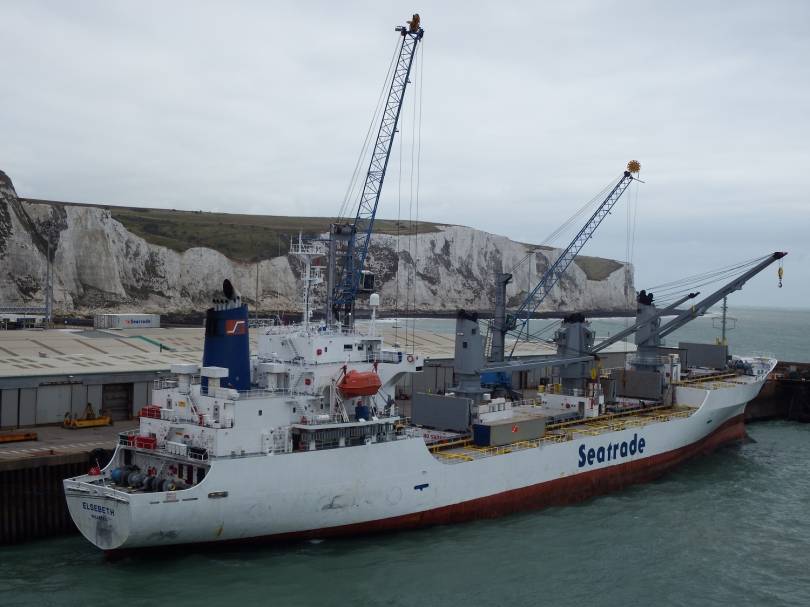 Wednesday, 11 October 2017 - 12:08
Post 4313
victor matcham, Dover
A night I will never forget, yes it was the night of the big storm in 1987, I was working at sea on the E/Clearway a very small ship carrying H.G.V. from France a Tug HELPED us to get longside in the pens,but then had to pull away from us to go to the aid of a small ship coming in the Western end of the port, sad to say it went down with the loss of all crew.
I was call on deck by the Capt/because some of the lorry,s had turned over on their sides which was stopping us getting long side ,I was asked what can be done ,I said there is only one thing we can do in a wind like this,put a rope round me and I can then burn off the bend handrails and any part of the lorrys which was hanging over the side,they did not like that plan but as I said it is the only thing I can do,and the skipper said"What happens to the steel you burn off.? "It will drop into the sea sir." and that is what we done.Two of us was on there working 4days,sleeping when we could,because we had to weld a tem/handrail back up so the ship could go off to refit on the Sunday.


Wednesday, 11 October 2017 - 09:24
Post 4312
Sea News, Dover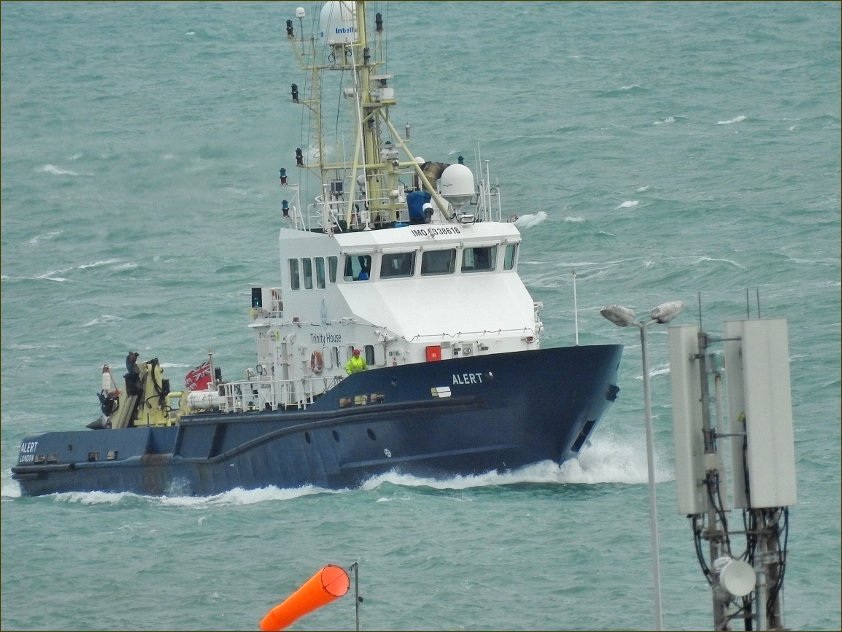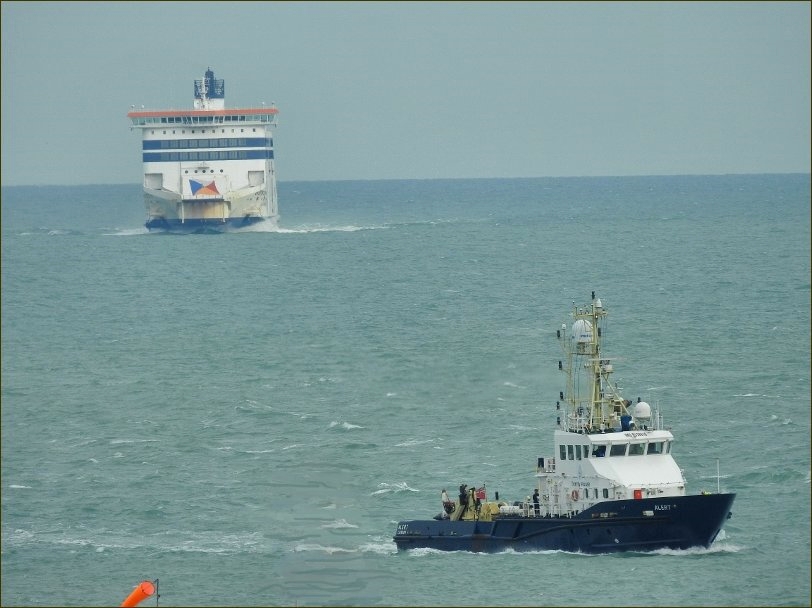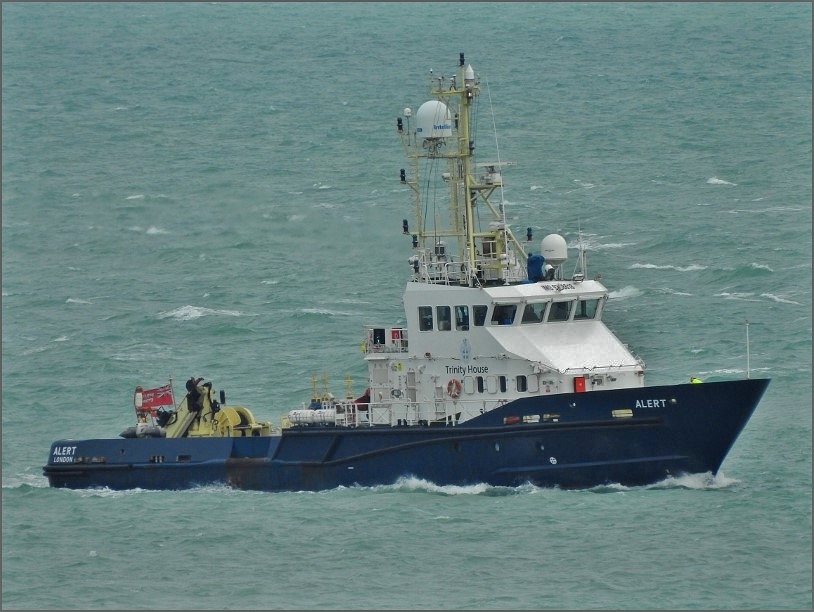 A short sequence above there of old favourite the Trinity House Vessel Alert arriving back in the Port of Dover late Monday afternoon with the central shot showing one of the P&O Spirits approaching in the distance.
Below we have a picture of high tide on Monday afternoon....very high with the recent full moon...which shows the way the tidal surge swallows up ( or nearly does) the piling, leaving just little stubs visible, and that piling aint little...nosireee Bob!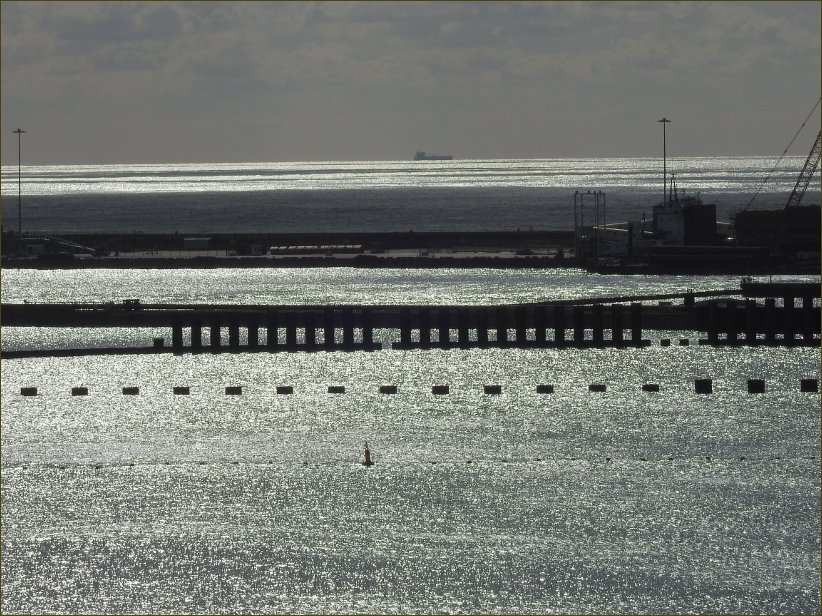 The picture below is for mild amusement only as we can see nothing. Its an 'artistic interpretation' of the Schweiz Reefer departing for Hamburg through the rain and darkness on Monday night just beyond 7PM...make of it what you will..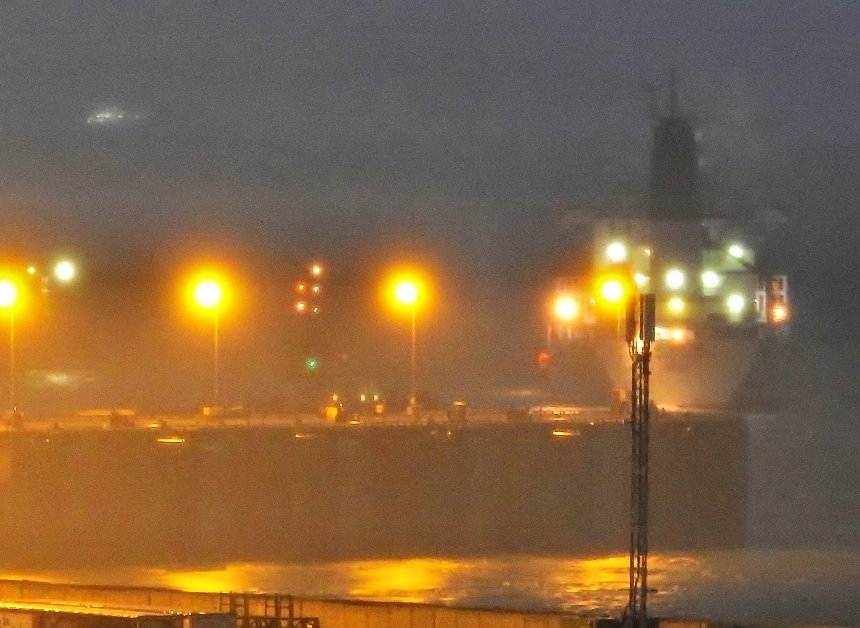 PB.
Wednesday, 11 October 2017 - 06:55
Post 4311
Sea News, Dover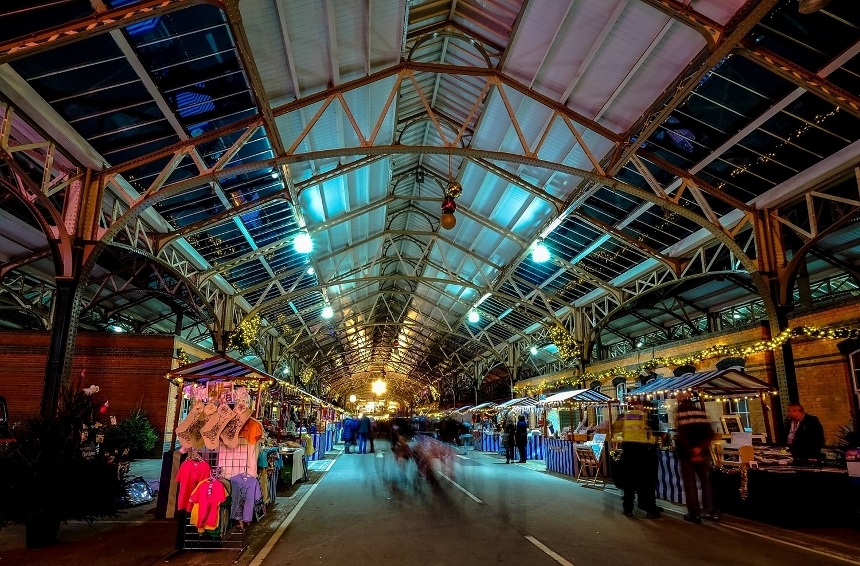 The Port of Dover is thrilled to announce the return of its popular White Cliffs Christmas Event at Dover's historic Cruise Terminal One for the second year.
The Old Marine Station will be decorated in a traditional English Christmas style for the Grand Opening on at 12pm on Saturday 25 November 2017.
Father Christmas and his friendly elves will be making a welcome return on a sleigh pulled by real reindeer. Taking up residence in his grotto, the grand old man of Christmas will once again greet children and hand out presents. His special post box will also be available for everyone's festive wish lists.
Adding to the seasonal mood, will be last year's favourite, the hugely popular undercover real ice-rink – only this time it will be bigger and better. With it growing by 100m² this year, skaters can again enjoy the atmosphere and excitement of gliding on 400m² of real ice without the worry of inclement weather. Booking early to secure skate times and dates is recommended, so keep an eye on the Port of Dover website and Twitter feed for the launch of the online booking site in mid-October.
The Traditional English Christmas Market will be open once more, offering a wide range of Christmas gift ideas, complemented by live music, a variety of children's rides, and concessions serving tasty food and beverages.
Open until Monday 1st January, lots more information on the wonderful treats in store at this years' event (including opening times and dates) will be available soon.
Port of Dover Chief Executive, Tim Waggott said: "Following the huge success of the first White Cliff's Christmas in 2016, we are delighted to be hosting this popular event again for 2017. Last year, we welcomed in excess of 100,000 people. This year, we're planning a bigger and better experience and I am looking forward to seeing both our community and people from all over the U.K come together to share in the festive spirit and support our local economy.
"Dover is currently undergoing unprecedented regeneration with the Dover Western Docks Revival and many other projects. The White Cliffs Christmas event is part of this drive for a better future and will assist in placing the town firmly on the map as a leading family destination."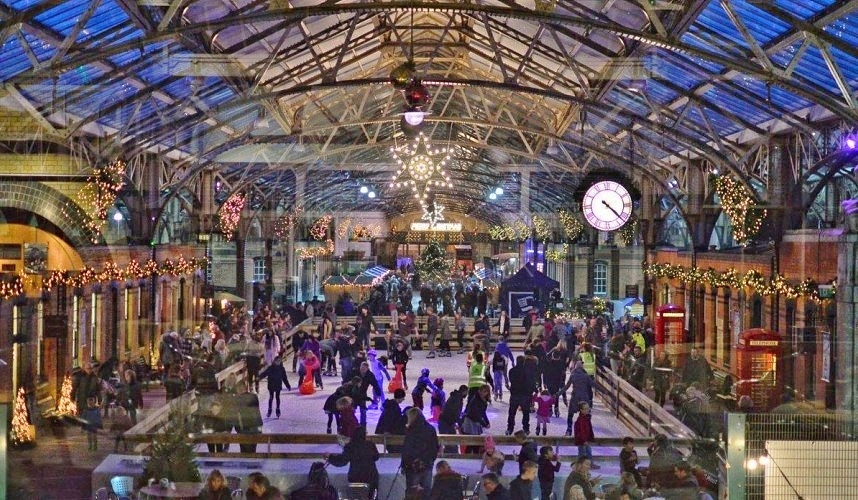 PICTURES: The top two ace pictures are from the guys at the Port and they show that we can all look forward to a fantastic time down at the Cruise Terminals again this Christmas. Yours truly was down there several times last year and it was great and no mistake.
Many thanks as ever to the guys at the Port for both those pictures above and for all the info.

Next picture was taken by yours truly and shows the Sea Cadets playing their hearts out....once again at Cruise Terminal One... Great stuff!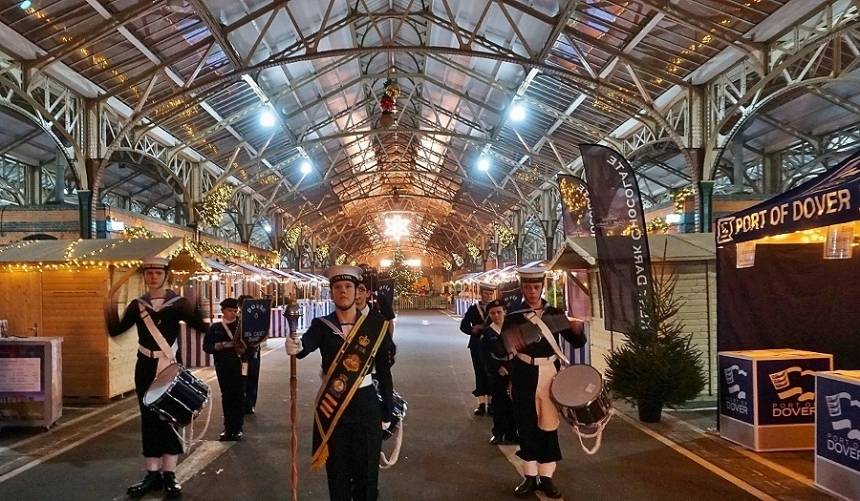 * *
A couple of extra general pix...
First one shows a bit of short lived rough oul sailing on Saturday. Only one yacht ventured out and you can see how miserable it was...miserable and rough, but it made for an enjoyable picture. Chop chop choppy...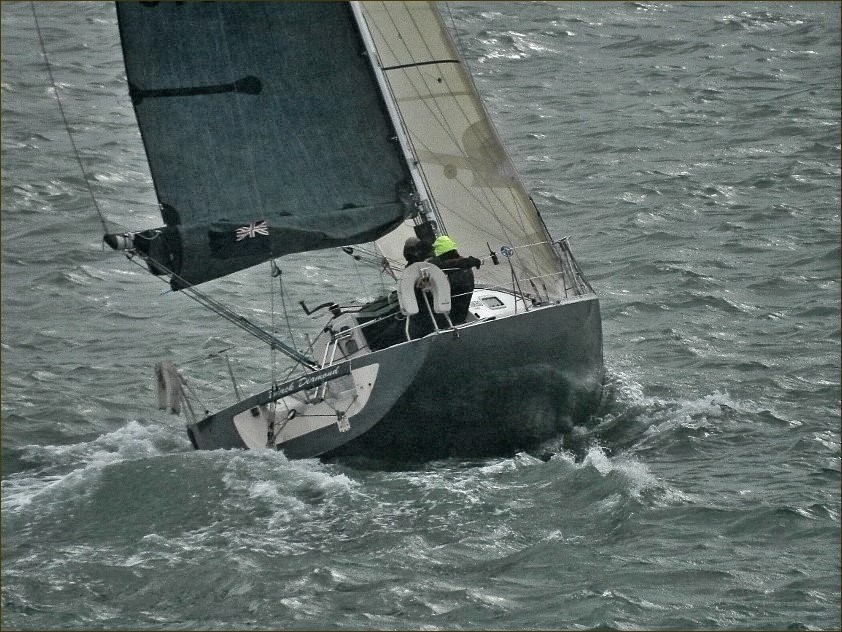 Below the Schweiz Reefer has been in with us....not possible to get all the cargo ships because of the shorter days and she left last night for Hamburg about 7.30Pm in the dark with drizzling rain..... so here we are from a previous time. Another rough oul day...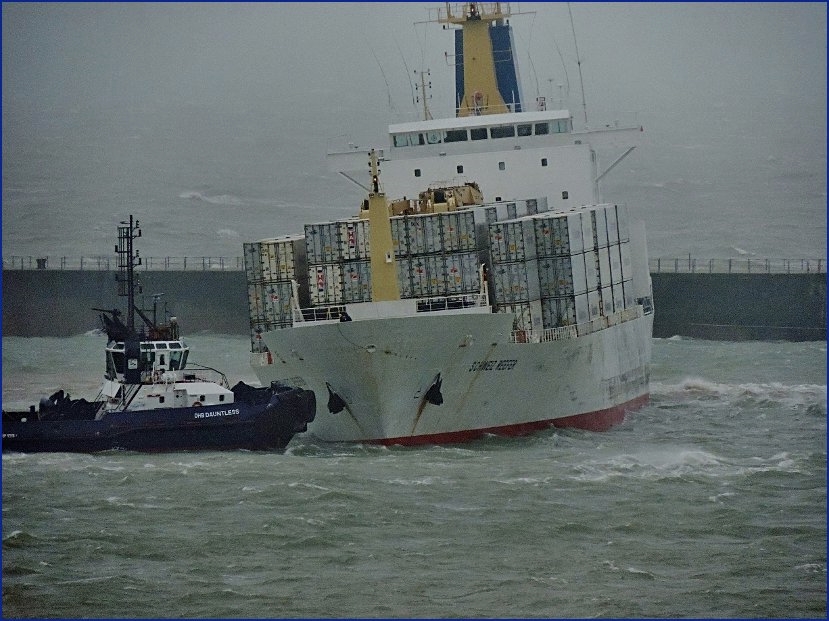 * *
Ace work Andrew below there on Islay Trader. Great extensive all round coverage. Great to see those pix.

Great work too from our 'correspondent at large' Sarah herself. Terrific pictures all round guys.
We all enjoyed those scoops there Sarah!

Thanks for the original tip-off info Mike and thanks to Peter Barker for the first shot.

Well done Brian and Vic for the comments and info.
PaulB.
Tuesday, 10 October 2017 - 05:58
Post 4310
Andrew, Broadstairs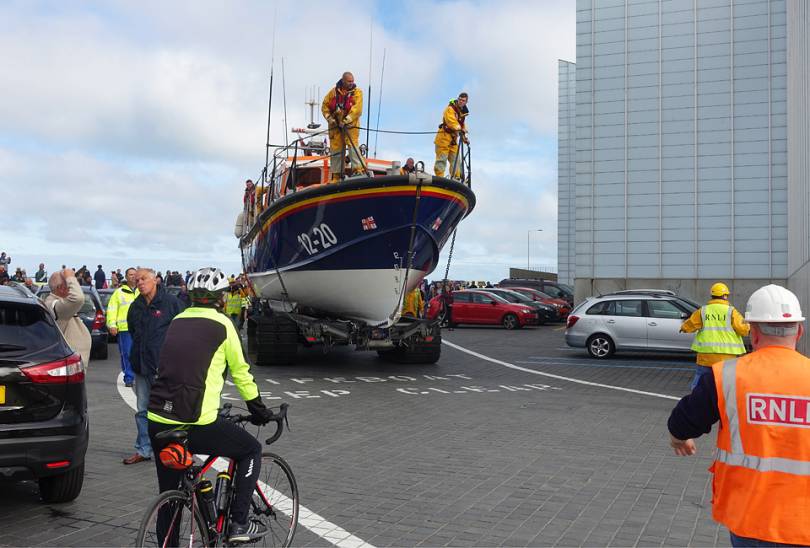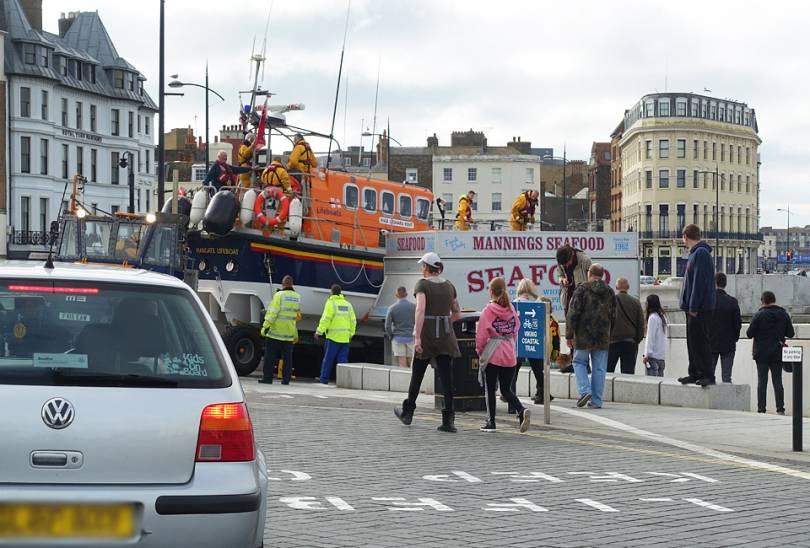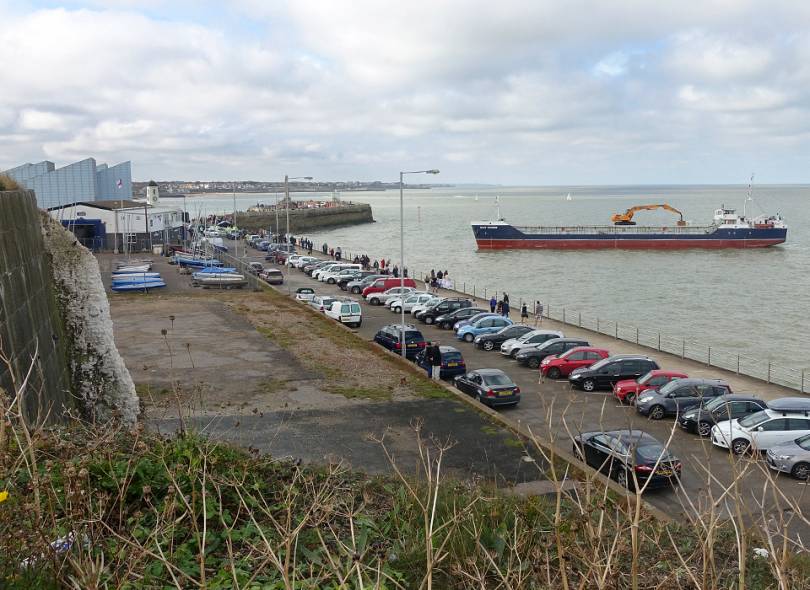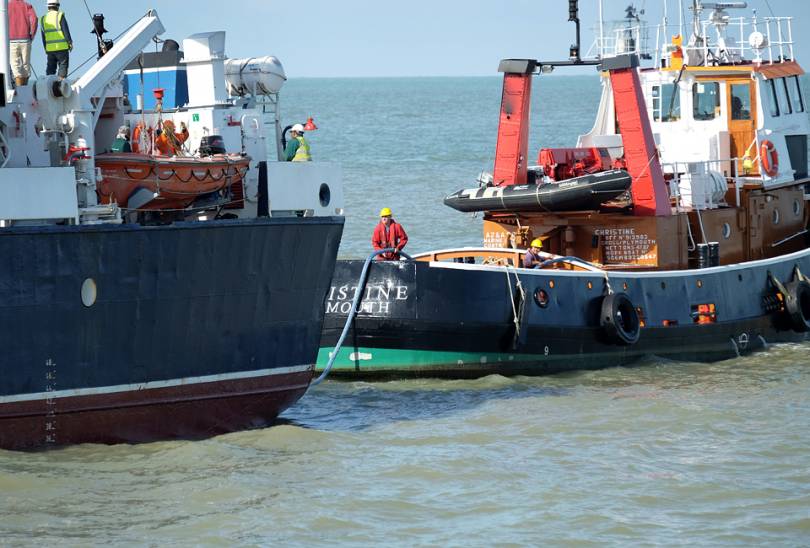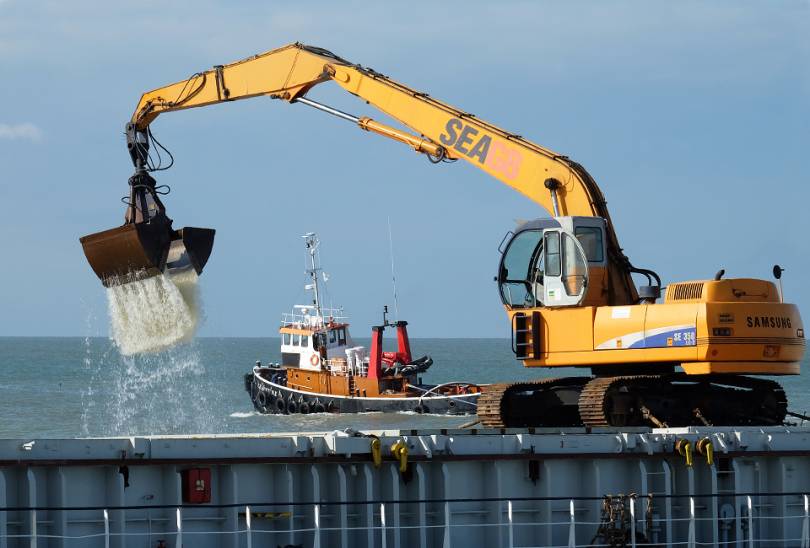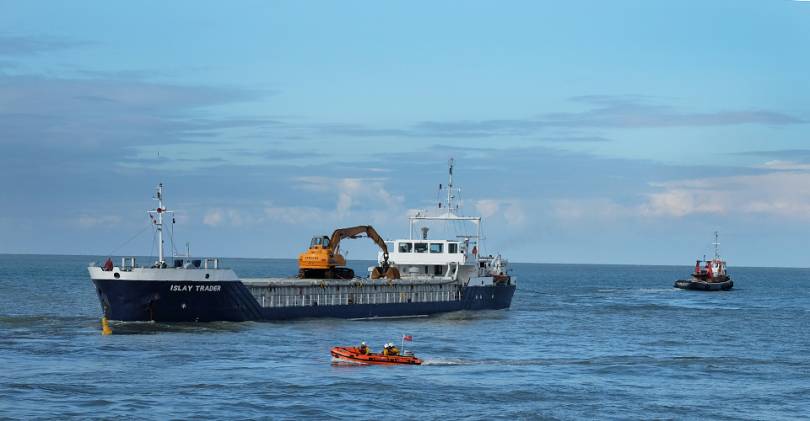 Following on from Mike's comments and Sarah's great coverage of the grounding of the ISLAY TRADER off Margate's Turner Centre, I have selected some of the aspects of the day's events. The Margate lifeboat often does practice launches on Sunday's but with a real casualty to go too, even if it is only a 100 yards from the lifeboat house, and many more interested spectators than usual, the journey from the boathouse to the harbour launch area proved more difficult than usual.
With just over an hour to go before highwater the tug CHRISTINE gets a towline aboard the stern of the coaster. Attempts appear to be made to swing the hull from port to starboard and back again to loosen the grip of the hull on the sand and rock, aided at one point by using the coaster's excavator even lightening the laden ship by lowering the anchors to the seabed to finally achieve the desired result, accompanied by cheers and clapping from the shore, the ISLAY TRADER was pulled stern first out to deeper water and safety.
Monday, 9 October 2017 - 01:39
Post 4309
Sarah, Ramsgate
Following on from Mike's post are some photos I took of Islay Trader being assisted by Tug Christine which is seen fairly regularly in Ramsgate & the Margate Lifeboats.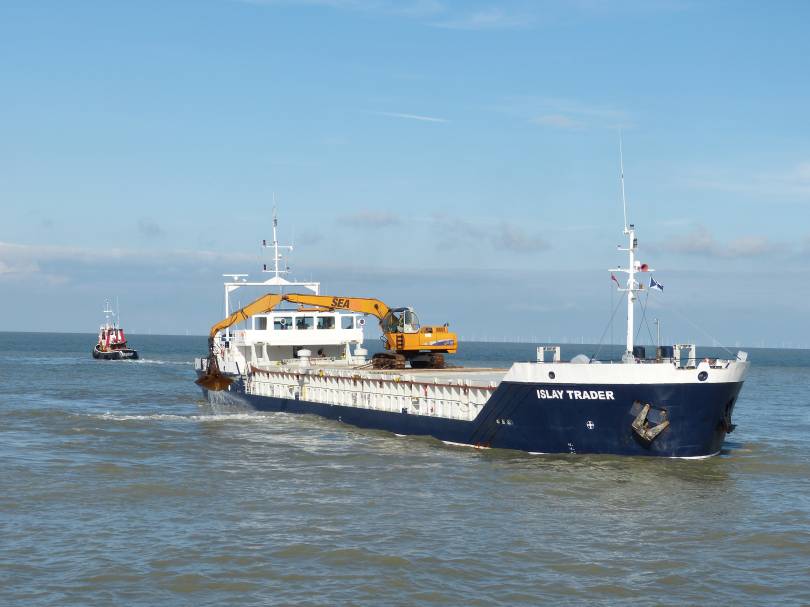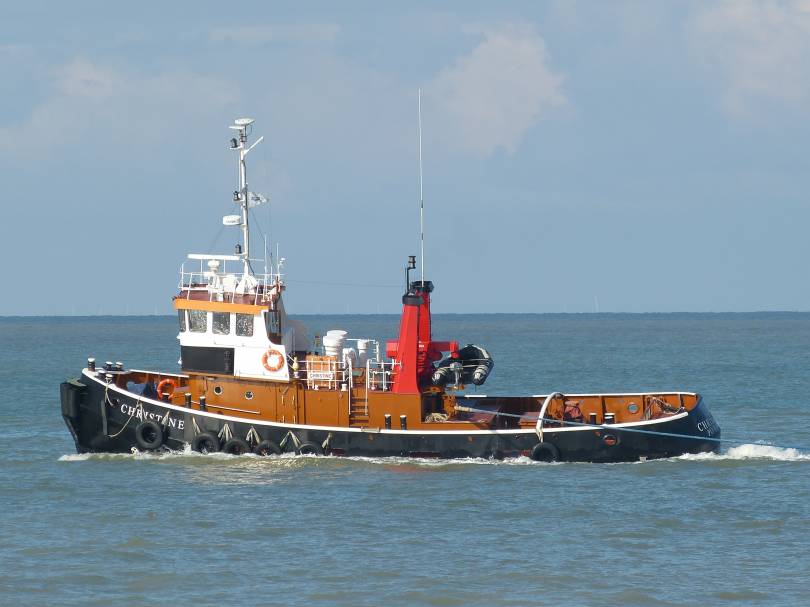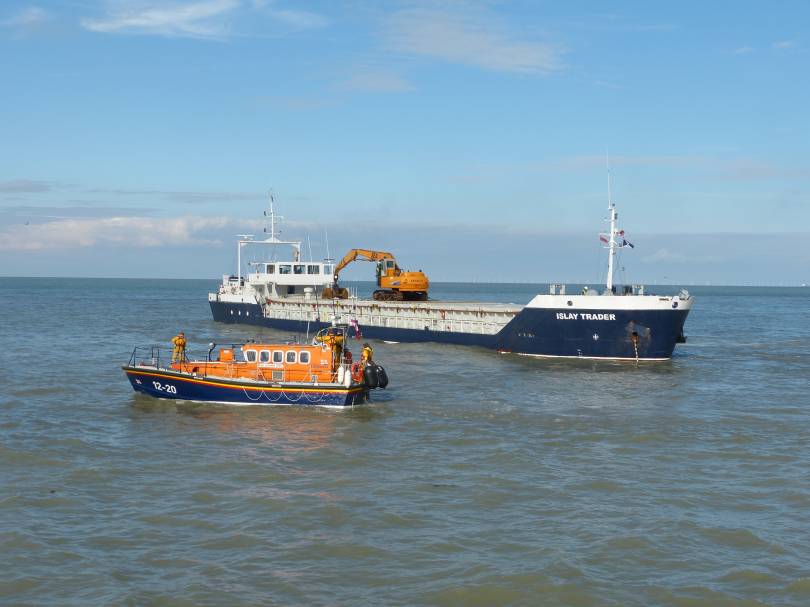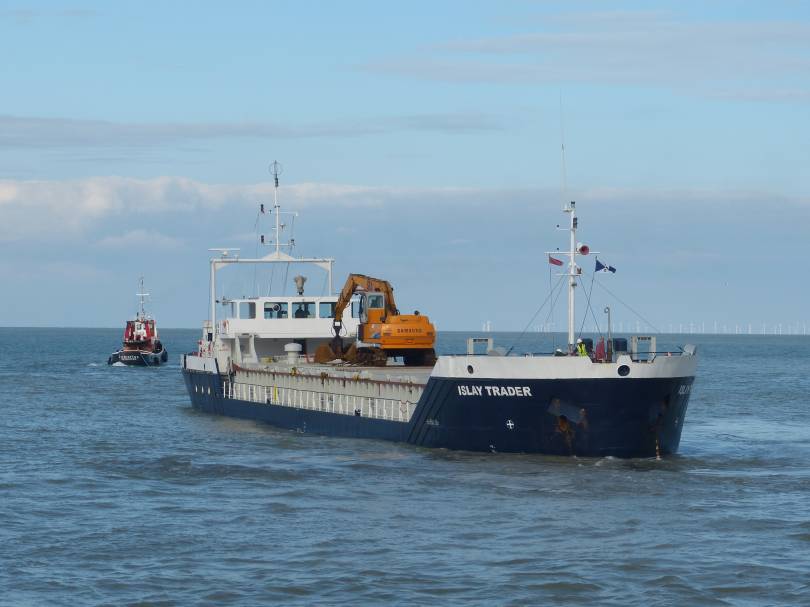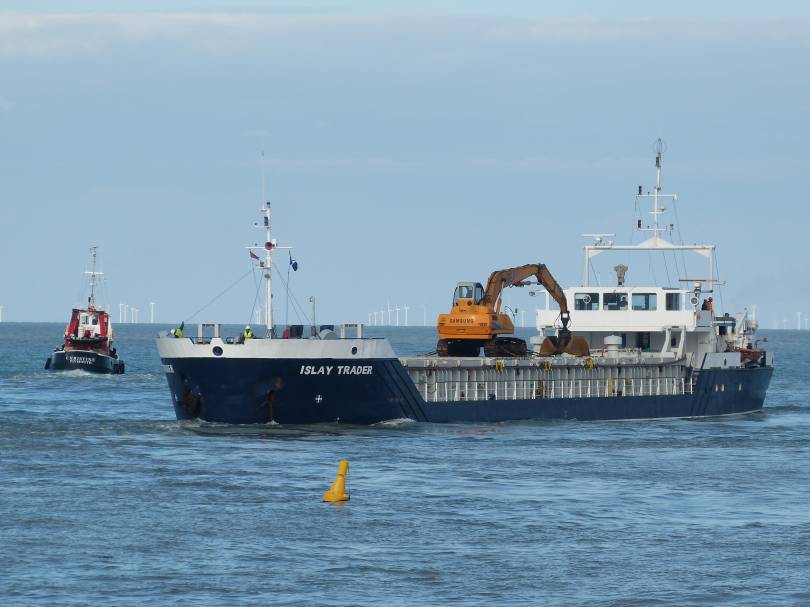 Sunday, 8 October 2017 - 18:20
Post 4308
Mike J., Dover
Ship ashore.
I've been sent this photo by the former coxn of the Margate lifeboat of the ISLAY TRADER who went ashore right off the Margate boathouse about 0300 Sunday morning.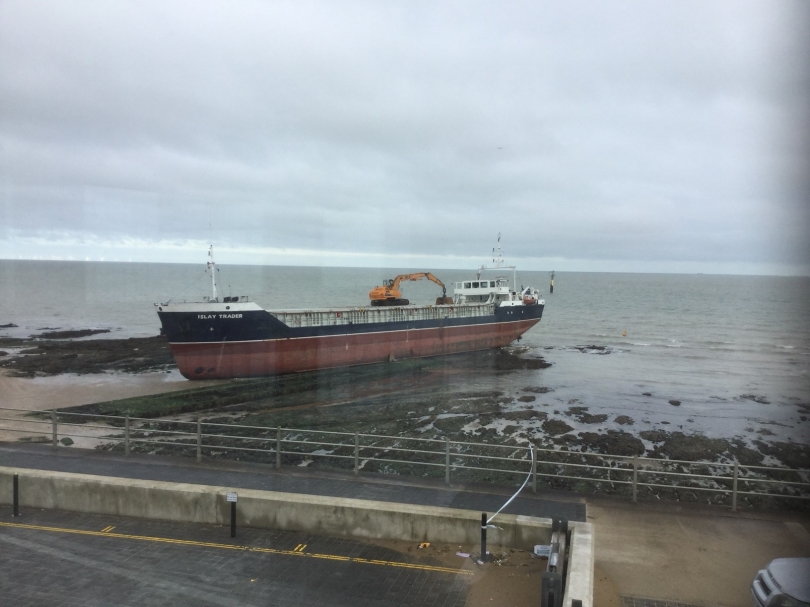 Copyright & courtesy Peter Barker
Frustratingly I'm up in London but the 'Sea News' Ramsgate correspondent is 'on scene' & will probably be posting soon.
Watching the action on AIS the ISLAY TRADER was hauled off at high water by the local tug CHRISTINE about 1400
Not a thing that happens every day - most annoyed that I missed it, but I'm sure that Sarah will come up with some good pix.
The ISLAY TRADER is a regular visitor to Whitstable, having recently taken over from the PLUTO, bringing sand & gravel into the port.
She currently has a cargo of broken glass & was heading for Antwerp before her little problem.
Sunday, 8 October 2017 - 15:07
Post 4307
brian, dover
hi paul, have put it on main forum now.

Sunday, 8 October 2017 - 09:21
Post 4306
victor matcham, Dover
Thank you for that now we know what happen to her,
And thank s again for showing the piles .they are the size I would cut round and take the left over and weld it back on to a end of a pile cut off so it could be used again.

Sunday, 8 October 2017 - 09:14
Post 4305
Sea News, Dover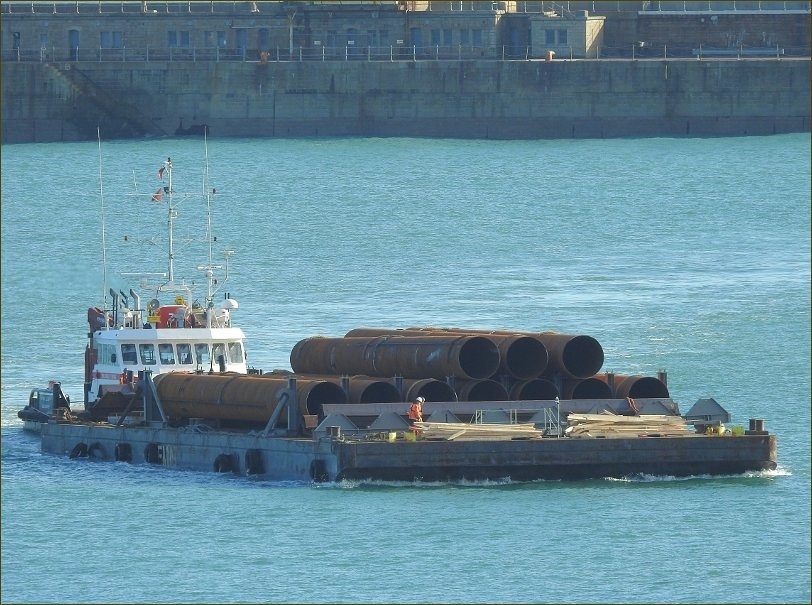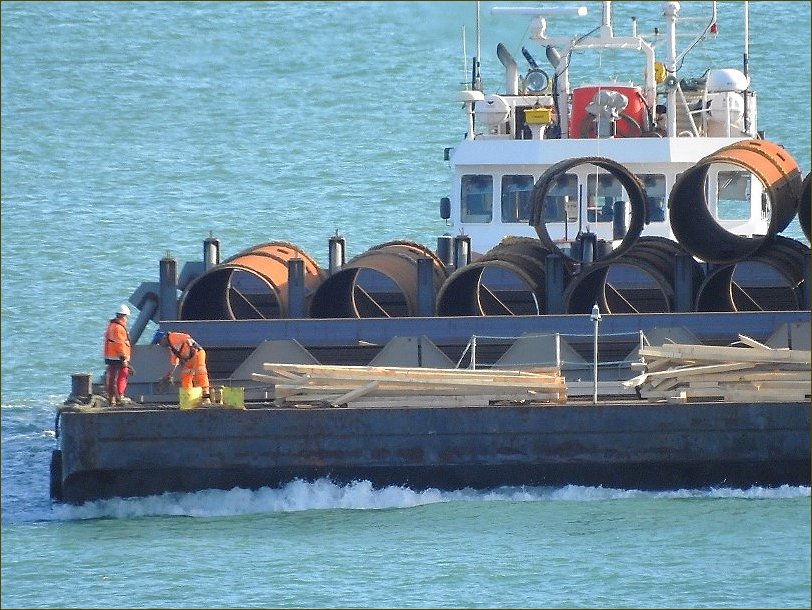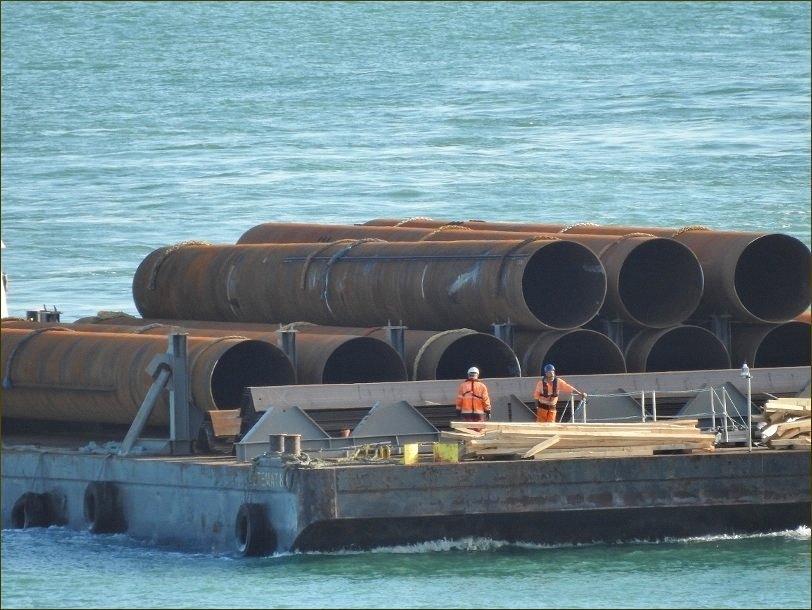 Some pictures above there from Friday...they show Holyhead Towing's tug Afon Lligwy pushing a platform with more piling into position for further pile-driving throughout the day. The work goes on apace...
interesting to see the wooden stakes above there at the front of the barge/platform...not sure how/why they would use those...
Well done Brian - glad you were able to help Vic re his enquiry yesterday.

ps: the links are not live on here but you can always copy and paste onto your browser.
PaulB
Sunday, 8 October 2017 - 07:26
Post 4304
brian, dover
vic,have put the link on the main forum.


Saturday, 7 October 2017 - 19:39
Post 4303
brian, dover
vic you may have to google the answer as the link wont work here.just type the name of the ship in your google bar,tap enter and click on the wiki link.

Saturday, 7 October 2017 - 19:30