Friday, 22 February 2019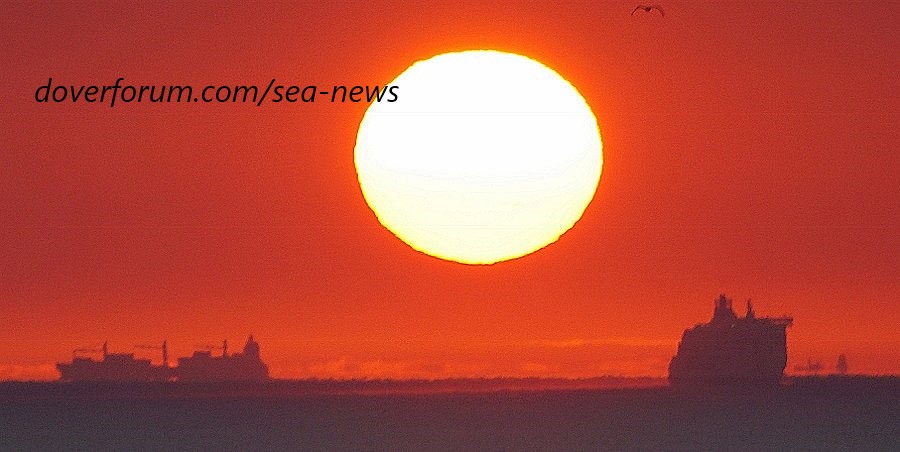 Below...Boudicca reverses...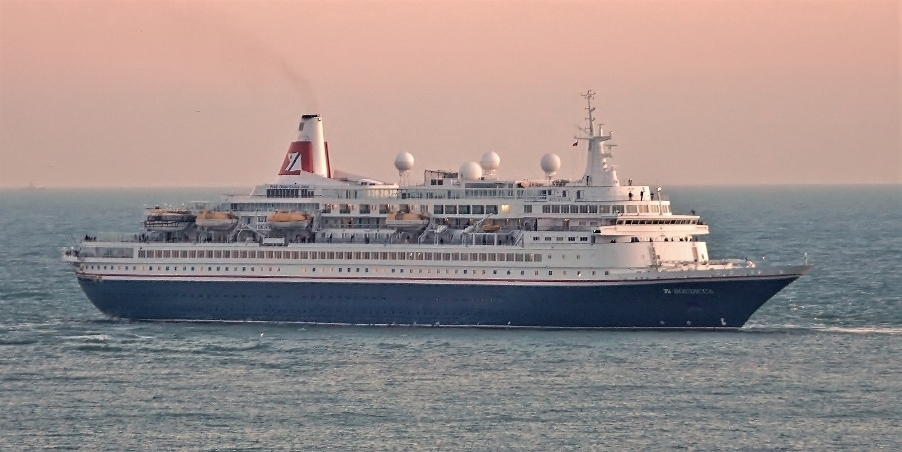 WWW.DOVERFORUM.COM/SEA-NEWS Featuring all the ships that come and go and work at the Port of Dover with further coverage of the surrounding ports both sides of the Channel. Click ADD YOUR COMMENT below to post direct, no membership needed.

Listing highlights....


Scroll down or use our Search Engine for posts and pictures of Border Force in Dover and Ramsgate.
RHA - we need to avoid cliff-edge Brexit 6069.
BREXIT READY statement from Port of Dover/DFDS/P&O Ferries see 6021.
P&O Spirit of Britain - notable Cyprus reflagging see 6017. See also latest 6041.
Tourism Thriving see 6044.
Deal Pier Kitchen restaurant opens 6016.
Charlie Elphicke MP - making our borders stronger, safer 6014.
BORDER FORCE SEARCHER and migrant boat.. see 5969 below..

Port of Dover supports Women in Maritime 5975.
Christmas Lifeboats in Ramsgate see 5937.
P&O: Britain's Favourite see 5922.
DFDS: Voted Worlds Leading Ferry Operator...see 5918..
Charlie Elphicke MP: Migrant Crisis 5894.
P&O: Santa Onboard see 5870.



Highlights continue...


Wreck of the Anneliese 5880, 5881, 5882 ...
Port: Additional Funding for Kent Wildlife Trust 5879.
P&O: Apprentices welcome RB Legion veterans 5853.
Eight new apprentices graduate see 5845.
DFDS: 'SEE PORTS' Calais and Dunkerque 5834.

DFDS Revitalize Dining 5831
P&O: Schoolchildren mark WW1 see 5816.
Lower Thames Crossing boost..5812.
see now also 5817.
Dover Museum's revitalisation see 5807.

Port of Dover: Refrigerated Cargo Terminal .. software for 5801. Latest NATO also 5801.
Port of Dover: Great increase in summer traffic 5795.
Russian and shadow 5785.
The Waverley paddle steamer latest 5778...
New SAGA Ship launching in Dover see 5776.
DOUG BANNISTER: New Chief Executive Port of Dover see 5734....

Merchant Navy Ceremonial images also 5734.
P&O: To Rome on Horseback 5759.
Dover Regatta Rescue incident plus .. see 5713.
Dover Regatta pictures Lifeboat etc..5716, 5717, 5718, 5720.
DFDS Expansion: More New Ferries on order... see 5693 see also 5500 and 5381.
Excellent Tourist season for P&O Ferries see 5649.
VSBW Port of Dover - Women at Work 5638.
P&O Second Female captain see 5107. Also see latest 5570.




NEW:

For instant access to any item listed above - just type the post number in the Search Engine below.

Sea News Dover : Use our SEARCH ENGINE below to find all sorts on the SEA NEWS pages....
type in the topic and away you go, more than - 6000 - nautical posts now.

Posts are welcome. Max of 5 pictures preferred although we can stretch that for special stories..

Sea News Editor Paul Boland - send info or pix to dover7@msn.com. Always welcome.

All pictures on these pages are the copyright of the owners and must not be reproduced without permission.

To show your pictures at their best..it could be worthwhile resizing before posting to

840

pixels wide.
Post 5997
Del Styan, Norwich
Well, hope you can get out to town come Monday morning, and the Manston HGV exercise. I suspect it will all come to nowt, as 100 - 150 extra lorries won't make a hell of a difference to the normal traffic. Still, it's a response - too late, and woefully small, but at least it's a start.

Saturday, 5 January 2019 - 23:19
Post 5996
Harald Boot, Tholen, The Netherlands
The Spirit of Britain on her way to the Blohm+Voss shipyard in Hamburg last Thursday.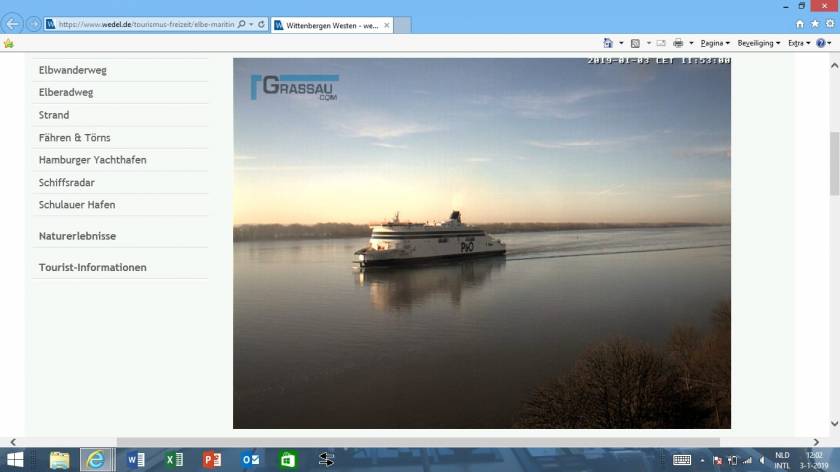 On this webcam you can see her live

www.wossidlo.eu/webcam/
Saturday, 5 January 2019 - 15:58
Post 5995
Sea News, Dover
HMS MERSEY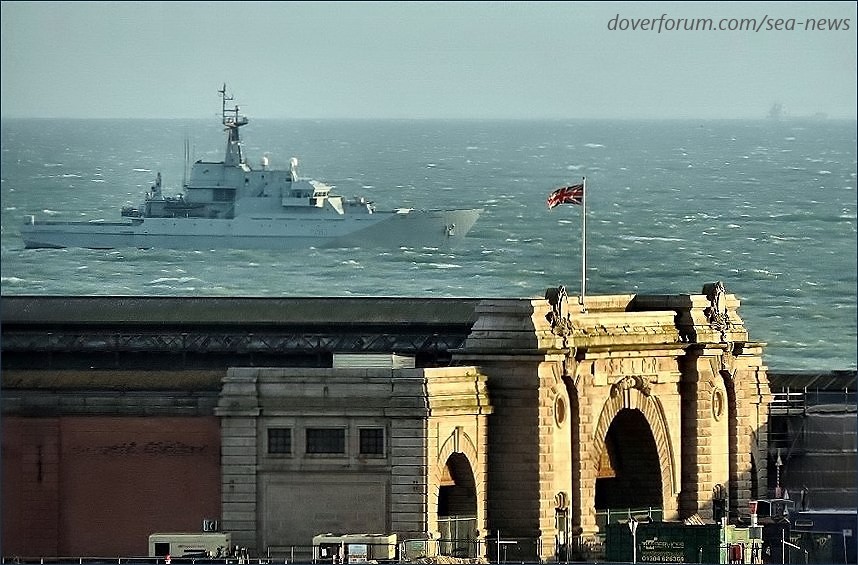 This is a shot from our archives ...it dates from a few years back and shows HMS Mersey just off the Port of Dover here with the old train terminal frontage in the foreground. It looks like the dashing modern HMS Mersey will be coming back here to patrol the Dover Straits...so we understand anyway.
Although...things are so fluid these times...
We wait with baited breath.
Man on a Cold Tin Roof !
A couple of weekender shots of the Premier Inn extension.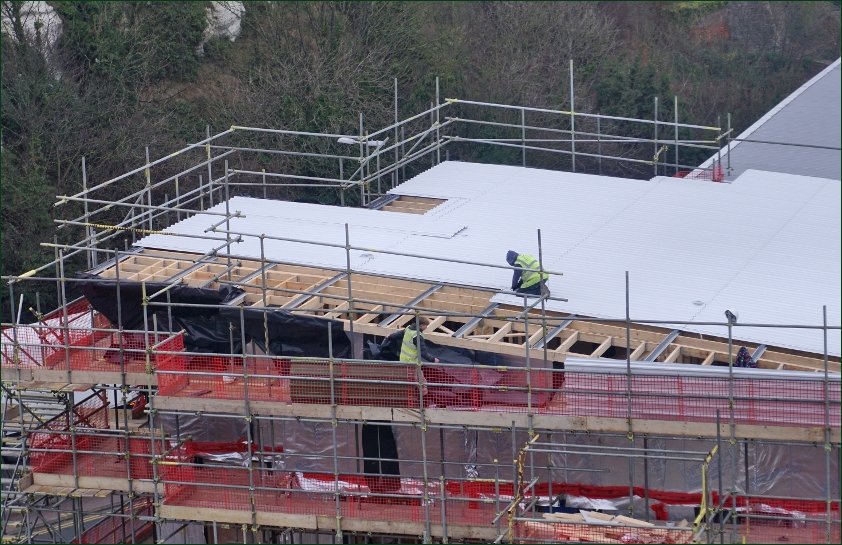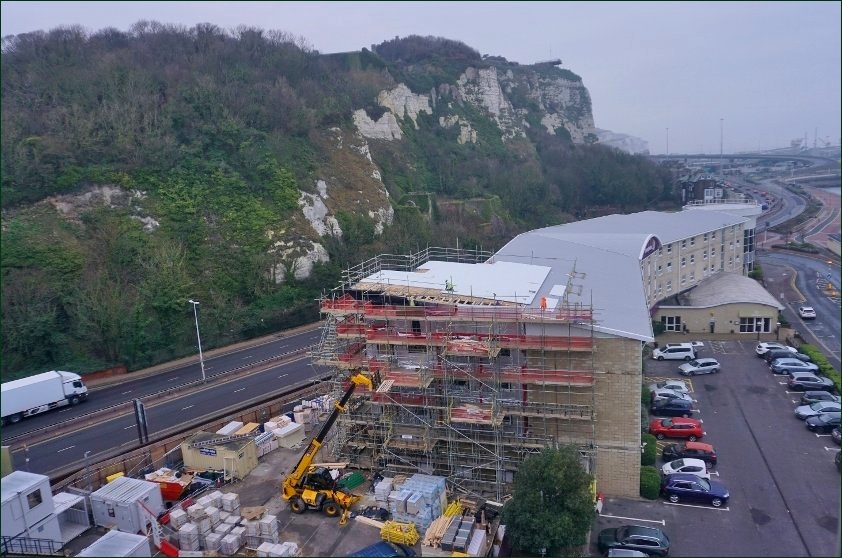 Just an update above there of the ever rising Premier Inn extension. The pictures were taken on a cold Dec 28th...and the roof has since been completed. These guys are fast and efficient. The roof though is so white...no doubt it will weather-in like the rest of it.... but when the sun hits it at the moment it's so bright it even dazzles the guys in the passing space station...

As mentioned before...to see it rise from ground level, just type in Premier Inn in our Search Engine above and you will see it all go up piece by piece ( sort of ).
Brian yes that was Vigilant out there. Yours truly saw her more clearly at the end of the day...tried a few shots. Grey subject very grey day... have yet to have a proper look but I'm sure there will be a shot or two worth using. She slowly moved away around about 4pm...I assume heading for Ramsgate, and within minutes and as if by magic, another cutter took her place just off Shakespeare Cliff...presumably this one was Searcher as the others wont have returned from the Med just yet.
Del yes bizarre times...it seems the Government have hired between 100 and 150 trucks to test the feasibility of using Manston Airport if there is a No Deal Brexit situation. Difficult times ahead for the road haulage people for sure....not even mentioning the traffic strangulated locals.
PaulB
Saturday, 5 January 2019 - 06:28
Post 5994
Del Styan, Norwich
I hope your contributors will spot any action from the Govt no deal "HGV exercise" on the Manston runways - or perhaps they are too far away? Thats a sort of joke - I hope.

Friday, 4 January 2019 - 23:12
Post 5993
brian dixon, dover
I see a border force cutter lurking in shakesphere bay at lunch time today.

Friday, 4 January 2019 - 16:21
Post 5992
Sea News, Dover
Some extra shots now following along from Patrick's pictures of the departing Anneliese. Yes much removal activity was noticed yesterday morning and here we go....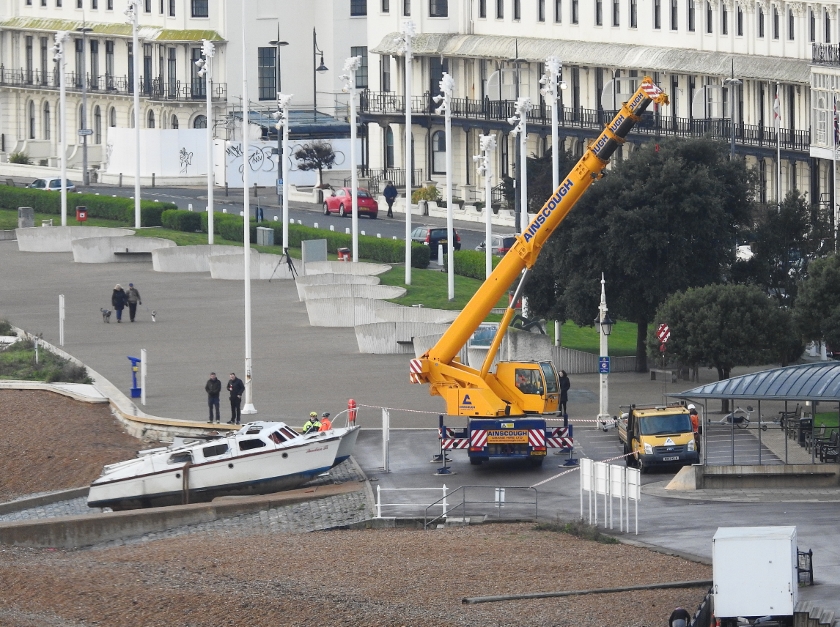 We have lift off...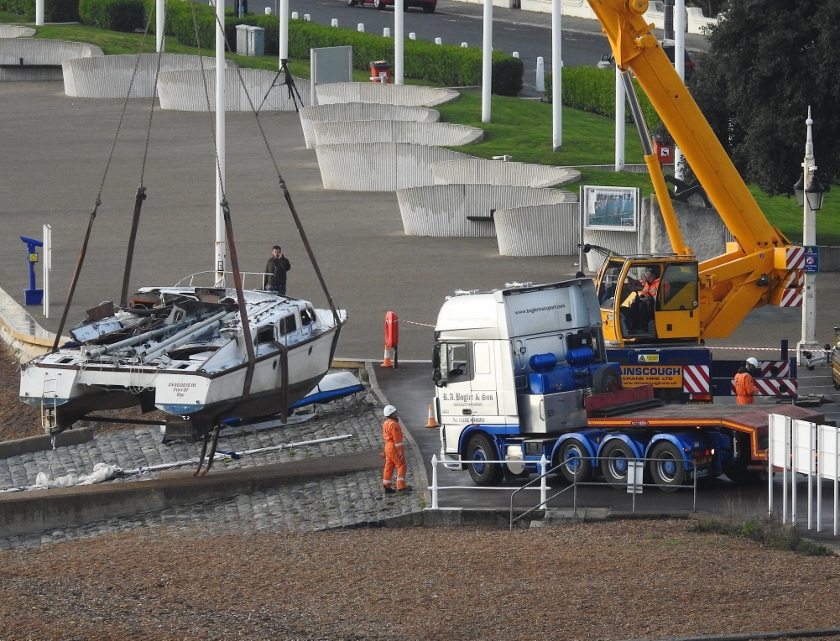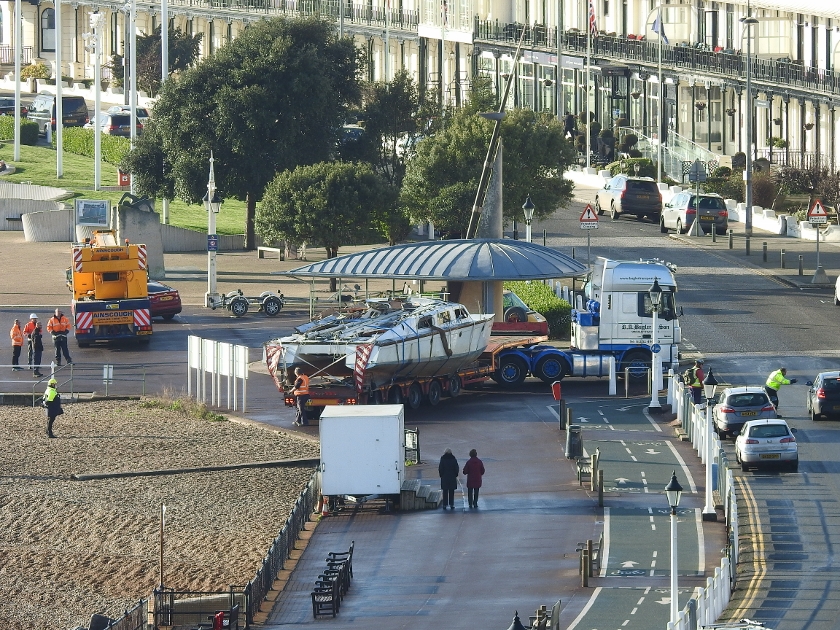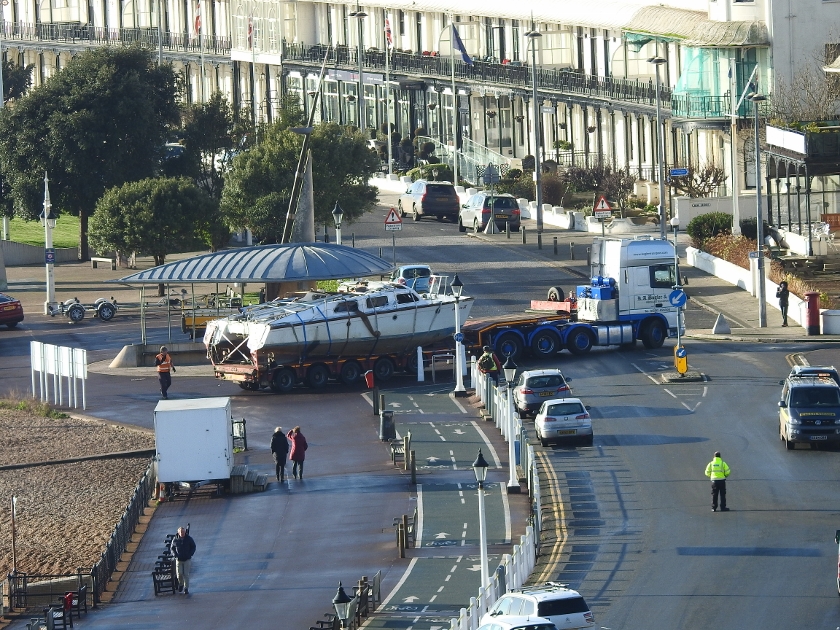 And then she was off...
And following along from Mike's picture...a section of the huge Baldwin crane moves off too.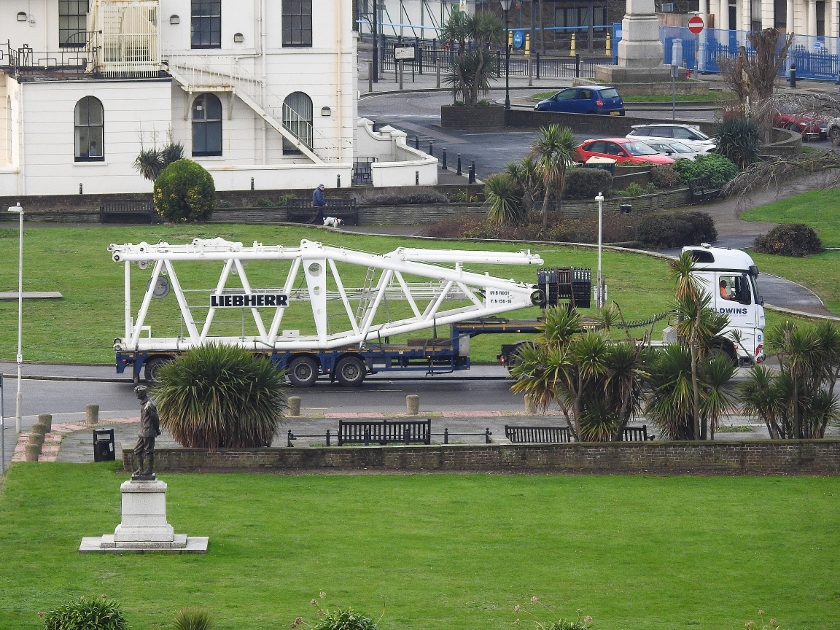 Just including this one below...yes the media activity continues over the migrant crises... an ITV team settles in below yours trulys 'observation tower'...the latest news being ..as we understand it, is that HMS Mersey is joining the fray.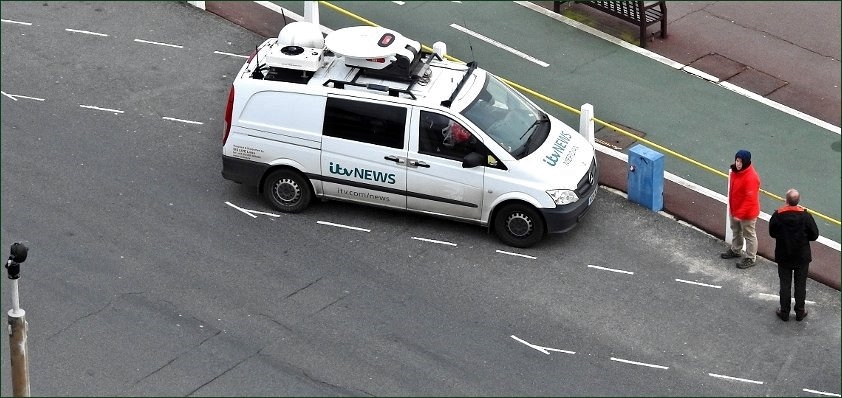 Note the camera on the extreme left...that's us watching them watching us...
Brian yes indeed, heard that one about 'who will pay the £20,000 per day'. An amazing cost..

Patrick well done with those shots..spotted it myself too. Anneliese finally gone

Yes Mike it was all happening..crane as well

Thanks For the info Sarah. It will be interesting to see all 4 patrolling.

Thanks for that info Phil...

PaulB
Friday, 4 January 2019 - 07:21
Post 5991
Mike J., Dover
Patrick - good 'catch' with the removal of the ANNELEISE-3.
I wonder whether she'll be scrapped or repaired - the hulls looked reasonably intact despite the 'attentions' of the digger when she first came ashore.
Mr Rolls looks distinctly uninterested.
Phil - thanks for the AIS info, I often flick between the two as their info must come from different sets of receivers & one is often more up-to-date than the other.
Useful info from you for Sarah.
Thursday afternoon & the big Baldwins crane that was involved with installing the major components of the bascule bridge [post 5935] is being dismantled with the aid of a smaller Baldwins crane.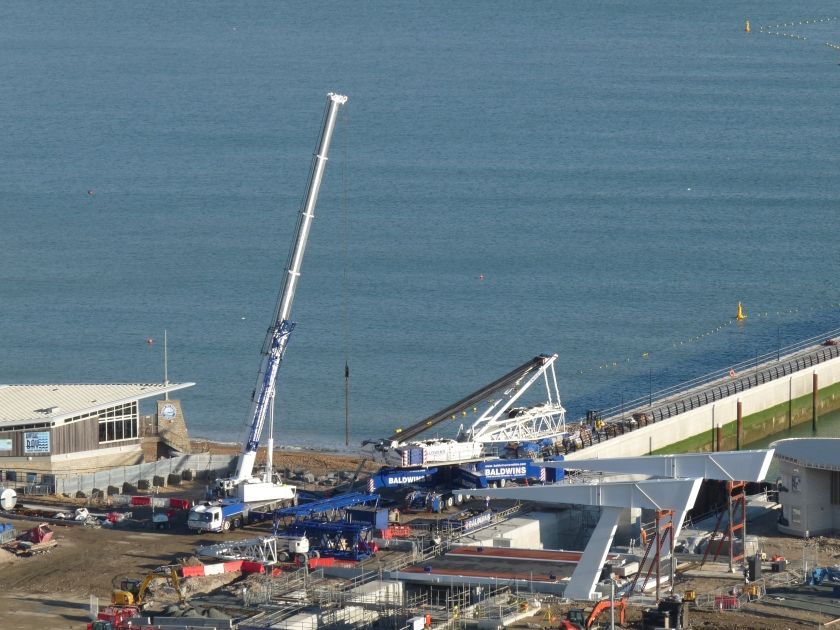 Interesting time-lapse sequence on DHB Twitter of the arrival of the KERTUN on 27/12, filmed on the bridge by the pilot.
Friday, 4 January 2019 - 00:54
Post 5990
Patrick, Marine Parade
Following on from Mike J's photos at #5880-2 of the recovery of the submerged 'Anneliese III' from the outer harbour in November, it has finally been taken away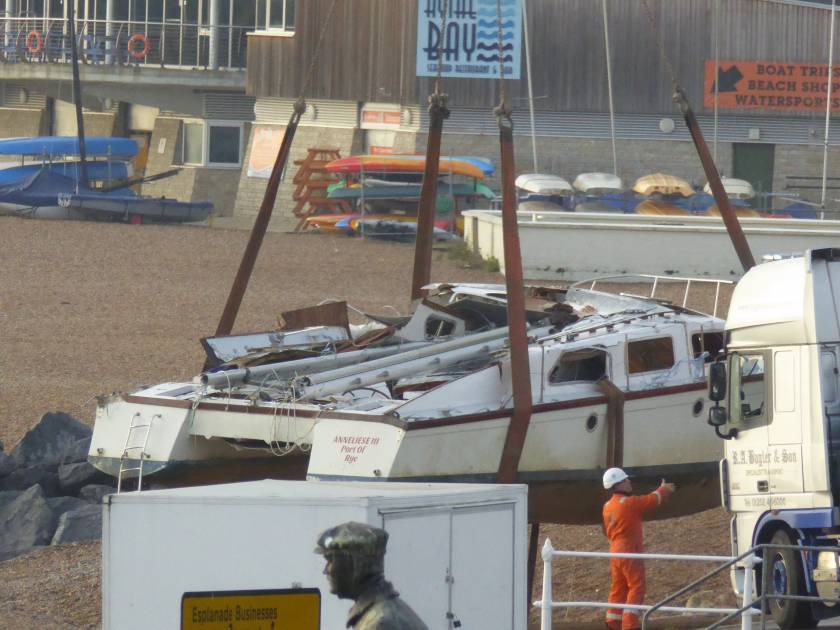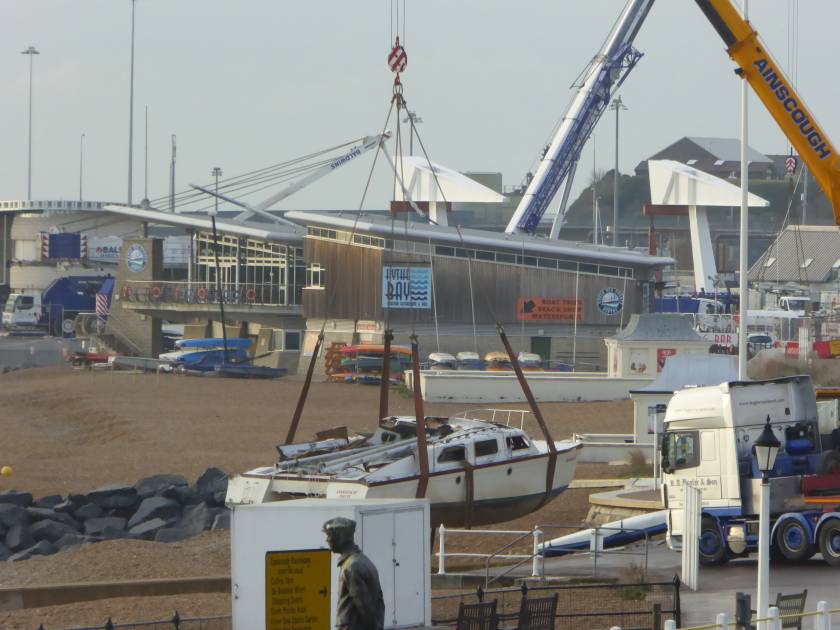 Meanwhile the 'battle of midway' continues in the Channel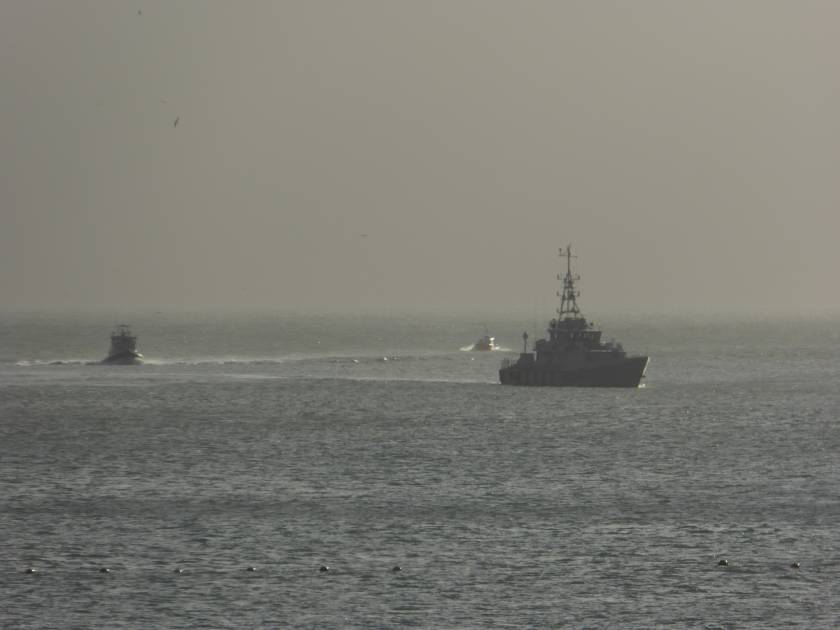 Thursday, 3 January 2019 - 23:02
Post 5989
brian dixon, dover
1 navy ship lined up for patrolling the channei,just waiting for what department is coughing up the 20 grand a day for it being there.

Thursday, 3 January 2019 - 16:18
Post 5988
Phil Chisholm, Dover
Mike J - Vessel Finder is the app I use.

Interestingly Searcher has now gone quiet too - last report was 1'st Jan but before that she was constantly pinging her position.

Hadn't checked the cutters in the Med for a while and just looked now. Seeker's last report was 25/11/18, in Gibraltar, Valiant pinged today in Greece while Protector's last report was 09/12/18 from the Greek Islands.

Thursday, 3 January 2019 - 15:13
Post 5987
Sarah, Ramsgate
Border Force cutters Protector & Seeker are returning from the Mediterranean, where is Valiant not seen her or heard anything about her.


Thursday, 3 January 2019 - 15:05
Post 5986
Sea News, Dover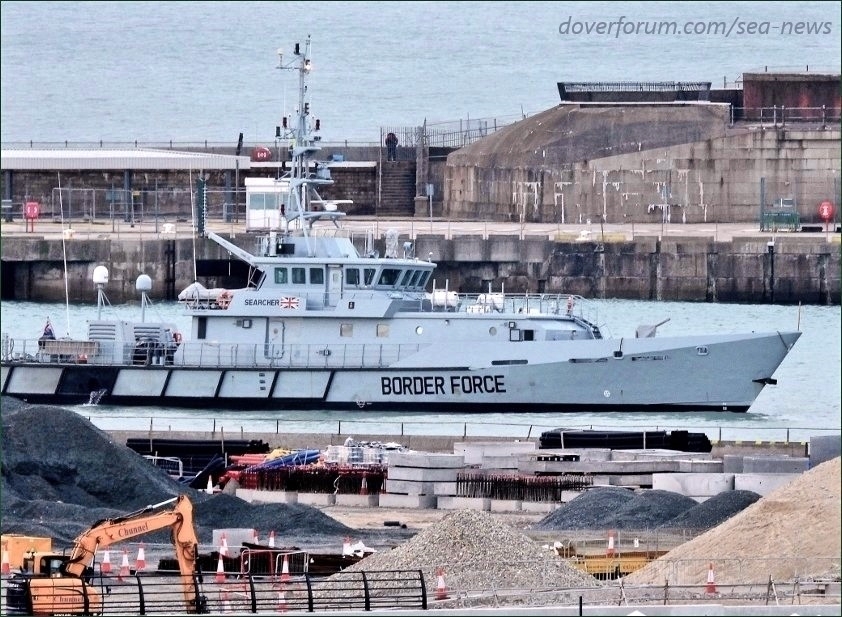 BORDER FORCE: The picture above shows Border Force cutter Searcher early yesterday wednesday. She had come in to the inner harbour to pause and look round. We believe that Home Secretary Javid was onboard at the time.
Interesting about the Home Secretary...he looks strangely out of his depth when he wanders away from the Westminster bubble. Meandering about the corridors of power in Whitehall and giving bog standard interviews to the media is one thing...but when you have to get out into the real world...well.
While giving the BBC an interview here in Dover..he was almost ramblingly incoherent and when he fetched up that old chestnut about the migrants not really being 'genuine asylum seekers' the nation dozed off.
He said roughly this ' we don't believe them to be genuine asylum seekers, after all asylum seekers should seek asylum in the first country they get to.'
When he peddled out that old one we knew he had few ideas to offer.
That of course annoyed numerous groups and bodies...after all simply.. they are people out there, people in flimsy boats and something needs to be done about it.
Whether they are genuine asylum seekers has got nothing to do with it!
As my mother would have said..."whats that got to do with the price of bread!"
Ah Duncan Kennedy again. I like Duncan he does good reports, but once again his numbers baffle. The report on BBC NEWS last night showed both Border Force cutters operating here...it showed Searcher and Vigilant...yet when Duncan mentioned we will have two extra cutters on patrol when they return from the Med...summing up he then said we will therefore have three cutters patrolling.
2+2= Four
I don't know...it must be me. I must be missing something..

Best that I leave that one alone now as its grating on the grey cells..
Some general other pictures
First one below shows Tug Doughty out there on general duties while Cotes des Dunes arrives behind. Pictures earlier this week.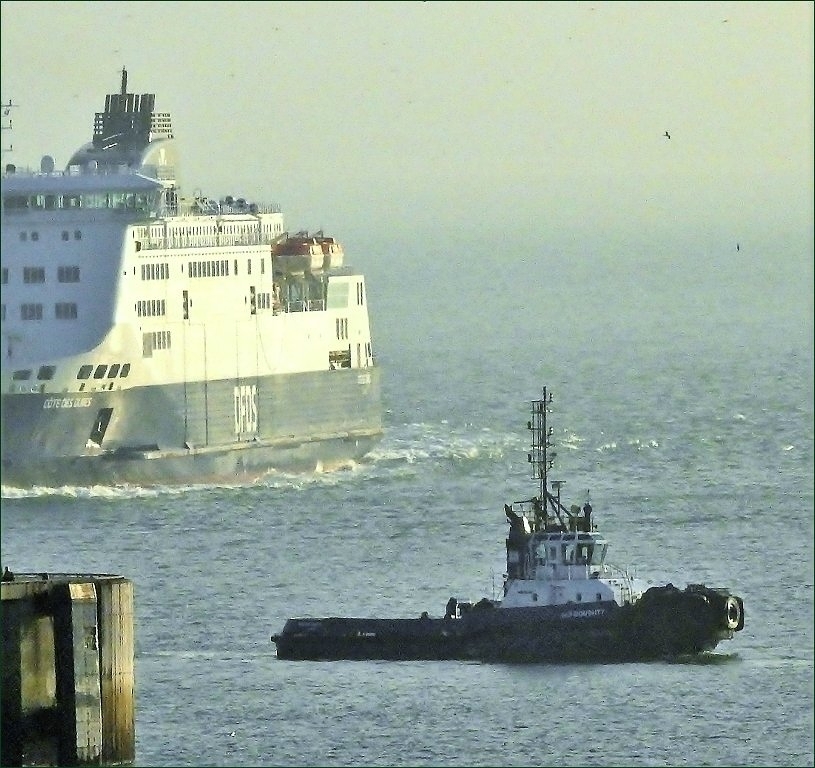 Rowers catching the winter light below...that's Pacific Reefer in the background of first shot.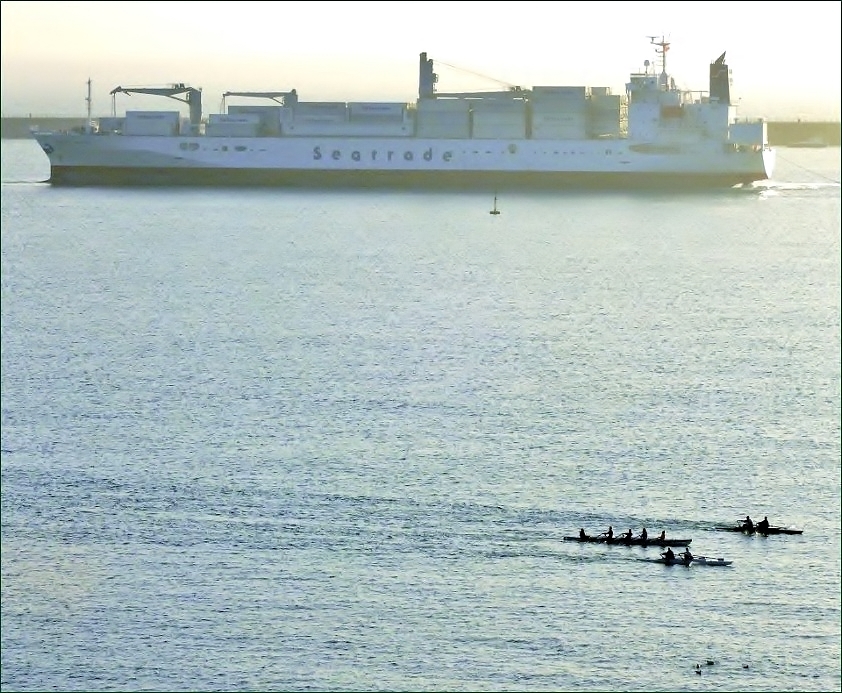 More rowers on a chilly and bracing New Years Day...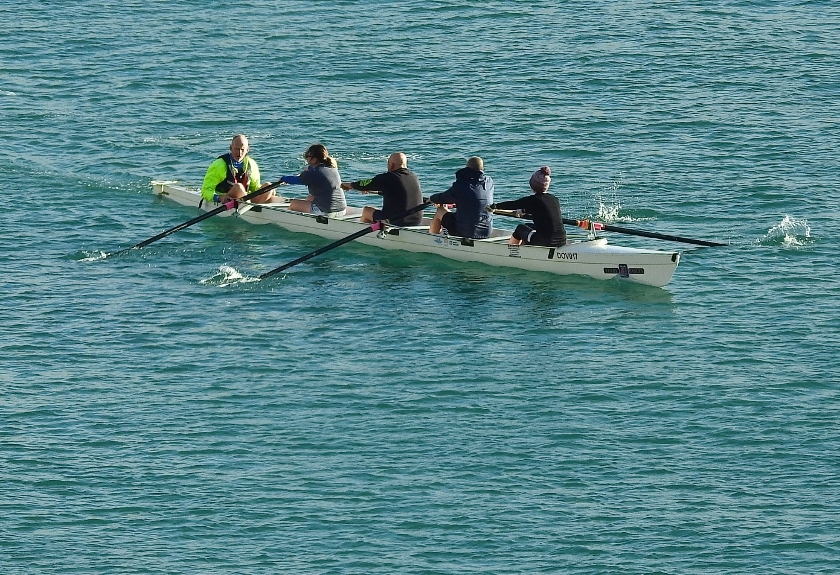 Excellent info and pictures below there from Mike. Interesting view on our trading future.

Great stuff!
Sounds good Brian..maximum clarity for all to see.

Phil that could be a possibility for sure... yet Duncan features the vessels in his report. Hard to know...

PaulB
Thursday, 3 January 2019 - 06:21
Post 5985
Mike J., Dover
Further to the Boxing Day post [5963] from Ramsgate I also called in at Whitstable & found three larger vessels in amongst the fishing fleet.
The NEPTUNE is Whitstable's only regularly-visiting cargo ship & brings in aggregate for Brett's works on the eastern side of the harbour.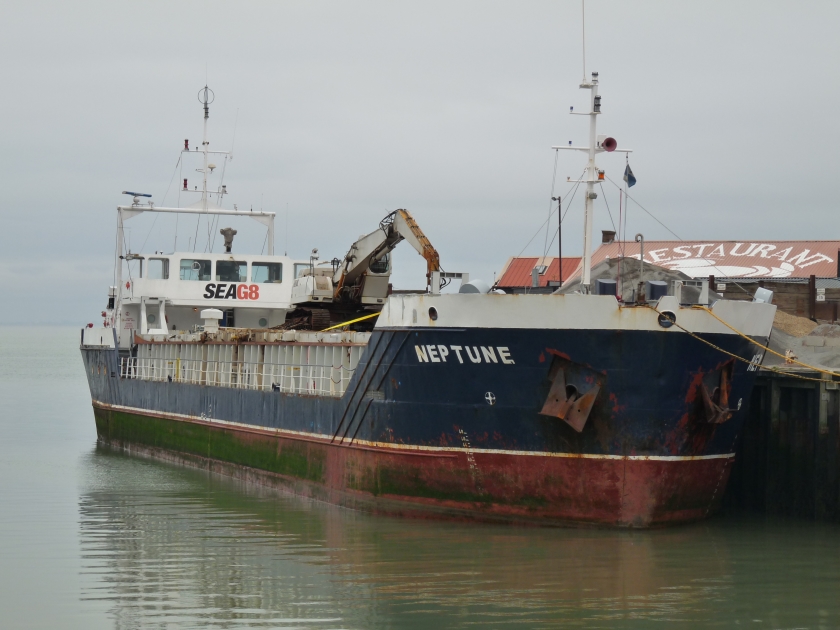 The EMS VIKING is regularly seen at Whitstable & is presumably on standby for work on the nearby Kentish Flats windfarm.
Another windcat owned by Excel Marine Services, the EMS VULCAN is currently laid-up in Dover's Wellington Dock.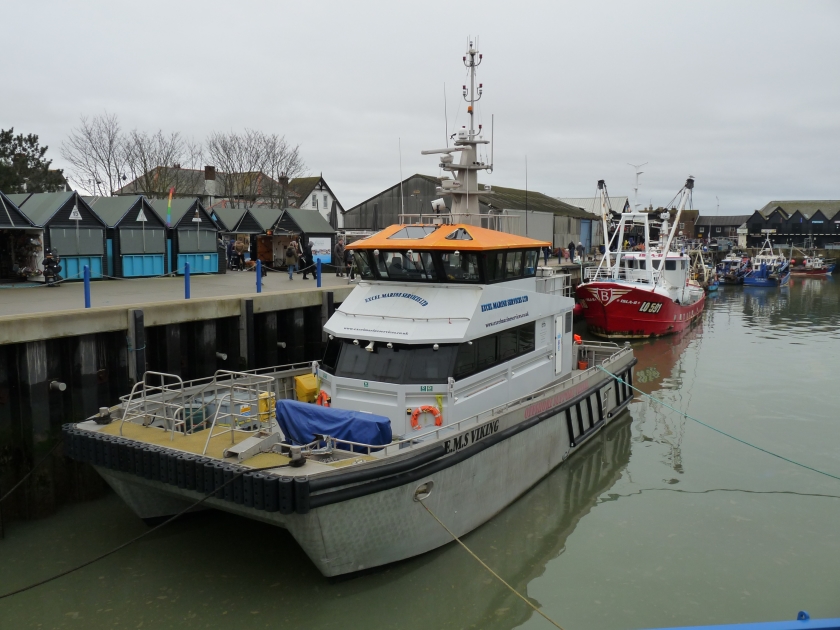 The ISLA B, formerly the MAGGIE ANNE, started off as a fishing vessel but has had much of her fishing gear removed & looks to be operating now as a Guardship. She still carries her Lowestoft fishing registration number.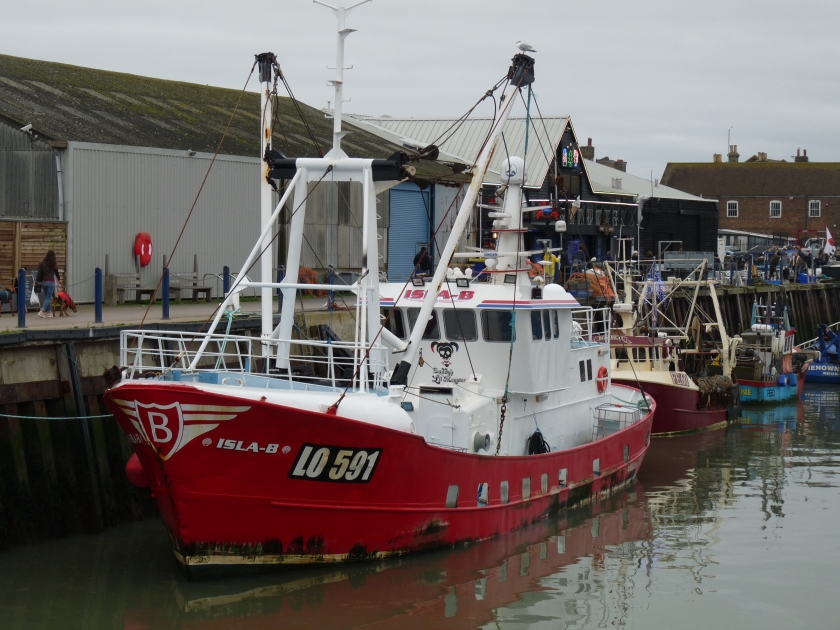 Phil - an interesting comment from you regarding the BA vessels & AIS, I've always assumed that they have their AIS switched-off for security reasons & have only 'seen' HUNTER once or twice on AIS.
Which AIS system are you using ? I mostly use 'Marine Traffic' & 'Shipfinder'
. . . . . . . Paul mentions in post 5978 that there has been much political back-pedalling about the Seaborne ferry contract & the subject was on the BBC News again on Sunday.
However a friend of mine who worked in the import freight clearance business for over 30 years both before & after we joined the Common Market has made an interesting point that doesn't seem to have been mentioned elsewhere or perhaps even thought of.
We don't need extra freight capacity across the Dover Straits, we won't be importing more 'stuff' after Brexit & the current ferries & Eurotunnel are handling the traffic without difficulty, so there's no need for extra ferries.
What IS needed is more parking space for arriving freight as there will be much more paperwork & longer delays in processing this paperwork.
There's hardly any room for this to be done in Dover so where will the freight go for clearance ?
Manston is perhaps an option, with reasonable road connections already existing, the huge runway as a parking area is already there & buildings already exist.
Any additional infrastructure could be built comparatively quickly.
Just a thought from someone who knows the import freight business, lets hope that someone in the Government is also thinking along those lines . . . . . . .
Thursday, 3 January 2019 - 00:05
Post 5984
brian dixon, dover
would it not be easier to have all the cutters and other vessels in harbour at the same time with the bbc,itv and sky ty cameras rolling at the same time along with nationl press covering the story, oh yes mr javed here to. just to clarify things a little. lol

Wednesday, 2 January 2019 - 14:49
Post 5983
Phil Chisholm, Dover
Re the BBC and the 2 Cutters thing - maybe part of the problem is that Vigilant never seems to ping on AIS whereas the others do (at least for me). So if they are looking for the locations of the Cutters they will not see Vigilant

Wednesday, 2 January 2019 - 10:26
Post 5982
Mike J., Dover

John - I stand corrected - many thanks.

Egg on my face !

Wednesday, 2 January 2019 - 09:03
Post 5981
Sea News, Dover
TWO BORDER FORCE CUTTERS
in the one post - one for the BBC!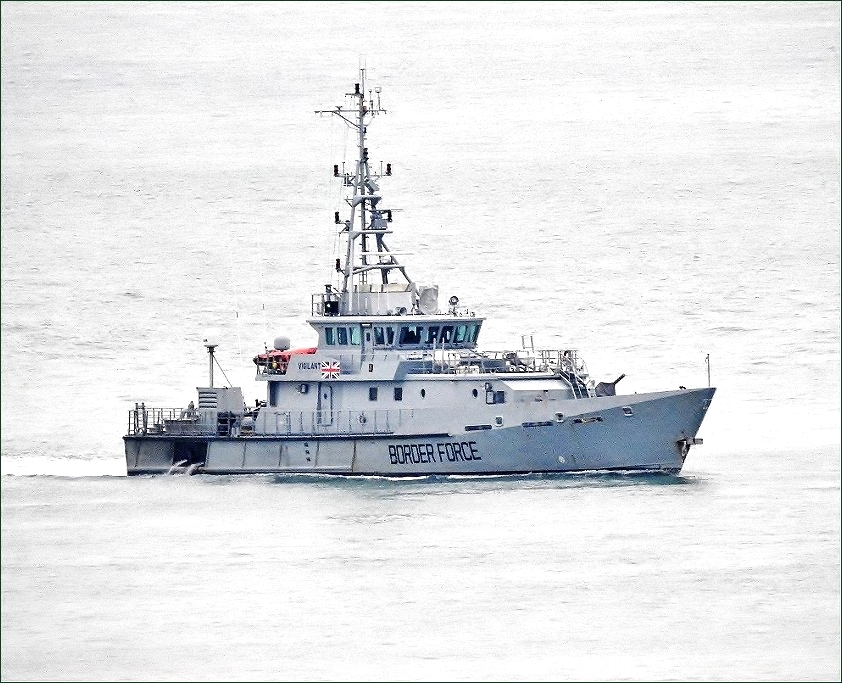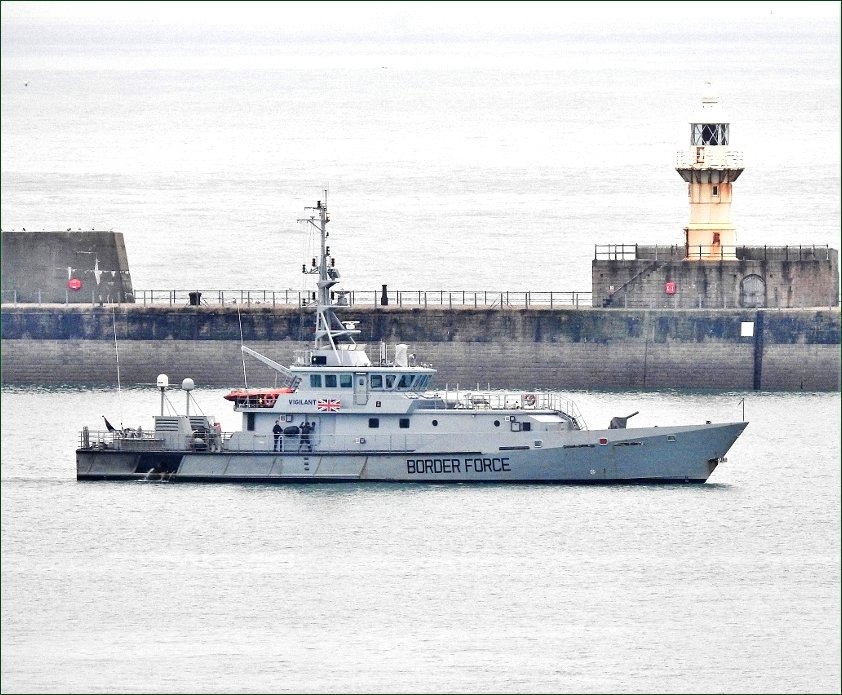 Further to my earlier post 5978 which showed Border Force Vigilant entering the Port of Dover, the pictures above are extra pictures taken at the same time approx...roughly 09.30 on New Years Eve.
Yesterdays Daily Telegraph...well their frontpage referred to our 'single' Border Force cutter. They must have been listening attentively to the BBC who continually run with the story that there is only one cutter working the Channel. Now, none of us get it right all the time that's for sure, but this is such basic info ... yours truly is an admirer of the BBC.
Home Secretary Javid is recalling further cutters from duties abroad to patrol Channel...he probably doesn't know how many there are either. The newspapers yesterday gave him a hard time over his 'u-turn' , having said only a day or two earlier that they were not needed.
Top pictures show Vigilant. The long range picture below shows Border Force Searcher out there slowly patrolling up and down the Dover Straits yesterday...New Years Day.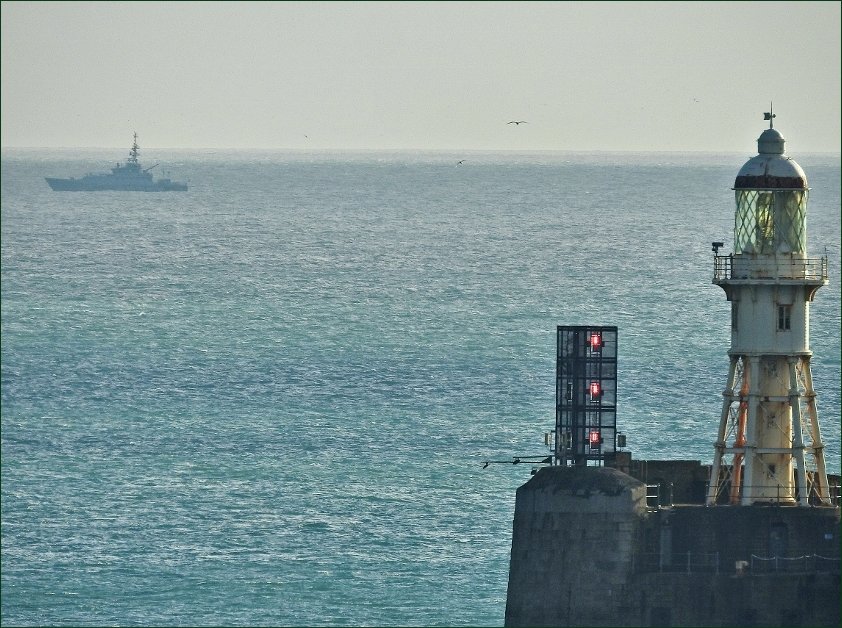 Great shots below Sarah of Border Force over in Ramsgate. Great detailed pictures there. Good to have those..

Thanks for the info John

PaulB
Wednesday, 2 January 2019 - 06:46
Post 5980
Sarah, Ramsgate
Following on from Paul's post we have Searcher & Hunter here in Ramsgate as of yesterday.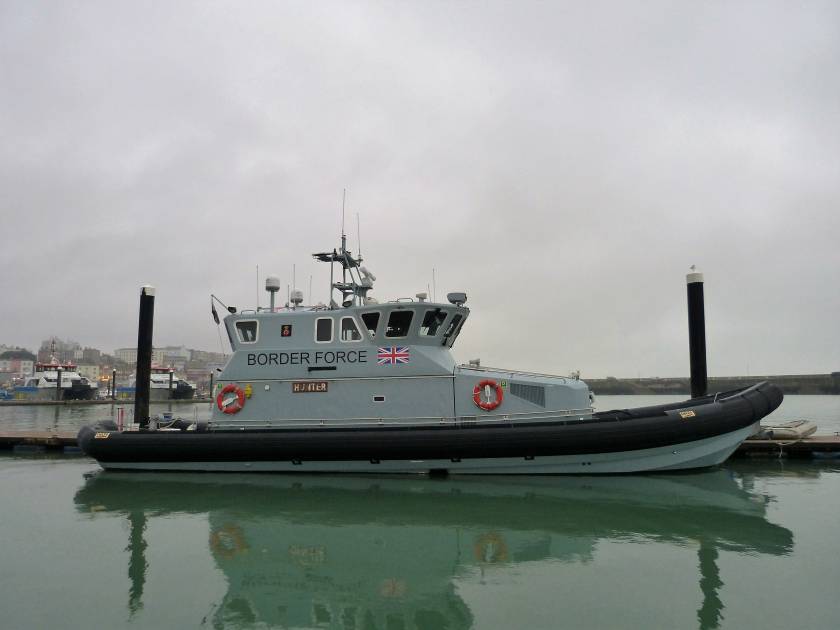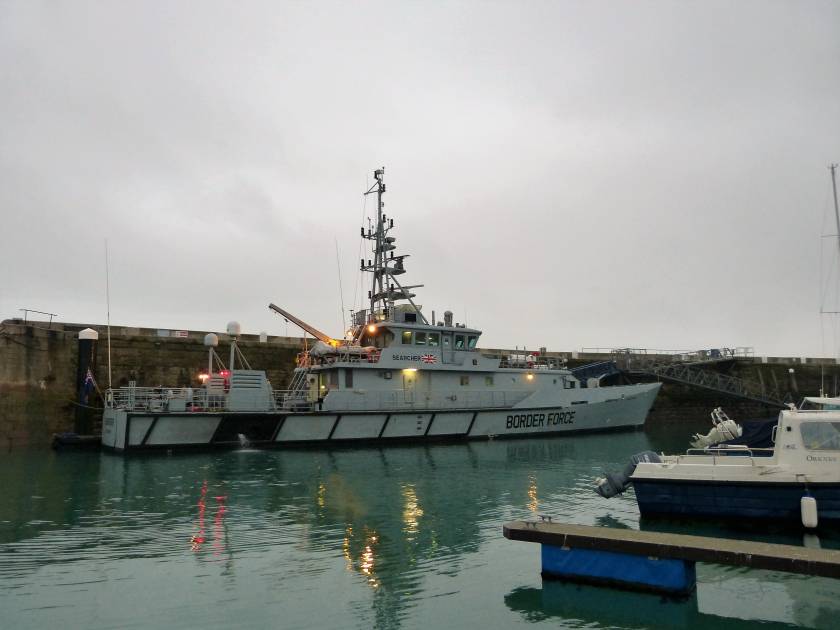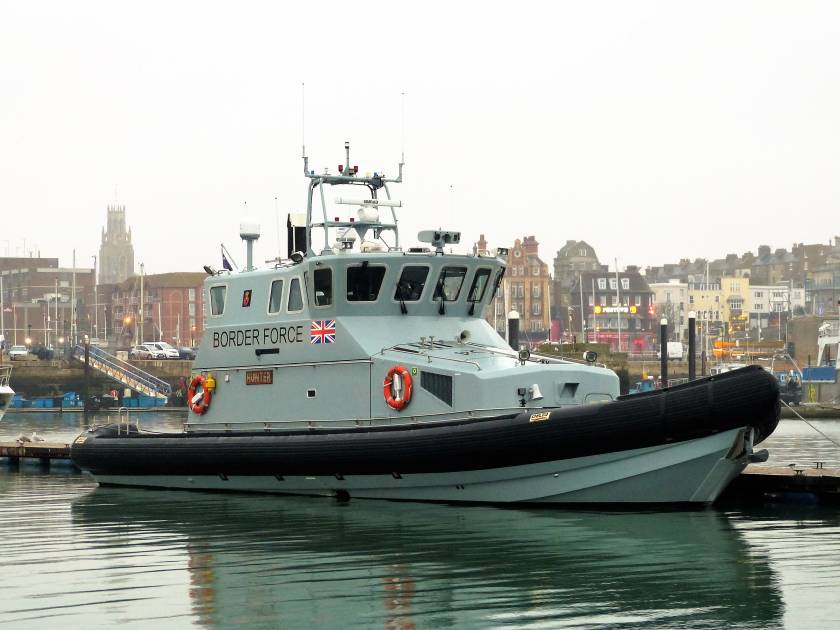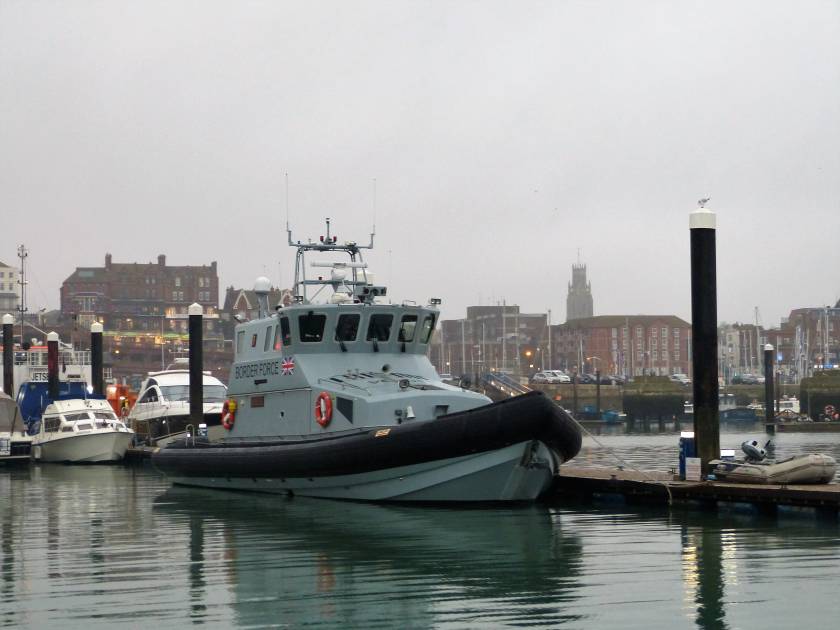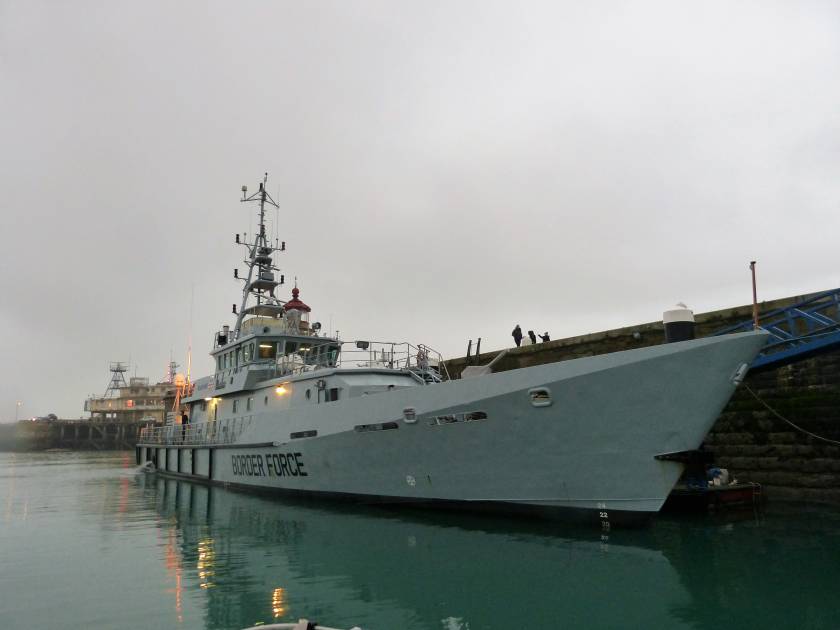 Happy New Year to all on Dover Forum.
Tuesday, 1 January 2019 - 12:03
Post 5979
John Hendy, St Mary's Bay
Ref post 5977: Lydd-on-Sea is a coastal continuation of Greatstone-on-Sea in the direction of Dungeness.

Tuesday, 1 January 2019 - 10:45
Post 5978
Sea News, Dover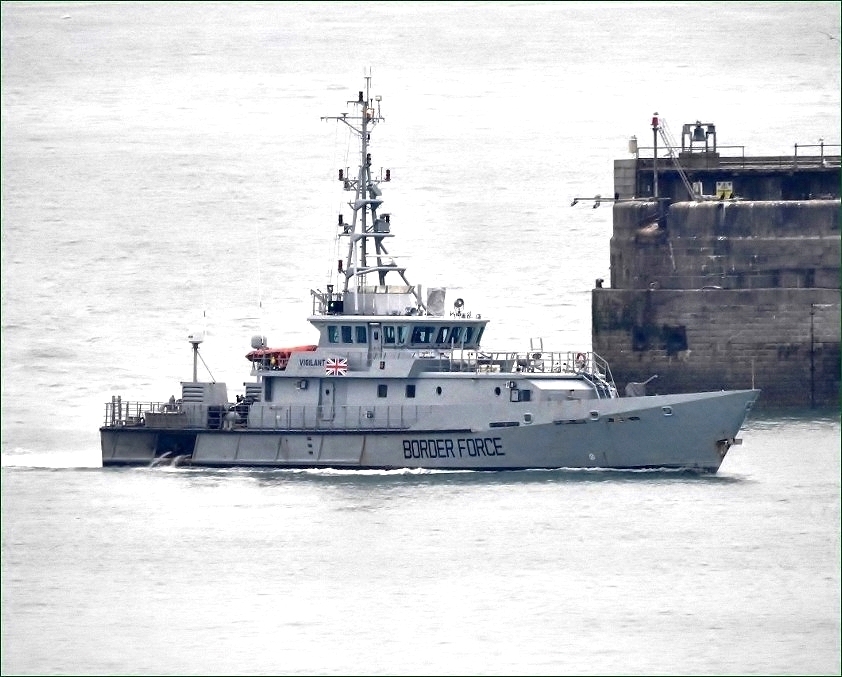 That's Border Force Vigilant arriving back with us again here at the Port of Dover. The picture shows her entering the Port's eastern entrance at 09.30 yesterday morning New Years Eve. Will have another couple of pictures to show in due course. See also Mike's pic in the post below.
Yes we have had pictures on doverforum.com/sea-news .. of the two Border Force cutters Vigilant and Searcher here in the past week...plus the smaller Border Force boats. Clearly our colleagues at the BBC need to check on here for more all-round useful info...

The government are now it seems frantically back-peddling on the Ramsgate contract. As we understand it £14Million awarded to a company that has no ships or no immediate prospect of having ships, yet contracted to ferry trucks in the case of a no-deal-Brexit from March 29.

Red HMG/Whitehall faces all round....although they would never admit it.
Mike nice shots in the post below plus info

ah no the ships don't wail out for New Year any more. Pity...it used to build up to a great crescendo of welcome noise.
Del


HAPPY NEW YEAR TO ONE AND ALL

PaulB
Tuesday, 1 January 2019 - 06:38