Friday, 25 May 2018

WWW.DOVERFORUM.COM/SEA-NEWS
Doverforum.com: Featuring all the ships that come and go and work at the Port of Dover with further coverage of the surrounding towns both sides of the Channel. Email: dover7@msn.com to send SEA NEWS pix or info....
or click ADD YOUR COMMENT below to post direct, no membership needed.
PORT OF DOVER: Konecranes for new Cargo Terminal 4916.
PORT OF DOVER: £21 Million DWDR 'paving plus' contract awarded 4895.
PORT of DOVER - three cruise ships, one day 4885.
DFDS Charters New Ship see 4866.
New Marina Pier ... Latest...see 4861.
P&O FERRIES presents big cash to RNLI Dover...see 4829.
PORT of DOVER: Chief Executive TIM WAGGOTT Resigns...see 4778.
P&O FERRIES recruiting...4745.
PORT of DOVER awards Cargo Refrigeration Contract see 4740.
PORT OF DOVER: Community Benefit 4688
TRADING GROWTH FOR DFDS DESPITE BREXIT see 4642
PORT OF DOVER RECORD FREIGHT see 4551.
PORT OF DOVER: GEEST LINE arrival see 4597.
SECOND FEMALE CAPTAIN FOR P&O see 4608.
Sea News Dover :
Use our SEARCH ENGINE below to find all sorts on the SEA NEWS pages..more than 240 now with more than 4750 nautical posts. Posts welcome. Max of 5 pictures preferred per post.
Type CRUISE VISITS in our SEARCH ENGINE below for news of the latest arrivals.
Sea News Editor Paul Boland - dover7@msn.com .
Post 4832
Sea News, Dover
Yesterday was the hottest April day in almost 70 years and this is how it
started at the Port of Dover ...
A brilliantly colourful start over the Port caught the eye, with criss-crossing though softening jet streams and yes the hottest April day since 1949...can you believe it. More 'hot stuff' due today we understand. That's an old camera in action above there, an old Olympus, built in the day when we thought 7 million pixels was the blazing innovative forefront of technology...we know better now..
Dover 9 appeared to be out of action all day yesterday...took the shots below of guys working on it around about 4PM...while a safety boat waits just off...
In the distance one of the P&O Prides comes our way.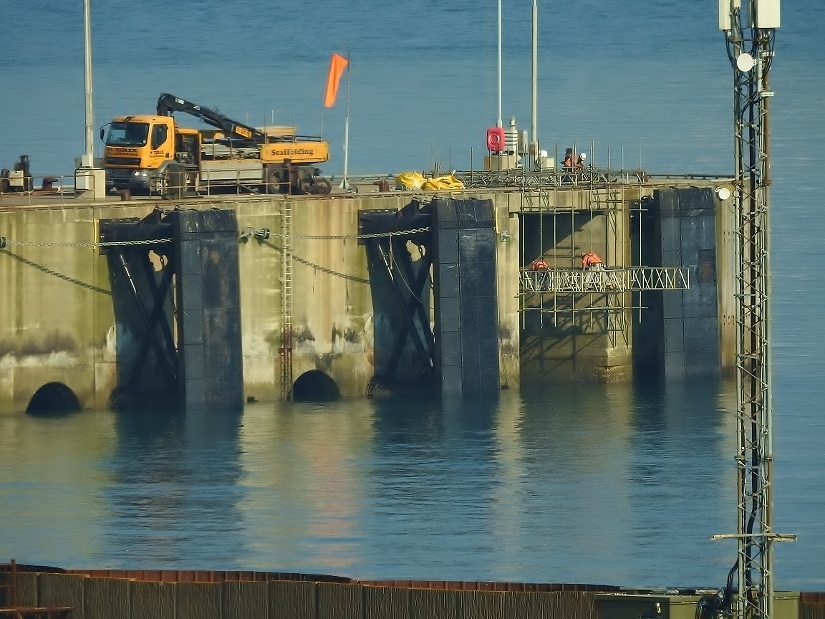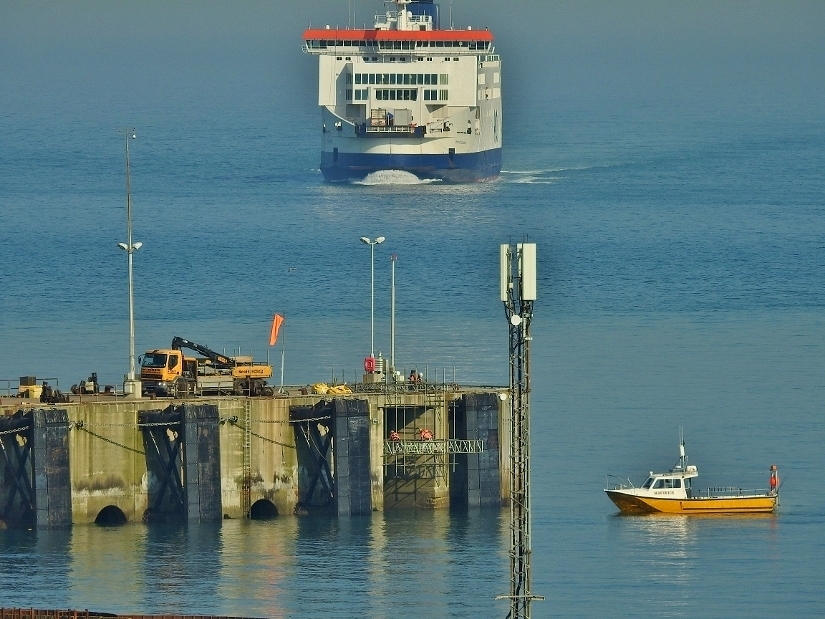 PaulB.
Friday, 20 April 2018 - 06:00
Post 4831
Sea News, Dover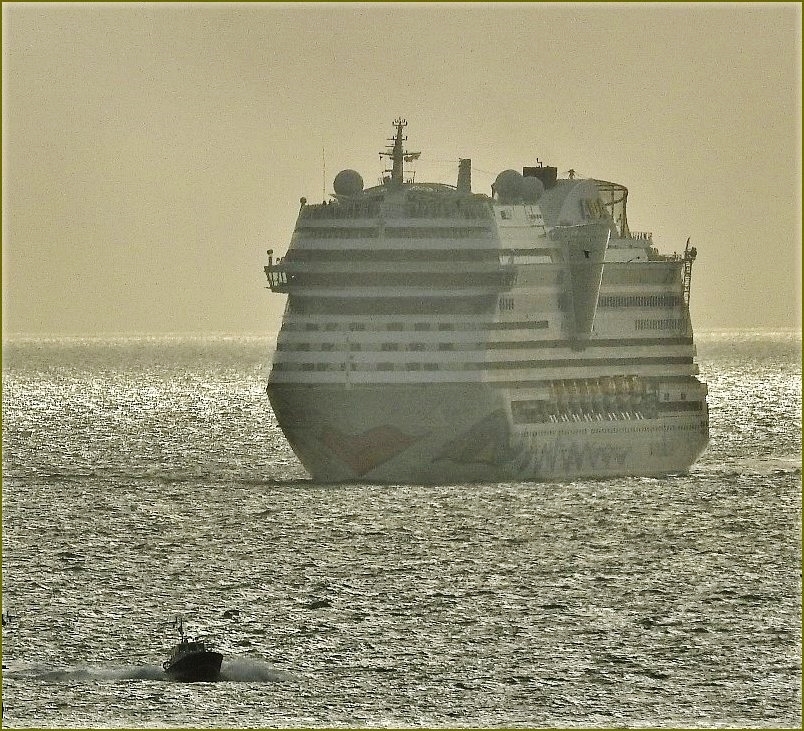 That's a shot above there of the AIDAsol approaching from a fair way out on..ermm...what day was it..ah yes Tuesday morning early. The picture is a wee bit forced as was taken straight into the blinding sun and lingering mist but we recorded something anyway. We are looking into the distance through a gap in the ferries there as the pilot boat returns..
And pictured below just having arrived...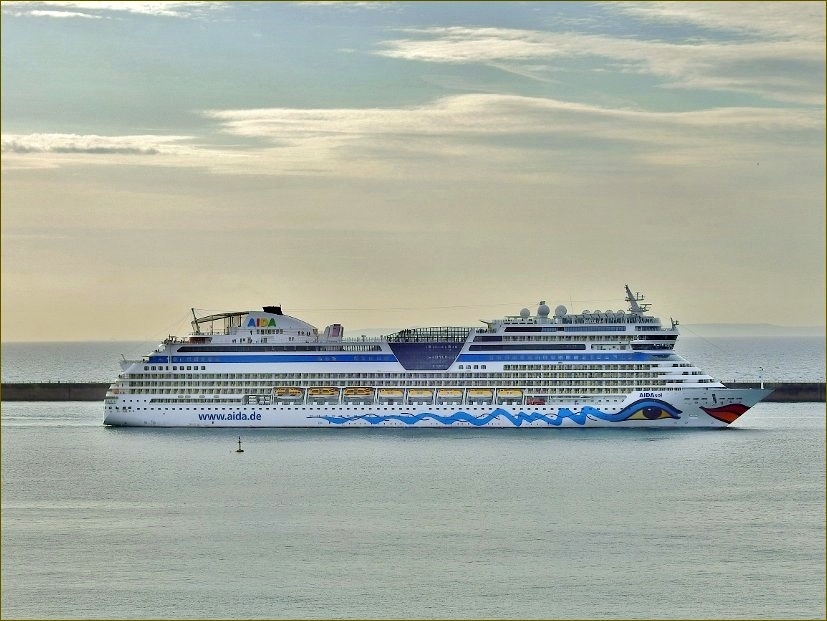 Worth showing this press release below relating to local parking charges. Not of use to those at further locations but bear with...
from DDC......
Sunday Parking Charges Review
_________________________
Dover District Council's Cabinet has reviewed proposals for Sunday parking charges following a period of consultation - and having listened to community feedback, has decided to defer plans to extend Sunday parking charges to 11 out of the 12 car parks being considered.
Dover is the only council in East Kent that does not currently charge for parking in the majority of its town car parks on Sundays, which is now the second busiest shopping day of the week.
The plans had included Sunday charging at four car parks in Dover town centre to match charges at the new £53m St James development. Legal & General has confirmed that it will not now charge on Sundays at this time.
The extension of Sunday charging in Deal will be limited to the Middle Street Car Park only. This follows research showing that Middle Street Car Park is operating at full capacity at many times, with shoppers and visitors unable to park. Most car parks in the town will remain free on Sundays.
Sunday charging is not being introduced in Sandwich at this time, as the planned coach park which would have taken 50 spaces from the Guildhall Car Park is now unlikely to proceed.
The Dover district continues to have the cheapest parking in East Kent with the cheapest average hourly rate at £1.10, and the shortest charging period (9am to 5pm).
Dover District Council will continue to monitor town centre car park usage as demand increases, and will continue to take whatever action is necessary to manage town centre car parks where churn is necessary to support high street businesses.
Cllr Keith Morris, Leader of Dover District Council, said: "We've listened carefully to the views of residents, visitors and town centre businesses. We've struck a balance between the need to manage ever increasing parking demands at the weekend, as well as maintaining our ongoing commitment to offer the cheapest and shortest periods of parking charges in East Kent."
ENDS
* *
Well done Patrick - cracking pictures below there. Its all powering along very fast.

Don't miss those.
PB
Thursday, 19 April 2018 - 06:37
Post 4830
Patrick, Marine Parade
The new marina pier taking shape with the latest pre-cast blocks being hoisted into place at the Wellington Cut end hiding the cast iron pilings.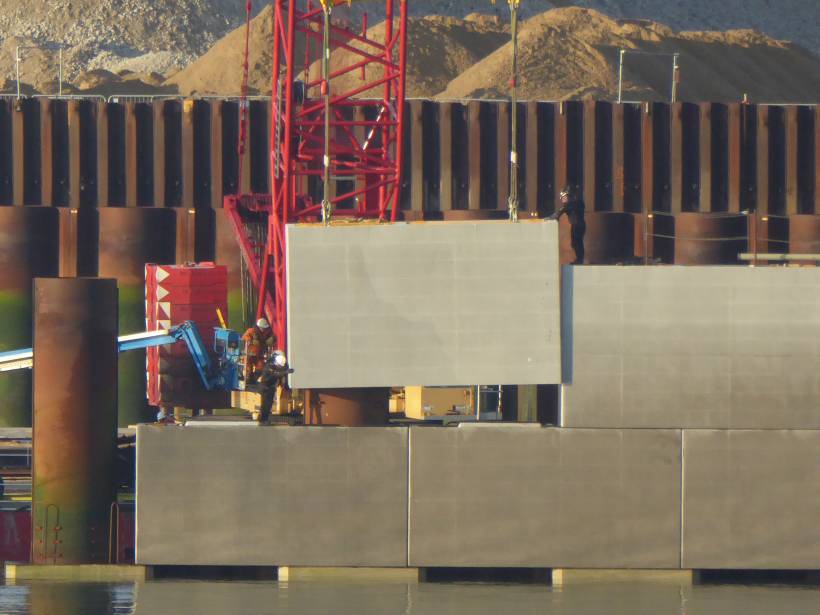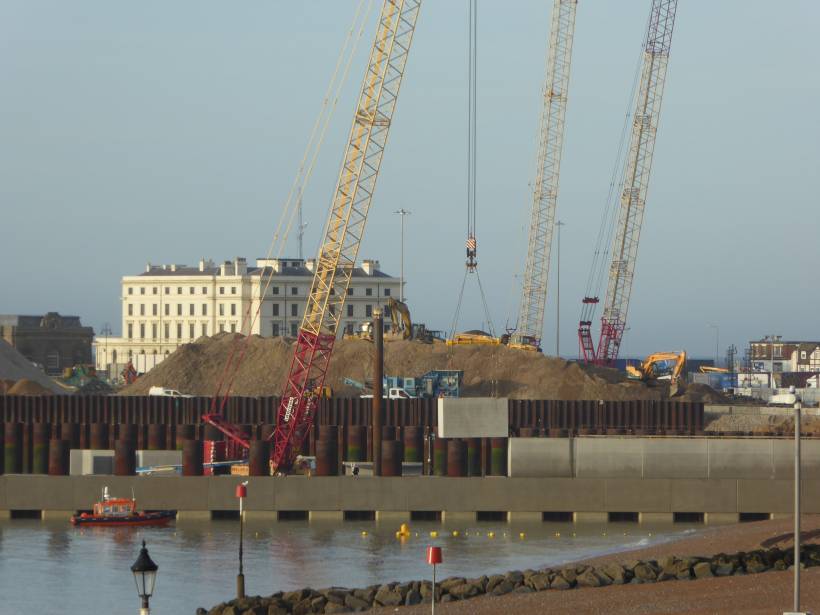 The width of these block is deceptive from the above views but can be seen more clearly in these shots taken from Western Heights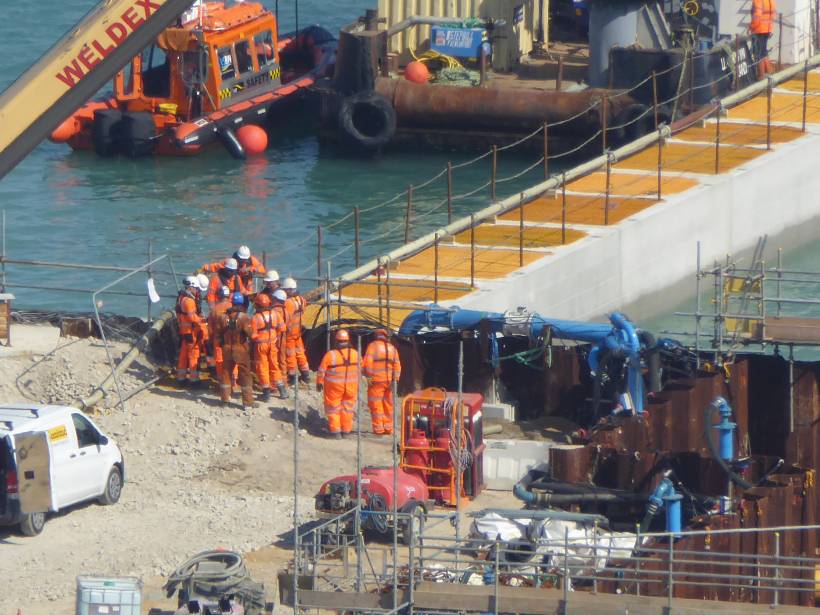 Wednesday, 18 April 2018 - 22:34
Post 4829
Sea News, Dover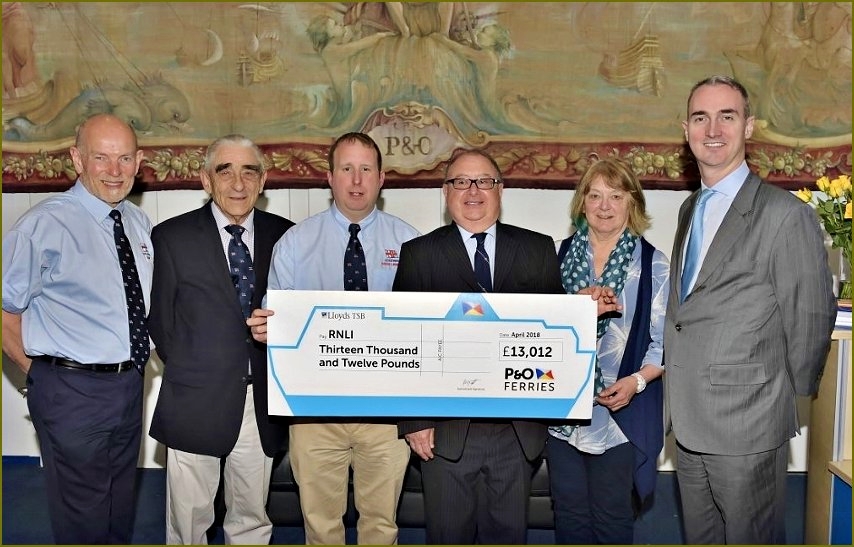 P&O FERRIES RAISES MOST MONEY FOR ROYAL NATIONAL LIFEBOAT INSTITUTE
......IN 20 YEARS OF SUPPORTING THE CHARITY
_____________________________________________________________________________
Release time: immediate
P&O FERRIES presented a cheque for £13,012 to volunteers and officials from the Royal National Lifeboat Institute (RNLI) last week after the integrated ferry and logistics company's employees and customers donated more money to the charity than ever before.
The RNLI has been P&O Ferries' official charity for more than 20 years, with collection boxes present on all six of its ships on the English Channel and all four of its ships on the North Sea. The 12 months to last December saw the highest ever sum donated.
Joe Ciantar, Head of Gaming at P&O Ferries, said: "I was honoured to be asked to present this cheque to the brave volunteers from the RNLI, which has done and is doing so much to save lives at sea."
"The RNLI collecting boxes on our ships are incredibly popular with our customers, who can deposit coins of any currency they wish which we then convert back into pounds. In addition, many of our employees and crew organise fundraising events of their own to support a cause which is, for obvious reasons, extremely close to their hearts."
The RNLI's volunteer lifeboat crews provide a 24 hour rescue service in Britain and Ireland. The charity's crews and lifeguards have saved more than 142,200 lives since 1824.
James Clapham, Coxswain for the RNLI's Dover lifeboat, added: "I would like to thank the employees and customers of P&O Ferries for their fantastically generous support over the last 12 months - everyone who donated can rest assured that their contribution will help us to save even more lives at sea."
In addition to supporting the RNLI, P&O Ferries also supports other organisations which make a contribution to life at sea including the sea scouts, sea cadets and marine life charities.
P&O Ferries' wider stakeholder programme offers visits to schools and colleges within the local community, a free initiative with the visit often tailored to school requirements and their current projects.
ENDS
Well done to P&O FERRIES above there...absolutely great work raising all that money.

Thanks for all the above info guys...Have added some Dover Lifeboat action pix below...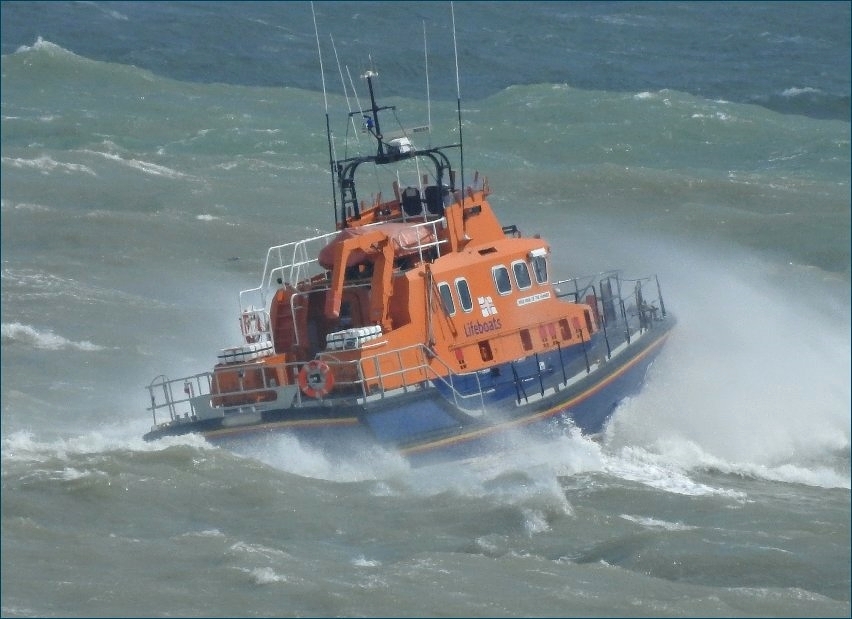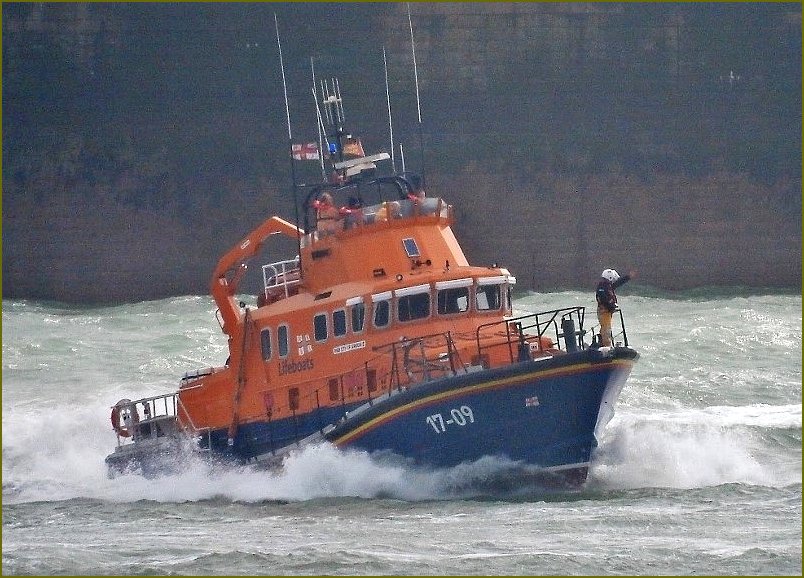 Remembering this one below from the Regatta 2015 ...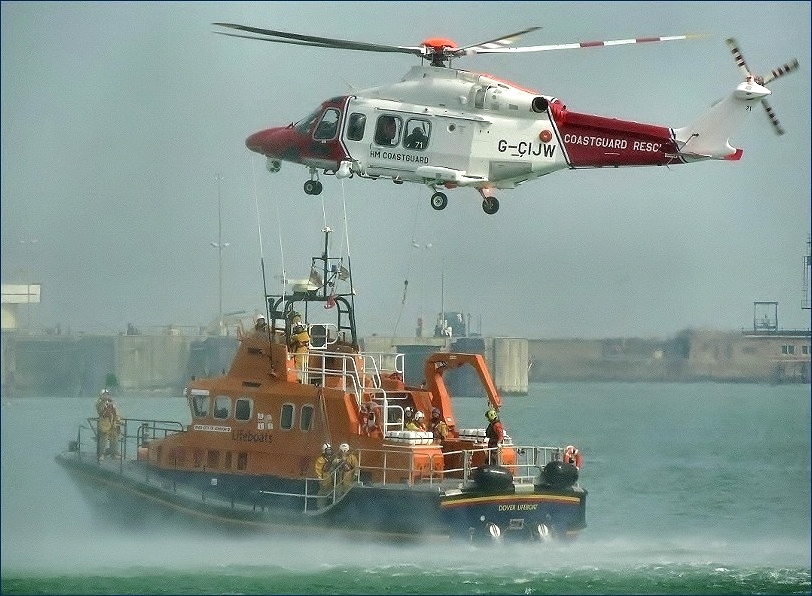 * *
Well done Mike. Great collection below. All will enjoy those.
You've strayed over into Sarah H territory there.


PaulB

Wednesday, 18 April 2018 - 05:00
Post 4828
Mike J., Dover
A mystery visitor at Ramsgate on Tuesday morning.
The internet would have the ABLE ONE as either a motor yacht based on an American tug design or a former US Army tug converted to a motor yacht.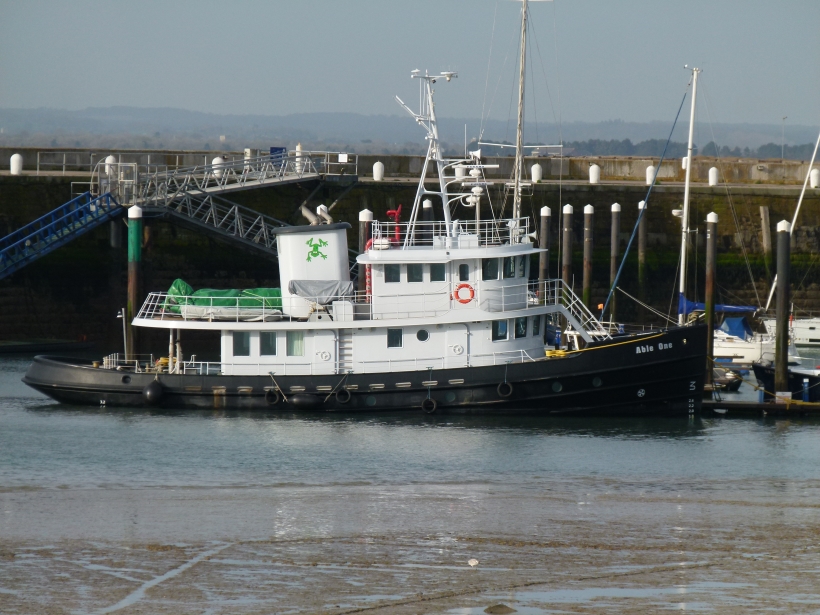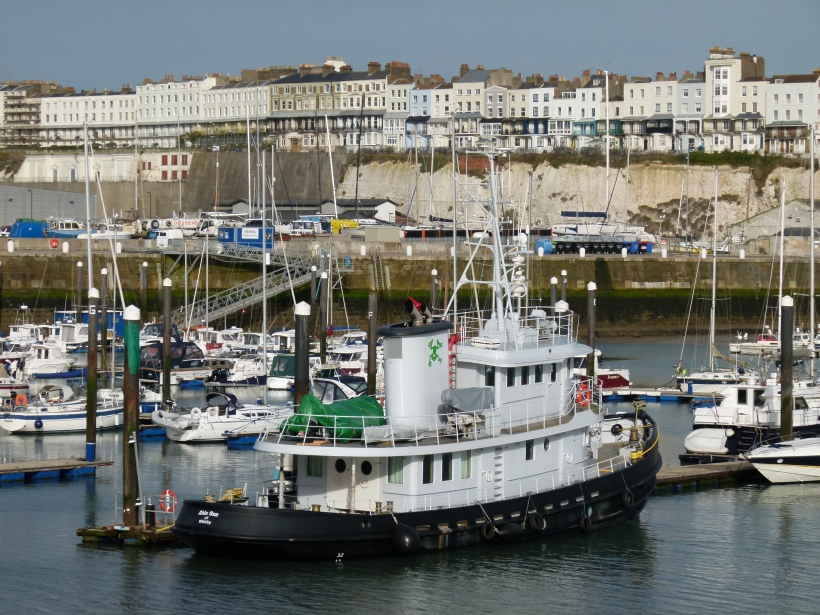 She was either built in Whitby in 2015 or was formerly the 1955-built ST2115 FORT MOULTRIE for the US Army & brought across to Europe for use in U.S military port operations & later laid up an the U.S storage facilities in the Solent.
I didn't have the magic number to get down thru the security gates onto the pontoon so was unable to 'make further enquiries'
To my amazement the Ramsgate Harbour webcam [post 4557] is actually working today [at least it was at 1710] with the ABLE ONE visible.
You may need to wait a few seconds for the test card to clear.
For the second time in recent weeks the MANNIN [post 4802] & I arrived simultaneously as she returned from the spoil grounds off the port & continued grabbing away at the eternal sandbank at the entrance to the Royal Harbour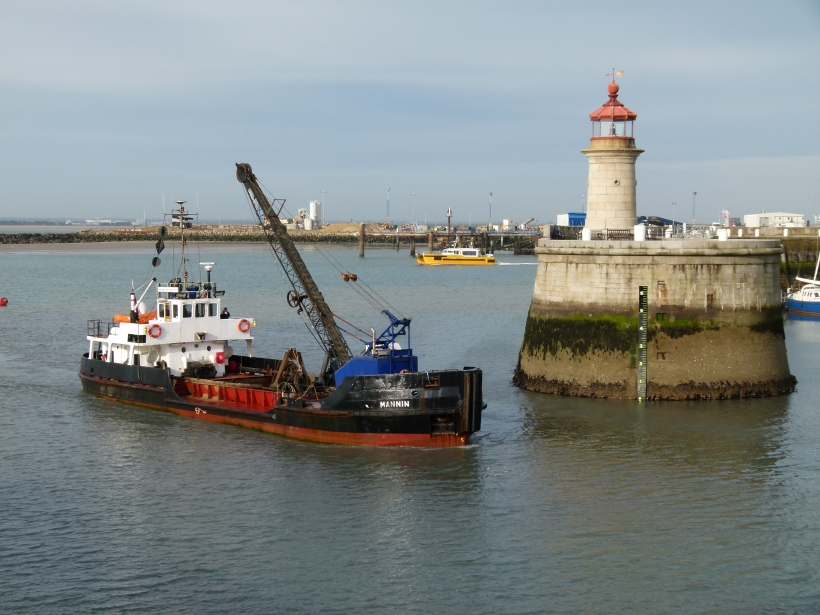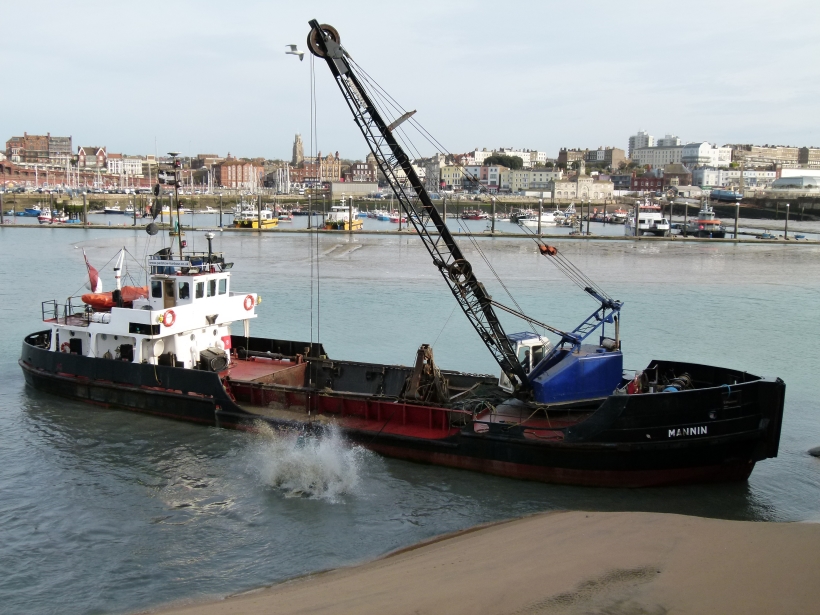 I missed most of the early morning departures of the windcat fleet but caught the WINDCAT 29 heading out.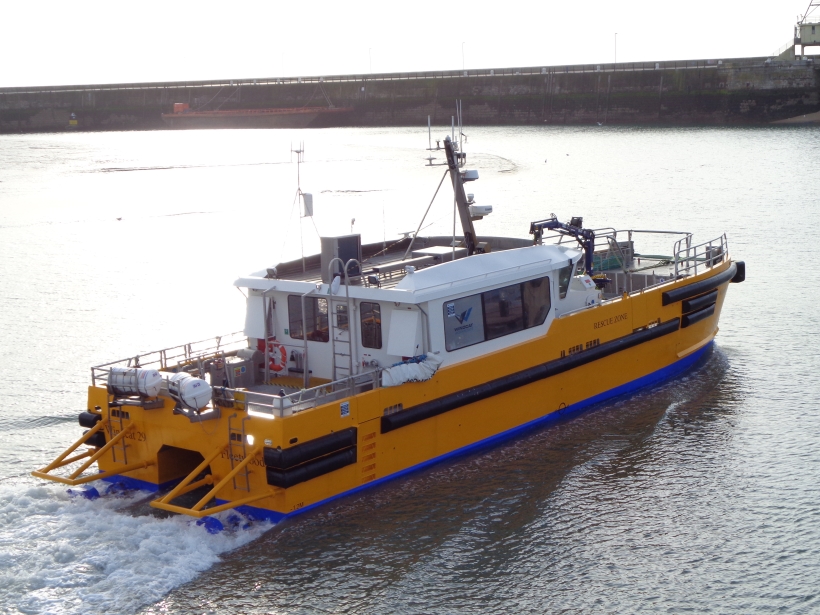 Tuesday, 17 April 2018 - 17:10
Post 4827
Sea News, Dover
From MP Charlie Elphicke
Hard won investment is making the change in Dover & Deal
____________________________________________________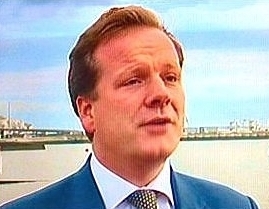 Dear Mr Boland,
Walking around Dover these days you can sense a real buzz. After many long years of hard work, people can see things are finally starting to happen.
Every week a new business is opening at the St James site. First it was Cineworld, then Nando's, then Poundland and Food Warehouse. Now Travelodge is open too – bringing more jobs and visitors to our corner of Kent.
When I first campaigned to be your Member of Parliament more than eight years ago – I promised to do everything I could to bring more jobs and money to Dover and Deal. Since then we've had more than £500 million of investment and unemployment has halved.
It's not been easy. We've faced many challenges and setbacks along the way. Yet at last things are changing.
When I parked up at St James, a man approached me shouting: "Oi, is that who I think it is?" I wondered what I might have done to upset him. But then he came running over, shook my hand and said: "It's great here, isn't it?"
The new cinema and shops were bustling with customers. Some people scoffed at the excitement surrounding the announcement that Nando's was coming to town. Yet it was very busy when I went for lunch there – so it's clearly popular.
It was great to see that lots of people were following the route from St James past the Lord Nelson pub and towards Market Square. We must do everything we can to support the hardworking small business owners in the high street. That's why I'm fully backing district council leader Keith Morris' plan to invest £500,000 in the area.
Meanwhile, at the Western Docks amazing progress in being made. I was shown up close the great steel pylons which will form the structure of the new marina curve. Concrete slabs are being laid on top before commercial units are constructed. Port chairman Richard Everitt and his team deserve great credit for the incredible work done so far.
Boosting the cargo business will help the port grow – and opens up the potential for more ferry crossings at the Eastern Docks. Yet the most exciting prospect of all is the new marina curve. Once built, bustling with bars and cafes right on the seafront, it is sure to attract visitors from all over. I can't wait to sit down and enjoy the view, watching the ferries come and go.
So, a new-look seafront is on the way and St James is up and running. Despite the doom-mongers saying that it could never be done. That Burlington House would forever tower over our town. That to have a six-screen cinema in the centre of Dover was in the realms of fantasy.
We've come a long way together since 2010 - and we're delivering investment that's making the change in Dover & Deal.
ENDS
An speaking of all things Port...here is an extra shot of the Luzon Strait looking across the rooftops as it were...yes indeed Charlie the cargo business is growing... Look at that load on the Luzon Strait. Also in picture the DFDS Cote des Flandres to the right.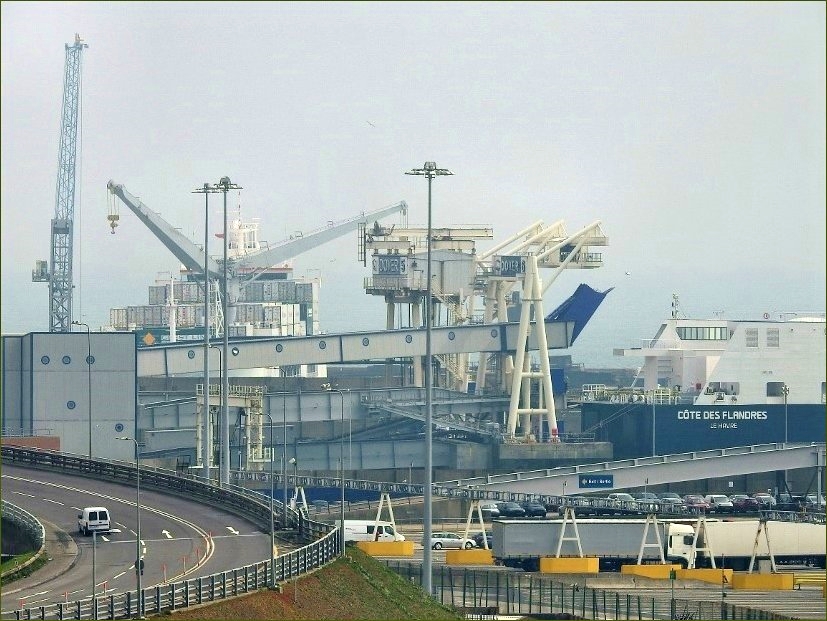 Following along from Mike's shots of the fog...here are a couple from yours truly. I'm stating the obvious here but one has to wait for the fog to disperse somewhat before a picture can be taken at all. With the observation tower wrapped in cotton wool nothing is available but once it pulls back...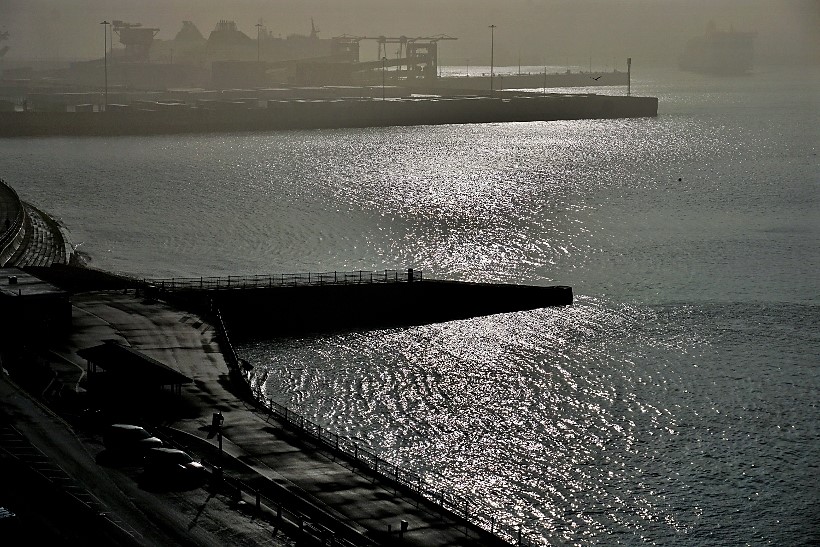 Looking eastwards above there as the sun fights to get through...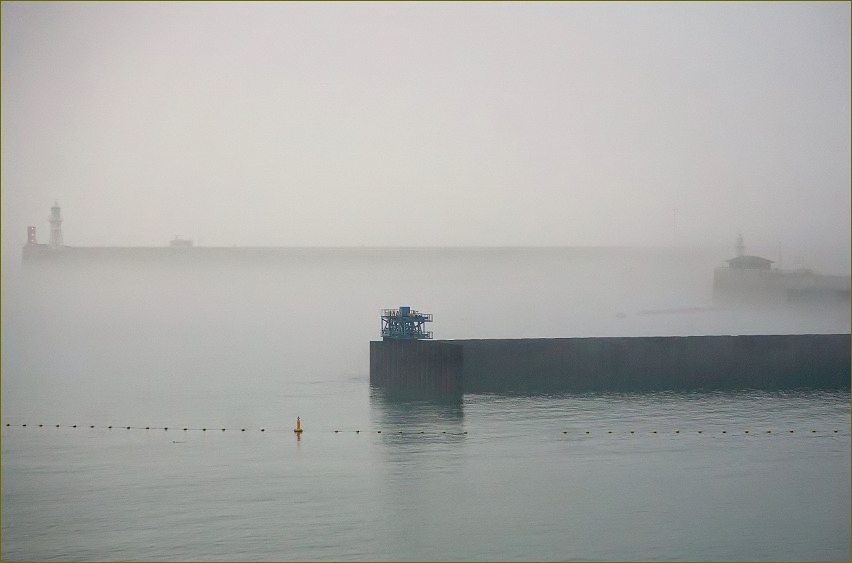 Three piers in one go, in the fog...couldn't say that before..
* *
COMMEMORATING THE ZEEBRUGGE RAID IN 1918 (100 years)
Road closures as district marks WWI naval raid with parades.
Parades featuring the Royal Navy and Royal Marines, along with representatives of reserve, cadet and veterans organisations, will be a key feature of commemorations in Dover and Deal on Monday, 23 April (St George's Day) to mark the centenary of the WWI naval raids on the Belgian ports of Zeebrugge and Ostend.
The commemorations in Dover are organised by Dover Town Council and start at 1015 with a service and wreath-laying at the Zeebrugge Memorial in St James's Cemetery.
Road closure (0900-1115): Old Charlton Road
At 1130 the Band of Her Majesty's Royal Marines Collingwood leads a parade from the Market Square to the Maison Dieu. The parade will form up in front of the Maison Dieu where the Town Mayor of Dover will ring the historic Zeebrugge Bell at midday.
Road closure (1100-1145): Market Square, Cannon Street, Biggin Street (precinct section)
Rolling road closure (1140-1150): Biggin Street (section between Pencester Road and Edwards Road)
Road closure (1145-1230): Priory Road, High Street (outside odds
1-19), Effingham Crescent
Road closure (1200-1210): Ladywell for two minutes silence
The commemorations move to Deal in the afternoon for events organised by the Royal Marines Heritage Trails. This includes the launch of the Royal Marines Heritage Trails, marking the town's historic links with the Marines. Many of the Royal Marines who took part in the Zeebrugge and Ostend raids trained in Deal.
The Corps and Band of Her Majesty's Royal Marines Collingwood, led by a colour guard from 42 Commando, will exercise their freedom of the borough of Deal with a parade through the town.
Road closures (1450-1530): Dover Road (between Cornwall Road and Canada Road); The Strand (entire length); Victoria Road (between Marine Road and Gilford Road); Marine Road (northern limb)
Road closures (1550-1630): Prince of Wales Terrace (entire length); Beach Street (from Prince of Wales Terrace to King Street); King Street (entire length); High Street (between King Street & St George's Road); St George's Road (between High Street and West Street junction)
Parking suspensions will also be in place along the route of the parade in Deal.
Members of the public are invited to come along and watch the parades. Motorists are asked to respect road closures which will be reopened as soon as possible after the parades have passed.
ENDS
* *
Many thanks once again Colette - great cruise info below there all round. Will have the eyes peeled and the camera ready.

Thanks for those earlier comments too Jan re Ed and more.

PaulB

Tuesday, 17 April 2018 - 05:56
Post 4826
ColetteB, Dover
CRUISE VISITS
____________
Dover will be full of smiles with the next five cruise calls over the following two weeks as we have a brace of AIDA cruise ships visiting Dover from ports far afield

Firstly, tomorrow Tuesday 17th April once again AIDAsol calls at CT2, 09.30 hours. She greets us with her usual beaming smile on her 4 night Hamburg round trip via Ijmuiden before finishing at her home port of Hamburg. She leaves us at 21.30 hours, PoC.
Then on Saturday 21st April (The Queen's Birthday) we have the second Double Whammy of the month with a wink and a grin

from AIDAdiva cruising into CT1 at 08.30 hours. She is on her 13 night cruise from Las Palmas to Warnemunde-Rostock, her next ports of call are Le Havre, Amsterdam, Goteborg then Warnemunde-Rostock. She was last here in April 2017, Welcome Back Diva!

She departs ours shores at 18.30 hours, PoC.
An hour later AIDAsol arrives at CT2, 09.30 hours. Again she calls in to say Hello on her 4 night Hamburg round trip. She is leaving us at 21.30 hours, PoC.
We only have a day to wait as on Monday 23rd April AIDAluna calls at CT2 at 08.00 hours on her 26 night Montego Bay to Kiel cruise, last seen here in April 2017. Her next port of call being Ijmuiden in the Netherlands, before dropping anchor in Hamburg on Thursday after her Caribbean adventures. She leaves us at 18.00 hours, PoC.
Then on Wednesday 25th April AIDAsol calls once again at CT2 at 09.30 hours whilst on her 4 night Hamburg round trip. Her next port of call is Ijmuiden before arriving in Hamburg 26th April. She is leaving us at 21.30 hours, PoC.
Lovin all the photos from the Sea News Team, beautiful colours & romantic misty shots

Back soon ……

Monday, 16 April 2018 - 19:55
Post 4825
Sea News, Dover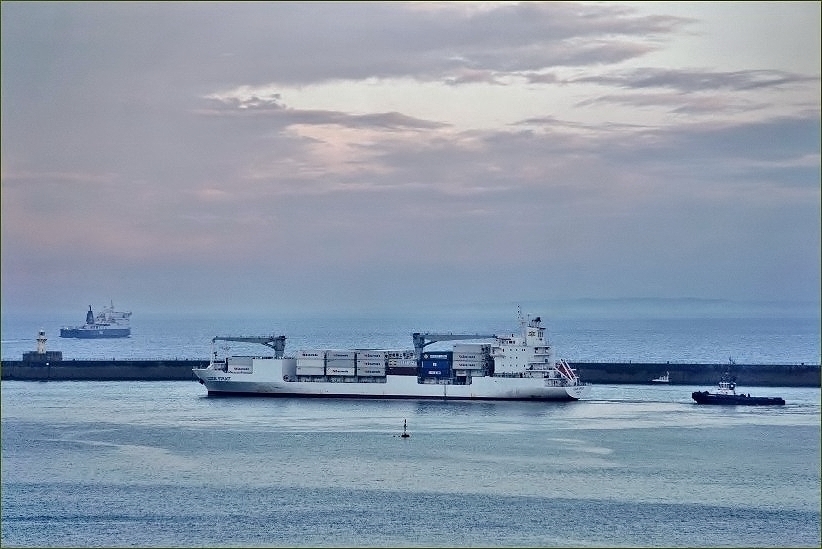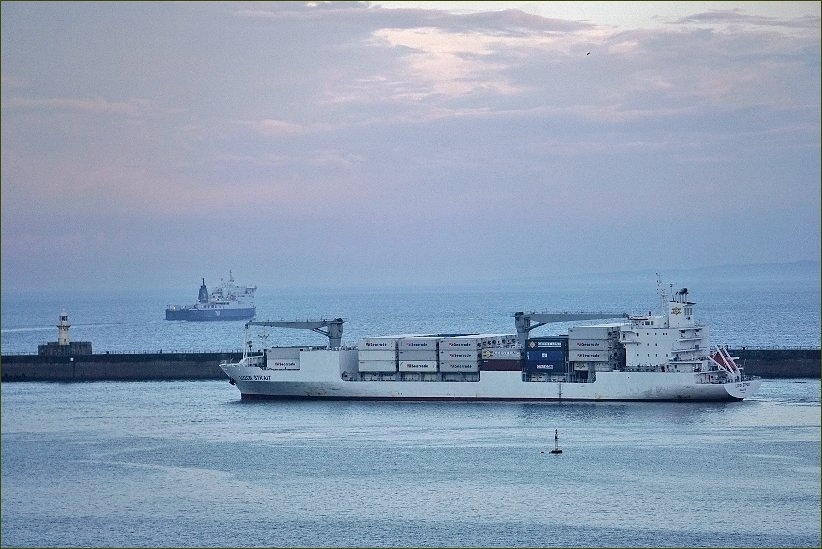 That's the Luzon Strait leaving us last night with a full load heading for Vlissingen in the Netherlands (Vlissingen is also know as Flushing in English terms). Time of departure was 7.30PM last night - so light was fading and the pictures went a wee bit blue, but at least there was no fog. I corrected some of the 'blueness'. Atlantic Reefer has come in overnight to take up the slot at the DCT (Dover Cargo Terminal) now, so it all remains very busy which is good news for sure. By the way...in the background there is P&O's European Seaways.
Below .. prior to the murky gloomy foggy weather there was some yachting activity in the harbour, the activity began as Spring sprung. The first two shots are the same boat a-coming and a-going and are clearly visitors here enjoying the facilities.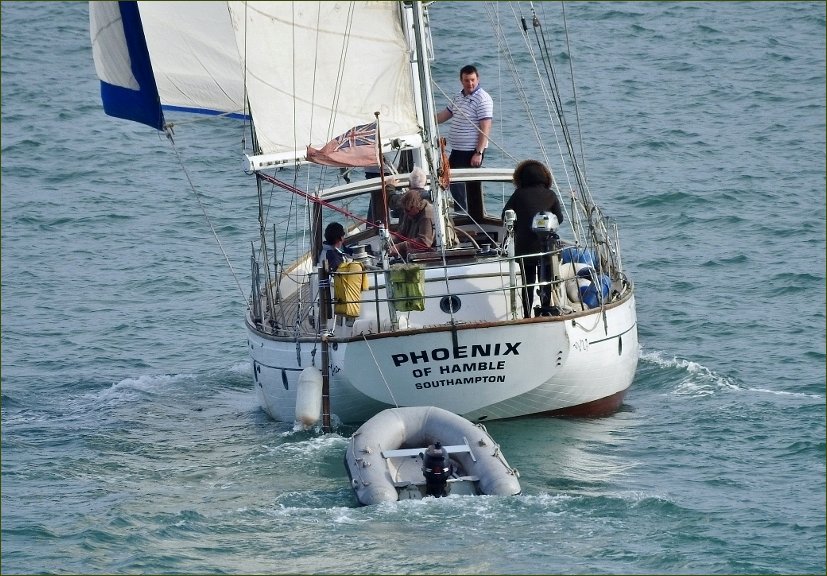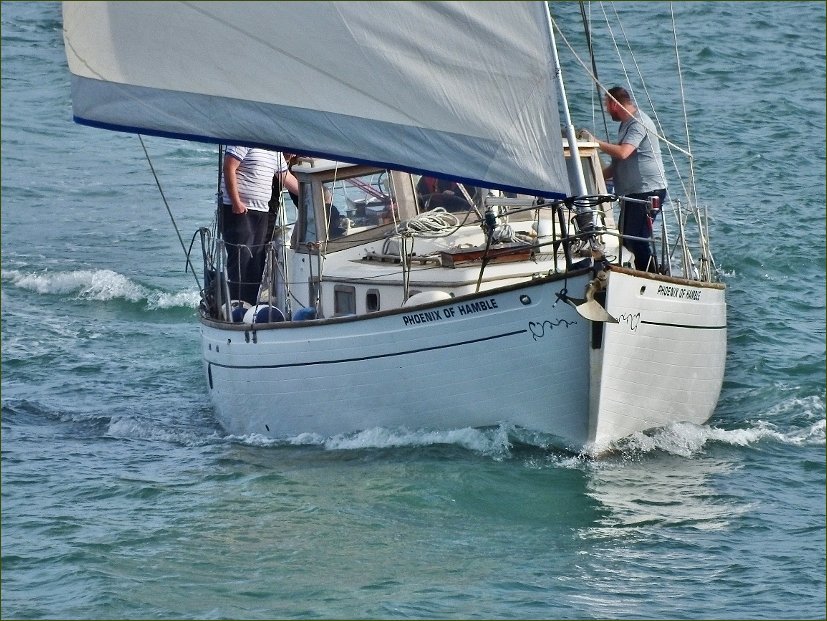 The second two pictures are some of the regular yachts but not seen since last year and here we are.
The second shot ever so slightly 'romanticised'.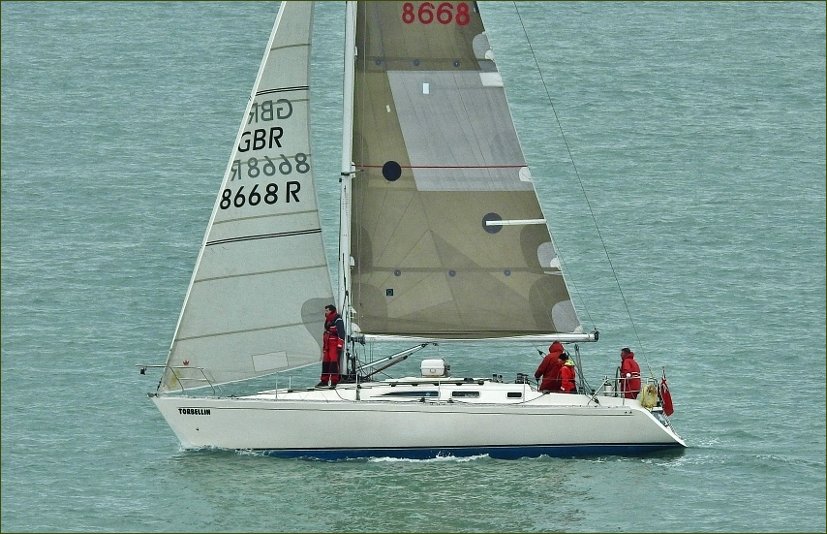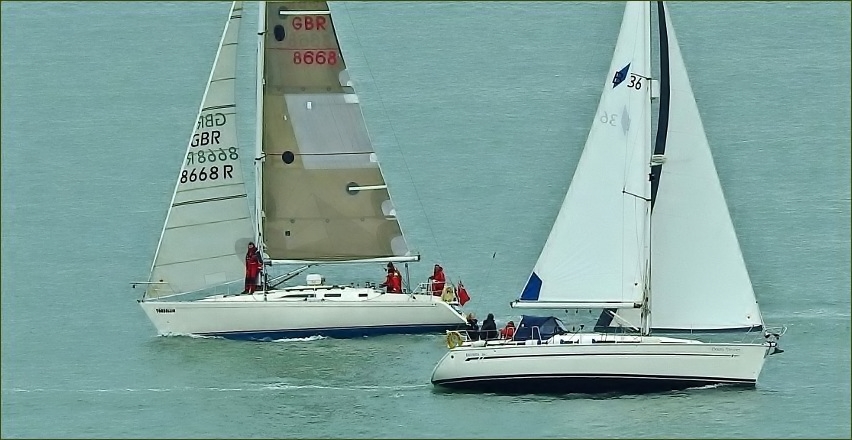 These yachting pictures are from a week or ten days ago prior to the fog.
There was more yachting on the Saturday just gone too in misty conditions - will get those ones up too..in due course.
Nice collection below Mike - you made the fog work for you there...all look good. Liking that one bigtime of the sailing boat, the custom house, and the monster AIDAsol ...

PaulB
Monday, 16 April 2018 - 06:20
Post 4824
Mike J., Dover
We've certainly been blessed with fog recently, particularly during the mornings.
Saturday morning low-lying fog was accompanied for most of the morning by an orchestra of fog horns including the irritating high-pitched one that goes off every ten seconds with occasional deeper grunts from ferries.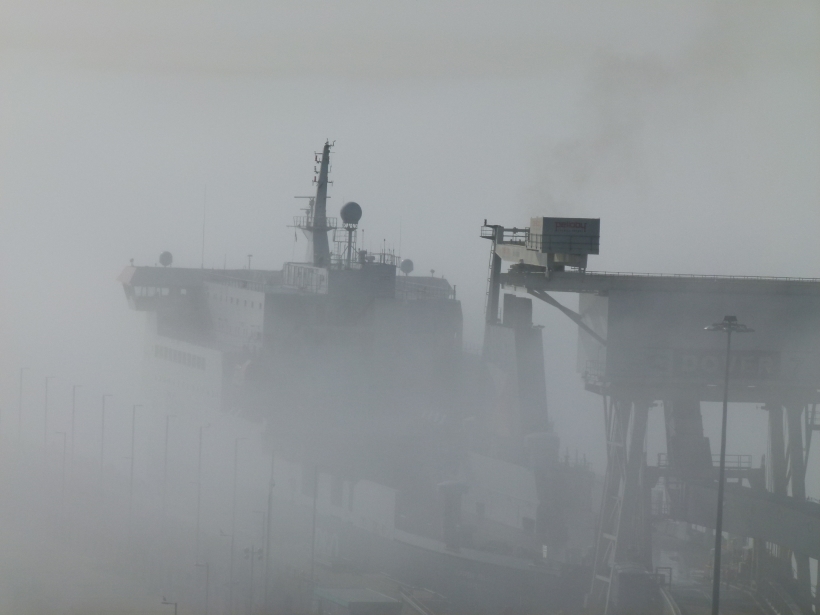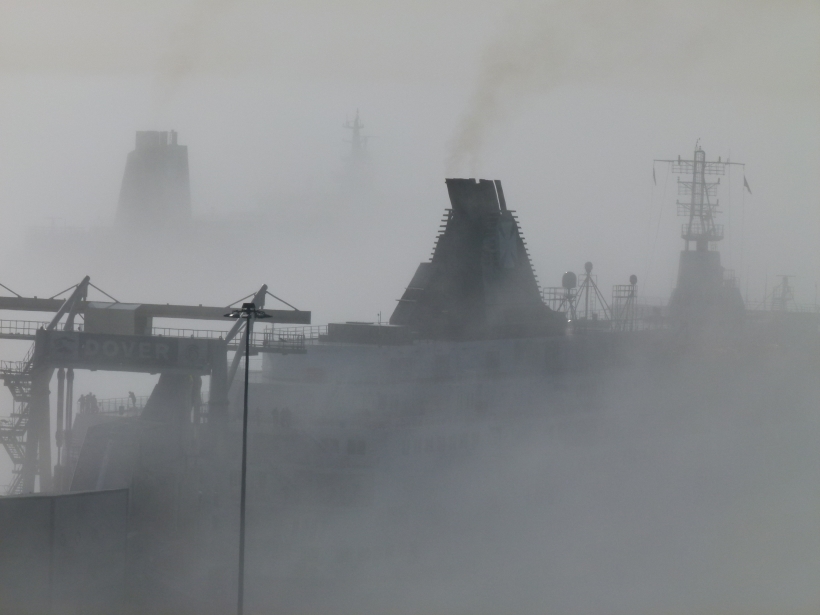 The DWDR cranes were poking above the fog, with Shakespeare Cliff just visible.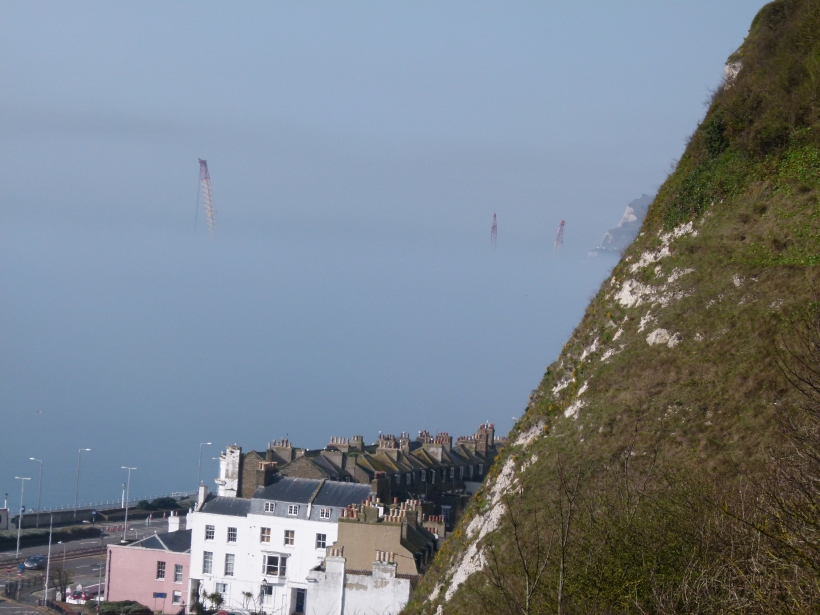 Friday was merely misty with the WILLOW OF HARTY in the Tidal Basin & looking to be preparing for sailing after wintering in Wellington Dock, perhaps heading back to her usual berth in Faversham Creek.
In the background the Customs Watch House which will hopefully survive DWDR & the monster AIDASOL looming over everything.
The rather more elegant BOUDICCA was out on the Ad.Pier on Cruise-2 & was almost invisible in the mist ilooking across from the beach.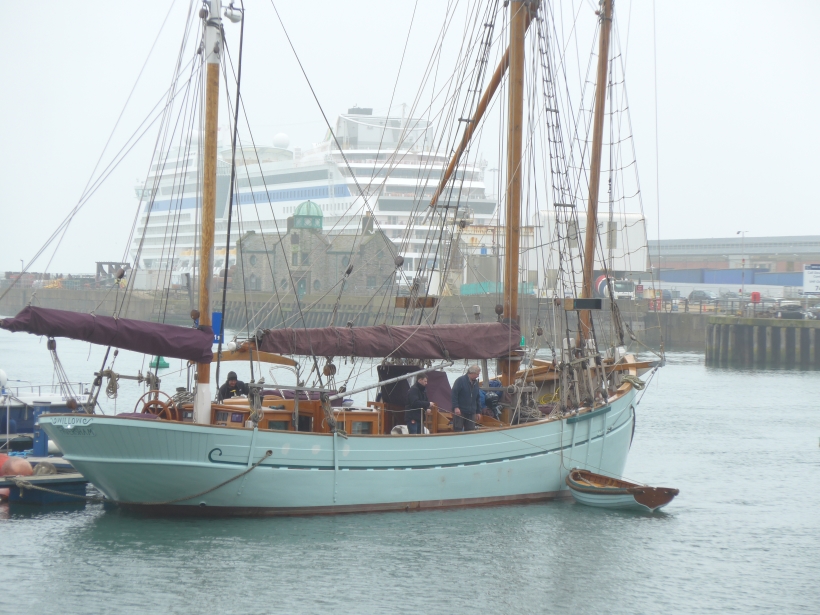 Sunday, 15 April 2018 - 18:08
Post 4823
Jan T, Dover
Go along with Harald..Ed will be missed good wishes go to him and his family.
Gosh calm sea and sunshine as the ship leaves Dover in the pictures below.

Certainly looks like spring.

Sunday, 15 April 2018 - 09:53
Post 4822
Sea News, Dover
BOUDICCA reverses...
Yes Boudicca leaving us here in these pix on frday evening at 6PM. She reversed out of the harbour this time...guided and aided by the pilot boat as you can see. Conditions were very misty at the time but pictures were still possible. it turned to thick fog later. The electronic pulses and foghorns are still sounding here as I write but they promise us better weather this coming week.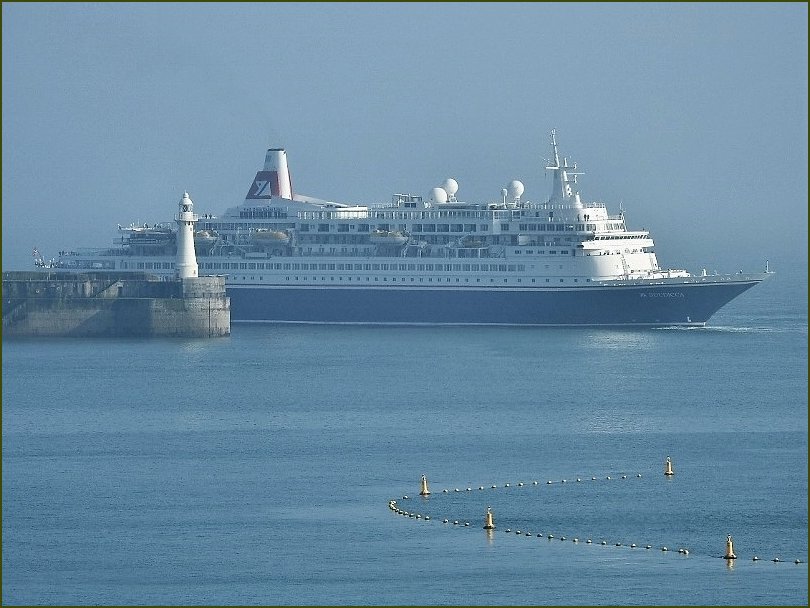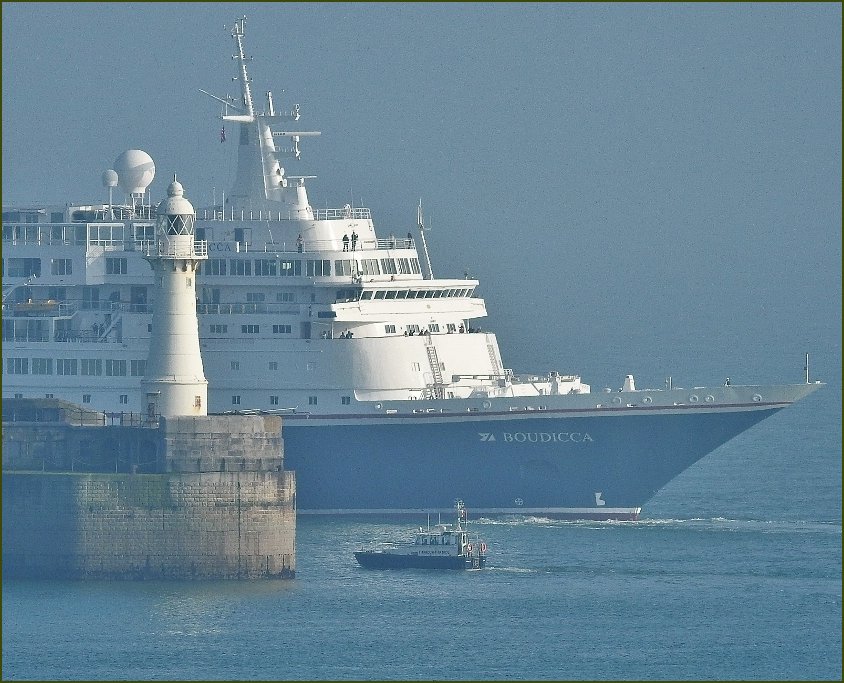 Well said Harald below...fully with you there..

PaulB
Sunday, 15 April 2018 - 07:19
Post 4821
Harald Boot, Tholen, The Netherlands
Ed, I wish you all the best for your medical treatment!
Be sure I will miss your wonderful pictures.

Saturday, 14 April 2018 - 13:05
Post 4820
Sea News, Dover
AIDAsol at the Port of Dover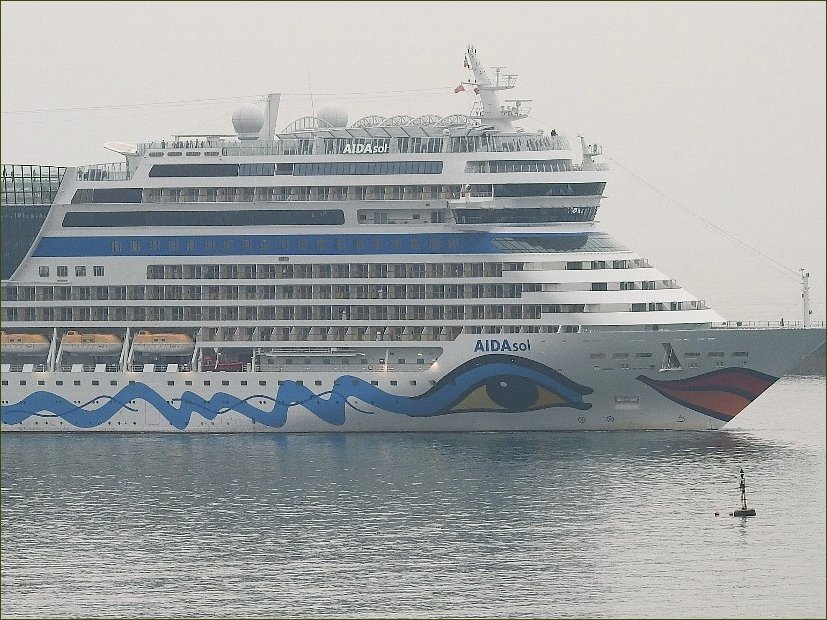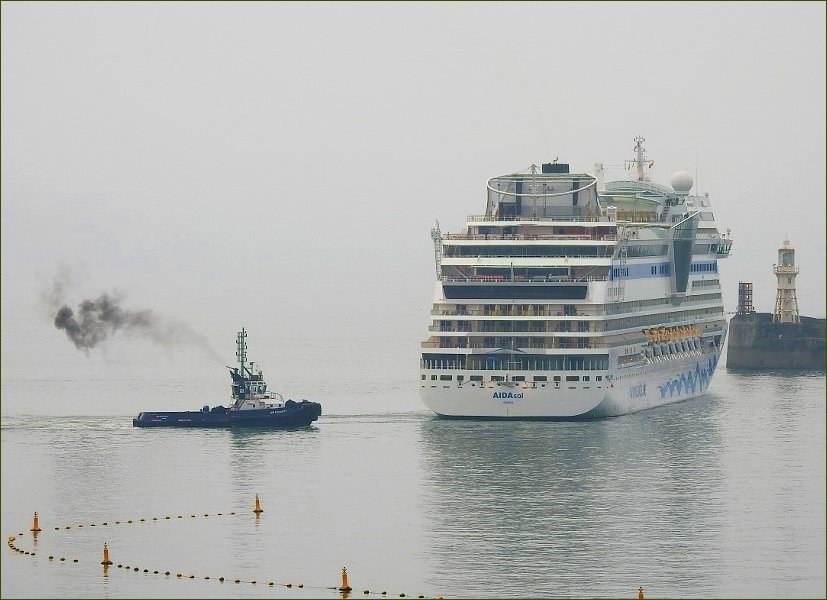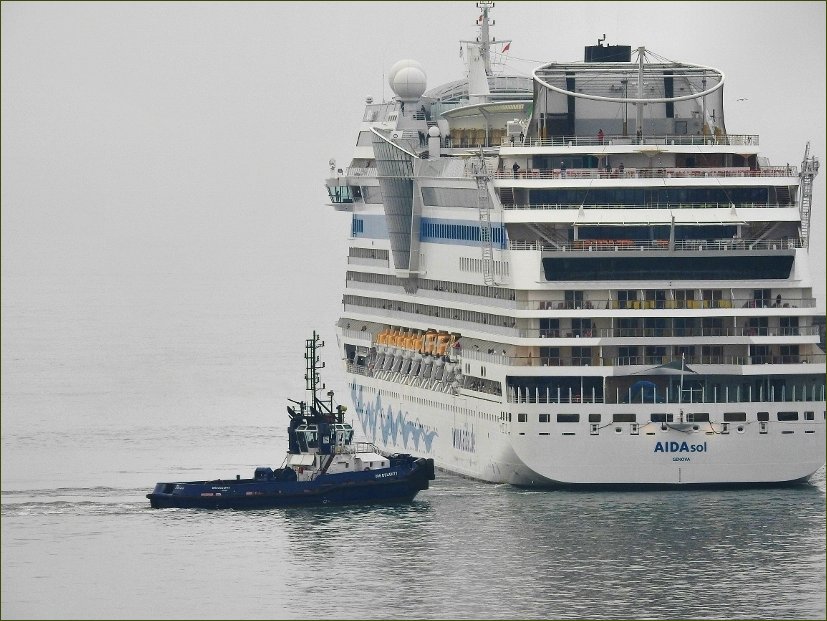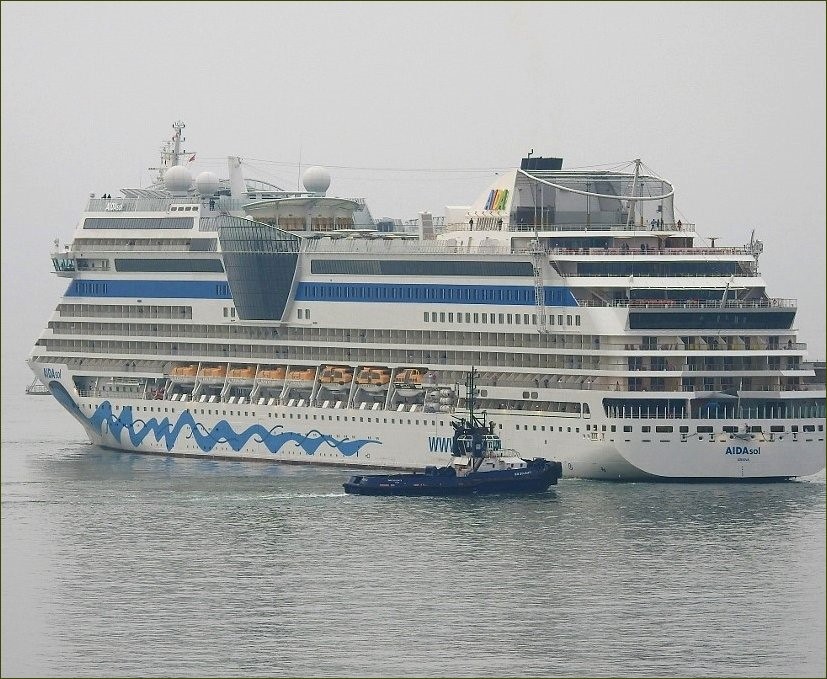 A sequence above there of AIDAsol arriving with us here again yesterday morning at 05.50. The fog had pulled back a tad to enable some pictures to be taken. Nature being very conveniently kind to us there and working with Sea News...

She left last night in foggy conditions again at 21.45 ( 9.45PM) bound for Hamburg. Soon after she departed the fog surrounded us here like a white blanket....and the banshees wailed...
Boudicca had departed earlier..around 6PM.
PaulB
Saturday, 14 April 2018 - 05:14
Post 4819
Sea News, Dover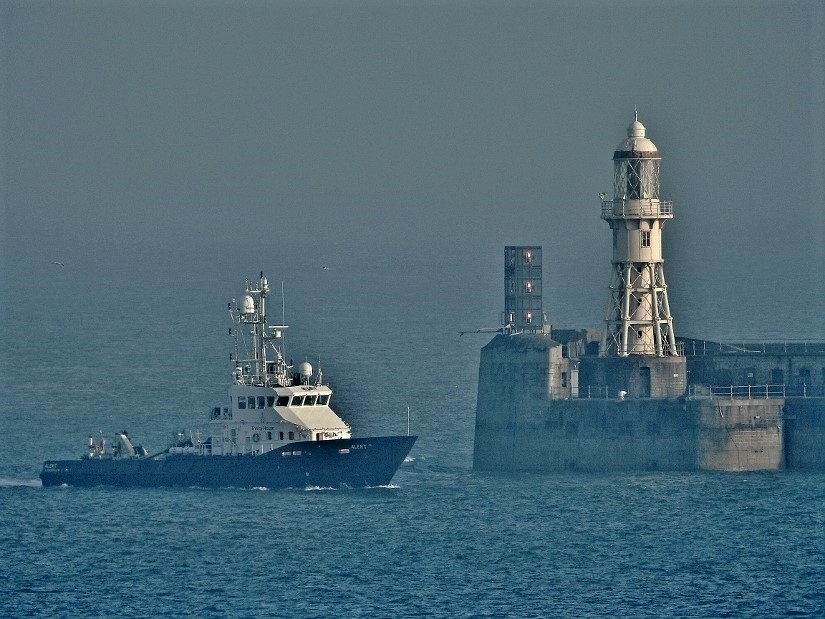 One of the few pictures of the past couple of days shows Trinity House Vessel Alert returning to the Port through the fog on Wednesday evening. Every so often the mist thins and there we are. Although visibility not great today there is some clarity and the wailing foghorns have ceased...will have pix of the AIDasol arrival in due course. Bear with...

lol Mark...
Ah yes indeed he can of course walk on water..
the boat just provides some extra essentials..ie a kitchen and a bed..
where would he be without his forty winks.

PB
Friday, 13 April 2018 - 15:57
Post 4818
Mark Rushton, Northants
Re the latest sailing boat pictures. What does Jesus need a boat for ? Surely he WALKS on water ? I'll get my coat.

Friday, 13 April 2018 - 13:39
Post 4817
Sea News, Dover
We are stuck in this miserable foggy spell at the moment and pictures are nigh on impossible. if Moby Dick himself swam into Port with Cap'n Ahab on his back I doubt we would get a picture. Herman Melville would have been disappointed.. nay crushed .. at the lost opportunity for publicity. But there we are, we soldier on..
The pictures here are from about one week ago...and show ELIDA Sailing for Jesus in Port. The yacht comes in about once a year. We understand she tours the coastal towns bringing 'the Word'... and here she is.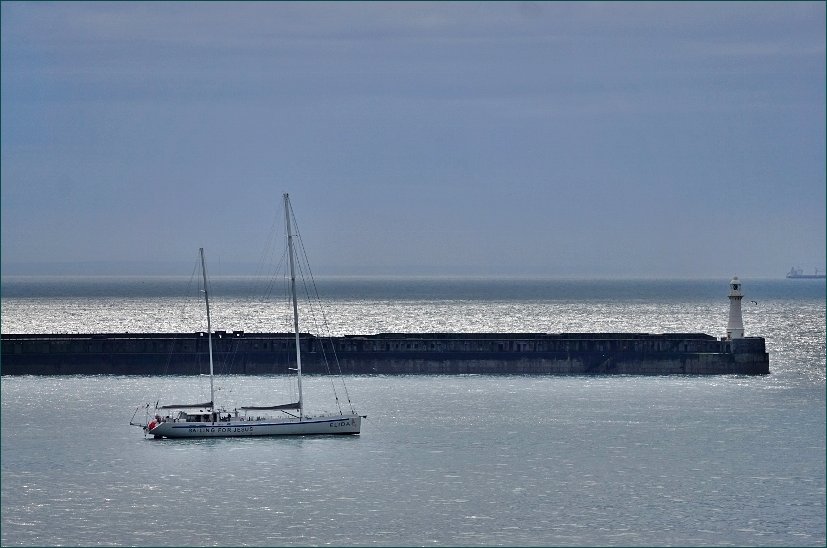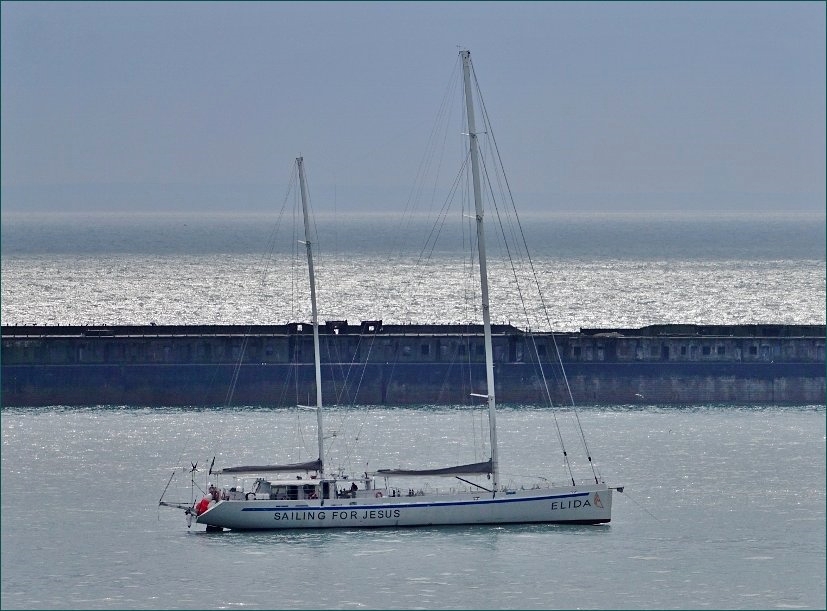 Here is an extra picture now of Elida from the files. It dates from 2015..warmer weather too...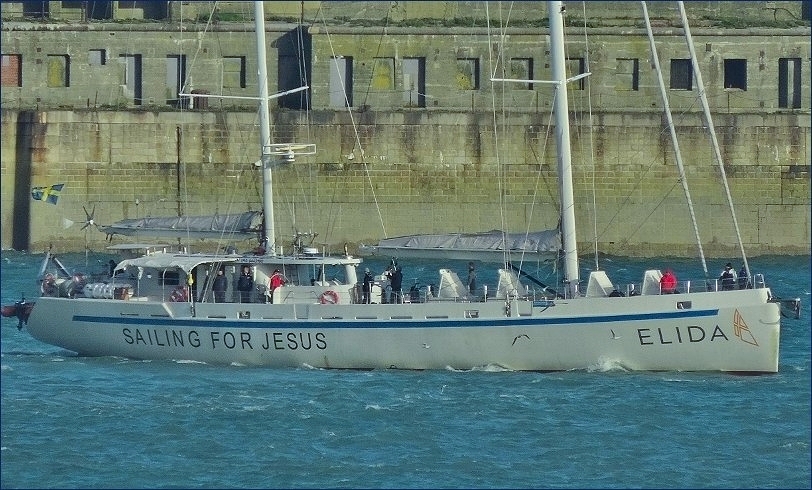 Boudicca has just arrived back into Port...she arrived about 05.20 just in time for the Shipping Forecast on Radio FOUR.

AIDAsol is approaching as I write...
our first double whammy of the year.
To see ColetteB's cruise list type in CRUISE VISITS in the Search Engine above.
PB.
Friday, 13 April 2018 - 06:04
Post 4816
Sea News, Dover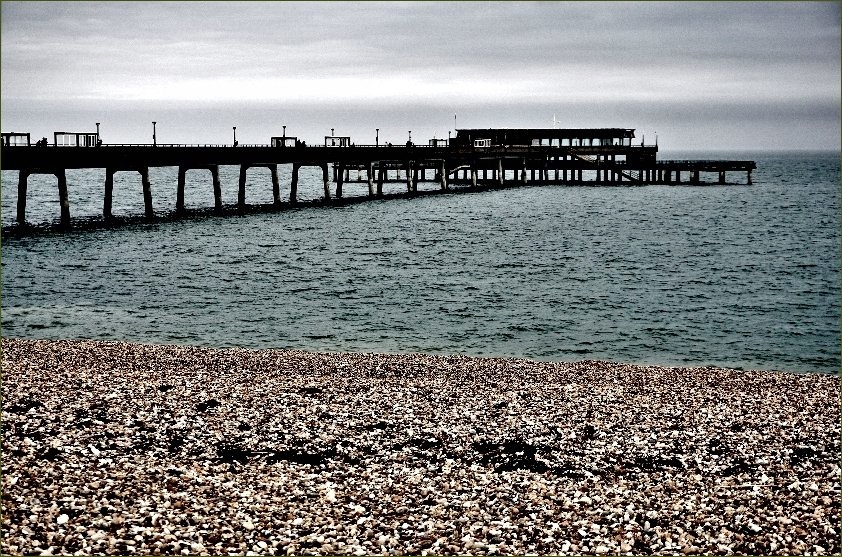 Work to Start on £500,000 Revamp of Deal's Diamond Pier
___________________________________________________
The £500,000 refurbishment of Deal Pier is due to start on 16 April following the award of a contract to resurface the entire length of the pier which celebrated its Diamond anniversary in November 2017.
Kent-based contractor, HTR Building Services Ltd, won a competitive tender to lay a new asphalt surface to the pedestrian pier in the first stage of a programme of refurbishment works that will also include new seating.
Gary Judd, Managing Director of HTR Building Services, said: "Having worked on the resurfacing of Southend Pier, at 2.16km the longest pleasure pier in the world, it's exciting to be involved with a shorter but nonetheless great pier in Deal."
The resurfacing of the 300 metre long pier is expected to take five to six weeks to complete, depending on the weather conditions. The pier will remain open throughout the refurbishment although fishing will be restricted to the lower deck during the resurfacing.
Dover District Council has also appointed Fleurets, a leisure property specialist, to market potential opportunities for the new long-term lease of the café at the end of the pier.
Cllr Trevor Bartlett, Portfolio Holder for Corporate Assets, said:
"Deal Pier is the jewel in the crown of Deal Seafront and we are delighted to be investing to upgrade this popular public amenity to make it fit for the next 60 years.
"We're also pleased to be working with Fleurets to help us deliver a new offer for the café at the end of the Pier."
ENDS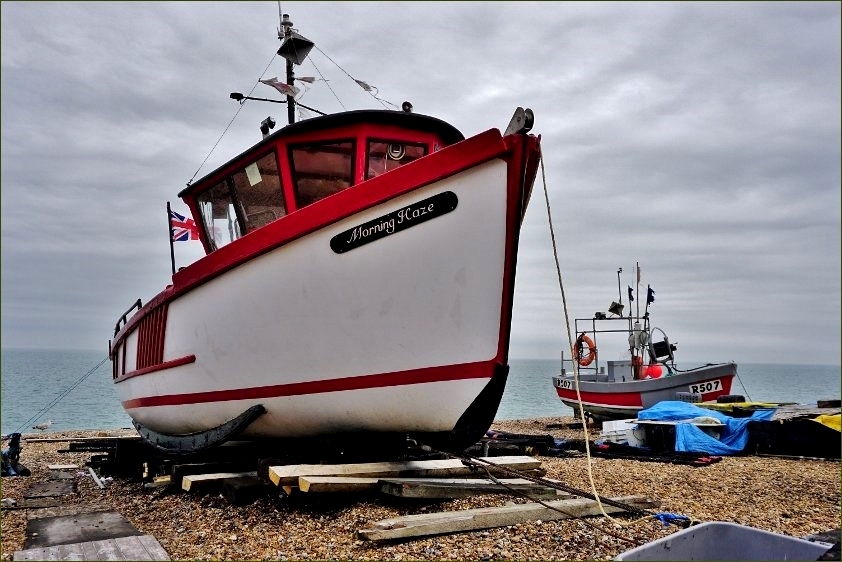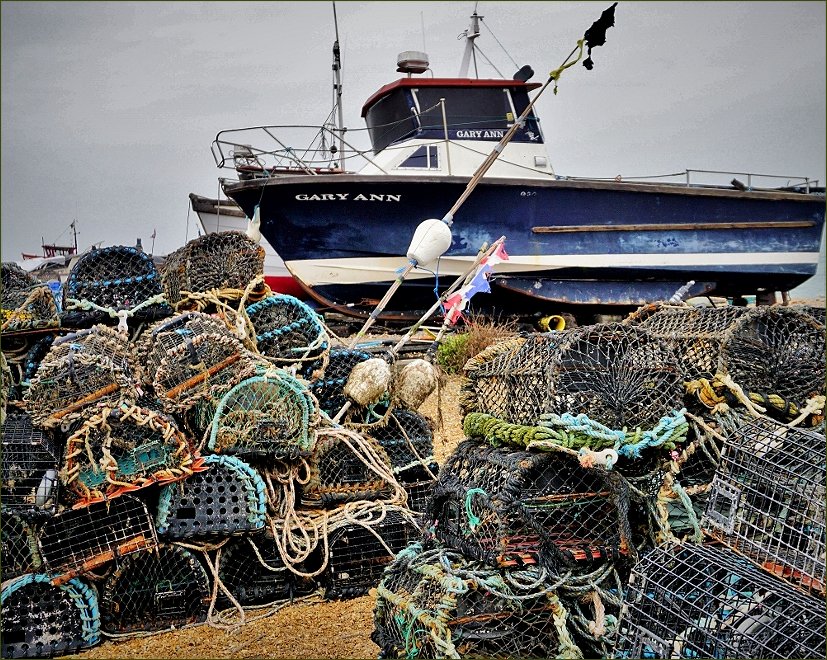 All pictures were taken last sunday. Top shot is of course Deal Pier, the second two pictures show the fishing boats resting on Deal Beach. Great to see that the boats are still there - long may it continue. Excellent too to see some money being spent on the pier...it all starts in a few days.
Great collection of shots of the naval guys over there at Ramsgate Sarah.
Nice pictures for sure from our 'roving correspondent' there.

And nice collection too from our 'inshore correspondent' Mike. Nice cocktail cabinets...

!

" She keeps Moet & Chandon in a pretty cabinet "

PaulB
Thursday, 12 April 2018 - 07:24
Post 4815
Mike J., Dover
A murky Wednesday morning found two floating cocktail cabinets, sorry, 'Sunseeker' luxury motor yachts, lying in the Tidal Basin, probably overnighting on a delivery trip from the builders at Poole.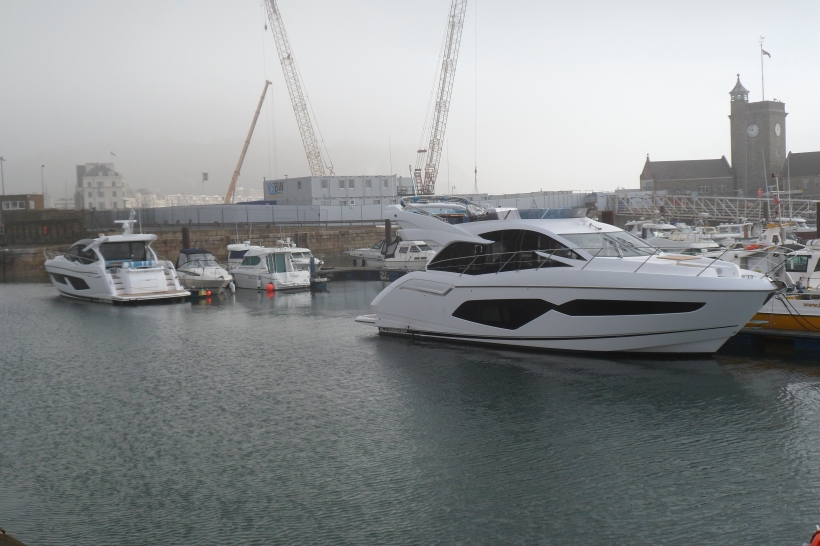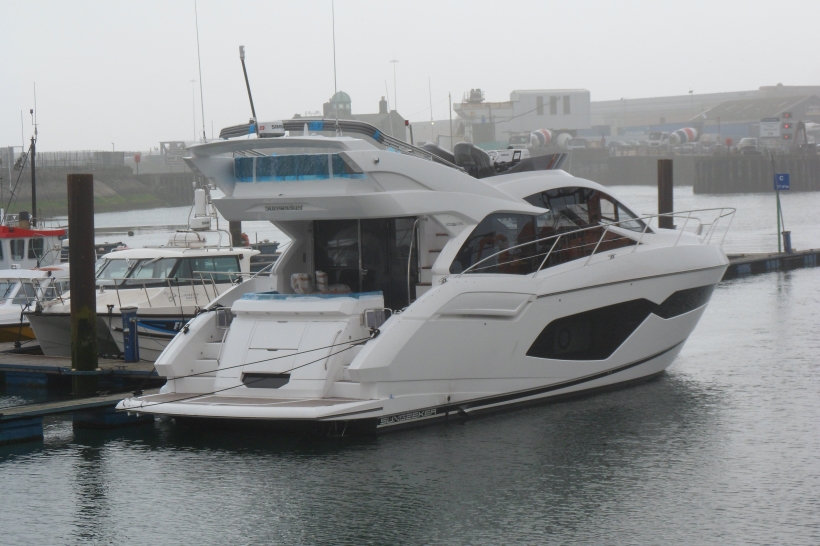 The oyster dredger CARDIUM 2 [post 4802] has moved into the Granville Dock & will presumably be in Dover for a while.
In the background is Channel House, P&O's headquarters, often referred to as the 'Wedding Cake' & at times used as a steering 'mark' for the ferries as they approach the Eastern Entrance when the ship is being steered by a quartermaster rather than by the auto-pilot.
Wednesday, 11 April 2018 - 21:41
Post 4814
Sarah, Ramsgate
The Royal Navy did a stop over on 9th April, we had a small fleet in the harbour. Photos below of the fleet leaving Ramsgate on 10th April in the early morning mist.
HMS Smiter, P272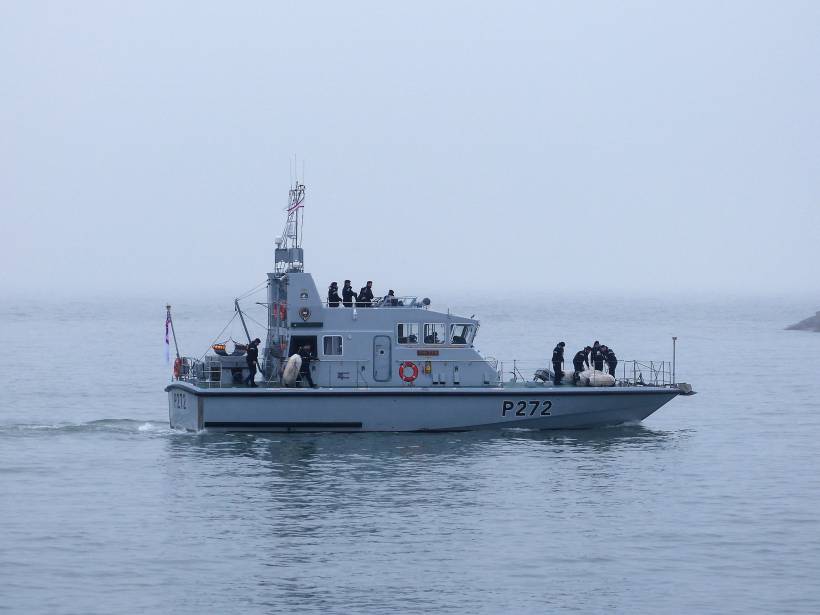 HMS Trumpeter, P294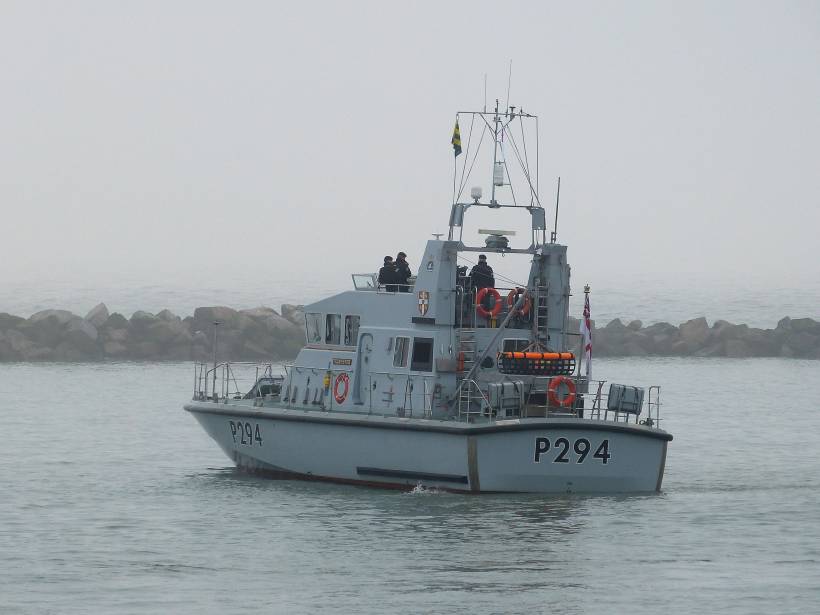 HMS Ranger, P293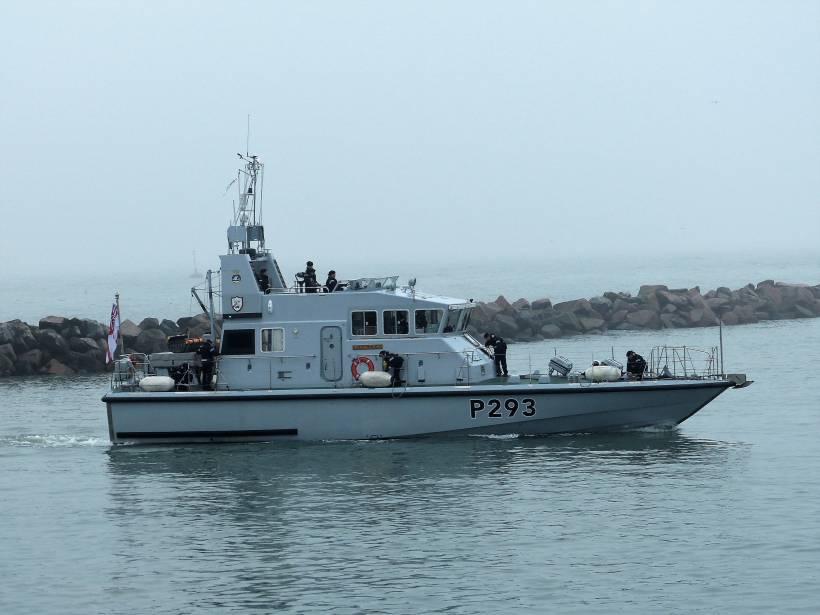 HMS Archer, P264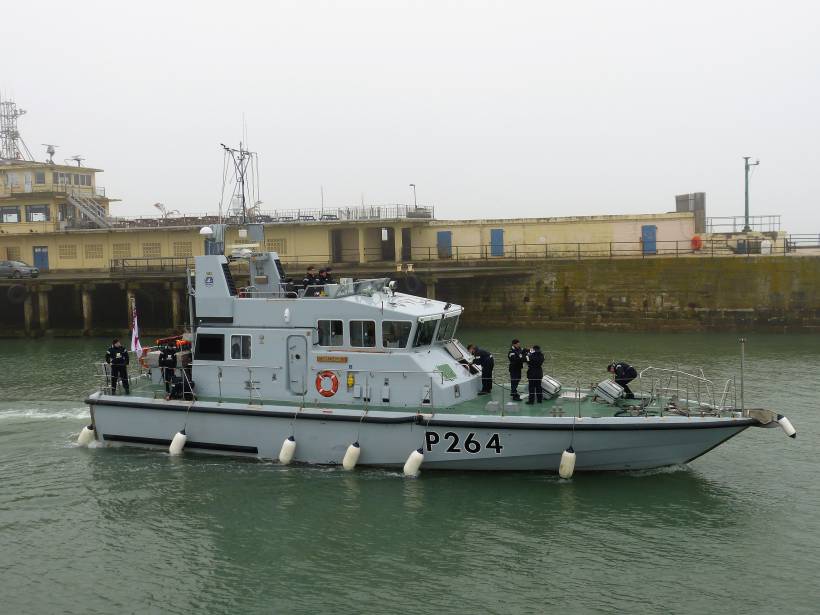 Wednesday, 11 April 2018 - 08:44
Post 4813
Sea News, Dover
THE ATLANTIC KLIPPER arriving at the PORT OF DOVER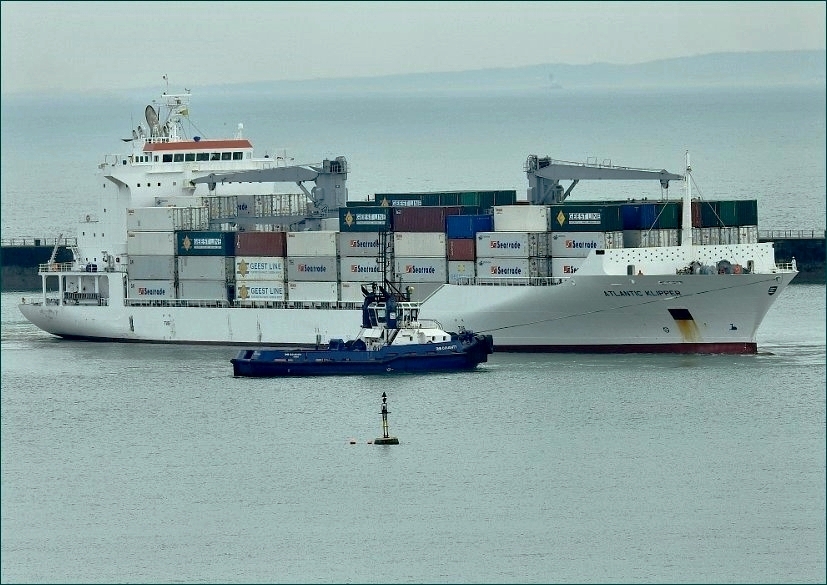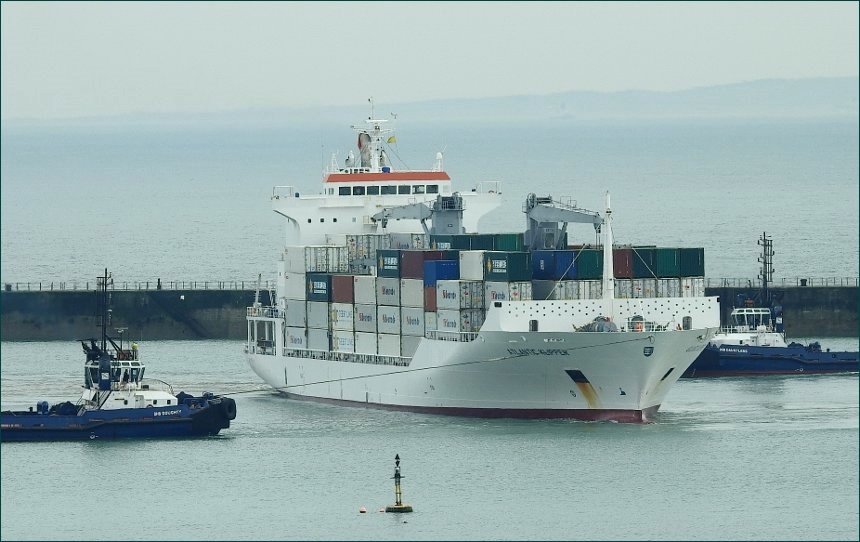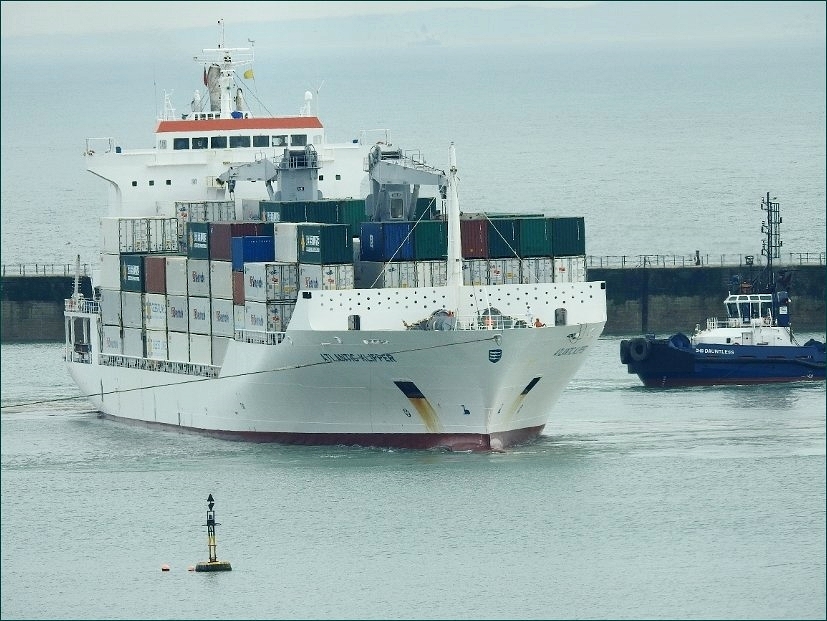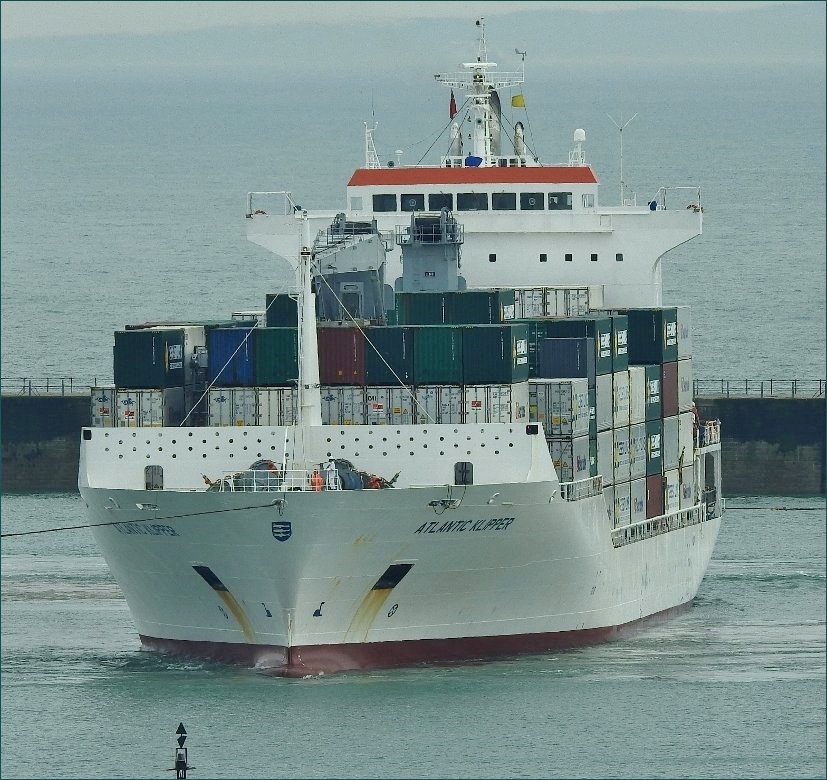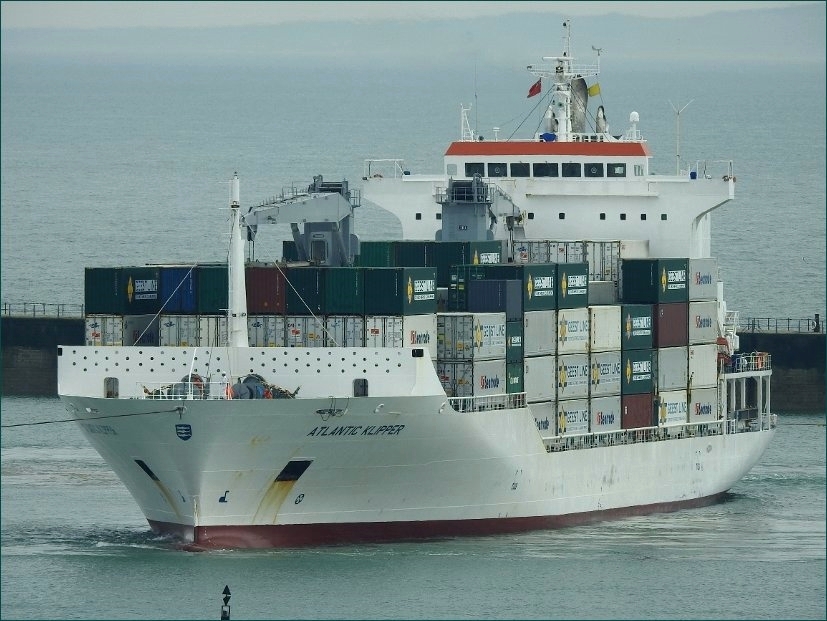 Yes as promised there we are above with pictures of the Geest chartered Atlantic Klipper arriving with us here once again. This time we were lucky enough to capture her arrival in the daylight hours. You can see the vessel slowly turning above there with the help of both tugs Dauntless and Doughty. She came at the weekend and left then after a couple of days for Vlissingen. Eastern Bay then came in...she in turn left last night about 8pm bound for Hamburg...twas a shorter stay in her case.
PaulB.
Wednesday, 11 April 2018 - 06:02