Thursday, 12 December 2019
Sea Pictures from Dover....
Dover Straits: The Early Bird catches the Sun.... a tad earlier below... the sun rises over Cap Gris Nez France.
Both pictures taken on December 10th.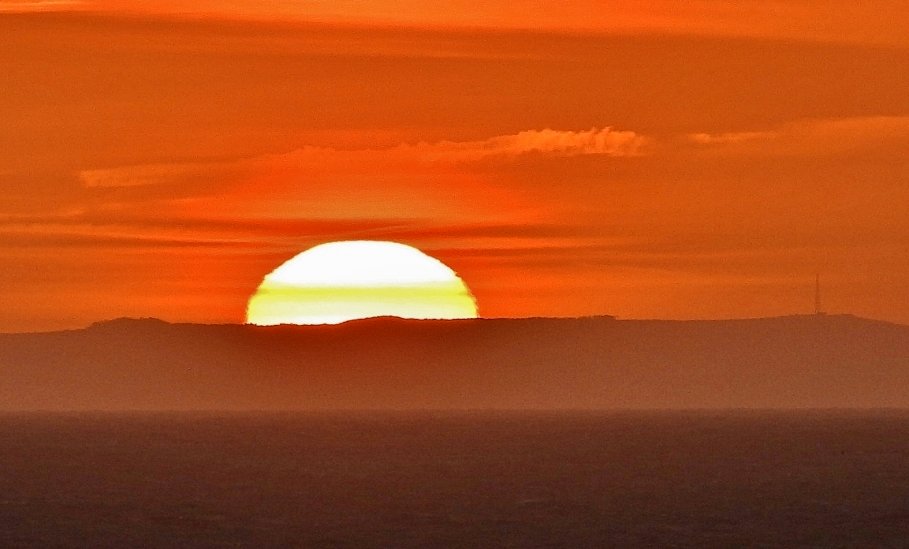 WWW.DOVERFORUM.COM/SEA-NEWS
Featuring all the ships that come and go and work at the Port of Dover ..
... with further coverage of the surrounding ports.
Sea News Dover
Port of Dover: New CARGO TERMINAL opens for business see 6688....
Christmas Spectacular at the Port 6648... Port Fundraise Record 6659.
MP Charlie Elphicke moving aside for wife..see 6646.
P&O: St Richards School trip to Calais for 6 year olds see 6630. New Apprentices 6662. AWARD SUCCESS 6681.
DFDS: Contract Cancelled see 6626. New Apprenticeships 6650. WORLD'S BEST see 6676.
Use our SEARCH ENGINE below to find all sorts on the SEA NEWS pages....type in the topic and away you go, or if you have the post number, just type it in the box, more than
- 6600 -
nautical posts now. Posts are welcome. just click 'Add Your Comment' below. Max of 5 pictures preferred although we can stretch that for special stories.. Sea News Editor Paul Boland - send info or pix to dover7@msn.com. Always welcome.
UPDATE:
To show your pictures at their best..it could be worthwhile resizing before posting to
850
pixels wide.
All pictures on these pages are the copyright of the owners and must not be reproduced without permission.
Post 6593
Sea News, Dover

Leading ferry operator DFDS reports rise in pets travelling
_____________________________________________________
The thought of leaving a distraught pet in kennels is leading to increasing numbers of holiday-makers deciding to take their four legged family members with them. Travellers are finding it less stressful than they expected to get their dogs a pet passport. Leaving kennels with the sound of a pet whimpering – or worse howling 'don't leave me' – as you drive away, possibly in tears, isn't the perfect way to start a holiday.
Ferry company, DFDS reports an increased number of canine travellers - 364 more pets carried per month (on average) from 2017 to 2018. In 2017 DFDS carried 3,539 per month on average, which increased to 3,903 in 2018.
Numbers have more than doubled on their Amsterdam-Newcastle crossing since 2017 (from 701 to 1631 per year). On the Copenhagen-Oslo route numbers went up from 106 to 378 from 2017-2018 and stands at 270 so far for 2019.
Vets, travel companies and other travellers are reassuring pet owners that the Pet Travel Scheme works efficiently. You do have to plan ahead because under current scheme guidelines the last rabies vaccination must be more than 21 days from the travel date but kennels expect vaccinations to be completed 14 days before so a seasoned traveller will be used to meeting these health check criteria.
Jeremy Stattersfield from Burnham House Veterinary Surgery in Dover trains the DFDS onboard team on pet first aid for the company. He said: 'DFDS has done a wonderful job and is very pet friendly. We have helped to train the onboard staff in pet first aid so they know what to look for if a dog isn't well while on the crossing. It makes a big difference if a situation arises, staff have the knowledge to help owners who may not know what to do, and that knowledge can help to save a dog's life.'
The Burnham House Veterinary Surgery has noticed a steady growth in applications for pet passports, although uncertainty over what will happen after Brexit is having an impact this year. Mr Stattersfield advises pet owners should plan well in advance so that their travel plans will go as smoothly as possible and it is important to liaise with your vet at least 4 months beforehand, as they will be up to date with the current DEFRA guidelines regarding Brexit.
To travel in Europe the pet must be:
microchipped (which must take place before or at the same time as the rabies vaccination)
have a pet passport
vaccinated against rabies
Jeremy Stattersfield advises owners to take the ferry early or late in the day during hot weather and remember to leave their car with windows open to provide good ventilation. He added: 'If a pet is in a carrier avoid blocking ventilation slats with luggage and keep the animal in a well-ventilated part of the car. Most importantly remember – if you are heading to the bar leave your pet a drink too!'
The overall price for passport and rabies is around £100-£150 - all puppies are microchipped by law in UK. This compares to around £20 per day plus VAT for a large dog in UK kennels, or for dog hotel accommodation, the daily rate can rise to £40 daily.
Pet-friendly cabins or kennels on DFDS' Newcastle to Amsterdam route cost £30 per pet each way and it's the same price to leave your pet in the car for the journey, but not recommended. On the Dover-Calais route pets have to remain in cars and its £15 per pet each way. On the Newhaven-Dieppe route pets have to remain in vehicles and its £18 per pet each way.
Ray Ferris, from Newcastle upon Tyne frequently travelled to Germany by ferry with his Bichon, Bibi, and said: 'Pet travel with DFDS is excellent. We never had any problem travelling with her, she was made very comfortable in our car and returning with her at Dunkirk was no problem at all.'
The emotional cost to dog and owner being apart, seems to be making the pet passport price one more and more pet lovers are happy to pay.
For more information please visit dfds.co.uk/pets
ENDS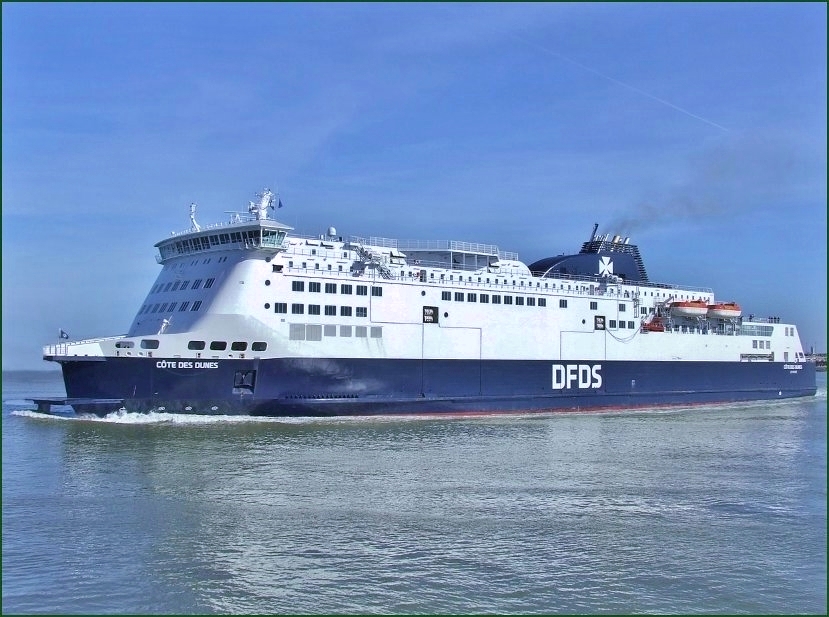 Cote des Dunes just off Calais.
* *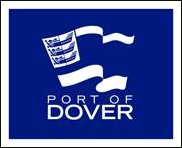 APPOINTMENT OF JANE SIMPSON TO DOVER HARBOUR BOARD
__________________________________________________________
Dover Harbour Board has appointed Jane Simpson as its newest Board Member.
Jane joins at a pivotal time for the Port of Dover with its £250 million investment in new infrastructure coming on stream to support a portfolio of growing businesses, including cruise and cargo, alongside the development of a 30-year master plan to deliver the ferry port of the future.
Chairman Richard Everitt CBE said: "I am delighted to welcome Jane Simpson to the Board. With her background in infrastructure and engineering alongside extensive experience in large capital programme delivery and asset management, Jane brings a strong skill set that will enhance the Board's governance during a period of major and ongoing investment."
Such skills have been developed through key appointments at Network Rail, where Jane was latterly Chief Engineer and interim Group Safety, Technical and Engineering Director, as well as more recently as Head of Capital Delivery for Severn Trent Water.
Jane Simpson said: "I am excited to join the Board of the Port of Dover at such a critical time. I have been greatly impressed with the commitment and vision to deliver an exemplary port for their customers and community, and I look forward to supporting their journey as the Port embarks on the next phase of its development."
Previously featured in the Telegraph's top 50 women in engineering and the Financial Times' 100 women to watch, Jane's position on the Board will also provide increased support to the Board's diversity agenda, the Port being a signatory to the Maritime UK Women in Maritime pledge to drive gender diversity throughout the organisation and wider industry.
ENDS
Many thanks to both DFDS and DHB for the information above....

* *
Havila Subsea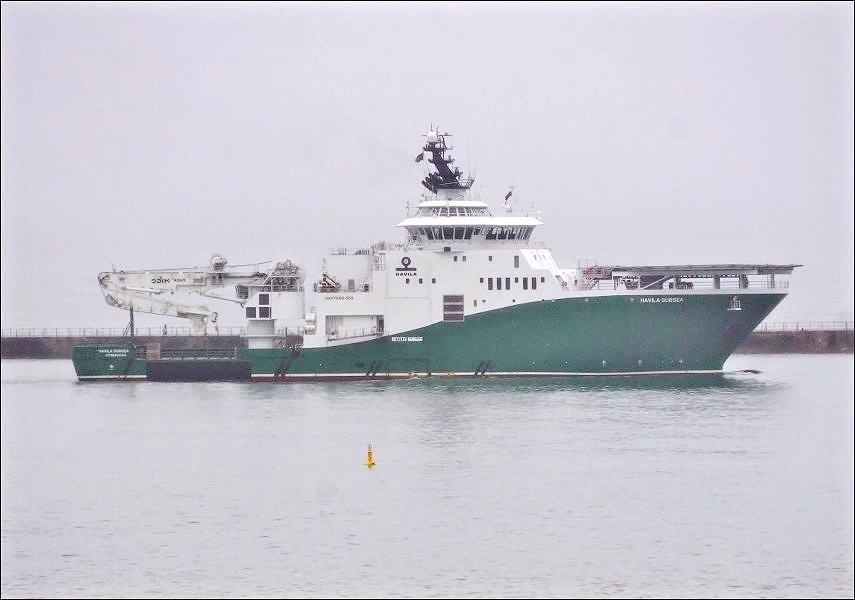 Havila Subsea arriving through the rain on Saturday morning...she stayed for a brief time and then was off out into the gloom once more..heading I believe to Ponta Delgada in Portugal. There is lots of technical info about her on Google, Bing etc. we have had other Havila vessels stopping off in Dover before...always great to see. Thanks to Mike once again for the heads up on this ones imminent arrival.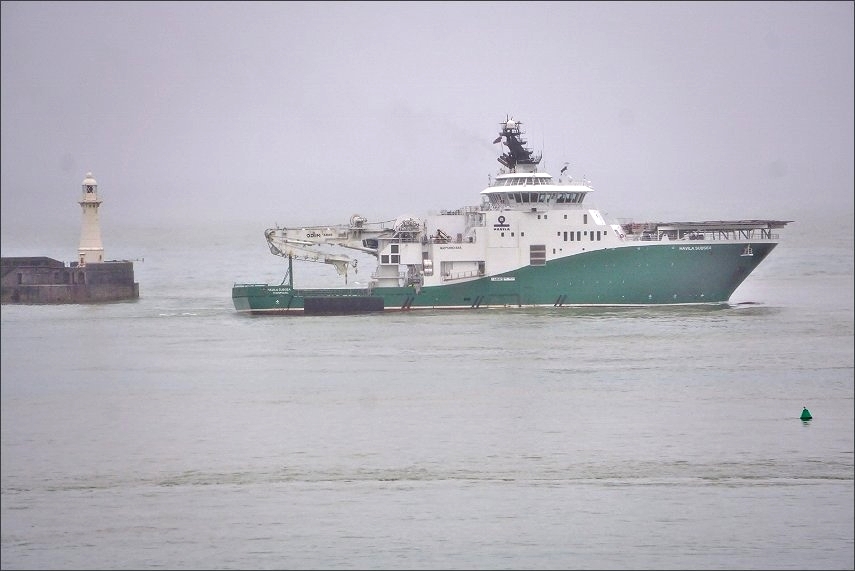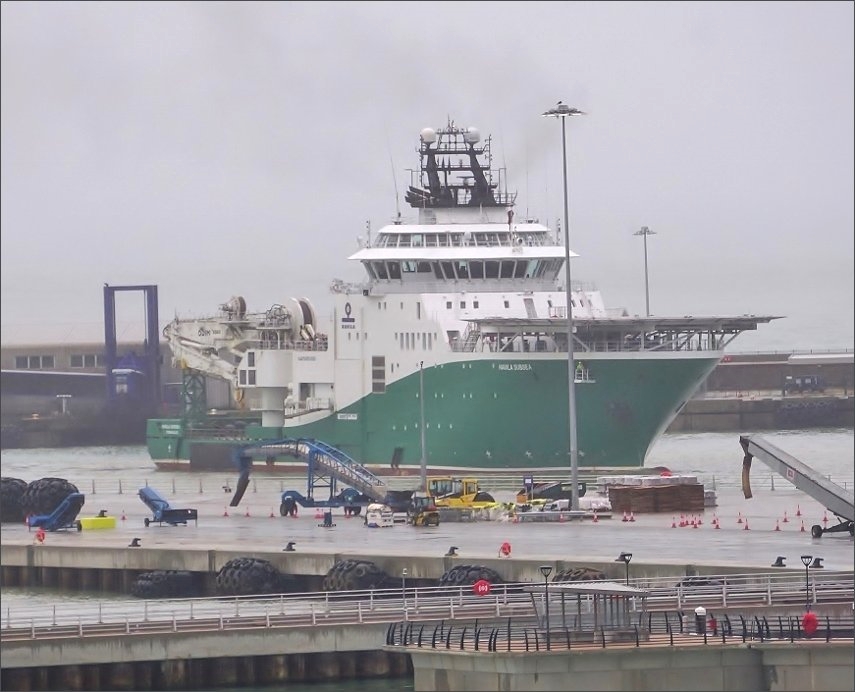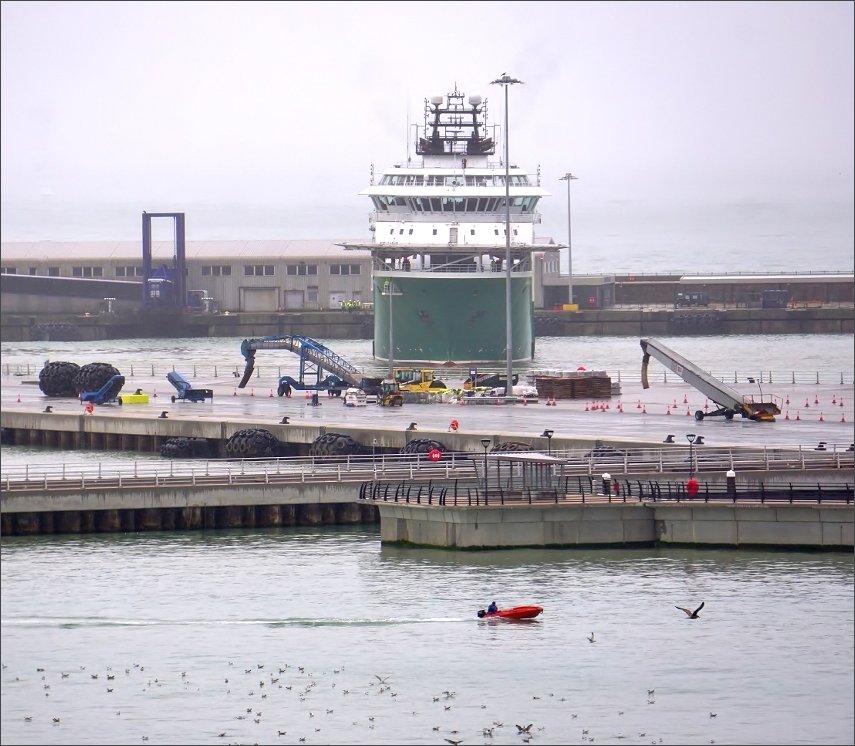 Will aim to have an 'airbrushed' version of the above in a day or two..trying something new...
Many thanks to all for the info below

PaulB

Monday, 14 October 2019 - 06:39
Post 6592
Patrick, Marine Parade
Mike - re #6588 - thank you for the additional information on the 'Olympic Challenger'

Sunday, 13 October 2019 - 17:45
Post 6591
Mike J., Dover
Nice 'busy' picture from Paul of DEEP HELDER & KLAIPEDA.

Mike -

Thanks for the confirmation re the ALERT's wreck buoys.
I was expecting them to have stripes, but on closer inspection they seem to be shrouded with canvas or something.

Sunday, 13 October 2019 - 17:23
Post 6590
Mike Waight, Wiltshire
Further to my post about the buoys. You are quite correct in assuming they may be wreck buoys. My apologies the old grey matter didn't work fast enough; the cross topmark can be used on wreck and DZ buoys.

Sunday, 13 October 2019 - 16:13
Post 6589
Mike Waight, Wiltshire (retmaster1@gmail.com)
Post 6572. The buoys on the aft deck of Alert are small DZ Buoys (Danger Zone) and are used for all sorts of things like marking race areas, works in port and at sea, army and RAF ranges, temporary prohibited zones, etc. Many DZ buoys at sea do not have topmarks so I'm guessing these are destined for sheltered waters.

Sunday, 13 October 2019 - 16:09
Post 6588
Mike Waight, Wiltshire (retmaster1@gmail.com)
Post 6586; vessel "Olympic Challenger". Given the equipment fit on her aft deck she is more than a supply vessel - more likely to be an offshore support vessel of some kind, probably multi-task capable. Perhaps, drill support, surveys, diving support, etc.

Sunday, 13 October 2019 - 16:00
Post 6587
Sea News, Dover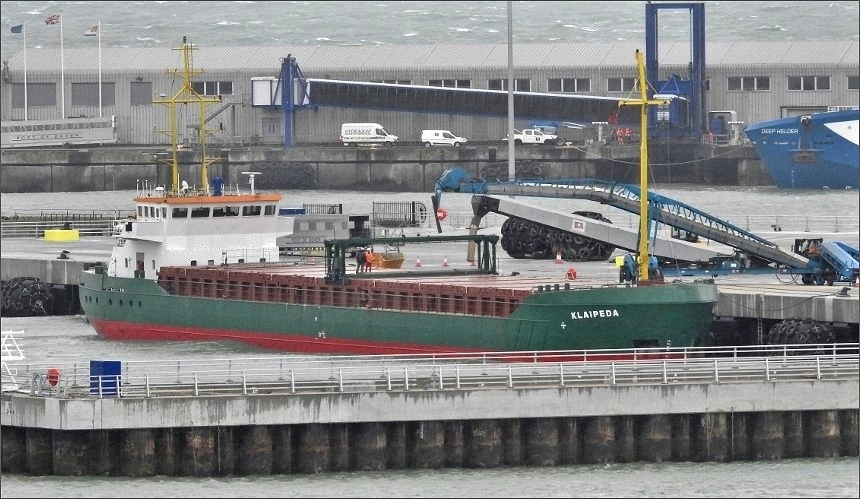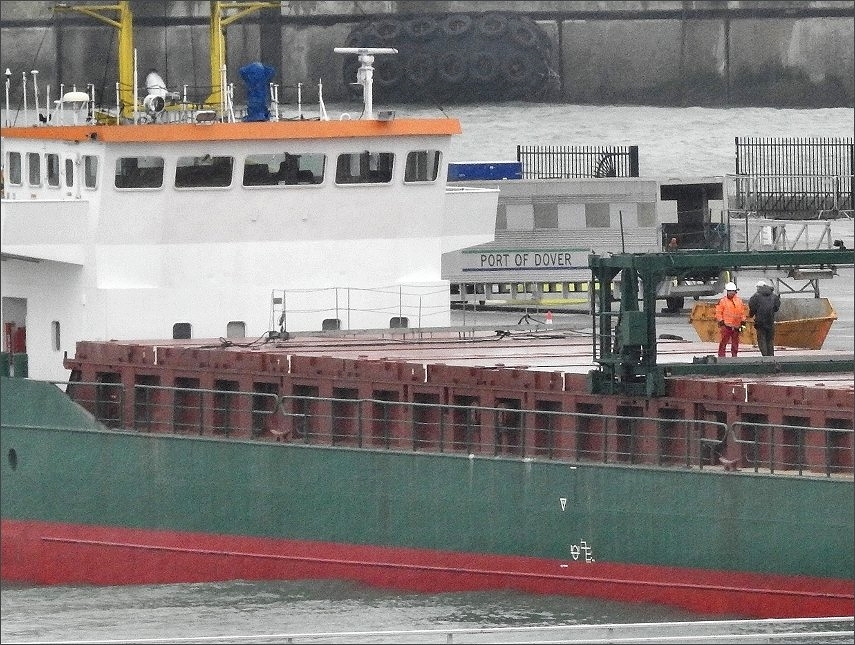 Two final pictures above there of Klaipeda...as she has now left us. She disappeared unseen, caught yours truly by surprise. There one minute..puff!! gone the next. Was hoping to get some shots of her departure. Looks like the guys in supervisory capacity are examining the full load above...before the off...
The Artania cruise ship was in with us yesterday...couldnt get a picture as the ships are almost hidden from this vantage point nowadays when at cruise terminal one...didn't used to be the case. But that's progress...
So had a stab at her leaving last night. But not only was it pitch dark but it was raining too... so no chance. Had a try below anyway, wasn't sure if it was worth putting this pic up as its not great.. but...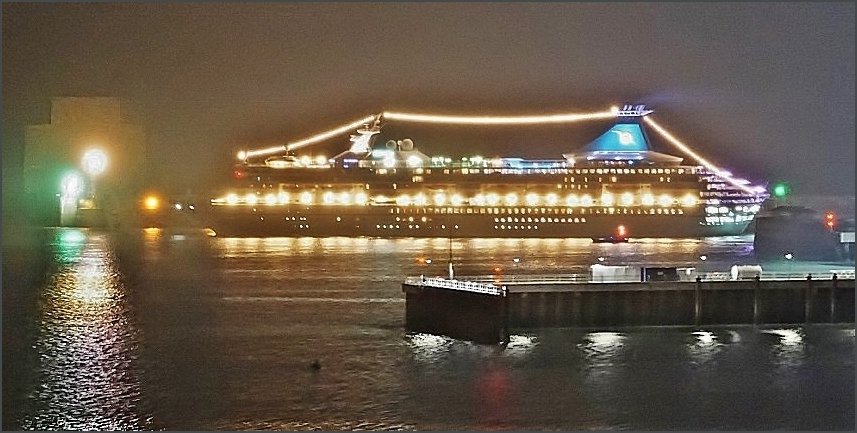 Mike tipped me off about the impressive Havila Subsea...she came in yesterday very briefly. Got some pictures, alas through the rain again...will do some work on those and get them up in the morning..two press releases also, various bits..
Nice catch-up pix below there Patrick, nice light on the Hebridean Sky..

PaulB
Sunday, 13 October 2019 - 08:11
Post 6586
Patrick, Marine Parade
Two recent visitors during rather overcast and choppy weather on 1 October.
Noble Caledonia's 'Hebridean Sky' departing Western Docks Cruise Terminal with attendant pilot launch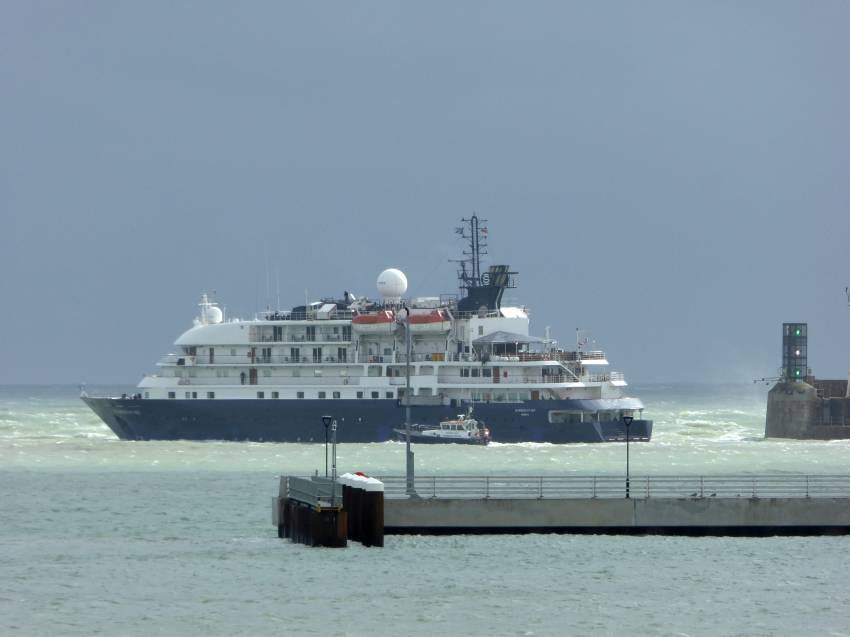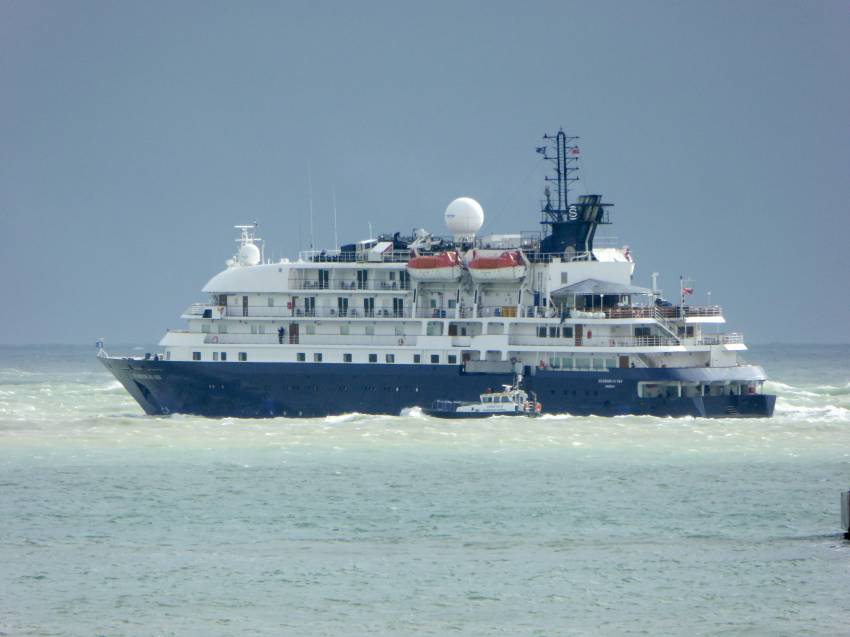 Offshore Supply Ship - 'Olympic Challenger'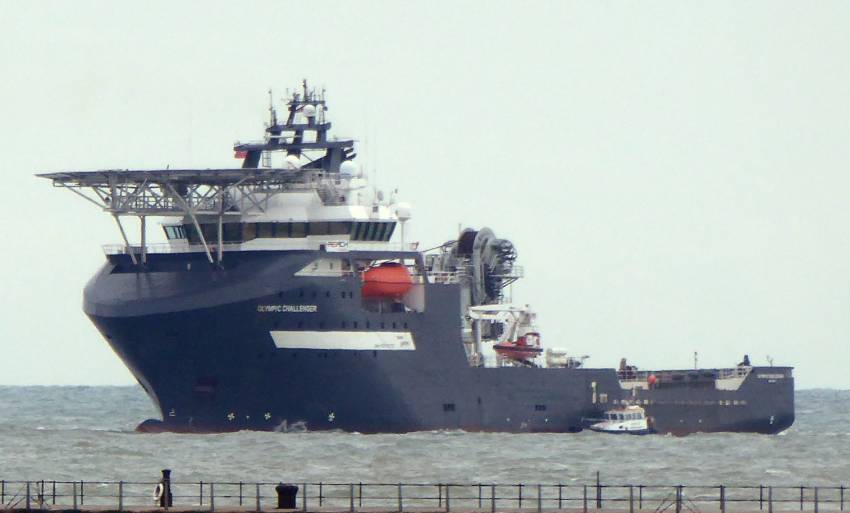 Saturday, 12 October 2019 - 12:43
Post 6585
Sea News, Dover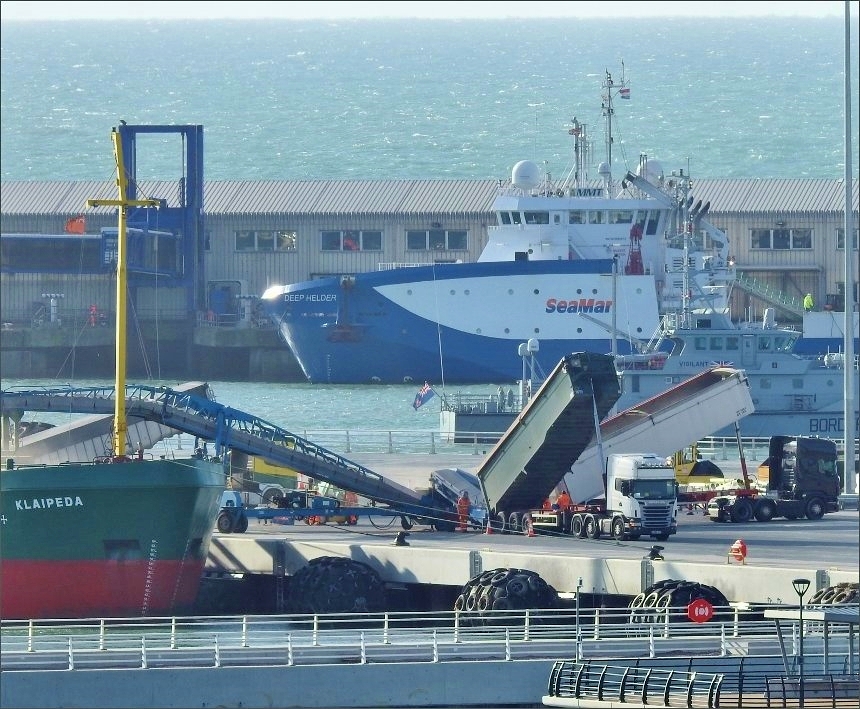 Extra Pic : Another grain loading pic to compliment the one currently showing at the top of page...this one taken a day later, conditions a tad hazier... you can see some of Klaipeda there (see earlier posts below), plus Border Force Vigilant and Deep Helder, a packed shot.
See also yours truly's earlier post today...just in below...
PaulB
Saturday, 12 October 2019 - 06:22
Post 6584
Sea News, Dover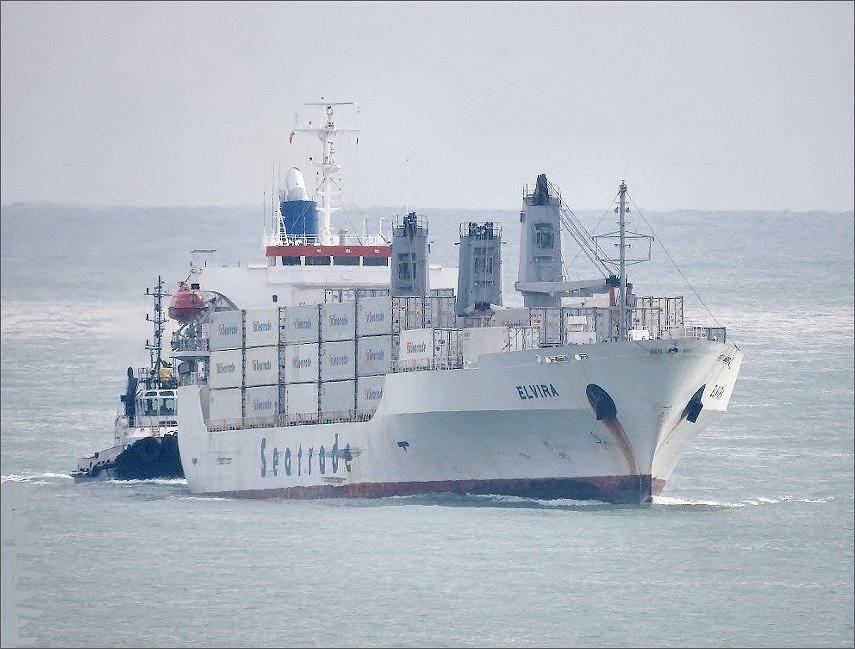 Fairly long range picture above of Elvira approaching the Port of Dover a few days ago....aided by the tug there. You will remember we could see her in the earlier post (see 6579) waiting outside Port for Lombok Strait to depart. Lombok did depart of course, heading for Bridgetown and in came Elvira more or less straight away...and here she is below just after arriving...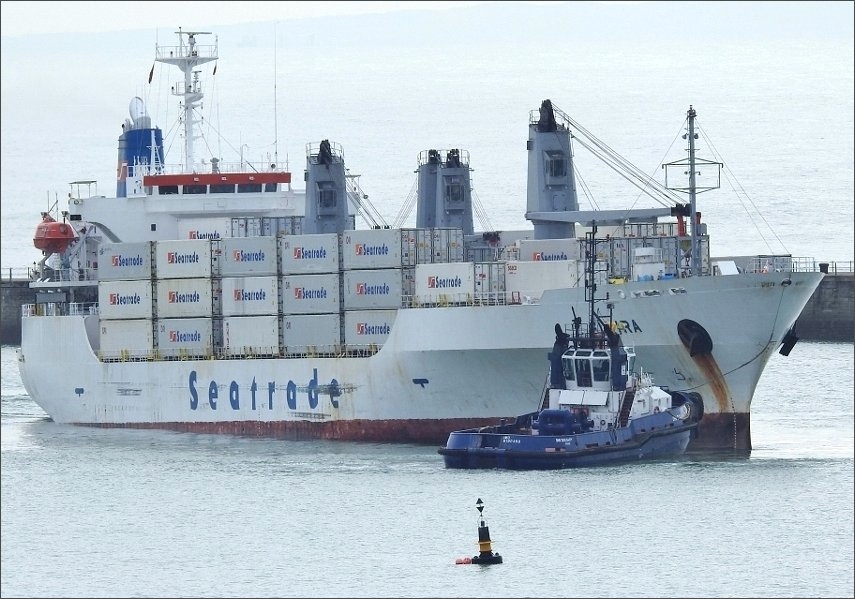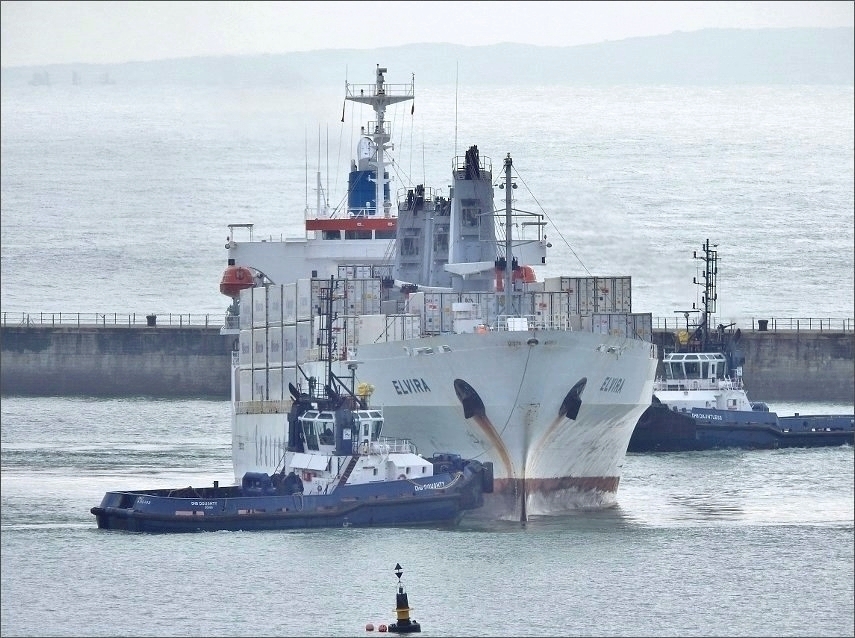 Elvira has since left again ... and now at the cargo terminal...Royal Klipper…
obviously we cant get pictures of them all...
they
will
come and go in the dead of night...Grrrr


PB
Saturday, 12 October 2019 - 06:09
Post 6583
Sea News, Dover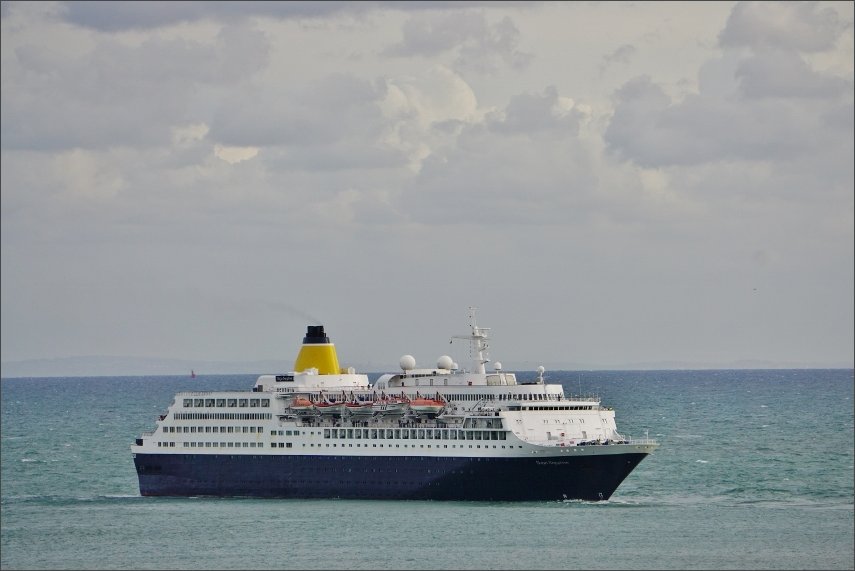 Saga Sapphire at Dover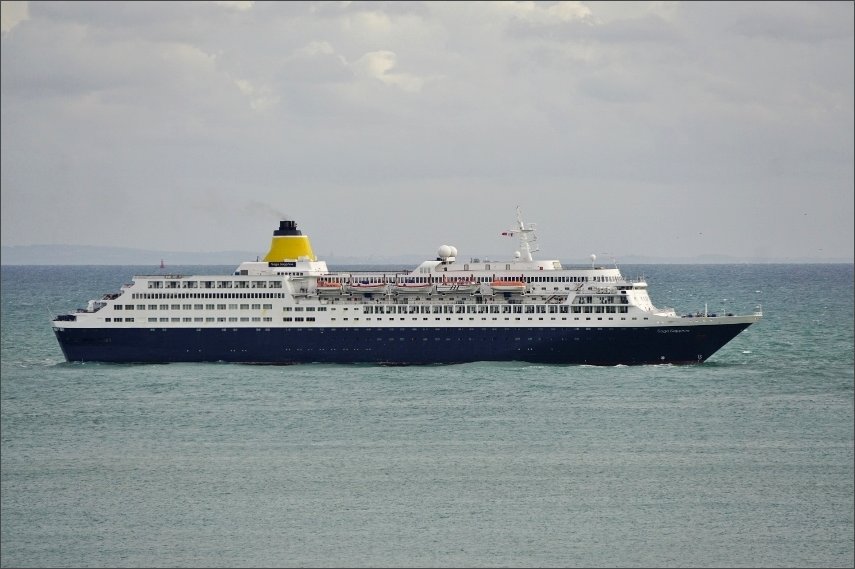 Top two pictures there show Saga Sapphire leaving us on Wednesday evening
...just readying outside the Port of Dover above there to head south to the warmer climes of the glorious Mediterranean. Her 14 day trip majoring on Spain... Barcelona, Valencia, La Coruna etc etc...very nice.
The general cargo vessel Aldebaran below...just caught her departing the same evening as Saga Sapphire, Wednesday, now presumably fully loaded with grain after her stay at WD5 - the new cargo terminal. I believe she was heading for Amsterdam. See also Mike's picture further below which shows her at WD5.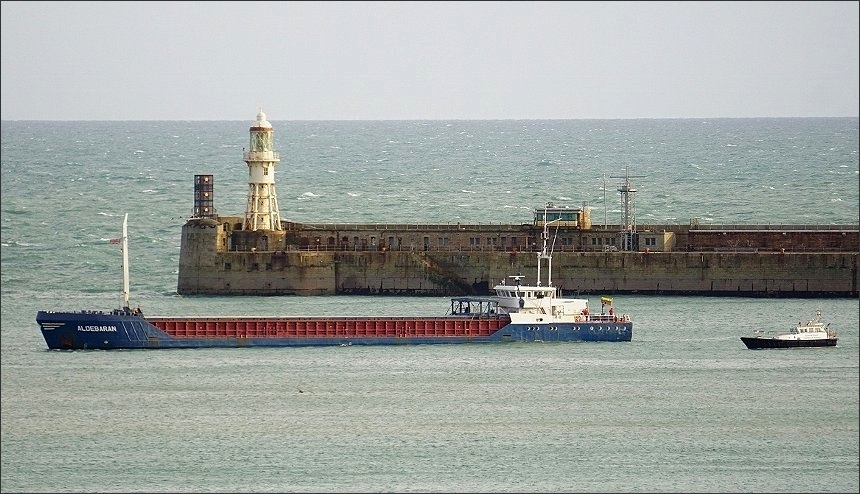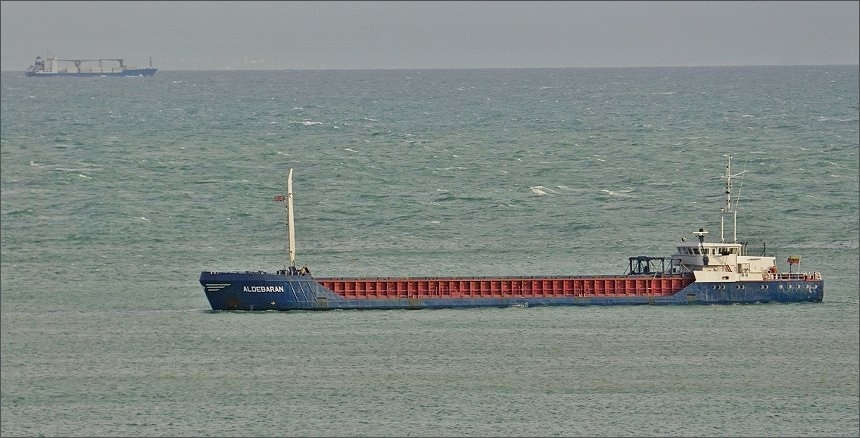 Following along from Mike's pix below of Klaipeda and yours trulys earlier couple...one more of her arrival.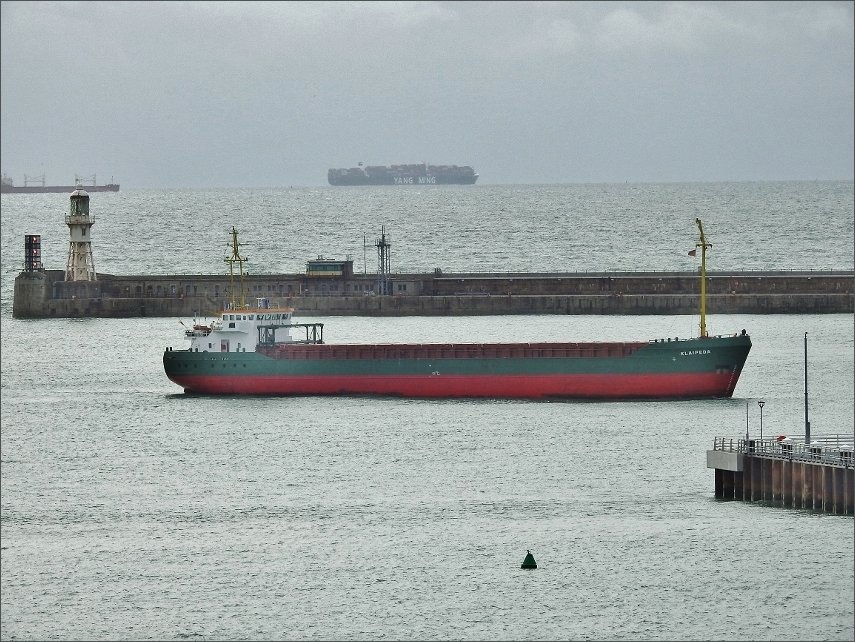 Nice enjoyable collection below from Mike...Great stuff there!

PaulB
Friday, 11 October 2019 - 06:09
Post 6582
Mike J., Dover
Ref Paul's post of the arriving KLAIPEDA - its a small world - I photted her in Goole in early September.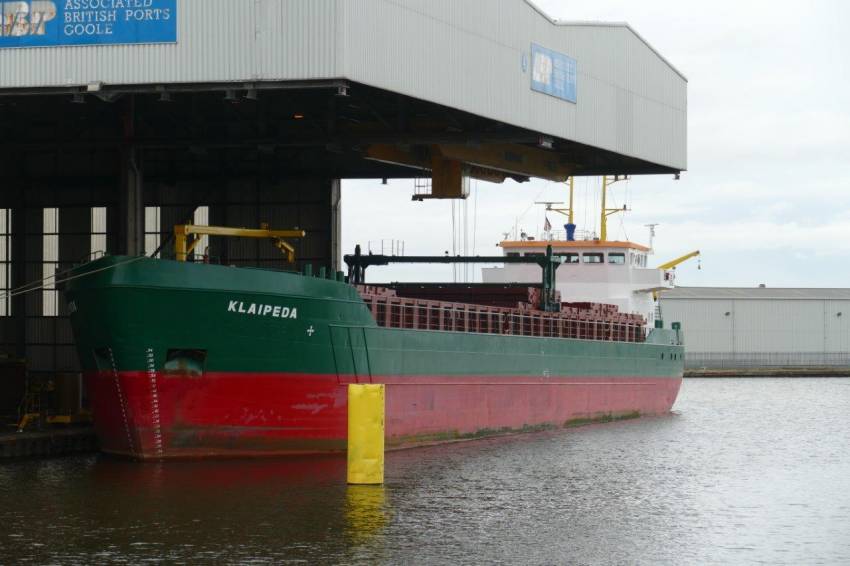 Its not often that you see a ship registered in the same port as her name, so you get identical names on the stern.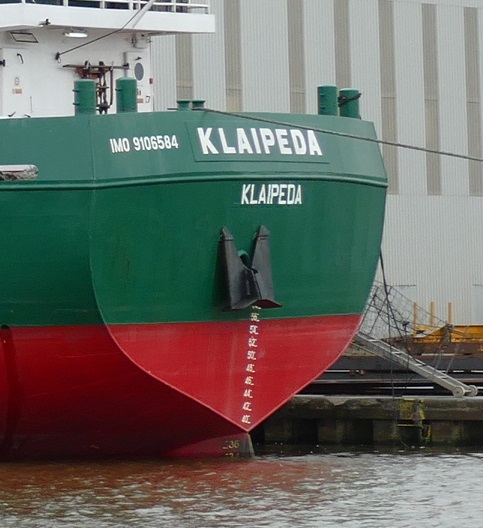 It was managed in Ramsgate when they had their own elderly dredger - the RAMSGATE was registered in Ramsgate.
I almost managed it when I was on the bulk carrier CARCHESTER who was registered in Manchester - the MAN being replaced by CAR, the beginning of the name of the long-term charterers CARGILLS.
A little activity in the new lock chamber on Tuesday with pontoons being installed.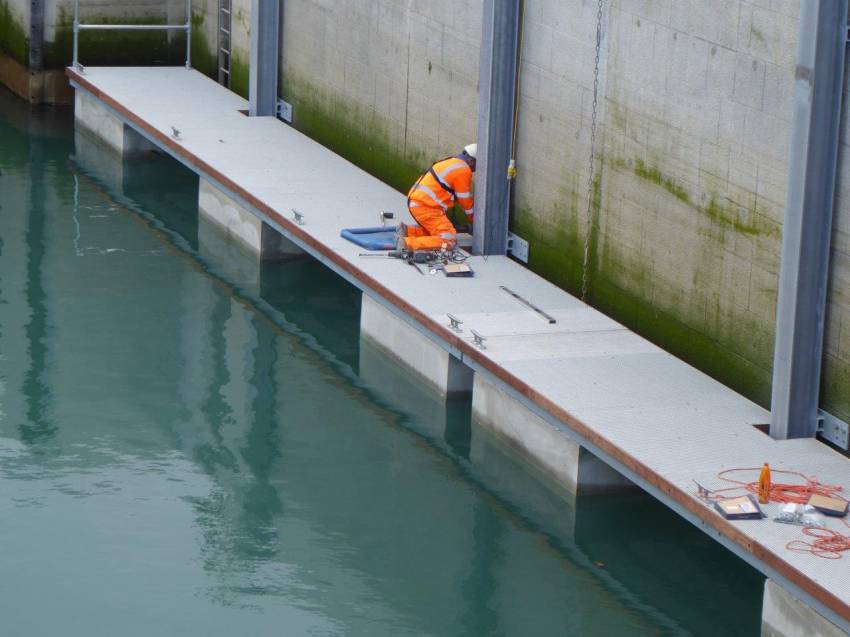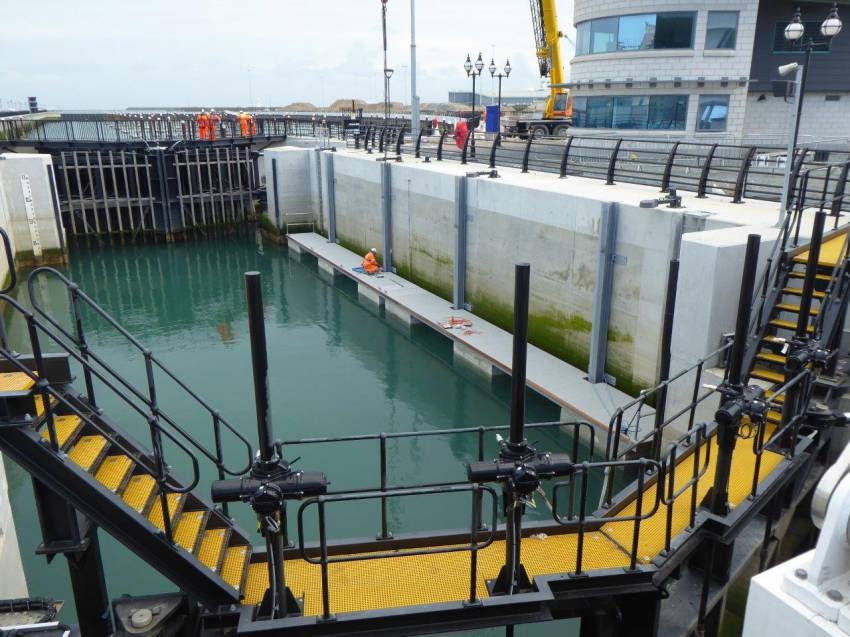 Rather a lot of 'supervisors' on the lock gate !
In the Wellington Dock on the same day was the elegant modern motor yacht LADY ANN, a pleasant change [for me anyway] from the over-bodied 'look at me' designs of 'Sunseekers' & the like.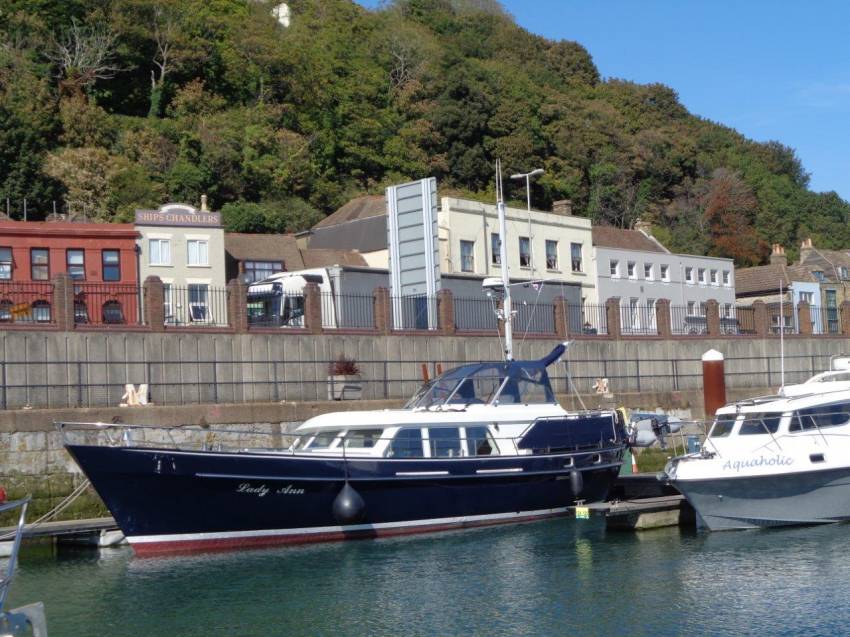 Friday, 11 October 2019 - 02:49
Post 6581
Sea News, Dover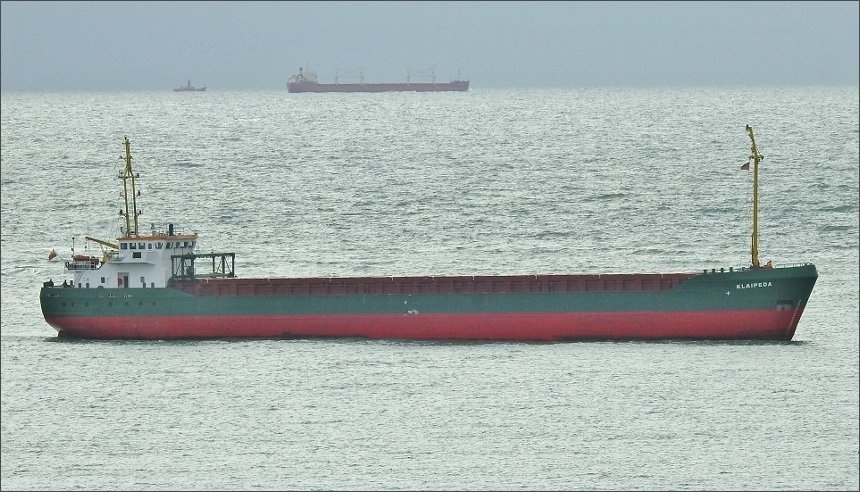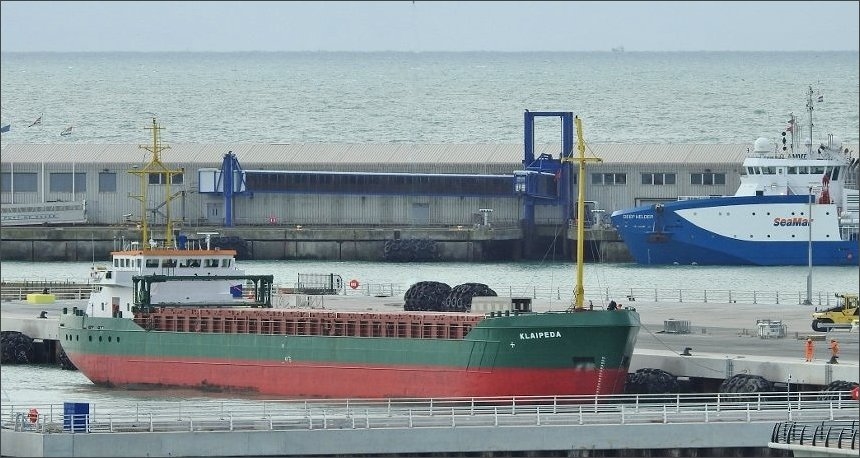 Klaipeda : In the previous post below Mike speaks of the arrival of the next grain ship Klaipeda at WD4. Life is getting very exciting at WD4 the new pier/berth. Well there she is above.. coming towards the pier at 10 am yesterday...first shot above actually 09:55. She is still there as I write too so the show goes on... in pic 2 you can just see Deep Helder in the background there...
Just to catch up now with some more arrival pictures from the past few days. Taken in very early morning light under mostly gloomy skies...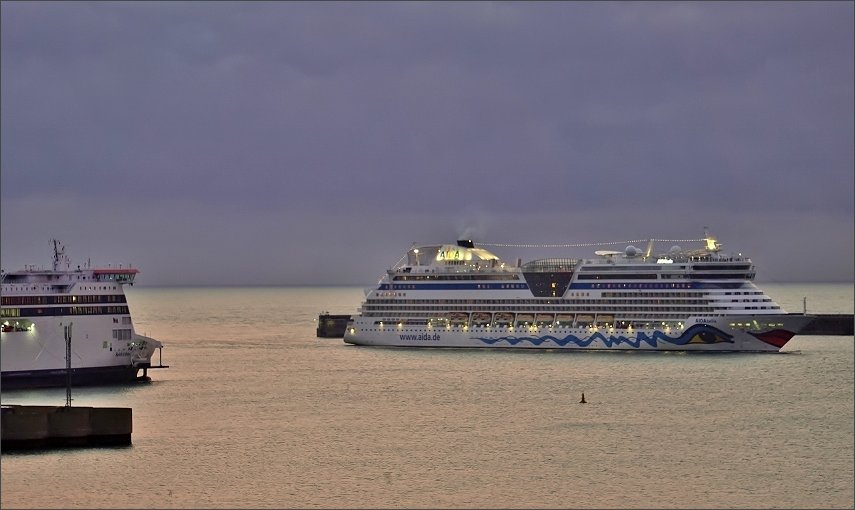 AIDAbella on Monday earlier this week above
and Rotterdam arriving the next day Tuesday below.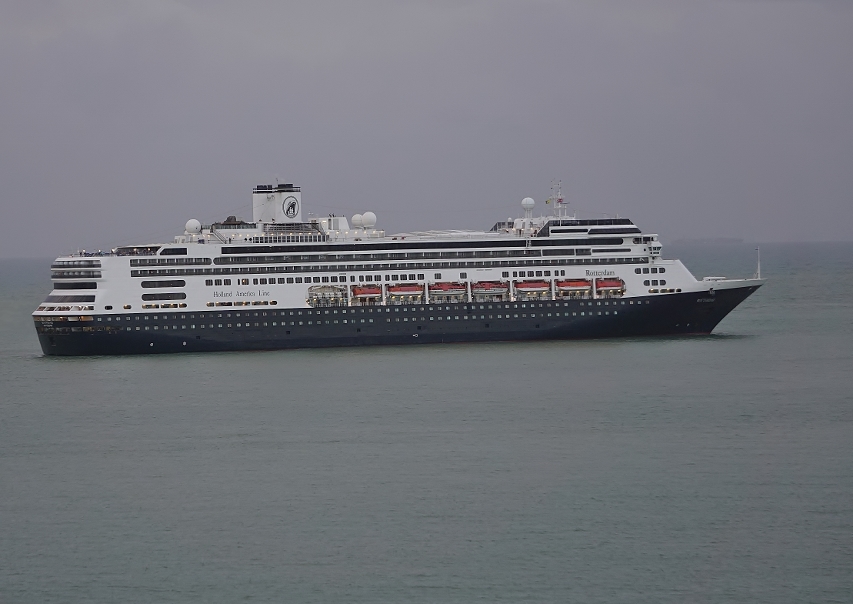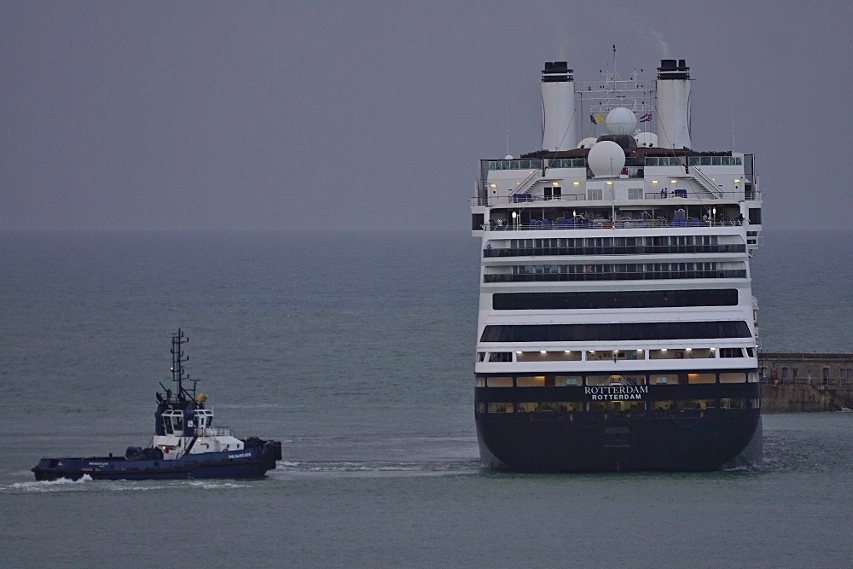 Great info and enjoyable pix from Mike below...don't miss those...

PaulB
Thursday, 10 October 2019 - 07:35
Post 6580
Mike J., Dover
Wednesday & the ALDEBARAN sailed from WD5 about 1730 for Rotterdam on completion of loading her grain cargo.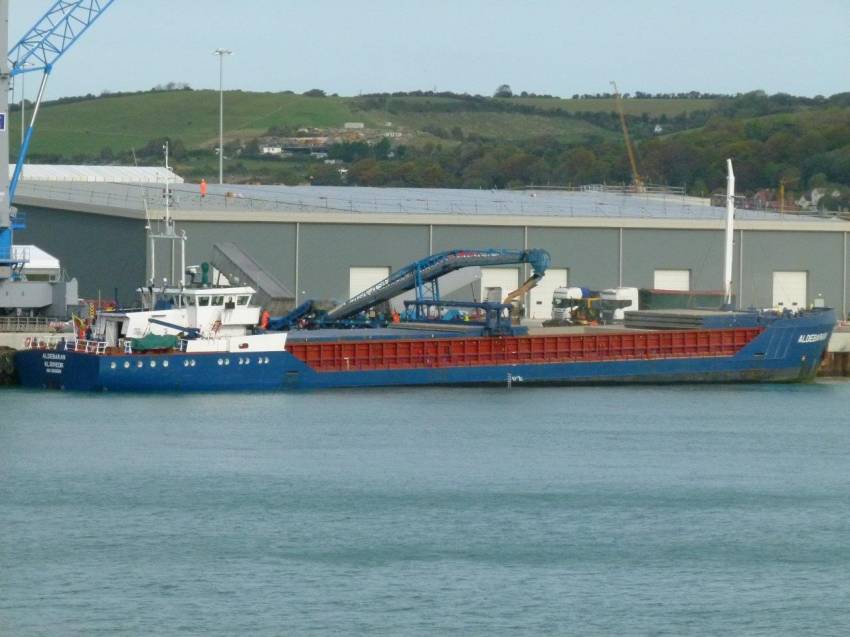 An hour earlier the SAGA SAPPHIRE had sailed for Ceuta,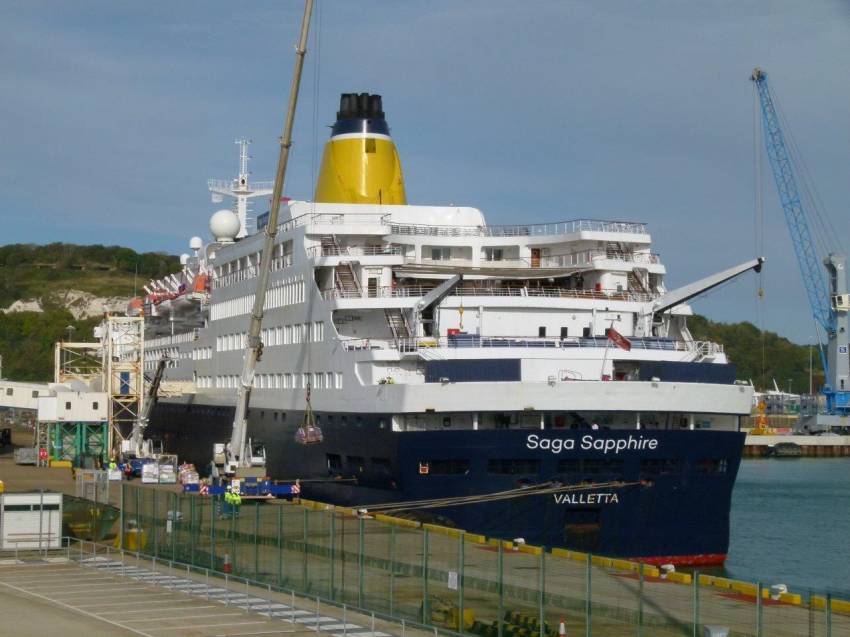 DEEP HELDER was on Cruise-2 all day, loading equipment & stores & was still alongside early Thursday.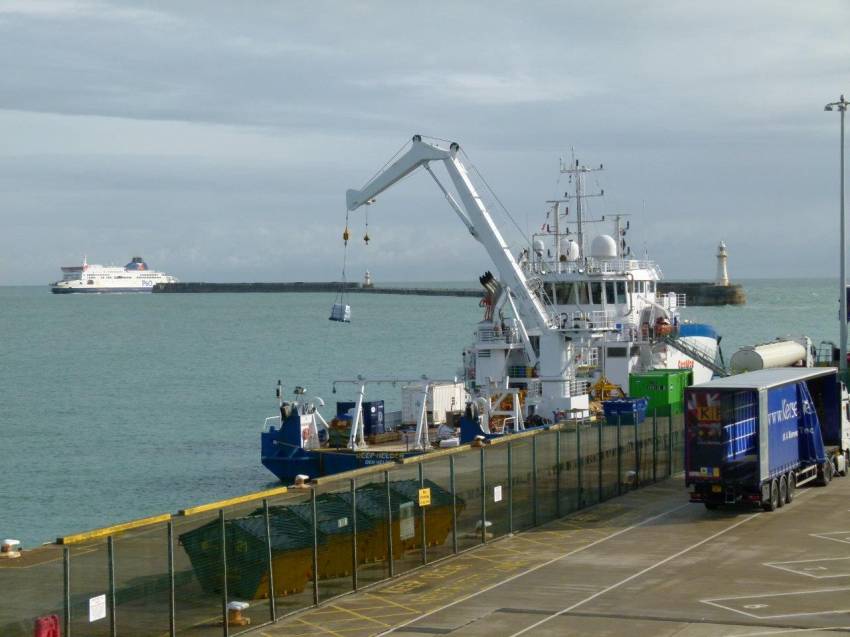 As I walked up the Admiralty Pier I was surprised to see the next grain ship, the Lithuanian KLAIPEDA already alongside WD4 & almost invisible behind the reclaim.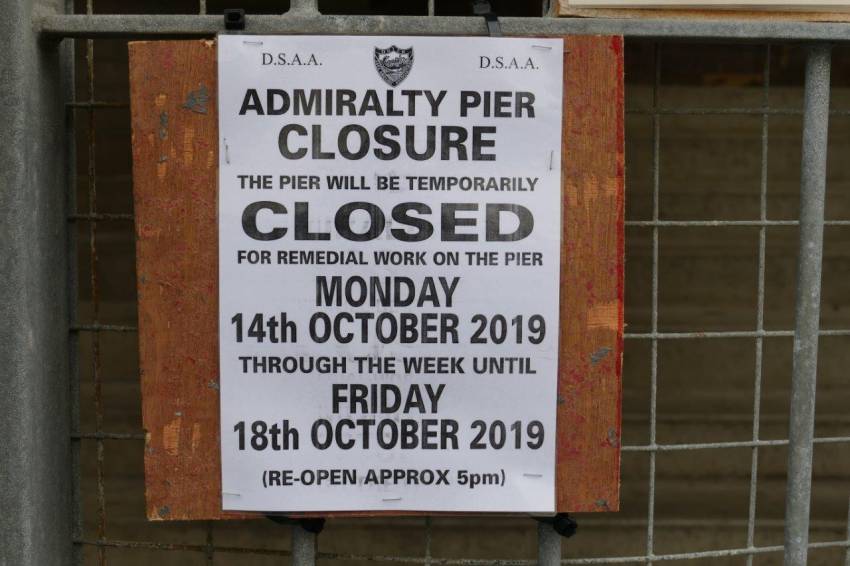 The Admiralty Pier will be closing on Monday & on completion access arrangements for anglers & walkers will change & the initial walk will will be a little less interesting.
It'll be necessary to go down a new set of steps to the lower level of the pier & then along a fenced path before gaining access to the upper level of the pier.
I understand that this change is due to work needed at the landward end of the upper walkway, but it is very good that DHB are investing in the Admiralty Pier for the benefit of the public.
Thursday, 10 October 2019 - 02:29
Post 6579
Sea News, Dover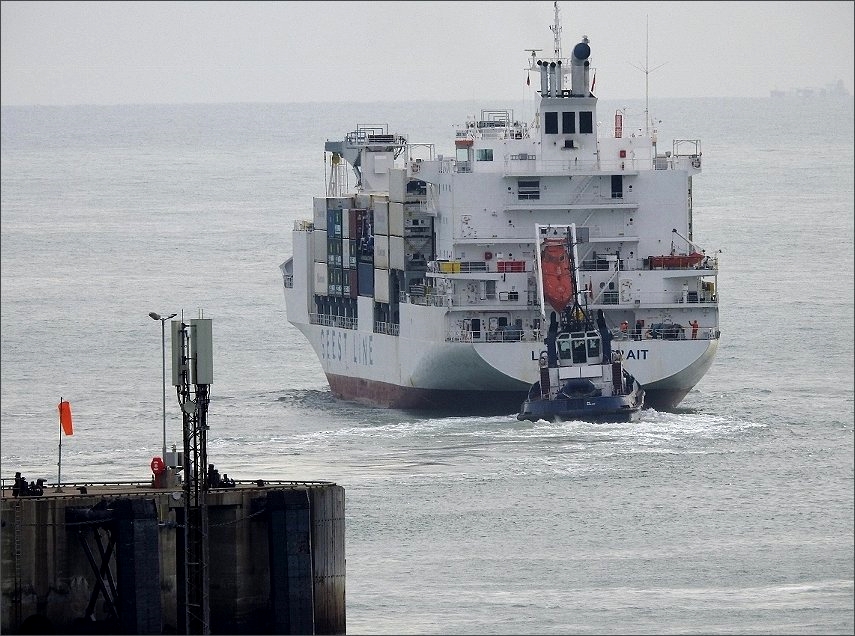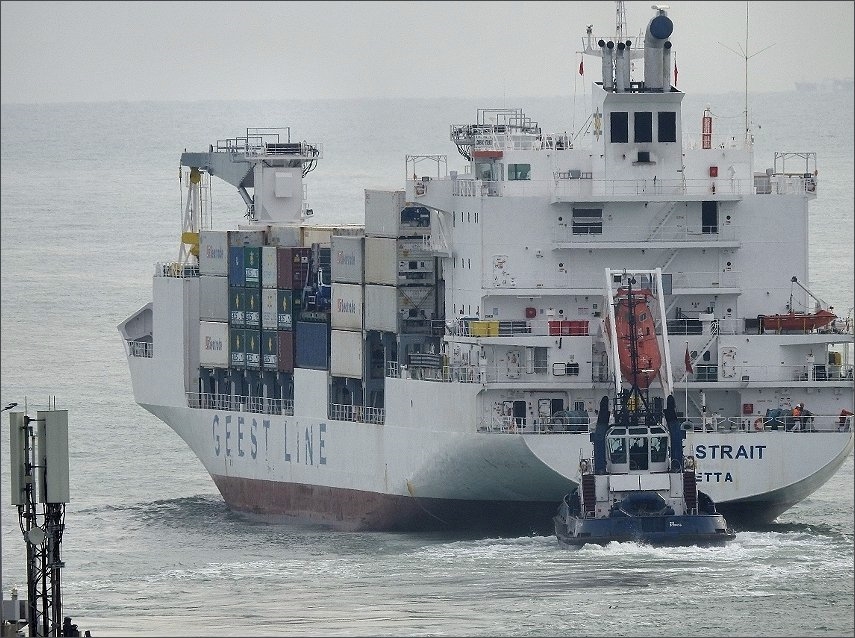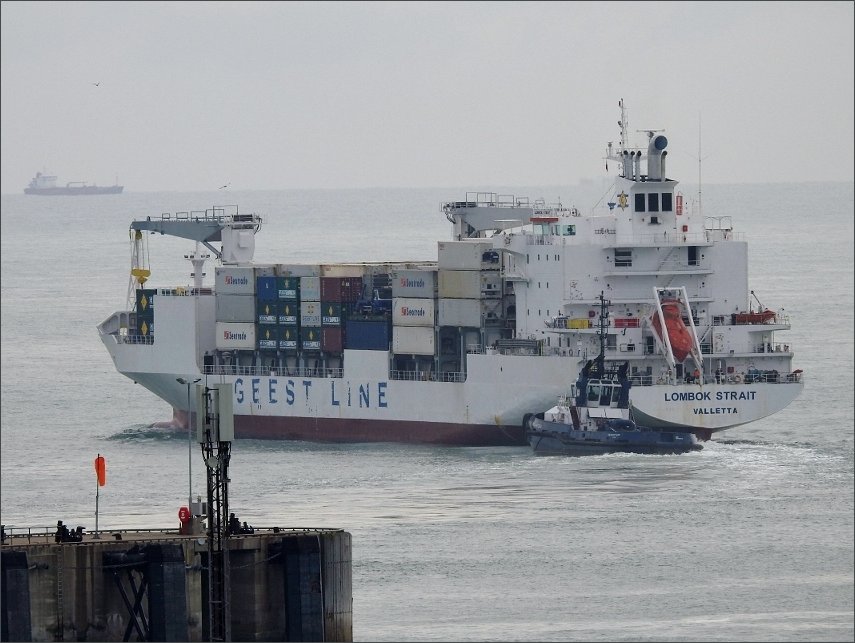 Lombok Strait : Some pictures above there of reefer Lombok Strait moving off on Monday morning. She didn't come over to the bay area to be photographed but nipped straight out the eastern exit from the eastern terminal like a movie star keeping a low profile.... 'shouldnt be allowed'

Was able to grab these pix because there was no ferry in either Dover 8 or Dover 9 and there we are. Off she goes on the long haul to Bridgetown in Barbados.
We got the following picture a tad earlier...looking across the rooftops as it were you can see Lombok Strait still at the Cargo Terminal...in the distance you can see Elvira waiting for the Lombok Strait departure...yes they are queuing up... will have a pic or two of Elvira arriving as well. That will be following along in due course.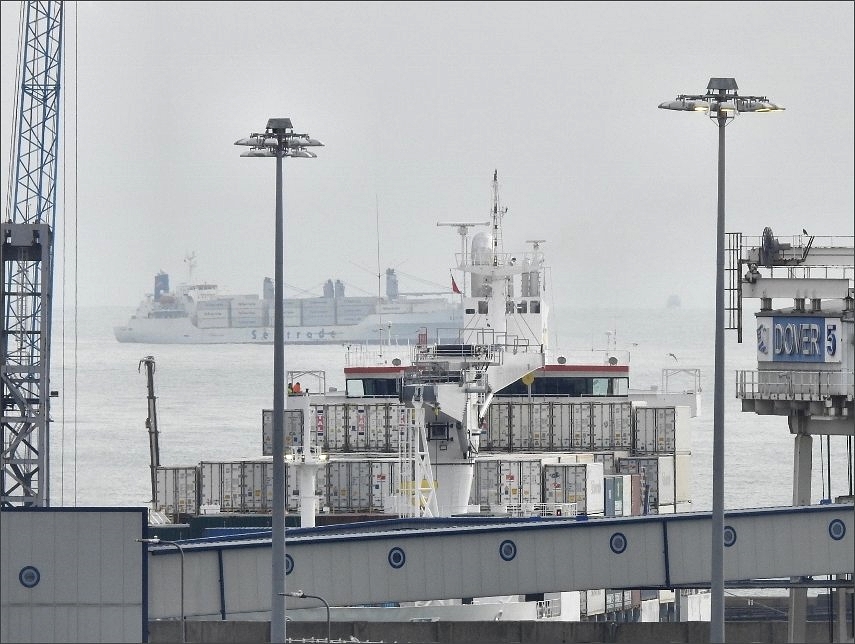 Don't miss those pix below from Mike...a nice collection below there...

PaulB
Saga Sapphire in Port today.
Wednesday, 9 October 2019 - 07:58
Post 6578
Mike J., Dover
Monday's visitors.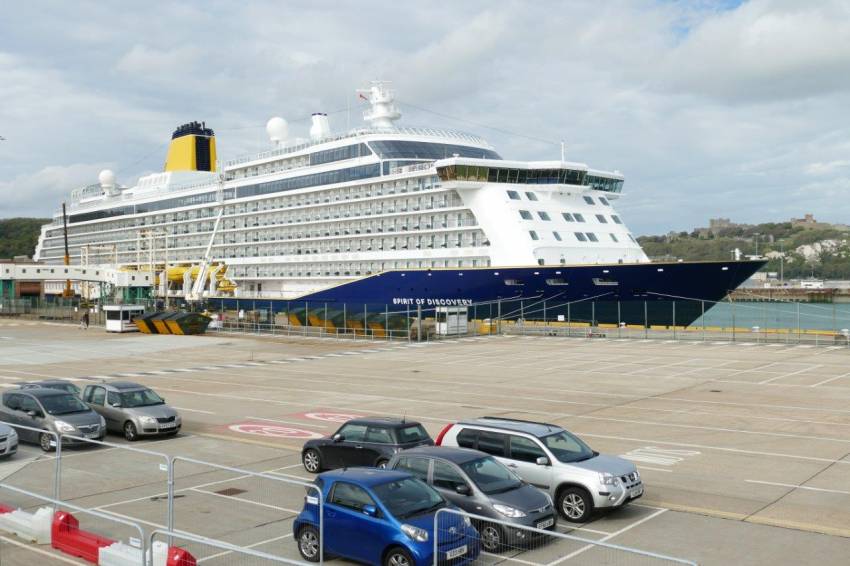 The outer end of the Admiralty Pier, beyond the turret, was closed as usual, closing whenever a ship is on Cruise-2.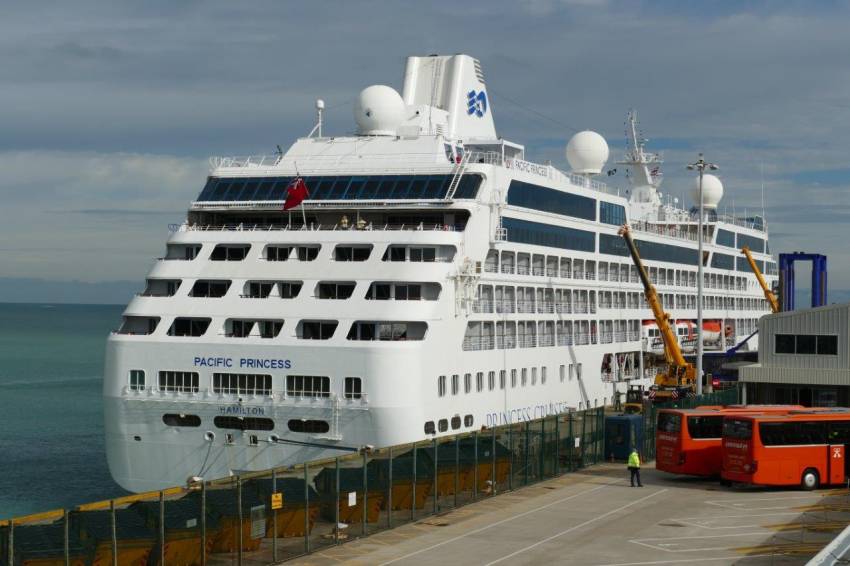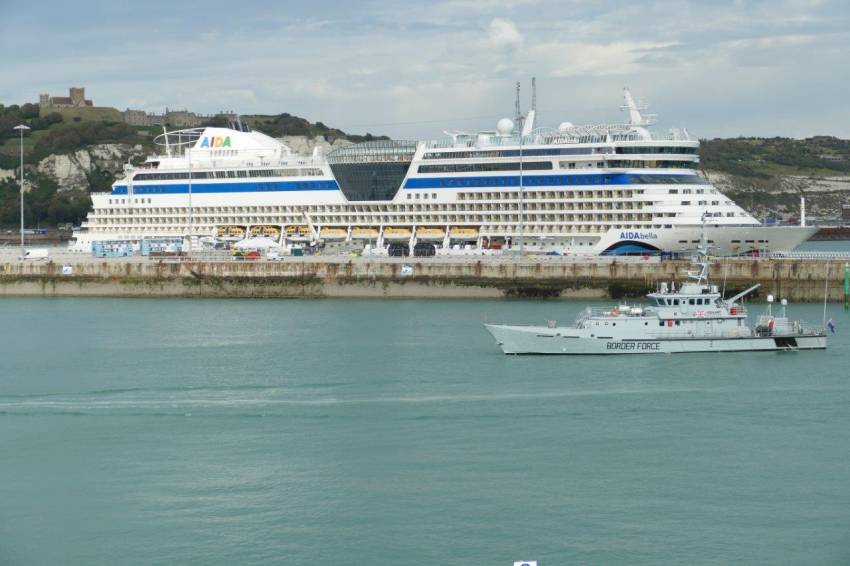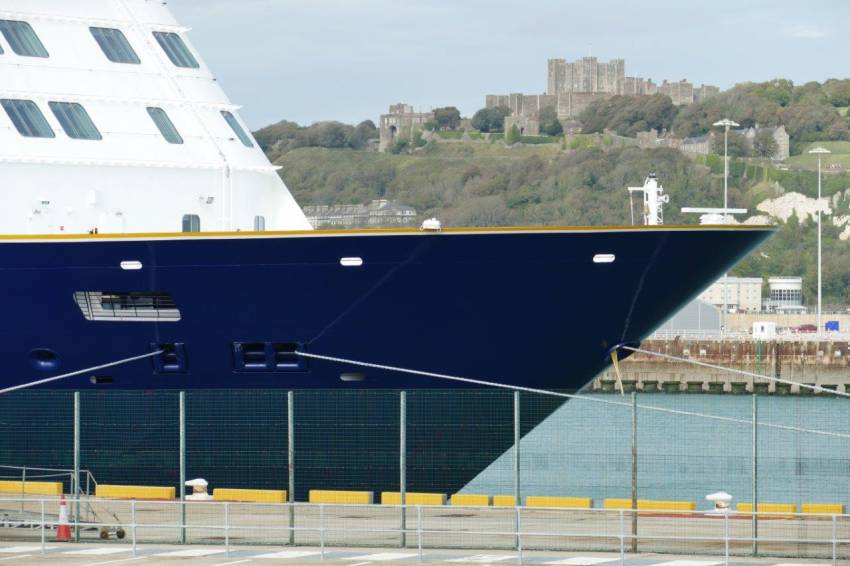 The weather deteriorated during the afternoon [I once saw an American TV weather map marked 'increasing lousiness'] & drizzle at dusk didn't improve the view of the threesome taken just before the PACIFIC PRINCESS sailed for La Coruna,
,

Wednesday, 9 October 2019 - 02:24
Post 6577
Sea News, Dover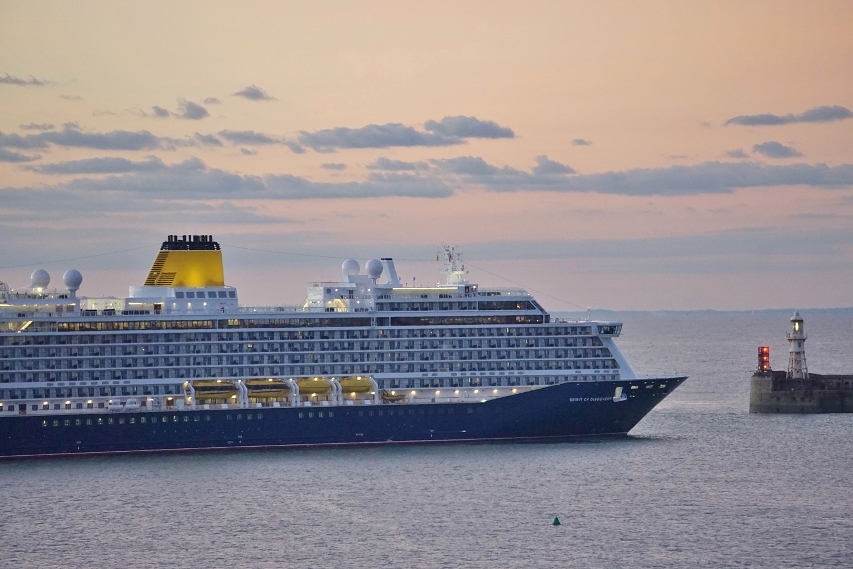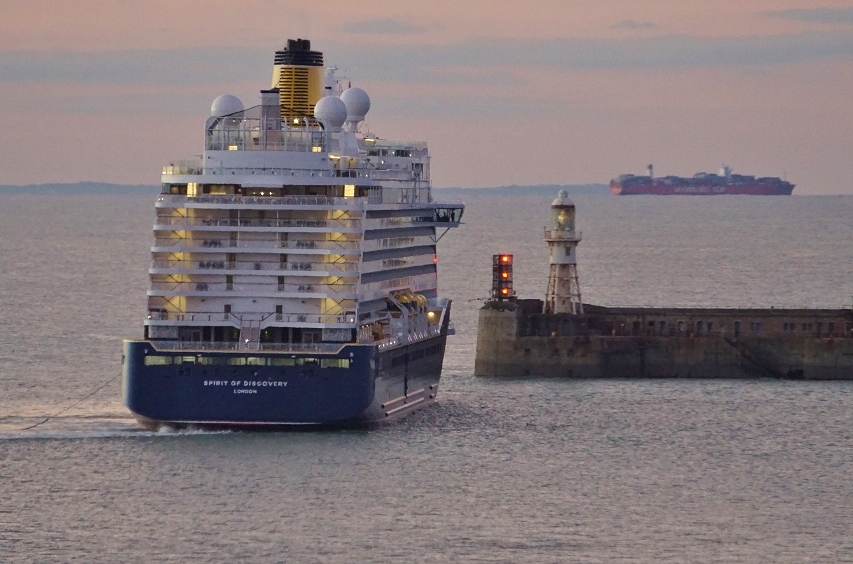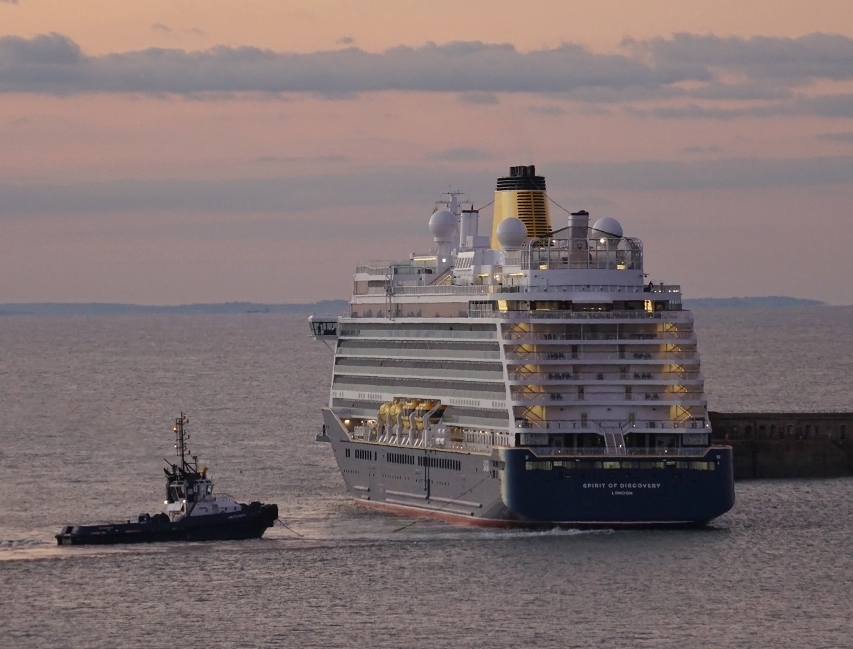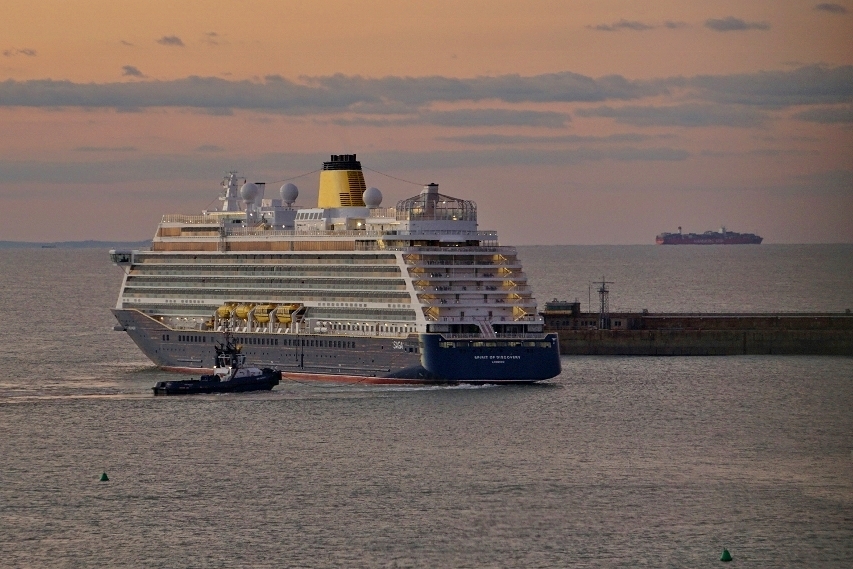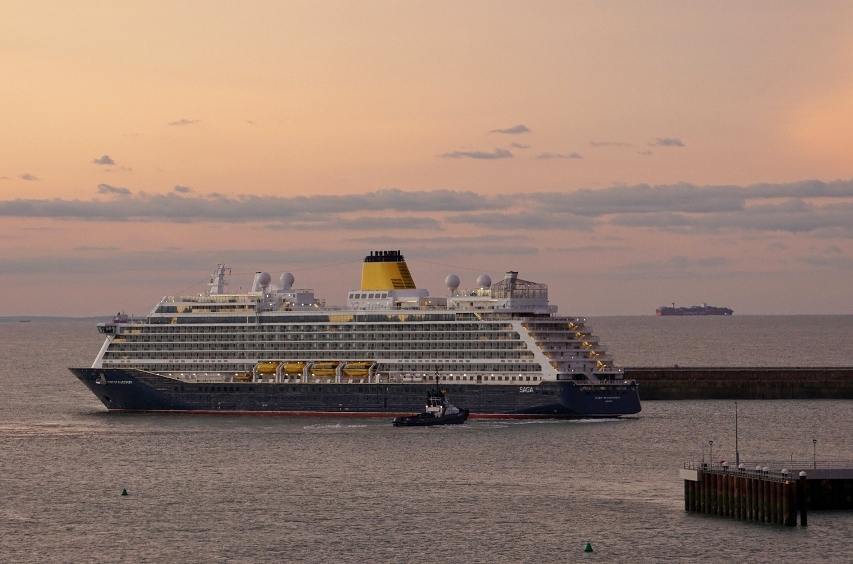 Spirit of Discovery : A sequence above there of an arriving Spirit of Discovery very early morning Oct 3. This was her previous arrival...she was back in port again yesterday after a short cruise..she came back before yours truly caught up with using her previous pix...well there they are above now. Catching up! It has indeed been a busy spell. Always good to see the Spirit of Discovery.
Enjoyable collection below from Mike our busy 'inshore correspondent' ...don't miss those!

PB
Rotterdam back in Port.
Tuesday, 8 October 2019 - 04:46
Post 6576
Mike J., Dover
Mid-afternoon the VIGILANT came in from the west to land some crew members.
She drifted between the Admiralty Pier & the Prince of Wales & sent the crew ashore to the Tidal Basin in her RIB which is launched down a ramp at her stern, sadly modestly hiding her stern from the camera during this interesting operation.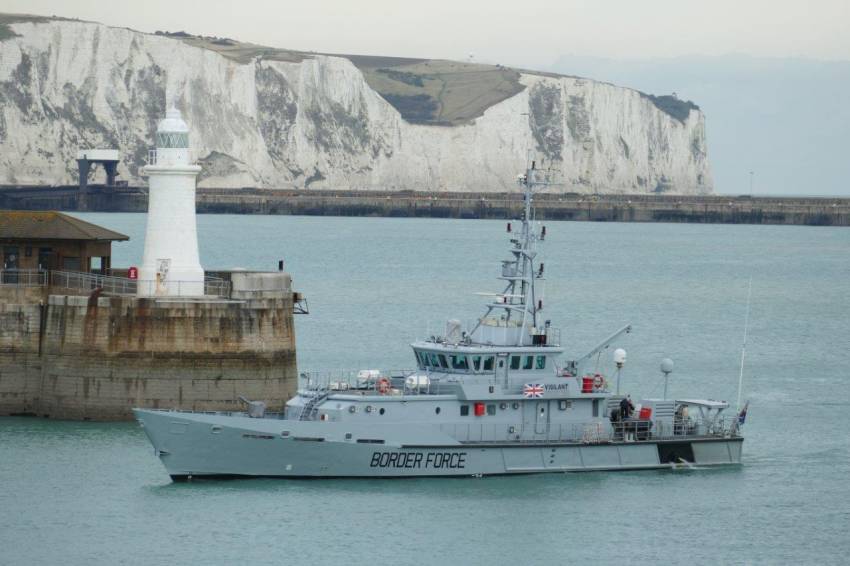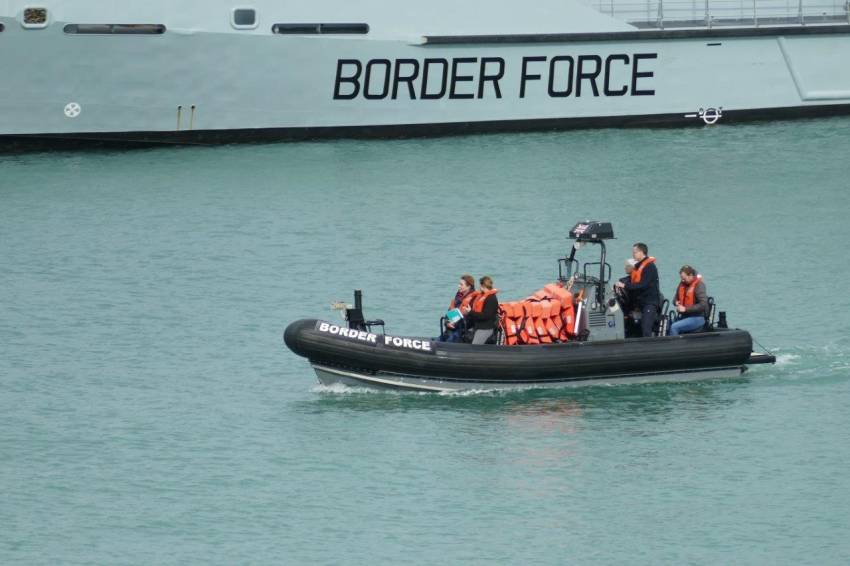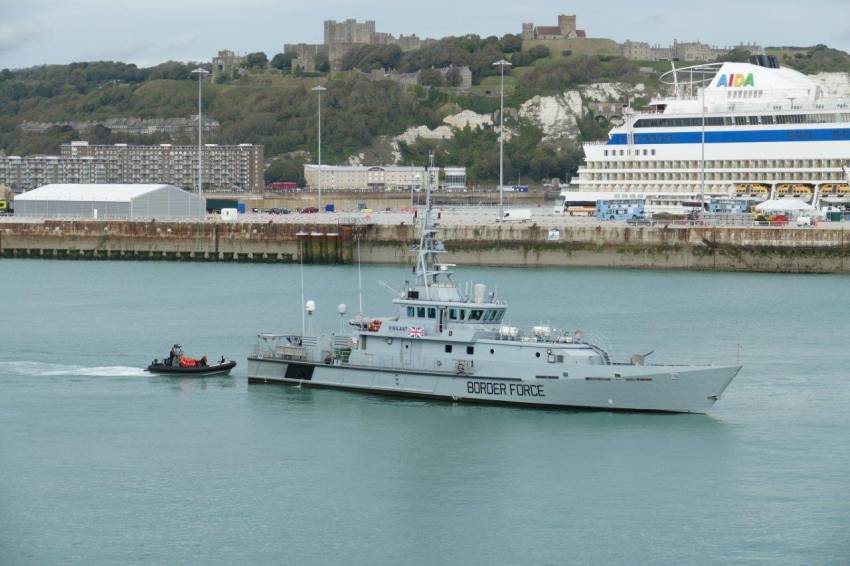 On WD5 the DUBLIN PEAK was completing her loading, sailing at 2215 for Hamburg.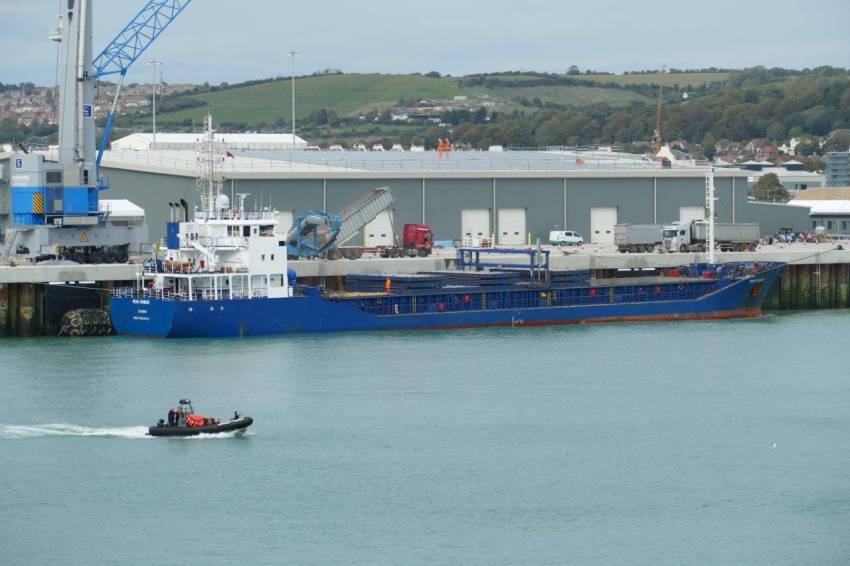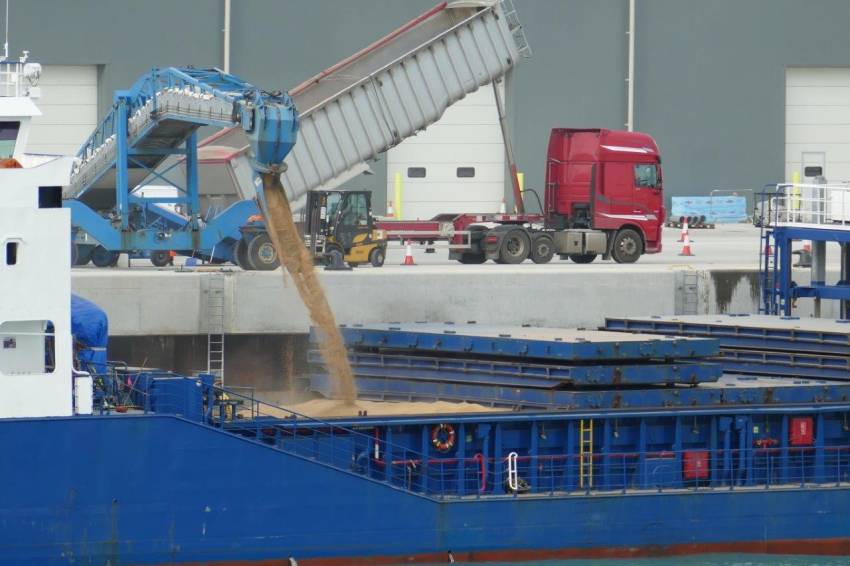 Another grain ship, the Lithuanian-flagged ALDEBARAN is coming down from Rotterdam & currently giving her ETA as 0900LT Tuesday.
Almost forgot - three cruise ships in as well.
Tuesday, 8 October 2019 - 01:01
Post 6575
Sea News, Dover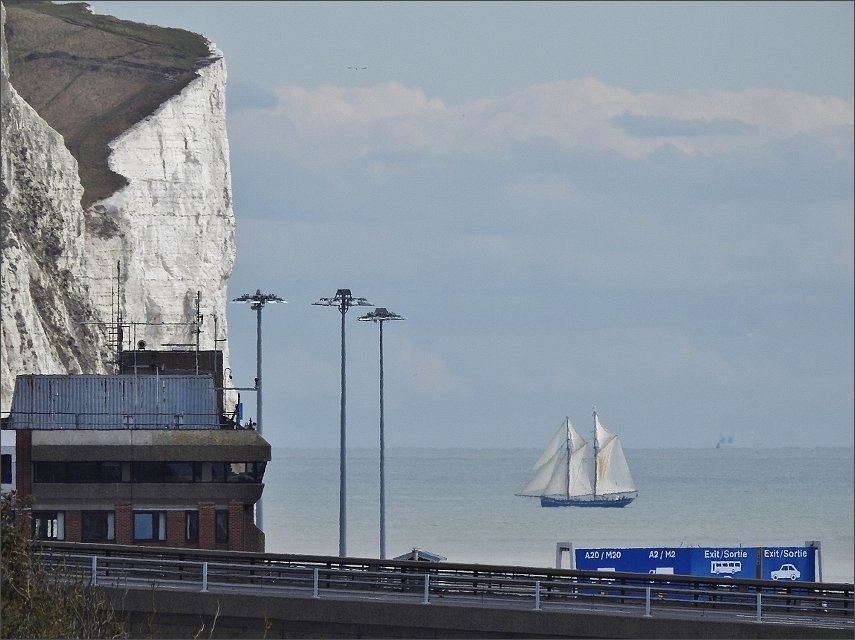 A picture above there of fab sailing ship Gallant just below the White Cliffs a few days ago...let me see..yes Thursday. Some zoomed in pictures were also tried but there is/was too much shimmer in the results over the long range...so have settled on the wider look.
That was the sailing ship we featured as a logo at the top of the page for quite a long time...the jagged edge pic went down well on Google..so there she is again just a few days ago and looking good as you can see.
And now the departing Rotterdam
the picture sequence is self explanatory below, no words needed...and away she goes...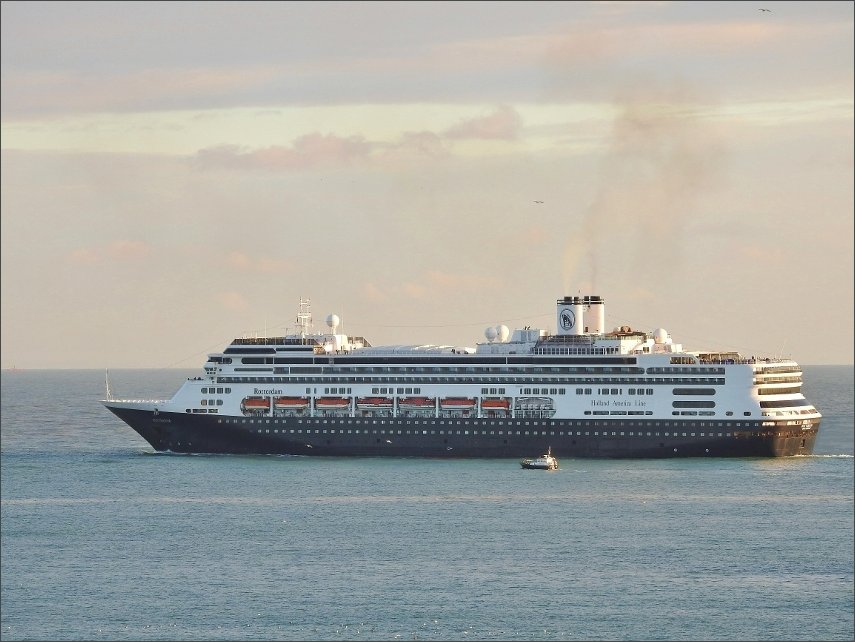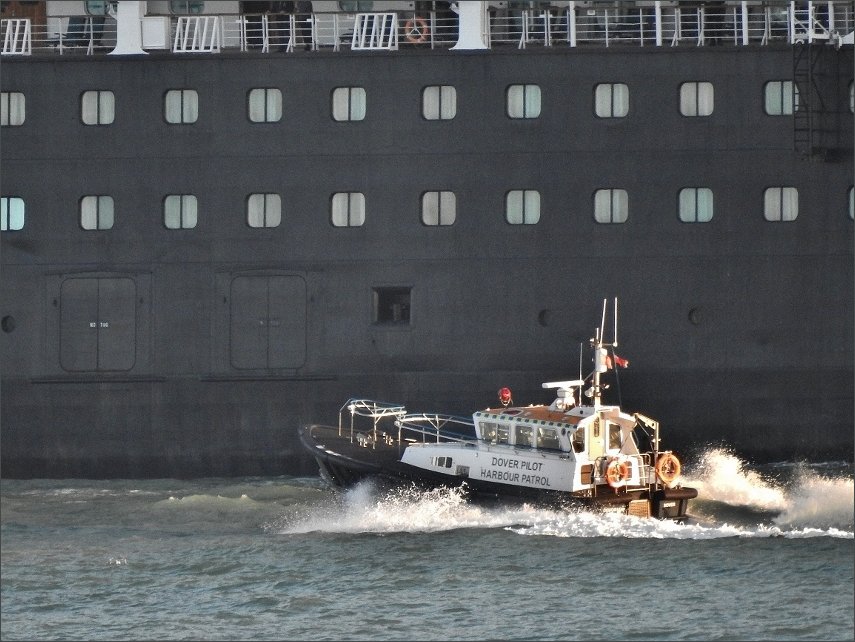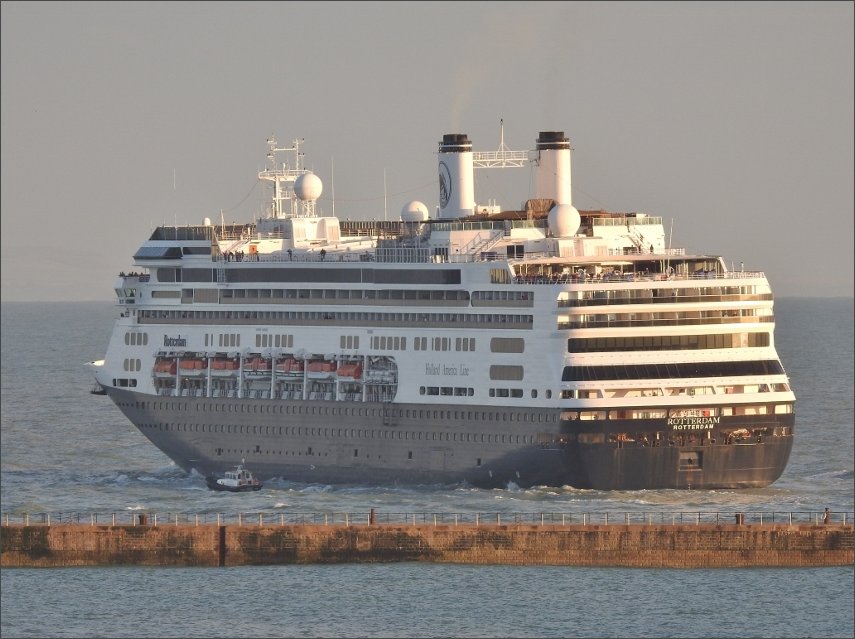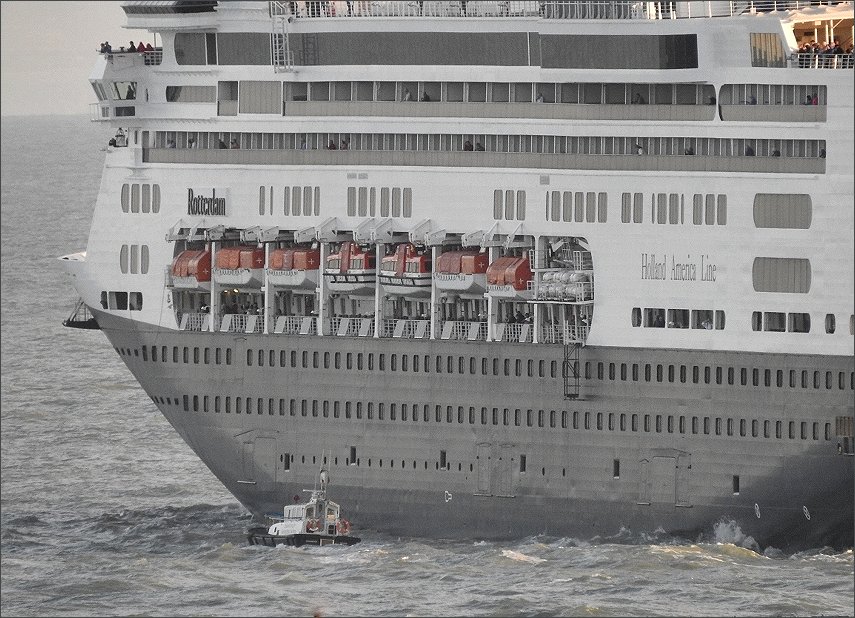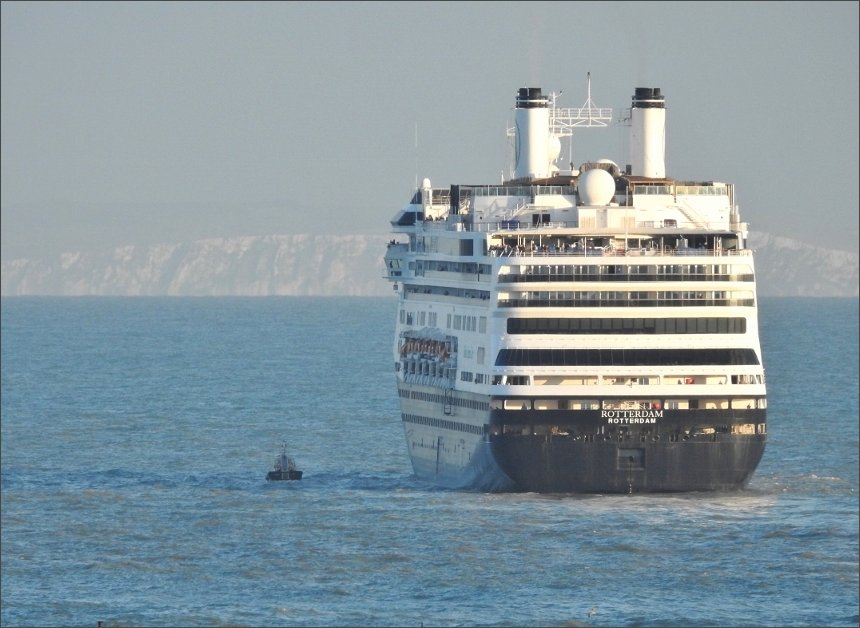 Rotterdam heads off.... the cliffs in France catching some misty late sun there. Pictures...Friday evening.
She is on a 28 Day cruise around the British isles, Ireland, France and finally ending in Rome.
Very interesting collection below there Mike...really enjoyable all round and great to get those shots of Peak Dublin moving across. You played a 'Peaky Blinder' there...!!
okay I couldn't resist

PaulB
We brilliantly have three cruise liners again today..Pacific Princess, The Spirit of Discovery, and also the large AIDAbella at the new pier WD4. Tugs are still active as I write...Cargo: Elvira cargo ship approaching, Lombok Strait already in Port. Packed Port!
Monday, 7 October 2019 - 06:46
Post 6574
Mike J., Dover
A few more angles on the PEAK DUBLIN taken on Thursday soon after she arrived to be the first vessel to load grain on WD4.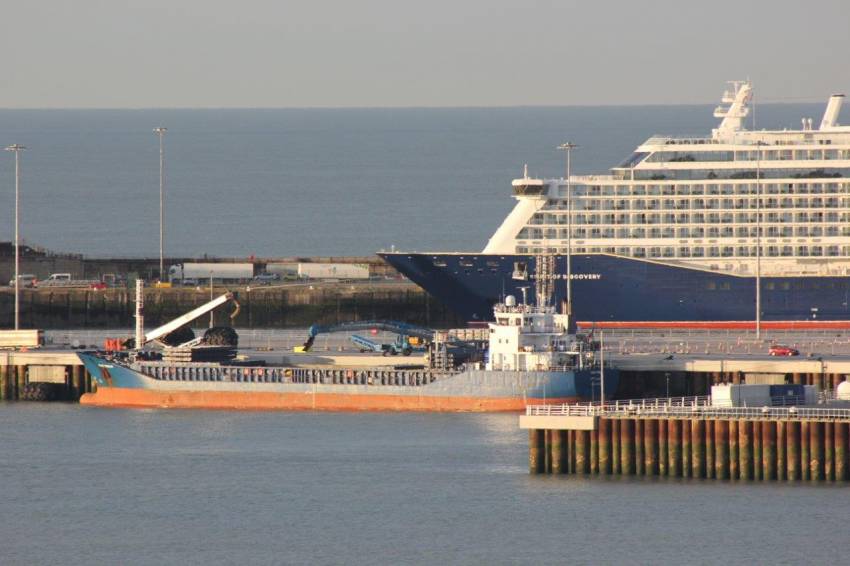 The end-of-the-Marina-pier shot needs as high water as possible so that the hull is not below the level of the reclamation.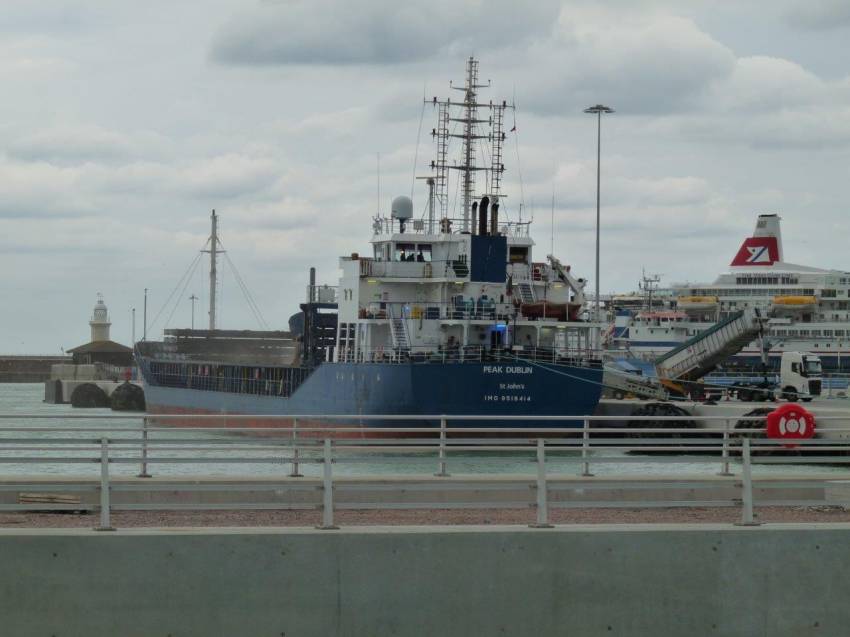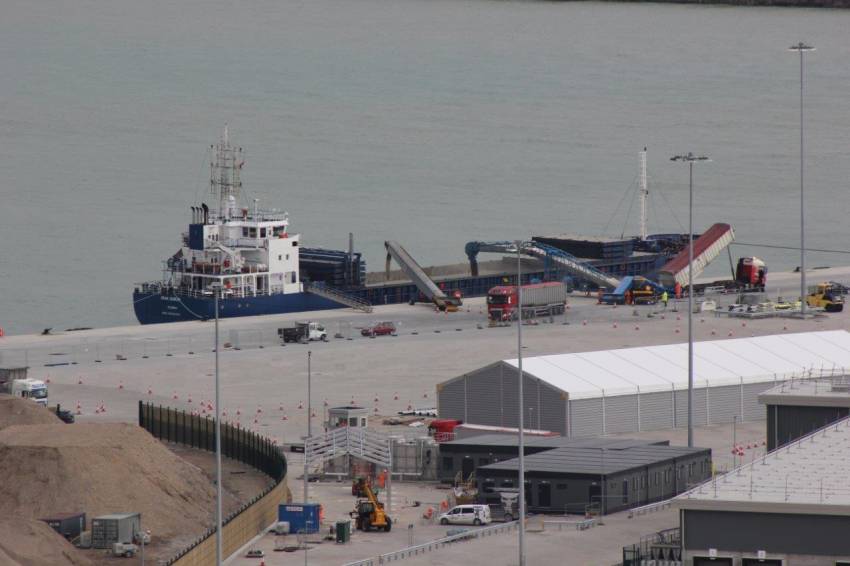 The PEAK DUBLIN did not load on Saturday or Sunday & during Sunday afternoon shifted to the reefer berth WD5 to make space for the AIDA BELLA who is due on WD4 at 0800 Monday, although the DHB cruise ship list calls it Berth C.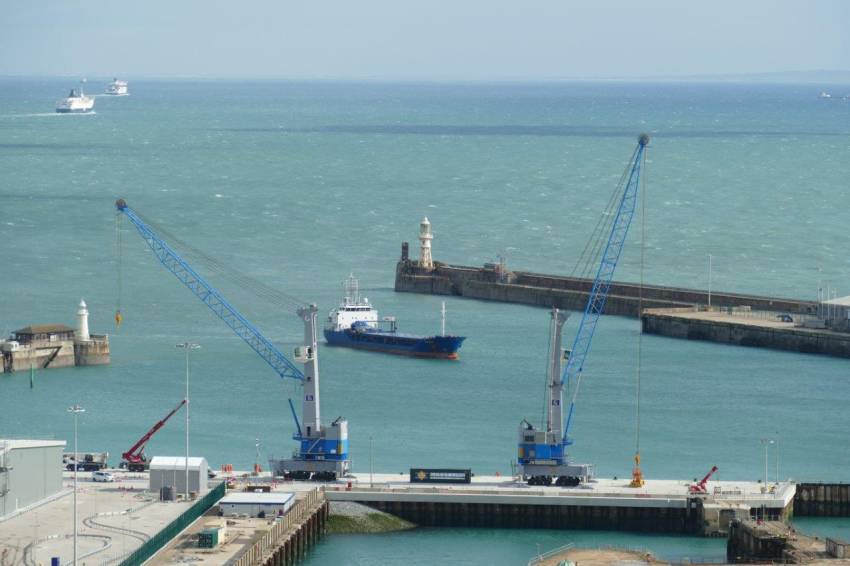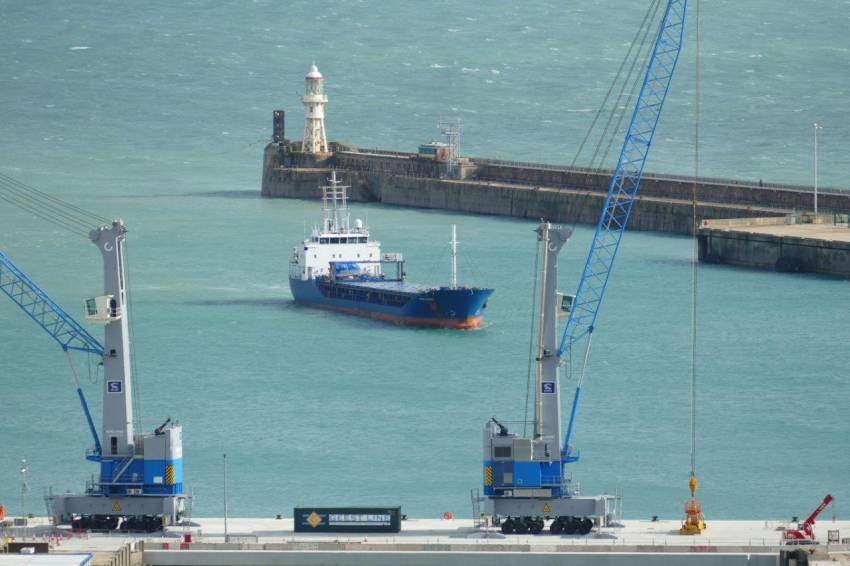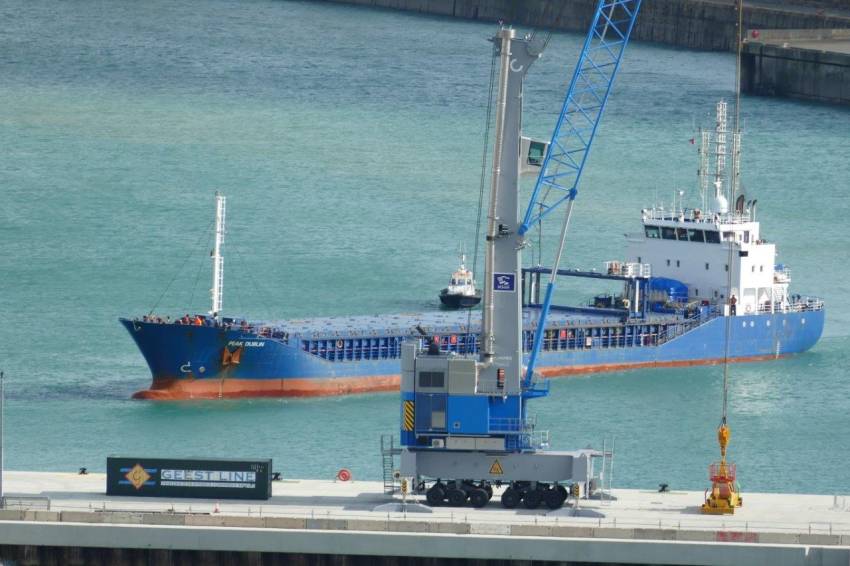 Monday, 7 October 2019 - 02:00