Sunday, 29 March 2020

WWW.DOVERFORUM.COM/SEA-NEWS
Sea Pictures from DOVER: Featuring all the ships that come and go and work at the Port of Dover ..
... with some further coverage of the surrounding ports.
Sea News Dover
Use our SEARCH ENGINE below to find all sorts on the SEA NEWS pages....type in the topic and away you go,
or if you have the post number, just type it in the Search Box, more than
- 6750 -
nautical posts now.
Posts are welcome. just click 'Add Your Comment' below.
Upload a Max of 5 pictures....Many Thanks.
Sea News Editor Paul Boland - send info or pix to dover7@msn.com. Always welcome.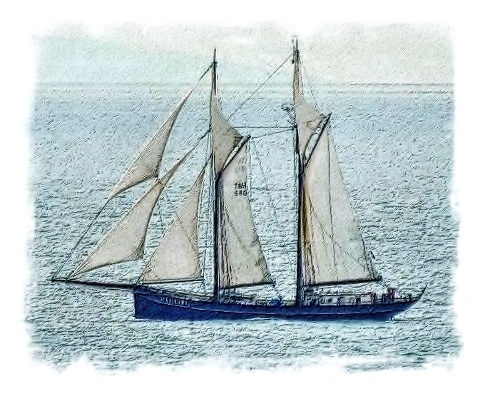 Headlines....
P&O Ferries secure vital flow of goods, medicines...see below, post 6901.
DFDS coronavirus announcements below see post 6880 and 6885.
P&O Ferries present record breaking cheque to Dover Lifeboat...post 6874 below.
P&O Ferries - European Expansion 6867
Hurtigruten and the Port of Dover see 6857...see also pictures in 6856 and 6859.
See SCARLET LADY pix.. FIREWORKS too..type Scarlet Lady in our SEARCH box below..

Port of Dover, DFDS, P&O say...Travel with Confidence from Dover.. see 6786 below.
DFDS Refit Investment...luxury lounges 6821.
P&O FERRIES - POST BREXIT travel info below 6780.
P&O NEW FERRIES Images below 6775...
P&O Ferries - new Catering Apprentices see 6790...
Visit us here in White Cliffs Country see 6772
Natalie Elphicke MP - thoughts post Brexit 6784
Just type the post number in the Search Box below.
Port of Dover Cruise Calls:
http://www.doverport.co.uk/cruise/find-a-cruise/
To show your pictures at their best..it could be worthwhile resizing before posting to
860
pixels wide. Our new standard size.
All pictures on these pages are the copyright of the owners and must not be reproduced without permission.
Post 6808
Sea News, Dover
Lady Rosemary listing as she approaches the Port of Dover yesterday Tuesday… look at the containers!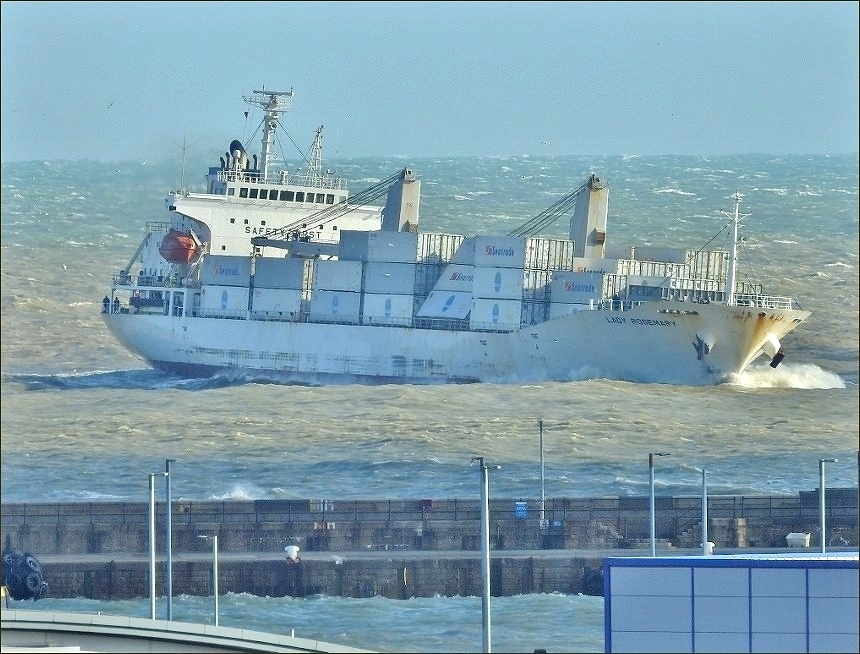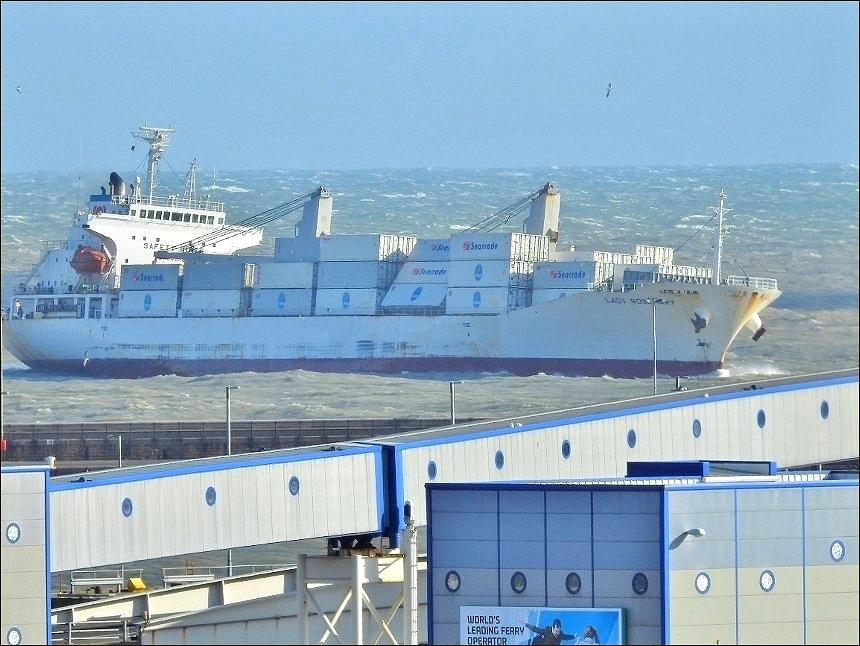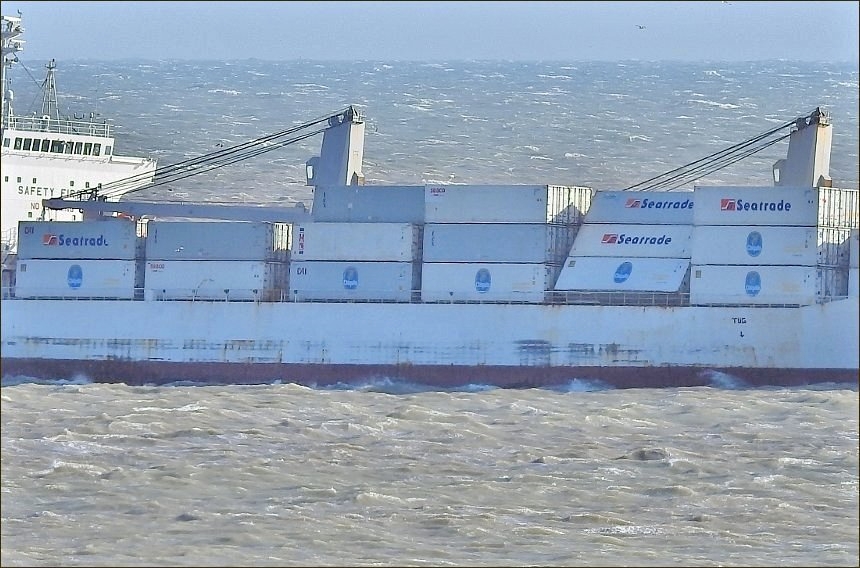 Following a tip off from Mike I was able to spot our recent friend Lady Rosemary coming to Port just off South Foreland. She had suffered from shifting cargo in the fierce storms and was listing...and you can see that in the pictures above. Several of the containers have toppled over as you can see....
When she got close the tugs were able to lend a hand and she got into the new western cargo terminal safely enough....
A couple of shots below of Calais Seaways approaching the Port on Monday evening... in a little bit of weak sunlight but still with very windy weather. The ferries were still delayed...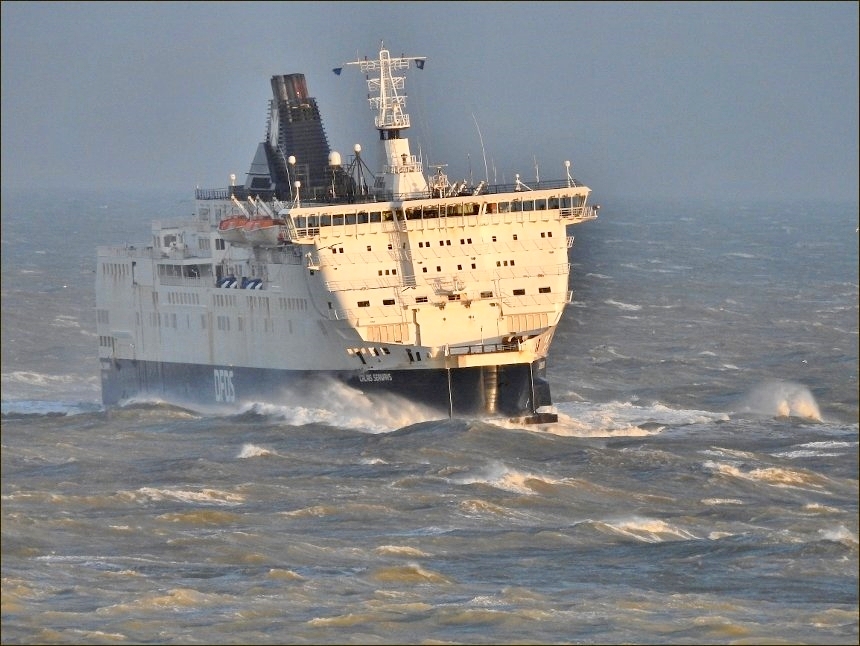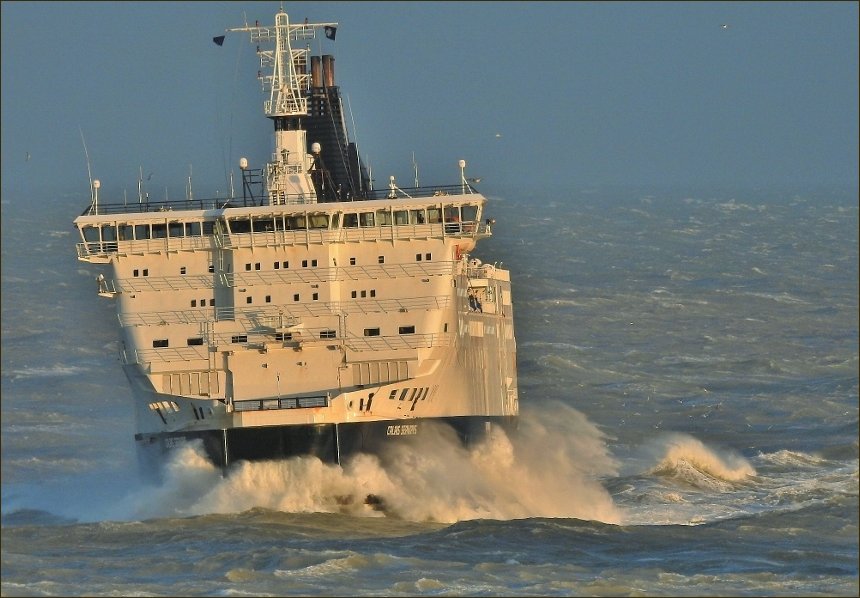 PaulB
Wednesday, 12 February 2020 - 05:06
Post 6807
Sea News, Dover
Some more pictures now from Storm Ciara's reign of terror...
Stormy Dover.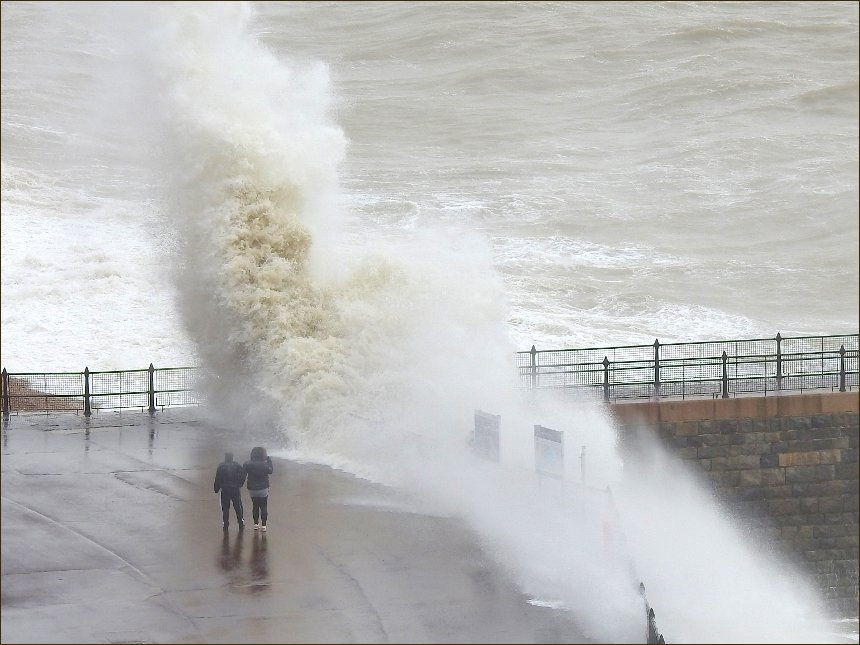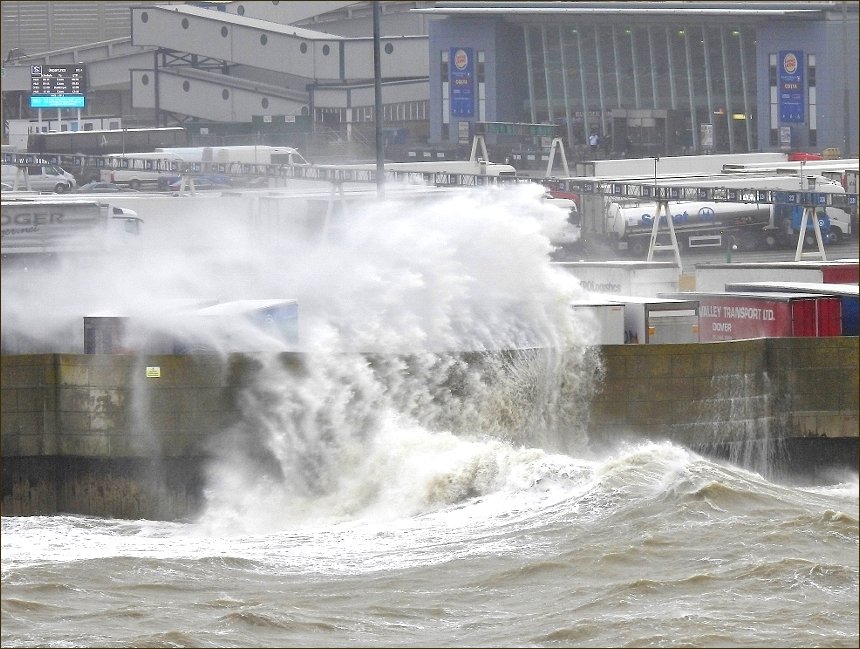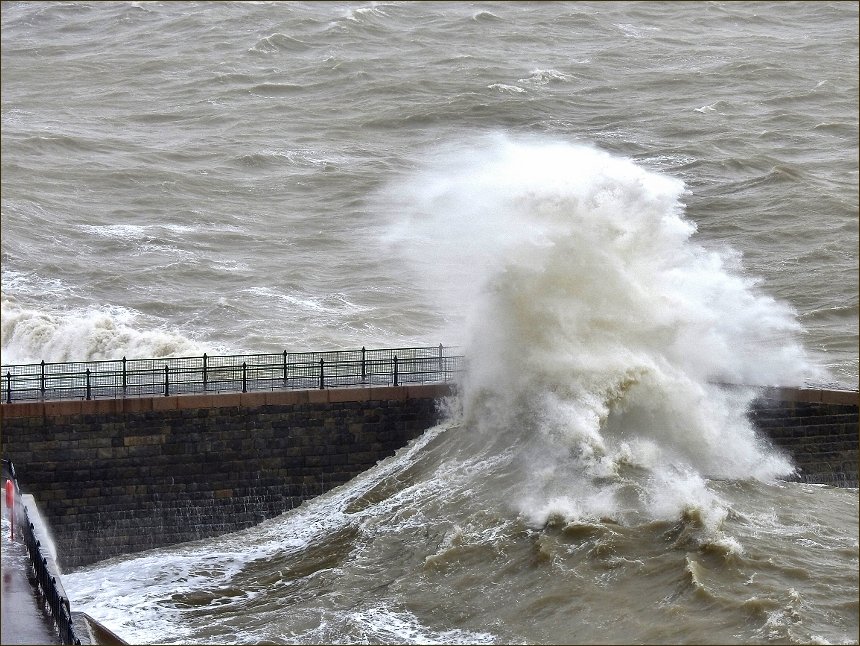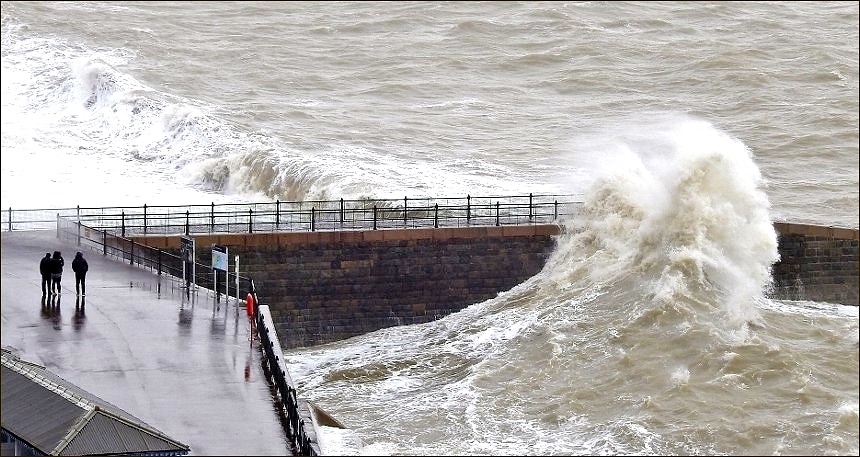 Just prior to Ciara the MPI Enterprise went by the Port, heading northwards, the visibility was terrible so this is more a computer image than a camera image. We have featured a number of these MPI vessels in the past as they amble by, more in the Search Engine above..which will take you through our own pages..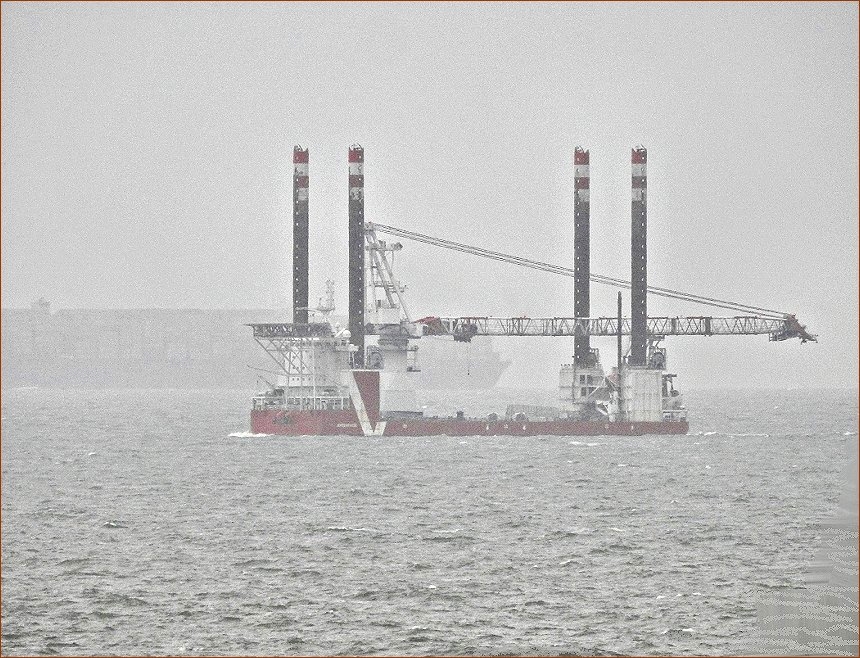 Brian

It seems the blustery conditions are likely to go on...according to the weather persons..
PaulB
Tuesday, 11 February 2020 - 06:33
Post 6806
brian dixon, dover

yes thanks paul, came over loud and clear.

Monday, 10 February 2020 - 14:44
Post 6805
Sea News, Dover
The last ferry to leave the Port yesterday ( Sunday ) before it closed...
yes the pictures here show Delft Seaways struggling manfully in Storm Ciara's fierce winds with the help of the tugs... the tug featured in these pix...Tug Doughty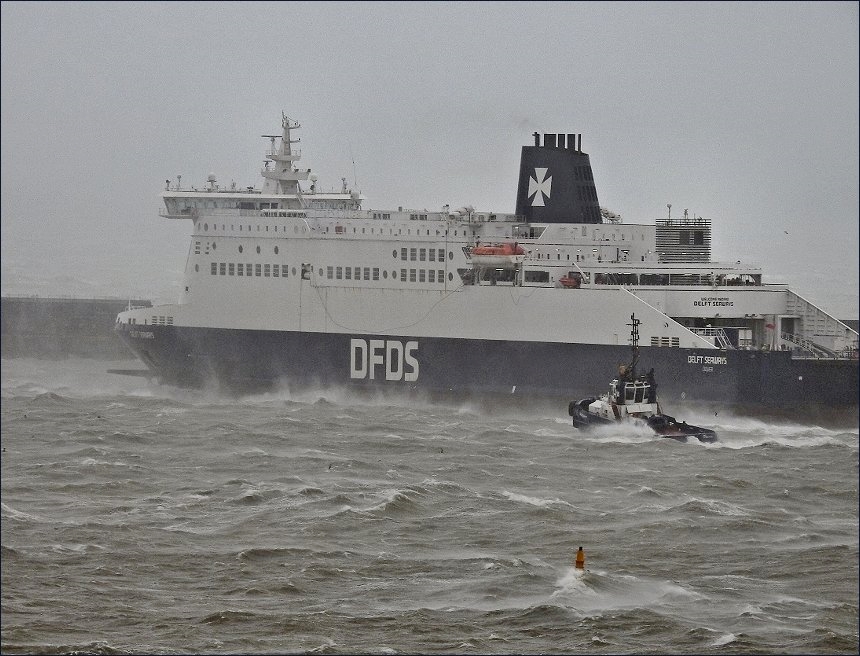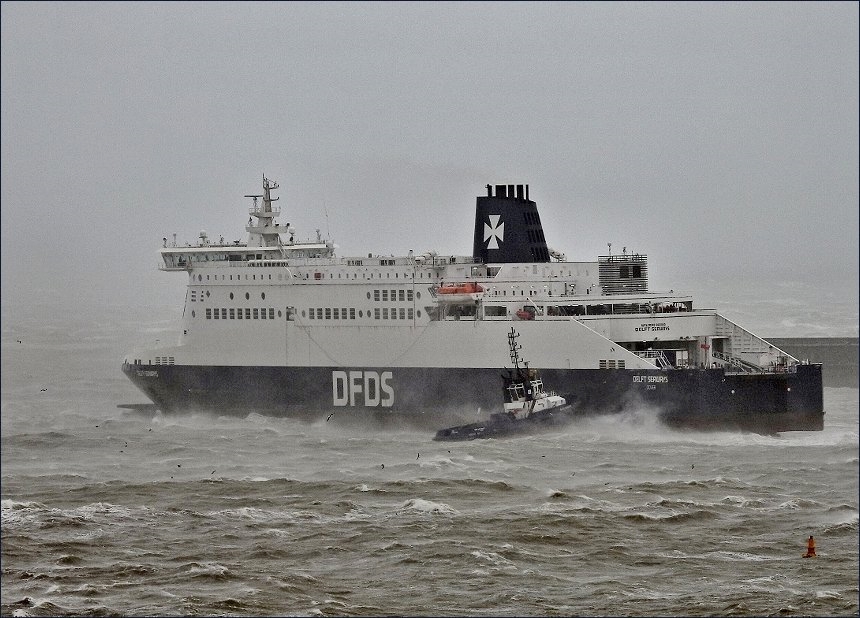 Delft Seaways
I must admit I would not have wanted to be on that ferry...the conditions..phew!
Time of the first picture above 09.31.
Taken from the rear window of the 'observation tower' ..the normal viewing position inaccessible due to safety concerns...

Although the conditions were fierce and in some cases destructive, the sea nevertheless provided quite a spectacle. Tons of sightseers descended onto the seafront ..you can see all the cars coming in the pix below. At the moment these pictures were being taken Simon Jones was doing a live report...the BBC 4by4 is in the pic. I said to myself 'that report is NOT live'
but then I realised it was, Simon was taking some shelter from the ermm shelter while doing it, so was obscured from my pictured view.
I guess the cameraman had to hold on to his equipment

!!...

Anyway here we go...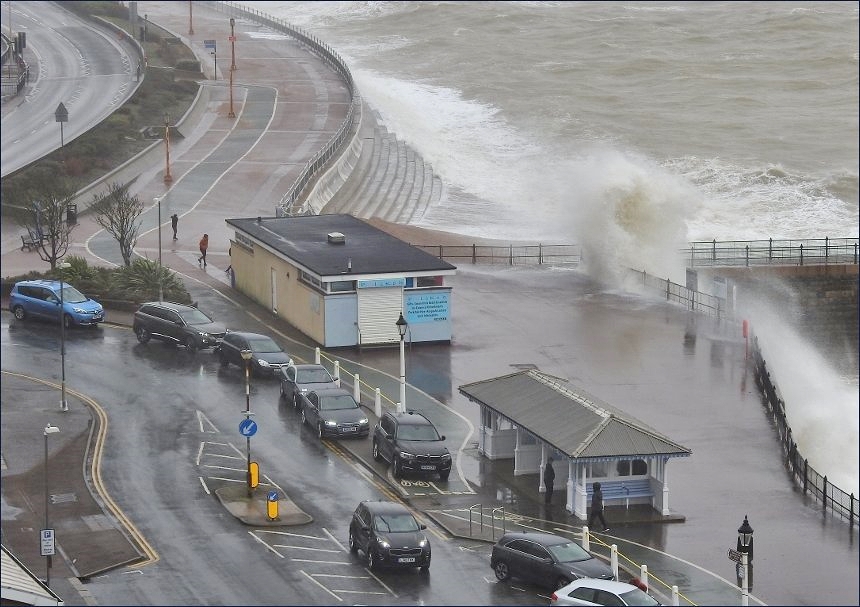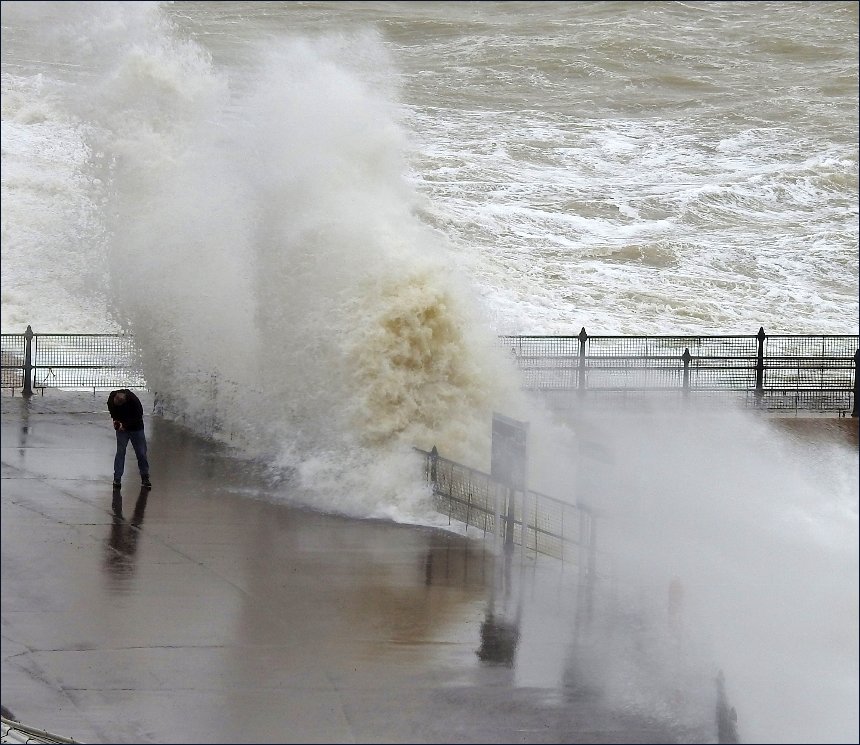 Duck!! That chap got a soaking... and there were others getting the similar soaking...
will aim to have some further pictures...
More...

Great round up info below there Mike - well done with that. Enjoyable pictures too.Excellent stuff!

Thanks to Nigel once again.

Del I think they probably held the traffic outside of town yesterday..in the Operation StacK thingy

Brian hope you got the info below there last night.

Ah yes indeed Mark...some ferries were held up for hours offshore yesterday, cant have been very nice onboard..

Thanks for that fascinating picture Terry (from up there in Gloucestershire)...very enjoyable post.
PaulB
ps: weather seems a lot calmer as I write...
Monday, 10 February 2020 - 07:01
Post 6804
Mike J., Dover
Sunday & storm CIARA - a filthy day indeed with SW winds up to 60kts, horizontal rain & flickering rural electricity supplies.
A day for staying at home.
The port was closed for most of the day with the PRIDE OF CANTERBURY marooned on No.9 berth.
The wind dropped during the evening & the first movement was the arrival of the DOVER SEAWAYS, as noted by Paul, with the PRIDE OF CANTERBURY sailing at 2100 adter which the SPIRIT OF BRITAIN entered..
The CANTERBURY did not sail for Calais, but headed up into the Downs to join the PRIDE OF BURGUNDY.
At the height of the storm there were 21 ships sheltering in Margate Roads, with eight more vessels a little further north in the Tongue anchorage..
Much nicer sunny weather on Thursday & Friday so a quick 'small fry' catch-up.
During the migrant activity on Thursday two of Viking Marine's rescue craft went out on a training exercise, returning shortly before the Dutch lifeboat KOOPMANSDANK sailed.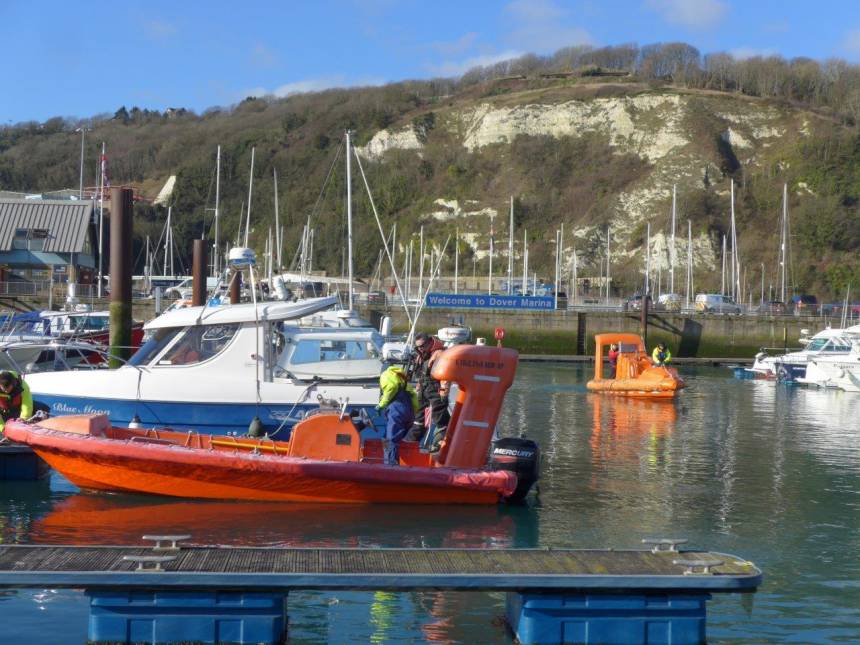 The second one was the rescue boat from the Holland America cruise ship WESTERDAM [post 6322] .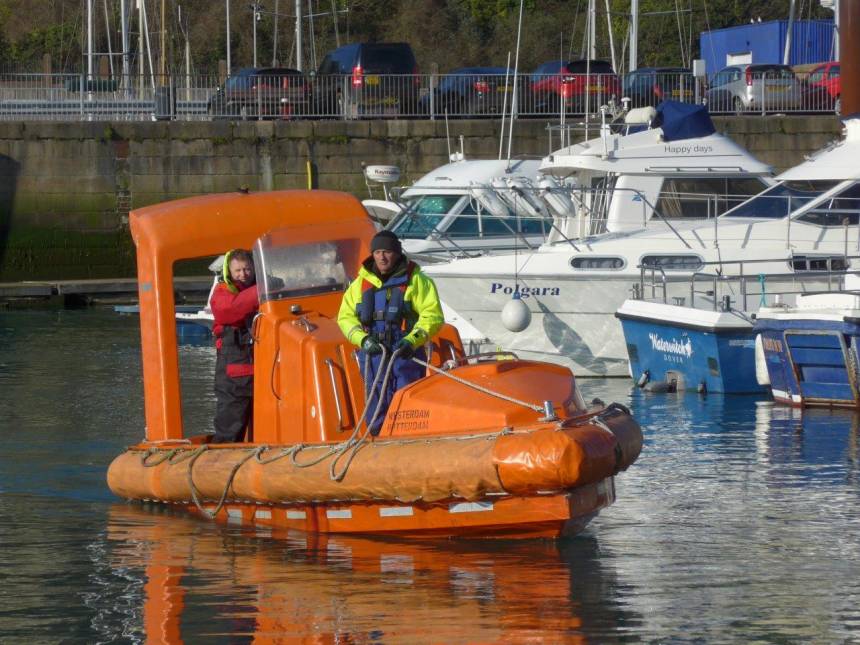 In the wee small hours of Friday the small tug NEW ROSS 1 limped in towing a barge that she had brought up from the Solent en route Felixstowe & docked on Cruise-1.
She was quite invisible from Paul's lookout post & Langdon Cliffs & just a uninteresting blob from St.Martins Battery & this excellent view of her taken after she shifted to the Tug Haven is copyright & courtesy of 'Dover Straits Shipping' - Thanks Nige !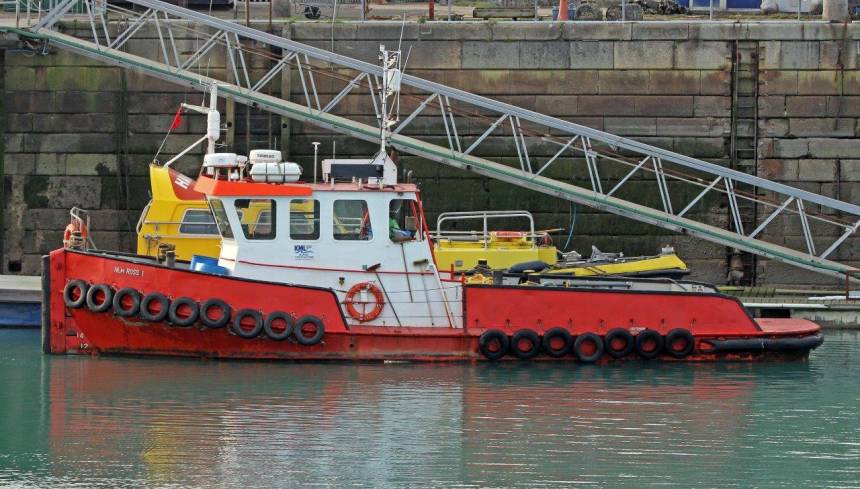 After repairs she sailed Friday evening & made it safely to Felixstowe before CIARA came on the scene.
On the other side of the pontoon the yellow object is the George Hammond launch, GEORGE HAMMOND, used mostly for offshore crew transfers & stores deliveries.
She also transfers pilots from Hammond's own pilotage service which covers Northern European waters & also frequently collects over-carried pilots who have been unable to disembark after leaving European ports due to bad weather.
Established in 1767 Hammonds have an interesting website covering their various shipping services.
Monday, 10 February 2020 - 02:33
Post 6803
Del Styan, Norwich
I'm intrigued to know how the roads were today, with the ferries "off line".

Sunday, 9 February 2020 - 23:04
Post 6802
Sea News, Dover
Just a quick one Brian - will have a more general post in the morning with pictures.
The Port appears to be closed still - there is no activity.

Update: Ah ...no sooner had I spoken and I see a ferry approaching ..Time 8.25pm (20.25) .. tug ready and waiting to help,
so it looks like 'all systems go' again.
PB

Sunday, 9 February 2020 - 20:14
Post 6801
brian dixon, dover
is the port still closed dose any one know

Sunday, 9 February 2020 - 19:11
Post 6800
Mark Rushton, Northants
Commiserations to the four boatloads of ferry passengers stranded in the Channel this afternoon. I well remember it happening to my mum a few times when she worked on the ferries. The worst was 24 hours on an Ostender with 1500 passengers on board. She was circumspect in her description of conditions on board after all that time, but they clearly weren't pleasant !

Sunday, 9 February 2020 - 14:31
Post 6799
Old Dovorian, Gloucestershire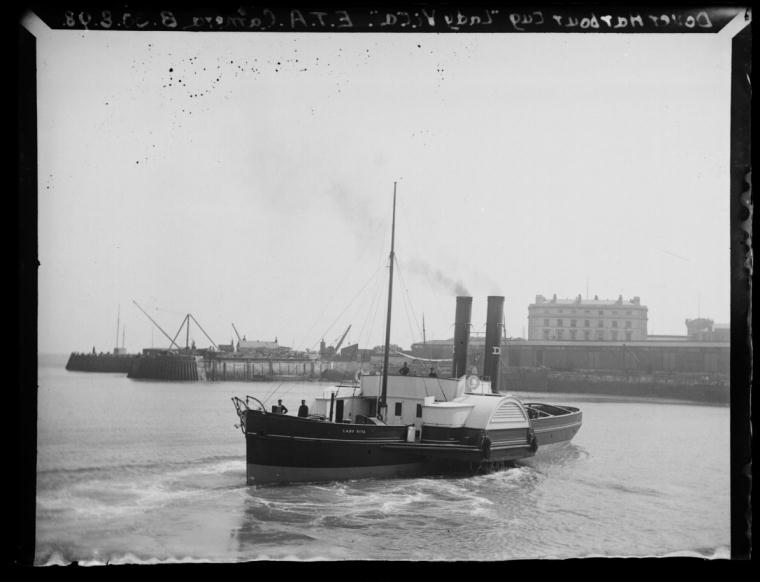 Sunday, 9 February 2020 - 13:39
Post 6798
Old Dovorian, Gloucestershire
Dover Harbour Board Tug, "The Lady Vita". My grandfather was a stoker on it when he retired from the Royal Navy in the early 1900's.

B&W Photograph taken by Edgar Tarry Adams in August 1898. "The Lady Vita" was sold and renamed 'Lingdale', built on the Thames in 1882. Her engines are in Newcastle Science Museum.

Sunday, 9 February 2020 - 13:36
Post 6797
Sea News, Dover
A sequence now of grain ship Niklas departing on Friday evening...time of first shot 16.46 (or 4.46PM if you prefer). You can see her below in the first picture moving away from the dock and then slowly, with the pilot alongside, making her way out of Port. A very well maintained ship as you can see...looks good...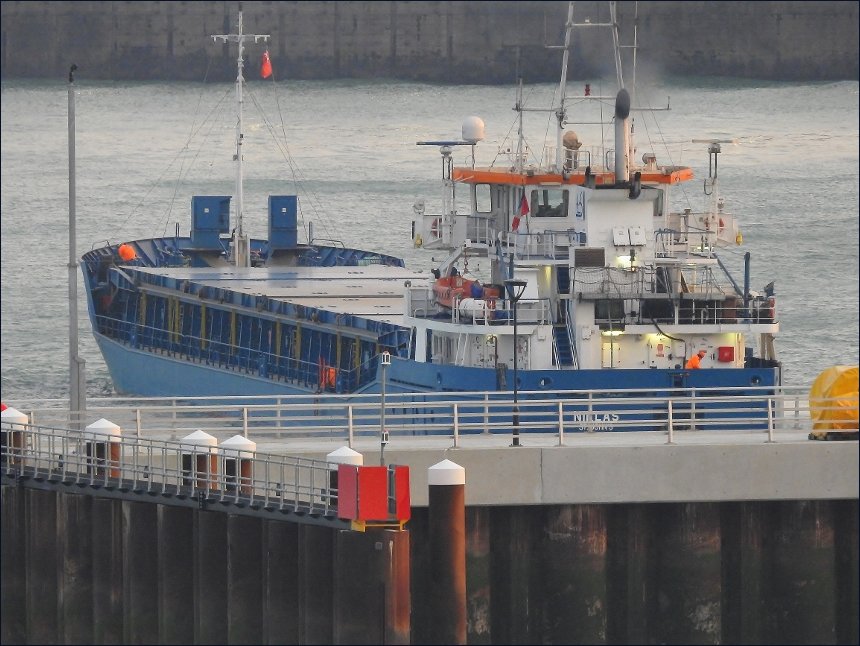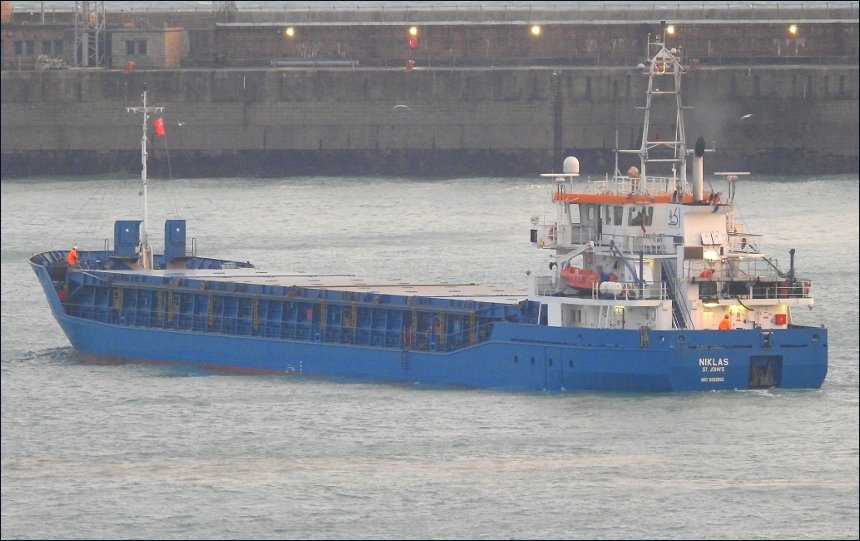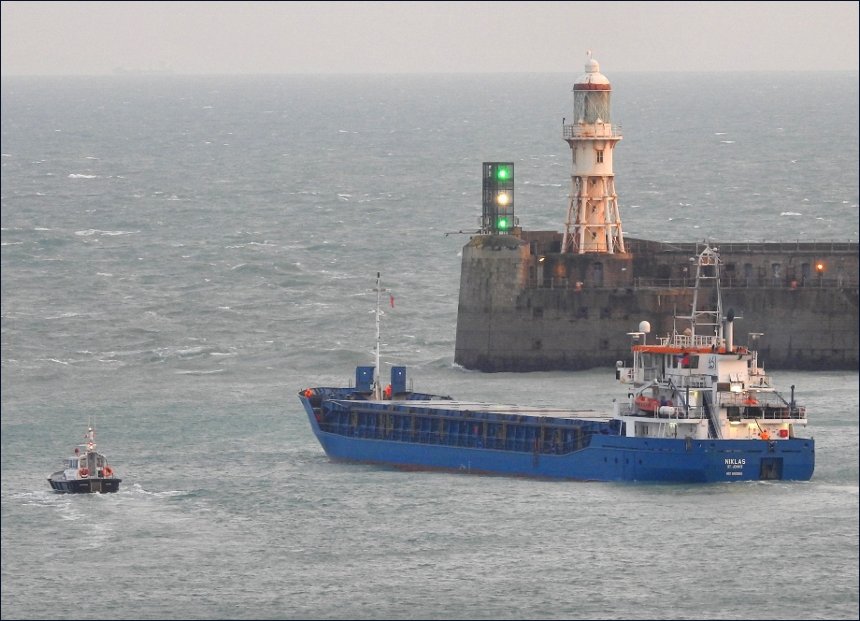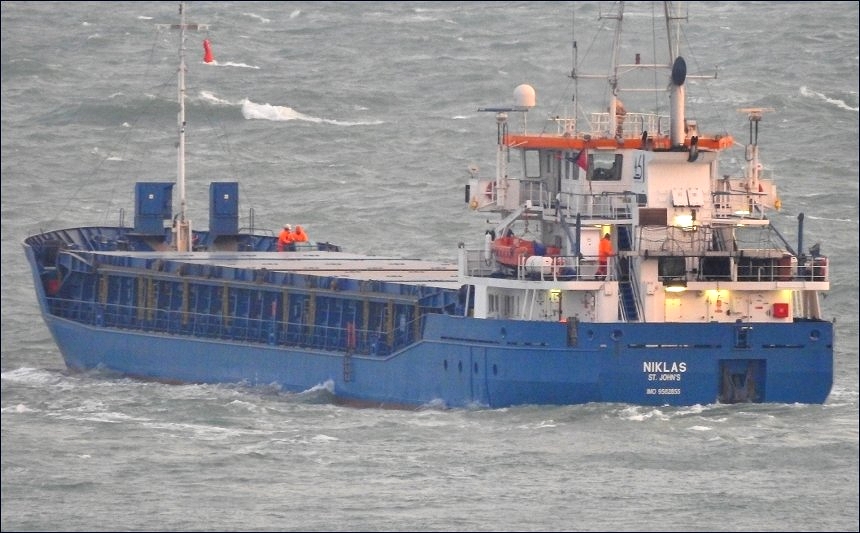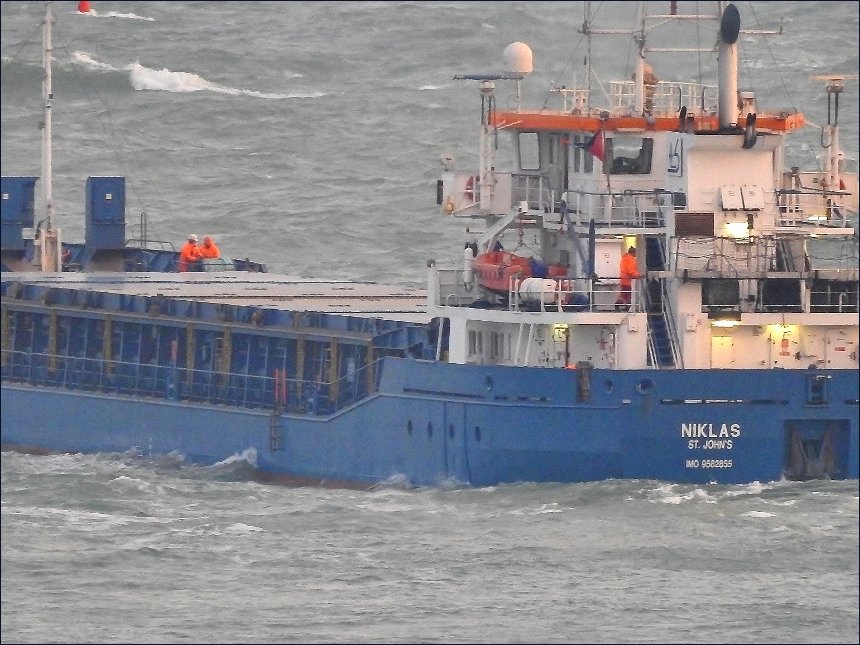 Niklas moves away:
The fifth picture there is a zoomed crop of the one above in an effort to show more detail.
Niklas now on her way to Leith in bonny Scotland.

Thanks for the post below Terry, great to hear about times past at the Port of Dover. We are glad you are enjoying the pictures..we have lots more to come.
PaulB
ps: we are expecting, indeed experiencing, some rough weather here in Dover today. it seems to be wild everywhere in and around the UK. Hold on to yer hat!

Sunday, 9 February 2020 - 06:13
Post 6796
Old Dovorian, Gloucestershire (terrywhelan6@gmail.com)
I was born and grew up (ish!) in Dover, leaving in the 1960s when I joined the military. Thanks for these fantastic photos of the goings on in the port, I love 'em!

I remember the timber ships and fruit and veg ships arriving in the inner dock and the colliers unloading near the clock tower. That's all gone but it's good to see the grain ships and reefers plus the cruise liners keeping the port busy. I also remember the first hovercraft being tied up alongside The Prince of Wales Pier, it was a little round thing with a tiny cabin, I wondered what good it was but when the Princess Margaret class hovercraft were in service and I was back in town on a visit, I just had to do a crossing on one!

Saturday, 8 February 2020 - 16:34
Post 6795
Sea News, Dover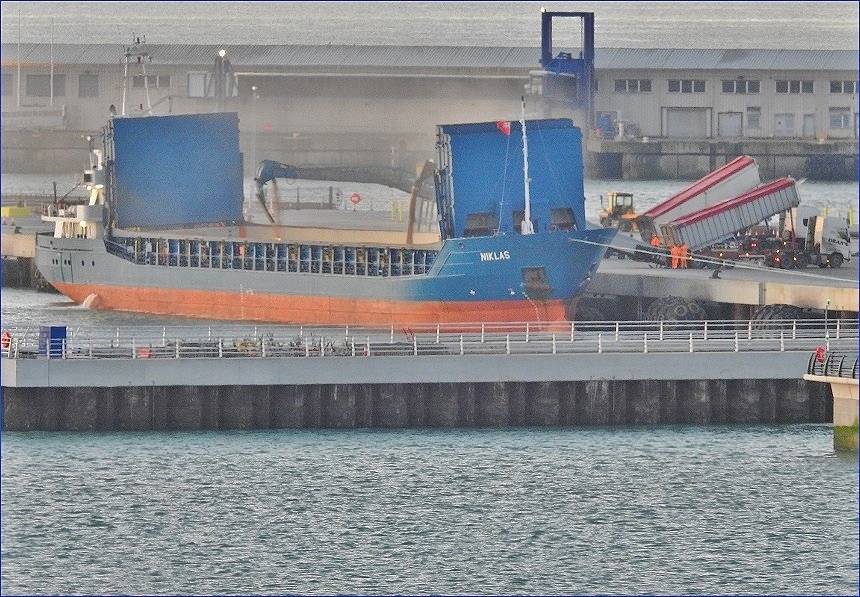 Niklas general cargo and latest grain ship above there at WD4...the 'grain pier'. The shot above taken in the fairly clear conditions of Thursday. Below we have some shots from early Friday morning showing the grain loading in full swing.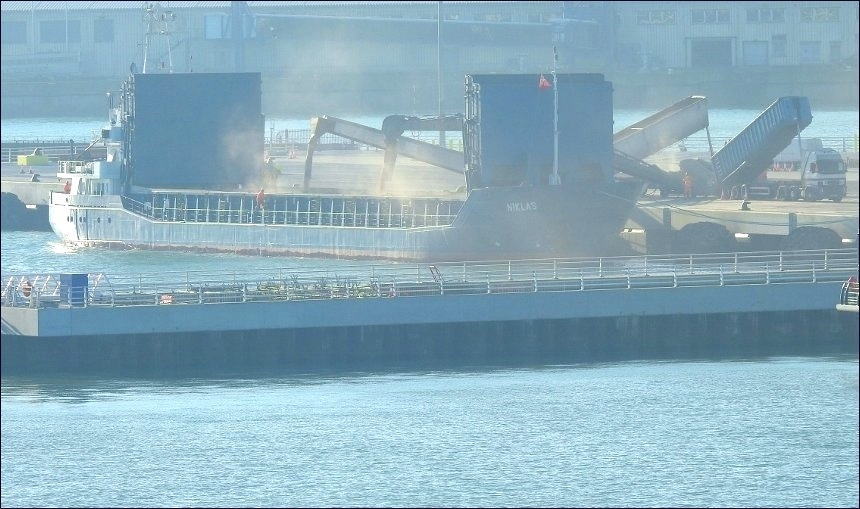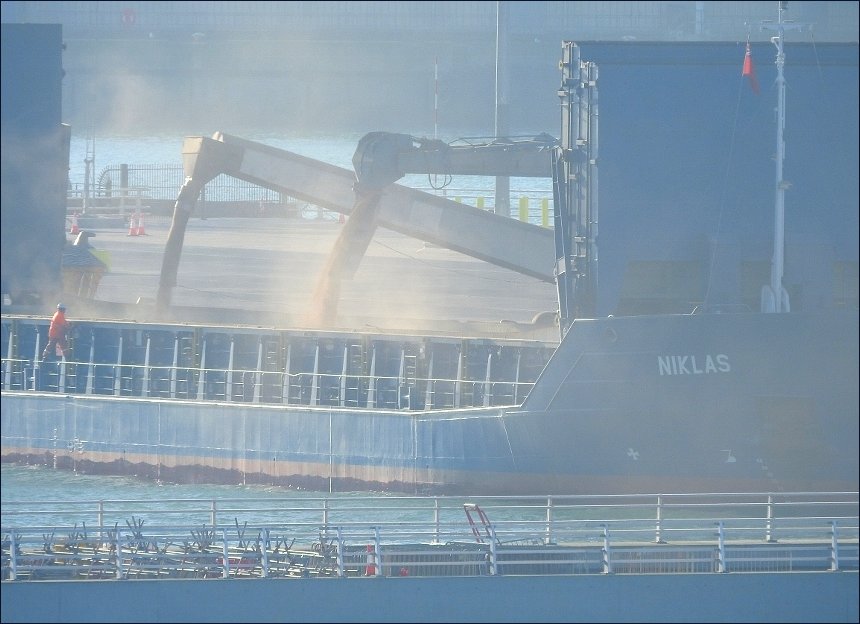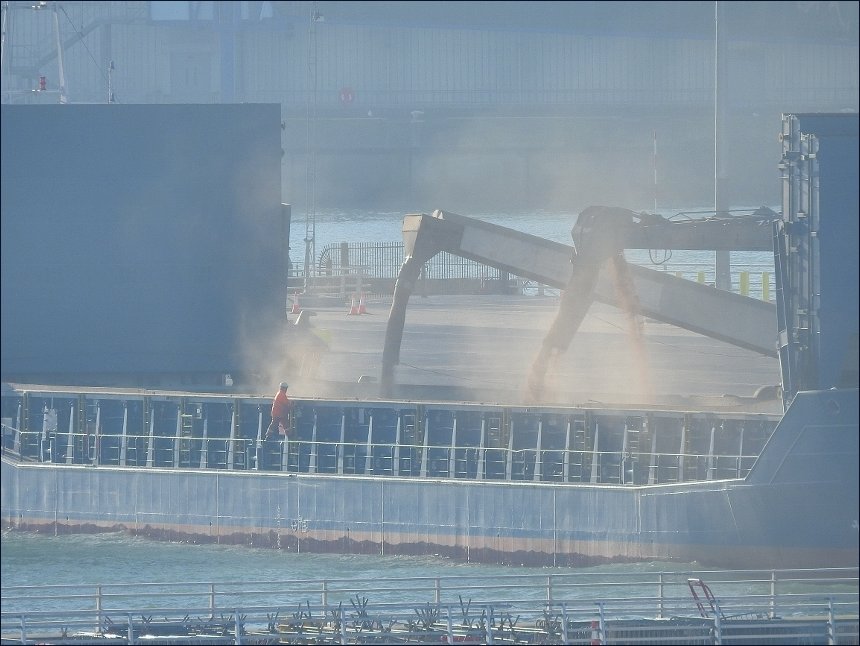 One hopes that chap above there is wearing a facial mask re lung protection, the amount of airborne dust is phenomenal. But I'm sure they know what they are doing...don't need yours truly telling them...
Round about the same time Friday morning...Trinity House Vessel Alert moves out of Port...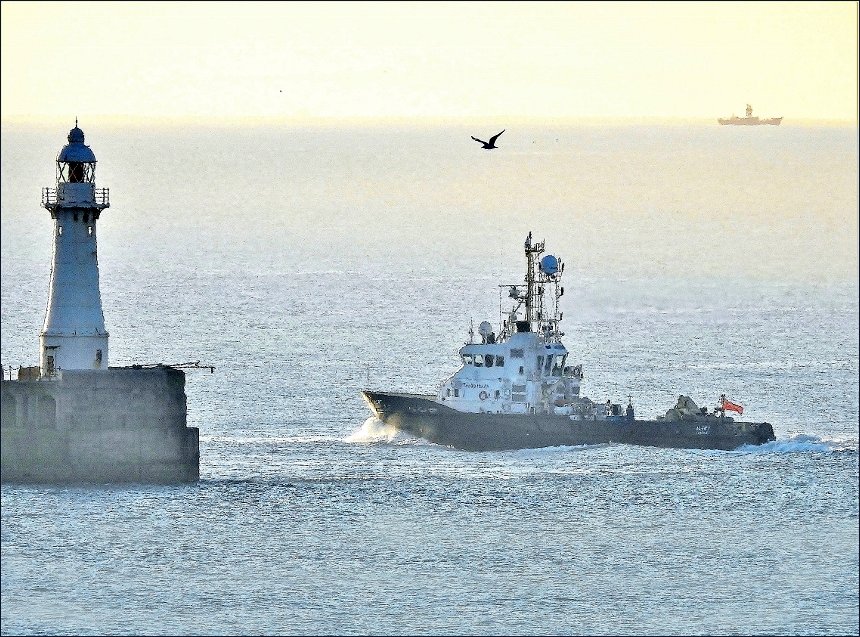 Alert
Great collections below from Mike, migrant crises etc...DONT MISS THOSE!

Great to see a picture from our legendary roving reporter Sarah Hewes in the mix there..

Nice picture and info below Patrick...helped me correct a mistake I made previously.. well done with that

PaulB
ps: Niklas left Port just before 5PM yesterday Friday...will have some pictures...
Saturday, 8 February 2020 - 05:15
Post 6794
Mike J., Dover
Intense activity over Thursday & Fridays with reports of record numbers of 90 & 109 migrants detained as 'swarms' of RIBs have attempted the crossing during calm but very cold nights.
At least one RIB eluded the patrols with BBC Southeast TV showing on Thursday an abandoned RIB on the concrete apron by the Warren, just east of Folkestone.
Dawn Thursday, when I photted coaster NIKLAS on DWD4 , the cutter SEARCHER was heading out to sea.
Soon after the arrival of the Dutch lifeboat the SEARCHER returned with a migrant RIB alongside & berthed on the Tug Haven pontoon, later returning to sea, heading off in the Folkestone direction.
As the the KOODMANSDAN arrived the Dover lifeboat was on the fuel pontoon after presumably helping with the migrant operations.
She returned to her berth soon after the arrival of the Dutch lifeboat.
Patrol vessels SPEEDWELL & NIMROD were out at sea, involved in rescue operations, & returned during the morning.
The Littlestone inshore lifeboat had been pressed into service to bring in an abandoned RIB & but didn't stay long, leaving minutes ahead of the KOODMANSDAM.
Similar activity on Friday but the imminent approach of severe storm CIARA over the weekend will likely discourage further crossings until another improvement in the weather.
A few pix from Thursday.
The SEARCHER berthing on the Tug Haven pontoon, note the RIB alongside.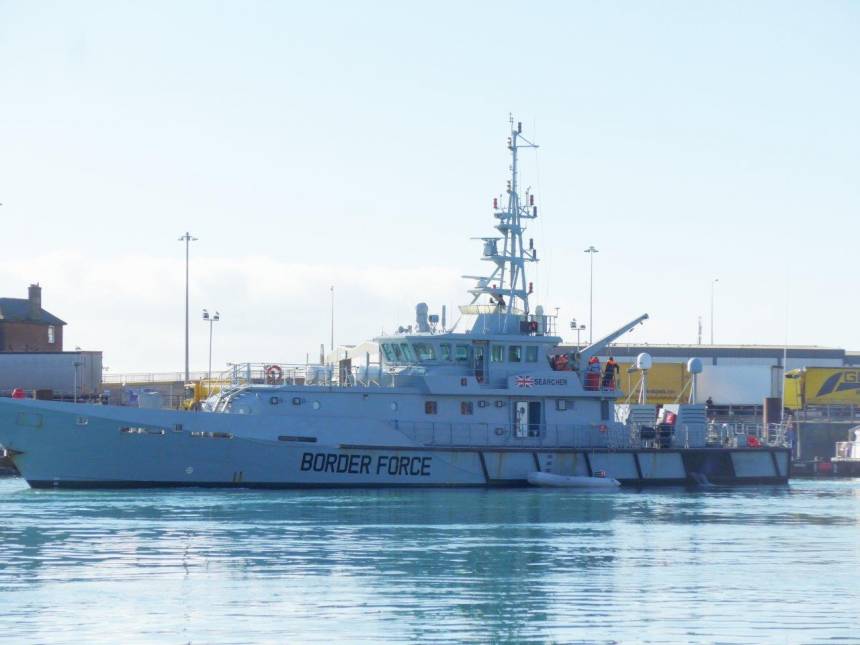 Dover lifeboat returning to her berth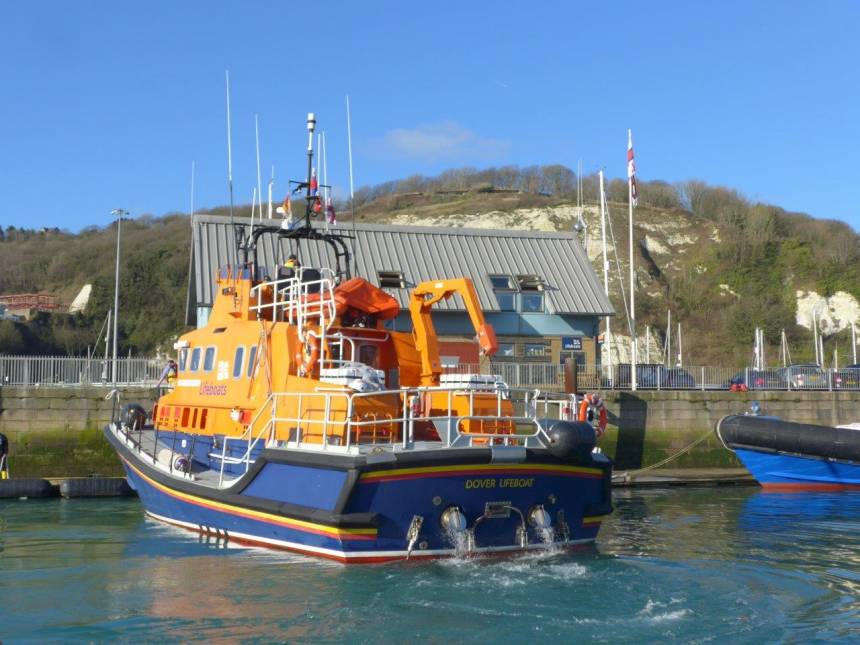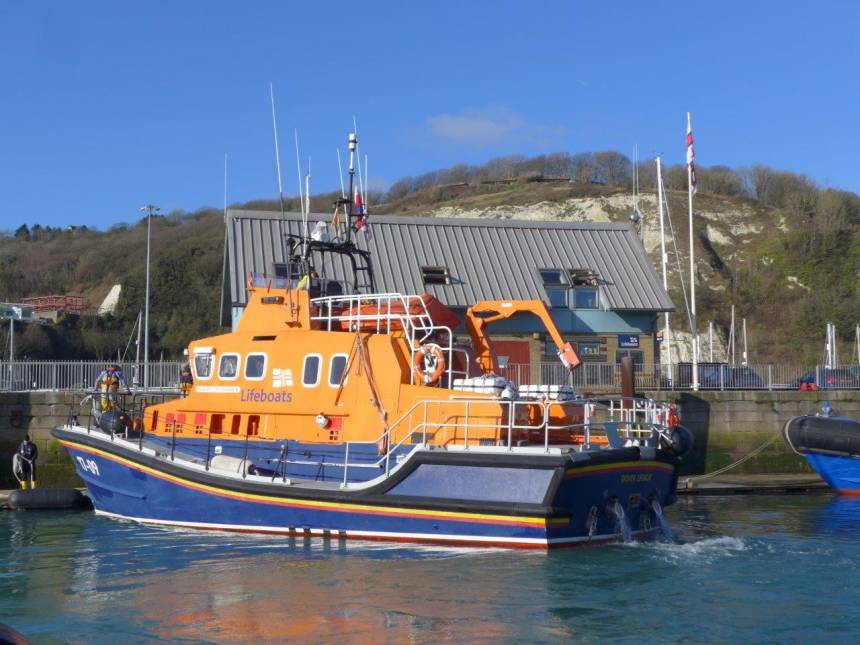 Arrival of Littlestone lifeboat bringing in an abandoned migrant RIB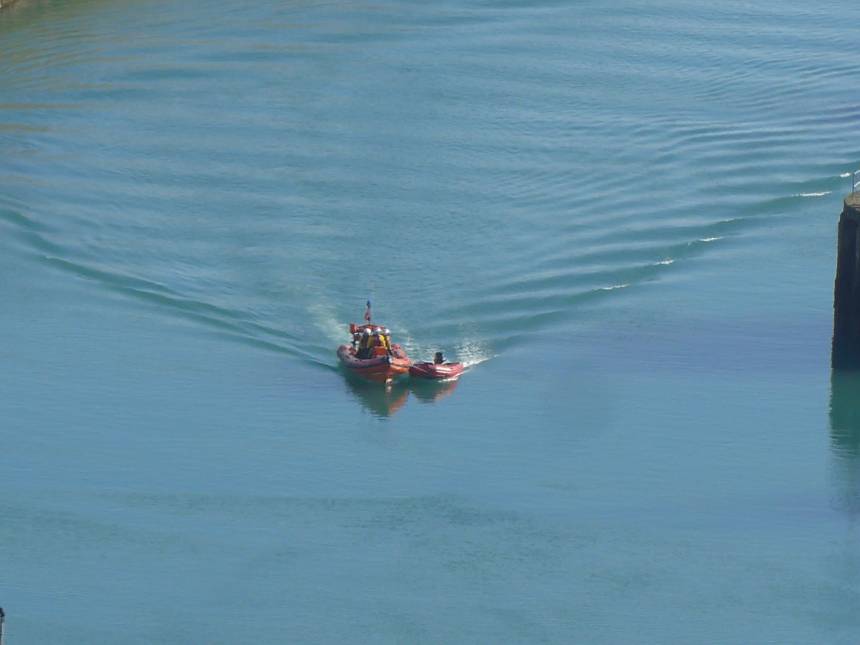 Departure of FRED CLARKE returning to Littlestone.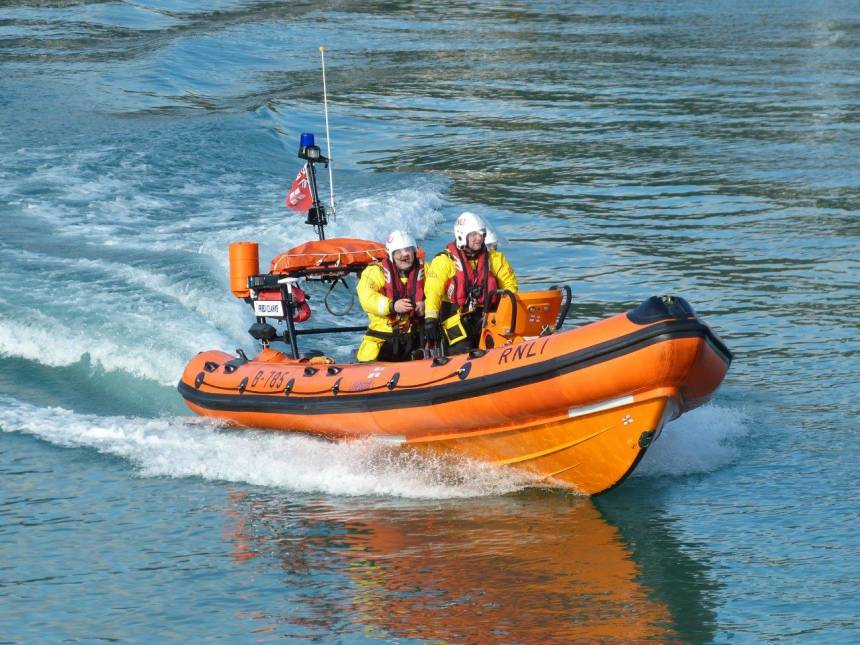 Photo courtesy & copyright of Sarah Hewes.
Saturday, 8 February 2020 - 02:45
Post 6793
Mike J., Dover
Another Thursday arrival, this time in the wee small hours, was the Antiguan-flagged coaster NIKLAS, arriving from Tilbury to load grain.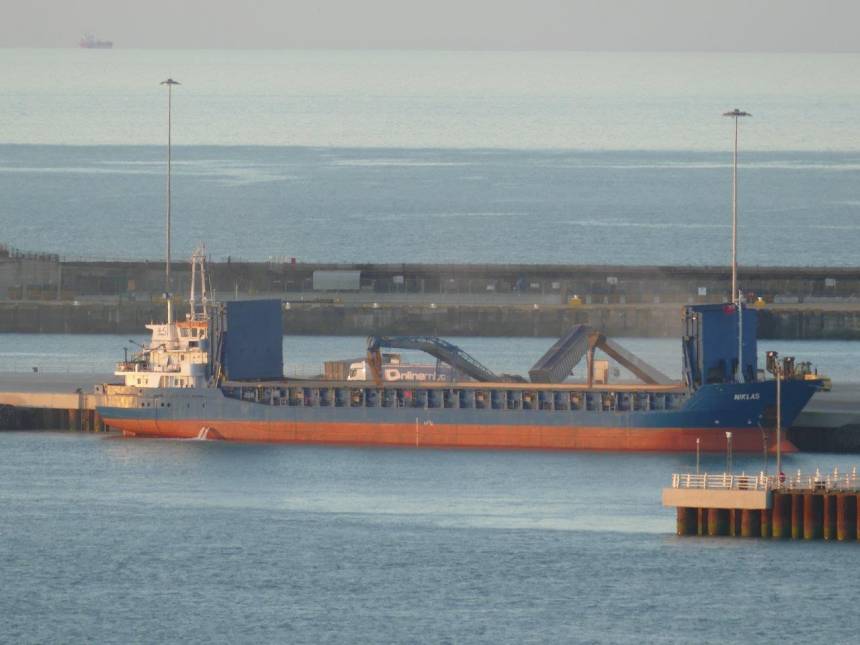 Friday, 7 February 2020 - 08:25
Post 6792
Mike J., Dover
The Dutch lifeboat KOOPMANSDANK paid a brief visit to Dover on Thursday coming down from her base at Neeltje Jans, an island on reclaimed land on the Osterschelde Dam, about halfway between Rotterdam & the Belgian border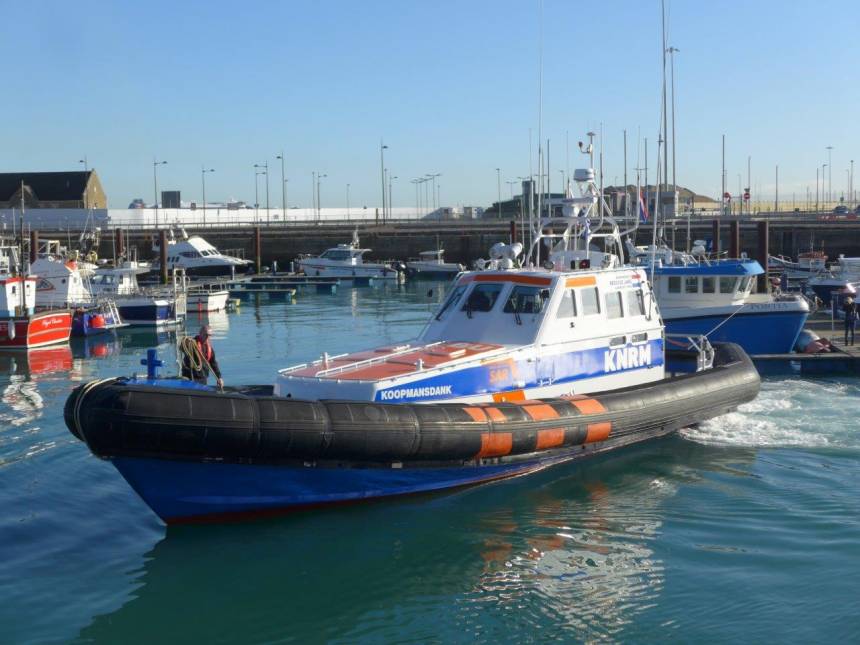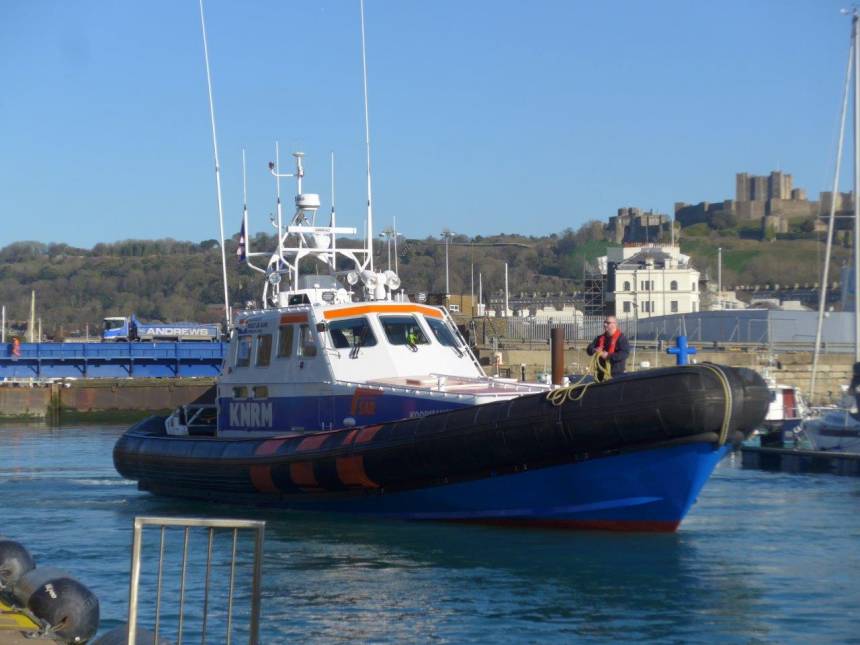 She was conducting engine trials which were apparently highly successful & she could be seen on AIS doing 33 kts.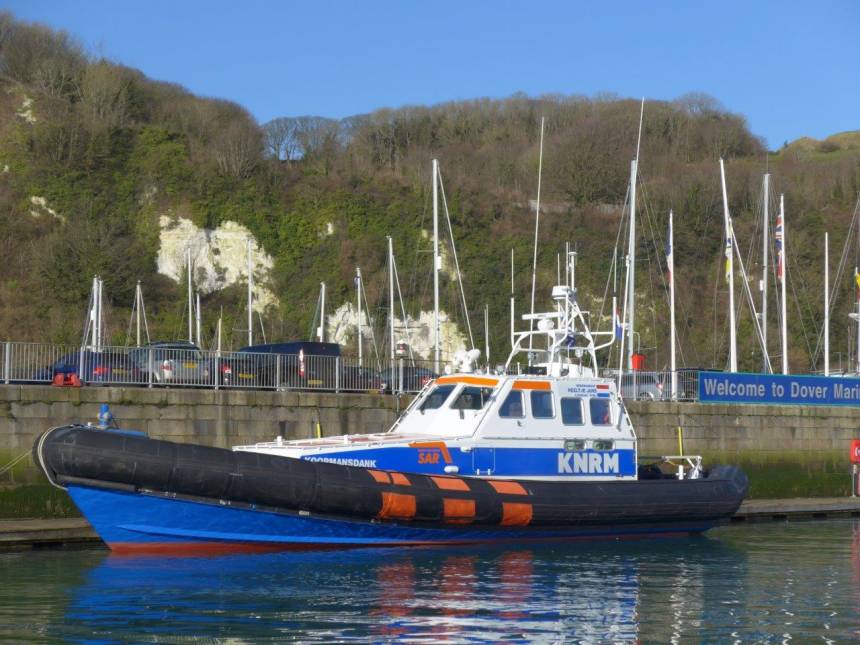 She is operated by KNRM, the Dutch equivalent of the RNLI.who, like the RNLI, are funded by public donations.
The Dover lifeboat was involved in Thursday's busy migrant operations but joined the Dutchman on the boathouse pontoon before she sailed.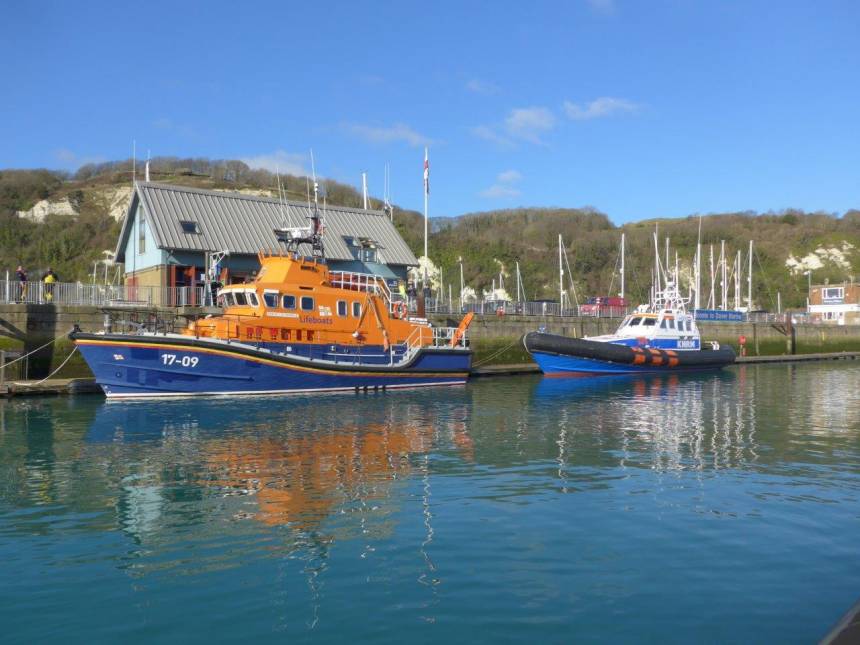 After a couple of hours alongside the KOOPMANSDANK headed out to return to base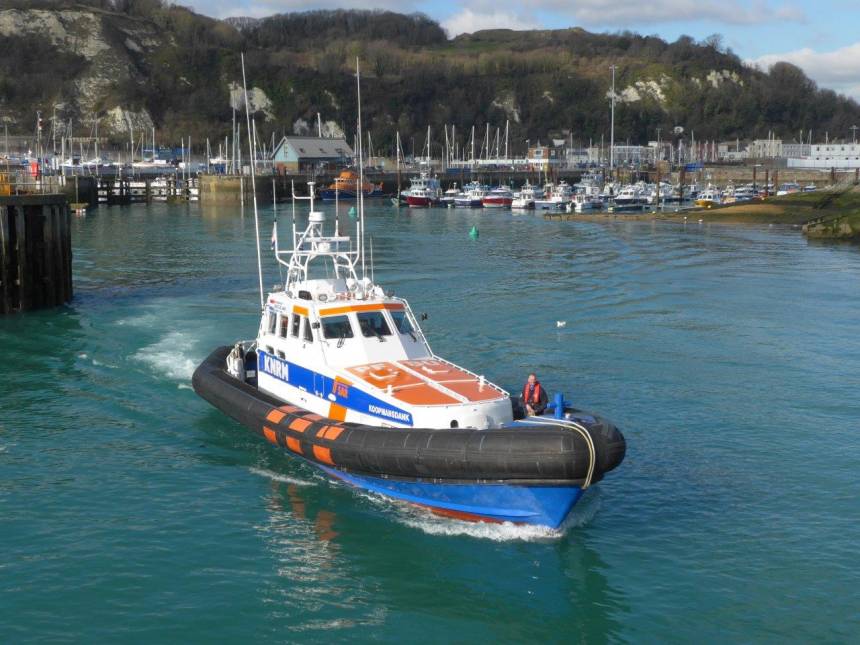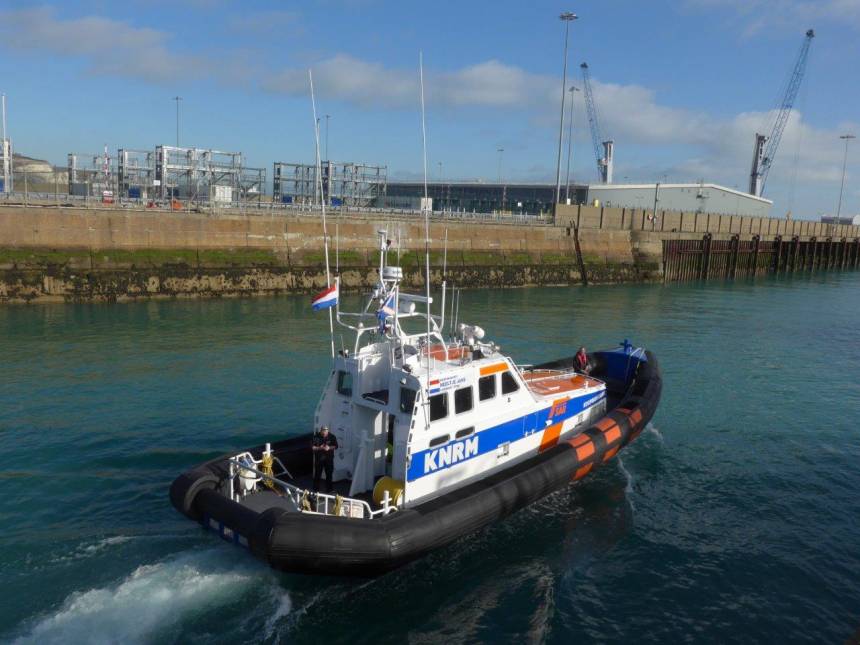 Friday, 7 February 2020 - 02:01
Post 6791
Patrick, Marine Parade
As Paul says - nice to see the return of the AIDAs this year, starting with the AIDAcara yesterday. I thought she had missed us on return from Spain via Honfleur as when I checked she had sailed past Dover and on up the channel. Went to bed thinking 'that's it then' - only to find her sitting nicely on Cruise 2, having done a U-turn mid north sea, arriving around 0700hrs yesterday.
Viewed from Western Heights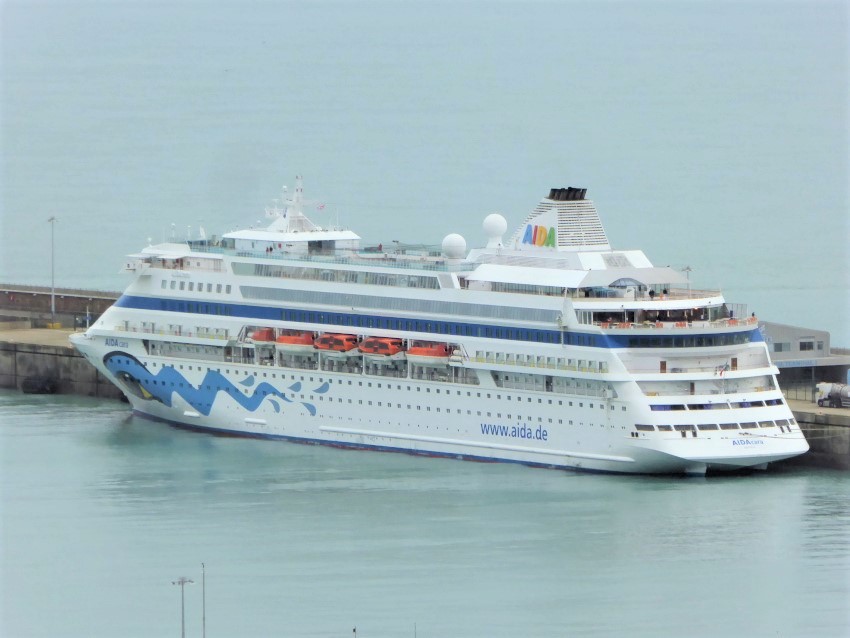 She sailed for Antwerp last evening well lit up as she passed through the Western entrance just after 1900hrs The AIDAs are a beautifully lit fleet and we look forward to their return to Dover during the oncoming season.
Thursday, 6 February 2020 - 12:03
Post 6790
Sea News, Dover
P&O FERRIES CHAMPIONS YOUNG TALENT....
.. AS IT WELCOMES LATEST RECRUITS TO ITS MARITIME CATERER APPRENTICESHIP SCHEME
_________________________________________________________________________________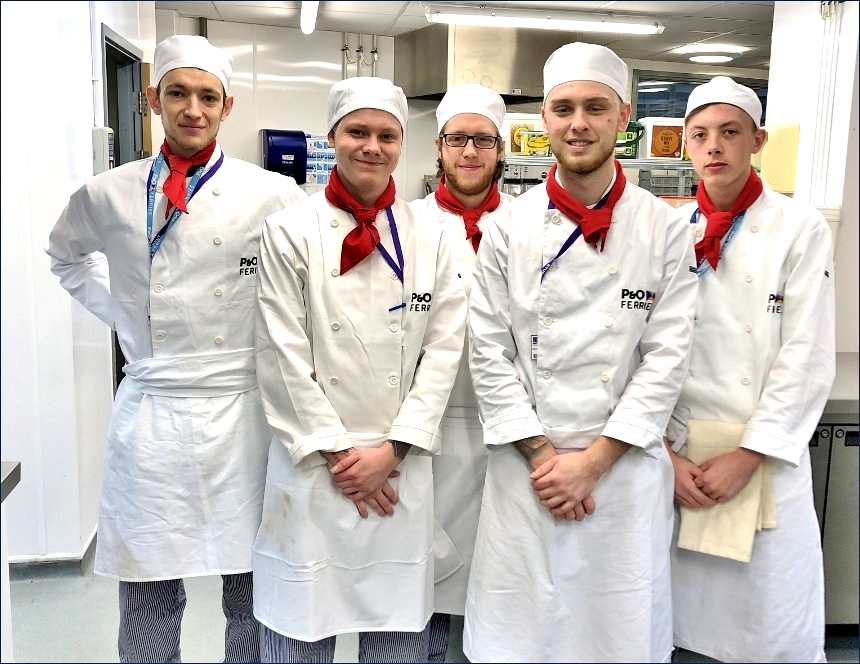 New apprentices.
Following a competitive application process, P&O Ferries has welcomed five new recruits to its Maritime Caterer Apprenticeship scheme, a two-year development programme for future ratings within the Onboard Services Department.
The trainees, aged between 20 and 26, joined their allocated ship last week after undergoing a three-week induction at North Kent College. The initial tutoring included STCW ship safety training, a mandatory certificate all individuals must obtain before commencing employment on-board a ship.
For the duration of the course, the group will split their time between the classroom and their designated ship. On-board, the apprentices will progress through the Merchant Navy Training Board's Training Record Book, which logs all practical skills they have undertaken on the job. Core skills they will learn include food preparation, costing and budgeting, menu planning for both customers and crew as well as stocktaking.
The group will come back together for one day a week in the classroom, alternating between North Kent College and Channel House – P&O Ferries' Dover HQ. At the college, the students will work towards a Level 2 Diploma in Professional Cookery, while at Channel House, the group will undertake further specialist training with additional tutoring in maths and English.
The following apprentices have each been allocated to a ship operating on P&O Ferries' Short Sea Routes between Dover and Calais; Sean Evans (Pride of Kent), Lewis Green (Pride of Canterbury), Jake Squires (Spirit of Britain), Louis Beales (Pride of Burgundy) and Pete Smith (Spirit of Britain).
Commenting on the programme, trainee Pete Smith, aged 26, said, "When I applied to the apprenticeship scheme, I was out of work and receiving benefits. I saw it as a brilliant opportunity to challenge myself. It's been great to get stuck in on my first-week on-board the Spirit of Britain, and I'm excited to advance my skills as I go along."
Fellow apprentice, Sean Evans, aged 21, added, "I was already employed by P&O Ferries as a Steward and Kitchen Porter, however when I saw the opportunity to join the Maritime Caterer Apprenticeship scheme, I jumped at it. I'm confident that the course will put me in great stead to achieve my ambition to become a chef."
Mike Willis, Learning and Development Advisor at P&O Ferries, said, "It's been a delight to watch our new intake of apprentices throw themselves into the course, firstly at North Kent College and now on the ships. The course is tailored to set apprentices up for a successful career in the catering sector, and through a structured training programme and regular touchpoints with Learning and Development Advisors, we hope to put our students in the very best position possible."
For more information about career opportunities with P&O Ferries, visit www.poferries.com.
-ENDS-
* *
Great to see all those new apprentices above there. Enjoyable picture.
Good luck to them and many thanks to the team at P&O Ferries once again

Yesterday saw the first cruise ship of the year...AIDAcara
____________________________________________________
Yes here she is approaching Dover...time of first shot 07.14. Great to see a cruise ship again, roll on Spring...
Nice to see many of the passengers strolling about during the day.
And here she comes...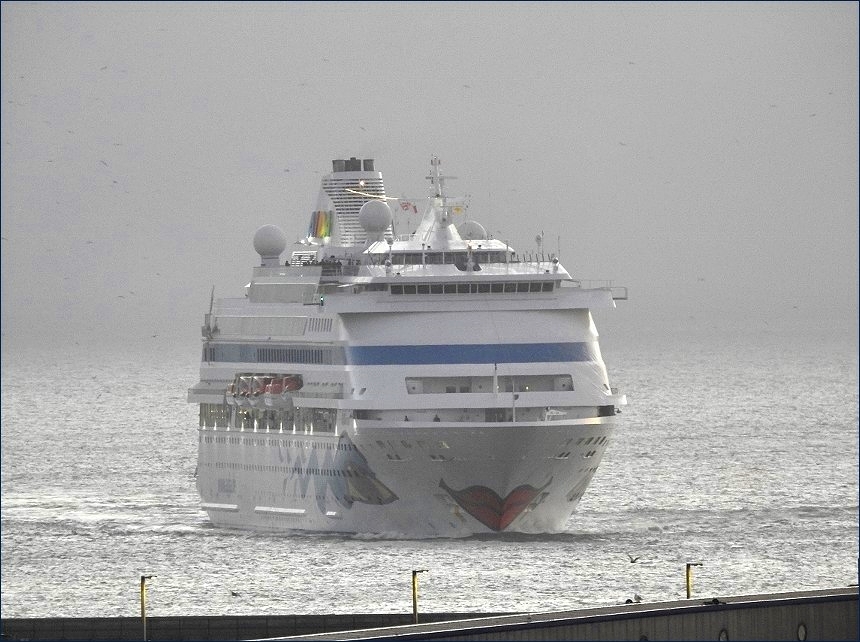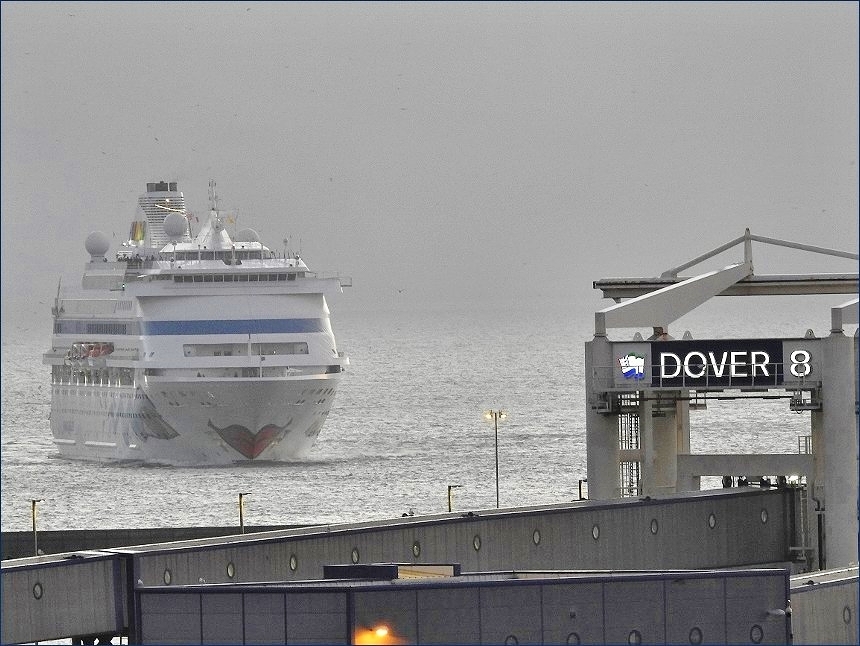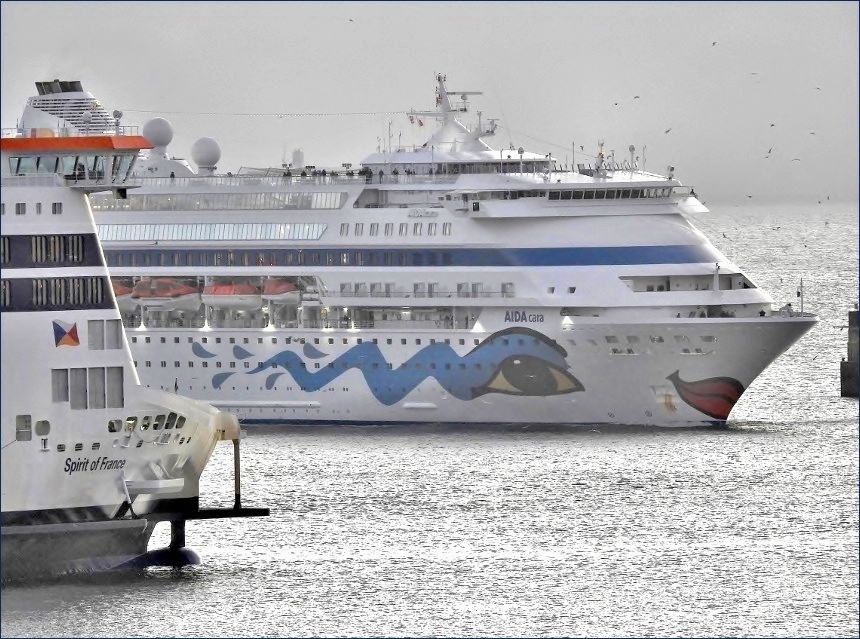 She left last night at 7pm for Antwerp....obviously pitch dark, but we may have another pic or two taken earlier in the day..
Thanks for that one below Terry

PaulB

Thursday, 6 February 2020 - 06:02
Post 6789
terry, |Dover
Paul, and another one called Lady Rosebud. Imo 9412749.

Thursday, 6 February 2020 - 04:47