Wednesday, 16 October 2019

WWW.DOVERFORUM.COM/SEA-NEWS
Featuring all the ships that come and go and work at the Port of Dover ..
... with further coverage of the surrounding ports.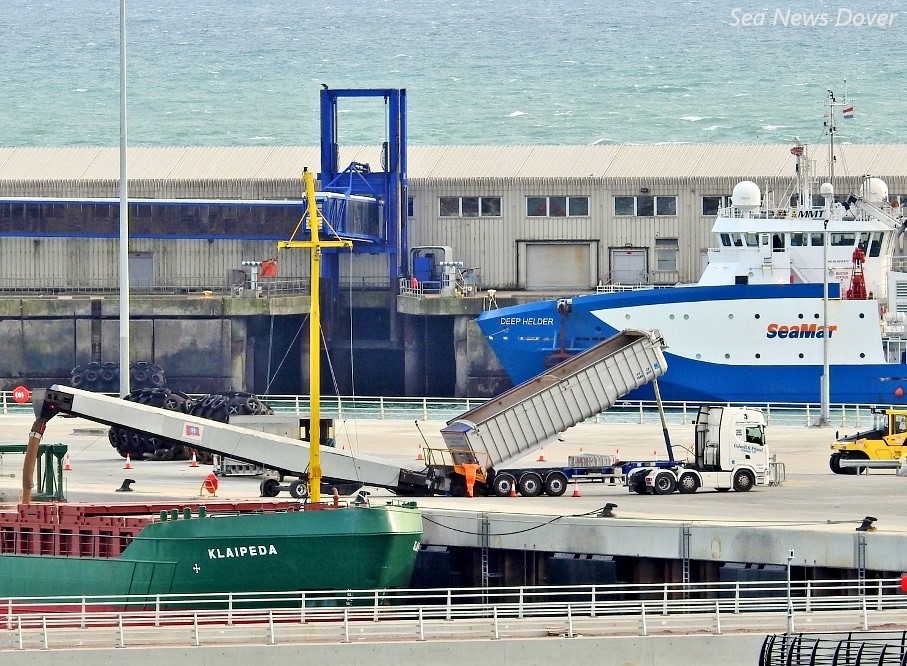 Grain loading, Western Docks Port of Dover. See also similar picture 6585.
Sea News Dover
Use our SEARCH ENGINE below to find all sorts on the SEA NEWS pages....type in the topic and away you go, or if you have the post number, just type it in the box, more than - 6500 - nautical posts now.
Posts are welcome. just click 'Add Your Comment' below. Max of 5 pictures preferred although we can stretch that for special stories.. Sea News Editor Paul Boland - send info or pix to dover7@msn.com. Always welcome.
CRUISE CALLS:
https://www.doverport.co.uk/cruise/find-a-cruise/
UPDATE:
To show your pictures at their best..it could be worthwhile resizing before posting to
850
pixels wide.
All pictures on these pages are the copyright of the owners and must not be reproduced without permission.
Post 6496
Mike J., Dover
Nice light on the water as the SEEKER approaches really 'makes' the 'cover page' photo.
HUNTER & DALBY TEES in the Tidal Basin on Saturday morning during a very low tide.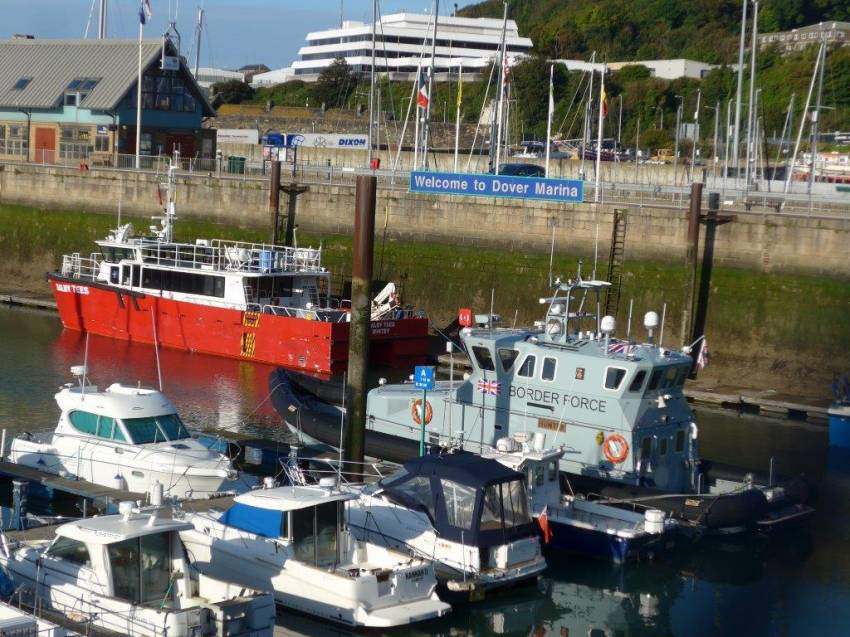 The workboat DALBY TEES came in on from the Solent Friday afternoon & sailed for Lowestoft midday on Saturday.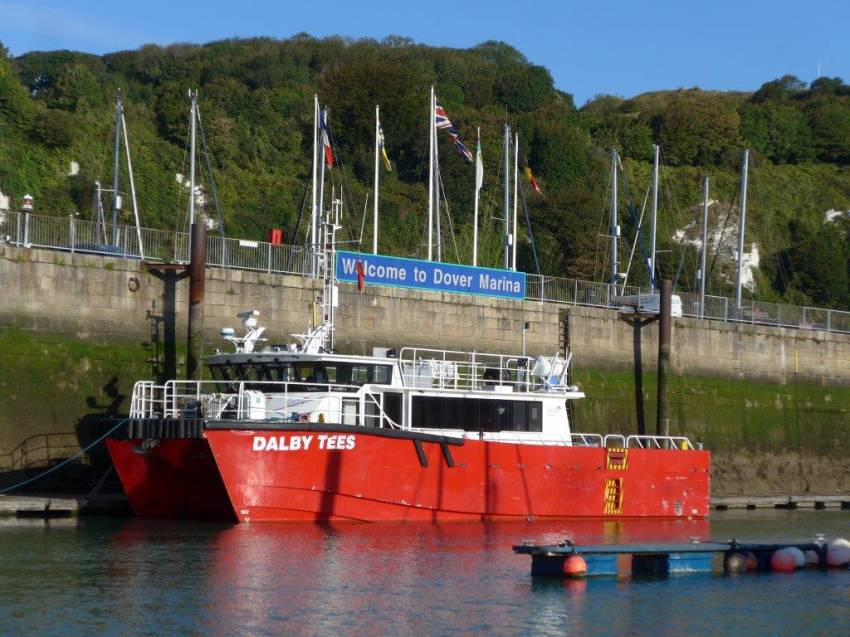 THV ALERT is in for the weekend alongside the DAVID CHURCH & Hammonds colourful launch was on her usual berth by the fuel pontoon.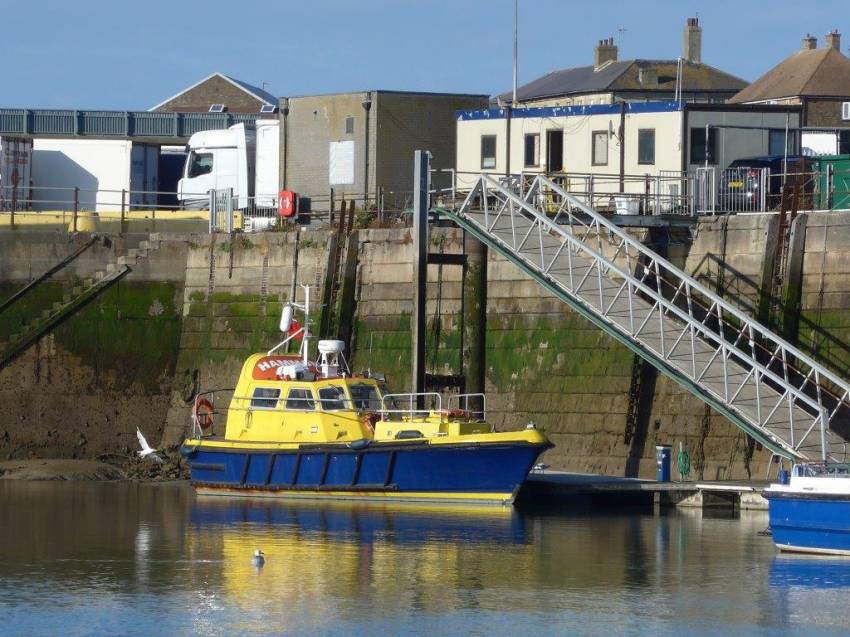 I'm sure that Sarah will agree that you can't have too many lifeboat pix.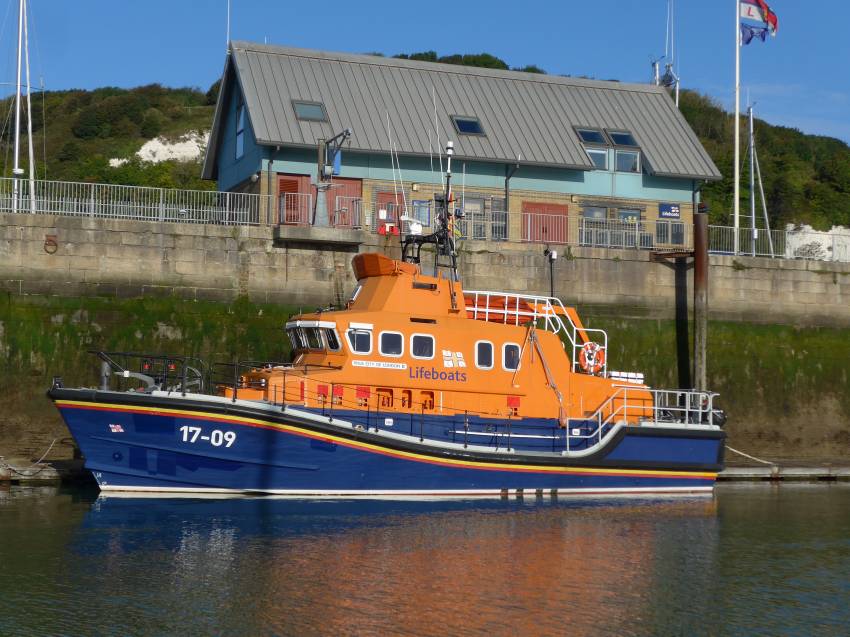 Not much water in the harbour Saturday morning, with one of the lowest tides that I've seen.
The sill of the Wellington Dock gate channel is well exposed & normally unseen banks are showing as the PORTIA heads down the Wick with an angling party.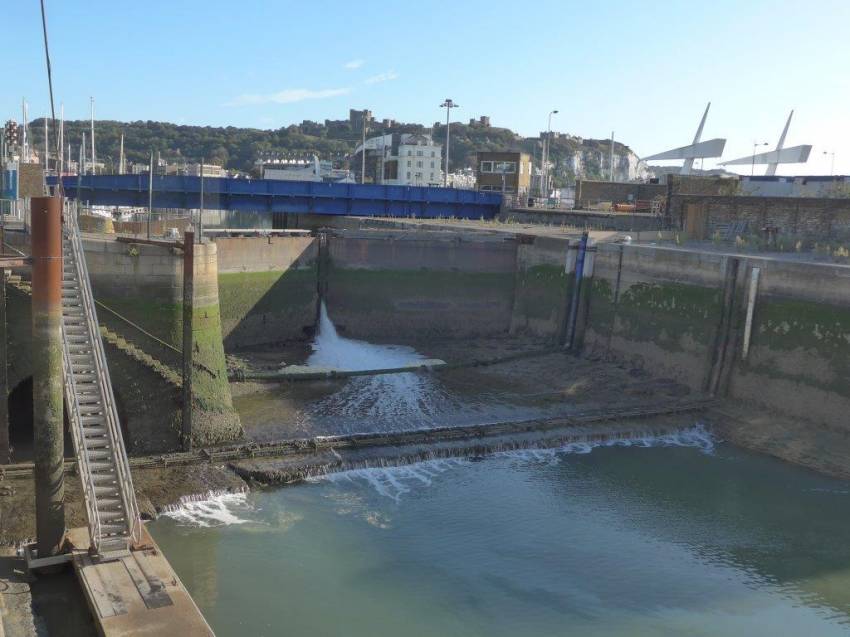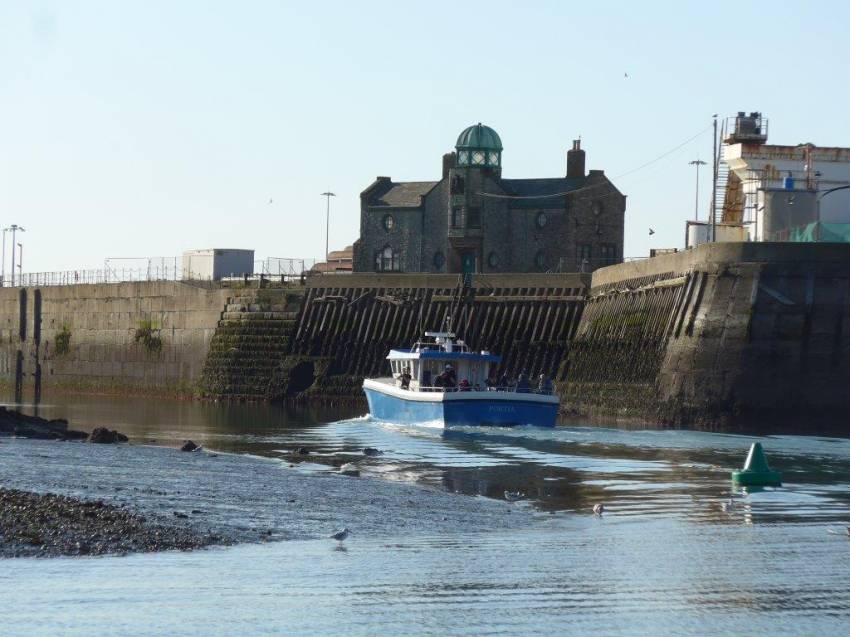 Re Paul's post of the DAVID CHURCH - she's lifting the East Buoy & maybe the 'smoke' is sunlight catching the spray from a high-pressure water jet cleaning the highly-visible seaweed & general crud from the base of the buoy.
Sunday, 1 September 2019 - 03:32
Post 6495
Sea News, Dover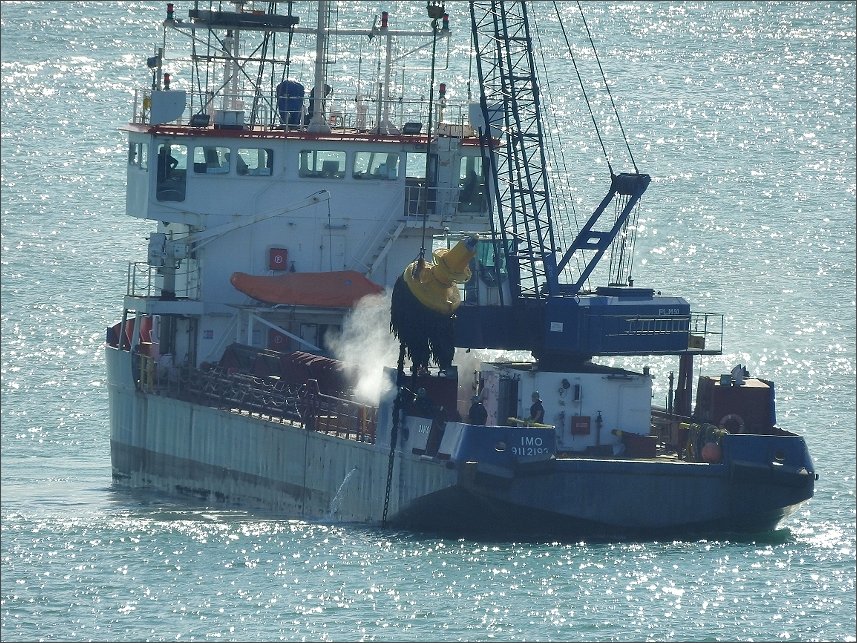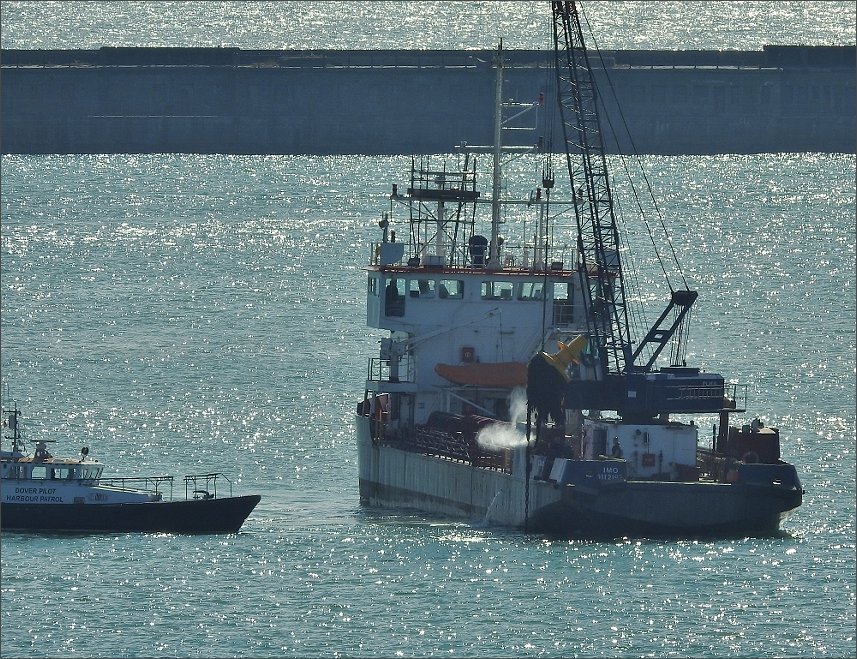 Some pictures above there of dredger David Church taken on thursday ...yours truly saw what looked like smoke rising from her deck...well you can see above there, but nothing of an alarming nature.... probably drilling something. You can see one of the marker buoys suspended in the pictures.
Following along from Mike's pic of Alert approaching, here she is again below a short time later, just heading into the inner harbour. Just saw her at the last minute.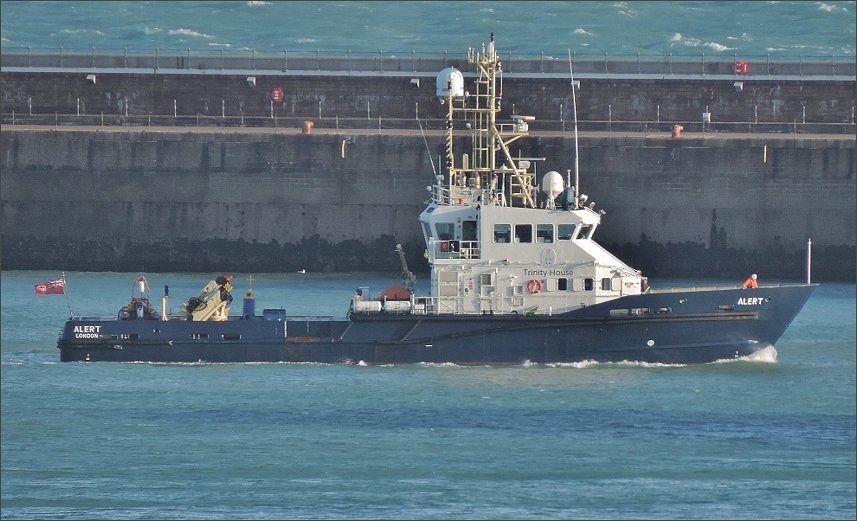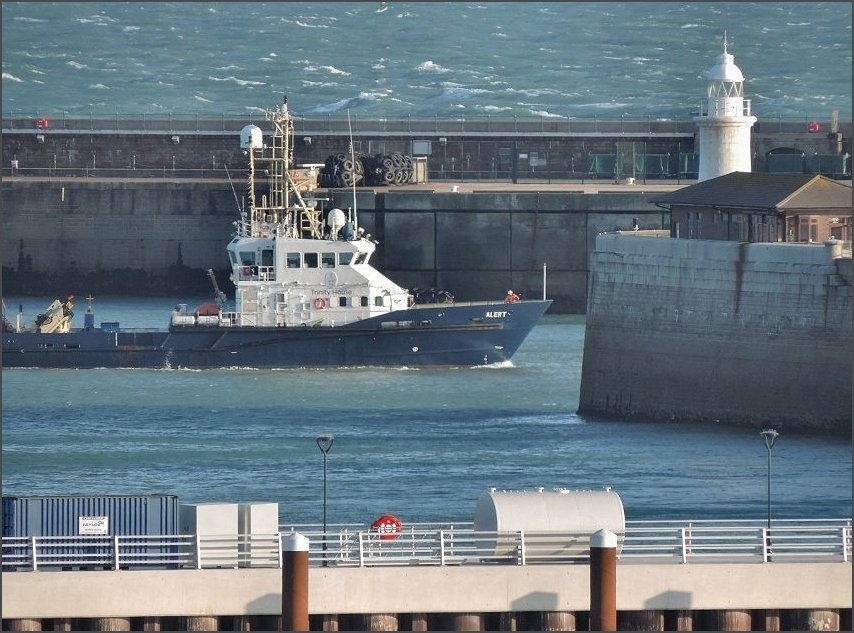 I know Del...our seagull is determined to get in to all the shots, mad for fame and glory....what can ye dooo


PB
Saturday, 31 August 2019 - 06:44
Post 6494
Del Styan, Norwich
See that pesky seagull has blown into your pic again. How does he/ she manage it!

Friday, 30 August 2019 - 23:05
Post 6493
Sea News, Dover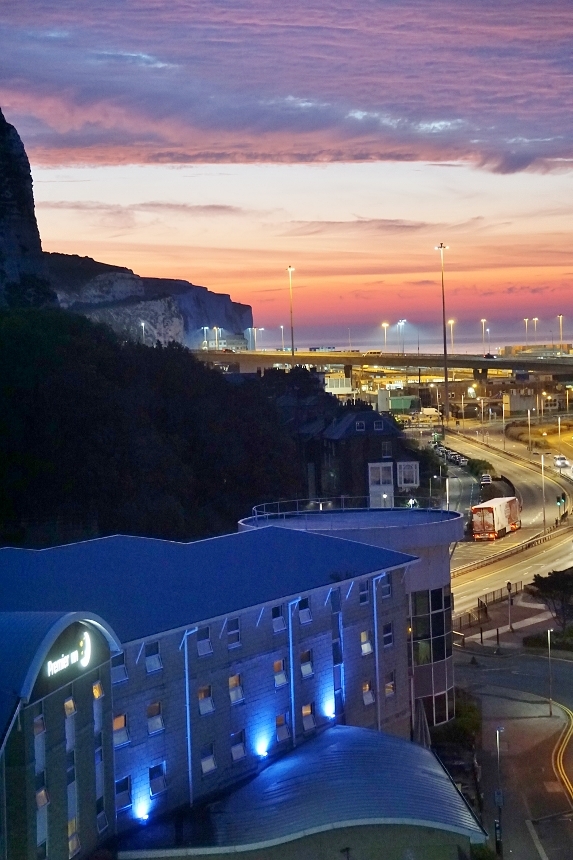 The Premier Inn on Dover Seafront is busy busy these days. The picture above there shows the hotel at dawn two days ago and looking good. Obviously now this is the season for dramatic early skies...and sure who can resist all that glorious colour...as you can see in the picture below. Sunglasses at the ready...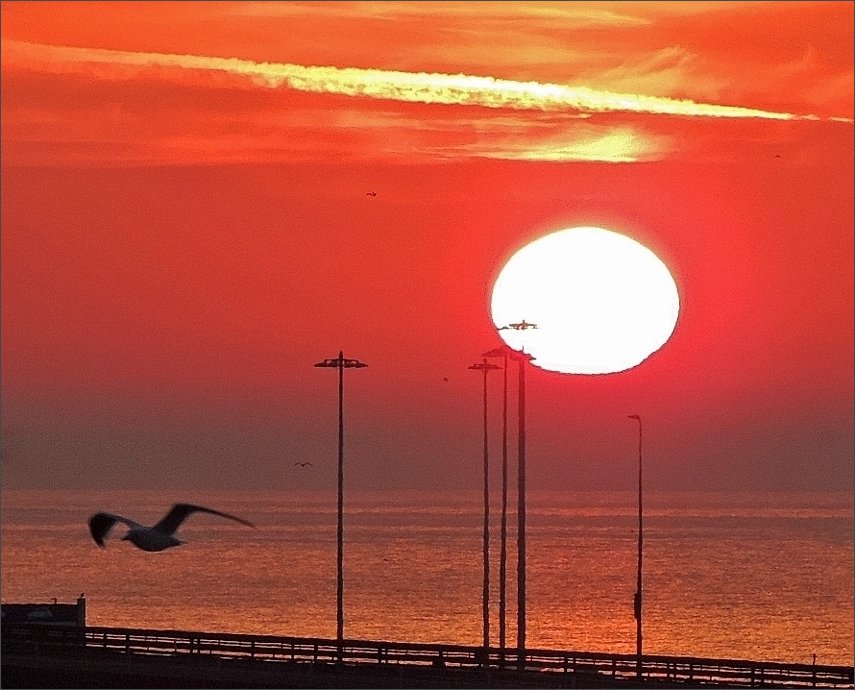 When the camera gets turned vertical as per top picture above, the width of the image appears to shrink. Its quite odd yet the dimensions are still the same as when horizontal...in the words of the song "its witchcraft"


I speak of course of standard dimensions.
Below we have a picture of the Viking Sun arriving yesterday morning...twas a soft morning for sure as she ambled slowly across the harbour to settle at Cruise Terminal Two...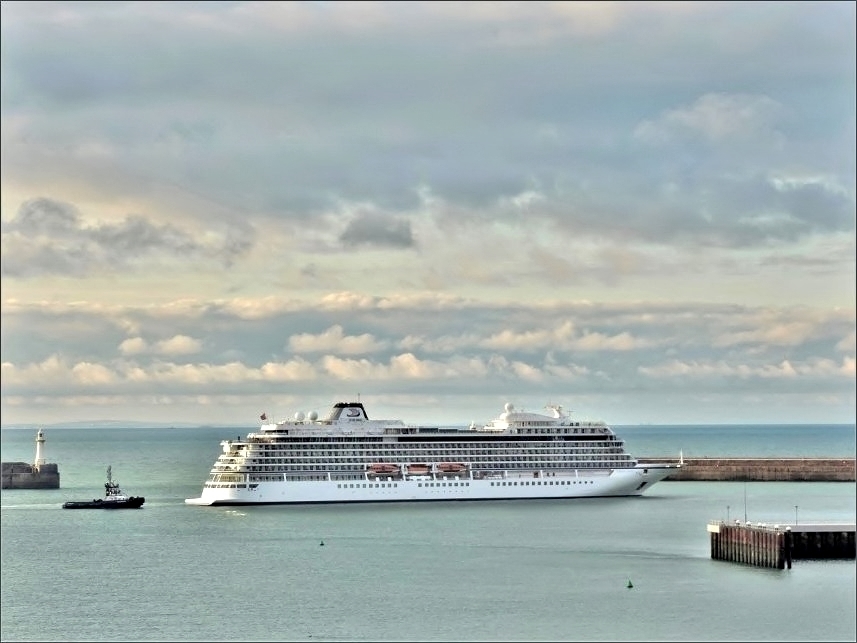 Mike yes I noticed the Calais Seaways myself yesterday and how good she was looking...the ferry is due to be replaced next year if i'm remembering correctly...but still cutting a dash!
Agent paddling furiously...lol

PaulB
Friday, 30 August 2019 - 06:04
Post 6492
Mike J., Dover
A nice sequence of the departure of the LUZON STRAIT from Paul.
In the first photo, bottom left hand corner, is that the Agent in hot pursuit with some paperwork that he'd forgotten to give the Master ?
A few Thursday pix, departure of the VIKING SUN for Tilbury, altho' they're not due there until the 31sr & the arrival of THV ALERT, with a lighting pole getting in the way as is traditional.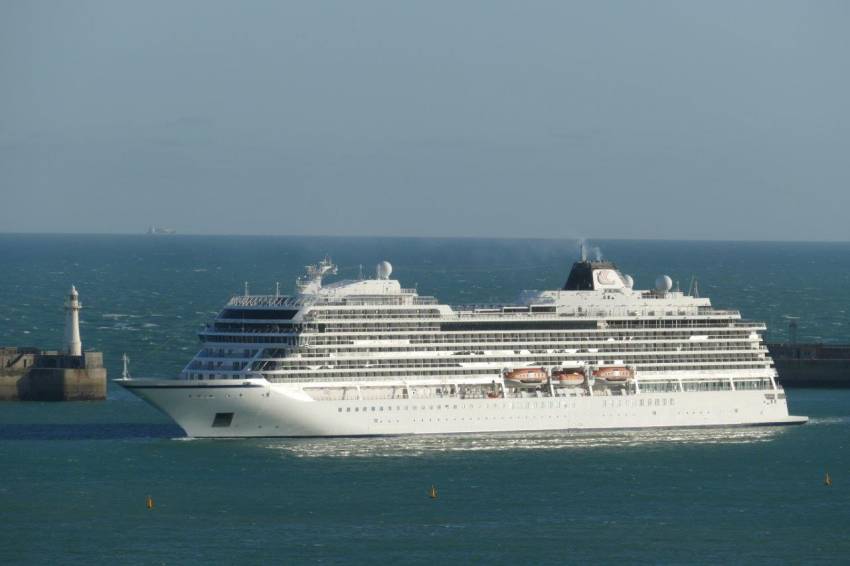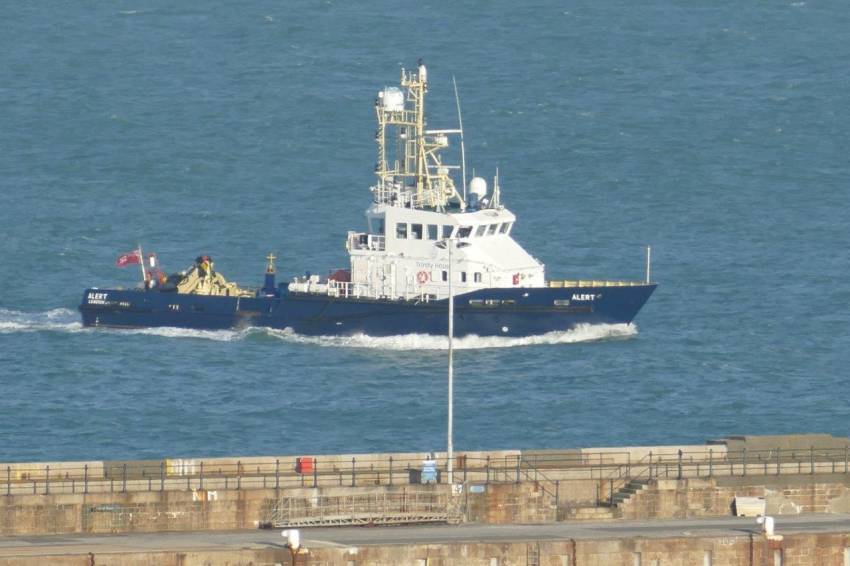 Similar pole intrusion for the docking of the CALAIS SEAWAYS, the oldest local ferry, looking good after 28 years of service & a bewildering array of names.
I have slides of her, covered in flags, making her inaugural visit as the brand new PRINS FILIP oif RMT, probably photted from the ST.CHRISTOPHER or the FANTASIA.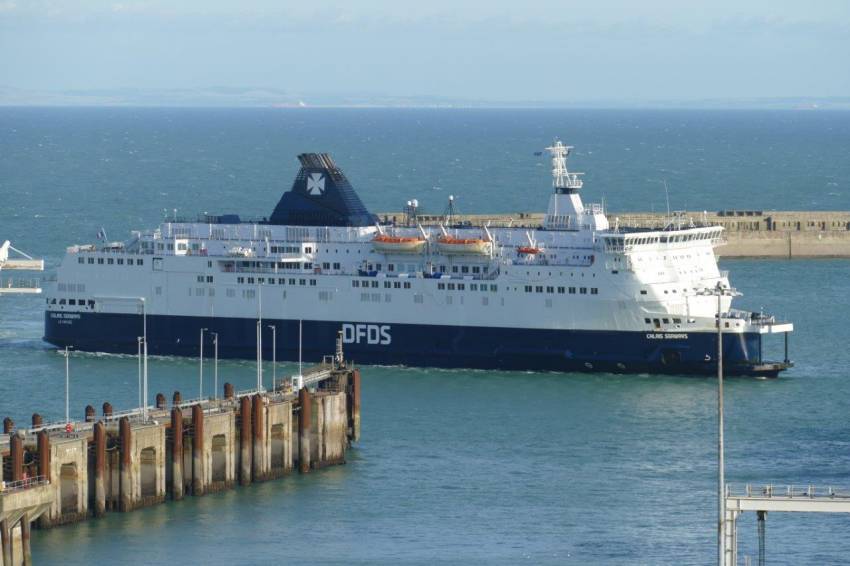 An interesting workboat, the EAGLE, was on the boat lift during the morning having a quick pressure-wash.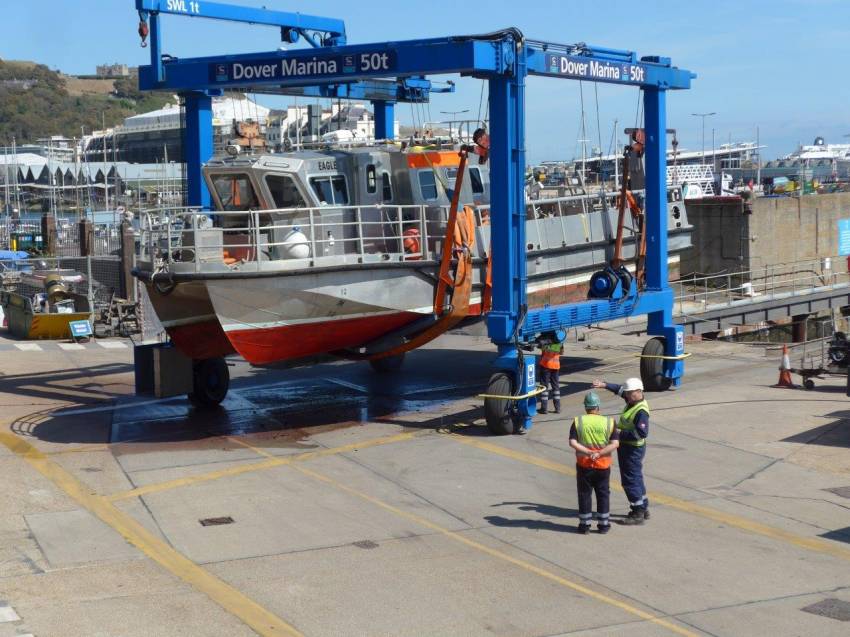 Not found anything about her yet.
Friday, 30 August 2019 - 03:11
Post 6491
Sea News, Dover
The GEEST LINE leaving the Port of Dover !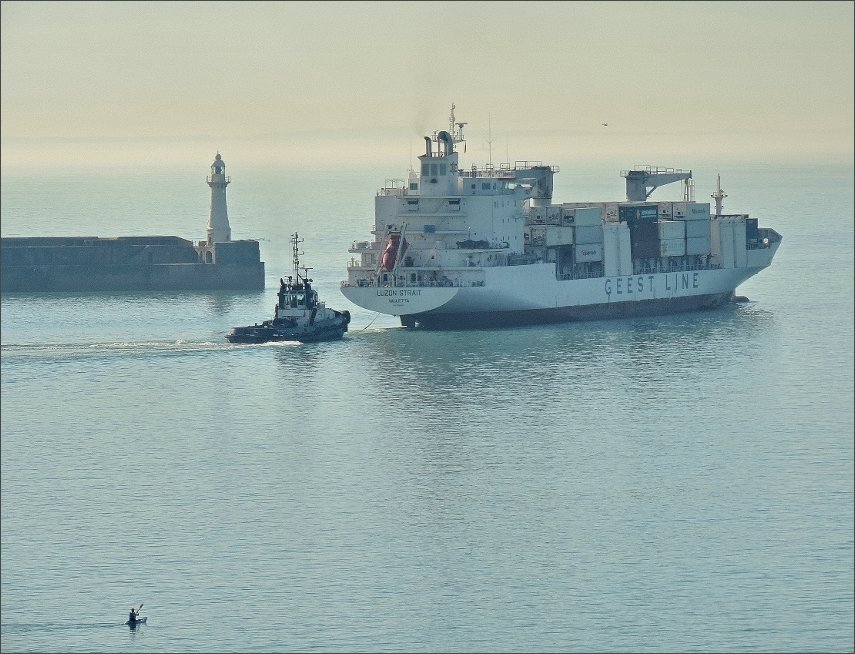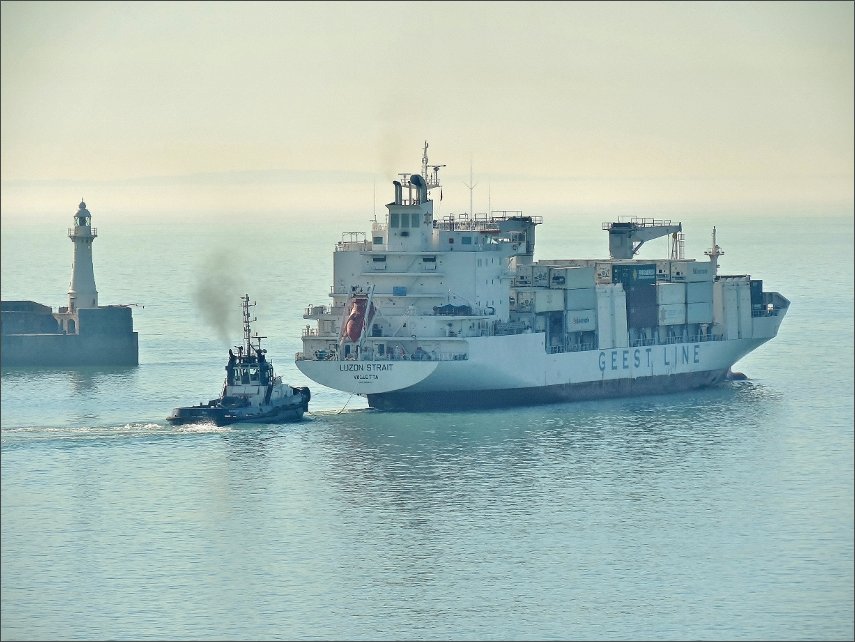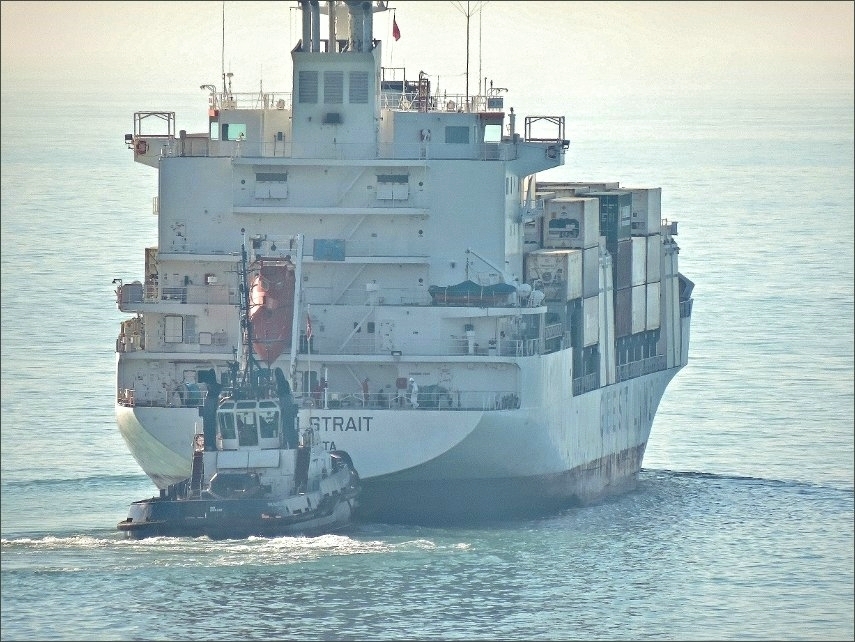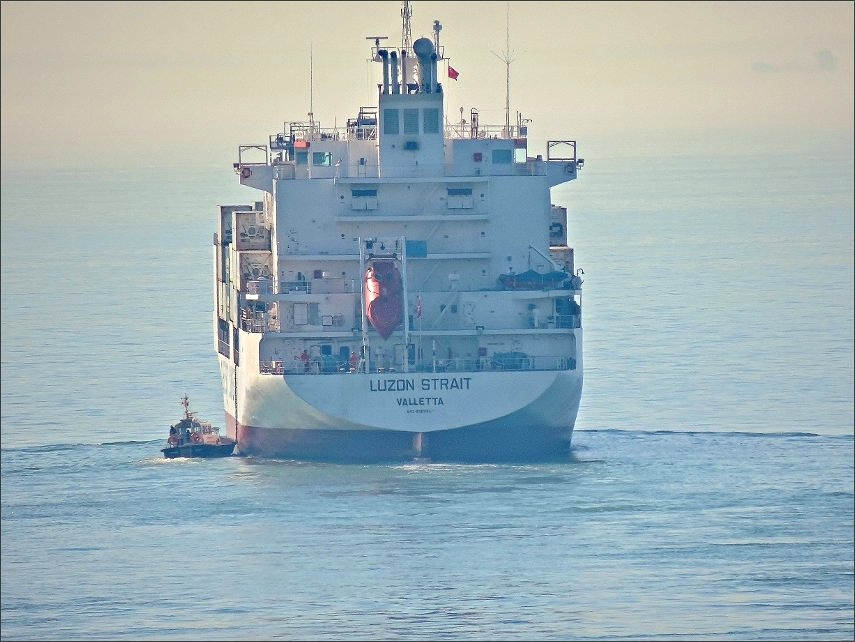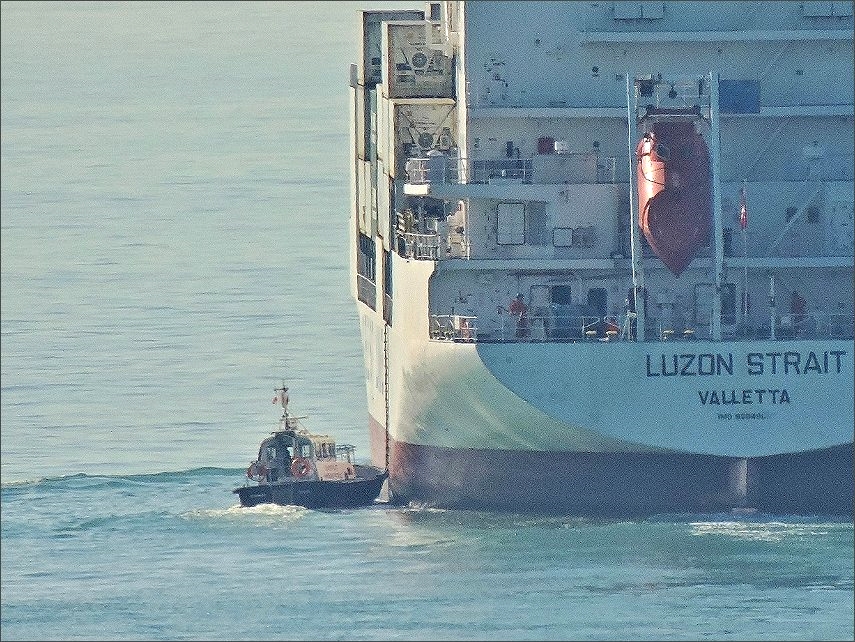 A sequence above there of the Luzon Strait leaving the Port of Dover through the western exit a few days ago. Seen above as she begins her long voyage to Bridgetown in Barbados to collect another consignment of tropical fruit. Sadly as we understand it .. Geest Line are leaving Dover and moving back to their previous stronghold in Portsmouth. We are ever optimistic that the Port here will be able to replace the loss.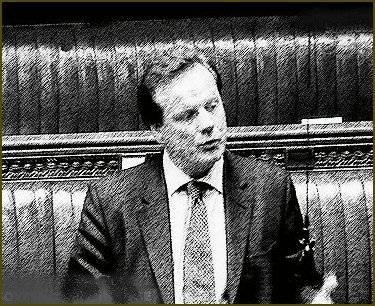 Time for serious investment in our roads...says Charlie Elphicke MP
_____________________________________________________________
Dear Mr Boland,
The M20 is the slowest motorway in Britain. This weekend saw yet more delays thanks to the latest works.
The closures – this time in both directions between junctions 9 and 11 for resurfacing – were a nightmare for drivers. They came on top of ongoing works between junction 3 and 5 to make it a so-called a "smart motorway". And the hundreds of thousands of cones that now seem to line every major road in and around Ashford as they continue to build the new Junction 10A.
Then there are the steel barriers down the middle of the carriageway for Operation Brock – the contraflow scheme that is supposed to replace Operation Stack. All these things have contrived to turn the M20 – a vital cog in our trading machine – into the nation's slowest motorway. Yet again, it underlines why we need more investment in Kent's roads. Not Brock. Nor smart motorways. We need serious investment in wider roads and more road capacity.
That starts with dualling the A2. By 2030, freight traffic at Dover is projected to rise by 40%. A single carriageway A2 is simply inadequate. There needs to be investment in off-motorway lorry parking too. Kent MPs spent a lot of time convincing the Department for Transport to provide money for the Stanford lorry park. Now we need to get that important project back on track. And we need a better road between Dover and Deal to boot. The A258 is congested, inefficient and dangerous. A dual carriageway linking north Deal to the Eastry bypass is vital.
These major projects must be delivered. In the meantime, our priority should be ensuring our towns aren't gridlocked by queuing trucks. That's why I welcome the Department for Transport's new enforcement scheme – something I have long called for. Until now drivers were able to bypass traffic management queues by heading down smaller roads like the B2011, York Street and Jubilee Way. Before long Dover is at a standstill. Under the new plans, lorry drivers would have to present a permit to show they had queued correctly – or be fined £300 and sent straight to the back.
It's encouraging to see a Government that is serious about leaving the European Union – and preparing for every eventuality. Money is being spent on extra border officers, customs agents and better IT systems. Not only is this a sensible precaution – it means European leaders know we are serious about leaving, deal or no deal. That gives us a better chance of securing a good one. Most importantly, it means we can finally deliver what people voted for more than three years ago.
And then we can focus on all the other hugely important things – schools, healthcare, home ownership, the economy. And transport. These M20 problems have gone on long enough. Only real investment in our roads will end years of frustration.
Charlie Elphicke
ENDs
* *
Interesting collection below Mike - good to see those.

PaulB
ps:Viking Sun in Port
Thursday, 29 August 2019 - 06:06
Post 6490
Mike J., Dover
A stroll up the Ad.Pier on a rather gloomy Wednesday morning to get a bow 3/4 view of the BOUDICCA on CT2 proved a little more interesting than expected.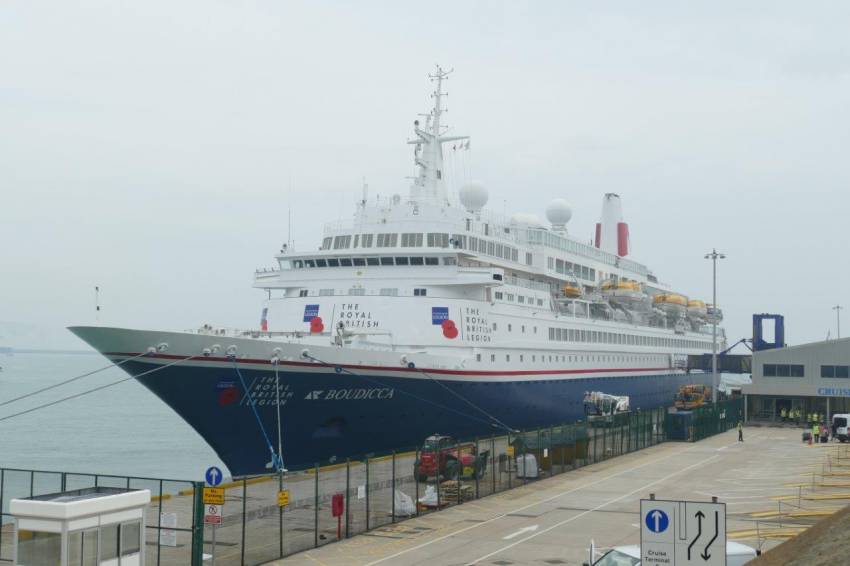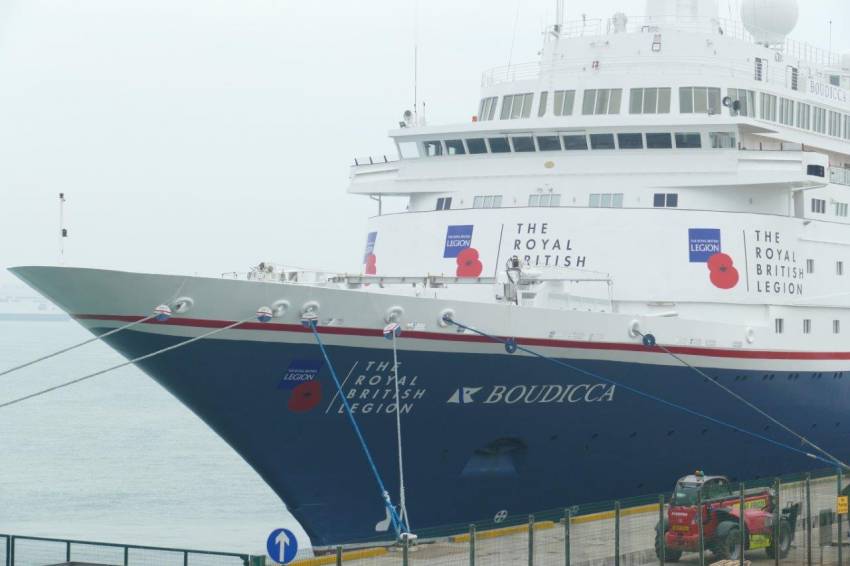 The ANDROS was bunkering the BOUDICCA & I'd forgotten that DEEP HELDER was still alongside CT1.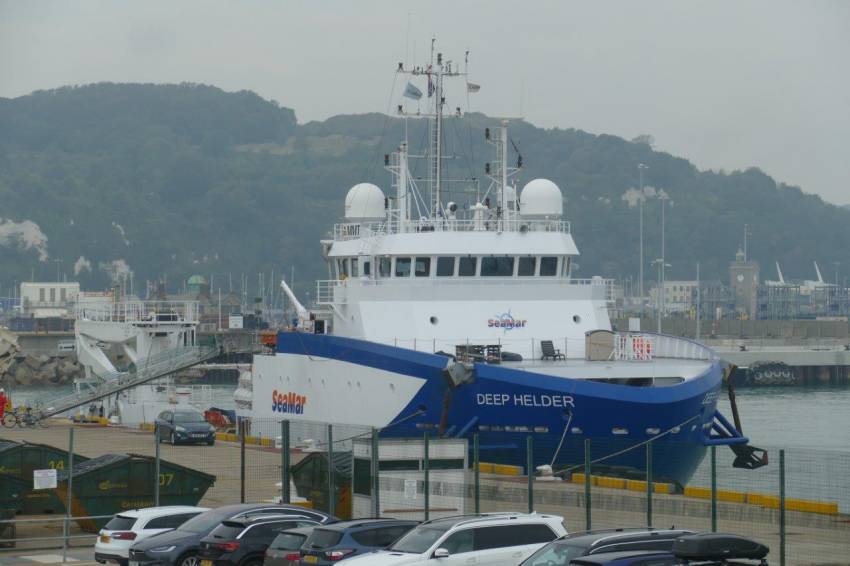 Chatting at the Turret café I almost missed the unexpected arrival of Border Force HUNTER.
She was towing a RIB so presumably had 'guests' aboard.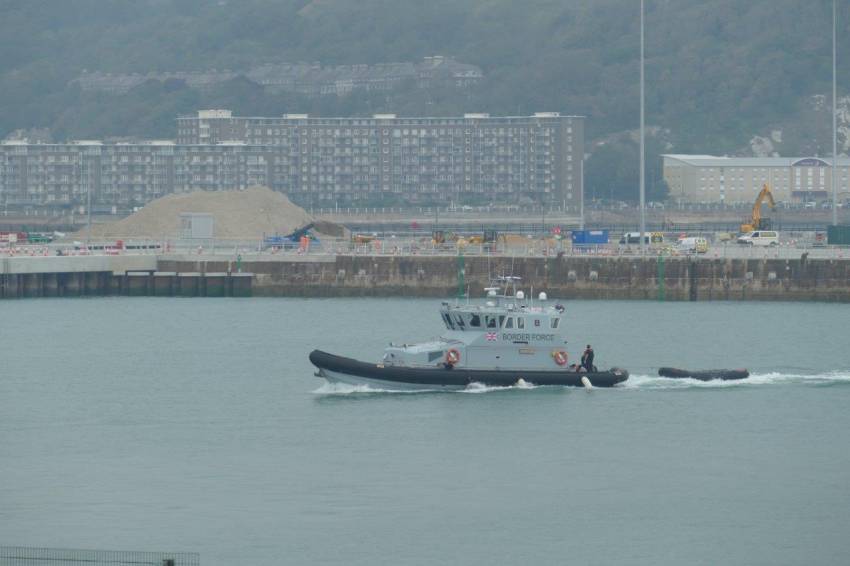 Another unexpected sight was a former US Navy biplane that made a change from 'marine matters'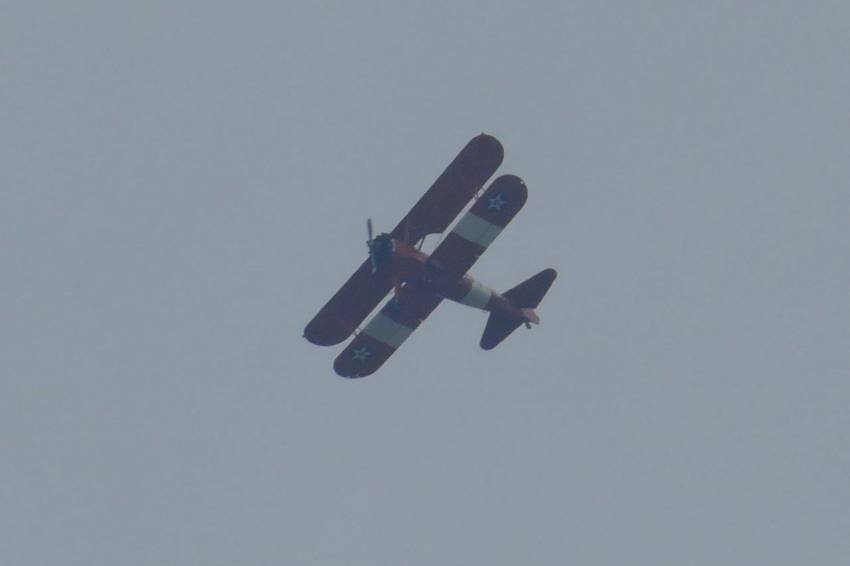 The Boeing Stearman was a former training aircraft built during WW2 & now lives at a farm near Hythe.
She circled overhead in the gloom, seeming to hang in the air compared to the Spitfires that are common sights flying over Dover & the White Cliffs.
Thursday, 29 August 2019 - 01:44
Post 6489
Sea News, Dover
Pacific Princess and Deep Helder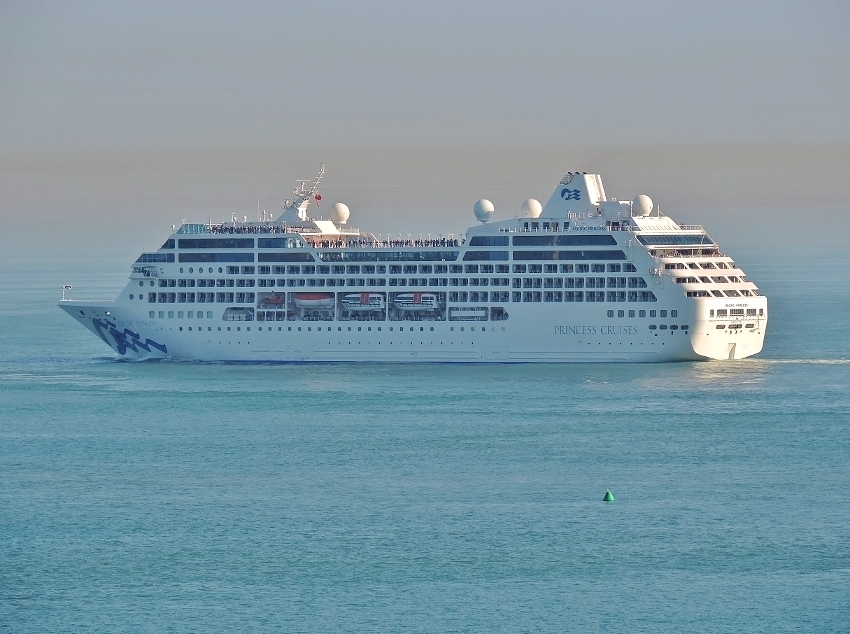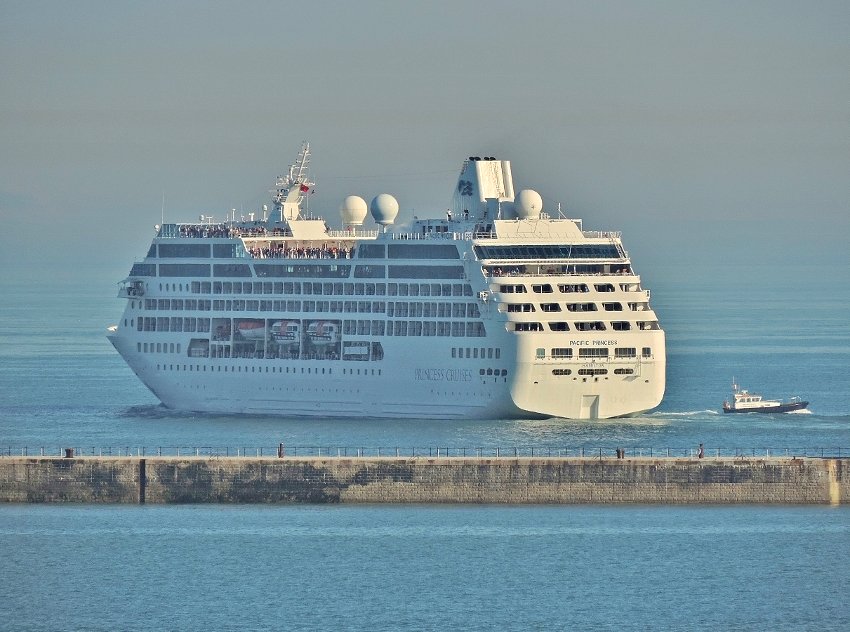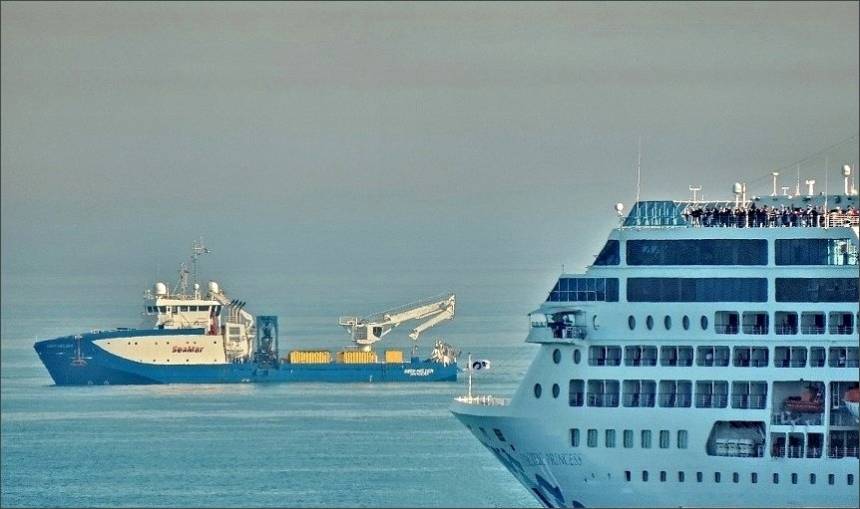 We saw the pix of Pacific Princess in the earlier posts arriving in all that colour a few days ago...well there she is above departing on a standard blue-ish evening. As mentioned earlier...she was off on a round Iceland Norwegian Fjords 15 day trip. The Fjords must be getting quite packed with cruise ships by now...busy times... You can see Deep Helder in the last of the trio above as Pacific Princess approaches her from the Port.
Deep Helder was working out there close to Port in the evening sunshine and soon after Pacific Princess left us...she came in to Port as you can see in the pictures below. She has been at Cruise Terminal One ever since and...let me look...yes is still there as we speak...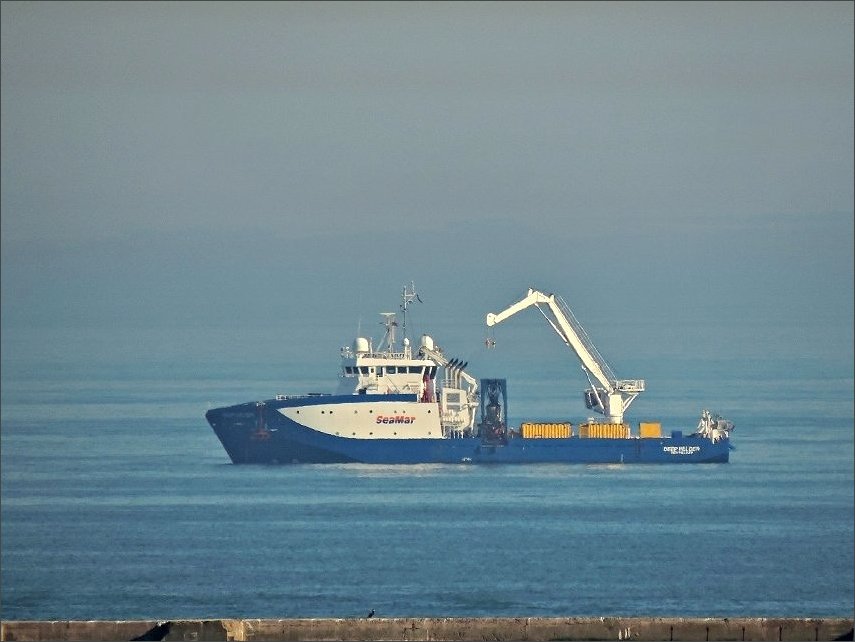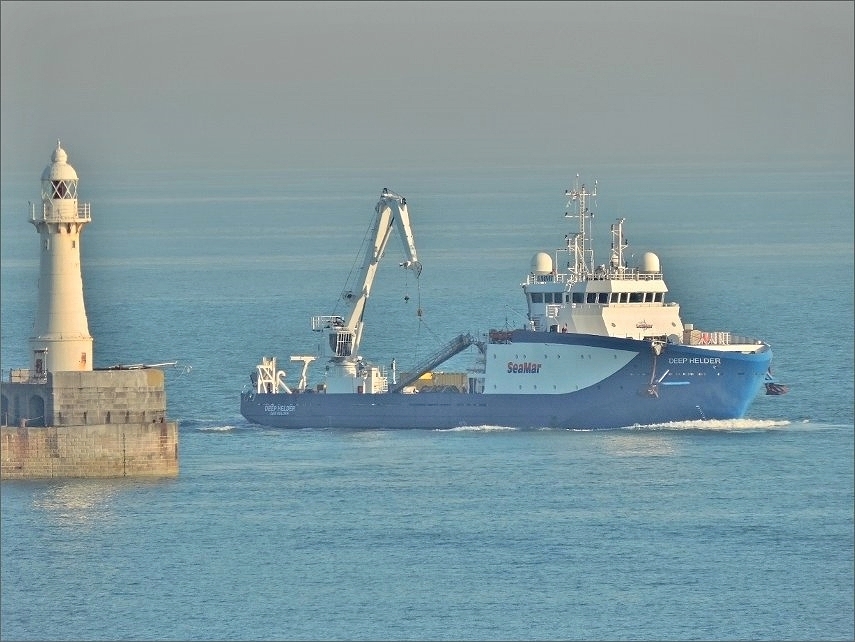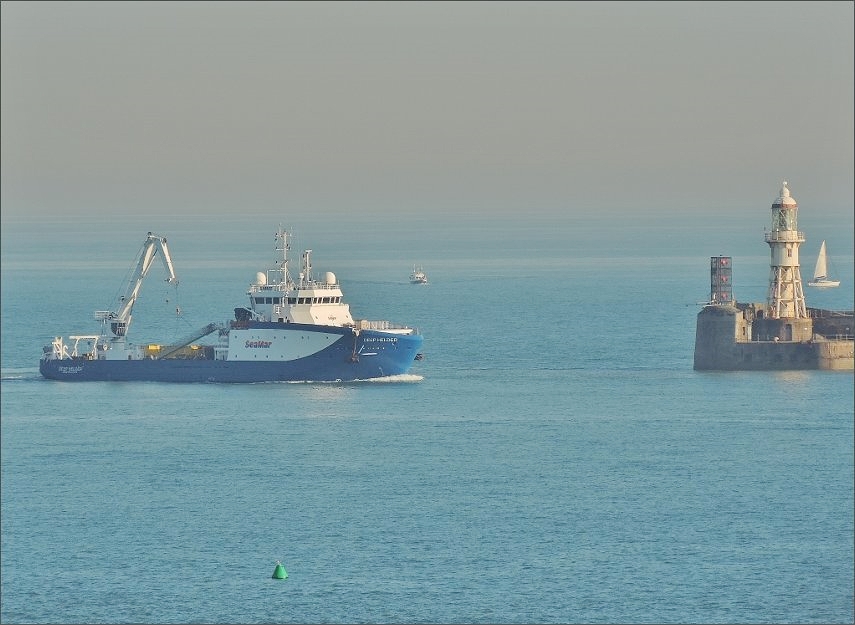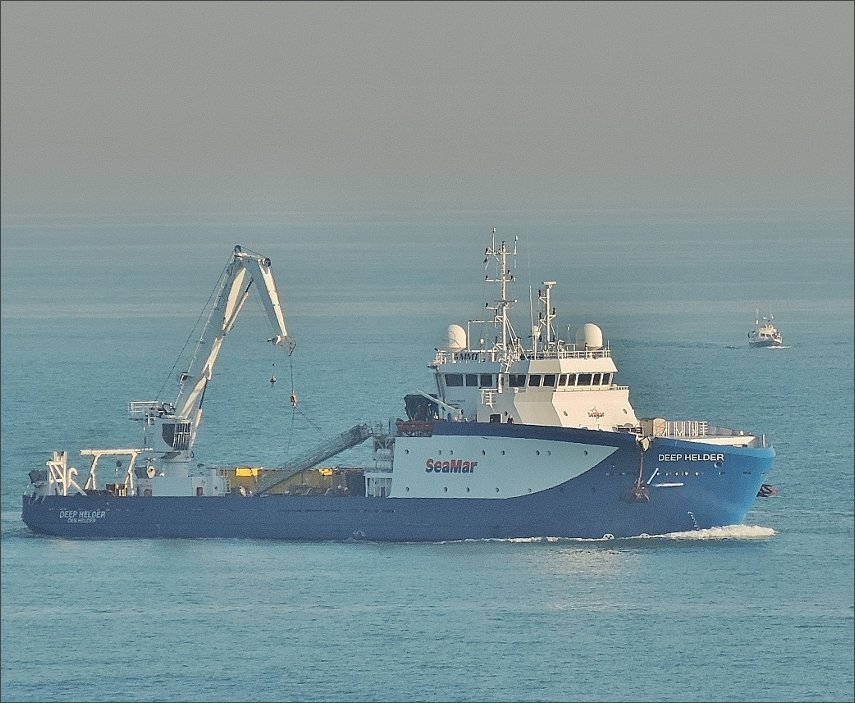 All pictures from Sunday. Showing a couple of extra pix there in an effort to catch up with things. The last pic above is a crop of the previous one to show more detail.

Yes a hot night Del. I don't think there has ever been a night hotter than last night in Dover. No air movement, everything still, and the heat building and building...I'm sizzled and frazzled...

Yes politics is in chaos, one lives in hope they wont leave is in deep...ermmm trouble..
PaulB
PS: Boudicca in Port
Wednesday, 28 August 2019 - 06:05
Post 6488
Del Styan, Norwich
Yep - still boiling up here in Norfolk. Another night on top of the bedclothes awaits. Roll on the drop in temperatures. At least the opposition parties have seem to have agreed to avoid a no deal Brexit, and a gridlocked Dover. We can only watch on and hope. And Norwich have just lost to Crawley - not a good night - at least Dover AFC are doing well this season. Sorry about the ramblings!

Tuesday, 27 August 2019 - 23:07
Post 6487
Sea News, Dover
The Heatwave goes on.....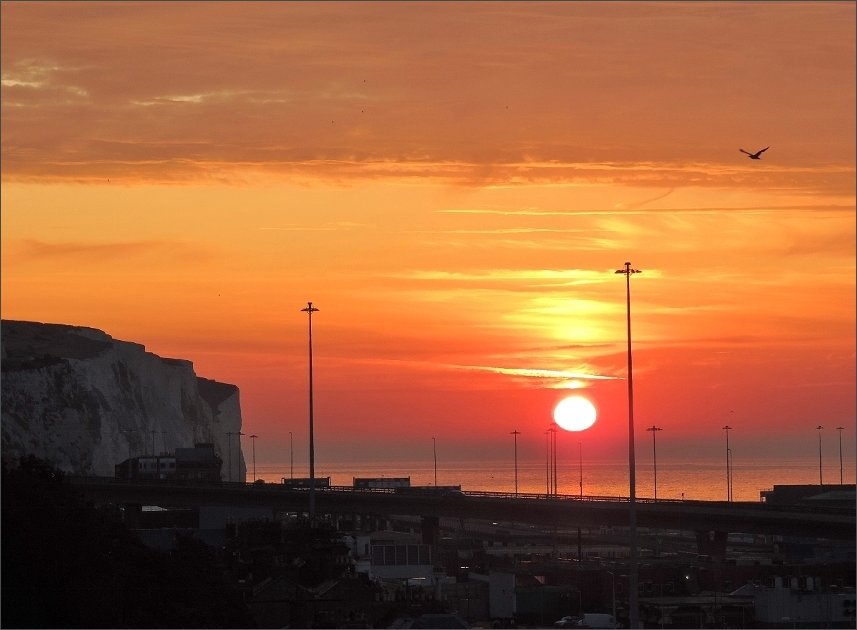 Yes we are still having record breaking temperatures, the nations beaches are busy busy. The picture above shows the rising sun early morning alongside the famed White Cliffs...the camera looking across the Port...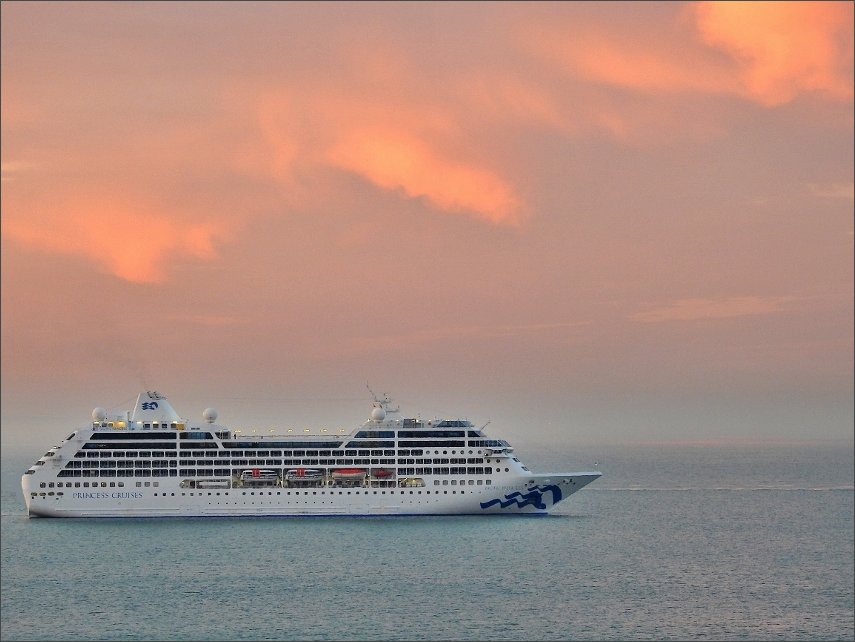 Following along from yesterdays post which saw the colourful arrival into the Port through the eastern entrance of the Pacific Princess...another pic above there now showing her across the other side of the Port at the western entrance as she gently makes her way towards the cruise terminal...
Below another shot of the Disney Magic but focusing if you like on the Police Patrol in the foreground...everything being checked, security always increased for Disney.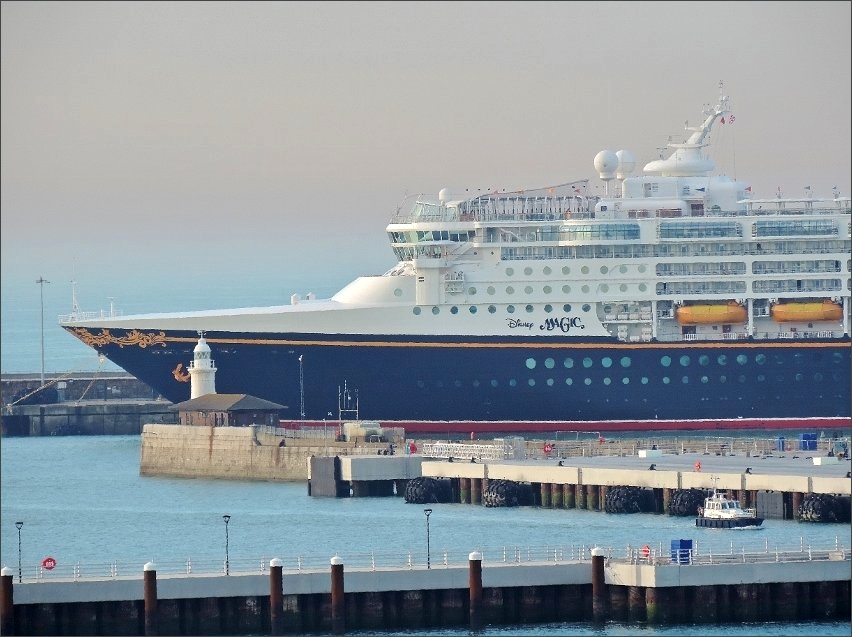 Merchant Navy Day In Dover 2019
_________________________________
A Merchant Navy Day Service is being held at Dover Town Hall on Tuesday 3 September from 10.30am, followed by a wreath laying ceremony on Dover Seafront at 12 noon.
The service and ceremony are being arranged by the Chairman of Dover District Council, Cllr Mike Conolly, along with Mr Donald Hunter, the Founder of the Dover and District Merchant Navy Memorial Fund, and all are welcome to attend.
National Merchant Navy Day takes place annually to honour the brave men and women of the Merchant Navy, including those who lost their lives at times of war, and to celebrate the vital role of merchant seafarers in the lives of our communities.
For more information on Merchant Navy Day, please see www.merchantnavyfund.org/merchant-navy-day/
NOTES TO EDITORS:
Merchant Navy Day in Dover - Tuesday, 3 September 2019 at Dover Town Hall, Biggin Street, Dover
10.00am - Town Hall opens.
10.20am - Standard bearers arrive and congregate by the side of the Town Hall (dry weather) or in Connaught Hall (wet weather). Guests arrive in Stone Hall.
10.30am - The Reverend takes his place. Sound the 'Alert' by bugler. Standard bearers march up the Town Hall steps (dry weather), or from Connaught Hall (wet weather), through Stone Hall to the dais at the rear of Stone Hall.
10.35am - Service.
10.55am - Speeches.
11.00am - Standard bearers march out of Stone Hall. Light refreshments served in Connaught Hall.
11.40am - Those travelling on the coach take their seats. (Coach stationed outside the main entrance to the Town Hall).
11.50am - Coach departs for wreath laying ceremony at Dover Seafront.
12 noon - Wreath laying ceremony at the Merchant Navy War Memorial, Marine Parade, Dover Seafront.
Please note timings are approximate
ENDS
Thanks to Dover District Council for the info above...

Thanks Del...I believe we have one more day of this sizzling weather before it freshens..

Still catching up, with lots of pictures to come including more of Deep Helder, Pacific Princess, Luzon Strait ( ie Geest Line departing through the western exit ...symbolic!?..) etc etc ..
PaulB

Tuesday, 27 August 2019 - 06:35
Post 6486
Del Styan, Norwich
Not only lovely sunrise shots, but a delightfully calm start to the day.

Monday, 26 August 2019 - 23:01
Post 6485
Sea News, Dover
Spectacular Sunrise at the Port of Dover...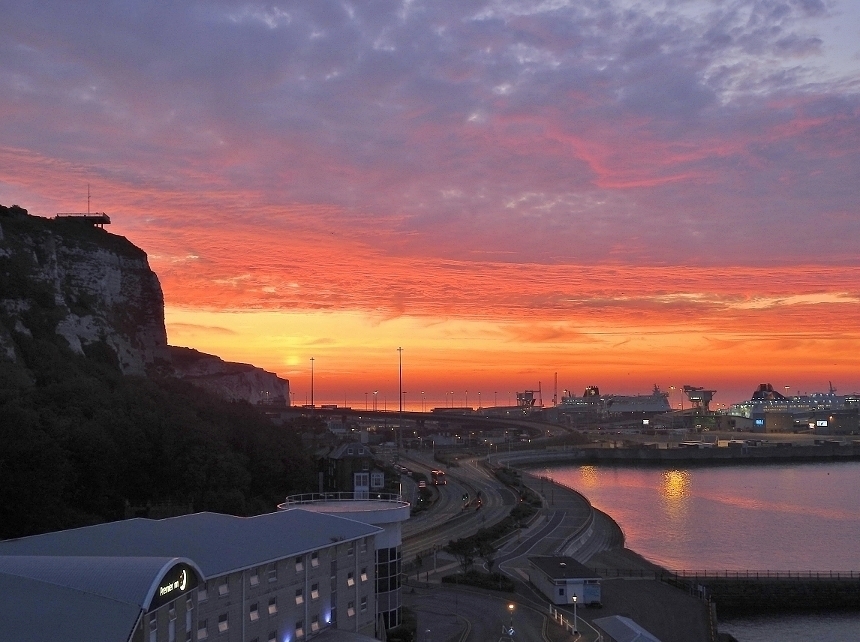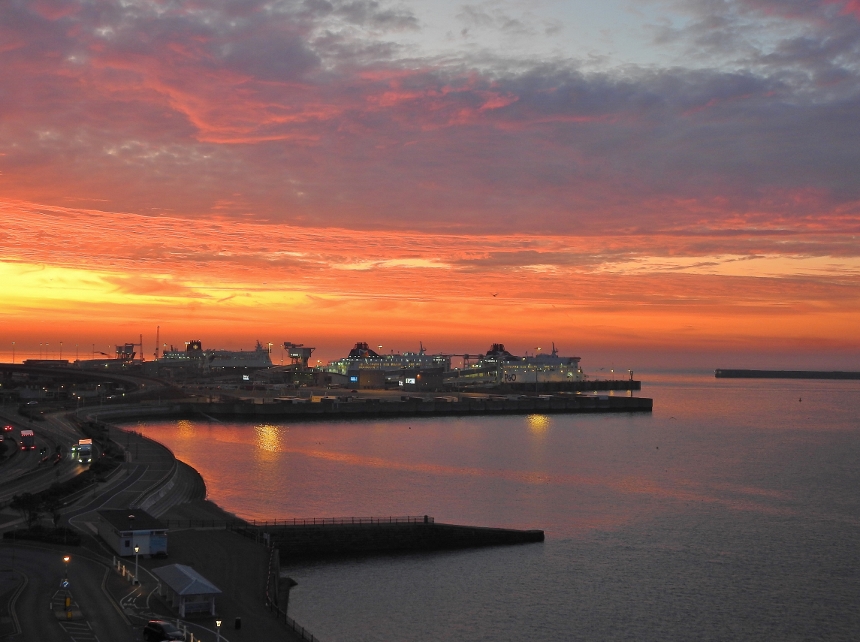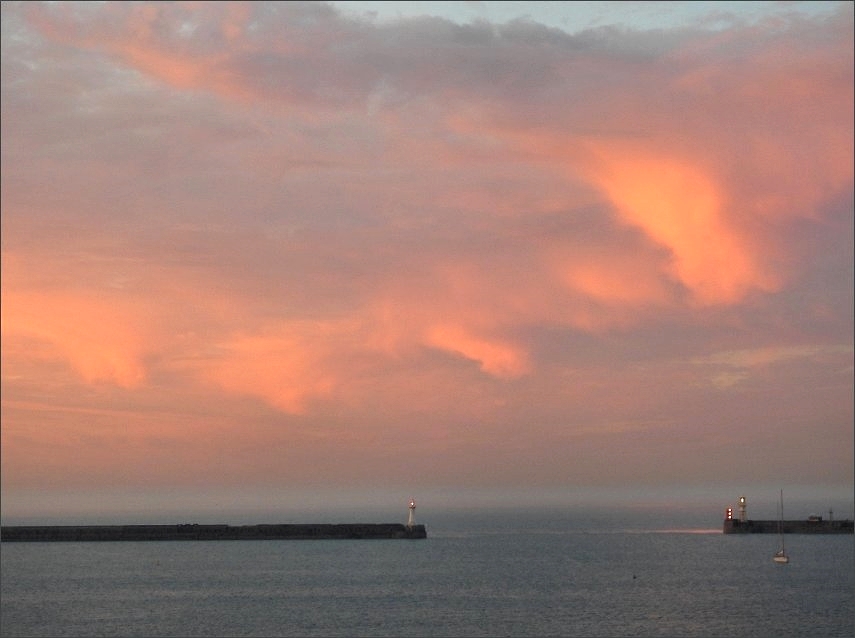 It was a fabulousy spectacular sky yesterday morning early ( Sunday )...and here we are with some pictures of same. To say it was breath-taking would be an understatement. The actual pictures themselves are perhaps nothing spectacular, just point'n'shoot, but they show nature doing all the beauty work. The camera colourfully moving across the Port from east to west.
The picture below shows Pacific Princess arriving in the midst of all this glorious colour....
the Pacific Princess is on a 15 day round trip of Iceland and Norway.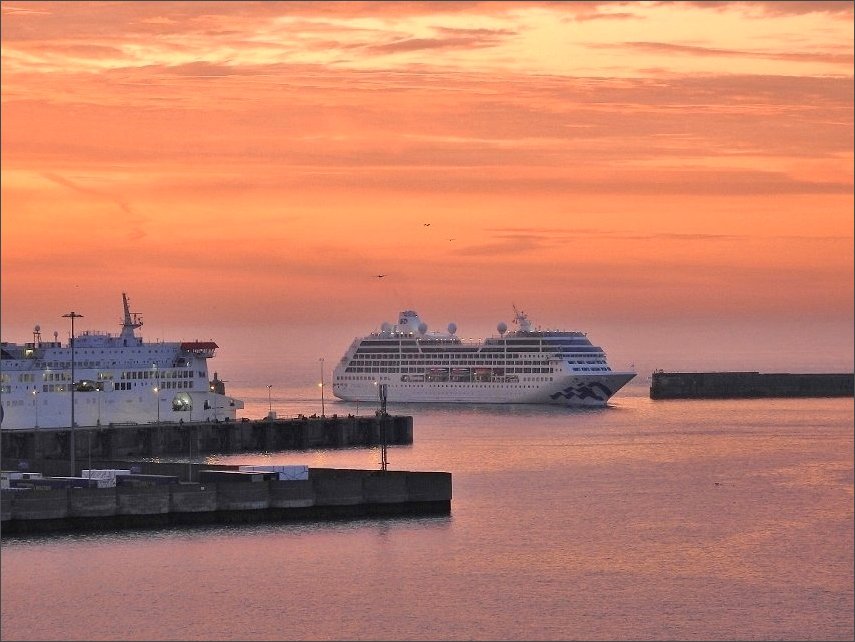 The Disney Magic came in to Port in the wee small hours of darkness yesterday, but here is a pic of her heading off last evening in the glorious colour of the hottest late august holiday on record...33.3 recorded at Heathrow. Heavens!...you could fry an egg on the roof of your car ( only if you want to of course, it might play merry hell with your paintwork!

)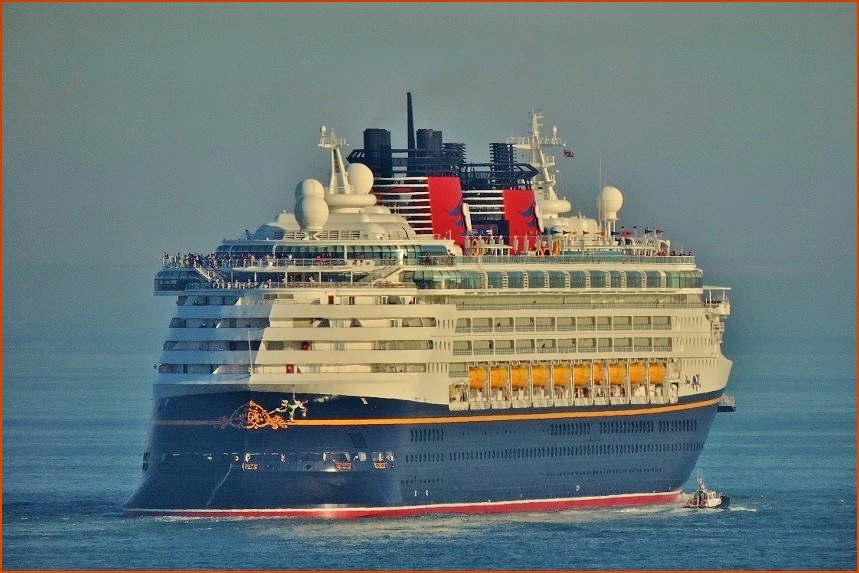 " When you wish upon a Star!" The Disney Magic...
The Disney Magic is on a 7 day round trip of the Norwegian Fjords.
Nice couple of shots of Viking Princess below there Patrick...well done with those.

PaulB
Monday, 26 August 2019 - 05:58
Post 6484
Patrick, Marine Parade
FE137 'Viking Princess' returning to Granville Dock recently from Channel swim duties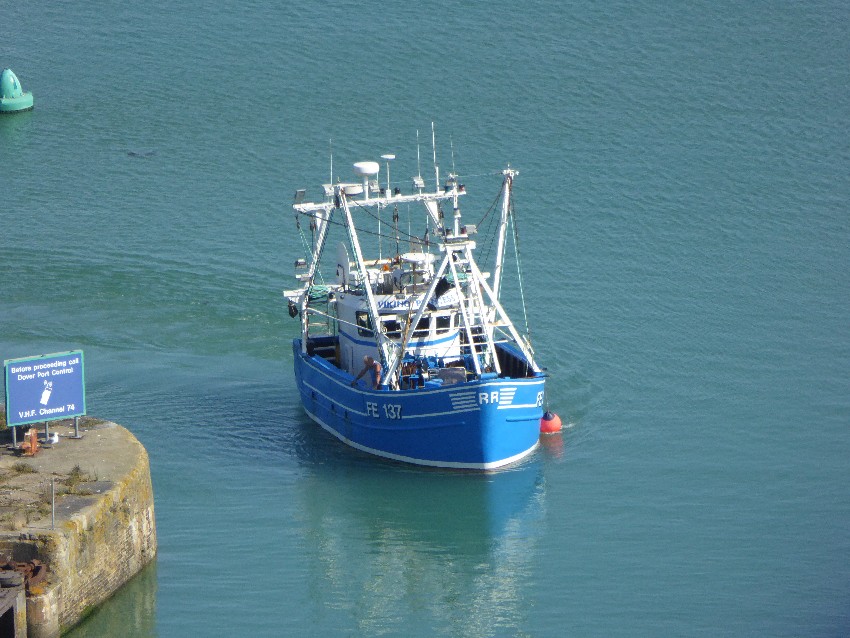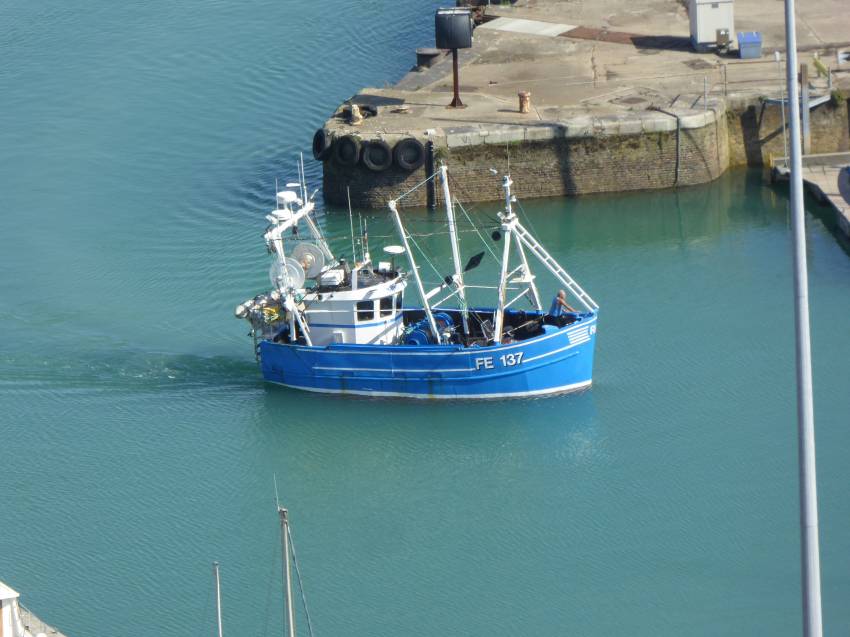 Sunday, 25 August 2019 - 22:40
Post 6483
Sea News, Dover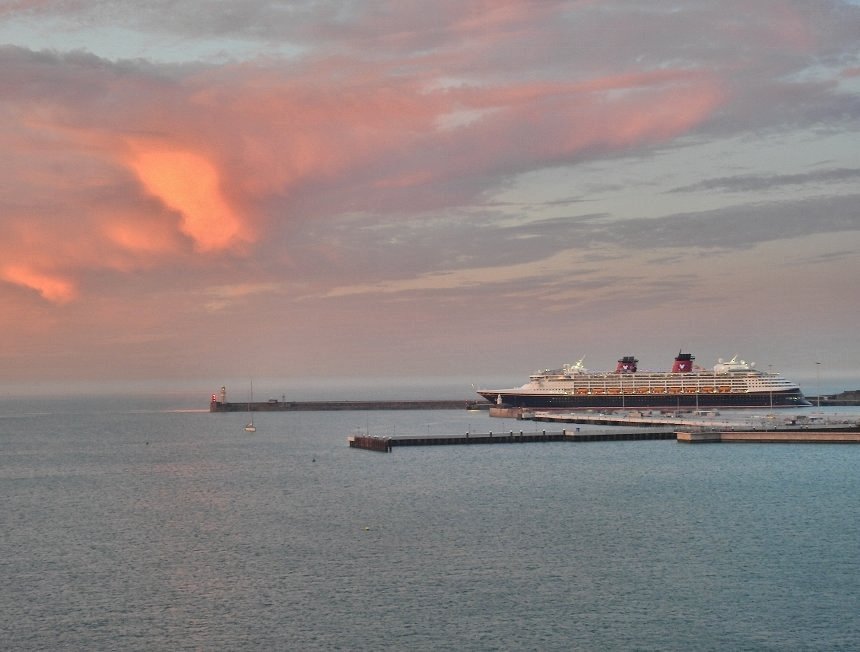 The Disney Magic at the Port of Dover early this morning. Time of picture 05.54. The day is just beginning to brighten. The skies were magnificent this morning early, will have more pictures in due course. Also in today...Pacific Princess.
A sketch of roughly the same view below, a closer view, yesterday evening Saturday... all tranquil after a hot hot day and all are gently winding down....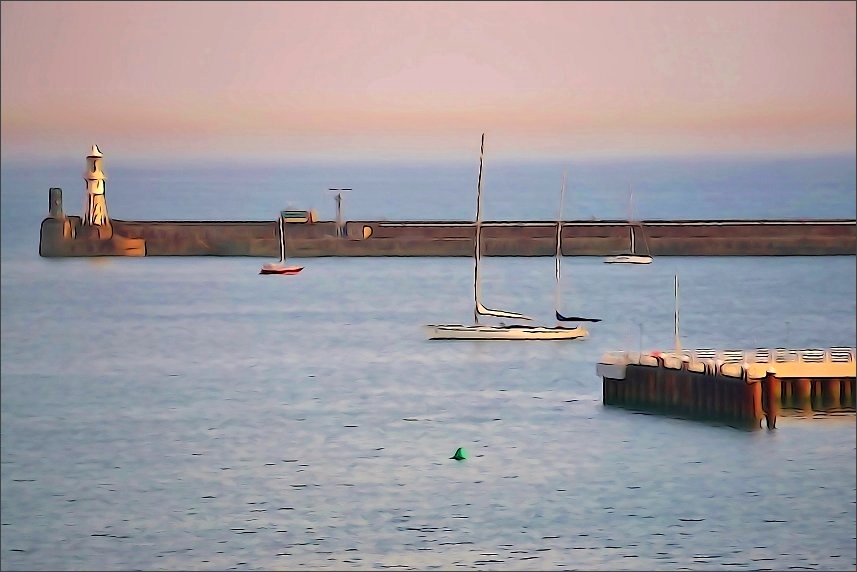 Interesting info below Mike

PB
Sunday, 25 August 2019 - 06:18
Post 6482
Mike J., Dover

Re Paul's remarks about my knowing my way round the docks, all the pix in my latest post were taken from publicly-accessible areas.

The parked helicopter view was taken from the viaduct that leads to the Admiralty Pier, cruise terminals etc.
The take-off pix of RESCUE-163 were taken a little higher from the spiral viaduct that leads up to Channel House, P&O's HQ.
A long lens helps.

Mind you, it is very rare to need to take pix of the lorry park unless you're a lorry-fancier. These folk are not unknown & can be seen occasionally, usually at the A20 roundabouts or on the bridge over Jubilee Way.



Saturday, 24 August 2019 - 09:11
Post 6481
Sea News, Dover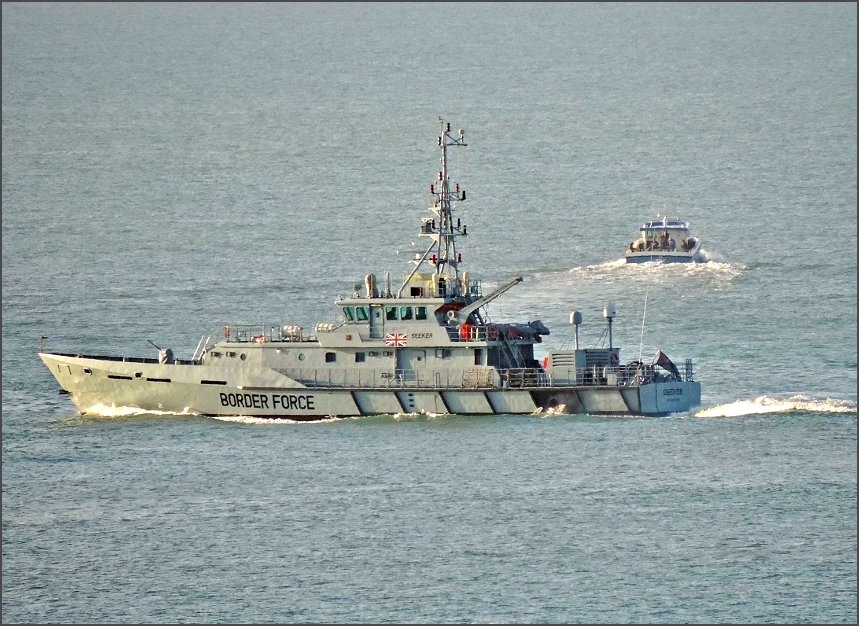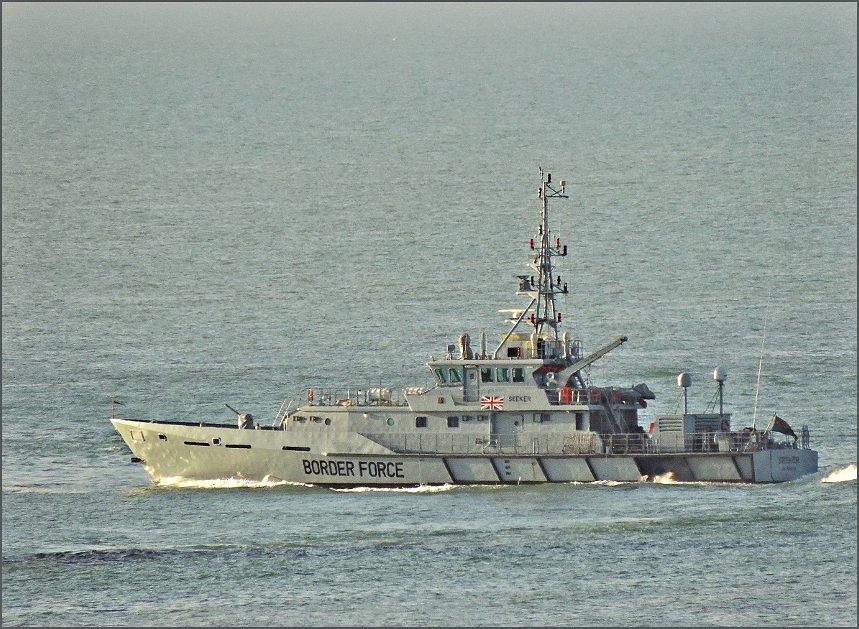 Some early morning shots there of Border Force Seeker as she sets out from the Port here at 07.20 on Thursday morning. You can see her bow just catching the early morning sunlight as she reaches the open sea. In the background one of Dover's fishing boats heads off for the day... nice weather for it if a bit misty early on. These are very busy times for Border Force vessels as we know... they police the channel daily and not without cause. The latest figures according to the BBC show that "More than 950 people, including at least 80 children, have crossed the Channel in small boats this year".
The disappointing Port news this morning is that Geest Line are pulling out of Dover and returning to their original location at Portsmouth. They have been here for approximately 2 years but they always maintained a commercial base in Portsmouth, so there is an air of inevitability about it. Nothing to do with Brexit they say. Some fears were raised however about Dover's potential for gridlock after a no deal Brexit.
Well done with that post below Mike.

Great all round coverage below there from our 'inshore correspondent'
so …….. Don't Miss That One !
Mike knows his way around the port that's for sure and knows all the vantage points.
PaulB
Saturday, 24 August 2019 - 06:10
Post 6480
Mike J., Dover
A busy morning in the Western Docks.
I was up on Langdon Cliffs Friday morning watching the DAVID CHURCH working on the East Buoy when a Border Agency vessel entered Eastern at some speed before crossing the bay followed by what I know now to be the Walmer inshore lifeboat.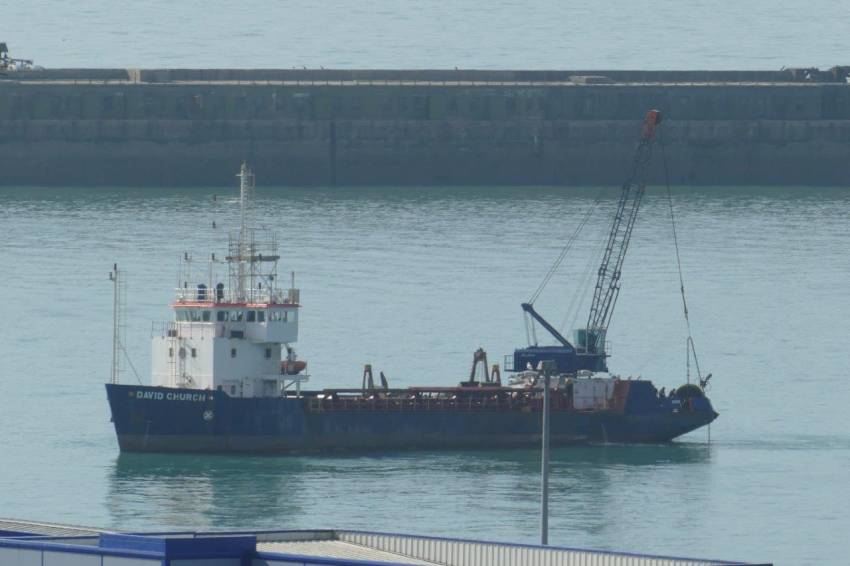 At the same time the Coastguard helicopter appeared & landed in Western Docks.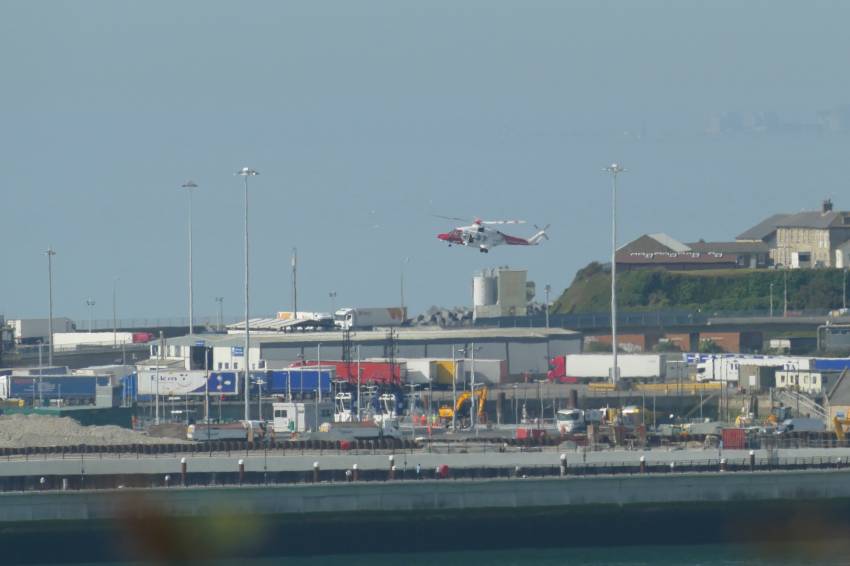 By the time I got to St.Martin's Battery, about a half hour later, the HUNTER was moored alongside the tugs with the Walmer lifeboat nearby.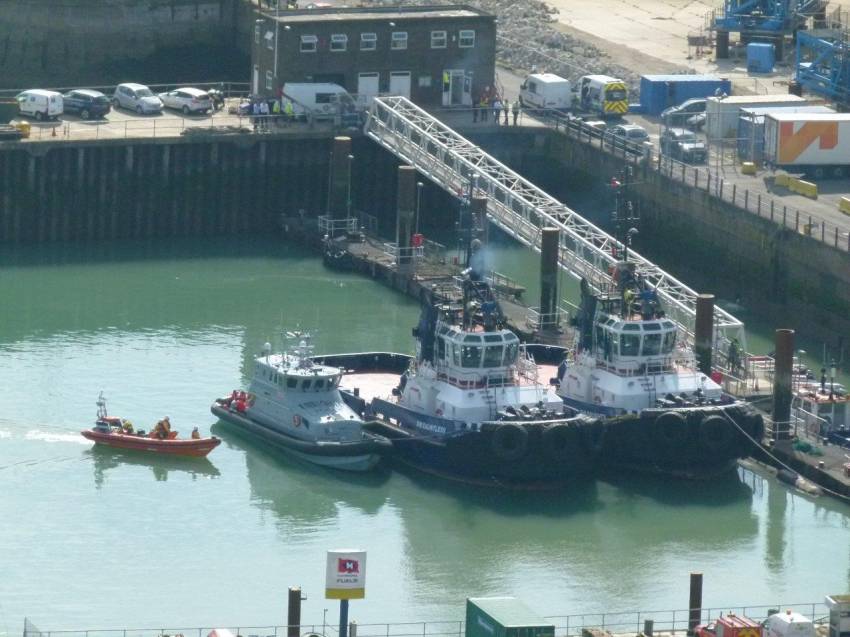 The helicopter was in the freight clearance park with it's rotors still spinning.
There was little activity on the pontoon & eventually the helicopter shut down.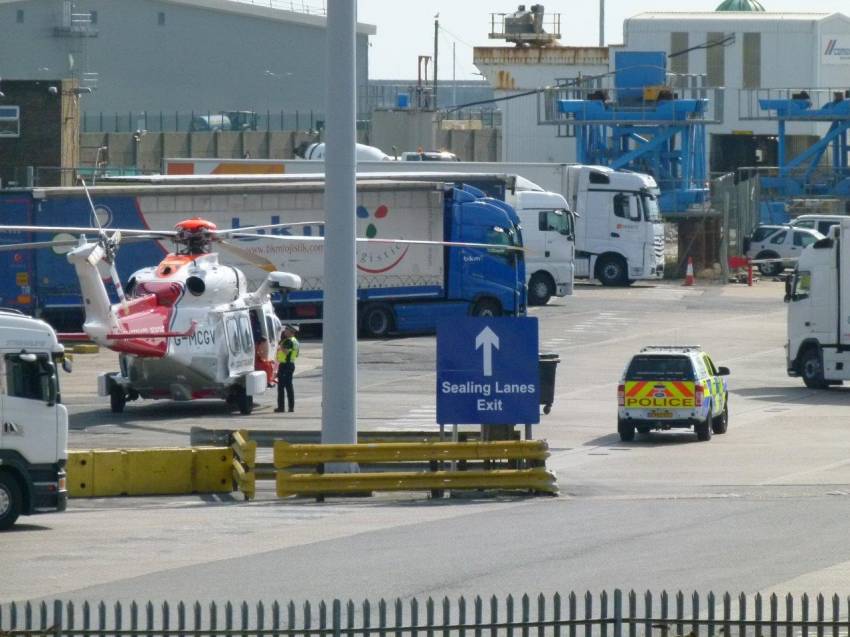 Whatever had caused the activity was obviously over, apart from some police & [presumably] BA vehicles in the area & a few hi-vis jackets standing about.
There were a number of other photographers up at the battery, some looking like 'press' & the Sky News helicopter was slowly circling overhead.
'Sea News' readers may have seen on Friday evening's Sky News brief high-level views of lifejacketed activity on the stern of one of the tugs.
After about an hour the helicopter departed, looking to be heading back to their base at Lydd.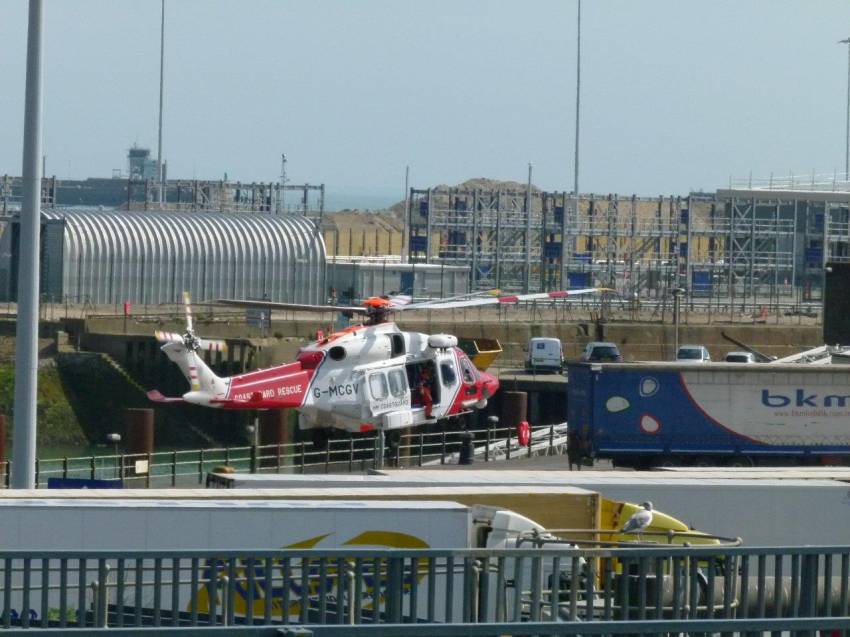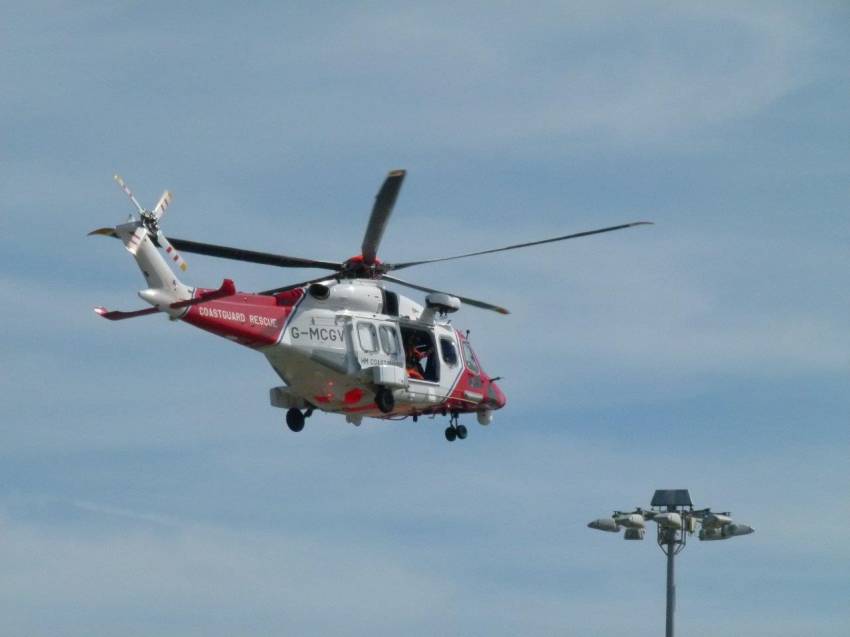 Saturday, 24 August 2019 - 00:45
Post 6479
Sea News, Dover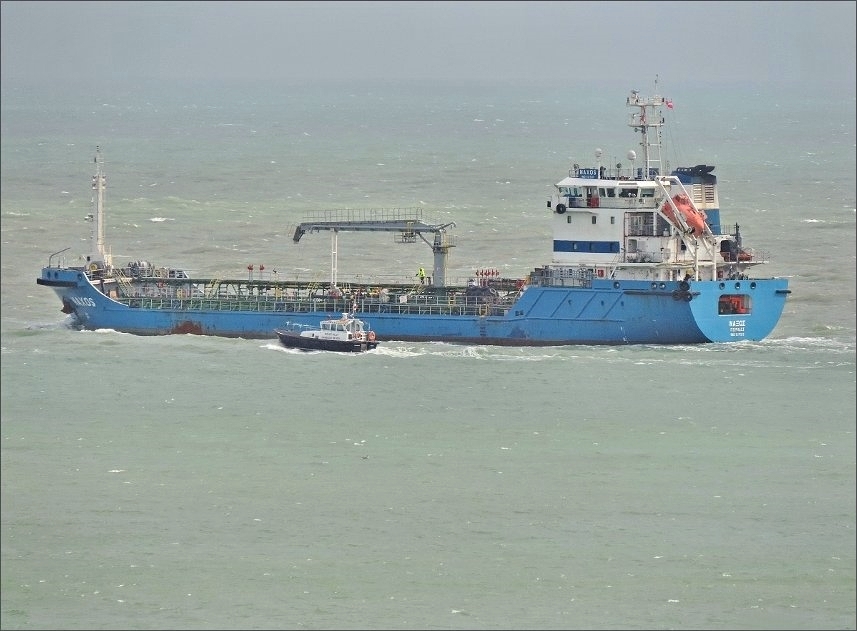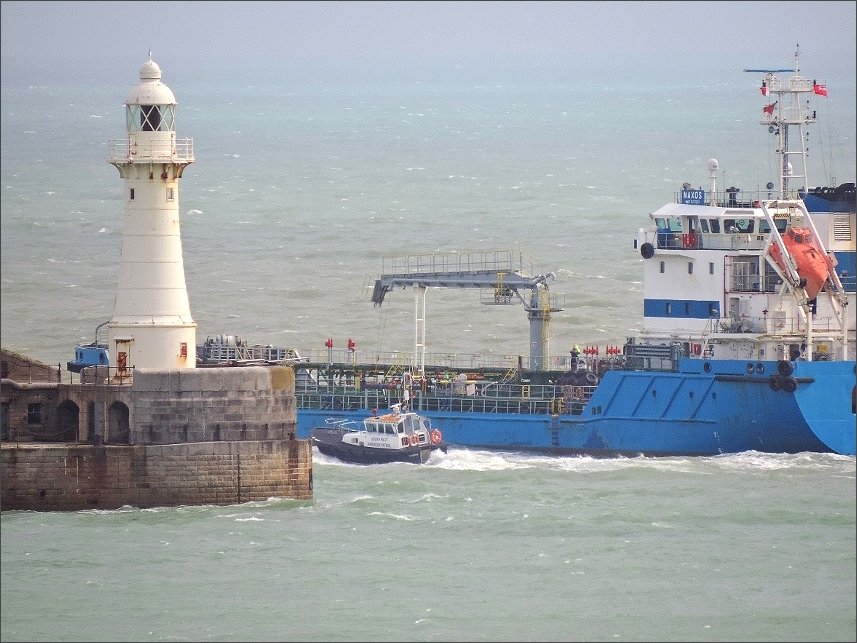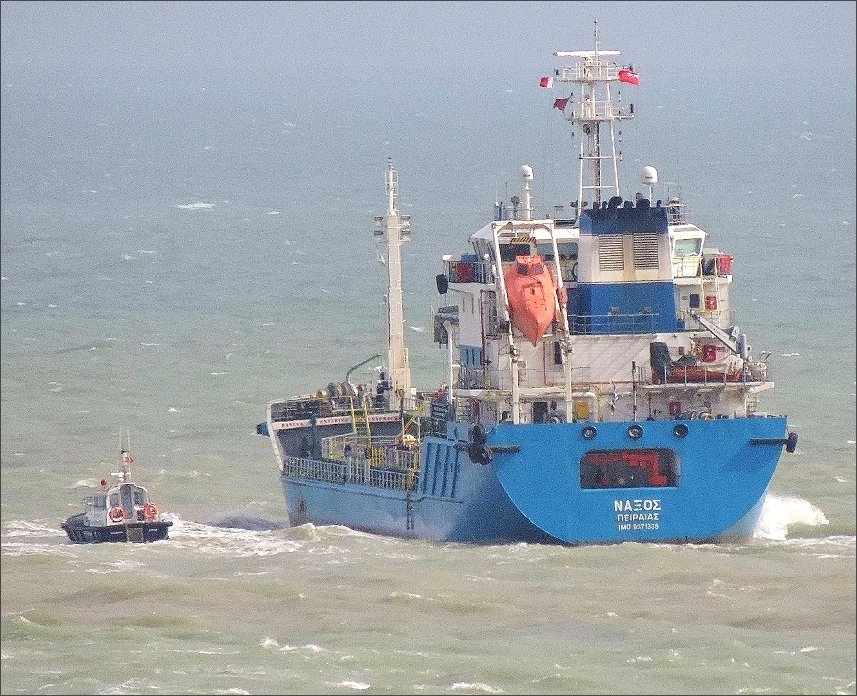 When you look at the stern view in picture 3 you will be inclined to say to yourself ' its all Greek to me ' but from another angle the vessel was/is re-assuringly called Naxos. You can see her here leaving Port on the evening of the 17th having serviced if I remember correctly the Spirit of Discovery.
Picture 2 has everything wrong with it possible...yours truly has severed the front and rear ( bow and stern !) and the pilot boat looks like its about to hit the breakwater...but the pic has an endearing appeal...

And then in Pic 3 outside Port and almost away...
The picture below shows the Saga Sapphire leaving Port in the strong sunshine last evening ( Thursday). She was off on an exciting 15 day tour of the Baltic...highlighting places like Stockholm, Helsinki, and to top it all off the marvellous St Petersburg in Russia. There she goes...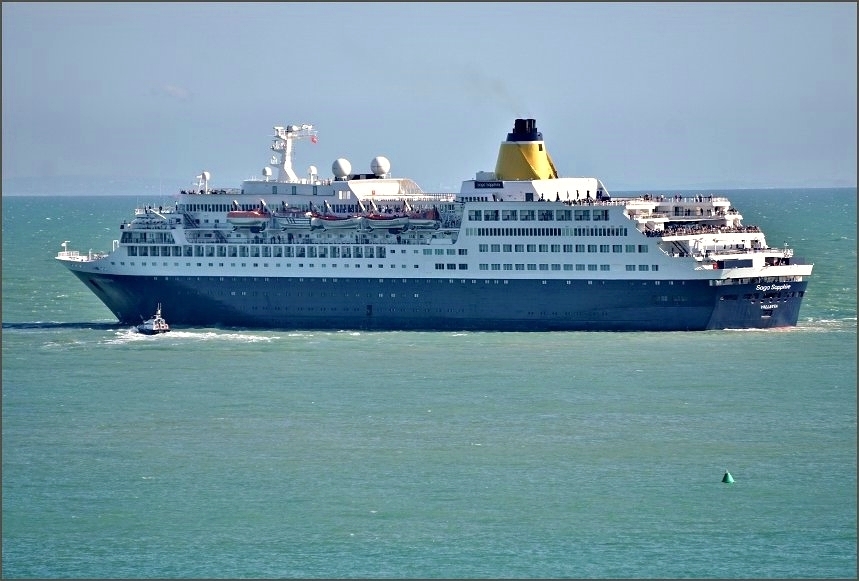 Saga Sapphire

Exciting post below from Andrew...don't miss that one.. fascinating pictures and information there.
Always happy to see Deep Helder Andrew.
PaulB
Friday, 23 August 2019 - 07:10
Post 6478
Andrew, Broadstairs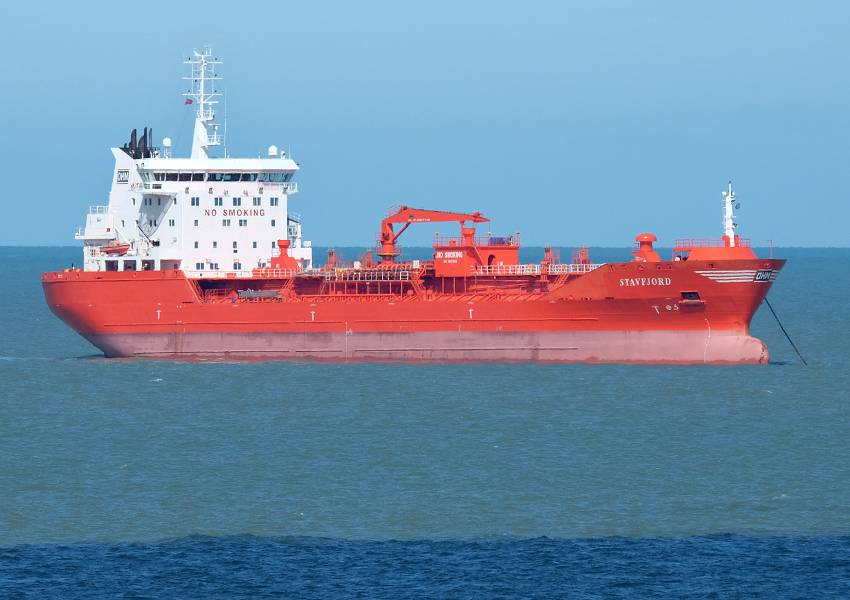 Prior to the photographs shown in Post 6472 I visited the cliff tops at Kingsgate on Sunday and taking advantage of the sun and clear atmosphere following the torrential rain I managed to photograph the smart Norwegian owned STAVFJORD anchored close in shore awaiting orders in the quiet period whilst Europe returns to work after their summer holidays. Over four nautical miles away in the area of the North East Spit pilotage zone, the Dutch tanker COOLWATER was at anchor whilst behind her the Irish owned mini bulker ARKLOW MUSE, having left the anchorage in the Margate Roads, was making a sharp turn into the Princes Channel bound for Sheerness. In the distance the MALACCA HIGHWAY was about to land her pilot on her voyage from Sheerness to Emden for another consignment Volkswagen cars; all this activity going on against the backdrop of the London Array Wind Farm. With electrical power in mind I hope Paul will not think another view of DEEP HELDER leaving Dover last Sunday is one too much but she was making a short passage to this area in the Princes Channel to carry out survey work for the proposed 'Gridlink' France/UK power cable, 140km under sea, that could be laid from Dunkirk to Kingsnorth. Apparently we may be seeing more of DEEP HELDER and associated vessels in Dover in the future, providing Brexit does not 'pull the plug' on French electricity!
Friday, 23 August 2019 - 00:45
Post 6477
Sea News, Dover
Some pictures now of Atlantic Acanthus arriving a few days ago...
one of the newer visitors here at the Port of Dover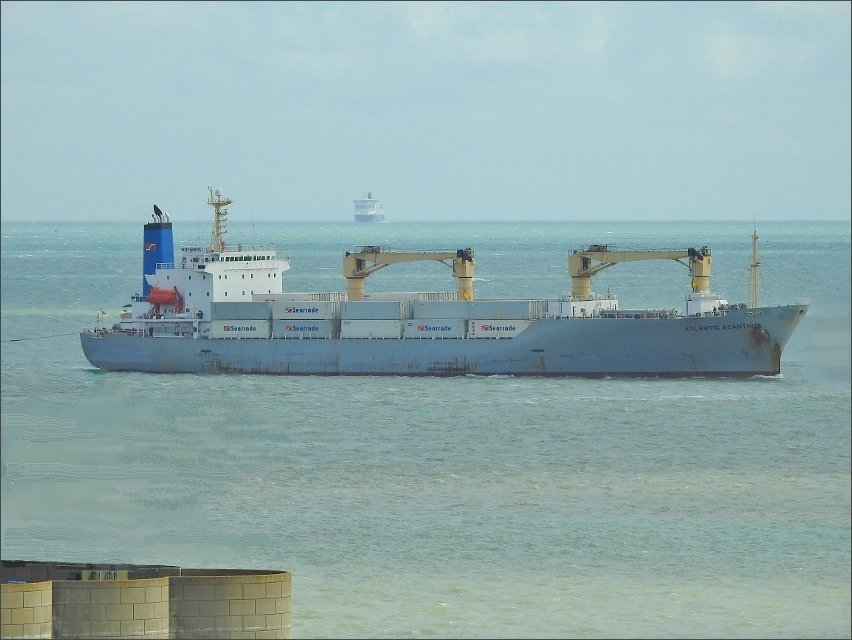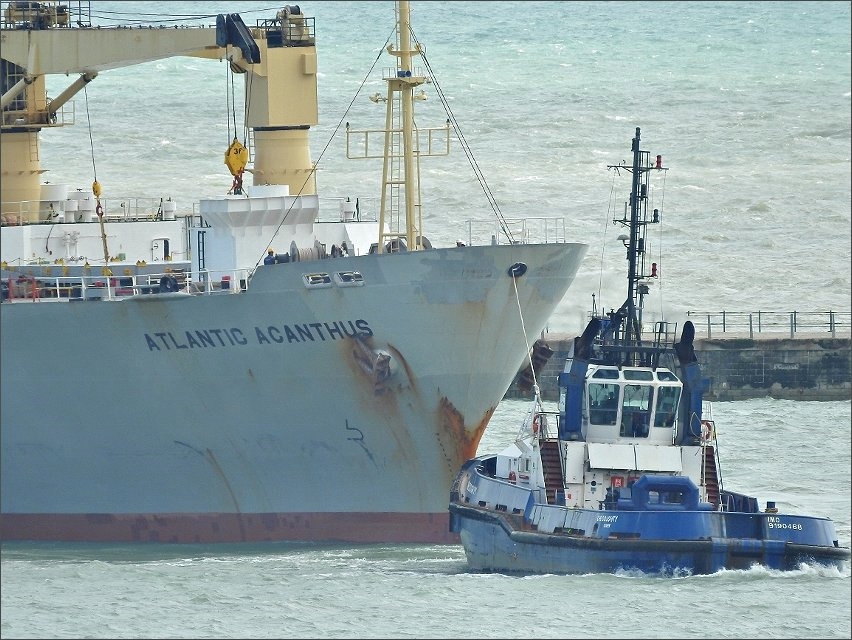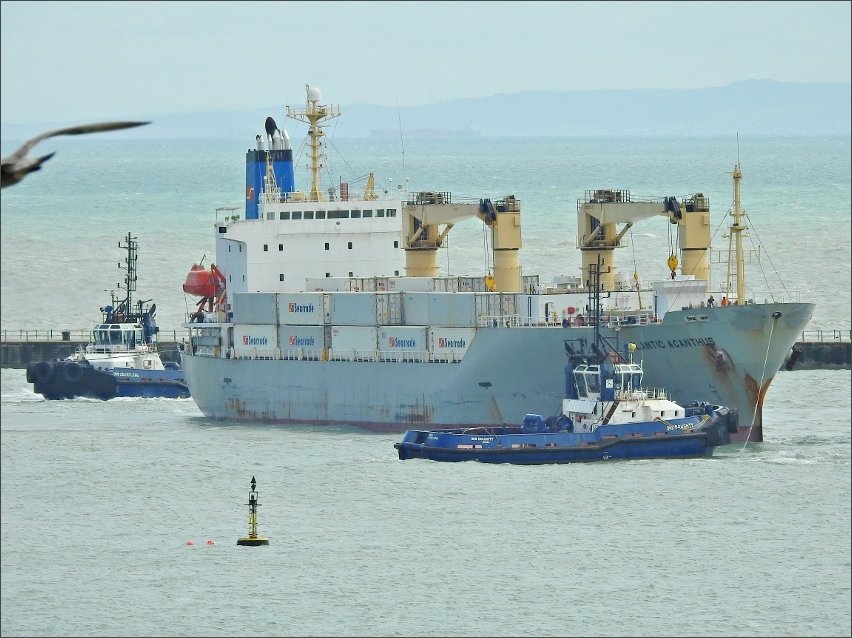 The ship seen here arriving from Paramaribo we understand, as Sammy the Seagull muscles in on the shot again..

!
Pictures from Sunday.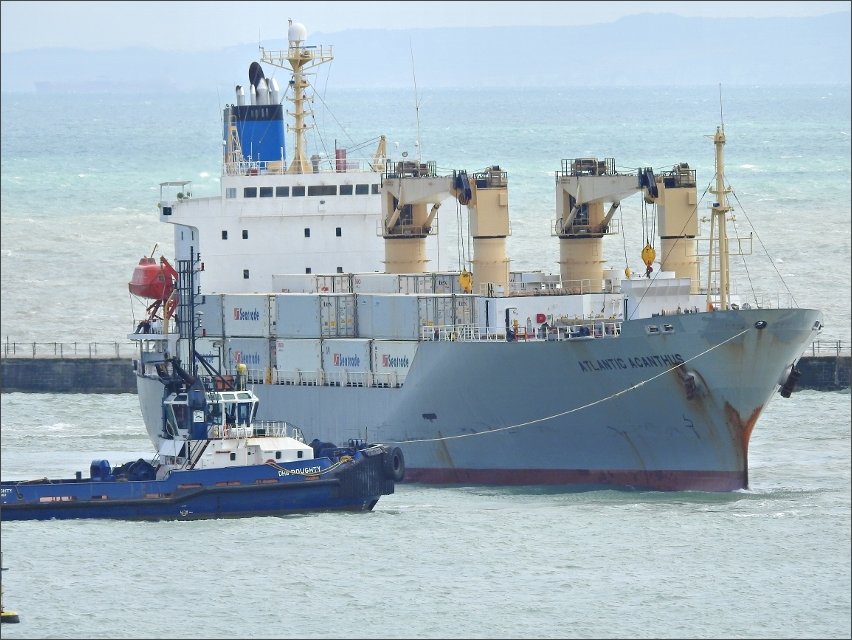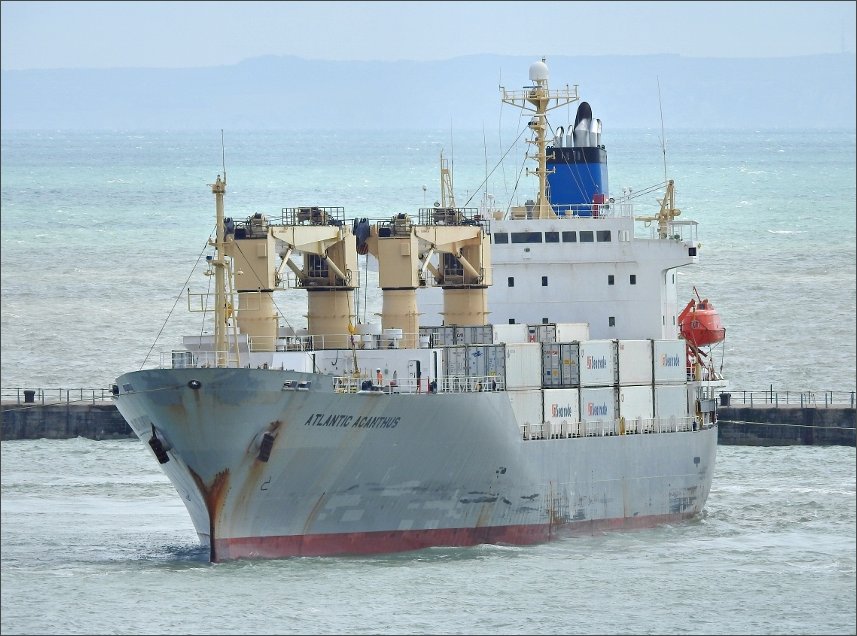 Atlantic Acanthus
PB
Thursday, 22 August 2019 - 06:39