Sunday, 21 January 2018

doverforum.com/sea-news
Doverforum.com: Featuring all the ships that come and go and work at the Port of Dover with further coverage of Ramsgate, Calais, Dunkerque. Email: dover7@msn.com to send SEA NEWS pix or info.... or click ADD YOUR COMMENT below to post direct, no membership needed.

PORT OF DOVER RECORD FREIGHT see 4551.
Sea News Dover : Use our SEARCH ENGINE below to find all sorts on the SEA NEWS pages..more than 200 now with more than 4500 nautical posts. Posts welcome. Max of 5 pictures preferred per post. Sea News Editor Paul Boland.
Post 4481
victor matcham, Dover
What no one fishing on the breakwater!

Tuesday, 12 December 2017 - 10:20
Post 4480
Sea News, Dover
Ah Brian and Vic

...I am afraid these pictures today wont improve the seasickness aspect at all...more rough oul pictures for sure but dedicated to the guys in the tugboats who were working hard yesterday in the lousy conditions. They tenaciously helped to 'park' those ferries all day long. Visibility was too poor yesterday to get any picture worth its salt so these are from the files...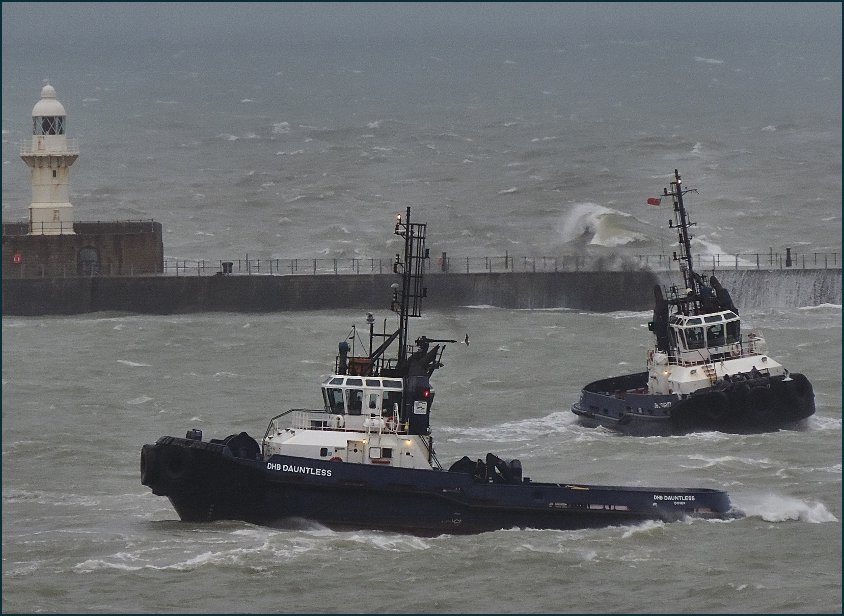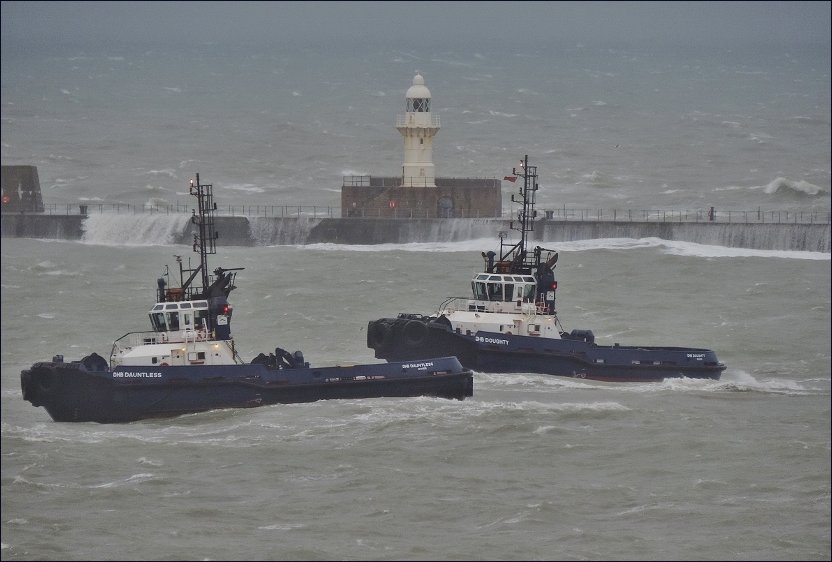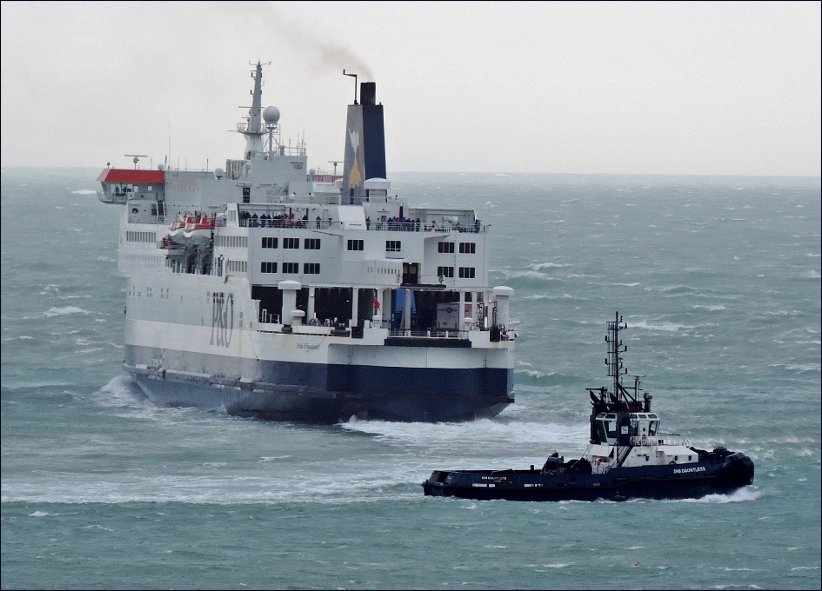 Well done those tugs...
I will just include this extra one here below of the Pride of Burgundy, that's her above too...yes this extra one is for the lads below Brian and Vic. Most definitely not the weather for the full fry-up and a pint of Murphys stout, and most definitely not before you set off...its heaving weather for sure


They used to say a copper bracelet was good to prevent seasickness. I tried it once on the murderous Irish Sea midwinter...it didn't work !!

PaulB.
Tuesday, 12 December 2017 - 08:08
Post 4479
brian, dover
makes me think of a full English and a pint of murphys.

Monday, 11 December 2017 - 19:12
Post 4478
victor matcham, Dover
some time from my last post again photos makes you feel sea sick looking at them.

Monday, 11 December 2017 - 18:31
Post 4477
Sea News, Dover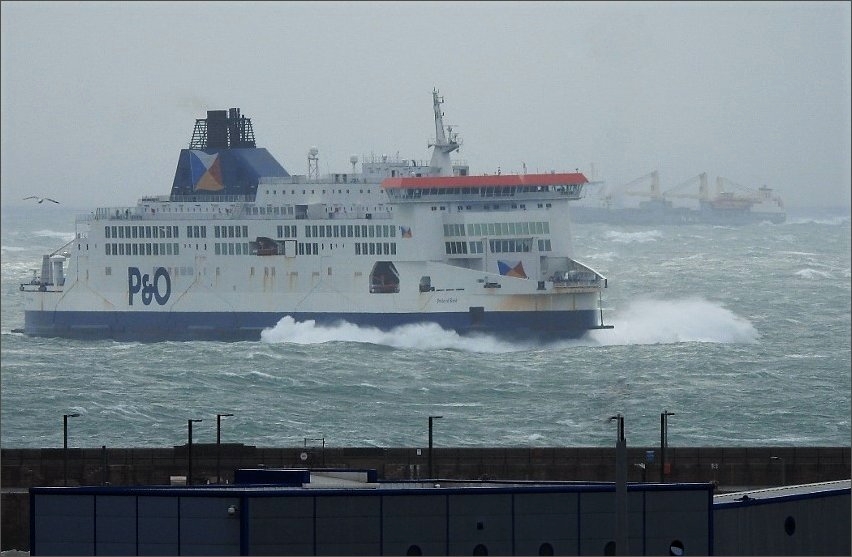 Yes indeed Ed the Pride of Kent had some trouble yesterday. In the violent winds she ran aground just as she left the Port of Calais with approximately 300 people onboard. The good news is .. nobody was hurt. The tugs came to her assistance and within a couple of hours the ferry was freed up again. All travel however was disrupted at the Port of Calais. Twas a fiercely bracing old day with the harshest of chilly winds... The top shot there shows the Pride of Kent in tough weather action. She has seen it all through the years.
Below we have a couple of shots of the European Seaways just to highlight the rough weather on the approaches to the Port of Dover.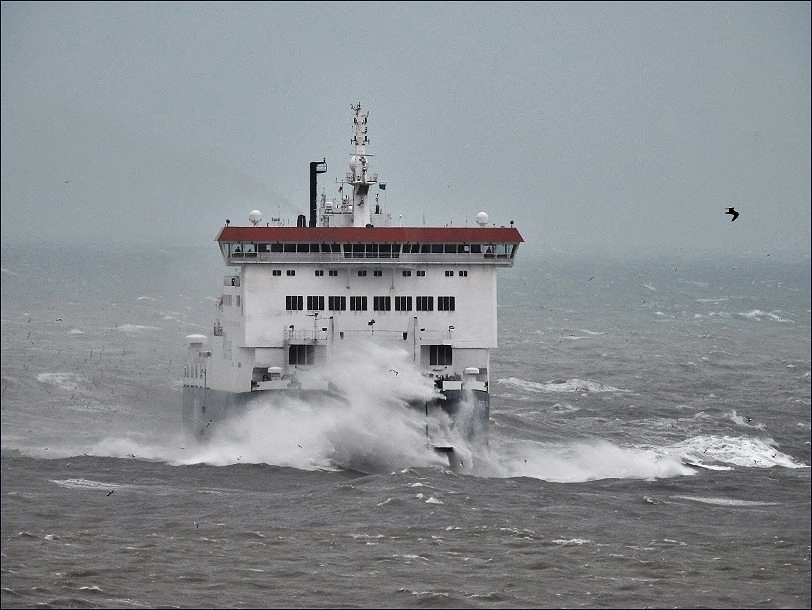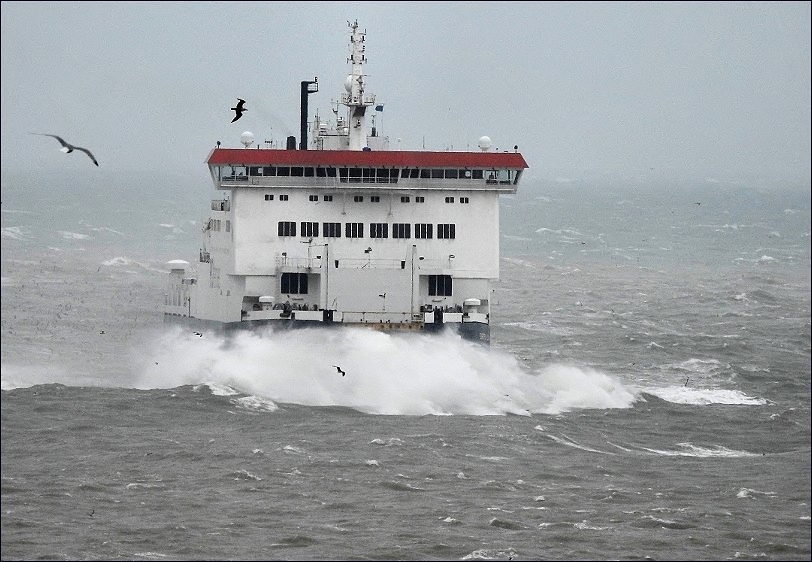 Smashin' pictures below there from Ed of the Royal Klipper by night. Well done Ed..Terrific stuff! And don't miss the snowy ones from Dunkerque West further below page.

More rough weather is forecast for today....so hold on to yer hat!

Monday, 11 December 2017 - 05:59
Post 4476
Ed Connell, Dover Strait
Royal Klipper at the DCT this evening. Conditions placid after a rough old day out on the Dover Strait which saw the Pride of Kent in a bit of bother in Calais.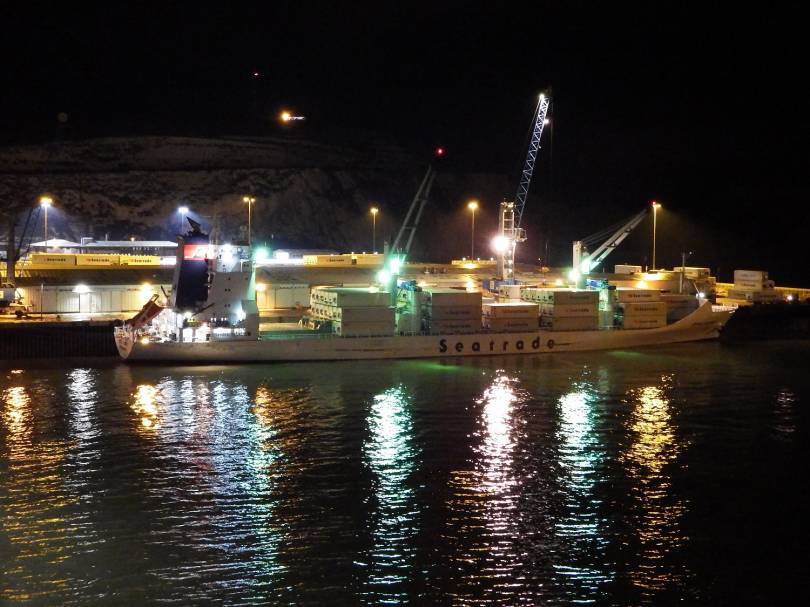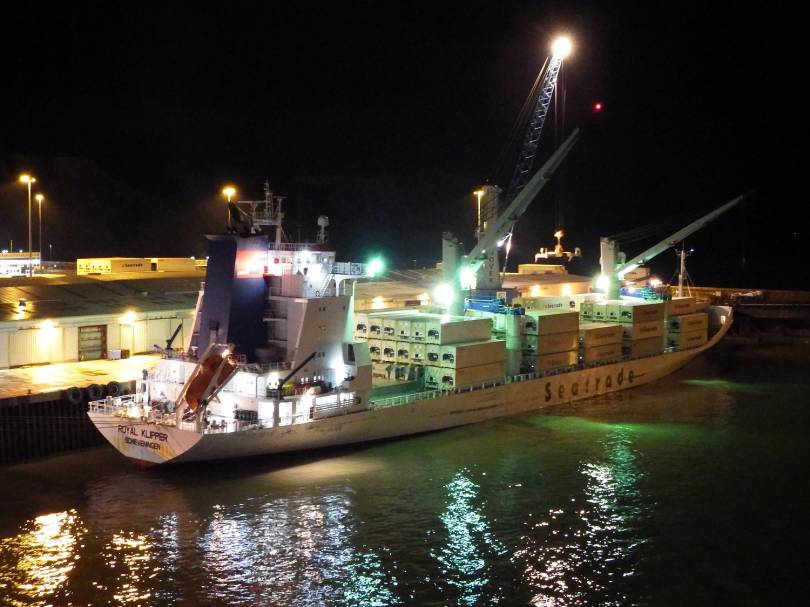 Sunday, 10 December 2017 - 23:29
Post 4475
Sea News, Dover
Cracking weather pictures below Ed..Brrrrrrr Dunkerque West.


Sunday, 10 December 2017 - 10:27
Post 4474
Ed Connell, Dover Strait
Overnight snow in Dunkerque West.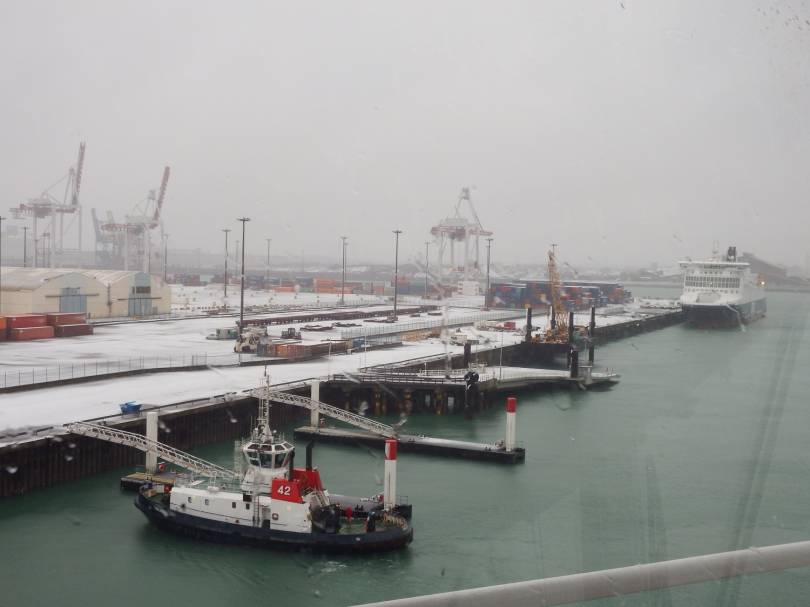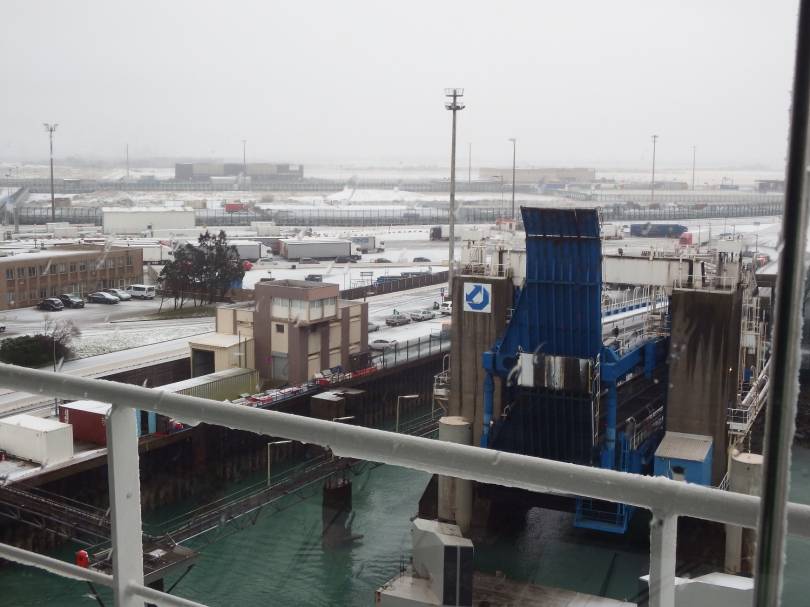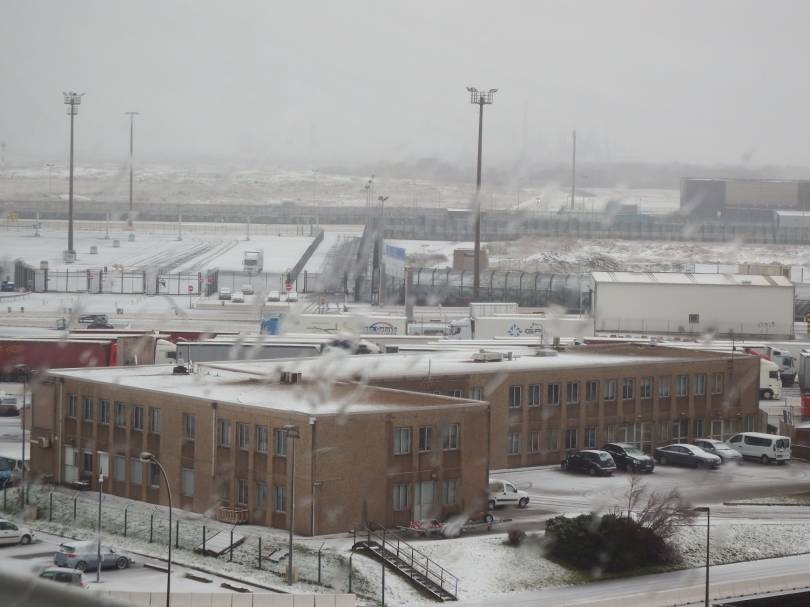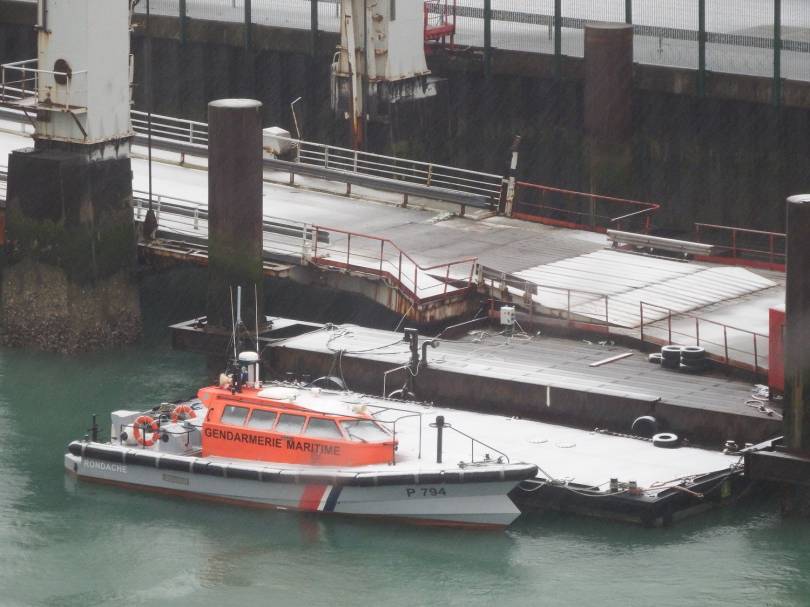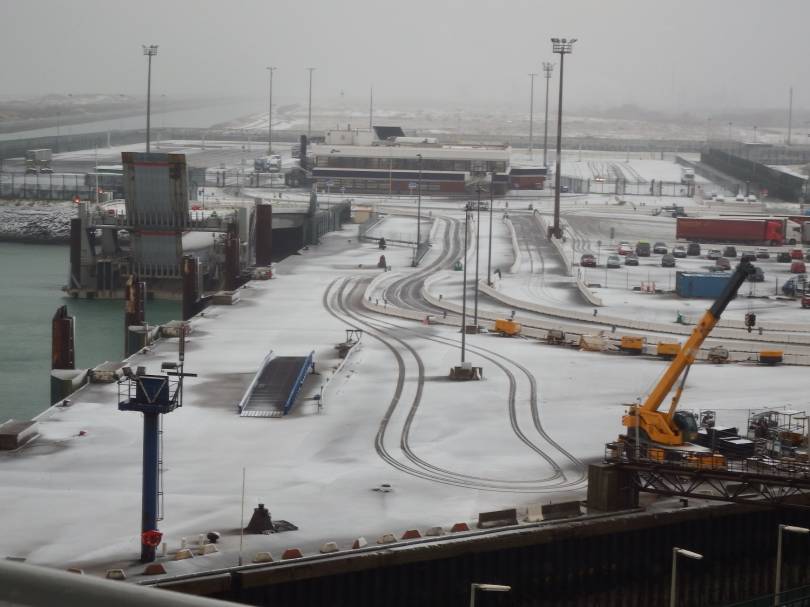 Sunday, 10 December 2017 - 09:41
Post 4473
Sea News, Dover
Some very rough weather is expected in the channel and along the south coast today sunday, with the Shipping Forecast suggesting that winds of up to Violent Storm 11 will give us a pasting. So ..be aware...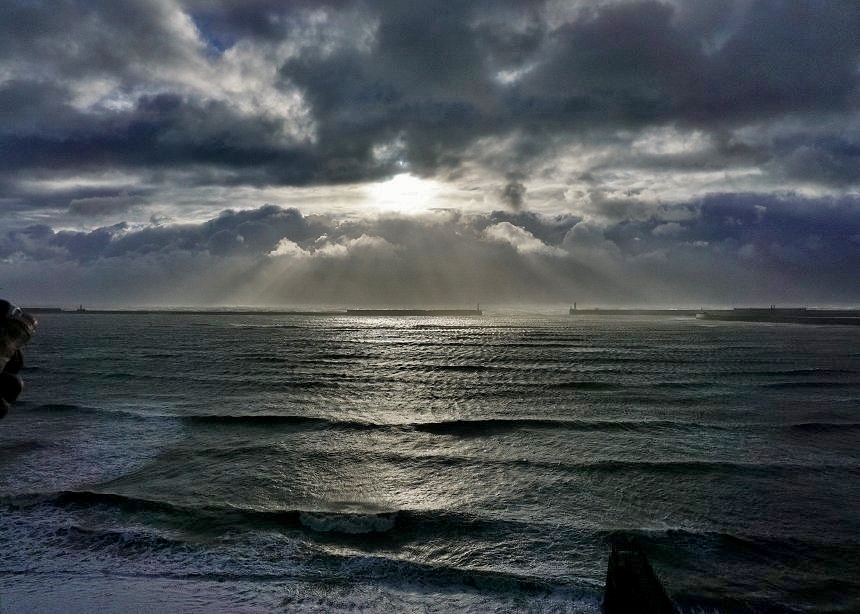 Sunday, 10 December 2017 - 06:32
Post 4472
Sea News, Dover
A couple of shots below of occasional visitor the fishing boat Cornelis Vrolijk. I always have trouble spelling that one...cant think why! The vessel comes in periodically for what looks like a crew change. The first shot is from last Thursday, the rough oul stormy day...the second one is from a previous visit. Always good to see Cornelis....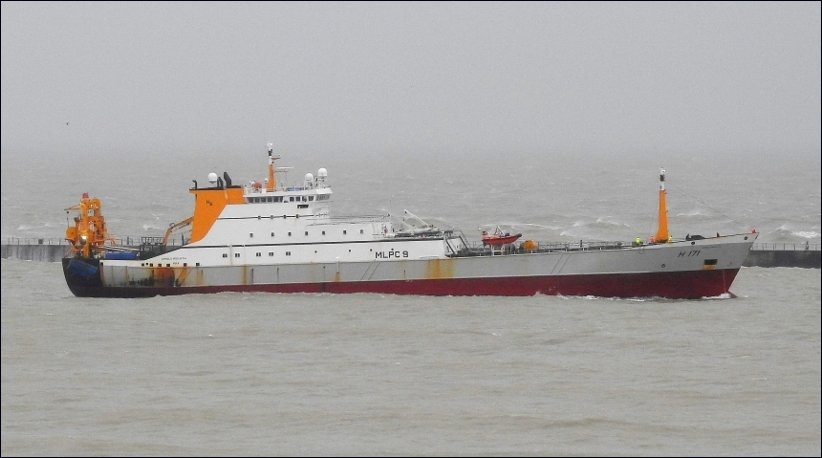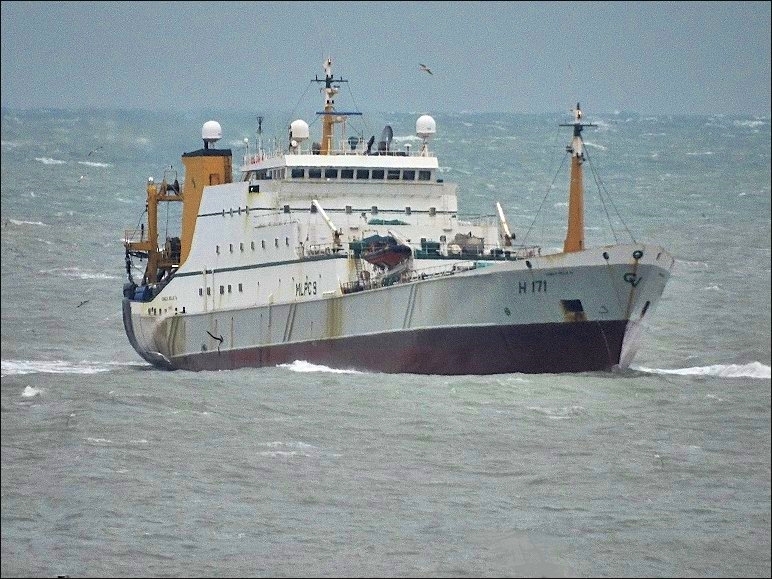 Well done with that collection below Ed. Cracking stuff out there in the rough seas! Great to see that warship.
And...Good to have you back.


PB.
Saturday, 9 December 2017 - 04:52
Post 4471
Ed Connell, Dover Strait
French warship La Motte-Picquet passing Dover this afternoon.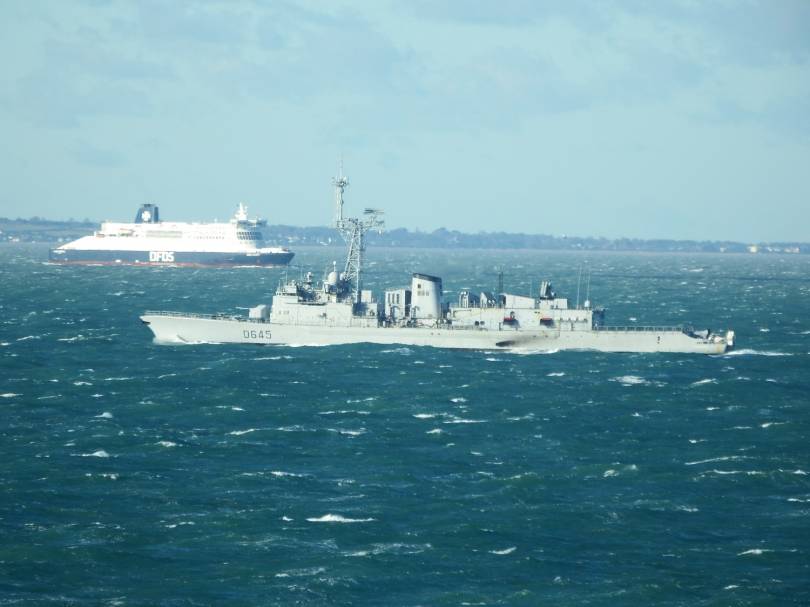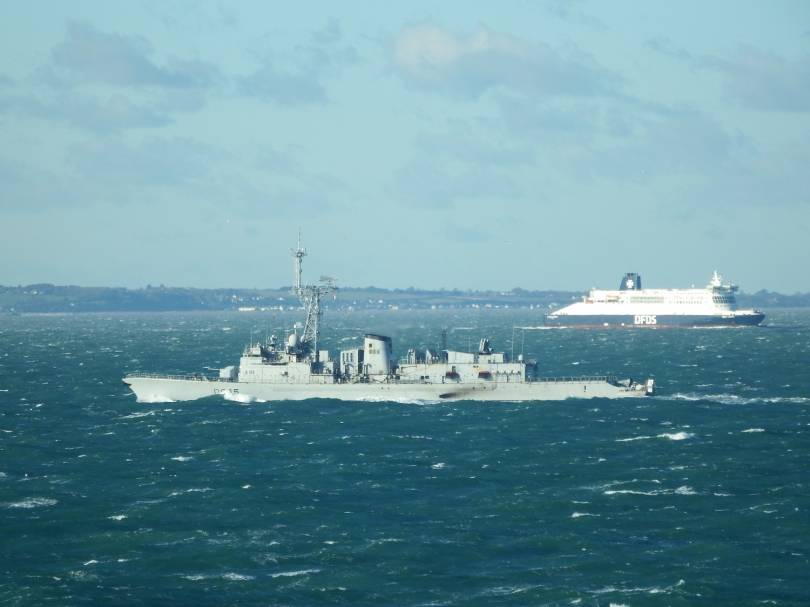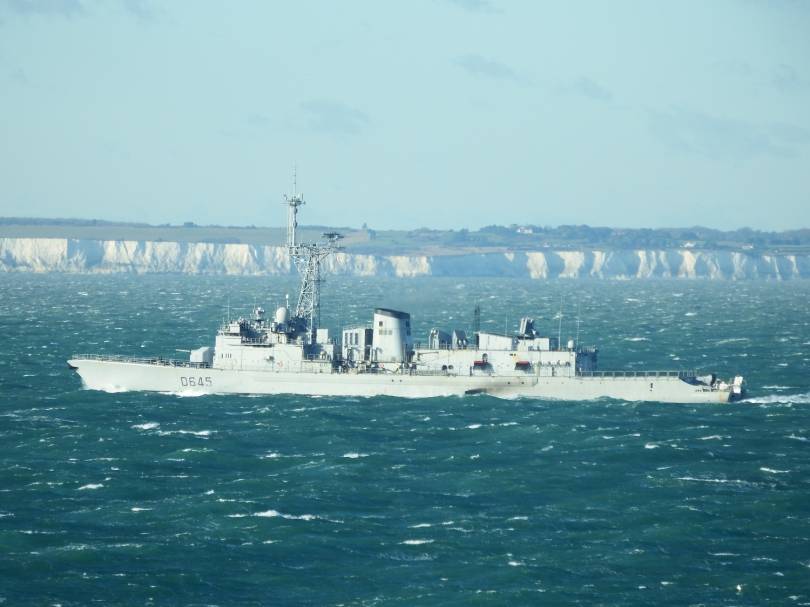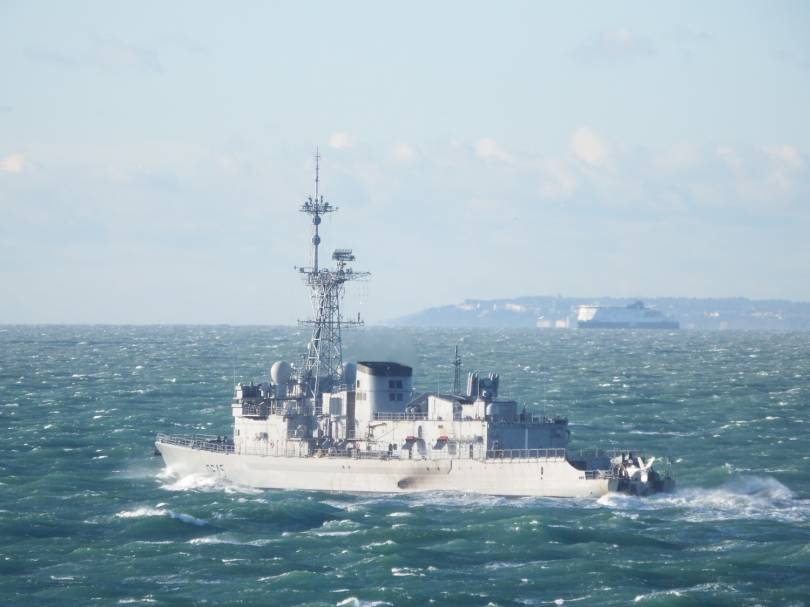 Friday, 8 December 2017 - 19:03
Post 4470
Sea News, Dover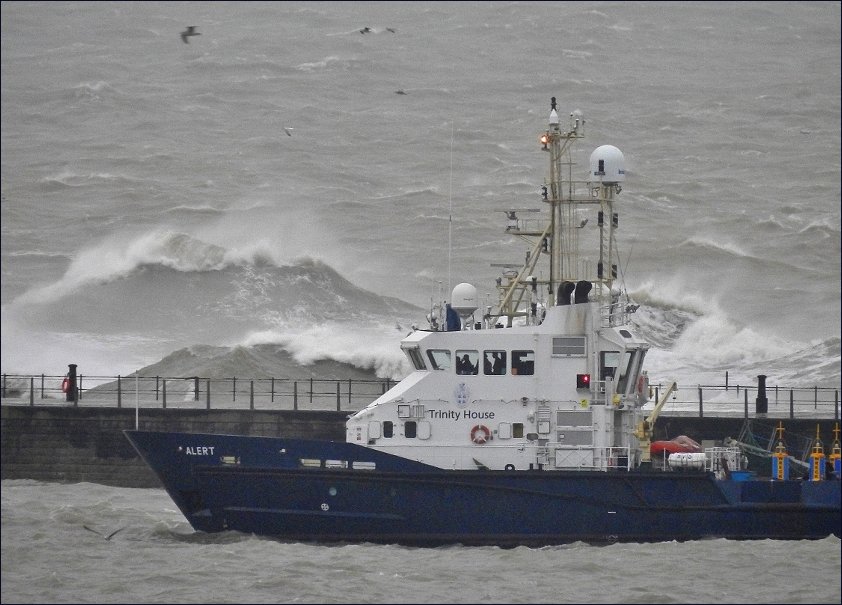 We had some rough oul weather yesterday. It looks like we got the tail end of the storm again..this time it was Caroline. Not quite a 'Sweet Caroline' but nevertheless all ferries seemed to cope relatively well with the stormy weather once again. The top shot above shows one of our regular favourites the Trinity House Vessel...Alert. You can see the crew clearly as they wait in the harbour for a ferry to arrive before they head on out into that rough ol' sea. There must be a modicum of trepidation as they look at it before pushing off.
The Lighthouse on the breakwater below at roughly the same time...the operative word being roughly. Time of pictures..3pm approx.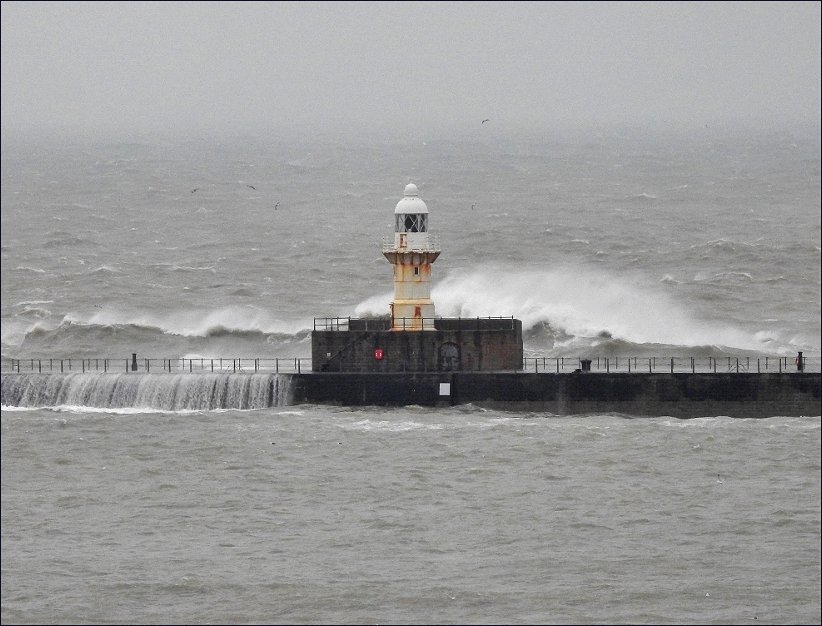 Great set of pictures below Sarah once again. Great stuff indeed! The Christmassy atmosphere looks terrific over there in Ramsgate, with loads of boats taking part. The nice night time camerawork once again too captures it all. I wonder if there are any boats dressed up like that in Dover. Must take myself up to Cullins Yard shortly to check it out...


PaulB.
Friday, 8 December 2017 - 06:52
Post 4469
Sarah, Ramsgate
Thank you Paul & Jacqui for your very kind comments. A few photos of the general display in the harbour.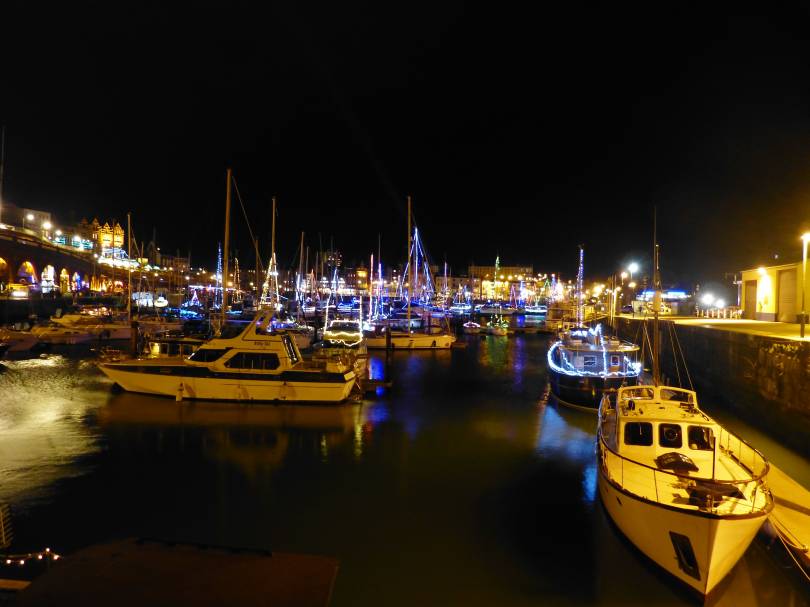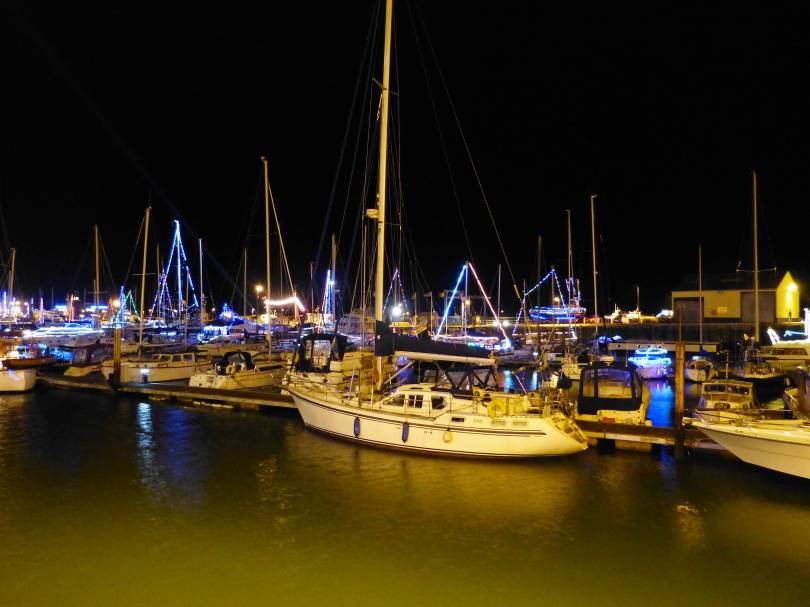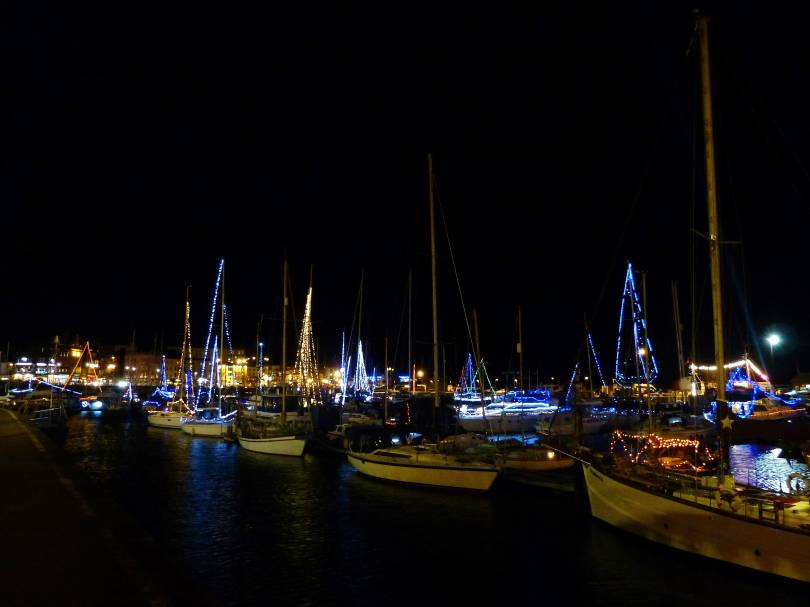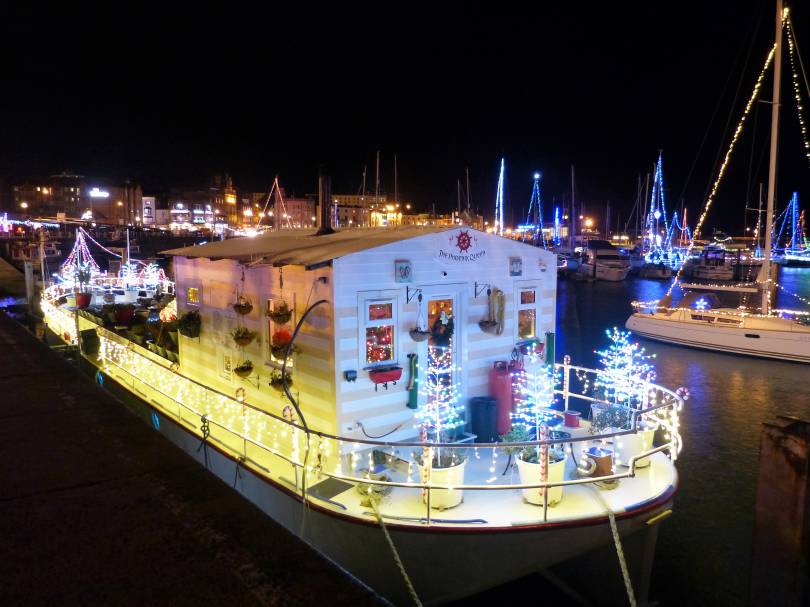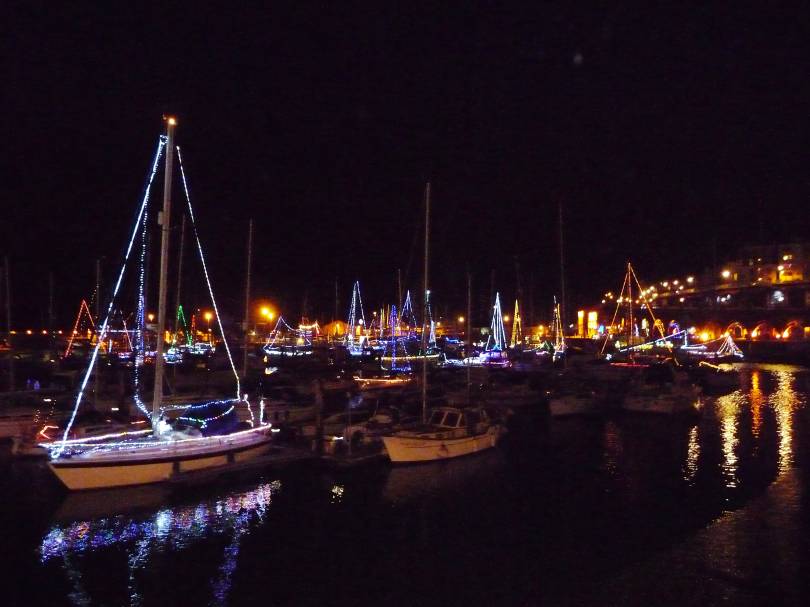 Thursday, 7 December 2017 - 10:59
Post 4468
Sea News, Dover
The first two pictures below show the pilot alighting from Deep Helder on Tuesday morning as the vessel moved away. They are, as you can see, long range pictures and alas alas the quality is a bit poor...but probably still worth showing as you can see the pilot climbing off Deep Helder a few miles out in the channel. This manoeuvre always looks a bit precarious but these guys do it all the time.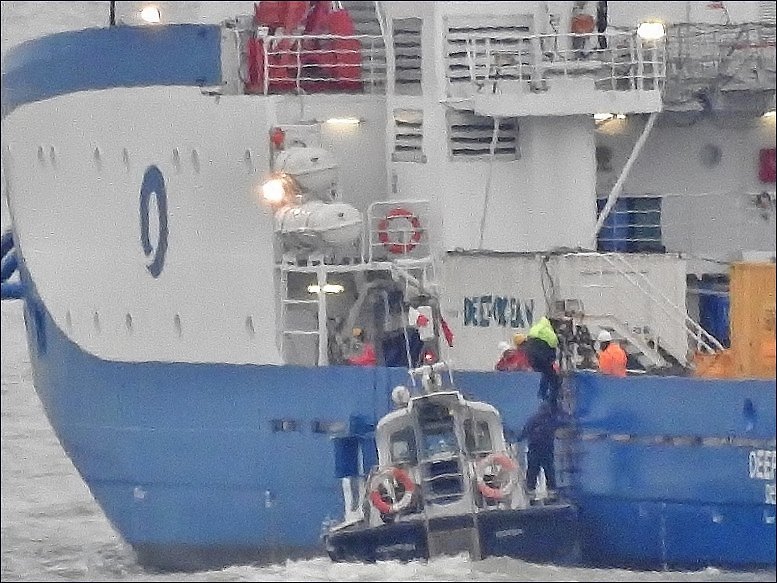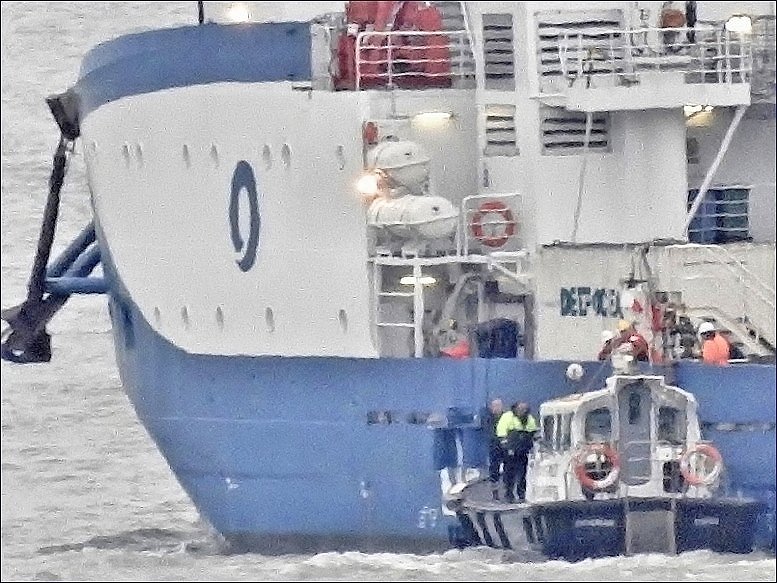 The picture below gives a proper view of Deep Helder a week or so ago...
You can see more Deep Helder pictures via our Search Engine just above...
Thanks Jacqui, that moon shot went down well. It will be on show for one more day and then we will move on..glad you like it.

Great work with the Christmas Lifeboat below Sarah. Those pictures look a bit hard to do as night shots are always tricky but those ones came out great. It is terrific that they do that with the lifeboat.
I bet those pix have put everyone in the Christmassy mood for sure...
I have now written a note to that Sanity Claus guy..


PaulB
Thursday, 7 December 2017 - 07:25
Post 4467
Jacqui, Dover
What a fantastic photo of the super moon Paul - as someone else commented, worthy of an award for sure.

Also thank you Sarah for the lovely Christmassy photos of the lifeboat all lit up for the season. That would make a lovely Christmas card you know, ever thought of trying it - I'd love to receive one

Happy Christmas everyone xxxxx
Thursday, 7 December 2017 - 06:34
Post 4466
Sarah, Ramsgate
As promised Paul some night time photos of the lifeboat (Relief Lifeboat - Lady of Hilbre) looking all Christmassy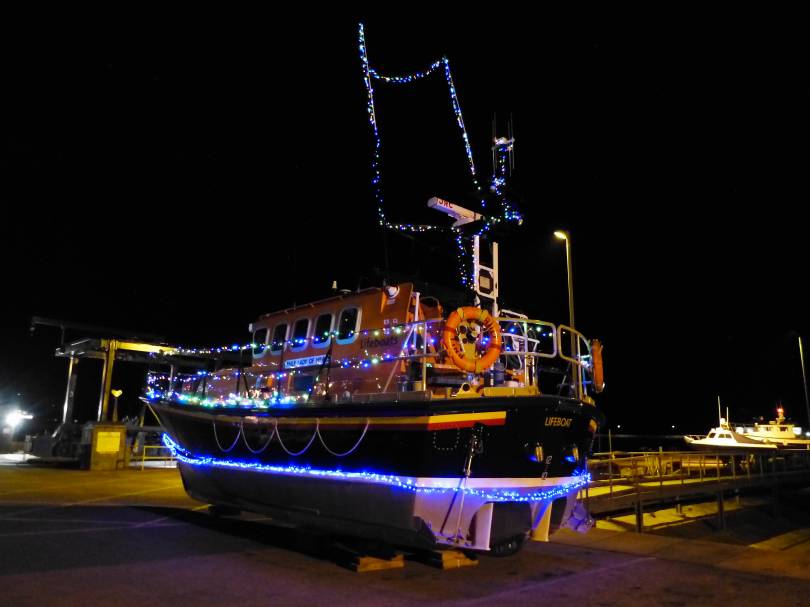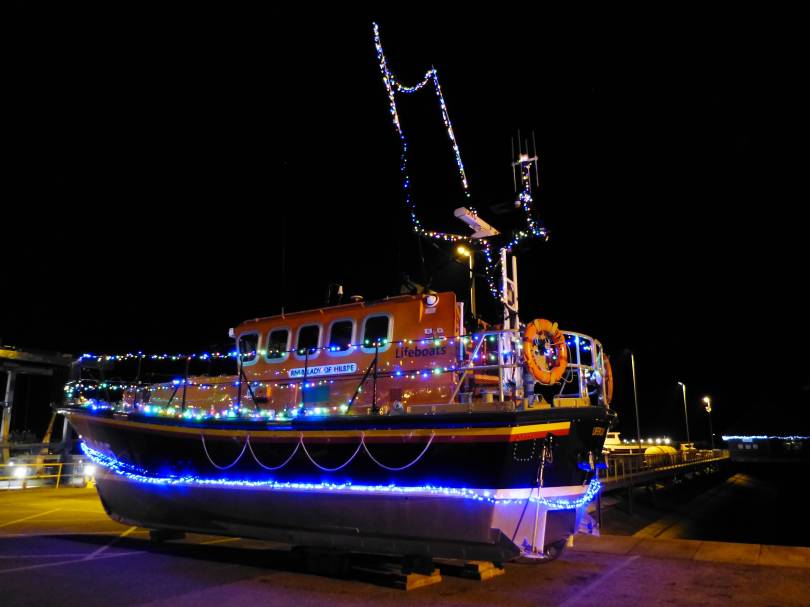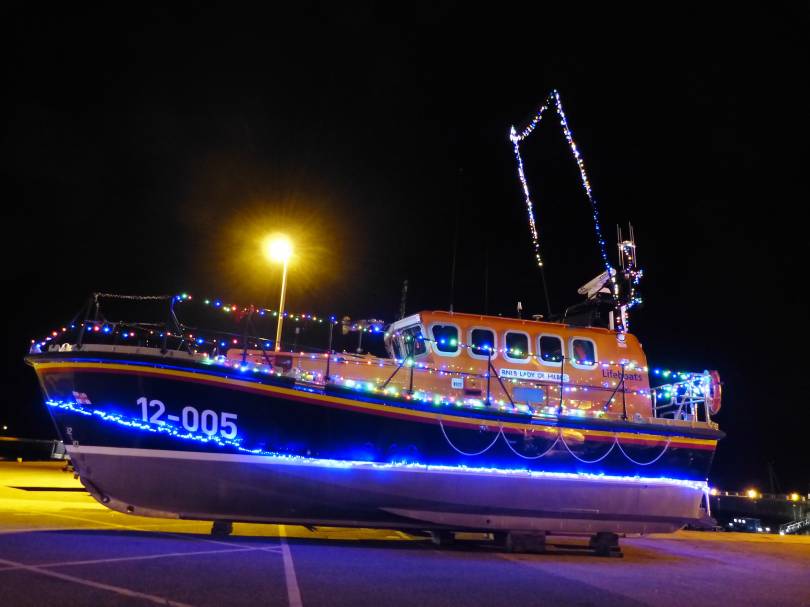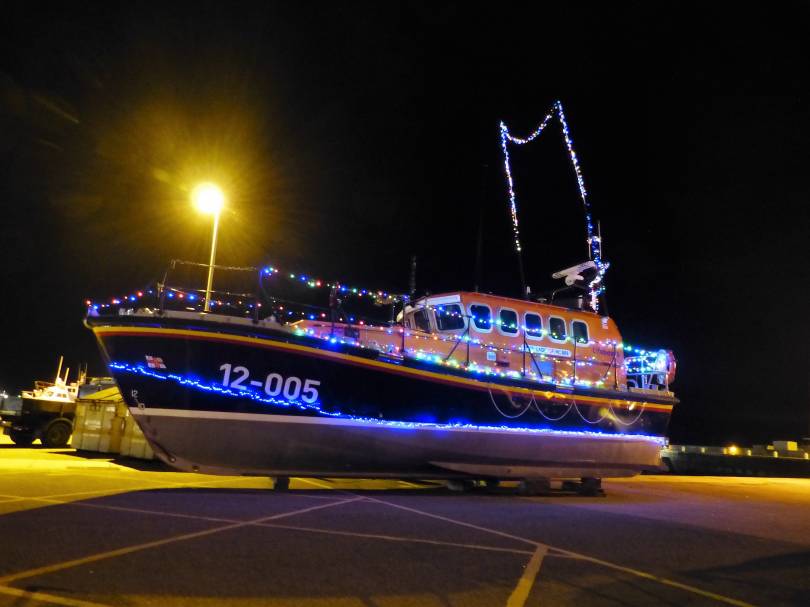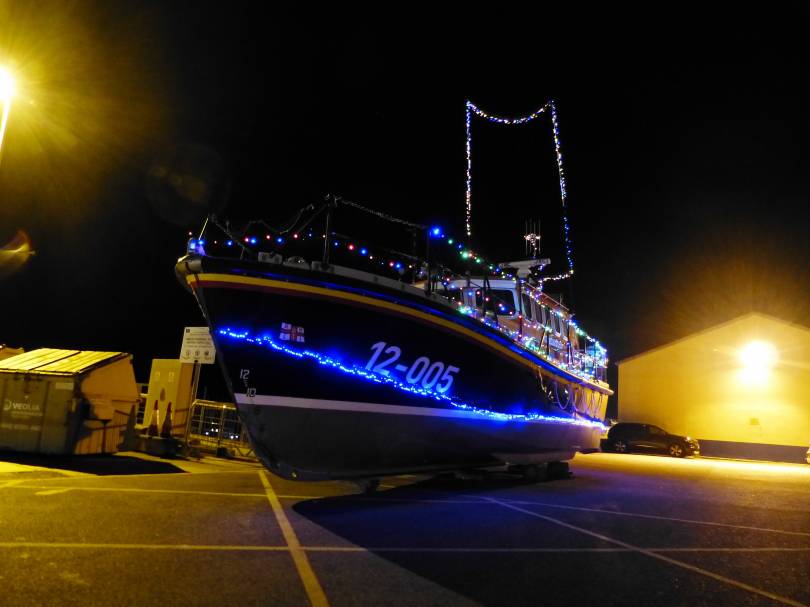 Wednesday, 6 December 2017 - 20:53
Post 4465
Sea News, Dover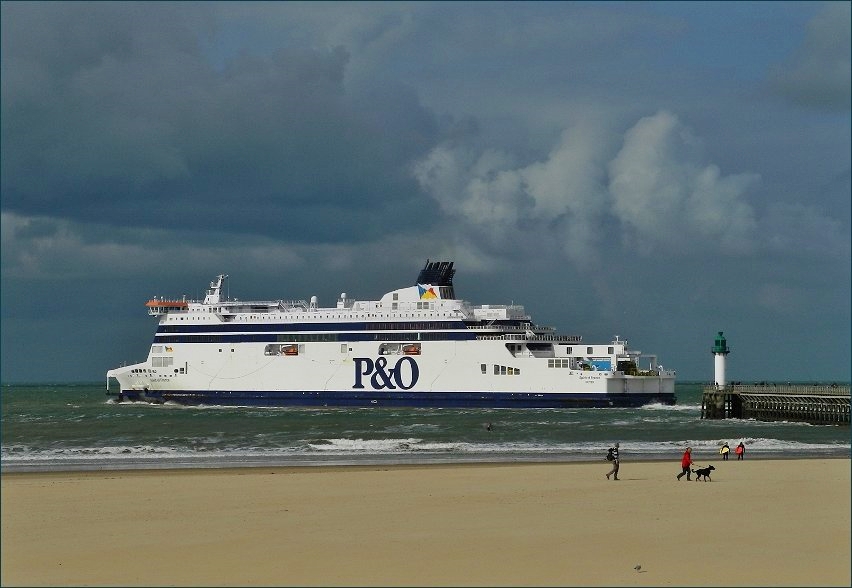 P&O FERRIES IS NAMED BRITAIN'S FAVOURITE FERRY COMPANY BY TRAVELLING PUBLIC FOR TENTH YEAR RUNNING
____________________________________________________________________________________________
Release time: immediate
P&O FERRIES won the Best Ferry/Minicruise Operator category for a record-breaking tenth consecutive year at last week's highly prestigious British Travel Awards.
The awards, which were presented at Evolution in London's Battersea, are the most sought after accolades in the travel industry on account of being voted for exclusively by consumers.
On a successful evening, P&O Ferries also won the category for Best Ferry Booking Website.
The integrated ferry and logistics company, which is this year celebrating the 180th anniversary of the founding of P&O in 1837, prides itself on the mantra that the holiday begins as soon as you set foot on the ship.
Sarah Rosier, Head of Sales and Marketing at P&O Ferries, said: "The British Travel Awards are the only purely consumer-voted awards in the travel industry, so they provide a good measure of how the travelling public views a company. We are therefore delighted to have won Best Ferry Operator for a tenth consecutive year."
"We believe that the service on board our ships has to be great in every way and we are relentlessly working to better understand what our customers want so that we can exceed their expectations. This year we've introduced better dining, better food, a better shopping experience and better cabins which we hope will help us to be Britain's favourite ferry company for another ten years."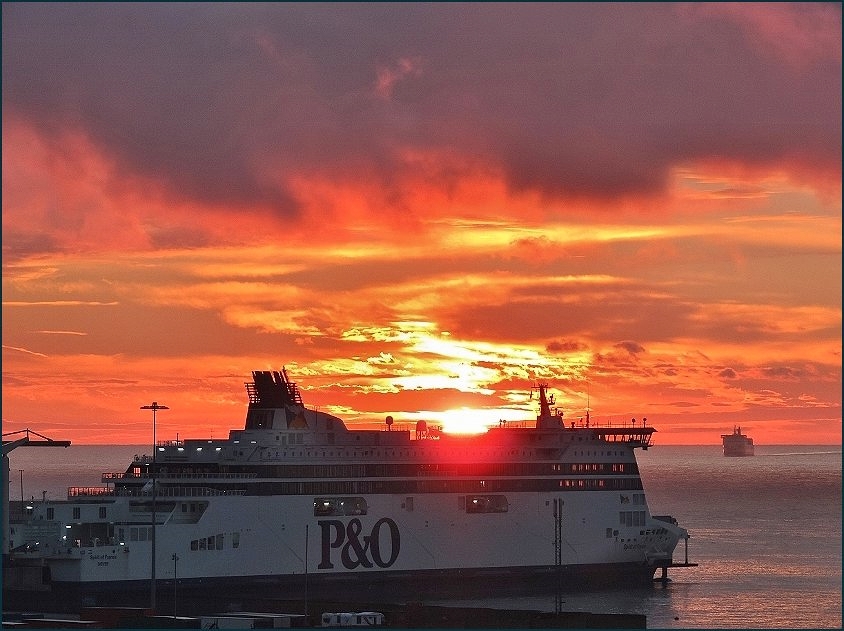 To ensure integrity and transparency, the British Travel Awards are verified by the leading accountancy firm Deloitte. The voting process is completely transparent with the winners determined solely by the number of votes they receive from the public.
P&O Ferries is a leading pan-European ferry and logistics company, sailing 27,000 times a year on eight major routes between Britain, France, Northern Ireland, the Republic of Ireland, Holland and Belgium. It operates more than 20 vessels which carry 10 million passengers and 2.2 million freight units annually.
Together with its logistics division, P&O Ferrymasters, the company also operates integrated road and rail links to countries across the continent including Italy, Poland, Germany, Spain and Romania. P&O Ferrymasters also owns a rail terminal in the Romanian city of Oradea, which facilitates the onward movement of goods to Britain from Asian countries via the Silk Road.
ENDS

Congratulations to P&O Ferries. A big win there. Many thanks once again guys for sending through the info.
The featured ship in the pictures is the Spirit of France.
* *
I originally put up 4 pix of the Lombok Strait yesterday but one didn't look right and had to be taken down...to make up for that loss here are a couple of extra shots taken as the ship moves off through the western exit and heads for Hamburg.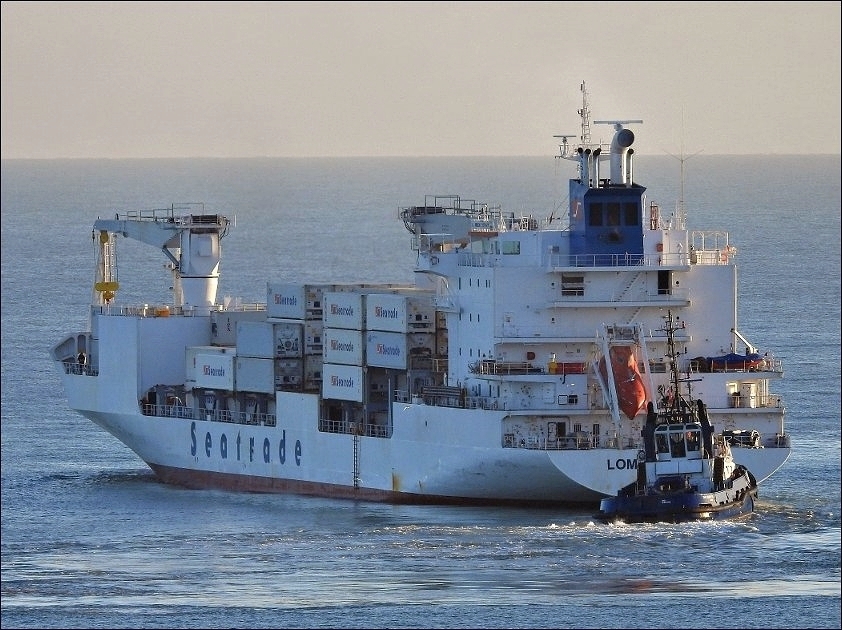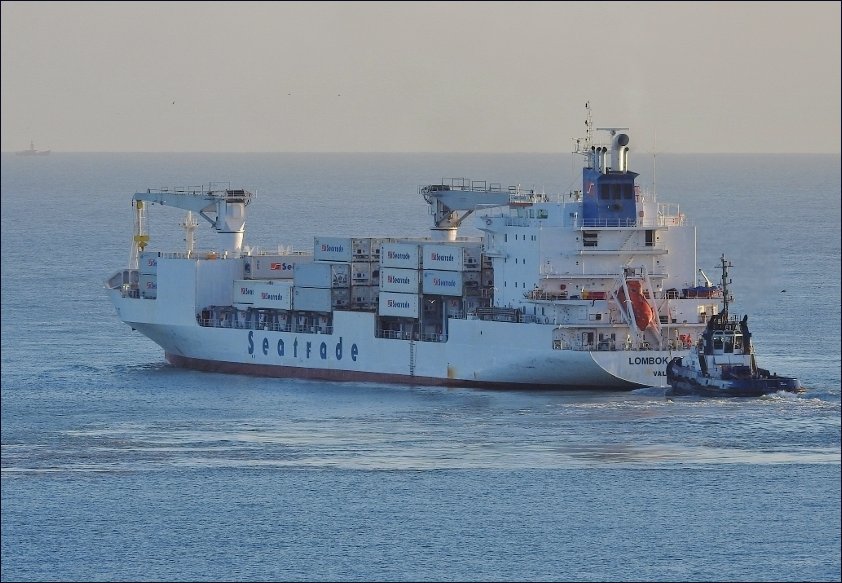 Thanks to Del and Patrick for the comments below there. Glad you like the moon shot guys.
What with supermoons, red moons, pale moons etc etc...we've all gone a tad lunar mad!!


PaulB.

Wednesday, 6 December 2017 - 07:00
Post 4464
Del Styan, Norwich
Wow - what a moon shot. Well done PB.

Tuesday, 5 December 2017 - 22:52
Post 4463
Patrick, Marine Parade
Great photo of the Super Moon Paul. Worth a photo award in anybody's book.

Tuesday, 5 December 2017 - 10:55
Post 4462
Sea News, Dover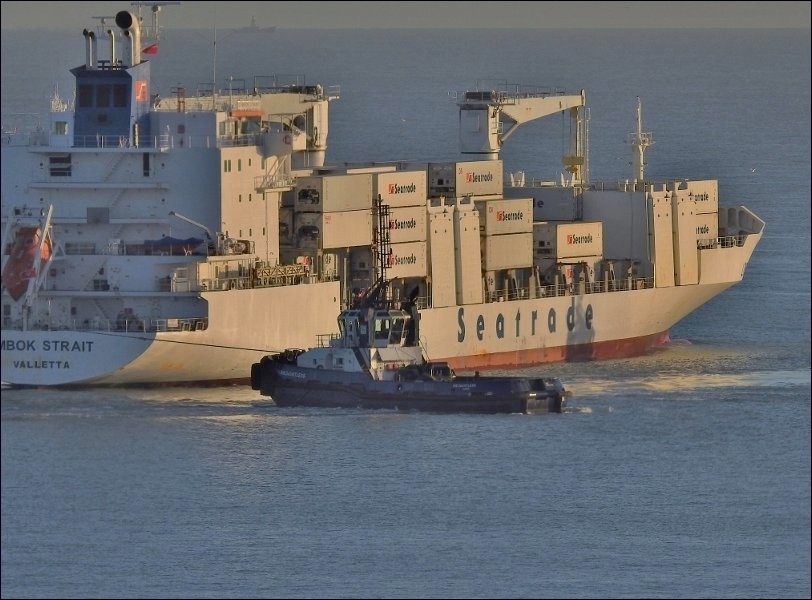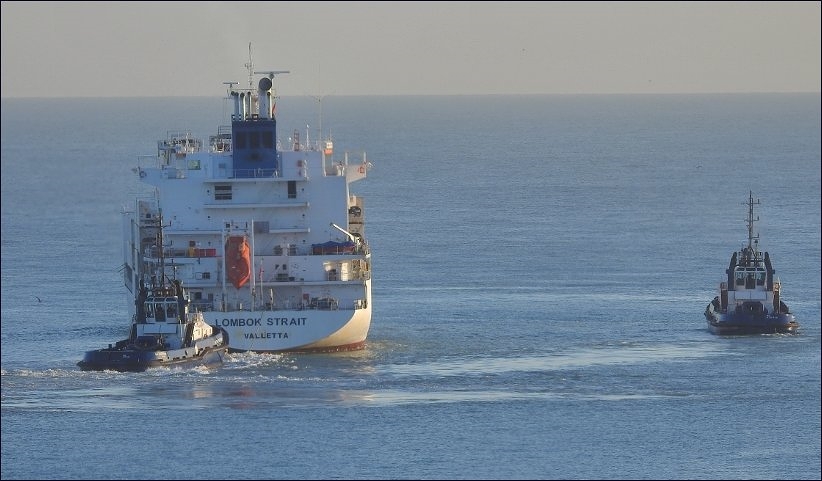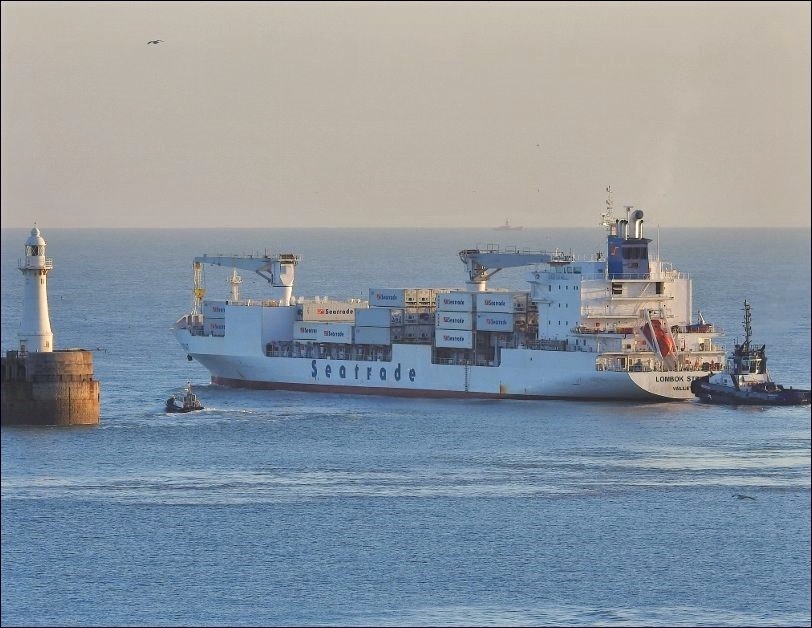 Some pictures above there of our old friend the Lombok Strait moving away through the western exit yesterday at 3pm. Pictures are not classics as the sun was very low and slanting across the harbour, one side of the ship ultra bright, the other side dark....but there she is anyway...heading off to Hamburg in Germany. Another ship, Emerald, was soon in to take up the vacant slot at the Cargo Terminal.
Yes indeed Jan re Christmas Port festivities...its great fun down there


Tuesday, 5 December 2017 - 07:12