Saturday, 30 September 2023
WWW.DOVERFORUM.COM/SEA-NEWS
Sea Pictures from Dover.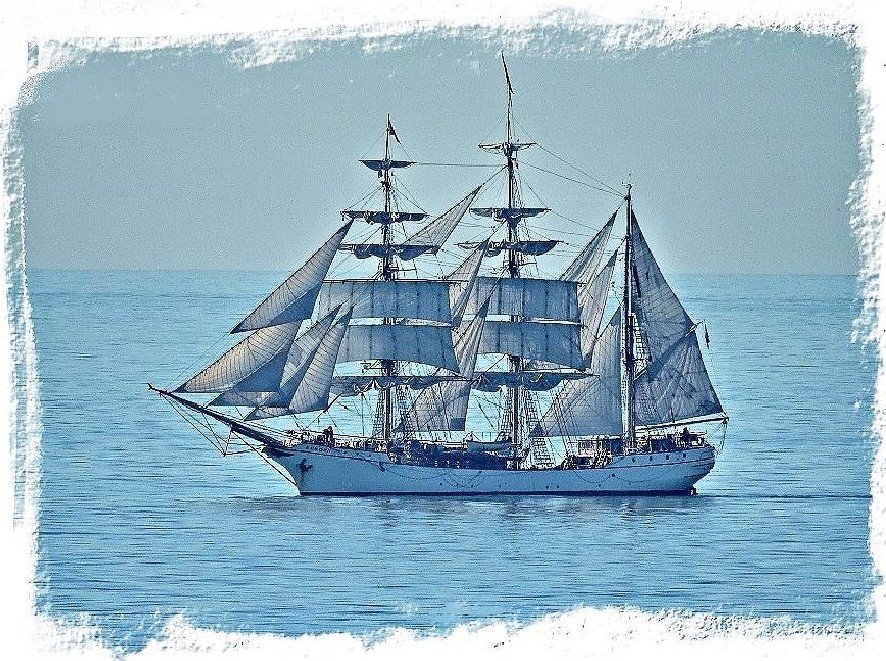 Sailing Ships just off Dover: Europa above and De Gallant below...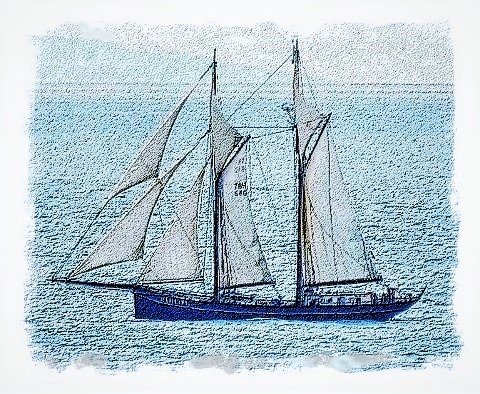 We have 340 plus pages below now...use our own SEARCH ENGINE just below to help you trawl through. All pictures are the copyright of the owners.
Editor: Paul Boland - dover7@msn.com
Post 400
Ed Connell, Dover
Some photos of the Reachstacker doing what Reachstackers do best. Taken yesterday in unaccustomed sunshine. Thank God the weather has improved. I have been on the Dover Seaways since just before New Year and the weather has been unrelentingly abysmal.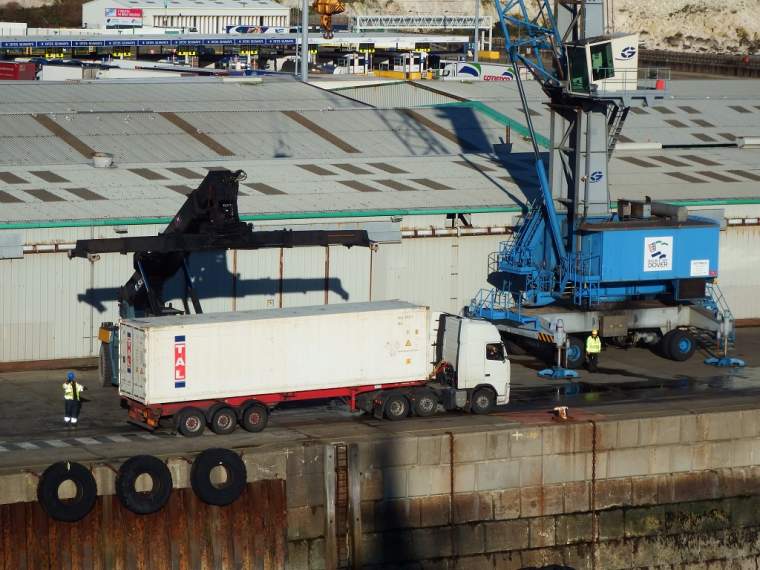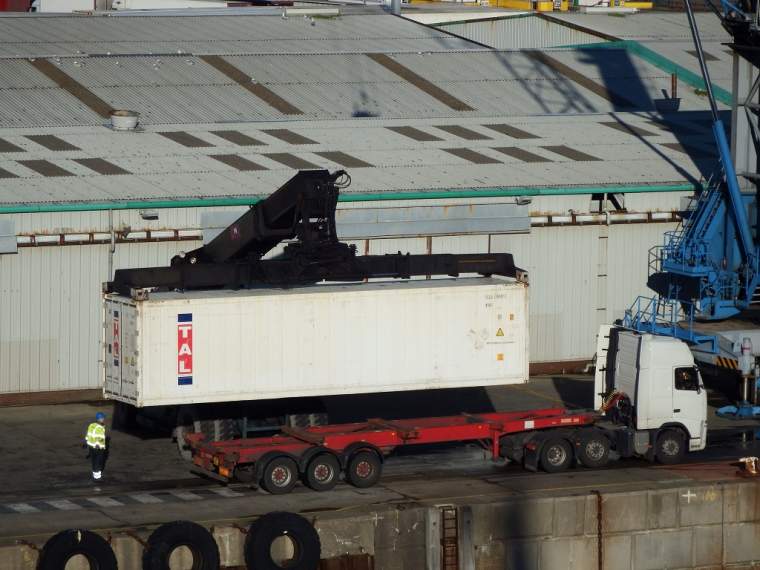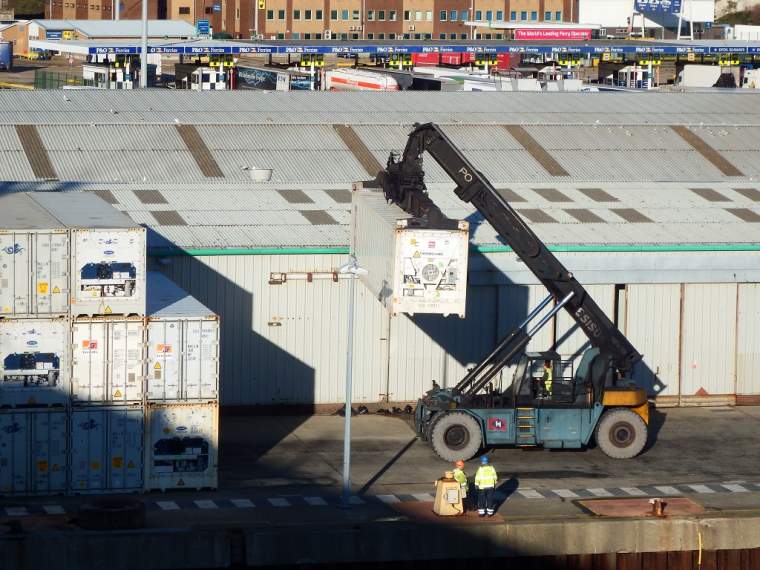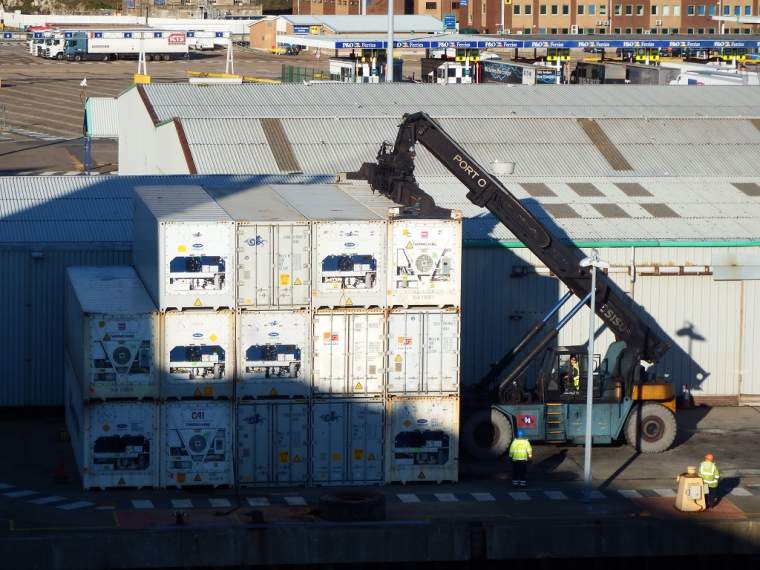 Friday, 10 January 2014 - 10:31
Post 399
PaulB, Dover
Nice and all as Dover Seafront is, even in winter, every now and then you need to get away. How about this idea for hitting the ski slopes from DFDS...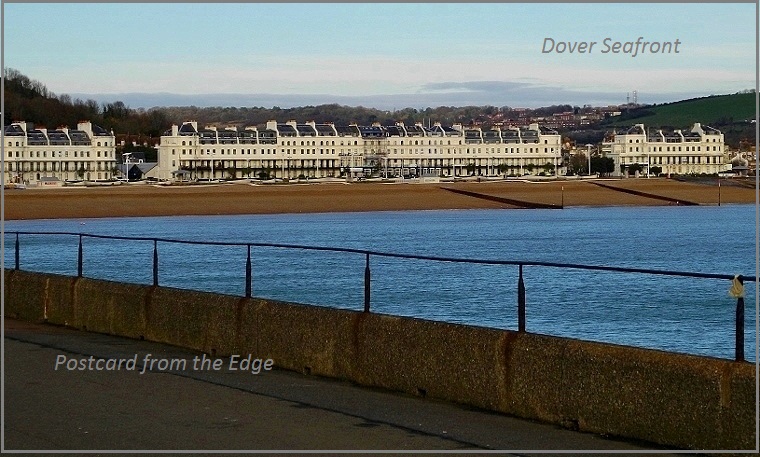 Set sail with DFDS Seaways for your 2014 snow break.
Book your return journey before 14 January to receive a free £20 onboard voucher
_________________________
Save with DFDS Seaways when heading to the slopes this winter by booking a return Dover-France ferry crossing, the easy and cost effective way to travel to your snowy adventure. When booked by 14 January, four people and a car can travel from as little as £29 each way and receive a free £20 voucher to spend in the onboard shop for travel up to the 2 April.
With no extra charge for taking your skis or snowboard, you can take as much luggage as you can fit in your car or roof rack and avoid the extra fees associated with air travel when heading off for your winter sports holiday.
With a variety of ski resorts within easy reach of Dunkirk or Calais, including Morzine, Tignes and Chamonix, it has never been easier to book your group or family ski trip to Europe this winter. If you book a return crossing before January 14, you'll also receive a free £20 voucher to spend in the onboard shop, where you can stock up on ski and après ski essentials such as sun protection, sunglasses and beer, wine and spirits before you reach your chalet.
Apart from deciding what to spend your onboard voucher on, you'll also find plenty of other ways to pass the time as you cruise across the Channel. You can enjoy a bite to eat in one of the onboard restaurants and cafés, or have a drink in the bar and admire the fantastic sea views. For little pirates there is a dedicated children's play area, where they can let off steam before the onward journey.
Max Foster, passenger director at DFDS Seaways, says: "For those who want to head for the slopes this season, but don't want the hassle of the long queues and baggage restrictions associated with air travel, I would encourage you to consider taking the easier car and ferry option. Travelling by ferry is not only a more relaxed way to travel, it is also very cost effective when travelling as a family or small group."
DFDS Seaways sails up to 44 times a day between the Dover and France, with routes to both Dunkirk and Calais, providing passengers with flexible crossing times, a luxury on-board travel experience and convenient travel options.
To book now or to find out more information please visit www.dfds.co.uk or telephone 0871 5747235.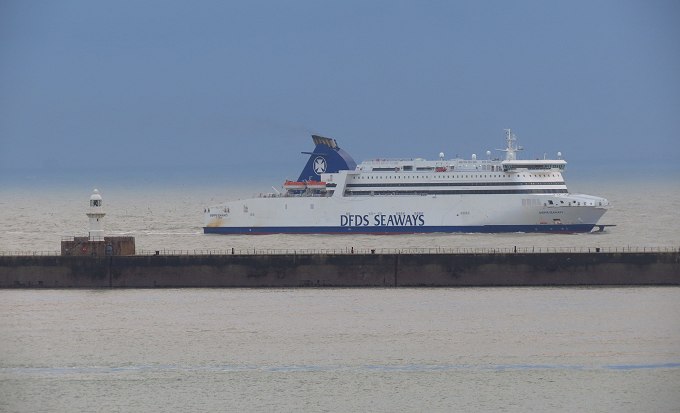 Some great places mentioned above there..ahhh Chamonix !
Picture above shows the Dieppe Seaways approaching the western exit/entrance.
* *
Well done with the pictures and info guys. learning more about the Reachstacker everyday. A fascinating machine. And also am very glad now we spotted the Admiral Kuznetsov moving by...probably heading to Sochi. Very impressive, as you can see in Howards picture there.

Friday, 10 January 2014 - 07:59
Post 398
Mike J., Dover
Just a Swing at Twilight . . . . [as the song almost goes]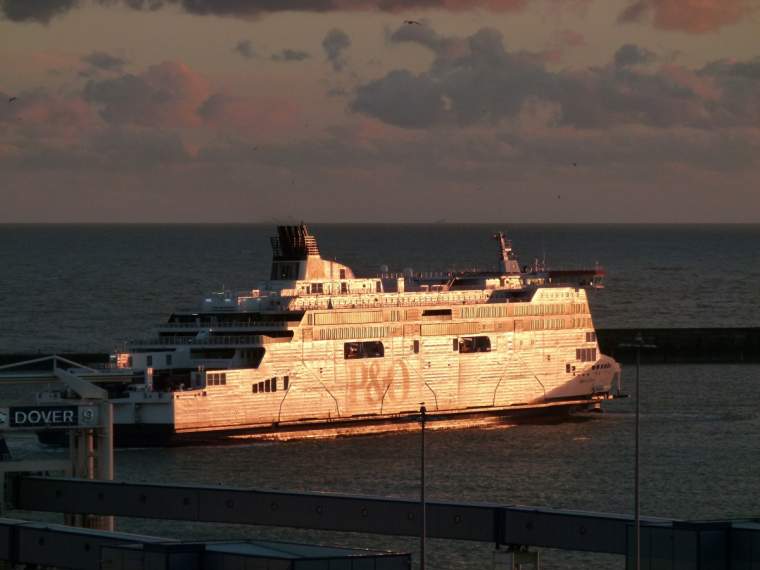 Late afternoon sun catches the SPIRIT OF FRANCE as she swings to dock on No.9 berth on Thursday afternoon.
Thursday, 9 January 2014 - 23:51
Post 397
John Mavin, Dover
Thanks for that Ray.

Thursday, 9 January 2014 - 21:26
Post 396
Ray H, Dover
John, you probably saw one of the Harbour Mobile Cranes that work the ships on the cargo terminal being delivered,they were indeed delivered as deck cargo as you describe.
Both of the Reachstackers were delivered to the Eastern Docks by road on low loaders.
Ray.

Thursday, 9 January 2014 - 18:07
Post 395
howard mcsweeney, Dover
interesting stuff all round, found this photo of the "admral kuznetsov" on manoeuvres.

Thursday, 9 January 2014 - 15:45
Post 394
John Mavin, Dover
That Reachstacker ....... a few years ago I watched one being delivered to DHB (it could have been this one). It arrived as deck cargo on a small freighter which initially laid up on the Eastern Arm. The plan was to drive it off the ship on a perfectly horizontal line onto the Cargo Terminal (where the banana boats berth) - a tricky operation which could have been disastrous had it gone wrong.

Firstly, the conditions had to be just right, i.e. slack water at high tide and, secondly, there had to be no swell - this meant that all shipping movement in the port had to be suspended while offloading took place. A third consideration was that once the front wheels were on the quay the ship had to be trimmed to compensate for the weight loss.

As I recall the first planned attempt was abandoned because of the wind, but on the following day the conditions were perfect and the whole operation was carried out excellently.

Thursday, 9 January 2014 - 10:15
Post 393
PaulB, Dover
Thanks for that info John, great stuff. Looks like its the Russian Navy for sure. The reason I suspected Russians earlier was a bit more than a wild guess as there were at the same time a gaggle of Russian cargo ships following along behind all at once..So I thought..eyupp..like ye do. Bit unusual.
The aircraft carrier was relatively close in to shore but the visibilty was not great.

Thursday, 9 January 2014 - 09:54
Post 392
John Mavin, Dover
I'm fairly sure this is the Russian aircraft carrier Admiral Kuznetsov, currently en route for deployment in the Med. Because of the weather she's been at anchor off Scotland for a few days.

Thursday, 9 January 2014 - 09:01
Post 391
Mike J., Dover
PaulB - Aha ! So it turned off the seafront there & must have gone 'contraflow' to Eastern Docks along the dual carriageway bringing traffic there to a grinding halt for a short while.
Thanks !

Thursday, 9 January 2014 - 06:50
Post 390
PaulB, Dover
Mike here's another picture for you to show the beasts exit route from the seafront. Must have been a tight squeeze as you say but it probably used pavement and all. To exit further down the seafront by the Premier Inn would probably have been too tight a squeeze. I suspect the average motorist would feel a tad menaced to see this thing approaching in the rear view mirror.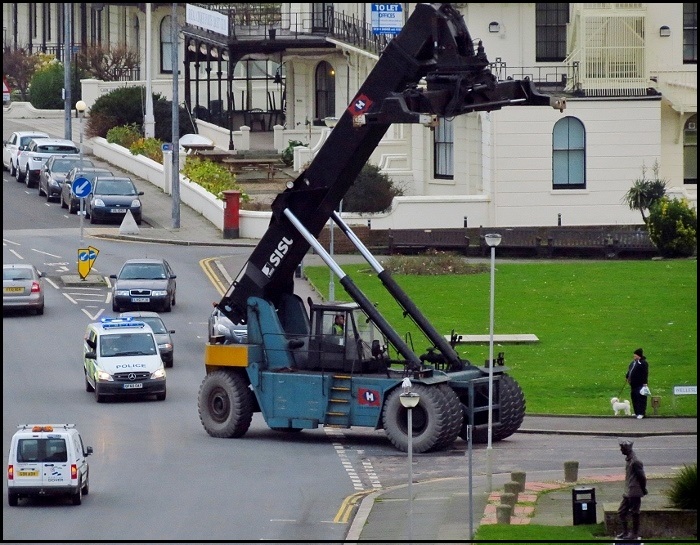 I'm sure I saw Charles Rolls turning his head there to have a look..

Yes indeed thanks again for all the info Ray..you certainly know your onions. The full frontal shot of it below coming down the seafront almost shows the thing breathing fire !!

I'm not sure where it was heading but if I see it again will let everyone know.
Out in the Channel yesterday there appeared to be some heavy military hardware on the move. This looks like an aircraft carrier to me but as ever I cant be 100% certain as it didn't show up on our Channel Traffic thingy...which can be found on our overall merged frontpage ( at top of page dover.uk.com). It seemed to have a smaller ship as 'outrider' as well .. But here's the thing, it was shadowed further back by the Royal Navy, HMS Defender in fact, which did show up on the channel traffic device. Maybe they were shadowing Russians on the move...perhaps the cold war is still to some extent in operation or is my imagination running riot? Anyway here's the picture..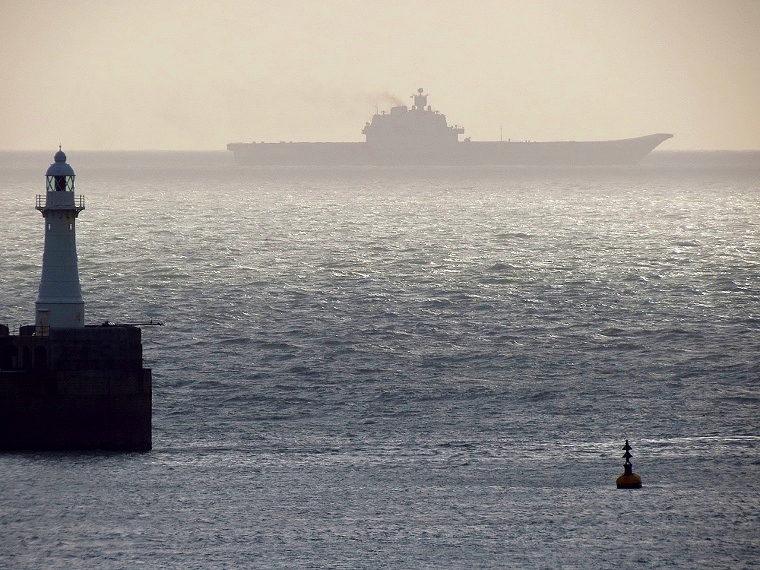 Thursday, 9 January 2014 - 06:32
Post 389
Mike J., Dover
PaulB - thanks for the interesting photo of the beast heading along the seafront, heading presumably for Eastern Docks.

How did it get from Marine Parade onto Townwall Street ?
It sure as heck would have problems with the gap between the bollards.
I always breathe in to get my car thru the gap . . . .

Wednesday, 8 January 2014 - 15:21
Post 388
JanT, Dover
Thank you for that imfo Ray as you can see by the picture, it certainly was not something you see everyday traveling down the seafront.
Mark and Vic glad to see you enjoy Sea News


Wednesday, 8 January 2014 - 13:09
Post 387
Ray H, Dover
You guess correctly, the machine is a SISU Reachstacker built in Finland for the express purpose of handling shipping containers. There are two of these wee beasties lurking around the Port somewhere, originally purchased by DHB then sold off to Hammonds some years back. It is good to see that they are still working they are built like the proverbial brick outhouse.
Ray.

Wednesday, 8 January 2014 - 08:53
Post 386
PaulB, Dover
Thats a cracking picture there a couple of posts below from Stephen Walker. You can almost feel the moment and hear the roar of the sea. Ace pic Stephen..well done Howard getting it up. Great addition.
Vic you are right, its very tough for the guys out there on the sea in this weather, going through the thick and thin of it every day. Thanks again for your comments..glad you are enjoying the Sea News pages.
Hello Mark ..welcome. Good to hear from you all the way up there in Northants. Ah yes have often gazed at those local glorious gliders over that way on summer days..tranquil beauty in motion. You made us laugh about Brussels standardising the seagull.

Look at this guy from yesterday...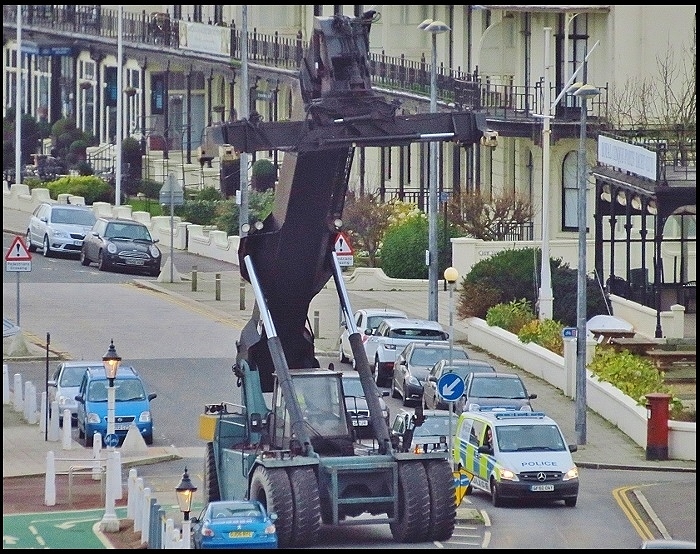 This Monster Mover came grinding and growling down the seafront yesterday around 1pm. It had a police escort front and rear, because of its size no doubt. The front escort just out of shot. We are seeing an upsurge in monster movers lately and this is the latest. I dont know what it is...is it a container lifting crane or similar? Bit of a beast. Came close to crushing that blue car left like an elephant would a bug..Look at the size of those tyres.
SEAFRONT LIGHTS: Glad the guys at the Port noticed our comment mentioning that the very central light amongst the all new seafront lights wasn't working...the guys came to fix it late yesterday...and now we have the full set of new lights all glowing brightly along Dover Seafront...the new lights run from the Premier Inn to the Yacht Club. White light rather than orange light as we noted previously...and very nice too.
Wednesday, 8 January 2014 - 07:33
Post 385
vic matcham, Dover
This is a very good site with some great photos of the sea and the port and the ships that come and vist us all the year round and in all weathers,I worked at sea off and on in ny working life on ships mainly welding ,just glad not out there this year,I was on a ship working in the 1987 storms but this time it has gone on for so many weeks and looks like no end to it yet,but the good news about it all it is keeping the snow away.

Wednesday, 8 January 2014 - 02:02
Post 384
howard mcsweeney, dover
the photos get ever more dramatic - the cloud formation is a great one, this one was taken at the hoe last friday by stephen walker during a volunteer conservation day.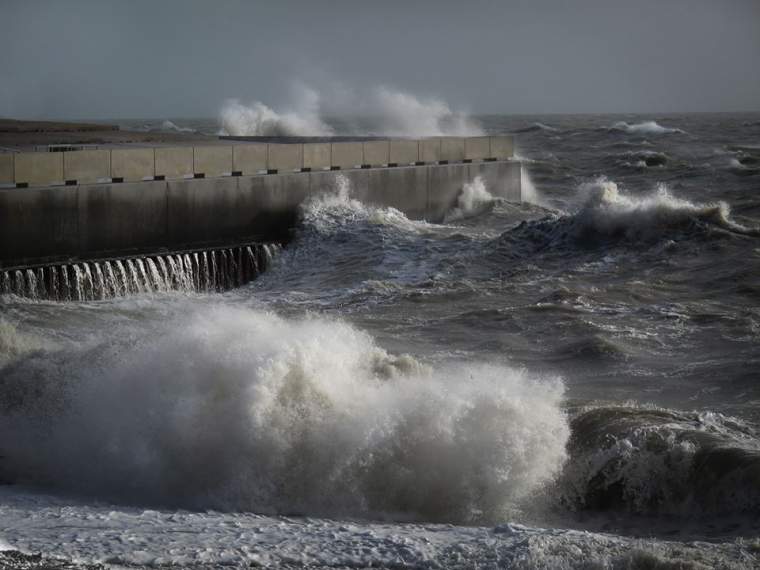 Tuesday, 7 January 2014 - 12:17
Post 383
Mark Rushton, Northants (rushton.mark@hotmail.co.uk)
Hi Paul,

Great Blog - as someone who has an interest in the ferries and as a fairly regular visiting instructor at Channel Gliding Club just up the road I find it very enlightening. As regards your feathered friend, my money's on a cormorant (or possibly a sh*g, but that might not get past the lewdity filter....). Your comment implies that Brussels are now standardising the seagull, which, although disappointing, really doesn't come as that much of a surprise....

Cheers, Mark

Tuesday, 7 January 2014 - 12:02
Post 382
PaulB, Dover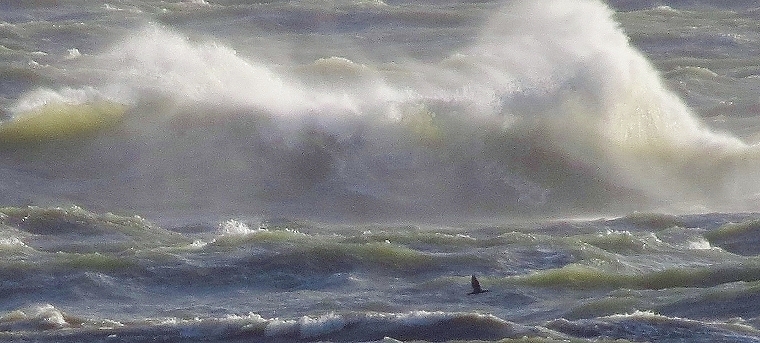 Although we haven't experienced it as bad as some parts of the country, particularly Wales and Cornwall, we too have had our very rough days here in Dover, we have certainly had our moments. Maybe the worst of the stormy weather is gone now...or do we speak too soon? This picture above was taken yesterday and shows the sea just outside the western exit. The seabird thought it best to move sharpish when it saw this roller approaching...not sure what kind of a bird it is but it doesn't look like the standard seagull.
Scroll down the page to see the Le Touquet deal from MYFERRYLINK.
Tuesday, 7 January 2014 - 08:04
Post 381
PaulB, Dover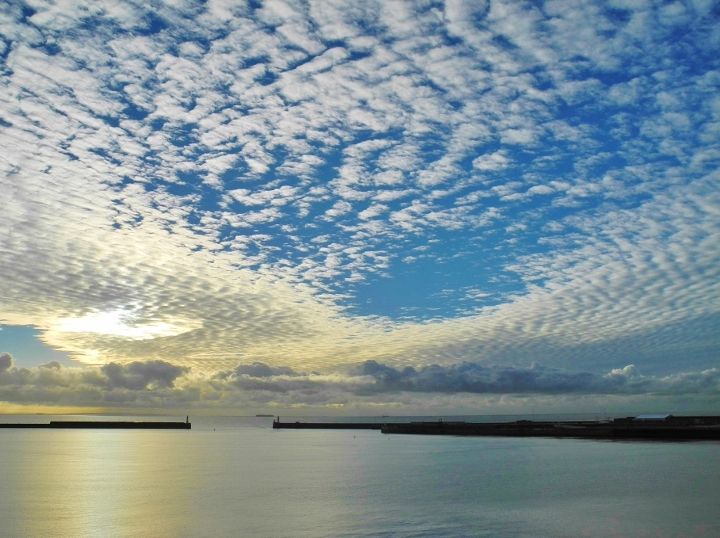 These are rough oul times weatherwise and no mistake, and it goes on.. with a further Atlantic surge due in today monday. The picture above shows the sky yesterday morning over the channel. A big big sky with very unusual cloud formation..with added swirl. Once again it was the sunday morning calm between two storms as before long this sky had transformed itself into a Force 9 Gale of some severity.
And Now...for those contemplating a breather from all the buffeting...here's an idea from MYFERRYLINK....
A January Getaway in Le Touquet

Exclusive offer at the luxury 4* Le Grand Hotel for MyFerryLink customers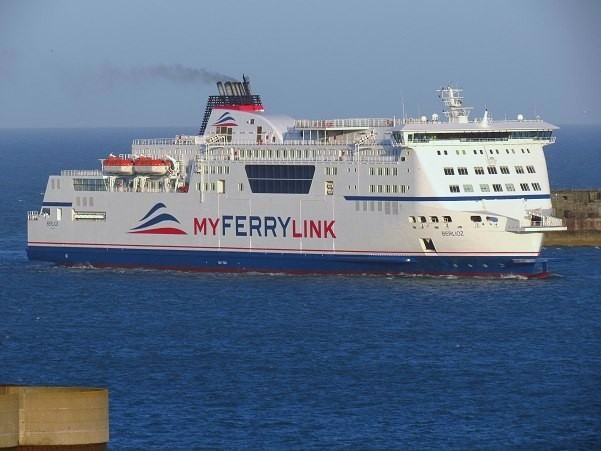 For those looking to recover from the hectic bustle of Christmas and the New Year, MyFerryLink has the perfect solution. The Dover-Calais ferry operator has teamed up with the gorgeous 4* Le Grand Hotel in Le Touquet, to offer its customers an exclusive deal for a relaxing January getaway.
From now until 31 January 2014, travellers with MyFerryLink can enjoy a two night stay in a double room, plus breakfast and three course dinner for just €185 per person (based on 2 people sharing a room, beverages excluded). That's a €45 saving per person on the usual price! And with any duration prices for a car and up to 9 people starting from £70 return, customers can enjoy a luxury three-day break from just £190 per person.
Located by the beautiful Canche estuary, the luxury Le Grand Hotel in Le Touquet is just a 10 minute walk away from the centre of this chic coastal resort. It is home to a magnificent collection of contemporary art and also offers customers a large indoor pool, sauna, jacuzzi and beauty spa with a range of massages and treatments. The hotel's acclaimed La Lorelei restaurant offers a contemporary fine dining menu, or for a more chilled buffet style meal, customers can eat in the Roots restaurant with its innovative 'urban seaside' interiors.
Le Touquet boasts miles upon miles of sandy beaches - ideal for relaxing walks to blow away the midwinter cobwebs. There's a wealth of cafés and restaurants to choose from, and the designer clothes shops and huge array of beautiful locally produced food shops are perfect for browsing and choosing gifts to take home.
MyFerryLink operates 16 daily crossings on the Dover-Calais route. Fares for a car and up to nine passengers start from £35 each way any duration and from £29 for a day return.
To find the best fares, visit www.myferrylink.com or call 0844 2482 100
* *
Have a soft spot for Le Touquet myself for sure.
Thanks Tempie, glad you are liking the pictures.

Monday, 6 January 2014 - 06:22