Sunday, 3 December 2023
WWW.DOVERFORUM.COM/SEA-NEWS
Sea Pictures from Dover.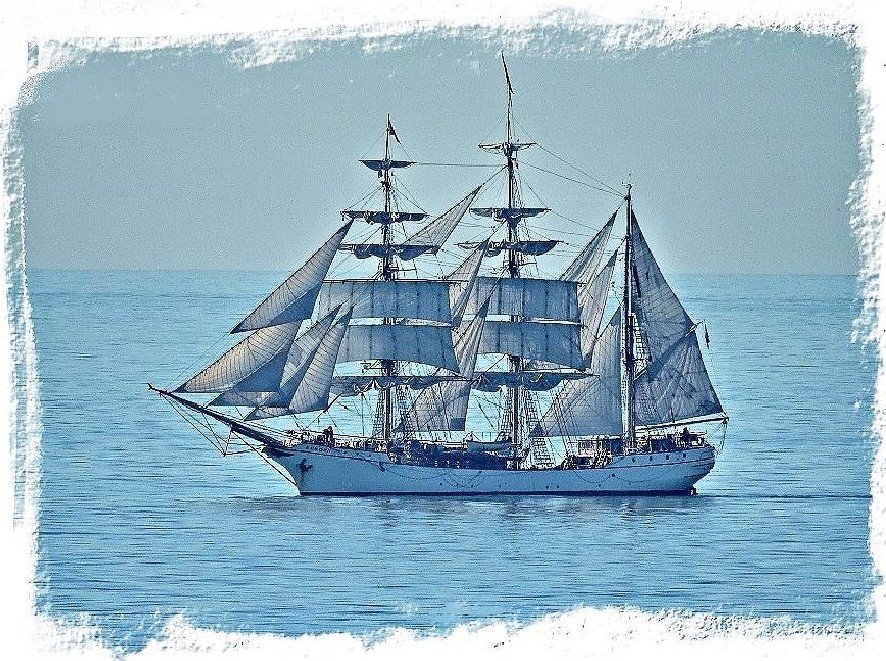 Sailing Ships just off Dover: Europa above and De Gallant below...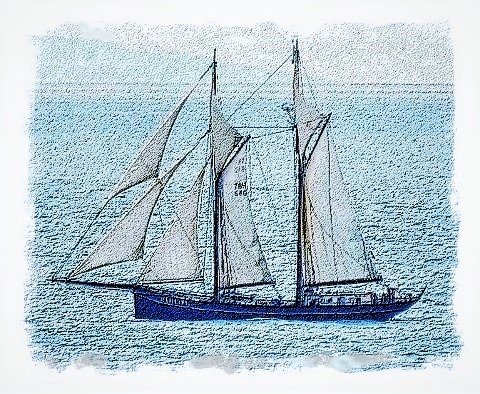 We have 340 plus pages below now...use our own SEARCH ENGINE just below to help you trawl through. All pictures are the copyright of the owners.
Editor: Paul Boland - dover7@msn.com
Post 68
Ed Connell, Dover
Have just acquired this postcard. This is the German transatlantic liner Deutschland alongside the Prince of Wales. There are numerous photos of the Deutschland in Dover but have not seen this one before. It was posted from Southampton in 1906 but the photo was obviously taken at an earlier date.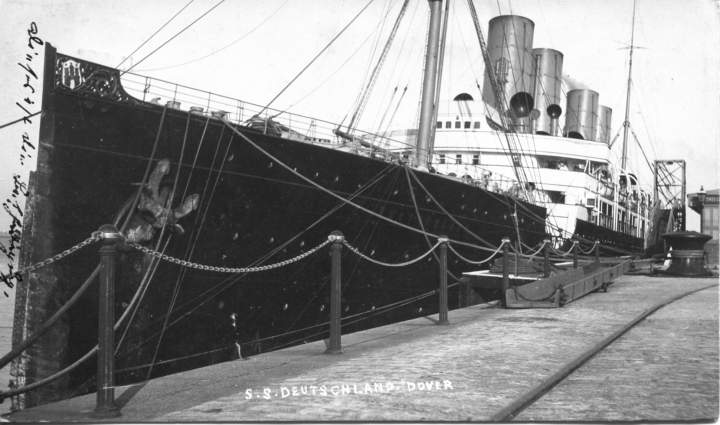 Friday, 13 September 2013 - 00:16
Post 67
Ed Connell, Dover
A very old and unusual naval auxiliary passing Dover at 1800 last night bound for Cartagena in Columbia. This is the ARC Buenaventura of the Columbian Navy, a bit off the beaten track.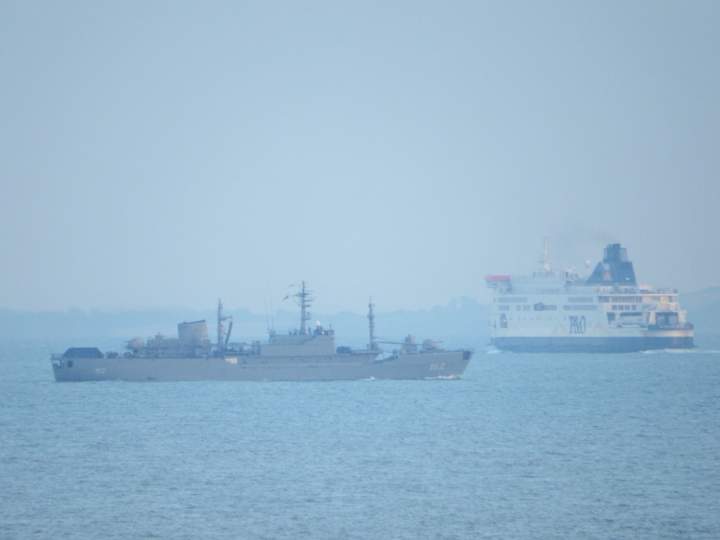 Friday, 13 September 2013 - 00:04
Post 66
PaulB, Dover
Yes indeed a great bit of info there Kevin and lovely pic. Gosh she is an old familiar workhouse is the Saga Ruby..we will have to do a bit of a tribute to her for her last visit at the end of the month. Wonder what they will replace her with. Will be fascinating to see.
Here she is departing a few minutes ago about 4.30 pm..light is a bit washed out but here we are anyway..nudging gently away to a great crescendo of horns/hooters, with the MSC Magnifica in the background. I put a border around it so she doesn't float off the page with all the bright light..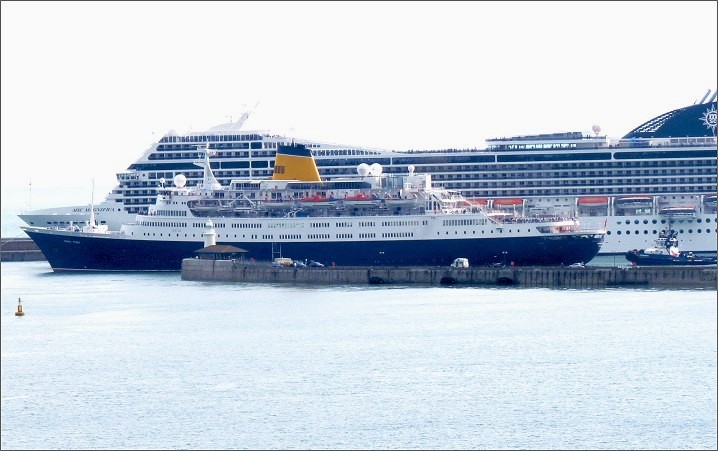 There she goes...with the tugboat bringing up the rear.
Thursday, 12 September 2013 - 16:46
Post 65
JanT, Dover
Welcome to the new Sea News Kevin


always great to see your pictures

That's a good bit of info and picture there about the Saga Ruby.

Thursday, 12 September 2013 - 08:56
Post 64
Kevin Charles, Dover
Saga Ruby is on her penultimate cruise from Dover today. Her next call on 26 September will be her last visit to Dover as she is retired from the Saga fleet. The end of an era, Saga Ruby was the last cruise ship to be built in Britain (as Vistafjord) and has been a regular at Dover Cruise Port since her maiden call on 30 April 2005. She had also visited Dover under her previous guises, as Cunard's Vistafjord in 1997, and as Caronia in 2000.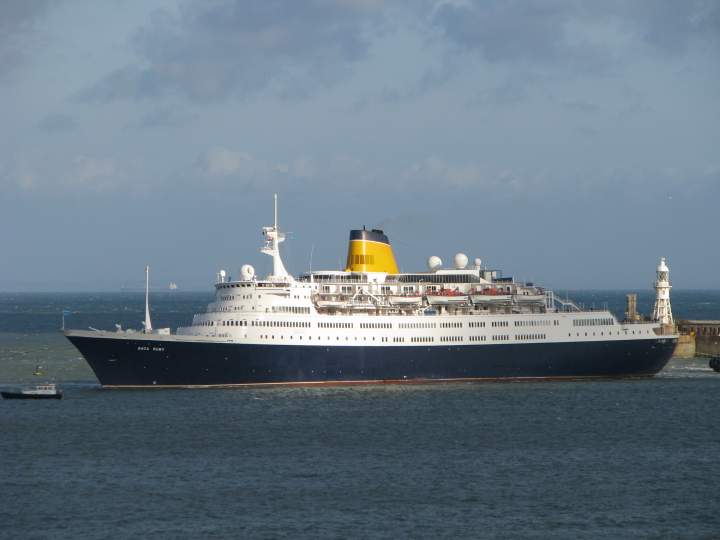 Thursday, 12 September 2013 - 08:16
Post 63
PaulB, Dover (dover7@msn.com)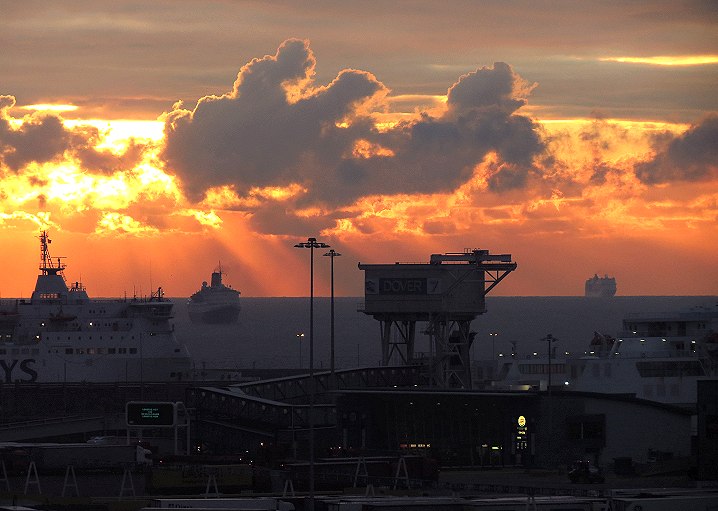 Todays two cruise liners are seen approaching Dover from the east in the picture above. To the left closer to the harbour you can just see through the early light the ever dependable Saga Ruby while in the distance to the right you can see the huge MSC Magnifica...both in harbour now as I write at 7.42am. Pop down to see them, always worthwhile.
The picture was taken about 5.40 am.
The Grand Mistral seen below visited us yesterday and left last night in a blaze of light. The sea was flat calm so the reflections in the water were spectacular. These pictures below were taken as she arrived yesterday morning. Very colourful ship as you can see.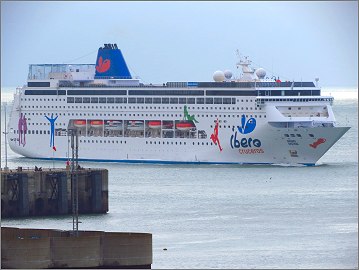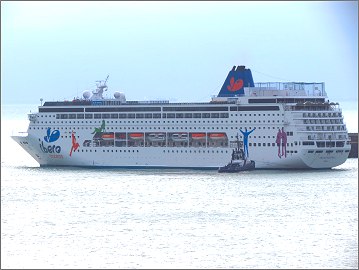 Thursday, 12 September 2013 - 07:45
Post 60
PaulB, Dover (dover7@msn.com)

Dover Marina showcases cross-Channel credentials at Southampton Boat Show

Dover Marina will be exhibiting all that a top award winning marina has to offer throughout the ten-day PSP Southampton Boat Show, which takes place from 13 – 22 September.
Having recently held a successful Open Marina Day, attracting budding mariners and seasoned sailors to Dover from the local area, the team at Dover Marina will be hoping to show even more boating enthusiasts the unique benefits of locating at the closest marina to mainland Europe, something which the locals understand only too well!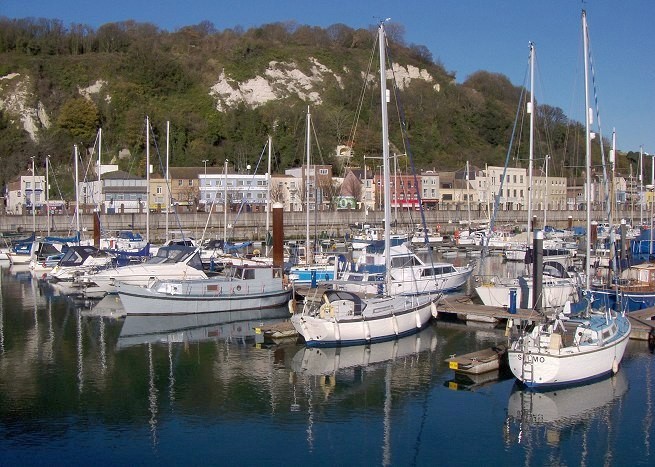 For sailing across the English Channel, Dover is the most highly rated and convenient marina with its distinctly international atmosphere. Set against the iconic backdrop of the famous White Cliffs, Dover Marina is just 20 miles from France, making it within easy reach of French marinas and the Belgian and Dutch coasts.
It also offers a superb range of facilities and services that have been acknowledged by The Yacht Harbour Association with the re-accreditation of the top Five Gold Anchor rating.
What's more, potential customers will be able to benefit from a special winter berthing discount of 20% on all winter rates (October 2013 – March 2014).
Chris Windsor, Marina Services Manager, Port of Dover, said: "I look forward to personally welcoming customers to our stand and ultimately to Dover Marina for the best of British service with a taste of European adventure."
* *
NOTE : The GRAND MISTRAL has arrived approx 10am
quite a while since we saw this one. Will aim for pictures later.

Wednesday, 11 September 2013 - 10:03
Post 59
PaulB, Dover (dover7@msn.com)
Where did the summer go? One minute here and enjoyable then the next minute gone..but of course not forgotten, even though it was a very short one this year. These pictures show the rather autumnal and chilly departures last evening of first the Saga Sapphire and then the MSC Musica.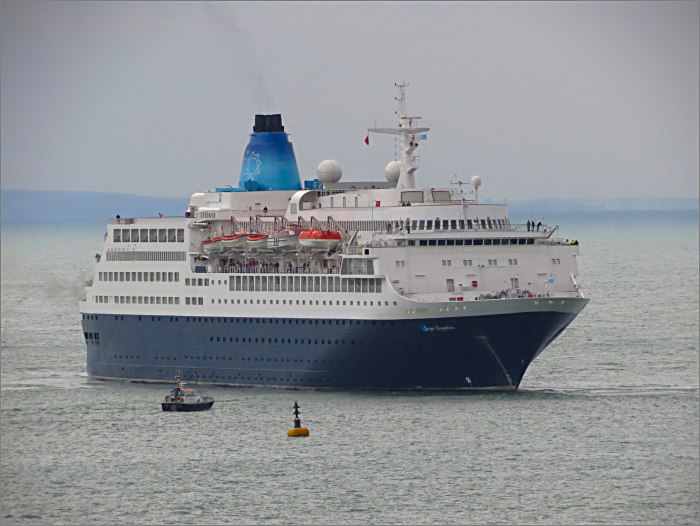 Despite promises of rough weather on the shipping forecast it didnt happen and as you can see in the pictures the sea was quite calm in the top shot and flat calm by the time the Musica departed below. Very good for the passengers of course...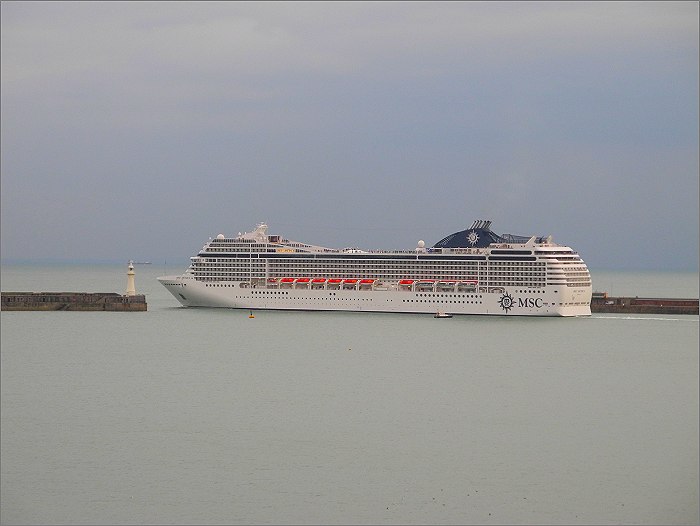 Yes a good time of year for the trips to Passchendaele and Ypres and indeed to other places with similar significance.
So good to see DFDS facilitating the possibility of a run over for many ( see further info in the post down the page ).

Wednesday, 11 September 2013 - 07:30
Post 58
JanT, Dover
Yet again we are treated to the sight of two Cruise Liners gracing our seafront,

and the sun has at least decided to shine for a little awhile,
Fab pic's showing off the MSC Musica.


DFDS's offer for the visit to Passchendaele is great for those interested in Military History,with my Grandfather fighting in both world wars, and having visited some areas in France it is always fascinating to visit these places.
Tuesday, 10 September 2013 - 12:46
Post 57
PaulB, Dover
As mentioned in the previous post, here are the latest pictures of the magnificent MSC Musica which is making an impressive visit to the Port today. This one is quite a rare visitor to Dover so a ship to savour and enjoy. Alongside it on the pier is the familiar Saga Sapphire.
But here we go with the Musica...showing it being slowly manoeuvred into position early this morning..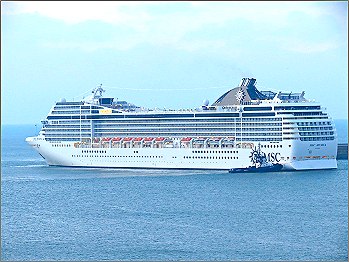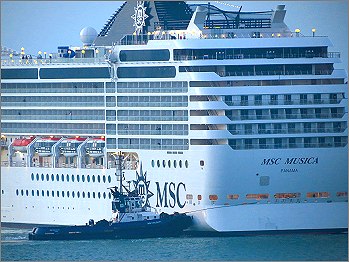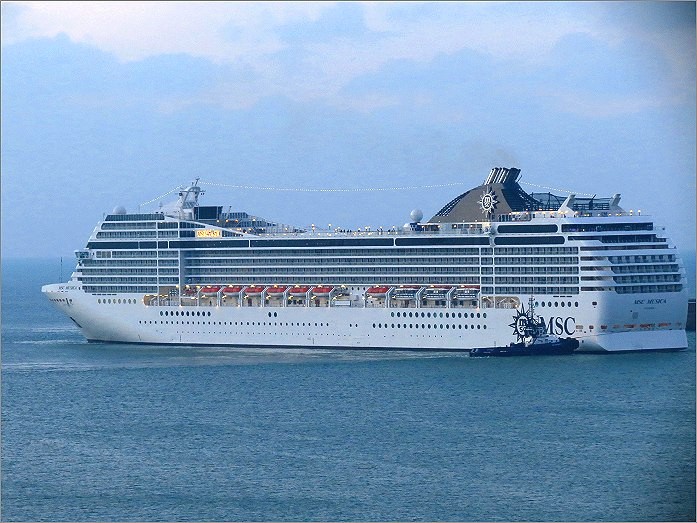 Tuesday, 10 September 2013 - 11:16
Post 56
PaulB, Dover (dover7@msn.com)
REMEMBERING THE GREAT WAR with DFDS SEAWAYS.
· Visit the Memorial Museum at Passchendaele at Ypres
· Book by 18th September with DFDS Seaways and receive 20% off travel across the channel

DFDS Seaways, the award winning ferry operator, is helping passengers immerse themselves in history ahead of the centenary of the First World War in 2014, by offering 20% discount on crossings to Calais or Dunkirk until 13 December. Budding historians keen to find out more about key battles in the Great War can visit the Belgium town of Ypres, which is rich in military history, and less than an hour's drive from either French port. With low cost and convenient travel, it is a great time to visit France and explore the sites of some of the biggest battles from World War One. Customers who book before 18 September, for crossings between now and 13 December, will have the chance to enjoy 20% off travel.
The Memorial Museum at Passchendaele, a short drive from Ypres, has a comprehensive collection of historic artifacts from World War One. It also offers visitors the chance to experience a 20 feet deep British dugout from the 1917 battle of Passchendaele. To commemorate the World War One centenary, the museum has recently opened three new historic sections. A new wing entirely dedicated to the battle of Passchendaele is now open to the public, including an exciting outdoor trench experience that shares video and photographic footage from the real life battles that took place. Visitors can immerse themselves in the past and explore how each side tackled and coped with trench warfare.
There is also a new remembrance gallery, showcasing over 5,000 items recovered from Passchendaele, one of the bloodiest battles in the First World War. With over 60,000 visitors every year, the museum is a must see for any culture vulture this year.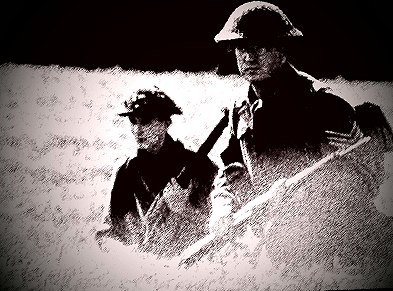 DFDS seaways operates up to 44 sailings a day between Dover and France, passengers can choose flexible crossing times, a luxury onboard travel experience and convenient travel options. Whilst onboard, all customers can enjoy a variety of great value restaurants and stylish café bars, shops packed with well-known brands and fun-packed kids' play areas.
To take advantage of this offer, customers should book by 18 September and enter the code EDISC20 and to find out further information, visit www.dfds.co.uk or telephone 0871 574 7235
******
NOTE ALSO: THE FABULOUS MSC MUSICA IS IN HARBOUR TODAY.
will have pictures later..well done Dover again, the terrific ships keep coming.

also just arriving the Saga Sapphire..
Tuesday, 10 September 2013 - 06:58
Post 55
PaulB, Dover (dover7@msn.com)
This picture shows the hugely threatening sky over the channel this morning (monday) just prior to todays continual rain. Not a sky to encourage enthusiastic travel planning but nevertheless on the travelling goes...you can just see a P&O ferry immediately outside the harbour heading towards Calais in the non too appetising conditions...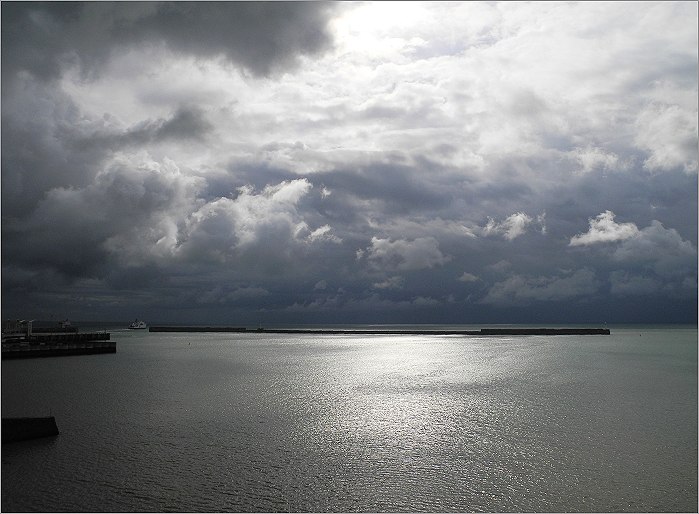 Good to hear that the MSC Musica is returning tomorrow Tuesday. It has indeed been here before but quite a while back and it is another huge and impressive ship from MSC again. Long may they keep right on coming.
The much travelled Braemar is in harbour today. See the post further down the page about its recent considerable milestone.
Monday, 9 September 2013 - 16:01
Post 54
PaulB, Dover (dover7@msn.com)
Proof here if proof be needed that MSC dont just do pretty pretty cruise ships..no sir! This one shown here is an enormous ship weighing in at 145,000 tons..yes the company are also at the more grittier sharper end as shown here, shifting goods around the world. This one shown is the MSC Ariane and it went down the channel last evening at quite a pace. I saw it a long way off and assumed I had bags of time to saunter off and get the camera but before i knew it whoosh it was on top of me.
The ship was making its way from Dunkerque, yes Dunkerque can take these huge ships, to somewhere called Sines.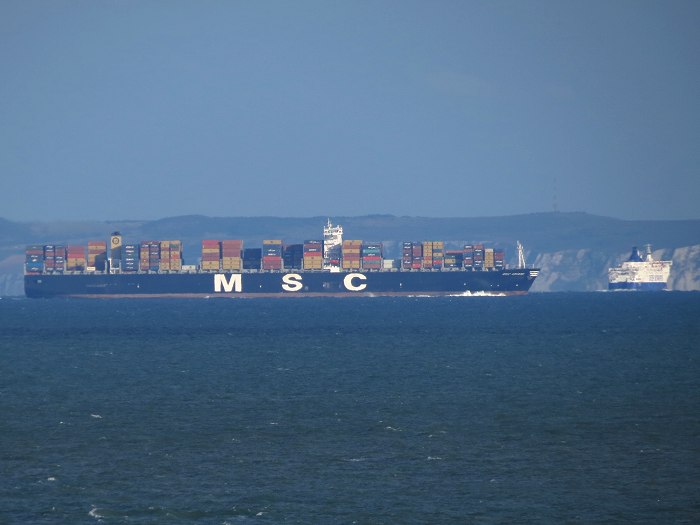 And speaking of Dunkerque or Dunkirk depending on what spelling you like..
take a look at this stunning award for DFDS who cross many times daily to both Dunkerque and Calais.
* *

DFDS Seaways named "Europe's Leading Ferry Operator" at 20th Annual World Travel Awards

DFDS Seaways was named "Europe's Leading Ferry Operator" at the European leg of the 2013 World Travel Awards in Antalya, Turkey (31 August 2013). It is the seventh consecutive year that the ferry company has been recognised for its outstanding service at the World Travel Awards.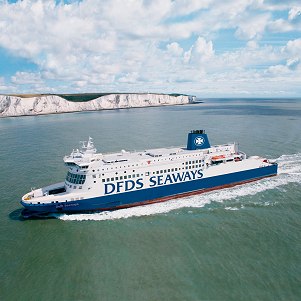 The 2013 World Travel Awards are recognised worldwide as the 'Oscars' of the travel industry and the premier industry awards programme, with the winners decided by votes from travel industry professionals and consumers. The cruise and passenger ferry firm fought off competition from rival firms Brittany Ferries, Color Line and P&O Ferries.
The award winning ferry company puts its success down to its quality onboard offering with restaurants, bars, live entertainment, Kids' club and exceptional customer service. The operator also offers a comprehensive passenger route network, which incorporates six routes from the UK to Europe, via Dover-Dunkirk, Dover-Calais, Newhaven-Dieppe, Portsmouth-Le Havre, Newcastle-Amsterdam and Harwich-Esbjerg providing a gateway to Europe.
Max Foster, Passenger Director for DFDS Seaways, comments:
"The cruise and passenger ferry market is very competitive and we strive to deliver outstanding customer service on every sailing. We feel very proud to be recognised by the World Travel Awards for the seventh consecutive year, which is a great endorsement of the high standards we adhere to and the enormous effort of our hard working staff. Passengers' holidays start as soon as they board a DFDS Seaways ferry and we will continue to invest in our vessels and services to ensure we are providing the very best service."
The World Travel Awards, founded in 1993, acknowledge, reward and celebrate excellence across all sectors of the global travel, tourism and hospitality industry.
Monday, 9 September 2013 - 08:01
Post 53
ColetteB, Dover
Nice photos there of the fabulous Ocean Princess, yes shame, the light is fading earlier each evening now, making it more difficult to get photos of them when they're leaving later in the evening. Nice one Howard of the Costa Pacifica over on the other thread, hopefully see it here soon

The schedule this week is as follows: The familiar Braemar returns tomorrow, Monday 9th September at CT1, T/R
Two cruise ships again on Tuesday, the Saga Sapphire arrives back at CT1, T/R & the second is a real treat, cameras ready guys, it's no other than the Magnificent MSC Musica at CT2 with a PoC. I don't remember this one before, some of you guys may be able to enlighten us. It takes 2536 passengers & will cruise out to Venice

The Grand Mistral is scheduled for Wednesday at CT1, PoC.
Two cruise ships again on Thursday, the Saga Ruby returns to CT1, T/R & another of the MSC cruise fleet, the return of the MSC Magnifica at CT2, PoC.
Ending the week on Friday 13th September is the return of the Carnival Legend at CT2, T/R. No cruise ships on Saturday, Sunday or Monday.
Sunday, 8 September 2013 - 23:18
Post 52
janT, Dover
We take should our hats off to DHB

, for getting some of these splendid Ships to stop off here in Dover and giving us a chance to see them close up.

The pictures of their comings and goings here on Sea News are Fab

so hopfully we will see a few more of those camera's in action soon


Sunday, 8 September 2013 - 07:58
Post 51
PaulB, Dover (dover7@msn.com)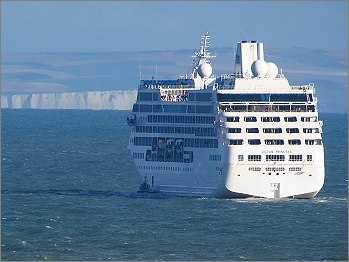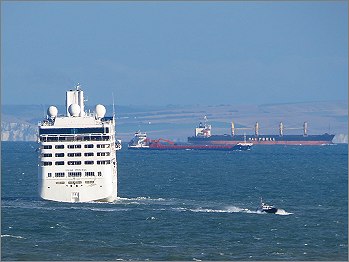 Pictures show the Ocean Princess late yesterday having just left the harbour and now beginning to move away, beginning to turn south into a busy channel. The pilot can be seen leaving by a side door, nipping onto his launch and heading back to harbour. The channel looking busy busy ahead.
This ship was somewhat overshadowed by the giant Costa Pacifica yesterday so here we are to redress the balance.
Wasnt able to get any further pictures of the Costa Pacifica as when she left last evening the light had faded that bit too much so couldnt get it properly.
Sunday, 8 September 2013 - 06:23
Post 50
ColetteB, Dover
Great to see the photos of the Costa Pacifica, I will be down to see it soon

Paul, if you can, try to get a close up like the MSC Magnifica one

Saturday, 7 September 2013 - 12:07
Post 49
PaulB, Dover (dover7@msn.com)
Yes a whopper indeed ( 115,000 tons of it ) and here she is as promised...the Costa Pacifica arriving a wee bit earlier this morning saturday under a dramatic sky..depositing a huge group of tourists to the town. Just a reminder too if you want to pop down, as mentioned in the earlier post, the Ocean Princess is also in harbour.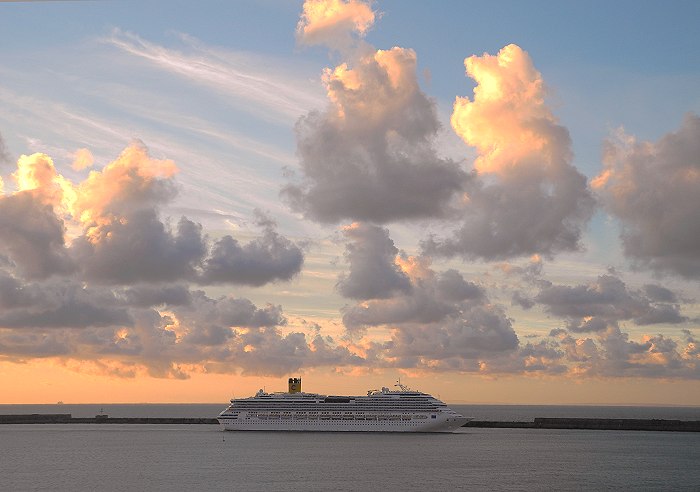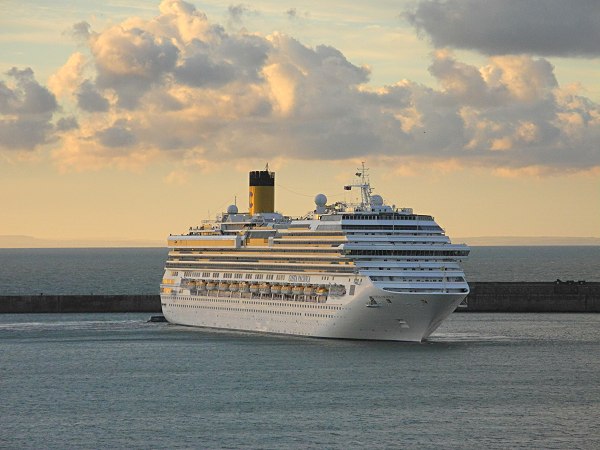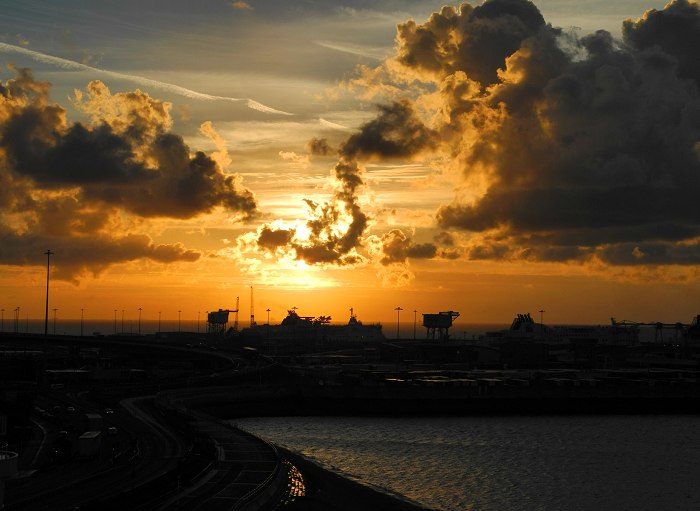 Dramatic biblical sky and blustery conditions. The sunlight is making light of the fact that it is quite rough on the channel today.
Saturday, 7 September 2013 - 11:37
Post 48
ColetteB, Dover
OH! What a Whopper !!!

That Costa Pacifica is 'Striking' indeed

Great Pic too.
By the way, lovin the atmospheric pix below

Saturday, 7 September 2013 - 10:33
Post 47
PaulB, Dover
A totally enormous 115,000 ton cruise liner in harbour today saturday. It sauntered into harbour in early blustery conditions but it is so big that I doubt if it even sways no matter what the weather does. Once again today Dover has a magnificent ship. There are in fact two ships in, one the uber large and striking Costa Pacifica and also the much smaller and regular Ocean Princess.
Yesterday we had the very large MSC Magnifica, picture of her arriving in the earlier post below, but even that ship size-wise shrinks in comparison to today's one.
But I got a picture of Magnifica leaving last night just as the blustery conditions were picking up and here she is out in the open seas below...
the small boat is the pilot returning to base having carried out his duties.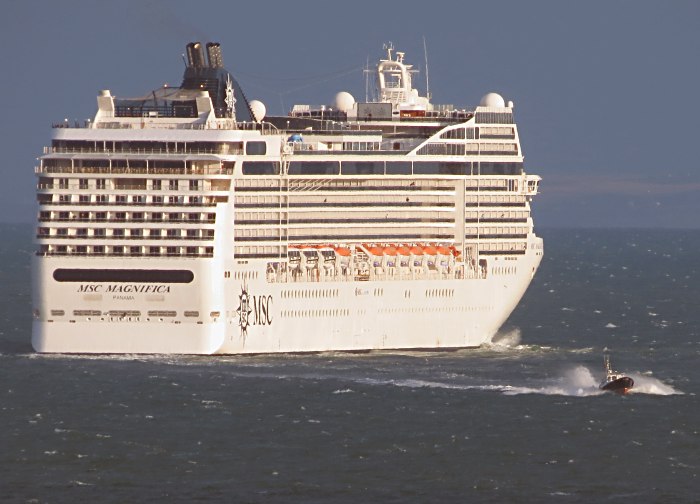 Thanks Howard. This is the season for dramatic conditions. Will aim to bring more,
Pictures of the Costa Pacifica later...watch for those.
Saturday, 7 September 2013 - 08:15