Monday, 26 September 2022
WWW.DOVERFORUM.COM/SEA-NEWS

Sea Pictures from Dover. We have 333 plus pages below now...use our own SEARCH ENGINE just below to help you trawl through. All pictures are the copyright of the owners. EDITOR: Paul Boland - dover7@msn.com
Post 97
Ed Connell, Dover
Small coaster Lyrika alongside the Eastern Arm today: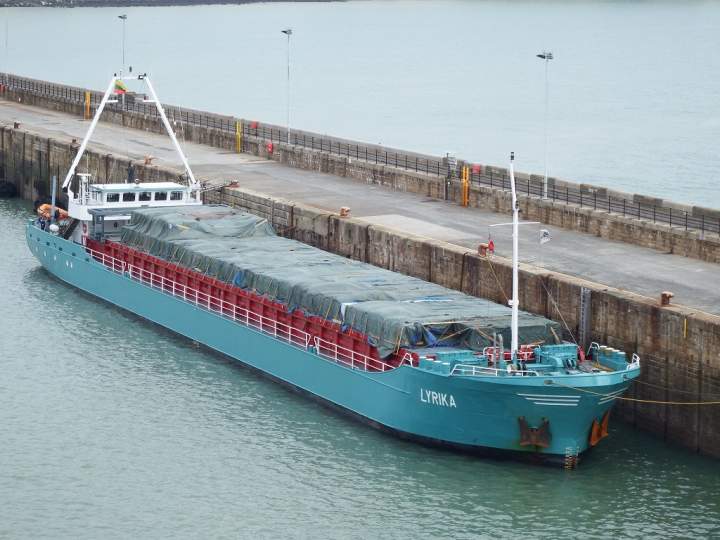 Saturday, 21 September 2013 - 10:53
Post 96
John Mavin, Dover
Yes, that's their normal berth when they are in the harbour.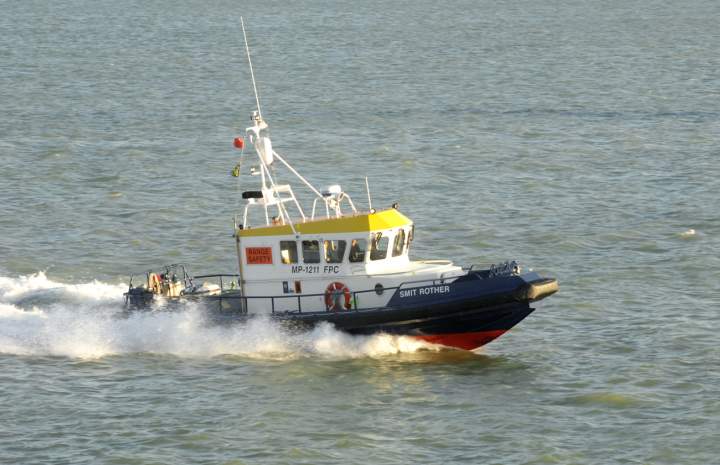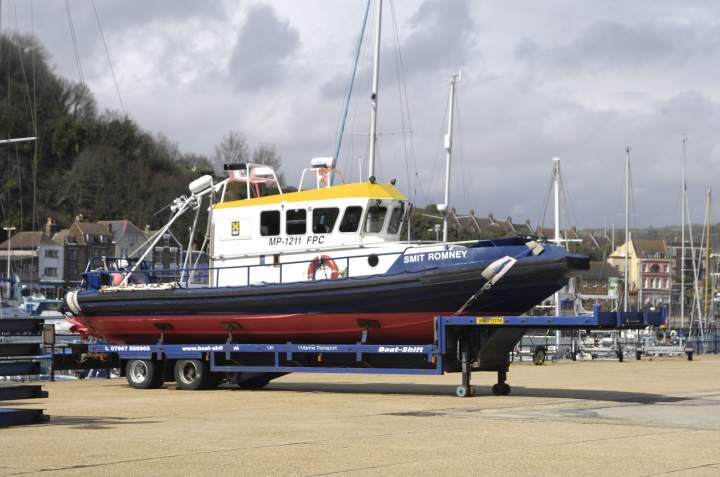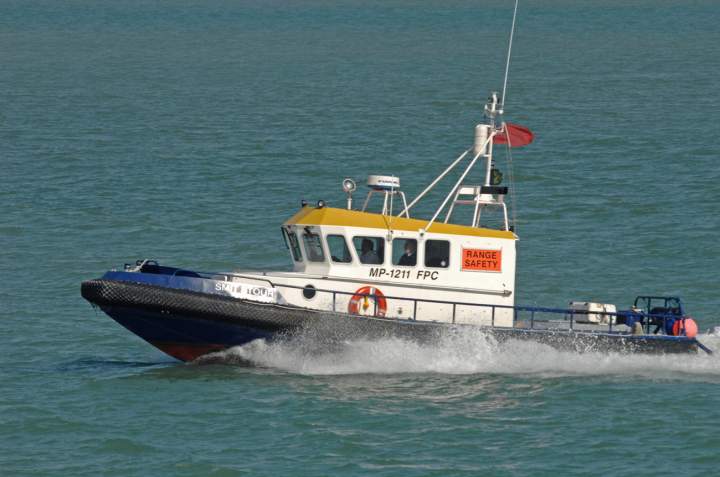 Friday, 20 September 2013 - 22:45
Post 94
howard mcsweeney, Dover
i must go around with my eyes shut john i have never noticed a group like that before.

are they always moored next to each other?

Friday, 20 September 2013 - 20:09
Post 93
JanT, Dover
Well guys you certainly have been busy with those camera's, its always good to see what is happening down and around our lovely seafront.


Friday, 20 September 2013 - 16:57
Post 92
John Mavin, Dover
Howard, they are the range safety craft for the Hythe Ranges and they've been based here for years. Currently I think we have the Smit Romney, Smit Rother and Smit Stour. Although privately operated, the overall responsibility is with the MOD. I'll see if I can dig out some pictures.

Friday, 20 September 2013 - 15:40
Post 91
howard mcsweeney, Dover
took these about half an hour ago, trying to work out what the orange/yellow ones are about as i don't remember seeing them before.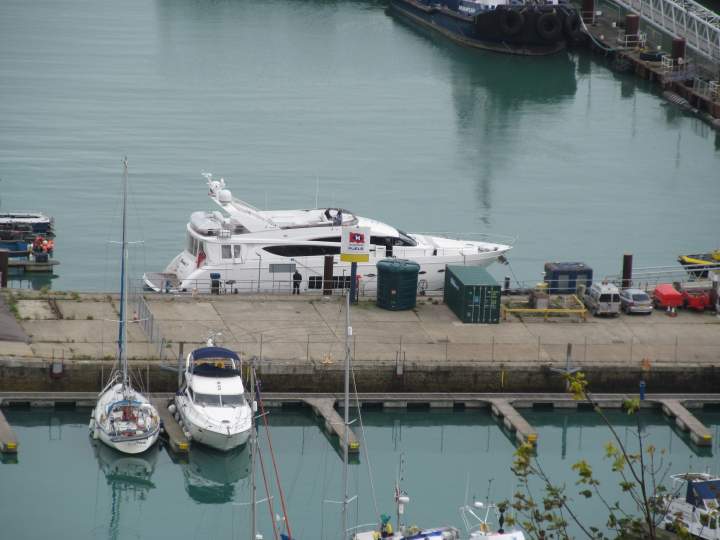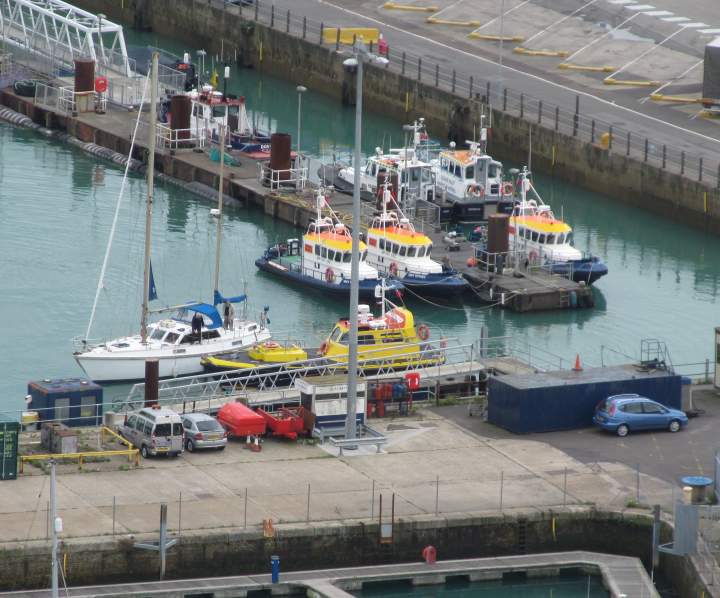 Friday, 20 September 2013 - 15:19
Post 90
Ed Connell, Dover
German Brandenburg class frigate Mecklenburg-Vorpommern passing Dover this morning. Try saying Mecklenburg-Vorpommern after a few scoops of Schnapps.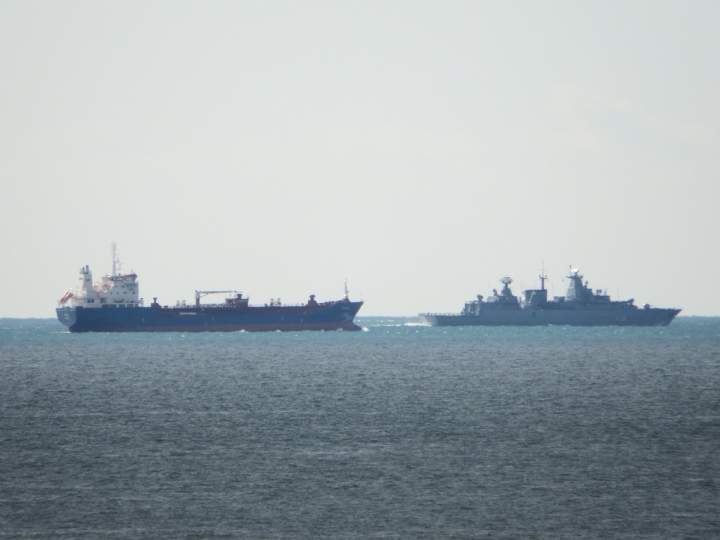 Friday, 20 September 2013 - 12:41
Post 89
howard mcsweeney, Dover
never a dull moment, every type of conceivable vessel in the last few posts and now we have the boom - not heard anything about a pollution scare so could be a dummy run .

Friday, 20 September 2013 - 09:55
Post 88
PaulB, Dover (dover7@msn.com)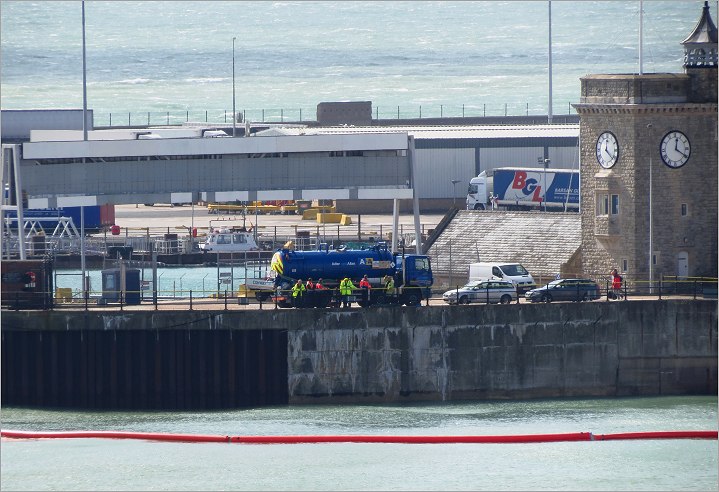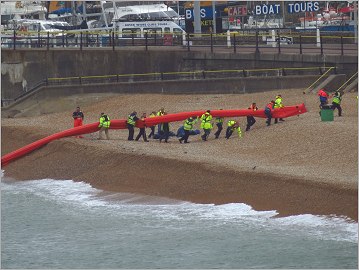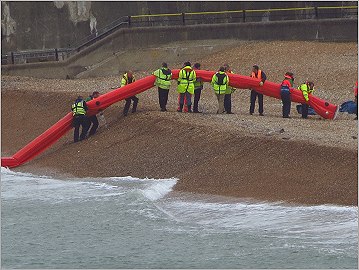 I came across the above at the very last minute. It took place yesterday..time on the clock. To my surprise they had cast a boom across the water at the very western corner of the harbour. There was quite a considerable amount of personnel in place with a number of anti-pollution trucks there and so on. Whether it was a dummy run to see how they would handle such an emergency or whether there was actual pollution I know not. A boom in normal pollution situations is used of course to prevent the pollution from spreading further. As we say though it may all have been a test run. But here we are with the pictures anyway...we may find out more later. Everyone of course is very jittery about pollution these days so lets hope there wasn't a serious or real problem. This is the weekend of Beachwatch too...for all good marine conservationists and volunteers. More info on Beachwatch further down the page.
And now following on from Ed's picture below..here is a further picture of the Ovit, this time leaving late in the day yesterday in the miserable and rough conditions. Out into the open seas she goes. Both tugs gave her assistance.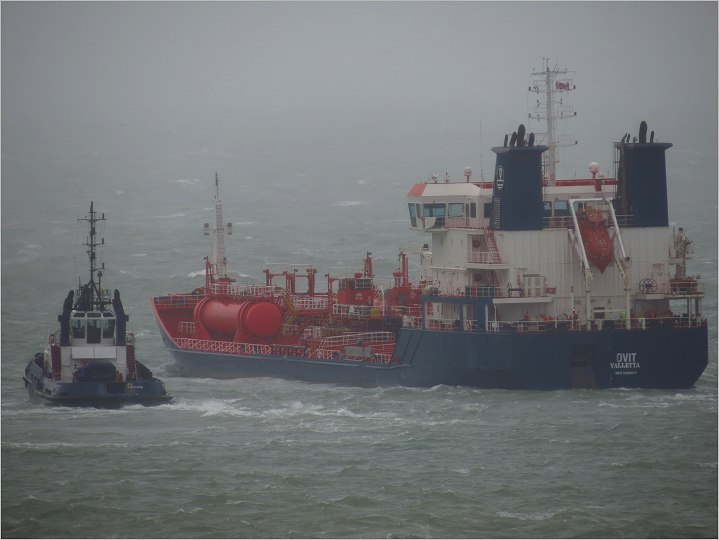 Thanks for the feedback below Ed. I will direct Chris to it. Best if our top man technical guru Chris looks at it to see if there is a solution.
Friday, 20 September 2013 - 07:38
Post 87
Ed Connell, Dover
This is the chemical carrier Ovit which was laid up on the Eastern Arm for a day or two and has now departed.
Paul/Chris: Tried to upload this several times before but the new Sea News format was not allowing it. Nothing to do with size, it is the same size as all the others I was trying to upload in the same comment. I reduce them all to 1024x768 and this one comes out at 278KB. The problem was that I uploaded several photos in one comment and then tried to upload several more photos in another comment following immediately afterwards. As they no longer have individual names as on the original thread, but just come up with a number such as IMAGE-1 then the next comment displays the IMAGE-1 from the previous comment instead of the new one which has just been uploaded but has the same name.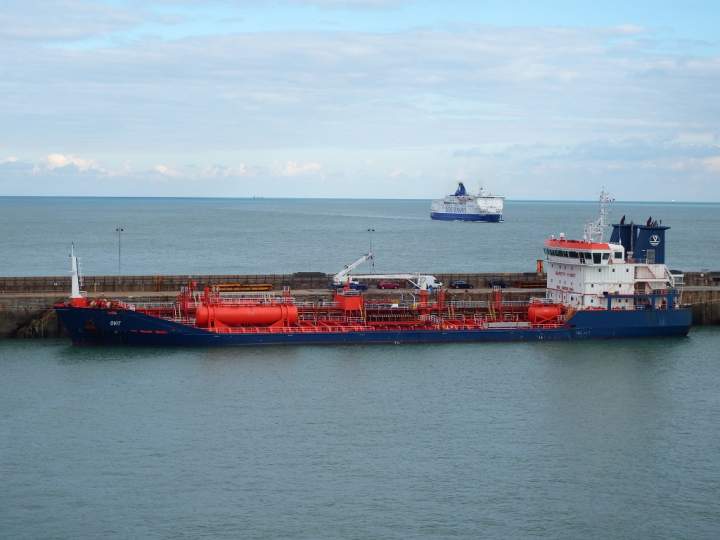 Friday, 20 September 2013 - 04:08
Post 86
PaulB, Dover (dover7@msn.com)
Quite an exciting vessel of immense scale moved slowly down the channel last evening. It was a huge maintenance/crane platform called Hermod and yes it moved slowly and very carefully. In between pictures I managed to go to Tesco and back for the supply of pot noodles and it was still moving at gradual pace when I returned. That explains the difference in light and colours. It weighs more than 75,000 tons and had left Rotterdam heading south to a Spanish port I believe. To be ever so technical about it...'twas a whopper!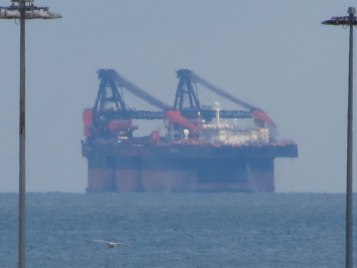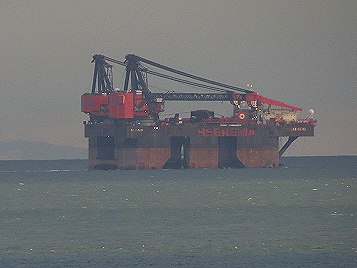 In the picture left above , taken from very very long distance, it is probably still technically in the North Sea. By the time I photographed it on the right above.. evening was drawing in and yours truly's Tesco trip had been completed, and the platform was moving slowly by Dover itself.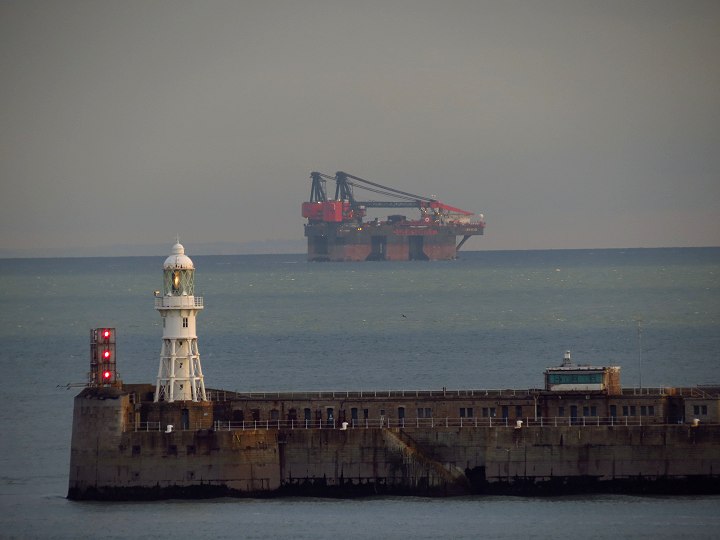 This shot above shows the wider view as she passes down the Channel just beyond Dover.
Below we have a last shot of the Astor taken in blazing afternoon light. The Astor left last night about 8pm and the Empress about 9pm. So as the evenings are dark now no prospect of pictures at that point.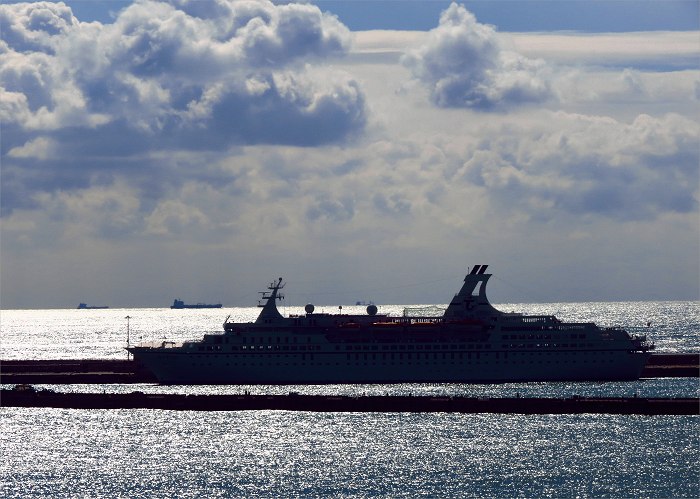 Interesting pictures of the underside and thrusters of Dover Seaways there Ed.
The reason some pix are not coming out is possibly because they may be too large.
We have been ironing out small problemos. Nice one Howard.
Thursday, 19 September 2013 - 08:18
Post 85
Ed Connell, Dover
Try again.
David Church dredging over remains of the removed blockship Spanish Prince.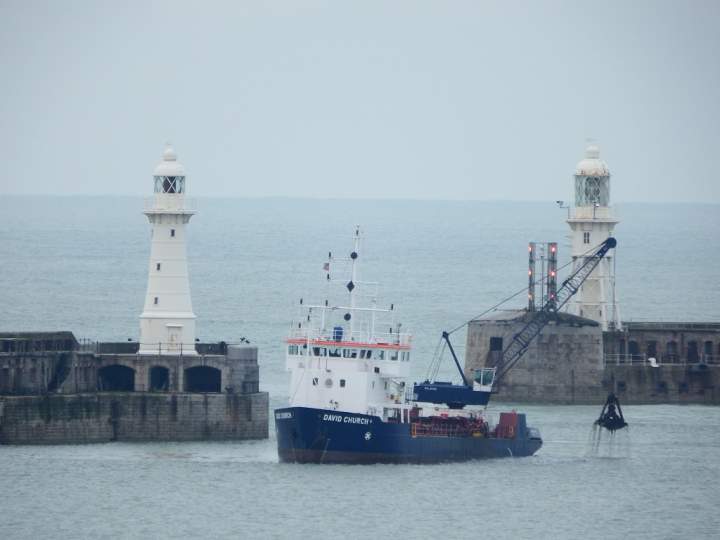 Chemical carrier Ovit moored on Eastern Arm.
[IMAGE-11]
Thursday, 19 September 2013 - 01:04
Post 84
Ed Connell, Dover
Ships in port in the last couple of days:
Braemar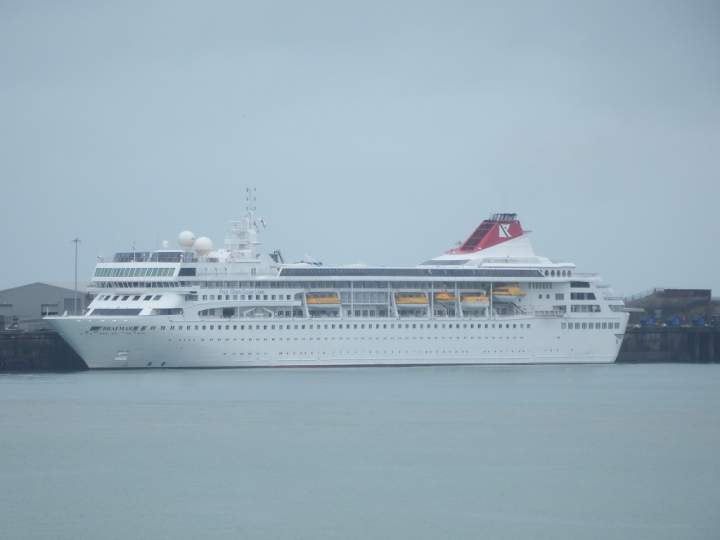 Amadea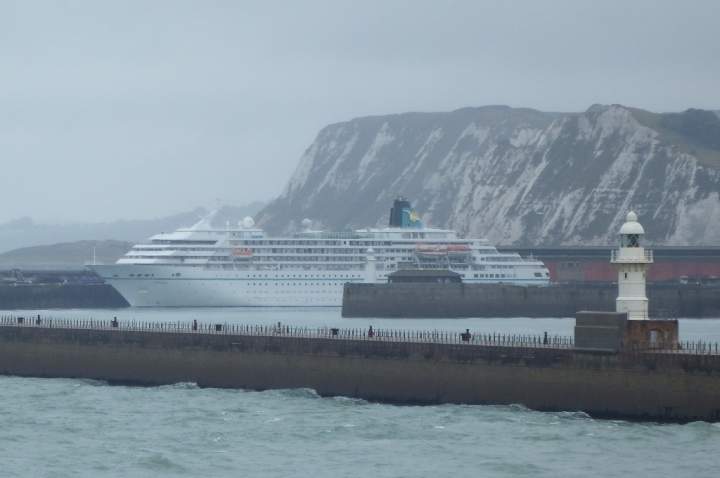 Astor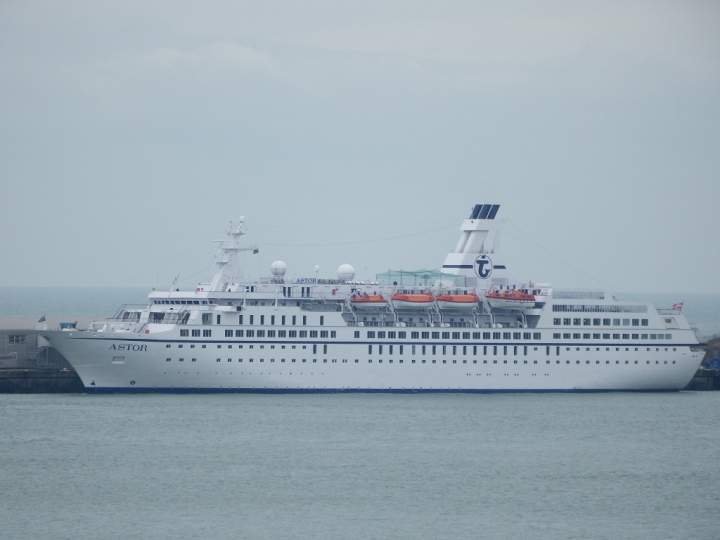 Empress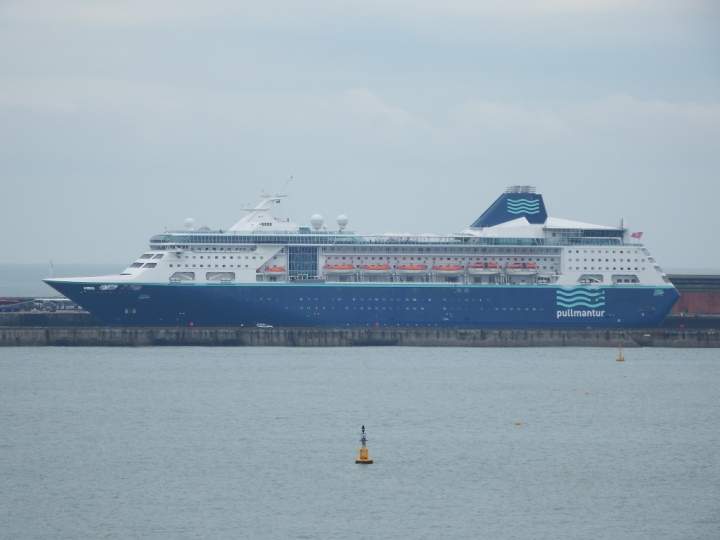 David Church dredging over the remains of the removed blockship Spanish Prince.
[IMAGE-10]
Chemical carrier Ovit moored on Eastern Arm.
[IMAGE-11]
Thursday, 19 September 2013 - 00:48
Post 83
Ed Connell, Dover
Re the query about stern thrusters on the old Sea News thread. Here are some photos of the Dover Seaways including her previous incarnation as the Maersk Dover.
Stern thruster visible behind propeller tail shaft.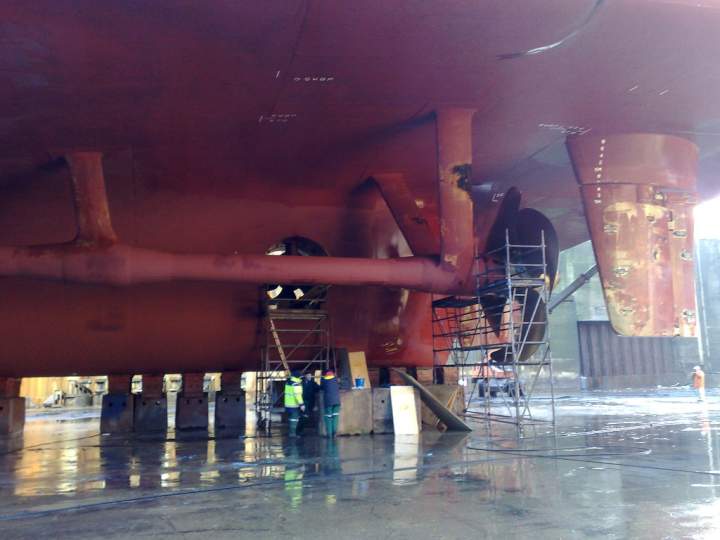 New propellers fitted later to reduce fuel consumption.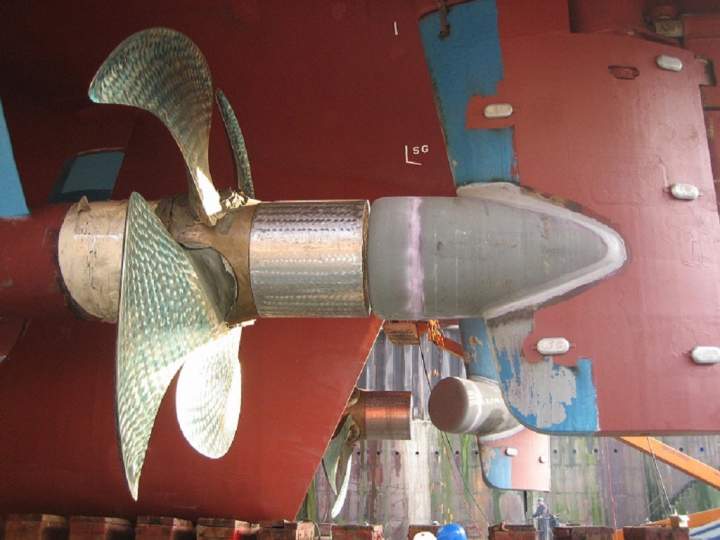 The three bow thrusters with the painted markings above.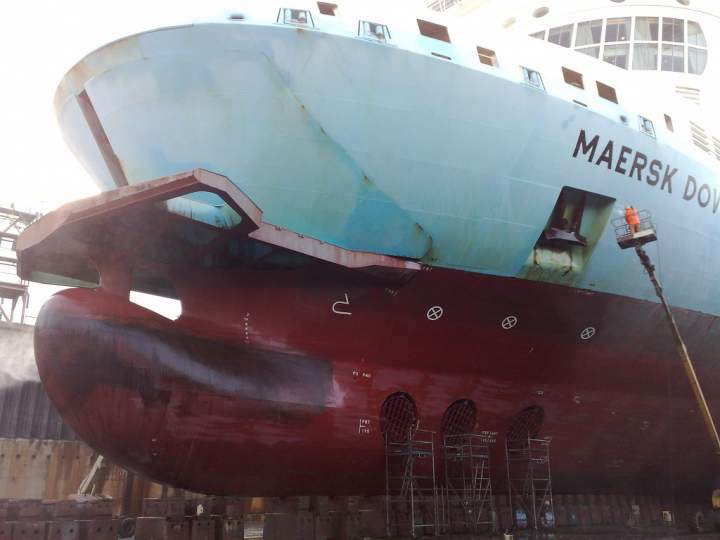 Close-up of the bow thrusters being examined by the ship's captains.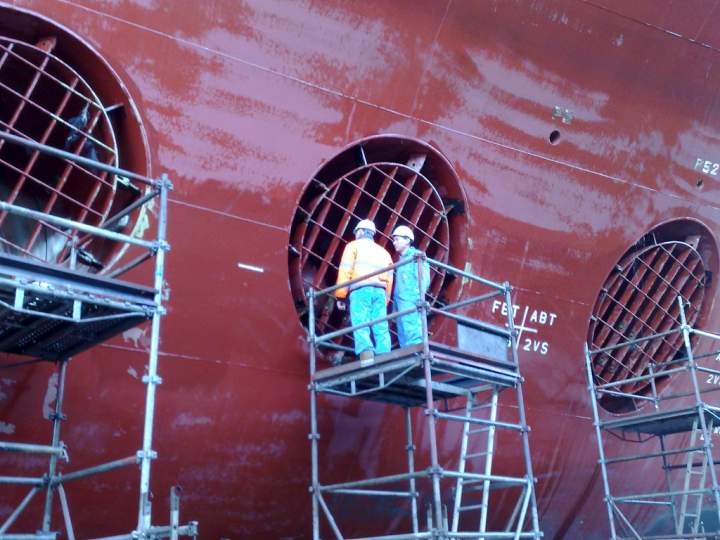 Thursday, 19 September 2013 - 00:24
Post 82
howard mcsweeney, dover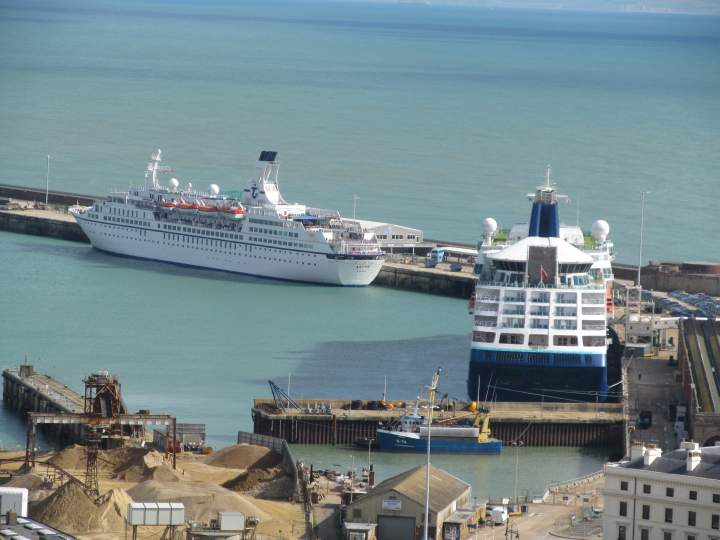 some great photos taken this morning, here is one taken from higher up.
Wednesday, 18 September 2013 - 19:20
Post 81
PaulB, Dover (dover7@msn.com)
The tide has helped with the pictures here..bringing the striking Pullmantur Empress higher and better into camera view..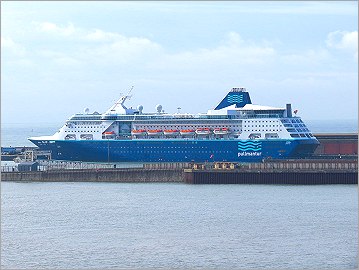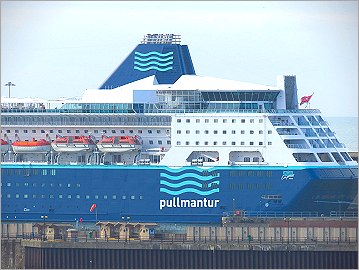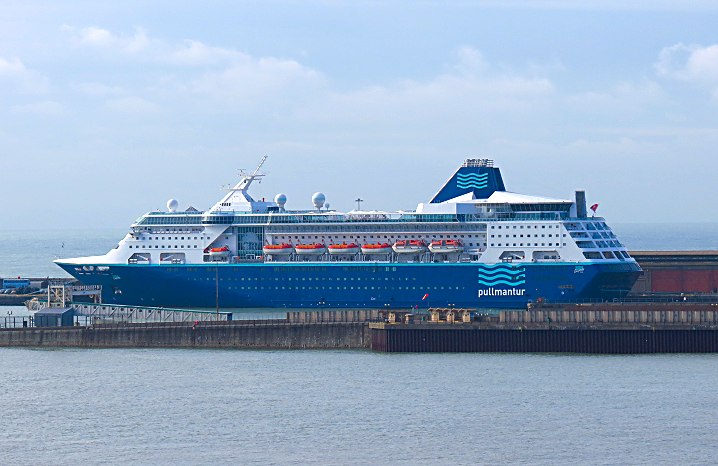 The Astor is also in, see the post below for picture of same and further info.
Wednesday, 18 September 2013 - 11:14
Post 79
PaulB, Dover (dover7@msn.com)
New research from DFDS SEAWAYS shows that people in the South East of England have voted Meatloaf's classic 'Bat out of Hell' as the best summer driving tune for 2013. Despite some hot new releases making the top ten list, old classics have come out on top as the favourite songs to listen to while driving, beating off hits from Rhianna and One Direction.
The survey was conducted by award winning ferry operator DFDS Seaways, which has transported thousands of holidaymakers with their vehicles from the UK to Europe this summer.
If the truth be told, and not a lot of people know this...yours truly did a far bit of rockin and rollin to Bat out of Hell..indeed so. In the old days of course. Saw Meatloaf performing in London at least twice if memory serves. That terrific female he used to sing with used to give him hell in those songs I can tell you...
"stop right there !!"

And you can see why people even to this day like to blast it out. Great fun.
The picture above shows the DFDS Dunkerque Seaways coming into harbour. This is one of the ferries involved in Ed's story below.
And now calming down from all that a-rockin and a-boppin..two cruise liners in today.
One is the Pullmantur Empress..I dont think this one was scheduled so it took me by surprise,
and the Astor. And here is the Astor arriving a few minutes ago (7.40am approx) on a super calm sea.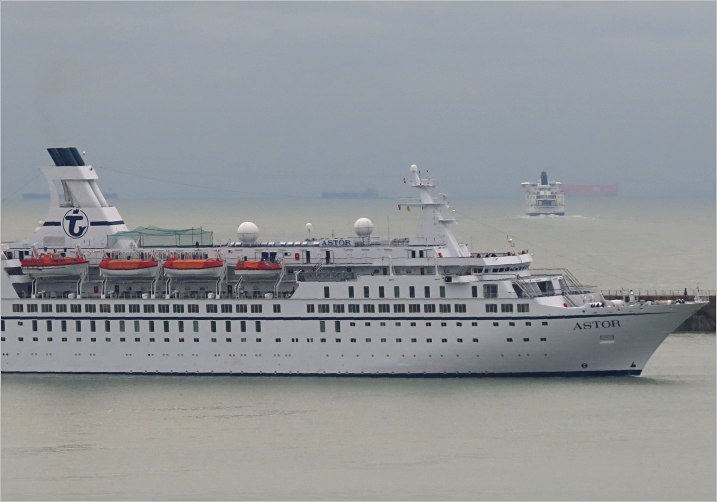 Unable to get a good pic of the Empress at the moment, she's an interesting one.
Wednesday, 18 September 2013 - 07:45
Post 78
Tom Austin, London, bright and cool, ever so cool...

Costa Concordia is successfully salvaged - in pictures

(http)://www.theguardian.com/world/gallery/2013/sep/17/costa-concordia-successfully-salvaged-in-pictures#/?picture=417495969&index=0

Raising Costa Concordia - timelapse video

(http)://www.theguardian.com/world/video/2013/sep/17/raising-costa-concordia-timelapse-video

Well done all. :)


Tuesday, 17 September 2013 - 13:48
Post 77
ColetteB, Dover
Yes indeed PaulB, I'm a little late this time around, the weeks seem to fly by!
Not much of a week though for cruise ships in Dover, well the season is coming to an end so it's to be expected

Today as we can see from below the Beautiful Amadea is here with a PoC at CT2. I don't remember this one here before, if she was, it must be a while back but I'm sure one of the guys will enlighten us

Also the familiar Braemar is now at CT1, T/R.
Tomorrow, 18th September, the Astor cruises in for a PoC at CT2, she was last here in May.
No cruise ship then until Wednesday September 25th when the Carnival Legend arrives back at CT2, T/R for the last time this season

That's all for now folks

Ed, Awesome photos

Tuesday, 17 September 2013 - 09:49
Post 76
PaulB, Dover (dover7@msn.com)
AUTUMN COLOURS OVER DOVER HARBOUR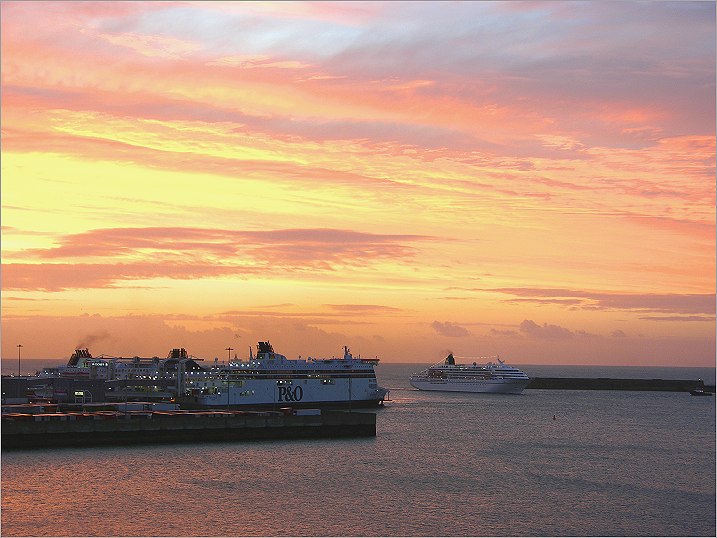 The ships are just about catching the early light as they come into harbour these days now that Autumn is here. The days are truly getting shorter..with light coming off at each end. Today the newly arrived Amadea just caught the early light and posed for us under a blazing sky. Not a hugely familiar visitor but I seem to remember her from the past. She is a smaller ship but with a modern look. Now also arriving as we speak is the much travelled and familiar Braemar. See more info on the Braemar over the page. So another double header of ships today - plenty of visitors for the town again.
News is coming through that they have righted the once magnificent Costa Concordia..all 116,000 tons of her. That took some doing. Inch by inch they slowly slowly pulled her upright. I believe the process is called parbuckling and so far, according to one pundit on TV, the operation has cost in excess of half a Billion pounds. Some bill eh! But well done them for making spectacular progress.. I'm sure the vessel lying there on its side at Giglio must have given something of a bizarre tourism boost to the local economy. See also the posts below.
ColetteB if you are looking in dont forget your cruise listing

Still gobsmacked with those pix from Ed below. Have added a headline at top of page.

Tuesday, 17 September 2013 - 07:27