Monday, 28 November 2022
WWW.DOVERFORUM.COM/SEA-NEWS

Sea Pictures from Dover. We have 333 plus pages below now...use our own SEARCH ENGINE just below to help you trawl through. All pictures are the copyright of the owners. EDITOR: Paul Boland - dover7@msn.com
Post 192
PaulB, Dover
Sunday morning and its departure time already for the Star First. It only came in yesterday ( see previous post ) and already away. That is less than 24 hours to unload that full cargo and reload with another full cargo and off to Antwerp.That has got to be one heck of a slick operation they are running there.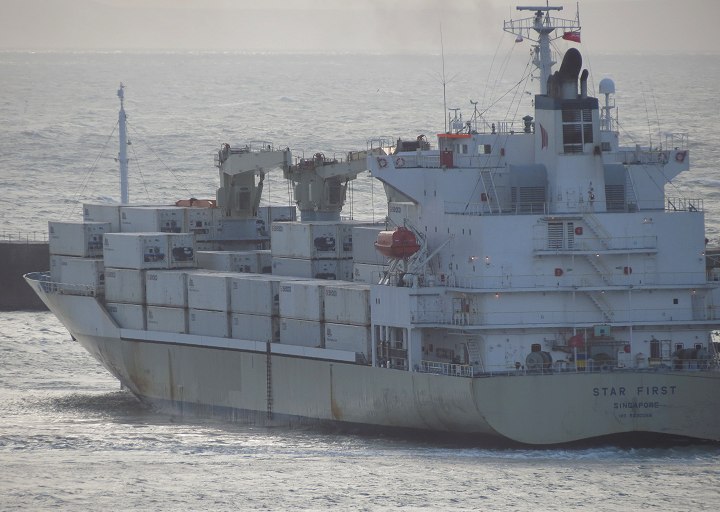 Another picture to follow..a wider view of the same departure. Here we are...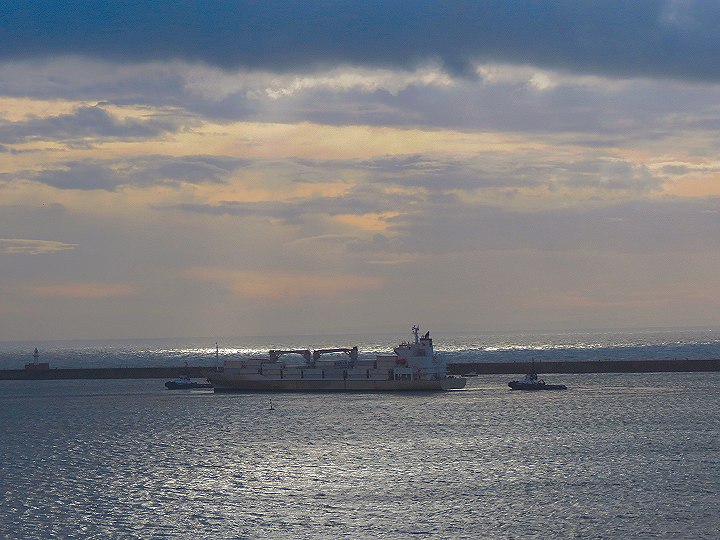 Now here's the thing..no sooner had the Star First departed than along pops another cargo ship to slip into the vacant slot. The one here now at this moment is called the Lady Korcula, no picture I'm afraid, and she is currently discharging her cargo at the terminal.
Trade is definitely on the up, never seen it quite so busy before.
Sunday, 20 October 2013 - 14:23
Post 191
PaulB, Dover
That's an interesting one Howard. I can see them now. Well spotted. I wonder what's afoot.. as they never store containers there. Perhaps it is in fact a new storage idea or else they need the content for a new building project right there in that location.
Will be fascinating to watch.
Yes and all Seatrade containers too. Here below is some of the very latest batch of Seatrade containers being offloaded from the Santa Lucia a few days back at the Cargo Terminal..maybe they are the very same batch.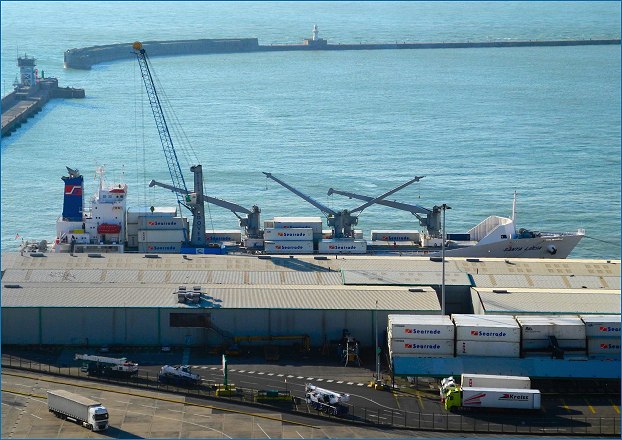 Yesterday saw the arrival of the Star First with another vast load of containers but this time mostly of the Seaco variety.
The Star First is a regular caller. Here she is in the pic below slipping into Port. The two tugs were on hand to assist.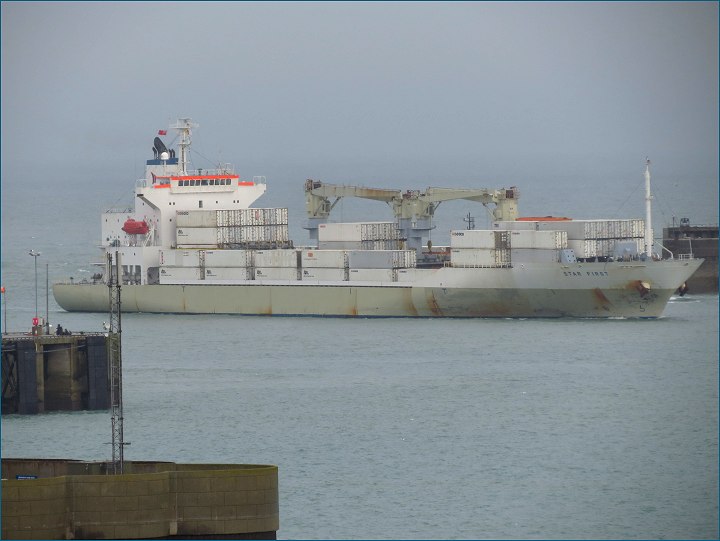 And now to put the finishing touches to the few items about the Norman Spirit..currently showing at the tip top of the page and with the extra gratuitous showing of Kelly Brook further down the page! The ship is now of course called the Calais Seaways.
Here we are with a couple of pictures of the ferry taken in yesterdays drizzle. Not of hugely great quality because of the conditions so reproduced small.
Why it says Calais Seaways with the Le Havre piece added below I dont know..why Le Havre ?
but thought it interesting.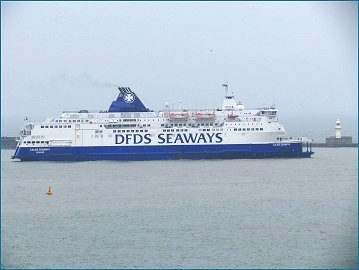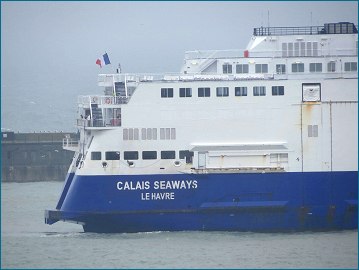 The Black Watch left last night just as it was getting dark. Tried for a few pictures, will have a look at them later to see if any are worth reproducing.
Sunday, 20 October 2013 - 08:10
Post 190
howard mcsweeney, dover
probably a simple answer but why are these seatrade containers loitering on the old hoverport site when they are normally unloaded at the far end of the eastern dock?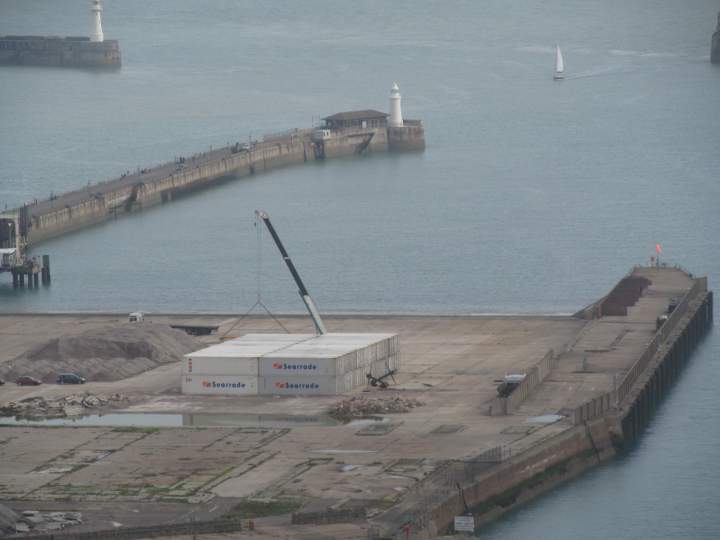 Saturday, 19 October 2013 - 14:21
Post 189
PaulB, Dover
Through the darkness as i write i can see that the Black Watch, she of the norovirus reputation, is back in today. Arrived a short while ago in a blaze of sparkling light. Hopefully all is well on board and all went well on its recent voyage. This picture showing below obviously wasnt taken this morning as it is still fairly pitch black out there as i scribble..but was taken earlier this very month. She has been constantly working so might be in need of a wee bit of a refresh this time of year.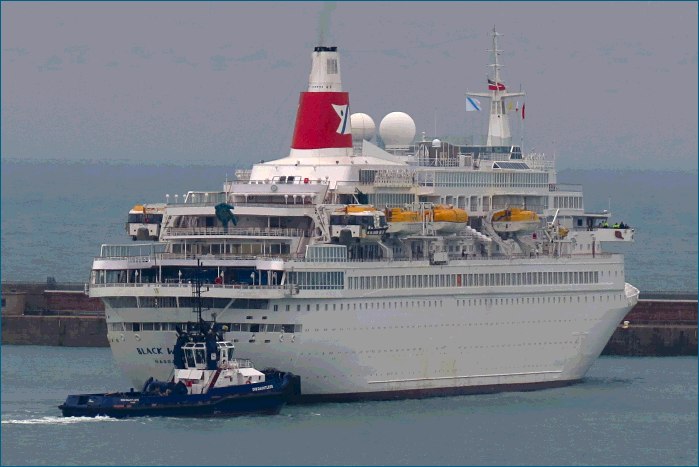 While we are briefly reflecting (see pic at top of page) on the short lived amalgamation of LD Lines and DFDS on the Dover-Calais route..this picture below was taken on the launch day of that service. It shows none other than actress Kelly Brook donning the nautical cap..and as they say, if the cap fits! Popular demand insisted that this picture be used

or to put it another way, any old excuse.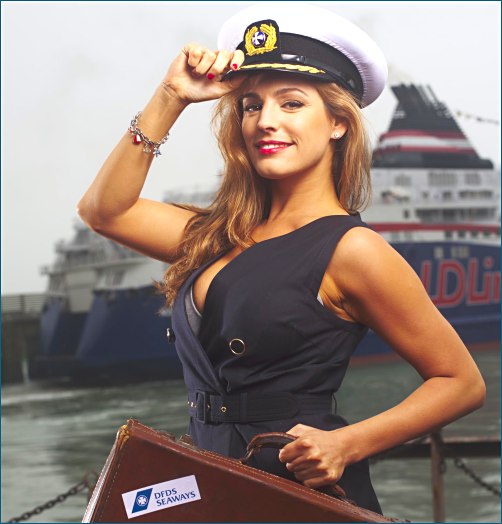 Saturday, 19 October 2013 - 06:58
Post 187
PaulB, Dover (dover7@msn.com)
Yes okay Howard.
The pics are a dover.uk.com/doverforum exclusive so will be fine on the wildlife thread.
There is a bit of a story behind those. About 7 or 8 years ago when they were taken several newspapers wanted them and a national press agent rang me up too. Not entirely sure why..perhaps there was a shortage of wildlife pictures those days, there are plenty nowadays, or maybe it was the fact that the seal was actually on Dover Beach. Fairly unheard of before or since although you do occasionally see one swimming around but never on the beach.

The original full size pictures are lost. An awful MESh computer which was relatively new collapsed completely and without warning. Whatever happened to MESH..they were awful. Gone and I can understand why. I always had American brand computers before and now since...my one mistake was MESH.

Friday, 18 October 2013 - 07:52
Post 186
howard mcsweeney, Dover
i am going to have to lift those 2 great photos paul, a must for the "wildlife sightings" thread.

Thursday, 17 October 2013 - 19:07
Post 185
PaulB, Dover (dover7@msn.com)
Howard..Yes it is truly extraordinary how they get it all to work. Looking at the trucks.. well they remind you of a train, with a never ending line of coaches. It never stops. It is particularly noticeable in deep mid winter how it all hangs together..how they get it all to work then is amazing , but they do.
Jan yes indeed i mentioned the seal in a post below a day or so ago and here she is. I just assume its a she somehow... was certainly more than surprised early one morning several years ago to see this delightful creature stretched out on the beach right here below my window in central Dover...fab.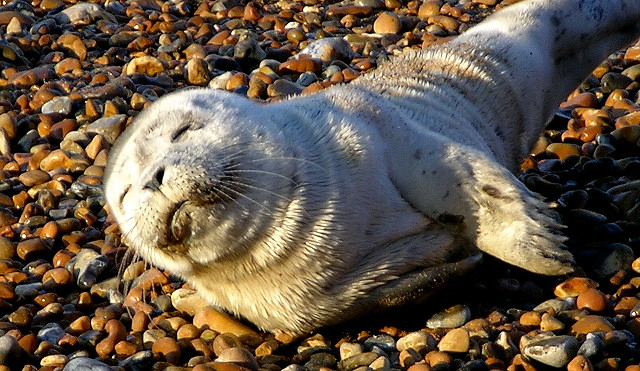 Nodding off !!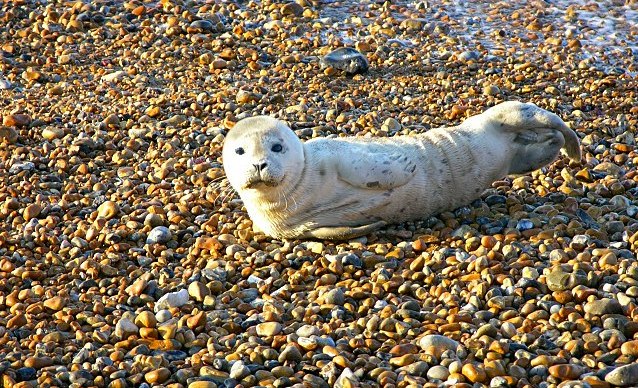 Aware now that I'm there. Was very careful not to disturb so withdrew at that point. Lovely

Pictures copyright PB.
Thursday, 17 October 2013 - 16:21
Post 184
howard mcsweeney, dover
that photo taken from the cliffs sums up dover port, nose to tail traffic with loads more trucks waiting to board.

somehow it all goes like clockwork, unless there are problems in france the ferries leave and arrive on time and there are very rarely any serious hold ups.

a triumph of organisation and a credit to all those who work in the port.

Thursday, 17 October 2013 - 15:12
Post 183
JanT, Dover
It is always good to know these exercises take place. When crossing the channel safety may not be in the forefront of ones mind when your heading for sunny climes.
Gosh yes it would be really good to see the seal pics again, we never think that we would see these animals in our waters

Thursday, 17 October 2013 - 12:24
Post 182
PaulB, Dover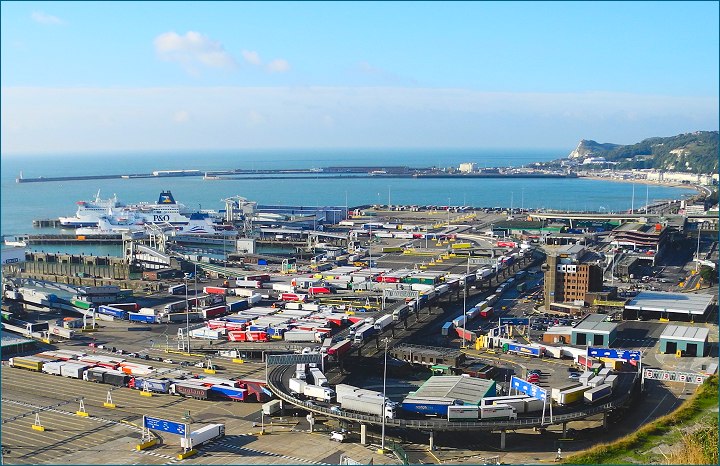 THE PORT : KEEPING US SAFE

Emergency services and key agencies from across Kent will take part in a major emergency exercise next month at the Port of Dover.
Staff from various organisations, volunteers and specialist equipment will be seen in action at Europe's busiest ferry port on Saturday 9th November dealing with a marine incident. The exercise will commence mid-Channel with an incident on a ferry heading for Dover. This will allow multi-agency emergency procedures to be extensively tested.
The Port will remain open throughout the exercise, which is being organised by the Port of Dover, the Kent Resilience Forum and a number of other partners as one of a number of significant exercises planned to examine multi-agency planning and preparedness at this critical UK gateway.
Tim Waggott, Chief Executive, Port of Dover, said: "Responsible for over 12-13 million passengers, almost 5 million vehicles and £80 billion of trade each year, such exercises are vital to ensuring that we can effectively and professionally deal with potential incidents in the best way possible for our customers and for UK plc. Working with our partners in Kent is extremely important to us and crucial to the resilience of our operations. We take the safety and security of the Port and our customers very seriously and such exercises are an essential part of that. I would very much like to thank all our business partners for their assistance."
P&O Ferries is providing a vessel in order that the exercise can be run as realistically as possible. Kent Police will be working together with Port of Dover Police in responding to the mock incident. Dover District Council will take responsibility for a Survivor Reception Centre in a nearby area to look after the affected customers (played by volunteers).
Nadeem Aziz, Chief Executive of Dover District Council said: "We are very pleased to be actively involved in this important exercise, and to be supporting this major partnership project. It is vital for the success of the Port and its role in both the immediate community and the wider district that we work effectively together and stay prepared."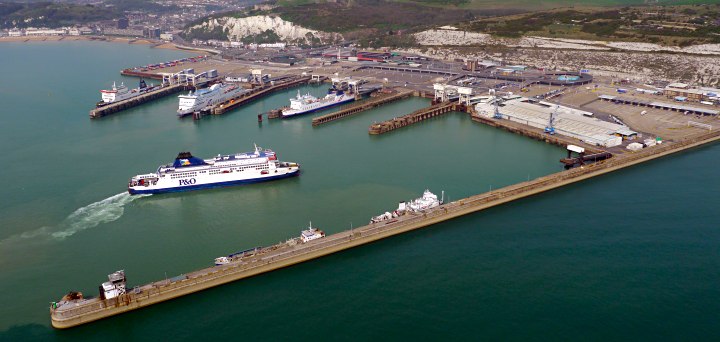 * *
Still enjoying the wildlife report and pictures below. My only encounter with wildlife was on the beach below my window here on Dover seafront. Gazing out one morning sleepy eyed..expecting to see the usual bits of seaweed or the odd seagull and there she was...a seal nestling on said beach. Still in dressing gown I ran down and approached the beach slowly to get a few pix. I will try and dig them out later...about 6 or 7 years ago now.
PS: the top picture in this post was taken yesterday in the early sun..twas a lovely day up on the cliffs.
However would have ideally needed a helicopter for a bit more elevation

....as in second pic shown.
This second picture immediately above was from DHB previously.
Wednesday, 16 October 2013 - 08:49
Post 181
JanT, Dover
Wow Ed the email made Really interesting reading, had not realised any of that happened and along with the great pictures.

Just goes to show that when we cross the channel nature is all around us, and sometimes we just don't realise it.

Tuesday, 15 October 2013 - 11:47
Post 180
PaulB, Dover (dover7@msn.com)
Gosh! marvellous stuff there Ed.. both article and pictures. A huge well done to Graham Ekins. Great shots! I had no idea re wildlife. Have only been to Dunkerque the once, this year it was, to see the Tall Ships but loved it there. Its a real mixture of everything..will definitely be going again.
Graham

Tuesday, 15 October 2013 - 10:51
Post 179
Ed Connell, Dover
These are the photos copyright Graham Ekins which accompanied the article below:
Short-beaked common dolphin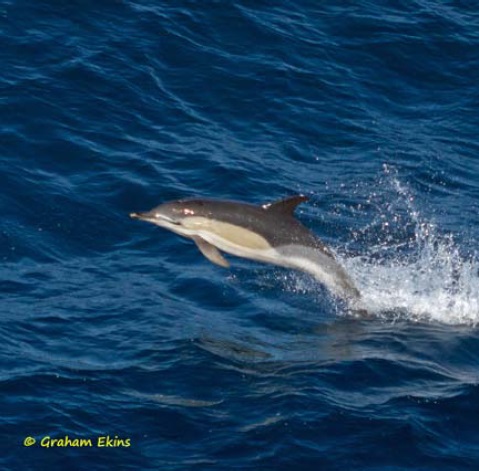 Short-beaked common dolphins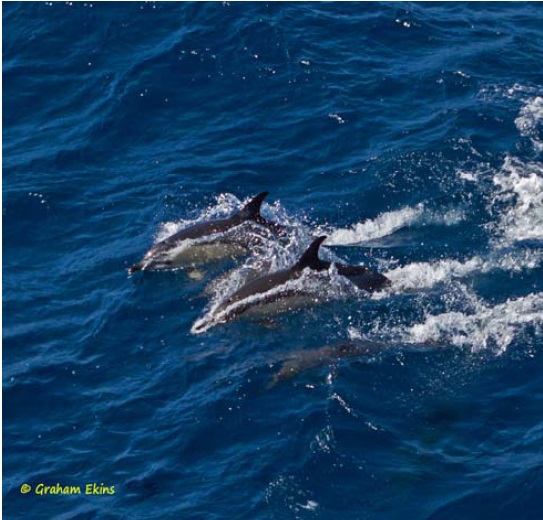 Gannet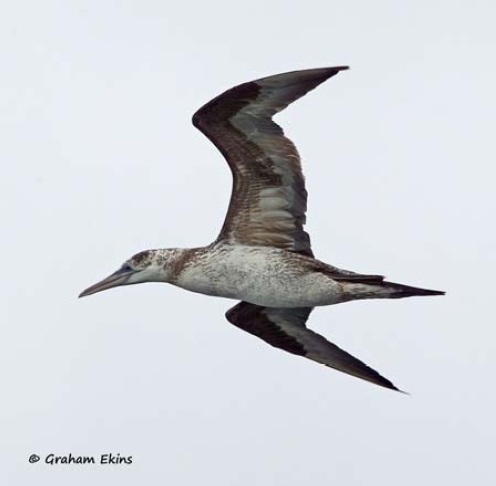 Kittiwakes on Dover Harbour wall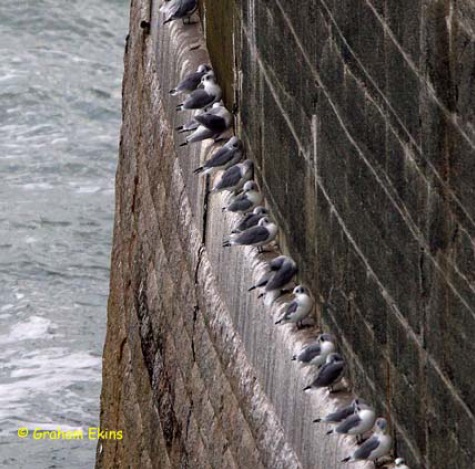 Tuesday, 15 October 2013 - 10:28
Post 178
Ed Connell, Dover
We often get British and French naturalists travelling who observe the birds and sea creatures from the Bridge. Here is an interesting email just received:

MARINElife blog: DFDS vessel Dover Seaways

Dover - Dunkirk 5th October 2013

Weather: Eastbound: Force 1-3, E-NNW with light, high cloud and some slight haze;
Westbound: Force 1-2, NNW clear with light, high cloud and a slight haze

Some fascinating and surprising sightings of both dolphins and birdlife were among the highlights of a very busy survey.

After a trouble-free drive down to Dover from Essex I met Jack at Dover station and then drove to the DFDS terminal. In just a few minutes we were enjoying a coffee while waiting to board the DFDS Dover Seaways. Once on board we had a very enjoyable lunch in the staff canteen before joining Captain Daniel Cook and officers on the bridge where we were made very welcome. As we left Dover harbour we were able to see the first of many Gannet and a flock of mainly adult Kittiwake feeding a few hundred metres from the breakwater.

A few minutes later we had views of the first of eight Harbour Porpoise. Viewing conditions were ideal with little wind and a lightly overcast sky. Mid-channel we had a Balearic Shearwater closely followed by a Great Skua, both heading steadily south.
Then about 500m ahead we saw a small group of seabirds circling with a Great Black-backed Gull on the sea. This was the first sign of a feeding group of cetaceans. As we moved closer to them we realised that they were four Short-beaked Common Dolphin, a rare sight on this survey route. They swam towards the ship before diving into the depths.

As we turned north a few kms off the French coast we had the first of 140 Common Scoter migrating south. Some of these birds may winter as far south as the shallow waters off the north-west African coast. We also came across several small groups of adult Little Gull their grey underwings clearly visible in the excellent light conditions. Close to Dunkirk harbour we passed an adult Pomarine Skua still with tail spoons closely followed by a juvenile Arctic Skua, an Arctic Tern and several Sandwich Tern. All of these birds were heading determinedly south. We also had several views of Harbour Porpoise and a Common Seal before we entered the dock.

Once the Dover Seaways had docked we went out on deck to check the harbour with the use of a telescope. On the southern side of the dock we saw 35 Great Crested Grebe, some were still in summer plumage. The number of Cormorant had decreased from the previous month, presumably as this continental sinensis race are highly migratory and many had left for wintering grounds in southern Europe and north Africa. We were surprised to see 155 waders of five species, the most common were 100 Dunlin and most unexpected were three Bar-tailed Godwit and eight Sanderling. Close to the ship were a Stonechat, a few Starling and several Jackdaw.

As we left Dunkirk harbour four Meadow Pipit briefly flew alongside while a superb male Peregrine Falcon passed the bridge before heading south, presumably a northern migrant. As we travelled south parallel with the French coast we saw two Razorbilll and a Guillemot while several more Little Gull passed the ship. By mid-channel the number of Gannet heading south had greatly increased, a high proportion of which were brown juveniles. We also saw several more Great Skua, adult Great Black-backed Gull and four Little Gull heading steadily south-west.

After finishing the recording we thanked Captain Daniel Cook and his officers for their excellent hospitality and interest in what we had been seeing on the survey. We would like to thank DFDS for providing continued support for this important survey route.
Graham Ekins and Jack Allum, MARINElife Research Surveyor (Registered Charity No. 1110884)

Cetaceans

Harbour Porpoise 8
Short-beaked Common Dolphin 4
Common Seal 1

Seabirds

Common Scoter 135
Gannet 152
Cormorant 124
Great Crested Grebe 35
Balearic Shearwater 1
Great Skua 8
Pomarine Skua 1
Parasitic (Arctic) Skua 1
Black-headed Gull 34
Common Gull 12
Herring Gull 74
Lesser Black-backed Gull 13
Great Black-backed Gull 61
Kittiwake 73
Arctic Tern 1
Sandwich Tern 6
Guillemot 2
Razorbill 2

Birds recorded in Dunkirk Harbour

Redshank 2
Bar-tailed Godwit 3
Oystercatcher 45
Dunlin 100
Sanderling 8
Stonechat 1
Starling 10
Jackdaw 9
Magpie 1
Woodpigeon 2

Land birds recorded from ship

Meadow Pipit 4
Peregrine Falcon 1


Tuesday, 15 October 2013 - 02:01
Post 177
PaulB, Dover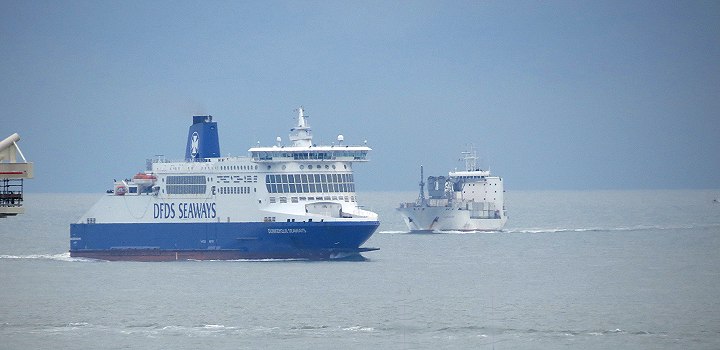 No sooner has Esmerelda moved out when the Lady Racisce moves in..I tell you..all these females, whats a chap to do.

A very busy cargo terminal these days, thats for sure. You can see the Lady approaching in the picture above, still a good way out behind the DFDS Dunkerque Seaways.
Yes its a tough game that Howard..in all weathers and in the dead of night at times.
Monday, 14 October 2013 - 16:25
Post 176
howard mcsweeney, dover
great picures from ed, i have given up on the after dark stuff - read the camera handbook and still no decent results.

looking further down i wouldn't like to be in one of those pilot ships when they are so close to a monolith in choppy seas.

Monday, 14 October 2013 - 12:38
Post 175
PaulB, Dover (dover7@msn.com)
Great work with the new camera there Ed, totally atmospheric. They came out extremely well considering it was a late nighter.

Familiar friend The Braemar is in today..still working hard. Just the occasional Fred Olsen ship coming now on the cruise front.
Monday, 14 October 2013 - 07:48
Post 174
Ed Connell, Dover
Cargoship Esmeralda preparing to depart from the Dover Cargo Terminal last night. Nothing special but thought I would try out my new camera at night and it turns out that it produces useable images without having to know any clever stuff about apertures and what not.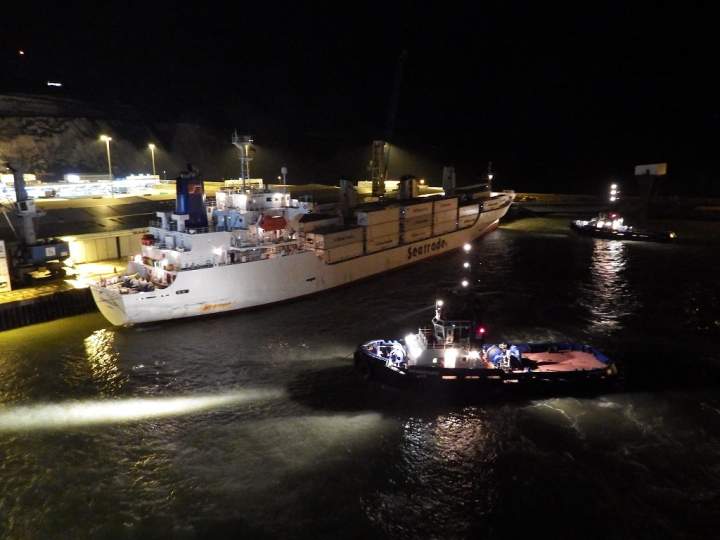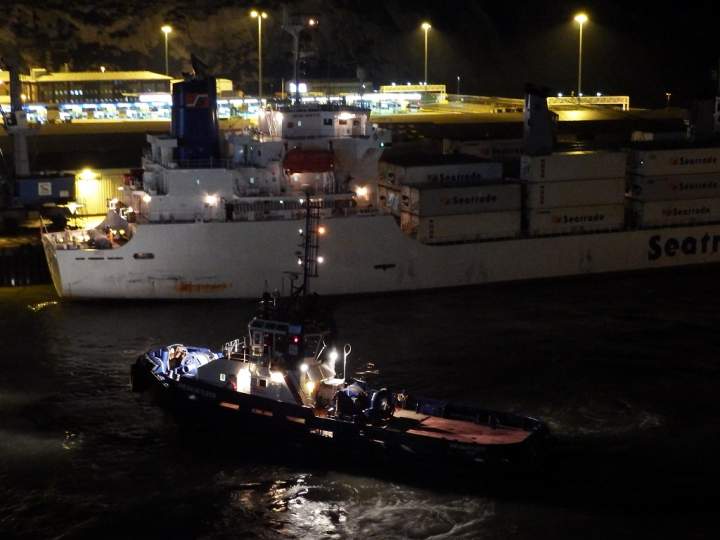 Monday, 14 October 2013 - 04:32
Post 173
JanT, Dover
Our weather certainly has changed and we see the sun less and less this time of the year, but these cargo ships travel up and down the channel in all kinds of weather.

Sunday, 13 October 2013 - 19:09
Post 172
PaulB, Dover (dover7@msn.com)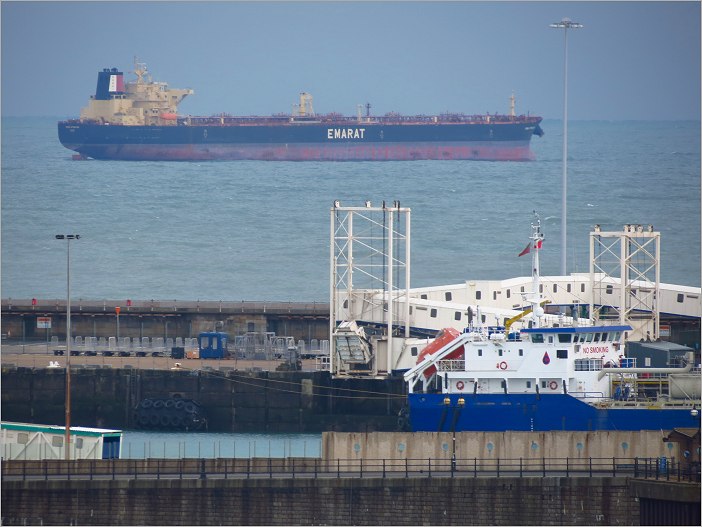 You dont need me to tell you that it has been a stinker of a day weatherwise. Pouring down in grim style all day long today sunday.
But..and the Hallelujah Chorus rang out.. a ray of weak sunshine managed to make it through the gloom a few minutes ago and painted the Dubai Attraction in a wee bit of a glow. I wouldnt say it was blinding sunlight or anything like that but there she is above anyway.
As you can see she is still here and has turned round, presumably on the tide or... since the last picture of it a few posts down.
In the foreground you can just see the Coral Water creeping into shot.
Although the weather has been turbulent it does present the odd photo moment.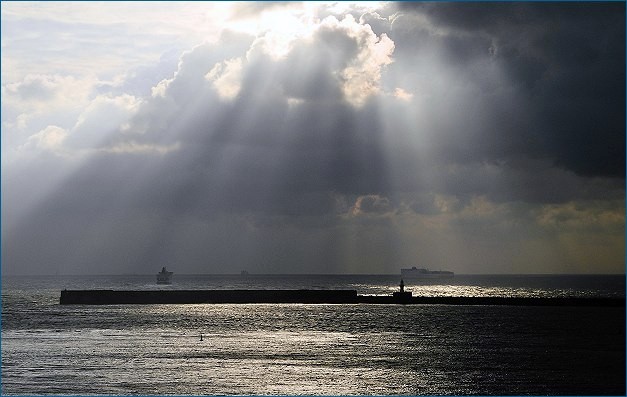 Sunday, 13 October 2013 - 17:05