Friday, 20 May 2022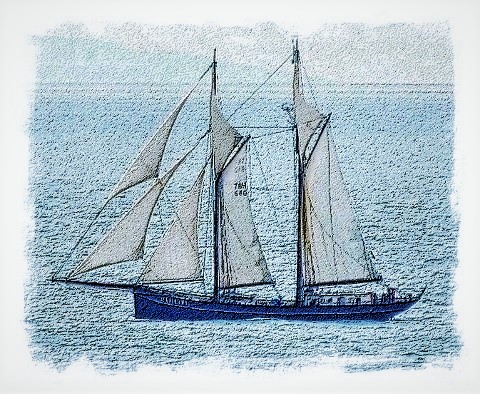 WWW.DOVERFORUM.COM/SEA-NEWS
Sea Pictures from DOVER ....333 plus pages to trawl through now..use Search Engine just below.
All pictures copyright of owners. Editor : Paul Boland - dover7@msn.com
Post 78
Tom Austin, London, bright and cool, ever so cool...

Costa Concordia is successfully salvaged - in pictures

(http)://www.theguardian.com/world/gallery/2013/sep/17/costa-concordia-successfully-salvaged-in-pictures#/?picture=417495969&index=0

Raising Costa Concordia - timelapse video

(http)://www.theguardian.com/world/video/2013/sep/17/raising-costa-concordia-timelapse-video

Well done all. :)


Tuesday, 17 September 2013 - 13:48
Post 77
ColetteB, Dover
Yes indeed PaulB, I'm a little late this time around, the weeks seem to fly by!
Not much of a week though for cruise ships in Dover, well the season is coming to an end so it's to be expected

Today as we can see from below the Beautiful Amadea is here with a PoC at CT2. I don't remember this one here before, if she was, it must be a while back but I'm sure one of the guys will enlighten us

Also the familiar Braemar is now at CT1, T/R.
Tomorrow, 18th September, the Astor cruises in for a PoC at CT2, she was last here in May.
No cruise ship then until Wednesday September 25th when the Carnival Legend arrives back at CT2, T/R for the last time this season

That's all for now folks

Ed, Awesome photos

Tuesday, 17 September 2013 - 09:49
Post 76
PaulB, Dover (dover7@msn.com)
AUTUMN COLOURS OVER DOVER HARBOUR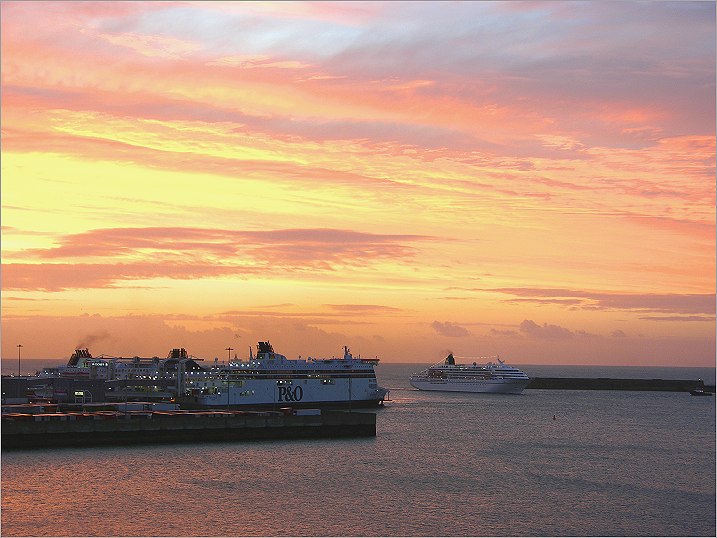 The ships are just about catching the early light as they come into harbour these days now that Autumn is here. The days are truly getting shorter..with light coming off at each end. Today the newly arrived Amadea just caught the early light and posed for us under a blazing sky. Not a hugely familiar visitor but I seem to remember her from the past. She is a smaller ship but with a modern look. Now also arriving as we speak is the much travelled and familiar Braemar. See more info on the Braemar over the page. So another double header of ships today - plenty of visitors for the town again.
News is coming through that they have righted the once magnificent Costa Concordia..all 116,000 tons of her. That took some doing. Inch by inch they slowly slowly pulled her upright. I believe the process is called parbuckling and so far, according to one pundit on TV, the operation has cost in excess of half a Billion pounds. Some bill eh! But well done them for making spectacular progress.. I'm sure the vessel lying there on its side at Giglio must have given something of a bizarre tourism boost to the local economy. See also the posts below.
ColetteB if you are looking in dont forget your cruise listing

Still gobsmacked with those pix from Ed below. Have added a headline at top of page.

Tuesday, 17 September 2013 - 07:27
Post 75
JanT, Dover
Crumbs Ed some great pictures there, it certainly looked like pretty hairy conditions.

also good to see you on sea news Tom.

Seeing the picture of Concordia it just shows us what a huge job it is to get it upright again.
Monday, 16 September 2013 - 15:33
Post 74
PaulB, Dover (dover7@msn.com)
Wow! great set of pictures Ed...you were the man on the spot for real there. Yes indeed conditions were terrible late yesterday so a tough ask for all concerned. Really and bravely in the teeth of the gale there and no mistake. The pictures tell the story.

Thanks for the info re Concordia Tom. All seems to be progressing there slowly.
Monday, 16 September 2013 - 14:53
Post 73
Ed Connell, Dover
The Dover Seaways was involved in an incident at 1800 last night in the approaches to the Dunkerque West fairway. It was blowing a gale and raining heavily.
Dunkerque Seaways had just left Dunkerque West and reported seeing the kite from a kite surfer board in the water. The French rescue helicopter and lifeboat had been scrambled to investigate.
As we approached this area on the Dover Seaways, the navigator spotted a black shape in the water which could have been a person or body in a black wetsuit. We reversed course and cleared the fast rescue craft ready for launching.
As we came up to the object, the helicopter appeared with the lifeboat not far behind so it was unnecessary to chance launching our fast rescue craft in the prevailing conditions.
Here is a sequence of photos of the incident, unfortunately all rather blurry as taken in the driving rain, the latter four through the Bridge windows.
Helicopter passing along starboard side.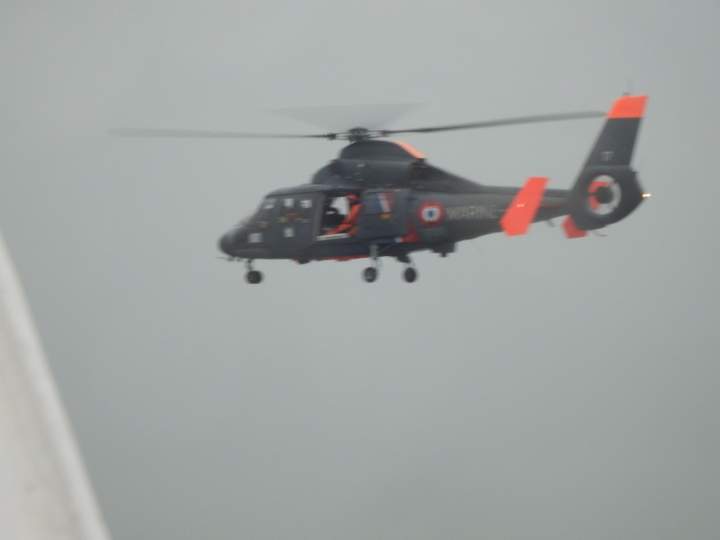 Diver descending from helicopter.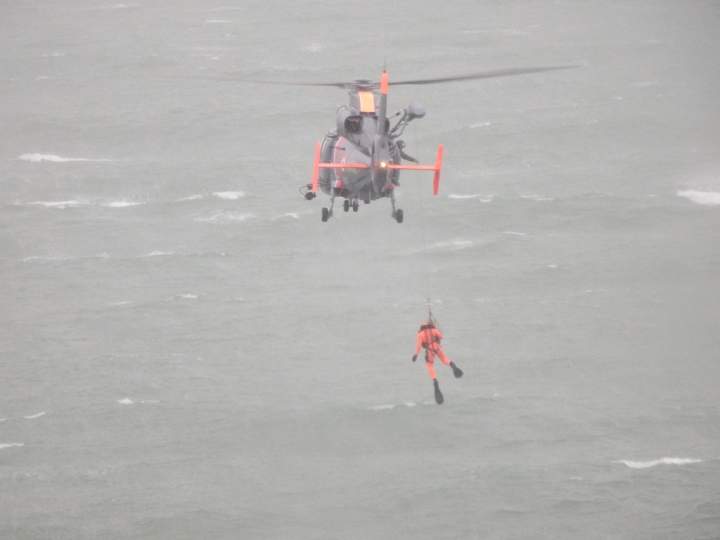 Diver ascending again after retrieving object.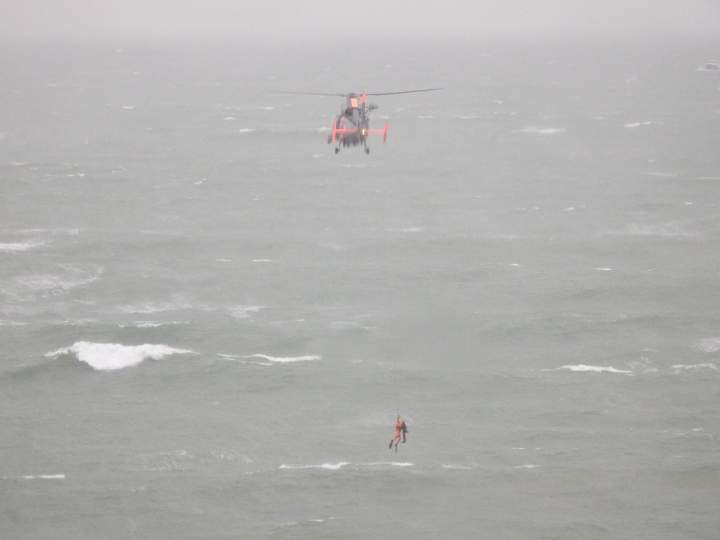 Diver with object which transpired to be just a pair of chest waders!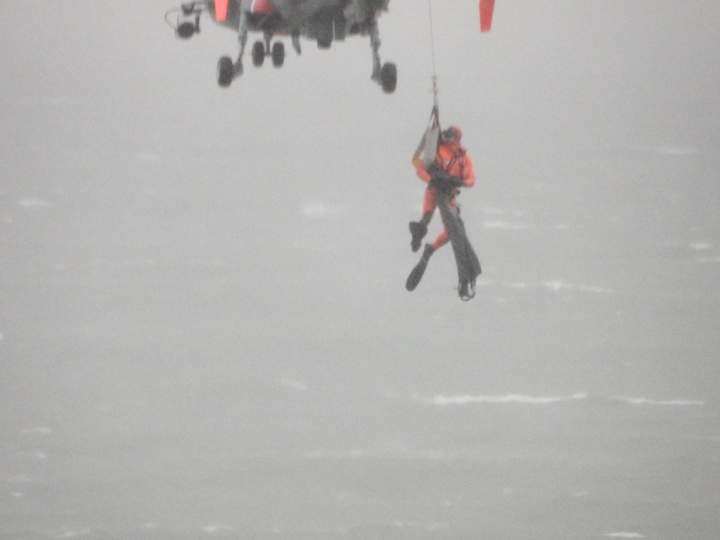 Diver re-entering helicopter.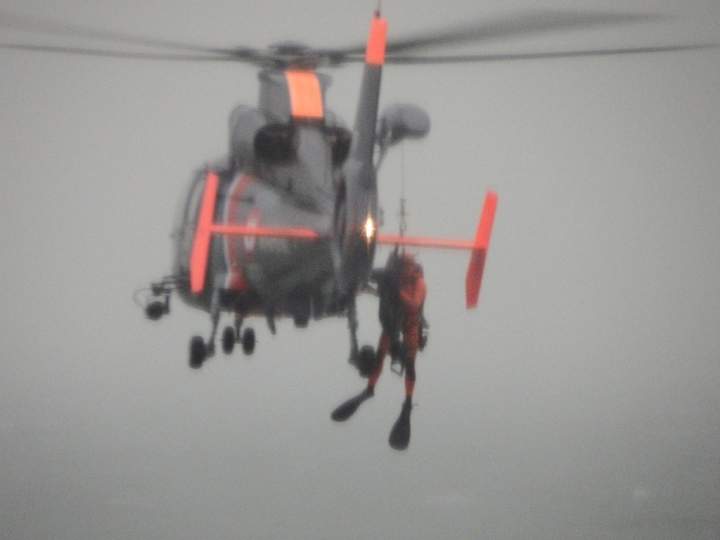 We were then released from standing-by and resumed our passage. The object in question was just a pair of chest waders probably lost overboard from a fishing boat. However, the incident was useful training for all concerned and went very smoothly.
Monday, 16 September 2013 - 12:47
Post 72
Tom Austin, London, bright and cool, ever so cool...
This may be of interest to all you ex- and budding marine engineers...
"Costa Concordia: salvage teams attempt to right cruise ship - live updates"
(As well as textual live updates there is a live video feed.)
(http)://www.theguardian.com/global/2013/sep/16/concordia-salvage-operation-giglio-parbuckling-live-updates
The cranes are taking the strain as I type.
N.B.
Please remove the brackets around the 'http' of the web address.

Monday, 16 September 2013 - 10:20
Post 71
PaulB, Dover (dover7@msn.com)
The big global sea news story today monday is the attempted salvage of the doomed Costa Concordia. The huge and spectacular cruise liner ran aground off the Italian coast in headline grabbing horror, packed as it was with passengers aplenty. Most managed to get off the ship and were rescued safely but 32 people died in dismal conditions. As we understand it only two people are missing, unaccounted for, and these are presumed to be somewhere onboard..lost in the vast bulk of the ship. The ship, according to Alan Johnston of the BBC, is the length of three football pitches and weighs twice as much as the Titanic. So it will be one heck of a job getting this one righted. It will never see service again of course.
As we are all very aware, the magnificent Costa cruise ships are regular visitors to us here in Dover. Only a few days ago the stunning Costa Pacifica was in harbour..pictures further down the page ( ah !...now on PAGE TWO ). But here we are today with a picture of the Costa Concordia lying on its side just off the Tuscan island of Giglio..good luck to the salvage people.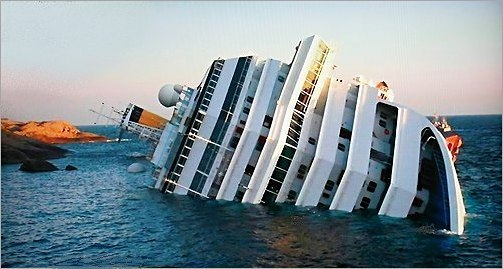 Monday, 16 September 2013 - 06:33
Post 70
PaulB, Dover (dover7@msn.com)
BEACHWATCH:If you fancy joining in and doing your bit for nature and the marine environment generally, then please read on...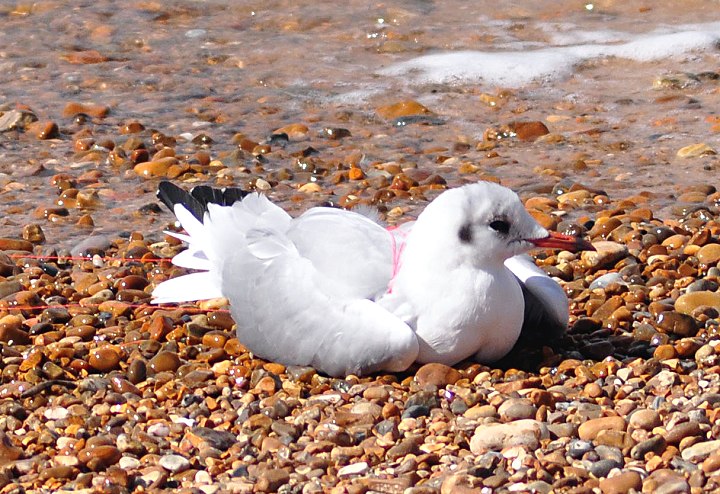 Port Supports Community Role in National Beachwatch Big Weekend


The Port of Dover is sponsoring the annual Shakespeare Beach survey and beach clean as part of the Marine Conservation Society's (MCS) Beachwatch Big Weekend. Organised by the White Cliffs Countryside Partnership, the organisations will be jointly carrying out a marine litter survey and clean-up on Sunday 22nd September. Last year's Shakespeare Beach clean was a resounding success being the second most popular beach clean with around 8,000 items of litter collected. This year, the organizers hope to welcome even more volunteers looking to play their part in keeping this local beach clean and safe.
Paul Sampson, Partnership Ranger, White Cliffs Countryside Partnership, said: "The beach clean and survey helps us and the MCS to find out what type of litter is making its way by sea to this part of East Kent as well as give the shingle beach a deep clean."
Vicki Jago, Environmental Manager, Port of Dover said; "The beach clean and survey is a fun event for all the family with prizes awarded at the end of the day, but it is mainly about us all showing our commitment to our community in keeping such valued community assets clean and safe for everyone, including the wildlife that calls Shakespeare Beach its home."
This is the fourth year that the Port of Dover, along with the WCCP, will be joining hundreds of other Beachwatch events taking place throughout the country.
* *
Good to see the Port now sponsoring this event. Seafrance used to sponsor it and a year or two back sent me the picture of the gull shown. As you can see the poor thing is wrapped in fishing line and would be unlikely to survive in a normal situation. This one however..you will be pleased to hear.. was rescued by the volunteers.
Well done the volunteers and well done the sponsors. If you fancy volunteering for the day .. well its all happening next Sunday on Shakespeare Beach. Enthusiasm is all that is needed to help conserve the local marine environment as all of the necessary equipment is provided.
There is a picture of the Beachwatchers on dover.uk.com, our overall frontpage. Click on the link left and click on the picture there and it will enlarge in all its glory.
Sunday, 15 September 2013 - 07:23
Post 69
PaulB, Dover
Great postcard that Ed of the Deutchland. always great to see those pictures of former times..which are often a revelation to yours truly. Fascinating to see the way the Prince of Wales pier was used in those old days. Have enjoyed the pictures previously from yourself and Scotchie too in the past.
Yes indeed the good oul Columbian Navy are well off their usual haunt...perhaps trying to enforce a new fishing limit


??
Here now with some pictures of the Port's Pilot in action. He quietly almost unseen guides all those mammoth cruise ships safely out of harbour and into the Channel every time and wow has it been a busy time for him lately. Here he is doing the necessary with the MSC Magnifica on thursday evening..
These pictures are hugely zoomed in so quality not the same as they would be if said Pilot was standing next to me having a cuppa tay...but here we go..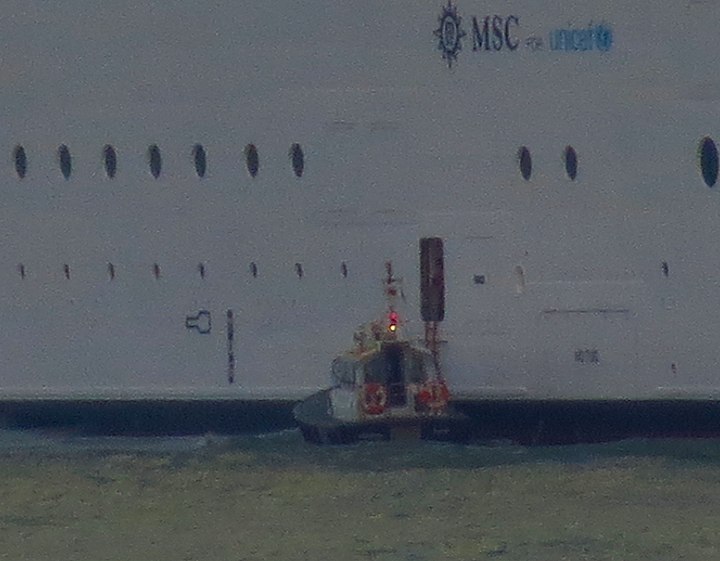 You can see above the tiny door in the side of the ship at waters edge..and whats that..a state of the art rope ladder..

and away we go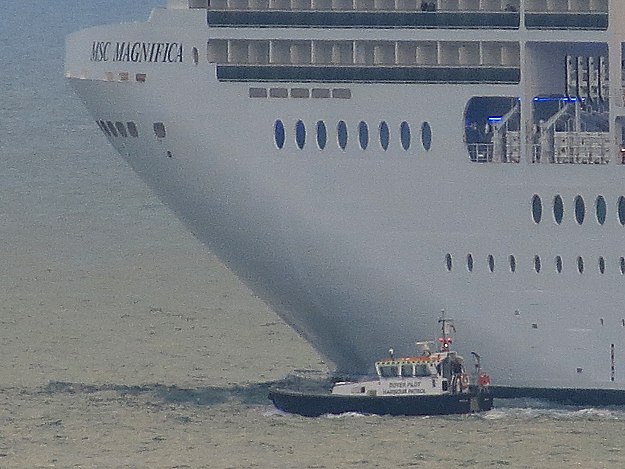 under the huge nose ( bow) of the MSC Magnifica
and now with an earlier wider view. You can see the pilot door at the side of ship..this last picture shows the situation prior to him leaving the Magnifica.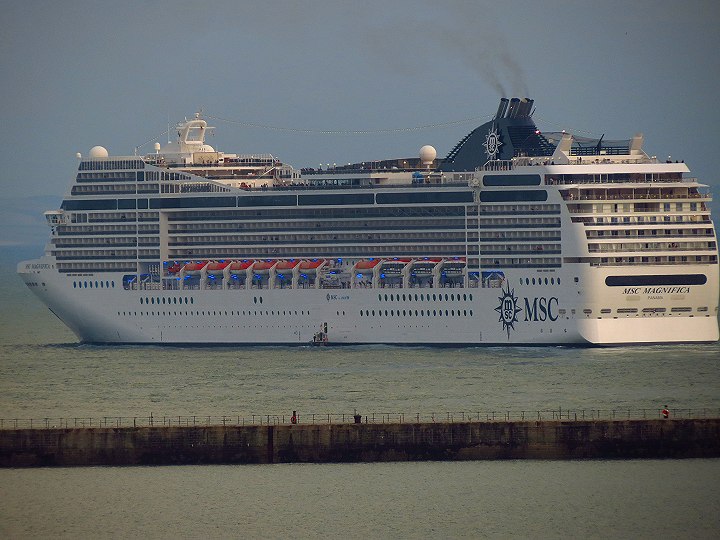 Saturday, 14 September 2013 - 06:48
Post 68
Ed Connell, Dover
Have just acquired this postcard. This is the German transatlantic liner Deutschland alongside the Prince of Wales. There are numerous photos of the Deutschland in Dover but have not seen this one before. It was posted from Southampton in 1906 but the photo was obviously taken at an earlier date.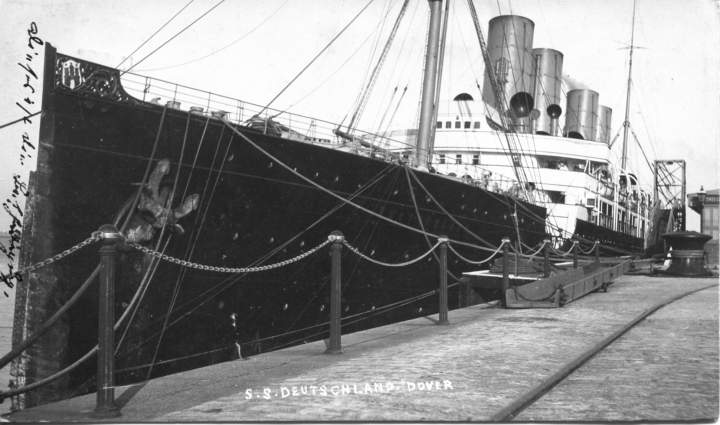 Friday, 13 September 2013 - 00:16
Post 67
Ed Connell, Dover
A very old and unusual naval auxiliary passing Dover at 1800 last night bound for Cartagena in Columbia. This is the ARC Buenaventura of the Columbian Navy, a bit off the beaten track.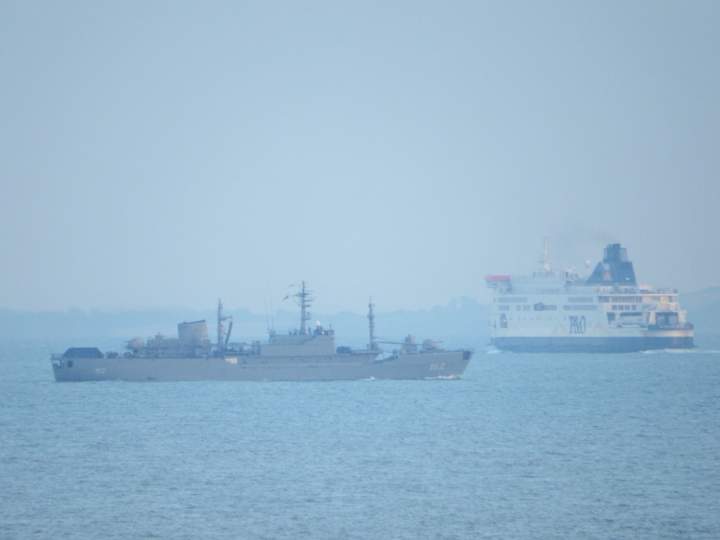 Friday, 13 September 2013 - 00:04
Post 66
PaulB, Dover
Yes indeed a great bit of info there Kevin and lovely pic. Gosh she is an old familiar workhouse is the Saga Ruby..we will have to do a bit of a tribute to her for her last visit at the end of the month. Wonder what they will replace her with. Will be fascinating to see.
Here she is departing a few minutes ago about 4.30 pm..light is a bit washed out but here we are anyway..nudging gently away to a great crescendo of horns/hooters, with the MSC Magnifica in the background. I put a border around it so she doesn't float off the page with all the bright light..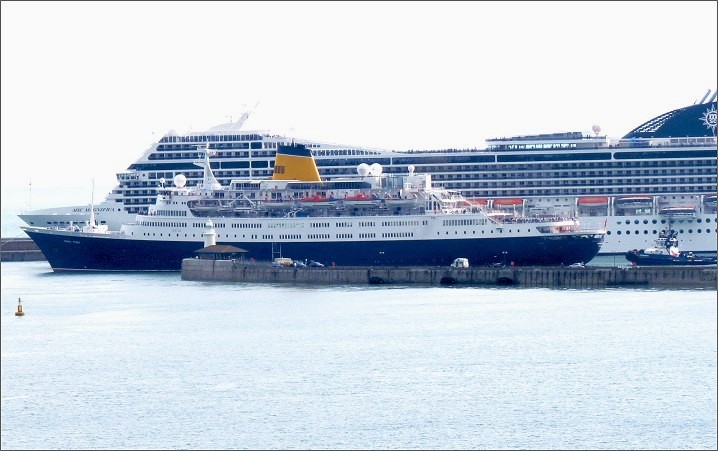 There she goes...with the tugboat bringing up the rear.
Thursday, 12 September 2013 - 16:46
Post 65
JanT, Dover
Welcome to the new Sea News Kevin


always great to see your pictures

That's a good bit of info and picture there about the Saga Ruby.

Thursday, 12 September 2013 - 08:56
Post 64
Kevin Charles, Dover
Saga Ruby is on her penultimate cruise from Dover today. Her next call on 26 September will be her last visit to Dover as she is retired from the Saga fleet. The end of an era, Saga Ruby was the last cruise ship to be built in Britain (as Vistafjord) and has been a regular at Dover Cruise Port since her maiden call on 30 April 2005. She had also visited Dover under her previous guises, as Cunard's Vistafjord in 1997, and as Caronia in 2000.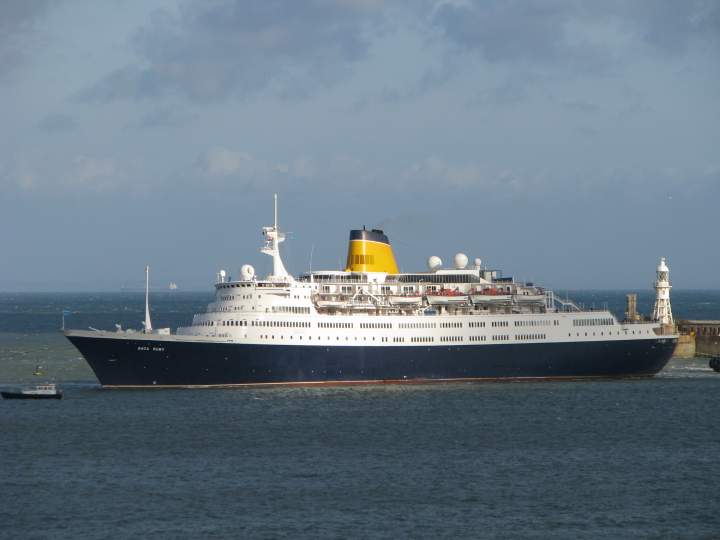 Thursday, 12 September 2013 - 08:16
Post 63
PaulB, Dover (dover7@msn.com)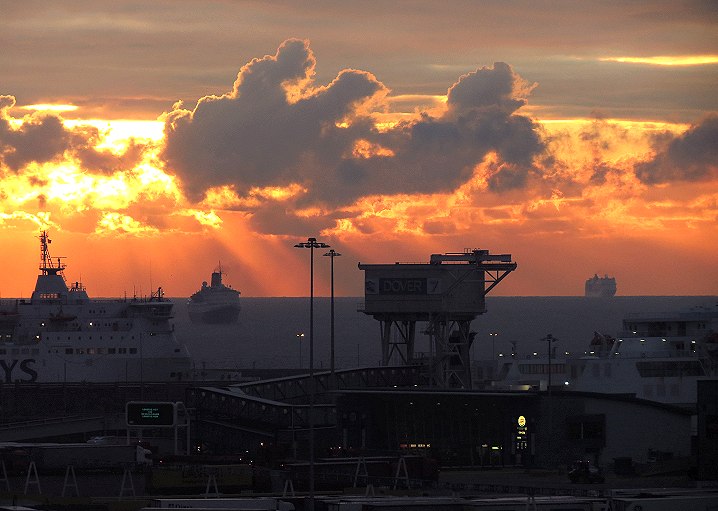 Todays two cruise liners are seen approaching Dover from the east in the picture above. To the left closer to the harbour you can just see through the early light the ever dependable Saga Ruby while in the distance to the right you can see the huge MSC Magnifica...both in harbour now as I write at 7.42am. Pop down to see them, always worthwhile.
The picture was taken about 5.40 am.
The Grand Mistral seen below visited us yesterday and left last night in a blaze of light. The sea was flat calm so the reflections in the water were spectacular. These pictures below were taken as she arrived yesterday morning. Very colourful ship as you can see.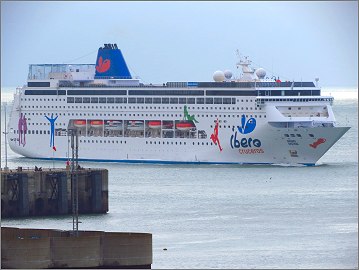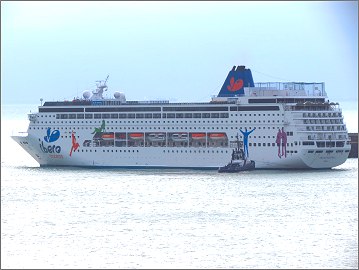 Thursday, 12 September 2013 - 07:45
Post 60
PaulB, Dover (dover7@msn.com)

Dover Marina showcases cross-Channel credentials at Southampton Boat Show

Dover Marina will be exhibiting all that a top award winning marina has to offer throughout the ten-day PSP Southampton Boat Show, which takes place from 13 – 22 September.
Having recently held a successful Open Marina Day, attracting budding mariners and seasoned sailors to Dover from the local area, the team at Dover Marina will be hoping to show even more boating enthusiasts the unique benefits of locating at the closest marina to mainland Europe, something which the locals understand only too well!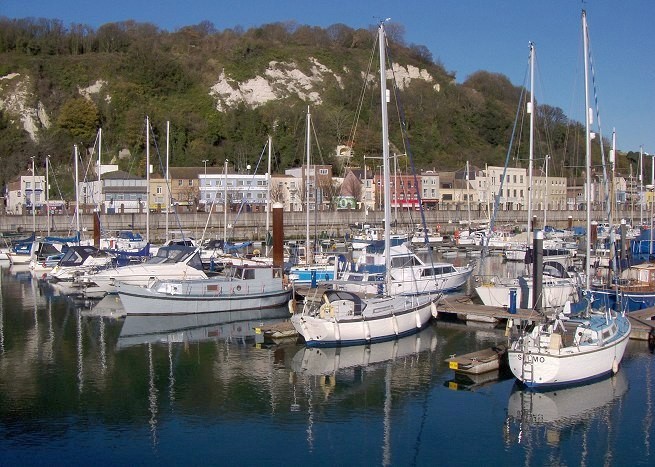 For sailing across the English Channel, Dover is the most highly rated and convenient marina with its distinctly international atmosphere. Set against the iconic backdrop of the famous White Cliffs, Dover Marina is just 20 miles from France, making it within easy reach of French marinas and the Belgian and Dutch coasts.
It also offers a superb range of facilities and services that have been acknowledged by The Yacht Harbour Association with the re-accreditation of the top Five Gold Anchor rating.
What's more, potential customers will be able to benefit from a special winter berthing discount of 20% on all winter rates (October 2013 – March 2014).
Chris Windsor, Marina Services Manager, Port of Dover, said: "I look forward to personally welcoming customers to our stand and ultimately to Dover Marina for the best of British service with a taste of European adventure."
* *
NOTE : The GRAND MISTRAL has arrived approx 10am
quite a while since we saw this one. Will aim for pictures later.

Wednesday, 11 September 2013 - 10:03
Post 59
PaulB, Dover (dover7@msn.com)
Where did the summer go? One minute here and enjoyable then the next minute gone..but of course not forgotten, even though it was a very short one this year. These pictures show the rather autumnal and chilly departures last evening of first the Saga Sapphire and then the MSC Musica.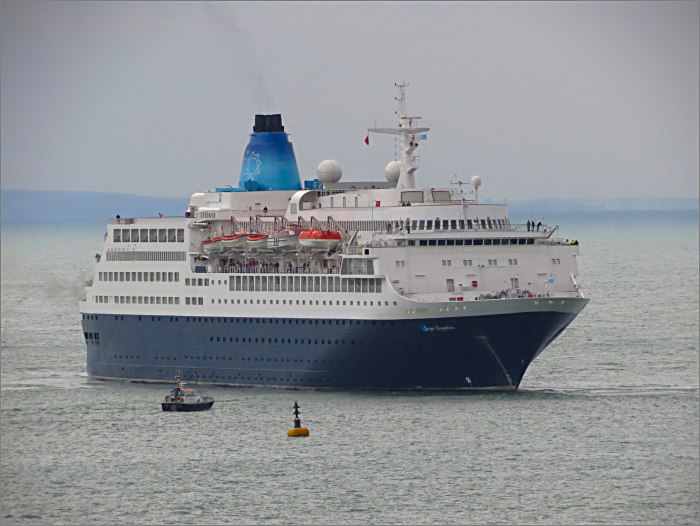 Despite promises of rough weather on the shipping forecast it didnt happen and as you can see in the pictures the sea was quite calm in the top shot and flat calm by the time the Musica departed below. Very good for the passengers of course...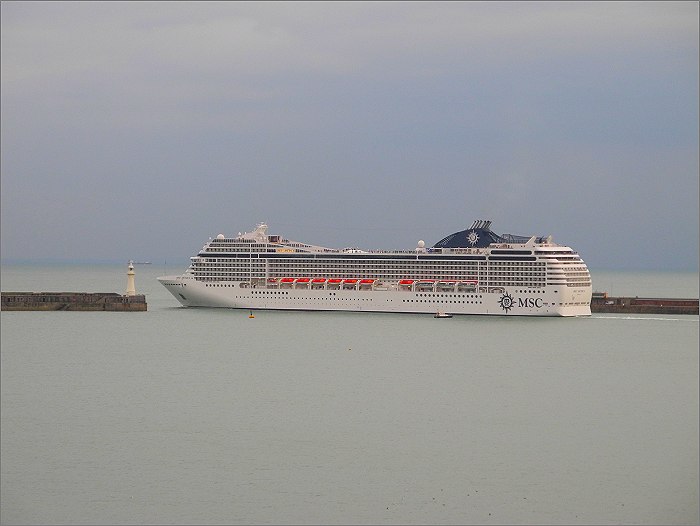 Yes a good time of year for the trips to Passchendaele and Ypres and indeed to other places with similar significance.
So good to see DFDS facilitating the possibility of a run over for many ( see further info in the post down the page ).

Wednesday, 11 September 2013 - 07:30
Post 58
JanT, Dover
Yet again we are treated to the sight of two Cruise Liners gracing our seafront,

and the sun has at least decided to shine for a little awhile,
Fab pic's showing off the MSC Musica.


DFDS's offer for the visit to Passchendaele is great for those interested in Military History,with my Grandfather fighting in both world wars, and having visited some areas in France it is always fascinating to visit these places.
Tuesday, 10 September 2013 - 12:46
Post 57
PaulB, Dover
As mentioned in the previous post, here are the latest pictures of the magnificent MSC Musica which is making an impressive visit to the Port today. This one is quite a rare visitor to Dover so a ship to savour and enjoy. Alongside it on the pier is the familiar Saga Sapphire.
But here we go with the Musica...showing it being slowly manoeuvred into position early this morning..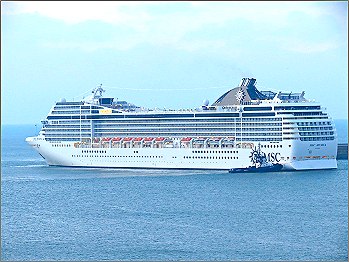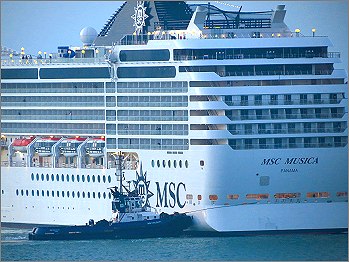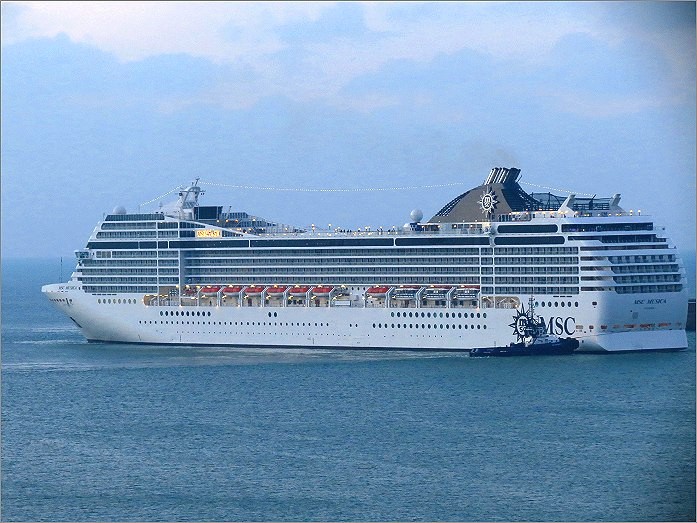 Tuesday, 10 September 2013 - 11:16