Monday, 8 August 2022
WWW.DOVERFORUM.COM/SEA-NEWS

Sea Pictures from Dover. We have 333 plus pages now...use our own SEARCH ENGINE just below to help you trawl through. All pictures are the copyright of the owners. EDITOR: Paul Boland - dover7@msn.com
Post 179
Ed Connell, Dover
These are the photos copyright Graham Ekins which accompanied the article below:
Short-beaked common dolphin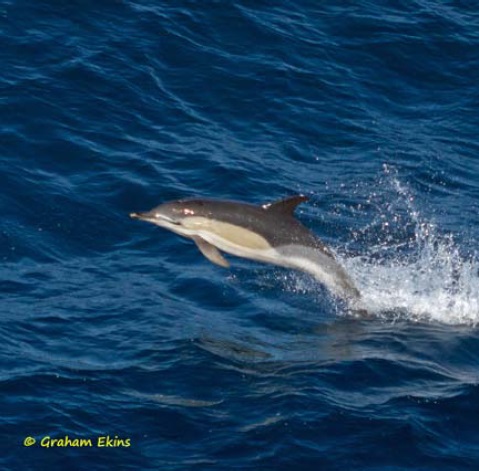 Short-beaked common dolphins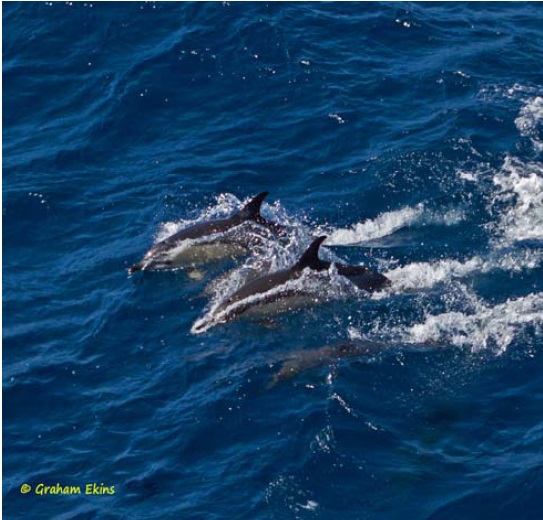 Gannet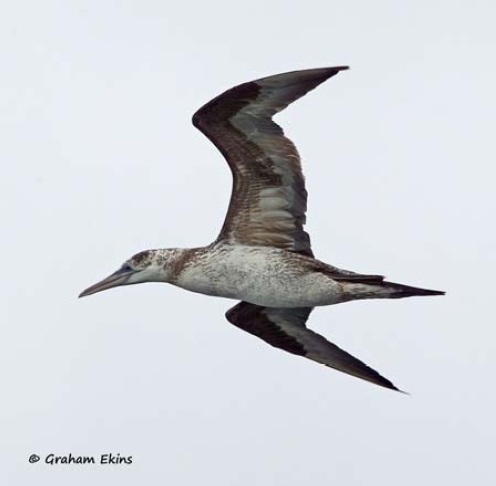 Kittiwakes on Dover Harbour wall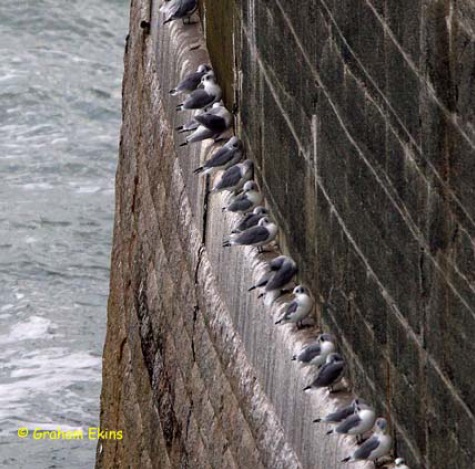 Tuesday, 15 October 2013 - 10:28
Post 178
Ed Connell, Dover
We often get British and French naturalists travelling who observe the birds and sea creatures from the Bridge. Here is an interesting email just received:

MARINElife blog: DFDS vessel Dover Seaways

Dover - Dunkirk 5th October 2013

Weather: Eastbound: Force 1-3, E-NNW with light, high cloud and some slight haze;
Westbound: Force 1-2, NNW clear with light, high cloud and a slight haze

Some fascinating and surprising sightings of both dolphins and birdlife were among the highlights of a very busy survey.

After a trouble-free drive down to Dover from Essex I met Jack at Dover station and then drove to the DFDS terminal. In just a few minutes we were enjoying a coffee while waiting to board the DFDS Dover Seaways. Once on board we had a very enjoyable lunch in the staff canteen before joining Captain Daniel Cook and officers on the bridge where we were made very welcome. As we left Dover harbour we were able to see the first of many Gannet and a flock of mainly adult Kittiwake feeding a few hundred metres from the breakwater.

A few minutes later we had views of the first of eight Harbour Porpoise. Viewing conditions were ideal with little wind and a lightly overcast sky. Mid-channel we had a Balearic Shearwater closely followed by a Great Skua, both heading steadily south.
Then about 500m ahead we saw a small group of seabirds circling with a Great Black-backed Gull on the sea. This was the first sign of a feeding group of cetaceans. As we moved closer to them we realised that they were four Short-beaked Common Dolphin, a rare sight on this survey route. They swam towards the ship before diving into the depths.

As we turned north a few kms off the French coast we had the first of 140 Common Scoter migrating south. Some of these birds may winter as far south as the shallow waters off the north-west African coast. We also came across several small groups of adult Little Gull their grey underwings clearly visible in the excellent light conditions. Close to Dunkirk harbour we passed an adult Pomarine Skua still with tail spoons closely followed by a juvenile Arctic Skua, an Arctic Tern and several Sandwich Tern. All of these birds were heading determinedly south. We also had several views of Harbour Porpoise and a Common Seal before we entered the dock.

Once the Dover Seaways had docked we went out on deck to check the harbour with the use of a telescope. On the southern side of the dock we saw 35 Great Crested Grebe, some were still in summer plumage. The number of Cormorant had decreased from the previous month, presumably as this continental sinensis race are highly migratory and many had left for wintering grounds in southern Europe and north Africa. We were surprised to see 155 waders of five species, the most common were 100 Dunlin and most unexpected were three Bar-tailed Godwit and eight Sanderling. Close to the ship were a Stonechat, a few Starling and several Jackdaw.

As we left Dunkirk harbour four Meadow Pipit briefly flew alongside while a superb male Peregrine Falcon passed the bridge before heading south, presumably a northern migrant. As we travelled south parallel with the French coast we saw two Razorbilll and a Guillemot while several more Little Gull passed the ship. By mid-channel the number of Gannet heading south had greatly increased, a high proportion of which were brown juveniles. We also saw several more Great Skua, adult Great Black-backed Gull and four Little Gull heading steadily south-west.

After finishing the recording we thanked Captain Daniel Cook and his officers for their excellent hospitality and interest in what we had been seeing on the survey. We would like to thank DFDS for providing continued support for this important survey route.
Graham Ekins and Jack Allum, MARINElife Research Surveyor (Registered Charity No. 1110884)

Cetaceans

Harbour Porpoise 8
Short-beaked Common Dolphin 4
Common Seal 1

Seabirds

Common Scoter 135
Gannet 152
Cormorant 124
Great Crested Grebe 35
Balearic Shearwater 1
Great Skua 8
Pomarine Skua 1
Parasitic (Arctic) Skua 1
Black-headed Gull 34
Common Gull 12
Herring Gull 74
Lesser Black-backed Gull 13
Great Black-backed Gull 61
Kittiwake 73
Arctic Tern 1
Sandwich Tern 6
Guillemot 2
Razorbill 2

Birds recorded in Dunkirk Harbour

Redshank 2
Bar-tailed Godwit 3
Oystercatcher 45
Dunlin 100
Sanderling 8
Stonechat 1
Starling 10
Jackdaw 9
Magpie 1
Woodpigeon 2

Land birds recorded from ship

Meadow Pipit 4
Peregrine Falcon 1


Tuesday, 15 October 2013 - 02:01
Post 177
PaulB, Dover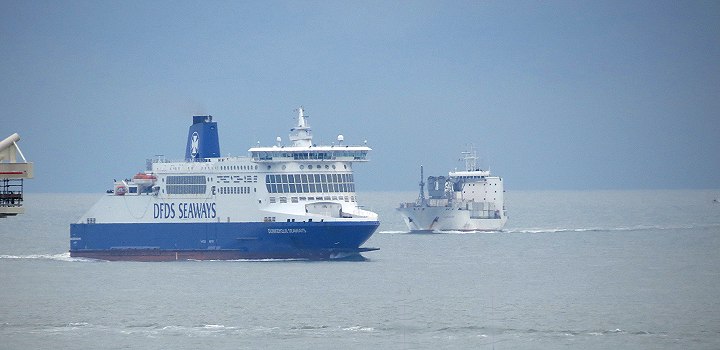 No sooner has Esmerelda moved out when the Lady Racisce moves in..I tell you..all these females, whats a chap to do.

A very busy cargo terminal these days, thats for sure. You can see the Lady approaching in the picture above, still a good way out behind the DFDS Dunkerque Seaways.
Yes its a tough game that Howard..in all weathers and in the dead of night at times.
Monday, 14 October 2013 - 16:25
Post 176
howard mcsweeney, dover
great picures from ed, i have given up on the after dark stuff - read the camera handbook and still no decent results.

looking further down i wouldn't like to be in one of those pilot ships when they are so close to a monolith in choppy seas.

Monday, 14 October 2013 - 12:38
Post 175
PaulB, Dover (dover7@msn.com)
Great work with the new camera there Ed, totally atmospheric. They came out extremely well considering it was a late nighter.

Familiar friend The Braemar is in today..still working hard. Just the occasional Fred Olsen ship coming now on the cruise front.
Monday, 14 October 2013 - 07:48
Post 174
Ed Connell, Dover
Cargoship Esmeralda preparing to depart from the Dover Cargo Terminal last night. Nothing special but thought I would try out my new camera at night and it turns out that it produces useable images without having to know any clever stuff about apertures and what not.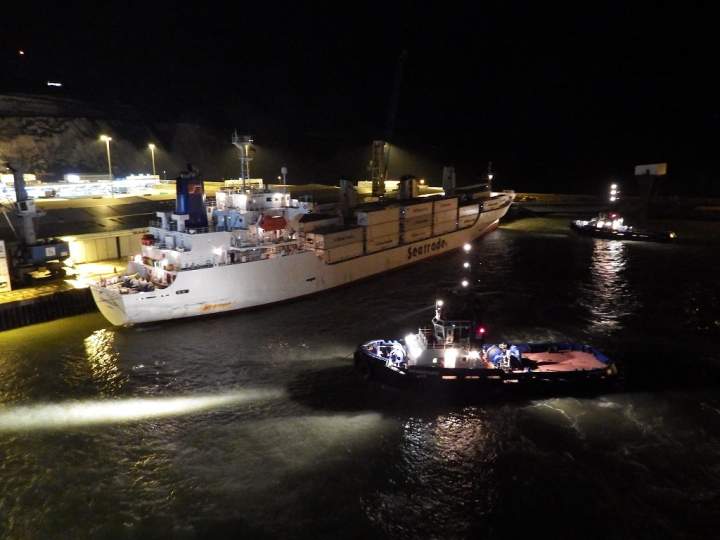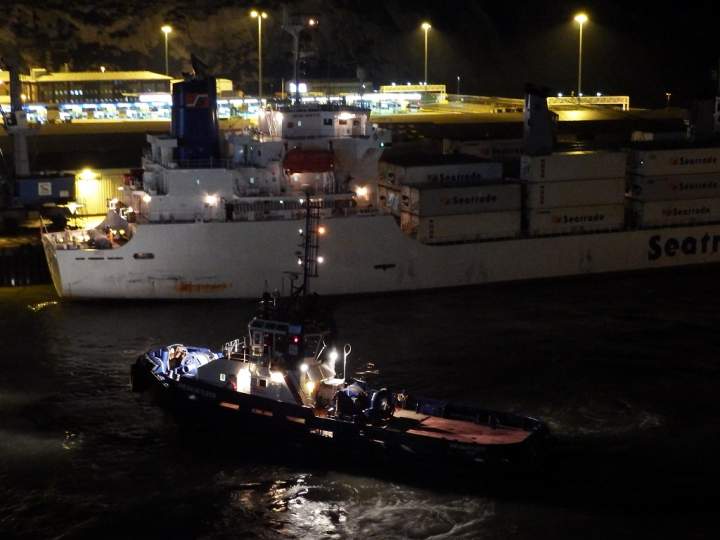 Monday, 14 October 2013 - 04:32
Post 173
JanT, Dover
Our weather certainly has changed and we see the sun less and less this time of the year, but these cargo ships travel up and down the channel in all kinds of weather.

Sunday, 13 October 2013 - 19:09
Post 172
PaulB, Dover (dover7@msn.com)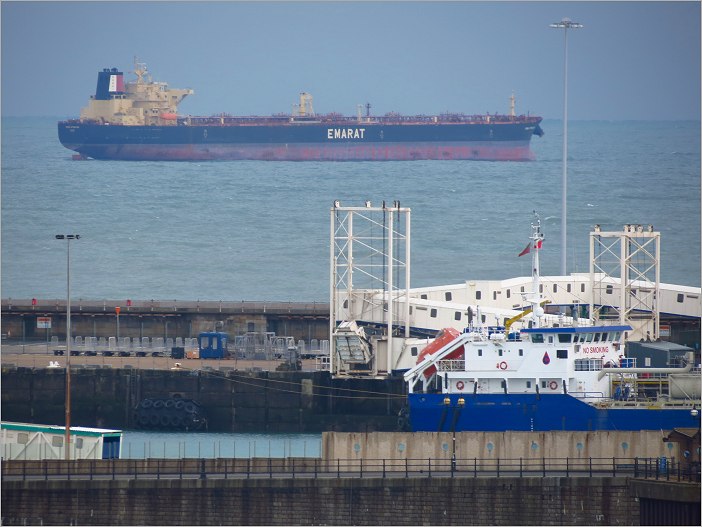 You dont need me to tell you that it has been a stinker of a day weatherwise. Pouring down in grim style all day long today sunday.
But..and the Hallelujah Chorus rang out.. a ray of weak sunshine managed to make it through the gloom a few minutes ago and painted the Dubai Attraction in a wee bit of a glow. I wouldnt say it was blinding sunlight or anything like that but there she is above anyway.
As you can see she is still here and has turned round, presumably on the tide or... since the last picture of it a few posts down.
In the foreground you can just see the Coral Water creeping into shot.
Although the weather has been turbulent it does present the odd photo moment.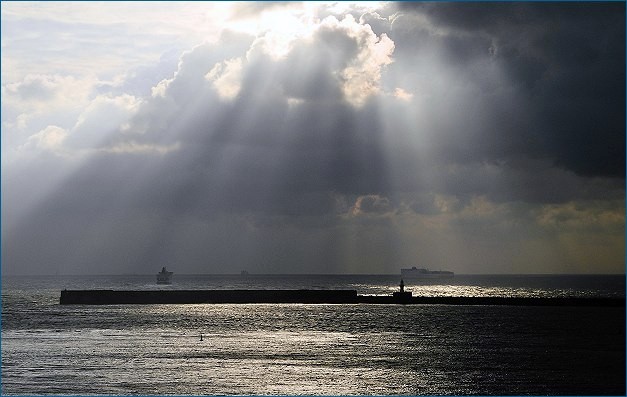 Sunday, 13 October 2013 - 17:05
Post 171
PaulB, Dover (dover7@msn.com)
Thanks guys all round - great information as ever.
As promised here are a few pictures of one of these passing ships, pix taken the day before yesterday. We caught a bit of late afternoon sun just off Dover so I grabbed the opportunity while I could...ermm made hay while the sun shone !
It's a ship called the Elbfeeder, by the sound of the name it is probably German and it was en route to Dublin with a hazardous cargo I believe.
First shots show her coming into view as it were..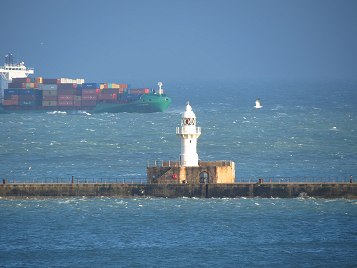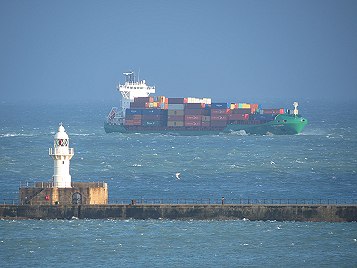 and now below.. the local small launch approaching Elbfeeder in difficult seas..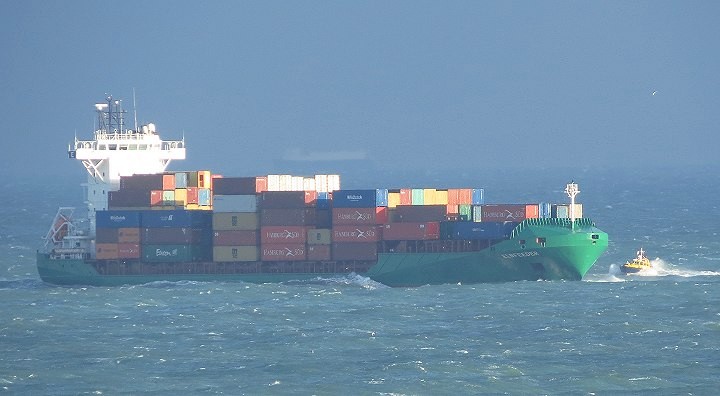 and a closer crop of the same picture..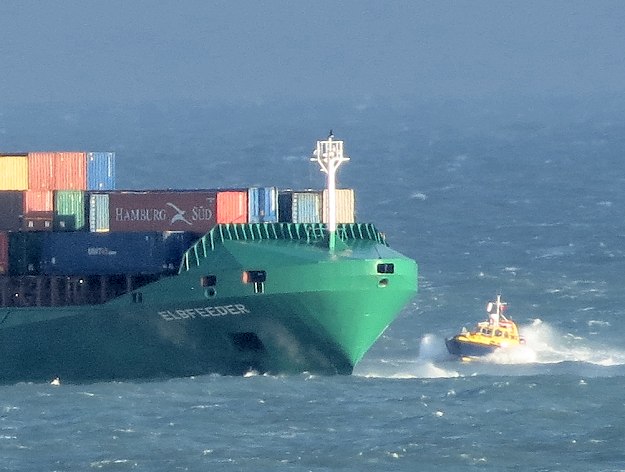 This tricky operation to get the pilots off continued throughout the day yesterday with various ships and even at 10.30pm last night when some of us were thinking of curling up in a warm bed, a similar operation was going on with another ship out there in difficult conditions, and of course in the dead of night.

Saturday, 12 October 2013 - 08:52
Post 170
Ed Connell, Dover
The Dubai Attraction was making a scheduled call for the harbour patrol launch to take a surveyor out to her, and later return him ashore. Looks like the surveying is taking longer than expected!

As Kevin says, the other ships are just dropping pilots who have been overcarried from North Sea ports as the weather was too bad for them to leave the ships after departure.

Saturday, 12 October 2013 - 07:44
Post 169
ColetteB, Dover
As there's quite a gap between cruise ships at this time of year I thought I would remind everyone that this coming Monday 14th we see the Braemar return & then a few days later, on Saturday 19th the Black Watch returns to our port. Let's hope that the dreaded Norovirus did not return during this latest trip. Nothing then until Nov 5th.
Amazing Photo MrB of the Calais Sugar refinery sparkling 'shine bright like a diamond in the sky' Freaky backlighting for sure!!!
I bet those guys replacing the all so important lightbulb have never even heard of vertigo!

Friday, 11 October 2013 - 17:40
Post 168
Kevin Charles, Dover, Kent
I believe most of the ships coming in close to shore are dropping off carry over pilots from the Thames who have been unable to leave or join their ships due to the weather conditions. Not sure what the crude oil tanker is doing as she is actually anchored. Perhaps a technical problem?

Friday, 11 October 2013 - 16:11
Post 167
PaulB, Dover (dover7@msn.com)
Here she is Kevin, the Dubai Attraction..she has been lingering there for a couple of days.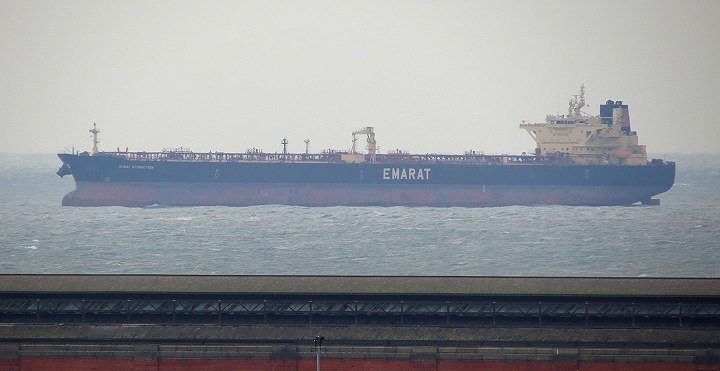 Glad you enjoyed those Howard, sometimes you get quite freaky backlighting these mornings and it makes Calais stand out.
Not sure what the tanker is doing moored there Kevin...several other large ships have been doing that unusual but reasonably regular thing where they come close to shore to be met by a small boat from Dover. Dont think its the Pilot...might be customs. I think we spoke about this before but for the life of me cant remember the whys and wherefores. Will have more pictures of that in due course.
Friday, 11 October 2013 - 10:58
Post 166
Kevin Charles, Dover, Kent
Interesting visitor anchored off Shakespeare beach, the crude oil tanker, Dubai Attraction. Shame we haven't got some Dubai weather to go with it!

Friday, 11 October 2013 - 10:33
Post 165
howard mcsweeney, calais
Great shot of the sugar refinery paul, the colours at this time of the year certainly add the atmosphere to photos.

Friday, 11 October 2013 - 10:17
Post 164
PaulB, Dover (dover7@msn.com)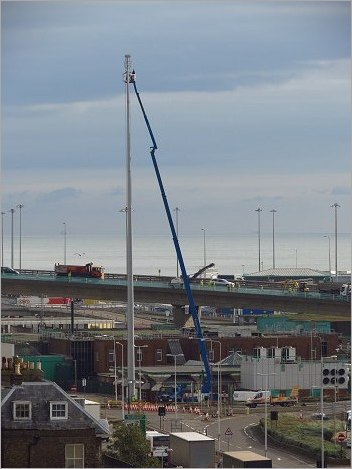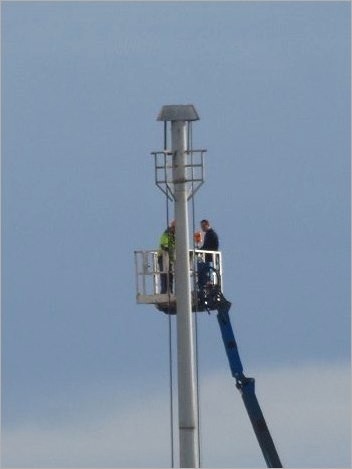 Ah now..isnt it exciting when you reach the top in your chosen profession, when you climb the ladder to the stars...well these guys have done just that, reached the very top in their chosen careers!

This must be the nations tallest lampost, this towering torch illuminates the entrance to the docks and the busy busy roundabout, and presents a hugely awkward problem when the bulb blows out! But fortunately these guys were on hand and ever-so willing..
.... and clearly able to handle the dizzzzifyingly breathless heights.
As mentioned previously these mornings can be quite spectacular. Yesterday the sky was an odd yellow colour but it produced an entirely visible and shimmering Calais across the water. Clearly seen and photographable from Dover.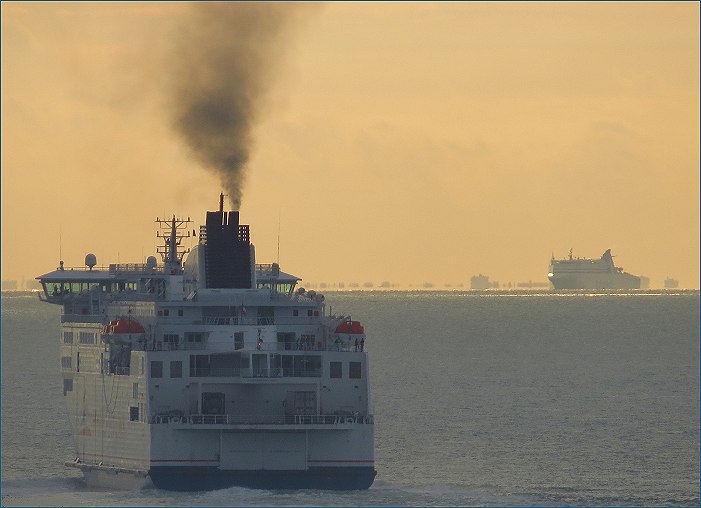 Above the 08.15 MFL ferry is heading out to Calais (I cant make out whether its the Berlioz or Rodin), and in the distance, the far distance coming this way, you can see the DFDS Dieppe Seaways moving away from the French Port. The sea was fairly calm at that time but it did bluster up later.
And below the busy Sugar Refinery at Calais Docks.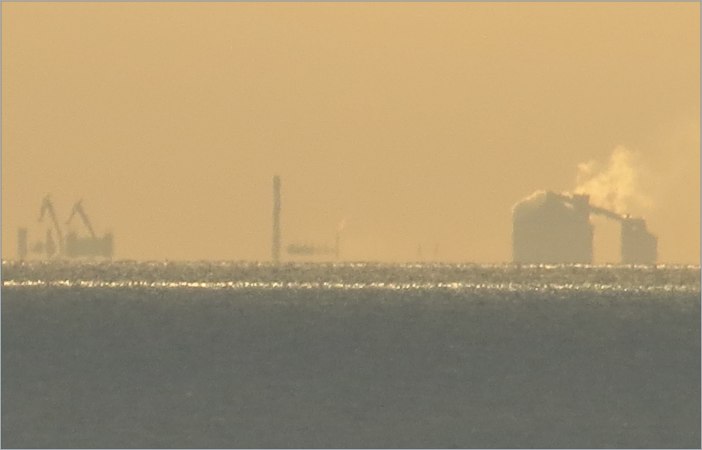 Friday, 11 October 2013 - 07:59
Post 163
PaulB, Dover (dover7@msn.com)
DOVER HARBOUR BOARD HAS PLEASURE CONFIRMING TIM WAGGOTT AS CHIEF EXECUTIVE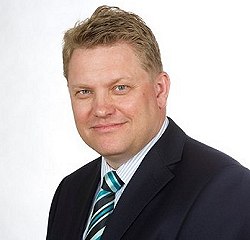 Chairman, George Jenkins OBE, said: "When asking Tim Waggott to step into the role of Acting Chief Executive I was quoted as saying that he possessed "the right experience, qualifications, drive and ability to take this organisation forward together with its customers and community."
Acknowledging the hard work of the entire team at the Port of Dover, Mr Jenkins went on to say: "It is clear to the Board that Tim has now demonstrated his ability to undertake the role on a permanent basis. He has quickly established improving relationships with the customers and the community as well as implementing organisational changes. I am therefore pleased to confirm and congratulate Tim on his appointment as Chief Executive."
Mr Jenkins also paid tribute to the efforts of the Port's many stakeholders in helping the Port of Dover, its customers and community emerge from an unsettling period, stating: "I am sure that with continuing teamwork we will deliver a tangible improvement to both Port and Town in an exciting future."
* *
EXTRA: You can definitely see a refreshing 'new broomism' sweeping through the management at DHB. We featured the other new appointments previously, now to be found on Page 3 so take a look there too. Good luck to Tim Waggott. Interesting times.
Thursday, 10 October 2013 - 07:39
Post 162
PaulB, Dover (dover7@msn.com)
Yes the container ships are very much a part of the Ports super activities these days, and an increasing part too. Here is another set of 'container' pictures taken yesterday. The highly unusual looking Magellan Strait visiting once again. No other ship quite like her as far as we know, apart from her twin that is.. yes the Messina Strait, which has also started trading here. They both began coming regularly quite recently.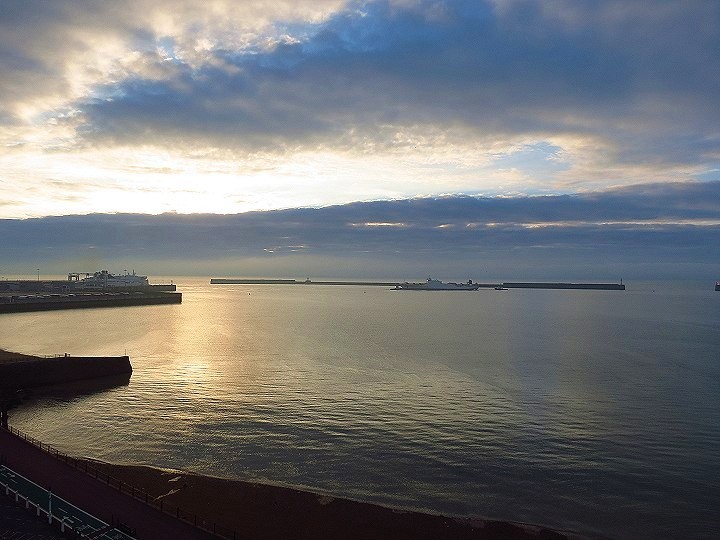 Spectacular mornings these...here she is, the Magellan Strait just arriving in harbour with the Dover Strait in the background, being helped as you can just see by both tugboats against a big sky backdrop..bringing probably bananas as Mike mentions there. Yes 26% of the nations bananas come in through Dover. A very healthy food I believe. So there you have it, we are contributing to the nations overall health and wellbeing.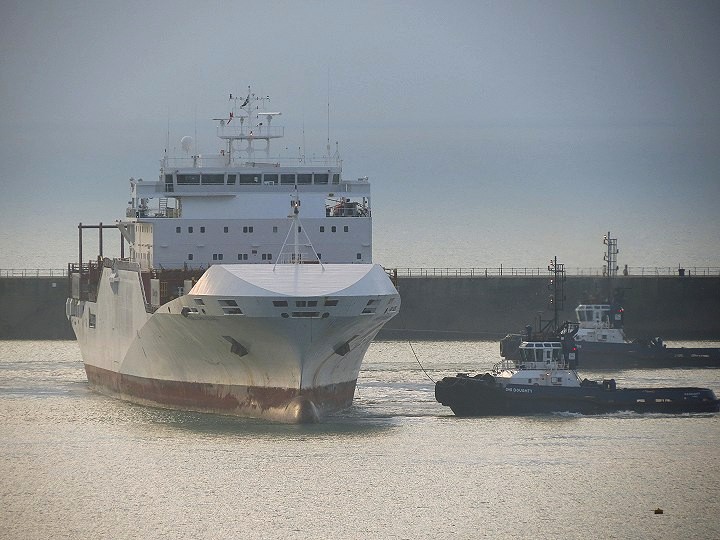 Doughty and Dauntless lending a helping hand to the Magellan Strait as she negotiates a 180 degree turn.
* *
ACTION POLICE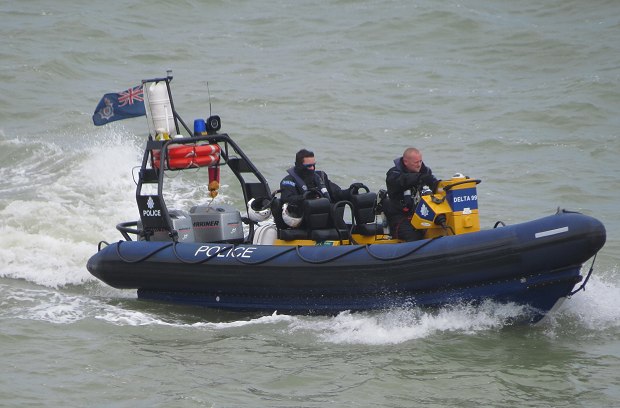 And now a moment for the Port Police who are..
Celebrating 80 years of commitment to the Port and its customers and the community.
______________________________________________________________________
The Port of Dover Police has hosted a special celebratory open day for the Port community to mark 80 years of service by the Port's very own police service.
The event coincided with a recent relocation of the Port of Dover Police's headquarters to the Terminal Control Building, bringing it to the heart of operations within Europe's busiest international ferry terminal. Guests, including former Port of Dover Police colleagues, were able to see the new offices as well as the range of equipment used by the Police (such as for forensics, search and transportation) to keep the Port's 12-13 million customers and its local community safe.
Much has changed at the Port since its police service was established in 1933; the same year that British police first used a radio appeal over the airwaves for help in catching a criminal. The modern Port of Dover Police now has excellent marine capabilities for dealing with issues on the sea waves, courtesy of its high-speed rigid inflatable boat (RIB), call sign 'Delta 99'. It also has nationally trained specialists in the fields of counter terrorism security and police search designed to meet the needs of a major 24/7 international gateway handling £80 billion of trade each year.
Yet what has remained constant throughout is the Port of Dover Police's commitment to ensuring a safe and secure Port and the weekend's celebration was a chance to acknowledge that and to see just how that commitment is met today.
During the opening ceremony, Superintendent Paul Wilczek, Chief Officer of Police at the Port of Dover, said: "There is a long and proud tradition in the Port of Dover Police of serving our Port community. The uniforms may look a little different to the old uniforms we have had on display at our open day, but what lies beneath is still the same absolute commitment to everyone associated with the Port of Dover."
To further mark the anniversary, the Port of Dover, a long-standing supporter of Dover Athletic Football Club, sponsored the weekend's match.
Tim Waggott, Chief Executive, Port of Dover, said: "The work of the Port of Dover Police is fundamental to the success of the Port of Dover, to the security of every customer and ultimately to the nation. They are a shining example of what excellent customer service is all about and I am delighted to mark this 80th anniversary. With the successful work in more recent times of our Neighbourhood Policing Unit in the wider community, it is also fitting that we celebrated the anniversary cheering on our local football team with our friends at Dover Athletic."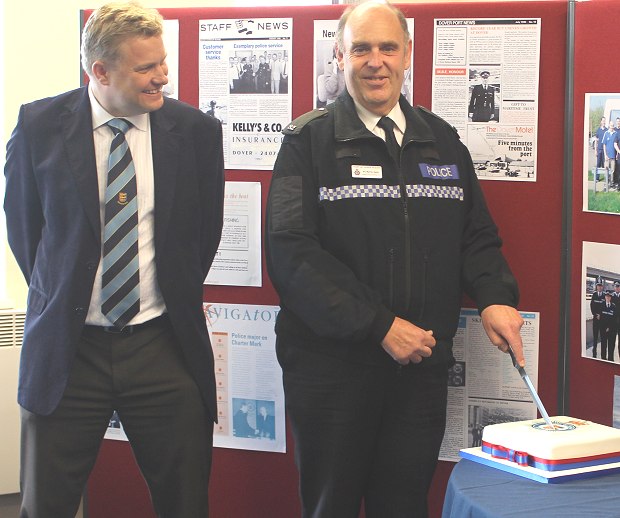 Chief Executive Tim Waggott clearly keen to get his hands on a slice of that delicious looking cake. That's PC Martin Dadd doing the honours with the knife.
Wednesday, 9 October 2013 - 07:36
Post 161
Mike j., Dover
Howard -

Scroll back to 25th.September !

26 percent of the UK's bananas passing thru Dover.

Wednesday, 9 October 2013 - 05:34
Post 160
howard mcsweeney, Dover
interesting to see the containershps featuring, normally they creep in and discharge at the furthest corner of the dock out of our view and off they go again.

there was mention on this forum a few years back that a large percentage of bananas eaten in this country came via dover, maybe one of our factual posters will fill us in with the correct details?

Tuesday, 8 October 2013 - 20:59