Monday, 26 September 2022
WWW.DOVERFORUM.COM/SEA-NEWS

Sea Pictures from Dover. We have 333 plus pages below now...use our own SEARCH ENGINE just below to help you trawl through. All pictures are the copyright of the owners. EDITOR: Paul Boland - dover7@msn.com
Post 7290
Sea News, Dover
Some pictures below taken on Friday of the seafront ceremony for Merchant Navy Day. Always a really nice solemn and well-respected event, highlighting the role the Merchant Navy plays and has played in our lives both today and in the past...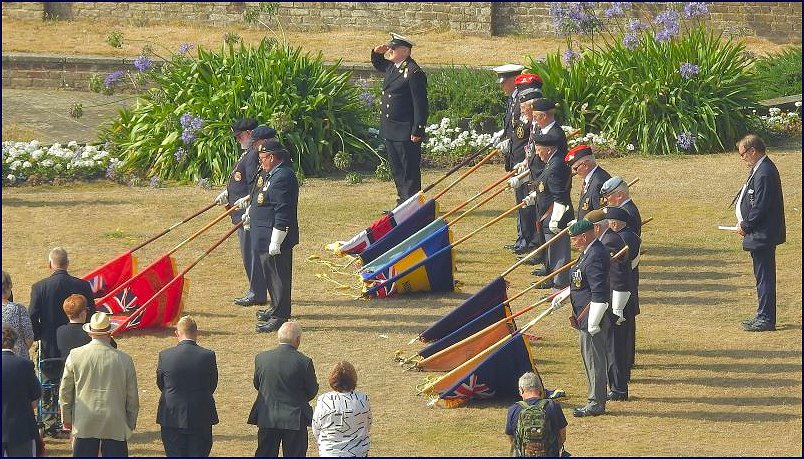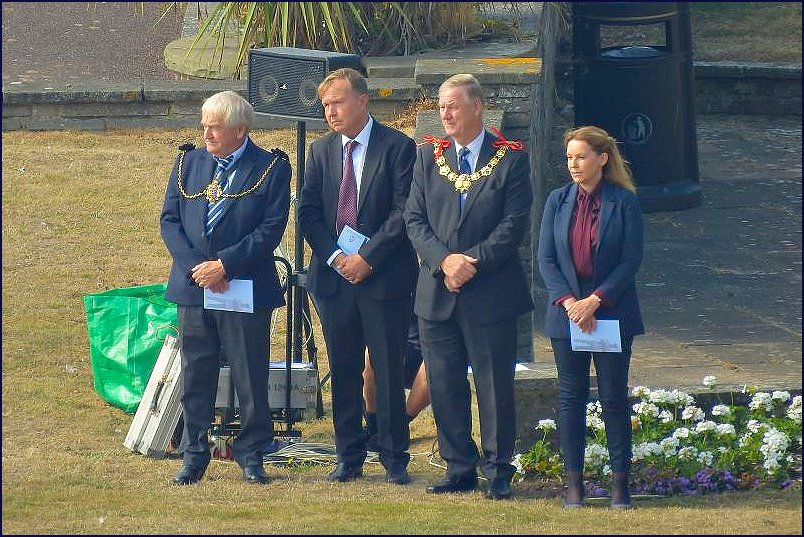 Picture immediately above shows some of the dignitaries...we recognise just two in the group there, our MP Natalie Elphicke on the right and Gordon Cowan Mayor of Dover to her right... taken just after they had laid wreaths. A very good turnout today, there were many wreaths laid.
* *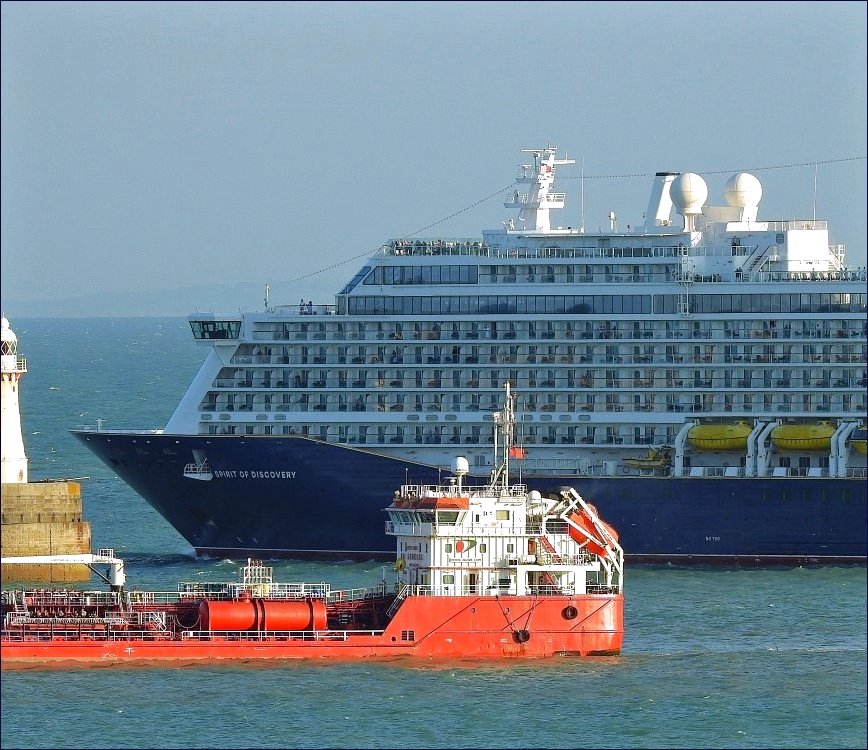 The Spirit of Discovery leaving the Port on Wednesday evening.... also in the shot the familiar bunker tanker Duzgit Harmony. The Spirit ... off on a 7 day round trip to Beautiful Norway.
Below a different kind of light, very early morning for the arrival of the Spirit of Discovery, you can see the tug there lending a hand in the early light.... while the Varne Lightship sparkles in the distance.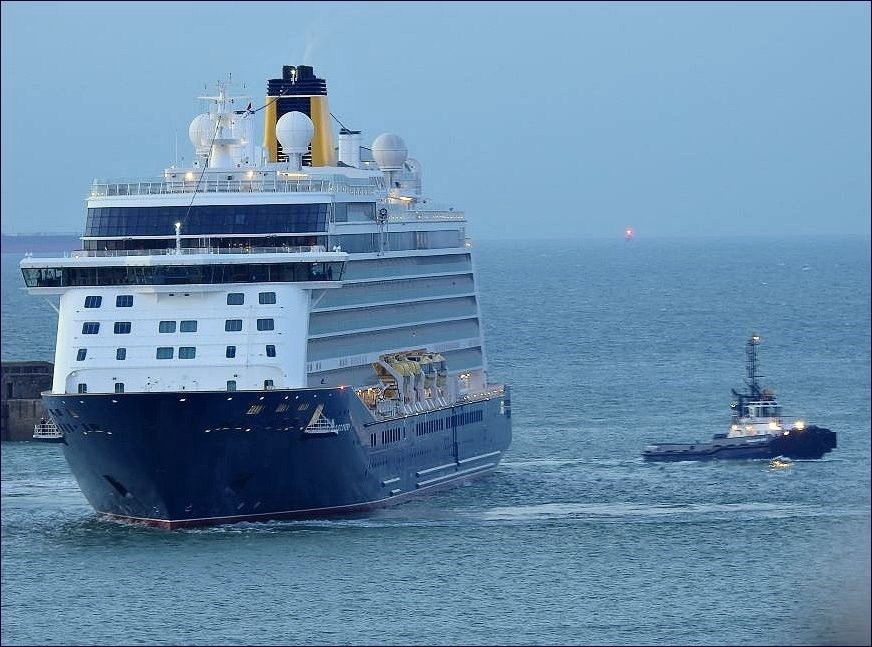 The Spirit of Discovery arriving Port of Dover on Wednesday.
Two magnificent monsters in Port today Friday...Celebrity Apex and Carnival Pride.
Friday, 2 September 2022 - 15:27
Post 7289
Sea News, Dover
Just adding an extra picture today to follow along from the sequence in the post below...it shows a fuller shot of the P&O ferry Pride of Kent in relation to the Royal Navy migrant situation just outside the Port of Dover .... it appears that the Pride of Kent changed direction to avoid... and came into Port via western entrance ( more in post below)....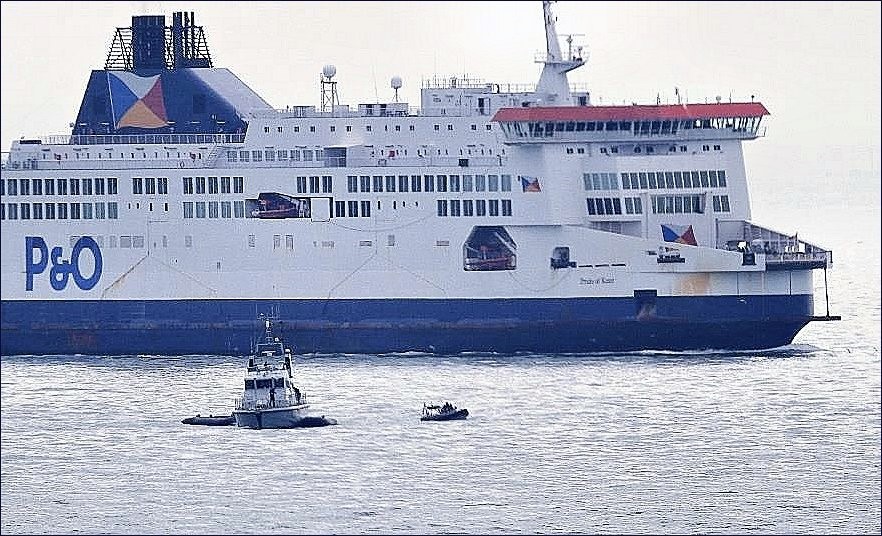 Thursday, 1 September 2022 - 06:51
Post 7288
Sea News, Dover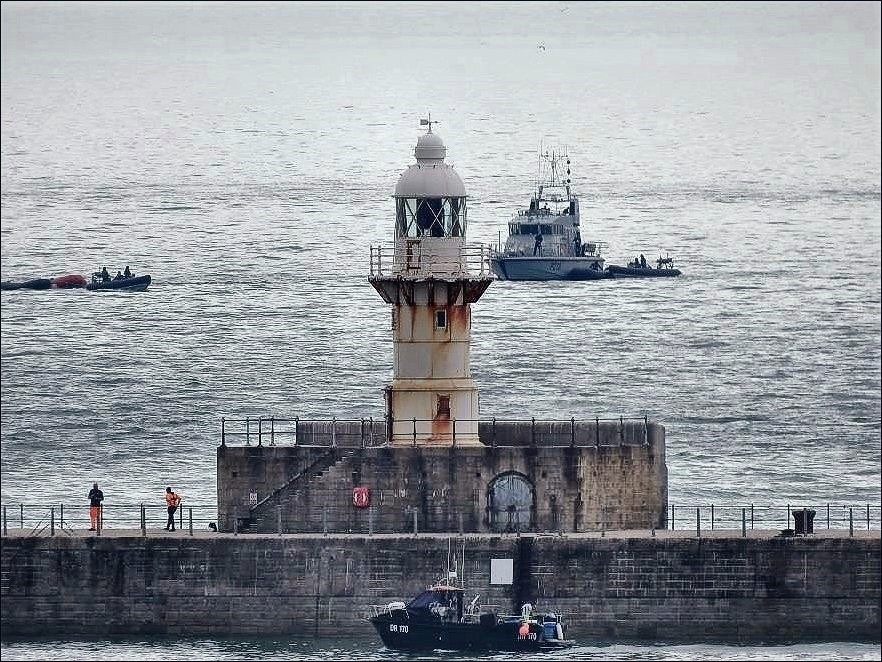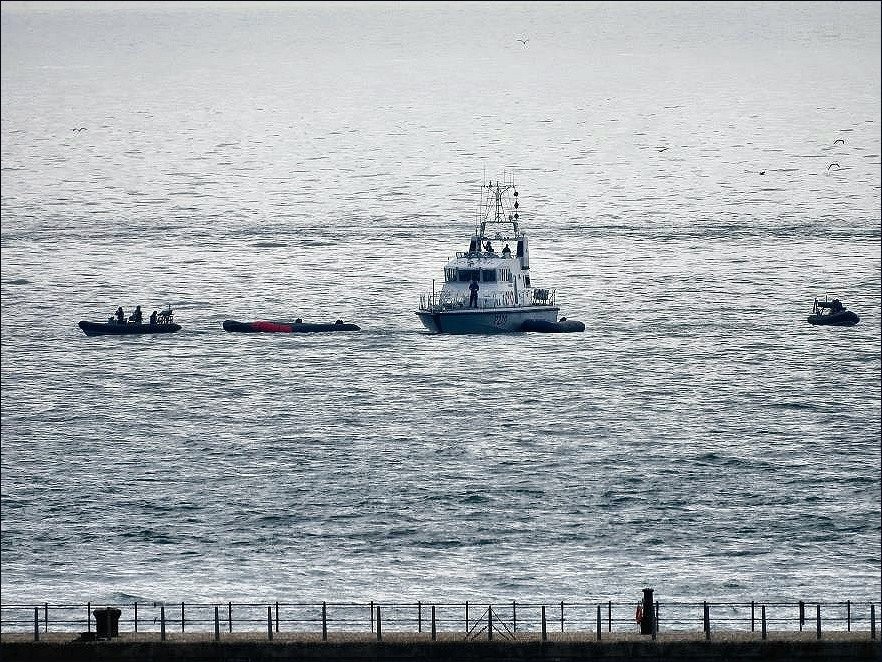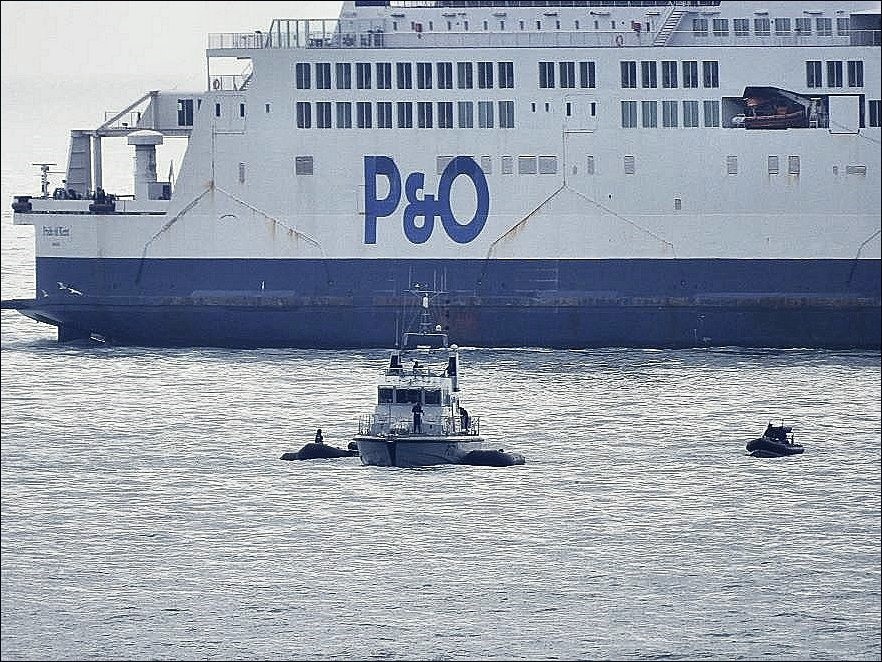 The Royal Navy's HMS Biter in action just outside the Port of Dover a few days ago...just outside the main eastern entrance in fact and you can see that 'the Biter' almost has too many dinghies to deal with. In the foreground of top shot you can also see more activity on the Port's breakwater. Huge amounts of migratory travellers continue to flood through, record numbers, and as we hear through various media outlets, the Royal Navy are frustrated with the task.
In picture 3 you can see also P&O's Pride of Kent. It appears that she may have had to change course...we have other pictures too... on account of the migrant activity. She came in eventually through the western entrance so all was okay.
Wednesday, 31 August 2022 - 06:57
Post 7287
Sea News, Dover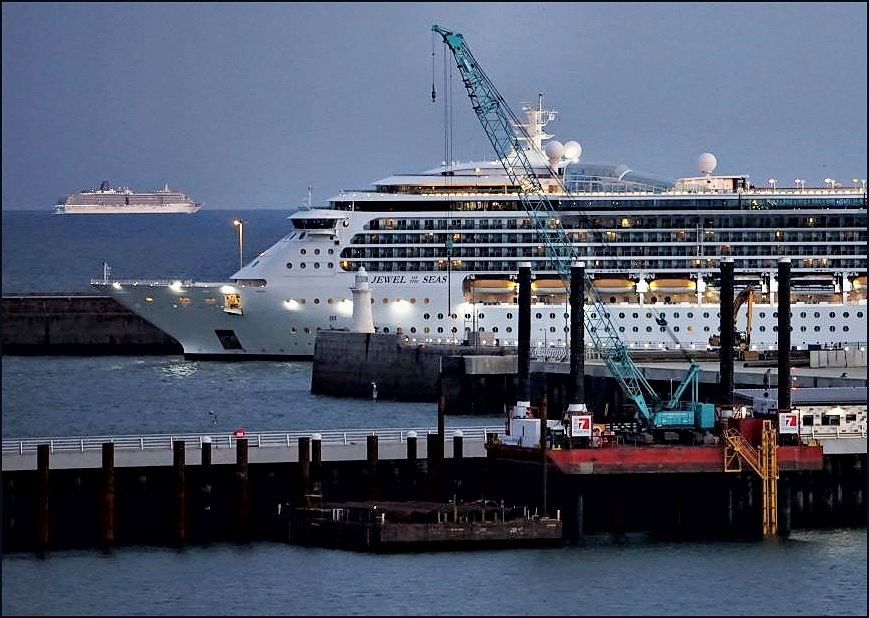 Jewel of the Seas came in too early and left way too late yesterday Bank Holiday Monday so pictures didnt happen other than these top two shown here...lets call them...
Night and Day.
They show the ship in situ on Cruise Terminal Two as the day changed around her. You can see the pilling/drilling platforms and so on there... in the distant background in top shot as night falls is Arcadia heading for Southampton .....
Jewel of the Seas had just completed a Britain and Ireland cruise...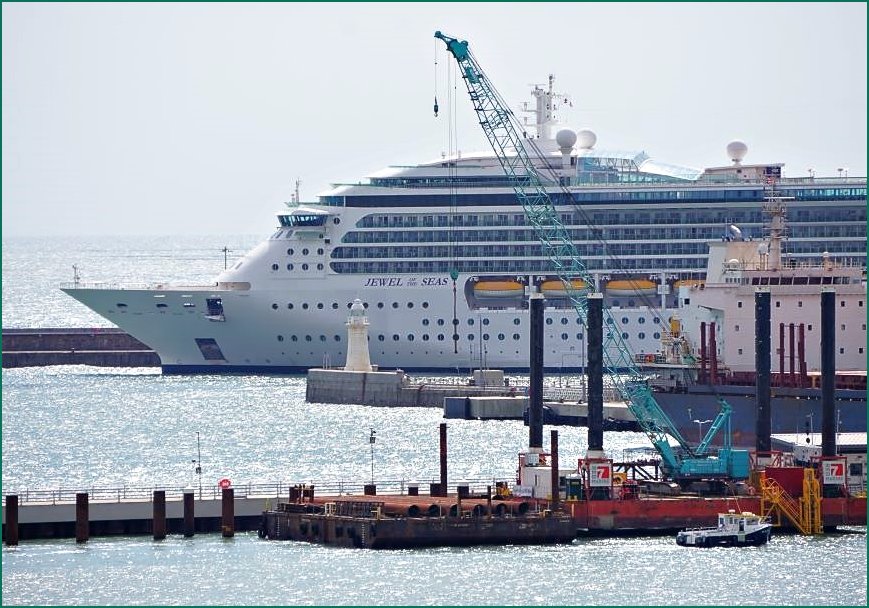 Pic below from a former visit..gives a better look.
Jewel of the Seas.
Tuesday, 30 August 2022 - 15:25
Post 7286
Sea News, Dover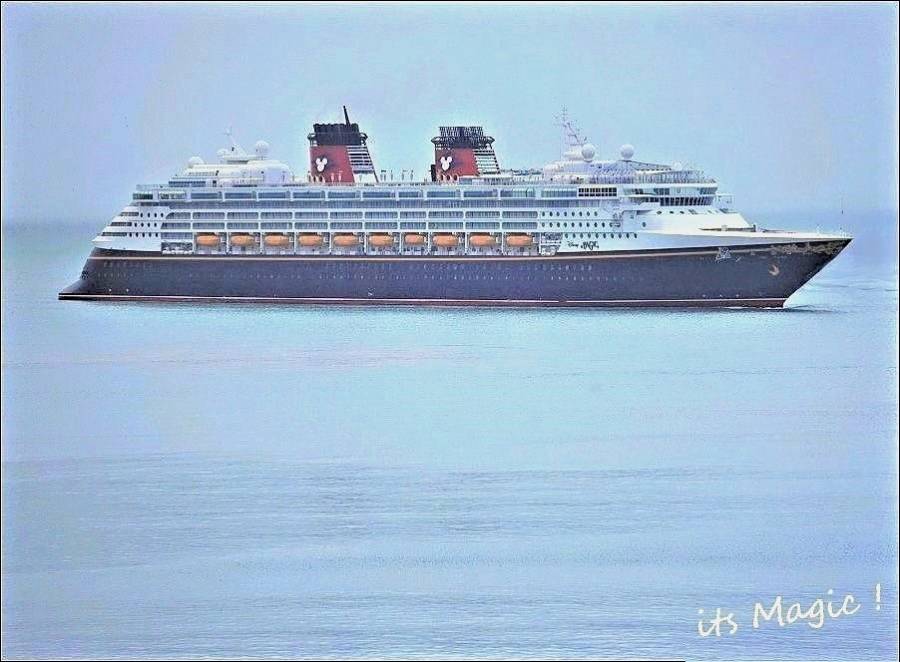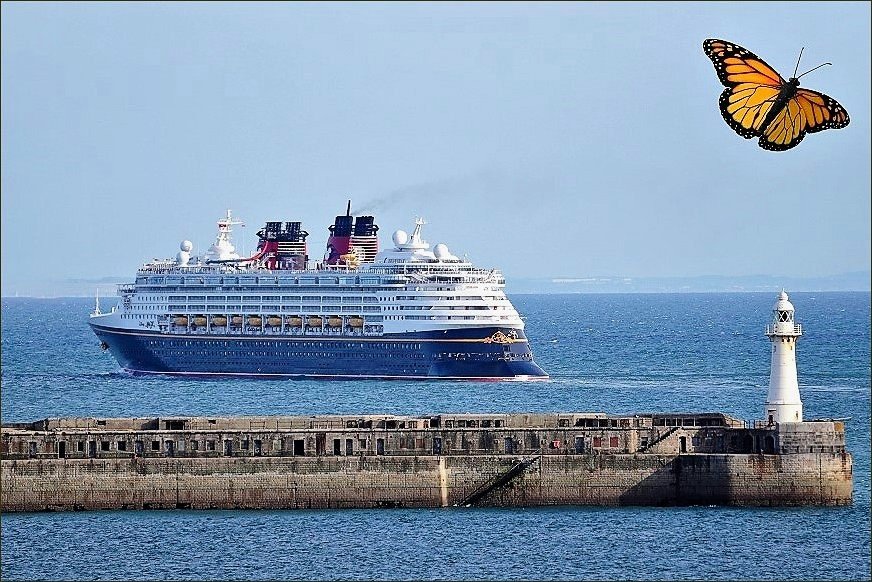 There we were, trying to create some photographic Magic as the one and only Disney Magic left the Port on Sunday evening, when a butterfly flew into the picture..."who does he think he is..." said my dour unsmiling assistant, "he's interfering with our creative magic.."
...although ... maybe the butterfly is the Magic !!
Earlier the Hotels were full of little children and indeed bigger children all with Mickey Mouse ears...
well I never... !!
Also... ( getting back to normal! )
Jewel of the Seas back in Port today Monday...
Monday, 29 August 2022 - 06:58
Post 7285
Sea News, Dover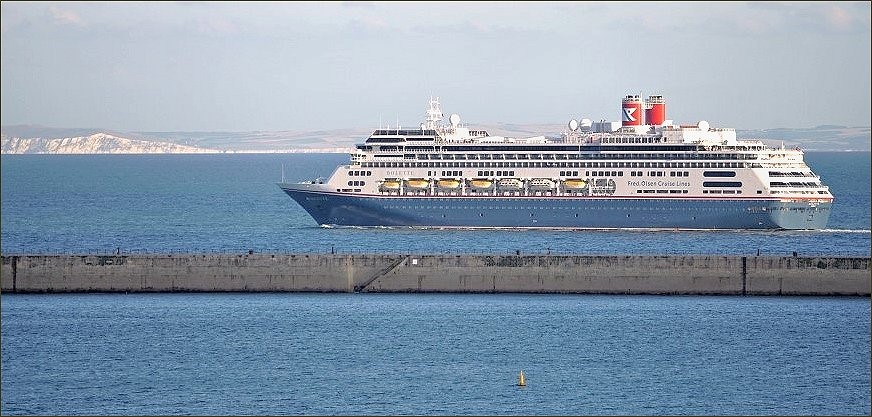 Fred Olsen's cruise ship Bolette leaving Dover yesterday evening saturday...you can see her there with the French cliffs in the distance as she sets out on a 5 day tour from Dover to Amsterdam, Antwerp etc ...
The Disney Magic back in Port again today Sunday.
Sunday, 28 August 2022 - 06:25
Post 7284
Sea News, Dover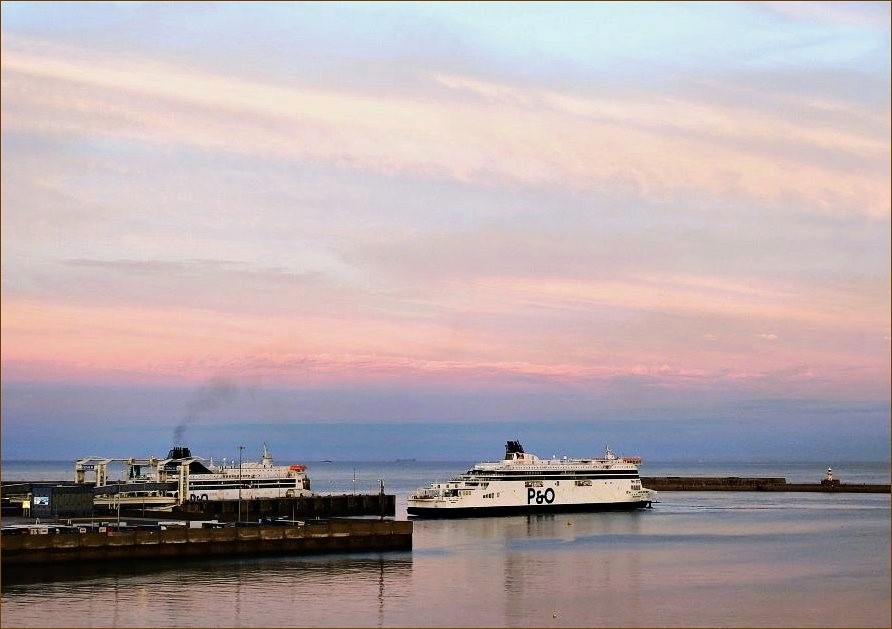 Looking back now to late Thursday evening at the Port with P&O ....the sun has already sunk behind the camera but the late rays nicely and sort of unusually light up the sky to the east. In the foreground you can see the Spirit of France having just arrived from Calais...and to the gloomier left the Pride of Canterbury... 'twas a gorgeous tranquil evening.... worth a snap!

Saturday, 27 August 2022 - 07:24
Post 7283
Sea News, Dover
Royal Navy: HMS Mersey on Monday this week at Dover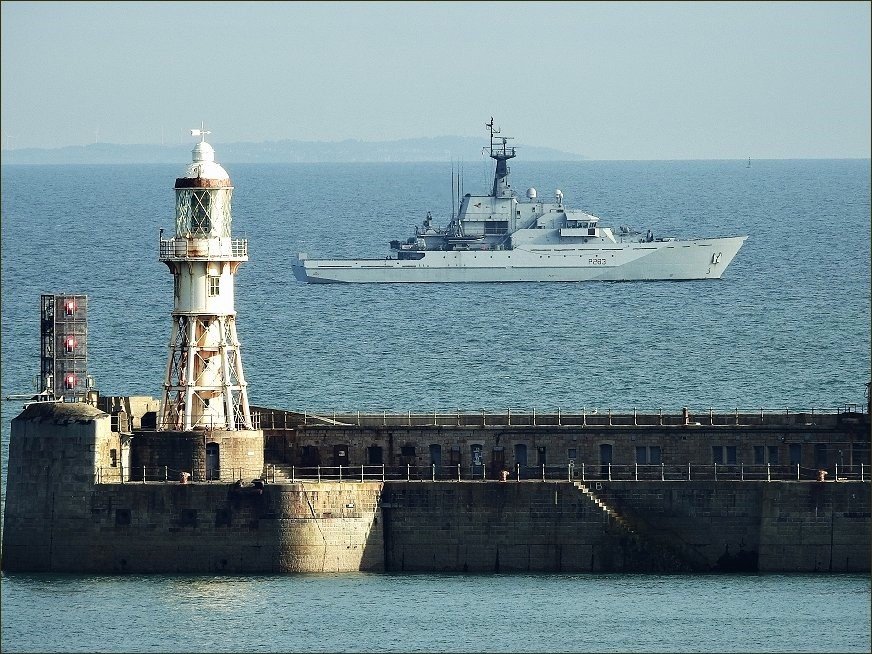 Royal Navy and the Migrant Crises.
Alas the Royal Navy's tenure in the migrant-hectic channel has not been a success story. On Monday when the picture above was innocently taken ( which shows HMS Mersey just off the Port of Dover), record breaking numbers came across the channel right under their nose as it were, employing the usual small dinghys...risking life and limb to all. A total of 1295 came on Monday alone. A record number. Not only has the Royal Navy not been a deterrent, neither has the Governments unloved Rwanda Policy. We support the Royal Navy and what they are trying to do, but it's clearly not their thing ... particularly if record numbers are still getting through. A new policy needs to be found but what that is......well...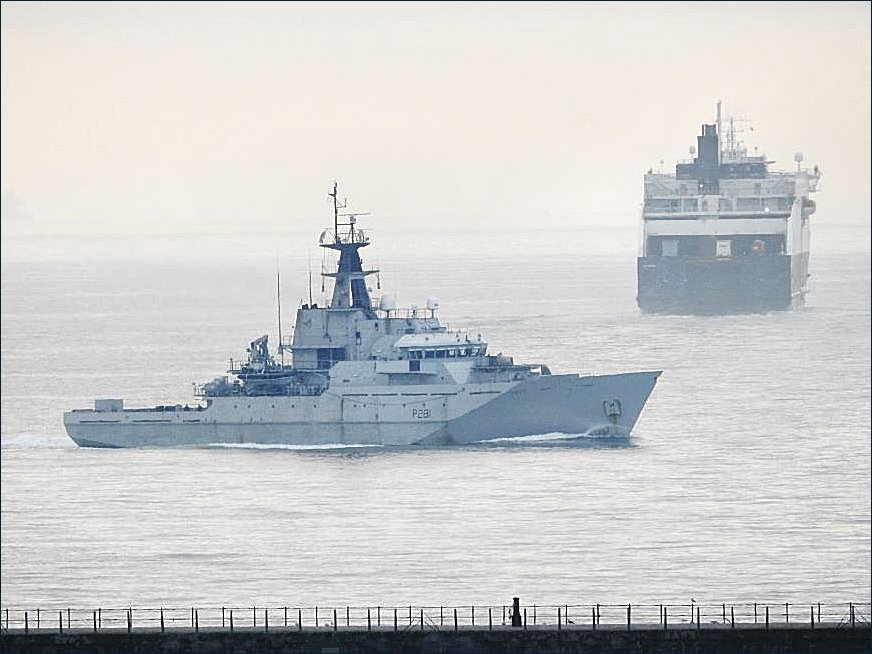 Royal Navy: HMS Tyne previously.....
Thursday, 25 August 2022 - 06:47
Post 7282
Sea News, Dover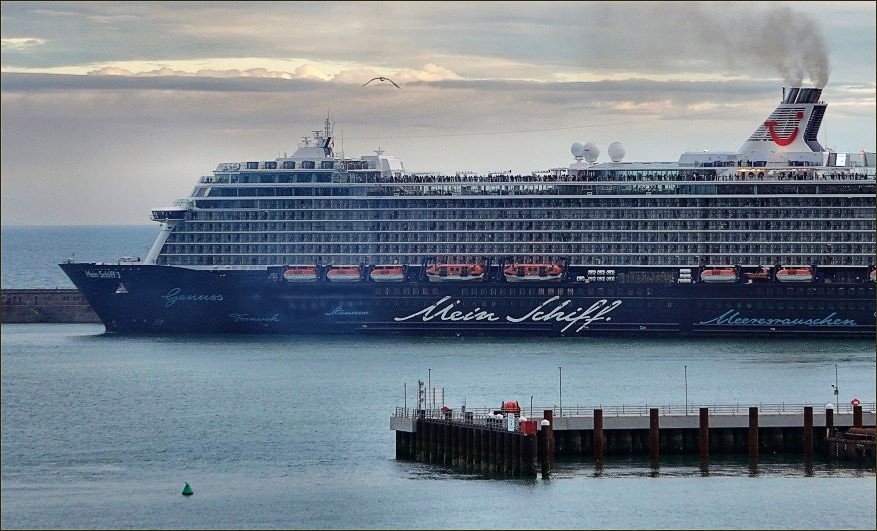 As promised that extra pic of Mein Schiff 3 taken late in the day on Monday...see also below....
Wednesday, 24 August 2022 - 20:00
Post 7280
Sea News, Dover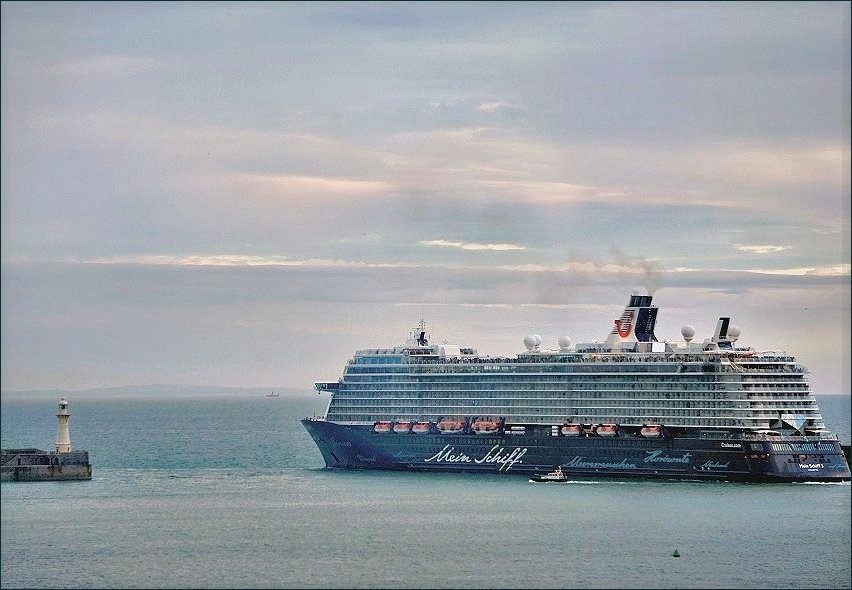 Another fab cruise ship visiting us from Bremerhaven...well done Bremerhaven keep them coming.. This one is of course Mein Schiff 3 and Dover was first call on a round Britain tour. Picture was taken on Monday evening the 22nd Aug. Although just past mid August the evening was dark and autumnal as she left at 19.35. She is a magnificent but dark ship so keeping her bright in the gathering gloom was our mild challenge. There was some colour left in the sky though.... says he rambling...
We may have another pic to add later.
Wednesday, 24 August 2022 - 06:35
Post 7279
Sea News, Dover
Cruise ship Vasco da Gama arriving at Dover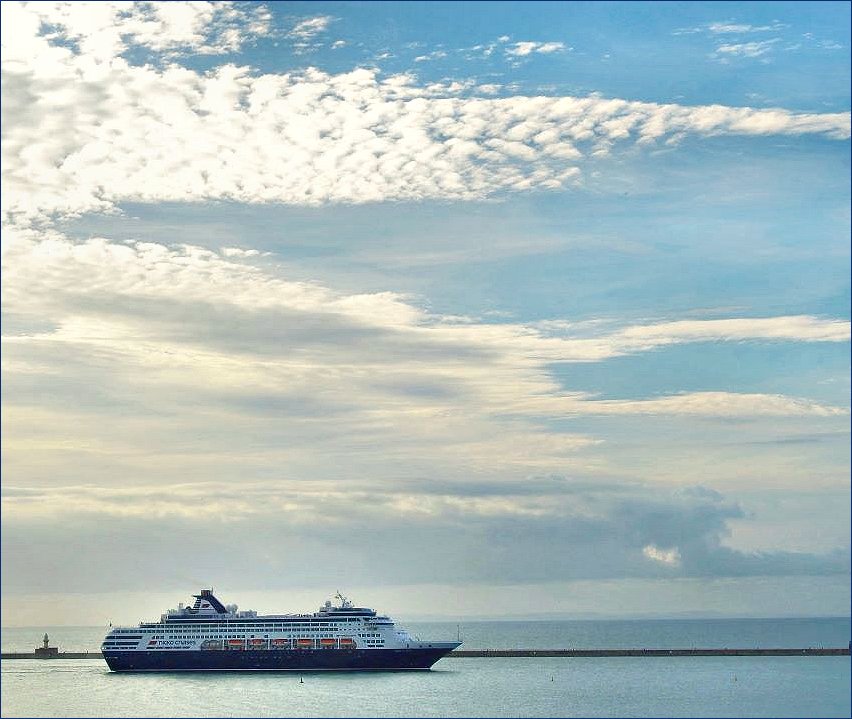 Vasco da Gama under a big sky....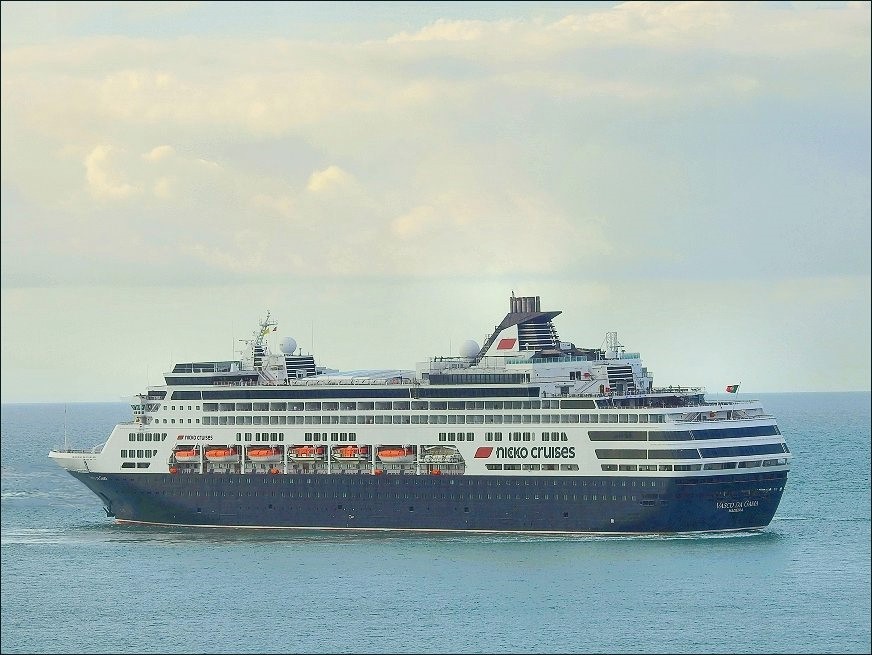 Vasco da Gama
Yes Vasco da Gama joined us here in Dover on... let me check - there have been so many cruise ships lately...yes on Sunday 21st.... the pictures show her arriving (first pic 07.33). One of the tugs gave her the full spray welcome...we didnt do tug spraying pictures this time as we have had quite a few recently, but a warm ( wet!) welcome was shown for Vasco.....
She had been on a 14 day round trip of UK and Ireland and was making a first call to Dover, hence the spraying..
... she is now back in Bremerhaven, Germany.
Tuesday, 23 August 2022 - 07:03
Post 7278
Sea News, Dover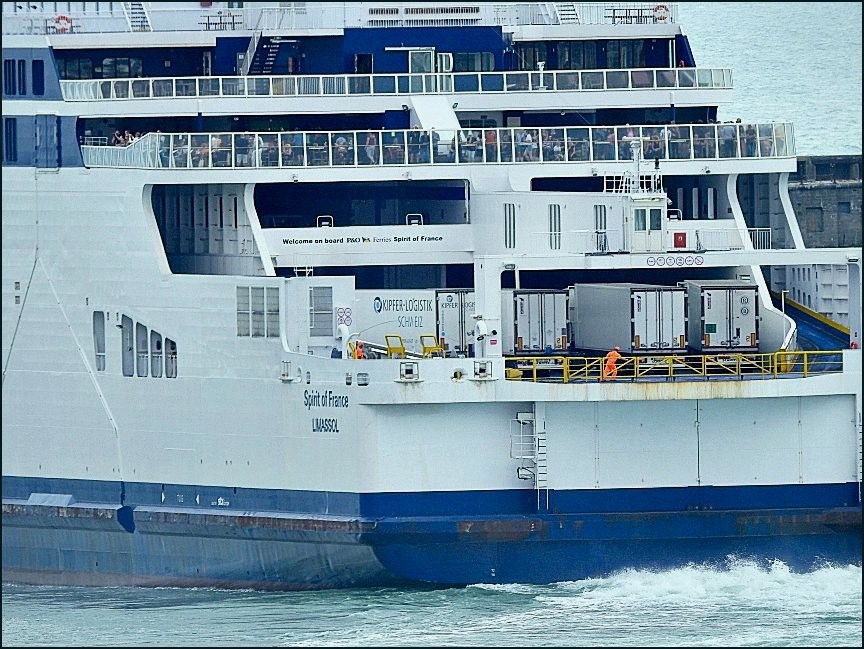 "Rumours of my Boycott were greatly exaggerated!....."
A picture above there from Friday morning which shows the newly returned and just back in service Spirit of France completely packed out as she sets off for Calais.... So much for the promised boycott, so much for giving P&O the cold shoulder... its not happening, it didnt happen. There may have been some shock with pundits initially, following the dismal sacking of 800 workers, but its all levelled out again... we're just using the Spirit of France as an example there but other P&O ferries similar, and now, following the latest analysis, the Government are taking no further action re the legalities of the situation...
A close up below of the well packed trucks....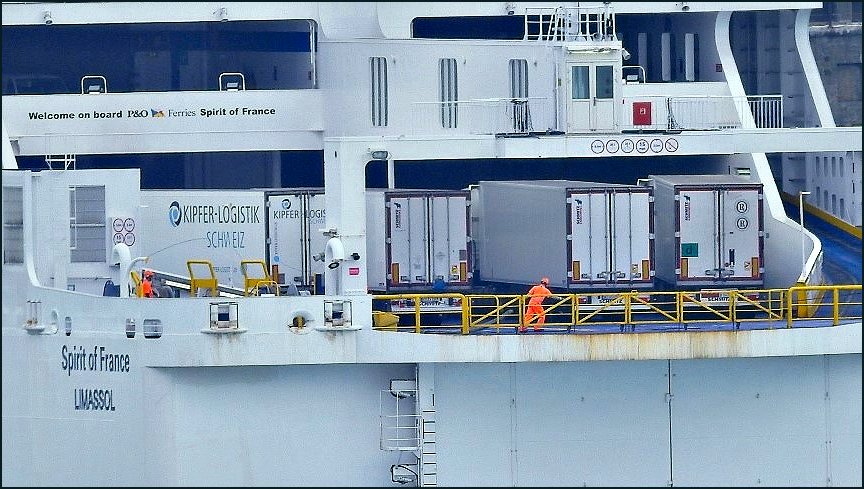 * *
Following along from our 'arty stuff' yesterday of cruise icon Deutschland...
here we are with some actual photographs. First one arriving, second one departing later in the day (Saturday)..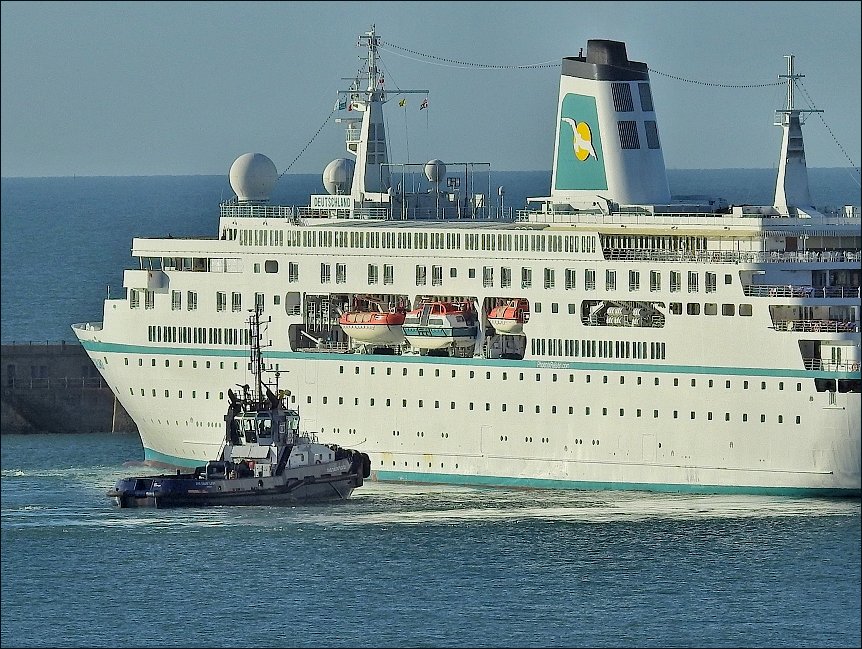 Deutschland at Dover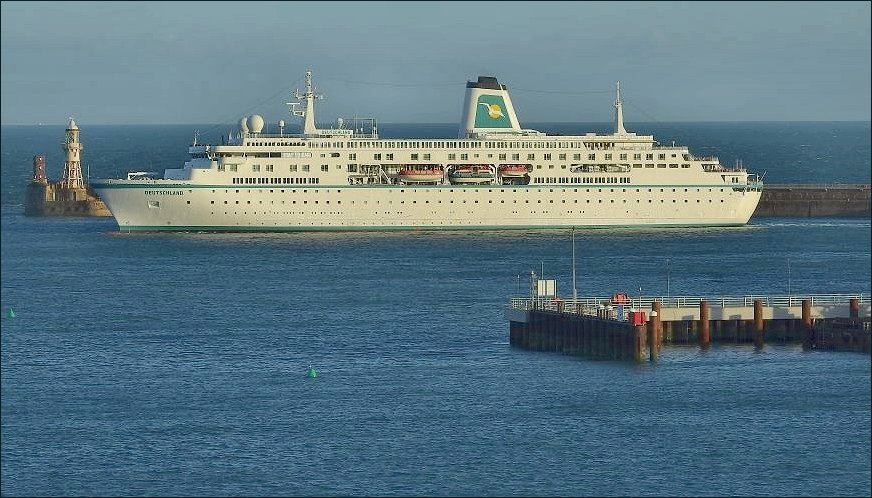 More on Deutschland below..
A very busy time here in Dover at the moment for Cruise Liners ... Mein Schiff 3 in today...came too early for pix !
But later...will also have pix of Vasco de Gama in due course...
Monday, 22 August 2022 - 06:04
Post 7277
Sea News, Dover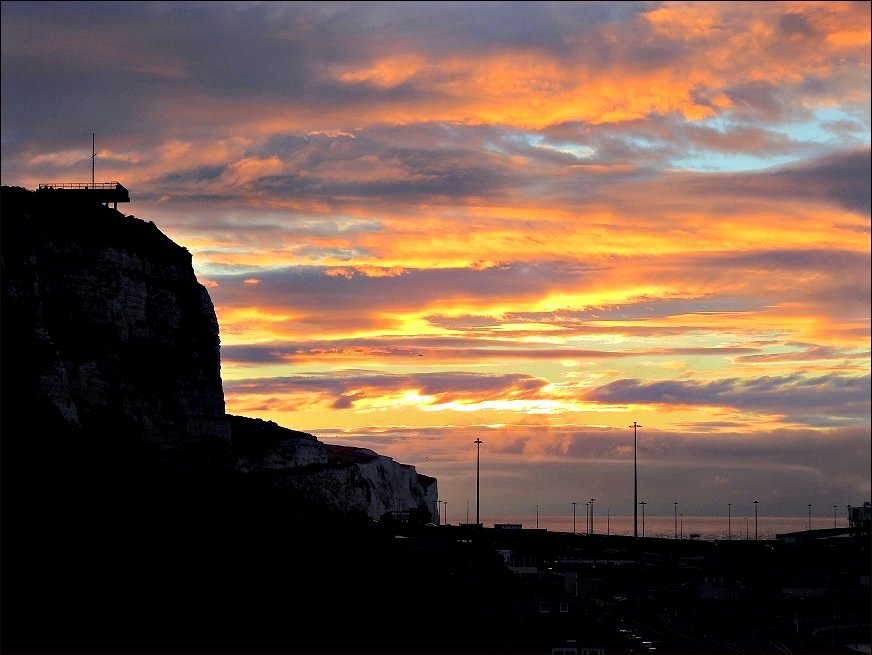 Following along from yesterdays picture of the gentle rain see below, here we show roughly the same scene one day later. No rain and dramatic sky as we look eastward from Dover Seafront..of course we get special skies to hover over Dover! ...so its worth paying us a visit. Picture taken very early morning 05.56 .....
Below we have a semi-drawing of the smaller and delightful cruise ship Deutschland as she arrives with us yesterday morning Saturday Aug 20 at 07.30 .......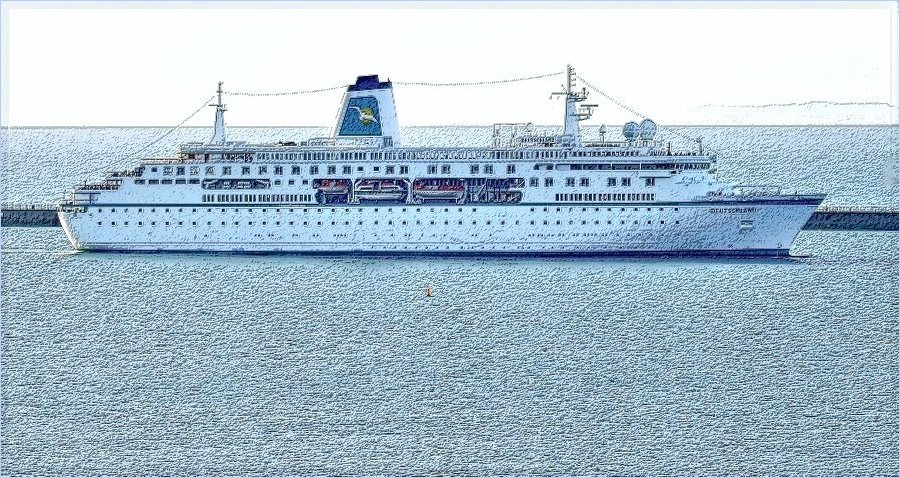 Deutschland
Deutschalnd was/is on a 20 day round trip from Bremerhaven calling at Lisbon, Funchal, Dover etc and further exotic places...
Also in Port yesterday were Maud and a short while earlier Bolette.
Bolette came into port 6pm approx on Friday evening... somewhat unusual timing...
Today Sunday we have a tug-spraying first visit from Vasco de Gama and also in Port today... Carnival Pride...
Sunday, 21 August 2022 - 06:55
Post 7276
Sea News, Dover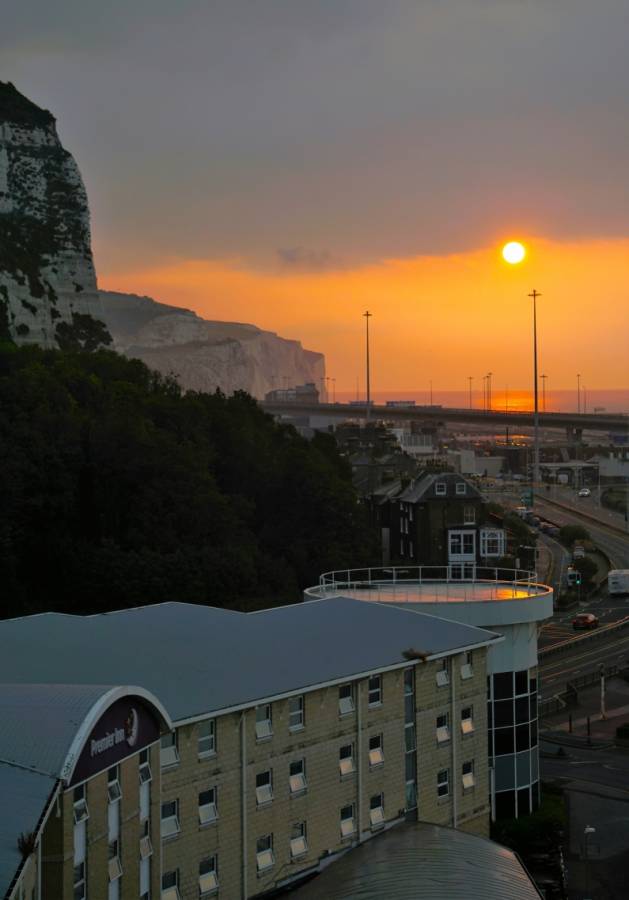 Soft rain on a soft morning. The view looking eastwards from Dover Seafront showing the Premier Inn and the distant White Cliffs in gentle rain. You can also see some of the Eastern Docks behind the Premier Inn which is currently a very busy hotel with the holiday getaway in full flight.
The scorched earth welcomes the rain....
Pictured on Thursday 18th August....
Saturday, 20 August 2022 - 06:42
Post 7275
Sea News, Dover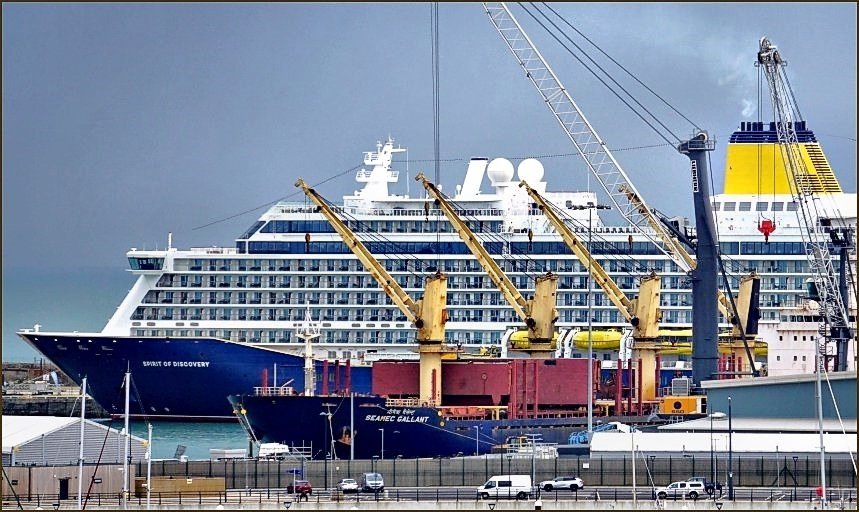 A somewhat over congested picture there of the Spirit of Discovery under an approaching very black sky..we expected a thunderstorm but it fizzled. Also in the shot the Seamec Gallant at the main Cargo Terminal WD5. The Spirit of Discovery shown there at Cruise Terminal One. The Seamec Gallant is still with us as we write, but the Spirit has elegantly departed for a 14 day round trip to western France and Spain...
Picture taken a couple of days ago...yes just checked...Wednesday 17th ...
Friday, 19 August 2022 - 06:56
Post 7274
Sea News, Dover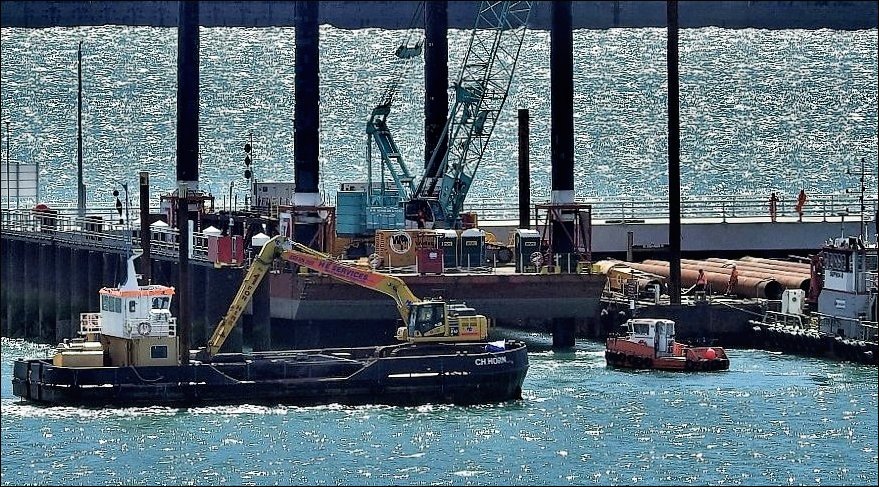 The hard working dredger CH Horn rounding the new piling platforms in the harbour a few days ago. The dredger is currently working in the Wellington Dock and regularly going back and forth through the new Bascule Bridge and through the new marina. We've had pictures of it previously. The piling of course is to do with the new wave wall and workboat pontoon....
The pic above taken into the sparkling sunlight and the pic below taken later in the day when the sun had 'come round' as it were... not taken on the same day... as you can see the piling platforms have moved along the pier in the second picture.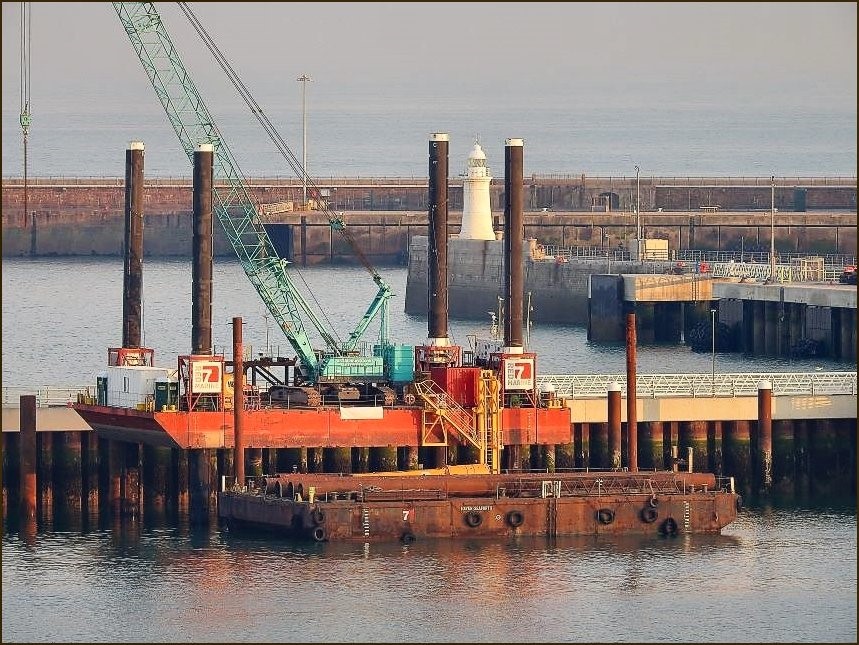 Thursday, 18 August 2022 - 06:20
Post 7273
Sea News, Dover
Northern Wave approaching the Port of Dover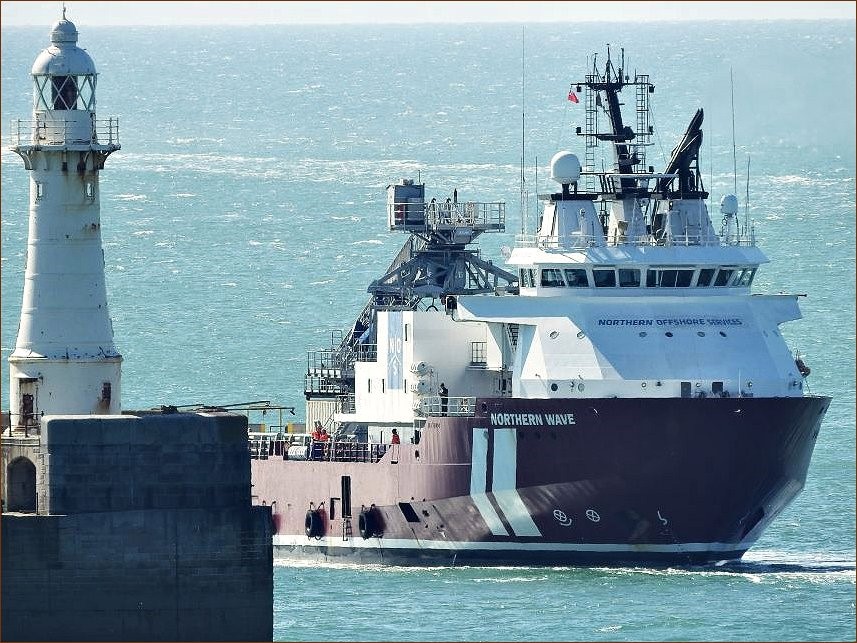 Northern Wave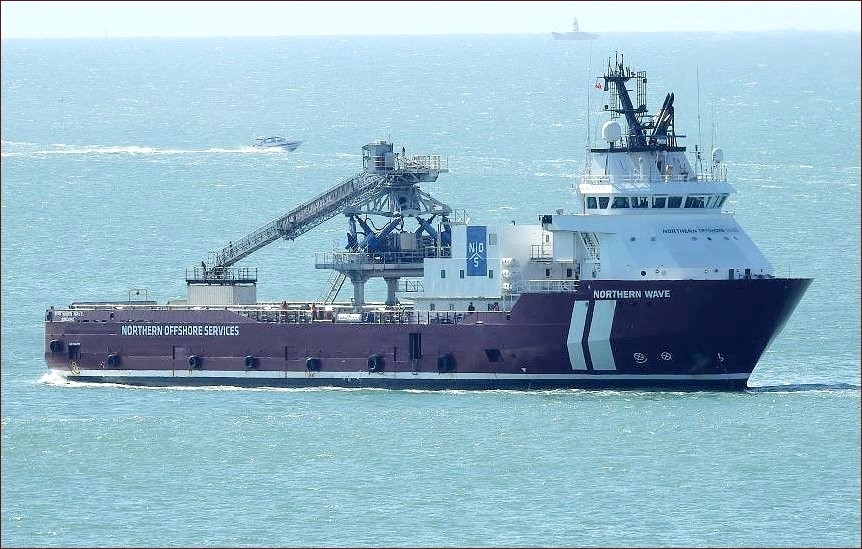 Offshore supply vessel Northern Wave has been working in and around Dover for the past ten days or so...we see her above there approaching the Port's western entrance a short while ago in dazzling conditions...was a bit warm too on the day not that anybody noticed !!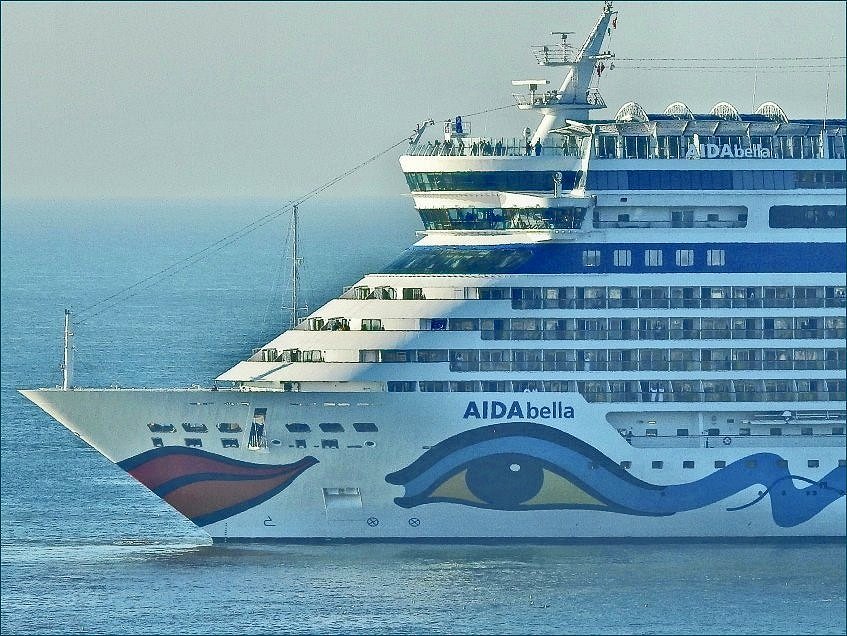 The ever smiling AIDAbella was with us recently too..... always good to see the cheerful AIDA ships.. Bella is currently on a 14 day round trip of Great Britain and Ireland.
Sprit of Discovery back in with us today.
Wednesday, 17 August 2022 - 06:55
Post 7272
Sea News, Dover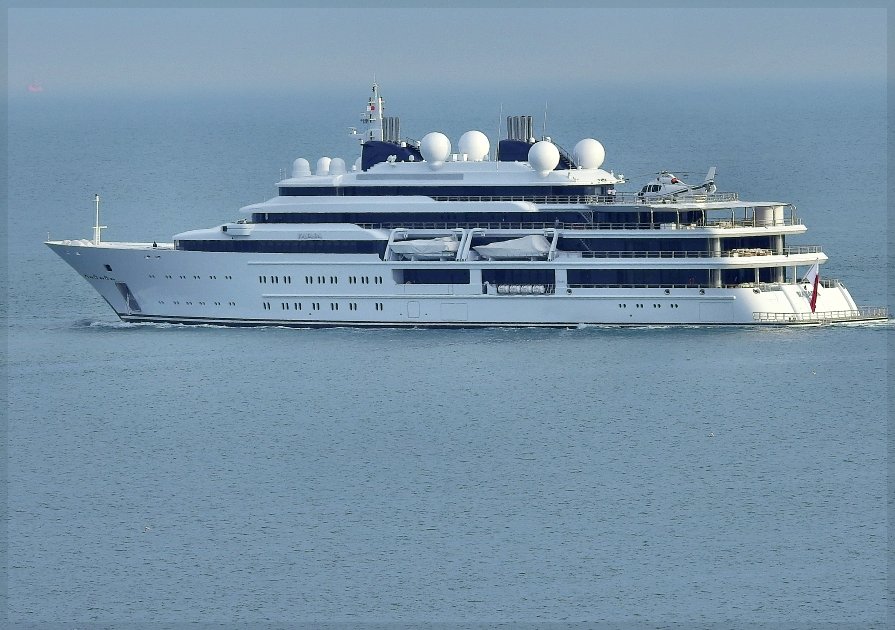 This fabulously magnificent Superyacht called Katara paid a flying visit to us here in Dover on Sunday and we were delighted to see it, as were many onlookers along the seafront. A really striking yacht. Note the helicopter on the rear top deck/helipad...very handy addition there, very handy for nipping to Tesco when Dover's notorious local traffic is at its most...ermmm..notorious! A hugely mega-rich supertoy owned by a middle eastern oil tycoon we understand.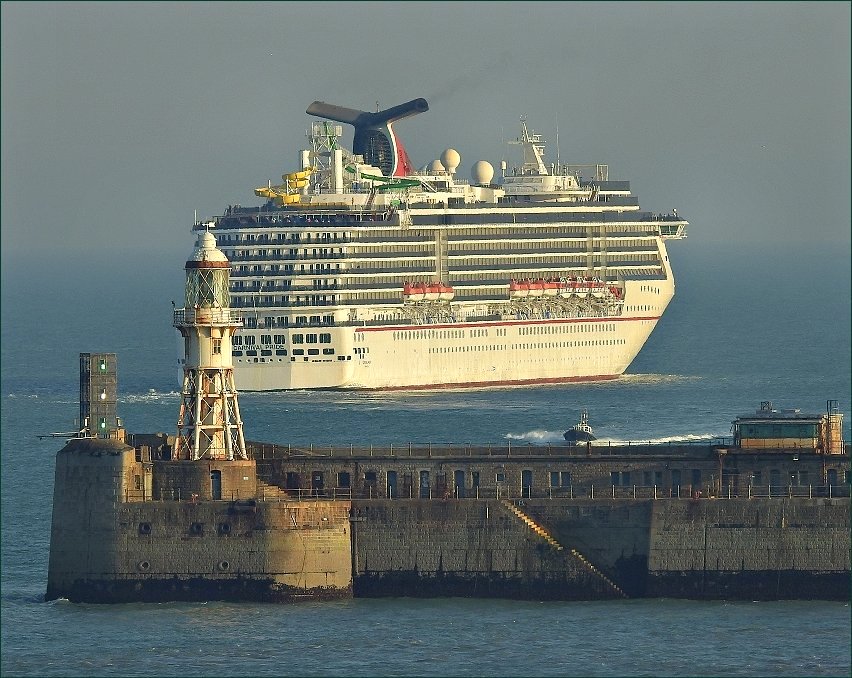 Evening shot there of the now familiar Carnival Pride as she makes her way south/west.
Another one off on an Irish Sea Cruise (9 Day)...seems to be a popular destination these days.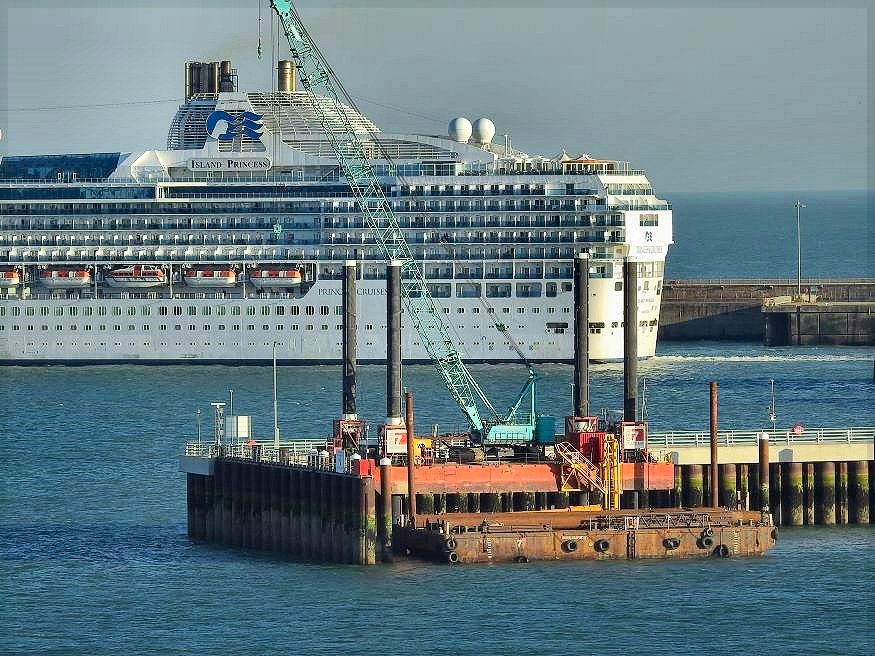 Another pic of the newly arrived Piling Platforms, this time an evening shot with an exciting backdrop...the 'rear end' of the Island Princess as she moves away.
Monday, 15 August 2022 - 06:50
Post 7271
Sea News, Dover
Spectacular Tug Spraying at the Port of Dover to welcome the cruise ship Island Princess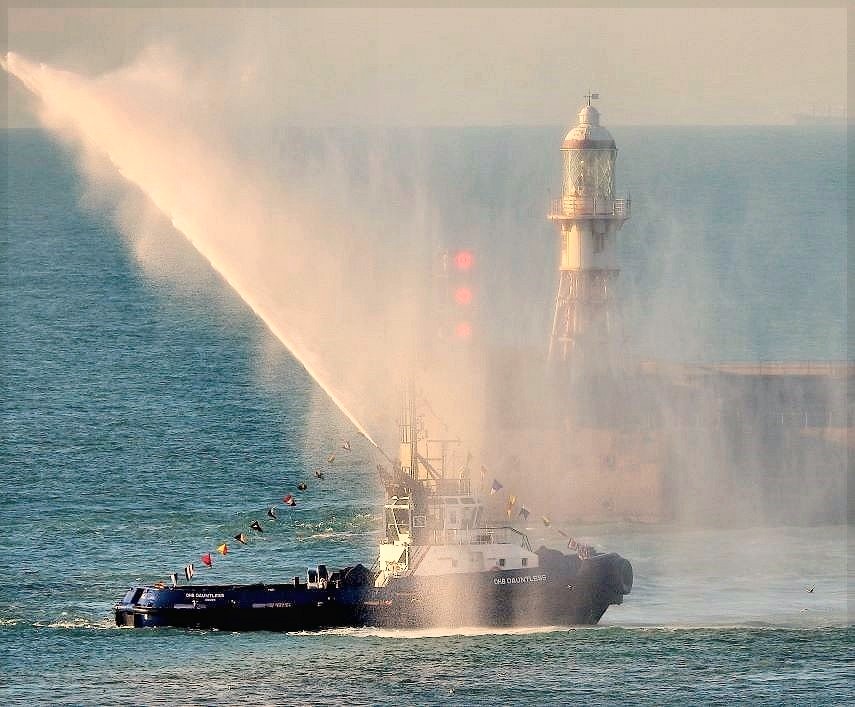 An extra pic above there of the tug (Dauntless) brilliantly spraying for the inaugural visit to Dover of the magnificent Island Princess....
see more below...
Saturday, 13 August 2022 - 09:04
Post 7270
Sea News, Dover
On Wednesday we saw the inaugural visit of the magnificent Island Princess...here we see the tug giving her a mighty welcome. Both tugs did the necessary and quite spectacular it was too...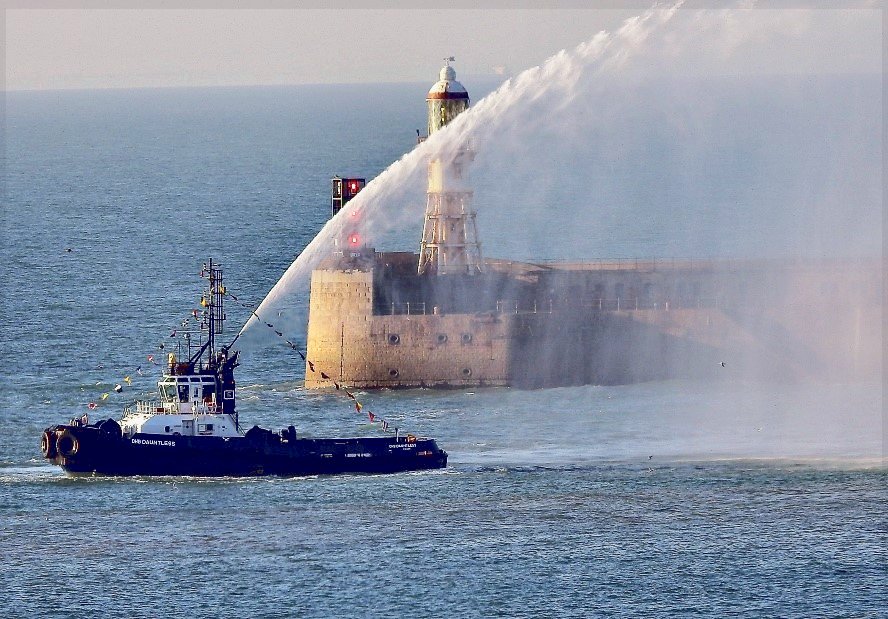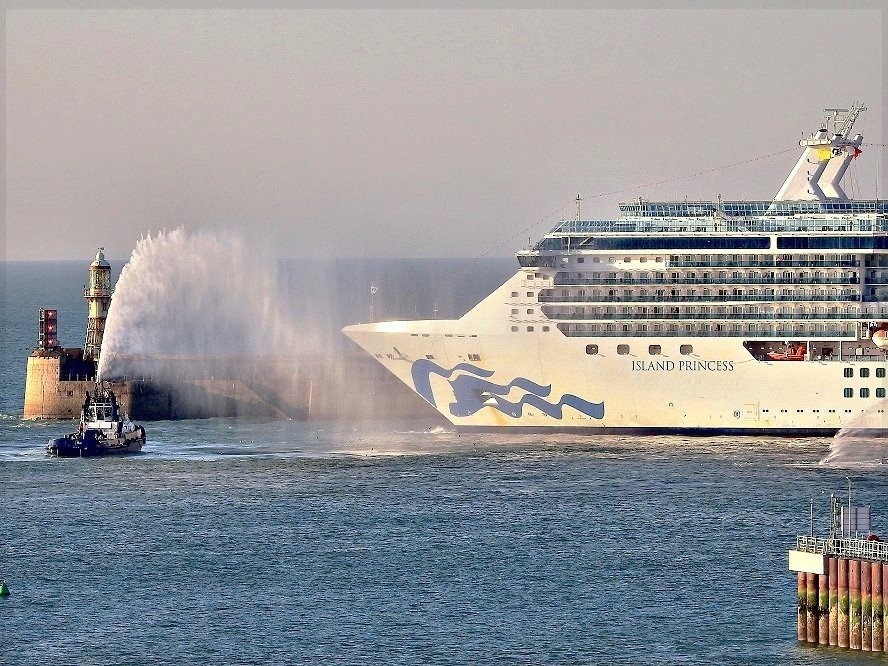 The pic below shows her leaving later in the day...very impressive and very big.."she's the size of a football pitch" said the guy standing next to me on the seafront. Not sure what size a football pitch is but it sounds about right....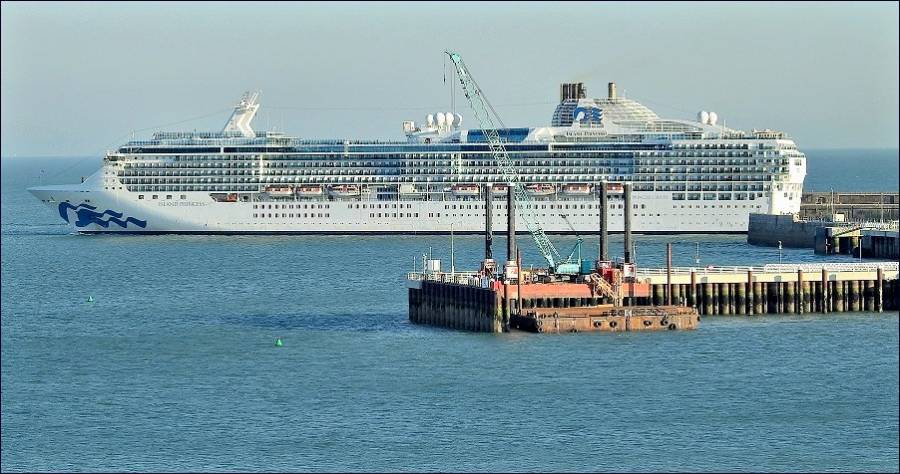 Island Princess moves off later in the day.... off on a 14 day Scottish/Irish cruise...
Sonia Limbrick, Head of Cruise at the Port of Dover, said:
"The Port is delighted to welcome the Island Princess for the first time today (Wednesday), midway through the busy summer cruise season. It's always a pleasure to host Princess Cruises and we hope that Dover's offering – including strong transport links, beautiful surroundings and our sustainable credentials - will mean this is the first of many calls by the Island Princess to the Port."
We have had a number of exciting cruise ships in Port recently...today Friday we have another visit from Carnival Pride.
Friday, 12 August 2022 - 06:47