Monday, 28 November 2022
WWW.DOVERFORUM.COM/SEA-NEWS

Sea Pictures from Dover. We have 333 plus pages below now...use our own SEARCH ENGINE just below to help you trawl through. All pictures are the copyright of the owners. EDITOR: Paul Boland - dover7@msn.com
Post 7299
Sea News, Dover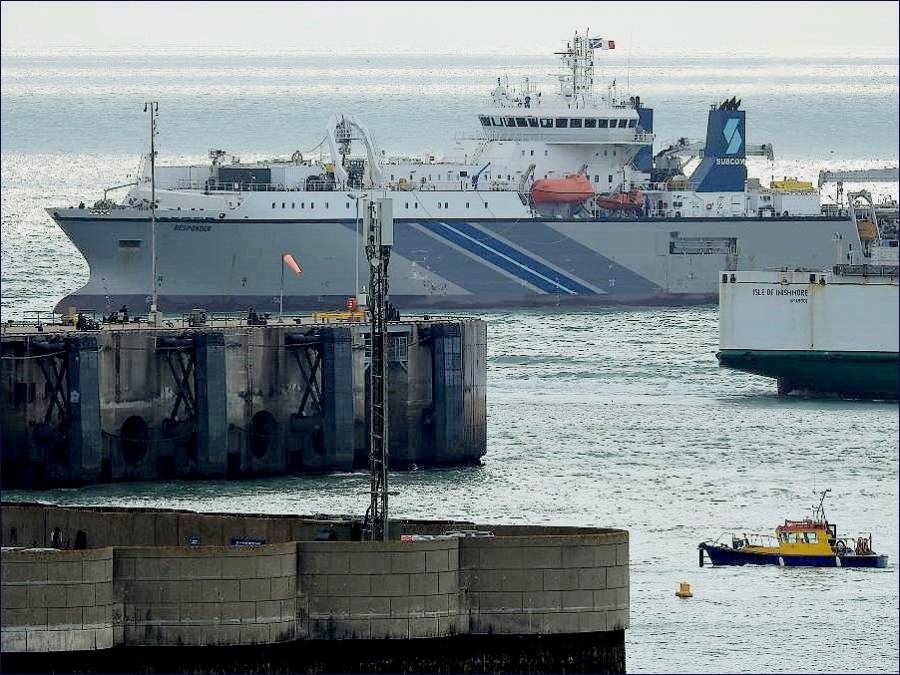 There's a shot of the cable layer Responder coming into the Port again about a week ago or just over a week ago...as you can see we're a bit behind!! We have featured the vessel previously and we were hoping for more pix. She went straight to the Eastern Arm though and if the Isle of Inishmore hadn't pulled away from her berth at the opportune moment we would have been stuck for a shot. But...we quite like this one after all...it has a rough n ready appeal. That's our story and we're sticking to it! Also in shot you can see a local workboat...it may be Dover Grafter but were not entirely sure on that one.
Tuesday, 13 September 2022 - 18:42
Post 7298
Sea News, Dover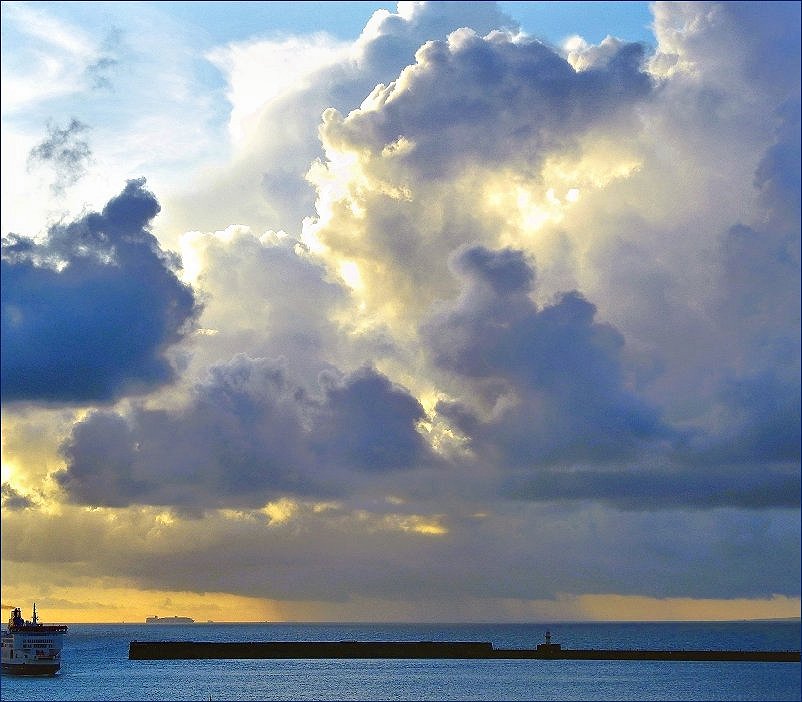 The English Channel and the direct route to Calais
Turbulence.... the weather was somewhat fierce during nightfall late last week, endless flashing skies over the channel for several nights. Flash flash more flash...but in the daytime a sort of dramatic calm took over, yet with more than a hint of menace .....
That's the Pride of Kent coming into Port bottom left....
Tuesday, 13 September 2022 - 07:12
Post 7297
Sea News, Dover
Disney Magic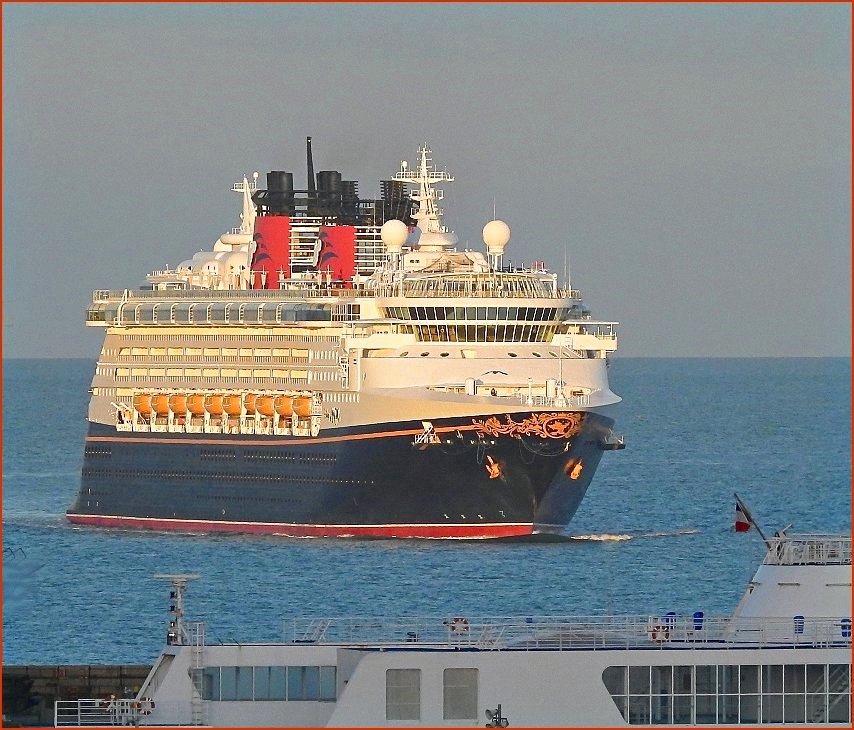 Hugely busy day on Dover Seafront yesterday Sunday, lots of people buzzing, and three fab cruise ships....Disney Magic, Viking Mars and Mein Schiff 3. Top shot there shows Disney Magic approaching the Port of Dover. This pic was taken during a previous visit but not used before, and below we see the arriving Viking Mars which is a first visit we understand, and to the right the impressive Mein Schiff 3.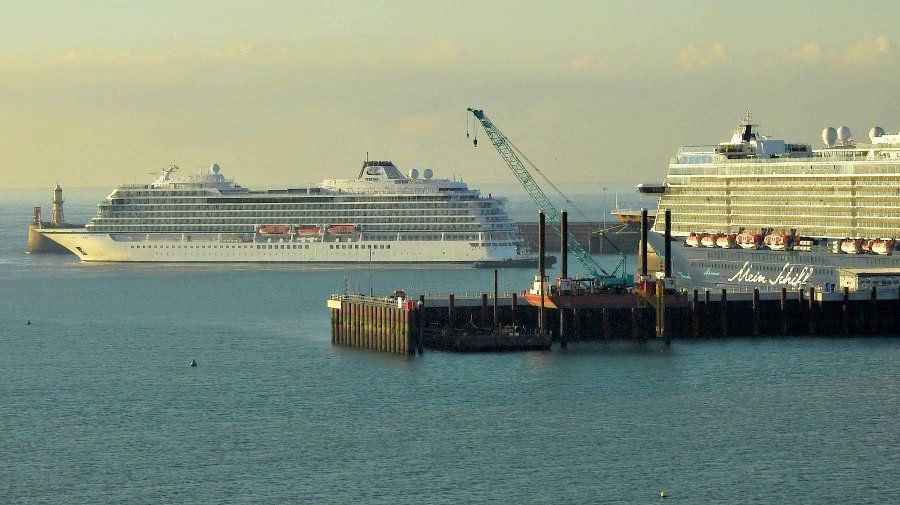 Early morn pic of Viking Mars and Mein Schiff 3 ...'twas a soft mornin' ...
All left last night, off on various cruise itineraries....
Today we have Costa Fortuna in again on the new cruise as mentioned yesterday...
.....see also below the pictures of Costa Fortuna which were uploaded yesterday.
Monday, 12 September 2022 - 06:28
Post 7296
Sea News, Dover
Some extra pix now while we regroup of the arrival of the magnificent Costa Fortuna from a few days ago .... to follow along from the earlier arrival pic seen further below...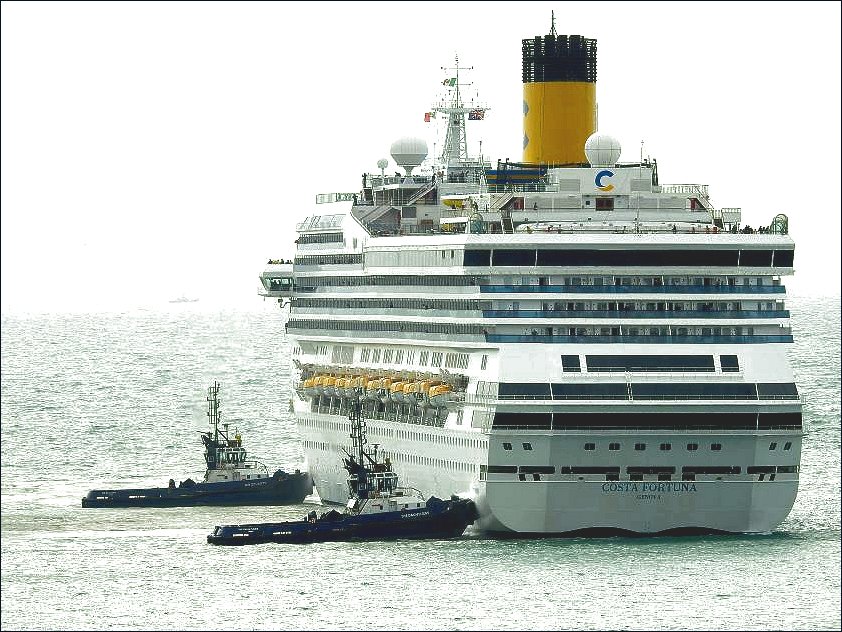 Costa Fortuna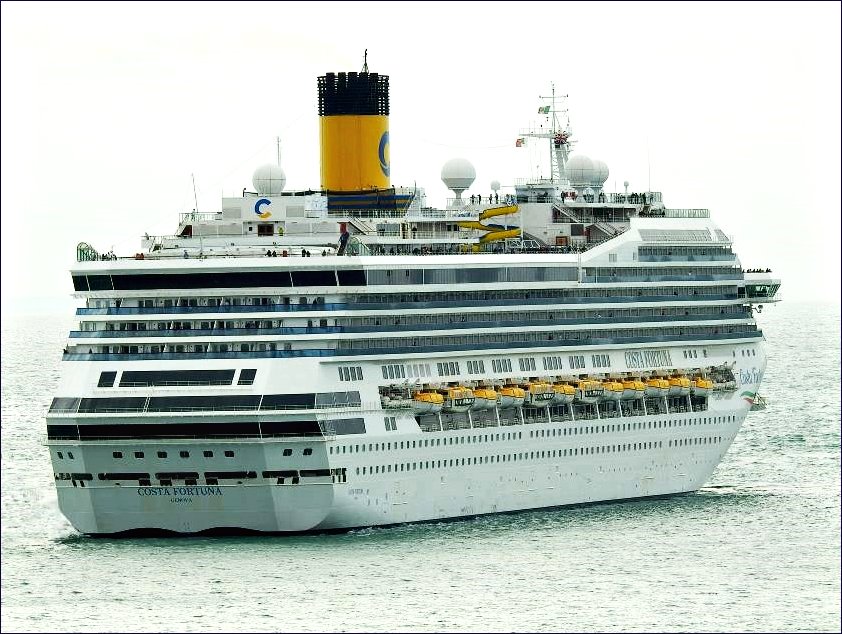 Fortuna currently just starting on a new 16 day cruise from Bremerhaven...
essentially to Spain and Portugal but will also call here to Dover..
In port today Sunday yet more glamourous cruise ships...Disney Magic and Mein Schiff 3....and just arriving as we speak...Viking Mars.
Sunday, 11 September 2022 - 07:09
Post 7295
Sea News, Dover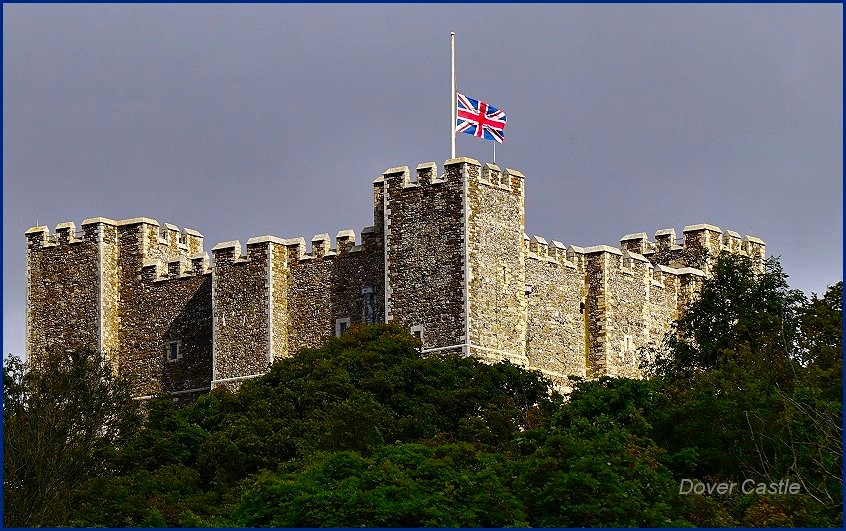 Friday, 9 September 2022 - 19:48
Post 7294
Sea News, Dover


We are immensely sorry to hear The Queen has died.



Thursday, 8 September 2022 - 19:28
Post 7293
Sea News, Dover
Just an additional picture now of the excitingly glamourous Le Champlain taken at the moment of her departure from the Port of Dover. See also the post below....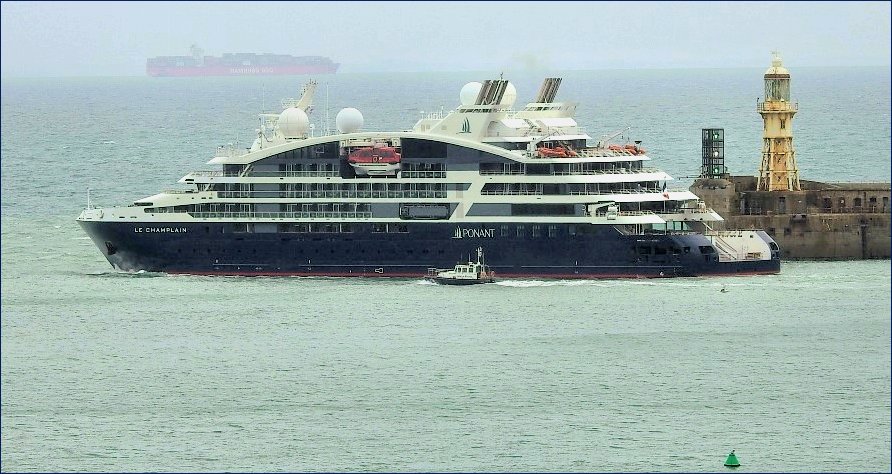 Le Champlain
Thursday, 8 September 2022 - 18:32
Post 7292
Sea News, Dover
Cruising with Le Champlain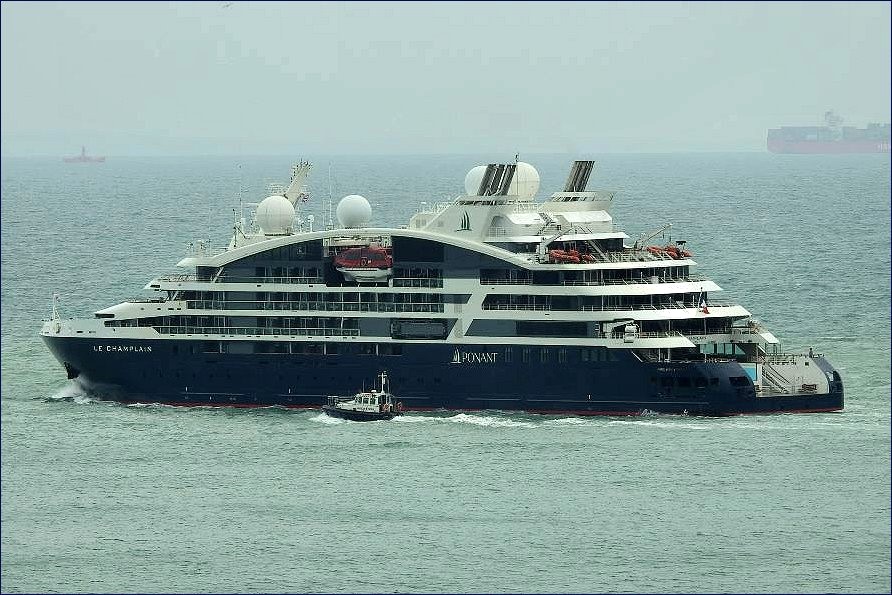 The stunning Superyacht-style Cruise Ship Le Champlain paid us something of an inaugural but flying visit on Tuesday this week. She stayed just a few hours and was off again...perhaps to beat the weather. You can see the approaching gloom in the pic above. Yes...it was a first visit here and she was greeted early morning by the spraying tugboat...we've had a busy tug-spray period. We understand that Le Champlain is on a 7-day detailed cruise of Britanny...
We haven't had a Costa ship for a while, so it was great to see Costa Fortuna again...which also arrived on Tuesday this week.
Costa Fortuna entering the Port of Dover.
Fortuna is almost finished a 12 day round trip of the British Isles from Bremerhaven...a bit wet 'n' windy this time....
Thursday, 8 September 2022 - 06:01
Post 7291
Sea News, Dover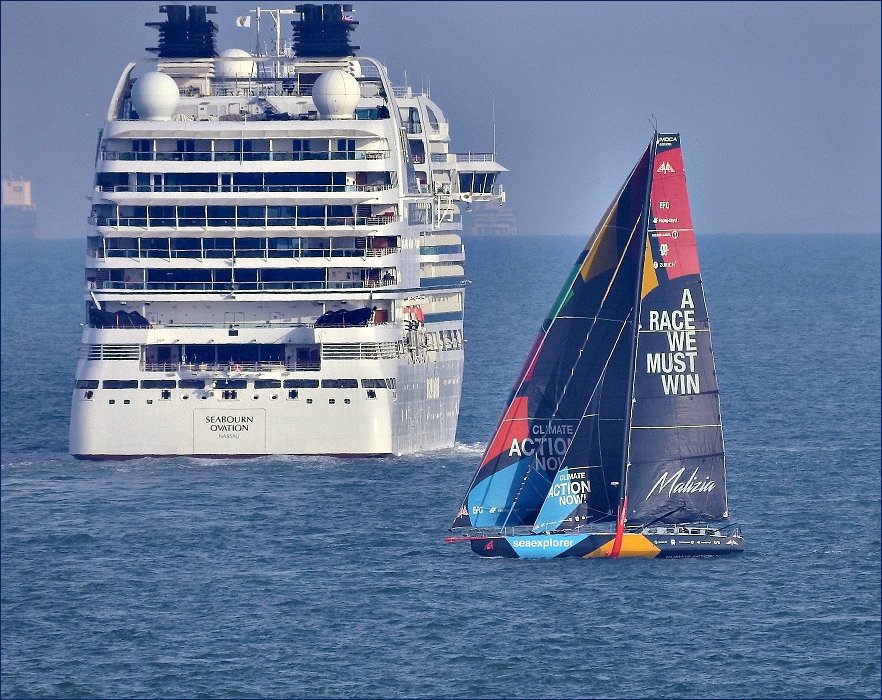 While photographing the elegant departure of Seabourn Ovation from Dover on Saturday, this magnificent racing yacht powered into view. The yacht...as you can see...is drawing our attention to the big race facing us all, the race against time for a constructive rethink on our destructive climate journey. The yacht is called Malizia-Sea Explorer ....
"Climate Action Now - a race we must win"
Seabourn Ovation had its thunder stolen a wee bit but more pictures below to compensate.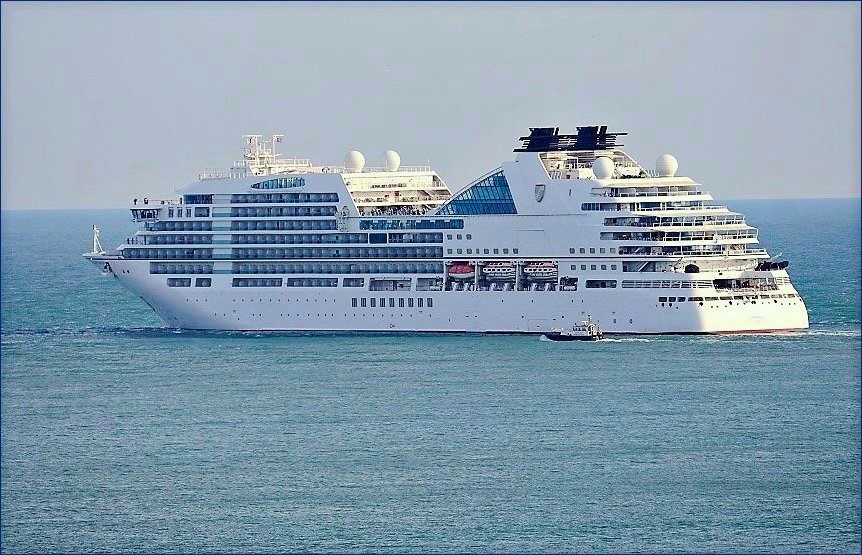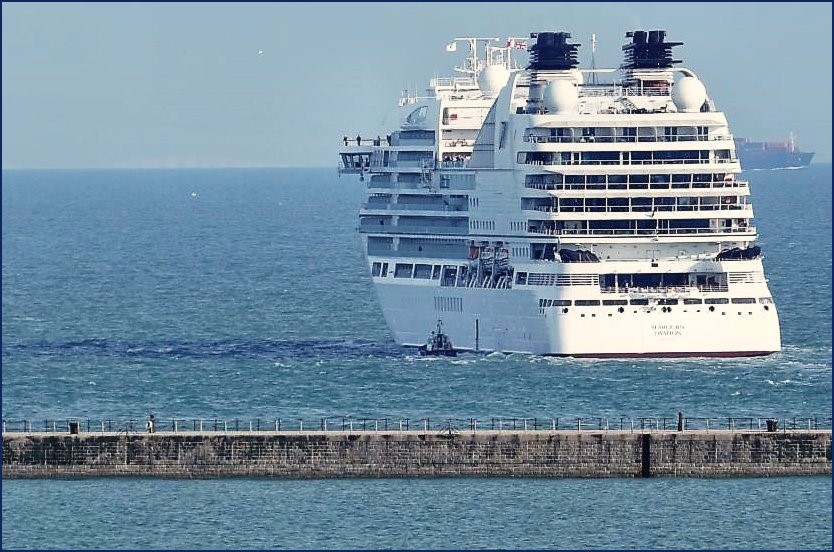 Seabourn Ovation leaving the Port of Dover on Saturday ( we're trying to catch up!...) ...She is currently on a 14 day tour taking in gorgeous places like Cherbourg, Dover, Antwerp, Oslo, Gothenburg, Copenhagen plus more ...
You're getting a new Prime Minister today..Liz Truss. But dont get too excited, she's the Fourth one in Six years...how long will she last..!!
Tuesday, 6 September 2022 - 06:53
Post 7290
Sea News, Dover
Some pictures below taken on Friday of the seafront ceremony for Merchant Navy Day. Always a really nice solemn and well-respected event, highlighting the role the Merchant Navy plays and has played in our lives both today and in the past...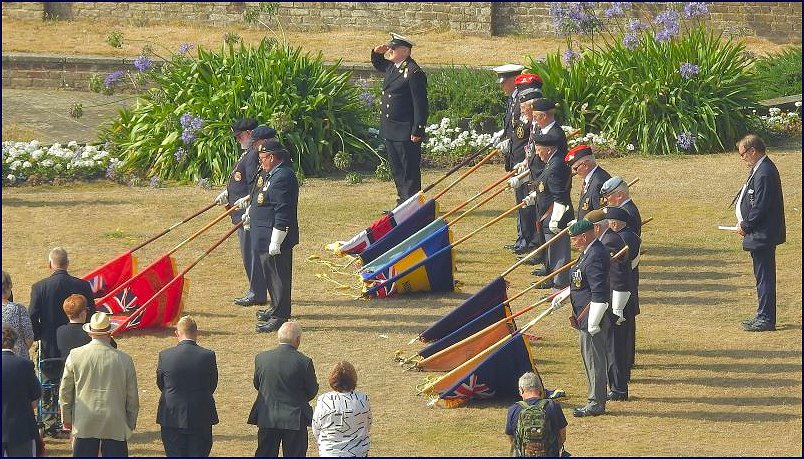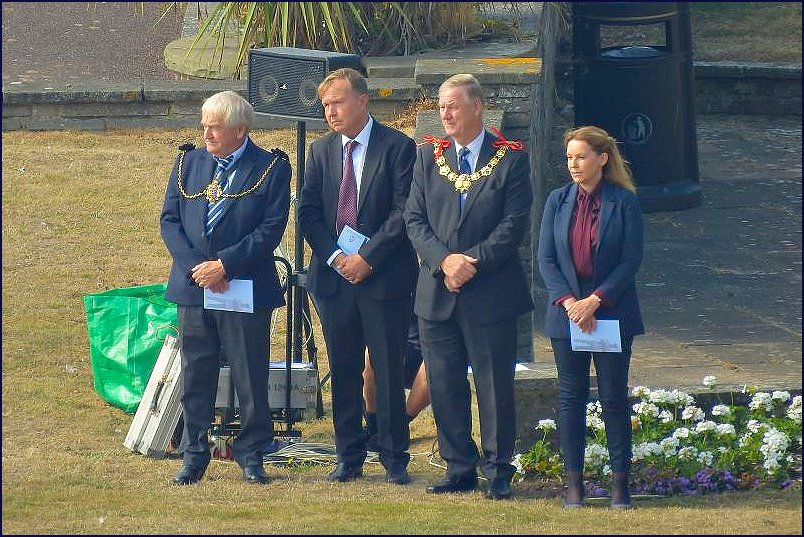 Picture immediately above shows some of the dignitaries...we recognise just two in the group there, our MP Natalie Elphicke on the right and Gordon Cowan Mayor of Dover to her right... taken just after they had laid wreaths. A very good turnout today, there were many wreaths laid.
* *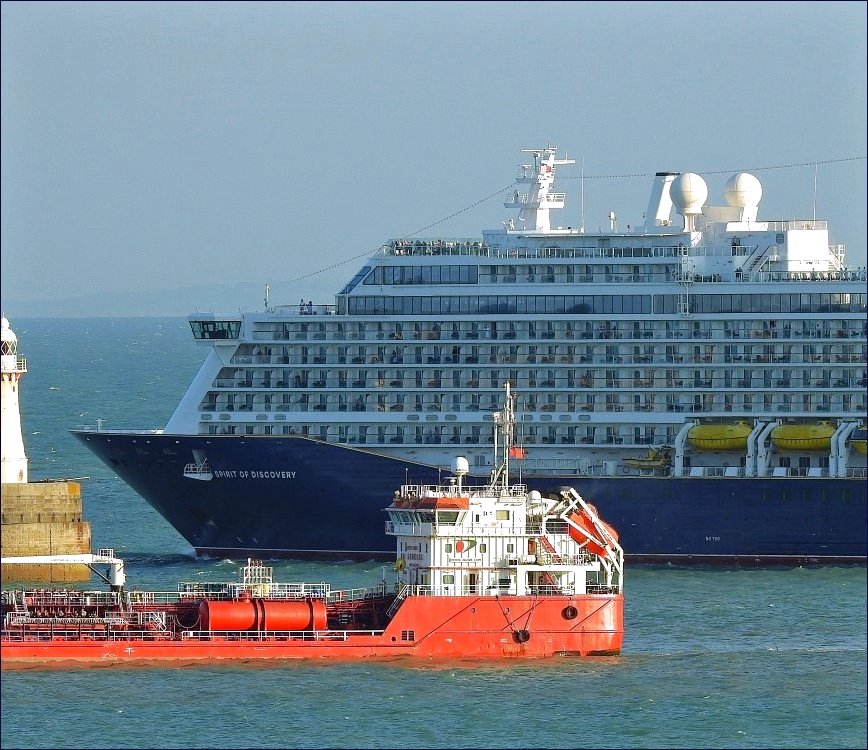 The Spirit of Discovery leaving the Port on Wednesday evening.... also in the shot the familiar bunker tanker Duzgit Harmony. The Spirit ... off on a 7 day round trip to Beautiful Norway.
Below a different kind of light, very early morning for the arrival of the Spirit of Discovery, you can see the tug there lending a hand in the early light.... while the Varne Lightship sparkles in the distance.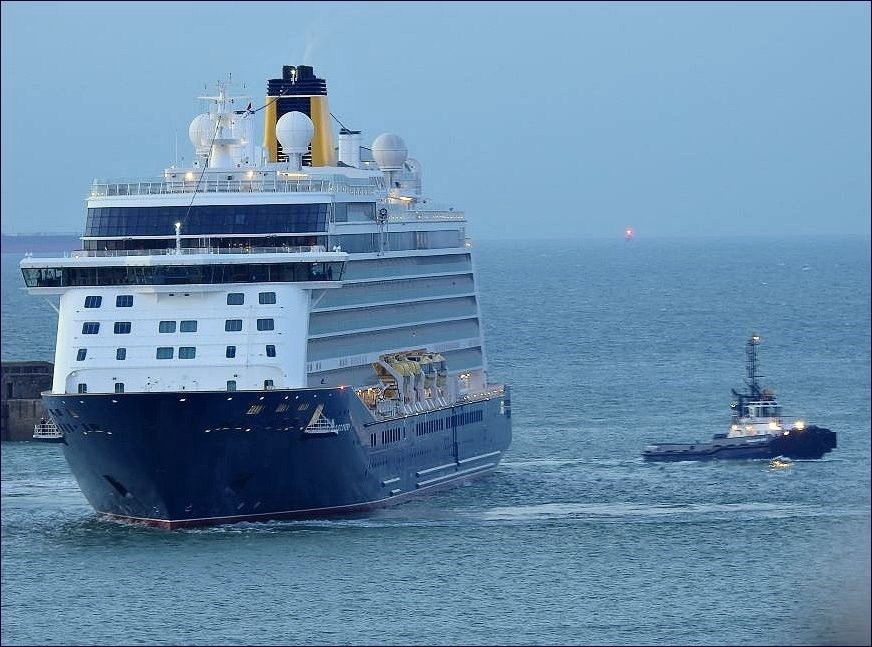 The Spirit of Discovery arriving Port of Dover on Wednesday.
Two magnificent monsters in Port today Friday...Celebrity Apex and Carnival Pride.
Friday, 2 September 2022 - 15:27
Post 7289
Sea News, Dover
Just adding an extra picture today to follow along from the sequence in the post below...it shows a fuller shot of the P&O ferry Pride of Kent in relation to the Royal Navy migrant situation just outside the Port of Dover .... it appears that the Pride of Kent changed direction to avoid... and came into Port via western entrance ( more in post below)....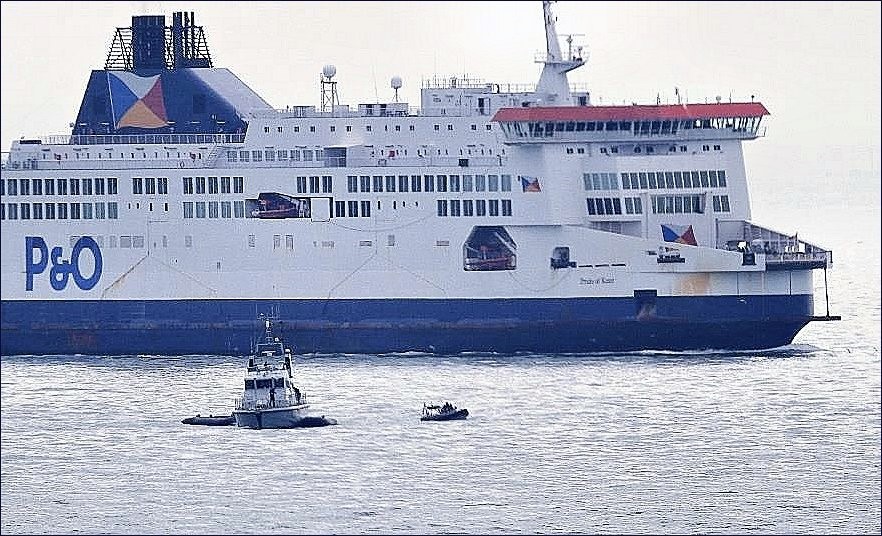 Thursday, 1 September 2022 - 06:51
Post 7288
Sea News, Dover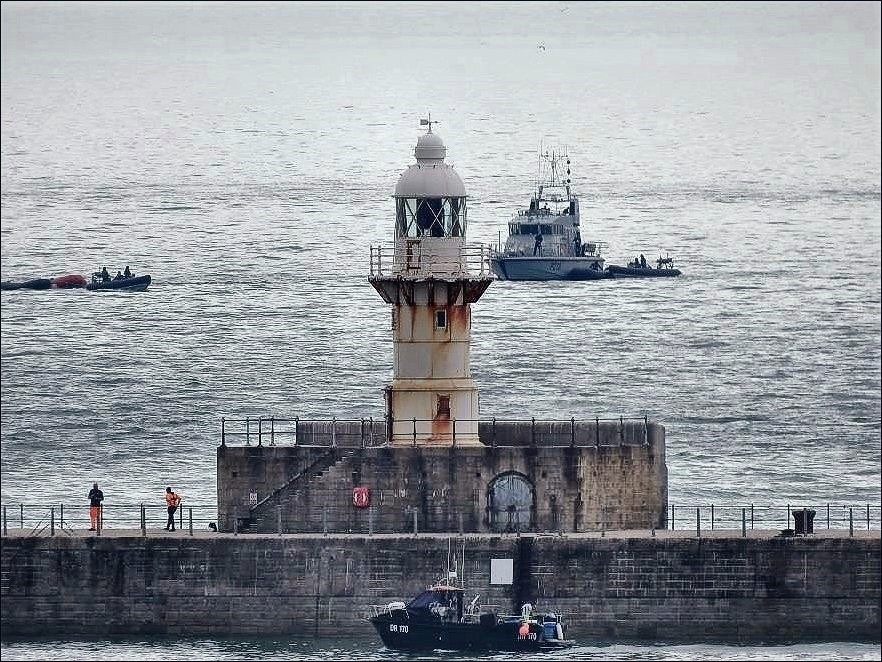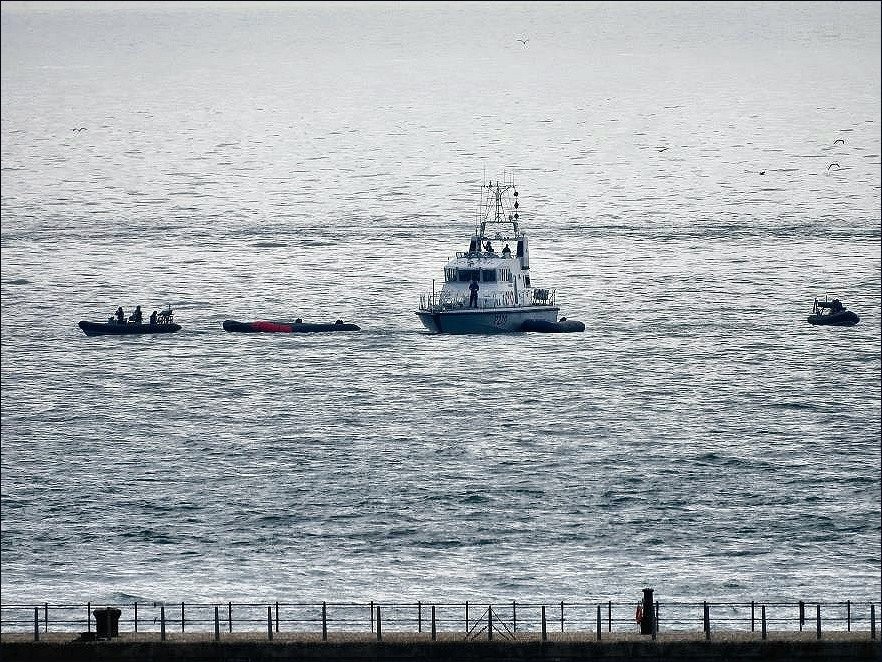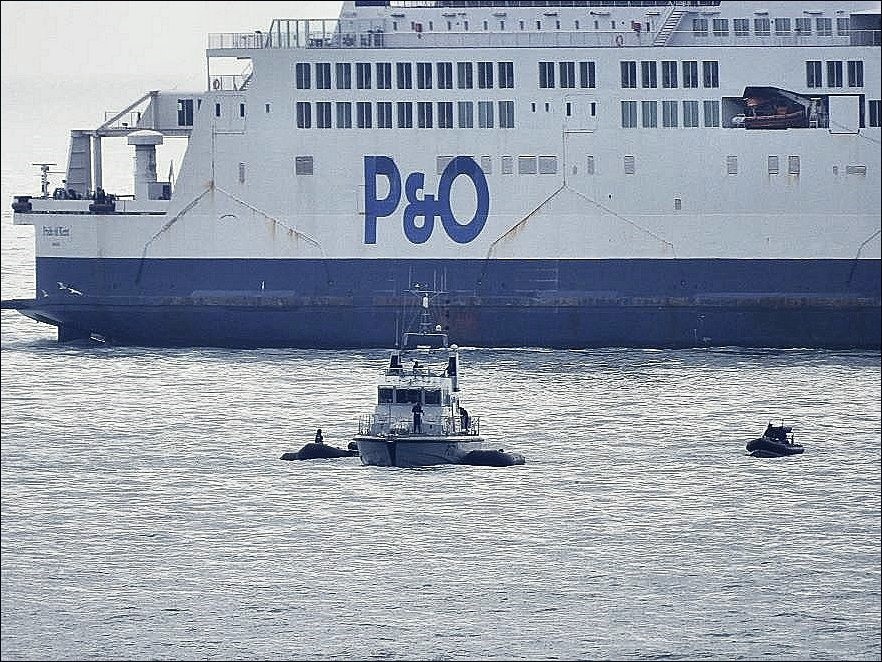 The Royal Navy's HMS Biter in action just outside the Port of Dover a few days ago...just outside the main eastern entrance in fact and you can see that 'the Biter' almost has too many dinghies to deal with. In the foreground of top shot you can also see more activity on the Port's breakwater. Huge amounts of migratory travellers continue to flood through, record numbers, and as we hear through various media outlets, the Royal Navy are frustrated with the task.
In picture 3 you can see also P&O's Pride of Kent. It appears that she may have had to change course...we have other pictures too... on account of the migrant activity. She came in eventually through the western entrance so all was okay.
Wednesday, 31 August 2022 - 06:57
Post 7287
Sea News, Dover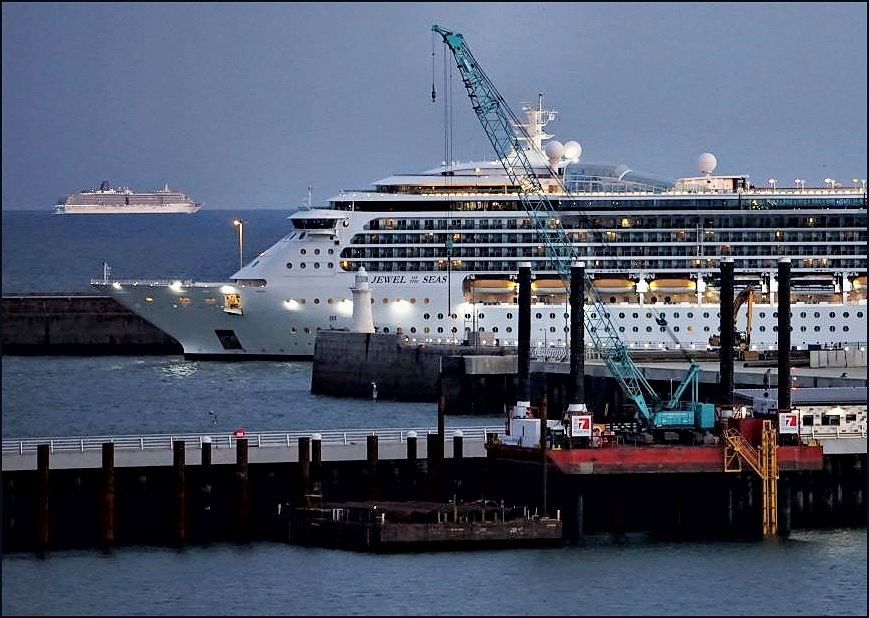 Jewel of the Seas came in too early and left way too late yesterday Bank Holiday Monday so pictures didnt happen other than these top two shown here...lets call them...
Night and Day.
They show the ship in situ on Cruise Terminal Two as the day changed around her. You can see the pilling/drilling platforms and so on there... in the distant background in top shot as night falls is Arcadia heading for Southampton .....
Jewel of the Seas had just completed a Britain and Ireland cruise...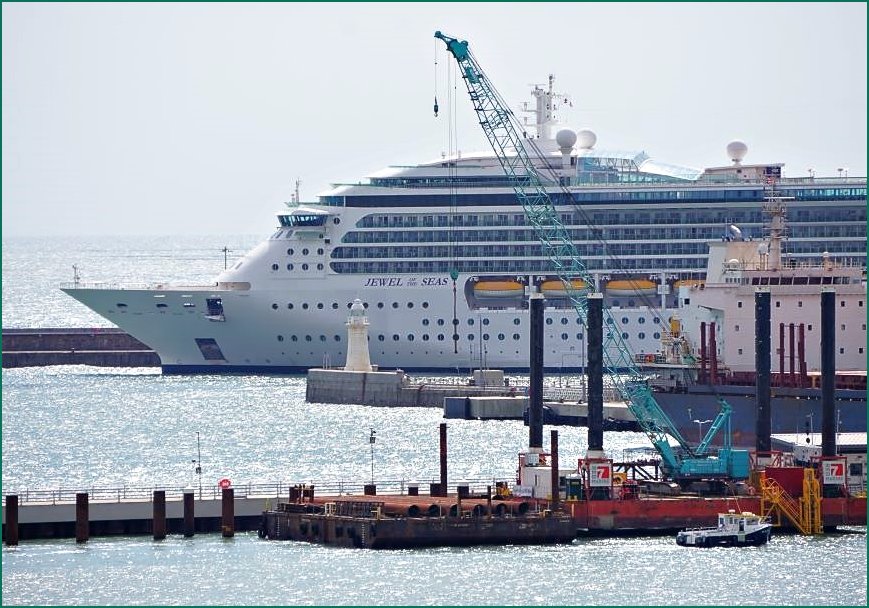 Pic below from a former visit..gives a better look.
Jewel of the Seas.
Tuesday, 30 August 2022 - 15:25
Post 7286
Sea News, Dover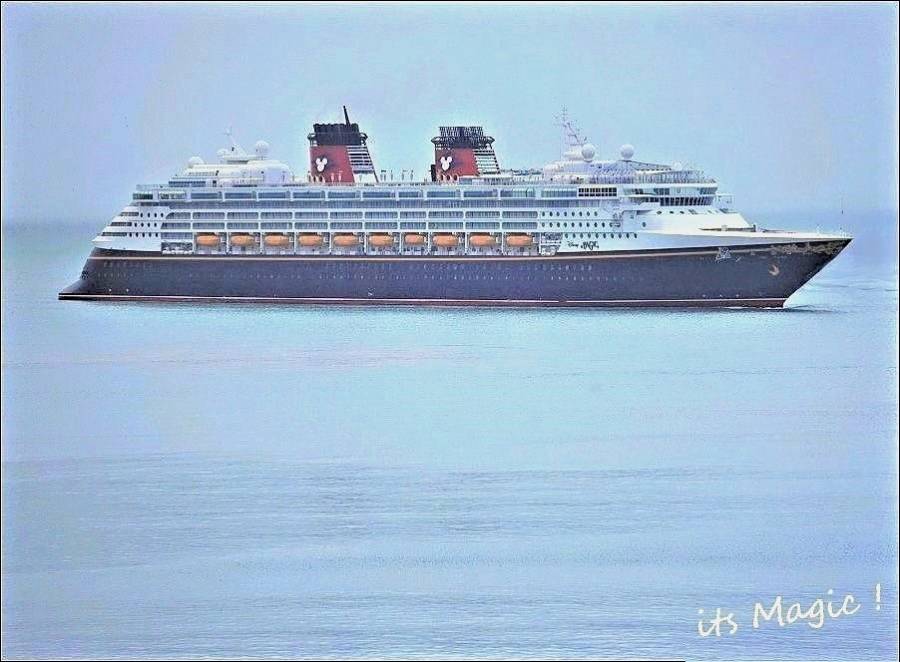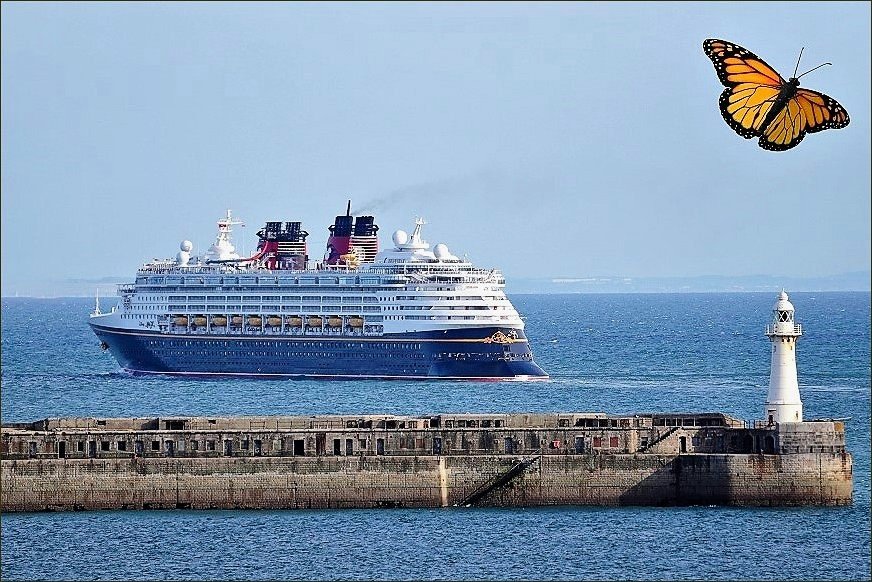 There we were, trying to create some photographic Magic as the one and only Disney Magic left the Port on Sunday evening, when a butterfly flew into the picture..."who does he think he is..." said my dour unsmiling assistant, "he's interfering with our creative magic.."
...although ... maybe the butterfly is the Magic !!
Earlier the Hotels were full of little children and indeed bigger children all with Mickey Mouse ears...
well I never... !!
Also... ( getting back to normal! )
Jewel of the Seas back in Port today Monday...
Monday, 29 August 2022 - 06:58
Post 7285
Sea News, Dover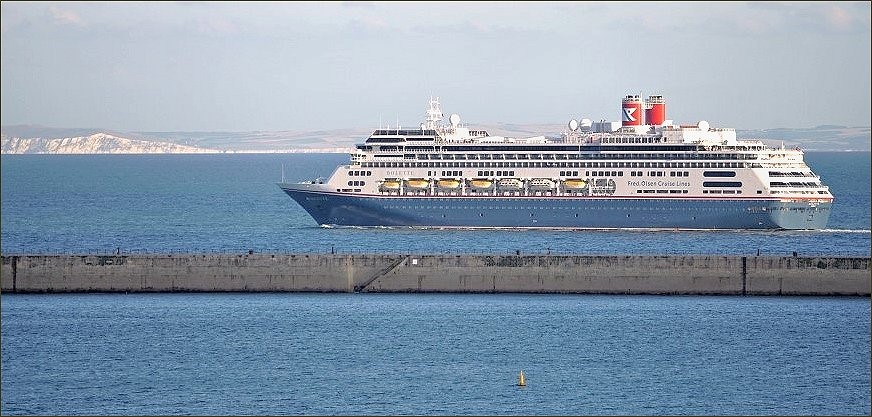 Fred Olsen's cruise ship Bolette leaving Dover yesterday evening saturday...you can see her there with the French cliffs in the distance as she sets out on a 5 day tour from Dover to Amsterdam, Antwerp etc ...
The Disney Magic back in Port again today Sunday.
Sunday, 28 August 2022 - 06:25
Post 7284
Sea News, Dover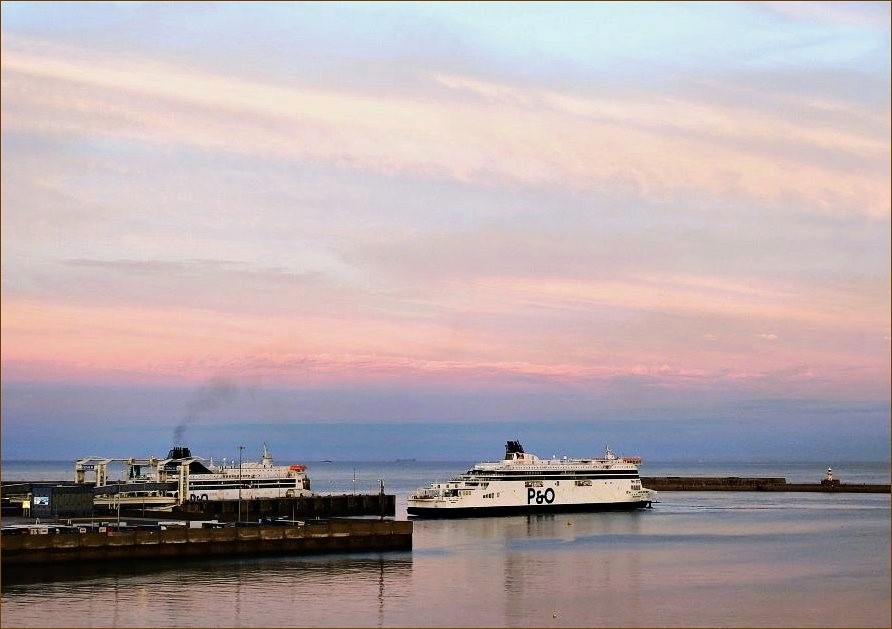 Looking back now to late Thursday evening at the Port with P&O ....the sun has already sunk behind the camera but the late rays nicely and sort of unusually light up the sky to the east. In the foreground you can see the Spirit of France having just arrived from Calais...and to the gloomier left the Pride of Canterbury... 'twas a gorgeous tranquil evening.... worth a snap!

Saturday, 27 August 2022 - 07:24
Post 7283
Sea News, Dover
Royal Navy: HMS Mersey on Monday this week at Dover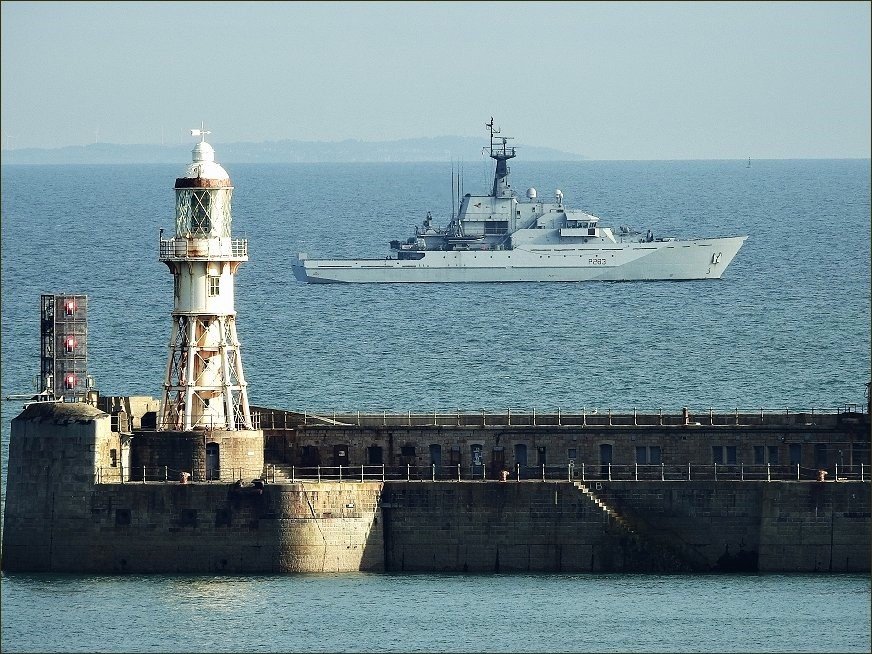 Royal Navy and the Migrant Crises.
Alas the Royal Navy's tenure in the migrant-hectic channel has not been a success story. On Monday when the picture above was innocently taken ( which shows HMS Mersey just off the Port of Dover), record breaking numbers came across the channel right under their nose as it were, employing the usual small dinghys...risking life and limb to all. A total of 1295 came on Monday alone. A record number. Not only has the Royal Navy not been a deterrent, neither has the Governments unloved Rwanda Policy. We support the Royal Navy and what they are trying to do, but it's clearly not their thing ... particularly if record numbers are still getting through. A new policy needs to be found but what that is......well...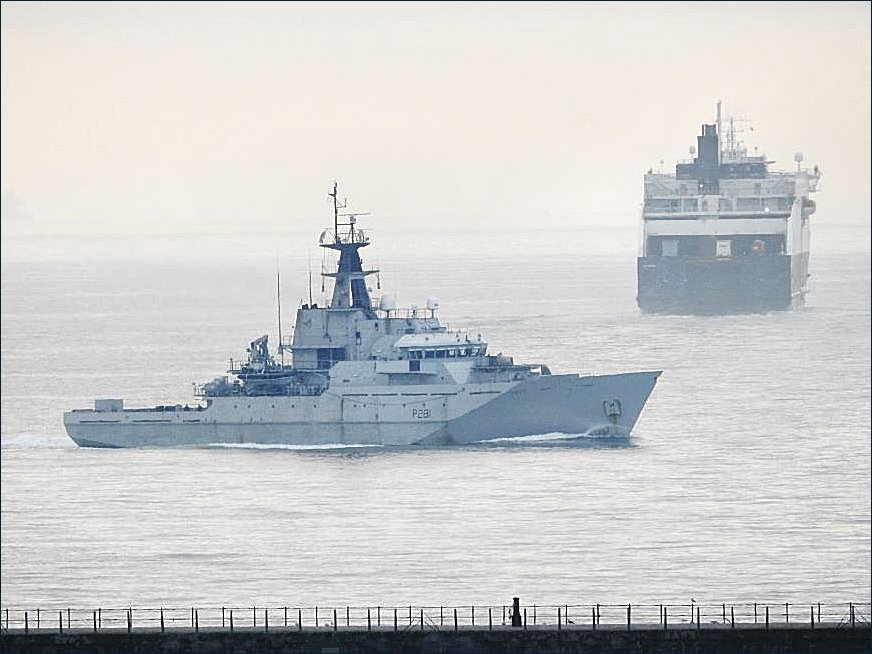 Royal Navy: HMS Tyne previously.....
Thursday, 25 August 2022 - 06:47
Post 7282
Sea News, Dover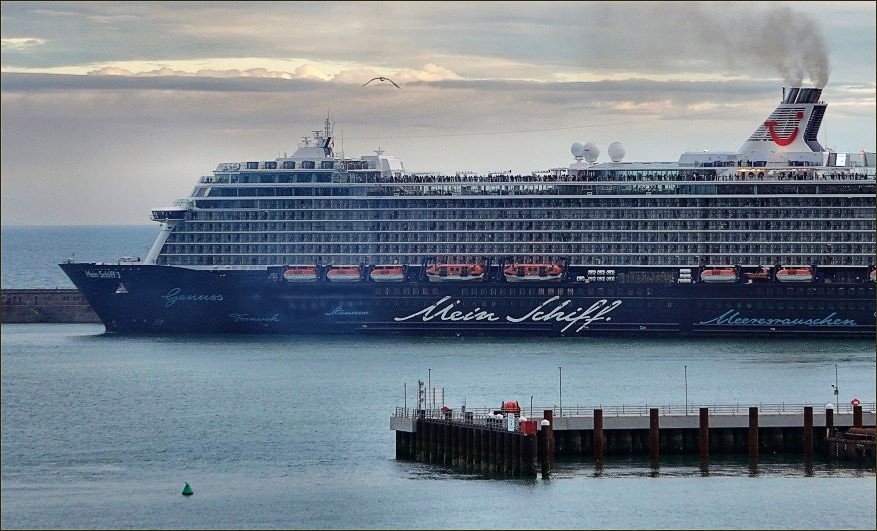 As promised that extra pic of Mein Schiff 3 taken late in the day on Monday...see also below....
Wednesday, 24 August 2022 - 20:00
Post 7280
Sea News, Dover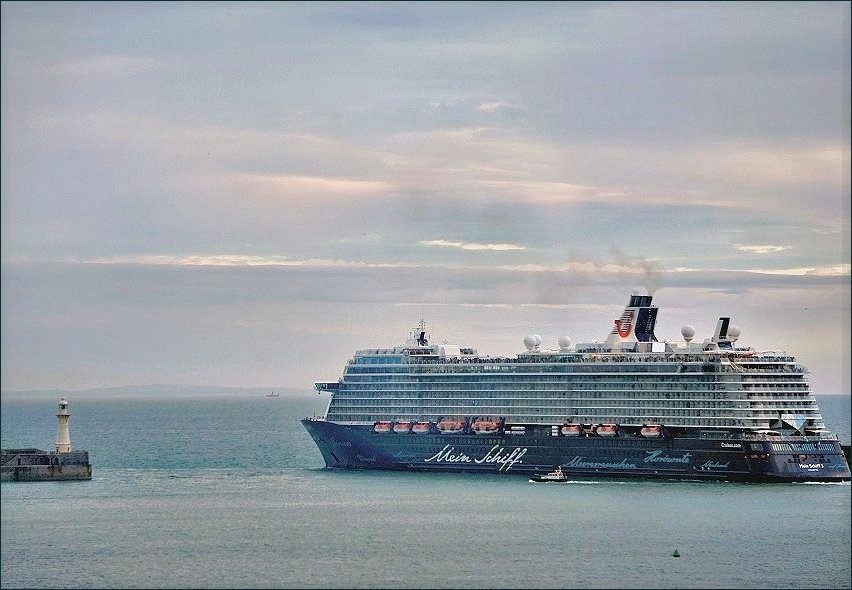 Another fab cruise ship visiting us from Bremerhaven...well done Bremerhaven keep them coming.. This one is of course Mein Schiff 3 and Dover was first call on a round Britain tour. Picture was taken on Monday evening the 22nd Aug. Although just past mid August the evening was dark and autumnal as she left at 19.35. She is a magnificent but dark ship so keeping her bright in the gathering gloom was our mild challenge. There was some colour left in the sky though.... says he rambling...
We may have another pic to add later.
Wednesday, 24 August 2022 - 06:35
Post 7279
Sea News, Dover
Cruise ship Vasco da Gama arriving at Dover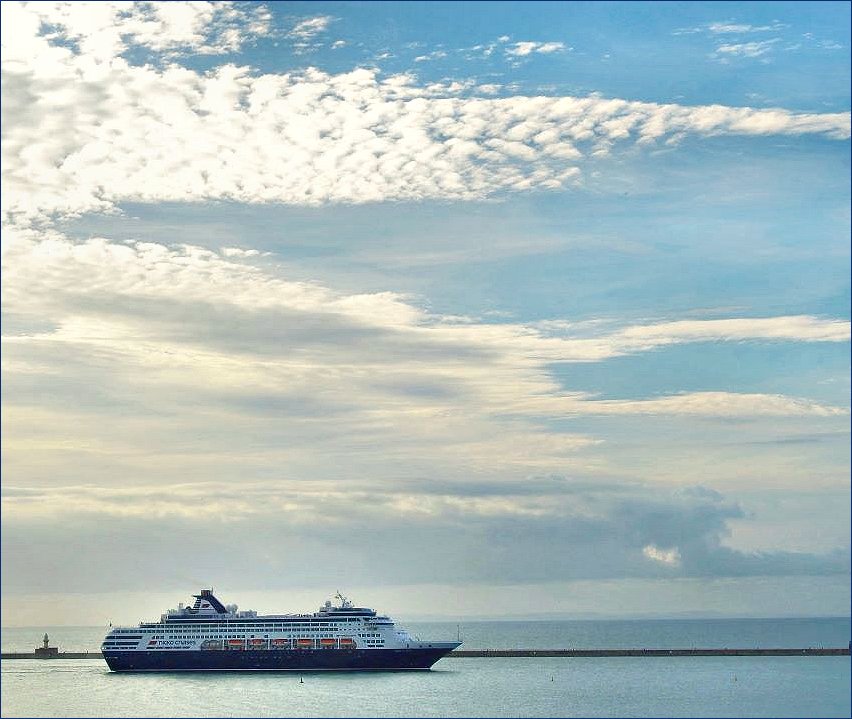 Vasco da Gama under a big sky....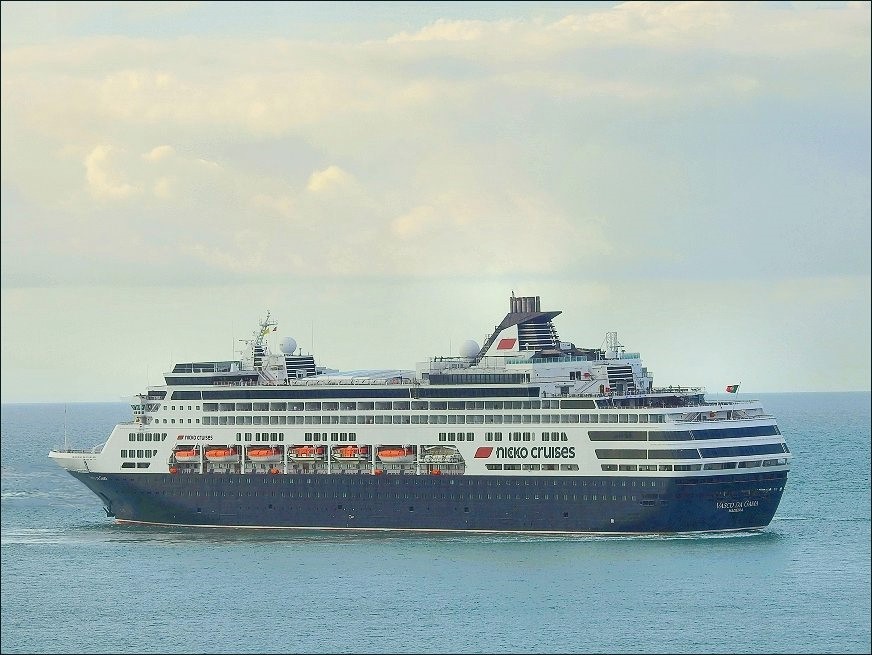 Vasco da Gama
Yes Vasco da Gama joined us here in Dover on... let me check - there have been so many cruise ships lately...yes on Sunday 21st.... the pictures show her arriving (first pic 07.33). One of the tugs gave her the full spray welcome...we didnt do tug spraying pictures this time as we have had quite a few recently, but a warm ( wet!) welcome was shown for Vasco.....
She had been on a 14 day round trip of UK and Ireland and was making a first call to Dover, hence the spraying..
... she is now back in Bremerhaven, Germany.
Tuesday, 23 August 2022 - 07:03