Monday, 26 September 2022
WWW.DOVERFORUM.COM/SEA-NEWS

Sea Pictures from Dover. We have 333 plus pages below now...use our own SEARCH ENGINE just below to help you trawl through. All pictures are the copyright of the owners. EDITOR: Paul Boland - dover7@msn.com
Post 7167
Sea News, Dover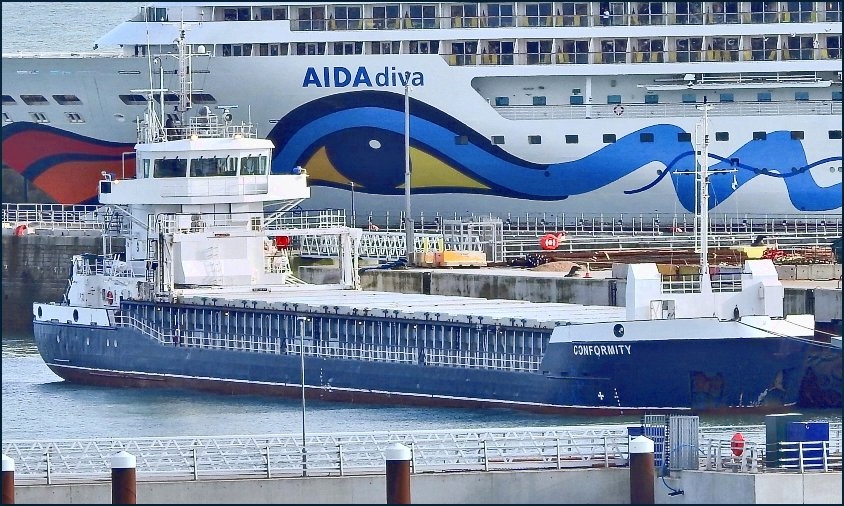 ........ the Diva casts a cold eye on Conformity
Wednesday, 6 April 2022 - 06:41
Post 7166
Sea News, Dover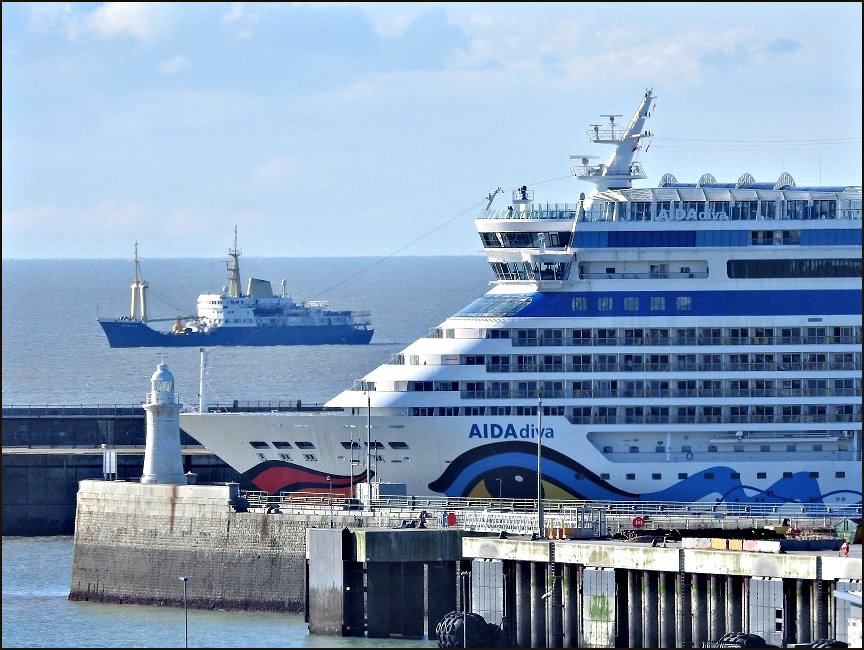 Looking across AIDAdiva there above and in the distance we see the Trinity House buoy-laying vessel Patricia gently passing by the Port. AIDAdiva left us last night at 6pm sharp, right on the button, and a couple of hours later she was replaced by near identical AIDAluna. Luna arrived in the dark with all lights a-blazin'. If you'd blinked and hadn't noticed the earlier departure, at a casual glance you couldn't tell the difference this morning Tuesday...all the AIDA ships very similar but very welcome here in Dover.
We have a hint of traffic problems again today but we wait and see how it develops.
Pic of AIDAluna further down page..a few posts down..
Tuesday, 5 April 2022 - 06:54
Post 7165
Sea News, Dover
As promised, another picture of the arriving AIDAdiva ...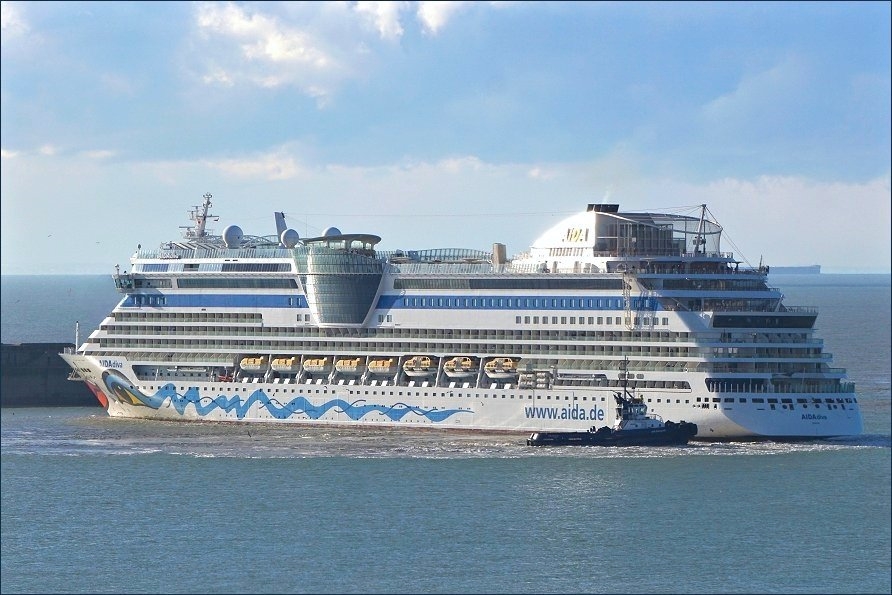 AIDAdiva pictured as she arrived on Sunday.
See also todays earlier post below ....
Monday, 4 April 2022 - 13:09
Post 7164
Sea News, Dover
The Diva arrives....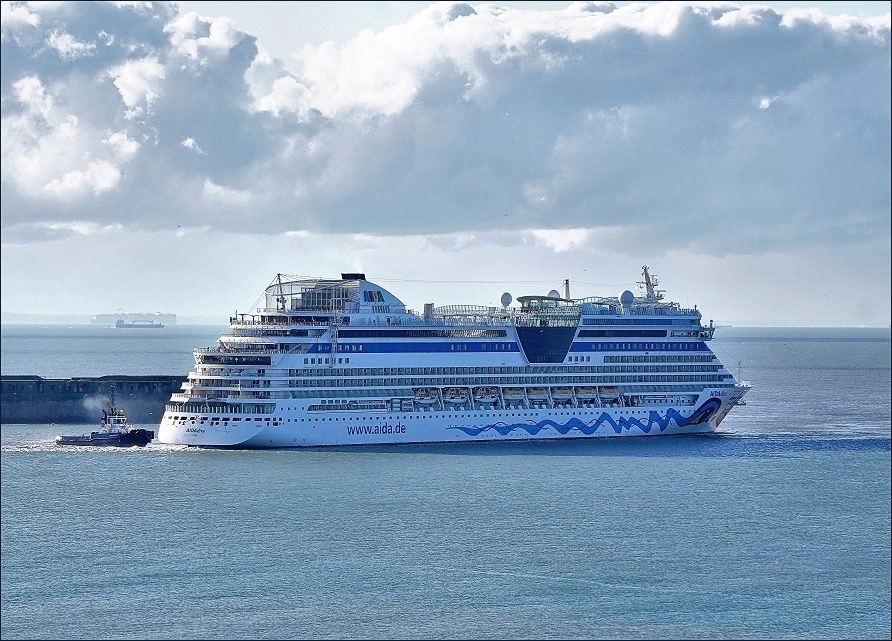 AIDAdiva arriving here in Dover on Sunday (Apr 3)
She remains in Port as we speak today Monday. We will have another picture or two in due course.
She is currently on a big 24 day cruise ( that takes some social stamina! ) from La Romana to Hamburg.... nice ship!
( PS Update: The P&O ferries Canterbury and Kent, Pride of...are back on the eastern arm. The original move away from the arm was it seems weather driven. The Spirit of Britain remains at berth Dover9. Also, mighty relief to all...the traffic situation has eased.)
Monday, 4 April 2022 - 07:22
Post 7162
Sea News, Dover
P&O's Pride of Canterbury on the Move...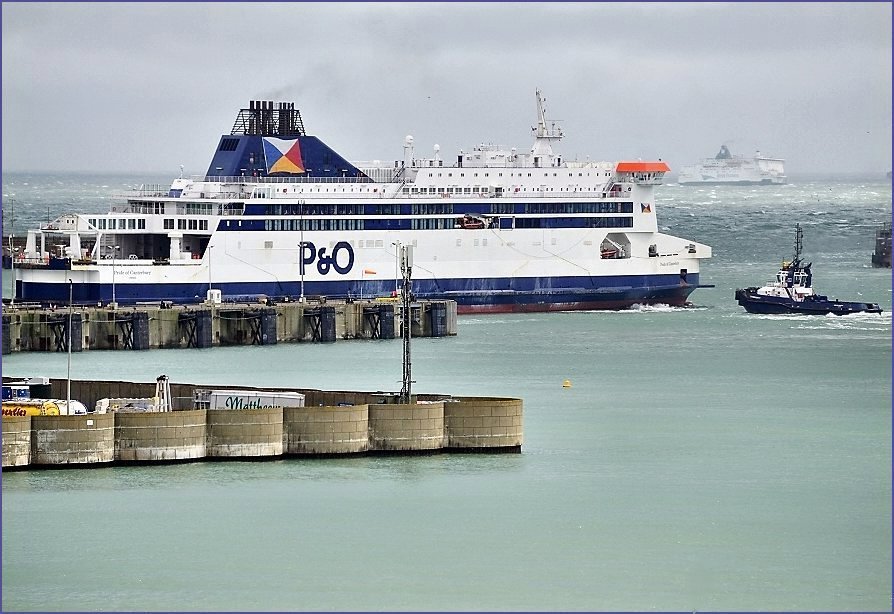 They have been continually shifting the P&O ferries around the Port. They are obviously still not in practical use, so what to do with them is the question. First of all they were on the western arm, then the eastern arm, and now they linger on the working piers. You can see the Pride of Canterbury been moved from Dover Eight above there...back to the eastern arm she goes! Later the Spirit of Britain was shifted from western arm of Port onto Dover 9...why all the shifting?...well there must be a logic to it. Its like musical chairs...without the music, the fun, or the affection...
The Pride of Kent also on a working pier.
Sunday, 3 April 2022 - 07:25
Post 7161
Sea News, Dover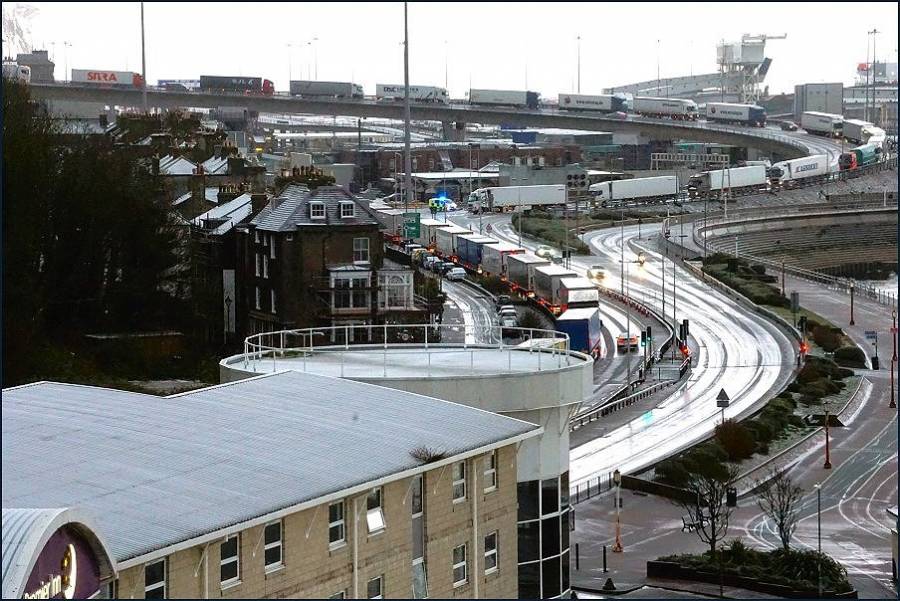 This was the scene on Friday morning (April 1) just before 7.30 am...local chaos all around us with a dismal trucking situation. The truck drivers are having a nightmare, stuck in their cabs for hours and hours...while local people just cannot get around this town. Its overwhelmed and jammed!!
Now here's the news, the situation is exactly the same as I write this 24 hours later....roads remain totally jammed! As mentioned, yesterday was 'all fools day' ...so where is Grant Shapps....these guys flitter from one tv studio to another with that reassuring smarm, but why isn't he here doing something...assessing at least. This is a vital trade link.
As mentioned before, Jubilee Way at top of picture is nothing more than a lorry park, access to the town denied for local people. Its very oddly a three lane road with only one lane for downward use. This needs to be examined.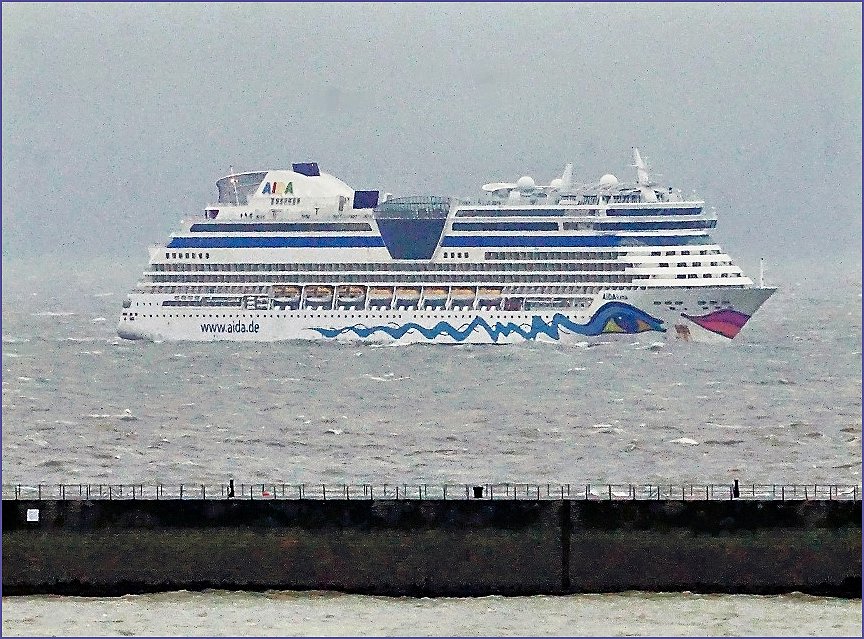 AIDA Luna offshore yesterday in light snow....
we understand she was intending to enter Port but failed in the rough weather...
Saturday, 2 April 2022 - 06:46
Post 7160
Sea News, Dover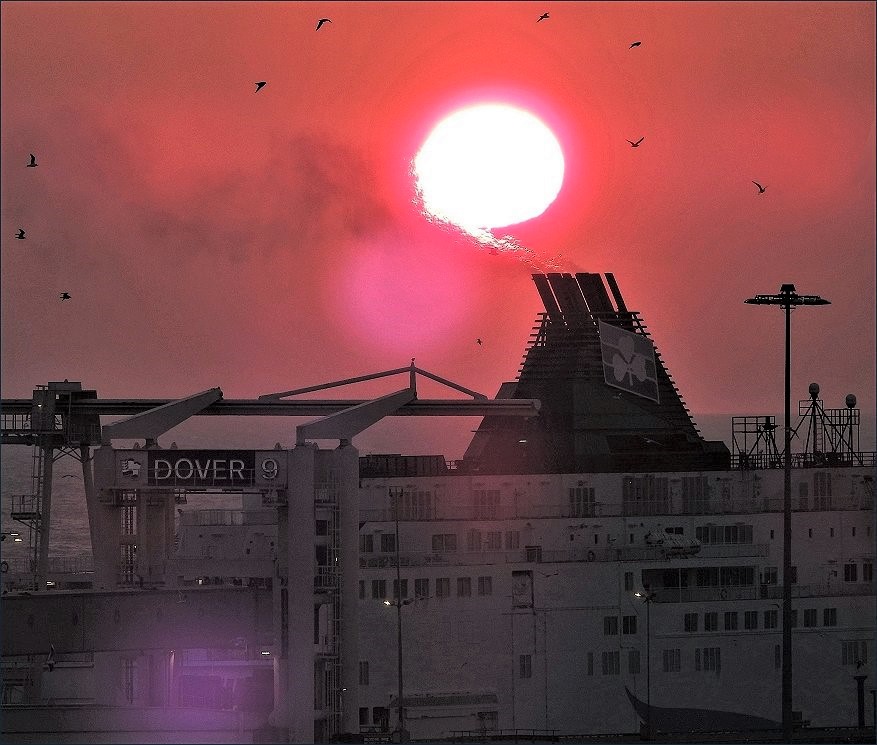 And you thought the sun rose in the east. Not a bit of it...it spouts out of the funnel of an Irish Ferry every morning...as you can see above. We have conclusive proof there....
Genuine picture above, even though its April 1st (All Fools Day)
Yes genuine picture above, not faked...
.... on the other hand below...

...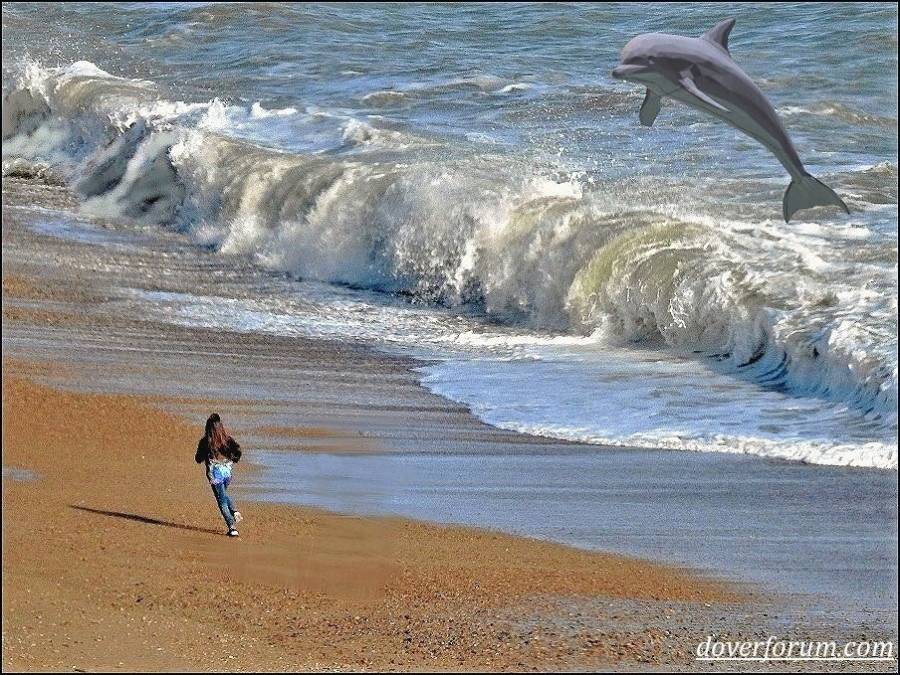 Girl Running on Beach with Playful Dolphin
Worth showing that one again, many of the fairly recent pictures were (hacking result) lost to us but problems all fixed now...
Irish Ferry featured in the top shot is the Isle of Innisfree
" I will arise and go now...."
Friday, 1 April 2022 - 06:52
Post 7159
Sea News, Dover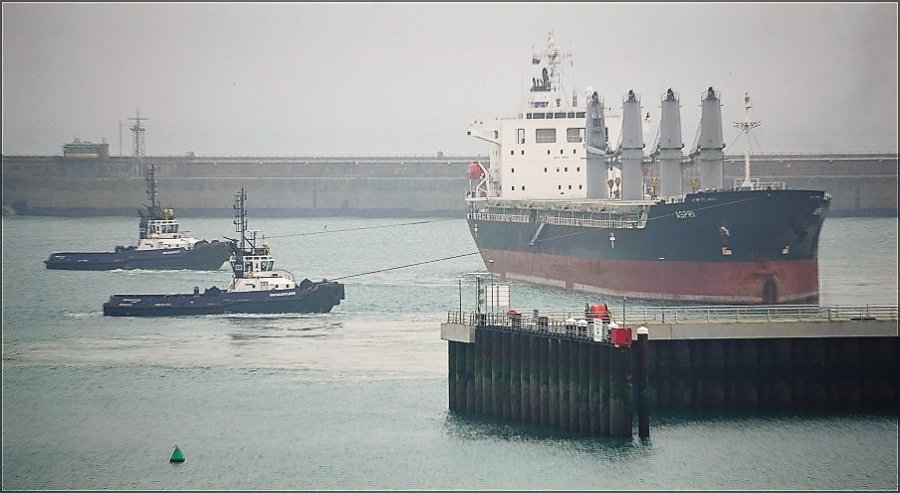 Bulk carrier Aspri returned to Port here again quite recently. She was settled at the WD4 cargo terminal, which is something of a secondary terminal, but was moved over to the main terminal WD5 at about 5pm on Tuesday March 29, you can see this happening in the pic above .. after WD5 became available. It was quite foggy/misty/gloomy at the time of shot, the original picture was a whole lot more...invisible! She remains at WD5 as we speak....
Thursday, 31 March 2022 - 06:20
Post 7158
Sea News, Dover
Here we are with a rarity...a cruise ship visit.
...and .. we are using Windows 11 for the first time too, so here goes....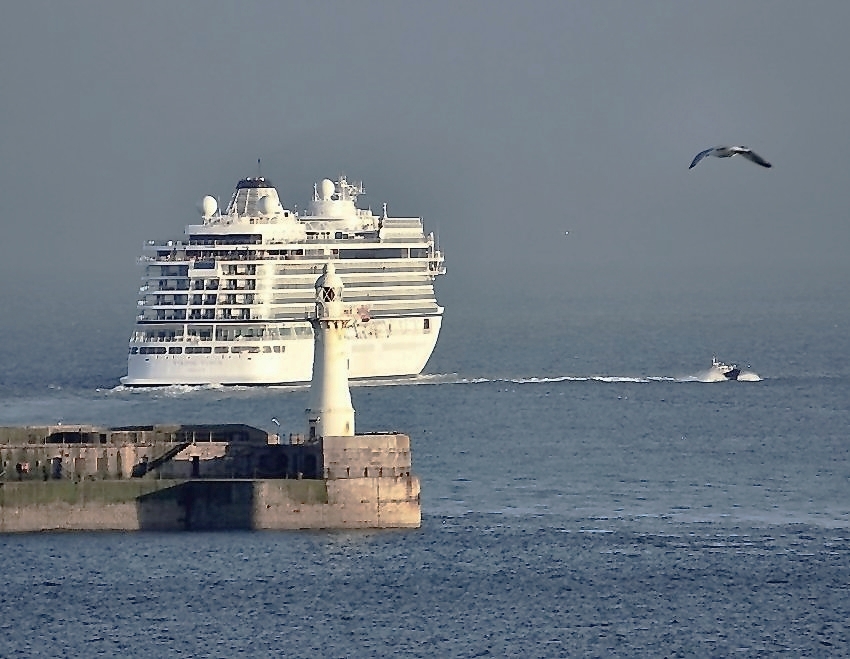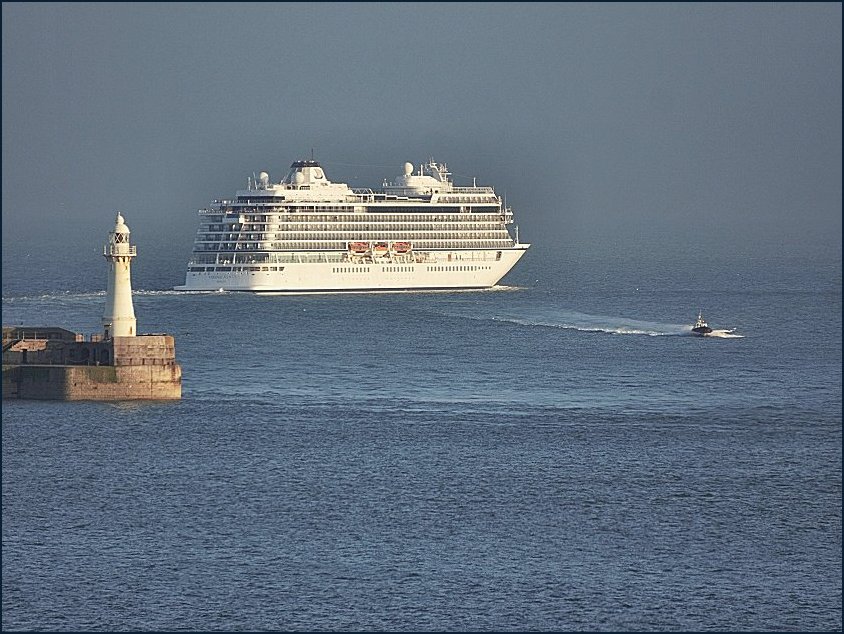 Yes there we are ... Viking Venus visited us on.... ermm will have to look that up, yes got it, Sunday March 27. The trip was of course overshadowed by the ongoing and wholly miserable P&O dispute but yes indeed we did have a cruise ship and yes here in Dover. It was quite foggy/misty at the time so the pictures are a little forced but lets hope they reproduce okay. The ship was off on a visit to the Irish Sea calling on Dublin, Holyhead, Liverpool, Belfast and more...
Not exactly the hot tropics but certainly a bracing adventure...
Tuesday, 29 March 2022 - 15:13
Post 7157
Sea News, Dover
Some more pictures from the march on Saturday in support of the sacked P&O workers.....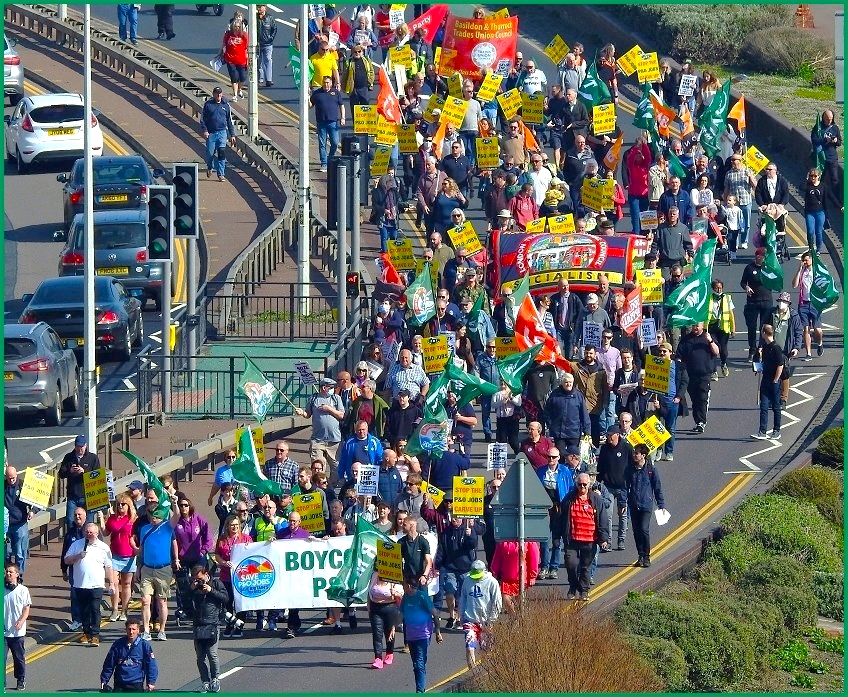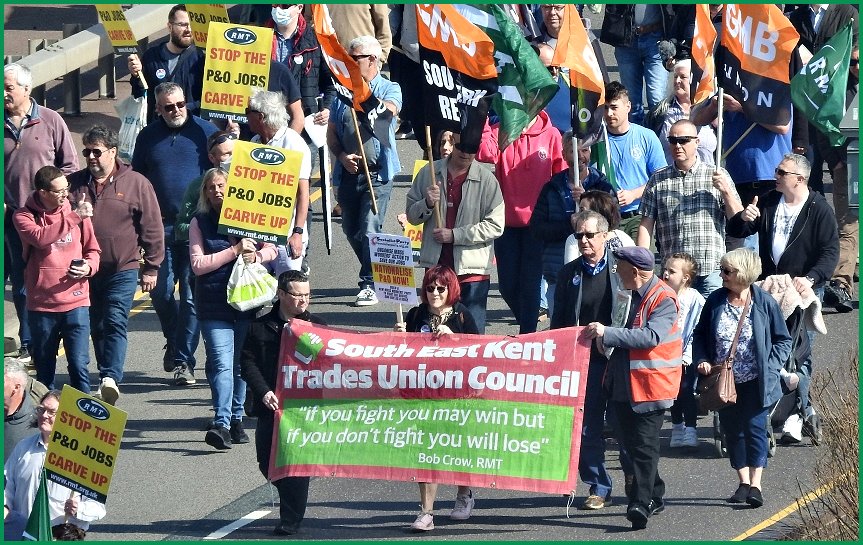 From Dover....Saturday March 26th...see also below...
Monday, 28 March 2022 - 07:16
Post 7156
Sea News, Dover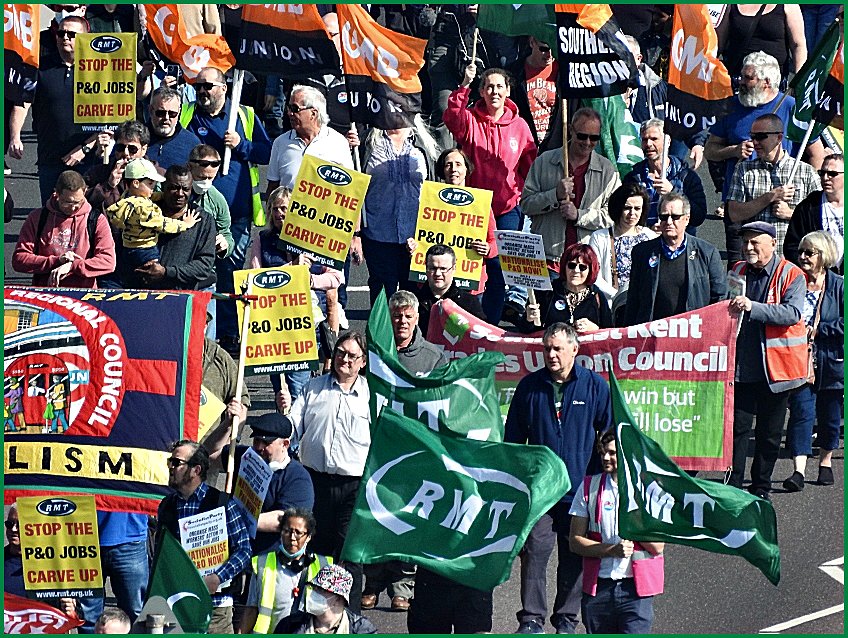 Protestors marching in support of sacked P&O workers yesterday (Saturday March 26) along the main road here in Dover. Picture shows them approx 500 metres from the main entrance to the Port of Dover. They chanted "seize the ships" "seize the ships" as they marched by. The simple cure ( is anything simple?) for this disastrous PR situation is to re-employ the staff and lose the architect. Okay...costs, but if they have that level of a redundancy budget then surely more can be raised.
Below ...From the BBC....
At Saturday's Dover protest, RMT union national secretary Darren Procter said: "Bringing a crew on board a vessel they're not familiar with to sail across the busiest shipping lane in the world, carrying passengers, is going to be a dangerous act."
Time of Picture: 12.55 Saturday
Sunday, 27 March 2022 - 05:48
Post 7155
Sea News, Dover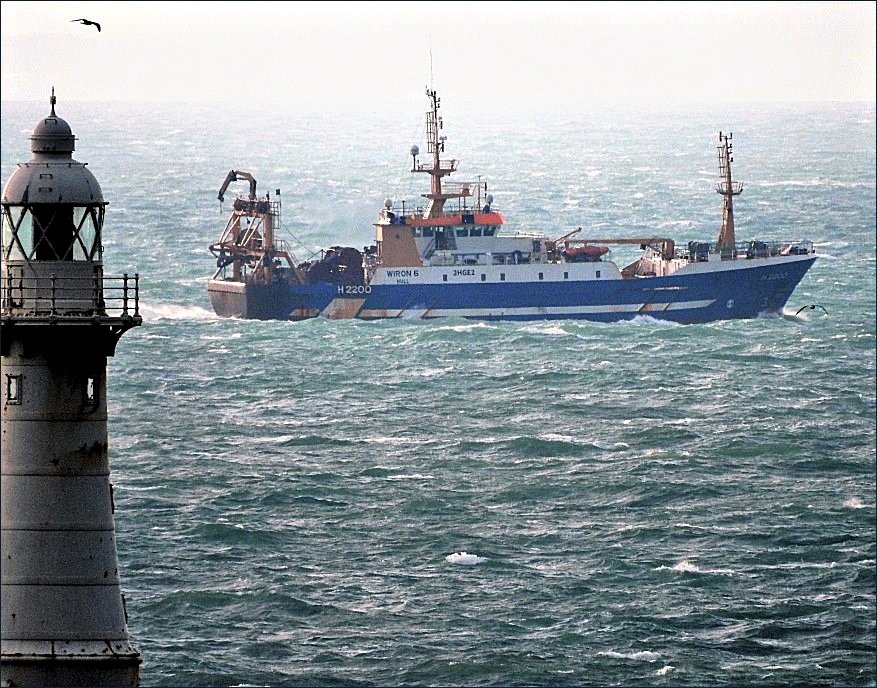 We will try to get back to our normal pictorial routine now after the grim P&O situation left us completely dumbstruck here. Not that the P&O debacle has improved in any way. The appearance before the Select Committee yesterday of their bossman Hebblethwaite was ....well....gobsmacking...
Okay, we have been delighted to see trawlers around us in very recent times. The picture above shows Wiron 6 H2200 again, she has been with us recently as mentioned (more pictures below or on page 2 and 3), but here she is back again to enjoy the rough-ish waters off Dover just a few days ago. We were about to show this picture before our routine went out the window.
Feel the bracing freshness of the sea above there...
Friday, 25 March 2022 - 05:57
Post 7154
Sea News, Dover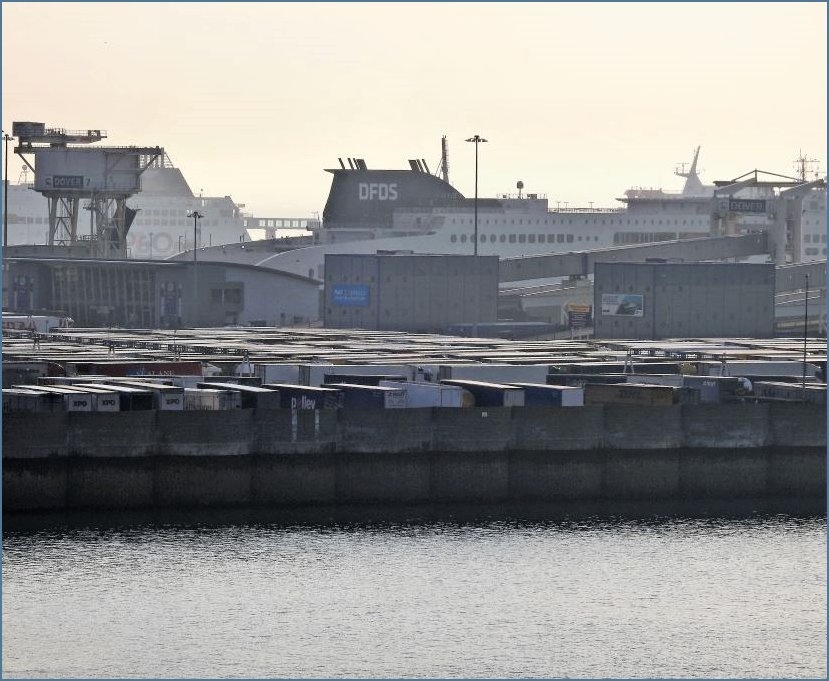 Not the most exciting picture ever ( and misty as well ) but we wanted to show it so you can see the ocean of trucks on the Port's departure apron yesterday, a sea of trucks all waiting to be transported over. It is packed, look at that. You couldn't squeeze a sixpence in...a 5p coin ! And the roads around the port remain packed with trucks.. Jubilee Way un-useable by local people coming inwards as trucks fill the entire downward lane. There is only one lane coming down... time to use the central lane as a down lane for local traffic only...( there are 3 lanes )...
As I write frustrated traffic horns blare out into the morning air...and all this at 06:04 am...
The P&O Ferries remain tied up.
Thursday, 24 March 2022 - 06:00
Post 7153
Sea News, Dover
P&O FERRIES move West to East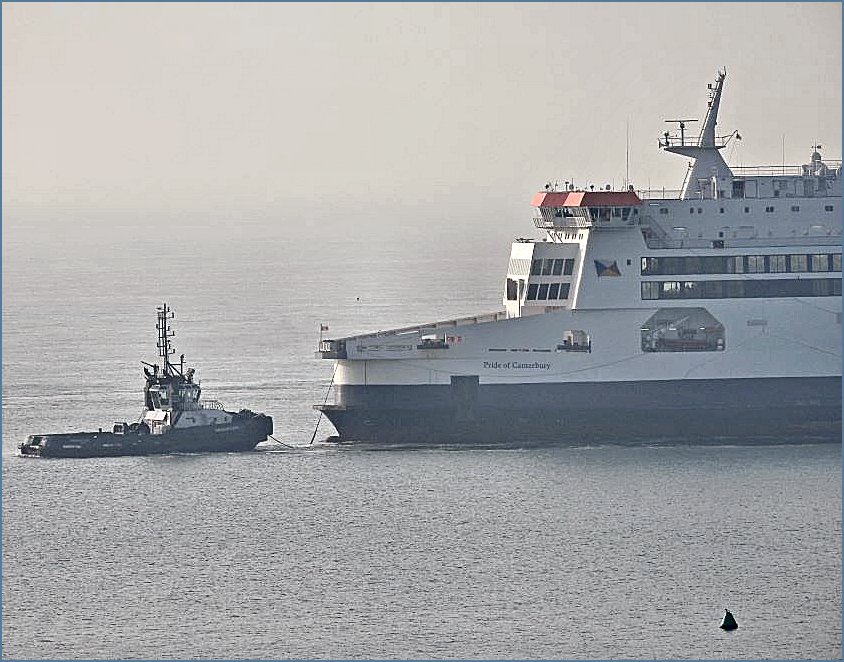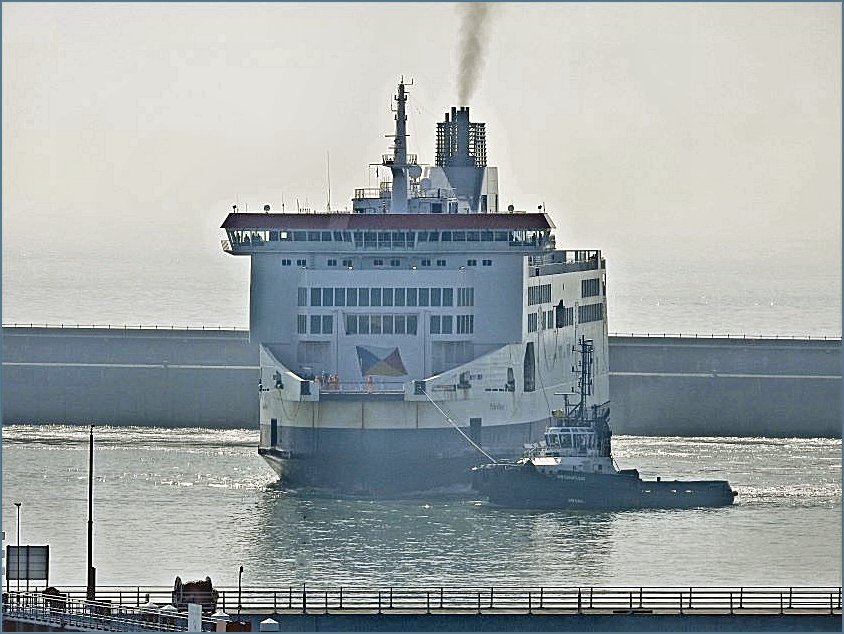 We initially thought the P&O ferries were leaping back into service when two of the three resting at the Eastern Arm were moved. But they just went from one arm of the Port to the other ...with the help of tugs Doughty and Dauntless. Bizarre, but then the whole sorry saga is bizarre...
Top shot there shows the Pride of Canterbury moving on a misty Tuesday morning (yesterday as we write) at 07.22. The second shot shows the Pride of Kent following roughly three hours later, both moving over to the Eastern Arm of the Port where they remain in limbo. The other ferry Spirit of Britain ... remains on the Western Arm at Cruise Terminal One.
The BBC are reporting that P&O have offered the redundant/severed staff a total of 36.5 million English Pounds...a lot of money but it begs the question, couldn't they have been kept employed if that amount is available.
Wednesday, 23 March 2022 - 06:16
Post 7152
Sea News, Dover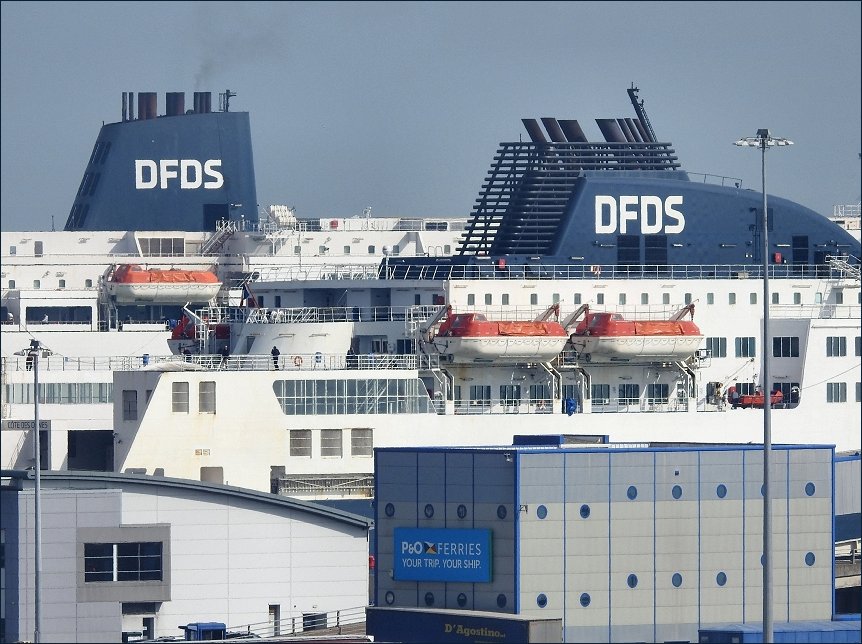 Image shows the high level DFDS presence in Port here in Dover yesterday Monday (afternoon Mar 21). The company along with Irish Ferries are keeping our trade flow with the EU going in these difficult times. Meanwhile the P&O Ferries remain tied up on the western arm of the Port, we understand they are recruiting or have been recruiting. A scandalous story has emerged, courtesy of RMT, stating that the new replacement labour/crew are being offered as little as £1.81 per hour. Illegal under UK law but as the ships are registered elsewhere....well...
P&O deny this is the case but have added nothing further at the time of writing.
The PR 'own goal' goes on.....
Tuesday, 22 March 2022 - 06:22
Post 7151
Sea News, Dover
The Port of Dover minus P&O....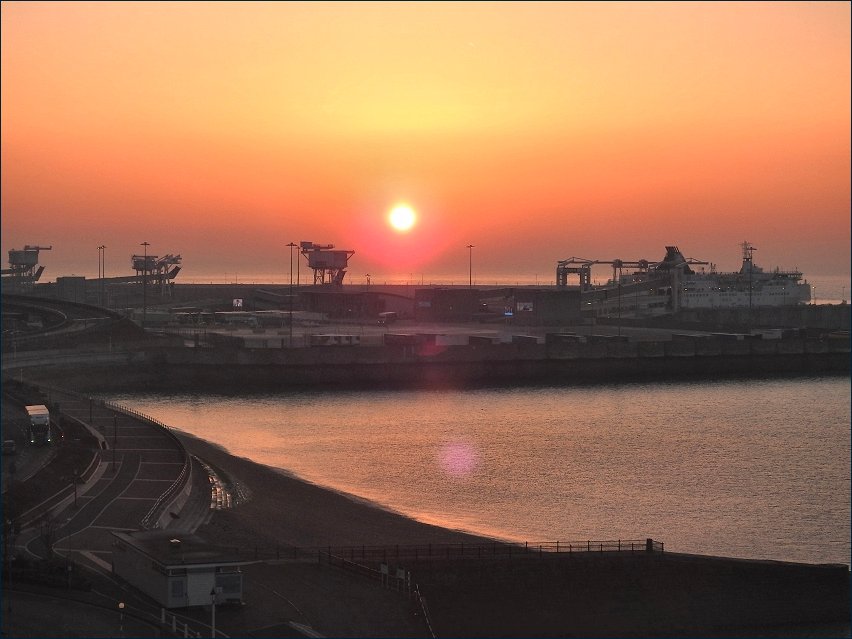 This is the scene at 06.05 am Monday morning. Of course no P&O ships, in fact the hub of our gigantic trade with the EU only has one lingering but working ferry (Irish Ferries) in Port. DFDS of course still working hard too, not in shot obviously. Meanwhile the P&O ferries, three of them, lie in wait on the western arm of the Port. Somebody needs to fix this soon. It is shameful the way the P&O staff have been treated....shameful to see this happen in the modern age...
We wait for a solution...
Monday, 21 March 2022 - 06:47
Post 7150
Sea News, Dover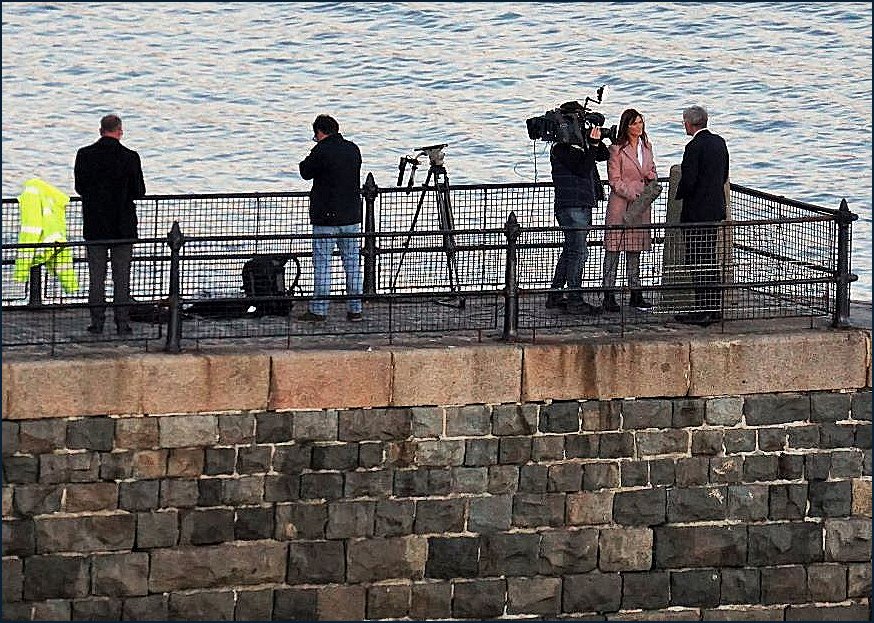 And the media interviews went on, this looks like Simon Calder again in the shot above, but for a different news channel this time. The situation has sent shockwaves through the nations workforce... and of course a particularly nasty shockwave through the hard working P&O teams...how can you replace experience crews like that and still maintain the required safety levels....
Our Dover MP Natalie Elphicke went to join the P&O protesters to show solidarity but was heckled ...
..."shame on you" they said.
We've put our normal picture uploads on hold for the moment....
more below...
Saturday, 19 March 2022 - 16:33
Post 7149
Sea News, Dover
As you would expect the P&O job nightmare got much media attention. The pic below, not the clearest, but it shows well known travel writer Simon Calder reporting this morning Thursday. One presumes it's for the BBC as we have seen him regularly on there.... there were numerous other tv crews covering the story....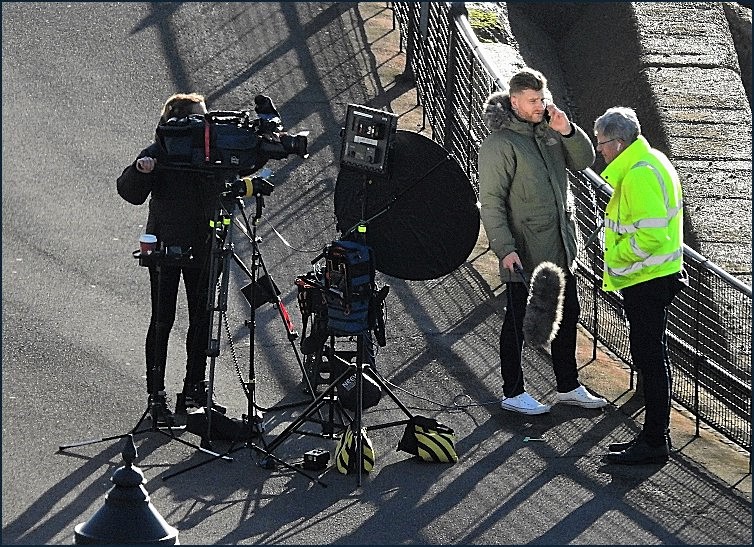 " In the past 24 hours, P&O Ferries has demonstrated how to render a reasonably well-regarded brand... toxic."
Simon Calder Travel Expert.
....more below....
Friday, 18 March 2022 - 15:10
Post 7148
Sea News, Dover


The dreadful P&O story continues....

Quotes from local leaders....


"....we are acutely aware of the impact this will have on those directly affected as well as those who live and work with them. They are in our thoughts at this unsettling time."

Doug Bannister, CEO, Port of Dover


* *

"This is a bitter blow for Dover and the wider district. Our first thoughts are with those employees affected and their families who've been plunged into uncertainty. We'll do everything that we can to support them at this difficult time."

Cllr Trevor Bartlett, Leader of Dover District Council


* *

"This is devastating news for all P&O workers & their families. It is a u-turn on assurances given to me and the RMT Union over the last two years.

It is shabby corporate behaviour by Dubai's DP World and an insult to the decades of loyalty and hard work by Dover's workforce. "

Natalie Elphicke MP for Dover

See also the post below ....




Friday, 18 March 2022 - 06:30
Post 7147
Sea News, Dover


P&O Ferries Brutally Sack 800

Quite an extraordinary situation has developed today at the Port of Dover...P&O ferries have brutally sacked 800 staff/crew in a shocking development, and just now too when the ferry business as a whole is just recovering from the lingering horrors of Covid. The P&O ferries are laid up as we speak...we believe the sacked crews initially refused to leave the ships....

... We are absolutely shocked at this development.




Thursday, 17 March 2022 - 17:50