Friday, 20 May 2022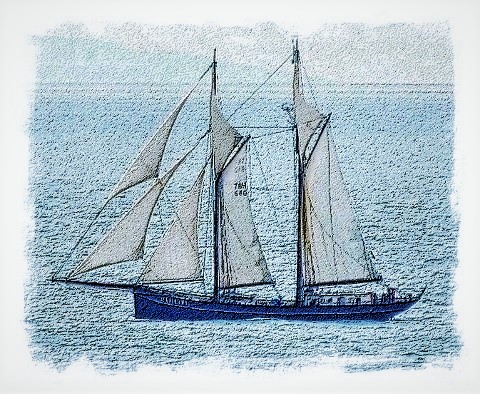 WWW.DOVERFORUM.COM/SEA-NEWS
Sea Pictures from DOVER ....333 plus pages to trawl through now..use Search Engine just below.
All pictures copyright of owners. Editor : Paul Boland - dover7@msn.com
Post 7064
Sea News, Dover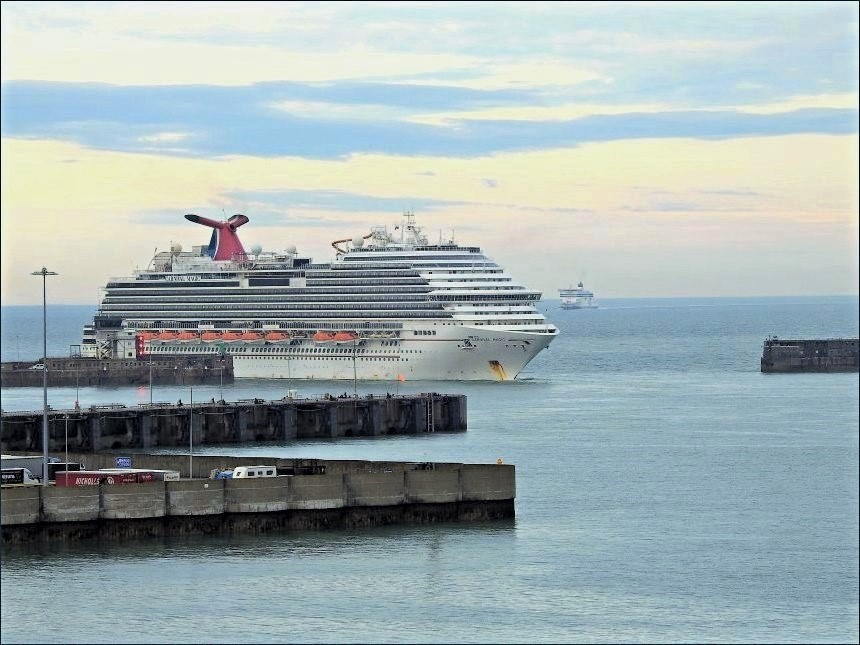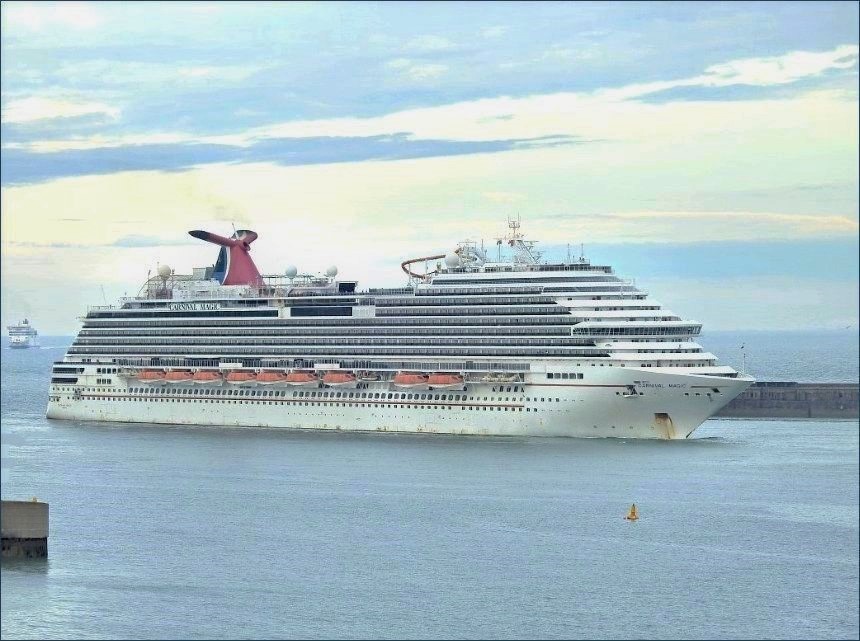 A couple of extra pictures there showing the arrival of Carnival Magic...a stunning mighty ship. Its a great treat to be seeing all these cruise liners here...yes a great treat. As Mike said in post below, she left last evening about 7pm ish with a colourful rainbow as backdrop. Will have some pictures of all that next. The pix are still in camera as we speak so yours truly has a bit of catching up to dooo... but they look okay in the camera anyway.
Ah yes ...guessed that the Dover Grafter had taken over from the Eagle re the anchor search. Yes Eagle was doing it previously...sez he fondly remembering the pictures of the diver suits drying in the prevailing breeze... will get more pictures in due course.
Nice collection of the magical Carnival Magic from Mike below...Don't Miss Those...

For a while there we had double magic...

PB
Sunday, 14 June 2020 - 06:21
Post 7063
Mike J., Dover
PRIDE OF KENT enters on Saturday morning with CARNIVAL MAGIC lying on EAI [Eastern Arm Inner berth].
She sailed about 1900 for Torbay.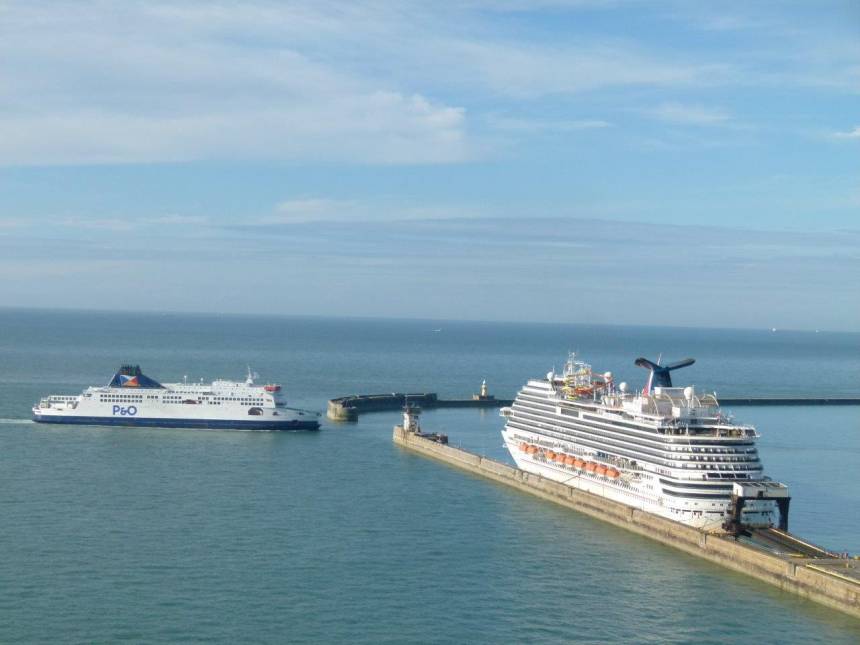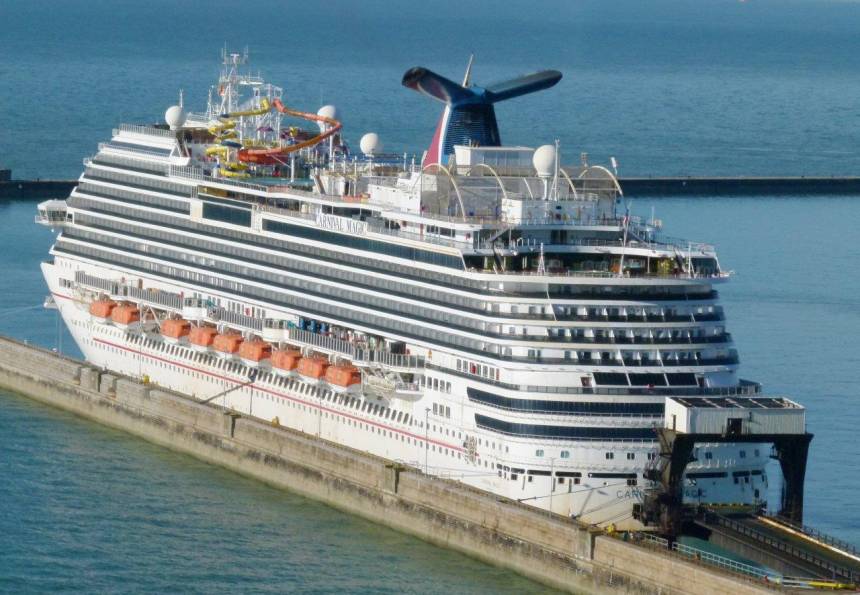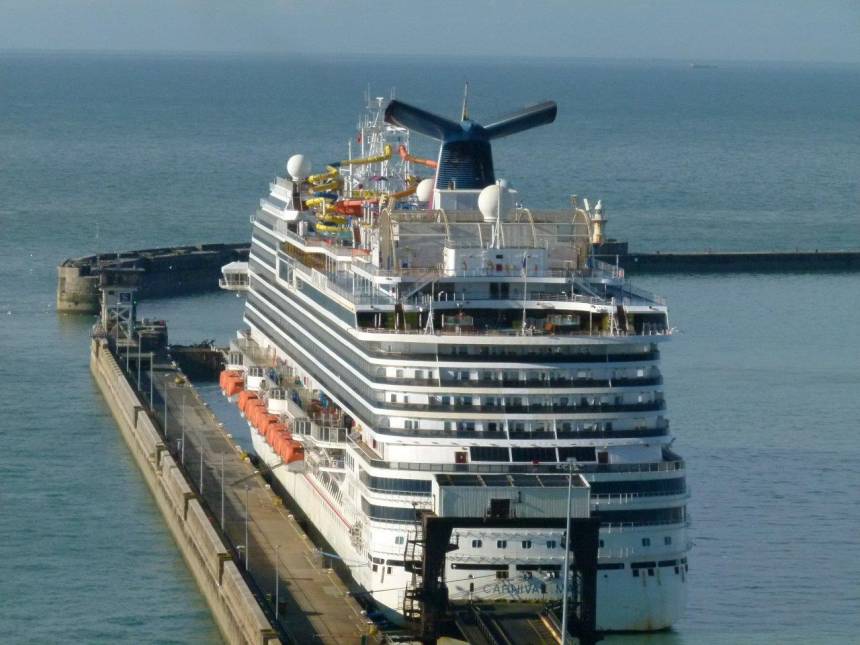 Those lifeboats permanently placed outside the line of the hull & accommodation look unusual but allow for more cabins & more income which is what the bean-counters want !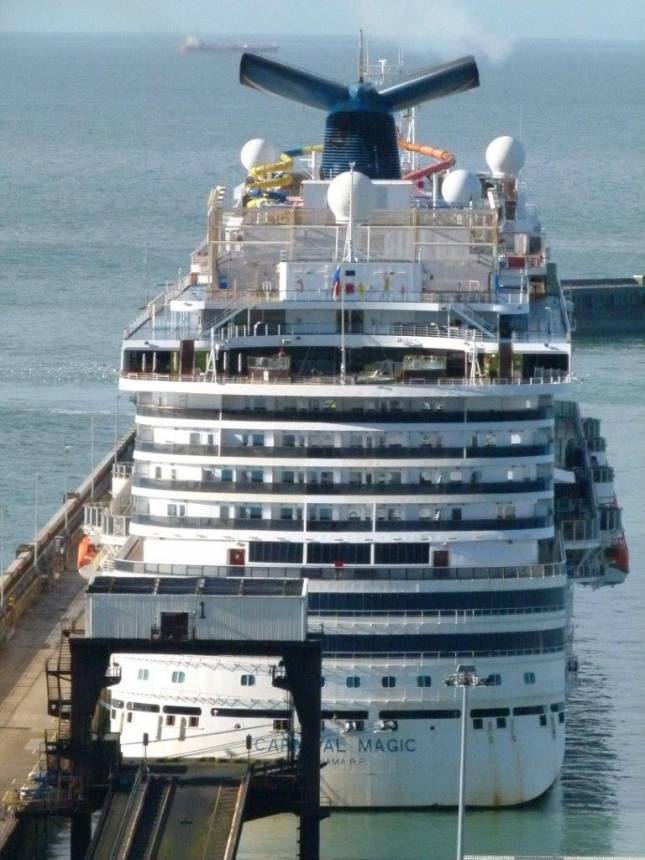 Large modern ferries look small against most modern cruise-ships.
Size mattters !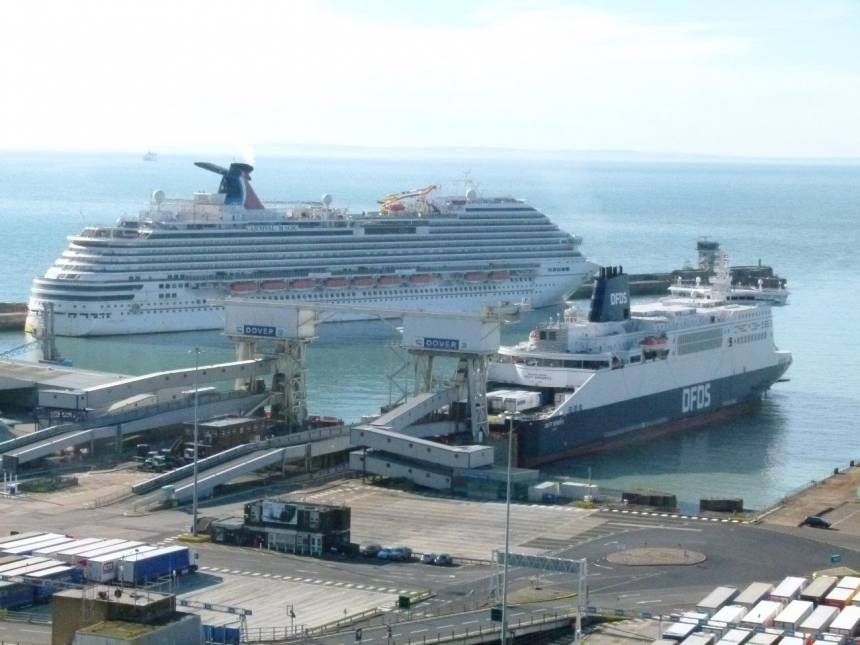 Paul's view of the DOVER GRAFTER - she was working again on Saturday & has been working in the same area for same time, seeking the SPIRIT OF FRANCE'S missing anchor [post 7015].
The EAGLE may have been involved with the same work.
Sunday, 14 June 2020 - 02:40
Post 7062
Sea News, Dover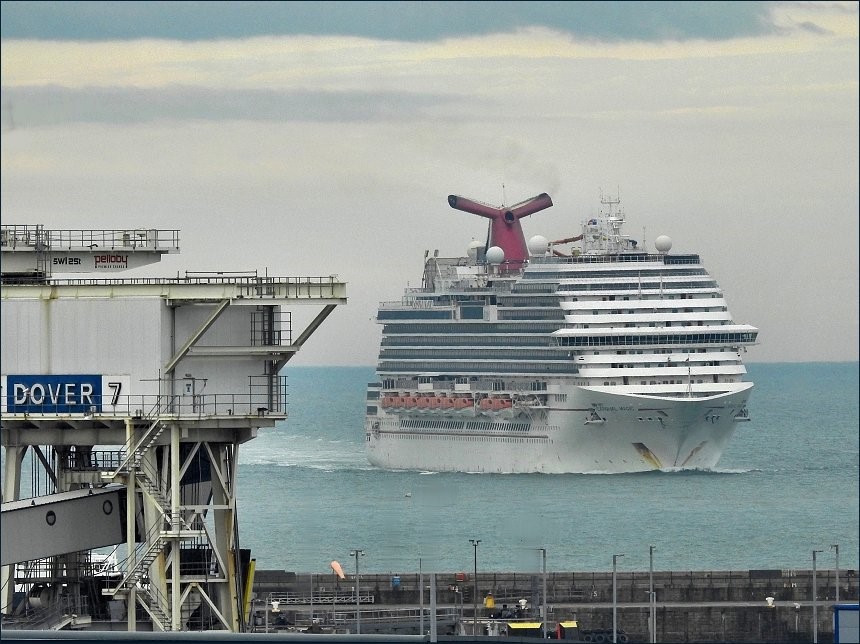 Carnival Magic: Yes there we are...You can see this huge ship approaching the Port last evening....time of pic 19.27. The weather was a bit grey unfortunately. A mighty ship indeed and very impressive. Its now at the Eastern Arm and looks very huge indeed...dwarfing the ferries.
Will have more pictures of her following along in due course...
thanks to Mike for the timing tip off on this...

Just a few general bits now..
The dredger Reimerswaal seems to be a regular visitor now to the outser reaches as it were..pauses just outside Port and always in the same position. Here she is a couple of days ago... presumably doing a crew change.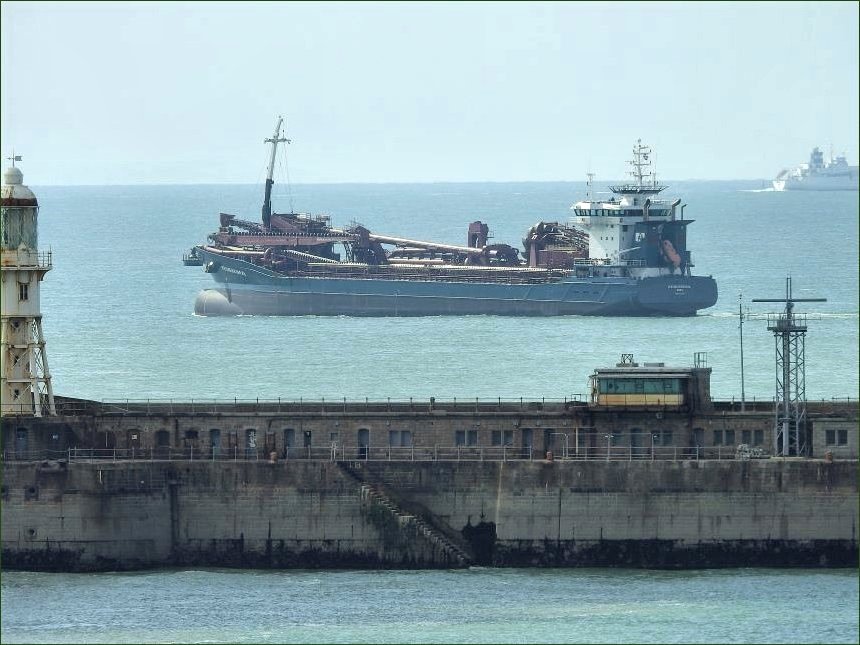 And will add this one from a former visit...you can see her there in the same spot. Saves you going through our Search Engine above.. don't say we don't try to make life easier for you...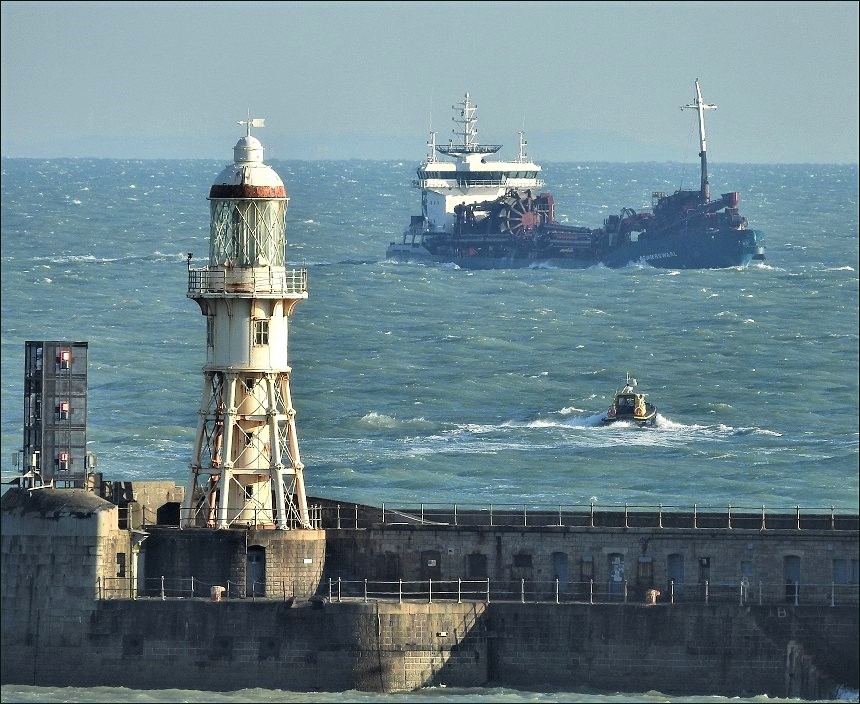 Mike got very nice close-in pictures of Dover Grafter with her new paint colours in post 7045...here she is again, this time out there in the gloom and drizzle in the wider harbour a couple of days back...you can also see her former colours via our Search Box above.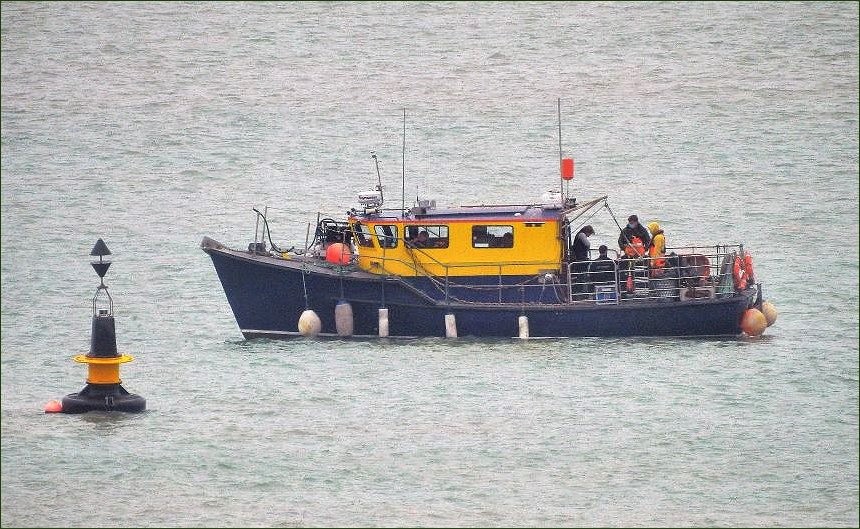 Also out there...the Viking Princess...here she is and certainly worth a look.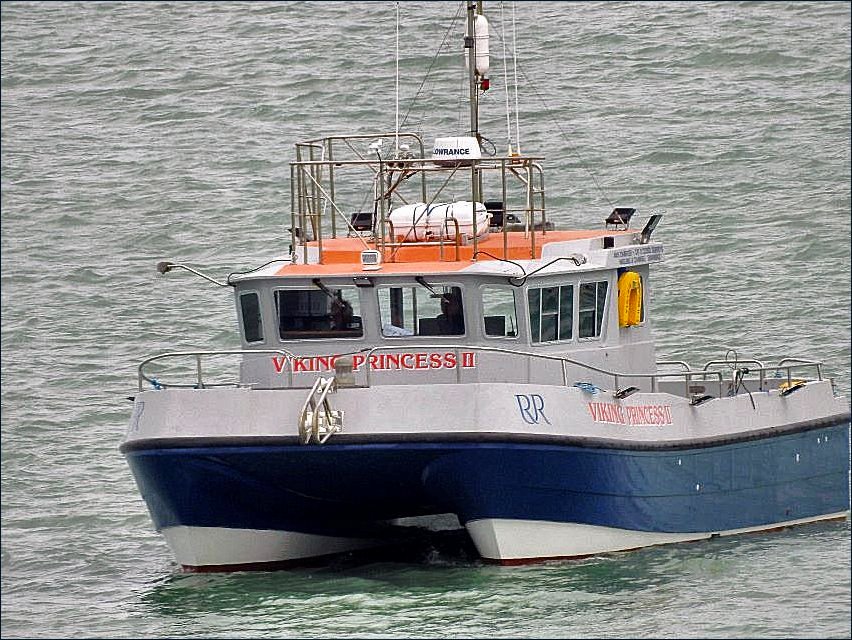 See Mike's collection below

...well done with those Mike.
Thanks Steve...yes we have a double bill of Magics at the moment. Fab ships for sure.. Thanks for the tip off

PaulB
Saturday, 13 June 2020 - 07:06
Post 7061
Mike J., Dover
You're certainly right there, Steve - two MAGICs in Dover Friday night, although I hear that the CARNIVAL MAGIC will disappear, as if by magic, in less than 24 hours,.
The CARNIVAL MAGIC, sIster ship to the recent CARNIVAL BREEZE, arrived at dusk on Friday, coming in from Dubrovnik by way of Barcelona & berthing on the Eastern Arm.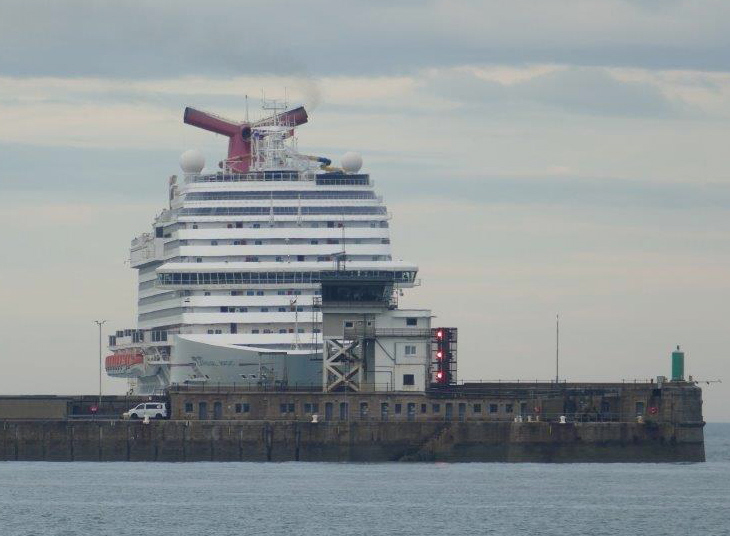 My ship is so small . . . .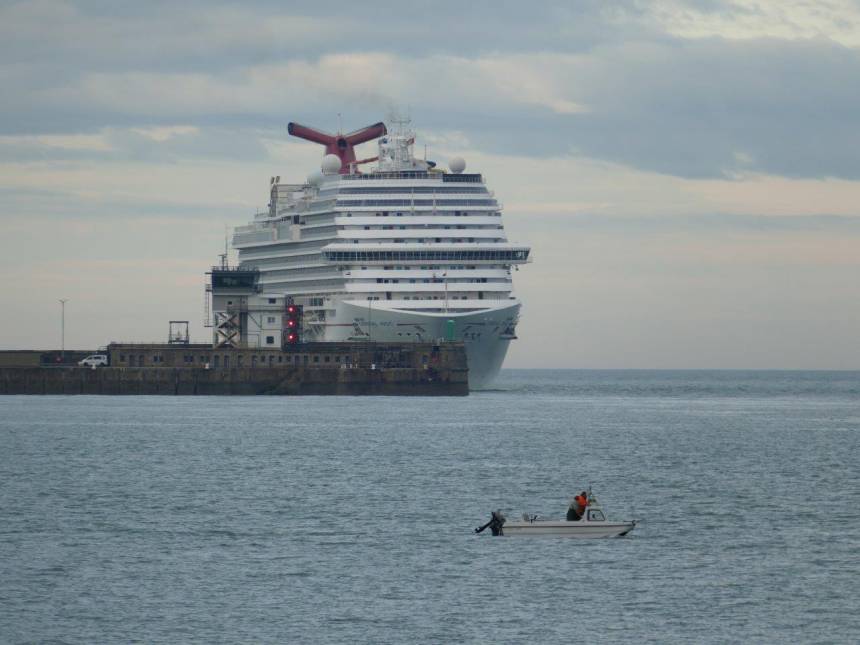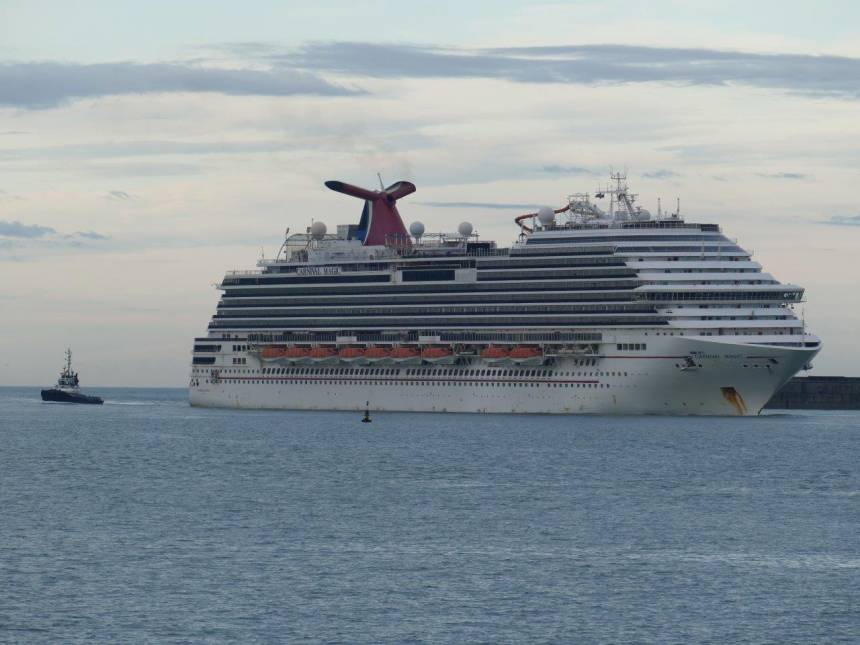 CARNIVAL MAGIC backing down to her Eastern Arm berth, while the SPIRIT OF FRANCE makes a slow approach, waiting for the way to be clear so that she can reach her berth on Pier F.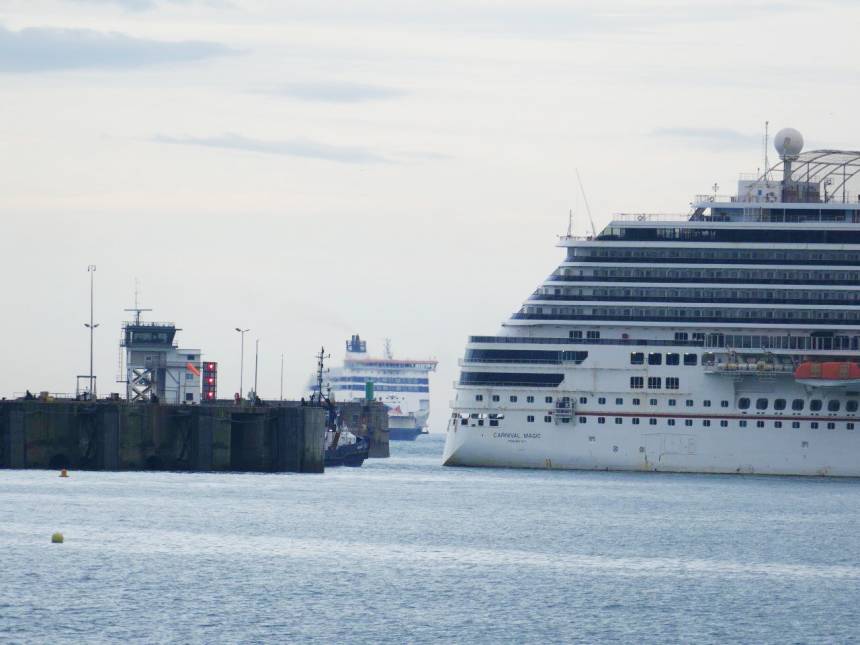 Soon after the arrival of the MAGIC the MAJESTY OF THE SEA sailed for Southampton.
While pecking out these notes I looked to see how far the MAJESTY had got & noticed the EMPRESS OF THE SEAS heading southwest & passing the Isle of Wight & looking to be on another 'grey water cruise' from Southampton to Southampton.
The very last cruise ship still carrying passengers finally arrived in Bremerhaven on 8 June with just eight passenger aboard !
For the interesting tale of Phoenix ReIsen's ARTANIA [a Dover visitor] put 'https' in front of this link -
://www.ship-technology.com/news/last-crusie-ship-passengers-germany/
No problems for the passengers maintaining 'Social Distancing presumably.
Saturday, 13 June 2020 - 03:43
Post 7060
steve newman, Dover, Kent
Could we have 2 "Magics" in town? Looks like Carnival Magic is showing destination Dover at present.

Friday, 12 June 2020 - 07:37
Post 7059
Sea News, Dover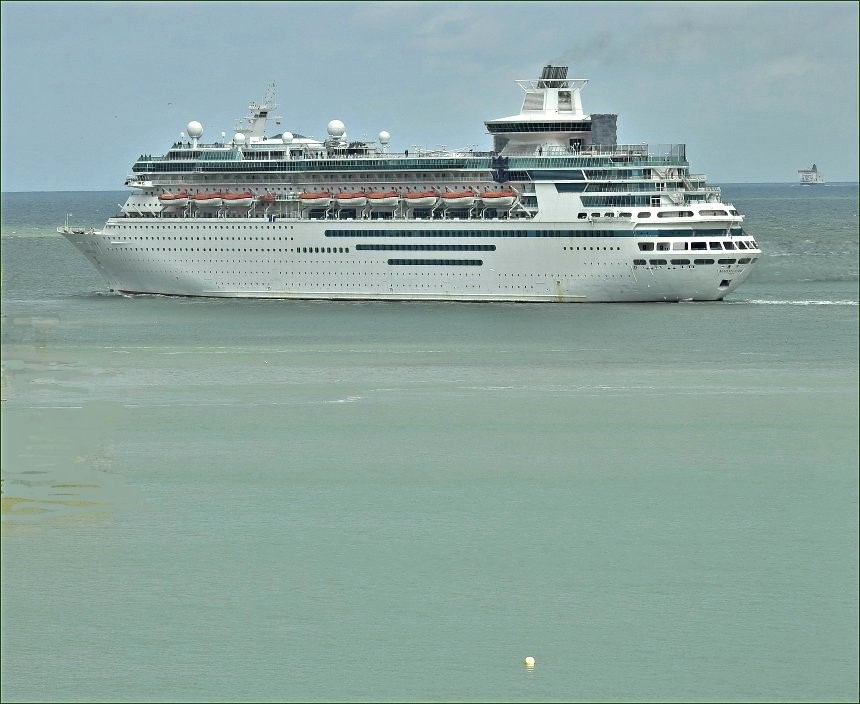 Majesty of the Seas: Going back a few evenings now and we capture the Majesty of the Seas departing...Monday it was.. and a fine soft evening too. We see her above exiting the Port through the Eastern Exit and in the pic below releasing the pilot having come about to head west.... twas a lovely green sea so it was...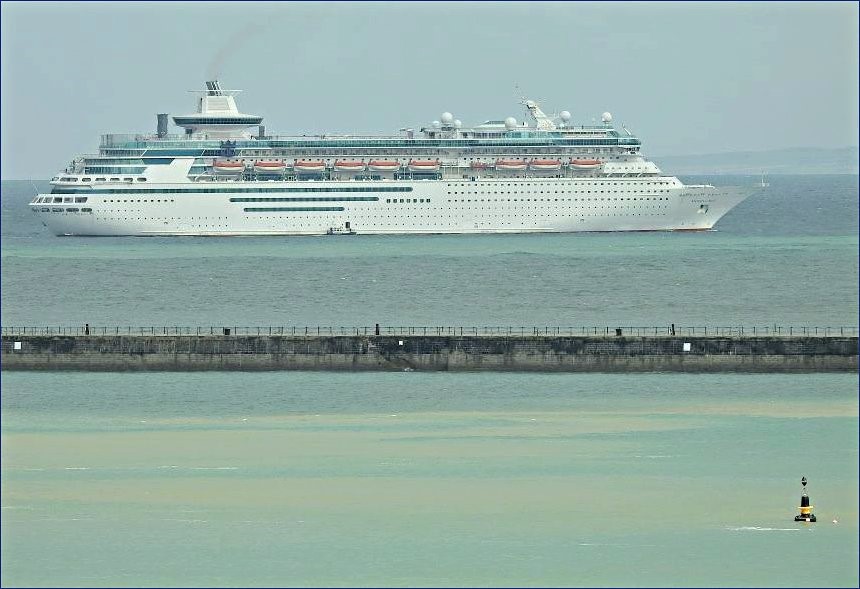 The Maersk Connector leaving yesterday late morning...
the conditions were very dull misty/murky so needed the computer with these ones... you can see the pilot boat alongside and in the final shot, actually taken a few moments earlier...you see her passing the local dredger David Church.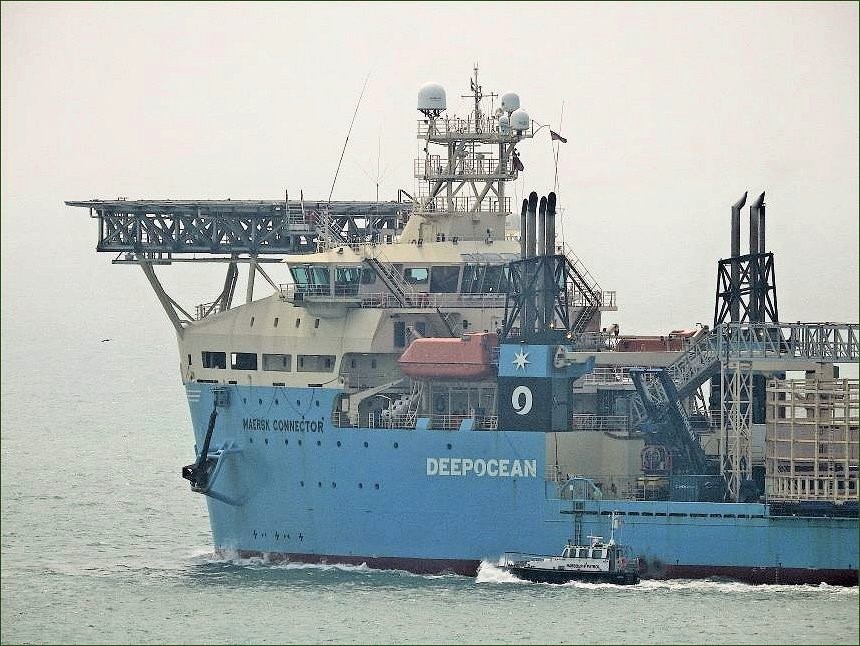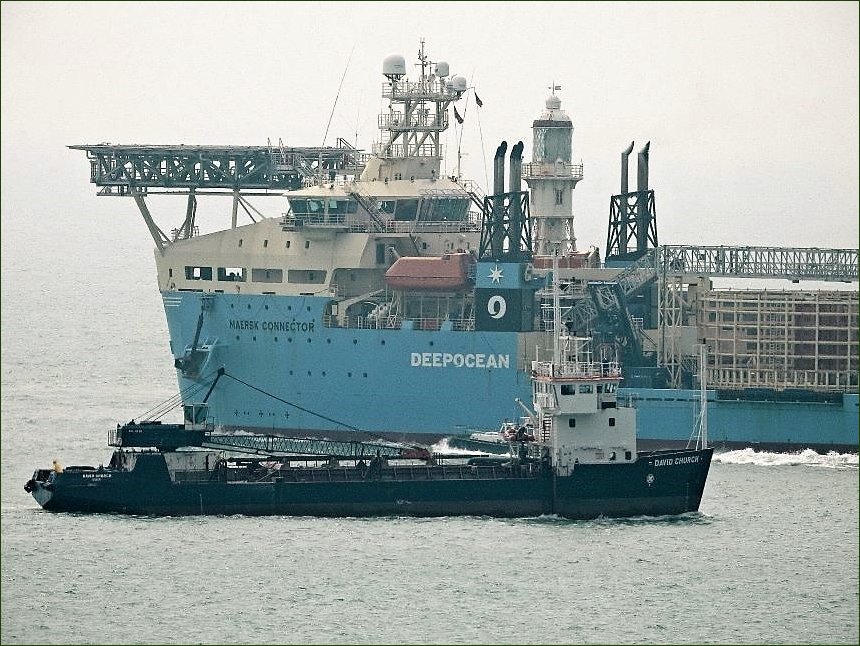 Maersk Connector and David Church.
Thanks to Mike and Nigel for the 'heads up' on the Maersk Connector departure...

PaulB
Friday, 12 June 2020 - 07:00
Post 7058
Sea News, Dover
We have the Carnival Breeze departure now... we catch her leaving pier WD4....here we go...
Pictures from the ...lets see...yes the 8th August. Time of first shot 18.12...just like the Overture...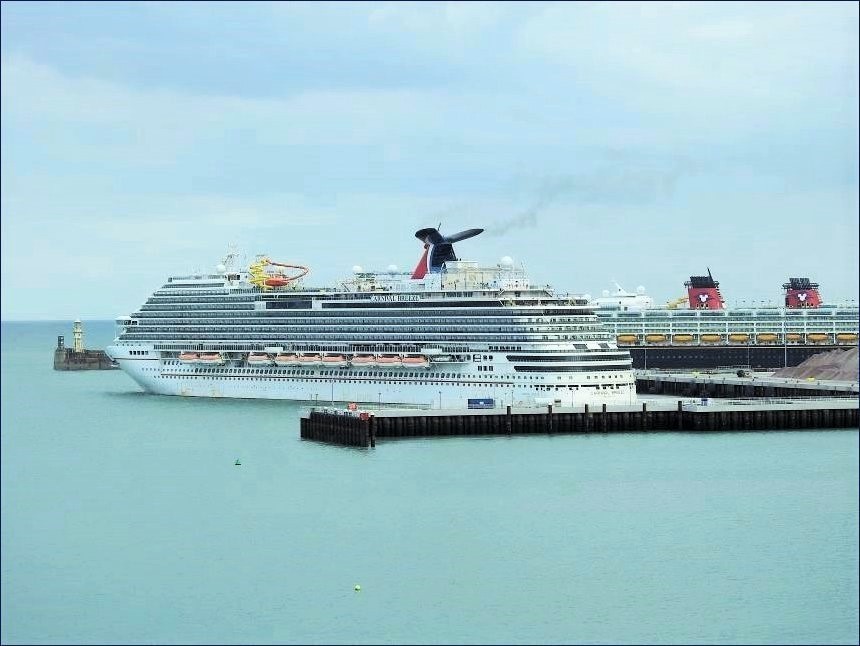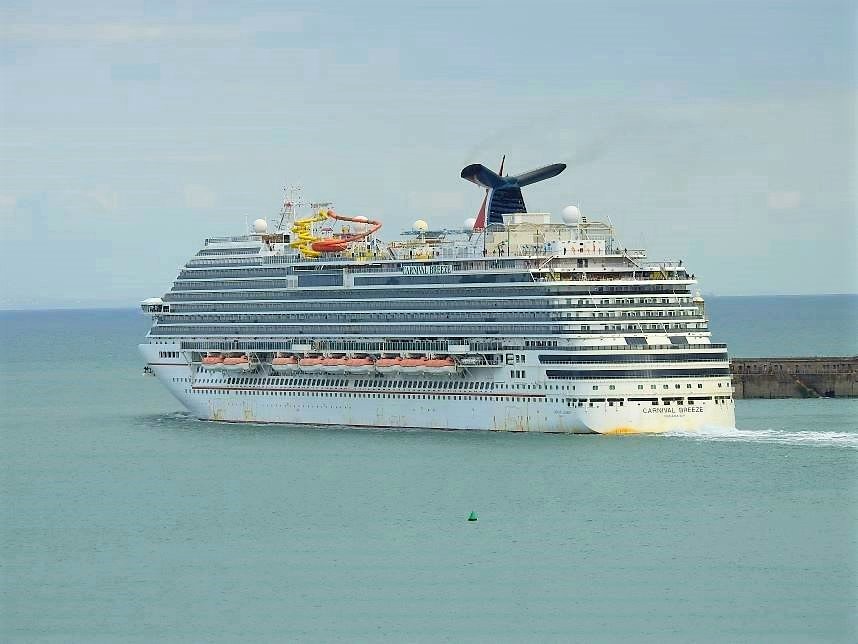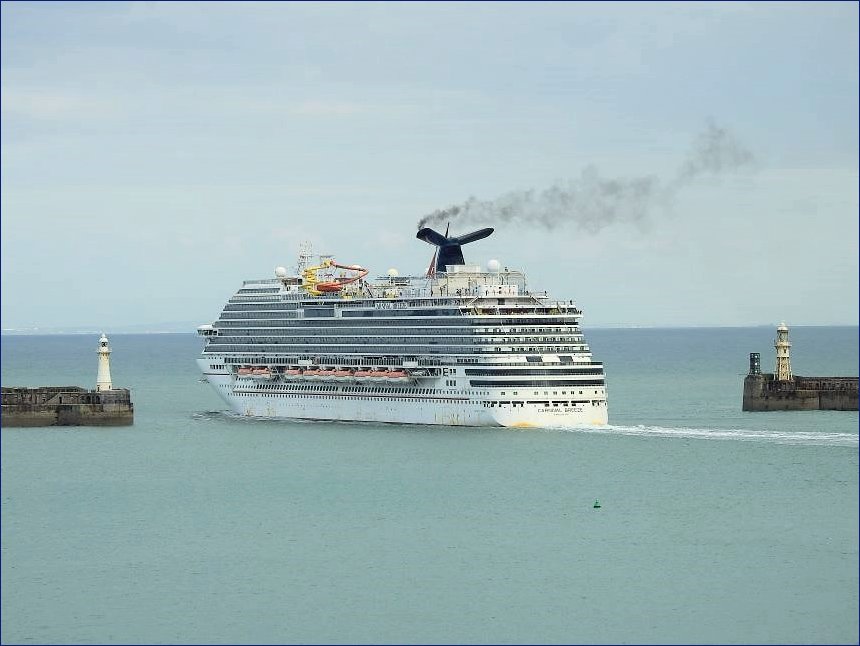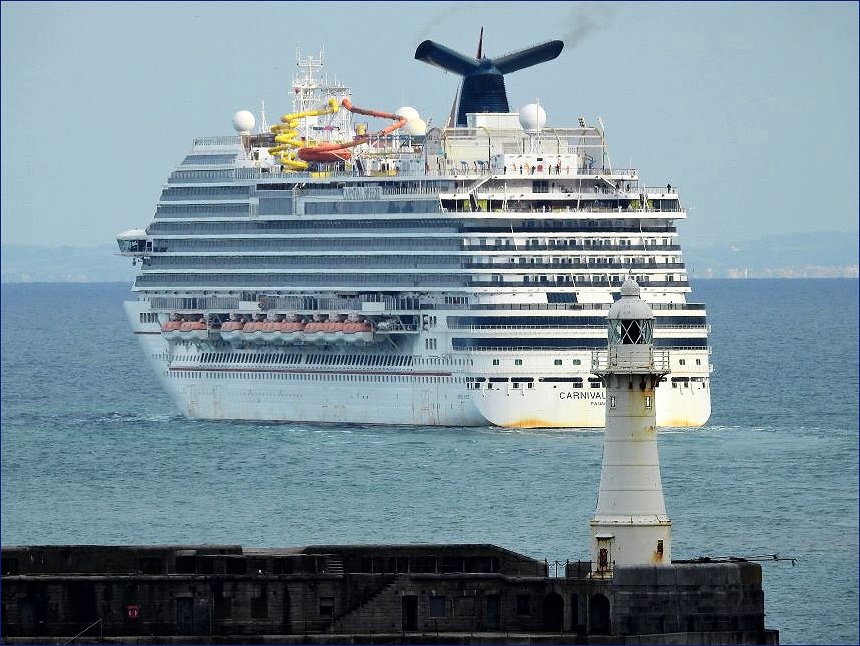 There she goes, all 128,000 tons of her. Enjoyable sequence there taken on a fresh but bright evening.
Will add this one below...one heck of a helter skelter thingy on the top deck. So bright you can see it from outer space..
Yours truly's daughter would have a go at this...or would have done a while back.

Not me....Nosirreee Bob!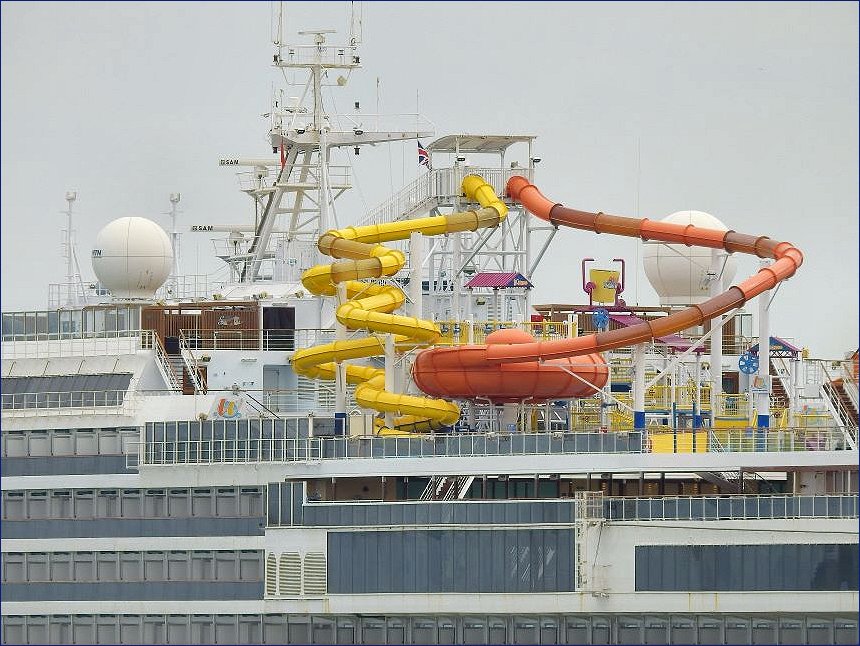 Whooooosh!

crazy but fun!
PaulB
Thursday, 11 June 2020 - 07:05
Post 7057
Sea News, Dover
Completing the sequence began in yours trulys post yesterday...Majesty of the Seas arriving in the grey murky conditions of Monday....
...you can see her here turning in the outer harbour prior to her settling on the Eastern Arm for a time....now of course settled at Cruise Terminal 2..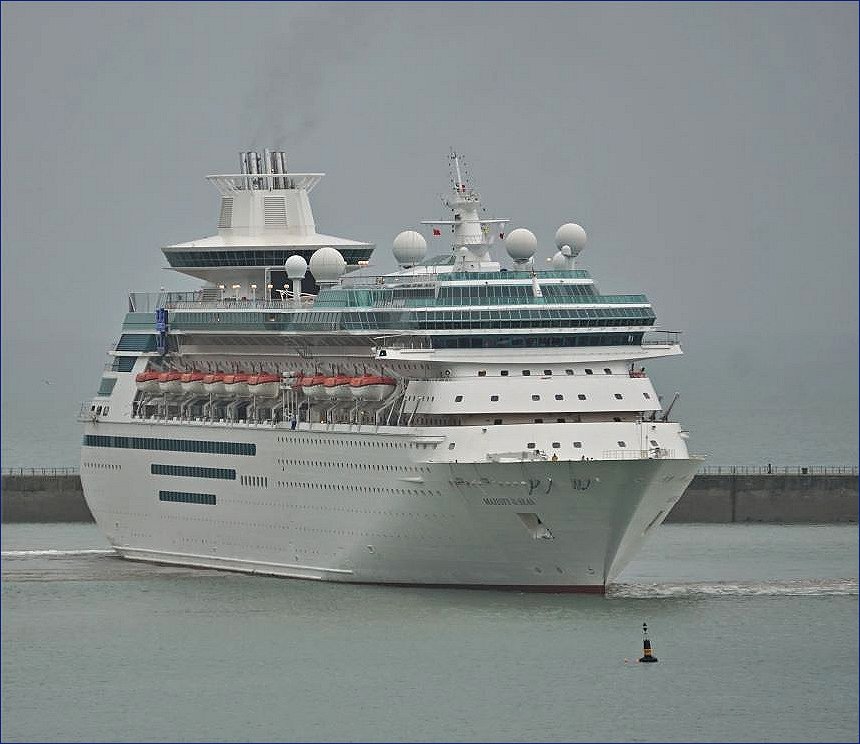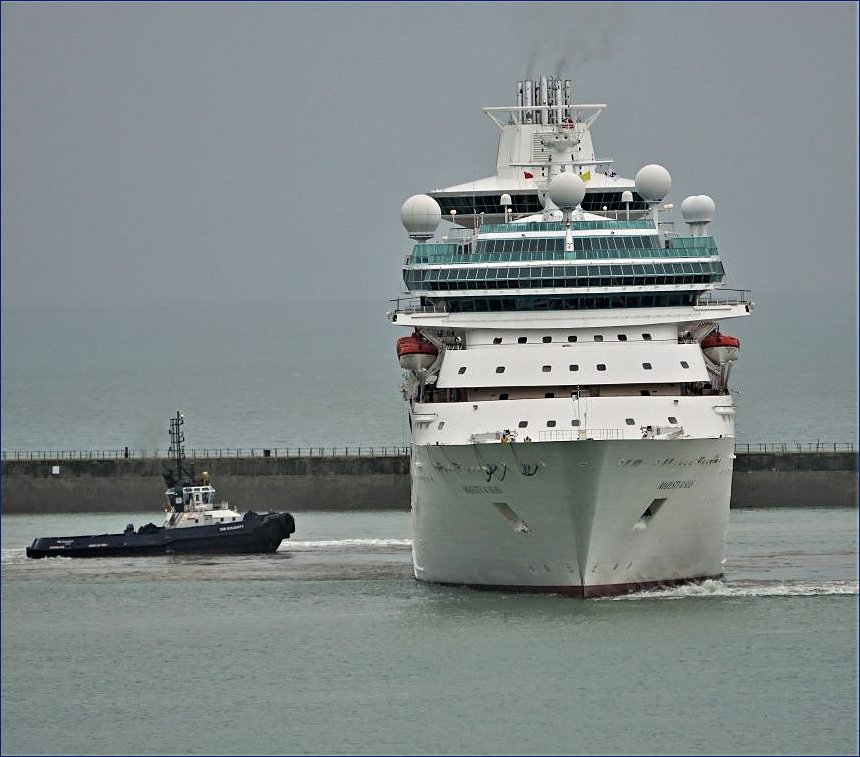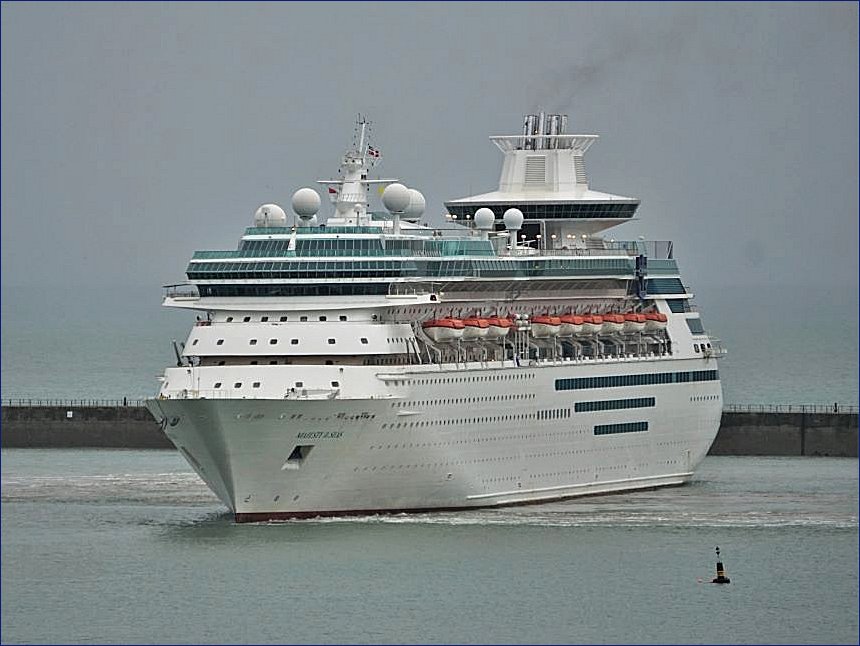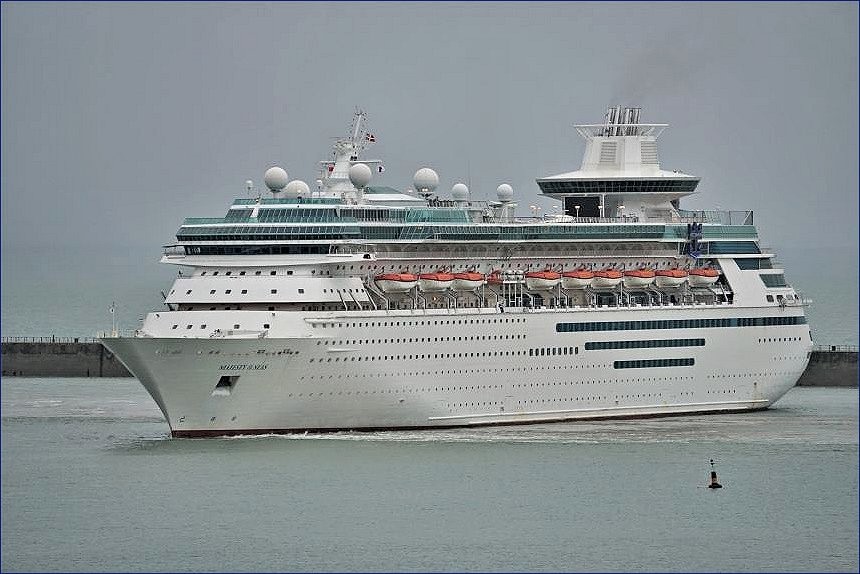 Majesty of the Seas
Just caught the Maersk Connector arriving yesterday...Mike had given us the 'heads up' … hope to get more shots in due course. The exciting ship is now at Cruise Terminal 1. We have had her previously, just type the name in the Search Box above and see more...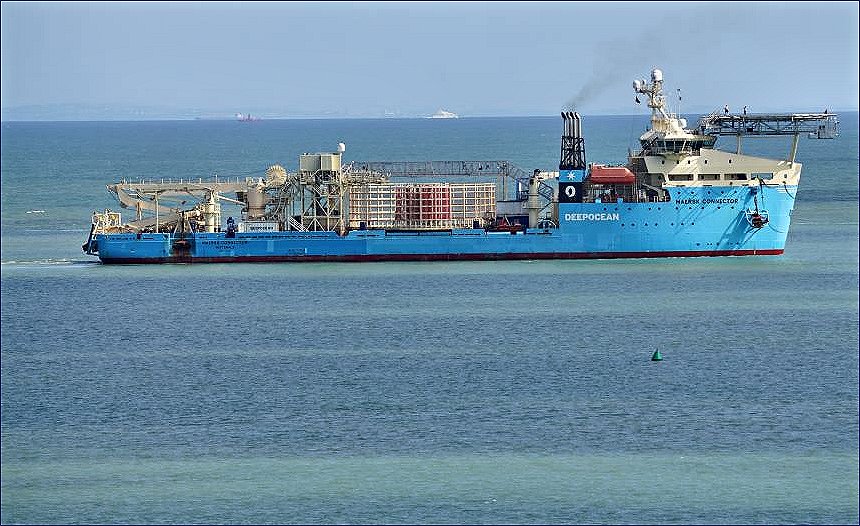 Thanks Del...yes hopefully things will get a bit better soon...looking forward to the time when we can all get out there...

PaulB
Wednesday, 10 June 2020 - 06:51
Post 7056
Del Styan, Norwich
Must be fantastic seeing all those luxury Liners docking in front of you. I'm very jealous of your views, although my garden is looking good after the recent rains. Thanks for all the posts, look forward to seeing them in person - eventually!

Tuesday, 9 June 2020 - 23:10
Post 7055
Sea News, Dover
Following along from the pictures in my post yesterday 7053 and we catch up on the Carnival Breeze gently moving into pier WD4 on gorgeous sunny morning.... here she goes...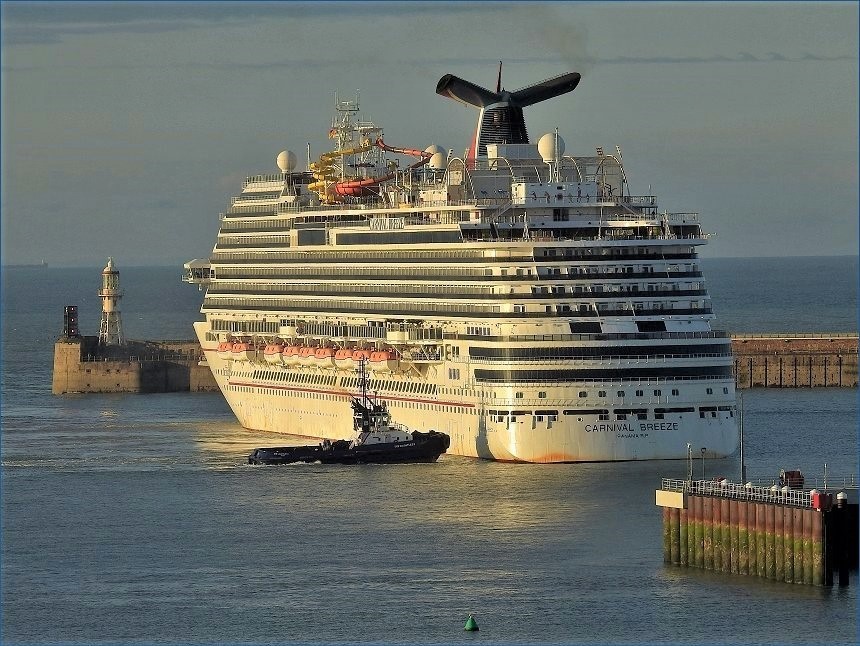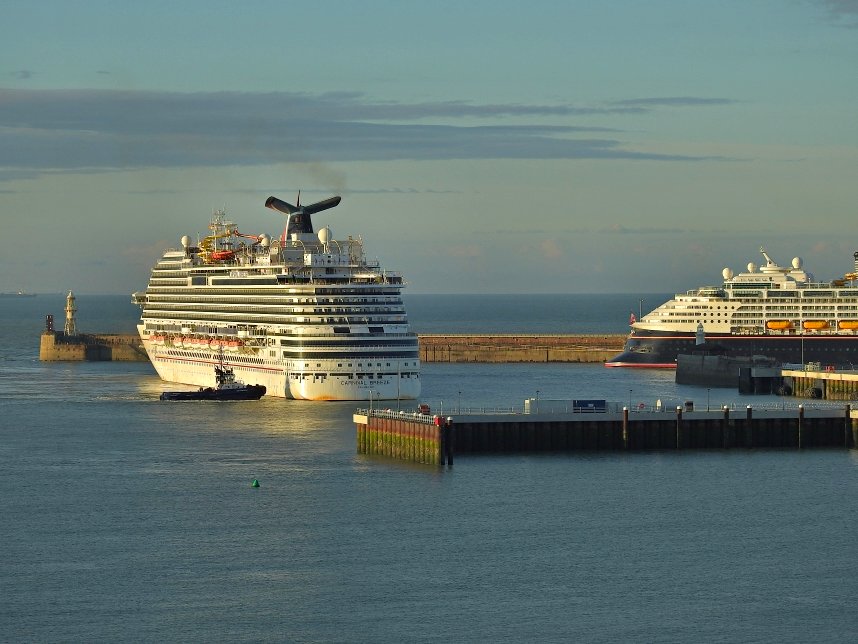 Carnival Breeze
She left us again last evening and we will have a nice sequence of her leaving port...following Majesty of the Seas out to sea... and speaking of Majesty of the Seas, here we are below with just one pic from yesterday...will have more. As Mike said, it was a murky oul mornin' but the drizzle had just stopped as she turned in the outer harbour, and here we are....will have more pictures of this... catching up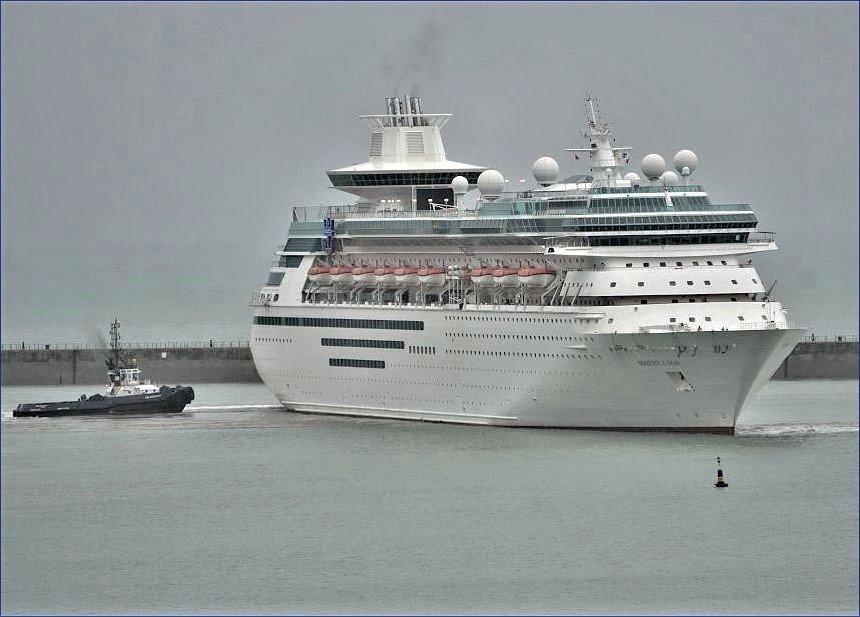 Majesty of the Seas at the Port of Dover.
Nice collection from Mike below there.... nice info...don't miss...

PaulB
Update: Majesty of the Seas has arrived back and is now at Cruise Terminal 2...
Further update: Aurora back in too...now at Eastern Arm...completely missed this one...sheesh!

Tuesday, 9 June 2020 - 06:10
Post 7054
Mike J., Dover
A miserable murky misty Monday morning saw Royal Caribbean's distinctive-looking MAJESTY OF THE SEAS dock on the Eastern Arm at 0700 after running well up into the bay on arrival to allow the COTE DE FLANDRES who entered after her to berth ahead of her.
Ferry schedules are more important than mere cruise ships !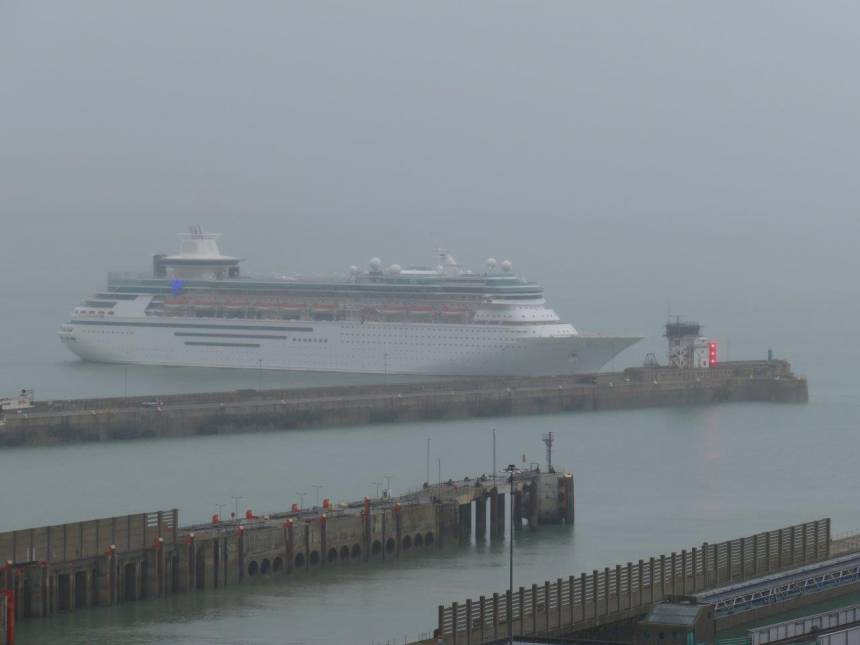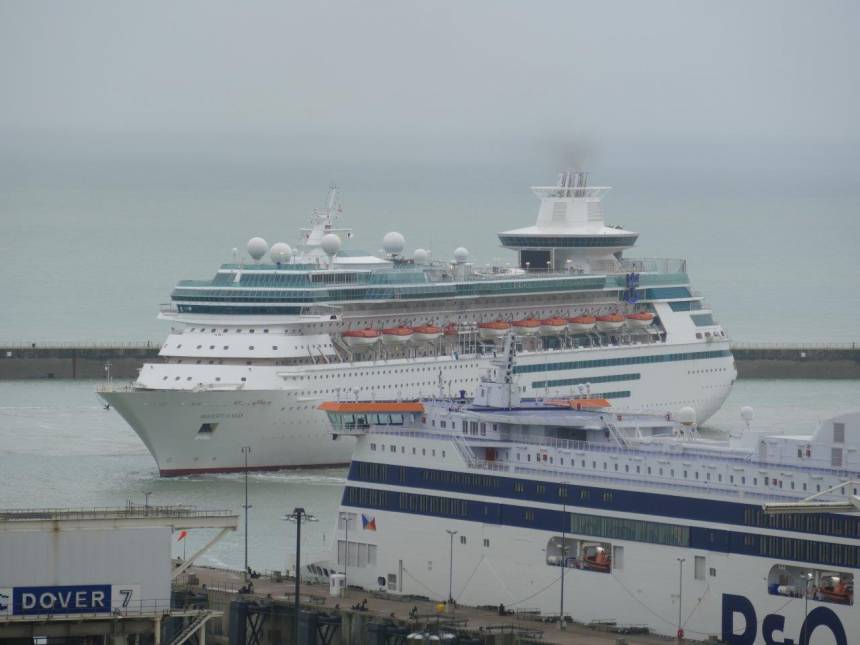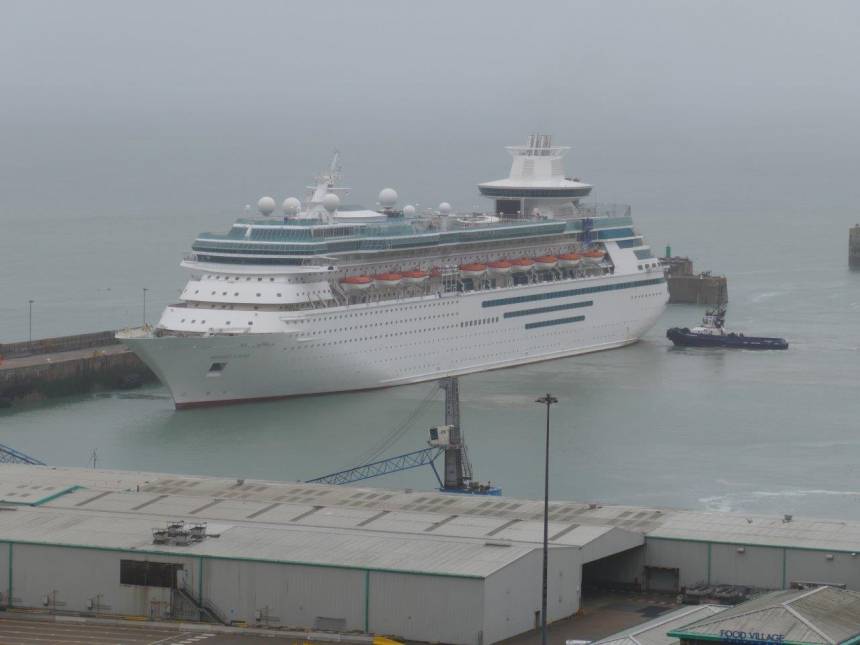 SPIRIT OF FRANCE sails whilst the COTE DES FLANDRES discharges.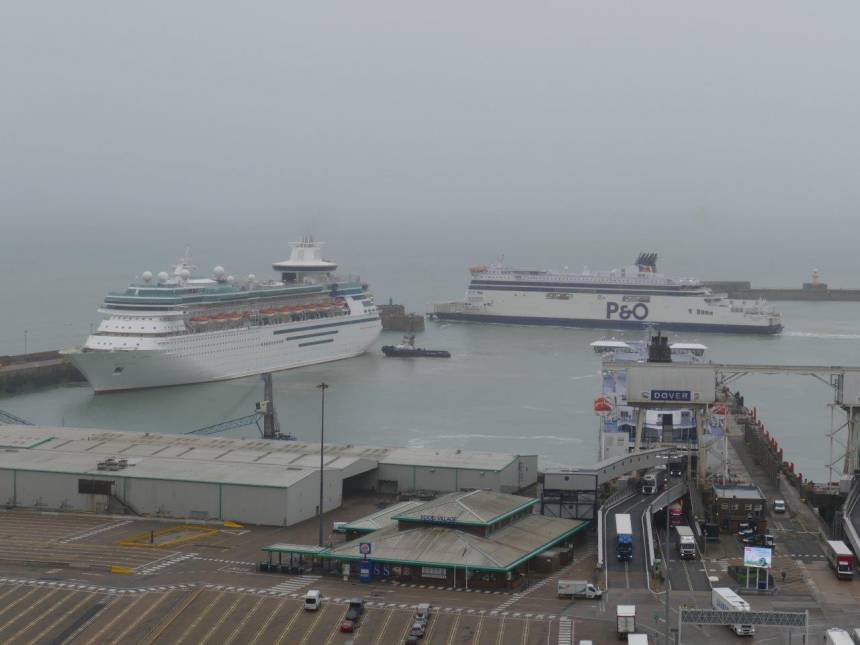 The MAJESTY OF THE SEAS didn't stay long, sailing 1630 & heading SW still showing Dover as her destination which I thought was forgetfulness but at midnight I checked again & found her in the NE lane giving an ETA at Dover of 0500 Tuesday !
The CARNIVAL BREEZE sailed from WD4 at 1800 heading SW for the Nab anchorage & as soon as she had cleared the port the pilot took DISNEY MAGIC round to WD4 from CT2 to WD4.
AIS doesn't show any of the P&O threesome heading this way at the moment but the MAERSK CONNECTOR is still showing her ETA as 1700 Tuesday.
Finally an uncropped version of the York Street zebra-crossing ship-spotting location.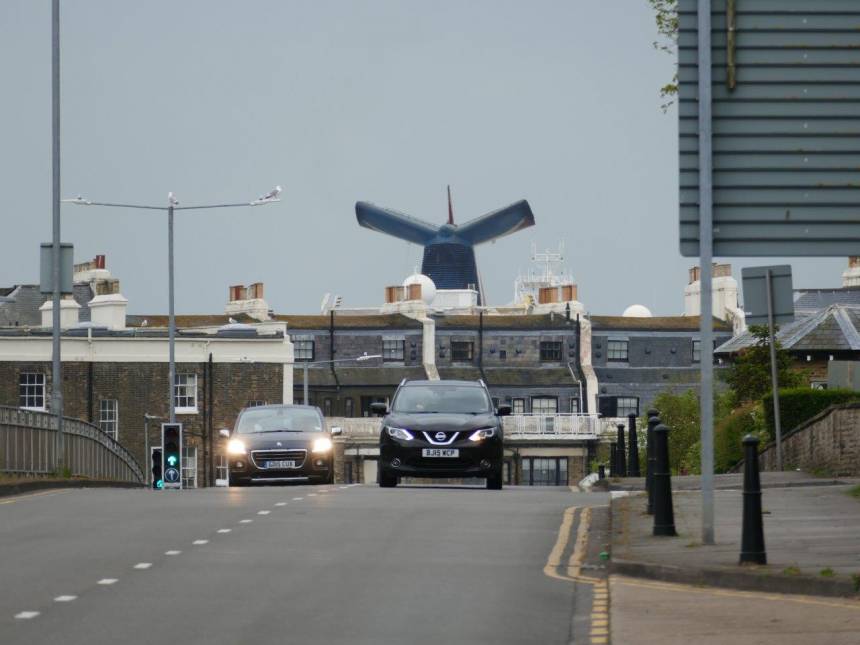 Tuesday, 9 June 2020 - 01:24
Post 7053
Sea News, Dover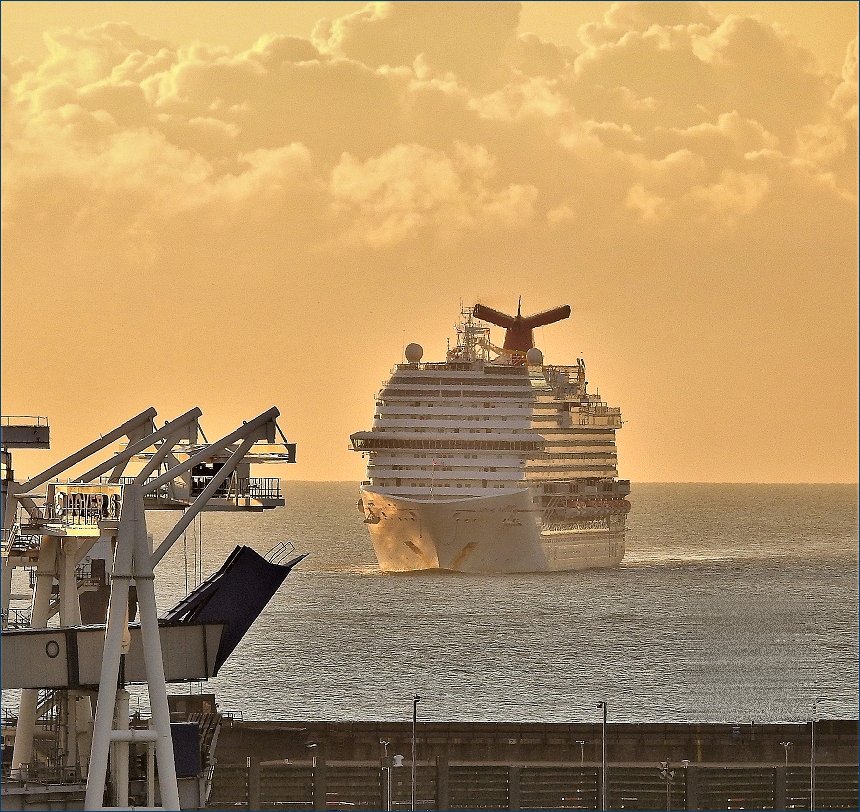 Some pictures now of the arrival of the magnificent Carnival Breeze...a mighty ship indeed, just following along here from Mike's collection in the post below...more info below there too. First shot above looking directly into the early sun. Will have some further pictures too catching her as she slips into WD4.
Approaching above and arriving below...the Carnival Breeze.
To go all technical for a moment..."what a whopper!"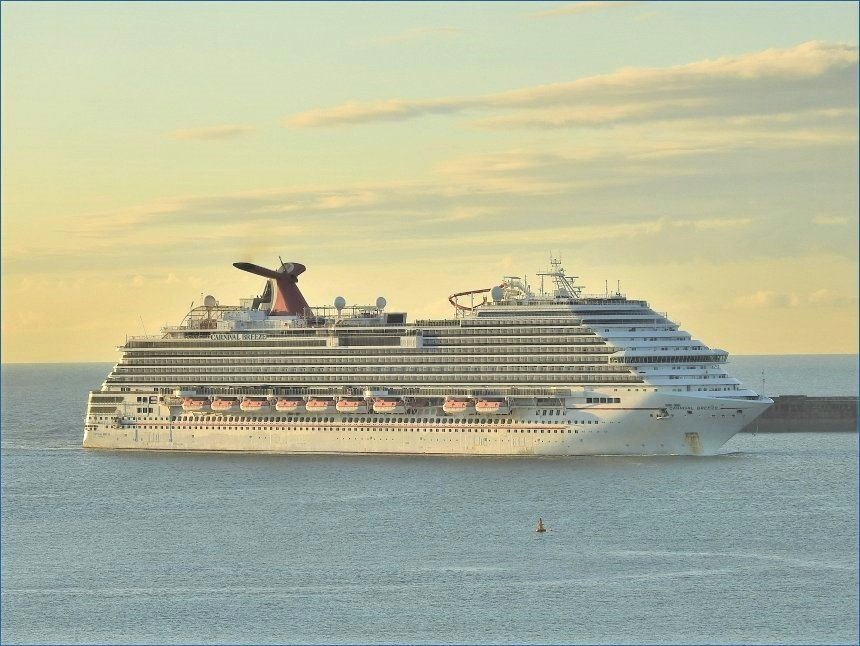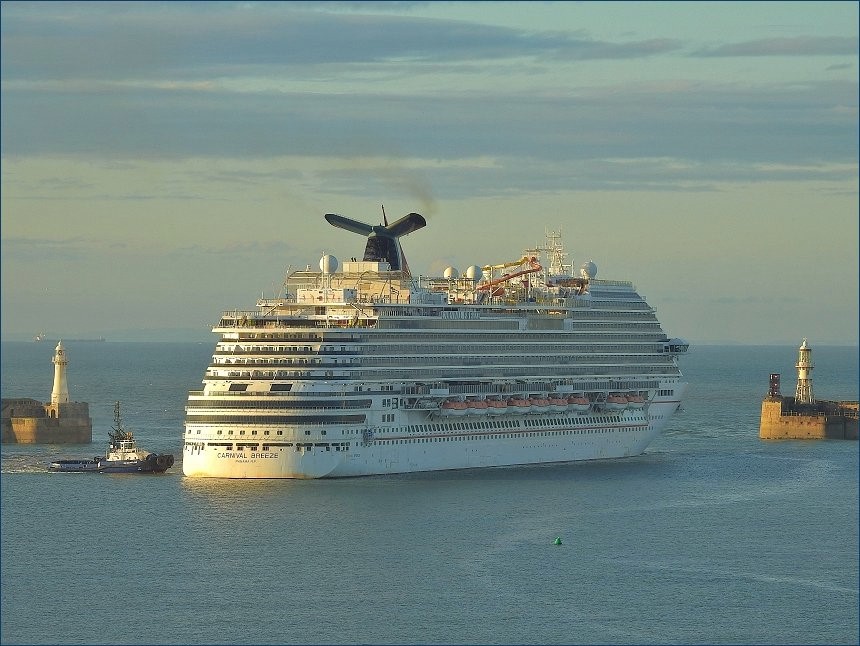 Carnival Breeze looking good as she arrives at the Port of Dover.
* *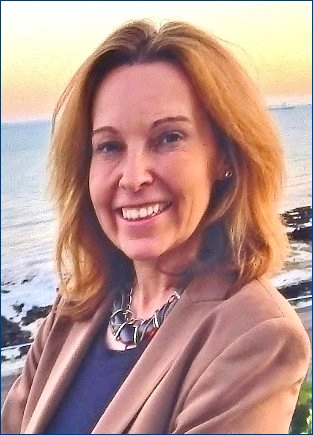 Natalie Elphicke: Ambitious for our Ferry Industry
_____________________________________________
Our community will emerge stronger than ever
During this pandemic, the Port of Dover has played a key role making sure our nation gets the supplies of food and medicines we need. Yet like the rest of the economy, trade has been badly hit during the lockdown. Things have been very tough for the Port and the ferry companies.
P&O has been particularly hard hit. The company has announced plans to make hundreds of redundancies. I have been working with all sides to try to save as many jobs as possible. My first priority is the workers and their families who are affected by what has been happening.
In recent weeks, I have pressed the Government to provide support for the ferry industry. Some £35 million was recently announced to support the ferry industry, on top of millions of pounds already provided through the furlough scheme. The Government has been clear that the furlough scheme extension is there to save jobs while businesses weather the immediate storm. Businesses like P&O should be making full use of it, rather than taking decisions on workforce reductions at this time. After all, if there is a strong recovery in trade and passengers once the pandemic ends, they would struggle to be able to provide the necessary capacity.
Some have called on our Government to bail P&O out. In my book, any financial support must come with assurances over British jobs and fair pay and conditions.
Moreover, P&O's owners are not short of money. They are the backed by the sovereign state of Dubai. I have called on the Dubai Government to stump up and make the investment that is needed. It is important to note that the other ferry provider DFDS is not having to take such profound measures - the Dubai Government should reflect on that as well as make the necessary commitment to P&O.
I hope that P&O's owners will be persuaded to change course. In case they can't be persuaded, I have started discussions on a jobs task force and action plan for our community. Yet I remain ambitious for our local ferry industry. I want to see the expansion of the ferry industry at Dover beyond freight. Leaving the EU provides a massive opportunity to restore the benefits of duty free travel. I recently raised this directly with the Chancellor and will continue to do so.
It also provides an opportunity to restore the fun of the ferries we used to have. The Dance to France was iconic. And there is extra opportunity, with social distancing possible on a ferry in a way it is not on an aircraft. We have an immediate opportunity to make ferries fun and popular again - and we should seize it.
Let's also think about the wider hospitality industry too. Real progress has been made in our area in recent years. We now need to do even more. That means making better use of our public spaces, and improving our seafronts, historic and natural attractions, and the links between them.
But importantly it also means supporting local businesses and our community to make more money from these attractions. It's no good for us if people drive down the motorway and don't spend their money. We want more money attracted into Dover from the ferry industry, as well as more for local businesses from the millions of visitors to the Castle or the White Cliffs or the seaside.
There may be difficult times ahead. But ours is a resilient community. We have been through tough times before and come through. I know that in our White Cliffs country, we will always find a way to emerge even stronger.
Natalie Elphicke MP
Thanks to Natalie Elphicke for the above...and for championing the P&O workforce....

Great pic collection (and info) below there from Mike...don't miss those..

Thanks for the info Steve..greatly appreciated

Also thanks to Michael for the info offline...

PaulB

Update: Majesty of the Seas now safely at Eastern Arm
Monday, 8 June 2020 - 06:15
Post 7052
Mike J., Dover
Arrival of CARNIVAL BREEZE, the largest cruise ship to visit Dover, early on Sunday morning after a passage from Dubrovnik via Southampton & berthing on WD4.
1004 feet in length & built in 2012, she can carry up to 3690 passengers with 1386 crew-members.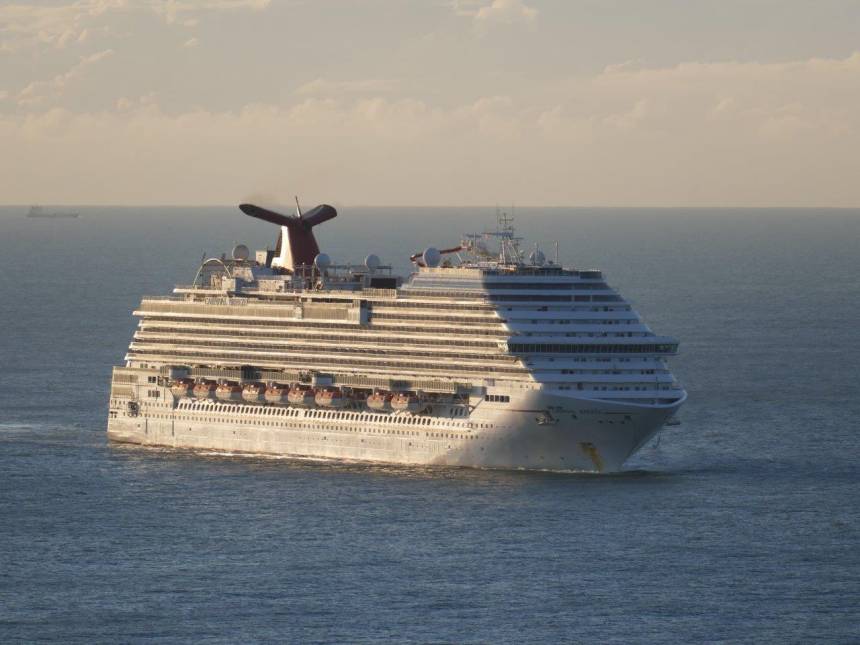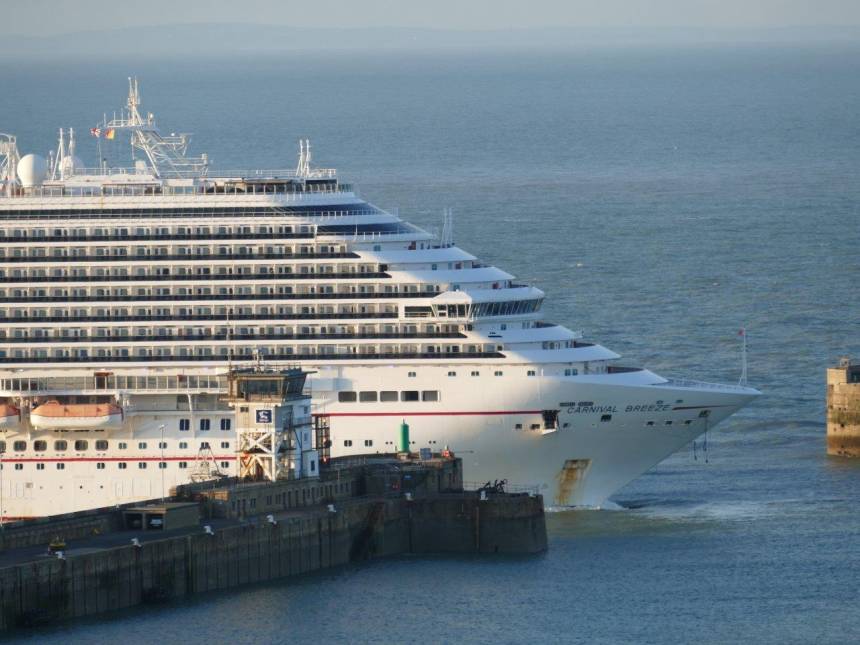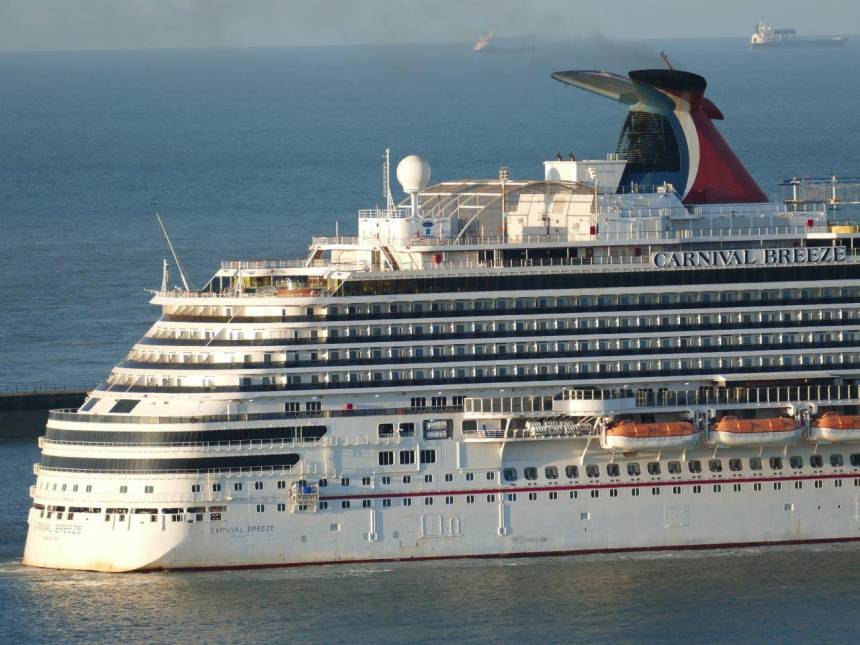 Her arrival in Dover made an unusual sight, looking down York Street, not a normal shipping photography location..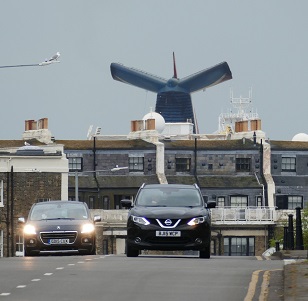 MAJESTY OF THE SEAS is still giving her ETA as 0500 on Monday
The BOKA VANGUARD passed Dover in daylight, but quite invisible in the drizzle.
Still no definite news regarding the arrival of the QUEEN VICTORIA.
Monday, 8 June 2020 - 00:46
Post 7051
Mike J., Dover

Steve -

AIS shows her ETA as 0500 Monday & there's a strong rumour that the QUEEN VICTORIA will have a second attempt at arriving at Dover later in the week.

Three 'new' cruise ships in Dover in the same week - must be some kind of record !

AIS also shows the cable-ship MAERSK CONNECTOR [post 6049] arriving at 1700 on Tuesday.

Another interesting AIS 'target' - the bizarre heavy lift ship BOKA VANGUARD [former SEAWISE VANGUARD - post 4723] will pass thru the Dover Straits Sunday night [probably in darkness, which she always seems to do] heading for Scheveningen [NL] from Singapore - her ETA there is 0700 UK time on Monday.

Useful gadget this AIS . . . . .

Sunday, 7 June 2020 - 12:11
Post 7050
steve newman, Dover, Kent (steve.newman@zoho.com)
Just noticed MAJESTY OF THE SEAS now also showing Dover - Unless its another tease

Sunday, 7 June 2020 - 08:45
Post 7049
Sea News, Dover
Some pictures now showing the familiar Sikinos approaching and arriving on Friday morning...she was coming over to service the Disney Magic....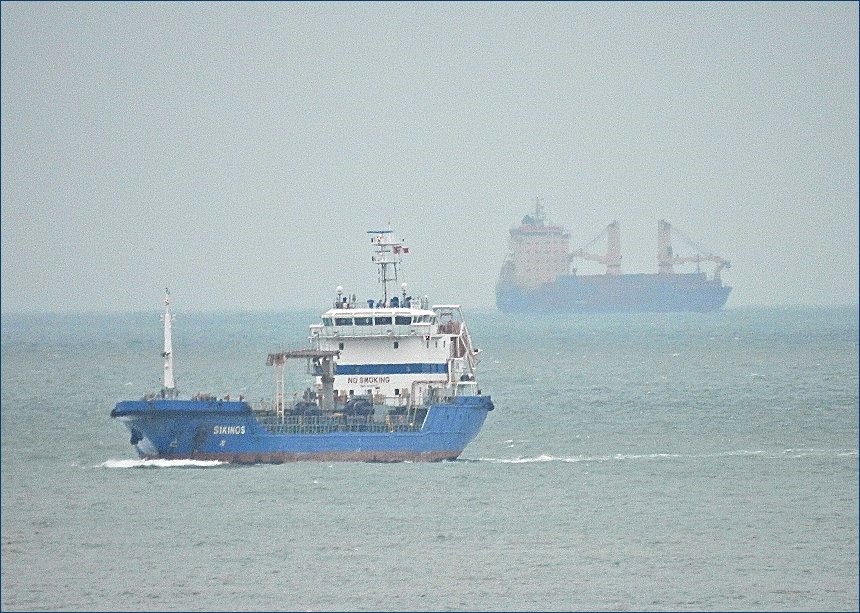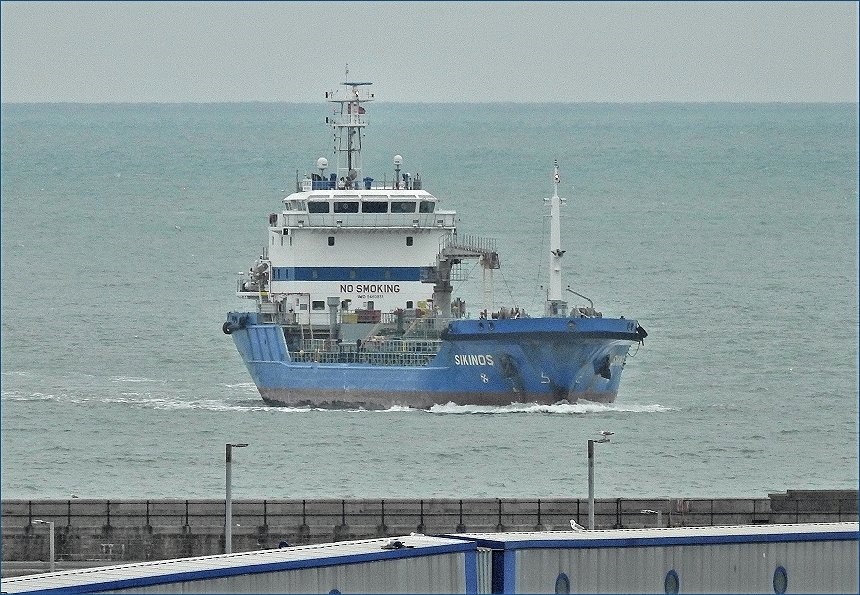 …...a-coming above and a-going again below...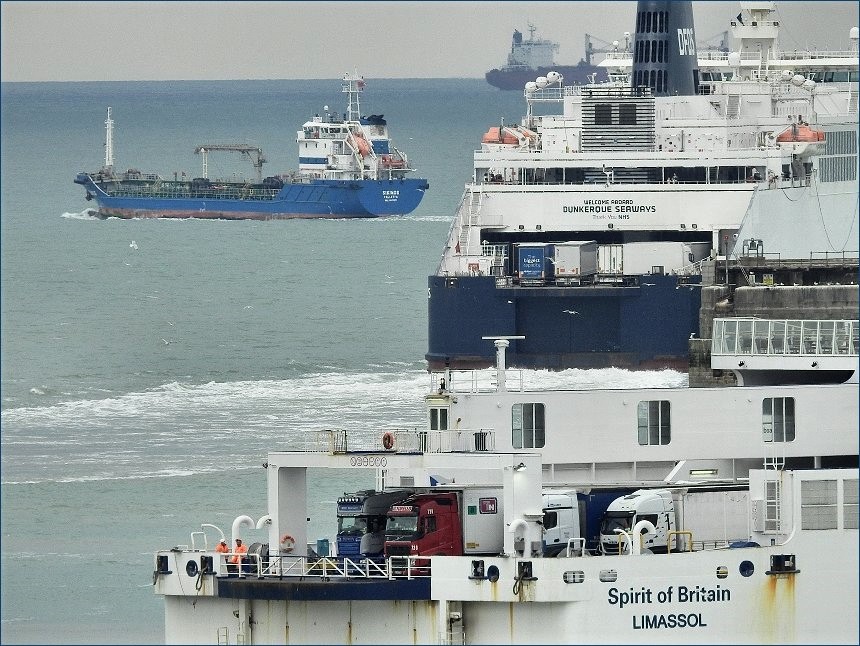 As an added extra...you can see all the packed in trucks there in the different ferries...very encouraging in these difficult times...
Last evening in the spot of rough oul weather...the Disney Magic vacates her position on WD4 and moves back over to Cruise Terminal 2 ...musical chairs as she makes way again...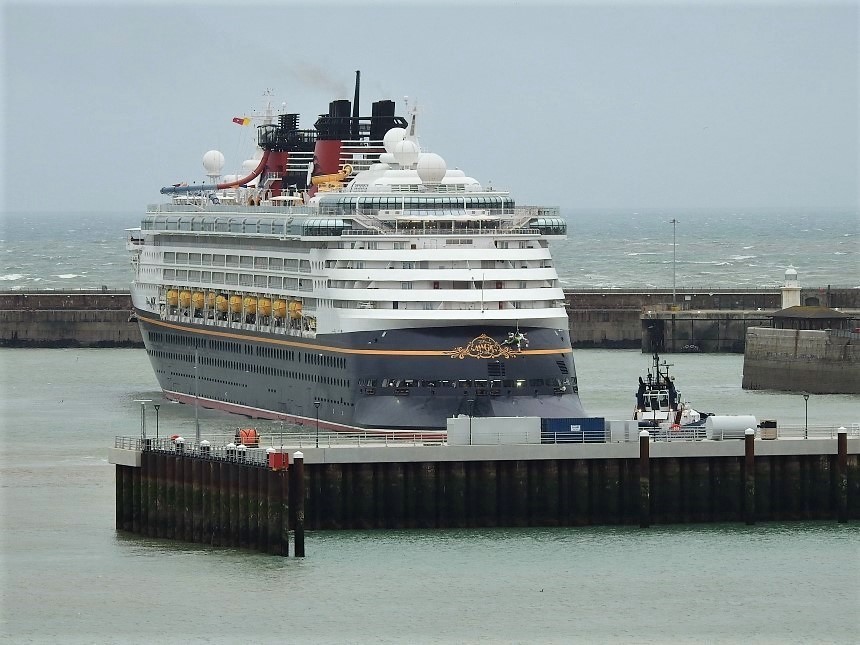 Thanks Brian - yes she is approaching right now as I write....

better get snappin'
PaulB
Sunday, 7 June 2020 - 05:15
Post 7048
brian dixon, dover (brian-dixon2@outlook.com)
carnival breeze making its way to dover.

Saturday, 6 June 2020 - 19:38
Post 7047
Sea News, Dover
Following along now from Mike's pictures of diveboat HM Denham as shown yesterday....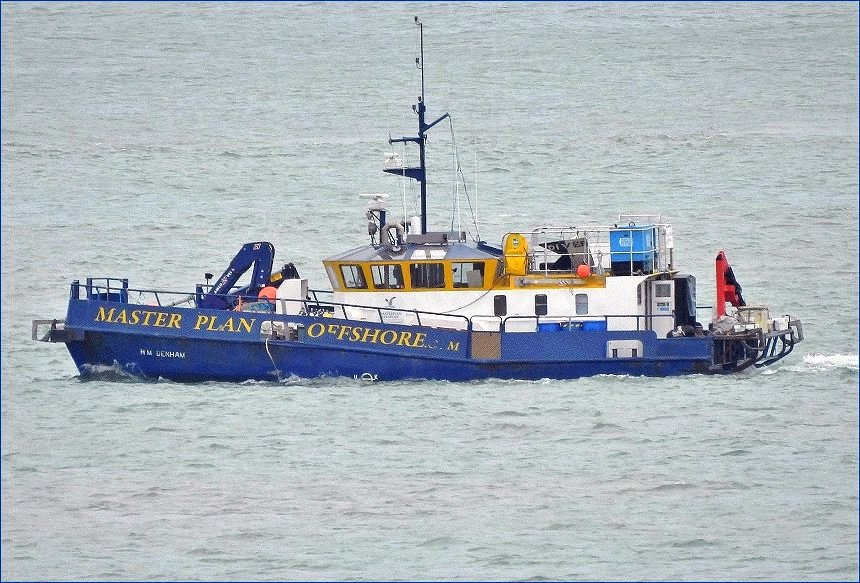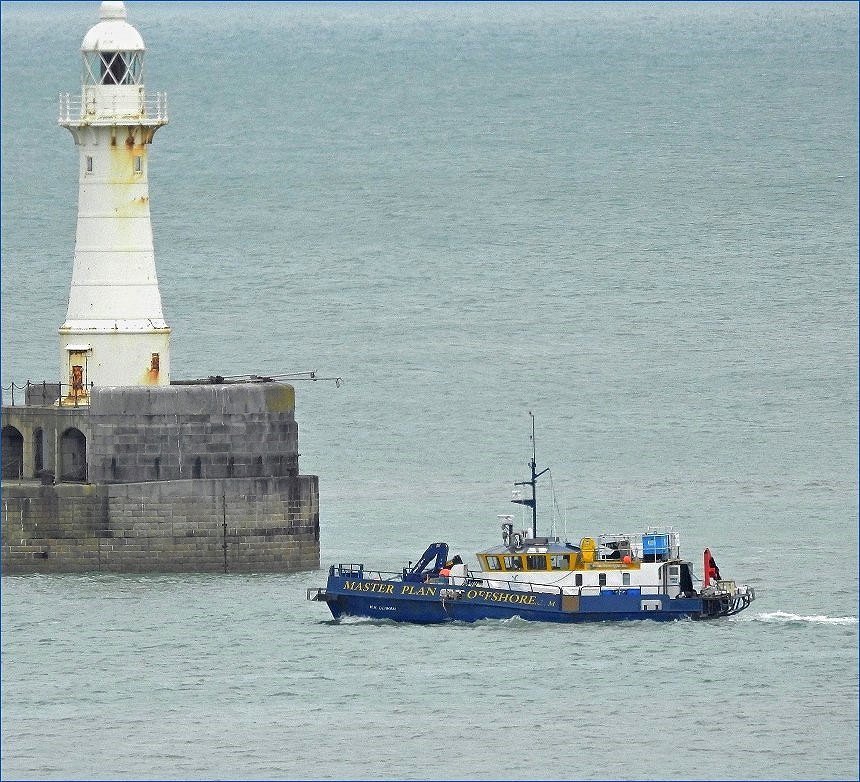 HM Denham: Just caught a couple of shots of her myself above there from...ermm...yes Thursday and there we are above...and speaking of 'diveboats'. The Eagle is still very much on the scene, although yours truly is wondering aloud here as to whatever became of the search for the anchor at Dover 9...but anyway I digress...
here she is majestically and magically circumnavigating the shifting Magic ( Disney Magic ) on Thursday evening...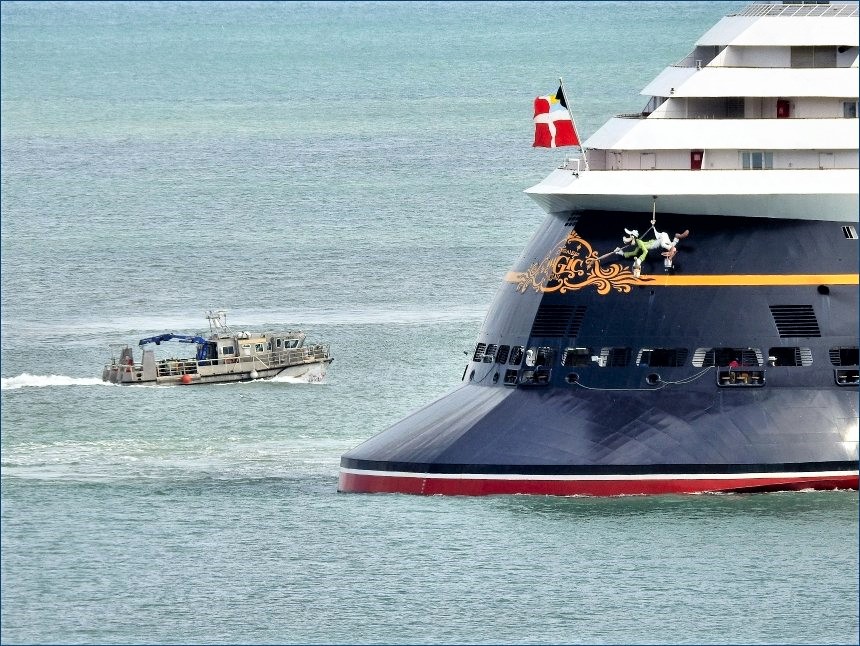 Another picture below of Arcadia at pier WD4 with Disney Magic as backdrop...similar to the picture used a couple of days ago but a slightly better one hopefully... taken prior to her shifting away...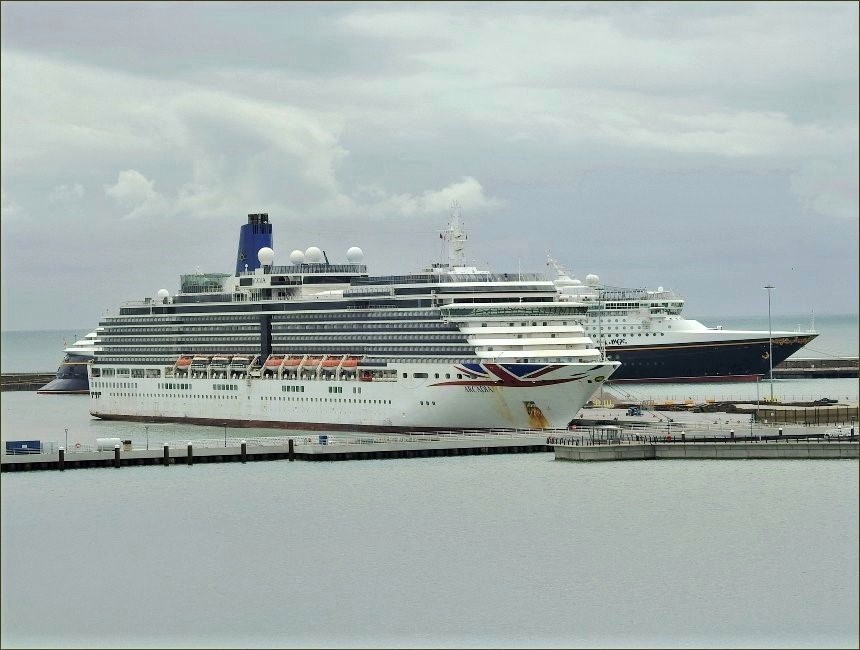 and away she goes.....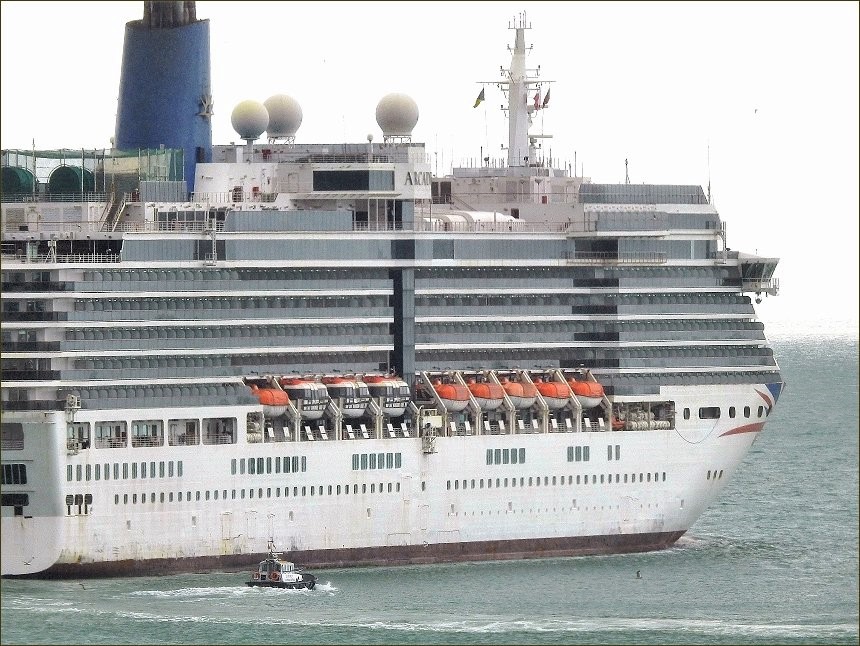 Yours truly spent time trying to make her look good above there...but she's in need of...whats the term oft times used on TV...yes in need of a makeover..


PB
Saturday, 6 June 2020 - 06:14
Post 7046
Sea News, Dover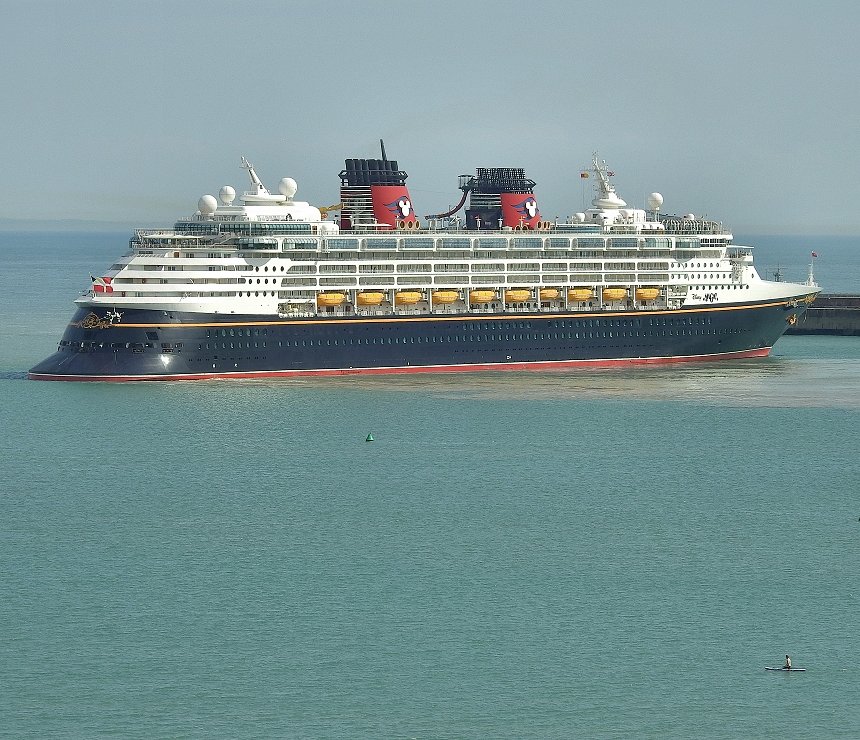 Following along from Patrick's paddleboarders...you can see one above there bottom right. The paddler stopped paddling long enough to gaze in awe at the shifting Disney Magic. At the time she was shifting over from WD4 to Cruise Terminal 2...she made way temporarily for Arcadia. Arcadia slotted in to WD4 then...as you can see below...
Arcadia has since left us again and Disney has come back over...honestly its like musical chairs...a chap cant keep up!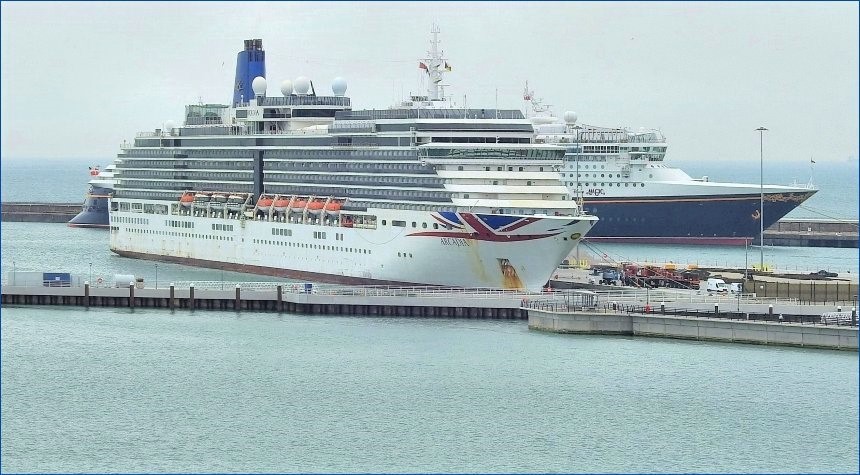 Interesting collection from Mike below...so don't miss those

I will be able to add to the HM Denham photo-show in a small way in due course...they need a bit of fixing...
Del yes.. a very helpful press release from DFDS there.... encouraging to see that plans are being made, the lockdown cant go on indefinitely..

PB
Friday, 5 June 2020 - 06:36
Post 7045
Mike J., Dover
Early drizzle on Thursday morning found the ARCADIA on WD4,
She has now sailed & her berth taken by DISNEY MAGIC who shifted from Cruise-2 during the afternoon.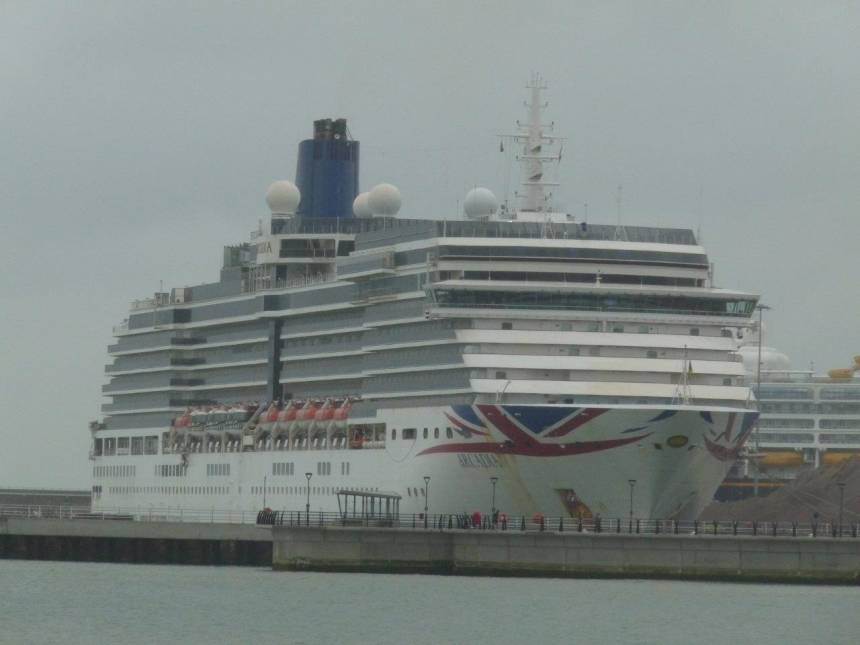 The interesting diveboat H.M.DENHAM overnighted on the fuel pontoon after coming up from Weymouth before sailing for Ramsgate early Thursday afternoon.
Here's a couple of a heavily cropped photos of her laying off the Knuckle light, waiting to pass under the stern of the DOVER SEAWAYS as soon as she entered.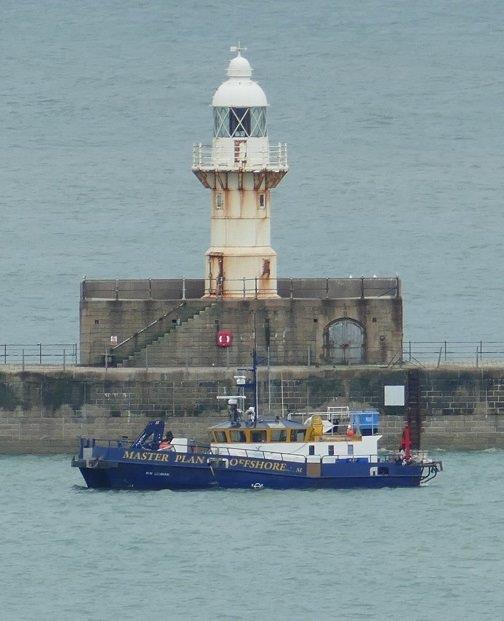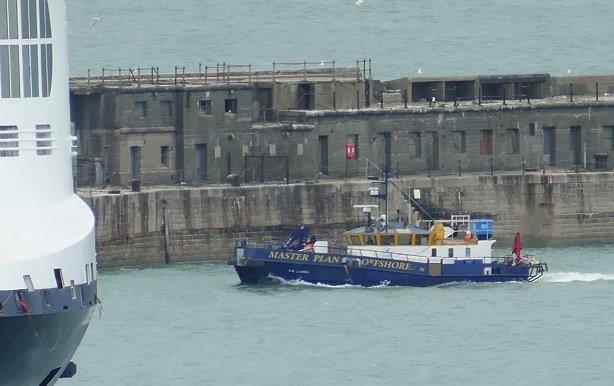 The recently repainted DOVER GRAFTER, now in Riley Marine's colours [posts 6918 & 6844] heading down the Wick late afternoon Thursday after working by No.6 berth, using their little self-propelled pontoon [post 6420] which she has in tow, to examine the berth piles.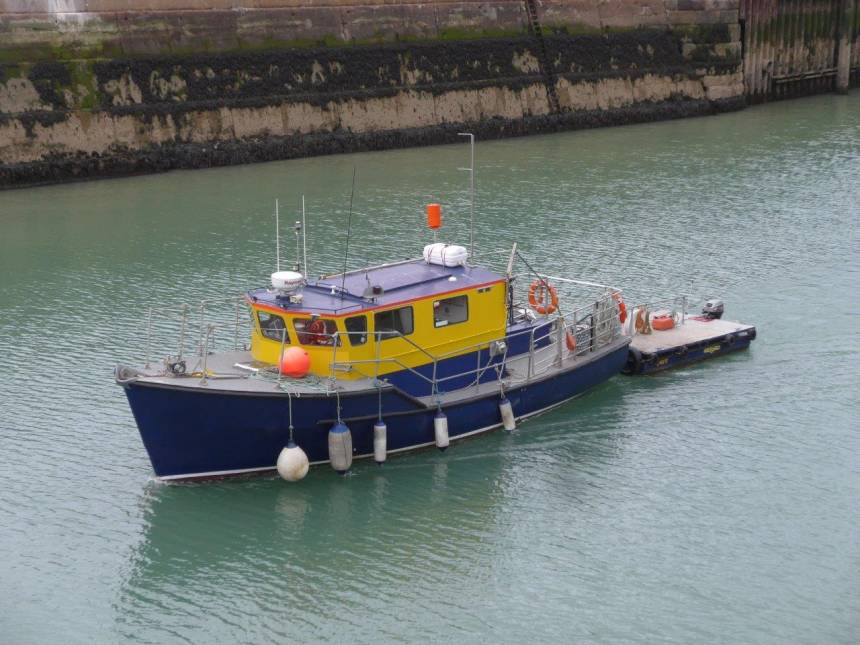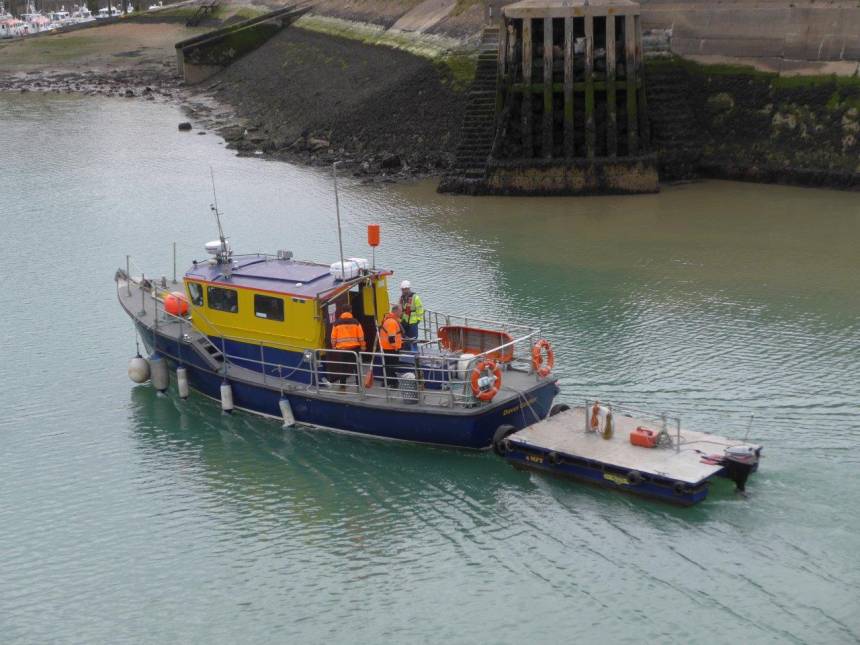 Thursday evening AIS showed the NORWEGIAN STAR heading for Southampton from Rotterdam.
A lot of of cruise ship 'positioning' going on !
Friday, 5 June 2020 - 02:42