Sunday, 3 December 2023
WWW.DOVERFORUM.COM/SEA-NEWS
Sea Pictures from Dover.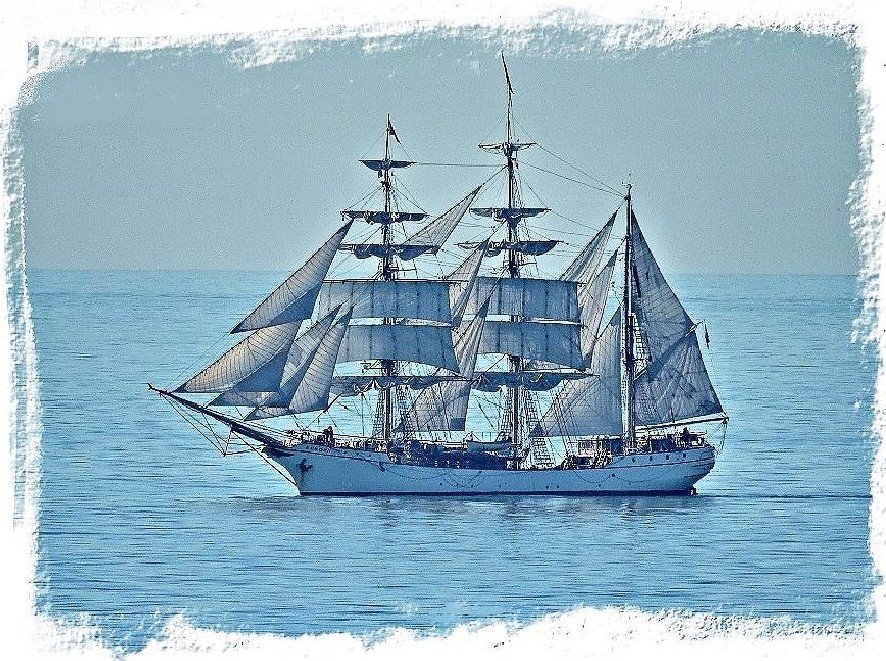 Sailing Ships just off Dover: Europa above and De Gallant below...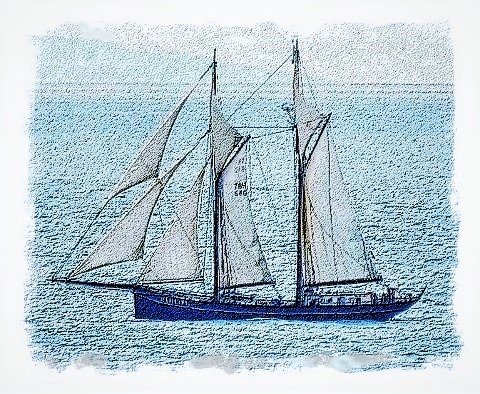 We have 340 plus pages below now...use our own SEARCH ENGINE just below to help you trawl through. All pictures are the copyright of the owners.
Editor: Paul Boland - dover7@msn.com
Post 7262
Sea News, Dover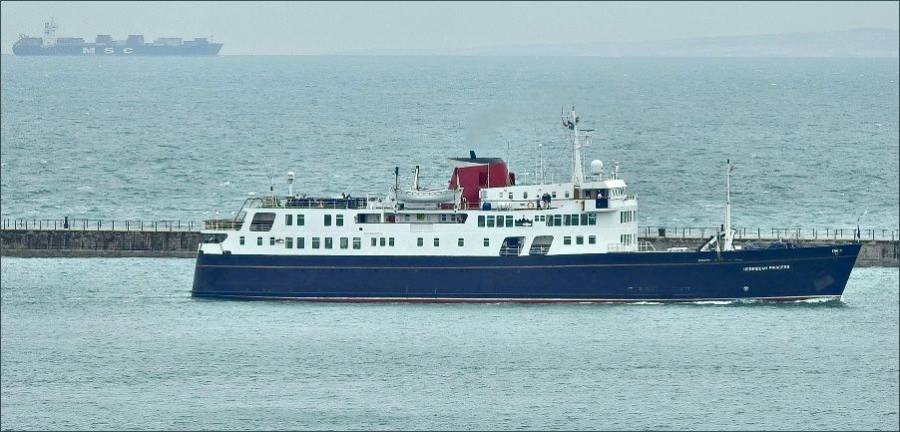 Hebridean Princess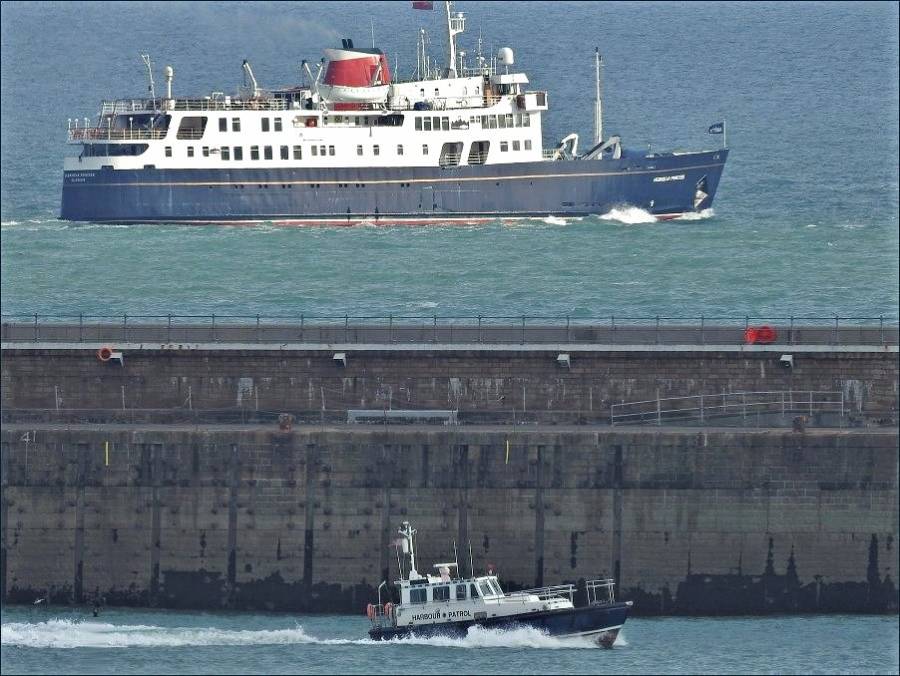 The delightful Hebridean Princess visited the Port briefly last Thursday July 28 and we were lucky to get the top shot...just saw her at the last minute. The second picture we just came across again in the files so thought worth including once more.
Below we have the cable laying Responder arriving with us late last week (on Friday 29 July) and heading towards the ever-busy working dock WD4...we may have another shot of this one. There was much activity last week.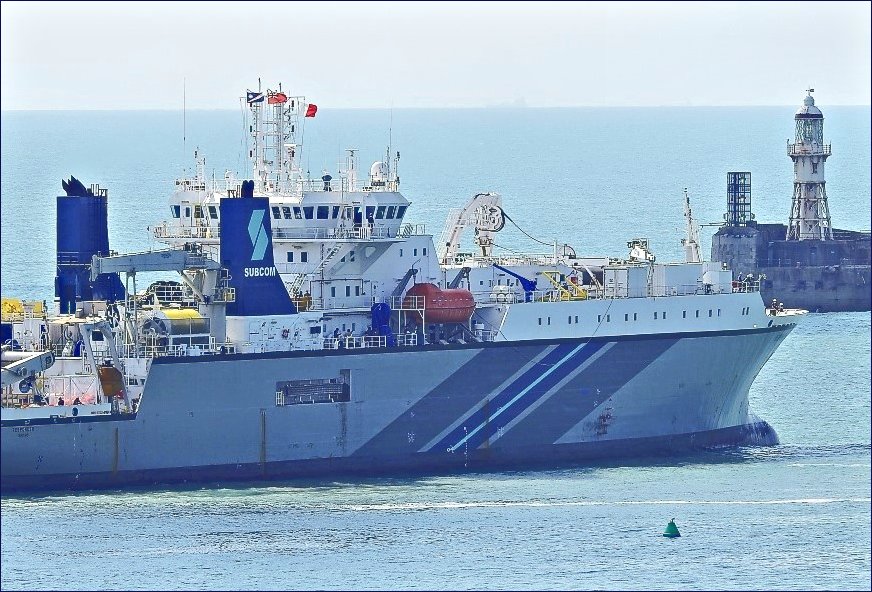 Responder
Tuesday, 2 August 2022 - 06:36
Post 7261
Sea News, Dover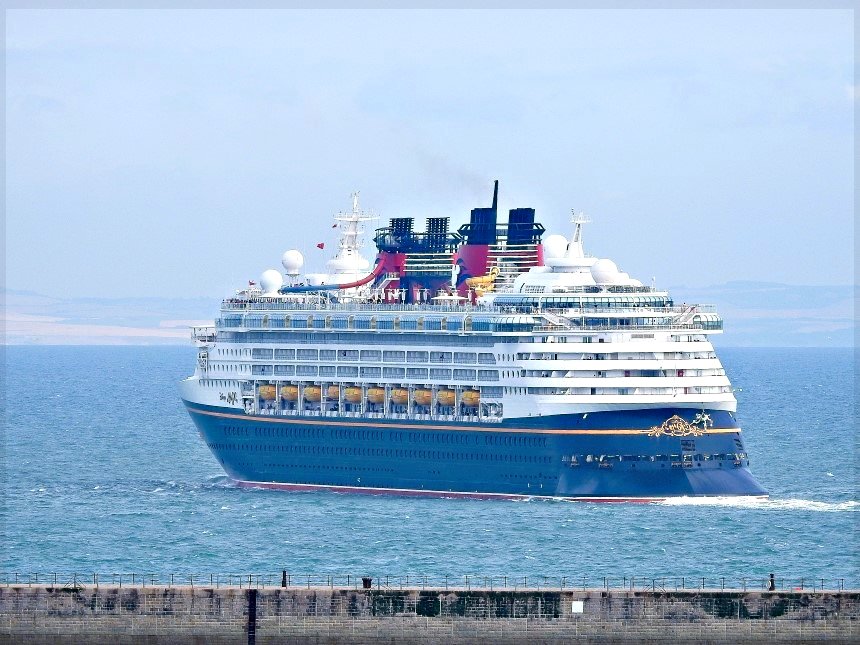 The Disney Magic pictured just after leaving the Port of Dover on Saturday evening. She is heading to the beautiful north as mentioned in the post below. Twas a bit of a hazy evening though for the picture, as you can see ....
Monday, 1 August 2022 - 06:54
Post 7260
Sea News, Dover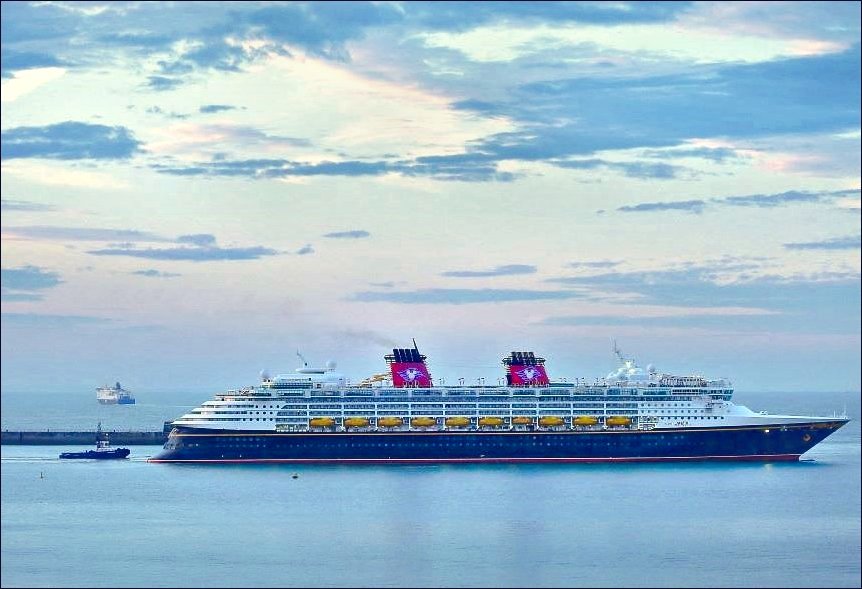 Saturday Morning:
Drawing back the sleep curtains first thing early on a Saturday morning and right in front of us here is...yes ... the fabulous Disney Magic. A lovely surprise. Time of picture 05.35...the camera didn't like being woken up that early but after a bit of coaxing it functioned.
Of course we are very familiar with the Disney Magic here in Dover as she stayed with us all through the pandemic. And yesterday, well she even gave us a rendition of 'When you Wish upon a Star' at one point....
She is on an 11 day cruise taking in Oslo, Stavanger, Copenhagen and more...
More cruise ships in today Sunday... Carnival Pride and Spirit of Discovery..

Sunday, 31 July 2022 - 06:43
Post 7259
Sea News, Dover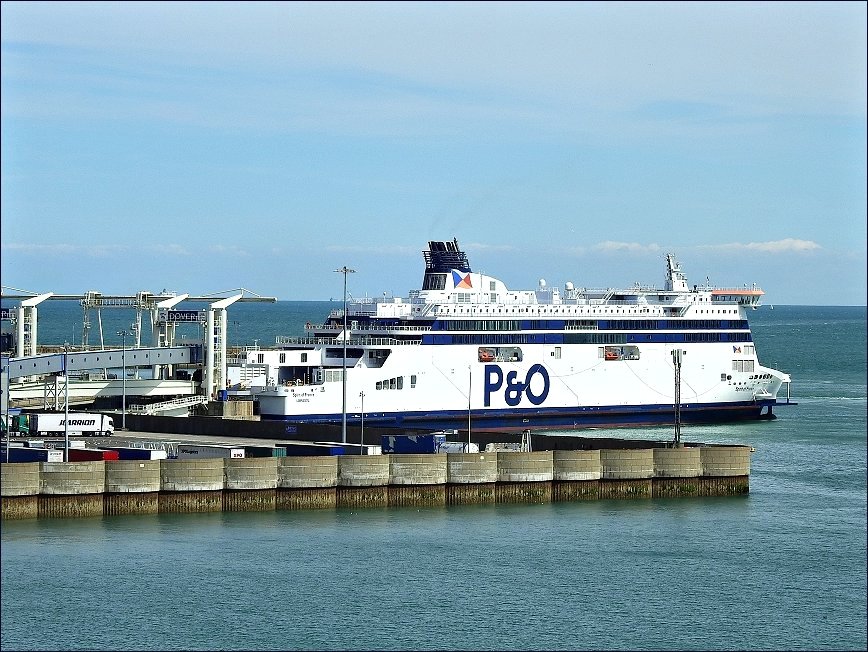 Spirit of France
Further to the post below re P&O's Spirit of France...she eventually made it off the eastern arm of Port and relocated to berth/pier Dover9 as you can see in the pic above. She appears to be undergoing Sea Trials at the moment engaging in much to-ing and fro-ing .. but taking up temporary residence at times on Dover9.
Saturday, 30 July 2022 - 07:14
Post 7258
Sea News, Dover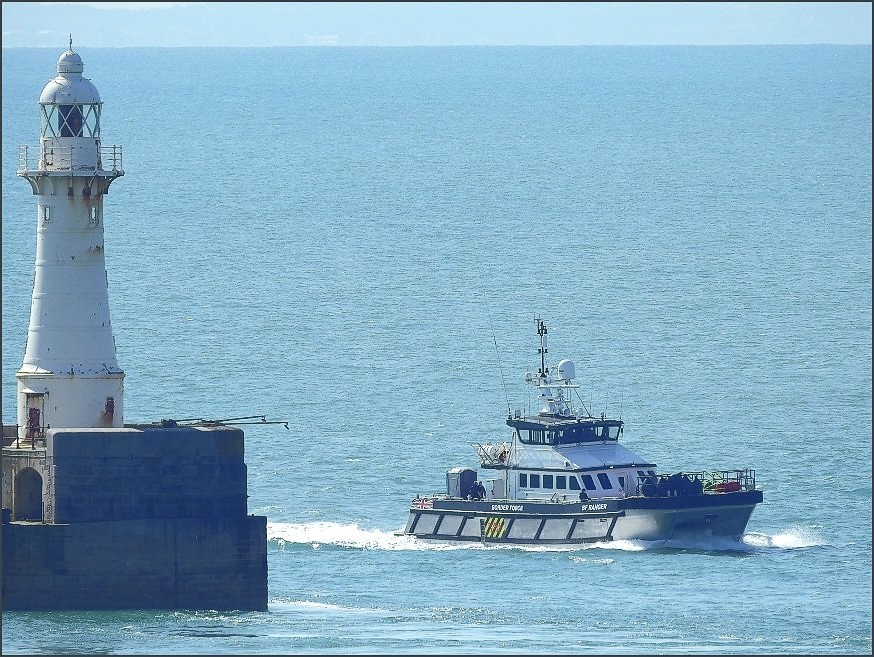 Border Force Ranger at Dover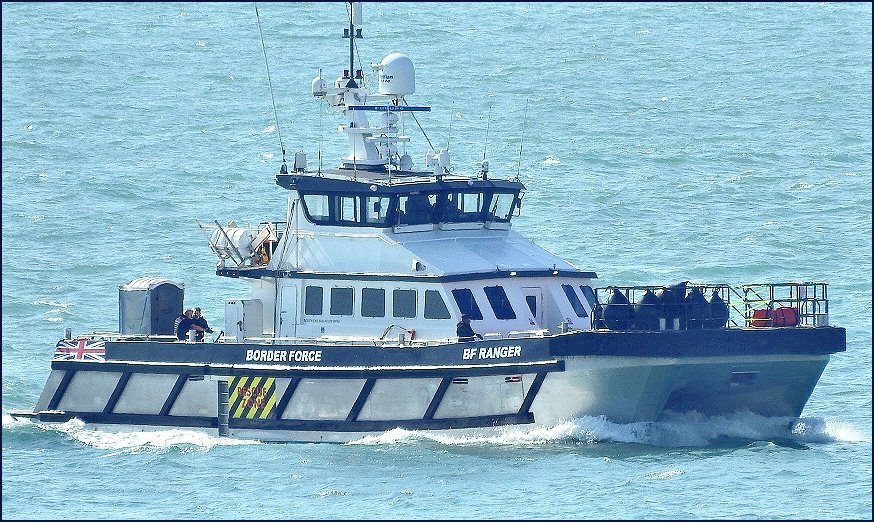 Border Force have new additions to their patrol fleet here in Dover. The one featured above is Border Force Ranger or BF Ranger as you can see. We have also recently noticed and noted other new additions BF Defender and BF Volunteer and no doubt we will have pix of those eventually...all similar or near identical patrol vessels...
photographed two days ago ...Wednesday 27..
Also...just arrived back on the scene is the P&O ferry Spirit of France. She has not been seen since the notorious P&O sackings several months ago. Perhaps away on an extended ermmm 'refit'...she is currently resting on the ever dependable Port's eastern arm as we write.
Friday, 29 July 2022 - 07:06
Post 7257
Sea News, Dover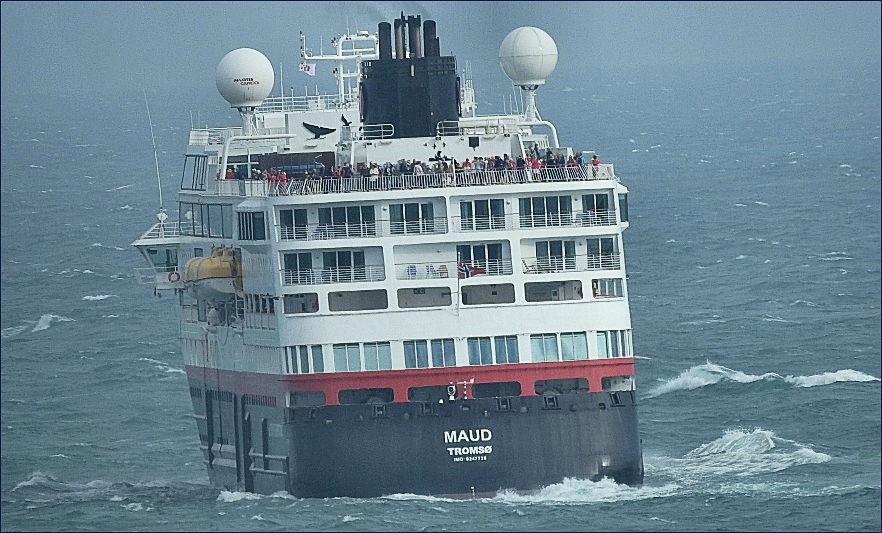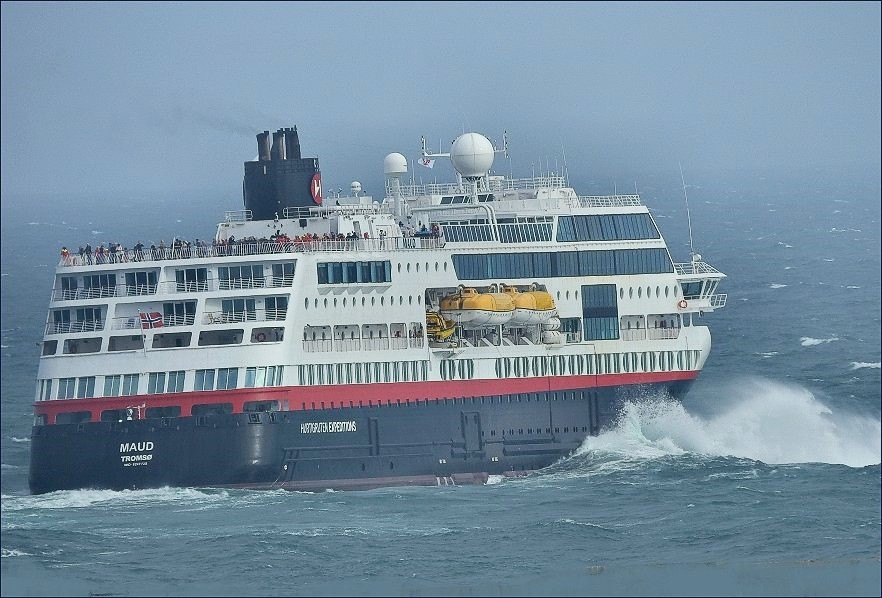 It was unseasonably rough as Maud left the Port of Dover on Monday evening (July 25). You can see quite an enthusiastic crowd there on the top deck ready for the blustery Nordic adventure. They are of course hardier adventurous souls so they shouldn't / wouldn't have much trouble with a little oceanic turbulence...
Wednesday, 27 July 2022 - 06:22
Post 7256
Sea News, Dover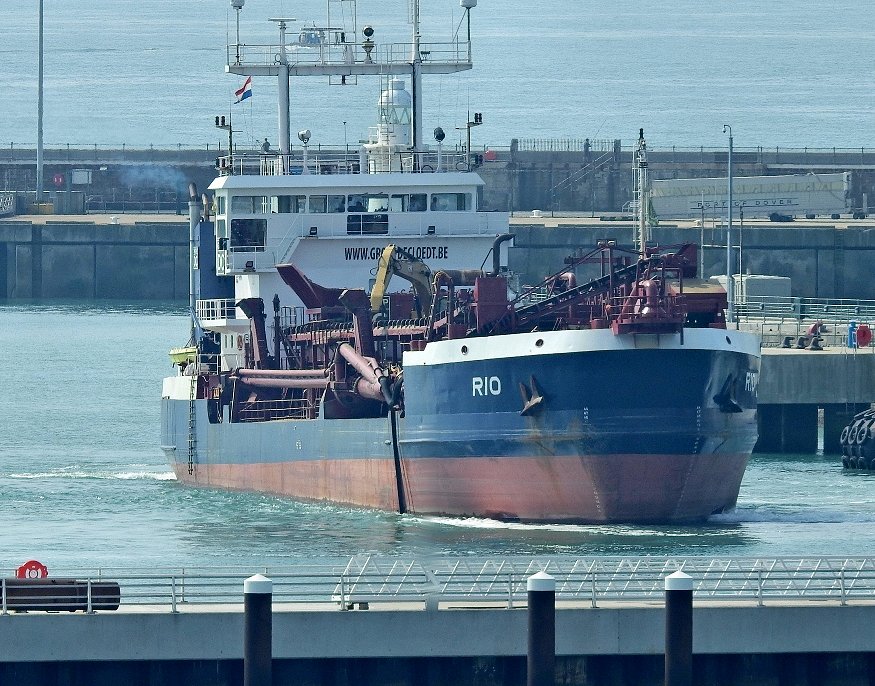 Rio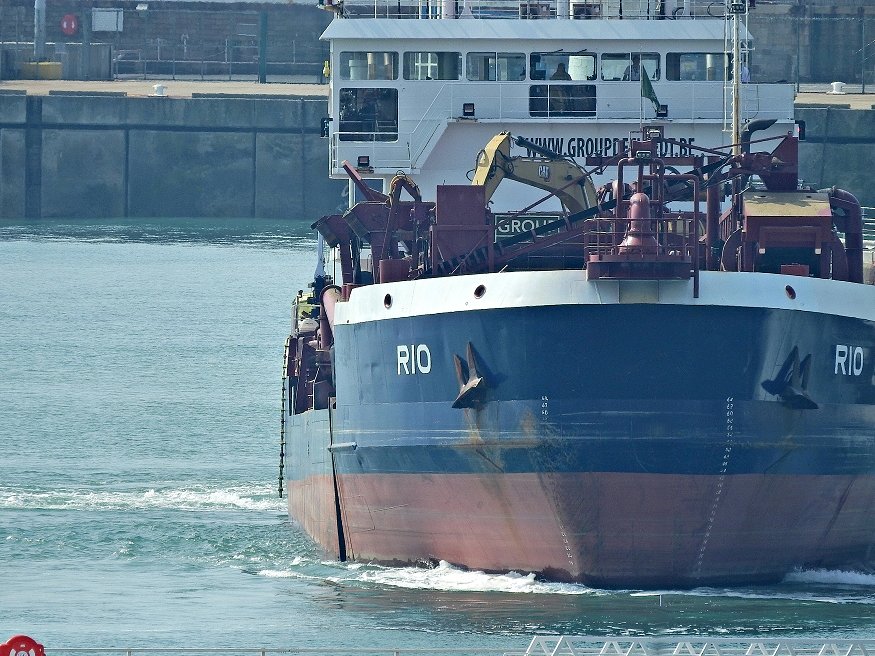 The dredger Rio pulling away from pier WD4 on Saturday morning as she begins her departure from the Port of Dover ... after delivering a cargo of sand/gravel ....
The TRAFFIC situation has eased here in Dover.
Almost needless to say, but its something we're all mightily grateful for...
all the media outlets talk about the chaos for holidaymakers but rarely mention, if ever, the chaos it brings to the afflicted town itself..
Monday, 25 July 2022 - 07:12
Post 7255
Sea News, Dover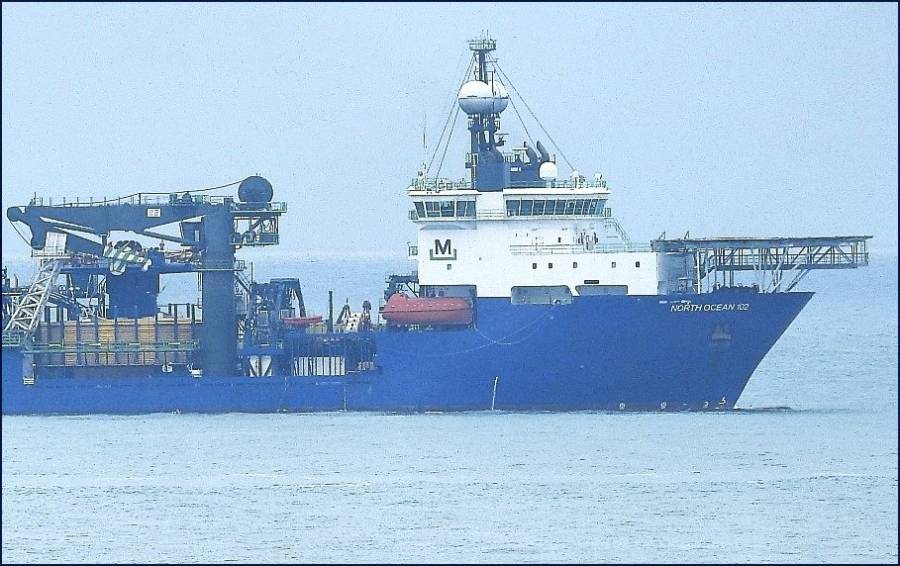 North Ocean 102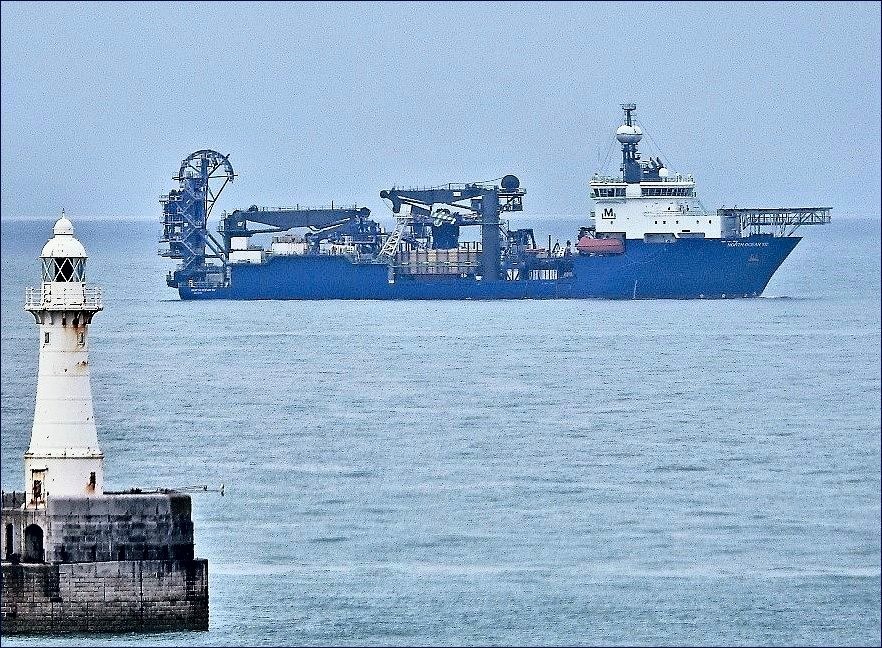 Cable laying magnificence...Offshore supply vessel North Ocean 102 just off Dover on Thursday this week....
See also the post below from yesterday ( Friday) ...
with press release from Dover District Council and our own suggestion. Traffic seems a tad easier today Saturday but we're half afraid to mention that as all can change in a whisker. As we gaze out...the trucking backlog is still dire however. Port are suggesting the fault lies elsewhere. Its all very well blaming everyone else but it keeps happening... some families appallingly stuck in cars for up to 7 hours..
Saturday, 23 July 2022 - 05:56
Post 7254
Sea News, Dover


DOVER GRIDLOCK....Again !!


Statement from Cllr Trevor Bartlett, Leader of Dover District Council

The Leader of Dover District Council, Cllr Trevor Bartlett, has said there is dismay, desperation, and anger in Dover today Friday 22 July as the town is grid locked on day one of the big summer getaway.

"Hours of planning by the Kent Resilience Forum for the busiest weekend of the year for cross-Channel travel have gone out of the window within hours, with the Port of Dover calling a critical incident.

"Alongside the delays for tens of thousands of tourists, the local community is the biggest loser. Residents can't get to work, children are stranded on school buses stuck in the mayhem, and businesses are suffering. Stagecoach has suspended bus services in Dover altogether.

"I wrote to the Kent Resilience Forum three weeks ago to express my concerns and to call for a more proactive approach to keep Dover clear. Those calls were not heeded.

"Serious questions need to be asked about how the emergency services would be able to respond to a major incident in Dover when it is completely grid locked, and how this situation has been allowed to develop yet again?"

END


It truly has been a horrendous day for both locals and holidaymakers. Dover destroyed by traffic chaos once again...nobody can get anywhere. This suggestion might be simplistic, but as the Port and town can never cope with summer holiday volume or any holiday volume...could the ferry companies not stagger their bookings...spread the bookings over several days and still carry the same volume...just take several days to do it...



Friday, 22 July 2022 - 11:38
Post 7253
Sea News, Dover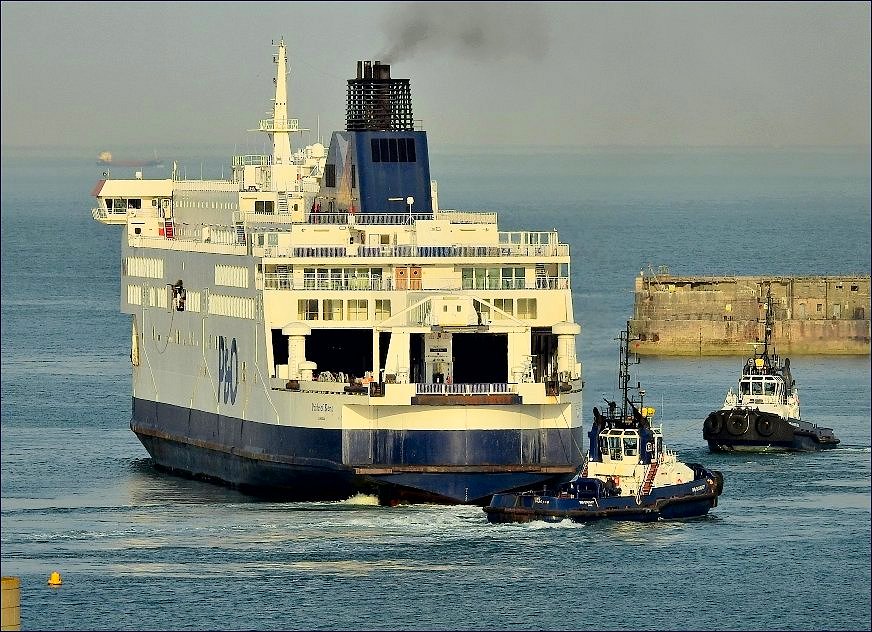 I think the heat got to the poor old Pride of Kent on Tuesday...well it was the hottest day of all time and it affected some of us oldies in a debilitating way! .. not least the Pride of Kent as seen above there. At 19.00 (7pm) the tugs suddenly came across to shift her off berth Dover9 and move her to the ever accommodating eastern arm while somebody figured out what was wrong.
...Whatever it was it didn't keep the Pride of Kent out of service for long as on Wednesday she was back in action...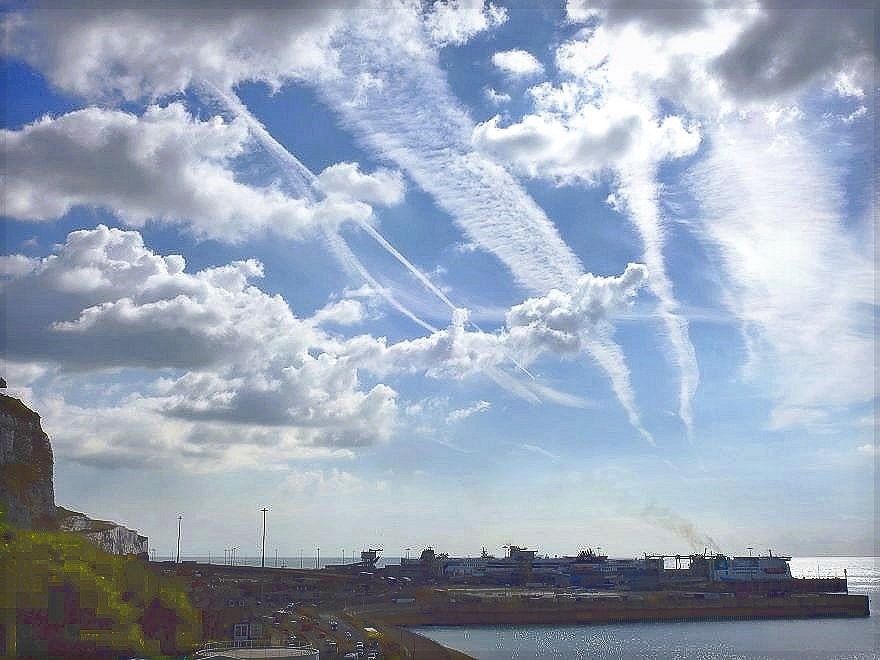 The sky over the harbour just at the onset of heatwave...
Thursday, 21 July 2022 - 06:44
Post 7252
Sea News, Dover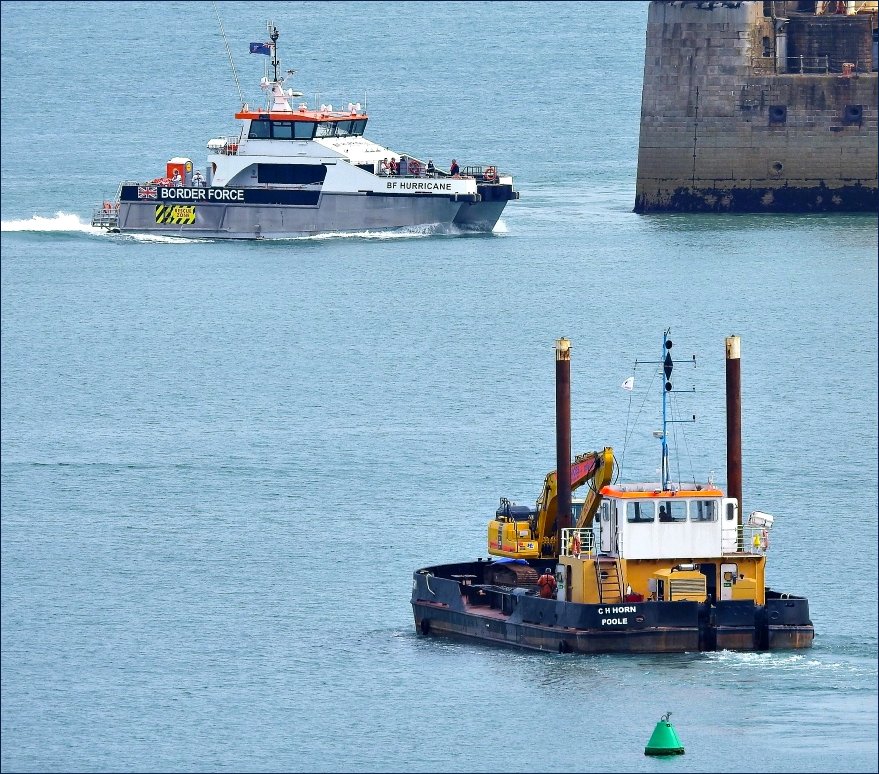 Another pic above there of the CH Horn dredger, as mentioned below currently working in Wellington Dock here in the Port, heading outwards this time while in the background you can see the ever busy Border Force Hurricane coming into Port once again .....it appears to have more rescued migrants onboard....
Wednesday, 20 July 2022 - 07:59
Post 7251
Sea News, Dover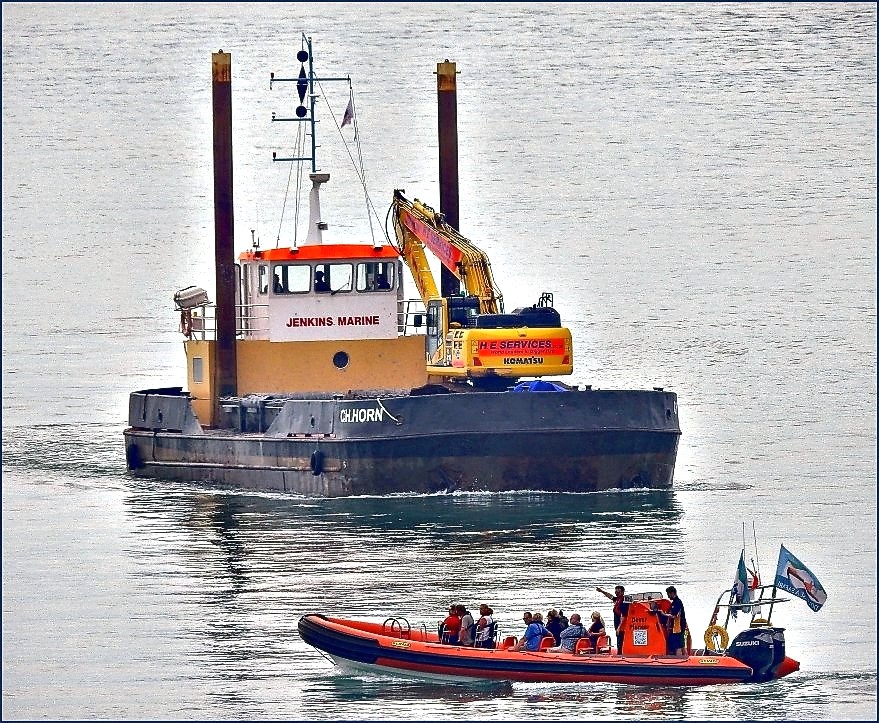 While photographing the newly-arrived dredger CH Horn...currently working in the Wellington Dock here in the Port of Dover...the Dover Sea Safari rib powered into foreground view adding to the shot nicely. The Sea Safari guys always add to the excitement. The picture below, taken later the same day shows the Sea Safari returning from the Goodwin Sands... the evening view, as the rib returns to the Port here....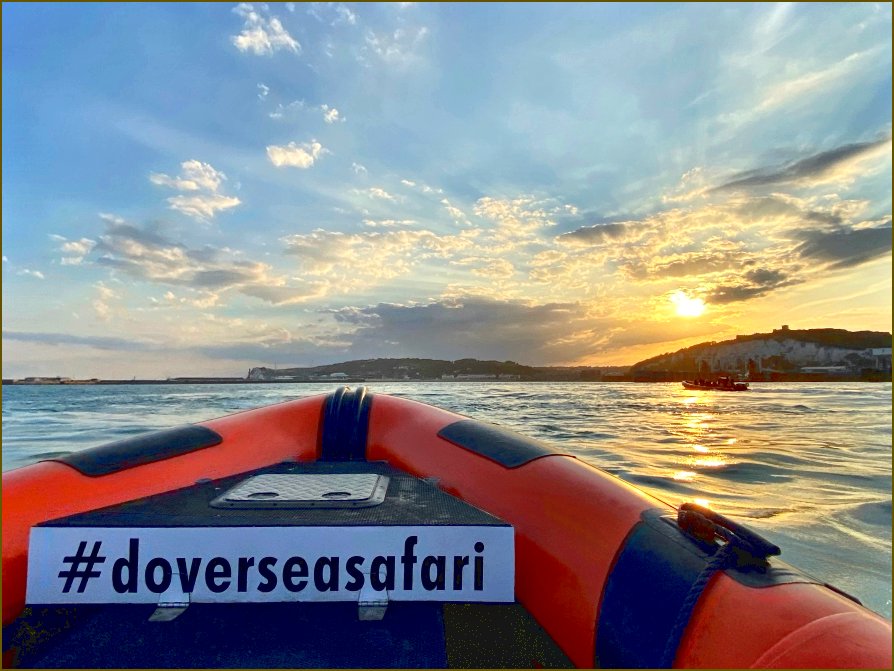 The Dover Sea Safari approaching the Port of Dover at evening.
Pictured by the same out-and-about photographer who brought us the Seafront Flowers recently...those pix now on Page 2.
More pictures of the Sea Safari guys further down page...
Tuesday, 19 July 2022 - 06:01
Post 7250
Sea News, Dover
EVER GOLDEN passing Dover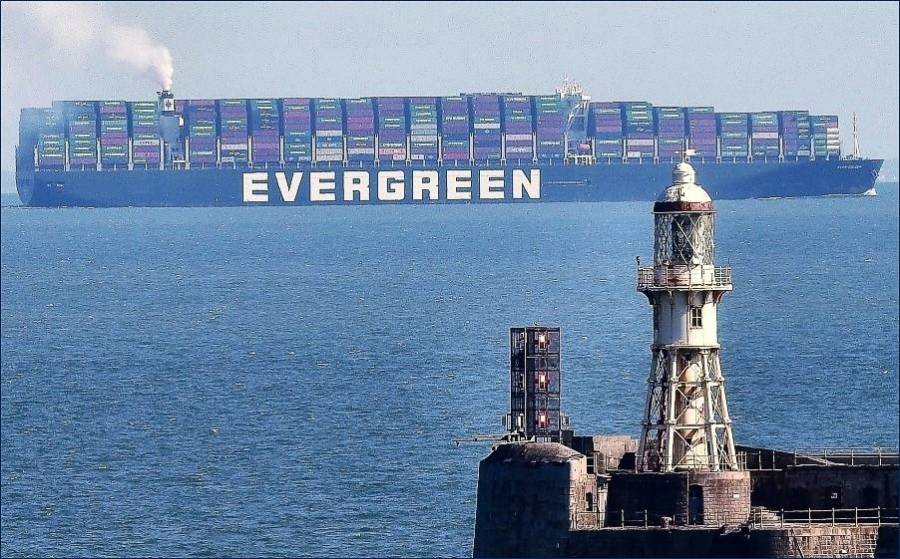 Yes the magnificent monster Ever Golden, all 220,000 tons of her approx, passing Dover fairly recently having just left Rotterdam. She was/is heading off to the Far East via Suez...these beasts from the Evergreen company are a joy to see...
Monday, 18 July 2022 - 06:25
Post 7249
Sea News, Dover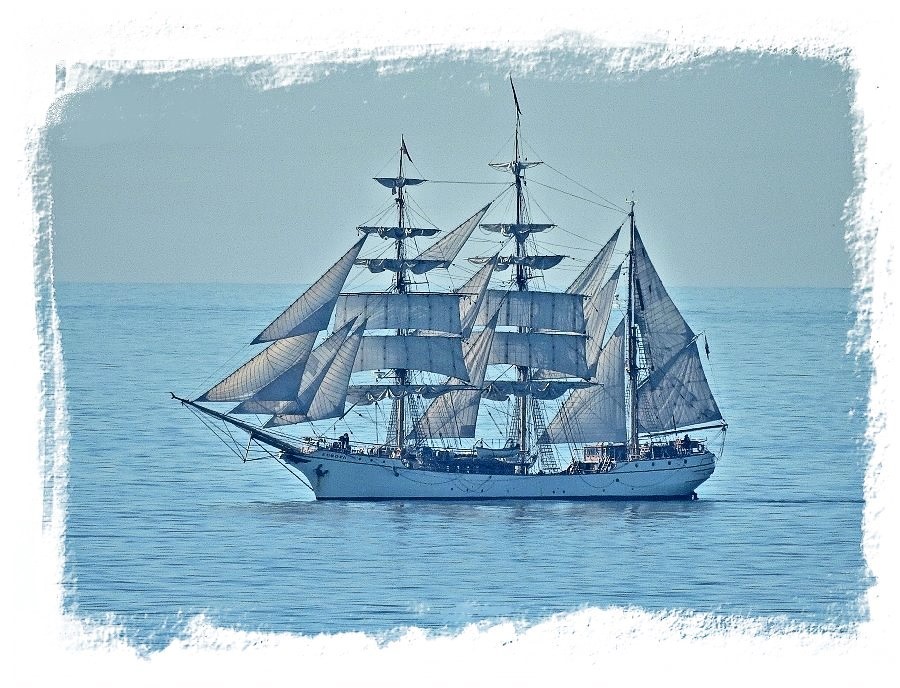 Tall Ship Europa ... passing Dover.
"There once was a ship that put to sea
the name of the ship was Europa see..."
Apologies to Nathan Evans for the abbreviation on that one... if you havent heard his stunningly fab Sea Shanty (Wellerman) what are you waiting for?...its on Google etc etc
See also post below....
Thursday, 14 July 2022 - 07:32
Post 7248
Sea News, Dover
Sailing Ship Europa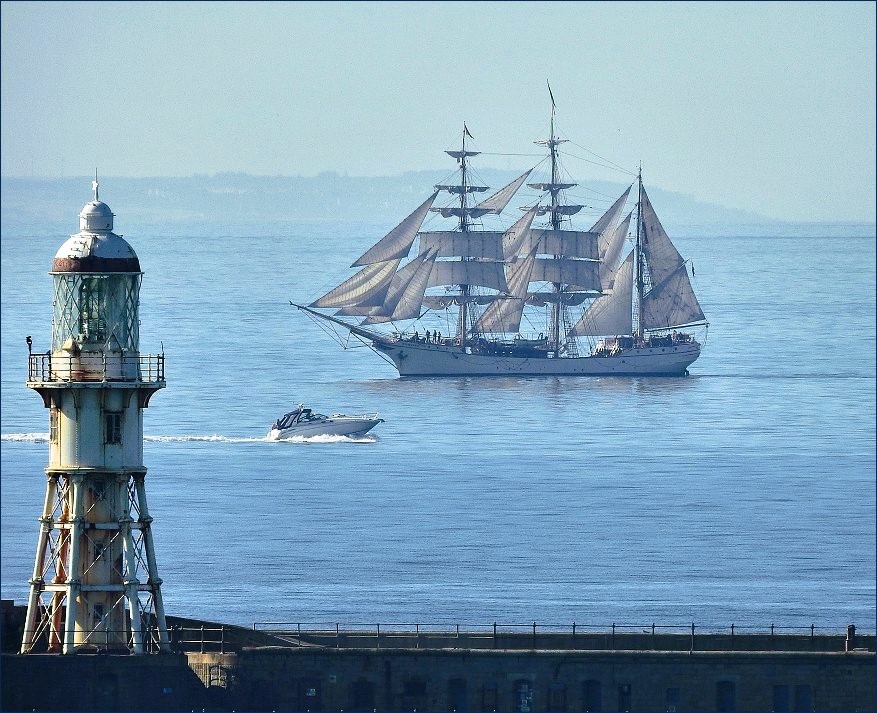 Europa: There we were...waiting patiently for Tall Sailing Ship Europa to get close to the Port lighthouse so we could create something of a 19th Century illusion...olde ship, olde lighthouse...and then, just as we went to press the camera button, right across the shot came the modern power boat ruining our fantasy illusion. It was a GRRRR moment I can tell you...however... we grew to like the picture and there it is... ( and we have other ones !)
Time of Picture: Monday 11th July 08.40
Wednesday, 13 July 2022 - 07:17
Post 7247
Sea News, Dover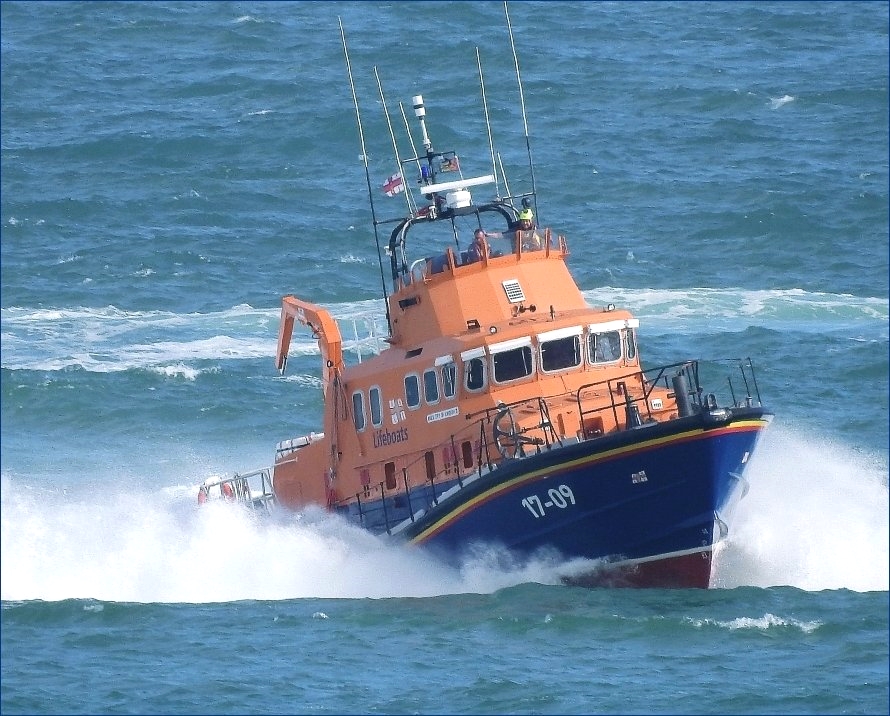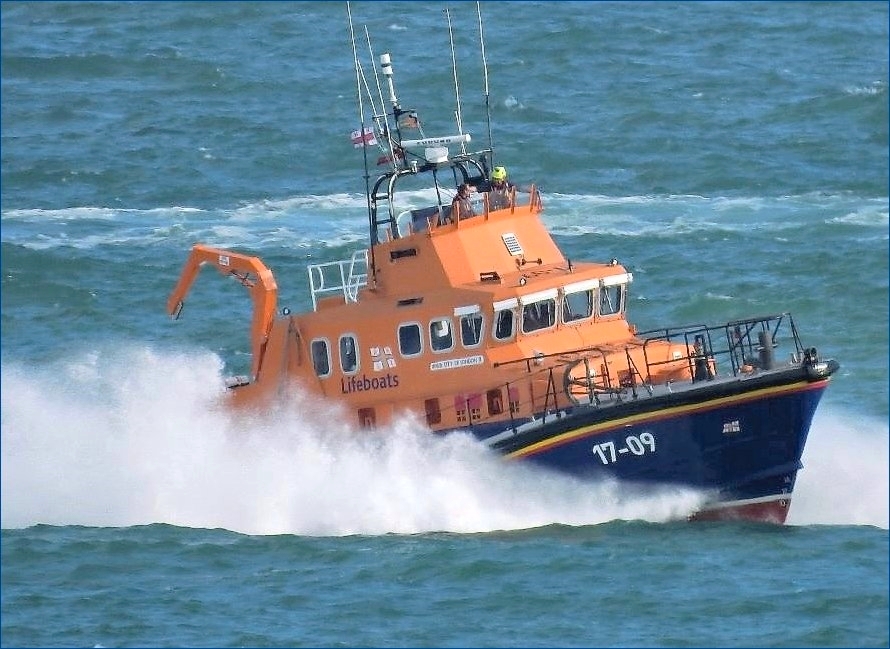 DOVER LIFEBOAT
COVID: Our production was brought to an abrupt and astounding halt here early last week due to COVID. Yours truly...who has come through the entire pandemic without so much as a sneeze, was hit early last week out of the blue...wallop! And it was/is a heavy wallop. So it looks like this particular problem is rising again...as reported by the BBC and others.
The pictures of the Dover Lifeboat above were taken about a month ago.
In port yesterday Sunday here were familiar cruise ships Carnival Pride and Spirit of Discovery... many passengers filtering through from the hotels etc so very good subsidiary business being created. Plus the good weather of course brings thousands to the waters edge....so we had a busy Dover Seafront.
Monday, 11 July 2022 - 06:08
Post 7246
Sea News, Dover
The Spirit of Discovery was with us here in Dover again yesterday Sunday, there she is departing on a very colourful summery evening.... she was on a shortish 7 day trip from Hamburg-Dover doing the 'Riddle of the Sands' tour...fascinating stuff.... other recent pictures of Spirit now on Page 2 or earlier ones can be found via our Search Engine just above...
Monday, 4 July 2022 - 05:29
Post 7245
Sea News, Dover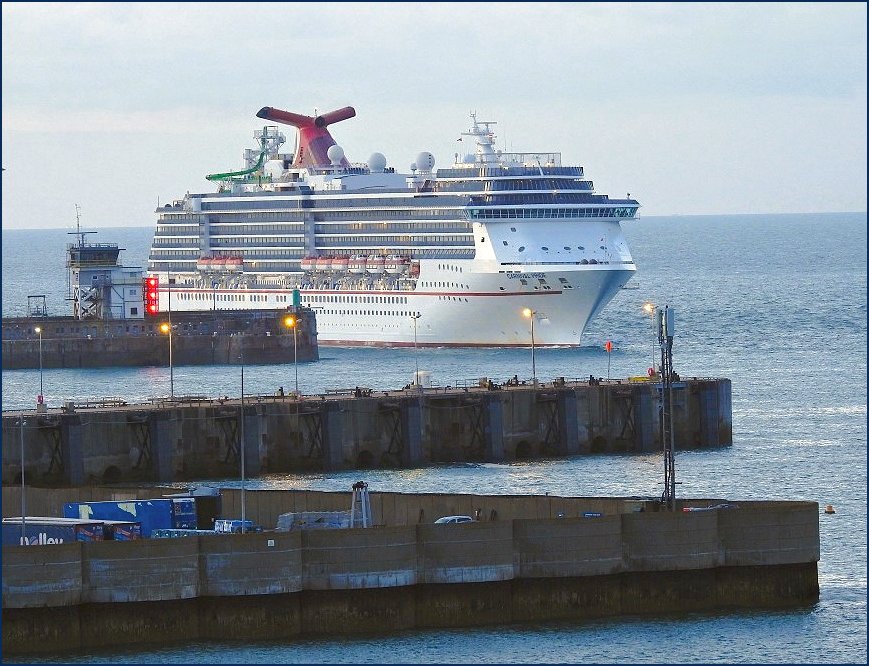 Another picture above of the Carnival Pride arriving in Dover on Friday morning early...very early...time just after 04.30...this pic taken a tad before the one in the post below.....
Saturday, 2 July 2022 - 18:14
Post 7244
Sea News, Dover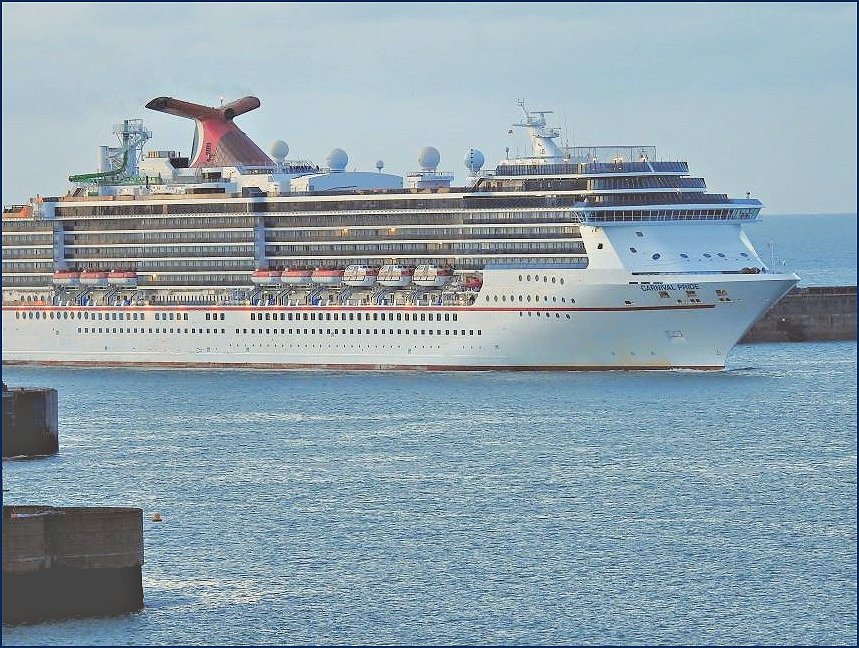 The delightfully large Carnival Pride arrives with us once again. There she is just after entering the Port here yesterday morning Friday July 1 at 04.36...early shot for sure, we never sleep ! Will have more pix... she is on a 9 day round trip from Dover to the various popular destinations in Norway.
And below as promised another one of Saipem 7000 as she moves down the Channel. We understand there is a large windfarm development under way west France coast, we expect that's the destination...lots of heavy equipment moving down the Channel in recent days.... the visibility was poor below but we've tried to 'work it'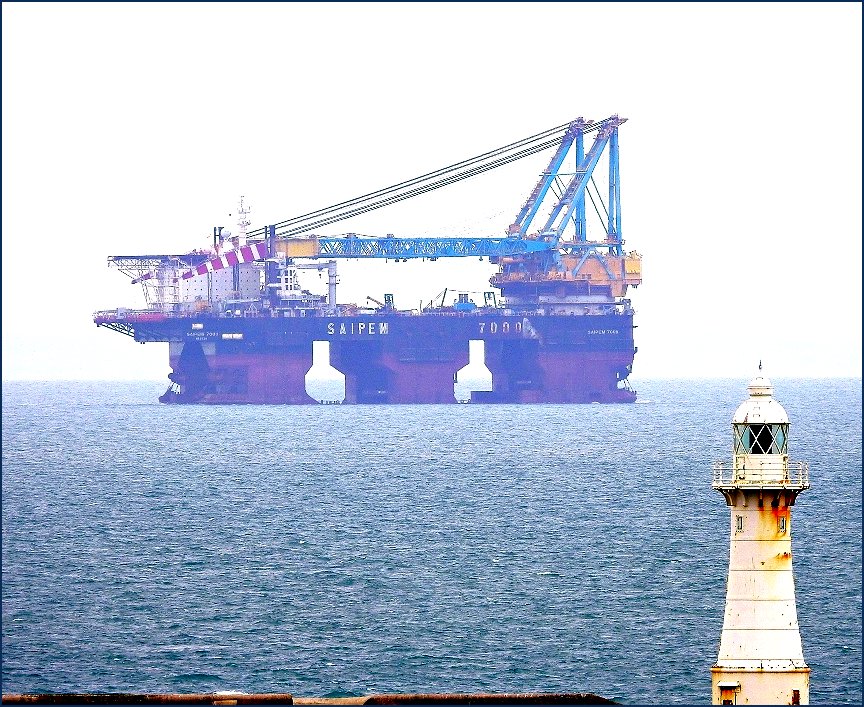 SAIPEM 7000 off Dover.
Saturday, 2 July 2022 - 06:58
Post 7243
Sea News, Dover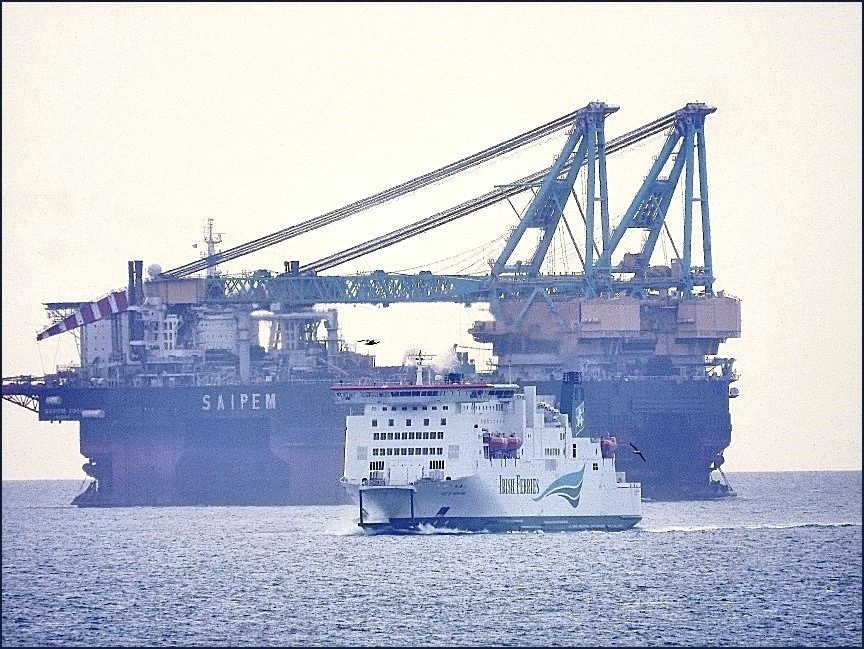 As promised here we are with Saipem 7000. The first shot taken early (wednesday 8am approx) shows the huge magnificent pipe-laying beast to the east of the Port of Dover and making its way westward. In the foreground we have the Irish ferry ( Isle of Inishmore ) much closer to Port with the huge beast as shadow.
The second picture below was taken about an hour or so later and Saipem 7000 is this time to the west of Port... by accidental fluke we got the Royal Navy patrol boat HMS Express in the foreground. We didn't actually see it in the gloom...the pictures are boosted up, was much gloomier....spotted it later on computer.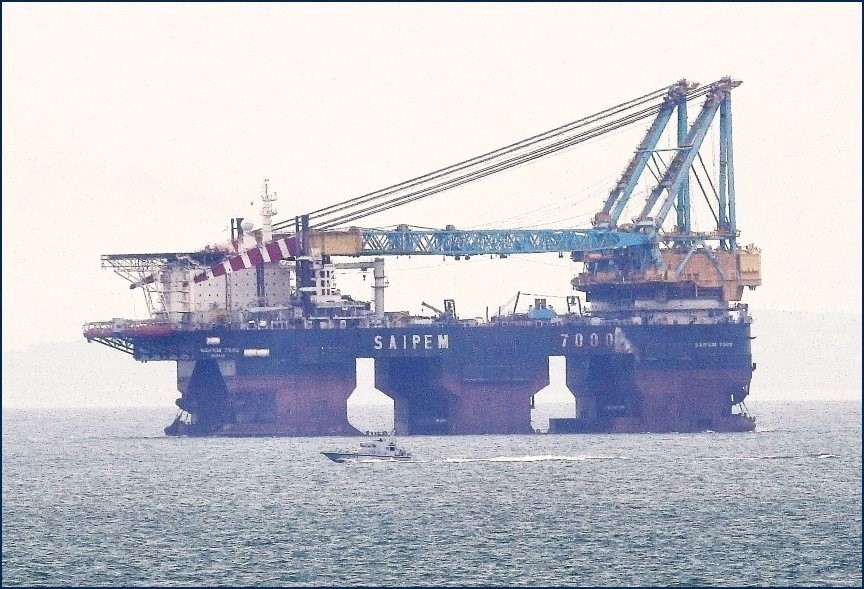 An hour later HMS Express obliged by arriving nicely in Port to finish the session!
.....as you might expect..towing a dinghy...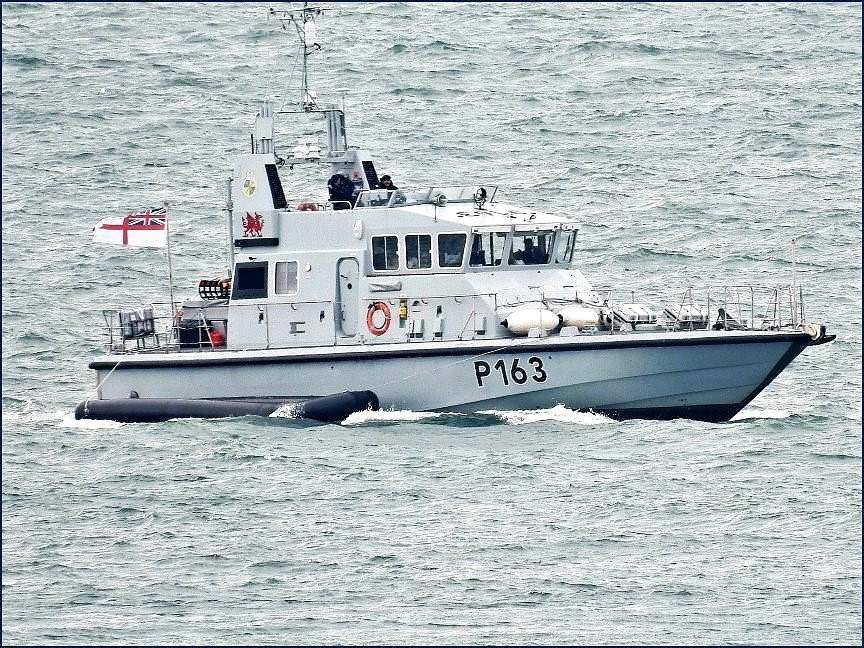 HMS Express
We may manage another Saipem shot if any good...working on it !
The Magnificent Carnival Pride back in Port today....
Friday, 1 July 2022 - 07:19