Monday, 26 September 2022
WWW.DOVERFORUM.COM/SEA-NEWS

Sea Pictures from Dover. We have 333 plus pages below now...use our own SEARCH ENGINE just below to help you trawl through. All pictures are the copyright of the owners. EDITOR: Paul Boland - dover7@msn.com
Post 7188
Sea News, Dover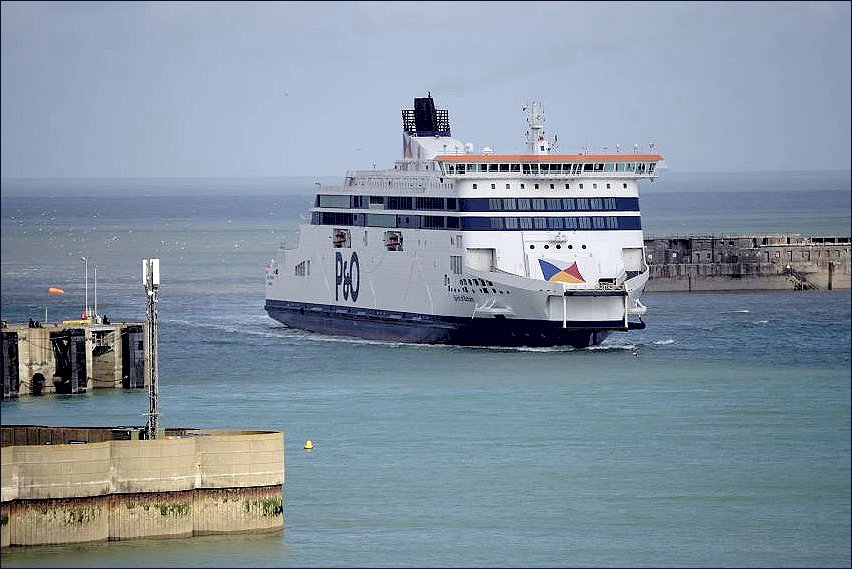 P&O's Spirit of Britain back in 'empty' action above on Monday afternoon (yesterday)...we presume on another 'sea trial' ... Yes picture was taken at 5pm yesterday just after she re-entered the Port of Dover. There is much talk of her resuming services this week but once again we have to wait and see on that one....
Below we have another shot of the Viking Venus arriving with us on Sunday....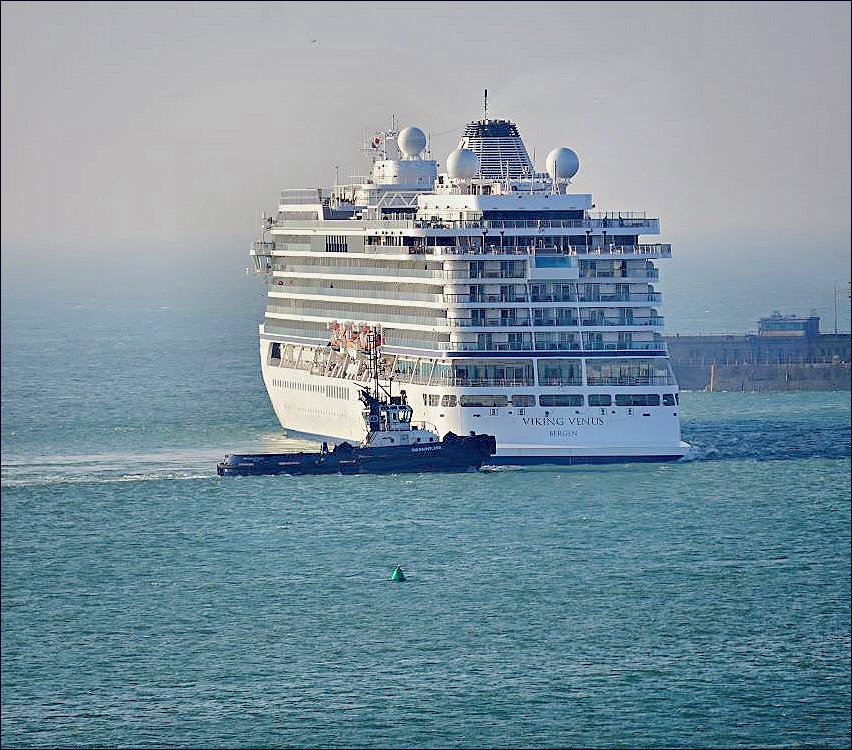 Viking Venus
The smaller cruise Deutschland slipped in and out of Port yesterday
while today we have Mein Schiff 3 in port...a big one for sure ...
Tuesday, 26 April 2022 - 06:04
Post 7187
Sea News, Dover
Viking Venus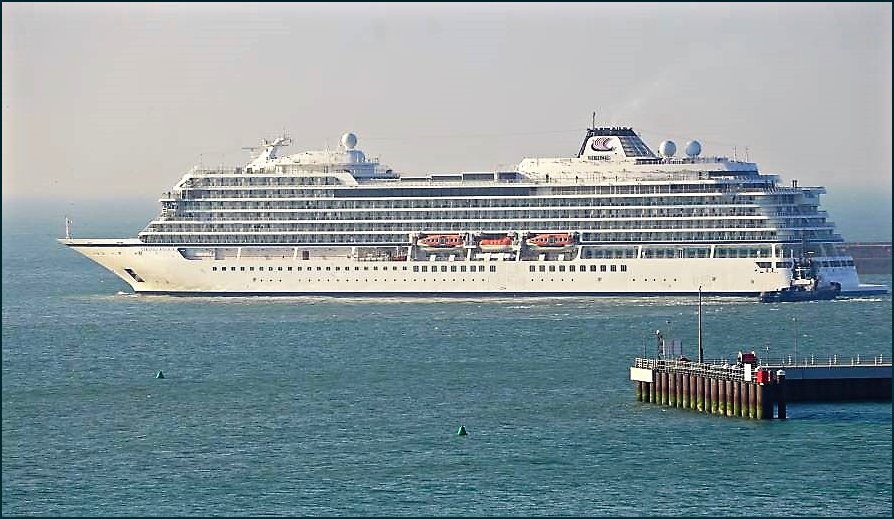 Viking Venus was in with us again yesterday (Sunday 24). here she is arriving early morn...in fact at 07.30 exactly. Nice ship for sure. Venus is on a long cruise to Stockholm going up the Irish Sea route with many stops...first stop after Dover.. Dun Laoghaire Dublin, very nice, know it well...
Hurtigruten's Maud was also in Port yesterday. Always good to see Maud.
Below we see one of the Irish Ferries .. unfortunately at the time doing its bit for pollution. What ever the problem was it was soon fixed...we saw her again later in day and all was normal....whatever normal is...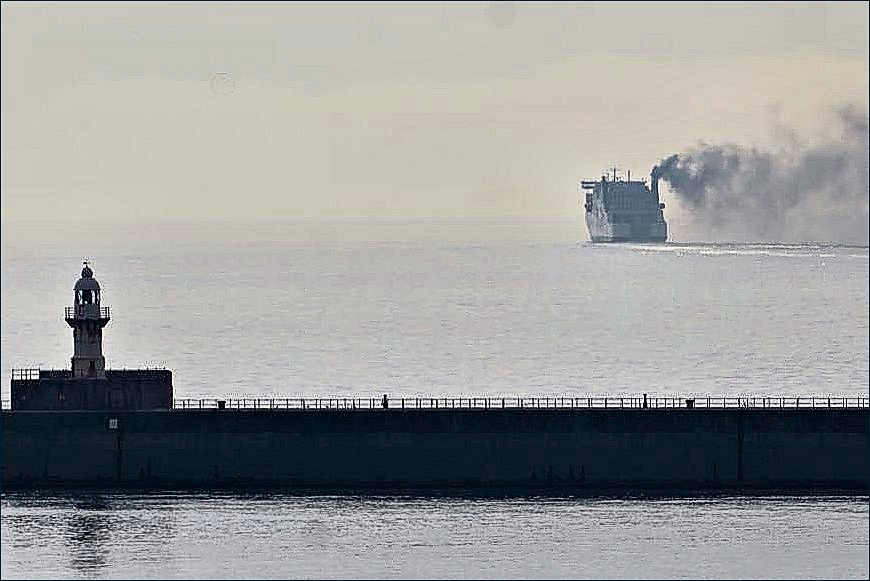 Isle of Inishmore
A caption on the BBC website at the weekend, beneath a picture, says that P&O's Spirit of Britain has resumed services to Calais. This is wrong...it hasn't. She rejoined Dover9 at 8.08 pm Saturday night, after sea trials, and has remained there since...unmoved...
The recent picture below shows Spirit of Britain at Dover9...that's the current location...as we write at 07.30 Monday morning.
Monday, 25 April 2022 - 07:30
Post 7186
Sea News, Dover
Further to the post below....

P&O's Spirit of Britain carried out trials in the channel for most of the day yesterday...she returned to her usual workaday operating slot on berth Dover9 last night at just a tad past 8pm...where she remains this morning at the time of writing 7am.

Sunday, 24 April 2022 - 07:05
Post 7185
Sea News, Dover
Is this the return of P&O ??
picture taken a few moments ago as I write 07.30 Saturday...much activity...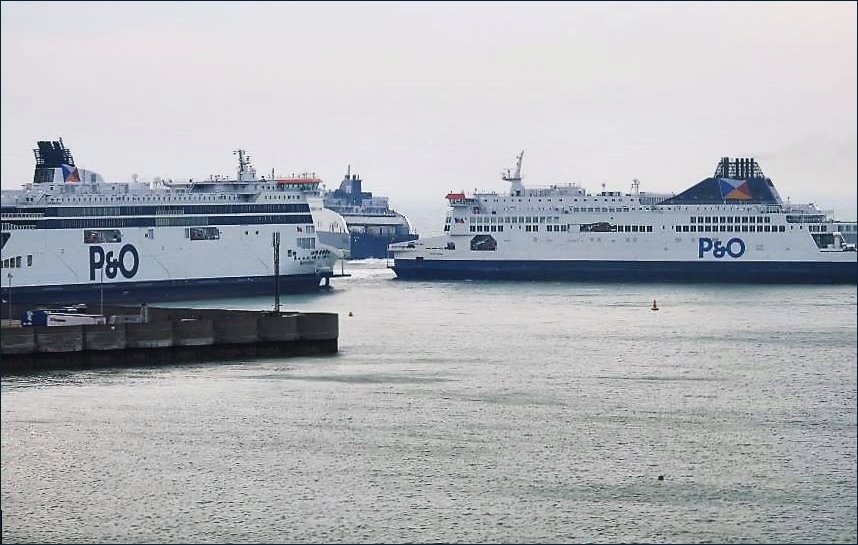 Spirit of Britain, Pride of Kent...
The Maritime and Coastguard Agency have said..." The Spirit of Britain has been released from detention...."
so we wait and see.
Saturday, 23 April 2022 - 07:34
Post 7184
Sea News, Dover
The Spirit of Discovery at Cruise Terminal 2 Port of Dover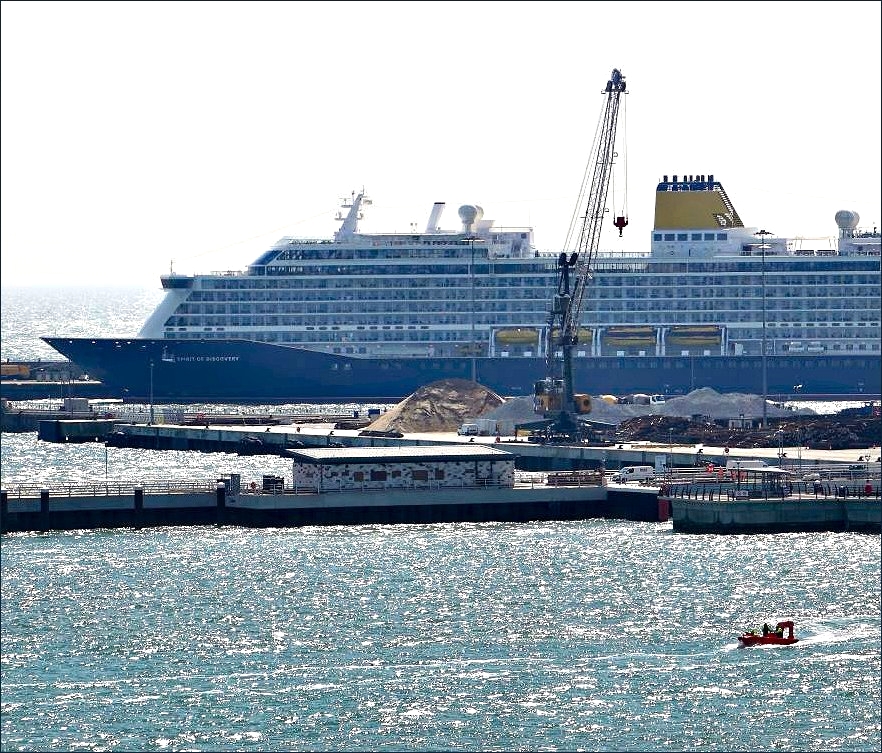 The Spirit of Discovery:
When you see a ship in its natural surroundings at Port, it gives you a sense of the scale of the things...Spirit of Discovery, quite large, dominating its immediate surroundings. In the foreground there you can see one of the craft of the Maritime Skills Academy..we think it is anyway,
Maritime Skills Academy below...extra shot from a former time...training in the harbour at Port of Dover.
Maritime Skills Academy
Later in the day we see the Spirit of Discovery moving off...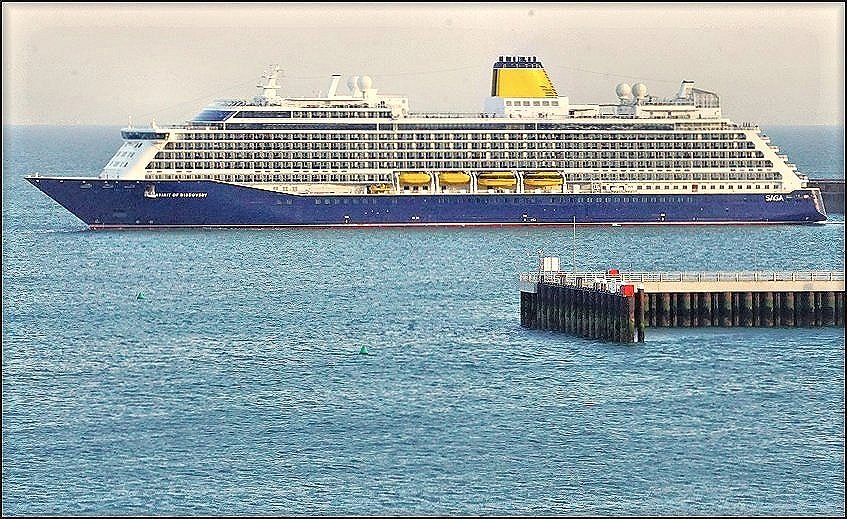 Another one off to the captivating Fjords of Norway...pictures of the Spirit taken on Wednesday April 20.
See also the Royal Navy below : HMS Tyne
Friday, 22 April 2022 - 06:55
Post 7182
Sea News, Dover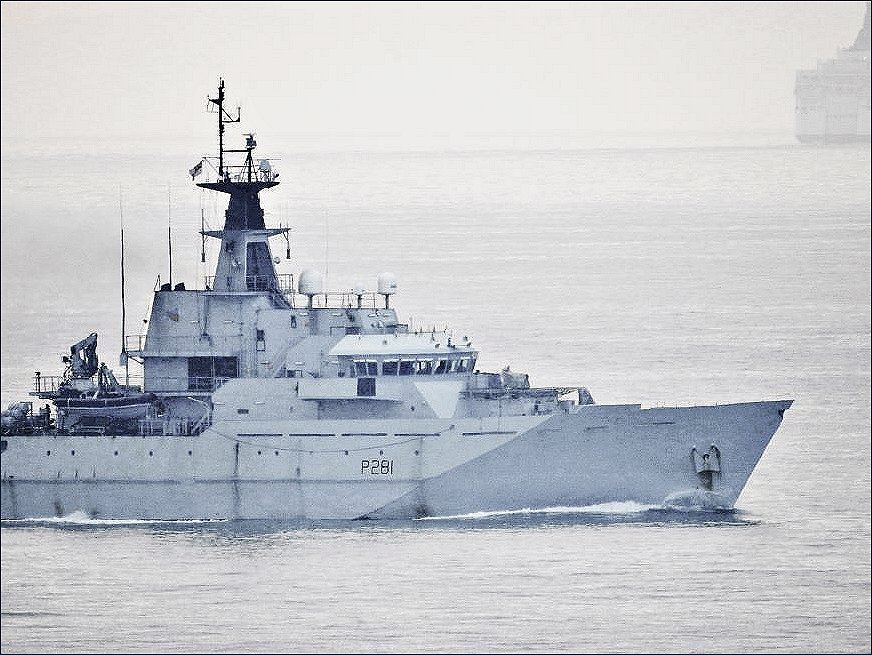 As promised, the extra picture of HMS Tyne above there. The migrant crossings continue apace, fueled by the good weather, so both Royal Navy and Border Force will continue to be busy.. the picture was taken on Tuesday morning as Tyne passed the Port of Dover...
Thursday, 21 April 2022 - 07:05
Post 7181
Sea News, Dover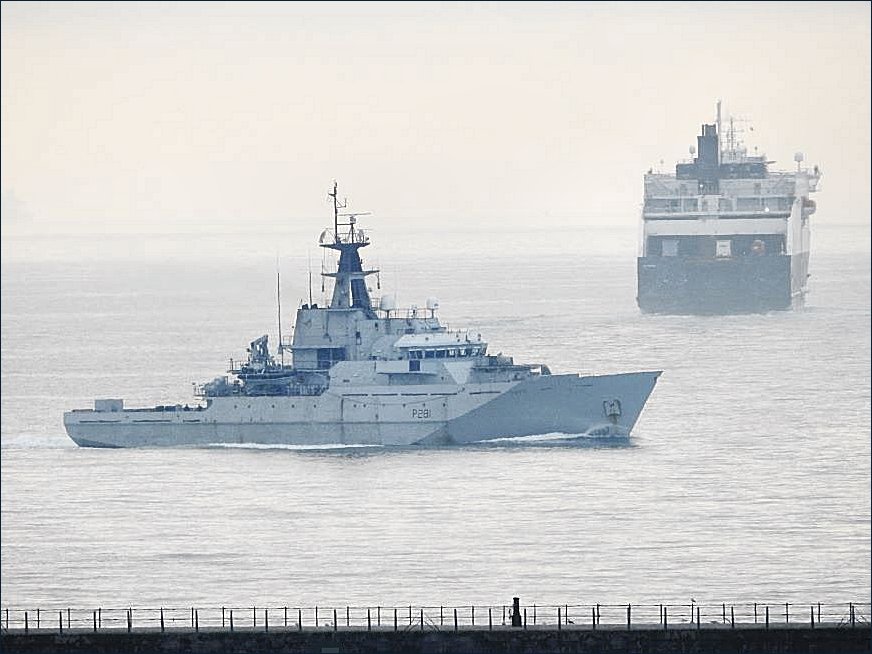 HMS Tyne: Yesterday we got a better opportunity for a picture or two of HMS Tyne as she passed the Port and then lingered. The picture above was taken at 07.20 yesterday morning Tuesday April 19...quite exciting, all after the recent Easter celebrations ( frustrations! ) came to an abrupt halt...the schools were back... the politicians were back..
...It was still misty but just that bit clearer, that looks like DFDS ferry Cote d'Opale in the background there... We might have a close up of Tyne to follow..working on it..
Two cruise ships in today Spirit of Discovery and Viking Venus...
Wednesday, 20 April 2022 - 07:15
Post 7180
Sea News, Dover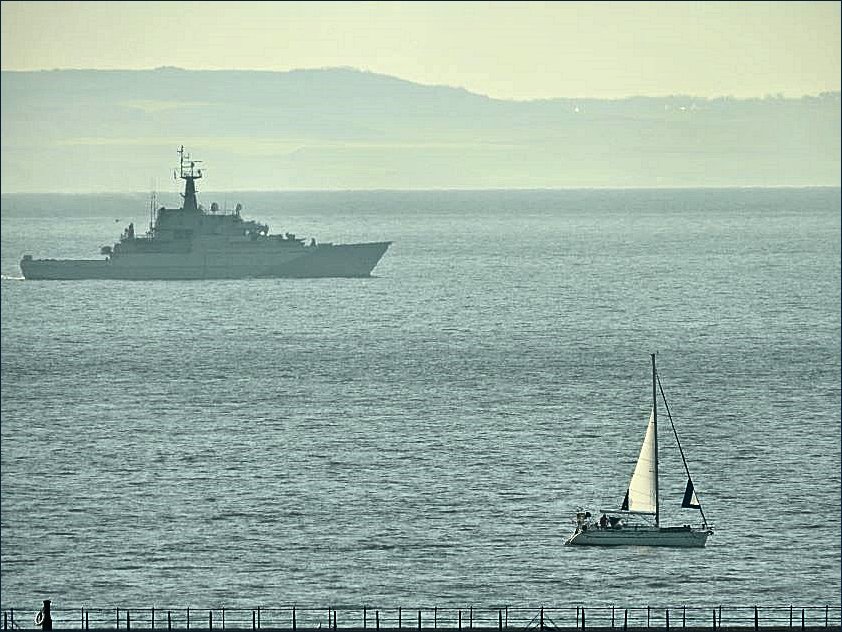 Yes the Royal Navy are back on the scene. Following along from our pix of HMS Blazer below, here we have HMS Tyne gently patrolling just off Dover on Easter Sunday April 17. Picture not hugely clear as it was quite misty, but you can feel the presence. We will hopefully get better pictures in due course. That's France in the background there and you can see how on some days it can appear to be a tempting short hop...
Tuesday, 19 April 2022 - 06:03
Post 7179
Sea News, Dover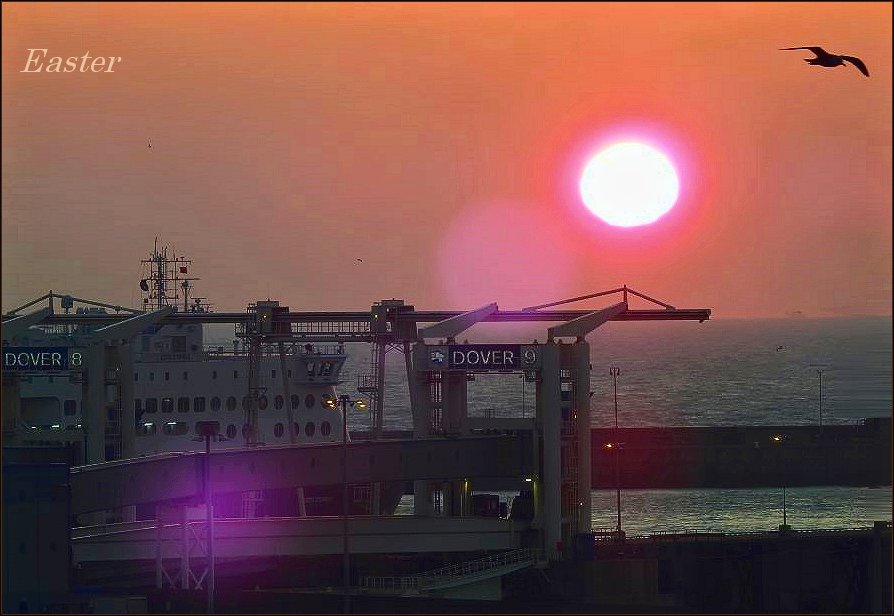 Happy Easter to All .....
The picture shows Dover Harbour early morn as the sun rises over piers Dover 8 and Dover 9.
* *
Another pic now below to follow the one in the previous post, shows the newly-on-the-scene Royal Navy.... in the shape of HMS Blazer...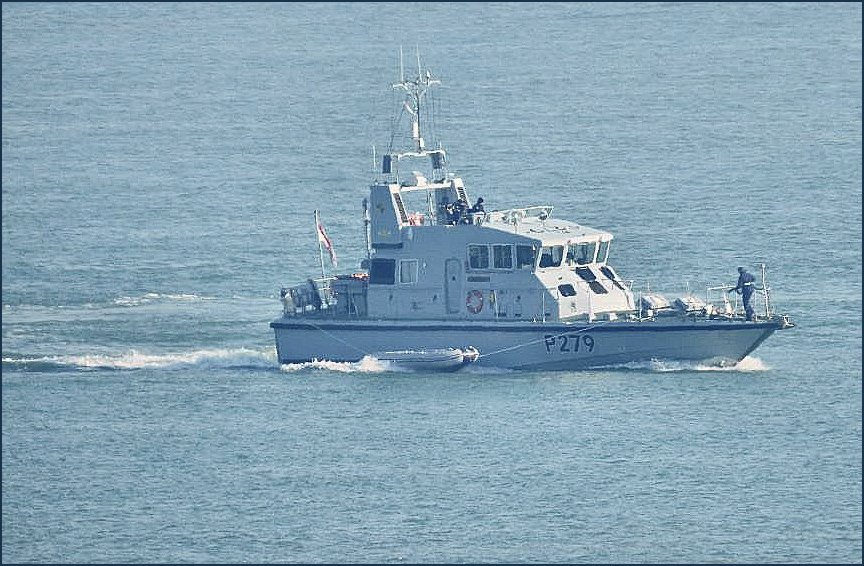 HMS Blazer on Good Friday...see also below...
Saturday, 16 April 2022 - 19:49
Post 7178
Sea News, Dover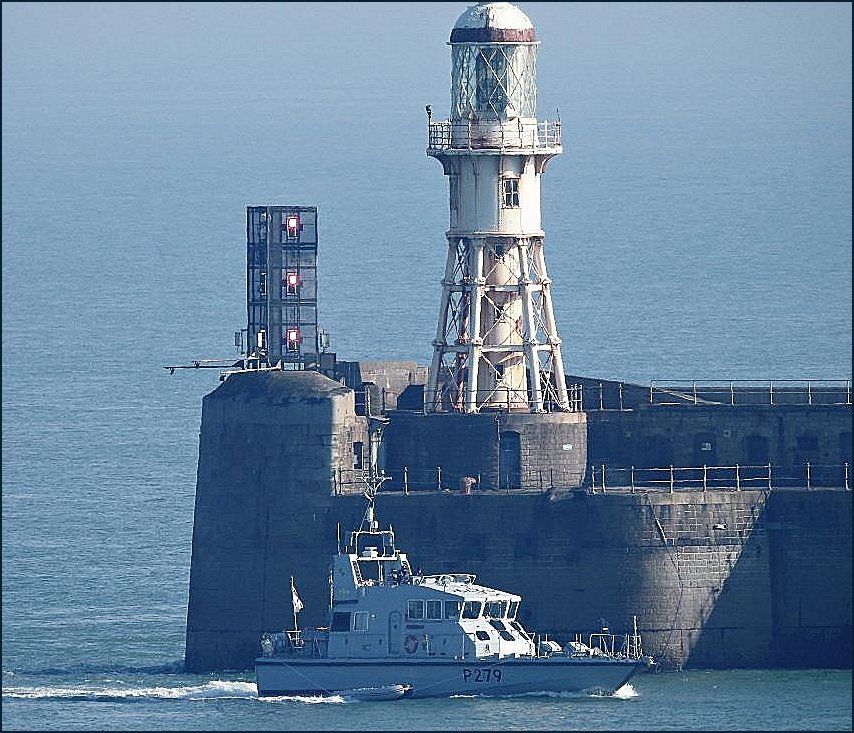 The Royal Navy have arrived to help with the crises situation in the Channel...here we have HMS Blazer entering the Port of Dover yesterday Good Friday in blazing sunlight, you can see the Naval vessel there towing in an abandoned dinghy. There have already been criticisms re the Navy's deployment but....
Saturday, 16 April 2022 - 08:02
Post 7177
Sea News, Dover
The Channel Migrant Crises.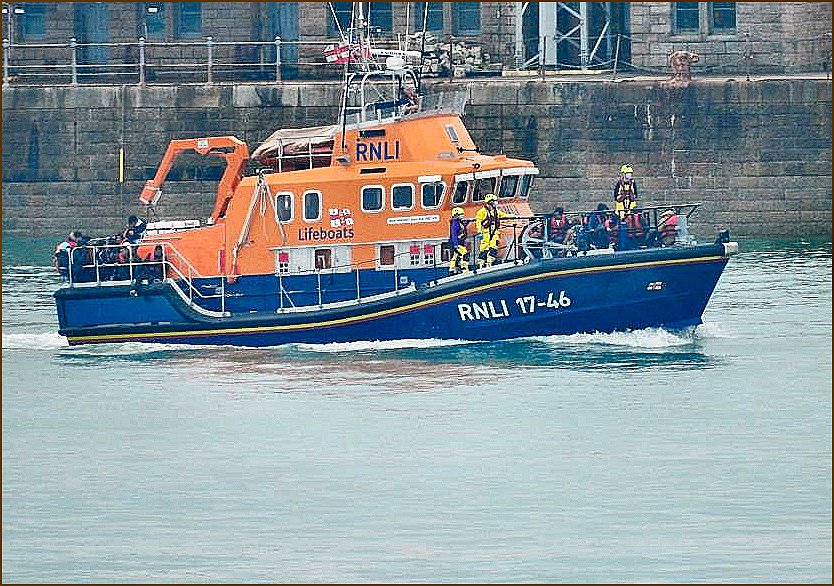 The picture above was taken on Wednesday, a day when 600 migrants crossed the channel in small boats. The shot above.. not the best quality as was taken through the gloom and enhanced so all can see... but yes you can see the back-up Lifeboat above there with migrants all over it front and rear .... it was a frantic day for this particular Lifeboat, all day long just ferrying too and fro at pace...
The new policy of shipping these channel-crossing migrants to Rwanda, announced yesterday by the government, strikes us as heartless and cruel. It is also notoriously expensive, as pointed out on BBC's Newsnight last night, when Australia did similar with only very minor success, it staggeringly cost that country the equiv of 1.9 Million English Pounds per migrant....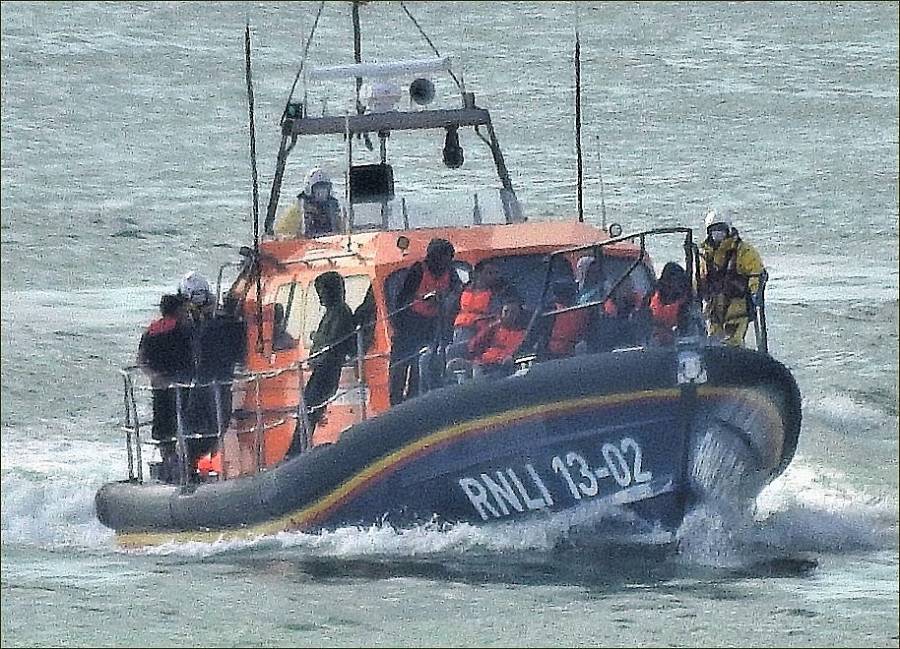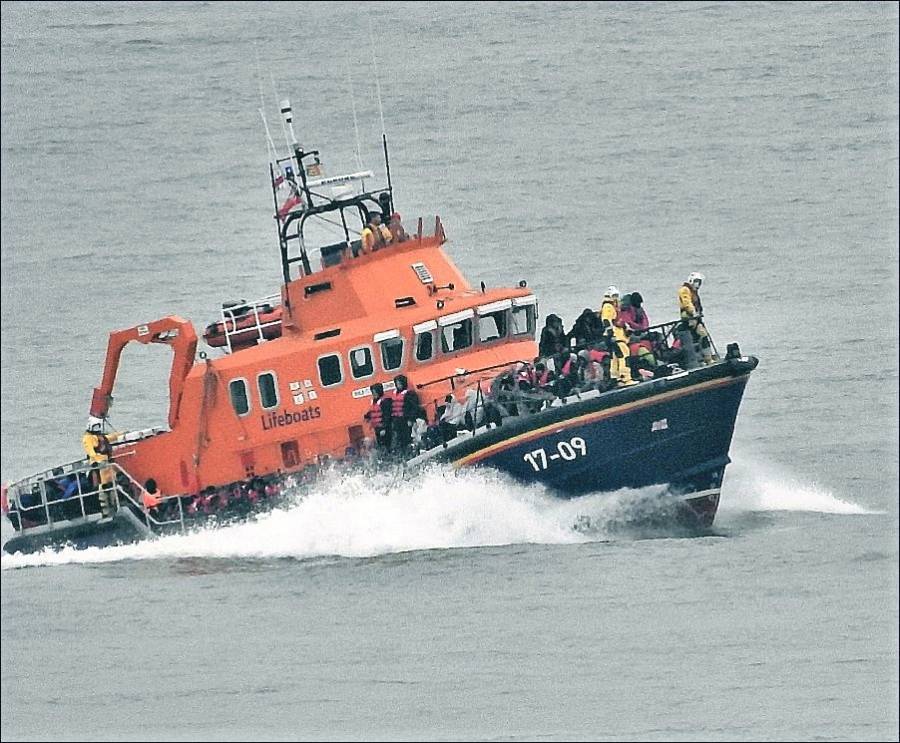 Added some extra recent pictures there...
Friday, 15 April 2022 - 06:33
Post 7176
Sea News, Dover
Hurtigruten Expedition ship MAUD arriving with us here in Dover on Tuesday morning...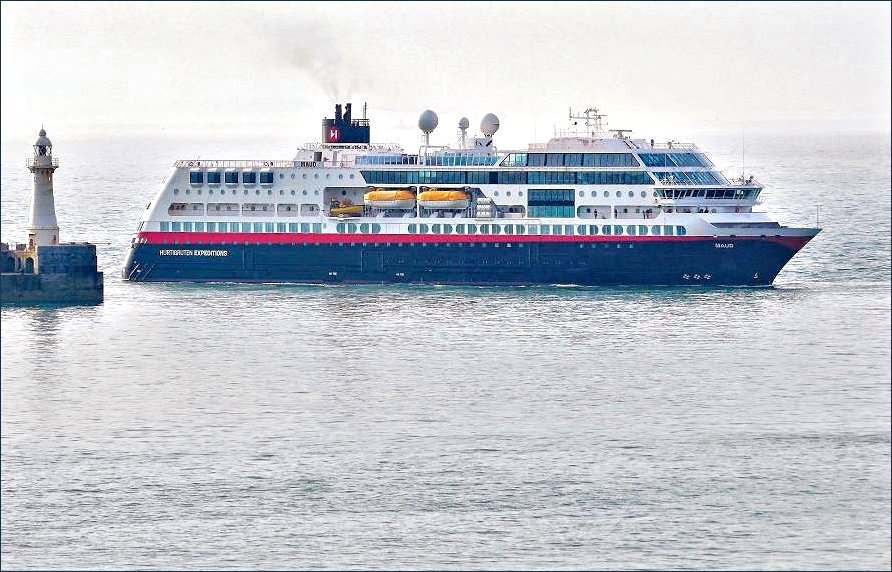 She has been making numerous trips from here to the Fjords in recent times...you can see her here entering the Port of Dover through the western entrance/exit. It's unusual to see cruise ships entering through the western end, but at the time of arrival the tugs were busy shifting one of the P&O ferries about ( Pride of Kent) at the eastern end of things. A further inspection we reckon .....those inspections not going well at the time of writing...according to reports.
But back to Maud...yes always good to see Maud. She left later the same day, Tuesday April 12, heading for Fishguard we understand....presumably a stop en route ...
Thursday, 14 April 2022 - 06:12
Post 7175
Sea News, Dover
AIDAmar arriving at the Port of Dover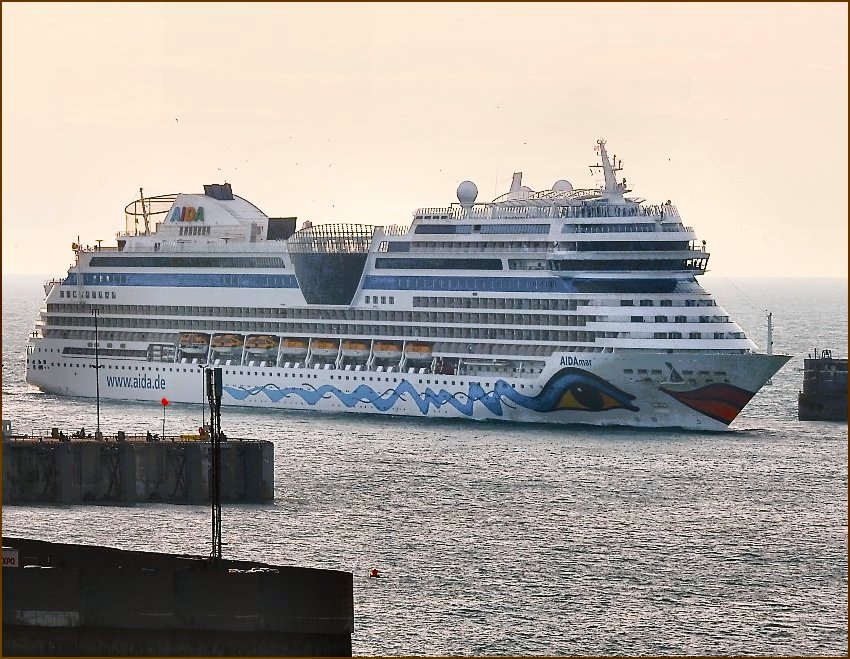 AIDAmar: the picture above shows AIDAmar arriving at the Port of Dover on Monday April 11 at 07.22. This is the third AIDA ship in a row and all in immediate succession. The other fab AIDA ships are featured just below...AIDAdiva and AIDAluna.
AIDAmar is on an 11 day one way cruise from Las Palmas to Germany...calling at exotic places like Tenerife, Madeira, Lisbon, La Coruna, Dover etc etc..... and very exciting it all is too...
* *
The news is filtering through that P&O's ferry the Spirit of Britain, currently resting on the Eastern Arm here in Dover, has not been given the all clear to resume services following an inspection by the Maritime and Coastguard Agency...we understand that the Pride of Kent is also in the same situation. P&O had been hoping to get back in action before Easter but we now must wait and see how this develops.
Wednesday, 13 April 2022 - 05:53
Post 7174
Sea News, Dover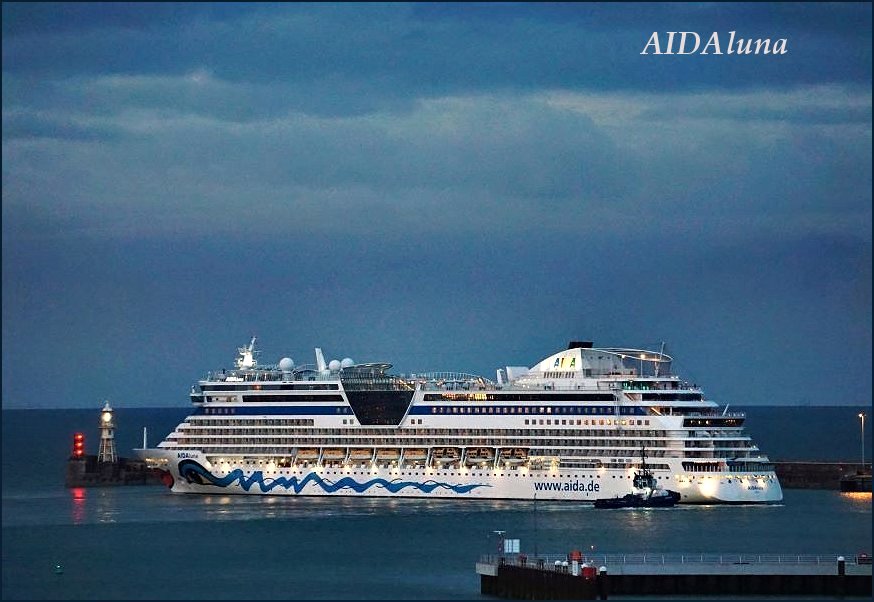 AIDAluna paid us a weather related visit twice in a few days...here she is arriving the second time at 6am precisely on Saturday morn April 9. We have a batch of pix but just selected that one there...since then AIDAmar has come in...that was yesterday as I write. And, we've had Diva too. As all the AIDA ships are near identical, we've had a flurry of three so far in quick succession, it looks like we're putting up multiple pictures of the same ship !! But no....
However....We will have a picture of AIDAmar shortly...all fab ships of course.
More... Yesterday in the Port we spotted another Irish Ferry (Ferry no3), it's all happening with Irish Ferries! (see the posts below too).....this time called the Isle of Inisheer. We spotted her at Dover9 presumably doing berthing trials. We have a bog-standard sleep-inducing picture but have held back until we get something better. But yes exciting times, one way or another... this should help ease the trucking backlog. So the theory goes anyway.
The three Irish Ferries currently in Dover are..
Isle of Inishmore
Isle of Innishfree
Isle of Inisheer
so there we are ... how this develops we wait and see.
Tuesday, 12 April 2022 - 05:09
Post 7173
Sea News, Dover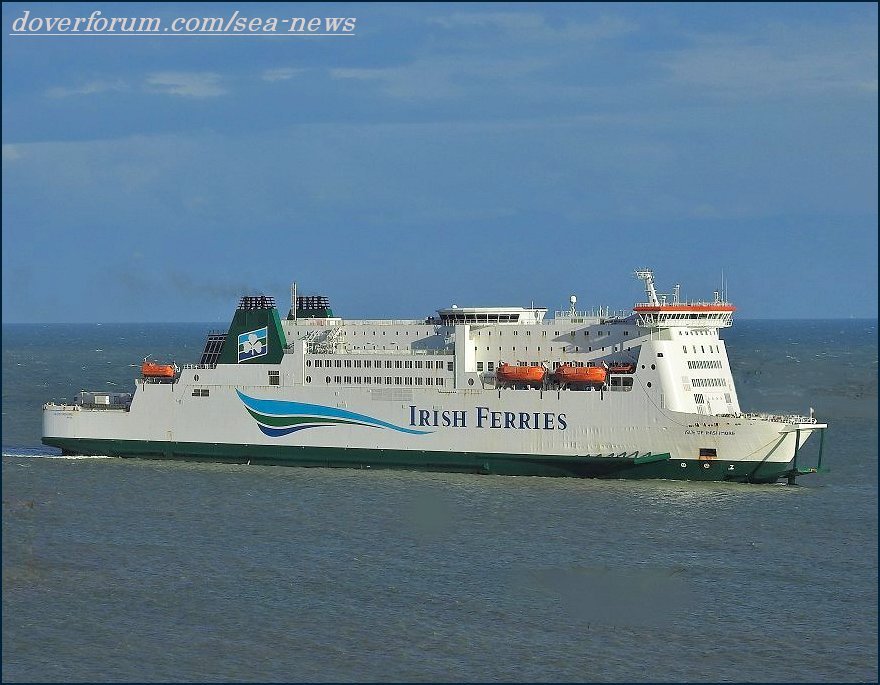 Isle of Inishmore:
As the shots immediately below just show the Isle of Inishmore head-on in wild weather, we thought we would show her today from a different angle so we get the full ship image as it were...and of course pictured on a different day too as you can see... when all was delightfully tranquil...
Monday, 11 April 2022 - 07:11
Post 7172
Sea News, Dover
The Isle of Inishmore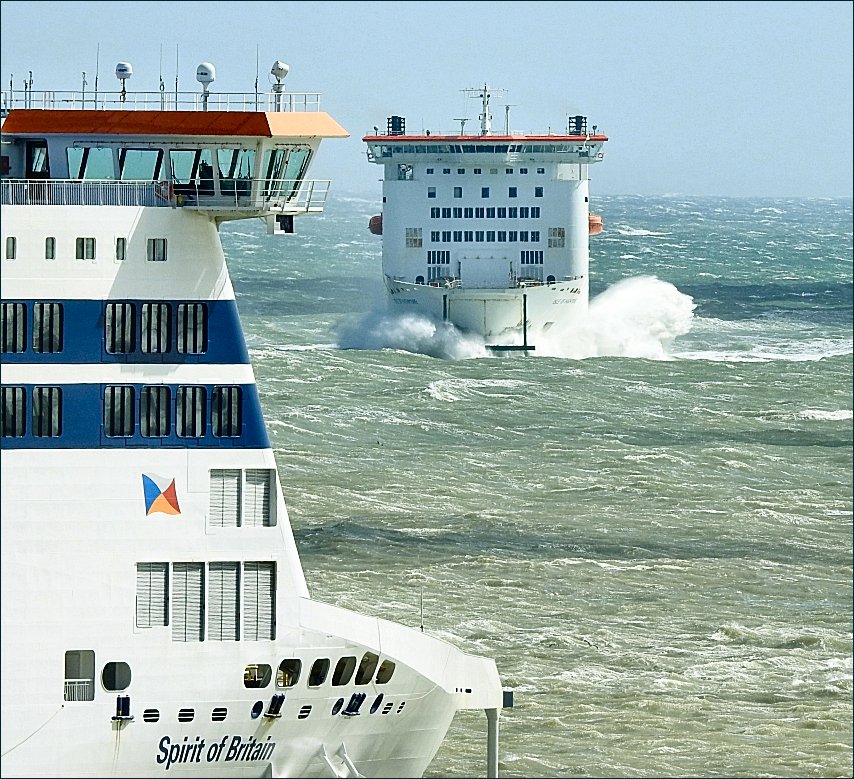 Looking across controversial P&O's currently 'redundant' ferry Spirit of Britain, still resting at Port, we see an approaching Irish Ferry, the Isle of Inishmore, on a bracing/rough ol' day on Thursday April 7th. Although rough for sure, it was fresh and colourful, and made a change photographically anyway from all the recent grey stuff. Wild and fresh...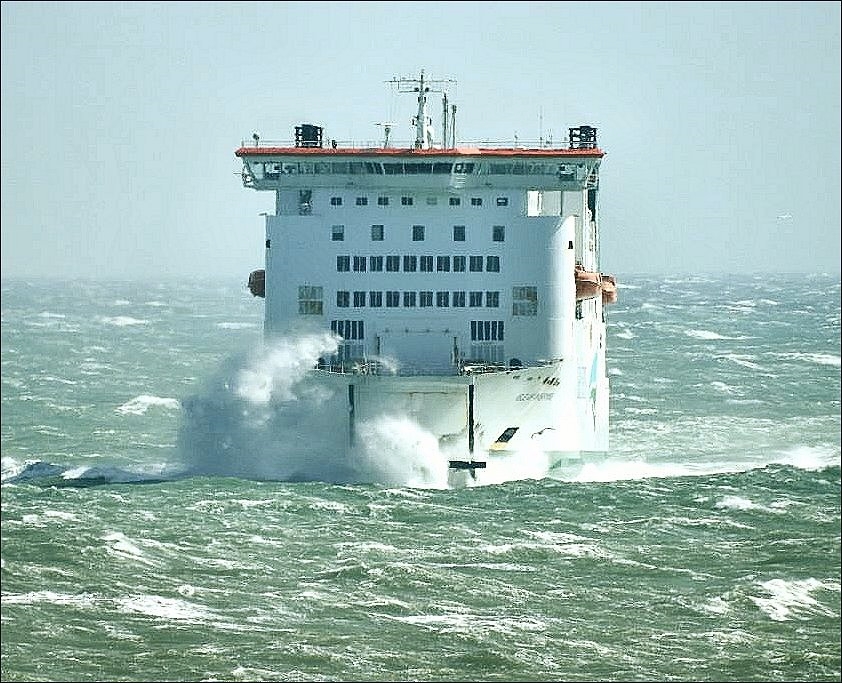 The Isle of Inishmore in wild conditions.
The Irish Ferries and the DFDS ferries are keeping the trade flow flowing...well done them. The trucking tailbacks surrounding Dover still stretch back miles although the town itself is clear due to increased policing.
The P&O ferry in shot was at pier Dover9 at the time, but yesterday was moved to the eastern arm. The Pride of Kent came to Dover8 but that's now on the old cargo terminal. Dizzifying shuffling....
Saturday, 9 April 2022 - 06:13
Post 7171
Sea News, Dover
MS Hamburg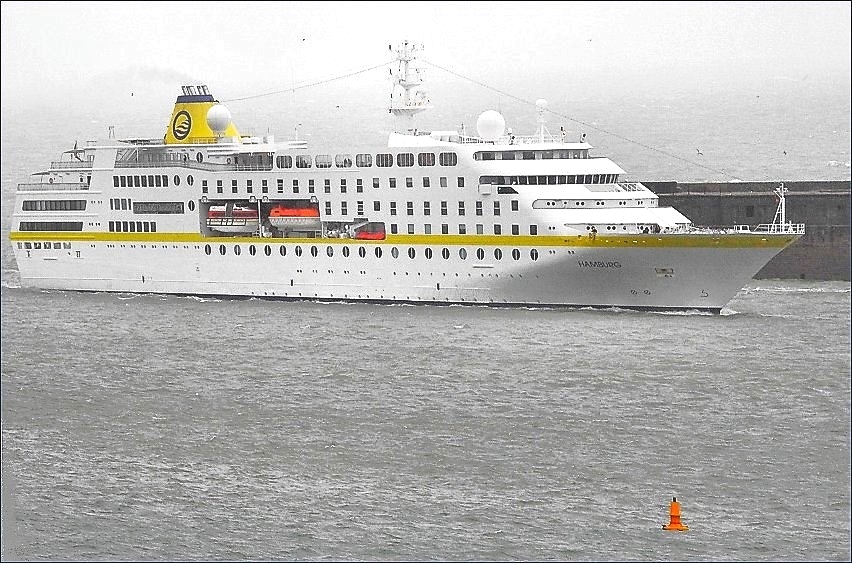 As promised, MS Hamburg as she arrived in Dover on Wednesday but wow was it a grey day....as you can see.......
She was actually on something of a marathon 34 day cruise starting in Lisbon and initially going south...Casablanca, Marrakesh, and so on, eventually coming northwards again, and in the fullness of time reaching us here in Dover, then on to ..yes you've guessed it...Hamburg! Pictured Wednesday April 6, time of shot 07.33
Friday, 8 April 2022 - 07:49
Post 7170
Sea News, Dover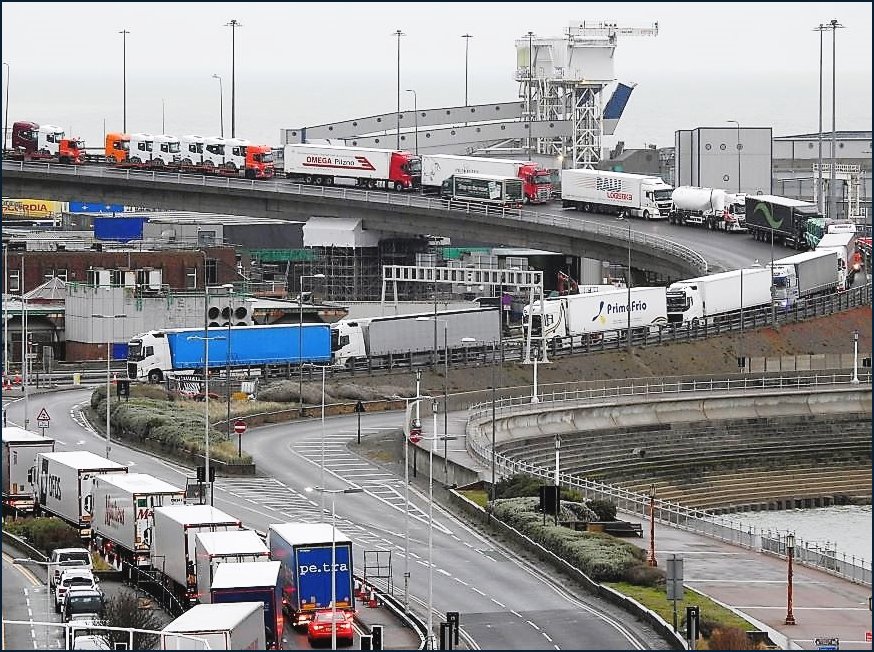 TRAFFIC: we need to avoid this if possible...see more in the Council Leaders letter below. We notice comments from both Natalie Elphicke MP and Doug Bannister CEO Port.. all harmoniously saying similar to the message in the post below. The town of Dover cannot be allowed to be gridlocked. That picture above dated April 5 just shows the tip of the iceberg. There's an earlier similar picture further below so the situation goes on...
See also immediately below....
Thursday, 7 April 2022 - 17:41
Post 7169
Sea News, Dover

Open Letter from the Leader of the Council - Dover and the Easter Getaway

This weekend (8-10 April) is again likely to be challenging on the local road network. With P&O Ferries still not operating from Dover, the port will be under severe pressure throughout the busy Easter getaway.

It would be remiss of me not to warn you to expect, and prepare for, some disruption again this weekend. But I have made it clear to the Kent Resilience Forum, Kent Police and Kent County Council that we will not tolerate another weekend of gridlock in Dover.

For too long, local residents and businesses have had to endure disruption and quite frankly, deserve better.

We share your concerns about the impact of gridlock on local businesses, and access to vital health and social care for our most vulnerable residents. And many are rightly worried about how the emergency services would be able to respond to a major incident when all routes into the town are effectively cut off.

Keeping Dover clear must be the top priority.

Cllr Trevor Bartlett
Leader of Dover District Council

(...a section of the latest press release there....)



Thursday, 7 April 2022 - 09:54
Post 7168
Sea News, Dover
Conformity in light drizzle...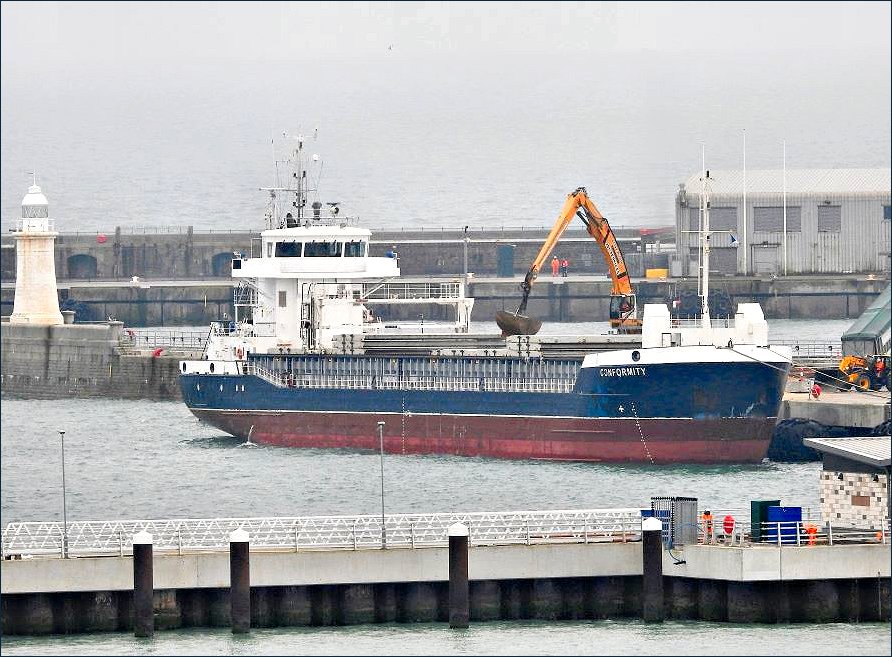 A gloomier picture of Conformity above there, gloomier than the one further below, but then there's a lot of gloom about, we're talking about the weather of course! But yes there she is being loaded up a couple of days ago ( loaded up with grain we presume) ... she has since left the Port.
And below we have a night departure shot of the AIDAluna on Tuesday.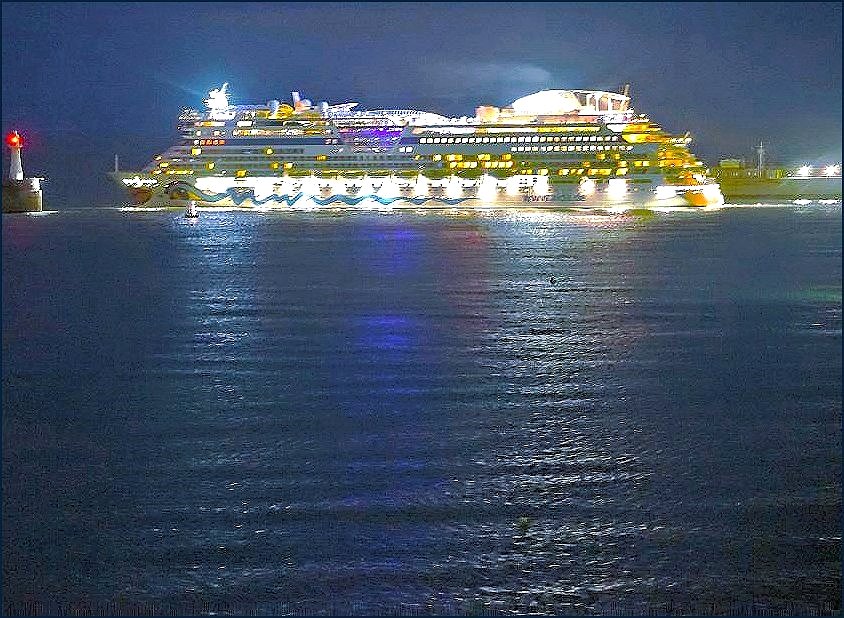 Not sure if night shots at range are worth it but we did it this time so you can see something of the blazing light spectacle...time of shot 20.21 (8.21PM) on April 5....on her way to Hamburg via Ijmuiden.
And speaking of Hamburg...MS Hamburg came and went yesterday...we will have a pic or two of that one....just sorting those out...
Thursday, 7 April 2022 - 06:19