Friday, 20 May 2022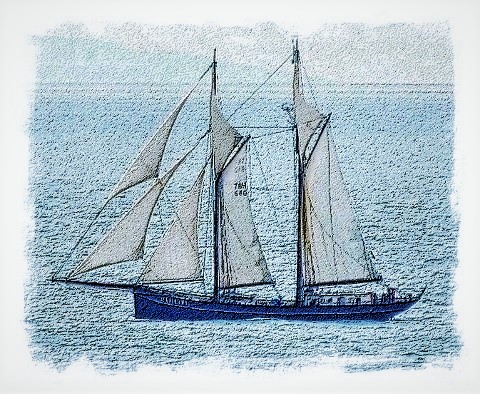 WWW.DOVERFORUM.COM/SEA-NEWS
Sea Pictures from DOVER ....333 plus pages to trawl through now..use Search Engine just below.
All pictures copyright of owners. Editor : Paul Boland - dover7@msn.com
Post 7084
Sea News, Dover
Aurora and the Pilot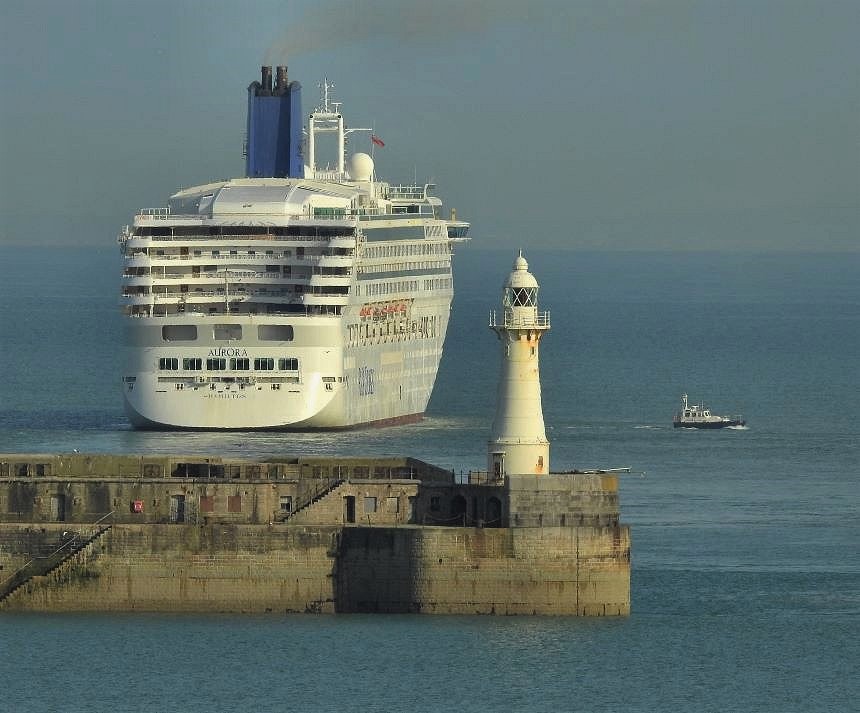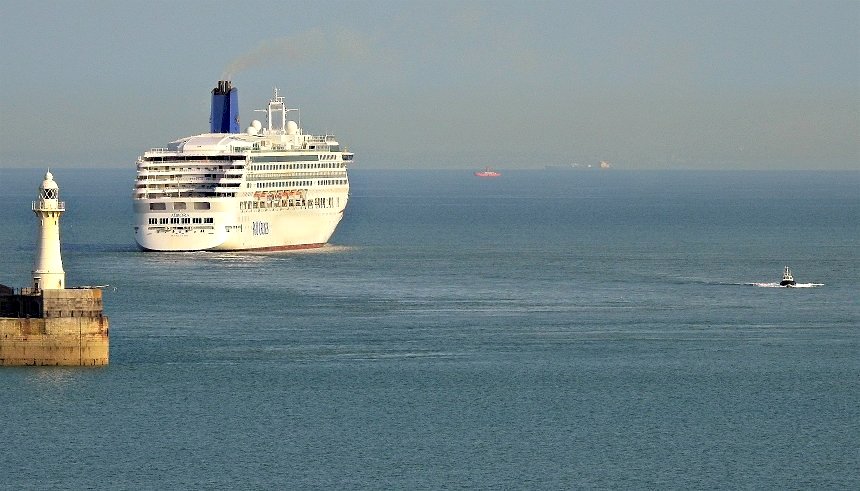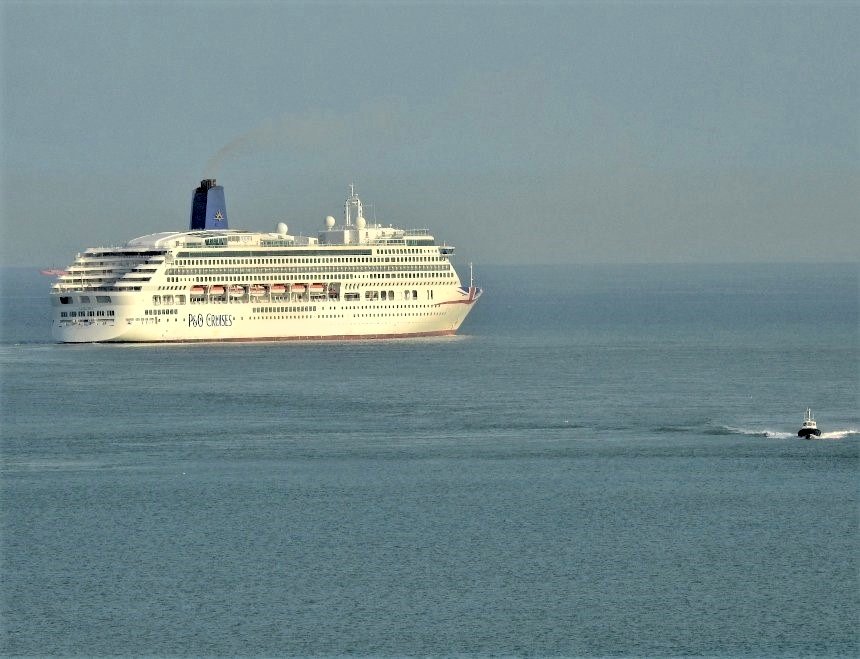 Some shots of the pilot leaving Aurora as the ship departed Dover on Tuesday evening. As Mike said she didn't stay long...the P&O cruise ships are very much just in and out now. Time of first picture above there ...18.20 ( twenty past six ) Conditions were very much mist and haze but bright. The ship dazzled...
Will just add this extra one below taken at the same time but no pilot this time.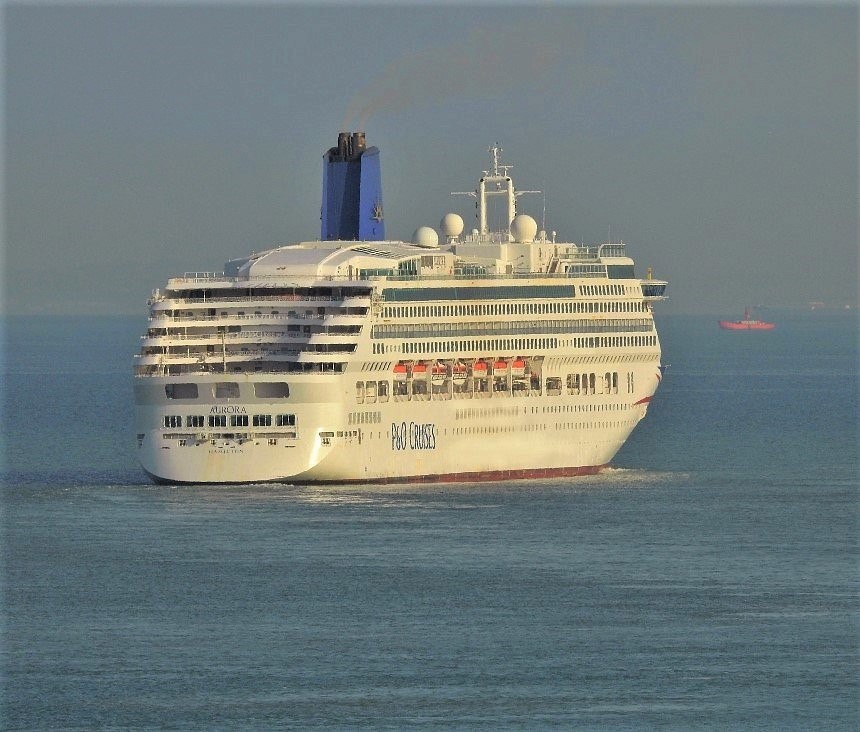 Yes indeed Mike .. Majesty of the Seas has just returned this morning..a short while ago as I write...05.15 ish
Nice collection below from Mike. Very enjoyable pix there..

Love the one about the haircut.

Go for it Vic...


PaulB
Thursday, 25 June 2020 - 06:03
Post 7083
Mike J., Dover
Western Docks 0730 Tuesday about an hour after the AURORA had
arrived from downchannel.
She didn't stay long & after taking bunkers from from the JAYNEE W sailed for Poole early evening.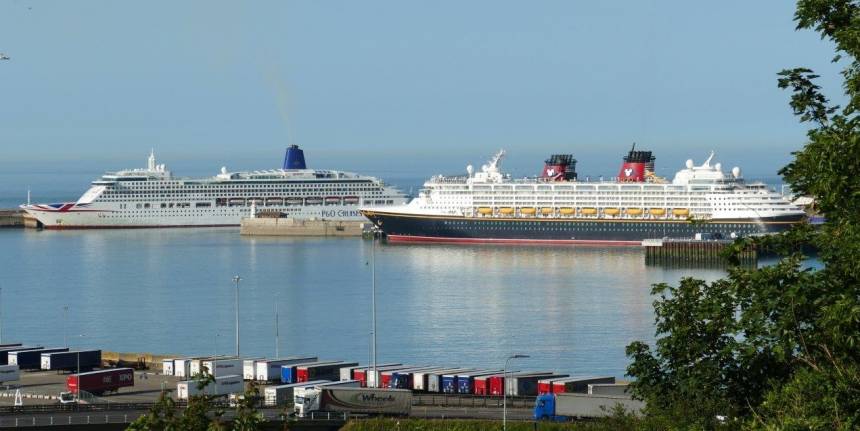 i hear that the MAJESTY OF THE SEAS is expected back on Thursday.
Catch-up time -
4th.June caught the DAVID CHURCH backing up the Wick to start her day's work, looking all shiny & freshly-painted & mud-free after her refit in Hull - it won't last !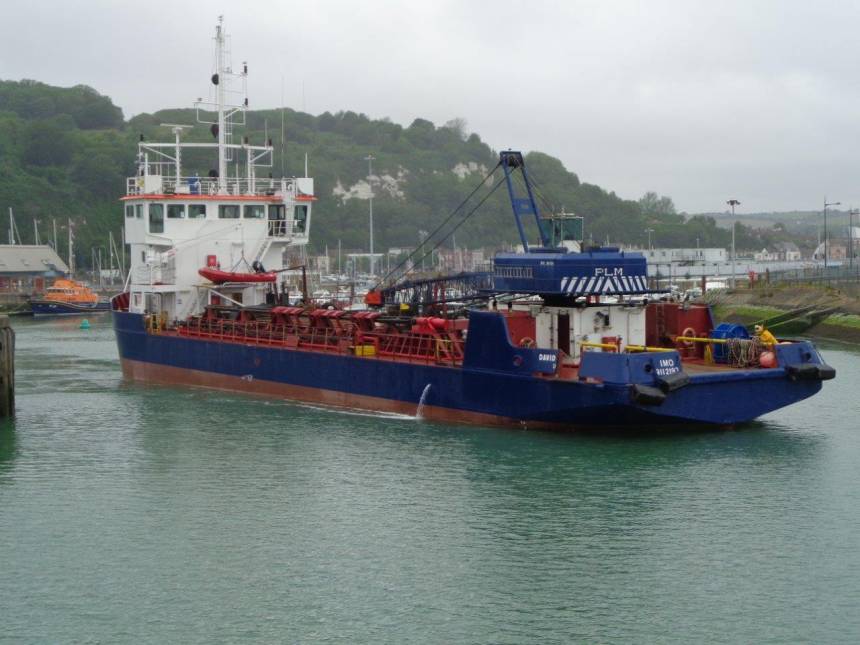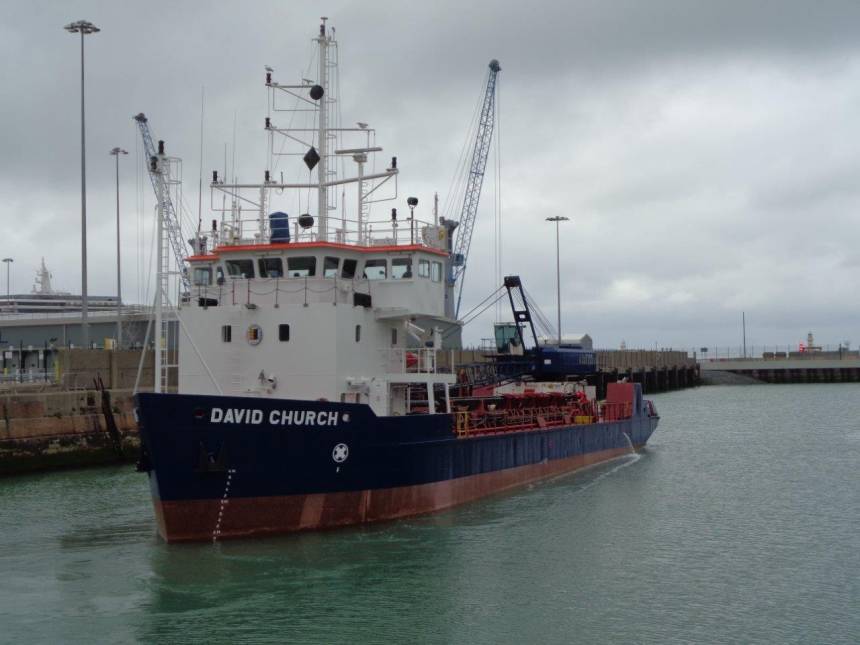 Faversham trawler CHARLIE BOY spent a few days in the Tidal Basin & was photted on 9th.June.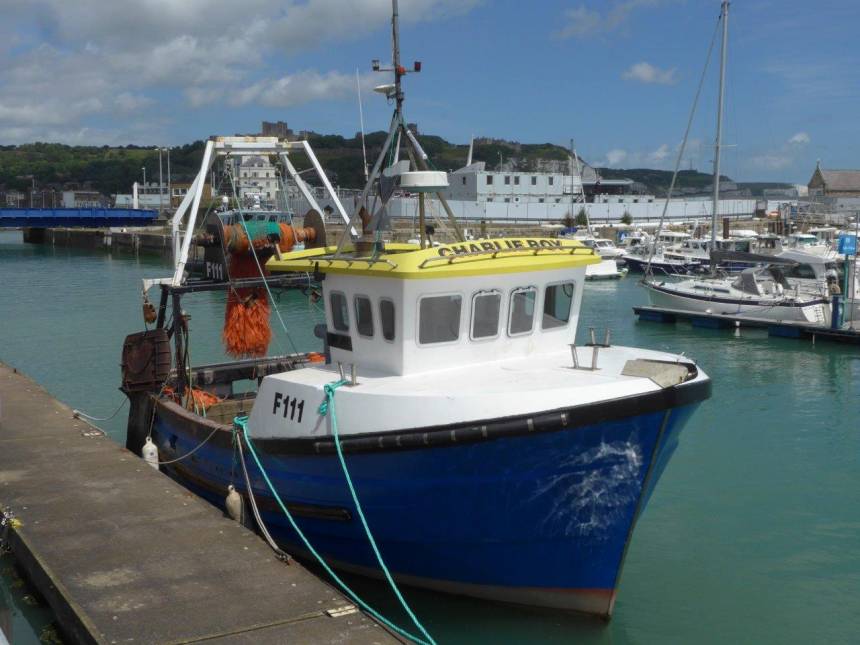 This view at the stern reminded me that I badly need a haircut - roll on July 4th..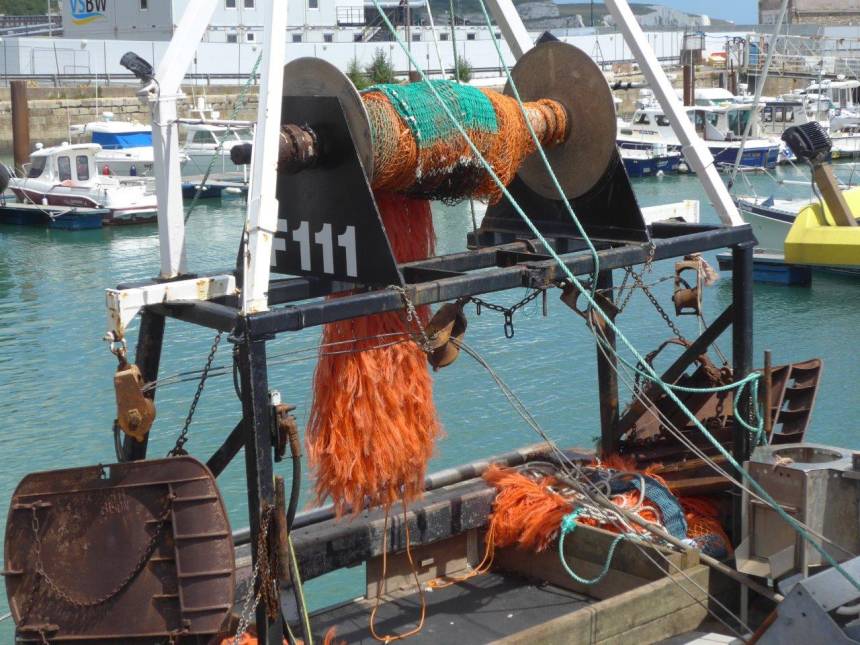 Wednesday, 24 June 2020 - 02:41
Post 7082
matcham, DOVER (victormatcham@hotmail.co.uk)
Thank you already a email has gone to our MP. Great weather to photo the port. We will get out soon again and see it all.

Tuesday, 23 June 2020 - 15:35
Post 7081
Sea News, Dover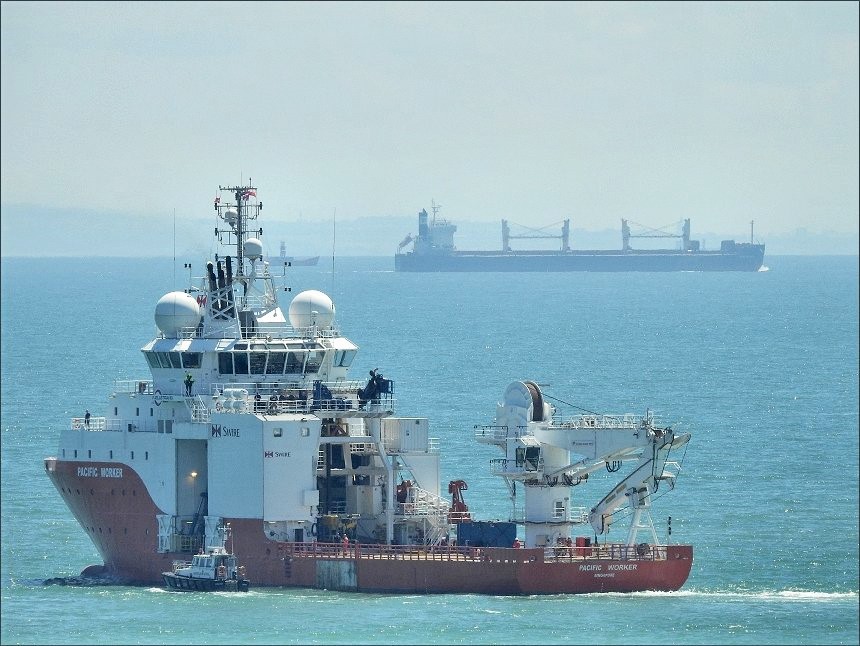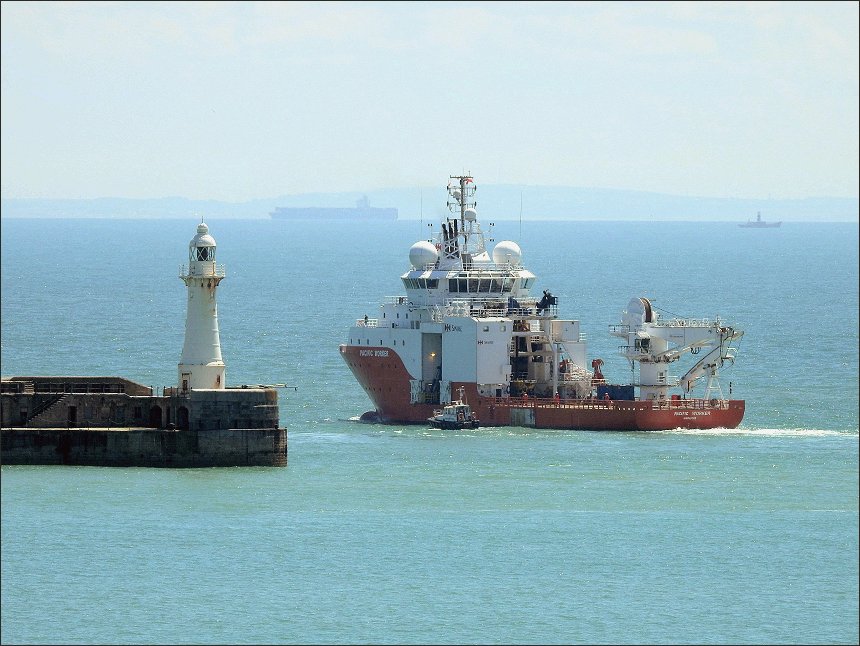 Last two pictures of the Pacific Worker above there, taken as she left the Port a few days ago...on...Saturday in fact at approximately 13:00 hours or 1pm if you prefer. She was indeed a striking visitor and very photogenic as you can see from the coverage all around us..
Very bright conditions in the pictures above, but not so below for the gloomy departure of Jaynee W a few days ago. This one almost slipped in and out of Port without yours truly spotting her at all, or indeed spotting as to what she was up to... I guess bunkering duties.. the computer was needed to stretch the potential of the pix below within inches of their life ( lives!)...they were very poor. Hopefully they are marginally better now...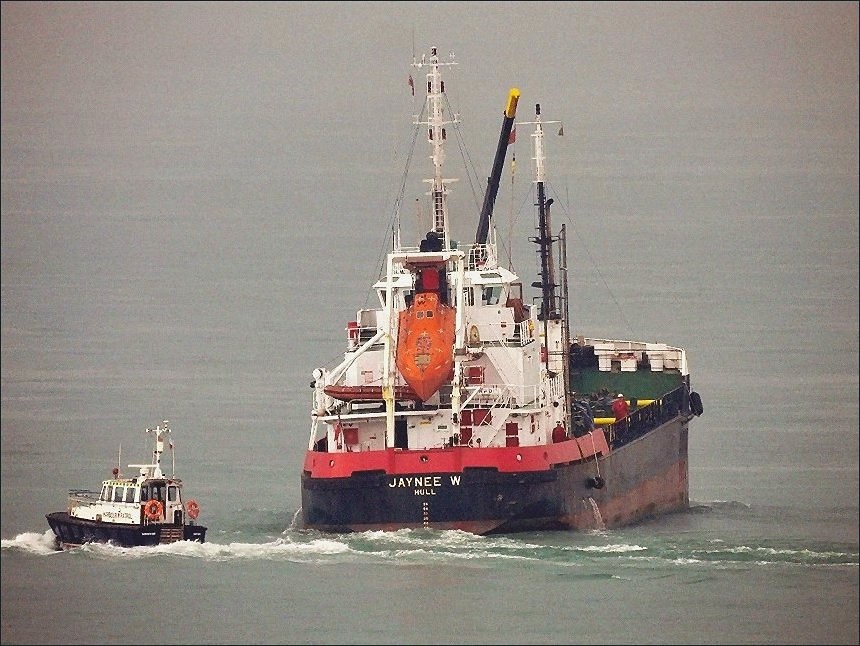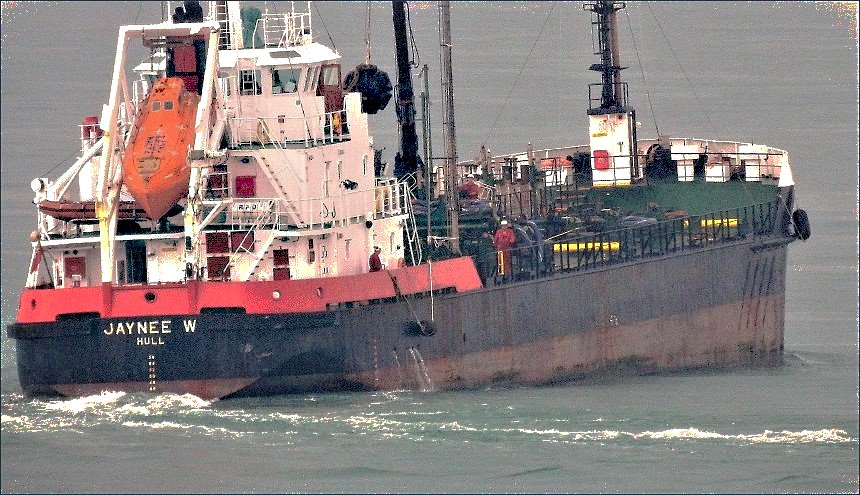 You mention two illustrious historical figures below there Vic...Winston Churchill and Walter Tull. Perhaps a letter from you to the 'powers that be' in Westminster might help bring about change. Thanks Vic.
PaulB
Tuesday, 23 June 2020 - 05:38
Post 7080
matcham, DOVER (victormatcham@hotmail.co.uk)
Bring him t0 Dover. The statue of Sir Winston Churchill should be taken down in Westminster and come to Dover overlooking the main sea port in the last war. A lot of his war plans were done in the castle and we would also look after it for ever

and he can be replaced in Westminster with the statue of Major Tull of the first world war, first black officer of the army. He was a very good officer and also a very good footballer please read his book.In doing this would help stop what is going on now.

Monday, 22 June 2020 - 10:02
Post 7079
Sea News, Dover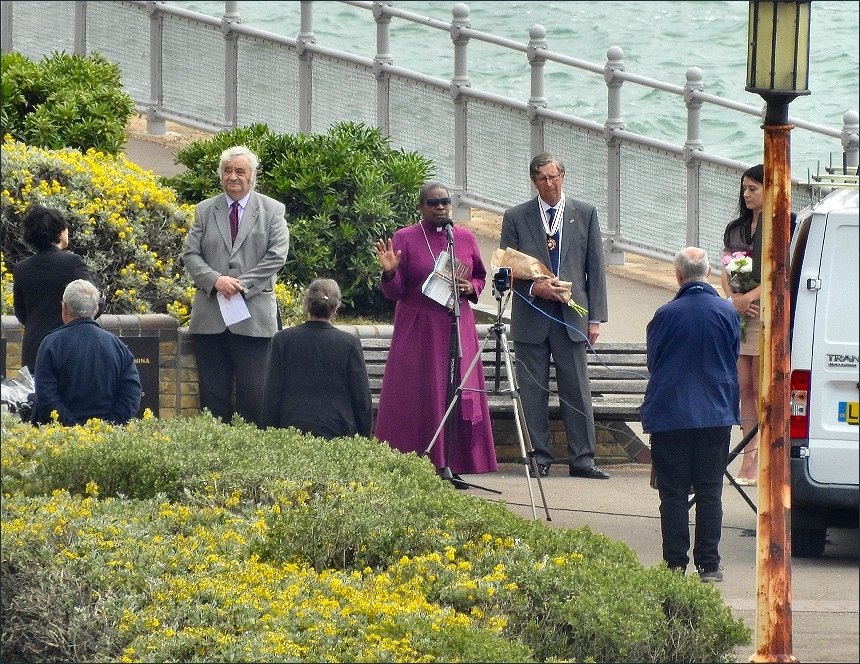 As promised there we are above with a picture of the service held on the seafront to mark the death of the 58 Chinese migrants in the back of a lorry 20 years ago this week. A truly sad miserable incident from all those years ago. The service was carried out by the Bishop of Dover the Right Rev Rose Hudson-Wilkin on Saturday morning. Also in the shot you can see white-haired Ben Bano who runs an immigrant support unit... not sure if Ben is still a Councillor…
The service was streamed online we understand.
Below we have a pic of the Pacific Worker leaving Port also on Saturday....we will in fact have another pic or two of the leaving moments to follow...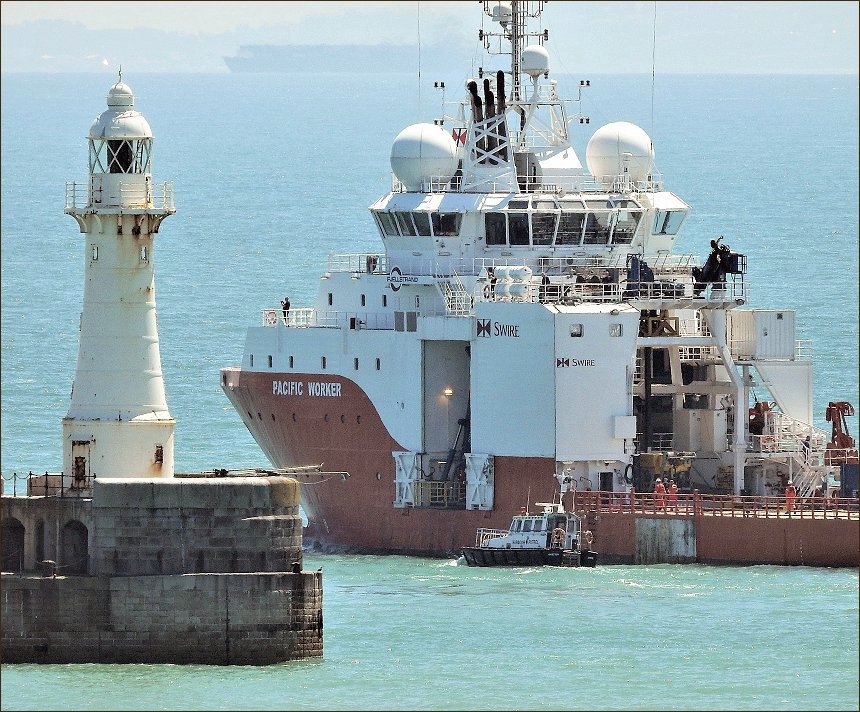 Nice collection below there from Mike...so don't miss those

PaulB
Monday, 22 June 2020 - 06:37
Post 7078
Mike J., Dover
A hazy Sunday afternoon & the Panamanian reefer PACIFIC REEFER arrives from Paita, Peru & unusually docks at the old DCT, in Eastern Docks.
DOVER SEAWAYS discharging on No.3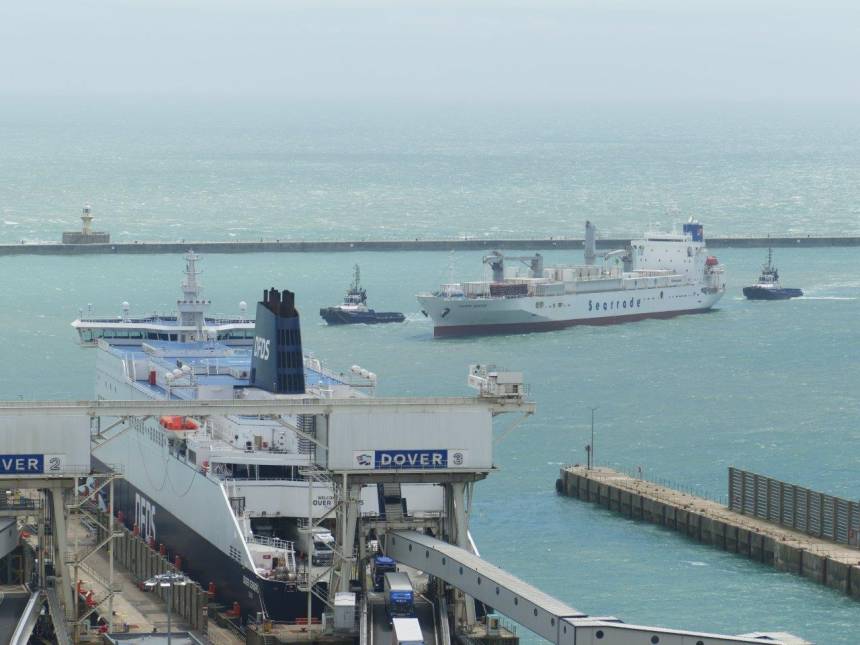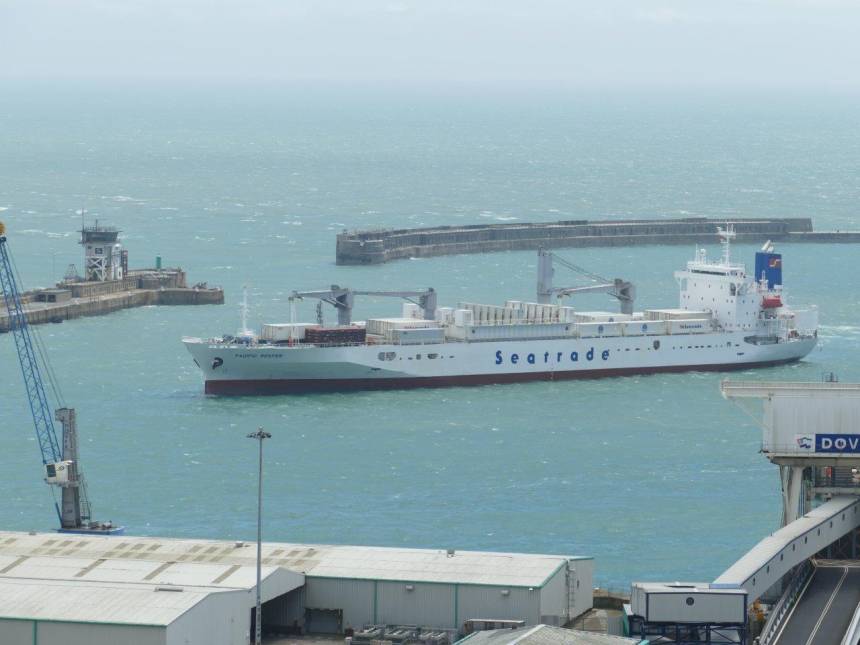 COTE DES DUNES arrival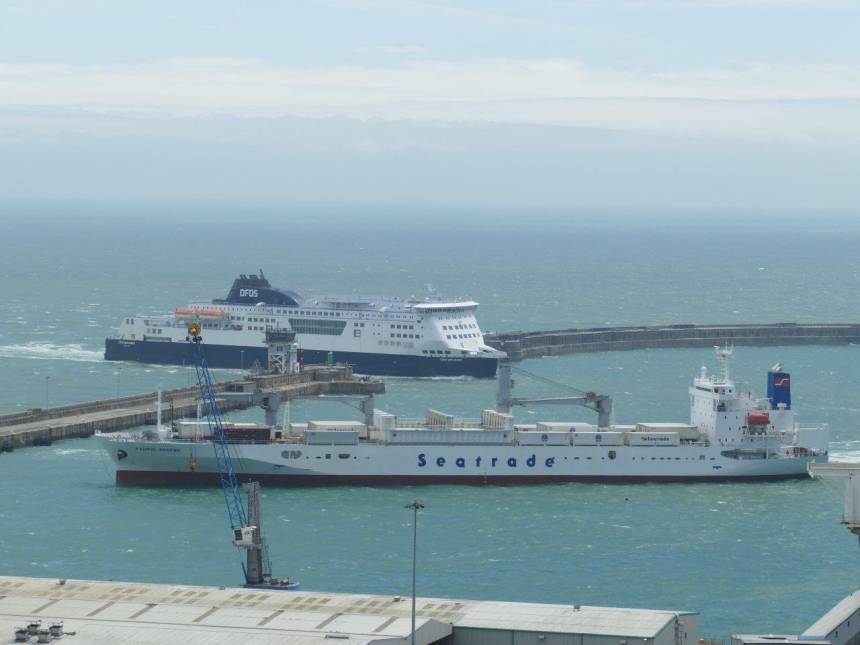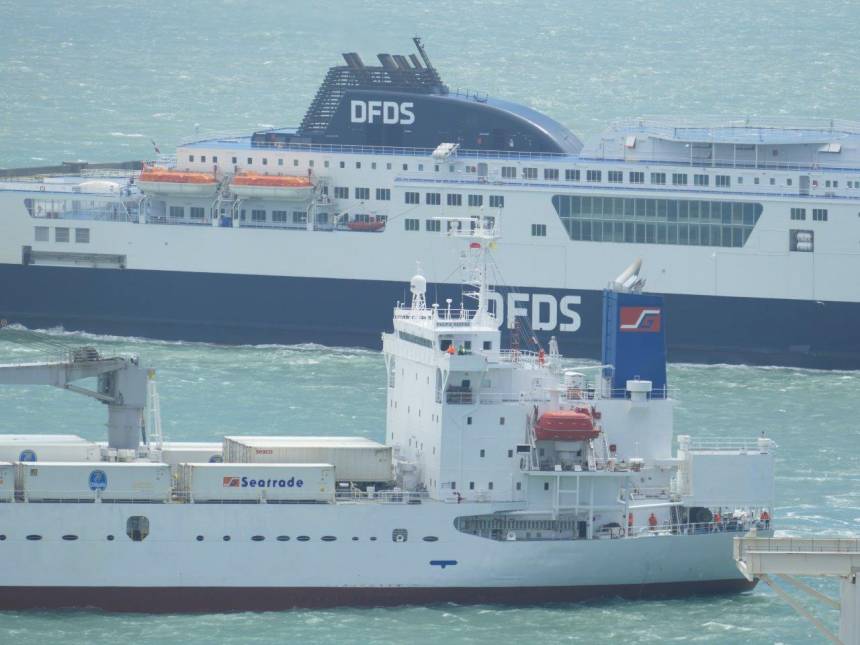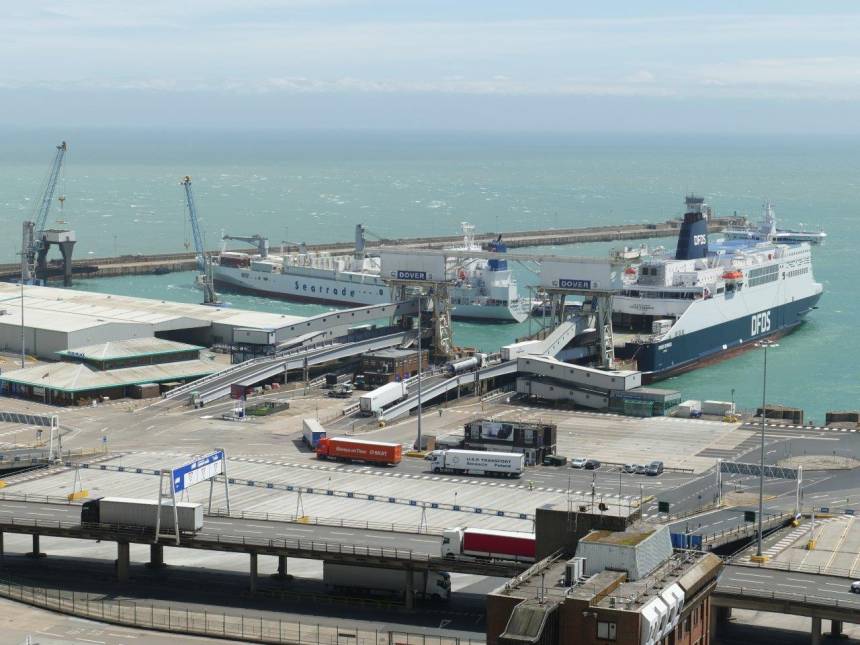 Monday, 22 June 2020 - 01:55
Post 7077
Sea News, Dover
Some more pictures now of the Pacific Worker as she comes into and across the harbour on Thursday morning... looking good. She stayed with us for a few days and left yesterday Saturday around mid-day...will have pictures of that too..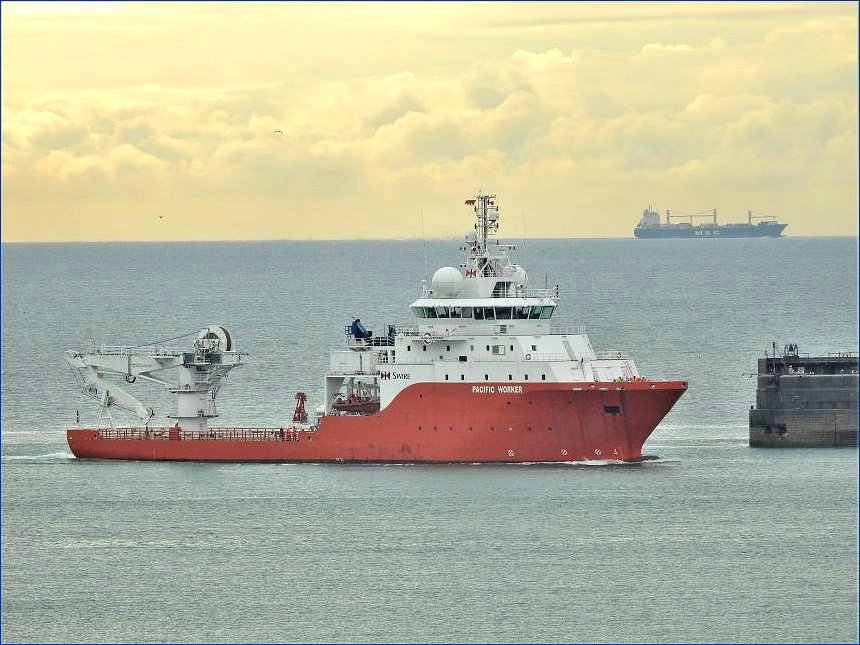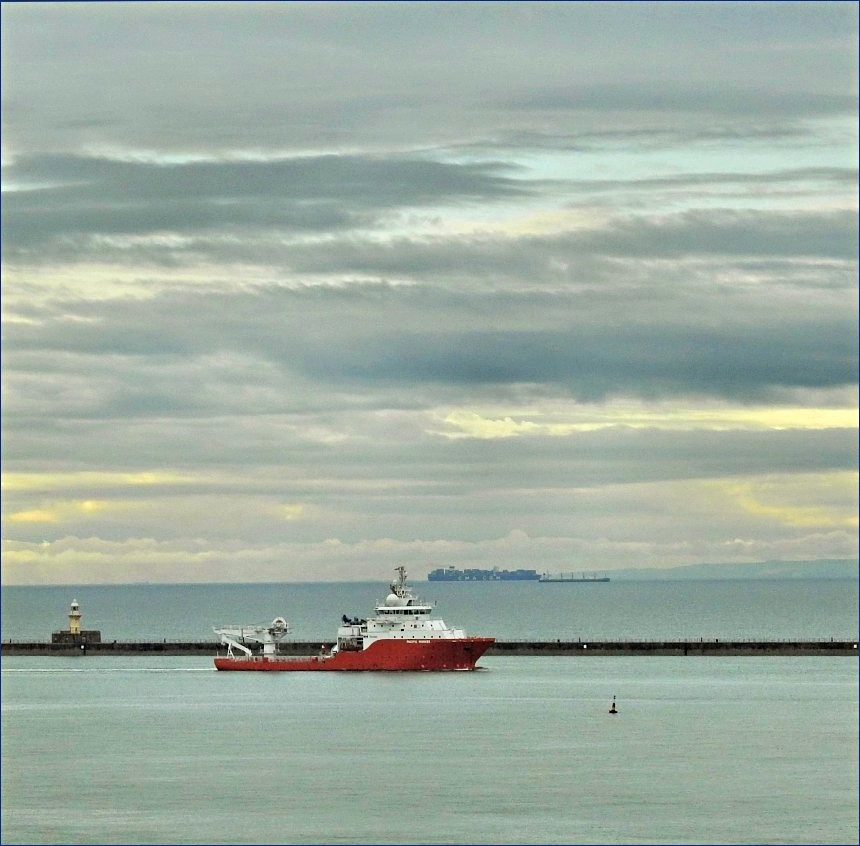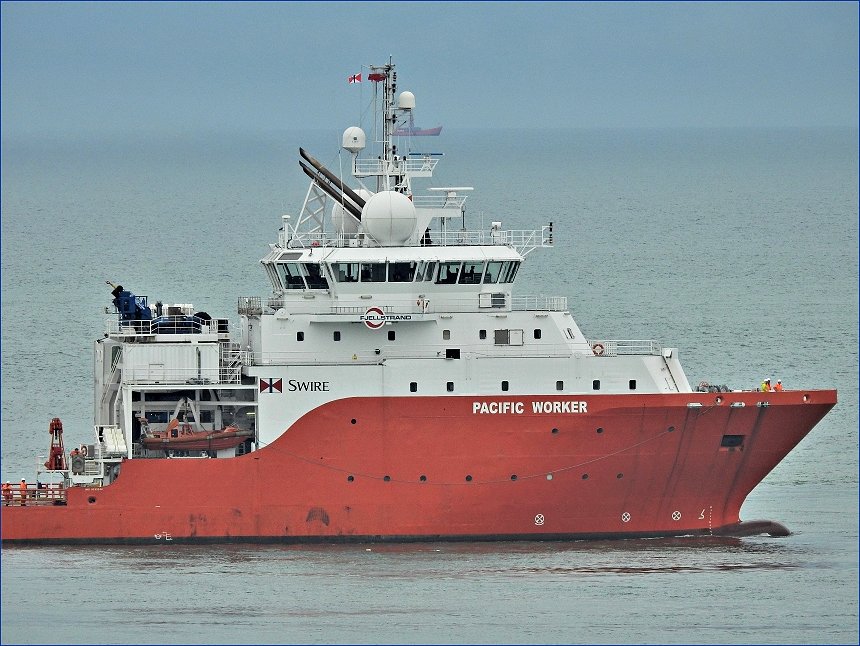 The Pacific Worker
There was a purposely small ceremony yesterday on the seafront at 11.30am to mark the death of the 58 Chinese immigrants 20 years ago this week here in Dover....a very sad incident all those years ago but not forgotten. The ceremony was carried out by the Bishop of Dover. ..I will have a long range picture.

Thanks Vic. yes the lockdown has been...well long, but glad you and wife are okay. They will be easing the lockdown soon, hopefully, and you two will be able to get out and about and enjoy things a bit more...
PaulB
Sunday, 21 June 2020 - 07:08
Post 7076
matcham, DOVER (victormatcham@hotmail.co.uk)
Well both my wife and myself still in lockdown been 12weeks now ,so it is great to look what is happing in our great port and the only way to do it is by looking on this great page with very good photo,s so thank you.

Saturday, 20 June 2020 - 13:29
Post 7075
Sea News, Dover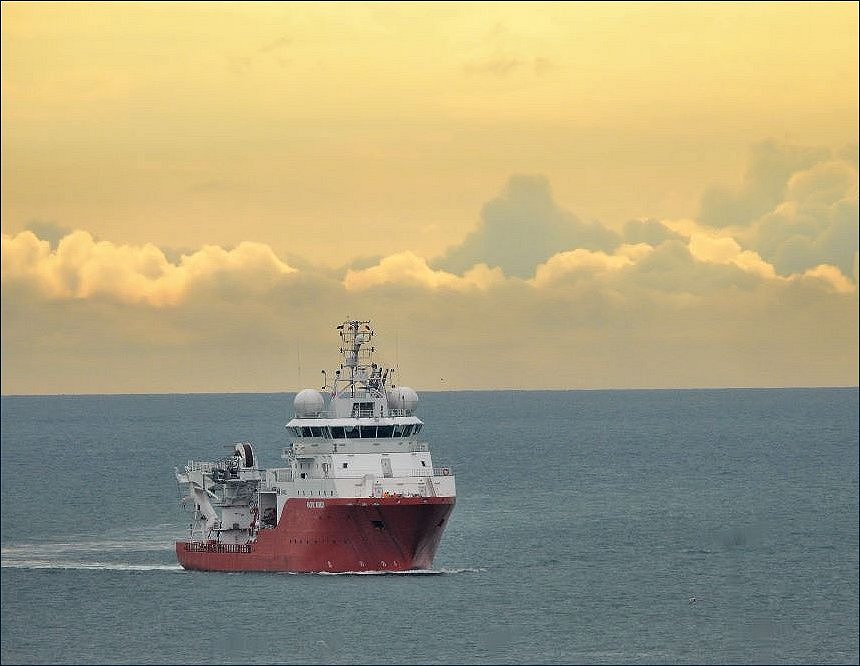 Pacific Worker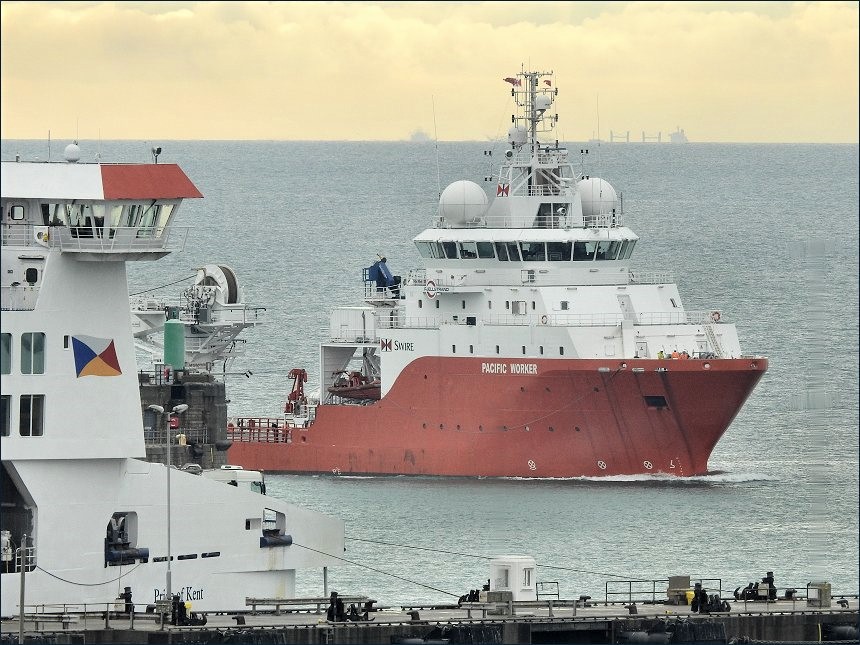 A couple of further pictures above there of the striking looking Pacific Worker...you can see her there approaching the port early. Yours truly will have some more pictures to follow along in due course, she is still in port as we speak...
...but just want to catch up with some shots now of Arcadia for record purposes from her recent visit a few days ago...time of first pic 05.26 on June 17...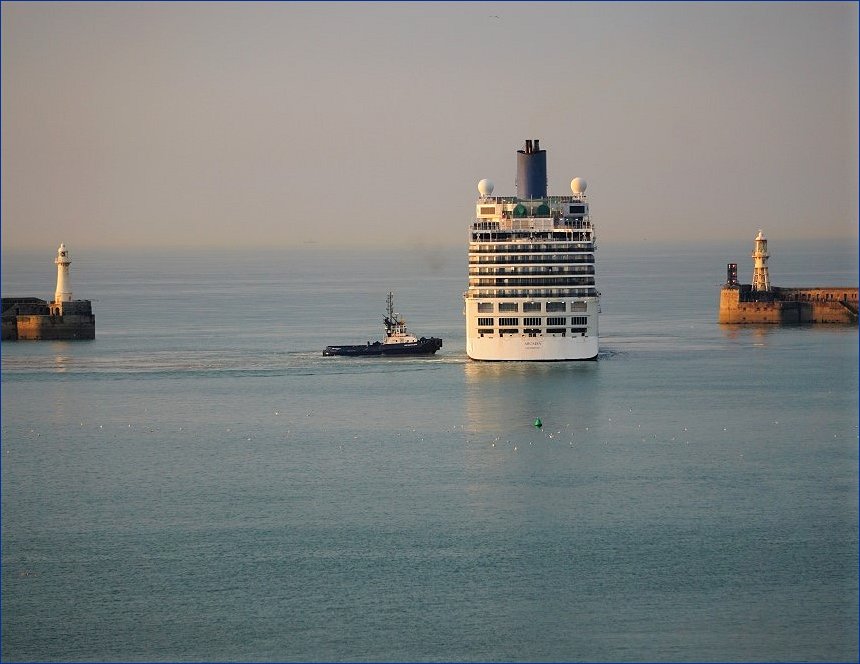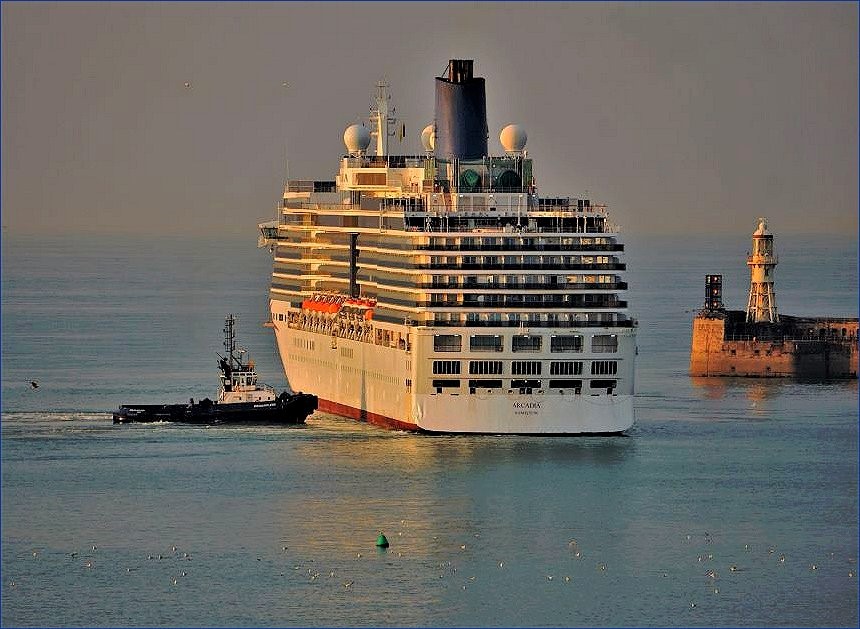 And a bit later below...Disney Magic, Arcadia and with the ever present David Church dredger just fitting nicely into slot there...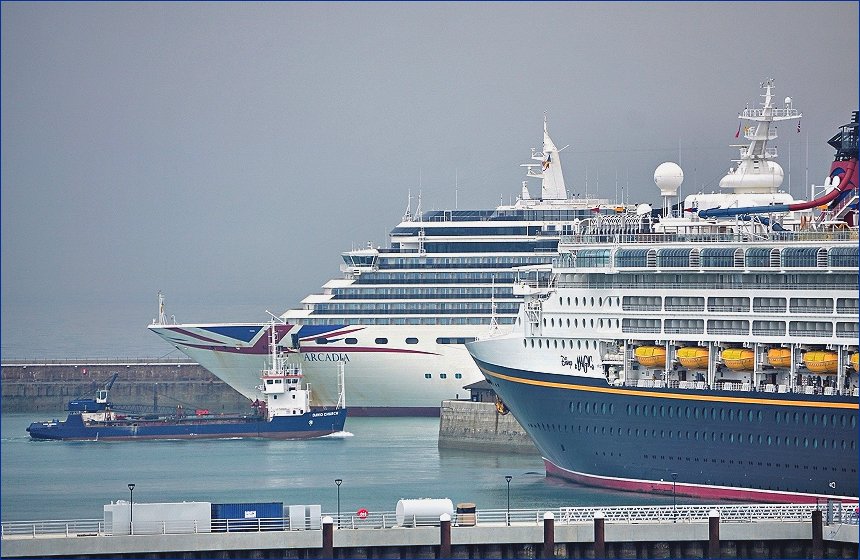 Nice collection below from Mike so don't miss those. Good show re Dame Vera Lynn

Del with great difficulty I should imagine....but it seems the recent-ish very rough weather caused the problem

Patrick as long as they don't find 'our' pot of gold...its ours I tell you, after all dem rainbows..


PaulB
Saturday, 20 June 2020 - 06:29
Post 7074
Mike J., Dover
Arrival of the Singapore-flagged offshore support vessel PACIFIC WORKER from Bergen at 0830 Thursday.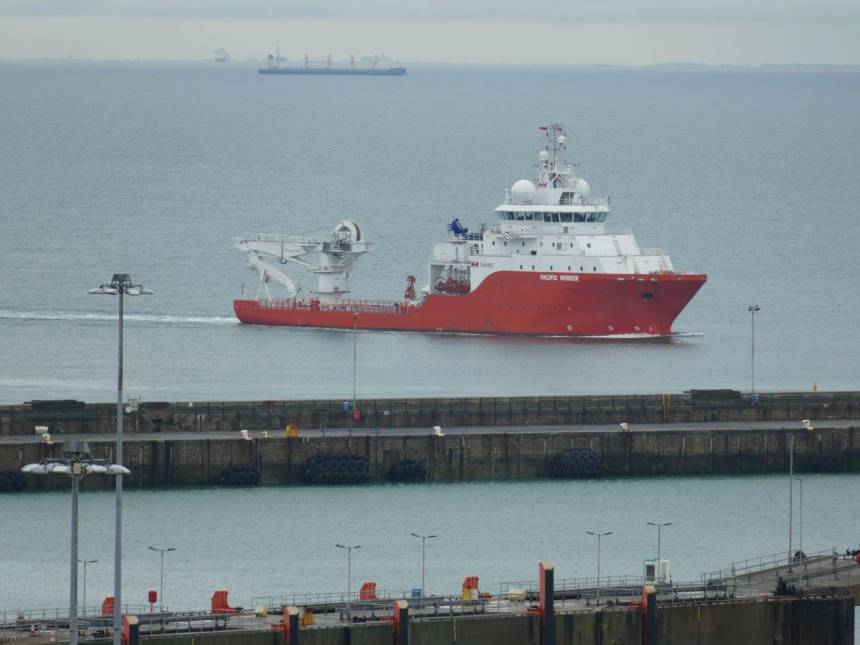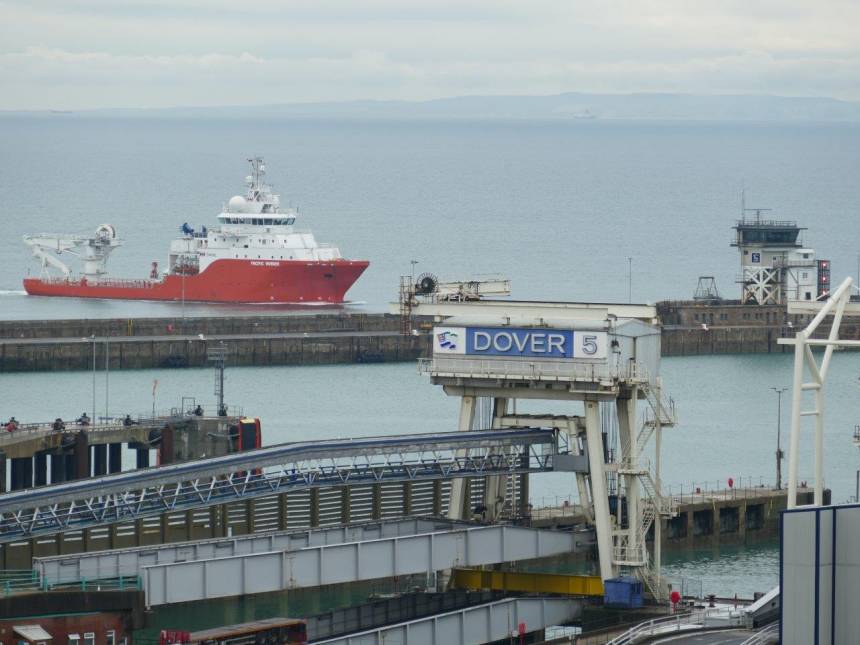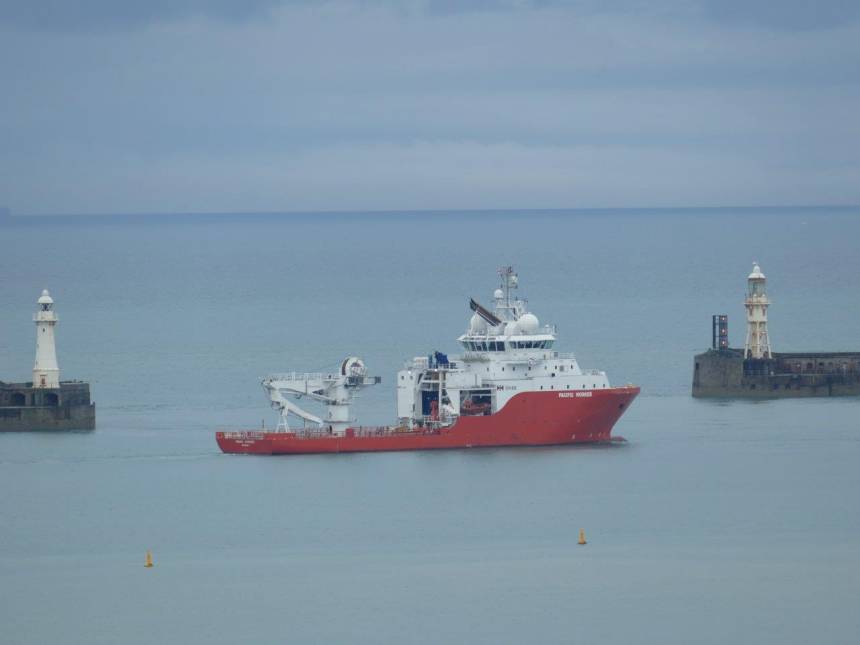 She berthed on the Admiralty Pier ahead of the aggregate dredger SAND FULMAR who sailed for the Thames about 1330 the same day,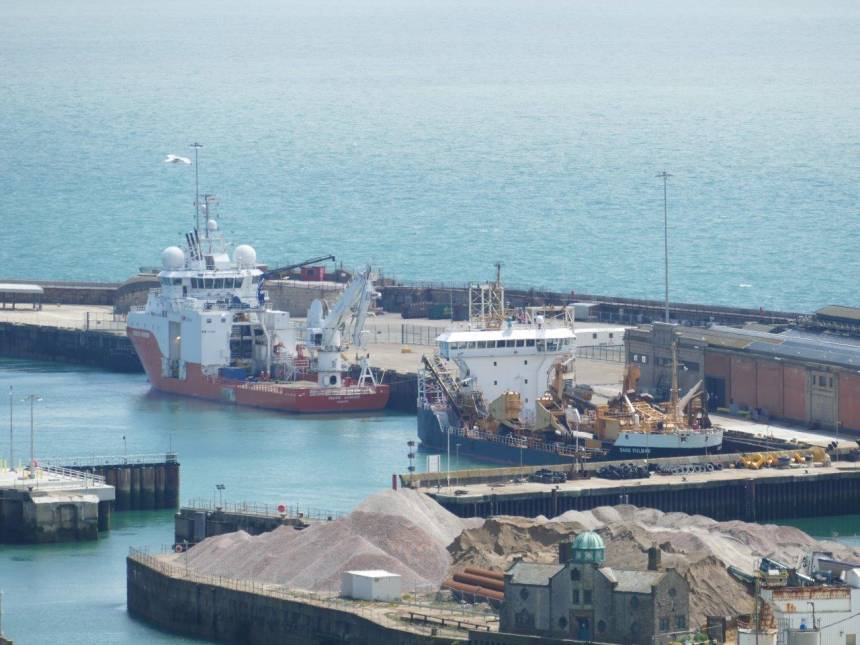 By the new reefer shed one of the two big mobile cranes was receiving some support & a little TLC.
It looks as though the crane wires were being replaced.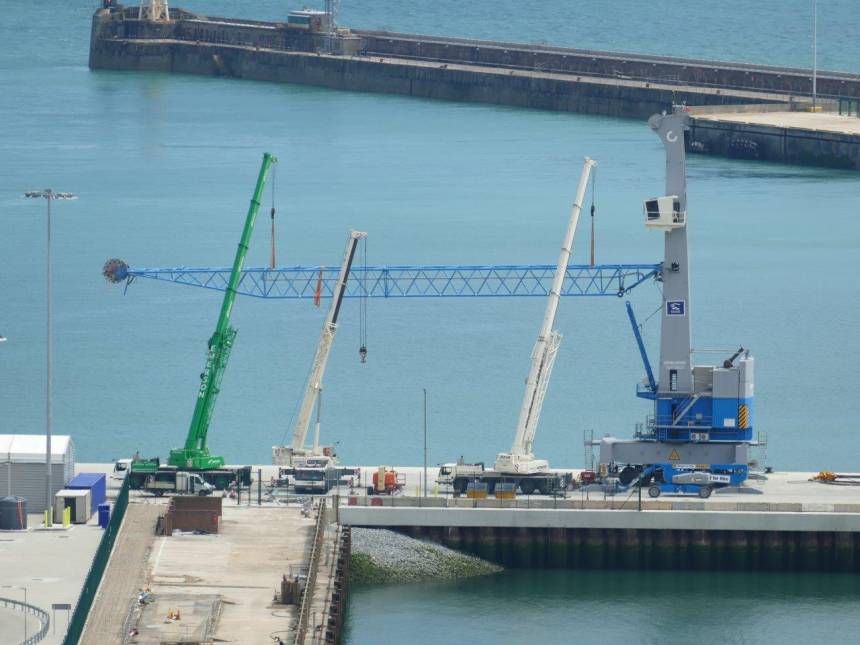 Friday, 19 June 2020 - 02:10
Post 7073
Mike J., Dover
A lasting memory of an unforgettable Lady who sadly passed away on 18th.June.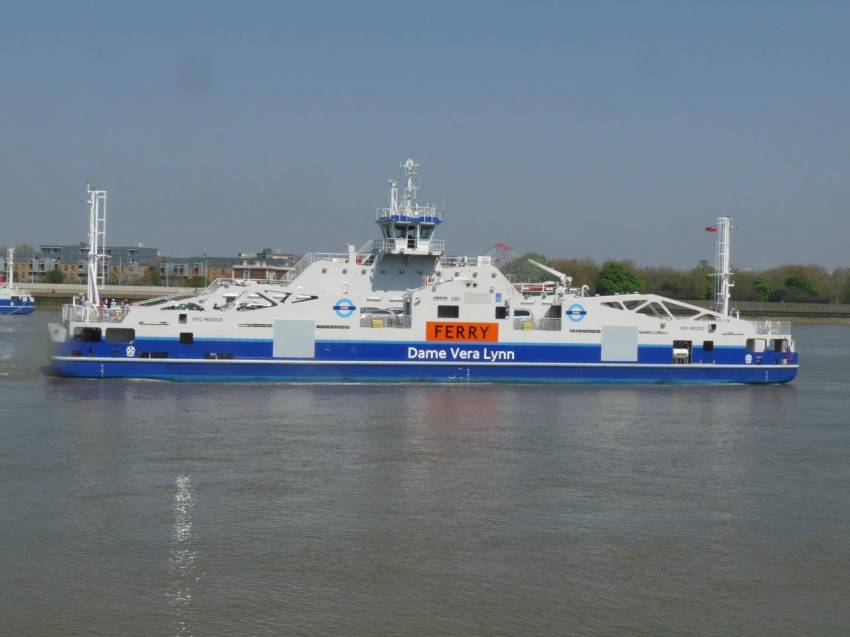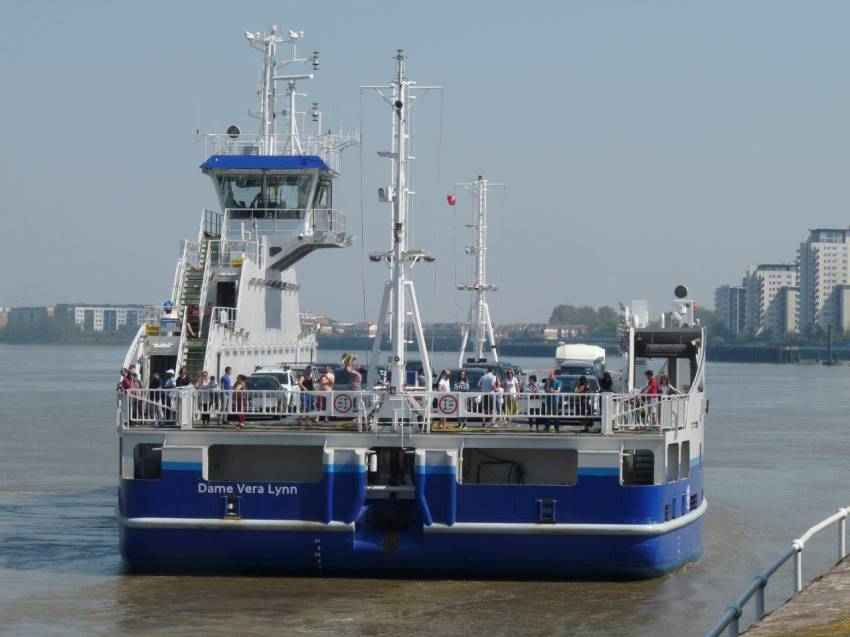 Also see post 6546
Thursday, 18 June 2020 - 23:21
Post 7072
Del Styan, Norwich
I hate to be dim - well that's my normal state, I think - but how do you lose an anchor?

Thursday, 18 June 2020 - 23:03
Post 7071
Patrick, Marine Parade
#7070
Apparently found a 3 metre timber pile protruding from the seabed whilst still searching for that lost anchor.

Thursday, 18 June 2020 - 12:33
Post 7070
Sea News, Dover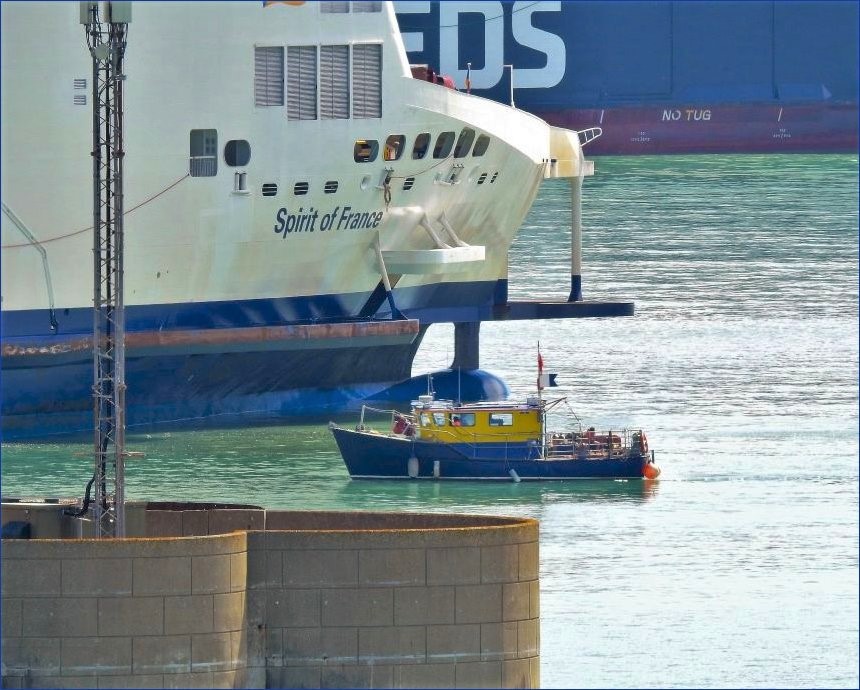 Dover Grafter in amongst the ferries in the pic above, pictured a few days ago...presumably still searching for the lost anchor? or the lost chord? Meant to get more pictures of the scene and will do in due course.
A couple of pix now catching the arriving Carnival Breeze at the last minute as she backs towards the Eastern Arm...and slipping out of view. Pictures from Tuesday evening. She is certainly out of view now as gazing towards the Eastern Arm this morning, I notice she is gone again. Must have left in the night..or at least sometime when yours truly didn't see it.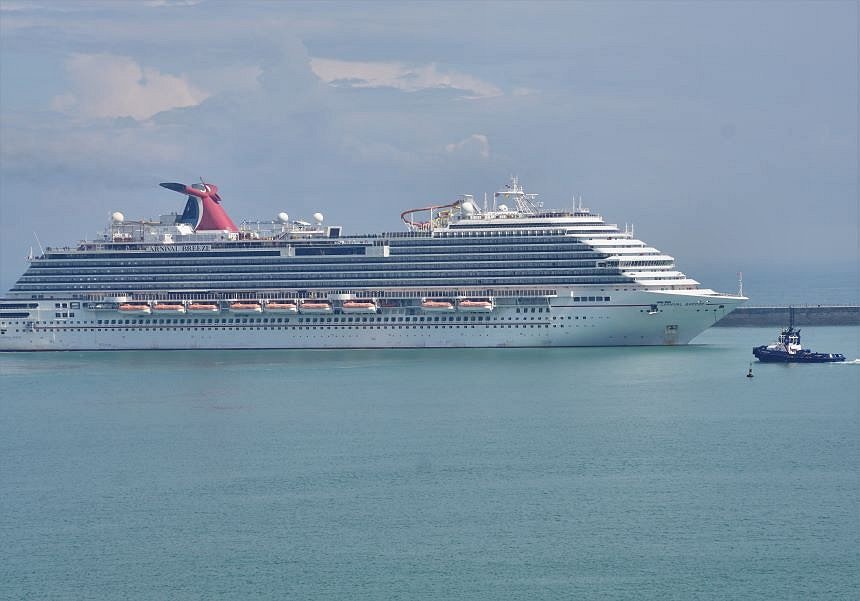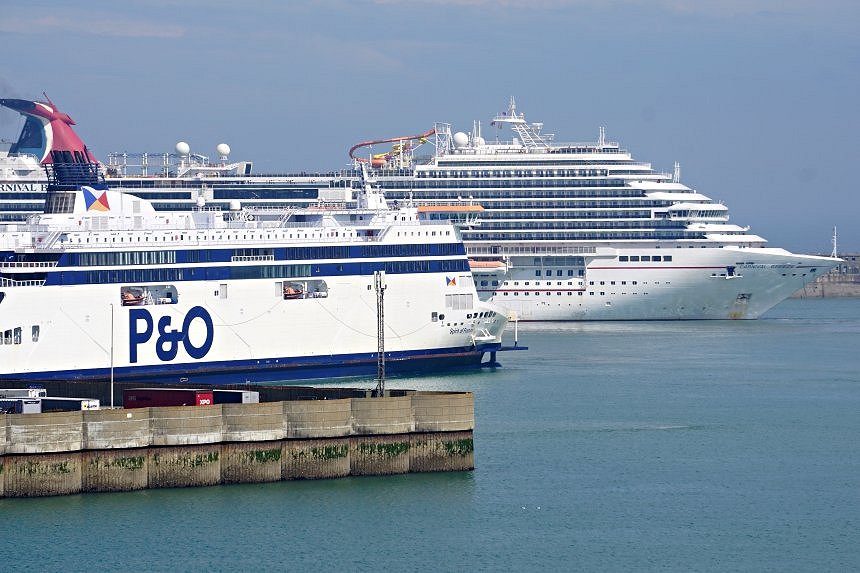 Dizzifying comings and goings...

Arcadia came and went too, will try to keep up..bear with! Have some pictures ..still in camera.

Yes twas amazing Del that so many people spotted Cummings on his round trip. Obviously he had an orange beacon tied to his car as he's not a guy you'd notice is he...ah well ..
Havent heard anything at all about the crews really...one imagines that they are stripped back to just the basic few onboard....and those few kept busy with all the frantic comings and goings.
PB
Thursday, 18 June 2020 - 06:20
Post 7069
Del Styan, Norwich
I wonder if a certain D Cummings took the orange marker thingys on his journey around the UK to avoid something or another. Maybe that's the way the public spotted him? Still, as long as the advice is clear, all is well.

Apart from that, I wonder how the crew of the liners calling into Dover are getting on - do you know?

Wednesday, 17 June 2020 - 23:10
Post 7068
Sea News, Dover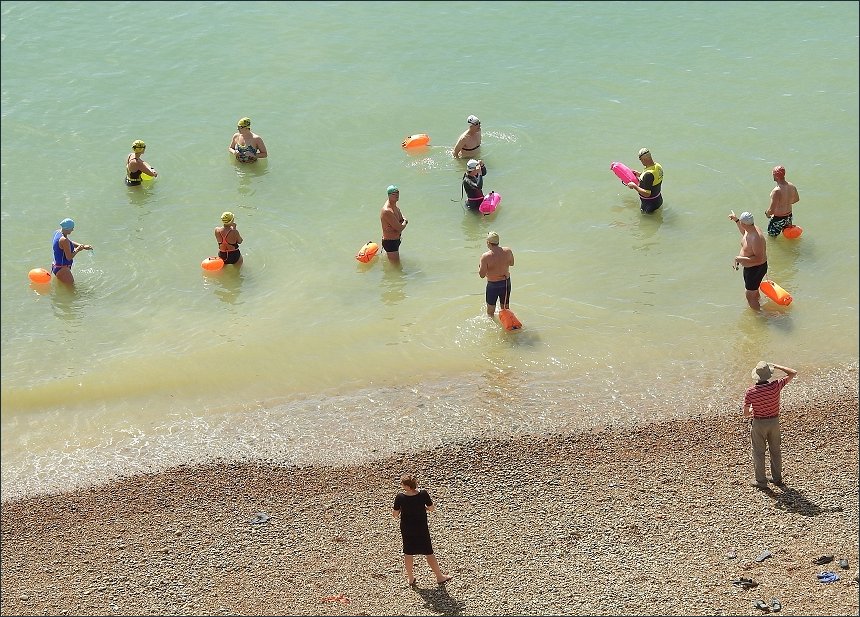 The Swimmers.
This weekend, or the weekend just gone, seemed to see a partial relaxation of the lockdown rules...that's if you can follow all the bewildering stuff coming out of Downing St re lockdown, there might have been a relaxation but who can tell anymore...however be that as it may, it was a delight to see the beach occupied by the serious swimmers again. We captured some of the said swimmers above... as they ready for the off. Looks like they are social distancing too..very good...
And then they were gone...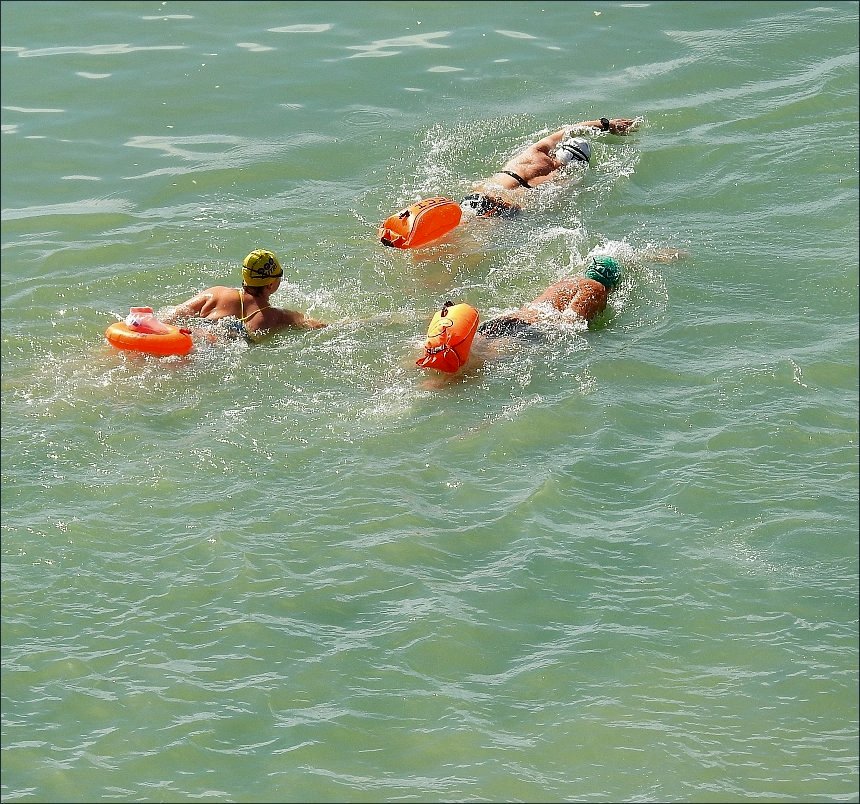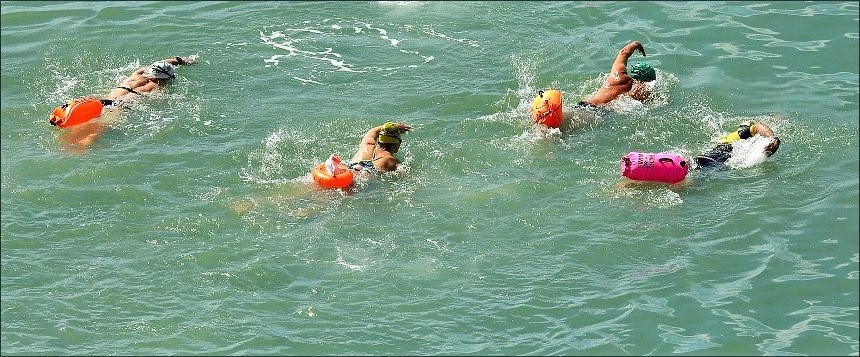 and all towing those orange marker thingy's...this is a relatively new thing isn't it.
Someone in full Blarney mode told me they keep their sandwiches in 'em...but that cant be true...


What are they officially for??
Anyway...must say, its great to see all the swimmers again.

Just catching up now from several days ago...the Majesty of the Seas departing late evening.... Sort of a dull picture but see the orange highlight in the distance...looked like the hills are on fire beyond....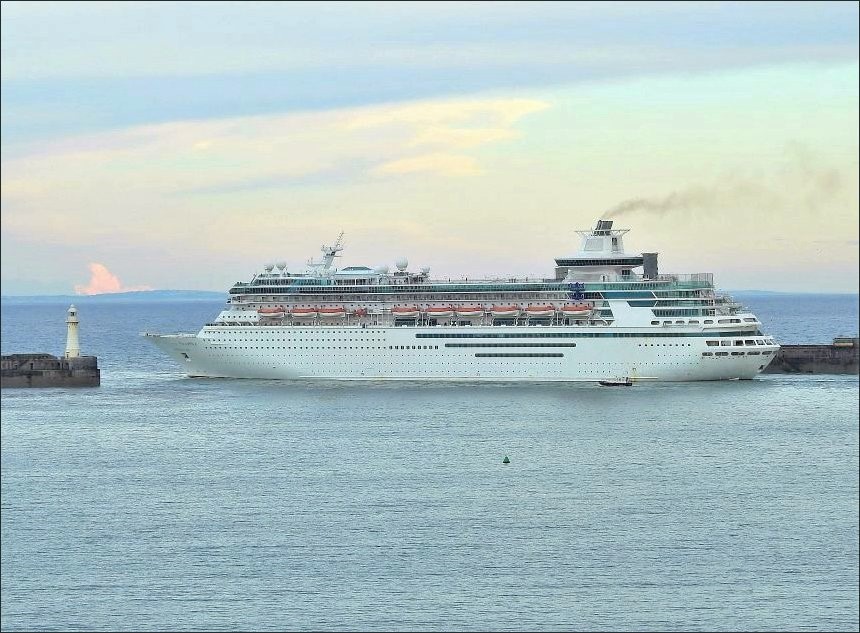 So yours truly zoomed in...but it was just a dazzling cloud formation catching the very late sun.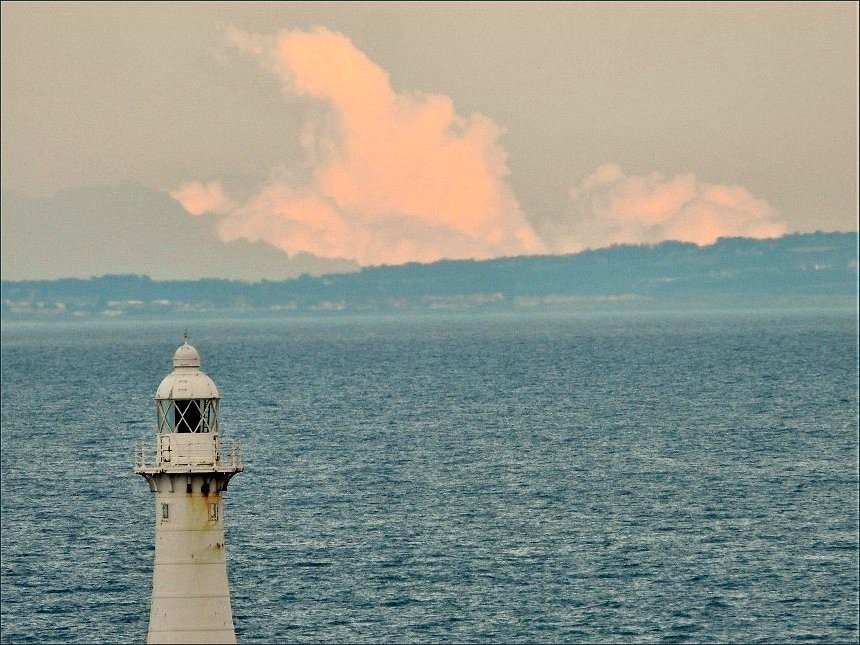 PaulB
PS: Carnival Breeze and Arcadia back in town.
Wednesday, 17 June 2020 - 06:59
Post 7067
Sea News, Dover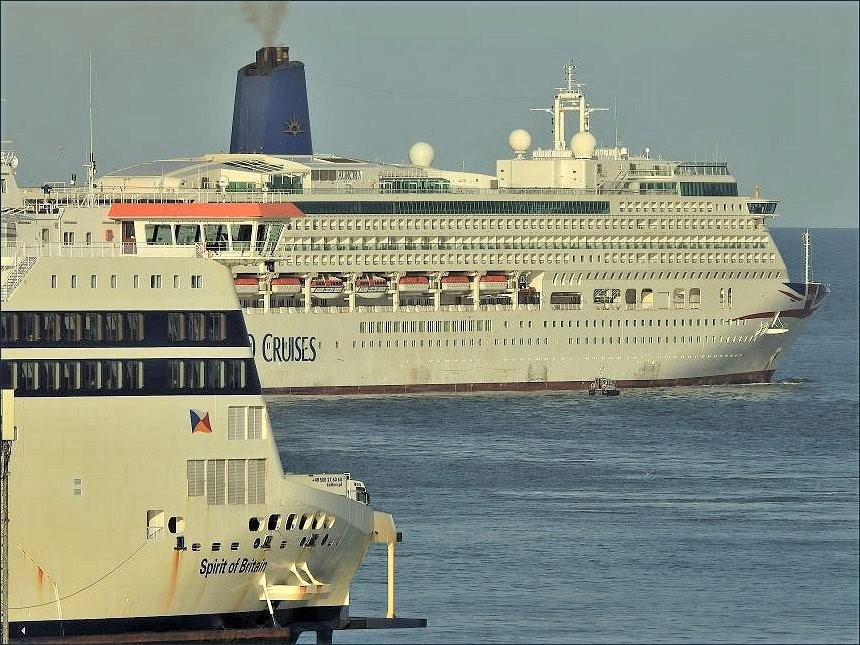 Harking back now.. a fair way it must be said...to the 9th of June in fact to show Aurora above leaving the port via the eastern exit. This ship was somewhat overlooked in recent days but for record purposes worth including now.
Below you can see the pilot boat accompanying her just outside the eastern exit..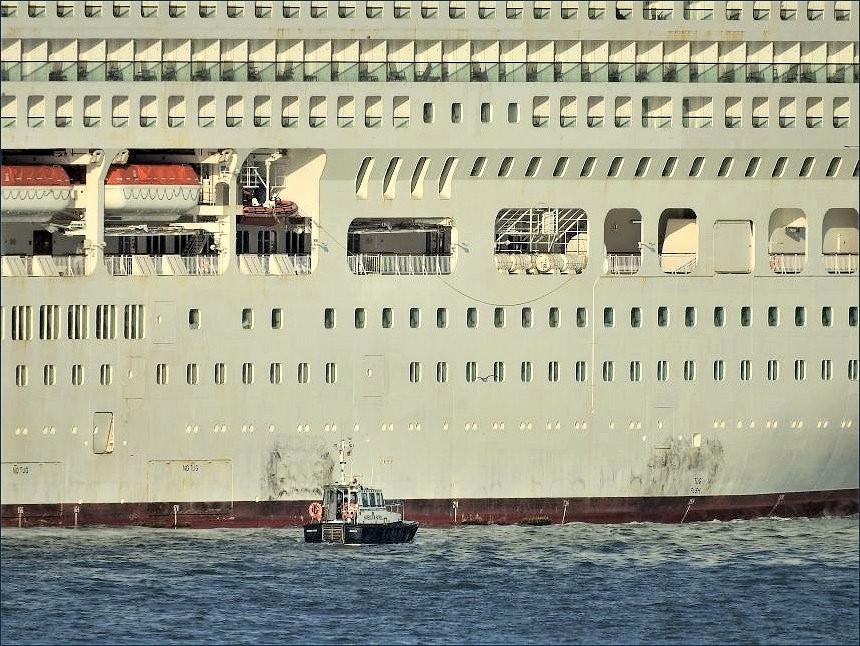 And then she was on her way below, you can see the coast of France just coming into view through the evening mist...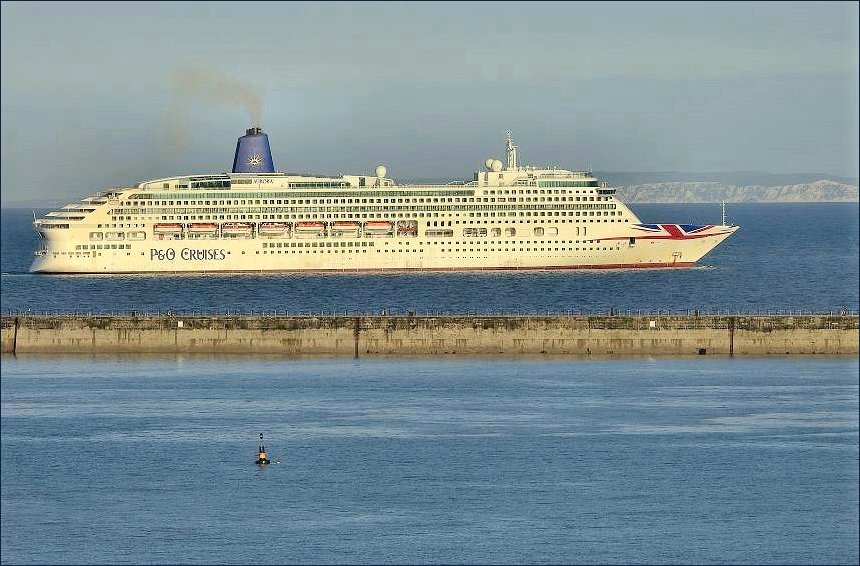 Yes indeed the scale of the Carnival Magic was awesome...a shot below just to show the scale of the ship in relation to the whole Eastern Docks...she dwarfed the ferries and the trucks and in fact the whole scene. You could almost say it was quite...ermm magical!...if I haven't over-used the word already..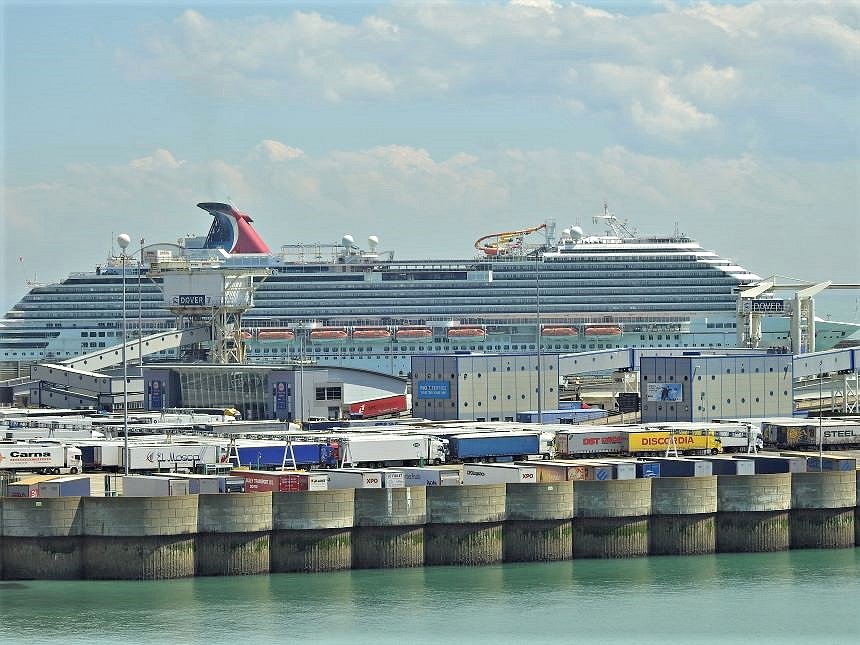 Carnival Magic and the Eastern Docks.
Great to see so many trucks still working above there...
Nice one Mike!

Good info below. Yes I too was watching the Carnival Breeze turning last evening...
"you surely cant approach the port from there!" thought I aloud, and she didn't. She went back from whence she came...

PaulB
Tuesday, 16 June 2020 - 06:33
Post 7066
Cyril Jackson, Dover (helcion@hotmail.co.uk)
Is your journey really necessary ?
The curious track of the CARNIVAL BREEZE on Monday afternoon who was expected to berth on the Eastern Arm but changed her mind, turning around & heading slowly back down-channel.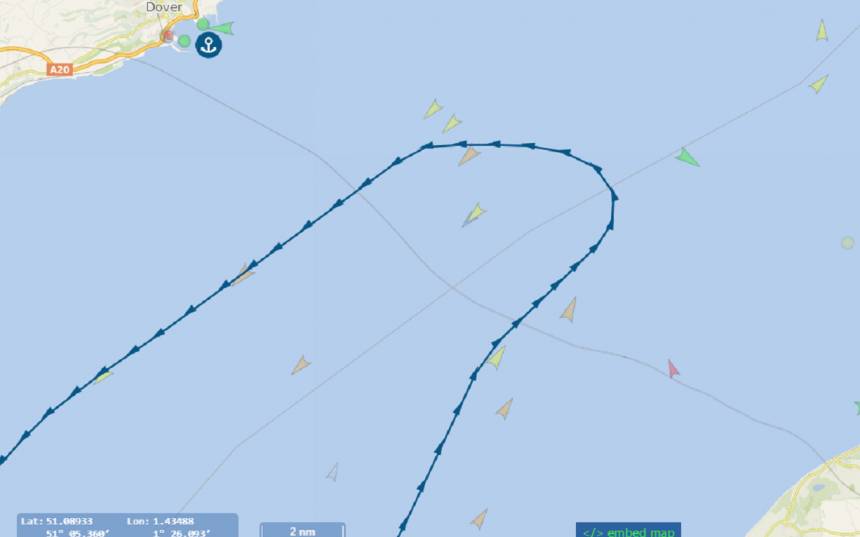 A nice walk on the clifftops, looking for new photo angles, bot not quite what I had been expecting.
At 0200 Tuesday she was south of the Isle of Wight, still heading west but still showing Dover as her destination, updated to 1300 Tuesday which I'll believe when I see it.
Another 'size comparison' view on Saturday as the SPIRIT OF FRANCE backs to her berth.
Tuesday, 16 June 2020 - 02:24
Post 7065
Sea News, Dover
A special sequence now showing the departure of the magnificent Carnival Magic on Saturday evening.....
First shot shows her leaving the Eastern Arm, then we follow her gently across the harbour in fine style.
We will let the pictures do the talking this time.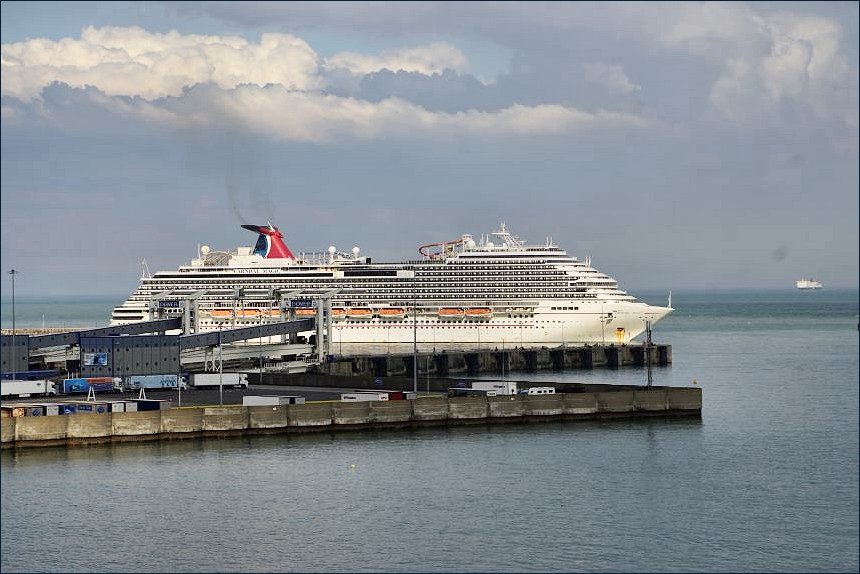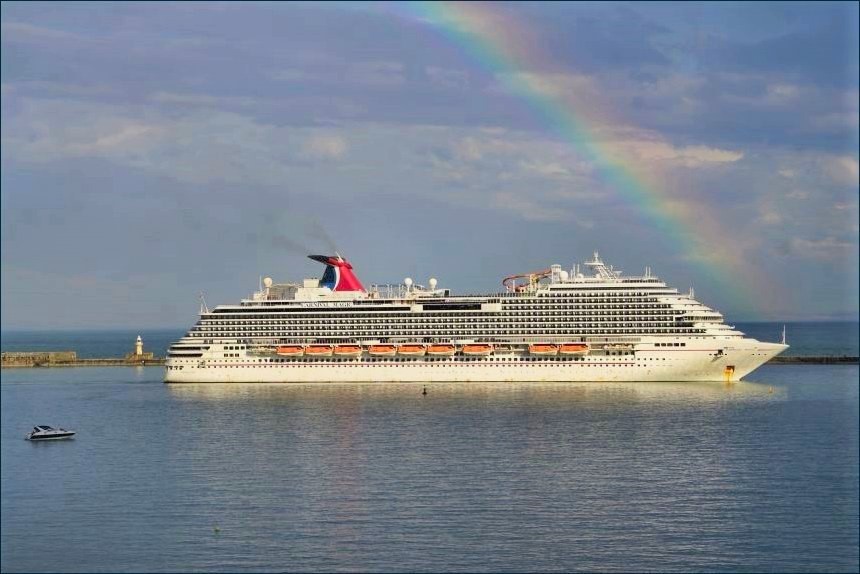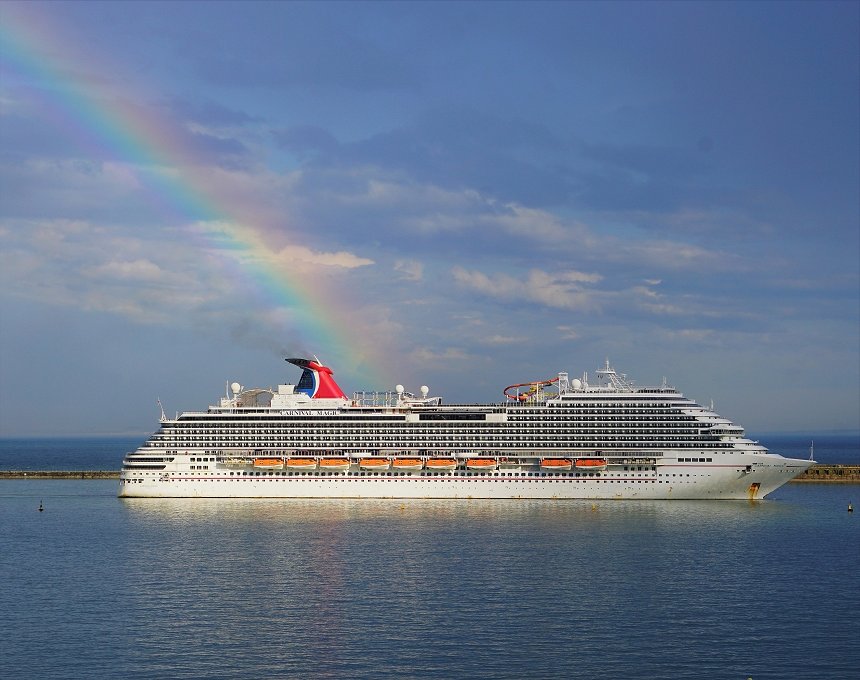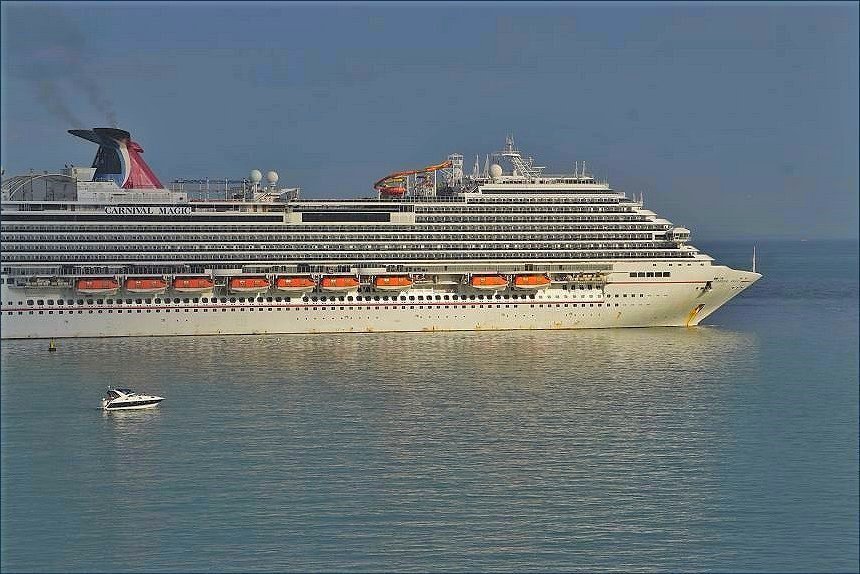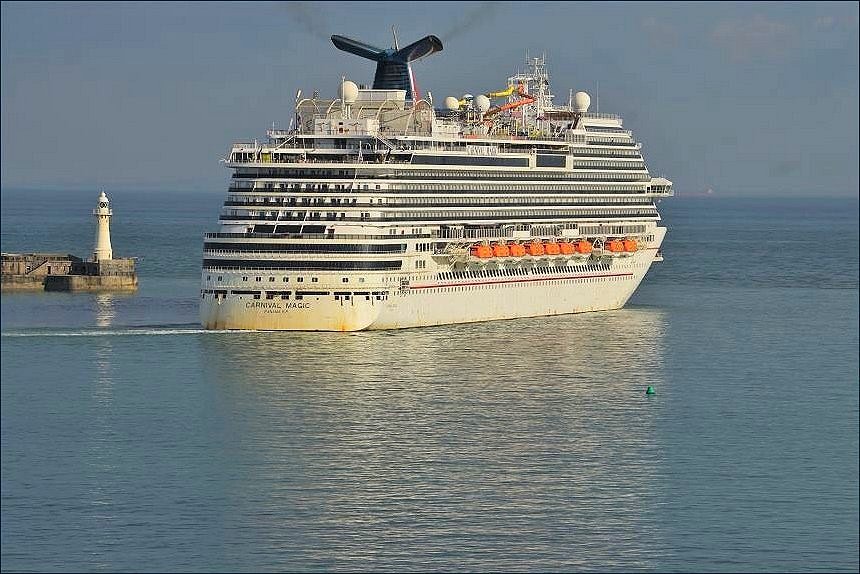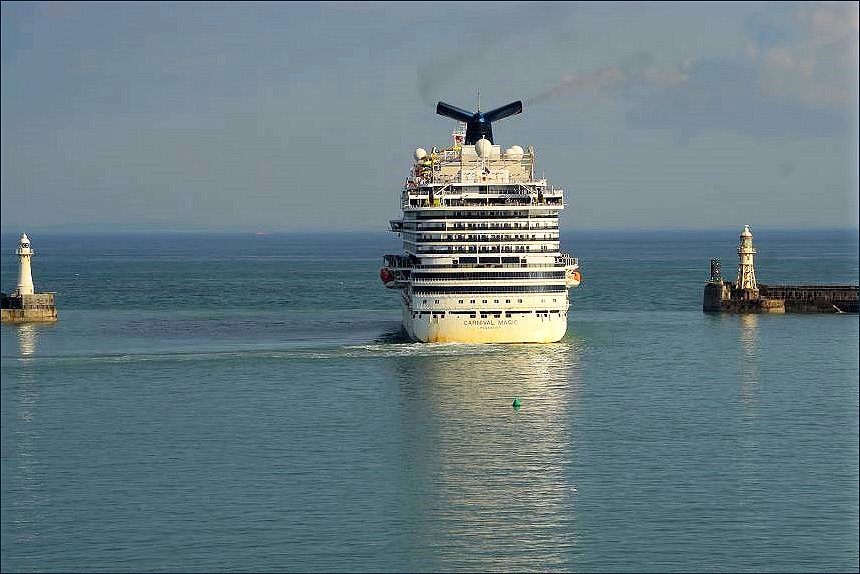 Carnival Magic ...very magical on its own, but even more magical with magical rainbow.

Crumbs! there's too many magics in that sentence!

I think we will PIN this in homage for a short while. A great ship … and with nature showing its appreciation.

(Now unpinned)
The sun popped in and out, the rain fell here and there, and the huge rainbow did what rainbows do best.
PaulB
Monday, 15 June 2020 - 06:30