Friday, 20 May 2022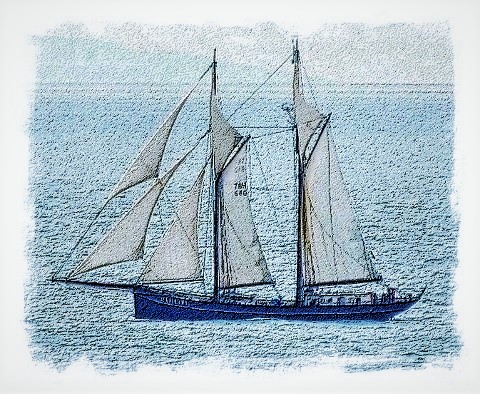 WWW.DOVERFORUM.COM/SEA-NEWS
Sea Pictures from DOVER ....333 plus pages to trawl through now..use Search Engine just below.
All pictures copyright of owners. Editor : Paul Boland - dover7@msn.com
Post 7211
Sea News, Dover
Just an update now on yesterdays post below:
We watched P&O's Pride of Kent arrive back in Port yesterday Wednesday at 3.30pm approx...we wanted to see for sure if she was back working...and indeed she was. She delivered a large load of trucks here to the Port of Dover as per former times. So it looks like life is back to normal for the Pride of Kent...
So currently we have two P&O Ferries working on the Dover-Calais route ...Pride of Kent, Spirit of Britain.

Thursday, 19 May 2022 - 06:56
Post 7210
Sea News, Dover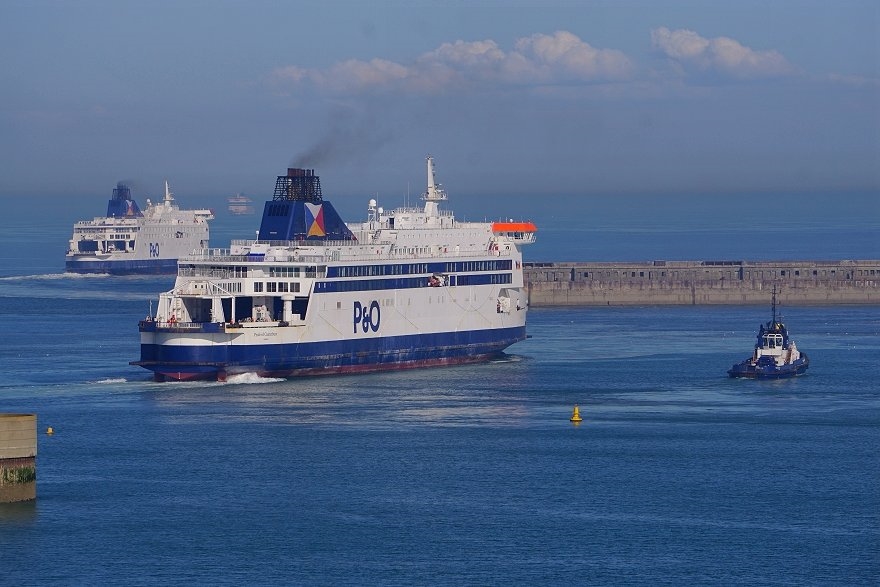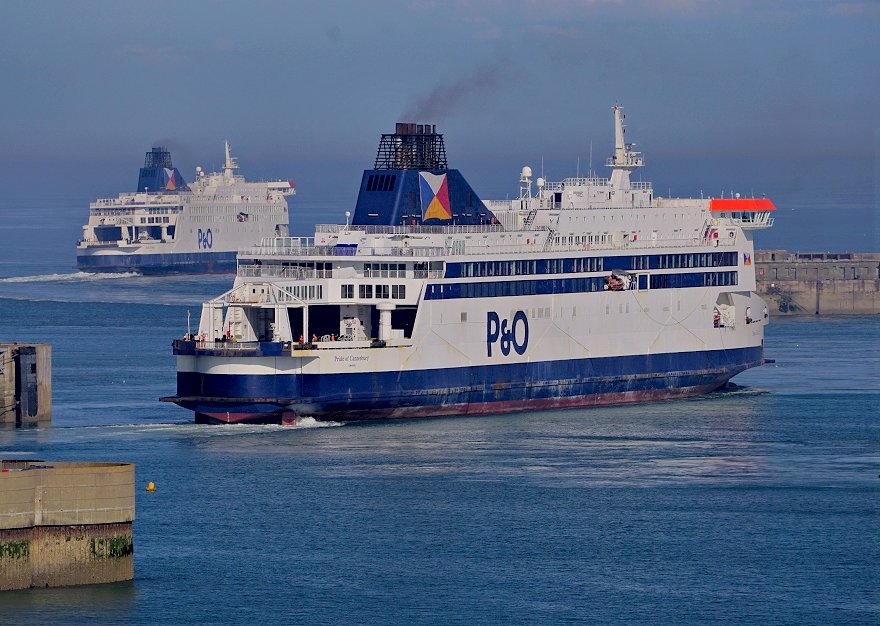 Some pictures above there of the currently non-functioning P&O ferries...you can see them above there on manoeuvres yesterday Tuesday 5.30pm...and they did a lot of musical manoeuvrings during the day... The Pride of Canterbury moved away from the eastern arm over to Dover9 berth, but vacated the berth during the day when the working Spirit of Britain needed it. Incidently you can just see the Spirit of Britain approaching in the distance in one of the shots as Canterbury moves away from Dover9, while the tugboat oversees the situation. In the background to the left the Pride of Kent vacates Dover8 and heads to Calais...still just a trial run by the looks of it.
At the time of writing...06.00 Wednesday.. Pride of Canterbury back at the old cargo terminal. Pride of Kent on way back from Calais.... the saga goes on...
Wednesday, 18 May 2022 - 05:55
Post 7209
Sea News, Dover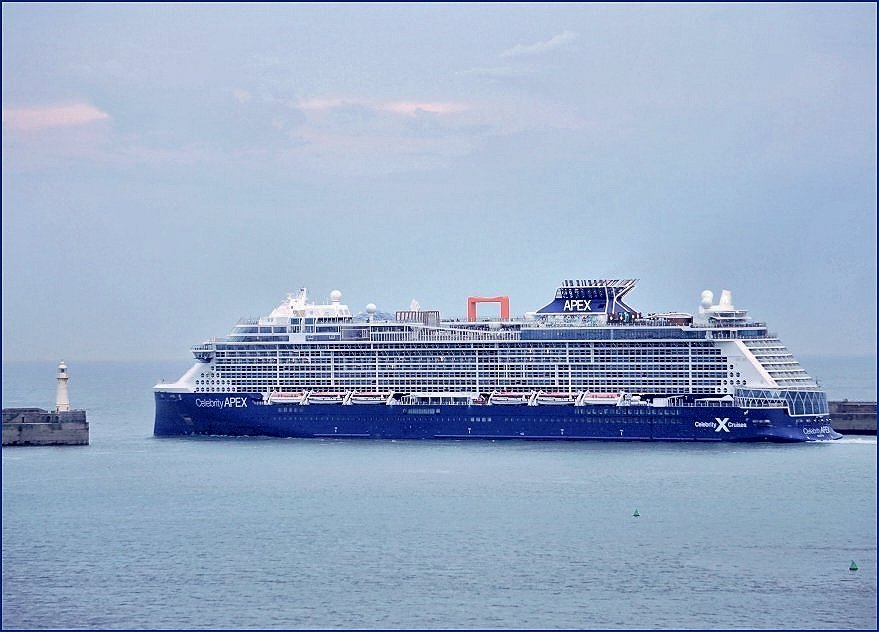 As promised there we are with the extra shot of the now departing Celebrity APEX...time of picture 8pm on the button Sunday evening. Off on her round Britain tour before returning to Amsterdam. The picture needed brightening up a tad because it was dark and very gloomy at the time...great ship, great to see it here in Dover..
Back to the morning now for an extra shot of the fully-dressed-for-the-occasion tugboats...Doughty and Dauntless as they wait and greet the huge ship...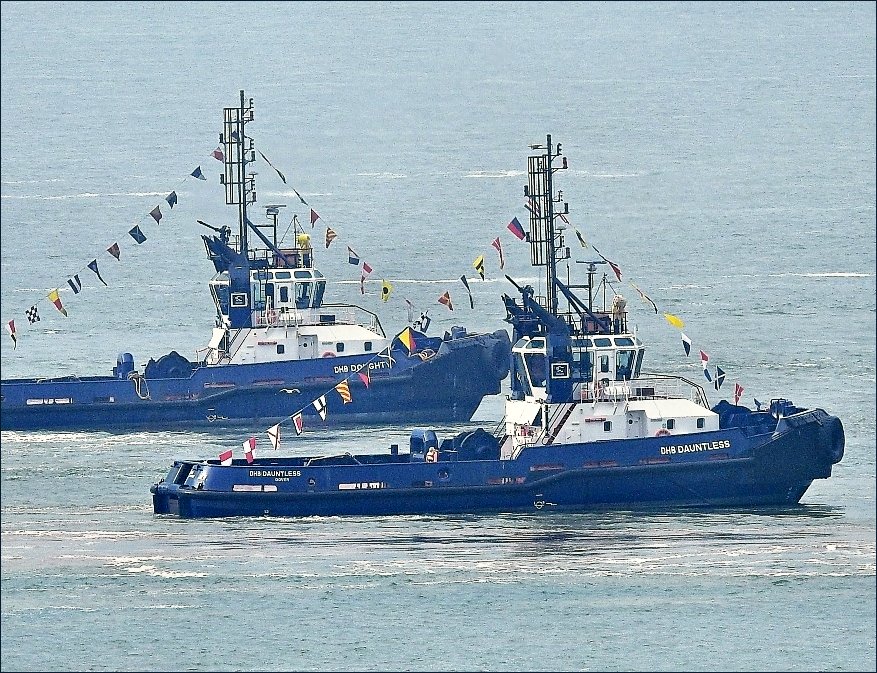 Dover tugs Doughty and Dauntless in full celebratory attire...
See also post below....
Tuesday, 17 May 2022 - 06:47
Post 7208
Sea News, Dover
The totally magnificent ultra modern cruise ship CELEBRITY APEX arriving with us here at the Port of Dover yesterday morning Sunday 15th May for the first time. She was greeted with big bold enthusiastic spraying from the ever welcoming tugs. Time of first shot 07.35 .... What a ship! All magnificent 130,000 approx tons of her...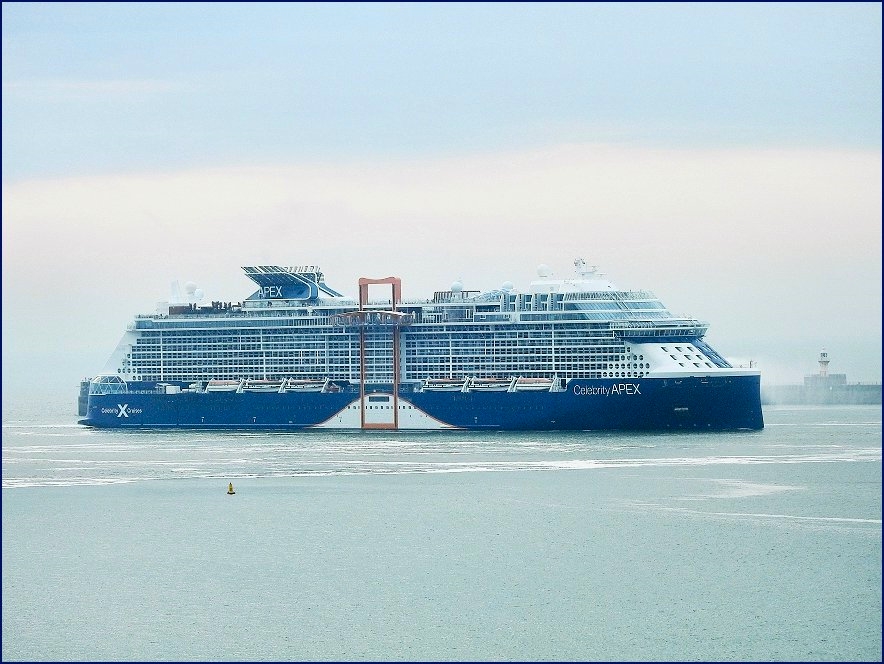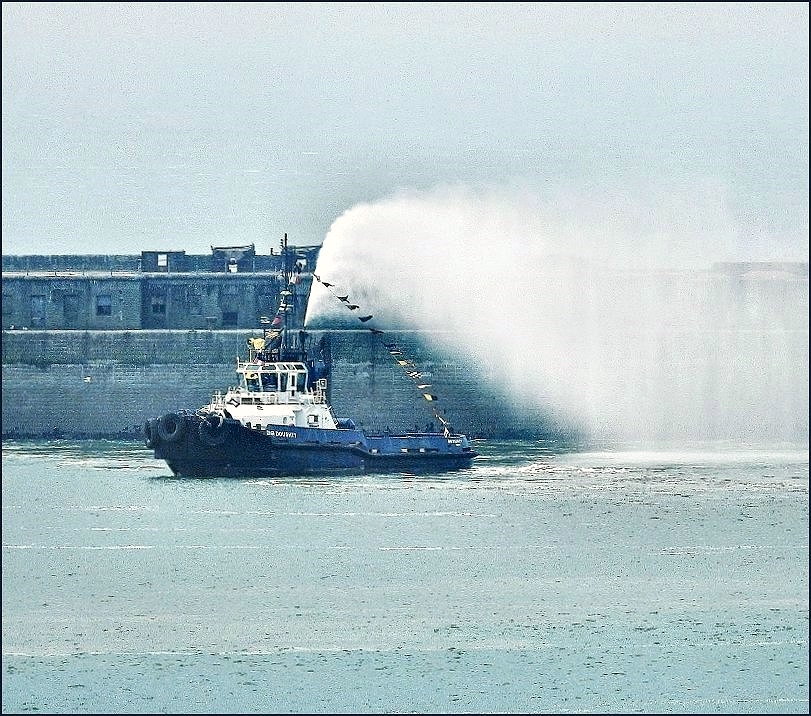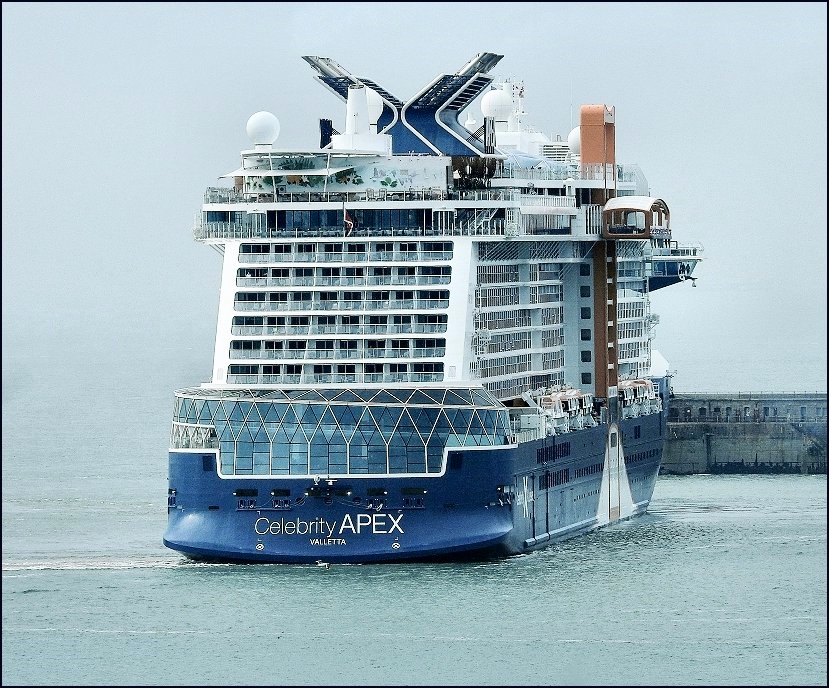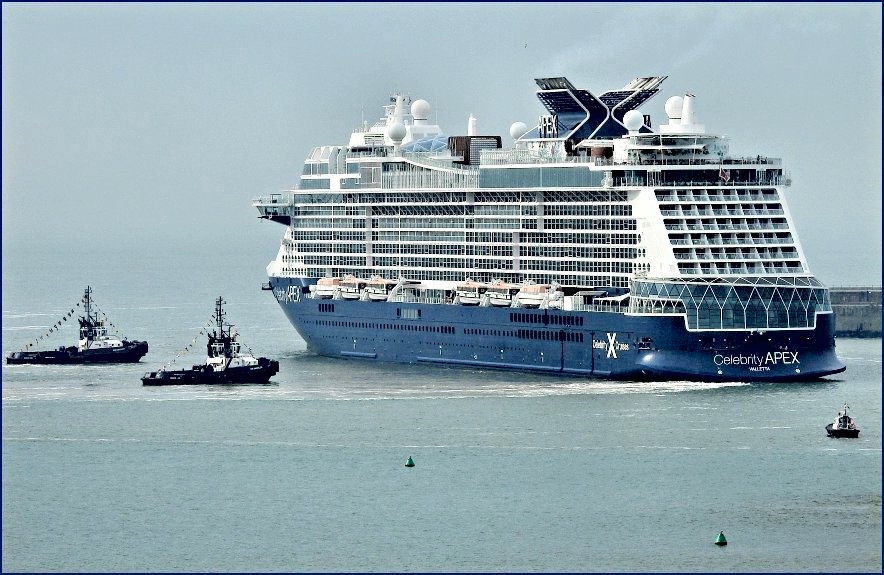 Celebrity Apex arriving at Dover
She is on a 12 day round trip from Amsterdam of the British Isles....calling at Dover, Cork in Ireland, Liverpool etc etc... We might also have a shot of her leaving. She left about 8pm, it was a bit dark and gloomy but will see if the pix any good...
Monday, 16 May 2022 - 07:24
Post 7207
Sea News, Dover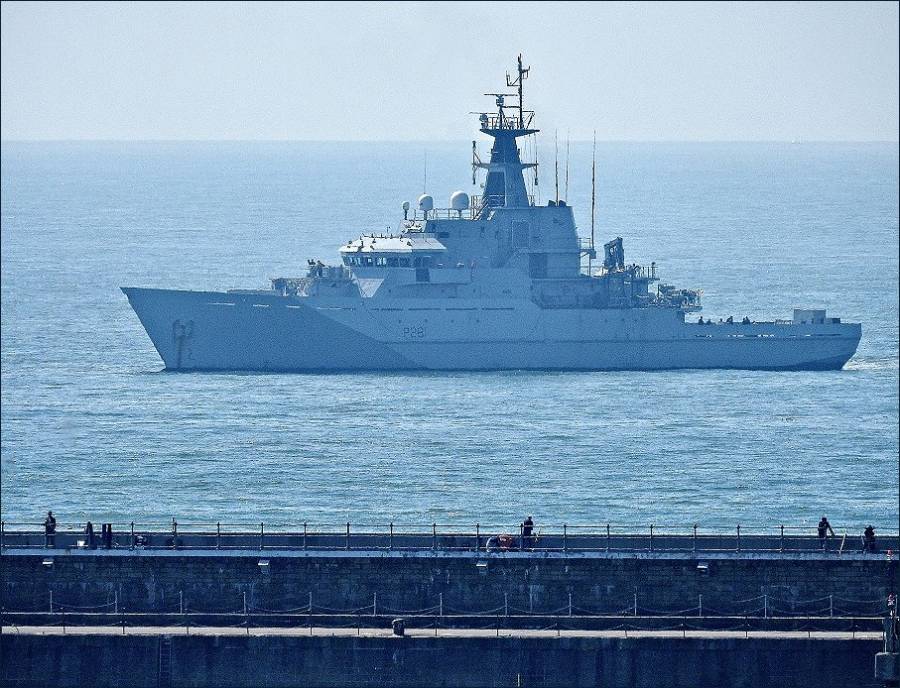 These guys doing a bit of light fishing on the pier and look what they caught!!...quite a whopper !
Some catch!! but okay the 'catch' is actually HMS Tyne just off the Port of Dover yesterday Saturday...
was a bit misty but....
Terrific cruise ship has just arrived in Port this morning Sunday....literally minutes ago, the Celebrity Apex. Truly magnificent ship! well done Dover. Will have pictures in due course ....
Sunday, 15 May 2022 - 08:01
Post 7206
Sea News, Dover
Spirit of Discovery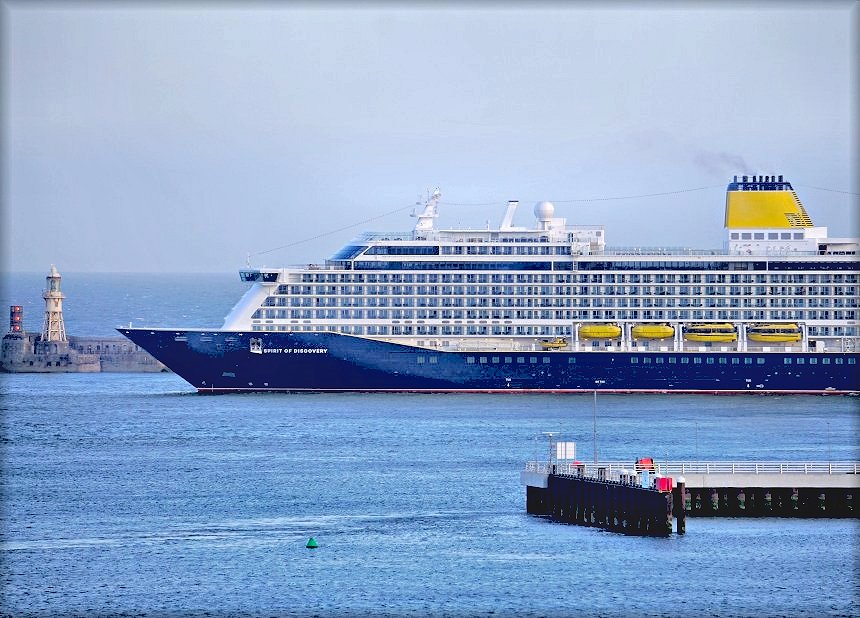 Late-in-the-day picture of the Spirit of Discovery heading off from Cruise Terminal Two Port of Dover on Thursday just before 8pm. Off on another Irish Sea cruise calling at Dublin, Holyhead, Belfast, Isle of Skye and many other places along the route... she went across the harbour and left through the eastern exit because of the strong winds...
Saturday, 14 May 2022 - 06:49
Post 7205
Sea News, Dover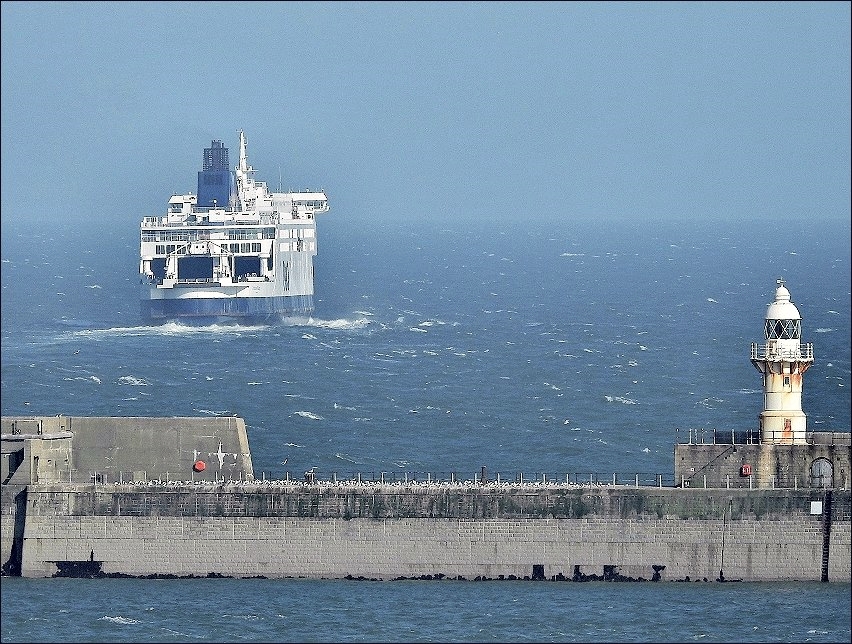 Significant moment for the Pride of Kent. Yes the picture above shows the Pride of Kent making her way to Calais yesterday for the first time in months. Time of picture 5.30pm approx (early evening Thursday 12th May 17.28 to be precise). After a day spent shuffling about the Port here from one terminal to the other, she left finally from Dover8. As you can see the ferry appears to be somewhat empty, so its obviously just a much needed trial run....
Friday, 13 May 2022 - 06:19
Post 7204
Sea News, Dover
The Pride of Kent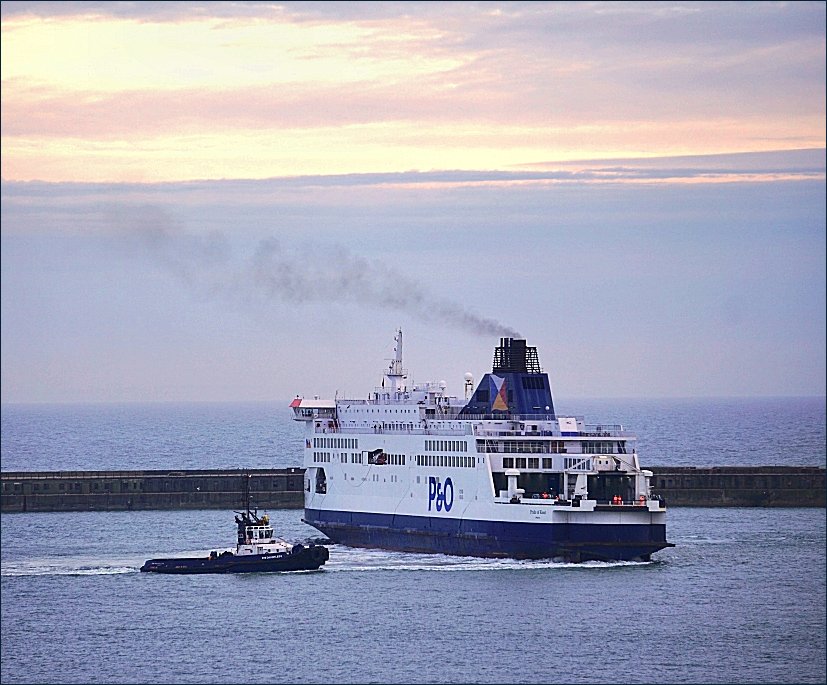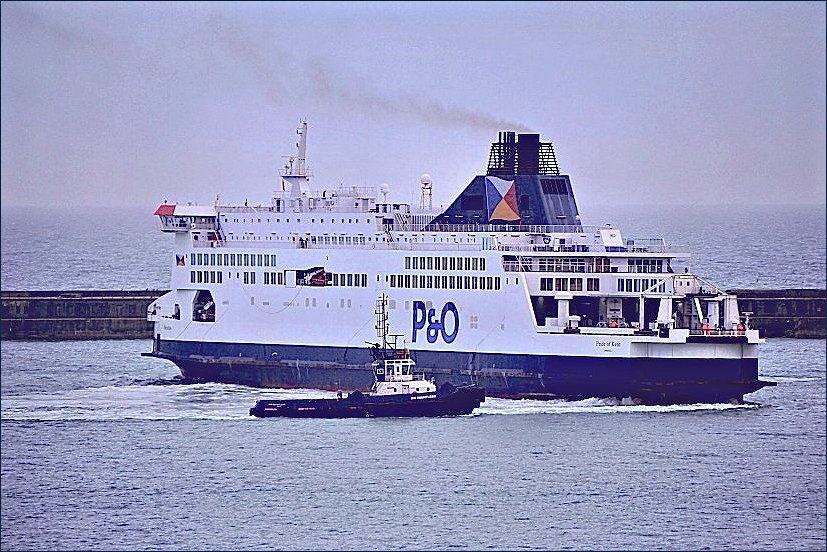 P&O's Pride of Kent given the all clear to resume services: The pictures show the Pride of Kent on manoeuvres on Tuesday evening close to 8pm. She had been 'resting' at the Dover9 berth for most of the day but vacated around this time as the Spirit of Britain approached. The Pride of Kent, with both tugs in attendance (although only one featured in the pix above) were there to guide her return to the former cargo terminal where she remains as we write....06.24 Thursday morn.
More in the post below....
UPDATE:
Minutes after we posted the info above re the Pride of Kent being still at the former cargo terminal, we nonchalantly gaze out, as you do.... to see she has just returned to Dover9 again minutes after the words above.. its now 06.40..
....its all happening!
Thursday, 12 May 2022 - 06:25
Post 7203
Sea News, Dover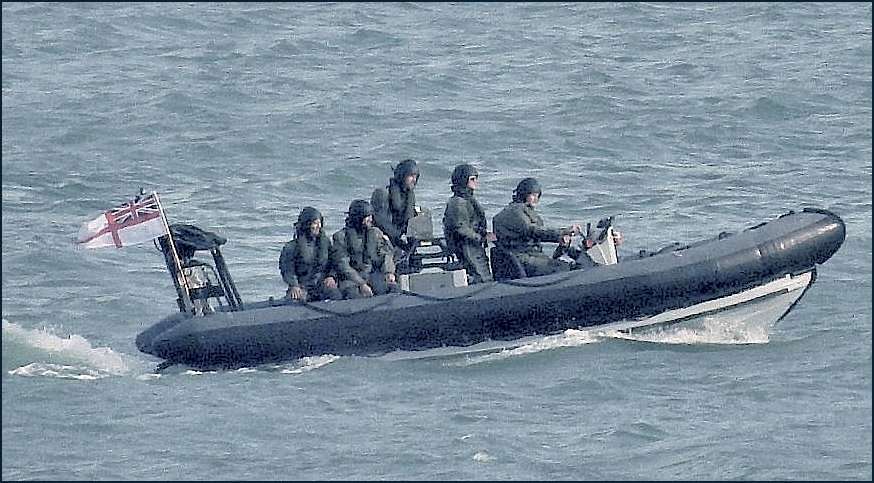 "I dont know who these guys are but its probably best not to ask"
More on P&O's Pride of Kent. Yes indeed...the Pride of Kent moved away from ye olde cargo terminal yesterday to take up residence at berth Dover9 for almost the entire day, only vacating about 8PM last night when the Spirit of Britain took up the slot. Dover9 seems to have become the P&O permo slot once again. Tugs stood by for the Pride of Kent as she manoeuvred around. We have some very grey late-in-the-day pix, will have a look to see if anything worth including....
Just to conclude, the Spirit of Britain is still the only P&O ferry operating on the Dover Straits.
The Pride of Kent has returned to the old cargo terminal.
Wednesday, 11 May 2022 - 05:25
Post 7202
Sea News, Dover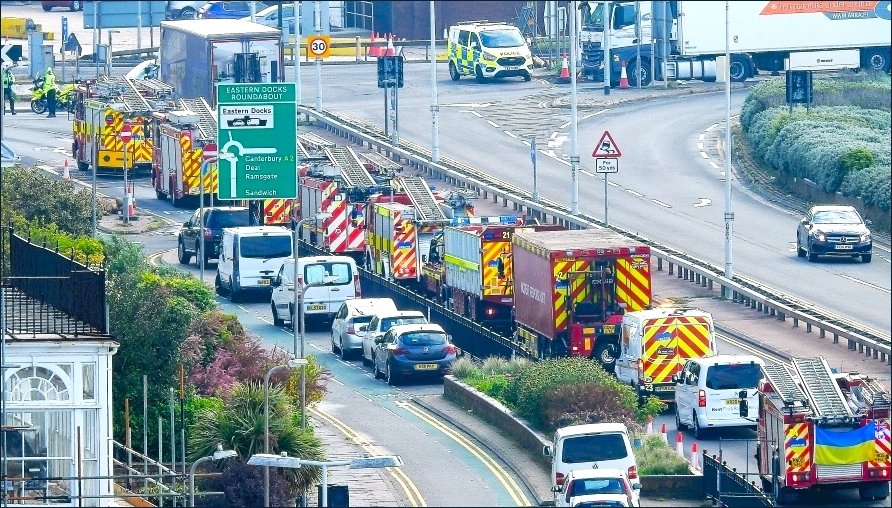 Late last week and we just caught the tail end of this Fire Brigade Convoy heading to Ukraine..pictured above there just about to enter the Port of Dover. We believe this is the third such convoy....and that's just a section there, the rest had already gone through to the Port we believe.
Tuesday, 10 May 2022 - 09:33
Post 7201
Sea News, Dover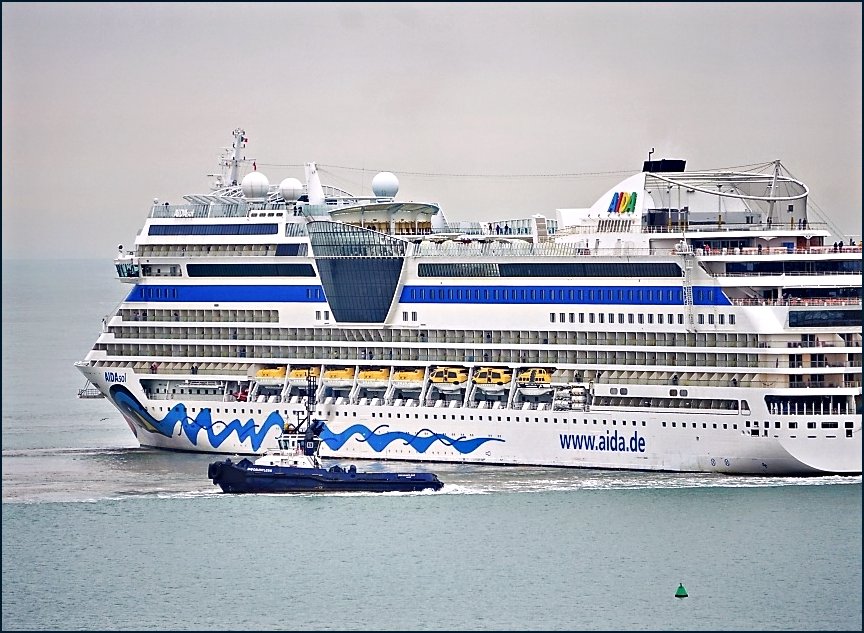 Just catching up on a couple of recent brief visits. AIDAsol was back in with us again at the weekend...she is on another short cruise...while below we have Hurtigruten's Maud. Maud running a busy schedule of exciting Scandi visits....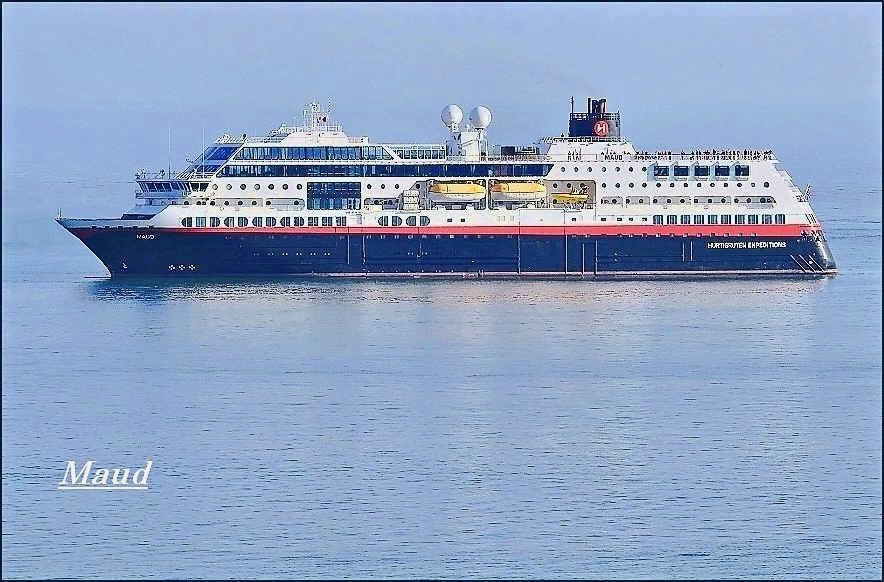 Maud.
We are also hearing reports that the ever lingering Pride of Kent has been cleared to resume services. We understand it was her 4th assessment...but it looks like she's now got the all-clear. Still positioned at the old cargo terminal as we speak.
" The Pride of Kent has been released from detention and can commence operations when P&O Ferries are ready." The Maritime and Coastguard Agency said.
Tuesday, 10 May 2022 - 05:58
Post 7200
Sea News, Dover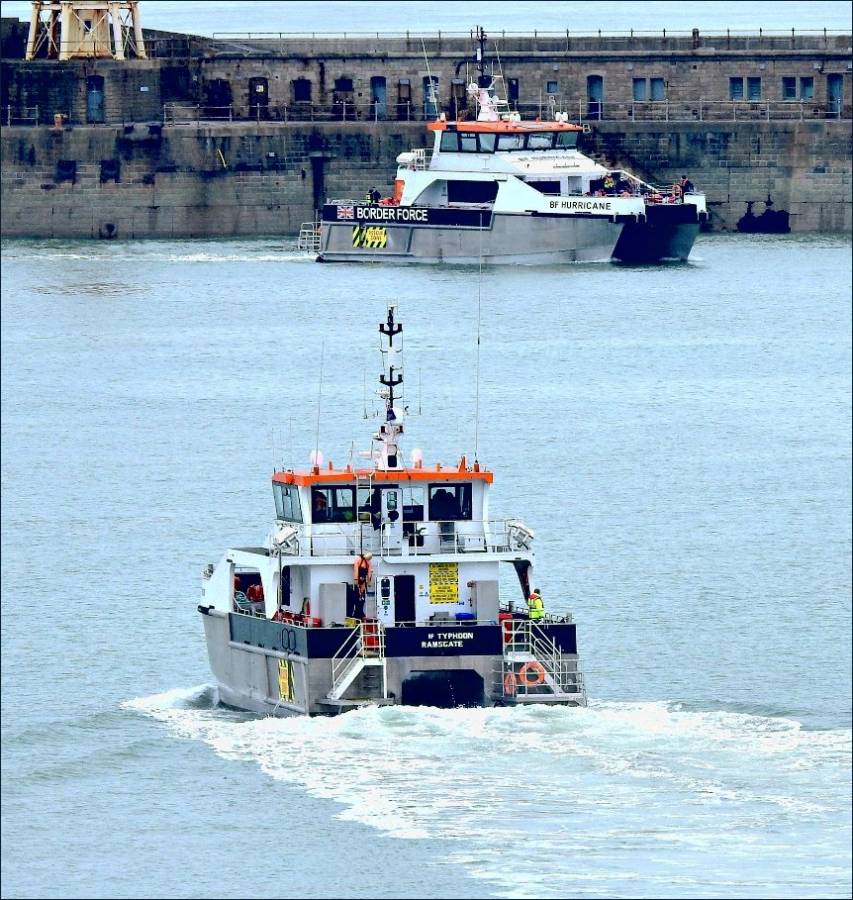 We talked about the Border Force 'windy sisters' for much of last week so now its good to have a picture showing them both in action at the same time. One heading out from the Port for another 'hard day at the office' and one returning. That's Typhoon closer to us and a returning Hurricane further back...very busy times indeed as you know.
Another bit of news over the weekend...well, the Port of Dover Community Regatta is returning here once again. Its very popular, hugely popular, and of course FREE which is very helpful in these difficult times for the purse, Thousands come to see all the exhibits and the action. Its returning on August 6 after a 3 year lay off due to the pandemic. We will have more on this as things develop...
Monday, 9 May 2022 - 07:03
Post 7199
Sea News, Dover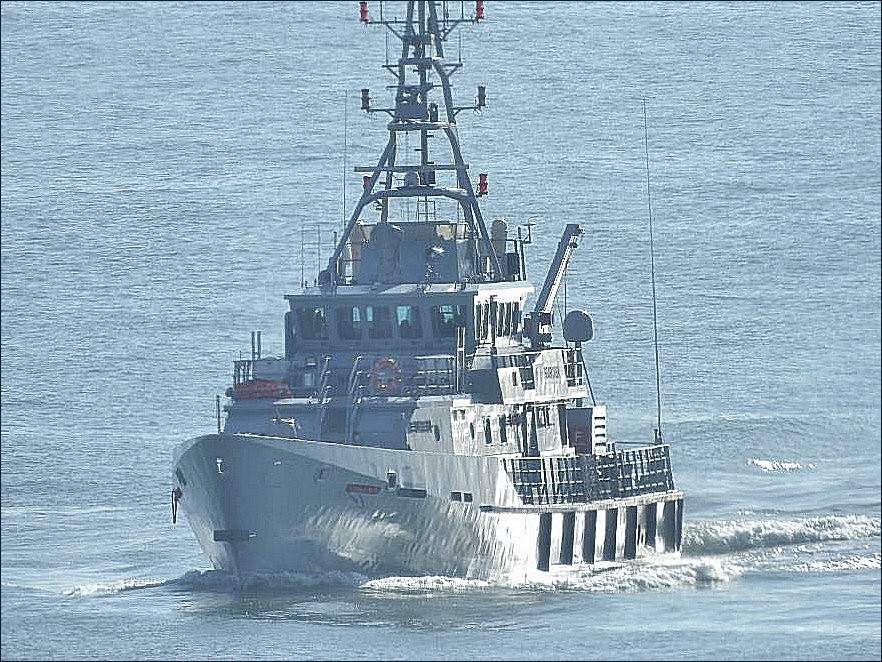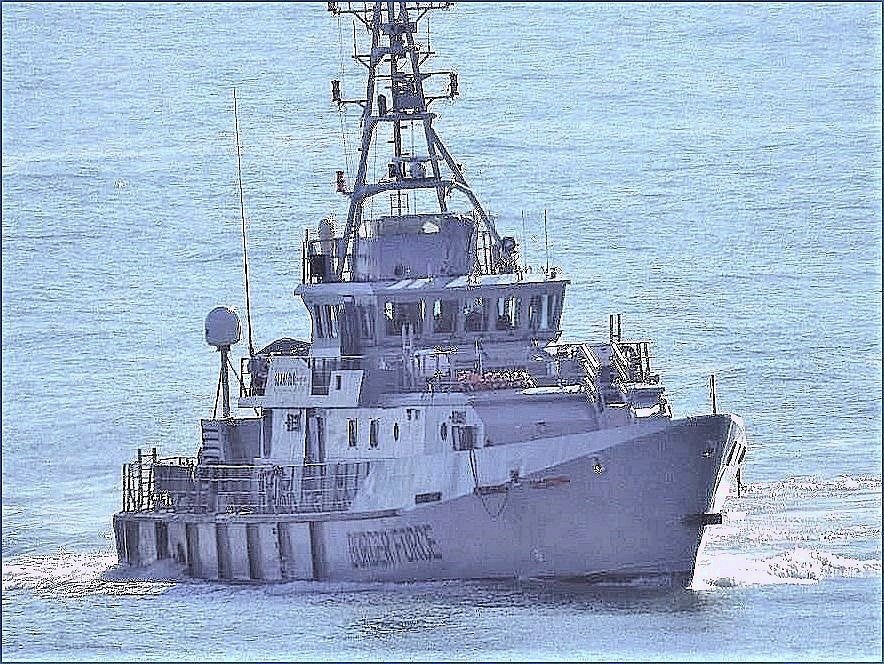 Border Force Searcher again... although we have used one of those pictures earlier in the week (see further below) we were meant to include both pictures together, so here we are now correcting that.... it looked like a quieter day out there yesterday, but like they say 'there's never a dull moment', well hardly ever...
Friday, 6 May 2022 - 07:14
Post 7198
Sea News, Dover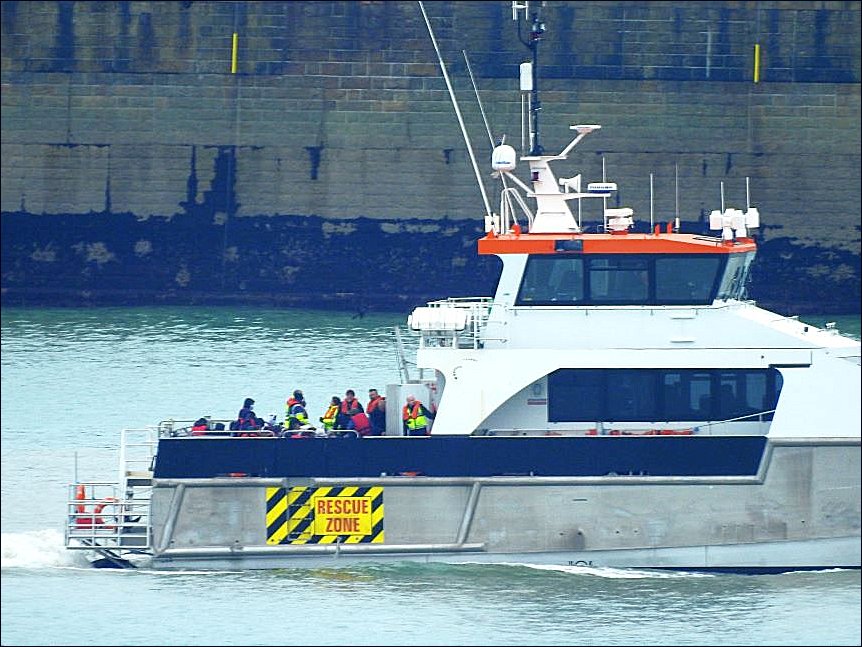 Border Force Typhoon:
We featured Border Force Typhoon further down the page and here she is in the thick of the action already. as you can see above there, escorting more migrants safely into the Port of Dover, after yet another hazardous journey across the busy Channel for them. It's been a very busy period once again, (we wont mention Rwanda) obviously with the better weather its kind of an "all systems go". Lots of Border Force activity out there....
Pondering wistfully.....Typhoon doesn't have the full BF markings yet as seen on its windy twin Hurricane....
Thursday, 5 May 2022 - 06:12
Post 7197
Sea News, Dover
BORDER FORCE VALIANT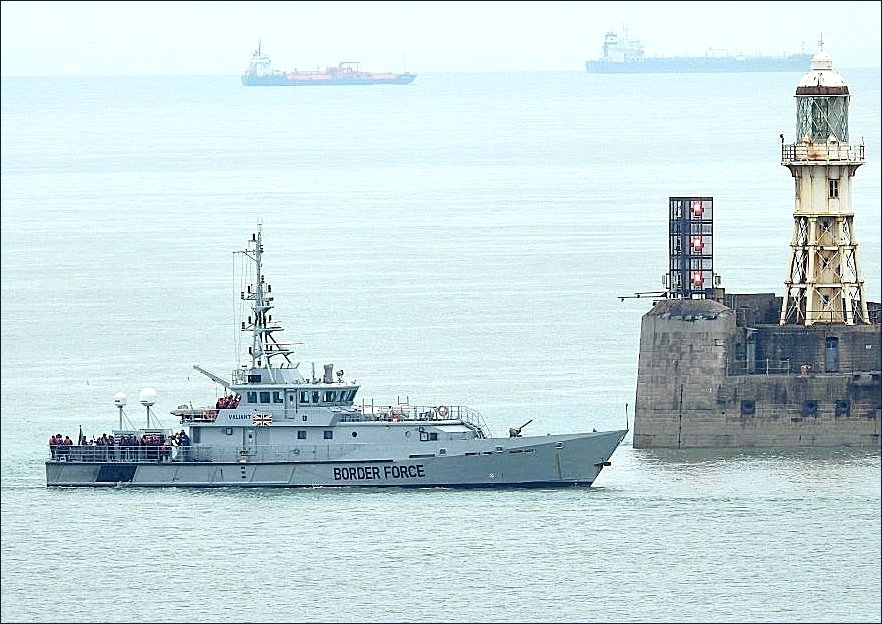 Zooming in....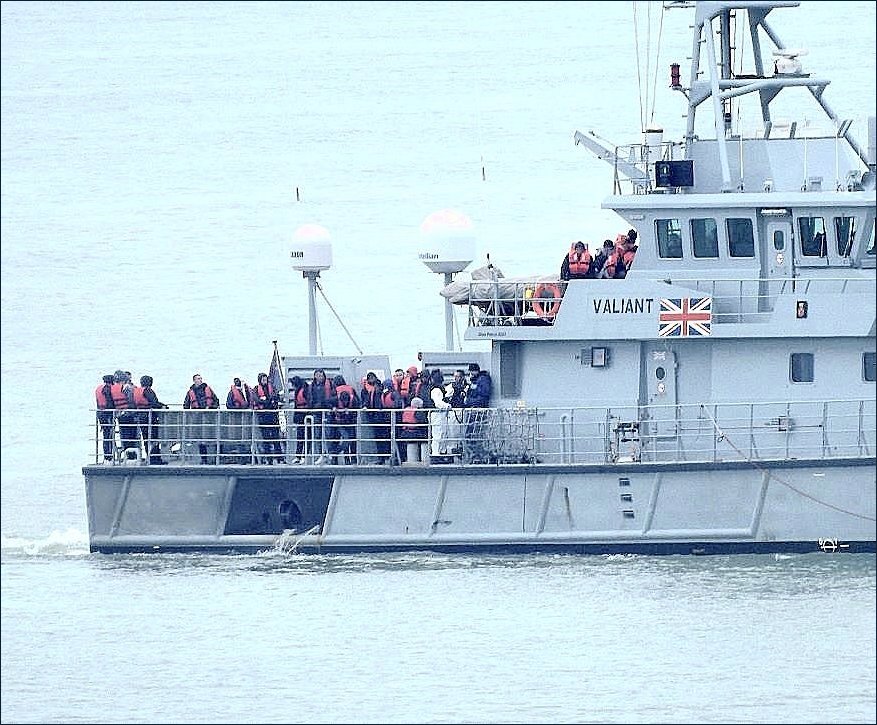 Migrants brought ashore by the Border Force:
Some pictures above there of the Border Force in operation on 'Manic Monday' May 2nd. The day was very hectic with transgressors aplenty, proving somewhat that the Rwanda threat from our very own HMG is not deterring anybody.....we had numerous Border Force craft in action...the vessel above is Valiant as you can see, also in fast operation were the recently featured BF Typhoon and BF Hurricane (see further below)...as were the smaller BF patrol boats, and all the while we had helicopters whirring above us.
As with many others, we would like to see a safe solution found for the migrants.
Wednesday, 4 May 2022 - 07:42
Post 7196
Sea News, Dover
AIDAsol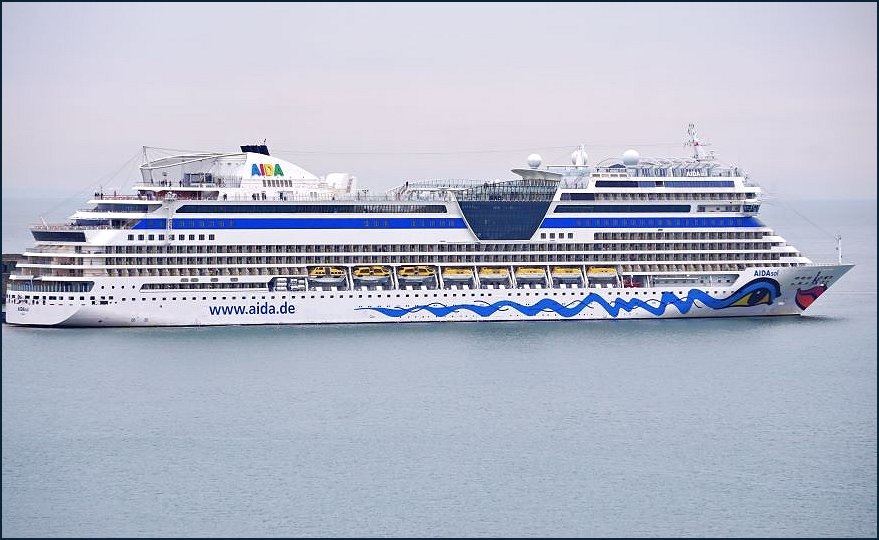 AIDAsol arriving here with us in Dover yesterday morning Monday May 2... time of shot approx 08.30...the fourth AIDA super cruise ship to call in as many weeks. See more below page and over. She is on a 4 day short cruise from Hamburg...calling Ijmuiden and Dover.
A very busy day in Dover yesterday re the Border Force/Migrant situation...much activity. We will have pictures soon...
Tuesday, 3 May 2022 - 07:02
Post 7195
Sea News, Dover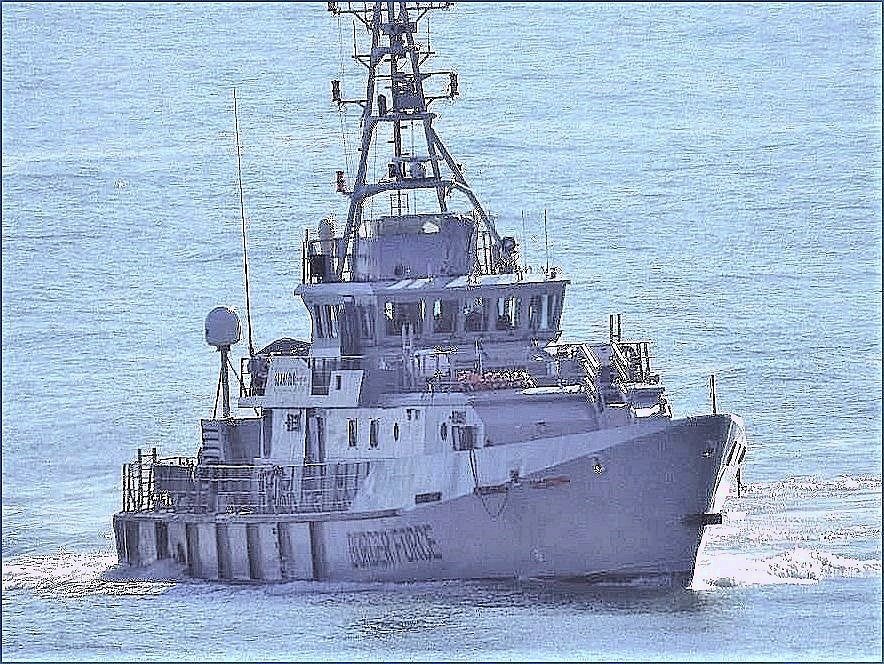 Border Force Searcher above...
Several hundred migrants, we understand, made the trip across the channel yesterday Sunday despite the threat of Rwanda looming... a hugely unpopular policy by all accounts....but given some good weather then the migrant crossing situation may well go on..Rwanda or not..
We realised later when talking about the BF Hurricane yesterday that the pictures we had were lost in the enforced changeover...this section now being used was thankfully rebuilt again after our hacking experience and the pictures we used in our temporary location at top of page were lost, but its all back to normal now.....all fixed...
so here we are again.. Border Force Hurricane ....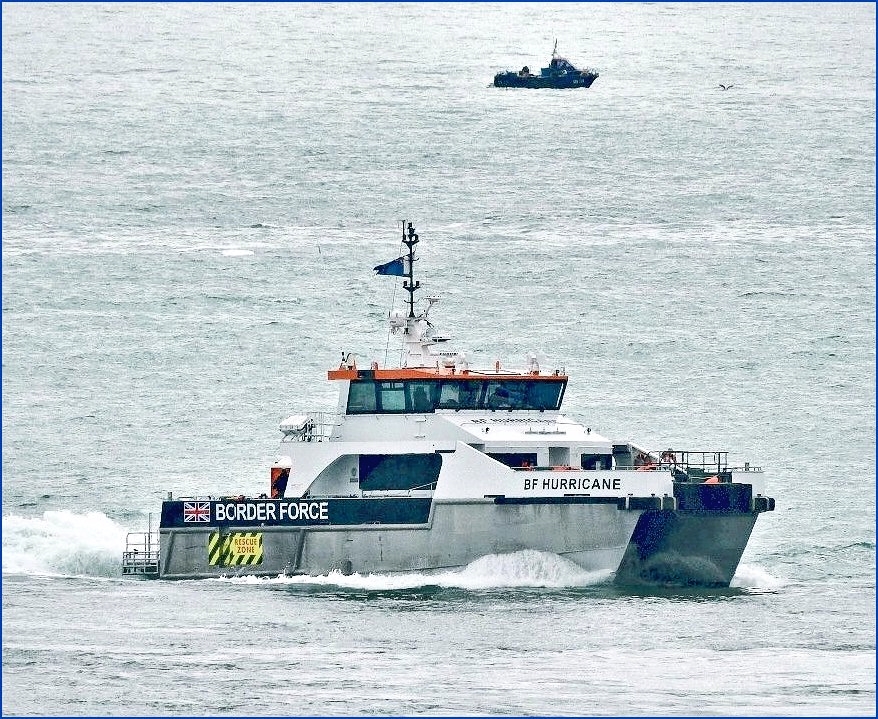 BF Hurricane...we will have more in due course
this relates to yesterdays post see below..
Monday, 2 May 2022 - 07:29
Post 7194
Sea News, Dover
Border Force...it looks like Border Force have a new addition to their working fleet and here she is...
well its not one we've seen before anyway. Very similar to BF Hurricane which we have featured previously... its Border Force Typhoon..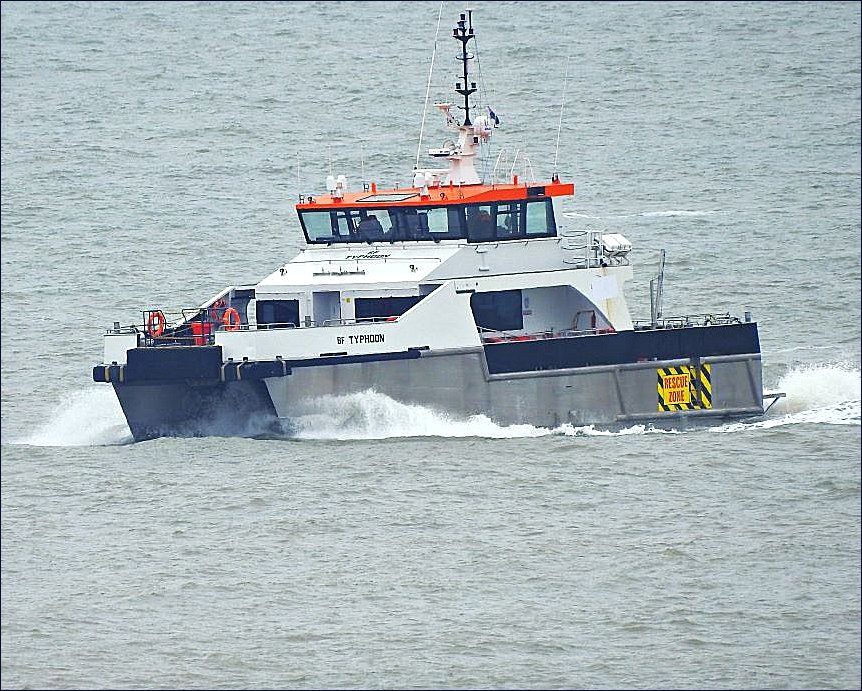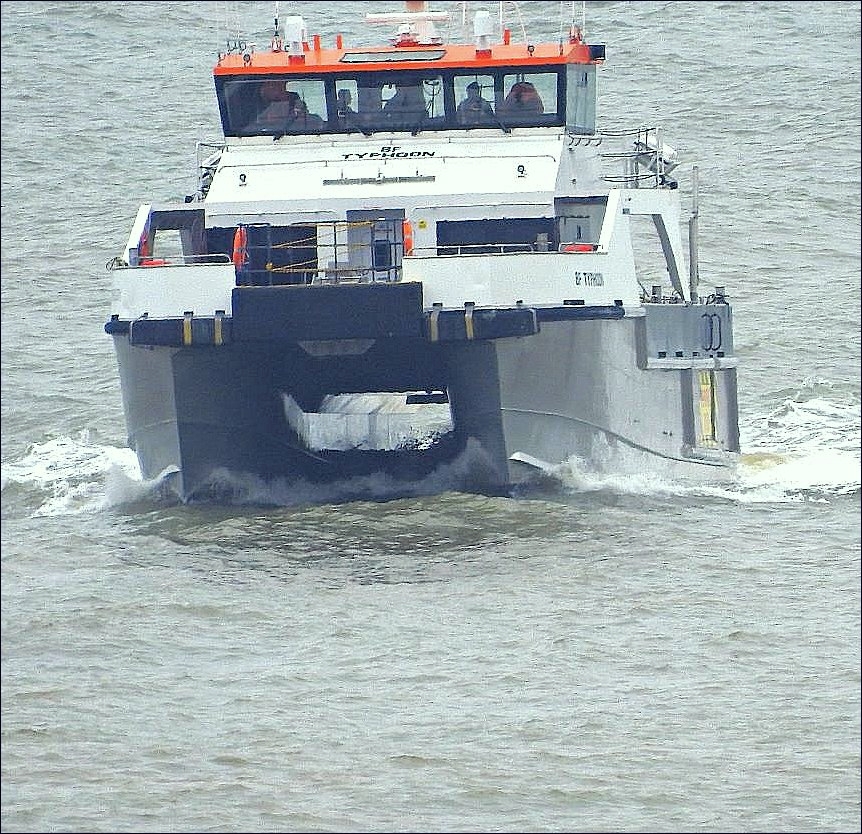 Border Force Typhoon, photographed early yesterday morning Saturday in grey conditions as she approached the Port of Dover. The weather brightened up later in the day but not in time for our shots of the Typhoon..
Its...Mayday...in the nicest sense of the word ...
Sunday, 1 May 2022 - 07:03
Post 7193
Sea News, Dover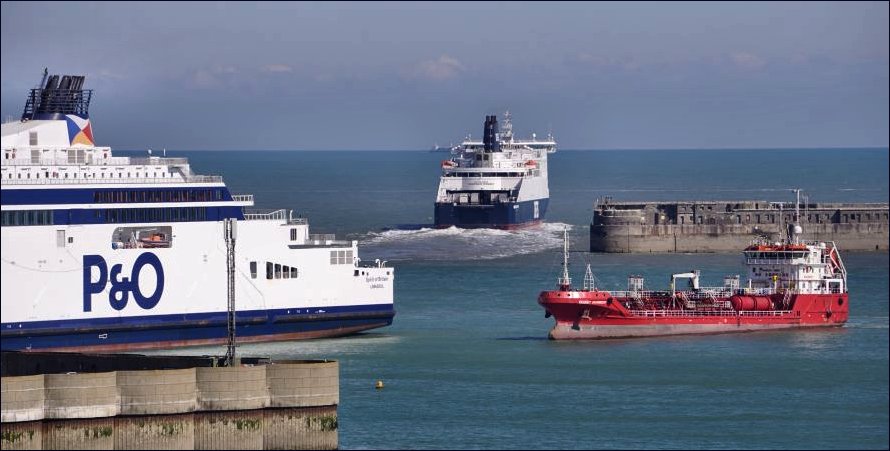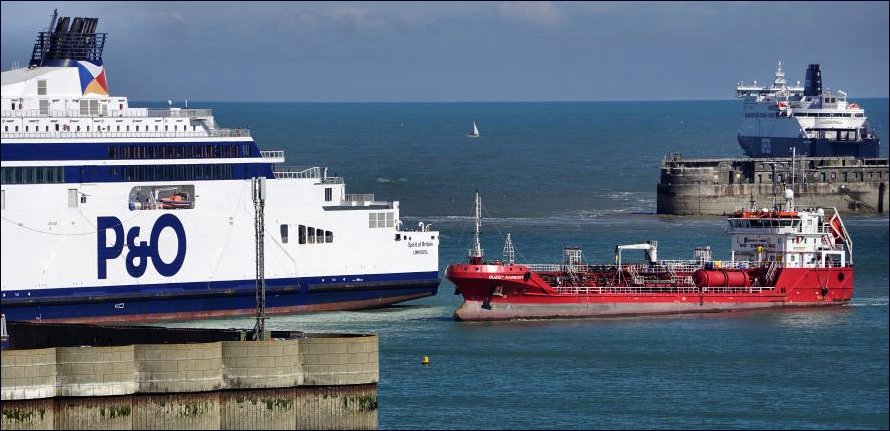 Just harking back a couple if days now to Wednesday and post 7189 below which features Duzgit Harmony. Well, some more hopefully enjoyable pictures now of Duzgit Harmony...you can see her above there as she approaches the Spirit of Britain in the bright sunshine Wednesday....Duzgit, a chemical tanker, is about to help ready the P&O ferry for its return to active service....
Another pic of Duzgit Harmony below from an earlier time...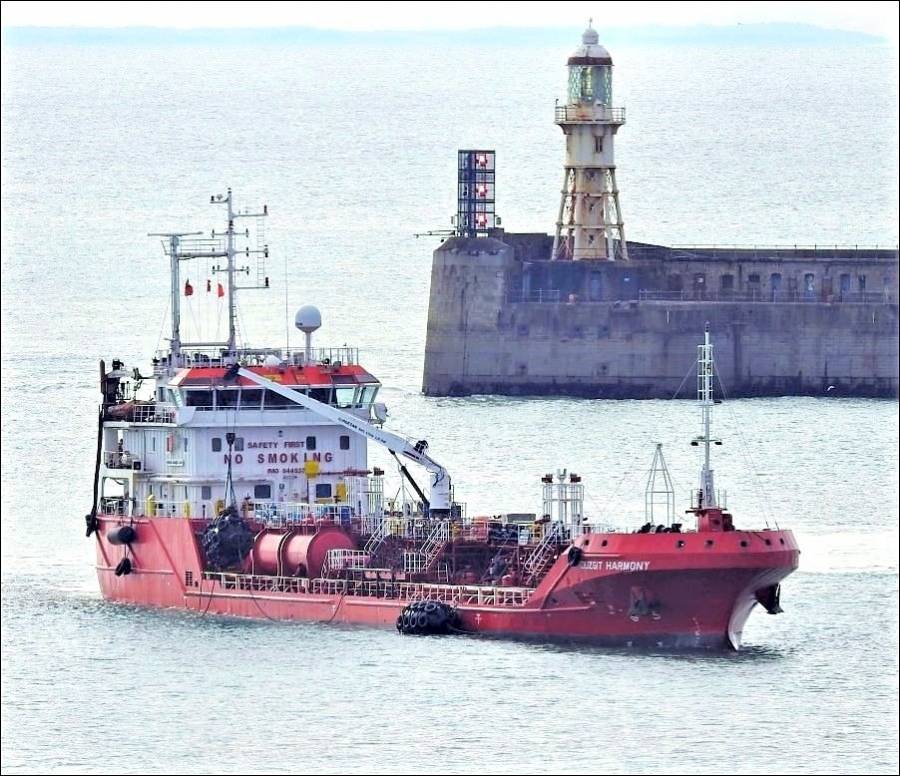 Duzgit Harmony.
P&O's Spirit of Britain is back in service now after a slow start, carrying just a few trucks early on...but things have picked up. Her cross-channel trips seem fewer...a quieter schedule perhaps... she is the only P&O vessel operating between Dover and Calais at this time.
Saturday, 30 April 2022 - 06:19
Post 7192
Sea News, Dover
Below we have a picture of the Spirit of Discovery leaving us again...this time setting off from Dover on a Baltic 15 day cruise with many highlights...Stockholm, Helsinki, Copenhagen and of course many more....in former times it probably would have called in to St Petersburg too but not nowadays for obvious reasons...dont go there!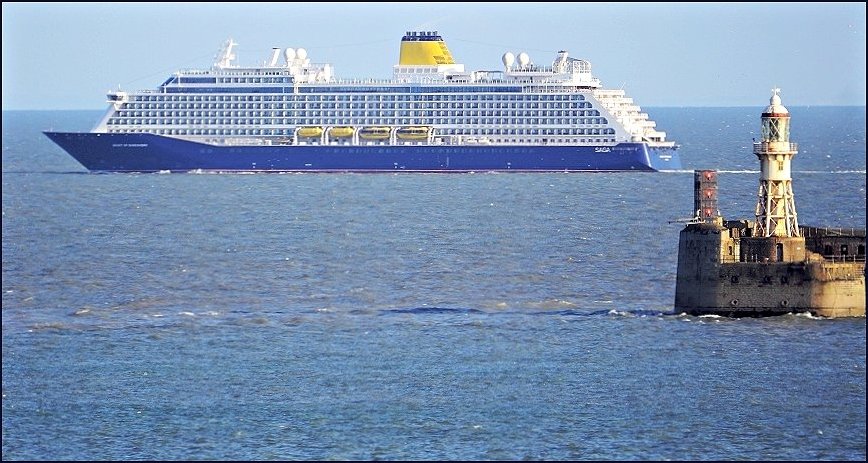 The Spirit of Discovery pictured on Wednesday evening as she paused briefly just outside Port....
further Spirit of Discovery pictures down page....
and you can always find anything in our Search Engine just above...
Friday, 29 April 2022 - 06:16