Monday, 26 September 2022
WWW.DOVERFORUM.COM/SEA-NEWS

Sea Pictures from Dover. We have 333 plus pages below now...use our own SEARCH ENGINE just below to help you trawl through. All pictures are the copyright of the owners. EDITOR: Paul Boland - dover7@msn.com
Post 7269
Sea News, Dover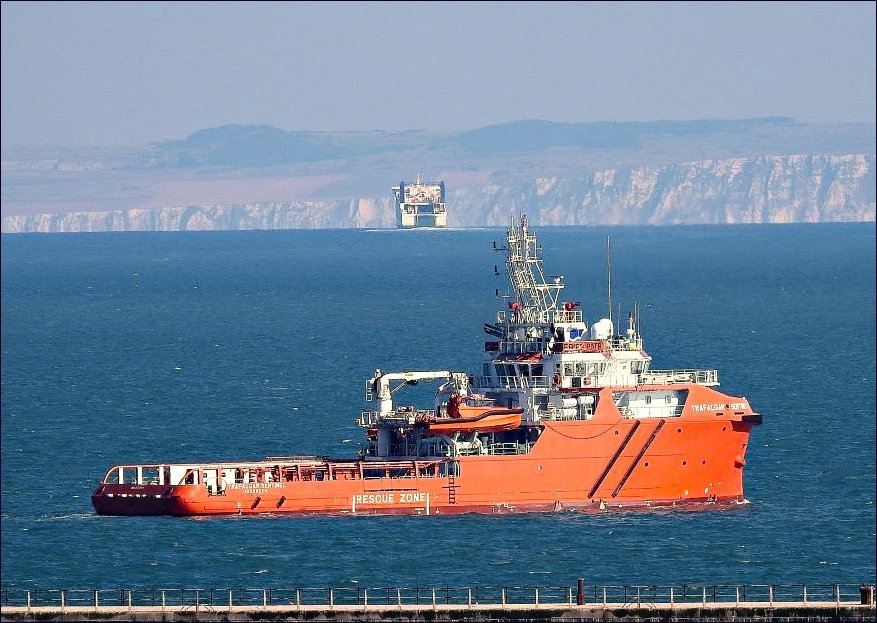 Just catching up with a picture there from a few days ago....its the striking offshore supply vessel Trafalgar Sentinel photographed just off Dover in the ...and you wont be surprised...blazing heat! That looks like the Irish Ferries' Isle of Inishfree in the background there as she approaches the beautiful French cliffs...
" I will arise and go now, and go to Inishfree...."
Cruise ship AIDAbella in Port today, there has been much cruise ship activity..we will catch up on some cruise shots shortly...
Thursday, 11 August 2022 - 07:59
Post 7268
Sea News, Dover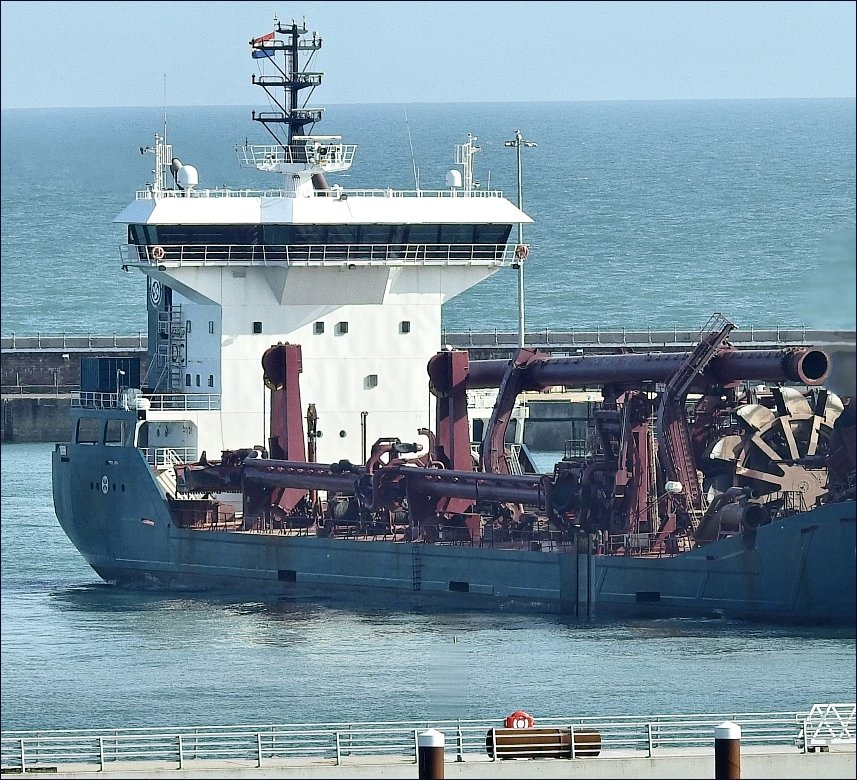 Another pic there of the impressive dredger DC Orisant as she is about to pull away from busy Pier WD4...another pic further down page. Now left of course...
Below we see the newly arrived platforms at the end of the marina curve extended pier. These are due to begin piling this week. Notices have been put up along the seafront restricting swimming etc. Check those notices out if you fancy a dip. More info below.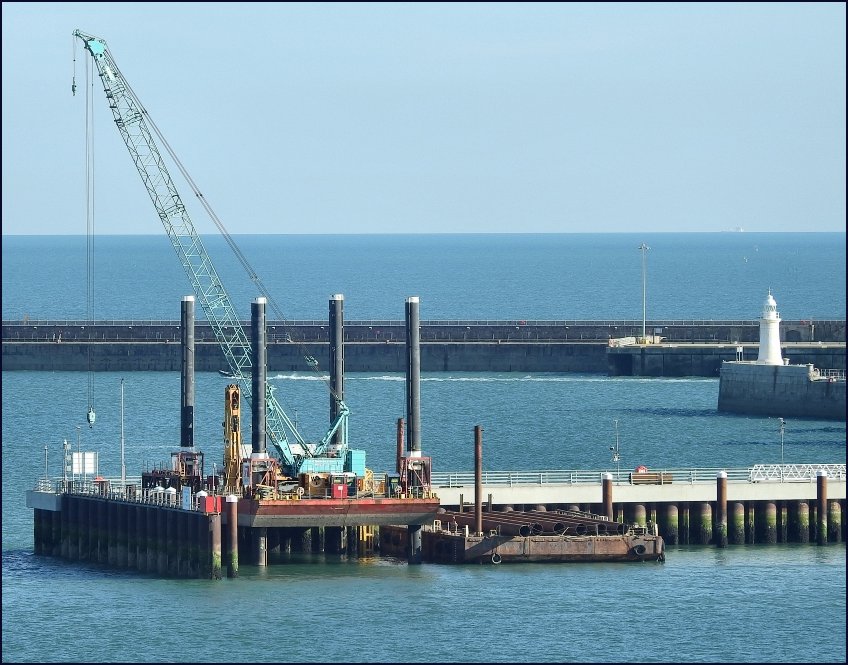 Piling Platforms ...more info just above pic...
And now....A section of the press release from the Port....
PILING FOR OUTER WAVE WALL AND WORKBOAT PONTOON STARTING 9TH AUGUST
This summer, berth holders have been able to enjoy the temporary usage of the new marina in Dover. As Dover Harbour Board continues to build the appeal of the wider waterfront, we want to complete the final construction elements that will enable the permanent use of the new facility.
The next phase of the work is to install piles for the New Marina Outer Wave Wall and the Workboat Pontoons, which will enable safe use of the New Marina for the future.
This work involves undertaking piling works in the vicinity of the Marina Curve Extension for a new Workboat Berth as well as to the north-east of the entrance to the New Marina for the New Marina Outer Wave Wall (NMOWW). A new Marine Management Organisation (MMO) licence and Harbour Revision Order (HRO) amendment have been granted in order to do the works and Knights Brown Construction with Red 7 Marine as their piling subcontractor will be responsible for delivery.
* *
Great cruise ships in today once again... first visit for Island Princess and regular visitor Viking Venus also here
...looking good.
Wednesday, 10 August 2022 - 10:15
Post 7267
Sea News, Dover
Baked Heat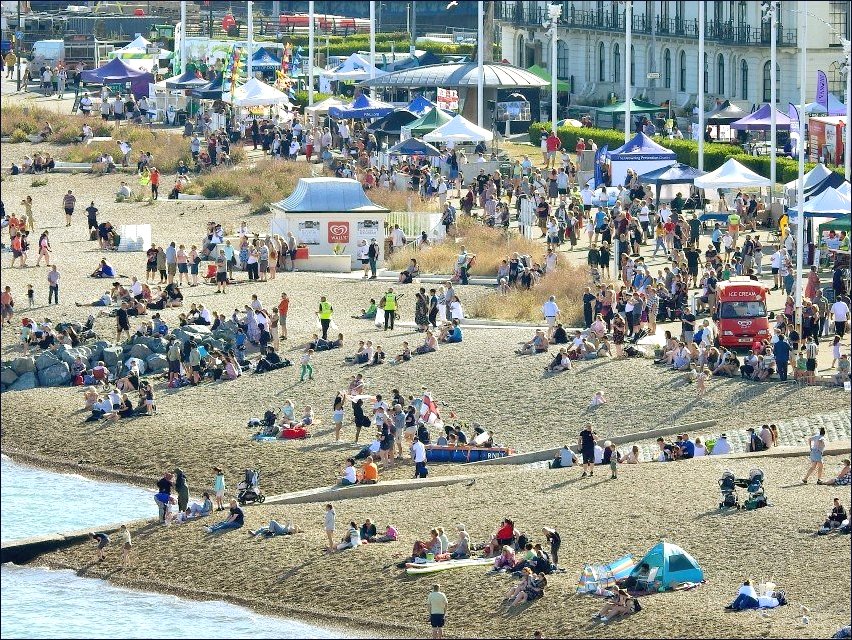 Dover Regatta: The picture above was taken later in the day on Saturday and shows the busy beach and beyond, the crowds lingered 'til 5pm (time of shot) and beyond to see the Lifeboat display but...well.. see the post below...
The picture below was taken early the following morning Sunday and shows the staggering cleanliness after the huge influx. The team cleaning up and indeed the Port of Dover itself did one heck of a job returning it to pristine condition so ultra fast. As we know there is an element of .. ermmm .. urban debris to the human species and to these festival things....but whoosh it was gone, and so fast too.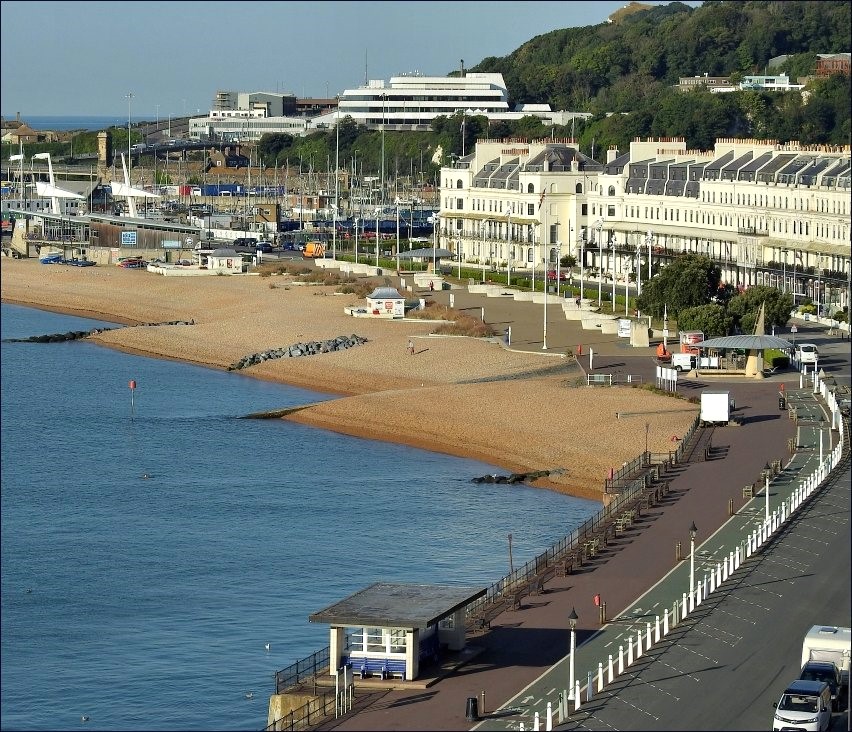 Dover Beach on Sunday Morn....August 7.
All returned to immaculate spic-and-span after the influx....
see also above
Monday, 8 August 2022 - 15:26
Post 7266
Sea News, Dover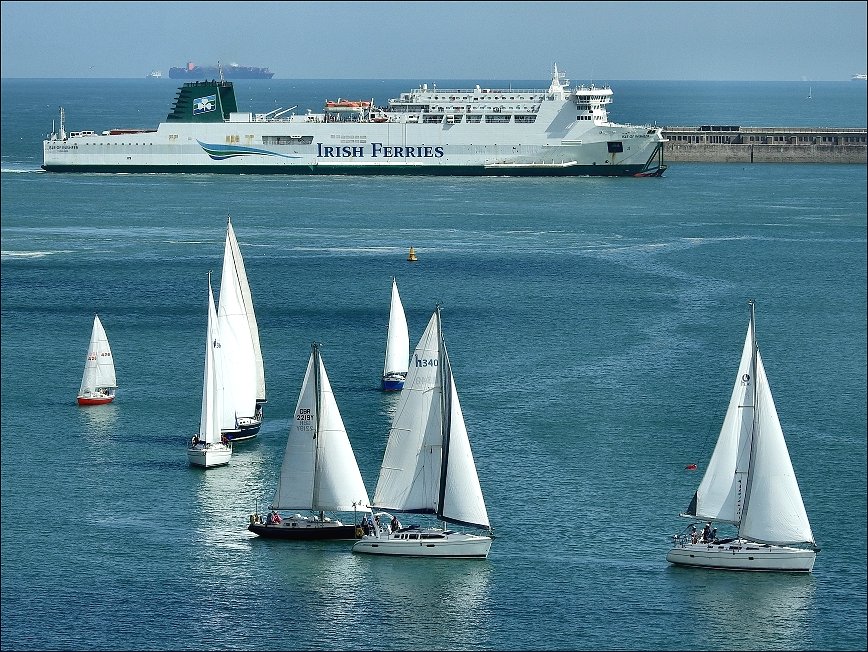 Dover Regatta: Some of the magnificent yachts from the Royal Cinque Ports Yacht Club on display Saturday August 6 at the Dover Regatta. In the background we have the Irish Ferries' Isle of Innisheer just arriving from Calais....
But Yes...The Regatta was back. After a lay off of several years it was good to see it again. Instead of coming down along the seafront this time, it was cut in two as it were, with the main section at central seafront and section two at Clock Tower Square. This had something of a muted impact on atmosphere but there we are. A good crowd came to enjoy. There were several displays on the water ( as per yachts above ) but .. disappointingly.. although the Lifeboat guys came they didn't do a dramatic display as they have in previous times. We sat there poised...cameras at the ready.. but nothing happened. At the time we were outside the range of the commentary so...no idea. In former times they did spectacular displays.
Sunday, 7 August 2022 - 06:43
Post 7265
Sea News, Dover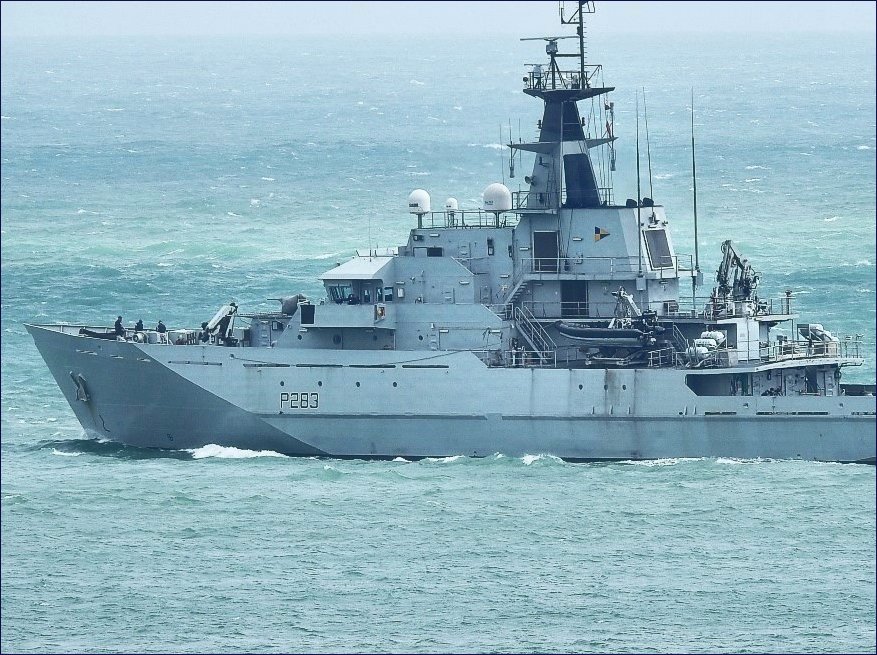 HMS Mersey: With all the increased illegal activity out there in the Channel here we see the ever re-assuring vision of HMS Mersey patrolling just outside the Port of Dover a few days ago ( August 2 ). A very welcome sight it is too....
As previously mentioned dont forget the Dover Regatta is on today Saturday on Dover Seafront after a layoff of several years.
More info on www.doverport.co.uk
Saturday, 6 August 2022 - 07:39
Post 7264
Sea News, Dover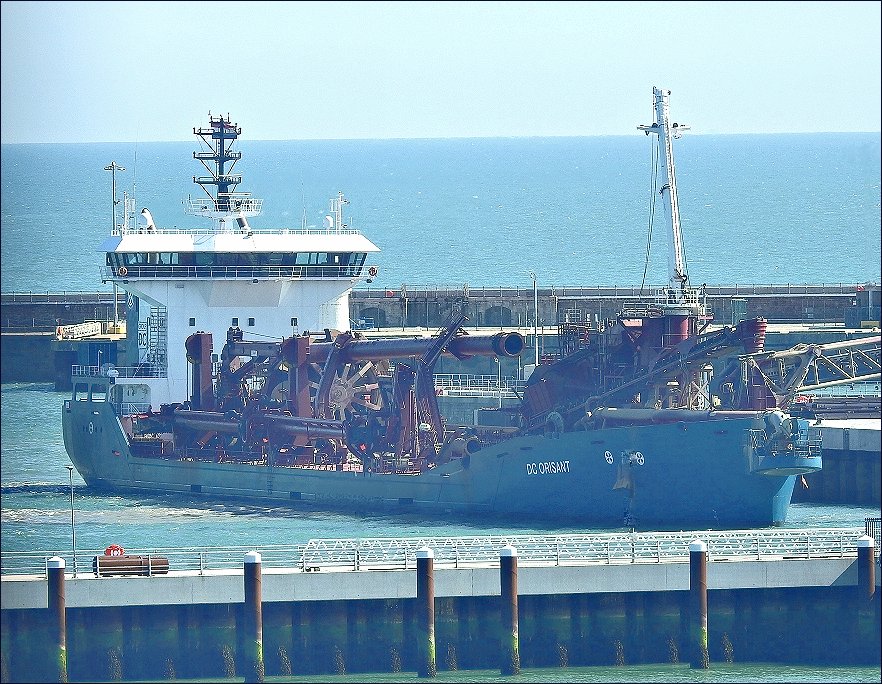 The impressive hopper dredger DC Orisant has been in with us a couple of times recently delivering sand/gravel at the hard working dock WD4 and there we have her above pictured a couple of days ago.
Below we have an extra one of the fascinating cable layer Responder. Fascinating ship but somehow hard to photograph, the pictures probably dont do it justice. Here she is below leaving the Port on ...let me check...yes...a few days ago August 1st. See the posts below for more Responder...also news on the Regatta this Saturday.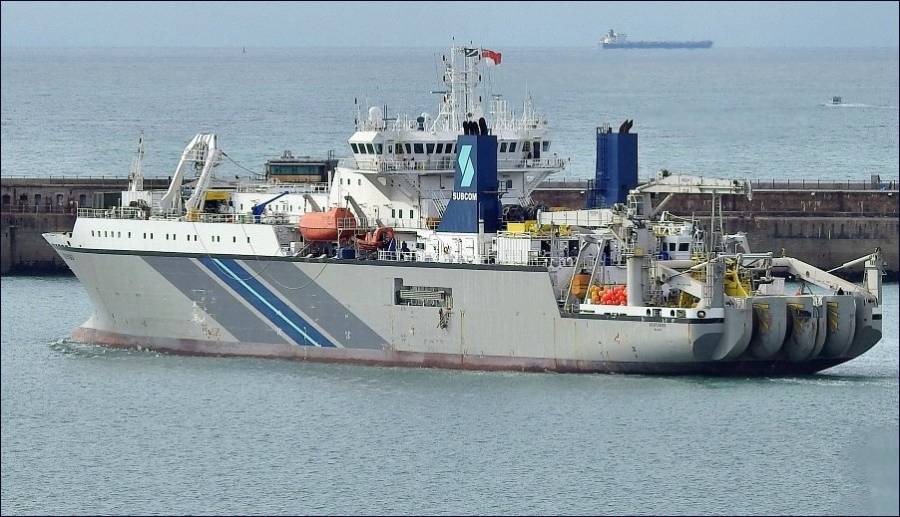 Responder
Friday, 5 August 2022 - 06:21
Post 7263
Sea News, Dover
Responder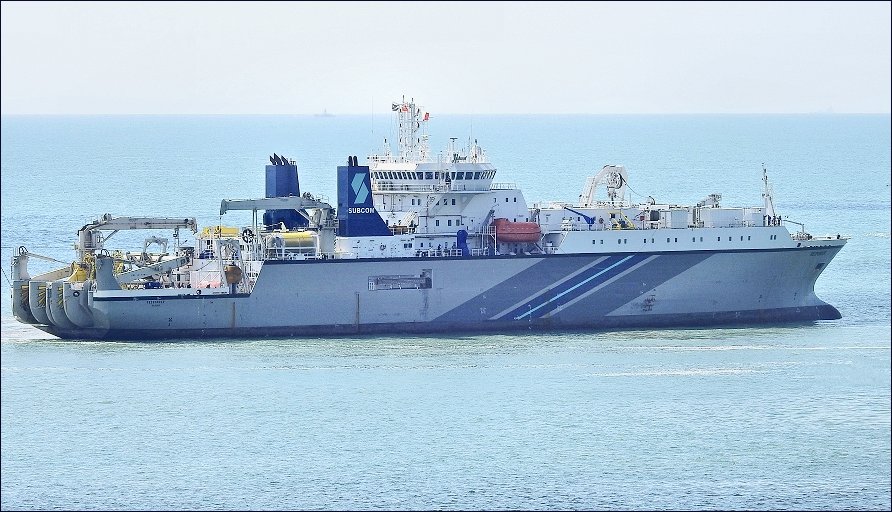 There we are with that extra pic of Responder, see also the post below.
Note that the Dover Regatta is on this weekend (on Saturday August 6) after several years lay-off due to the pandemic. Lots and lots of varied activities all day...for more details go onto the Port of Dover website (..and there's an extra link there too showing details and times etc....)
www.doverport.co.uk
Thursday, 4 August 2022 - 07:50
Post 7262
Sea News, Dover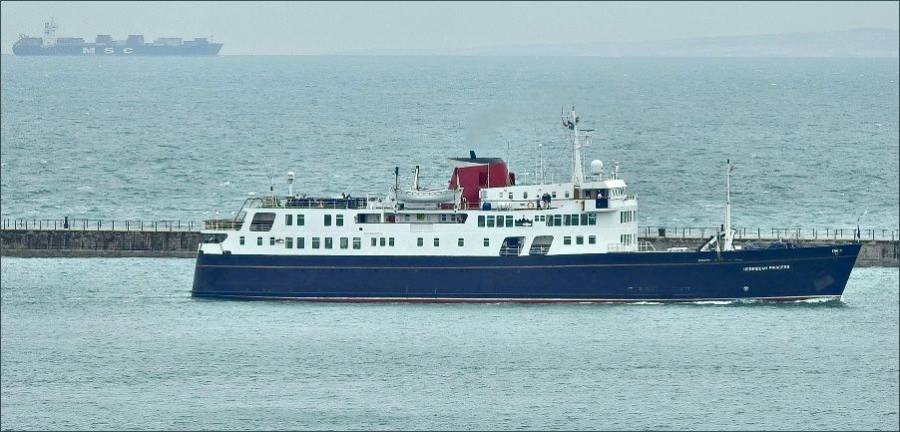 Hebridean Princess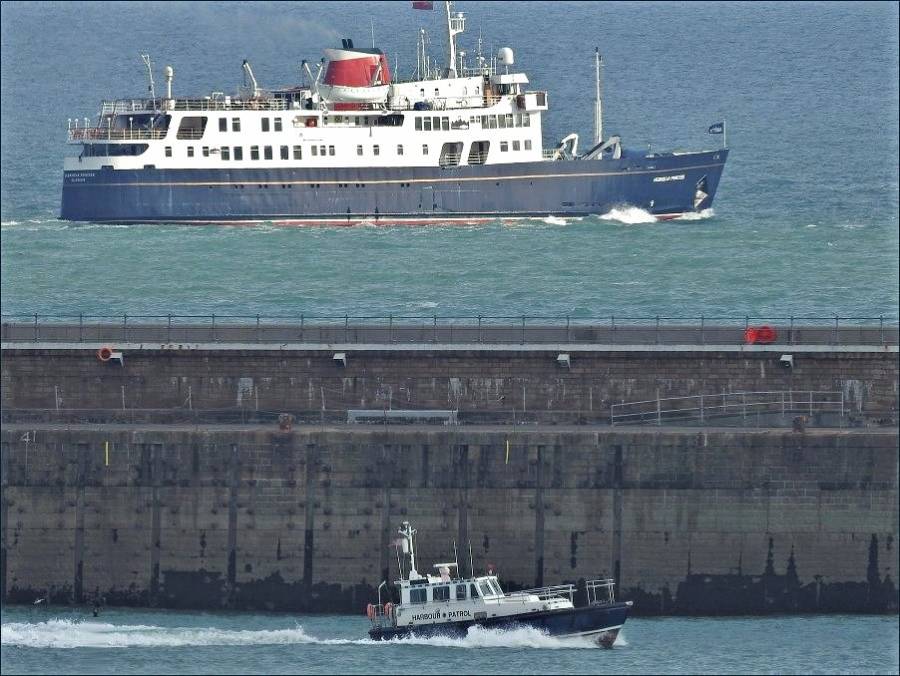 The delightful Hebridean Princess visited the Port briefly last Thursday July 28 and we were lucky to get the top shot...just saw her at the last minute. The second picture we just came across again in the files so thought worth including once more.
Below we have the cable laying Responder arriving with us late last week (on Friday 29 July) and heading towards the ever-busy working dock WD4...we may have another shot of this one. There was much activity last week.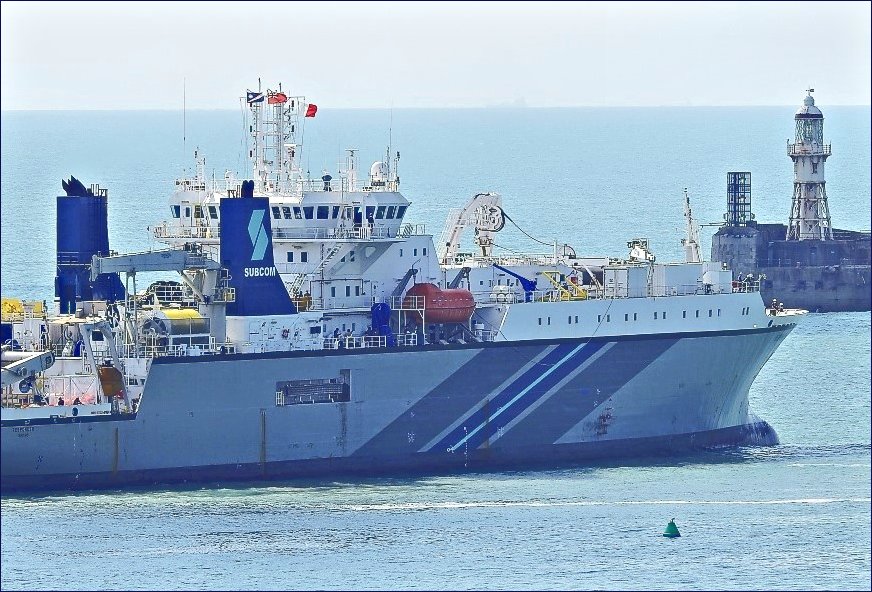 Responder
Tuesday, 2 August 2022 - 06:36
Post 7261
Sea News, Dover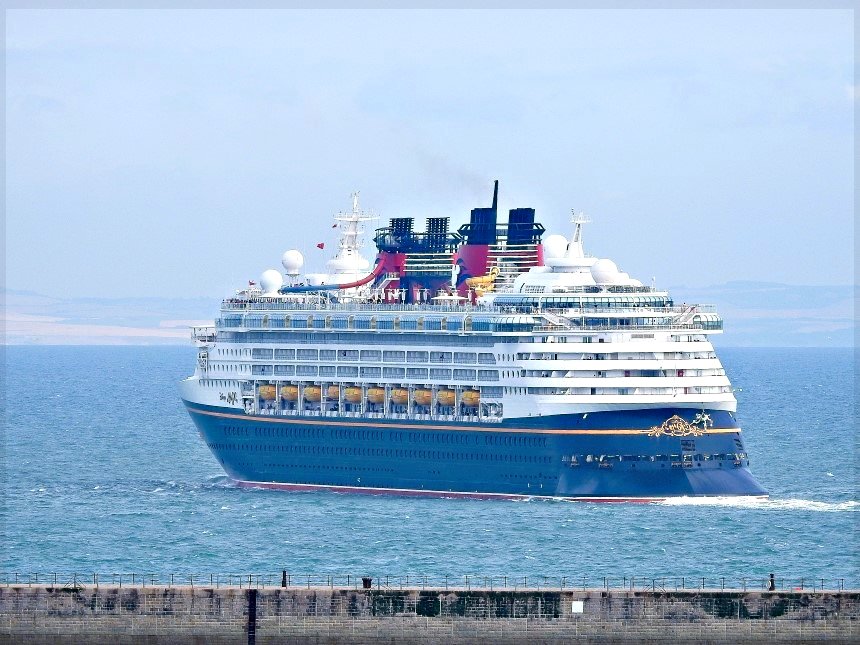 The Disney Magic pictured just after leaving the Port of Dover on Saturday evening. She is heading to the beautiful north as mentioned in the post below. Twas a bit of a hazy evening though for the picture, as you can see ....
Monday, 1 August 2022 - 06:54
Post 7260
Sea News, Dover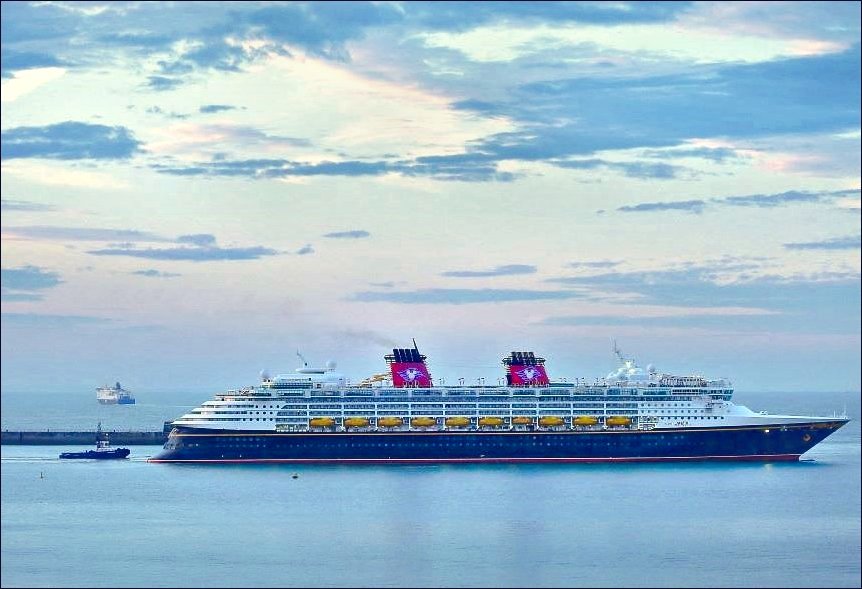 Saturday Morning:
Drawing back the sleep curtains first thing early on a Saturday morning and right in front of us here is...yes ... the fabulous Disney Magic. A lovely surprise. Time of picture 05.35...the camera didn't like being woken up that early but after a bit of coaxing it functioned.
Of course we are very familiar with the Disney Magic here in Dover as she stayed with us all through the pandemic. And yesterday, well she even gave us a rendition of 'When you Wish upon a Star' at one point....
She is on an 11 day cruise taking in Oslo, Stavanger, Copenhagen and more...
More cruise ships in today Sunday... Carnival Pride and Spirit of Discovery..

Sunday, 31 July 2022 - 06:43
Post 7259
Sea News, Dover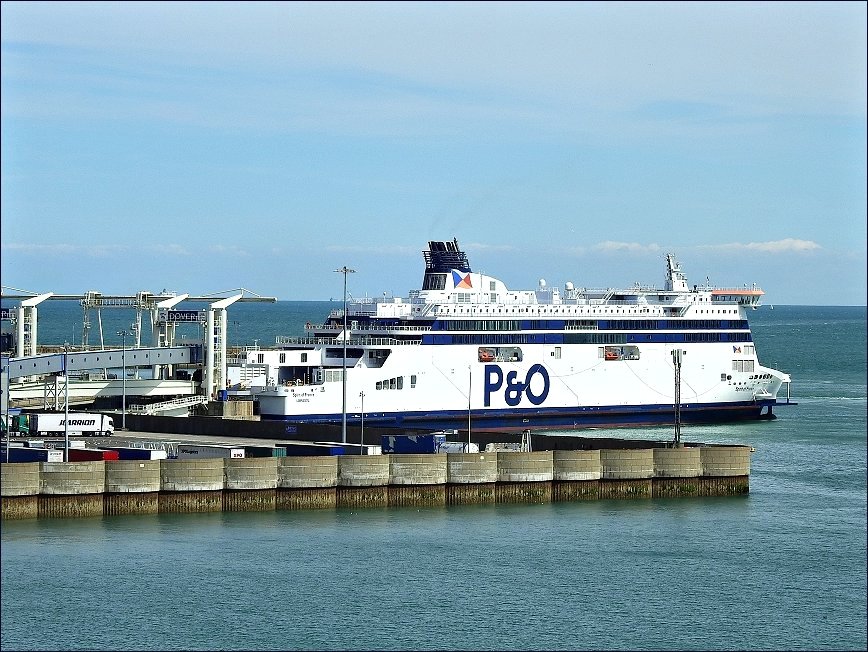 Spirit of France
Further to the post below re P&O's Spirit of France...she eventually made it off the eastern arm of Port and relocated to berth/pier Dover9 as you can see in the pic above. She appears to be undergoing Sea Trials at the moment engaging in much to-ing and fro-ing .. but taking up temporary residence at times on Dover9.
Saturday, 30 July 2022 - 07:14
Post 7258
Sea News, Dover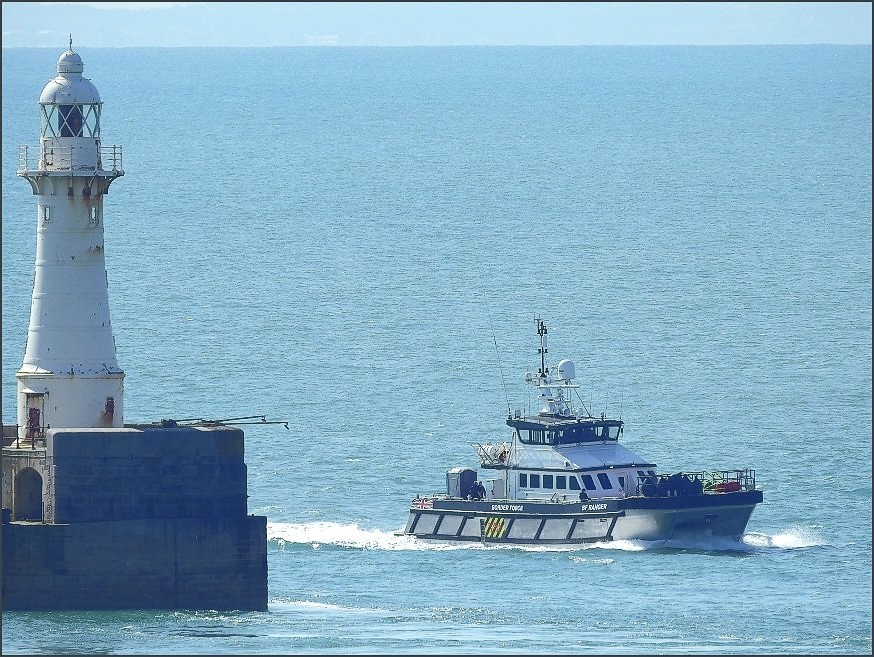 Border Force Ranger at Dover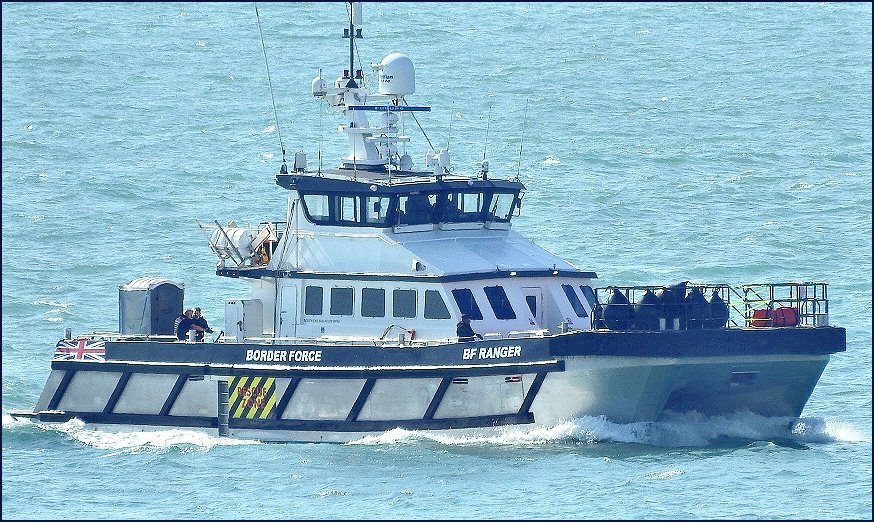 Border Force have new additions to their patrol fleet here in Dover. The one featured above is Border Force Ranger or BF Ranger as you can see. We have also recently noticed and noted other new additions BF Defender and BF Volunteer and no doubt we will have pix of those eventually...all similar or near identical patrol vessels...
photographed two days ago ...Wednesday 27..
Also...just arrived back on the scene is the P&O ferry Spirit of France. She has not been seen since the notorious P&O sackings several months ago. Perhaps away on an extended ermmm 'refit'...she is currently resting on the ever dependable Port's eastern arm as we write.
Friday, 29 July 2022 - 07:06
Post 7257
Sea News, Dover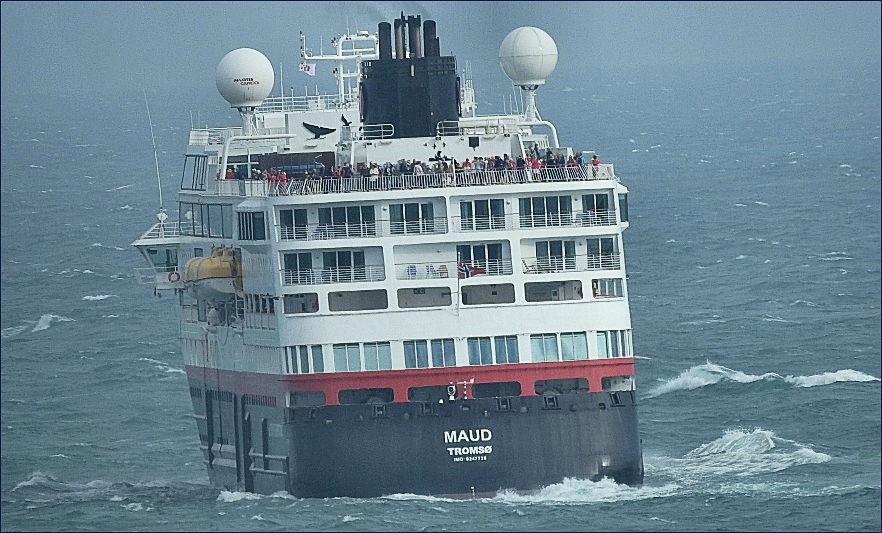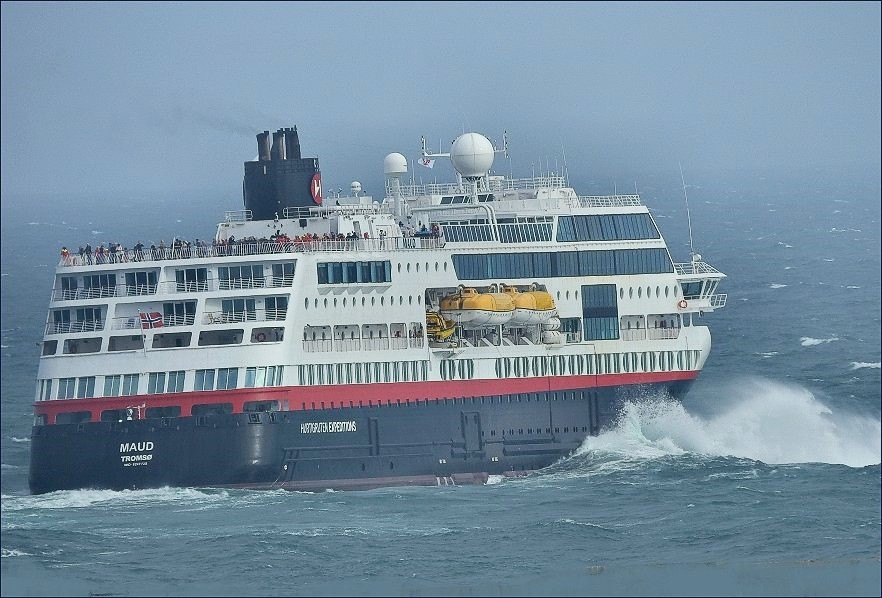 It was unseasonably rough as Maud left the Port of Dover on Monday evening (July 25). You can see quite an enthusiastic crowd there on the top deck ready for the blustery Nordic adventure. They are of course hardier adventurous souls so they shouldn't / wouldn't have much trouble with a little oceanic turbulence...
Wednesday, 27 July 2022 - 06:22
Post 7256
Sea News, Dover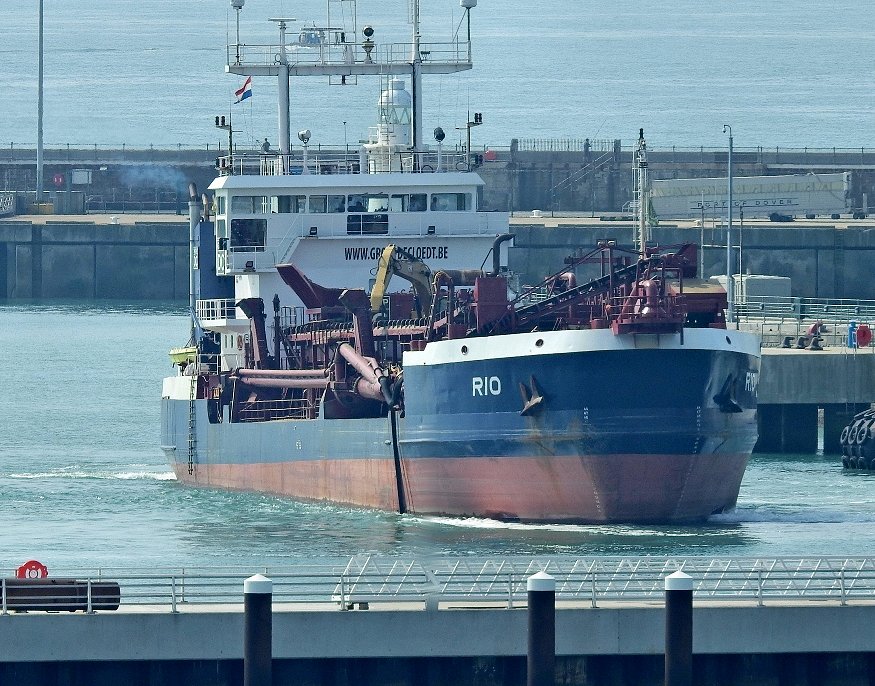 Rio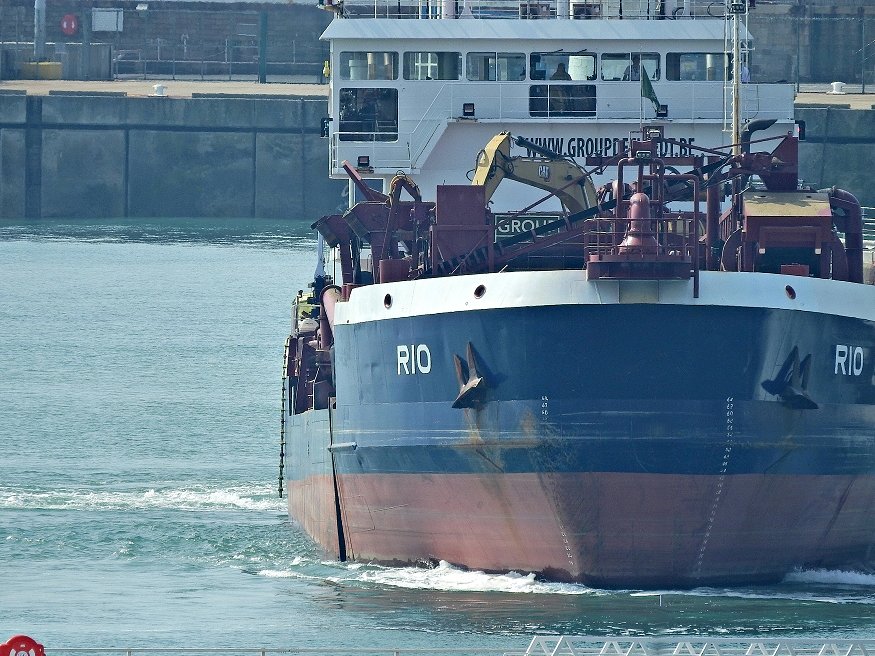 The dredger Rio pulling away from pier WD4 on Saturday morning as she begins her departure from the Port of Dover ... after delivering a cargo of sand/gravel ....
The TRAFFIC situation has eased here in Dover.
Almost needless to say, but its something we're all mightily grateful for...
all the media outlets talk about the chaos for holidaymakers but rarely mention, if ever, the chaos it brings to the afflicted town itself..
Monday, 25 July 2022 - 07:12
Post 7255
Sea News, Dover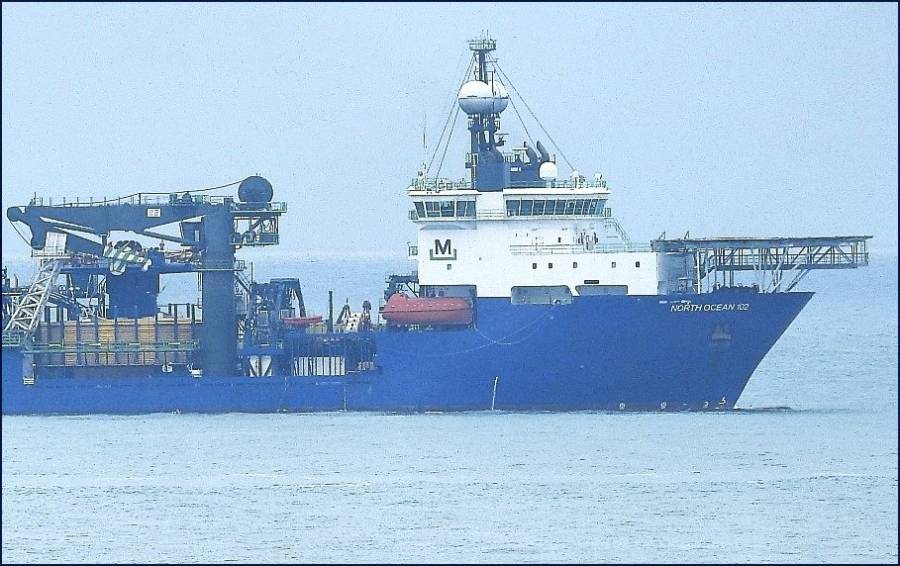 North Ocean 102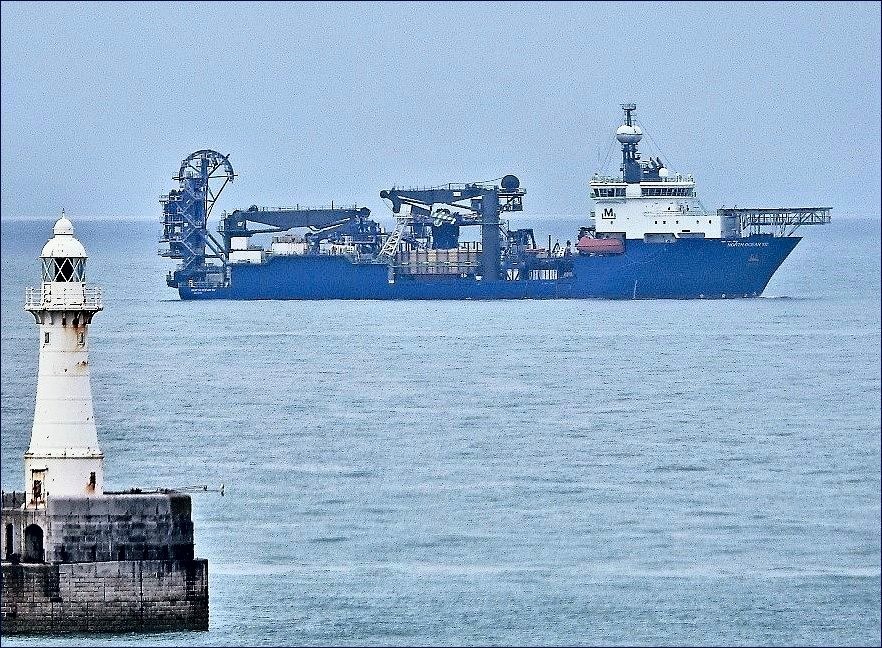 Cable laying magnificence...Offshore supply vessel North Ocean 102 just off Dover on Thursday this week....
See also the post below from yesterday ( Friday) ...
with press release from Dover District Council and our own suggestion. Traffic seems a tad easier today Saturday but we're half afraid to mention that as all can change in a whisker. As we gaze out...the trucking backlog is still dire however. Port are suggesting the fault lies elsewhere. Its all very well blaming everyone else but it keeps happening... some families appallingly stuck in cars for up to 7 hours..
Saturday, 23 July 2022 - 05:56
Post 7254
Sea News, Dover


DOVER GRIDLOCK....Again !!


Statement from Cllr Trevor Bartlett, Leader of Dover District Council

The Leader of Dover District Council, Cllr Trevor Bartlett, has said there is dismay, desperation, and anger in Dover today Friday 22 July as the town is grid locked on day one of the big summer getaway.

"Hours of planning by the Kent Resilience Forum for the busiest weekend of the year for cross-Channel travel have gone out of the window within hours, with the Port of Dover calling a critical incident.

"Alongside the delays for tens of thousands of tourists, the local community is the biggest loser. Residents can't get to work, children are stranded on school buses stuck in the mayhem, and businesses are suffering. Stagecoach has suspended bus services in Dover altogether.

"I wrote to the Kent Resilience Forum three weeks ago to express my concerns and to call for a more proactive approach to keep Dover clear. Those calls were not heeded.

"Serious questions need to be asked about how the emergency services would be able to respond to a major incident in Dover when it is completely grid locked, and how this situation has been allowed to develop yet again?"

END


It truly has been a horrendous day for both locals and holidaymakers. Dover destroyed by traffic chaos once again...nobody can get anywhere. This suggestion might be simplistic, but as the Port and town can never cope with summer holiday volume or any holiday volume...could the ferry companies not stagger their bookings...spread the bookings over several days and still carry the same volume...just take several days to do it...



Friday, 22 July 2022 - 11:38
Post 7253
Sea News, Dover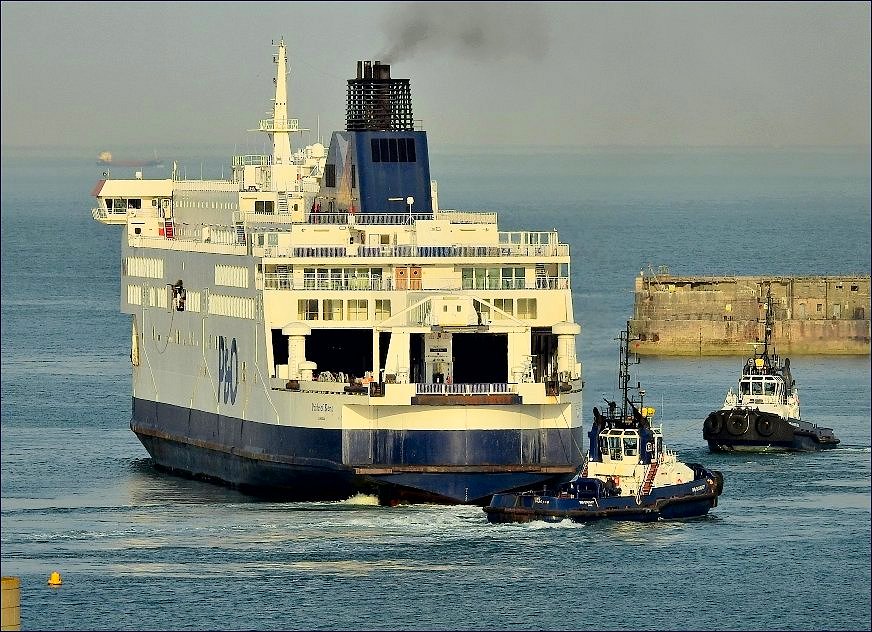 I think the heat got to the poor old Pride of Kent on Tuesday...well it was the hottest day of all time and it affected some of us oldies in a debilitating way! .. not least the Pride of Kent as seen above there. At 19.00 (7pm) the tugs suddenly came across to shift her off berth Dover9 and move her to the ever accommodating eastern arm while somebody figured out what was wrong.
...Whatever it was it didn't keep the Pride of Kent out of service for long as on Wednesday she was back in action...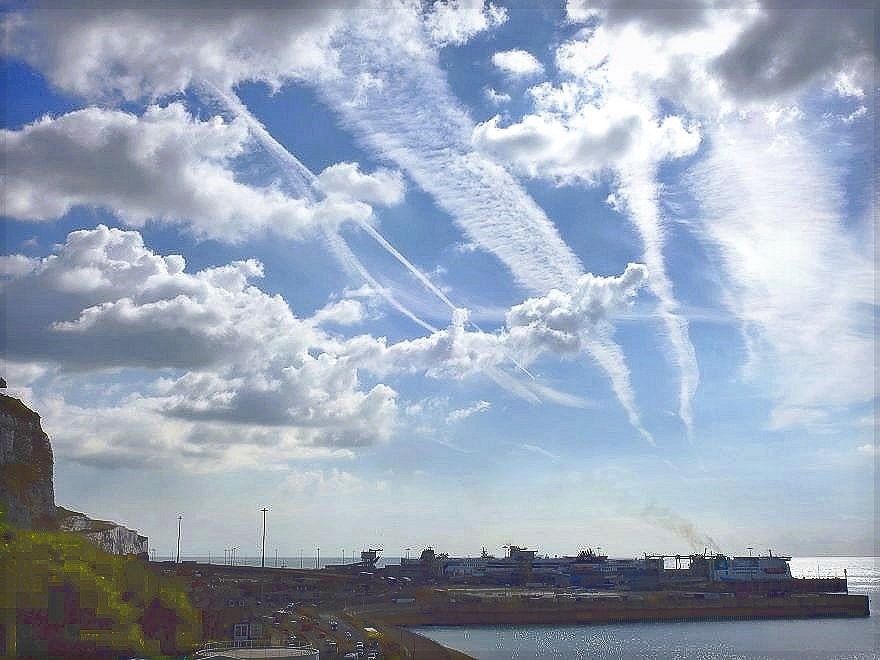 The sky over the harbour just at the onset of heatwave...
Thursday, 21 July 2022 - 06:44
Post 7252
Sea News, Dover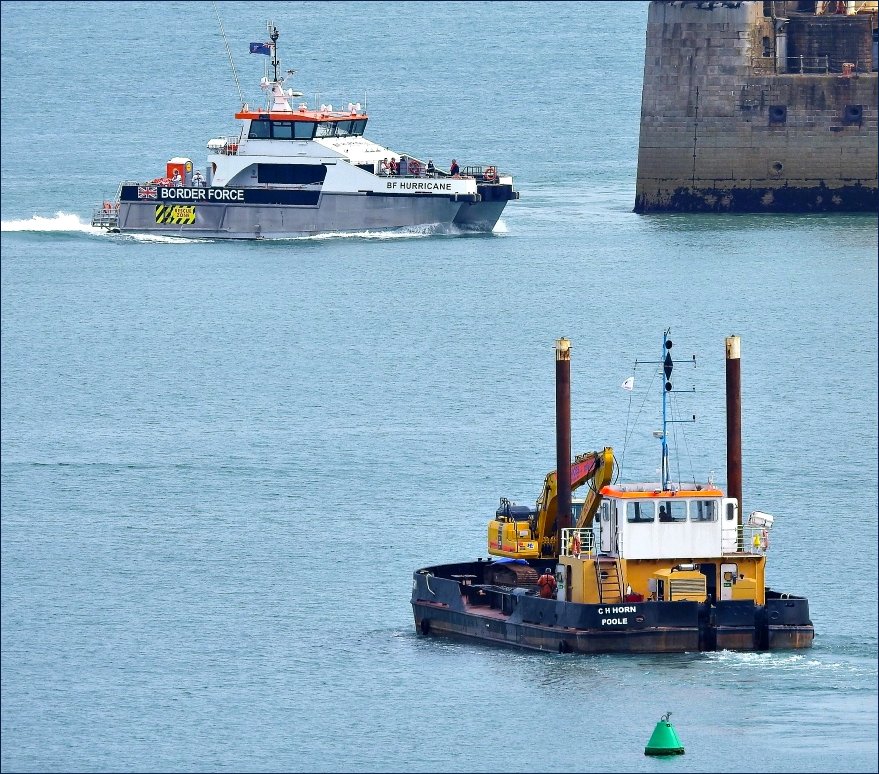 Another pic above there of the CH Horn dredger, as mentioned below currently working in Wellington Dock here in the Port, heading outwards this time while in the background you can see the ever busy Border Force Hurricane coming into Port once again .....it appears to have more rescued migrants onboard....
Wednesday, 20 July 2022 - 07:59
Post 7251
Sea News, Dover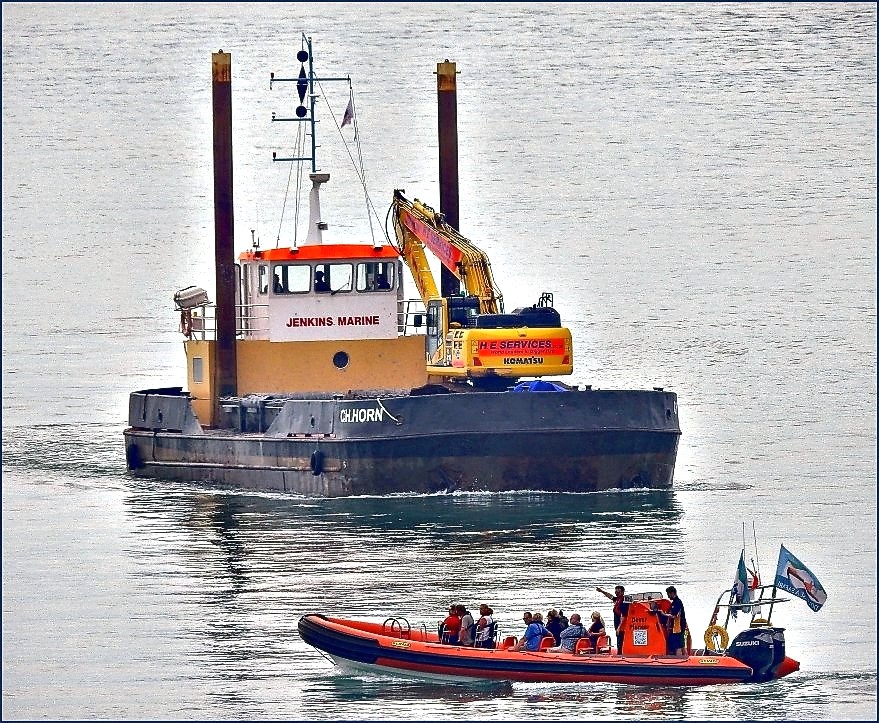 While photographing the newly-arrived dredger CH Horn...currently working in the Wellington Dock here in the Port of Dover...the Dover Sea Safari rib powered into foreground view adding to the shot nicely. The Sea Safari guys always add to the excitement. The picture below, taken later the same day shows the Sea Safari returning from the Goodwin Sands... the evening view, as the rib returns to the Port here....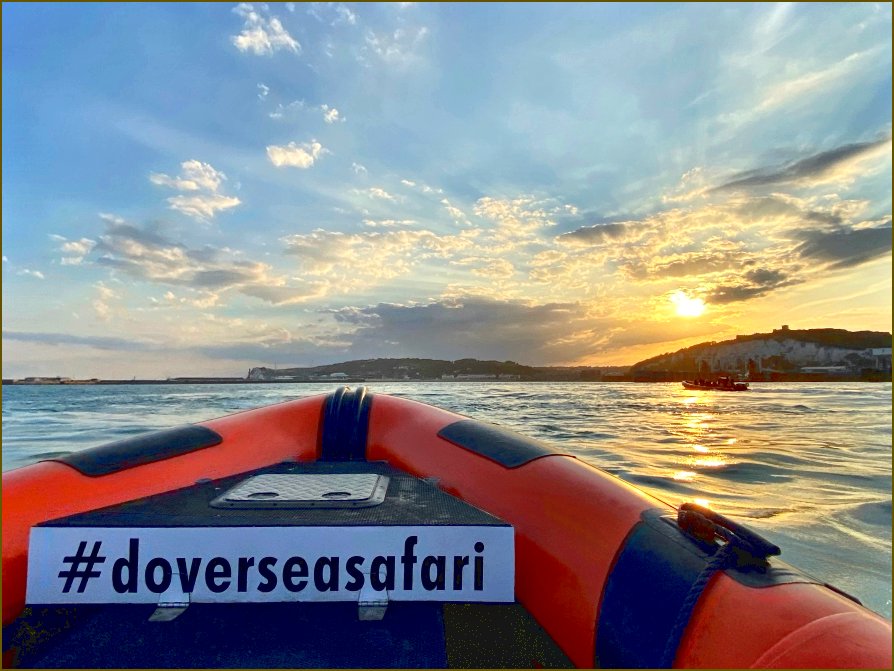 The Dover Sea Safari approaching the Port of Dover at evening.
Pictured by the same out-and-about photographer who brought us the Seafront Flowers recently...those pix now on Page 2.
More pictures of the Sea Safari guys further down page...
Tuesday, 19 July 2022 - 06:01
Post 7250
Sea News, Dover
EVER GOLDEN passing Dover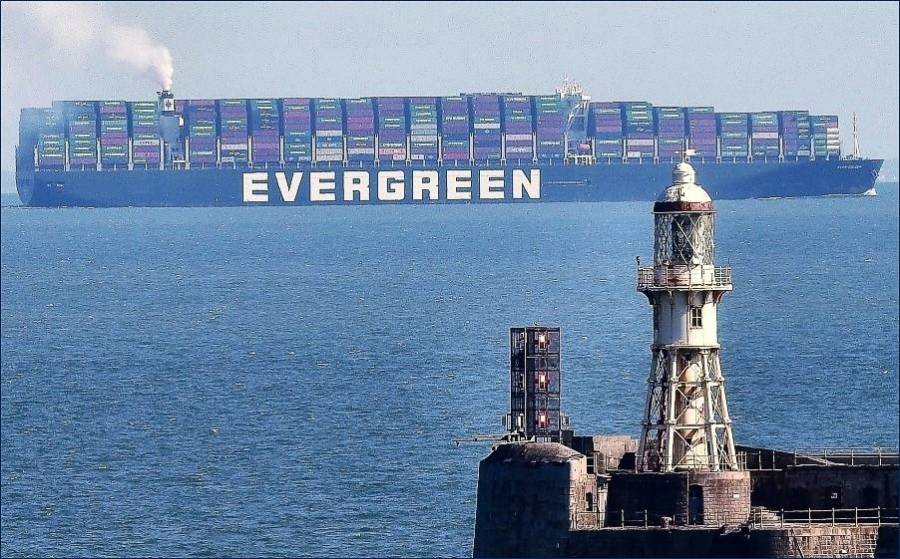 Yes the magnificent monster Ever Golden, all 220,000 tons of her approx, passing Dover fairly recently having just left Rotterdam. She was/is heading off to the Far East via Suez...these beasts from the Evergreen company are a joy to see...
Monday, 18 July 2022 - 06:25