Monday, 5 June 2023
WWW.DOVERFORUM.COM/SEA-NEWS
Sea Pictures from Dover.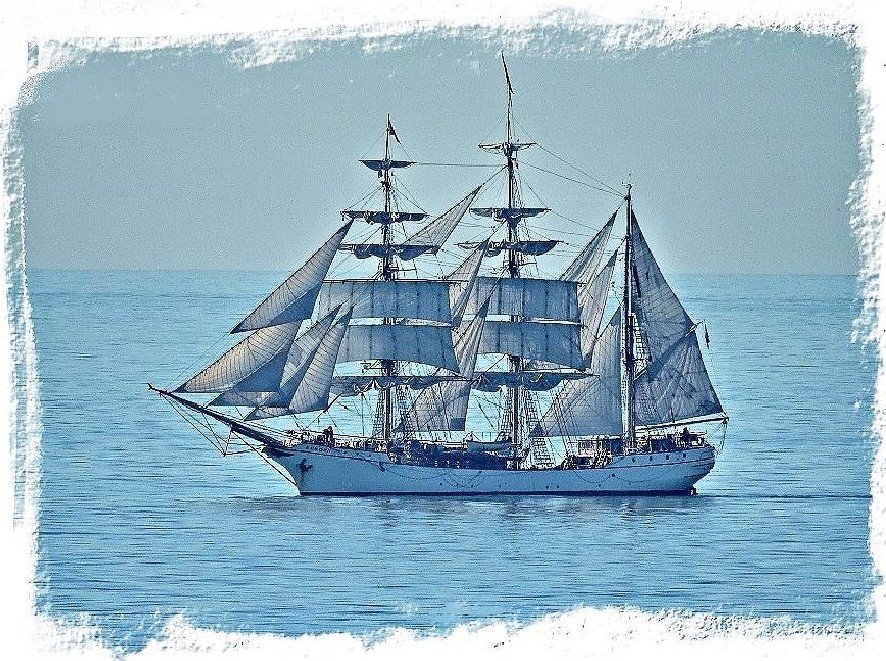 Sailing Ships just off Dover: Europa above and De Gallant below...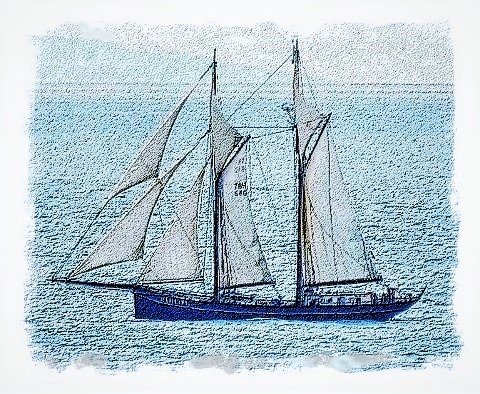 We have 340 plus pages below now...use our own SEARCH ENGINE just below to help you trawl through. All pictures are the copyright of the owners.
Editor: Paul Boland - dover7@msn.com
Post 338
howard mcsweeney, Dover
Mr Waggott is spot on in his praise for those "at the coalface", dover port keeps running when everywhere else grinds to a halt.

i know a couple of chaps, not much younger than me, that do the business out in the open and they just shrug their shoulders and smile when i comment on their jobs.

Thursday, 19 December 2013 - 21:17
Post 337
PaulB, Dover
LATEST from the PORT : "When it reached the resilient Port of Dover, it was game over for the Storm!"

The Port of Dover remained open and operational throughout last night's storm... as the professionalism and dedication of the Port's tug crews working together with the experienced ferry crews under the expert eye of Port Control shone through.
The teamwork displayed by everyone associated with the Port ensured that even with such bad conditions as were witnessed during the cold, wet and windy hours of darkness, the Port of Dover was able to ensure that all of its customers were safe and still able to get on their way.
Tim Waggott, Chief Executive, Port of Dover, said: "It is such an important time of year for people heading off for Christmas and lorries delivering goods to the shops in order that they are stocked for the festive season. Knowing that the Port of Dover is here, carrying on steadfast and resolute against the elements, is surely of great comfort and pride for our nation and our community."
In fact, the Port managed to handle more people and more freight traffic than on the same day last year.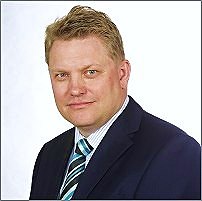 Mr Waggott added: "It is on nights like this that you come to realise just how good the people that work here are. They put Dover on the map for all the right reasons and I am proud to say so."
Thursday, 19 December 2013 - 15:25
Post 336
PaulB, Dover
Yes indeed it was a rough oul night Howard but the Port kept right on going...but it was a tough game out there last night and no mistake. Frightening is a word that could describe it. How they keep going I just dont know. I take my hat off to the guys in the thick of the action. Yours trulys flat rocked worryingly, more so than the previous storm but I guess it depends on wind direction and how it hits.
Here now with the official statement just in via email..
Port operating normally after last night's high winds – UPDATE 0620HRS
___________________________________________________________
The Port of Dover operated throughout the night, the ferries being assisted by the Port's tug crews. The safety of customers and staff remained the Port's top priority as the tugs ensured that ferries berthed safely in the high winds.
Sea conditions have now returned to moderate with a moderate westerly breeze, force 4, and good visibility.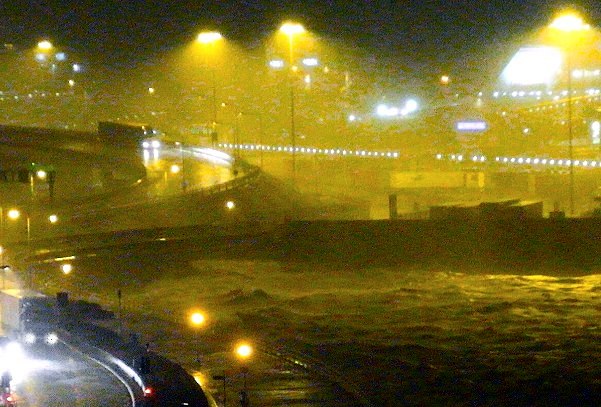 The picture above was not taken last night as it was too dangerous to open a window in the midst of it all, but this older pic gives a rough idea as just how..well how rough it can get. All feels a great deal calmer this morning.
Thursday, 19 December 2013 - 07:38
Post 335
howard mcsweeney, Dover
plenty of rain and a fair wind but not enough to cause disruption to the hardy souls in the eastern dock going by previous experience.


spent the evening alternating between the front and back doors so that the cat could reach a decision on what was the best option.

Wednesday, 18 December 2013 - 23:06
Post 334
PaulB, Dover

Weather Warning – advance notice - from The Port of Dover


In anticipation of the high winds (potentially in excess of 50 knots) which are forecast for tonight (Wednesday 18th December) between 1900hrs and 0300hrs, the Port of Dover is advising its customers to contact their ferry operator and check the Port's website (www.doverport.co.uk) or twitter account (@Port_of_Dover) for the latest information on Channel crossings.

The safety of customers and staff is our priority and we are monitoring the situation closely and making preparations to ensure that systems are in place to minimise any disruption and delays to travellers.

We apologise for any inconvenience this may cause and thank you for your patience.


Wednesday, 18 December 2013 - 15:58
Post 333
JanT, Dover
The Choir has certainly opened up some refreshing television with this programme and Gareth Malone has shown that the work place holds many talented people, if not for this programme none of us would have seen.

Last nights must have set many a foot tapping and to see the P&O Choir do so well, we here in Dover have fingers crossed that they can win.

It will be sad to see it finish but that is not the last we see of Gareth Malone,he will be conducting Kings College Choir in Cambridge BBC2 on Christmas eve,for those of us who have been watching him over the last few weeks.
Tuesday, 17 December 2013 - 19:13
Post 332
PaulB, Dover
As promised a few more pictures of the P&O Choir as seen on TV. Gosh they did so well.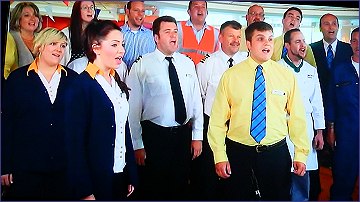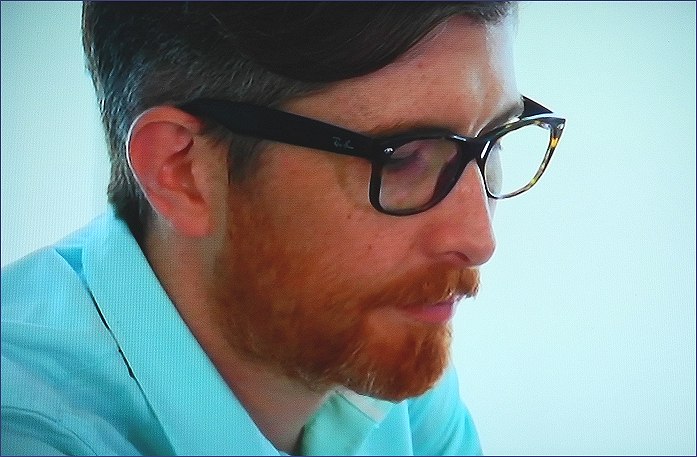 The star of the show himself...Gareth Malone above has been a revelation and is a new TV star for sure. His warmth and charisma and indeed spellbinding knowledge of music, brought out the best in all the choirs and in a relatively short space of time too. The judges gave P&O the thumbzzup as being the very best choir last night. It was an emotional night for all..even hardened veterans were reduced to tears in some cases. And as I mentioned earlier both Dover and the ferries get a delightful plug all through the programme.
Well, its the only way to travel !
Good to hear they were all chatting about it on the Spirit of France..there she is below.
The captain on the Pride of Kent is one of the choristers as well. Thats him right hand side of top shot left.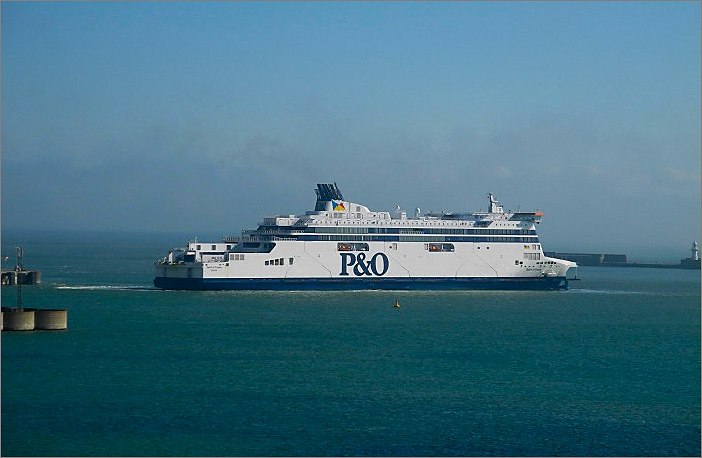 Another picture from last nights programme can be seen two posts below and more coverage in general further down the page.

PS: The Final is on BBCTV this sunday at 9PM.
Tuesday, 17 December 2013 - 15:09
Post 331
ColetteB, Dover
Agree, an absolutely brilliant performance from the P&O choir last night. They certainly delivered 'Gospel Music' like they have been doing it forever. Gareth Malone is obviously doing a fab job

I came back yesterday from the Christmas Markets in Cologne on the Spirit of France & almost everyone was talking about it on board. Gareth Malone has made choir singing very popular for sure.
Dover P&O to Win!!!


Tuesday, 17 December 2013 - 10:52
Post 330
PaulB, Dover
THE P&O CHOIR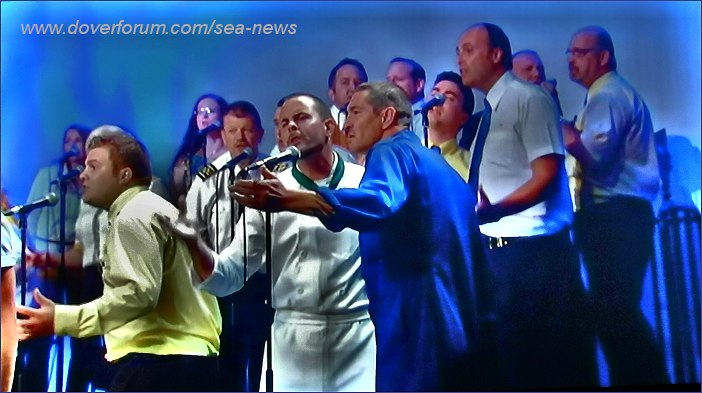 The guys are dead right in the comments below...the programme was both brilliant and heart wringing, but holy halleluhah our P&O ferry guys from right here in Dover have made it through to the big final, and its gonna be big. The choirs were required to do something very different and very difficult this time...sing Gospel music like they meant it...and the P&O guys and gals were all just FAB. They delivered bigstyle !
I will have more pictures later..unfortunately yours truly has 'an appointment with fear' at the boneyard in the shorter term so have to pop off for now. Well done to the team from Dover...the coverage of the ships, of Dover, and indeed of Calais and our familiar sugar refinery was great.


Tuesday, 17 December 2013 - 06:22
Post 329
howard mcsweeney, Dover
well that put us all through the wringer, through to the final as the best on the night!!

must admit i was surprised that birmingham city council lost out.

Monday, 16 December 2013 - 22:02
Post 328
Kevin Charles, Dover
Well done to P&O on The Choir. I thought they gave the best performance tonight and judges agreed. Pride of Dover through to the final!

Monday, 16 December 2013 - 22:00
Post 327
PaulB, Dover

Just to remind all you CHOIR enthusiasts that its on again tonight at 9pm on BBC2. We are down to the last four and the local P&O Ferries choir is still in there singing and swinging. Can they win through??
Great fun and some great music

Monday, 16 December 2013 - 07:33
Post 326
PaulB, Dover
THE POPULAR DEAL PIER WILL BE OPEN FOR BOXING DAY AND NEW YEAR'S DAY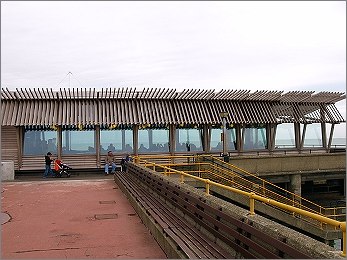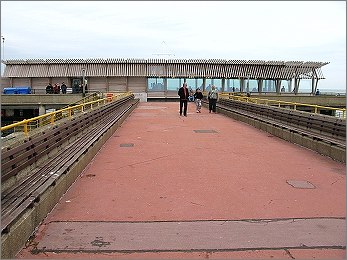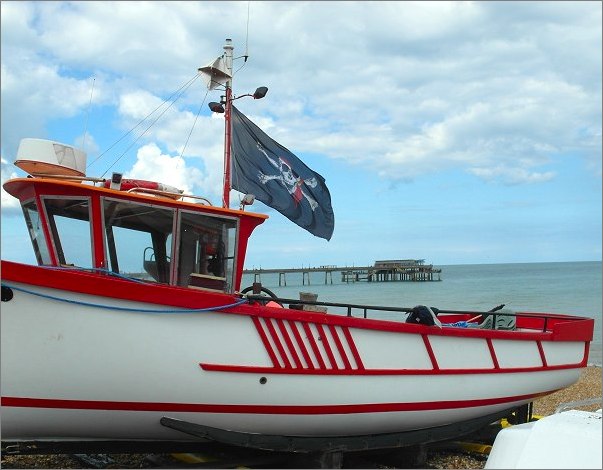 Dover District Council and Deal Town Council are pleased to confirm they are working in partnership to open Deal Pier on Boxing Day and New Year's Day again this year.
Deal Town Council is contributing from the Mayor's allowance to the cost of opening to help Dover District Council open the pier for residents and visitors on these two popular seasonal holiday days.
Deal Pier will be open the following times over the Christmas period: 24 Dec, 8am - 6pm; 25 Dec, closed; 26 Dec, 10am-4pm; 27 Dec, 8am-6pm; 28 Dec, 8am-midnight; 29/30 Dec, 8am-6pm; 31 Dec, 8am-6pm; and 1 Jan, 10am-4pm.
The Boxing Day opening means Deal Pier will be open during the annual Boxing Day Dip organised by the local community. For more information on what's on across White Cliffs Country this Christmas and New Year, please see www.whitecliffscountry.org.uk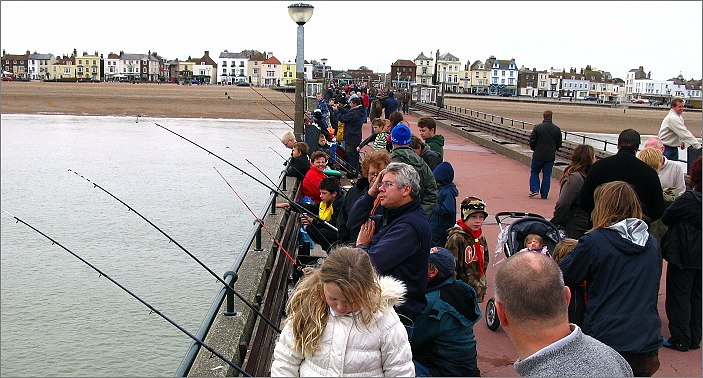 THE EARLY BIRD CATCHES THE WORM
Or indeed the early fishing boat catches the..urmmm..mackerel?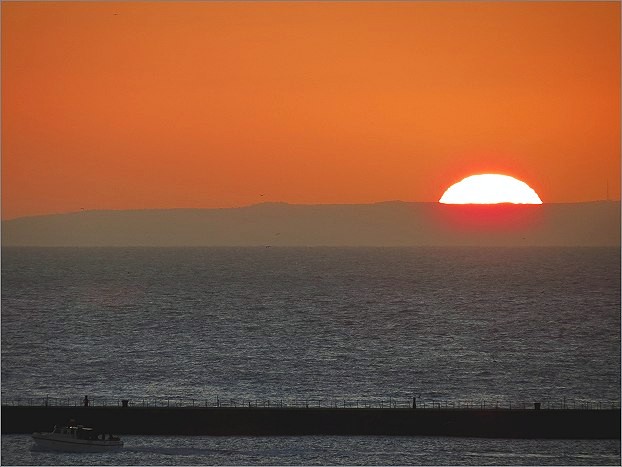 The scene yesterday morning. I nearly missed the fishing boat in that blazing dazzling light from the rising sun..but there she is down there bottom left heading out after dawn with hardy souls onboard holding their tackle. A sizzling Cap Gris Nez for sure (Did I spell that right?)

Not much chance of any blinding sunlight this morning though.
PS: The mighty transformer convoy has moved off to much publicity and much excitement..leaving Dover behind. Further pictures in our Forum.
Sunday, 15 December 2013 - 08:31
Post 325
howard mcsweeney, dover
i did hear a whisper about the indian aircraft carrier, how the world has changed.

india and pakistan having nuclear weapons too!!

great photos there.

Friday, 13 December 2013 - 22:08
Post 324
PaulB, Dover
Great stuff there Ed..fascinating. You were right on hand to see those warships thanks to Quartermaster Ben, always fab to get your info through. India are clearly on an ocean fleet boost strategy, presumably in keeping with their new found wealth and status. Although aircraft carriers are obviously fairly large beasts, I would not like to try landing on one myself, no sirreee! Mentioning this as earlier today four very powerful looking military jets circled the harbour making a fantastic growl..dont know if anyone saw them...about 11am it was. They reminded me of that picture of the aforementioned aircraft carrier just below on the previous post..try putting one of those jets down on that beast mid ocean with everything a-movin and a-swayin..

Further to our coverage below page of the Big Lift vessel Tracer. It appears now that the Transformer she deposited of extraordinary size will be departing Dover Docks tomorrow morning saturday circa 7.30 am. Its understandable when moving objects of this size (see below) that schedules are often missed...but 7.30am is the working figure as I understand it.
Below is a terrific picture of the beast itself waiting..waiting..waiting for the off.
It was taken by our very own Brian "Scoop" Dixon.
Well done Brian and many thanks.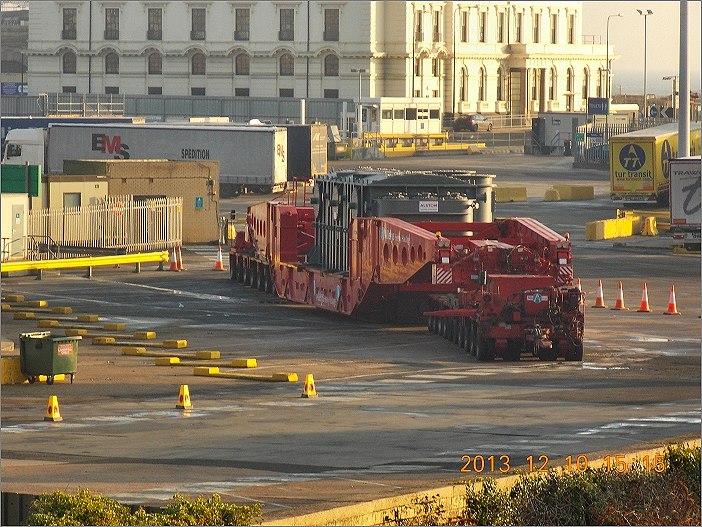 Pictures of the Tracer Big Lift ship further below.
Friday, 13 December 2013 - 16:05
Post 323
Ed Connell, Dover
The Indian Navy aircraft carrier Vikramaditya passed Dover at 0930 thursday on her delivery voyage from Northern Russia to India. She originally served as the Admiral Gorshkov for the Soviet Navy and a vast amount of time and money has been spent upgrading her for the Indian Navy. She was in company with the frigate Trikand and the replenishment oiler Deepak.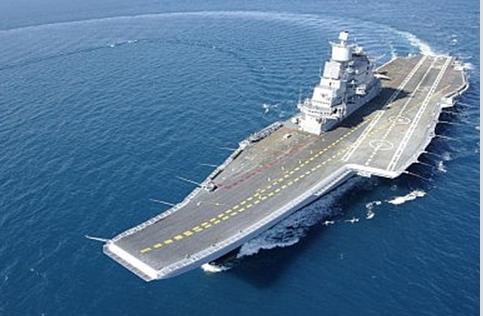 It was very hazy and I was only able to get a photo of the Deepak following astern of the carrier. Our quartermaster Ben had kindly called me on the walkie talkie to let me know that three warships were passing down the Southwest Lane.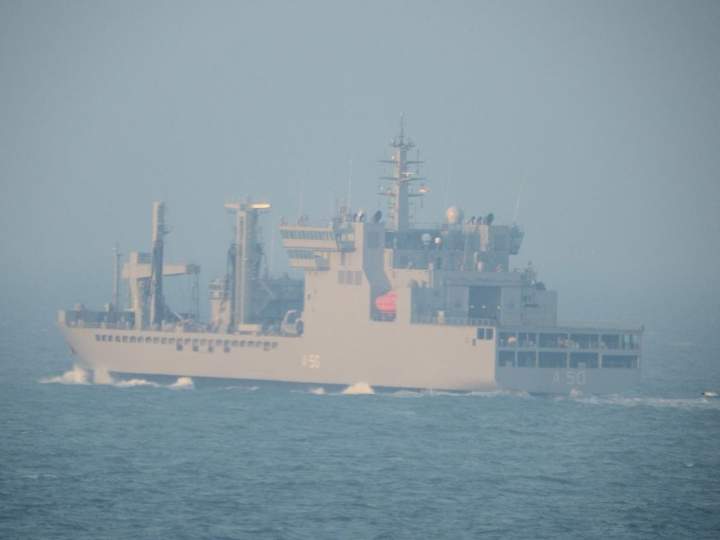 The Vikramaditya is Warship R33 on this photo of the ECDIS screen.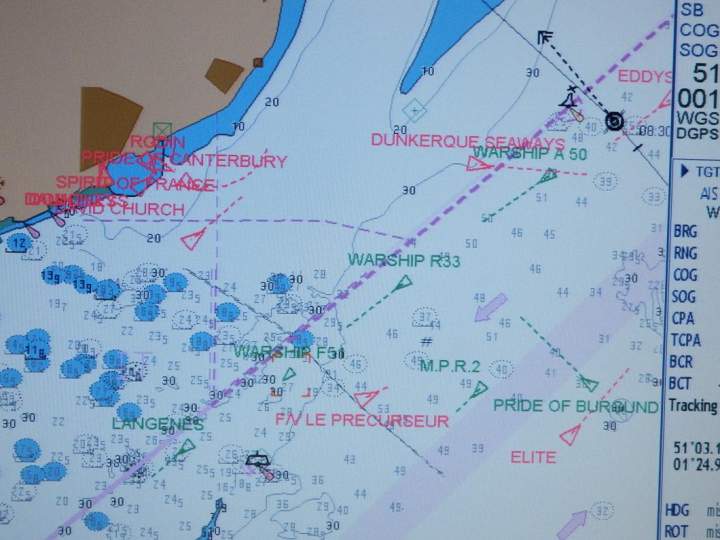 Friday, 13 December 2013 - 01:15
Post 322
howard mcsweeney, dover
good memory there paul. the port bus did stop running and i remember the march of the "refugees" from the station to the port.

the town did not excel itself in the eyes of those people, thankfully the port always does.

Thursday, 12 December 2013 - 21:52
Post 321
PaulB, Dover
THE PORT HAS AMPLE GRIT AND MUCH DETERMINATION.
Whether it is through volcanic ash clouds, heavy snow or freak storms, the Port of Dover has a hard won reputation for keeping on going...
when other forms of transport cannot.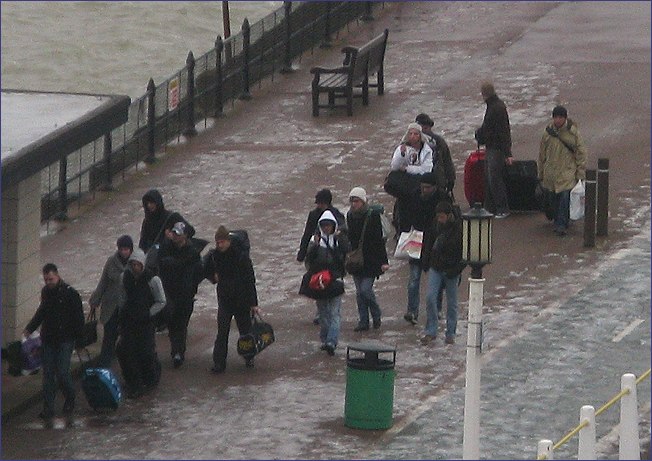 With the onset of winter, the resilient team at Europe's busiest ferry port have been making preparations to ensure that if Dover turns all white, the Port's customers will be alright.
Jack Goodhew, General Manager – Technical & Engineering Services, Port of Dover, said: "We are determined to ensure that the Port of Dover remains both operational and safe during any adverse winter weather. The Port is well versed in dealing with such challenges and going the extra mile in order to remain open for the benefit of its customers."
With a comprehensive winter weather plan in place, stocks of salt and grit, winter service vehicles, specialist equipment and dedicated staff have all been prepared to mobilise whenever required - whatever the time of day or night.
Mr Goodhew added: "It is at such times that, when called upon, the commitment of the Port's staff instils such a huge sense of pride. I am sure that, as we discuss our preparations with our major ferry partners later this week, they can be confident that should the need arise, the coming winter will be no different as we work with them to keep people and goods moving."
Remember last year....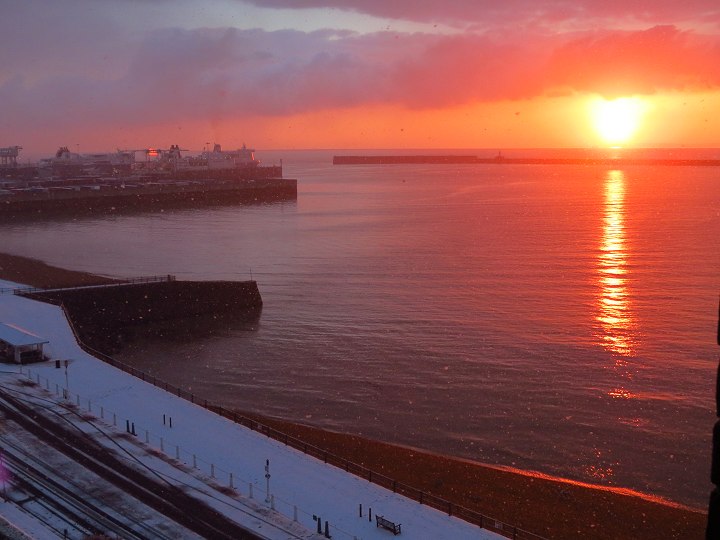 TOP PICTURE: this was the scene a year or two back. Most forms of transport had stopped running but the Port kept open, kept right on running. As you can see from the top picture, even the buses from the station had stopped. Shank's Pony was the order of the day with hundreds and hundreds of people lugging cases to the ferry. We have seen the results of Ash Cloud air traffic stoppage too and we have in fact more pictures of that situation somewhere in the files....but all through, the Port kept going and was delighted to save the day for the hard pressed put-upon air passenger.
* *
The hard working Cargo terminal keeps powering on.
This is the regular visitor Southern Bay leaving yesterday in the high bright early afternoon sun.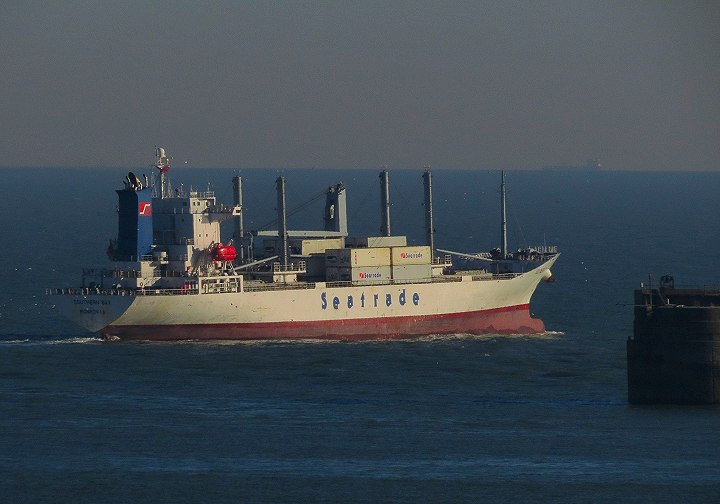 Thursday, 12 December 2013 - 08:02
Post 320
PaulB, Dover
What is amazing about today is the absolute lack of any cloud in the sky anywhere. Quite unusual for deep deep December. It is a complete blue from horizon to horizon. The early pre-dawn ferry pictured below is the DFDS Calais Seaways coming gently across the harbour to leave by the western exit/entrance.
One of our familiar shipmates is probably on there..or is that the Dover Seaways??...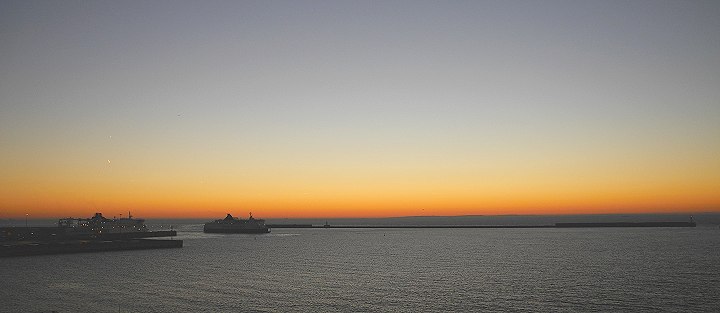 A tad later below and the sun bursts over the horizon...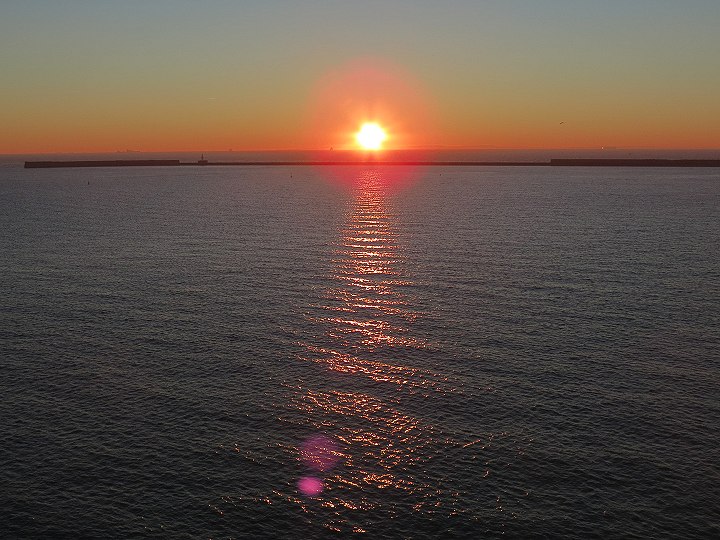 All tranquil on the English Channel today.
Wednesday, 11 December 2013 - 10:12
Post 319
PaulB, Dover
Havent seen that one before either Ed. Polarlight...the colours of ice arctic blue match the name. Am wondering if its a new ship. Looks it from the picture.

Yes indeed The Choir is doing very well and a lot of people are liking it. P&O choir.. rock on..and who knows maybe all the way to the final. The BBC have definitely found a quiet new star in Gareth Malone too...a natural with the cameras. Will continue to watch with interest (see further below for some pictures of the choir in action and indeed Gareth Malone too).

Wednesday, 11 December 2013 - 06:49