Monday, 26 September 2022
WWW.DOVERFORUM.COM/SEA-NEWS

Sea Pictures from Dover. We have 333 plus pages below now...use our own SEARCH ENGINE just below to help you trawl through. All pictures are the copyright of the owners. EDITOR: Paul Boland - dover7@msn.com
Post 53
ColetteB, Dover
Nice photos there of the fabulous Ocean Princess, yes shame, the light is fading earlier each evening now, making it more difficult to get photos of them when they're leaving later in the evening. Nice one Howard of the Costa Pacifica over on the other thread, hopefully see it here soon

The schedule this week is as follows: The familiar Braemar returns tomorrow, Monday 9th September at CT1, T/R
Two cruise ships again on Tuesday, the Saga Sapphire arrives back at CT1, T/R & the second is a real treat, cameras ready guys, it's no other than the Magnificent MSC Musica at CT2 with a PoC. I don't remember this one before, some of you guys may be able to enlighten us. It takes 2536 passengers & will cruise out to Venice

The Grand Mistral is scheduled for Wednesday at CT1, PoC.
Two cruise ships again on Thursday, the Saga Ruby returns to CT1, T/R & another of the MSC cruise fleet, the return of the MSC Magnifica at CT2, PoC.
Ending the week on Friday 13th September is the return of the Carnival Legend at CT2, T/R. No cruise ships on Saturday, Sunday or Monday.
Sunday, 8 September 2013 - 23:18
Post 52
janT, Dover
We take should our hats off to DHB

, for getting some of these splendid Ships to stop off here in Dover and giving us a chance to see them close up.

The pictures of their comings and goings here on Sea News are Fab

so hopfully we will see a few more of those camera's in action soon


Sunday, 8 September 2013 - 07:58
Post 51
PaulB, Dover (dover7@msn.com)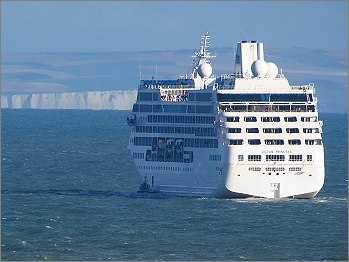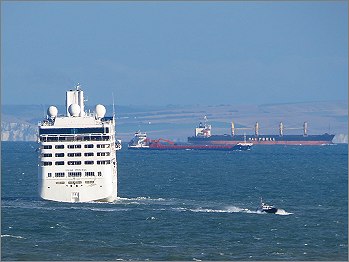 Pictures show the Ocean Princess late yesterday having just left the harbour and now beginning to move away, beginning to turn south into a busy channel. The pilot can be seen leaving by a side door, nipping onto his launch and heading back to harbour. The channel looking busy busy ahead.
This ship was somewhat overshadowed by the giant Costa Pacifica yesterday so here we are to redress the balance.
Wasnt able to get any further pictures of the Costa Pacifica as when she left last evening the light had faded that bit too much so couldnt get it properly.
Sunday, 8 September 2013 - 06:23
Post 50
ColetteB, Dover
Great to see the photos of the Costa Pacifica, I will be down to see it soon

Paul, if you can, try to get a close up like the MSC Magnifica one

Saturday, 7 September 2013 - 12:07
Post 49
PaulB, Dover (dover7@msn.com)
Yes a whopper indeed ( 115,000 tons of it ) and here she is as promised...the Costa Pacifica arriving a wee bit earlier this morning saturday under a dramatic sky..depositing a huge group of tourists to the town. Just a reminder too if you want to pop down, as mentioned in the earlier post, the Ocean Princess is also in harbour.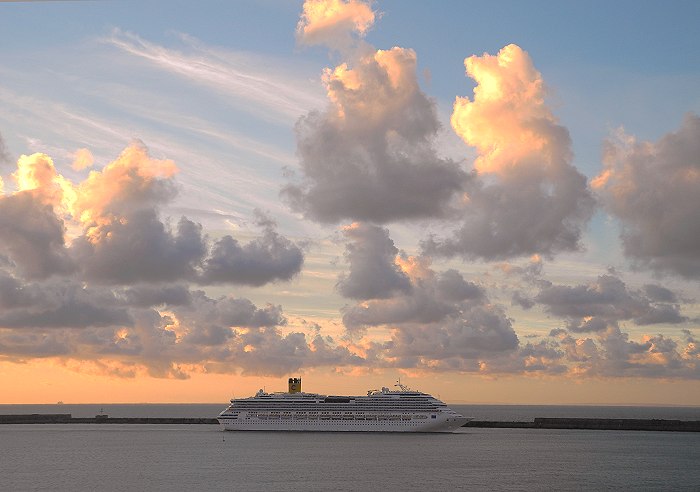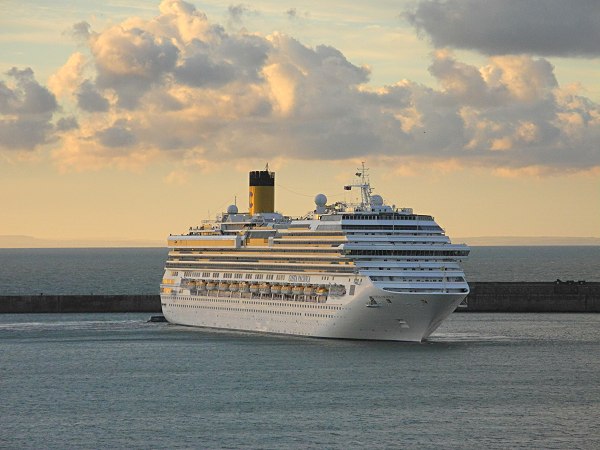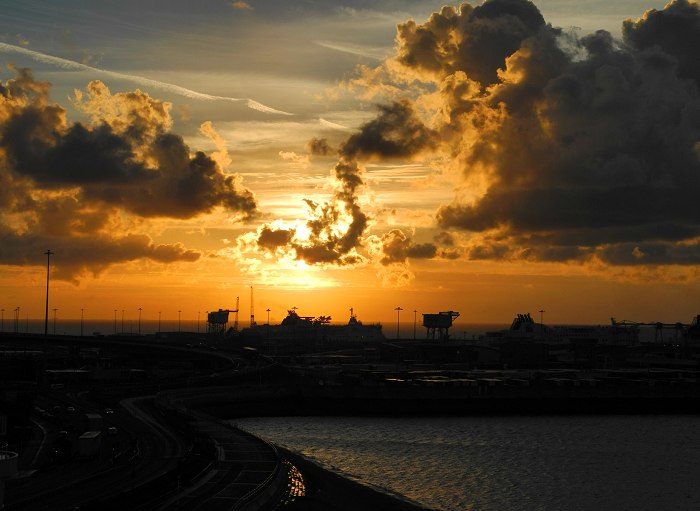 Dramatic biblical sky and blustery conditions. The sunlight is making light of the fact that it is quite rough on the channel today.
Saturday, 7 September 2013 - 11:37
Post 48
ColetteB, Dover
OH! What a Whopper !!!

That Costa Pacifica is 'Striking' indeed

Great Pic too.
By the way, lovin the atmospheric pix below

Saturday, 7 September 2013 - 10:33
Post 47
PaulB, Dover
A totally enormous 115,000 ton cruise liner in harbour today saturday. It sauntered into harbour in early blustery conditions but it is so big that I doubt if it even sways no matter what the weather does. Once again today Dover has a magnificent ship. There are in fact two ships in, one the uber large and striking Costa Pacifica and also the much smaller and regular Ocean Princess.
Yesterday we had the very large MSC Magnifica, picture of her arriving in the earlier post below, but even that ship size-wise shrinks in comparison to today's one.
But I got a picture of Magnifica leaving last night just as the blustery conditions were picking up and here she is out in the open seas below...
the small boat is the pilot returning to base having carried out his duties.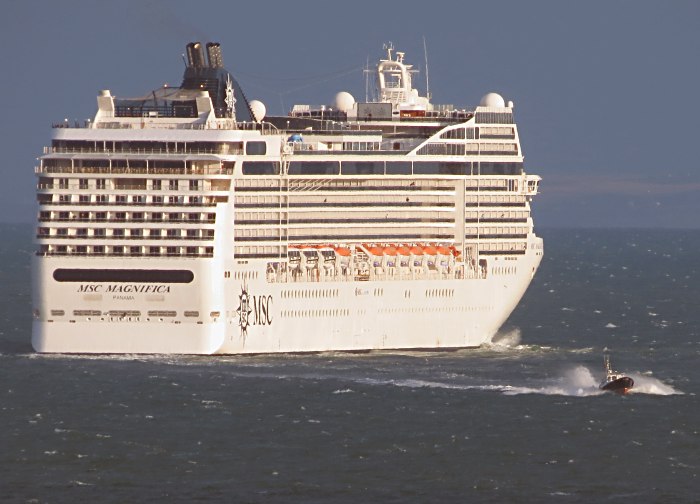 Thanks Howard. This is the season for dramatic conditions. Will aim to bring more,
Pictures of the Costa Pacifica later...watch for those.
Saturday, 7 September 2013 - 08:15
Post 46
howard mcsweeney, dover
great selection there paul the dawn and dusk ones are hypnotic.

Friday, 6 September 2013 - 09:29
Post 45
PaulB, Dover (dover7@msn.com)
As mentioned in the previous post, here she is..in the flesh.
The MSC Magnifica arriving a short while ago here in Dover..at approx at 7.15am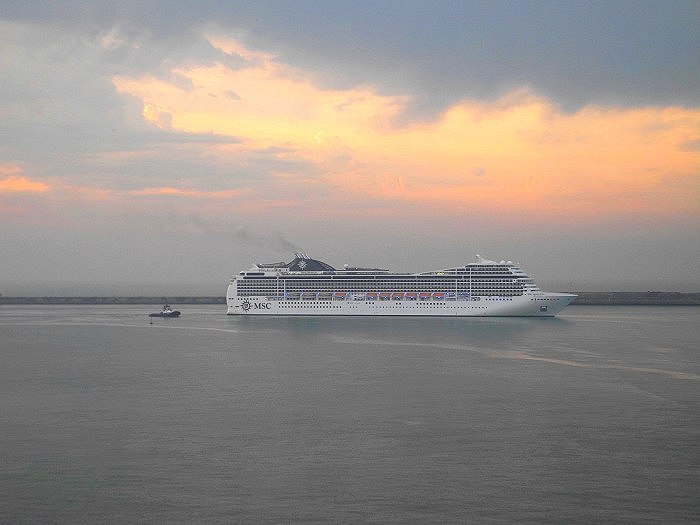 It is a tremendous sight to see 95,000 tons of ship gliding slowly across the harbour.
Friday, 6 September 2013 - 07:29
Post 43
PaulB, Dover (dover7@msn.com)
Fog is playing a big part in all walks of life at the moment, you will have heard about the multiple pile up in Sheppey, fortunately nobody killed there, here in Dover we had 3 ships yesterday and for the first time this year we actually didnt get a picture of one of the ships. As I said we had a triple header of visiting ships, bringing lots of tourists..the Saga Ruby ( photographed previously), the Delphin and the Artania...the Artania was the one that escaped the cameras yesterday, all due to the fog. And a nice ship it is too.
I think its probably the first one we missed this year.
But we did get the Delphin. But first the fog..this is a picture of the harbour and seafront when the fog began to pull back as night fell. It didnt pull back very far..returning later.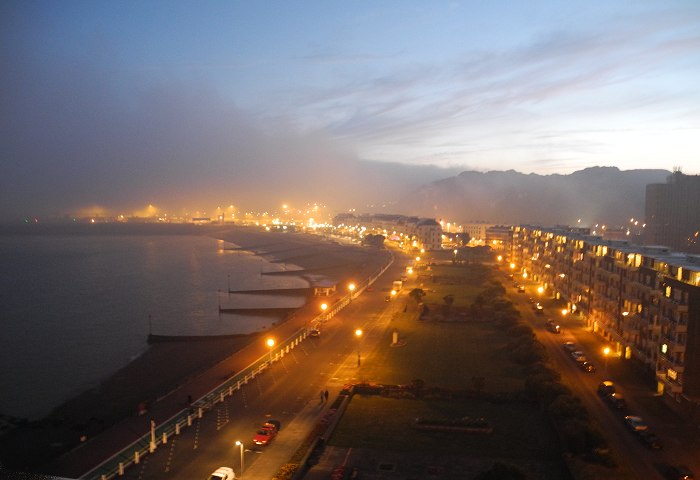 and now below the small ( weighing in at just over 16,215 tons) but rather unique Delphin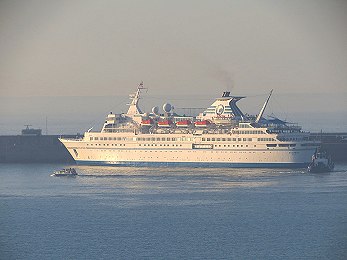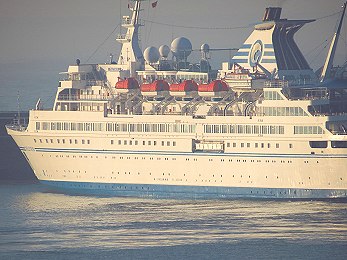 and earlier approaching through a blistering blazing sea. The pictures were taken very early morning.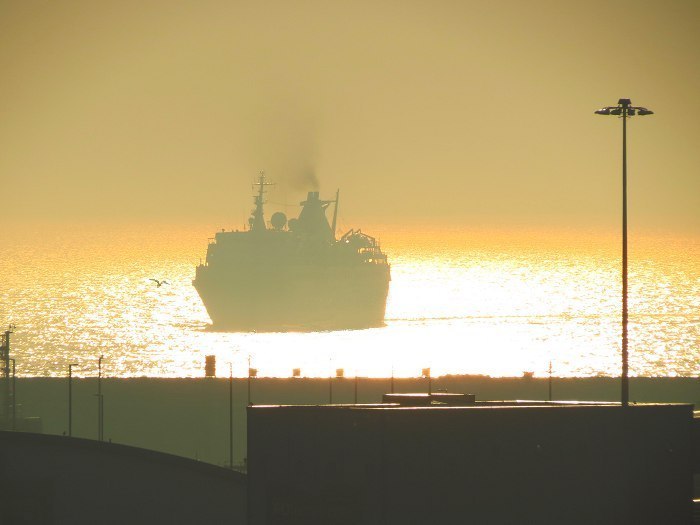 Thankyou Vic.
NOTE: the magnificently huge MSC Magnifica returns to Dover today. Worth coming down to see.
Friday, 6 September 2013 - 06:34
Post 42
vic matcham, dover
great photos of some very big and nice ships thank you.

Thursday, 5 September 2013 - 16:38
Post 41
PaulB, Dover (dover7@msn.com)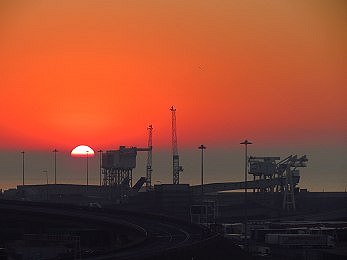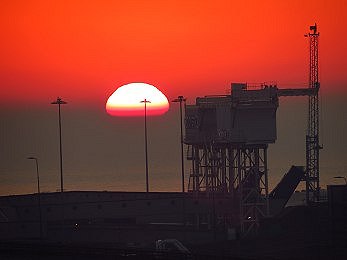 The sun rising over Dover Docks just a few minutes ago as I write and very spectacular too.
Dover is always a great place to see these striking autumnal sunrises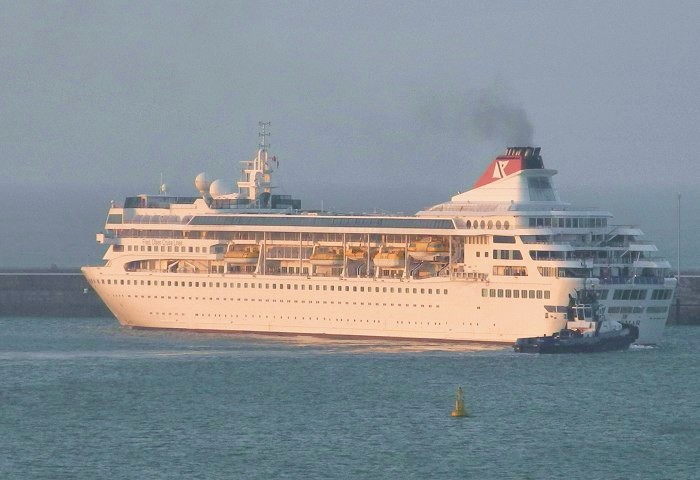 Much have I travelled in the realms of gold
and many goodly states and kingdoms seen
round many western islands have I been...
...these words by poet Keats may well have been written for the much travelled Braemar above.
This ship has seen it all, been through tranquil seas and rough. Been here and there and north and south.
And now it marks its latest milestone...
* *
Champagne celebrations for Fred Olsen's 1.5 millionth customer through Dover Cruise Port
Dover Cruise Port and Fred Olsen Cruise Lines have welcomed 1.5 million customers through the UK's second busiest cruise port.
On August 14, Pam Allen and her husband John were greeted at the Cruise Port on their way to board Fred Olsen's 929-guest ship, 'Braemar', for a nine-night around the UK and Ireland 'Celtic Experience' cruise. Representatives from Fred Olsen and Dover Cruise Port celebrated the significant milestone by presenting Mr and Mrs Allen, from Wolverhampton, with a bottle of Champagne, a framed photograph of the 'Braemar' and a print of the Port of Dover, along with a commemorative Fred Olsen book.
Clare Newman, Manager of Business Delivery Manager at the Dover Cruise Port, said: "We are delighted to celebrate Fred Olsen Cruise Lines' 1.5 millionth embarking customer and extend our congratulations to Mrs Allen. Fred Olsen's first call to Dover Cruise Terminal 1 was with the 'Black Prince' on 18th January 1996, and the combined total of embarking, disembarking and transit guests for Fred Olsen is just over 1.9 million, which is a tremendous achievement."
From 2010 until the end of 2014 Fred Olsen will have completed a total of 140 turnaround calls at the Port of Dover.
Rachael Jackson, Public Relations Manager for Fred Olsen Cruise Lines, said: "We have a very successful partnership with Dover Cruise Port. The Cruise Terminal offers our guests excellent facilities, with fast and efficient check-in desks, and a spacious departure area, with plenty of seating. We are committed to providing our guests with convenient regional departures and Dover is a very popular choice for Southern sailings; we are sure that this will continue to be the case for many years to come."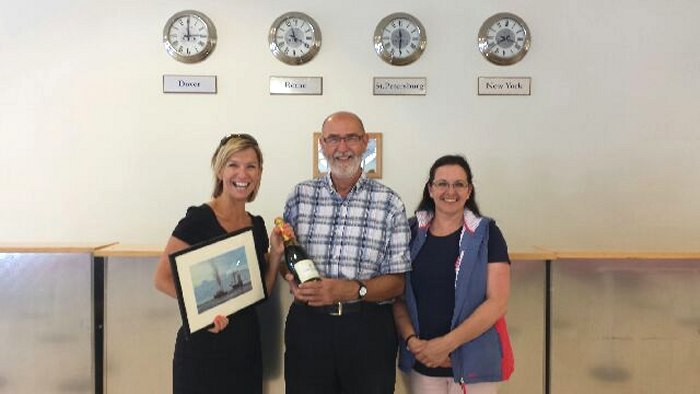 Clare Newman left with Mr and Mrs Allen.
NOTE: THREE ships in today. A triple header. Dover rocks on. The familiar Saga Ruby and the ultra sleek
and dashing Artania and just joined now by the Delphin.
Will aim for pictures later.
Thursday, 5 September 2013 - 06:44
Post 40
JanT, Dover
Good 2 see those little tecky!!! problems are sorted,

so now back to some great pictures.

Here's hoping a few more of you will get those cameras in action


Wednesday, 4 September 2013 - 11:38
Post 39
PaulB, Dover
We have had a whole brace of exciting ships in the harbour recently. Here we are with another example and all looking good.
I myself am running a bit behind on the scheduling as I had some techy problems but now fixed...so here we go.
So, from a day or two ago here we are with the latest featured ship...
the Seabourn Sojourn. This one is smallish but ever so beautifully packaged. Very sleek.
Some people say the smaller ships are better as you build up cosy friendships but of course its all down to choice.
Arriving at the break of dawn....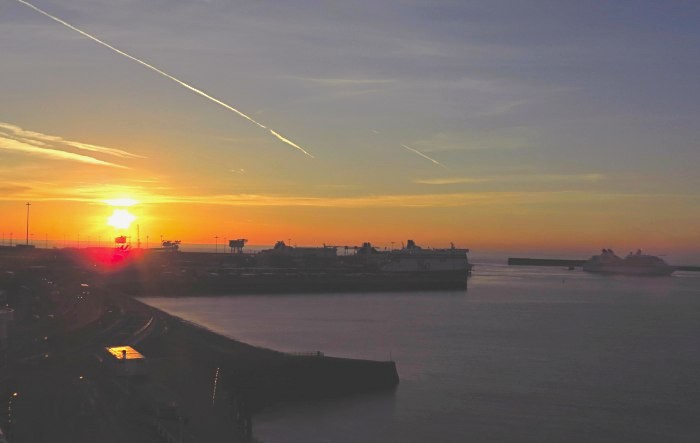 the sky turning a mysterious yellow colour as it brightens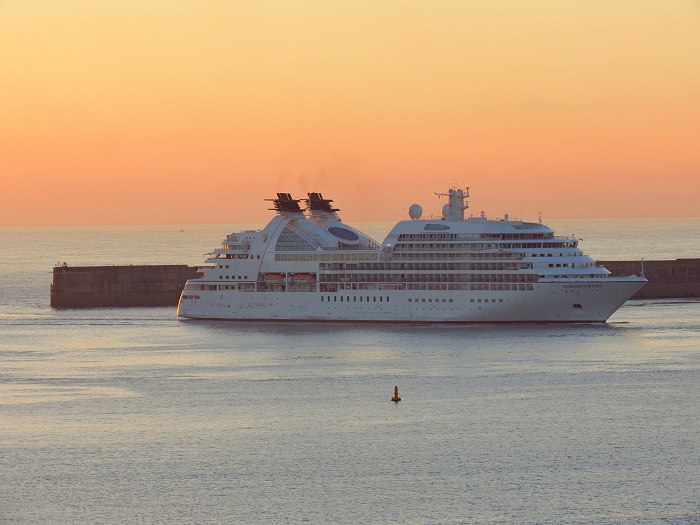 and another pic but closer in..you can see what the captain is having for breakfast !!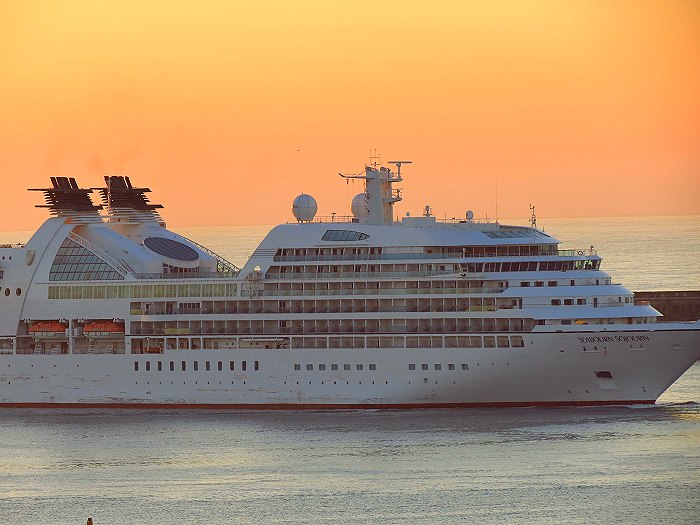 Wednesday, 4 September 2013 - 10:12
Post 35
PaulB, Dover (dover7@msn.com)
The pictures here are of the magnificent Carnival Legend departing sunday evening. Squeezing her huge frame out through the western exit. Today monday we have two magnificent Crystal ships in.. as mentioned by ColetteB below. One of the best and impressive double header of ships yet, worth seeing and very much here today....Great stuff Dover! Should get plenty of visitors around the town today.
And now, here we are with the departing Carnival Legend..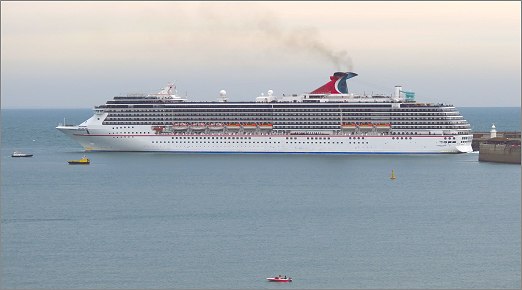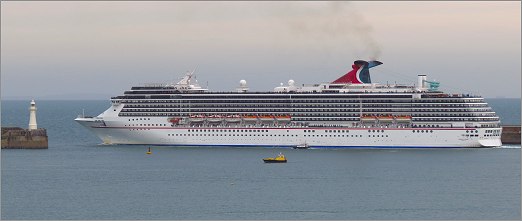 No pictures yet of todays ships, as with the change of seasons its darker when they arrive now.
The Crystal Serenity and Crystal Symphony came in a few minutes apart around 5.15 - 5.20am this morning and of course it was pitch dark. Pictures later hopefully.Thanks for the comments guys.
Monday, 2 September 2013 - 06:03
Post 33
howard mcsweeney, dover
good move paul as many don't see the front page and also if there is a quiet period on the channel the thread gets shunted down.

Sunday, 1 September 2013 - 19:29
Post 32
ColetteB, Dover
Well here goes, the first cruise schedule on our brand new Sea News

Tomorrow, Monday 2nd September we see two Crystal cruises arrive in Dover, the first is the return of the Crystal Serenity at CT2, T/R & the Crystal Symphony returns for the first time this season (last here in August last year) at CT1, T/R.
Then on Tuesday we have another two cruise ships, the beautiful Seabourn Sojourn arrives at CT2, T/R (last seen here in September 2011) & the familiar Saga Sapphire arrives back at CT1, T/R.
Another beauty on Wednesday 4th, the Grand Mistral cruises into CT1 with a PoC (last here in May 2012)
Two more PoC's on Thursday in the shape of the luxurious MS Delphin at AP3 (last seen here in August 2009) & the Artania returns again to CT1 (last here in May this year)
Then on Friday 6th September, the Majestic MSC Magnifica returns to CT2, PoC.
Two more on Saturday, they just keep coming, the Costa Pacifica cruises into CT2, PoC (last here in September last year) & the Ocean Princess returns to CT1, T/R.
No cruise ship on Sunday
What a Fabulous week ahead, get busy Guys

Sunday, 1 September 2013 - 18:42
Post 31
PaulB, Dover (dover7@msn.com)
Just a little reminder...


MERCHANT NAVY DAY 2013

The Chairman of Dover District Council, Cllr Sue Nicholas, with the Dover and District Merchant Navy Memorial Fund, is organising a special service at Dover Town Hall for Merchant Navy Day on Tuesday 3 September, and all are welcome to attend.

Standard bearers will march into the Town Hall at 10.30am, where there will be a Service of Celebration. The service will be followed by an address from Donald Hunter, the founder of the Dover and District Merchant Navy Memorial Fund, and a closing speech from the Chairman of Dover District Council.

An official wreath laying ceremony is also being held at the Merchant Navy War Memorial at Marine Parade
on Dover Seafront at 12 noon.



Sunday, 1 September 2013 - 16:25
Post 30
JanT, Dover
Welcome Sea News to your new slot.

Sunday, 1 September 2013 - 07:44
Post 29
PaulB, Dover
DFDS - Back by popular demand ...the £20 onboard voucher returns to the Dover-France routes
A guaranteed shopping spree at sea with DFDS Seaways but ....hurry see dates.
Due to popular demand from customers, DFDS Seaways has reintroduced its complimentary £20 voucher to spend in the onboard shop. The voucher offer is bigger and better than before as it is now available to all passengers travelling on both the Dover-Dunkirk and Dover-Calais routes between 9 September and 13 December 2013, with all bookings made by 4 September.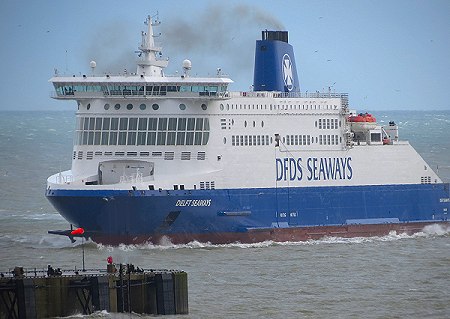 Whether shopping for souvenirs, gifts for loved ones or simply a treat, passengers can now enjoy a shopping spree at sea for free. With fares from only £50 return for a car and up to nine passengers, there has never been a better time to book an autumn escape.
There is something for everyone in the onboard shop, which stocks a great range of products including wines and spirits, perfumes and cosmetics, toys, gifts, books, souvenirs and confectionary. There really is no excuse to go home empty handed!
When passengers book a return crossing, they will receive a booking confirmation by email, which will include the £20 onboard shopping voucher and instructions on how to redeem it.
DFDS Seaways operates up to 44 daily sailings between Dover and Dunkirk and Dover and Calais, providing passengers with flexible crossing times, a fantastic onboard travel experience and convenient travel options. As well as the onboard shop, the Dover to France routes provide passengers with restaurants, cafes and bars, a children's play area, as well as outdoor deck space.
The two French ports provide a convenient gateway to Europe whether travellers are heading south through France, north to Belgium and Holland or east to Germany, Poland and eastern Europe.
To find our more about the £20 onboard shopping voucher offer, or to book a return Dover to France ferry crossing, visit www.dfds.co.uk/voucher or telephone 0871 574 7235.
Sunday, 1 September 2013 - 06:31