Monday, 28 November 2022
WWW.DOVERFORUM.COM/SEA-NEWS

Sea Pictures from Dover. We have 333 plus pages below now...use our own SEARCH ENGINE just below to help you trawl through. All pictures are the copyright of the owners. EDITOR: Paul Boland - dover7@msn.com
Post 107
Mike J., Dover
Thanks for the welcome !
Last Friday a 51 year old tug sailed from Dover after sheltering for a few days whilst towing the disabled fishing vessel VANQUISH from Newlyn to Den Helder [NL].
The KINGSTON was built in 1962 as the SUN XXIV at the now-closed Pollocks Shipyard at Faversham.
She is now operated by Griffin Towage of Poole & although extensively upgraded over the years still looks like a classic 1960s tug.
She looks a little rusty & the wheelhouse looks a little old-fashioned but she's a hard-working little ship & has just returned from a long trip to Morocco from northern Europe towing a floating pipeline.
The VANQUISH [with the KINGSTON invisible behind her] can be seen in the old Jetfoil terminal in Howard's 18/9 photo from St.Martin's Battery.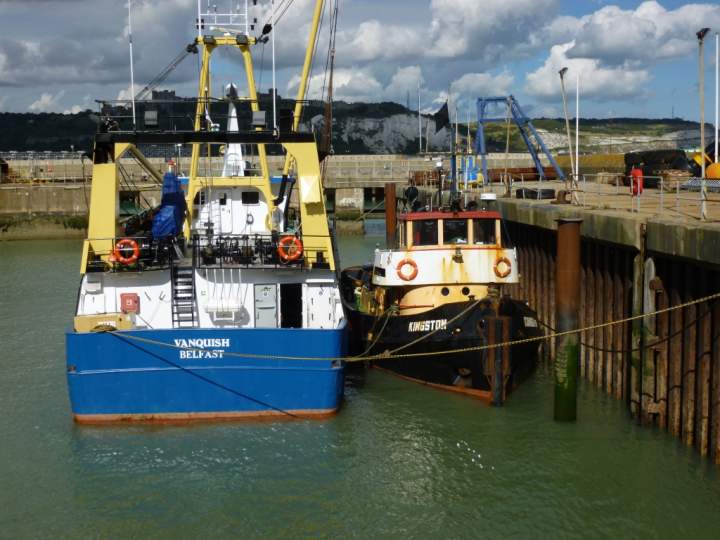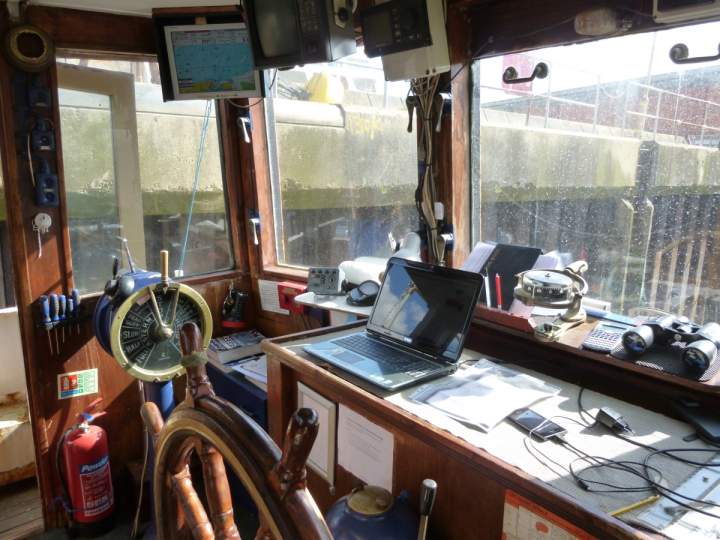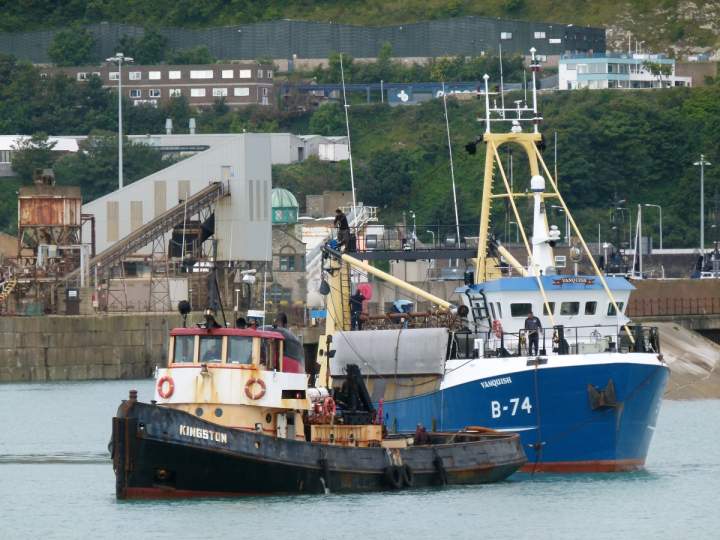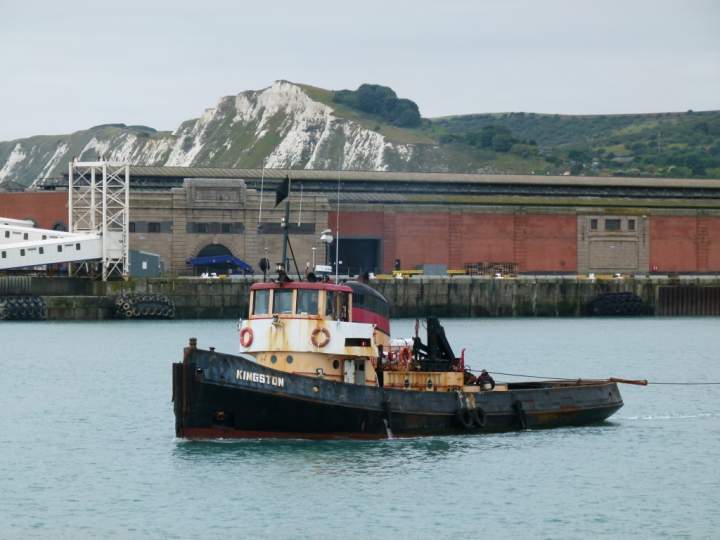 Sunday, 22 September 2013 - 23:55
Post 105
howard mcsweeney, dover
i thought they were quite interesting paul, each to their own i suppose.

you must have missed kevin's "cross channel rowing attempt" thread on the main forum.

Sunday, 22 September 2013 - 21:35
Post 104
PaulB, Dover (dover7@msn.com)
BY any stretch of the imagination these pictures are pretty dull so I debated with myself as to whether it was worthwhile putting them up at all. But I opted to do it as it marks another rowing attempt on the channel. I was reminded to do it as less than half an hour ago, at about 2.40pm, they returned to harbour..presumably they have been over there to the French coast and back having left the smooth safety of Dover Harbour this morning about 8am.
There is very little publicity for these things nowadays as so many people do it or have done it..even one or two celebs have given this one a go previously. I was notified to the notion that something was taking place by the sound of whistle blowing ( no - not that kind of whistle blowing

! )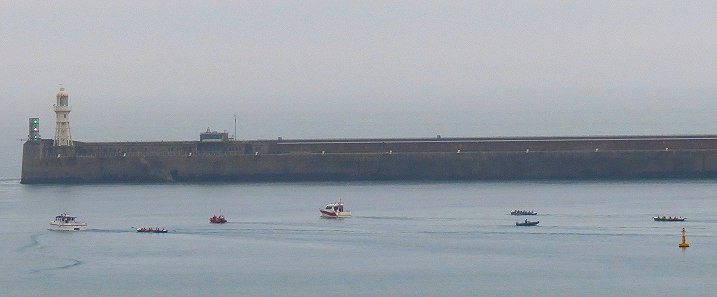 And now for my close up Mr De Mille..here with just one boat plus support vessel.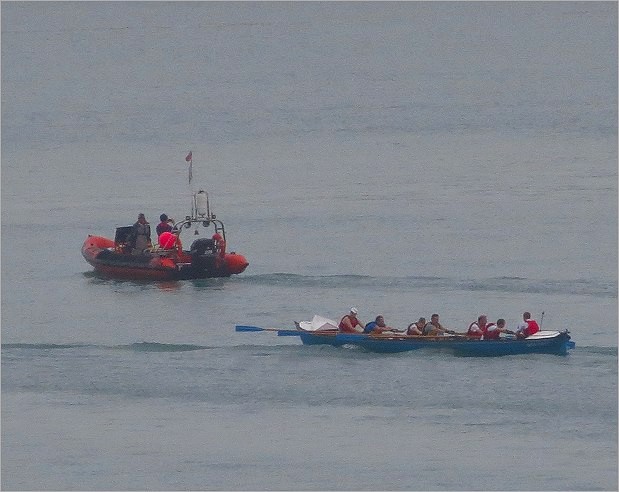 No pictures of them returning you will be pleased to hear. But a well done to the rowers. Thanks Ed..my arty farty image shot to pieces with these ones...lol

Sunday, 22 September 2013 - 15:27
Post 103
howard mcsweeney, dover
welcome indeed mike good to see you putting up a photo straight away, very little gets missed with some very knowledgeable posters on this thread.

Sunday, 22 September 2013 - 10:34
Post 102
Ed Connell, Dover
Great stuff, Paul. Getting very arty-farty now, expect you will be wearing a beret and smock next!

And a BIG BIG welcome to Mike J. Look forward to some of your great photos and informed comment, Mike.

Sunday, 22 September 2013 - 09:00
Post 101
PaulB, Dover (dover7@msn.com)
A bit of extra Port News below.. but first a couple of dramatic pictures of the Port for you to enjoy from the last two days.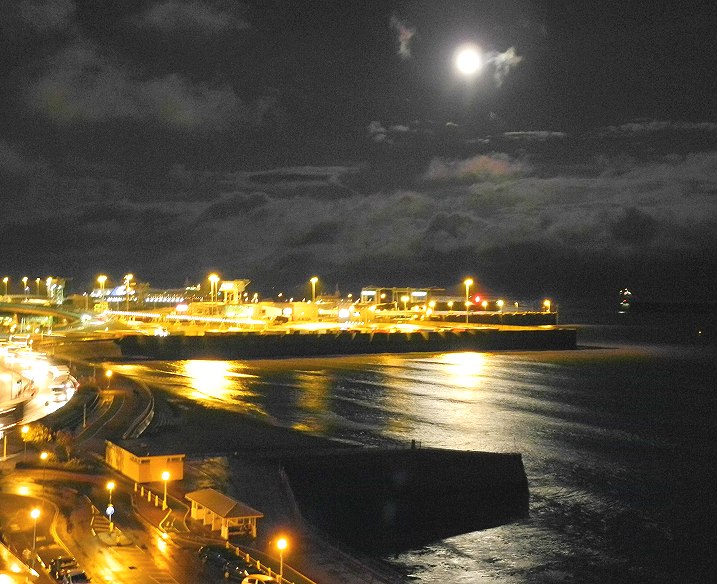 Above we have a ghostly moon over a blazing and still hugely busy Port ...although we still enjoy the remnants of summer travel, busy ferries, busy hotels etc, etc...I can nevertheless report a dropping off in the level of camper vans waiting on the seafront

!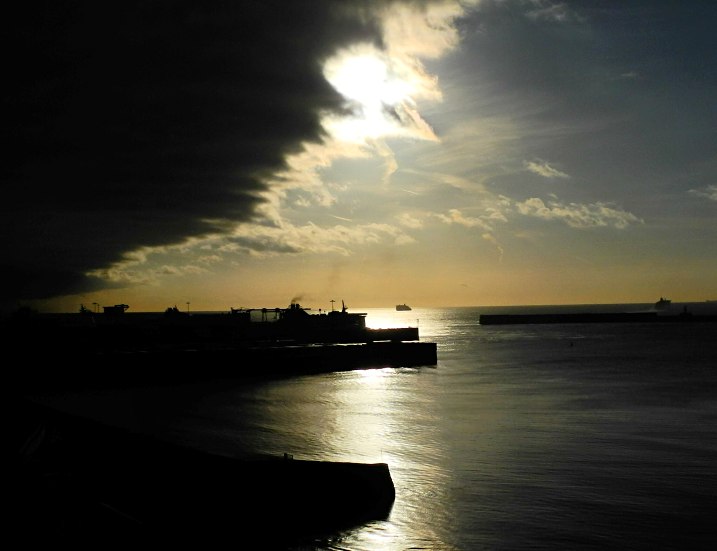 Just snatched at this picture when the moment presented itself with a simple point and shoot camera. It shows a grim weather system moving in from the East mid morning. Light and shade, summer and winter, heaven and hell...
Ed got some great close ups of the Lyrika below.

Here is another one of her from further away, arriving with the help of the two tugs. I had earlier bumped into one of the LIVE Export demonstrators complete with loudhailer who said there was another LIVE departure scheduled friday night and he was on his way to give them hell. I thought for one moment when I saw the vessel approaching from some way off that they had upgraded from the Joline but no..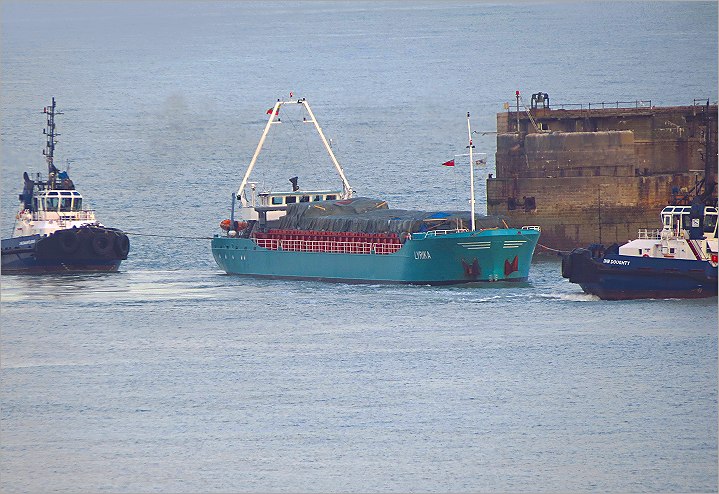 * *
PORT NEWS....
Europe recognises Port's commitment to community through heritage

For the second consecutive year, the Port of Dover has been shortlisted for the European Sea Ports Organisation's (ESPO) prestigious Societal Integration of Ports award. Furthermore, it is also the second year in a row that Dover has been the only UK port to make it through to the shortlist of five European ports.
Each year the award has a theme and last year it recognised contributions to working with young people in the community, the Port of Dover being shortlisted for its Youth Engagement Scheme (YES), which has increased this year through its Port apprenticeships programme. The 2013 award focuses on 'heritage' and specifically on the contemporary use and access to port heritage assets.
The Port of Dover's 'Making Port Heritage Work' project is all about making the Port's historic assets and heritage work for a number of local audiences, operationally and culturally, and bringing the community closer to the Port in different ways.
Tim Waggott, Chief Executive, Port of Dover, explained: "The project looks to bring these strands together and to make them work as one coherent heritage offer that unites the Port and town and their common histories as a way of nurturing current and future integration. It also balances the need to preserve the Port's heritage assets whilst at the same time enabling them to play a role in the modern day-to-day life of the Port."
ESPO, representing port authorities, administrations and associations from across Europe, announced that Dover had been shortlisted this week for the award. John Richardson, Chairman of the panel, said: "Many European ports value and cultivate their heritage. Our job was to choose the most exciting projects among a very varied selection of them. Several stood out as particularly creative and visionary."
Mr Waggott added: "In a week that has seen the Port working with archaeologists to successfully float a replica of Dover's famous 3,500 year old Bronze Age boat in Dover harbour, such recognition is a great boost to the Port and should also be seen as a fantastic motivator to the positive discussions that are now getting underway between the Port and the local community on its heritage priorities as part of our new Port and Community Forum."
The winner of the award will be announced on 6th November during a special ceremony at Brussels Town Hall. End.
* *

Great stuff on all those posts below lads..great pictures to enjoy. Welcome Mike. Good to see wildlife ace Phil joining in.

Sunday, 22 September 2013 - 06:36
Post 100
Mike J., Dover
G'day. I'm a refugee from the sadly-missed Dover Ferry forum where I posted as 'Marconista'
I keep an eye on the local shipping scene & thought to put up a few photos here, although it'd be very hard to match PaulB's cruise ship coverage.
Here's an experimental post, just to see if I can post pix OK here - another take on Ed's recent view of the MECKLENBURG-VORPOMMERN.
Cheers
Mike J.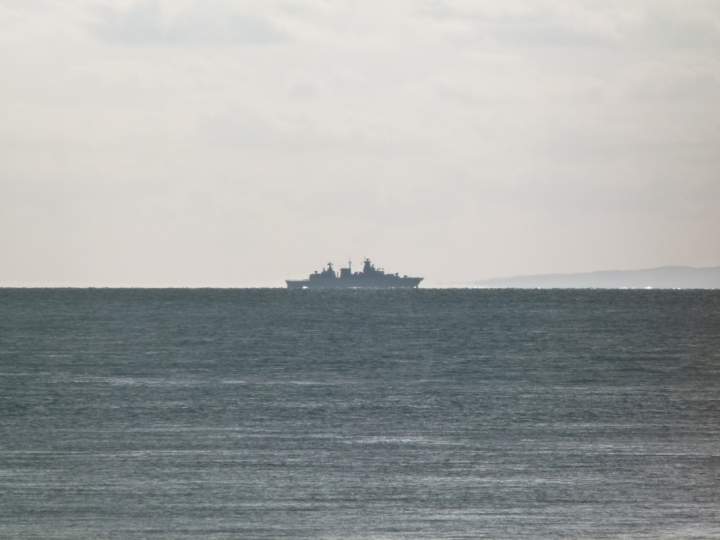 Sunday, 22 September 2013 - 00:21
Post 99
howard mcsweeney, dover
just received this one of the "seabourne sojourn" taken by phil smith earlier this month who normally supplies us with great wildlife photos.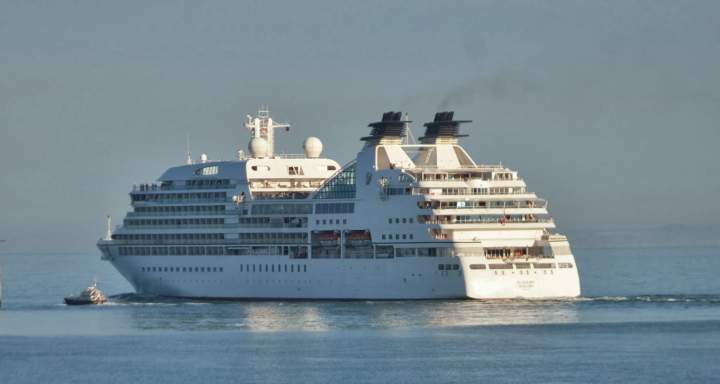 Saturday, 21 September 2013 - 15:00
Post 98
Tom Austin, London,Sun soaked and heat-hogging...
Fools rush in...and all that.

I am ever so, and rightly so, pleased to get a butchers at 'em thruster Jonnies [this language 'difficulty' often comes on shortly after reading PaulB's stuff, funny that?]
Leaving to one side the circled 'X' markings and their being 'underwater'.
Back to the fuel saving issue, some considerable drag must come from those grilled-portals, little wonder then that such efforts are made to keep the props trim.
BTW
I watched an old Stan Laurel short yesterday, 'West of Hot Dog', and the baddies horse must have had rear thrusters on both sides, judging by the markings. :)

Saturday, 21 September 2013 - 12:31
Post 97
Ed Connell, Dover
Small coaster Lyrika alongside the Eastern Arm today: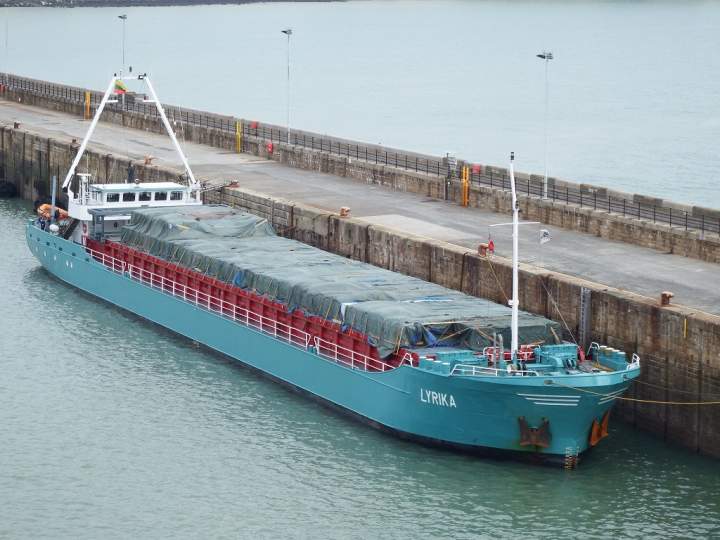 Saturday, 21 September 2013 - 10:53
Post 96
John Mavin, Dover
Yes, that's their normal berth when they are in the harbour.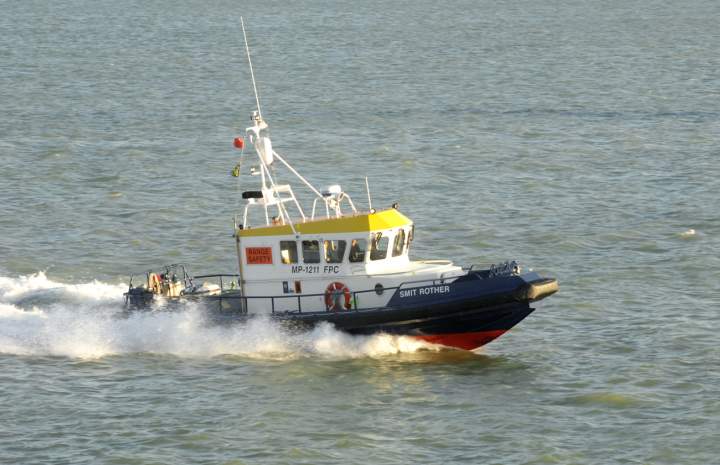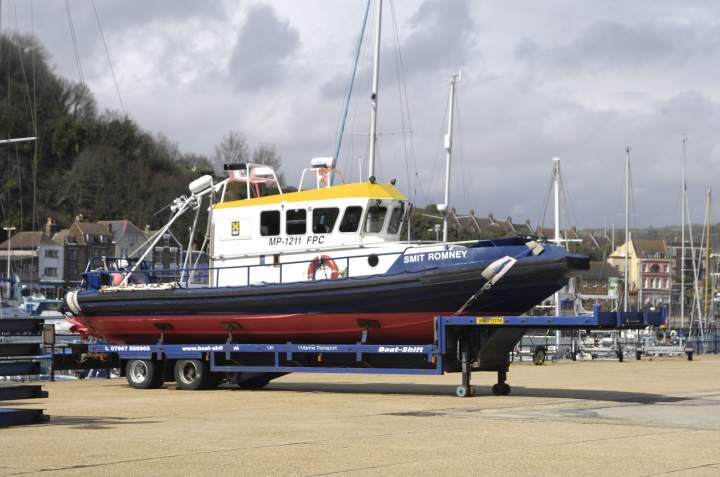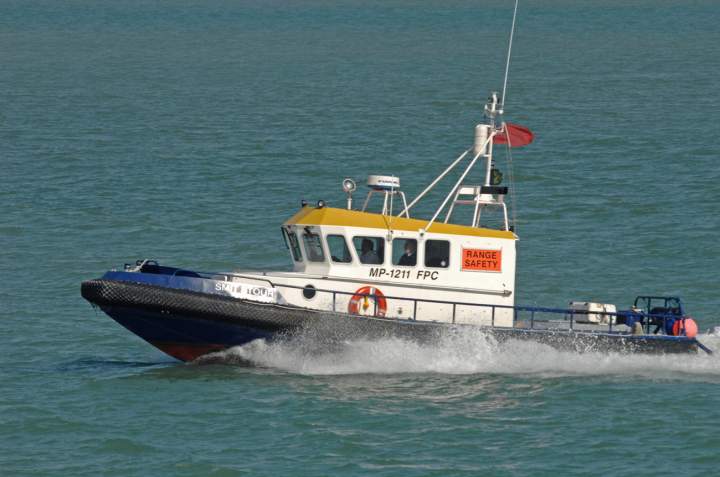 Friday, 20 September 2013 - 22:45
Post 94
howard mcsweeney, Dover
i must go around with my eyes shut john i have never noticed a group like that before.

are they always moored next to each other?

Friday, 20 September 2013 - 20:09
Post 93
JanT, Dover
Well guys you certainly have been busy with those camera's, its always good to see what is happening down and around our lovely seafront.


Friday, 20 September 2013 - 16:57
Post 92
John Mavin, Dover
Howard, they are the range safety craft for the Hythe Ranges and they've been based here for years. Currently I think we have the Smit Romney, Smit Rother and Smit Stour. Although privately operated, the overall responsibility is with the MOD. I'll see if I can dig out some pictures.

Friday, 20 September 2013 - 15:40
Post 91
howard mcsweeney, Dover
took these about half an hour ago, trying to work out what the orange/yellow ones are about as i don't remember seeing them before.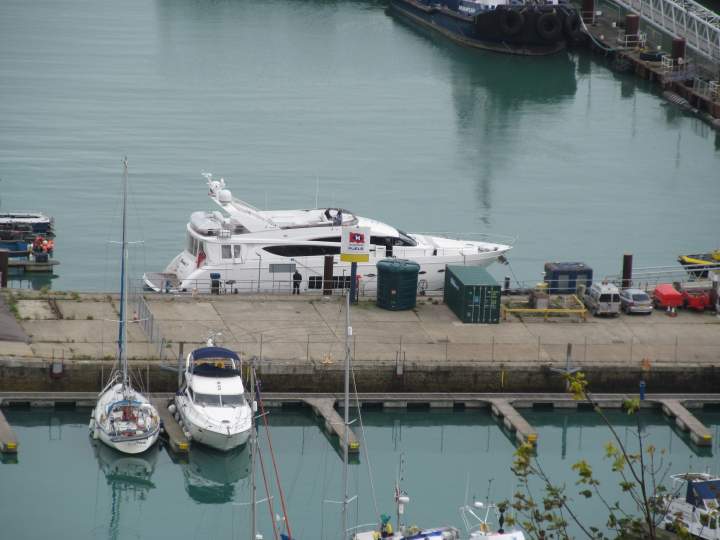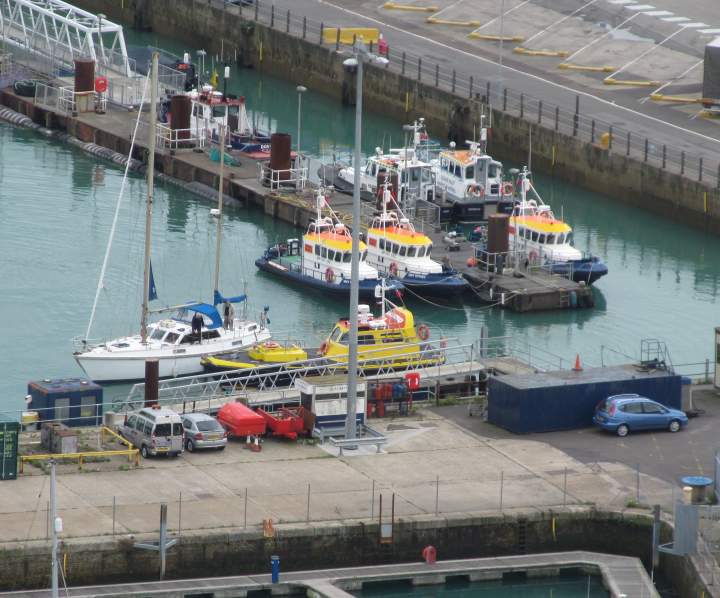 Friday, 20 September 2013 - 15:19
Post 90
Ed Connell, Dover
German Brandenburg class frigate Mecklenburg-Vorpommern passing Dover this morning. Try saying Mecklenburg-Vorpommern after a few scoops of Schnapps.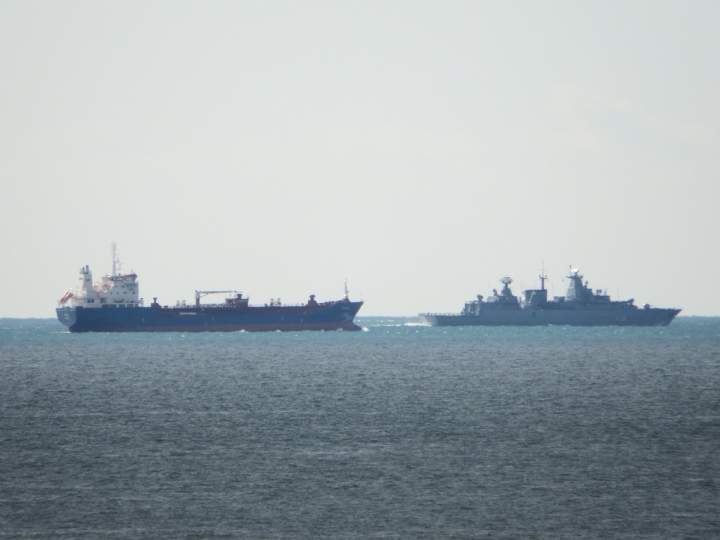 Friday, 20 September 2013 - 12:41
Post 89
howard mcsweeney, Dover
never a dull moment, every type of conceivable vessel in the last few posts and now we have the boom - not heard anything about a pollution scare so could be a dummy run .

Friday, 20 September 2013 - 09:55
Post 88
PaulB, Dover (dover7@msn.com)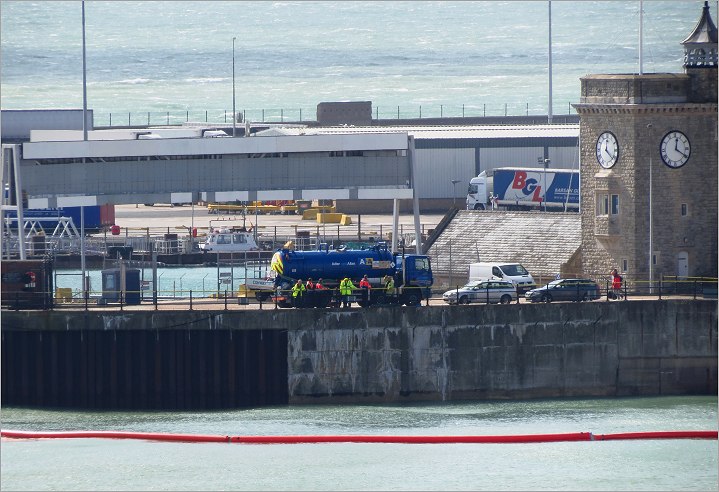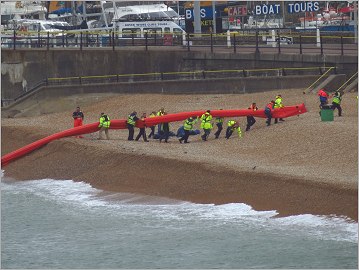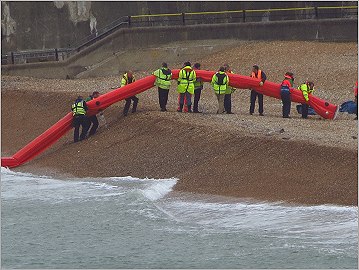 I came across the above at the very last minute. It took place yesterday..time on the clock. To my surprise they had cast a boom across the water at the very western corner of the harbour. There was quite a considerable amount of personnel in place with a number of anti-pollution trucks there and so on. Whether it was a dummy run to see how they would handle such an emergency or whether there was actual pollution I know not. A boom in normal pollution situations is used of course to prevent the pollution from spreading further. As we say though it may all have been a test run. But here we are with the pictures anyway...we may find out more later. Everyone of course is very jittery about pollution these days so lets hope there wasn't a serious or real problem. This is the weekend of Beachwatch too...for all good marine conservationists and volunteers. More info on Beachwatch further down the page.
And now following on from Ed's picture below..here is a further picture of the Ovit, this time leaving late in the day yesterday in the miserable and rough conditions. Out into the open seas she goes. Both tugs gave her assistance.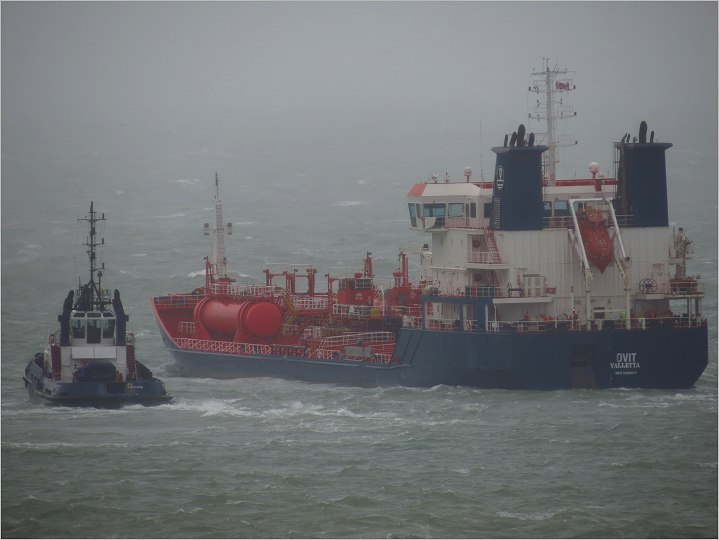 Thanks for the feedback below Ed. I will direct Chris to it. Best if our top man technical guru Chris looks at it to see if there is a solution.
Friday, 20 September 2013 - 07:38
Post 87
Ed Connell, Dover
This is the chemical carrier Ovit which was laid up on the Eastern Arm for a day or two and has now departed.
Paul/Chris: Tried to upload this several times before but the new Sea News format was not allowing it. Nothing to do with size, it is the same size as all the others I was trying to upload in the same comment. I reduce them all to 1024x768 and this one comes out at 278KB. The problem was that I uploaded several photos in one comment and then tried to upload several more photos in another comment following immediately afterwards. As they no longer have individual names as on the original thread, but just come up with a number such as IMAGE-1 then the next comment displays the IMAGE-1 from the previous comment instead of the new one which has just been uploaded but has the same name.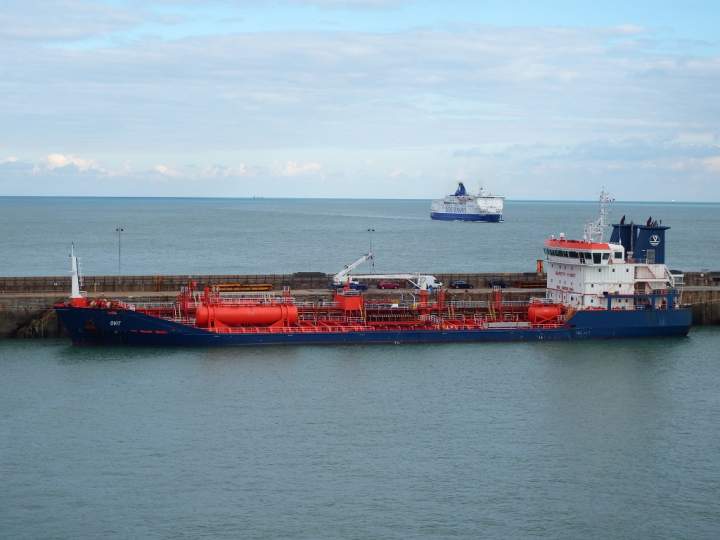 Friday, 20 September 2013 - 04:08
Post 86
PaulB, Dover (dover7@msn.com)
Quite an exciting vessel of immense scale moved slowly down the channel last evening. It was a huge maintenance/crane platform called Hermod and yes it moved slowly and very carefully. In between pictures I managed to go to Tesco and back for the supply of pot noodles and it was still moving at gradual pace when I returned. That explains the difference in light and colours. It weighs more than 75,000 tons and had left Rotterdam heading south to a Spanish port I believe. To be ever so technical about it...'twas a whopper!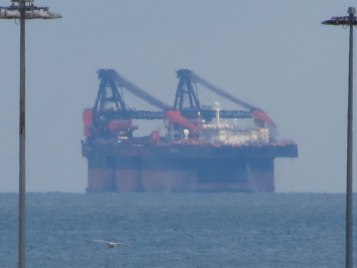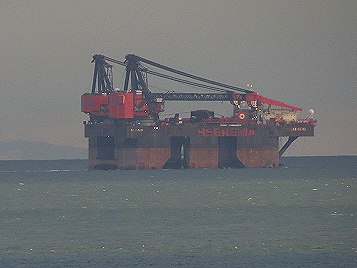 In the picture left above , taken from very very long distance, it is probably still technically in the North Sea. By the time I photographed it on the right above.. evening was drawing in and yours truly's Tesco trip had been completed, and the platform was moving slowly by Dover itself.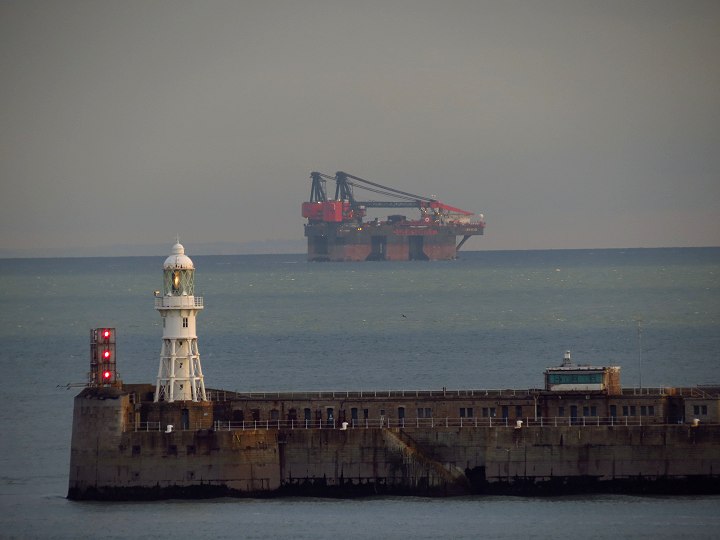 This shot above shows the wider view as she passes down the Channel just beyond Dover.
Below we have a last shot of the Astor taken in blazing afternoon light. The Astor left last night about 8pm and the Empress about 9pm. So as the evenings are dark now no prospect of pictures at that point.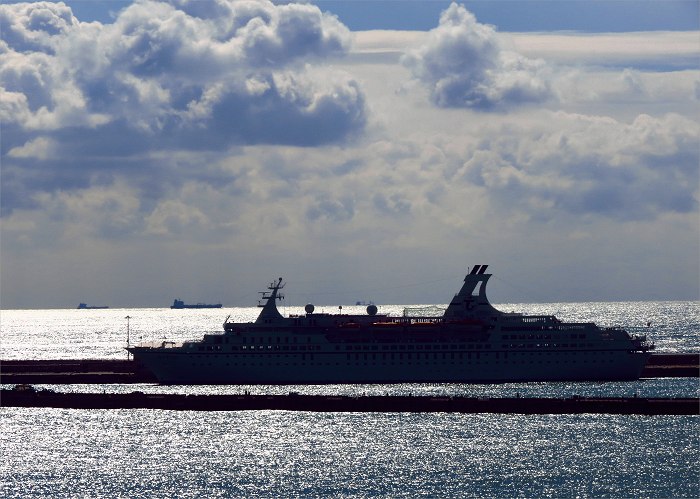 Interesting pictures of the underside and thrusters of Dover Seaways there Ed.
The reason some pix are not coming out is possibly because they may be too large.
We have been ironing out small problemos. Nice one Howard.
Thursday, 19 September 2013 - 08:18