Tuesday, 21 October 2014
SEA NEWS
TIME to INVEST in DOVER .. see below post 1151..
MINISTERIAL VISIT in 1160
PORT CELEBRATES NEW POWERS TO DELIVER FOR DOVER see post 1145 below.
DOVER HARBOUR BOARDS BIGGEST EVER INVESTMENT IN DOVER...plus..see post 1119 below.
Also latest...Port gives Quarter Million to Community Fund...see 1136 below.
DFDS SEAWAYS ideas for autumn...see post 1133.
LATEST - FREE WINE with P&O - see post 1092.
New head of Marine Operations for the Port...more below in 1127.
Phoenix Angling Club raise Fab Sum for LIFEBOAT...see 1117.
A Fishy Sunday Lunch 1106
Dover Harbour Board chairman reappointed...see post 1097.
Port of Dover Exercise....see post 1069.
Merchant Navy Memorial Service on seafront see 1052.
A Great Summer Season for the Port of Dover, see 1049.

The LIFEBOAT in the thick of the action again. See 976. see also LATEST LIFEBOAT PICTURES 1156.
DOVER LIFEBOAT..tragic start to the August Bank Holiday Weekend see 1012.
THE SEA DREAM I FIRST VISIT ...pictures in posts 987, 989. ALSO See latest picture of the inaugural presentation 1020.
The Ryndam - leaving Dover for the last time..see 1041. Also 1064 for latest.
MY FERRY LINK - two years old, see Post 1031.
Sea News - one year old 1023.
Summer at the Port of Dover, see 944. also Breaking New Ground with the Port of Dover see 1016.
The Port of Dover Community Regatta....first pictures in 914..then 918 and 929..also 920 for THE BLADES.

Charlie Elphicke MP - Thoughts on the Port - see post 818. Further thoughts 955....see LATEST BELOW at 1061.
MyFerryLink..New Appeal in Post 906
UK Border Agency in close operation..see 884, 886.
RECORD FREIGHT Departures see 883.
IMPORTANT STATEMENTS BELOW on the future of MyFerryLink..see 850, 853.
THE TOUR de FRANCE passing through see posts 870, 877, 882.
Seafront Air Ambulance drama see 858, 860.
Calais 867 and Calais Lifeboat...828.
Aerial Map of berths 815.
Pictorial Tribute to the Dover Lifeboat guys...see 799
THE DELIGHTS of DOVER SEAFRONT..also 779
MARCHING FORWARD see 411 and 687.
For all the general sea news and pictures see down this page and over the many pages. Dover.uk.com and Doverforum.com have merged to produce an entirely local and comprehensive Dover website. Please feel free to join in with the discussion and chatter. See the link to dover.uk.com on the menu left for the latest frontpage topical news stories, and/or click on Forums Direct on the menu left to join in with the latest chat.
Nautical contributions are welcome on this page - max 4 pictures preferred per contribution, all pictures remain own photographers copyright.
Email:dover7@msn.com to send Sea News pix or info..or click ADD YOUR COMMENT below to post direct. Paul Boland.
Post 1164
PaulB, Dover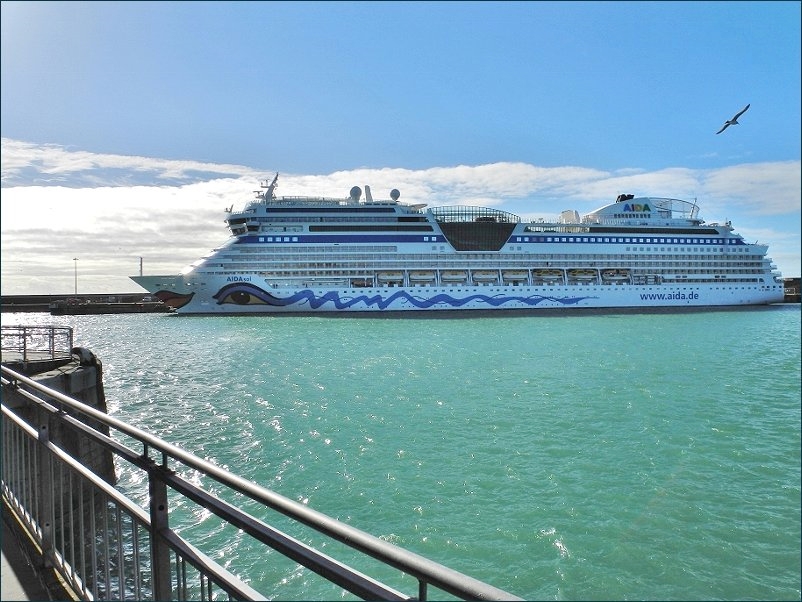 Yesterday was a fabulous day for cruise liners in the Port of Dover and no mistake. Both the giant AIDA Sol and the smaller AIDA Cara arrived in an impressive double header and looked absolutely fantastic all day in Dover's glorious sunshine. Of course we here in Dover laid on the sunshine specially so that the season could go out in...well in a blaze of sunshine. We had not expected the AIDA Sol but here she was, all 72,000 tons of her. They both left last night around 19.40 (7.40pm) moving away in a dazzling array of electrical colour. The AIDA Sol moving slowly across the harbour first and leaving through the eastern exit...followed slightly later by the AIDA Cara out the western exit and both turned south in tandem for the journey to Le Havre.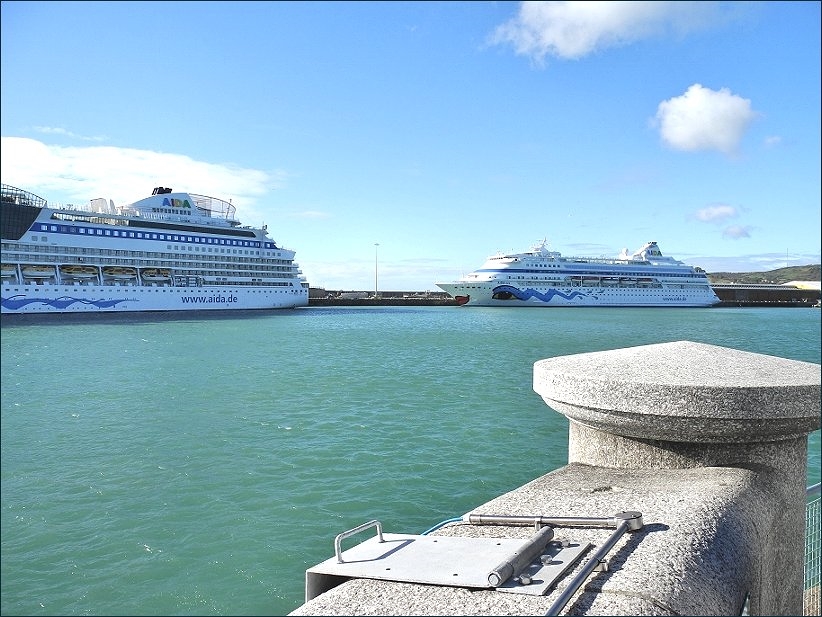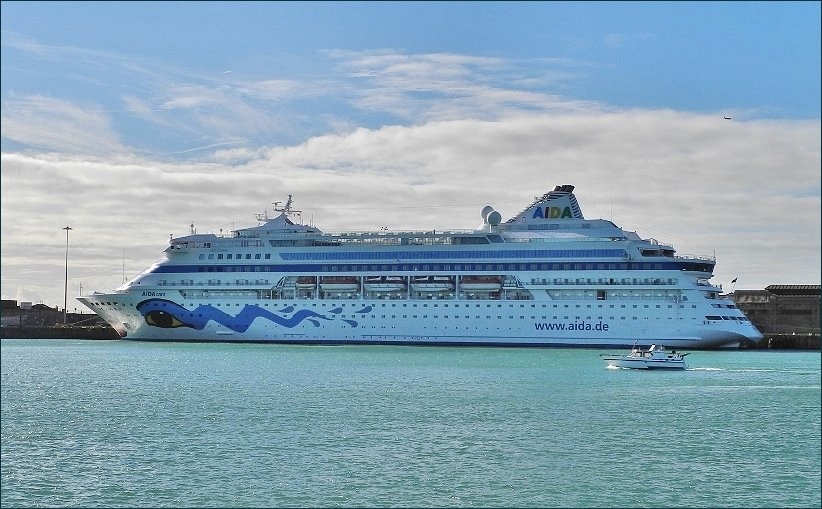 Top shot AIDA Sol, then AIDA Sol and AIDA Cara...then AIDA Cara.
Great stuff below lads. Crackers below there in post 1161 Ed of the AIDA ships, the second one in particular full of atmosphere..lovin it !
Real classic ferries in post 1162 from Mike. Gosh well before my time in frontline Dover, amazing to see those..glad you enjoyed those Vic.
Tuesday, 21 October 2014 - 08:20
Post 1163
vic matcham, Dover
I worked on both of them +the St David alot of my welding holding them up.

. IT would be great to see one of them back in Dover and made into a sea Heritage centre .

Tuesday, 21 October 2014 - 04:09
Post 1162
Mike J., Dover
Remember the ST.CHRISTOPHER & the REINE ASTRID ?
These two former Dover ferries are laid up in the southern Spanish port of Algeciras & were photographed last week.
They've been there since 2012 following the bankruptcy of their Moroccan owners who used them in a service across the Strait of Gibraltar.
Sealink's ST.CHRISTOPHER is now the IBN BATOUTA & left Dover in 1991.
The former RMT ferry REINE ASTRID [the second Belgian ferry with this name] left the Dover/Ostend service in 1998 & is now the AL MANSOUR.
Their full histories can be seen in the 'Past & Present' feature on the DOVER FERRY PHOTOS website.
Both ships face an uncertain future as do several other elderly ferries also laid up in the port & their next voyage could well be to the shipbreakers.
The ST.CHRISTOPHER's sister ship, the ST.ANSELM remains in service in the Adriatic & can be seen on AIS as the BARI running between southern Italy & Albania.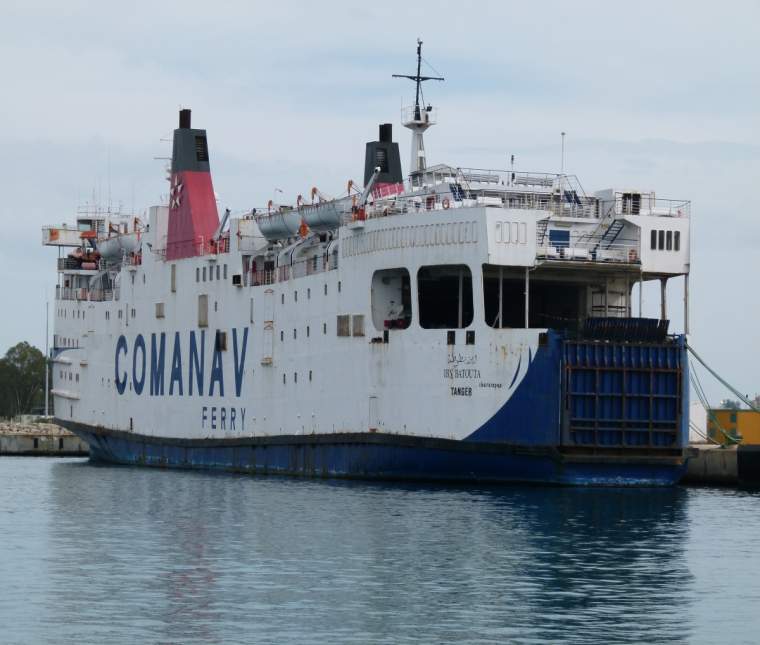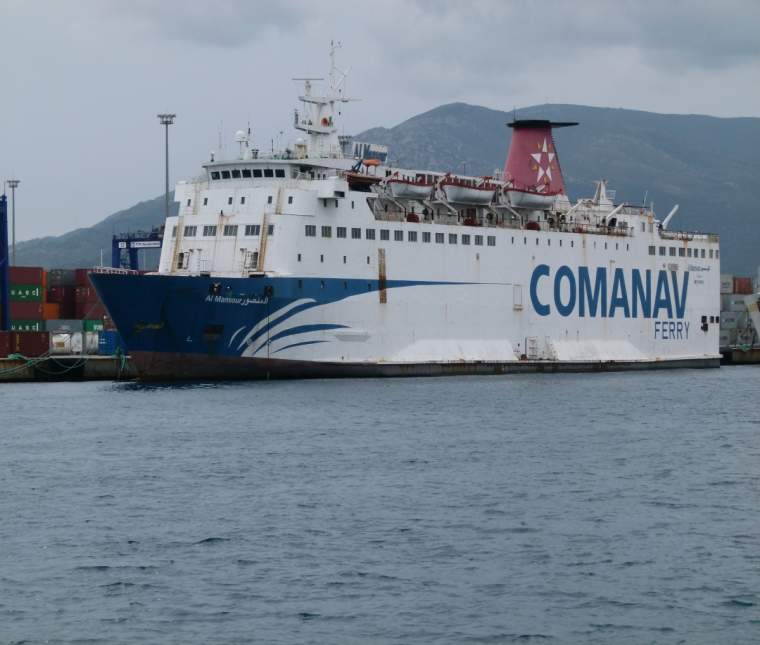 Monday, 20 October 2014 - 23:15
Post 1161
Ed Connell, Dover
AIDAsol and AIDAcara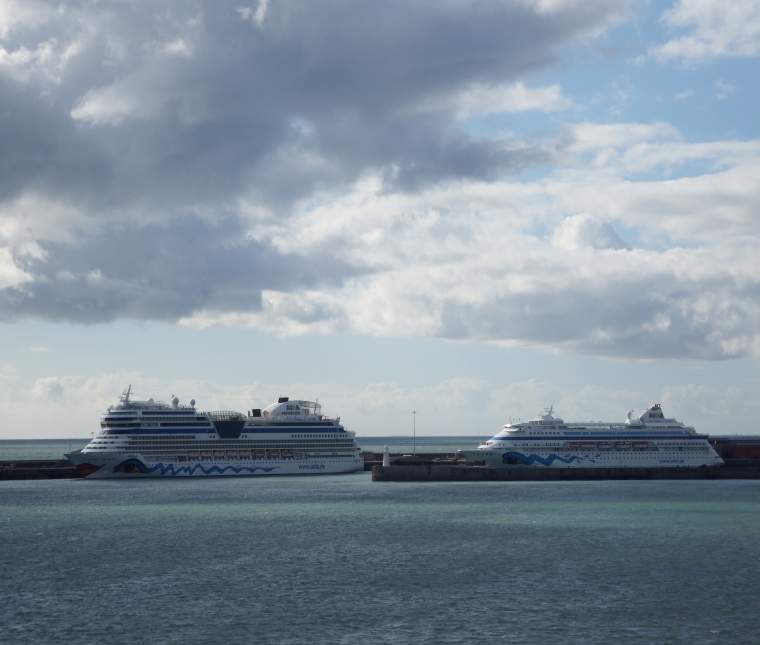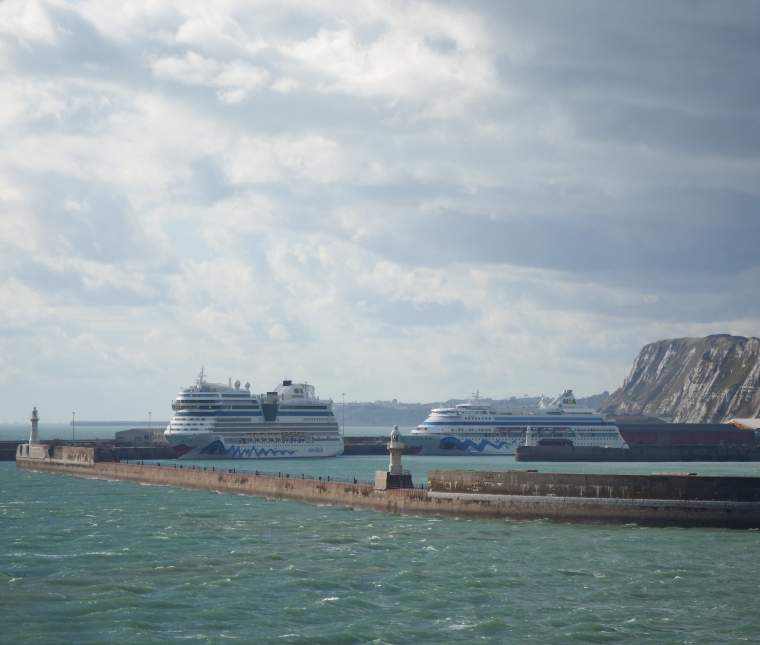 Monday, 20 October 2014 - 19:54
Post 1160
PaulB, Sea News, Dover.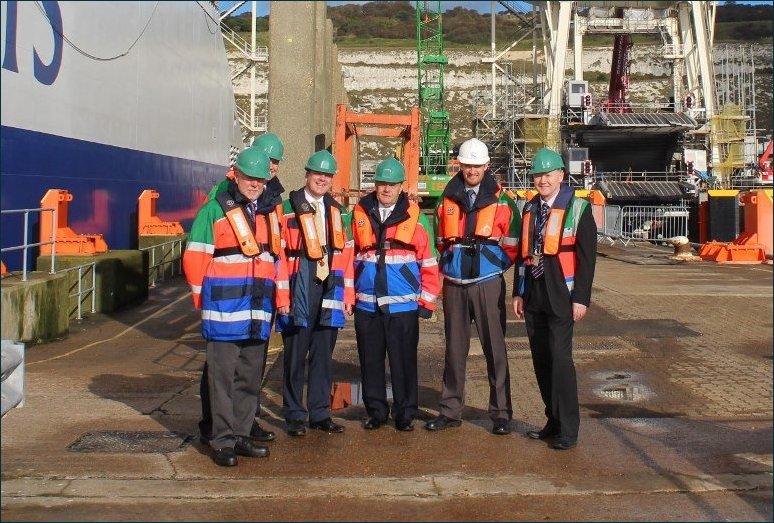 Minister sees Positive Vision of the Future
... and the world class Port of Dover operation
______________________________________
The team at the Port of Dover was delighted to welcome Minister of State for Transport, the Rt. Hon. John Hayes MP, for a tour of the Port and discussions on how the UK's busiest port is undergoing major development whilst delivering record volumes of freight traffic as the economy continues to grow.
The Minister visited Port Control, the nerve centre that ensures safe vessel movements at the Port, as well as Terminal Control, which controls all landside activity. He also observed the ongoing refurbishment of Berth 2, part of an ongoing major programme of berth refurbishment and renewal, and saw how the ongoing Traffic Management Improvement project at Dover is already transforming the Port to deliver a better customer experience for the 13 million passengers who already choose Dover as their gateway to and from the UK.
Tim Waggott, Chief Executive, Port of Dover said:
"It was a real privilege to host the Minister in our fabulous port. We were greatly encouraged that he clearly saw the benefits of our vision for the future to the Port, to Dover and the UK.
"He also recognised that alongside the positive recent developments of the community fund and progress on the appointment of community directors, the team was continuing to deliver a first class operational performance, essential for the economic prosperity of the nation. We look forward to welcoming him back to Dover in the near future."
ENDS
Picture from left to right: George Jenkins OBE (Chairman Dover Harbour Board), Tim Waggott (Chief Executive Dover Harbour Board), Charlie Elphicke (MP for Dover), Rt. Hon. John Hayes MP Minister of State for Transport, Michael Grace (Development Engineer) and Jack Goodhew (General Manager, Technical & Engineering Services).
* *
Yes indeed Kevin a double whammy of AIDA ships in today. They have taken us all by surprise. We wake to find an array of cruise lights not seen here for a while. The AIDA Cara is in as expected but the AIDA SOL which is a total whopper (to give it a technical term) is also in. It looks twice the size of the AIDA Cara at a guess.
It was dark when they came so no pictures sadly so if anyone can bag a shot you know where to put it.

Lovely picture of the Nederlands Reefer Ed. We have a great collection of cargo ships coming and going through Dover now and we are getting pictures of most of them for the Sea News collection so all can enjoy.
Monday, 20 October 2014 - 07:12
Post 1159
Ed Connell, Dover
Nederland Reefer at the DCT yesterday.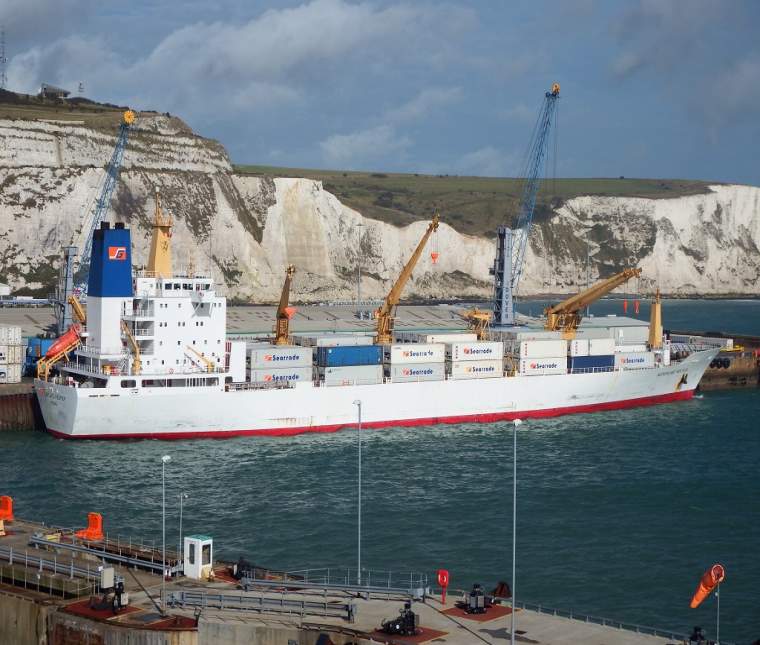 Monday, 20 October 2014 - 06:50
Post 1158
Kevin Charles, Dover
A surprise second cruise ship call today! Both AIDAcara and AIDAsol have arrived in Dover this morning.

Monday, 20 October 2014 - 06:11
Post 1157
ColetteB, Dover
Indeed MrB, it is tomorrow Monday 20th when the AIDACara is back in the Port of Dover for her last visit this year. I misread my own post 1100

Terrific shots there of both Dover & Boulogne lifeboats in action albeit long range!

I hope it all turned out well
Sunday, 19 October 2014 - 19:22
Post 1156
PaulB, Sea News, Dover.
LIFEBOAT SPECIAL - Featuring the Lifeboats of Dover and Boulogne.
These pictures were taken on Friday morning about 10 am. The first lifeboat is the Dover one and coming along behind is the Lifeboat from Boulogne. They were involved in very high speed action in roughish conditions with both the spray and the boats leaping into the air. But I guess the tough guys onboard these boats can handle whatever is thrown at them. Brilliant to see....the pictures are rather long range so a bit grainy but they hopefully show the action well . It did not appear to be an exercise ...we were waiting to see if there was any info coming through as to what was afoot.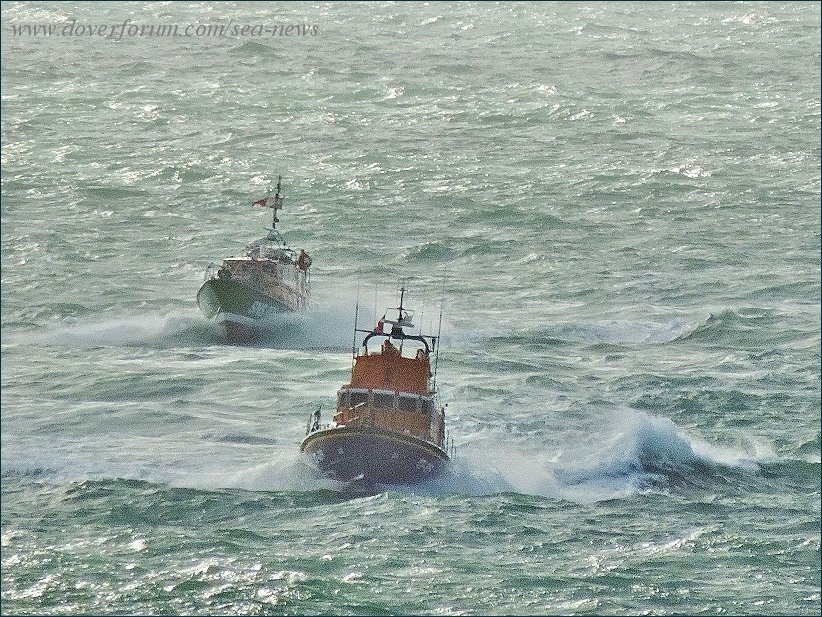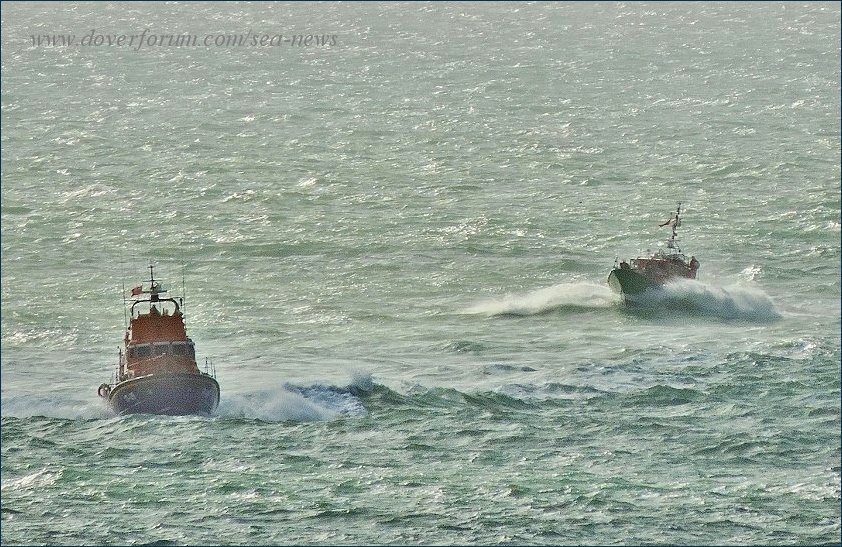 * *
Colette no sign of the AIDA Cara today. I think we originally thought Monday...
Sunday, 19 October 2014 - 07:56
Post 1155
ColetteB, Dover
Awesome skyline P&O photo for Stacey there, nature at its very best with a little helping hand from the photografter

Just to remind everyone that the last visit this year of the AIDACara is due in tomorrow morning, Sunday. She was last here in August. She will be at CT1, PoC. Lets hope for a beautiful morning like today

Get them cameras ready Guys

Saturday, 18 October 2014 - 14:38
Post 1154
PaulB, Sea News, Dover.


STATEMENT: PORT OF DOVER PREPAREDNESS FOR EBOLA

The recent decision by the Government to screen for Ebola at certain major UK gateways is a direct response to the current crisis in West Africa. Whilst the Government says the risk to the UK is very low, the Port of Dover will support whatever measures the Government deems appropriate for the Port to ensure it remains a secure place for everyone travelling in and out of the UK.

Being one of the UK's most important international gateways, we understand the need for vigilance. As with all matters relating to border security, we will continue to liaise closely with the responsible agencies, including UK Border Force and Public Health England in order to maintain the highest levels of security.




Saturday, 18 October 2014 - 08:02
Post 1153
PaulB, Dover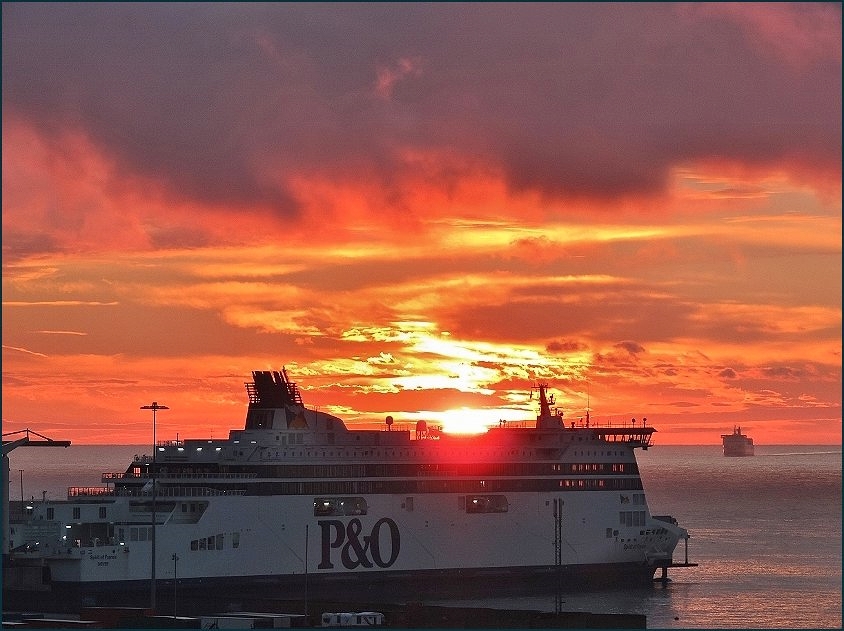 This picture above was taken on Wednesday morning and shows the sun rising behind the P&O ship Spirit of France. This is definitely the season for dramatically colourful skies with nature itself doing all the work and putting on a fabulous light show. The picture is just a simple 'point and shoot' with the camera, and shows the scene exactly as was. A terrific sky for sure. We hope to see more dramatic skies in similar vein throughout the autumn and maybe even in winter.
This picture is specially for Stacey from the P&O Choir.. see post 1148 below page.

By the way everyone, don't forget the P&O FREE WINE offer is still in place for day-trippers.

See post 1092 for details. Post 1092 is now amazingly over on Page 4 already.
Nice pic there in the post below from Phil Smith. Well done Phil and also Howard.
Just wondering if Phil got the day right as that looks like Hermod which went down the channel on the Friday, see post 1140 further down page...or was there another monster mover..
Friday, 17 October 2014 - 06:25
Post 1152
Howard McSweeney, Dover
Great selection of vessels in recent times on this thread, here we have a drilling rig passing through on Sunday morning, photo courtesy of Phil Smith.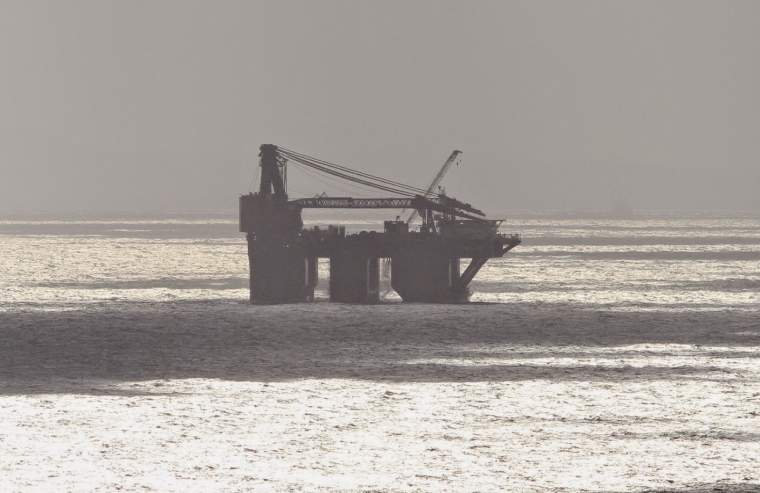 Thursday, 16 October 2014 - 15:09
Post 1151
PaulB, Sea News, Dover.
'INVEST IN DOVER' AT UK'S PREMIER PROPERTY TRADE SHOW
____________________________________________________
Dover District Council, the Port of Dover, and Discovery Park, the UK's most successful Enterprise Zone, are taking the 'Invest in Dover' message to the UK's premier trade show at London Olympia from 15-17 October 2014. Attended by investors, developers, local authorities, occupiers, hotel groups, agents and business service providers, MIPIM UK is a unique opportunity to promote Dover to a UK and global investment audience.
The exhibition comes at a key time with a wide range of outstanding investment opportunities joining together across the 'Enterprise Coast'. The Dover district will undergo a period of significant change over the next 12 years as transformational plans to build a more prosperous district with more jobs, improved housing, and a wider range of local facilities come to fruition.
The plans include:
10,100 new homes in the Dover district by 2026 and 14,000 in the longer term reflecting its 'Growth Point' Government designation
£120m initial investment already committed at the Port of Dover for Phase One of Dover Western Docks Revival, which will include a new cargo terminal and port-centric distribution facility supporting over 600 jobs, plus potential marina and mixed-use waterfront development
The delivery of 3,000 new jobs at the Discovery Park Enterprise Zone with significant funding and incentives to attract new businesses
£50m town centre transformation with development of 120,000 sq. ft. of new retail and leisure space
£40m Betteshanger Sustainable Parks situated on the site of the former Betteshanger Colliery, this landmark development will combine sustainable business & commerce, sustainable education & sustainable energy & tourism.
As well as promoting investment opportunities the 'Invest in Dover' stand will also highlight the area's excellent transport links, affordability, and lifestyle. The introduction of high speed trains in 2009 marked a step change in the district's infrastructure, creating new opportunities for inward investment and bringing the Enterprise Coast within one hour of London. Planned major expansion at the Port of Dover, Europe's busiest ferry port and handling £89 billion of trade each year, will further cement Dover's position as the 'Gateway to Europe'.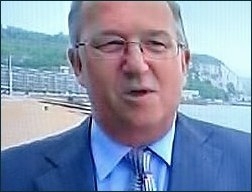 Cllr Paul Watkins, Leader of Dover District Council, said:
"I am delighted that we're working in partnership with the Port of Dover and Discovery Park to promote opportunities to 'Invest in Dover'. Investor confidence in the district is high, with new housing developments underway, exciting plans to maximise the potential of the Western Docks, and strong tenant demand for the outstanding facilities at Discovery Park. Our plans to transform Dover town centre are attracting strong levels of interest as retail and leisure investors look to rebuild their portfolios following the recession."
Tim Waggott, Chief Executive, Port of Dover, said:
"MIPIM provides a great platform to demonstrate the shared vision and momentum being created in Dover between the Port, the town and the district. Our major investment in Dover Western Docks Revival, one of the most significant developments in the region, is ripe for promoting to one of the most important gatherings of investors and developers in the UK. Furthermore, with historic news that we have just been granted additional powers to deliver even more, we now have the ability to play a bigger part than ever before in the regeneration of Dover.
"Dover Western Docks Revival brings huge potential for the Port, its customers and the local community, protecting long term port capacity, unlocking the ability to develop and grow a thriving cargo business whilst delivering a waterfront transformation that has been described as the catalyst for Dover's wider regeneration. Alongside other exciting plans for Dover, this creates a unique opportunity to build 'Destination Dover,' creating a new golden age for those living in, working in and visiting this incredible place."
Paul Barber, Managing Director, Discovery Park Ltd, said:
"We're seeing exceptionally strong demand for facilities at Discovery Park. We already have over 100 tenants and 1,600 employees, with more projects in the pipeline. We're delighted to be attending MIPIM alongside the council and port to promote the wide range of investment opportunities at Discovery Park, from laboratory and office space, warehousing and manufacturing facilities, to bespoke land development. With significant funding and incentives for businesses both large and small, we're expecting a busy three days! "
Ends
* *
Good luck to all at the event above. These are exciting times for sure.
Doing it for Dover !

Great collection once again Ed in the post below.
I got some pictures of the military manoeuvres also..
had no idea what or who they were but now see Ed's post below. Mistral class French amphibious assault ship slowly slowly moving down the channel yesterday. So this is the type destined for Russia but suspended due to the Ukraine crisis..well I never! Thanks for that info Ed as ever. Great stuff!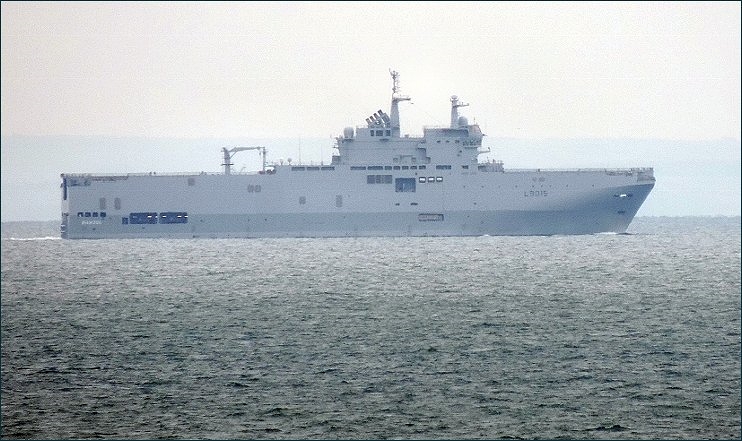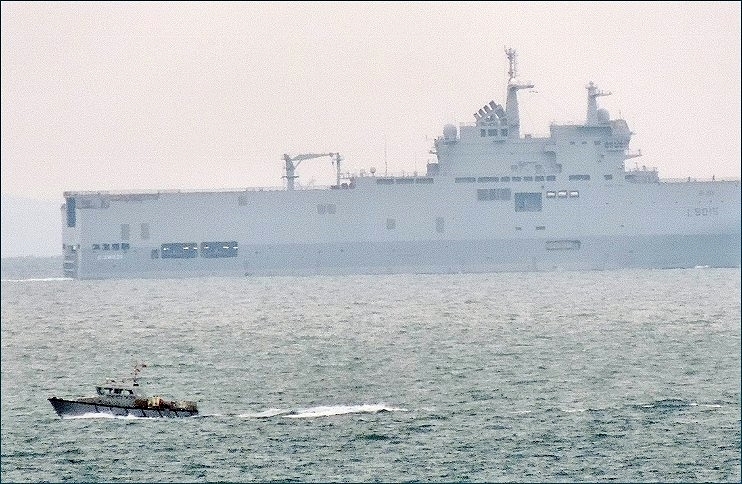 With added fisheries vessel..see also below.
Thursday, 16 October 2014 - 07:33
Post 1150
Ed Connell, Dover
David Church dredging by the pads at berth ED2. Dropping the spoil into skips on the poop.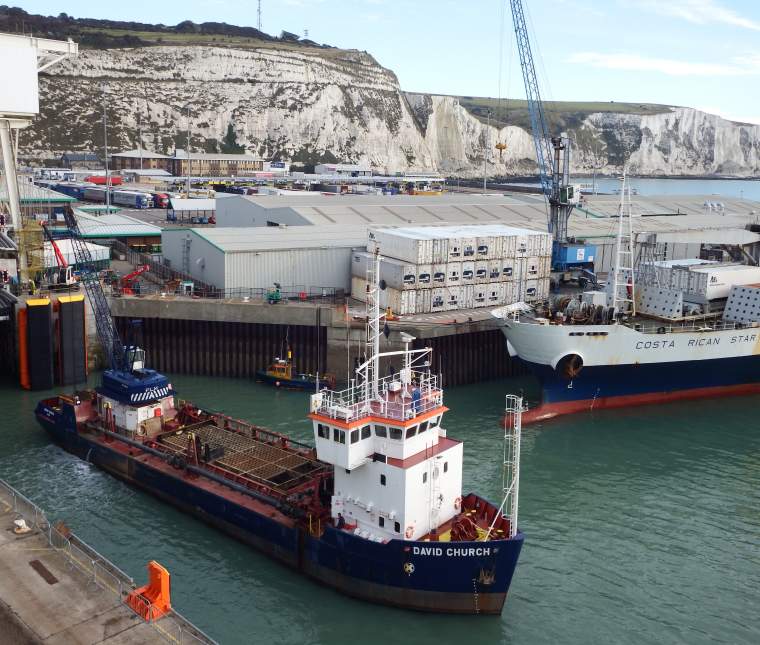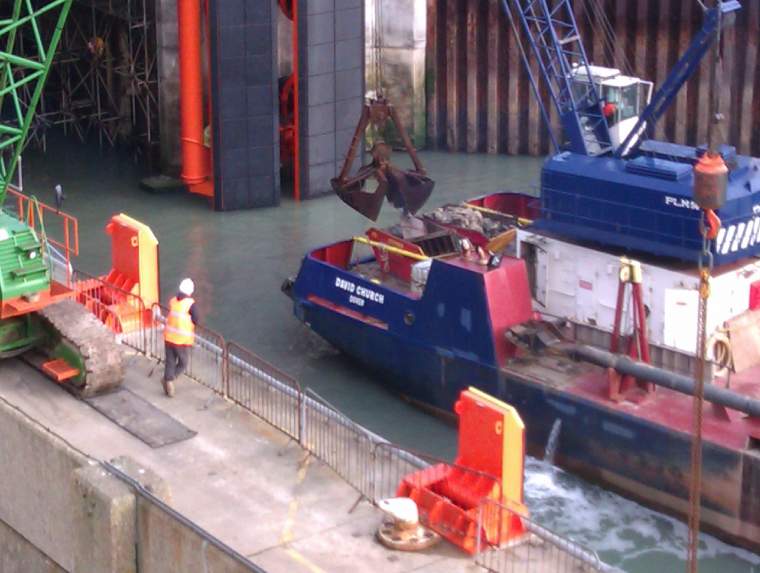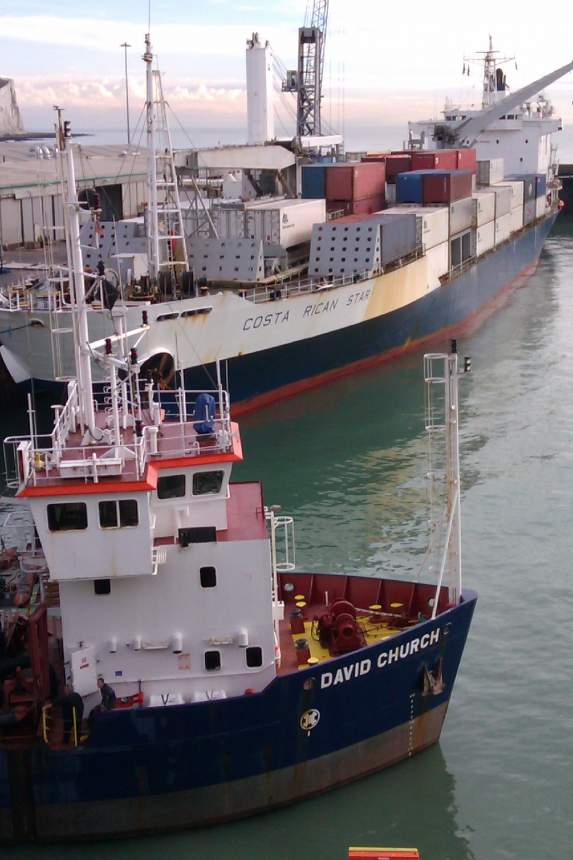 French amphibious assault ship of the Mistral class passing down the Southwest lane on Wednesday afternoon, with Spirit of Britain departing Dover. France was building two of the Mistral class for Russia but they have been put on hold due to the Ukraine crisis.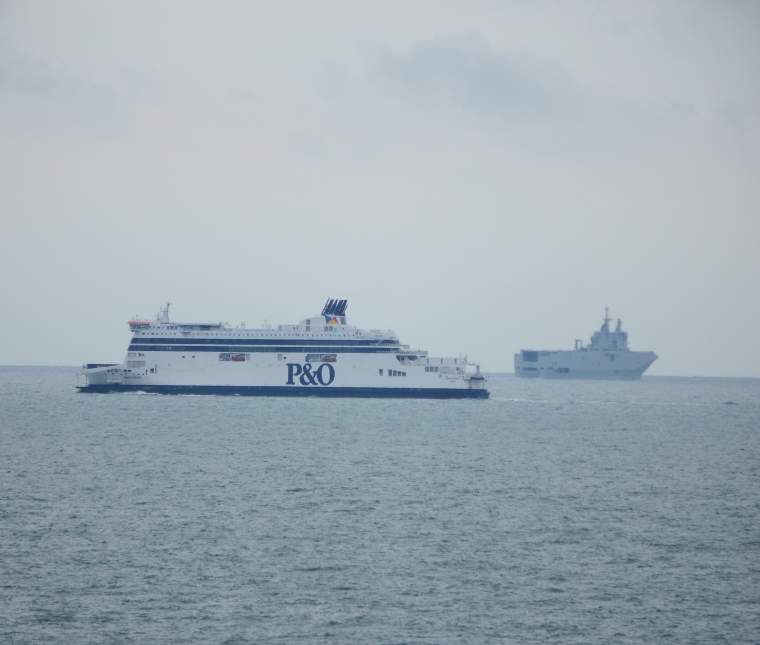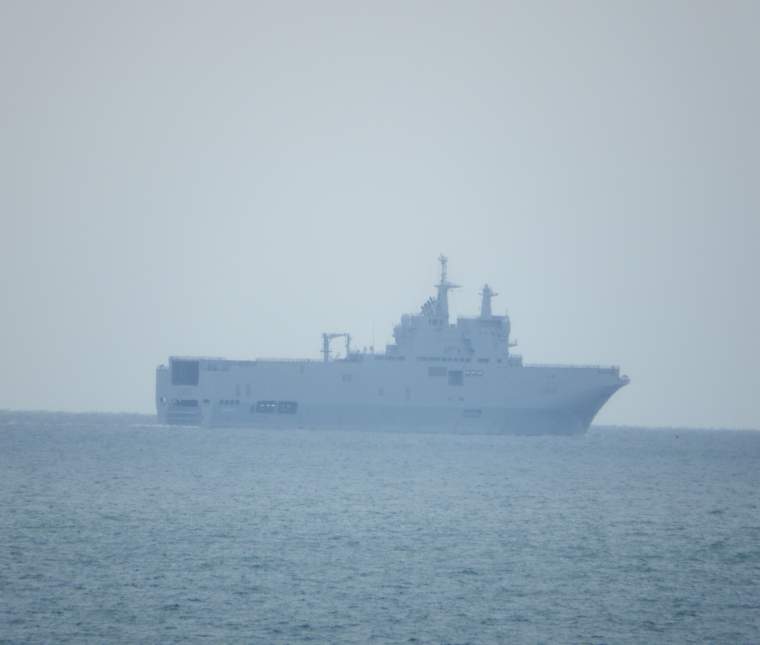 Kent and Essex IFCA Fisheries Patrol launch passing Dover at same time.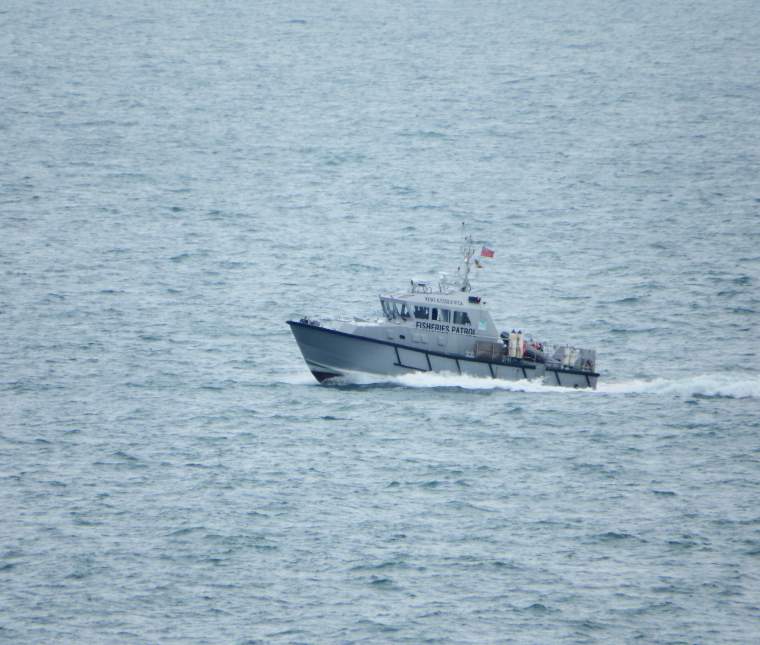 Thursday, 16 October 2014 - 01:02
Post 1149
PaulB, Dover
Thanks Stacey - good to hear from you.
Yes I think we all loved the brilliant achievements of the P&O Choir. The programme was fantastic as was the singing. I was gripped completely and I know many others were too. It was totally exciting.. both for P&O and for Dover. It gave the town a huge lift at the time.
A big well done to you. Pass on our congratulations too to all the choir..

(For those who missed it...see posts 288,290,303 among others..)
Wednesday, 15 October 2014 - 15:00
Post 1148
Stacey Young, Kingsdown (stacey.young@poferries.com)
Thank you PaulB for sharing the photo of the choir and for the little write up - how lovely!
Kind regards,
Stacey (The P&O Ferries Choir)

Wednesday, 15 October 2014 - 11:38
Post 1147
PaulB, Dover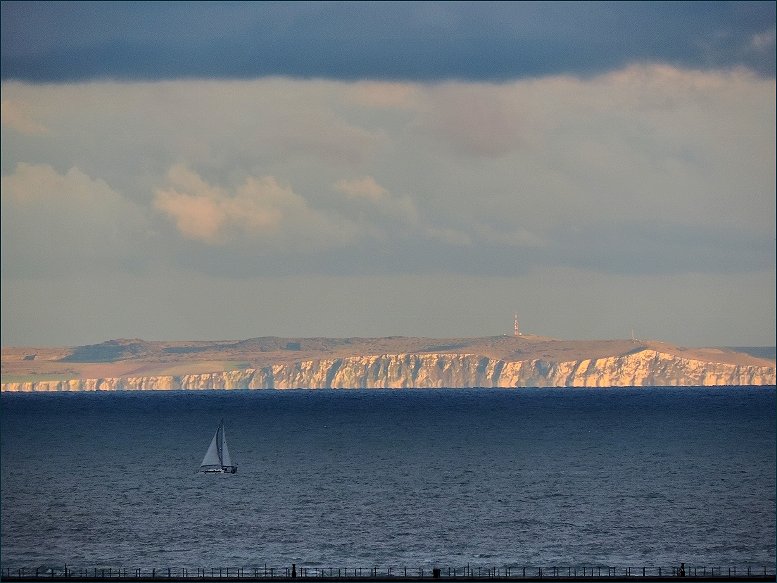 This was the scene across the channel late yesterday afternoon around 17.45 or thereabouts. While Dover was covered in thick black cloud, you can just see some of the aforementioned heavy cloud at top of picture, over on Cap Gris Nez all was looking splendid in the glorious sunlight. In the foreground in the much darker conditions a passing yacht obliged at the right time by sailing into view. Yours truly has had many a nice drive down along that delightful French coast..even flirted with al fresco along the way so I did...

A good collection there in the post below Ed. I also got the passing Waverley but only at the last minute, was just popping out but had to grapple back at speed, seize the camera and just made it before it drifted out of good view. Yes I remember it here in Dover several years back..must be quite a while back now.. 'tis quite an eyecatcher ! Great to see it.
"
PS Waverley is the last seagoing passenger-carrying paddle steamer in the world. Built in 1946, she sailed from Craigendoran on the Firth of Clyde to Arrochar on Loch Long until 1973. Bought by the Paddle Steamer Preservation Society (PSPS), she has been restored to her 1947 appearance and now operates passenger excursions around the British coast.
Since 2003 Waverley has been listed in the National Historic Fleet by National Historic Ships UK as "a vessel of pre-eminent national importance". She appeared in the 2011 film Sherlock Holmes: A Game of Shadows. Waverley is named after Sir Walter Scott's first novel.
"
The Waverley - passing tuesday morning.
Wednesday, 15 October 2014 - 07:05
Post 1146
Ed Connell, Dover
Paddlesteamer Waverley passing Dover this morning, not seen her since she was stooging around making the Sherlock Holmes film some years ago. Bunker barge Coralwater in the bay after refuelling one of the P&O ferries. Cargoship Discovery Bay on the DCT.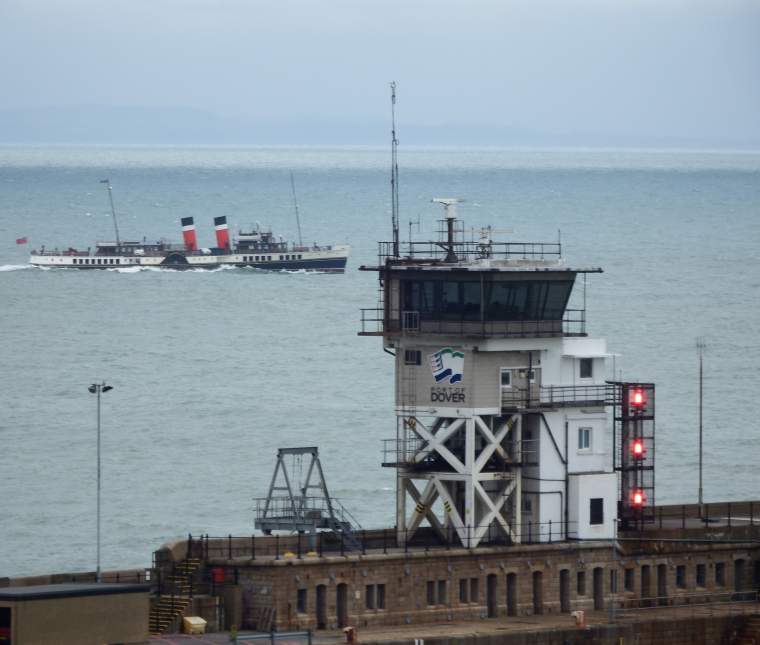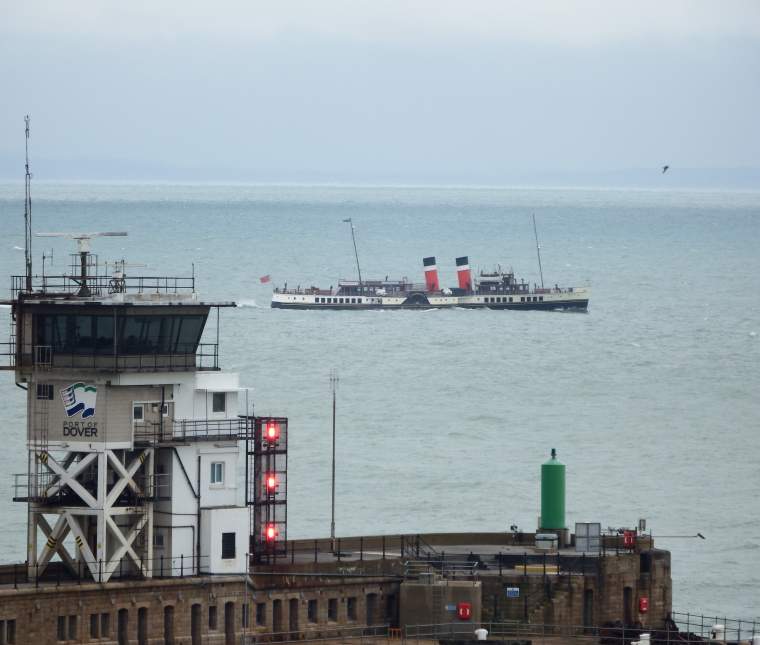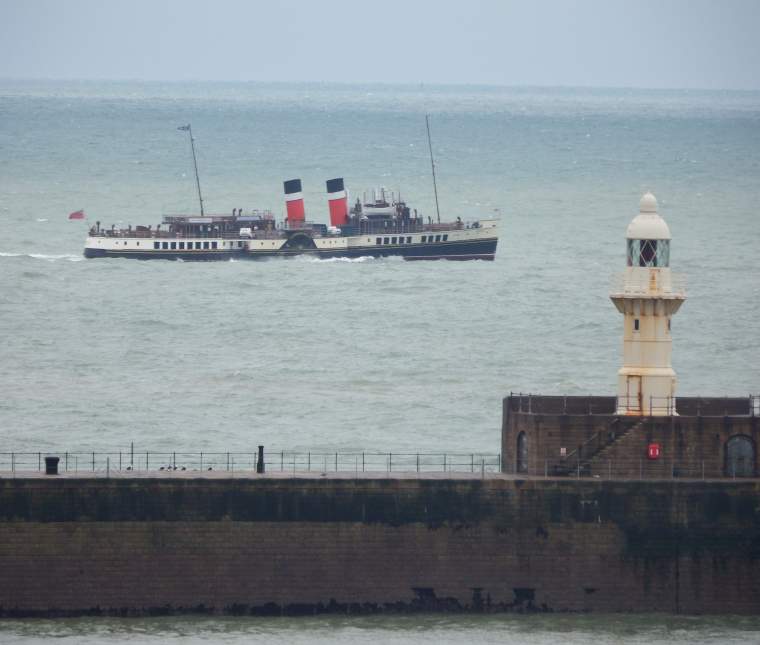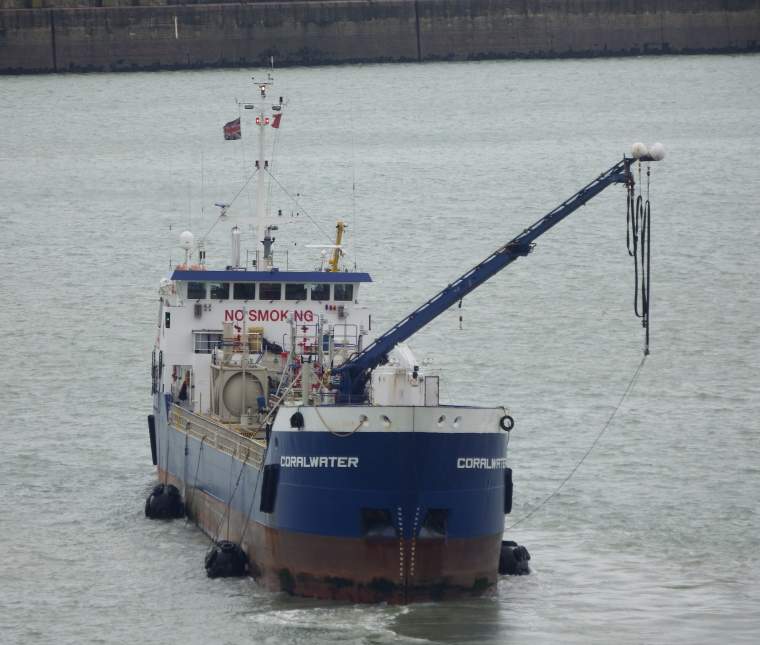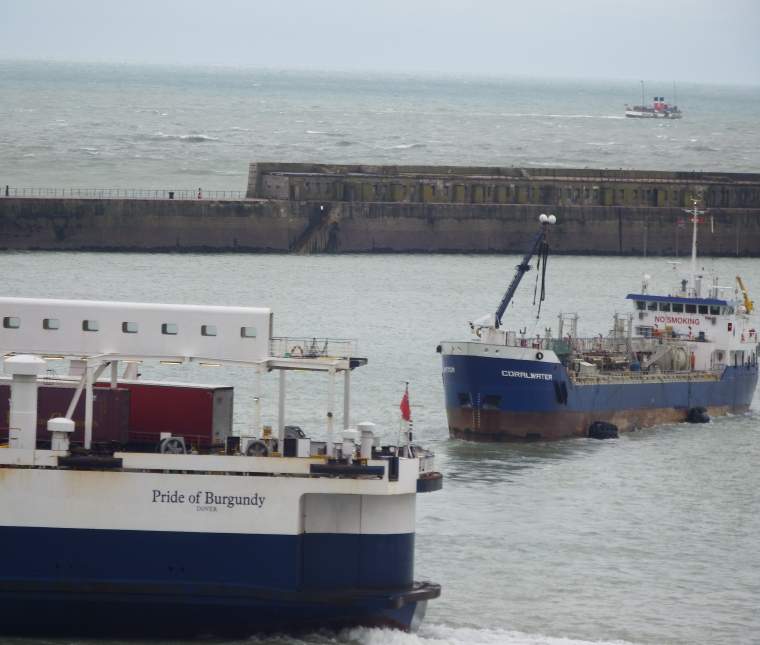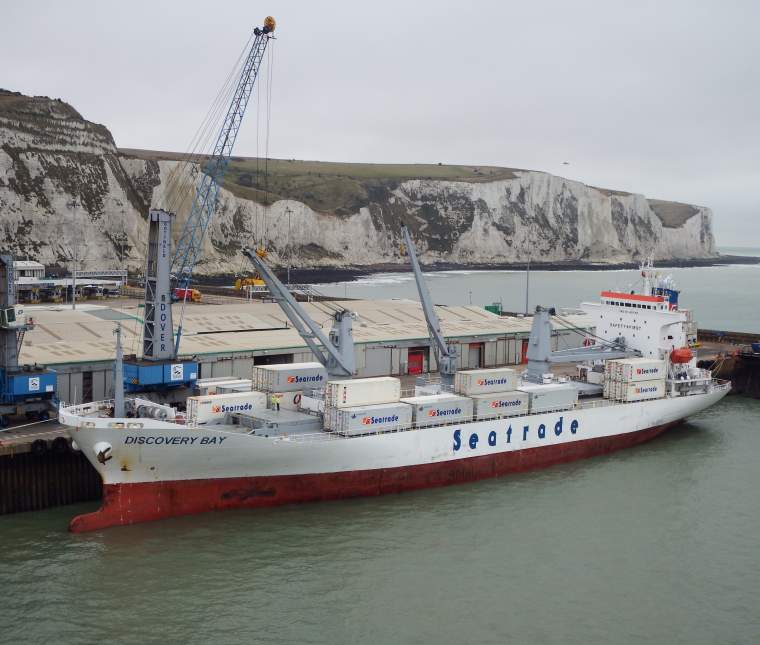 Tuesday, 14 October 2014 - 13:03
Post 1145
PaulB, Sea News, Dover.
Port celebrates new powers to deliver for Dover
______________________________________
Celebrating a landmark achievement in the rich and varied history of the Port of Dover, the Dover Harbour Board is delighted to confirm the Marine Management Organisation has approved the Board's application (through a Harbour Revision Order) for additional powers.
George Jenkins, Chairman, Dover Harbour Board, said:
"The Board are delighted that the future of the Port of Dover as a trust port has been secured, allowing us to play a bigger part than ever in the regeneration of Dover.
"Unlocking the potential of the organisation to deliver for its customers and community in a way not possible before, the Port has received what has to be seen as a huge vote of confidence in the shared vision and organisational approach being developed by the team at Dover.
"We are building momentum. We are already moving forward on a clear timetable to deliver the first ever community director of Dover Harbour Board. We are establishing a new community fund for Dover with £¼ million now committed to launch it. This decision will reinforce our delivery."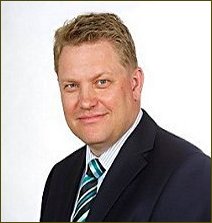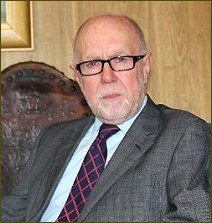 Tim Waggott, Chief Executive, Port of Dover, said:
"This empowering decision arrives just four months after the initial application was made. Such a swift approval, in record time, comes only days after we announced the biggest ever single investment in Dover, the £120 million Phase 1 of Dover Western Docks Revival. This means we now have the necessary powers to progress the project, delivering over 600 new jobs for Dover and transforming the waterfront to be the catalyst for Dover's wider regeneration.
"We look set to deliver a record traffic performance in 2014. Moving forward with major investments in the Eastern Docks Ferry Terminal whilst providing excellent customer service demonstrates how the Port of Dover and its ferry operator partners are maximising our contribution to the local Community, East Kent and the Nation.
"I would like to pay tribute to my team for their hard work and also to thank all at the Department for Transport and our local MP, Charlie Elphicke, for their help, support and encouragement. I also salute our customers and community who have supported us hugely in our quest. This is a proud and exciting time to be associated with Dover and its Port.
"These are new and uncharted waters for us all, but I believe we are entering a period of time that will go down in the history books as the start of a golden age if we all continue to support each other and work together to deliver for Dover."
Ends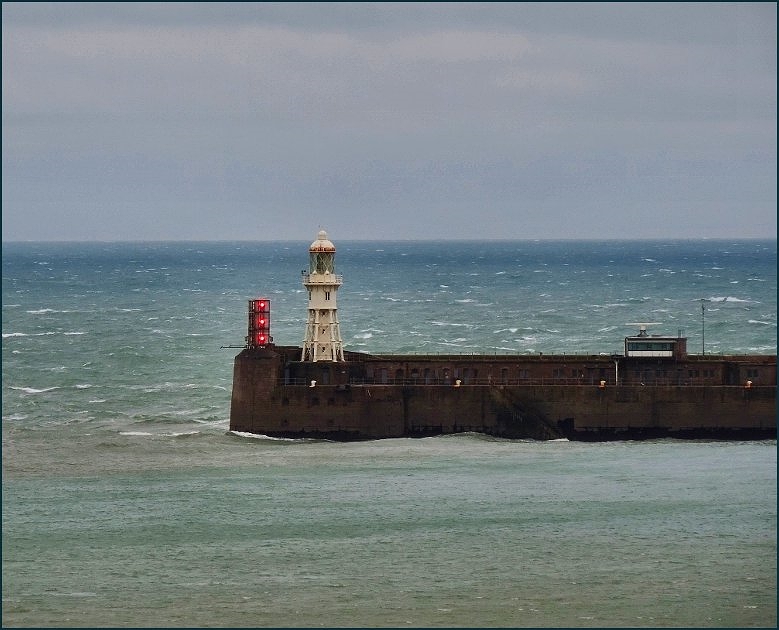 Pictures: Choppy waters yesterday - its not always smooth sailing...but things get better.
Top portraits left to right in circular motion, Tim Waggott, George Jenkins, Charlie Elphicke.
Tuesday, 14 October 2014 - 07:11