Thursday, 19 January 2017
doverforum.com/sea-news
Featuring all the ships that come and go and work at the Port of Dover with further coverage of Ramsgate, Calais, Dunkerque..
Email:dover7@msn.com to send SEA NEWS pix or info.... or click ADD YOUR COMMENT below to post direct, no membership needed. Use our SEARCH ENGINE below to find all sorts on the SEA NEWS pages..more than 170 now with more than 3333 nautical posts. Posts welcome. Max of 5 pictures preferred per post. Sea News Editor Paul Boland.



Sea News Dover

: A strong future for cargo at Dover see 3374 - DFDS: the 50 year old apprentice..nice story, see 3407.
Two National Awards for P&O see 3405 - also see 3390 as the Port construction moves forward.
Post 3411
Sea News, Dover
Afon Cefni again, pictured a day or so ago leaving port. She is currently working with the Olympic Triton and the Siem N-Sea on the offshore cable renewal project. Yours truly didn't have a picture of her previously other than a tiny dot long range...so here we are putting that right.
Wednesday, 18 January 2017 - 19:04
Post 3410
Sea News, Dover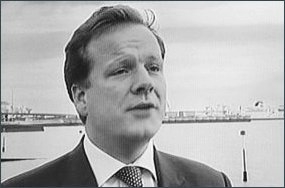 Leaving the European Union will mean a lot of change – nowhere more so than at the Dover and Deal frontline....says MP Charlie Elphicke
______________________________________________________________________________________________________
The end of unchecked EU immigration will require a beefing up of our border controls. The rising threats of organised crime, trafficking and terror all mean we must invest more in intelligence to keep us safe. Yet at the same time we want to maintain the free flow of trade at Dover – and have smooth journeys for legitimate travellers too.
How could we do it and be ready in two years' time? I have written to the Home Secretary, proposing we plan now to adopt a visa waiver system for EU visitors. If we charged every visitor £10, this should raise some £250m a year – enough to increase the UK's Borders Budget by 50%. With this extra money we can boost our efforts at Dover to combat traffickers, terrorists and criminal gangs.
There is a real challenge ahead for Dover. Post Brexit we will need to extend our full border control systems to travellers from the EU to Britain.
The number of visitors and the amount of trade coming through Dover continues to rise. It needs to stay that way. So it is in the interest of both the UK and European Nations that our borders remain open for business.
We must continue to work with our European neighbours to share intelligence and see that proper security checks are made at the borders as needed. This is because we all need to work together to combat organised crime, people trafficking, smuggling and terrorists. Meanwhile, passports must be properly checked on departure. Therefore, systems like the Le Touquet Treaty's juxtaposed controls at Dover and Calais should be maintained as they work in the interests of Britain and France.
Britain faces a number of serious threats at the border. As the Calais Jungle camp grew, the number of migrants being smuggled in the backs of lorries trebled. Add to this people traffickers and rising numbers of people turning up in small boats on the beaches and small ports of Southern England. They amount to a changing border security challenge that must be answered to prevent people breaking into Britain through the Port of Dover or the beaches of Deal – and to stop those who would seek to do us harm.
For faster checks at Dover, investment is needed in modern systems. We must make sure we have enough officers. By adopting a US style visa waiver system we can fund the investment we will need to make in our border controls.
By taking action now we can be ready to have strong borders immediately on Brexit. Borders where we still enable legitimate tourists and trade to flow freely. Yet borders that are strongly policed so we can crackdown on threats to our security.
End
As Charlie talks above there once again about protecting our borders...gives me an excuse to use this pic of the Border Force in action. Don't get too excited however, the Gotheborg tall ship is NOT back in the harbour...NOT, but this is a picture I took previously but had long forgotten about until amazingly I came across it on GOOGLE a few days ago while searching for something else altogether...worth another look. VALIANT in action between the sailing boats...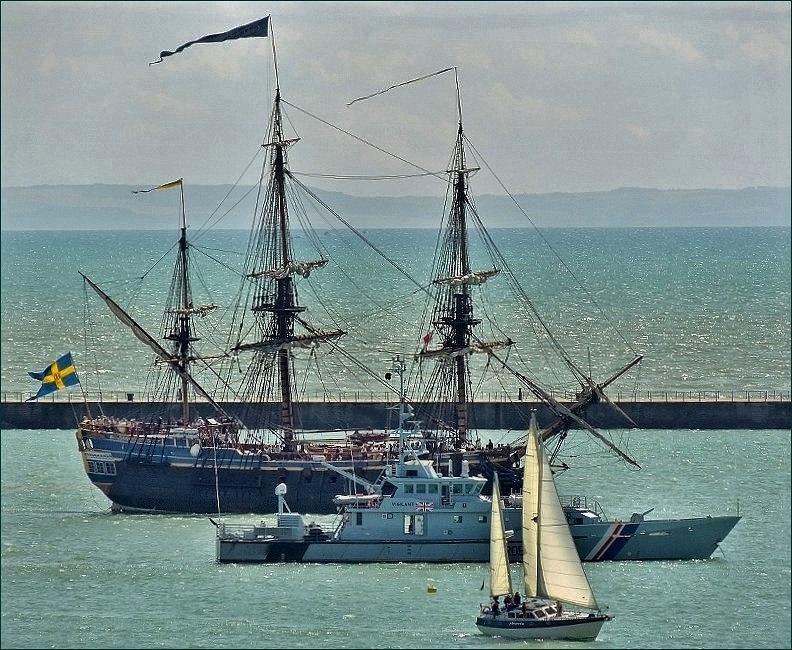 And now following along from Mike's pix in previous post
here is another shot this time from reader Patrick Simmons of the Olympic Triton taken a couple of evenings ago..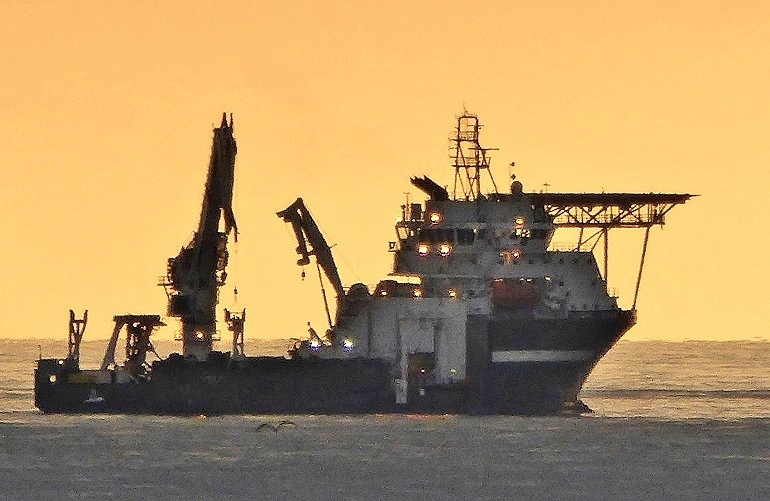 Well done Patrick

Nice post Mike good to see those shots below..all excellent from our 'inshore correspondent'.

And great coverage from Ramsgate too from our 'roving correspondent' Sarah H in the post below that.

Exciting times. PaulB.
Wednesday, 18 January 2017 - 08:00
Post 3409
Mike J., Dover
The OLYMPIC TRITON was joined on the power cable repair job [post 3387] a few days ago by the similar but curiously named SIEM N-SEA [recently renamed from SIEM STORK].
Both were photographed from Samphire Hoe on Monday - a long way off & the photos have been ruthlessly cropped..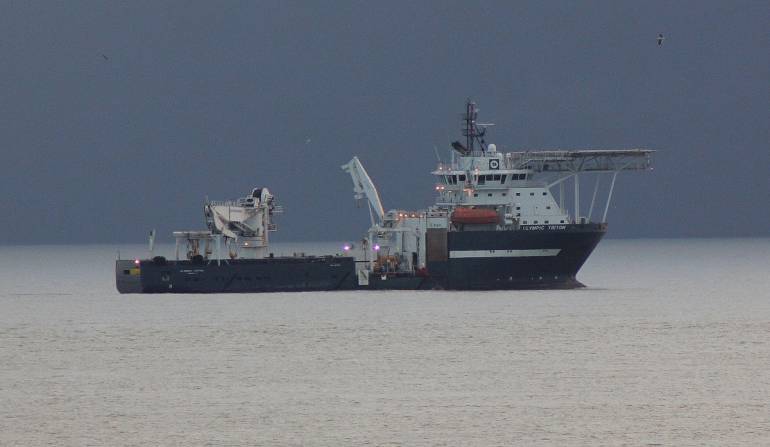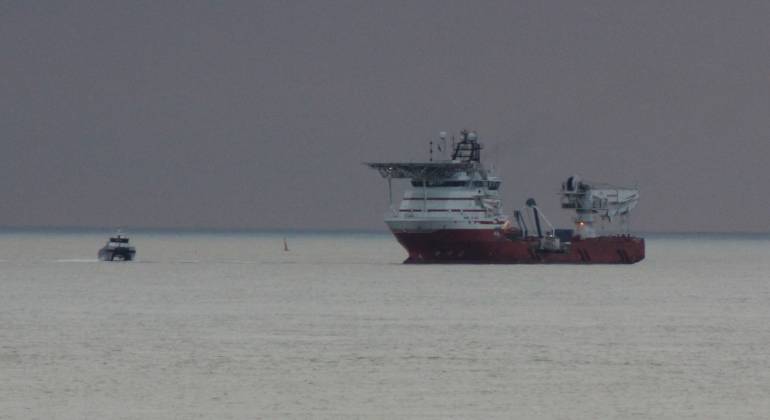 With the SIEM N-SEA is the HOLYHEAD BAY returning to Dover after one of her 'taxi' runs.
Further to the Customs Watch House photo in Paul's post 3405 I remembered that I had a couple of closer-upper sea-level views taken back in June.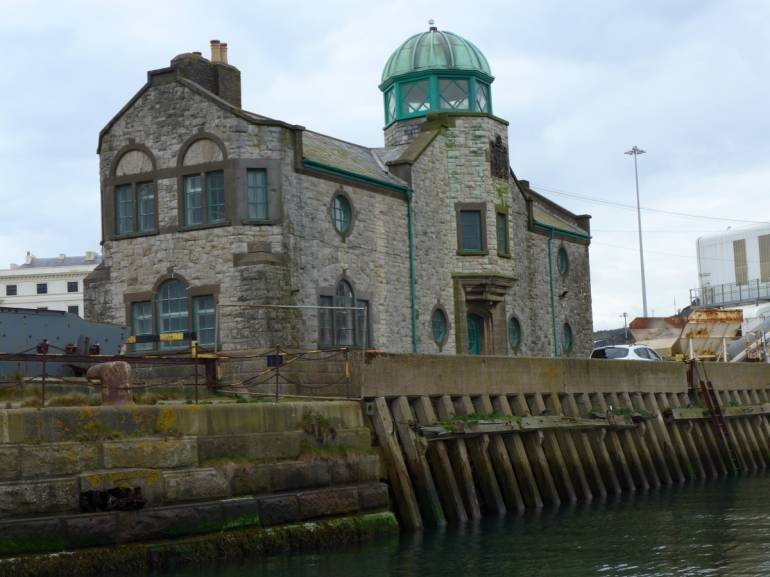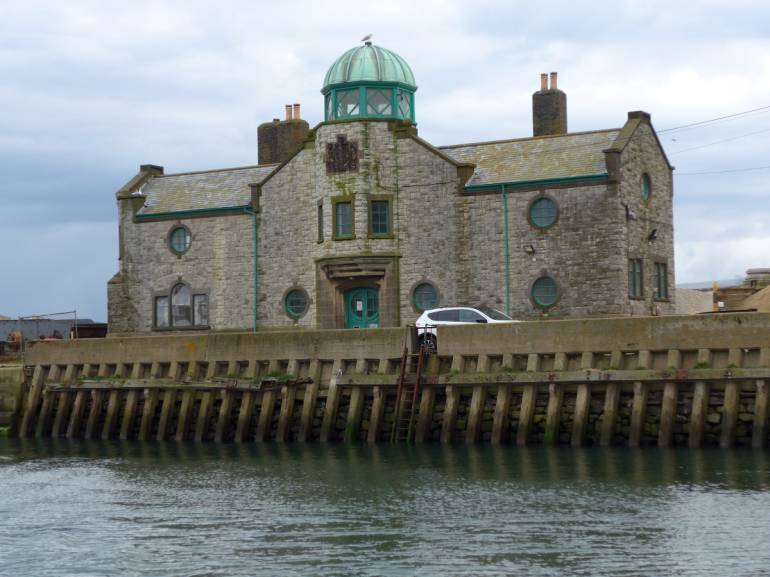 Tuesday, 17 January 2017 - 23:15
Post 3408
Sarah, Ramsgate
Relief Lifeboat "Margaret Jean" returned to Ramsgate today.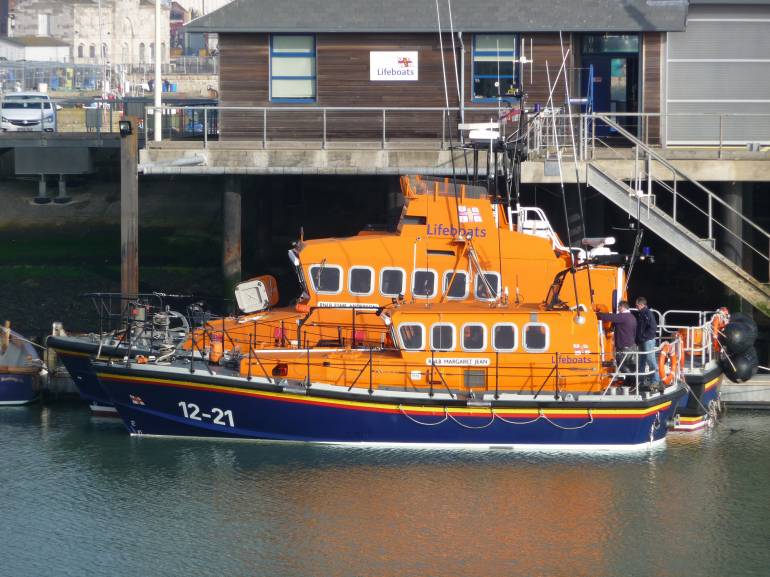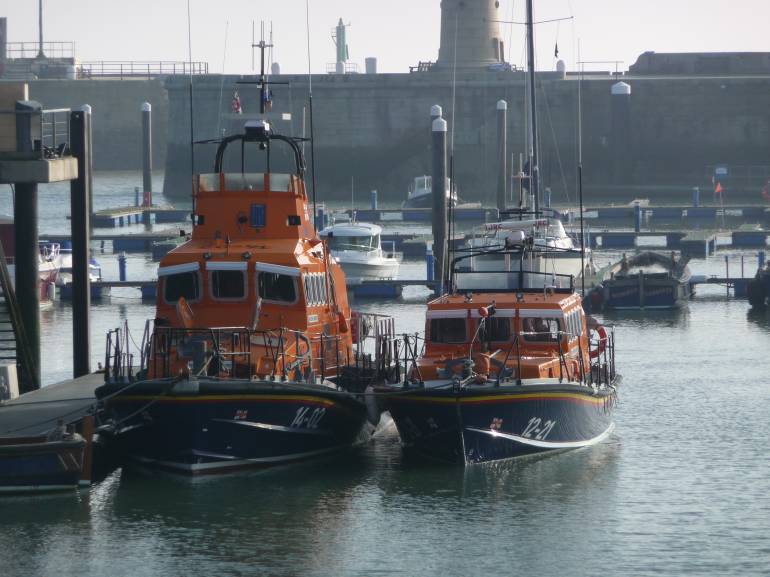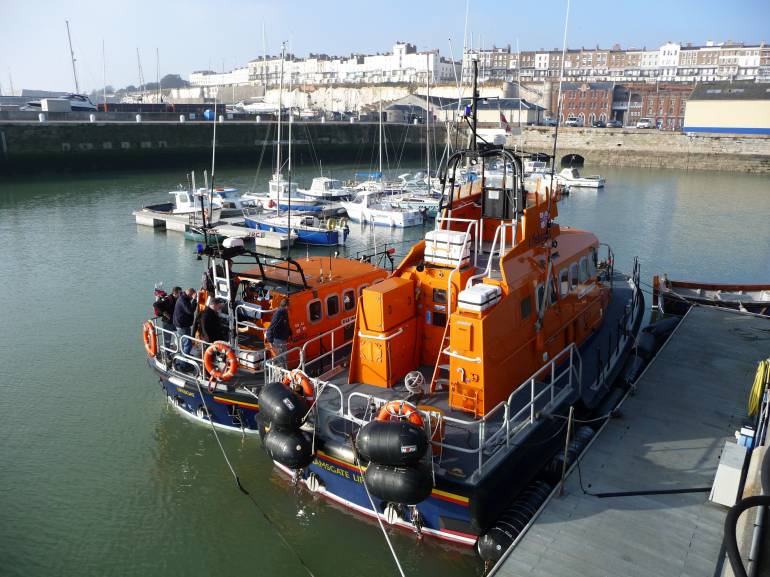 Tuesday, 17 January 2017 - 19:23
Post 3407
Sea News, Dover
A Great Story from DFDS....
In September 2016, 50 year-old Patricia graduated as an Able Seafarer as part of DFDS' Apprenticeship scheme. The scheme usually takes in 18–24 year olds but when Patricia, who was working in the catering department on board, decided she wanted to progress further in her career and incorporate it with something she loved, she applied for DFDS' second ever intake of apprentices in 2014 and was one of DFDS' ten apprentices to graduate this year.
Below and attached is a Q&A with Patricia about her experience as an apprentice. We thought this could inspire others in the area, who may feel they are too late to make headway in their careers.
Patricia Brizuela, aged 50, based in Dover
_________________________________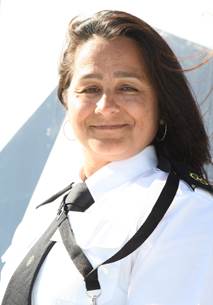 _________________________________
Which DFDS ship are you currently working on?
Dover Seaways
Which apprenticeship have you completed – deck or engine?
Deck
How did you hear about the apprenticeship and what attracted you to the scheme?
I have always been passionate about the sea and wanted to pursue a career in the area, so I decided to look for opportunities on board ferries.
When working for DFDS as a stewardess on the Delft Seaways, I was always looking for ways to work in the deck department. I was speaking to one of the Captains who told me all about the apprenticeship scheme which DFDS offered and I was immediately interested in applying.
Why did you choose to do the apprenticeship specifically with DFDS?
Having worked for DFDS previously, it seemed like the next logical step to expand upon my skill set.
What were you doing before you joined the scheme?
I worked as a stewardess, looking after passengers in a primarily customer service role.
Could you describe a typical day at work as an apprentice?
I start the day by exercising at the on board gym a couple of hours before my watch begins. The working day starts when we arrive at the port and go to our mooring stations, where we learn about the mooring manoeuvres and help the AB's (Able Seamen). We are also taught procedures for anchors and tugs.
Loading and discharging is a key part of my duties, this includes ensuring the ship is stable to proceed, preparing the deck for cargo to be loaded and unloaded and ensuring all team members are safe at all times.
When the ferry is moving we usually undertake maintenance of the ship, including chipping, painting, greasing and splicing. We're also taught how to assist with steering the ship and being on bridge watch - which is important for navigation.
What is the main thing that you've learned during the apprenticeship?
We have taken part in numerous college, online and on board training courses, which I have really enjoyed as it has enabled me to gain new skills.
The main thing I've learnt is how to work safely, taking care of myself, my colleagues and passengers. "Safety first" is not just a sentence in a maritime environment, it is the philosophy that rules each and every day on board.
How did you find the adjustment to working shifts and living on board a ferry?
Having worked as a ferry stewardess, I found the adjustment relatively easy as I was already used to living on board and working in shifts.
What have you enjoyed most about the role?
Being part of a team that helps with the operation of the ship and playing a key role within the deck department.
What has been the biggest challenge?
My biggest challenge was the throwing of the heaving line – which is 50ft long.
What are your ambitions for the future? Can you describe what you'd like to do next?
I would like to become an Officer of the Watch, for which I will need to learn the duties and responsibilities of the Quartermaster. I also need to work towards acquiring the required bridge sea time to be eligible to take the OOW exams.
When you're not at work, what do you enjoy doing?
I'm a keen sailor and have sailed yachts for the last 20 years. I have my own yacht which I really enjoy spending time on; sailing for me is a way of life.
What do your friends and family think about your apprenticeship role?
They're very happy that I'm able to pursue my love for the sea through my career.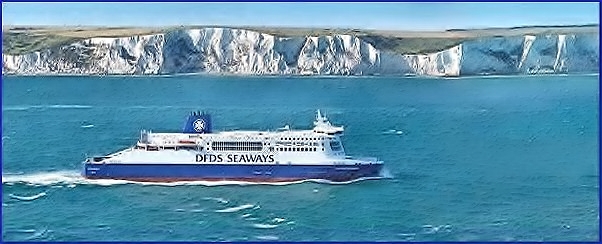 -Ends-
About the DFDS Apprenticeship Scheme
The DFDS Apprenticeship scheme focusses on creating opportunities for young people in Dover and the surrounding area. DFDS offers two apprentice schemes; the Deck Scheme which sees students qualify as Able Seafarers, working in the deck department as a watchman and assisting with loading and unloading the ship; and the Engine Scheme which sees apprentices work towards becoming Marine Fitters within the engineering team, which is responsible for maintaining and repairing the ships.
The apprenticeships are offered in partnership with the Merchant Navy Training Board (MNTB), the shipping industry's central body for promoting and developing sector-specific education and training skills.
* *
Great work Patricia...well done

.. Many thanks to the team at DFDS.
A couple of extra pictures below now of the Italia Reefer arriving with us on Sunday (see also post 3404)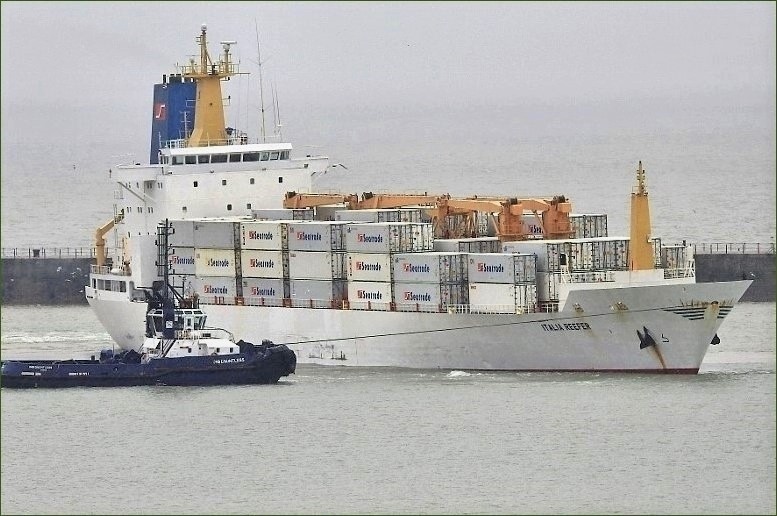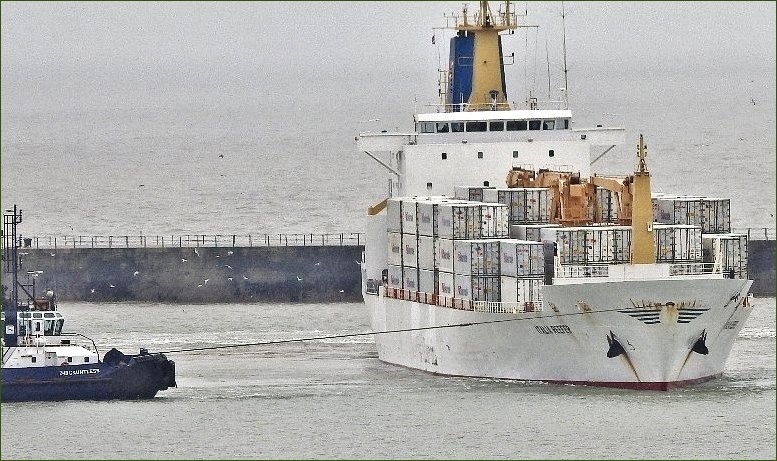 Well done with that picture below Ed from Dunkerque..so that's what happened to Saga Sky...
Hope the annual Delft Seaways refit goes well over there...
PaulB.
Tuesday, 17 January 2017 - 08:03
Post 3406
Ed Connell, Dunkerque
Saga Sky at the Damen shiprepair yard in Dunkerque today. Still under repair after the damage suffered during her collision with the stone barge off Samphire Hoe. French ETV Abeille Languedoc in the background. As seen from Delft Seaways which entered drydock this morning for her annual refit.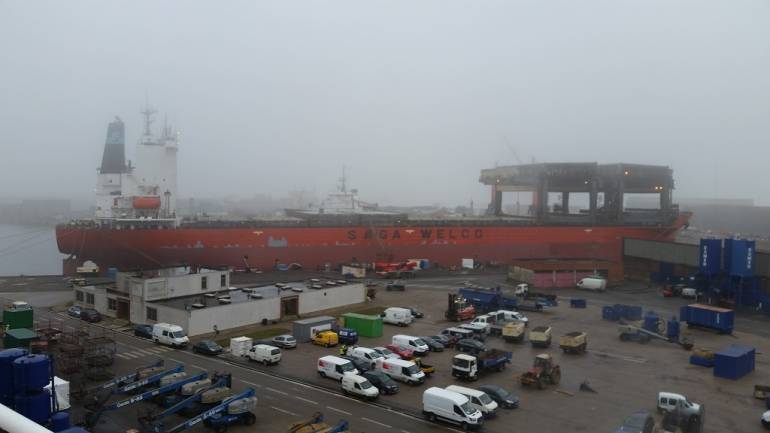 Monday, 16 January 2017 - 11:23
Post 3405
Sea News, Dover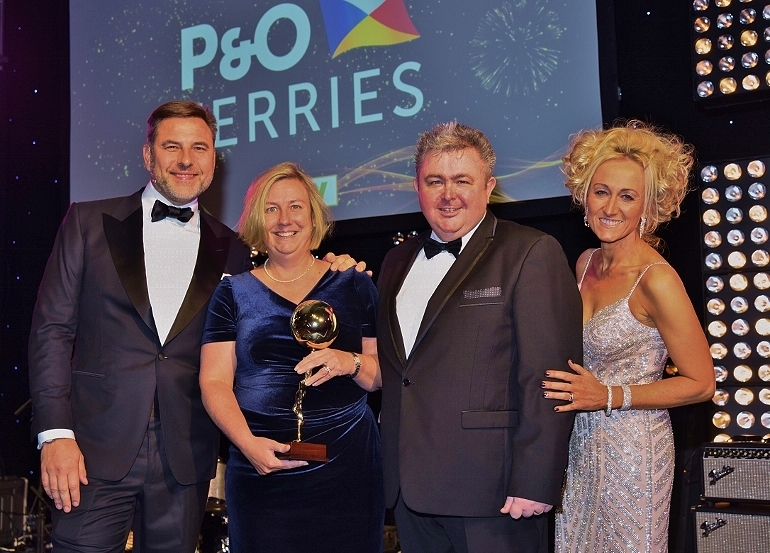 DOVER-BASED P&O FERRIES WINS TWO NATIONAL AWARDS FOR BEING BRITAIN'S LEADING FERRY COMPANY
_______________________________________________________________________________________
Release time: immediate
P&O FERRIES' 4,000 employees are celebrating this week after the company won two prestigious awards for being Britain's leading ferry operator.
Voted for by the general public and travel industry experts respectively, the two accolades were part of the Globe Travel Awards 2017 which were presented at a ceremony attended by 1,100 people at London's Grosvenor House Hotel.
P&O Ferries was named Britain's Favourite Ferry Company in a category voted for by readers of the Daily Mail.
P&O Ferries also beat a number of other operators to be named Best Ferry Company in a category voted for by readers of Travel Weekly, the country's leading travel trade magazine.
Janette Bell (pictured), Managing Director of P&O Ferries, said: "We were delighted to win these two awards which were voted for by the people who know our ships and services best."
"Our company is 180 years old this year and we have always believed that travelling by sea should be fun. We believe that the journey is just as important as the destination, something which sets us apart from a budget airline."
"Not only are our ships a reliable and efficient way of getting to the continent, there is also far more for our customers and their families to do on board. We have shops stocked with fragrances, alcohol, confectionery and toys with up to 50 per cent off high street prices. We also have a range of restaurants with spectacular views to suit all tastes and all budgets."
"Together with the outstanding customer service provided by our crew, it helps to explain why we have once again been voted as Britain's number one ferry company."
P&O Ferries is a leading pan-European ferry and logistics company, sailing on eight major routes between Britain, France, Northern Ireland, the Republic of Ireland, Holland and Belgium. It operates 20 vessels which carry more than 10 million passengers, 1.6 million cars and 2.2 million freight units every year.
Together with its logistics division, P&O Ferrymasters, the company also operates integrated road and rail links to countries across the continent including Italy, Poland and Romania. A P&O Ferrymasters-owned rail terminal in the northern Romanian city of Oradea, which will facilitate the onward movement of goods to Britain from the Silk Road, became operational last year.
PICTURE ABOVE: From left, TV star David Walliams: P&O Ferries MD Janette Bell: Olly Wenn, managing director of category sponsors, the travel web firm Zolv, and Lucy Huxley, editor of Travel Weekly.
ENDS
Many thanks to the team at P&O for the information above. Congratulations to P&O Ferries.

Just adding an extra pic here from our archives by way of celebration...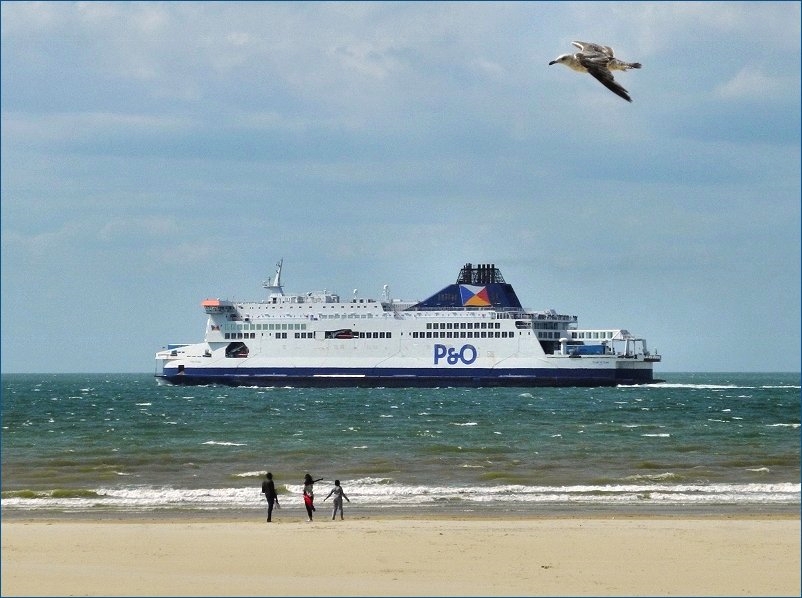 The Pride of Kent from the gorgeous Calais beach on a bracing day.
* *
As promised here is an extra picture of the Custom Watch House, shows it off a little bit better, with Tug Doughty playing the starring role in the foreground.
See also the previous posts... 3398, 3400.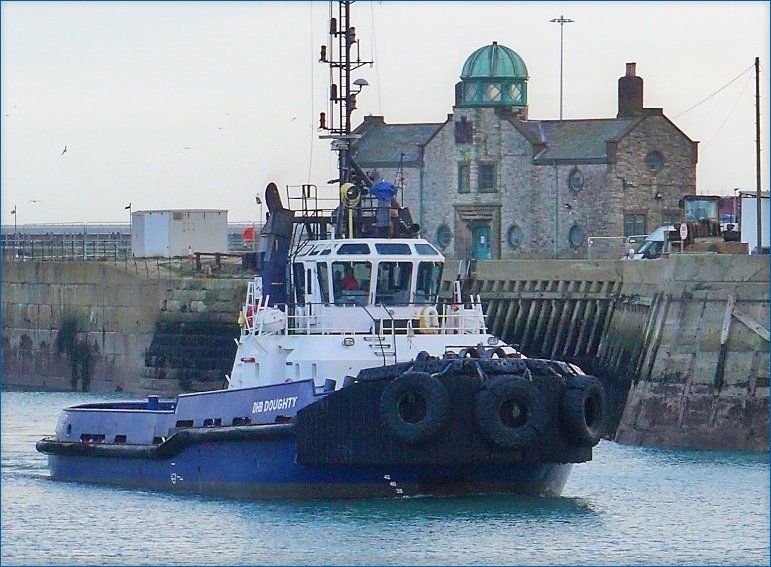 Nice shots of the Italia Reefer below Ed...great stuff!

Monday, 16 January 2017 - 07:26
Post 3404
Ed Connell, Dover
Italia Reefer at the DCT today.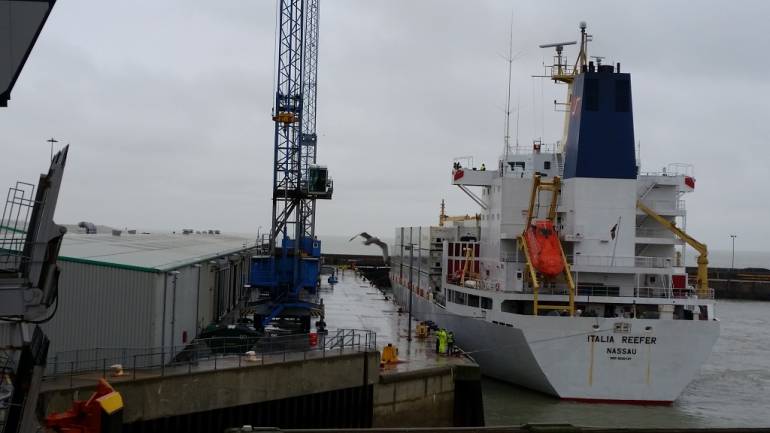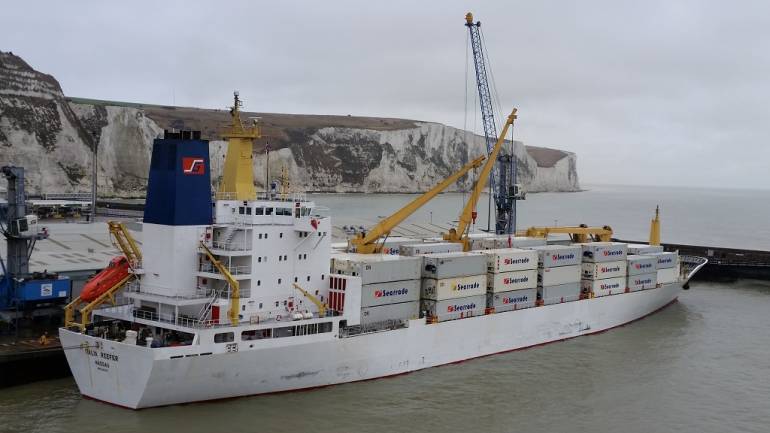 Sunday, 15 January 2017 - 19:03
Post 3403
Sea News, Dover
Following along from the previous post, here we are with another picture of the inshore visitors, the City of Oslo once again and Crown Opal to the left. There were many others too as mentioned in the previous post. The Crown Opal has actually called in to Port here previously but she was heading further afield this time.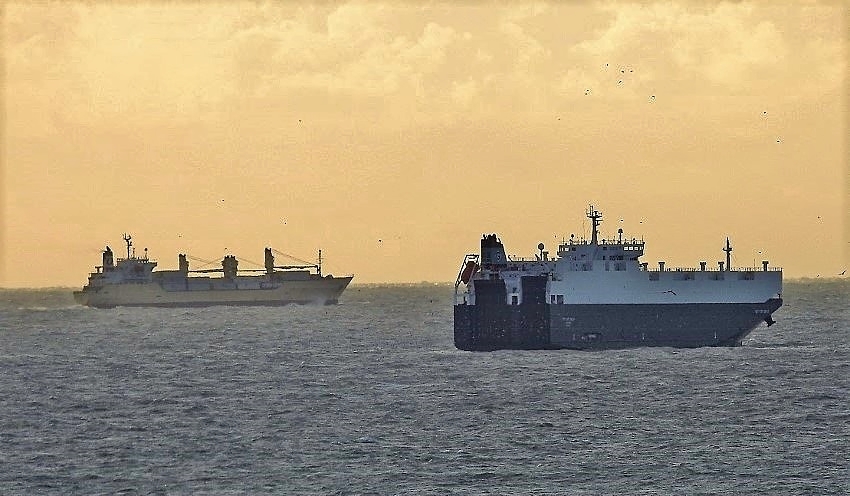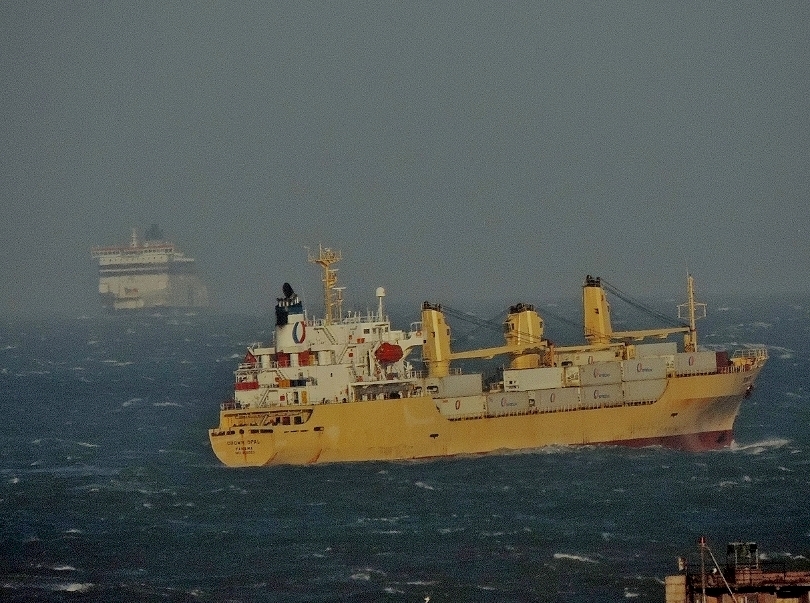 The Crown Opal.
Sunday, 15 January 2017 - 09:00
Post 3402
Sea News, Dover
Because of the recent bad weather, tidal surges and whatever, there have been a number of ships coming in close to shore here at Dover. These ships in turn being met by our pilot boat which takes off the relevant pilots left 'stranded' on board the various vessels due to the aforementioned weather difficulties at the continental ports. Here we have pictures of one of those ships...its the City of Oslo vehicle carrier.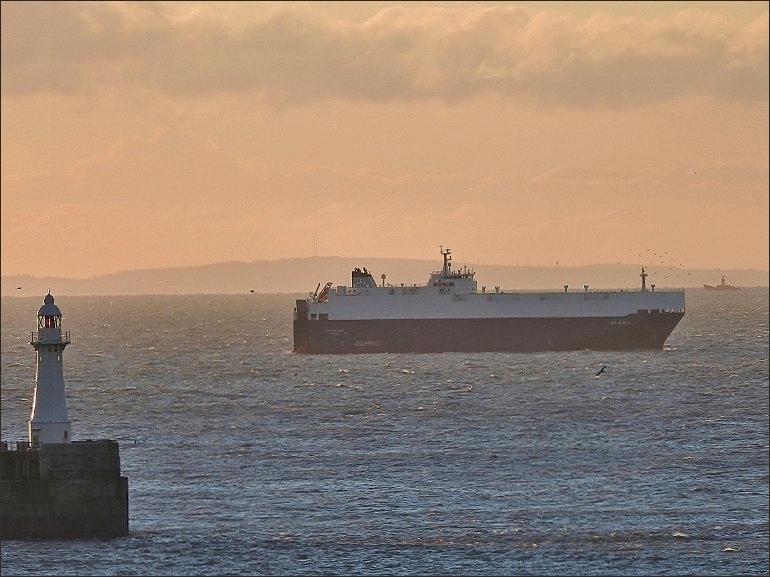 Comes in close to Port..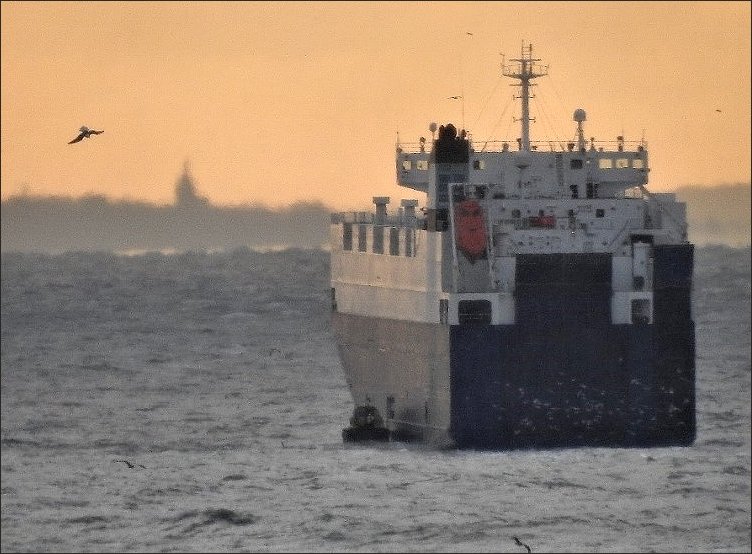 After a considerable time and a little further out in the channel, you can see our pilot boat Director doing the necessary up close...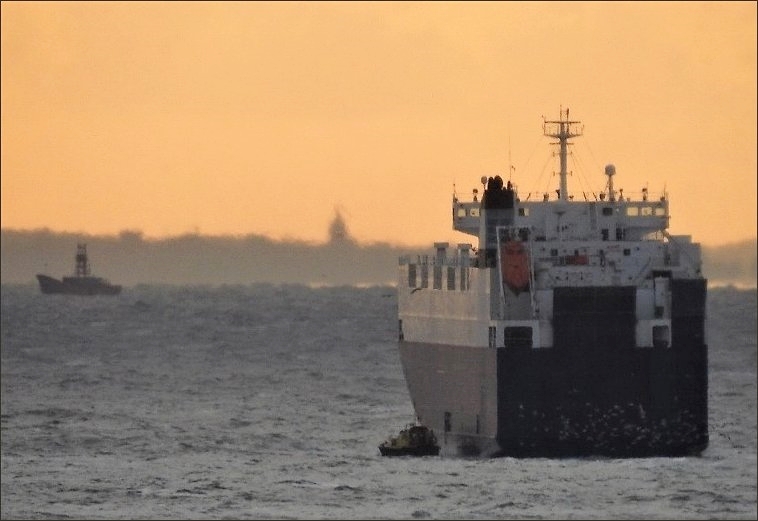 The pictures are a bit pushed, straining every pixel as the ship by now was a fair way out. You can see Boulogne in the background with the magnificent Cathedral there at the top of the hill. Also in shot .. the Larne Light Vessel..
A day earlier and here we are with Director ambling by the 'observation tower'. Never a dull moment!
Thanks Colette , yes all change coming down the line.
Thanks for all that info Mike...and the pictures too.
Will look up the history of the building Custom Watch House...very striking building, might have a better picture tomorrow.
Guys I never knew that shelter had such an exciting history..well I never. Will pay more attention to it in future.
Interesting re P&O logo, on a separate issue will have a press release to pin from P&O tomorrow.
Sunday, 15 January 2017 - 06:39
Post 3401
Colette B, Dover
Great News to hear from The Port of Dover that the DWDR development is forging ahead. With the first stage of construction underway, this is just the beginning, Monte Carlo, Watch Out!

Construction also seems to be taking shape at the St James's development with girders for the New 6 Screen Cineworld complex already in place.

Good News all around for 2017

Saturday, 14 January 2017 - 22:01
Post 3400
Mike J., Dover
The new P&O hullside logo looks & little weird to me, I wonder what was wrong with the 'old-fashioned' one ?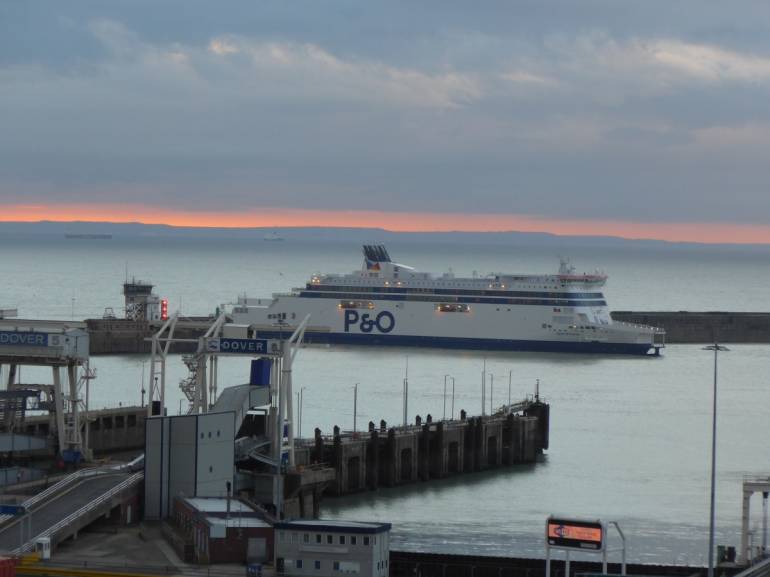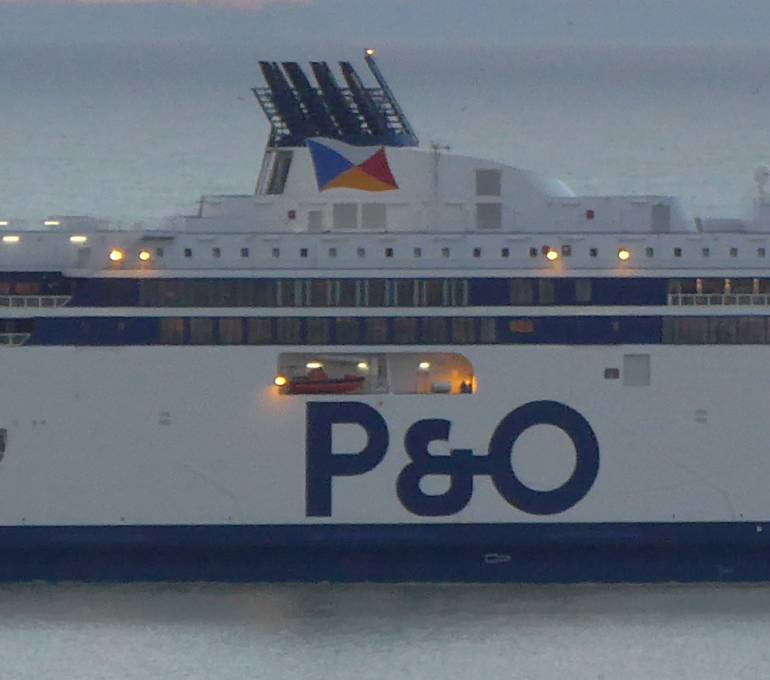 I suppose it is the result on spending many thousands on 'consultants' - image is everything !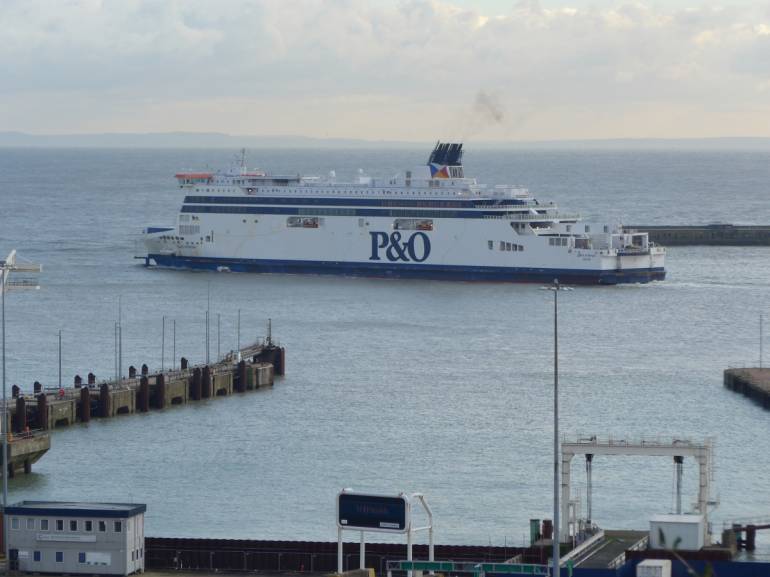 The building by the old train ferry berth in Paul's photo is the old 'Customs Watch House' built in 1909 & now as used as offices by the concrete company whose operations will be going elsewhere when DWDR gets going.
It's a 'listed' building - do a Google on 'customs watch house dover' & all will be revealed.
Looking at the latest DHB video it appears to survive in a little walled-off compound next to what seems to be a much smaller boatyard incorporating the old Jetfoil terminal.
All architect's visions at the moment of course !
Re Paul's pix of the shelter work - in Bill Bryson's 'Notes from a Small Island' there is a hilarious description of him, in his student days, bedding down in the shelter after coming off a ferry late at night & being unable to find lodgings - a cold night & he put some spare underpants on his head to keep warm which he forget to remove in the morning.
A lot of comments about Dover, too, well worth a read, a very funny [& shrewd] book.
A pity that the repair work on the shelter is being done by a Dartford company rather than a local firm, hopefully the local firms are all too busy.
Saturday, 14 January 2017 - 15:24
Post 3399
Sea News, Dover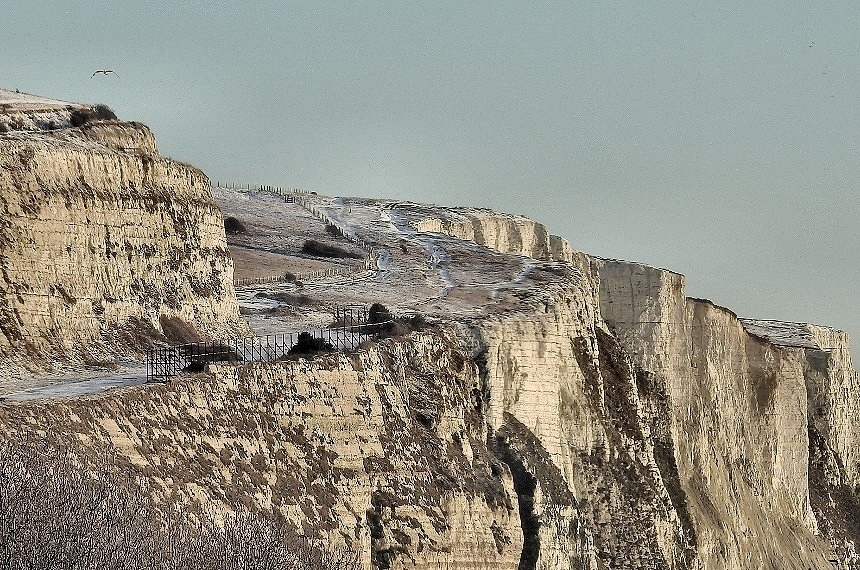 The famed White Cliffs of Dover looking even whiter than usual at the moment...all very frozen. Not too many people taking a stroll up there right now as you can see. Brrrrrr...
Saturday, 14 January 2017 - 15:05
Post 3398
Sea News, Dover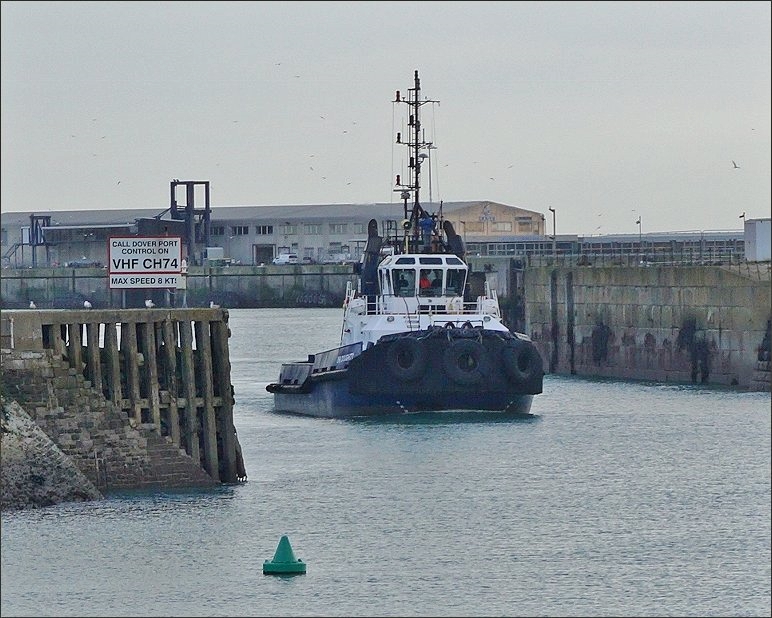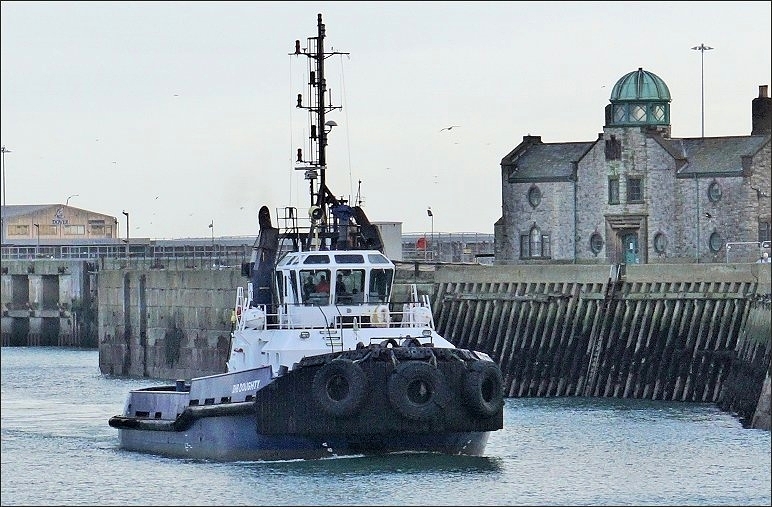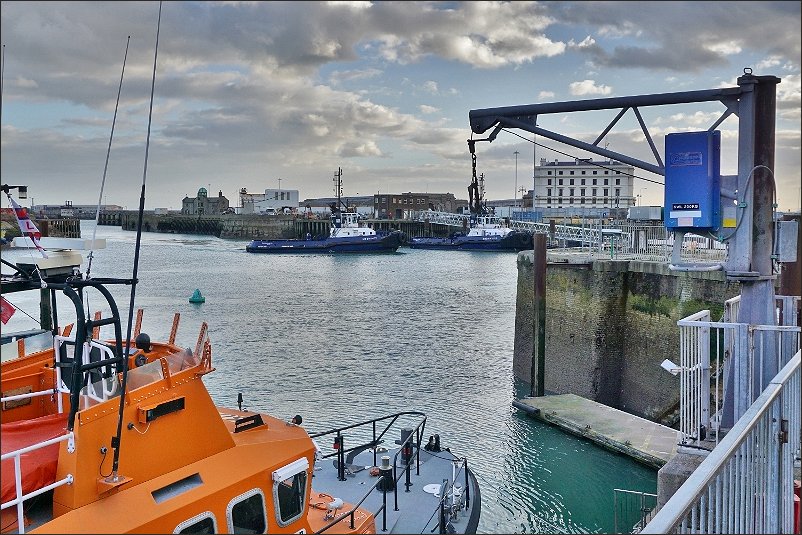 Some pictures above there taken 2-3 days ago. Twas very much a winters day in the inner harbour as the tug Doughty returned to base after another job well done. This was just immediately prior to the big chill so although wintry, it was pleasant enough as long as you had several layers of Norwegian polar thermals wrapped around the inner carcass.


By the way that's a beautiful building there behind Doughty in the second shot.. I believe its the olde custom house.
Well done Phil with the picture of the Duzgit Harmony. Very welcome. Thanks again Howard for doing the necessary.
Yes that's the very shelter Del. Its roof is now stripped away completely. No shelter in the shelter anymore, at least not for the moment.
PaulB.
Saturday, 14 January 2017 - 07:52
Post 3397
Del Styan, Norwich
Oh good - nice to see the shelter being re- roofed. A man on a cold tin roof doing a good job. When those not so fortunate as ourselves are not in occupation I have been known to pop in for a quick fag and a gaze at the comings and goings in the harbour.

Friday, 13 January 2017 - 23:19
Post 3396
Howard McSweeney, Dover
The "Duzgit Harmony" as mentioned further down on her way to the "Spirit of Britain".
Photo courtesy of Phil Smith.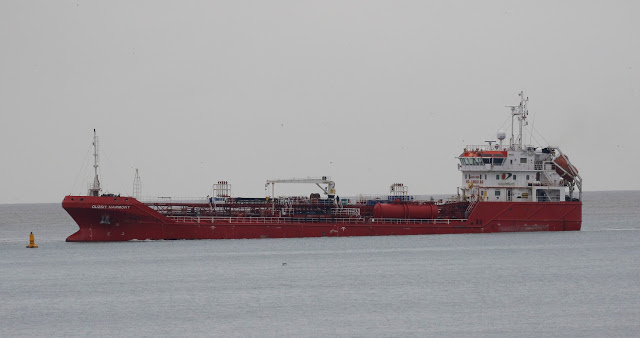 Friday, 13 January 2017 - 15:15
Post 3395
Sea News, Dover
Man on a Hot Tin Roof
__________________
One couldn't resist the headline although the chances of the roof being hot these days are slim to none. But man on a cold tin roof doesn't have quite the same ring to it. Further down the post we have news about the boost to Dover District Tourism...so these guys are fixing the roof while the ermm sun shines...even though its freezing out there....so in a wider way and in the grand scheme of things, it all helps to keep those tourists coming.
This, for those that don't know, is the seafront shelter opposite the Premier Inn...a very popular shelter with all levels of the community...work started two days ago.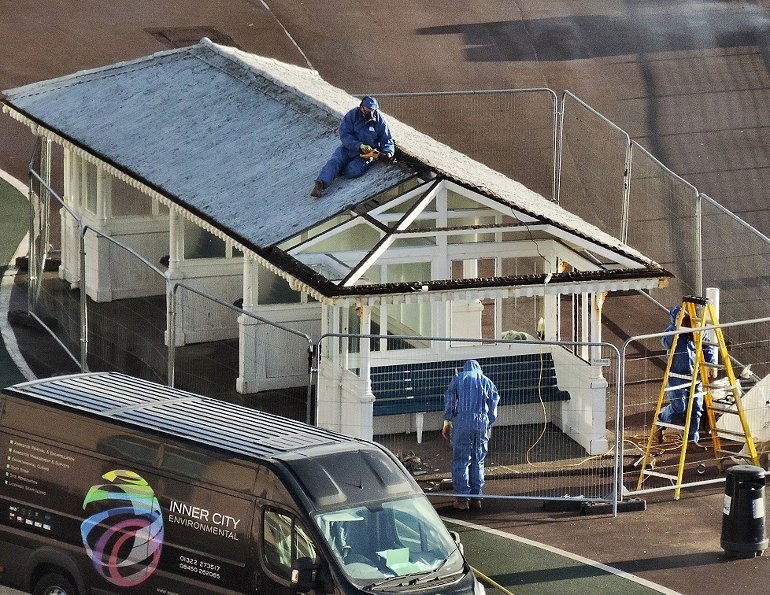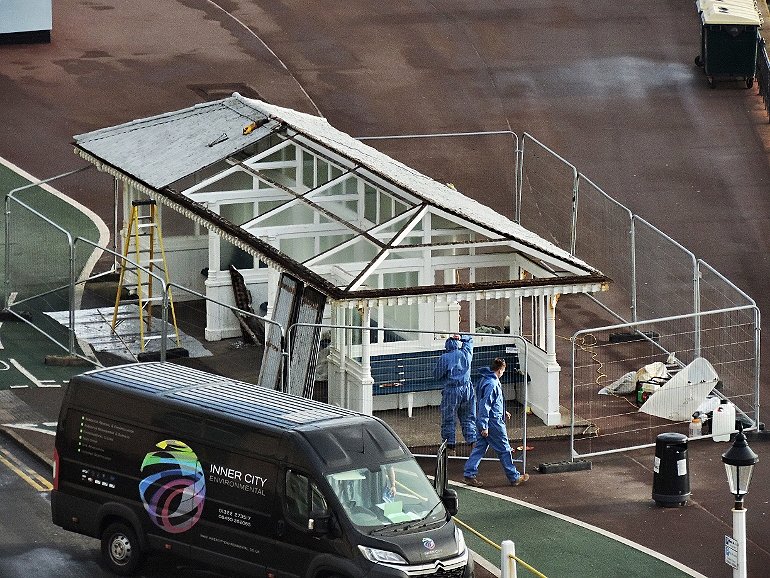 Tourism Thriving In Dover District
_____________________________
Tourism continues to thrive in White Cliffs Country – with 3.9 million day visitors to Dover District in 2015, and a total economic impact of almost £265m, according to recent figures.
According to the most recent tourism research, commissioned by Visit Kent, the total economic impact of tourism in Dover District was £264,821,000 in 2015, an increase of £16,507,000 compared to the last survey for 2013. Visitor numbers rose by 195,000 compared to 2013, while the total number of actual jobs rose by 422.
The figures were derived using the Cambridge Economic Impact Model, an industry respected tool for measuring the volume and value of tourism. The research was undertaken by Destination Research on behalf of Visit Kent.
Deal was recently named as one of the Top 10 coastal places to live by The Sunday Times Home Section and Inside Kent Magazine named 5 places in White Cliffs Country in its Top 10 Romantic Spots in Kent.
Cllr Keith Morris, DDC Cabinet Member for Tourism, said: "A range of exciting investments continues to boost tourism for the future for Dover District. This includes £3m investment from the Heritage Lottery Fund and Big Lottery Fund for the Kearsney Parks to restore their unique landscapes and heritage and improve facilities. Work continues on the redevelopment of the St James area in Dover Town Centre, which will see the construction of a new Travelodge hotel, six screen Cineworld cinema, restaurants and retail units."
For more information about White Cliffs Country, please see the White Cliffs Country website....www.whitecliffscountry.org.uk
Ends
That's a staggering amount raised from tourism as shown above there..long may it continue.
A 'cold day picture' below of the January channel...with the only thing moving being our ol friend the dredger David Church.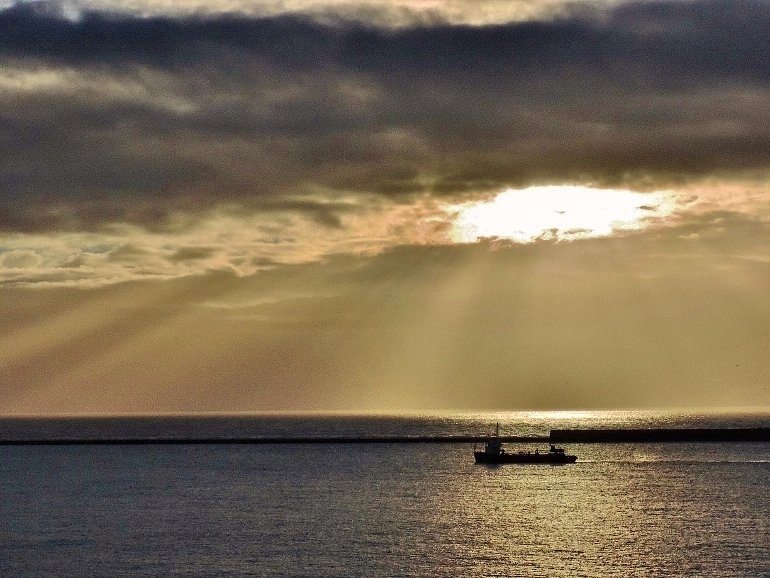 Thanks Mike re info and pictures below...was down there the day before got some pictures of the returning tug...will sort those out..up next.
PaulB.
Friday, 13 January 2017 - 06:36
Post 3394
Mike J, Dover
A misty murky miserable morning found the HOLYHEAD BAY on the Crosswall Quay on Thursday, pausing from her 'tendering' duties to the OLYMPIC TRITON & the cable repair job off Capel.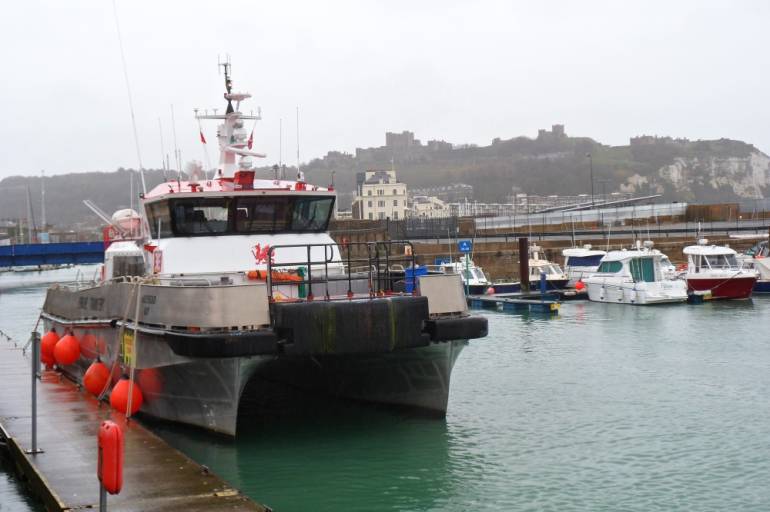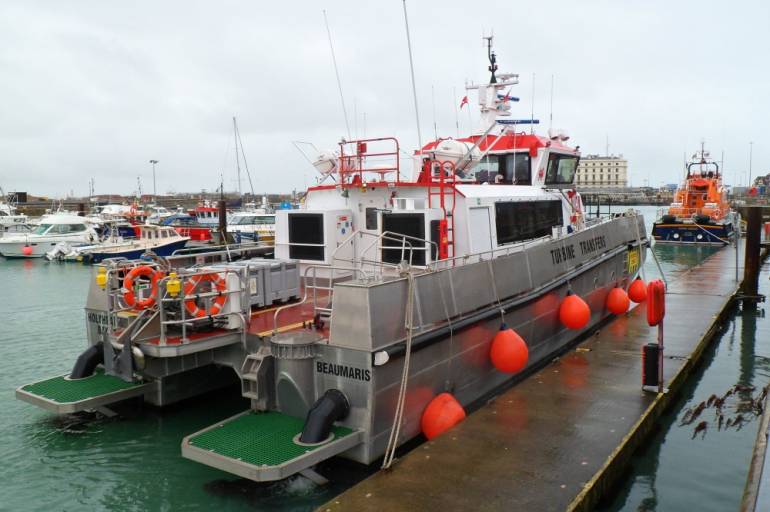 Come the evening she was tucked up in the Tug Haven with the guard ship AFON CEFNI & the 'regulars' as the weather continues to deteriorate.
Gavin [post 3391] - regret no news from my spy in the docks about CORALWATER
Thursday, 12 January 2017 - 22:25
Post 3393
Sea News, Dover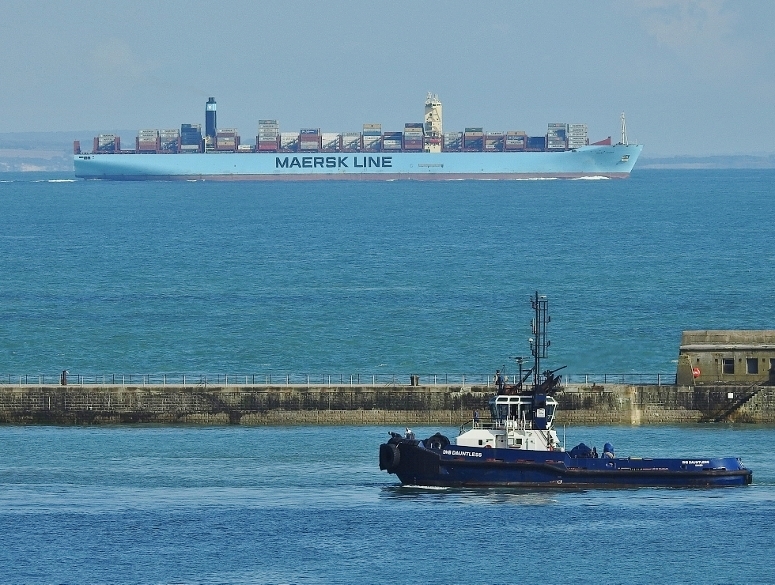 As mentioned yesterday we did indeed feature the huge Marit Maersk before ( I knew the name was familiar ) and there we are above. We have several pictures in the files but have chosen that one above for today...good to see it again, and obviously with familiar tug Dauntless in the foreground. The colours of course are from balmier times..ie high summer. Remember that !?..says he with his timbers a-shiverin' ...brrrr
And now for some serious news..
as the Academics study our traffic flow.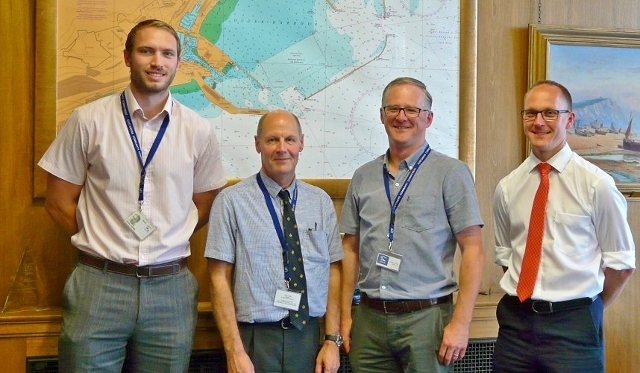 Port and academics map traffic to keep Dover and trade flowing
A Port and University of Kent joint venture
____________________________________________________
The Port of Dover has joined forces with the University of Kent to map traffic flows through Europe's busiest ferry terminal.
Academics from the University's Kent Business School and traffic specialists at the Port have been analysing the Port's extensive data sources to build a comprehensive picture of vehicle movements through the Eastern docks.
The two-year project began last November when University of Kent graduate Cliff Preston joined the Port's Business Optimisation team. Now, as the project marks its first anniversary, the Port has made significant steps to better understand traffic flows and bottlenecks in order to support decisions on future requirements as well as predicting potential periods of congestion.
The combination of the new buffer zone – capable of holding 4km of traffic within the Port - and the improved traffic forecasting resulted in the temporary traffic management system 'Dover TAP' being used 13 fewer times in April and May alone, compared to last year.
Port of Dover Chief Executive, Tim Waggott, said: "The University has been helping the Port gain a better understanding of the dynamics of traffic flow and how to handle these flows more effectively.
"Fluidity of movement and utilising the space we have as efficiently as possible is a fundamental aspect of master planning that benefits both our customers and the community.
"Along with our buffer zone investment and junction improvements to the A20 to support local regeneration and connectivity, we are doing more than ever to keep Dover town moving while 17 per cent of the UK's international trade passes through the Port, serving British businesses and consumers."
Cliff Preston's role with the Port is the result of a programme known as Knowledge Transfer Partnerships (KTP) – part-funded by Innovate UK - where a business can utilise academic excellence to up its game.
Lesley Chater, the University of Kent's Senior Business Relationship Manager, said: "The KTP scheme has been operating for more than 40 years nationally but this is the first time we have collaborated with the Port in this way.
"KTP is a UK-wide Government programme helping businesses to improve their competitiveness and productivity. We are delighted that academics from the Centre for Logistics and Heuristic Optimization are supporting such a successful project with the Port of Dover."
Ends
PaulB.
Thursday, 12 January 2017 - 06:34
Post 3392
Sea News, Dover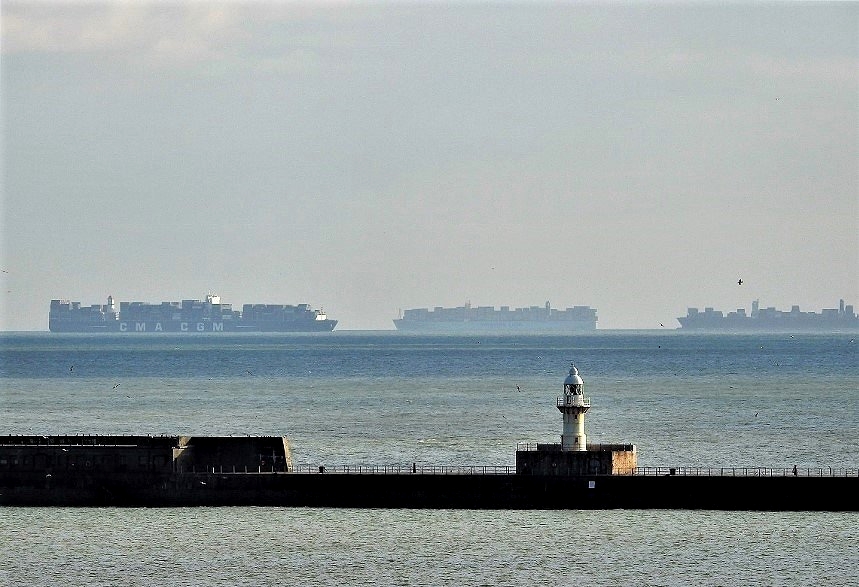 Its not often during these wintry chilly days that we are able to get views out into the channel, but yesterday...well it wasn't too bad at all. When these three great beasts appeared in close proximity, off Calais as it were, yours truly just had to have a stab at getting a picture. The giant on the left..heading south to Malta is the CMA CGM Benjamin Franklin...while the two going in the opposite direction are the Marit Maersk and the Erving Maersk. Fabulously huge ships for sure. We may have featured the Marit Maersk before.
Below we have the complete opposite, the small but beautifully packaged Gemini leaving the harbour. This pic is from the day before. In the distance is a large tug moving south...I believe it might be called Norne. Couldn't swear to it on a stack of bibles though...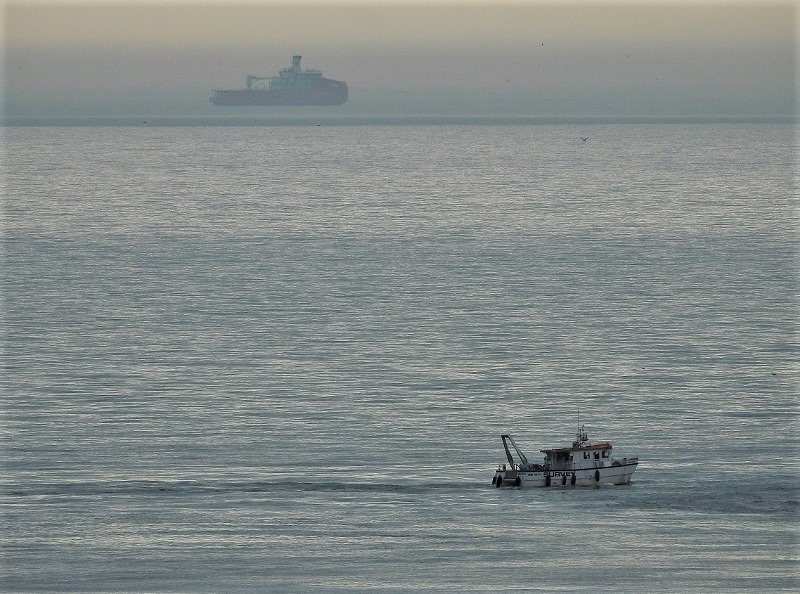 Hi Gavin. I'm not sure re the Coral Water. These bunker vessels do move about from time to time...she might just have a temporary contract elsewhere. I don't know anything definite... Mike might know...
PaulB.
Wednesday, 11 January 2017 - 08:24