Monday, 27 February 2017
doverforum.com/sea-news
Featuring all the ships that come and go and work at the Port of Dover with further coverage of Ramsgate, Calais, Dunkerque..
Email:dover7@msn.com to send SEA NEWS pix or info.... or click ADD YOUR COMMENT below to post direct, no membership needed. Use our SEARCH ENGINE below to find all sorts on the SEA NEWS pages..more than 170 now with more than 3333 nautical posts.
Posts welcome. Max of 5 pictures preferred per post. Sea News Editor Paul Boland.



Sea News Dover:

STRONG GROWTH FOR DFDS DESPITE BREXIT VOTE see 3507.
White Cliffs Christmas at the Port of Dover was a resounding success 3478.
NEW BOOK on the history of P&O FERRIES see 3463.
Charlie Elphicke MP on the return of the Calais Jungle 3465
Bankers Back Dover Western Dock Revival see 3442 - Record Freight through Port of Dover 3418 - Refit News from P&O see 3413. - A strong future for cargo at Dover see 3374 - DFDS: the 50 year old apprentice..nice story, see 3407 - Two National Awards for P&O see 3405 - also see 3390 as the Port construction moves forward.
Post 3515
Sea News, Dover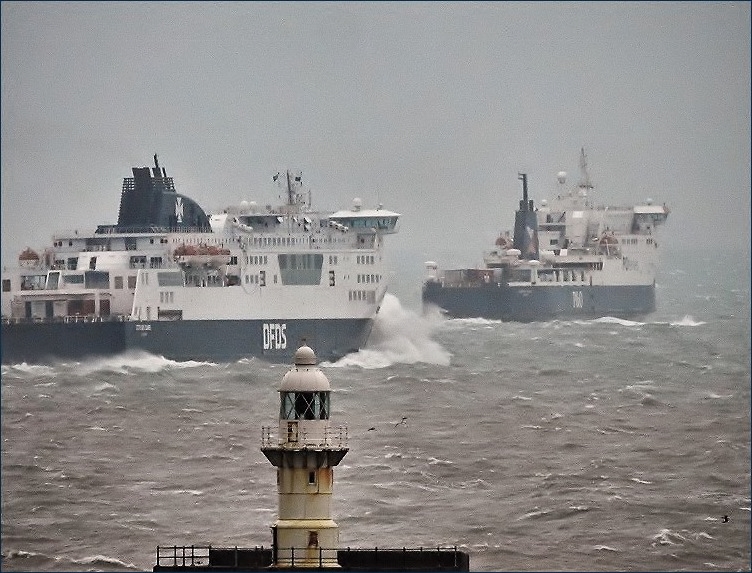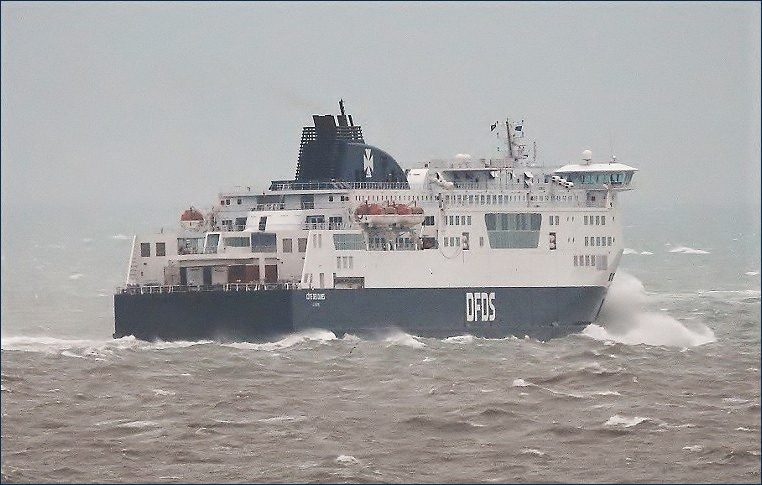 Some rough oul pictures now for some rough oul days. Yes the sea returned to rough once again over the weekend and the two pix above shows the ferries battling their way to Calais on Saturday mid afternoon..as everything went to hell in a handcart once again weatherwise. Gosh it was rough out there. The pictures above feature...P&O's European Seaways leading the charge, followed by the DFDS ferry Cote des Dunes.
Below we switch to Sunday morning and we spot the arrival of the Atlantic Klipper through the gloom, having come all the way from Peru in the South Americas.. I'm not sure....but I think this is a first visit for Atlantic Klipper. Could be. We have had Baltic Klipper and Atlantic Reefer but ne'er the twain...as it were. In the foreground the Spirit of Britain is reversing into Dover 9. PB.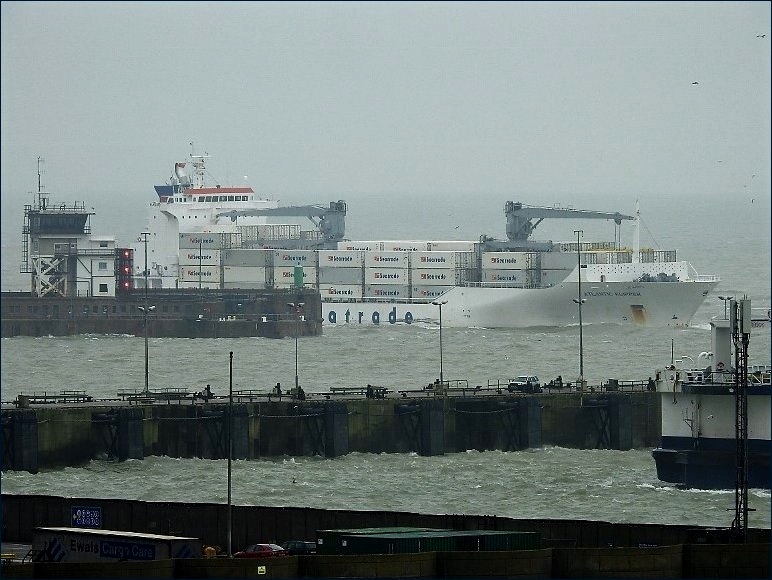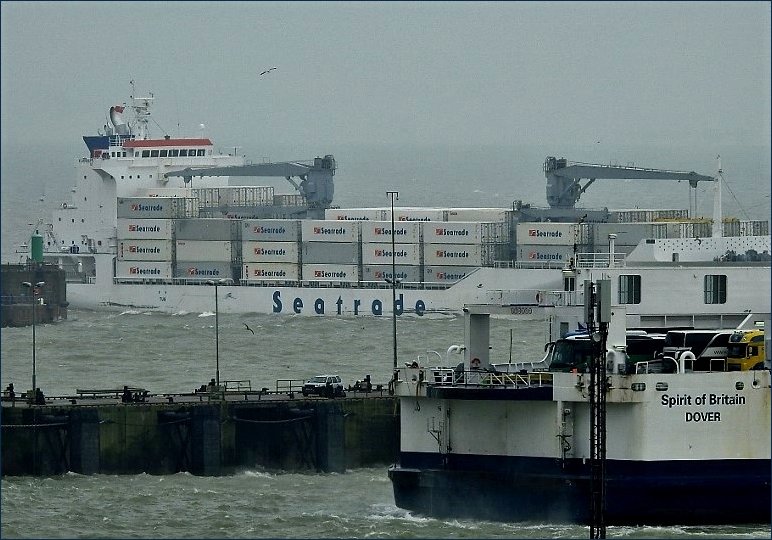 Monday, 27 February 2017 - 07:27
Post 3514
Sea News, Dover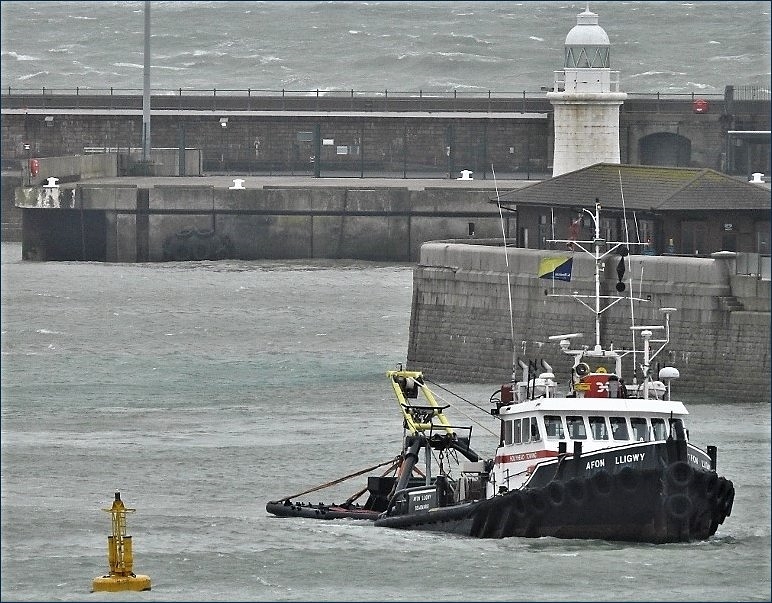 After Doris day it all became calm, there was much clarity, Boulogne sparkled by night and all the stars were highly visible over the channel. But it didn't last long. Yesterday morning Saturday the Afon Lligwy came out again, no doubt with the intention of carrying on with the survey work. After five minutes however she returned to the inner harbour as the weather had whipped up again. The tugs were needed once more by the ferries to help them dock. But in that brief period of relative relief prior to that, yours truly managed to dangle out the 'observation tower' window as explained by Mike and got the pic above.

Thanks Mike as ever.
Good little story that Del, glad all were okay. It must have been tough out there for all including yourself.
Thanks for that Colette, yes all the team have produced cracking results lately. Great stuff!
Sunday, 26 February 2017 - 07:11
Post 3513
del Styan, Norwich
Well done for the photos of Doris. I was on a ferry which was helped to its berth by the Dauntless. Brilliant job by all concerned. And the hundreds of footie fans from Ghent going to Wembley to defeat Spurs appreciated all the efforts to get them ashore. Hope they got home again.

Saturday, 25 February 2017 - 23:28
Post 3512
Mike J., Dover
Colette - DORIS DAY !

Excellent tug pix from Paul - I particularly liked the one in post 3510 where the water is being 'squeezed' out of the towrope as the weight goes onto it, the sun caught it just right.

I've just found a 'live' webcam that gives a rather distant view of Eastern Docks from the Sports Centre on the beach.
HD quality too. Perhaps new to some folk, certainly new to me.

Google 'Skyline Webcams' & look for 'Dover Beach'

or

Insert 'http' in front of -

://www.skylinewebcams.com/en/webcam/united-kingdom/kent/dover/dover-beach-kent.html

If you look VERY carefully you might be able to see Mr.B hanging out of his window taking photos . . . . .



Saturday, 25 February 2017 - 15:08
Post 3511
Colette B, Dover
What a tremendous array of photos the Sea News team have put together over the last few days, with our tugs and lifeboats battling against the tumultuous seas whilst Storm Doris throws her full weight at our shores, Well Done Guys!

Plus the Good News from DFDS

Saturday, 25 February 2017 - 13:31
Post 3510
Sea News, Dover
Tugs in the Thick of It.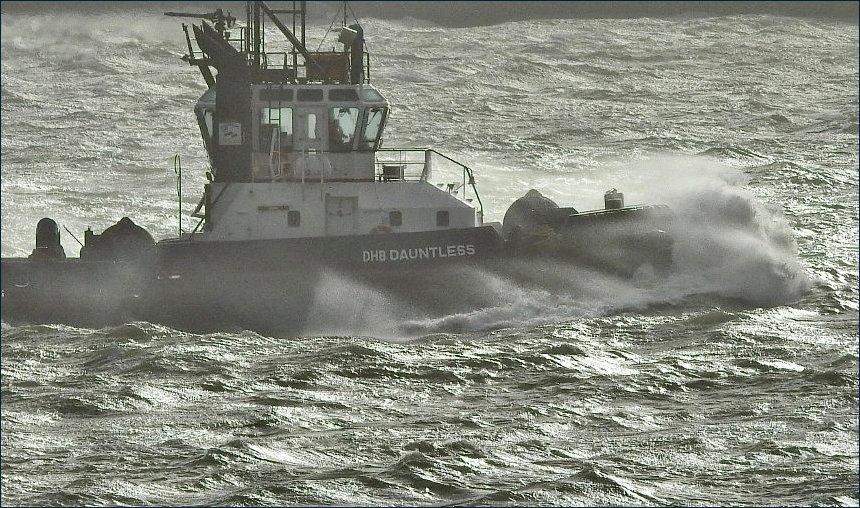 And a bit later in the day below...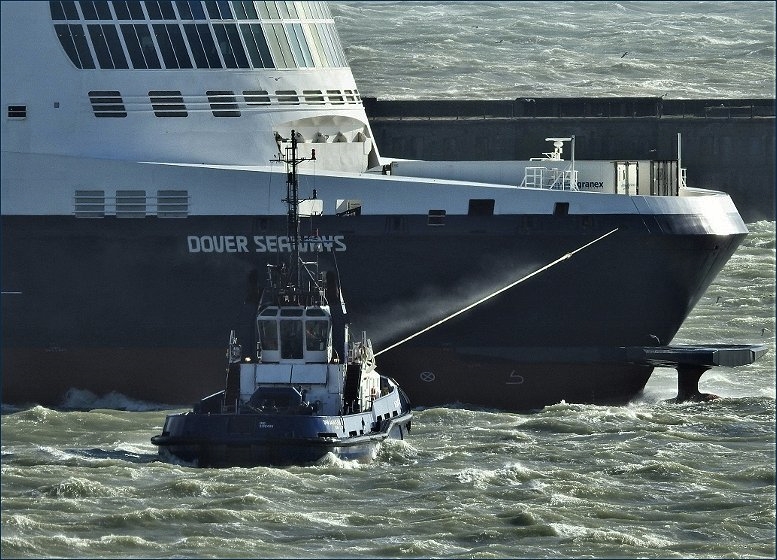 Some more pictures of tugboat action above there..similar to the ones previously shown but closer to the action. You can feel and indeed see how strong the wind was in that top shot, it was pretty difficult for the tugs but as ever they came through. The second picture....look at the spray coming off the rope in the strong wind. Woe!
Following along from Mike's pictures which were probably taken a tad later...the picture below shows the Lifeboat also out there in action. Moving with the wind in this picture.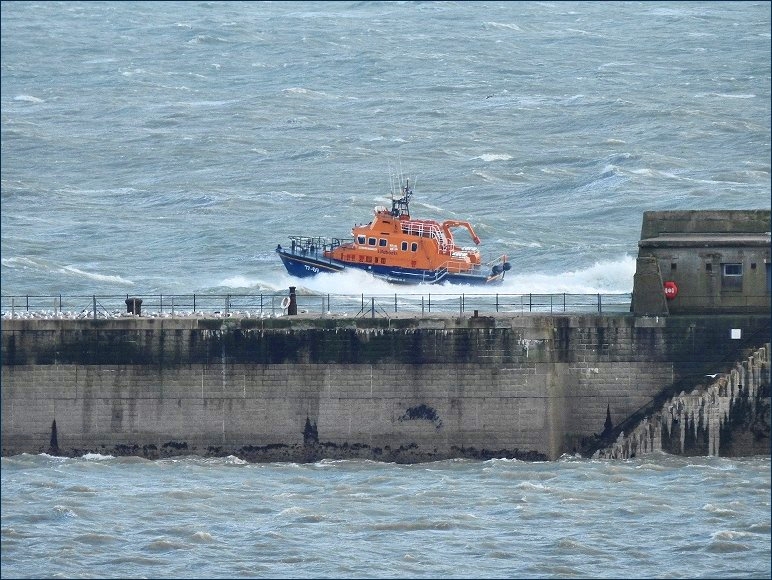 And the last one below, its after the storm and the Olympic Triton returns to its usual location off Shakespeare/Samphire to get on with the job...all's calm..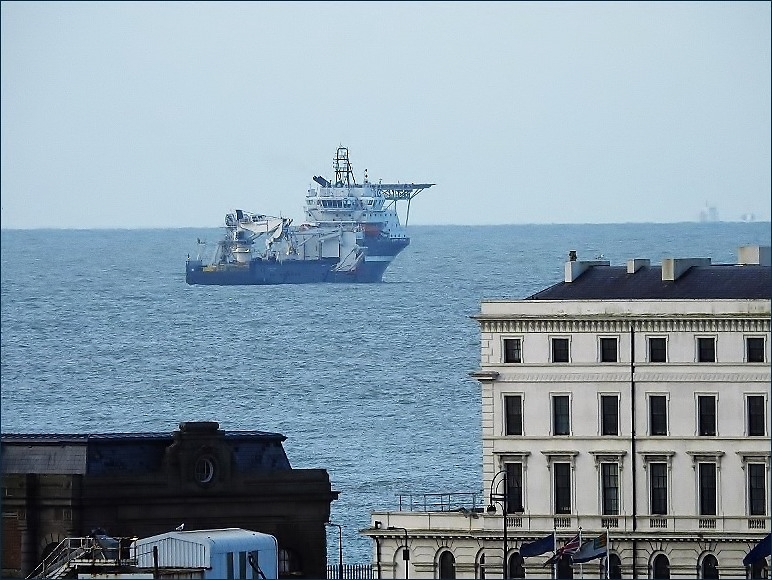 Saturday, 25 February 2017 - 07:02
Post 3509
Sea News, Dover
Yes indeed Mike it was a wild and woolly day as Storm Doris moved through. Other parts of the country probably had it slightly worse than we did, with snow being driven on the wind etc etc but nevertheless it still beat us up considerably. The tugs were in action all day helping the ships load and unload...despite a pause at one point the Port mostly kept going in the face of all the difficulty.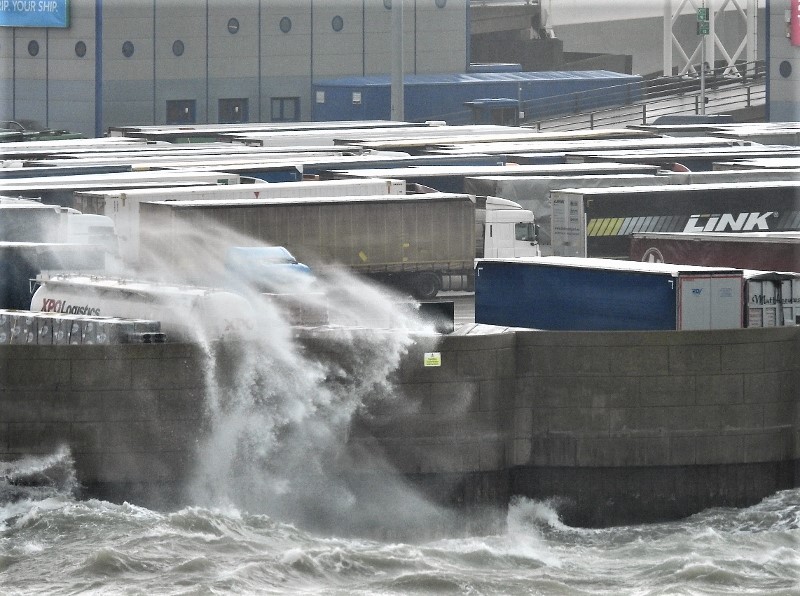 Whipping up a storm .. Doris lashes in... and below the tugs work hard in the wild wild weather..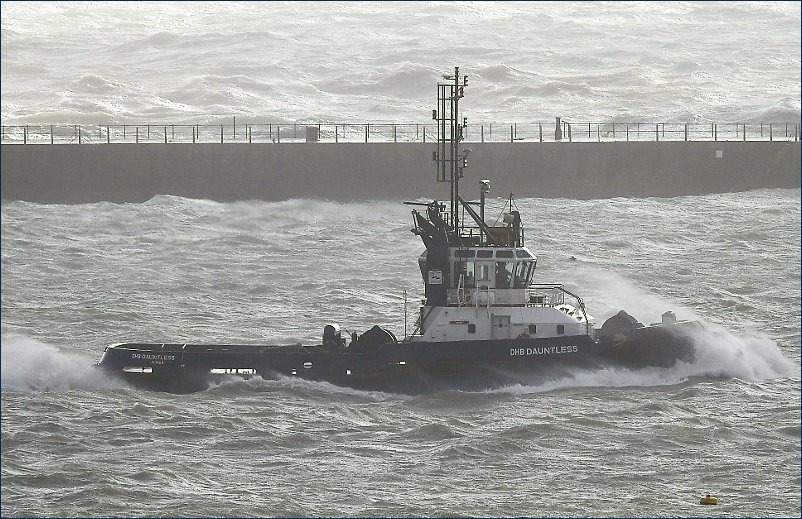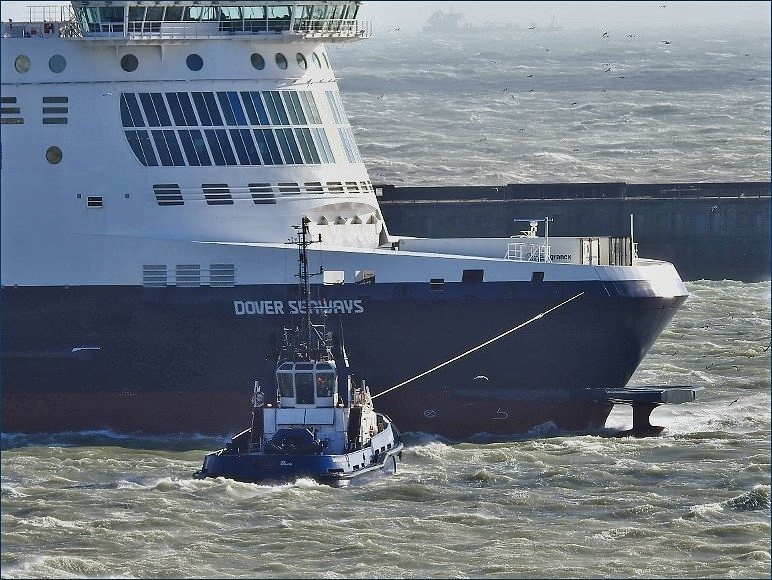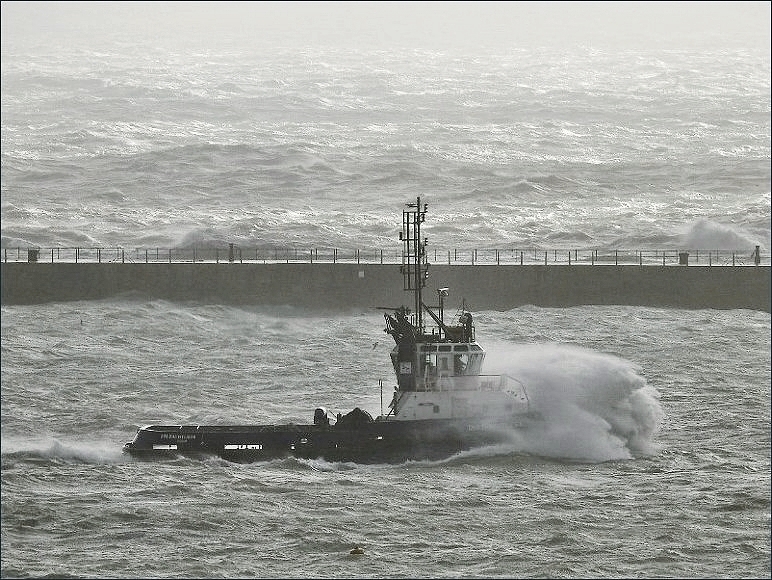 Look at that sea out there.. crikey!

Interesting stormy pix in the post below from Mike
also
Don't miss the impressive Post-Brexit-Vote report from DFDS in 3507 just unpinned.
PaulB.
Friday, 24 February 2017 - 07:20
Post 3508
Mike J., Dover
Thursday, a wild windy day with the tugs kept busy assisting the ferries as storm DORIS passed thru.
The OLYMPIC TRITON & HAVILA PHOENIX spent the day sheltering on the Admiralty Pier.
The HAVILA PHOENIX sailed for Norrkoping in Sweden about 2130 after the winds dropped.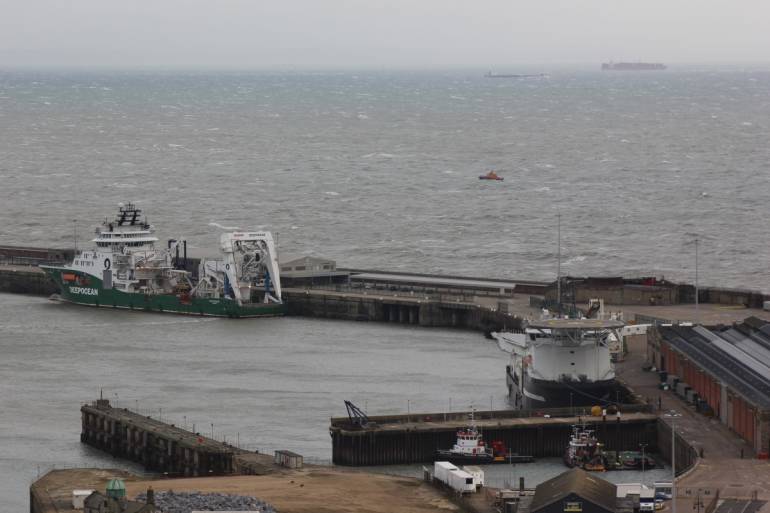 Dover's lifeboat took the chance to carry out heavy weather trials, an impressive sight.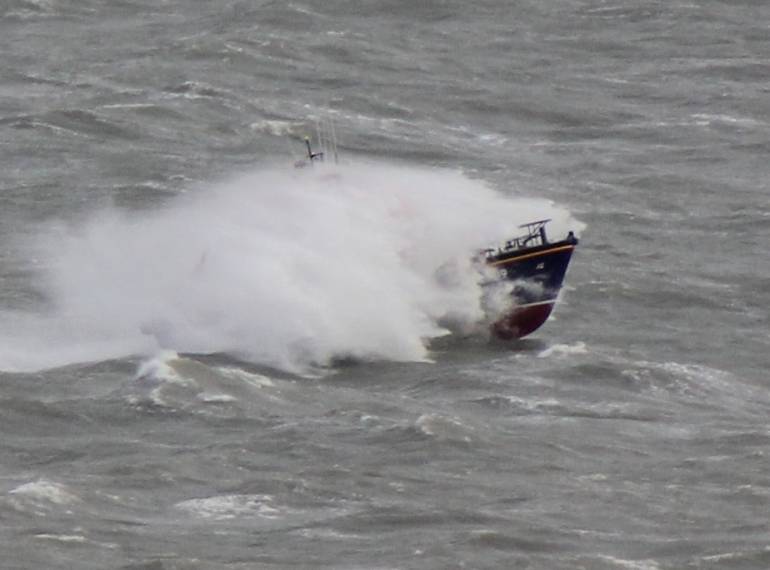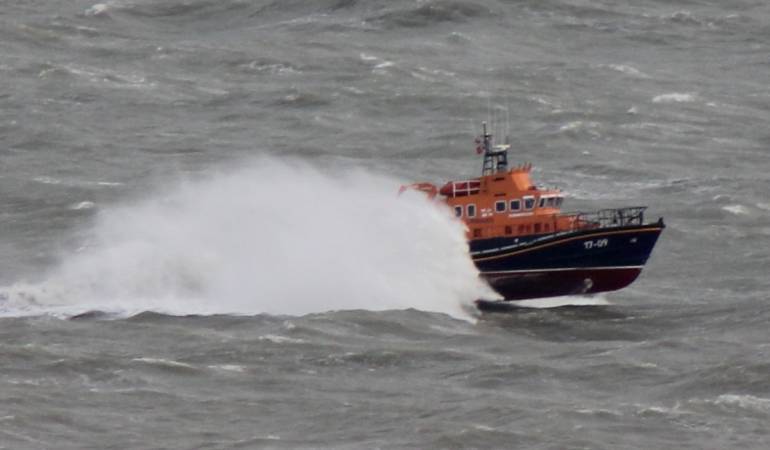 The Castle & the church of St Mary in Castro & Victoria Park [Ed's home until recently] looked good in the occasional patches of afternoon sunlight.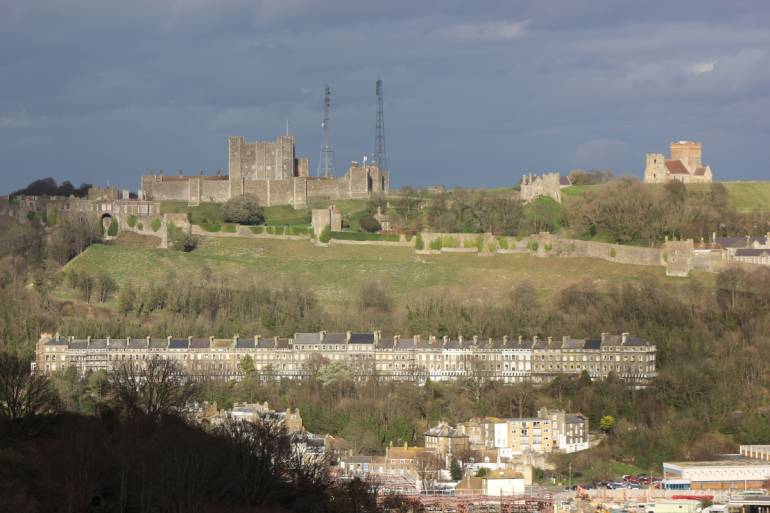 Friday, 24 February 2017 - 00:55
Post 3507
Sea News, Dover
DFDS DELIVERS STRONG GROWTH IN 2016 DESPITE UK VOTE FOR BREXIT
________________________________________________________________
· Ferry and logistics operator posts eight per cent increase in revenue for full year in 2016
· Profit before tax was up by 52 per cent, fuelled by strong growth in freight volumes across the company's UK and European network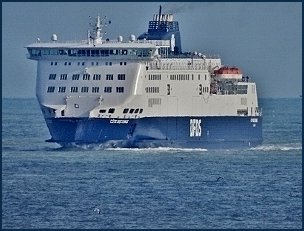 Ferry and logistics business DFDS reports no negative impact on volumes from the Brexit effect as it continues to post record earnings.
The company's annual report for 2016 showed that freight volumes and UK-Continental trade flows are holding up well despite the result of the UK referendum last June. Full-year revenues for the group were up by eight per cent at DKK £13.4bn (Danish Krone) (£1.56bn), compared with 2015 (adjusted for currency changes and excluding bunker surcharges). Its Shipping Division accounted for £1.08bn of this, up from £1.03bn, driven by a 21 per cent increase in freight volumes. The company also carried 12 per cent more passengers during the year.
Higher earnings for the Shipping Division helped pre-tax profits jump by 52 per cent to DKK £1.6bn (£182m), compared with last year. Improved earnings on DFDS' cross-Channel routes from Dover to Calais and Dunkirk accounted for almost half of the increase following the deployment of additional ferry capacity since February 2016 and continued growth in the freight market.
Rising freight volumes in the final quarter of 2016 indicate no impact on cross-border trade between the UK and Europe following the Brexit vote. Across the European route network 17 per cent more freight was carried during this period than at the same time in 2015. Passenger numbers on its routes also increased by six per cent over the same period.
Whilst depreciation of the British pound in the last six months of the year impacted on the full-year result, this was offset by the continued increase in volumes and rates in the freight market. Volume growth was supported by increases in capacity, thanks to the introduction of two new ferries - the Cote de Dunes and the Cote de Flandres - on the Dover to Calais service, and on the key freight corridor between the UK and the Netherlands on the North Sea.
Kasper Moos, vice president for DFDS in the UK, said: "Our earnings increased considerably during 2016, with the vote for Britain to leave the EU having little real impact on volumes. We will continue to monitor developments, however. Thanks to our work to continuously improve our service and to offer customers the capacity they require across our network, we have continued to grow our markets and we've posted another year of record financial results. Our pursuit of continuous improvement will continue in 2017, with further investment in our fleet, a focus on bringing digital innovation that benefits our customers, and a drive to further improve customer satisfaction with the services that we provide."
Looking ahead to 2017, DFDS expects revenues to increase by a further 4 per cent (excluding bunker surcharges) across its ferry and logistics business. With the Bank of England adjusting its growth expectations for the UK economy upwards to 2 per cent, freight volumes, seen as a marker of economic growth, are expected to continue to increase. Moos added: "As a ferry and logistics operator with more than 2,200 employees in the UK, we are at the heart of the ongoing Brexit process and based on trends for the last few months of 2016, we expect to see continued growth in trade."
The company will invest almost £20m in 2017 to expand capacity and renew its fleet. Two new, large chartered freight ships for its route from Immingham to Rotterdam in the Netherlands, are due for delivery in May and September. The investment programme also includes improvements to passenger and freight facilities on two cruise ferries on the Newcastle-Amsterdam service and on one of its Dover-Calais ships.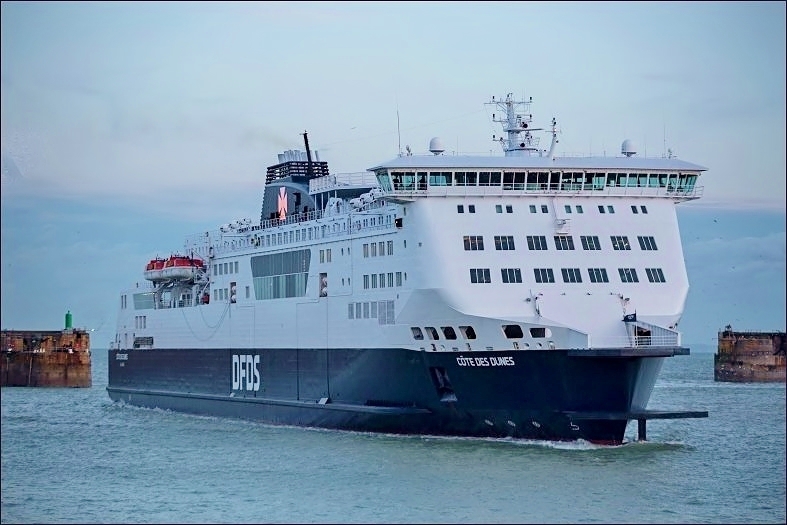 -Ends-
Many thanks to DFDS for the hugely interesting Post-Brexit information above.

An extra DFDS pic now in homage to the storm about to land on our immediate doorstep...Storm Doris. (I once had an aunt called Doris and she wasn't stormy at all!). Gusts of up to 87mph were recorded in Galway on the western coast of the Irish Republic according to the BBC...and its coming this way, so batten down the hatches today.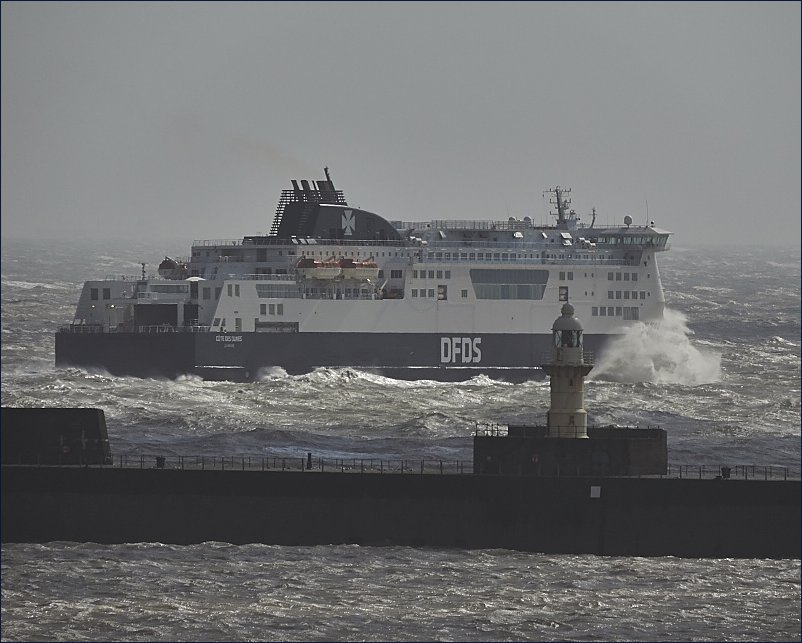 All pictures show the Cote des Dunes.
Well done guys with the pix below.Yours truly was out of office yesterday and didn't see any of it.
Mike ah yes more difficulty - Best to stick to a max of 5 Mike as we said before as the site works better all round.
PaulB
Thursday, 23 February 2017 - 06:03
Post 3506
Mike J., Dover
Excellent pix Patrick - we posted almost simultaneously ! -
Dunno what happened to my last two photos, lets try again -
The yellow piece of tracked equipment under the gantry is lowered to the seabed & moves along exposing or burying cables or pipelines.
[I think].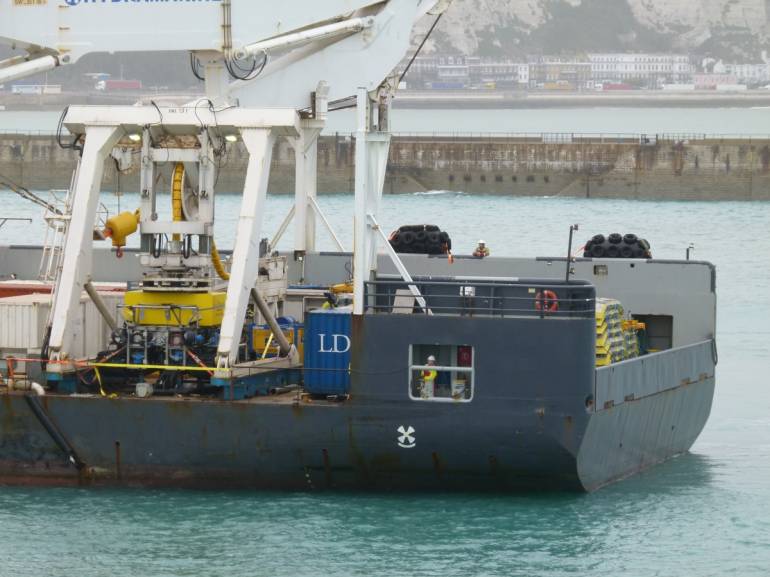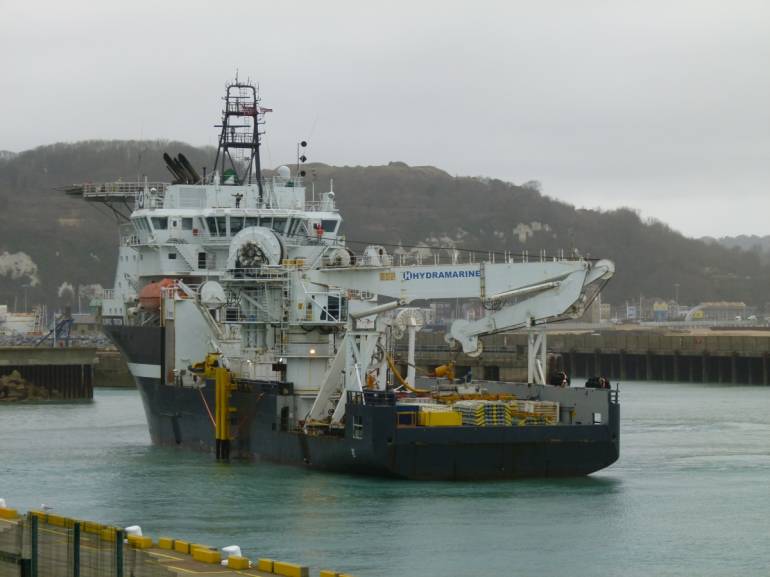 Thursday, 23 February 2017 - 00:04
Post 3505
Mike J., Dover
Activity in the old Jetfoil terminal on Wednesday morning with work taking place on AFON LLIGWY's survey equipment which had been placed on the flat-top barge.
The tug AFON CEFNI was also in the terminal, 'off duty' from her guard-ship work as the OLYMPIC TRITON had left the power cable works area off Capel during the morning & came in thru the Western Entrance just after midday & tied up on Cruise-1.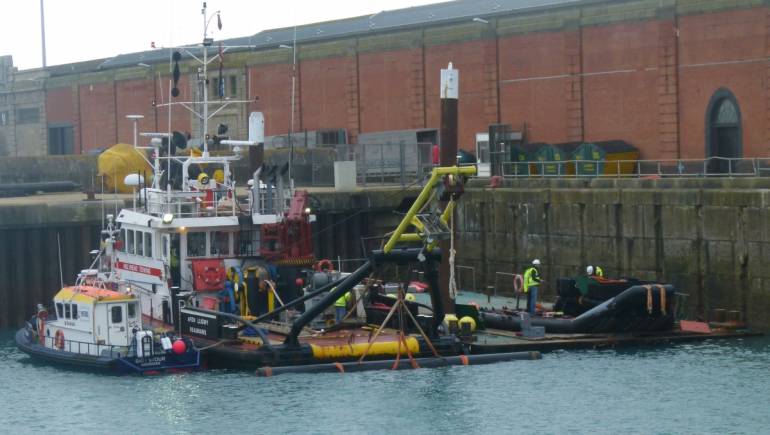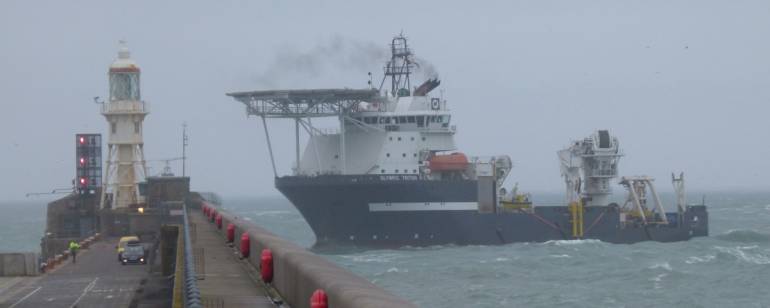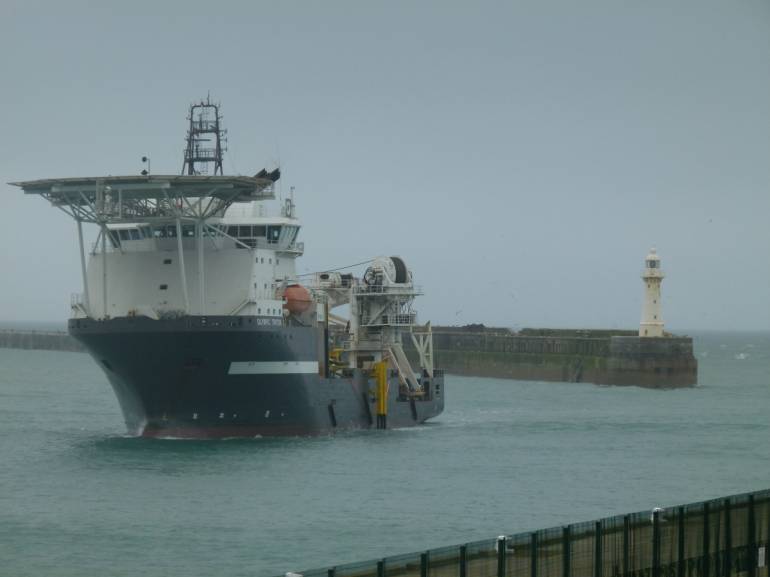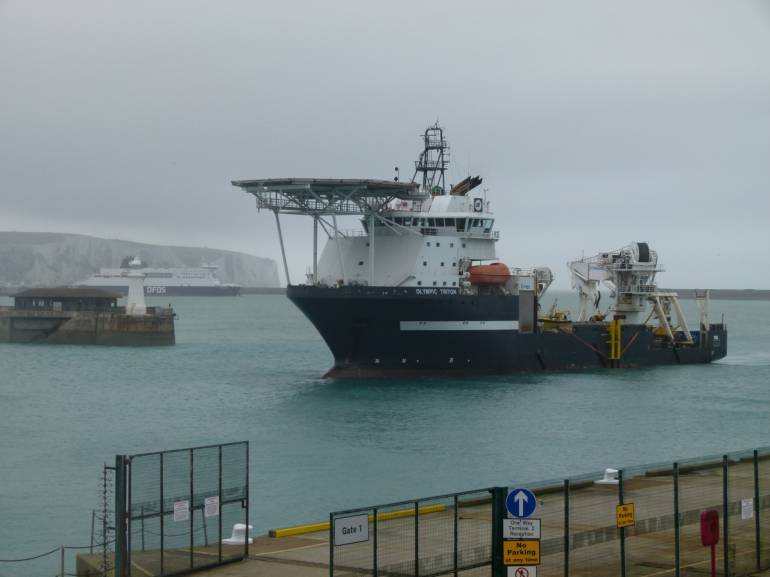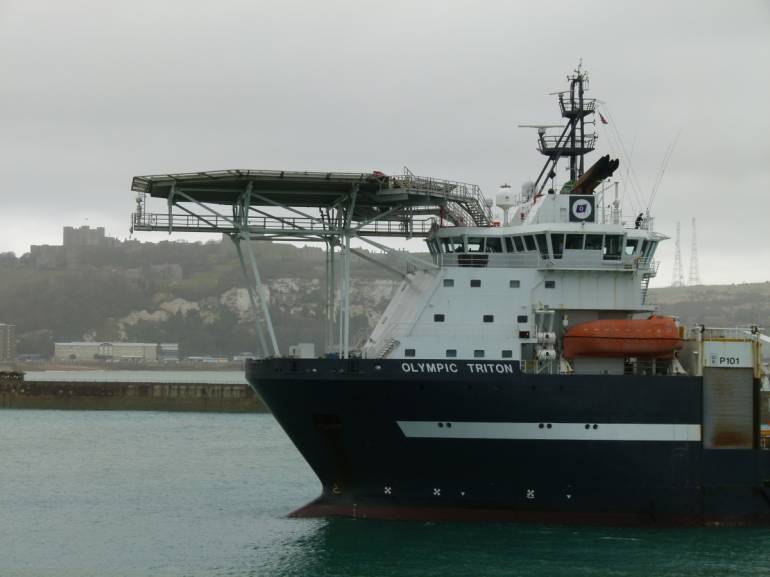 The yellow piece of tracked equipment under the gantry is lowered to the seabed & moves along exposing or burying cables or pipelines.
[I think].
[IMAGE-10]
[IMAGE-11]
Unfortunately I was away from Dover during the afternoon & missed the HAVILA PHOENIX's second arrival at dusk.
She has been working on the power cable job between Ramsgate & Belgium & is currently docked on Cruise-2.
Both ships are presumably in Dover for crew changes, stores etc.
A road tanker & a rubbish lorry were on the quay waiting for the OLYMPIC TRITON.
A little bird has told me that serious work on the Wellington Dock 'cut' will start in April.
Wednesday, 22 February 2017 - 22:14
Post 3504
Patrick, Marine Parade
Multi Purpose Offshore Support Vessel 'Havila Phoenix' berthed at Dover Western Docks this afternoon. Turned on a sixpence off Prince of Wales Pier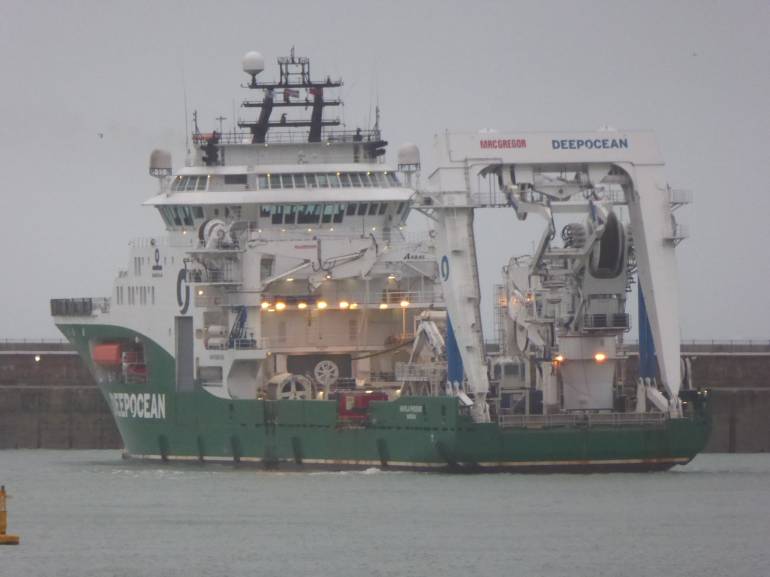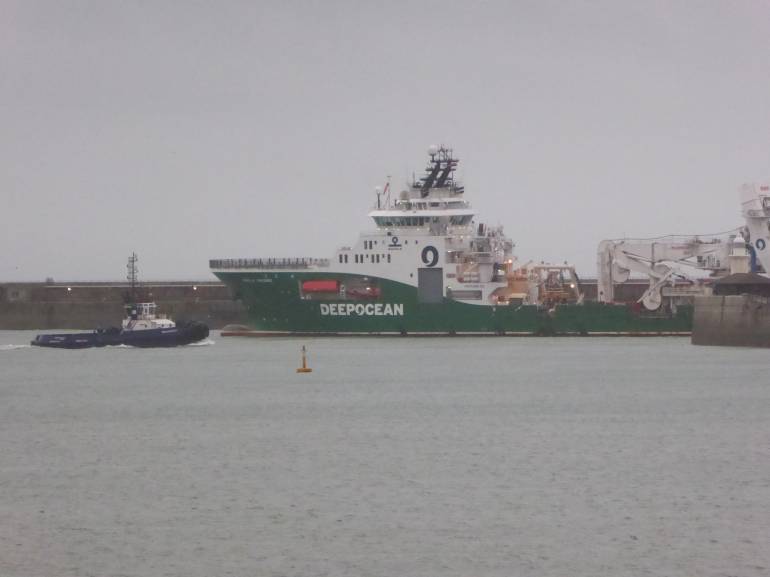 Wednesday, 22 February 2017 - 22:09
Post 3503
Sea News, Dover
Here we are with more images of the Seatrade White...pictures show her leaving for Dunkerque with a full load yesterday morning Tuesday around 09.40. Conditions were a bit brighter for the pictures this time...thankfully.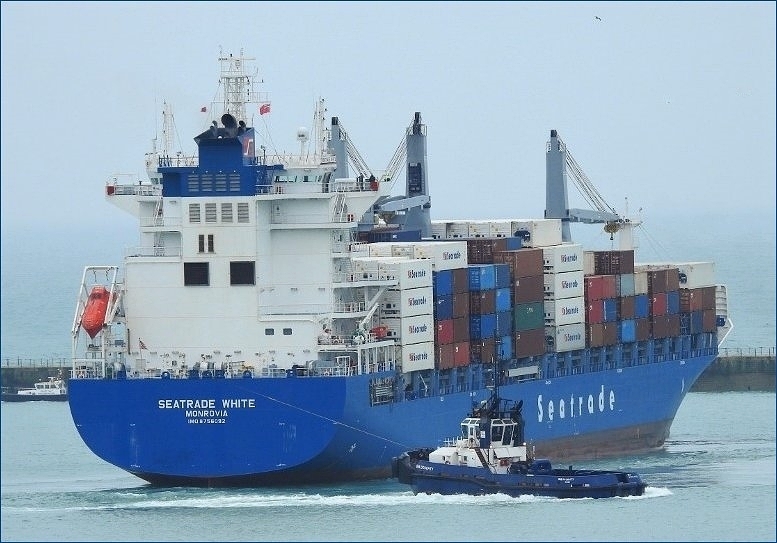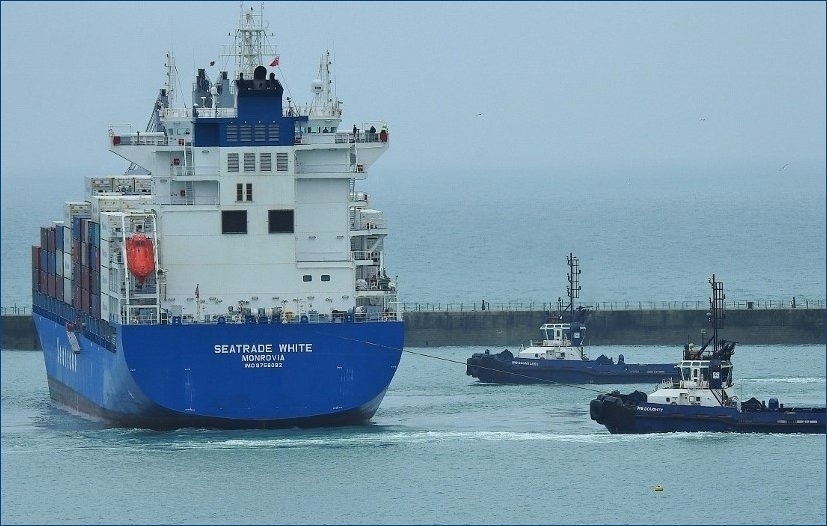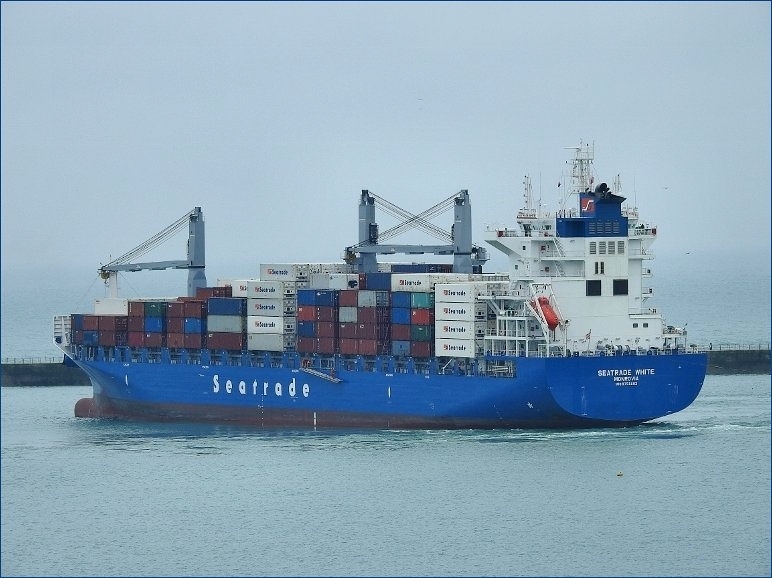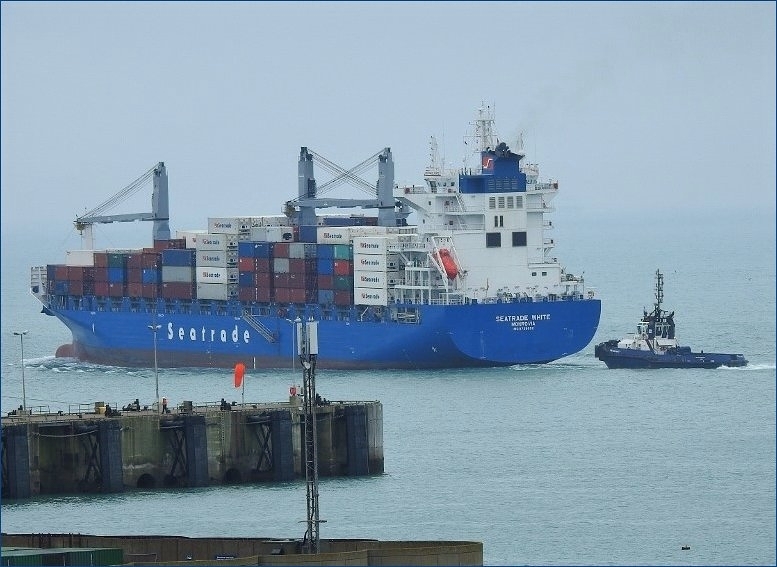 And away she goes ....
Thanks to Mike for the info on the ship and pix...see post below number 3501. A bigger than usual reefer for sure. Great to see...
The Discovery Bay is in today as well so the show goes on.
Great work Sarah once again below...cracking shots of the Thurso Lifeboat Plus ( 4 in one shot!) and now also at tip top of page too.

Wednesday, 22 February 2017 - 05:48
Post 3502
Sarah, Ramsgate
Thurso Lifeboat left us early this morning heading for the next overnight at Scarborough, it is a long journey back to Thurso.
As I got off the bus I spotted that I could get a shot of four lifeboats on the same photo.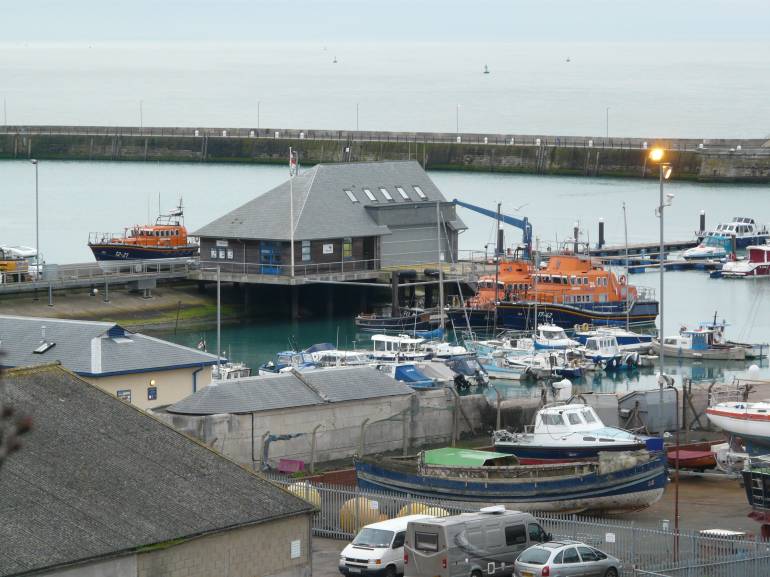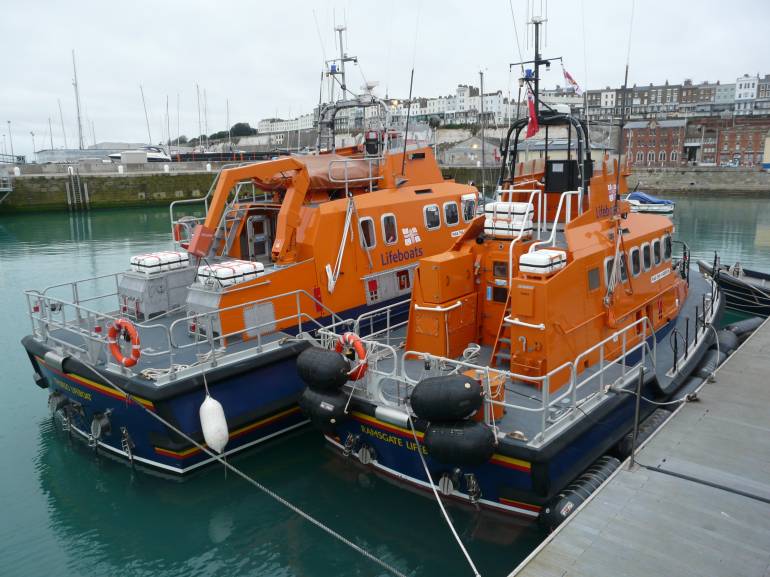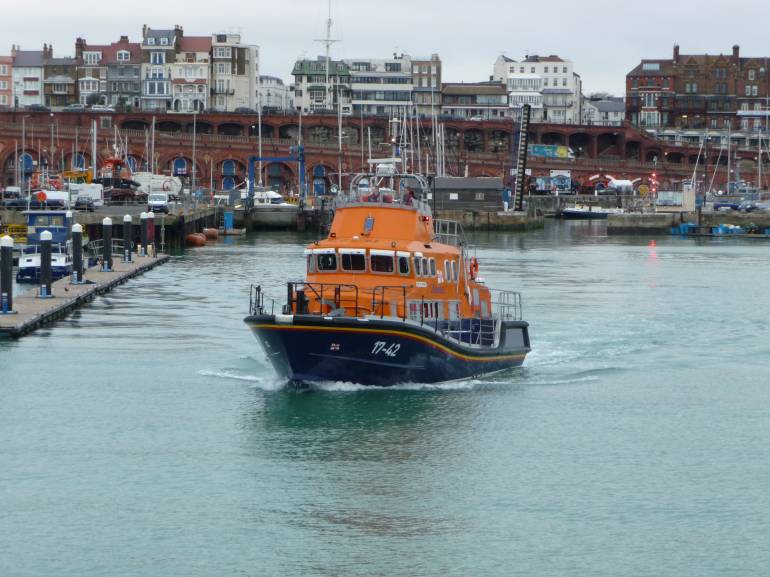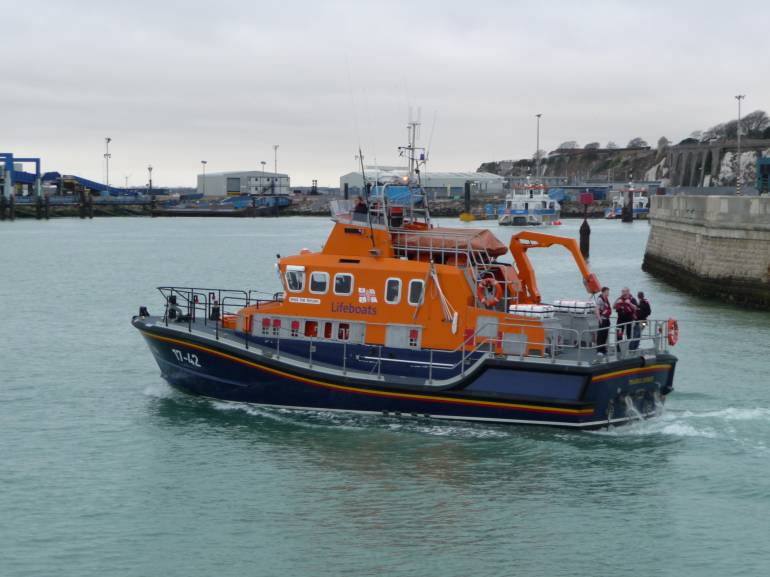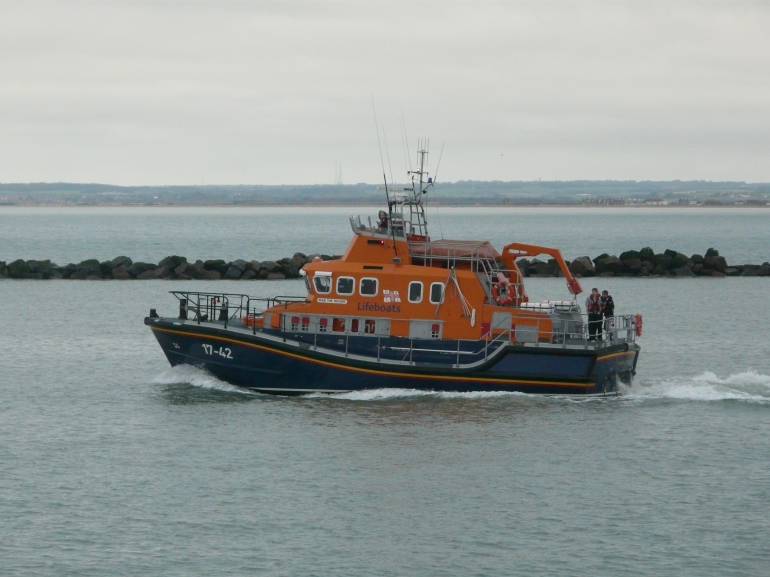 Tuesday, 21 February 2017 - 11:43
Post 3501
Mike J., Dover
The SEATRADE WHITE on the Dover Cargo Terminal on Monday afternoon, she is in Dover to load empty containers after completing her maiden voyage from New Zealand at Rotterdam.
She left the builder's yard in China late last year & is one of a class of six similar ships.
AIS shows her still alongside Tuesday morning.
Much larger than the usual reefers that we get in Dover with an overall length of 185 mtrs [606 ft in sterling, our regular reefers are usually around 140/150 mtrs] she makes an impressive sight & the blue hull makes a a refreshing change, altho' she appeared almost to have a black hull as she entered on a misty Monday morning.
The freight check-ins were busy, as they usually are . . . . .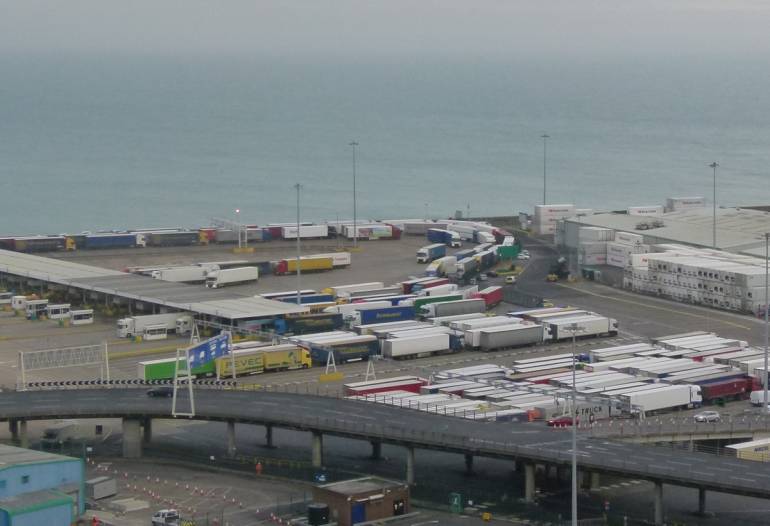 Plenty of empty containers stacked up by the DCT building awaiting exporting.
Tuesday, 21 February 2017 - 08:26
Post 3500
Sea News, Dover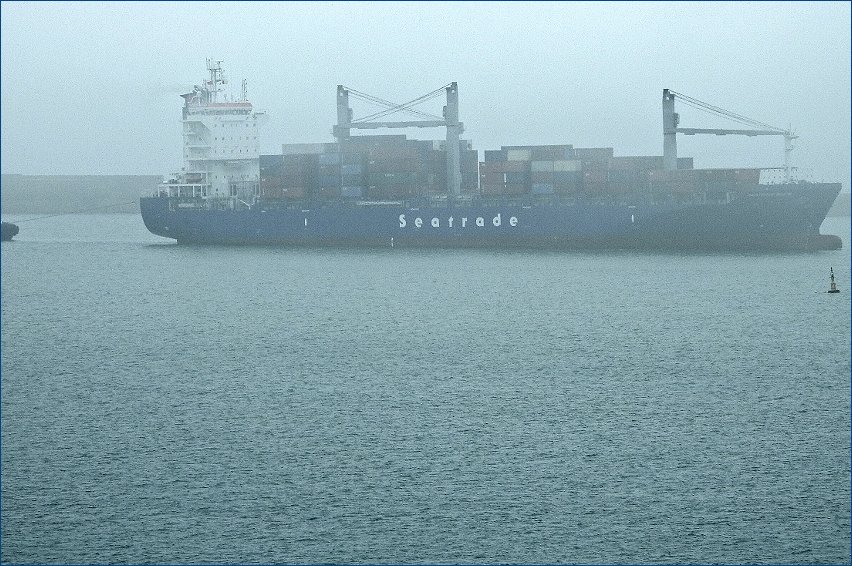 The Seatrade White arriving yesterday through the swirling mist, one minute it was in view, next moment it was hard to see, but there we are anyway above. A first visit...an impressive ship, hopefully lots more new cargo ships to come in these exciting times and more visits hopefully too from the Seatrade White.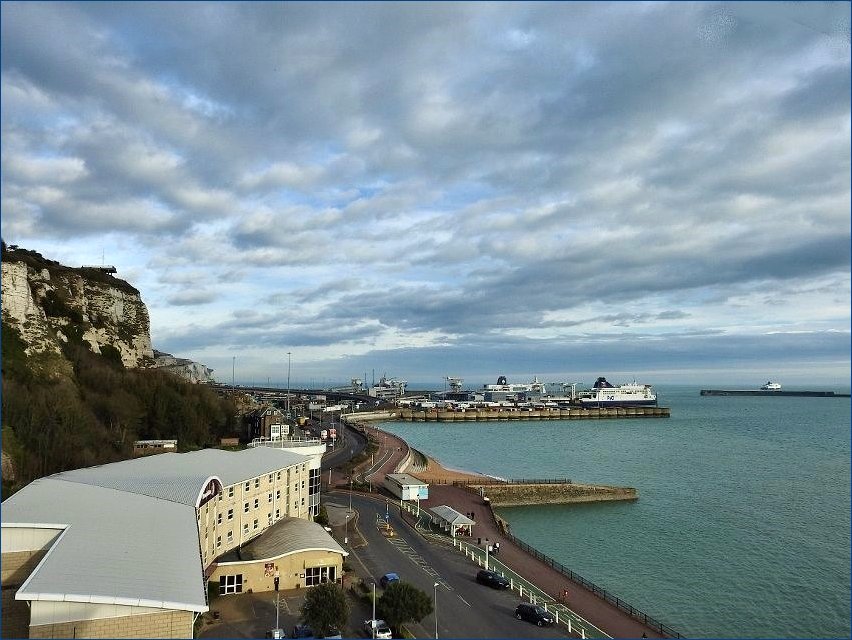 What are we looking at here...well I will tell you ...NO FOG!!!
This is the view eastwards at 3.15pm yesterday afternoon..the fog was gone.
and I zoomed in to show the Seatrade White again, this time at the cargo terminal. Probably the biggest cargo ship to come here as you can see.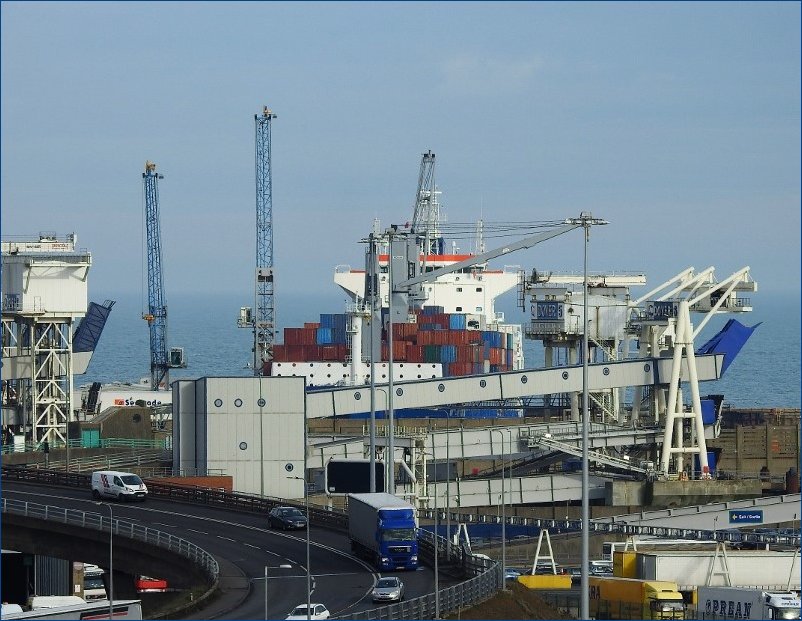 A collection of beautiful evening shots below there Sarah..stunning pictures for sure of the Thurso Lifeboat. Great work from our roving correspondent.
PB

Tuesday, 21 February 2017 - 06:57
Post 3499
Sarah, Ramsgate
Loving the photos guys.



We had an overnight visitor arrive in the fading light this evening, Thurso Lifeboat 17-42 - The Taylors, on it's way back home.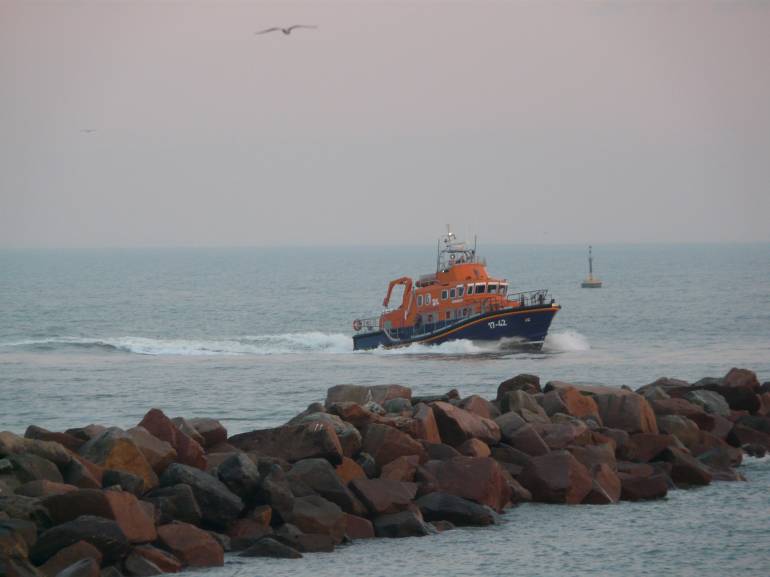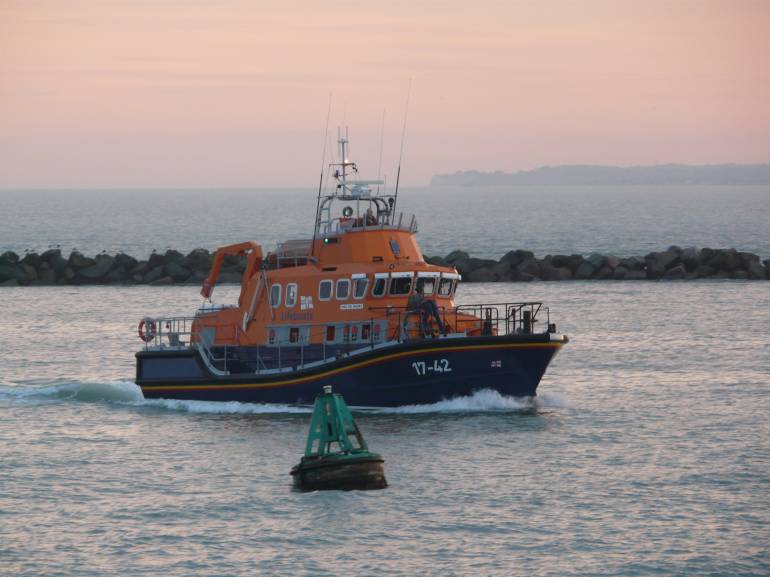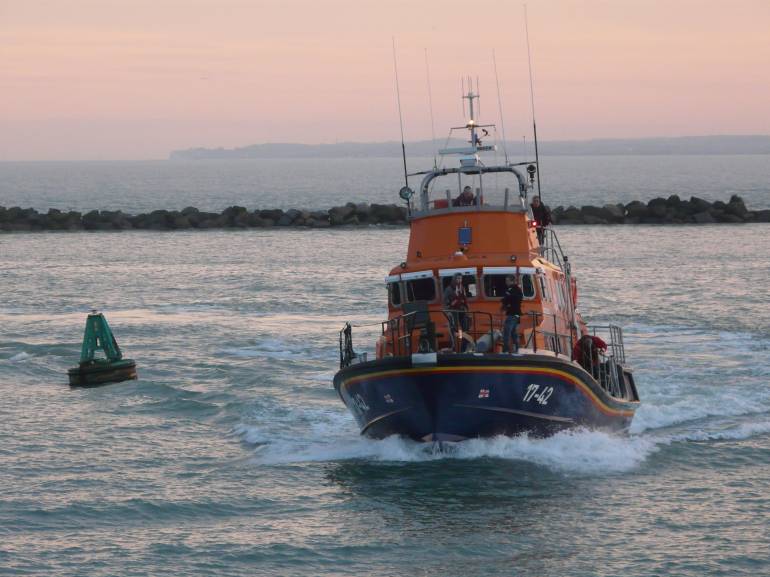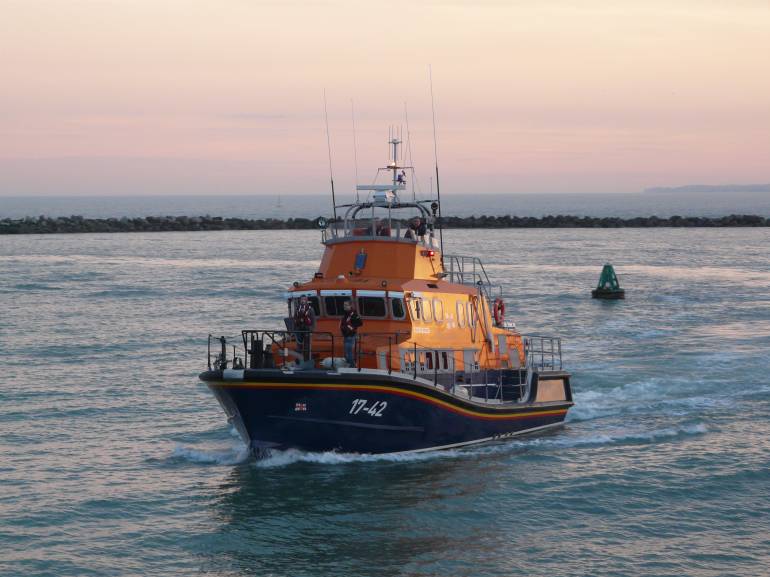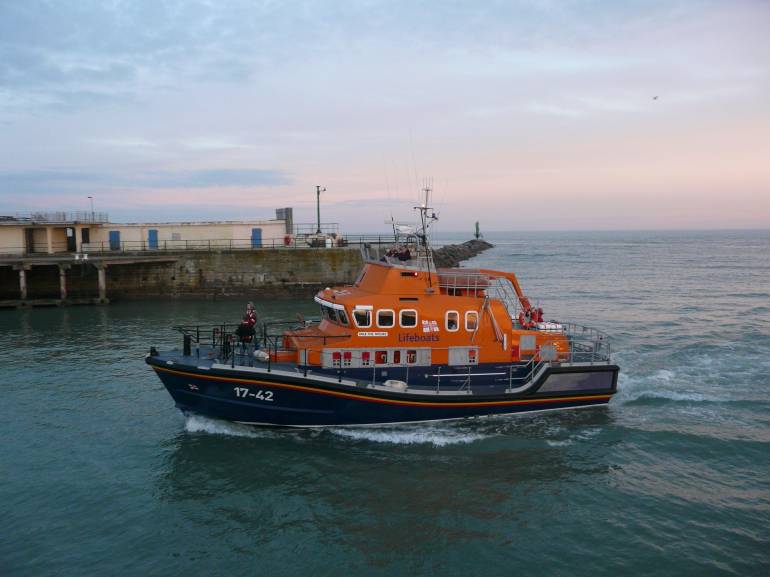 Monday, 20 February 2017 - 19:44
Post 3498
Sea News, Dover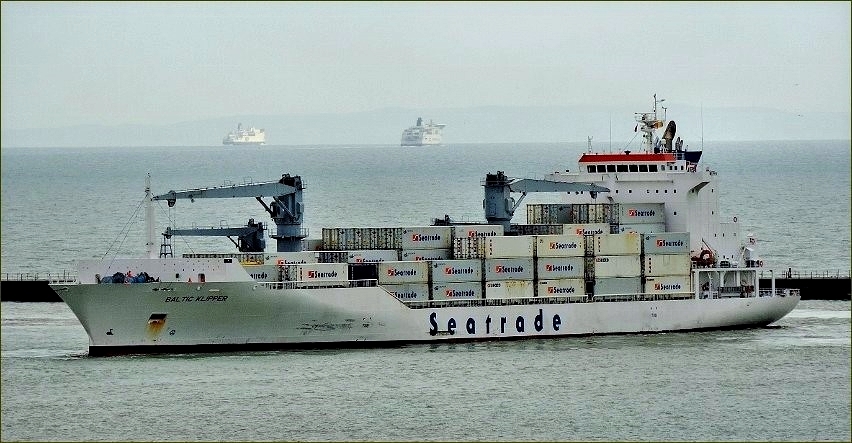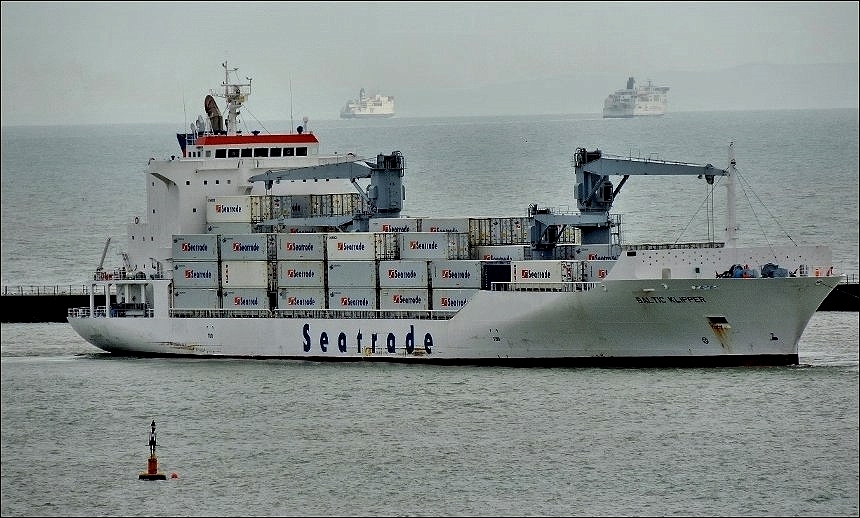 The Baltic Klipper was in Port yesterday. Unfortunately yours truly was away from the observation tower so missed the arrival.. she left last night. The Baltic Klipper hasn't been in with us here at the Port of Dover very often but there above are a couple of pix from 2015....you can tell its that long ago when you notice the MyFerryLink ship in the distance.....also coming in as we speak...a new one on me.. Seatrade White....will be trying for some pictures through the mist. PaulB.
Monday, 20 February 2017 - 10:44
Post 3497
Sea News, Dover
Although we got a brief respite from the fog yesterday sunday, visibility was still poor and much detail was lost on the longer range pictures. You can see the Dover Lifeboat below returning to Port yesterday morning ( 11.30am) at some speed....but the pictures were not terribly clear so had to force them a tad to get usable images...pity as it was all quite spectacular.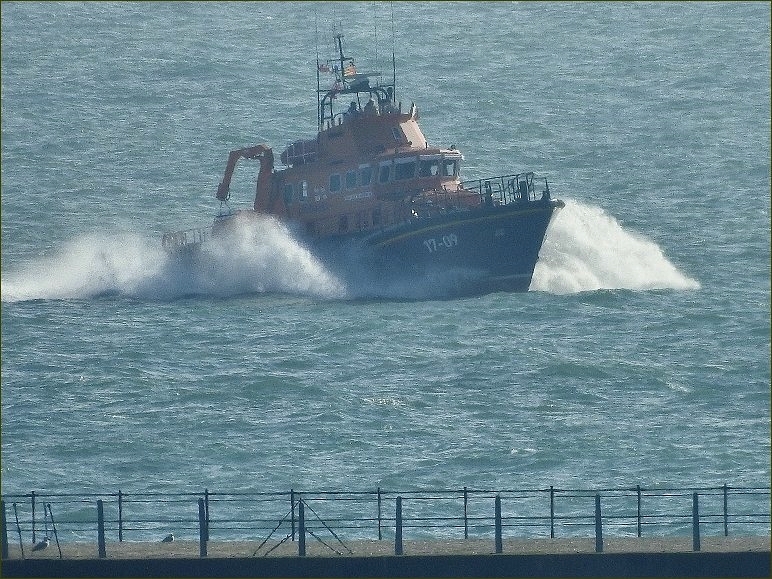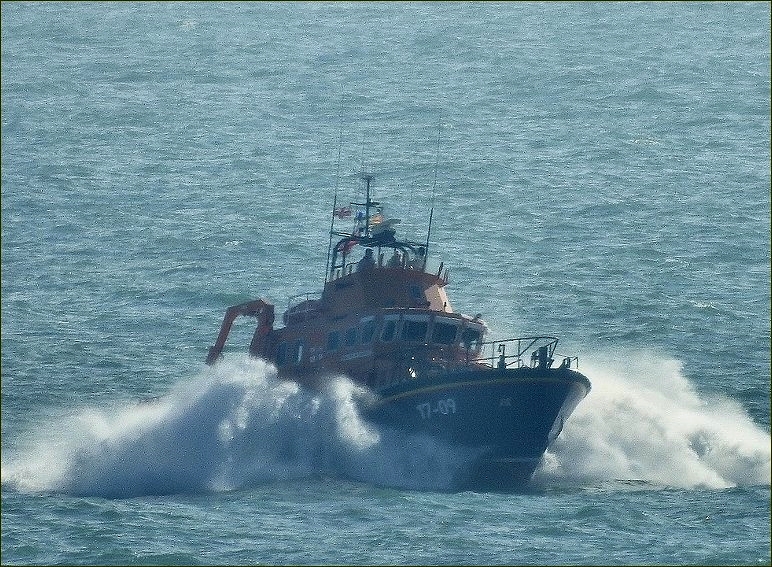 The seafront 'lampshades' below, first thing seen as the fog cleared on saturday. The clearance was short lived on Saturday though as the gloom came back in swirls... and the eerie fog bell tolls again today monday as I write:
Ask not for whom the bell tolls
it tolls for thee...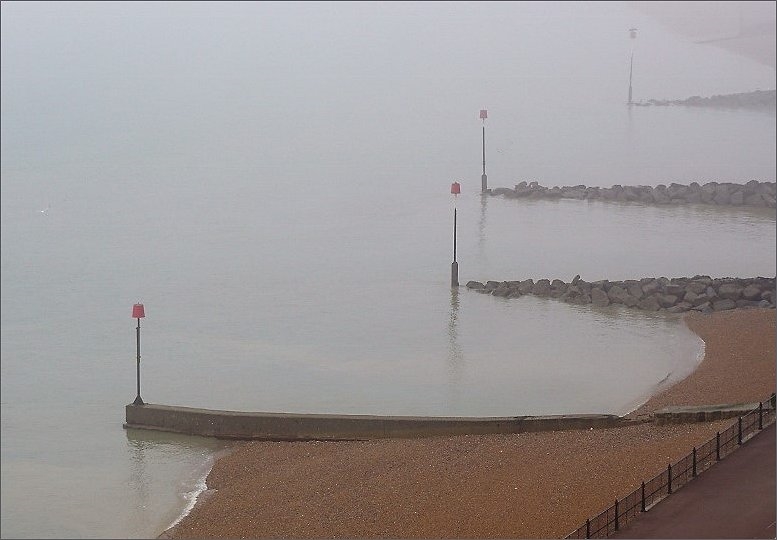 Excellent post below Mike...great work there. Left it in top slot for all to enjoy

The pictures are stunners. Well done Ted Ingham. Great stuff!

PB.
Monday, 20 February 2017 - 06:24
Post 3496
Mike J., Dover
Saturday was certainly a day of gloom & fog with the high-pitched Eastern Docks foghorn bleeping away every ten seconds & the occasional deeper grunt from a ferry, but here's a couple of pix taken on a sunnier day.
Post 3379 was a photo taken by Ted Ingham in his Coastguard days of the Coastguard spotter aircraft making a low-level entry thru the Eastern Entrance.
Ted has kindly sent a few more showing G-BCEN making a similar approach to Langdon Coastguard & says -
. . . . .The pilots would often try out their low flying skills and come in at sea level, climb the gap at Fan Bay and then as low as they could over the operations room with the intention of scaring the - - - - out of us.
99 percent of the time they succeeded . . . . .
Thanks Ted !
Would have loved to have been in the cockpit with the pilots . . . .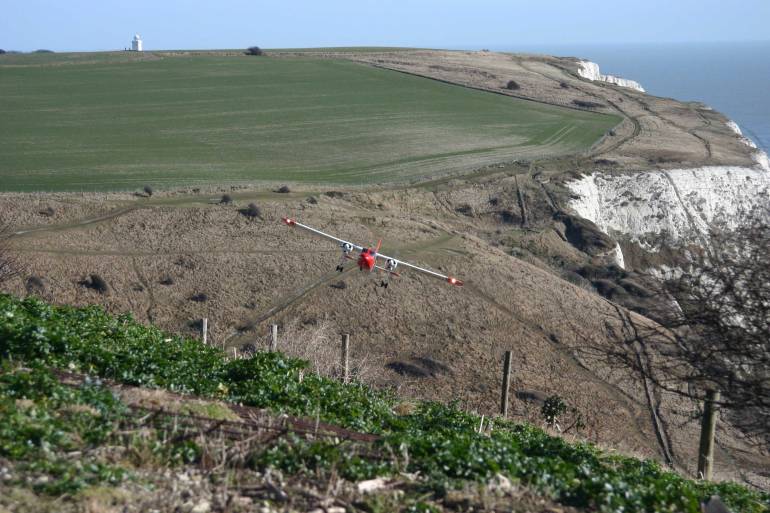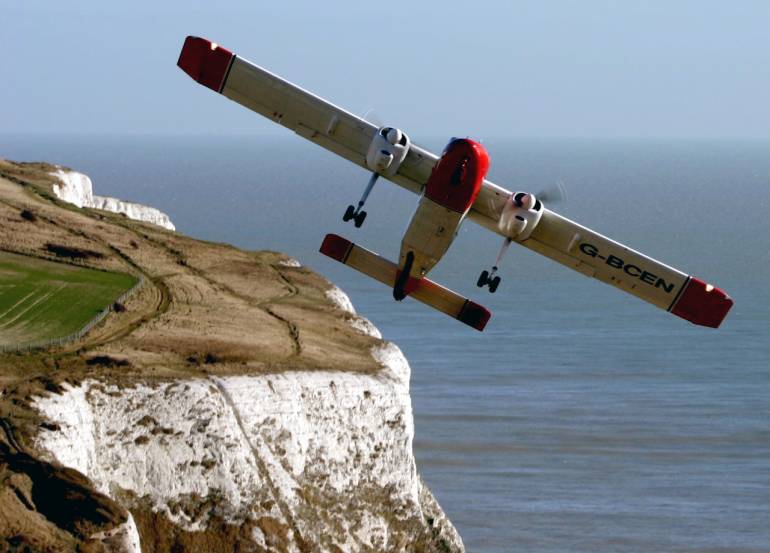 Saturday, 18 February 2017 - 20:41