Saturday, 1 October 2016
SEA NEWS
JOINT STATEMENT ON CALAIS JUNGLE.. see post 3034
The DFDS Apprentices see 3078
P&O Choir go to New York 3046
Award Winning DFDS ...see 3036
HUGE GROWTH IN FREIGHT FOR DFDS .. see below/over 2985...
CALAIS MIGRANT SITUATION...Charlie Elphicke MP see 3022
PORT ACCESS - AUTUMN ROADWORKS LATEST 2975
Scroll down the page and over the many pages ( more than 150 ) for all the stories in and around the Port of Dover. You can find anything you want in our SEARCH ENGINE. Type in CRUISE VISITS for example or DISNEY or REGATTA or anything at all......
Dover.uk.com and Doverforum.com have merged to produce an entirely local and comprehensive Dover website. Nautical contributions are welcome on this page with a max of 5 pictures preferred per contribution, all pictures remain own photographers copyright.

Email:dover7@msn.com to send Sea News pix or info..or click ADD YOUR COMMENT below to post direct, no membership needed. Paul Boland.
SAY HELLO TO OUR NEW SEA NEWS SEARCH FACILITY BELOW...
Post 3093
Ed Connell, Dover
HMS Kent crossing the bay to berth on the Admiralty Pier on Friday morning.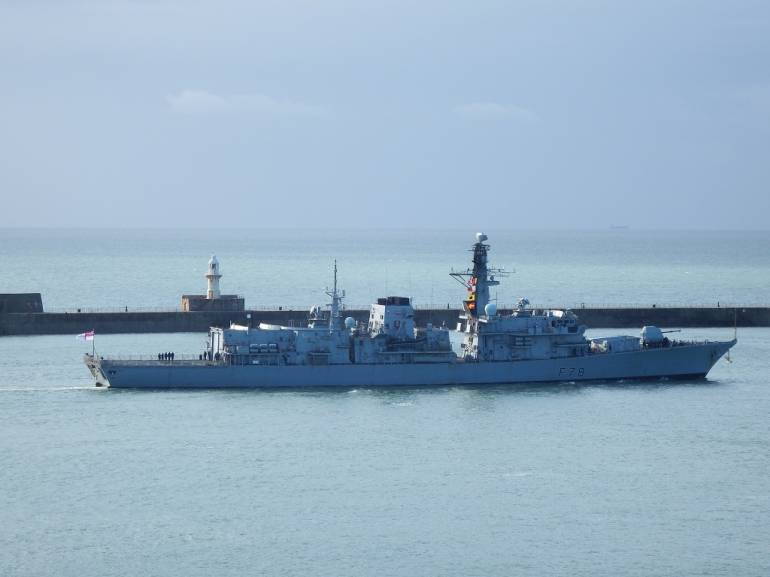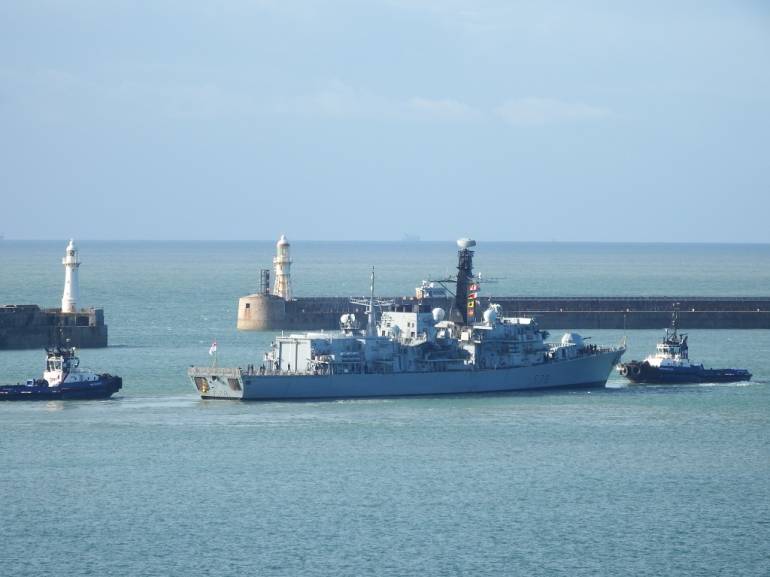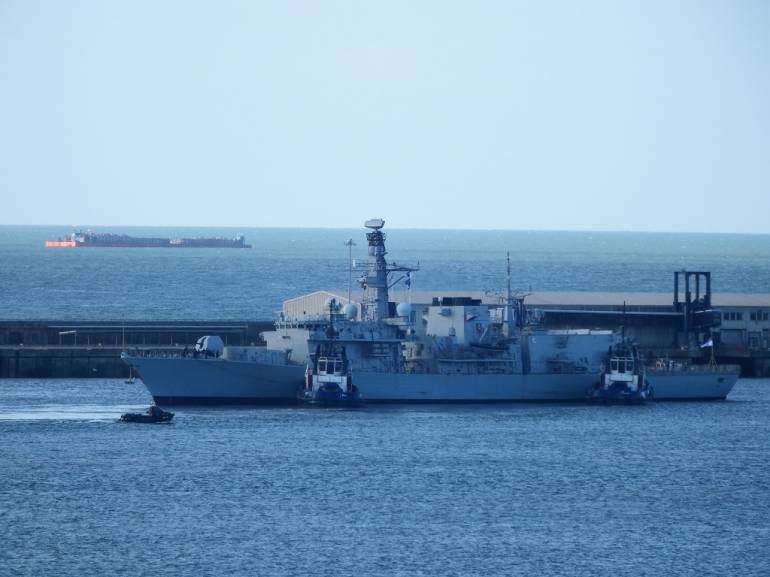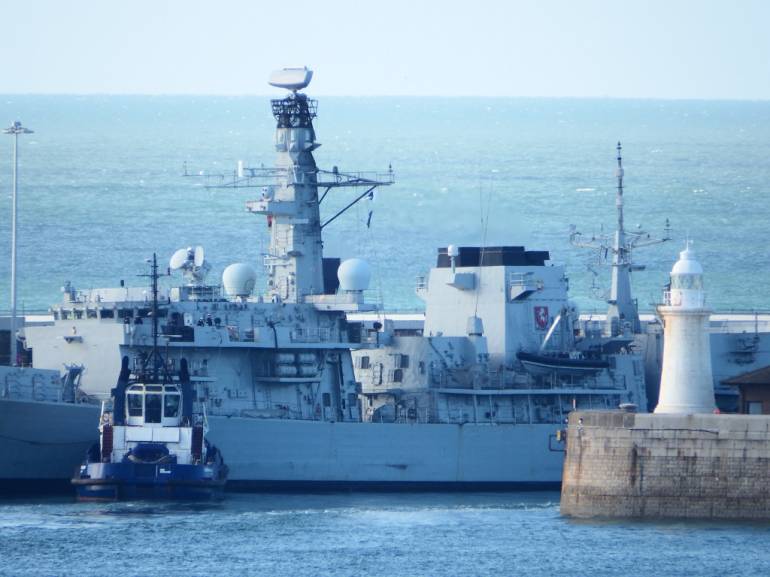 Saturday, 1 October 2016 - 01:58
Post 3092
Ed Connell, Dover
HMS Kent manoeuvring to pick up the pilot prior to entering by the Eastern Entrance on Friday morning.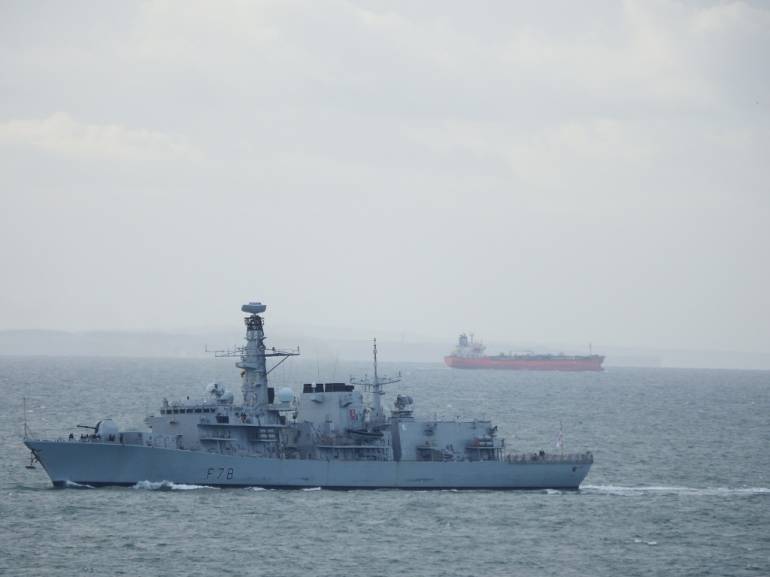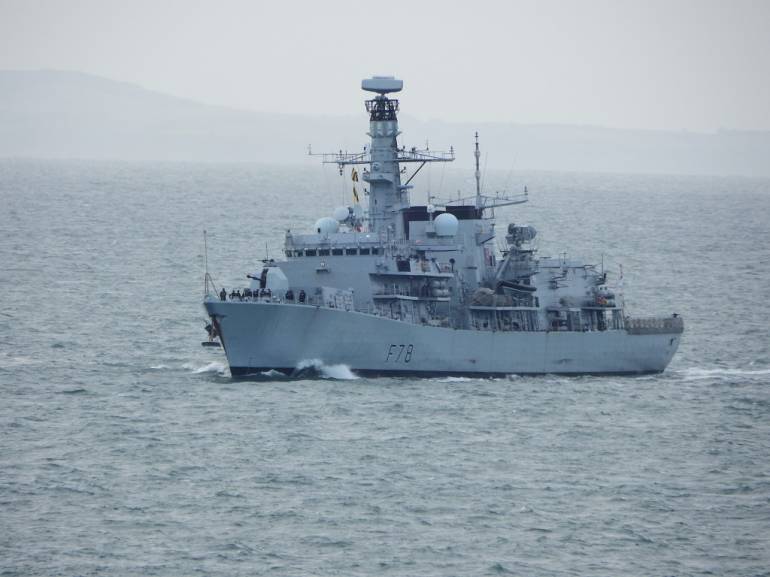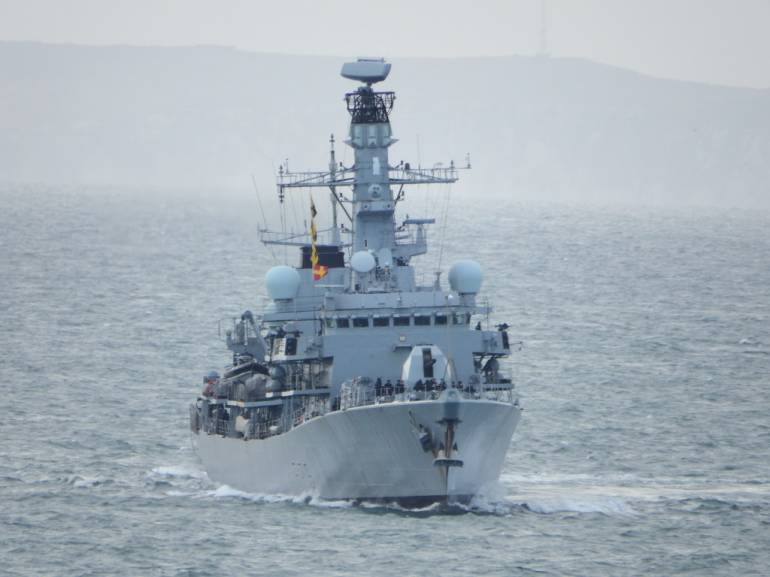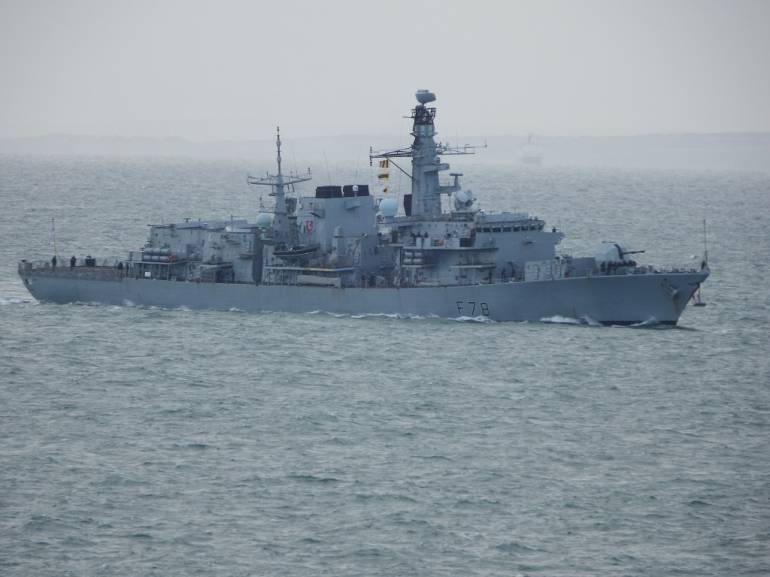 Saturday, 1 October 2016 - 01:54
Post 3091
Ed Connell, Dover
Coastguard helicopter hovering over the zig-zag down to Dead Man's beach on Friday morning, then landing at the Coastguard station.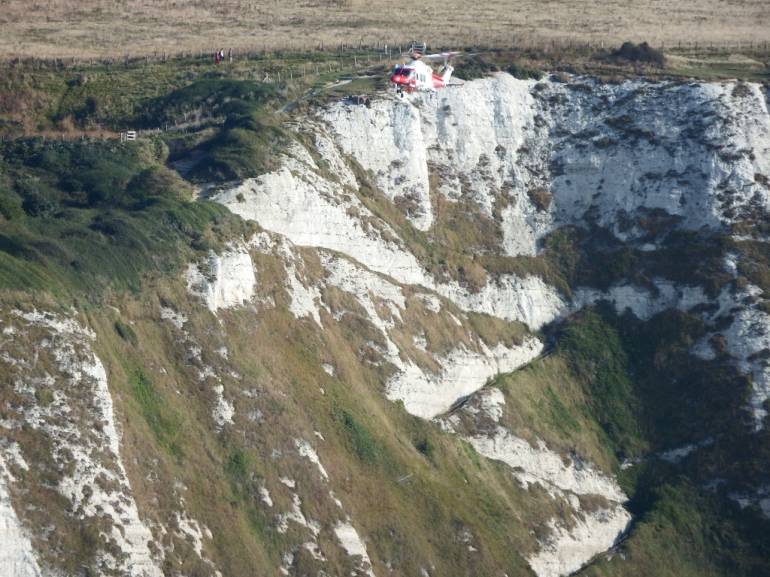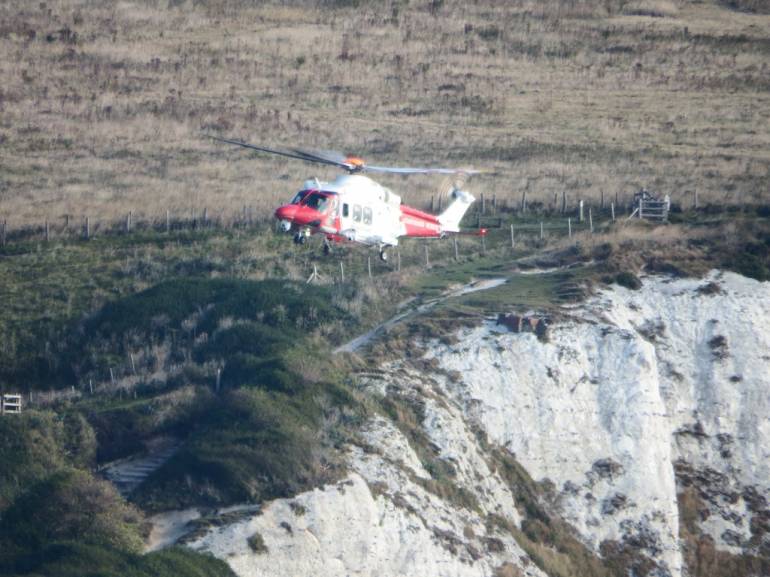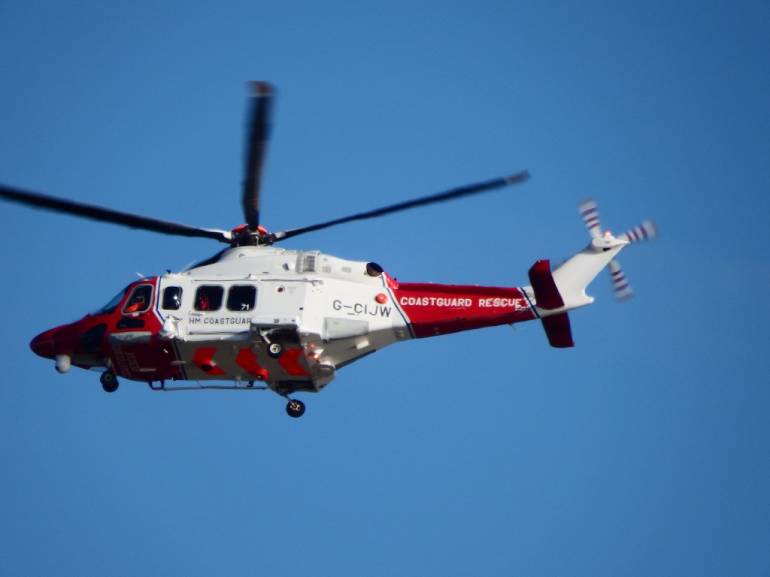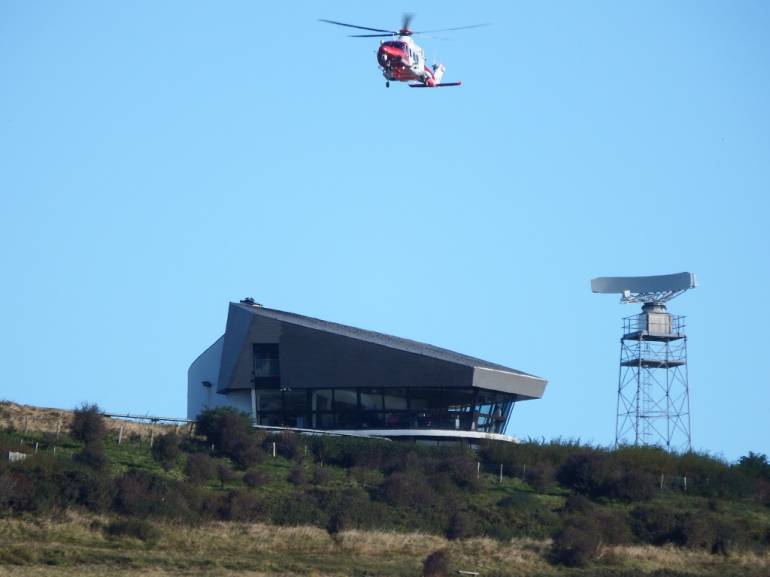 Saturday, 1 October 2016 - 01:15
Post 3090
Ed Connell, Dover
Restoration work on St Mary in Castro, the Saxon church in the castle grounds.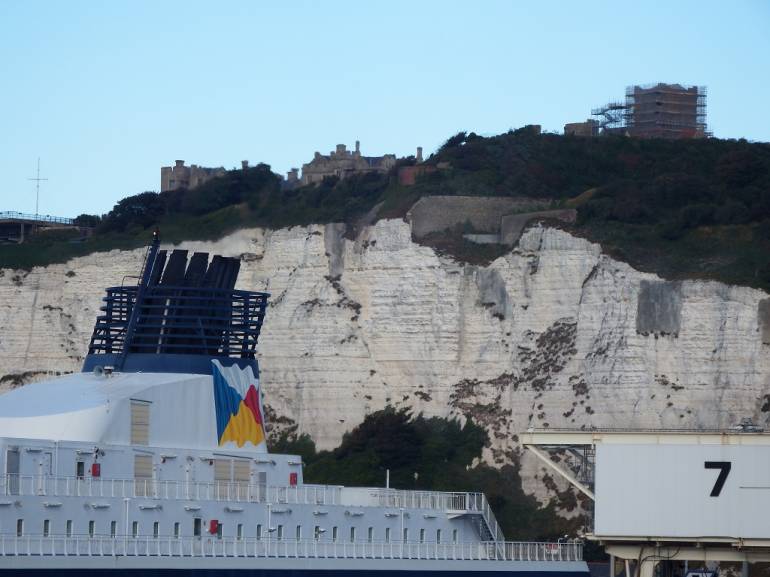 Saturday, 1 October 2016 - 00:46
Post 3089
Colette B, Dover
CRUISE VISITS
And now for some October Cruises....... October already

Tomorrrow, Saturday October 1st, AIDAsol is back with us again at CT2, PoC. She arrives at 08:00 & departs at 20:00 on her 5day round trip cruise. She left Hamburg on the 29th September, stopping at Ijmuiden, Holland, tomorrow Dover & then back to Hamburg

The following day, Sunday October 2nd, we have the pleasure of seeing the Absolutely Fabulous AIDAaura cruise into Dover at 09:00hrs for a PoC. She will leave us at 19:00 to continue her 13day, one way cruise from Kiel on 28th September, to Palma de Mallorca on October 10th. She visits Copenhagen, Amsterdam, Dover, Le Havre, Ferrol, Lisbon, Cadiz before reaching her destination. The Port of Dover is in good company, as it should be

Then on Wednesday October 5th, the AIDAsol returns to us at CT2, PoC. She arrives at 08:00 & departs at 20:00. She has the same itinerary as October 1st, above.
Friday October 7th, Balmoral cruises into CT2 at 04:00hrs for a Debark Only. This is her last visit this season, she will depart at 09:00

On Sunday October 9th, AIDAsol returns again to CT2, PoC, arriving at 08:00, departing at 20:00hrs. She will repeat her 5day round trip cruise again as above

Be back soon with the last of this year's cruises

Friday, 30 September 2016 - 15:13
Post 3088
Sea News, Dover
Following on from Ed's pic a couple of posts back, which showed the Elsebeth about to depart from DCT, here she is a short time later actually departing with the help of both tugs, Doughty and Dauntless...one either end. She was off to Flushing in Holland.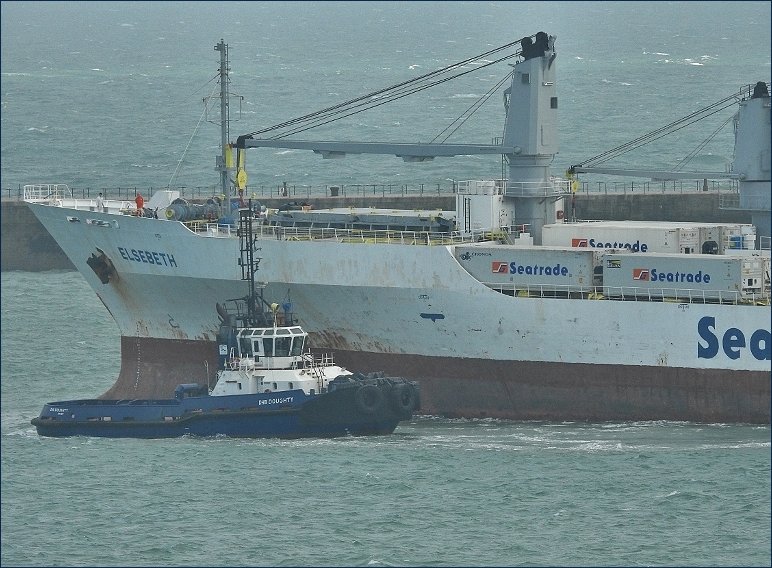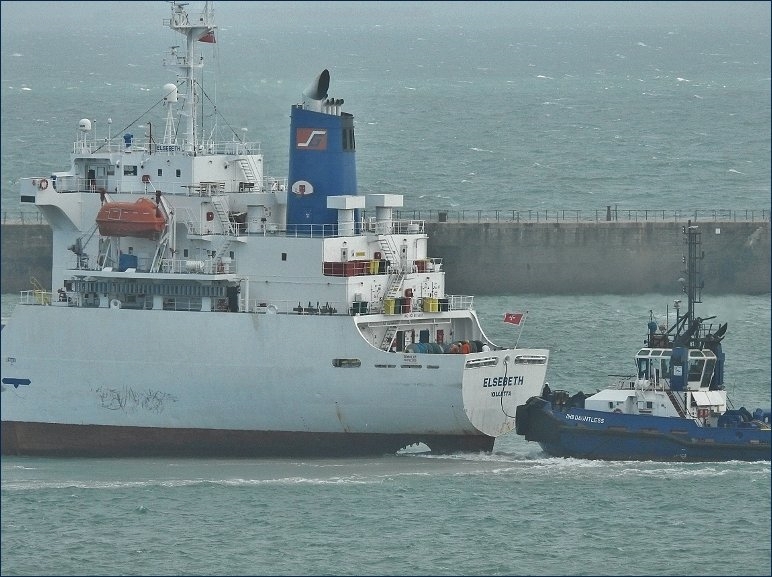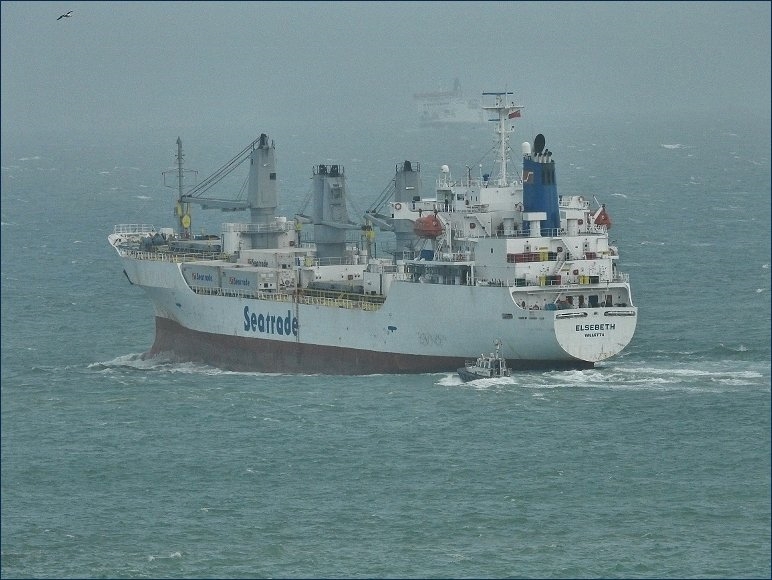 And just to round off for the moment on our cargo friends, here is another shot of the Schweiz Reefer from a couple of days earlier, when there was no mist at all and as you can see...excellent visibility in fact. In the background you can see the approaching Cote des Flandres.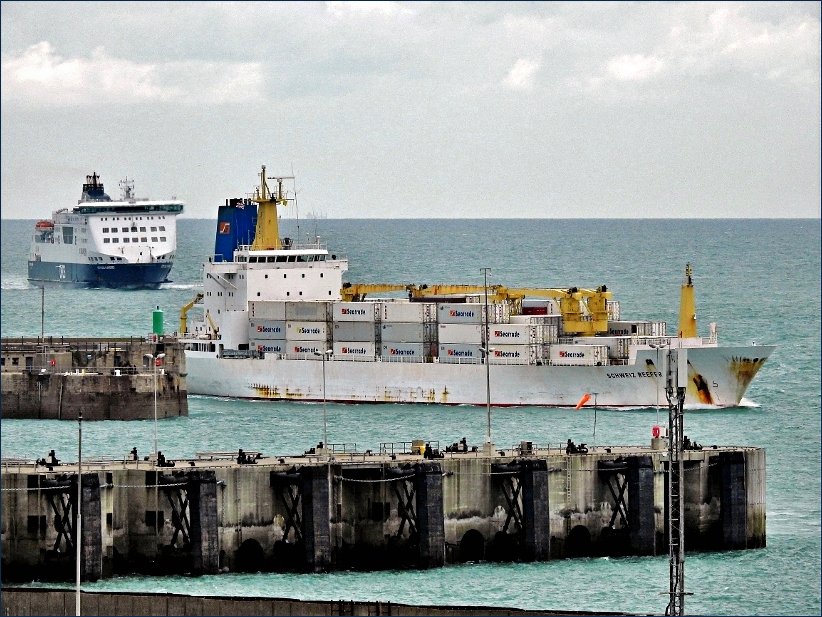 Thanks for the update on the Albatros Colette. Well done with that info. Yes indeed a brilliant stride forward at the Port of Calais (see 3086).

Friday, 30 September 2016 - 07:30
Post 3087
Colette B, Dover
CRUISE VISITS
_____________
Fantastic plans there for the Port of Calais.....862.5 Million Euros... Wowser!!


STOP PRESS: Albatros was originally scheduled to sail out of Bremerhaven with 800 cruise passengers on Tuesday evening, September 27, but problems with rudder's hydraulic system delayed her departure. Later the problem was repaired and ms Albatros departed 11 hours late Wednesday morning, September 28.
Unfortunately, the same problem reappeared when the ship was 25 km from the port of Bremerhaven. A pair of tugs towed the vessel back to port for additional repairs.
She was due into Dover early this morning so not sure if & when she will arrive

Thursday, 29 September 2016 - 16:34
Post 3086
Sea News, Dover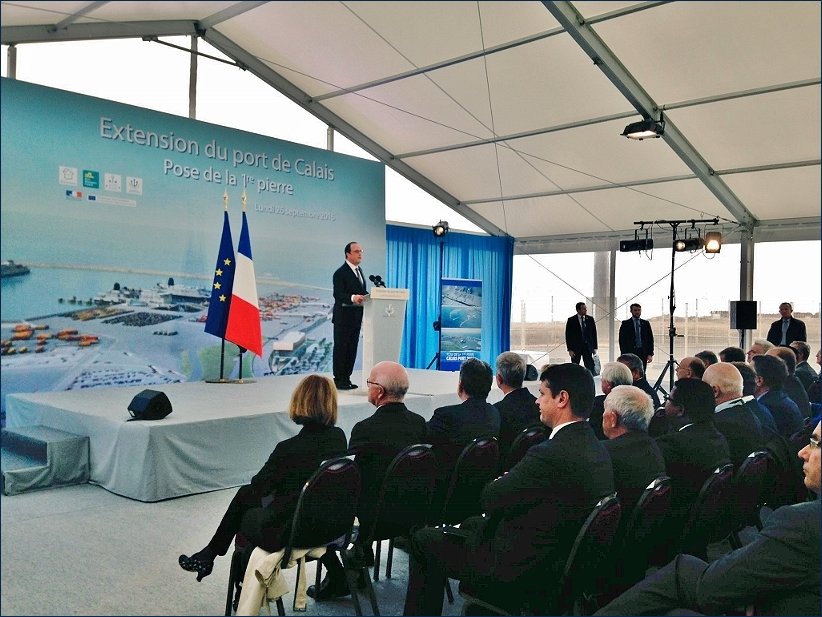 Top shot shows President Francois Hollande in Calais this week giving the go ahead to the fantastic new port development over there, which you can see in the picture below. It clearly is a massive project ( called CALAIS PORT 2015 ) with a whole new harbour extension of giant scale as shown below....all to the right in picture will be the new development, the current port to the left. Pictures courtesy of the Port of Calais.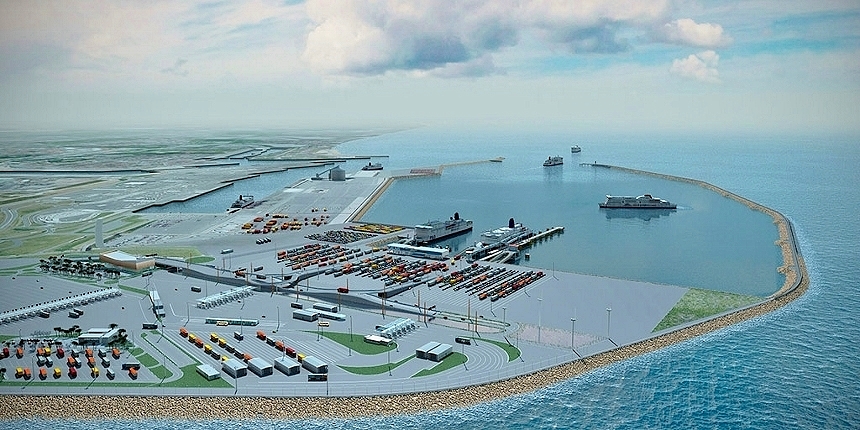 Building today the cross-channel port of tomorrow
_________________________________________
Calais Port 2015 is the first maritime project under the European Union priority infrastructure plan.
This project will be able to double the port's current capacity by the construction of a new dock leading to the sea. Designed to anticipate and adapt to forecast traffic growth, this new infrastructure also prepares the Port of Calais for the logistic and industrial needs of tomorrow. Its scheduled date of entry into service is 2021.
Calais Port 2015 was conceived as of 2003 in response to a twofold challenge in the future: to be capable of berthing the next generation of ferries and ro-ro ships, and cope with the increase in traffic forecast on the 2020/2025 horizon by installing state-of-the-art port facilities on land reclaimed from the sea.
Calais Port 2015 is backed by the Nord Pas-de-Calais-Picardie Region, owner of the Port of Calais, which on 19 December 2014, by a vote of the plenary meeting, gave its approval for launching the Calais Port 2015 project.
Total Cost of Project : 862.5 Million Euros.
ENDS
Just to catch up on our double header of Tuesday when both Artania and Balmoral were in Port. First picture shows Balmoral heading off to La Coruna in Spain at 4.30PM. The Artania left in the dark night with all lights ablaze at about 8 pm, or 20.00 hours....also heading south.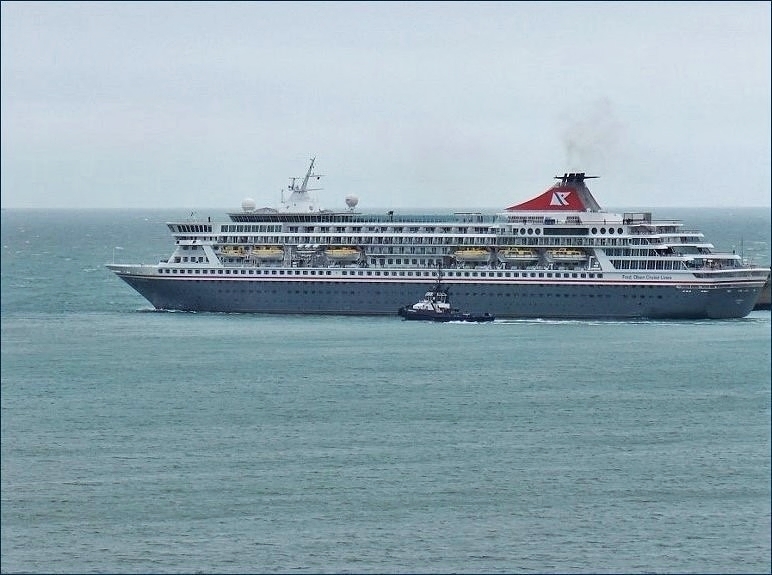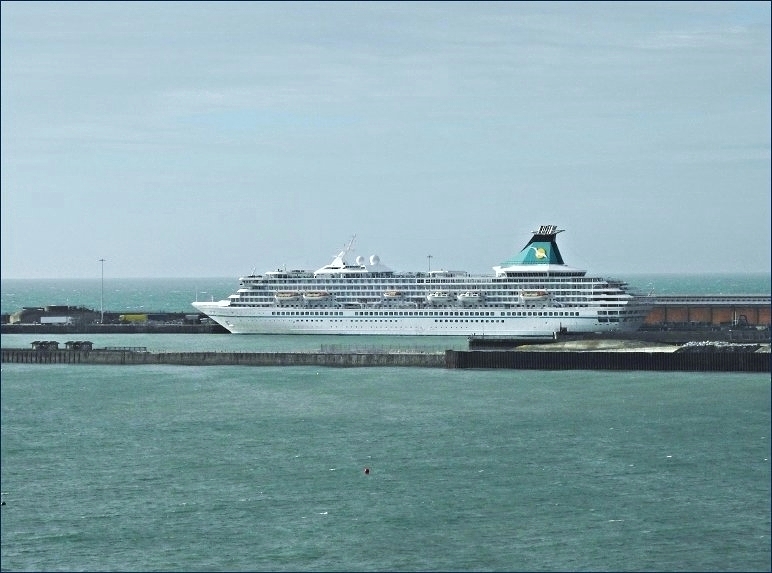 Thanks to Ed and Mark below there.

Thursday, 29 September 2016 - 04:52
Post 3085
Ed Connell, Dover
Elsebeth about to depart the DCT today with DHB Doughty assisting.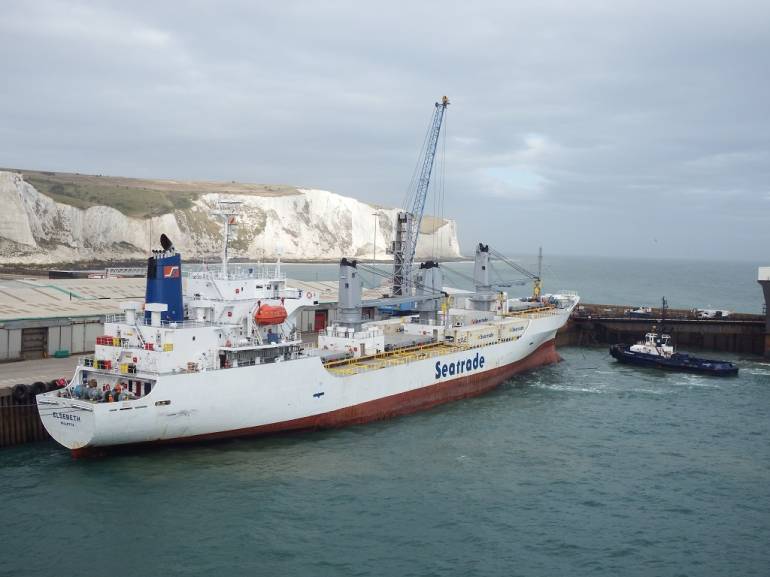 Charlie Rock on the Eastern Arm today.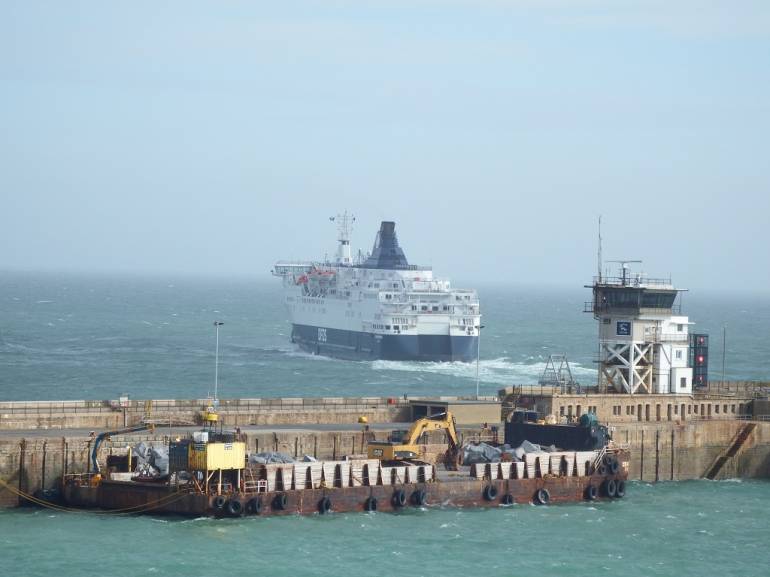 Wednesday, 28 September 2016 - 23:27
Post 3084
Mark Rushton, Northants
Nice shots of the landing craft. Paint them blue and yellow and you can imagine that's what it would be like if Ryanair ran cross channel ferries. Pay an extra £30 and you're allowed to wait until the ramp's actually on the beach before you get off.....


Wednesday, 28 September 2016 - 18:00
Post 3083
Sea News, Dover
The recent pictures of the landing craft were very popular and on Monday evening we were lucky to see her returning in fine style, and here are the pictures (landing craft L9525). It was all too brief as it darted by but luckily we managed to get a few shots....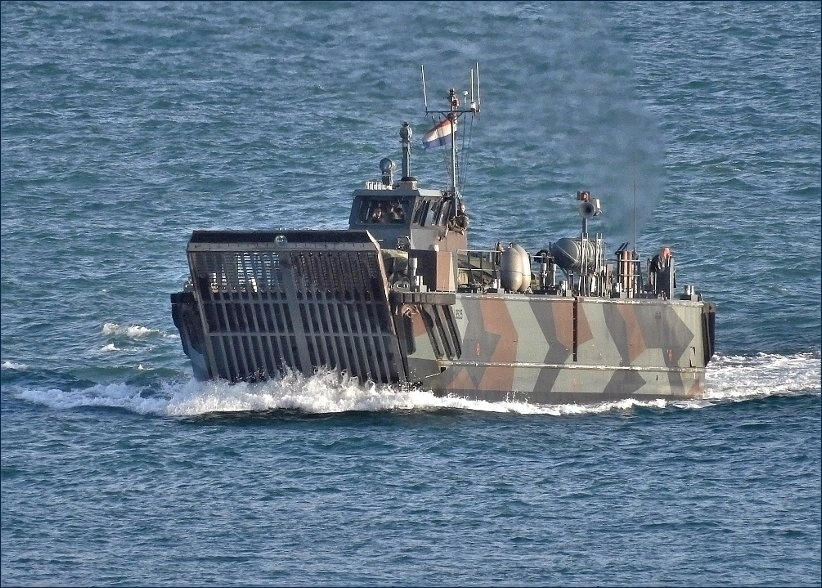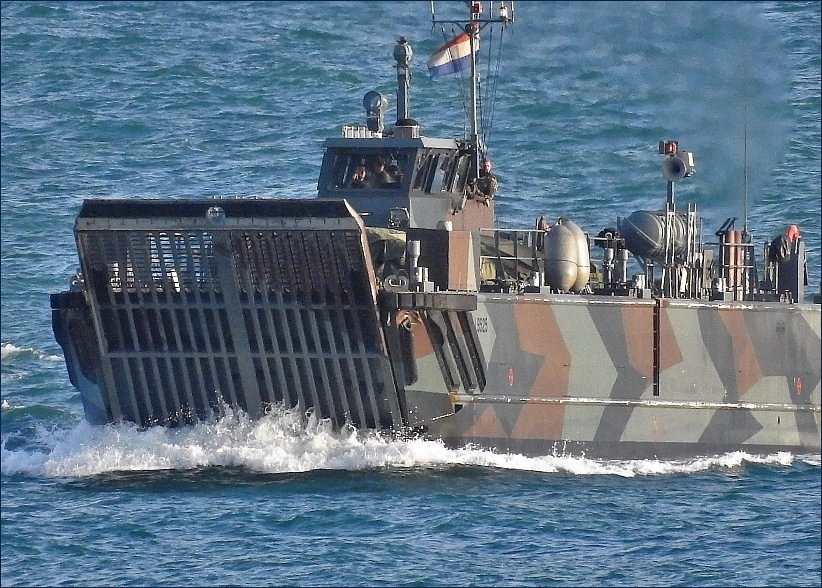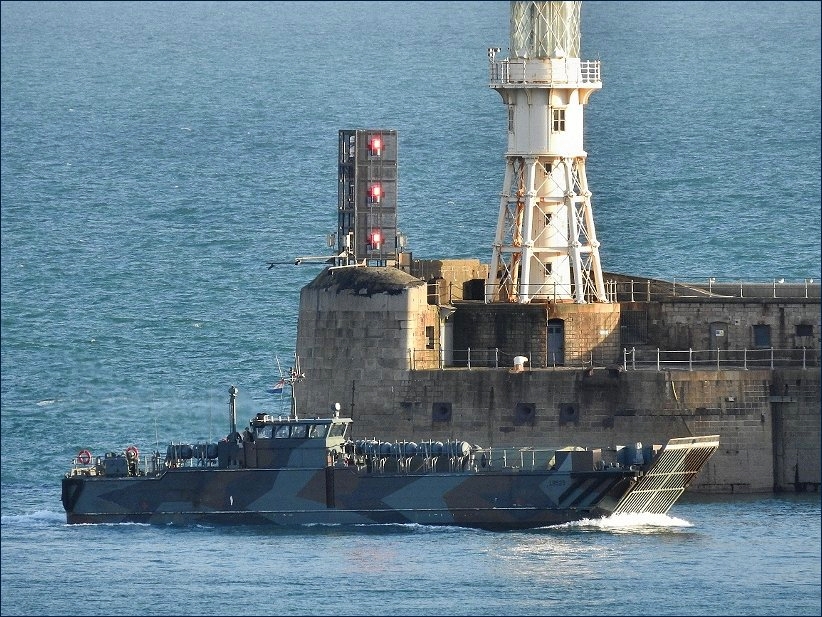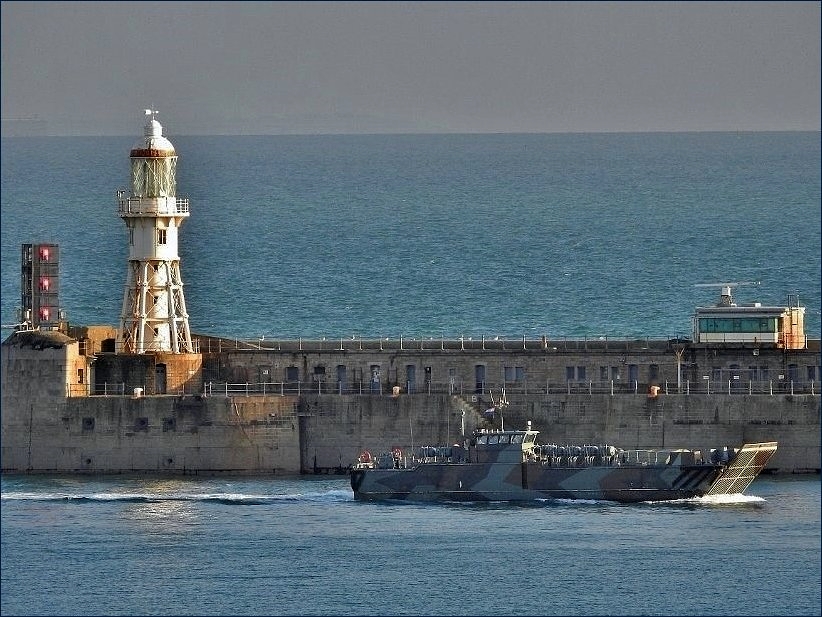 See also post 3053 where we had the first pic from Jeremy Ward
and 3056 a pic by yours truly. See also Mike's post 3055.
Thanks for the comments Del I see the MP touched a nerve there.
PaulB.
Wednesday, 28 September 2016 - 05:58
Post 3082
del styan, Norwich
Well, Mr Elphick, why don't you tell your colleagues in your own party to let local councils build more council houses for rent? Not build more new private build houses that local people can't afford? Sorry to be a bit controversial, but press releases like this make me really mad! Why doesn't he stick to what he's good at, promoting Dover, and getting national attention on the problems that Dover need solving. Again, sorry - it's touched a nerve!

Tuesday, 27 September 2016 - 23:31
Post 3081
Sea News, Dover
Rainy Days and Mondays....
Yes the P&O Ferry sails into the wet weather yesterday Monday.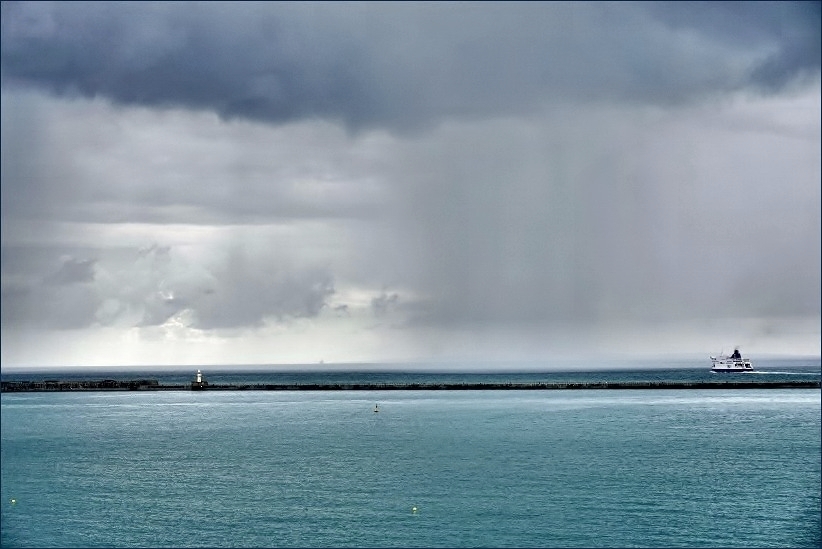 See also todays earlier post below.
Tuesday, 27 September 2016 - 08:58
Post 3080
Sea News, Dover
As we saw in Colette's most recent cruise list below, there is a double header of cruise ships in today so ol friend Charlie Rock had to move from its location between Cruise Terminal One and Cruise Terminal Two in order to make way. This picture below captures the moment yesterday morning as Holyhead Towing's Afon Goch tows from the front and DHB's Dauntless brings up the rear. The barge was moved over to the eastern wing.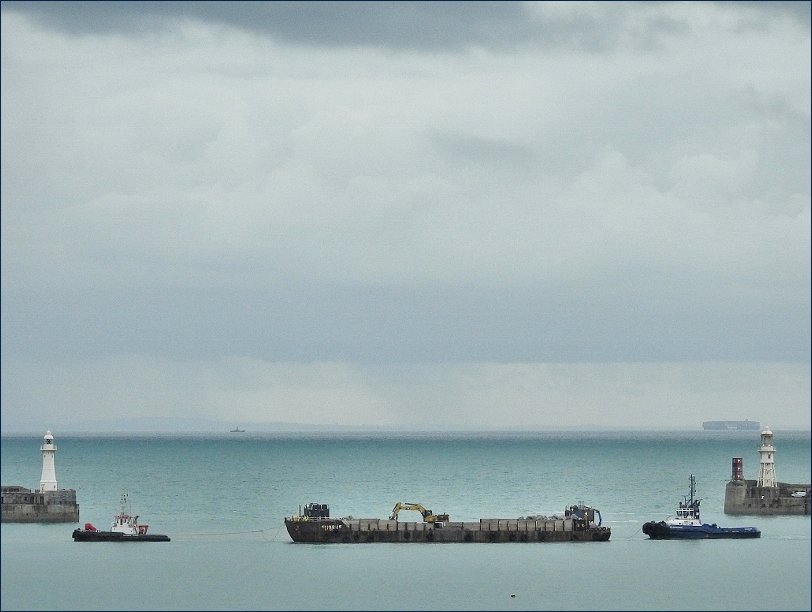 On sunday morning our cargo trading carried on in solid style as Schweiz Reefer arrived with us here in grey but steady weather, and here she is..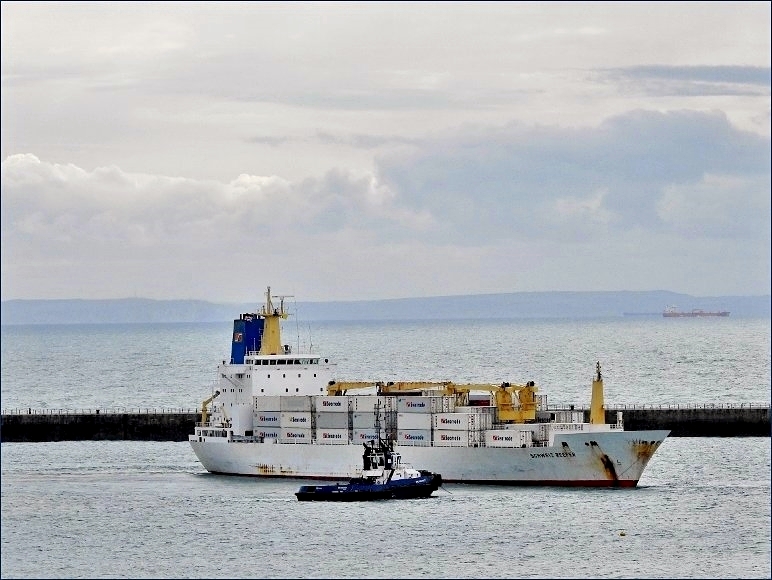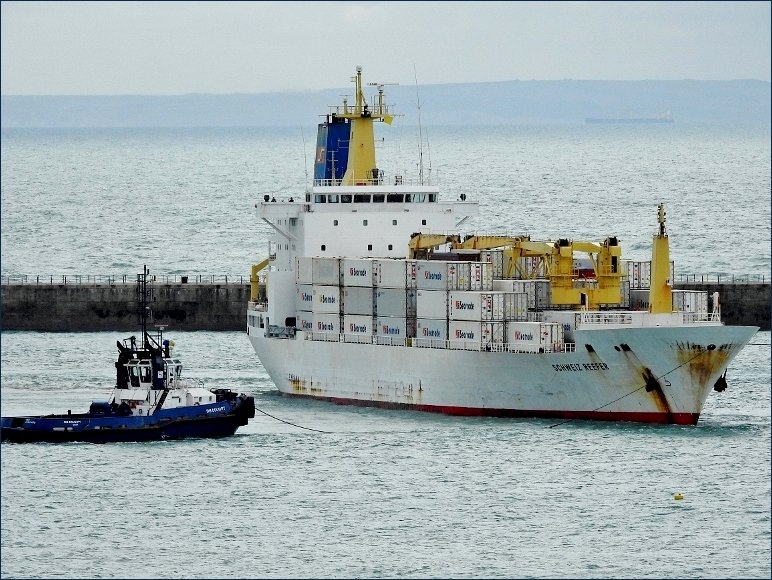 And now.. while visibility was reasonable out in the channel we have a couple of big beasts from out there... The first one here is the massive MSC Clara moving on down to Port Said in Egypt, all 195,000 tons of her approx. What a whopper!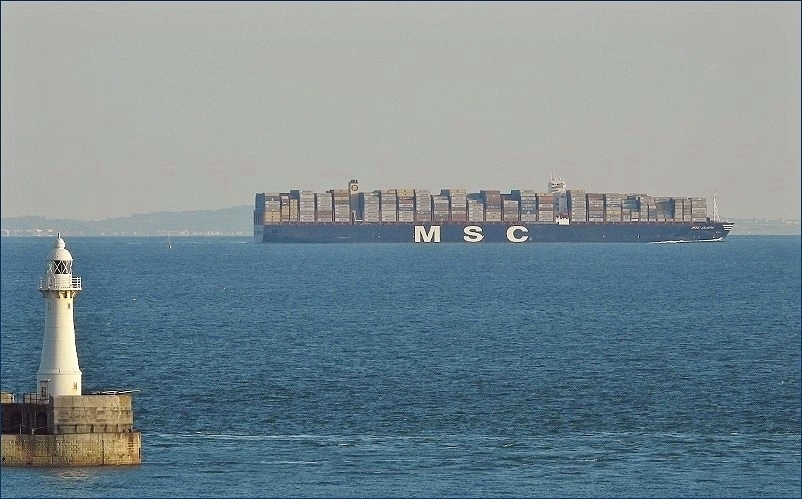 And finally, another one of our passing ol friends, this time MPI Discovery, moving by on a choppy nay rough sunday morning..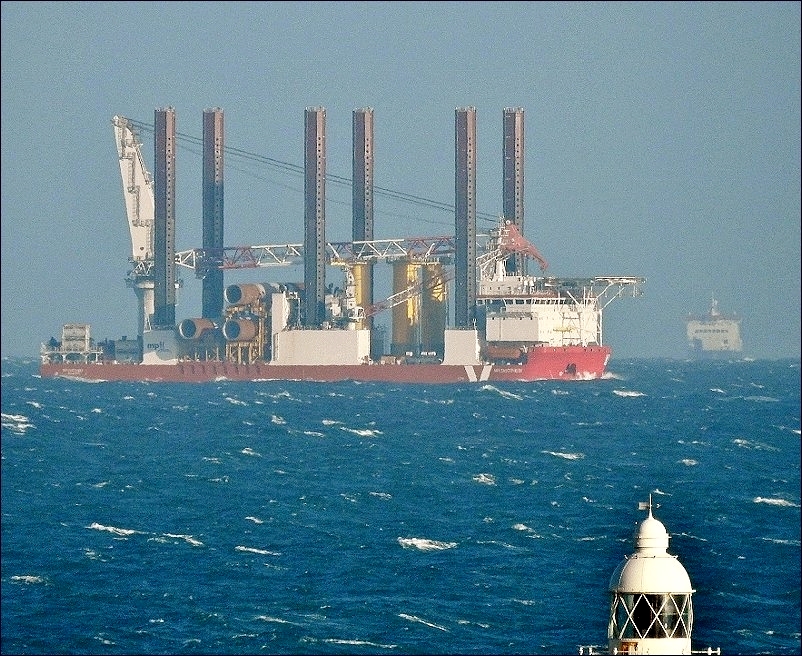 Yes indeed Howard good to see that move forward with apprentices from DFDS ( see below 3078 )

The two cruise ships in today are the Balmoral and the Artania.
PaulB.
Tuesday, 27 September 2016 - 05:55
Post 3079
Howard McSweeney, Dover
Good to see DFDS investing in our young people with a genuine apprenticeship that will lead to a long career in the shipping industry.

Monday, 26 September 2016 - 20:38
Post 3078
Sea News, Dover
DFDS CELEBRATES NEWLY QUALIFIED APPRENTICES
____________________________________________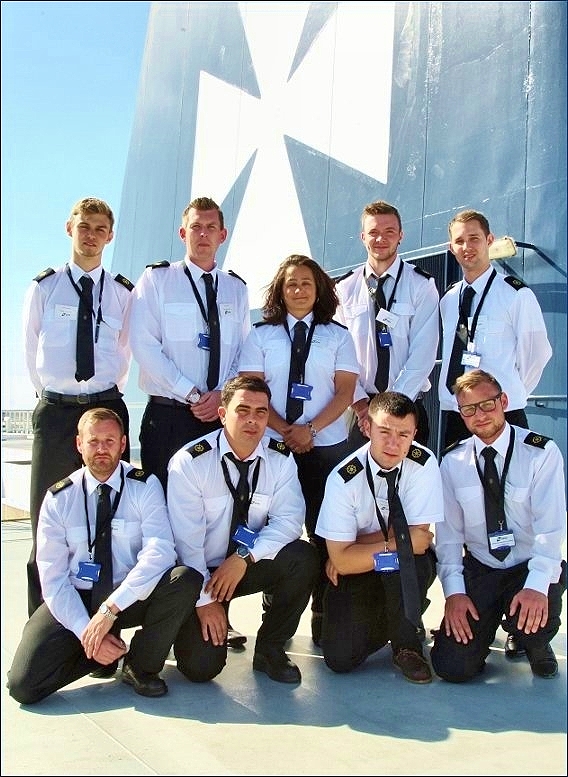 On Friday 9 September, DFDS celebrated the latest cohort of apprentices to complete its apprenticeship scheme, with a 100% pass rate. A 'passing out' ceremony took place on board its ship Dover Seaways and was attended by family, friends and industry representatives.
The event saw the company's first engineering apprentices and the second group of deck apprentices qualify, since the programme started in 2012.
The ceremony was the first of its kind, in an industry which has seen a decline in new ratings entering – particularly among the younger generation – with statistics showing that more than 70% of ratings currently employed in the UK maritime sector are aged-40 or over. The number of UK seafarer ratings was 30,000 in the 1980s but currently stands at less than 9,000.
Gemma Griffin, Vice President of HR and Crewing at DFDS commented "It has been a privilege to watch these young apprentices learn new skills and grow as individuals over the past two years and I am so proud to see all nine of them pass.
"The scheme has provided these apprentices with not just a job; but a career for life. At DFDS, it is important to us to create opportunities for young people living in Dover and the surrounding area and the qualifications gained through the apprenticeship schemes can do just this."
Speakers at the event also included Steve Todd, National Secretary RMT; Glenys Jackson, Head of the Merchant Navy Training Board; and Stephen Watkins, Curriculum Manager of North Kent College – all of whom have played a significant part in making the schemes possible.
DFDS offers two apprenticeship schemes; the Deck Scheme which sees students qualify as Able Seafarers, working in the deck department as a watchman and assisting with loading and unloading the ship; and the Engine Scheme which sees apprentices work towards becoming Marine Fitters within the engineering team, which is responsible for maintaining and repairing the ships.
The apprenticeships are offered in partnership with the Merchant Navy Training Board (MNTB), the shipping industry's central body for promoting and developing sector-specific education and training skills.
The schemes last between 18 and 24 months and are aimed at 17 to 24 year olds with a minimum of Grade C Maths and English at GCSE level. From this week, DFDS will see nine new apprentices start their journey to become qualified Seafarers.
For more information on the apprenticeship schemes, visit www.careersatsea.org/opportunities-for-ratings/.
-Ends-
* *
AND NOW...The Latest Newsletter from MP Charlie Elphicke
Building a future for our young people
_______________________________
When I speak to young people in Dover and Deal, they tell me one of their biggest worries is being able to afford to buy their own home. It was much easier for their parents to get on the property ladder than it is for them. And now many younger people are finding it hard to save while paying rent – or are having to move back home with their mum and dad.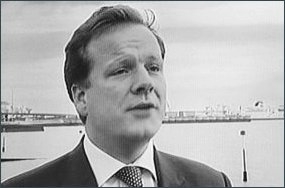 That's why it's so important we build more homes. And why I condemn outfits like the Campaign for the Protection of Rural England who work to stop homes being built in Dover town. Despite the best efforts of this organisation, the number of new builds started in Dover and Deal last year was still double the UK average. The trend continued this year, with 167 new homes started in the first two quarters of 2016.
But buying a home is not the only thing young people in Dover and Deal worry about. We have some of the brightest students in the country. Pupils at Dover Grammar School for Girls recently got better results than Eton. But too many look at their job prospects in Dover and Deal after university and decide they will have to move away – too often to London – in order to get on in life.
Young people in Dover and Deal who work hard should be able to get on and buy their own home in the place they grew up. I want Dover and Deal to be a place where our bright young people want to live, work and raise a family of their own.
But for too long Britain has worked for the jet-set elite of the capital, not the hard-working kids of districts like Dover and Deal. Piling more cash into London at the expense of the towns and regions will just make matters worse. It harms our community when our bright young people are swallowed up by the London vortex.
This cannot go on. We need to fix the way our economy works. And it can be done. I recently visited Euromotive, a brilliant small business in Dover which is looking to expand locally. I was hugely impressed by the highly-skilled metalwork being carried out by apprentices at their site in Poulton Close.
The way we help build more success stories like Euromotive across the country is by helping small businesses in the regions, not big business in London. By investing in places like Dover and Deal, creating good jobs so bright young people can get on. By having more skills education – like plumbing, carpentry and electronics – in schools. By building more homes for young people.
We need to build a Britain where towns like Dover and Deal are leading the way in building our nation's future.
CHARLIE ELPHICKE MP for DOVER and DEAL

Monday, 26 September 2016 - 06:04
Post 3077
Colette B, Dover
CRUISE VISITS
_____________
Lovely photos there of the boats in Deal, always loved that spot

And now as promised, here are the rest of our September cruises starting with a double header.
This coming Tuesday 27th, Artania is back with us once again at CT1, PoC. She is scheduled to arrive early at 05:00hrs & will depart later at 20:00 hrs. This is her last visit.
Balmoral will arrive with us a little later at 07:00hrs, CT2, T/R. She will depart earlier at 17:00. We will see her again in October.
Then on Thursday 29th September Albatros is back with us for the last time this season. She will arrive at 07:00hrs at CT1, PoC. She is scheduled to leave us at 19:00.
Now, on Friday 30th September, I happen to have on my cruise list the wonderful Norwegian Cruise Lines's, Norwegian Star, potentially arriving at CT2, 08:00hrs on a PoC, departing at 17:00. I have done some research, it is scheduled to call at Dover on Friday before continuing its cruise which finally ends at Tampa, Florida on 23rd October.
Of course this may have changed as sometimes happens. The Port of Dover do not have it on their schedule. I'm sure they will enlighten us with the correct information.
I will be back on Friday to start our October cruises

Sunday, 25 September 2016 - 16:48
Post 3076
Sea News, Dover
The following pictures were taken in Deal last weekend. The town was buzzing over there last sunday with several events on, the restaurants generally and the pubs were packed and doing great business. The beach and the boats thereon always provide nautical picturesque opportunities for the camera and here are some images below. There aren't as many boats now as there once was, pity but...the names of the featured boats...Morning Haze and Che Sara.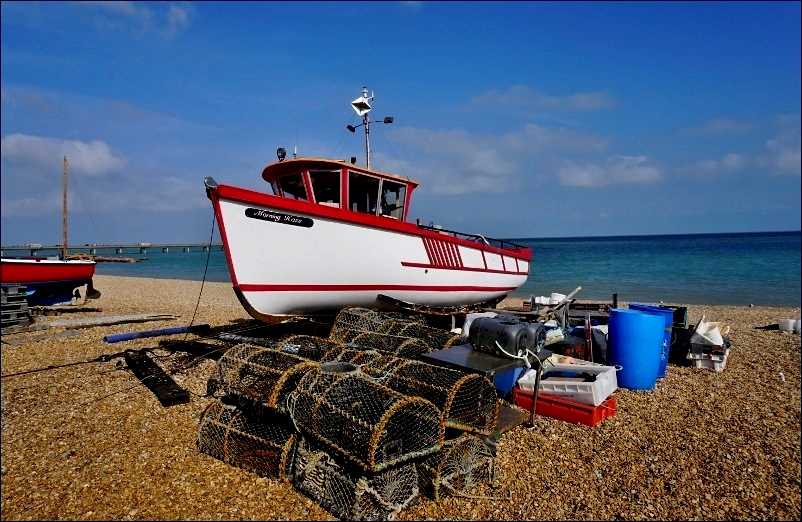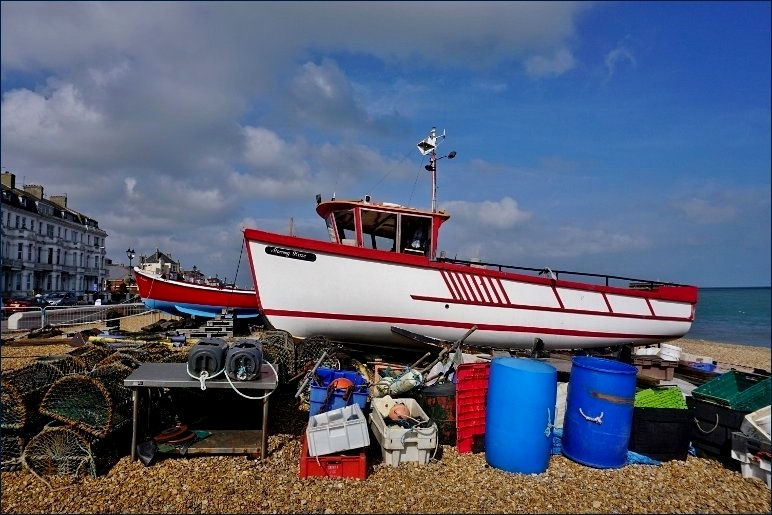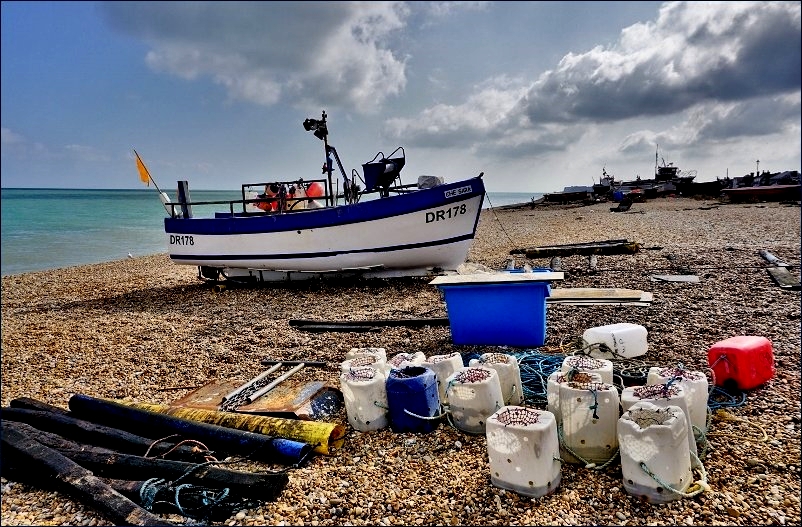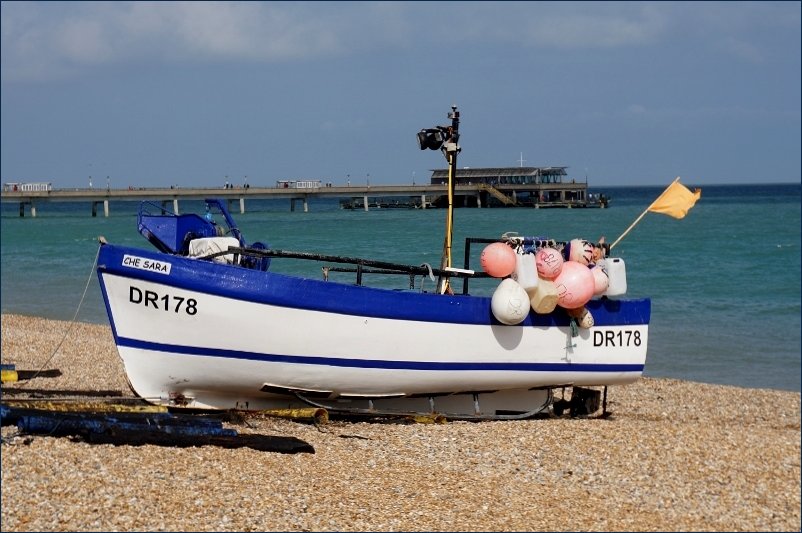 Sunday, 25 September 2016 - 06:27
Post 3075
Sea News, Dover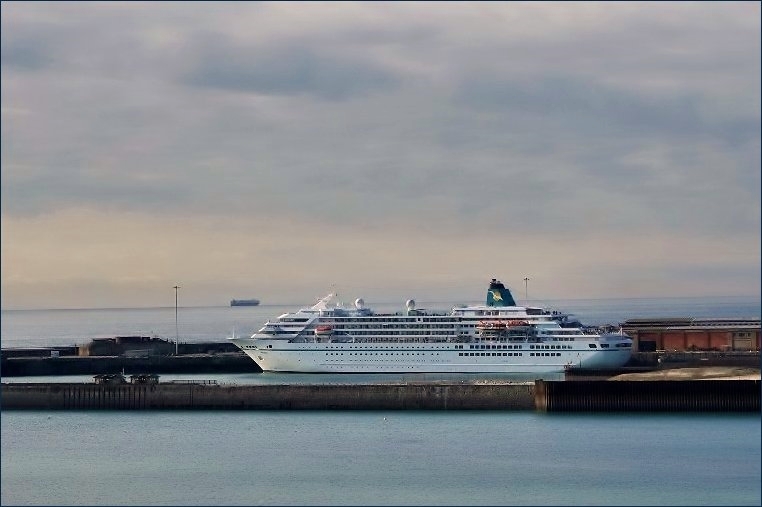 Some further pictures of Amadea from yesterday. First shot above shows her resting at Cruise Terminal One late morning. Rather surprisingly she moved away from us here around 12.30 in the early afternoon, heading for Harwich, perhaps not the most exotic of destinations in comparison to some. Yours truly would have missed the departure completely if it hadn't been for those three lonesome departing wails from the horn. Got a number of extra pix then...two of those are below. Blinding sunlight by then...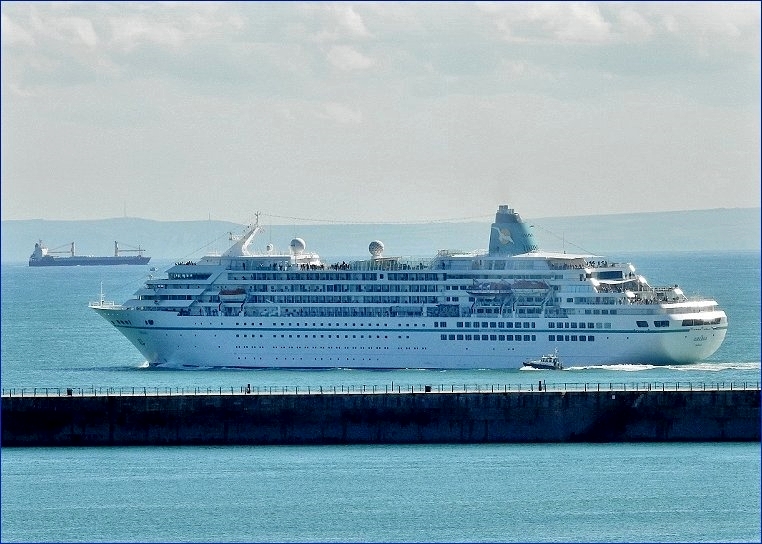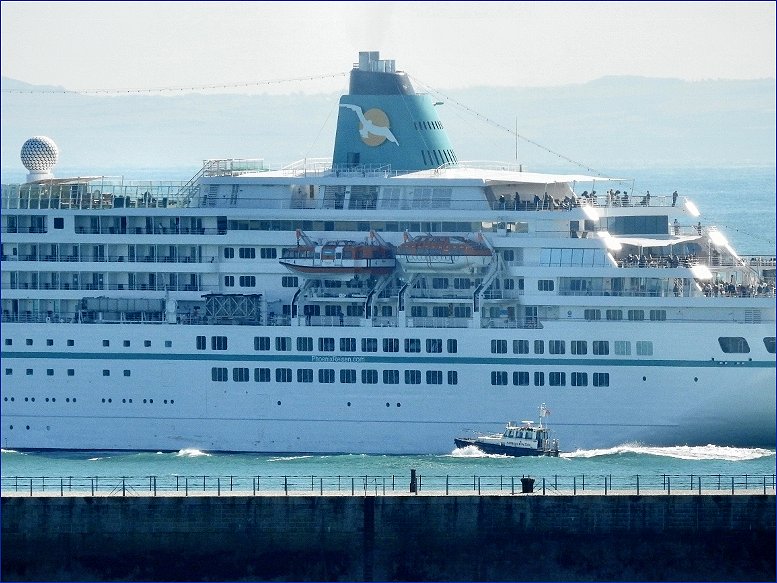 An extra one from last week shows Noah entering port late in the day...evening time. I remember Mike got a picture of her in one of the docks earlier in the season...I believe the hull was white or cream then, now obviously dark blue. You can find Mike's pic in the search engine. Just type in Noah.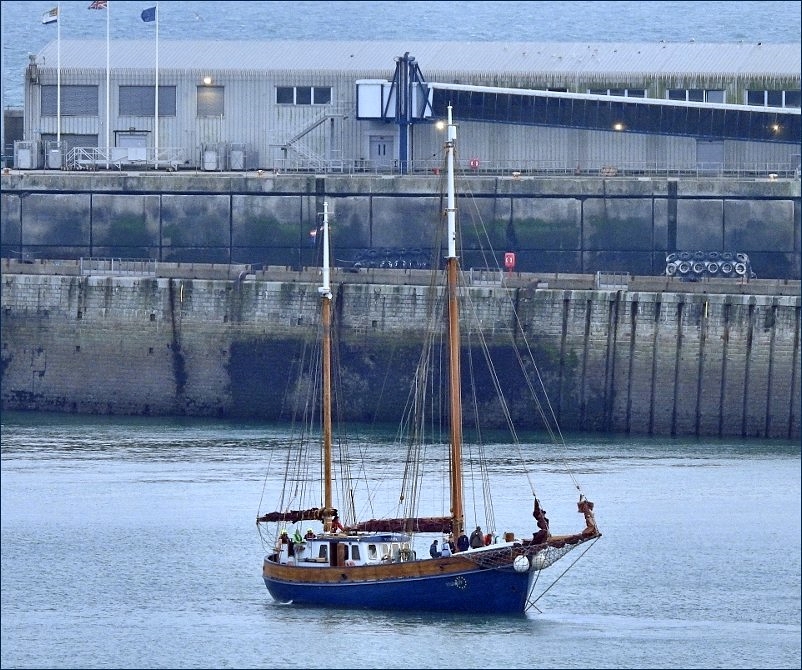 Great set of pictures below Mike. I hope you didn't get dizzy up at that height..great stuff, such a huge amount of work there to repair the line and all entirely visible in the pictures.

Thanks once again Vic.
PaulB.
Saturday, 24 September 2016 - 06:49
Post 3074
Vic Matcham, Dovor
They have had good weather this year for this kind of work ,will it work and keep the line open?well sorry to say but it will happen again but lets hope that will be years away yet.

Friday, 23 September 2016 - 11:09