Friday, 27 March 2015
SEA NEWS
Scroll down the page and over the many pages for all the stories in and around the Port of Dover.....
Dover.uk.com and Doverforum.com have merged to produce an entirely local and comprehensive Dover website. Nautical contributions are welcome on this page with a max of 4 pictures preferred per contribution, all pictures remain own photographers copyright. Email:dover7@msn.com to send Sea News pix or info..or click ADD YOUR COMMENT below to post direct, no membership needed. Paul Boland.
SAY HELLO TO OUR NEW SEA NEWS SEARCH FACILITY...
Post 1447
Kevin Charles, Dover
Exciting news on the cruise front for 2016! Disney Cruise Line have confirmed they'll be back in Dover next year with new itineraries, including their first round Britain cruise. Disney Magic is due in Dover for its first call of 2015 on 10 July.

Thursday, 26 March 2015 - 07:54
Post 1446
Sea News, Dover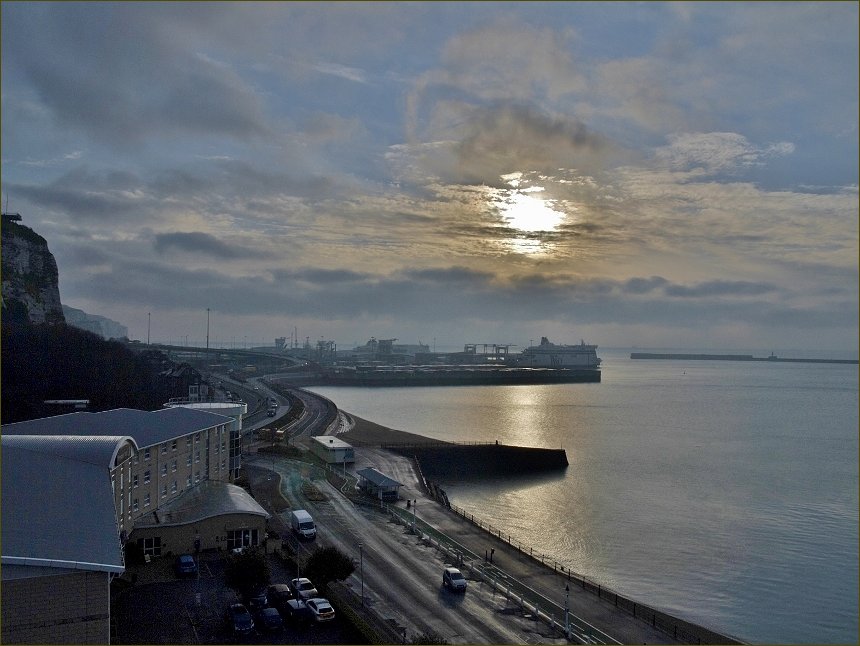 Our great Port of Dover wednesday morning early - getting ready for the EASTER Getaway.
EASTER A SHORT HOP OVER FROM DOVER
__________________________________
More than 225,000 passengers are expected to pass through the Port of Dover for the start of this year's Easter getaway – making Dover the gateway of choice to mainland Europe.
Over the Easter period from Good Friday through to Easter Monday, the Port will welcome around 40,000 cars and 2,000 coaches as they take a convenient ferry to access the motorways of France, Belgium and the Netherlands for that special holiday break. It will not only be day trippers taking advantage of the shortest route between the UK and France, but also families heading out across Europe even as a far as Italy and Spain for sun, sea and shopping.
The cross-Channel route has fewer restrictions than any other form of transport with the benefit of taking your vehicle from Dover to either Calais or Dunkirk in order to relax and enjoy the local treats of northern France, explore historic towns in Belgium or simply head further east and south to the attractions of Germany or even the French Riviera.
The great advantage of choosing from the excellent choice of frequent ferry services from the Port of Dover is that you do not have to suffer the pain of excess baggage charges and can bring back those holiday souvenirs with peace of mind. Add to this the comfortable 90 minute sea journey with a range of food and drinks on board and a place to rest and it is hard not to think of a reason to use a ferry from Dover to get into the heart of Europe.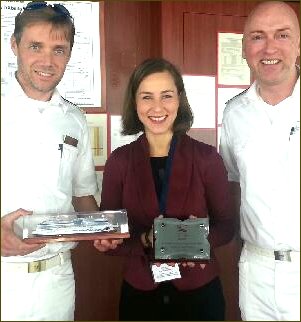 Barbara Buczek, General Manager – Business Development, Port of Dover, says:
"This Easter, Dover ferry passengers will find a quality service and a dedicated team creating the perfect start to their Easter holidays. Dover offers customers a flexible and convenient way of crossing the Channel and is well placed for those travelling to Northern France, Belgium, Holland and beyond. Customers can rest assured that the Port of Dover will be working hard with its ferry partners to keep the Port and its customers moving into Easter."
ENDS
And now below pictures of the cargo ship Southern Bay leaving us yesterday through the Western Exit at 4pm...seen here getting lots of sterling assistance from the tugboats Doughty and Dauntless. Much better for us picturewise to see them leaving through this Exit. Smaller picture above shows the Port's Barbara Buczek with Cruise ship officers on an inaugural visit last year.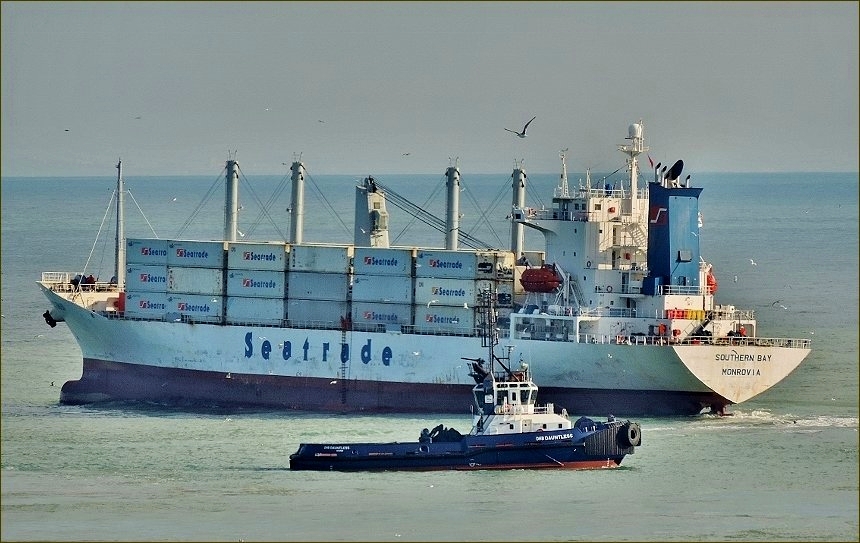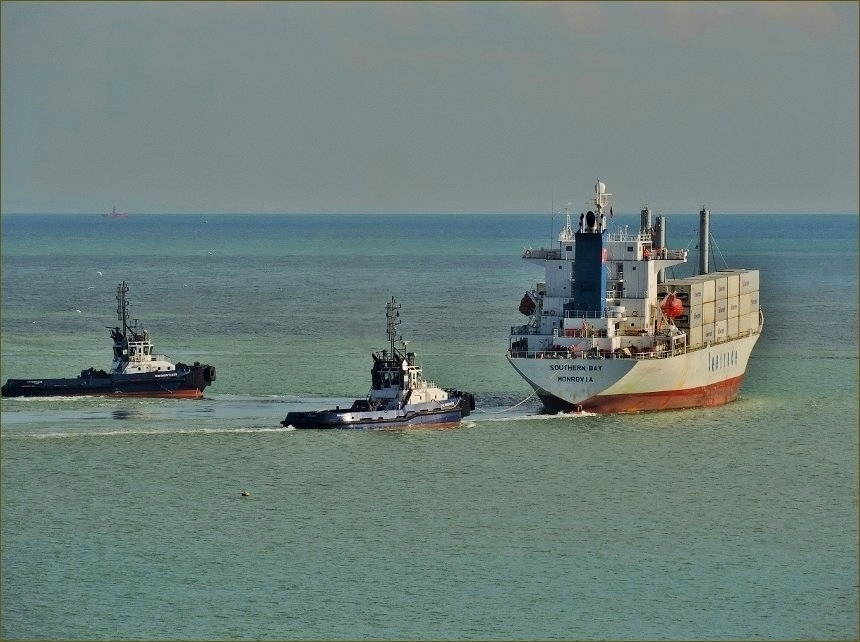 Great to see that one below Ed - I believe we may have featured it before, cant remember for sure off the top of my head...
I must search the new search engine. PB

Thursday, 26 March 2015 - 06:53
Post 1445
Ed Connell, Dover
CSCL Globe passing up the Northeast lane at lunchtime. Briefly the largest container ship in the world. She entered service in December and has already been surpassed by the MSC Oscar which can carry a handful more containers.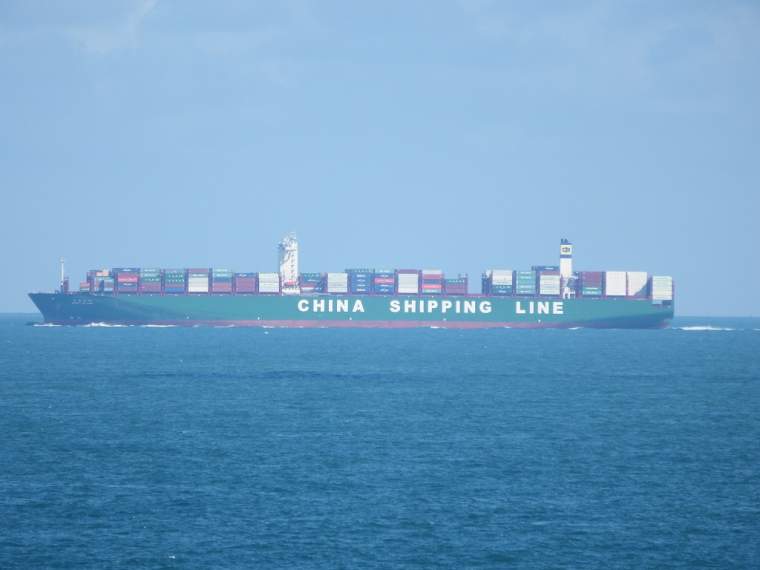 Wednesday, 25 March 2015 - 13:18
Post 1444
Sea News, Dover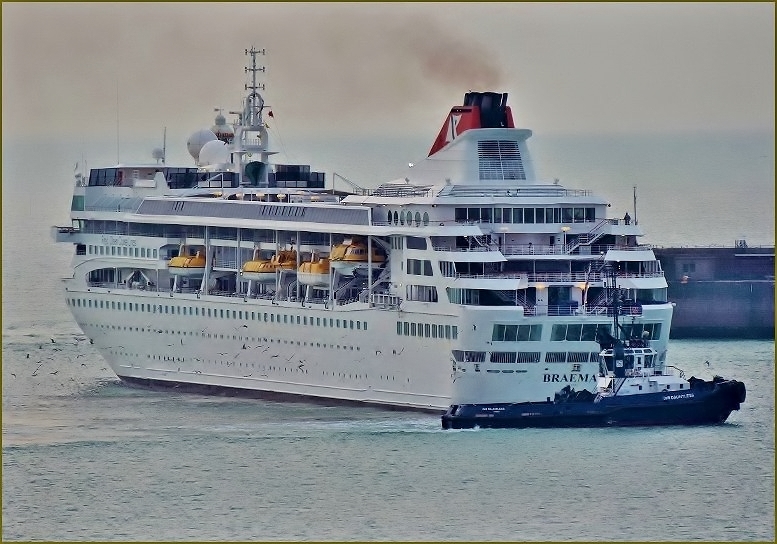 A couple of pictures here of the Braemar from yesterday tuesday. The shot above shows the arrival early morning with tugboat Dauntless in attendance, and the shot below shows her languishing at Cruise Terminal 2 in the late afternoon. The cruise visits are now in full swing as you can see...and very welcome too.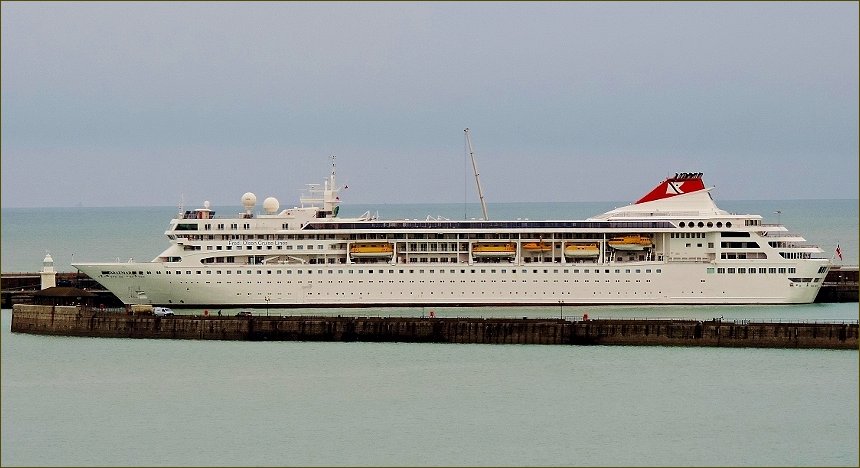 MORE FROM OUR MP CHARLIE ELPHICKE - THIS TIME ON THE SOLUTION TO OUR TRAFFIC PROBLEMS
_________________________________________________________________________________
Last week I held a debate in Parliament on the problems of Dover gridlock. I called for the port, ferry companies and Government to take responsibility and work with our community to find a lasting solution.
Dover suffers traffic gridlock on a weekly basis. People sit in traffic for hours struggling to get home. Dover businesses lose trade because customers can't reach their premises. Emergency vehicles can't get to those in need. And large parts of the roadside on the A20 have become dumping grounds for litter (and worse) left by HGV drivers stuck in tailbacks.
Why? The Port of Dover handled record freight in 2014 - up 10% on the last year. And it's expected to grow further. There are not enough spaces for lorries to park. Ferry check in systems are antiquated and frequently fail. The seas can be rough, Calais workers like to go on strike and ferries are sometimes run aground or into the harbour wall.
When there are problems, the Police, Port and the Highways Agency are often too slow and ill-equipped to tackle problems when they arise. High volumes of Port traffic just plough into the middle of Dover, whether the Port is ready to take them or not. This creates gridlock - now happening on a weekly basis.
When there are problems at the port, it's always the people of Dover who pay the price. That must change.
I called for the traffic problems in Kent and Dover to be made a national strategic priority by Ministers. Tailbacks not only make life a misery for local people - they hamper national trade and prosperity. The Government should lead the way in finding a long-term infrastructure solution.
A dedicated lorry park for the advance check-in of lorries before they arrive at Dover is badly needed. The best location for a 1,000 space site is near Folkestone on the M20. The Government should fund for this through revenue from the HGV Road User Levy, while the Port and ferry companies should contribute.
The A20 should be made a clearway, as well as box junctions at all roundabouts and road junctions in Dover. This will ensure no parking or stopping is allowed and ease road access in Dover - particularly for long suffering Aycliffe.
The Roads Minister, John Hayes, responded very positively. He said our community should not be inconvenienced and the Government will address the problem. He said he would support Kent County Council in making the A20 a clearway. The Government is prepared to make funding available for lorry parks and improved IT systems to deal with traffic volumes. These proposals will be set out in detail before the end of the month.
When there are problems at the port, it is wrong the town should suffer in gridlock. I am doing all I can to see a lasting solution is delivered for our community.
Charlie Elphicke
MP Dover and Deal.
____________________________
Also
Introduction of Government-imposed Exit Checks at Port of Dover .....
The UK Government has introduced Exit Checks at all ports, airports and Eurotunnel effective from April 2015.
From Wednesday 8 April 2015, all ferry customers using the Port of Dover will now be asked to present passports or national identity cards at check-in. This new additional Government process at the Port will result in longer check-in procedures at Dover Ferry Terminal.
To accommodate Exit Checks and minimise disruption to the town and the Port of Dover, we will continue to seek the support of the relevant agencies with which we work closely in order to help us deliver their national security objectives.
The Port of Dover is at the heart of the UK economy handling £100 billion of UK-European trade each year. We are already working on a major Traffic Management Improvement (TMI) project to deliver increased capacity within the ferry terminal and committing extra resources to manage traffic in Dover on the approaches to the Eastern Docks. We are playing our part, but this issue affects us all and our role is to ensure that together with all partners we keep traffic, Dover and the UK economy moving.
In order to speed up your journey through the Port, please ensure that you have passports or national identity cards to hand as these will be needed when checking in with your chosen ferry operator. It is imperative that freight drivers ensure they understand the new procedures and do not arrive at the Port of Dover without the correct documentation as this will cause further delay. During periods of increased freight traffic, it is advisable that all tourist drivers use the A2/M2 route towards the Port in order to minimise delays to your journey.
Ends
__________________
These items are already being discussed in our forums. You can make up your own mind of course as to whether all mentioned represents progress or not. The case rests...and the jury is out..
Wednesday, 25 March 2015 - 06:32
Post 1443
Sea News, Dover
Up to 20% off Easter breaks at top French theme parks with MyFerryLink
____________________________________________________________
Great deals on Parc Astérix and Futuroscope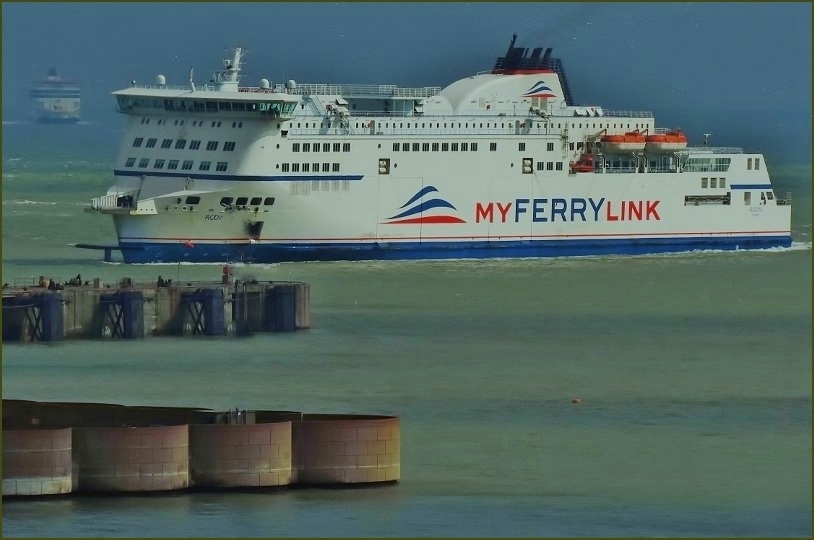 Families travelling with MyFerryLink will now be able to enjoy their holiday for less this Easter! Dover-Calais ferry operator MyFerryLink has teamed up with popular French theme parks, Parc Astérix and Futuroscope, to offer their customers up to 20% off entry.
MyFerryLink customers heading to Picardy theme park Parc Astérix for Easter will receive 20% off its entrance fee. Tickets cost €30 (*£21) per child under 12 years (was €38) and €37 (£26) per adult (was €46). Based on the stories of Albert Uderzo and René Goscinny, Parc Astérix is jam-packed with thrilling rides, perfect for the whole family. Tweenagers can try out the 'Tonnerre de Zeus', one of the largest rollercoasters in Europe, whilst younger members of the family will enjoy the six theme 'worlds' - from the Gauls to Ancient Greece and the Roman Empire – not to mention daily dolphin and sea lion shows, acrobatics and street performances.
What's more, MyFerryLink customers heading to Futuroscope can also save €4 (£3) per person on a day pass to the science-fuelled attraction – that's a saving of 12%. Tickets are now €35 (£25) per adult (was €39) and €28 (£20) per child (was €32).
One of France's most popular amusement parks, Futuroscope launched a new Fun Xperiences arena earlier this year. Here, adventurous visitors can take on thrilling sports-inspired challenges, such as free-fall slides and laser training. Children can even try floating in space, enjoy a 4D effects movie or dance with robots at 23ft!
To get the discount, travellers must simply show their MyFerryLink lane hanger or MyFerryLink booking confirmation upon arrival at the attraction. These offers are available for travel until 1 November 2015.
MyFerryLink operates up to 16 daily crossings on the Dover-Calais route. Fares for a car and up to nine passengers start from £45 each way, £35 each way for a three day short break and £29 return for a day trip.
To find the best fares, visit www.myferrylink.com or call 0844 2482 100
Ends
A painterly picture of the Rodin a few days ago above...looking good. Some great deals above there from MyFerryLink.
Yours truly is very keen to get across soon and to take advantage of the many bargains on offer.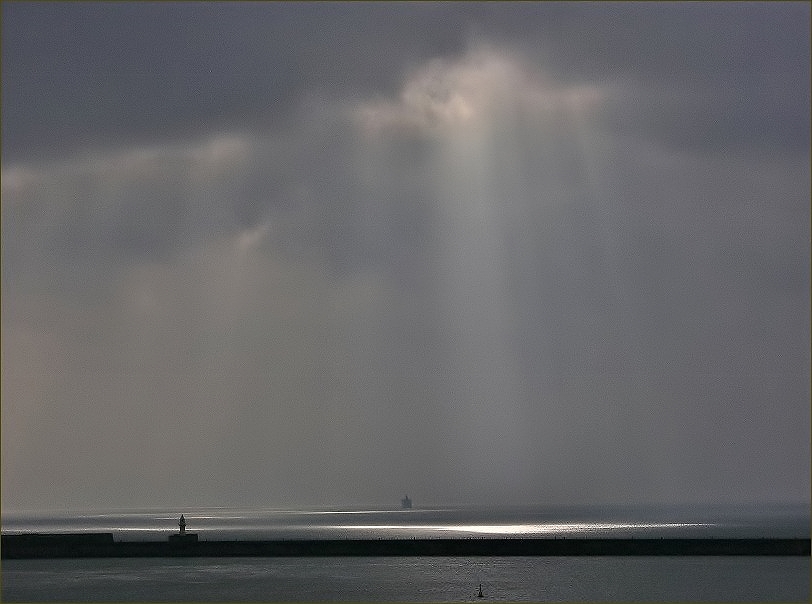 Above we have some heavenly light in the channel yesterday morning. Well we can all use a bit of divine inspiration. Yours truly could have used some while trying to picture the Saga Sapphire departing last night see below. No matter what one did the low evening sun reflected off the ships hull with dazzling discomfort. Grrrrr! With no help forthcoming from on high I resorted to giving the furniture a nice satisfactory kick...still, better days ahead. PB.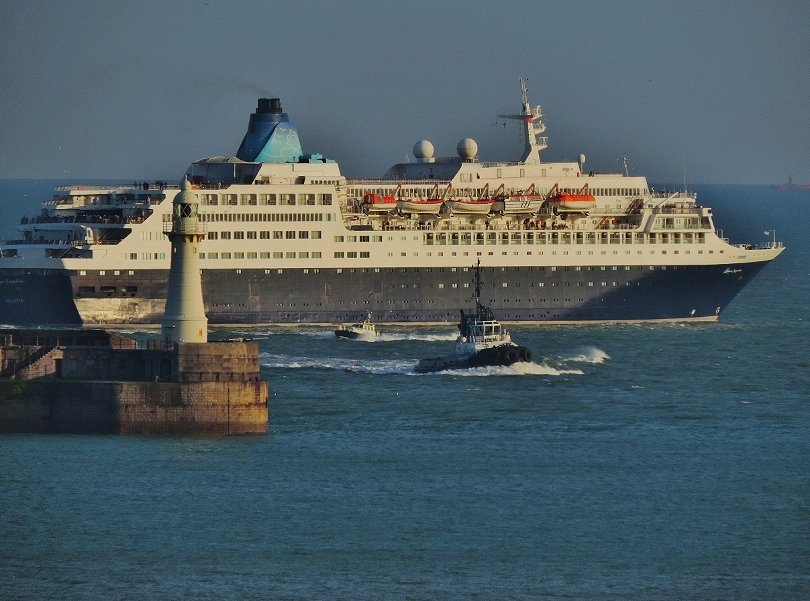 The Braemar is in this morning. Weather very grey once again but very calm....at the moment.
Tuesday, 24 March 2015 - 07:08
Post 1442
Sea News, Dover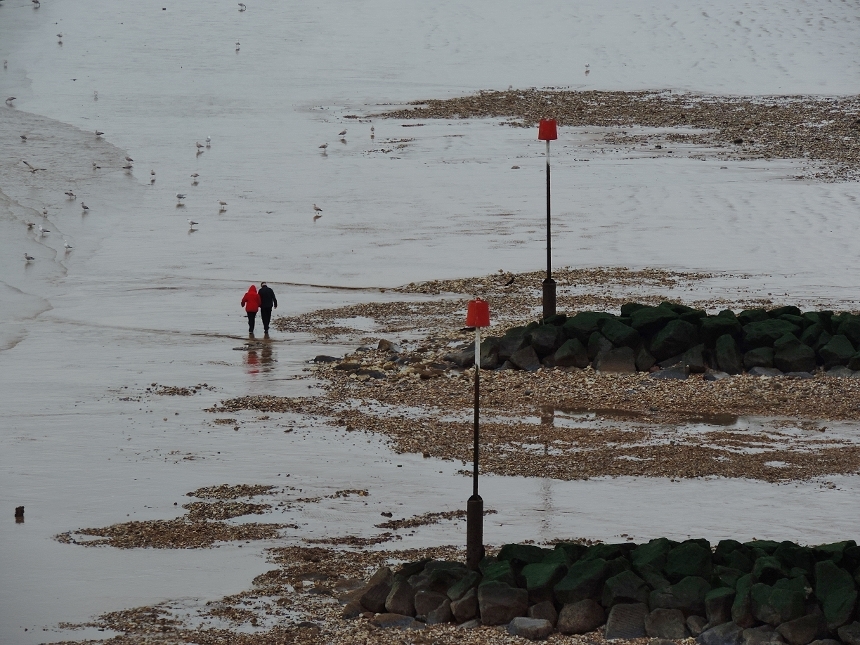 Just a further few pictures here to celebrate the extraordinary low tide. Pix from sunday morning at roughly 8am and this couple appeared to be doing that harbour end to end walk ...you know the one, without getting your feet wet. You can easily by-pass the groynes and the piers and be all at sea...ermm...all on shanks' pony...yesirreee great stuff! There ought to be some award for doing it...it is a safe thing to do as long as one keeps ones wits about one as to the turning tides.
In the previous post 1438 you saw the 'floating' lampshade. Well here she is in reality in picture 2, only this time with the tide at its lowest. You can see the huge difference in water levels at a glance if you compare it with the earlier picture in 1438. Some difference eh?
The final one below looks Portwards...it all made for an exciting if rather chilly sunday. Me timbers were a-shiverin' for sure...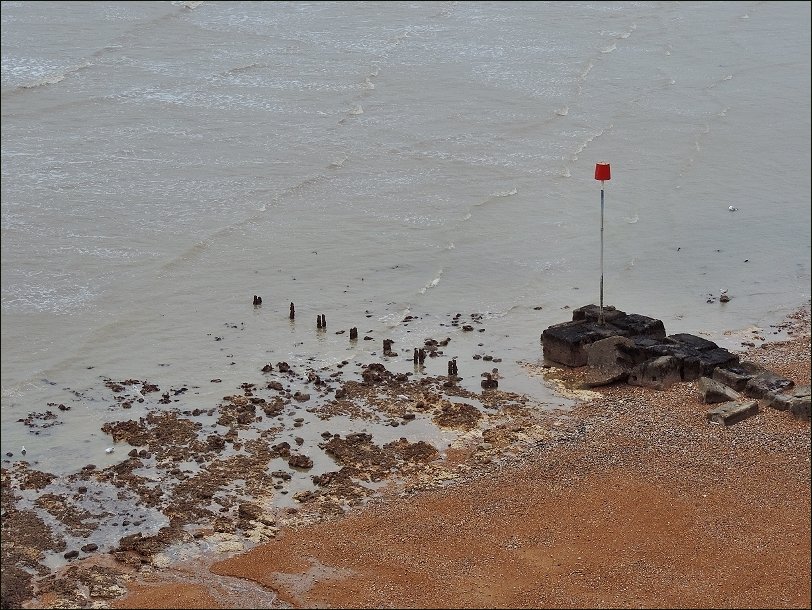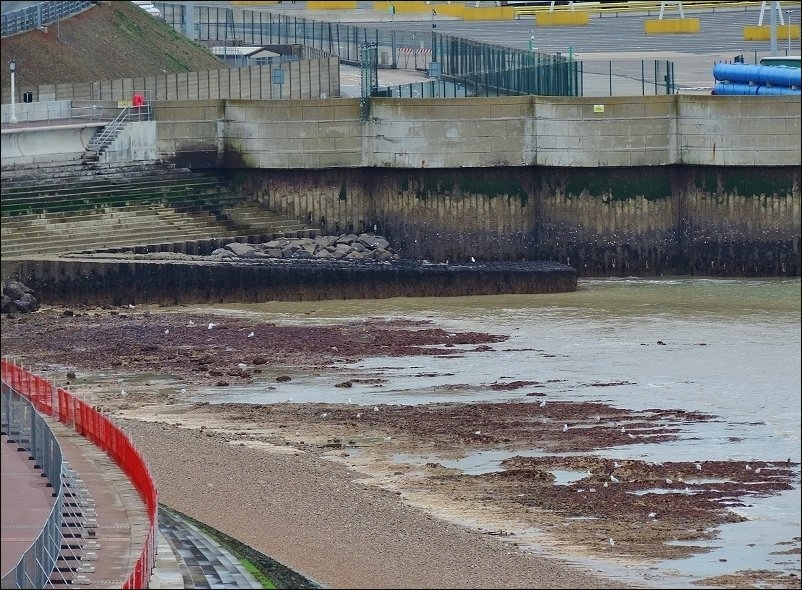 Good luck Scott with your efforts there, a noble cause in Post 1439. Hope all well in Lowestoft.
So that's what happened to Charlie Rock Ed....its a busy barge, excellent to see the lifting platform in position. Good pictures all round guys.
Just to mention too that the Hellas Reefer and the cruise liner Saga Sapphire also in harbour today.
Monday, 23 March 2015 - 15:09
Post 1441
Ed Connell, Dover
Charlie Rock on the Eastern Arm.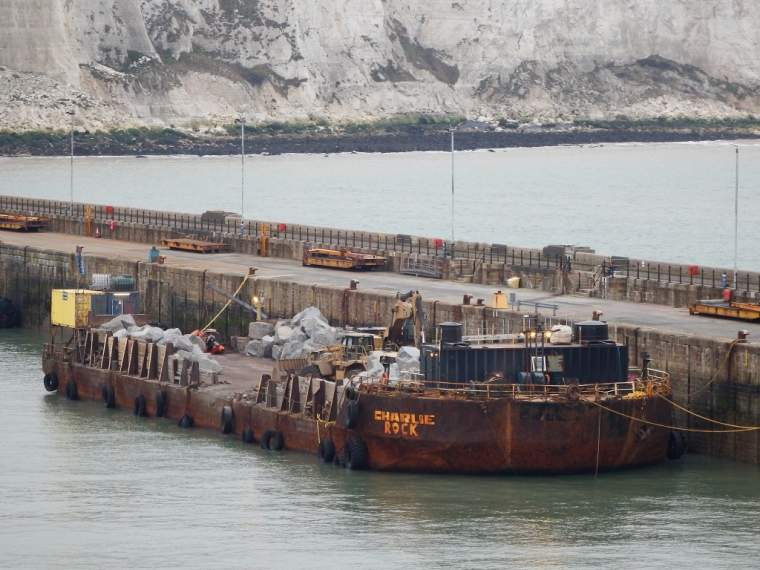 Monday, 23 March 2015 - 09:08
Post 1440
Ed Connell, Dover
Jack-up platform Topbond conducting latest berth renovation works.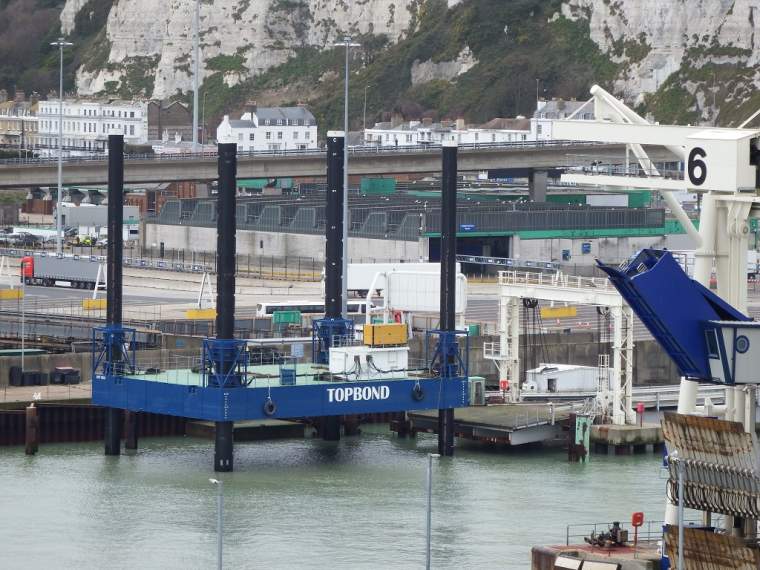 Monday, 23 March 2015 - 09:04
Post 1439
Scott, Lowestoft (s.snowling@50001.org.uk)
A charity based in Lowestoft is seeking funding to try and save the historic Dover lifeboat "Rotary Service" Built in Lowestoft 1973.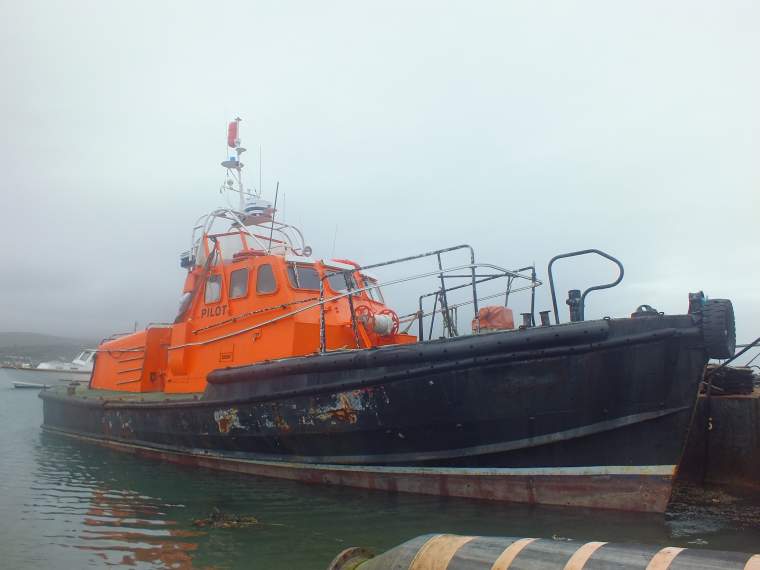 The Thames Class Lifeboat Trust web: 50001.org.uk aim to use the vessel in Lowestoft as a youth training vessel operating trips as far as Dover, several times a year.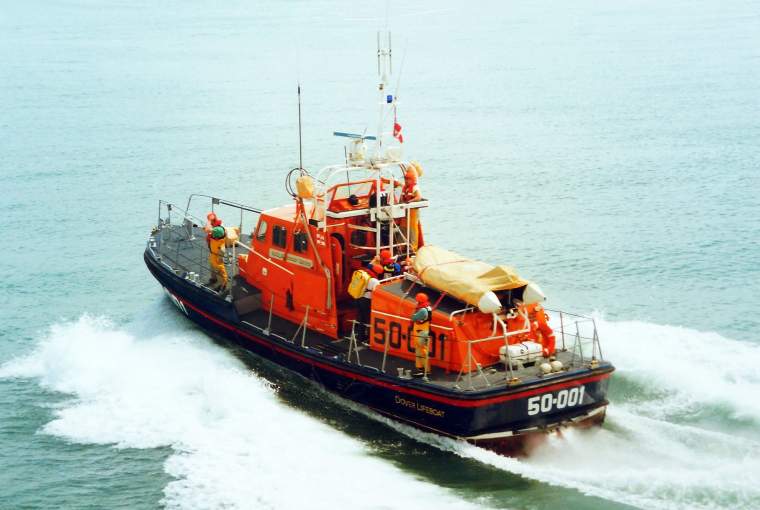 (Photo N. Leach)
The trust really need support to raise the £16,000 required to succeed. If you can help please see the website. Thank you for taking the time to read this.
Monday, 23 March 2015 - 01:14
Post 1438
Sea News, Dover
Yes indeed Kevin very extremes of tidal highs and lows at the moment. As we speak the tide is the lowest ever...a chap out on a jolly canter could easy walk the length of the harbour without getting his socks wet, the shoes might be a tad damp but that's all. The following two pictures show the high tide yesterday early afternoon. The rowers would have to walk if they were in the same position as I write. Below that the obligatory lampshade looks odd ...it looks like floating debris on a pea green sea, but not so of course. It shows how high the tide is.
Final shot shows low tide yesterday morning. As said - very very low right now at the time of posting.
That moon and sun .. they will play about in the heavens !!

PB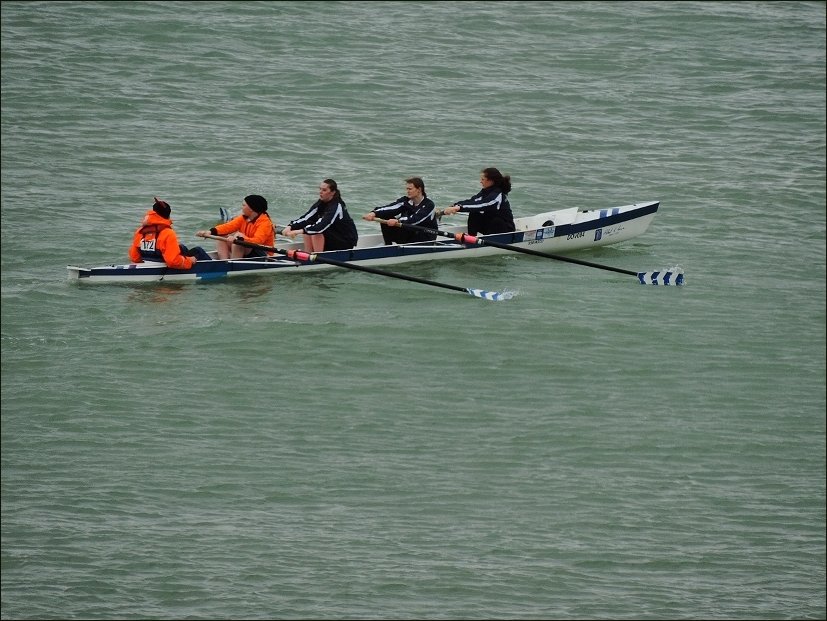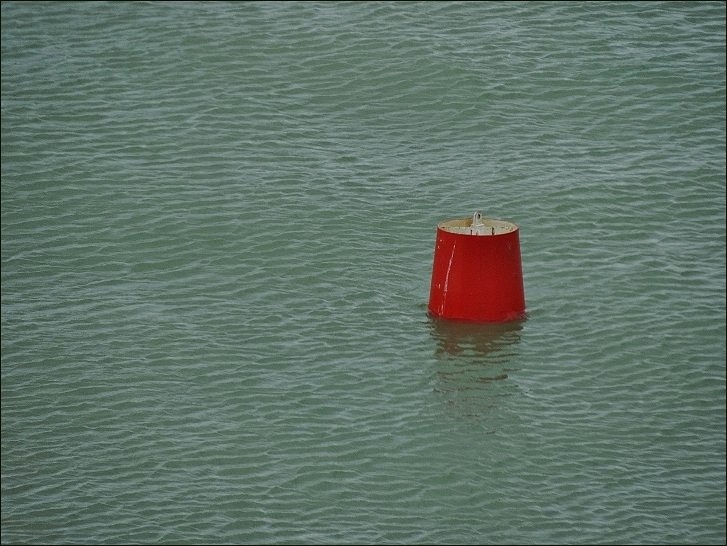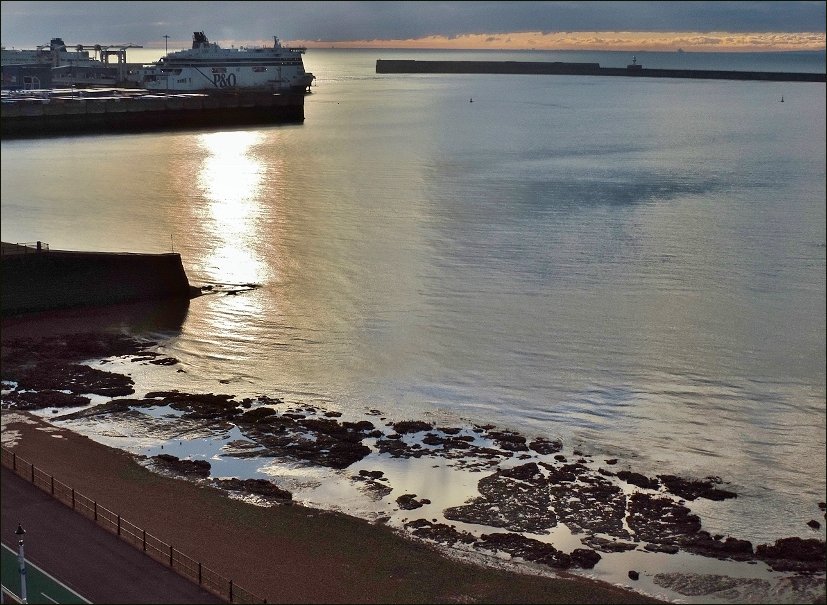 Picture from yesterday saturday. The tide is even lower this morning.
Yes indeed...we hope the team in Miami are doing well promoting...Destination Dover.
Sunday, 22 March 2015 - 07:34
Post 1437
Kevin Charles, Dover
Exceptionally high spring tides along the Channel coast linked to the eclipse - 7.10 metres in Dover this lunchtime and 7.30 metres tonight. Good job the sea is calm!

Saturday, 21 March 2015 - 12:44
Post 1436
Kevin Charles, Dover
The team from the Port of Dover have been busy promoting destination Dover in Miami this week at the cruise industry's premier exhibition of the year. With the stunning £10 million refurbishment of Cruise Terminal 1 hopefully more customers signed up for the future!

Friday, 20 March 2015 - 11:44
Post 1435
Sea News, Dover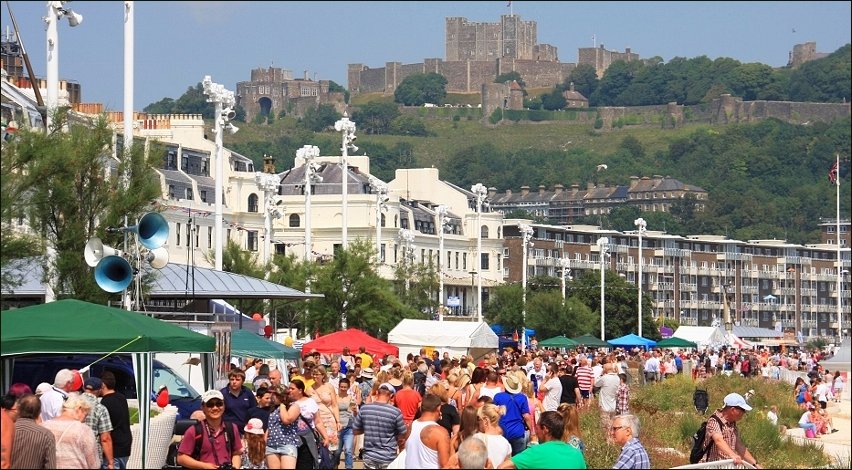 More sparkle promised at this year's Port of Dover Community Regatta
_________________________________________________________
We promised you a bigger and better event last year and our commitment to deliver even more for Dover continues this year with the addition of a new evening event for the Port of Dover Community Regatta, culminating in a grand fireworks finale over the harbour!
Taking place along Dover's award-winning esplanade, this year's event will take place on Saturday, 25 July. Now in its third year, the Port of Dover Community Regatta is facilitated by the Port of Dover. The Port is extremely grateful for the continued support of the Dover District Community Safety Partnership and is delighted that Dover Town Council has also come on board to work with the Port and its partners for the benefit of the local community.
During the day, the free family Regatta will feature the popular Dover District Community Safety Day, an impressive classic car display, a new bike show, an entertainment stage throughout the day, family activities along the whole of the seafront and on the water, and a spectacular aerobatic display by the world renowned Blades.
The evening event, in association with Dover Town Council, will provide a wide range of entertainment both on the stage and along the promenade with details to follow over the next few months. The fireworks, sponsored by local Dover restaurant Cullins Yard, will close the Regatta in style and light up our beautiful harbour.
Allison Burton, Town Clerk, Dover Town Council, said: "Dover Town Council is very happy to provide the evening entertainment building up to the firework finale at the Port of Dover Community Regatta, one of the most important events in the town's summer programme."
Tim Waggott, Chief Executive, Port of Dover said: "Last year's event was a great day for Dover and the reality behind our vision of bringing the Port and its community together to celebrate a shared maritime heritage. The Port of Dover Community Regatta is now a flagship event for Dover and we are committed, along with our partners, to putting on an even bigger and better event that help make Dover the place to visit, live, work and enjoy.
"It is a case of working hard to keep the traffic, Dover and the UK economy moving so that we can also enjoy our fantastic seafront together and celebrate the Port's place at the heart of the community. We look forward to seeing you!"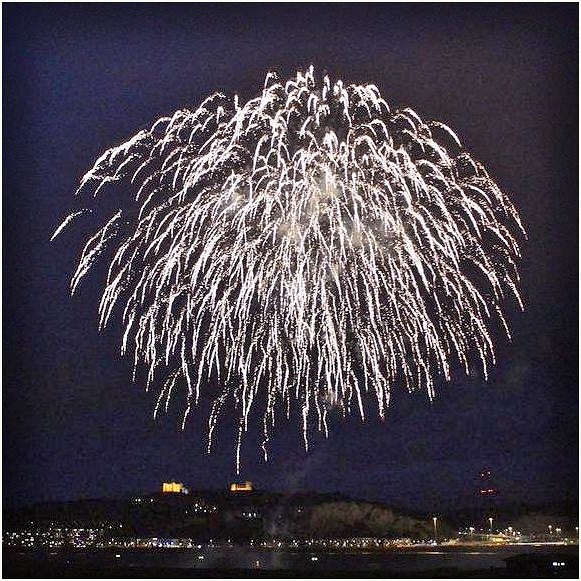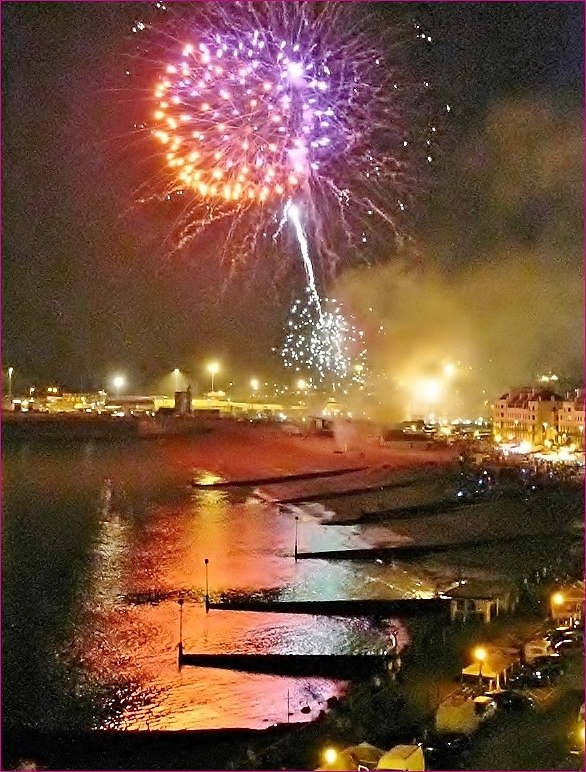 Also...
Back by popular demand will be the 'Dover Port Dash' tournament, which will see teams race across the harbour in 'Thames Cutters' pitting their wits against the waves and challenging their fitness in a bid to raise money for two local charities, the RNLI and a community-elected charity, soon to be revealed.
There are places for 14 adult mixed teams and 14 junior mixed crews. Teams will comprise six rowers plus a cox. Entry will be free to the junior teams. So the call is well and truly out to all aspiring Dashers, to get their teams together, get practicing and get set to join in all the fun!
Nadeem Aziz, Chairman of the Dover District Community Safety Partnership and Chief Executive of Dover District Council said: "The Port of Dover Community Regatta promises to be a great day out for the family, and provides an excellent opportunity to showcase to the community what we are all doing to make our district an even safer place to live, work and visit."
Further event details are to be announced in due course but in the meantime please register your interest in taking part in the Dover Port Dash by emailing Alyson Hudson at PODCommunityRegatta.co.uk, visiting our Facebook page or tweeting us on Twitter.
ENDS
The big story last night on BBC Southeast was..can you believe it...criminal gangs smuggling migrants OUT of the UK and over to Dunkerque. We are forever concerned about migrants coming this way as is often featured..but the latest story offered a bizarre twist. The programme was presented from Dover by Polly Evans and here she is in fine action on the seafront as the light was fading.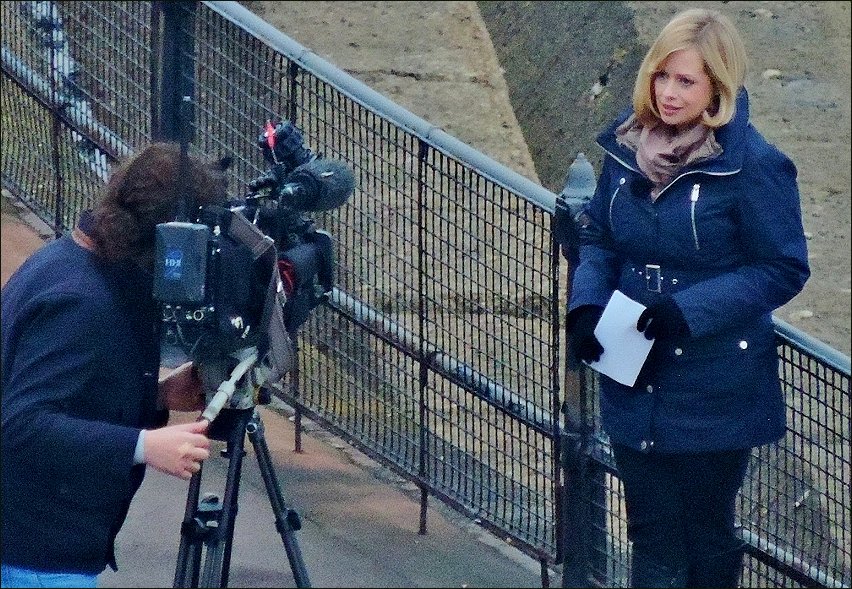 Top two pictures are from our colleagues down at the Port, third picture is from the archives here showing the display in 2009...the final picture was taken last evening as mentioned.
Friday, 20 March 2015 - 06:21
Post 1434
Sea News, Dover
DFDS Seaways offers 'monumental' discounts to culture vultures
Experience French culture and save up to 20% on France's top monuments
____________________________________________________________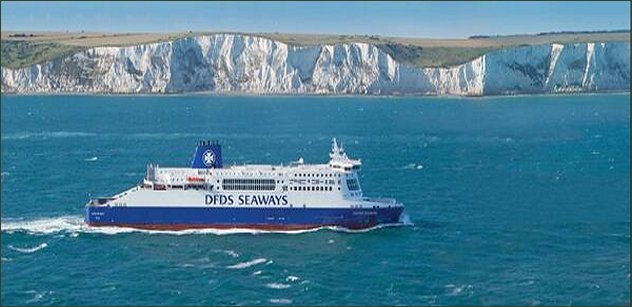 It's hardly surprising that France is the most popular holiday destination in the world; not only home to wonderful cities and beautiful countryside, but France's contribution to the arts, music, food, culture and literature is almost unrivalled.
For those travelling with award-winning ferry operator DFDS Seaways, you can now take advantage of discounted entry to some of the country's most famous monuments and attractions, when you book a crossing before the end of April 2015.
Travelling with DFDS Seaways
With three routes to France offering up to 50 daily sailings, ferry travel to France with DFDS Seaways is a quick, low-cost and convenient way to explore the most popular tourist destination in the world. Hop on one of its cross-Channel ferries and you can sail from Dover to Calais in just 90 minutes, or to Dunkirk in two hours. DFDS Seaways also operates up to six daily sailings between Newhaven and Dieppe, taking just four hours with comfortable reclining seats and private cabins available should you require extra privacy. Prices start from just £35 each way for a car and up to nine passengers.
Monumental discounts
In association with The Centre Des Monuments Nationaux – the organisation that manages many famous French monuments including: The Castle of Carcassonne; Château d'Angers and the Panthéon in Paris – DFDS Seaways is offering discounted entry to an amazing 34 attractions across France, when you visit before 30 June 2015. Typical entry normally costs €9 per person, and you can save around €2 per person.
To take advantage of this offer, simply book your crossing before 30 April 2015 and you will receive your booking confirmation by email. Then, just print your confirmation and present it upon entry at your chosen attraction.
To see a full list of participating monuments click here www.dfdsseaways.co.uk/
- ENDS –
Many thanks to DFDS Seaways for the info.

The picture below from tuesday evening could almost be a romantic view of the sun sinking behind Dover's delightful western heights....I say almost...if it wasn't for that monolithic monstrosity of mangled steel and concrete, Burlington House, intruding into the picture and killing the romance stone dead. Still, moves are afoot to be rid of the beastly burden....as mentioned in recent posts 1409, 1431, etc.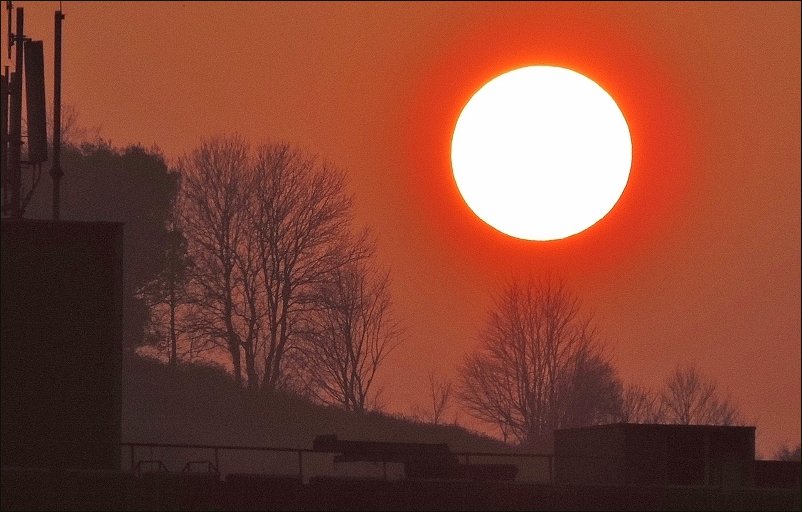 See the picture below. They were shooting a movie along the seafront yesterday wednesday and they went on working into the darkness. Not entirely sure what was going on...but we wont fuel another rumour that Johnny Depp has been seen in the area

but it all made for a striking image in the darkness last night.
I'm ready for my close-up now...PaulB.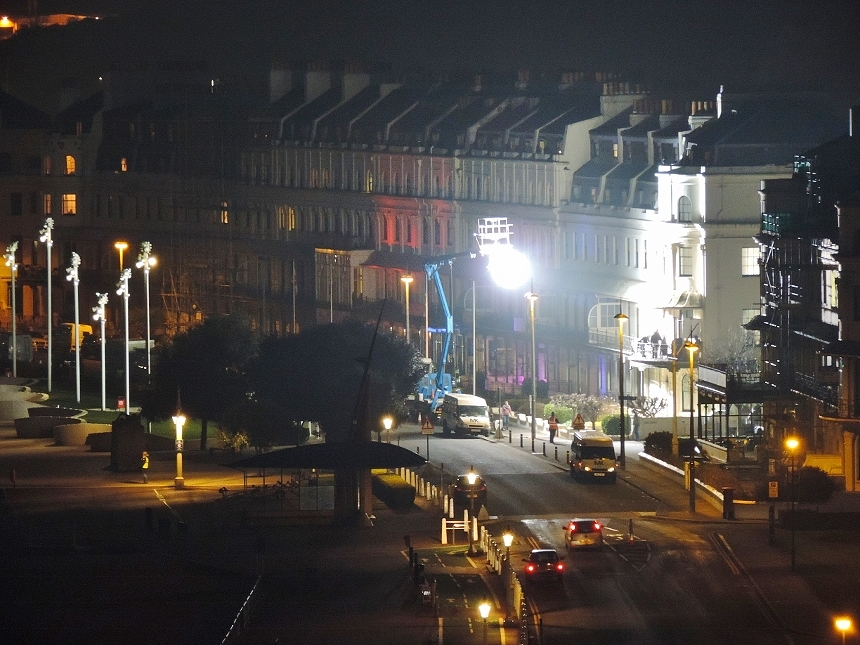 Thursday, 19 March 2015 - 06:26
Post 1433
Sea News, Dover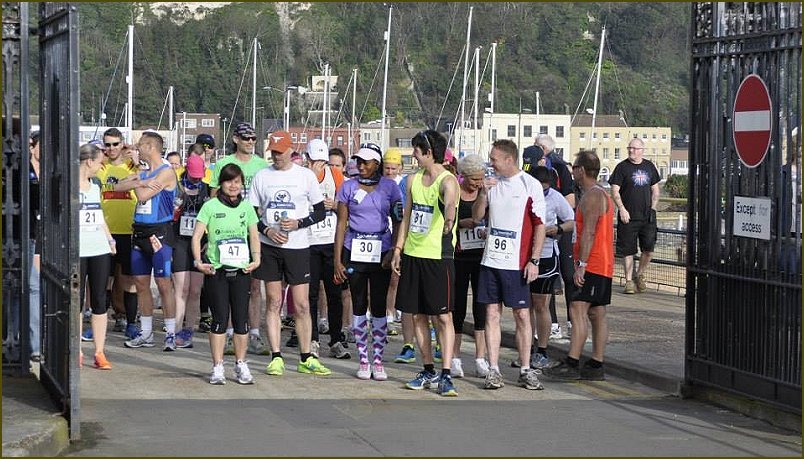 Calling all young runners to the Port of Dover Race Festival

_____________________________________________________
There are still some places left for young budding runners to kick-start the Port of Dover's Race Festival by entering for the Kid's Mile Race set along the Prince of Wales Pier on Friday, 27 March. The race, which will take place at 4pm, is open to all children up to the age of 16.
The race festival weekend is now in its second year and will take place on 27-29 March. On Saturday, the event will start at 9.00am for the first Marathon and at 2.30pm there will be a Half Marathon. Sunday will bring a close to the weekend's activities, with the second Marathon starting at 9.00am followed by the 10K Race at 2.30pm. All 240 adult places are booked, which is double the number of competitors compared with last year and a sign of the growing popularity of the festival as another event bringing the Port to the heart of the local community.
Event organiser, Karen Webber at Port of Dover, said:
"We are thrilled with the huge response we have had – in fact, we have a long waiting list for those who want to step in if any places become available for the adult races. The Kid's Mile will be a great way to start the event so we look forward to entries from those who could be the next generation of marathon runners!"
Set against the iconic back-drop of the country's famous white cliffs and magnificent Dover Castle, the event will comprise multi-looped courses from the eastern end of the seafront along to the west and to the end of the Prince of Wales pier. The event will raise funds for the Brathay Trust.
All of the races are inclusive, whether entrants are experienced, multi-racers or novice runners. The multi-lap nature of the course makes for a friendly atmosphere which, from last year's event, was a great success and attended by over 120 runners.
The promenade and beach will remain open to the public for those who wish to watch the races, cheer on their children or wish to go for a weekend stroll. So come along and cheer them all on!
ENDS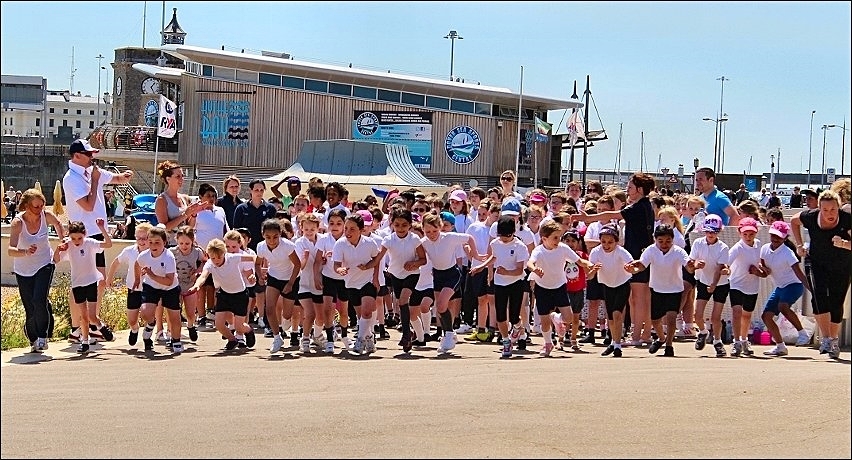 Wednesday, 18 March 2015 - 06:23
Post 1432
Sea News, Dover
In Calais, a new Agreement will enable the completion of the Calais Port project 2015, representing an investment of some € 650 million.

The project involves:
• the creation of a new seawall about 3 kilometers long and a dock with a surface area of 90 hectares essential to any development of the port of Calais;
• the creation of 44 hectares of new quayage using material dredged from the dock, in a balanced cut-and-fill approach;
• the construction of berths for the latest-generation mega-ferries;
• the developments required for road and rail connections;
• a rail – road – sea terminal at the contact point of the future rail and sea motorways from the south of France, as well as from the rest of Europe.
Complementary skills and the participation of Europe
The signing of the Concession Agreement has been made possible by combining complementary skills:
those of the Côte d'Opale Chamber of Commerce and Industry, the Regional Chamber of Commerce and Industry, the Port of Dunkirk, the investors of CDC Infrastructure and Meridiam, but also those of the Design & Build group, in particular combining companies in the Bouygues, Spie Batignolles and Jan de Nul groups, and those of the financiers: Allianz GI, who have accepted the principle of participation in the project on behalf of the Allianz Group and third-party investors by underwriting a bond issue for 525 million euros, in addition to the contribution by equity investors of more than 117 million euros, and the support of the European Investment Bank.
These commitments have reduced the total amount of subsidies to € 270 million. In addition, the French government has decided to participate in the financing of the port and Europe has shown its willingness to do the same.
* *
The above is a section of a press release from the Port of Calais..many thanks to them.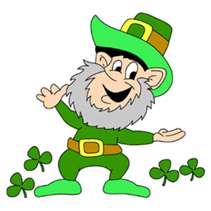 And now a huge well wish to those out there celebrating St Patricks Day today
...top o'the mornin'

Tuesday, 17 March 2015 - 06:52
Post 1431
Sea News, Dover
THE LATEST LETTER FROM CHARLIE ELPHICKE MP................on Burlington House and Town Centre Development.
___________________________________________________________________________________________
It was a defining moment for our community when the Compulsory Purchase Order (CPO) for Burlington House was approved by the Government. This means Dover District Council will soon knock down Burlington House. It also means they can get on with the town centre development we have waited for so long.
Since I was elected in 2010, I have worked tirelessly with the Council and the Government to get the go ahead for the demolition. For over 10 years, the project to knock down Burlington House had gone nowhere. People were beginning to lose hope. I made it a top priority to get Burlington House down and made the case to the Government to get on and approve the CPO as crucial for the renewal of our town.
This decision fires the starting gun for the regeneration of Dover. Once Burlington House has been torn down, work on the town centre development proper can begin. Top shops and businesses have already signed up to be included. All that was needed was the CPO to be confirmed. Now this logjam has been cleared, work can soon begin.
This truly is a great moment for our town. We've waited such a long time for this good news and it's a milestone in the journey to make Dover a jewel in the crown of the nation once again.
Burlington House is a symbol for how Dover didn't get its fair share of investment after the Second World War. We paid the price for being in Hellfire Corner in the Second World War. Our beautiful regency town was destroyed as Nazi bombs and shells rained down on the White Cliffs.
We should have got proper investment from post-war governments to rebuild the town. But the money never came. Instead, modern planners were let loose and ugly, brutalist buildings like Burlington House sprung up in Dover's town centre. It was a disgrace and poor tribute to Dover's wartime sacrifice.
The new town centre development will bring more jobs and money to our community. It will include new shops, restaurants and a hotel. It will help make Dover a destination in its own right. A place for people to come to, not pass through. It is important it should cross over the A20 and join with the waterfront.
This is just the start in delivering a greater future for our town. A people's port is also now rising at the docks. There is an exciting vision for the revival of Dover Western Docks and more investment in Dover seafront. A new Dover Hospital will soon open its doors. Burlington House being torn down and the St James' development getting under way is the latest step in the renewal of Dover.
Much has been done, but there is much still to do. Yet the go ahead to tear down Burlington House is a real landmark. A milestone on the road to Dover's future. I look forward to the bulldozers moving in soon to bring forward a revitalised and renewed Dover town centre.
CHARLIE ELPHICKE MP DOVER AND DEAL.
and now.....
THE RELATED EARLIER RELEASE FROM DOVER DISTRICT COUNCIL ...from Post 1409.
ST JAMES'S REDEVELOPMENT GETS THE GREEN LIGHT
Compulsory Purchase Order confirmed following public inquiry
_________________________________________________
Plans for the St James's retail and leisure development in Dover town centre took a major step forward today (27 February 2015) after the Compulsory Purchase Order made by Dover District Council was confirmed by the Department for Communities and Local Government. This will now allow the Council acting with its development partner, Bond City, to complete the assembly of all outstanding third party land interests and enable the redevelopment of the St James's area to proceed.
More than 95% of the freehold interests in the site were already owned or have been acquired by the Council by agreement. The Compulsory Purchase Order was requested to acquire the remaining land and interests. A related Order has also been agreed by the Secretary of State for Transport for the stopping-up of roads within the scheme area.
The redevelopment proposals have had far reaching support and strong interest from tenants, including Cineworld, Marks & Spencer, Travelodge and Frankie & Benny's.
In total the development will provide 120,000 sq. ft. of new retail and leisure space bringing much needed private investment to revitalise the town centre.
Cllr Paul Watkins, Leader of Dover District Council, said: "This marks a historic day for Dover and the St James's development as we start the process of delivering the new retail and leisure facilities that we know people want."
Ends
The cold east wind bristles across the harbour changing the direction of the incoming waves...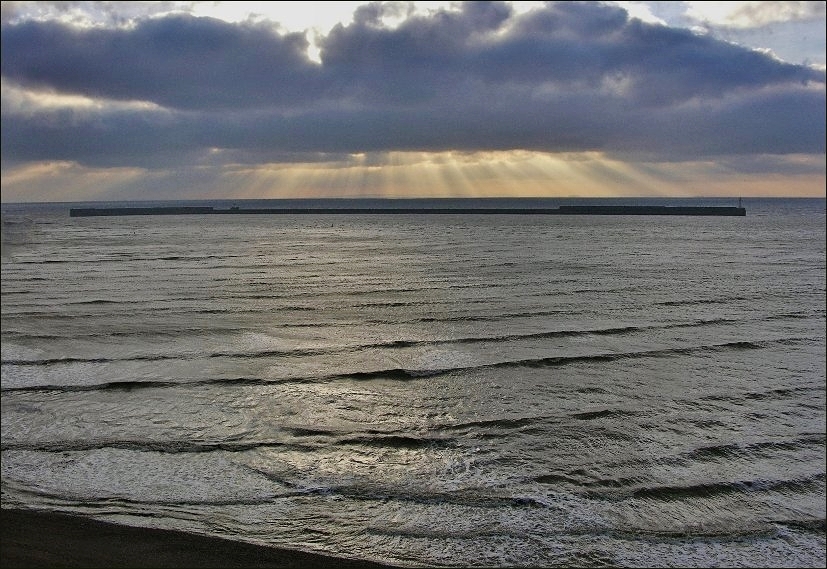 Monday, 16 March 2015 - 06:37
Post 1430
Sea News, Dover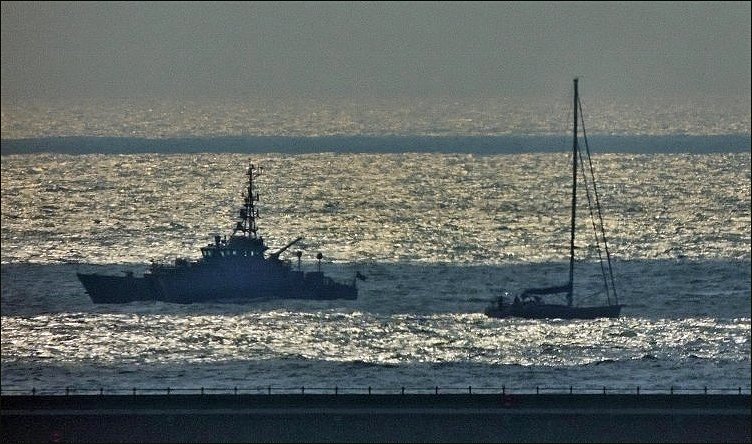 In the poor visibility yesterday we were able to spot the UK Border Agency in action out in the channel. The quality of the picture isn't great but it shows the two 'ships' passing in the ..ermm.. daylight. The Border Agency guys must have seen something of concern as they shortly afterwards turned around and pursued the yacht above. Which Border Agency vessel it was we don't know...but often seen around here are two that spring to mind, Seeker and Vigilant. Well, whichever vessel it was the UKBA were ever vigilant yesterday and out there seeking truth and justice no doubt.
There wasn't much activity on the water yesterday Saturday. The horrid wind whistled in from the Urals in the east and gosh it was cold at the waters edge. As we in the West blame Putin for almost everything this has gotta be his fault too...somehow! However these brave rowers ventured out in the choppier than normal waters...and well wrapped up they were to be sure. All women I think ..tough hardy and resilient...and to prove us men are not total wuzzies the cox at the end is a chap!

PB.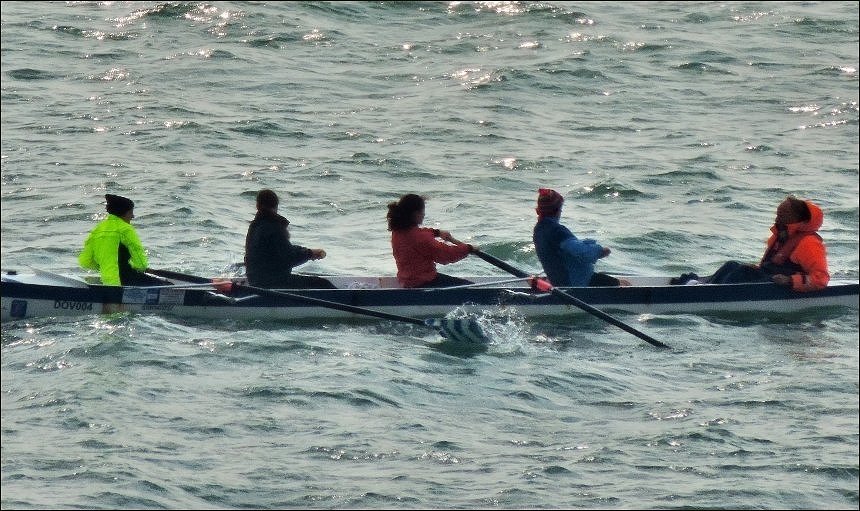 And below a second picture of the same group as they move into the blinding sunlight....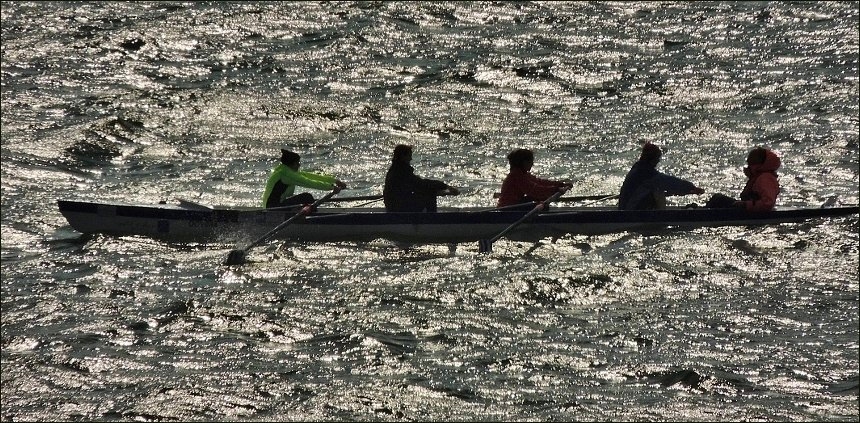 Sunday, 15 March 2015 - 06:53
Post 1429
Sea News, Dover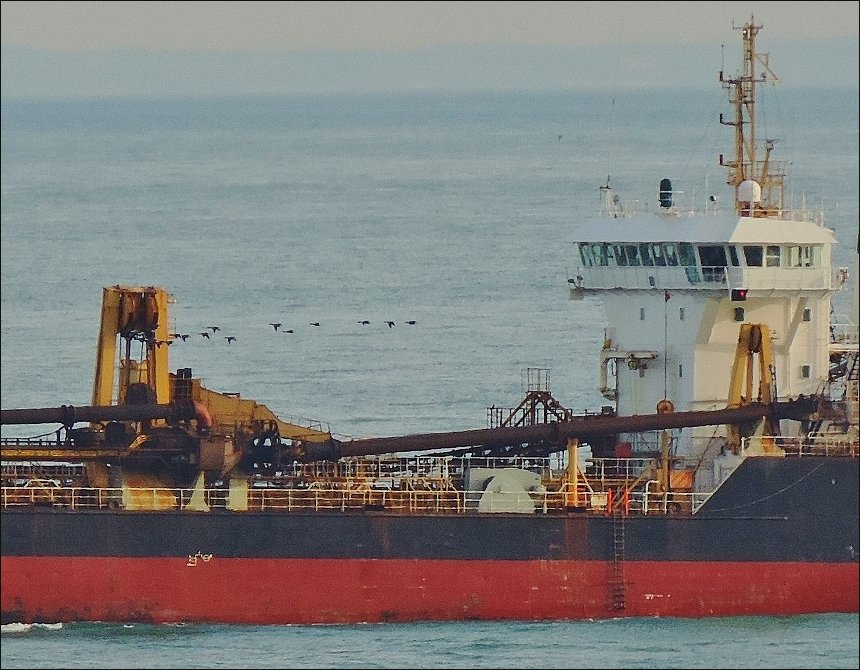 While fiddling with the pictures, like you do, I noticed some wild geese travelling north-east in harmony with the Sand Fulmar...pictures from the other evening as also seen further below page. Not much detail with the geese it must be said, but here we are anyway. Hope they are visible to all. It must be the time of year when all move from south to north.
The striking Port of Dover sunrises continue below...wowser! Completely as is/was.. Only the camera between the page and the real thing. PaulB.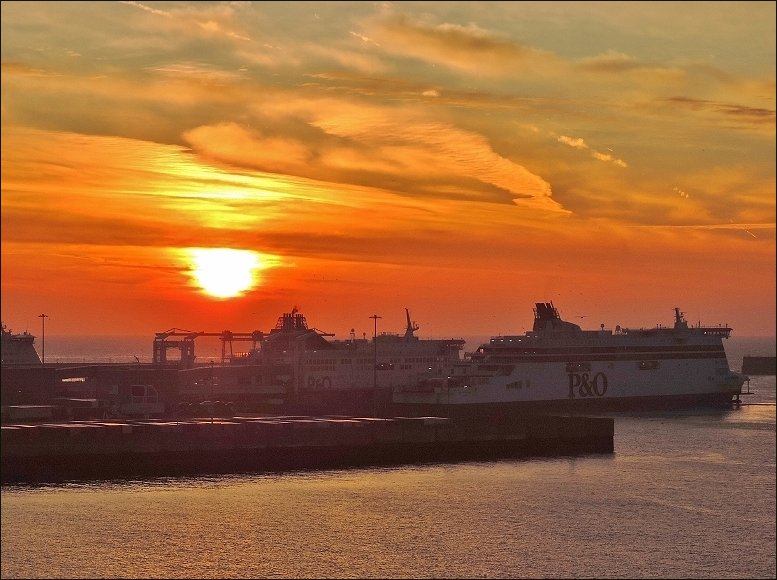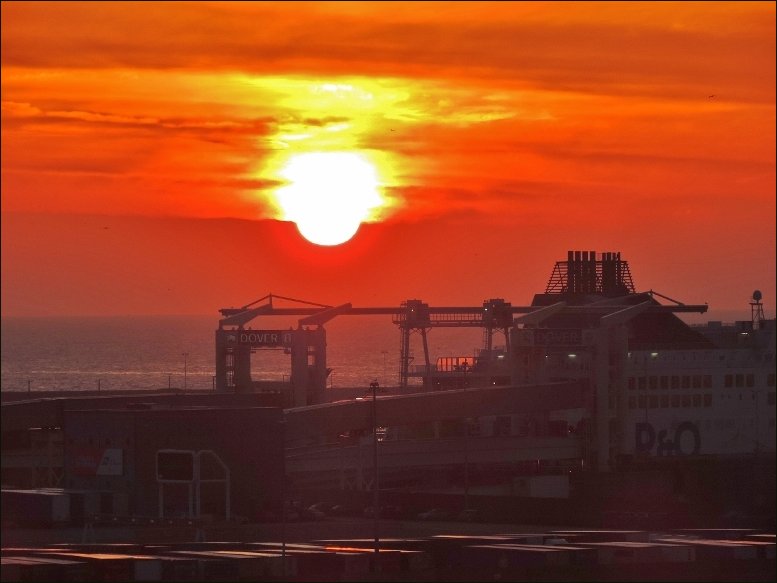 Saturday, 14 March 2015 - 07:43
Post 1428
Sea News, Dover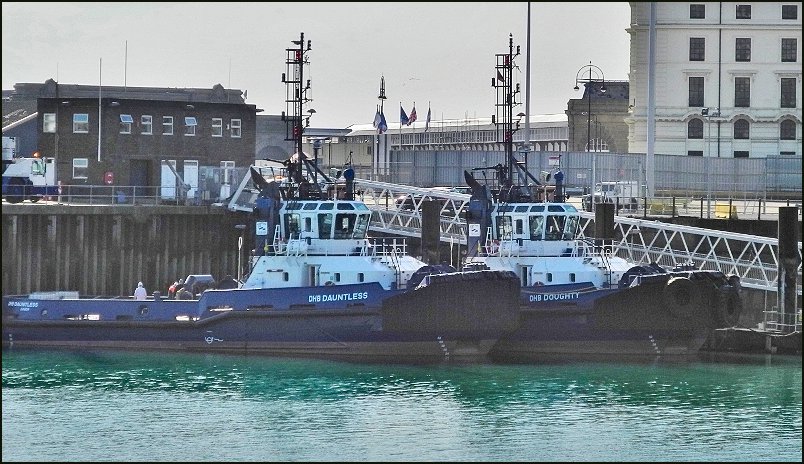 The familiar tugboats back together again..picture taken yesterday. We understand Dauntless was away for a refit and we knew of her return when we saw the temporary replacement Boulonnais heading back towards...well...back to the land of the Boulonnais on Wednesday, after a job well done, she featured in several of our pictures. To see more just type the name in the Search Engine above and away you go.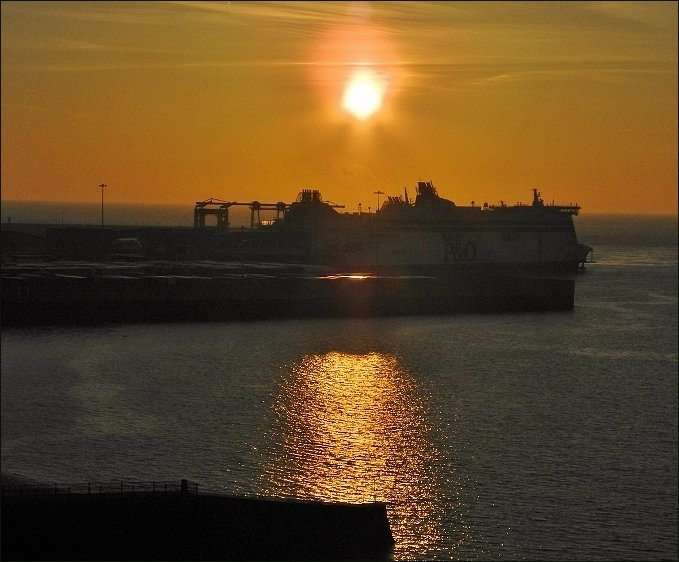 A great time of the year for dramatic sunrises over the harbour and very welcome they are too, particularly now that Spring is in the air and the sap is rising in the sinews...
Late in the day the dredger Sand Fulmar came down the coast from the west and into harbour to stand at cruise terminal 2. It was a nice colourful evening with good visability so made the most of it. In the first shot below you can see her approaching and in the foreground note the returning Pilot boat. The second shot below shows her entering harbour. At first glance she appears to have departed again by this morning..its all go.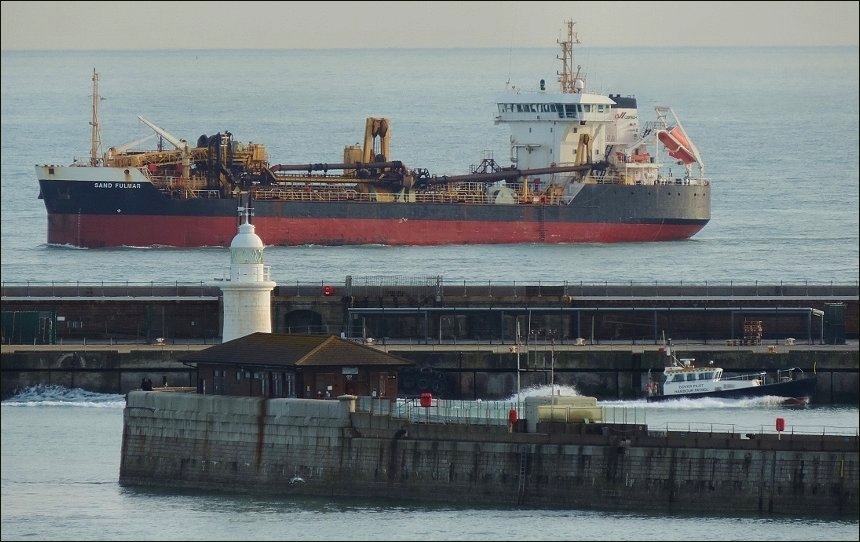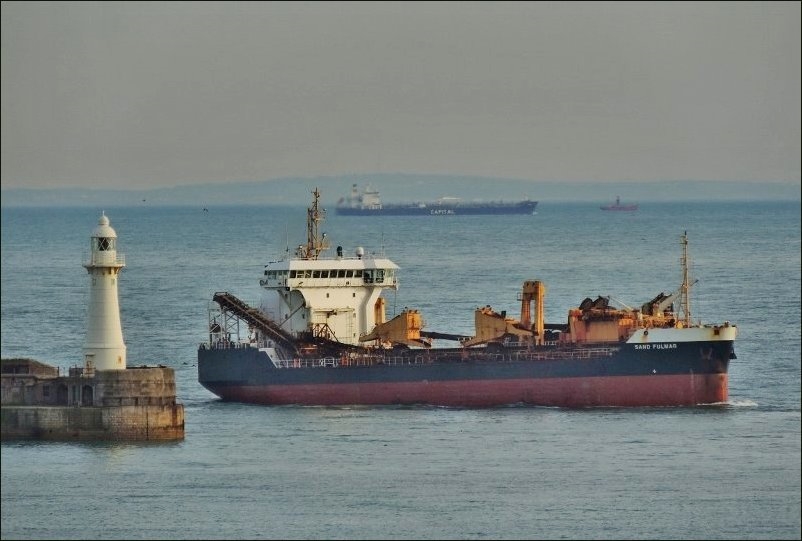 Friday, 13 March 2015 - 06:04