Monday, 21 April 2014

SEA NEWS

The Visit by Archbishop Welby...see Post 618 below.
THE BRIDGE...see Post 600.
THE FUTURE OF THE PORT...see POST 585 below
TRADING WITH THE EUROPEAN UNION..see POST 579 below.
ROYAL NAVY VISITING - below and over.
For all the general sea news and regular offers see down and over the page.

Dover.uk.com and Doverforum.com have merged to produce an entirely local and comprehensive Dover website. Please feel free to join in with the discussion and chatter. See the link to dover.uk.com on the menu left for the latest frontpage topical news stories, and/or click on Forums Direct on the menu left to join in with the latest chat. Nautical contributions are welcome on this page - all pictures remain own photographers copyright. Email:dover7@msn.com to send Sea News pix or info..or click ADD YOUR COMMENT to post. Paul Boland.

Post 623
PaulB, Dover
Very interesting pictures and info below there John and Ed. Had no idea the Cornelis Vrolijk had ever been into Port. And there we are..great stuff as ever lads!
Now by way of that tidal novelty again...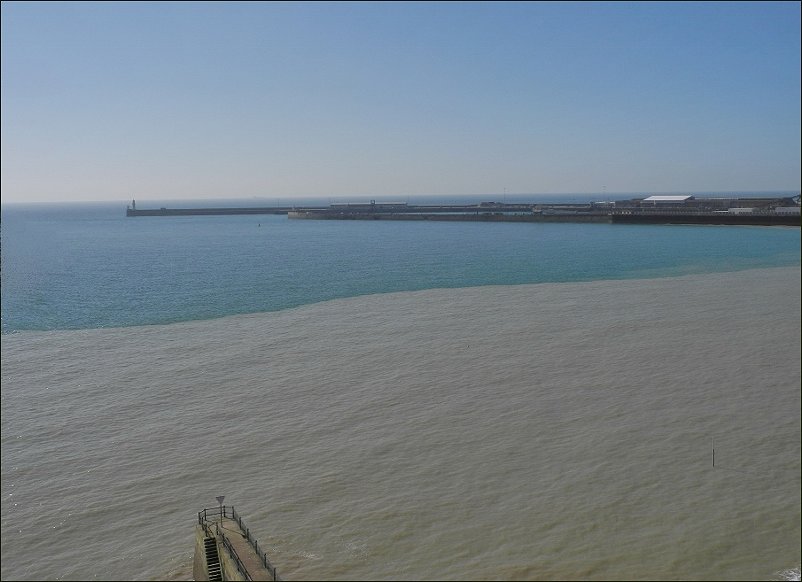 These pictures are from a few days back, the last few days, and you can see the tidal line very pronounced in the harbour. No work was going on or anything to contribute to the distinctive line but some days it is very pronounced...not often though. In the lower right of top picture you can just see the new groyne marker pole. Since then the 'lampshade' and extension have been added to it to bring it in line with requirements. Will have some pictures etc...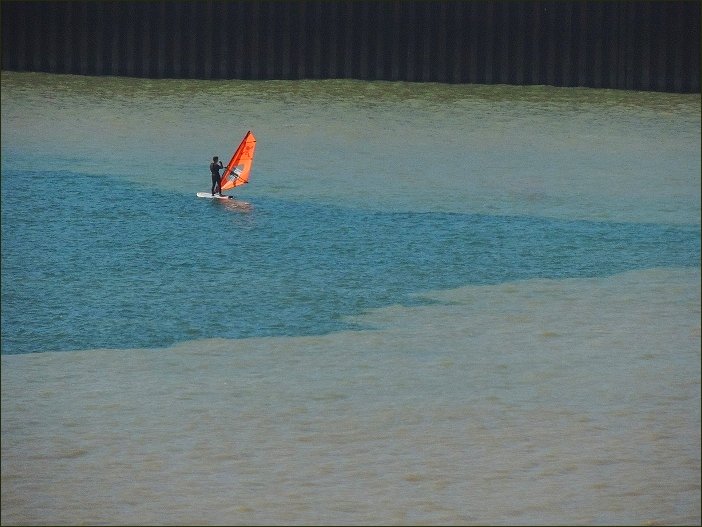 Slightly later and on a different camera...a colourful windsurfer tackles the now breaking tide line with panache and gusto.
Monday, 21 April 2014 - 07:00
Post 622
Ed Connell, Dover
One of Cornelis Vrolijk on the South Jetty a few years ago. Registered in Hull and flying the Red Duster.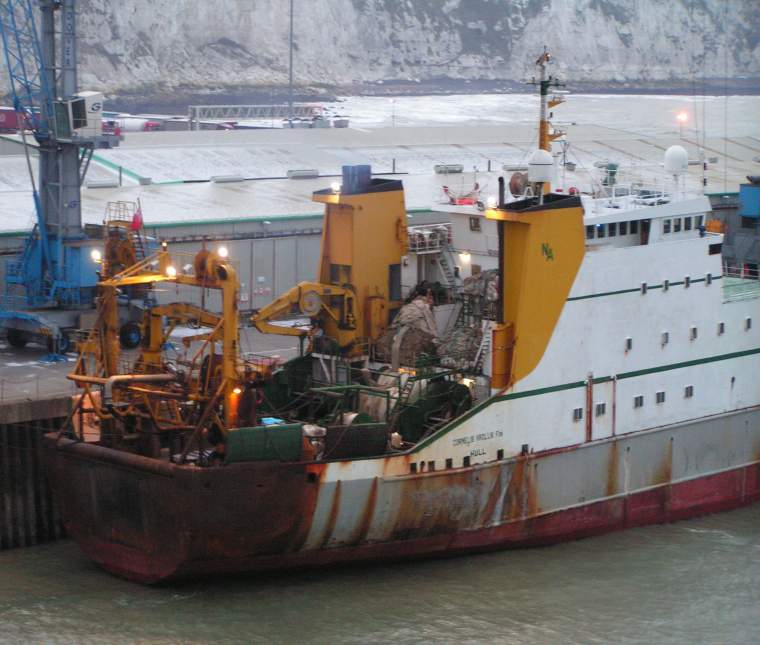 Sunday, 20 April 2014 - 11:31
Post 621
John Mavin, Dover
That's the Cornelis Vrolijk Fzm. She calls at Dover from time to time, usually for a crew change - which I guess is what's happening here. If you Google her name you can see her company website.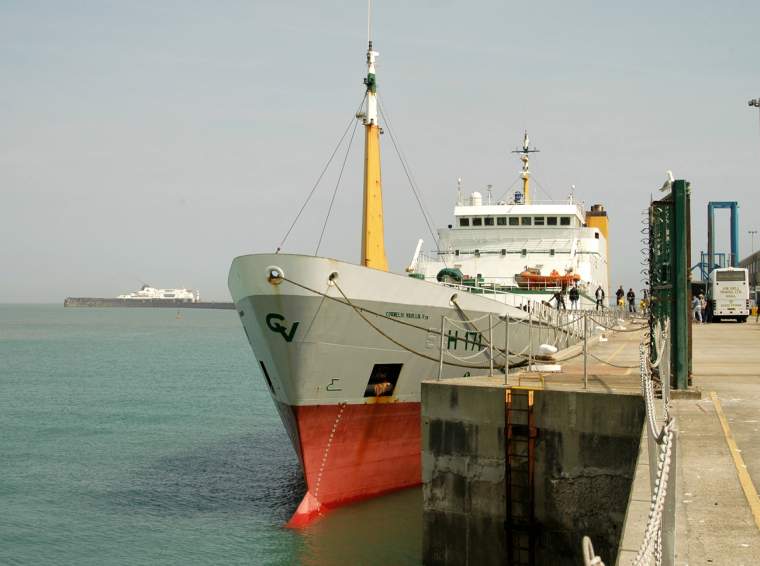 Sunday, 20 April 2014 - 11:11
Post 620
PaulB, Dover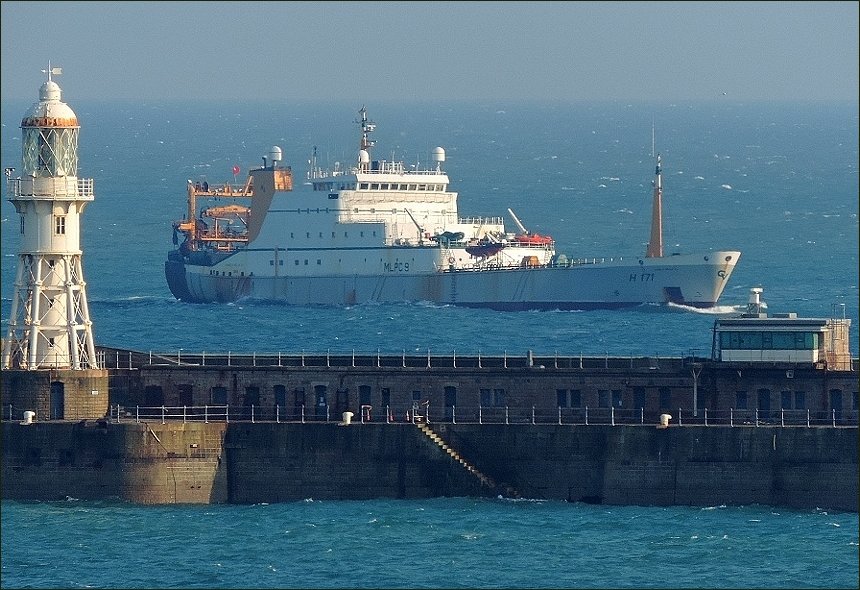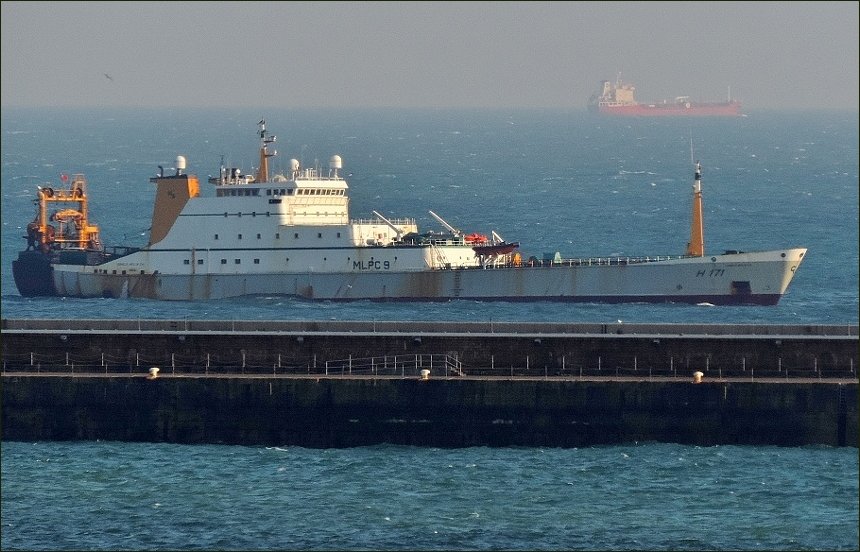 For about an hour yesterday Easter Saturday between 5 and 6 pm...this fishing trawler above circulated around the western entrance. It was met in due course by the small launch from George Hammond. What was going on was impossible to tell..but after a short time all necessities were completed and courtesy of our Channel Traffic info ( top of page Dover.uk.com ) the ship carried on on its journey to...and ive had to double check the spelling on this post..to Ijmuiden in Holland. I must admit I have never heard of Ijmuiden before. So there you are, you learn something new everyday.
The ship is called the Cornelis Vrolijk.
Sunday, 20 April 2014 - 06:48
Post 619
PaulB, Dover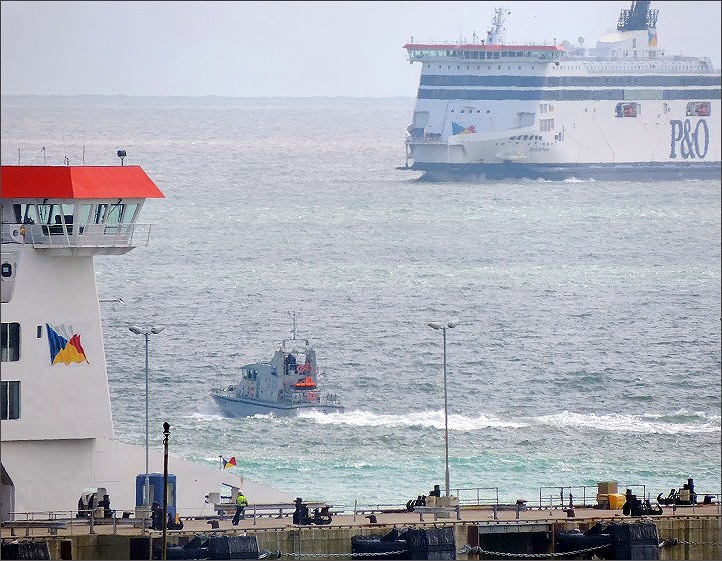 This is another one of these special ops vessels...we seem to have had quite a number of these guys visiting in recent times. Quite a new phenomenon. More pictures of the other ones down and over the page. This most recent one is called HMS Example and I just caught the tail end of her visit as she departed around 11.30am earlier today...slipping out of harbour between ferries.
Saturday, 19 April 2014 - 12:10
Post 618
PaulB, Dover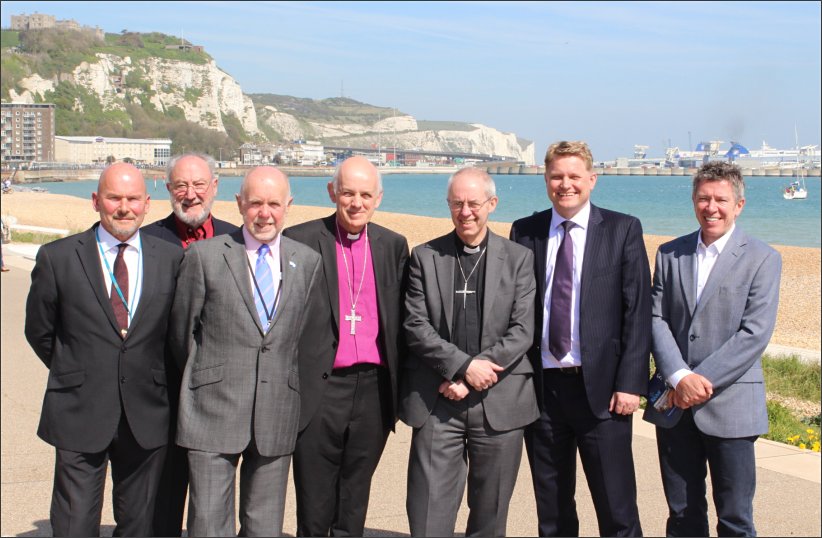 Archbishop shares in the 'stirring vision for Port and town'

______________________________________________
The Archbishop of Canterbury, the Most Reverend Justin Welby, has this week visited the Port of Dover to see the transformation taking place at one of the UK's key international gateways.
Archbishop Welby, accompanied by the Bishop of Dover (The Rt Revd Trevor Willmott), met the Port's Chairman (George Jenkins) and Chief Executive (Tim Waggott).
During the visit, Archbishop Welby, the head of the 85 million strong international Anglican Communion, toured the Port with local chaplains to see for himself the massive investment being made to ensure the Port can provide the 13 million customers who use Europe's busiest international ferry port each year with the very best customer service, and meeting the dedicated professional team who deliver that service.
Tim Waggott, said: "We were all delighted and honoured to welcome Archbishop Justin to the Port and to show him how we are all working together to transform the Port by serving our customers and community in the best way we can."
The Archbishop also met with the independent chairmen and vice-chairmen of the Port's two key consultation bodies – the Port & Community Forum and Port Users Group - witnessing the unifying effects of the shared vision being developed for the future development of the Port and its contribution to the local community.
Archbishop Welby, on leaving the Port, said he was: "very grateful for generous time from busy people, and a stirring vision for port and town."
Photo (Right to Left this time) : Robert Hardy (Managing Director of Motis and Independent Vice-Chairman of the Port Users Group), Tim Waggott (Chief Executive, Port of Dover), Archbishop Justin Welby, Bishop Trevor Willmott, George Jenkins (Chairman, Dover Harbour Board), Derek Leach (Chairman of The Dover Society and Independent Chairman of the Port & Community Forum) and Dick Fuller (Independent Vice Chairman and independent local representative of the Port & Community Forum)
* * * *
Following the various incidents at Eurotunnel, The Port of Dover would like to advise its passengers that the traffic to the Port is currently flowing without any delays. Ferry services are operating normally with space available. We hope that the disruptions to the traffic on M20 have not caused any major delays to passengers' journey. Please consult the Port of Dover website (www.doverport.co.uk) or Twitter account (@Port_of_Dover) for the latest travel information.
Customers wishing to book ferry tickets are advised to contact their chosen ferry operator using following numbers or visit their websites:
Operator Type - Ferry Operator - Telephone No.
Freight - DFDS Seaways 01304 218 400
Freight - P&O Ferries 01304 863 340
Freight - DFDS/LD Lines 01304 218 400
Freight - MyFerryLink 01304 828 422
Tourist - DFDS Seaways 0871 574 7235
Tourist - P&O Ferries 08716 64 64 64
Tourist - DFDS/LD Lines 0871 574 7235
Tourist - MyFerryLink 0844 248 2100
P&O website - http://www.poferries.com/
DFDS website - http://www.dfdsseaways.co.uk/
MyFerryLink website - http://www.myferrylink.com/?packedargs=site%3DSF_Pax_Uk
The Port apologises for any delays or inconvenience as a result of the earlier traffic congestion at Eurotunnel.
UPDATE at 06.50 friday: there are some traffic delays now due to volume !
Friday, 18 April 2014 - 06:13
Post 617
PaulB, Dover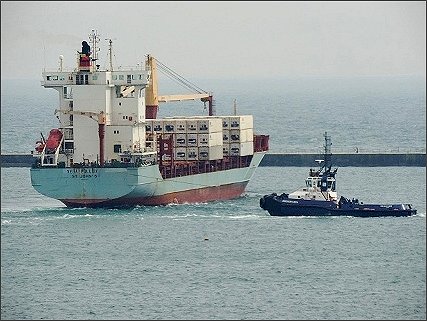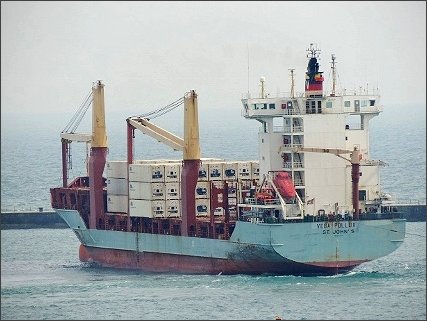 The busy cargo traffic carries on in fine style and long may it continue. This ship, called the Vega Pollux, is shown getting ready to depart earlier today Thursday around 3pm. Rotterdam may have been the destination. The tugboat doing the..ermmm tugging.. is none other than Dauntless herself. I don't think I recall the name Vega Pollux before?
Thursday, 17 April 2014 - 21:57
Post 616
PaulB, Sea News Dover
DFDS SEAWAYS SERVES UP NVQ QUALIFICATIONS
_________________________________________
Eleven stewards from DFDS Seaways' Dover-Dunkirk route have been enrolled onto an National Vocational Qualification (NVQ) Level 2 in Professional Cookery, as part of an ongoing investment in personal development.
The onboard stewards, from across the UK and Europe, have previously held positions as Kitchen Porters and are now being given the opportunity to train to become fully qualified Chefs on the Dover-Dunkirk ferry route. From the 12 March all eleven candidates are being trained to achieve the NVQ, furthering their knowledge of catering, from the preparation of food to cooking and storing dishes.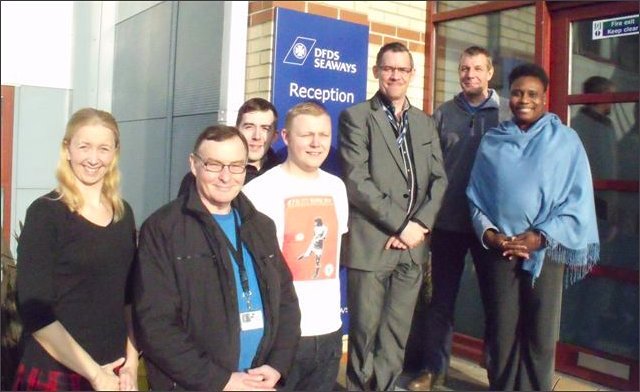 Commenting on the enrolment, Matthew Mcphail, Food and Beverage Onboard Sales Department at DFDS Seaways, said, "We are very pleased to announce our continuous development with this enrolment for our kitchen staff, designed to help build skills and experience. We strive to ensure our staff have the highest possible qualifications to provide the best quality food and service for our passengers whilst they dine onboard."
Photo above from left to right: Nicola Steer, HR and crewing officer, John Wilson, Kitchen Steward, Liam Richards, Kitchen Steward, Richard King, Kitchen Steward, Matt McPhail, Food and Beverage Manager, Les Potts, Head Chef on Dunkerque Seaways, Faustina Gaituak, assessor from Runway Training.
There are up to 24 sailings a day between Dover and Dunkirk providing passengers with flexible crossing times, a luxury on-board travel experience and convenient travel options. Whilst onboard, passengers can dine at the Self-Service Restaurant, visit the Lounge Bar or grab a snack at the Food Express. For more information about DFDS Seaways or to book a ferry crossing visit www.dfds.co.uk or call 0871 574 7235.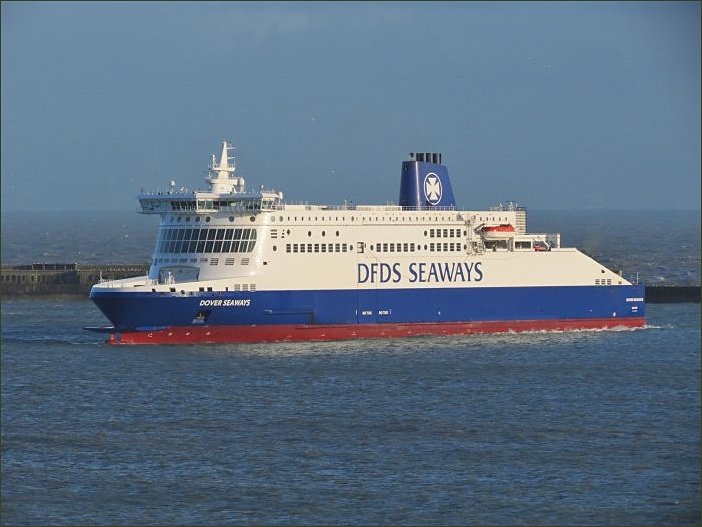 Always worth remembering that DFDS is Northern Europe's largest integrated shipping and logistics company, with a network of 30 routes and 50 freight and passenger ships. In 2012, DFDS Seaways transported 5 million passengers across the 11 passenger routes. DFDS Seaways prides itself on offering world-class facilities and services and the widest choice of ferry routes into northern Europe.
In the UK, the company operates passenger ferry services on routes from Dover to Calais, Dover to Dunkirk, Harwich to Esbjerg, Newcastle to Amsterdam, Newhaven to Dieppe and Portsmouth to Le Havre.
* * * * * *
Many thanks for that Vic. Glad you are liking the page. All being well ..we will have lots more exciting stuff to come.
Good story that Jacqui..made me chuckle too.

Thursday, 17 April 2014 - 06:37
Post 615
Vic Matcham, Dover
By showing the great photos of the port as you do it is helping get more of the public down to see it all for themselves.
It is by far the best page not only in the Dover Forum but the best of all the forums thank you.

Thursday, 17 April 2014 - 04:12
Post 614
Vic Matcham, Dover
I know I KEEP SAYING THANK YOU,BUT THEY ARE GREAT PHOTOS AND I LOVE LOOKING AT THE MOON MYSELF. THIS IS BY FAR THE BEST PAGE ON ALL THE FORUMS NOT JUST DOVER,
Anyone from outside the town and see this they would be rushing down to look themselves, you are doing well by showing them all to the public.

Thursday, 17 April 2014 - 04:09
Post 613
Jacqui, Dover
Made me laugh when she was coming across the harbour the other day Paul. I was listening on SW radio and Port Control told her - "No more than 8 knots in the harbour please sir". She quickly slowed down lol. Lovely sight though, seeing her stream in the Eastern entrance. Love all your photos.

Wednesday, 16 April 2014 - 20:40
Post 612
PaulB, Dover
We are having a very busy time of it with the Royal Navy popping in and out and generally hovering about in the immediate vicinity. Herewith the latest....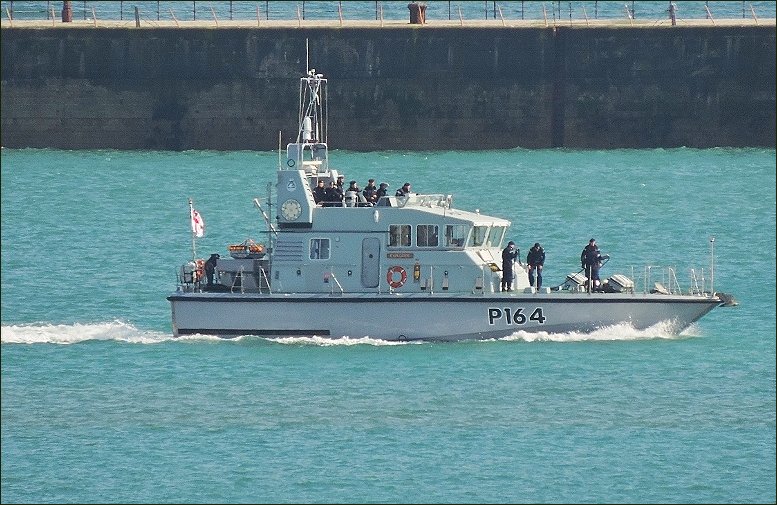 Above we have HMS Explorer which powered across the harbour 2days ago. Visiting the same day as the mighty MSC Magnifica. As always they cut a mean dash. We had the similar HMS Puncher recently too. Pictures of HMS Puncher over on page 2 and on page 3. These are patrol or special ops vessels as I understand it but also used in training these days.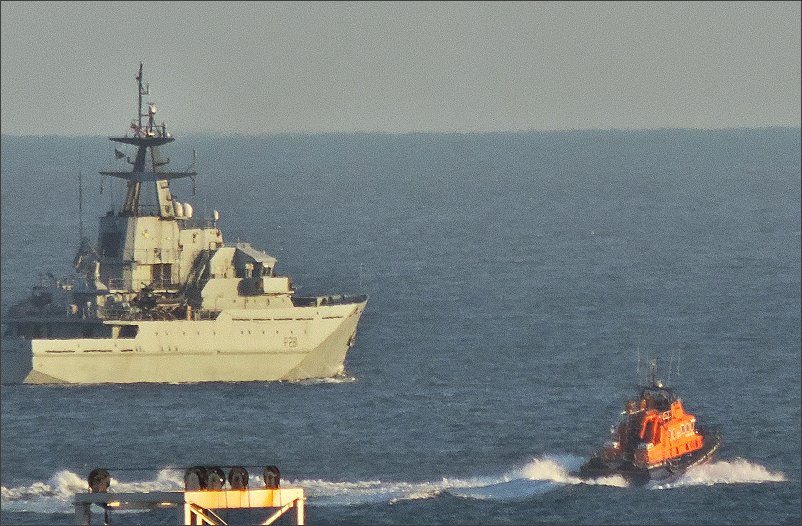 Thanks to Kevins tip off I had a go at getting a picture of HMS Tyne which was just off Port last evening. Very long range picture so a wee bit soft alas. Right on cue the Lifeboat powered past...clearly out on a shout! The Tyne just went off afterwards too in roughly the same direction as the Lifeboat...heading west into the low evening sun.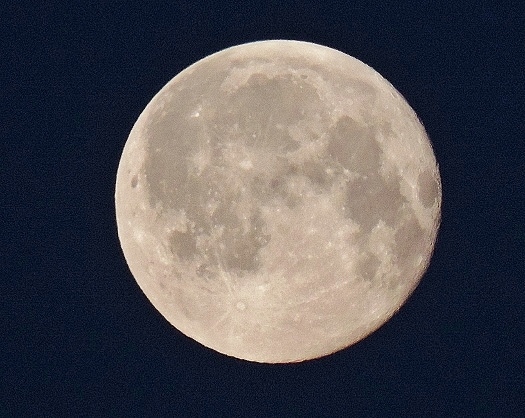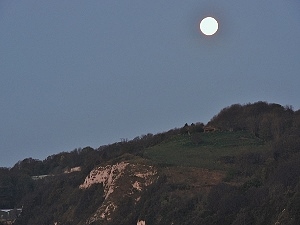 We are all having a go at the moon. Blimey! and why not. Well done with that one Jacqui/Adam. The previous moon shot by yours truly further down the page was taken early evening while the great orb was hanging above Calais. These latest ones above were taken early this morning..very early..while hovering above Western Heights.
Wednesday, 16 April 2014 - 15:30
Post 611
Jacqui, Dover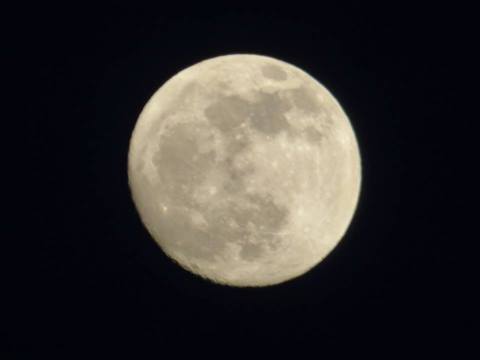 My son Adam took this with his new camera from his bedroom window. I think it's rather good.
Wednesday, 16 April 2014 - 12:55
Post 610
PaulB, Dover
Cracking pictures John

Great spot Kevin re HMS Tyne. Had a stab at getting some pix. Very long range though..will see if any good a bit later

Wednesday, 16 April 2014 - 06:57
Post 609
John Mavin, Dover
It's true what Paul says about shooting the moon and I've never trusted in-camera metering for these sorts of situations. This was taken handraulically using an old Weston meter I've had for forty years.
The second picure, from June 2010, is interesting because I don't think I've ever seen a full moon so low in the sky.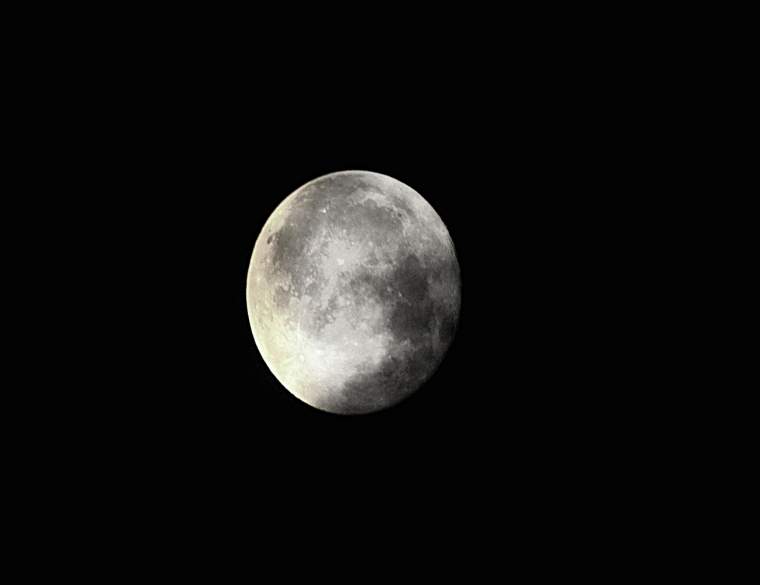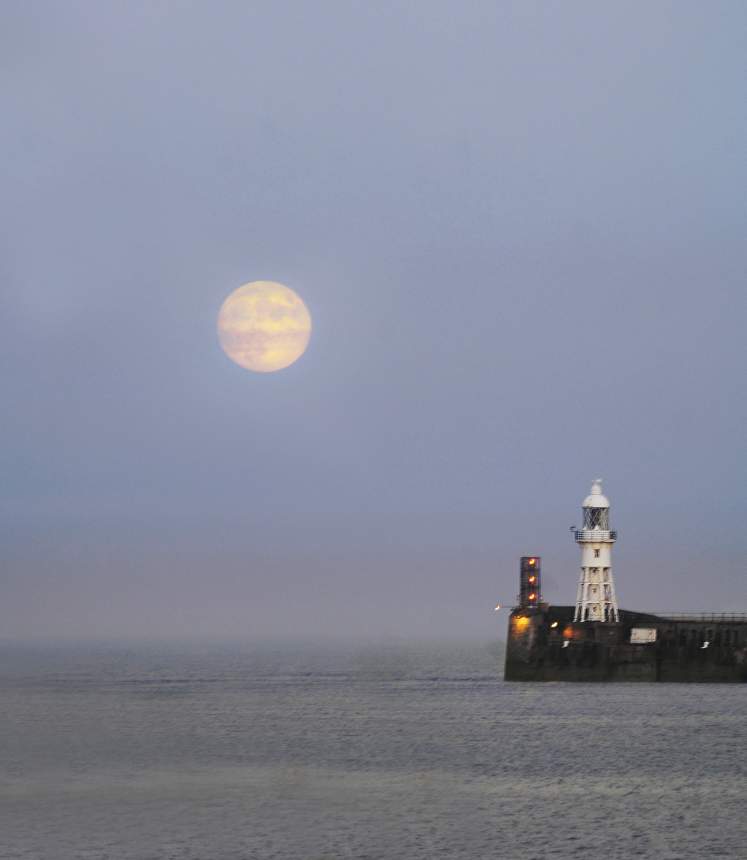 Tuesday, 15 April 2014 - 21:47
Post 608
JanT, Dover
Over the last few days some really great pictures, showing our lovely seafront and all that goes on, keep those cameras clicking chaps

And with this very pleasant spring like weather and the start of the cruise ships, really feels like summer is on its way.

Tuesday, 15 April 2014 - 19:03
Post 607
Kevin Charles, Dover
The Royal Navy River class patrol ship, HMS Tyne, is currently off the Western Entrance.

Tuesday, 15 April 2014 - 19:01
Post 606
PaulB, Dover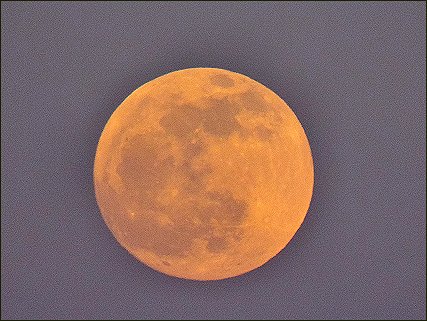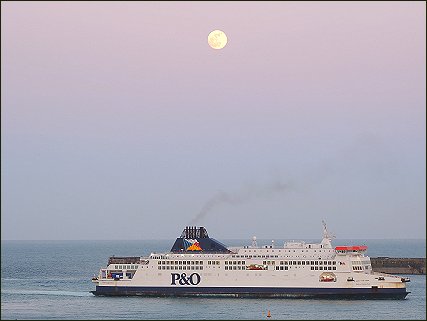 These pictures are of last nights magnificent full moon. It rose early while there was still light so that helped with the shots. The moon is never very easy. But as the night wore on, down here at the lapping waters edge, it conjured up an eerie spooky feel...well shiver me timbers but I'm sure I saw Long John Silver walking the plank at one point...but it may have been a mirage, or an ethereal vision...or maybe that extra glass of...

Yes its great Kevin to see the kids getting all that marvellous local nautical training. Indeed one of them may well be on an MSC bridge one day before too long. Nice shot that Colette from your phone...but don't forget to get that nice camera of yours out too. The ship above is the Pride of Canterbury.
Tuesday, 15 April 2014 - 17:28
Post 605
ColetteB, Dover
Terrific photos guys of the MSC Magnifica, 95,000 tons + Blimey!!!

Like Kevin, I love the one with the sailing boats too, great shot there Mr B

I was on my way back from Ashford late yesterday afternoon & as I came into Dover I couldn't resist driving along the seafront to see her. Jumped out of my car & took a shot but alas only had my mobile & it was too far away but here it is anyway. She will be back on the 25th so must remember my camera.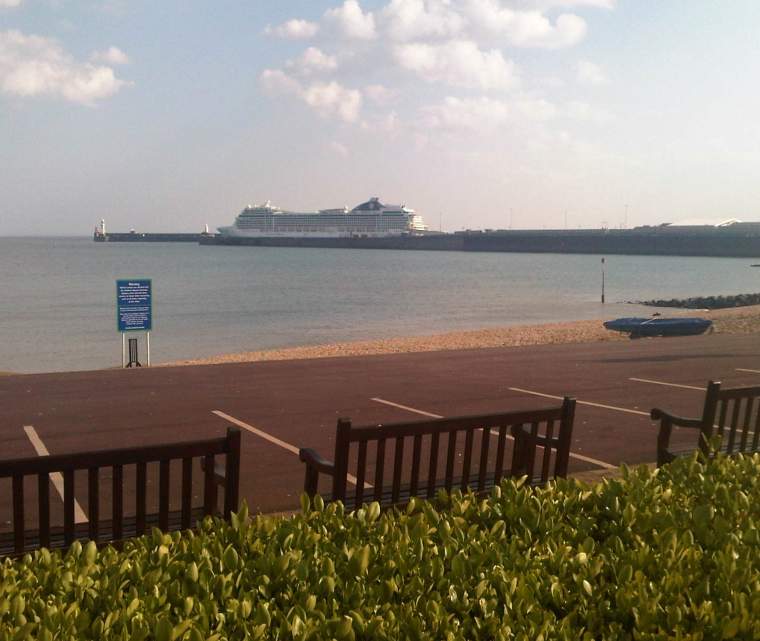 Tuesday, 15 April 2014 - 13:41
Post 604
Kevin Charles, Dover
Great photos, Paul. I especially like the one with the sailing boats. With the great work of the sea sports centre and the new maritime skills academy up at Whitfield, some of those kids may well end up on the bridge of ships like the MSC Magnifica!

Tuesday, 15 April 2014 - 08:09