Monday, 30 November 2015
SEA NEWS
GROWTH, PERFORMANCE, AND OPTIMISM...see post 2052, see also 2064.
P&O FERRIES CHRISTMAS OFFERS see 2080. P&O FREE WINE OFFER 2097.
CRUISE SPECIALIST joins the PORT OF DOVER see 2136
Scroll down the page and over the many pages ( more than 100 ) for all the stories in and around the Port of Dover.....
You can find anything you want in our SEARCH ENGINE. Type in CRUISE VISITS for example or REGATTA or anything at all.
Dover.uk.com and Doverforum.com have merged to produce an entirely local and comprehensive Dover website. Nautical contributions are welcome on this page with a max of 4 pictures preferred per contribution, all pictures remain own photographers copyright. Email:dover7@msn.com to send Sea News pix or info..or click ADD YOUR COMMENT below to post direct, no membership needed. Paul Boland.
SAY HELLO TO OUR NEW SEA NEWS SEARCH FACILITY...
Post 2149
Sea News, Dover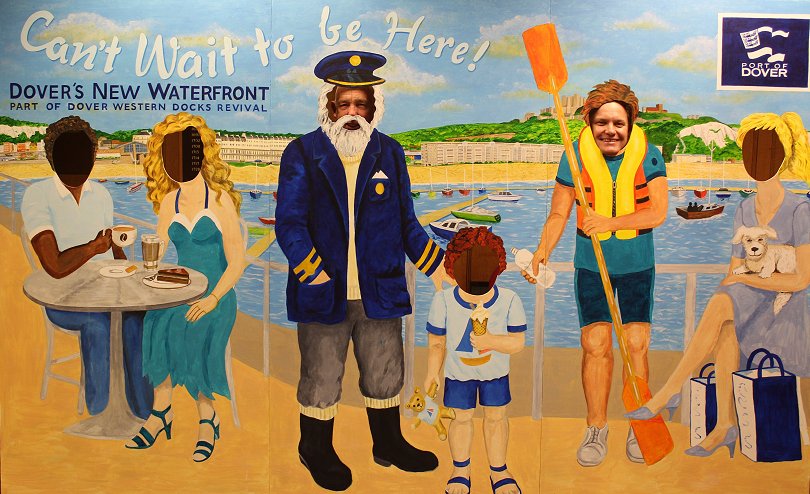 Picturing the future - it's time to deliver for Dover!
_________________________________________
Burlington House is coming down and from its remains will be created the foundations for the Port's Dover Western Docks Revival scheme. The Prince of Wales Pier has been given the green light to temporarily close for redevelopment by Dover District Council (DDC) so that DWDR can move ahead. Everywhere you turn, previous chapters are finally being closed and a new chapter is now being opened and embraced, heralding a new era of progress for Dover not seen for many years.
The St James Development and DWDR are increasing the level of interest in Dover as together with our district council partners we look to fundamentally change perceptions for the better. The Port of Dover has worked positively alongside DDC as part of the InvestinDover initiative and is keen to continue playing its part in promoting and delivering some of the key opportunities that are being created.
The Port is firmly committed to working together on the issue of connectivity and is already engaged in discussions regarding connectivity between the waterfront and the town centre. It is supporting DDC's Dover Transportation Study as we look to deliver the approved A20 junction improvements in support of Dover's collective regeneration projects and to ensure they deliver maximum benefit to the local economy. We are also continuing to work with partners to advocate the wider strategic needs for transport improvements to Dover.
As yet another sign of the Port's commitment to delivering a fantastic future for Dover, Tim Waggott, Chief Executive, Port of Dover said:
"I am delighted to announce that we will commit £50,000 in funding towards the joint research of a future planning and regeneration environment that we can all support for the ultimate benefit of Dovorians and port users.
"These are truly exciting as well as pivotal times and I trust that we can continue working together in the spirit of mutual trust and cooperation as we herald in a new era for Dover and continue to deliver our shared vision. I can picture the future and I can't wait for it to be here. We start now."
Cllr Paul Watkins, Leader, Dover District Council, said:
"With the Port of Dover moving ahead with the Dover Western Docks Revival project, another major catalyst for Dover's regeneration is being delivered.
"We are working positively together with our Port partners, including on ways to improve access to Dover's key regeneration sites. Such wide-ranging commitment to Dover is a reflection of the massive momentum there now is to take Dover forward."
Dover Western Docks Revival will deliver more jobs, a more vibrant waterfront, more port capacity and help to attract more investment into Dover. We can't wait for it to be here!
ENDS
Further info....
· The 'Can't Wait to be Here' head in the hole photo features Tim Waggott, Chief Executive of Port of Dover on the right and Tim Ingleton, Head of Inward Investment from Dover District Council in the centre.
· The 'head in the hole' will be at various local venues in the run up to Christmas as part of a caption competition - "I can picture myself here because……", with prizes to win for best captions.
* *
Busy official Port vessels yesterday below.. picture taken earlier in the day.
The Harbour Patrol Boat zaps past the waiting tug on its was back to base. A very grey sunday once again but lots of seafront excitement with lots of kids trying to dodge the waves bursting over the sea-bashed promenade.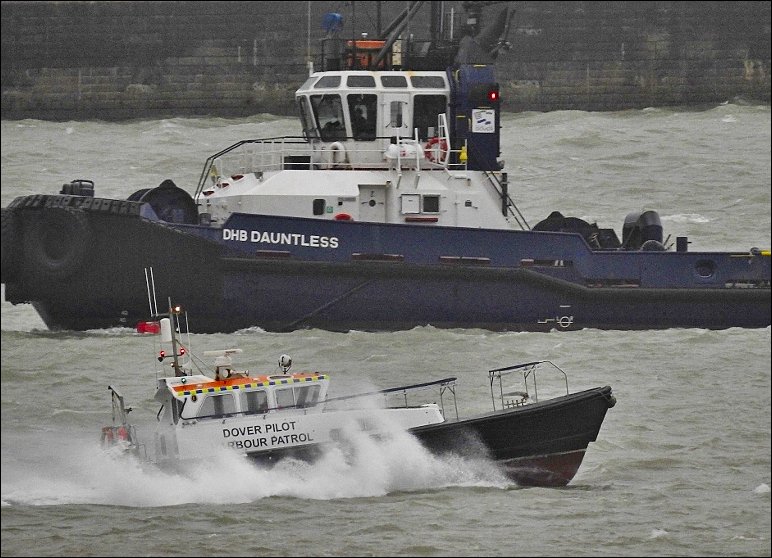 Many thanks to Steve, Vic, and Jan for the interesting comments and info below. It was definitely a strange thing to see out there ( post 2145 ). Will see if I can access facebook later. Thanks guys. PaulB
Pinned item

Monday, 30 November 2015 - 08:00
Post 2148
Steve-N, Whitfield (sgn@f2s.com)
This topic is discussed on
Dover for Dovorians Facebook page. Answer would seem to be kids.
https://www.facebook.com/photo.php?fbid=10207837040589232&set=gm.571270556353652&type=3&theater

Monday, 30 November 2015 - 07:45
Post 2147
vic matcham, dover
I think it might have been washed over from a side of a ship .

Monday, 30 November 2015 - 04:47
Post 2146
JanT, Dover
Strange things happen at sea it's said, but that is a strange one for sure the 24 dollar question is where did it come and how did it get there, does anyone out there know

The past few days we've had some good pictures chaps.
Sunday, 29 November 2015 - 21:57
Post 2145
Sea News, Dover
Well what can we say here at the Port of Dover...we have seen everything that can float out there floating at one time or another, but this was a first for me.... a floating Audi. About 200 yards off shore in the rough seas today...and there she was. How she got there I don't know. It looks like a rather well-to-do expensive paddle toy or electric toy but who can tell for sure...but I don't think its the real roadgoing variety. Where it came from I don't know and where it went to I know not. Might have eventually gone to Davy Jones' Locker.
But there ye have it... never a dull moment. PB.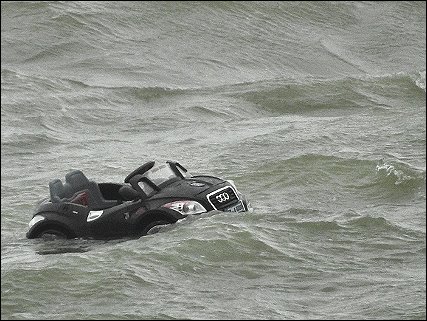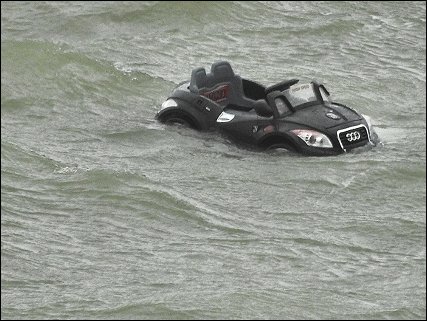 Nice notion Vic re the huge ship...if only

Sunday, 29 November 2015 - 15:46
Post 2144
vic matcham, dover
I would like to see a container ship of that size calling in at Dover with a train waiting to take containers away.

Sunday, 29 November 2015 - 09:05
Post 2143
Sea News, Dover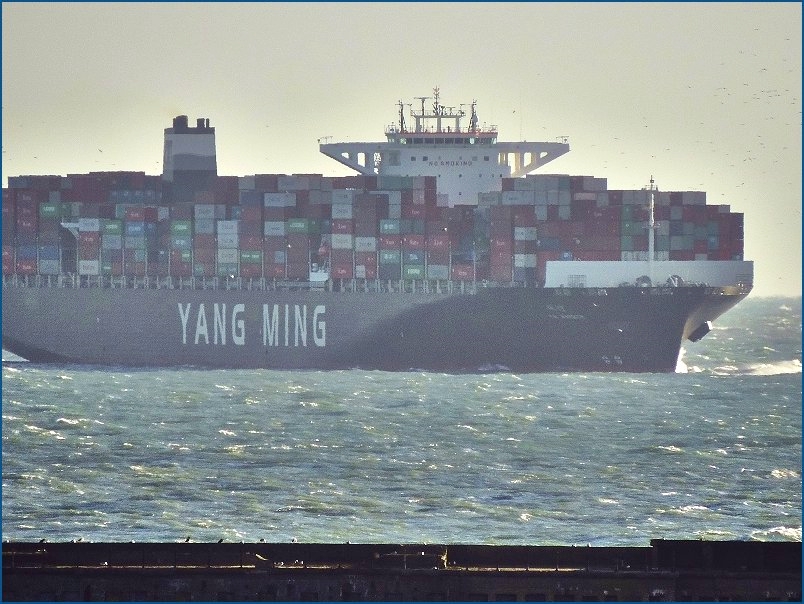 Above another pic of the YM Warmth see also post 2140 below...it was great to see it in so close. Wot a whopper! ( that's a technical term! )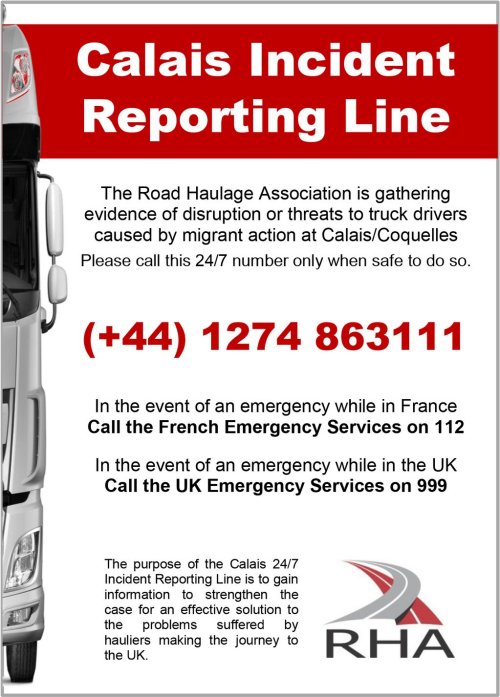 RHA launches Calais Incident Reporting Line
As part of the Road Haulage Association's (RHA) continuing engagement with government to achieve a solution to the problems hauliers are experiencing as a result of the migrant activity at Calais, the RHA (@RHANews) has launched a 24/7 Calais Incident Reporting Line - (+44) 1274 863111.
Thousands of wallet-sized cards have been printed with the reporting line number, together with the telephone numbers for the emergency services in France and the UK. The Port of Dover is supporting the initiative and the cards will be issued to drivers by ferry operators, P&O and DFDS and it is hoped that other cross-Channel operators will also participate. The scheme is also being promoted by Truck & Driver magazine.
The reporting line will give hauliers and their drivers the opportunity to call in and officially log incidents of intimidation or incursion by migrants. Callers will be asked for their name, the nature of the incident, the exact location where the incident occurred and whether there was damage to their load or vehicle. The information gathered will be passed to the Home Office and Border Force teams.
The RHA's International department, which provides advice and frequent updates of value to hauliers travelling abroad, is already receiving valuable and worrying feedback as to the extent of the problems. The 24/7 telephone line will supplement that information and the service will be available to all drivers, regardless of nationality.
RHA chief executive Richard Burnett (@RHARichardB) commented: "We are very concerned about the amount and scale of the reports we are receiving. They include instances of hauliers being threatened with baseball bats, while others have been subject to migrants throwing bricks off motorway bridges. We have also had several eye-witness accounts of migrants deliberately putting obstacles in the road with the sole aim of slowing vehicles down to make them more 'accessible'.
"This is a situation that is both out of control and totally unacceptable for those who are, quite simply, doing their job. The reporting line will provide the evidence and understanding needed to ensure we get the protection that the haulage industry is entitled to expect."
Ends
Good to hear from you again below Ray. Lol re the Western Dock dry run !

Sadly no it isn't possible to make changes once the post goes up. The interim stage before you press the upload button, where it says 'make changes' .. is the last chance at re-edit. However if ever anyone needs to make changes after that just let me know and all will be fixed. Hope that helps.
Paul - my details at the top of page.
Sunday, 29 November 2015 - 08:03
Post 2142
Ray H, Dover
Please ignore my ramblings about the Knuckle Light, if I had looked properly I would have seen that it is the West end of the Breakwater.

Out of interest is it possible to edit a post on here after you have pressed the send button?

Saturday, 28 November 2015 - 22:47
Post 2141
Ray H, Dover
Excellent shot of the Doughty making waves near the Knuckle Light (I think).

Not wishing to alarm some among us but do you think that the container ship might have been doing a dry run for the new Western Dock Terminal?

Saturday, 28 November 2015 - 22:42
Post 2140
Sea News, Dover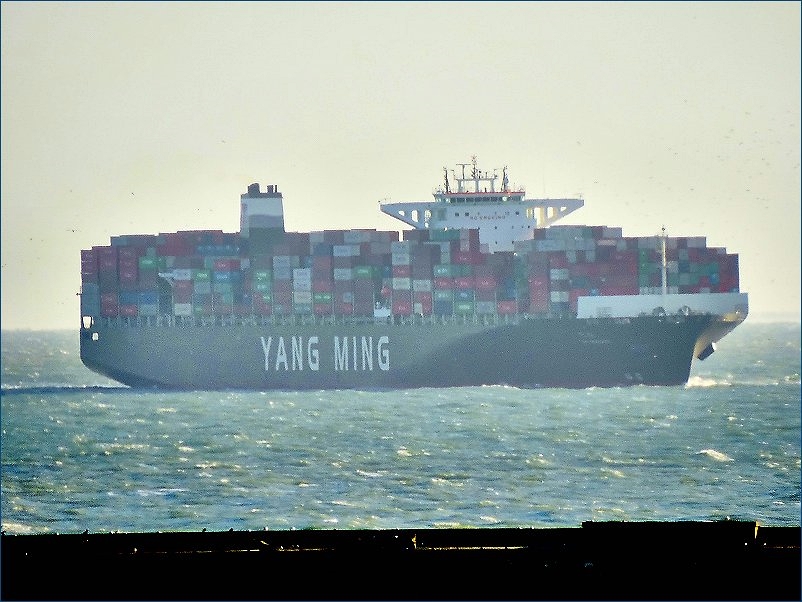 This huge monster came right in close to shore this morning - what a beast! I have never seen one of this proportion in so close to harbour before...she weighs in at something around 150,000 tons and I guess that's before she is loaded up. She is called the Yang Ming Warmth. Presumably she was letting off a pilot or similar as we have stated before. I think we have generally ascertained that that's usually the reason they come in so close. She is en route to Piraeus.
As I understand it this ship is brand spanking knew dating from 2015. As you can see the Chinese have arrived in more ways than one. PB.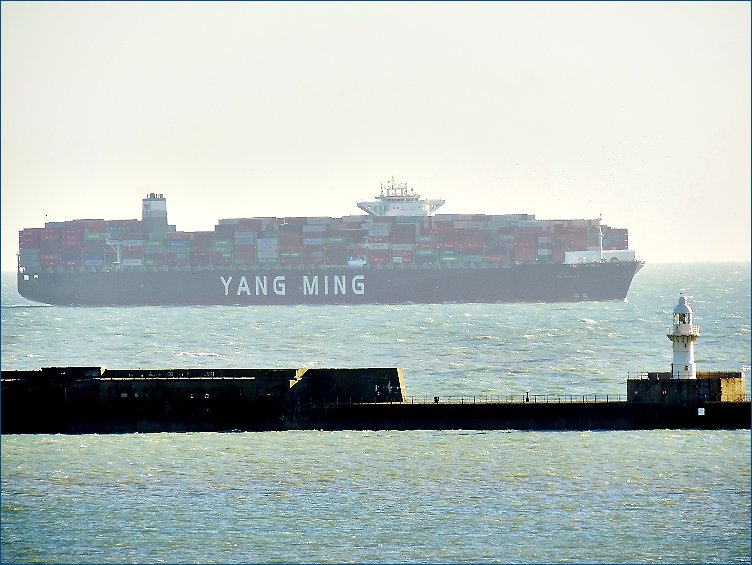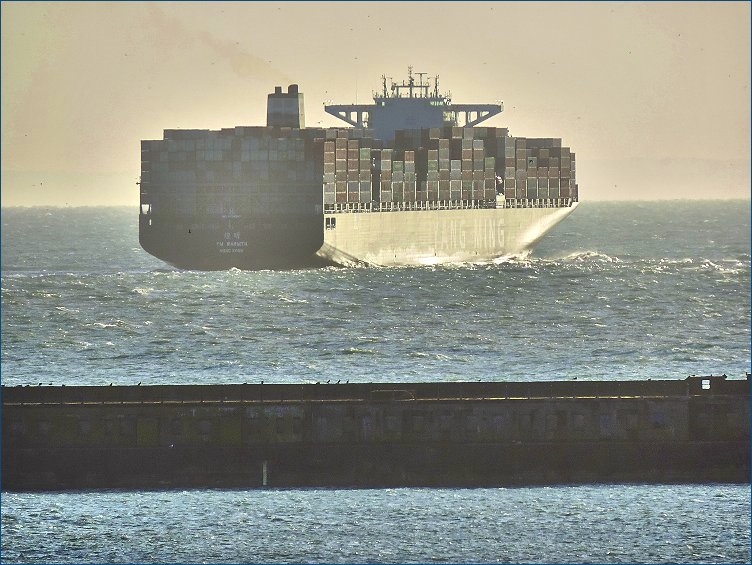 Saturday, 28 November 2015 - 15:09
Post 2139
Sea News, Dover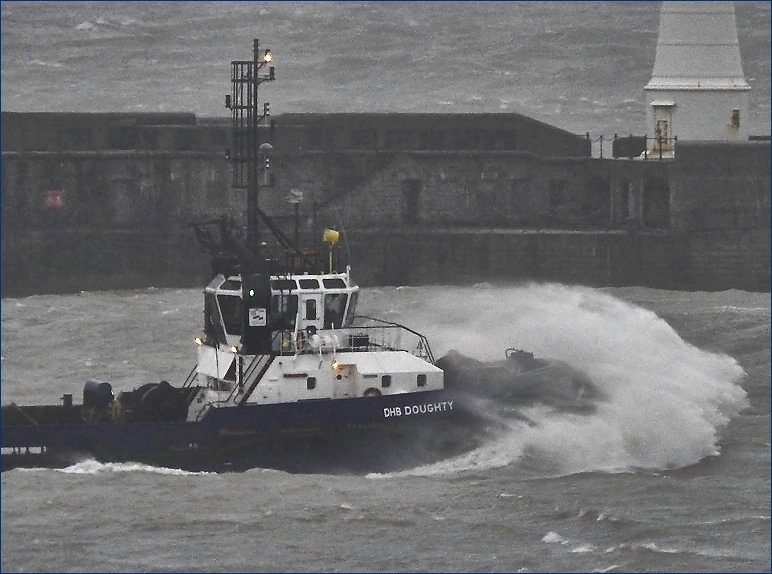 Wow! we are having some rough ol days and more importantly so are the tugboats and the ferries of course. Here we have Tug Doughty again, this time almost totally awash as she battles her way back to base across the harbour. If its this rough inside the harbour just acknowledge what its like ..out there!! That was yesterday...but
...all seems to be considerably more tranquil as we write today..brings me in mind of the following two pictures from Thursday. First of all we have that great sky, exactly as was, with nature doing all the work, no trickery with camera needed. Then finally we have a special visit to the immediate area below the observation tower from our seal again... pinching all my fish once again - doesn't he know yours truly has an exclusive contract to supply the UK supermarkets en masse....with mackerel and ermm more mackerel.. PaulB.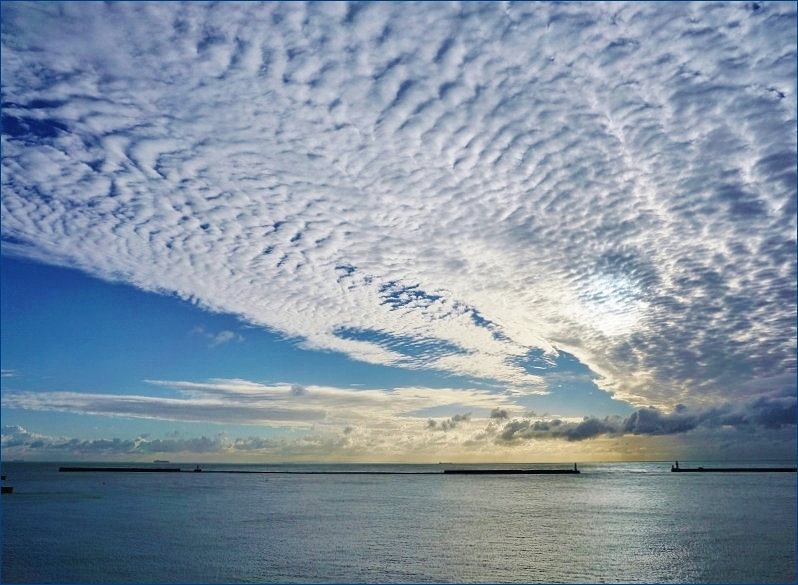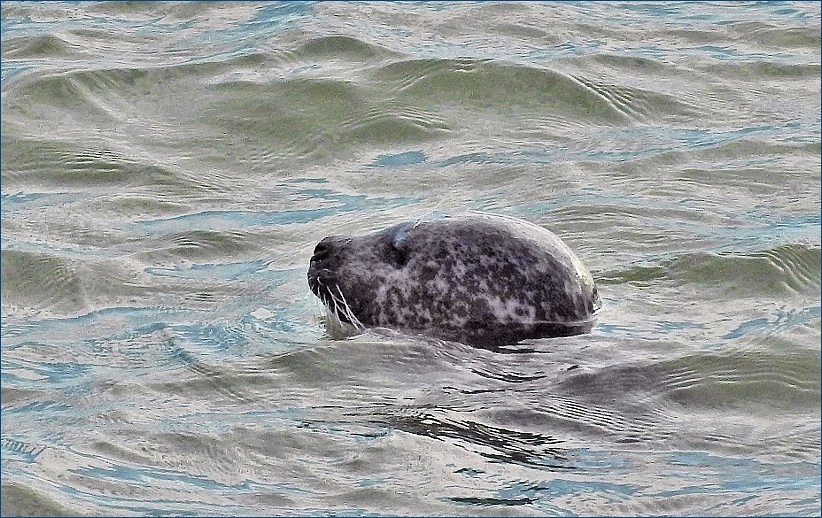 Thanks once again to Sarah for the post below. Great to see the Priscilla MacBean.

Saturday, 28 November 2015 - 06:53
Post 2138
Sea News, Dover
The following pictures just in are from our ace 'roving contributor' SARAH HEWES once again. Sarah finds us interesting gems from near and far. Remember that Russian Sub recently? While the whole world was looking for it off Scotland we had pictures of it on the River Medway !

Now here we are with more lovely pictures once again and hugely enjoyable. Sarah says
"the photos I took yesterday are of ON655 the
old Eastbourne Lifeboat "Priscilla MacBean" now fully restored,
location... Old London Road in Hastings Old Town."
So there you have it.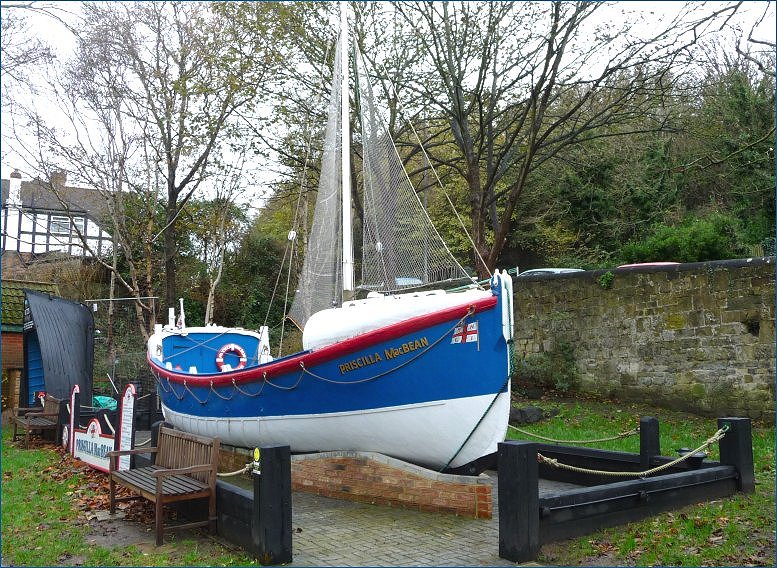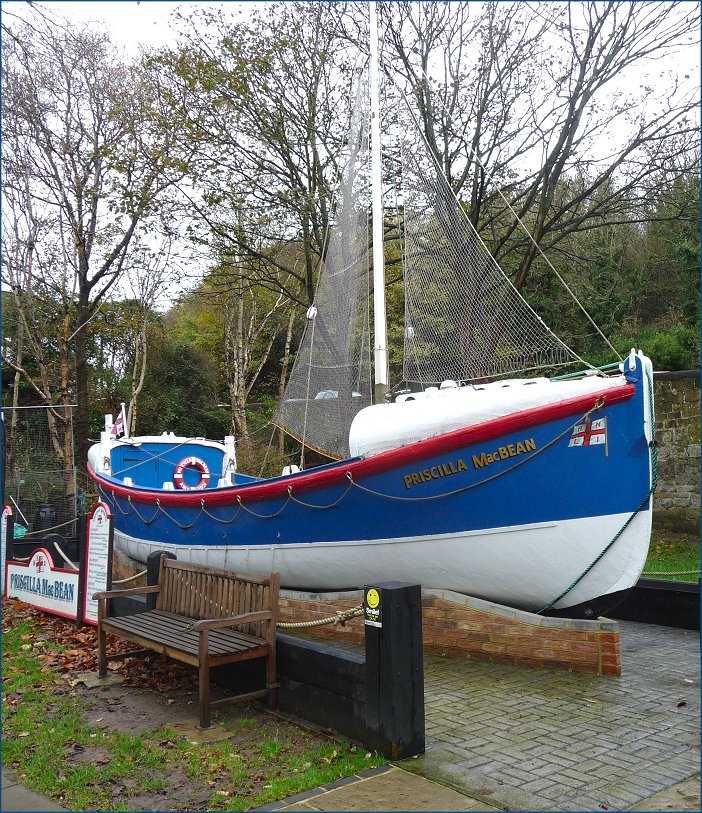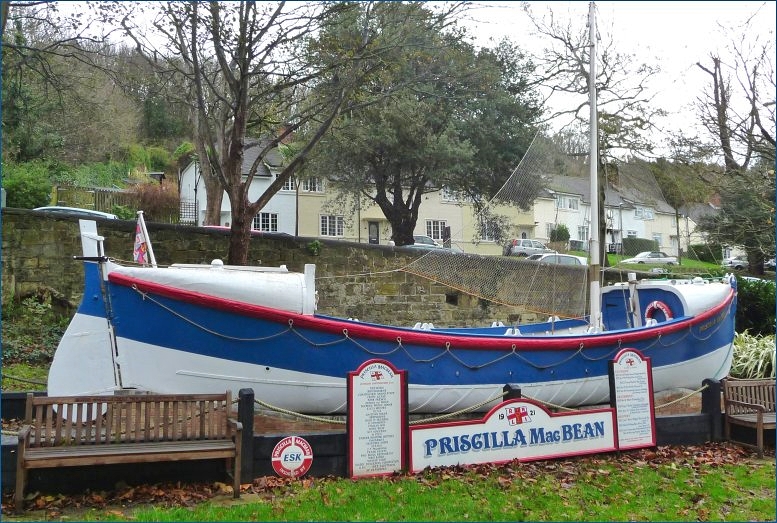 All pictures by SARAH HEWES
Well done Mike with the post below - a good collecton there of all the goings on. Was wondering why the Arklow Racer was still there.
Also - meet the Port's new Cruise Specialist in post 2136

Friday, 27 November 2015 - 04:39
Post 2137
Mike J., Dover
Admiralty Pier - Thursday morning.
ARKLOW RACER still undergoing repairs [waiting for parts perhaps ?] being passed by Weymouth-registered f/v ALDANA.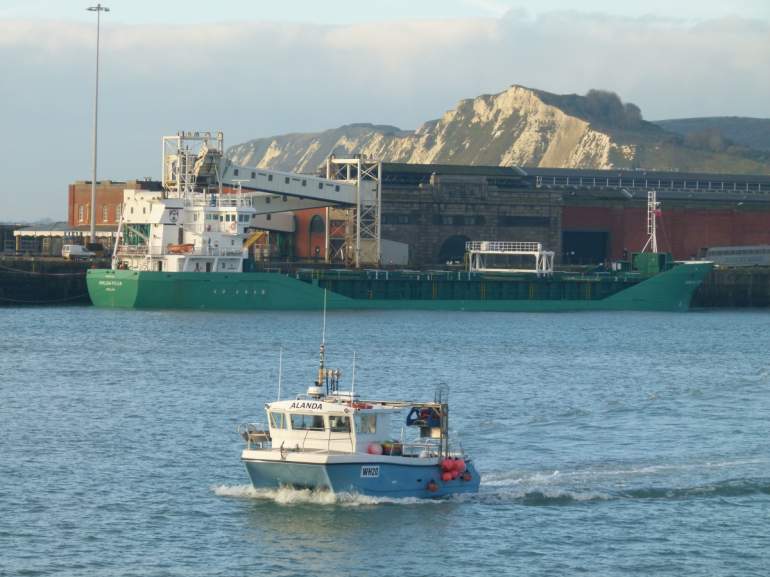 SWIFT waiting for grain lorries, loading for Antwerp - she sailed Thursday evening.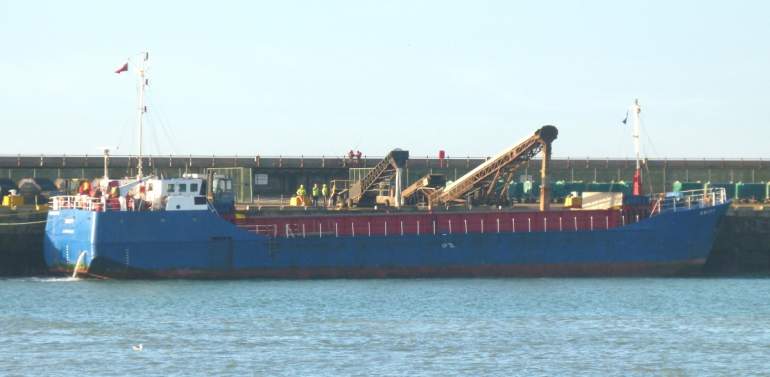 DIANA passing DAUNTLESS who is taking bunkers from a road tanker [when the harbour launches need fuel they take their diesel from one of the tugs]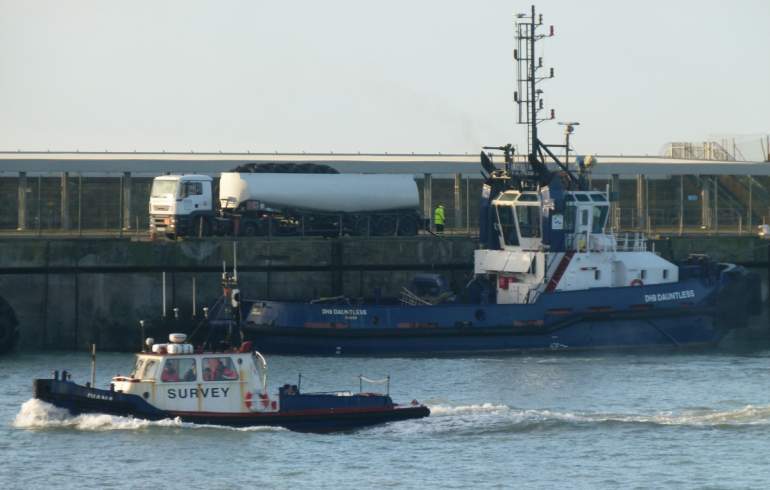 CORAL WATER waiting for her next date with a ferry while someone is dangling from a crane, looks like repairs to the passenger gangway on Cruise-2.
Wish I could get my pix as sharp as Mr.B's . . . . . .
Thursday, 26 November 2015 - 23:16
Post 2136
Sea News, Dover
CRUISE SPECIALIST JOINS PORT OF DOVER

_______________________________________
A business development expert who has worked for one of the world's leading cruise lines has joined the Port of Dover in a drive to bring more ships to the UK and to showcase Kent and Dover as a top-cruise destination.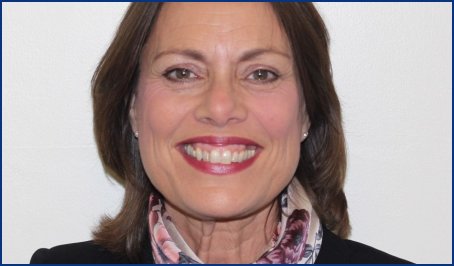 Sonia Limbrick joins the Port of Dover as Head of Business Development (Marine), whose cruise market attracts the likes of Celebrity Cruises, Azamara Club Cruises, Disney, Crystal Cruises, Saga, Fred.Olsen and AIDA.
Prior to joining the UK's second busiest cruise port, Sonia was with Royal Caribbean Cruise Line and was instrumental in putting its upmarket brand, Azamara Club Cruises, on the map in the UK and Ireland during her time as the brand's Business Development Manager.
It's this experience and insight into the high end, luxury marine travel market which she now aims to channel into the Port of Dover, promoting the very best of Dover and Kent to an international market.
"It's important to have an understanding of the expectations of cruise lines and their guests – what they are looking for in a port, what their guests expect when they arrive," she said. "I live just along the coast from Dover, I grew up in Canterbury, so I know what fantastic attractions Dover and the surrounding county of Kent have to offer to cruise guests.
"A large proportion of cruise guests come from US, Canada and Europe and for them, Dover is an iconic place to sail into with its castle and White Cliffs. Our aim is to build on that history. I want more cruise lines to not only come into the Port of Dover but also to stay longer on each visit. We can truly deliver destination immersion here in the garden of England."
Prior to moving to cruise, Sonia spent nearly 15 years working for Eurotunnel; during that time she held positions within operations, business development and as Eurotunnel's Brand Manager.
Barbara Buczek, the Port's Director of Corporate Development, said:
"Sonia's strong background in cruise sales and her success in growing Azamara's business in the UK will give us a valuable insight into what the industry wants from us. Sonia will be focusing on strengthening Dover's relationship with cruise lines and other stakeholders within the travel industry."
ENDS
A Big Welcome to Sonia above - we wish her the very best of luck in bringing yet more cruise ships to the Port of Dover. Ace move!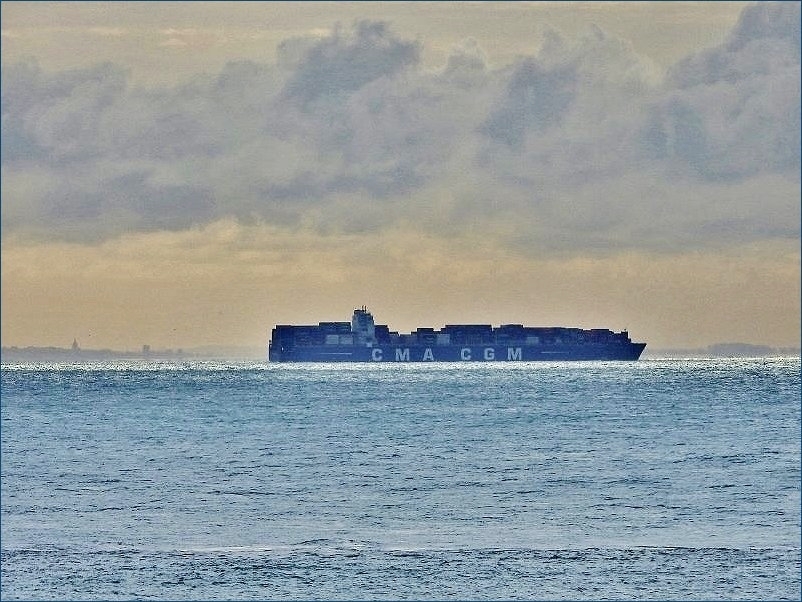 Here we have one of our old friends - a beast of magnificent proportions..the CMA CGM Titan moving down the channel yesterday heading to Le Havre . I say old friend because we have indeed featured her before. There was fairly good visibility yesterday , not always the case as we know, so was delighted to be able to get a reasonably good long range picture or two. That's Boulogne in the background there on the left above, you can even see the Cathedral Notre Dame in the old town high on the hill. Break out the Muscadet.....Bonjour Boulogne! PB.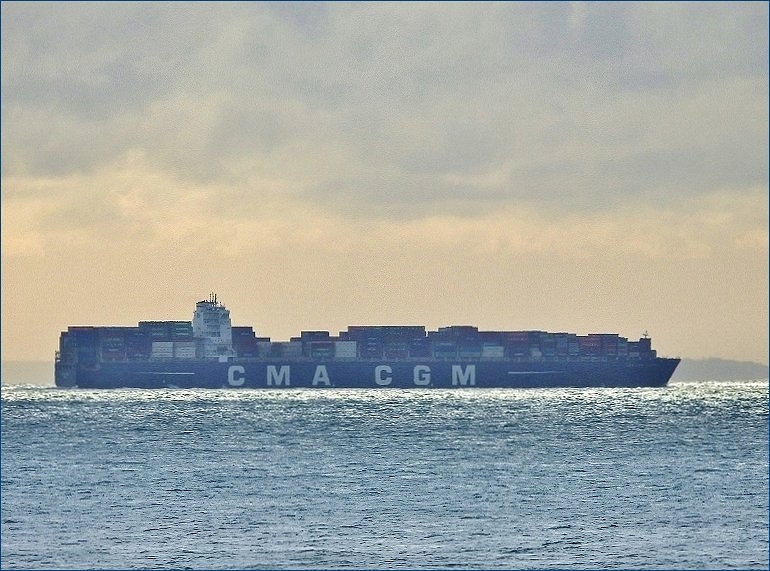 Thursday, 26 November 2015 - 14:59
Post 2135
Sea News, Dover
One of Mike's pictures didn't come out properly in the post below so here it is now ...
showing the dreadful traffic on Jubilee Way from the distance. The road has been horrendously slow moving..what are we to do?
And of course the usual TAP situation coming down through the town is also in place. (see also traffic post 2132)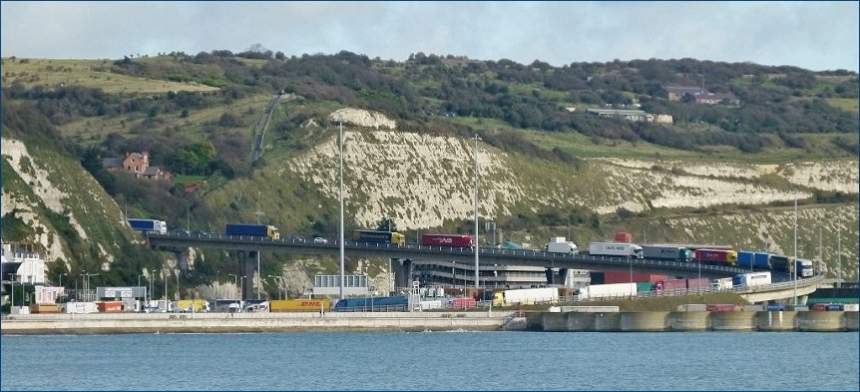 Nice post below Mike. Nice motor launch for sure

Thursday, 26 November 2015 - 07:59
Post 2134
Mike J., Dover
London-registered motor yacht VITA DI MARE on the Crosswall Wednesday morning.
Taiwan-built in 1998.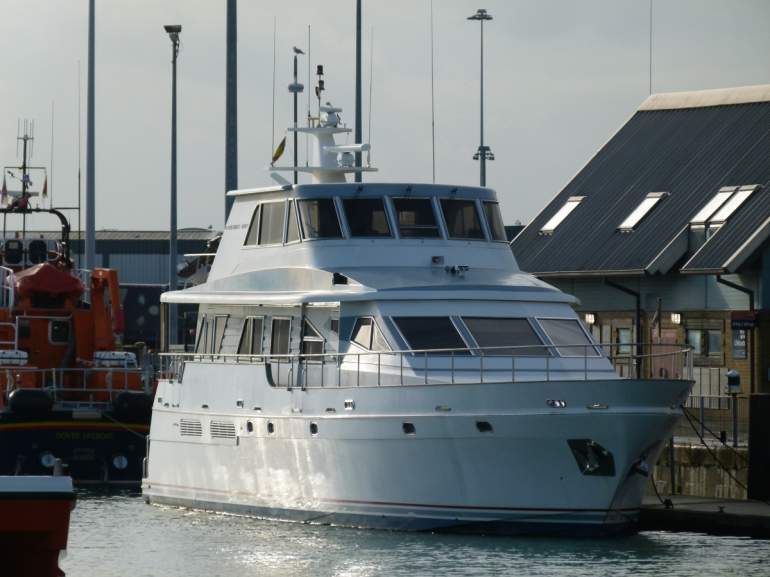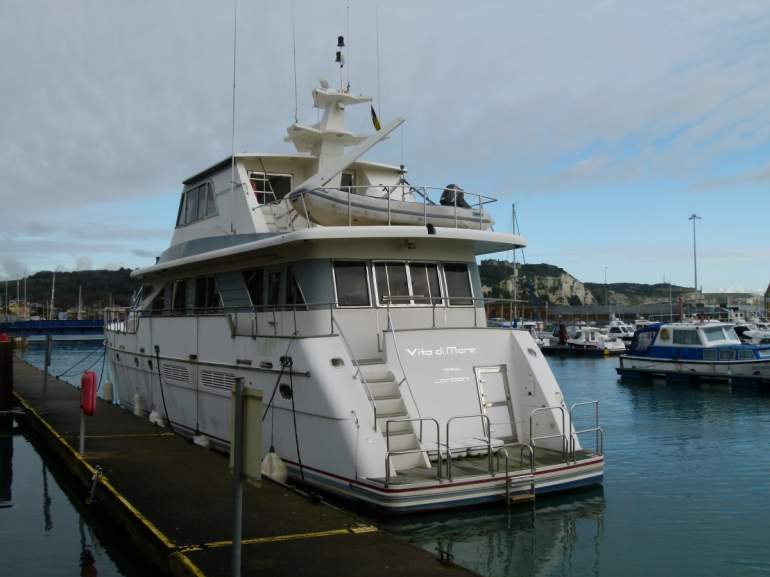 & a distant snap of the traffic on Jubilee Way.
A solid line of stopped freight from Aycliffe roundabout along the A2 to well past where I turned off the M20 for Hythe.
Wednesday, 25 November 2015 - 22:45
Post 2133
JanT, Dover.
Gosh that's something you don't see often, he or she looks some what lonesome on its own.
Interesting item on the traffic situation experienced driving through tap yesterday myself, and saw lorries stuck on the bypass backed up to the Whitfield roundabout. With ever increasing traffic predicted a solution needs to be found.

Wednesday, 25 November 2015 - 09:13
Post 2132
Sea News, Dover
Swan Lake !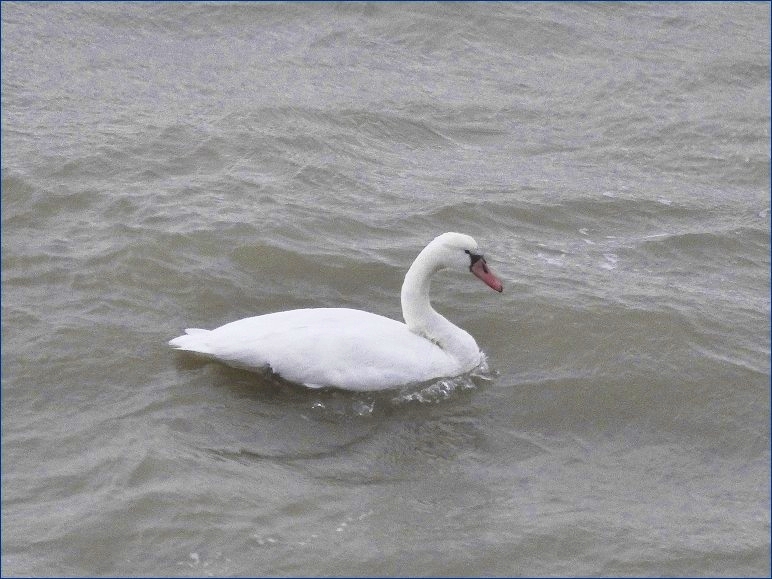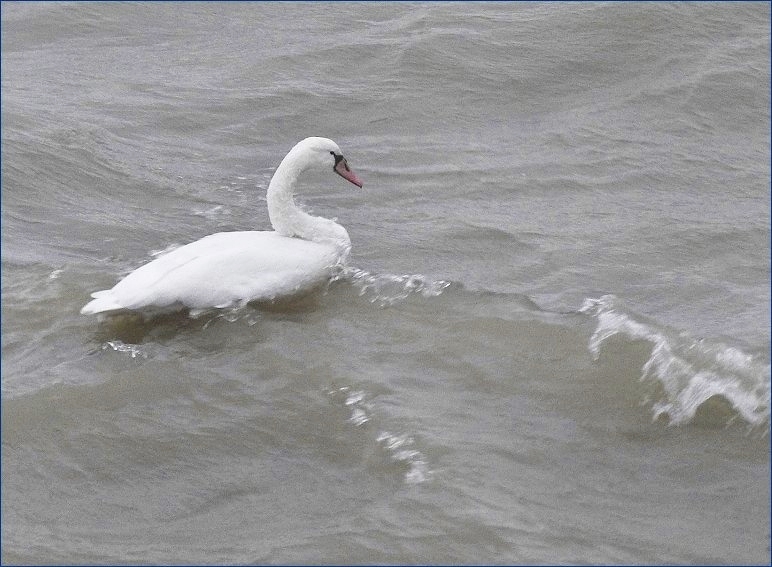 This delightful chap above was enjoying himself with an ocean paddle yesterday. Quite unusual to see a gorgeous swan in the sea isn't it...but there we are above. Perhaps he was migrating or something...yours truly alas doesn't know a thing about swan behaviour pattern. Unfortunately the weather wasn't very nice yesterday for his ocean dip. It was all quite deserted too on the seafront - no ice creams available afterwards!
I think we can welcome the following review. Traffic was bad yesterday with Jubilee Way portwards a disaster for local traffic once again, this is a newer phenomenon with trucks queuing back for miles. Tap was also on.... Thanks to DDC for the information as usual.
DOVER TRANSPORTATION STRATEGY TO BE UPDATED AS DISTRICT DRIVES FORWARD FOR THE FUTURE
_____________________________________________________________________________________
Dover District Council has appointed WSP Parsons Brinckerhoff to review the Transportation Strategy for Dover and identify a programme of improvements to support the district's plans for growth for the future.
The strategy will need to reflect the growing momentum behind the district's regeneration, and a return to pre-recession levels of traffic at the Port of Dover. Key changes to be considered include:
Phase 1 of the Whitfield Urban Expansion due to start in 2016
New town centre retail and leisure facilities at St James
Traffic Management Improvement project at the Eastern Docks
Junction improvements to support Dover Western Docks Revival
Dover TAP (Traffic Access Protocol) managing traffic approaching Dover using the A20
Development of Bus Rapid Transit (BRT)
HS1 and car park capacity at Dover Priory railway station
A range of potential changes to the local road network.
In order to produce the new strategy, WSP Parsons Brinckerhoff will update a computer model (known as the Dover Transportation Model) with the latest available traffic and census data. The work is due to be completed by summer 2016, and will be agreed by Highways England and Kent County Council Highways in conjunction with Dover District Council. Alongside this, design work will also be undertaken for the future improvement of the A2/A258 Duke of York Roundabout.
Cllr Nigel Collor, portfolio holder for access, Dover District Council, said: "With a growing economy feeding through to increased traffic at the port, and our housing and town centre plans being delivered, now is the right time to update our Transportation Model and Strategy."
Chris Dixon, WSP Parsons Brinckerhoff director, said: "It's a great privilege to be working in partnership with Dover District Council on updating the Transportation Model and Strategy for the Town. This builds on our previous joint working with DDC, Kent County Council, Highways England and others in support of the ambitious and exciting growth objectives for Dover."
ENDs
Here's a suggestion re the above and re Jubilee Way. Jubilee Way has three lanes. Two going inland one going seawards. Why not change the layout so that you have two lanes coming seawards and one going inwards. You very rarely need the two lanes going inland - two would be preferable of course but one would do, so that better use could be made of the central lane as it were.
Very interesting report below Mike. I wondered myself what the Pride of Burgundy was doing over there at the Cruise Terminal and now we know. Excellent stuff for sure!
Nice picture Ed once again. Great to see another very welcome visitor, the Italia Reefer, up close and personal.
The Esmeralda is in today too so the cargo terminal is keeping very busy.
PB.
Wednesday, 25 November 2015 - 06:02
Post 2131
Ed Connell, Dover
Italia Reefer departing the berth yesterday.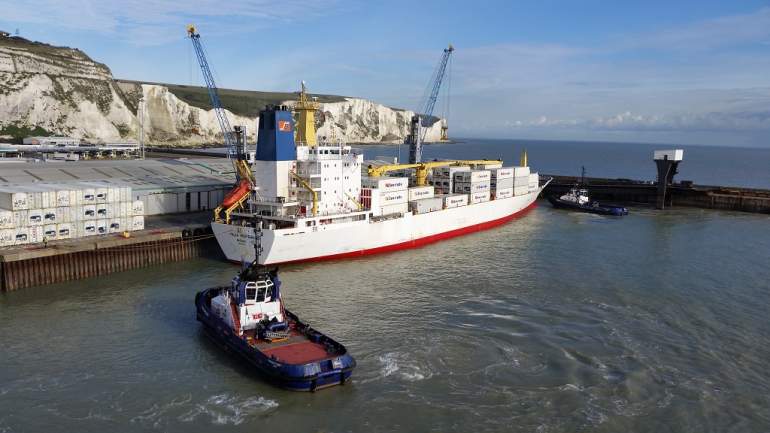 Tuesday, 24 November 2015 - 11:29
Post 2130
Mike J., Dover
As Paul was photting the departure of the ITALIA REEFER the weatherbeaten PRIDE OF BURGUNDY had completed her MES [Marine Escape System] exercise which is usually carried out before refit.
If the slide was in use 'for real' it would be extending away from the ship's side & liferafts would be secured around the 'landing raft' & manoeuvered by the ship's rescue boat[s].
Apologies if you know all this already !
Shortly afterwards the BURGUNDY turned around so that the slide & raft could be unloaded onto the quay, took bunkers from the CORAL WATER & is now back on the run, probably with a reduced Passenger Capacity due to the missing MES which will be replaced during her refit, unless they were able to fit a new one whilst she was alongside [unlikely].
Tuesday, 24 November 2015 - 10:21