Friday, 22 September 2017

doverforum.com/sea-news
Featuring all the ships that come and go and work at the Port of Dover with further coverage of Ramsgate, Calais, Dunkerque. Email: dover7@msn.com to send SEA NEWS pix or info.... or click ADD YOUR COMMENT below to post direct, no membership needed.

Commercial News: P&O Ferries with the Kids 4258.

Use our SEARCH ENGINE below to find all sorts on the SEA NEWS pages..more than 200 now with more than 4000 nautical posts. Posts welcome. Max of 5 pictures preferred per post. Sea News Editor Paul Boland.
Type Cruise Visits (or indeed anything) in our Search Engine below for the latest cruise ship arrivals..
Post 4260
Sea News, Dover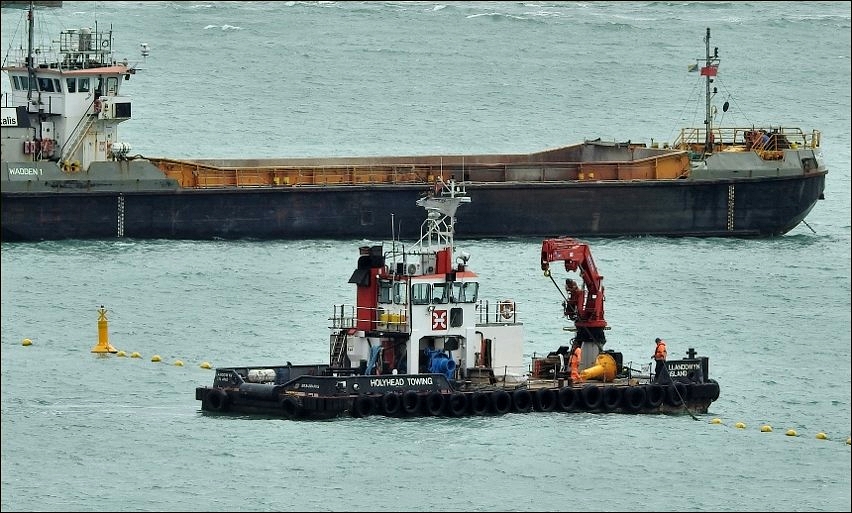 Recent pictures of our new old friend Llanddwyn Island above there doing her regular maintenance duties on the exclusion zone markers ... ... all the while the new line of piling gets ever closer and ever...louder

!!

But great progress is being made. Fascinating to see it all unfold of course.
Well done Sarah. Great work below there.

Friday, 22 September 2017 - 05:14
Post 4259
Sarah, Ramsgate
RMS Baerl is going to be here in Ramsgate for a couple of days.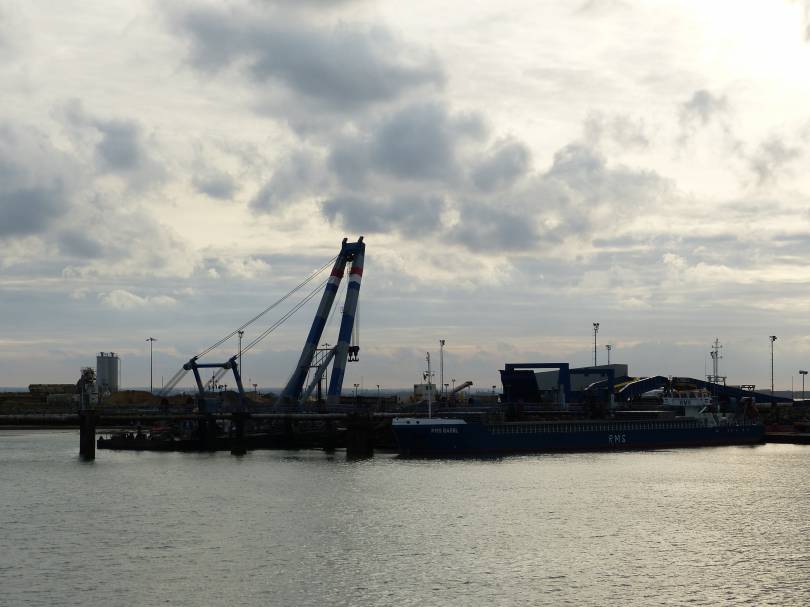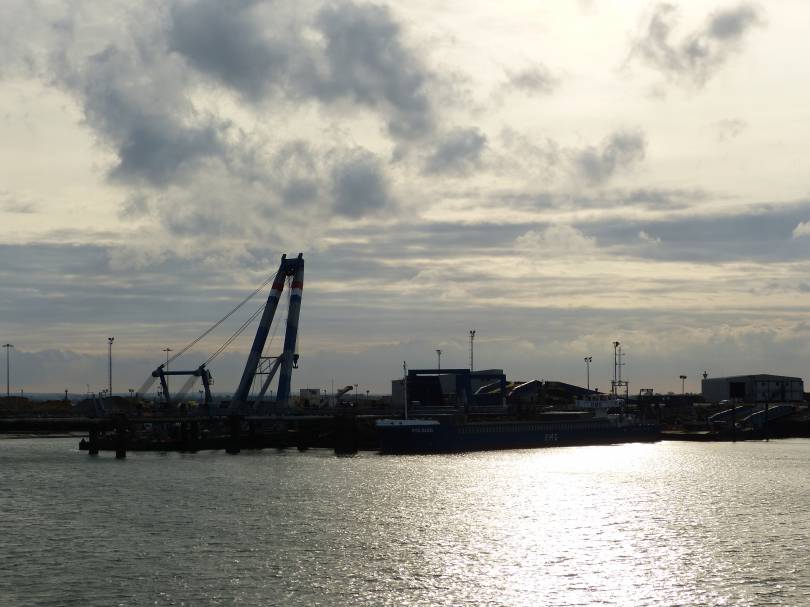 With TMS Bittern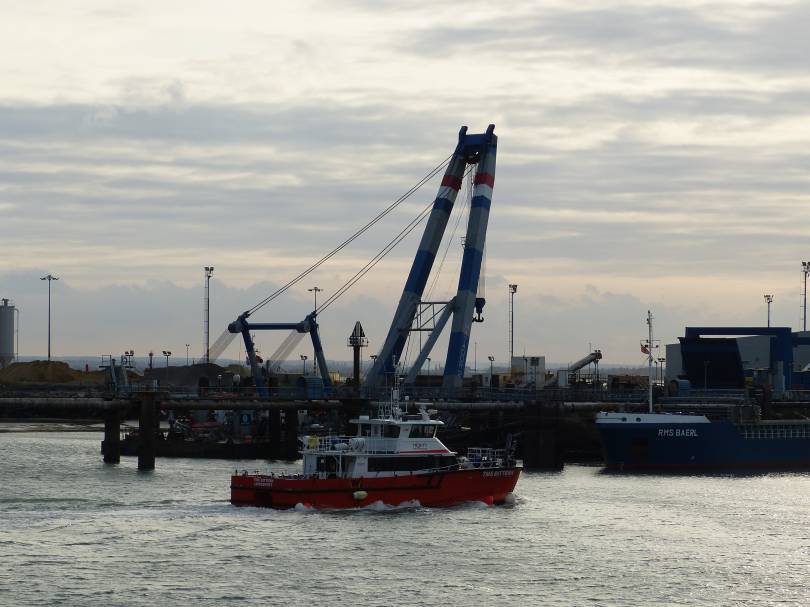 SC Amethyst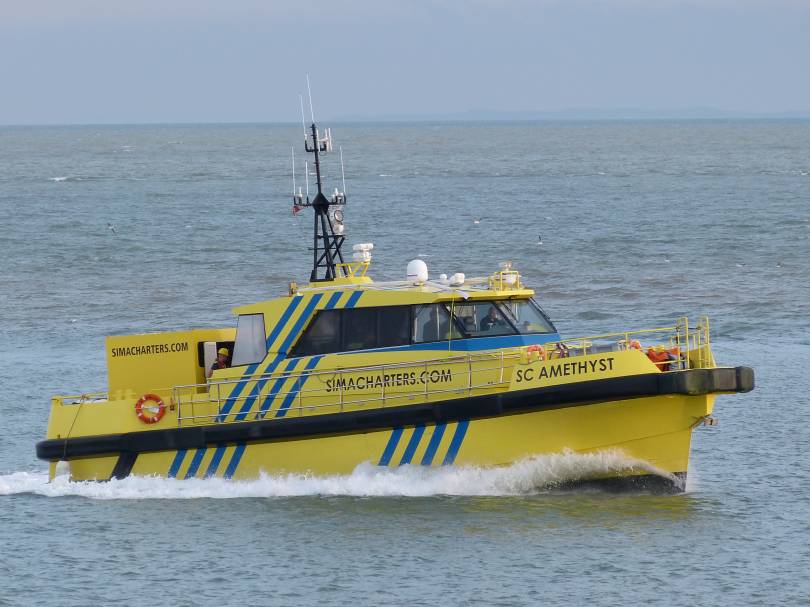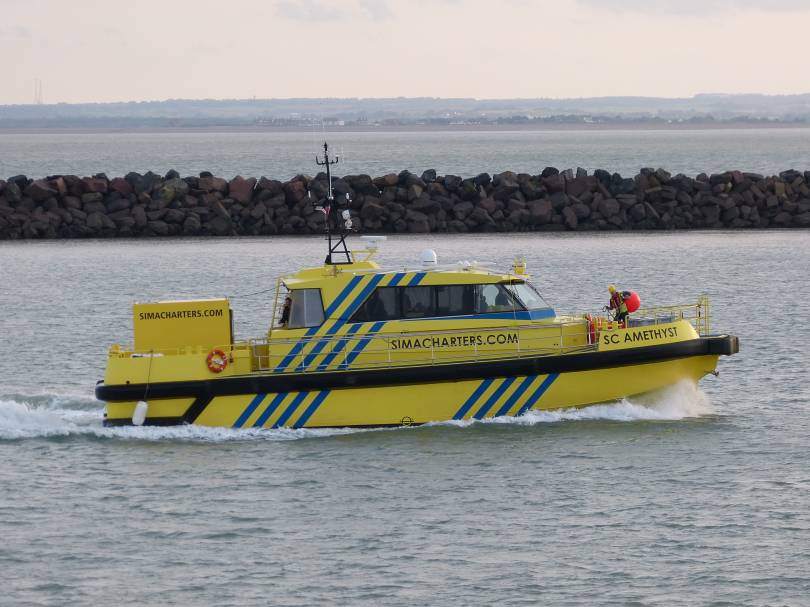 Thursday, 21 September 2017 - 08:04
Post 4258
Sea News, Dover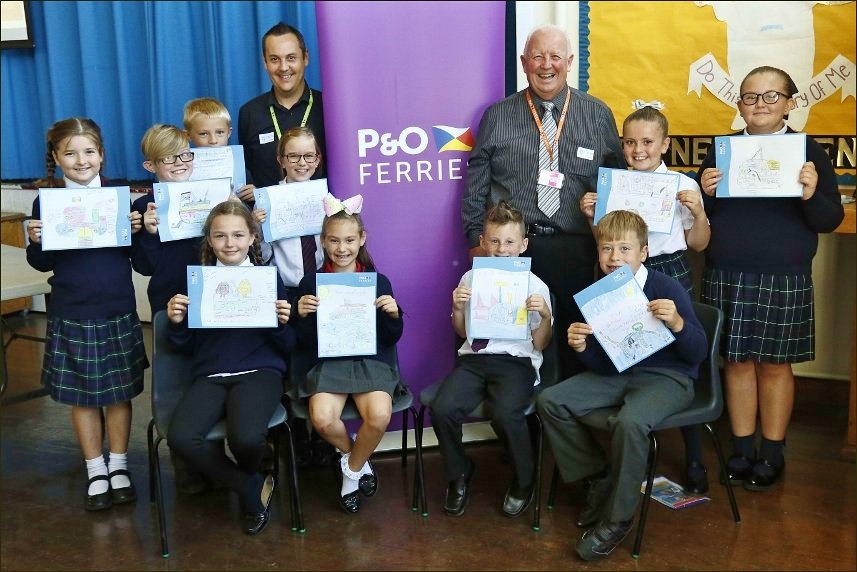 120 DOVER SCHOOLCHILDREN HELP TO DESIGN P&O FERRIES' FERRY OF THE FUTURE
______________________________________________________________________
MORE than 100 local children at St Richard's Catholic Primary School in Dover took the opportunity to tell P&O Ferries what its next generation of ships should look like when the local company came to visit last week (Tuesday 12th September).
P&O Ferries is celebrating 180 years since the foundation of P&O and has embarked on a programme of visits to local schools as part of its Ferry of the Future competition, in which children are invited to design a new ship.
The children at St Richard's, who were aged between seven and 11, came up with ideas including a ship designed to look like a turtle (with solar panels on its back), a dinosaur and a horse respectively. All the designs can be seen on P&O Ferries' LinkedIn site at www.linkedin.com/company/p&oferries.
Questions which the children asked included 'How many people can sail on board?', 'What are ships made of?' and 'Who was the most famous person to sail with P&O Ferries?'.
Alex Good, Assistant Headteacher at St Richard's Catholic Primary School, said: "The children were engaged and excited and they asked scientific questions about ships and how they are built. All the children took part in the designing of a Ferry of the Future and there were some fantastic designs. Thank you to P&O Ferries for coming in to the school."
Jacqueline Burns, Corporate Communications Officer at P&O Ferries, added: "The children seemed interested to learn that when P&O's first ship, the William Fawcett, set sail for the continent in 1837 there was no telephone and no cameras - both had been invented since the company was founded. Our presentation showed them how ships are designed today and what current materials look like. With regard to their own ideas, we encouraged them to think that the sky was the limit."
The Ferry of the Future competition runs until 12th October. P&O Ferries is offering prizes of six free crossings to Calais for two people to the best entries. Anyone can enter via Facebook at www.facebook.com/poferries.
P&O Ferries' stakeholder project offers visits to schools, colleges and businesses within the local community. This is a totally free initiative. The visit is tailored to school requirements and their current projects. It can be a talk, with learning materials and other artefacts, judging a competition or providing an insight into the world of ferries and logistics.
ENDS
Isn't that a great picture of the smiling kids up top there.
Many thanks to the team at P&O for the news..

As an addition here is one of our pictures for P&O which shows the Pride of Burgundy under a troubling sky last week - despite the weather the show goes on....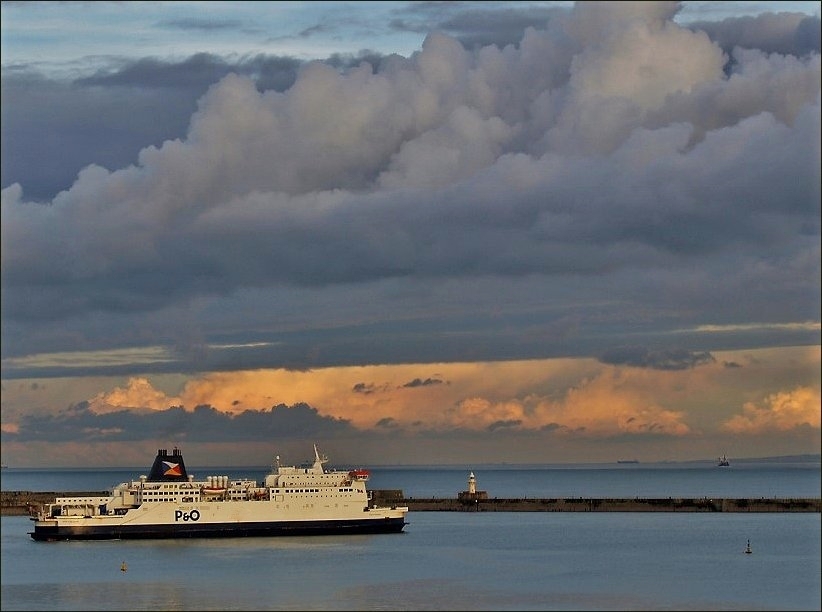 Nice collection of pictures below there Patrick..a stunner of the Chinese heavy lift ship in particular.Yes indeed Manu Pekka is gone too....

Well done Ed with Discovery Bay...she left in the afternoon yesterday right in front of me but I didn't spot it until too late...grrr....I noticed her full load in the distance.

Ah yes Mark we did notice the 'Strait' ships were only 13 years old...as I said I have a disposable razor older than that. An odd situation to see them go....there must be more to that story...

Thanks Vic on behalf of all the team - glad you are enjoying it all. Lots more to come.

* *
Ah - a great collection just in from my 'roving reporter' ..just below there.
Sarah we posted at the same time...almost..


Thursday, 21 September 2017 - 06:58
Post 4257
Sarah, Ramsgate
Some recent photos that are absolutely stunning, this site gets better & better. A contribution from Ramsgate of recent activity.
HMS Puncher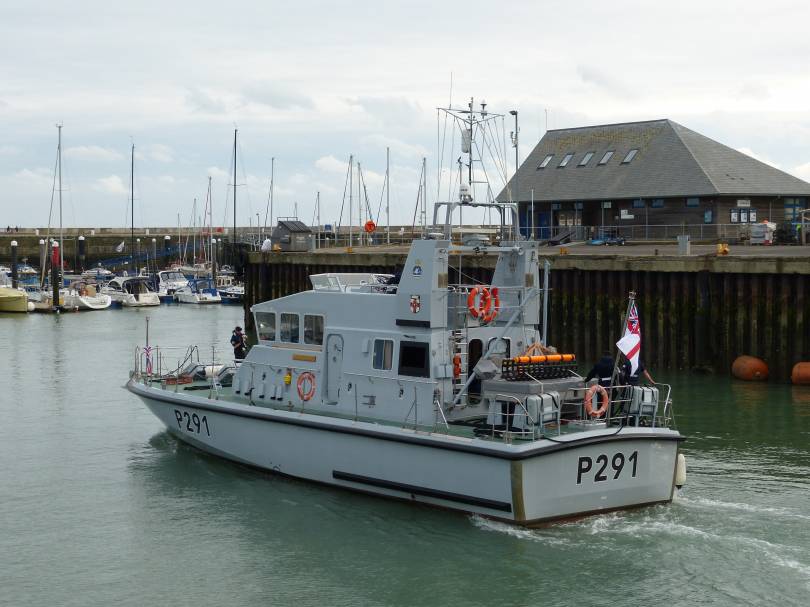 SC Falcon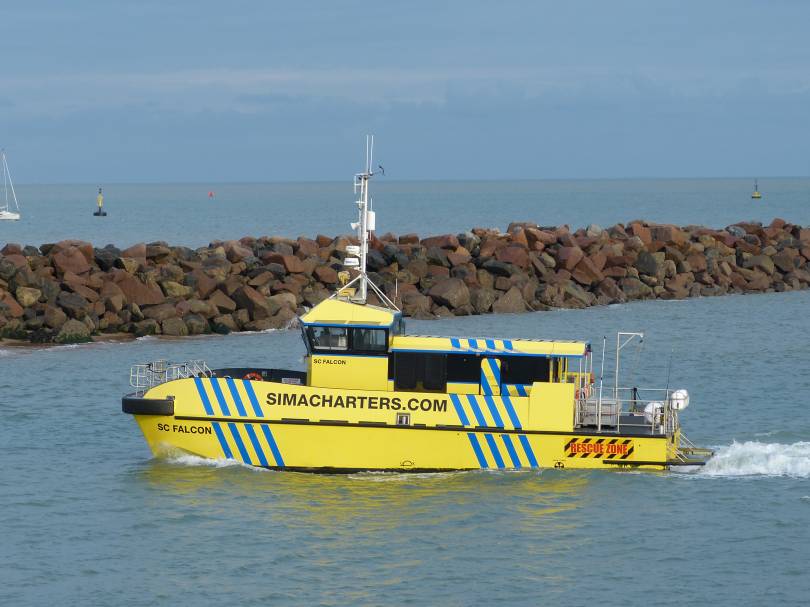 TMS Bittern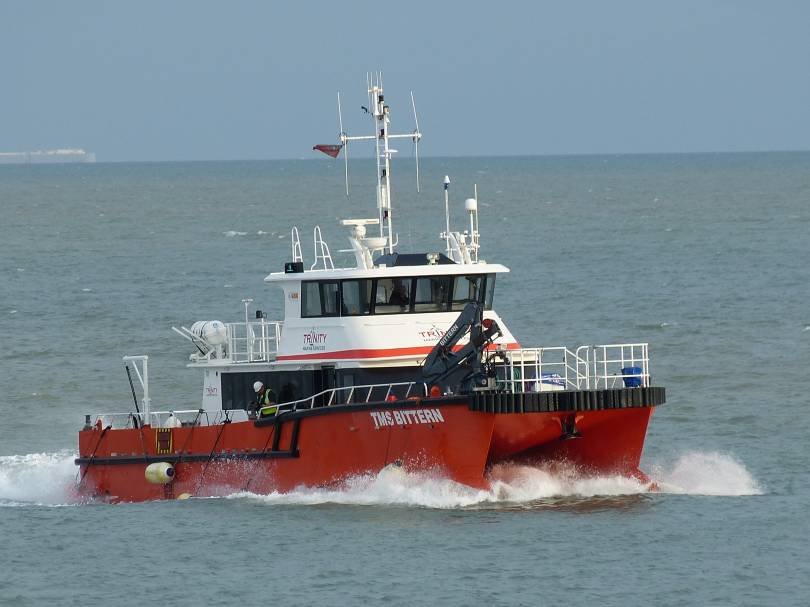 Typhoon Tow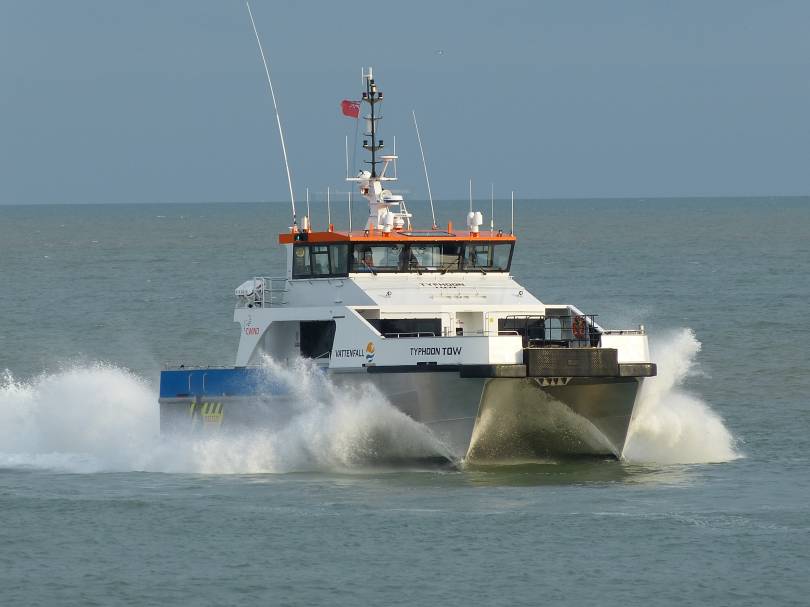 Estuary Elite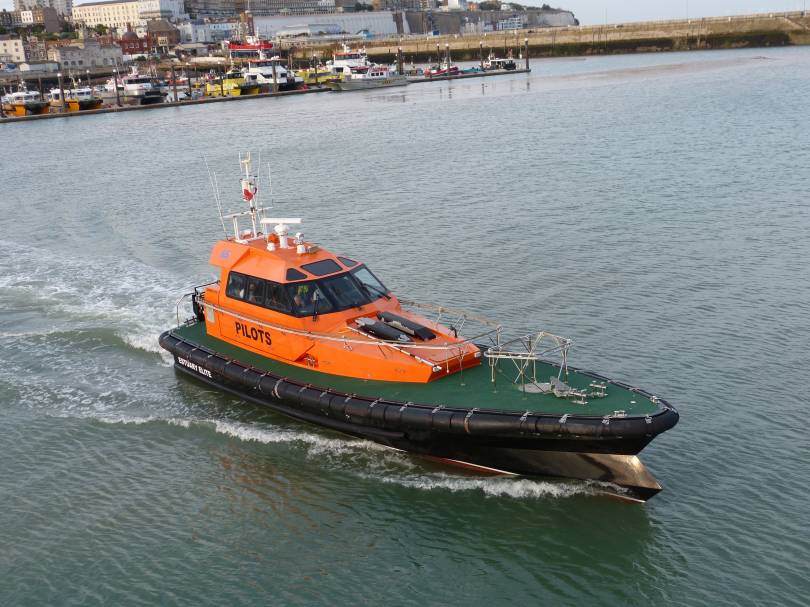 Thursday, 21 September 2017 - 06:25
Post 4256
Ed Connell, Dover Strait
Discovery Bay at the DCT Wednesday.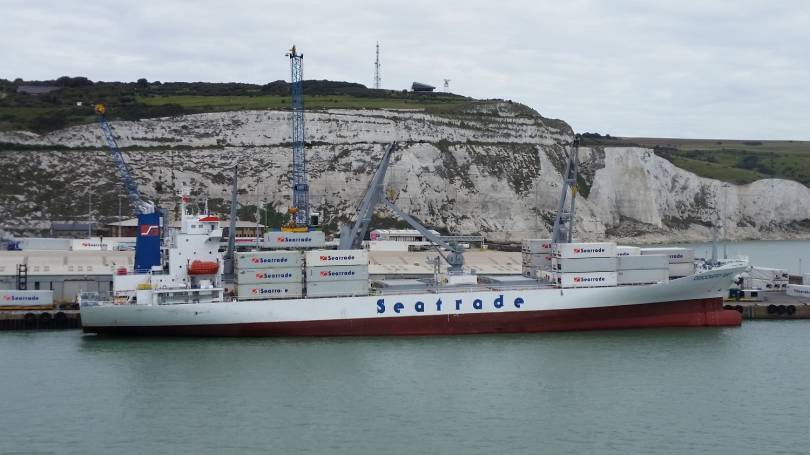 Thursday, 21 September 2017 - 00:35
Post 4255
vic matcham , Dovor
Great photos coming up now thank you and love seeing the big ships and the war ships lets hope we do not have to see them in action.

Wednesday, 20 September 2017 - 11:30
Post 4254
Mark rushton, Northants
Interesting news on Messina and Magellan Strait. As you say, they were both beached at Alang in India 4 weeks ago, but did you realise that these two vessels were only 13 years old ? Quite remarkable that such young ships should be heading for the knackers yard ! Anyway, keep up the good work chaps...

Wednesday, 20 September 2017 - 11:08
Post 4253
Patrick, Marine Parade
Another view of the Chinese heavy lift ship Xiang He Kou in the Channel yesterday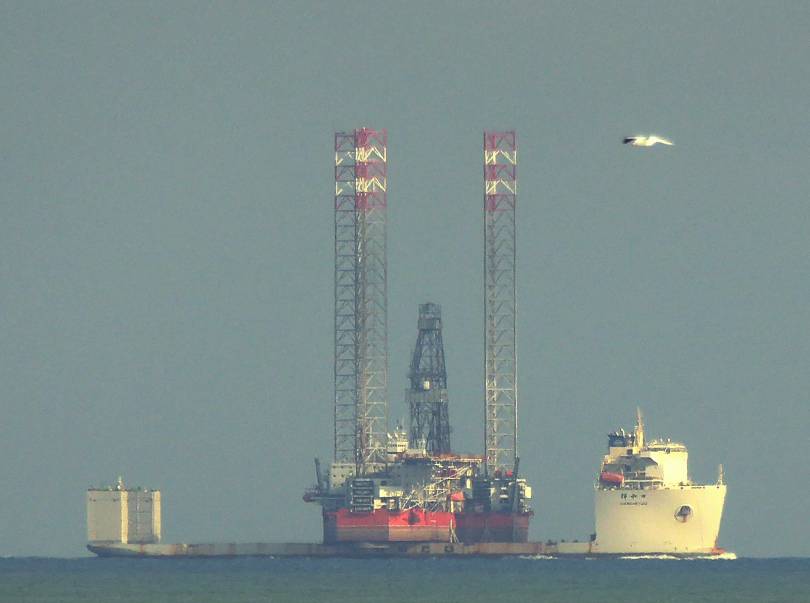 THV 'Patricia' arriving at Cruise 2 on a rather dull morning after a brighter early start.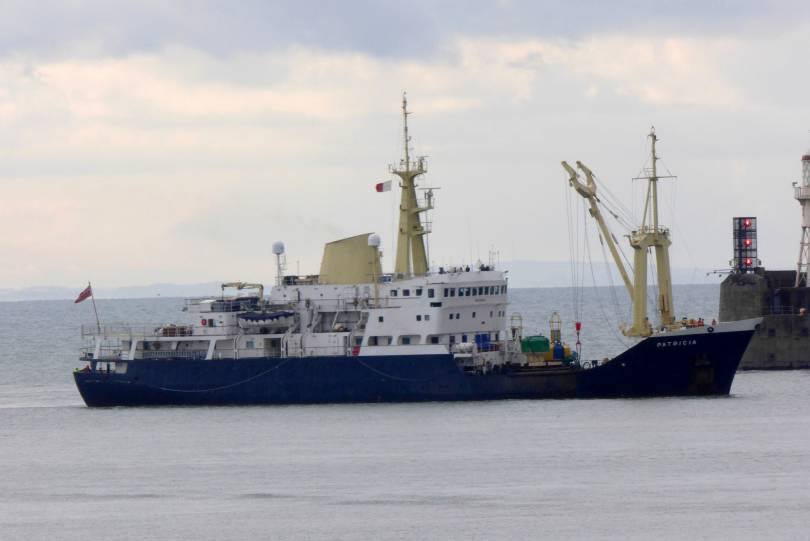 and the departure of Boskalis' backhoe dredger 'Manu Pekka' last monday towed by 'Sea Scout' assisted out of the port by 'Morag'. It had been dredging in both the inner and outer harbours for several weeks. Going back to Rotterdam.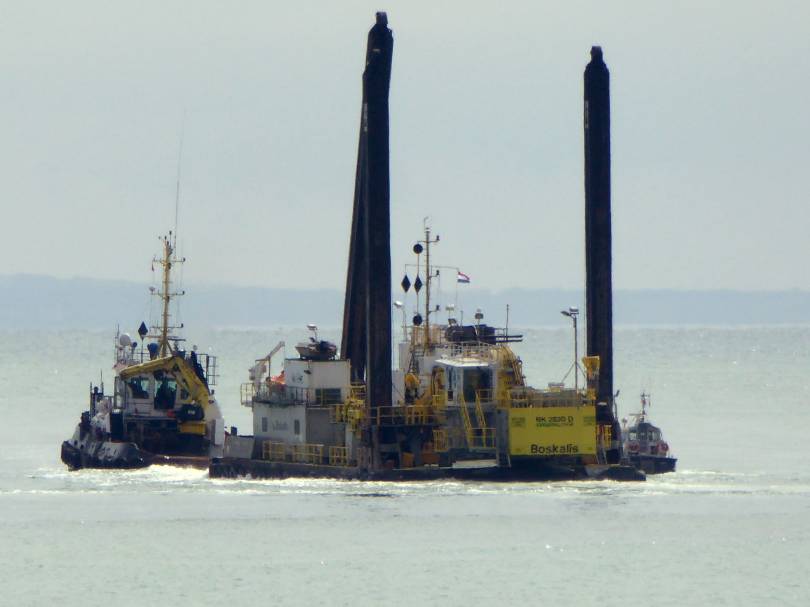 Wednesday, 20 September 2017 - 10:34
Post 4252
Sea News, Dover
IN TRIBUTE TO THE MESSINA STRAIT AND THE MAGELLAN STRAIT
Yes we have heard the news that both ships are being dismantled. They were both very welcome visitors here at the Port of Dover so its sad to see them go.
FIRST we have the MESSINA STRAIT..first picture taken in May 2016, the second pic taken in December 2015.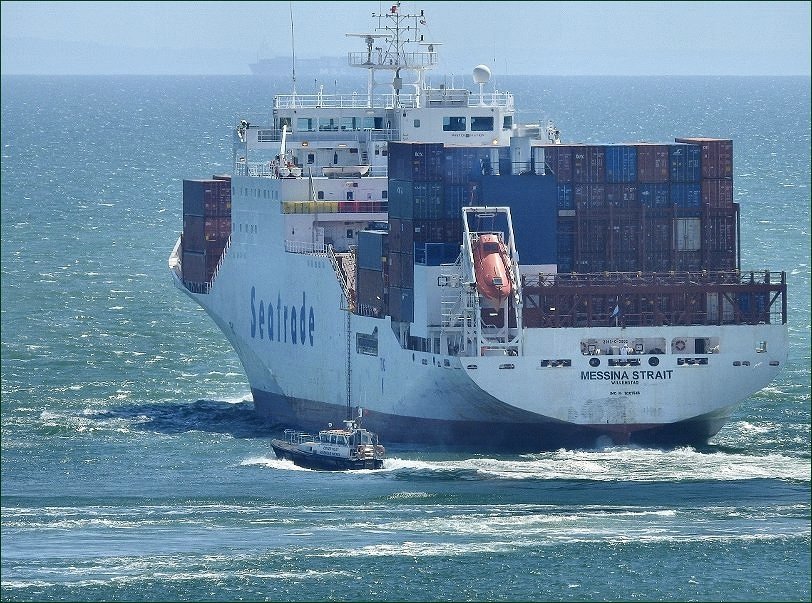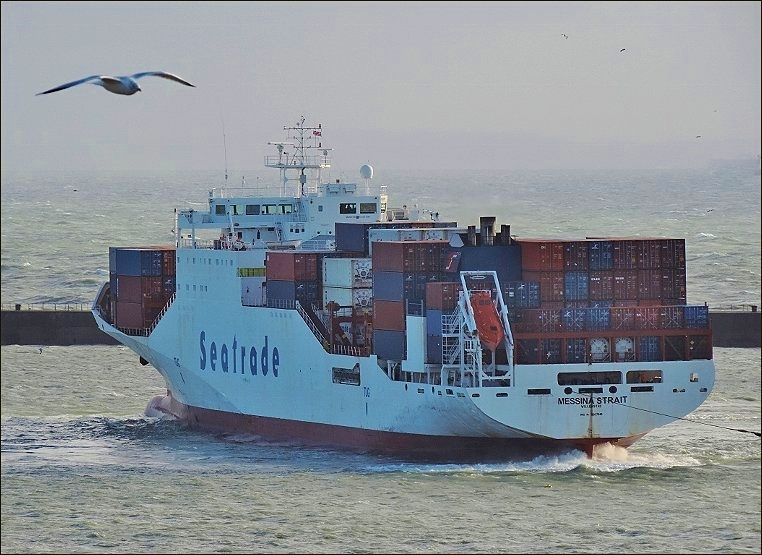 Those two shots above are of the Messina Strait while below the two shots are of the Magellan Strait in September 2015. See also Mike's pictures in post 4244.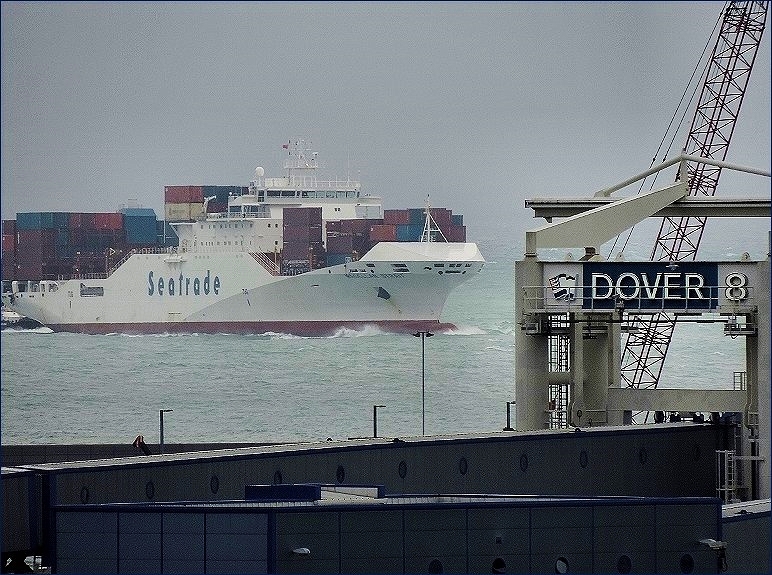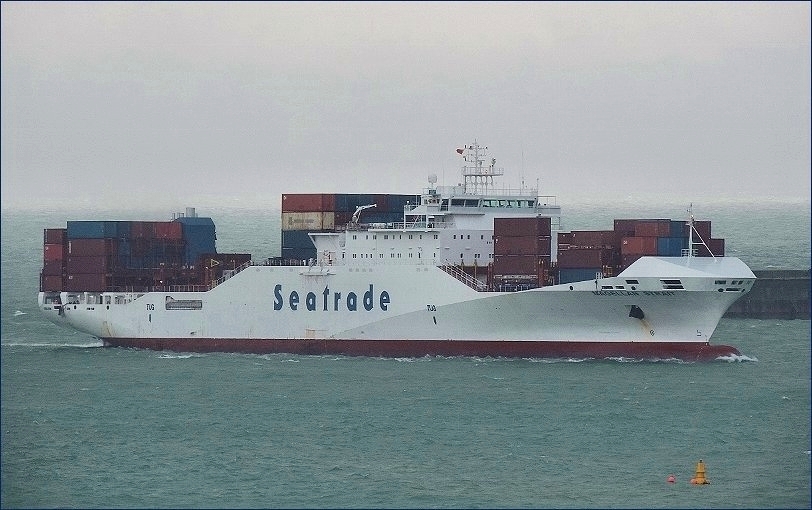 Following along from Ed's picture....here we are again with the Chinese heavy lift ship Xiang He Kou moving slowly south to Las Palmas yesterday around 5pm...all these giants on the move lately...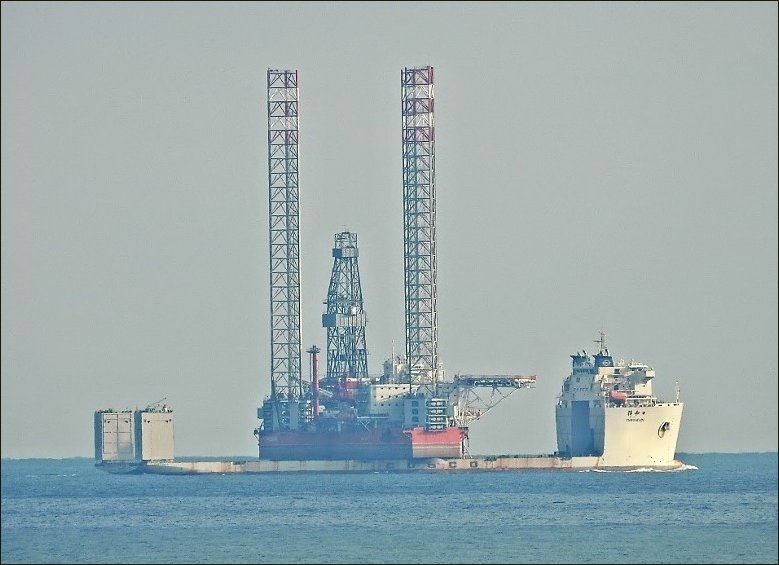 Great sets of pictures below there Ed from 'our man on the spot' himself. Its great to be able to feature Dunkerque West plus....
Thanks lads all round for the info as ever.
PaulB.
Wednesday, 20 September 2017 - 06:45
Post 4251
Ed Connell, Dover Strait
LNG tanker Arctic Lady in Dunkerque West today.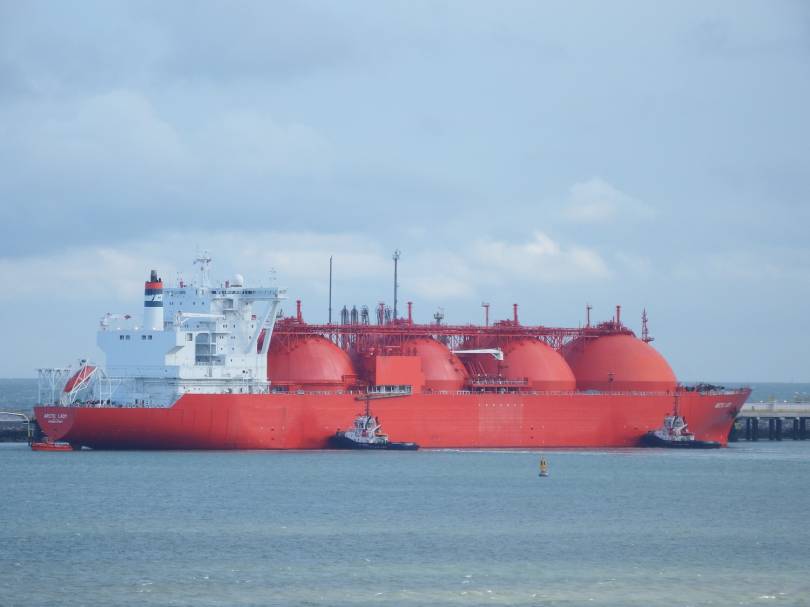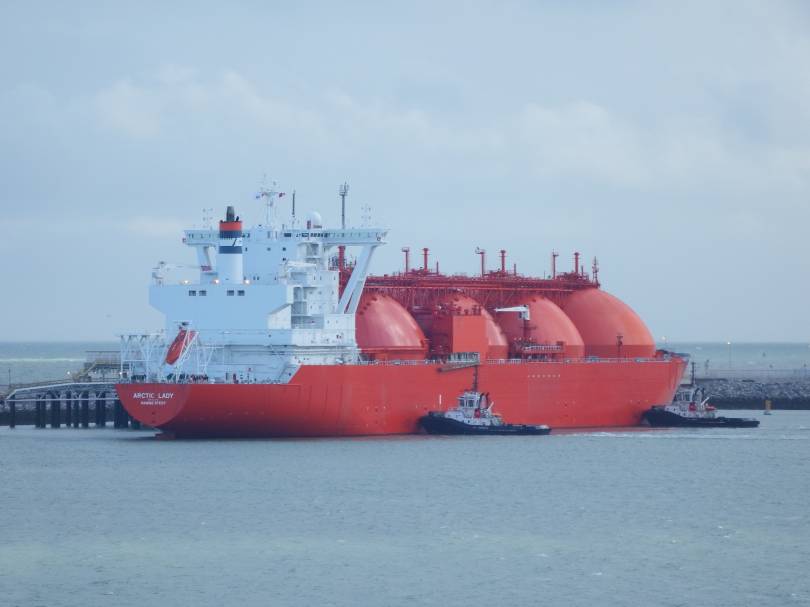 Wednesday, 20 September 2017 - 00:08
Post 4250
Ed Connell, Dover Strait
Heavy lift ship Xiang He Kou passing Dover this afternoon.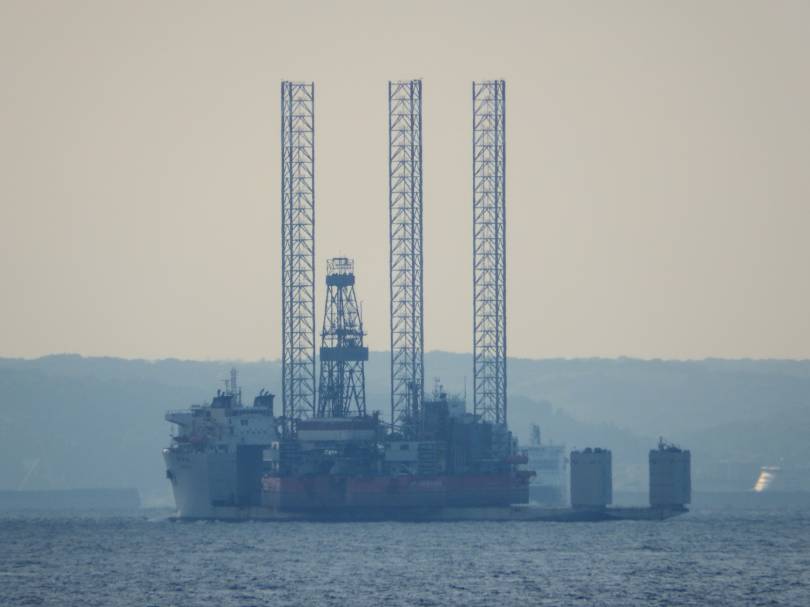 Wednesday, 20 September 2017 - 00:06
Post 4249
Ed Connell, Dover Strait
As noted, four warships of Standing NATO Maritime Group One passing Dover this afternoon.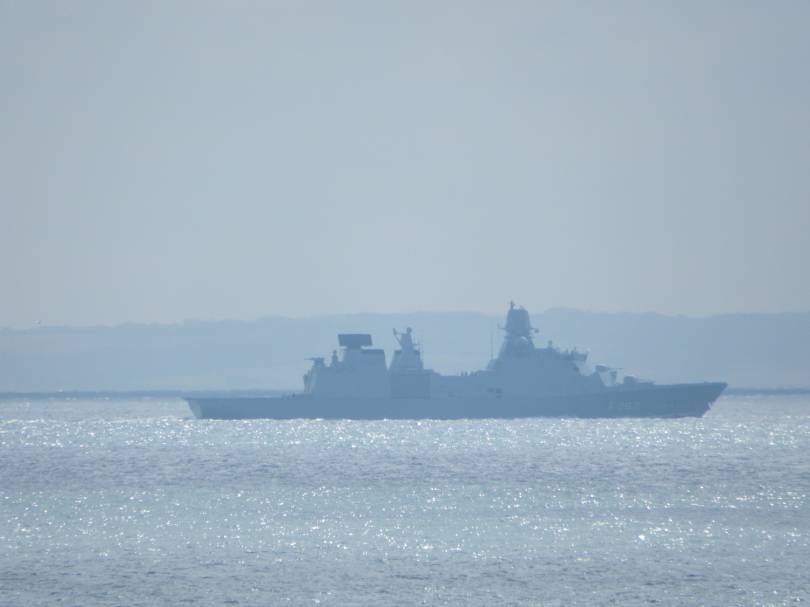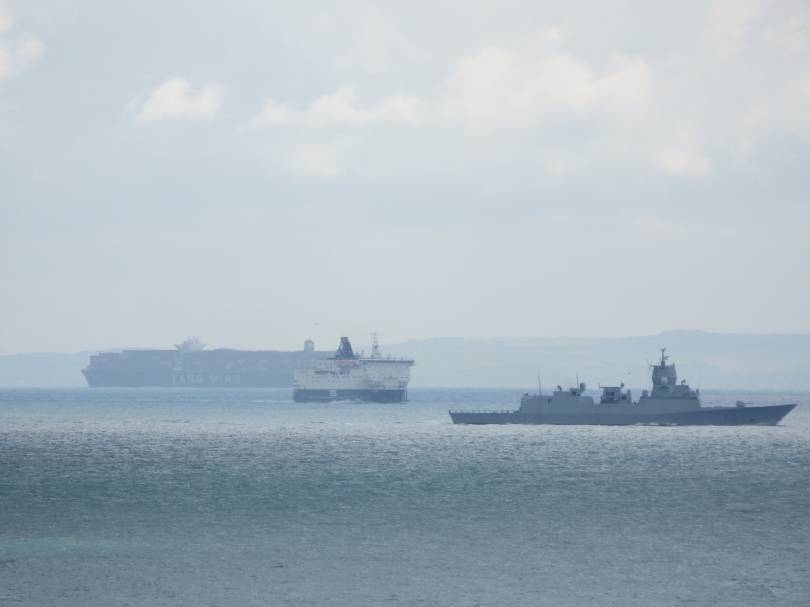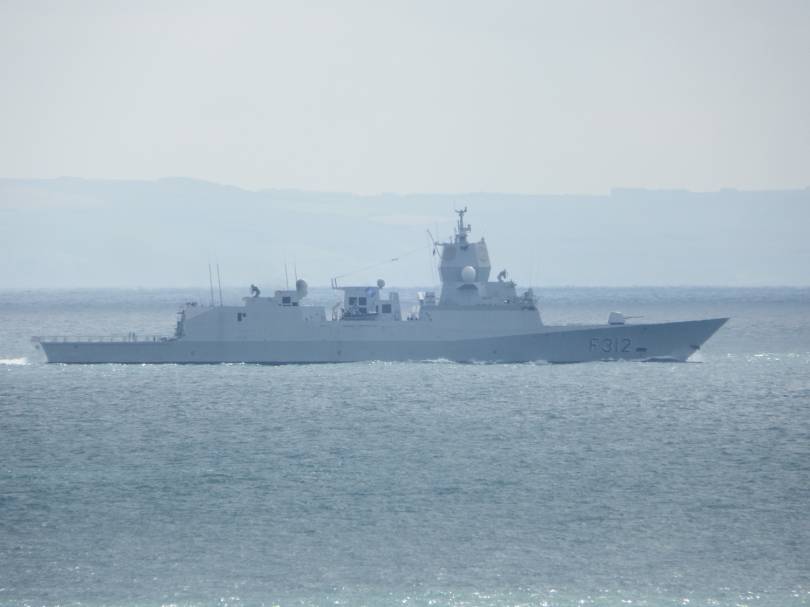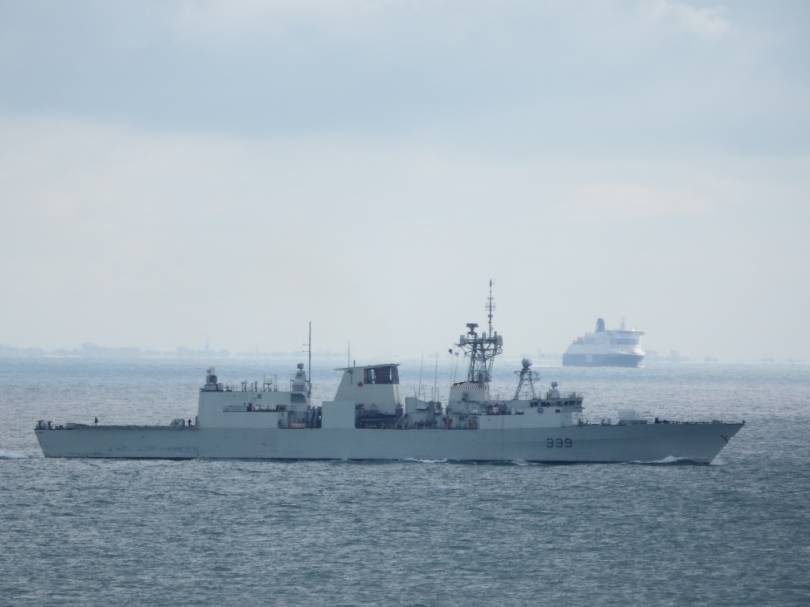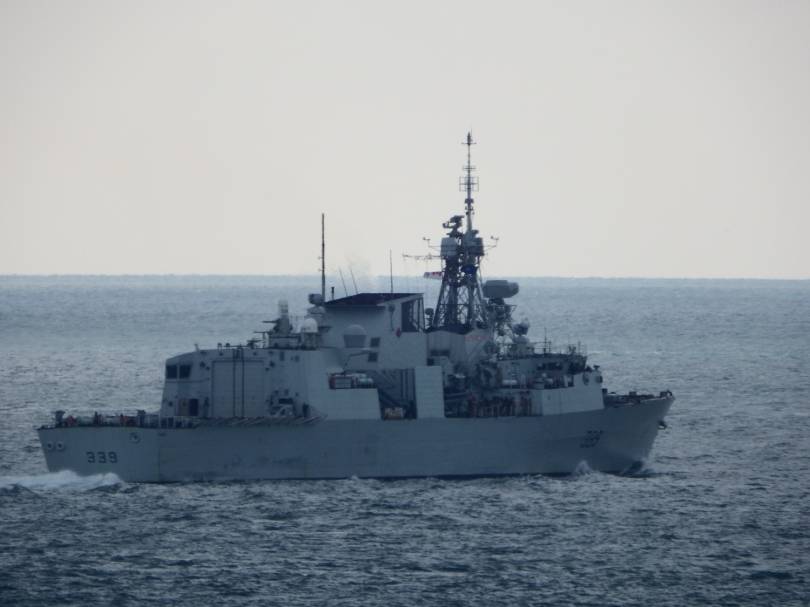 Wednesday, 20 September 2017 - 00:03
Post 4248
Mike J., Dover
Full details of today's warships on Nigel Scutts 'Dover Marina' Facebook page, courtesy of warship enthusiasts in Gibraltar !

Tuesday, 19 September 2017 - 22:57
Post 4247
Sea News, Dover
Yes indeed Brian 4 navy ships went down the channel around midday.
The visibility was poor and yours truly had several stabs at getting some pictures but with the prevailing atmospherics it didn't work on the long range for me today at all.
But here is one ship anyway, not a great pic by any means.
It appears to me that the four ships were of the Royal Netherlands Navy...as far as I can tell anyway. That info may not be entirely accurate but I am suggesting this one is....
HNLMS Evertsen (F805)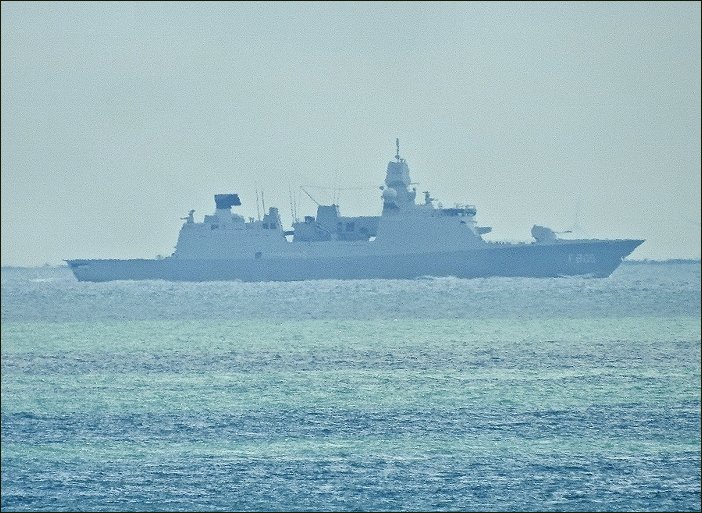 Here is another image of the Transocean Prospect platform ( see also 4245).
Very long range and hampered by visibility once again.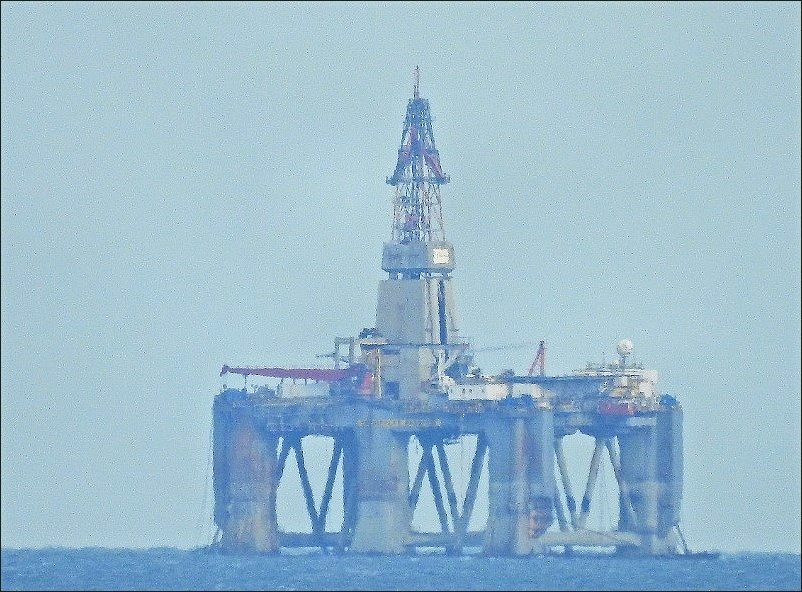 Tuesday, 19 September 2017 - 16:28
Post 4246
brian, dover
there seems to be 4 frigates/destroers heading down the channel at the moment.

Tuesday, 19 September 2017 - 13:05
Post 4245
Sea News, Dover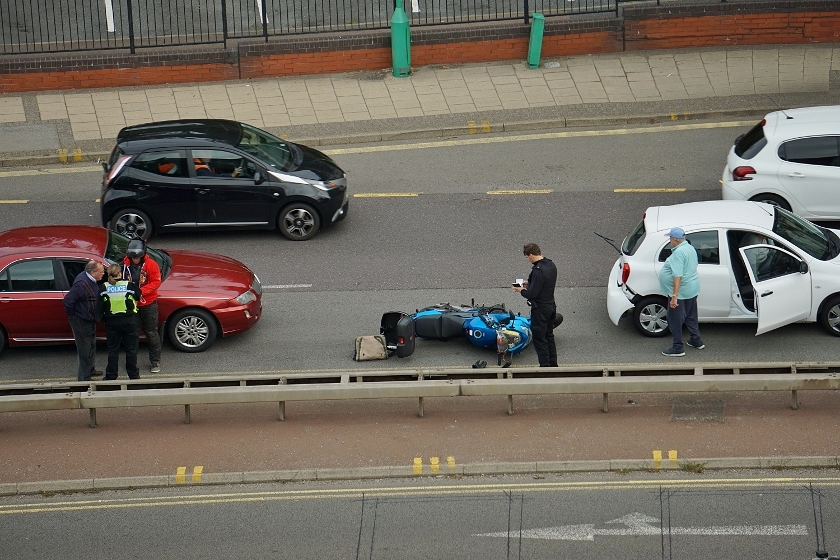 Bit of a nasty accident on the main road about 700/800 metres from the port entrance yesterday mid-morning. It's always fairly awful to see a motorcycle lying on the ground. However in this case the rider is up and chatting which is great to see. We have had a number of the other kind of accident in recent and former times where the participants were not so lucky. The police were in attendance ( their car is just out of shot). The rear bumper of the car in front is 'hanging loose'
...but good to see everybody more or less okay.
That's HMS Argyle moving on down the channel at the weekend. Not a great picture as the Navy guys will paint everything grey!

But its passing co-incided with an article in the Daily Telegraph at the weekend. Now, the Telegraph is an organ fully in support of the Conservative Government so that's why the following is more than a bit of a shock...
_____________
Con Coughlin, Defence Editor Daily Telegraph
14 September 2017 • 9:30pm
The Royal Navy can only send a quarter of its warships to sea due to spending cuts which have left the armed forces "struggling to protect Britain's citizens", the Telegraph has learned.
Currently 13 of the Navy's 19-strong fleet of Type 23 frigates and Type 45 destroyers are unable to go to sea due to a lack of manpower, fuel and supplies, senior military sources have revealed.
The cuts to defence spending have also severely hampered Britain's response to Hurricane Irma.
HMS Ocean, the amphibious assault ship that currently serves as the Royal Navy's flagship, was sent to provide support to the British overseas territories in the Caribbean but suffered engine problems and has now been delayed by a week.
The RAF flew a small number of Royal Marines, Royal Engineers and police to the Caribbean after Irma.
Tonight the source said that Britain's response has turned the Navy into a "laughing stock".
The source said: "The Armed Forces have now been reduced to a level where they struggle to protect...
Ends
__________________
Following on from Ed's stunning collection re the Blue Marlin
here we are with another ginormous beast moving down the channel yesterday evening around 5PM
....Its a drilling platform called Transocean Prospect and it looked an impressive monster as it slowly made its way south...it was being towed by two large red/white tugs. Maybe one was doing the actual towing with one in attendance ahead of the pack. The tugs out of shot.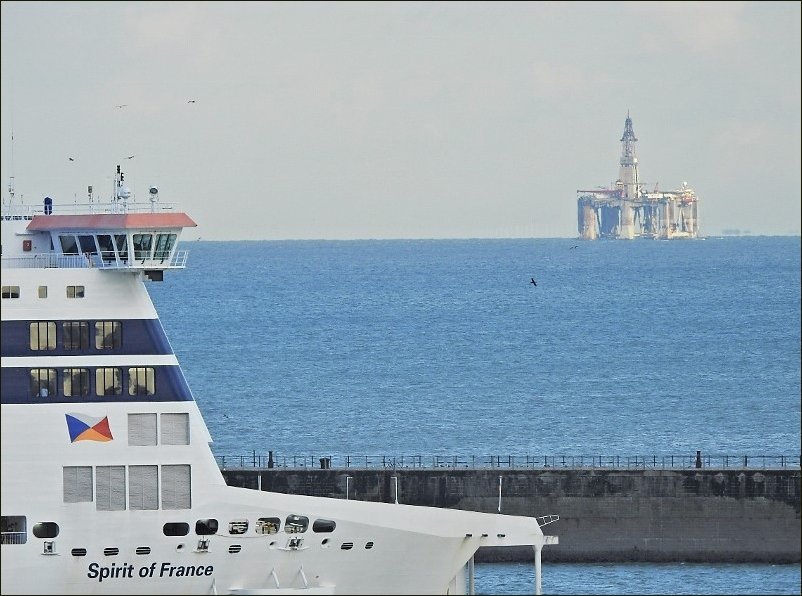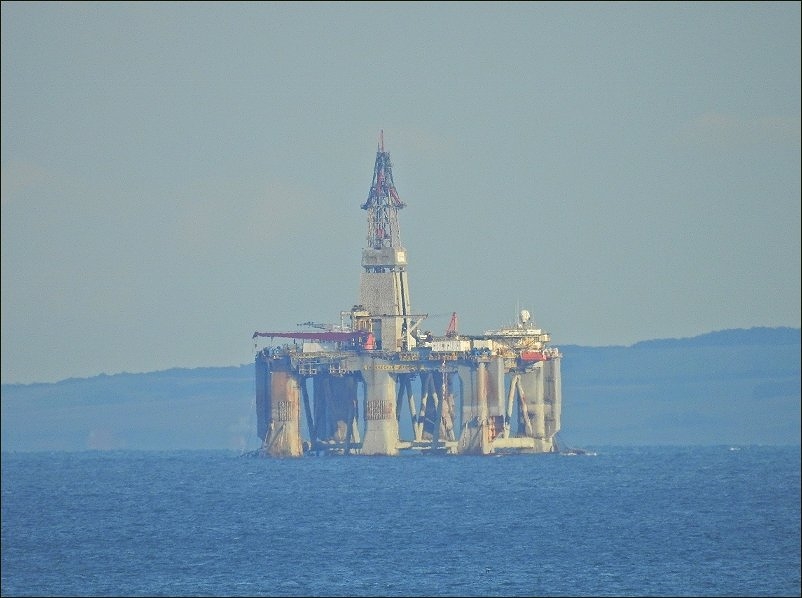 Bit of heat shimmer in the second pic when a chap zooms in. That's the coast of France looming large in the background.
Gobsmacked and stunned by that news Mike re the Magellan Strait and the Messina Strait. Cant quite believe it...I have a disposable razor older than 13 years !! That's a great pity...always enjoyed their visits. Nice pictures. I must dig out a picture or two as well in tribute.
Thanks for the info once again

Brilliant coverage Ed on the Blue Marlin. Great to see that giant in all round action

PaulB.
Tuesday, 19 September 2017 - 06:40
Post 4244
mIKE j., Dover
Interesting pix of the BLUE MARLIN from Ed - was that low-flying cloud obscuring the upper part of the rig's legs ?
Would have been interesting photos taken from the top of the legs !
No sign of any movement of the DOCKWISE VANGUARD AT 2330 on Monday night.
I Reckon that she'll pass Dover about ten hours after leaving Maasvlakte.
Remember the unusual-looking reefers MAGELLAN STRAIT & MESSINA STRAIT that used to be regular Dover visitors ?
Both 13-year old ships were beached at Alang, India in late August for breaking-up.
A pity to see them go, they made an interesting change from the modern reefers which all look pretty much the same & neither the STRAITs or the modern reefers look as attractive as the 'classic' reefers which were [for me anyway] much more elegant vessels.
But that's progress . . . . .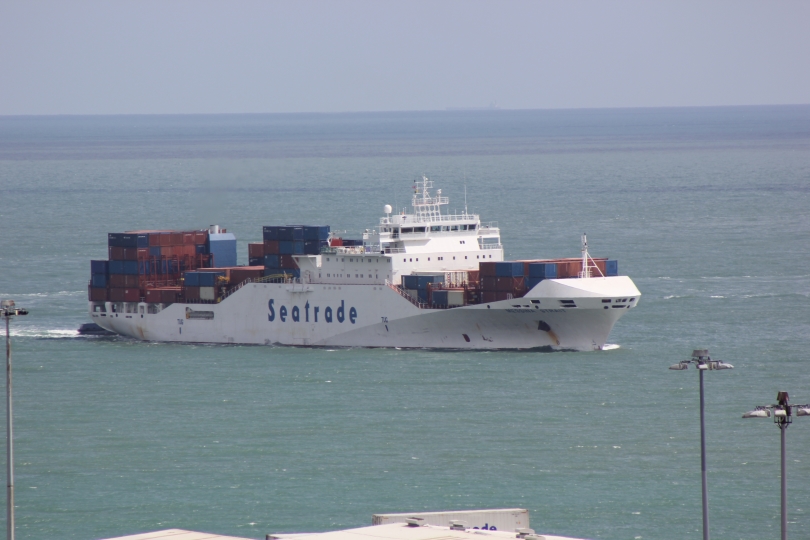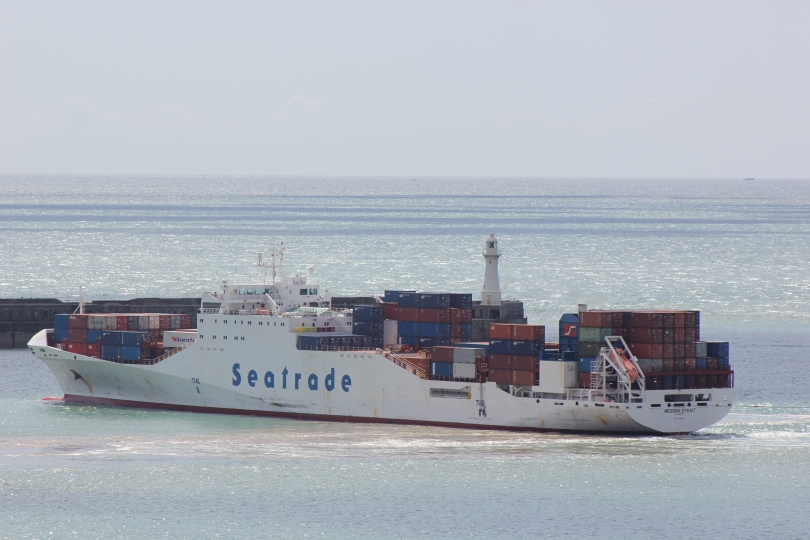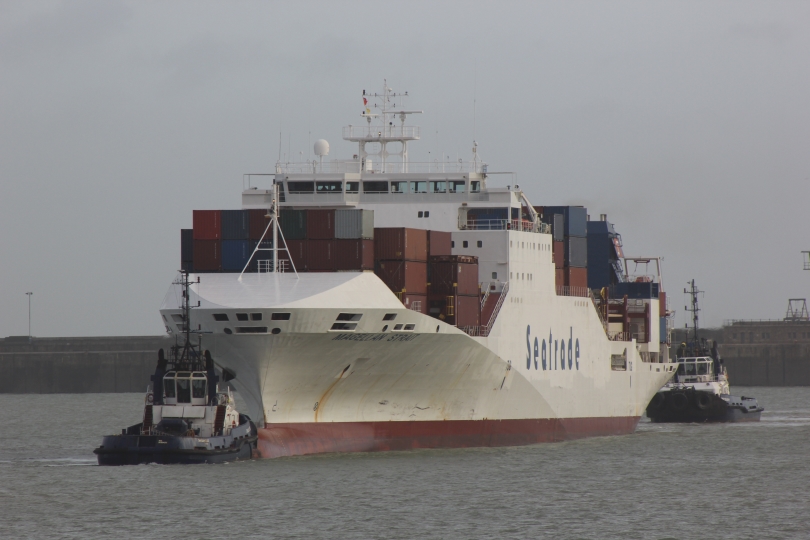 Tuesday, 19 September 2017 - 00:11
Post 4243
Ed Connell, Dover Strait
Heavy lift ship Blue Marlin seen at distance in the Northeast lane today bound for Norway carrying an oil rig.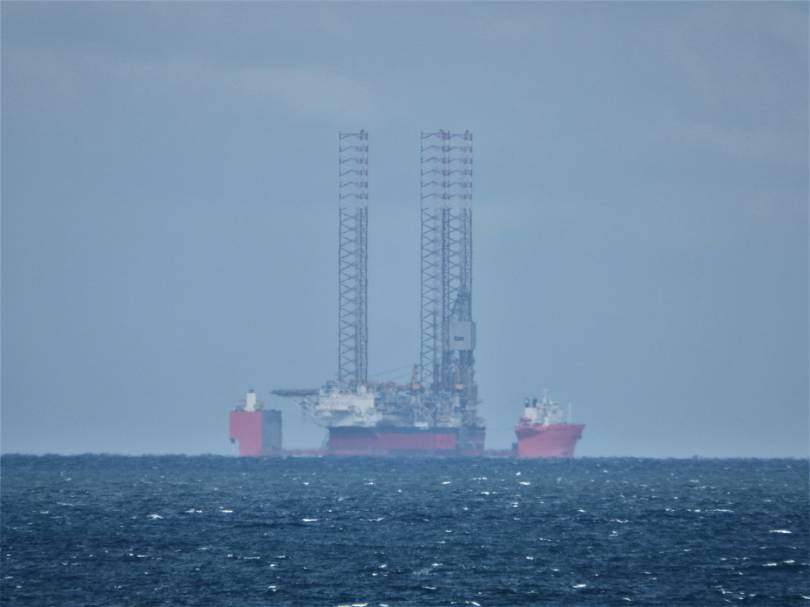 Blue Marlin transporting the damaged destroyer USS Cole back from Yemen.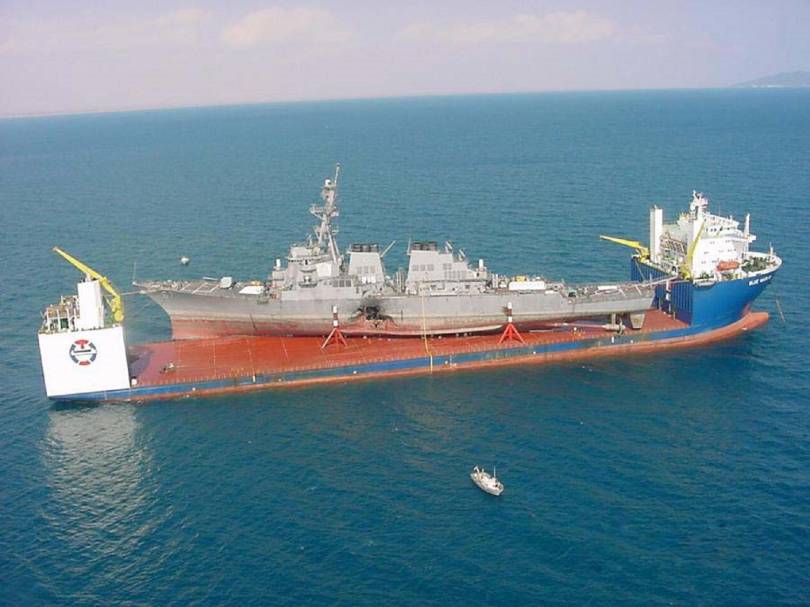 Blue Marlin delivering BP platform Thunder Horse to Corpus Christi in Texas from South Korea via the Cape of Good Hope.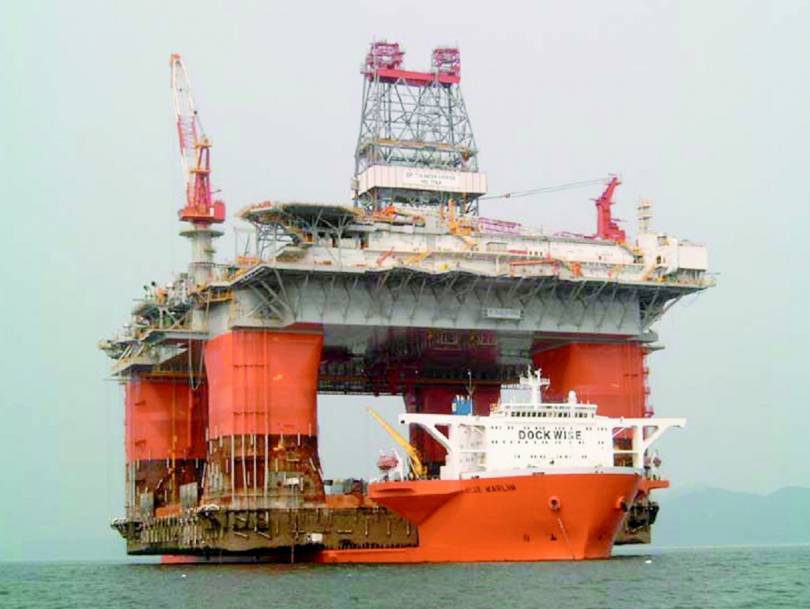 Blue Marlin arriving at Pearl Harbour with sea-based X band radar destined for Adak Island in Alaska.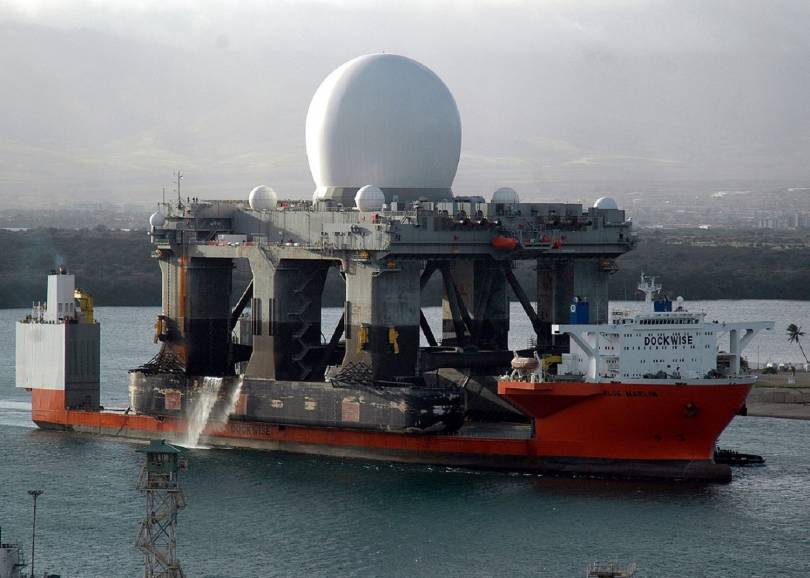 Monday, 18 September 2017 - 12:54
Post 4242
Ed Connell, Dover Strait
Baltic Klipper at the DCT today.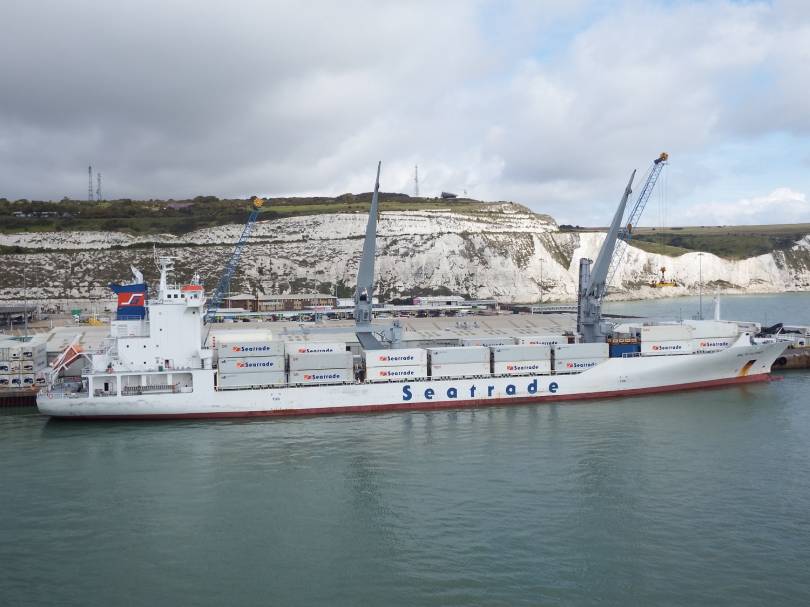 Monday, 18 September 2017 - 12:04
Post 4241
Sea News, Dover
The Artania's Lifeboats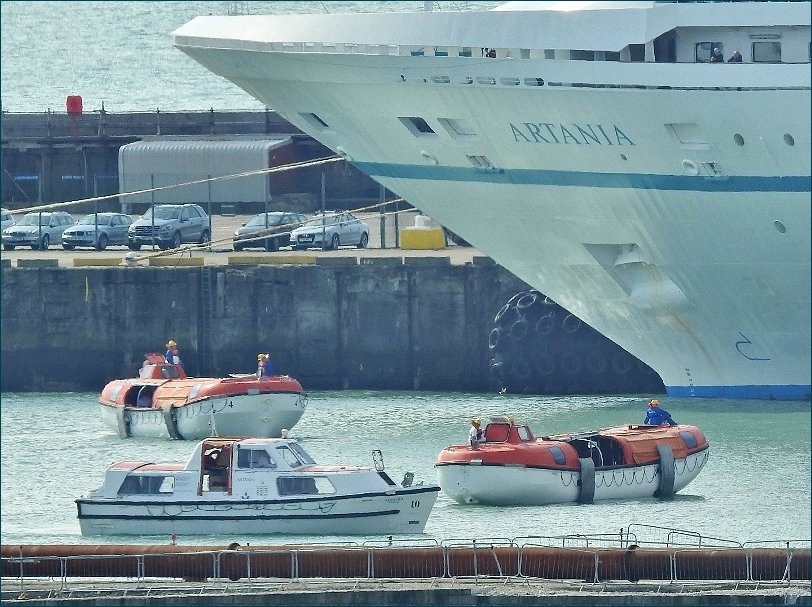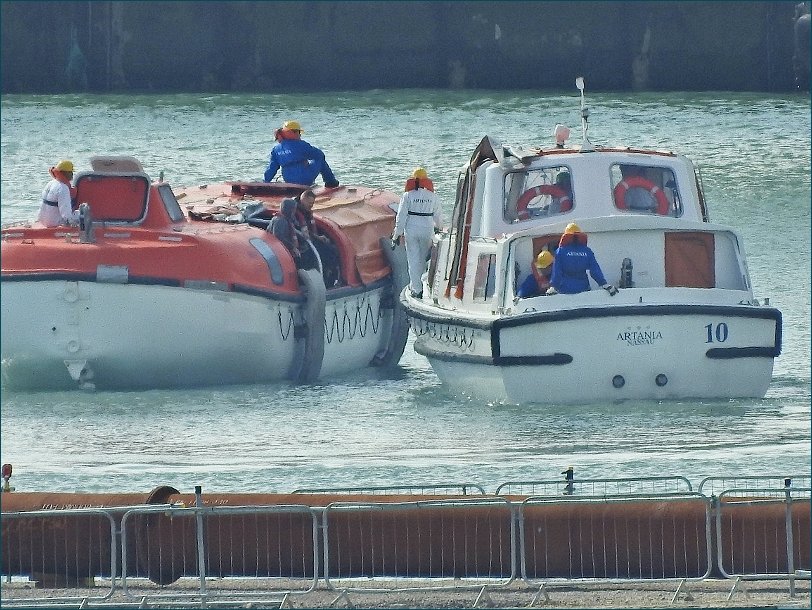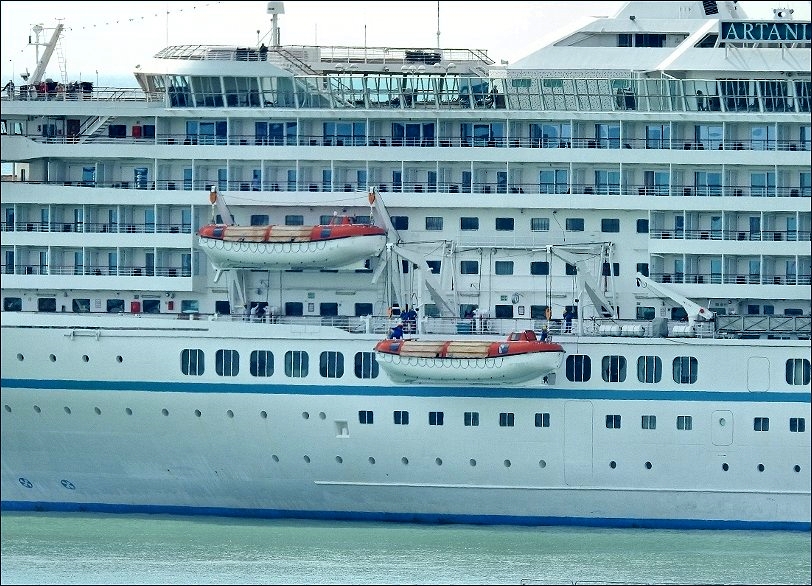 Yes the Artania lowered her lifeboats into the immediate waters on...ermm which morning...yes on Saturday morning and you can see them pictured above there. They appeared at one point to be transferring 'victims' from one boat to the other, no doubt all part of a vital procedure. It was of course just an exercise. Unexpectedly some of the boats were similar to rather nice white cabin cruisers...which I thought was unusual but..if they get the job done then that's the main thing. It all looked very efficient.
See other Artania pix in 4237.
Below we leap forward to Sunday morning and its Dover's very own RNLI lifeboat returning to harbour in scintillating style as she blasts through the shimmering water. The guys were out on their usual sunday morning exercise routine.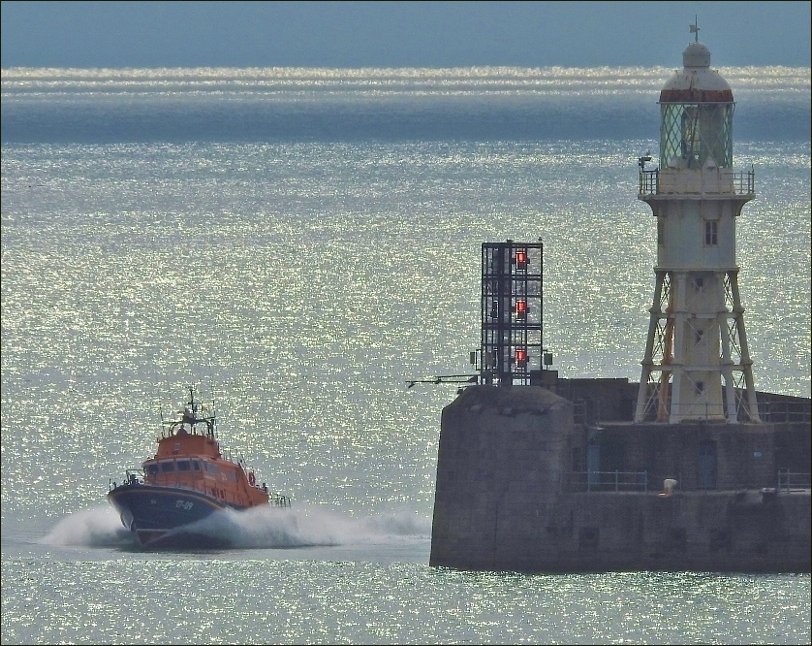 PaulB.
Monday, 18 September 2017 - 06:11