Saturday, 28 November 2015
SEA NEWS
GROWTH, PERFORMANCE, AND OPTIMISM...see post 2052, see also 2064.
P&O FERRIES CHRISTMAS OFFERS see 2080. P&O FREE WINE OFFER 2097.
CRUISE SPECIALIST joins the PORT OF DOVER see 2136
Scroll down the page and over the many pages ( more than 100 ) for all the stories in and around the Port of Dover.....
You can find anything you want in our SEARCH ENGINE. Type in CRUISE VISITS for example or REGATTA or anything at all.
Dover.uk.com and Doverforum.com have merged to produce an entirely local and comprehensive Dover website. Nautical contributions are welcome on this page with a max of 4 pictures preferred per contribution, all pictures remain own photographers copyright. Email:dover7@msn.com to send Sea News pix or info..or click ADD YOUR COMMENT below to post direct, no membership needed. Paul Boland.
SAY HELLO TO OUR NEW SEA NEWS SEARCH FACILITY...
Post 2138
Sea News, Dover
The following pictures just in are from our ace 'roving contributor' SARAH HEWES once again. Sarah finds us interesting gems from near and far. Remember that Russian Sub recently? While the whole world was looking for it off Scotland we had pictures of it on the River Medway !

Now here we are with more lovely pictures once again and hugely enjoyable. Sarah says
"the photos I took yesterday are of ON655 the
old Eastbourne Lifeboat "Priscilla MacBean" now fully restored,
location... Old London Road in Hastings Old Town."
So there you have it.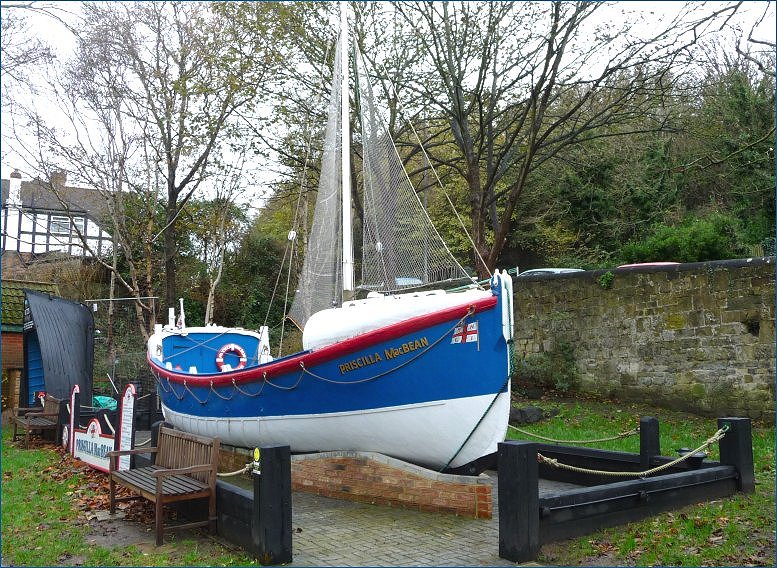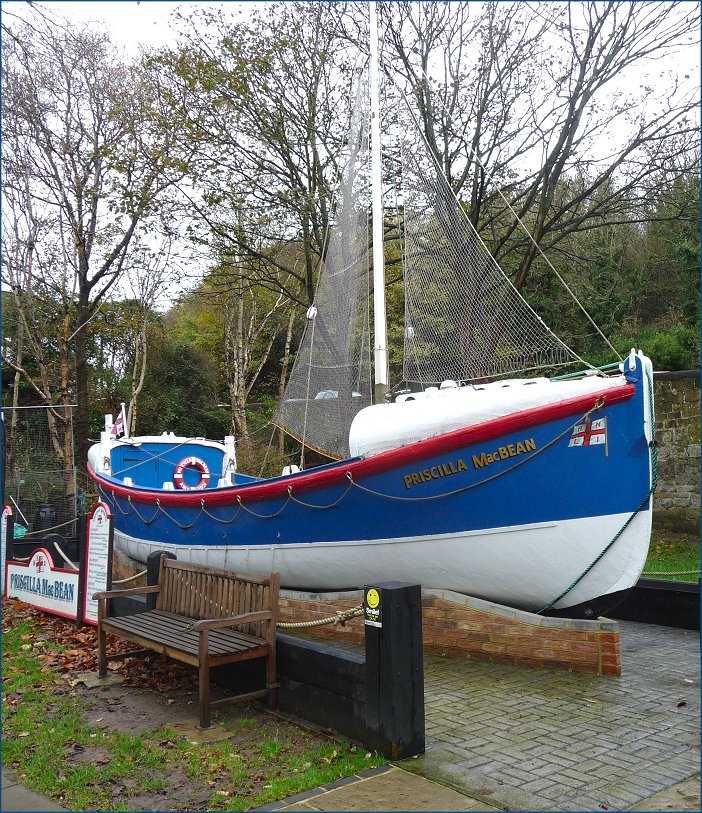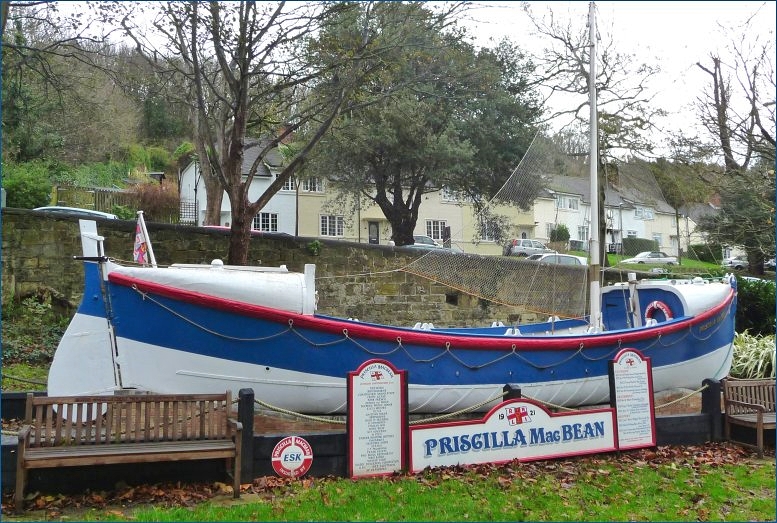 All pictures by SARAH HEWES
Well done Mike with the post below - a good collecton there of all the goings on. Was wondering why the Arklow Racer was still there.
Also - meet the Port's new Cruise Specialist in post 2136

Friday, 27 November 2015 - 04:39
Post 2137
Mike J., Dover
Admiralty Pier - Thursday morning.
ARKLOW RACER still undergoing repairs [waiting for parts perhaps ?] being passed by Weymouth-registered f/v ALDANA.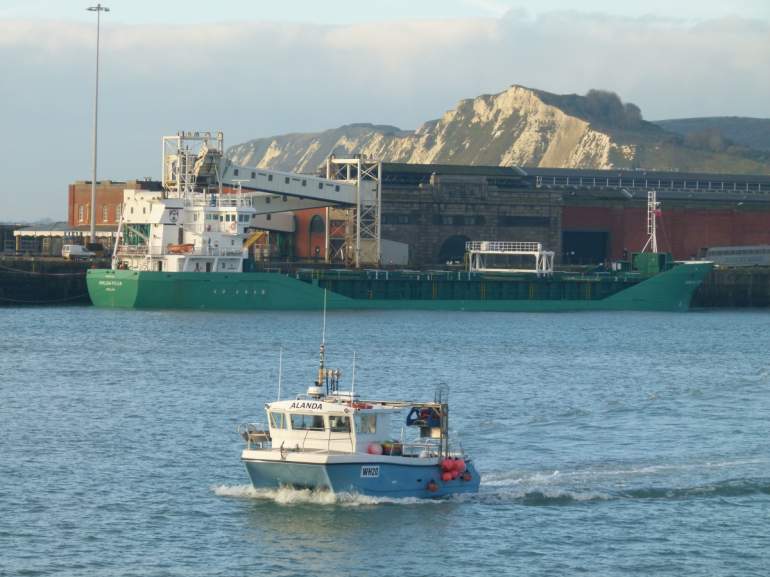 SWIFT waiting for grain lorries, loading for Antwerp - she sailed Thursday evening.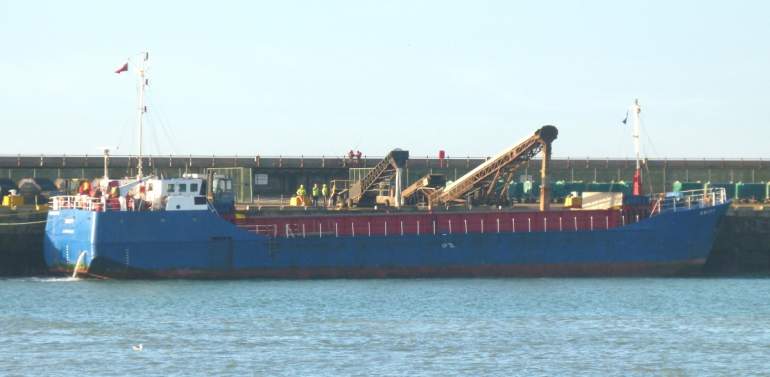 DIANA passing DAUNTLESS who is taking bunkers from a road tanker [when the harbour launches need fuel they take their diesel from one of the tugs]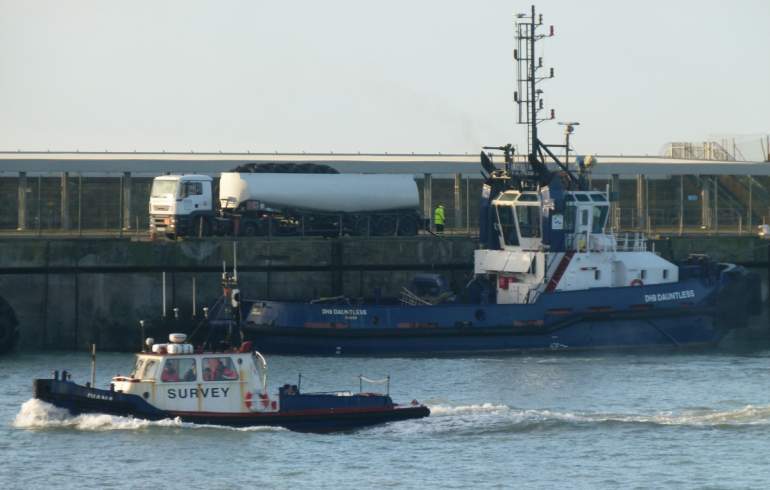 CORAL WATER waiting for her next date with a ferry while someone is dangling from a crane, looks like repairs to the passenger gangway on Cruise-2.
Wish I could get my pix as sharp as Mr.B's . . . . . .
Thursday, 26 November 2015 - 23:16
Post 2136
Sea News, Dover
CRUISE SPECIALIST JOINS PORT OF DOVER

_______________________________________
A business development expert who has worked for one of the world's leading cruise lines has joined the Port of Dover in a drive to bring more ships to the UK and to showcase Kent and Dover as a top-cruise destination.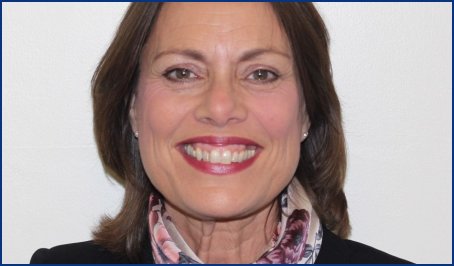 Sonia Limbrick joins the Port of Dover as Head of Business Development (Marine), whose cruise market attracts the likes of Celebrity Cruises, Azamara Club Cruises, Disney, Crystal Cruises, Saga, Fred.Olsen and AIDA.
Prior to joining the UK's second busiest cruise port, Sonia was with Royal Caribbean Cruise Line and was instrumental in putting its upmarket brand, Azamara Club Cruises, on the map in the UK and Ireland during her time as the brand's Business Development Manager.
It's this experience and insight into the high end, luxury marine travel market which she now aims to channel into the Port of Dover, promoting the very best of Dover and Kent to an international market.
"It's important to have an understanding of the expectations of cruise lines and their guests – what they are looking for in a port, what their guests expect when they arrive," she said. "I live just along the coast from Dover, I grew up in Canterbury, so I know what fantastic attractions Dover and the surrounding county of Kent have to offer to cruise guests.
"A large proportion of cruise guests come from US, Canada and Europe and for them, Dover is an iconic place to sail into with its castle and White Cliffs. Our aim is to build on that history. I want more cruise lines to not only come into the Port of Dover but also to stay longer on each visit. We can truly deliver destination immersion here in the garden of England."
Prior to moving to cruise, Sonia spent nearly 15 years working for Eurotunnel; during that time she held positions within operations, business development and as Eurotunnel's Brand Manager.
Barbara Buczek, the Port's Director of Corporate Development, said:
"Sonia's strong background in cruise sales and her success in growing Azamara's business in the UK will give us a valuable insight into what the industry wants from us. Sonia will be focusing on strengthening Dover's relationship with cruise lines and other stakeholders within the travel industry."
ENDS
A Big Welcome to Sonia above - we wish her the very best of luck in bringing yet more cruise ships to the Port of Dover. Ace move!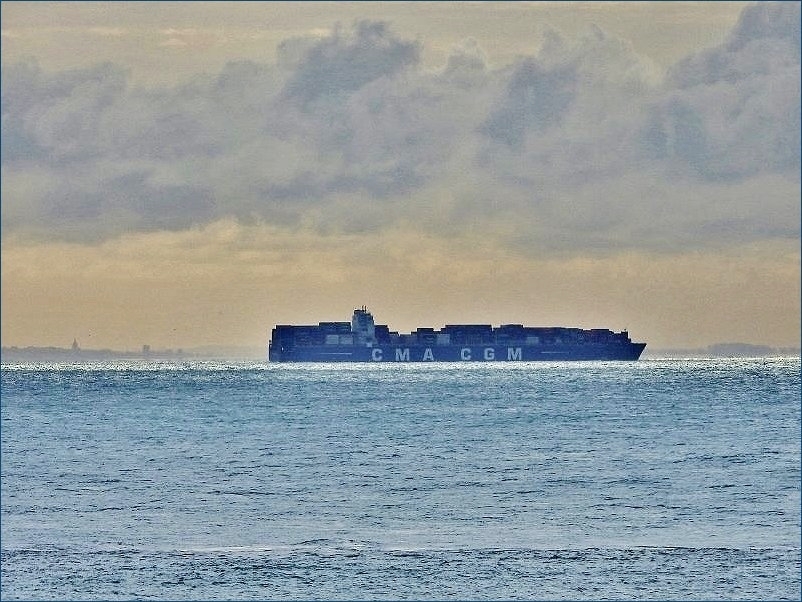 Here we have one of our old friends - a beast of magnificent proportions..the CMA CGM Titan moving down the channel yesterday heading to Le Havre . I say old friend because we have indeed featured her before. There was fairly good visibility yesterday , not always the case as we know, so was delighted to be able to get a reasonably good long range picture or two. That's Boulogne in the background there on the left above, you can even see the Cathedral Notre Dame in the old town high on the hill. Break out the Muscadet.....Bonjour Boulogne! PB.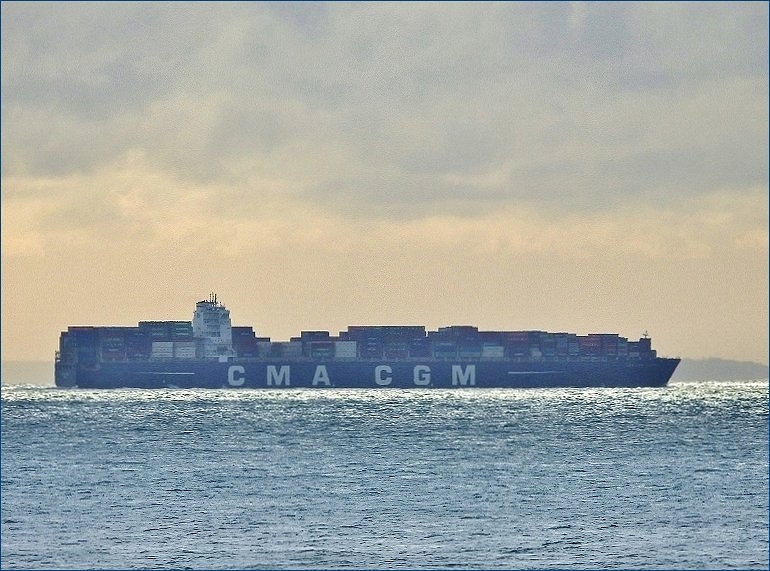 Thursday, 26 November 2015 - 14:59
Post 2135
Sea News, Dover
One of Mike's pictures didn't come out properly in the post below so here it is now ...
showing the dreadful traffic on Jubilee Way from the distance. The road has been horrendously slow moving..what are we to do?
And of course the usual TAP situation coming down through the town is also in place. (see also traffic post 2132)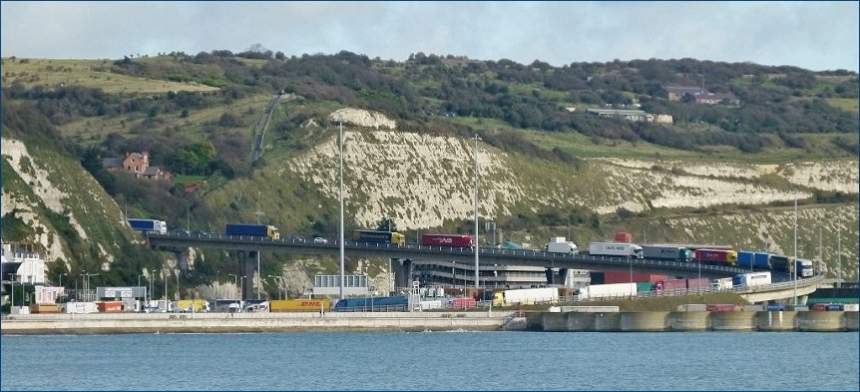 Nice post below Mike. Nice motor launch for sure

Thursday, 26 November 2015 - 07:59
Post 2134
Mike J., Dover
London-registered motor yacht VITA DI MARE on the Crosswall Wednesday morning.
Taiwan-built in 1998.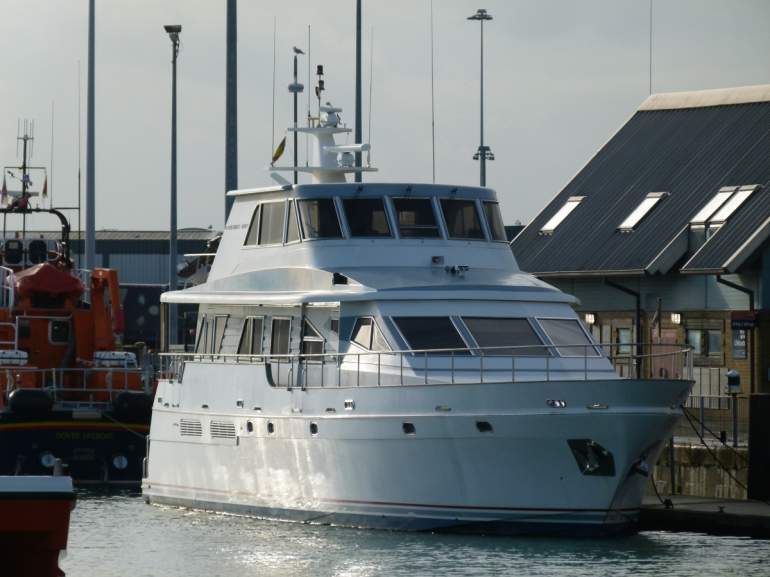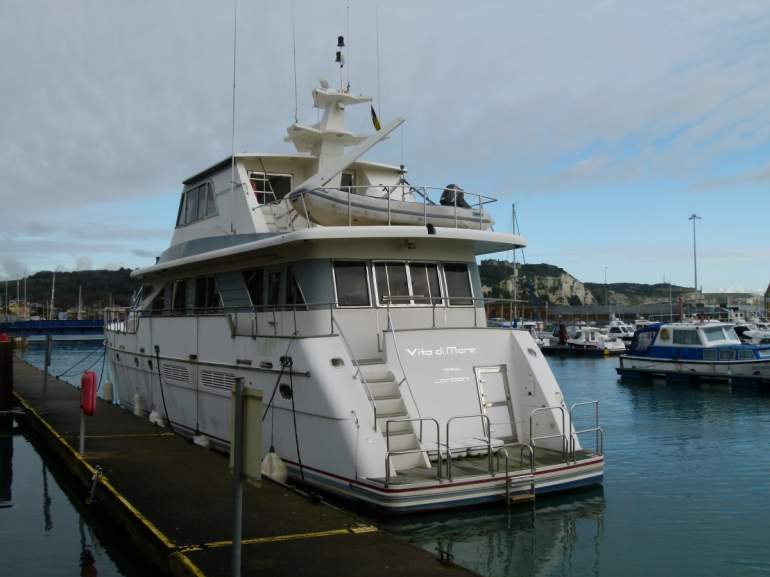 & a distant snap of the traffic on Jubilee Way.
A solid line of stopped freight from Aycliffe roundabout along the A2 to well past where I turned off the M20 for Hythe.
Wednesday, 25 November 2015 - 22:45
Post 2133
JanT, Dover.
Gosh that's something you don't see often, he or she looks some what lonesome on its own.
Interesting item on the traffic situation experienced driving through tap yesterday myself, and saw lorries stuck on the bypass backed up to the Whitfield roundabout. With ever increasing traffic predicted a solution needs to be found.

Wednesday, 25 November 2015 - 09:13
Post 2132
Sea News, Dover
Swan Lake !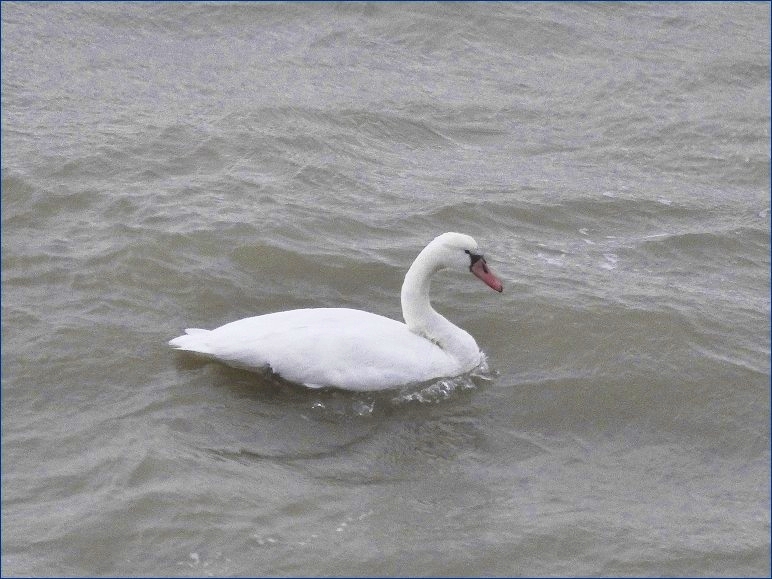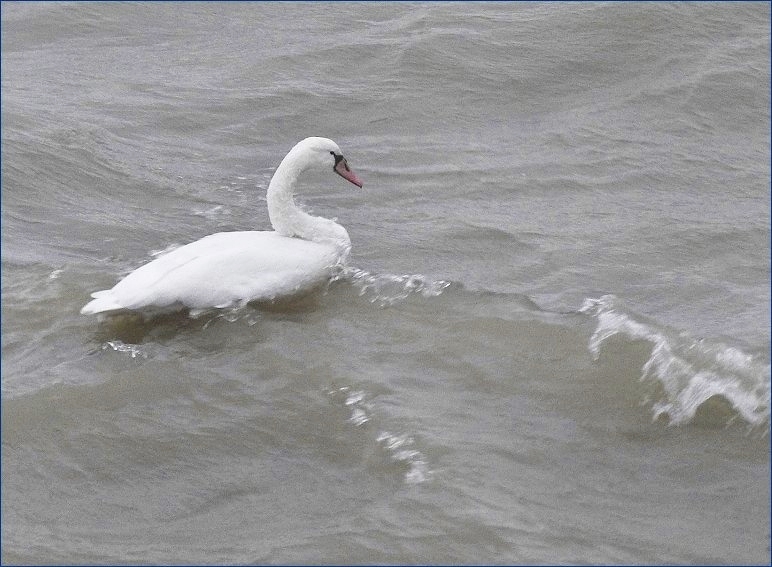 This delightful chap above was enjoying himself with an ocean paddle yesterday. Quite unusual to see a gorgeous swan in the sea isn't it...but there we are above. Perhaps he was migrating or something...yours truly alas doesn't know a thing about swan behaviour pattern. Unfortunately the weather wasn't very nice yesterday for his ocean dip. It was all quite deserted too on the seafront - no ice creams available afterwards!
I think we can welcome the following review. Traffic was bad yesterday with Jubilee Way portwards a disaster for local traffic once again, this is a newer phenomenon with trucks queuing back for miles. Tap was also on.... Thanks to DDC for the information as usual.
DOVER TRANSPORTATION STRATEGY TO BE UPDATED AS DISTRICT DRIVES FORWARD FOR THE FUTURE
_____________________________________________________________________________________
Dover District Council has appointed WSP Parsons Brinckerhoff to review the Transportation Strategy for Dover and identify a programme of improvements to support the district's plans for growth for the future.
The strategy will need to reflect the growing momentum behind the district's regeneration, and a return to pre-recession levels of traffic at the Port of Dover. Key changes to be considered include:
Phase 1 of the Whitfield Urban Expansion due to start in 2016
New town centre retail and leisure facilities at St James
Traffic Management Improvement project at the Eastern Docks
Junction improvements to support Dover Western Docks Revival
Dover TAP (Traffic Access Protocol) managing traffic approaching Dover using the A20
Development of Bus Rapid Transit (BRT)
HS1 and car park capacity at Dover Priory railway station
A range of potential changes to the local road network.
In order to produce the new strategy, WSP Parsons Brinckerhoff will update a computer model (known as the Dover Transportation Model) with the latest available traffic and census data. The work is due to be completed by summer 2016, and will be agreed by Highways England and Kent County Council Highways in conjunction with Dover District Council. Alongside this, design work will also be undertaken for the future improvement of the A2/A258 Duke of York Roundabout.
Cllr Nigel Collor, portfolio holder for access, Dover District Council, said: "With a growing economy feeding through to increased traffic at the port, and our housing and town centre plans being delivered, now is the right time to update our Transportation Model and Strategy."
Chris Dixon, WSP Parsons Brinckerhoff director, said: "It's a great privilege to be working in partnership with Dover District Council on updating the Transportation Model and Strategy for the Town. This builds on our previous joint working with DDC, Kent County Council, Highways England and others in support of the ambitious and exciting growth objectives for Dover."
ENDs
Here's a suggestion re the above and re Jubilee Way. Jubilee Way has three lanes. Two going inland one going seawards. Why not change the layout so that you have two lanes coming seawards and one going inwards. You very rarely need the two lanes going inland - two would be preferable of course but one would do, so that better use could be made of the central lane as it were.
Very interesting report below Mike. I wondered myself what the Pride of Burgundy was doing over there at the Cruise Terminal and now we know. Excellent stuff for sure!
Nice picture Ed once again. Great to see another very welcome visitor, the Italia Reefer, up close and personal.
The Esmeralda is in today too so the cargo terminal is keeping very busy.
PB.
Wednesday, 25 November 2015 - 06:02
Post 2131
Ed Connell, Dover
Italia Reefer departing the berth yesterday.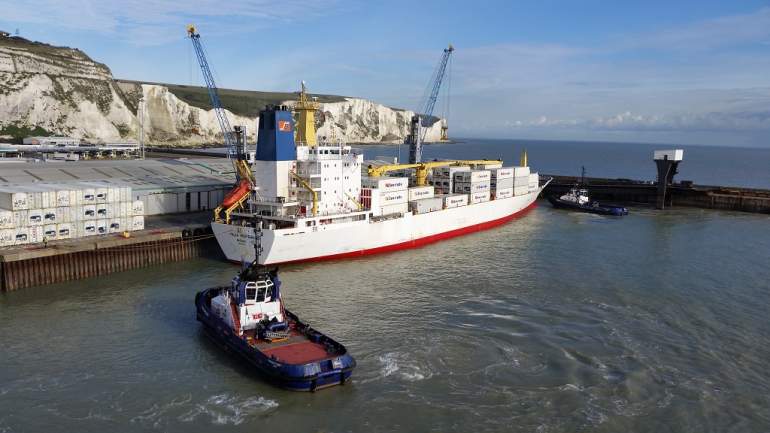 Tuesday, 24 November 2015 - 11:29
Post 2130
Mike J., Dover
As Paul was photting the departure of the ITALIA REEFER the weatherbeaten PRIDE OF BURGUNDY had completed her MES [Marine Escape System] exercise which is usually carried out before refit.
If the slide was in use 'for real' it would be extending away from the ship's side & liferafts would be secured around the 'landing raft' & manoeuvered by the ship's rescue boat[s].
Apologies if you know all this already !
Shortly afterwards the BURGUNDY turned around so that the slide & raft could be unloaded onto the quay, took bunkers from the CORAL WATER & is now back on the run, probably with a reduced Passenger Capacity due to the missing MES which will be replaced during her refit, unless they were able to fit a new one whilst she was alongside [unlikely].
Tuesday, 24 November 2015 - 10:21
Post 2129
Sea News, Dover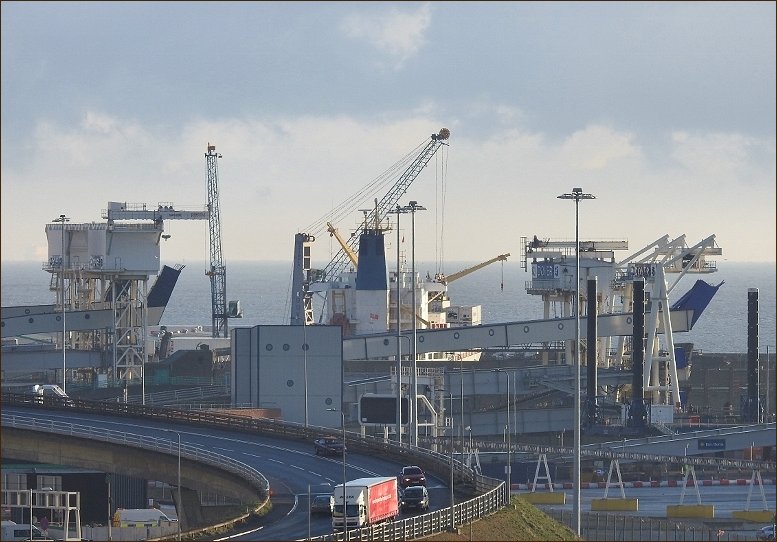 Gosh its a rough oul day as I write here at 07.40. Yesterday was relatively tranquil, very tranquil in comparison to today, as the Italia Reefer in the picture above.. photographed across the rooftops as it were, got herself ready for departure at the cargo terminal. The tugboats were already making their way towards her as I took the picture above...and then below a short time after...off she goes through the eastern exit fully loaded for Hamburg in Germany. I'm not sure....is that a first visit for the Italia Reefer? PaulB.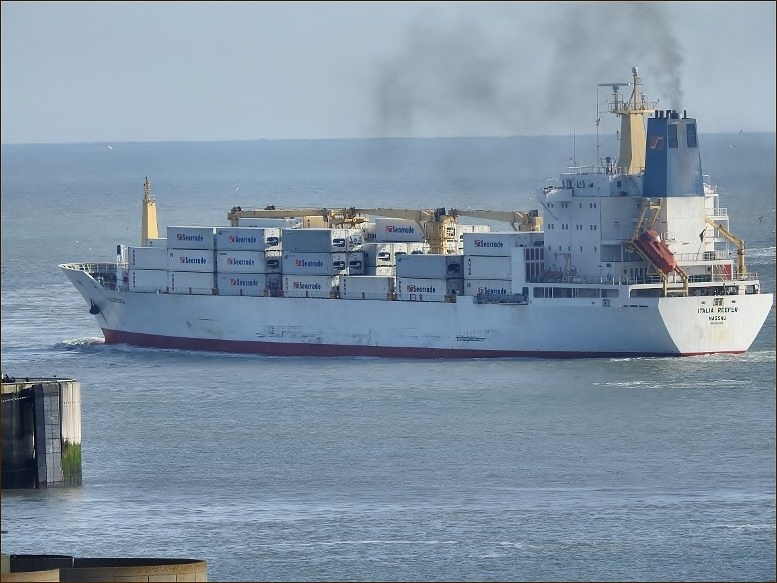 We still have a military presence out there in the Channel. This pic below from yesterday afternoon shows HMS Severn. I say HMS Severn but one couldn't swear to that in a ..as our American friends say.. in a court o' lawww!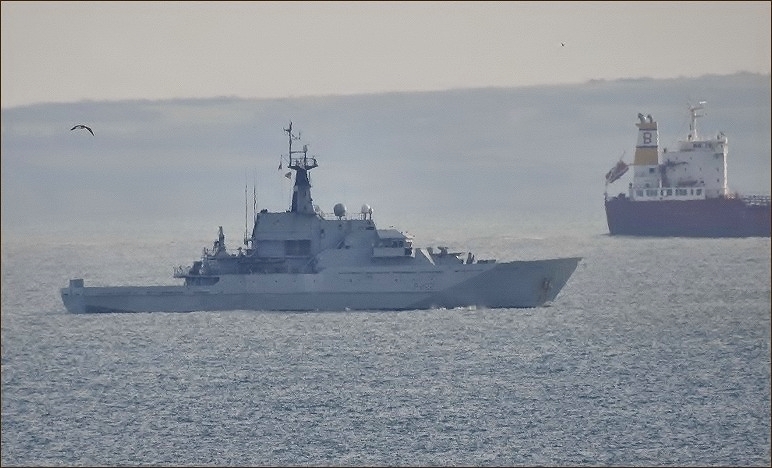 Just to add this release below for local viewers...
aimed at all of us facing the nightmare of modern day Christmas shopping, this might make it a tad easier on the budget..
DDC SUPPORTS SMALL BUSINESS SATURDAY AND OFFERS FREE PARKING IN RUN UP TO CHRISTMAS
___________________________________________________________________________________
Dover District Council is reminding motorists that we are again supporting Small Business Saturday, a national campaign to raise the profile of small businesses across the UK, by offering free parking in DDC car parks on Saturday 5 December.
Parking charges will still apply at car parks not owned by DDC, including the Sainsbury's and Co-op car parks in Deal. On-street parking charges will continue to apply and other parking restrictions, including yellow lines, will still be enforceable.
Plus, as the festive season approaches, DDC wants more people to recognise the value, quality and choice that local traders provide. Therefore, car parking will also be free in DDC off-street car parks from 18-28 December inclusive, when KCC has also agreed to on-street parking being free.
Cllr Nigel Collor, DDC Cabinet Member for Access and Licensing said: "We're delighted to again support Small Business Saturday and offer free parking as we approach the festive period to help local traders and encourage town centre shopping. We trust those working in our town centres will park where they usually do to let customers take advantage of the free parking."
- ends -
Note: Local traffic is bad today again. Forget about using Jubilee Way portwards as its a non runner.

Tuesday, 24 November 2015 - 08:02
Post 2128
Sea News, Dover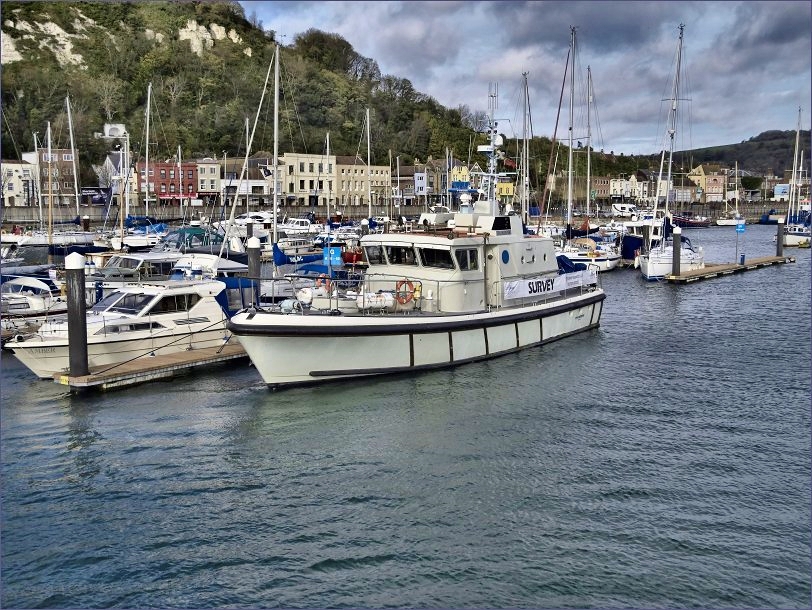 The Morven survey vessel has just left us heading for Southampton. Was hoping to get a picture but the light was blinding and couldn't get a decent shot. But in the best traditions ..here's one I made earlier. Mike also got a picture further down page...will check post number shortly and add it here.. yes here we are, post no 2105 now actually on page 2.
Interesting post below Vic. Yes the motto has to be.. keep on trying and you will eventually get there. Glad the Town Hall event was a success.
Monday, 23 November 2015 - 09:10
Post 2127
vic matcham, Dover
Yes I went along to the town hall.
Even at my age I like to see what is on offer to the young and not so young of Dover. Still on offer there was the Army,RAF, and Navy ,care at home. nursing ,tour.etc. Lots more and must say I had a word or two with just a few at the stands D.H.B. being one of them, all about jobs and found out there is still a lot out there on offer.
A stand was there for the trade I was in, and I can tell you there can be a very good wage as a welder and it is one of the few trades about that one does not have to have a doz GCES in fact I got a very good living out of it always in work even be most of the time away from Dover but there is always work out there for a good welder .And I was not that good at school left with nothing ,it was a great help going into the army ,did not think so at the time.It is a lot harder today then it was then and you need to keep pushing yourself forward to get on and do not give up.
You can send off a 100 CV and companys do not play fair because most do not even write back to you, and that is not helping so put it behind you and do not stop trying time and time again .

Monday, 23 November 2015 - 08:00
Post 2126
Sea News, Dover
We carried the original press release on this one last week and here is the latest update on the event....
OVER 400 LOCAL PEOPLE ATTEND DOVER DISTRICT SKILLS FAIR
_____________________________________________________
Over 400 local people took advantage of the opportunity to gain jobs, apprenticeships, further and higher education, and training opportunities at the first Skills4Dover Fair at Dover Town Hall on Thursday, 19 November.
There were opportunities for all at the Fair with over 40 exhibitors, including local businesses, colleges, universities, community groups and training providers.
Opportunities on offer ranged from careers with major employers, including Bakkavor, P&O Ferries, Megger and Saga, and apprenticeships with Dover District Council, to a wide range of college and university courses in key skills, including science and health with East Kent College, Canterbury Christ Church University, and the University of Greenwich.
All three armed services were recruiting, along with Kent Police and the East Kent Hospital University NHS Foundation Trust.
The event was also an opportunity for local people to find out about new jobs being created by some of the key regeneration projects in the district, with exhibition stands for the St James Development, Port of Dover Western Docks Revival, Discovery Park Enterprise Zone, and the Betteshanger Sustainable Parks. Viking Recruitment showcased the £6.5m Maritime Skills Academy currently under construction in Whitfield. Three thousand new jobs are expected to be created across the Dover district in the coming years.
Dover District Council worked with East Kent College to stage the event. Students and staff from the College organised a series of interactive skills zones for engineering, plumbing and electrical, computing and IT, travel and tourism, hair and beauty, and motor vehicle engineering.
Cllr Keith Morris, portfolio holder for skills and training, Dover District Council, said: "There was a real buzz at the event from both exhibitors and visitors. We hope it's the start of something bigger as regeneration starts to deliver new jobs in the district."
- ends -
* *
Warship off the coast in difficult weather...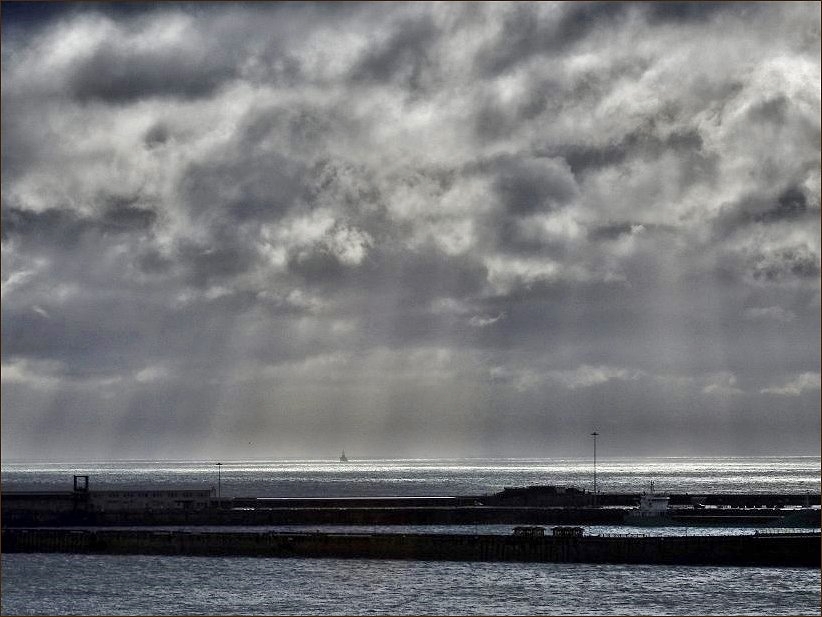 Blimey Mike that is an oldie below. Heavens ! how far back is that....

Yikes!
I still have pictures buried in the deep recesses of the archive, metaphorically covered in dust, of the ships in the Norfolkline livery. Not to mention the Seafrance ones.
Colette yes we have had some good stuff lately ..thanks to all super contributors.
Monday, 23 November 2015 - 07:10
Post 2125
ColetteB, Dover
Just catching up on Sea News & WoW!!! some great posts & brilliant photos yet again, lovin the Military theme

Fascinating to see the 'Black Widow' submarine at Strood from Sarah H, great shot there from Rochester Castle, terrific viewing point for sure Sarah

Sweet memories Vic!!
I must comment on the Tugboat Special, post 2118. Firstly, those guys on the tugs are totally amazing & as Vic says working in all kinds of weather. They must be utterly fearless to work in such horrendous conditions, I take my hat off to them

Awesome photos MrB of DHB Dauntless & DHB Doughty

Great postings & pix Ed C

Sunday, 22 November 2015 - 16:02
Post 2124
Mike J., Dover
Highly up-to-date photo used by a certain major national newspaper today to illustrate an article on ferry security.
Makes you wonder how accurate is the rest of their reporting . . . .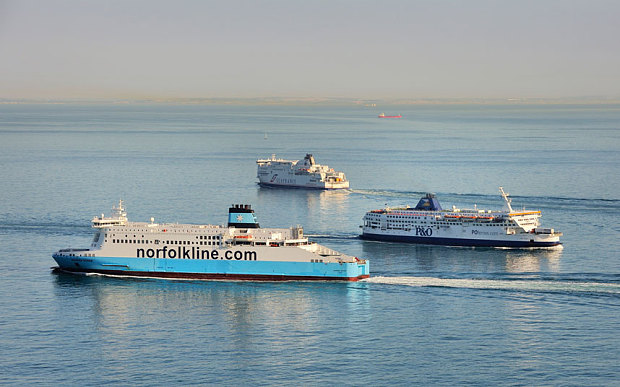 Sunday, 22 November 2015 - 14:41
Post 2123
Vic Matcham, Dover
I think it is sad to see that sub looking like that when it was in Folkestone some years ago My wife and myself had a meal on it one night and there was dancing as well.
That was a good home for it then.


Sunday, 22 November 2015 - 09:01
Post 2122
Sea News, Dover
Excellent post below from our nautical man at large Ed Connell. Well done with that post Ed..interesting stuff indeed. And just to keep up with the current military hardware just outside Port...this guy in the pic below is...well we are calling it HMS Severn for now, but the info on the satellite system is varying at the moment. The system called the ship HMS Severn so there we are. Tyne, Echo and Severn are out there at varying times it seems. The picture was taken yesterday saturday afternoon in a shiveringly cold blistering wind.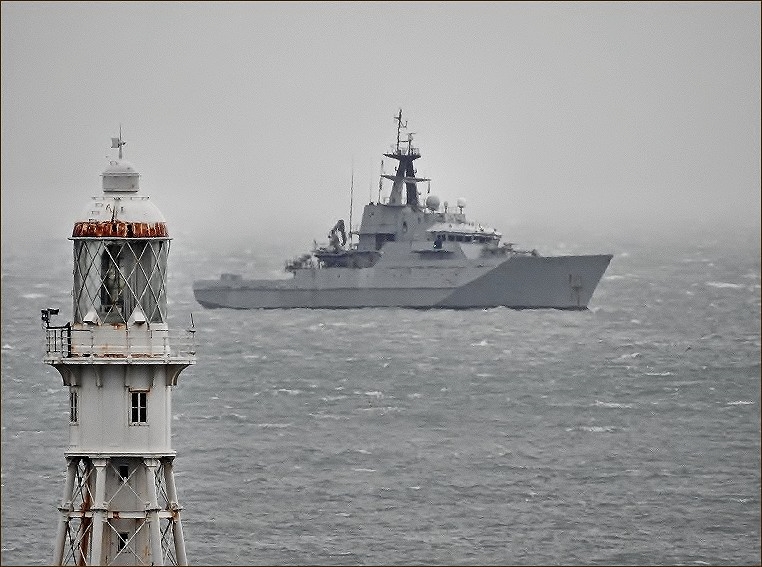 Now here we are with a novely pic just in and keeping on with our current military theme...the picture is from our 'roving contributor' SARAH HEWES. Many thanks Sarah as ever. It shows the old Soviet era submarine U-475 called the Black Widow at Strood, Kent, on the River Medway a few days ago. Pictured from the top of Rochester Castle. Fascinating to see. The ship is now in private hands. There is more info on Wikipedia about this vessel.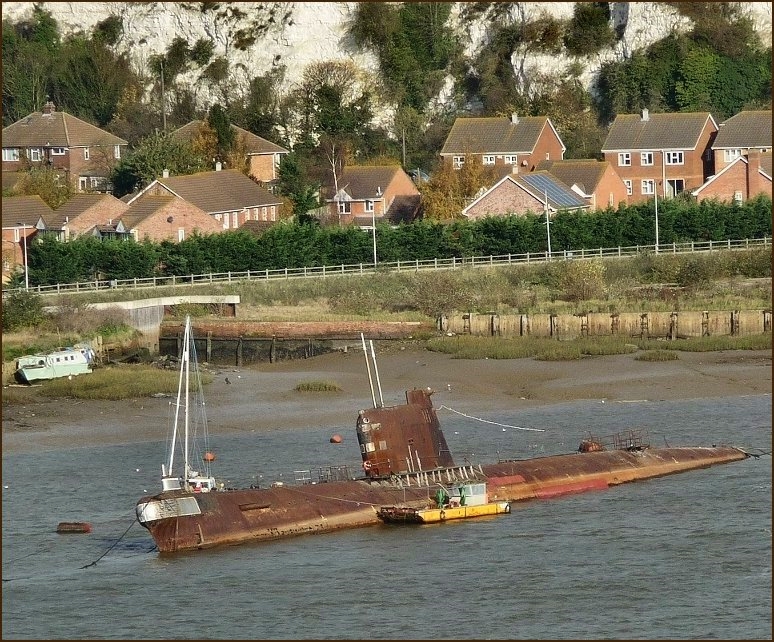 Sunday, 22 November 2015 - 07:22
Post 2121
Ed Connell, Dover
HMS Tyne in Paul's post below is one of the River Class offshore patrol vessels which are regular visitors to Dover.
HMS Severn alongside the Eastern Arm with an arrested French trawler back in 2007.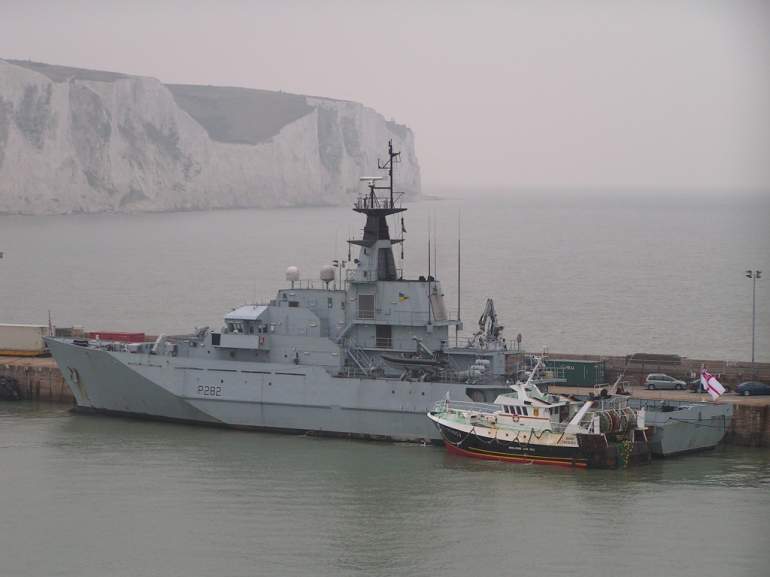 HMS Mersey passing Dover last year shadowing the Russian training ship Smolniy (see post 1730).
Meanwhile, HMS Clyde was in the news this week as she is the Falklands Islands guard ship and assisted in evacuating passengers and crew from the French cruise ship Le Boreal which suffered an engine room fire off the Falklands on Wednesday.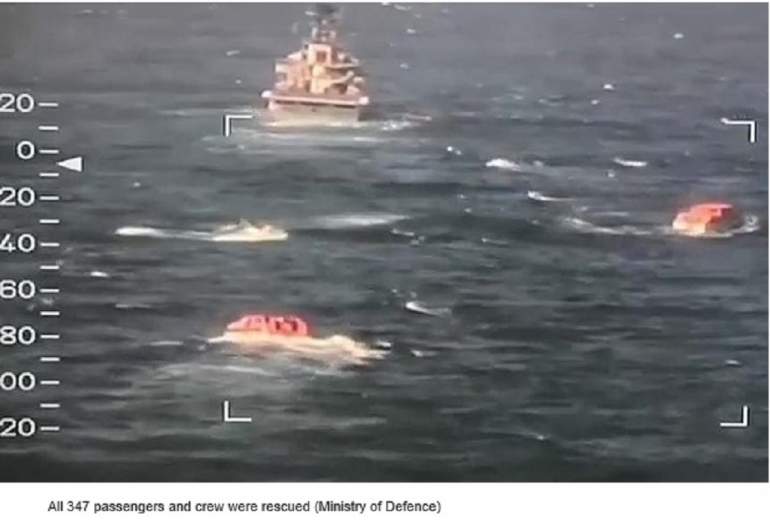 Saturday, 21 November 2015 - 14:35
Post 2120
Sea News, Dover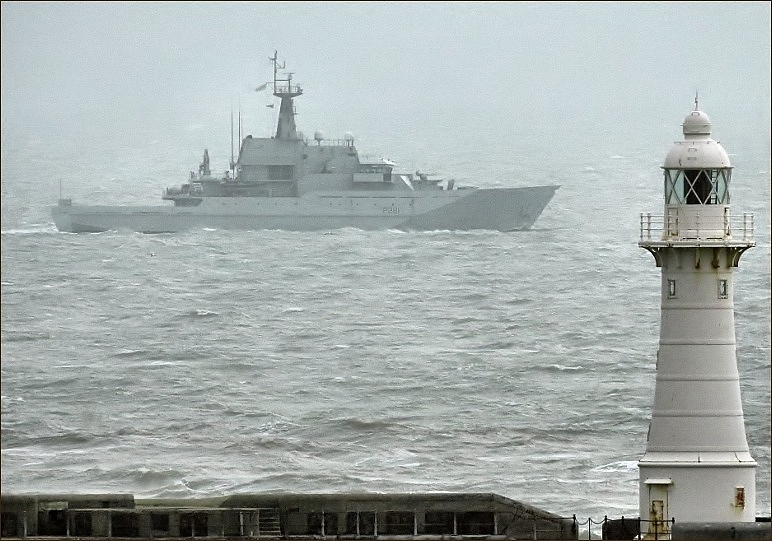 Todays bewildering moment. I felt sure this ship was called HMS Daring on the AIS device and I made a note to that effect. But now ...having looked it up on everyone's friend Google it appears to be HMS Tyne number P281. But then even the top picture looks a bit different than the one below. I dunno - I think I will have a further lie down..well it is early!

The pictures were taken on thursday. HMS Echo was out there in the grey conditions a day earlier wednesday but the weather was so grey and misty a picture wasn't possible. This activity could be part of the heightened security...but..hard to say one way or the other.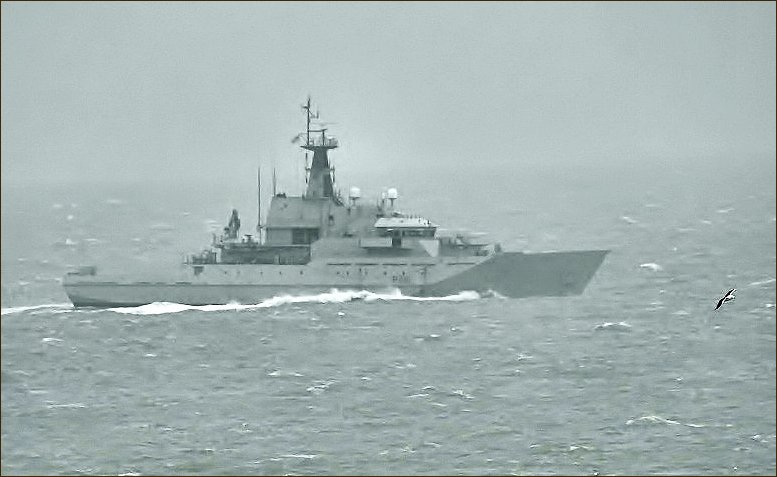 Thanks Vic - glad you liked the tugs in tough action below. There was indeed some rough weather midweek, it was very difficult for all out there, and we understand we are about to have some more but much colder this time. The timbers will be a shiverin'

PaulB.
EXTRA: the TAP system is still in operation as the Port is very busy. Jubilee Way is still unusable for local traffic going Portwards...best avoided.
LATEST at 11.30...Jubilee Way appears to be clear as we write.
Saturday, 21 November 2015 - 06:30
Post 2119
vic matcham, Dover
Great photos of Dover working tugs in that kind of weather too.

Friday, 20 November 2015 - 11:35