Friday, 6 March 2015
First Liner of the Season - AIDA Mar arrives early morn Wednesday....Tugs Doughty and Boulonnais in action in the windy conditions on Monday....
SEA NEWS
Scroll down the page and over the page for all the stories in and around Dover Harbour...
MOTIS Invests in DOVER...see 1384 below ... also ...
EU Funding Boost for Ports Dover and Calais...see 1348.
Record Freight Levels at Port of Dover...see post 1304. plus...St James's REDEVELOPMENT LATEST 1409.
Doggy Deals plus with P&O see below 1419.
MyFerryLink's latest offers for National Ferry Fortnight...just in ..see below 1412.
DFDS SEAWAYS latest deal below 1404, see also post 1343...also news on the new DFDS Sea View Lounge in 1387.
Quarter Million Pound handover to Community from the Port of Dover see 1270 also NOTE - FUND NOW OPEN SEE 1334 !!

Dover.uk.com and Doverforum.com have merged to produce an entirely local and comprehensive Dover website. Nautical contributions are welcome on this page with a max of 4 pictures preferred per contribution, all pictures remain own photographers copyright. Email:dover7@msn.com to send Sea News pix or info..or click ADD YOUR COMMENT below to post direct, no membership needed. Paul Boland.
SAY HELLO TO OUR NEW SEA NEWS SEARCH FACILITY...
Post 1420
Sea News, Dover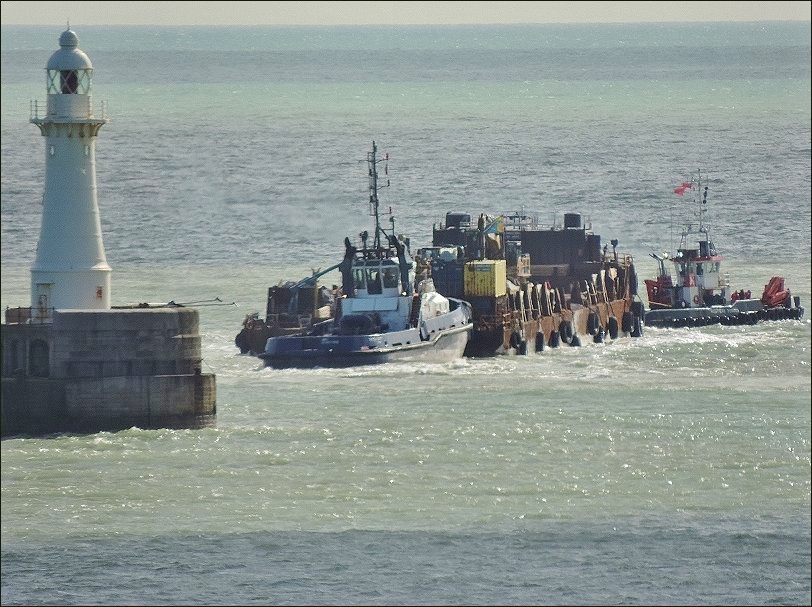 Just a couple of quick pix here from the past few days. Top shot shows the tugs Boulonnais and Doughty taking the giant barge out into the open sea on Wednesday and out into a whipping breeze that would whip that skin off yer rice pudding again. Doughty returned to harbour but Boulonnais headed off westward ho with barge in tow. More on the barge in post 1401. Below we just caught the Eastern Bay as she headed off...also on Wednesday I believe... never a dull moment around here as the Port is always busy.
See the offers from P&O below for National Ferry Fortnight ..always welcome to see a nice offer or two... woof woof!

DFDS SEAWAYS and MYFERRYLINK are also joining in...more from them further down the page..
and also good to see below the support from the Port of Dover, it's all going on for National Ferry Fortnight.
Friday, 6 March 2015 - 06:43
Post 1419
Sea News, Dover
UNLEASHED................. !!!!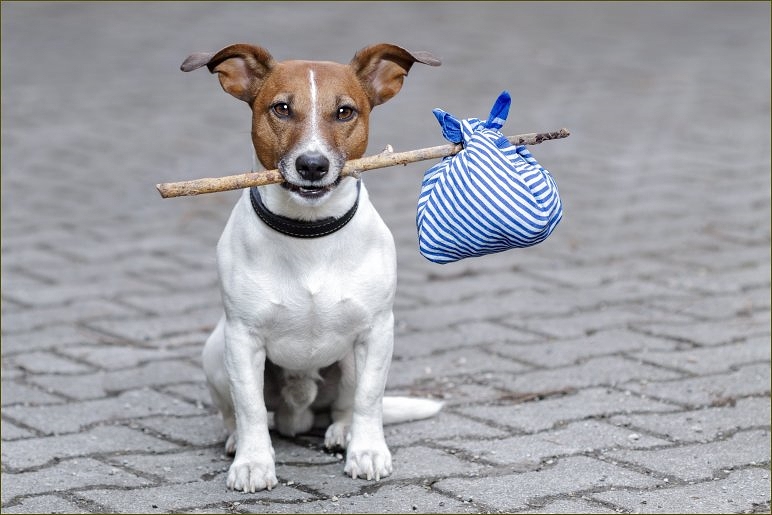 P&O Ferries unleashes its National Ferry Fortnight offers - Pets travel free of charge on P&O Ferries Dover to Calais crossings this year for bookings made during National Ferry Fortnight (28 February to 15 March) saving £30 return per pet. It's just one of the deals offered by P&O Ferries during National Ferry Fortnight.
Kids go free on Cairnryan or Troon to Larne, passengers get half price entry to Club Lounge on Dover to Calais and Cairnryan or Troon to Larne and upgrades to Club cabins are half price on Hull to Rotterdam or Zeebrugge for travel throughout 2015.
For more information or to book visit www.POferries.com or call 08716 64 64 64. (ends)
* *
Port of Dover supports National Ferry Fortnight
________________________________________
As Europe's busiest ferry port, the Port of Dover is delighted to support National Ferry Fortnight, which runs from 2nd to 15th March 2014.
A member of the Discover Ferries industry body, the Port of Dover is committed to supporting its major ferry customers – P&O Ferries, DFDS Seaways and MyFerryLink – in helping to promote the great customer service and benefits of ferry travel available from the Port.
This year, National Ferry Fortnight is promoting the advantages of 'Ferry Freedom,' encouraging consumers and their families to experience the ease, value and flexibility of ferry travel.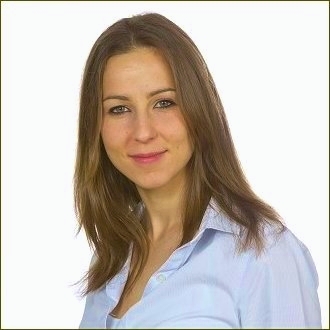 Barbara Buczek, General Manager – Business Development, Port of Dover, says:
"National Ferry Fortnight continues to grow year-on-year as the benefits of ferry travel continue to be recognised. It is vital we get behind this campaign, highlighting why the Port, together with its ferry partners, represents the best way of crossing the Channel. I am sure that there will be some great offers to further entice customers to return to Dover once again and experience the freedom of ferry travel."
The big advantages of crossing the Channel by ferry include the ability to move freely on-board, enjoying the quality cuisine, entertainment and shopping options as well as the freedom of open-deck fresh air while enjoying the sea views.
Of course there are also some great onward break destinations, aided by the advantage of no luggage limitations or surcharges. Once passengers disembark, they have the freedom of exploring new places in the comfort of their own vehicle with the bonus of being able to bring bicycles along for the ride.
Central to the campaign will be a series of enticing promotional offers on ferry routes from Dover, which will be promoted on www.discoverferries.com.
Bill Gibbons, Discover Ferries Director, says:
"We are delighted to have the Port of Dover, the largest Ferry Port as a member and supporting National Ferry Fortnight. Our three Ferry companies based in Dover will all have special offers and this is the best time to book your holiday for 2015. Go to our website - DiscoverFerries.com."
ENDS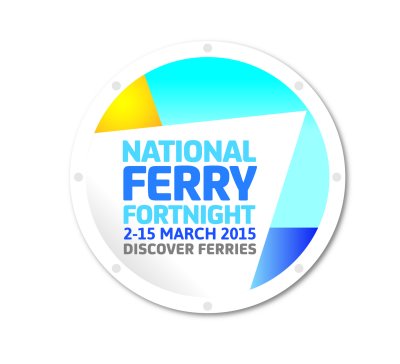 As ever huge thanks to both P&O and DHB for the above information.
See also Ed Connell's vintage post below - fascinating stuff from Ed there. see also 1397,1398.1399 etc....
Thursday, 5 March 2015 - 10:22
Post 1418
Ed Connell, Dover
Re #1397 et seq:
That is a super photo of Clarence Quay with the railway cargoships tied up alongside. Here are a couple more of the same location showing Southern Railway cargoships and the Continental Goods Shed. The tram line mentioned crossing the track is from the end of the line in Clarence Place where the tram in the final photo has halted.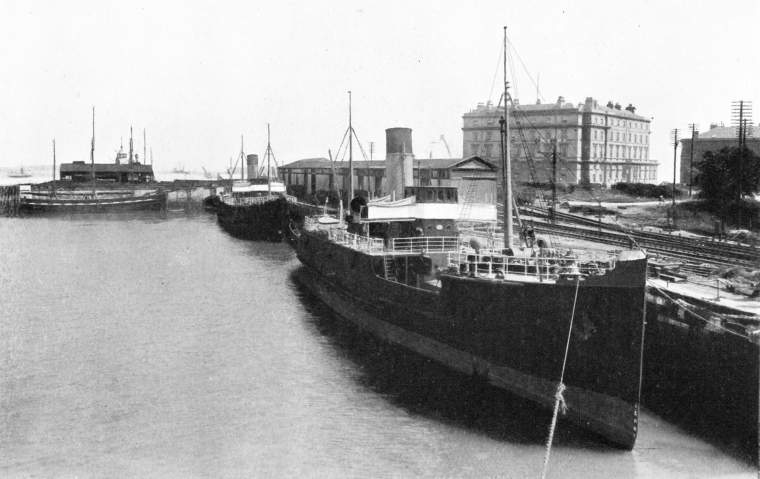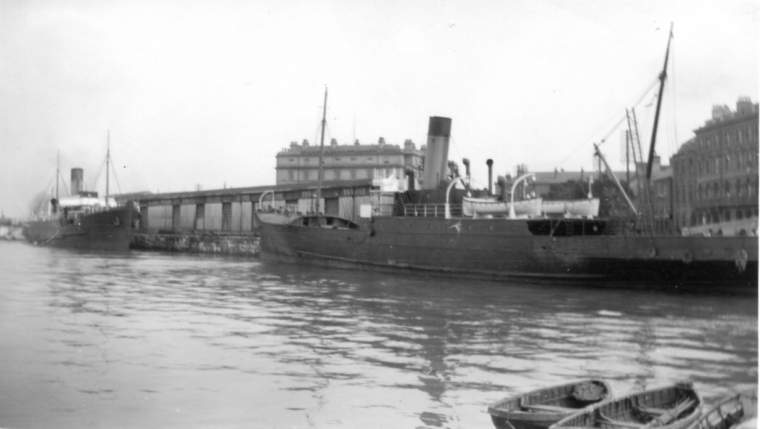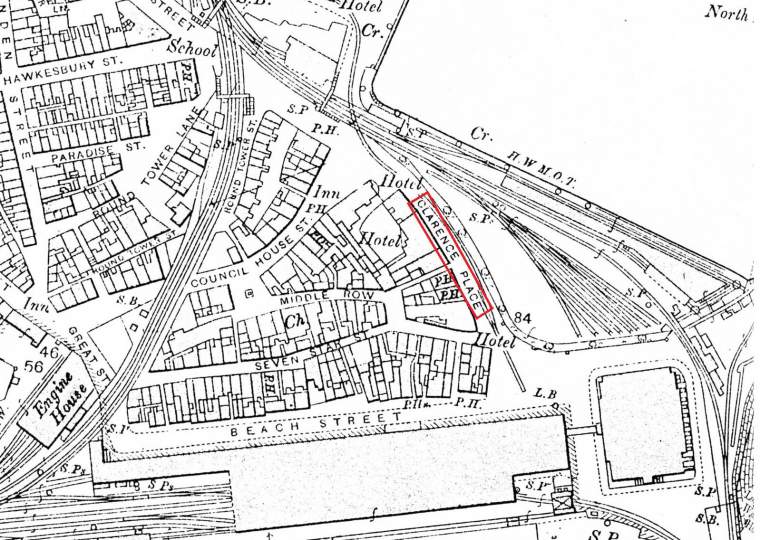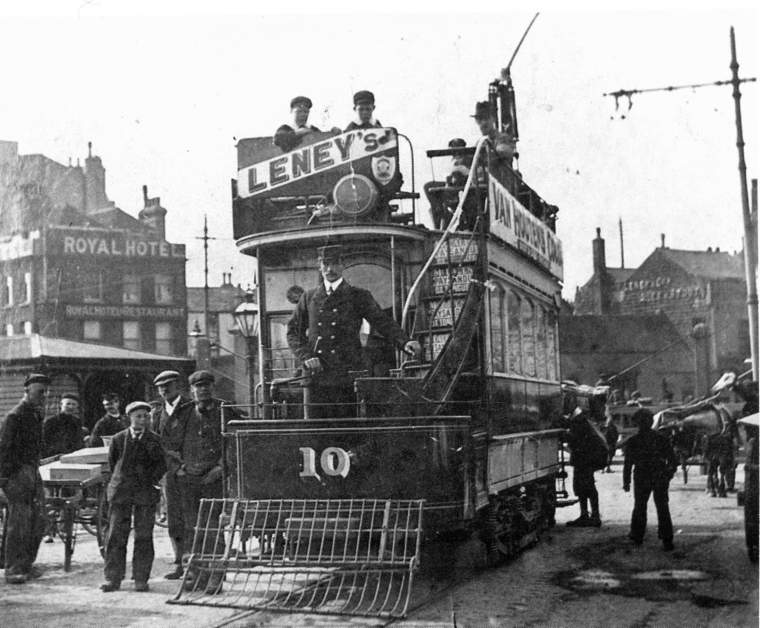 Thursday, 5 March 2015 - 04:34
Post 1417
Sea News, Dover
We Welcome the FIRST cruise ship of the Season....Spring is here at last...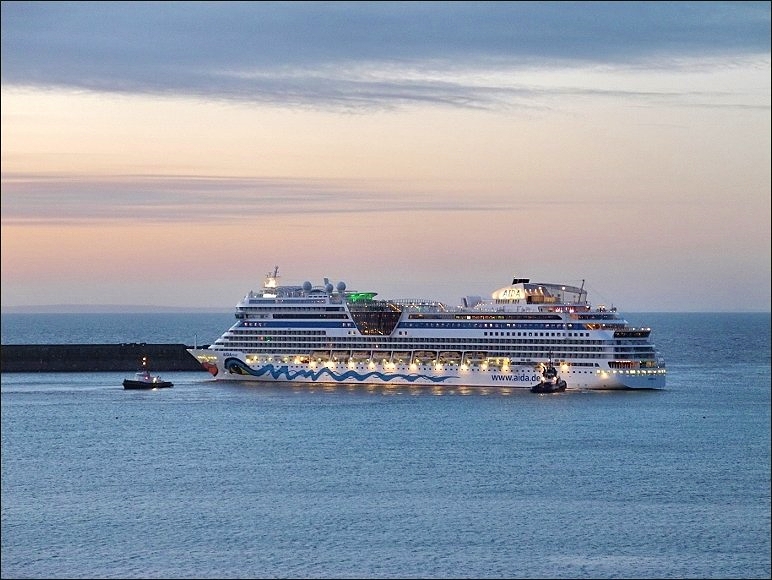 Its 6.15am so the camera is struggling with light, but we got an image! Hugely welcome AIDA Mar.
Well done with that collection in the previous post Ed. I think its a first time visit for the Duncan Island, pretty big and pretty red, easy to spot across the rooftops as it were...even through the soft rain below. Both those cargo ships left yesterday and there is yet another one in dock today as we write ( the Eastern Bay ).
Busy busy...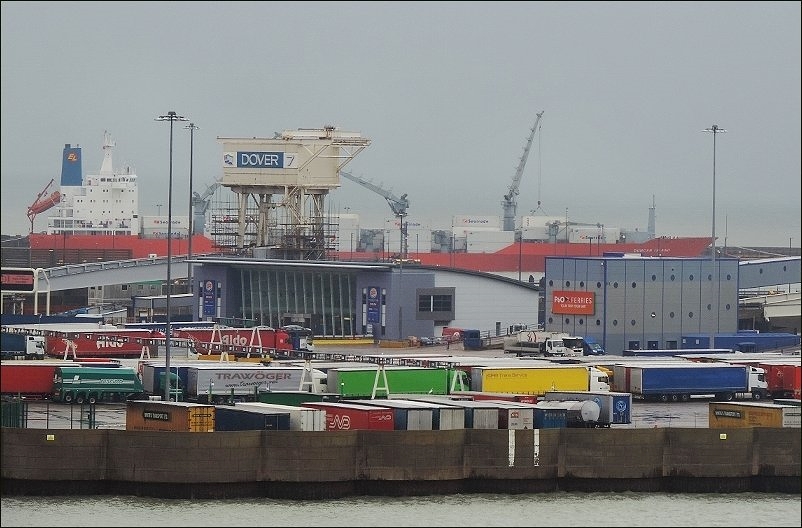 Wednesday, 4 March 2015 - 06:32
Post 1416
Ed Connell, Dover
Pacific Reefer on the DCT and Duncan Island on the Eastern Arm today.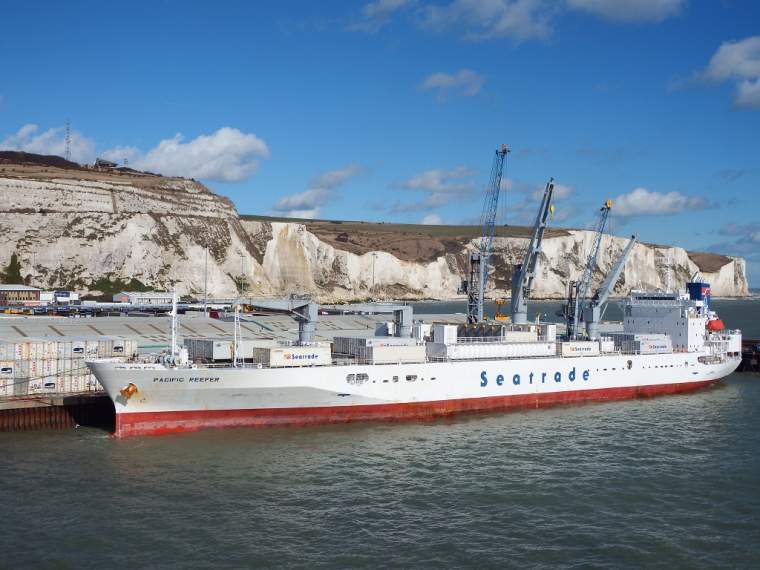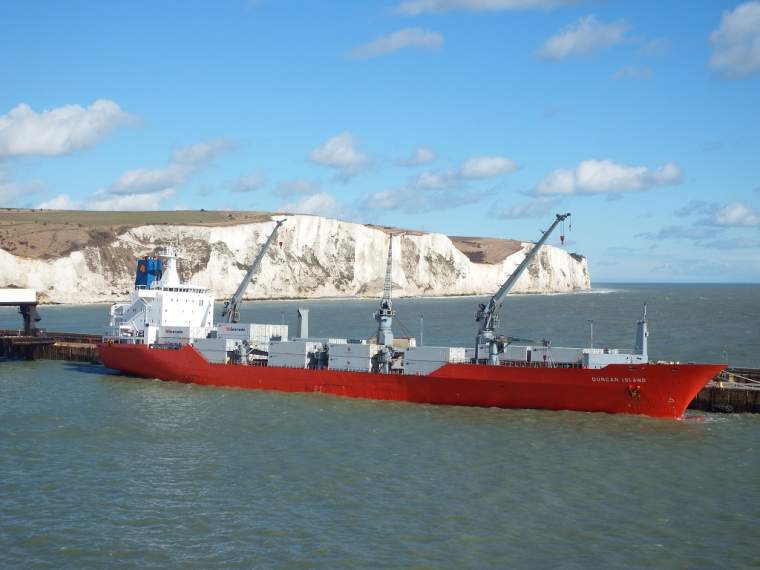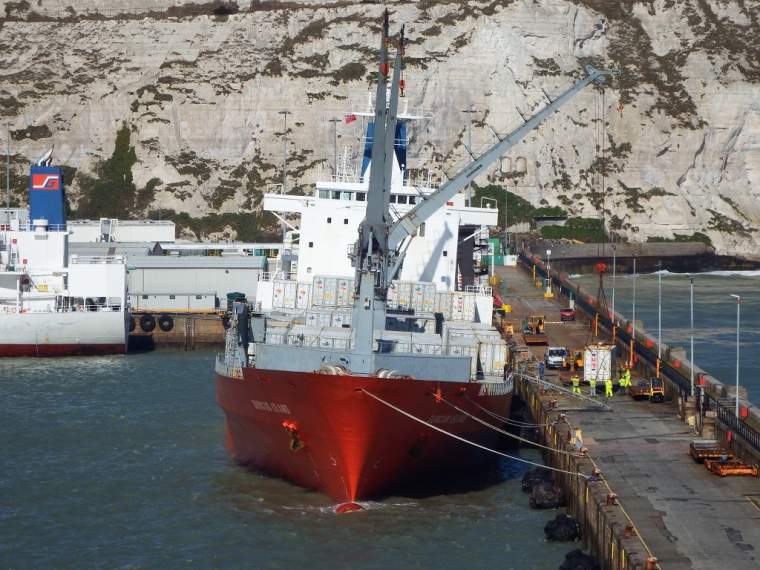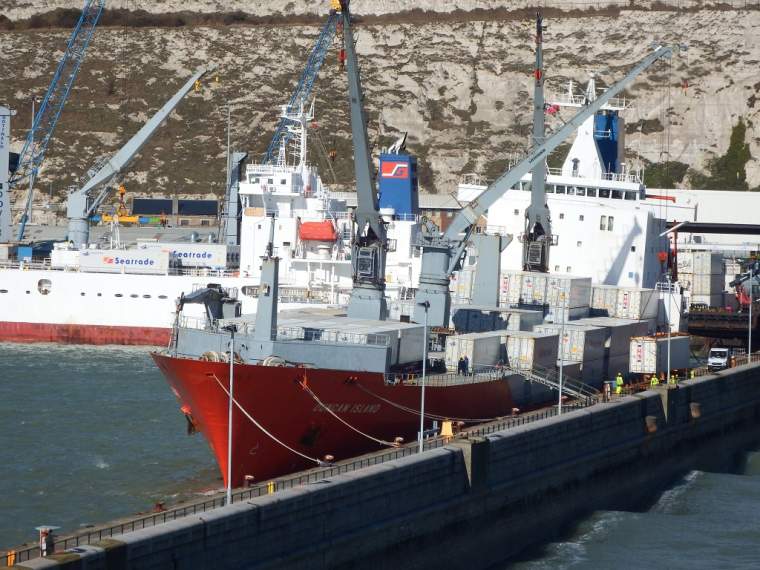 Wednesday, 4 March 2015 - 03:12
Post 1415
brian, dover
saga pearl 2 heading westwards at 1911 hrs this evening.

Tuesday, 3 March 2015 - 19:12
Post 1414
ColetteB, Dover
Indeed Kevin, the cruise season begins again with the arrival of the AIDAMar tomorrow

Then next week Fred Olsen is back with the Braemar on Wednesday 11th March and again on Tuesday 24th March.
The Celebrity Silhouette will be here on June 10 and 'Disney Magic' returns to Dover on 10th July. What a treat!!!

Tuesday, 3 March 2015 - 17:13
Post 1413
Sea News, Dover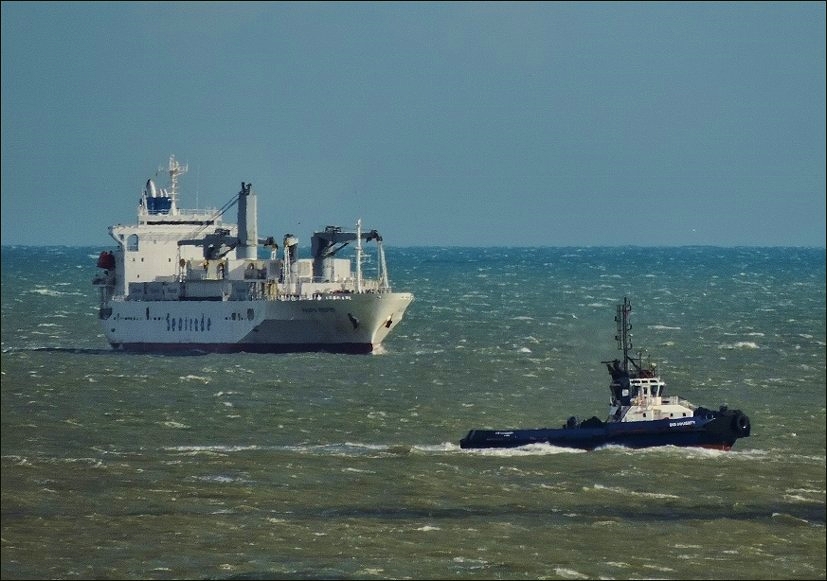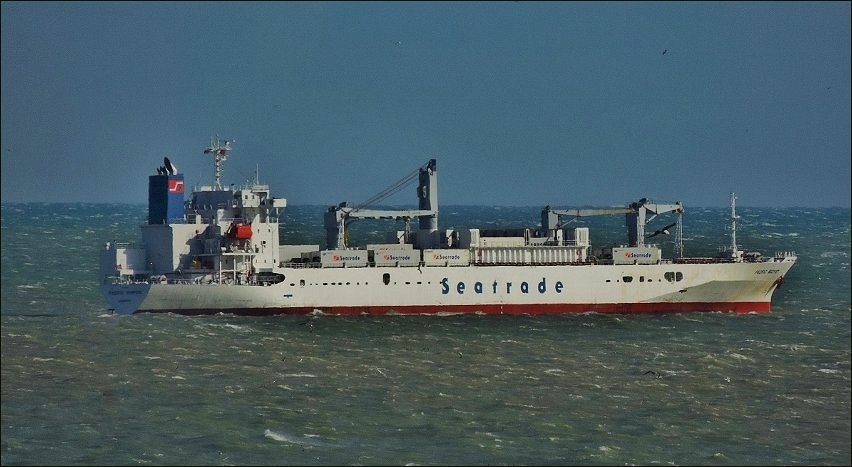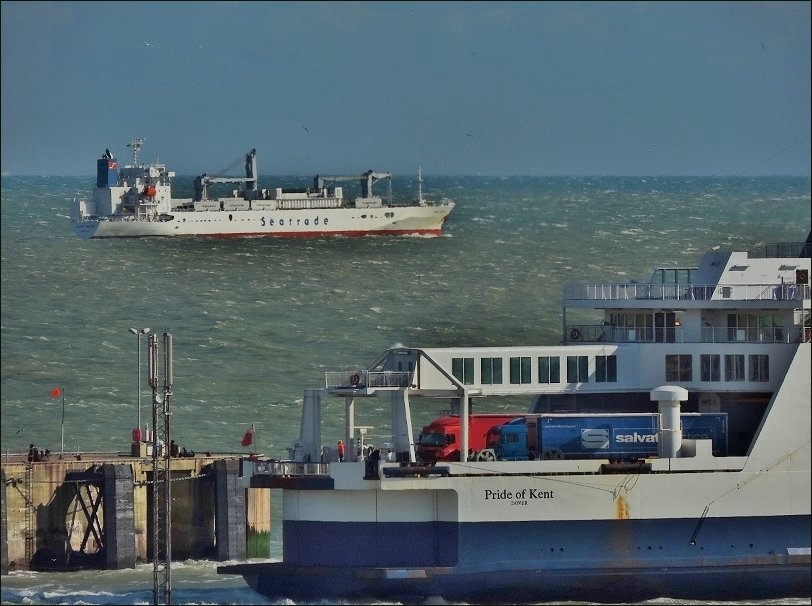 Some pictures above there of the Pacific Reefer approaching yesterday about midday. It was blindingly bright so the pictures are a bit dazzlingly so...and at the time there was a whipping and bitingly strong cross wind ...you can see it there with the choppy water. Whatever the particular reason, the ship abandoned efforts to come into Port and the tugboats returned to base. Although it appeared a nice spring day when glancing out the window, out on the water it was clearly difficult. The ship circled for the rest of the day and returned about 1800 hours, it entered Port then and all was well...so there you have it. Appearances can be deceptive and were deceptive yesterday. PB.
Tuesday, 3 March 2015 - 06:40
Post 1412
Sea News, Dover
Enjoy MyFerryLink's appealing National Ferry Fortnight offers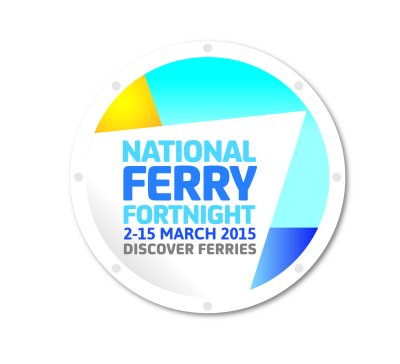 To celebrate National Ferry Fortnight, Dover-Calais ferry operator MyFerryLink is offering passengers the chance to save up to £20 with a free upgrade to MyChoice (more flexible) fares on bookings. What's more, those planning their family getaway for Easter – or beyond - can take advantage of MyFerryLink's 'Kids Eat Free' offer when travelling between 27 March and 10 May.
For every two course adult's meal and drink purchased in family-friendly Le Relais restaurant, travellers will receive a free child's main meal plus an ice cream pot. English and Continental breakfast options are available on morning crossings. The restaurant serves a wide range of French and international food.
Perfectly placed next to Le Relais restaurant, is the onboard Playzone, where children can burn off any excess energy. Filled with indoor soft play equipment, cartoons and games, the Playzone has been designed with kids in mind and parents can keep a close eye on the little ones while enjoying a cup of tea. The restaurant area is also fitted with customer microwaves, enabling parents to warm up babies' bottles.
With MyFerryLink's more flexible MyChoice fare, passengers can make changes to their booking without having to pay an amendment fee. All bookings made using the offer code NFF2015 during National Ferry Fortnight (2 March to 15 March) will automatically receive a MyChoice fare for the price of a standard MySaver fare, meaning travellers are able to plan the family getaway without having to worry about mounting travel costs. This fare offer is valid for travel between 1 March and 10 May 2015.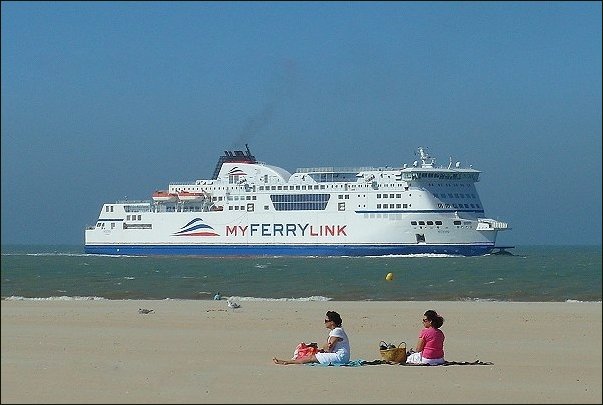 MyFerryLink operates up to 16 daily crossings on the Dover-Calais route.
Fares for a car and up to nine passengers start from £45 each way for longer stay travel and from £29 return for a day trip.
To find the best fares, visit Myferrylink.com/nff2015 or call 0844 2482 100
Many thanks for that info below Kevin. Gosh it must be Spring already with a Liner due this week. Will be watching out. Exciting days ahead for sure.
Yes Colette all moving forward in and around the Port of Dover.
Many thanks to MyFerryLink for the information above as ever.
PaulB.
Monday, 2 March 2015 - 06:57
Post 1411
Kevin Charles, Dover
A quick reminder, the first cruise ship of the 2015 season is due at Dover this week. The AIDAmar is due on Wednesday.

Looks like another exciting year of cruise visitors, including the return of Disney Cruise Line to Dover. I belive there may also be a record breaking visit with the Celebrity Silhouette at 122,000 GT becoming the largest cruise ship to visit Dover.

Sunday, 1 March 2015 - 16:58
Post 1410
ColetteB, Dover
What a great 'Good News' weekend it is here on Sea News

With the Dover Western Docks revival & the St James's Development forging ahead, we can now look towards taking Dover forward at last

Well done to all involved in making it happen

What a beautiful day it is today

Sunday, 1 March 2015 - 14:27
Post 1409
Sea News, Dover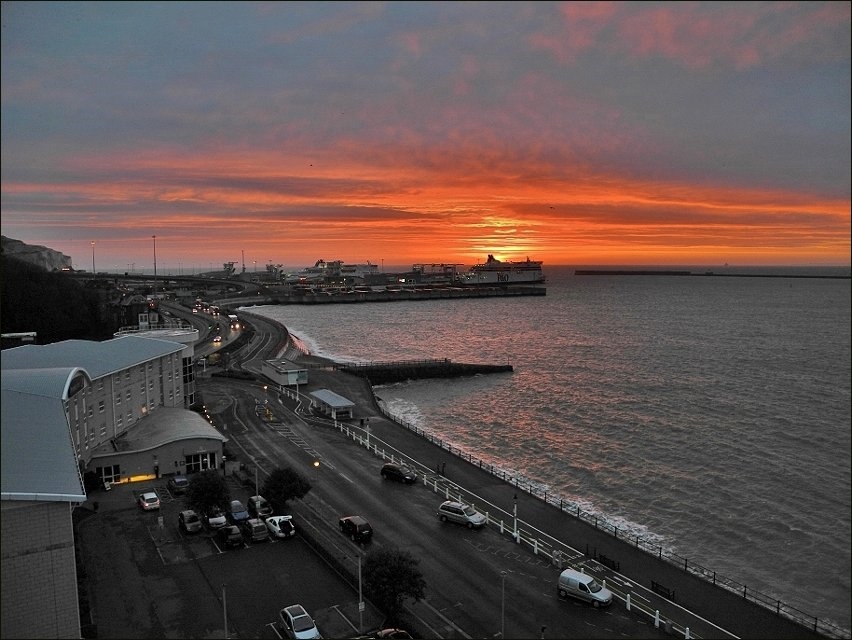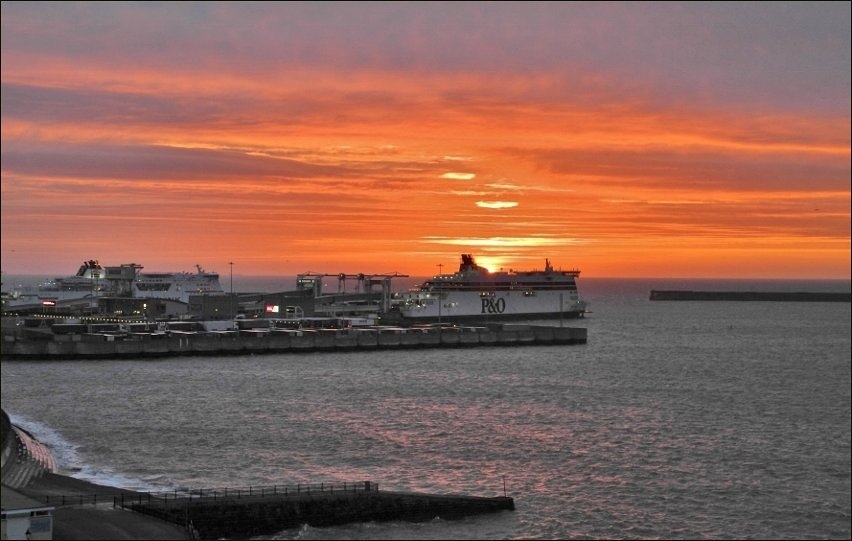 Its hard to believe that a day so colourful and bright and so dramatic can turn out to be so awful...this was the scene yesterday morning and heavens did it turn into such a lousy day. The sea was very rough, in the strong winds the rain was driving in stair-rods across the Port..ferries were delayed to some degree but coped very well all things considered..
But it reminded me of this from yesterdays Independent...
"It may not feel like it for many in the country, but the UK is on course to have its sunniest winter in almost a century.
Statistics released by the Met Office show that by 25 February Britain will have already seen 189 hours of sunshine – equal to the 2001 record but with three more days left to the end of the meteorological winter.
Forecasters are predicting we should exceed the previous limit by seven hours.
However, although the UK overall has enjoyed one of the sunniest periods since records in 1929, parts of the country have had their wettest winters in years."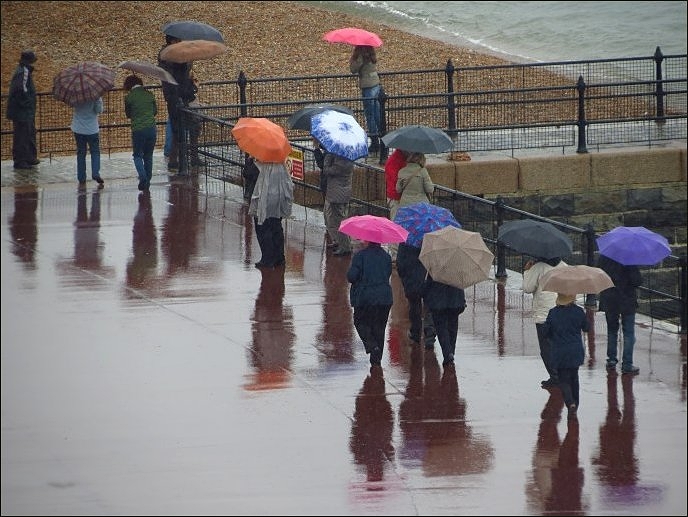 Not a nautical item this time but significant for all....
ST JAMES'S REDEVELOPMENT GETS THE GREEN LIGHT
Compulsory Purchase Order confirmed following public inquiry
_________________________________________________
Plans for the St James's retail and leisure development in Dover town centre took a major step forward today (27 February 2015) after the Compulsory Purchase Order made by Dover District Council was confirmed by the Department for Communities and Local Government. This will now allow the Council acting with its development partner, Bond City, to complete the assembly of all outstanding third party land interests and enable the redevelopment of the St James's area to proceed.
More than 95% of the freehold interests in the site were already owned or have been acquired by the Council by agreement. The Compulsory Purchase Order was requested to acquire the remaining land and interests. A related Order has also been agreed by the Secretary of State for Transport for the stopping-up of roads within the scheme area.
The redevelopment proposals have had far reaching support and strong interest from tenants, including Cineworld, Marks & Spencer, Travelodge and Frankie & Benny's.
In total the development will provide 120,000 sq. ft. of new retail and leisure space bringing much needed private investment to revitalise the town centre.
Cllr Paul Watkins, Leader of Dover District Council, said: "This marks a historic day for Dover and the St James's development as we start the process of delivering the new retail and leisure facilities that we know people want."
- ends -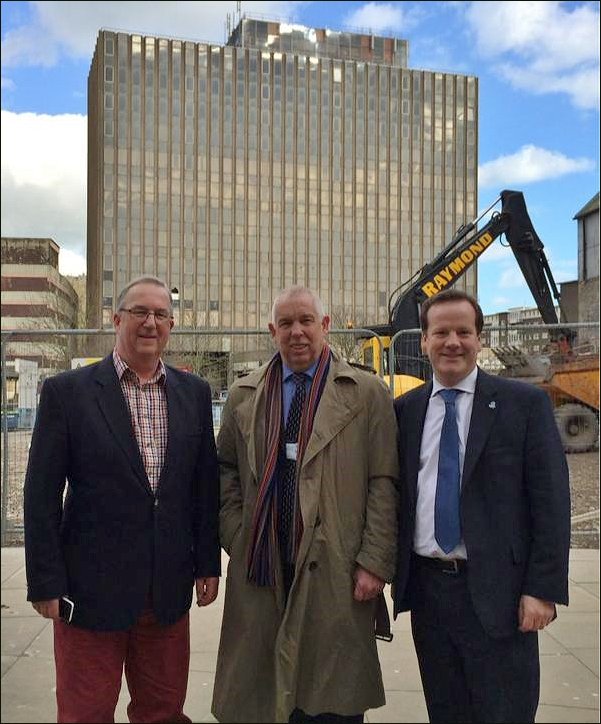 Many thanks as ever to the DDC for the above info. The picture courtesy of Charlie Elphicke's Twitter account. I understand it is okay to use it in this case. The pic itself was looking very dark on Twitter so have boosted it up a tad for easier consumption. It shows of course our old friend Paul Watkins, Leader of Dover District Council, with centre the Regeneration head Tim Ingleton also of DDC, and on the right local Dover and Deal MP Charlie Elphicke...celebrating the prospect of significant development and also no doubt celebrating the prospect of seeing the hugely welcome demise of Burlington House. That's it standing behind... thought I'd mention that just in case you are not familiar with the beast. PaulB.
Sunday, 1 March 2015 - 07:20
Post 1408
Sea News, Dover
Port Moving Forward with Regeneration in South East

_____________________________________________________
The new Dover Western Docks Revival Marketing Suite was officially opened on 25th February 2015 by George Jenkins OBE, Chairman of Dover Harbour Board and Tim Waggott, Chief Executive of the Port of Dover, to support this major regeneration project for the Port of Dover.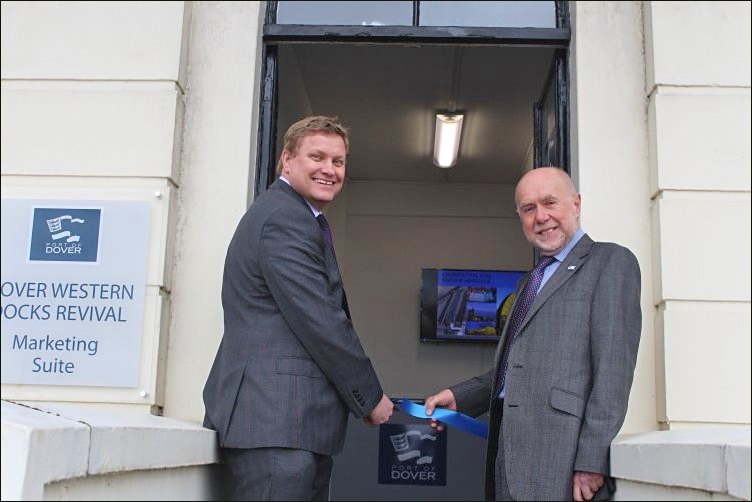 Situated on Dover's seafront esplanade, the suite will be an opportunity to highlight the ongoing progress of the Dover Western Docks Revival (DWDR) and provide a platform for the local community and prospective developers to engage with the Port.
Hosted by the Dover Harbour Board, the reception was attended by members of the Port and Community Forum (PCF) and gave PCF representatives an opportunity to meet some of the DWDR team and see the many initial works which have already started including the demolition of the Western Docks fast ferry berth and the demolition of some redundant structures.
Tim Waggott said he was thrilled to open the suite up to the local community and prospective developers:
"I am genuinely excited with the opening and believe it represents a further step forward in the regeneration of Dover. The opening of the Marketing Suite demonstrates clear ongoing momentum for Dover Western Docks Revival that will bring the town and the port closer together. This project will bring potential new businesses to the area and offer exciting opportunities for everyone in Dover."
Open every Wednesday afternoon, the DWDR Marketing Suite will allow the public to drop-in and discover how the developments are progressing. It will also give the opportunity for the local members of the community to speak to the DWDR team.
Derek Leach, Chairman of the Port and Community Forum (PCF), said:
"The Port of Dover has made a real commitment of taking the development of a shared vision for Dover Western Docks Revival to the next stage. With the launch of the DWDR Marketing Suite, we are very excited to see the Port of Dover make an even greater contribution to Dover, its community and the local area."
The Dover Western Docks Revival would see the redevelopment of the Western Docks and creation of more than 600 quality jobs involved in the handling of fresh produce and other cargo logistics activity for customers using the Port. The vision will provide an opportunity to kick start regeneration of the local area and create inward investment opportunities.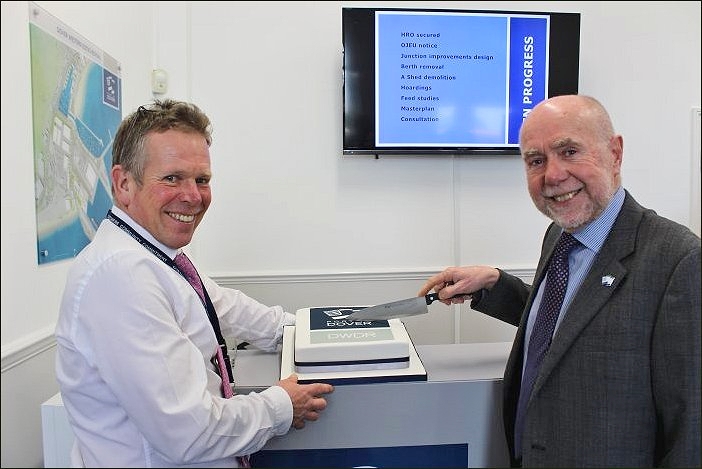 ENDS
· Image 1 - Tim Waggott, Chief Executive of the Port of Dover and George Jenkins OBE, Chairman of Dover Harbour Board (right to left) cutting the ribbon.
· Image 2 – Steve Rawlings, Senior Port Development Manager, Port of Dover and George Jenkins OBE, Chairman of Dover Harbour Board (right to left) cutting the DWDR cake.
* *
Many thanks to the team at the Port for the information above. We are expecting a slice of that cake to be sent round!

Many thanks to Howard and Phil for the picture below.
Great stuff all round!
Friday, 27 February 2015 - 07:42
Post 1407
Howard McSweeney, Dover
Belgian navy frigate F-930 Leopold 1 in the channel last Sunday.
Photo courtesy of Phil Smith.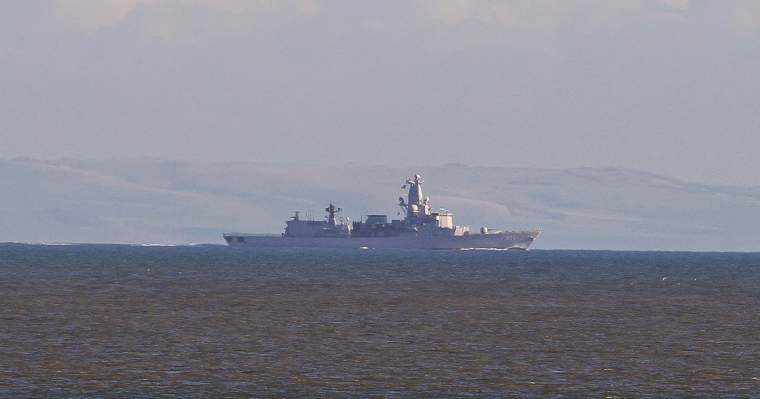 Thursday, 26 February 2015 - 19:58
Post 1406
Sea News, Dover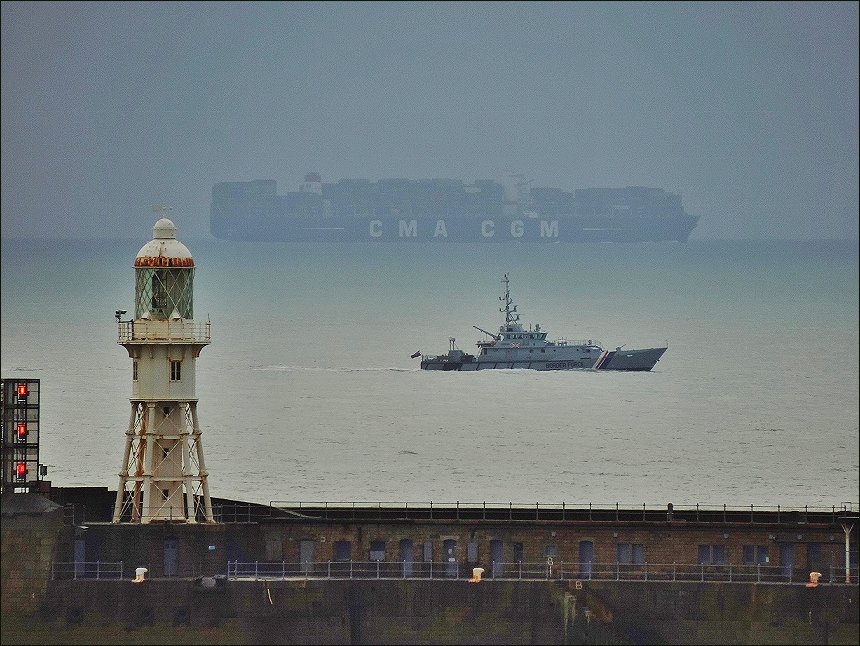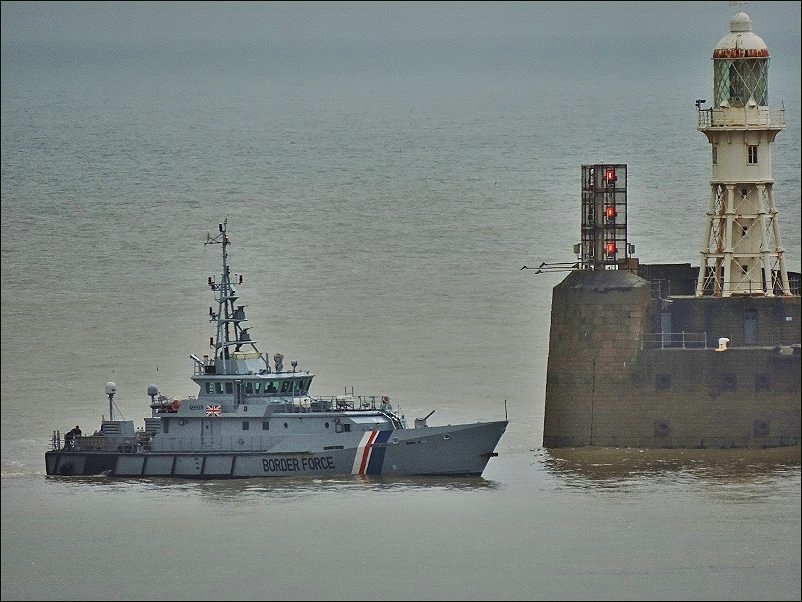 The UK Border Agency were having a very high profile day yesterday, patrolling up and down the immediate channel. It was actually Seeker doing its thing and here we are with a couple of pictures of the vessel in action. See also the post below of the Nord Pas de Calais fresh up on display this morning.
Thursday, 26 February 2015 - 09:10
Post 1405
Sea News, Dover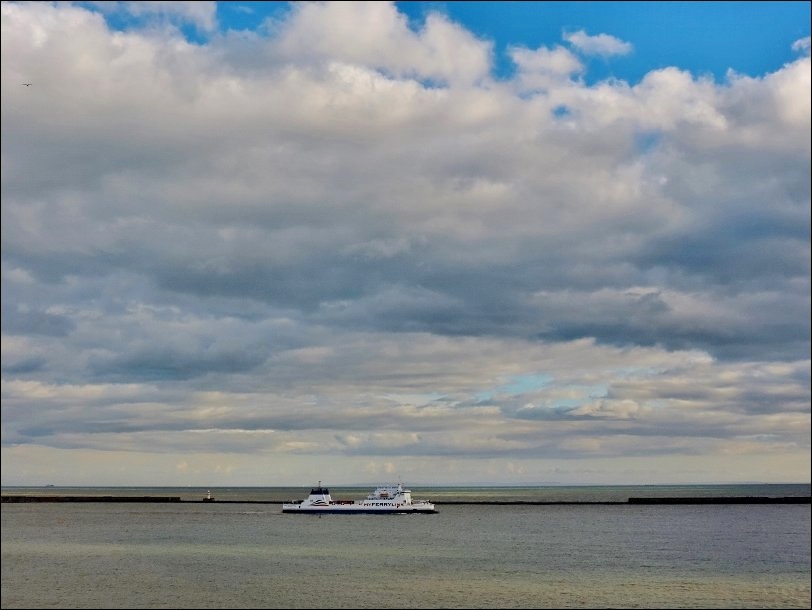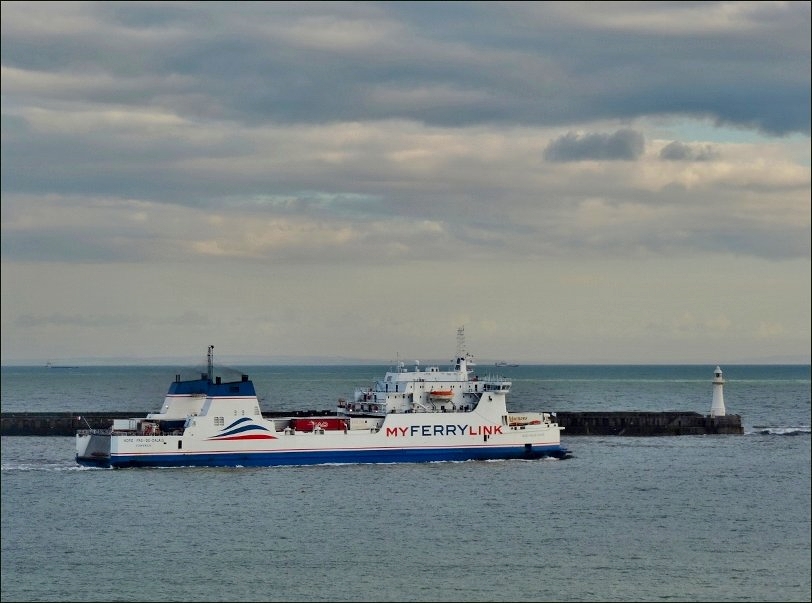 We just caught these couple of shots on tuesday of the old battling warhorse the Nord pas de Calais moseying across the harbour to leave through the western gate...in nice and bright conditions as you can see, looks like she has had a recent 'makeover'. Conditions are a tad different in the pictures above to the pea-souperish situation this morning as I write, with the electronic pulse wailing mournfully across the harbour...I hope its not a banshee wailing so I do... PB.


Thursday, 26 February 2015 - 07:31
Post 1404
Sea News, Dover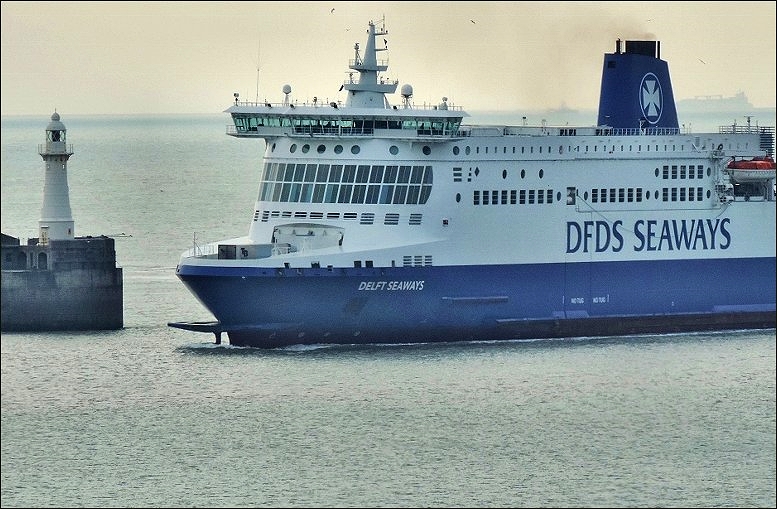 Take a short break to Europe with DFDS Seaways from only £59
- Three and five day short break ferry crossings from just £59 per car

_____________________________________________________________
Award winning ferry operator, DFDS Seaways, has extended its short break offer on its Dover-Dunkirk route to include a five day return for a car and up to nine passengers for only £59. This offer is in addition to the current three day short break return offer of £59 on its Dover-Dunkirk and Dover-Calais services. These offers are valid on bookings made before 31 May 2015 for travel until 30 June 2015, subject to availability and selected exclusion dates.
France is the most popular holiday destination in the world, and with its great cities, beautiful countryside and famed cuisine, it's no surprise. With short break offers on our Dover-France routes, now is a great time to explore the beautiful countryside of Normandy and northern France, experience the rugged coastline or lose yourself in the wonderful city streets of Lille or Paris, the most romantic city in the world.
If you want to explore further afield, you can head to the southern coast for beautiful golden beaches and glamorous resorts, or visit neighbouring countries such as Belgium or Holland for a different cultural and culinary experience.
Our port in Dunkirk is located 25 miles north of Calais, meaning it is the ideal starting point for a break in France's beautiful northern coast or the historic cities of Lille or Arras. You can even travel to beautiful Bruges where you will find a delicious array of beer, chocolate and Flemish delights on offer.
If you're planning a break to central France, or the famous beach resorts of Nord-pas-de-Calais, then our Calais port is a convenient place to start your journey. With motorway access linking you to major cities and tourist destinations throughout France, you can be in Paris in under three hours and Amiens in just 90 minutes.
To redeem the three day offer use the discount code E3DAY or E5DAY for the five day offer at the point of purchase.
Our short sailings from Dover to Calais and Dunkirk take just 90 minutes and two hours respectively, but there are still plenty of facilities onboard to keep you entertained. During your sailing with DFDS Seaways, you can enjoy a meal or snack in one of the onboard cafés or restaurants, shop for holiday essentials and luxuries, or relax as the children play in the dedicated children's area, meaning your holiday starts as soon as you board.
DFDS Seaways sails up to 44 times a day between Dover and France, providing passengers with flexible crossing times, a relaxing travel experience and convenient travel options.
To find out more information, visit www.dfds.co.uk, or telephone 0871 574 7235.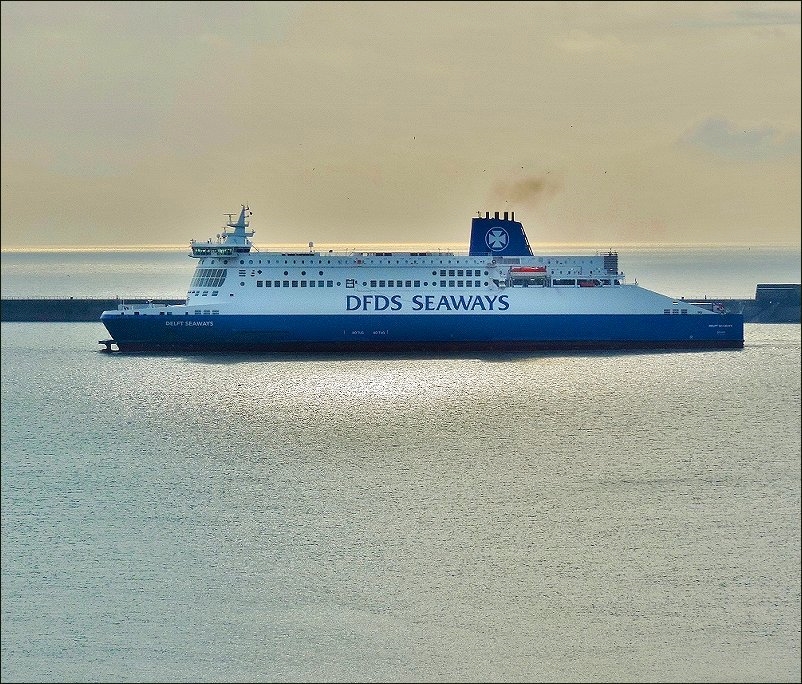 Many thanks as ever to DFDS Seaways for the information above.

* *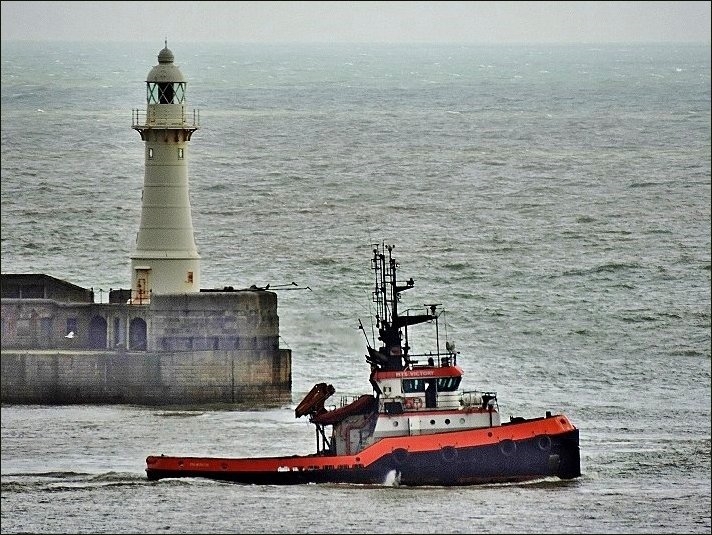 A couple of pictures to add to the collection...the one above showing the arrival of MTS Victory yesterday lunchtime (13.25 approx.)...
and below out in the channel another substantial crane on the move...this time its the Stanislay Yudin making slow progress south about 10am.
You can see Hotel de Ville Calais popping up over the horizon in the distance.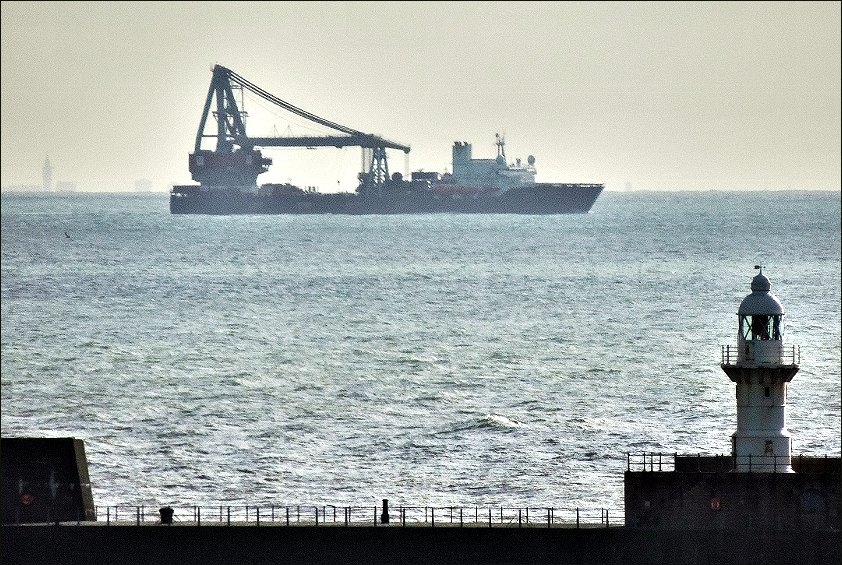 Wednesday, 25 February 2015 - 06:25
Post 1403
Sea News, Dover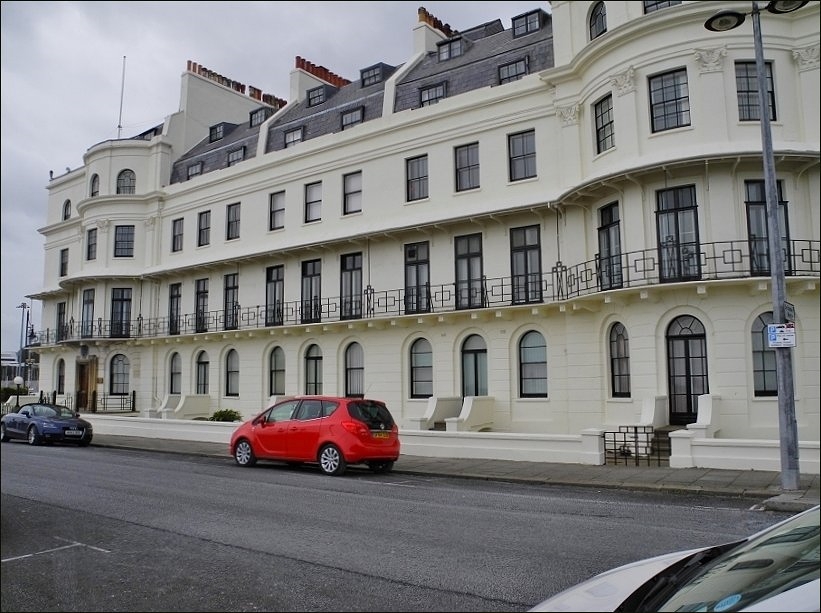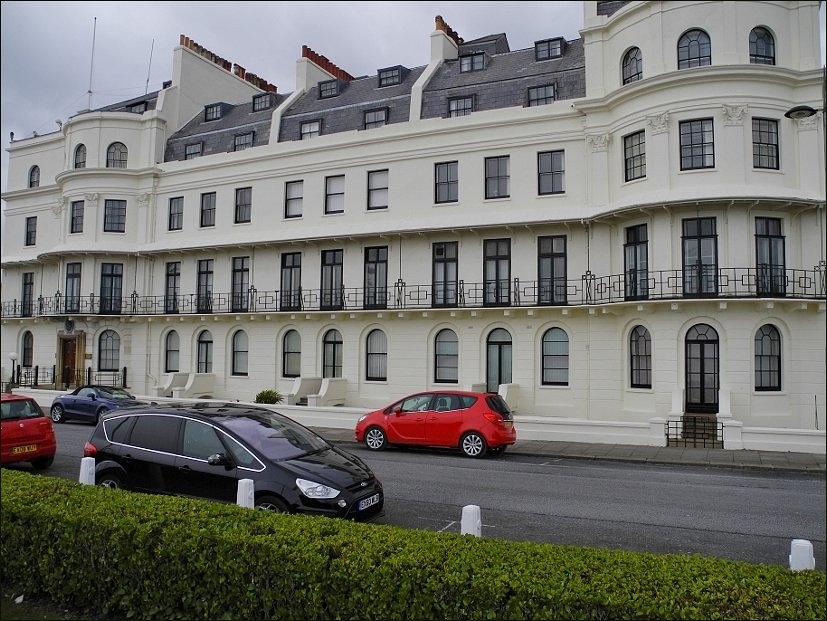 It has been bitingly cold for the past few days down at sea level here in the harbour. The chill factor would whip the skin off yer rice pudding and no mistake. So in the spirit of Scott of the Antartic, daughter BB and myself made it the 100 yards from sunday lunch at the Dover Marina Hotel up along the seafront to photograph the beautifully restored Harbour House. ..we were showing a resilient sturdiness above and beyond the call of duty I can tell you...so with frozen snozzle and chattering teeth, and the little compact Nikon to the fore, we got the pictures of the gorgeous building.

A beautiful restoration. Great to see. PB.

Across the harbour at high tide sunday...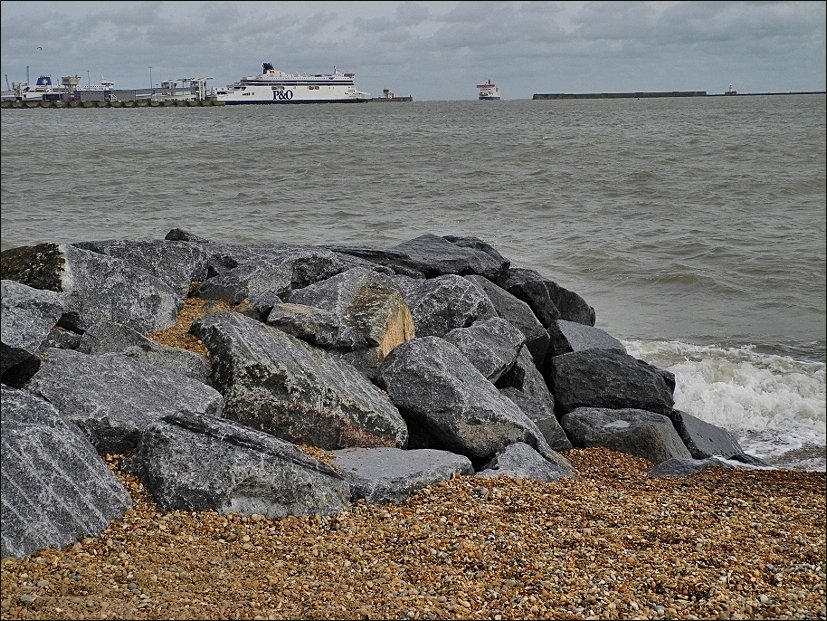 Thanks for that info Mike as ever.

Tuesday, 24 February 2015 - 08:08
Post 1402
Mike J., Dover
The AFON CEFNI was towing our old friend the CHARLIE ROCK who did the rock-dumping for the new groynes along the seafront last March.

Similar work has been going on for several months just beyond Dungeness, reinforcing the seawall near Camber, & the AFON CENI has been the resident tug down there, moving the barge when necessary.
They're in Dover for shelter.

Monday, 23 February 2015 - 11:12
Post 1401
Sea News, Dover
It was Saturday evening when I saw the following approaching from the west. Through the binoculars one could see it was the tugboat Afon Cefni towing an enormous barge. Would the light last until it reached the entrance to the harbour here? ...progress was slow so the answer was sadly no. As insurance I took these long range shots. The first one is very very long range indeed so quality not great, the second picture was taken closer in so it was a bit less of a strain on the pixels! At the harbour entrance one of our own regular tugs joined in to help, getting her into dock as darkness fell.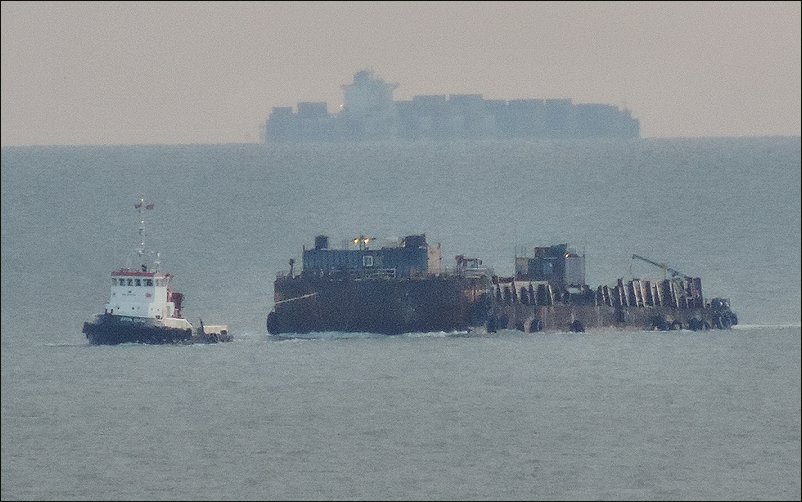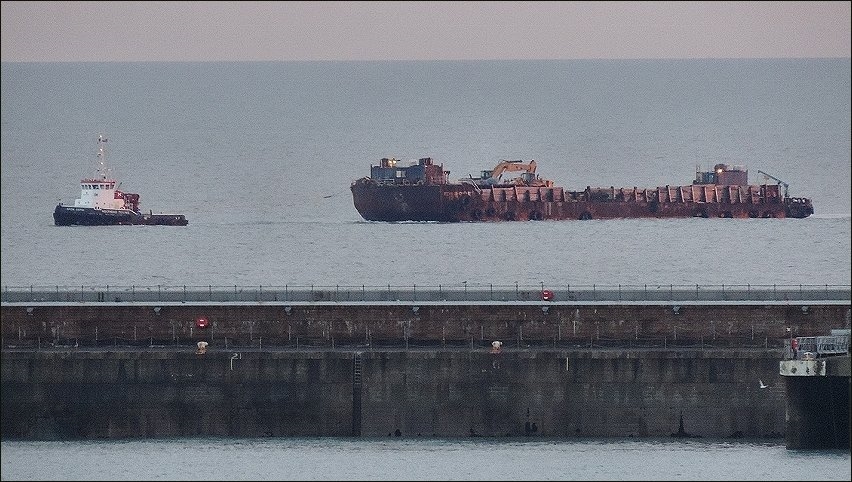 From the BBC archive..
"
An Anglesey company played a key role in the salvage operation of the stricken cruise liner Costa Concordia.
A tug belonging to Holyhead Towing helped pull the ship upright in a 19-hour operation.
The luxury vessel had been stuck off Italy's Tuscany coast since running aground in January last year killing 32 people.
The £500m salvage operation was described as one of the largest and most daunting ever undertaken.
Holyhead Towing's tug Afon Cefni was part of the operation to right the vessel and will continue to be used over the months ahead.
"
On to sunday now and it was a bleak day here in the harbour..but...for a brief time early on a person could almost have mistaken it for Spring..that was until one stuck ones snozzle outside!!

cold !!!
You can see the tidal situation again in this picture below...tide very low. You can easily stroll outside the groynes. Because of the exceptional Spring tides there has been some talk of possible flooding in various areas. This was the scene in the colourful early sun.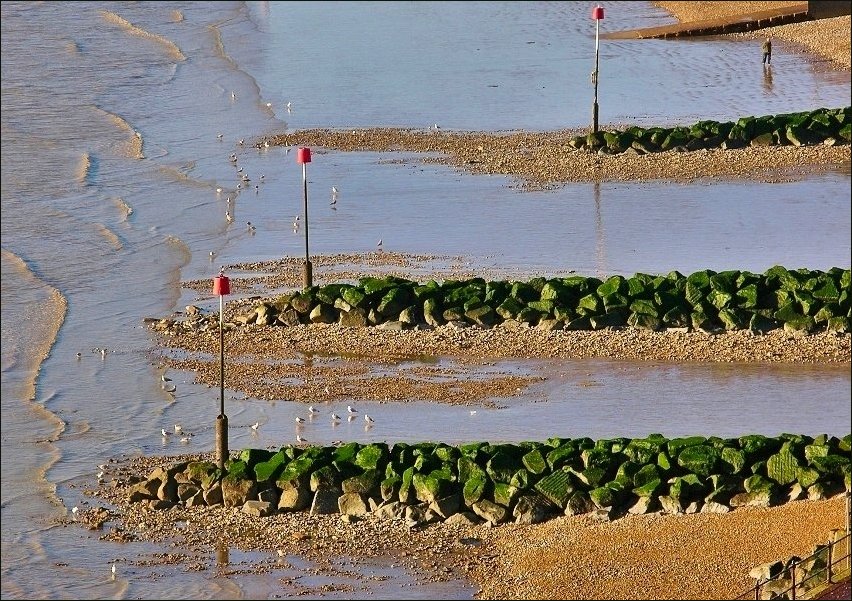 Interesting pictures Nick...very good to see them. Glad Mike was able to help with those questions. Excellent.
Thanks Vic .. lots more to come over the coming months...touch wood !

PaulB.
Monday, 23 February 2015 - 07:02