Saturday, 22 July 2017
doverforum.com/sea-news
Featuring all the ships that come and go and work at the Port of Dover with further coverage of Ramsgate, Calais, Dunkerque.
Email:dover7@msn.com to send SEA NEWS pix or info.... or click ADD YOUR COMMENT below to post direct, no membership needed. Use our SEARCH ENGINE below to find all sorts on the SEA NEWS pages..more than 180 now with more than 3666 nautical posts. Posts welcome. Max of 5 pictures preferred per post. Sea News Editor Paul Boland.



Sea News Dover:


The exciting upcoming Dover Music Festival see 4002
Record Half Year for P&O FERRIES ...see below 3964.
The Crown Princess at the Port of Dover... see 3956 and 3953.
P&O Ferries give Lifeboat £10,000...see 3933.
DFDS Cycling Special : Tour de France see 3902.

Type Cruise Visits (or indeed anything) in our Search Engine below for the latest cruise ship arrivals..
Post 4011
George, Dover
Apologies for this off-topic item, but the scenes below are not something you see every day in Dover. Hare Krishna monks lead a pilgrimage that begin outside Canterbury Cathedral on Tuesday and will finish in Folkestone. Here the procession passes nearby Church Hougham at lunchtime yesterday: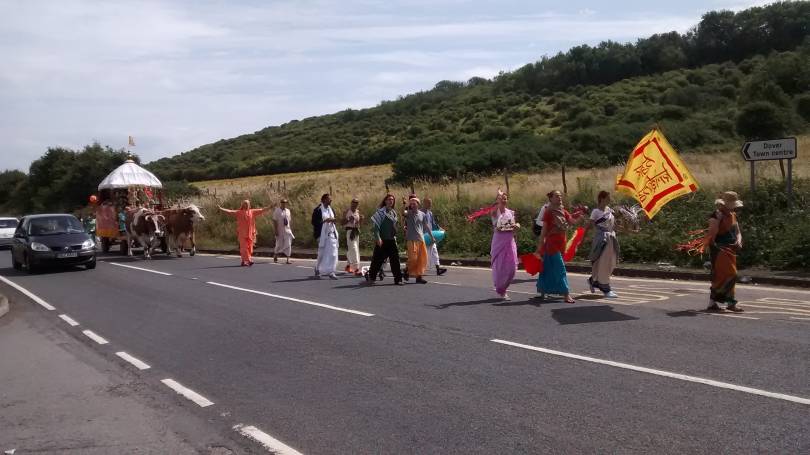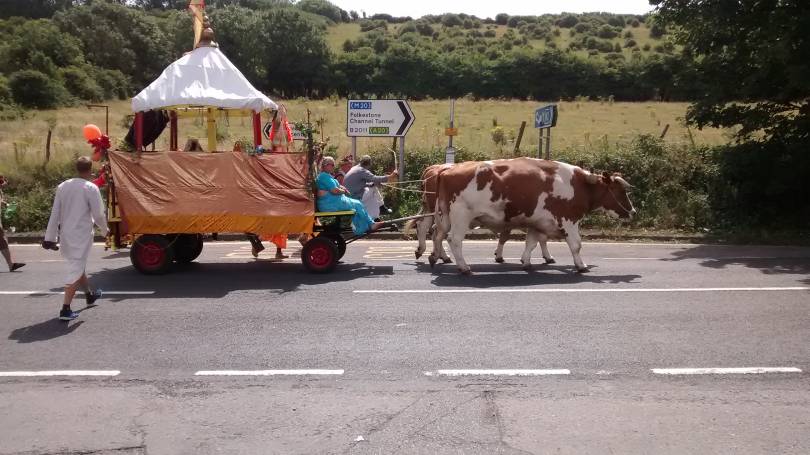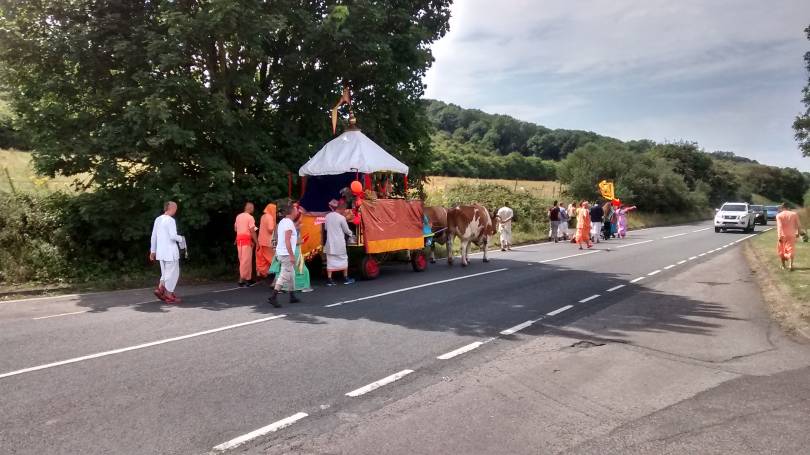 The sacred cows were fortunately blissfully ignorant of the fact they were gently plodding past the Beefeater restaurant!

Saturday, 22 July 2017 - 00:44
Post 4010
Mike J., Dover
After the ultra-modern DISNEY MAGIC a 53 year old veteran still at work
The 1964-built TERSCHELLING spent her first quarter century as a Dutch buoy-tender before starting a new career as a survey & salvage vessel.
According to one of the crew she is tbe oldest Dutch-built vessel still in full commercial service.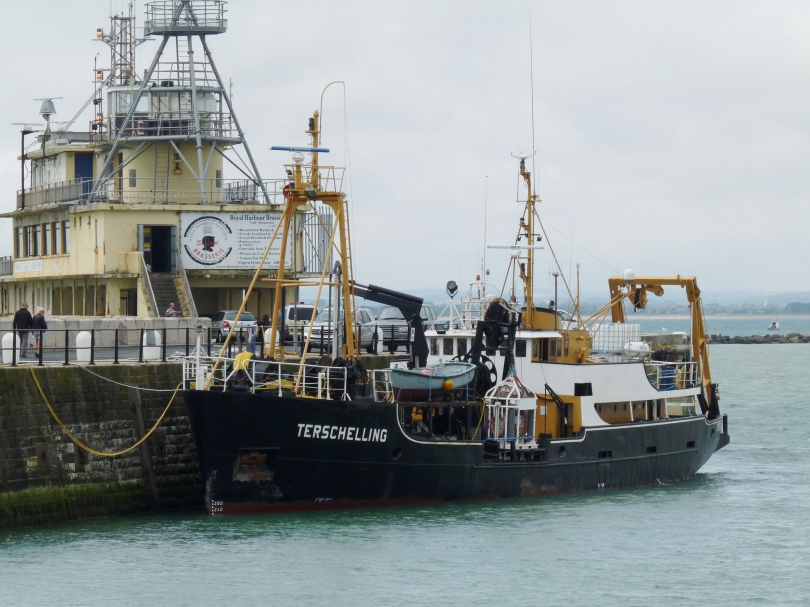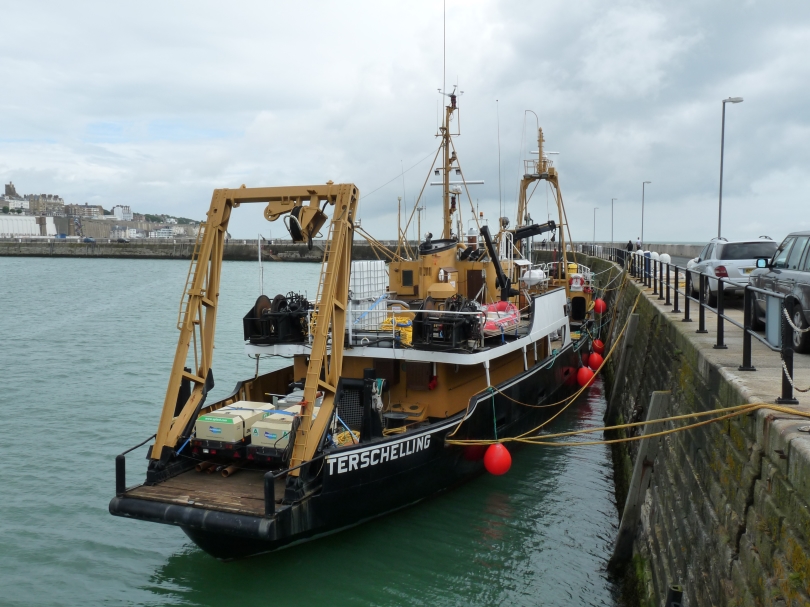 The TERSCHELLING has received many modifications over the years for her current role & it's good to see her still in active service, a classic 1960s ship & quite a contrast to the usual Ramsgate 'traffic'
A ship of 'character' for sure.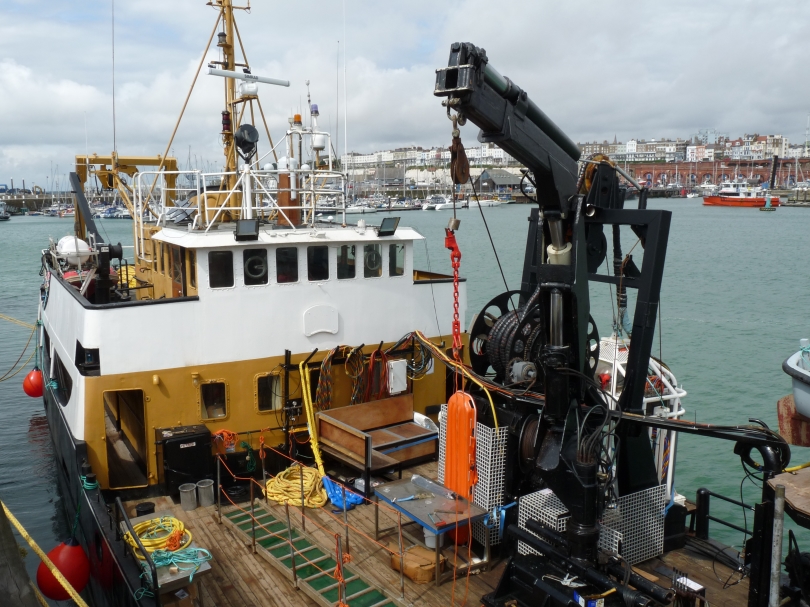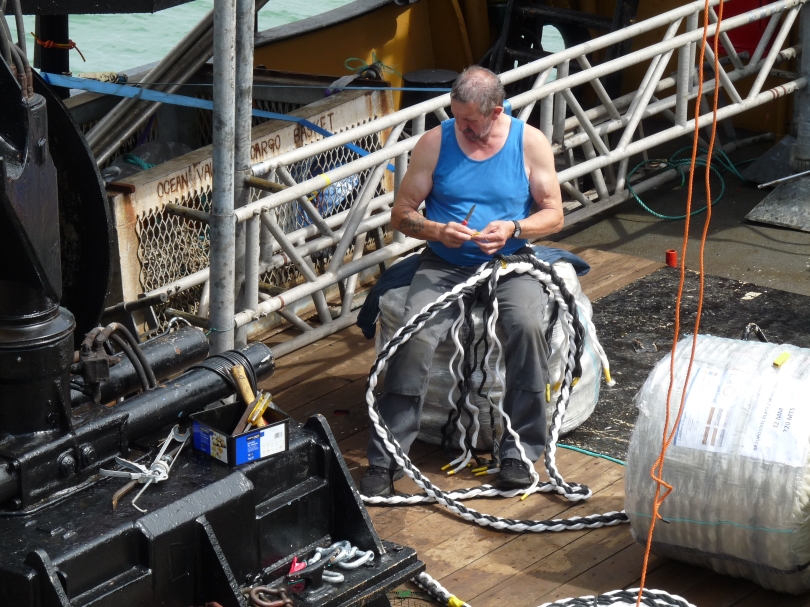 Now Panama-flagged but British-operated, she was catching up with maintenance on Thursday at Ramsgate, waiting for an improvement in the weather before resuming an archaeological survey on the wreck of the Dutch East Indiaman ROOSWIJK, lost with all hands on the Goodwins in 1740 when heading for the Far East.
Further Dutch/British investigation of the wreck will take place during the summer.
Frst discovered in 2004 a considerable amount of silver bullion & other items have already been salvaged from the wreck..
Saturday, 22 July 2017 - 00:12
Post 4009
George, Dover
Lovely shots of the Disney Magic by Patrick. Thanks Patrick.
It was a gorgeous day in Dover; blue skies, light winds, not too hot, and thankfully less humid. Here follows some scenes from earlier this evening:
A distant view of the magnificent Disney Magic seen from St Martin's Battery, Western Heights. Some close-ups will follow in due course.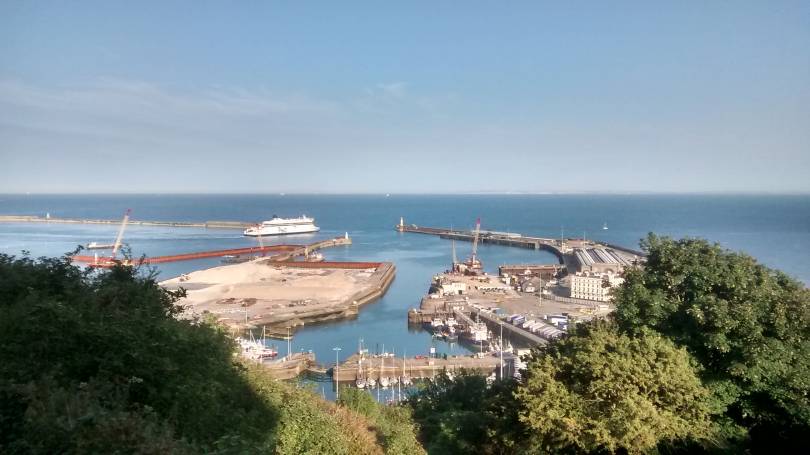 Spirit of France takes the long way out through the Western Exit to give way to ferry traffic approaching the Eastern Docks.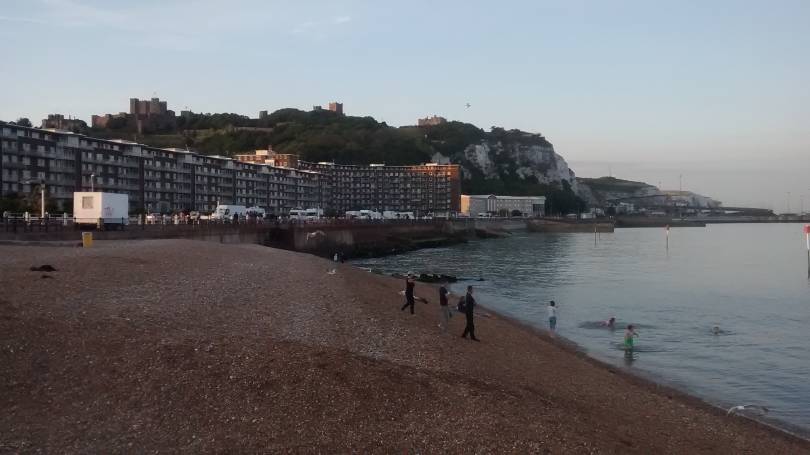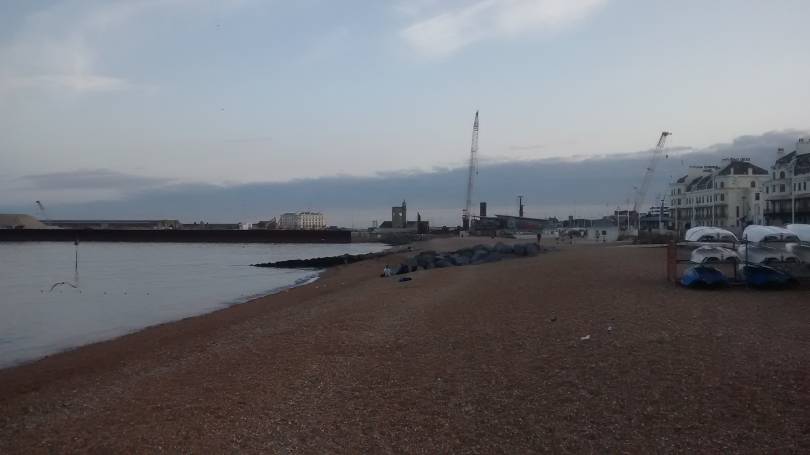 Three angles of Dover Seafront in the lovely evening light. You can see the ominous belt of cloud approaching from the West, signalling the iminent arrival of the forecast unsettled weather.
Friday, 21 July 2017 - 23:53
Post 4008
Patrick, Marine Parade
On this beautifully sunny afternoon we said farewell to the last call of the season for the magnificent 'Disney Magic', destined for Le Havre. We look forward to seeing her again next year hopefully.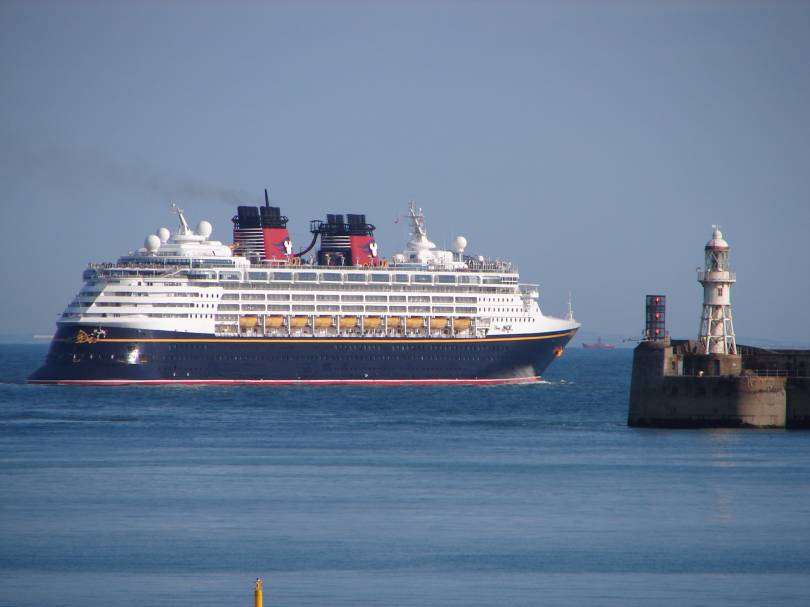 Friday, 21 July 2017 - 22:43
Post 4007
Sea News, Dover
Further pictures now of the Lifeboat guys, this time majoring on the Y-Boat...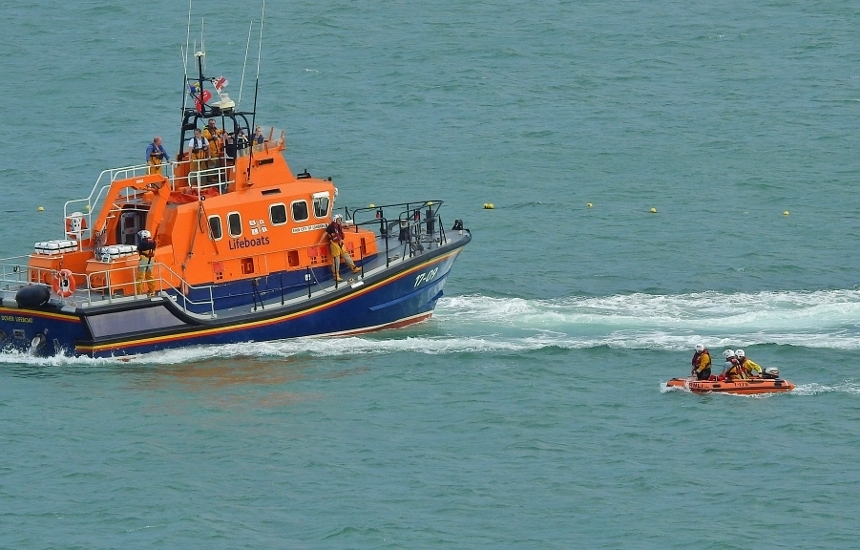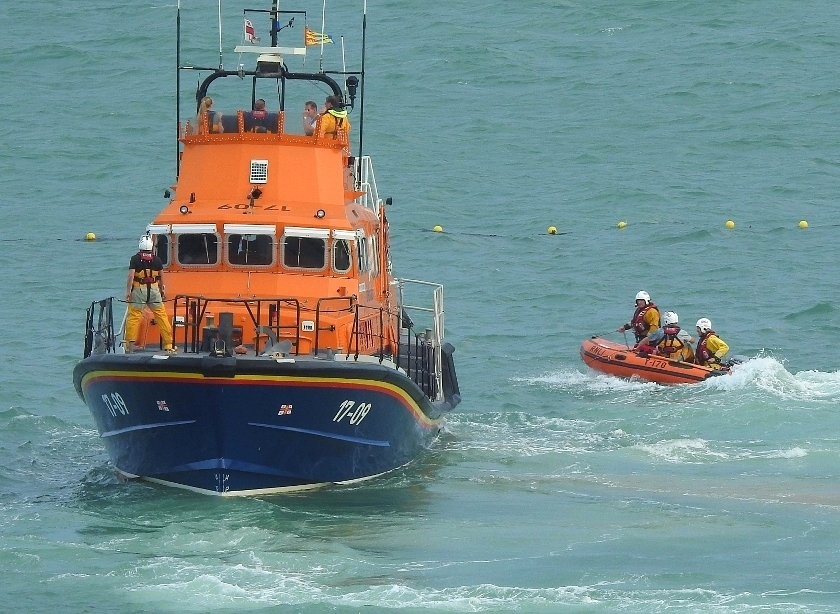 There we are above, the Y-Boat in various stages of hi-octane action on Tuesday evening. Yes indeed Tuesday evening this week was something of a Lifeboat spectacular and so glad we were able to capture some exciting images.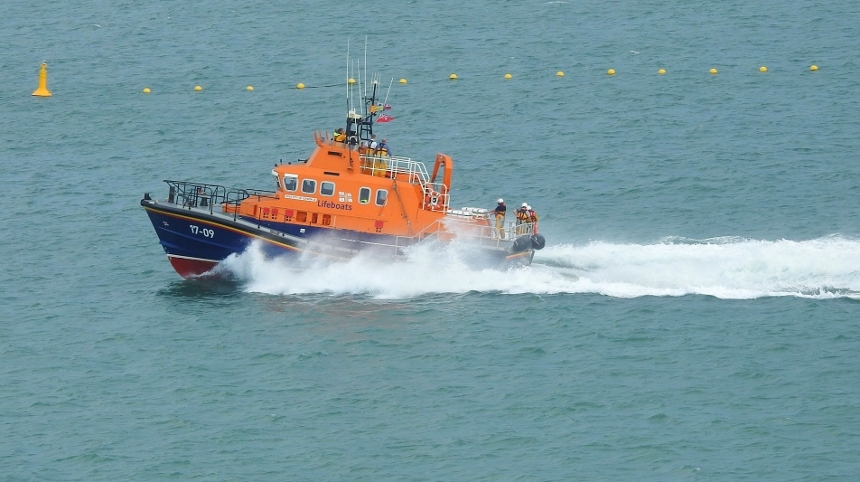 ....And then they were gone...whoosh!
Well done Mike. Excellent inshore coverage below there.

Yes indeed Colette the Disney Magic is in with us today...looking fabulously colourful in the early light. When yours truly eventually reached the dizzy heights of the perpendicular this morning at 04.45 she was already in situ for the day....what I would like is for her to arrive at 0800, do a snow white 360degree twirl in front of the observation tower, then head on over to dock. Far better for the camera that idea...

Good to hear from you as ever Del...you wont get too exhausted looking in here on Sea News

Thanks Sarah as ever. Well done with those pictures of Eagle. Woman right on the spot once again. Hope all your Lifeboat people are enjoying the pictures too.

PaulB.
Friday, 21 July 2017 - 05:57
Post 4006
Mike J., Dover
At about 1300 on Wednesday the Antiguan-flagged FEHN CAPELLA came in from Dindelnoord & docked on the Admiralty Pier.
She was still tying up when the two Holyhead Towing tugs came around the end of the Prince of Wales with a crane barge & while it was being secured AFON GOCH left the crane in the hands of the LLANDWYN ISLAND & hurried off to collect a pipe-barge that was waiting on Cruise-2.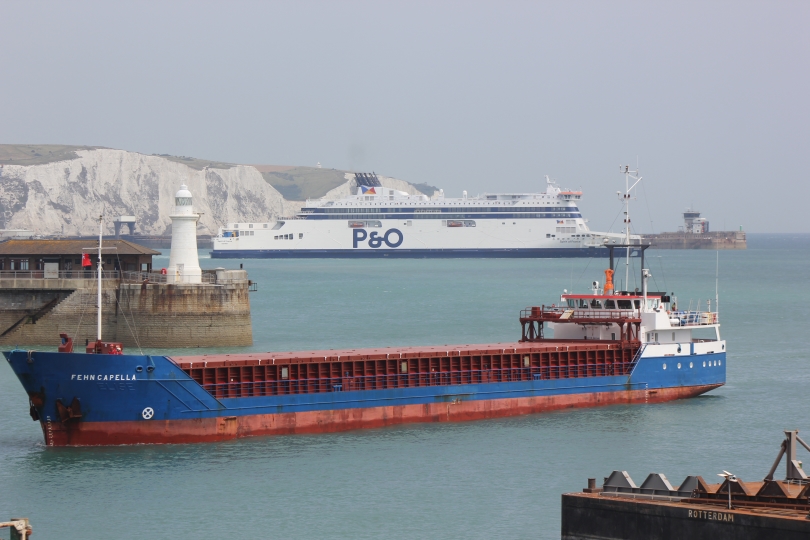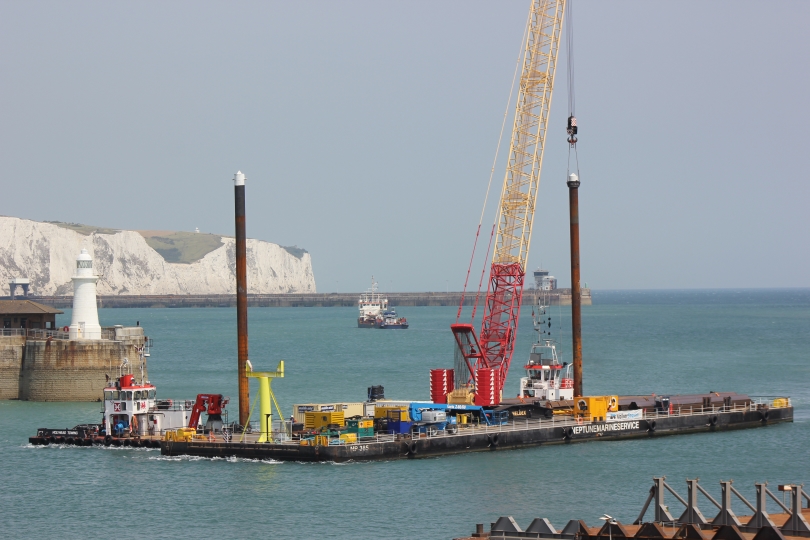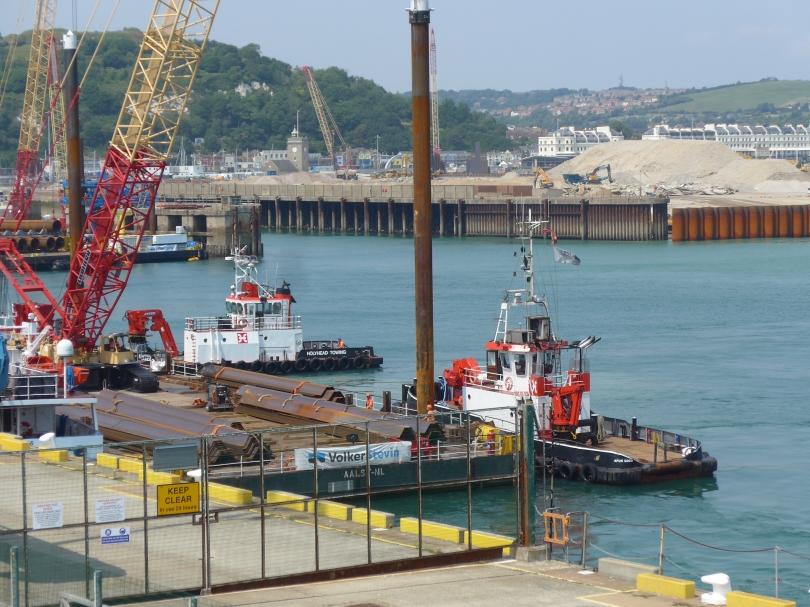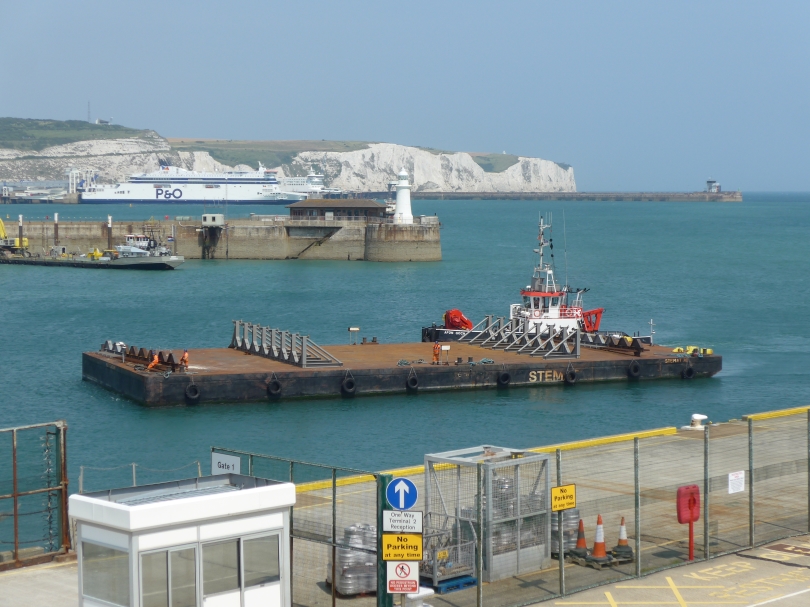 Unloading started almost immediately & the FEHN CAPELLA sailed for Teignmouth late morning Thursday.
Piles seem to be arriving every five or six days & imagine that the traffic will continue for many months.
The nice-looking 1975-built survey vessel EGS PIONEER overnighted Wednesday night while on passage from Harwich to Shoreham.
She is berthed berthed ahead of the recently-arrived WILLCHALLENGE.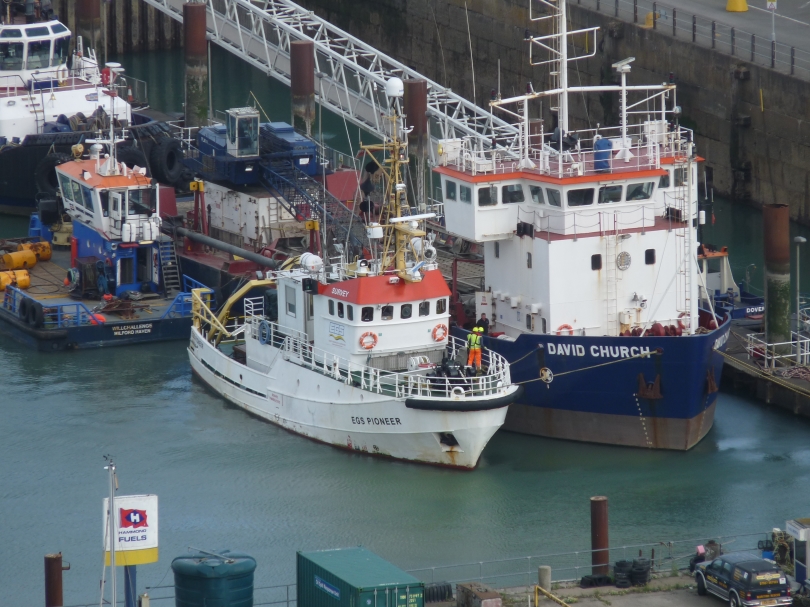 Re post 4001 - St Martins Battery has for long been a spot for dodgy nocturnal goings-on, particularly since the Langdon Cliffs parking up above Eastern Docks was partly-closed at night, but there are no problems at this popular spot during daylight hours, with a grandstand view of DWDR activities & a superb view of the town & Dover Castle, with the only shifty-looking characters being 'Sea News' photographers.
Friday, 21 July 2017 - 01:15
Post 4005
Del Styan, Norwich
Great shots of the Western Heights - I've been up there on foot and I was knackered!

Thursday, 20 July 2017 - 23:06
Post 4004
Colette B, Dover
CRUISE VISITS UPDATE
Just some extra information to 'whet your appetite' for the coming week.
Tomorrow Friday July 21st Disney Magic visits us for the last time this year, starting her 7 night cruise to Barcelona. She will be calling at Le Havre, Lisbon and Cadiz along the way. She will then be cruising the Med from Barcelona until September 16th when she sets sail for New York in the U S of A arriving there September 27th. She arrives here tomorrow morning at 04.00, CT2, departing at 18.00hrs, T/R.
May all your dreams come true …………

There will be a lull now until Friday July 28th when the Saga Pearl ll pops in to say hello, I'll be back with more information real soon folks

Thursday, 20 July 2017 - 14:25
Post 4003
Sarah, Ramsgate
Fantastic photos Paul



Border Force "Eagle" resting in Ramsgate Harbour yesterday.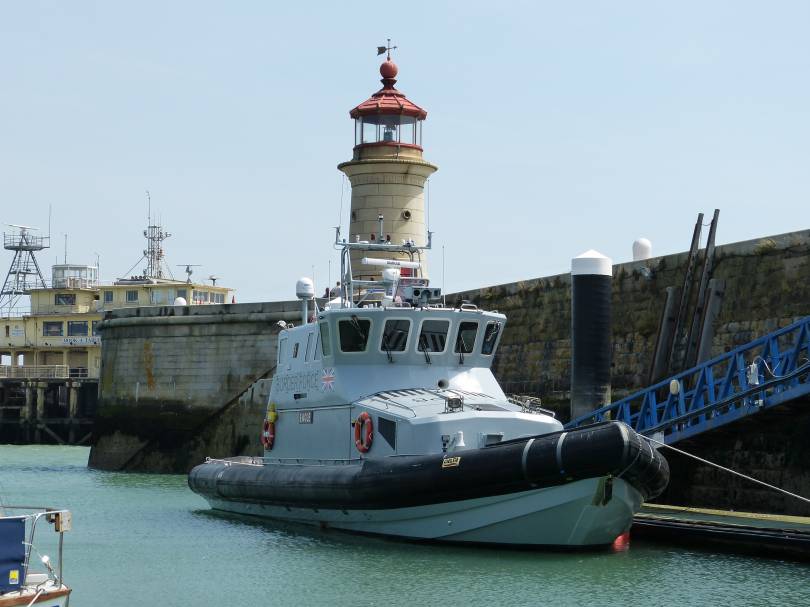 Thursday, 20 July 2017 - 09:20
Post 4002
Sea News, Dover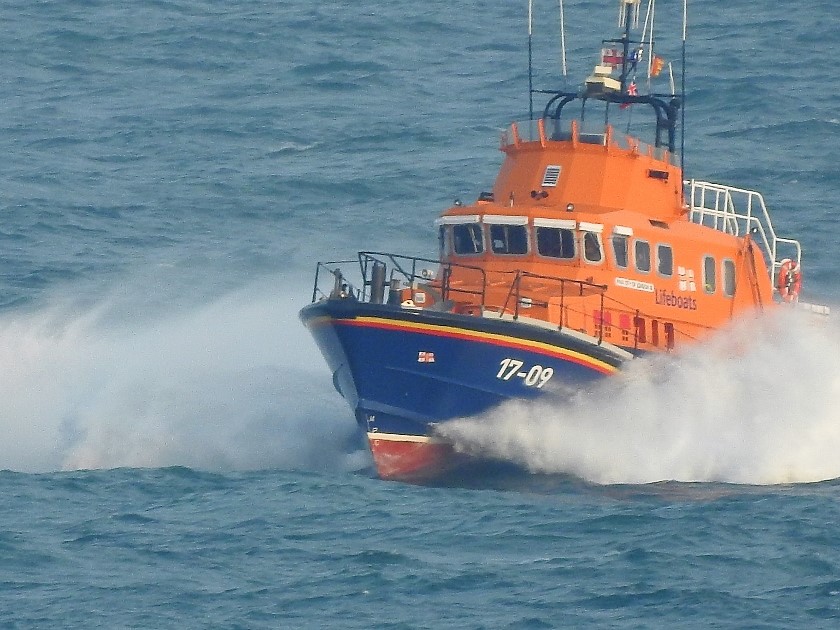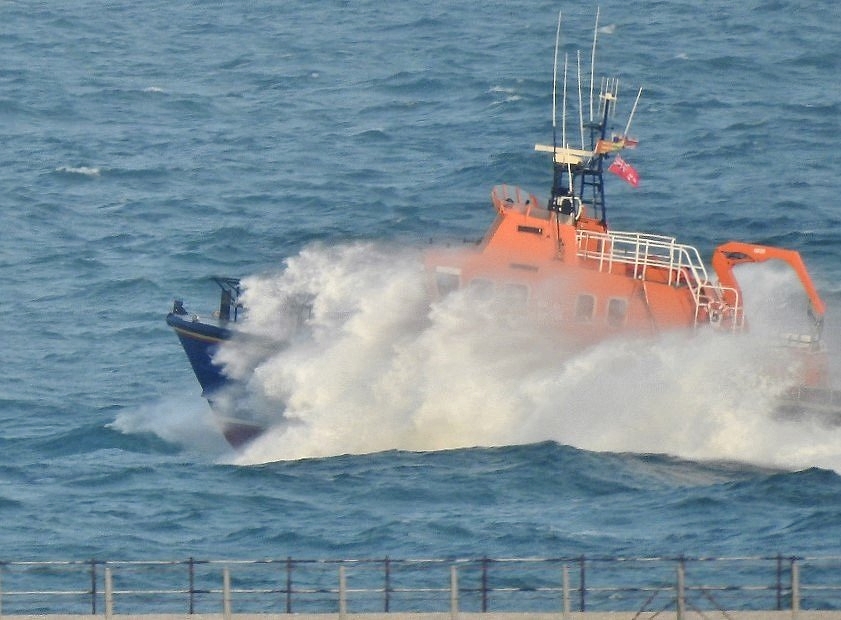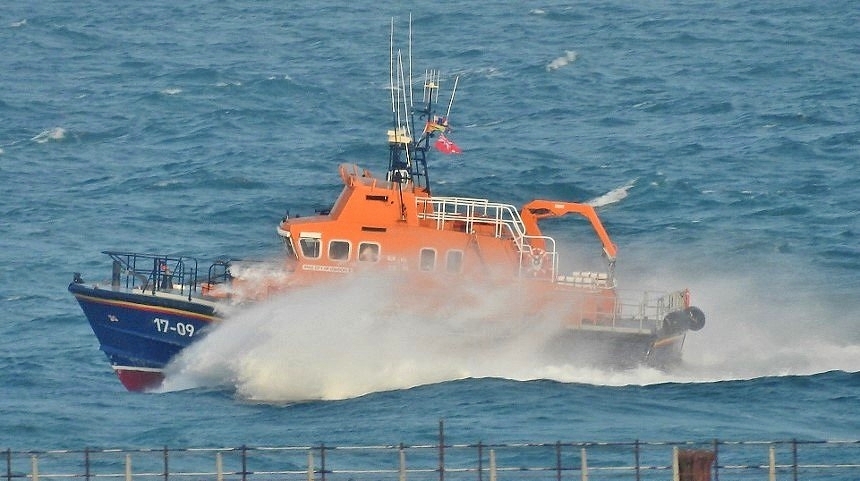 As promised there we are above with some shots of the blistering action from the Lifeboat guys on Tuesday evening. The top pictures were taken in the distance as she powered through the roughish seas outside the harbour. A better vantage spot would have been the Breakwater but we make do with the long-range lens.
The final shot below shows the scene as the Lifeboat came right alongside the beach several minutes later....all tranquil.. we may have another couple of pictures of the y-boat to follow in due course. Will check if the pix are up to muster...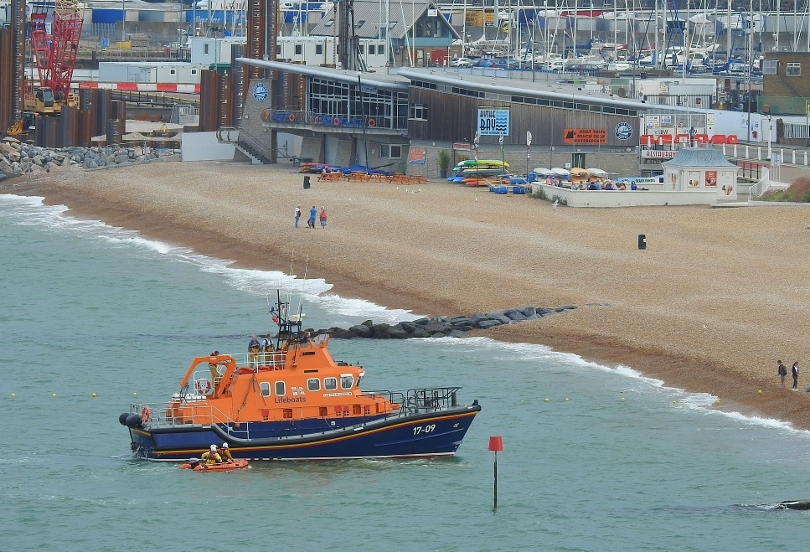 All pictures from Tuesday evening.
* *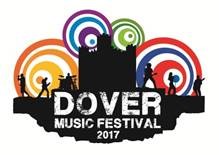 DOVER MUSIC FESTIVAL 2017
_________________________
Once again, we are all looking forward to another great festival at Cruise Terminal 1 in the Western Docks in Dover, taking place on Saturday 26th and Sunday 27th of August. We have chosen a wide range of musical genres to suit all tastes, so please check out our website www.dovermusicfestival.co.uk or our Facebook page for more details.
This year, there will be limited free car parking at locations adjacent to the Western Docks and a shuttle bus running from the Market Square. More details to follow soon.
Some people ask us how we can provide all this at no cost. The answer is that we have had tremendous support and sponsorship.
This year, in addition to receiving continued support from Dover Big Local and the Port of Dover Community Fund, we are delighted to welcome on board VBSW as a new major sponsor. VBSW, the company engaged by DHB to complete the regeneration of the Dover's western docks, is a joint venture between two of the world's leading maritime contractors. Each partner has more than a century of experience in the marine sector and enviable track records of successful delivery.
Entry to the festival is once again free to all, although we are asking for a donation to help Kelly Turner complete her lifesaving treatment in the USA.
On both days there will be something for everyone including a wide range of food vendors so come hungry..... a fully stocked bar and a great atmosphere. As usual the prices will be very keen.
All are welcome to the Dover Festival, which will have a fun filled Sunday at the Port of Dover Community Regatta packed with free entertainment and plenty of stalls and the Dover Music Festival on both days.
END
Exciting times ahead...


Pinned item

Don't miss that post below from George. Very interesting item George

PaulB.
Thursday, 20 July 2017 - 06:30
Post 4001
George, Dover
And now time for something a little different:
Dover's Western Heights provide a commanding view over the harbour, and on the right side of the sun of an afternoon. Earlier today I dared to venture where angels fear to tread in this sadly neglected and misused vantage point.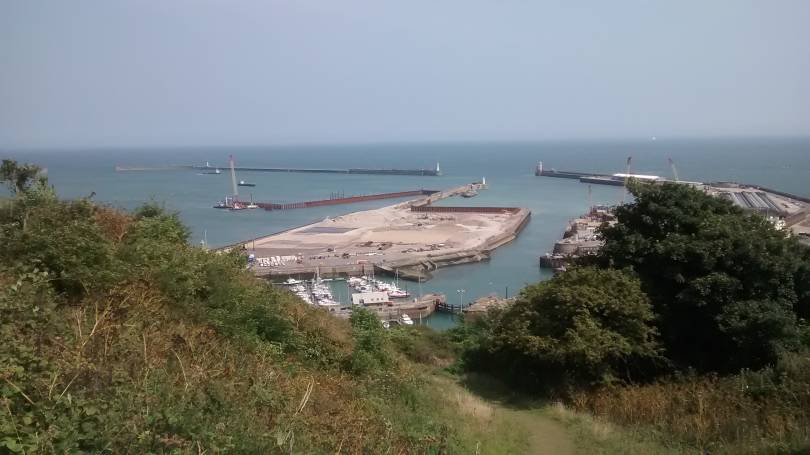 The redevelopment of the former hoverport and The Prince of Wales Pier can be seen literally taking shape. The obliteration of the pier, a listed structure incidentally, is very regrettable in my humble view.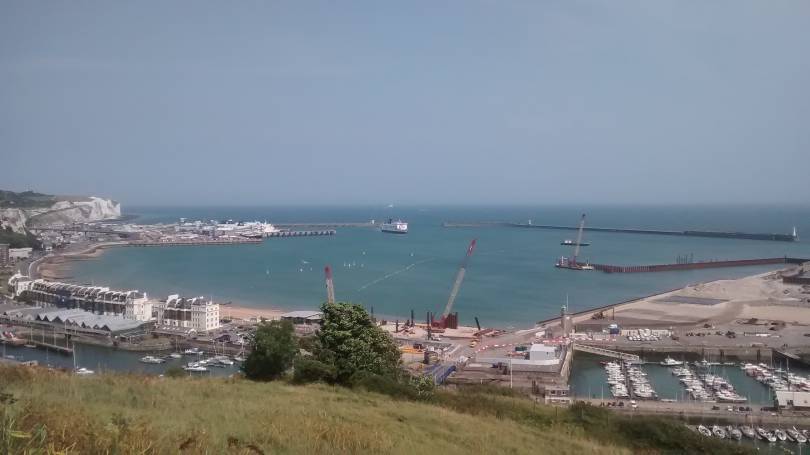 If you can allow for the trees in the way, you might be able to make out the progress being made on creating a conduit from the Wellington Dock to what will be a new marina enclosure in the harbour.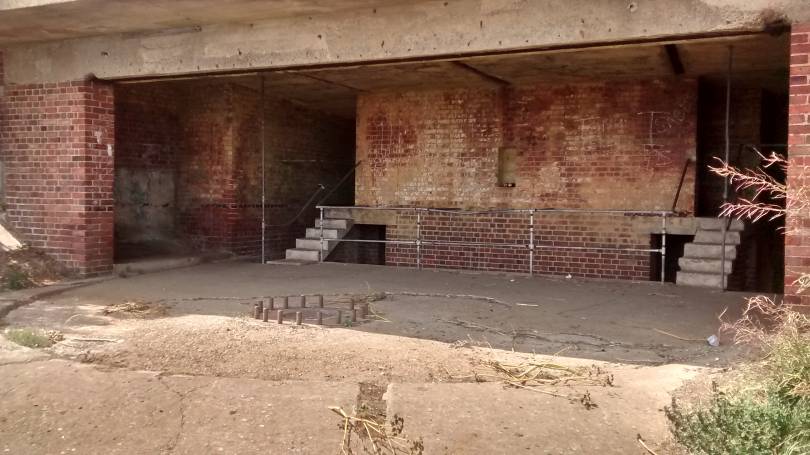 One of the three sheltered gun emplacements showing signs of decay and vandalism.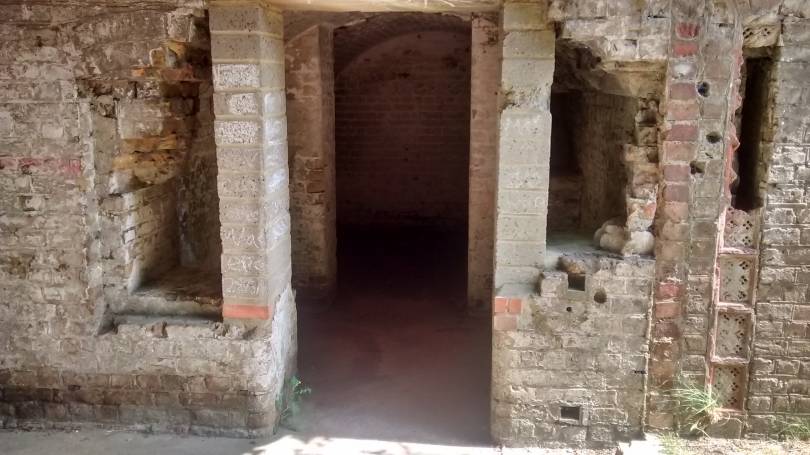 Be careful when investigating the numerous abandoned nooks and crannies. You may get a very nasty surprise!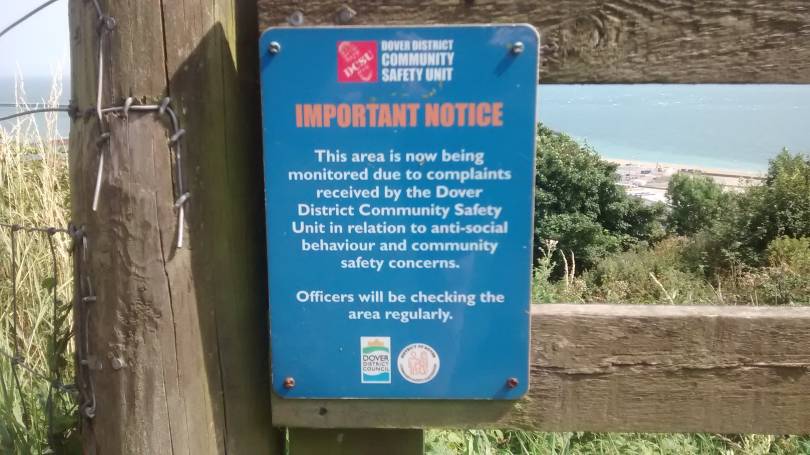 So shameful that something so historically rich and boasting such wonderful views across Dover Harbour and the Channel has become a hotspot for "anti-social behaviour", as referred to in this warning sign. If you're wondering what specific activities it is alluding to, the disturbing sight of shifty looking individuals convening and disappearing into the darkness of the wartime bunkers may offer a sinister clue.

Wednesday, 19 July 2017 - 20:59
Post 4000
Sea News, Dover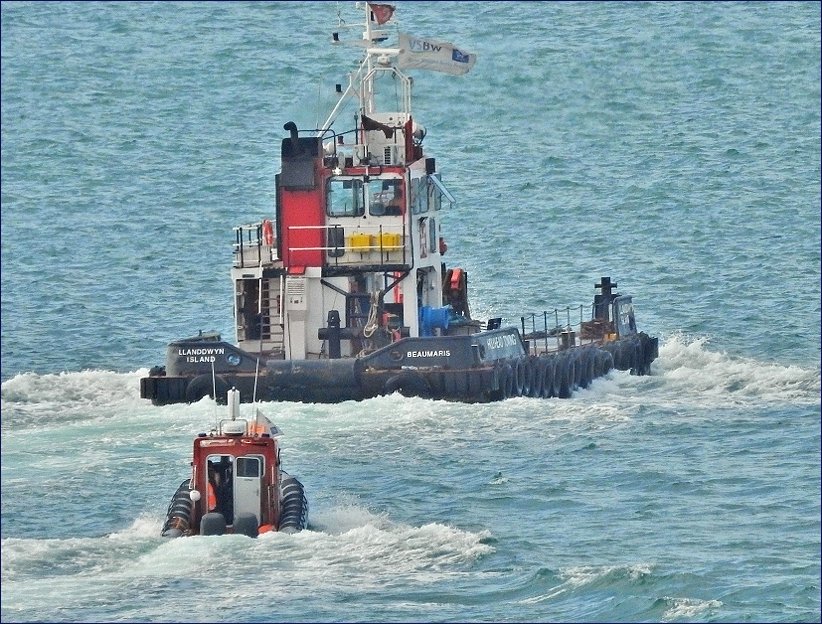 Holyhead Towing's tug Llanddwyn Island heads back to the inner harbour yesterday in the choppy waters...there was a bit of a stiff breeze whistling across the harbour at the time. Following along behind is the crew boat Grumpy...
Below we have Elsebeth leaving us this morning at 06.55 in the early yellow light. She was on her way to Flushing in the Netherlands and was helped by both tugs Doughty and Dauntless...they are just out of shot this time.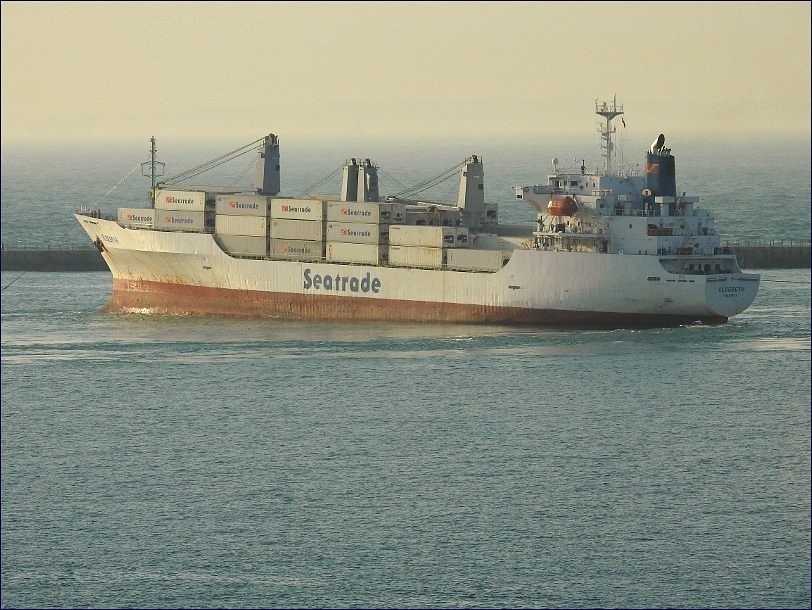 The Lifeboat guys were out there in action last evening Tuesday, their usual time...will have some pictures to follow in the morning of their exciting and exhilarating exploits. PB.
Wednesday, 19 July 2017 - 15:05
Post 3999
Sea News, Dover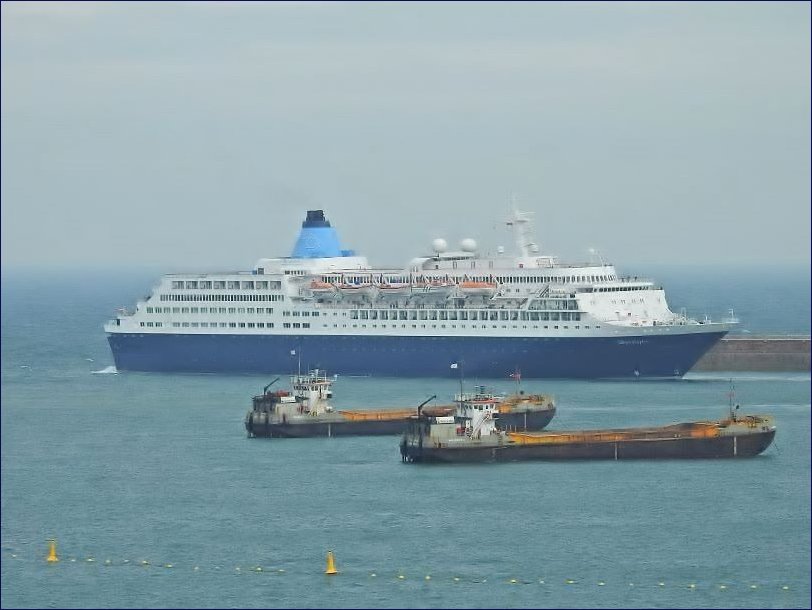 Departure time...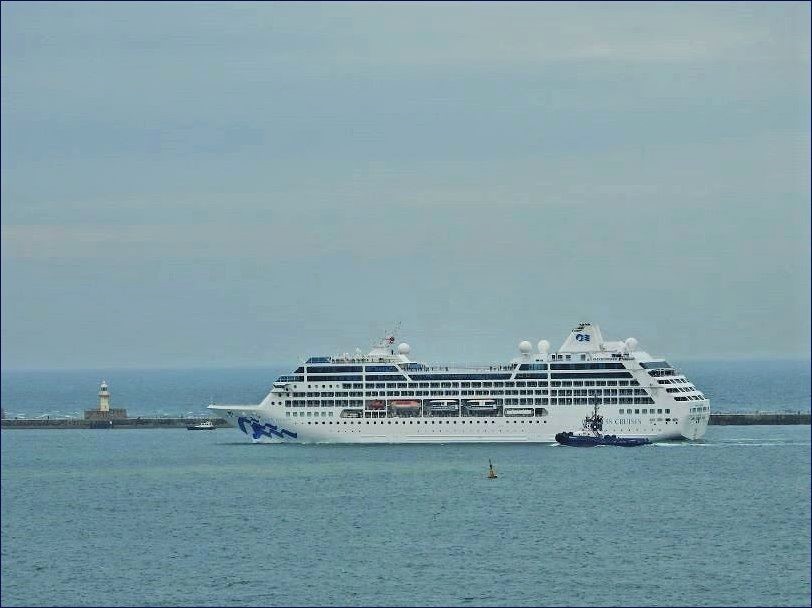 Just catching up now with some very recent deparrtures. Top shot shows the Saga Sapphire reversing out of Port a few days ago with the two Wadden barges, Wadden 1 and Wadden 4, in the foreground. The ship was off to Gothenburg in Sweden. Below that picture and a day later we see Pacific Princess making her way across harbour heading for Helsingor through the eastern exit. Twas a bit of a grey oul evening for that departure... in fact on reflection all pix were taken on grey oul evenings this time around ...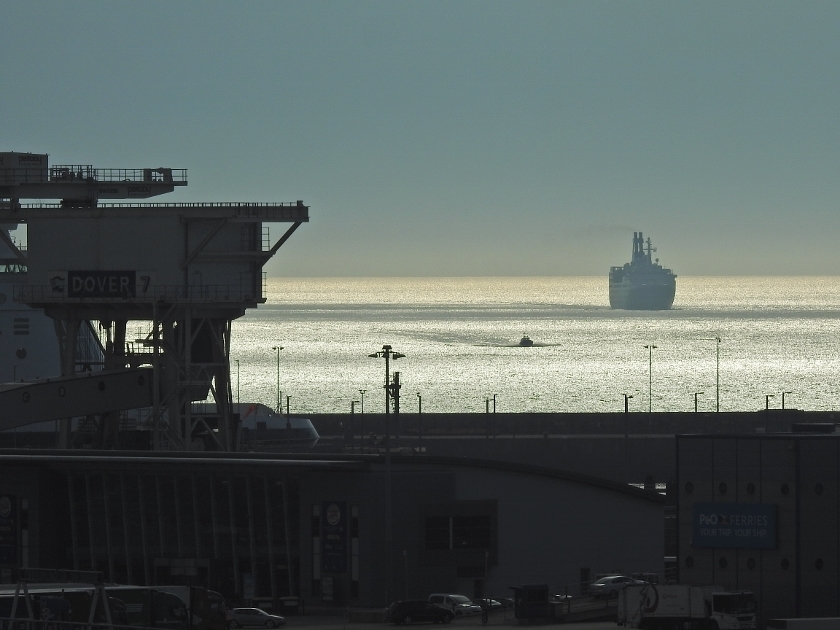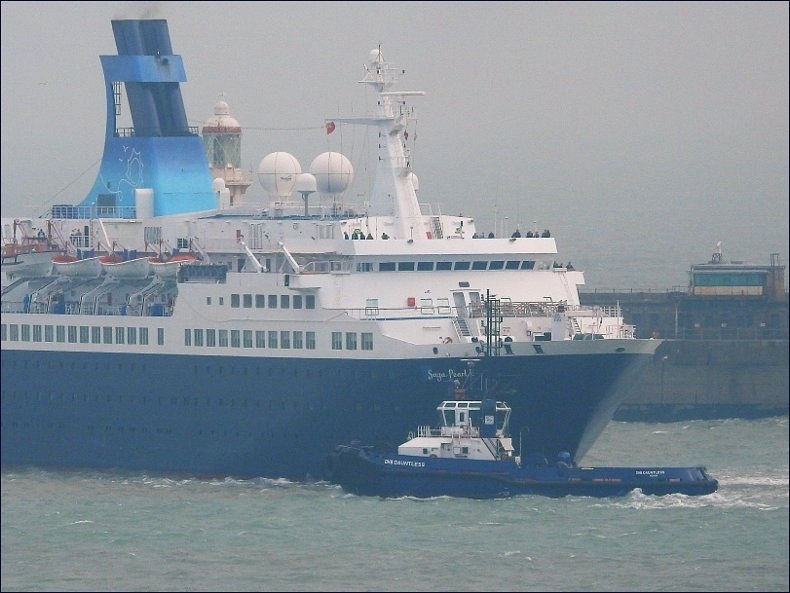 Then on Sunday we had the early golden arrival and departure of the Saga Pearl II. The final picture there is one from the recent archives as yours truly ran out of battery power at the wrong moment this time around. PB.
Wednesday, 19 July 2017 - 04:32
Post 3998
Sea News, Dover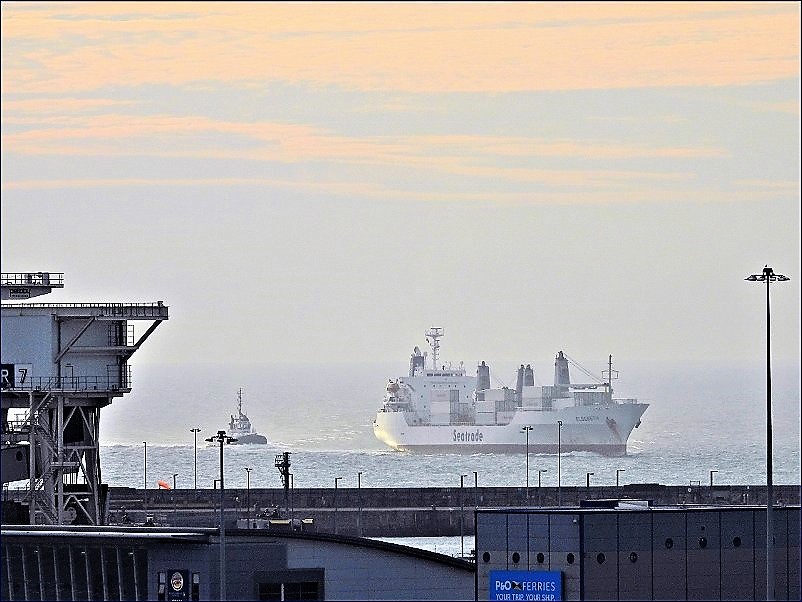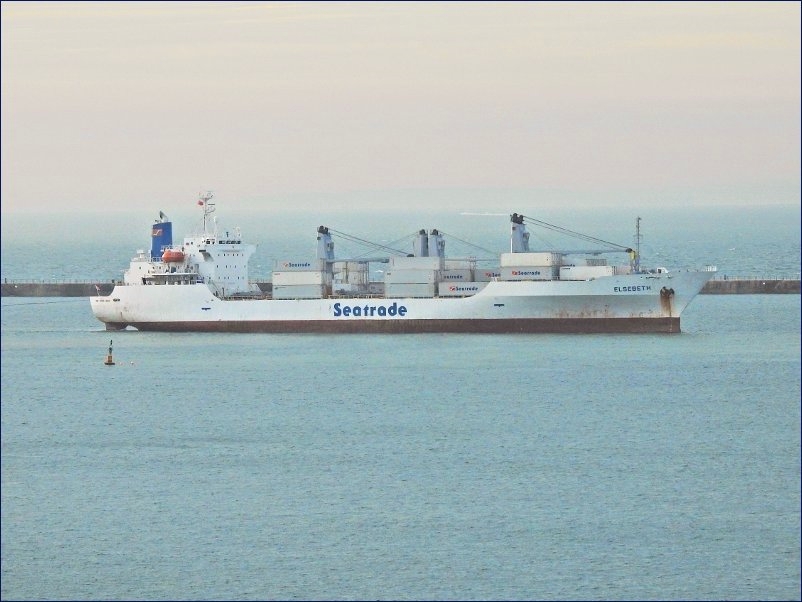 Some pictures above there from early this morning...about 06.30. They show the approach and arrival of the familiar reefer Elsebeth.. From a camera buffs point of view I tried something called Active D-Lighting to see if it would improve things in the early light..
....it didn't work !
Always blame the tools....

!

!
I was able to partially recover the pictures as you can see. Schweiz Reefer was also in with us here in the past couple of days...leaving in the wee small hours of sunday night. No picture this time but try our search engine above there if you want another look. PB.
Tuesday, 18 July 2017 - 11:32
Post 3997
Sea News, Dover
Great pictures below there from Patrick and Mike of the DWDR and all the goings on - great all round info. Don't miss those pix.

Ace pictures below too of Galatea from our Roving Reporter from Ramsgate Sarah H

PaulB.
Tuesday, 18 July 2017 - 08:18
Post 3996
Mike J., Dover
Excellent pix from Patrick of the DWDR work, clearly showing the progress that is being made.
Here's a couple of pix, one showing the new gap in the Dunkirk Jetty & the second showing some of the intensive dredging that has been taking place since the departure of the ENAK & her big grab.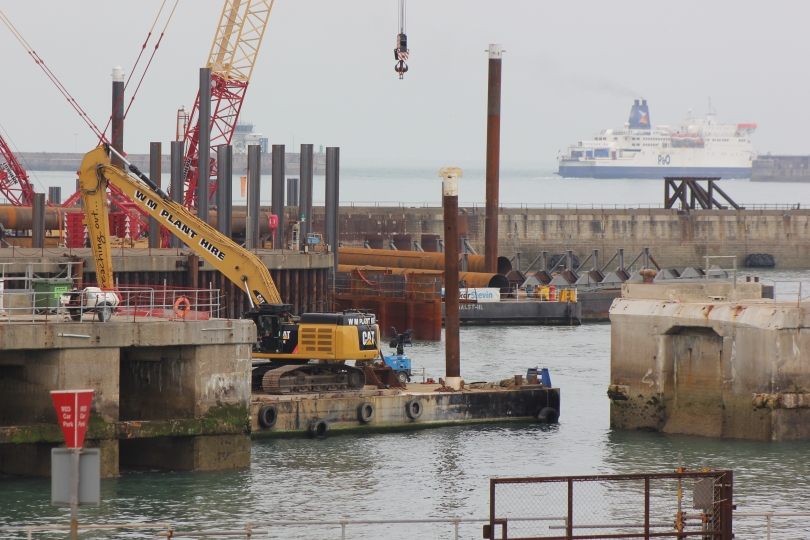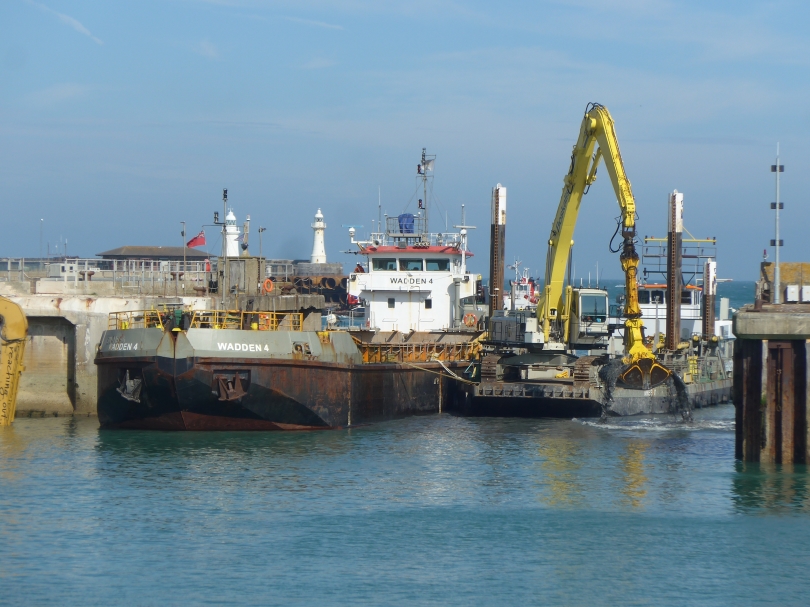 Re Paul's pix in post 3993 of the rescue of the WAYPOINT-1 last Thursday, I was speaking to one of the fishermen involved a few days ago & he said that they were fishing off Samphire Hoe when their outboard motor 'blew up'
The RNLI was on the scene within ten minutes & efficiently towed the boat back to the small craft launching ramp near the Royal Cinque Ports Yacht Club.
The lifeboat couldn't come close in to the beach due to shallow water, so she came in at some speed, releasing the fishing boat as she turned away.
WAYPOINT-1 had enough momentum to reach the ramp.
The outboard is probably a 'write-off' so it was an expensive fishing trip, but at least they chose a nice day for it.
More good work, as ever, from the RNLI.
Monday, 17 July 2017 - 23:22
Post 3995
Patrick, Marine Parade
DWDR latest
Digging out the Navigation Channel making way for the new lock cut into Wellington Dock from the outer harbour. The piles and blue supporting structures at the bottom of the photo are in place to allow work to progress on the channel.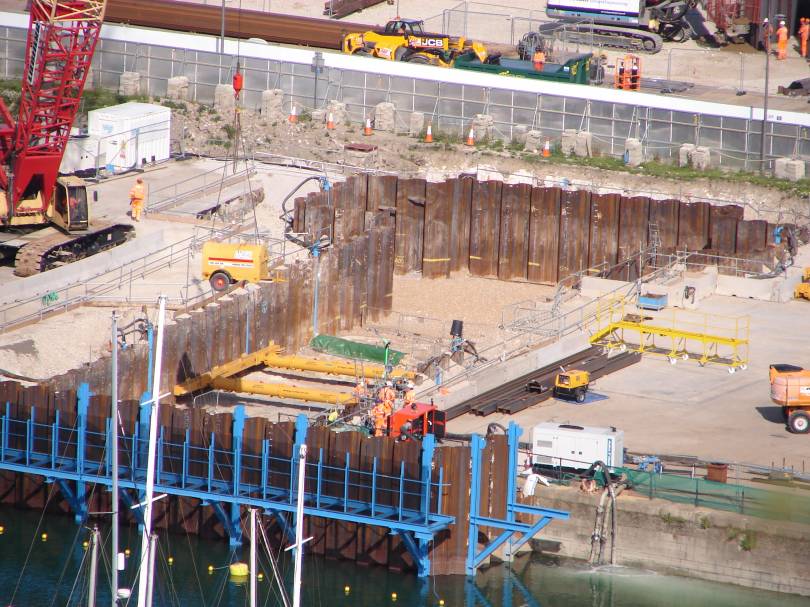 The extent of the area to be reclaimed to make way for new cargo terminal and yacht marina comes clearly into focus as yet more piles are put in place in the outer harbour. Also shown is the piling work on the old Hoverpad site that will be built up and infilled to accommodate one of the new cargo berths.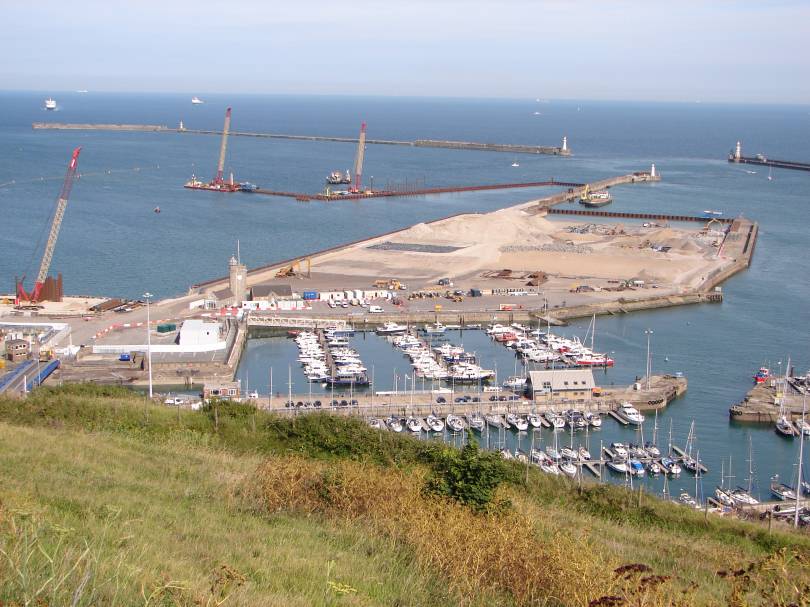 Piling work on the former 'Dunkirk Jetty' pictured here with two working crane barges - one supported by Holyhead Towing tug 'Llanddwyn Island'. Looks like some of the old jetty is destined to remain with the addition of some new piling work. The Grade II listed former Customs Watch House is at the bottom of the picture.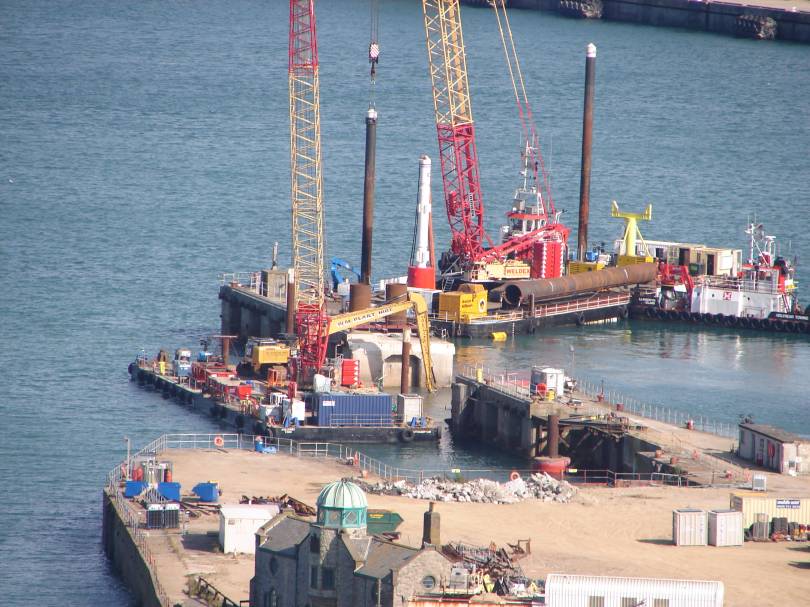 Monday, 17 July 2017 - 21:47
Post 3994
Sarah, Ramsgate
Awesome recent photos, this team gets better & better



Following on from the recent photos of THV Alert, we have got THV Galatea in the Thanet area at present.
Seen off Broadstairs on Sunday with Border Force "Eagle" passing on route to Ramsgate.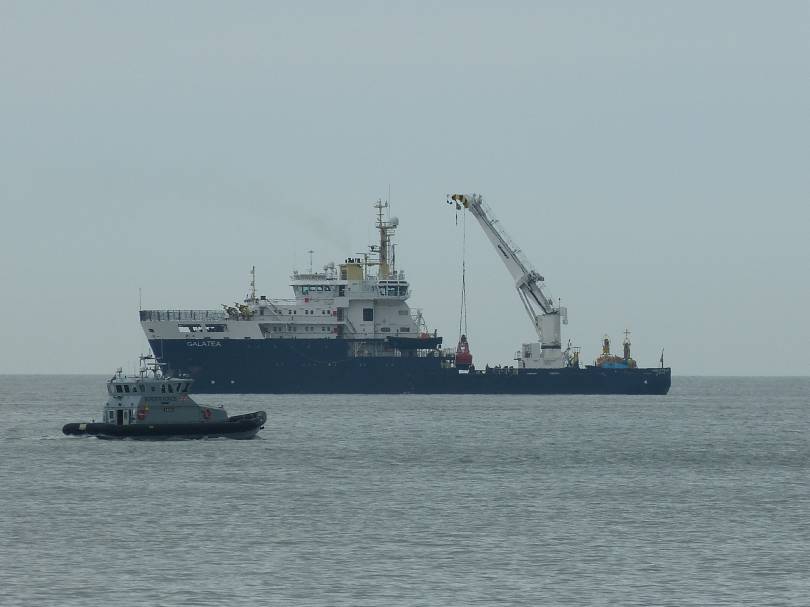 Seen off Ramsgate today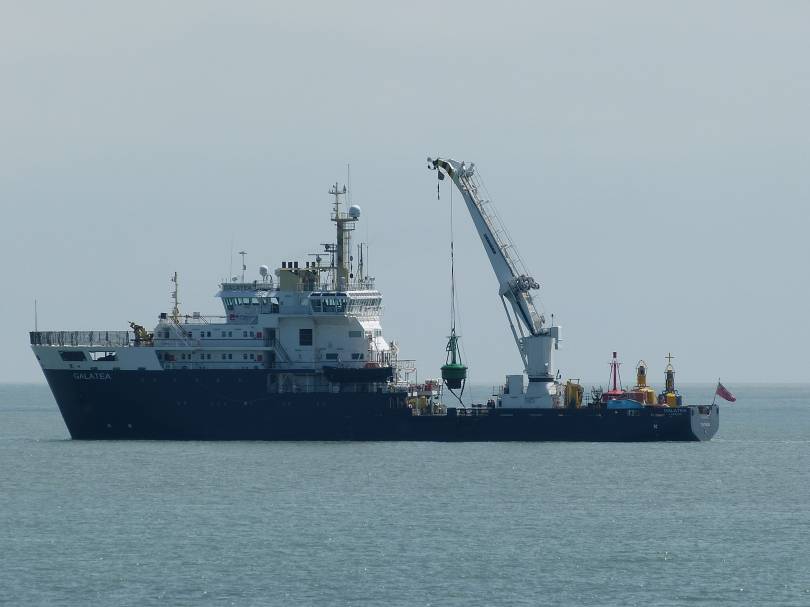 This time with Estuary Elite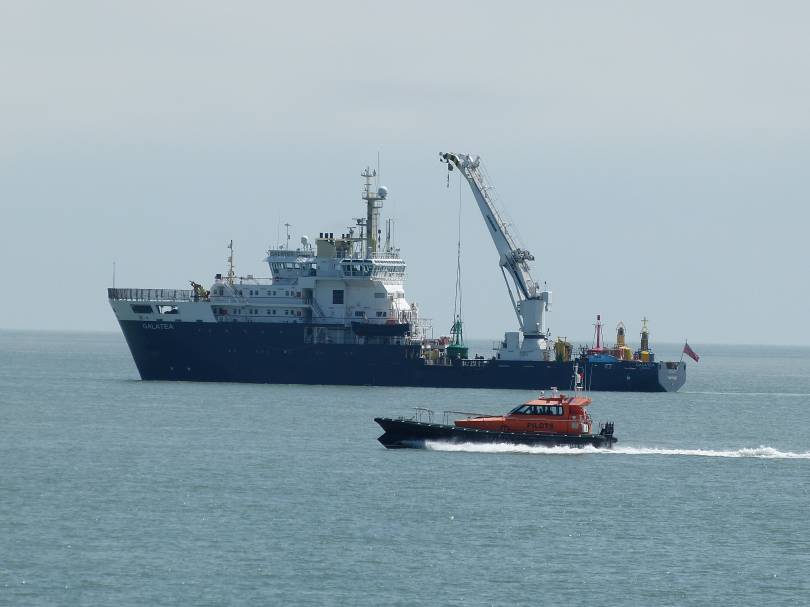 Estuary Elite & Border Force "Eagle"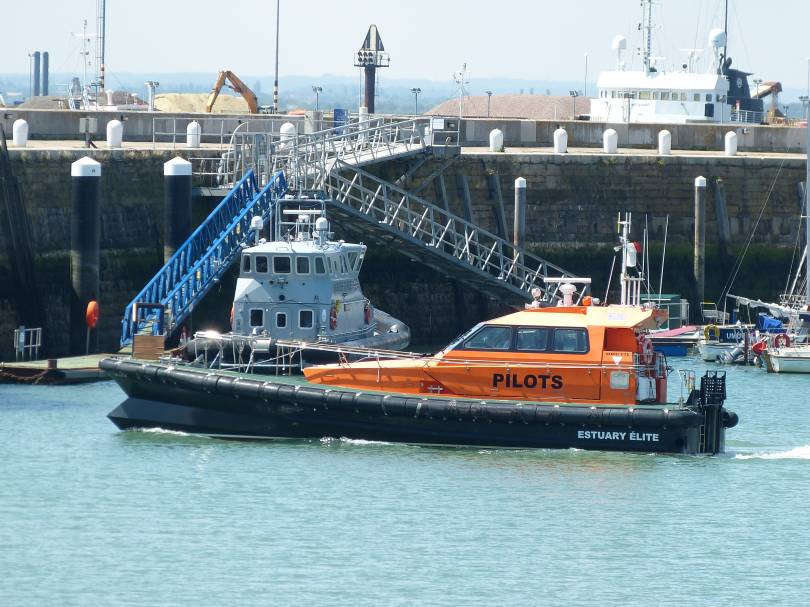 Monday, 17 July 2017 - 18:48
Post 3993
Sea News, Dover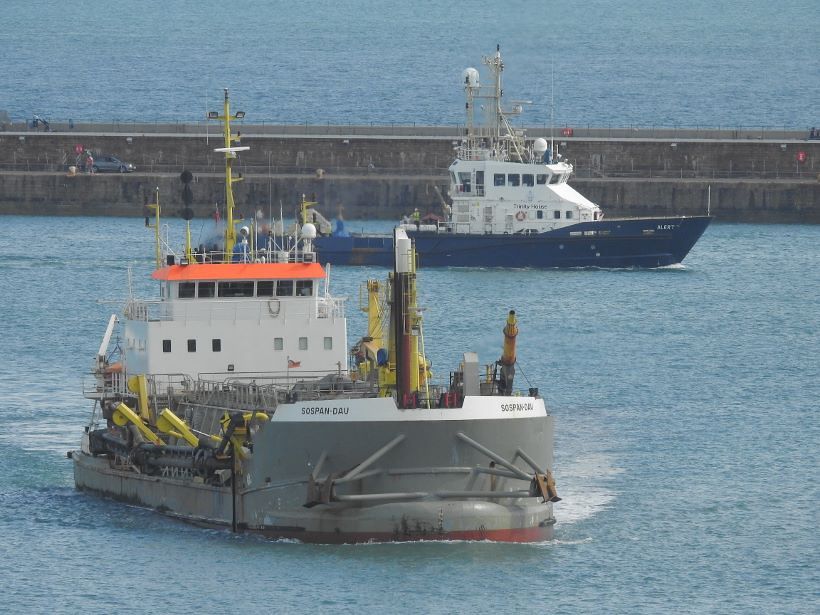 Pictured a few days ago, that's Sospan Dau again above there with the Trinity House vessel and ol favourite Alert in the background. Sospan Dau is not immediately visible in the harbour so she may have left us again, she left previously but returned. We don't know if she will return this time so that may be the last picture show.
Still catching up here...last Thursday the 13th, the Lifeboat was called out to rescue a small boat out there in the channel and here we are below. I caught them as they returned...the Lifeboat towing.... Time of pictures 12.40 . A very happy looking small boat crew as you can see, the guys delighted to be delivered back to the beach here in the outer harbour at the Port of Dover. PB.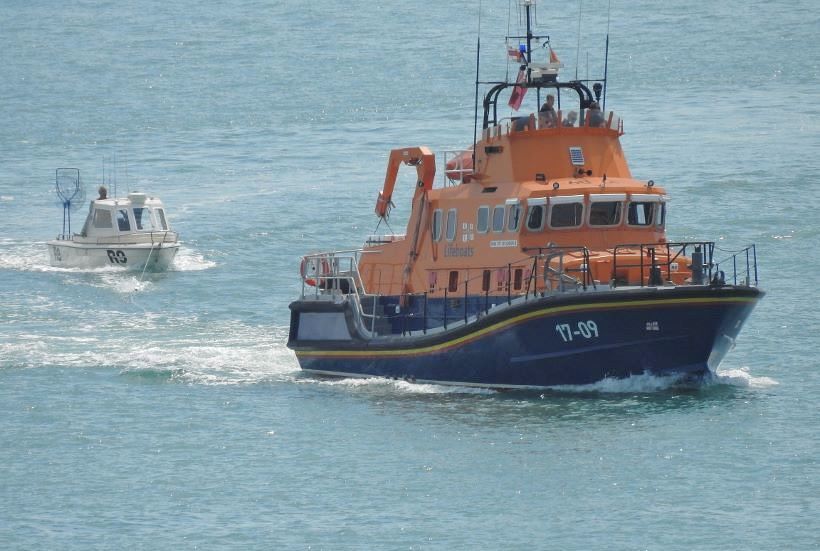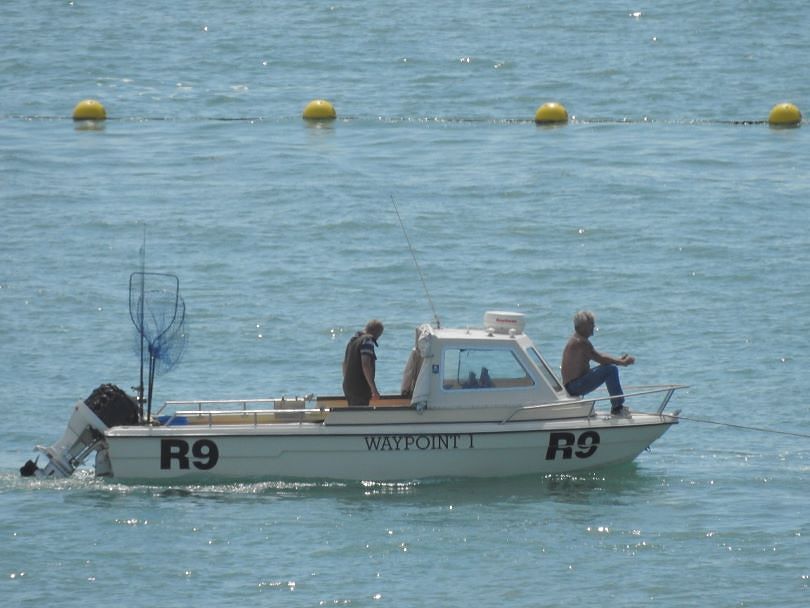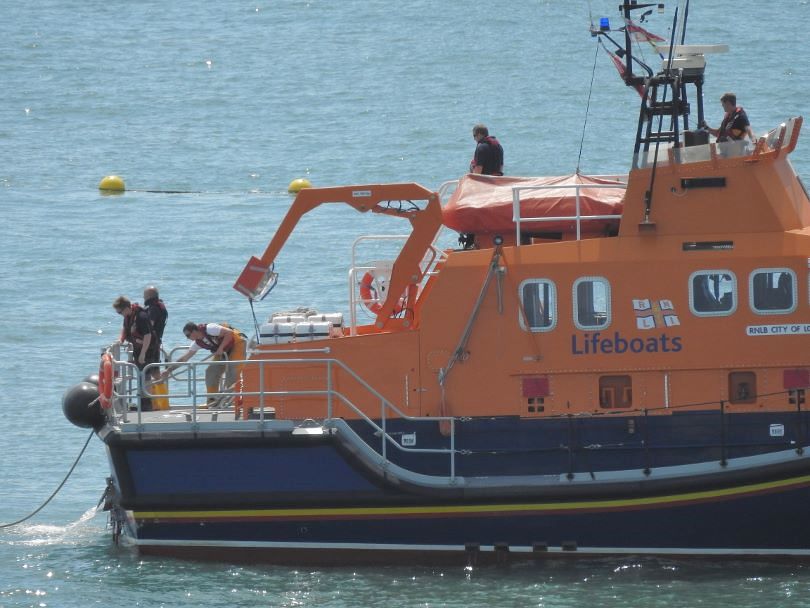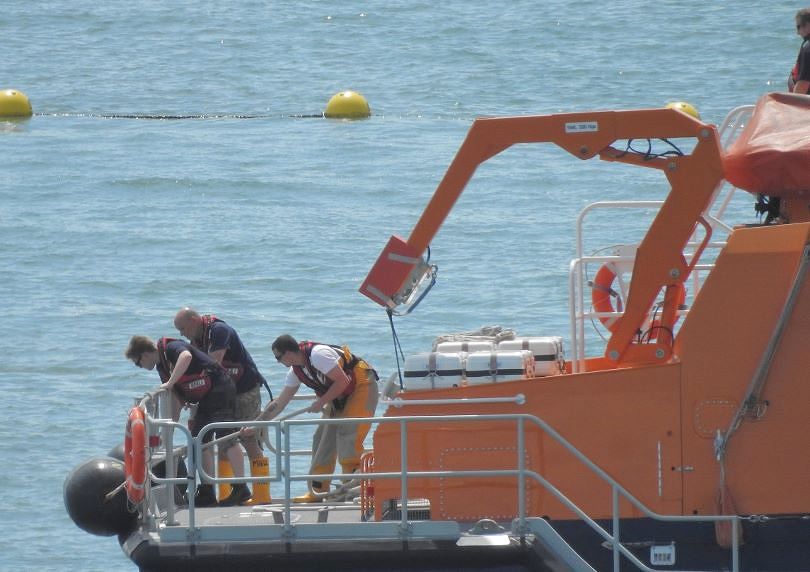 * *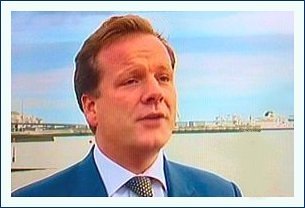 Great news! The A20 speed limit is going ... says Charlie Elphicke MP.
It was fantastic to see so many people turn out in Aycliffe on Friday to make their voice heard on traffic issues. It was a beautiful evening – perfect weather for a cold pint in a pub garden. Yet such is the strength of feeling in this community that every seat was filled in Aycliffe Church Centre. At least 20 more people stood at the back.
I organised the public meeting to give everyone a chance to put their views to those in charge – so we can work together to fix our roads. And it was great to see so many residents come along and ask important questions.
Aycliffe residents raised the issue of lorries parked up by the Western Heights roundabout causing noise and air pollution. Worst of all is when HGVs take a wrong turn and start driving round residential roads at night. So it's good to see Highways England have taken action and installed a gate at the entrance to the estate. Residents agreed this had made a big difference.
The people of Aycliffe also want the traffic lights at the roundabout moved back down the A20, away from their estate. I urged Highways England's area managing director Simon Jones to look again at whether this can be done.
Others highlighted the number of foreign lorry drivers flouting the A20 40mph speed limit. Kent Police's Inspector Ian Swallow said the force lacked the powers to give these drivers on-the-spot fines, like they do in France. I will keep up the pressure in Parliament to change the law and give police the powers they need.
Some lorry drivers use the B2011 through Capel and Elms Vale, as well as the Alkham Valley Road, as rat-runs to the port. Mr Jones said he would look at how we can stop HGVs diverting through these routes. He said Highways England and the port are working together to redirect trucks onto the M2/A2 rather than the M20/A20. Mr Jones confirmed they are looking at whether the A2 can be dualled.
The A20 40mph limit is the root cause of many of these problems. It's welcome to see that after a long and hard-fought campaign, Highways England have finally started scrapping it. Soon the work will be complete to return the road to 70mph – with the 40mph limit only enforced on the rare occasions Dover TAP is enforced. This should tackle the problem of lorries using the villages as rat-runs. Yet we must remain vigilant.
The representatives from Highways England, Kent Police and the Port of Dover were faced with tough questions on Friday. Yet they gave a very good account of themselves and received a deserved round of applause – as did Aycliffe's Ray Williams who did a great job helping me chair the meeting.
Much has been done to tackle gridlock and fix our roads. It is vital we work together to keep up the pressure.
Ends

Monday, 17 July 2017 - 06:45
Post 3992
Sea News, Dover
And now some great beasts of the Channel...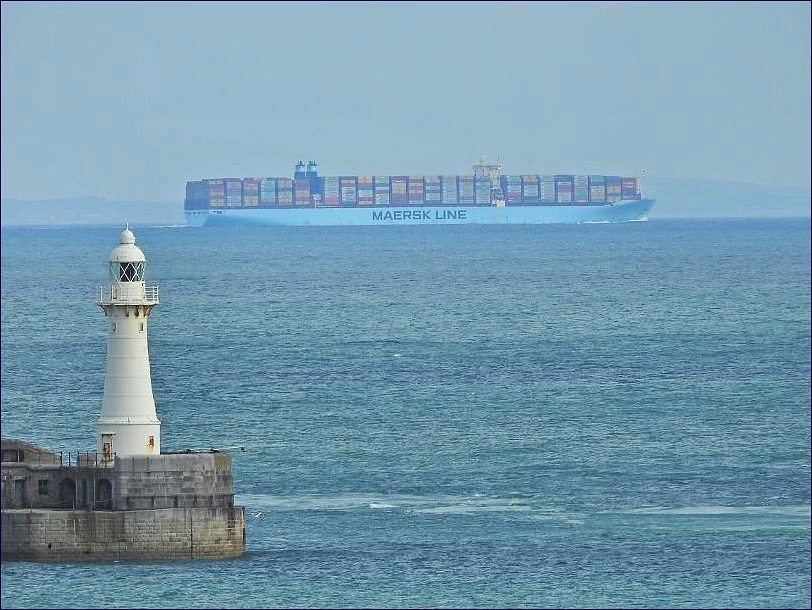 This monster was prowling down the Channel on Friday evening, initial destination was the Suez Canal but no doubt she was on her way to the exotic far east. The ship is called Maribo Maersk and is surely one of the biggest container ships afloat...approaching 200,000 tons.
Previously holding the record for the biggest ship was The Globe of China Shipping and she passed down a day or two earlier in the week.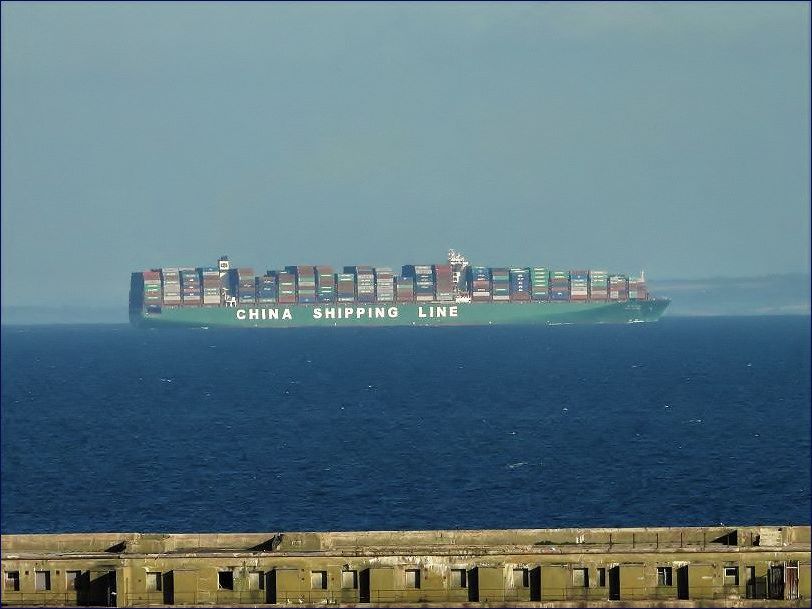 She is already on our system, if you type in Globe in our search engine you can see more...including when the BBC did a report on her as the worlds biggest container ship. I think I remember Ed saying she no longer holds that title. The BBC reporter below there is Richard Westcott.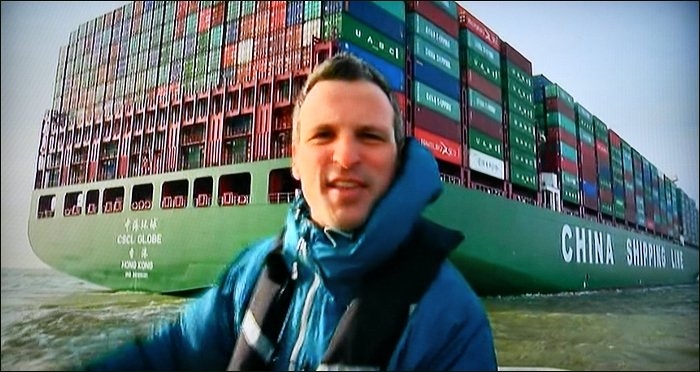 Sunday, 16 July 2017 - 06:29