Thursday, 5 May 2016
SEA NEWS
Travel by night with P&O and save bigtime...see 2578 also 2570.
New terminal at Dunkerque 2530/2535
Port of Dover Community Fund latest see 2503.
NEW DFDS FERRIES..see the multiple posts below and over page.
Seatrade Special see 2396
Record Freight for P&O see post 2291
Key Road Scheme Regeneration...more details in post 2318
Port of Dover Community Regatta/Dover Music Festival join forces...more 2422.
CHARLIE ELPHICKE MP... on voting to STAY IN THE EU post 2424.
Scroll down the page and over the many pages ( more than 100 ) for all the stories in and around the Port of Dover. You can find anything you want in our SEARCH ENGINE. Type in CRUISE VISITS for example or REGATTA or anything at all......
Dover.uk.com and Doverforum.com have merged to produce an entirely local and comprehensive Dover website. Nautical contributions are welcome on this page with a max of 5 pictures preferred per contribution, all pictures remain own photographers copyright. Email:dover7@msn.com to send Sea News pix or info..or click ADD YOUR COMMENT below to post direct, no membership needed.
Paul Boland.
SAY HELLO TO OUR NEW SEA NEWS SEARCH FACILITY BELOW...
Post 2656
Sea News, Dover
Here are some views of the fabulous MSC Opera arriving with us yesterday. Great to have some serious cruising hardware calling once again...can we say it...summer is here at last, or is that asking for trouble. A beautiful ship for sure. She left us last evening at 6pm heading for 'wonderful wonderful Copenhagen friendly ol girl of the sea'.
Yours truly is running behind schedule but will have some pix of the departure to follow in due course.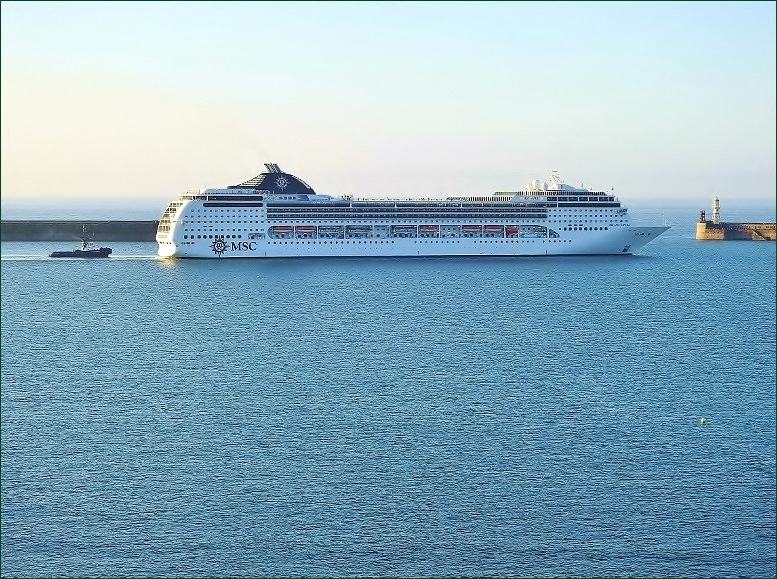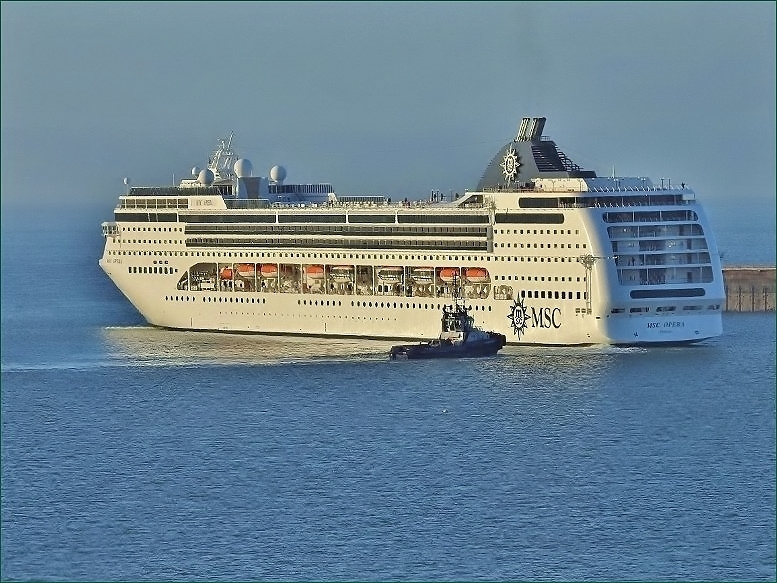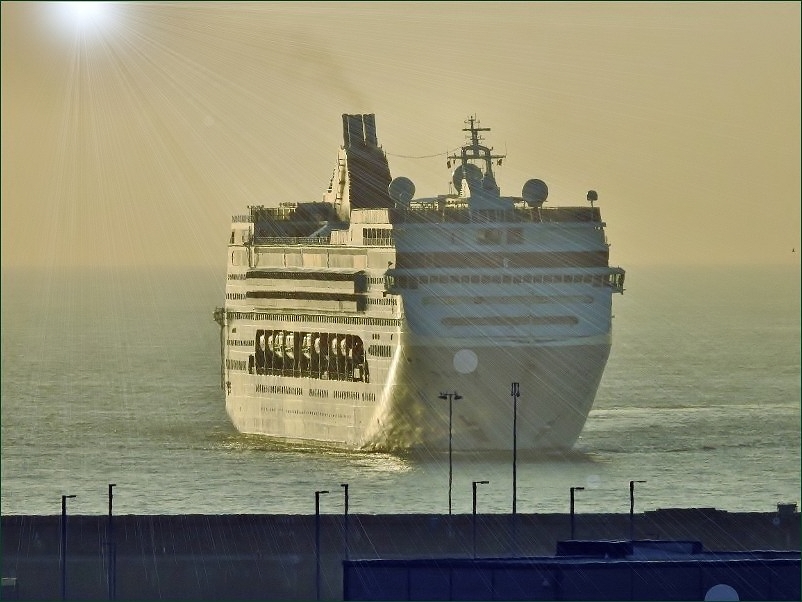 Following on from the press release post below number 2652 about the new markings/buoys etc cutting off the Prince of Wales section...the following day this workboat leapt into instant action. Name of workboat: Royal Charlotte.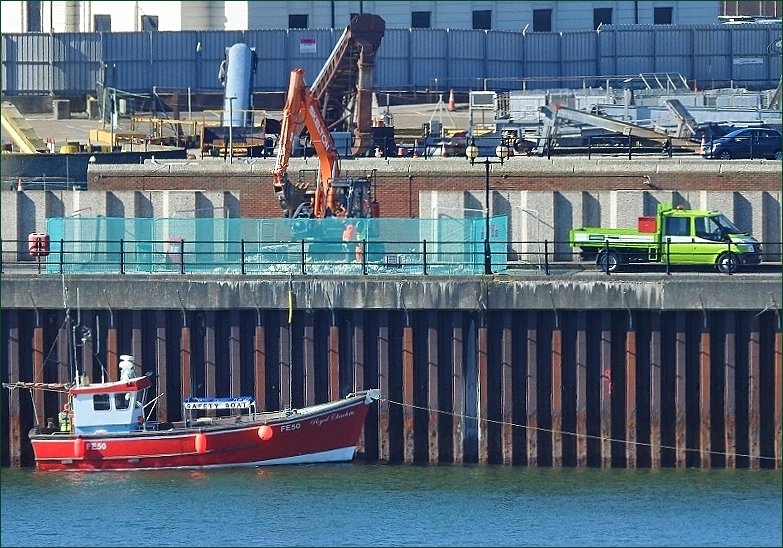 Many thanks Jeremy once again for the picture below. Ace man.
PaulB
Ps: The Braemar is in today.
The cargo vessel Lady Racisce left us around 6pm too, heading for Rotterdam. Couldn't get a decent picture as my view was obscured.
Thursday, 5 May 2016 - 06:41
Post 2655
Jeremy Ward, Whitfield, Dover
The MSC Opera with us today.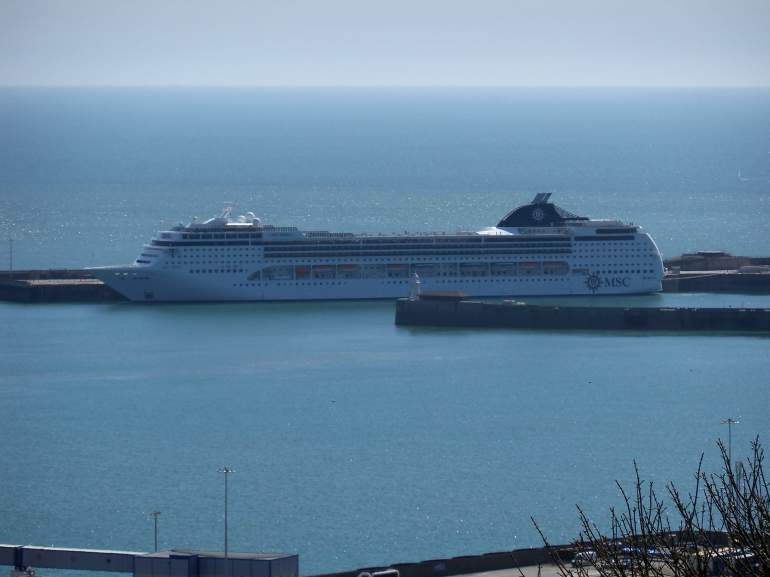 Wednesday, 4 May 2016 - 16:12
Post 2654
Sea News, Dover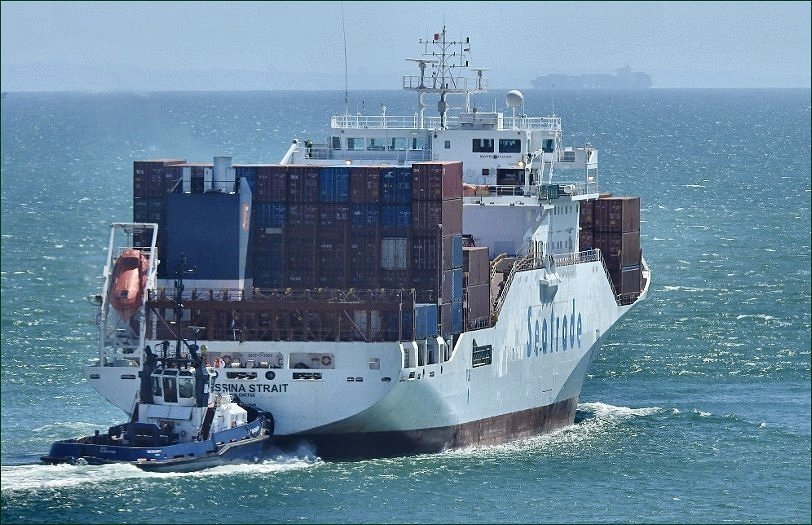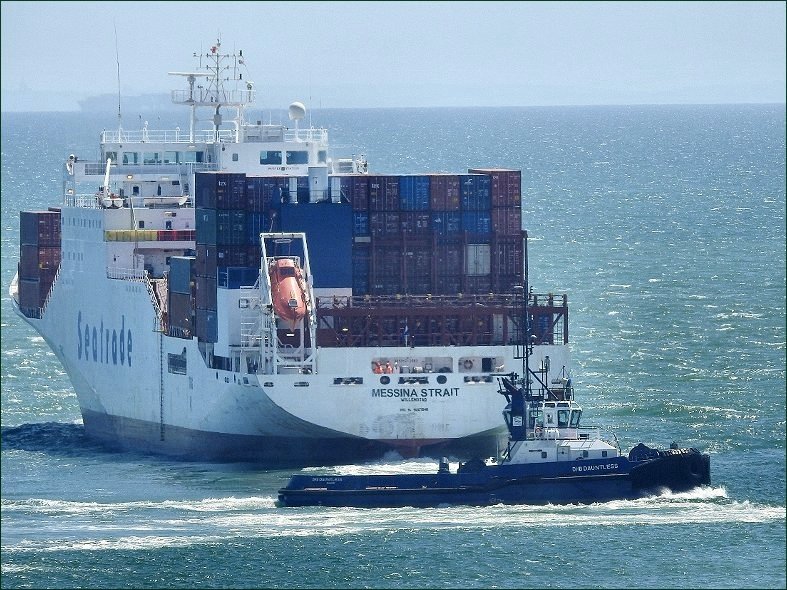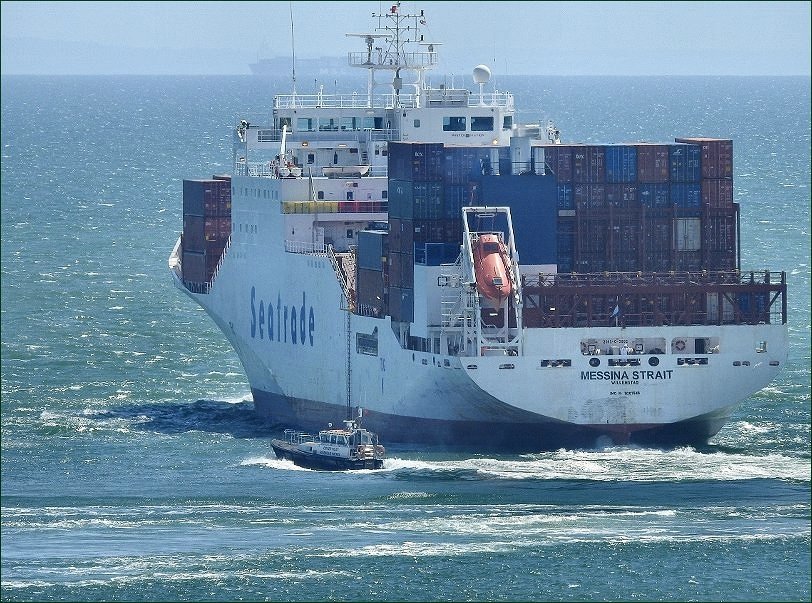 Above we have some pictures of the reefer Messina Strait departing the Port yesterday about 1.20pm (or 13.20 if you prefer) on a tranquil pleasant day. She was heading we understand for Dunkerque...and it looks like quite a load on there. She was ably abetted by both tugs and in the final shot you can see the Pilot boat move alongside. Yours truly struggled a tad with the pictures shooting into the blinding sunlight...but what can you do!? better than fog mist drizzle and rain like we had on bank holiday Monday.

Now below...something not directly sea related but something that effects us all one way or another....from our local MP here in Dover...Charlie Elphicke.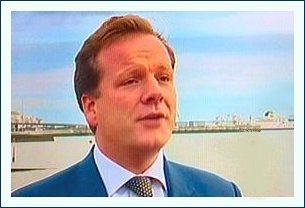 Campaigning to secure a fairer share of healthcare for Dover & Deal
______________________________________________________
Dear Mr Boland,
Getting the highest quality healthcare matters to us all. This is why I am proud that the Government has been increasing spending on the NHS in real terms since 2010. Powers have also been shifted from NHS officials to GPs on the front line. This has had a real impact on making sure we have got a fairer share of healthcare for our community.
For before 2010, Dover's much loved Buckland Hospital had been decimated for a decade. Wards had been axed one by one. Services had been removed. Meanwhile there was a secret plan to withdraw services from Deal Hospital, leaving Deal Hospital teetering on the edge. Our community campaigned to get a new Dover Hospital built. I was proud to march with the late, great, Reg Hansell who fought so hard for the new hospital. In Deal thousands of people took part in a survey to demand more services for Deal Hospital and packed out St George's Church to the rafters. The result? We got the new Buckland Hospital project back on track. We saved Deal Hospital and we're getting more services.
Yet an important part of this is that we had the support of our local GPs who now hold the NHS Cheque book and insisted that we received a fairer share of healthcare.
Now it's our turn to support the GPs. GPs here who want to expand and modernise their practices do not get the support they should. I am working to change that. GPs here do not get a fair share of funding. Bizarrely GPs in well heeled and healthy West Kent get more funding that ours do. This is despite a far higher healthcare need here in Dover and Deal. The funding gap will be £1.5m by 2020. That's not right and I am taking this up with the Health Secretary so we have the resources we need.
We also need more GPs. There are lots of GP vacancies locally. This is bizarre as £100,000 a year goes so much further here than it does in London or Surrey. Plus we have the sea, the White Cliffs, amazing countryside and far less congestion. Yet the GP trainers at the Kent, Surrey and Sussex deanery keep sending new doctors to places like Surrey which already has too many GPs. I am pressing for things to change to help our local doctor practices get the GPs they need.
The NHS has had real increases in funding every year since 2010. This has only been possible because we have a strong economy. We have benefitted with the New Buckland Hospital and more services in Deal. Now I am doing all I can to ensure we get a fairer share of funding for our local doctors and that our local doctors' practises are able to recruit the GPs they need to care for us all.
CHARLIE ELPHICKE MP
Ends
The beautiful cruise liner MSC Opera is in with us today at the Port of Dover. Pictures later.
Cargo ship Lady Racisce also in with us today.
Thanks for the info below again Steve. Good luck to Weymouth..sounds like exciting times down there.
PaulB

Wednesday, 4 May 2016 - 06:57
Post 2653
Steve, Weymouth
To Paul b,

Thanks for the replay, the Albatros was our first cruise ship this year, we have another 18 or 19 this year. Just having a new dolphin build for bigger ships and next year we have the Disney Magic book in.

Tuesday, 3 May 2016 - 20:34
Post 2652
Sea News, Dover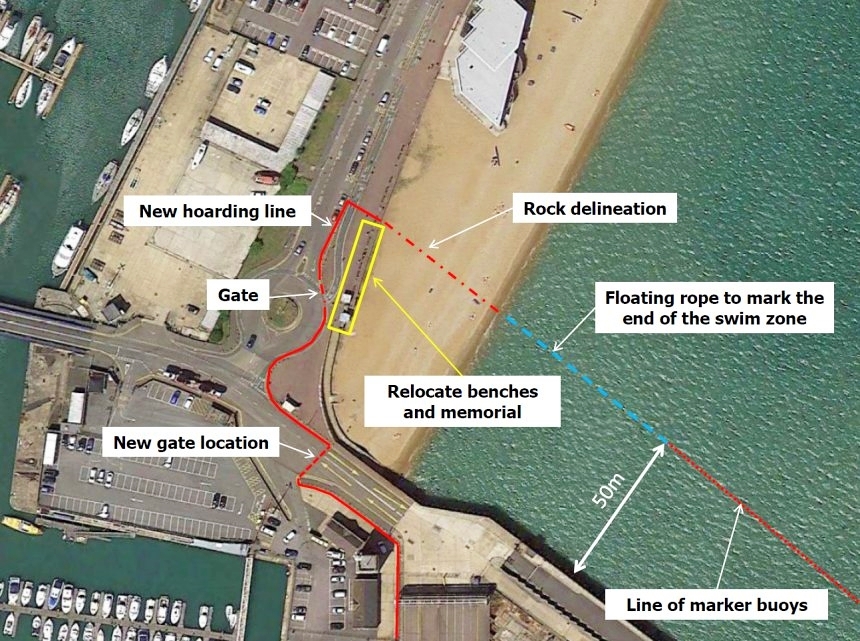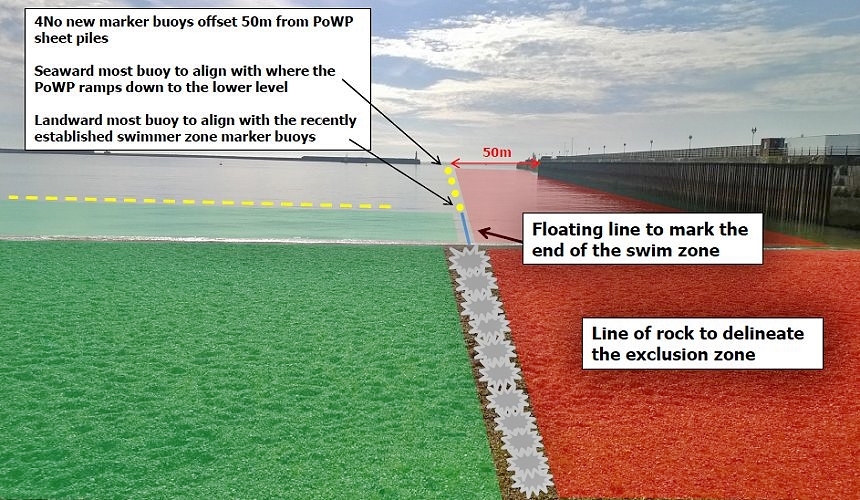 Buoys marking works exclusion zone signal start of DWDR construction works
_______________________________________________________________
The Prince of Wales Pier and the former Hoverport now form part of the construction area for the Dover Western Docks Revival (DWDR), with work planned to commence on 9th May to reduce the height of the Pier.
In order to safely complete this work it will be necessary to implement a marine exclusion zone of 50 metres away from the Prince of Wales Pier.
The Port of Dover will install a series of buoys and a floating rope adjacent to the Pier commencing on Friday, 29th April. These will give water users a clear indication of construction areas within the harbour. A rock bund down the beach will be installed presently.
Port of Dover Harbour Master, Paul Brown, said: "The boundary line of the exclusion zone will consist of rock delineation along the beach, a floating rope with small yellow floats to mark the end of the swim zone and a line of four new marker buoys to establish a 50 metre restricted zone for water based activities to the South.
"For their own safety no water users should cross into the restricted area to the South of the line of buoys shown in red in the photograph at any time."
The markers will be in place until further notice.
ENDS
It looks like the project is beginning to get going in earnest. Good luck to all...here's hoping for an exciting future.

A couple of pictures below from a sunny Dover seafront on sunday morning. It may look sunny and delightful but there was a biting wind rasping through that would skin a cat so there was. As you can see this kept meandering strollers to the bare minimum. That was Sunday...and on Monday of course we had the typical bank holiday weather...rain, fog, mist...
The ferry featured in the next pic is the Spirit of Britain.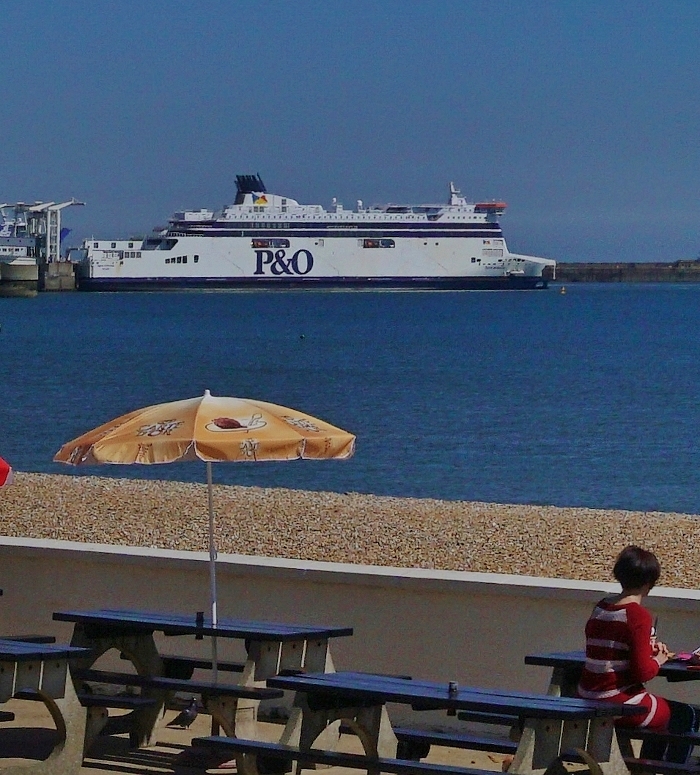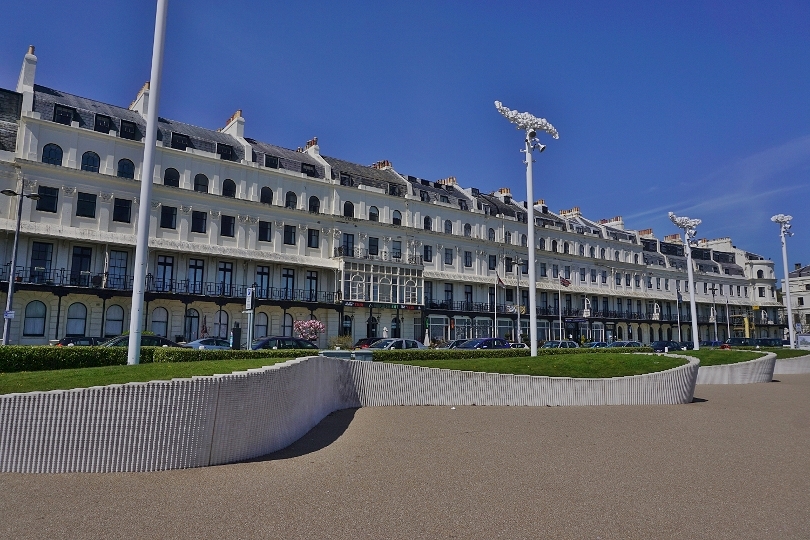 Thanks for that information below Steve. An interesting way of doing things for sure. Hope all had a grand time. Good to hear from you down there in Weymouth. PaulB.

Tuesday, 3 May 2016 - 06:26
Post 2651
Steve, Weymouth
Had the Albatros in Portland this morning, for all of 90 mins !!, unloaded about 150 paxs then sailed to Torquay. The paxs went in coaches for the day and will rejoin the ship by tender this evening. The Captain said it was a trial run for excursions.

Monday, 2 May 2016 - 13:20
Post 2650
Sea News, Dover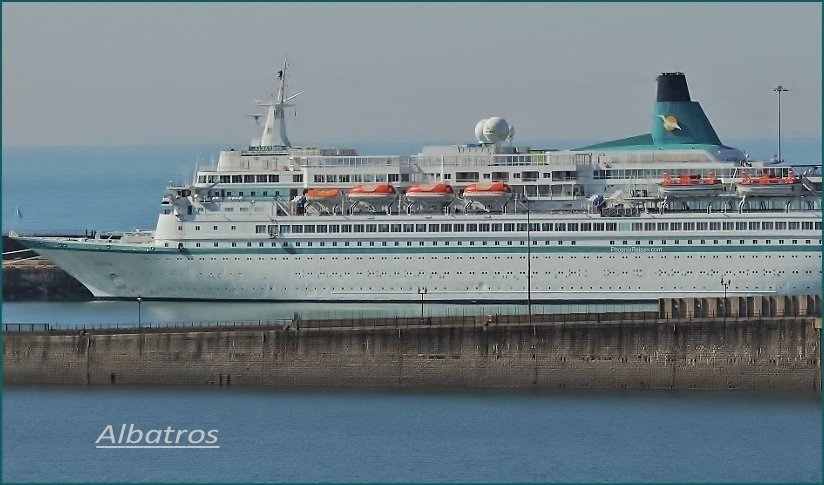 A bit of a standard shot above there of the Albatros. Yours truly was hoping to see her move away last evening but missed it all unfortunately...but better days ahead.
I did however just manage to grab the lifeboat at speed before it disappeared behind a berthing ferry late afternoon. See below. Time of picture 16:03. The lifeboat was called to an incident just below Langdon Cliffs. A mans body was found there we understand. The Coastguard helicopter buzzed overhead and Border Force Valiant was also seen beneath the cliffs a short time later.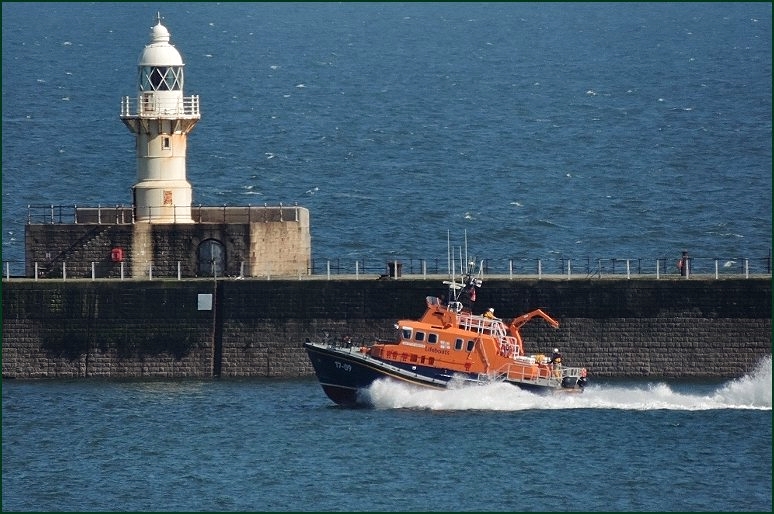 Thanks for that info Sarah once again. Its a striking structure that water tower... hadn't noticed it before. Those car carriers are impressive beasts for sure.
PaulB.
Extra: the Swedish Reefer was in Port yesterday. She left at 10pm or 22:00 hours last night. All the while the Messina Strait was waiting off Deal for the cargo terminal to free up. She is now in Port. The busy schedule goes on...
Monday, 2 May 2016 - 07:39
Post 2649
Sarah, Ramsgate
Great shots Paul, good to see one of Autopremier & Autopride's sister ships so far we have not had this one visit Ramsgate.
The building on the hillside looks to me like a Water Tower, there are several of similar design here in Britain.

Sunday, 1 May 2016 - 08:44
Post 2648
Sea News, Dover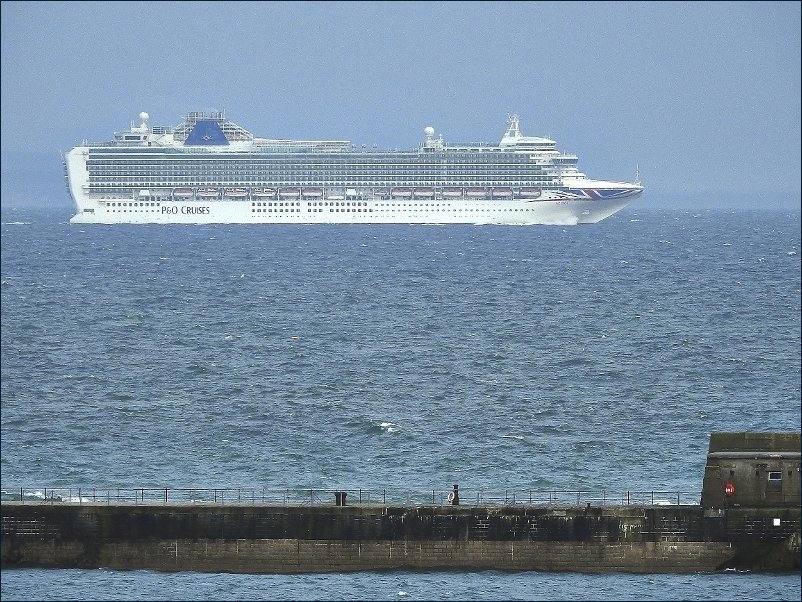 We have our own cruise liner in the Port of Dover this morning...the Albatross, but that's NOT it above...no this picture above shows the giant P&O cruise ship Azura passing by on Friday evening heading for Southampton. Its a huge ship at 115,000 tons with of course all the facilities imagineable. You would need to try hard to remember where your cabin was/is on that one...

The Albatross is already in with us here as mentioned - will aim for a picture later.
Last evening I took a picture of the vessel below. Its clearly a car transporter, so I leapt to the conclusion that it must be the one from Ramsgate being so similar..so I took several shots. I realised later when I checked that it wasn't the Ramsgate one...this one is Autostar, also heading for Southampton.
See the second picture...that's a crop of the first one...was intrigued by the building on the French hillside....wondering what it is?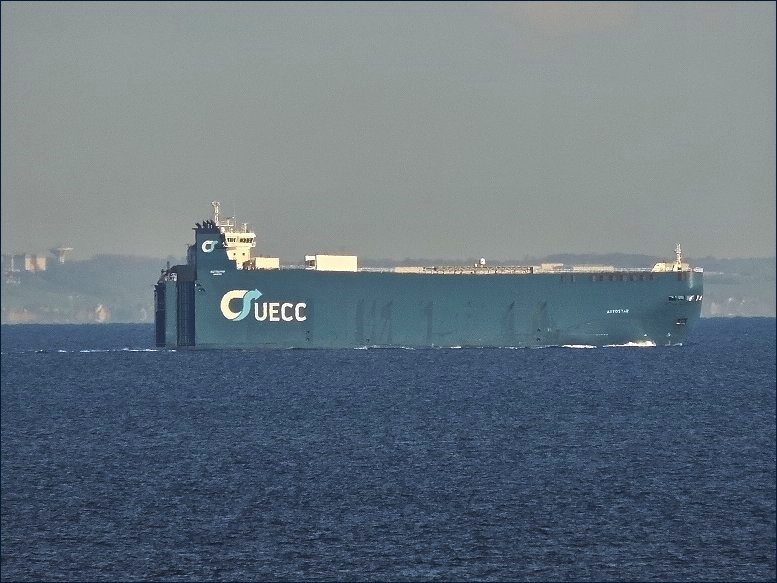 Nice set of pictures below there Sarah. Great work as ever from the roving correspondent.

Sunday, 1 May 2016 - 06:53
Post 2647
Sarah, Ramsgate
Spotted this cargo ship in Ramsgate this morning.
Medal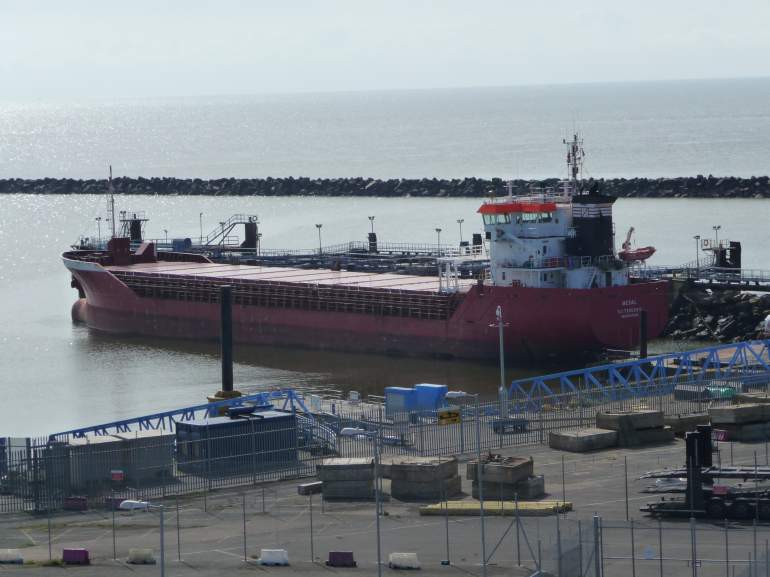 Walmer has a new D Class Lifeboat (D-794 Duggie Rodbard II) I managed to get some photos today.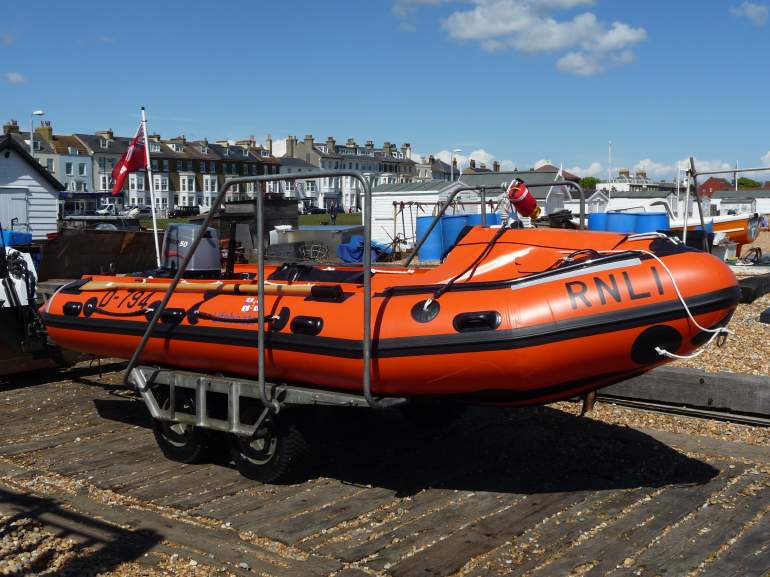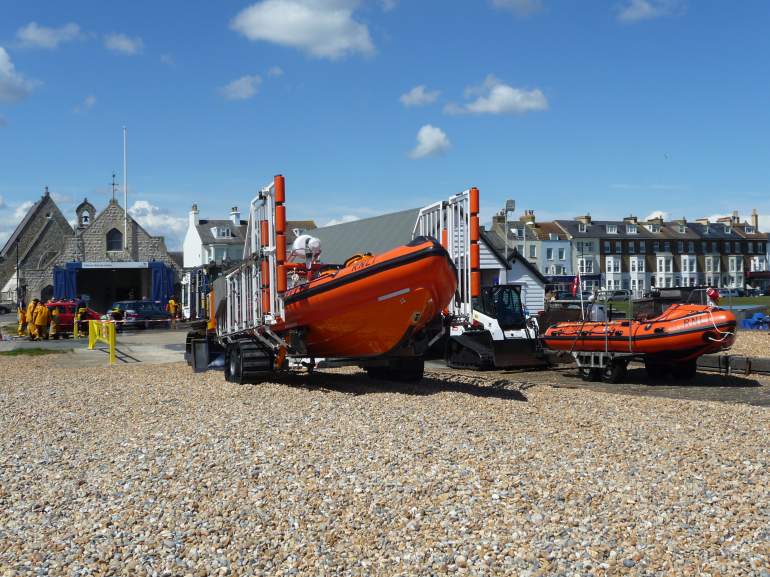 Saturday, 30 April 2016 - 18:16
Post 2646
Sea News, Dover
The giant barge Terra Marique moved off last night about 1920 hours ( 7.20pm) carrying the mighty transformer and of course being towed by the tug MTS Indus. It was a busy and spectacular few minutes as right behind her came Valiant, while out in the channel passed the huge P&O cruise liner Azura...all 115,000 tons of her. Will have a picture of this one later. But in the meantime here we are with.... well the pictures speak for themselves.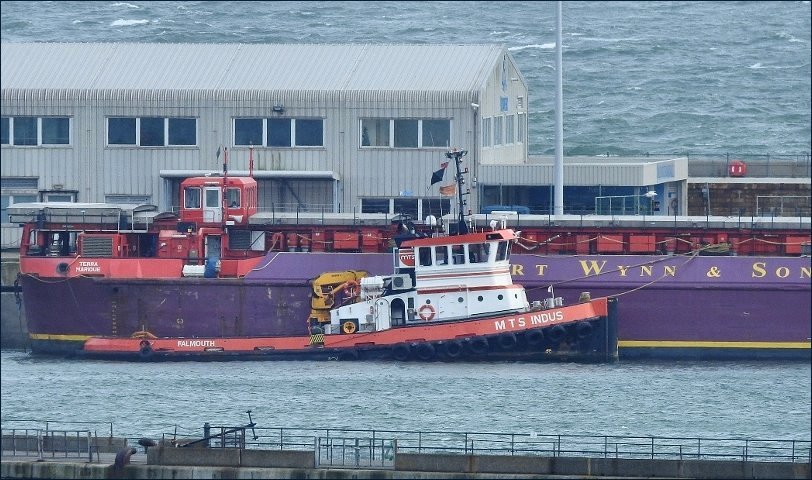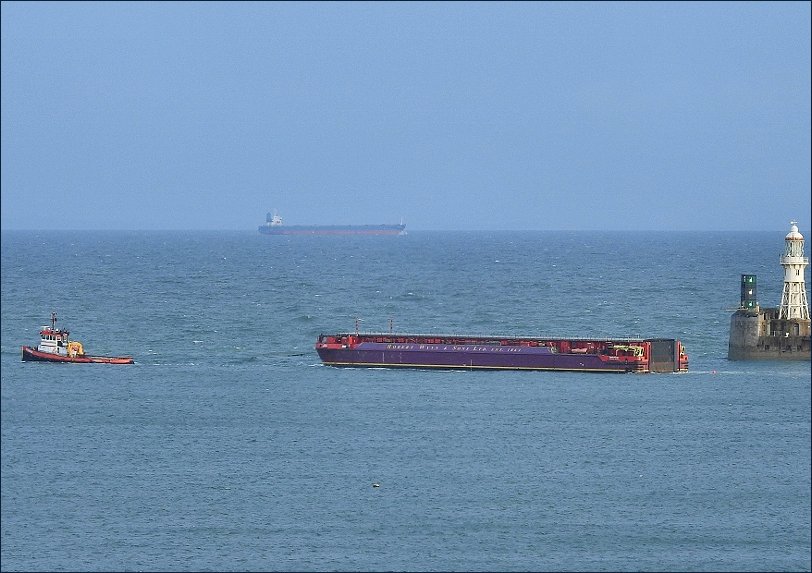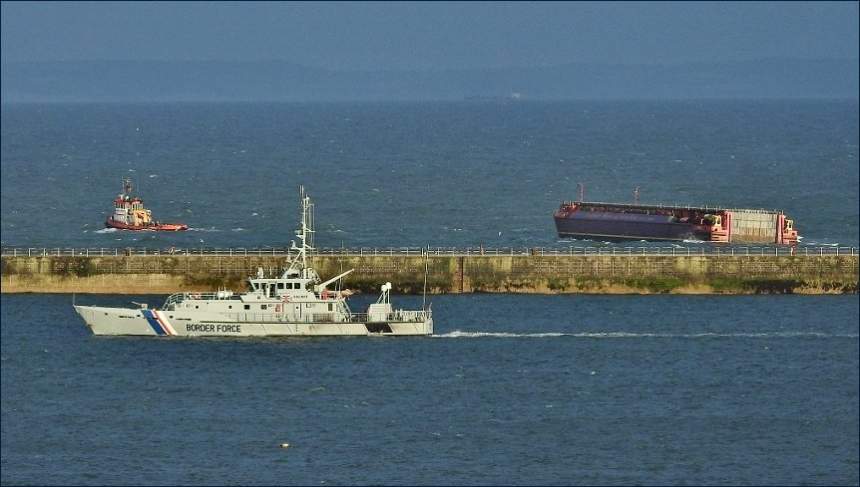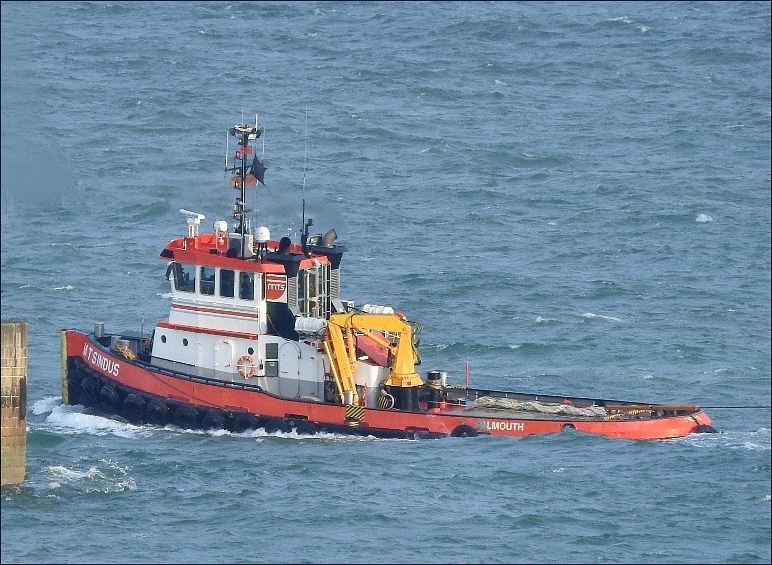 Love that picture below Ed. Nice shot for sure.
Glad you liked those Lifeboat pictures Sarah...thanks for the info too..great stuff!

Saturday, 30 April 2016 - 06:46
Post 2645
Ed Connell, Dover
Emerald at the DCT on Wednesday, snatched with a mobile phone as I was just leaving my ship to go on leave. Super pics of the transformer barge below and I love the lines of the Border Force vessels.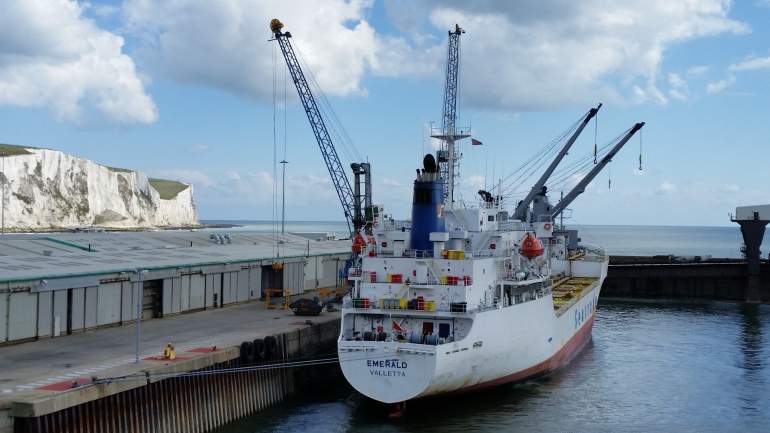 Friday, 29 April 2016 - 12:02
Post 2644
Sarah, Ramsgate
Lovely photos of Dover Lifeboat Paul



All were safe, the two people were on their boat & it was safely towed back to Dover by the Lifeboat, well done to the crew.

Friday, 29 April 2016 - 08:39
Post 2643
Sea News, Dover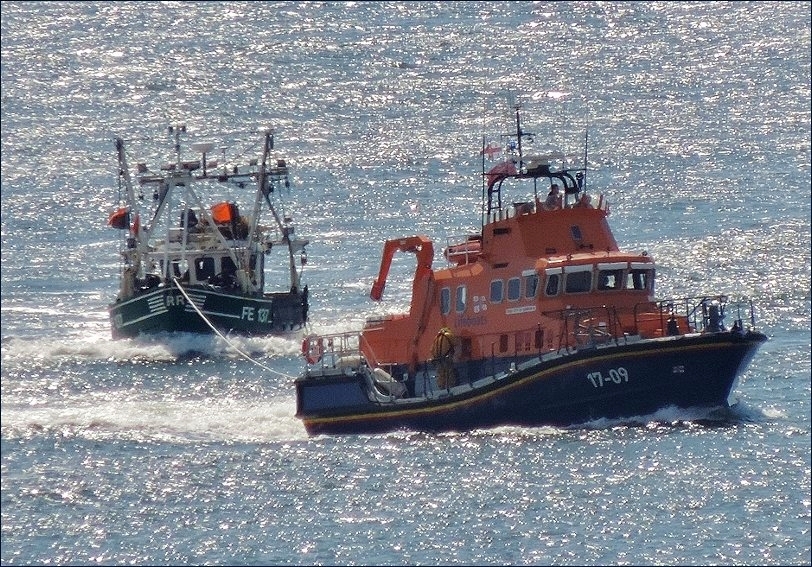 We saw the Lifeboat powering out yesterday morning at great pace and an hour or so later.. round about 11.30am...she returned towing what appears to be fishing vessel FE137 the Viking Princess, which was obviously disabled. There was blinding sunlight and good visibility.. hence the clarity of the relatively long range pictures. Hopefully all were safe. Couldn't find out any further info but once again the Dover Lifeboat strode into the breech.. well done guys!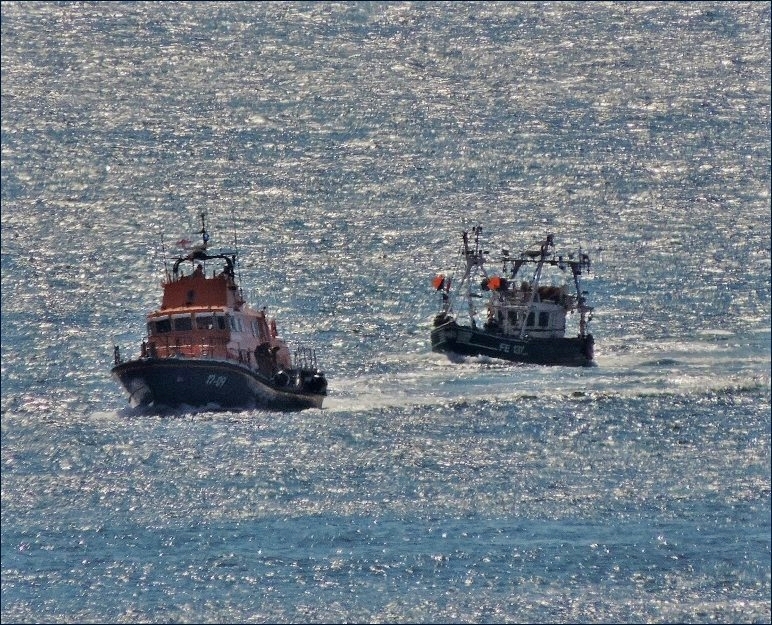 Friday, 29 April 2016 - 06:55
Post 2642
Sea News, Dover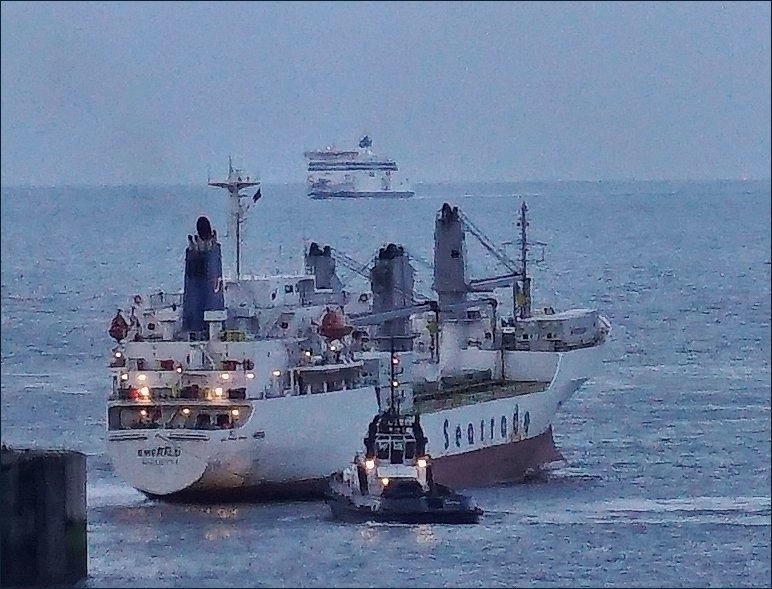 The Emerald left us last evening, or probably actually last night as it was 8.15pm when the picture above was taken. One had to strain every sinew of pixel to get a reasonable image. Note the lights burning bright...it was actually darker than it looks in the picture. She was off to Flushing in the Netherlands...the busy tugs lending a helping hand as per usual.
In the pictures below...well we spotted what looks like a tanker in relatively close to shore...and as one was revving up to do a picture or two the Pride of Canterbury drifted right across my path...and here we are below. The name of the ship featured is the Anangel Dawn...she was on her way from Baltic Russia to India. That's quite a trek and no mistake...but she clearly needed our pilot boat as she came down the English Channel..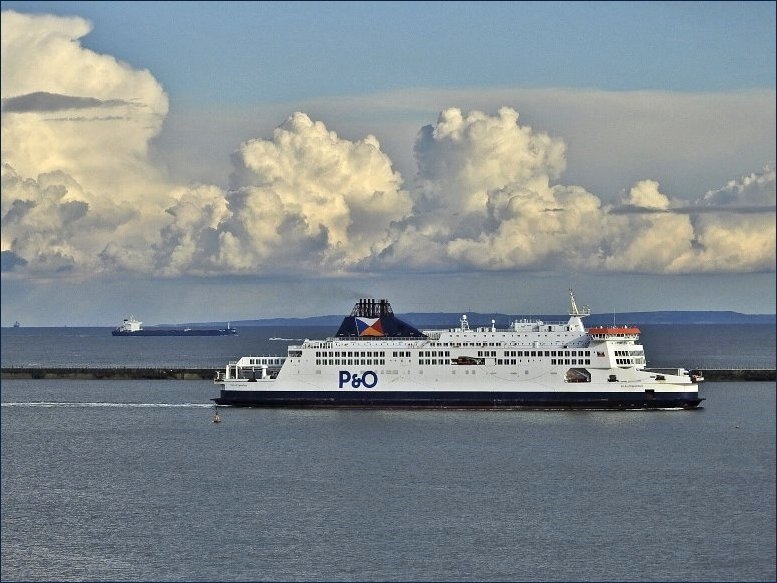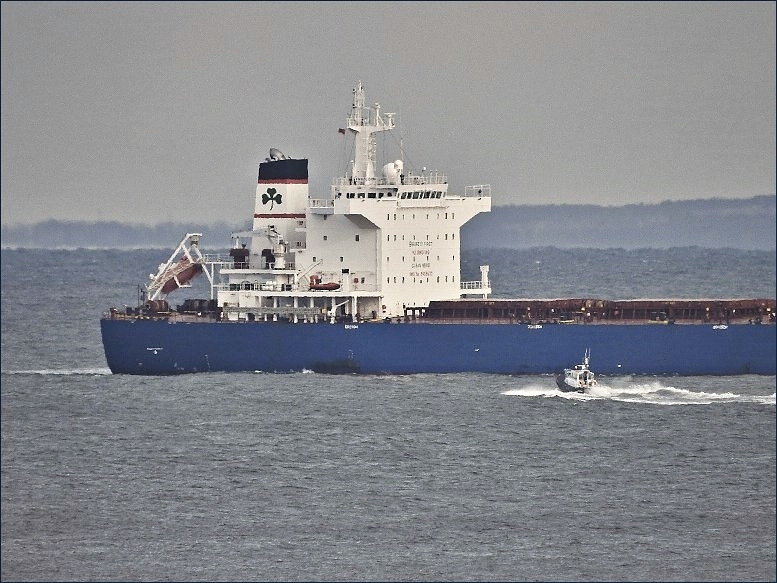 Thought that she was Irish to begin with above - look at the shamrock!
Thanks for the Cruise List again Colette. Well done with that. Camera poised here.
Thanks for the exciting info and pictures Mike
and to Del, Howard and Nigel for the comments.
Ace team!

Thursday, 28 April 2016 - 15:15
Post 2641
ColetteB, Dover
CRUISE VISITS
____________
Firstly an update to post 2614 (April 21st). Sadly, it seems now that the beautiful cruising yacht L'Austral, which was due here this coming Saturday is now starting her Northern Europe cruise from London first stop Ostend

Cruises for the first week of May.
May Day, Sunday 1st, the Albatros cruises to CT1, PoC, she was here in August last year.
On Wednesday May 4th MSC Opera arrives at CT2, PoC. She is on a 4 Night cruise calling at Copenhagen and Warnemunde. We haven't seen the 'Opera' for a long while.
The following day Thursday May 5th, the Braemar arrives at CT2, TR.
Ending the week on Friday May 6th, our first Saga cruise this season arrives at CT1, TR in the shape of Saga Pearl II, she was here in September last year.
Some Great Photos of the last weeks cruise ships Guys

Thursday, 28 April 2016 - 12:38
Post 2640
Mike J., Dover
Re Nigel's post 2635 - good summary of the HENGIST's problems at -

://www.shipwrecklog.com/log/ [insert 'http']

Thursday, 28 April 2016 - 07:38
Post 2639
Mike J., Dover
The TERRA MARIQUE tried to load her transformer on Wednesday afternoon, but the swell was deemed to be too high.
She went stern-on to the quay to load but soon manoeuvered back alongside to have another go on the next high tide in the wee small hours.
The hatch covers had been removed & are stacked in front of the bridge & the deck had been raised to match the Admiralty Pier at high water.
Once the transformer is aboard the deck will be lowered & the hatch covers replaced.
At the stern you can see the 'flap' that will fold out onto the quay, it's on the quay in the first photo.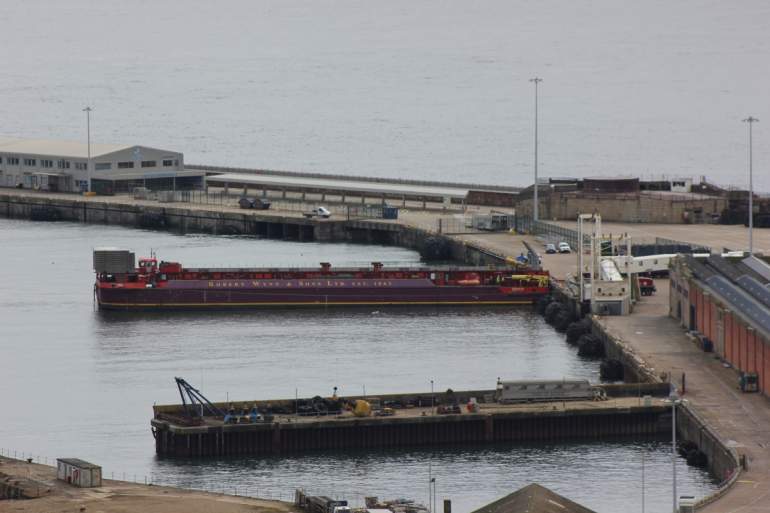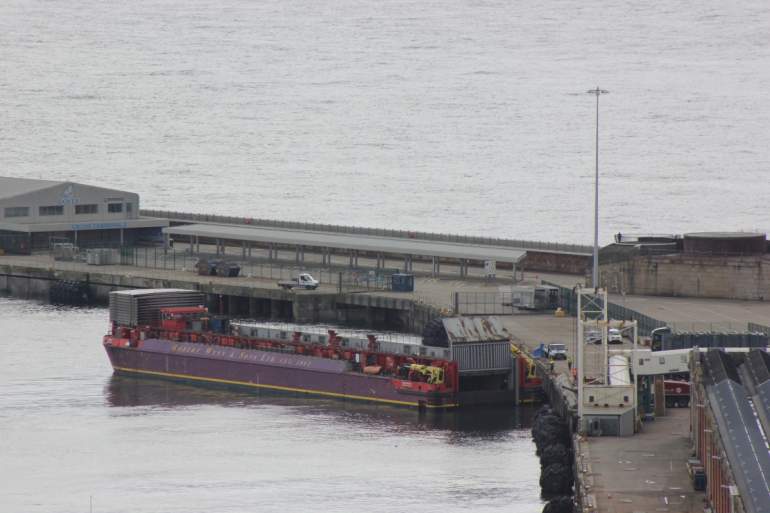 Most of the transporter wagon was being dismantled in front of Dover Marine/Cruise-1.
Thursday, 28 April 2016 - 00:33
Post 2638
del styan, Norwich
Good shot of the Reedham ferry. Its not quite up to Dover standard but very useful nevertheless! By the way, its not in the south east, but up here in flat old Norfolk. The far east to us up here!

Wednesday, 27 April 2016 - 23:22
Post 2637
Sea News, Dover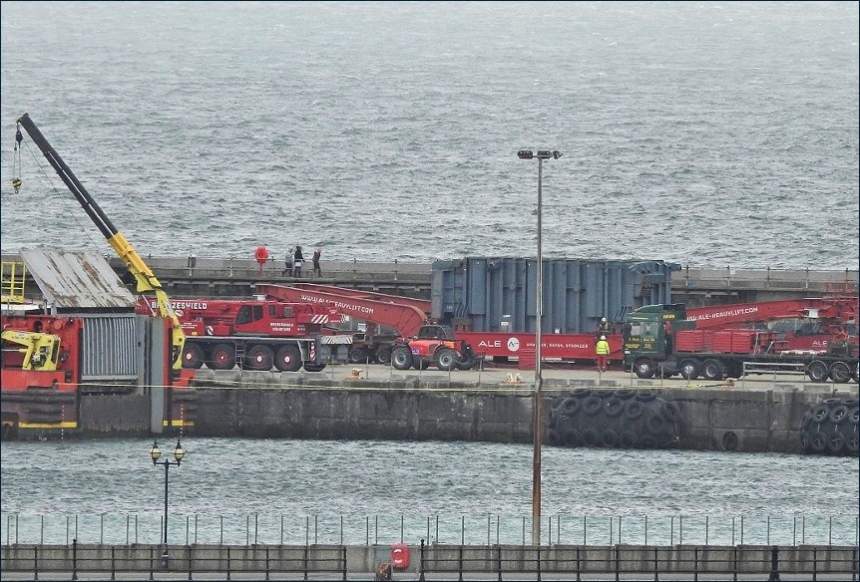 The transformer finally reached the waters edge yesterday, about midday I would say...this picture above is from yesterday afternoon and hopefully it shows the general situation. Glancing out the window as I speak its all still the same as picture shows... there has been no further movement as far as I can tell. That's the tail end of the barge to the left. I have made the picture as large as possible so hopefully all can see.
Thanks Mike for all the pictures below from the water...great work there.
Also thanks to all for all the comments.
And also a thanks to George Holland once again for the Braemar pix and the Lifeboat picture too. Keep it up George.
Just rounding off this post with another shot of VALIANT. Taken a day after the previous ones shown further down the page (post 2627). The weather was much rough rough rougher then. Here she is scything through the surf with panache at the weekend.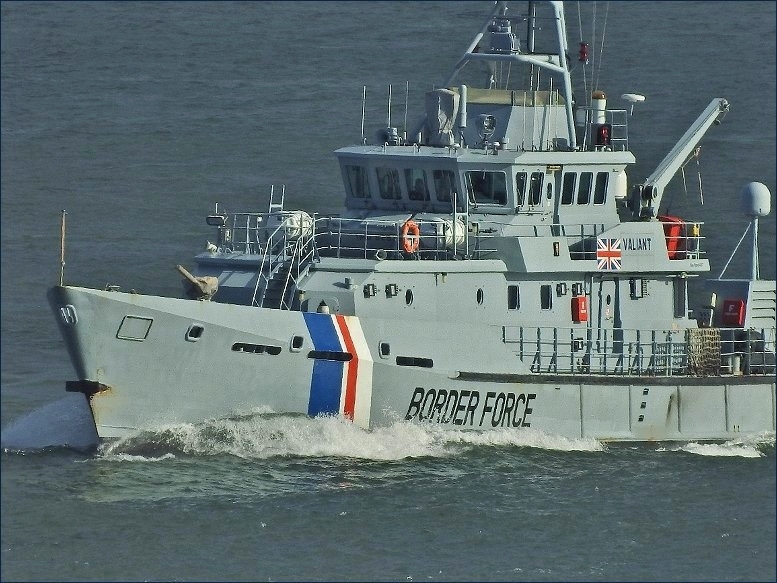 PaulB.
Wednesday, 27 April 2016 - 06:13