Friday, 25 May 2018

WWW.DOVERFORUM.COM/SEA-NEWS
Doverforum.com: Featuring all the ships that come and go and work at the Port of Dover with further coverage of the surrounding towns both sides of the Channel. Email: dover7@msn.com to send SEA NEWS pix or info....
or click ADD YOUR COMMENT below to post direct, no membership needed.
PORT OF DOVER: Konecranes for new Cargo Terminal 4916.
PORT OF DOVER: £21 Million DWDR 'paving plus' contract awarded 4895.
PORT of DOVER - three cruise ships, one day 4885.
DFDS Charters New Ship see 4866.
New Marina Pier ... Latest...see 4861.
P&O FERRIES presents big cash to RNLI Dover...see 4829.
PORT of DOVER: Chief Executive TIM WAGGOTT Resigns...see 4778.
P&O FERRIES recruiting...4745.
PORT of DOVER awards Cargo Refrigeration Contract see 4740.
PORT OF DOVER: Community Benefit 4688
TRADING GROWTH FOR DFDS DESPITE BREXIT see 4642
PORT OF DOVER RECORD FREIGHT see 4551.
PORT OF DOVER: GEEST LINE arrival see 4597.
SECOND FEMALE CAPTAIN FOR P&O see 4608.
Sea News Dover :
Use our SEARCH ENGINE below to find all sorts on the SEA NEWS pages..more than 240 now with more than 4750 nautical posts. Posts welcome. Max of 5 pictures preferred per post.
Type CRUISE VISITS in our SEARCH ENGINE below for news of the latest arrivals.
Sea News Editor Paul Boland - dover7@msn.com .
Post 4932
Sea News, Dover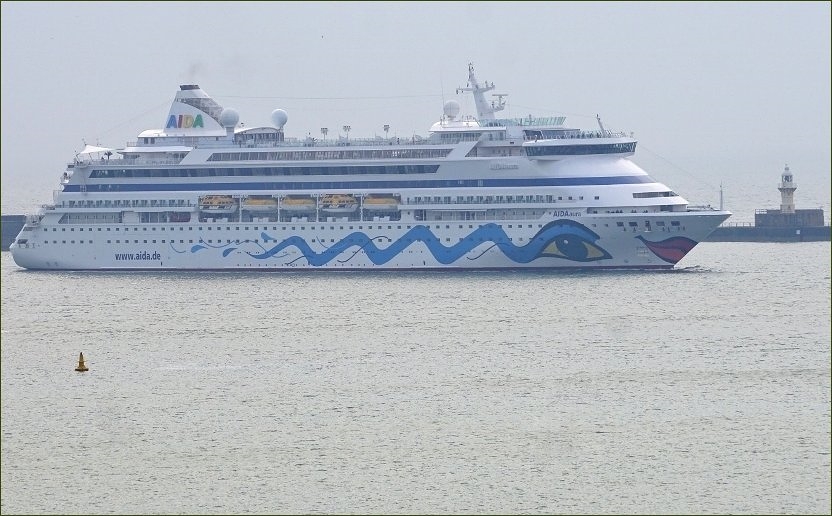 Cruise Ships at the Port of Dover: Yes they keep coming thick and fast, we have had a great number of cruise ships already and this one above is the latest...AIDAaura...there she is above arriving yesterday morning Thursday. We have had quite a range of super clean exotic AIDA ships...keep those ships a-coming!


Below we have some Dover Lifeboat action from Tuesday evening...Yes I think it was Tuesday off the top of head, as the lifeboat generally does exercise runs on Tuesday evenings.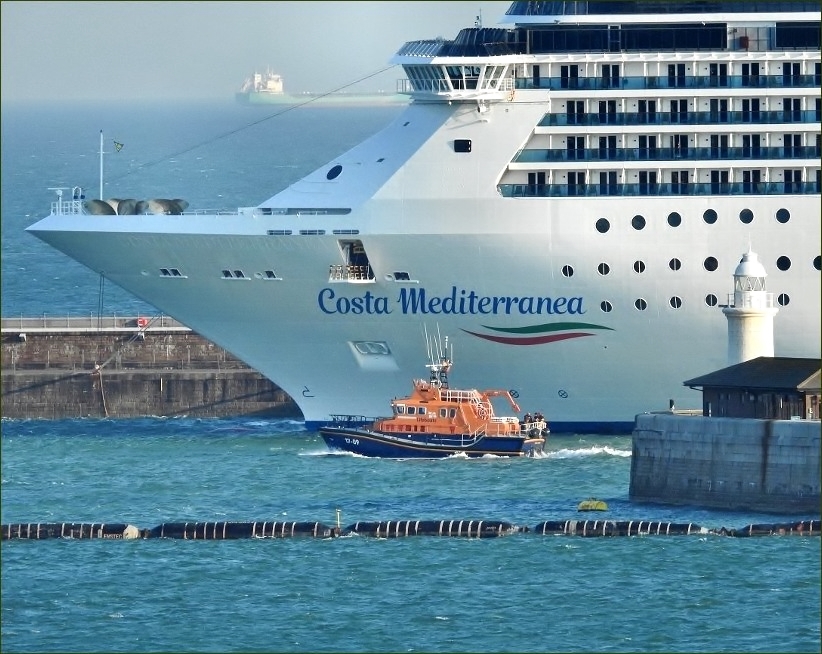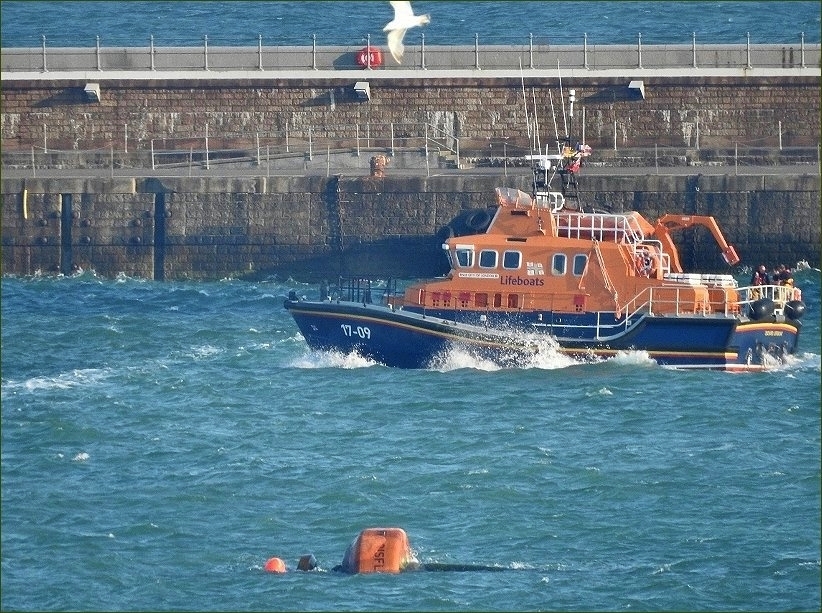 Yes there she goes above passing underneath the mighty Costa Mediterranea on a nice sunny colourful evening, and then pressing on out to sea. No colour today here at the Port of Dover I can tell you...we are basking in a slate grey chilly mist.
Below later the same evening, and its getting quite dark-ish for these pix as its close to 9PM, the Costa Mediterranea moves off and finally in the distance has turned round heading south to warmer climes. Hard working barge Wadden 1 rests in the foreground as night draws in.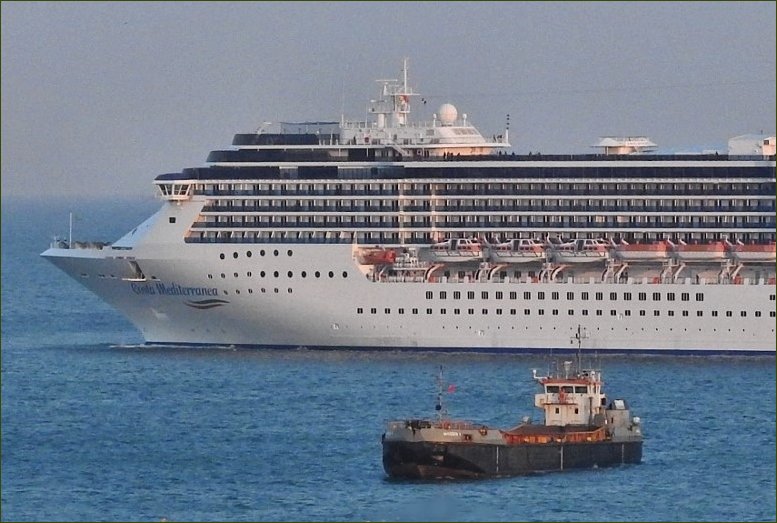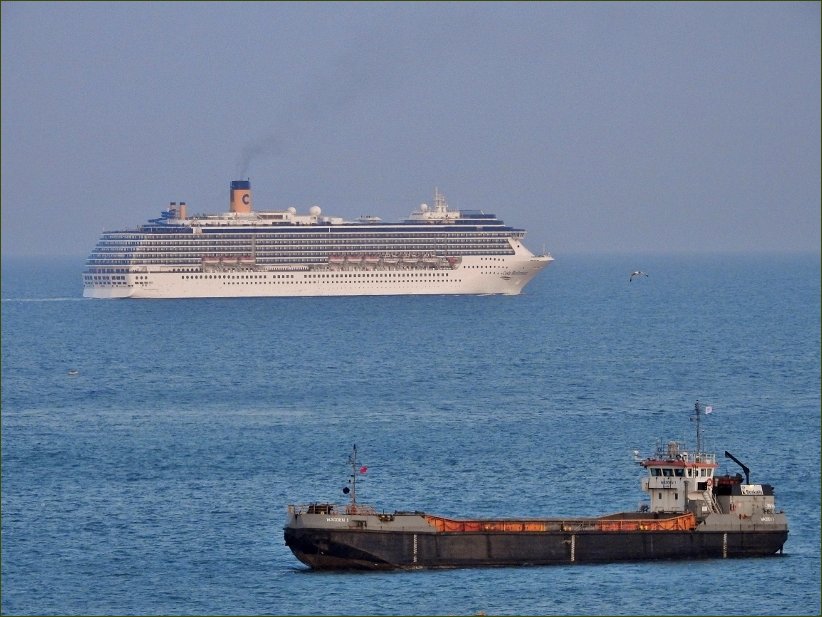 Ah - an excellent collection from Ramsgate below Ted.. great work with the camera there. Great to see those.

Nice collection from Mike too below covering all the inshore activity here in Dover. Well done our 'inshore correspondent'

Del a great spot. You are dead right...the supercars didn't use the dedicated bays. Far too super for that sort of thing...


That Brian is a cheeky chappie so he is...

PaulB
Friday, 25 May 2018 - 07:29
Post 4931
Mike J., Dover
Paying an overnight visit to Dover was the 1971-built workboat BOY BRENDAN en route to her home port of Falmouth from Lowestoft-based windfarm support work.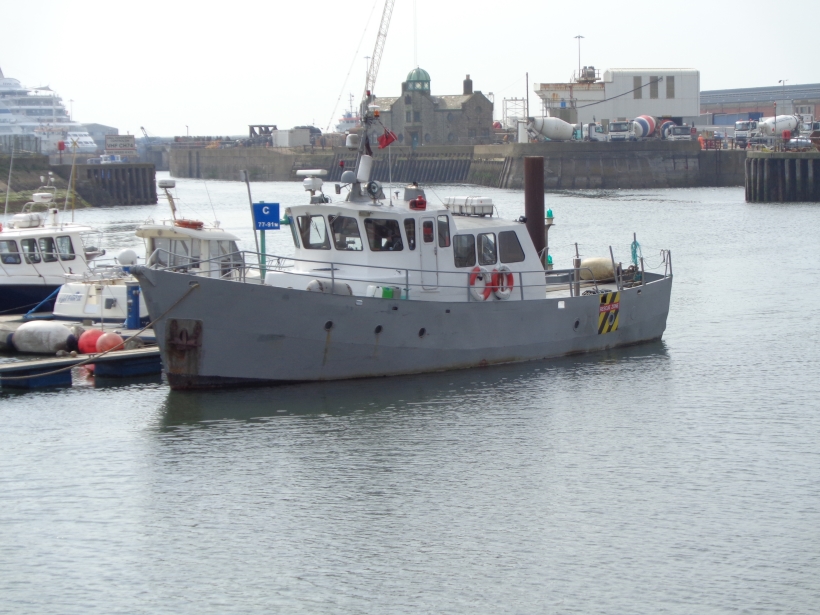 I was told that they had delayed their sailing as there was the possibility of work in the Thames Estuary but this charter must have fallen thru as they left Dover for Falmouth soon after 0900.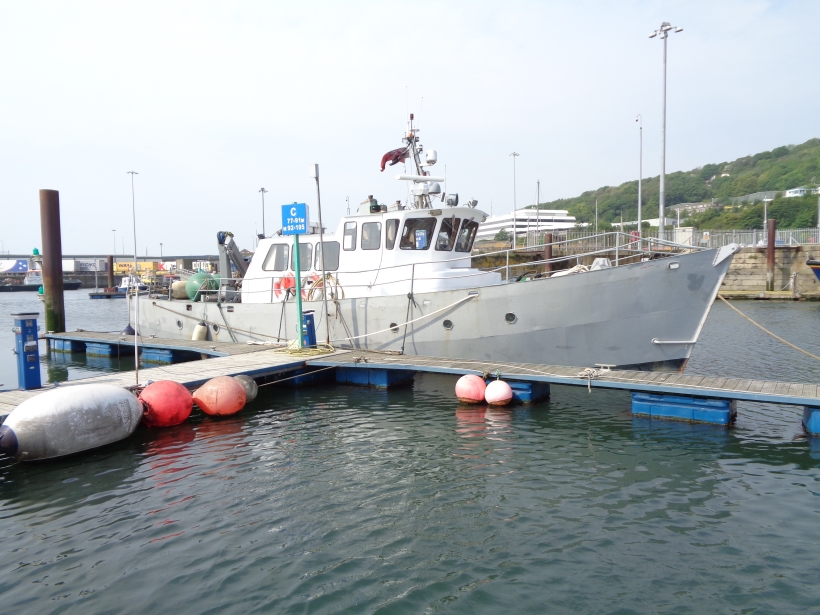 The enclosed lifeboat from the Viking Marine training school, which usually lives in the Wellington Dock, has been on the waiting pontoon for a few days & has been seen 'exercising' in the bay.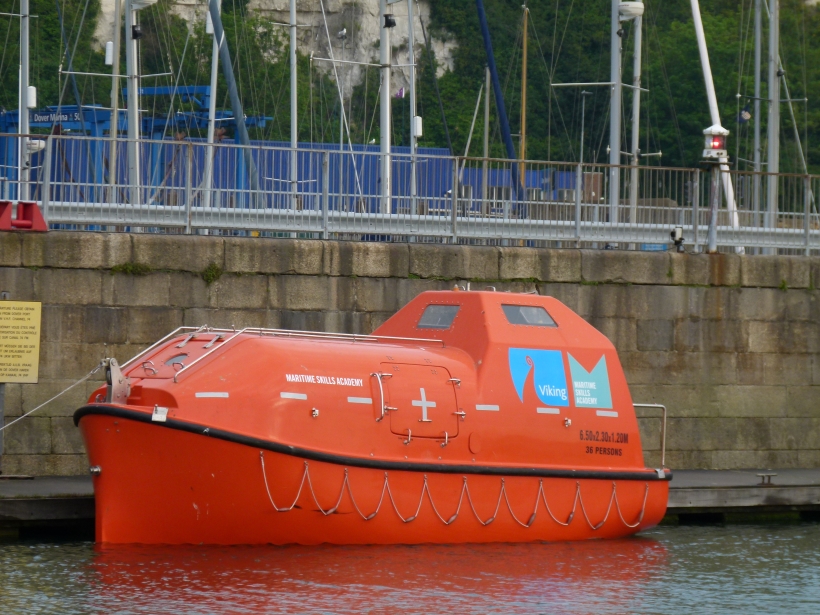 Returning from the BRENDAN I noticed the little survey craft KIPPO [post 4922] waiting for the swingbridge to open to allow her into Wellington Dock & later found her slowly moving up & down surveying at the far end of the dock in the area known as 'The Bubbles' where the River Dour enters the dock thru a sluice which is usually completely submerged.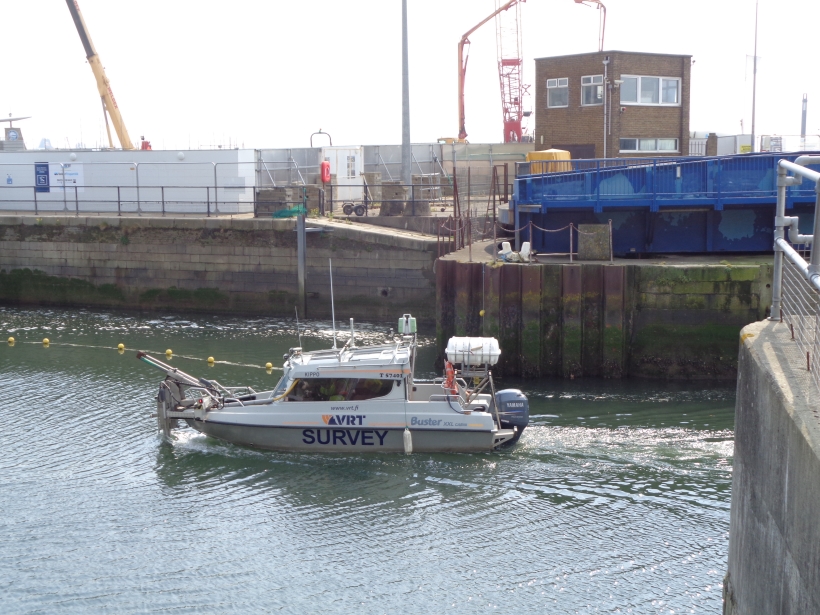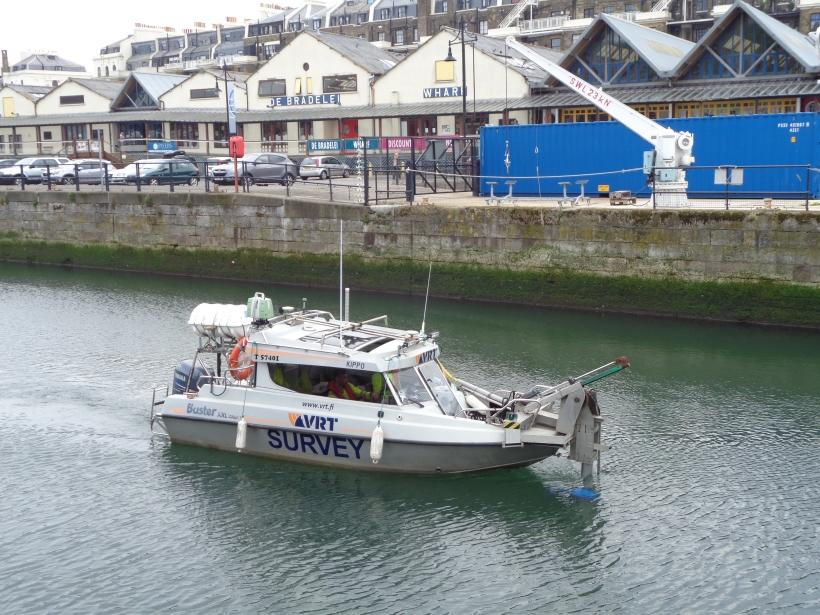 Small the KIPPO may be but she is packed with very sophisticated technology.
The Finnish owners 'VRT' have a most interesting website which can be found by googling 'VRT MULTIBEAM'
If you explore their website you'll see that VRT were working in Dover in 2016 surveying Eastern Docks & there is an amazing sonar photo of what I think is No.9 berth.
KIPPO was also involved then [do a search for KIPPO] but I don't think that she was photographed at the time.
Friday, 25 May 2018 - 00:48
Post 4930
Del Styan, Norwich
Strange that the owners of the supercars couldn't manage to put them in a parking bay. Or am I just becoming a grumpy old man? I think middle / old age is creeping up on me!

Thursday, 24 May 2018 - 23:16
Post 4929
brian, dover
Probably at buck house getting their knighthood ted.

Thursday, 24 May 2018 - 12:53
Post 4928
Ted Ingham, Canterbury
Four from Ramsgate........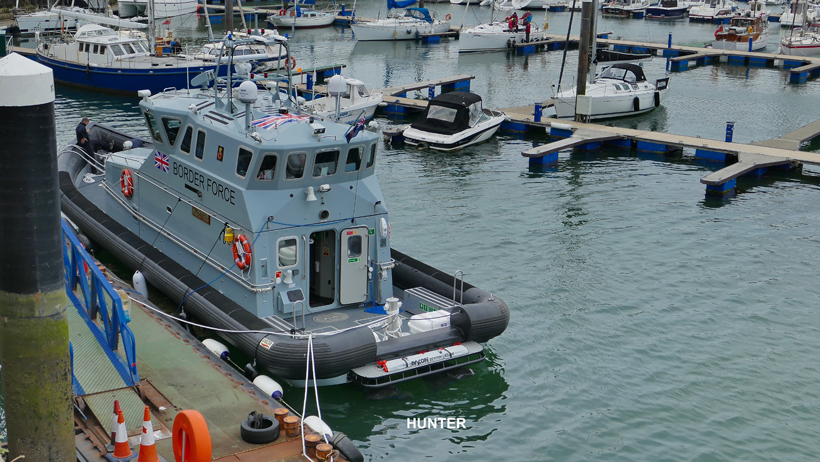 Another Border Agency craft I had not seen at Ramsgate before...the HUNTER.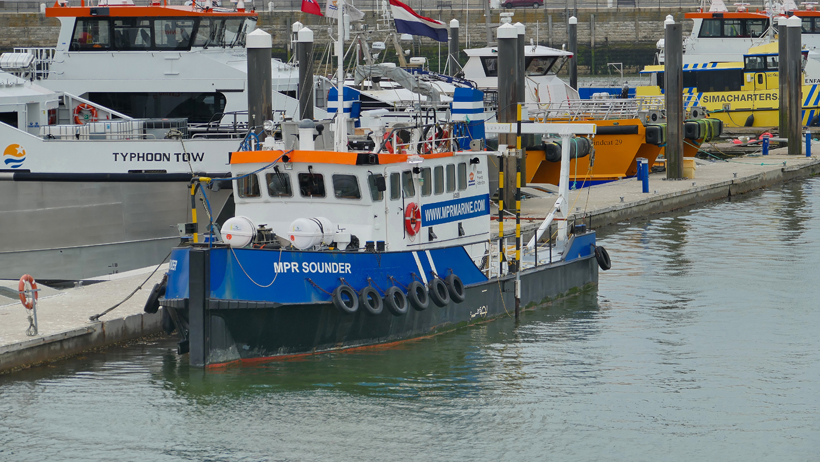 The survey vessel MPR SOUNDER and as the name suggests specialises in taking soundings.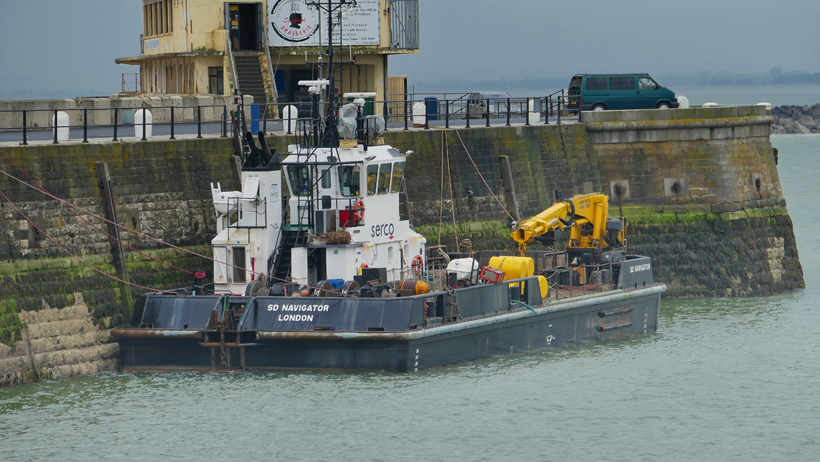 The multi purpose work boat SD NAVIGATOR belonging to SERCO. They have a large fleet of work boats and tugs and can be seen at the Royal Navy bases around the coast.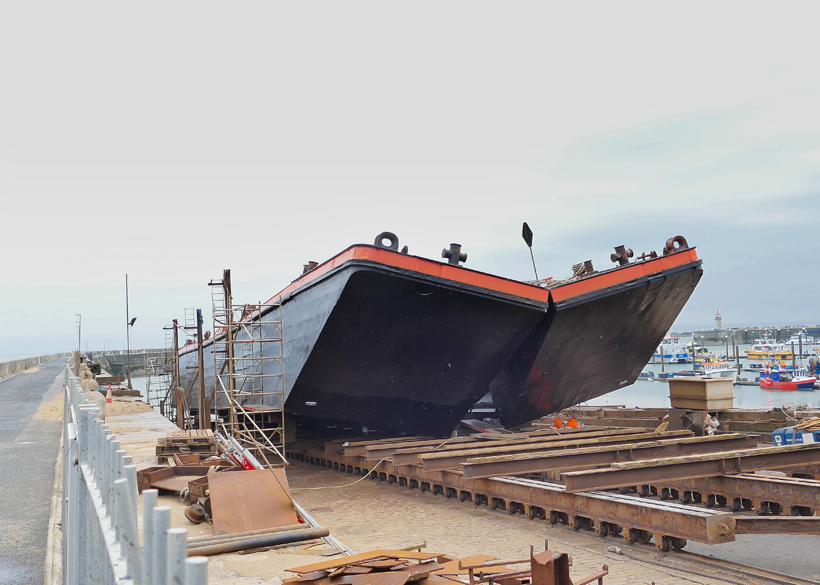 The split barge JOHN which has now been refurbished and should be soon towed back to the Thames .She will be replaced by her sister barge PAUL.Not sure about GEORGE and RINGO.
Thursday, 24 May 2018 - 10:20
Post 4927
Sea News, Dover
A Selection of Pictures of the Nordic Giant.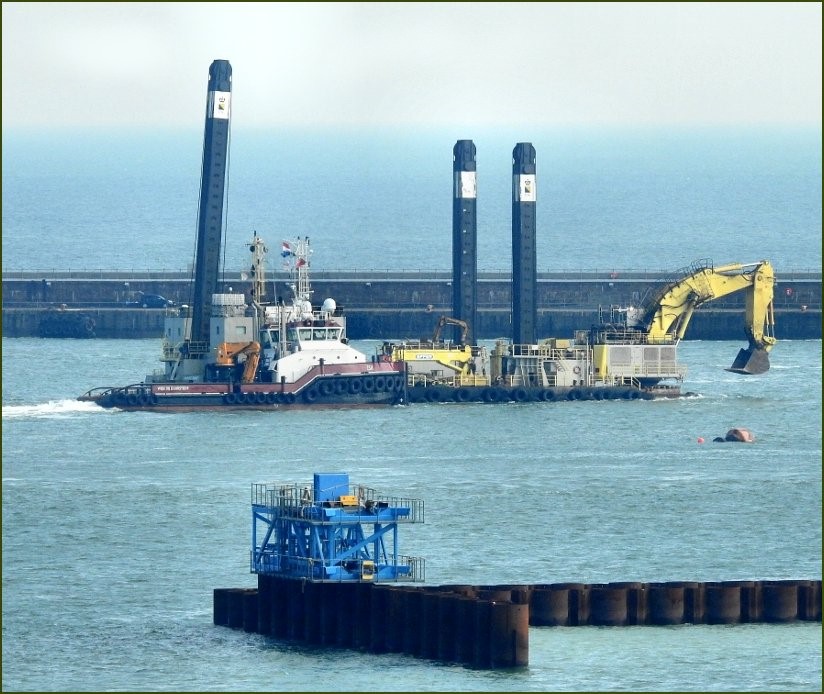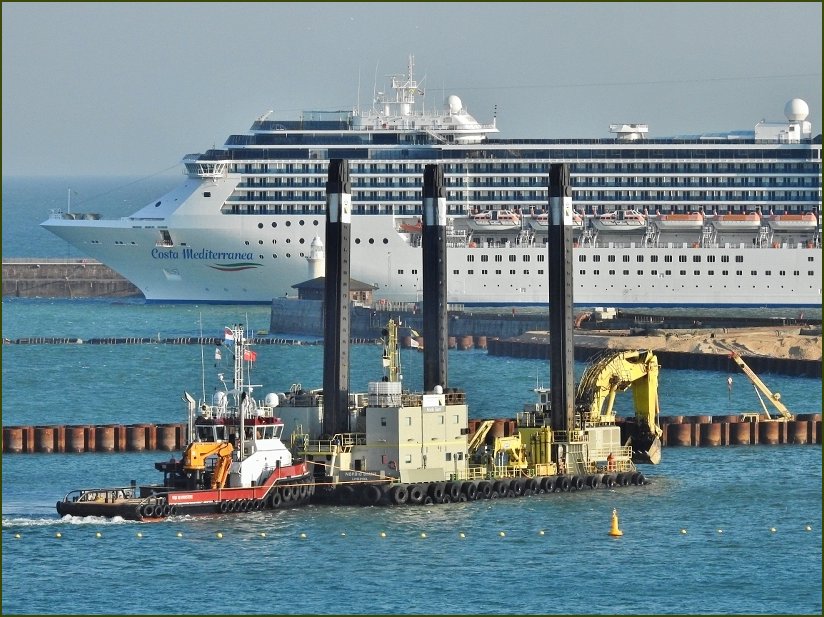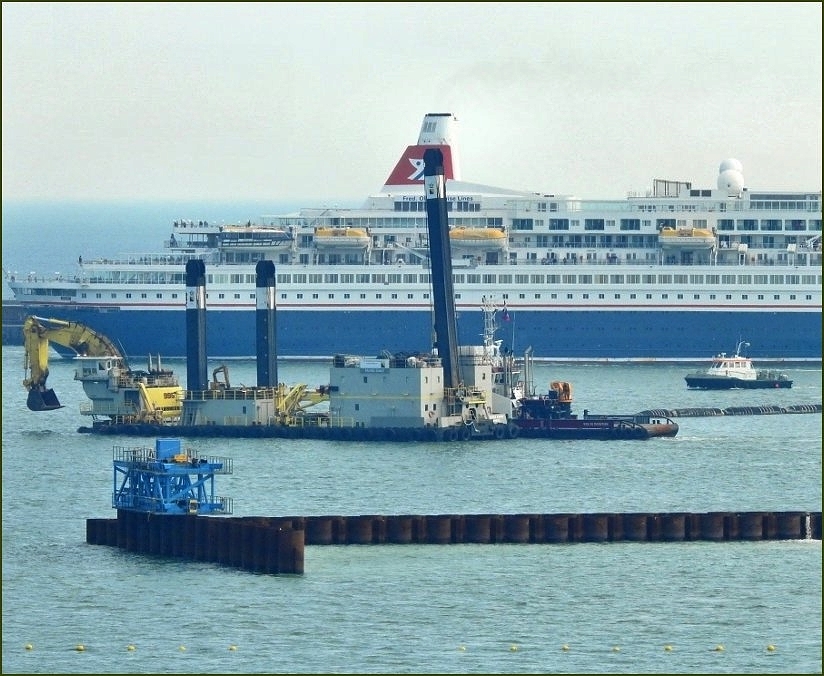 Yes there we are with the new dredging platform above .. the Nordic Giant, pictures taken at various locations around and about the harbour in the past few days. She is already working very well with the returned barges Wadden 1 and Wadden 4, plenty of pictures of those two already in our files...you can find them in our Search Engine above, where you can see Mike's recent shot too. Will have more to come in due course.
And now some super exotic machinery of another kind below. These two supercars arriving in the hotel carpark last evening. The Premier Inn is the hotel, you can find it right next to the 'observation tower'.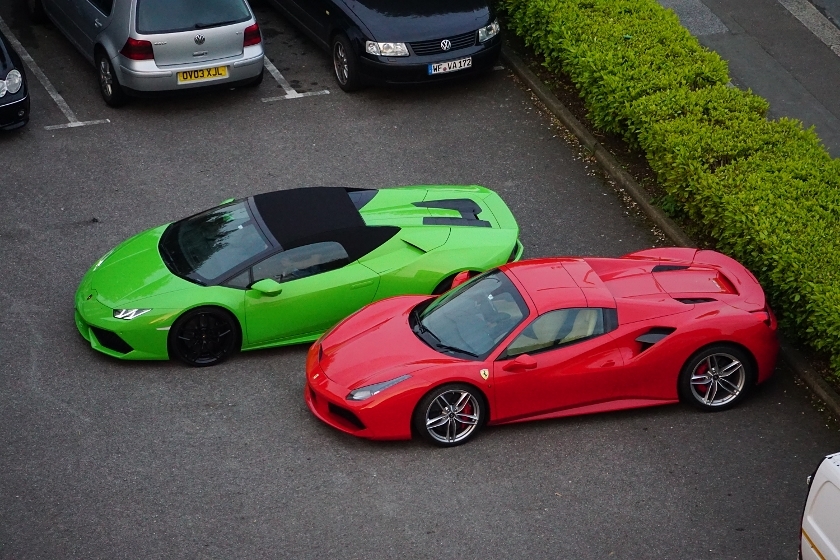 Yes a Ferrari and a Lamborghini...wowser!

Thanks Jeremy well spotted below. Always good to get updated info as there is such a lot happening.

PaulB
Update: AIDAaura approaching...
Thursday, 24 May 2018 - 05:11
Post 4926
Jeremy Ward, Whitfield, Dover
Just noticed on the AIS that the Pride of Kent is back with us after a long time away.

Wednesday, 23 May 2018 - 22:34
Post 4925
Sea News, Dover
Yes hugely busy in the Port lately Vic...almost too much to deal with here on Sea News...but we get there somehow. Hope you enjoy your trip to Hayling Island...looks like you have the details re petrol etc well worked out in advance.
No potholes...amazing!

PaulB

Wednesday, 23 May 2018 - 18:49
Post 4924
vic matcham, Dover
The Port of Dover do have a lot of coming and going of ships in 24hours per day 7days a week. Great to see all the very good photos of the movements and the work being done.Thank you we are off again soon to Hayling Island we like it there,also easy to get to up the M20 M26 M25 AND THEN down the A3 which is a new road and no pot holes YET and then the A27 fuel cost are very low on the Island which helps on the way home.


Wednesday, 23 May 2018 - 10:52
Post 4923
Sea News, Dover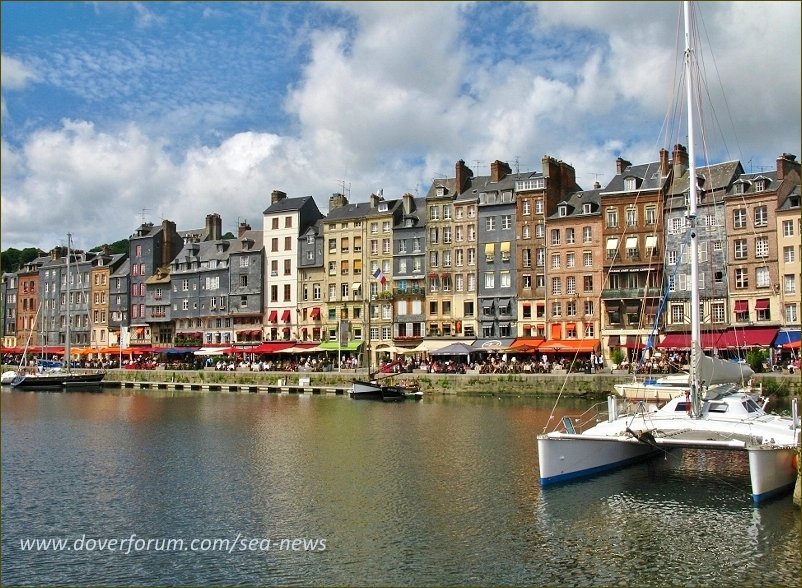 MUST SEE NORMANDY - JUST A FERRY RIDE AWAY
_______________________________________________
Discover the beauty of rural France with DFDS crossings from £54.
This summer DFDS is offering holidaymakers wanting to explore Normandy and surrounding regions, crossings from just £54 for 2 people each way, or £61 for 2 adults and 2 children each way.
Passengers travelling from Newhaven can reach this beautiful region of France in just 4 short hours, making favourites such as Rouen and Honfleur within easy reach of the UK.
Holidaymakers can ensure their trip gets off to the best start by making the most of DFDS' extensive on-board facilities including self-service restaurant, bar and children's soft play and video games areas. Budding marine biologists can also join on-board experts from marine life charity ORCA and learn about the local wildlife in the English Channel as well as wildlife watching from the deck.
Families looking to tour the region can enjoy trips to the historic Mont-Saint-Michel, visit the famed Bayeux Tapestry as well as spending time exploring the many cobbled streets and winding ramparts which offer spectacular coastal views. From 26 May to 10 June visitors to the region can also join in the celebrations of the D-Day Landings by enjoying the abundance of firework displays along the coast, military parades, parachute drops and more!
For couples wishing to make the most of a romantic weekend away the tranquillity and beauty of Giverny, nestled on the banks of the Seine, is the perfect spot. Its beautiful landscape was the inspiration for Monet's impressionist Water Lilies series and is perfect for couples wanting to spend lazy days dipping in and out of cafes.
DFDS and the Normandy Tourist Board have also partnered to offer up the chance to win a holiday for two to Normandy with ferry crossings, hotel and more included. For more information or to book a crossing,
visit: www.dfds.co.uk
-Ends-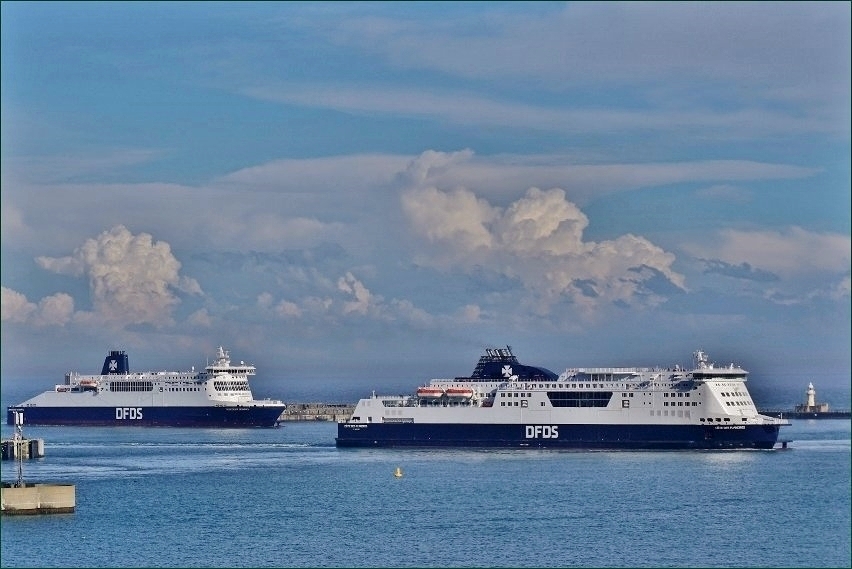 Dunkerque Seaways and Cote des Flandres above. That's the delightful Honfleur above top.
* *
Many thanks to the DFDS team for the suggestion above.
We've added our own pictures to it.
Ah its certainly nice down that way...Honfleur, Deauville etc.

A couple of pix now of the Lifeboat guys exercising in the harbour two days ago.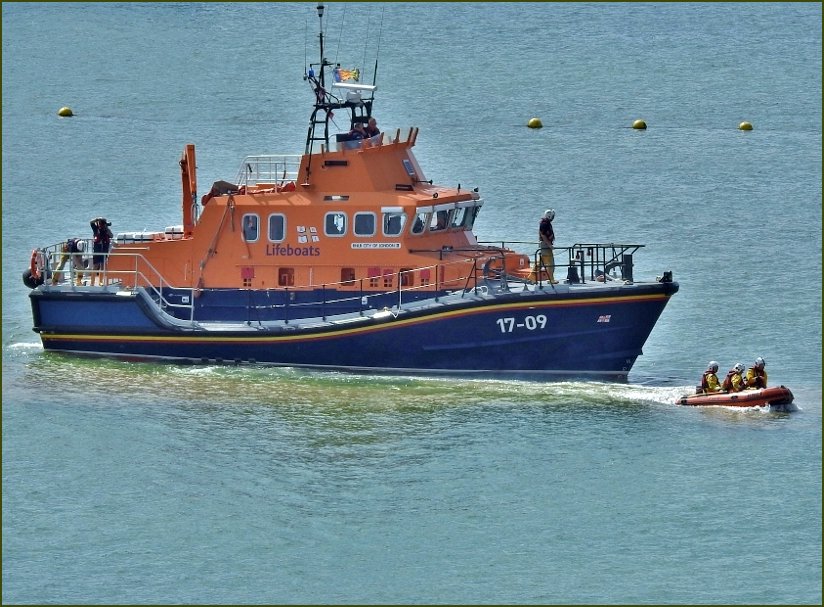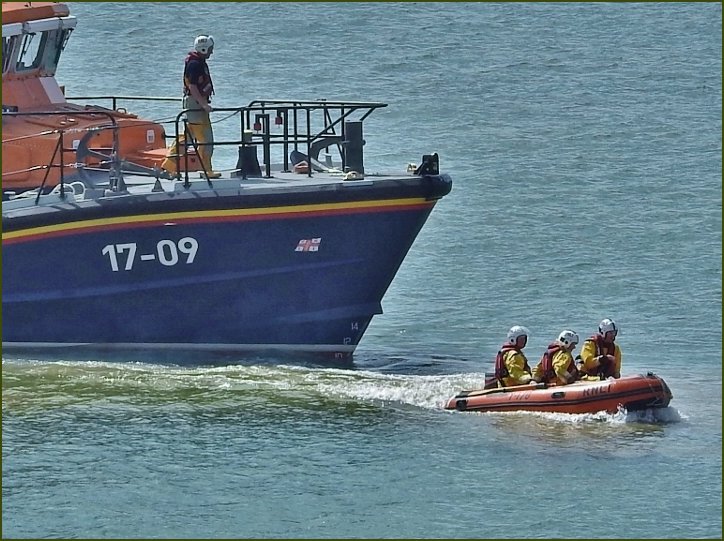 The shot above is a close crop of the first one.
I know the lads posting below have already uploaded pictures of these guys leaving...or more accurately Saga Pearl departing alongside the Costa.. but here is the arrival early morn of the Saga Pearl, dwarfed once again as you can see by the giant Costa Mediterranea in the background.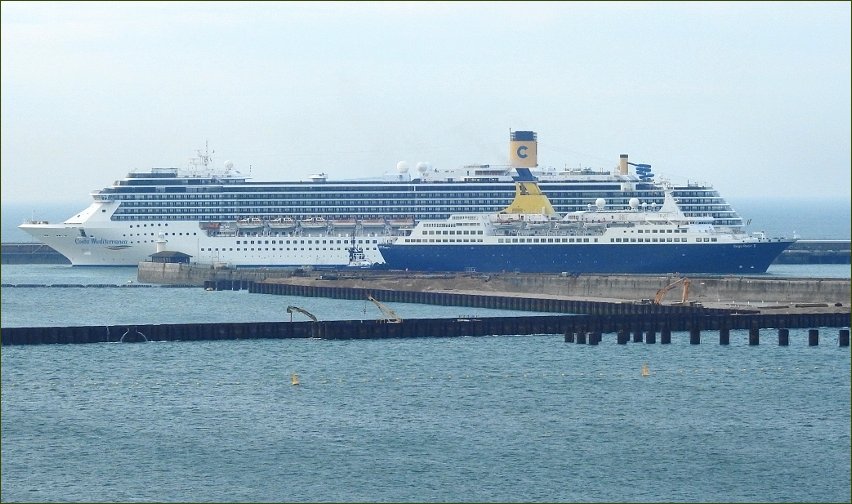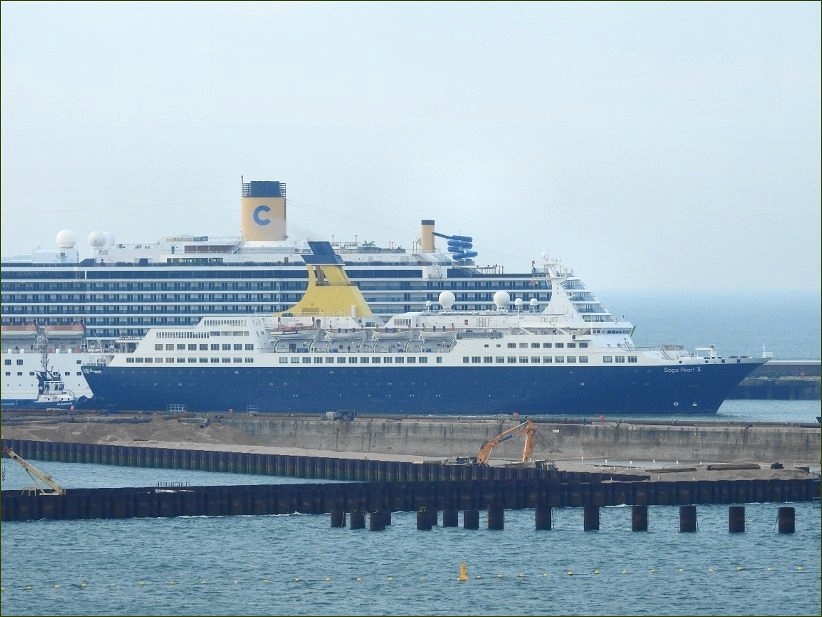 Well done Mike. Great all round collection below there and lots of info re all the comings and goings. Very enjoyable

Nice work too below there Patrick. Right in on the action there keeping us up to speed.

Don't miss those posts below....and..we have lots more coming!
PaulB

Wednesday, 23 May 2018 - 05:10
Post 4922
Cyril Jackson, Dover
Just before 0700 Tuesday LAURA MONCOR sailed, later arriving safely at Littlehampton.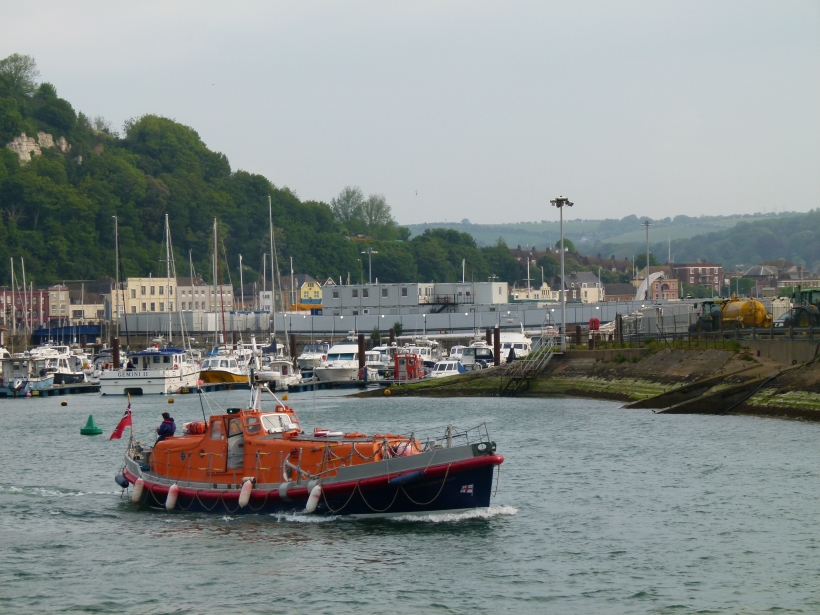 The COSTA MEDITERRANEA was berthing on Cruise-2 with the tug ISA in the foreground in the Jetfoil terminal.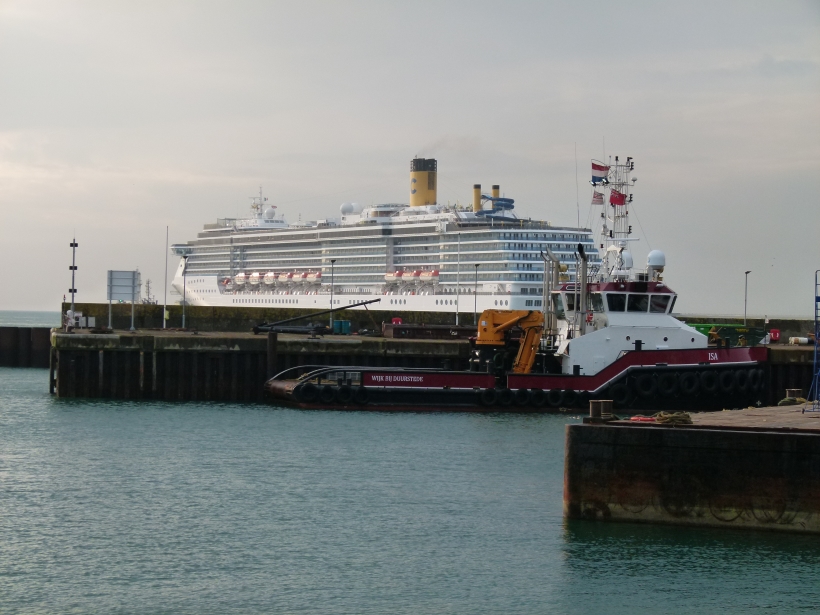 As Paul suspected the powerful-looking ISA was indeed the tug that brought in the WADDENs & that's an interesting 'catch' of the crewman working on the slope below the wheelhouse - H&SE would have had kittens, altho' he may have had a safety line that we can't see.
Attitudes change - I have some movie film, filmed in the 60s by a deceased friend, of a Birkenhead tug underway with a crewman standing OUTSIDE the steel bulwarks touching up the paint of the tug's name on the bow !
No lifejacket or safety line of course.
Later I caught the departure of the SAGA PEARL 2 as she passed the COSTA MEDITERRANIA.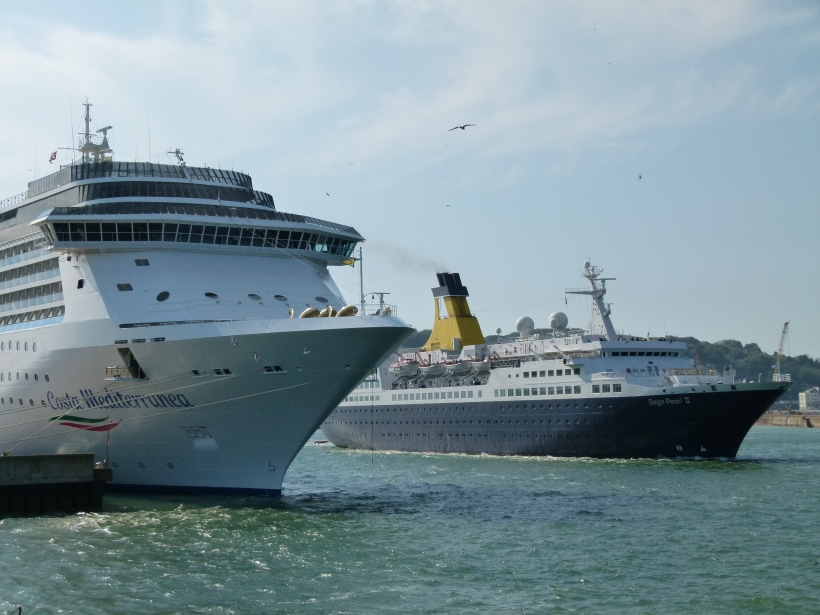 As soon as the cruise ship was clear the WADDEN 4 entered, she'd been waiting off the port after dumping spoil.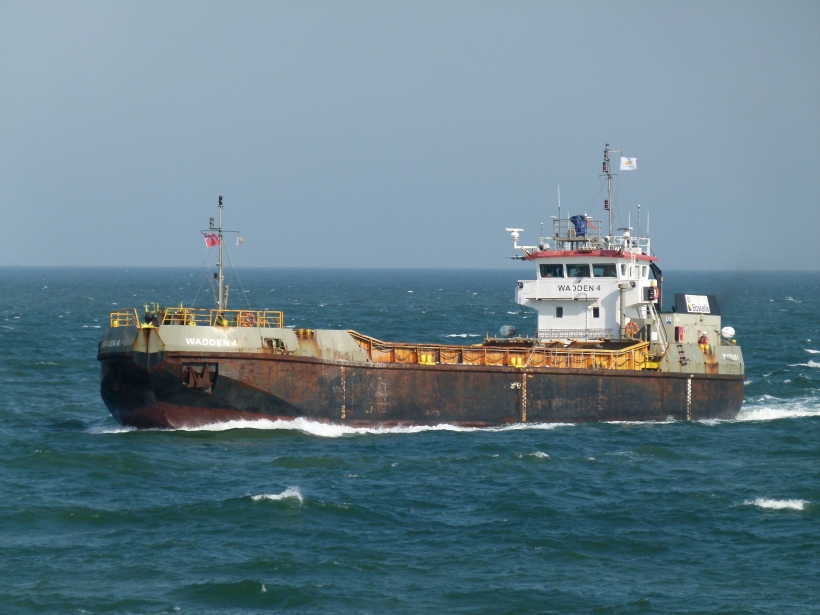 A little later the SCOT VENTURE entered, coming in from Belfast, & docked on Cruise-1, presumably loaded with more DWDR concrete sections.
The most interesting vessel seen from the Ad.Pier this afternoon [for me anyway] was the tiny Finnish survey vessel KIPPO returning to Western Docks.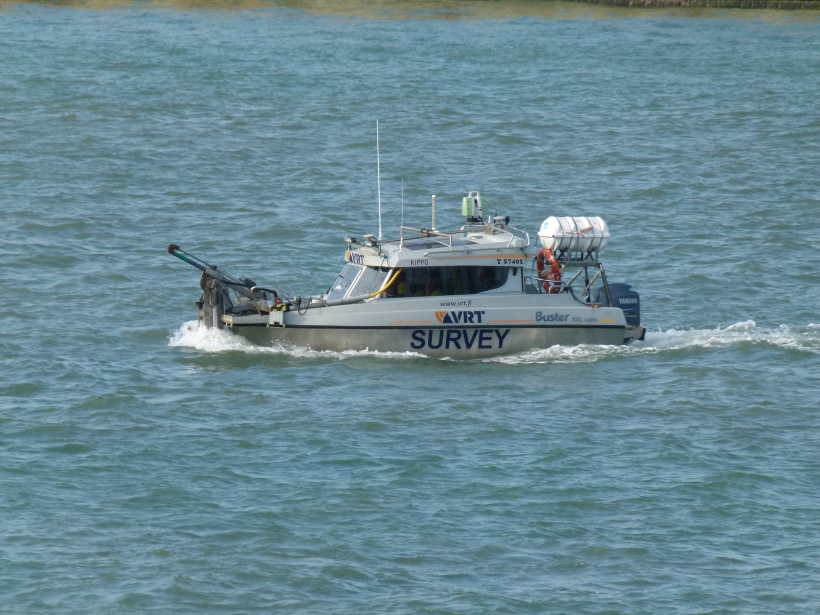 Looking at her AIS track she seems to have been launched by the Granville Dock boat lift, probably from a lorry, about 0900 this morning & spent some time taking a look at the DCT & the Eastern Arm.
She's so small that I had trouble finding her later amongst the plastic boats on the Tidal Basin pontoons !
Wednesday, 23 May 2018 - 01:43
Post 4921
Patrick, Marine Parade
More of the new tug 'ISA' yesterday manoeuvering the 'Nordic Giant' into position. This dredger is the latest to arrive for work in the Inner and Outer Harbours.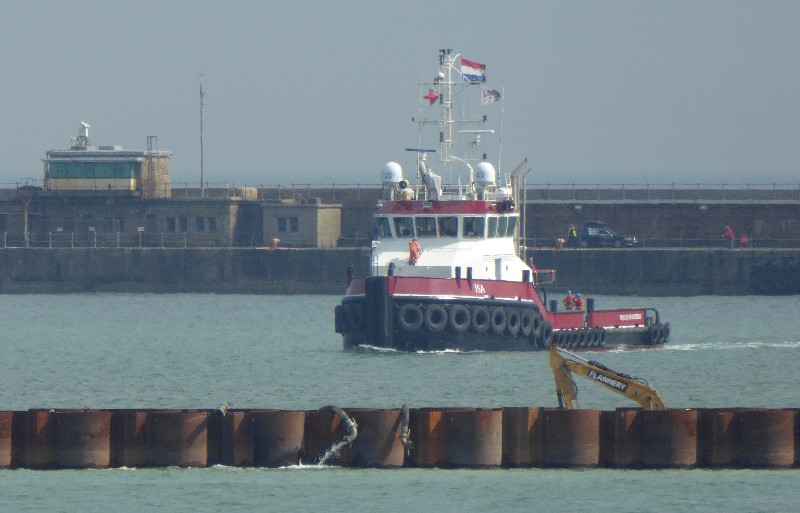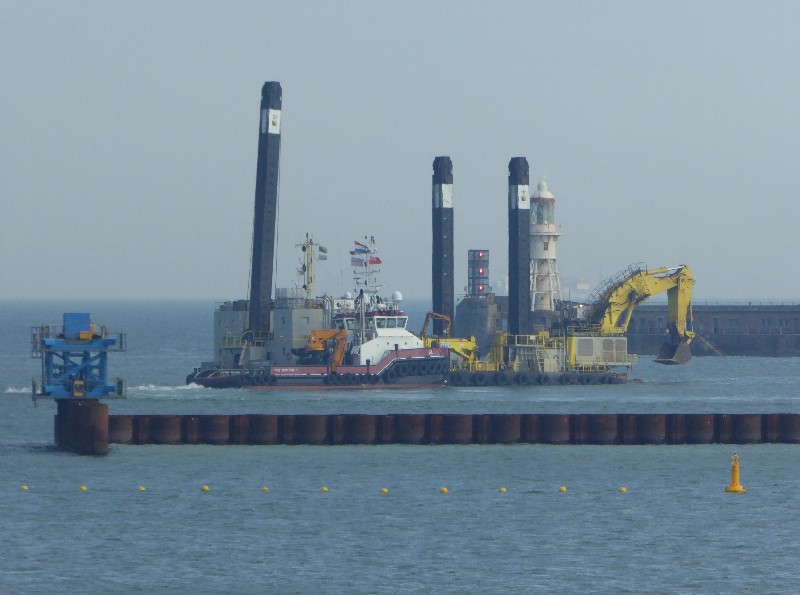 and today another little and large double - the towering Costa Mediterranea making her second visit of the season - and the more elegant (in my view) and smaller (cosy!) Saga Pearl II - here outbound having swung off the berth before passing the Costa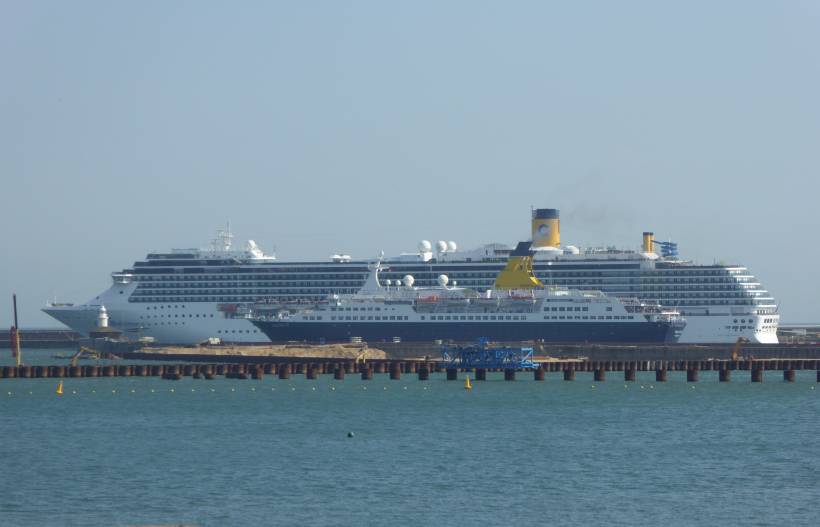 Tuesday, 22 May 2018 - 22:24
Post 4920
Sea News, Dover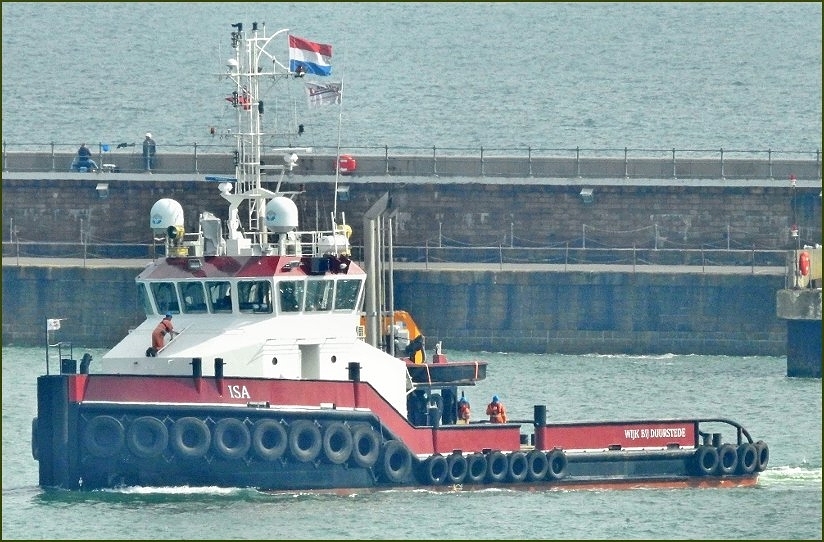 New on the Scene: Yes this is the newly arrived tug called ISA and quite a large impressive tug she is too. Mike got a picture of her earlier, see below 4915. I believe she is the tug that brought the Wadden barges back into DWDR action. This picture was taken yesterday. Look at the chap climbing up the frontal area there...brings new meaning to the term 'climbing the walls'

Tuesday, 22 May 2018 - 16:11
Post 4919
Sea News, Dover
DWDR - Moving Forward.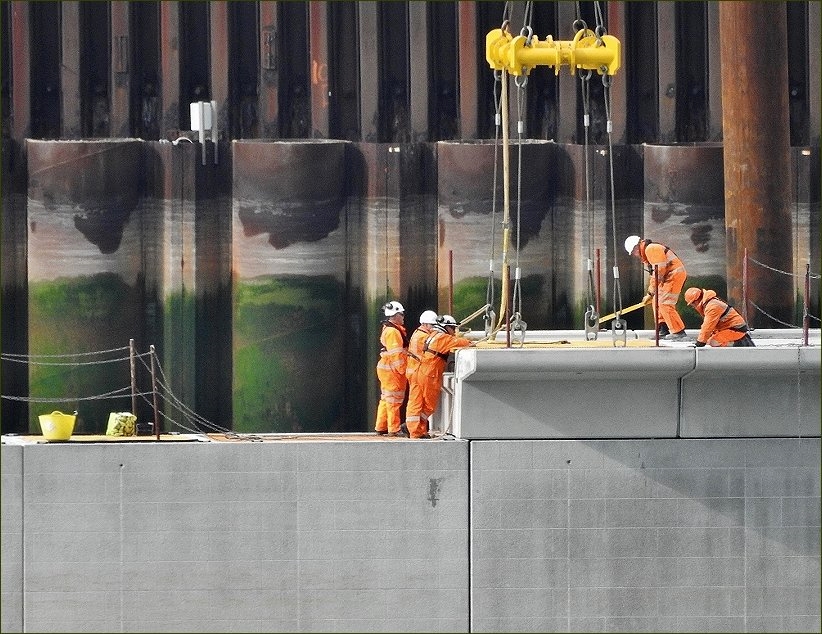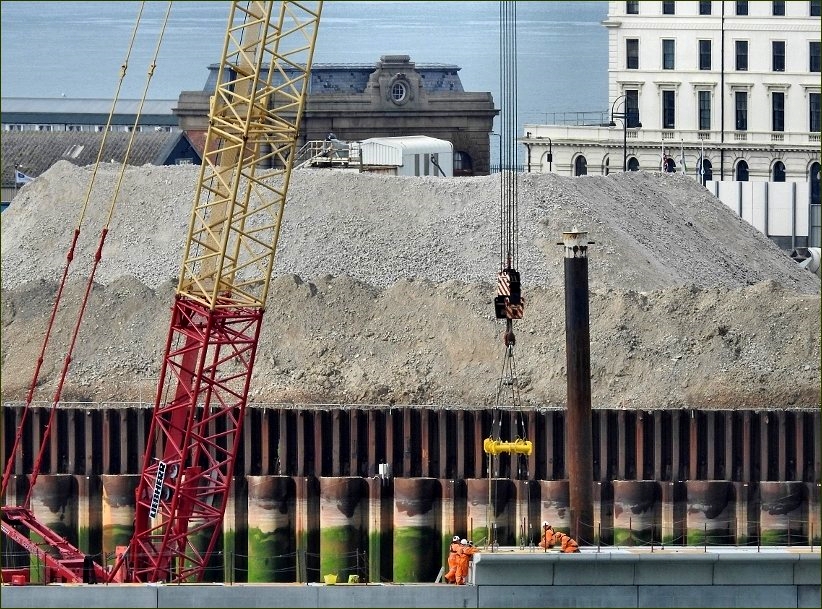 The latest pictures above from the ever extending new marina pier. The hardworking guys are seen above there slotting the latest concrete section into place. It drops down from above with some delicate crane-work and they finish it tidily into position.
Yours truly is still catching up with all the goings on...and below we have some shots of the departing Prinsendam. Last Saturday evening it was...and she was off to 'de emerald oisle' in fine style. See ColetteB's listing for more details..as ever type in cruise visits in the Search Engine and away you go.
You can also see the returning Dover Lifeboat … yes just returning from action at the right time for the pictures.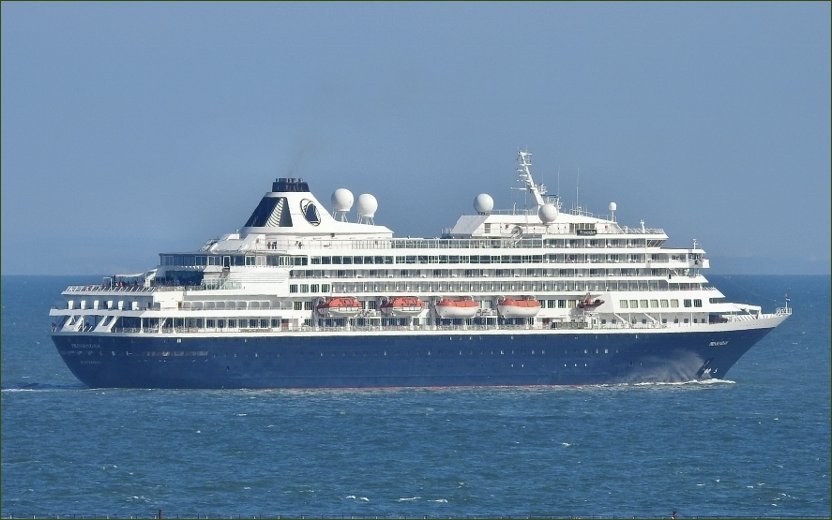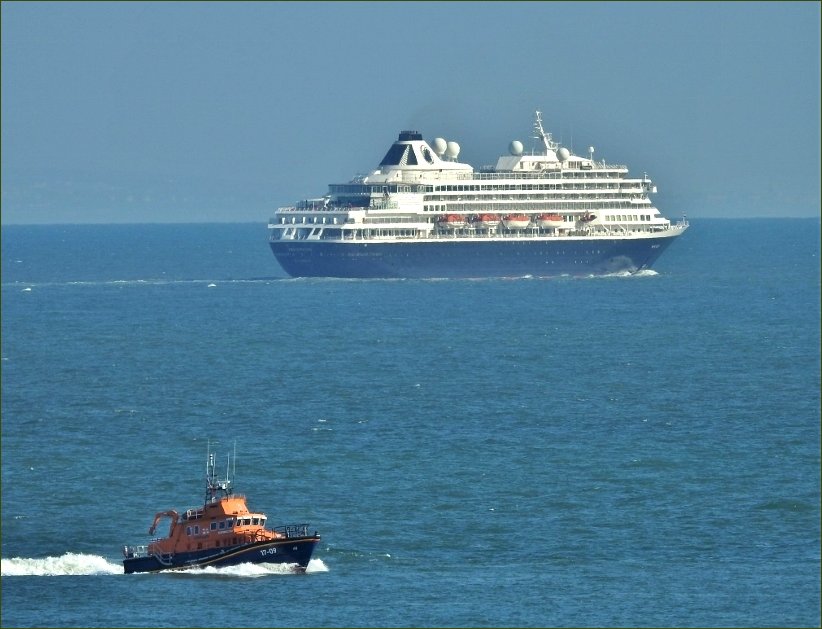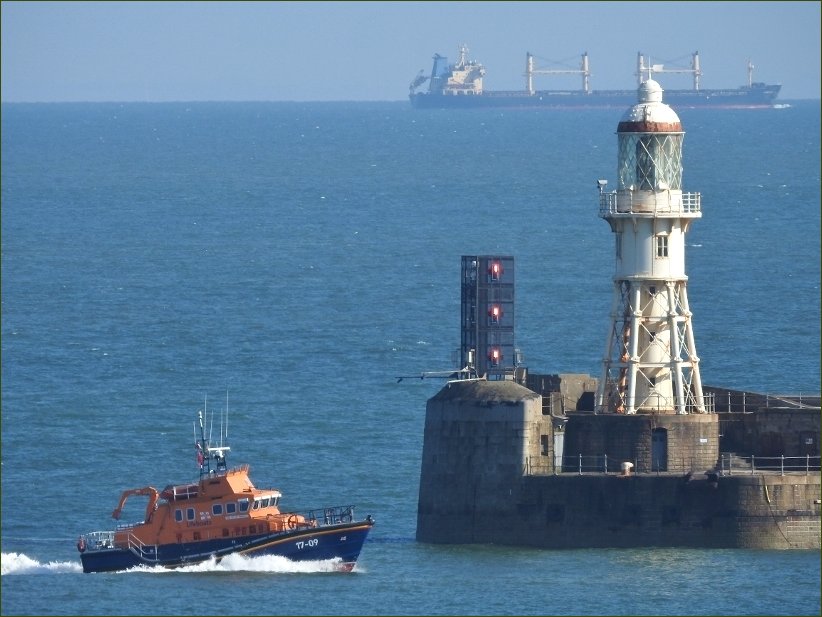 Nice collection below Mike. You are certainly getting about and covering all the inshore activities.

PaulB
PS: the huge Costa Mediterranea is back in with us again today. Worth popping down to have a look..

Saga Pearl also approaching. Yes we have Little and Large today..

Tuesday, 22 May 2018 - 06:15
Post 4918
Mike J., Dover
Arrival of the PACIFIC REEFER Monday morning from Piata, a small port in Peru.
Sorry 'bout the damned lighting pole !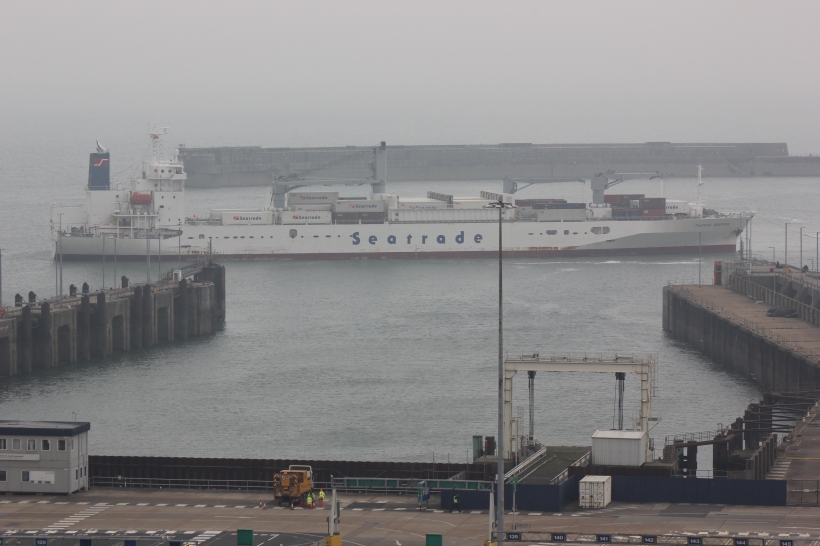 Unusually the SAGA SAPPHIRE stayed overnight after arriving Sunday morning & sailed Monday about 1700 for Bergen.
This gave them the opportunity to carry out an engine change for their No.5 tender & for the crew to sample Dover's Sunday night's nightlife.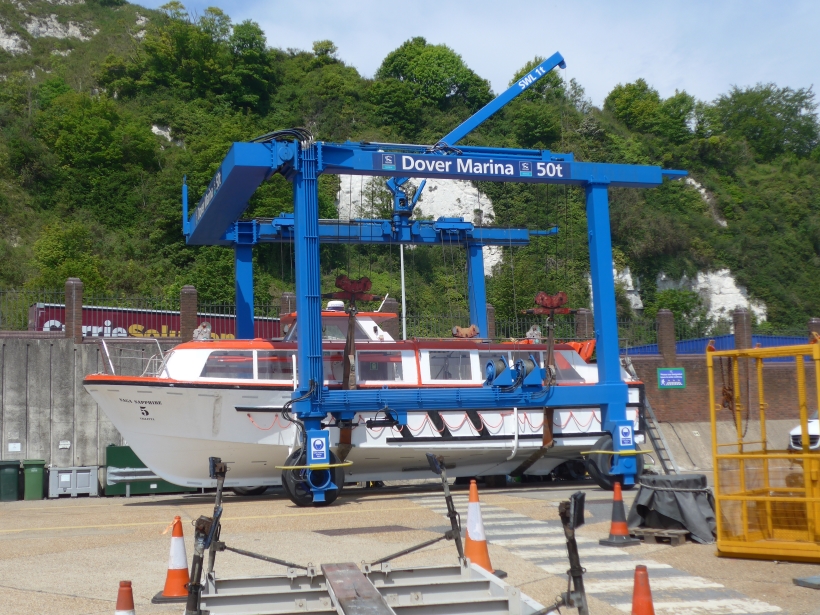 The LAURA MONCUR is in Granville Dock & is expected to sail for Littlehampton on Tuesday morning.
Just waiting to see whether Sarah is going to post about her trip on the LAURA MONCUR as there's no point in duplicating pix & info.
Very friendly crew aboard the 57-year old lifeboat, owned & sailed by a brother & sister.
The LAURA has an excellent website - just google 'Laura Moncur'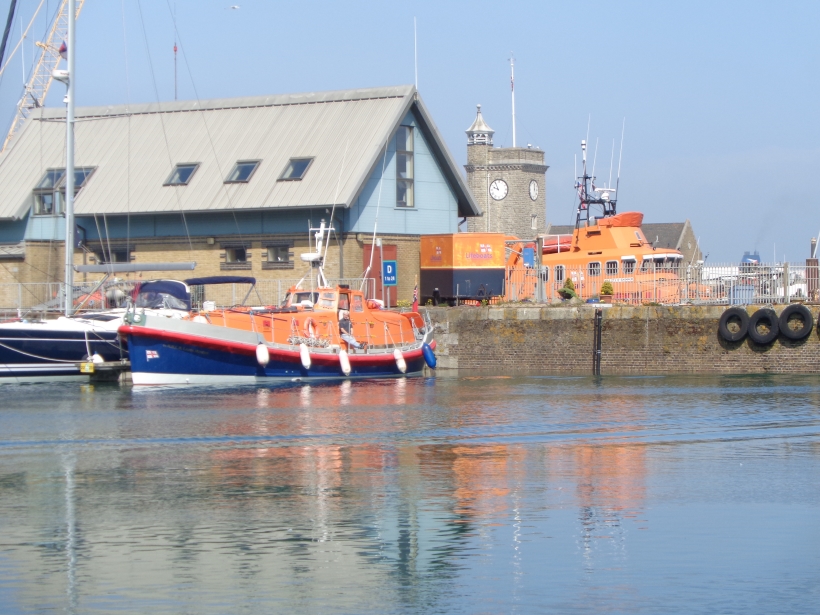 Tucked away in a corner of Granville Dock is the unusual small workboat PATRIOT who has been there for months.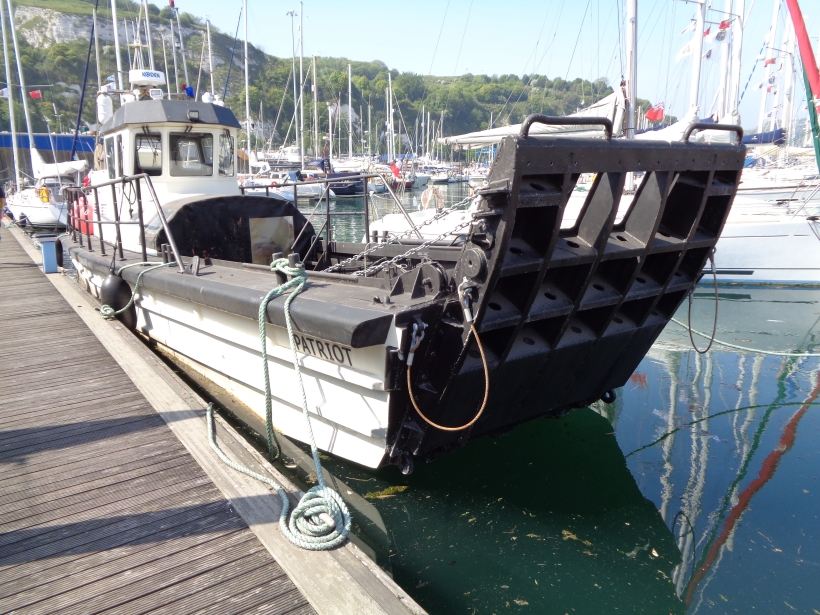 Whilst waiting for Sarah's arrival on Sunday afternoon DWDR's SHAMROCK went out for a spot of surveying.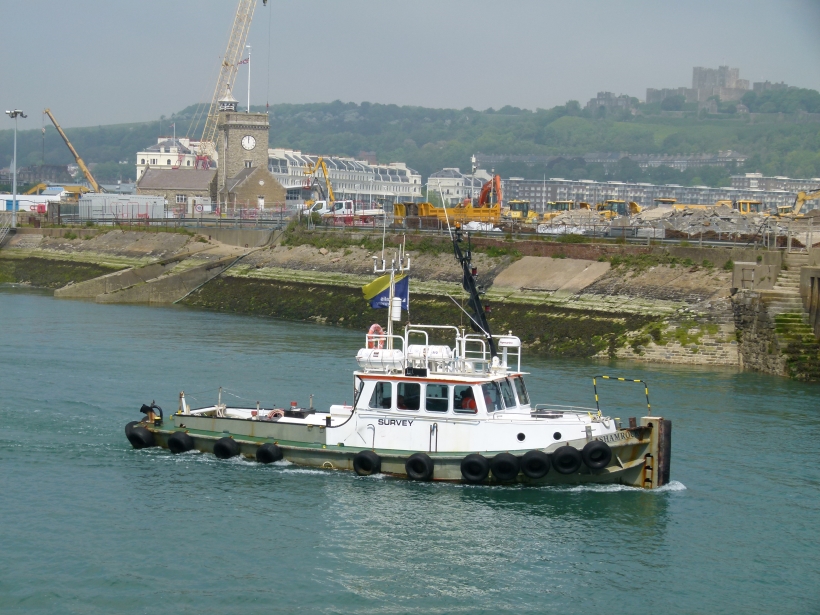 Monday, 21 May 2018 - 22:50
Post 4917
Sea News, Dover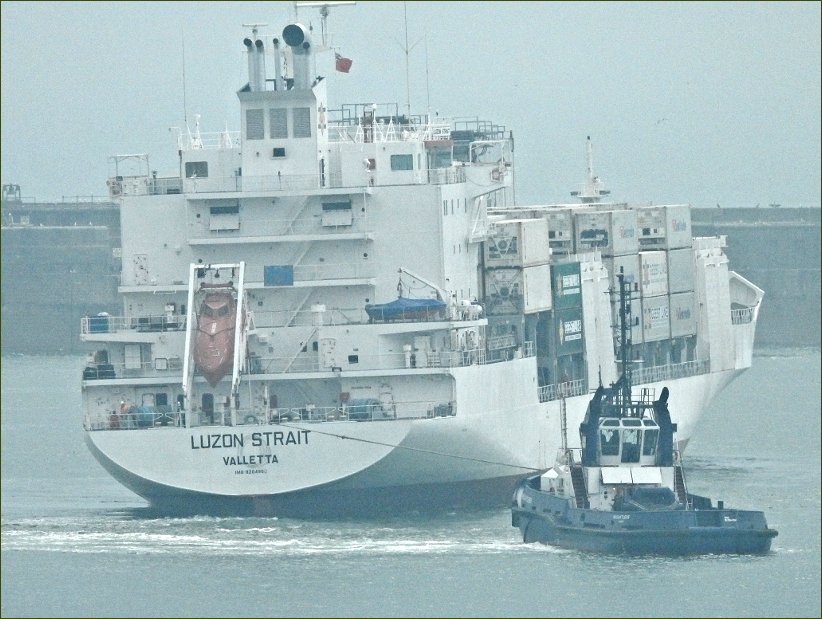 Above there we have the Luzon Strait leaving for Vlissingen earlier this morning in the rather misty conditions. Both tugs were giving assistance but just one is showing in shot. Its incredibly busy at the Cargo Terminal as her vacant slot was taken up almost immediately this morning by the Pacific Reefer. Good to know we will have more terminals coming with the new development. See post below.

(Oddly this picture came out on display much bigger than expected...and it isnt bigger in reality.
I seem to be having a few haywire moments since the major Microsoft machinations..

)
See todays interesting earlier posts below.
Monday, 21 May 2018 - 15:22
Post 4916
Sea News, Dover
Port of Dover selects Konecranes for new Dover Cargo Terminal
_________________________________________________________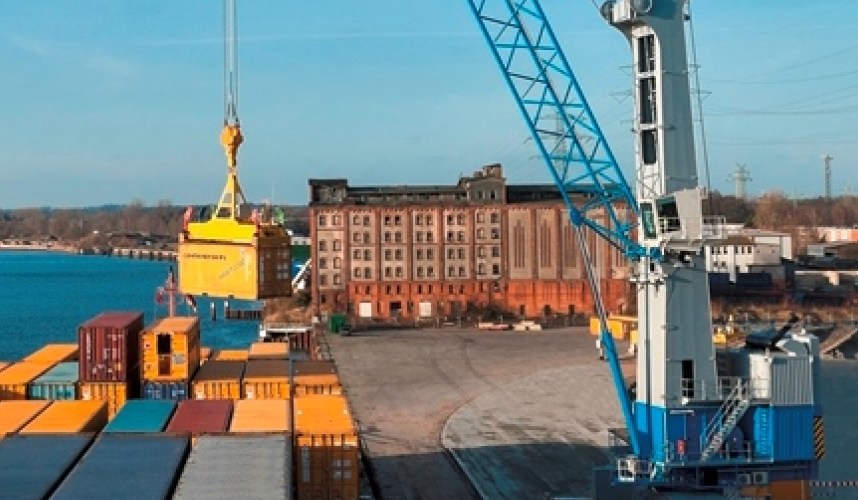 Konecranes has been selected to supply two Konecranes Gottwald Model 5 Mobile Harbour Cranes for Port of Dover's new cargo facilities as part of the Dover Western Docks Revival (DWDR) development.
The eco-efficient diesel-electric Model 5 Mobile Harbour Cranes will handle mainly containers and palletised fruit at Port of Dover's new multi-purpose refrigerated cargo terminal, which is scheduled to open in the first quarter of 2019. The cranes will operate with the Hybrid drive technology to maximize fuel economy, reduce exhaust emissions and help the Port create a quieter operating environment.
Dave Herrod, DWDR Programme Director at the Port of Dover, said: "The new multi-purpose cargo terminal and the ongoing transformation of the Western Docks are perfectly placed to take European logistics to the next level and give businesses a competitive edge. We have opted once more for versatile cranes to help us meet the future demands of the business and deliver a rapid turnaround for a new generation Port of Dover customers."
The terminal will be served by completely new marine and land infrastructure including two deep-water cargo berths (Berth A: 251m and Berth C: 300m in length, plus a dolphin). The Model 5 Mobile Harbour Cranes in the G HMK 5506 two-rope variant provide a strong lifting capacity profile with a maximum lifting capacity of 125t, and an outreach of up to 51m.
Neil Griffiths, Regional Sales & Service Director, Konecranes Port Solutions, explains: "UK ports are currently investing in new and more powerful quayside handling equipment to meet ever changing market demands. We are pleased that one of the leading ports has again opted for Konecranes."
Sam Stewart, General Manager at Port of Dover Cargo Ltd, said: "The completion of the contract for the supply of the cranes is another step forward in the delivery of the enhanced cargo facilities to meet future demand for services and to strengthen Port of Dover Cargo Ltd's position as the ultimate strategic location with fast, dedicated and direct access to the wider UK and Europe."
DWDR is the single biggest investment ever undertaken by the Port of Dover and represents the next exciting evolution of the Port, delivering long-term capacity for a key international gateway handling trade to the value of £122bn (€138bn) and representing up to 17% of UK trade in goods.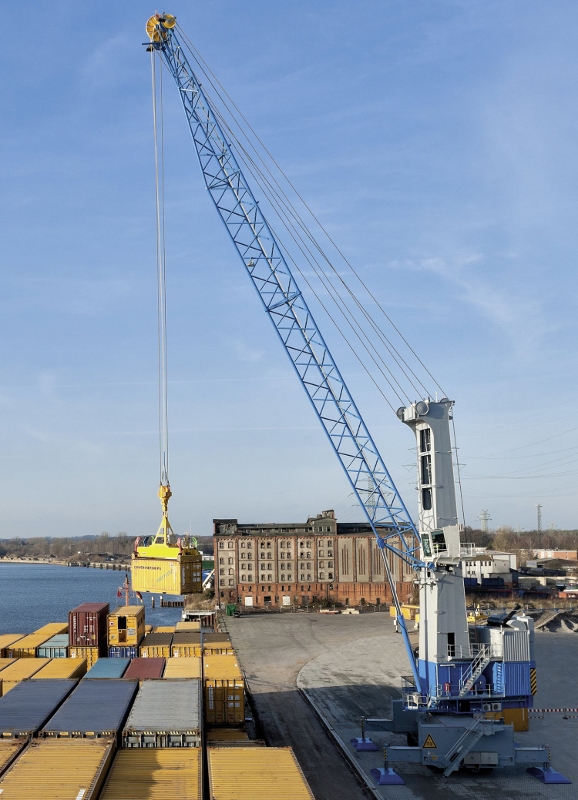 ENDS
Very exciting times indeed - great to see the Port of Dover powering forward in such dynamic style.
Uplifting news there...

* *
And now below as promised .. some action pictures of the tug Sea Bulldog as she heads off again after delivering the dredging platform Nordic Giant. On her way back to Rotterdam I believe ( yours truly made a mental note of where to...but you know how it is... ). As you can see she hit some rough turbulence just outside the Port leading to some dramatic images. A bit far off for max impact but here we are nonetheless...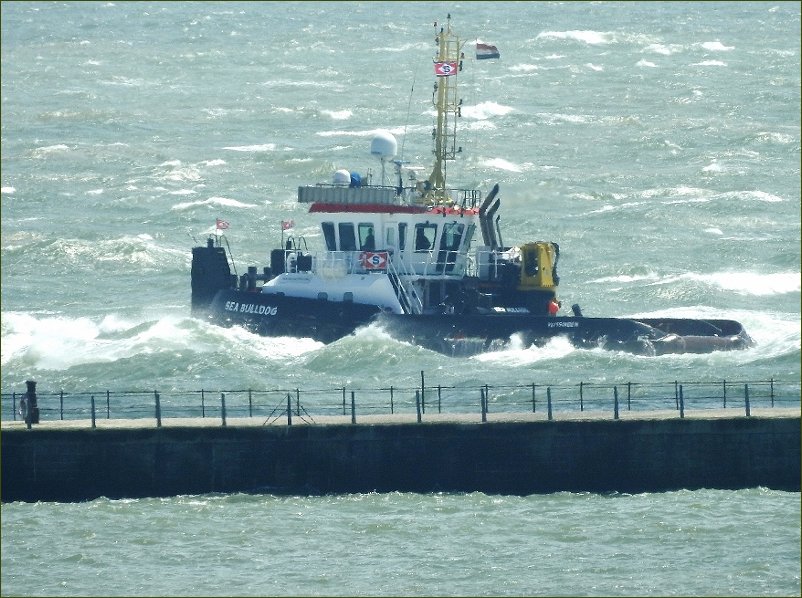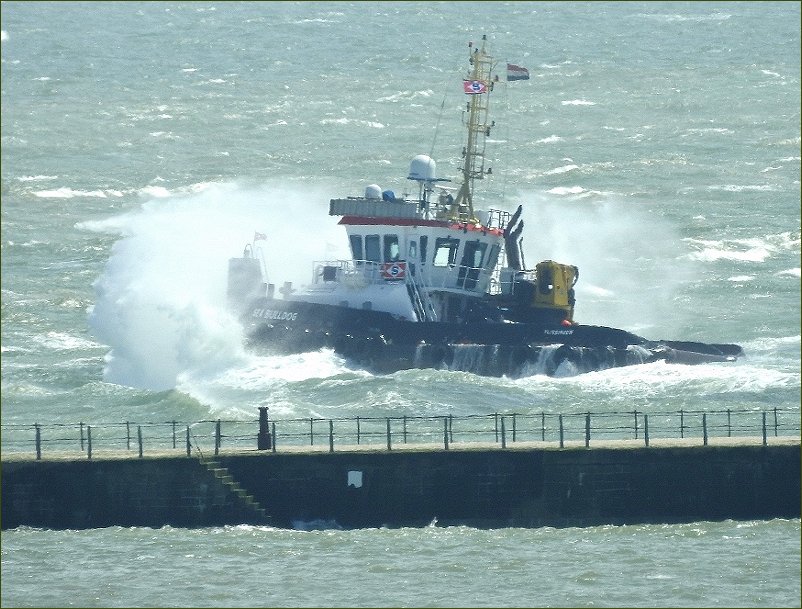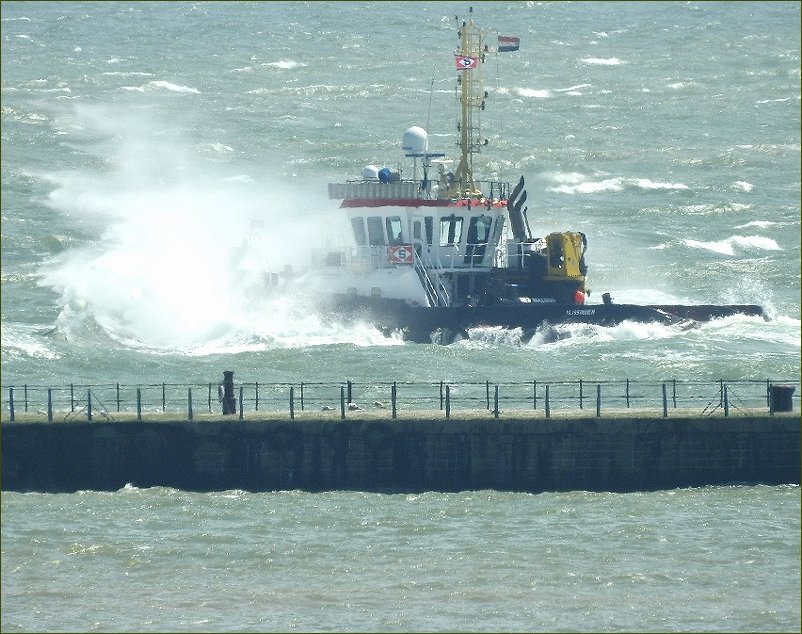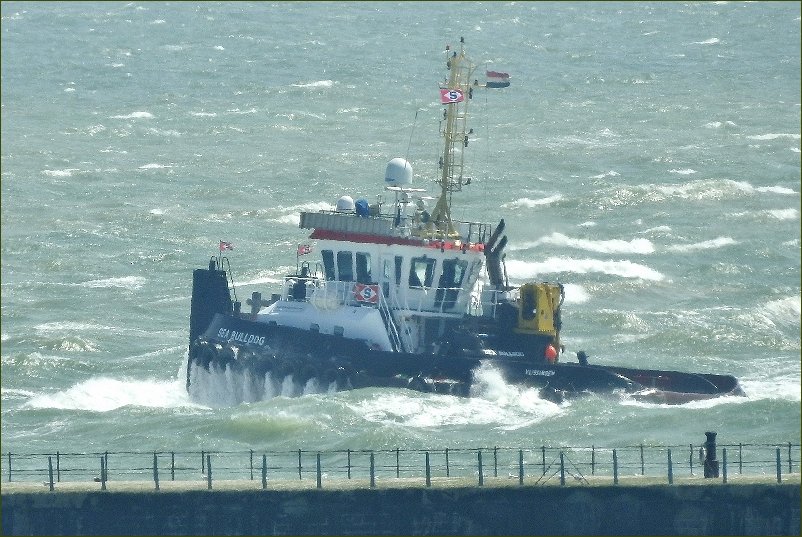 Excellent collection below there from Mike..very fascinating stuff, not least seeing our roving correspondent onboard the Laura Moncur… we now need a close-up.
"I'm ready for my close-up Mr de Mille!"

Great stuff all round. Dont miss those below.

PaulB

Monday, 21 May 2018 - 07:11
Post 4915
Mike J., Dover
Sunday visitors. Arrival of the SAGA SAPPHIRE with a single solitary passenger out on deck braving the early morning misty chill.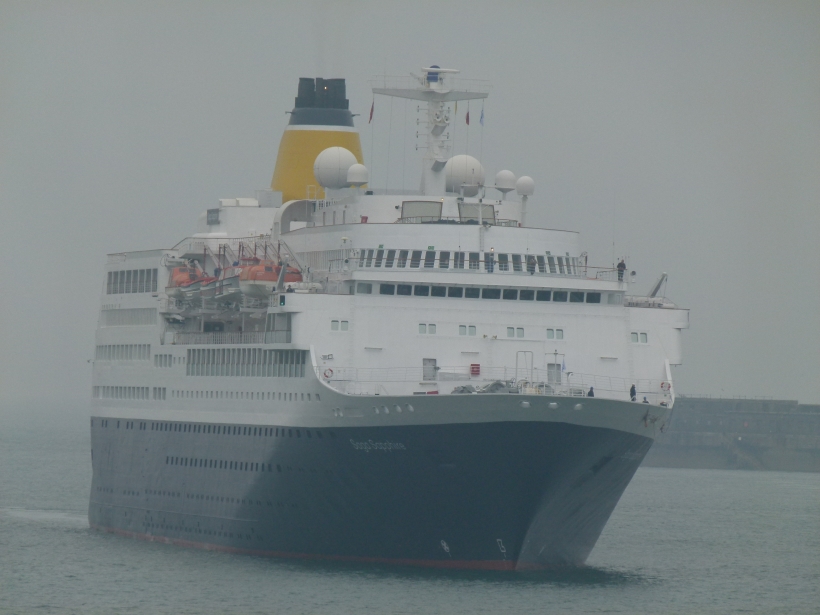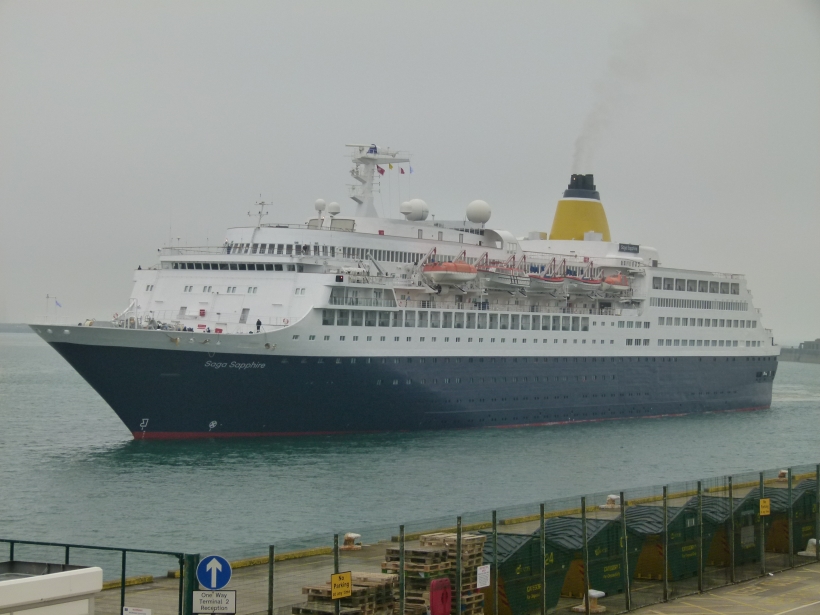 I was on the Ad.Pier mainly for the Dutch tug ISA towing WADDENs 1 & 4 from Malmo, returning to work with the recently-arrived dredger NORDIC GIANT but in any event the little convoy went to the Eastern Arm where they were almost invisible in the morning murk.
The Ad.Pier was packed with anglers as the mackerel were running, although I saw very few actually being caught - a little unusual as usually the mackerel throw themselves at the lures, hauling in three or four at a time being quite normal.
I walked out as far as the Turret & didn't hear a word of English being spoken.
Early in the afternoon the preserved 'Watson' class lifeboat LAURA MONCUR came in from Harwich, with the 'Sea News' Ramsgate correspondent aboard - that's Sara in the black ensemble & it looks as though she's taking a photo – now there's a surprise . . .
Camera problems at the crucial moment denied me the 'bows three-quarter' angle that I was hoping for.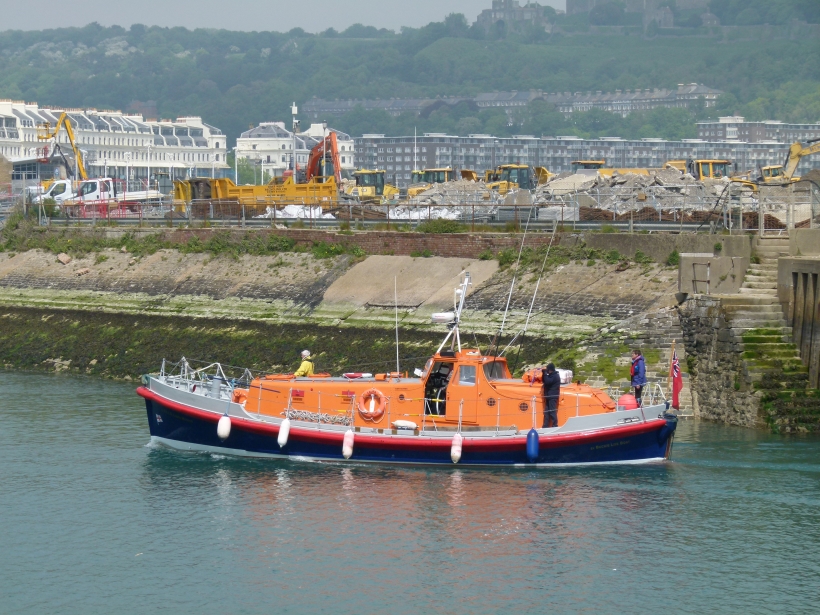 I was caught out by the unexpected appearance of one of the passenger tenders from the SAGA SAPPHIRE following close behind Sara's lifeboat.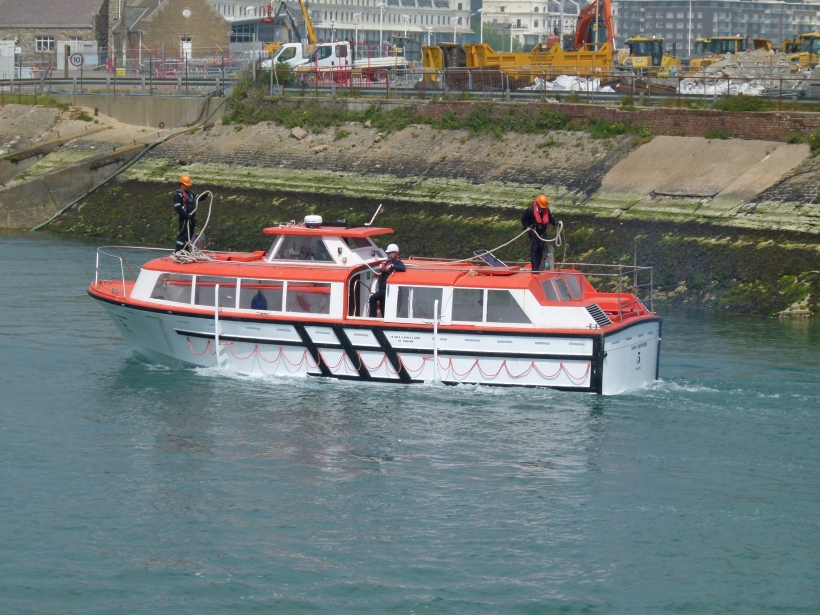 Later in the day the ISA came across from the Eastern Arm & moored with the Holyhead Towing tugs in the old Jetfoil terminal.
Monday, 21 May 2018 - 00:49
Post 4914
Sea News, Dover
Some gentle easy images for a Sunday Morning...images from Sandwich..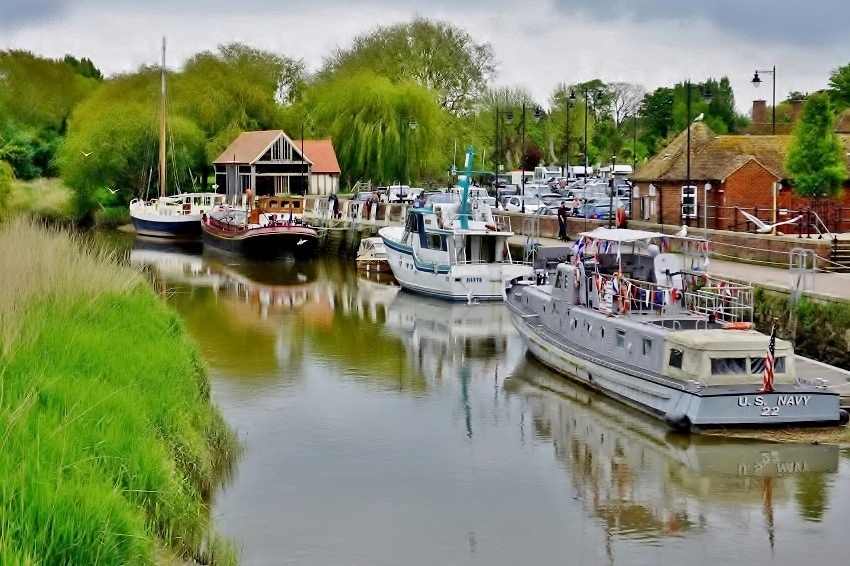 A very calm easy day above...very Midsomer..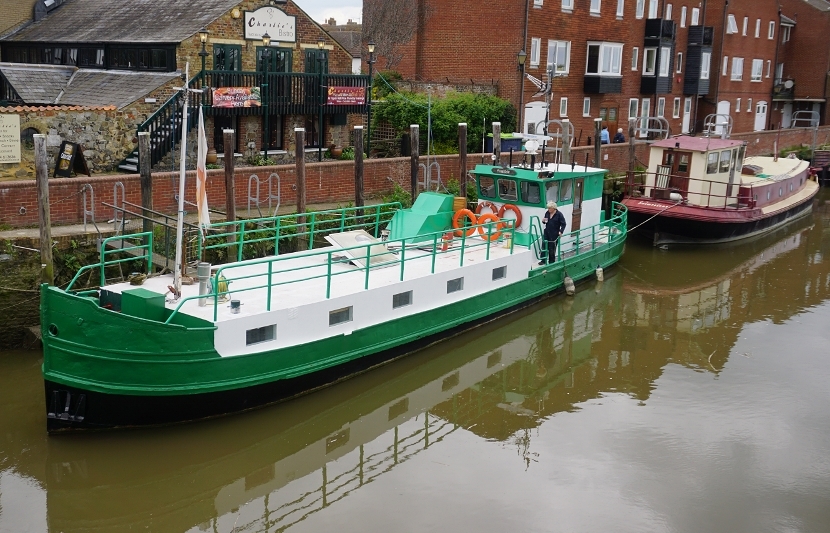 Heck of a barge that one. That chap featured seems to be restoring it to former glory. You could live on that one quite easily, even have some relations move in..ermmm if you wanted to

In the background you can see what used to be Fisherman's Wharf now called Charlie's Bistro. Might be worth a visit for sure.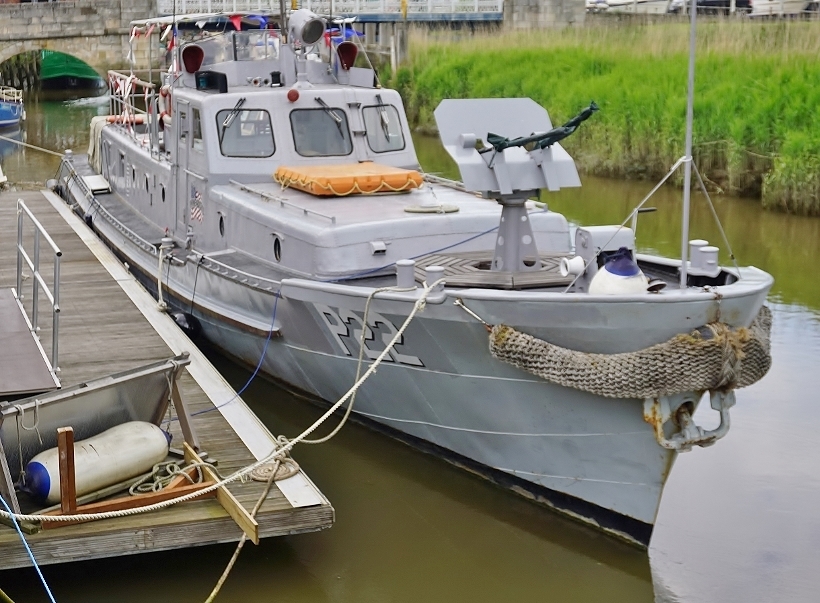 The American P22 above there...we've had this one on here before. A Rhine patrol vessel circa WWII.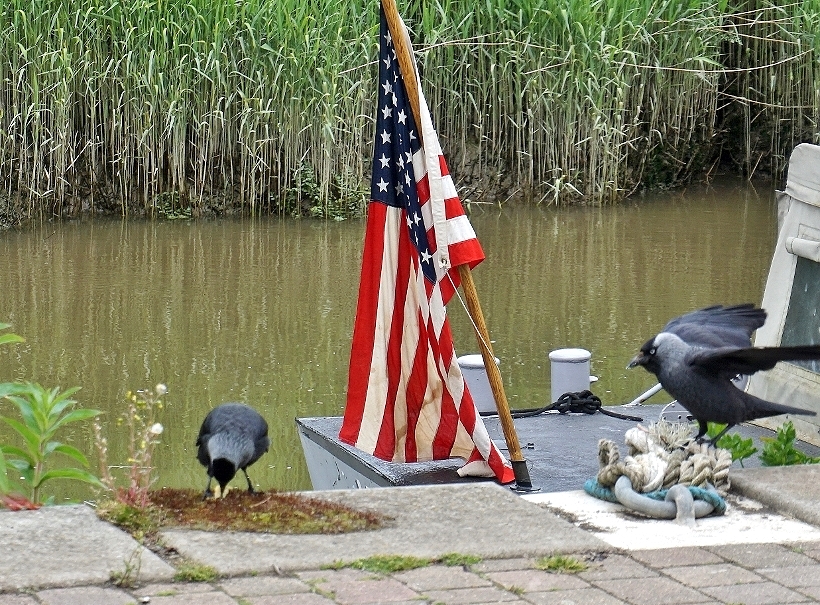 Some formidable looking crows/jackdaws/ravens above there...in the shadow of the American Flag. You don't want to tangle with that guy on the right. No sirreee bob!
Back to Dover now and we have a picture below of the departing Seabourn Quest from a couple of evenings ago...also featuring red bunker ship Duzgit Harmony which seems to flit back and forth from Rotterdam to service the ships here in Dover.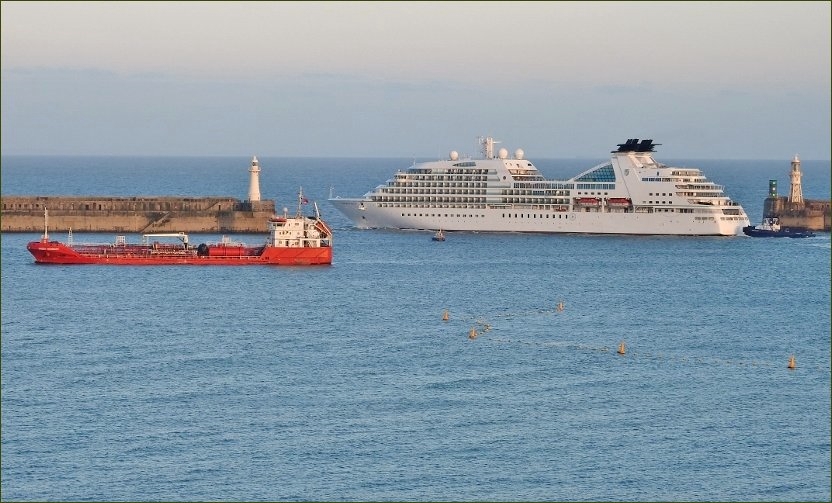 Nice collection and info below there Mike. Yes good ones of Prinsendem ..off on that Irish Cruise ColetteB was romanticising about. Will have a pic myself in due course.

Yes indeed good luck to Andy and all the RNLI fundraisers.

Tomorrow will have those pictures promised of the Sea Bulldog and the latest Port cargo news...all being well.
PaulB.
ps: Saga Sapphire approaching through the misty conditions.
Sunday, 20 May 2018 - 07:05
Post 4913
Mike J., Dover
Departure of the PRINSENDAM for St Peter Port & bunker tanker SIKINOS for Margate Roads late Saturday afternoon.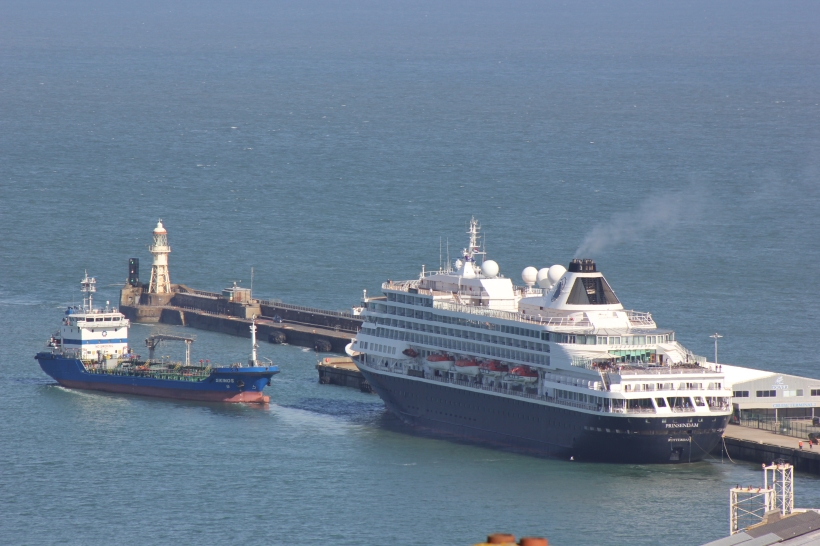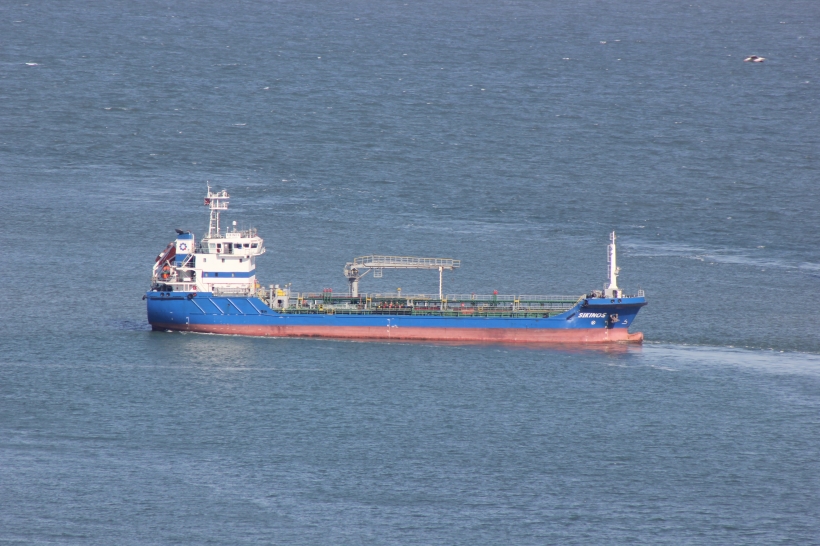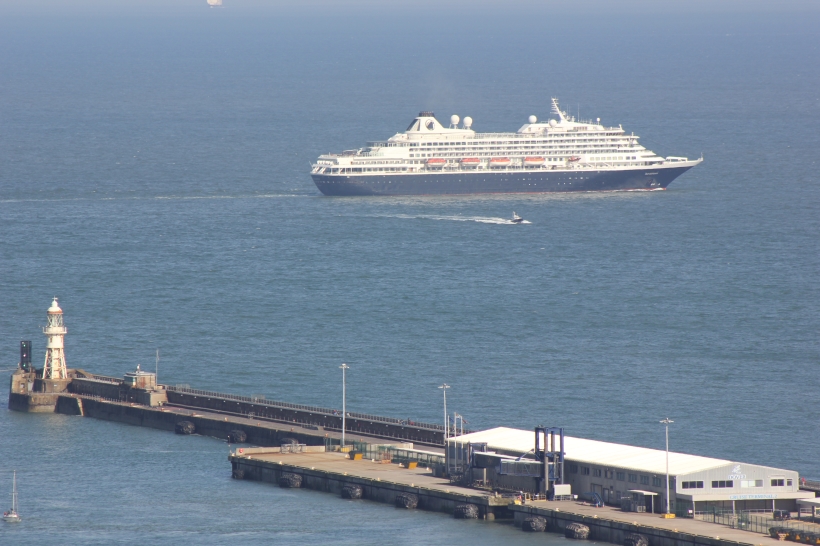 Shortly after the departures the CITY OF LONDON 2 came down the Wick to her berth, overtaking the DIRECTOR.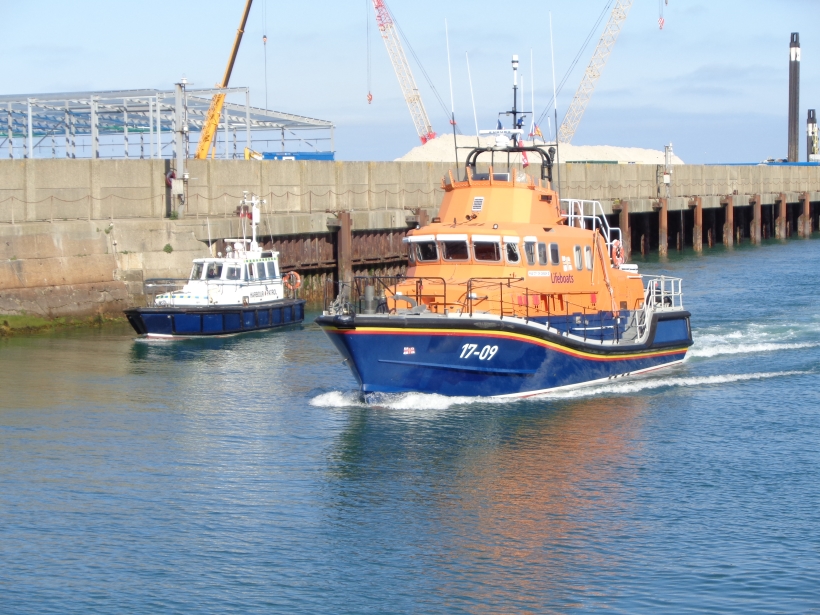 The lifeboat's AIS track shows her going first to Folkestone Saturday morning & after returning to Dover a quick trip to Calais, probably something to do with the 'Yellow Welly'' that is being transported around the UK fundraising for the RNLI for 'Operation Mayday'
Also noticed on AIS was the SPIRIT OF AHAB who has Andy Hodgson aboard attempting the first solo round-Britain row, fund-raising for the RNLI & MIND.
Andy passed Dover this afternoon after coming down thru the Swale between Sheppey & the mainland & he does not plan to set foot ashore until the circumnavigation is completed .
At 0030 Sunday morning the SPIRIT OF AHAB was close offshore from Capel, presumably anchored for the night.
For more info, including how to make donations, Google 'Round Britain Row'
I'm sure that we all wish Andy well for a most successful trip.
Sunday, 20 May 2018 - 00:41