Tuesday, 28 March 2017
More exciting sailing in Dover Harbour in the fresh and blustery conditions.
doverforum.com/sea-news
Featuring all the ships that come and go and work at the Port of Dover with further coverage of Ramsgate, Calais, Dunkerque..
Email:dover7@msn.com to send SEA NEWS pix or info.... or click ADD YOUR COMMENT below to post direct, no membership needed. Use our SEARCH ENGINE below to find all sorts on the SEA NEWS pages..more than 170 now with more than 3333 nautical posts.
Posts welcome. Max of 5 pictures preferred per post. Sea News Editor Paul Boland.



Sea News Dover:


JOBS FAIR: Jobs with P&O Ferries 3563.
First Cruise Ship of the Season and lots more to come...see 3548. We will keep you posted.
DOVER WESTERN DOCKS REVIVAL - a lasting legacy see 3532
STRONG GROWTH FOR DFDS DESPITE BREXIT VOTE see 3507.
St Richard's Schoolchildren Enjoy Visit from P&O see 3529.
White Cliffs Christmas at the Port of Dover was a resounding success 3478.
NEW BOOK on the history of P&O FERRIES see 3463.
Charlie Elphicke MP on the return of the Calais Jungle 3465
Bankers Back Dover Western Dock Revival see 3442 - Record Freight through Port of Dover 3418 - Refit News from P&O see 3413. - A strong future for cargo at Dover see 3374 - DFDS: the 50 year old apprentice..nice story, see 3407 - Two National Awards for P&O see 3405 - also see 3390 as the Port construction moves forward.
Post 3585
Sea News, Dover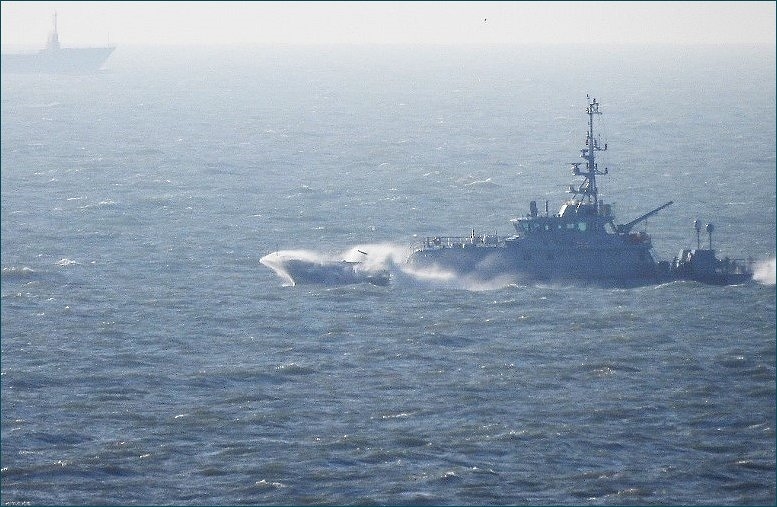 Top picture there, fairly long range, shows the Border Force in power action on sunday morning. The vessel didn't enter port but went past heading east in the pretty choppy conditions. It was hard to tell which vessel it was...yours truly was assuming it was Seeker having seen her in port in the past few days...but examining the pictures blown up here on the computer...it looks like it may be Valiant.
Also from sunday morning...a picture below of the Nederland Reefer arriving about 09.30. You can almost feel through this picture how cold it was in the strong biting east wind. She left again in the wee small hours of Sunday night..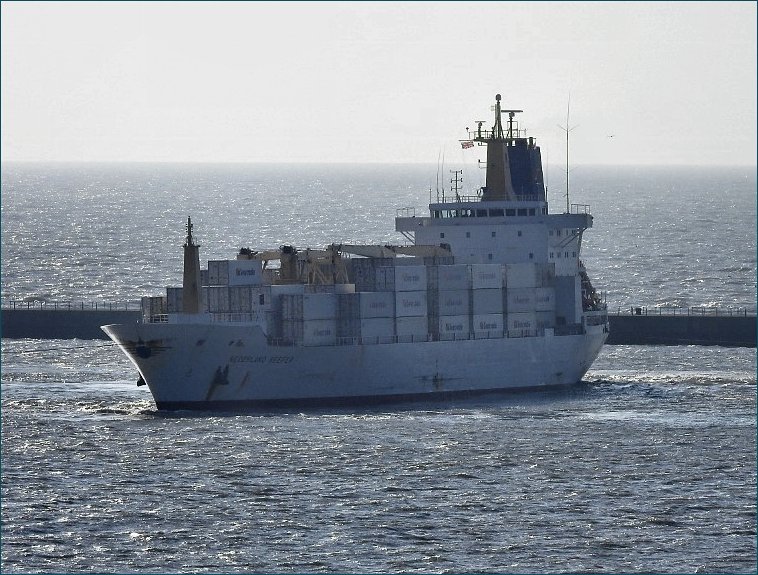 Below we have some pictures of the very busy pilot boat once again...these from yesterday...
the guys on the boat were laying those harbour marker buoys first introduced last year. The idea being it keeps all water users safe. The boats stay one side of the divide and the swimmers etc stay the other side. The swimmers on the inshore side, boats the far side...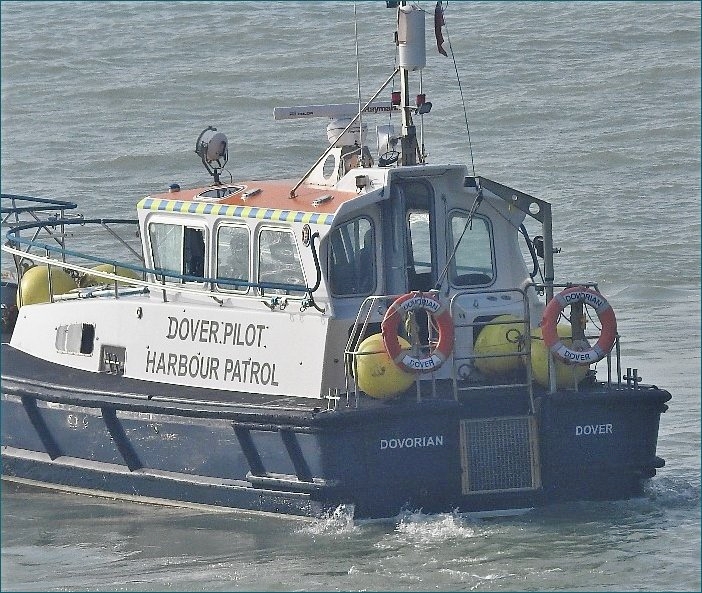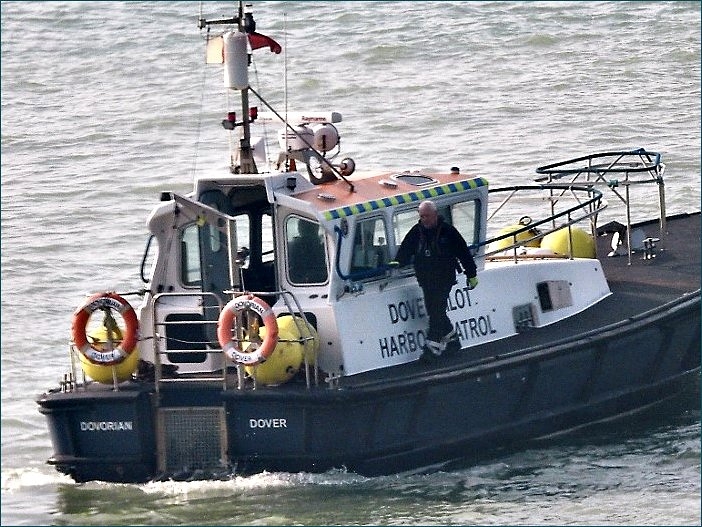 That second pic above there is a bit soft unfortunately... but you can see the buoys for laying.
Well done Sarah. Great to see those fascinating pictures below there from Ramsgate from our roving correspondent.

Tuesday, 28 March 2017 - 06:39
Post 3584
Sarah, Ramsgate
I was very surprised to see this in the harbour when I came out of the Lifeboat Shop, thankfully I had a camera with me.
Maximus - ex lifeboat ON1071 which is usually to be seen in Dover.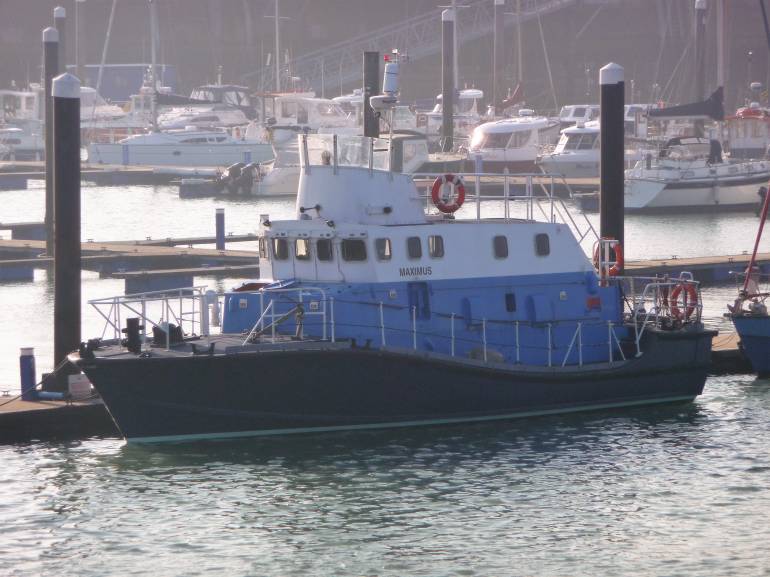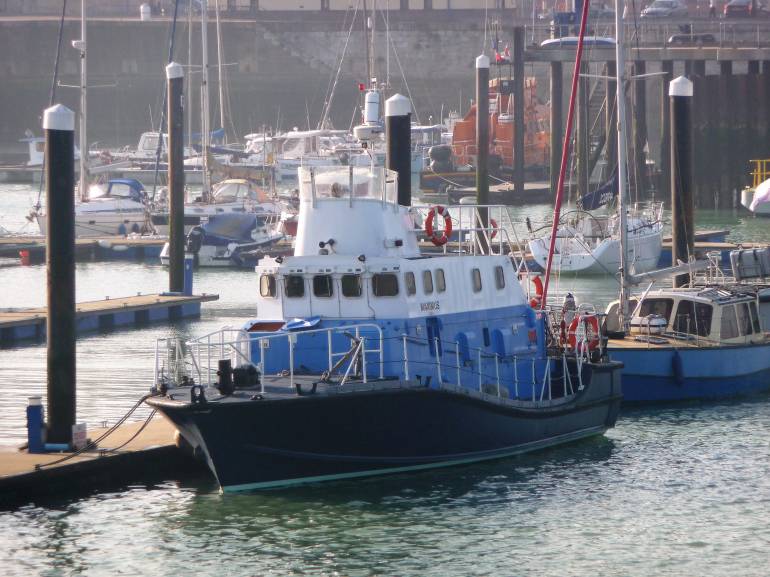 Just behind is HMS Example - P165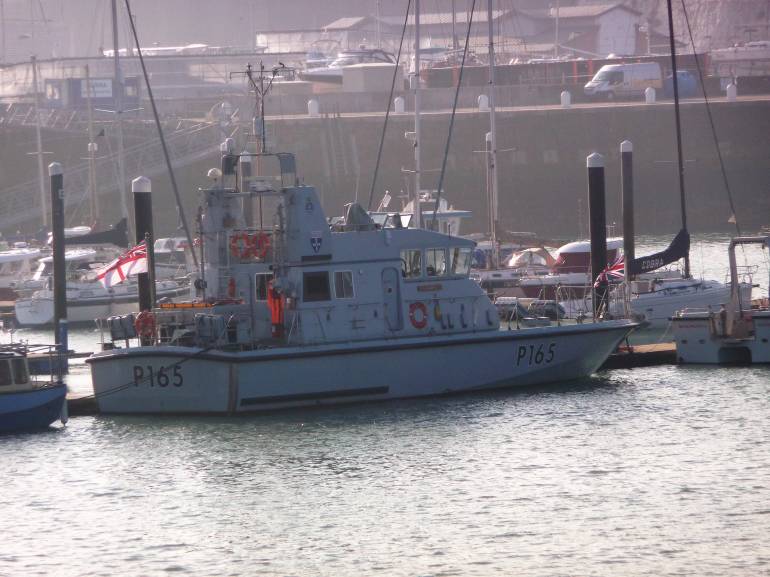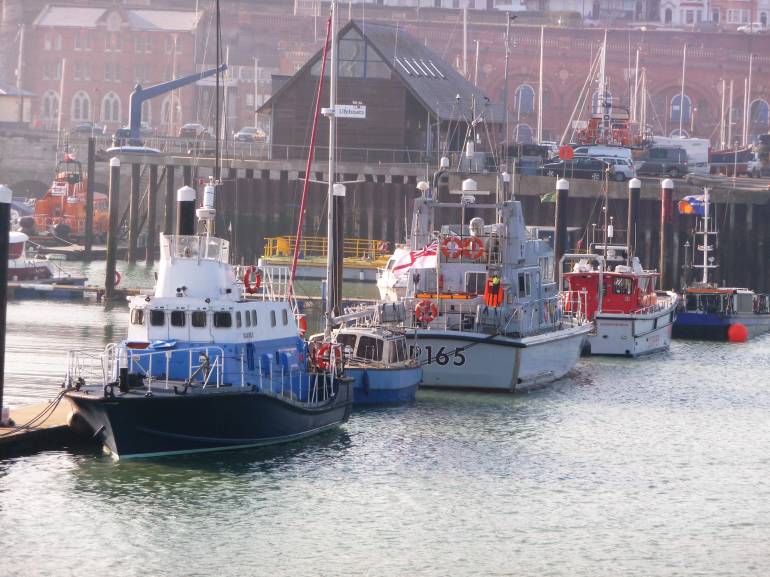 Monday, 27 March 2017 - 19:37
Post 3583
Sea News, Dover
Many thanks to both George and Jeremy for the enjoyable pictures in the posts below.
Here we are with another one of the Pride of Burgundy, this time taken by ANDREW WOOD - many thanks to Andrew for this pic. It shows the ferry arriving back at Port on Saturday afternoon following her refit in Gdansk. Nice camera work, nice angle Andrew.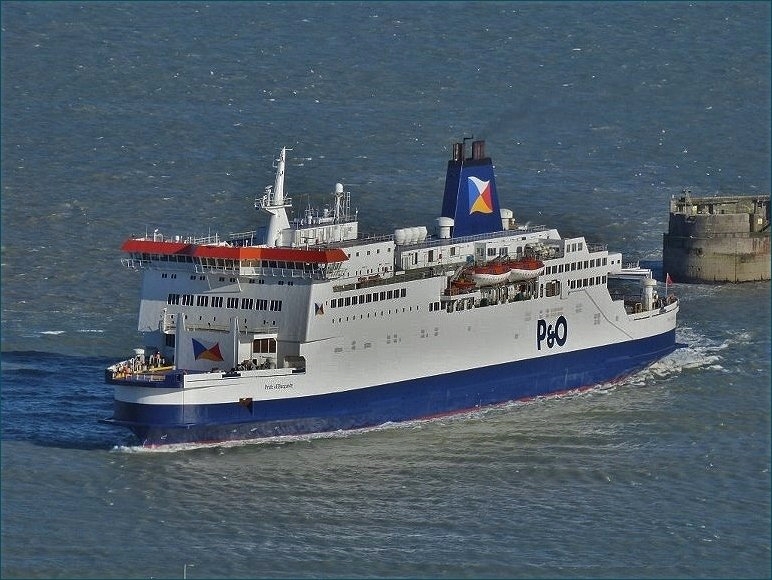 Don't miss the picture below from Jeremy ( post 3581 ) and the cross-channel spread from George ( post 3582 )
Great work guys!

Monday, 27 March 2017 - 05:53
Post 3582
George, Dover
Here is a selection of shots showing members of our local fleet on both sides of the Channel during a sunny but very blustery Saturday: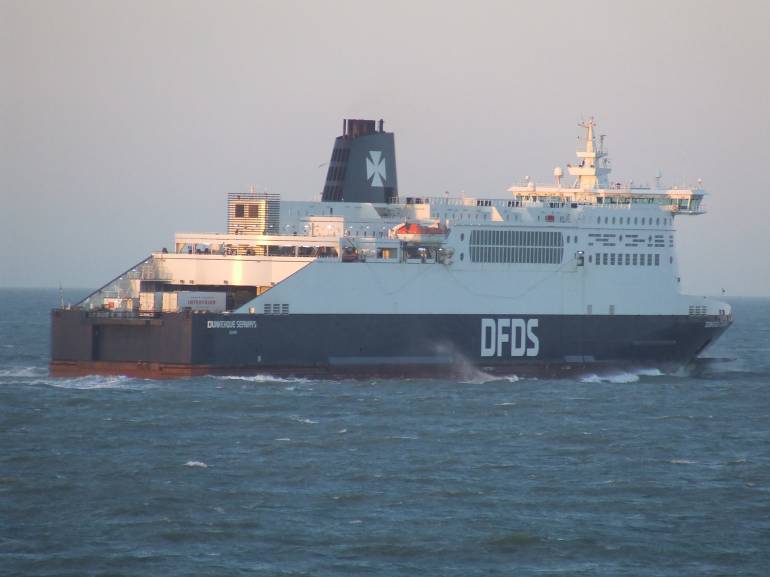 DUNKERQUE SEAWAYS heading away from Dover on her 18:00 sailing for Dunkirk. Her stern end is catching the last rays of sunlight.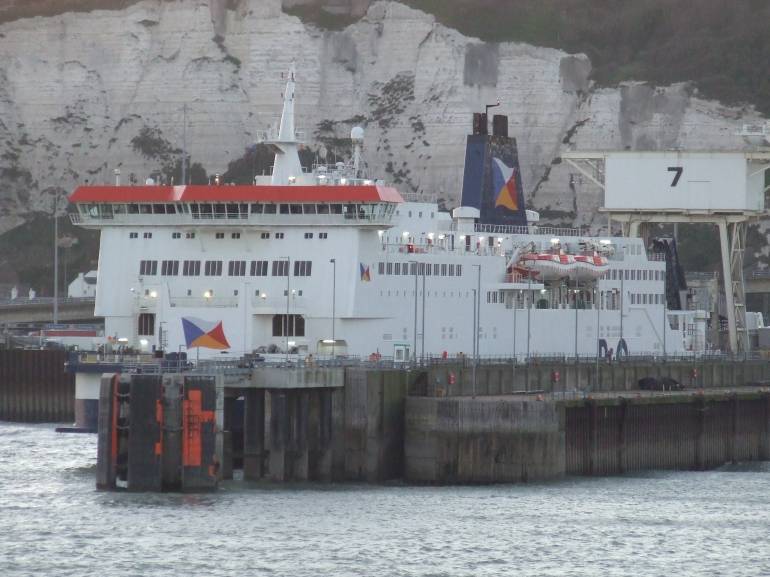 PRIDE OF BURGUNDY seen resting at Number 7 having arrived back from her major refit at Gdansk, Poland. Travellers should expect to see significant improvements to the standard of her on board facilities. For many years she has been regarded by some as the poor relation of the P&O fleet, although she no doubt had her fans too!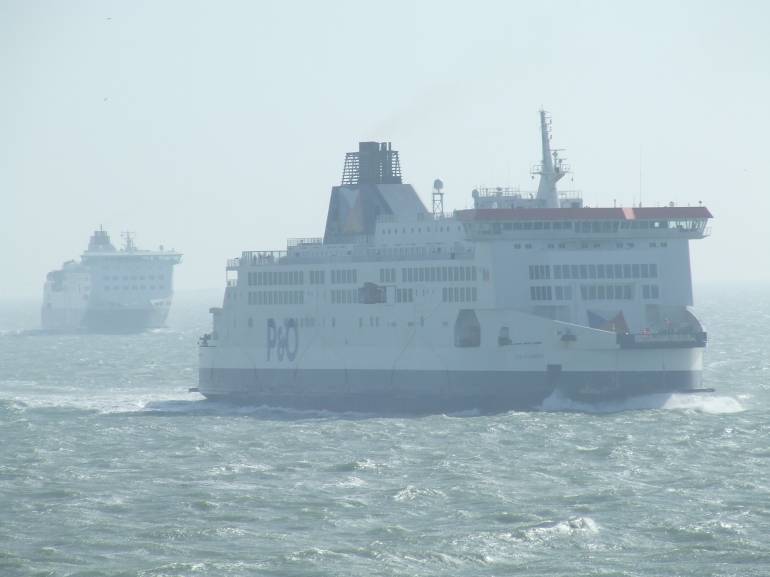 PRIDE OF CANTERBURY is chased towards the Eastern Entrance by the French flagged COTE DES DUNES (formerly the RODIN).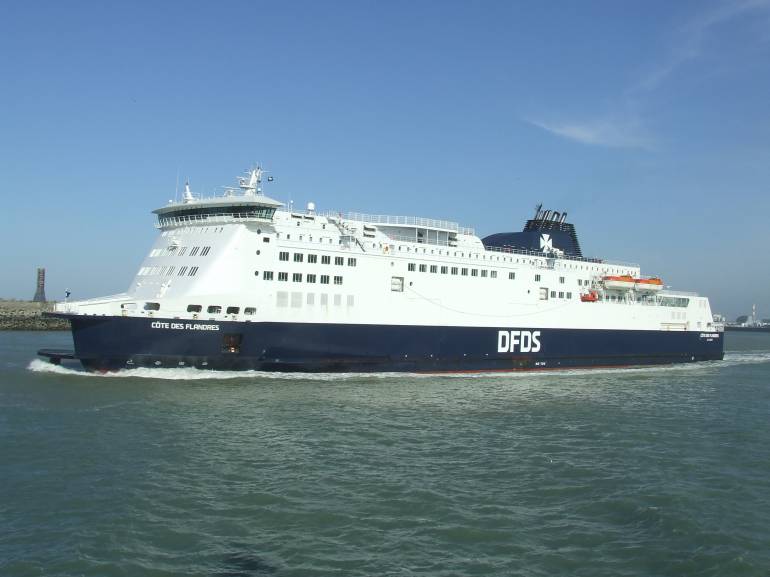 COTE DES FLANDRES (formerly the BERLIOZ) looks great as ever in her DFDS livery as she heads out between the jetties at Calais. Nice to see this excellent ship and her sister happily re-established on the Dover/Calais route after the collapse of MyFerryLink.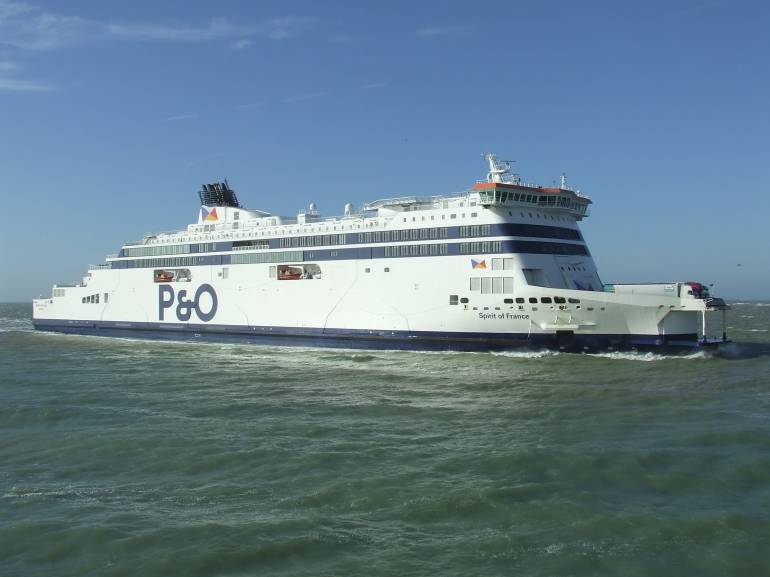 SPIRIT OF FRANCE is seen on approach to Calais wearing the updated P&O livery. Sorry to see the demise of the elegant billowing funnel flag emblem and the traditional ship-side lettering. The new simplified graphics look rather unrefined to me!

Monday, 27 March 2017 - 00:35
Post 3581
Jeremy Ward, Whitfield, Dover
Pride of Burgundy in her refreshed livery this afternoon, nice to see her back after a refit.
Sunday, 26 March 2017 - 22:32
Post 3580
Sea News, Dover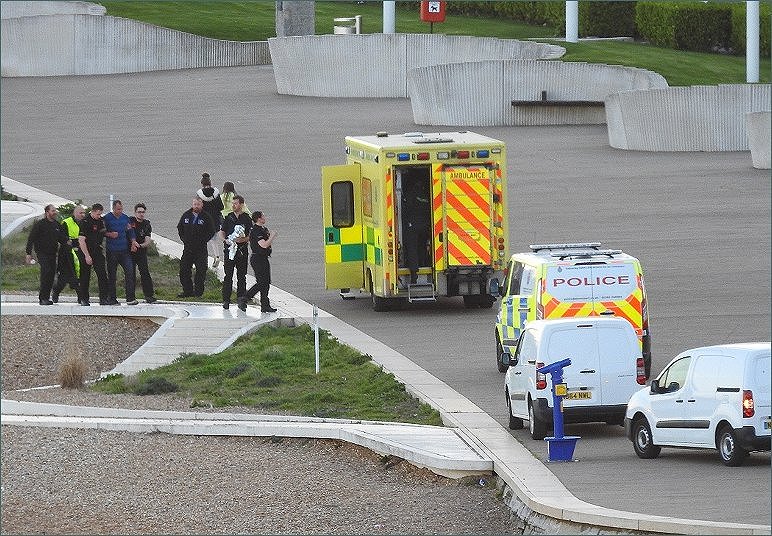 Both local newspapers are reporting that a man was pulled from the sea yesterday on Dover Seafront. At the last time of looking neither had a picture but there we are above. Time of incident 5.30pm. The man was pulled from the sea by police as we understand it and then was attended to by paramedics. An ambulance came then to help him further..you can see him above there, He was able to walk to the ambulance with some assistance. There were more police vehicles just out of shot.
Sunday, 26 March 2017 - 06:17
Post 3579
Sea News, Dover
Yes indeed Brian for a minute or two it was the weirdest thing...as if time stood still, all animation suspended.

Paul.
Saturday, 25 March 2017 - 19:41
Post 3578
brian, dover
a zombie port.

Saturday, 25 March 2017 - 13:35
Post 3577
Sea News, Dover
Just to add this picture as I follow along from the post below. The Port totally 'empty' last sunday. Time 09.54. Not only is the Port devoid of all ships, nor is there any approaching, but the roads are deserted too. A sort of weird sci-fi time-lapse moment for Dover. Hope all can see it okay..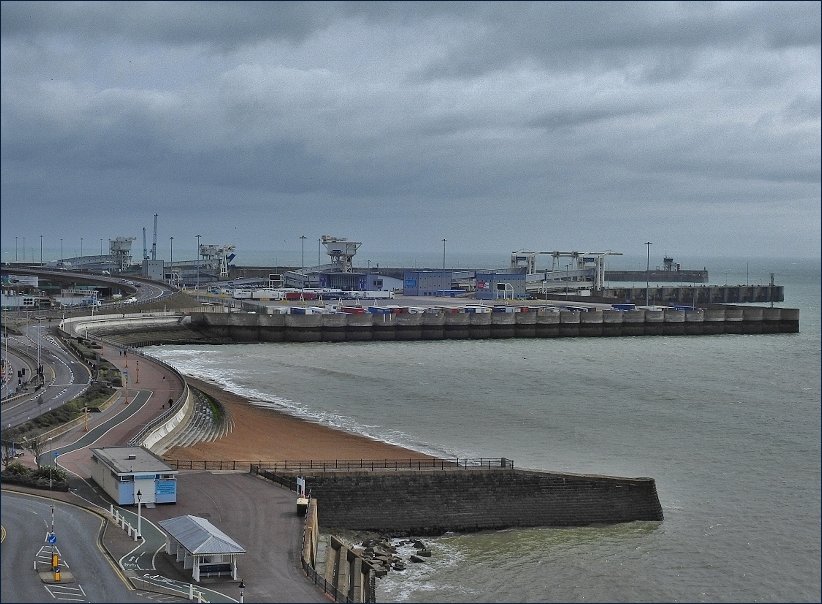 See also this mornings other post below. PB
Saturday, 25 March 2017 - 07:24
Post 3576
Sea News, Dover
Havila Phoenix entering Port a few days ago, on Wednesday in fact. She enters just as two smaller workboats depart...the Smit Rother and the Smit Cerne. There's a lotta Smits around here... these two are involved in the range safety patrol further down the coast near Lydd. It was a grey oul day as she arrived once more. She has since departed as seen in Mike's pic further below 3572.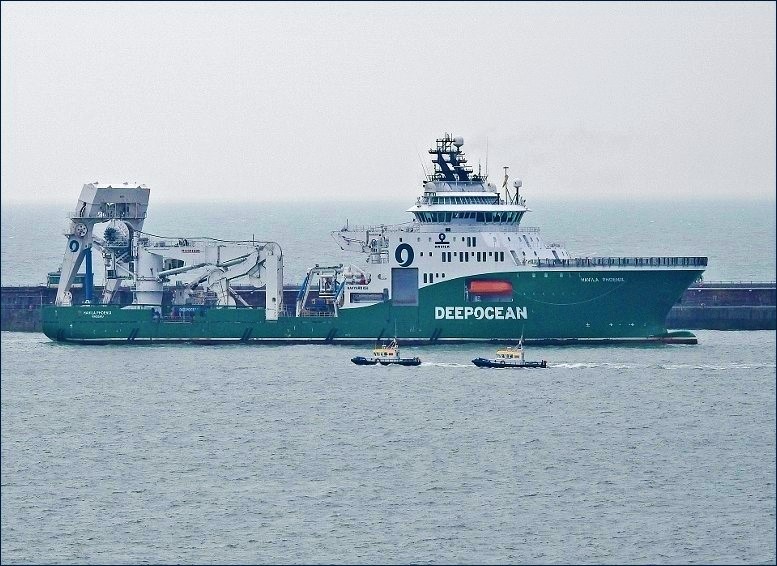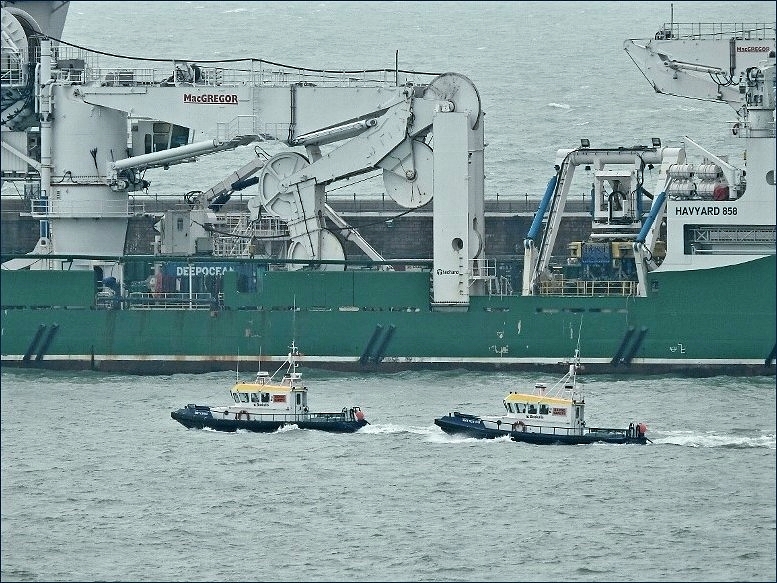 Thanks Barry - good man.

Saturday, 25 March 2017 - 06:33
Post 3575
Barry W-S, Dover
Good to see Doughty back after her refit, the photos are truly amazing of the pilot boat Dovarian hard at work.

Friday, 24 March 2017 - 14:58
Post 3574
Sea News, Dover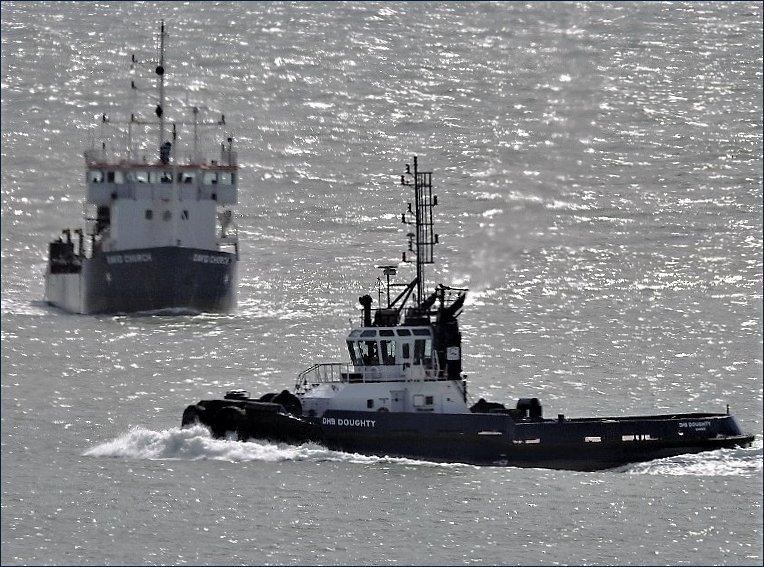 Tug Doughty back in action above there, picture taken as she moved across the harbour a couple of days ago. She had been away for a refit we understand...in her absence the Afon Cefni fulfilled the dual role alongside Dauntless...but good to see Doughty back and looking good. In the background out of focus there is the old familiar face of David Church the dredger.
Friday, 24 March 2017 - 14:45
Post 3573
Sea News, Dover
And now...some windy blustery pictures from Wednesday evening as the Saga Pearl II left us for Lisbon..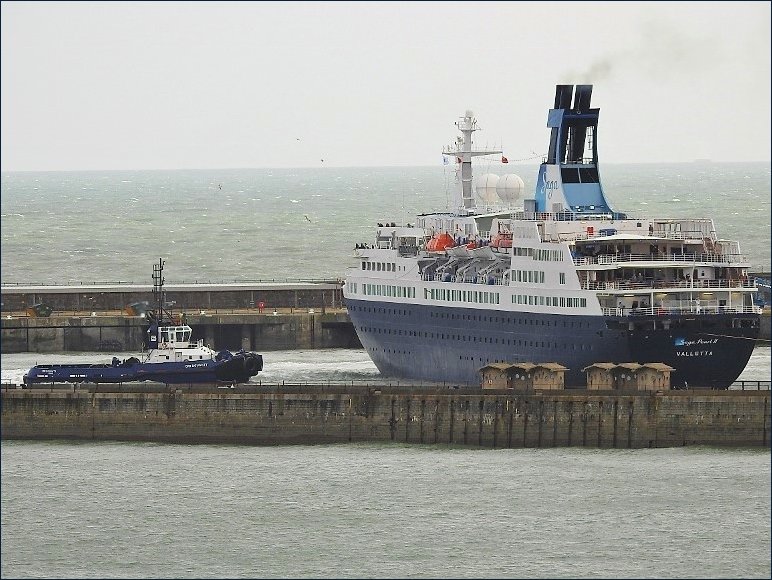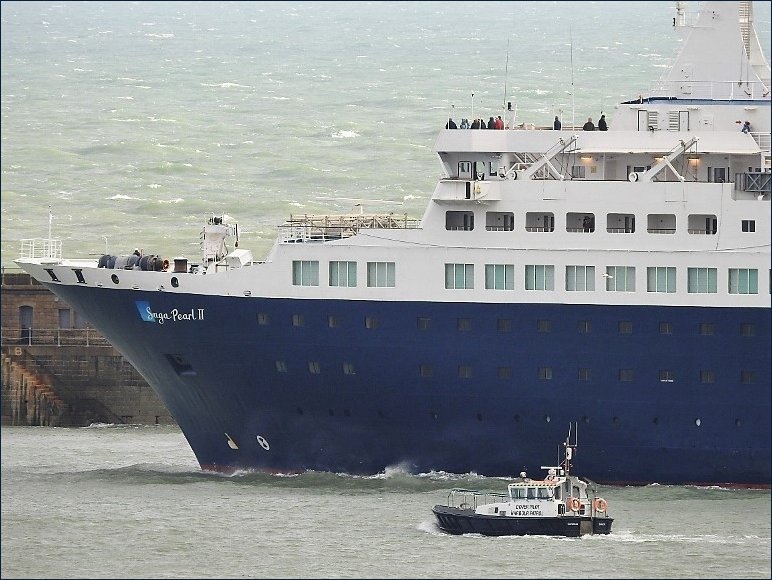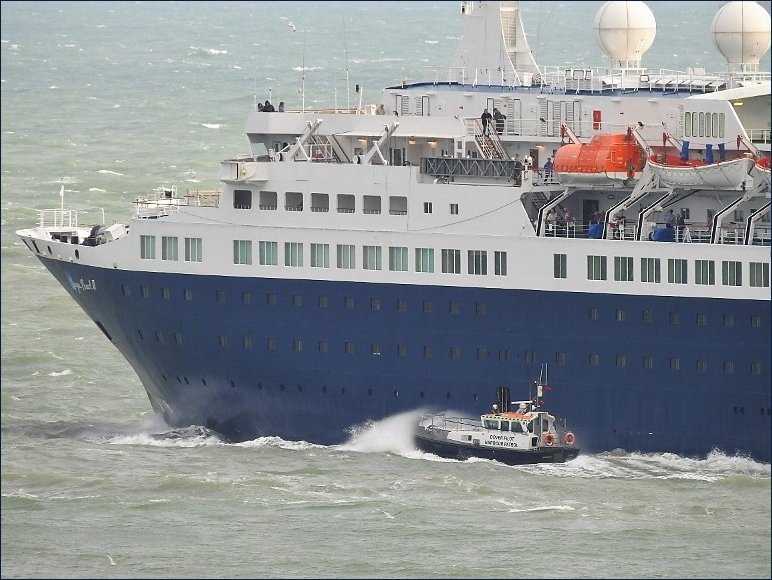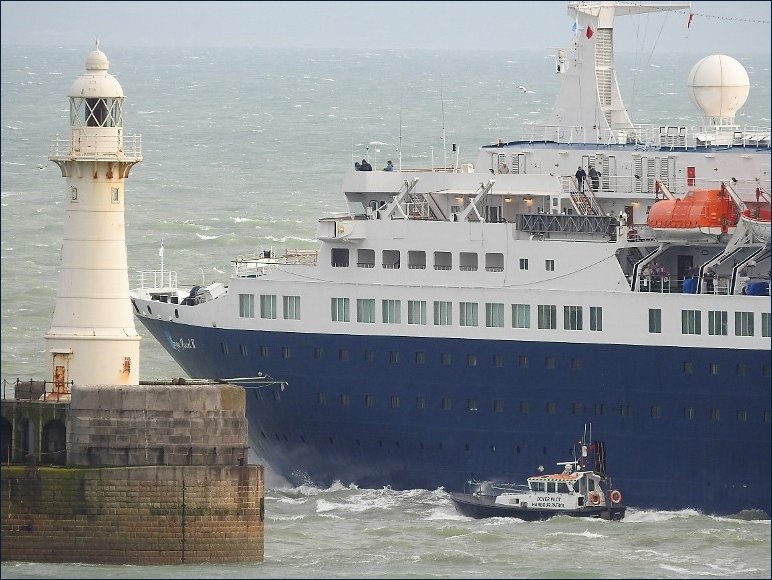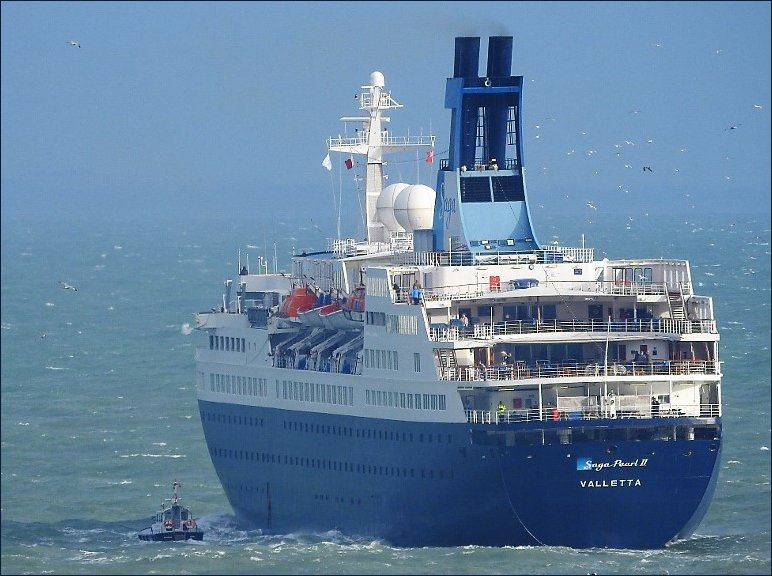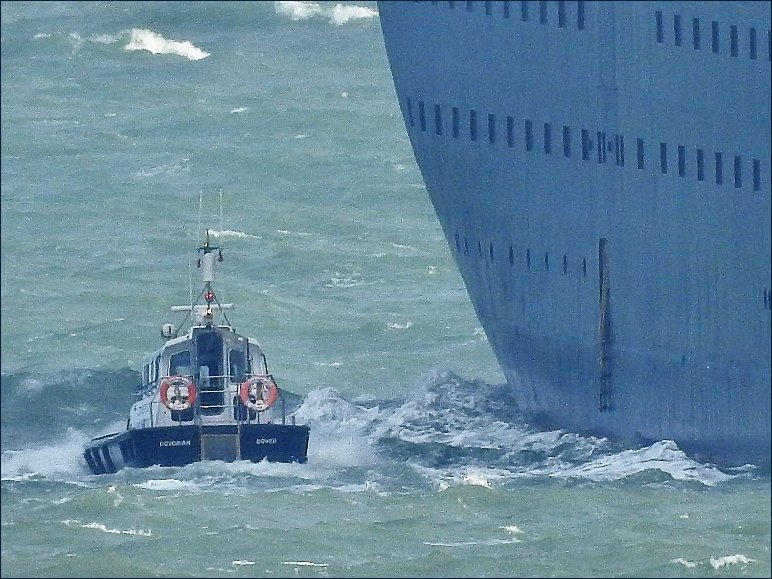 What we are really featuring above there is the pilot boat Dovorian and of course the pilot thereon as all move out of harbour together into the choppy seas....remembering that for most of the day tugboat Dauntless had to pin Saga Pearl II to the berth at Cruise Terminal One in the high winds. Hopefully all on board had their sea-legs fully functioning for the run to Portugal. It was fresh and cold. Anoraks to the fore...and lead boots.

The final shot above there is zoomed very close in and as sharp as we could get it...the pilot had to leave through that door/ladder and get onboard the small boat...no mean feat. The sun came through briefly for the final two pictures above hence the different colours. Also worth noting that there was no Spitfire send-off this time because of the tough conditions
Thanks Colette - yes a shame about the AIDAvita but there we are - disappointment for many I'm sure.
Well done Mike with the collection and info in the post below. Some very interesting vessels there and no doubt we will be featuring them again in the coming times.
PB.
Friday, 24 March 2017 - 06:08
Post 3572
Mike J,, Dover
The DWDR fleet is starting to gather.
The British workboat MORAG M sneaked in during Wednesday night from Dunkirk & the elegant 42-year old Swedish-built British-flagged survey vessel EGS PIONEER came in mid-morning from Ramsgate [where I expect Sarah had already photographed her !] & docked alongside the DAVID CHURCH.
During Thursday afternoon the Dutch workboat YVONNE W came in thru Eastern from Rotterdam towing a self-propelled crane barge & was met by the MORAG M to assist with docking the barge which was parked on the Ad.Pier.
As they were manoeuvring in the bay the HAVILA PHOENIX slipped out via Western from her brief visit to Cruise-2 to return to her duties on the Pegwell Bay/Belgium power cable project.
Later both workboats were in the old Jetfoil terminal, accompanied by the former Range Safety vessel SMIT STOUR who is now operating as a DWDR survey vessel & was probably operating a taxi service between the jetfoil terminal & the Tidal Basin pontoon.
The crane barge towed in by the YVONNE W is probably the KREEFT as her AIS signal popped up during Thursday evening, presumably as her generators were fired-up & equipment switched on for her operate independently.
More support vessels for the DWDR job are expected soon.
MORAG M coming in to help berth the YVONNE W's barge.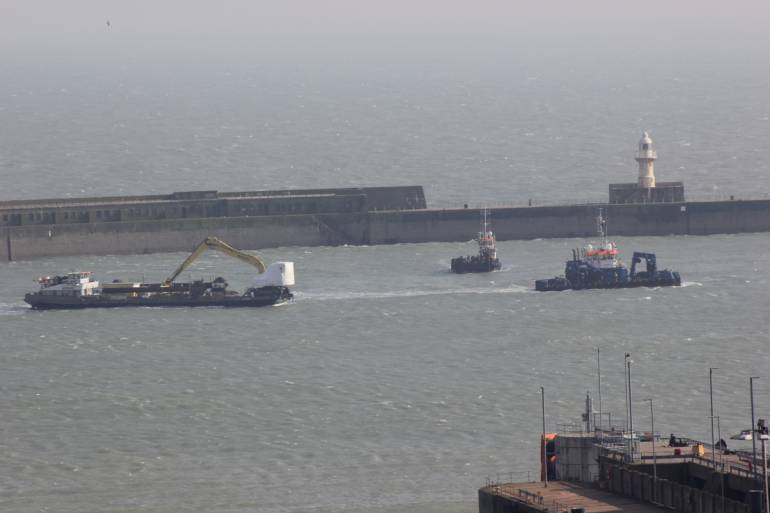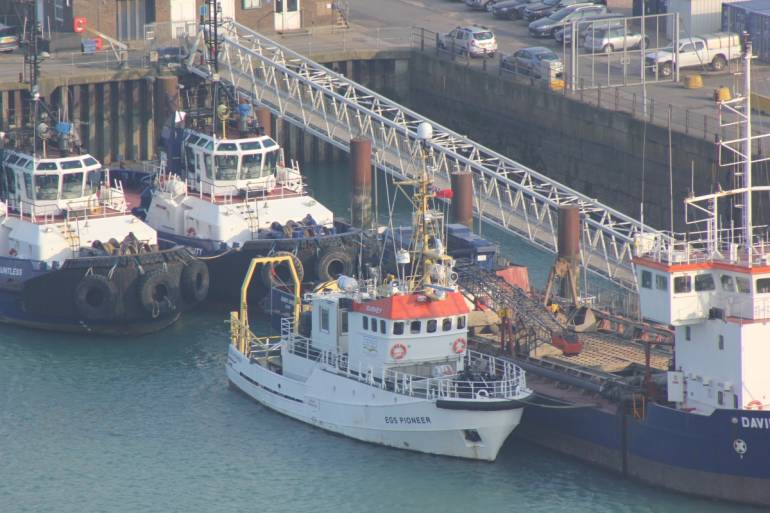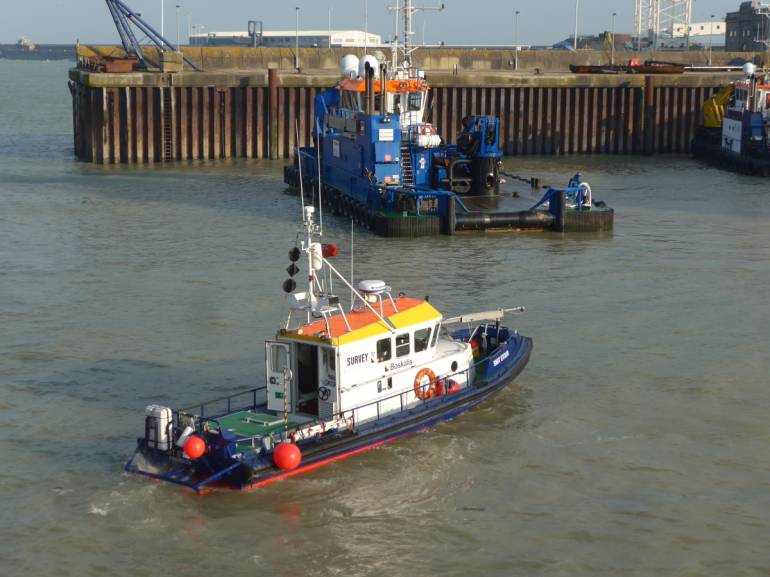 Blunt end views of MORAG M & YYONNE W in the old Jetfoil terminal altho' these catamaran workboats don't really have sharp & & blunt ends until you get below the maindeck.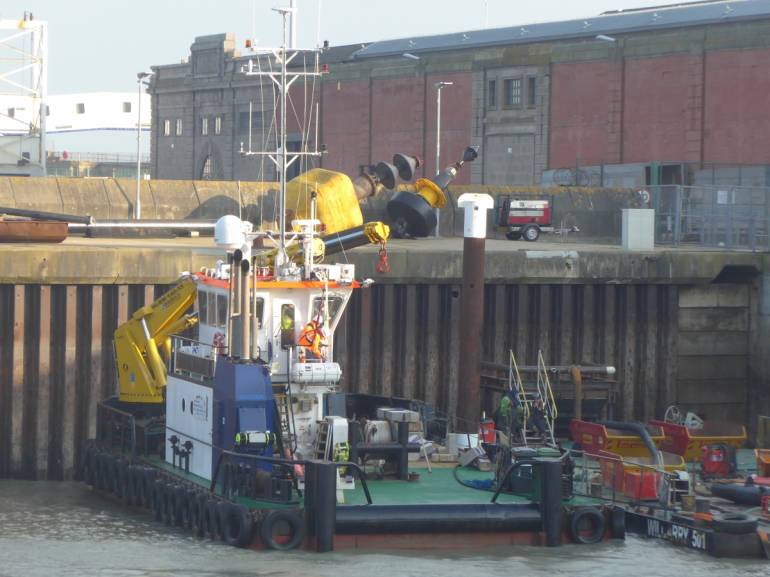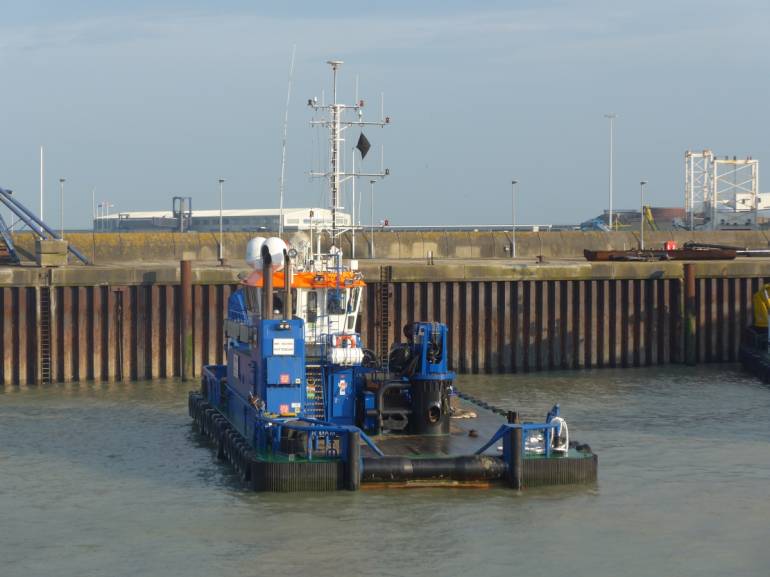 Departure of HAVILA PHOENIX, passing the YVONNE W convoy.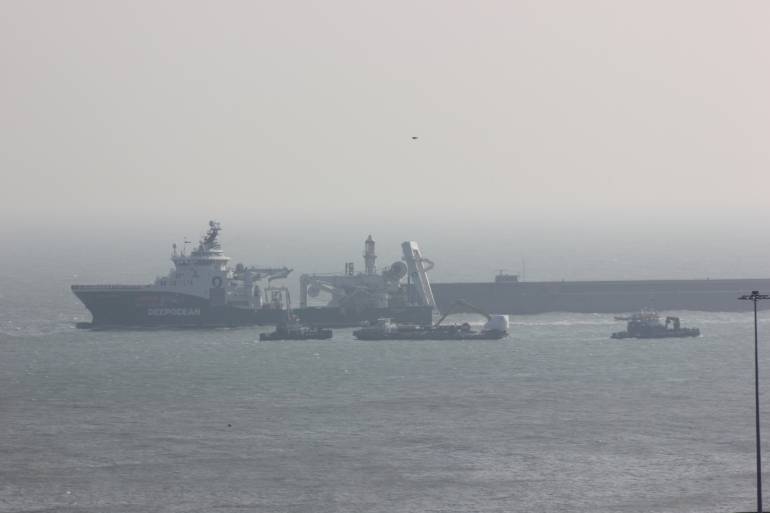 Friday, 24 March 2017 - 00:59
Post 3571
Colette B, Dover
Ahhh! What a shame the AIDAVita couldn't berth yesterday due to the adverse weather conditions but when it comes to the roaring tempest we have to bear with.....

Wonderful photos of the tug working hard to keep the Saga Pearl II in position, they really know their stuff, well done all round


Brilliant Lifeboat photos Mr B

Thursday, 23 March 2017 - 20:08
Post 3570
Sea News, Dover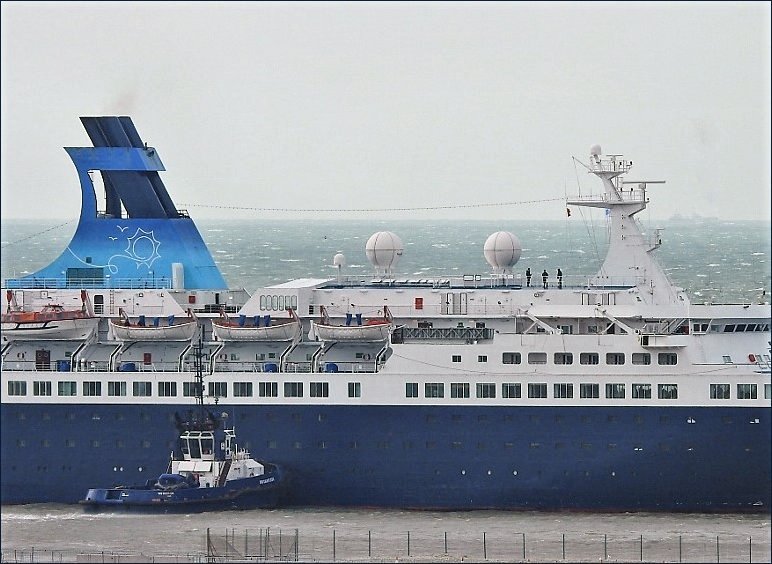 Mike mentioned the Saga Pearl's stand-by tug...and there she is above. Its Dauntless pinning the Saga Pearl II to the Cruise Terminal in the fierce wind. She carried out this role for a good part of the day until said wind eventually dropped. You can see the tough seas in the background...while three guys, possibly security, brace it out on the top deck. Shiver me timbers!
Will aim to have some pictures of her departure to follow in due course with close ups of the pilot boat in the difficult conditions.
See also the post below. PB.
Thursday, 23 March 2017 - 07:16
Post 3569
Sea News, Dover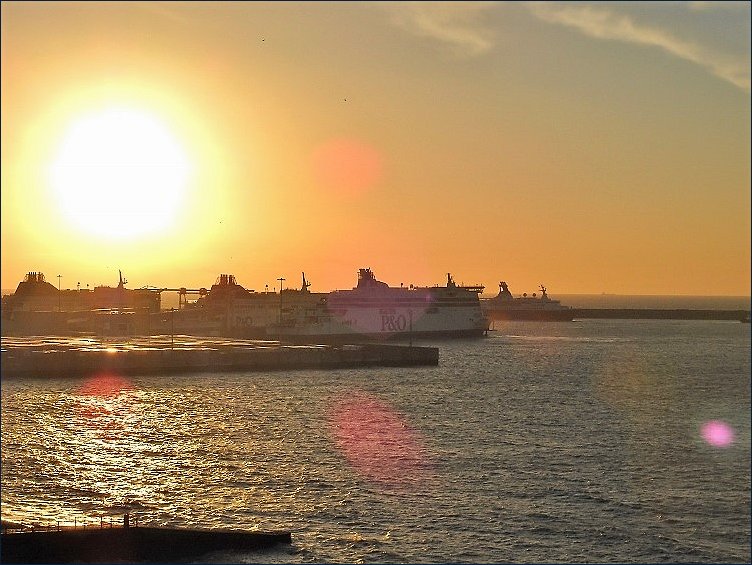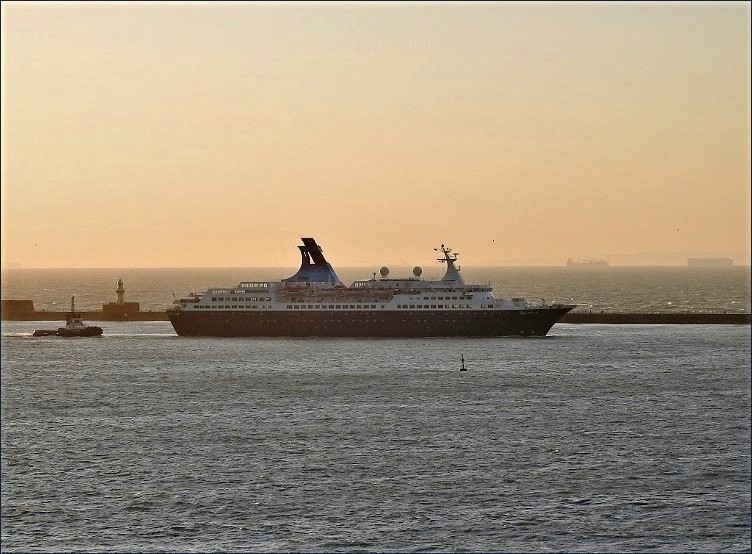 There we are above...some pictures of the Saga Pearl II arriving back with us yesterday morning early. You will remember she went off on that St Patricks Day cruise/extravaganza to the Emerald Isle...that land of mist and imagination and hobgoblins and all. She returned through blazing sunlight as you can see but in very blustery conditions. A strong wind was relentlessly whipping through.
You will remember that the AIDA Vita was also due in. Well she came...she came a couple of hours behind the Saga Pearl but the wind was so fierce by then, gale force 8 on the shipping forecast, she had to abort her first attempt at Port entry. She waited around then for almost 3 hours off Langdon Cliffs ...and eventually gave up and wandered away soulfully on her way to Ijmuiden as Mike mentions below there. Time was around 11.30am - 11.45am as she moved away. All the coaches waiting at dockside would have been crushed to see her go. A great pity but better days ahead. The picture below shows her waiting offshore...pic taken through a gap between the loading ferries.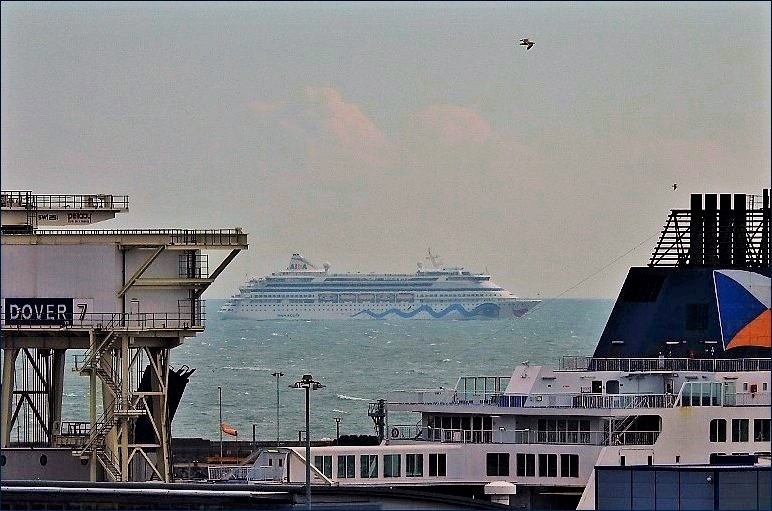 Thanks Sarah...glad you liked those lifeboat pictures below .. was hoping you would for sure


Thanks Mike as ever for the info

Thursday, 23 March 2017 - 05:56
Post 3568
Mike J., Dover
Whoops ! SAGA PEARL 2 berthed on Cruise ONE.. not 2.
Amazing how you can read & re-read before posting & still miss obvious errors - sorry !

Wednesday, 22 March 2017 - 15:31
Post 3567
Mike J., Dover
The SAGA PEARL 2 docked as expected Wednesday morning on Cruise-2.
After docking she needed a tug on standby in the brisk southerly winds which were gusting to 35kts.

The AIDAVITA appeared off the port during the morning, coming up from Guernsey & AIS showed the pilot going out to meet her, but it was decided that she would not berth in the weather conditions & she continued her voyage to Ijmuiden.

A disappointment for the passengers [& for all the shore-staff & tour organisers & local businesses], but at least Dover was merely a 'Port of Call' during her cruise rather than a 'Turn-Round' port which would have caused major disruption & reorganisation..

Ironically the wind has been slowly dropping all day & the SAGA PEARL has dismissed her standby-by tug.

Wednesday, 22 March 2017 - 15:25
Post 3566
Sarah, Ramsgate
Fantastic photos Paul, what a lovely way to start the day.



Wednesday, 22 March 2017 - 09:06