Tuesday, 25 April 2017
This chap had a bit of a shocker when his car leapt down the cliff yesterday..stopping just in the nick of time before going over completely. He was taken to hospital we understand but is doing okay. A lucky escape. More down the page...
PICTURE BY MIKE JACKSON
doverforum.com/sea-news
Featuring all the ships that come and go and work at the Port of Dover with further coverage of Ramsgate, Calais, Dunkerque......Email:dover7@msn.com to send SEA NEWS pix or info.... or click ADD YOUR COMMENT below to post direct, no membership needed. Use our SEARCH ENGINE below to find all sorts on the SEA NEWS pages..more than 180 now with more than 3666 nautical posts. Posts welcome. Max of 5 pictures preferred per post. Sea News Editor Paul Boland.



Sea News Dover:



HARBOUR PILING ABOUT TO START see 3698.

Vessel Arrivals herald progress on DWDR see 3639.
P&O Reports highest ever freight volume SEE 3623.
DWDR - HARBOUR EXCLUSION ZONE see 3607.
JOBS FAIR: Jobs with P&O Ferries 3563.
First Cruise Ship of the Season and lots more to come...see 3548.Type Cruise Visits in search engine below for the latest..
DOVER WESTERN DOCKS REVIVAL - a lasting legacy see 3532

STRONG GROWTH FOR DFDS DESPITE BREXIT VOTE see 3507.
NEW BOOK on the history of P&O FERRIES see 3463.
Bankers Back Dover Western Dock Revival see 3442 - Record Freight through Port of Dover 3418 - Refit News from P&O see 3413. - A strong future for cargo at Dover see 3374 - also see 3390 as the Port construction moves forward.
Post 3701
Sea News, Dover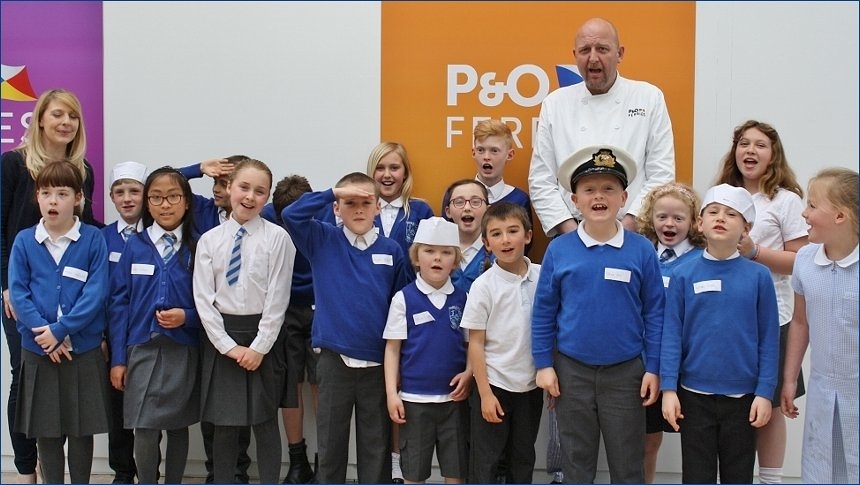 TEMPLE EWELL SCHOOLCHILDREN TREATED TO SNEAK PREVIEW OF P&O FERRIES' NEW KIDS MENU
___________________________________________________________________________________
NINETEEN lucky children from Temple Ewell Church of England Primary School had a sneak preview of P&O Ferries' new summer kids menu at a specially organised food tasting last week (Wednesday 19th April).
The pupils, aged between seven and 11 years old, are all members of an after-school Masterchef group which teaches them how to cook. The team at P&O Ferries was keen to hear their views on new dishes including kids' chicken curry, alphabet bites, fish fingers and tomato pasta melt.
What they said will help the Dover-based ferry company fine tune the children's menu in advance of its launch on their English Channel ships next month.
The food was cooked by Mac Mackay, a chef on the Pride of Canterbury, a former policeman who was worked at P&O Ferries for 17 years. He said: "It was a pleasure to cook for a group who already have a keen interest in food and they gave us some very interesting feedback on what tasted good and what we might be able to make taste even better."
"The children awarded top marks to the chicken bites and alphabites. But unfortunately two of the healthiest options - the vegetable fingers and oven-cooked fish fingers - weren't quite as popular."
"I was happy to answer their questions afterwards and explained that I am part of a team of nine people on board who sometimes cook for 2,000 people in an hour and a half."
All the pupils who attended the tasting at the company's HQ at Channel House, Dover, were presented with a P&O Ferries' children's pack, a pen and sweets.
Nicola Church, School Business Manager at Temple Ewell, said: "The children had a great time. They learned a lot and especially enjoyed questioning the chef."
P&O Ferries' wider stakeholder programme offers visits to schools, colleges and businesses within the local community. This is a totally free initiative. The visit is tailored to school requirements and their current projects. It can be a talk, with learning materials and other artefacts, judging a competition or providing an insight into the world of ferries and logistics.
ENDS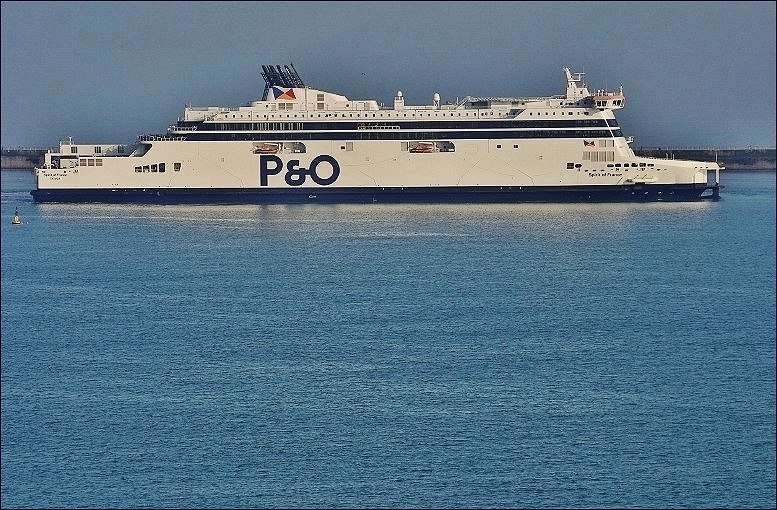 Well done P&O above. Great community involvement above there.

* *
And now a couple of pictures of the special cruise ship MV Hamburg yesterday. The weather was slate grey for the arrival so difficult to get an interesting picture at that time. The top shot here is from a tad later while shot two was taken at arrival time.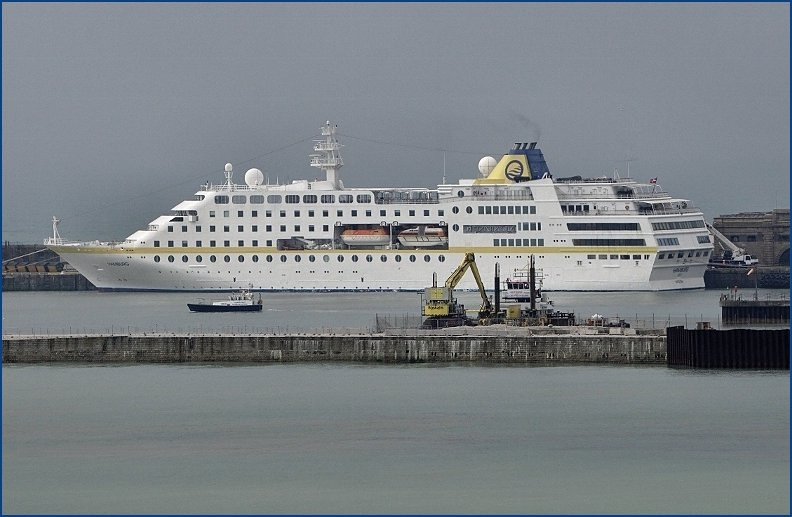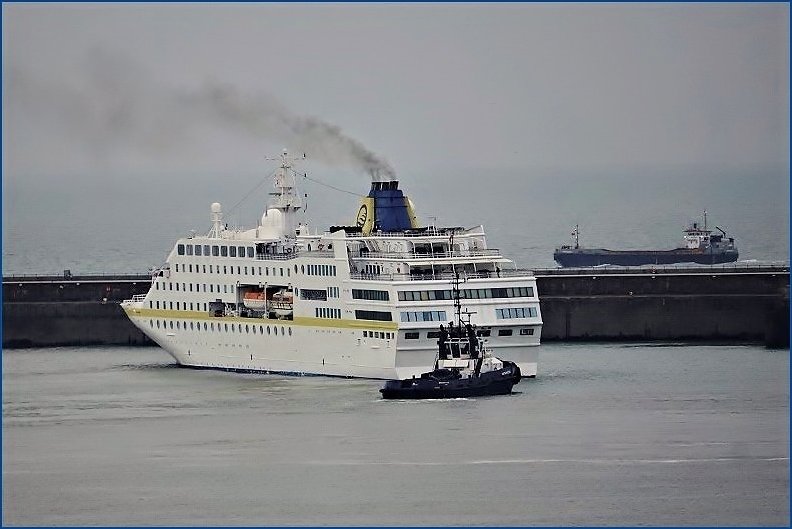 Well done Mike with those car plunge pictures below - what a shocker!!
Don't miss those

Nice pix all round further below.
PaulB.

Tuesday, 25 April 2017 - 05:55
Post 3700
Mike J., Dover
While walking along along the clifftops waiting for the MEANDER's arrival I noticed a car where no car should be.
I arrived while the police were waiting for the recovery teams & they were a little coy as to the circumstances - there have since been media reports that a 30-year man had been taken to hospital with minor injuries. A very lucky man indeed.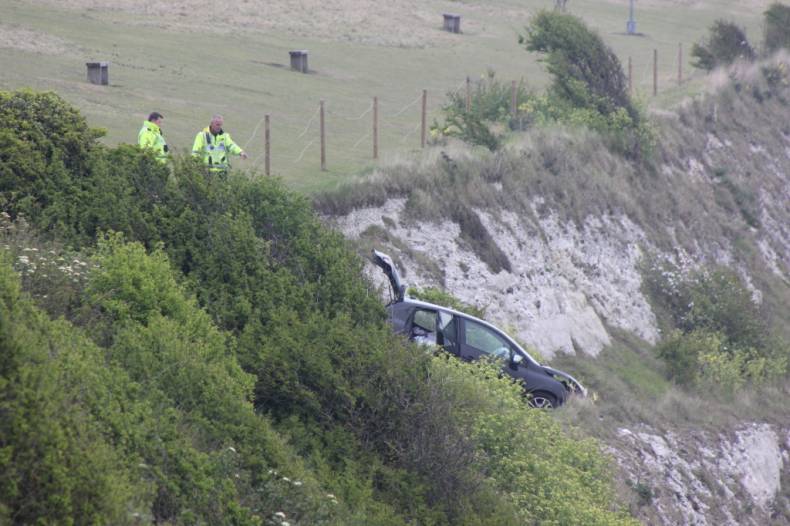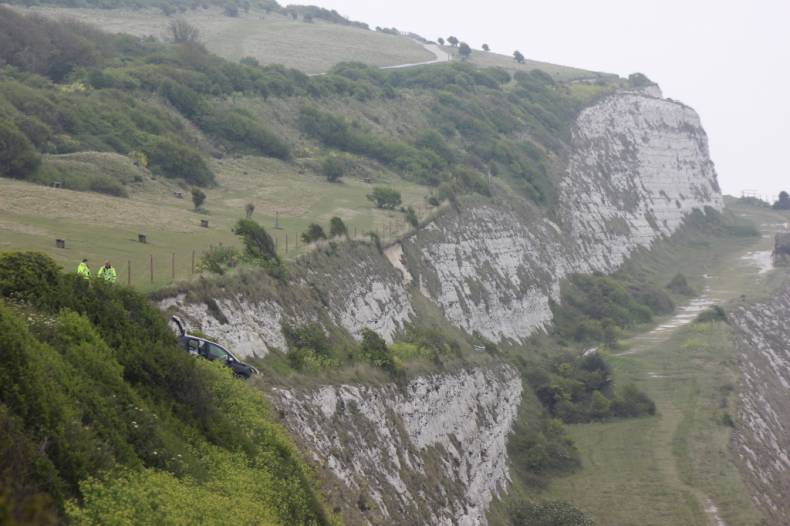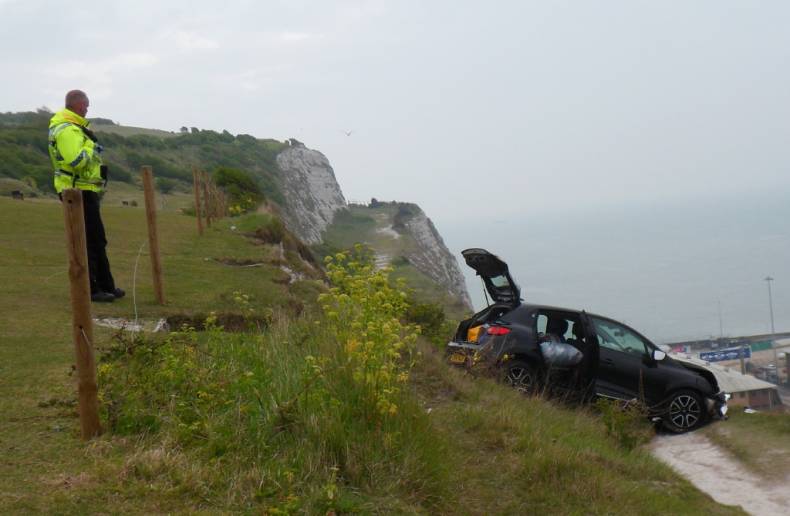 Monday, 24 April 2017 - 21:07
Post 3699
Mike J., Dover
Monday arrivals - HAMBURG arriving 0700 from Falmouth.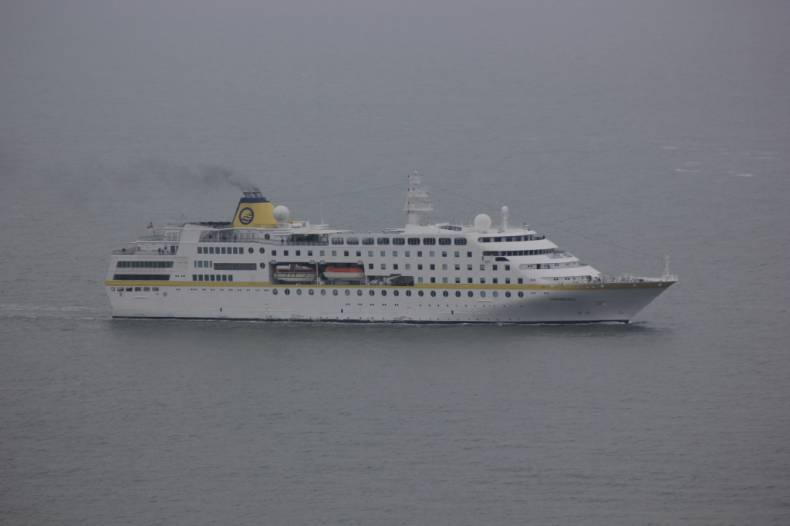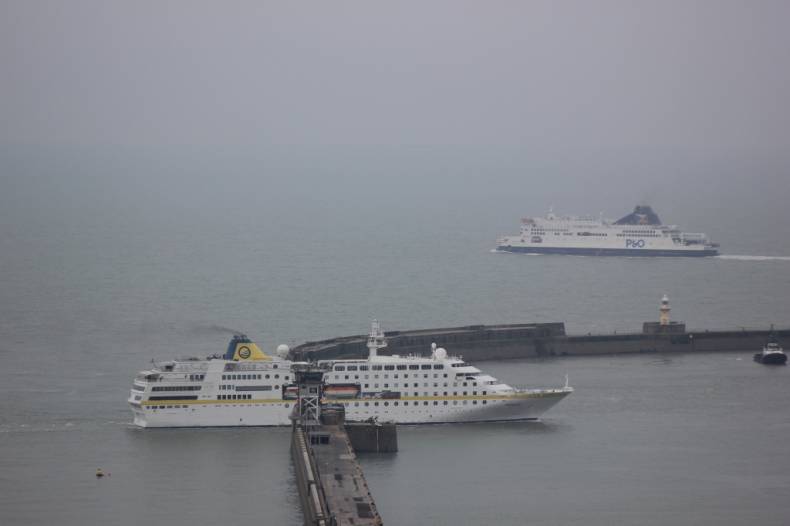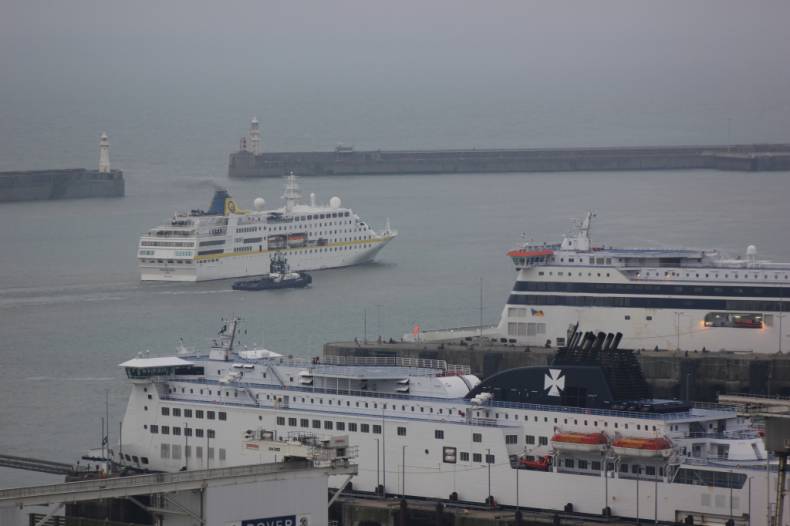 The MEANDER had arrived off the port earlier with two DWDR barges from Rotterdam.
She came in at 0900 with one of the barges, assisted by LLANDDWYN ISLAND.
The second barge was brought in later by the AFON GOCH.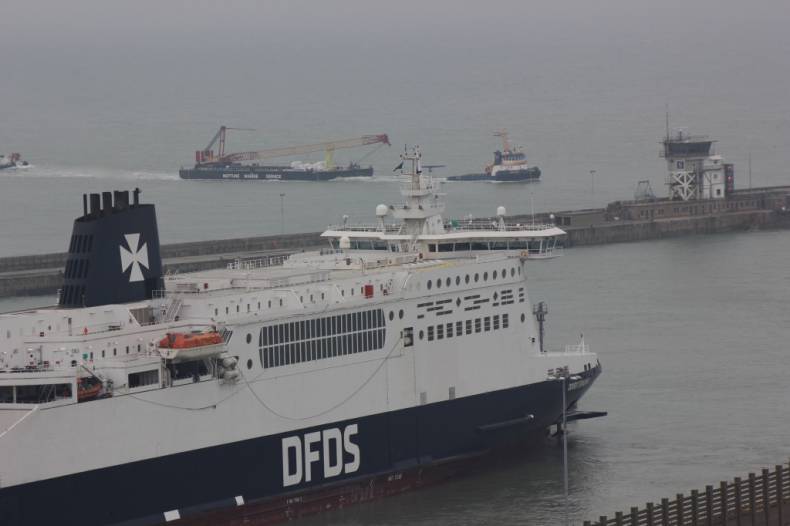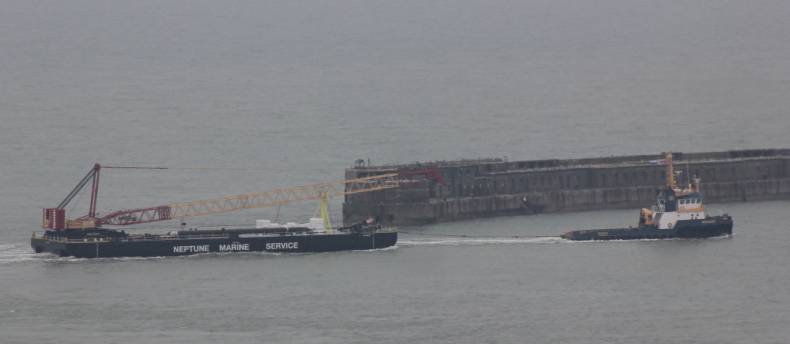 The MEANDER didn't stay long & at noon she sailed for Portsmouth.
Monday, 24 April 2017 - 21:01
Post 3698
Sea News, Dover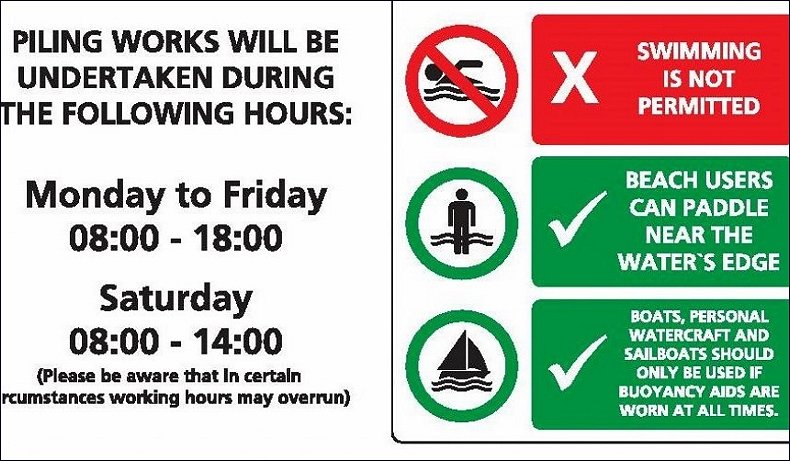 Work has now begun to prepare the harbour for the piling and land reclamation phase of the Port of Dover's flagship Dover Western Docks Revival (DWDR) development.
Currently, dredging activity is in operation to remove soft sediments in the harbour prior to the piling commencing on or around the 24th April.
As with all such construction works, this activity will generate both air-driven and waterborne noise caused by the impact of the hammer on the pile.
We have been working hard to deliver a programme that manages the essential piling activity required for DWDR whilst still safely retaining as much use of the harbour for leisure users as possible.
A marine safety exclusion zone was established to ensure that all leisure users, both on the water and the beach, remain outside the recommended 100m action-level area to ensure their safety from exposure to air-driven noise.
A sub-acoustic investigation has been conducted to assess the anticipated noise and sound waves created by this process and has thoroughly evaluated the risk to swimmers from underwater noise.
As a result, there is a recommendation that swimmers, especially those swimming partially submerged and for sustained periods of time, refrain from swimming in the harbour while piling is in progress.
Those using surface craft and wearing properly fitting buoyancy aids at all times may continue to use the harbour as long as they remain outside the safety exclusion zone.
Piling will be limited to the following times:
Monday to Friday: 8am to 6pm
Saturday: 8am to 2pm
There will be NO piling on Sundays and bank holidays
Signage will be displayed in prominent locations along the seafront promenade advising visitors of the changes to the leisure activities.
Jack Goodhew, General Manager – Special Projects, Port of Dover said: "This is very much a partnership with the local community and Port community stakeholders to ensure we deliver the prize of the longed-for regeneration of Dover whilst providing as much harbour leisure use as possible as we carry out these essential construction works in the short term."
This initial piling stage will run through to the latter part of 2017.
ENDS
* *
The Luzon Strait came in yesterday and here she is below...but instead of coming across the bay as they normally do, she took a sharp right turn into the Cargo Terminal area or the far eastern part of the harbour. The picture just catches her side-on as she disappears behind the Spirit of Britain. Time was around 06.30.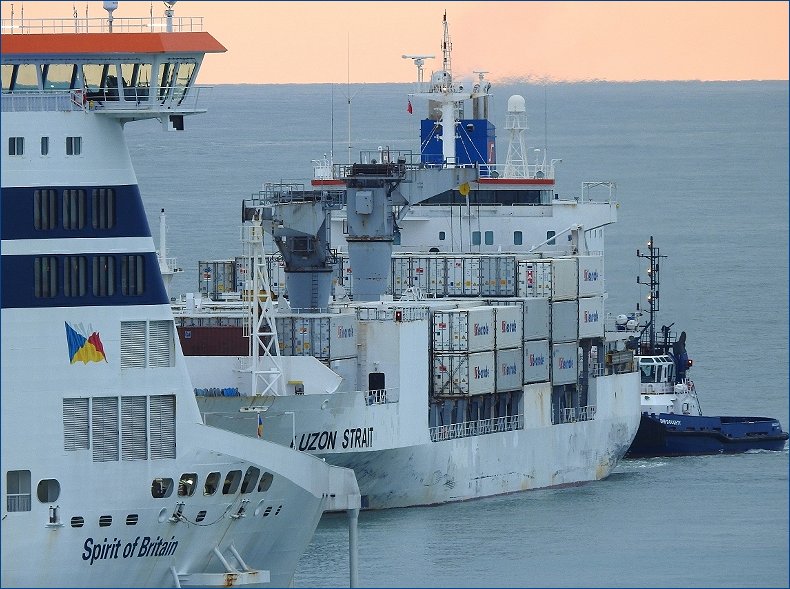 Also coming in at the ungodly early hour yesterday Sunday was the Aidasol and here she is below. It was very busy very early.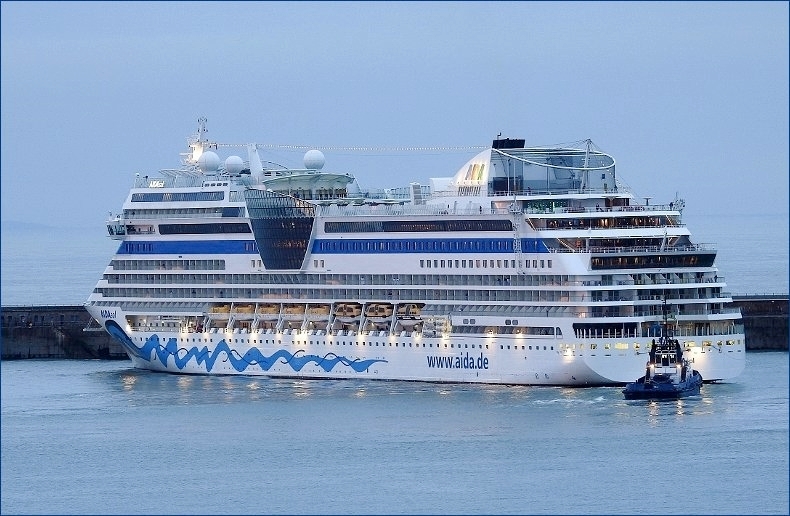 Finally below another pic of the Aidadiva prior to departure the evening before, that would be...lets see..yes Saturday.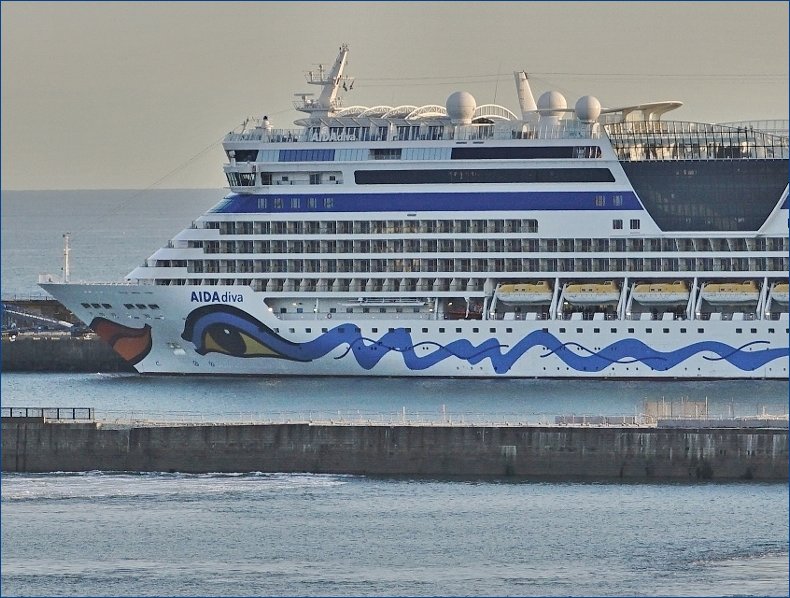 So far Del my dozing pattern hasn't been disrupted...but wait til the piling starts ,,yikes!

Great postcard Ed...you don't see much rowing like that now, other than from..well ermm rowers!


Yes indeed all that disappearing.
Well done with the Cruise List again Colette. Keeps yours truly and everyone up to speed. Busy week coming.

(to see the latest always type Cruise Visits in the Search Engine)
PaulB.
Monday, 24 April 2017 - 06:22
Post 3697
Del Styan, Norwich
Hope those floodlights don't interrupt your dozing- if you do relax between taking photos that is!

Sunday, 23 April 2017 - 23:22
Post 3696
ColetteB, Dover
CRUISE VISITS
____________
We have a busy week of cruise calls starting tomorrow Monday April 24th with MV Hamburg. She was last here in October 2016 and is currently sailing up the channel from Falmouth after visiting Spain and Portugal. She will arrive at CT1 08.30 departing 19.30 hours, PoC.
Then on Tuesday April 25th Saga Pearl II is scheduled to arrive at CT1 08.00 leaving at 16.00 hours T/R. I'm a little unsure of this one as there are no further details to be found, so watch this space.
This Thursday April 27th AIDAsol is popping in to pay us a visit again, on a 4 Night round trip from Hamburg via Ijmuiden in the Netherlands, arriving CT2 09.30 leaving 21.30 hours PoC.
A Double Whammy this Friday April 28th with the arrival of the AIDAluna at CT2, PoC, arriving at 08.00 and is scheduled to depart at 20.00 hours. She is calling on her way from Las Palmas to Warnmunde. We haven't seen her since April 2015 so it's a real treat to see her again

On the same day at CT1, arriving at 08.00 hours T/R is our old friend the graceful Saga Sapphire sailing 14 nights on 'A Taste of France & Spain' cruise, calling at Guernsey on the way. She will depart at approximately 16.00 hours.
Then Wow!! Sunday April 30th brings us another Double Bubble! At CT2, 06.30 hours, the Grand Old Dame herself 'Balmoral' begins her 7 Night cruise taking in the wondrous Fjords, Mountains and Glaciers of Norway departing 17.30 T/R.
On the same day Saga Pearl II is scheduled to sail off on a Bank Holiday Getaway, arriving at CT1 08.00 leaving 16.00 hours T/R. Hopefully she is arriving as there are no further details available.
That's all until May folks, catch up then


Sunday, 23 April 2017 - 15:41
Post 3695
Ed Connell, Blackpool
Vic in his rowing boat. All this area will sadly be filled in during the DWDR project.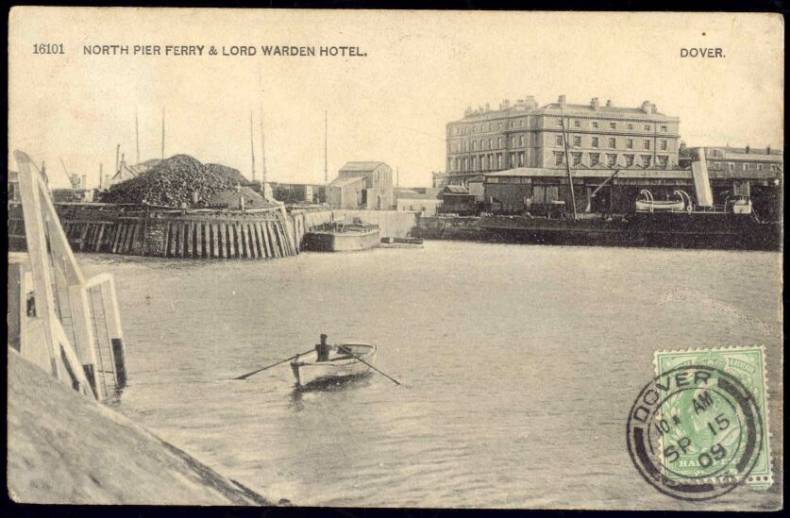 Sunday, 23 April 2017 - 12:53
Post 3694
Sea News, Dover
Yes Mike good to see Gemini in the thick of the action...also.. I will have that press release in full tomorrow.
Hard to imagine nowadays Vic, rowing back and forth so I guess times change and sometimes for the better.
Glad you are enjoying the events unfurl here on Sea News. Lots more to come.
PaulB.

Sunday, 23 April 2017 - 10:55
Post 3693
Mike J., Dover
Post 3691 - GEMINI - good to see a local boat getting some work on the DWDR project.
She's normally busy with fishing parties.

Pile-driving may be starting on Monday [presumably at the site of the new 'Marina Cut' & will last for many months with restrictions for bathing off the beach.

For the very interesting DHB press release place 'http' [but not the apostrophes !] in front of -

://www.doverport.co.uk/about/news/changes-to-harbour-leisure-activities/13296/



Sunday, 23 April 2017 - 09:04
Post 3692
vic matcham , Dovor
Their crew Transfer boat is better then the rowing boat we had, and I had to row it before starting work and at the end of the day with no ex pay.



Sunday, 23 April 2017 - 06:17
Post 3691
Sea News, Dover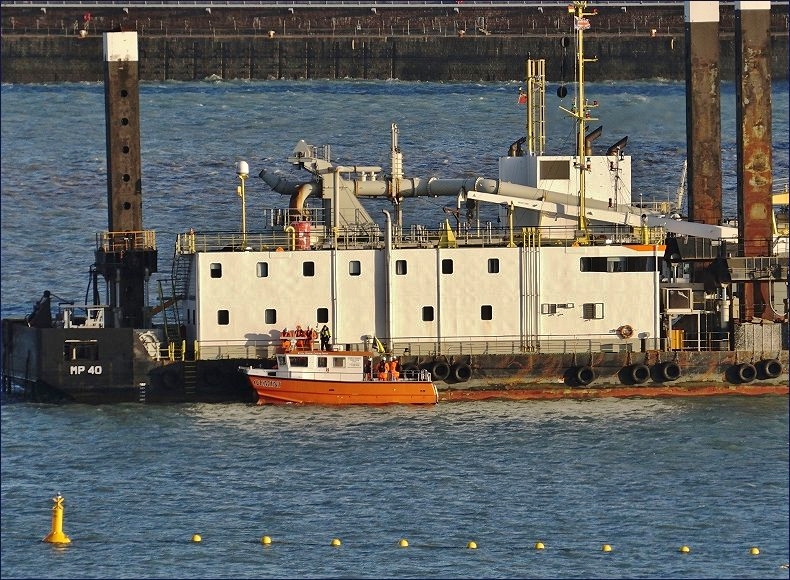 As these vessels are operating 24 hours a day and 7 days a week they obviously need crew changes. That's dredger MP40 above and below, enjoying the late evening sun of a few days ago as Gemini delivers the next shift...
I zoomed in on the situation below ... the pictures are a tad soft what with it being late in the long day.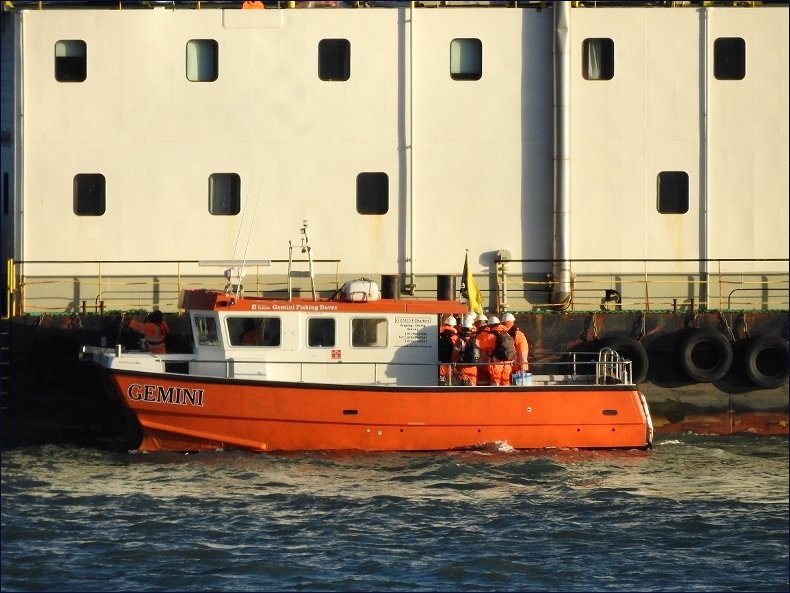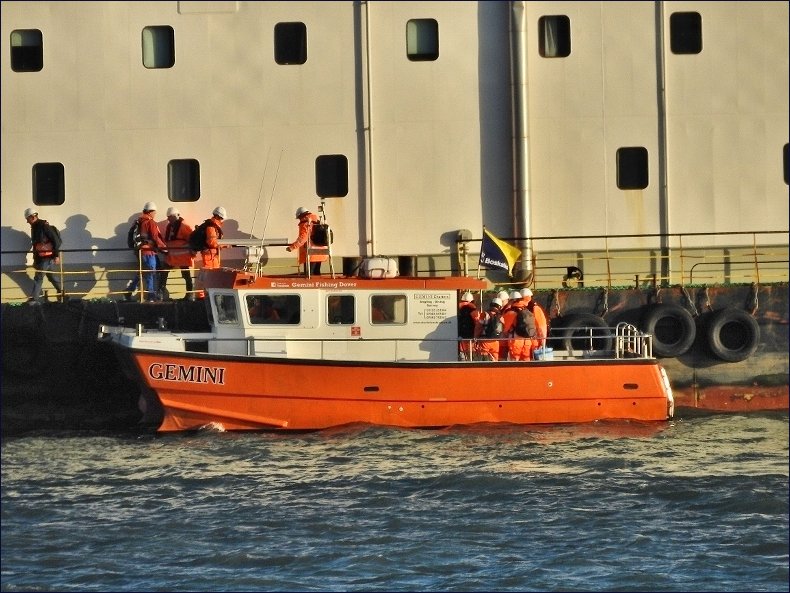 And then below... night falls on the MP40. It looks tranquil but no, this pic taken just before all the floodlights come on...will aim to get a pic of those floodlights in due course. The other vessels are ablaze with these lights also, working as they do all through the night...so its getting like New York around here..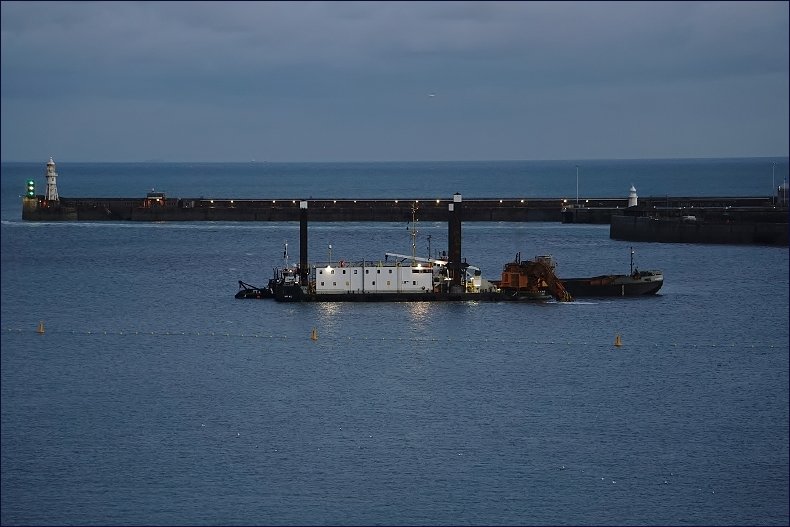 AIDadiva left us last night just before 9pm heading to Le Havre, but the excitement goes on as another AIDA is in today .. AIDAsol is back.
Sunday, 23 April 2017 - 06:06
Post 3690
Sea News, Dover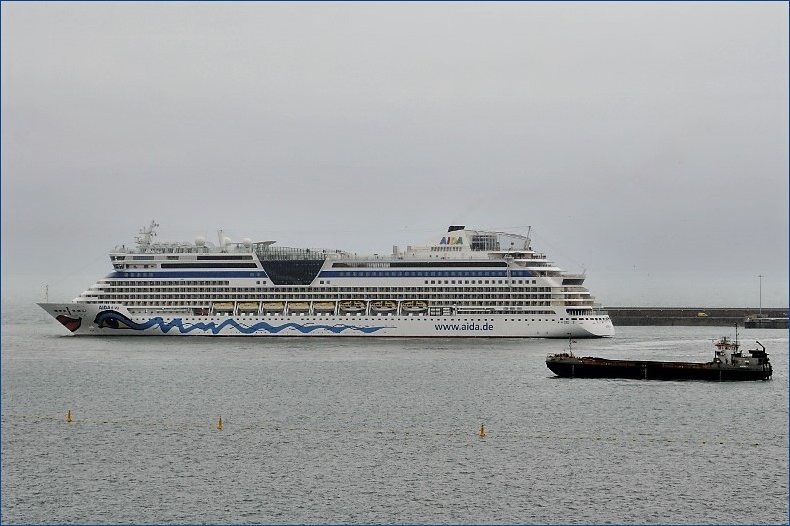 The super AIDAdiva arriving with us through the drizzle this morning sunday...still in port as I write. That's one of the Wadden barges to the right of shot...
Sarah you're on fire with the camera over there in Ramsgate - a great collection below once again. Great to see those pictures.

Well done Mike, right on the spot once again in the immediate post below. Great stuff!

Saturday, 22 April 2017 - 19:27
Post 3689
Mike J., Dover
A couple of RIBs, Saturday morning.
The CRC ATLAS arrived from Brighton Marina on Friday afternoon & has been busy all day.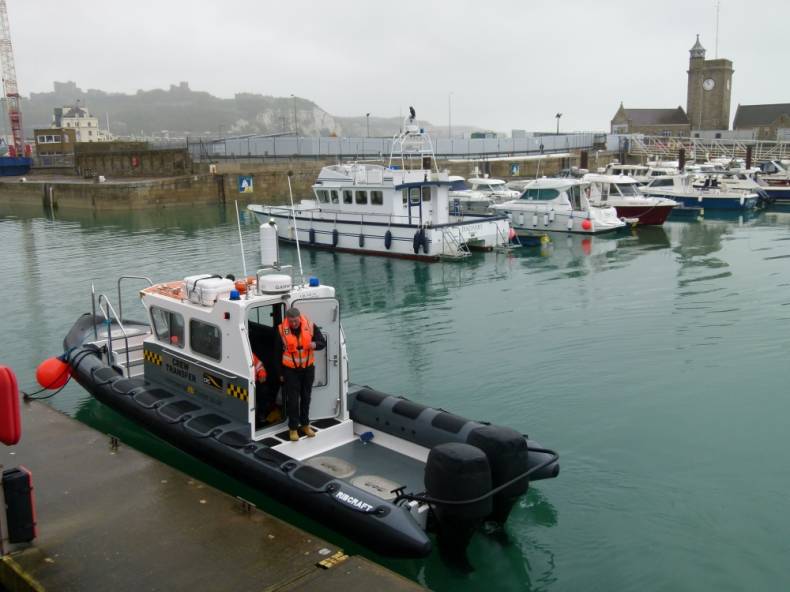 The CRC HERCULES was in the old Jetfoil terminal.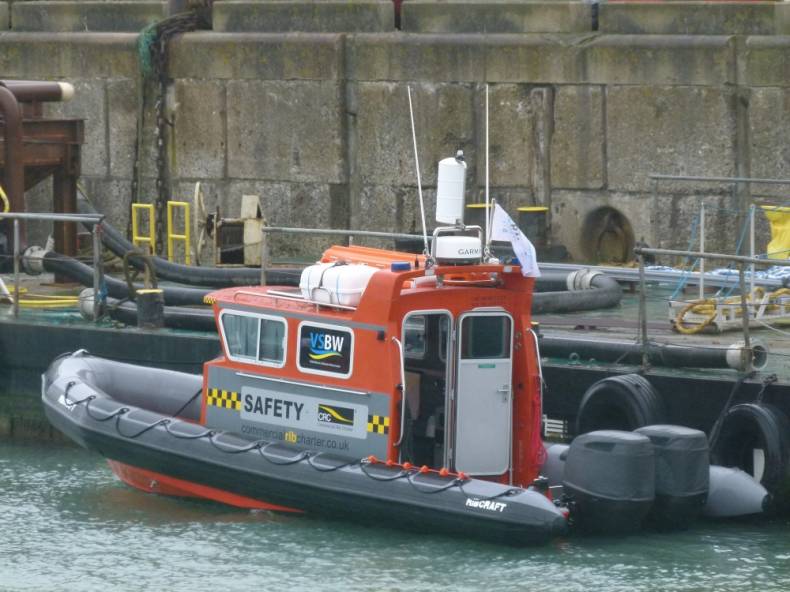 AIS shows two 'windcats' the ADMIRAL P & the CARDINAL P due in Dover from Torquay this evening where they'll join the ALERT who is due about 1800.
Saturday, 22 April 2017 - 17:01
Post 3688
Sarah, Ramsgate
She is on her way back to Dover, she has just left Ramsgate. I managed to catch a couple leaving Ramsgate early this morning.
Border Force - Eagle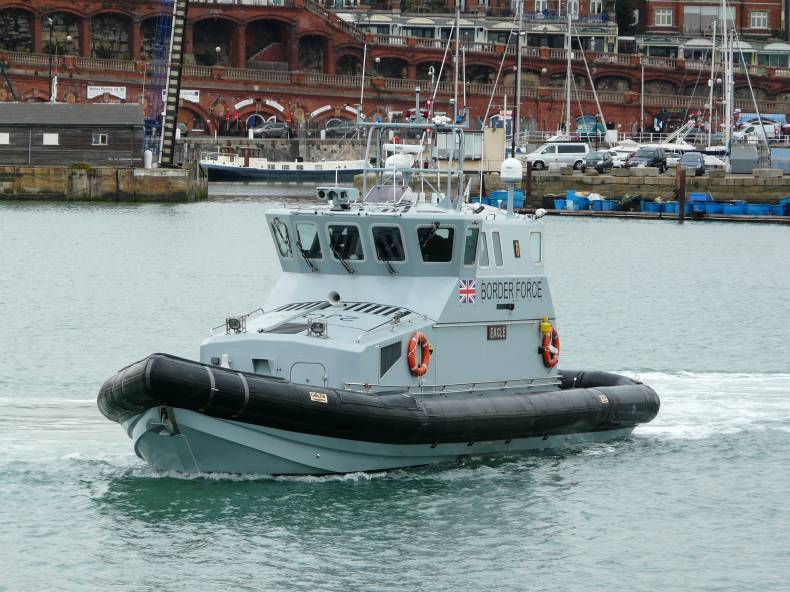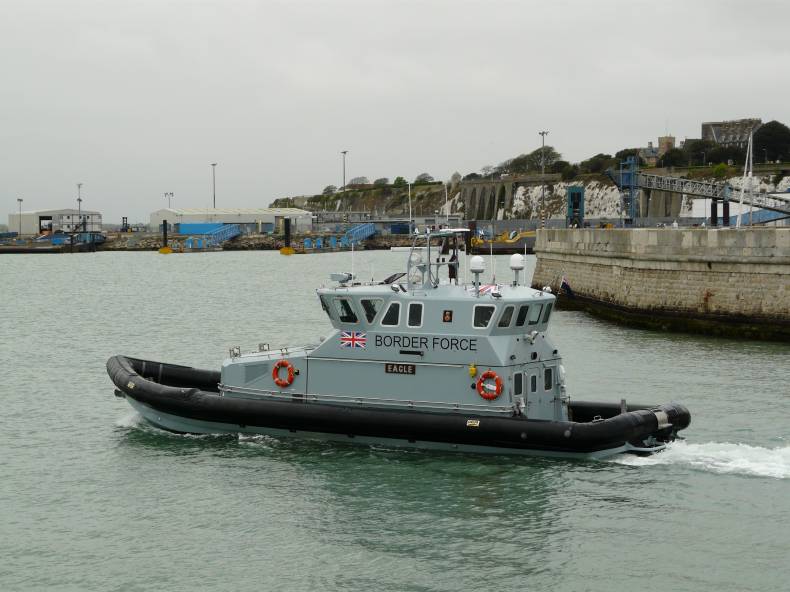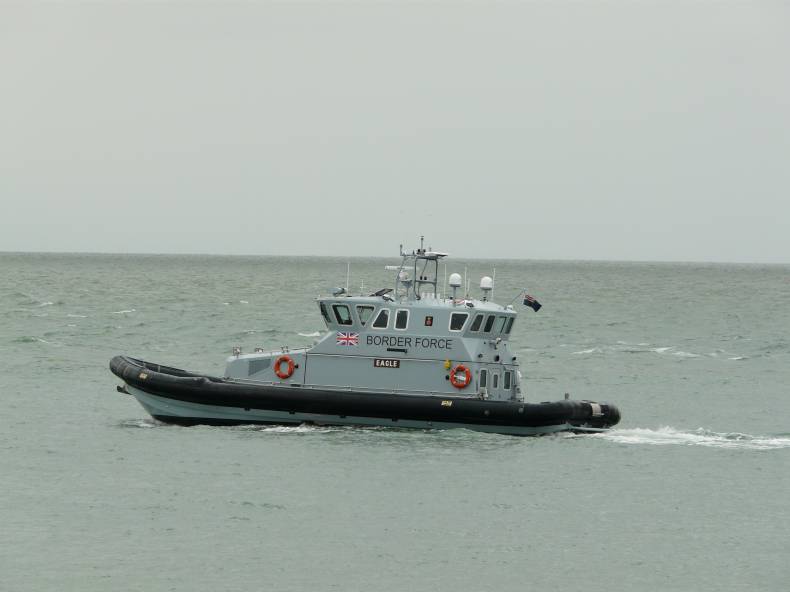 Royal Navy - HMS Charger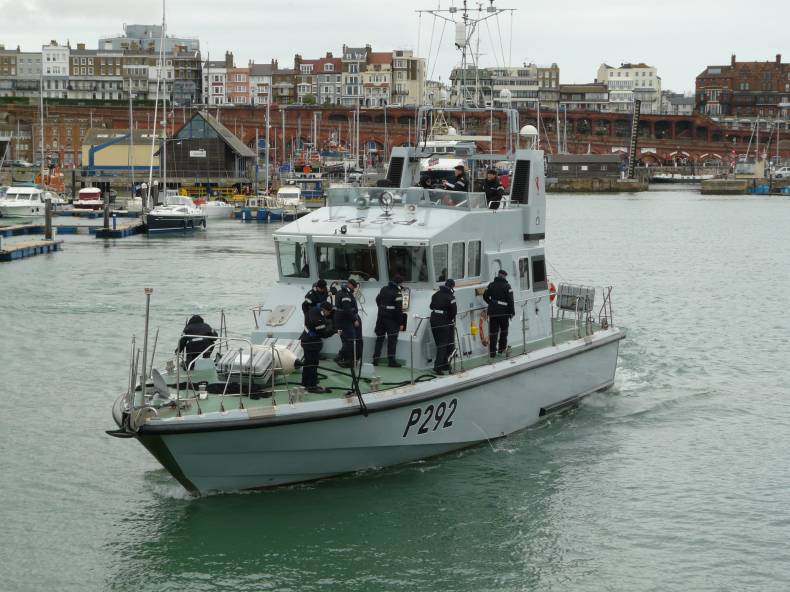 Seen here with Pilot Boat - Estuary Elan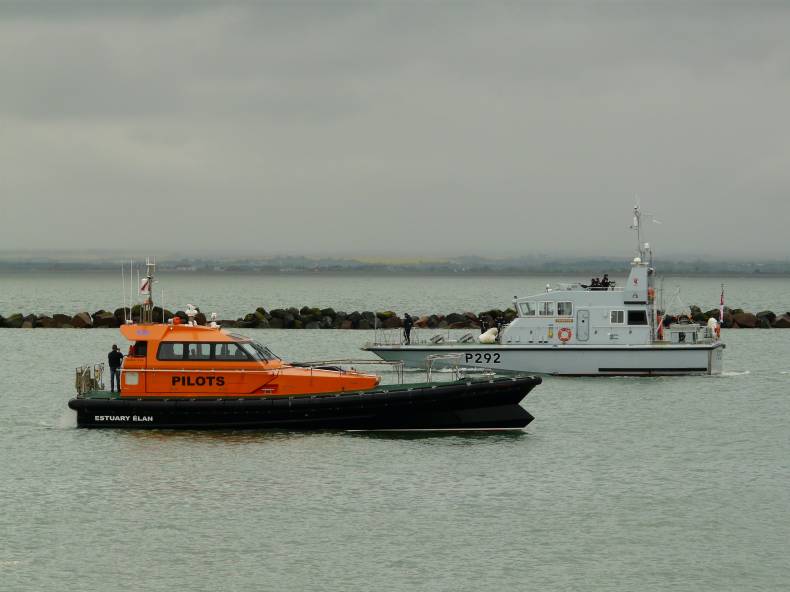 Saturday, 22 April 2017 - 11:33
Post 3687
Sea News, Dover
A cracking collection of pix below Sarah, They look great and follow on nicely from Alert in Dover. Great to get close-up shots like that.
Royal Navy one a bit special too. Ramsgate looking good. PB.

Saturday, 22 April 2017 - 07:29
Post 3686
Sarah, Ramsgate
Alert has now arrived in Ramsgate, here she is entering the harbour this evening.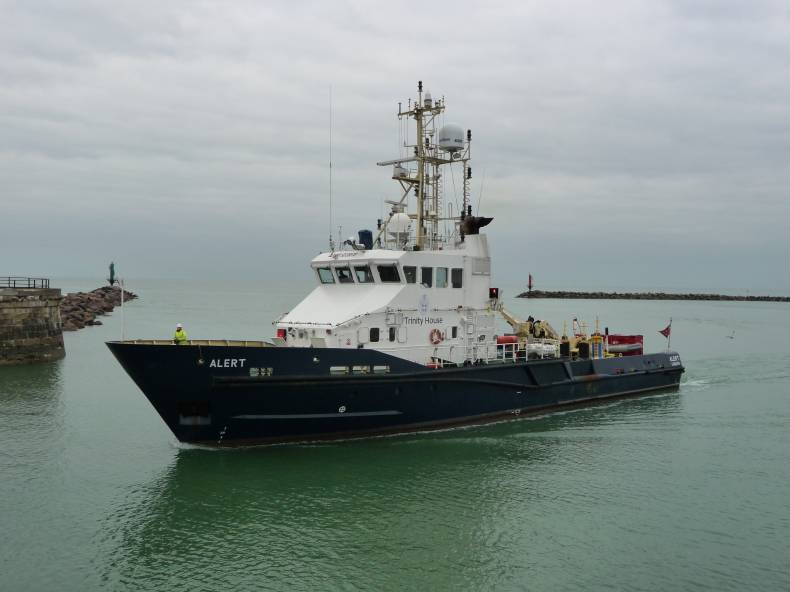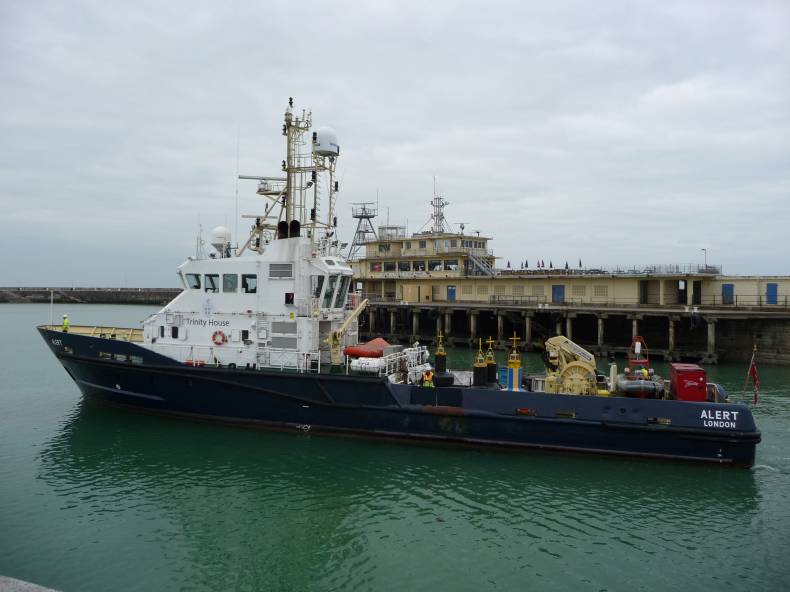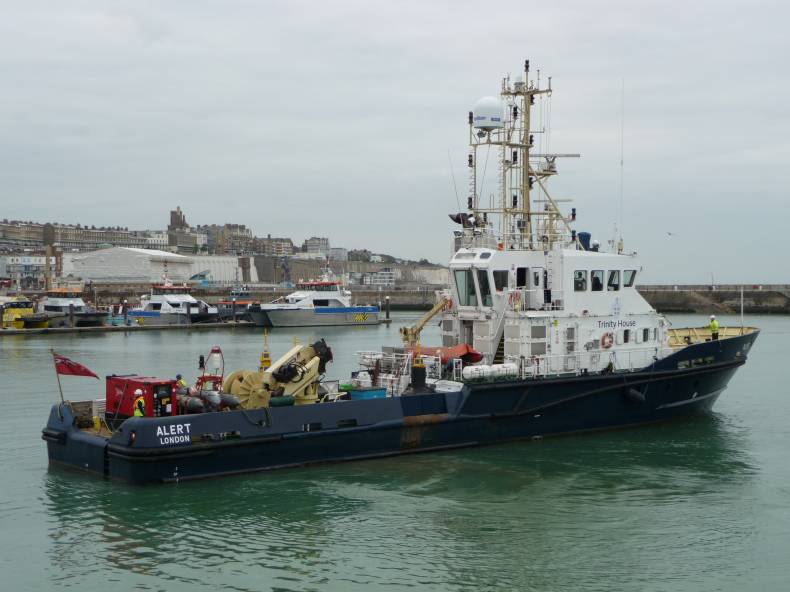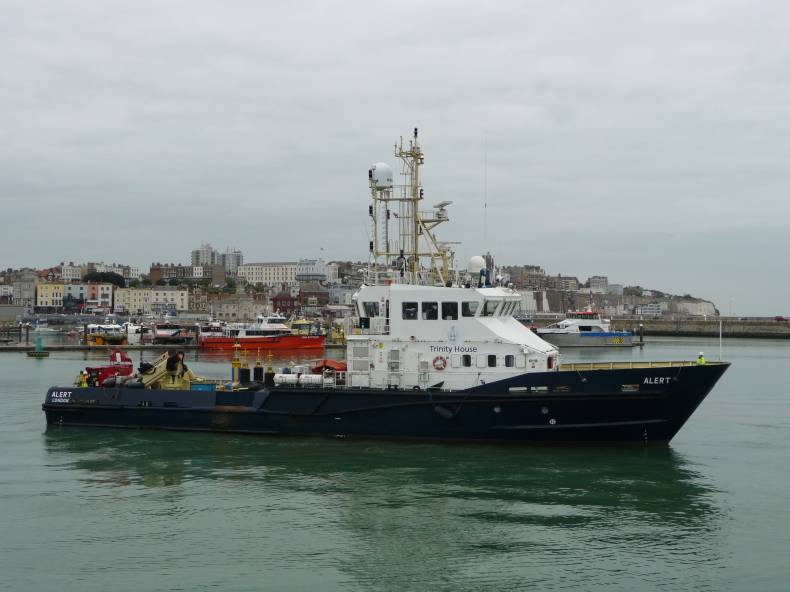 There were two overnighters from the Royal Navy in the harbour tonight HMS Charger & HMS Biter.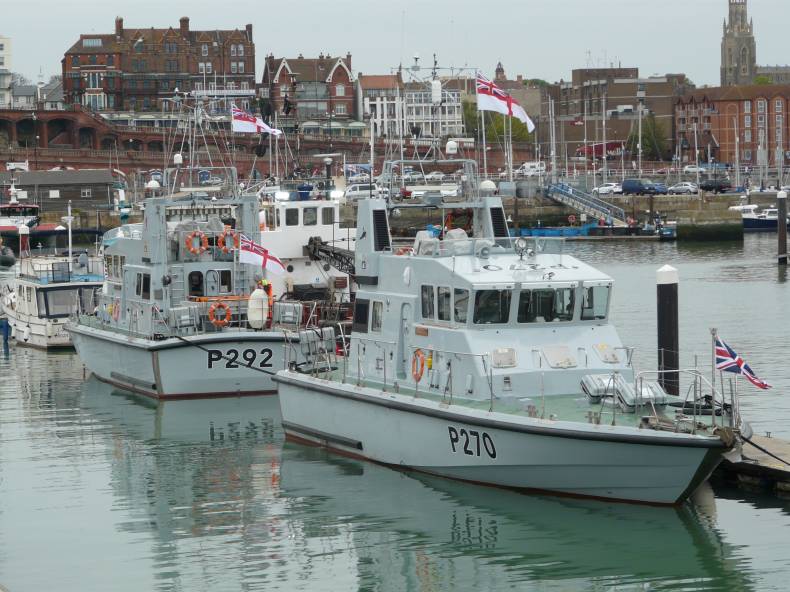 Friday, 21 April 2017 - 20:21
Post 3685
Sea News, Dover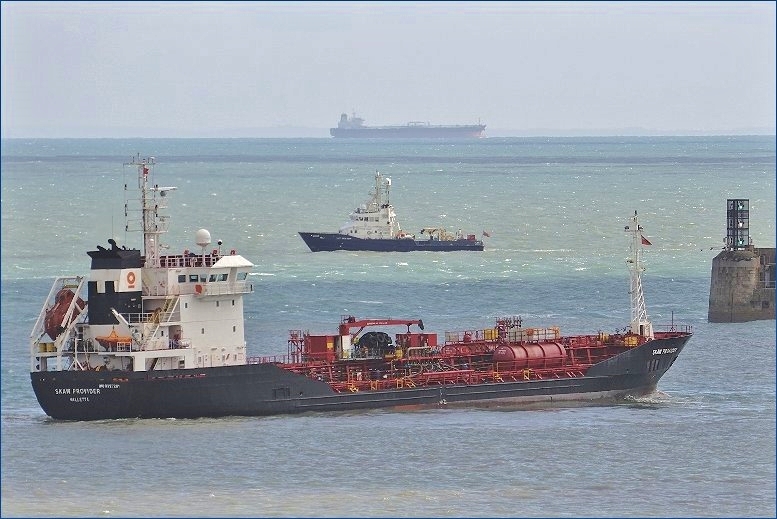 Skaw Provider above there which came earlier in the week to provide bunkering services to the Saga Sapphire and possibly the AIDAsol. Yours truly didn't remember seeing Skaw before so surprised myself by seeing other pictures of her in the system here from a previous time. That's a triple whammy picture...in the immediate background we have ol favourite Alert arriving here as the Skaw Provider pulled away. The name of the ship in the far distance isn't known.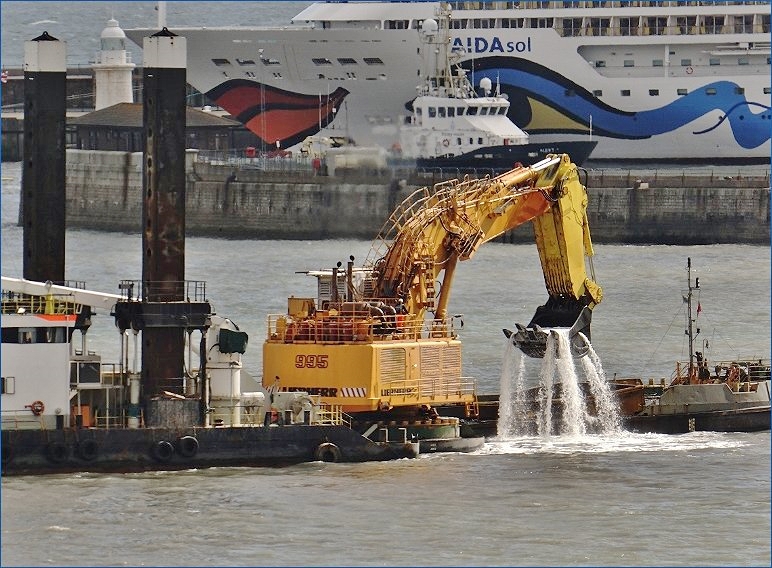 Above we have MP40 in action...just caught the moment the claw came out of the water...you can just see Alert squeeze into the background with AIDAsol also in shot.
Just adding this extra one of Alert (...at the new size 790 pixels wide) looking across the top of MP40...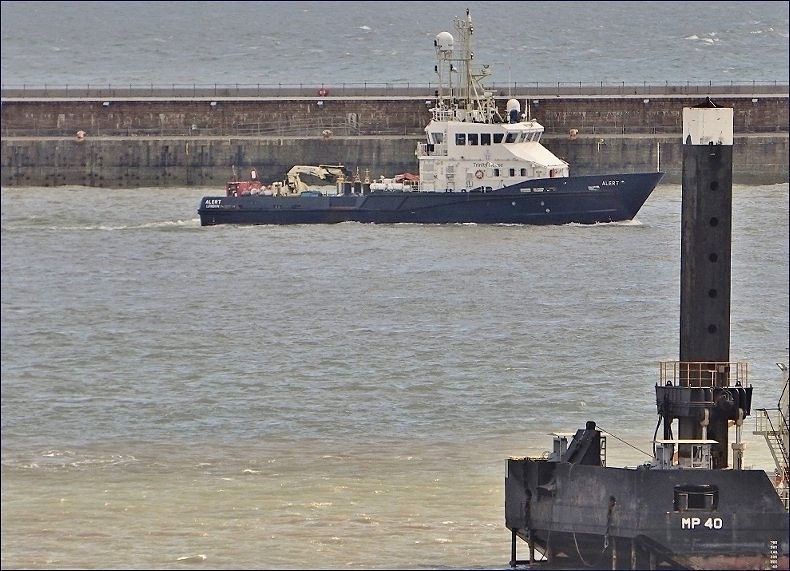 See also todays sizing announcement 3683. PaulB.
Friday, 21 April 2017 - 15:34
Post 3684
Sea News, Dover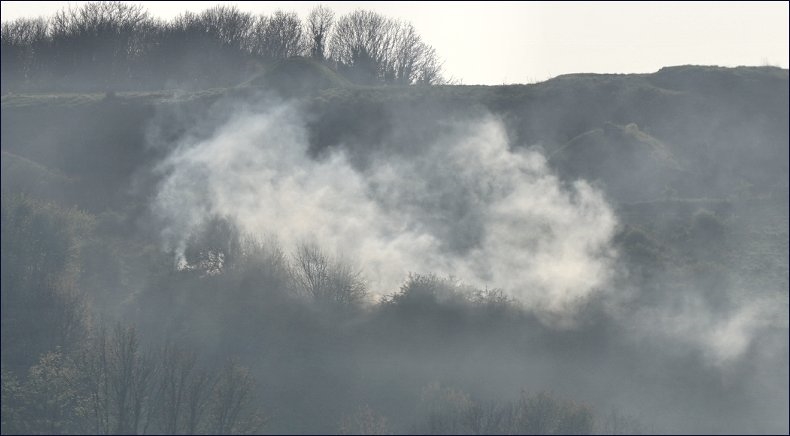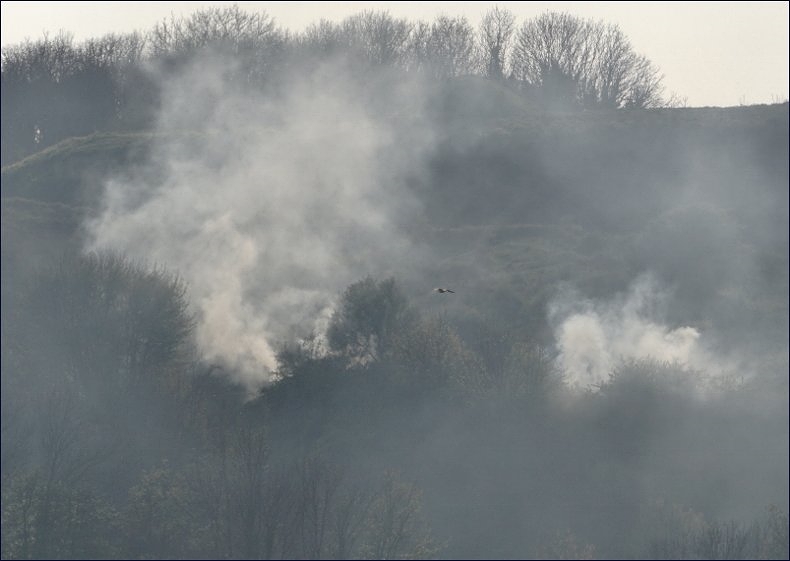 A couple of pictures above there of the fire on the Western Heights last evening about 5pm. It looked to be a vandal situation as there were no signs of an organised scrub clearance. Sirens were heard wailing in the distance....
Hard to believe but those are actually colour pictures....
Below we have a shot of the returning Noah from a few evenings ago. A familiar errrrr face in the harbour! In the background the lifeboat goes out on a training session catching the late sun...must have been Tuesday...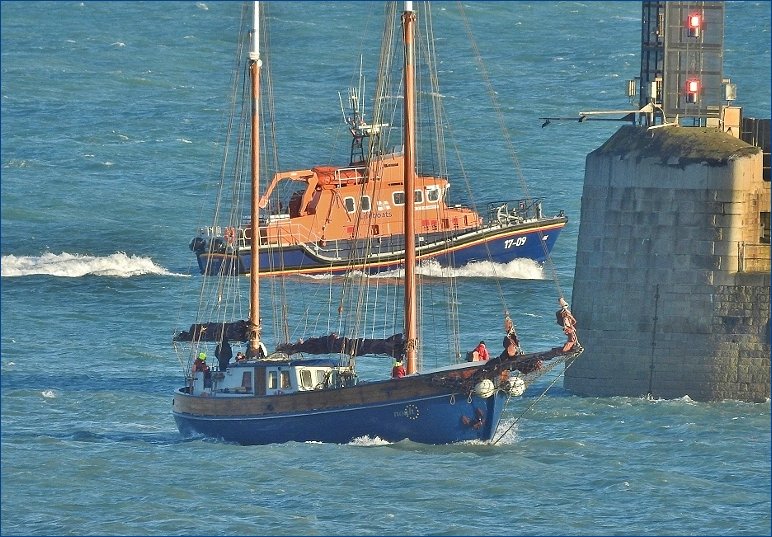 Friday, 21 April 2017 - 07:27
Post 3683
Sea News, Dover
NOTE: Just to announce that we have been able to increase the size of the pictures on display. I liaised yesterday with the editor of our sister channel Dover.uk.com Chris Tutthill who is also our webmaster generale, and the upshot is our pictures now display at 790 pixels wide which should greatly enhance visibility for everyone's pictures here on Sea News.
Just to give a demo below....
The following shot of the Port sunrise was taken yesterday morning thursday and it shows our new size.
The new sizes kicked in yesterday later on and I see Mike's pictures a couple of posts below are at the new size too and look good, so all's well.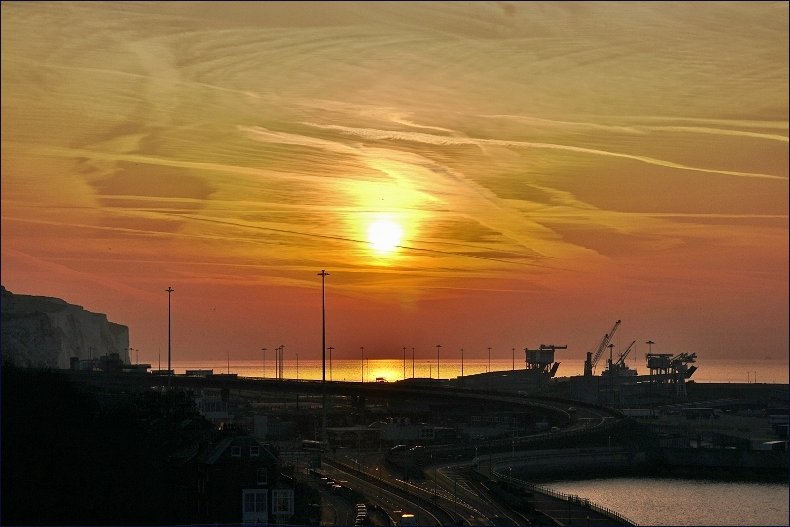 I personally generally resize pictures to shape because as editor I have a variety of size options, I have resized the sunrise picture above to 790 pixels wide before uploading.
Will temporarily pin this item to the top so all will see

* *
Thanks for that info below Vic...you know your onions!. yes indeed I have some old pictures somewhere in the system but they are from years ago and whether I could find them now I don't know...many thousands and thousand and thousands of pictures in the system. Will look though...
Nice pictures and info Mike below..the pictures are looking good, first ones up under the new improvements.
Well done Andrew H - you got a triple whammy of vessels in the one shot. Always good to hear from you.
Yes lots more to come on Sea News.
That's Elvira in the sunrise above, well ... you can just about see her at the Cargo Terminal. She left last evening at 6pm right under my nose, I knew it was happening but still missed it as absorbed and bogged down with personal computer difficulties/changes for the moment although I think the worst is behind me now...sez he bravely.

PaulB

Many thanks to Chris T once again.
Friday, 21 April 2017 - 06:02
Post 3682
vic matcham , dovor
No sir they are call clutch piles because they get joined up with other as they put down then both sides get filled with cement then cut off this what I done along the front when that big hole was there,all so done alot of them in Folkestone . They are not so good as the round one because they split in two up the sides if you pile into rock,then we would have to dig down to the split and weld it up not a easy job and some times the sand and water would build up around you.

All so when you came to cut the tops off you would have to cut into the clutch and that

times you would get a bow back from your burning gun and I still have burn marks all over my arms etc.
Thursday, 20 April 2017 - 22:37