Thursday, 28 May 2015
Little Ships sailing into Dunkerque - Many thanks to DFDS SEAWAYS for the excellent coverage...further extensive coverage below...
SEA NEWS
Scroll down the page and over the many pages for all the stories in and around the Port of Dover.....
You can find anything you want in our SEARCH ENGINE. Type in CRUISE VISITS for example or indeed anything at all.
Dover.uk.com and Doverforum.com have merged to produce an entirely local and comprehensive Dover website. Nautical contributions are welcome on this page with a max of 4 pictures preferred per contribution, all pictures remain own photographers copyright. Email:dover7@msn.com to send Sea News pix or info..or click ADD YOUR COMMENT below to post direct, no membership needed. Paul Boland.
SAY HELLO TO OUR NEW SEA NEWS SEARCH FACILITY...
Post 1581
Sea News, Dover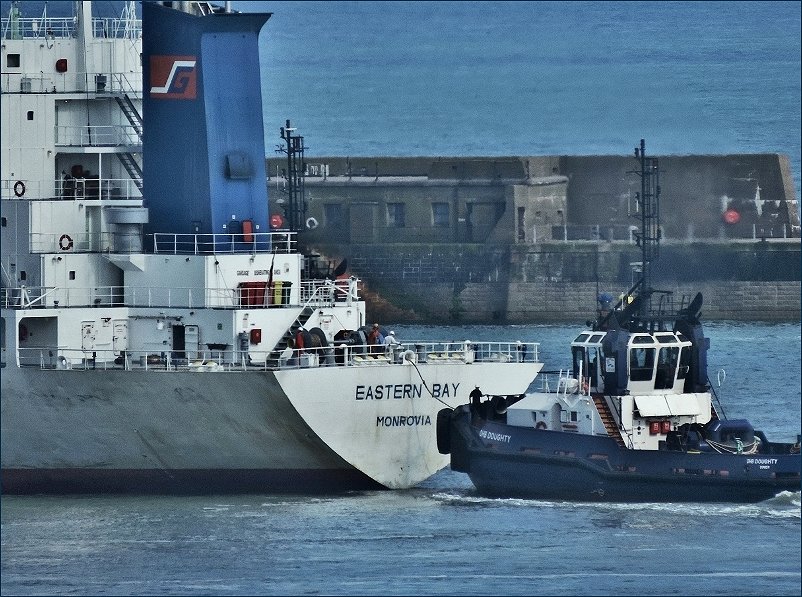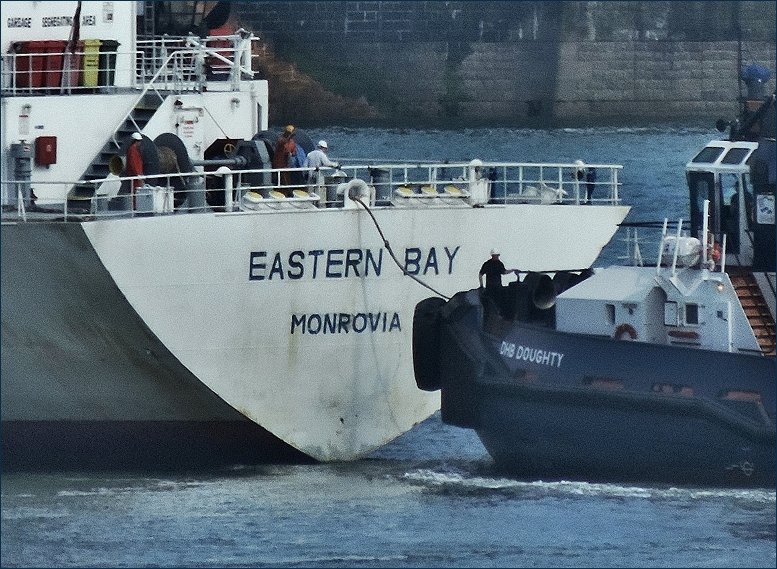 Some pictures above there of Tugboat Doughty in close up action.. helping to send ol' regular Eastern Bay on its way on Tuesday. The second picture is an in-close crop of the first. Both tugs were in action doing their thing with the Eastern Bay. There are previous shots of the vessel in the Sea News pages... you can find them in our search engine anytime.
Hello Steve up there in the Midlands. Brilliant bit of detailed info there re the aircraft so a huge thanks to you. So we had a Spitfire and a Hurricane flying over Dover at the weekend. I guess we haven't seen that for a while ...
Quite a treat!
I see you captured the true spirit of the cockpit there Barry W-S. Reminds me of Michael Caine with his delightfully clipped concocted accent in possibly the Battle of Britain movie "Tally ho...Going in..."
Where's Biggles when you need him.

PaulB
PS:AIDA Sol in today and looking good.
Thursday, 28 May 2015 - 06:39
Post 1580
Steve, Up in the Midlands
Hi, great photos on here recently. Re post 1578...you're right they are two different aircraft. The first is "The Kent Spitfire" a Spitfire IXe with the reg of TA805 [FX-M]. The second is a Hurricane MkIIb with the reg BE505 [XP-L]. Great catches on both.

Wednesday, 27 May 2015 - 16:06
Post 1579
Barry W-S, Dover
Wow! Superb Photos there chaps, Tally Ho! Ginger, Bang On, What!

Excellent pictures all round

Wednesday, 27 May 2015 - 13:02
Post 1578
Sea News, Dover
RATTLING THE ROOF TILES !
Yes indeed...this guy roared through around lunchtime for all three days of the big weekend. First coming to yours truly's abrupt attention when he powered across the immediate water at breakneck speed.... One nearly dropped ones pinot on the axminster!

Errrmmm...On closer inspection it looks like two different planes here. Not something that twigged until now. Spitfire or Hurricane?
First picture is from Monday..following two pictures taken Sunday.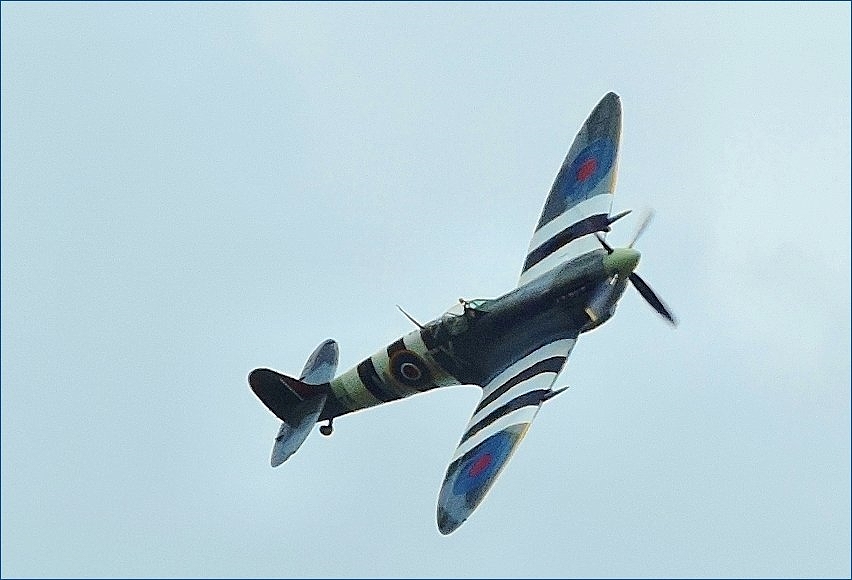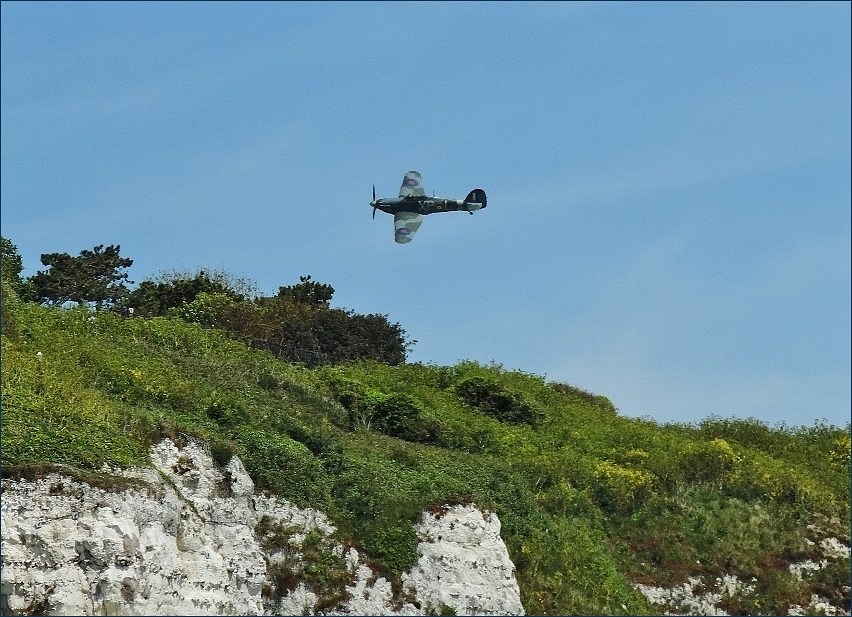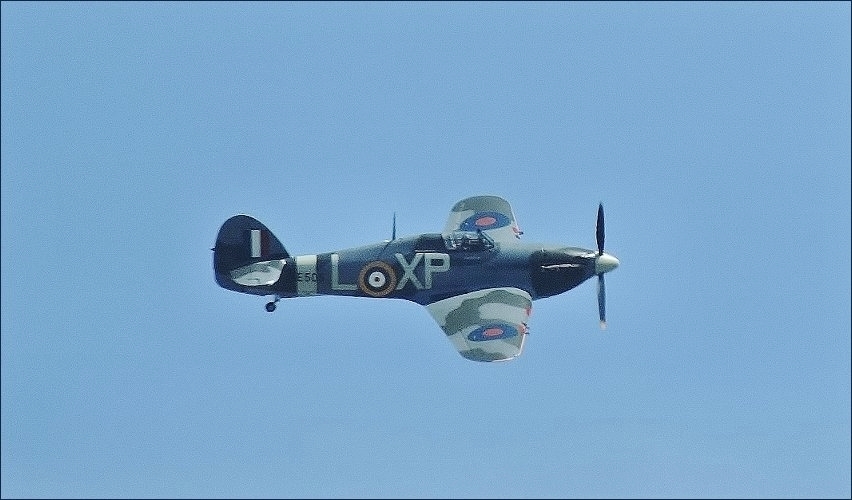 We have used these pictures large so hopefully all can spot the detail and the pilot. There must have been an event up there at Dover Castle hence this dynamic aerobatic display in all its glory. Well done them. That pilot knew what he was doing for sure. Wowser!
Nice pictures again Ed below and yes indeed Sarah's pictures further below were a delight.

Wednesday, 27 May 2015 - 06:35
Post 1577
Ed Connell, Dover
Super photos from Sarah. Another cluster of little ships returning today. This is the Thames barge.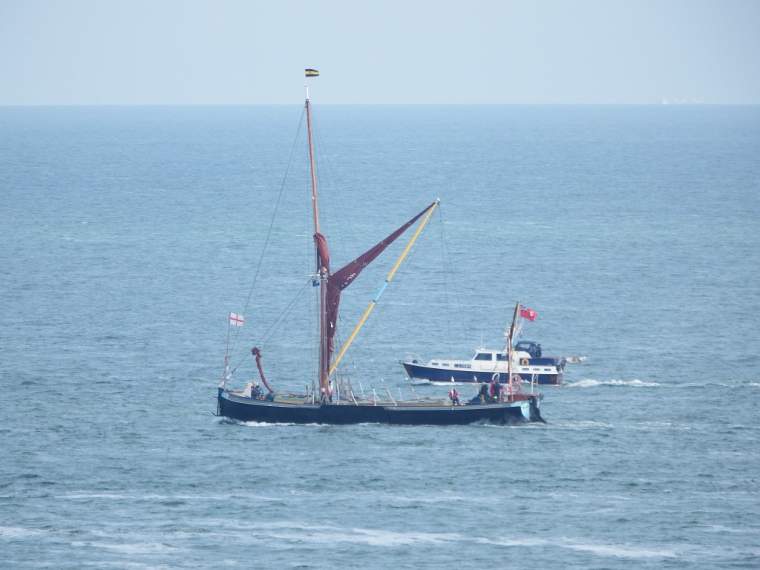 Jack-up rig Wavewalker 1 being towed down past Dover two days ago.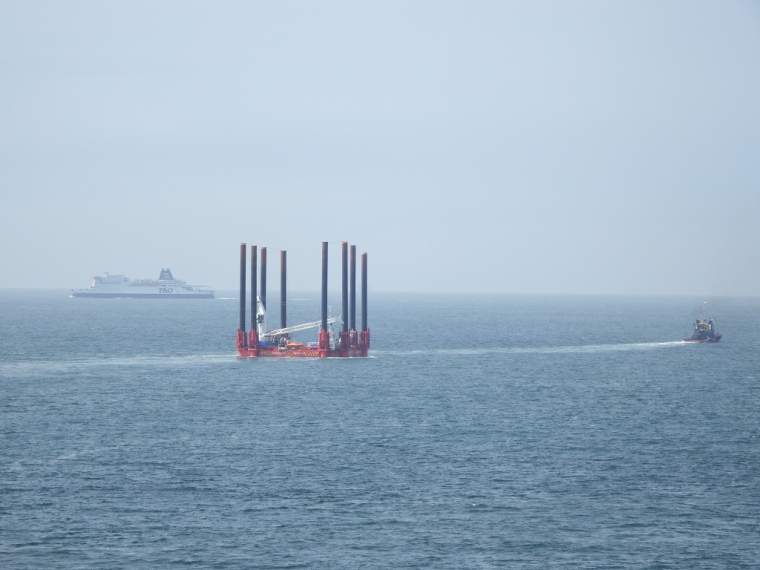 Tuesday, 26 May 2015 - 11:38
Post 1576
Sea News, Dover
We will keep the DFDS Dunkirk post (1573) pinned for a further day as its such a special commemoration ( .. now released from top).
Once again a big thankyou to DFDS SEAWAYS for all the info and pictures.
Also a well done to Ed for getting those shots below of the little ships returning.
Now some pictures of the little ships departing from Ramsgate a few days ago. Looks like there was an excellent turnout over there to send them on their way.
These pictures here are from SARAH HEWES once again and show the wonderfully colourful departure. Many thanks to Sarah.
Great to see these pictures.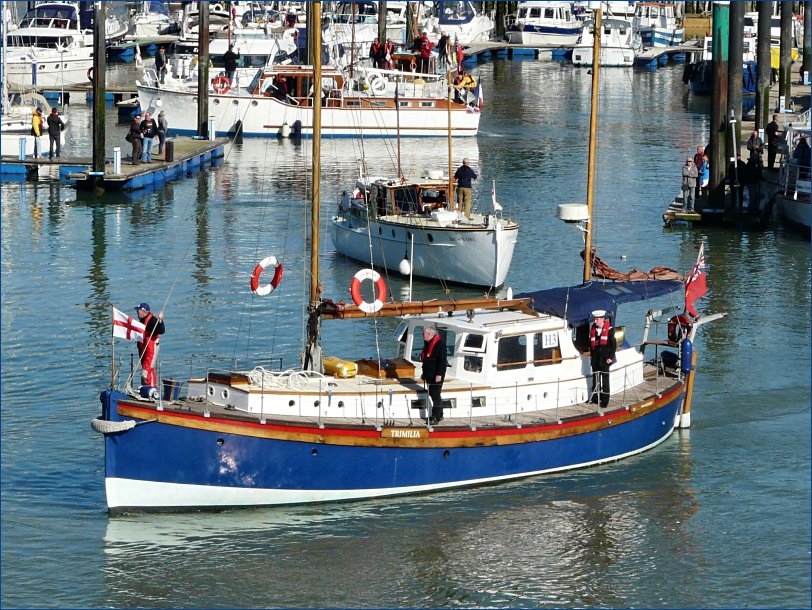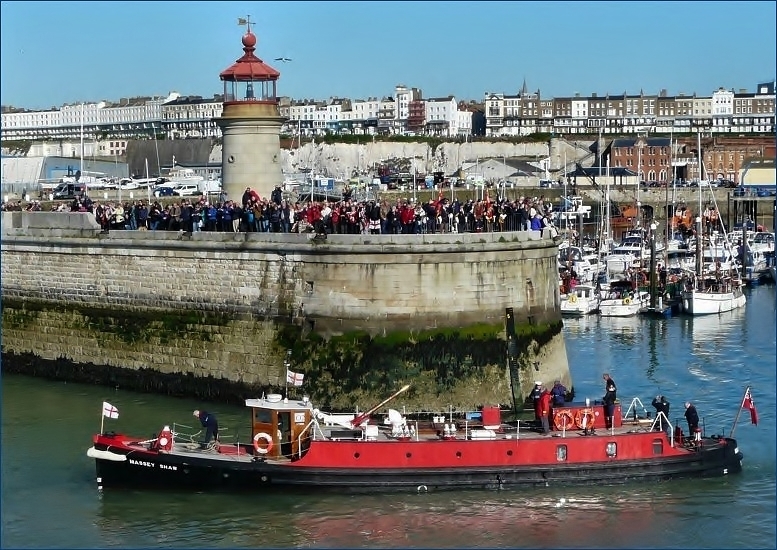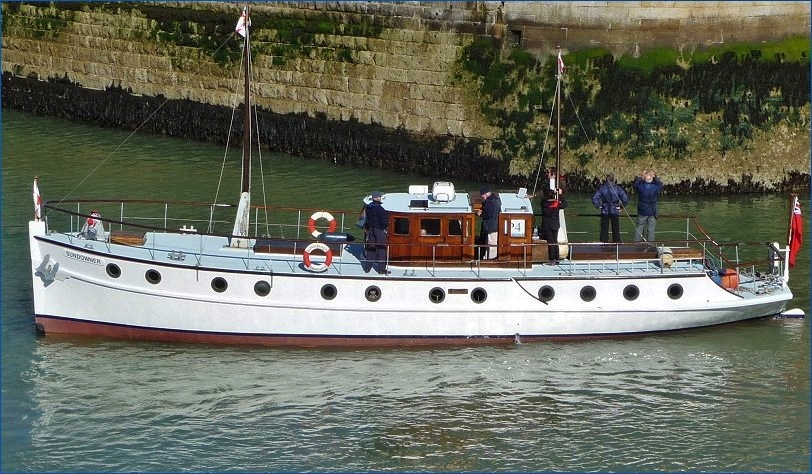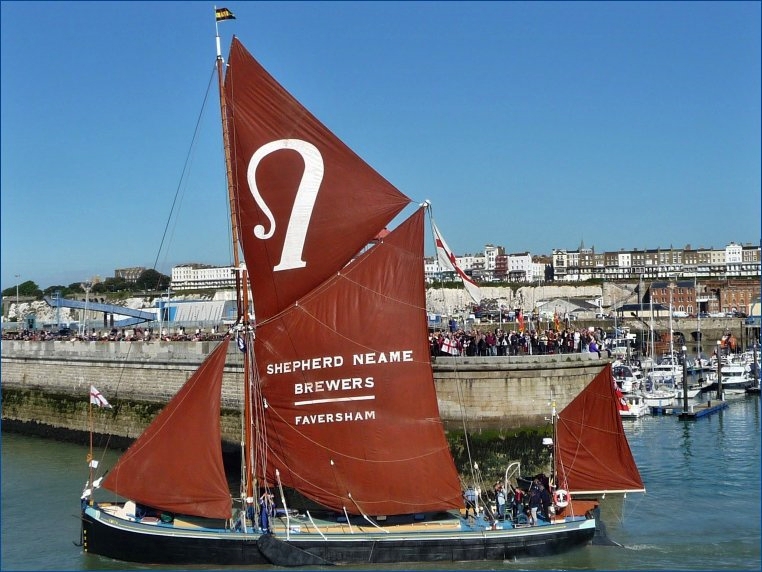 Wow that's colourful below Mike. Good to see it. I think its what we used to call psychedelic...

Nice picture.
Tuesday, 26 May 2015 - 06:07
Post 1575
Mike J., Dover
Not a Dover ferry for sure, but a ferry paintjob that I hope doesn't spread down to the Dover Straits !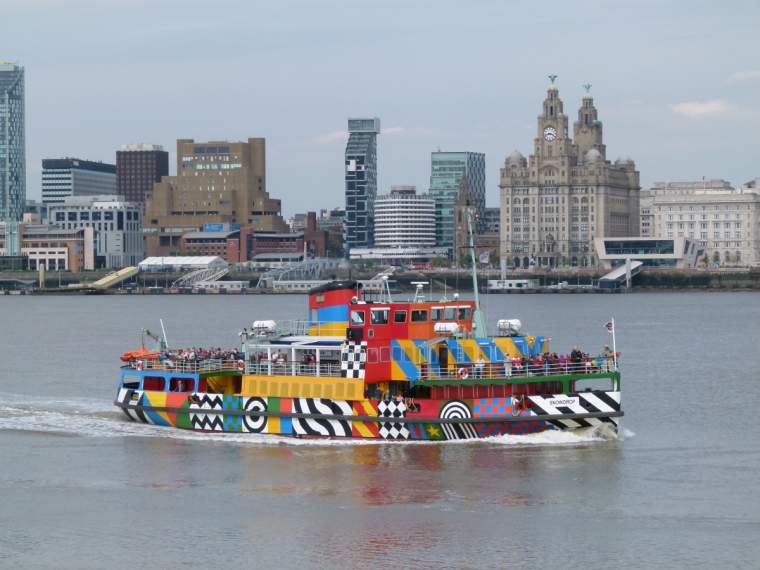 Merseytravel's 56 year old 'SNOWDROP' [formerly the WOODCHURCH] runs on the triangular Liverpool - Seacombe - Birkenhead - Liverpool service & was photographed ten days ago when I was 'oop north'
Based on a First World War camouflage scheme & designed by pop artist Sir Peter Blake - further details & a timelapse of her repaint can be found at -
www.biennial.com/dazzleferry
Great fun & rather puts some of our 'decorated' cruise ships to shame, but I hope that the idea stays on the Mersey !
Monday, 25 May 2015 - 22:34
Post 1574
Ed Connell, Dover
Dunkirk little ships returning today accompanied by two RN patrol craft.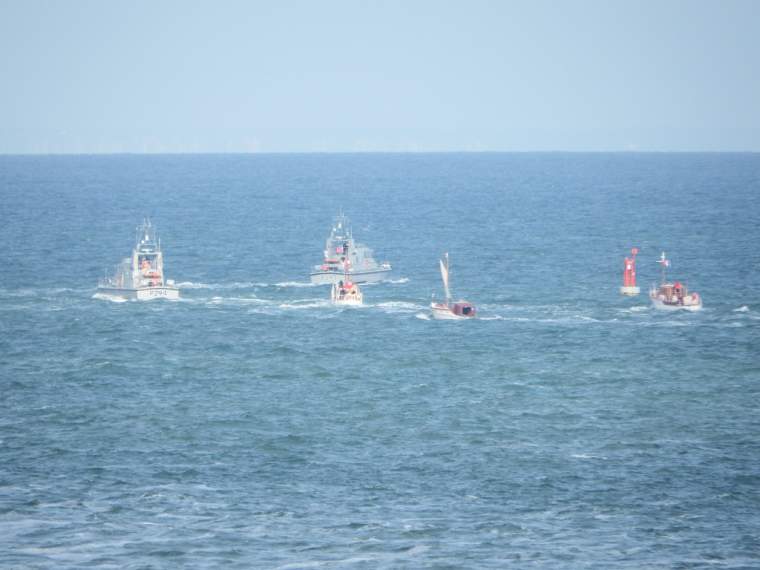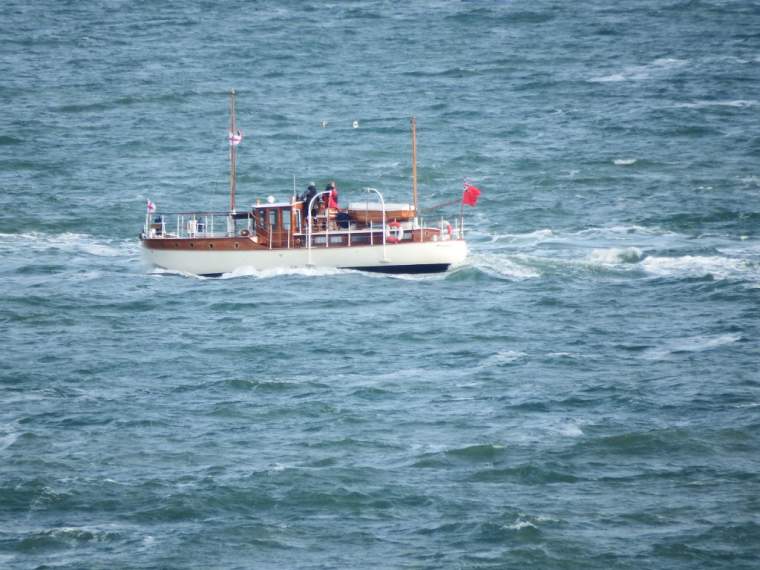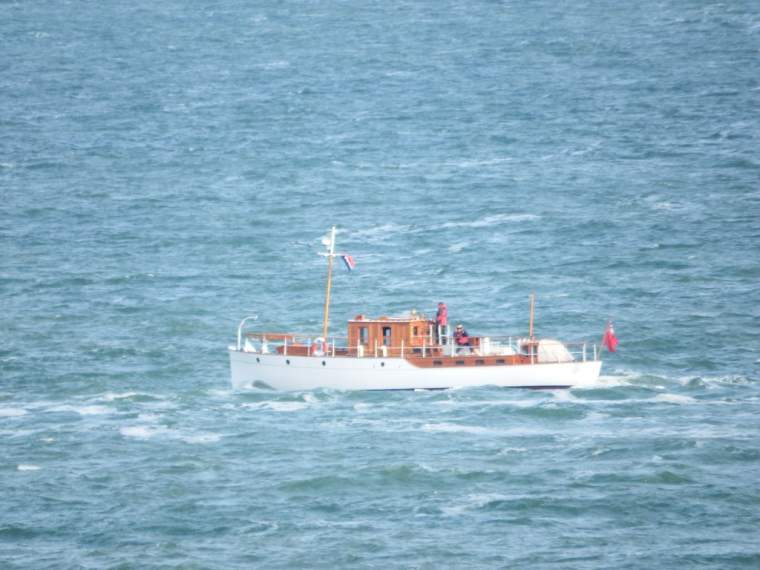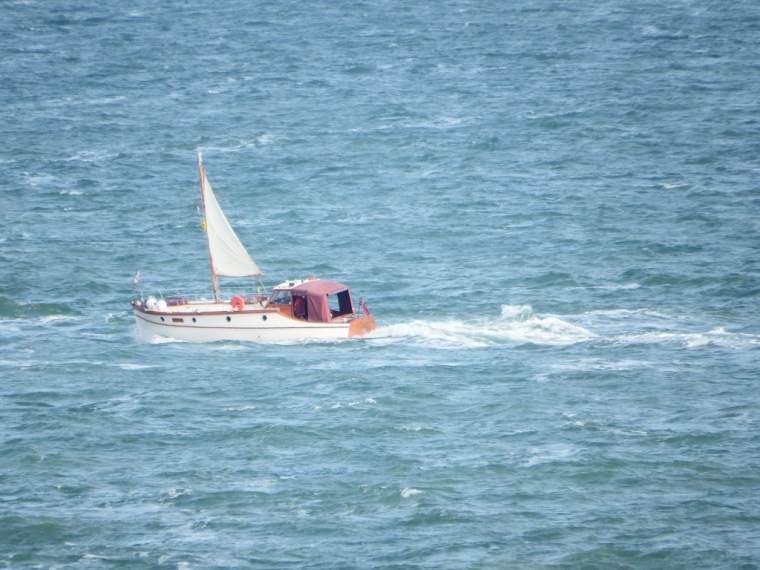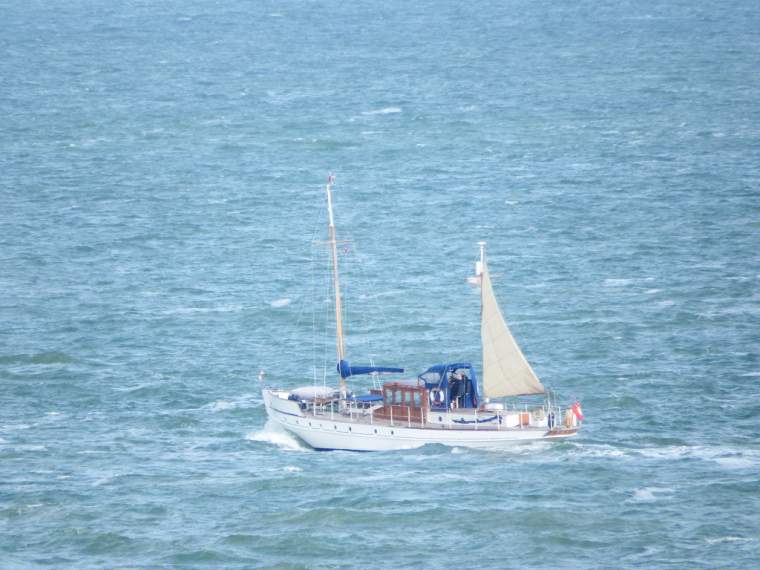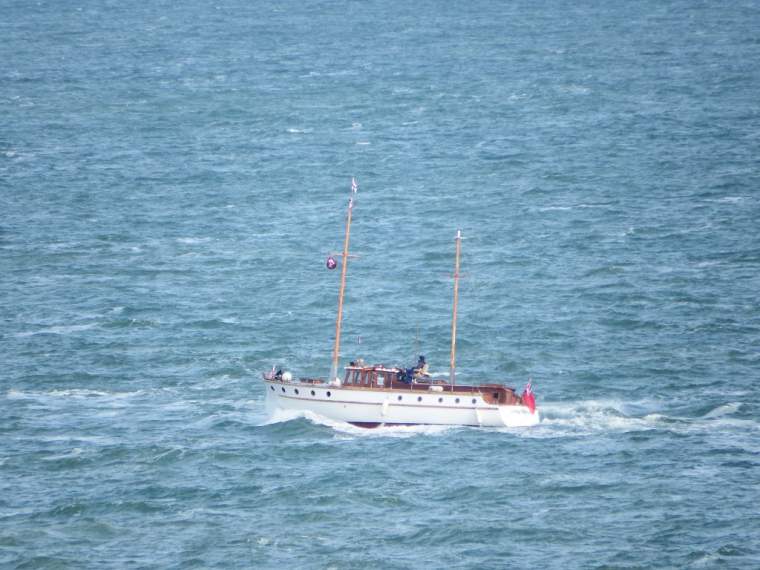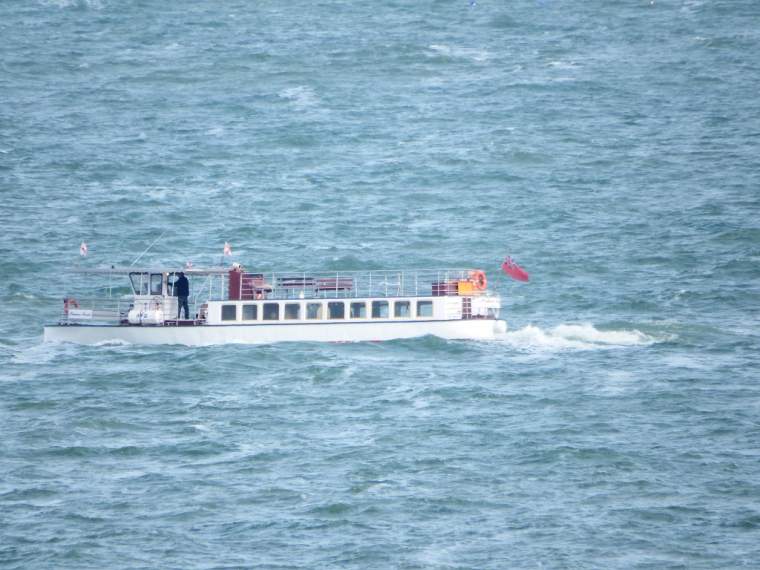 Monday, 25 May 2015 - 12:30
Post 1573
Sea News, Dover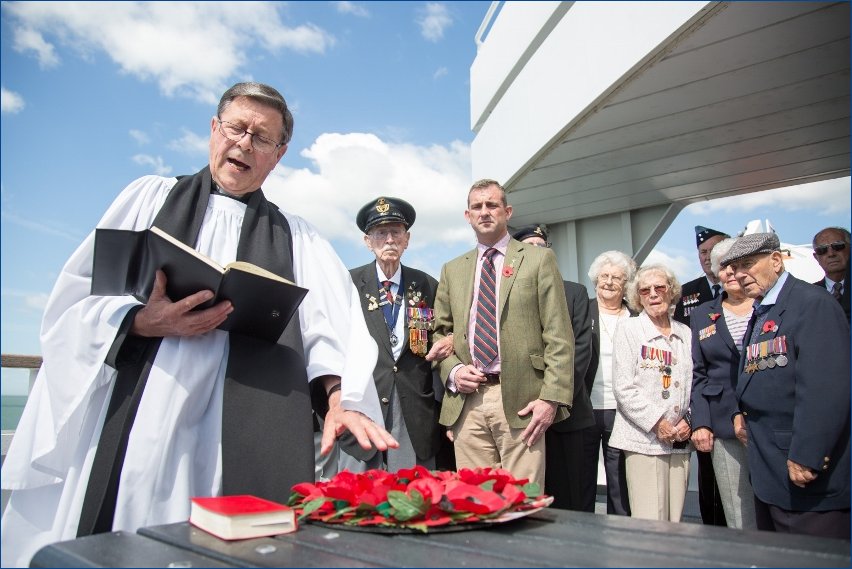 DFDS Seaways hosts Dunkirk veterans and their families on board

________________________________________________________
- Dunkirk Veterans sail to France for Operation Dynamo Commemorations
A few days ago on may 21, award-winning ferry operator, DFDS Seaways, hosted 27 veterans and their families as they travelled to Dunkirk in order to take part in the commemorations of the 75th anniversary of Operation Dynamo.
During the crossing from Dover to Dunkirk, the Bournemouth and District Dunkirk Veterans held a wreath-laying ceremony on board the DFDS Seaways ferry, Dunkerque Seaways. Conducted by Reverend Barry Kent (picture above), the moving ceremony was held in memory of those who lost their lives during the evacuation of the Dunkirk beaches in 1940.
The group comprised WWII veterans, widows and their families, including Dunkirk Veteran Arthur Taylor, who was accompanied by his two sons, Nicolas Taylor and Major Stephen Taylor (Retired), and his grandson, Major Stuart Taylor, who is still a serving officer. Arthur is President of the Bournemouth and District Dunkirk Veterans, which has awarded a £15,000 grant to make a trip to Dunkirk for the anniversary of the evacuation.
Other members of the group included: Wing Commander Phil Ping MBE BEM MSM, who was imprisoned in a Japanese prisoner of war camp when he was eight years old; Eldon (Bob) Roberts, who was the second Canadian soldier ashore on Juno beach on D Day; George Gowers, who served in the RAF for over 22 years; Donald Tomkins, who served in the Royal Artillery; Betty Byford who served in the WRAF in Algeria and Cairo during WWII.
Operation Dynamo
_______________
Operation Dynamo involved the evacuation of over 300,000 British and Allied troops from the beaches of Dunkirk beaches in May 1940. Widely regarded as one of the UK's proudest military moments, showcasing a never-say-die attitude, Operation Dynamo is credited with not only saving thousands of lives, but also with helping to turn the tide of the war in favour of the Allied Forces.
Many of the "little ships of Dunkirk", which were involved in the evacuation, also sailed to Dunkirk from Ramsgate yesterday as part of the commemorations.
Further details of Operation Dynamo commemorations and events taking place in Dunkirk over the bank holiday weekend can be found at www.dunkirk-tourism.com.
Dover-Dunkirk Ferry Service
_______________________
DFDS Seaway's ferry service from Dover to Dunkirk provides an easy two-hour crossing to Dunkirk in northern France, operating up to 24 daily sailings on the route.
In honour of the Operation Dynamo anniversary, DFDS Seaways is offering passengers a special fixed fare of £75 return for a car and up to nine passengers on its Dover to Dunkirk ferry service. Those wanting to travel to Dunkirk using this offer, will also receive a free commemorative issue of the front page of the Daily Express from the morning after the Operation Dynamo evacuations, on 28 May 1940.
The offer is valid for bookings made by 31 May, for travel on selected dates until 11 December.
To book this offer now, or for more travel inspiration, visit www.dfds.co.uk, or telephone 0871 574 7235, using code EOD75.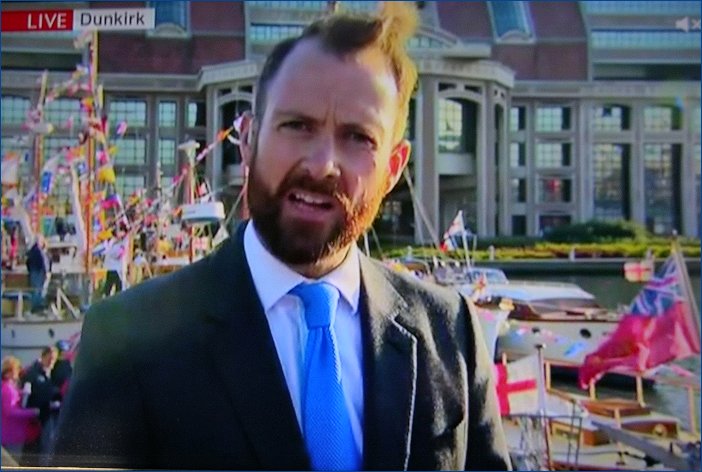 There was excellent coverage on BBC South East. Here we see Peter Whittlesea fronting the programme live from Dunkirk.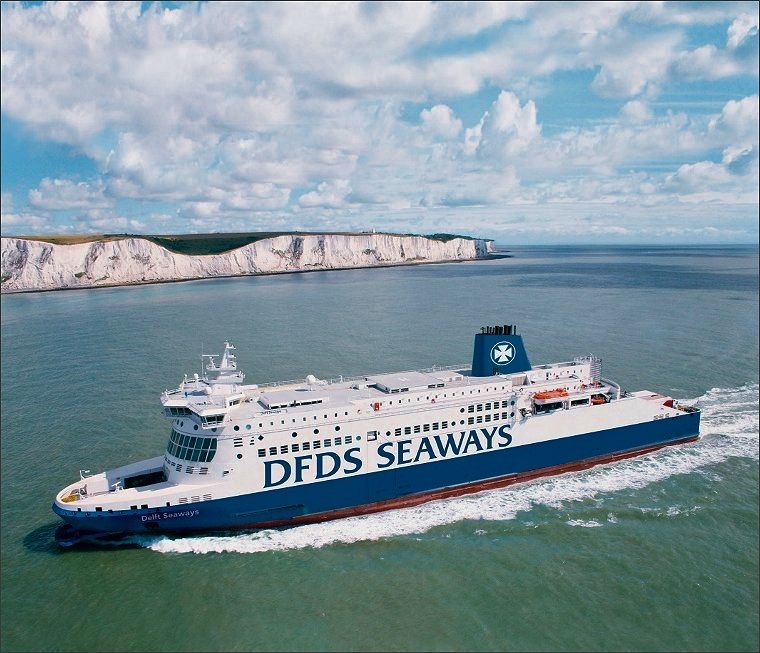 A DFDS SEAWAYS Dunkerque ( Dunkirk) Special.

Monday, 25 May 2015 - 06:10
Post 1572
Sea News, Dover
THE FRIDAY NIGHT GETAWAY
...was brought to a sudden halt by an accident at the crossing on the main road just 200 or 300 metres short of the entrance to the Port itself. As you can ascertain from the pictures somebody is lying on the ground injured and there is an ambulance and many police officers in attendance. The road was closed for several hours...both lanes, so the bulk of the huge traffic volume was directed elsewhere.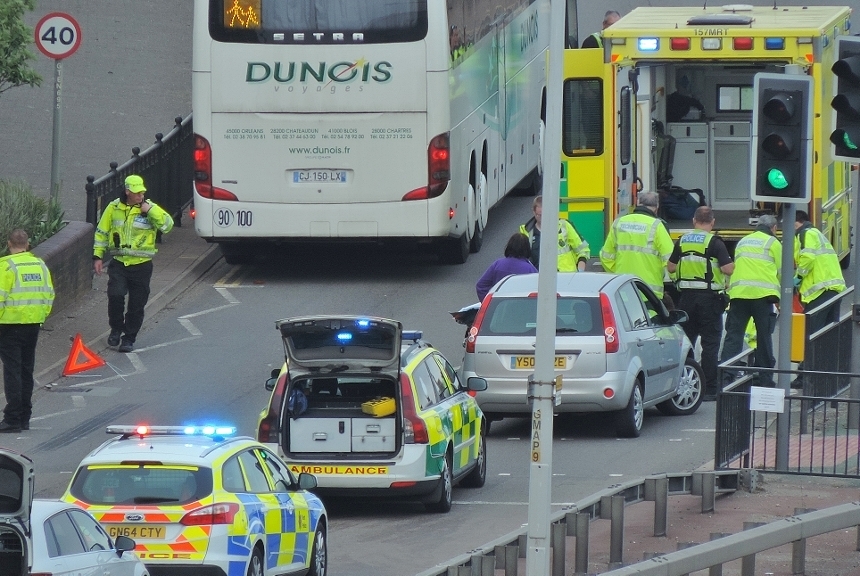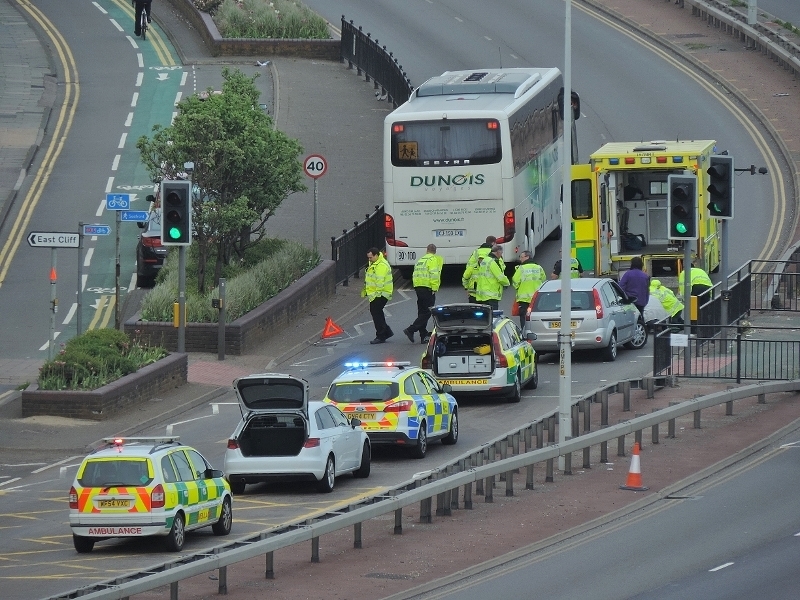 Its a few hours later in the pic below and we have fog ...but the rush to getaway is on.. full blast. In all honesty people have been rushing to get away since Wednesday and the Port has been very very busy as is always the case with Bank Holiday weekends.
Through the grey saturday morning below we see the arrival of Amadea....with the ever busy Coral Water in the foreground.
AIDA Sol is back with us today sunday.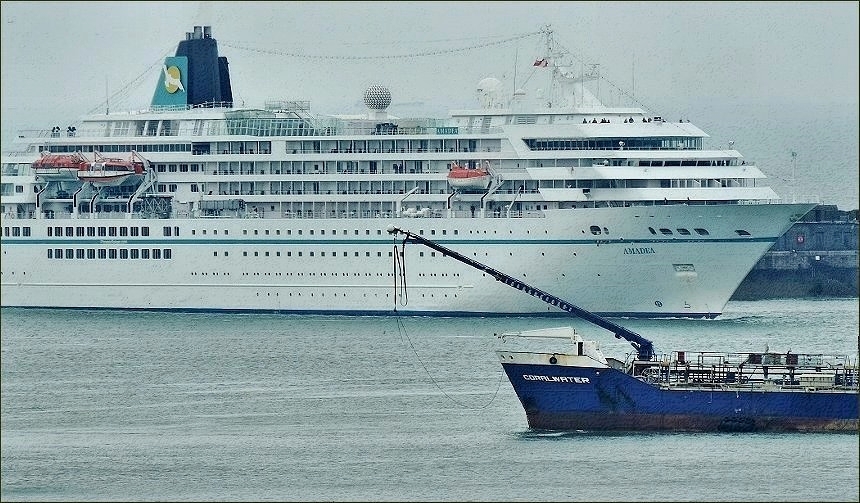 Sunday, 24 May 2015 - 07:39
Post 1571
brian, dover
yes indeed very good news for my ferry link.defitnaly a bloody nose for the compition authority and dfds.

Saturday, 23 May 2015 - 17:01
Post 1570
JanT, Dover
This is welcome news about Myferrylink, people choose how they wish to travel across the channel, we are a busy port and more so than before so it makes sense to have the capacity.
From a passenger point a view , should one wish to travel myferrylink or one of the other companies, that is our perogative.
Let's hope everyone can work together so which ever way we the public choose to travel, we enjoy our crossing.

Some great pictures on the seanews page, wonder where all the chaps on the motor bikes are off to.

Saturday, 23 May 2015 - 13:59
Post 1569
Sea News, Dover
UK Court of Appeal refuses CMA and DFDS applications for permission to appeal
________________________________________________________________
LATEST at 22 May 2015 - Following MyFerryLink's historic victory before the UK Court of Appeal last week, the Court has today confirmed that the report of the UK Competition and Markets Authority ("CMA") and the order banning MyFerryLink from operating out of Dover have now been quashed. The Court also rejected the applications for permission to appeal to the Supreme Court that had been filed this week by the CMA and DFDS.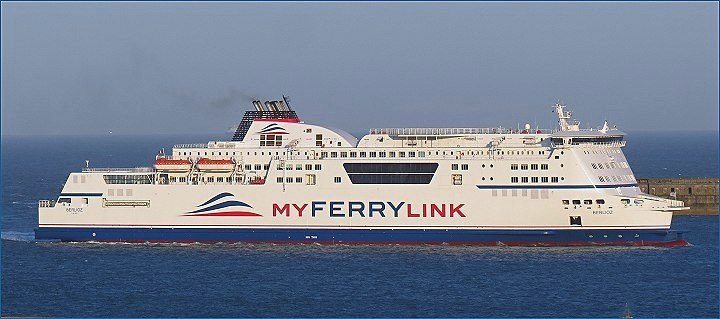 MyFerryLink's Raphael Doutrebente and Jean-Michel Giguet commented that "we welcome today's decision, which categorically quashes the report of the CMA and the order which the CMA had made, attempting to prevent the business from operating out of the Port of Dover. This is very welcome news for our customers and our staff.
"Given the Court of Appeal has also refused permission to appeal, we call on the CMA now to accept the judgement and cease the uncertainty that has hung over the Channel for the past three years. In stark contrast to all of the CMA's predictions, the market continues to grow strongly in 2015. DFDS have themselves stated publicly that they expect to be profitable on both their Calais and Dunkirk routes this year, fatally undermining previous self-serving statements of over-capacity and their imminent exit, which had formed a central part of the CMA's conclusions."
MyFerryLink operates up to 24 daily crossings on the Dover-Calais route, with short break fares from £35 each way. To find the best fares, visit www.myferrylink.com or call 0844 2482 100.
-ends-
Frantically busy weekend with holiday traffic heading off to the exciting continent...see yesterdays post 1568 for ideas to keep the kids amused over there.
But there was much incoming traffic too...most notably from literally hundreds of bikers of the laid back variety with their easy cruising Harleys heading inland. There must be a big rally on somewhere as they have been arriving rousingly on Wednesday, Thursday and they were still a-coming on Friday. Rock n roll.....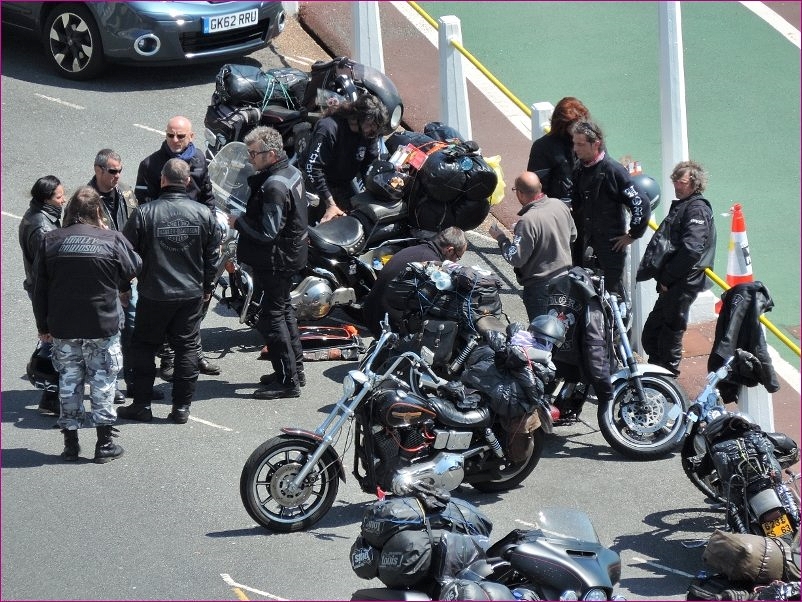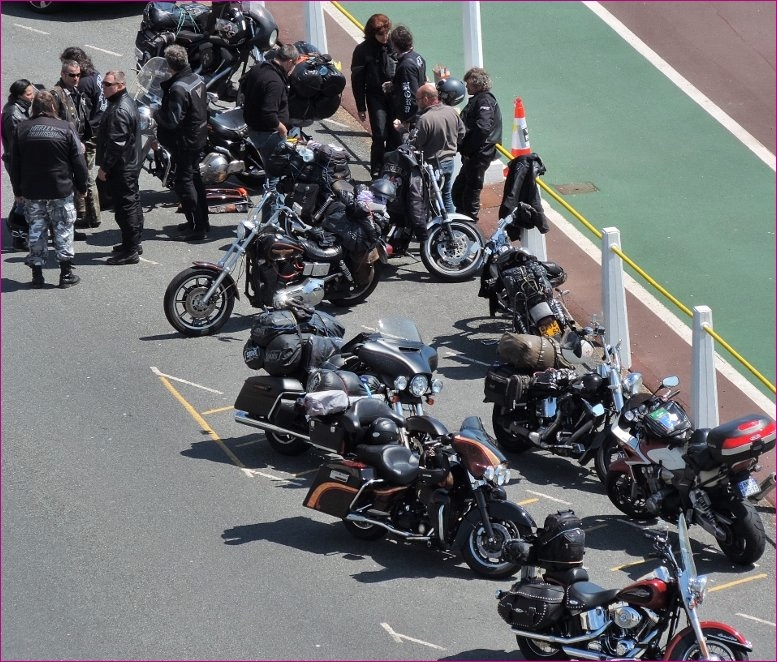 Heavy Metal !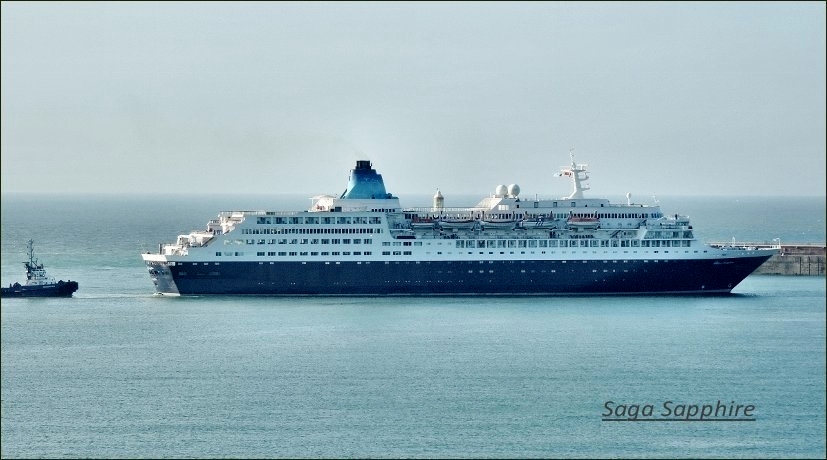 We are still rockin' and rollin' on the cruise liner front as well with two more again today. The Braemar and the super sleek Amadea.
The picture above shows yesterdays visitor...our old friend Saga Sapphire.
Saturday, 23 May 2015 - 07:38
Post 1568
Sea News, Dover
Major Fun for minor travellers

____________________________
When the school gates finally close for this month's half-term it will signal the start of major decisions for parents across the UK on how to entertain the children. By taking a short break or day trip from the Port of Dover to France you'll find scores of things you can do with the kids and many of them within easy reach of Calais.
This Easter getaway Dover saw more than 250,000 passengers pass through the Port making it the premier gateway of choice to mainland Europe. Not only is Dover perfect for day trippers using the shortest sea route between the UK and France, but it also offers motorists the opportunity to reach Belgium and the Netherlands on the motorways linking northern France with the rest of Europe.
Less than an hour from Calais is the Aqualud water park in Le Touquet; the Ducas Kart Racing circuit at Berck sur Mer and just over 30 minutes from Calais is the zoological park in Dunkerque. For those willing to go that little bit further there is Océade – Belgium's premier water park in Brussels with 14 slides. With Disneyland Paris only a three hour drive away, so it's no surprise with its selection of exciting parks, luxury hotels, famous shows and year-round offers that it is such a hit with ferry travellers.
But for those thinking of something a little quieter there are dozens of museums, castles and small adventure parks scattered across northern France and Belgium. Lille has the magnificent Musée des Beaux Arts and a newly renovated and exciting zoological park. All these attractions and amusement parks are within an easy drive from Calais with enough variety to keep even the most demanding children satisfied.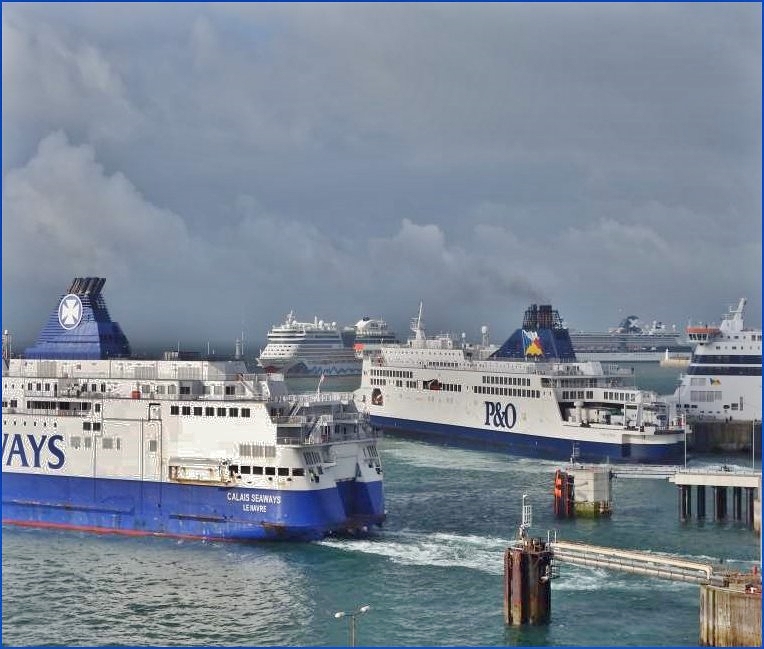 It is so easy to travel to France on a ferry from Dover - the 90 minute cross-Channel route is the UK's most popular route to Europe with fewer restrictions than any other form of transport. Taking your vehicle from Dover to Calais or Dunkirk means you can load everything the family needs without worrying about leaving those small but important items at home. No more worries about excess baggage charges for all your equipment and those delicacies you decide to bring back on the ferry from France.
Simply turn up at the Port, check-in and then sail across to Europe in less time than it takes to check-in at a local airport and board a flight. It's an easy decision to travel by ferry from Dover to Europe.
ENDS
The excellent picture of the super close up action above is by Ed Connell.
Yes there are some terrific places to spend quality time in just across the water...think of all that excellent food and wine too. Great! also Nausicaa too in Boulogne is a big hit....my daughter BB missed out on the trip there this week. But here is a reminder of what she missed....we took this picture below a few years back..brrrr our timbers were a shiverin'...scary when the sharks are up that close.


Yikes!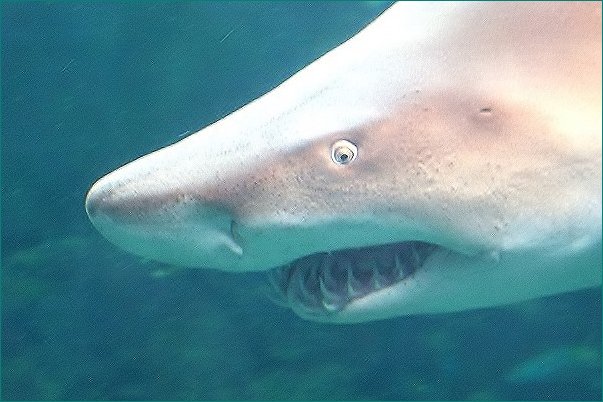 Well done with that list below Colette in 1567...some great things happening here in the Port of Dover. PB.

Friday, 22 May 2015 - 06:51
Post 1567
ColetteB, Dover
CRUISE VISITS
____________
Good to see the photos of 'The Dover Marina Open Day' I missed it this time around as I was in my home town of Dublin for the weekend, a good turn out as always

I made it back though to see the Fabulous Favolosa

And now for the rest of our expected cruises in May.
Tomorrow, Friday 22nd May, our first Saga cruise ship of the season arrives, the Saga Sapphire berths at CT1, TR. She was here in September last year.
Two cruises on Saturday, the Braemar is back at CT2, TR & the Amadea arrives at CT1, POC. The MS Amadea was last here in September 2013. She is relatively small (600 guests) but Oh so elegant!
The following day Sunday 24th May, the AIDASol returns to CT2, POC.
No cruises then until Thursday 28th May when after its short cruise, the AIDASol returns to CT2, POC.
On Friday 29th May, the Saga Sapphire is back at CT1, TR.
Then to end the merry month of May, the Braemar returns to CT2,TR & cruises off to Amsterdam for a mini cruise.
June will be busting out all over very soon with some great surprises

Thursday, 21 May 2015 - 15:42
Post 1566
Sea News, Dover
Port's Pension Scheme wins National Award for being the Best

___________________________________________________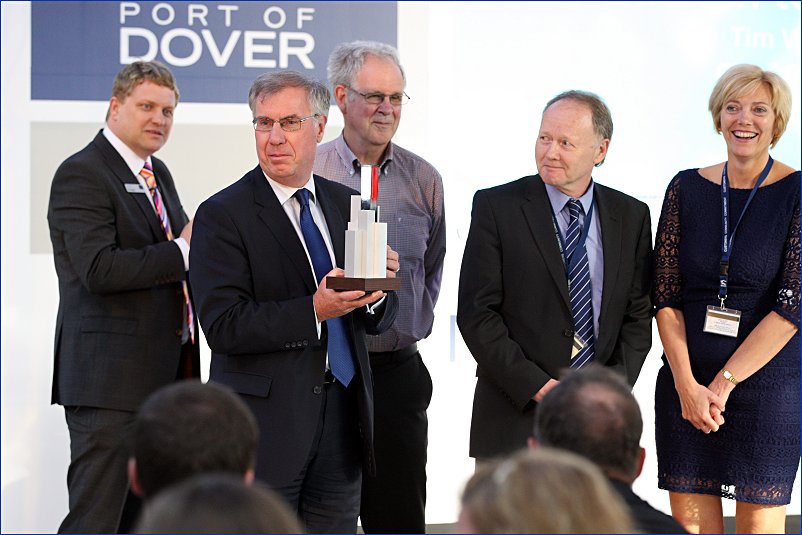 The Port's vision is to be the best port in the world for the benefit of its customers and community, but it also works hard to be the best employer too. Committed to taking good care of its staff into retirement, the Port of Dover has won the award for best pension scheme (under £1 billion) at the prestigious Portfolio Institutional Awards.
Running since 2012, the awards recognise excellence and forward thinking in how institutions run their pension schemes.
The Port's scheme is managed by a dedicated in-house team who work alongside a board of trustees, a mix of former and current staff, under the chairmanship of Bob Holmes, who is himself a former board member of Dover Harbour Board.
Mr Holmes says:
"We're very proud to have received the Portfolio Institutional award for the Best Pension Scheme with assets under £1 billion. Over the last five years we've overhauled our investment and liability management strategy and have implemented some solutions that are not often considered by Schemes of our size. The result has been an improved funding position achieved with less risk despite challenging market conditions.
"We've also reacted quickly to change elements within the strategy when necessary. This award is recognition of these achievements and I would like to thank our investment advisors, P-Solve, for developing the strategy with us, our sponsoring employer, the Dover Harbour Board, for its support in implementing it, but most of all my fellow Trustees who've worked hard to ensure they have understood all of the changes we've made, while ensuring that the interests of the members of the Scheme remain our prime concern."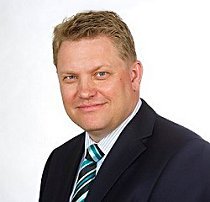 Tim Waggott, Chief Executive, Port of Dover, says:
"With around half of our employees living in Dover, our commitment to our team and the benefits they receive both during and after their employment with us, represents another significant investment in Dover and its people. Recognition of that commitment and the professional way the Pension Scheme is managed is further testament to our vision of being the best of everything we do."
Top photo shows Bob Holmes with the coveted award.
ENDS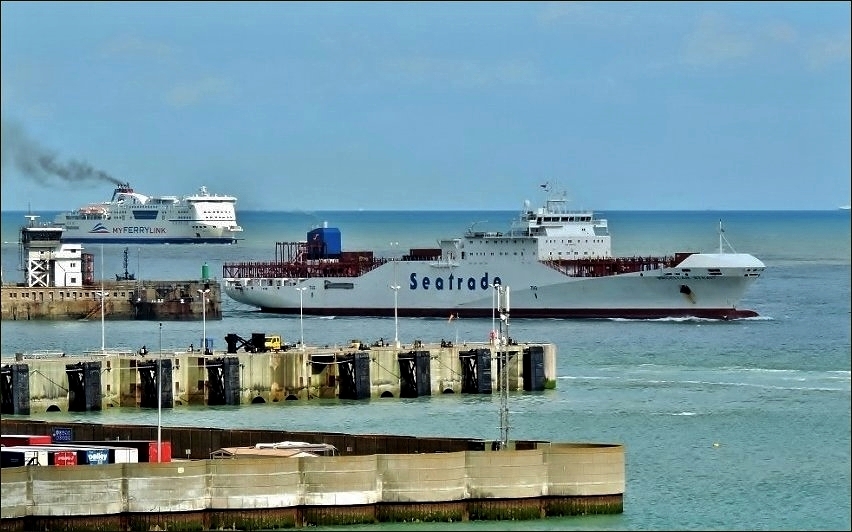 The Magellan Strait arrived with us here in Dover late yesterday afternoon....note, nary a container to behold which is a tad unusual.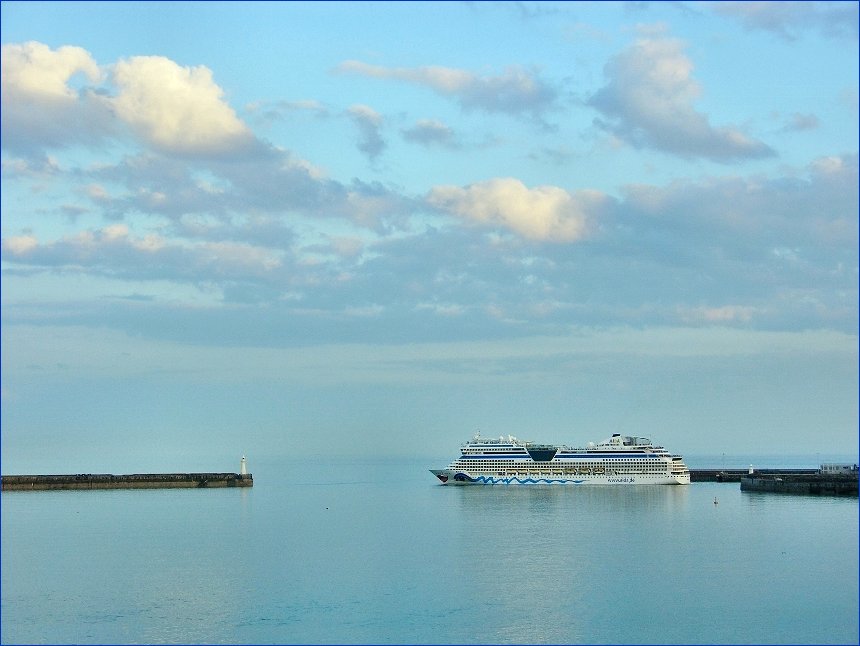 The AIDA Sol departed last night but the ambient situation was a wee bit too dark, although we may be able to retrieve some of the pix later, but in the meantime, here's one we made earlier..... this is her departing on her previous visit heading back to the Elbe on a calm and tranquil sea.
Thursday, 21 May 2015 - 06:27
Post 1565
Sea News, Dover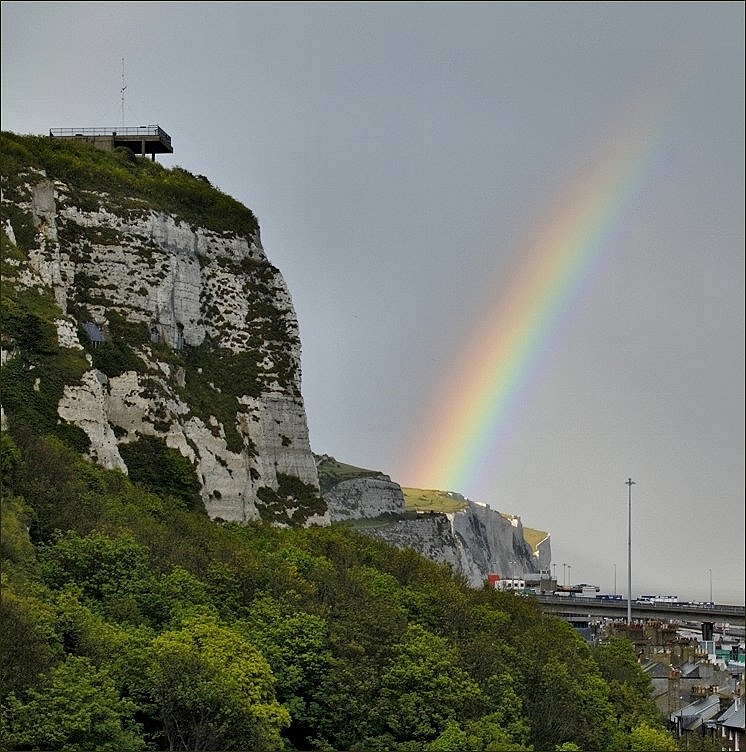 Very dramatic skies today with menacing clouds all around us...then after the rain...the rainbow.
Picture from a few minutes ago around 19.30 (7.30pm)
There's gold in them thar hills...
..get that shovel!!

Wednesday, 20 May 2015 - 19:43
Post 1564
Sea News, Dover
Two striking ships visited us here in the Port of Dover yesterday. One a true giant, an awesome beast of grand scale...the Costa Favolosa. A magnificent ship indeed. To see her huge size turning in the bay just a couple of hundred metres from shore was inspiring for sure. Sandwiched between the two pictures of the Favolosa below is the ever welcome Empress. Twas quite a day for us here in Dover...on all fronts, even the weather was a shocker. One tried to tell oneself it was late May as the hailstones bounced ferociously off the rattling window panes. Squalls aplenty.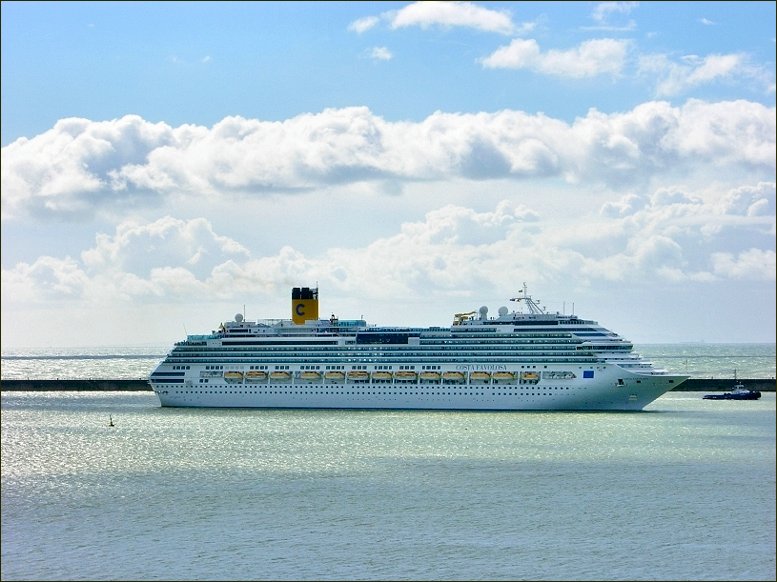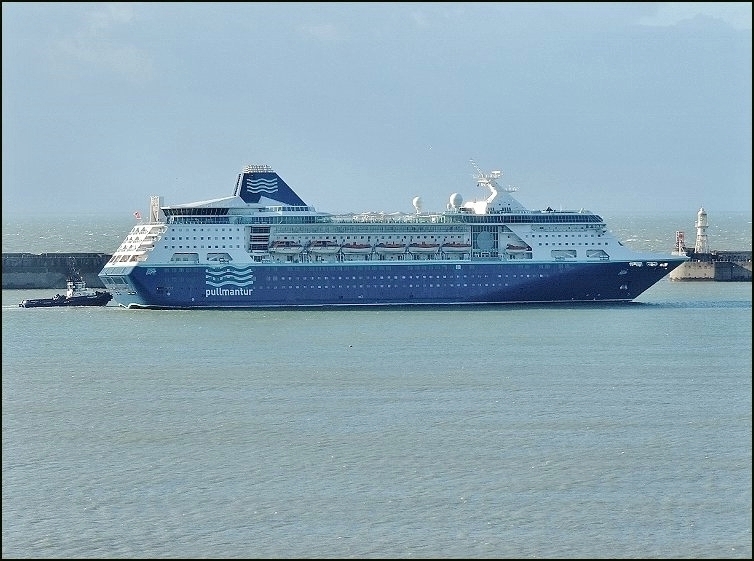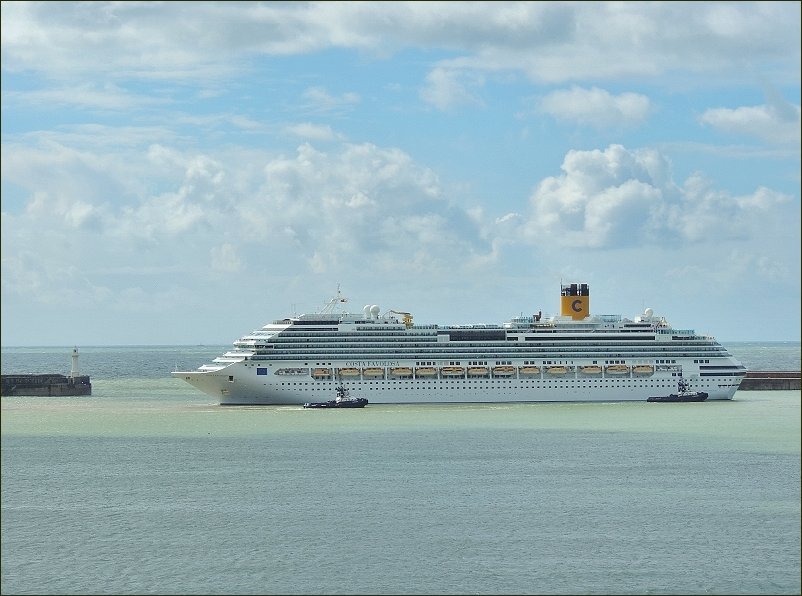 "
Costa Favolosa is a cruise ship ordered for Costa Crociere in October 2007. Based on the Concordia class design, Costa Favolosa was laid down by Fincantieri's Marghera shipyard on 5 November 2009 and launched on 6 August 2010. Part of a five-ship expansion of the Costa Crociere fleet, the vessel entered service in July 2011. She weighs in at almost 115,000 tons.
"
AIDA Sol is approaching as we speak...a great spell for us here in Dover. See also post 1550.
Wednesday, 20 May 2015 - 06:46
Post 1563
Sea News, Dover
STUNNING VISITATION !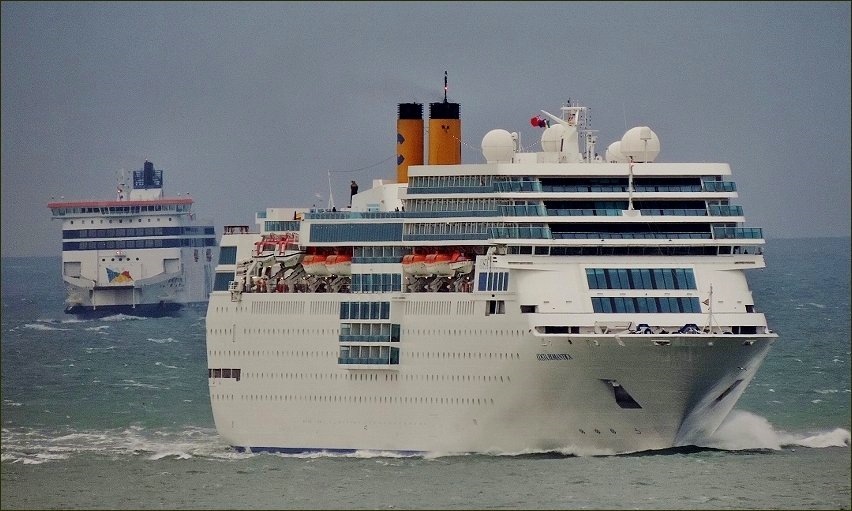 It was a true delight to see the fabulous Costa NeoRomantica yesterday once again. It is indeed great to see the familiar Costa yellow funnels back with us here in the Port of Dover. In the background of the picture above we can see one of the P&O Spirits coming along behind on a fresh day. The great cruise liners are coming thick and fast now and Dover is right there in the top league for sure. On the horizon I see another one approach as I write...great days indeed.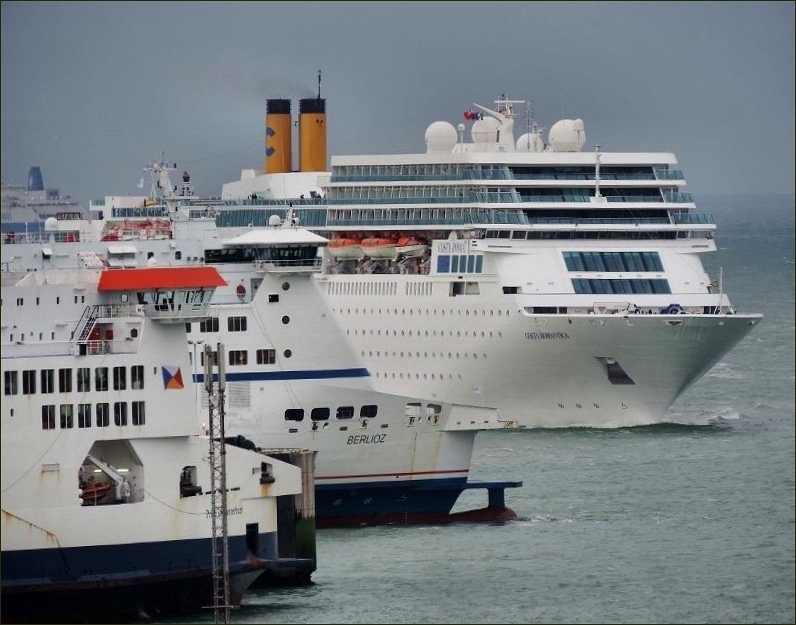 A triple header in the shot above as the Costa Romantica or NeoRomantica enters the Port. We may be able to get more pictures up of the departure in due course too. Exciting times. The weather turned pretty rough after this arrival with delays reported on the ferries which wasn't at all surprising. One of the tugs had to hold the cruise ship against Cruise Terminal 2 for almost the entire day ...so strong was the crosswind. That skin and rice puddin' soon parted company...

To follow on from the post 1562 below and the picture of the static harbour pilot boats on the Dover Marina Open Day.... here they are now in primetime action.
Excellent stuff!
Pictures of the pilot boats in action below were sent over to us by Sarah Hewes...and very welcome too.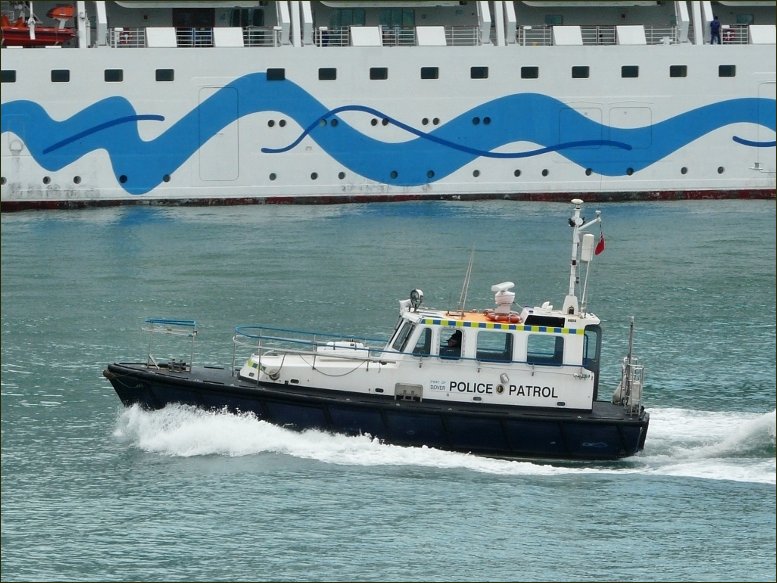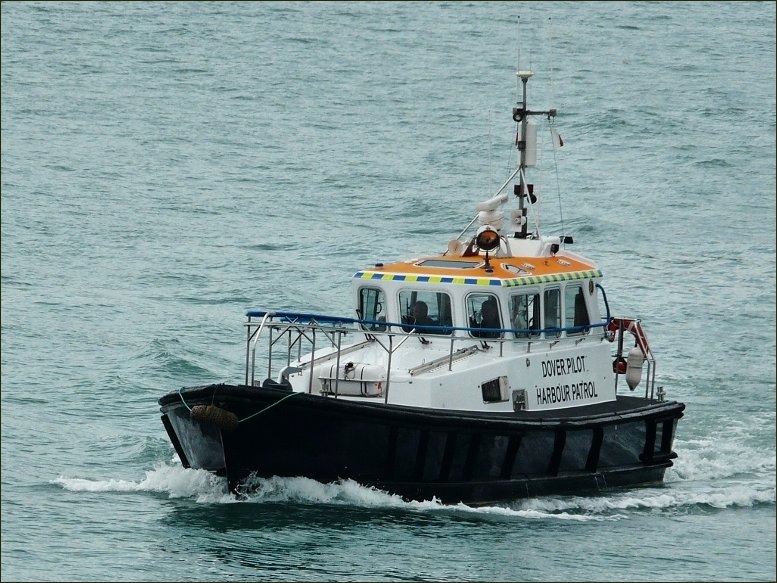 Many thanks Sarah Hewes once again for those cracking pilot boat pictures.
The Empress is arriving as we speak....and the super COSTA Favolosa is approaching now too. Another fab cruise double header.
The Costa Favolosa is a monster. PB
Tuesday, 19 May 2015 - 07:08
Post 1562
Sea News, Dover
MORE FROM THE DOVER MARINA OPEN DAY......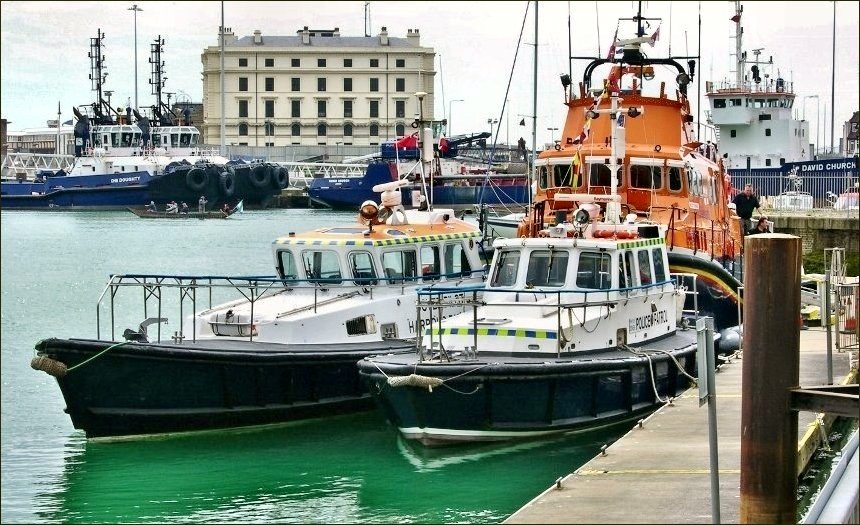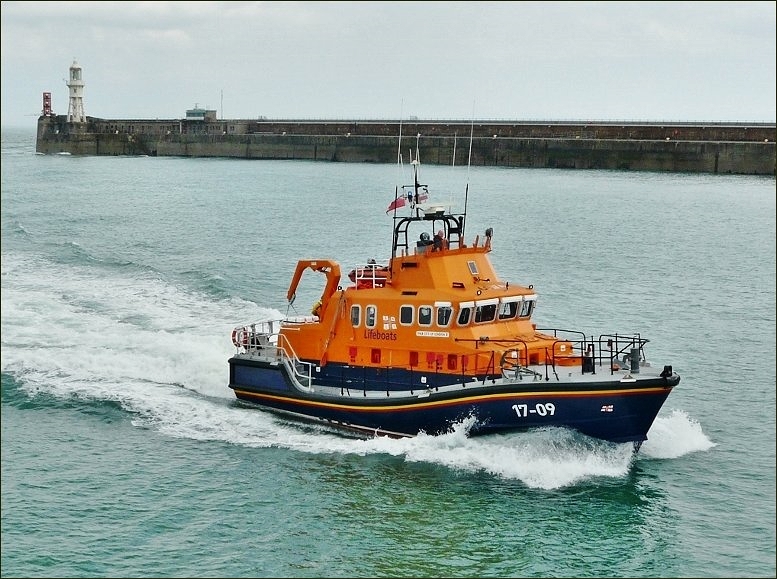 A couple more above there to follow on from post 1561 below...all from the very enjoyable Dover Marina Open Day. We tried to get all the working craft in one go in that top shot.
The second picture of Dover Lifeboat in fine action was sent over to us by SARAH HEWES.
Many thanks indeed Sarah for that picture and if you get any more you know where to send them..yes that's it, right here. Always welcome. Always good to see the Lifeboat in full flight as it were.
The pictures below are of the Eendracht on her visit on Friday/Saturday... pictures from extreme ends of the day. One in slate grey conditions with the Boudicca and the other when a slight hint of sun burst through the all pervading gloom in the evening. See also 1559.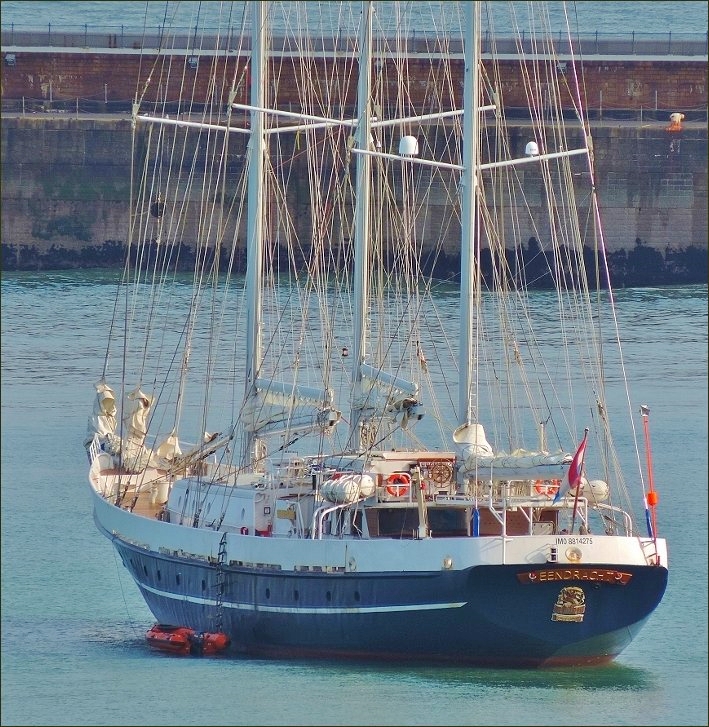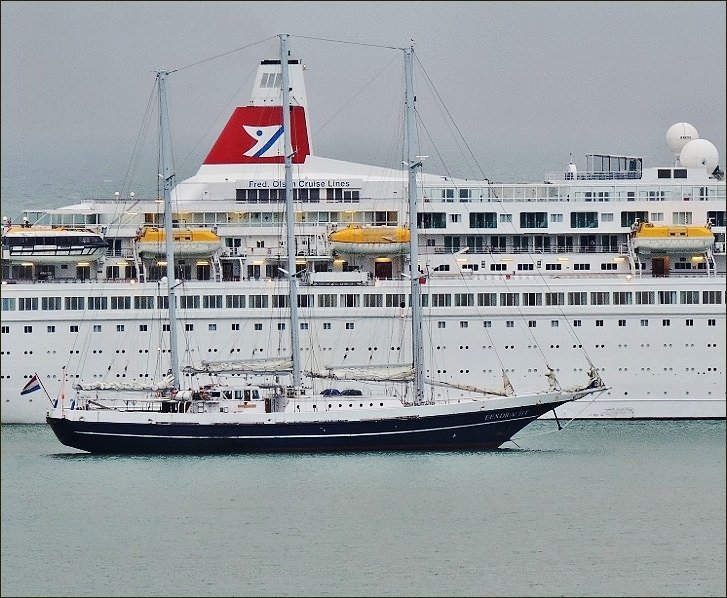 Arriving as I type...the Costa Romantica. Or Costa NeoRomantica if you prefer. Trying to get pictures of it while typing at the same time...

s
See also 1550 for news on upcoming visits.
PB
Monday, 18 May 2015 - 06:28