Sunday, 19 November 2017

doverforum.com/sea-news
Featuring all the ships that come and go and work at the Port of Dover with further coverage of Ramsgate, Calais, Dunkerque. Email: dover7@msn.com to send SEA NEWS pix or info.... or click ADD YOUR COMMENT below to post direct, no membership needed.
Mammoth Tooth Find - Extraordinary at Port of Dover see 4389.
DFDS - Helping to tackle Breast Cancer - see 4377.
PORT of DOVER: COOL CARRIERS..great cargo coup. New Trade for Dover.. 4336.
P&O FERRIES...women in the workplace .. also 4336..also see 4370 for the new graduate seafarers.
PORT: Latest DWDR news and drone pictures...see 4330.
DFDS and the Maritime Catering Apprentices 4323.
P&O Ferries help children with serious illnesses cross to France 4316.
Port of Dover's Big Christmas Ice Event 4311. Fun for all...
Port of Dover sponsors War Horse 4294
DFDS - Crowned Europe's leading Ferry Operator 4287.
DDC Leader Paul Watkins retires...see 4282 and 4270. Replacement 4328.
Use our SEARCH ENGINE below to find all sorts on the SEA NEWS pages..more than 200 now with more than 4000 nautical posts. Posts welcome. Max of 5 pictures preferred per post. Sea News Editor Paul Boland.
Type Cruise Visits (or indeed anything) in our Search Engine below for the latest cruise ship arrivals..
Post 4422
Sea News, Dover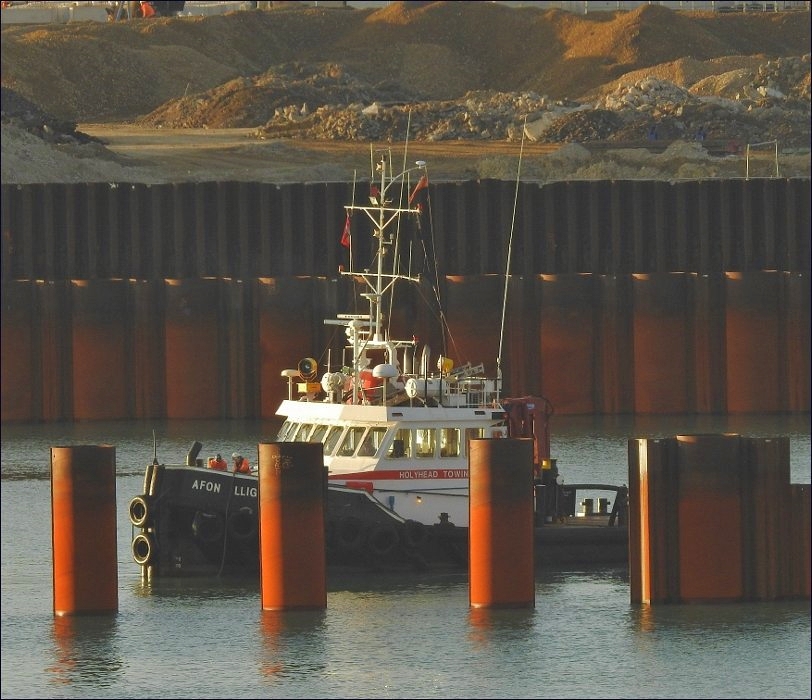 That's a shot above there of Afon Lligwy working hard amongst the piling yesterday morning, both the tug and the piling catching the gorgeous early morning sunlight. That sunlight soon vanished of course...
The ever hard working dredger Barent Zanen was taking a breather yesterday over near cruise terminal 2 and in time was joined by Skaw Provider, presumably for bunkering services. A couple of longer range shots here..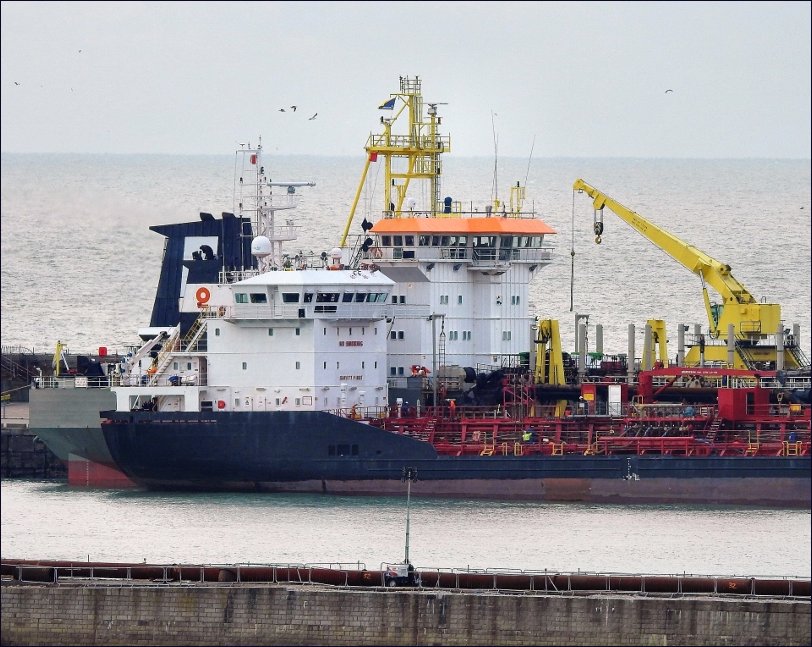 Cracking set of pictures below Patrick, its great to have those. Ace work. We can clearly see the fuller picture now..

PB
Sunday, 19 November 2017 - 06:50
Post 4421
Patrick, Marine Parade
Yesterday (17th November) we took the opportunity to view the DWDR and Harbour from vantage point at St Martins battery on the Western Heights. The afternnon sunlight provide an excellent photo opportunity to take in the progress on the Western Docks site as well as a panoramic view of the Harbour.
Piling the new pier and marina (centre photo), marine curve and the infill area behind.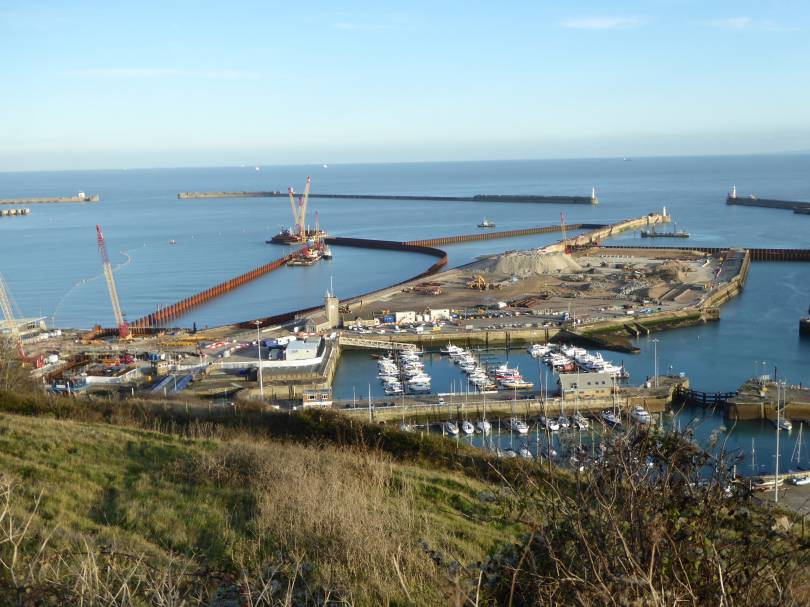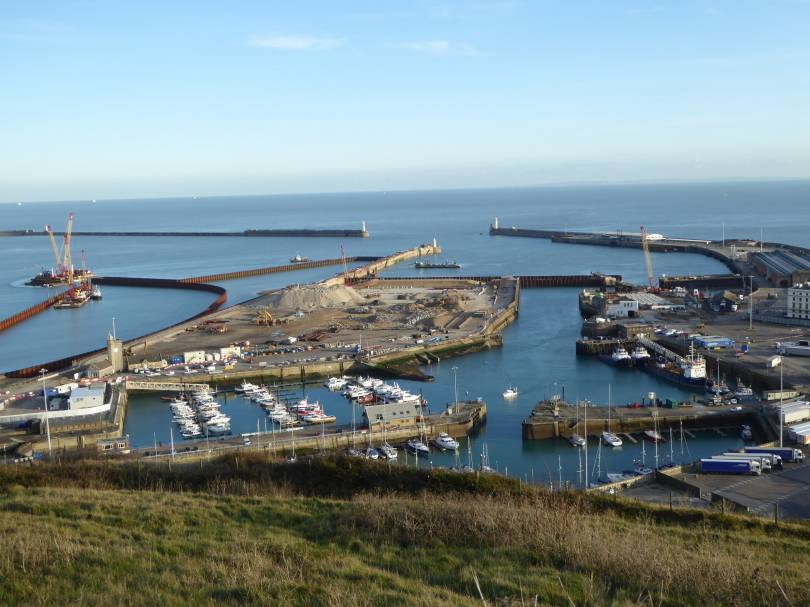 Wellington Navigation Channel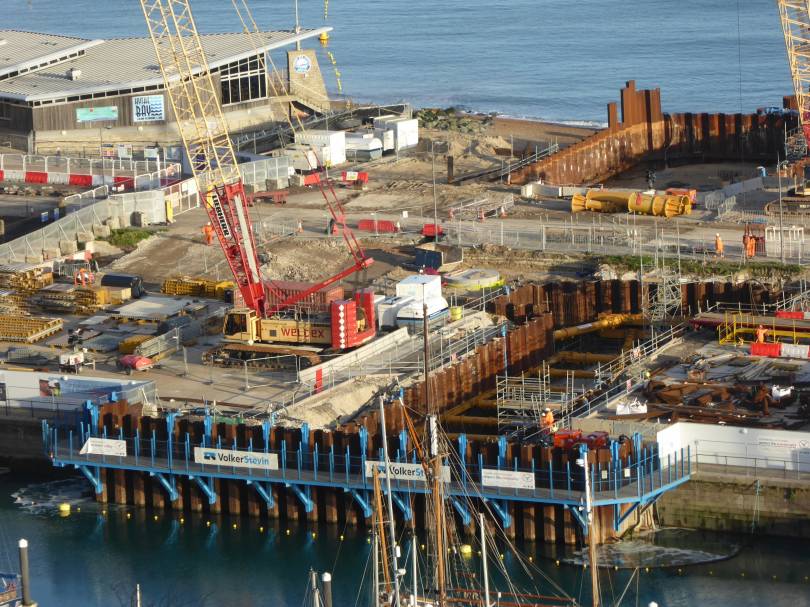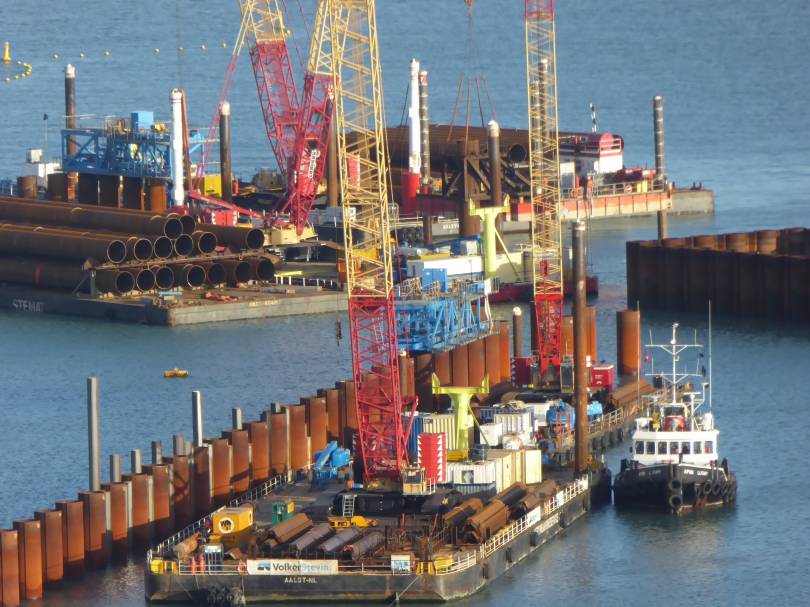 Saturday, 18 November 2017 - 18:35
Post 4420
Sea News, Dover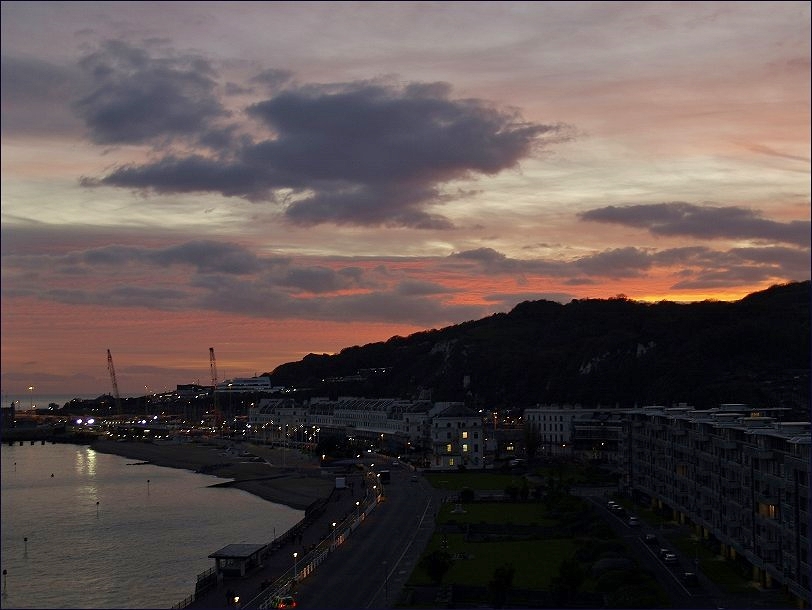 The gloomy oul evening musters up a bit of colour above as the sun sets and the night slowly creeps in. Autumn is well and truly upon us. Picture from last evening, there was no light at all this evening...all was drizzly misty murk.
Nice cheerful pictures of Galatea below there from Sarah our roving correspondent. Nice work Sarah and you got a double whammy there as that looks like the Havila Phoenix in the far distance. She left Dover at some point earlier...didnt see her go but that looks like Havila for sure..
PaulB

Saturday, 18 November 2017 - 17:40
Post 4419
Sarah, Ramsgate
Trinity House Vessel "Galatea" off Broadstairs today.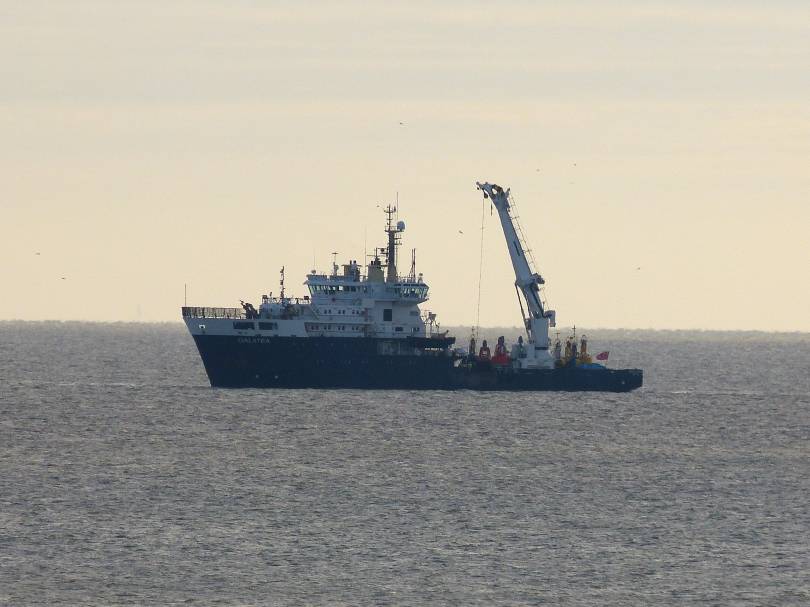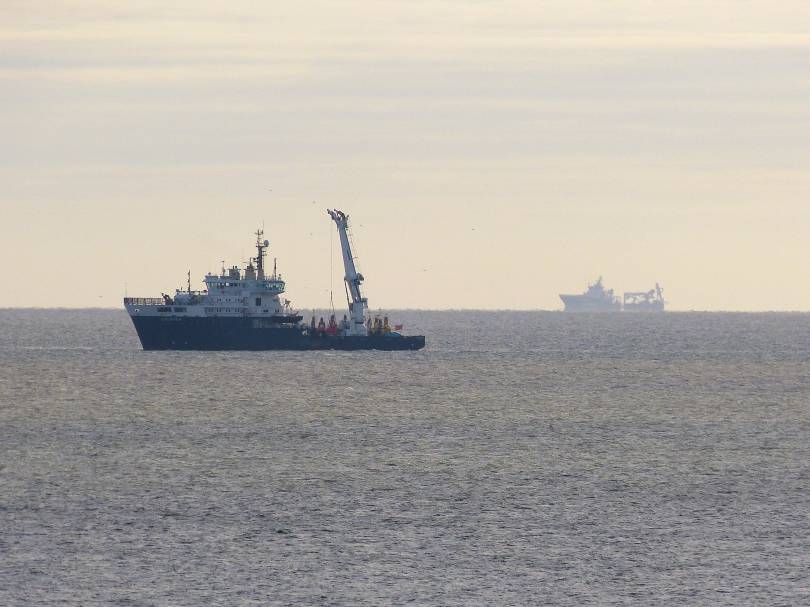 Saturday, 18 November 2017 - 15:40
Post 4418
Sea News, Dover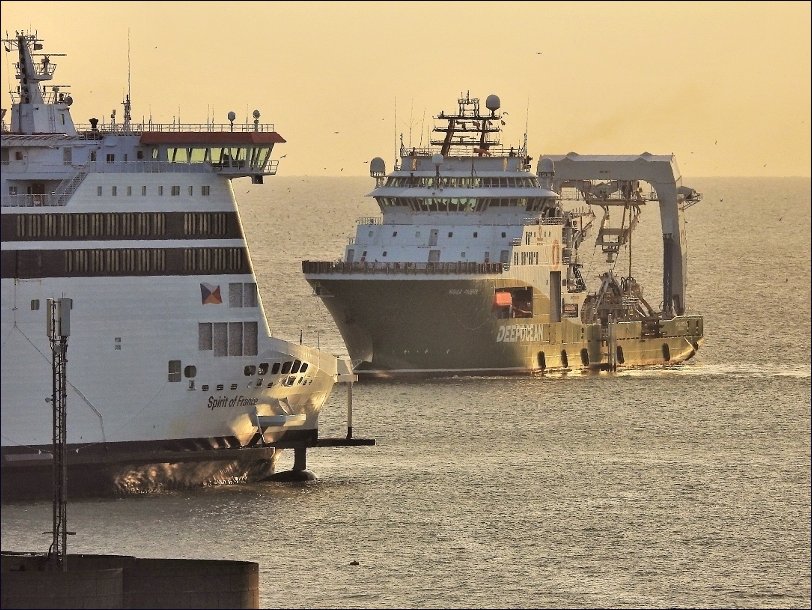 You will have seen Ed's two pictures of Havila Phoenix yesterday at the eastern arm...there she is above arriving a short time earlier. Just caught her under a bright yellow early sky before she nipped behind the Spirit. Always an exciting visitor...
Del - I thought you might like to see this item from the RHA below. The Government shuffles between dither and dysfunction over Brexit and are seemingly unaware of the plight facing Kent should it all finish badly ...
RHA disappointed at lorry park set back
________________________________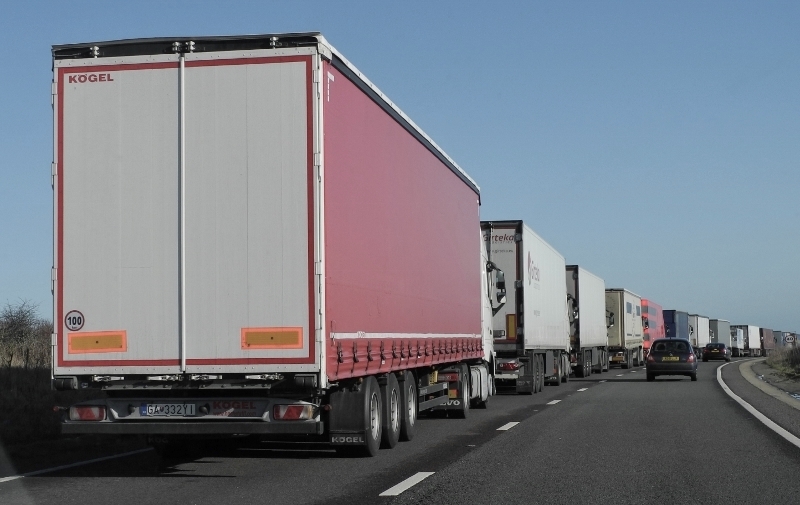 The Road Haulage Association is disappointed to learn that the Department for Transport's Judicial Review into the planned lorry park in Kent has been rejected.
The judges ruled that the proposed holding area for Operation Stack at Stanford West, designed to provide safe and secure parking for approximately 3,600 lorries, cannot go ahead because no environmental assessment was carried out prior to the review.
Commenting, RHA chief executive Richard Burnett said: "I find it beyond belief as to why the most basic of procedures, that of an environmental assessment was not undertaken simply on the assumption that it was not needed.
"This facility is of massive importance to hauliers and the people of Kent. We understand that the alternatives are to extend the truck park at Manston and to utilise 2 lanes of the M20.
"This red-tape debacle is a complete disaster for hauliers coming over from the Continent. Two years ago we saw the misery of operators who, for many days, were caught up in the gridlock of Operation Stack. Even the most basic requirements for HGV drivers such as toilet facilities and drinking water were non-existent. And for the people and economy of Kent, the cost was enormous.
"As Brexit approaches we are pushing hard for free-flowing customs border controls. If we cannot achieve the right Brexit deal, we could be looking at customs border queues which could potentially cause misery for hauliers and the residents and businesses of Kent
"Can you imagine Operation Stack becoming a daily way of life?
"The Road Haulage Association is committed to working with DfT to find a workable solution."
Ends
PaulB
Saturday, 18 November 2017 - 07:43
Post 4417
Del Styan, Norwich
I see the proposed lorry park to avoid "Operation Stack" has been abandoned. Any thoughts?

Friday, 17 November 2017 - 23:12
Post 4416
Ed Connell, Dover Strait
Havila Phoenix with Rix Merlin alongside this afternoon.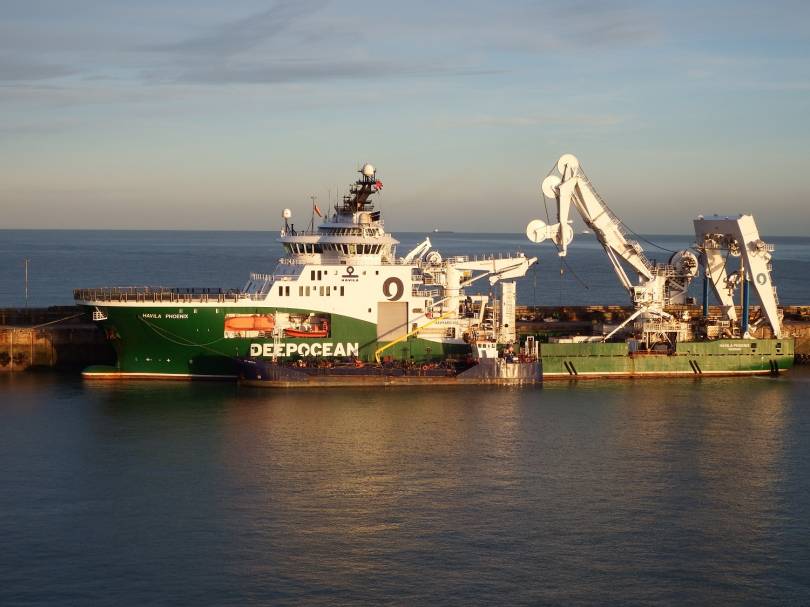 Friday, 17 November 2017 - 15:54
Post 4415
Sea News, Dover
A picture of the Dover Highway has arrived from JOHN HENDY.
Many thanks John.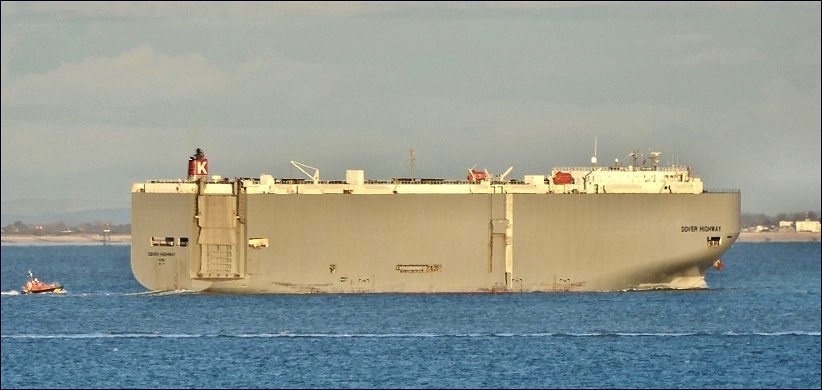 See the earlier post below no 4411. I gather the pic was supposed to upload with the earlier post but vanished...there we are now..
Good to get that shot of Havila Phoenix below Ed. Just minutes before your pic I got a shot of her just as she nipped in behind one of the Spirits. Had the briefest of brief views. Bear with ..still in camera but if its any good will be able to add to it in the morning.
PB
Friday, 17 November 2017 - 15:18
Post 4414
Ed Connell, Dover Strait
Havila Phoenix on the Eastern Arm today.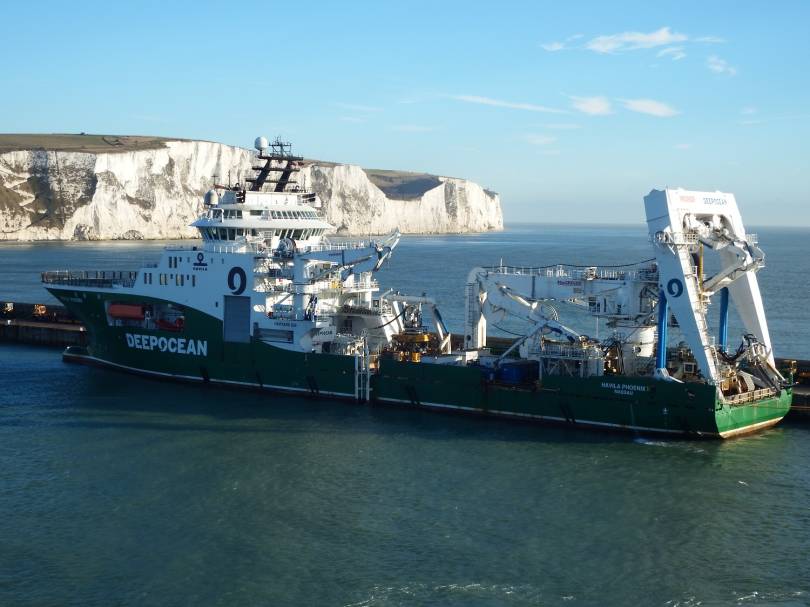 Friday, 17 November 2017 - 09:09
Post 4413
Sea News, Dover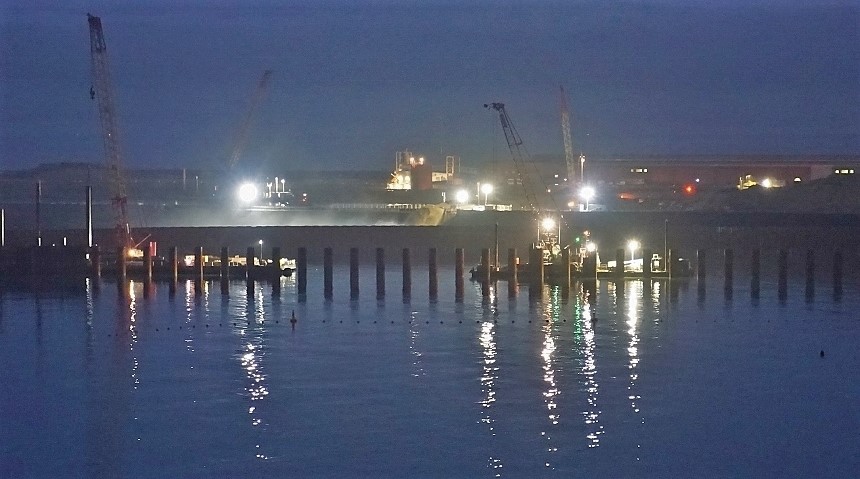 As so much of the time is night now, yours truly has had a further stab at some after-dark pictures and here we are. A great deal of the DWDR work continues into the darkness and a great deal of the harbour is dazzlingly lit to match. Top shot looks due west from the 'observation tower' and the bottom shot looks south showing the flashing lighthouse. The picture below is a bit soft, we will call it more of an artistic impression than a solid photograph, but you can just make out the previously featured platforms and the Barent Zanen on one of its many 24 hour-a-day visits..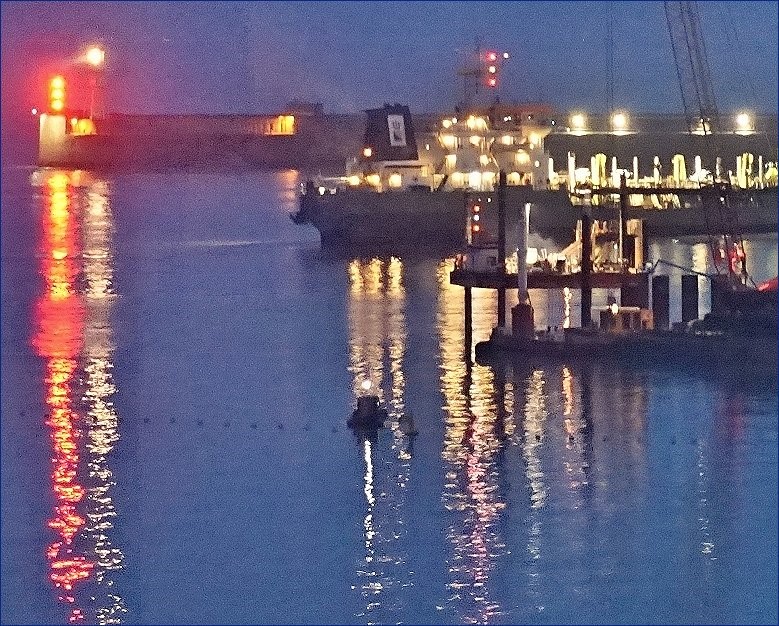 Thanks for that info John. I had a look on Google for Dover Highway and its quite a beast alright. Will watch for that one passing...
block of flats for sure...


Ah yes they probably do Del - hard to spot the little blighters anyway. Ed did great with those shots below.


PB
Friday, 17 November 2017 - 08:09
Post 4412
Del Styan, Norwich
Perhaps the Subs keep close to the French side?

Thursday, 16 November 2017 - 23:19
Post 4411
John Hendy, St Mary's Bay (johnhendy479@btinternet.com)
Readers might be interested to see an image of the car carrier Dover Highway which was recently photographed on her departure from Southampton. More of a block of flats than a ship but one which carries the name of the town across the world.

Thursday, 16 November 2017 - 11:58
Post 4410
Sea News, Dover
£1/2m Investment As Deal Pier Celebrates Diamond Anniversary
________________________________________________________
Dover District Council's Cabinet has given the go ahead for a £500,000 refurbishment of Deal Pier - as the popular local amenity celebrates its Diamond Anniversary.
Works are set to include resurfacing the pier, replacing all the timber seating along the pier, and concrete repairs to the pier structure. It is intended that work on the resurfacing and seating will begin in the spring of 2018, and the aim is maintain access as much as possible throughout the works. Structural works are expected to start before the end of the year.
Deal has had a pier since the late 1800s, with the current 305m long Deal Pier opened on 19 November 1957 by HRH Prince Philip. It remains the last pleasure pier ever constructed in the UK.
Today, Deal Pier is one of the town's enduring attractions, popular with both townsfolk and visitors for a leisurely stroll to enjoy the panoramic views of the coastline and out into the English Channel. The café at the pier head was opened in 2008 following a Royal Institute of British Architects (RIBA) design competition.
Deal Pier is also a popular fishing venue and this weekend hosts a Diamond Jubilee open fishing competition in aid of Walmer RNLI, organised by the Deal & Walmer Angling Association, and sponsored by Dover District Council.
Cllr Trevor Bartlett, DDC Cabinet Member for Property Management said: "We're delighted to commit to the biggest refurbishment of Deal Pier since its opening 60 years ago. Deal Pier is a fantastic asset for the area, it's a major local landmark that's visited by many thousands of people, and we're very pleased to be able to approve these works to maintain and enhance this important amenity for the future."
ENDS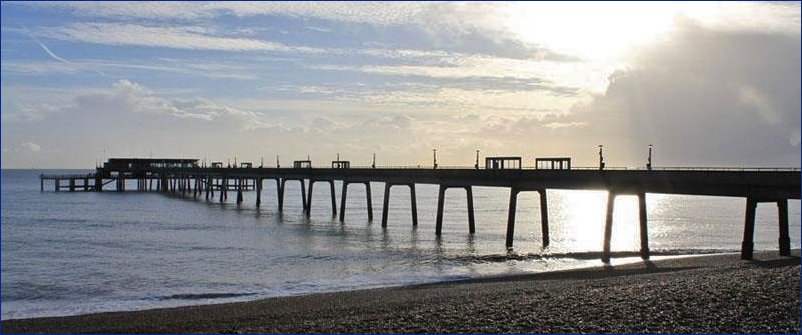 Many thanks to DDC for the images and info above.
Cracking pictures below Ed. A scoop for sure capturing the submarine.
Good to see the other pix too. Well done that man. Ace stuff!

Hi Del - speaking from my point of view submarines are rare, hard to see that's for sure.

PaulB
Thursday, 16 November 2017 - 08:06
Post 4409
Del Styan, Norwich
Thanks for that extra info on the Western Heights proposed memorial. I didnt know there was a proposed "development" up there. More of the usual stuff I suppose. The new memorial looks even more like a proposal I would support. Not that I would have a say, as a mere transient visitor!

On another track - do you get many submarines crossing the Channel?


Wednesday, 15 November 2017 - 23:18
Post 4408
Ed Connell, Dover Strait
Dutch submarine passing Calais yesterday.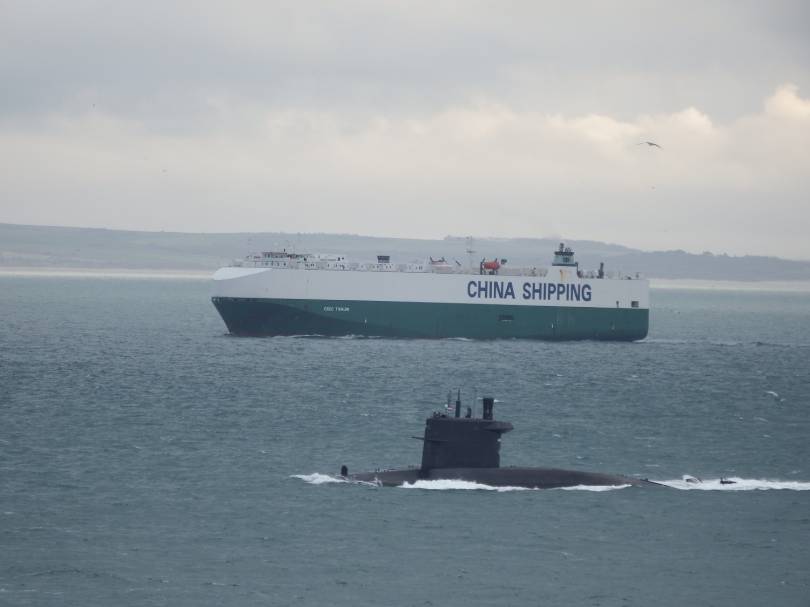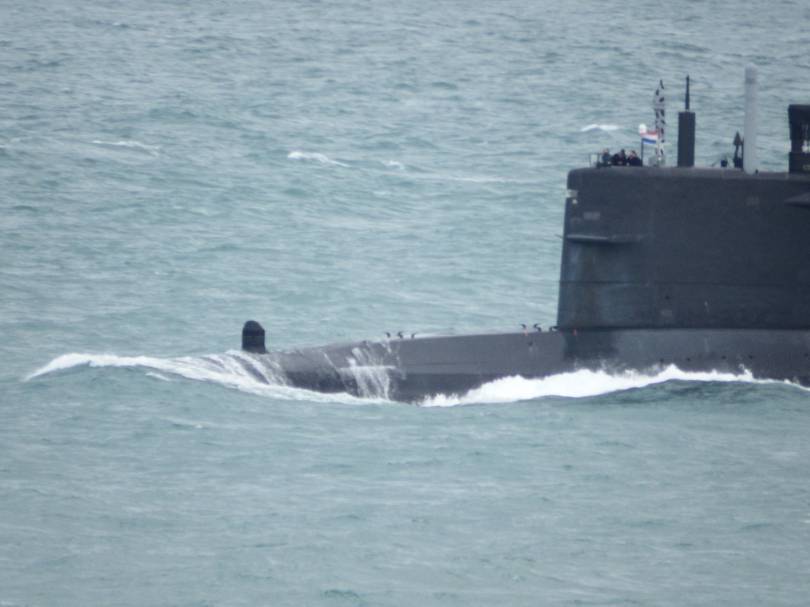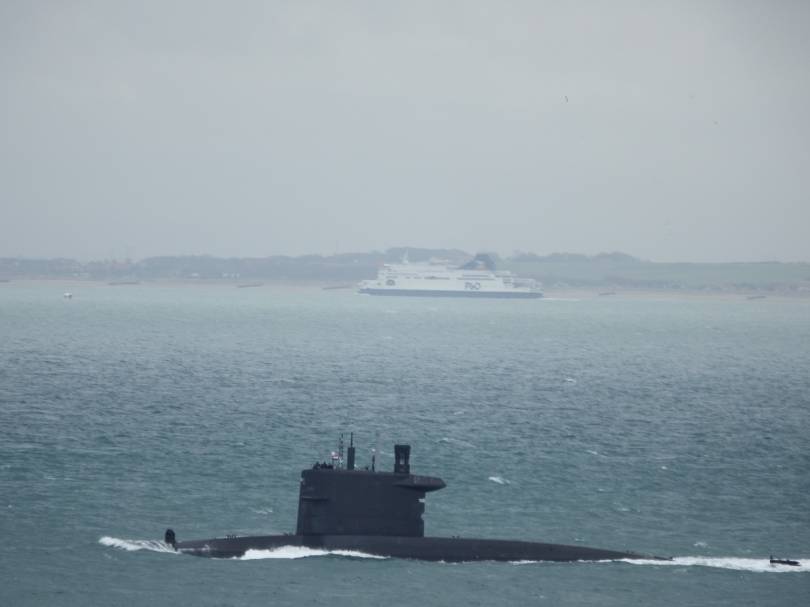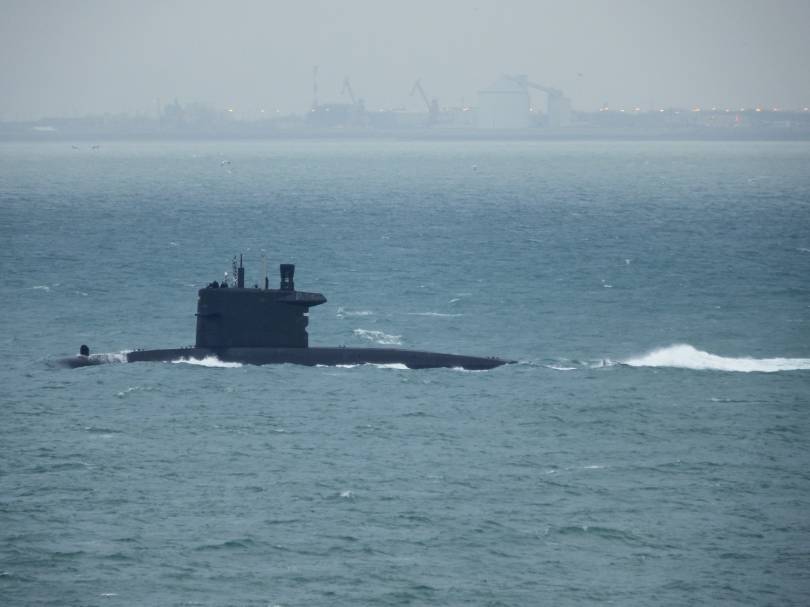 Wednesday, 15 November 2017 - 18:53
Post 4407
Ed Connell, Dover Strait
Offshore wind farm installation vessel Seajacks Scylla in the Northeast lane yesterday.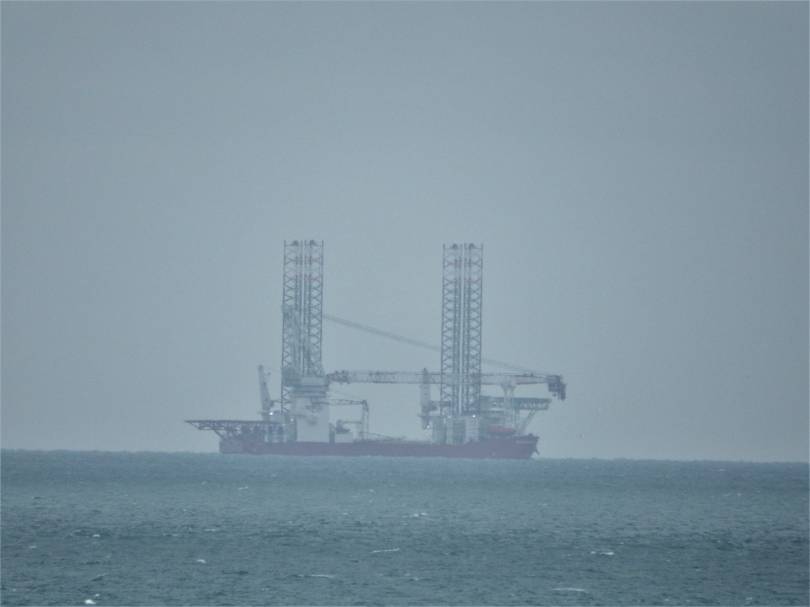 Elvira at the DCT today.
Wednesday, 15 November 2017 - 13:47
Post 4406
Sea News, Dover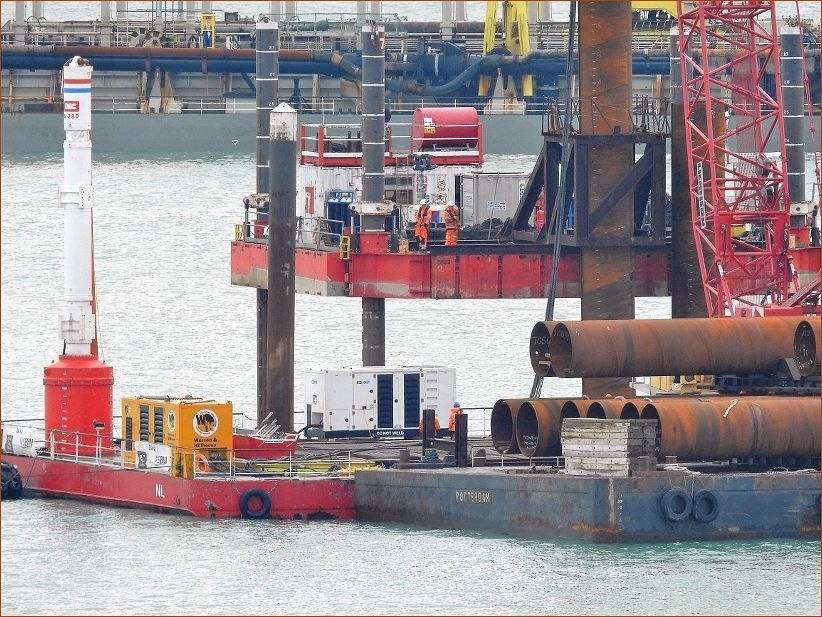 Slightly complicated view above there featuring three platforms of one sort or another. The front one carrying piling, the second platform has one of the cranes ( currently 8 cranes in action here )...and the third platform in elevation. You can see the orange-clad men working away in both shots. The second pic below also features Afon Lligwy . In the background of top shot you can see some of Barent Zanen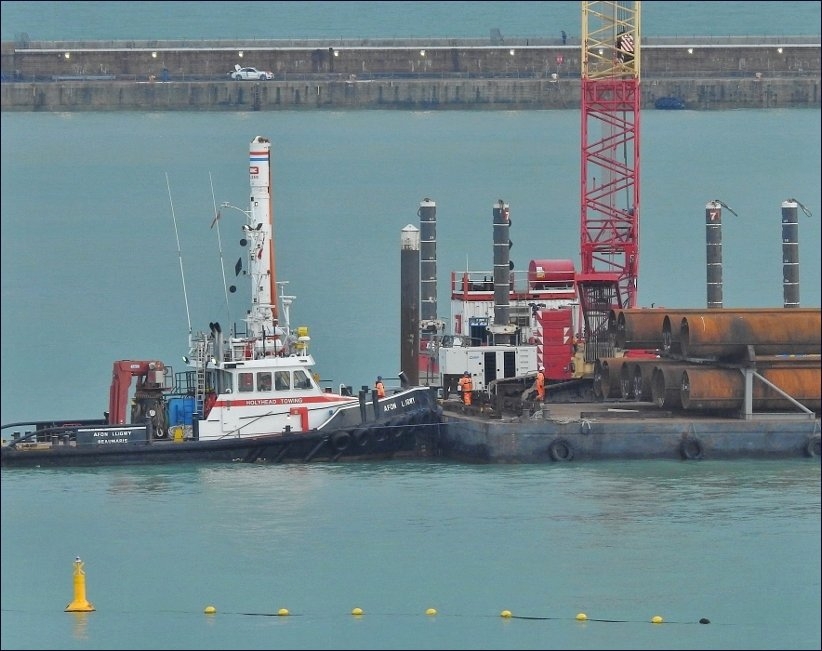 Thousands Flock to Jobs Fair as Investment Pays Off for Dover District
_______________________________________________________________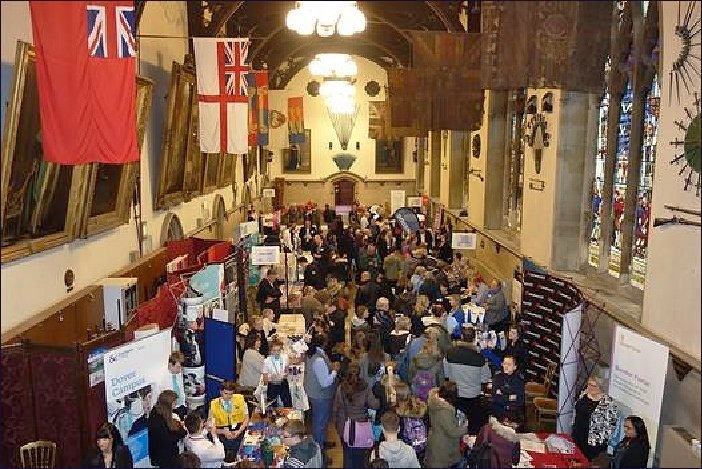 2017 Jobs Fair
_____________
Over two thousand people attended a Jobs and Skills Fair organised by Dover District Council and partners, East Kent College, as major regeneration and investment projects start to deliver new jobs and career opportunities.
Jobs at the £53m St James retail and leisure development in Dover town centre were in strong demand with exhibitors, including Cineworld, Costa Coffee, Greggs, M&S, Next and Shoezone all starting their recruitment campaigns. The St James development is due to open in the first quarter of 2018.
Many of the district's biggest employers were also represented, including Bakkavor, DFDS, Discovery Park, Megger, Pfizer, P&O Ferries, the Port of Dover, and VSBW, its main contractor for the £250m Western Docks Revival project. In total over 200 jobs were on offer along with a wide range of training and education opportunities.
Earlier in the day, Cllr Keith Morris, the new Leader of Dover District Council, hosted a breakfast meeting for key business leaders. He told them that the Council's work to create the right conditions for new investment was starting to pay dividends and creating real jobs for local people.
Cllr Morris said: "What excites me most are the opportunities this regeneration and investment are creating for young people. For too long, the perception has been that people have to travel out of the district for work. And yet, on our doorstep we have world-class businesses in life sciences, engineering, maritime and logistics, and food production."
Cllr Morris also highlighted future jobs growth, including:
* 50,000 sq. ft. of new laboratory space and a 60,000 sq. ft. expansion of office space at Discovery Park
Opening of a £150m bio-mass heat and power plant at Discovery Park in 2018
* A Business Incubation Hub for small and medium size businesses at Betteshanger Sustainable Parks, alongside the 2018 opening of the new £8m Visitor Centre and Kent Mining Museum
* Megger's 2020 project which will see major investment in its Dover facility over the next three years
* Dover District Council investments, including a £26m new District Leisure Centre at Whitfield with the only county standard competition swimming pool in Kent
* Also in Whitfield, a new Lidl supermarket due to open in early December, and a new trade park including a Lokn'Store self-storage facility, a direct investment following Dover District Council's work to promote inward investment at MIPIM in London.
Guest speaker at the business meeting was Gemma Griffin, Vice President of HR & Crewing at ferry operator, DFDS. Gemma is at the forefront of the campaign to promote maritime careers and training as Chairman of the Employment Committee of the UK Chamber of Shipping, and as a member of the Merchant Navy Training Board.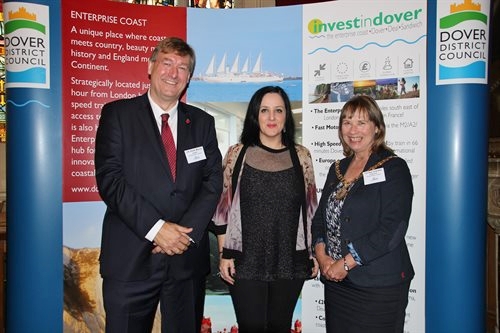 Gemma Griffin, Vice President, HR & Crewing at DFDS with Cllr Keith Morris (Leader) and Cllr Sue Chandler (Chairman) of DDC.
Gemma Griffin DFDS
Gemma, said: "We were delighted to support the Dover Jobs and Skills Fair. DFDS employs over 1,000 people on its Dover ferry services to Calais and Dunkerque, and we're committed to developing the next generation of seafarers.
"Our pioneering schemes for deck, engineering and catering apprentices offer outstanding opportunities for people to start their careers. For the most talented, progression to Captain or Chief Engineer is possible within ten years. With 95% of world trade transported by ship, there will also be exciting opportunities for those who pursue a career at sea."
Matthew Jaenicke, Managing Director, of Viking Recruitment, also attended the business meeting. Later in the day, he revealed that Virgin Voyages, the new cruise line established by Sir Richard Branson, were in Dover to view the state-of-the-art facilities at the Dover Maritime Skills Academy.
ENDS
____________________
Well done finding that view below Mike. Good one to see...

Thanks Del all round, glad you were able to see that extra view there and yes will keep up the good work..


Great picture from Dunkerque West below Ed of the bunkering. Totally atmospheric. Like that one...also good to see that container ship without the containers..

Mark thanks for all that info on Maersk. Massive shipping line Maersk. Didn't know any of that. Excellent stuff!

PaulB
Wednesday, 15 November 2017 - 07:56
Post 4405
Mike J., Dover
Del -
This view, from Dover Council's website, shows the proposed location of the memorial between the Drop Redoubt on the right & St.Martin's Battery, on the left.
The circular area is the sunken top of the Grand Shaft & a corner of Wellington Dock is visible.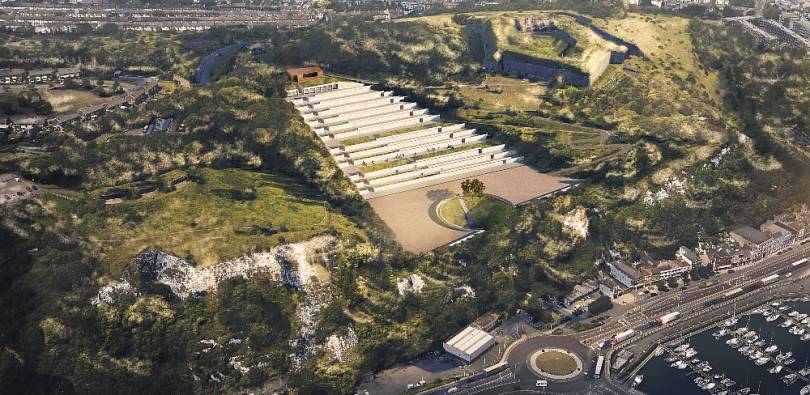 The roundabout on the A20 has now been replaced by traffic lights as part of the DWDR works..
I think that the memorial, if built, is a much better use of the land than the hotel & 'development' that has been proposed for the same area.
Tuesday, 14 November 2017 - 23:32
Post 4404
Del Styan, Norwich
I love your pics recently - especially the reference to Calais all aglow. Please keep up the good work. Interesting idea for the Western Heights memorial. Just hope they don't intrude into any of the historic defensive remains.

Tuesday, 14 November 2017 - 23:05
Post 4403
Mark rushton, Northants
Nice snap of the Munich Maersk there, prompting Dull Factoid of the Day. If you see a Maersk vessel, if the word "Maersk" comes last in the name then the ship is owned by Maersk (as with Munich Maersk). If the word Maersk comes first (e.g. Maersk Alabama) then the ship is only leased by Maersk. That came from a book I read recently by Horatio Clare called "Down to the sea in ships" describing life on board two Maersk ships - a modern monster like the Munich on the Asia run, and a rust bucket charter vessel on the North Atlantic run. Worth tracking down and a jolly good, if slightly depressing, read. Keep up the good work chaps...

Tuesday, 14 November 2017 - 11:18