Wednesday, 7 December 2016
SEA NEWS
Email:dover7@msn.com to send Sea News pix or info.... or click ADD YOUR COMMENT below to post direct, no membership needed. Use our search engine below to find all sorts on the SEA NEWS pages..more than 155 now with more than 3000 nautical posts. Posts welcome. Max of 5 pictures preferred. Sea News Editor Paul Boland.

Details of the fabulous ICE RINK SKATING CHRISTMAS at the PORT..http://events.doverport.co.uk/
Also see Pictures and info in post 3256 and see 3265 for latest, the original Port Christmas post 3234 now over the page....also.. DFDS: Interview with a young seaman 3263.
Post 3293
Sea News, Dover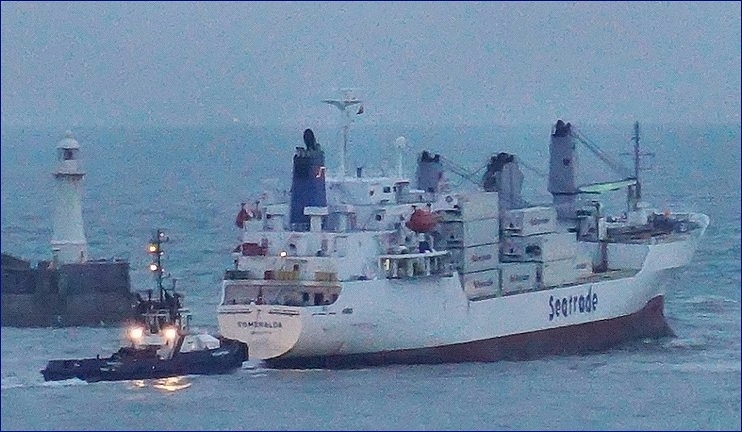 A bit of a dodgy grainy picture above there of Esmeralda (the bells! the bells!

) leaving us a few minutes ago as I write. Time of pic about 4.10pm as it was getting quite dark...in fact a bit too dark. Both tugboats were in attendance as she made her way out the western exit heading for Flushing in Holland. Its always a good picture opportunity when they leave through the western exit but the darkness scuppered the best laid plans this time.
'Tis a dark oul night of the soul...

A couple of extra pictures of Esmeralda below from a recent arrival ..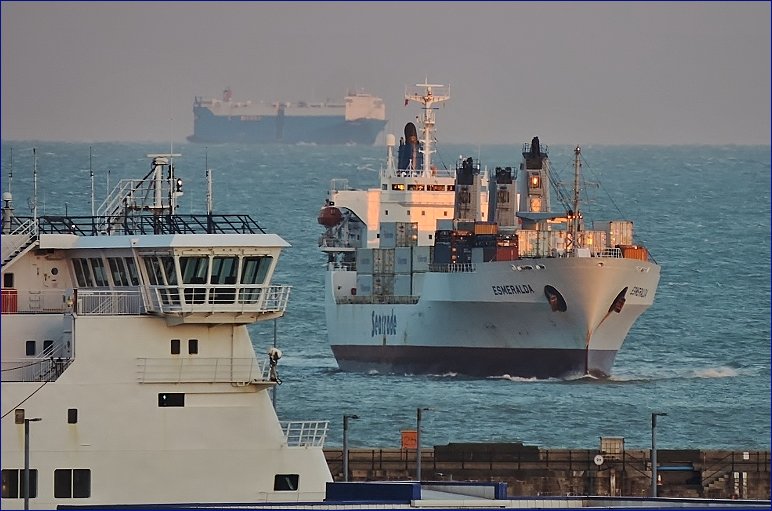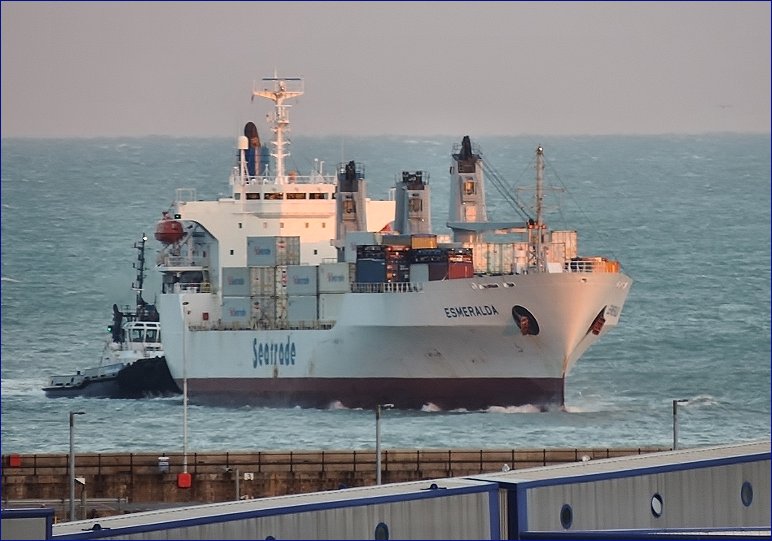 Wednesday, 7 December 2016 - 16:32
Post 3292
Sea News, Dover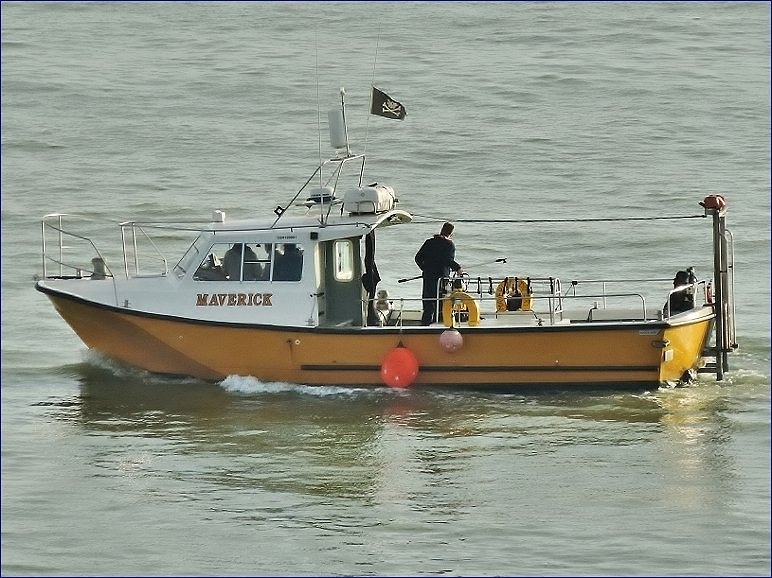 The dive boat Maverick was circulating about the harbour in the past day or two, made a striking sight. Not sure what the guys were up to but good to see it in the calm tranquil waters which were washed with a hint of sunlight...
The flowers below appear on the little jetty once a year. I think I know what the reason might be but best to let the flowers do the talking. Its a nice thing...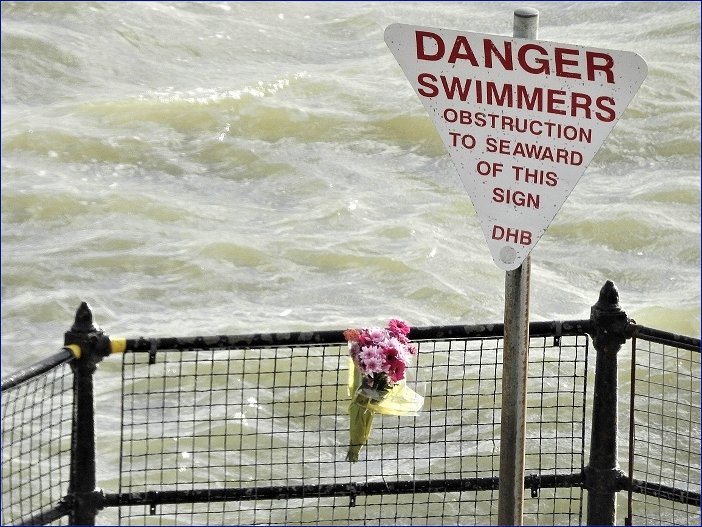 As we are all shivering these days with the biting frost and the teeth chattering winds..
this energy idea from DDC might help to keep the costs down..
Energy Deal Scheme Could Help You Save Money On Your Energy Bills
_______________________________________________________
You could save money on your energy bills with the latest round of Energy Deal – that's the message from Dover District Council, who are launching the latest round of the popular collective switching campaign today, (06 December).
Residents can register to take part in the latest round up to 13 February 2017. Energy suppliers will then be invited to compete with their best offer at an energy auction. Residents registered with Energy Deal will be sent a personalised offer showing the winning tariff, which they can then decide whether they want to accept.
DDC is working in partnership with Dartford, Gravesham, Tonbridge & Malling and Tunbridge Wells councils to operate the Energy Deal scheme. For more information or to register, please see the www.dover.gov.uk/energydeal pages or leave contact details on 01304 872428.
So there you are...
One more pic now of the Bibby Athena. Going through the files I spotted what is probably a better pic than the one previously used in 3291.
See also 3287.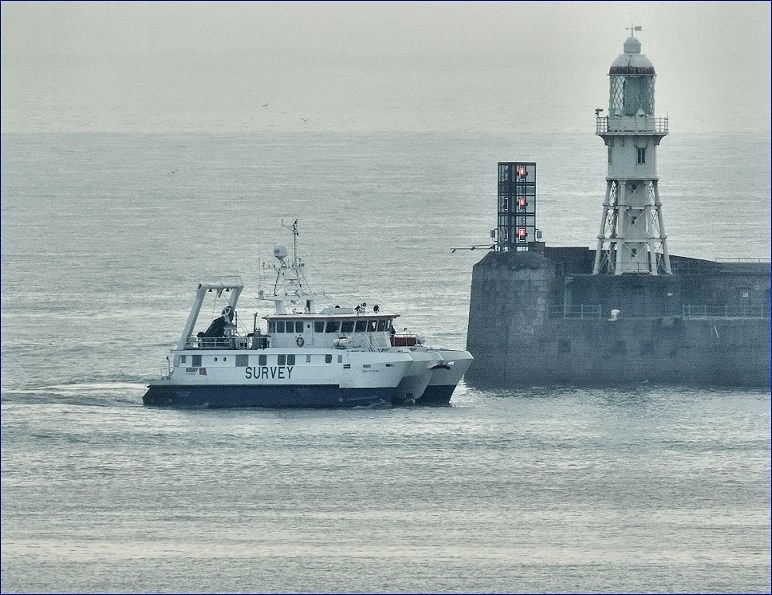 PaulB.
Wednesday, 7 December 2016 - 07:20
Post 3291
Sea News, Dover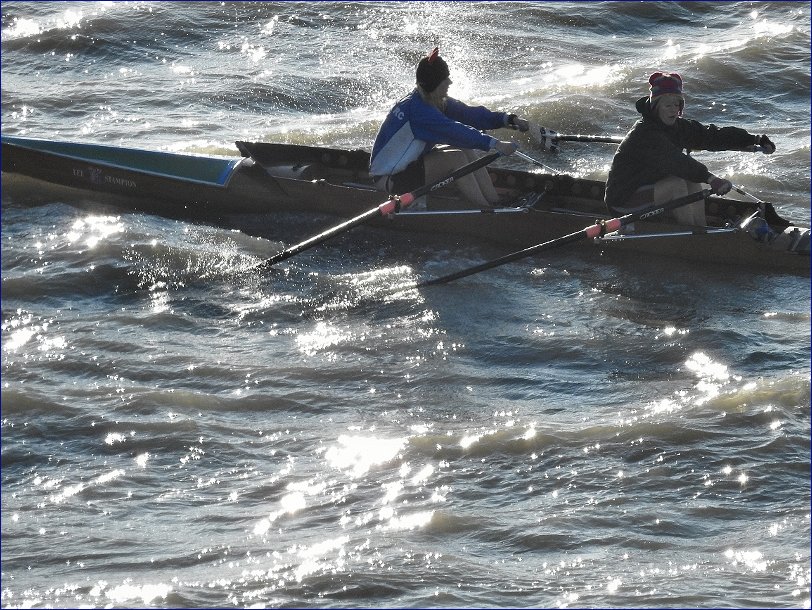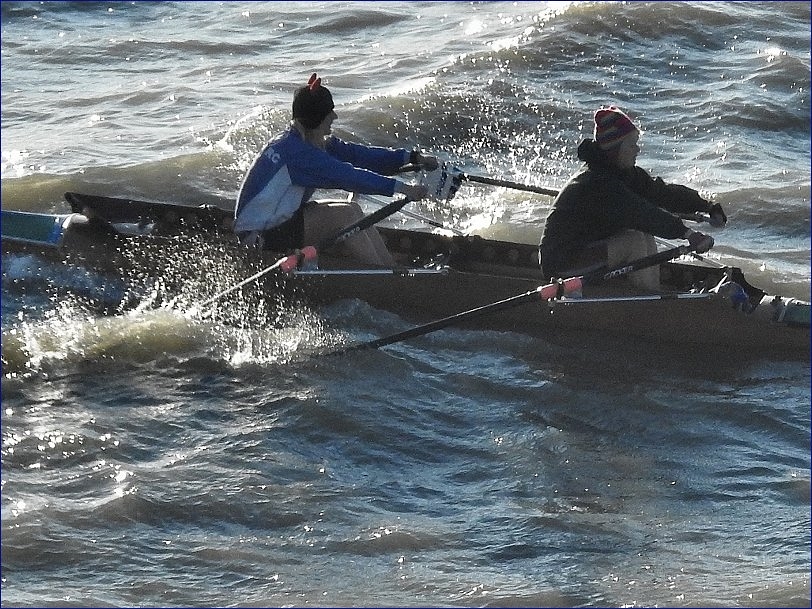 These girls were out bright and early on a freezing Sunday morning. I think the temperature scale read -2 at the time, but one way to keep warm, or warmish, is to give it some gusto, give it some welly...and they did just that. They made for interesting pictures with the effort made on the spraying choppy waters. They have a nice line in bobble hats too.
Following on from Mike's post further below 3287, here we are with Bibby Athena again...this time as she returned to Port yesterday at midday. Picture taken through the murky conditions...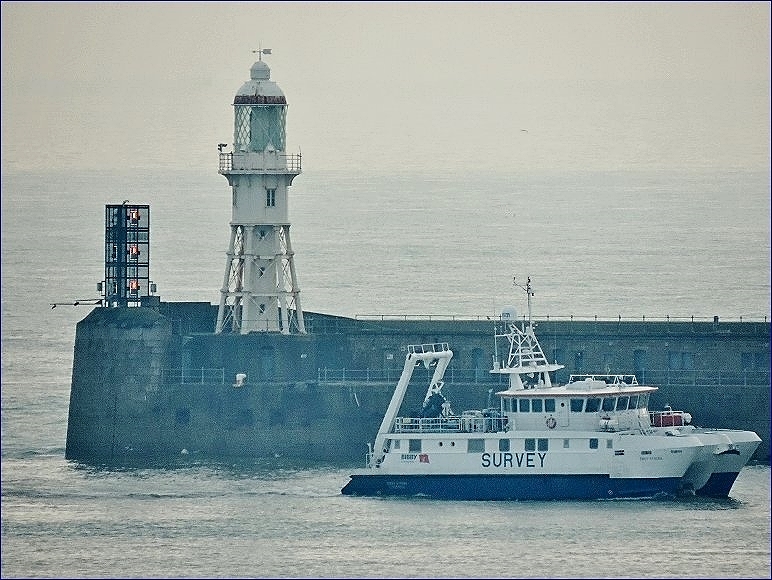 Team Appointed For Dover Waterfront Planning And Regeneration Framework
_______________________________________________________________
Dover District Council in partnership with the Port of Dover and a number of local landowners have appointed a consultant team to develop a planning and regeneration framework for the development and regeneration of the wider Dover Waterfront area.
The area consists of sites allocated in the District Council's Adopted Core Strategy such as Waterloo Crescent, Wellington Dock and the new marina curve planned within the Port's approved Dover Western Docks Revival. The framework will build, strengthen and link into many of the plans and initiatives already underway in the town, including the St James retail and leisure development.
Improving connections and public realm from Dover Waterfront to the Maison Dieu (Dover Town Hall) and Dover Priory railway station is a core objective. Part of the strategy will be to propose solutions to reduce the severance caused by the A20, which is already being enhanced by the Port through junction improvements, and issues connected to the underpass. As well as improving existing connections, new proposals will also be considered for connecting Dover's historic assets including Dover Castle and the Western Heights.
Tim Ingleton, Head of Inward Investment, Dover District Council, said: "The vision for this key part of Dover is to create a more welcoming, contemporary image that better connects people and places whilst retaining the distinctiveness for which Dover is world renowned."
Barbara Buczek
Barbara Buczek, Director of Corporate Development, Port of Dover, said: "The Port is committed to delivering Dover Western Docks Revival, including an exciting waterfront transformation that will be a catalyst for creating Destination Dover. Ensuring that the local benefits of this major opportunity are maximised through additional masterplanning to improve connectivity is a further demonstration of our commitment to deliver for Dover."
The core consultant team comprises WSP Parsons Brinckerhoff, Baca Architects and LDA Design, who are supported by GVA and Currie & Brown.
Dates for public consultation will be announced shortly.
Ends
Tuesday, 6 December 2016 - 07:44
Post 3290
Sea News, Dover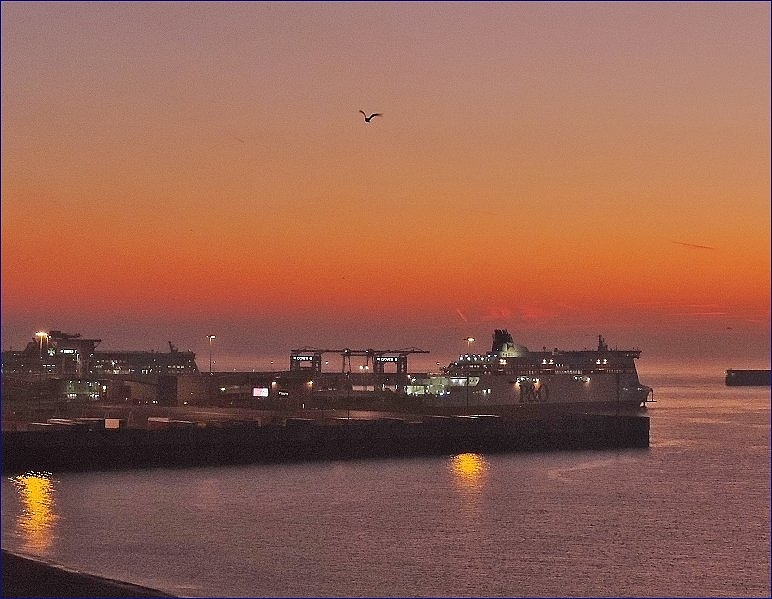 Vic I don't have any official information on the extraction from the Goodwin Sands.
The picture above shows the sunset over the port in the past hour or so as a lonely gull makes its weary way homeward, pic actually looks away from the sinking sun ... but you catch my drift. PaulB.
Monday, 5 December 2016 - 17:12
Post 3289
vic matcham , Dovor
Nothing more been said about the goodwin sands I last heard they were still going to take it do we know yet if that is true? also when they pick up others from overseas ,by our navy they bring them to England, my feeling are they should be return to France,by bring them here makes it even better for them and safer.

Monday, 5 December 2016 - 13:20
Post 3288
Sea News, Dover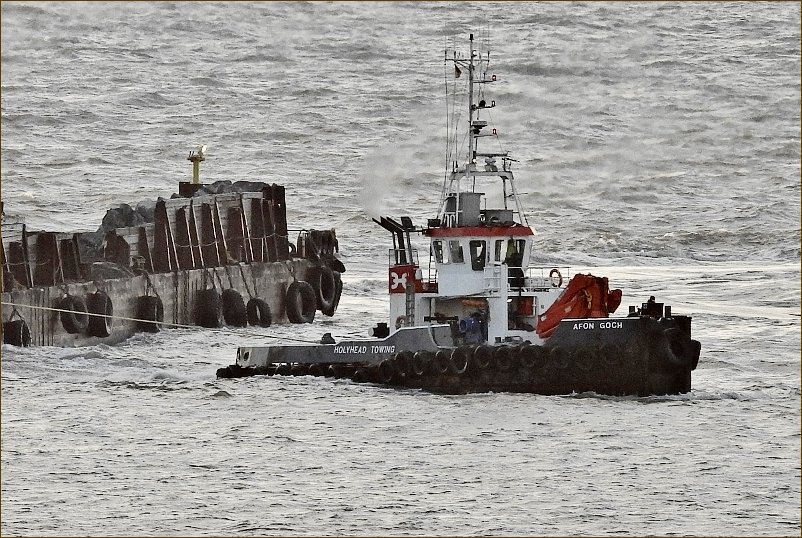 Another picture above there of the Afon Goch tugboat towing Charlie Rock as per the earlier post 3285. Hopefully that's a nice clear one of Holyhead Towing's Afon. Yesterday sunday in the high bright sun of midday the Italia Reefer came in to Port after a long voyage from Ecuador ( that's a fair oul trip ) and we have a couple of pictures below of her arrival. First shot through a mass of flurrying exciteable seagulls.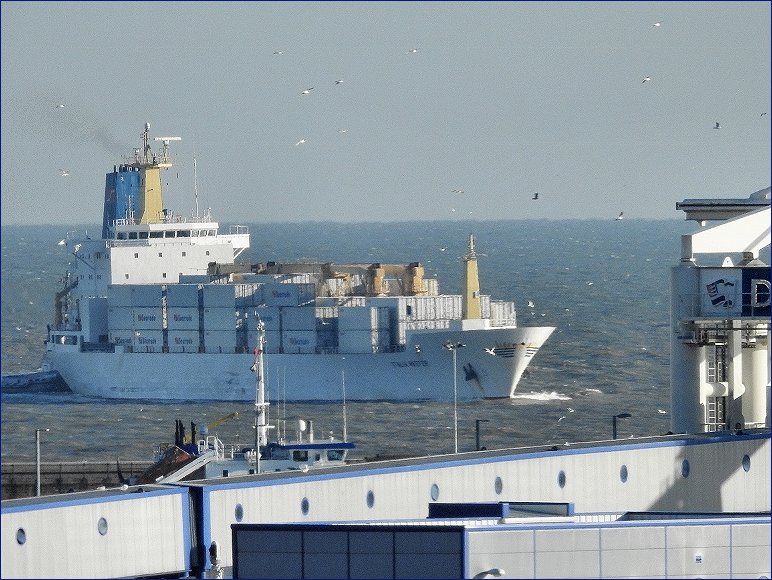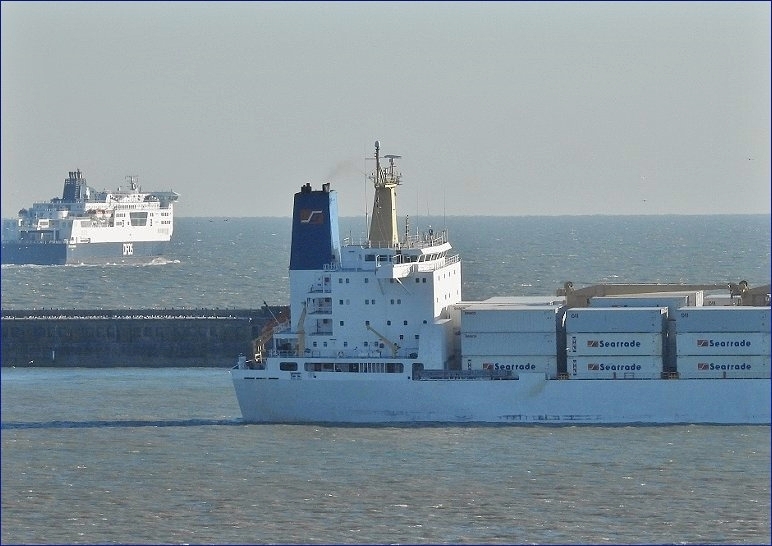 And now Charlie's newsletter. On the Sea News pages we don't do politics as a general rule but if the sea or port are mentioned we do the necessary...
CHARLIE ELPHICKE:Working hard to make our borders stronger and more secure
________________________________________________________________
Dear Mr Boland,
Last week more migrants arrived at Dover in a small craft. The seven men – all believed to be Iranian – were rescued after being spotted shivering in a dinghy off the coast.
This was yet another sign of the extreme lengths people will go to break into Britain. Crossing the English Channel in a small boat as winter sets in is about as dangerous as it gets. Earlier this month a man tried to do the same in a kayak. Amazingly he is thought to have made it all the way from Calais without any help. He survived, as did the seven men in the dinghy last week. But how many are not so lucky? It just goes to show the sheer desperation of so many people to reach our shores.
That's why I met with Immigration Minister Robert Goodwill last week, demanding a strong police presence is kept up in Calais. Of course, dismantling the Jungle camp was a huge step in restoring order at the border. The number of attacks on Dover-bound tourists and truckers at Calais has plummeted – as has the number of migrants smuggled across the Channel through our port. For the people of Calais, their town is at long last returning to normal.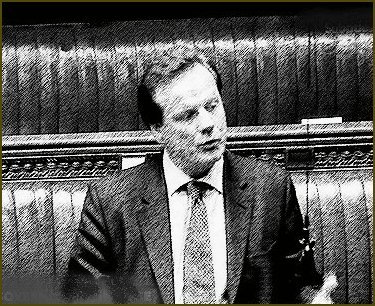 Dismantling the Jungle was a hammer blow in our war against the people traffickers and their evil trade of modern slavery. Closing the camp means the hundreds of children and vulnerable people will now spend Christmas in a safer home, far from the traffickers, rather than freezing in the Jungle mud.
But seeing more migrants turn up at Dover in small craft reminds us that the war to secure our borders is far from over. It's clear that although the Jungle camp has gone – we now need to be more vigilant than ever. Last week's incident underlines the need to ensure we scan our seas for people traffickers, protect our borders and strengthen our intelligence effort with France.
Dover is both gateway and guardian of the kingdom. Making sure our border is strong and that trade flows through smoothly is vital. I wanted to see first-hand how this is working, so I recently visited the border controls at Dover. I was really impressed to see how Border Force officers were able to smoke out a smuggler who had stashed thousands of illegal cigarettes in a car. Our border officers do vital work stopping dodgy goods, drugs and guns from being brought into Britain.
This was a great spot by the officers. But it was also clear to me that, going forward, sharing information on crooks and working together with the intelligence services will become ever more important in keeping our border secure. The only way to truly win the war against the people traffickers is to make it impossible to break in to Britain. Keeping watch over our seas this Christmas will also save lives.
Charlie Elphicke MP for Dover and Deal
________________________
Well done with those pictures below Mike. A nice collection there.
More uploading difficulties..oh dear. Not sure what is causing it as I don't seem to get said problem here..ermmm lets hope I haven't spoken too soon, .but it all worked out alright in the end as all the pictures are now up on display below. PaulB.
Monday, 5 December 2016 - 06:53
Post 3287
Mike J., Dover
Sorry, don't know what happened to the last three photos !
Lets try again.
Overnighting in the old Jetfoil Terminal was the interesting survey vessel BIBBY ATHENA who had been surveying off Folkestone.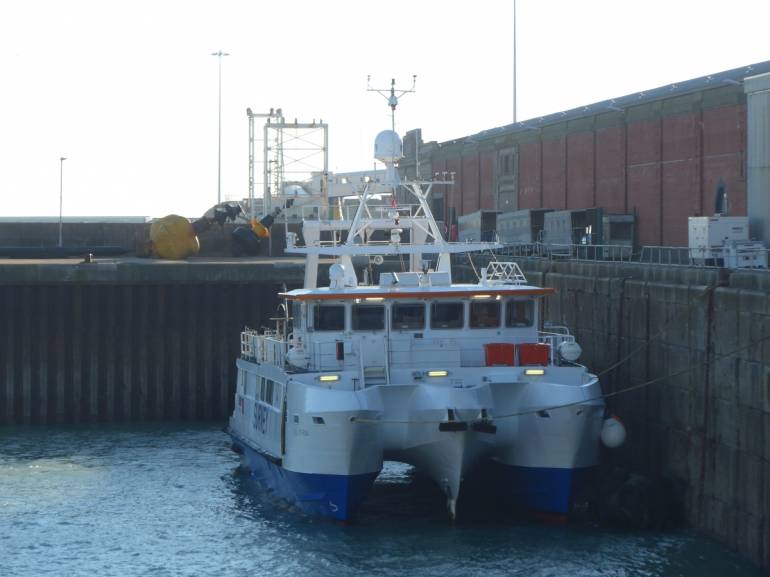 Not a particularly good quality picture, but at that time of the day it was a 'straight into the sun shot'
She sailed about 1300 for more Folkestone surveying & was still out there at 2200 Sunday night.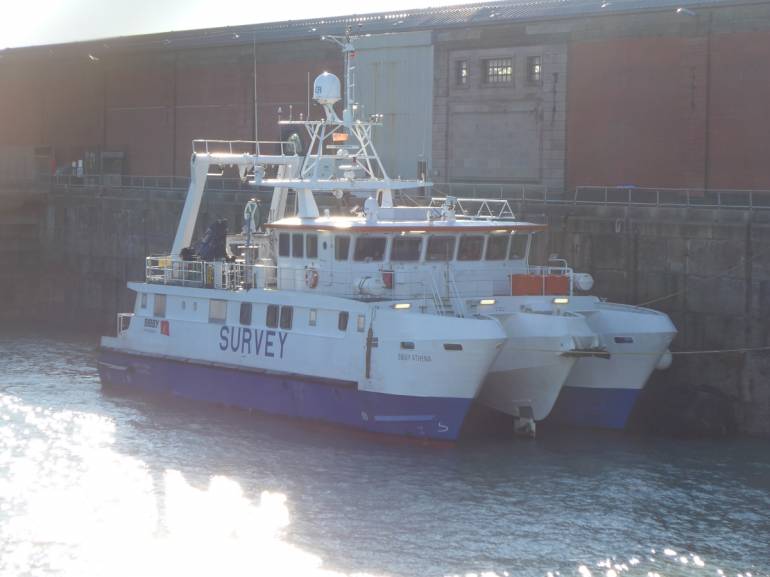 I'd seen her earlier in the year in Lowestoft & as I'd only been able to get a stern view it was good to get a chance to get of a view of the sharp end.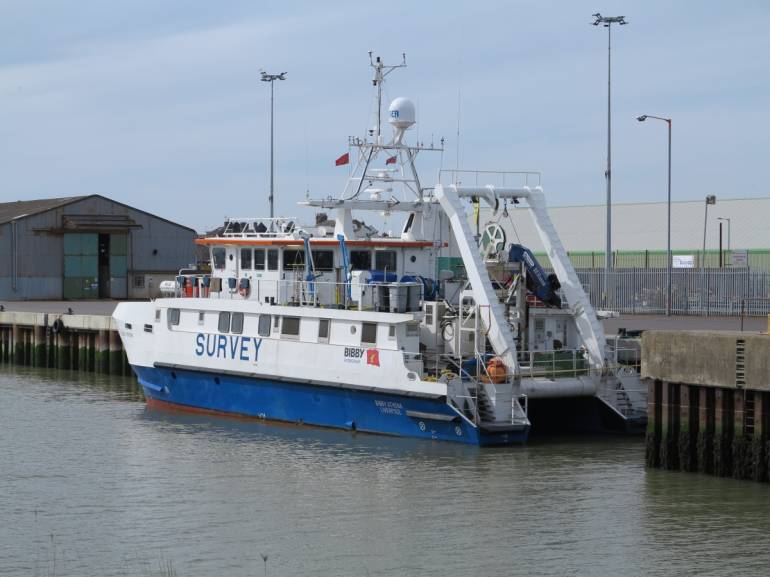 Sunday, 4 December 2016 - 23:16
Post 3286
Mike J., Dover
Sunday morning - The workboat VALHALLA OF WHITSTABLE has been joined in lay-up in Wellington Dock by the larger EMS VULCAN.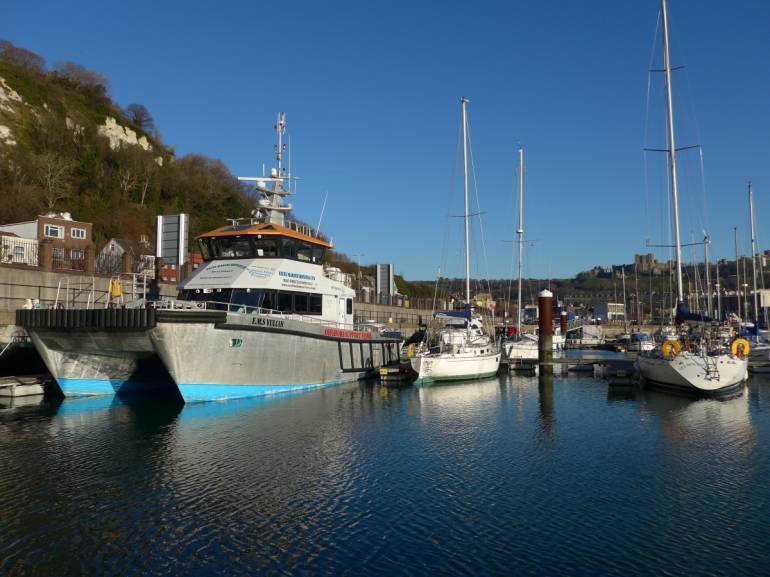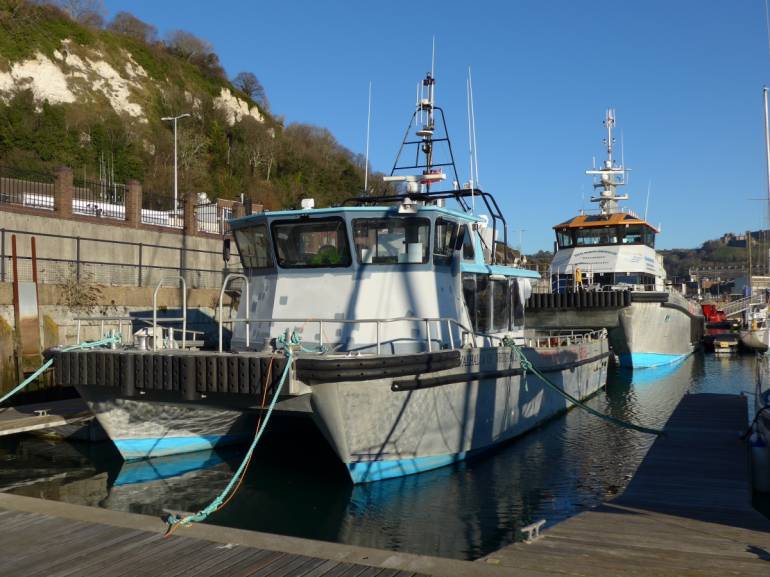 Overnighting in the old Jetfoil Terminal was the interesting survey vessel BIBBY ATHENA who had been surveying off Folkestone.
[IMAGE-13]
Not the best quality picture, but at that time of the day it was a 'straight into the sun shot'
She sailed about 1300 for more Folkestone surveying & was still out there at 2200 Sunday night.
[IMAGE-10]
I'd seen her earlier in the year in Lowestoft & as I'd only been able to get a stern view it was good to get a chance to get of a view of the sharp end.
[IMAGE-14]
Sunday, 4 December 2016 - 22:02
Post 3285
Sea News, Dover
Afon Goch and Charlie Rock
...with Dauntless bringing up the rear.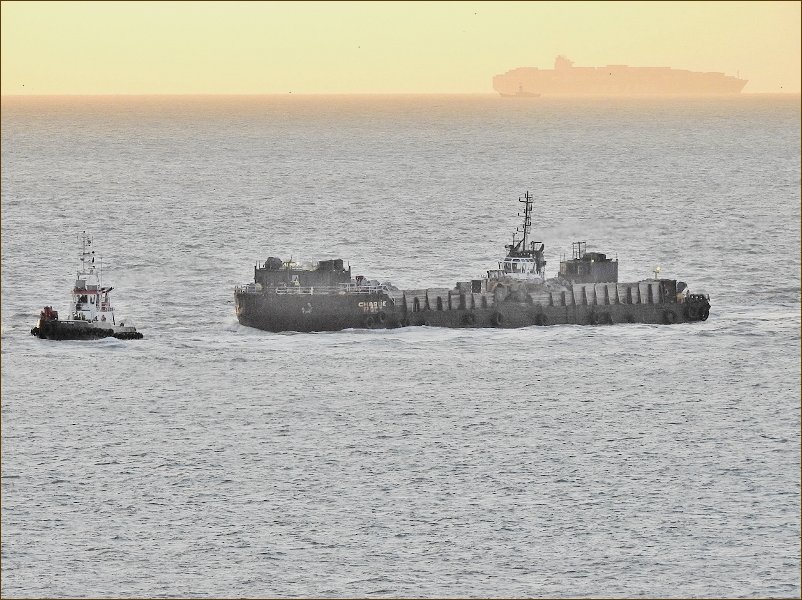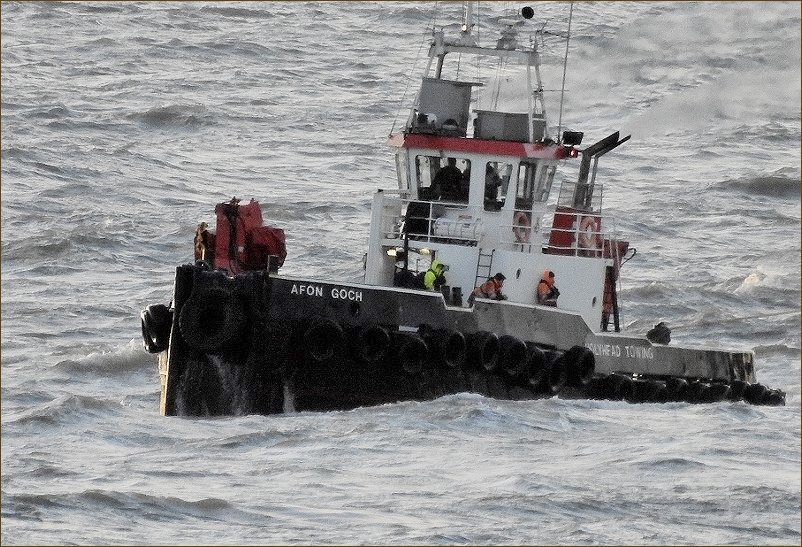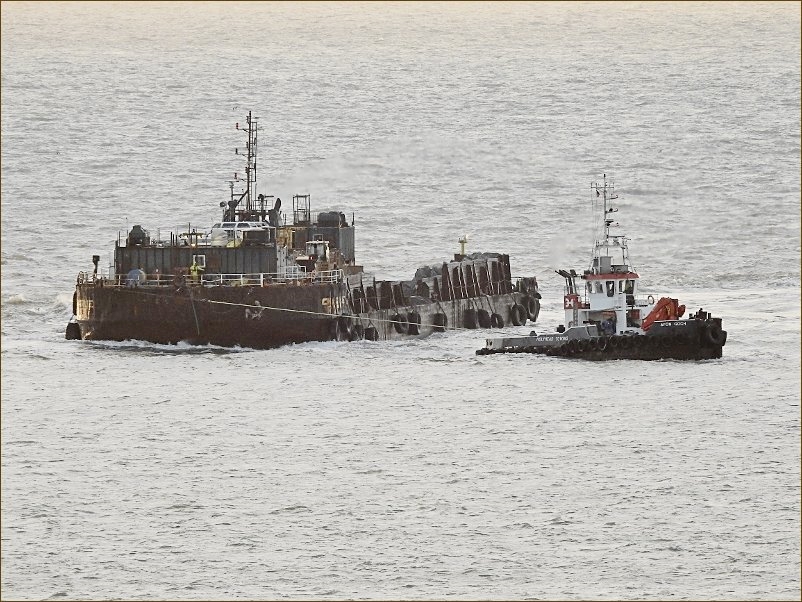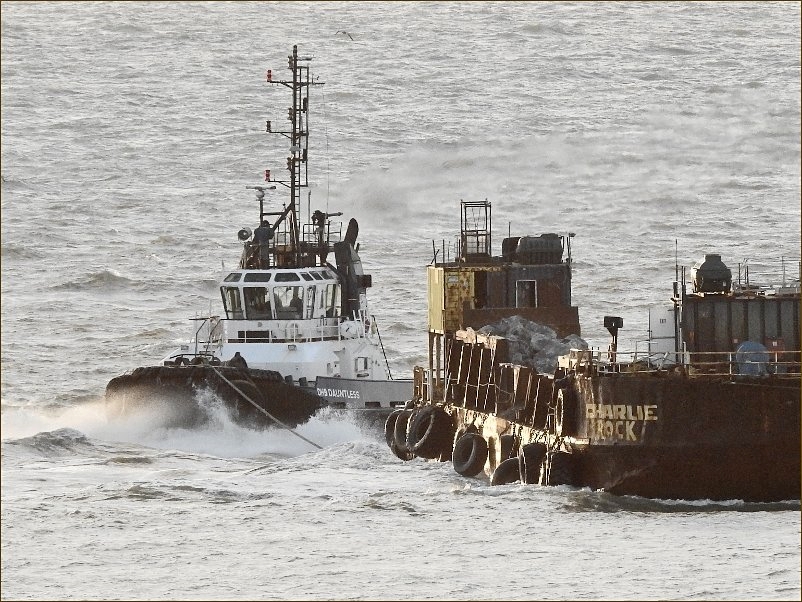 Pictures from yesterday morning at 08.15...the great big barge Charlie Rock on the move again, arriving here in harbour with tugs Afon Goch and Dauntless doing the work in the chilly biting conditions. You can see the guys on Afon Goch well wrapped up in the face of the rough ol elements. The barge is now resting over near Cruise Terminal One.
Lol Del

....the message from our American friend is obviously spam..so nobody should contact the numbers etc..
Sunday, 4 December 2016 - 07:39
Post 3284
del styan, Norwich
well sign me up, pronto!

Saturday, 3 December 2016 - 23:13
Post 3283
MARTINS, usa
Have you being experiencing hardship,poverty,stagnation,disappointment,or you are frustrated as a business man,pastor,an artist,an entrepreneur,politician..Do you want to join the elite Illuminati brotherhood to get fame,powers,wealth and become that vibrant man or woman you have always dream to become,send us an email to get initiated(illuminatifametemple666@gmail.com) OR whatsapp us through this contact. +2348143704246... No matter where you are

Saturday, 3 December 2016 - 22:54
Post 3282
Sea News, Dover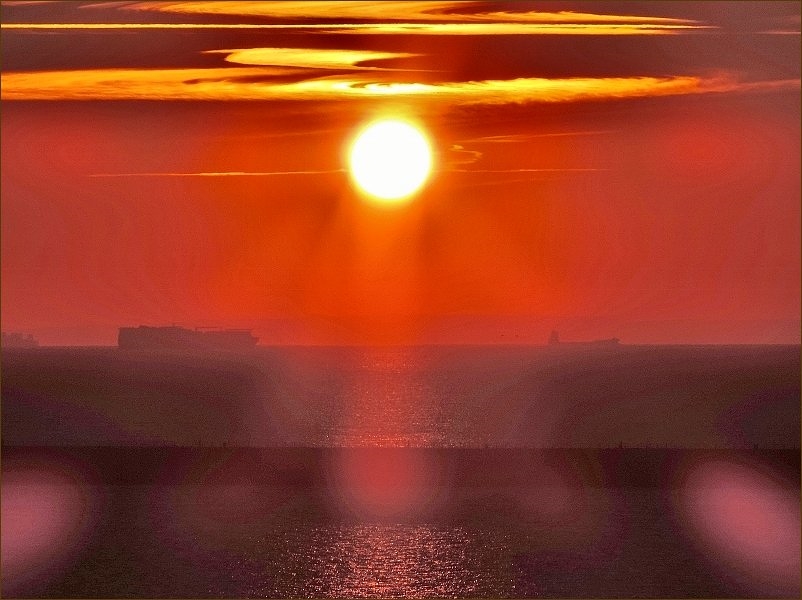 This was the dazzling scene across the Dover Straits just a couple of days ago...blinding early morning colour as the channel shows itself as busy as ever. Simply a point 'n' shoot picture, the odd configurations were courtesy of the camera going into near cardiac arrest at the big ask.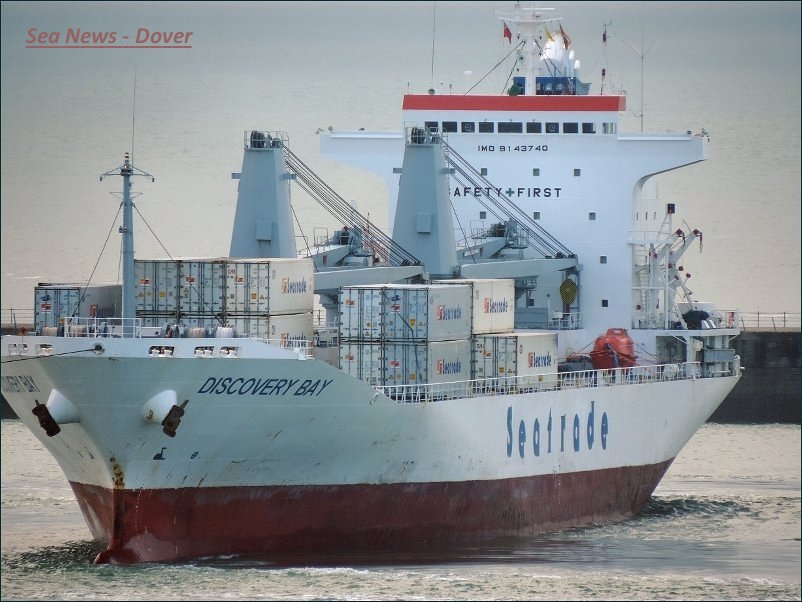 Also a couple of days ago the cargo ship Discovery Bay was here with us. But alas, the days are short now, the reefers come in when its dark and leave when its dark so that picture above is from a previous time. The final one below however shows her a couple of days ago at the cargo terminal...picture taken across the rooftops..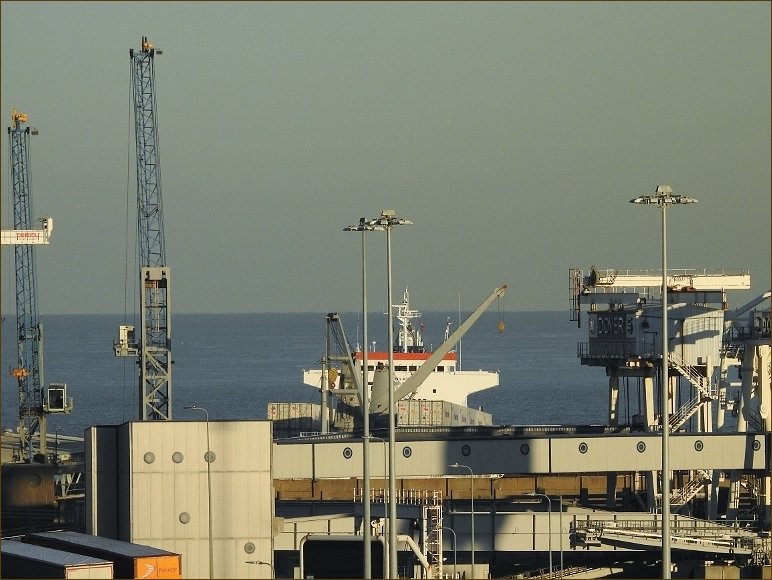 Force India has left the building....


Saturday, 3 December 2016 - 07:31
Post 3281
Sea News, Dover
FORCE INDIA: Following a tip off from Mike yours truly was able to get some pictures too of the fabulous super yacht Force India arriving here in Dover on wednesday. The kind of yacht you see moored up at Monte Carlo for the Grand Prix...well it is associated with the Grand Prix team after all. A really nice and enjoyable collection in the previous post from Mike, here we are with a different angle on things..... time of the pictures 3.30pm approx.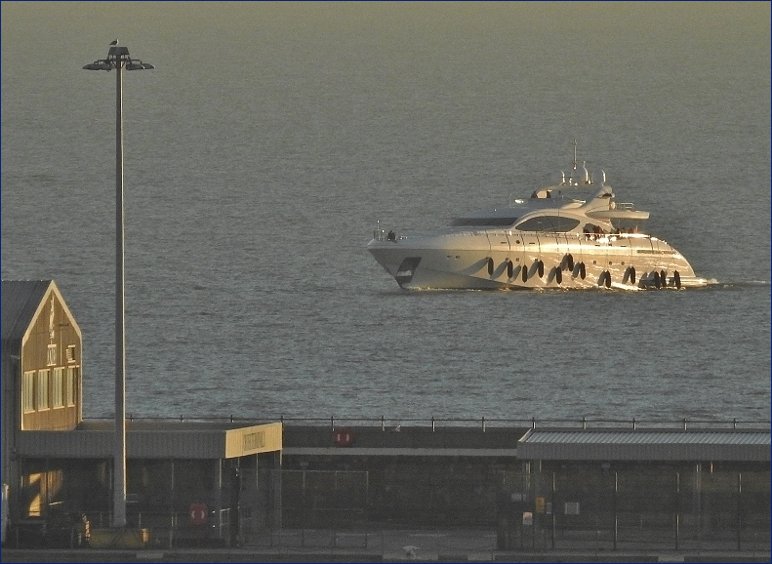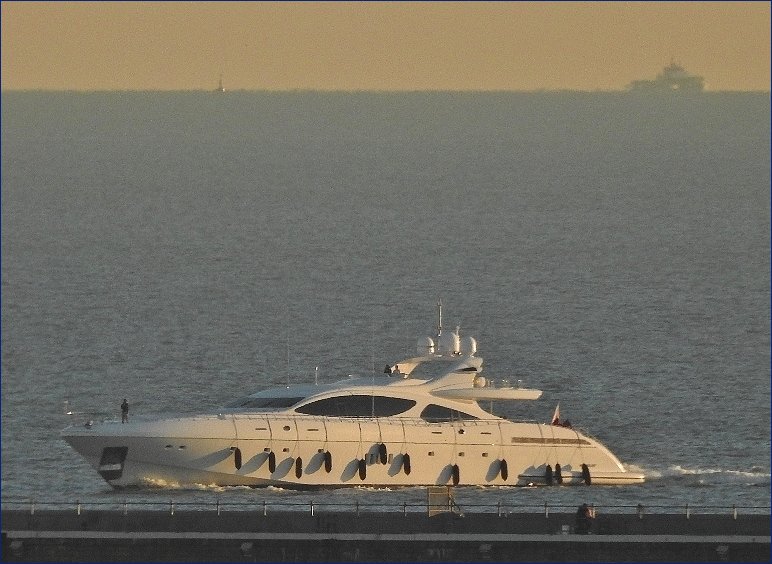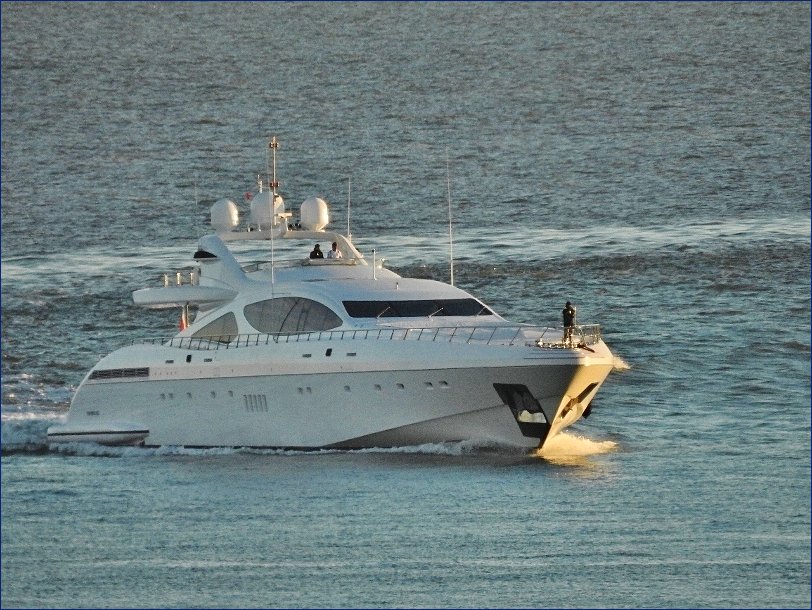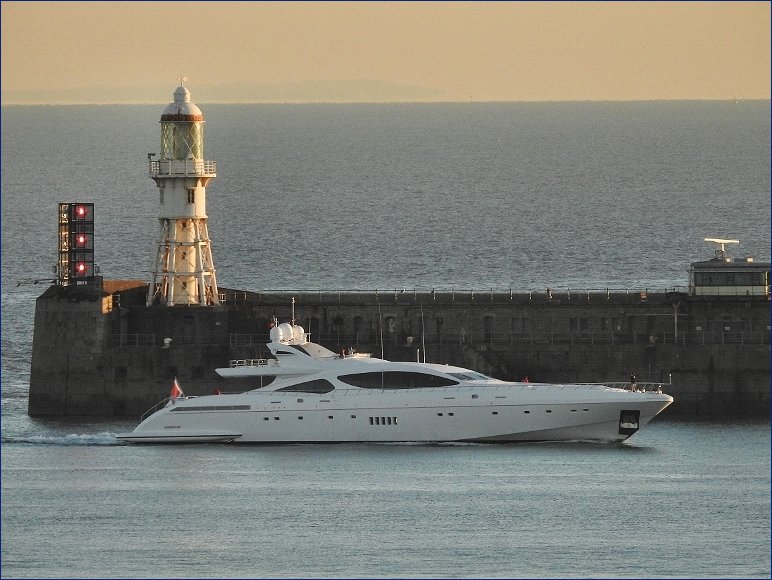 Will add a couple of extra ones here just to show the scale, because in the pictures above its hard to visually get the size of it...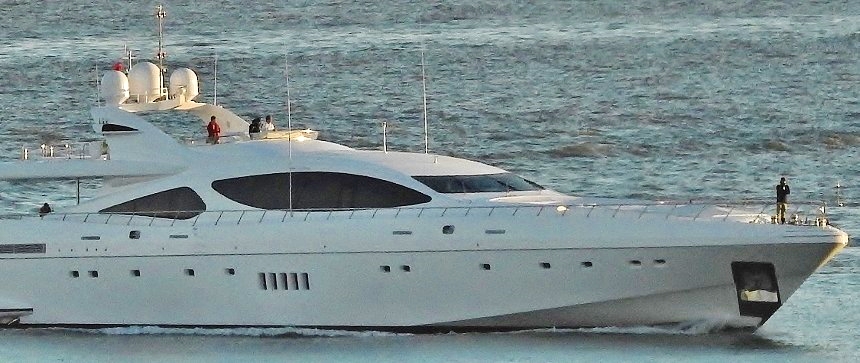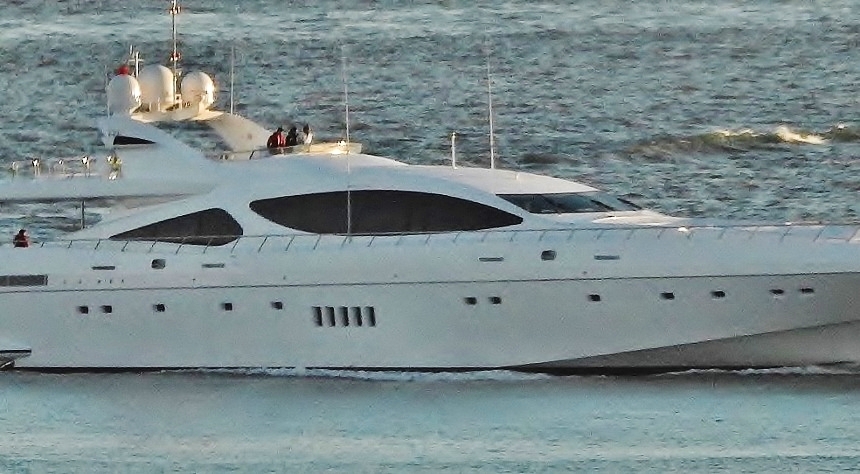 Pimms anyone ?
Thursday, 1 December 2016 - 08:05
Post 3280
Mike J., Dover
Wednesday afternoon & the arrival of the Maltese-flagged motor yacht FORCE INDIA from Southampton..
2007-built in Italy she is owned by the owner of the 'Force India' Formula One racing team.
Available for charter at around 150,000 Euros a week !
Five minutes earlier the light from the setting sun would have been perfect ! Grrrr . . . . .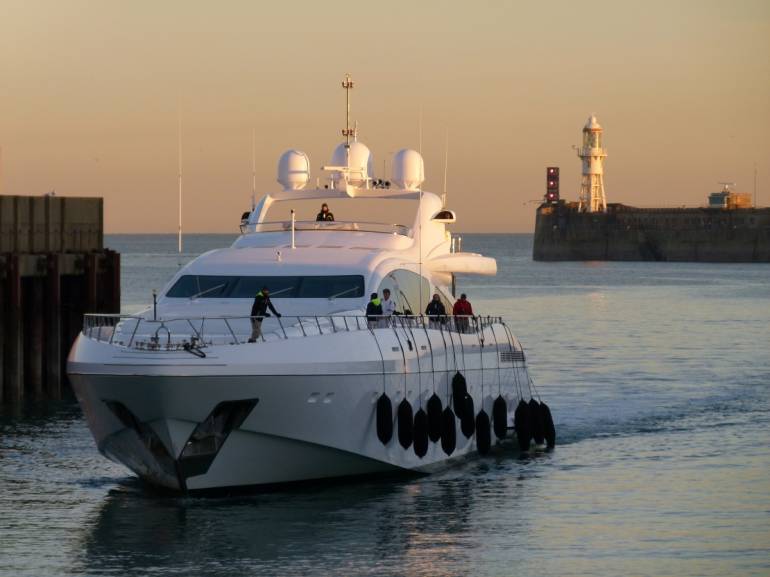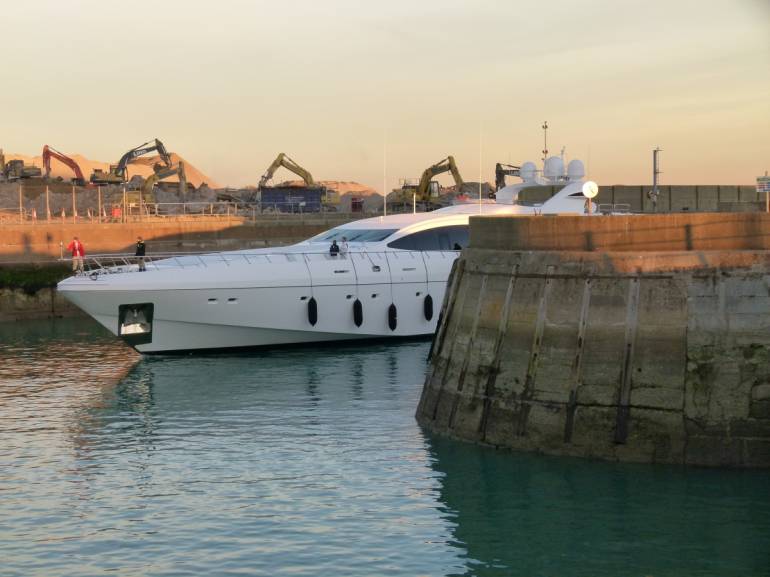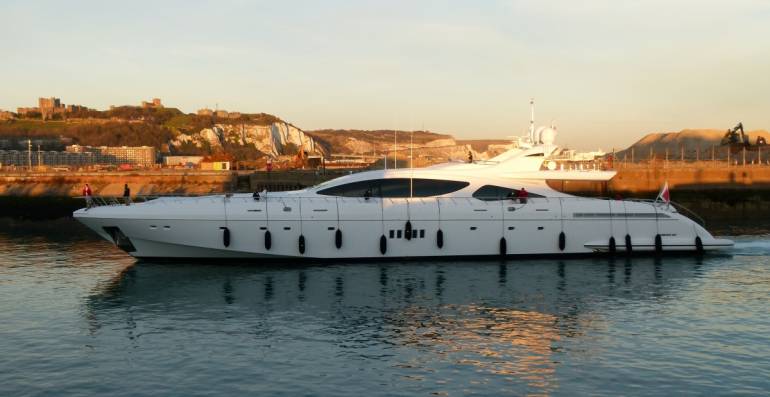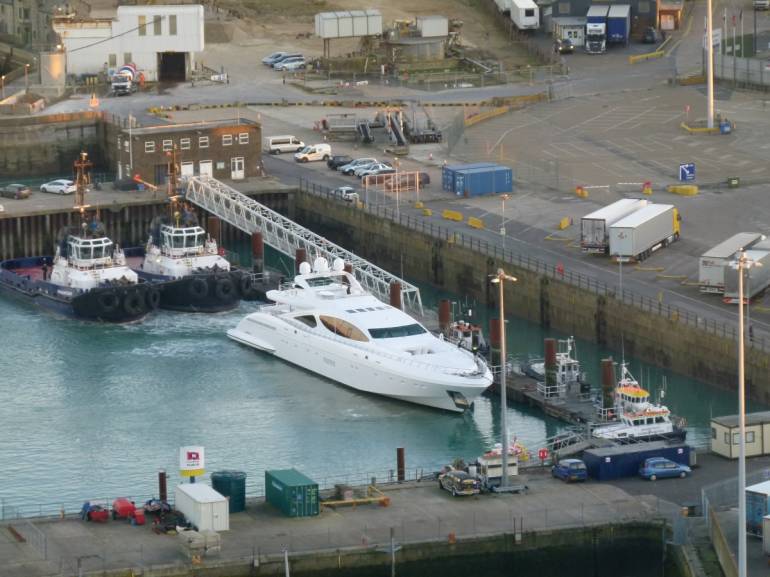 Wednesday, 30 November 2016 - 22:56
Post 3279
Sea News, Dover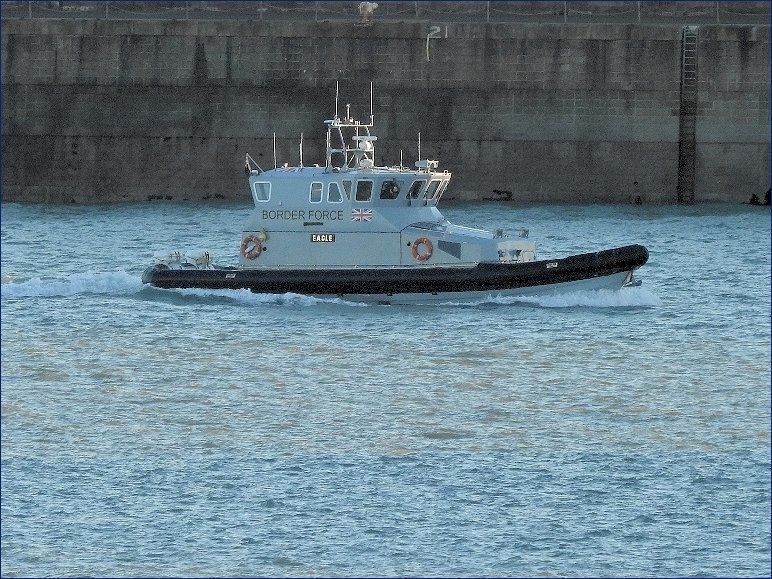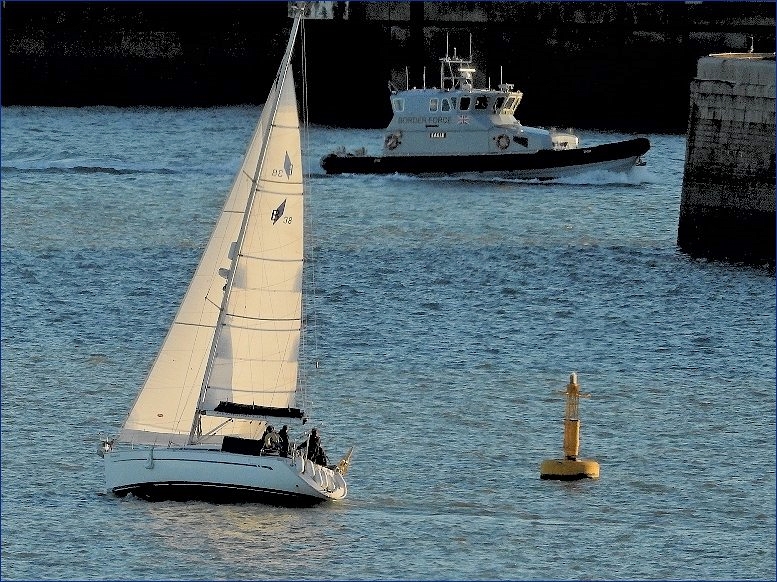 Last evening close to 4pm in the fading light above, we can see Eagle of the Border Force returning to base after another long day in the channel. Her nameplate was aglow somewhat miraculously as she passed the yacht Community Spirit which had another day out there sailing in the chilly conditions. You can see pictures of the yacht below page from a day earlier.
Better news from Calais. But will it last .. asks Road Haulage Association
__________________________________________________________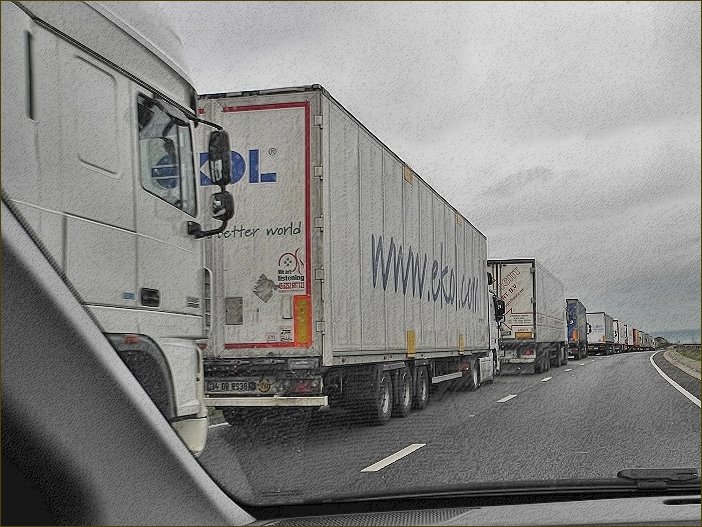 The vital cross-Channel ferry and Tunnel routes for international lorry traffic appear to be returning to normal says the Road Haulage Association. However, the concern remains that the situation may change if the increased security measures at the Port are not maintained.
Removal of the 'Jungle' migrant camp appears to have been effective in greatly reducing the local threat to drivers, vehicles and loads and RHA members report that Calais appears to be getting back to normal – for the local residents as well as for lorry drivers. Operators who switched away from the Dover Straits are cautiously re-appraising their decision; and some are starting to return.
"It's good to be able to say something really positive about Calais," said RHA chief executive Richard Burnett, "We will of course continue to monitor the situation closely. The key is to ensure that the 'Jungle' camp is not allowed to be re-established."
"The problems over the past two years have been awful for everyone – including the migrants, desperate to get to the UK by whatever means possible.
"However, on a recent fact finding visit to the Port, the overall concern of those UK-bound HGV drivers that we spoke to was that the current situation, although very welcome, may well be short lived."
It is important to recognise that the problem of migrants trying to get into UK-bound trucks remains but for now, the Calais area is no longer such a migrant hot-spot. The threat is now more dispersed but it appears that organised gangs are still active in trying to get migrants to get on-board vehicles when they park for breaks.
"Hauliers and drivers must remain vigilant and plan ahead," Richard Burnett continued. "The RHA strongly urges firms involved in UK-continental work to sign up to the UK Border Force Code of Practice and Accreditation Scheme. While they are not perfect, they are appropriate.
"The RHA has been working with UKBF on gathering intelligence on the migrants and the criminal gangs who often direct them and we will continue to do so," concluded Richard Burnett.
Ends
Just rounding off with a picture of the French equivalent to our Border Force at Calais several months back.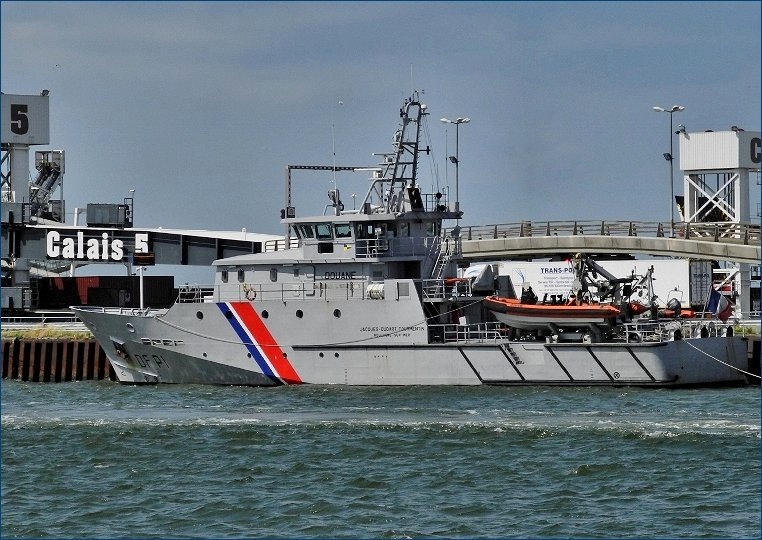 Wednesday, 30 November 2016 - 07:32
Post 3278
Sea News, Dover
This is the gentle tranquil and colourful scene across the harbour a few minutes ago as I write..
what's that they say...
"Red sky at night sailor's delight"
so there we are, we're in for a pleasant time of it tomorrow according to the sky. PB.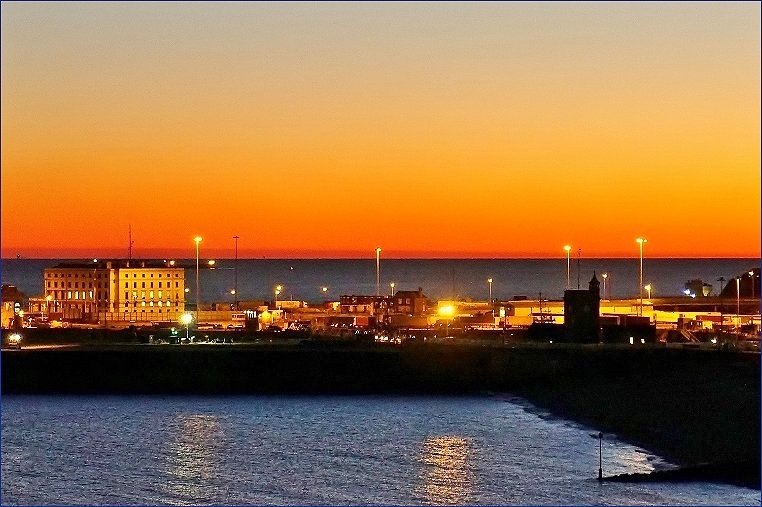 Tuesday, 29 November 2016 - 17:04
Post 3277
vic matcham , Dovor
SORRY TO SAY THAT I HAVE HEARD SAND IS STILL TO BE TAKEN FROM THE GOODWINS,

I HOPE THAT IS NOT TRUE

Tuesday, 29 November 2016 - 10:26
Post 3276
Sea News, Dover
You can bet that it was very chilly out on the water yesterday, these guys below would have needed three Weetabix for sure before they set out the face the bracing day. The wind was cold and easterly and was strong enough to whip that skin off that rice puddin' again. The guys onboard, there appeared to be about seven or eight, were all well wrapped up to face the challenge ... the yacht is called Community Spirit.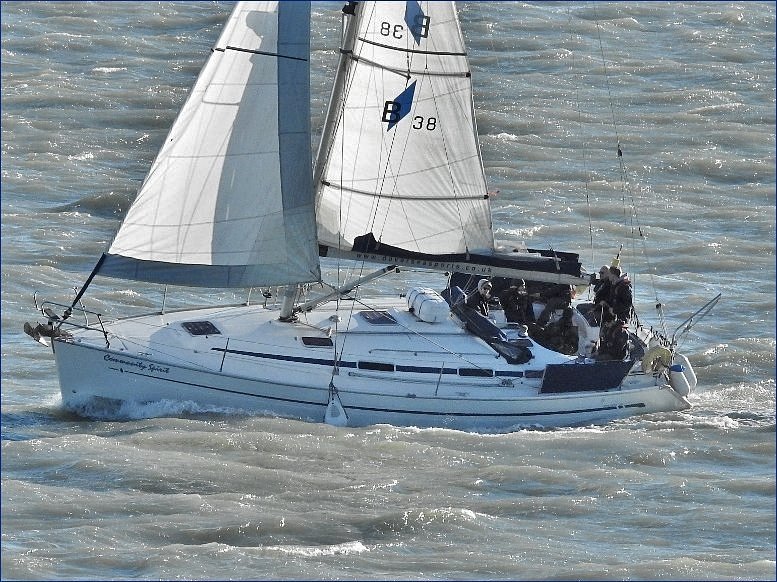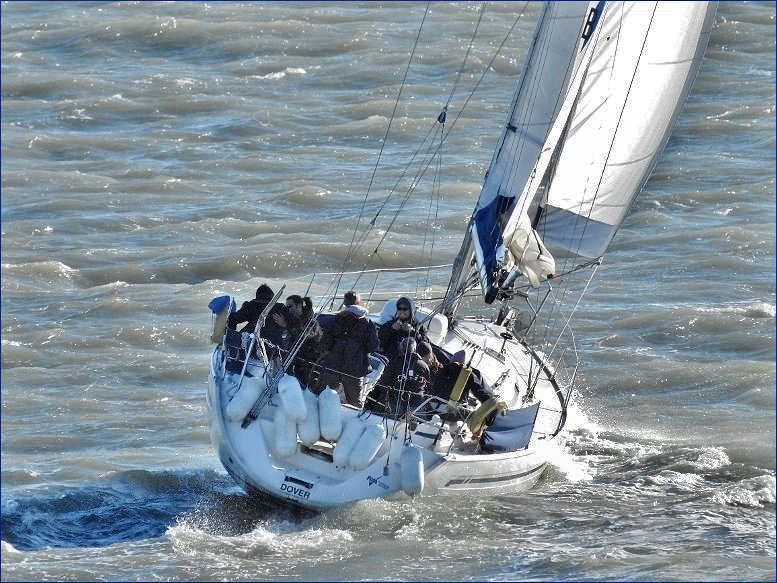 * *
More in a moment... and here we are...

DWDR laying the foundations for a new Dover
_______________________________________
Port of Dover's flagship Dover Western Docks Revival (DWDR) project is quite literally laying the foundations for opportunities in the future, as reclaimed concrete from the Prince of Wales Pier enabling works and demolition material from the St James development form the foundation of the Western Docks.
The last 10 months of work has seen the DWDR project stockpile 46,000 tonnes of reclaimed concrete (aggregate) as the Port creates a sustainable legacy of material processing and recycling.
Jack Goodhew, General Manager – Special Projects of the Port of Dover, said: "We make every effort to send materials from old structures for recycling, rather than to landfill.
"The DWDR project is delivering sustainable development by reducing the volume of aggregate required and we have been obtaining suitable material from local demolition works in order to minimise our requirements from other sources.
"The height reduction and enabling works along the Prince of Wales Pier have resulted in 20,000 tonnes of recycled concrete crush added to the 26,000 tonnes already recycled from the demolition of the former 1970's office block, hotel and multi-storey car park from Dover District Council's development.
"This resulted in a reduction of 46,000 tonnes of embodied carbon associated with the extraction, manufacture and delivery of aggregate.
"The DWDR project will make best use of recycled materials wherever possible from local regeneration projects, and this also includes a further 7,000 tonnes from the multi-storey car park in the Eastern Docks which is due to be demolished next year."
Recycled and secondary aggregates are making an increasingly important contribution to the UK's needs and are often part of a mixed sourced approach to large-scale construction projects. Jerry McLaughlin, Director of Economics at the Mineral Products Association (MPA), said: "Recycled & secondary materials now account for 28% the GB aggregates market and the DWDR project is a good example of how sustainability can be integrated into infrastructure development."
ENDS
Tuesday, 29 November 2016 - 08:00
Post 3275
Sea News, Dover
RECORD BREAKING PORT
Europe's busiest ferry port hits all-time freight high

_______________________________________________________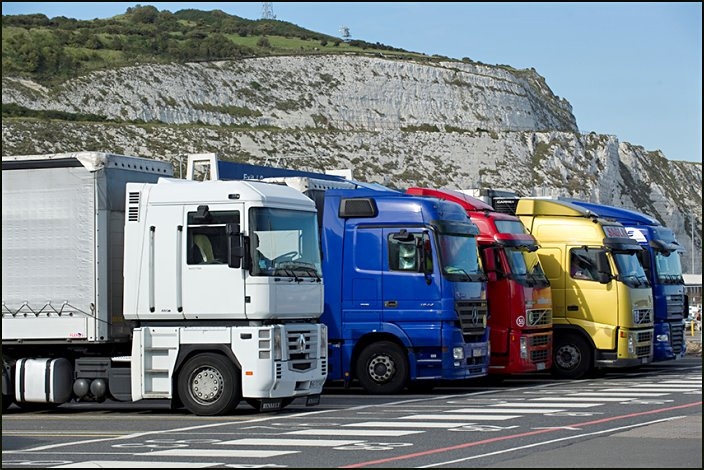 The Port of Dover recorded its busiest day ever for freight traffic, with 10,558 freight vehicles handled by the Port last wednesday 23rd November. That is nearly 500 more than the previous record and is equivalent to four extra ferry loads or nine kilometres of traffic in one day.
This freight high builds on a 3% growth in freight during the third quarter of 2016.
Following 30% growth in freight in just the past three years, freight traffic is once again increasing at Europe's busiest ferry port, which handles 17% of the UK's trade in goods.
As the shortest sea crossing between the UK and mainland Europe, freight wants to use the quickest, cheapest and most efficient crossing but Dover had seen a marginal shift away to other ports in recent times due to the issues at Calais. However those pressures have now eased following the closure of the Jungle and Dover is once again back to breaking records in support of a growing economy.
Tim Waggott, Chief Executive, Port of Dover, said:
"The Port is busier than ever, with strong volumes projected for the rest of the year.
"Dover continues to play a critical role in ensuring that the UK's trading relationships with our European partners remain strong as we move towards Brexit.
"As we approach the busy festive season for freight and passenger traffic, we will be doing all we can to keep the traffic moving in order to ensure the nation's shops remain stocked and people get away for their well-earned breaks."
Ends
A great record above..the UK still doing great trade with our European neighbours.
The Swedish Reefer came in yesterday sunday. I missed its arrival but here is a recent picture of the hard working vessel. PB.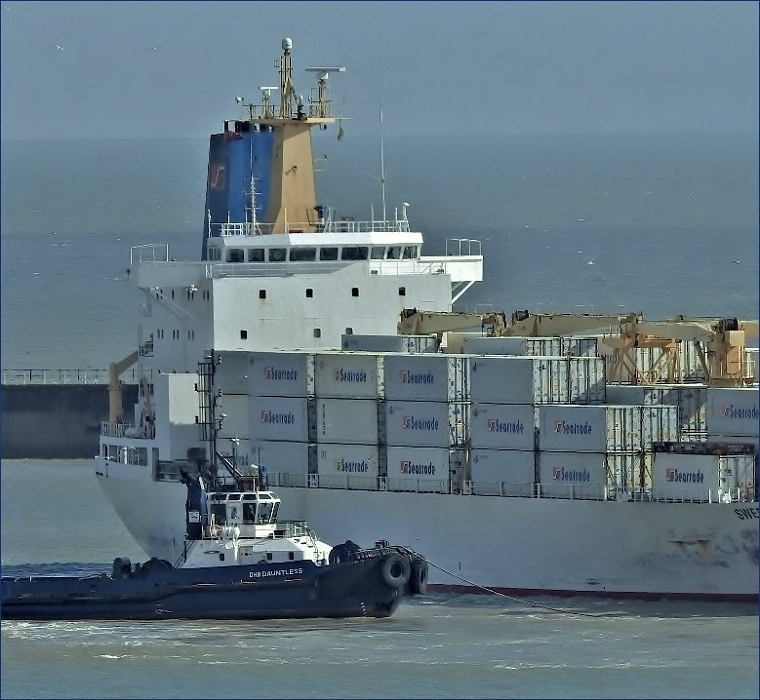 Monday, 28 November 2016 - 06:59
Post 3274
Howard McSweeney, Dover
Where has Connor been hiding until now?

Wonderful photos that add even more quality to this forum.

Sunday, 27 November 2016 - 22:11