Saturday, 8 March 2014
SEA NEWS - DOVER
Replacing our Sea Defences. Latest pictures below. Dover's expertise is in global demand.. also below, plus news on this years REGATTA ...its going to be bigger and better, plus news on the DFDS Apprenticeships immediately below.
Please scroll down the page and over the page for much much more....
Dover.uk.com and Doverforum.com are merged and enjoying good times.This is your entirely local Dover website so please feel free to join in with the discussion and chatter. See the link to dover.uk.com on the menu left for the latest frontpage topical news stories, and/or click on Forums Direct on the menu left to join in with the latest chat.
Nautical contributions welcome on this page - all pictures remain own photographers copyright. Email:dover7@msn.com to send Sea News pix or info..or click ADD YOUR COMMENT to post. Paul Boland.
PaulB, Dover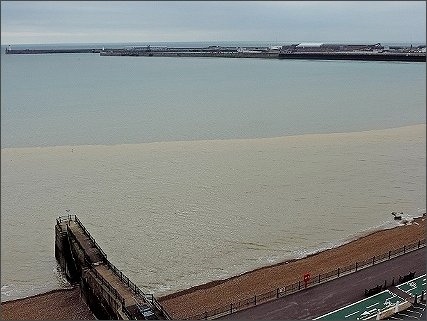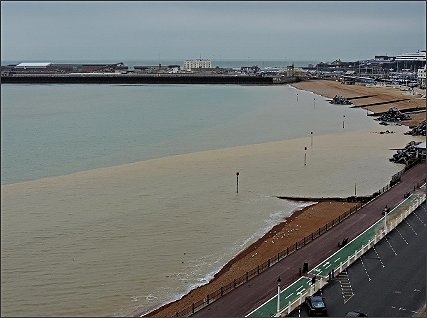 Our old friend the tidal line is back. Here she is in graphic line right across the harbour yesterday. The distinctly different colours presumably fuelled this time by the beach and groyne workings which as we know are currently taking place. Thought it was worth showing, worth taking a few easy snaps. It is quite an unusual phenomenon in all its simplicity.
The cargo ship below is called the Ecuador Star. Pictured about 3pm yesterday afternoon as the tugs readied her for instant departure. In the background you can see the Dieppe Seaways in its all new livery heading towards Calais.
I noticed from Chris T's great Channel Traffic page at the top of dover.uk.com, which he has now expanded even further, that the Ecuador Star was off to mother Russia and St Petersburg in particular. I thought I would undercut the cruise liners that go there from here...so I offered my services as a deck swab onboard for the entire trip at low wage, but the captain wasn't having it. I could have done up to two hours a day too, as long as I got rum and fags...but no.
Ah well pity...always wanted to visit L'Hermitage.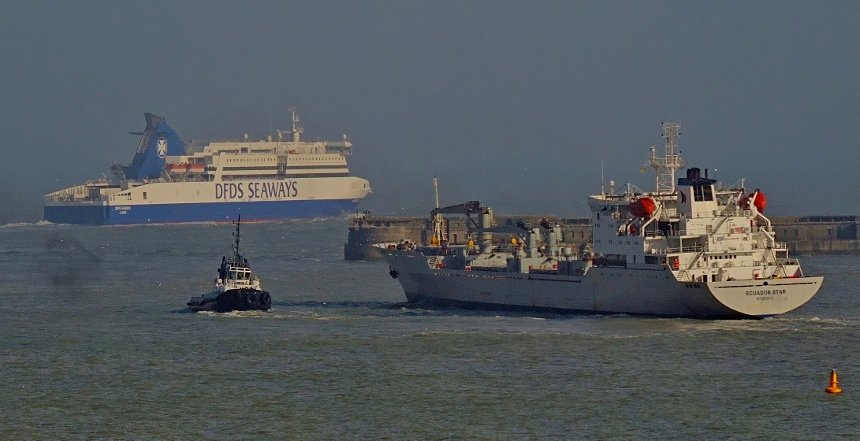 Kevin yes they should look great when finished. Will change things on the beach for the better. All great stuff !
Nice pic below Mike

. Local wildlife will like 'em for sure !
Saturday, 8 March 2014 - 06:24
howard mcsweeney, Dover
very droll mike i will have to get down there on the morrow to see things myself now that summer has been predicted for the weekend.

great photos all round but good to see things in the flesh.

Friday, 7 March 2014 - 23:13
Kevin Charles, Dover
I think the new Larvick rock groynes will look great. It's been fascinating to watch, although a little noisy one night! As well as looking aesthetically pleasing, I presume they will also be good for marine life.

Friday, 7 March 2014 - 12:51
Mike J., Dover
Re Vic's concerns - the locals are climbing all over the rocks already . . . .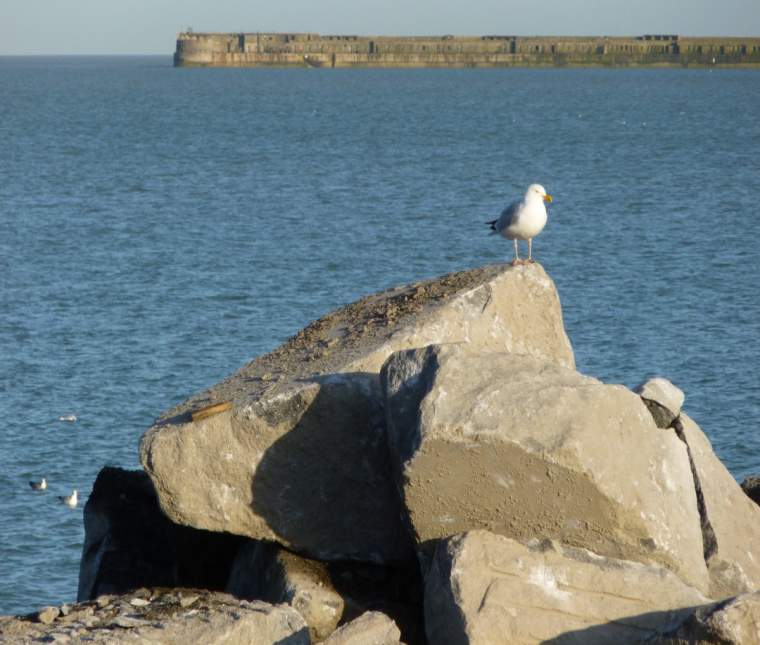 Friday, 7 March 2014 - 11:00
PaulB, Dover
HARD ROCK !
I don't know about you but this rock is starting to look beautiful. Perhaps it was all that sunshine yesterday. Its gone straight to my head. There is no doubt about it...Spring hits a chap hard after that long winter..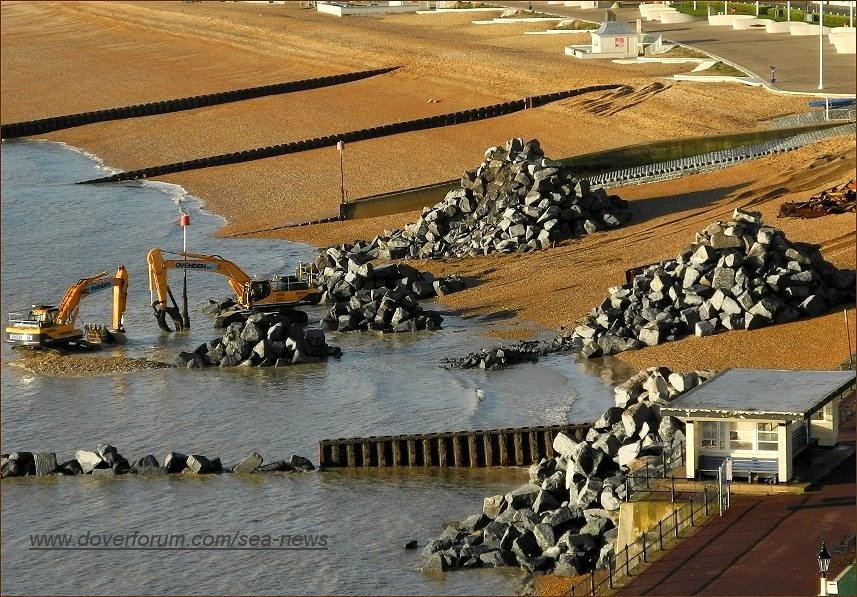 The pictures shown here were taken yesterday. Top one is the early morning shot and shows the diggers working hard while the tide is out. The rock formation increasing yet again as you can see..with substantially more delivered the night before. You can understand why kids might want to climb it as Vic has said. Might have tried it myself a year or two back!
The picture below shows the evening scene last evening. All this brilliant sunshine basking the seafront in an evening glow with our new monoliths raising their prehistoric-looking peaks out of the water. All in fab weather. Bizarre times indeed weatherwise and no mistake.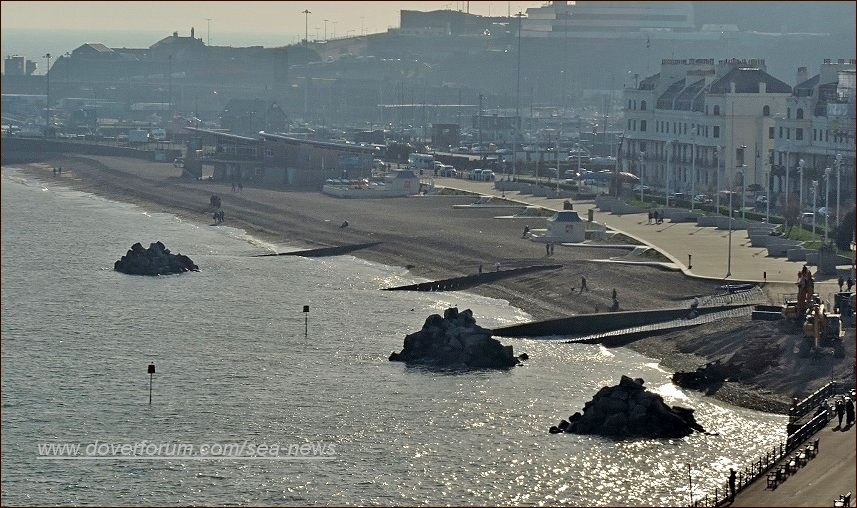 Well done lads with the pictures below. First time I have ever seen that zig zag path..wow! that looks risky these days, especially with the cliffs being soft with all that rain. A welcome picture....was just what Karlos was asking for. Smashin' selection from Mike.. who was clearly right down there in the thick of the action.
Good to see the two Jans enjoying the pictures too.

Friday, 7 March 2014 - 07:14
JanT, Dover
Some really great pictures there guys of what is happening on the sea front, a big job indeed and they seem to have bought in the heavy guys.

Keep the pictures coming its interesting to see their progress


Thursday, 6 March 2014 - 12:35
Karlos, Dover
Thanks for the photos. Your photo Ed is the shot I was looking for showing the fall affecting the path.

There's a picture in a (Dover Express website article I can't link to) article suggests that the path could just about be accessible for the brave.

dover express . co . uk
Safety-warning-cliff-path-collapses-close-forever/story-19717349-detail/story.html


Thursday, 6 March 2014 - 11:16
Mike J., Dover
A few more from ground level.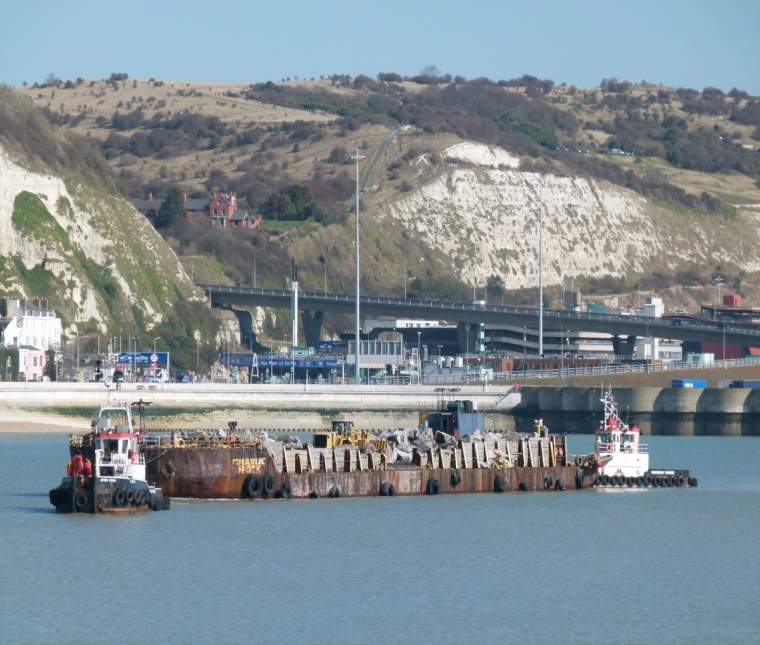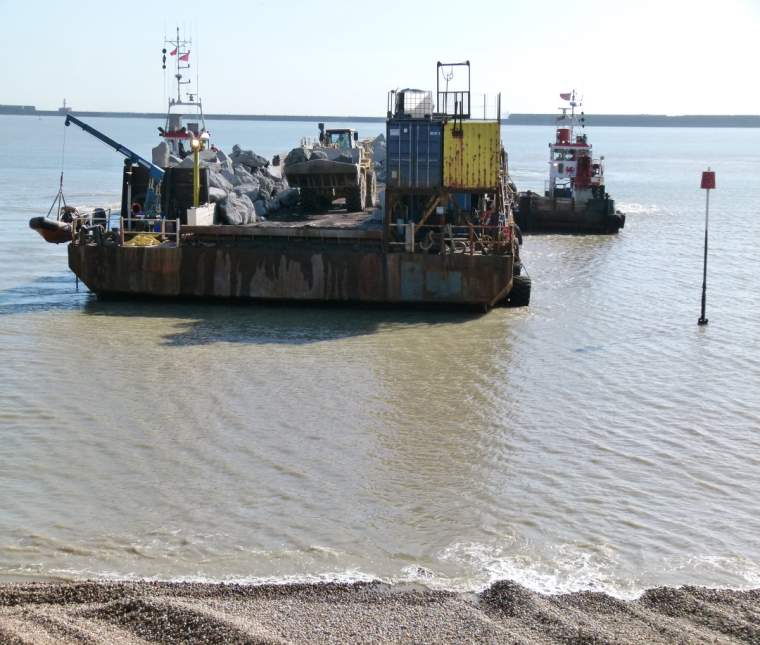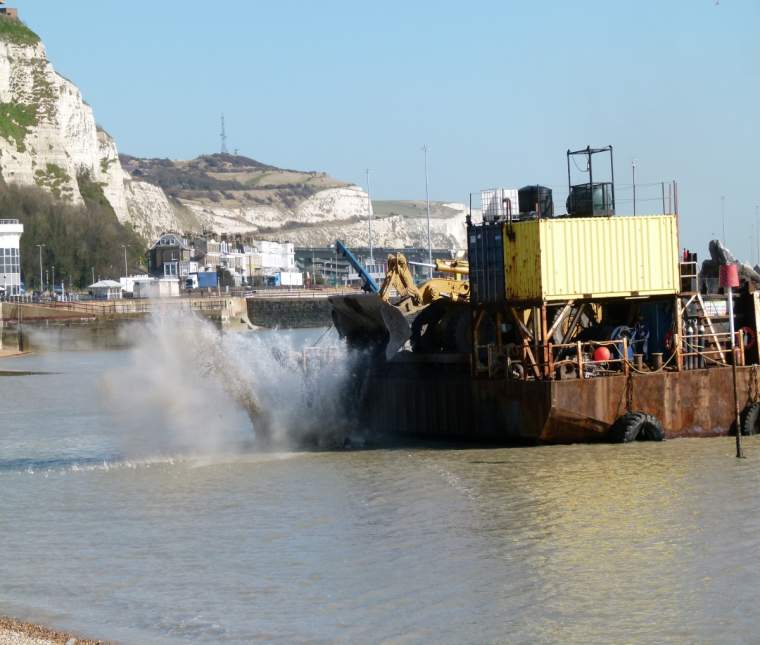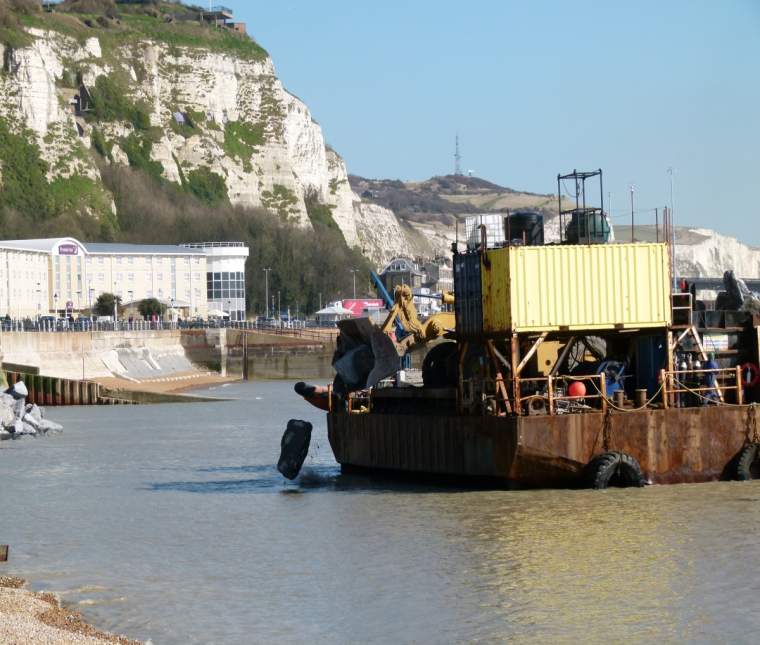 Karlos -
Was this the cliff fall that you were enquiring about ?
Crab Bay, just to the east of Langdon, 10/3/12.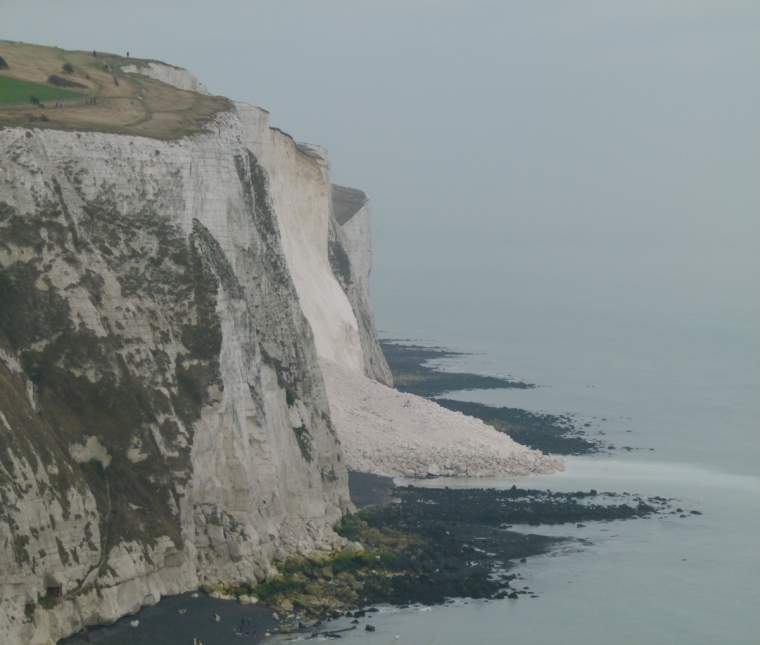 There's spectacular footage of a recent cliff fall at Birling Gap on the BBC SUSSEX website - look for 'Section of cliff falls into sea'
Thursday, 6 March 2014 - 07:04
Ed Connell, Dover
Karlos: Wider view of the Zig Zag taken at the same time as that of the ladder.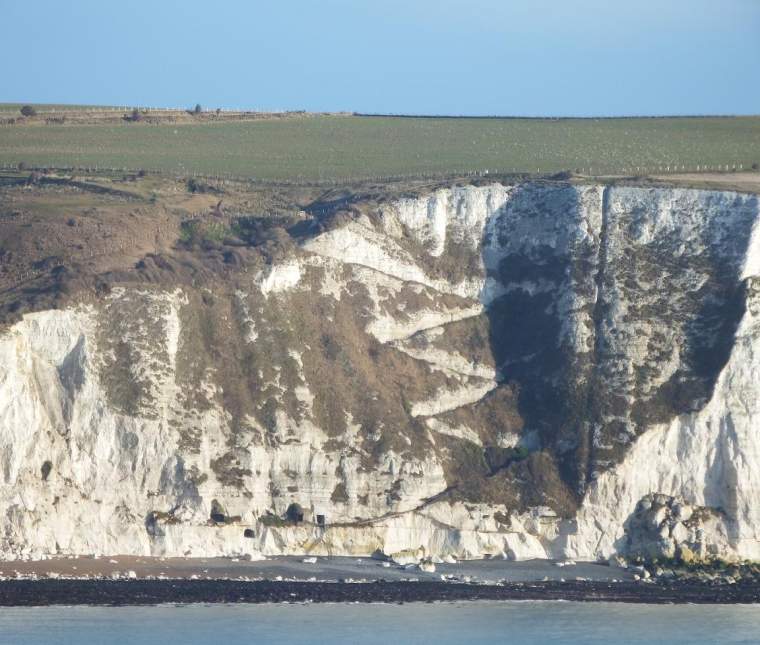 Thursday, 6 March 2014 - 03:09
Jan Higgins, Dover
Isn't it nice to see that just like humans the diggers like playing in the water and on the beach when the sun is out.

Great pictures Paul.

Wednesday, 5 March 2014 - 17:40
PaulB, Dover
Lots of dramatic action on the seafront today..so many pictures I don't know where to start. But let's start with early morning...the first two pictures were taken at low low tide in the early morning slanting colourful sunlight. Could spring be here?? The first shot below takes a wide view and you can see the overnight delivery of Norwegian larvic rock lying at the waters edge. At about 2am, in the wee small hours of the morning, the massive barge Charlie Rock, and I hope I am able to show the scale here, dropped off its first delivery...and you can see it here...these rocks will become the groynes...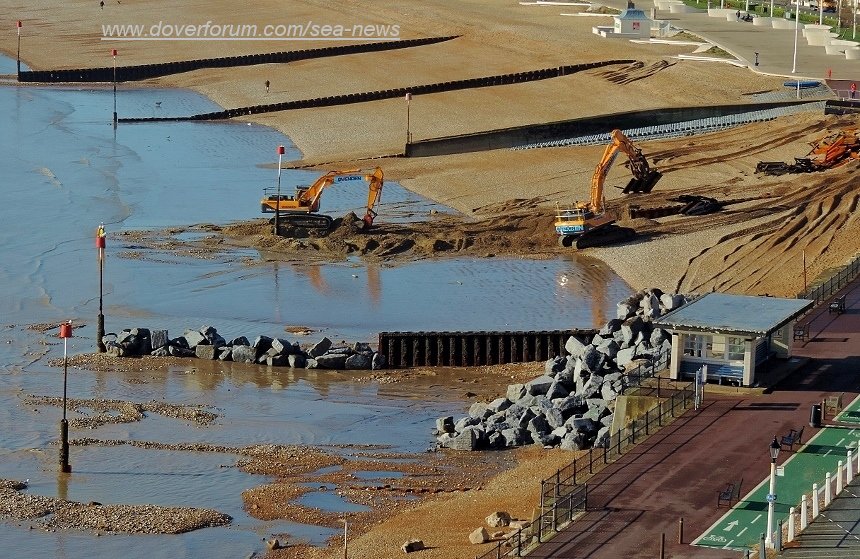 These two JCB digger guys below were all at sea for a while, as ever fighting against the unrelenting unforgiving tide..fortunately the sea was benign.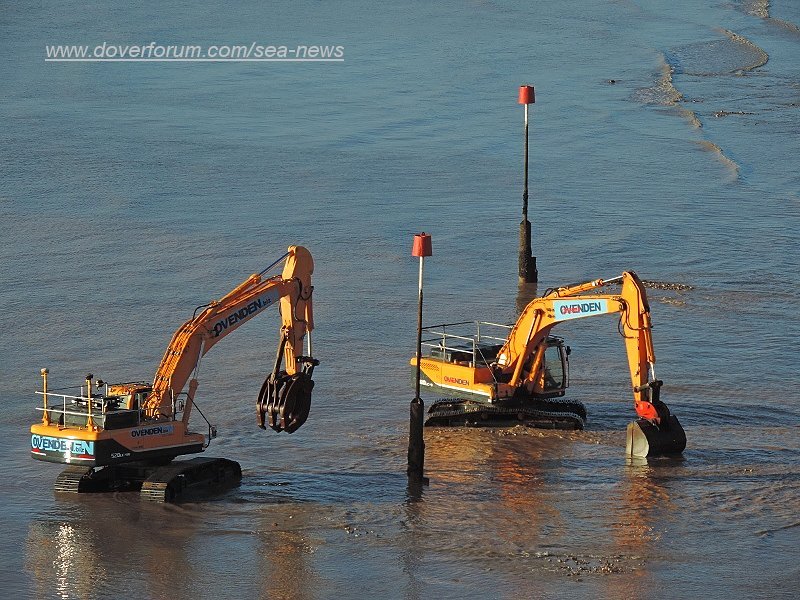 Once the tide was in to a workable extent around midday, a trio of Holyhead Towing vessels arrived, the main player being this massive barge on a scale never seen in the harbour before..delivering more rock on a grand scale.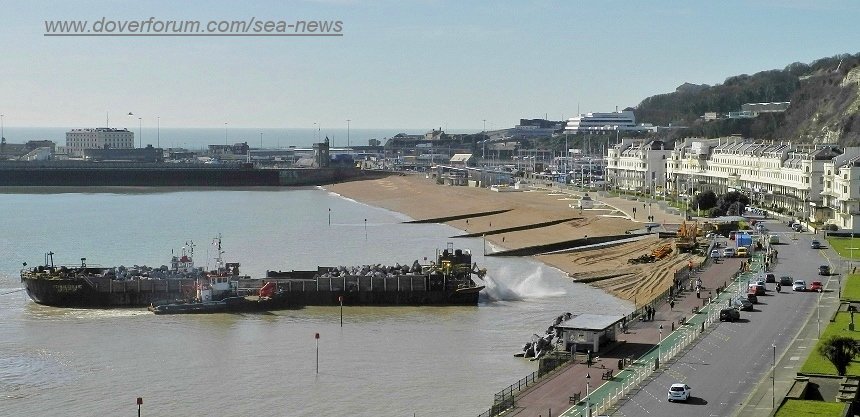 I have made the pictures quite large so that everyone can see the detail...hopefully.
Karlos I myself don't have any of the pictures you request but when Ed looks in he may have something further.
also
Don't miss below how DFDS are taking on six further apprentices..offering young hopefuls a life out there on the briny blue

Wednesday, 5 March 2014 - 14:55
Karlos, Dover
Is the Langdon steps path cliff fall just out of picture? Have you a picture showing it?

Wednesday, 5 March 2014 - 11:06
vic matcham, Dover
great photos, is putting rocks down where the children can get on them a good plan? we will have to wait and see.

Wednesday, 5 March 2014 - 08:36
PaulB, Dover
NATIONAL APPRENTICESHIP WEEK - A Life on the Ocean Waves...

DFDS Seaways Lights the Way in Launch of New Maritime Trailblazer Apprenticeships Scheme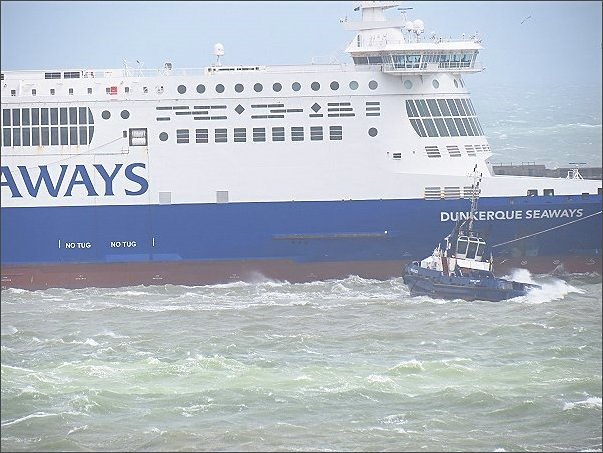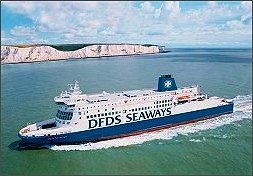 - First ferry operator to sign up to apprenticeship scheme with six deck ratings apprentices (2012) on Channel
- DFDS to take on six further deck and engine ratings apprentices in 2014
DFDS Seaways is one of the key organisations taking part in the second round of the new employer-led Trailblazer Apprenticeship Scheme launched today (March 4) by the Department for Business, Innovation and Skills (BIS). Trailblazers are tasked with testing the new approach to apprenticeships recommended by Entrepreneur Doug Richards in his Apprenticeship Review in November 2012.
DFDS Seaways was the first ferry company to introduce ratings apprenticeships for deck and engine trainees on its cross Channel service to Dunkirk, underlining its commitment to both the British shipping industry, as well as local people from the South East of England looking to enter the important maritime sector.
The first six apprentices joined DFDS Seaways on the Merchant Navy Training Board (MNTB) developed apprenticeship scheme in December 2012 as deck ratings, working towards their Able Seafarer Certificate, which will enable them to work in the navigation (deck) department of any ship. The scheme is a two year initiative which comprises a mixture of on the job training with DFDS Seaways, as well as classroom based learning, which the apprentices undertake at North West Kent College in Gravesend, Kent. Four of the apprentices are currently on track to receive their Efficient Deck Hand certificate, marking the half way point in their apprenticeship.
DFDS Seaways has launched the second wave of its apprenticeship scheme this week (Monday March 3), as part of National Apprenticeship Week, taking on an additional six apprentices, comprising three further deck ratings and three engine ratings. The engine ratings will receive practical, hands on experience and training in welding and other workshop skills designed to give them the knowledge and expertise they need to become certified Able Seafarers (engine). This includes the day to day monitoring and maintenance of the engines and equipment in the engine room, as well as maintenance activities elsewhere on the ship.
Gemma Griffin, Vice President HR & Crewing for DFDS Seaways, and Chair of the Employment Committee at the UK Chamber of Shipping, chairs the Maritime Trailblazer Apprenticeship Scheme, which also includes representatives from Princess Cruises, Carnival, P&O, James Fisher and the Royal Navy. She comments:
"Employer-led apprenticeships of this kind are not only vital for DFDS Seaways, but also for the maritime sector as a whole. They help us safeguard the future of our industry by ensuring that we have young people entering the industry with the right skills, expertise and support they need to be able to work effectively and safely.
"At DFDS Seaways, we also have a ratings to officer scheme, providing our Able Seafarers with the training and support they need to progress to the top of their chosen field. That means that the apprentices who sign up to our scheme could feasibly become a Captain or Chief Engineer in the space of 15 years or so, if they demonstrate the right aptitude and competence. And although we might not be able to guarantee a job for life in our particular organisation, we can definitely help our apprentices gain a life-long career in the maritime sector."
UK Chamber CEO and former seafarer, Guy Platten said:
"The UK is known the world over for its seafaring skills and the UK has a proud maritime history, but this investment proves we are determined to build a maritime future too.
"The long-term prosperity of the UK shipping industry depends completely on the people entering it. Training must equip seafarers with key skills and develop their careers as fully as possible while meeting the needs of employers, and today's Trailblazer announcement is a huge step towards this."
Gemma Griffin will be attending the official launch event for the second wave of Trailblazer Apprenticeships at 10 Downing Street on Thursday March 6. She will be accompanied by DFDS Seaways deck ratings apprentice, Brandon Payne.
For more information about DFDS Seaways, which operates up to 44 crossings a day on its Dover-Dunkirk and Dover-Calais services, please visit www.dfdsseaways.co.uk.
* * * * * * * *
Great stuff above there from DFDS and great stuff below from Ed and Mike. Well done with all that lads and a great call by Capt Andy. Fascinating to see those pictures below there from the base of the cliffs and indeed of the old wreck of the Preussen.
NORWEGIAN ROCK ARRIVES ON SEAFRONT: As mentioned by Mike here is the Afon Goch below left from Holyhead Towing...(don't talk to me about Holyhead as I always get a touch of the tremors arrrgh!!) She was perusing the scene yesterday prior to her and other vessels dropping off a huge amount of Norwegian rock on the seafront in the dead of night last night. Worth popping down to have a look. Yes sir!...Norway has come to town in boulder-size lumps. Ed mentioned low tide, the guys picked the right time of year to do the work..there is also high tide in counter of course..here we see it below right pinning the workgroup to a tiny corner of beach.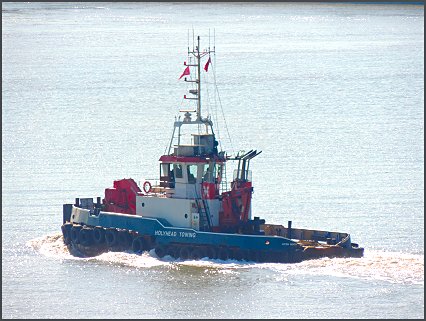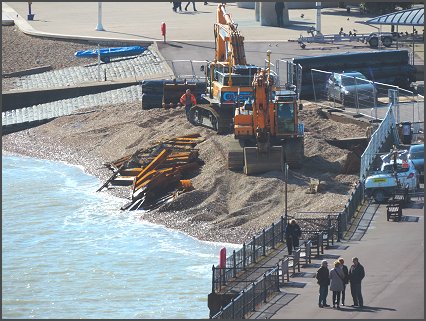 Yes indeed will have more pictures following in due course.
Wednesday, 5 March 2014 - 07:05
Ed Connell, Dover
Very low water on monday morning. Called on the walkie talkie by Capt Andy Armstrong and took the opportunity to take some photos:
You could see underneath the piers in the Eastern Docks.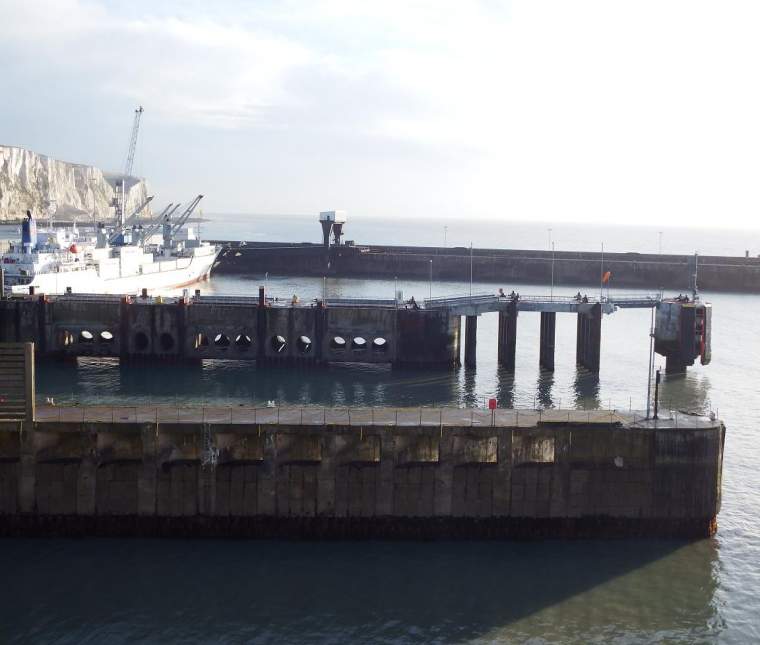 The ladder at the bottom of the zig zag down to Fan Bay.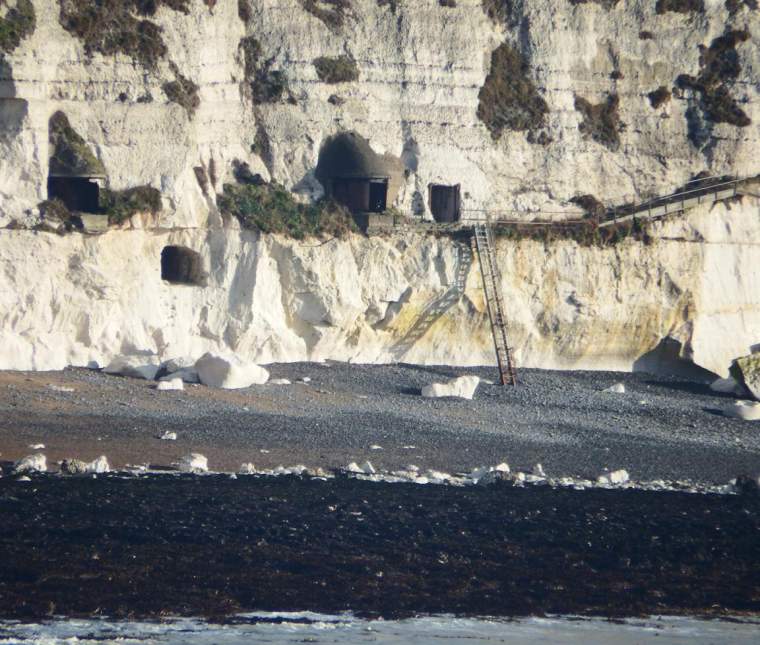 The wreck of the Preussen at the foot of the cliffs with the groove up which the cargo was removed.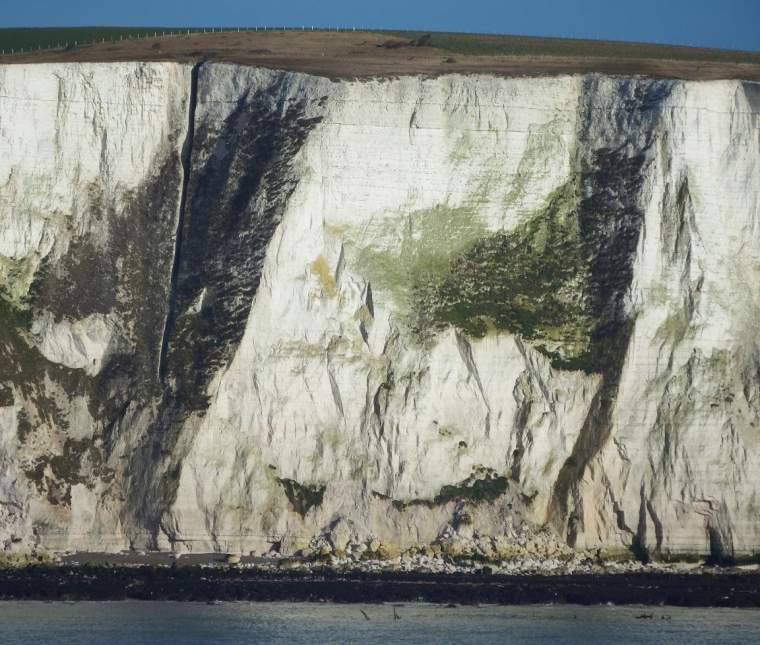 The remains of the five masted German sailing ship Preussen, wrecked in 1910.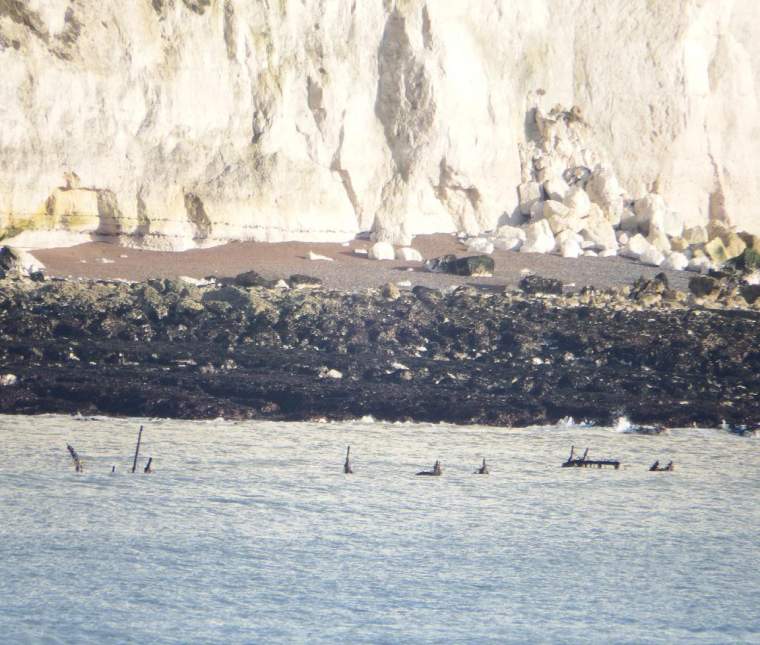 Wednesday, 5 March 2014 - 01:57
Mike J., Dover
The HELENE arrived on Cruise-1 on Monday night, loaded with rock for the groyne replacement job.
On Tuesday morning the tug/workboat LLANDWYN ISLAND arrived with the flat-top barge CHARLIE ROCK & this was tied up alongside the HELENE.
The tug/workboat AFON GOCH also arrived.
By Tuesday afternoon the HELENE was unloading rock onto the barge & the two tugs were tied up alongside the CHARLIE ROCK who has a large JCB aboard & this will be used for placing the rocks.
At least one of the tugs will be needed for moving the barge.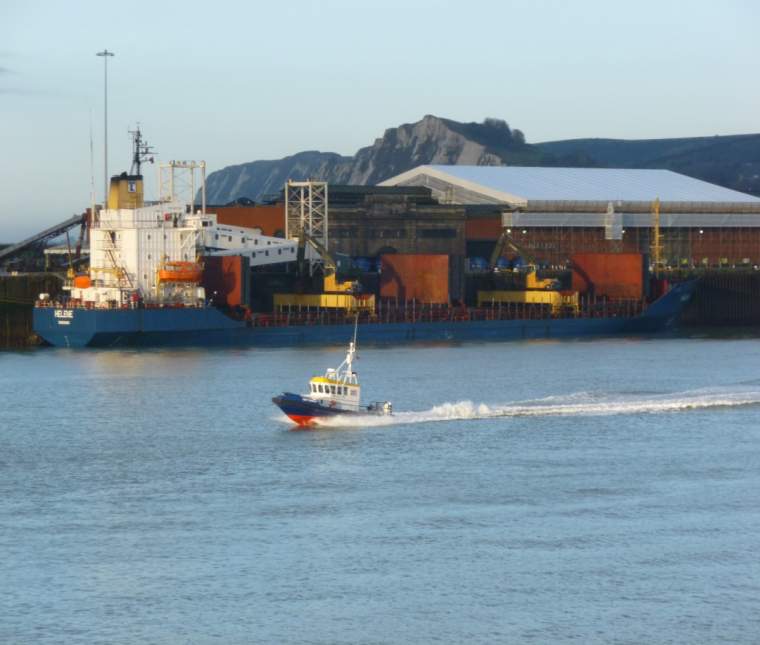 HELENE before arrival of CHARLIE ROCK - one of the Range Safety launches departing for Hythe or Lydd ranges.
The groyne replacement work will be something different to see on the seafront & I'm sure that we'll be getting some high-level views from PaulB !
Tuesday, 4 March 2014 - 21:27
Andrew MacLean, Canterbury (jazzandy@btinternet.com)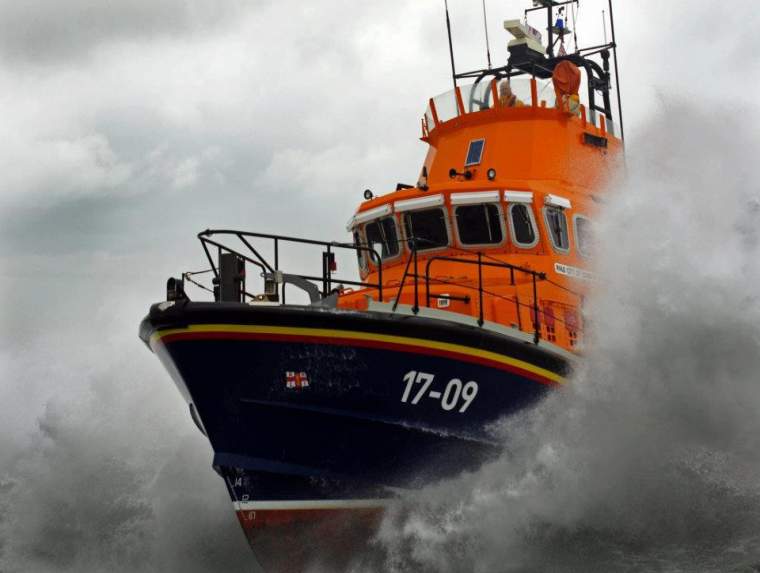 GREAT NEWS!! We're now accepting foot passengers on 'Dance to France' in aid of Dover Lifeboat and the restoration of TSS Dover.
On board MV Spirit of Britain - Saturday 29th. March - 18.35 sailing returns by 2215.
Buses from Priory Station at 1730 - Passports needed!
Tickets from 01227 732414
Book early as numbers are strictly limited!
Tuesday, 4 March 2014 - 16:12
PaulB, Dover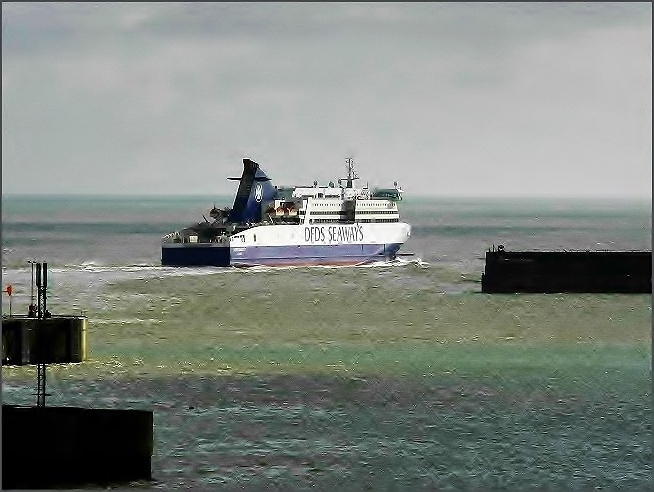 FREE CHOCOLATES : Travel to Bruges This Spring for a Sweet Deal with DFDS Seaways
____________________________________________________________________
•• Free exclusive Belgian chocolates for passengers visiting Bruges
•• 20% off return ferry crossings from Dover to Dunkirk
If you are looking for a sweet deal on a short break this Spring, then Bruges could be your perfect destination. Renowned as one of the world's chocolate capitals, the beautiful city of Bruges is less than an hour's drive from the French port of Dunkirk.
DFDS Seaways is offering 20% off its Dover-Dunkirk ferry crossings if you book before March 17, for travel throughout March and April, using code EBRG, making now the perfect time to book your break away. And if that isn't a tempting enough offer, those travelling on to Bruges can also claim a free box of exclusive Belgian chocolate swans from any Guild of Chocolatiers shop in the city on presentation of your DFDS Seaways booking reference.
A paradise for chocolate lovers, Bruges is home to the Bruges Guild of Chocolatiers, which seeks to preserve the art of chocolate-craft in the city. The historic Belgian city also houses 70 specialist chocolate shops in the city alone, many of which make their chocolate on site.
If there's one thing Belgium does as well as its chocolate, then it's beer and Bruges is no exception to this rule. Visit De Halve Maan brewery, the oldest in the city, and you can enjoy a panoramic view of the city, a guide to the brewing process and samples of Brugse Zot Blond beer. Most bars and cafes in Bruges stock a huge range of beers and it is not uncommon for the number to reach into the hundreds!
DFDS Seaways operates up to 24 sailings per day between Dover and Dunkirk, offering passengers excellent flexible sailing times. Passengers can relax onboard during the short two-hour crossing and grab a bite to eat at one of the restaurants or cafes, pick up last minute travel essentials from the onboard shop or let the kids play in the dedicated children's areas.
To book your travel now, or for more information on travelling to Bruges, visit www.dfds.co.uk.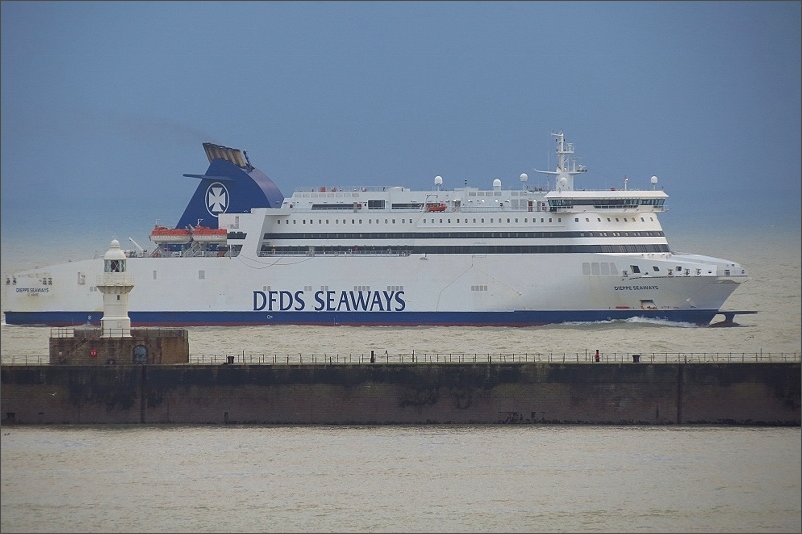 Hark.. you might be thinking! Two pictures, but is this the same ship?? yet it looks different somehow?
well indeed it is the same ship, the Dieppe Seaways, but it now has a different livery, a different design...
but which is the newer picture??

* *
Glad you are liking the groyne pictures lads. Yes you are dead right Vic. They seem to be cutting them across at the base. Looks a big and laborious job. Once the cutting is done the brute force of the JCB takes over. That seems to be the formula. The destruction of the second groyne is now underway.
Tuesday, 4 March 2014 - 06:46
Vic matcham, Dover
Yes you can see the burner and his tools there,as you can see all he has done is cut the old pile off as low as he can.they will just cover them up and lie the stone down go job all does is burnthem off and then on stand by till he does the next one,that the jobs I loved to do,one you do not have to think about first.

Monday, 3 March 2014 - 20:57
howard mcsweeney, dover
interesting photos - clearly going to be a long and arduous task, have no idea how deep down they go.

going to be rather a lot of truck journeys disposing of the old ones as against the new ones coming in by sea.

Monday, 3 March 2014 - 20:17