Saturday, 27 November 2021

www.doverforum.com/sea-news
Sea Pictures from DOVER ....
The view from Dover Seafront...
See more info base of page.
Channel Tragedy
NOV 25: We were very sorry to hear of the tragic and shocking loss of life last night in the Channel. A migrant dinghy heading to the UK with many people onboard sank off Calais. Latest revised figures say 27 were lost. Absolutely awful news and sad to say somewhat inevitable, as those small boats are at most times heavily overloaded and clearly not fit for purpose. Meanwhile the politicians flounder, seemingly unable to help ease this ongoing situation...
Dover Lifeboat - in dependable swift action during the Channel migrant crisis..
Below we see the RNLI Lifeboat bringing migrants safely to the Kent Coast. Their destination... Dover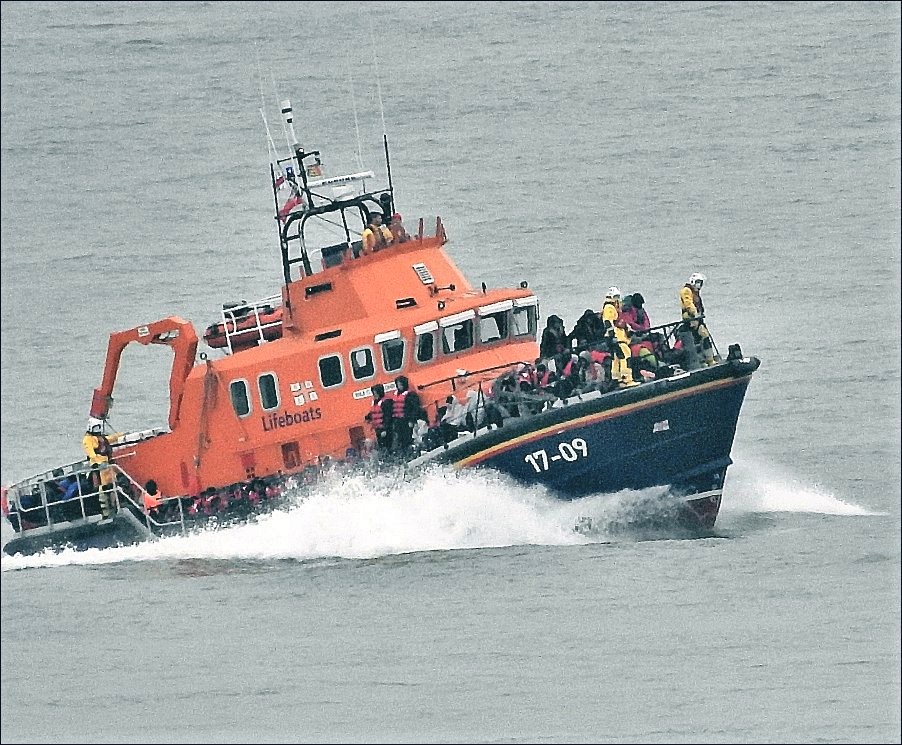 Dover Lifeboat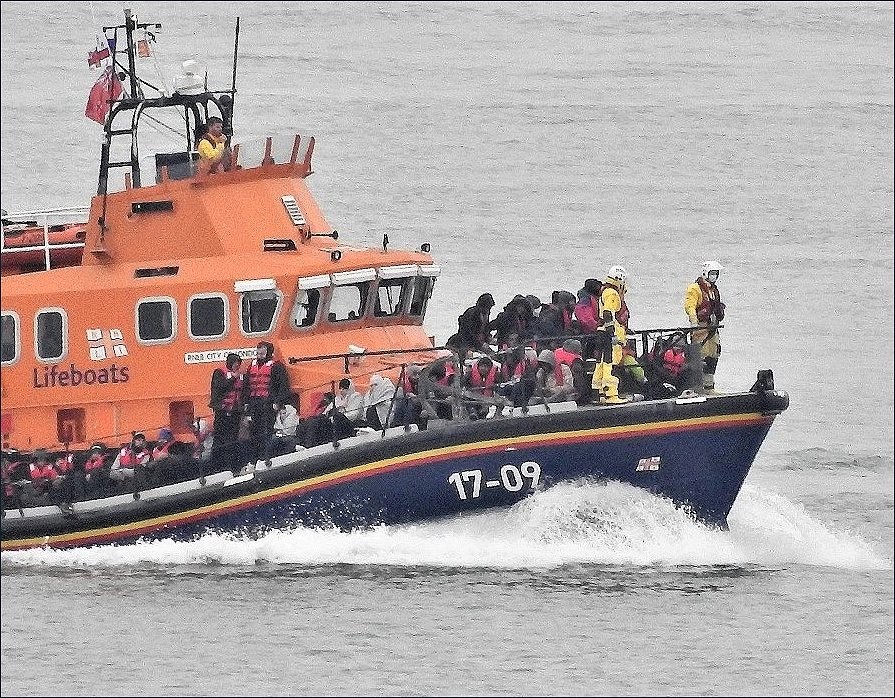 DOVER LIFEBOAT
Yes as we said, frantically busy out there this week in the gentle weather with migrant numbers up to record levels...the pictures above were taken on Tuesday Nov 16 and show Dover Lifeboat just about to enter the Port here in Dover and looking pretty packed out as you can see...
BORDER FORCE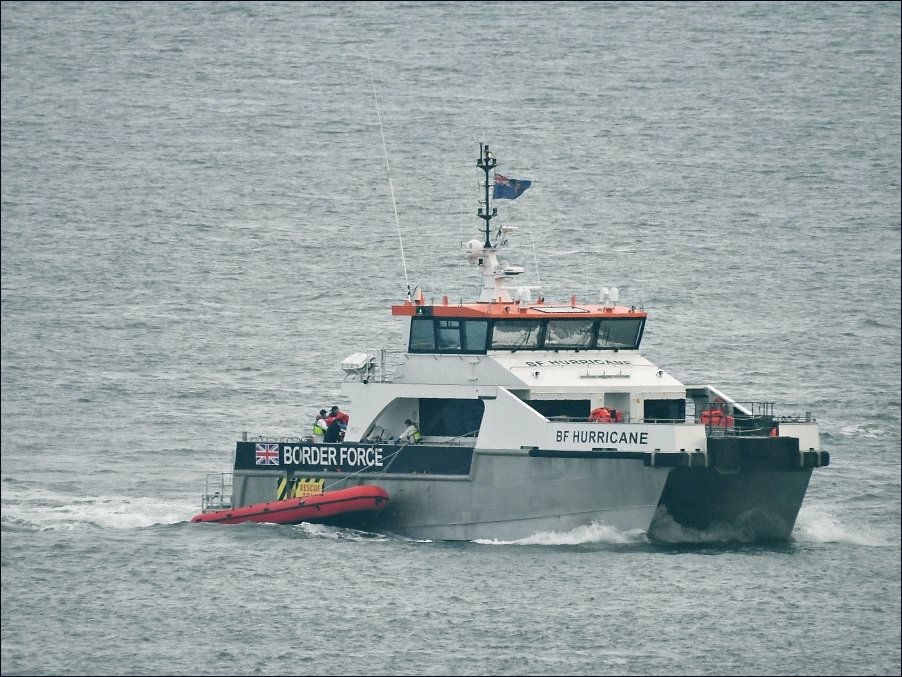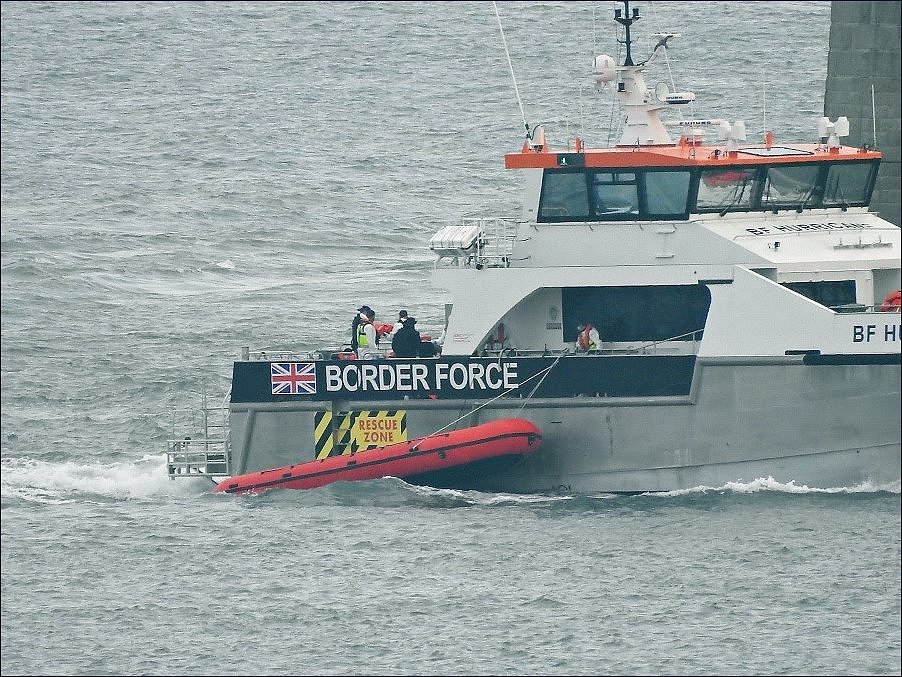 Tuesday: like many other recent days it has been frantic out there today Nov 16, both Lifeboat and Border Force in near constant action in the soft weather with many dinghies being towed in and of course many migrants brought ashore, we will have more pictures in due course. The two above are recent pictures of the whirlwind Border Force Hurricane ...constantly busy....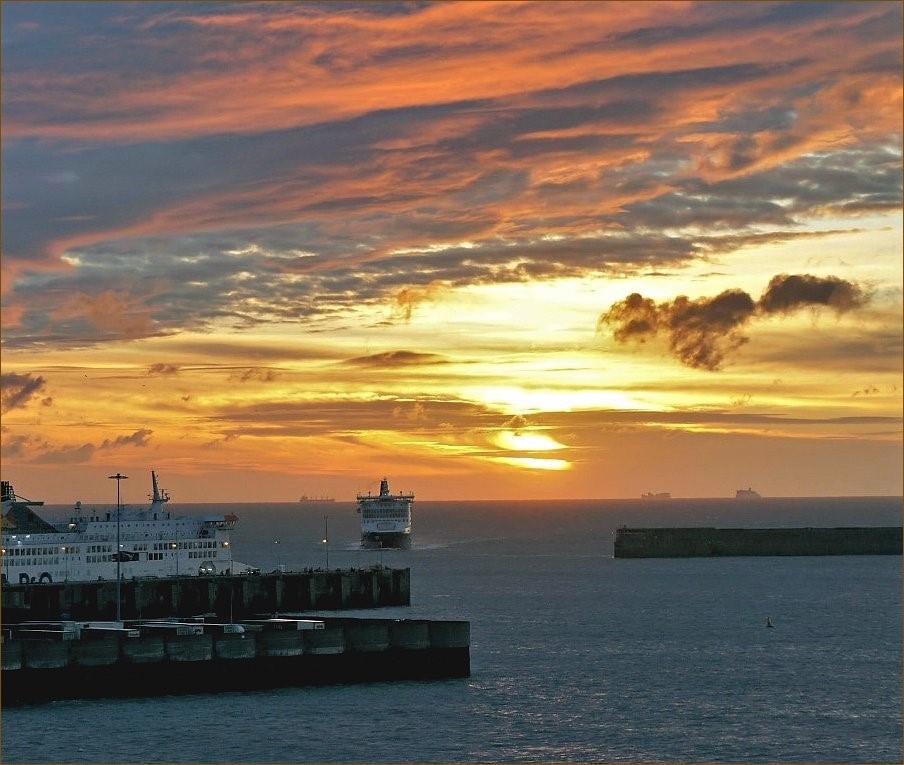 Ahhh its a beautiful very recent November sunrise and gazing across we see the early DFDS ferry approaching the Port of Dover under a dazzling sky... makes you want to hop on a ferry doesn't it.... and enjoy some of that French wine..
Later in the day we see Dover as the sun sets, looking just away from the Port ...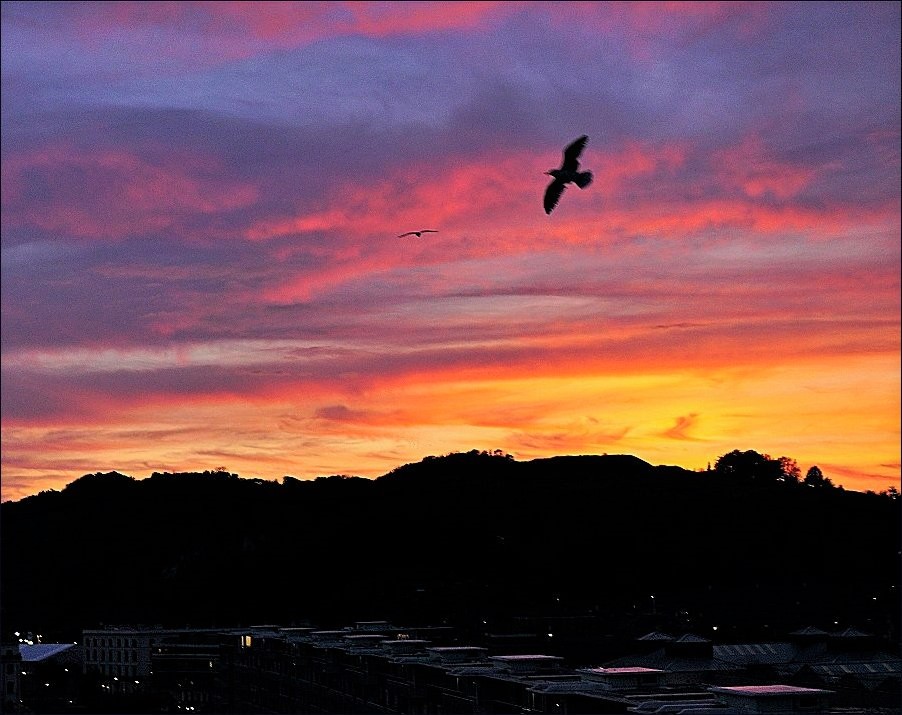 Dover Sunset
The pictures today make a colourful change after the recent ultra grey pix below.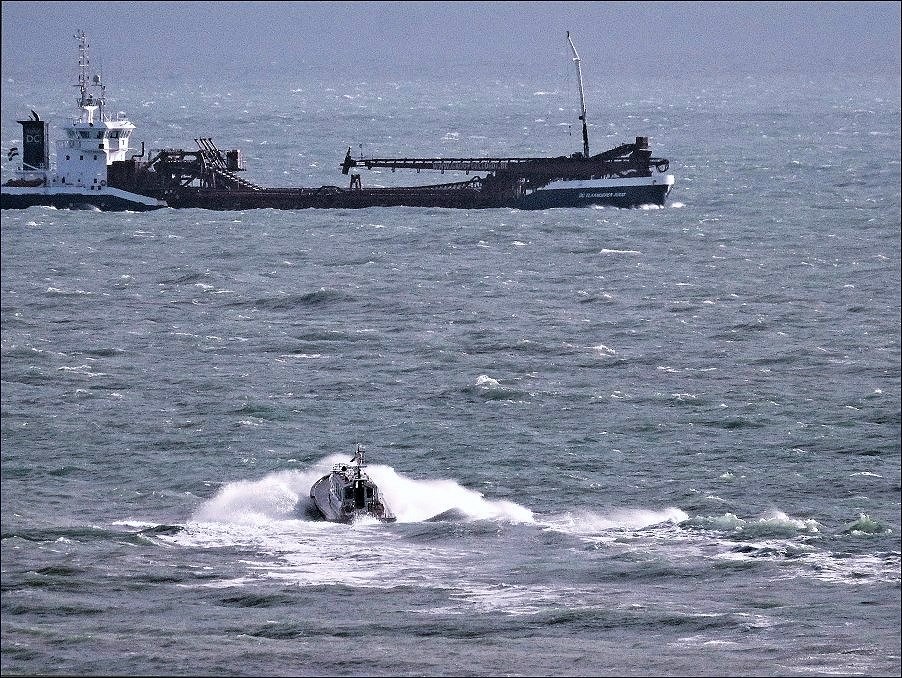 In the same rough choppy weather the hard working pilot goes out to meet the approaching vessel DC Vlaanderen 3000, the Dutch hopper dredger, which came into port recently for a brief stay ..... "fasten your seatbelts, its going to be a bumpy ride" ...
In the recent rough weather the glorious sea fessed up lots of dodgy debris, as ever one hopes its just seaweed or variations of, and yes there was lots of it. As you can see it doesn't look entirely seaweed, but however...we take it for granted as part of the inevitable gurgitation following rough weather. Worth a picture or two...yes...but in the time it took to fetch the camera, Gadzooks! a flag had arrived on the gurgitation. Gobsmacked ! ..and here we are..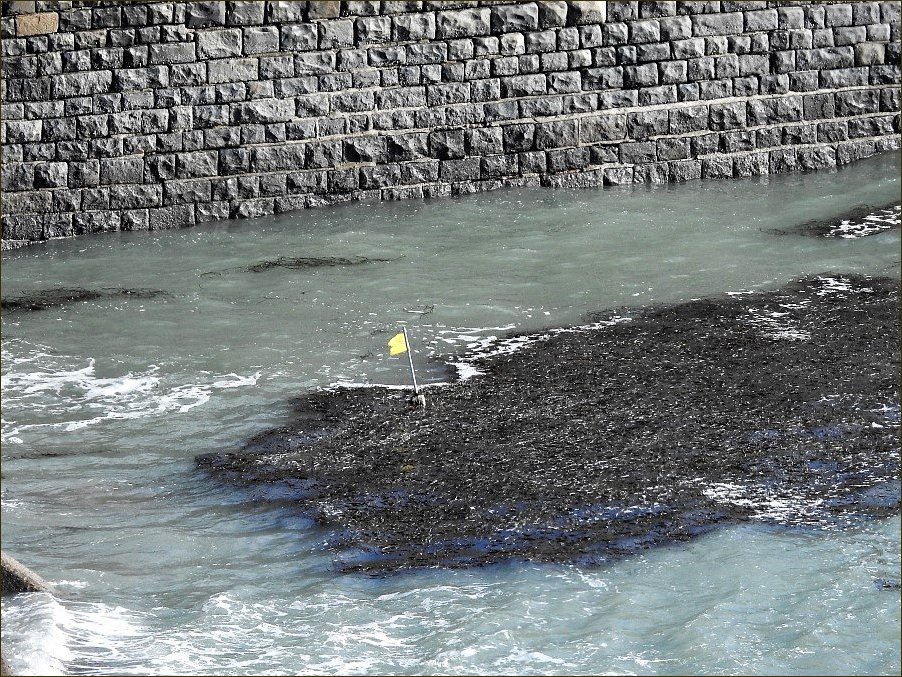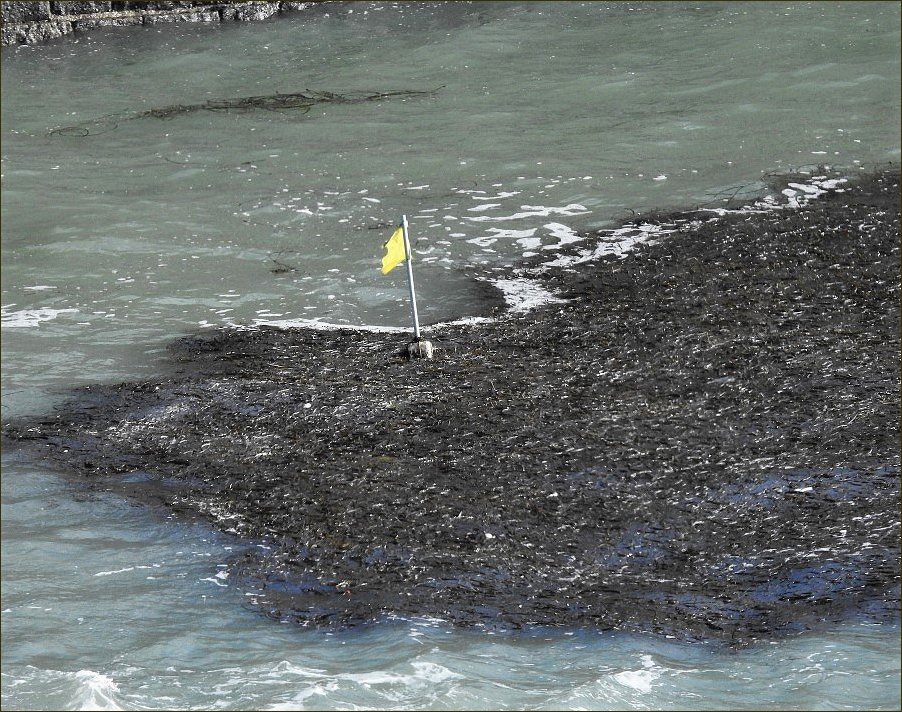 All flagged up...but how?
* *
An extra unscheduled picture here just to round off the sequence. We aimed to capture both the Border Force vessel and the Lifeboat in this shot but the Breakwater Harbour Wall came between us..... it ended all too soon! ...
(Coming next we show what dredged up in the recent rough weather..)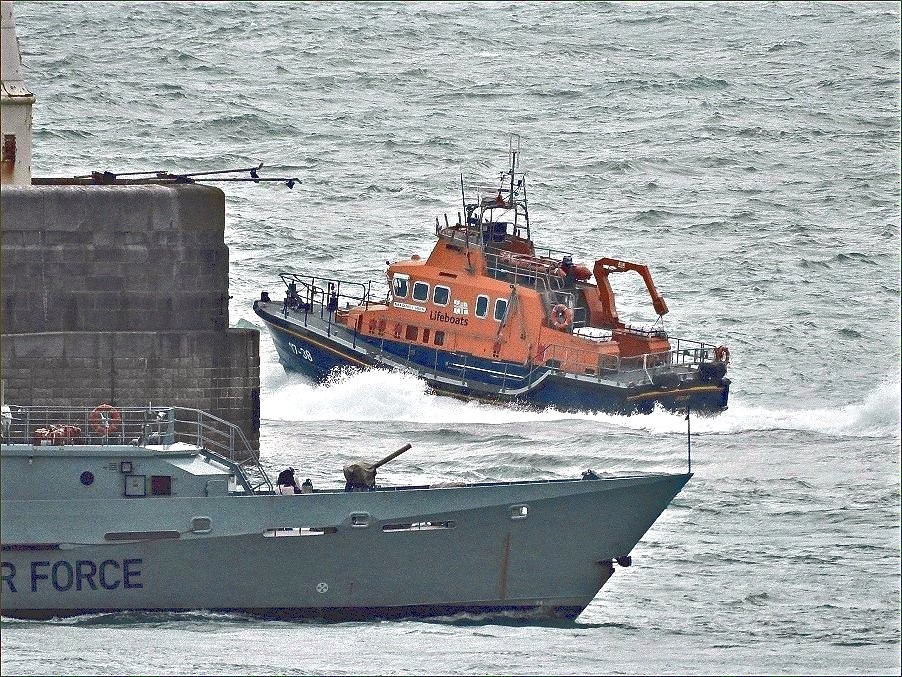 Dover Lifeboat and HMC Valiant. The Border Force Rib featured below was working from Valiant ....
Border Force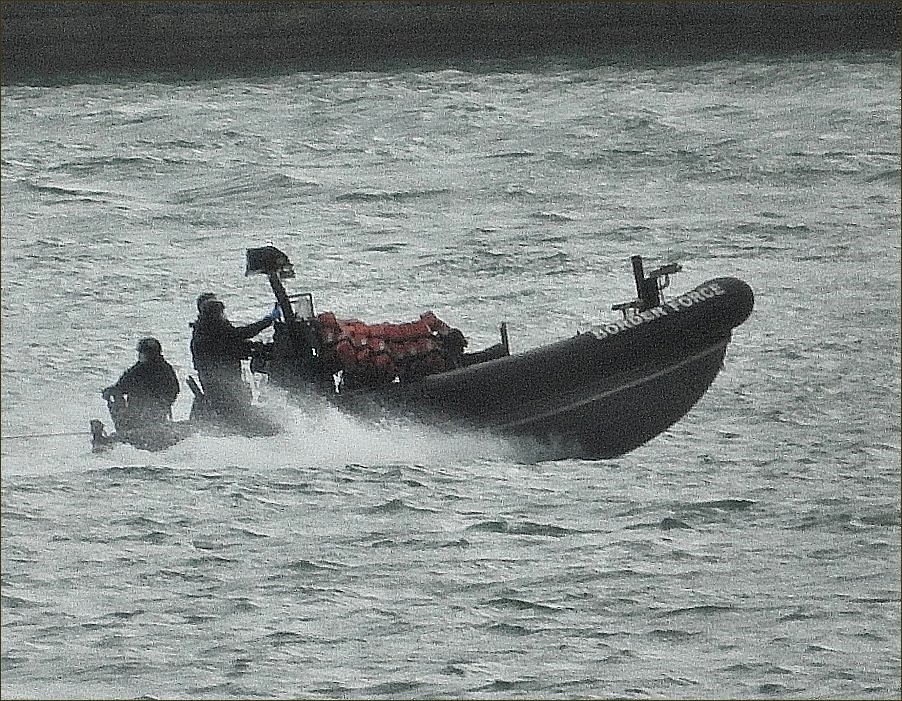 Border Force Rib in action....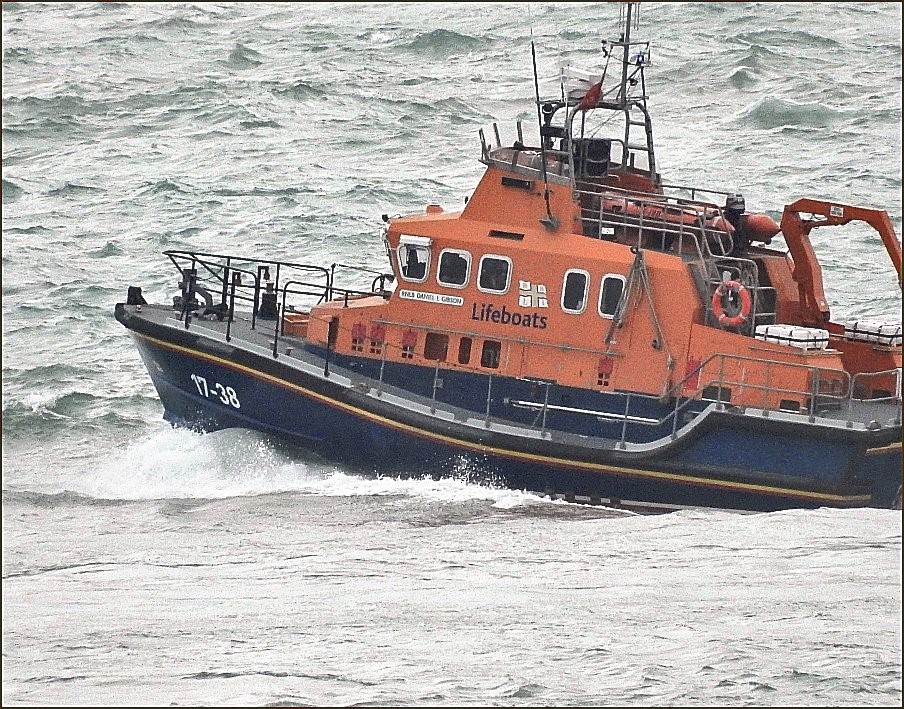 Dover Lifeboat
Following along from the main shot immediately below, above we have two extra pix, one taken of the Border Force rib moments earlier as it sped across the harbour with dinghy in tow...and the other shot shows the Lifeboat...Dover Lifeboat...carrying on from the moment shown below and exiting the harbour, heading off into choppy seas on another vital mission...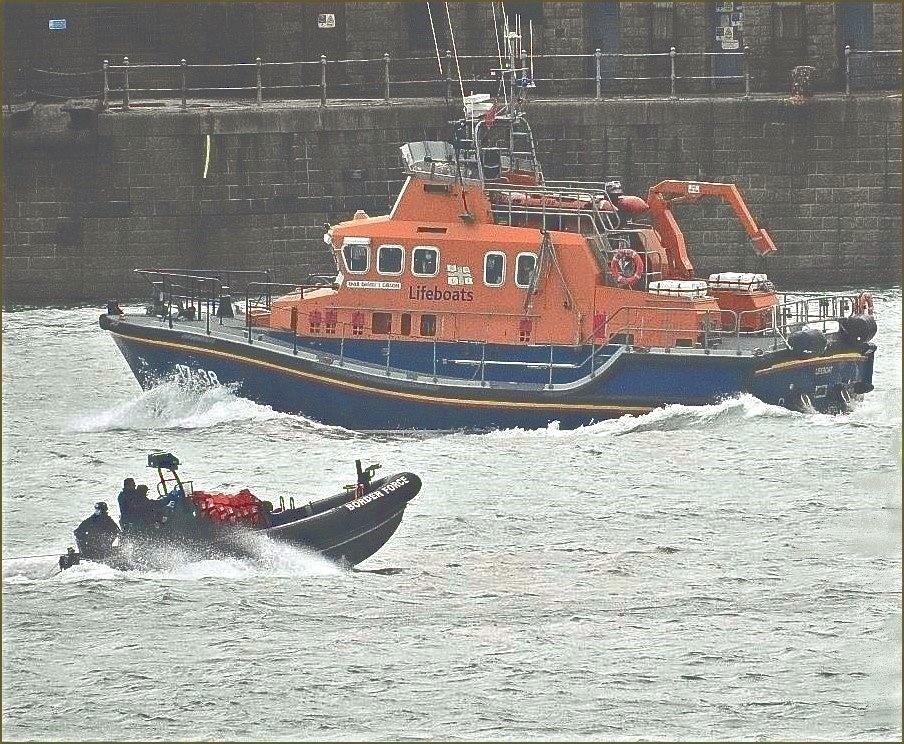 Dover Lifeboat and Border Force: 'Ships that pass in the Night'...well not quite, but these two were going at pace in opposite directions. The Lifeboat heading out to sea on another noble rescue mission and the Border Force rib powering towards the inner harbour. Border Force were towing in yet another dinghy...you can just see the tow rope there, just see it... have another two pictures to add to this sequence coming soon ...bear with, behind schedule...
* *
Another pic taken earlier in the week below... just before the wild and woolly weather set in...
its been rough but here we are with a little alternative tranquility as we catch the early sunrise seagull
....... pic from a few days ago.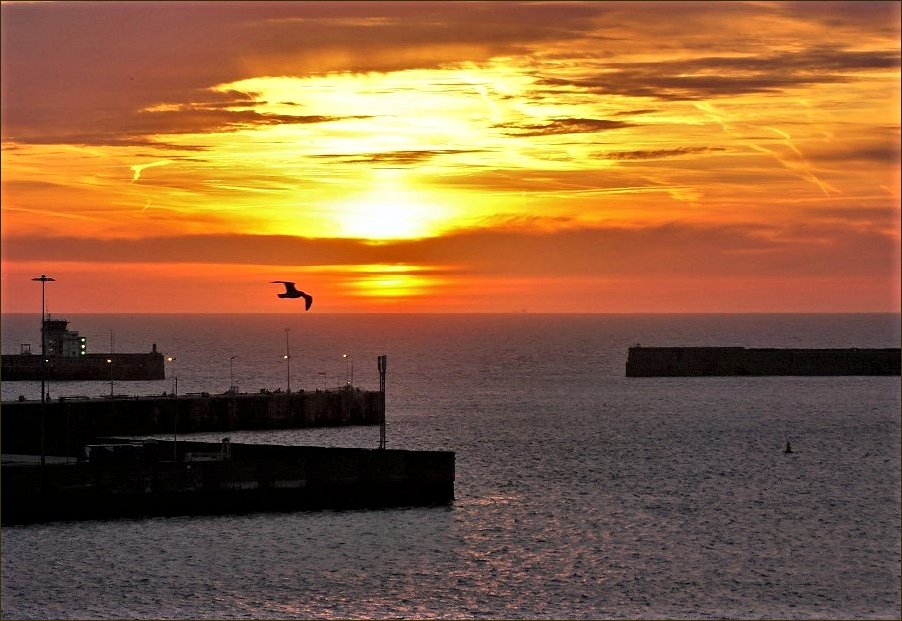 Morning
Evening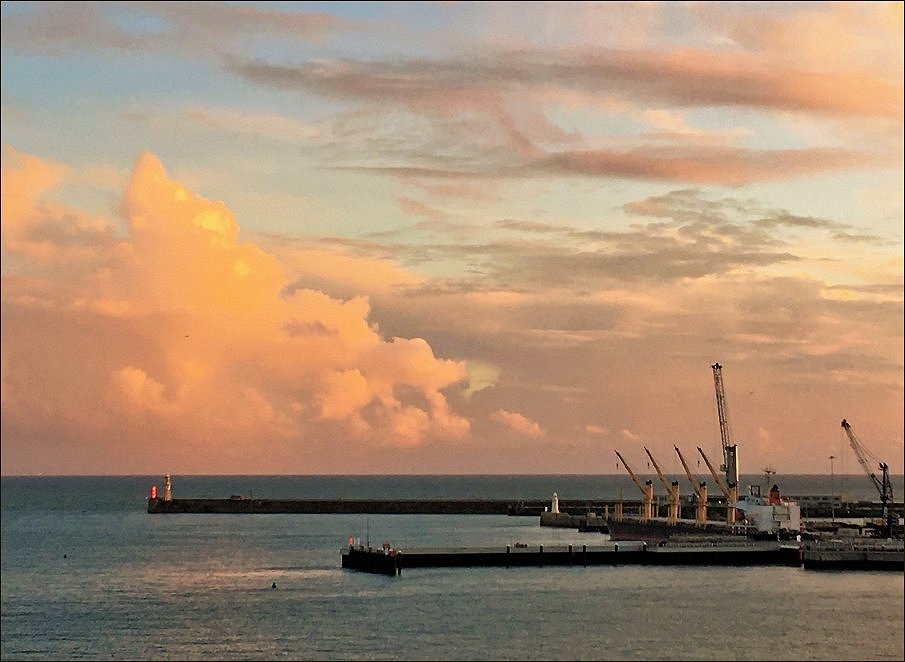 Leaving behind the continuous rough weather for the moment to show a pic from earlier this week of a gentle evening in the Port. The picture looks away from the sinking sun behind us and captures the colourful clouds over the English Channel, over France. The general cargo ship in view there is the Mel Vision which left the Port on Friday 29th after a long stint. This is another experimental i-phone picture.....
Giant P&O cruise ship Iona moving on down the Channel on Wednesday Oct 27 in the rough gloomy murky conditions...she was heading for Le Havre after departing Rotterdam earlier. We say giant...almost 185,000 tons of her we understand. Conditions were horrible otherwise she would have cut a dashing image for sure. You can see the DFDS ferry in the foreground having a rough oul time of it heading for Dover...we believe the ferry to be the Dunkerque Seaways .... rough oul pictures too....
P&O Cruise ship Iona passing Dover...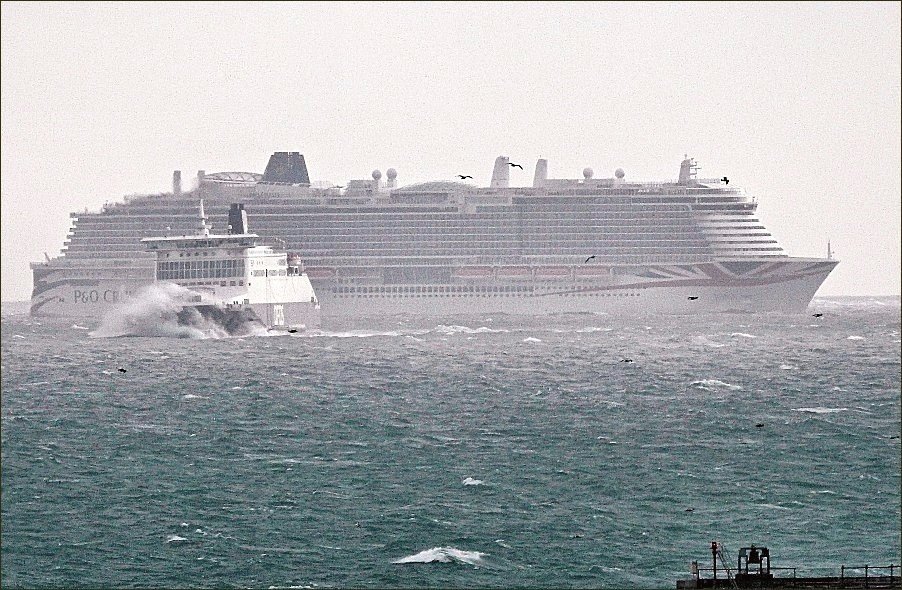 "Ask not for whom the bell tolls..."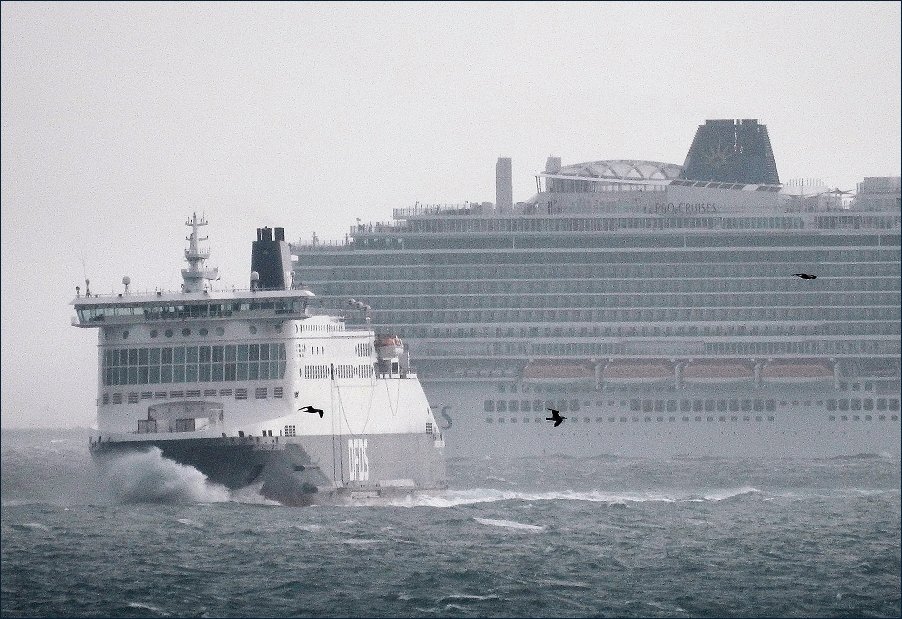 P&O Cruise ship Iona passing through...
YACHTS at DOVER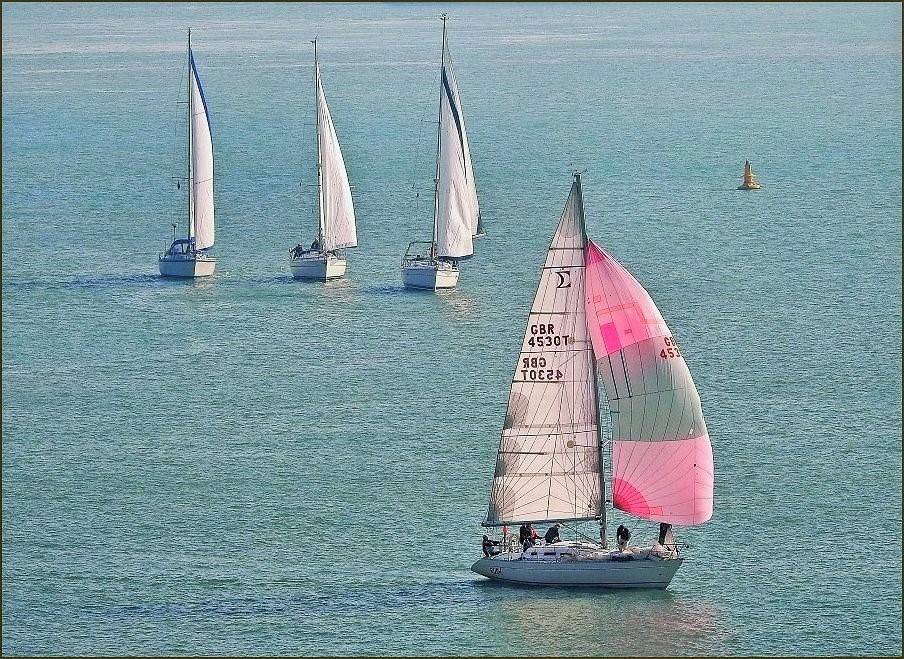 Recent picture of the elegant yachts out there in the harbour....great to see them out there once more. They haven't been doing their regular dashing photogenic display for quite some time, no doubt the pandemic knocked it on the head, as it did with everything else. Nice to see normal life coming back...at least for now anyway. The lead yacht there is named RUSH.....
The Border Force vessels operating in Dover...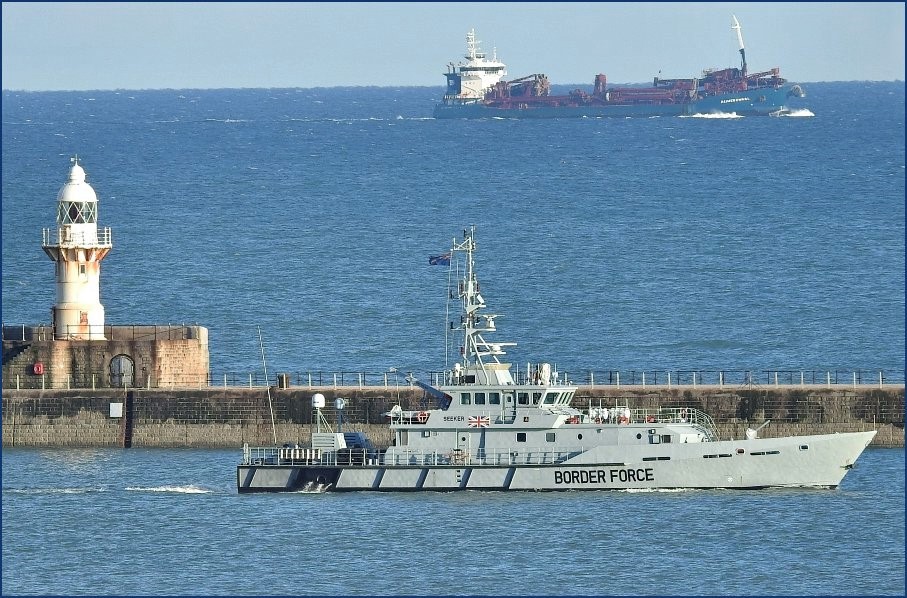 HMC Seeker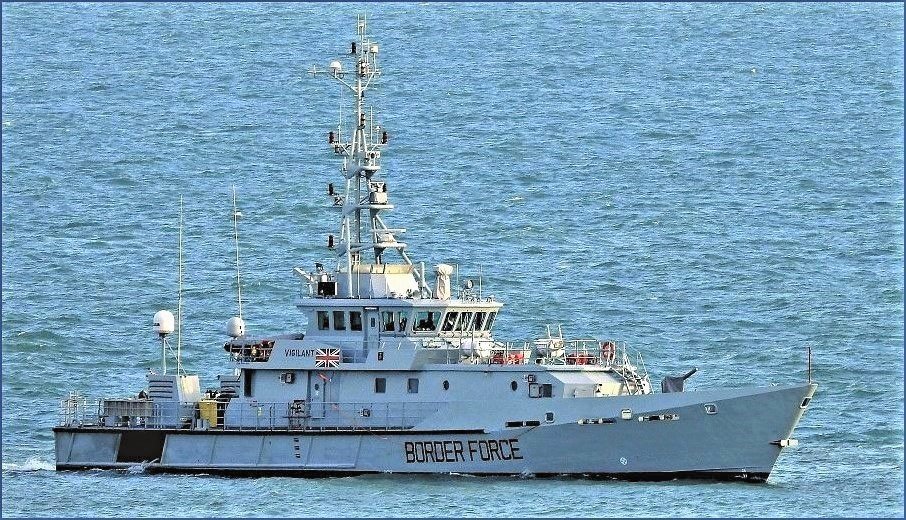 HMC Vigilant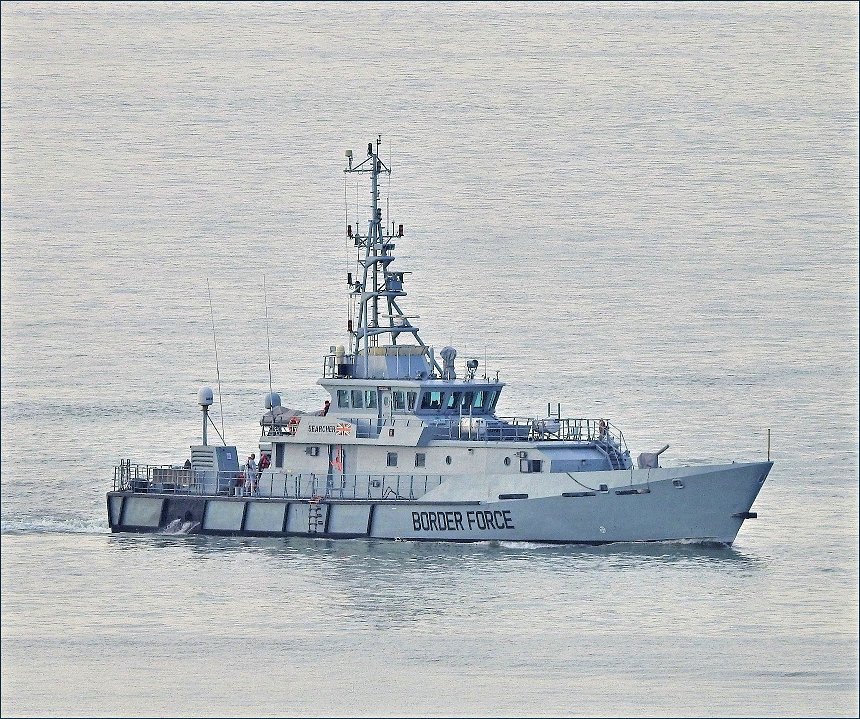 HMC Searcher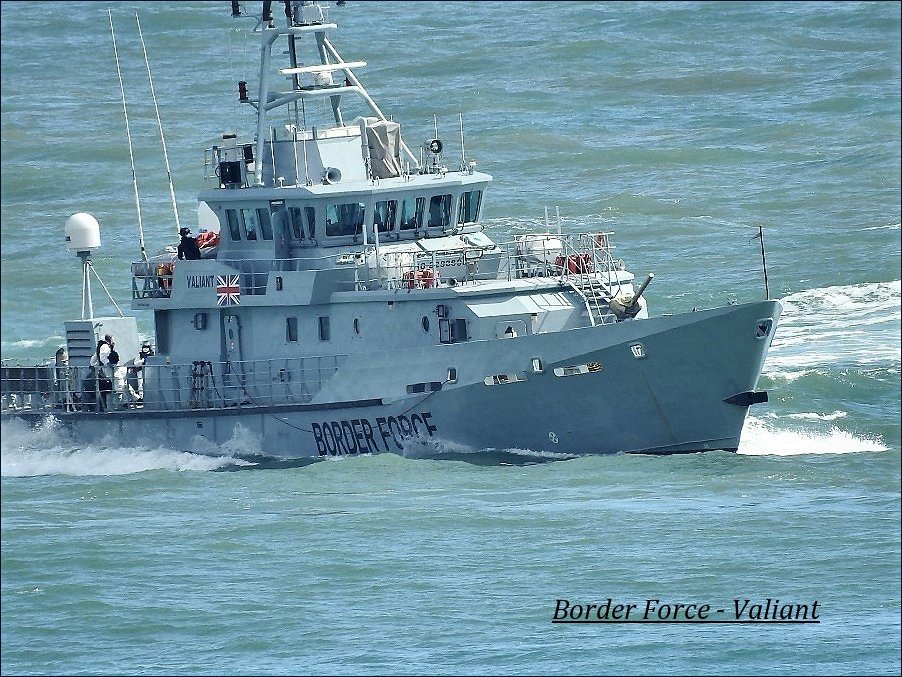 HMC Valiant
AS a counterpoint to the pictures of the migrant dinghy below, above there we show the Border Force teams trying to stem the migrant flow across the English Channel....as the politicians fluff and bluff and get nowhere. We show quite a collection above there. The top two shots taken in the past week or two, the bottom two shots are recent-ish pictures.... there are also smaller boats in daily operation...
Extra pic here now in direct relation to the incident below...
the BBC are reporting that we've had 800 migrants crossing over in the past three days....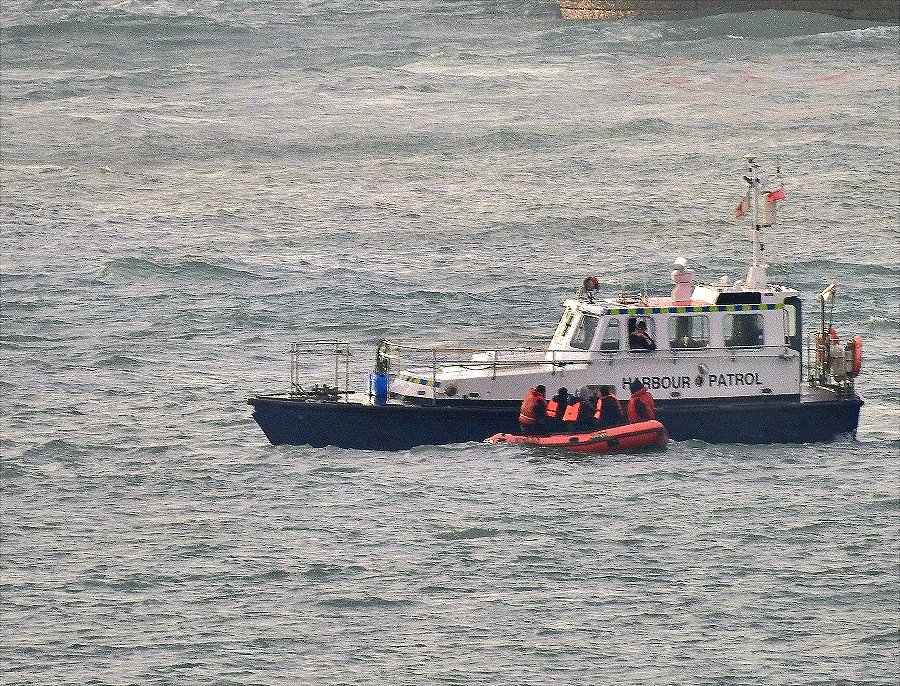 Migrant Crossings: On monday morning October 18, in the exact same place we saw the Land Rover crossing attempt the previous day (see below)...the small dinghy pictured here came into view, it was packed with migrants as you can see, after what must have been a very risky crossing in the conditions. Fortunately, it looked like everyone was safe which was good to see. How the small craft got all the way into the harbour without being spotted by the busy patrol boats out there is baffling, nay amazing!...but there we are. Pix following ...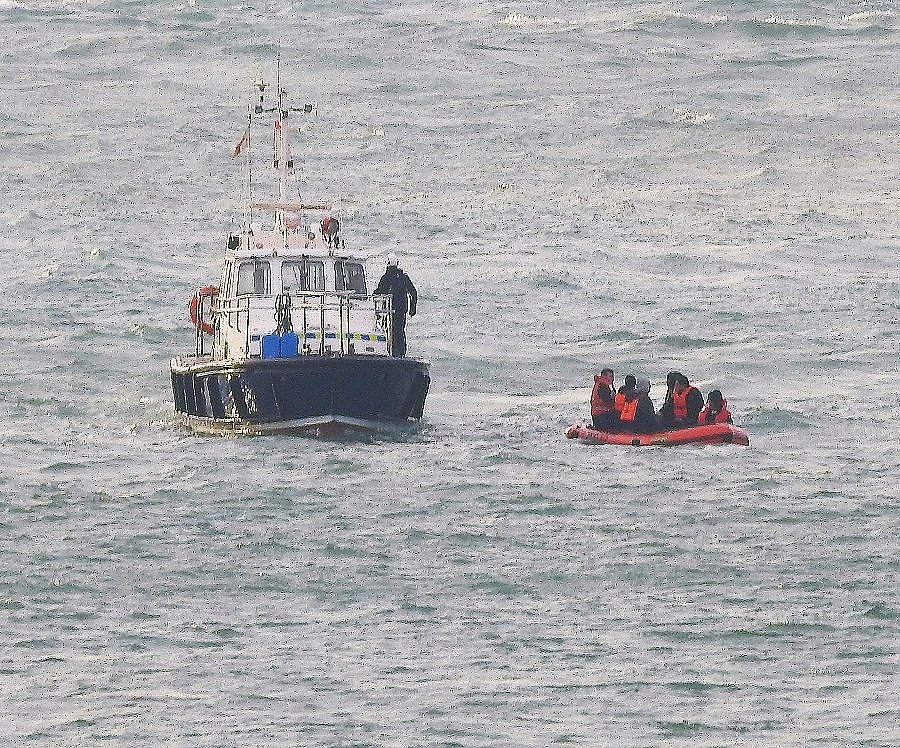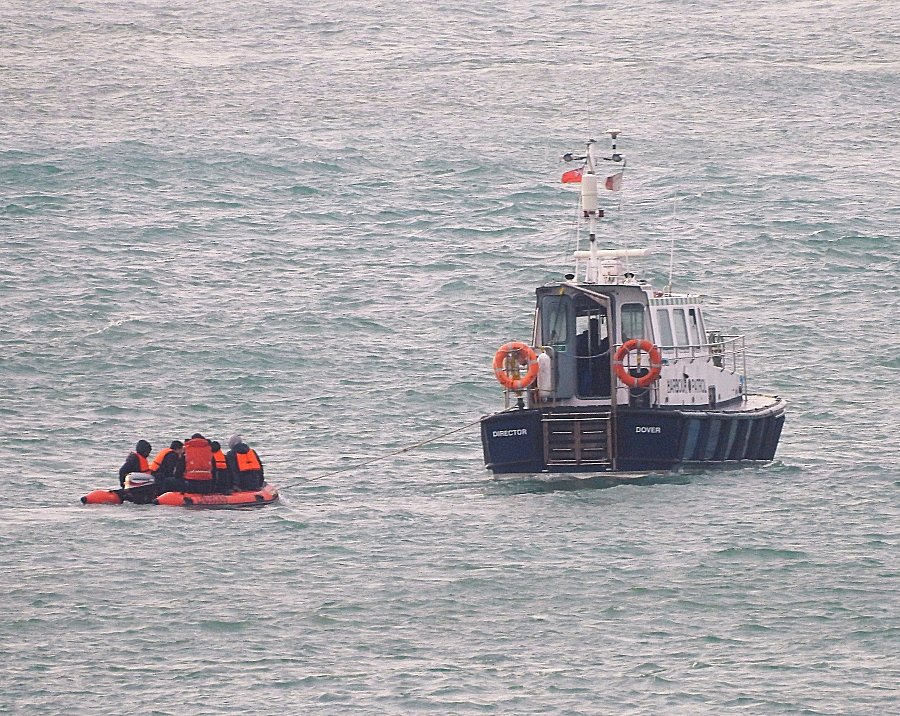 in due course they were met by the harbour patrol boat and towed to the inner port area,
......you can just see the tow rope there.
* *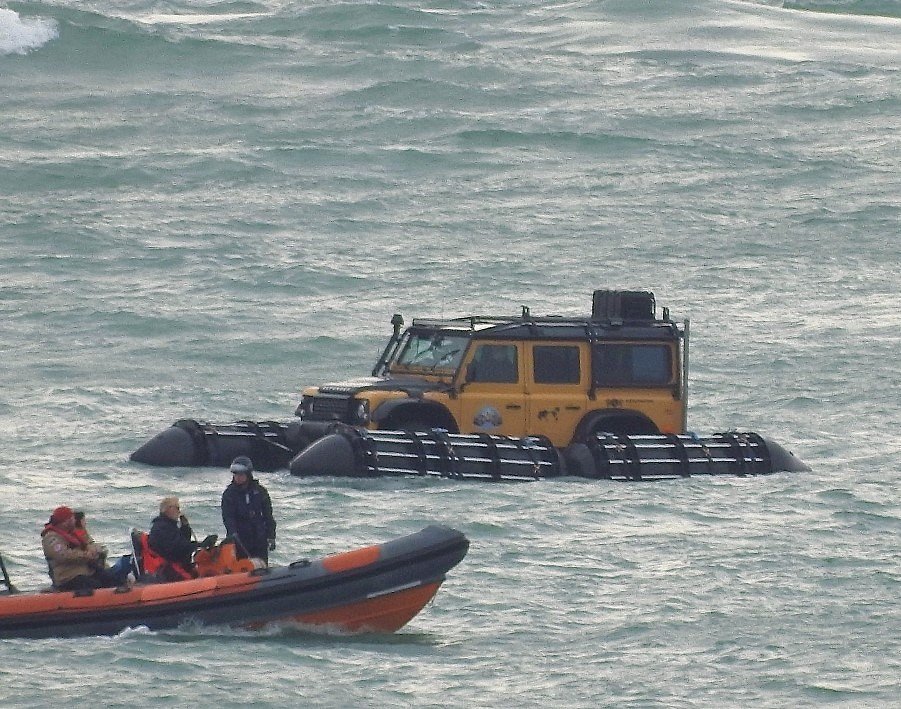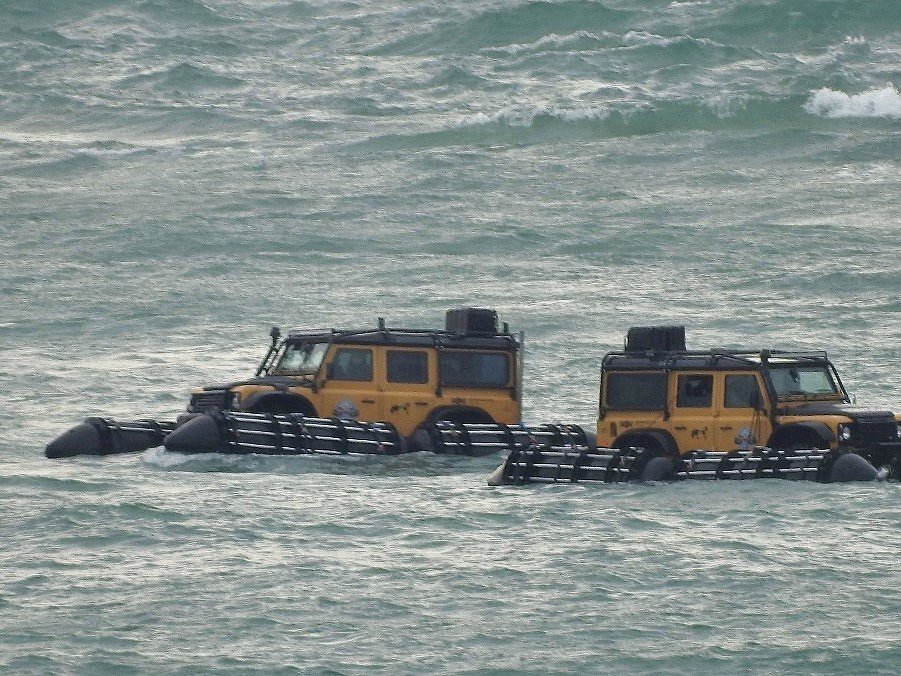 Following along from Mike's Saturday picture below, we can see the Land Rover team above on Sunday morning Oct 17 at 09.45 as they attempt the channel crossing. The pictures show them at the mouth of the harbour, western exit.. Unfortunately conditions were quite rough/choppy so it looks like the team called a suspension to their plan of crossing over. Yours truly had an appointment elsewhere at that point so not entirely sure of further developments. But we will keep an eye....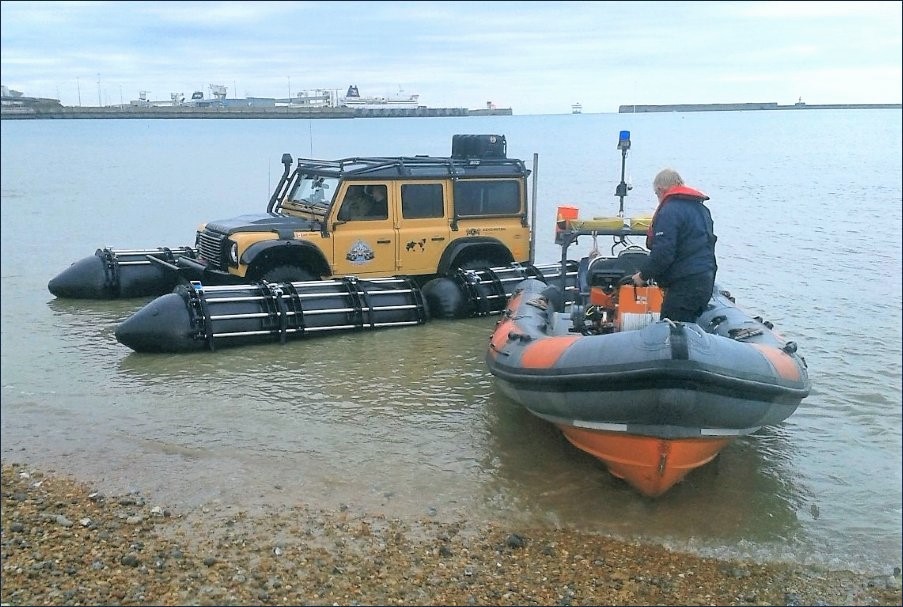 Picture by Mike Jackson
Mike caught the kerfuffle on the slipway yesterday afternoon (Sat 16 Oct) when a Land Rover went for a chug round the bay, escorted by the HPL. This in preparation for a round trip to Calais on Sunday by two of them, supposedly 'sailing' 0900.
Eventual aim is UK to USA via Europe & Russia, crossing Dover & Bering Straits.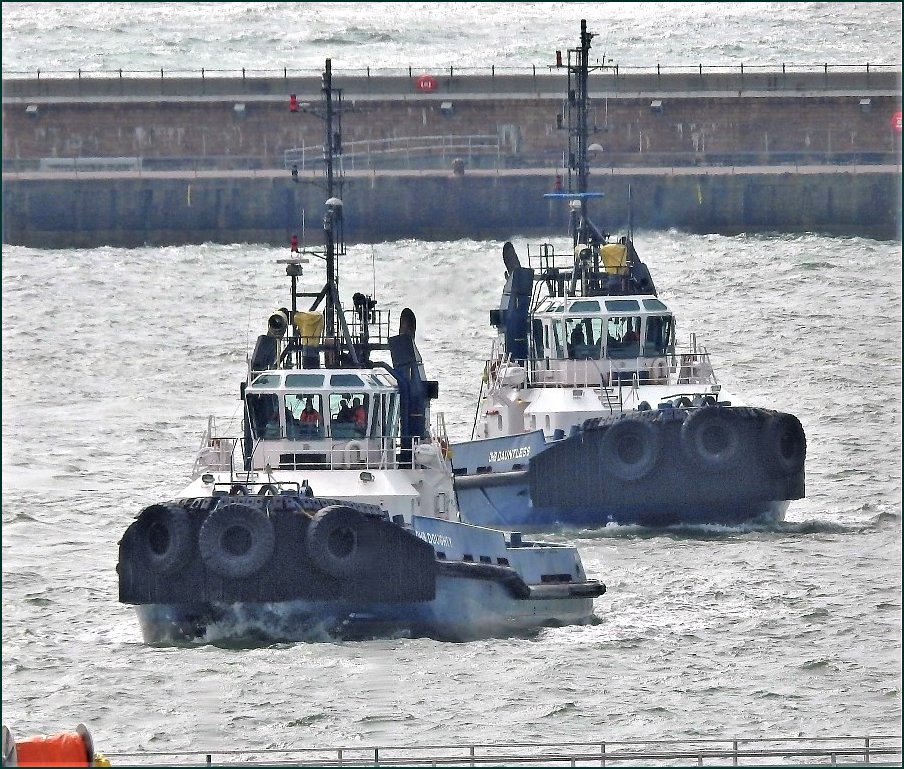 Recent-ish shot of the tugs Doughty and Dauntless as they wait to leap into latest action..
As mentioned earlier...pictures of the Almar departure for Riga on October 13
Here we go..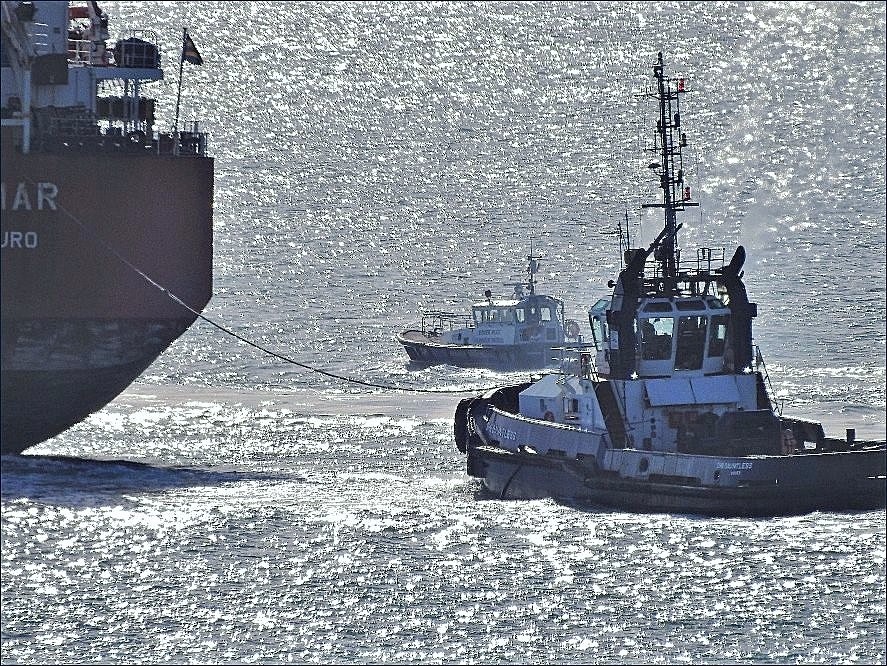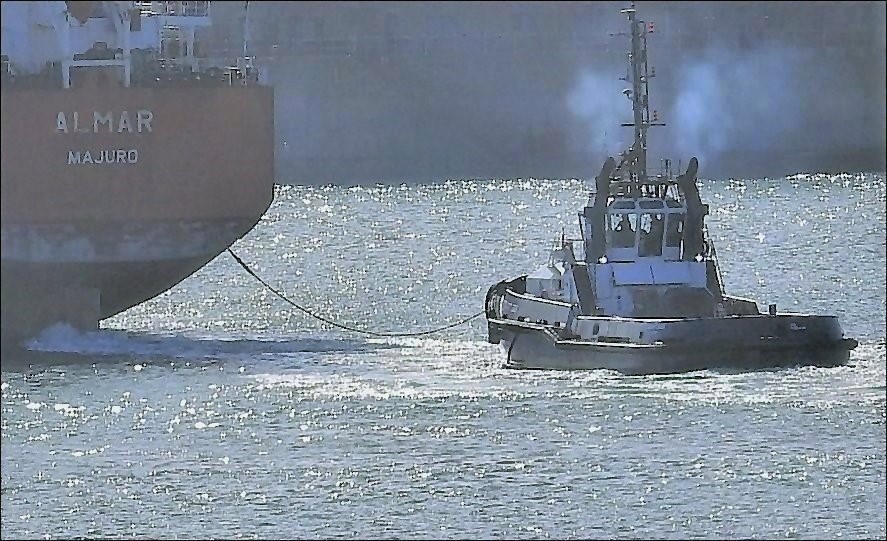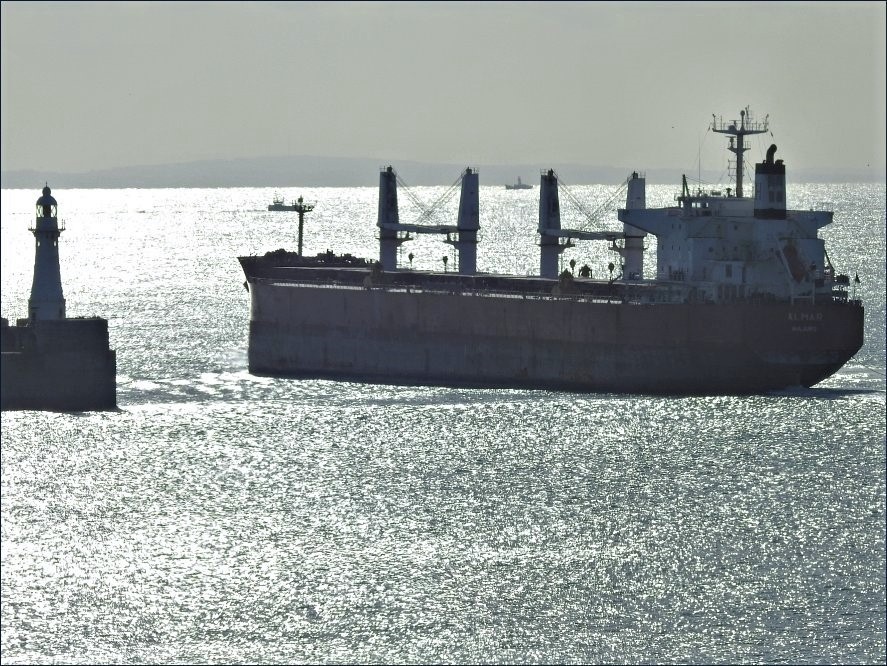 Almar leaves - in dazzling sunlight.
Just to co-incide with our latest pictures uploaded yesterday (Oct 13), a short time later Almar left the Port heading for Riga in Latvia....after a long stay....We will have a pic or two shortly....
We're having a bit of a quiet period so it gives us a chance to have an extra pic or two of Almar, the biggest ship to call so far at the new terminal WD4. First shot shows Almar being met by the tug on her approach to the Port of Dover, this longer range pic is from her second arrival..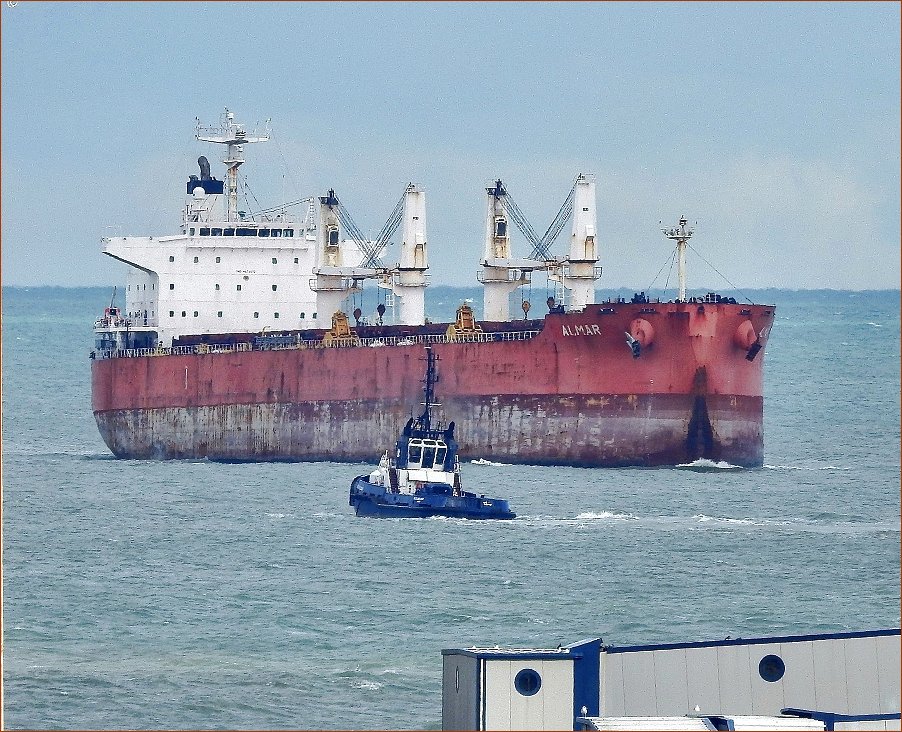 Almar - approaching.
The Gentle Evening...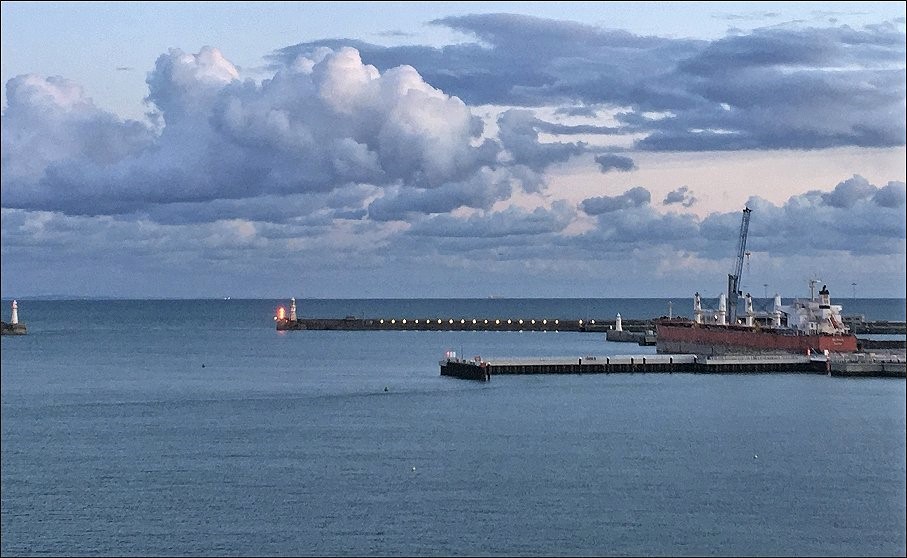 Almar on a quiet gentle evening at the Port of Dover...we're experimenting with a mobile phone again here...
Maud...Hurtigruten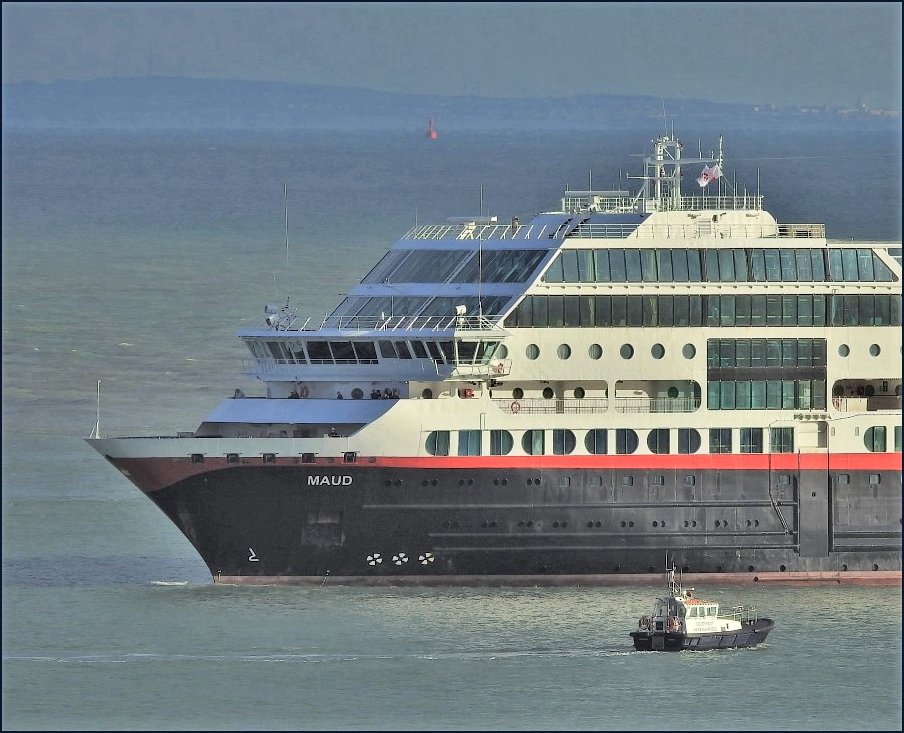 " Maud Maud glorious Maud
nothing quite like it for travelling abroad!"
I know I know.. need now to lie down in a darkened room...
Off she goes below on another long cruise of the Norwegian fjords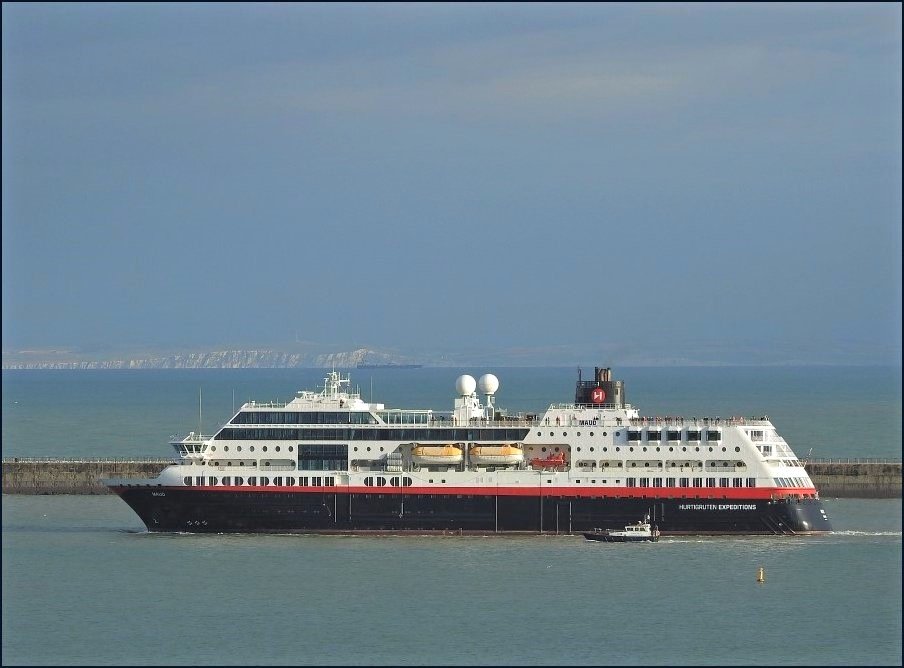 Hurtigruten Maud setting off for the Fjords a few days ago ....on October 6 in fact.
Eye of the Wind, a brigantine rigged sailing ship built in 1911, seen here passing Dover on Wednesday October 6. The picture is very long range unfortunately, a technical issue prevented a closer effort, but always great to see such an exciting ship whether near or far. Thanks to Mike J for the tip off, Mike let us know that she was approaching....and here she be....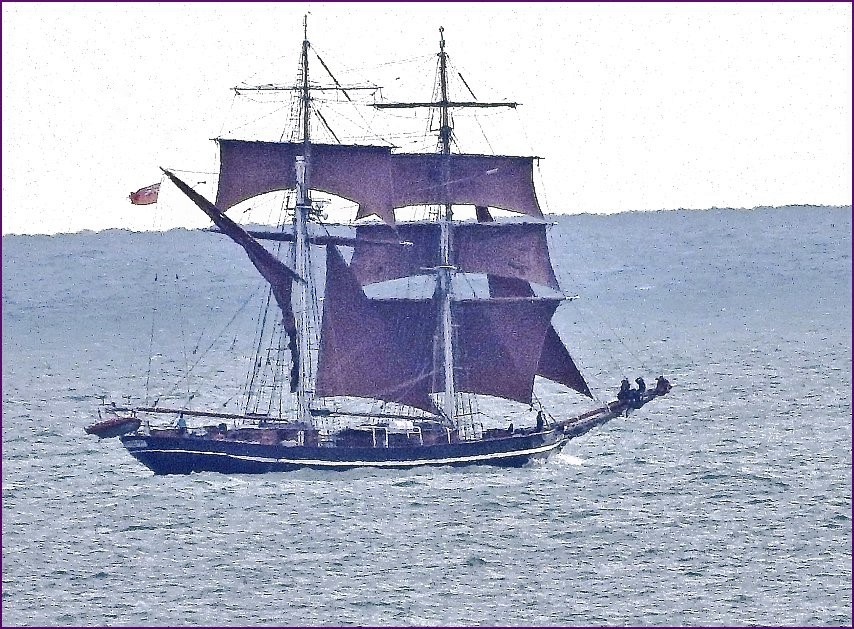 Eye of the Wind
....more sailing ships below...
Some more pictures now of the ALMAR arrival on October 5 ...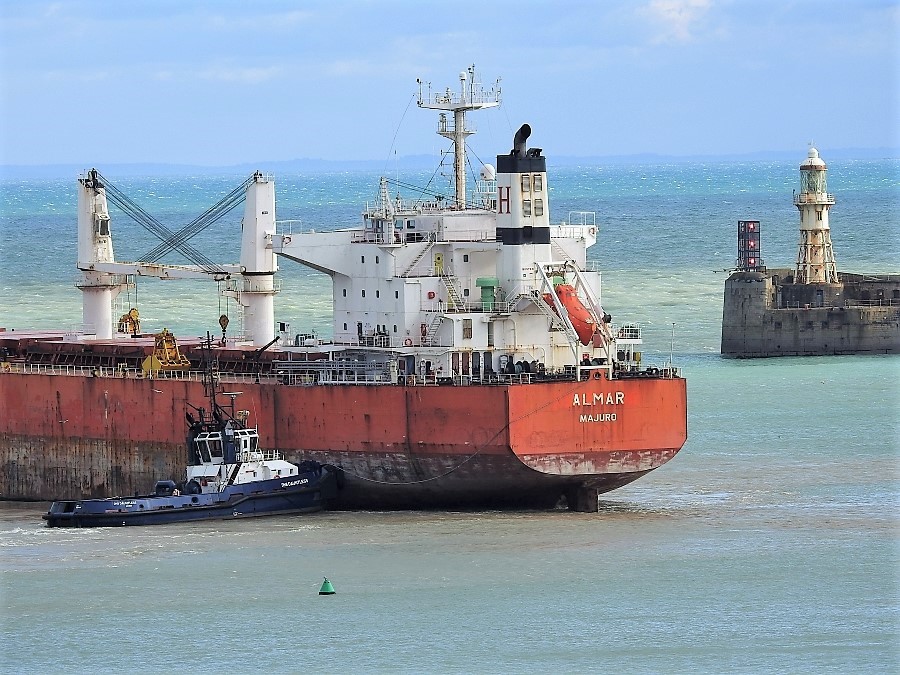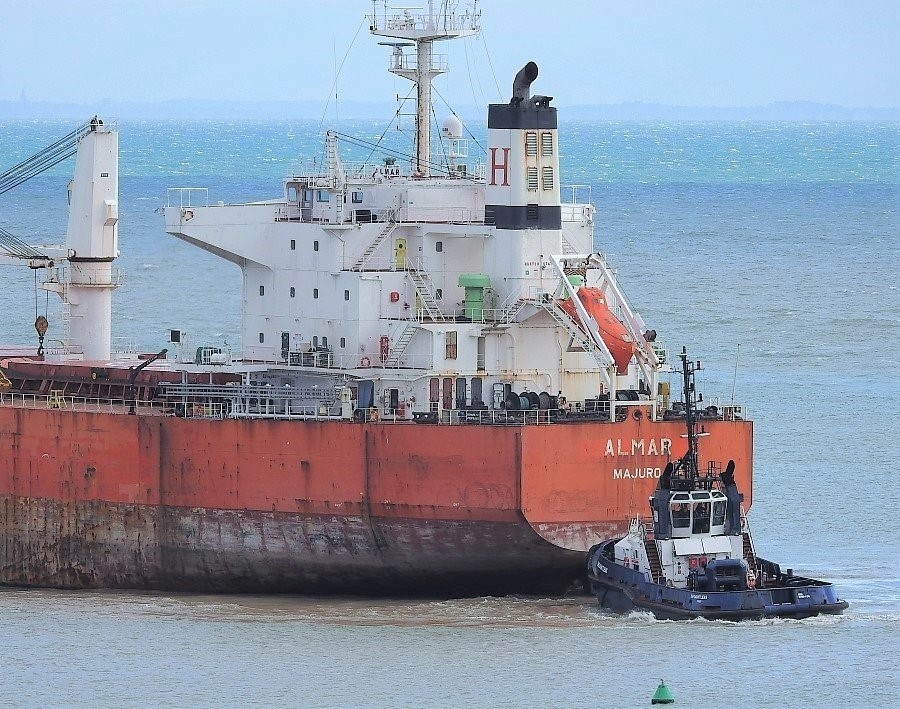 ALMAR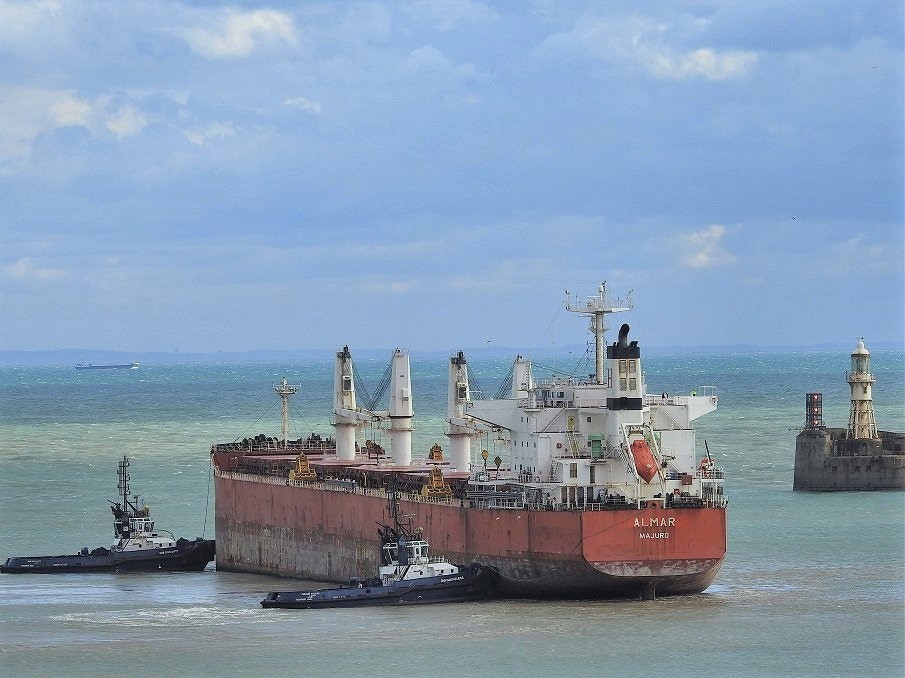 ALMAR: We had some fiercely wild weather over the past couple of days...torrential rain at times, strong winds, but Almar picked a nice tranquil period with added sunshine to re-arrive in Port on October 5 ... and that always helps with the photos. She had been here in Port recently for an extended period, delivering steel we understand. She is the biggest ship to grace new pier WD4. Time of shot 4.04 pm.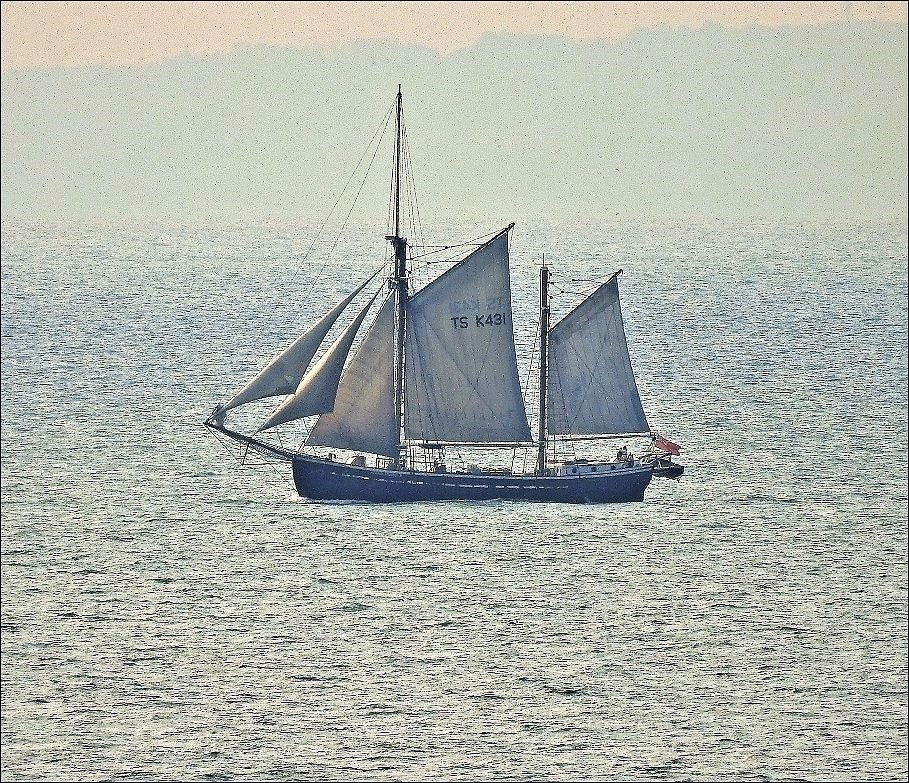 Queen Galadriel gently sailing by Dover.
....our final shot of the Queen for now but we hope to see her again soon.
More pix just below....
Sun Rising over Dover 7 ....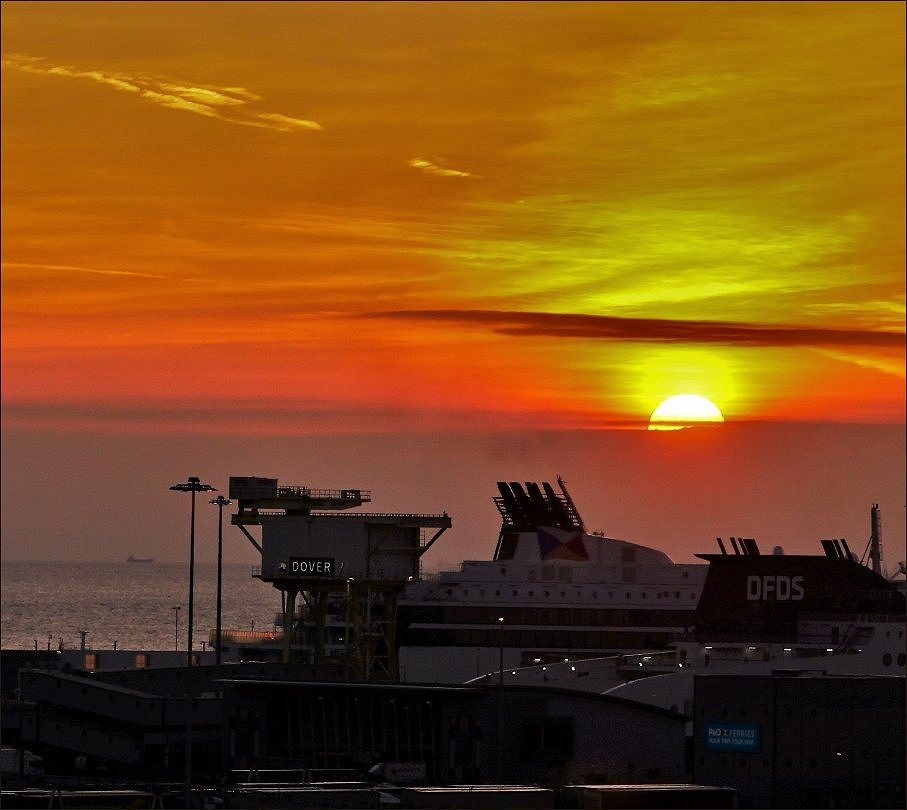 September sizzled out in fine style with a dazzling sunrise across the Port of Dover. At first glance above you think the great orb is just popping up over the grey sea, but no, the sea much further down in image, see left.
We will have the postponed picture of Queen Galadriel up next...the final shot of the Queen, for now anyway.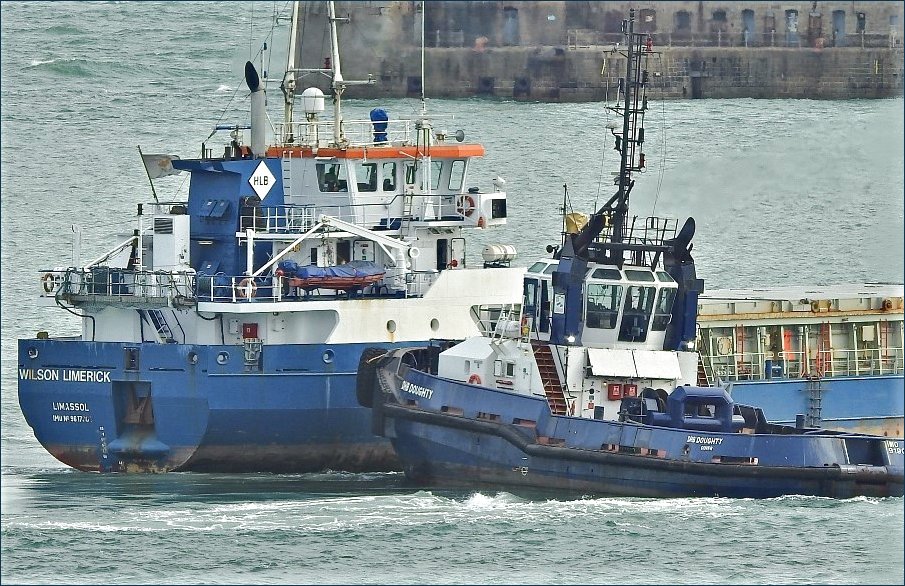 General cargo ship Wilson Limerick leaving new pier WD4 recently. One of very many cargo ships now frequenting. You can see ever busy tug Doughty giving her a helping hand there as she departs. We cant cover all the cargo vessels coming but we will definitely add some as we go along ....
..... our rhythm was disrupted by the disrupters in recent days...
Insulate Britain:
Shutting down the Port of Dover... cant get in, cant get out ....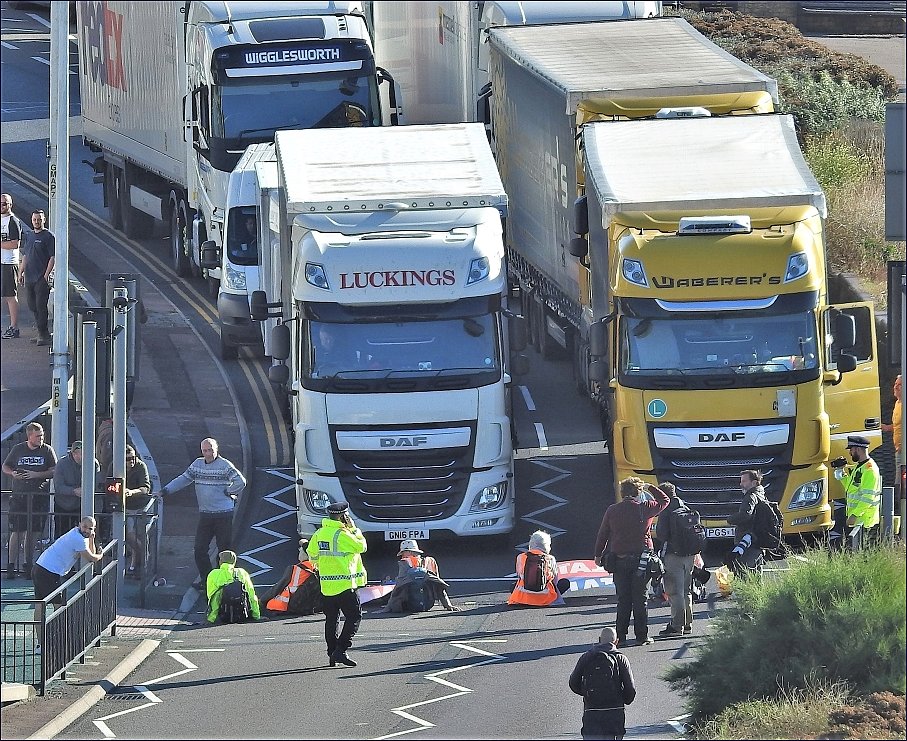 You can see the demonstrators there sitting in front of the trucks, nobody is going anywhere..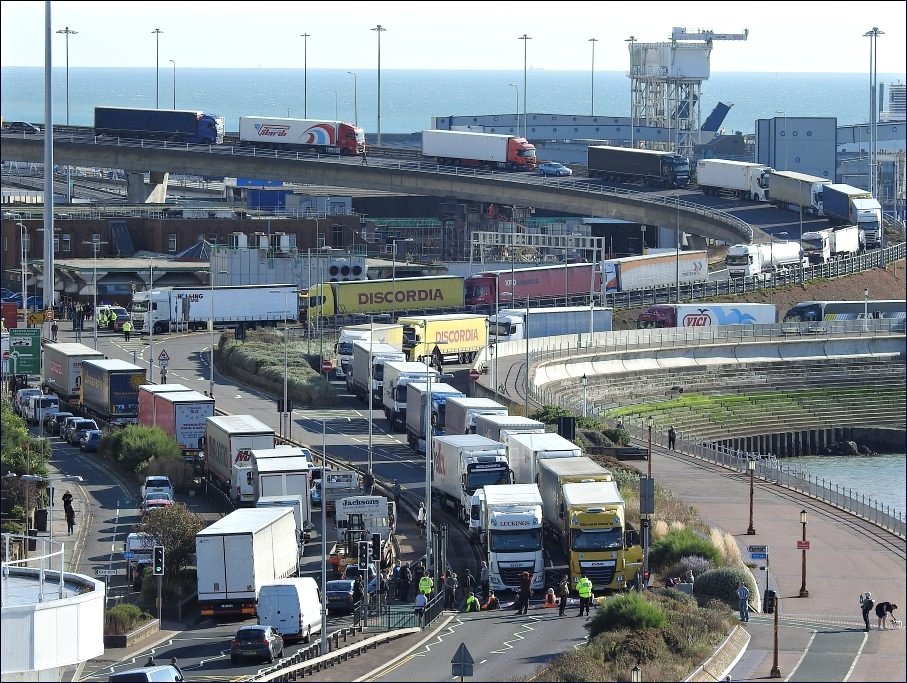 Insulate Britain
demonstrate their Green credentials by blocking the approaches/exits etc to the Port of Dover last Friday the 24 September. The pictures above show an extra flying demo a bit later in the morning, we know this first hand as the Sea News 'production team' had already been held up earlier for 2 hours in another 'flying picket' ... yes we want to be Greener for sure, and yes this kind of demo gets attention but its the wrong kind of attention, as it annoys everybody... people spitting feathers...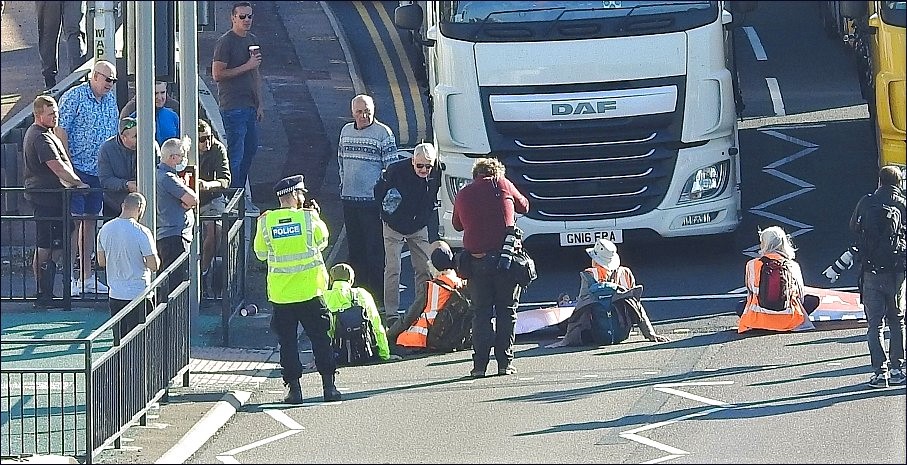 The conversation...
We've had to hold back an extra picture of Queen Galadriel.
Another pic of the ever splendid Queen Galadriel...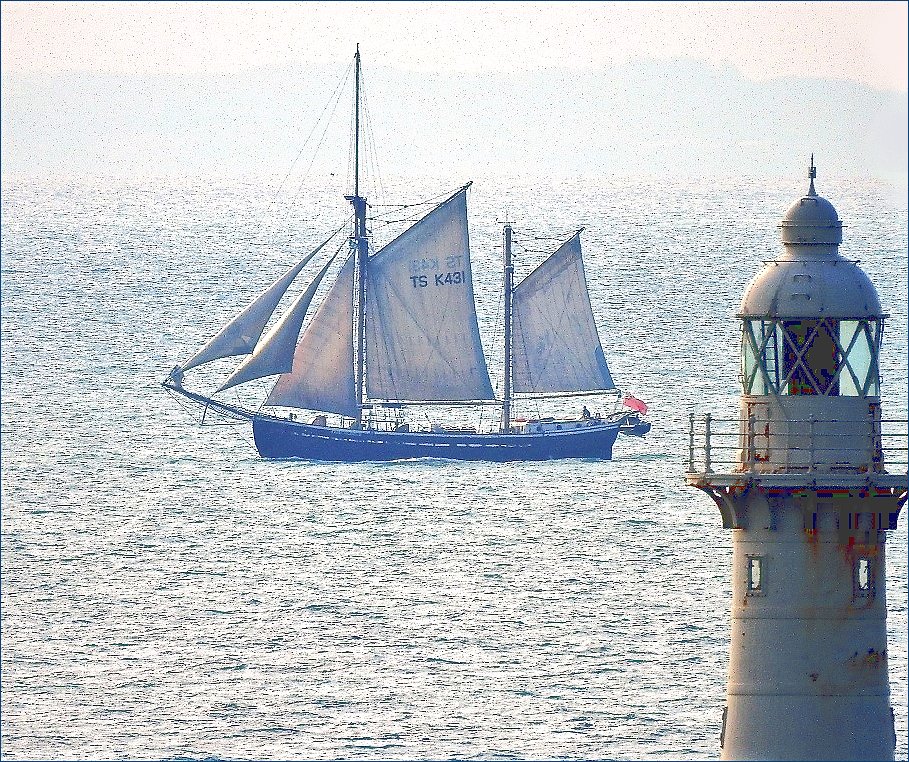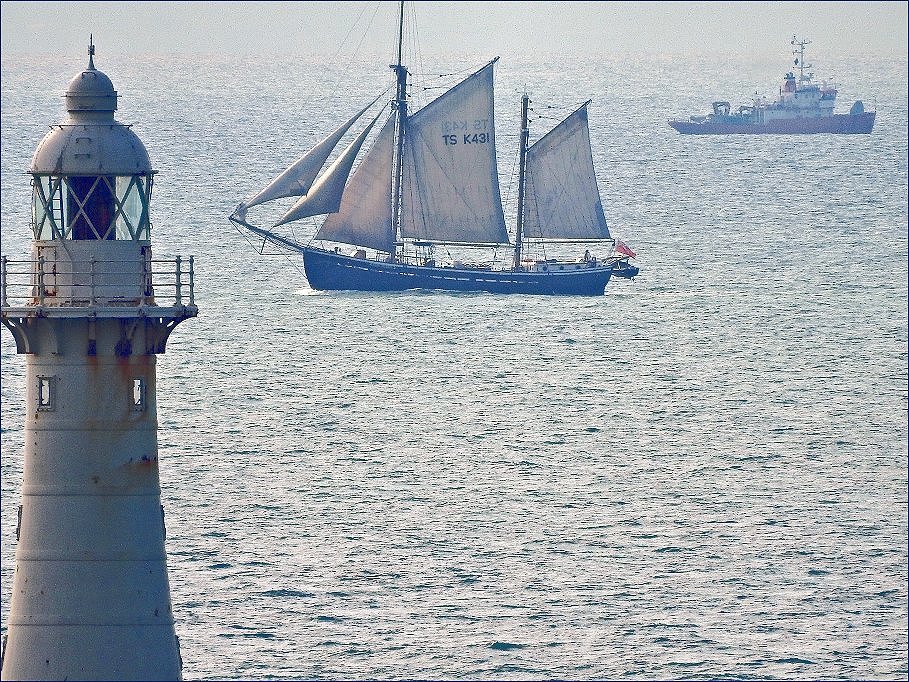 The delightful Queen Galadriel, a classic Baltic Trader, seen here passing the Port of Dover a few days ago...in fact on Sept 18. Great to see the magnificent Queen and although it was gloomy we were reasonably lucky with the pictures, we will have more following along in due course.
* *
Hurtigruten Maud set off on her inaugural voyage from Dover last evening (22nd). The tug did the traditional spraying. Unfortunately viewing from the landward side (and of course most people are watching from there/here) it didn't work .. imagewise...as the tug was hidden from view and all you could see was a jet of water shooting skyward from the middle of the ship...looked like it had one helluva leaky fawcette....so no pictures. We of course naturally enough, recommend henceforth that the tug sprays from the landward side....
She left through the eastern exit...
Earlier pictures below...
Maud is on a 14 day trip to the Norwegian Fjords
Up next we will have pictures of the Queen Galadriel.
The Spirit of Adventure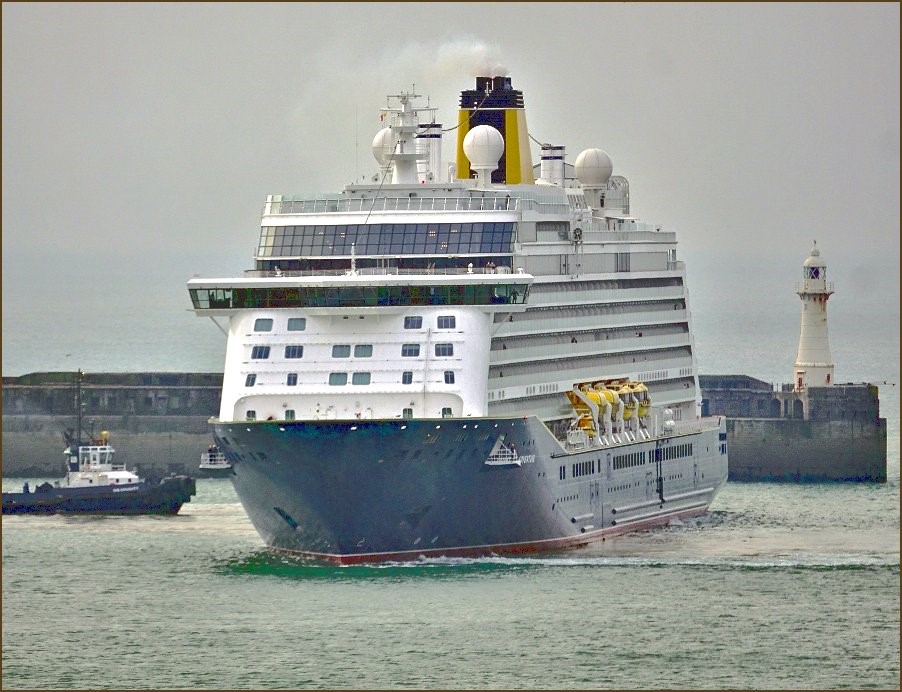 The Spirit of Adventure arriving at the Port of Dover a few days ago...September 20 in fact. Conditions were a tad murkier than shown so we gave the situation a bit of a boost..... she was off later the same day, as per usual, on an exciting tour of the Baltic...Copenhagen Stockholm Helsinki etc etc....sounds very good...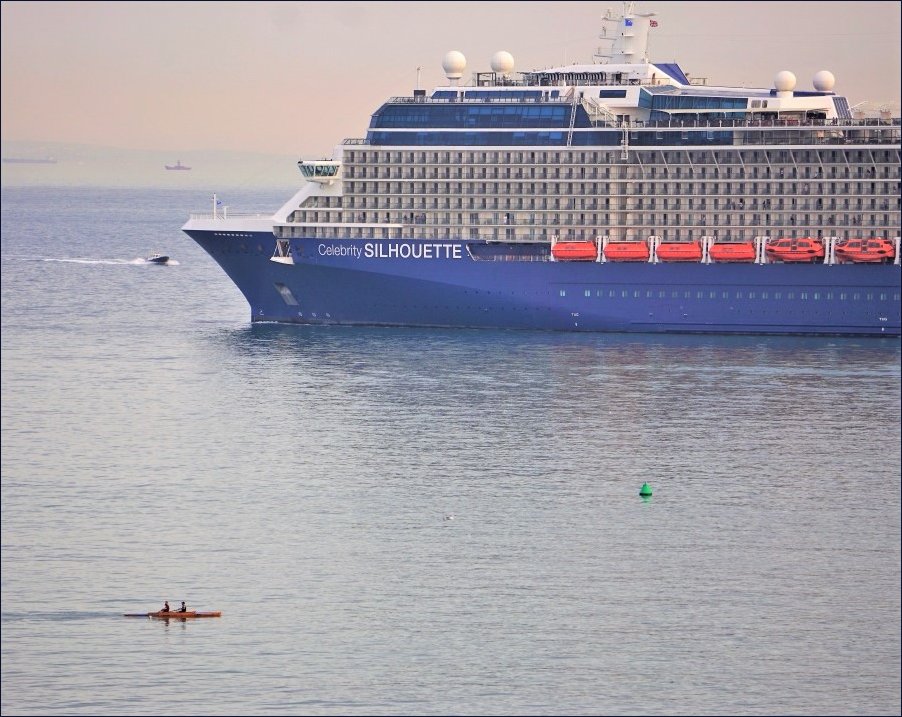 Some more pictures from Friday the 17th again now. Above we see Celebrity Silhouette setting off on her latest cruise on Friday evening, we believe its a 'Round Britain' kind of cruise. In the shot above you can see the odd vision of the pilot boat coming inwards to meet the great and giant ship...unusual, we guess its a busy time ...while the rowers happily power on in fine style in the foreground ...
Another pic just below of Hurtigruten Maud's arrival...full unobstructed view of the expedition cruise ship this time. Maud is still in Port as we write...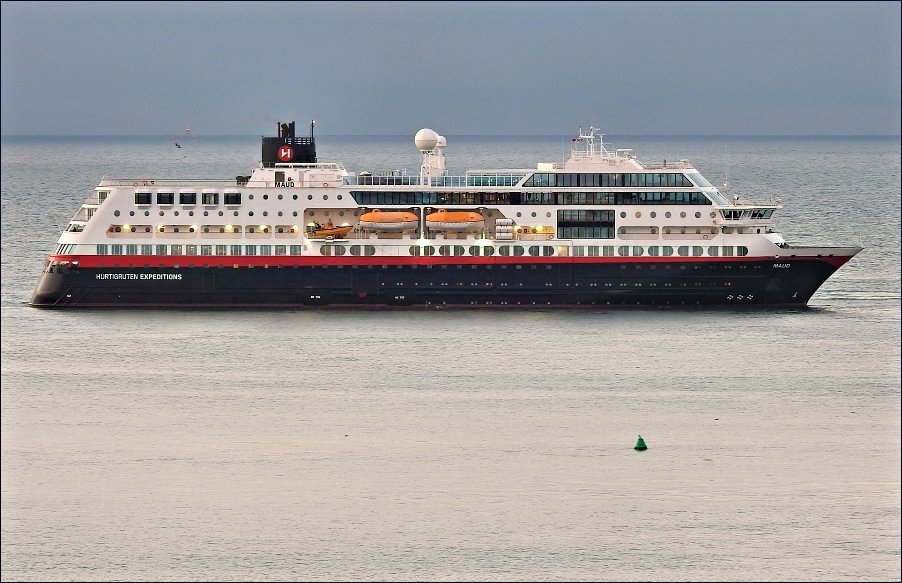 Maud.
When Little met Large.....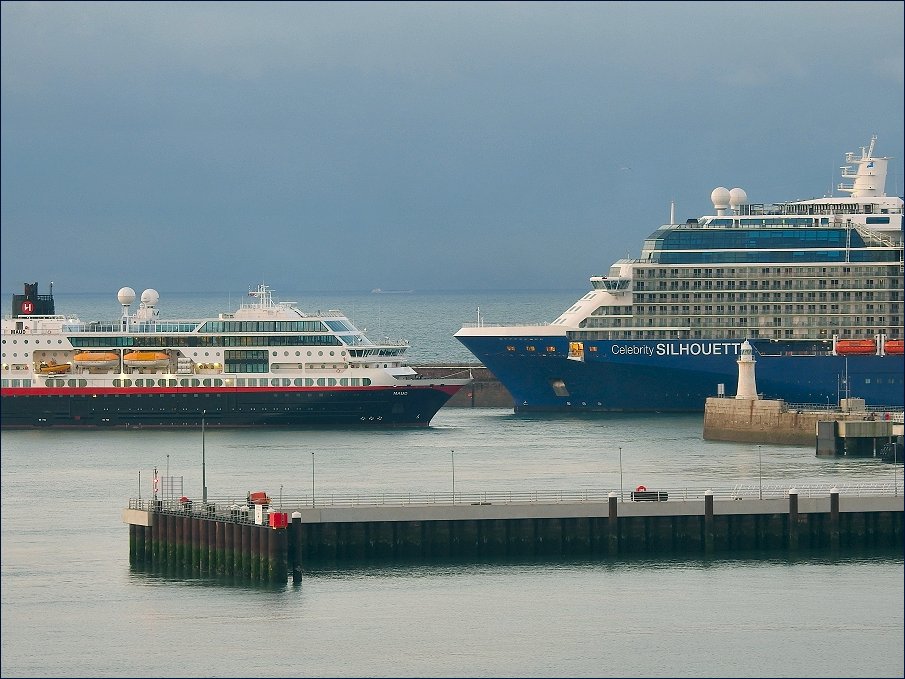 Yes the delightfully small expedition ship Hurtigruten Maud comes in close to the giant Celebrity Silhouette in Dover early this morning ( very early 6.25am ! ) Friday the 17th Sept. Great to see...so different but both considerable beauties in their own way....
Extra one now... unusual angle with plenty of intermediary cranes..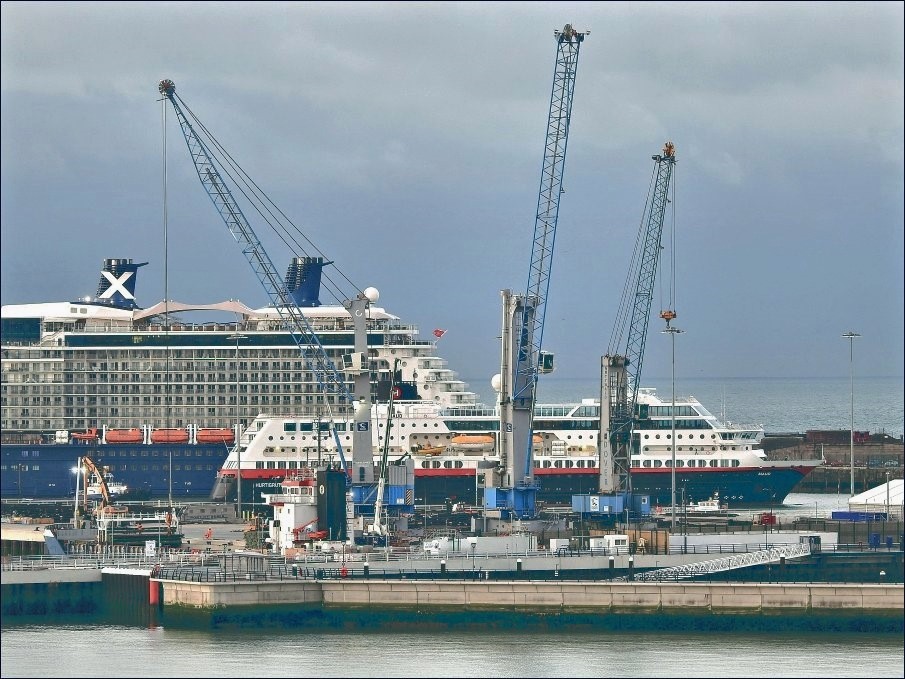 Border Force Vigilant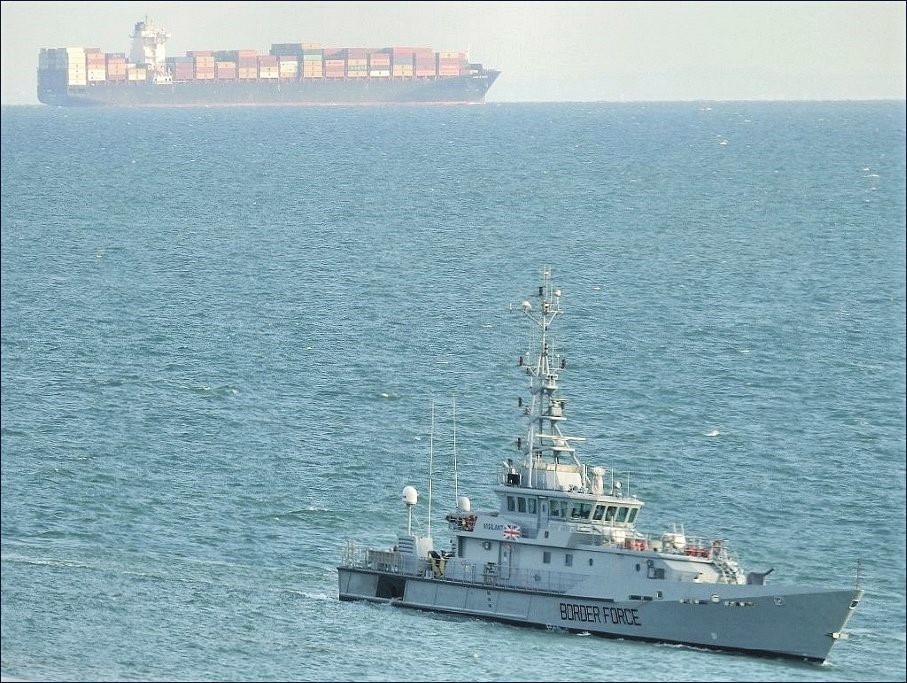 Border Force again.... We featured the Border Force cutter HMC Seeker a few days ago...just below, now we see HMC Vigilant above, also in the thick of the recent patrolling action.... trying to show her here, with the wider angle, the ever wider search task... very often its like looking for a needle in a haystack.
We will have more pictures of Vigilant shortly.
Premier Inn, Dover Seafront...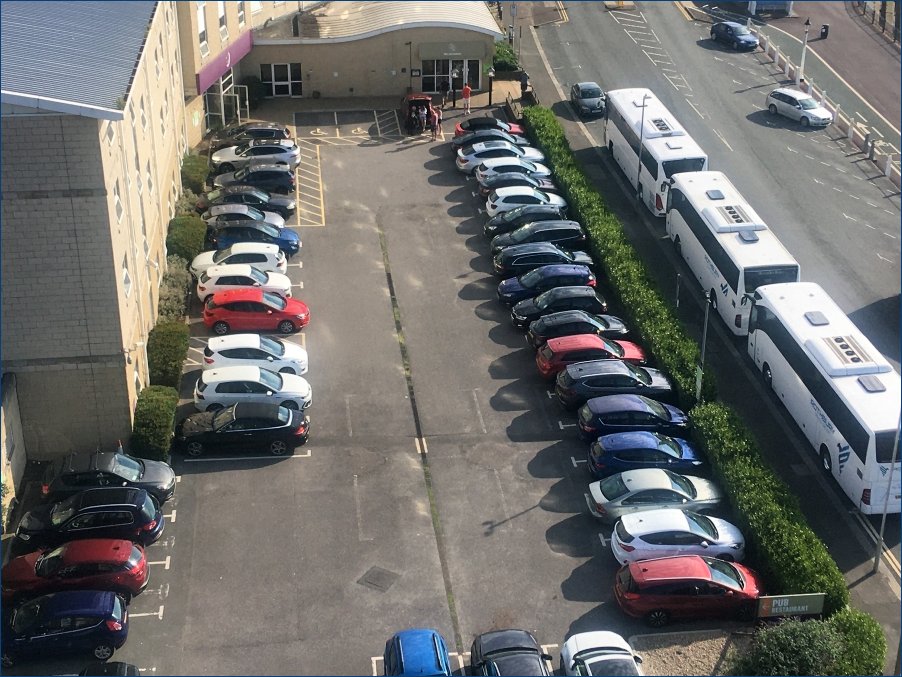 The Premier Inn : The picture above there shows the Premier Inn on Dover Seafront at the weekend. As you can see the general populace has clearly embraced the idea of the...'Staycation'. The hotel was very busy and doing rather well. Great to see in these new and strange times (albeit a bit less strange than previously endured), while the Port in the distance, just out of shot, showed no cars at all as we took this picture. Travel abroad seems to have fallen off that proverbial cliff.
The trucks however, thankfully, hopefully, continue to plough onwards ...
Premier Inn again... but for the feathered variety..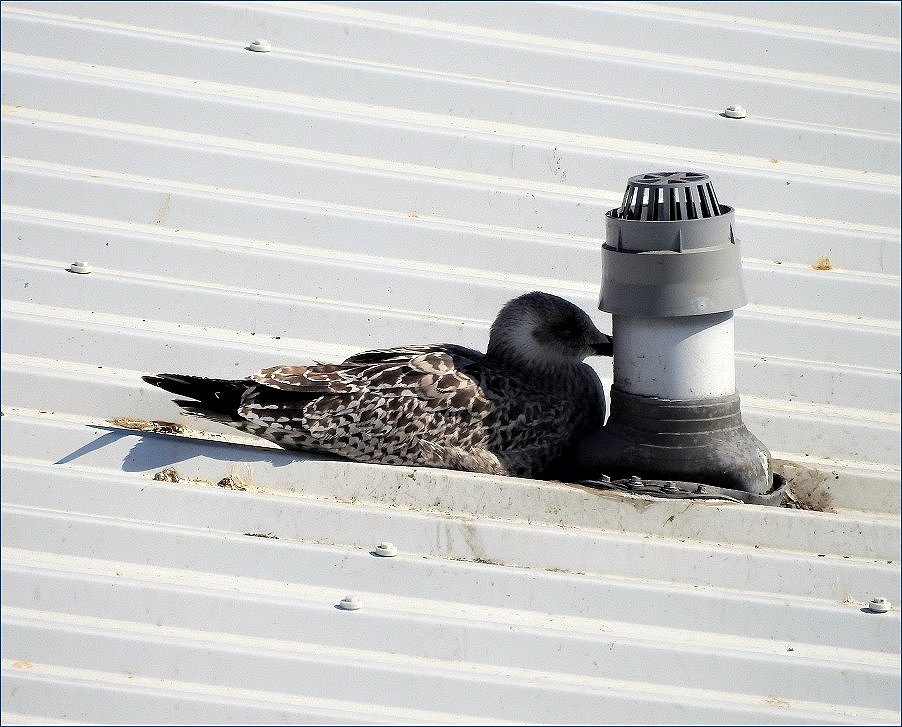 The roof of the Premier Inn this time. And we see a sweltering young seagull trying to get a wee bit of shade by cuddling in ultra close to the vent pole thingy... hard to believe but yes we did get a warm day or two...
BORDER FORCE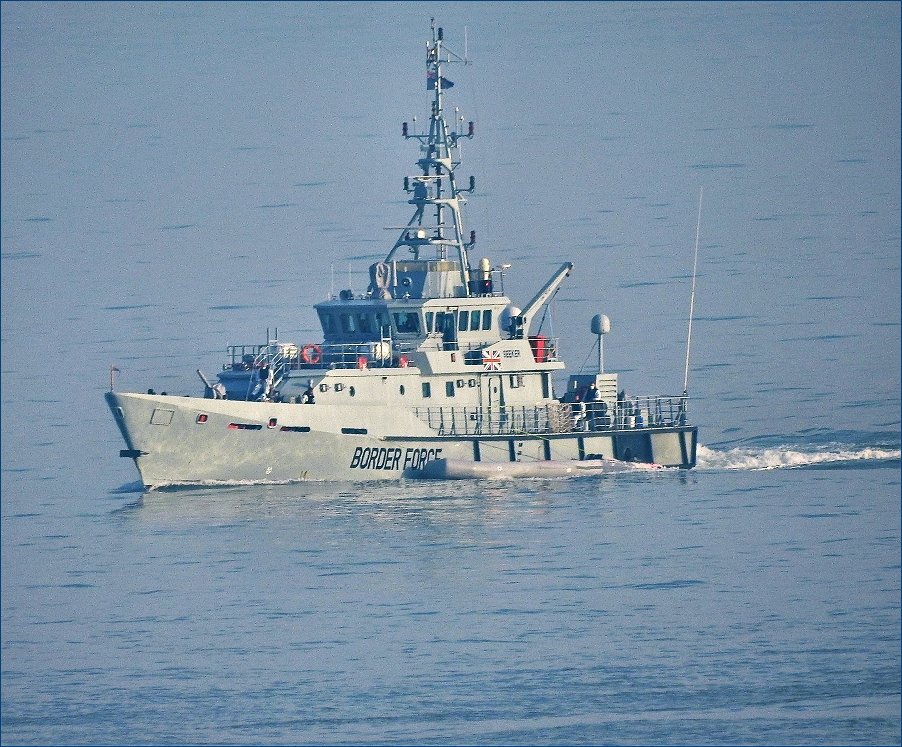 Border Force HMC Seeker : The picture above was taken just prior to the following picture sequence below....
Interesting to note ...according to the Daily Mail, our somewhat overwhelmed Home Secretary (Priti Patel) is planning to replace these old cutters with a new fleet at massive expense. Now..is this just a beleaguered politician thrashing about? The Royal Navy itself patrolled the Channel a year or two back...what difference did that make! The costs for that particular episode became way too prohibitive...
Border Force: HMC SEEKER just outside the Port of Dover...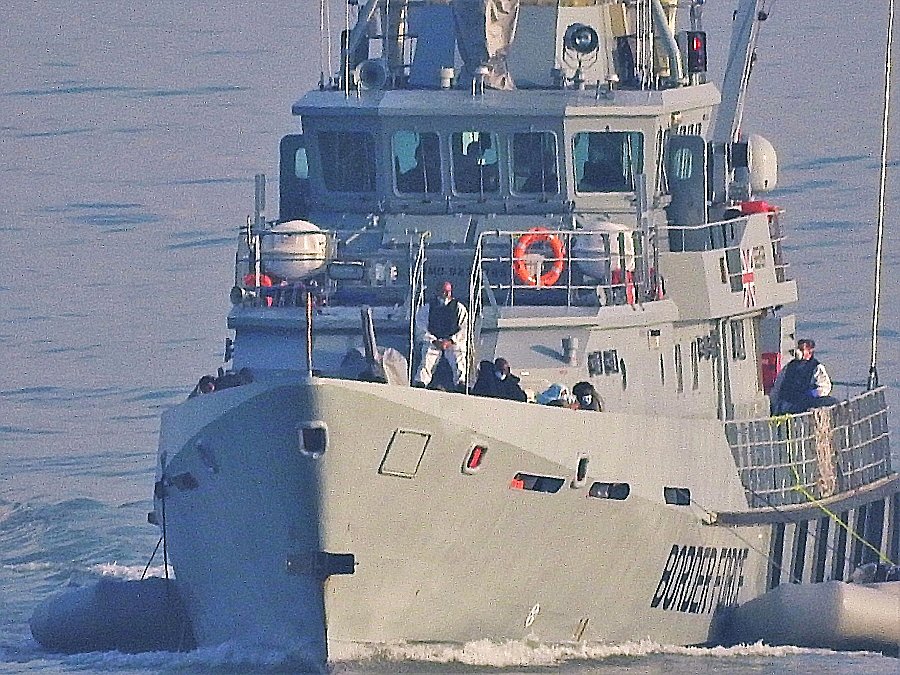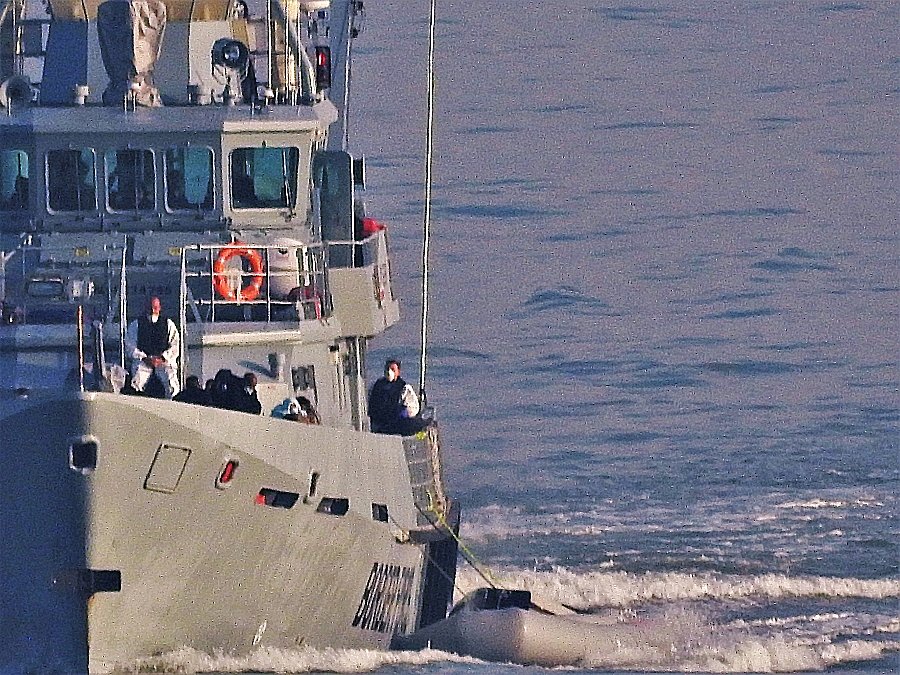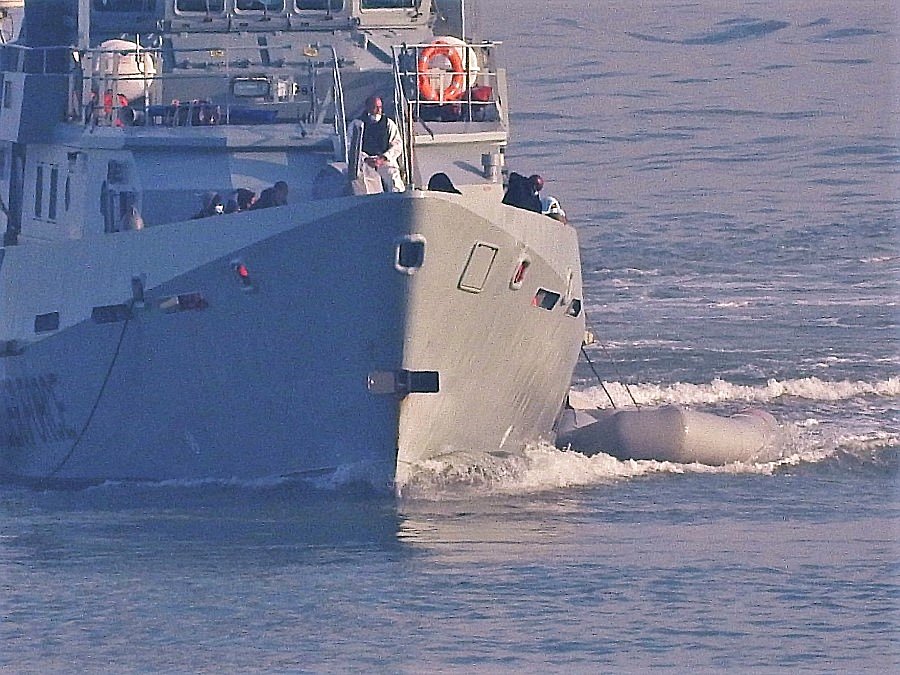 Border Force :
The pictures above were taken on Monday evening Sept 6 at 6pm approx ...they show Border Force with their ever busy vessel HMC Seeker returning to the Port of Dover once again following a patrol in the English Channel. As you can see, Seeker is bringing in 2 dinghys, one either side of vessel, and of course their migrant occupants. The pictures are not the best quality...over-zoomed and longer range but hopefully they at least show something of the gritty life in the Border Force/Migrant fast lane.... since the return of good weather, migrant numbers have surged once again... (Update: 785 people arrived on the aforementioned Monday in 27 boats)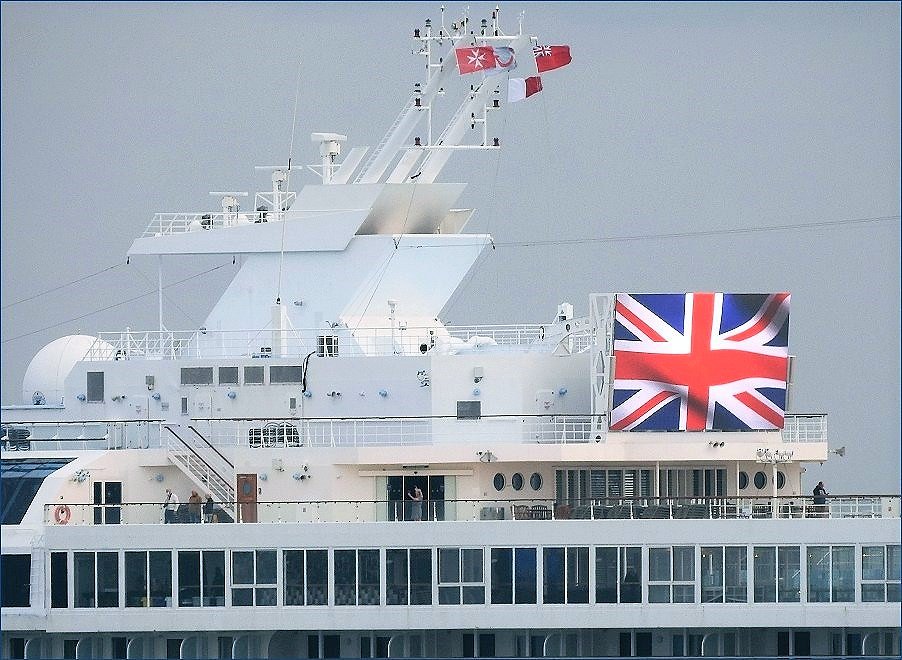 Can you guess what ship is showing this exciting new addition ?
Yes that magnificently colourful flag/electronic screen is all new.......
...well it certainly wasn't visible on our previous pictures so we're putting two and two together...
yes its the top deck of the Mariella..no no tut tut! ....of course yes... the Marella Explorer...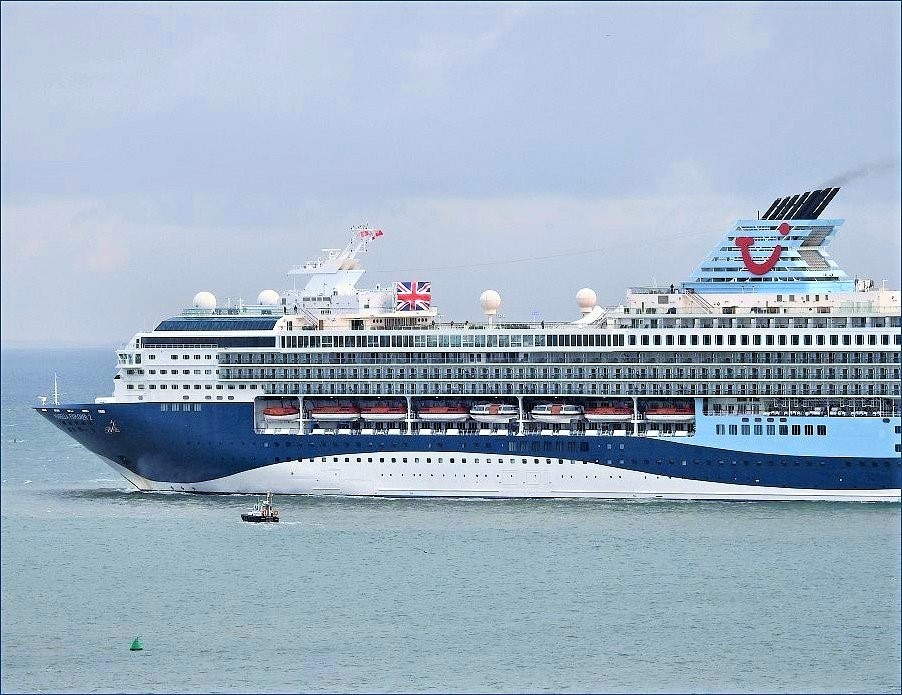 The Marella Explorer exiting the Port of Dover a few days ago... off to cruise the Irish Sea we understand.
Clock Tower Square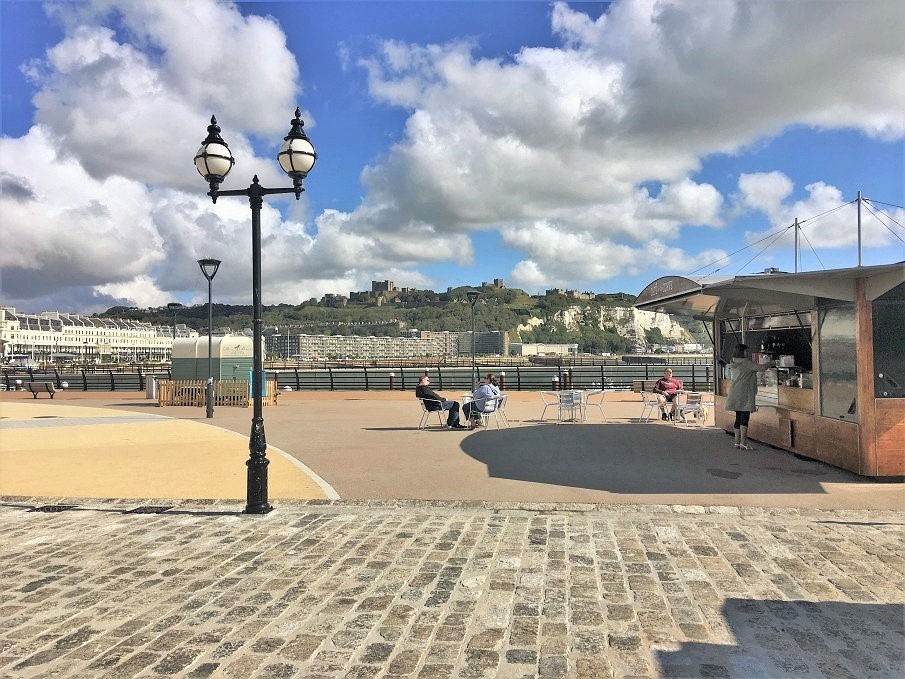 Enjoying the Marina Curve and Clock Tower Square:
Yes its refreshingly enjoyable along the all new Clock Tower Square and Marina Curve. The views are stunning as you can see. A simple picture above there taken this week on a mobile phone but you get the drift. The cafe there is called...wait for it....The Cafe on the Curve...so there you are.
Morning Pic..taken 10.35am.
PORT'S RESILIENCE RECOGNISED BY NATIONAL LOGISTICS AWARDS
The Port of Dover is delighted to have been shortlisted for two accolades by Logistics UK's flagship Logistics Awards.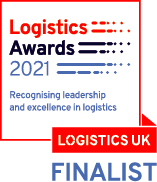 Shortlisted in the 'Outstanding response to COVID' and 'Water Business of the Year' categories, the Port was recognised particularly for its work – together with its ferry operator, sister port and government agency partners – before and throughout Christmas to get stranded drivers home when the French border closed due to COVID concerns.
The situation happened just as the Port was also preparing to deal with the end of the Transition Period, with significant national and international attention already on Dover.
Sarah West, Chief Operations Officer, Port of Dover, said:

"The Port recognised how crucial it was that essential goods continued to flow as they have done via Dover throughout the pandemic, but also that the people who deliver them to the UK's consumers and businesses were desperate to get back home to be with their families. I am thrilled that the UK's logistics industry has acknowledged that work and am proud of everyone here who made it happen."
Doug Bannister, Chief Executive, Port of Dover, said:

"Everyone saw the unrivalled speed and scale of response and the inbuilt resilience that exists at Dover in action, made possible by an operation maximising Dover's geographic advantage as the shortest crossing to Europe. As clearly demonstrated by the arrival of new ferry operators and new ships, there is renewed market confidence that Dover can still be relied upon as the quickest, most efficient trade route to the UK's largest single trading partner as we continue to support the economy through Covid and beyond Brexit."
Remembering what it was like with this picture below...nightmare........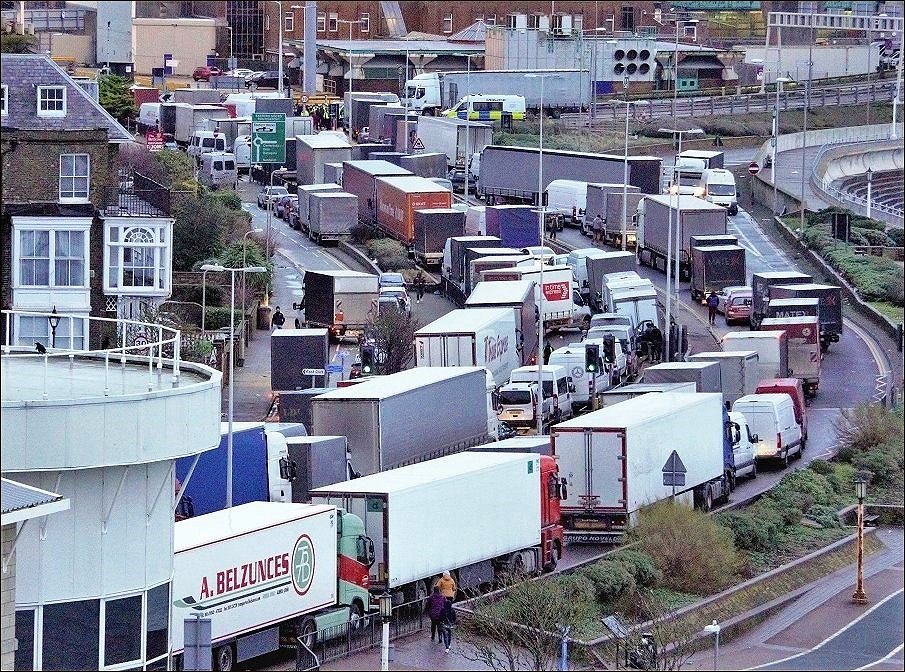 Haulage Christmas Chaos...
.... but somehow over the Christmas period it was cleared..in a sterling, now recognised, effort.
ADDED info re PICTURE:
For those unfamiliar with the locale... a brief explanation. The right side there of the dual carriageway, the section nearest the camera, is for traffic coming towards us...coming thisaway. But in the mad panic, the mad urge to get home for Christmas, drivers lunged towards the Port gates using every space available ...including the wrong side of the dual carriageway. Chaos reigned. Top right of picture shows two vehicles trying to use the carriageway in normal mode, but suddenly finding themselves blocked with nowhere to go...cant go forward, cant go back...
Dover Lifeboat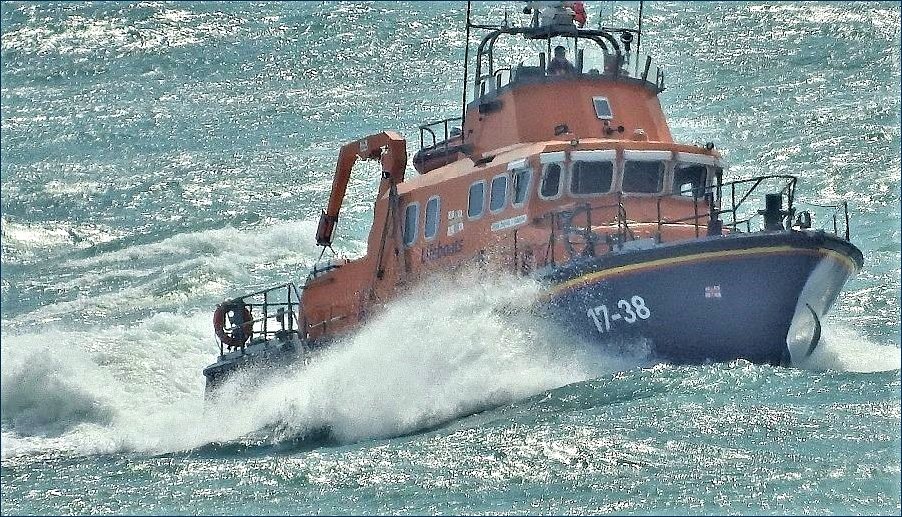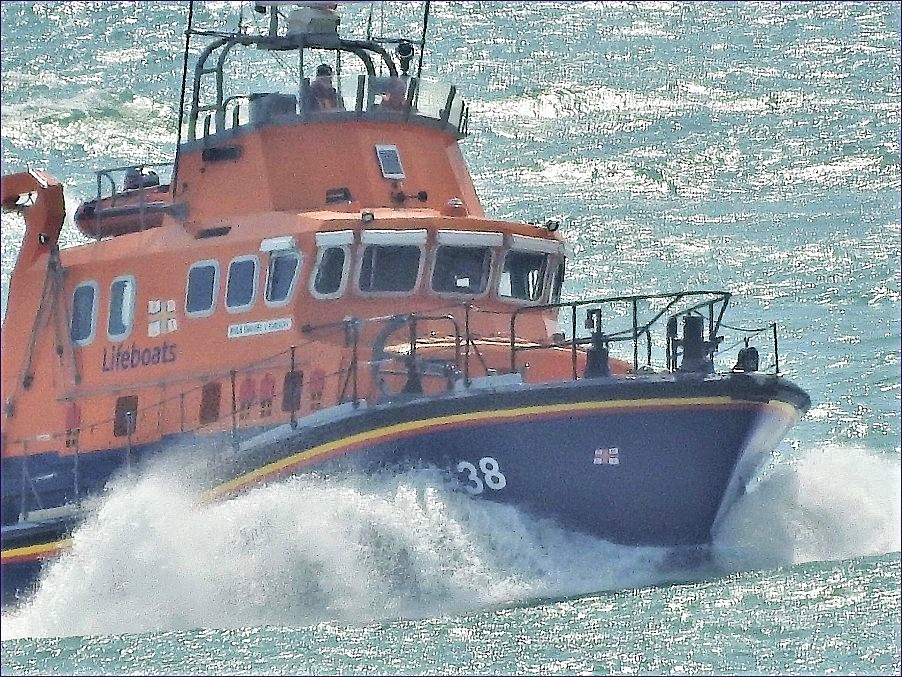 Dover Lifeboat ( looks like a relief Lifeboat ) powering back to Port a few days ago in fresh seas. The Lifeboat has been seriously active in the current crises situation with the migrant crossings, and as ever doing a sterling job to save lives, to keep people as safe as possible. The number of migrant boats crossing-over continues to increase with record numbers attempting the journey... but of course the Lifeboat handles all the usual general callouts as well...busy times.. long range shots there...
Hebridean Princess..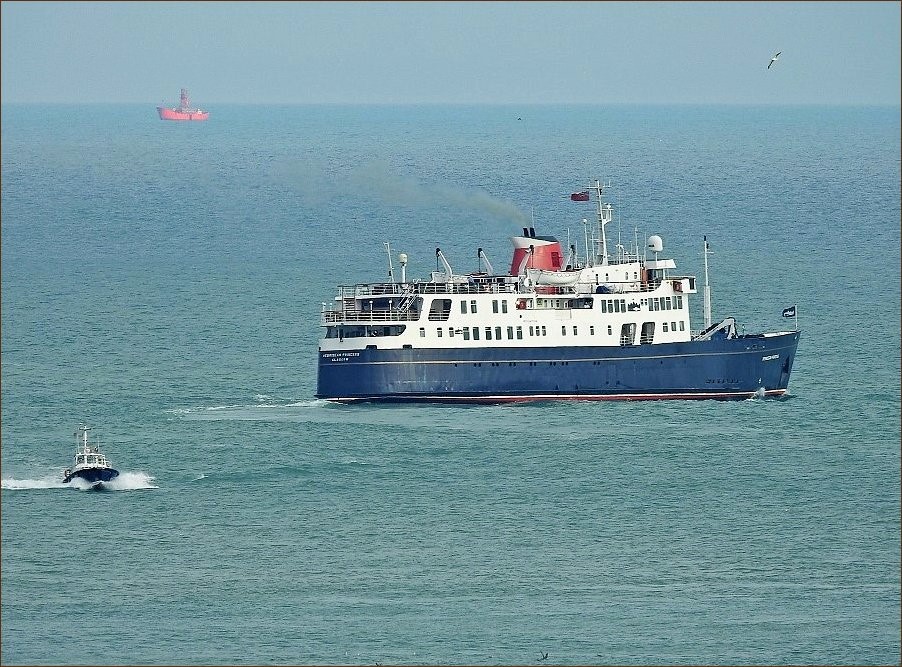 Hebridean Princess: We almost overlooked these pictures of the Hebridean in the files but thought them worth including even though its somewhat late in the day..... taken on the same Sunday evening as the ones a tad further below (Aug 22)...
....we have some long range pictures of the ever busy Lifeboat scheduled next...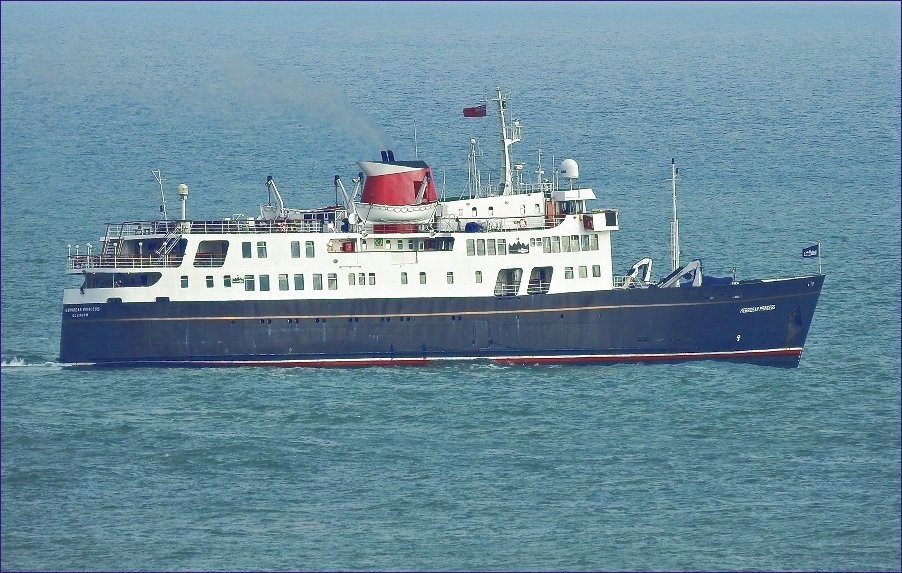 Hebridean Princess
As promised...some pictures now of the hopper dredger from the Netherlands...Spauwer...entering the Port here....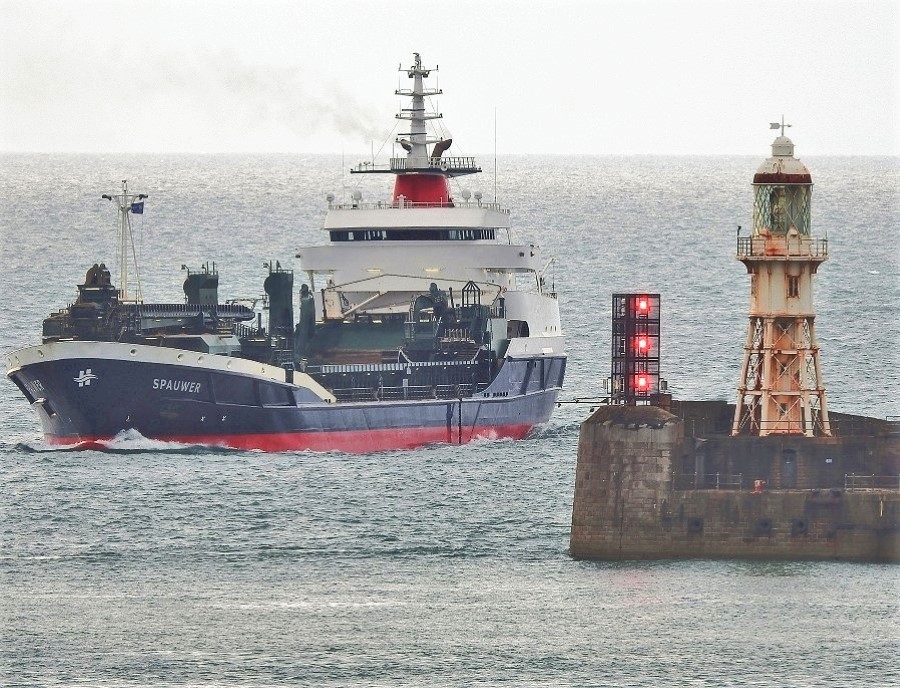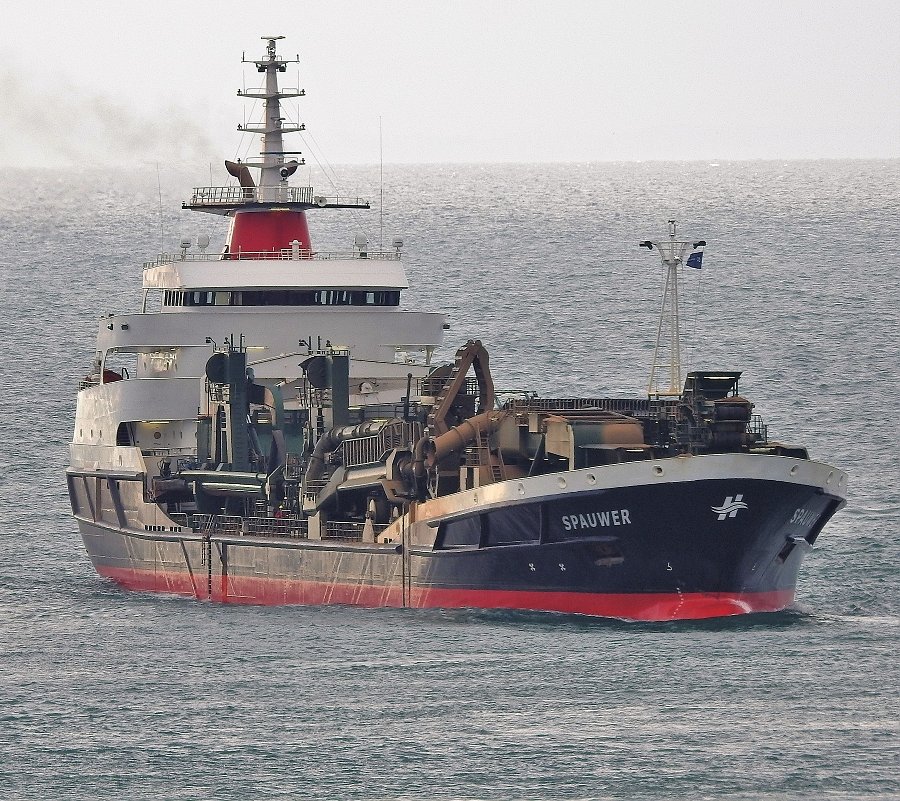 Yes some pictures there of Spauwer entering the Port of Dover a few days ago...an impressive and striking vessel with the deck looking ( to the landlubbers here! ) like a masterstroke of technical advancement...pictured a few days ago, date to follow... ah, its the 19th August, so a bit further back than first mentioned. Very busy days at the Port again...
Hebridean Princess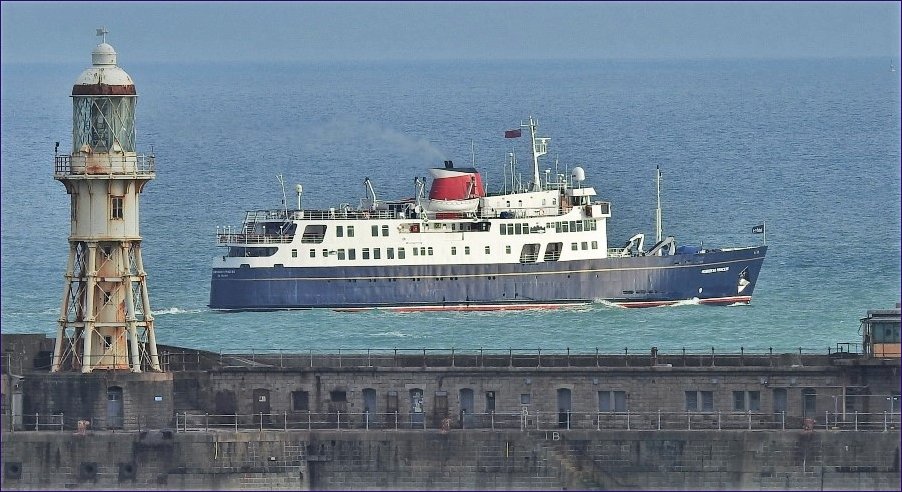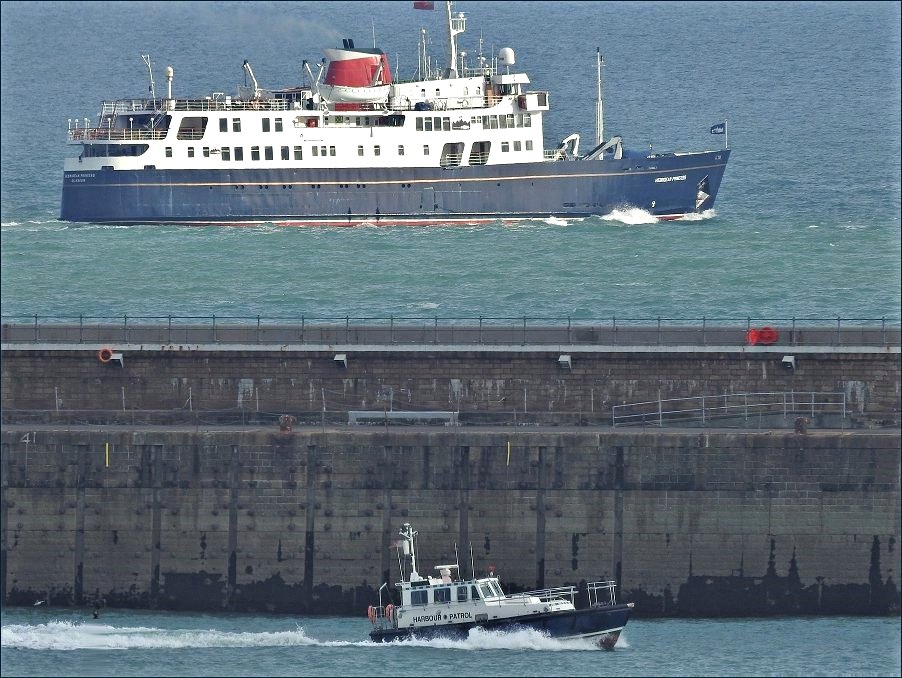 The small but beautifully packaged Hebridean Princess above, pictures taken just after she left the Port of Dover on Sunday (Aug 22) evening around 5.45PM. She was heading for Eastbourne in fine elegant style. For some reason (in the second pic) we have this habit of wanting to show the returning pilot boat, and there we are again...... we may also have another shot in due course...
We also have some pix of the Spauwer waiting in the wings...so much to do, so little time...
Fred.Olsen's Bolette (just below: added tug spray pic)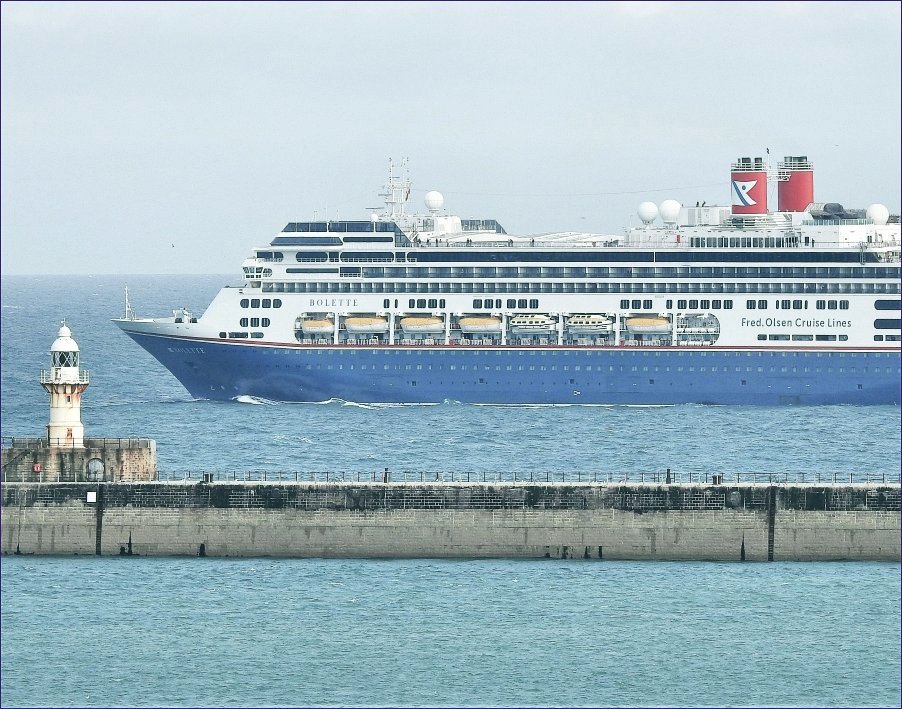 Bolette - in the blink of an eye she was off again on cruise number two, this latest picture above shows Bolette on Thursday evening moving away from the Port of Dover.... on a five day trip to enjoy the scenic British isles...so it says here...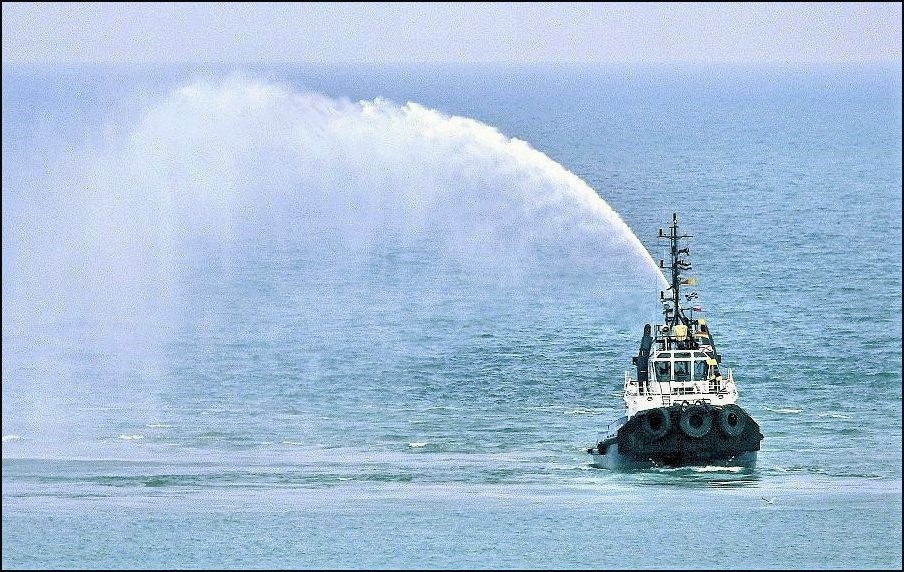 Tug Spraying : there has been much demand lately for the tug to do its subsidiary role...ie spraying for glory, spraying for the joyous return to real life... and of course spraying for the joyous return of the active cruise ship......
* *
The maiden voyage is over...Bolette has returned, rejoining us here in Dover in the wee small hours of the morning (Thursday Aug 19). It was a short cruise but we bet it was enjoyable nonetheless...off on another cruise now..
Have just added this extra picture below of Bolette at departure a few days ago...we wanted to show if possible some of the daylight sparklers that were set off on departure. The picture needed a bit of work, hard to capture the flashes in daylight, but here we are..you can just about see it.... great fun...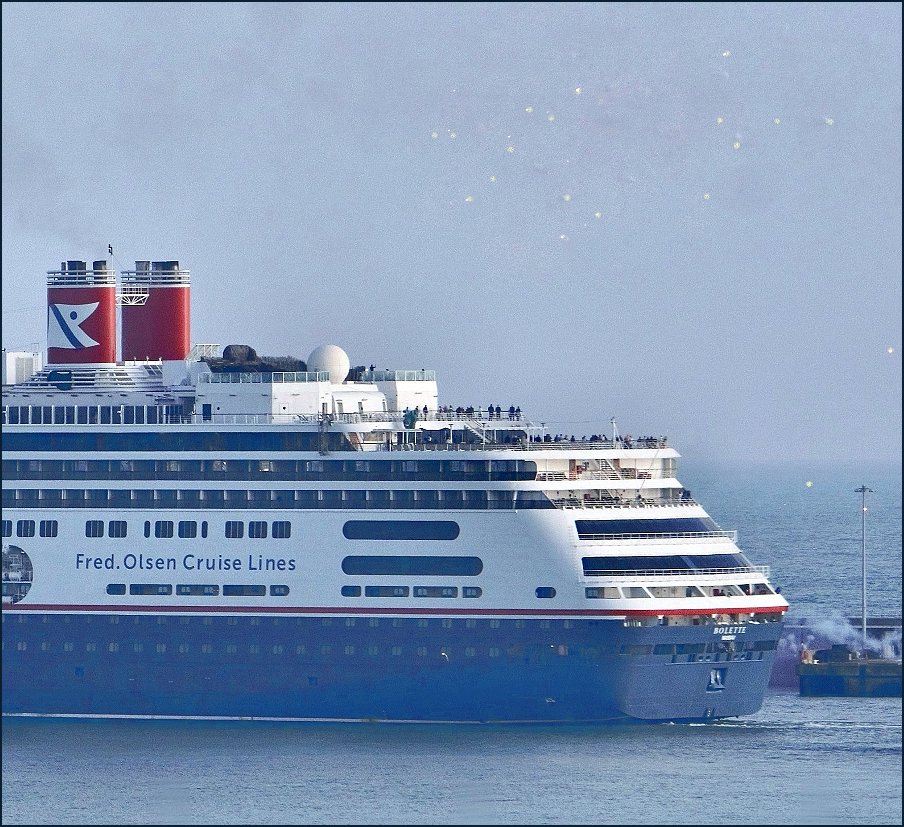 Bolette and the flashes...
* *
Bolette - Maiden Voyage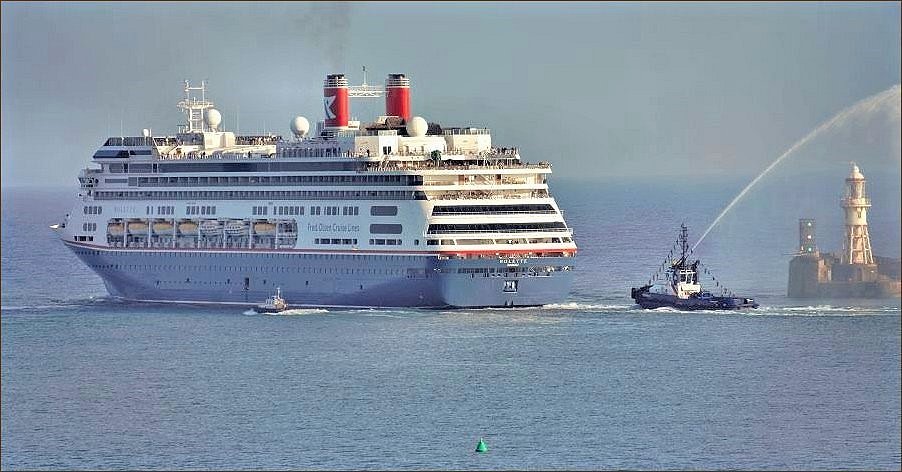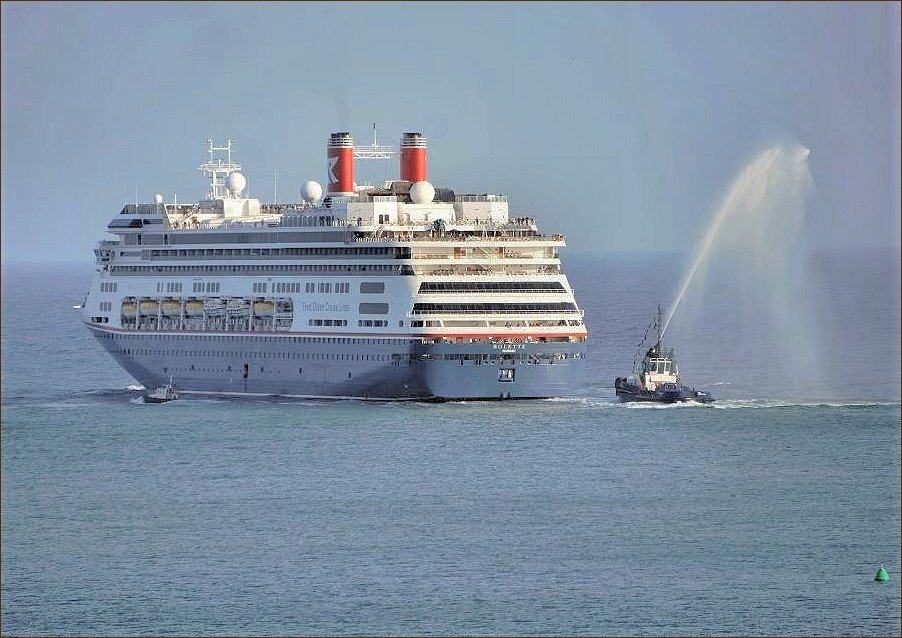 Some pictures above there of Fred. Olsen's Bolette setting off on her maiden voyage on Monday evening 6pm from the Port of Dover. A crackling of sparkling fireworks and the jet-spraying tug sent the excited voyagers on their way...and there they go above...
The inaugural cruise will offer scenic sailing of the Isles of Scilly's 140 islets, a designated Area of Outstanding Natural Beauty and the dramatic coastlines of the Channel Islands, on this exciting maiden cruise.
Sonia Limbrick, Head of Cruise at the Port of Dover said:
"We have shared some special moments with Fred. Olsen, and are so happy to be celebrating with them again here on another milestone day for Bolette's Maiden Voyage.

"We are delighted that Fred. Olsen have chosen us as the homeport for their beautiful new flagship vessel, and we look forward to our excellent relationship with them reaching new heights as Bolette begins her exciting new adventures from Dover."
For Fred. Olsen
Peter Deer, Managing Director for Fred. Olsen Cruise Lines, said:
"Today is a very important day for us, as we introduce our new flagship, Bolette, to the world. The team on board has worked incredibly hard to add our own Fred. Olsen touches to the ship, with every element designed with the elegance and attention to detail that we are so well known for".

Captain Mikael Degerlund, who will be sailing Bolette for her Maiden Voyage, said:
"It is a huge honour to Captain Bolette for her Maiden Voyage, and I look forward to many happy sailings aboard our new flagship in the future."
Extra Pic : We will have a picture soon of her 360 degree manoeuvre upon leaving cruise terminal 2.
Happy voyage to all......
And yes here we are....tight move by Bolette but of course expertly done...as she manoeuvres there below behind a trilogy of heavy lift cranes, and to the left of shot you can just see Mustafa Yagci creeping into view. The tug had just begun spraying....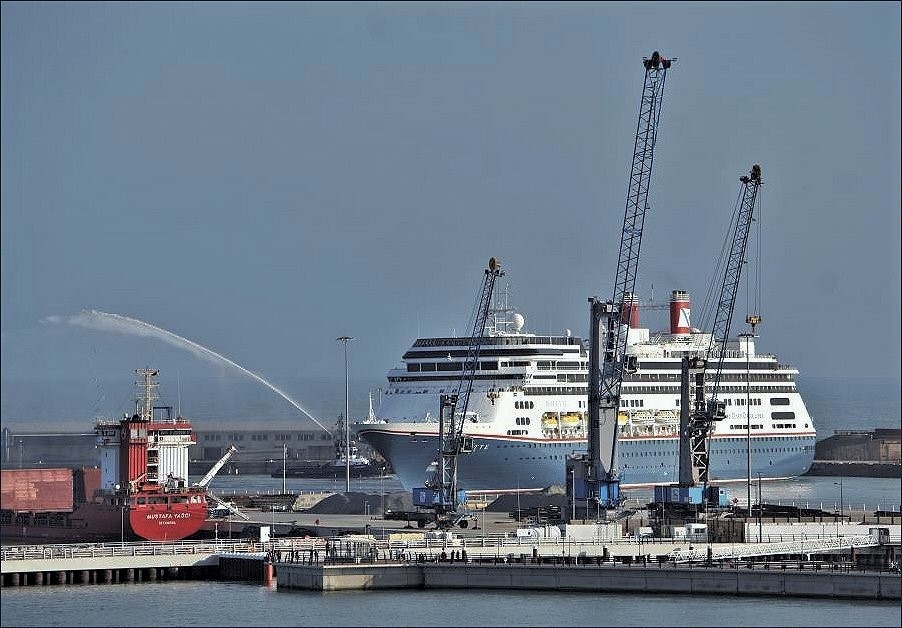 Bolette moves off....
Mustafa Yagci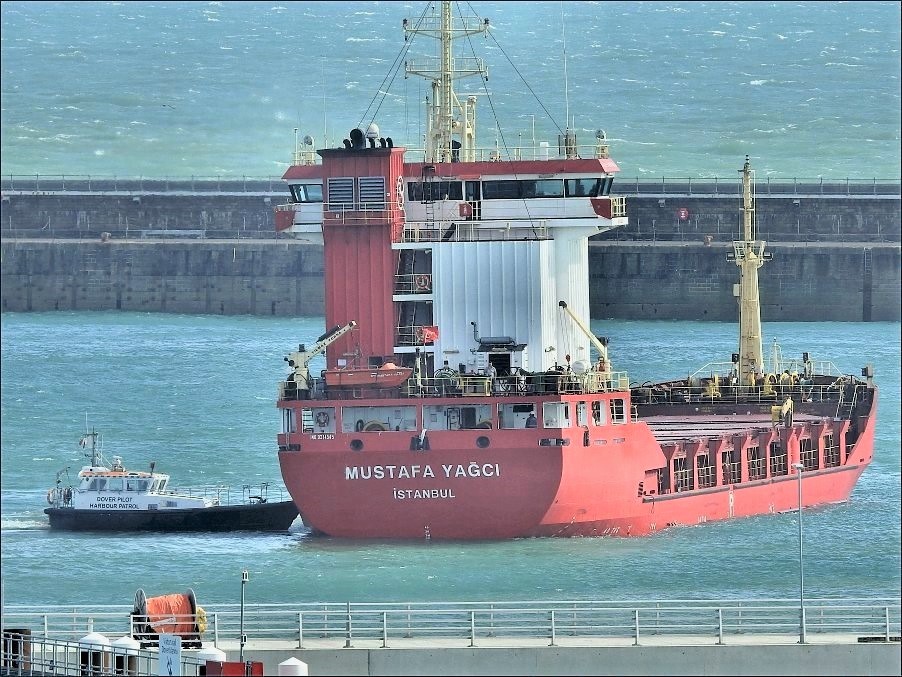 Mustafa Yagci is still in Port as we speak (Aug 16)...its been a long stint, as the picture above shows her arriving a full week ago in the late Monday afternoon. She is a general cargo ship as you can see. Is she getting a little help there?..a nudge? from the pilot boat as she manoeuvres towards new terminal WD4......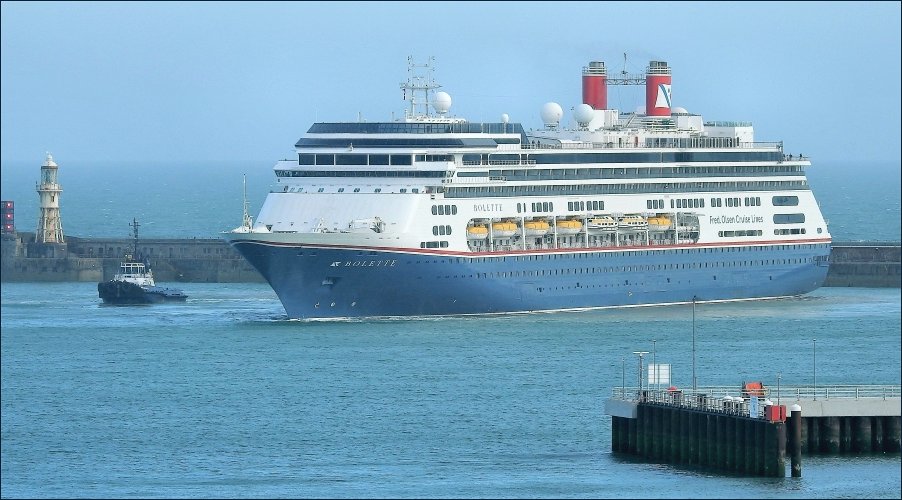 That's Fred Olsen's Bolette above, picture taken as she moved away from Cruise Terminal Two on Friday evening...Friday the thirteenth...time 6.20pm. The weather was somewhat grey with a rather fresh wind, she left by the eastern exit as they normally do in fresher conditions, and then went west. We dont think it was a scheduled passenger run but cant be certain, we have info here that says her maiden voyage is coming soon...but sometimes schedules change.
She has now returned...arrived back with us here in Dover in the wee small hours of the morning (sunday)...
Mustafa Yagci up soon....
Gallantry...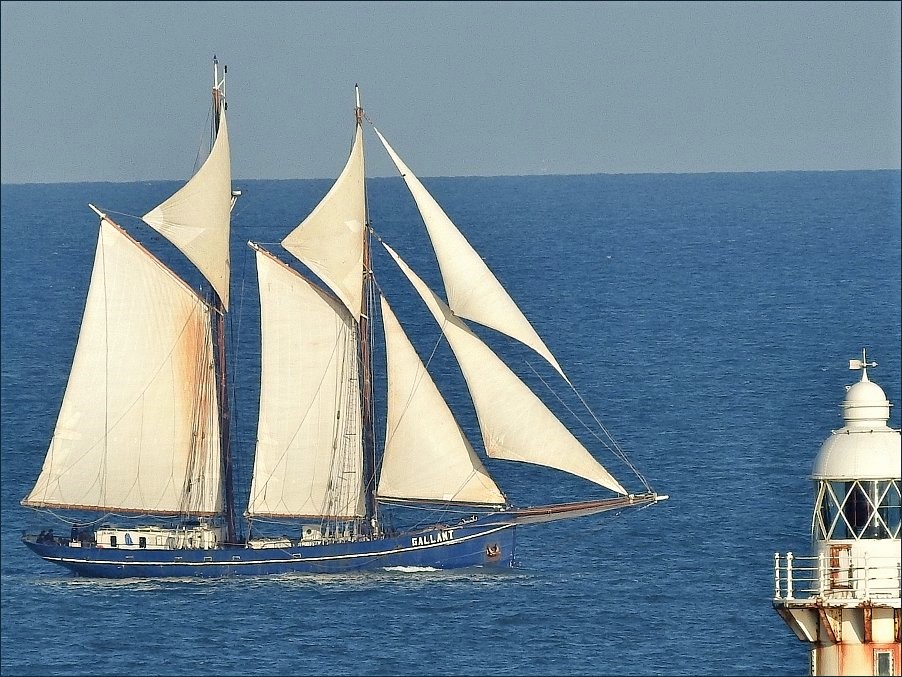 Gallant: Another one above of the elegant Gallant galloping by...
Gallant: Zooming in on Gallant as she passes by...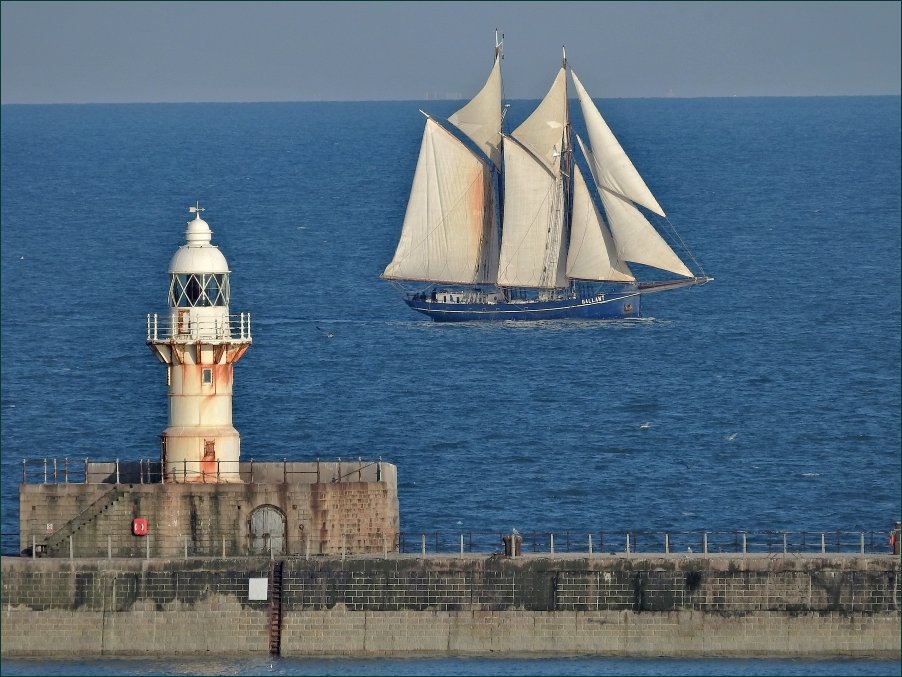 Gallant under full sail: Yes Gallant or De Gallant sailing by the Port of Dover a few days ago and looking magnificent on a nice evening...blue sea blue sky.... We have been using her as our loved logo for years, see base of page. She looks great under full sail so it was an extra delight to see her once again...
And looking at Gallant above, we cant resist adding this further one of the Golden Horizon...
"all I ask is a tall ship..."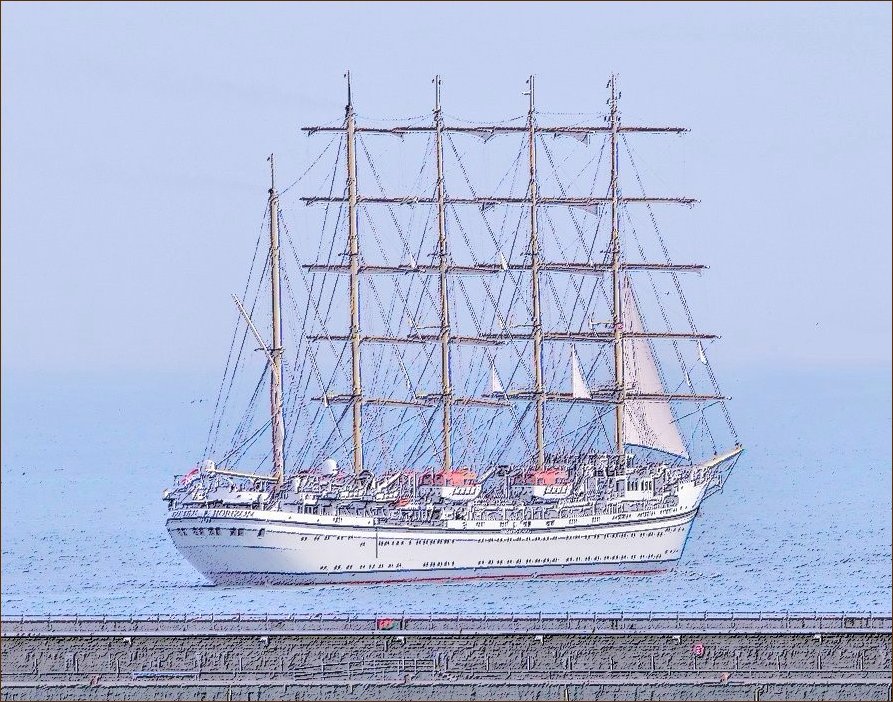 Golden Horizon
We're keeping those artists in the dungeon busy...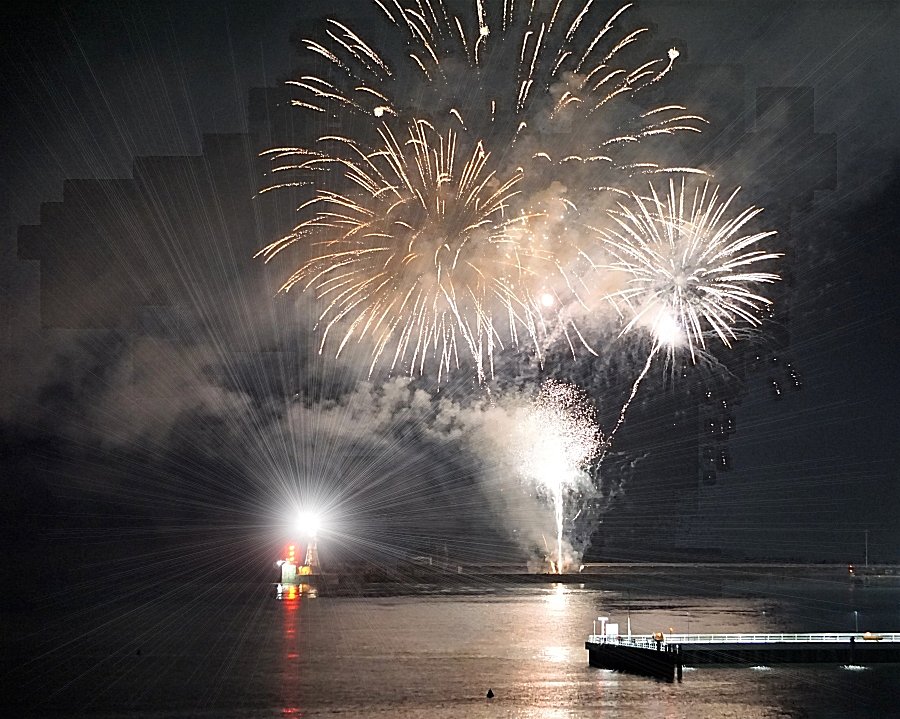 Fireworks for the new DFDS ferry...Cote d'Opale
The fireworks were thoroughly enjoyed by the crowds lining the seafront here in Dover. When the colourful spectacular finished, spontaneous applause broke out...always a good sign for sure... more below..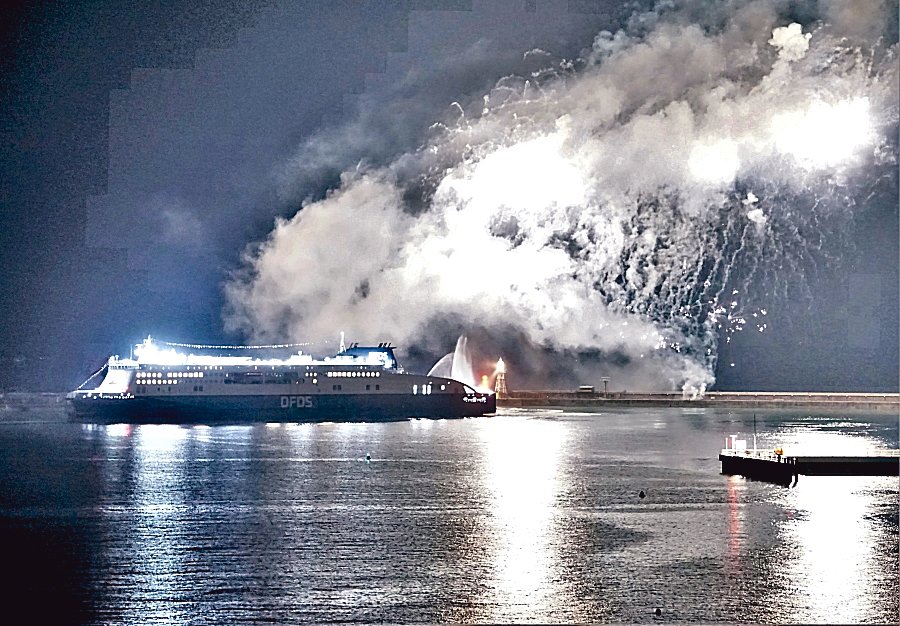 After the dramatic burst of colour as seen in the shot below, we are left with the equally dramatic smoke above....
......this is called..."smokin' it"... !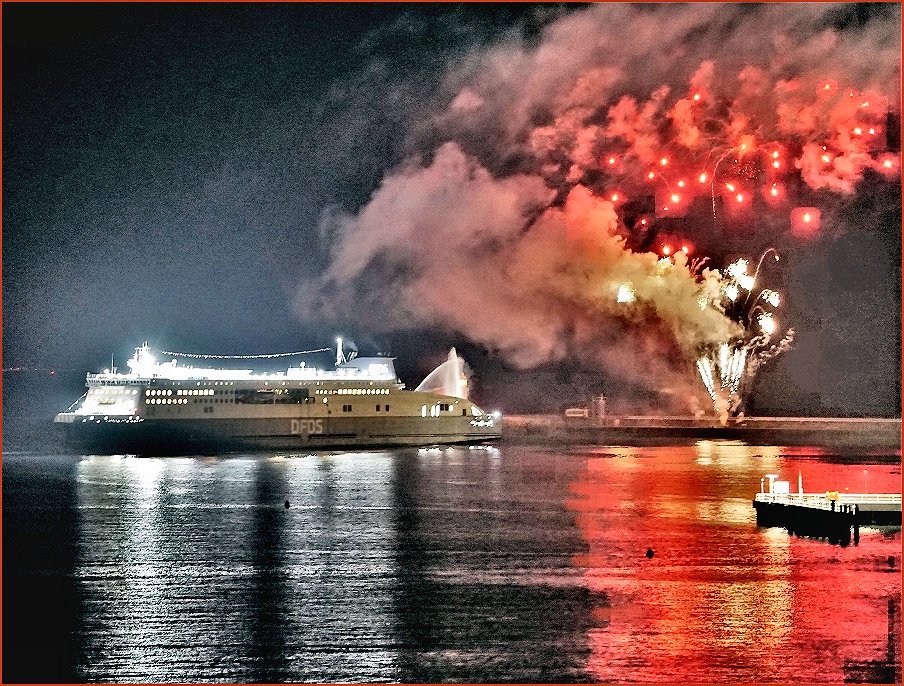 Fireworks for new DFDS ferry Cote d'Opale:
A super fireworks display took place Wednesday night (Aug 4) to welcome the new ferry into service. She arrived into the western entrance about 10.20 pm and was greeted by thunderous and explosive fireworks on a grand and very colourful scale. Lovely stuff!
The seafront was enthusiastically packed...nary a parking spot to be had...
We might have a picture in due course but as you know....fireworks tricky..
...there we are above. We managed to get one.
Time of pic above 22.26 Wed night ..
the arrival at the Port of Dover of the DFDS Cote d'Opale.
The long low lines of the all-new Cote d'Opale below...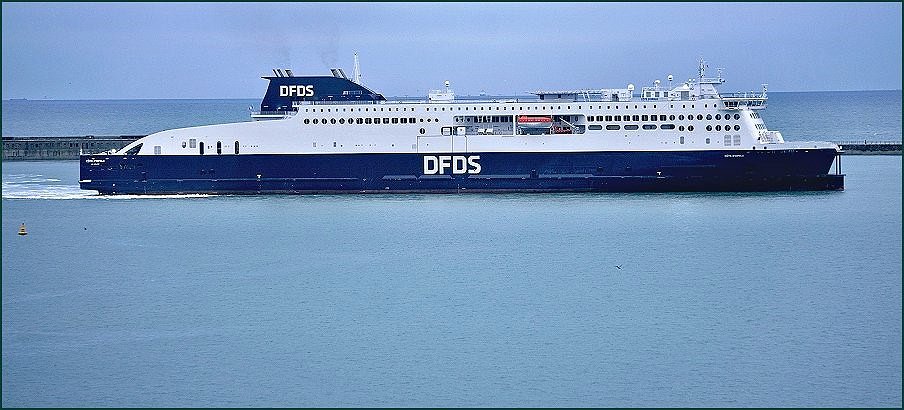 Cote d'Opale (another pic further down page.)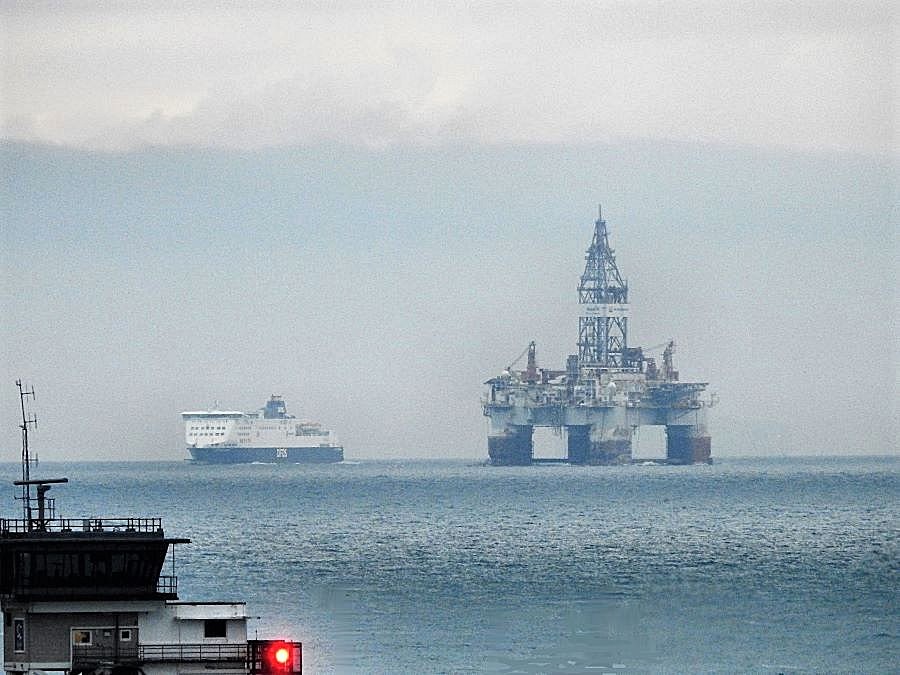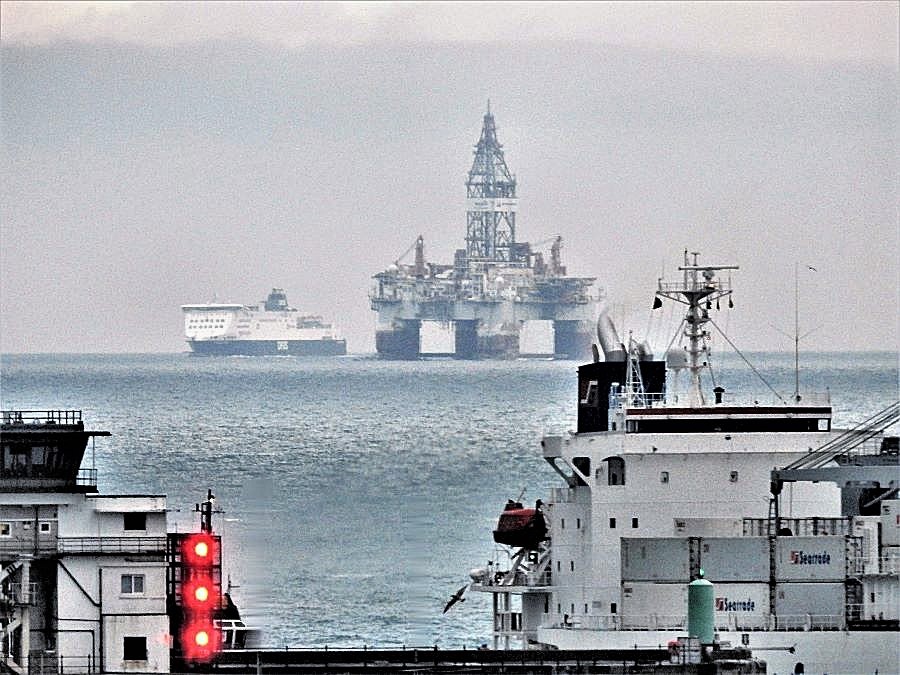 Some grey-ish pictures above there of a monster drilling rig as she was being towed down the Channel a few days ago (Aug 1)...presumably, as has happened so often before, the huge beast was heading for the breakers yard.. Now...there was no name on AIS unfortunately, so we just have to accept it as a very large, very striking, drilling platform. One of the DFDS ferries rounds her on the way towards Dover...shows the scale. The second shot there was a tiny tad earlier...Atlantic Reefer had arrived and briefly obscured our viewing path...the cheek of it...!
Rough Weather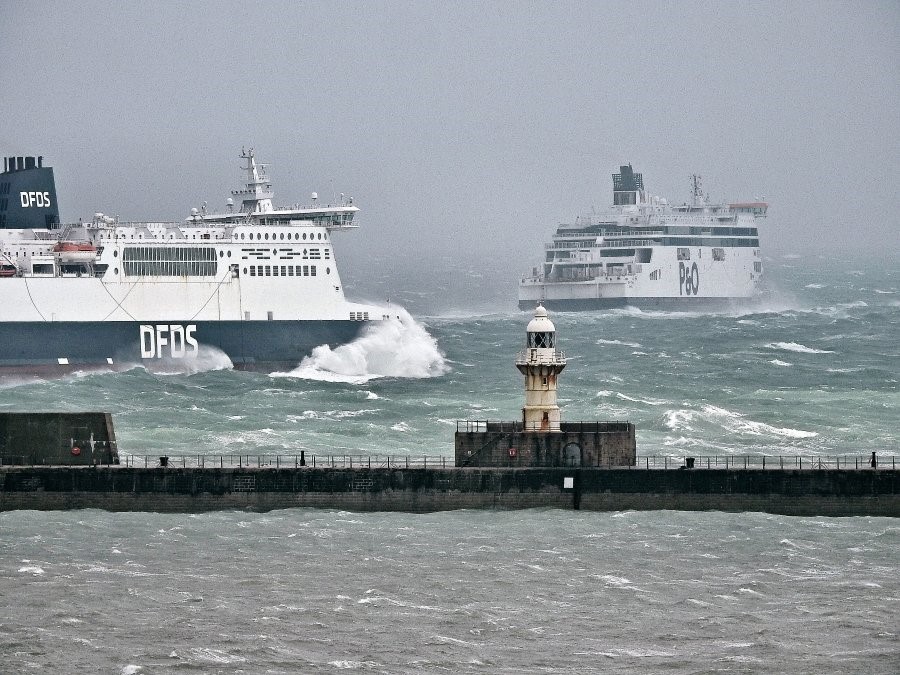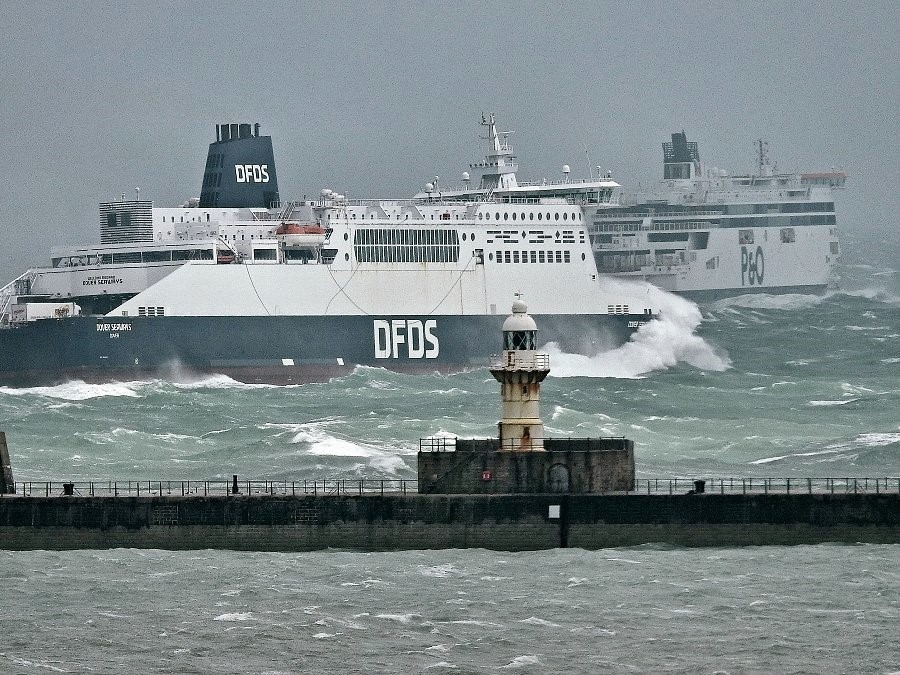 July finished with some rough oul weather as you can see above. The two ferries showing above have just left the Port of Dover and are in the early stages of battling their way to France in some fierce wind. The ferries: the DFDS Dover Seaways and the P&O Spirit of France..
"Return the full English to the kitchen..its going to be a bumpy ride"
Golden Horizon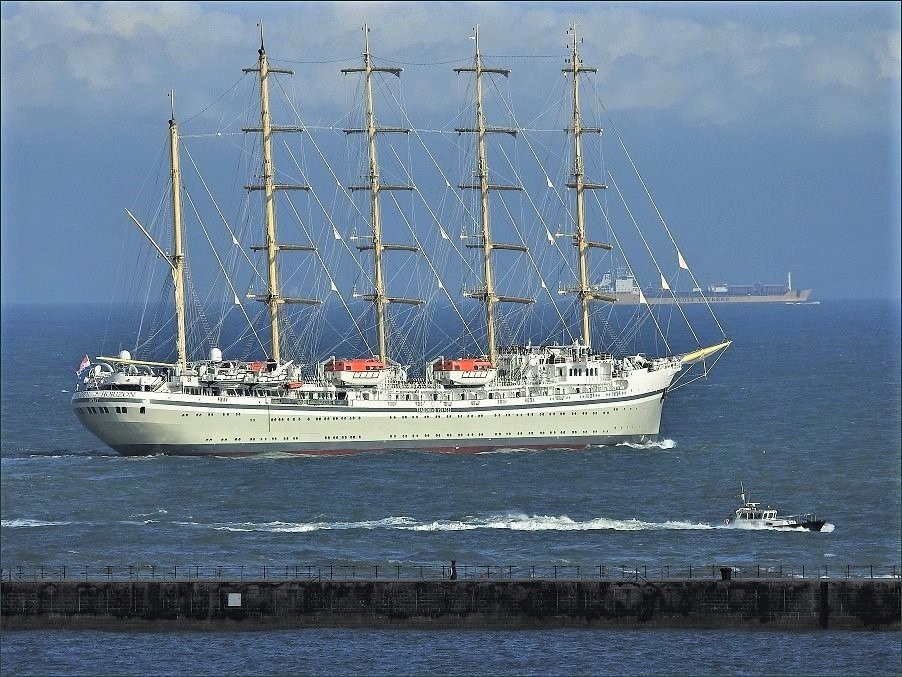 Golden Horizon : ...coming and going...Yes the final pix of Golden Horizon...at least for now as according to the recent press release (see further below) this is her final call here at the current time, and over this visitation period it was hugely enjoyable to see such a striking ship. These latest pictures were taken on Saturday July 31. Top shot shows her evening departure with the returning pilot in the foreground.
The early picture below is a wee bit forced..difficult shot into the golden light at arrival time 06.20...far too early for either man or beast..never mind the old Nikon.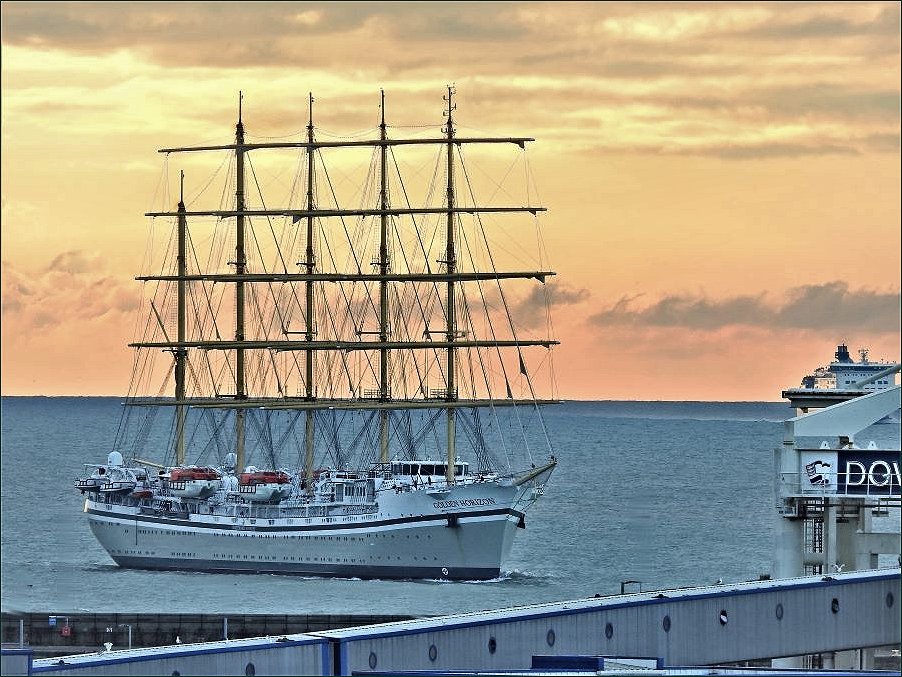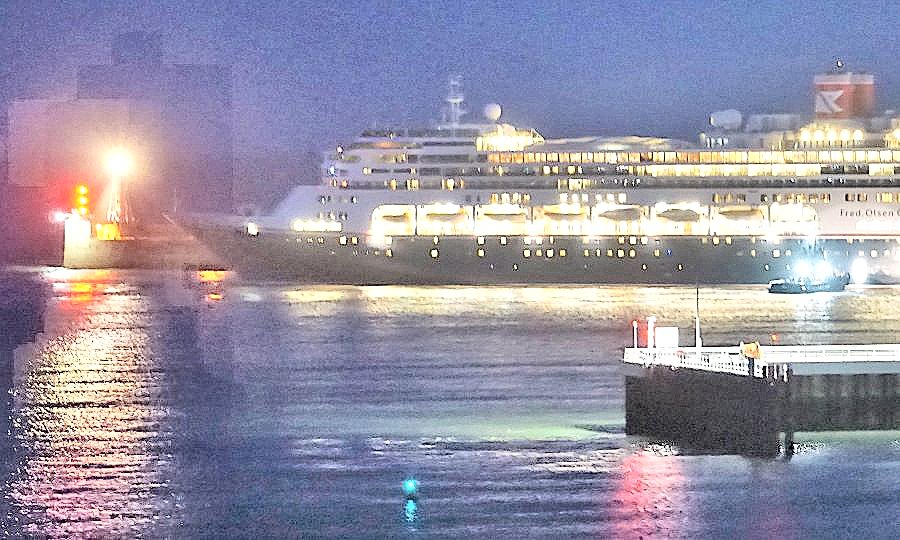 Odd even bizarre picture above there of Fred Olsen cruise ship Bolette. Taken as she arrived on a dark damp Thursday night...the pixels seemed to disintegrate but in ermmm...flamboyant style ... see also immediately below.
Marella Explorer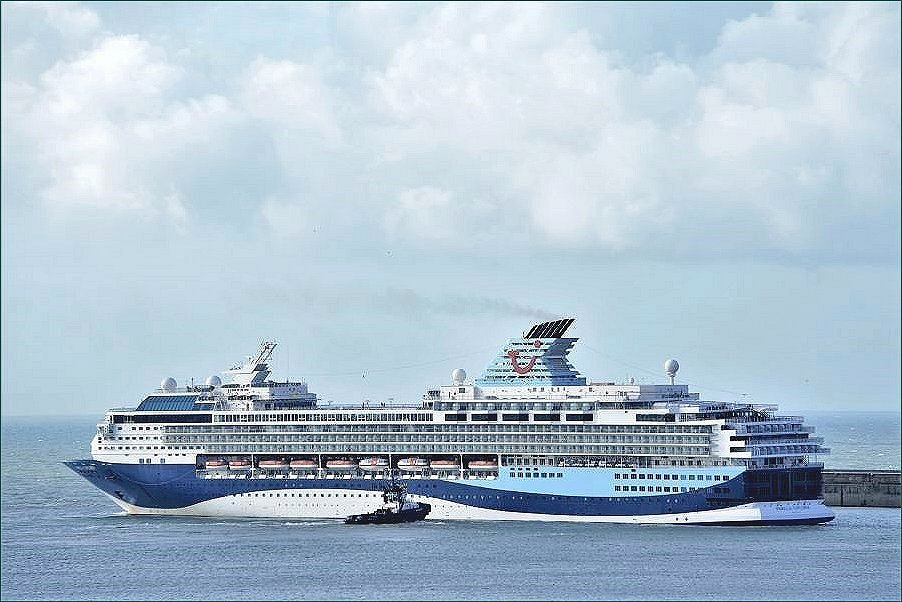 Marella Explorer was back with us again on Thursday.
Also late on Thursday night the new Fred Olsen cruise ship Bolette came in...no fanfare, just an arrival on a dark and gloomy night. We tried some night shots but it was a very dark night, despite being only 9.30pm, will see if we can save and show one of the gloomy night pictures.
Also today Saturday 31 July just arrived at 06.30 we have the Golden Horizon once again...see below...
more pictures in due course.....
ps: Bolette still in Port as we speak..
Golden Horizon
.....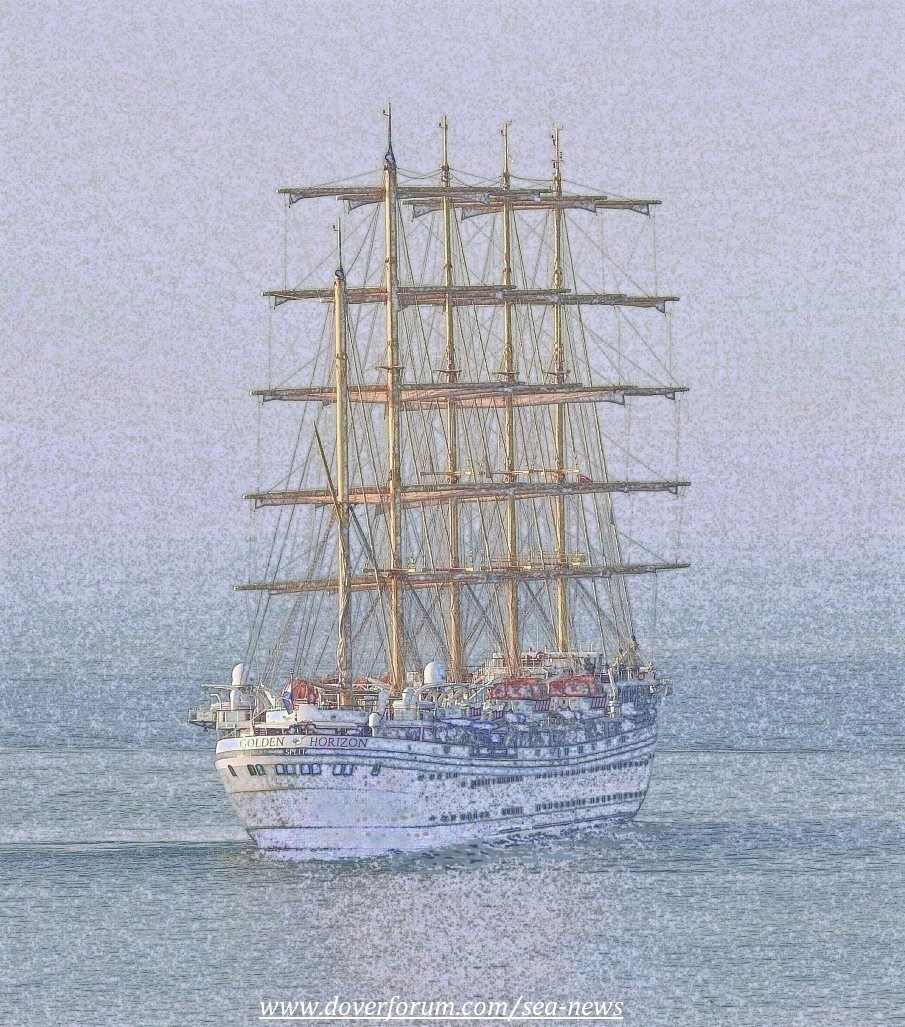 The Golden Horizon once again above there, shown leaving the Port of Dover in elegant style. She will be back with us again in a day or two so the excitement of having the worlds tallest sailing ship continues. The pic above there is of course an 'artists impression'. We have two artists in residence...one is Lennie Vinci and the other one is of course Josh Re-nolds...they work hard but you know... they have a lot to learn..... !!
EXTRA Note : we are hearing we may have made that pic above a bit large for some setups. To see it full screen press F11 on your keyboard...then press F11 again to release image back to normal. Easy...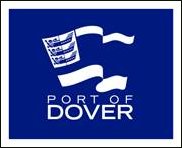 Port of Dover welcomes Anglo-French funding package to tackle migrant crossings
As the port where many of the migrants attempting to cross the Channel are brought to by Border Force, the Port of Dover welcomes the additional funding pledged by the UK Government as a positive step forward. However, the Port insists that the UK Government must provide more direct financial support still urgently needed in Dover itself.
Border controls operate under the Treaty of Le Touquet, which enables UK border entry checks to be carried out in France and French border entry checks to be carried out in Dover.
The fundamental purpose of the treaty was to help enable illegal migrants to be intercepted while they were still in France and thus prevented from travelling to the UK. It has been a crucial part of cross-Channel border management for the past two decades. Since leaving the EU, these border checks have become lengthier and more intrusive.
In 2019, the Port finalised its Outbound Controls Project, which would both double border control processing capacity and deliver a more effective ordering of those controls. By mitigating the impact of these lengthier checks and keeping traffic flowing, the project's successful delivery would maintain the integrity of the Treaty of Le Touquet.
However, the Port of Dover still needs government funding to deliver the Outbound Control Project in order to support vital trade flows and a key market for international tourism when it returns. The Port therefore calls on the government to meet its obligations under the treaty to ensure that in addition to the supplementary funding that has just been announced, the main measure for border control between France and the key gateway port of Dover, and the necessary traffic fluidity for legitimate trade and tourism it should facilitate, continues to provide the intended benefits.
ENDS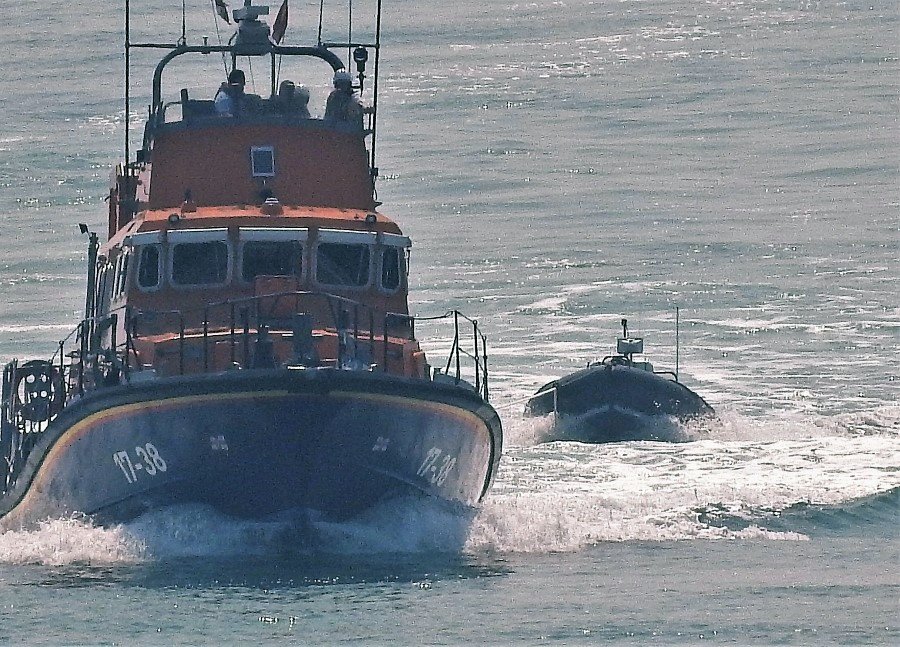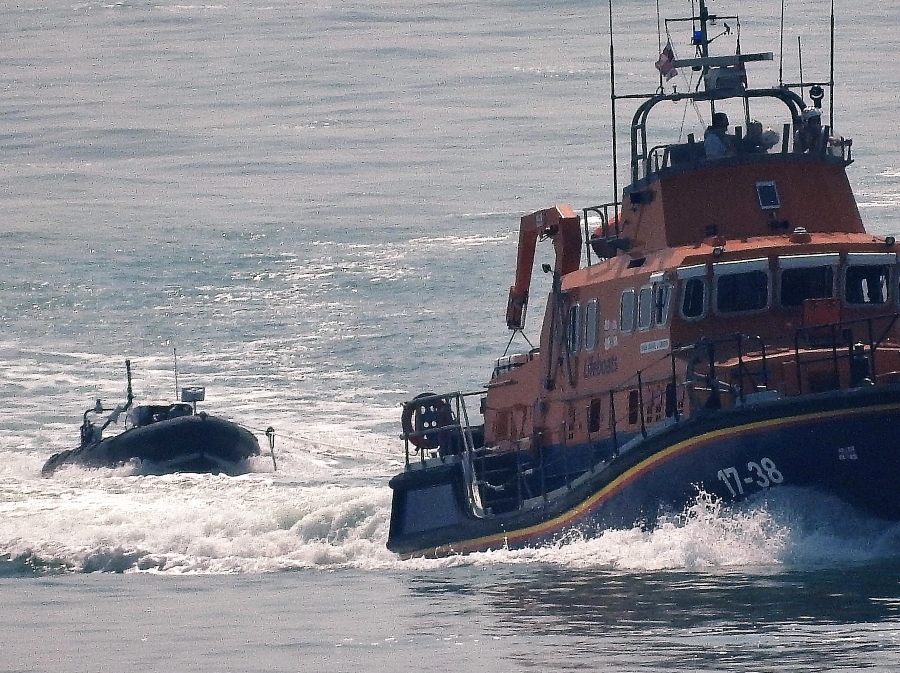 The ever busy Lifeboat above towing a dinghy into the Port of Dover a few days ago.....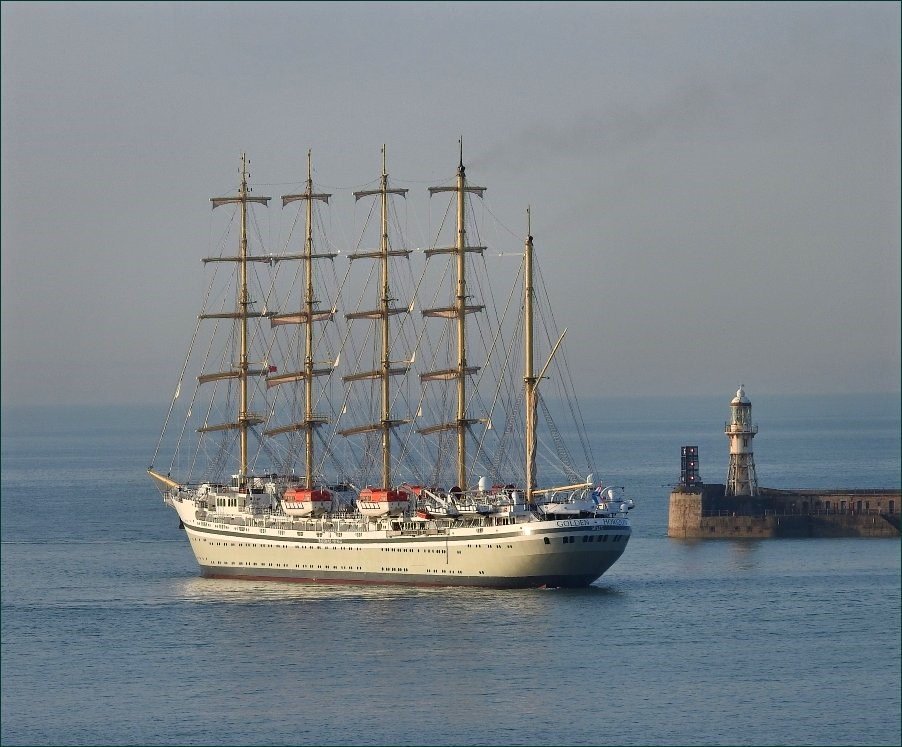 Golden Horizon
Another impressive display of cruise ships at the Port of Dover Saturday 24 July..
three cruise ships in... Golden Horizon, Celebrity Silhouette, and the Spirit of Adventure ....
All arrived with us here under rumbling thundery skies....
See more pictures of these impressive cruise ships further below...
Exciting times....
Golden Horizon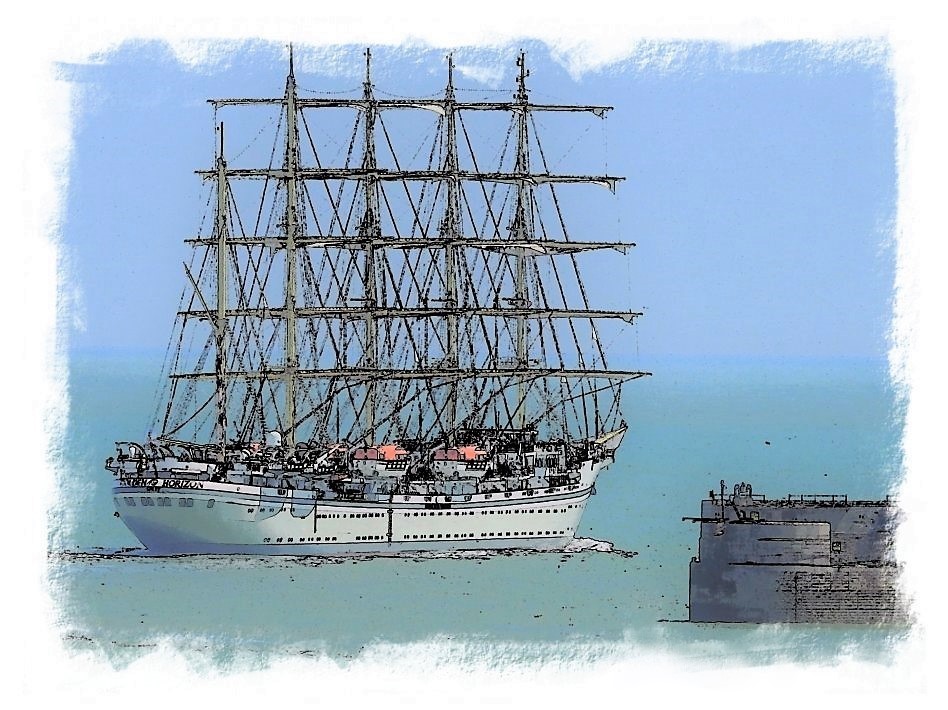 The magnificent Golden Horizon had her inaugural voyage from Dover on the 19th July. Earlier in the day she was welcomed back into Port with tug-spraying excitement once again...we will have more photos...
.........also in Port yesterday was the Marella Explorer..
The all-new DFDS ferry Cote D'Opale made a brief visit to the Port last week July 12...here she is below. No fanfare that we could see, so presumably she was just carrying out early berthing trials etc ... what with the new Irish Ferry and the new DFDS ferry these are exciting times...or would be if we could actually go across without quarantine-ing.....etc etc...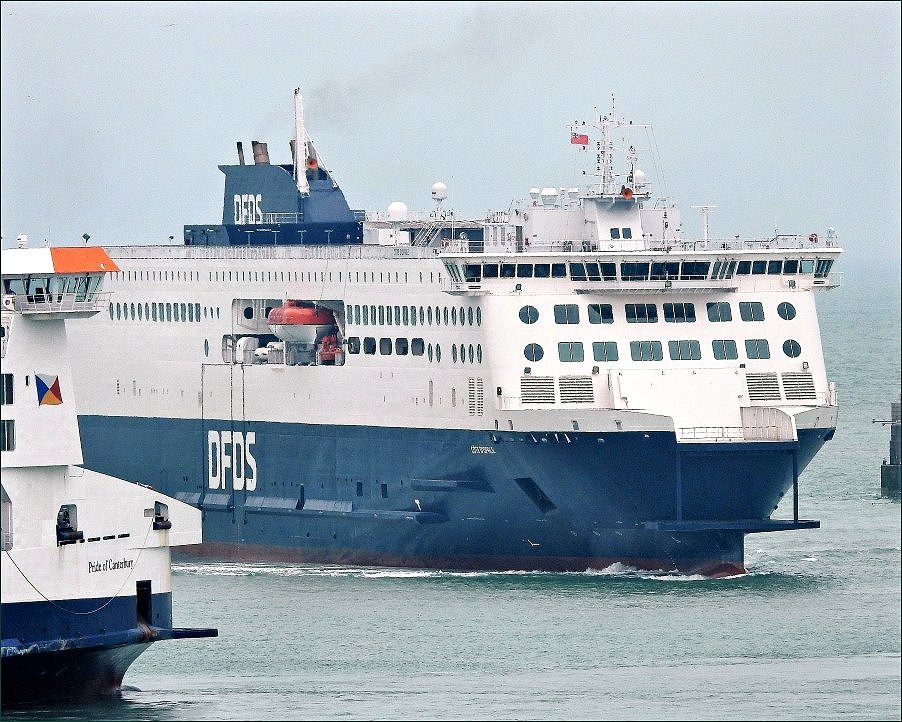 Cote d'Opale
......As scheduled the striking Golden Horizon (see below) has just arrived back with us here this morning monday 19th .. as per schedule. We will have more pictures in due course. The Marella Explorer has also now just arrived.
Golden Horizon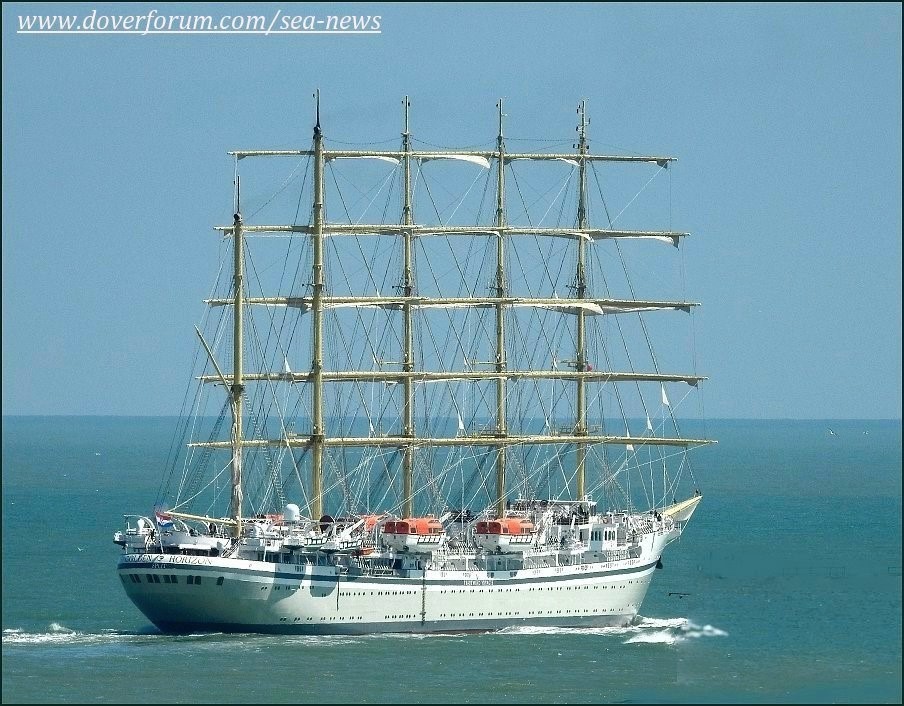 The dashing Golden Horizon on her splendid way today after a brief but slight..ermmm... technical pause! Yes a slight delay but away she goes above there in fine style, having departed through the eastern exit Port of Dover at lunchtime July 16. But weep not!...because we will be seeing her again soon... as mentioned in the item immediately below.
Tradewind Voyages'
brand new vessel, Golden Horizon, sailed into Dover this morning (July 15); her chosen departure port for four new UK voyages throughout July. She arrives ready for a round-trip long weekend voyage, before returning to embark on her inaugural voyage from the Port on 19th July.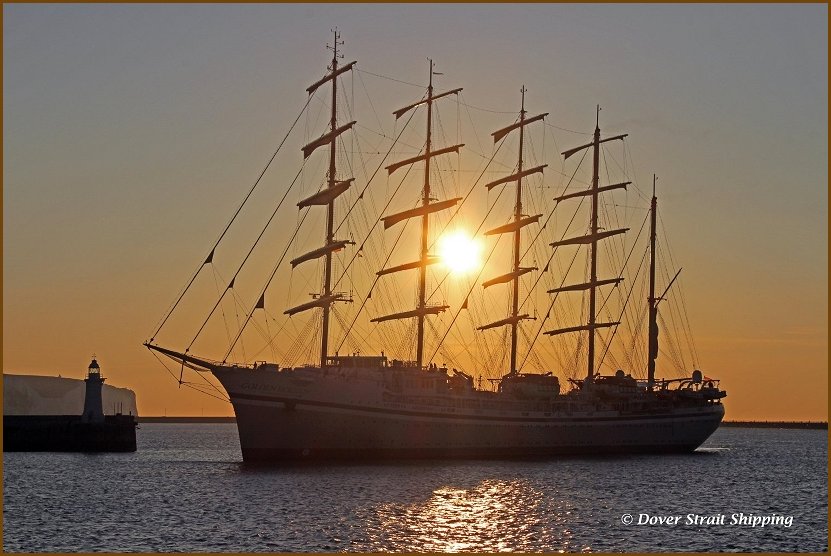 Golden Horizon
is the world's largest square-rigged sailing vessel and a near-replica of the 1913 built France II.
Sonia Limbrick, Head of Cruise at the Port of Dover said:
"We offer a very warm welcome to the beautiful Golden Horizon here in Dover today, what an extraordinary ship she is! I hope our local community makes the most of the rare opportunity to see her before she departs for four cruises throughout July.

I'm really pleased to see the cruise season back in full swing again; it's exciting to see another new cruise line at the Port today, both for the first time in Dover and as she prepares to embark on her first ever voyages."
Today marks the third passenger cruise call in just under three weeks to depart from the Port of Dover since its cruise season re-launch on 26th June. After today, Golden Horizon will depart Dover on 19th July, 24th July and 31st July.
ENDS
Many thanks to Port of Dover media team once again for the release above ....
......... and to Dover Strait Shipping for the picture...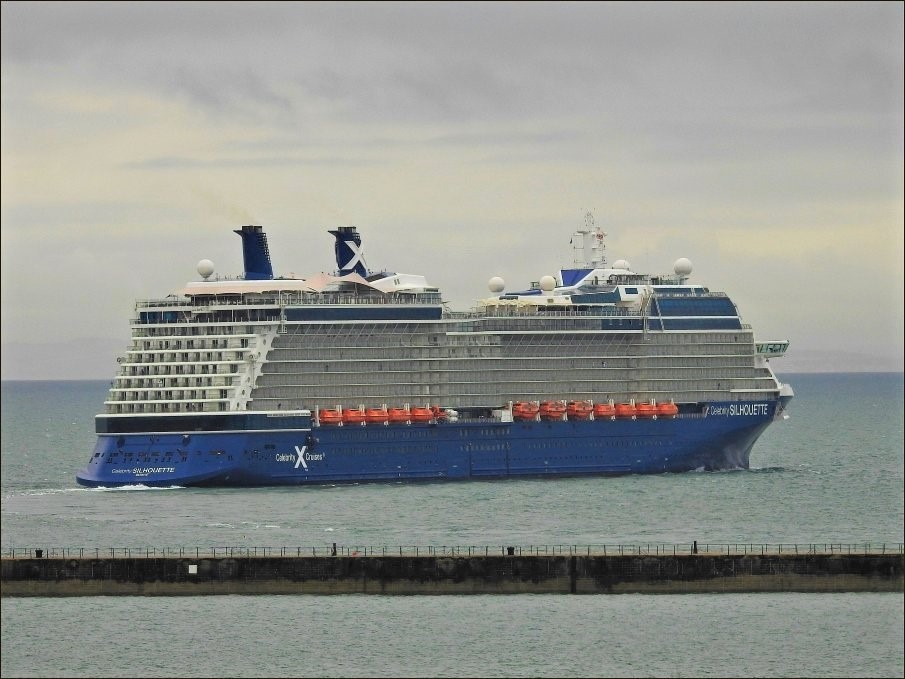 Celebrity Silhouette - on her way...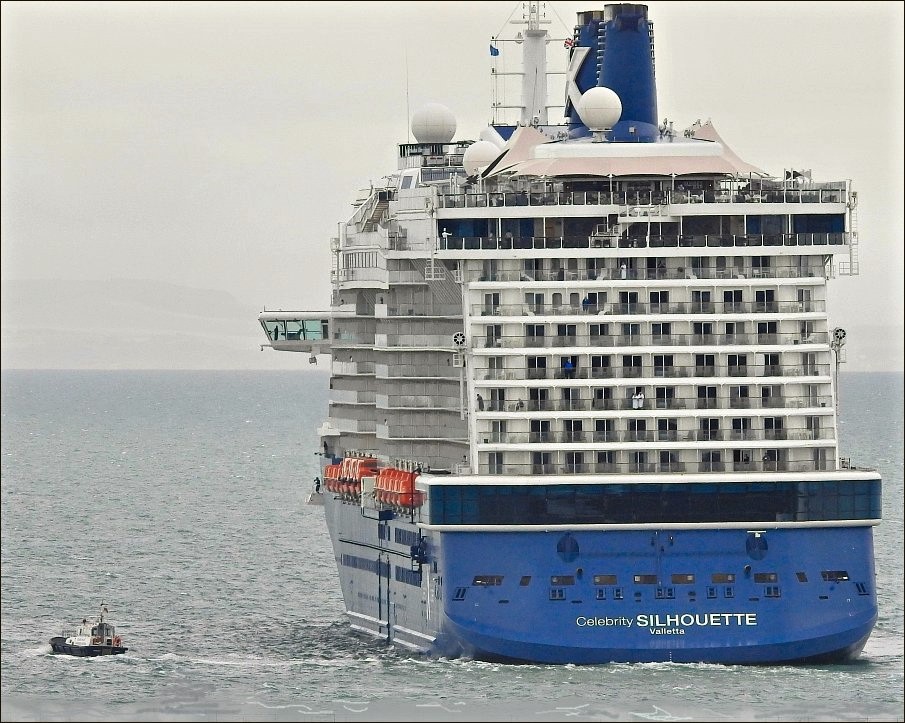 A final two pictures above there of the magnificent Celebrity Silhouette. We have probably overdone it a tad with the amount of pictures showing the Silhouette but it is such a joy to see cruise ships coming here to Dover once again...particularly one as special as the ever stunning Celebrity Silhouette....we catch her above there heading away... bon voyage...
Note: We have had another cruise ship...Spirit of Adventure .. pictures soon...
Celebrity Silhouette at Dover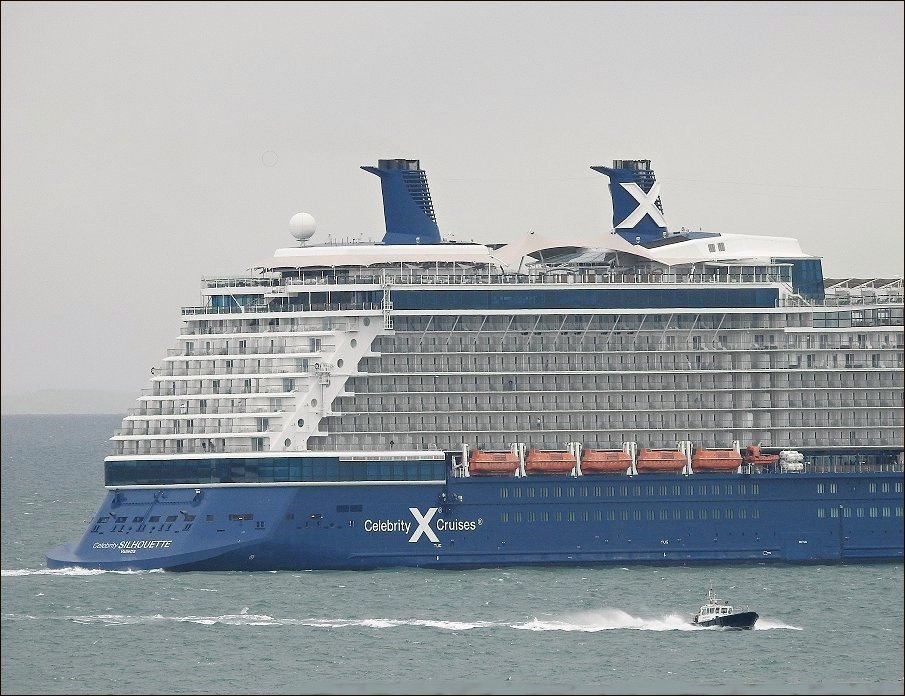 Celebrity Silhouette - the pilot returns....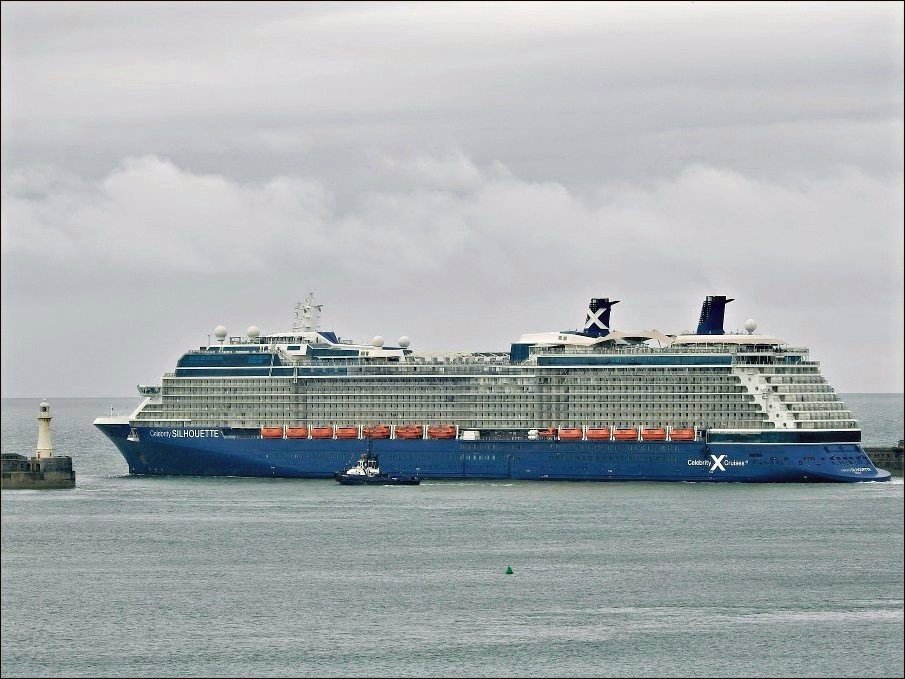 The magnificent giant Celebrity Silhouette exiting the Port of Dover on July 4th ... you can see the immense size there as she 'squeezes out' of the Port's western exit. Below, its a short while later, and we see the pilot returning to base...
Celebrity Silhouette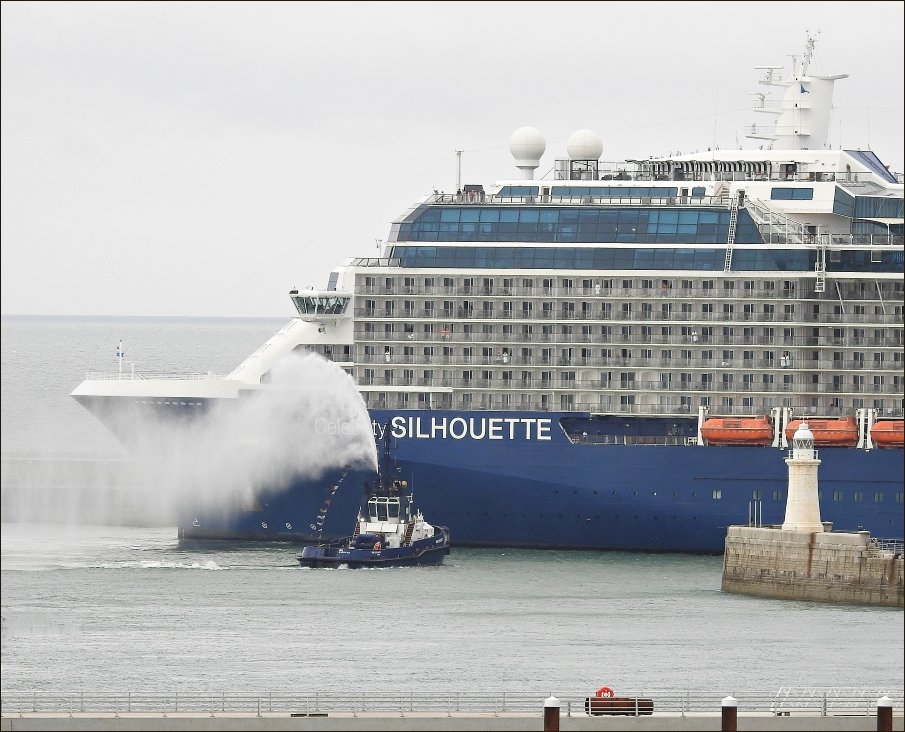 Celebrity Silhouette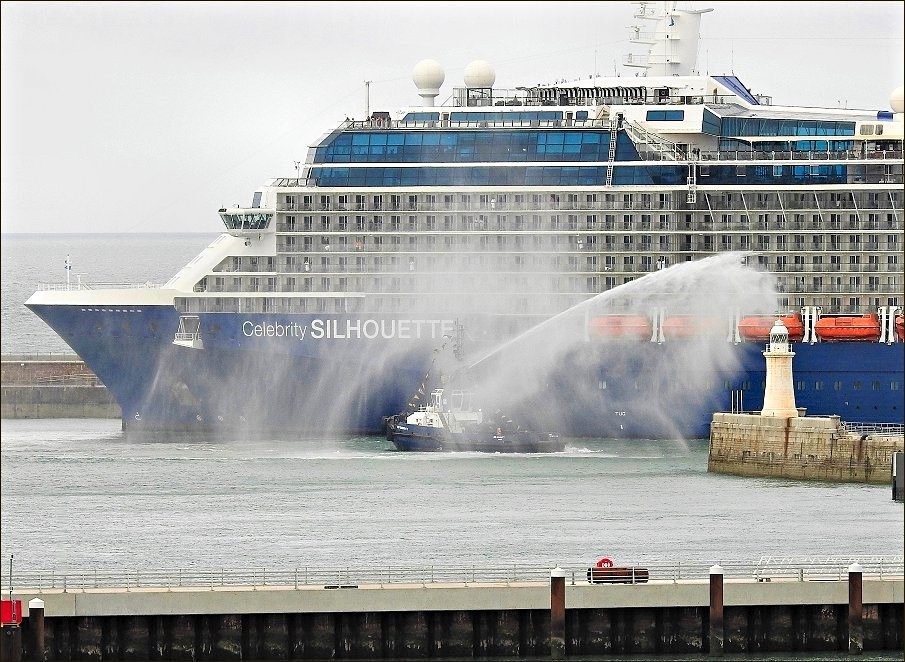 The stunning 122,000 ton plus Celebrity Silhouette leaving the Port of Dover on Sunday evening July 4...another magnificent ship....and another one receiving Dover's spectacular and striking tug-spraying display.....
Sonia Limbrick, Head of Cruise at the Port of Dover, said:
"It's great to see the excitement for Dover cruise return so quickly only a week after we welcomed Marella Explorer, our first passenger call since the pandemic. I have no doubt that the cruising buzz will be in full swing again soon.

It was wonderful to see Celebrity Silhouette in Dover again on Sunday 4th July. "
We will have more pictures soon too..... and there we are.
The Departing Disney Magic ....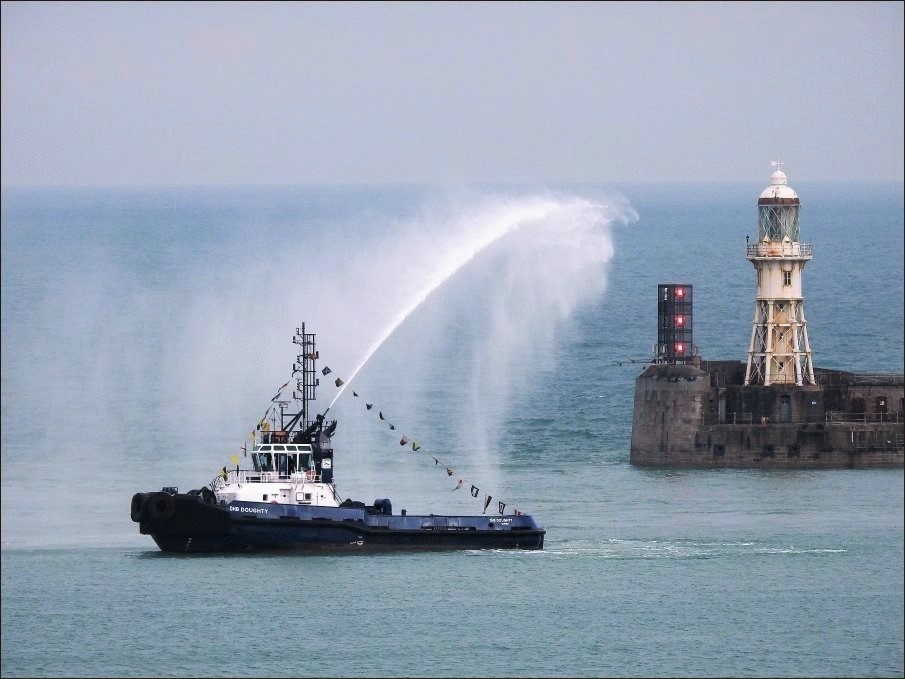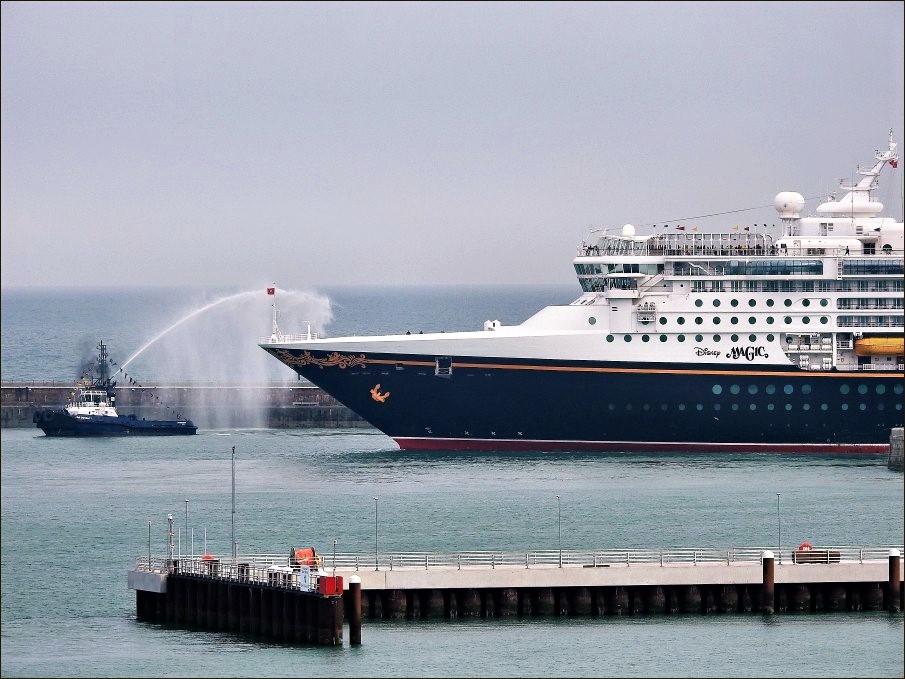 The Disney Magic left the Port of Dover on Saturday (July 3) after a year long stay, or more, due to the ghastly pandemic. However even misery occasionally has a good side, and the good side on this occasion was the extended stay of the magical Disney Magic. She left midst an impressive tug spraying celebration, all the while playing her theme song 'when you wish upon a star' and doing a full 360 degree turn in the harbour right in front of us here....
......'twas a fond farewell.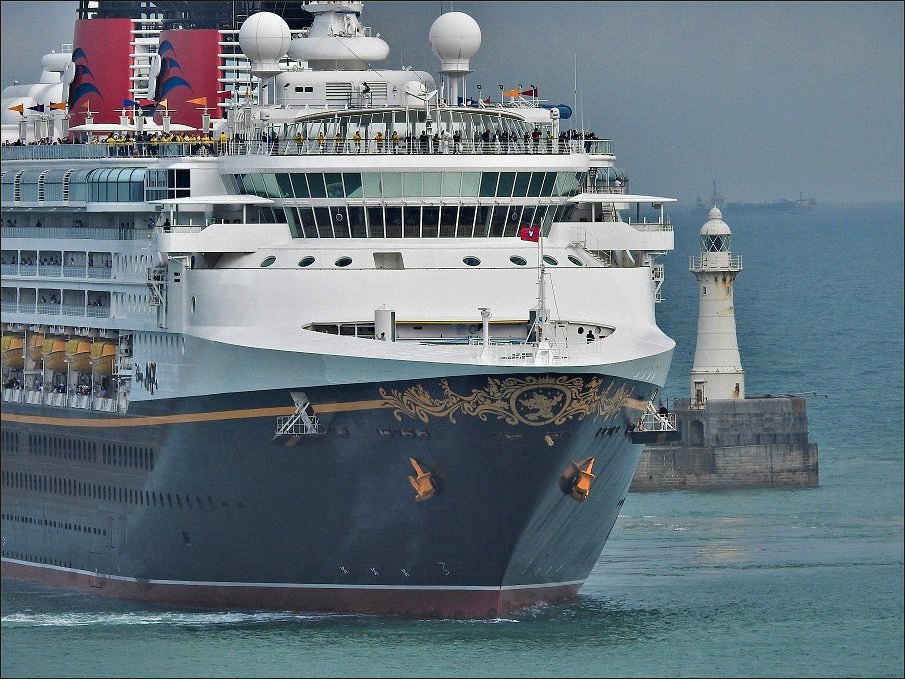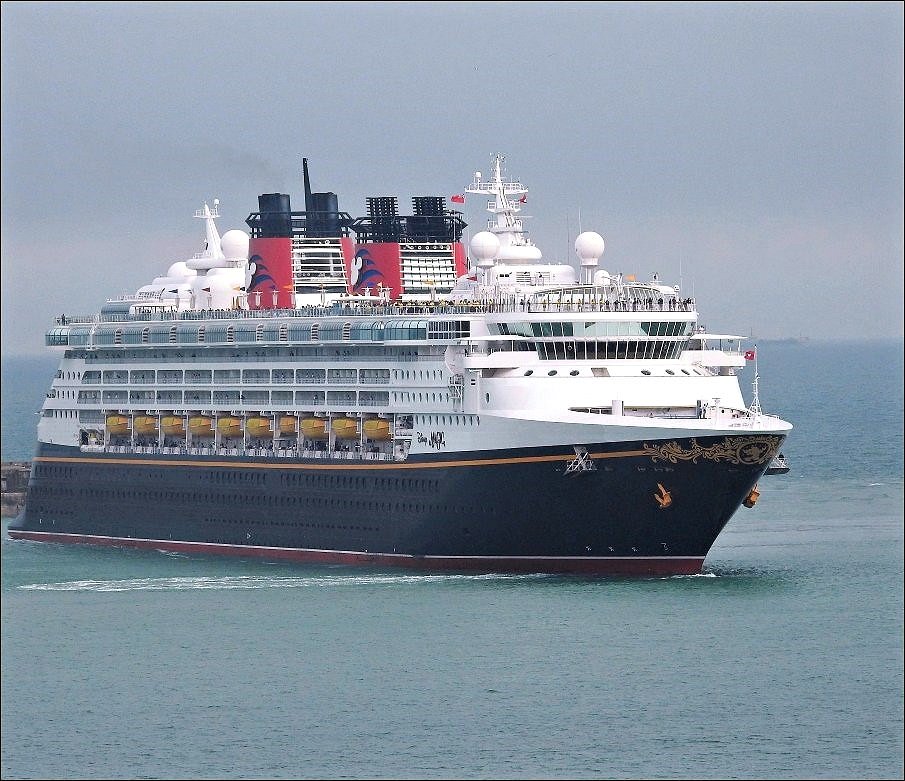 The Departing Disney Magic.......
Sailing By.....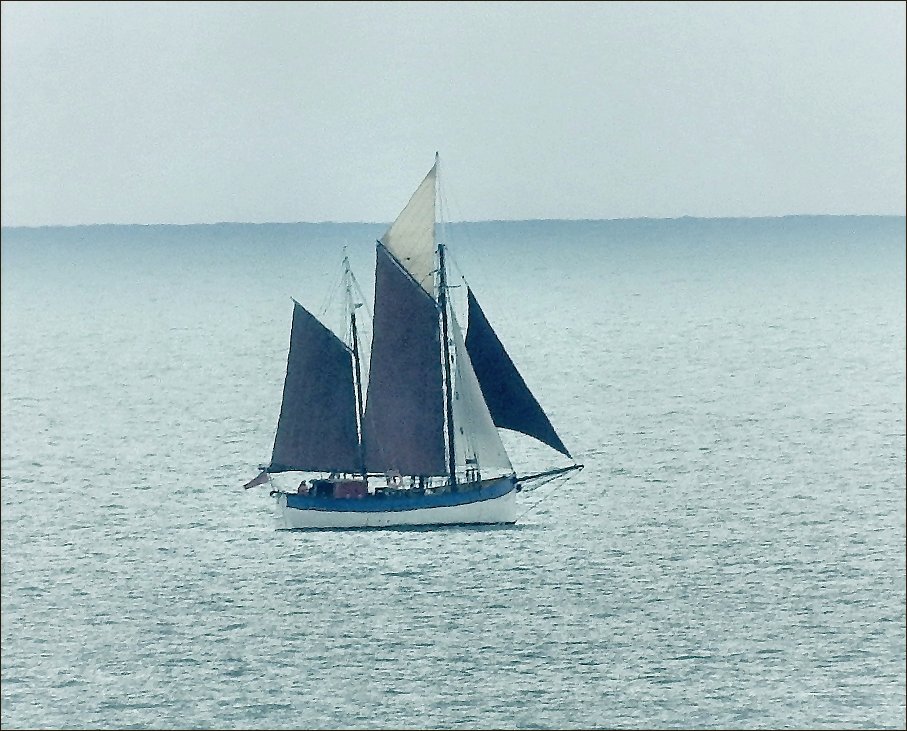 ...in keeping with our current 'sail' theme, this delightful sailing barge ambled by a few days ago (Not long after Europa below). A lovely sight. Unfortunately nothing was showing on the satellite system so we dont know what she was/is called....but she was so elegant through the gloom, and it was gloomy. But worth a shot or two and there she be....
The Disney Magic officially left the Port here yesterday Saturday July 3,
.... 'twas a grand send-off...will have pix soon...
Tall Ship - Europa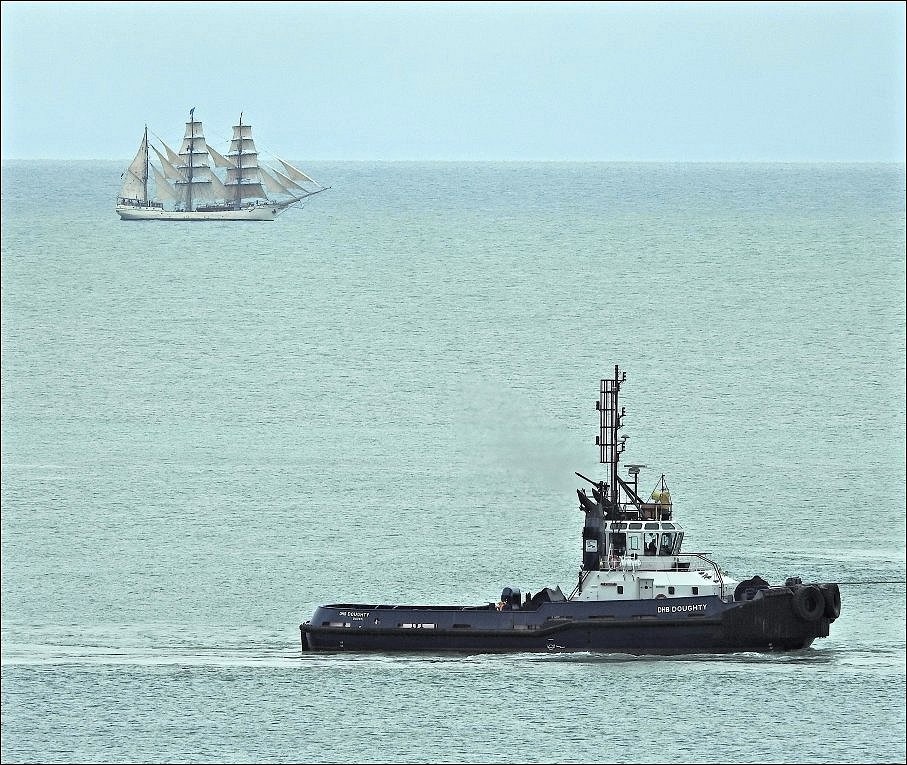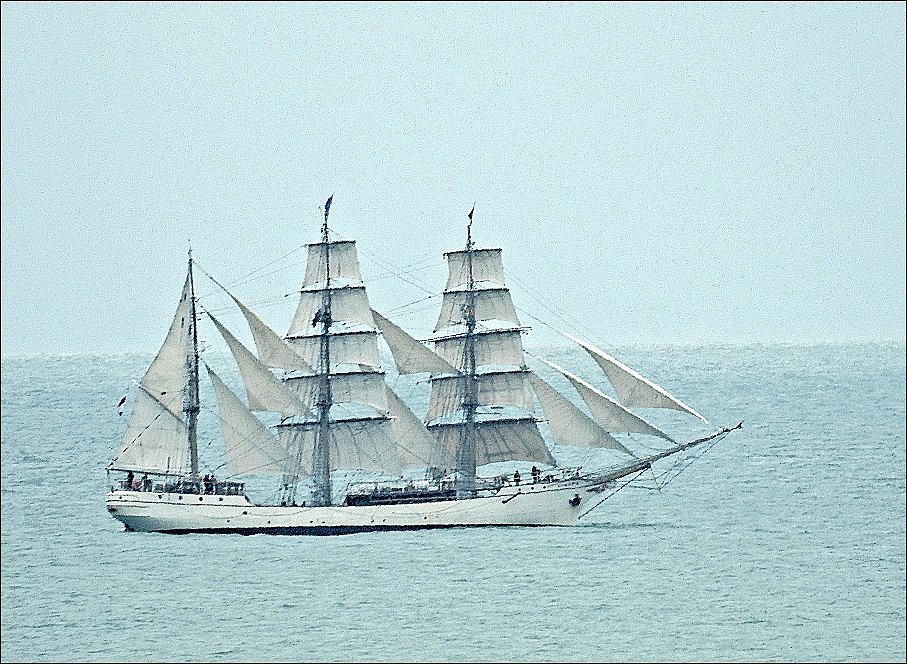 Well what can you say...while labour-intensively photographing hard working Dover tug Doughty as she brought in another cargo vessel...photographing through a long zoom lens with blinkered vision, didn't even notice the magnificent tall ship to the left...doh!! But as soon as the fabulous Europa was spotted with full sail...well, something of a re-focusing was called for, as you can see...

"
I must go down to the sea again, to the lonely sea and sky
and all I ask is a tall ship and a star to steer her by...

"

.............. John Masefield.... remembering the school days there off top of head....
* *
Irish Ferries' Isle of Inishmore
began services from Dover to Calais earlier this week June 29.
Best of Irish Luck to them - very welcome.
Pictures further below..... update: extra pic here now....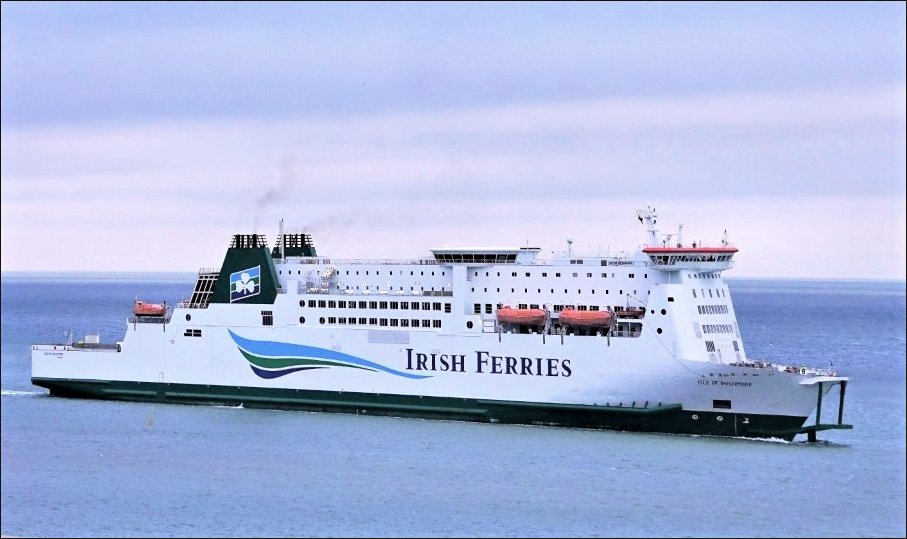 Isle of Inishmore
* *
Marina Curve Port of Dover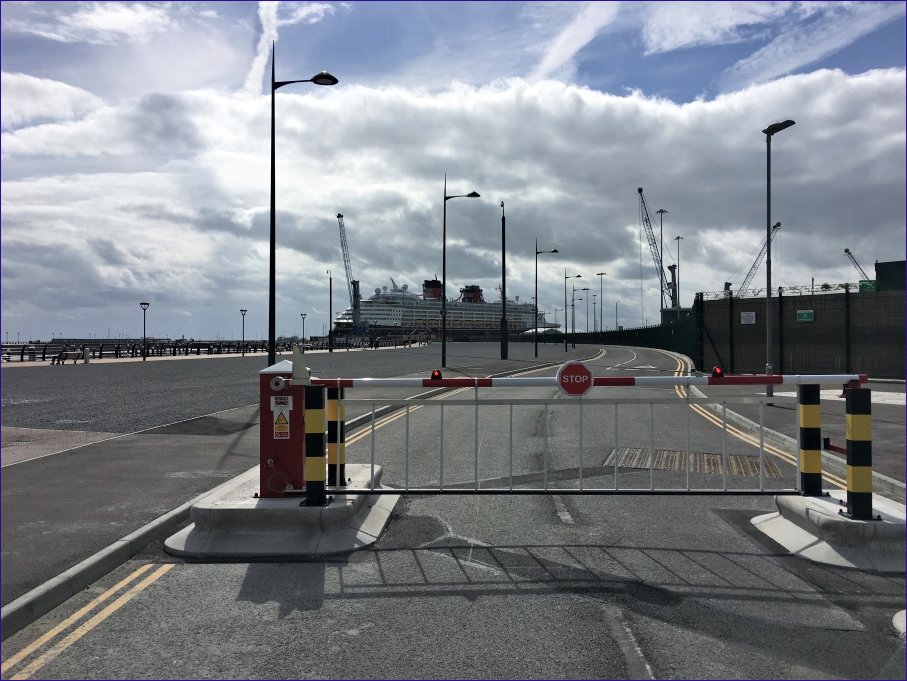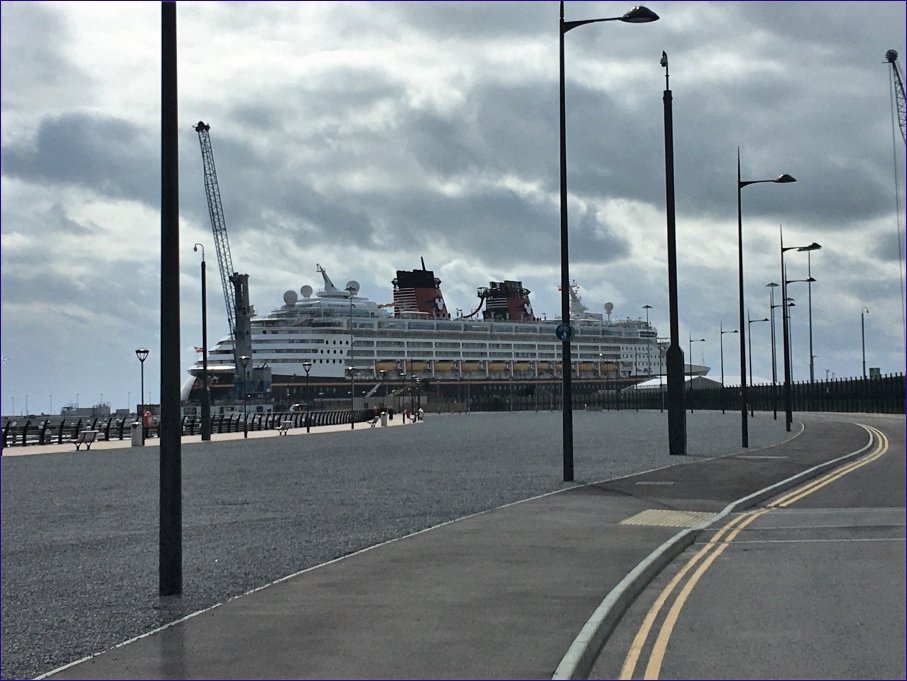 Some pictures above there of the new Marina Curve at the Port of Dover. The 'Curve' runs alongside the new Clock Tower Square (see further below) which in turn is alongside the new marina.... and right at the end of the Marina Curve, for now, is the magical Disney Magic. Note there is plenty of seating...see left side of pictures, excellent for those who want a leisurely relaxing look at the great views...
The Clock Tower by Night...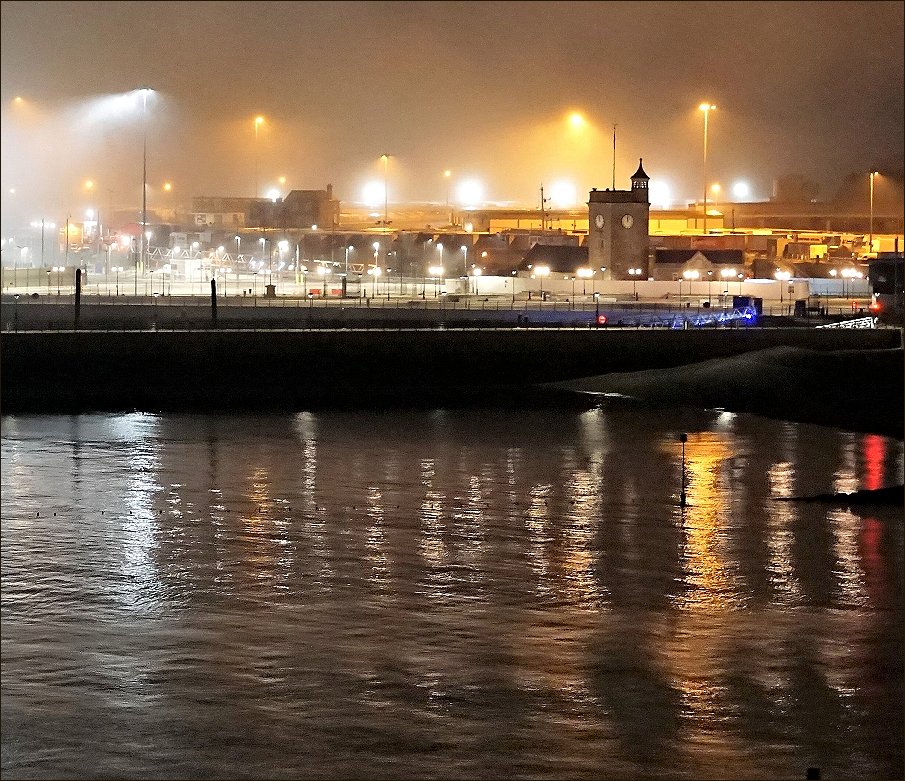 Clock Tower Square...once more above. This time from afar and looking across the water. Pictured at night as you can see. At the time of pic we were just about to be engulfed by a meandering fog...as the sirens wailed across the dark water.
The new Clock Tower Square is an exciting Port development open to all.
Dont miss the post immediately below.....
Clock Tower Square Opens.....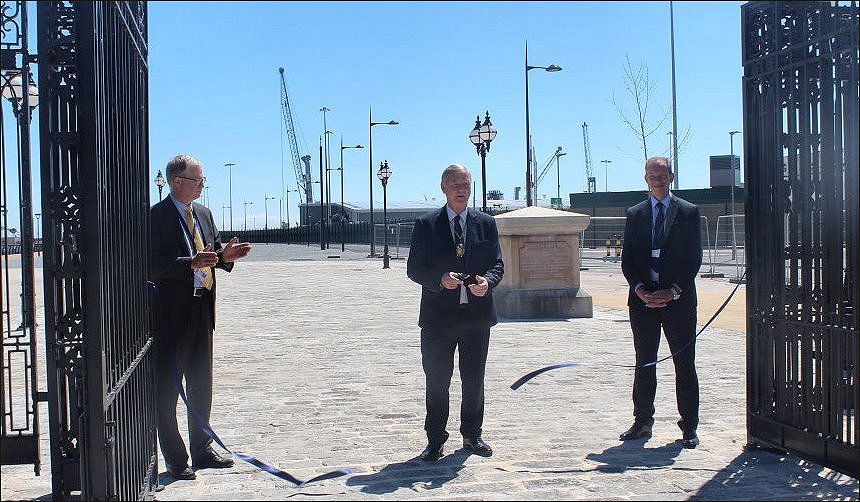 Monday June 7: The Port of Dover has today unveiled its latest outdoor recreational space overlooking the waterfront ....Clock Tower Square.

It is another major part of the Dover Western Docks Revival regeneration project to open to the public.
Located at the beginning of the Marina Curve with great views over the Harbour, the 1,000 sq metre (roughly a quarter of an acre) site combines fresh design features with artefacts from Dover's inspirational history to create a contemporary site that's perfect for relaxing and appreciating local culture.
Doug Bannister, Chief Executive of the Port of Dover said:
"Clock Tower Square is a destination for the future; it capitalises on Dover's inspirational heritage and iconic scenery to form a modern outdoor community hub that's rich in history.

With the new Marina Pier already open, the Marina Curve coming soon and our recent beach re-profiling work completed, we are pleased to be making more leisure space available to the public during a time when the outdoors has never been appreciated more".
Dave Herrod, DWDR Programme Director added:
"We are proud to see Clock Tower Square opening today. After years of planning and construction, the new design perfectly combines sustainability with ecology, history and public engagement, creating a fantastic site that's ready for future generations to enjoy."
Clock Tower Square pays tribute to the previous Prince of Wales pier with original artefacts and plaques dating back over 100 years on display. Granite coping stones from the old quayside form new benches, lamp posts have been refurbished and the original paving has been re-laid to reflect the old Prince of Wales pier layout. The original gates have been reinstated and new public toilets are also now available.
Natalie Elphicke MP said:
"Clock Tower Square is a really great place for people to sit down, stroll and really enjoy the view across the Port. It's a major investment by the Port of Dover for our community which will help to increase visitors and boost tourism. With the Council's successful multi-million bid to improve the links between the town and the waterfront, this all looks set to come together to make Dover a great destination for people to come and see."

Cllr Trevor Bartlett, Leader of Dover District Council, said:
"The opening of Clock Tower Square marks a key stage in the transformation of Dover Waterfront into a modern and vibrant public space. The Port worked closely with our heritage planners and I'm delighted to see the attention to detail on many of the heritage features retained and restored from the Prince of Wales Pier.

"With outstanding views of the busy harbour, Dover Castle and White Cliffs of Dover it will be another outdoor space that is much valued by the local community and visitors alike. I hope it will also stimulate more commercial investment on the waterfront."

ENDS
* *

WWW.DOVERFORUM.COM/SEA-NEWS
Sea Pictures from DOVER ....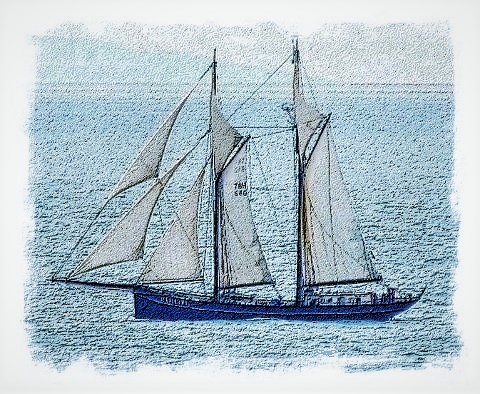 Sea News Dover:
Click on the 'Contributor Archive' LINK BELOW to see the archived pictures. All seven years of them. You will find the SEARCH ENGINE there and you can happily search for all sorts....
All pictures are the copyright of the owners and must not be reproduced without permission.
Editor :
Paul Boland - dover7@msn.com