Monday, 26 September 2022
WWW.DOVERFORUM.COM/SEA-NEWS

Sea Pictures from Dover. We have 333 plus pages below now...use our own SEARCH ENGINE just below to help you trawl through. All pictures are the copyright of the owners. EDITOR: Paul Boland - dover7@msn.com
Post 7310
Sea News, Dover
Above we have....the Spirit of Discovery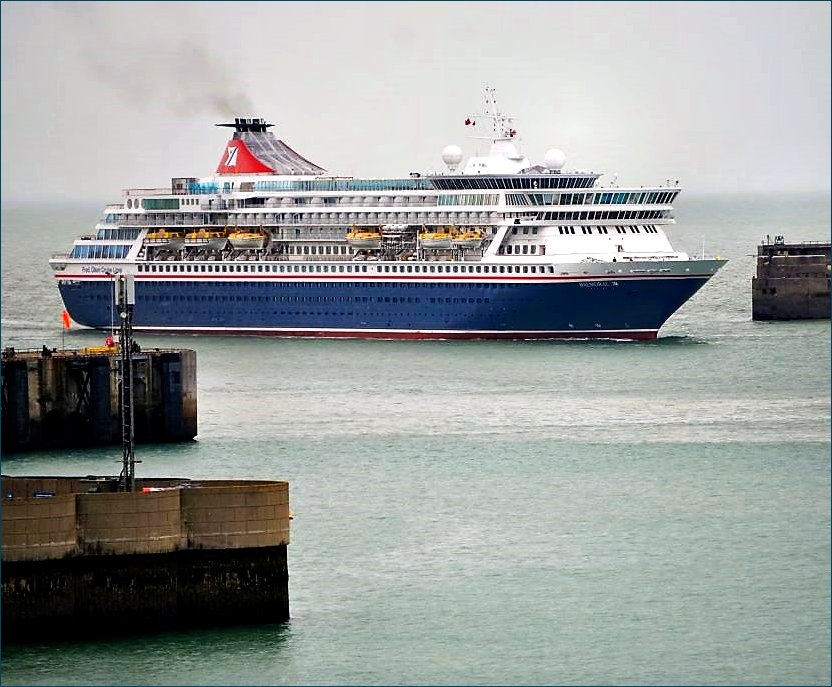 Balmoral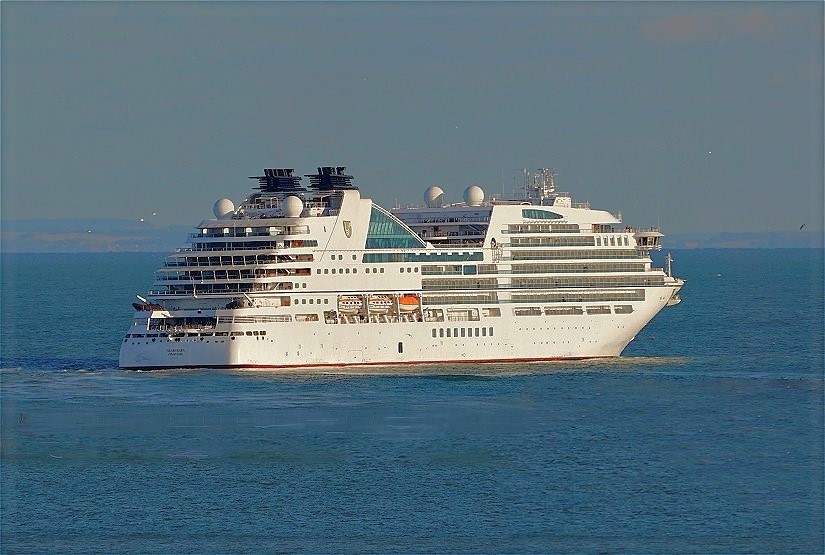 Seabourn Ovation
The above cruise ships all visited Dover in the past week or so...it has been an exciting time with yet more to come. The huge and magnificent Costa Fascinosa was also in Port yesterday Sunday along with Discovery...so, much more to come picture-wise...
Balmoral gone to Rouen and Honfleur, 4 days...very nice...
Seabourn Ovation on a long one.. 21 days of British Isles ..with Ireland France Denmark also added...
Spirit of Discovery on a 9 day round trip of the British Isles ...
Monday, 26 September 2022 - 15:31
Post 7309
Sea News, Dover
Dover Lifeboat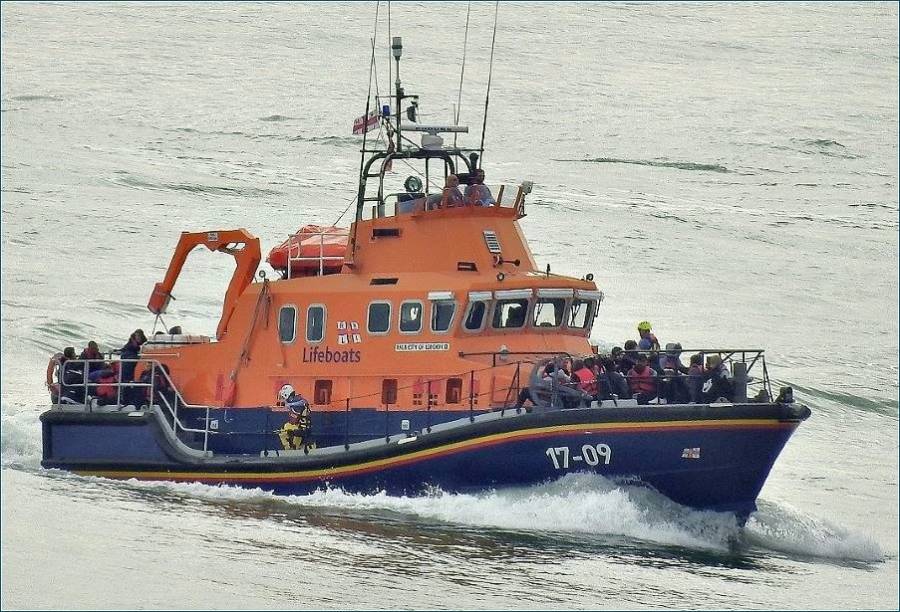 The picture above was taken on Wednesday this week the 21st, and you can see there the Dover Lifeboat is packed with yet more migrants coming in. Media outlets this week are reporting that more than 30,000 have come so far this year..record breaking numbers indeed. It has been a frantic week, we've said that before, well okay, this week has been frantically frantic. Border Force powering in and out all day fully laden...vessels like BF Typhoon and BF Defender and others carrying in large numbers, as did the Lifeboats again (there's a support Lifeboat too) and indeed presumably the Royal Navy who are also highly active.
Below.... well speak of the Royal Navy, the picture below isnt the best quality or indeed very sharp. We were focusing/waiting for the Lifeboat to turn into Port (as per pic above) and we got a shock when the Navy powered by at speed so close in the background. Yours truly jumped and the camera went off on its own...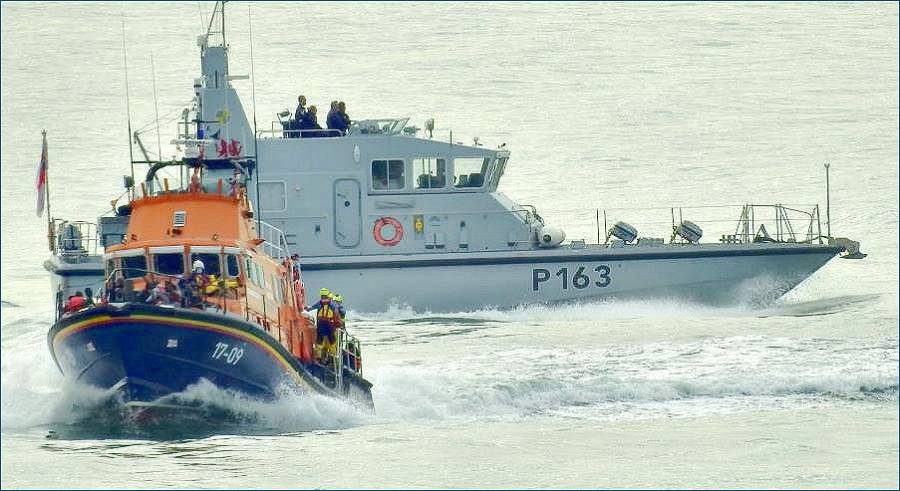 HMS Express and Dover Lifeboat
Saturday, 24 September 2022 - 07:34
Post 7308
Sea News, Dover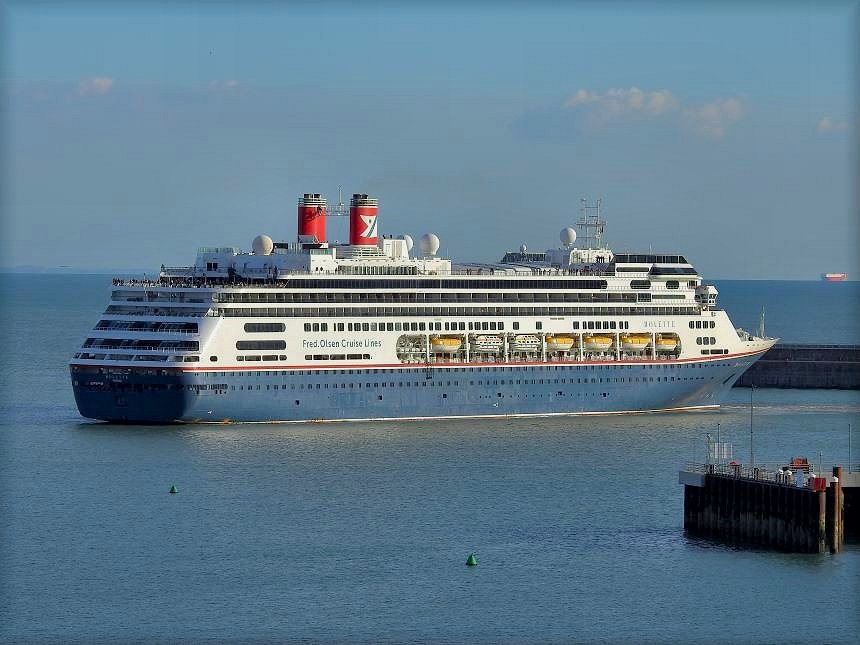 Fred.Olsen Cruise Lines' Bolette beginning her move away from Cruise Terminal Two in the gentle sunlight here in Dover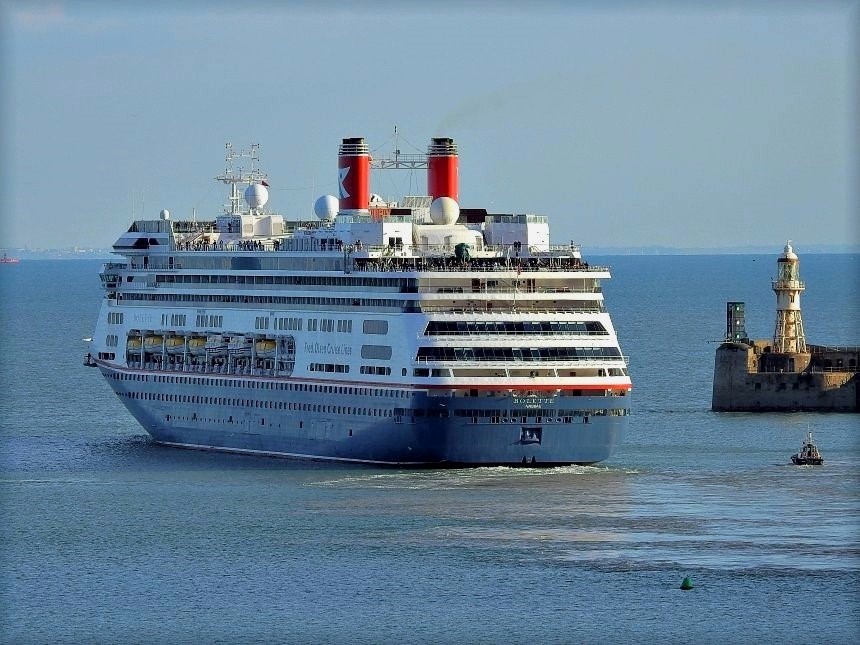 Yes Bolette readying for departure on Wednesday evening (21st Sept), pilot boat in attendance there as you can see, and then away she goes....off on a six-day exciting, but perhaps chillier now, Nordic City Break...Copenhagen, Oslo etc etc ...
Friday, 23 September 2022 - 06:54
Post 7307
Sea News, Dover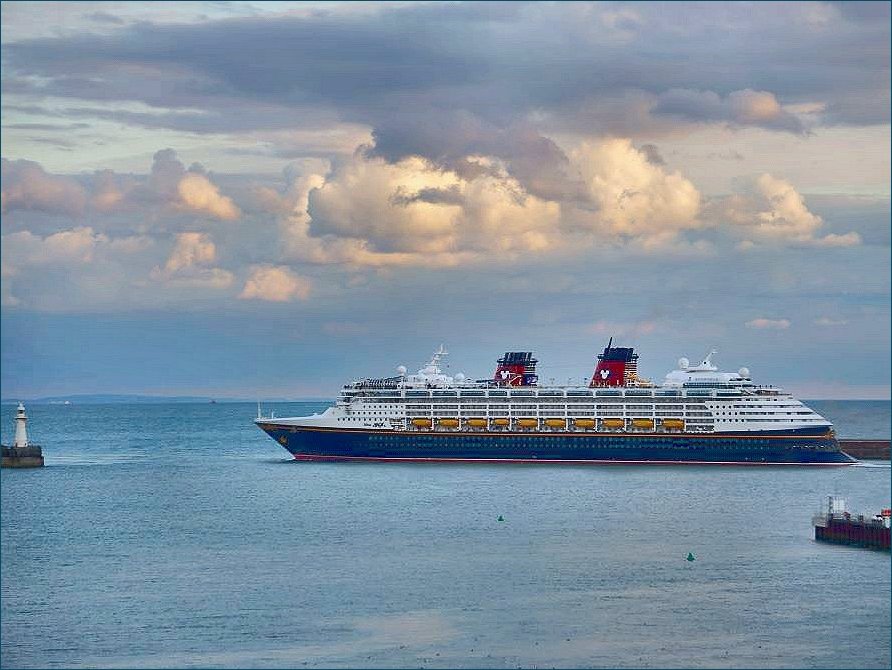 Disney Magic : Final shot of the Disney Magic above, for now, as we see her leaving us on Sunday evening at 18.30 or 6.30pm if you prefer...exiting above there through the western exit and as mentioned previously heading to New York with brief calls to France and Spain first .... of course before she left she gave us a rendition or two of "When you wish upon a star" and we wouldn't have it any other way.
And sure we cant resist including one more super colourful dawn arrival shot below from the very same morning as she gently moves stern-first into Cruise Terminal Two....see the sister pics in the post below....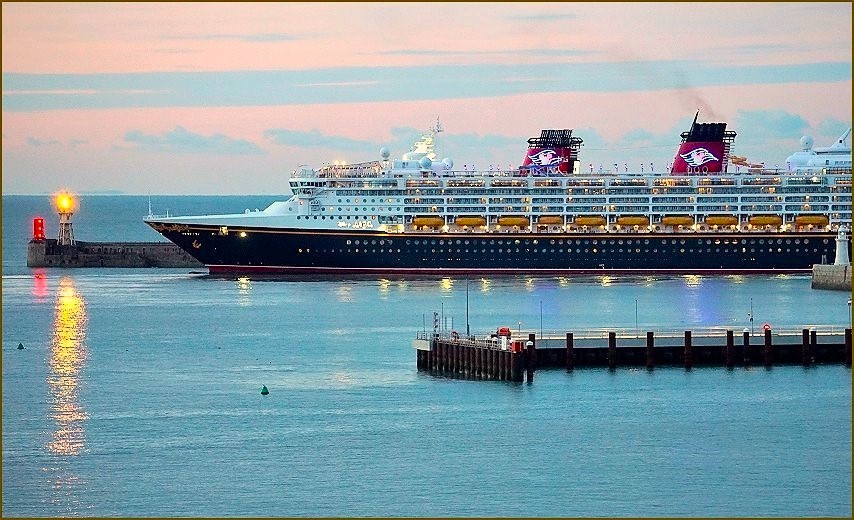 Disney Magic
Wednesday, 21 September 2022 - 15:27
Post 7306
Sea News, Dover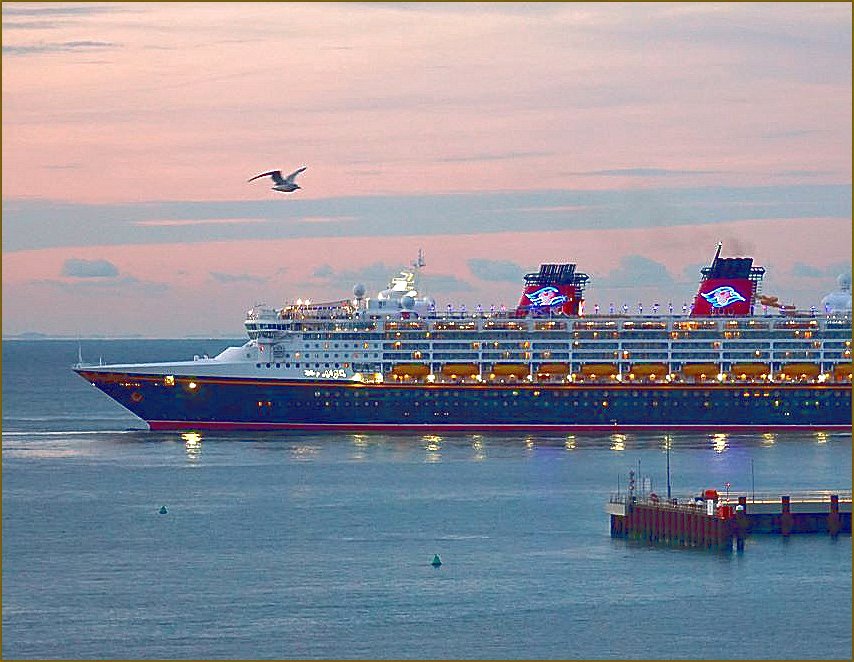 The Disney Magic arriving with us just after dawn on Sunday morning, as you can see it was a very colourful arrival under a dazzling sky, you might say .. in keeping with the colourful Disney tradition..... lots of very excited kidz in the hotels waiting to climb aboard... We believe she is on a one-way cruise to New York this time with brief calls in France and Spain en route...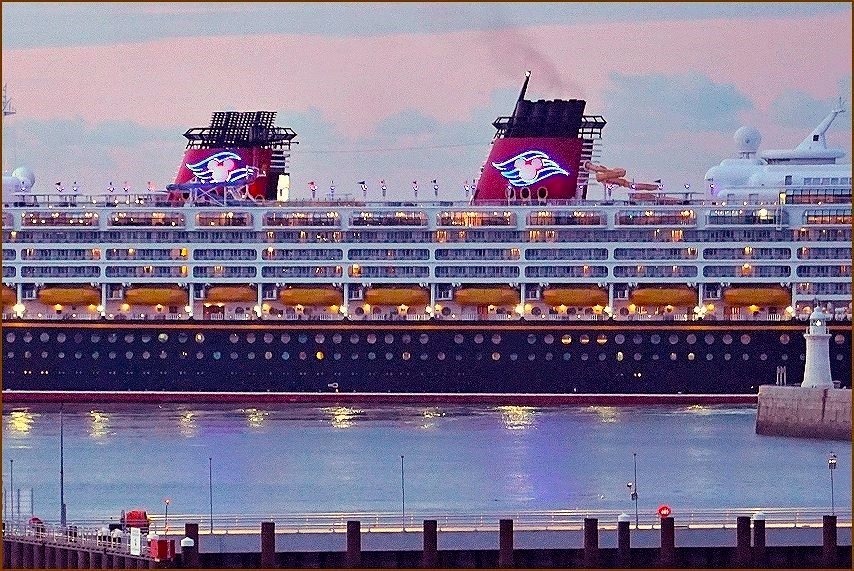 It's Magic.... Yes the Disney Magic.
Tuesday, 20 September 2022 - 06:17
Post 7305
Sea News, Dover
DOVER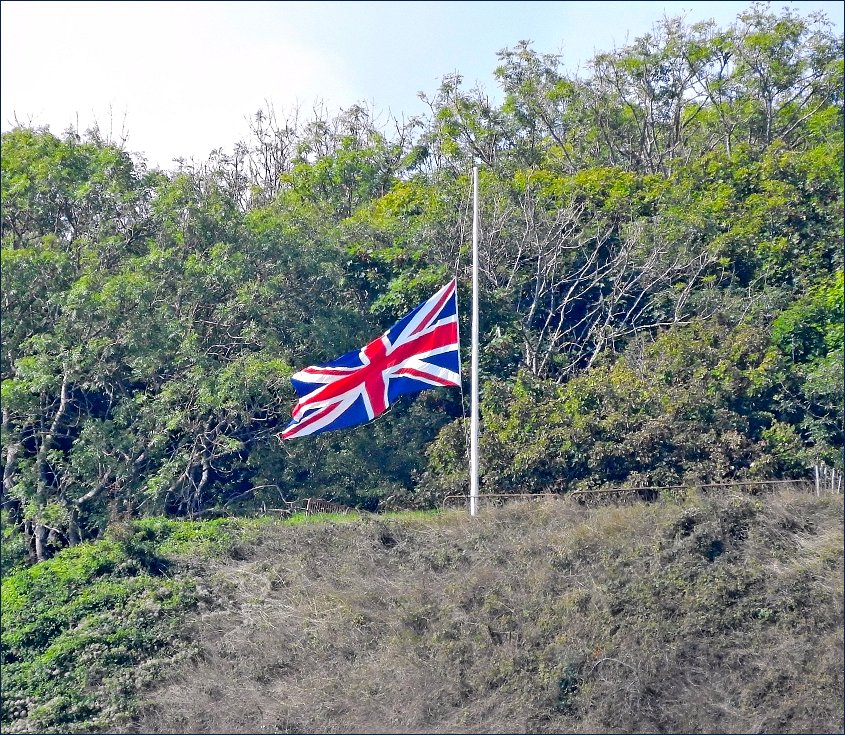 The picture...for The Queens funeral tomorrow Monday.
The image shows the flag flying today on Dover's Western Heights..well done to the guys there.
(See also todays earlier post below...)
Sunday, 18 September 2022 - 17:16
Post 7304
Sea News, Dover
Viking Mars and THV Alert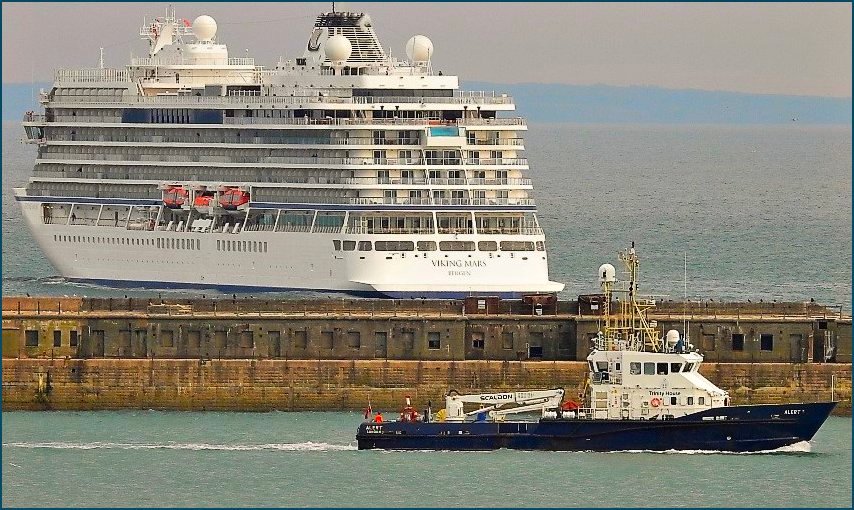 Evening shot (Thursday 15th) shows Viking Mars leaving us in the background there as the ever-busy Trinity House Vessel Alert arrives here in Port...Viking Mars currently doing the Irish, Scottish run up the Irish Sea...with some Welsh and English added to the exciting mix.
We are still having many cruise visits, not possible to keep up with them all but we get most. Today just arrived...Disney Magic with us again.
Sunday, 18 September 2022 - 07:11
Post 7303
Sea News, Dover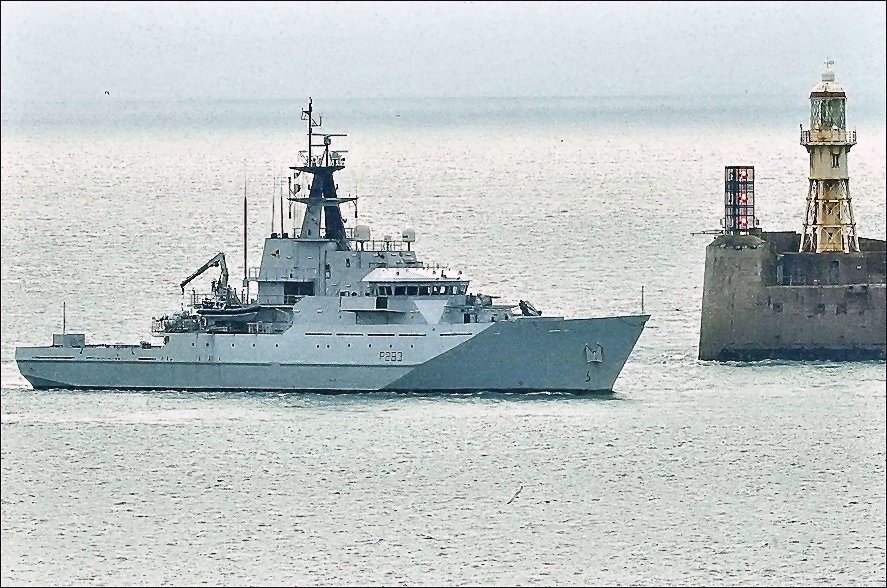 To follow along immediately from the post below..now we see HMS Mersey arriving at the Port ...
Friday, 16 September 2022 - 21:22
Post 7302
Sea News, Dover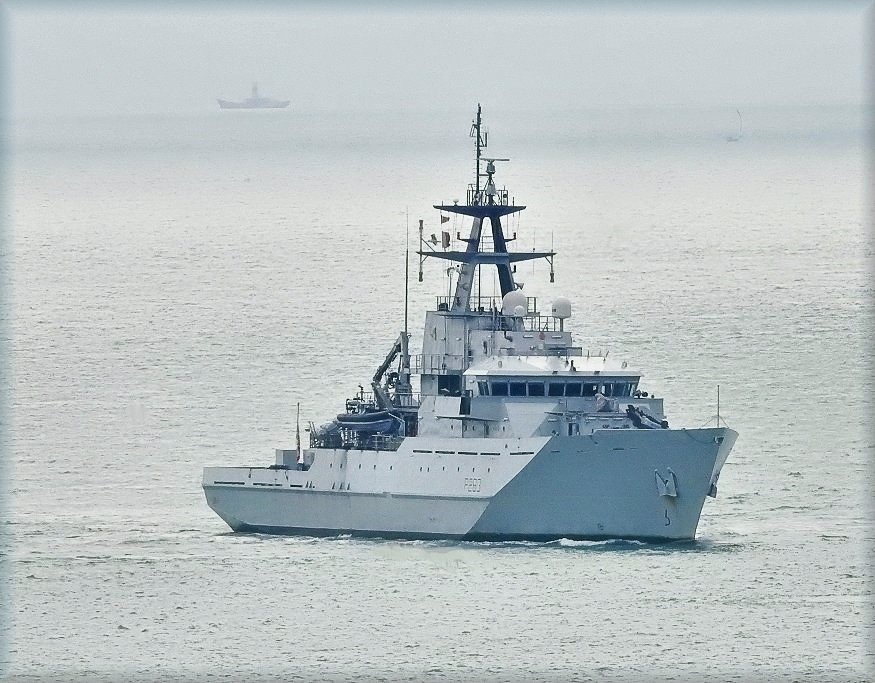 HMS Mersey approaching the Port of Dover
It has been a frantic few days in the Channel with a great surge once again in migrant crossings. Both the Royal Navy and indeed Border Force have been hugely busy...we particularly notice the Border Force boats dashing in to Port then dashing outwards again as yet more people need rescuing. The numbers are record breaking. The picture shows HMS Mersey earlier in the week coming for a short stay in Port, perhaps for a crew change and then away again...
Friday, 16 September 2022 - 07:40
Post 7301
Sea News, Dover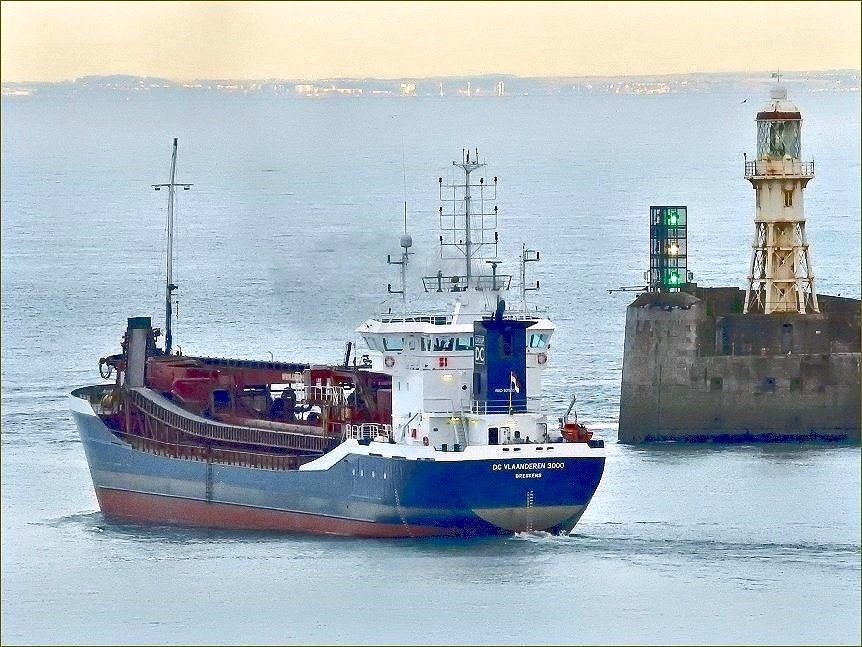 A couple of shots now of the dredger DC Vlaanderen 3000 leaving the Port on Monday evening. The pictures might look a little odd as we discovered afterwards the camera settings were monumentally askew, and as a consequence so were the pictures when we looked later .....but...but.. the computer brought them back....ermmm somewhat! The evening was grey here in Dover at the time, but as you can see the French coast was ablaze with warm evening sun. DC Vlaanderen 3000 didnt stay with us long but delivered another load of sand/gravel to the working pier WD4.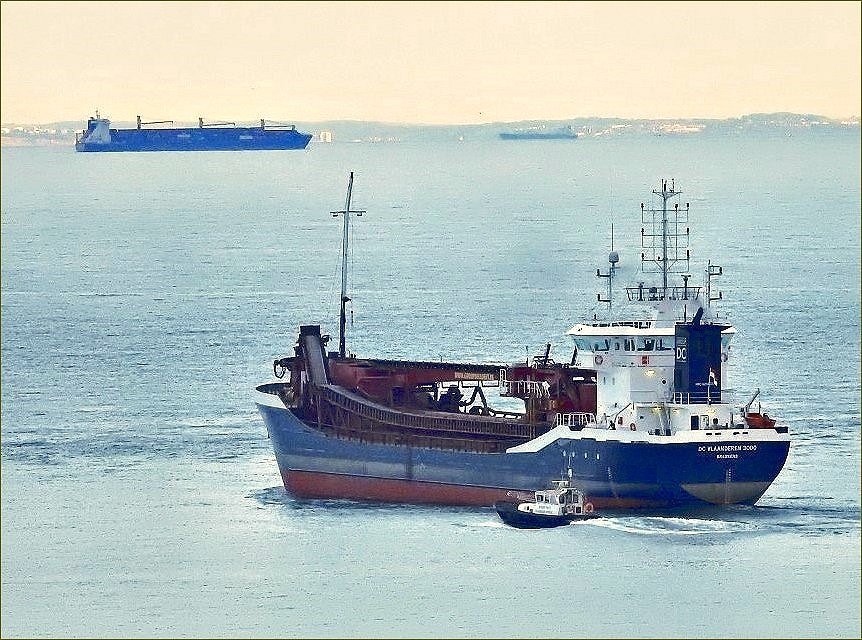 The pilot boat moves alongside DC Vlaanderen 3000 as they exit the Port of Dover ...
Thursday, 15 September 2022 - 07:44
Post 7300
Sea News, Dover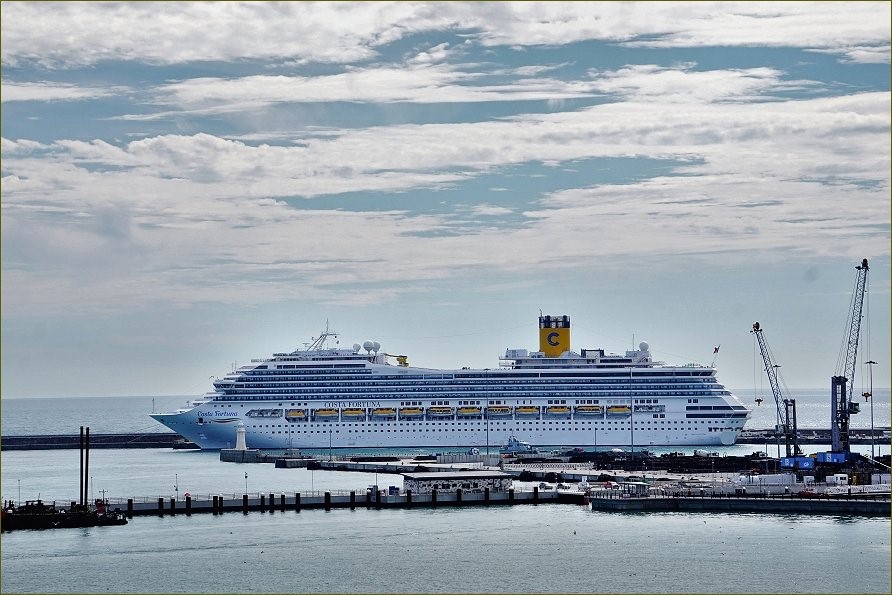 The striking Costa Fortuna relaxing here in Dover on Monday before moving south to continue her tour to Spain and Portugal ... a magnificent ship for sure...

More pix below...
Wednesday, 14 September 2022 - 07:16
Post 7299
Sea News, Dover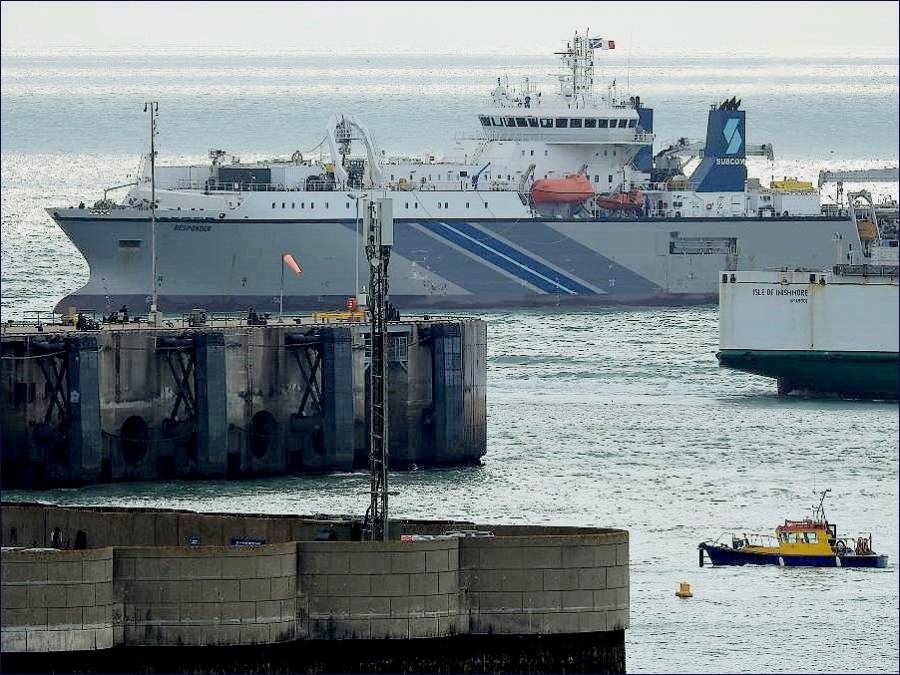 There's a shot of the cable layer Responder coming into the Port again about a week ago or just over a week ago...as you can see we're a bit behind!! We have featured the vessel previously and we were hoping for more pix. She went straight to the Eastern Arm though and if the Isle of Inishmore hadn't pulled away from her berth at the opportune moment we would have been stuck for a shot. But...we quite like this one after all...it has a rough n ready appeal. That's our story and we're sticking to it! Also in shot you can see a local workboat...it may be Dover Grafter but were not entirely sure on that one.
Tuesday, 13 September 2022 - 18:42
Post 7298
Sea News, Dover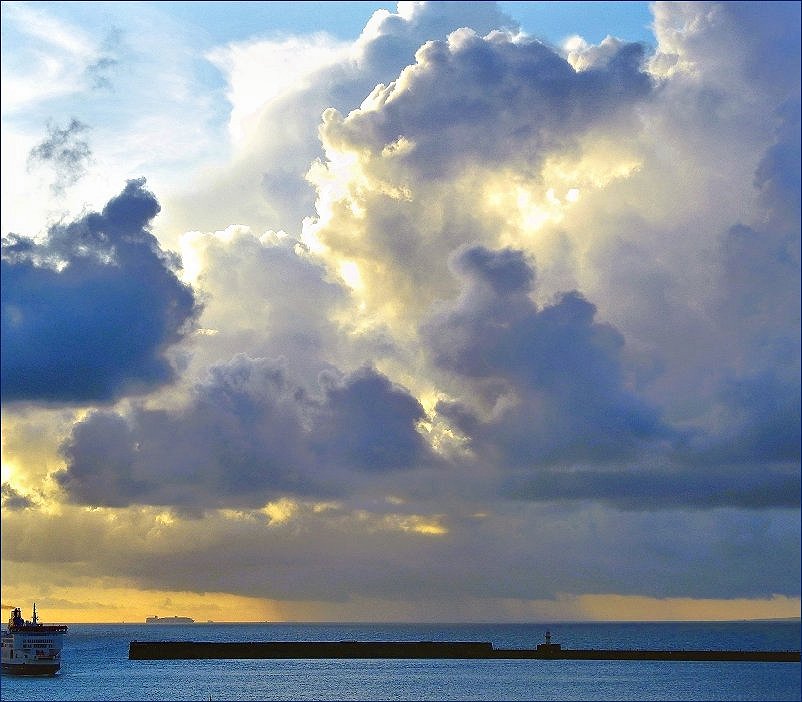 The English Channel and the direct route to Calais
Turbulence.... the weather was somewhat fierce during nightfall late last week, endless flashing skies over the channel for several nights. Flash flash more flash...but in the daytime a sort of dramatic calm took over, yet with more than a hint of menace .....
That's the Pride of Kent coming into Port bottom left....
Tuesday, 13 September 2022 - 07:12
Post 7297
Sea News, Dover
Disney Magic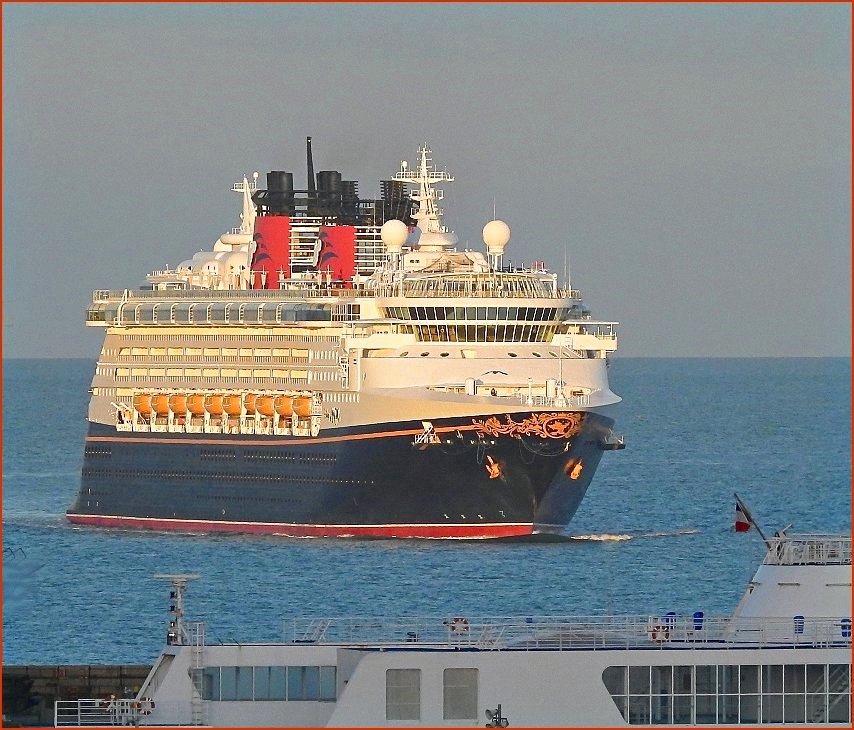 Hugely busy day on Dover Seafront yesterday Sunday, lots of people buzzing, and three fab cruise ships....Disney Magic, Viking Mars and Mein Schiff 3. Top shot there shows Disney Magic approaching the Port of Dover. This pic was taken during a previous visit but not used before, and below we see the arriving Viking Mars which is a first visit we understand, and to the right the impressive Mein Schiff 3.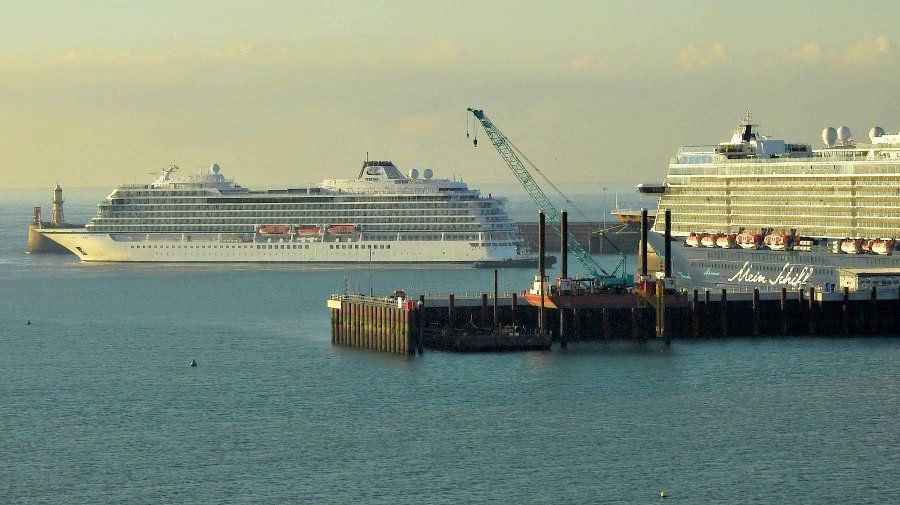 Early morn pic of Viking Mars and Mein Schiff 3 ...'twas a soft mornin' ...
All left last night, off on various cruise itineraries....
Today we have Costa Fortuna in again on the new cruise as mentioned yesterday...
.....see also below the pictures of Costa Fortuna which were uploaded yesterday.
Monday, 12 September 2022 - 06:28
Post 7296
Sea News, Dover
Some extra pix now while we regroup of the arrival of the magnificent Costa Fortuna from a few days ago .... to follow along from the earlier arrival pic seen further below...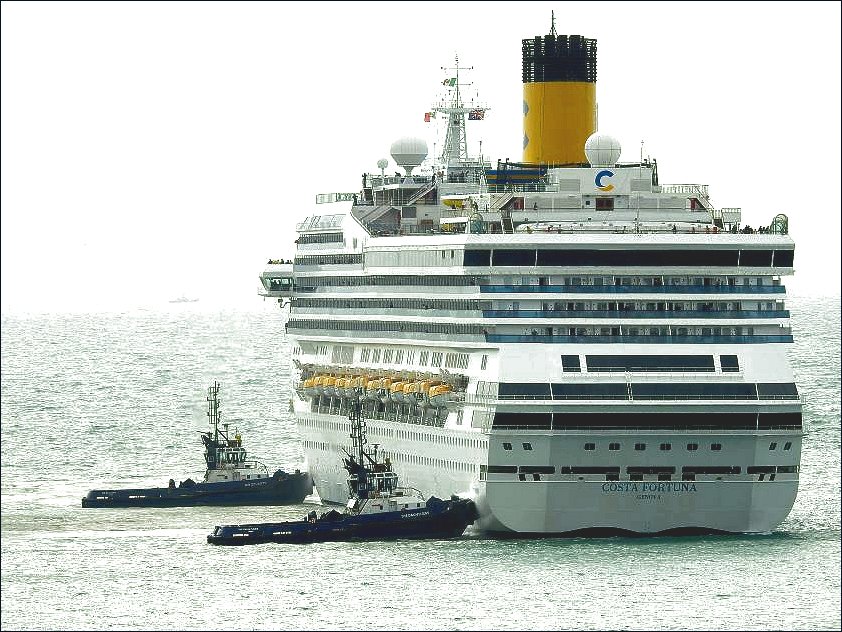 Costa Fortuna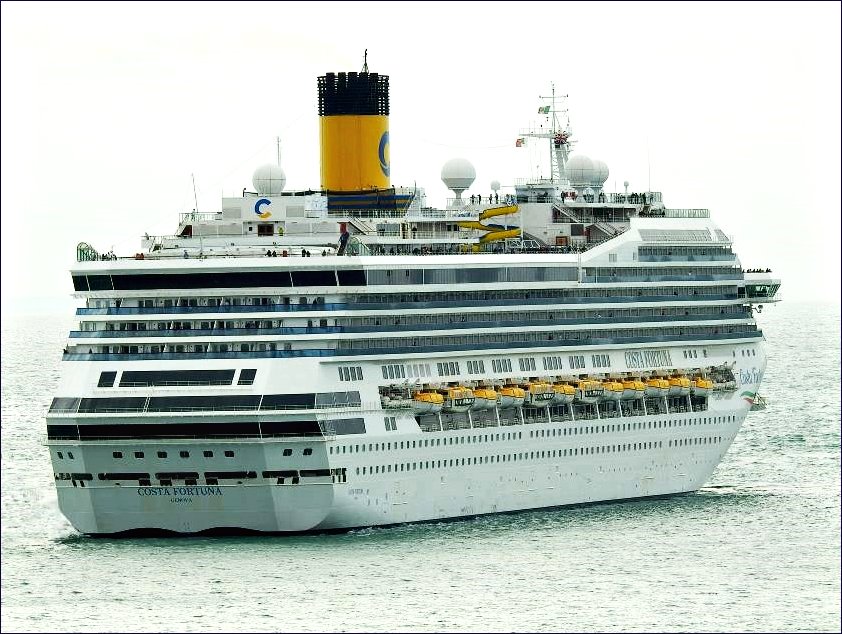 Fortuna currently just starting on a new 16 day cruise from Bremerhaven...
essentially to Spain and Portugal but will also call here to Dover..
In port today Sunday yet more glamourous cruise ships...Disney Magic and Mein Schiff 3....and just arriving as we speak...Viking Mars.
Sunday, 11 September 2022 - 07:09
Post 7295
Sea News, Dover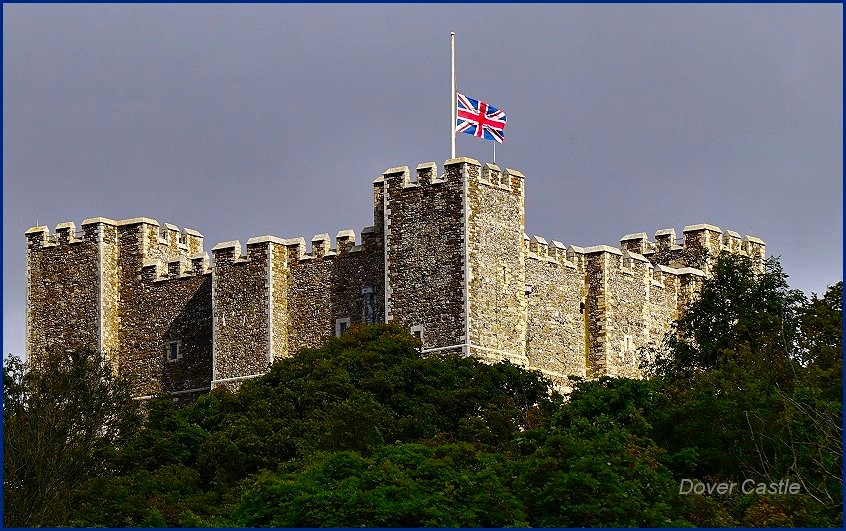 Friday, 9 September 2022 - 19:48
Post 7294
Sea News, Dover


We are immensely sorry to hear The Queen has died.



Thursday, 8 September 2022 - 19:28
Post 7293
Sea News, Dover
Just an additional picture now of the excitingly glamourous Le Champlain taken at the moment of her departure from the Port of Dover. See also the post below....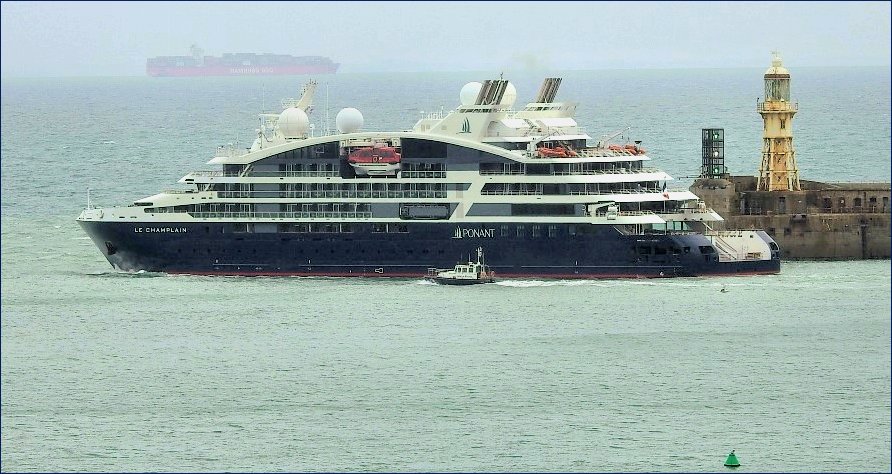 Le Champlain
Thursday, 8 September 2022 - 18:32
Post 7292
Sea News, Dover
Cruising with Le Champlain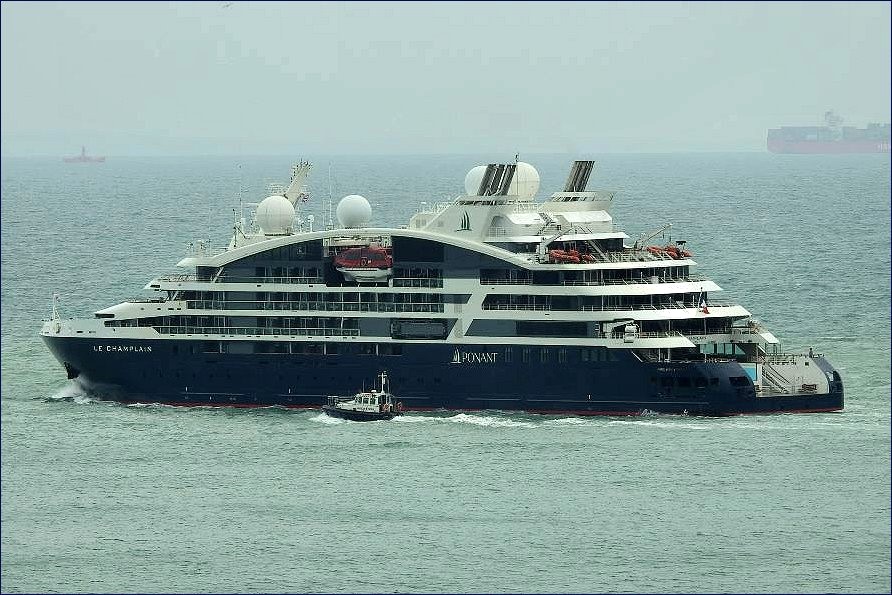 The stunning Superyacht-style Cruise Ship Le Champlain paid us something of an inaugural but flying visit on Tuesday this week. She stayed just a few hours and was off again...perhaps to beat the weather. You can see the approaching gloom in the pic above. Yes...it was a first visit here and she was greeted early morning by the spraying tugboat...we've had a busy tug-spray period. We understand that Le Champlain is on a 7-day detailed cruise of Britanny...
We haven't had a Costa ship for a while, so it was great to see Costa Fortuna again...which also arrived on Tuesday this week.
Costa Fortuna entering the Port of Dover.
Fortuna is almost finished a 12 day round trip of the British Isles from Bremerhaven...a bit wet 'n' windy this time....
Thursday, 8 September 2022 - 06:01
Post 7291
Sea News, Dover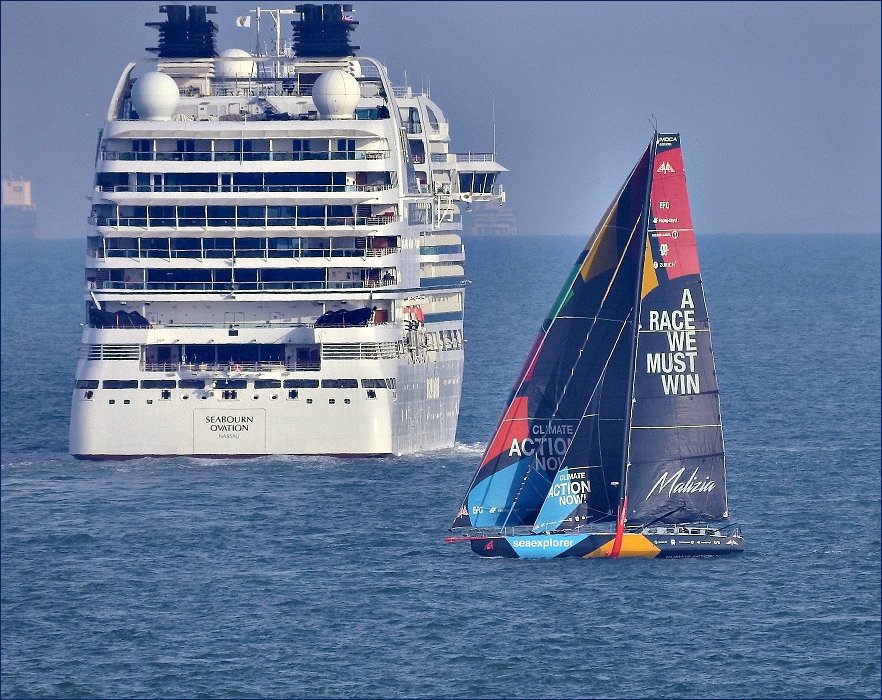 While photographing the elegant departure of Seabourn Ovation from Dover on Saturday, this magnificent racing yacht powered into view. The yacht...as you can see...is drawing our attention to the big race facing us all, the race against time for a constructive rethink on our destructive climate journey. The yacht is called Malizia-Sea Explorer ....
"Climate Action Now - a race we must win"
Seabourn Ovation had its thunder stolen a wee bit but more pictures below to compensate.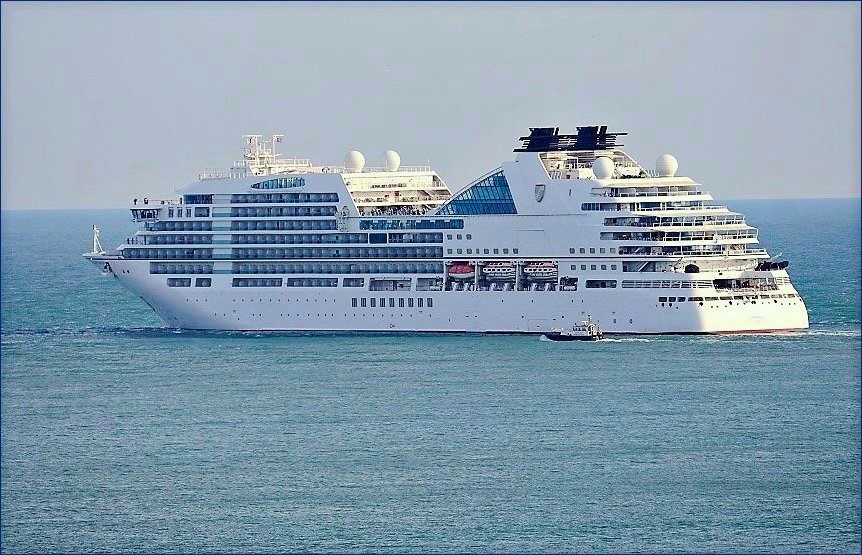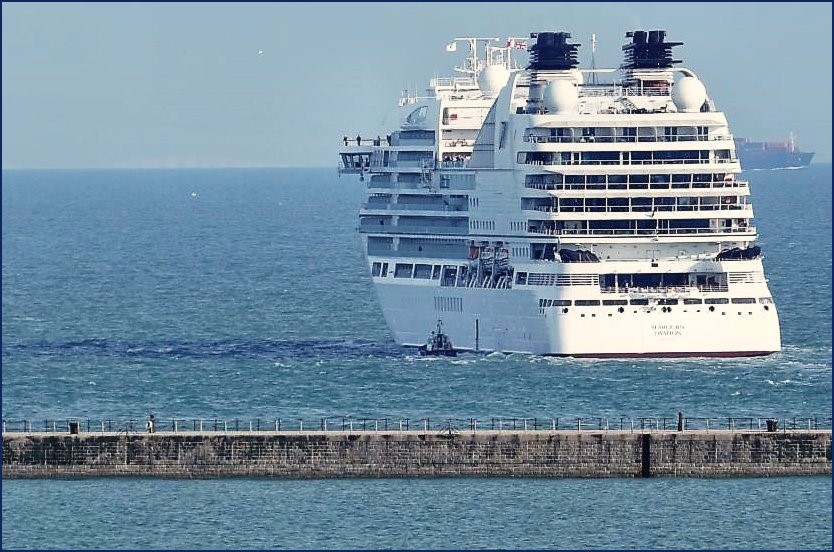 Seabourn Ovation leaving the Port of Dover on Saturday ( we're trying to catch up!...) ...She is currently on a 14 day tour taking in gorgeous places like Cherbourg, Dover, Antwerp, Oslo, Gothenburg, Copenhagen plus more ...
You're getting a new Prime Minister today..Liz Truss. But dont get too excited, she's the Fourth one in Six years...how long will she last..!!
Tuesday, 6 September 2022 - 06:53